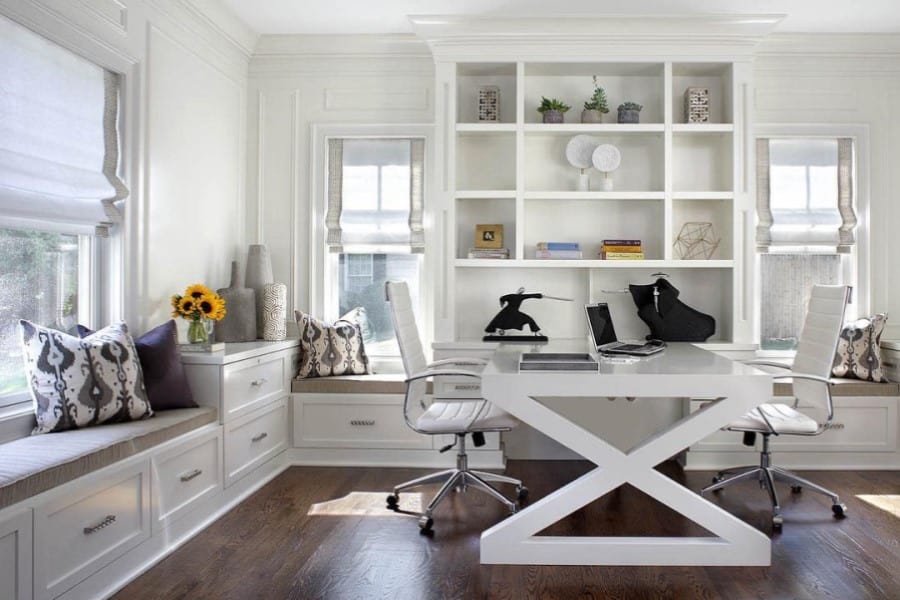 The Top 71 Modern Home Office Ideas
Many of us do our best work enveloped in a stylish environment. There's nothing wrong with this! But it does mean prioritizing your home office design is more crucial to productivity than you might realize.
Modern decor offers a clean, professional look that is perfect for creating an aesthetically pleasing workspace. And with so many branches of modern design to choose from, it's easy to find a home office style that suits your career and personality.
Keep reading for our favorite modern home office ideas that will have you looking forward to the start of each workday!
1. Office Desk Drop Lighting
An innovative idea to consider is incorporating office desk drop lighting. By utilizing the ceiling space above your desk, you can free up valuable surface area and create a clean and clutter-free workspace. Install sleek pendant lights or track lighting that directly illuminates your desk, providing focused and efficient lighting for your tasks.
This not only enhances visibility but also adds a contemporary touch to your home office. With the desk area well-lit from above, you can maximize your desk space for essentials such as your laptop, paperwork, and other office supplies. The absence of desk lamps or bulky lighting fixtures on the surface creates a minimalist and streamlined look.
Additionally, the ambient glow from the drop lighting can contribute to a calming and focused atmosphere, promoting concentration and creativity.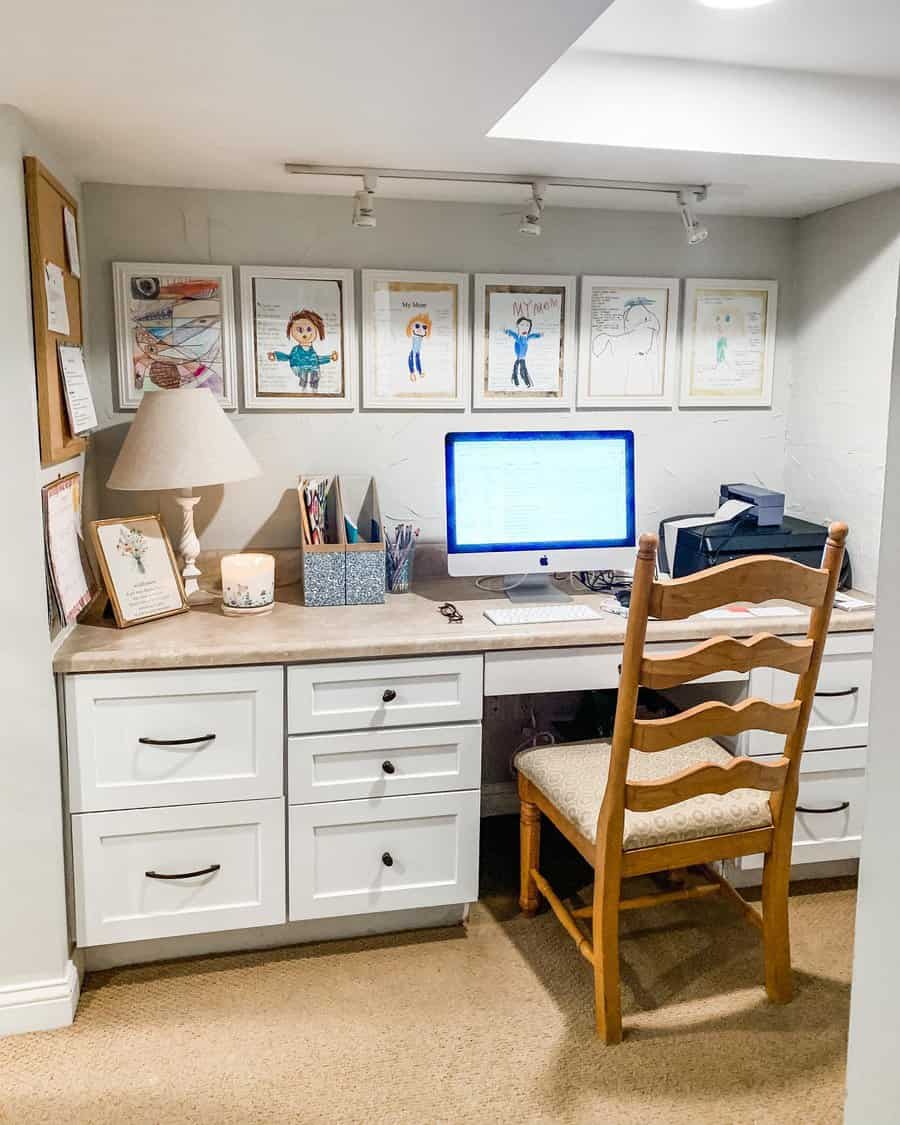 2. Swivel Office Chair
With its 360-degree swivel function, you can easily move around your workspace and access different areas without straining. The swivel chair allows you to effortlessly transition between tasks, whether you're working at your desk, reading in a cozy corner, or collaborating with colleagues.
Additionally, select a chair with a stylish design and premium materials that enhance the overall aesthetic of your office. Whether you prefer a classic black leather chair or a vibrant fabric upholstery, the swivel office chair can be a statement piece that adds personality to your workspace.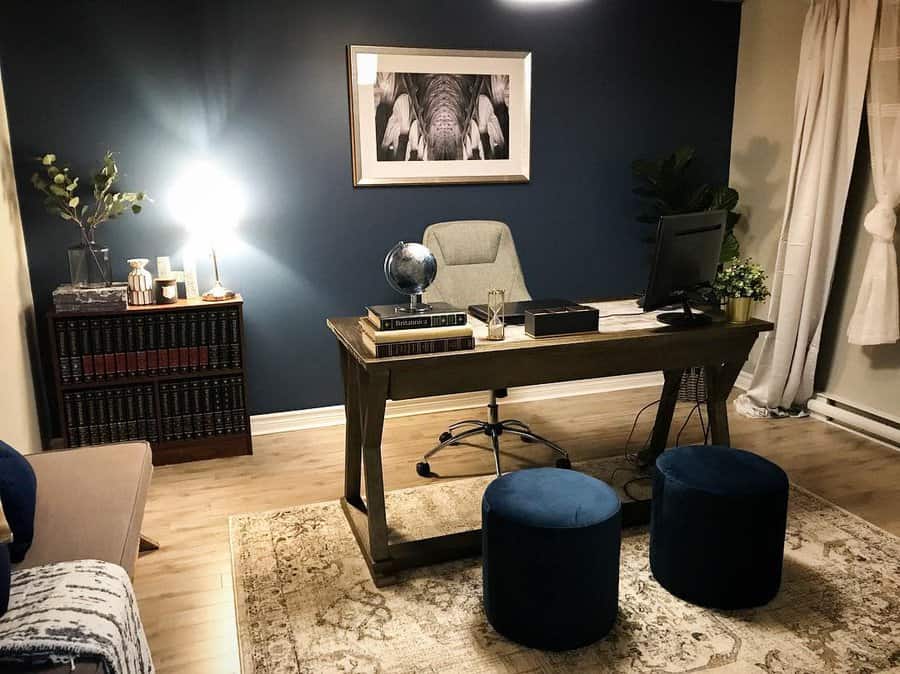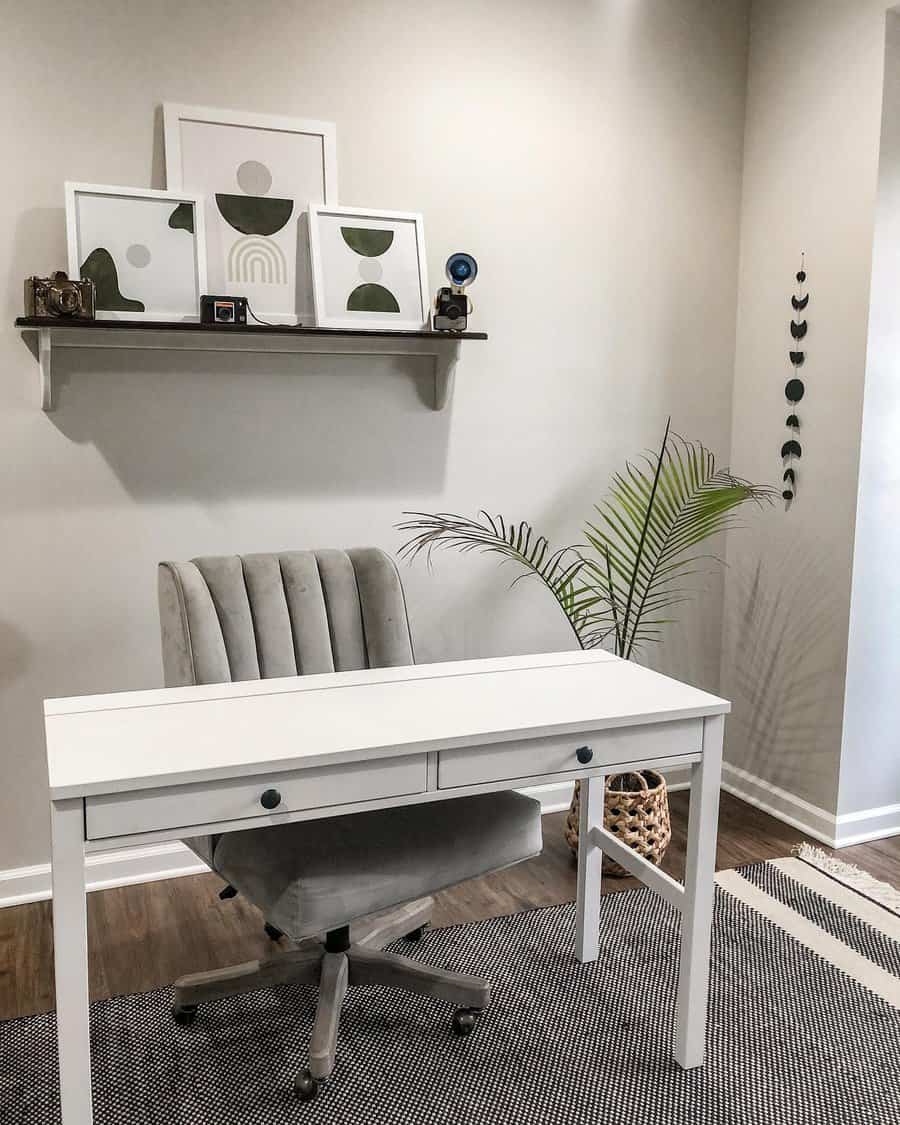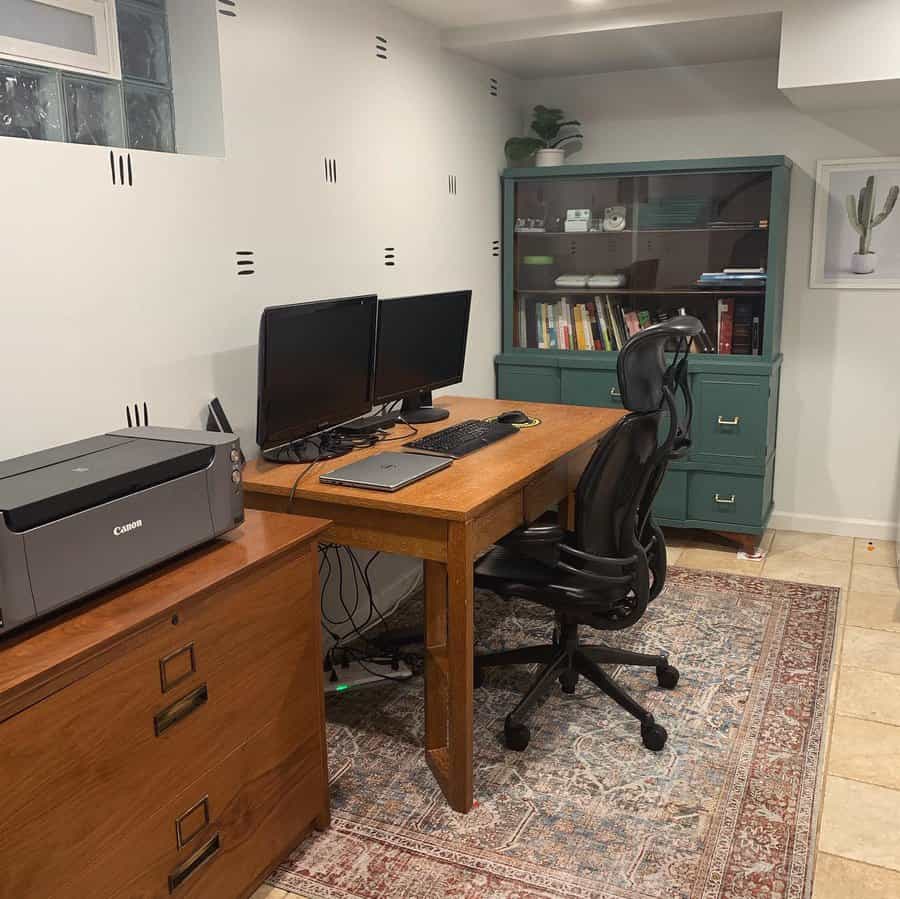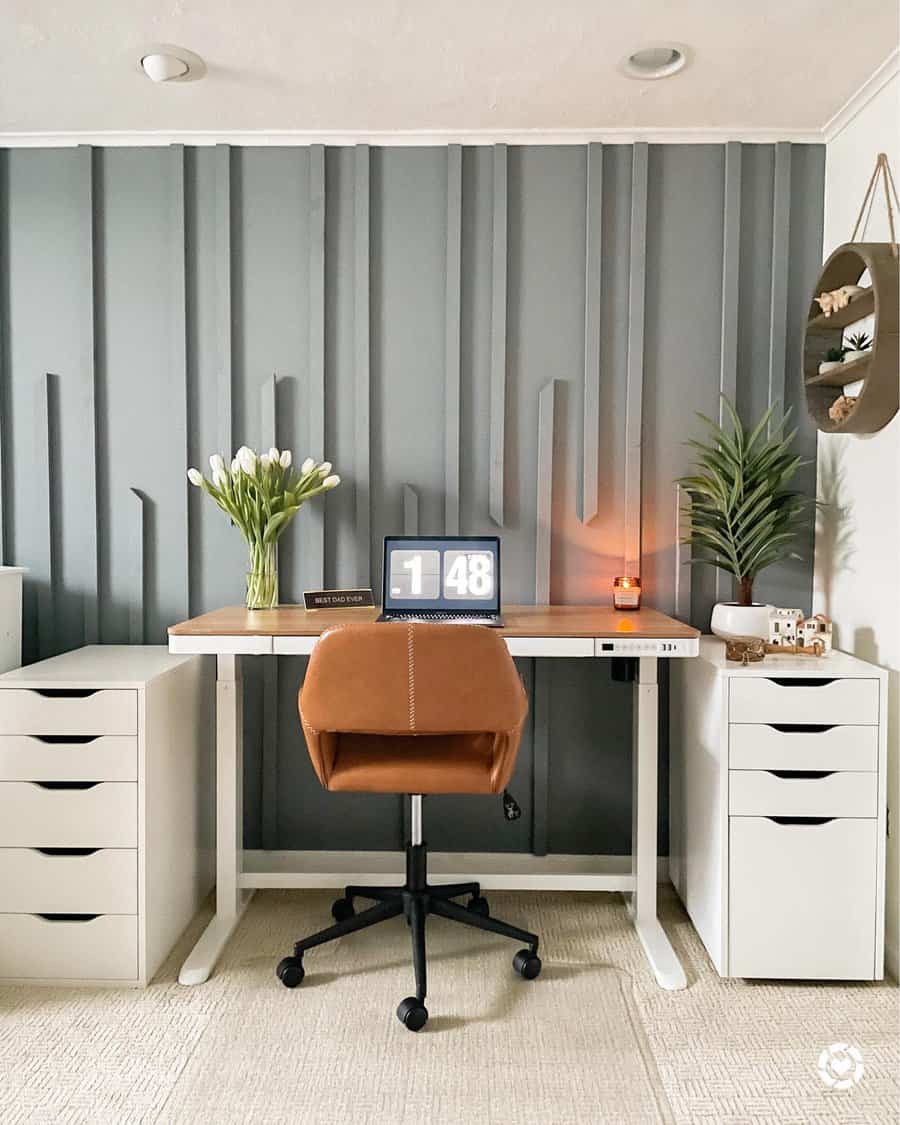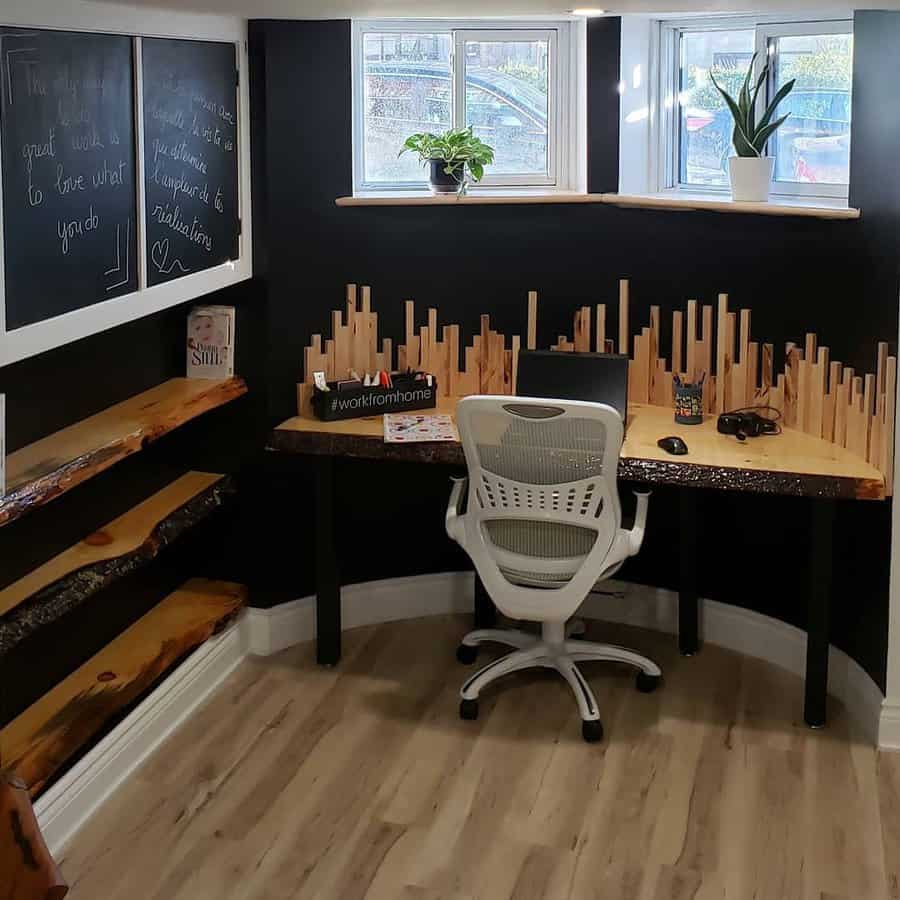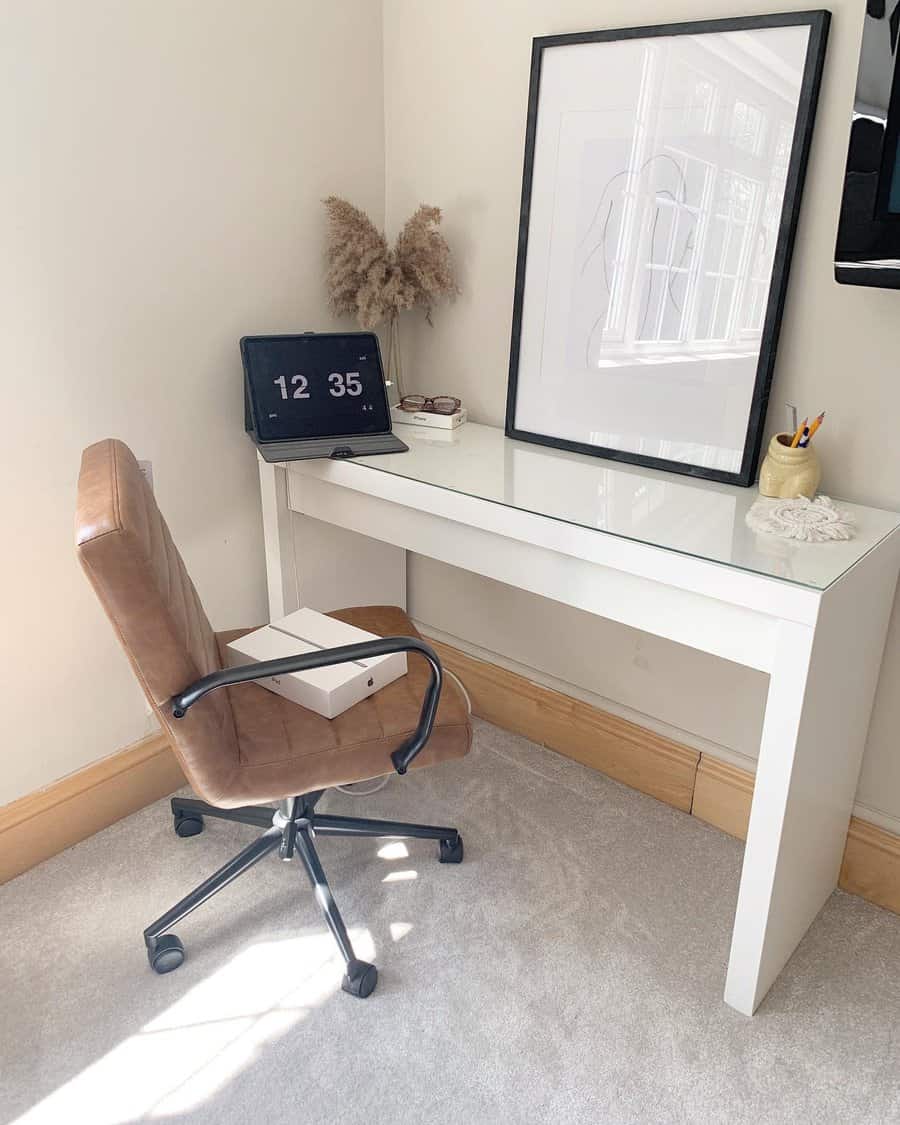 3. Cubby Shelves
These versatile storage units not only offer ample space to store office supplies and books but also add a touch of symmetry to the room. The clean lines and geometric shapes of cubby shelves contribute to a contemporary and streamlined aesthetic.
Arrange the cubbies in a symmetrical layout to create a sense of balance and order. Use the compartments to store essential office items such as notebooks, files, and stationery, while also displaying decorative elements like potted plants or curated book collections. The cubby shelves provide easy access to your everyday necessities, keeping them within reach and eliminating clutter from your desk.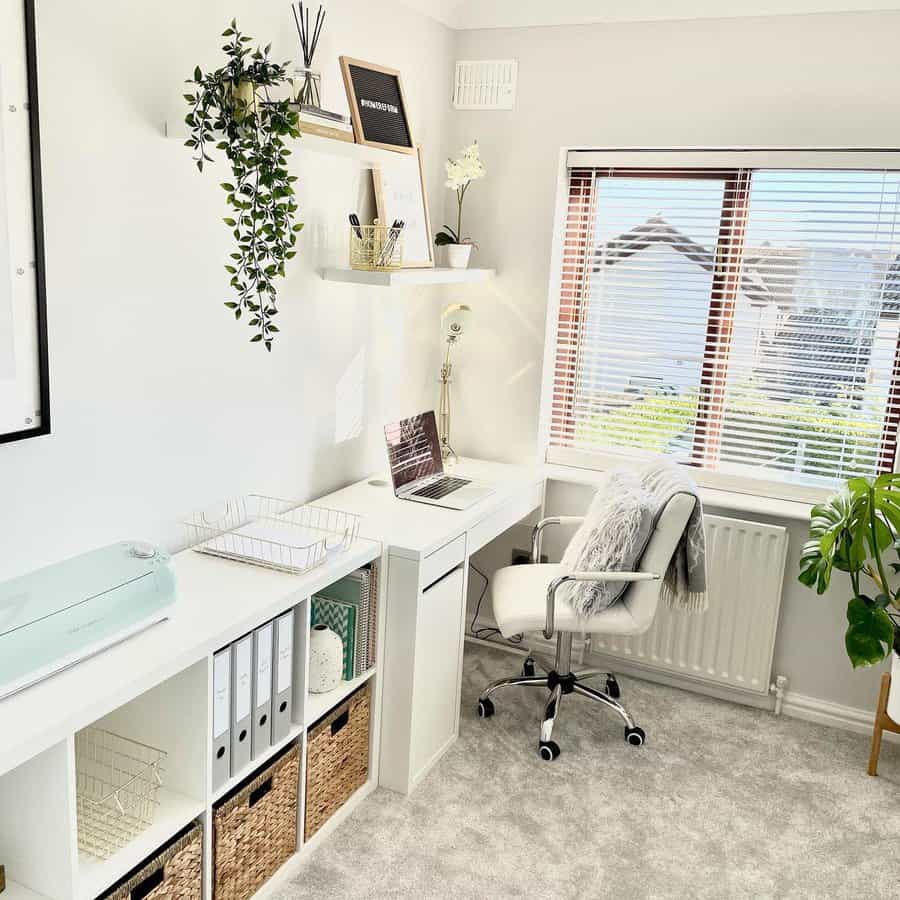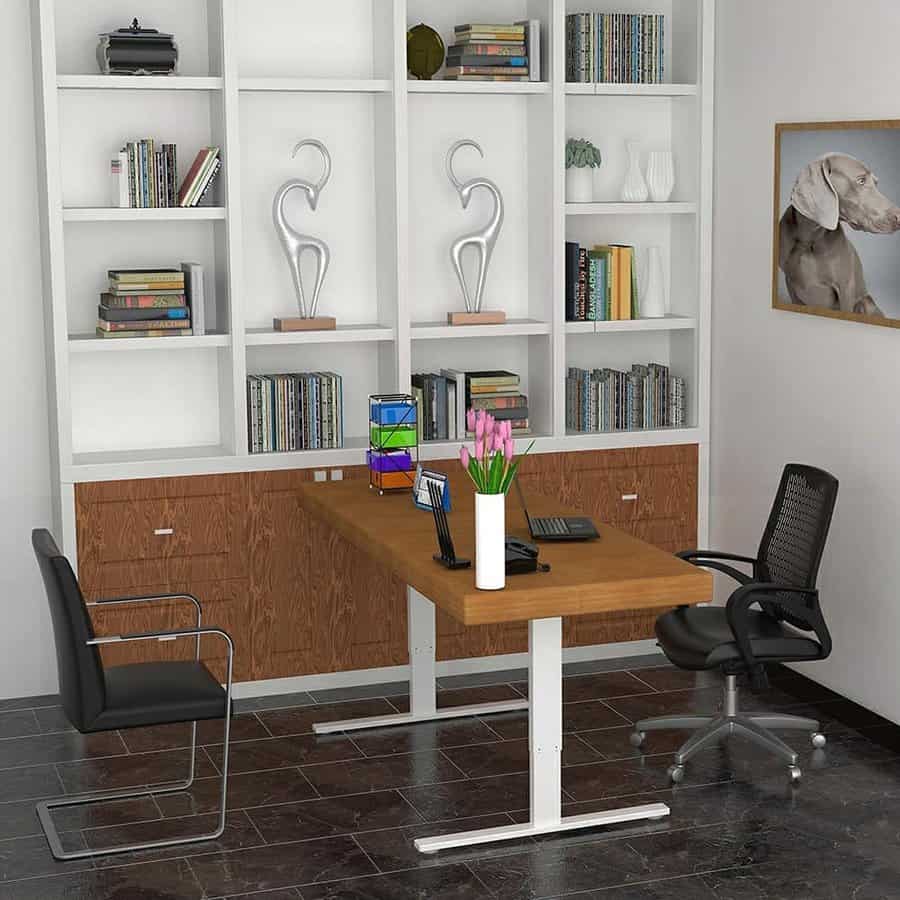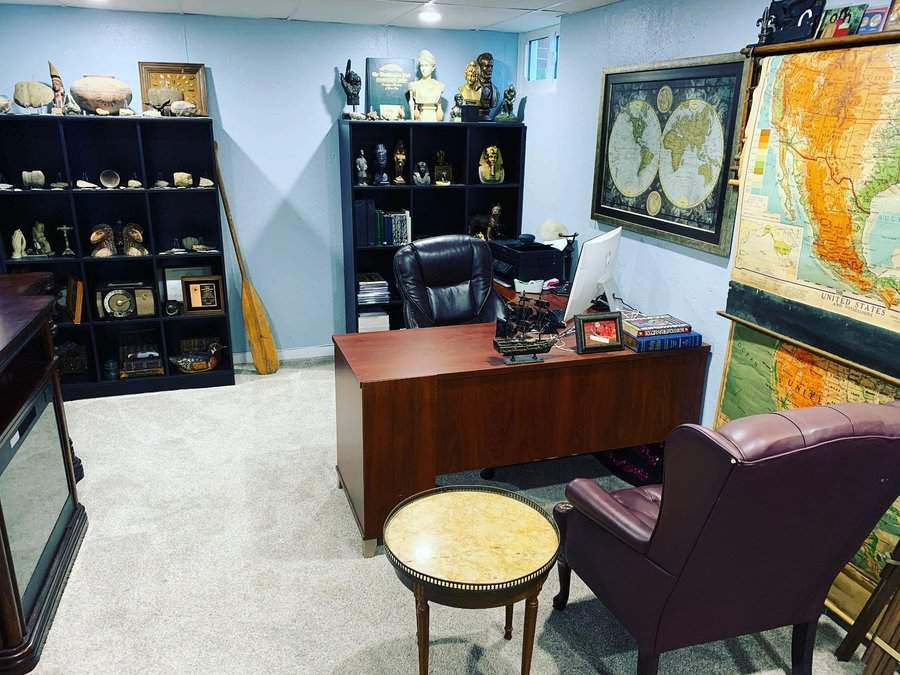 4. Bedroom Office
Create a modern and functional home office within the comfort of your own bedroom. With the growing trend of remote work and the need for dedicated workspaces, transforming a corner of your bedroom into a stylish office area is a smart and practical solution. Begin by selecting an office table that not only provides ample workspace but also adds a touch of aesthetic charm to the room. Choose a sleek and contemporary design that complements your bedroom decor.
To keep your work essentials organized and within reach, incorporate enclosed shelves above or beside the desk. These shelves not only offer storage for books, files, and office supplies but also serve as an opportunity to display decorative elements that inspire and motivate you.
Enhance the modern vibe of your bedroom office by selecting decor pieces that blend seamlessly with the overall aesthetic. Consider incorporating minimalist desk accessories, stylish lamps, and plants to maintain the relaxing yet productive ambiance of the bedroom.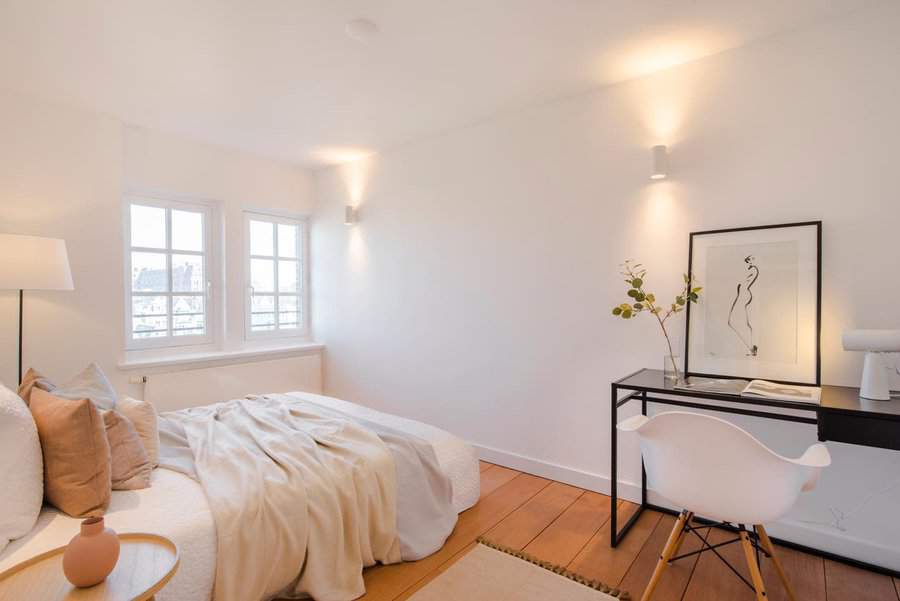 5. Plants for a Fresh Touch
Incorporating plants into your workspace not only adds a touch of greenery but also promotes a sense of tranquility and well-being. Opt for low-light plants that thrive in indoor environments, such as snake plants, pothos, or ZZ plants. These resilient and visually striking plants can thrive even in spaces with limited natural light, making them perfect for modern home offices.
Place them strategically on your desk, floating shelves, or in stylish planters to bring life and vibrancy to your workspace. Not only do they purify the air and improve the overall indoor environment, but they also create a calming ambiance that enhances focus and concentration.
Let the soothing presence of these low-light plants energize your modern home office and infuse it with a refreshing dose of nature.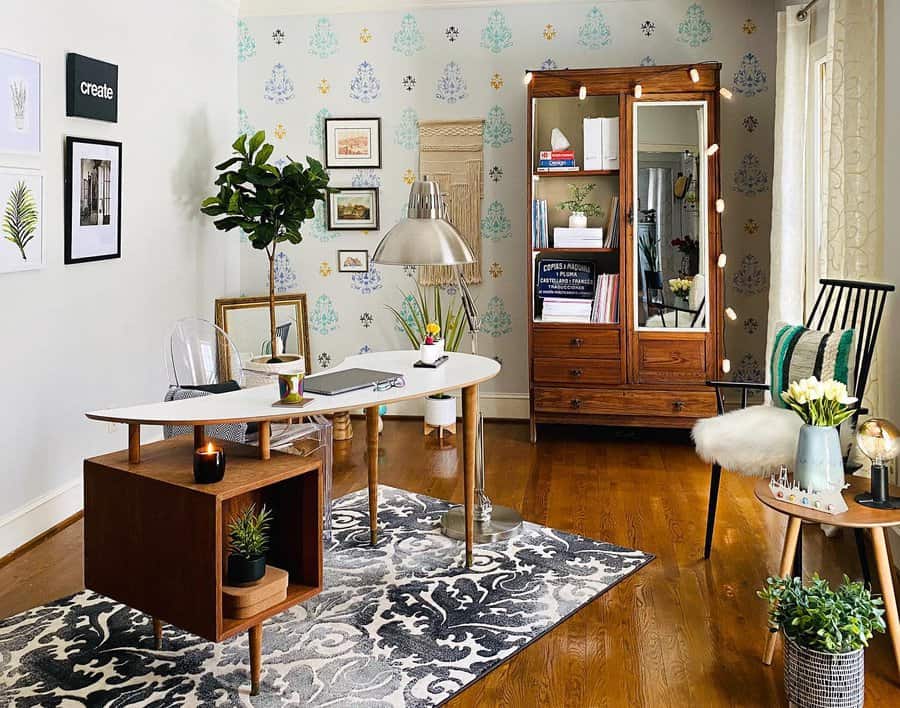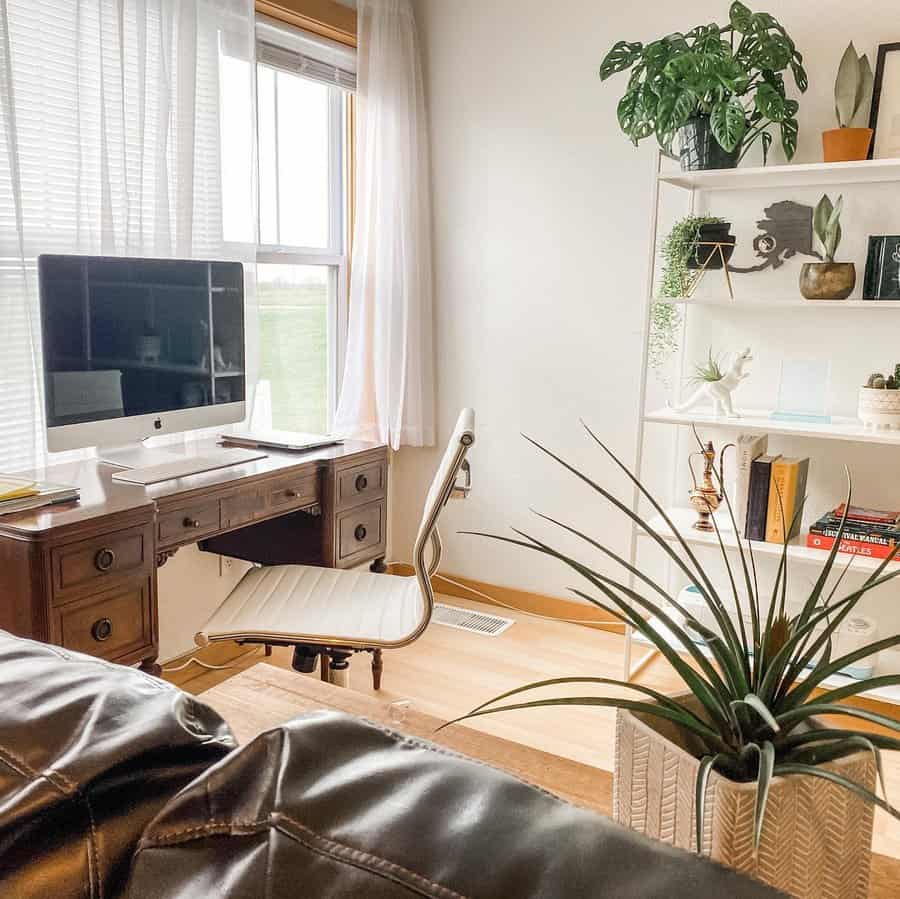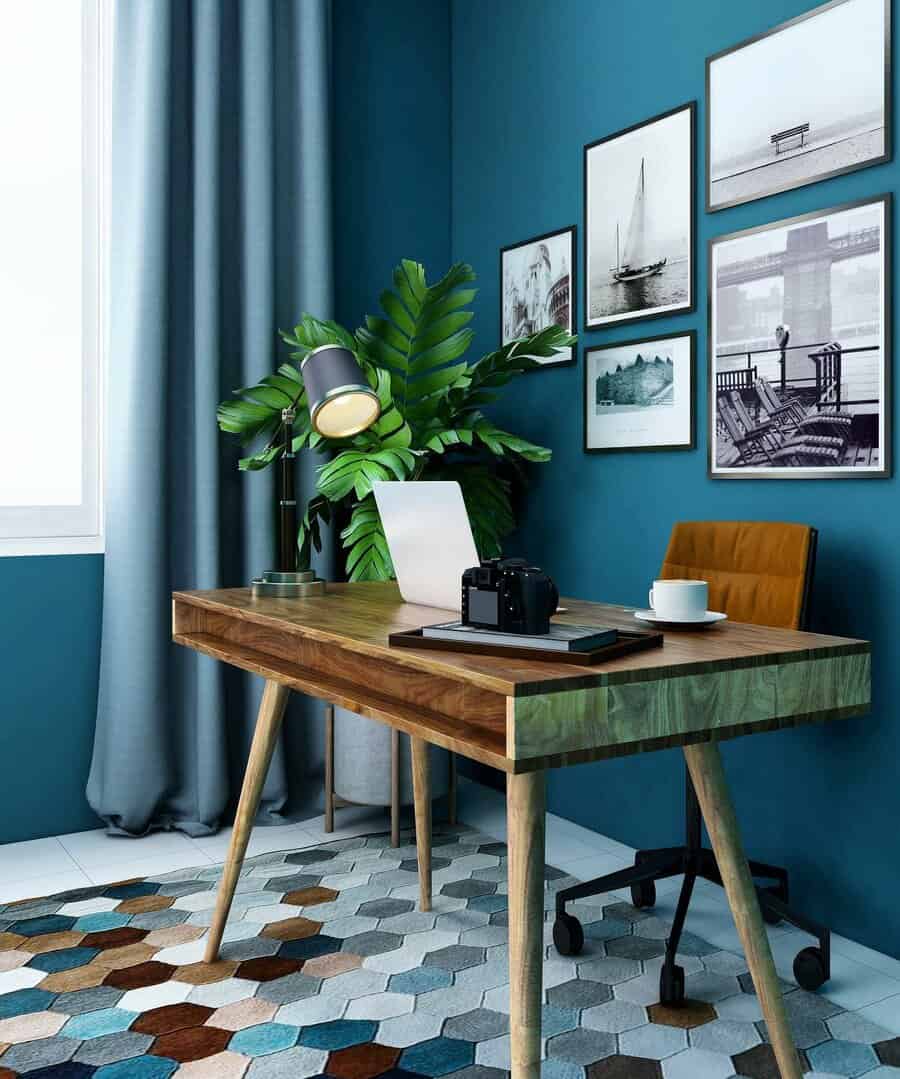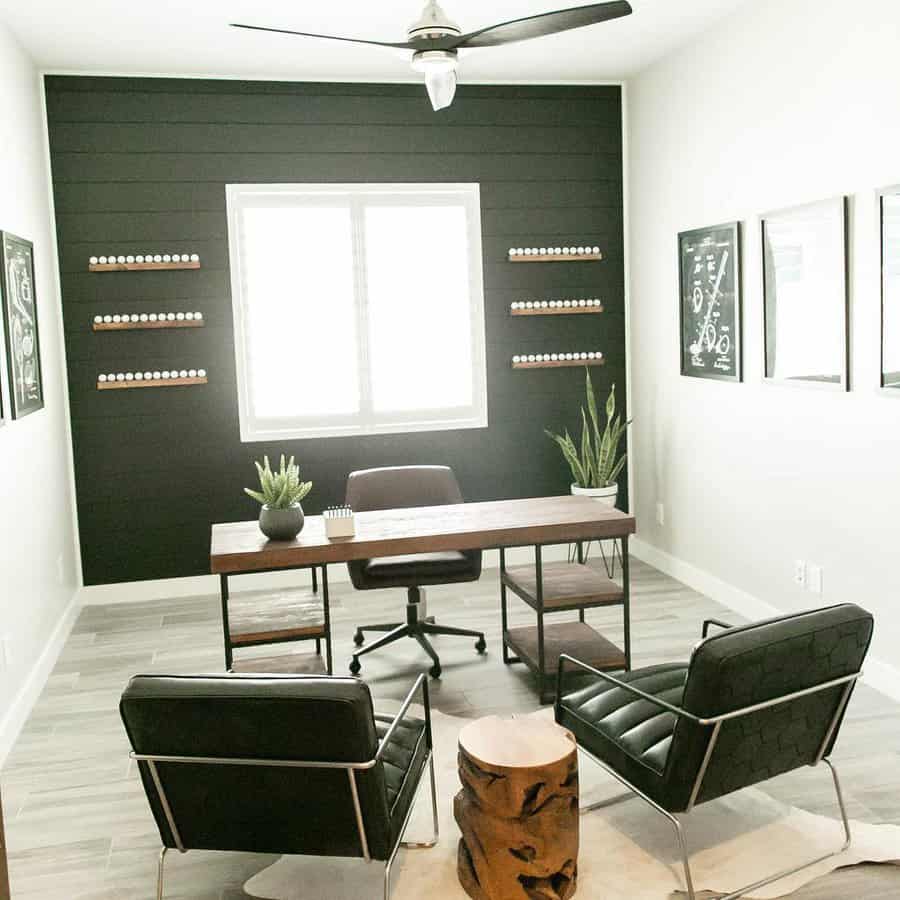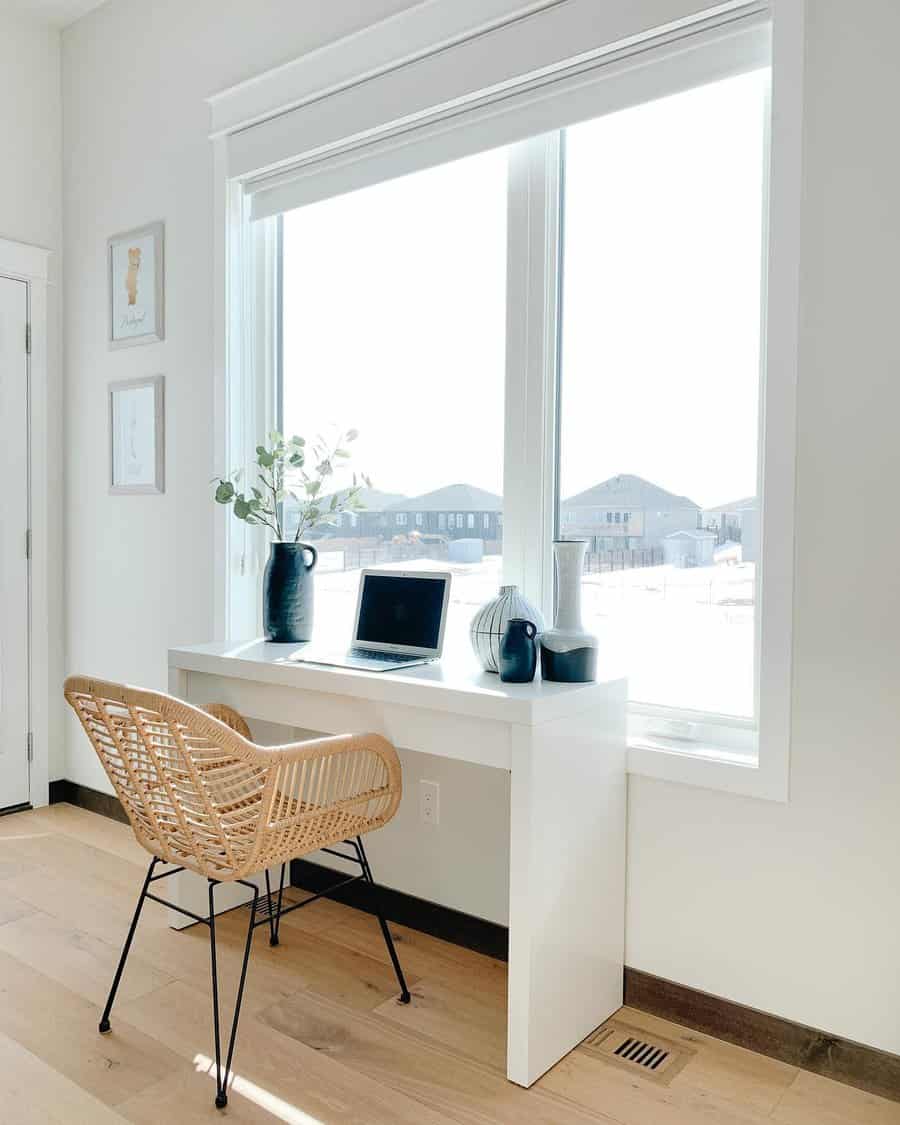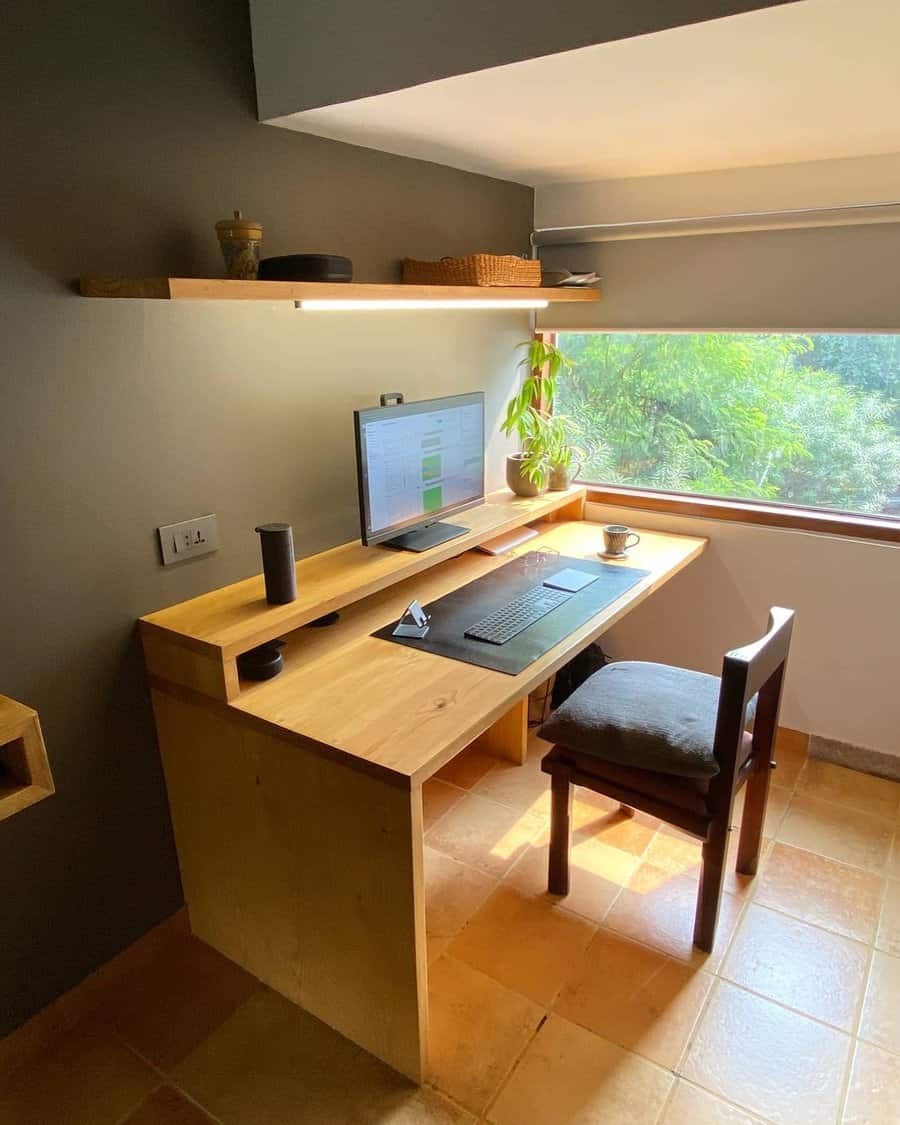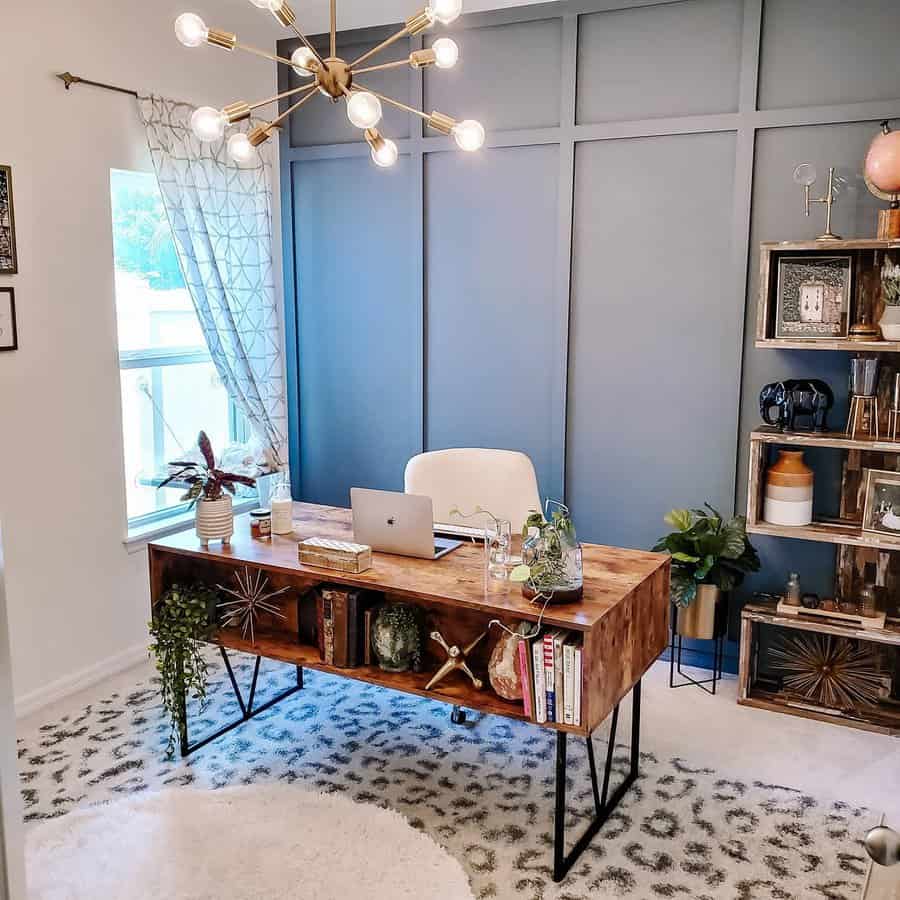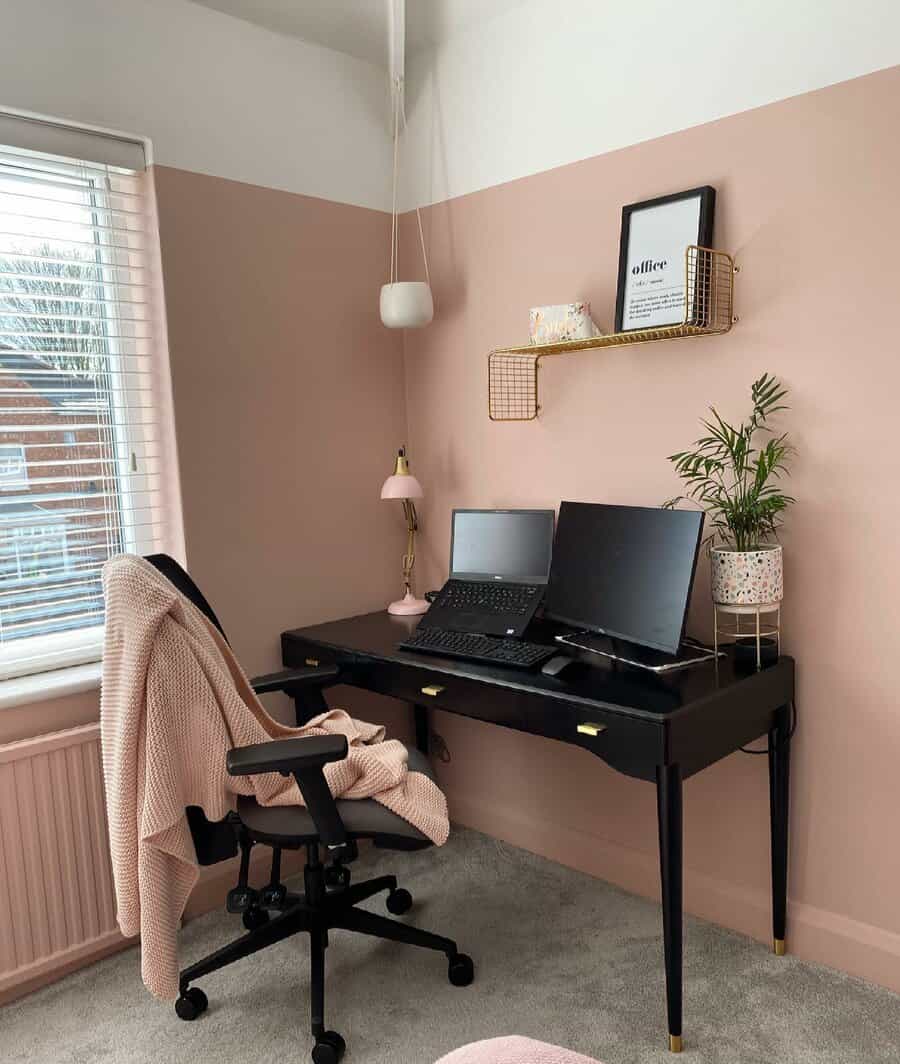 6. Office Desk Lamp
One key element to consider is an office desk lamp, which not only provides essential lighting but also adds a touch of sophistication to your workspace. Choose a sleek and contemporary lamp design that complements your overall office aesthetic. Look for a lamp with adjustable brightness and color temperature settings, allowing you to customize the lighting to suit your needs and create the perfect ambiance.
A desk lamp can serve as a functional and stylish accessory, illuminating your work area while adding a modern flair to your workspace. Whether you prefer a minimalist design or a bold statement piece, there are plenty of options available to suit your taste. A well-placed desk lamp not only enhances the functionality of your home office but also contributes to the overall visual appeal.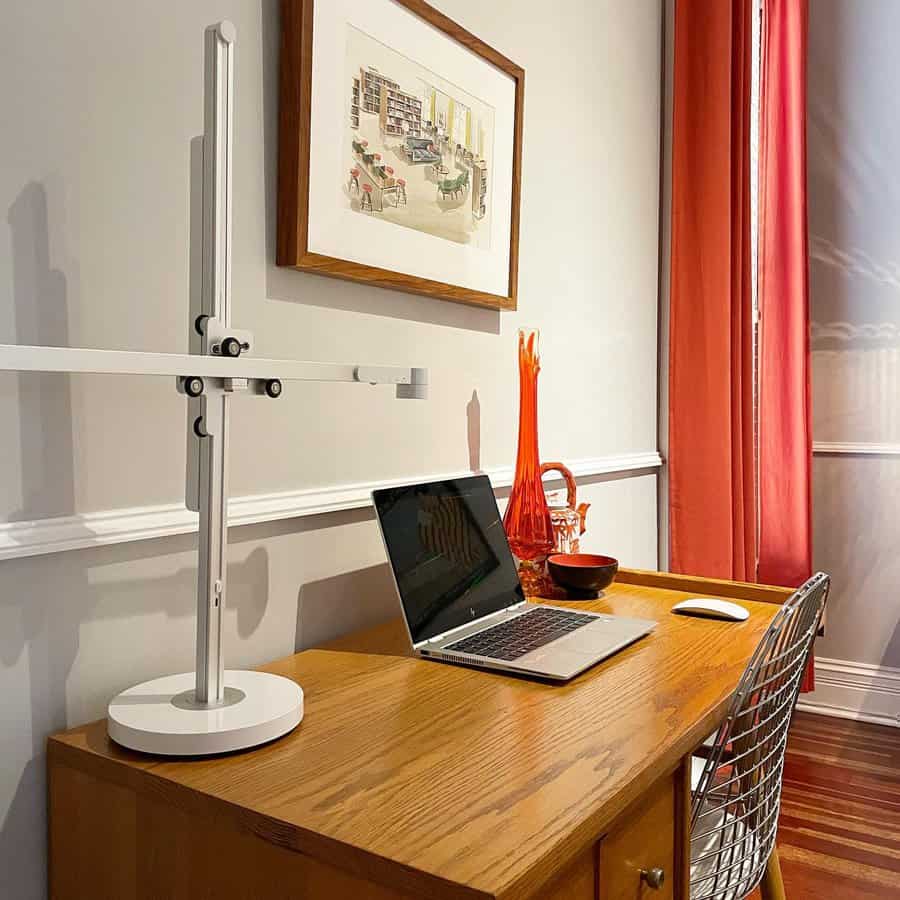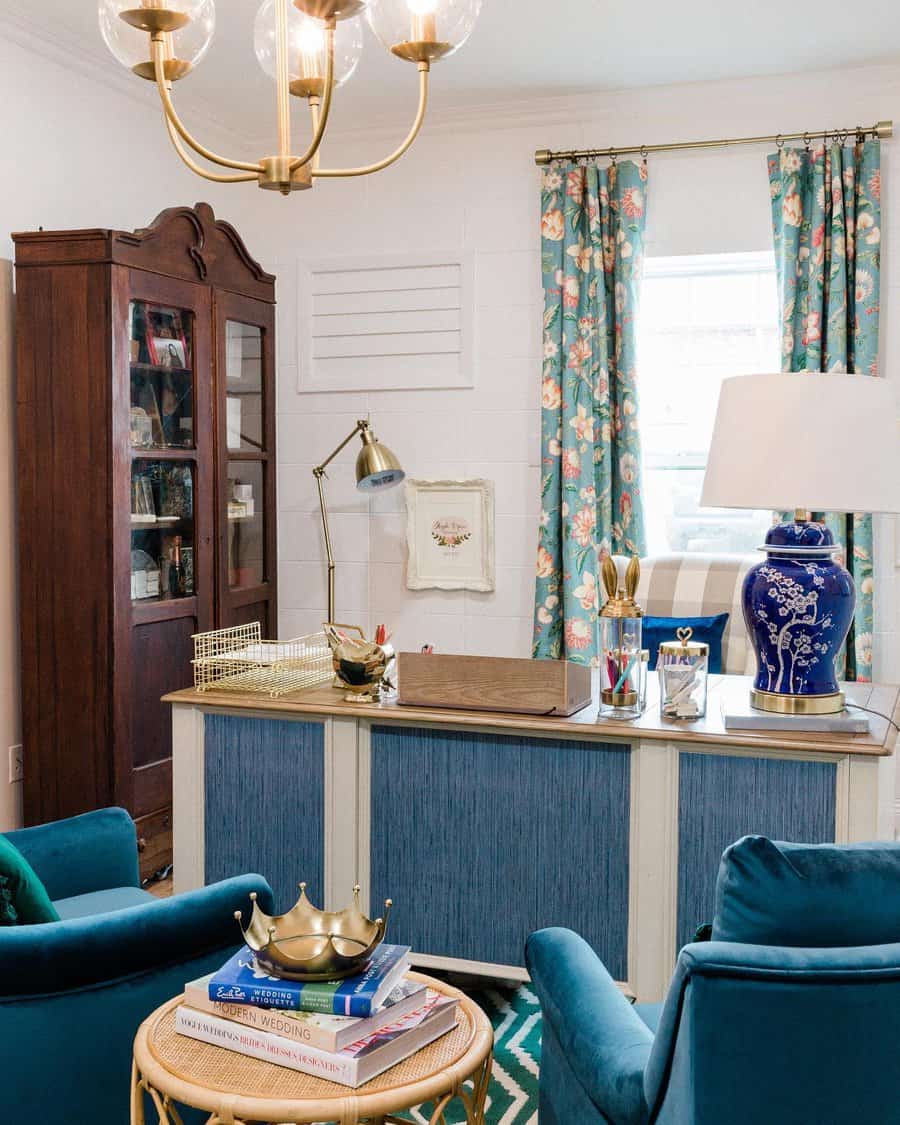 7. Peg Board Organizer
A pegboard serves as a versatile and efficient storage solution for small items, keeping your essentials organized and within arm's reach. Whether it's stationery, notes, or even plants, the pegboard allows you to display and arrange them in a visually appealing way. It not only adds a unique aesthetic element to your home office but also serves as a practical reminder board.
Pin important memos, inspiring quotes, or even your to-do lists on the pegboard, ensuring that you stay on top of your tasks. The beauty of a pegboard lies in its adaptability—rearrange and customize the hooks and shelves to suit your specific needs.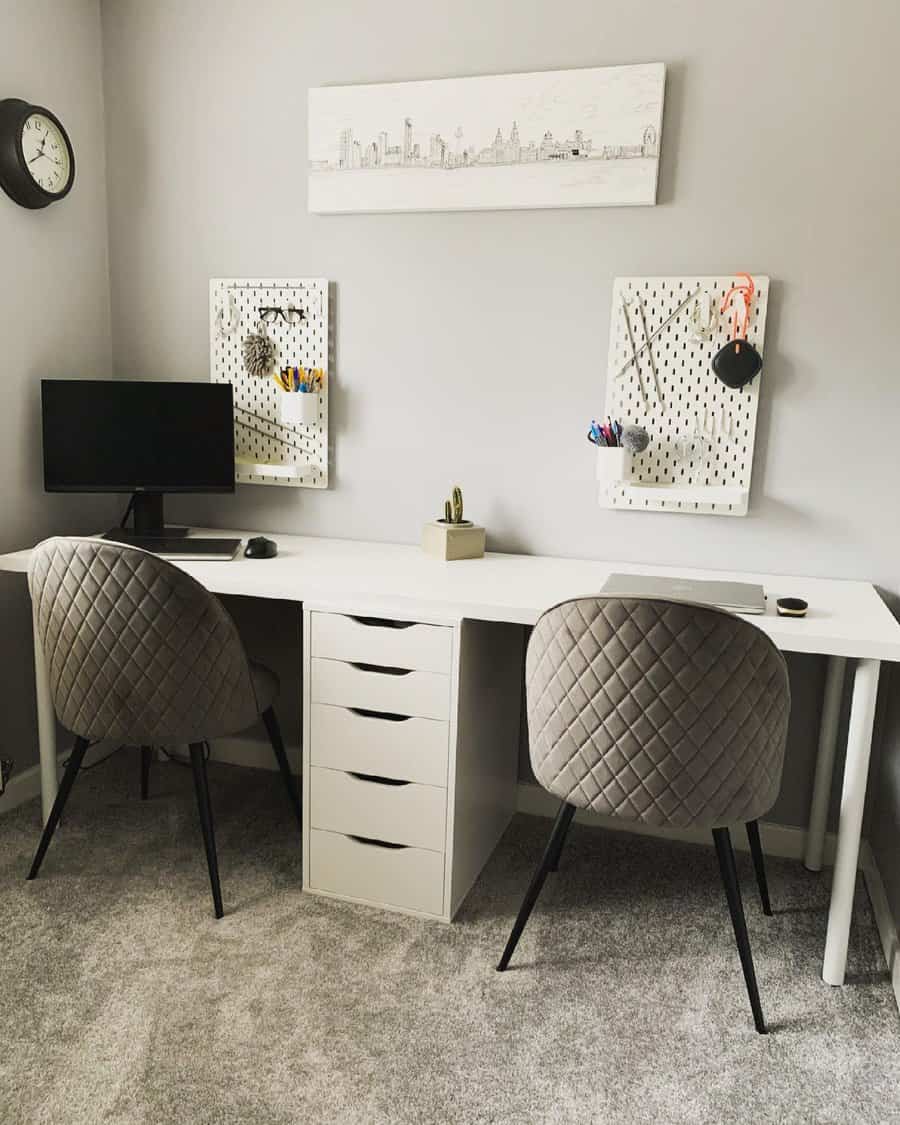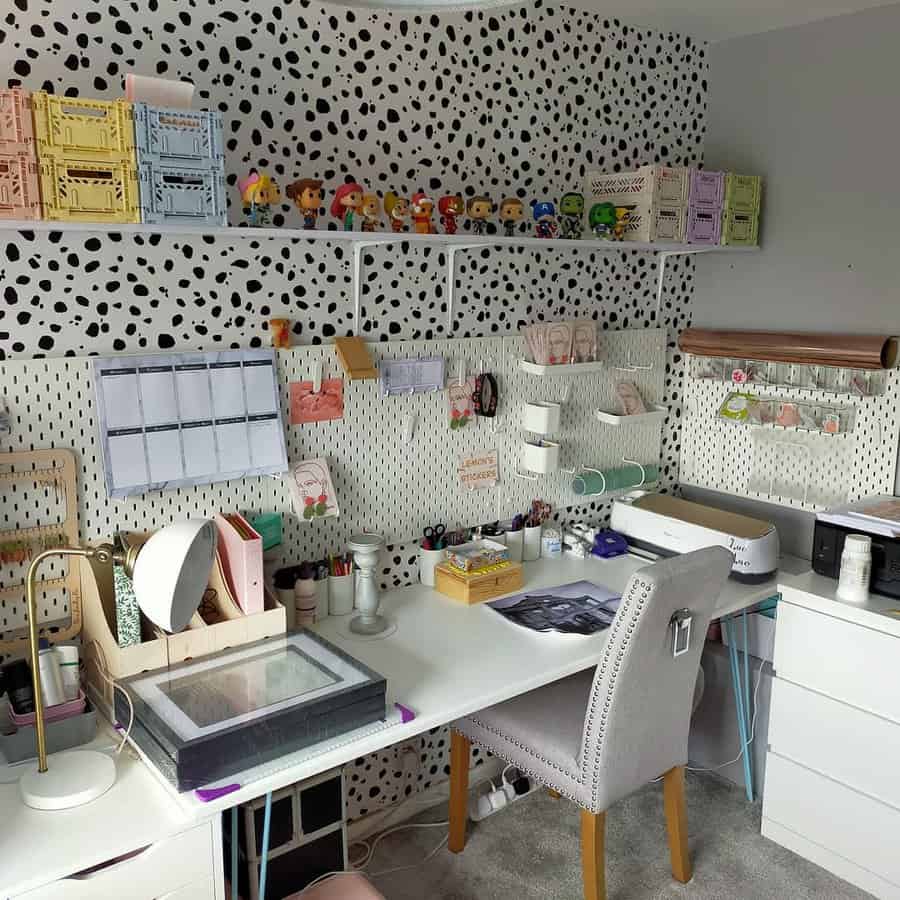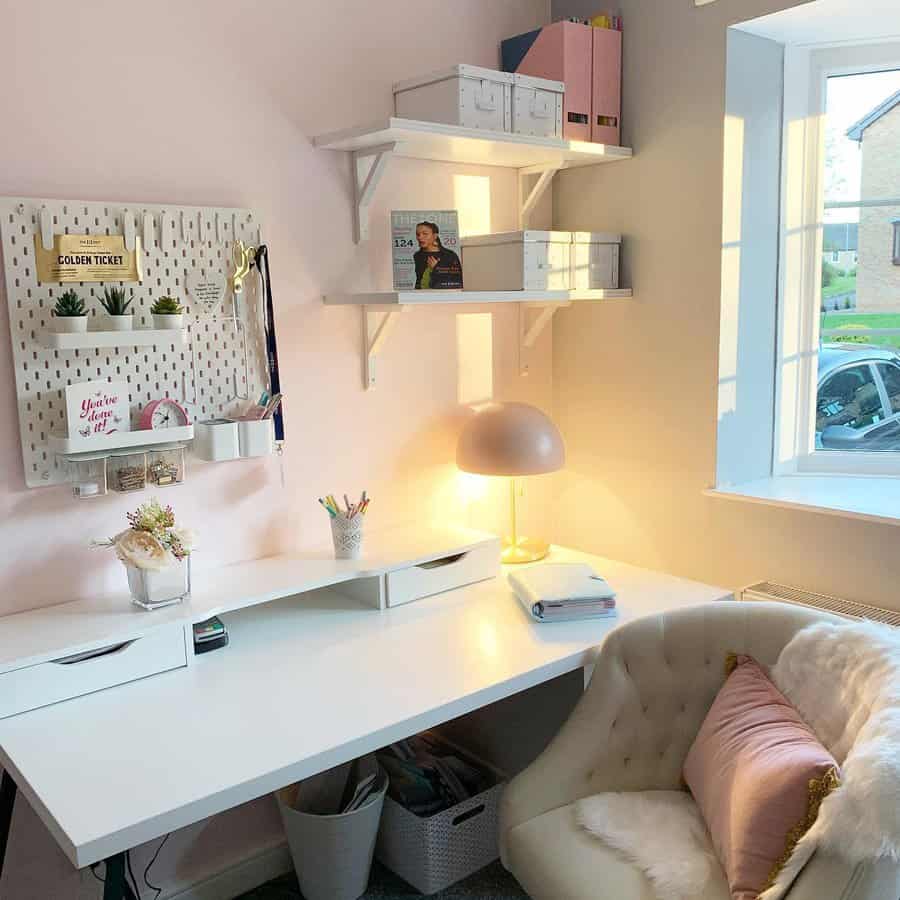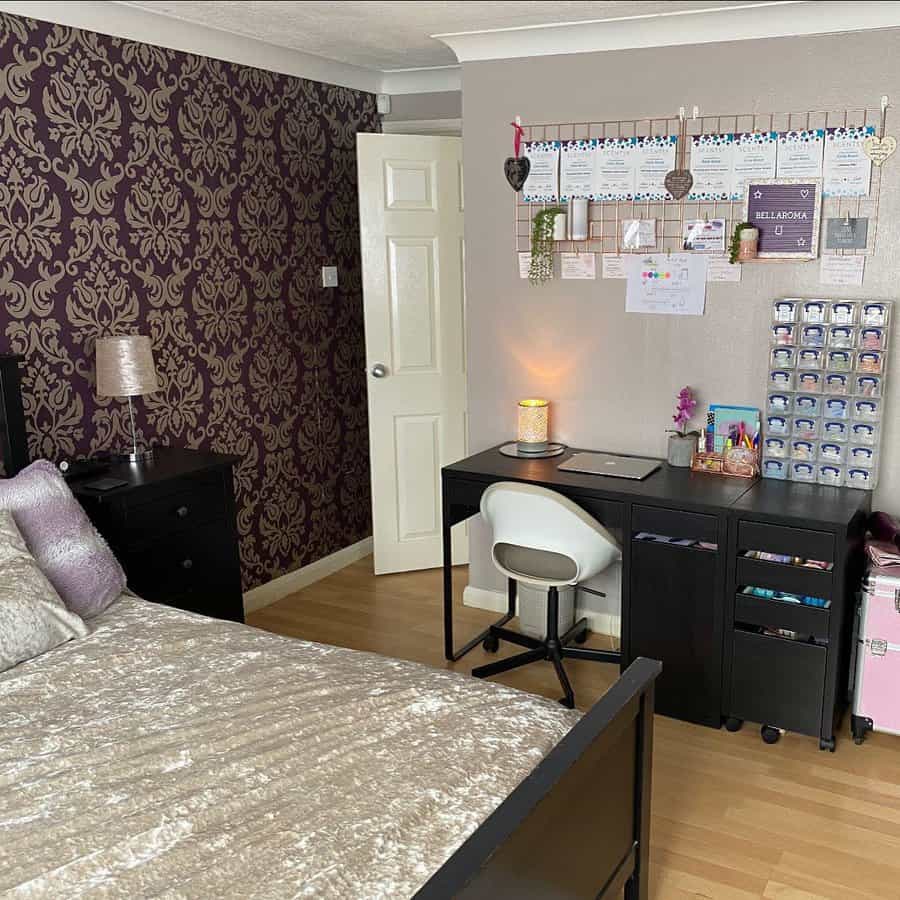 8. Dual Monitor Setup
A key element of a modern home office is a dual monitor setup, offering you an expansive workspace to multitask and enhance your efficiency. With two monitors side by side, you can easily switch between applications, compare documents, and work on multiple projects simultaneously. This setup not only saves you time but also allows for better organization and improved workflow.
Choose sleek and minimalist monitors with thin bezels to create a seamless and contemporary look. To complement your dual monitor setup, incorporate a clean and clutter-free desk with ample storage solutions to keep your workspace organized.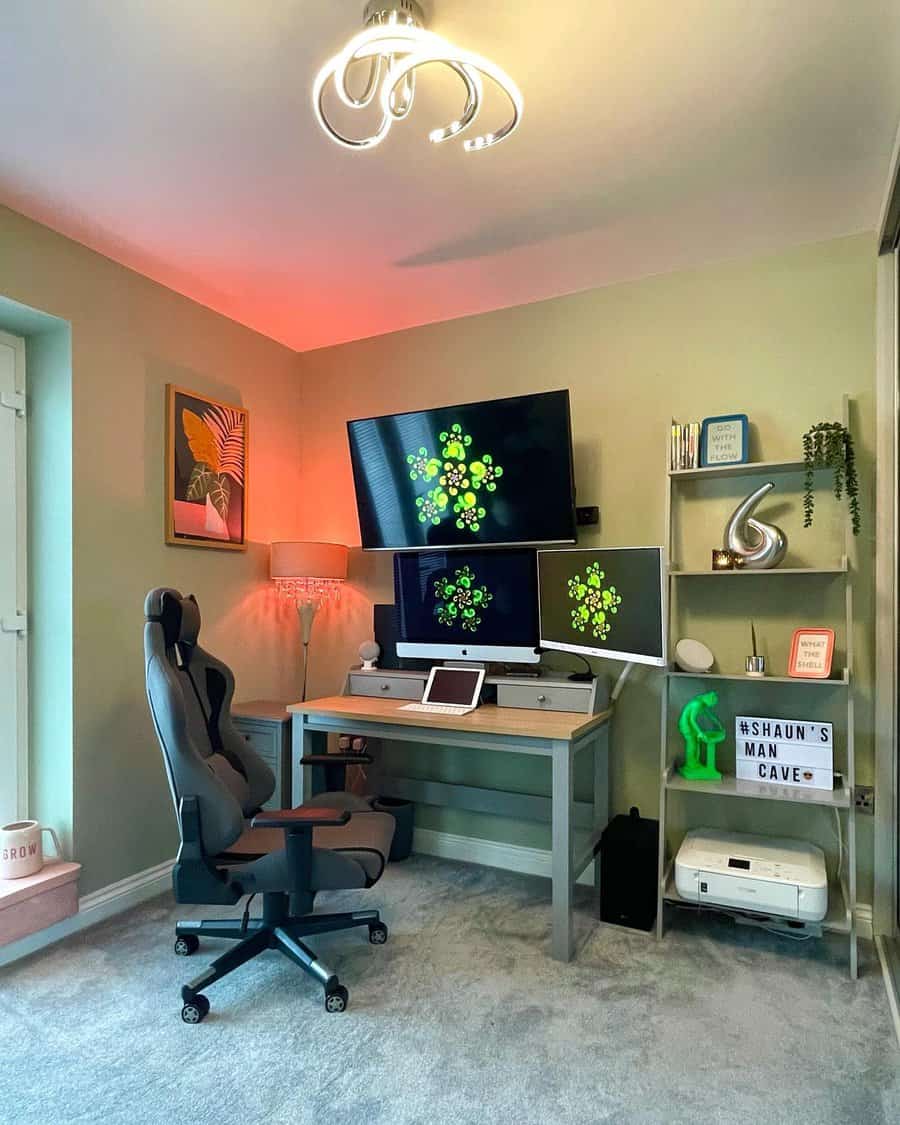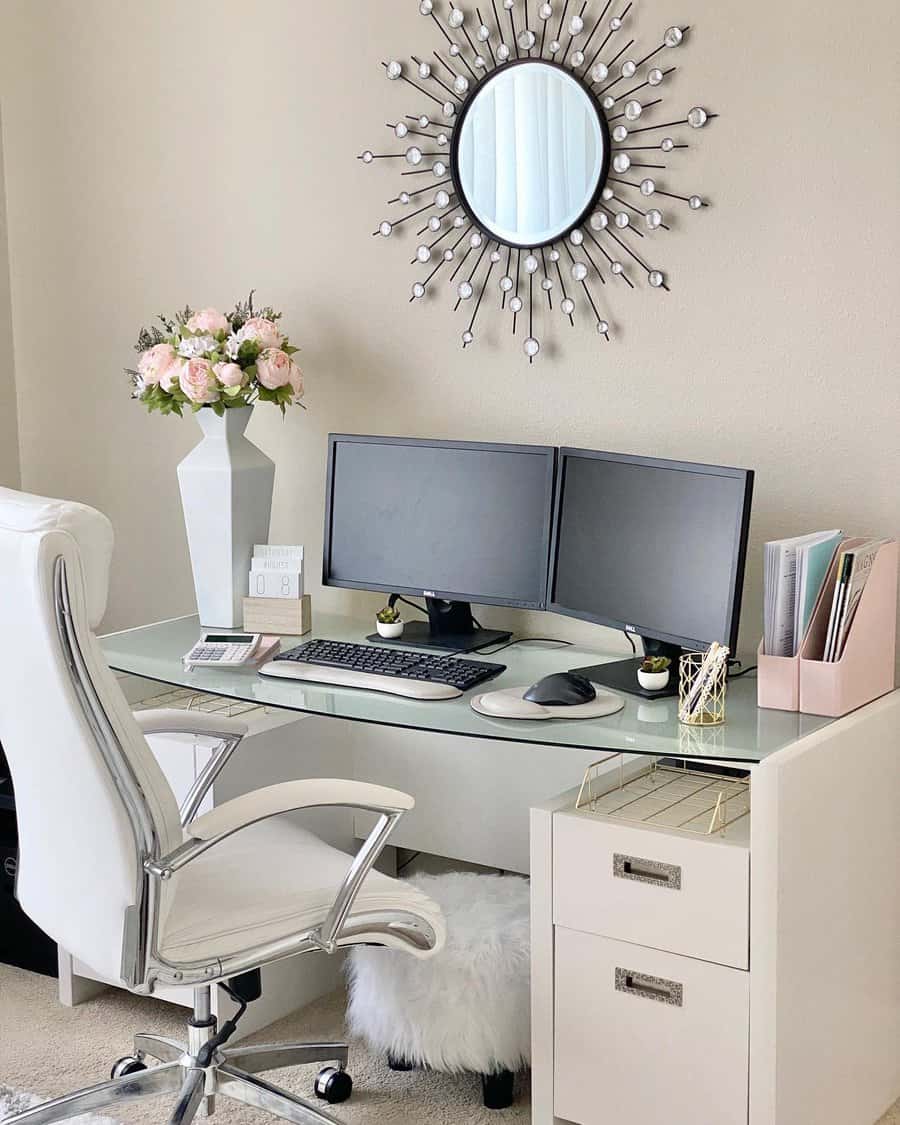 9. Adjustable Standing Desk
With the ability to switch between sitting and standing positions, an adjustable standing desk allows you to find the perfect ergonomic setup that suits your preferences. Whether you need to focus on intense work or engage in creative brainstorming, this dynamic desk provides you with the flexibility to adapt and optimize your productivity.
Take care of your well-being by incorporating an adjustable standing desk into your modern home office, and embrace a work environment that promotes both comfort and efficiency.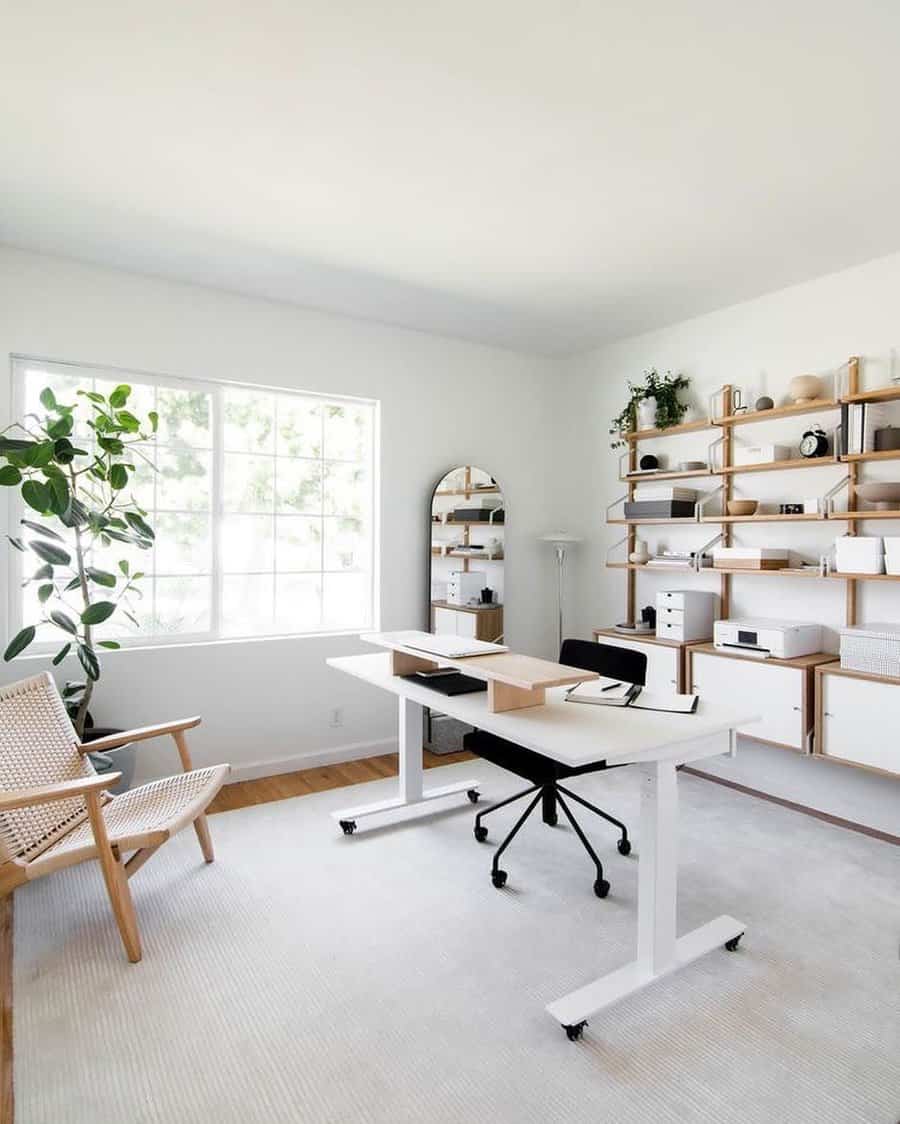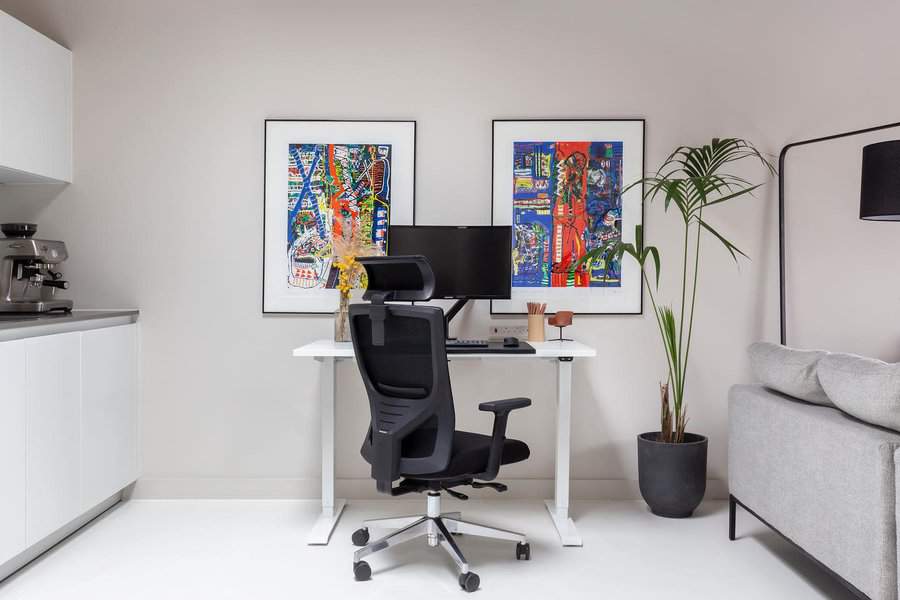 10. Ergonomic Area Rug
An often overlooked element in office design is the flooring, but an ergonomic area rug can make a significant difference in your workspace. Opt for a sleek and contemporary rug that not only adds a touch of warmth and texture to the room but also provides comfort and support for your feet.
The ergonomic design of the rug ensures that you can spend long hours at your desk without any discomfort or strain. Choose a rug with a low pile and a non-slip backing to ensure stability and safety. The modern home office is all about creating a comfortable and productive environment, and the ergonomic area rug is a key element in achieving that.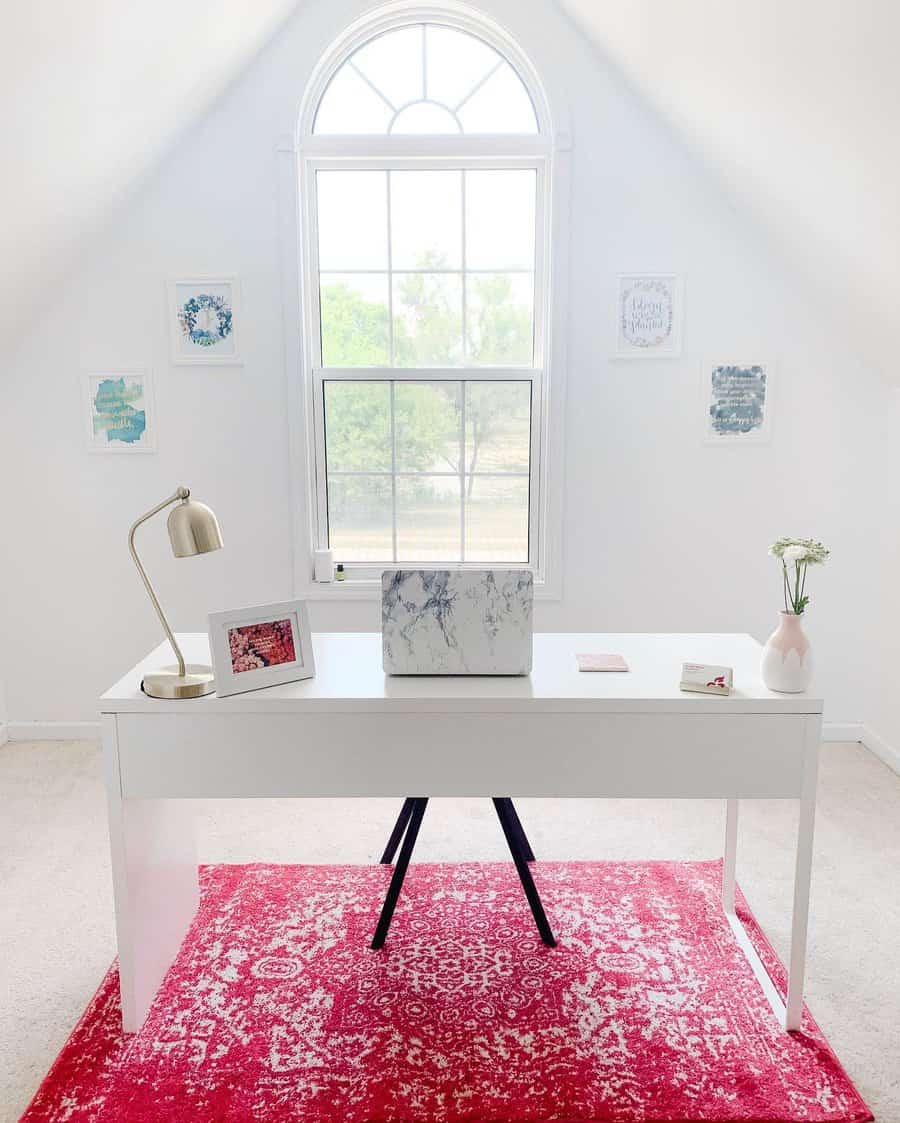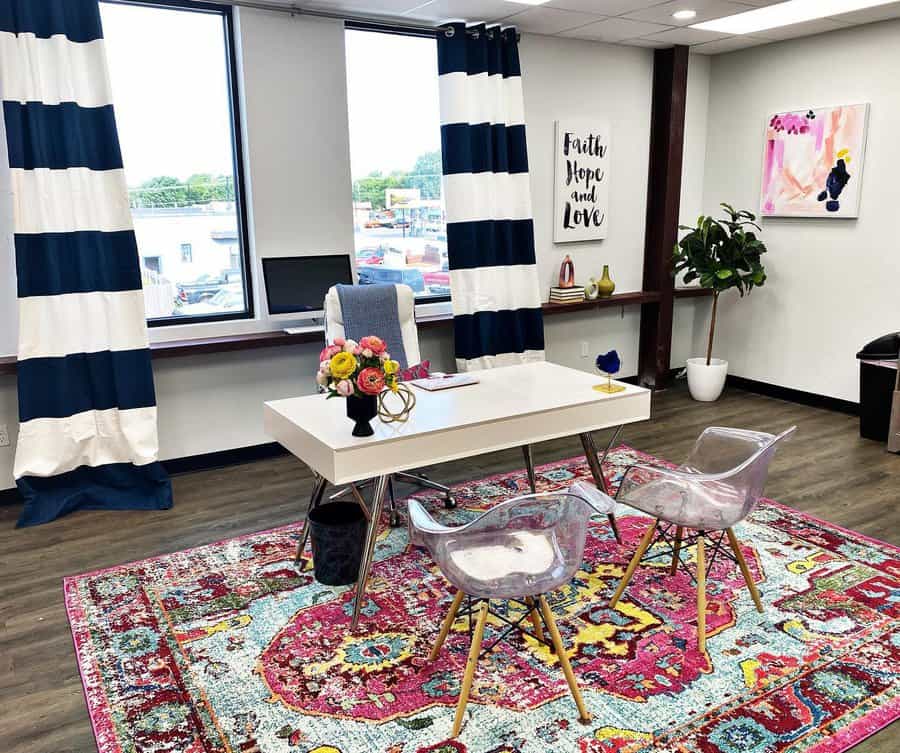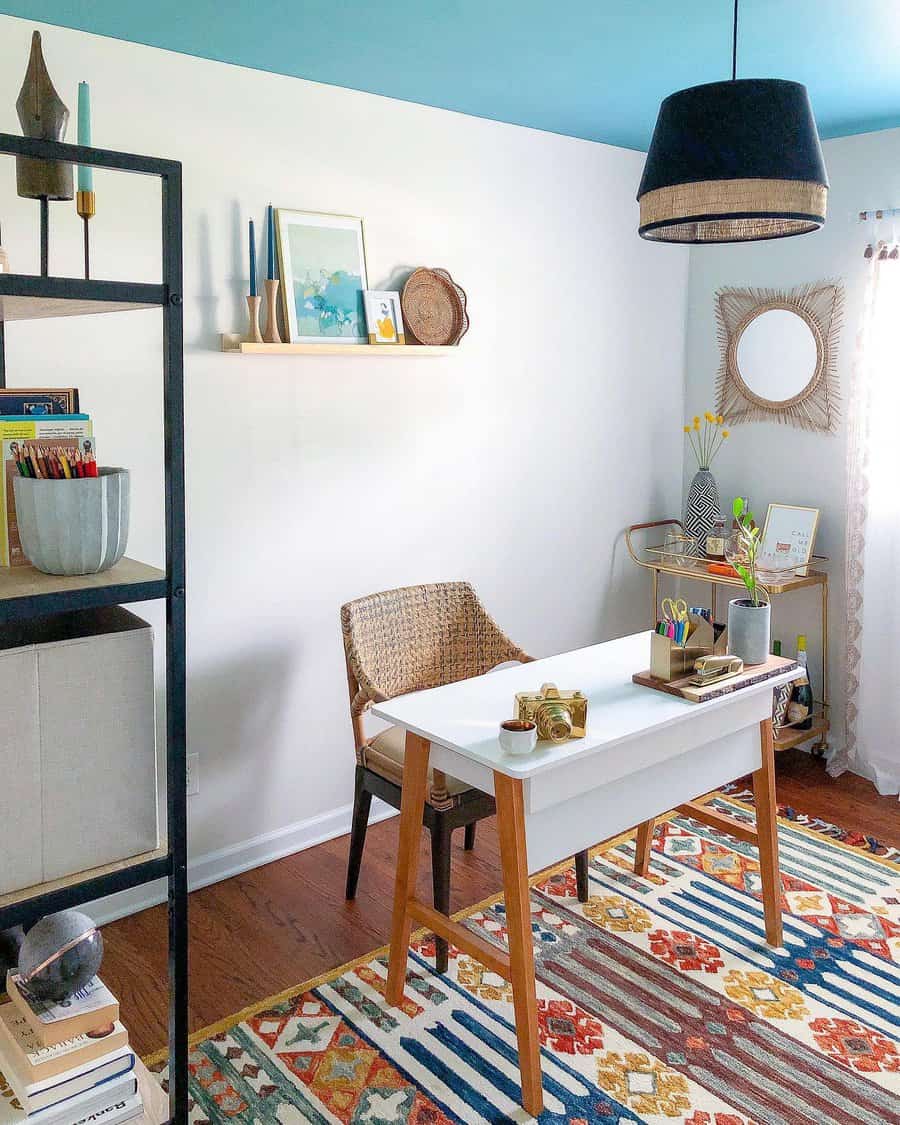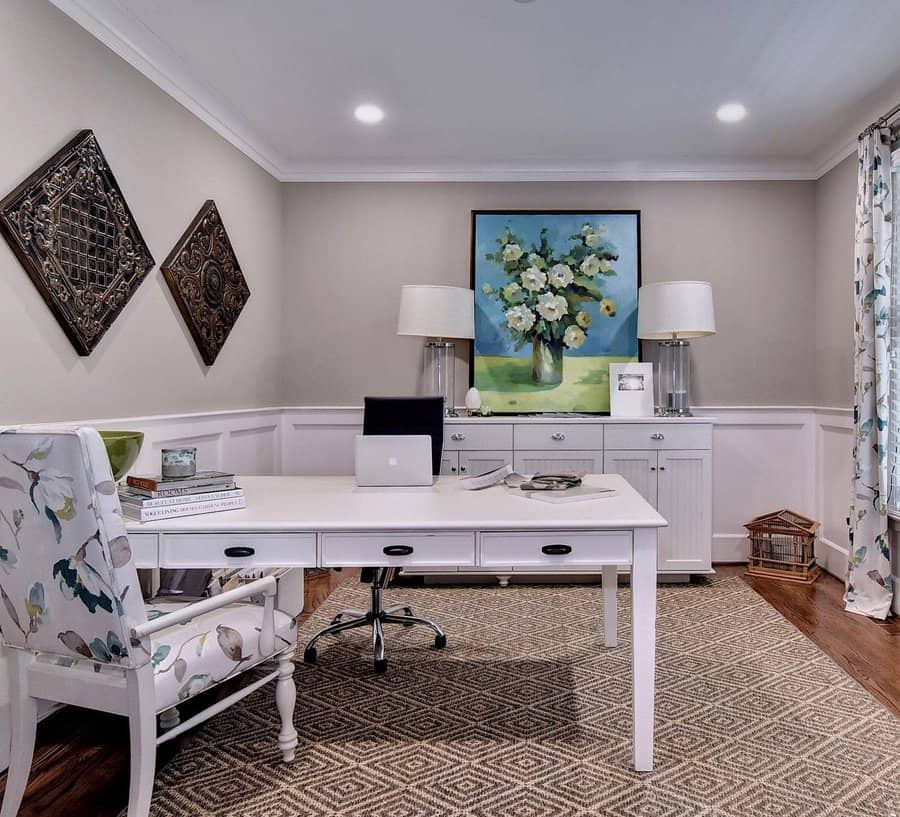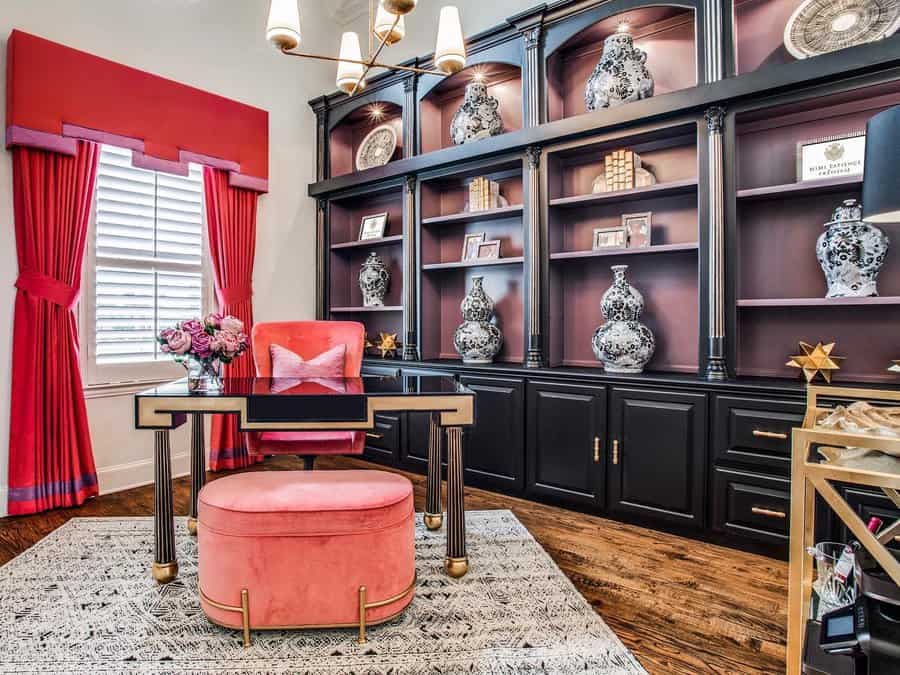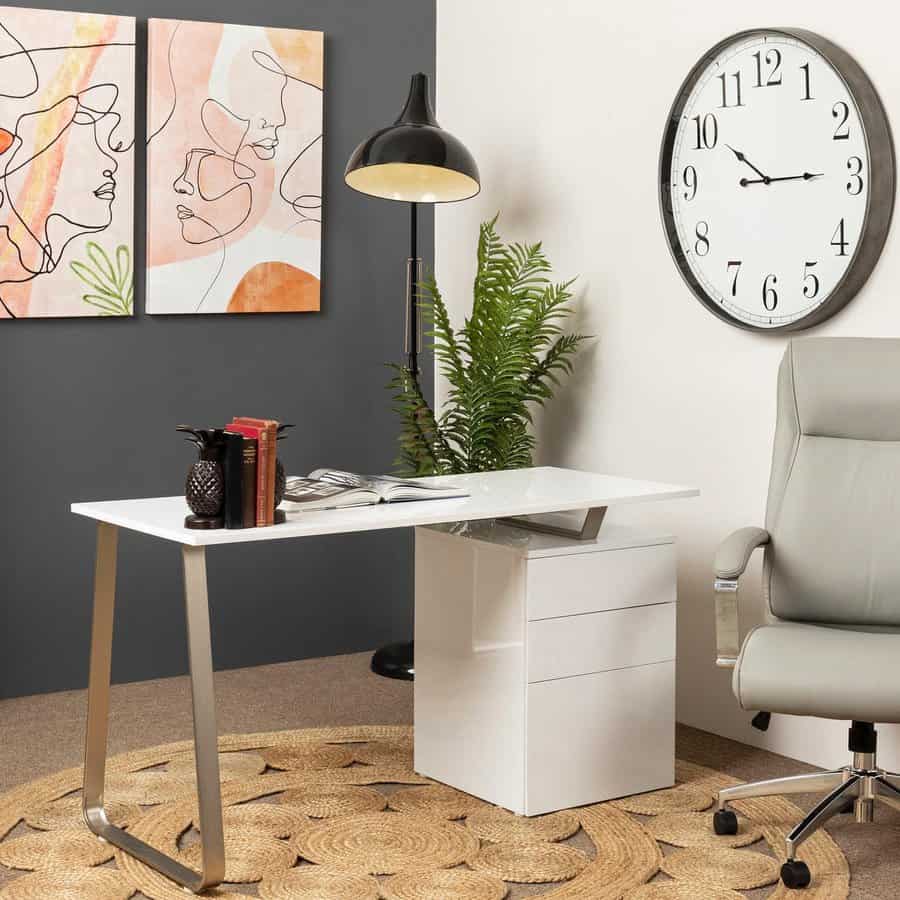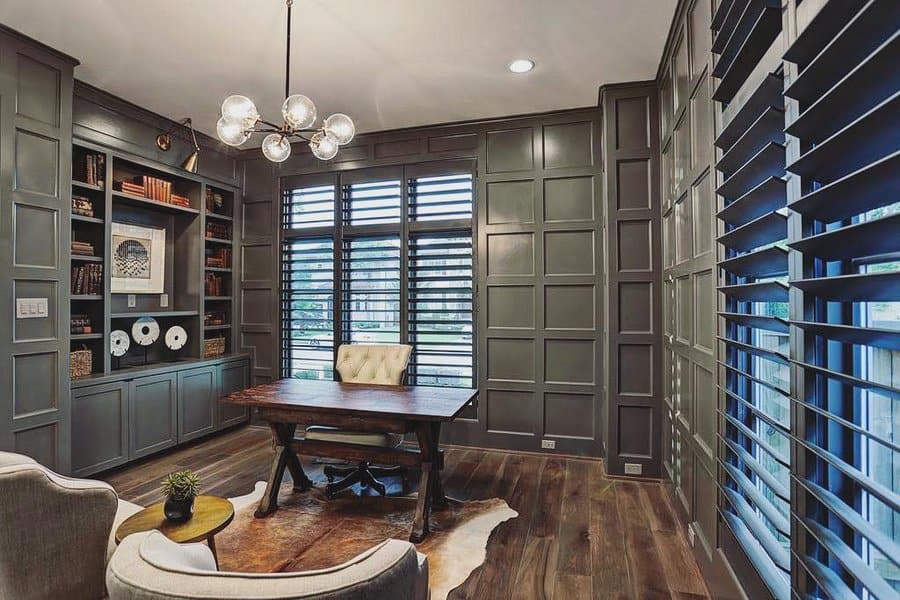 11. Functional Floating Shelves
With their clean lines and minimalist design, floating shelves create a sense of openness and visual appeal. Use them to display your favorite books, decorative items, or a mix of both, allowing you to strike a perfect balance between functionality and aesthetics.
Experiment with different sizes and finishes to match your office theme and personal style. Whether you're showcasing a collection of inspiring books or showcasing curated decor pieces, floating shelves offer a versatile and stylish solution for organizing and enhancing your modern home office.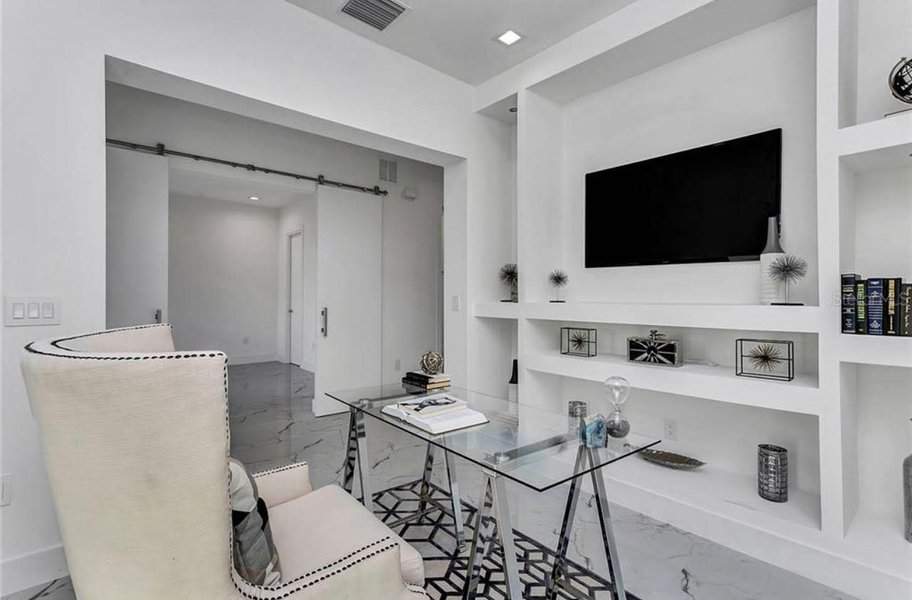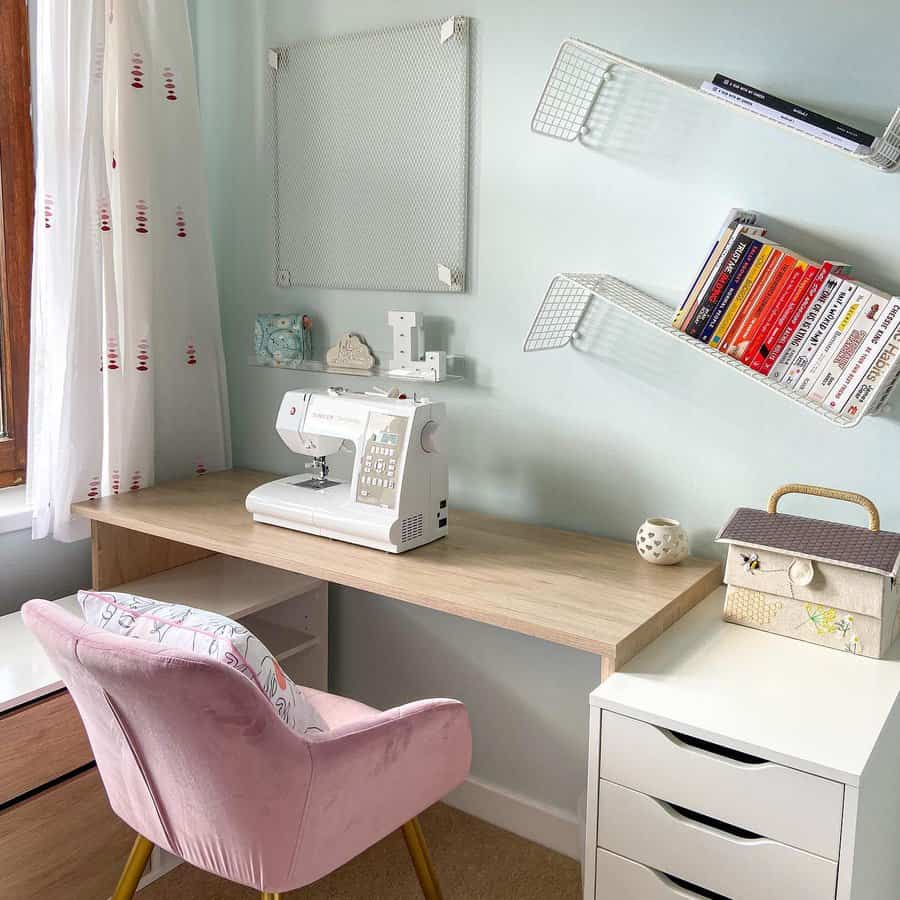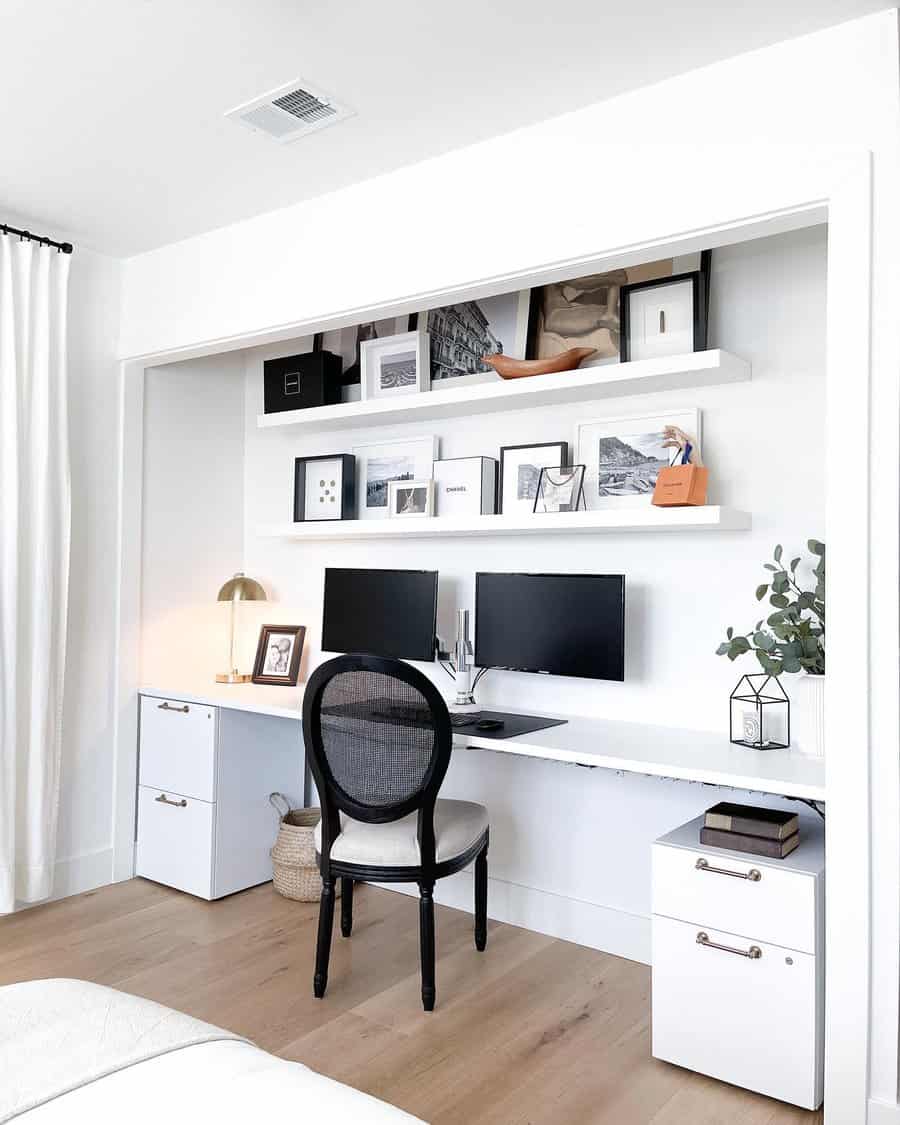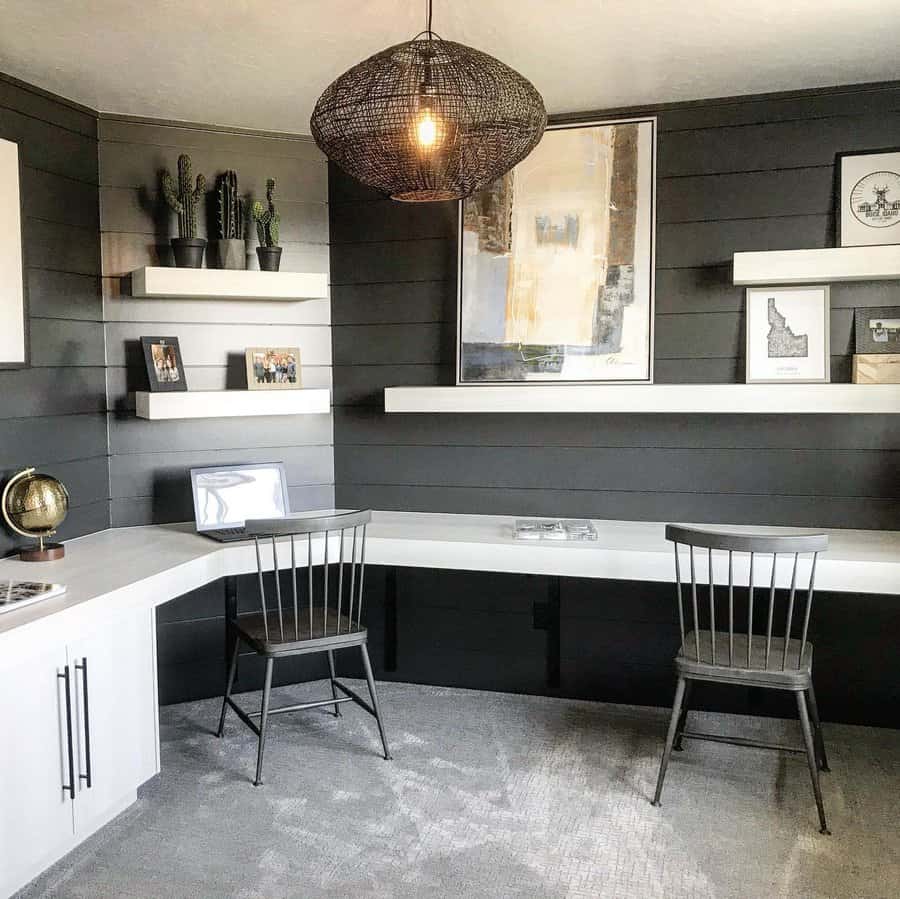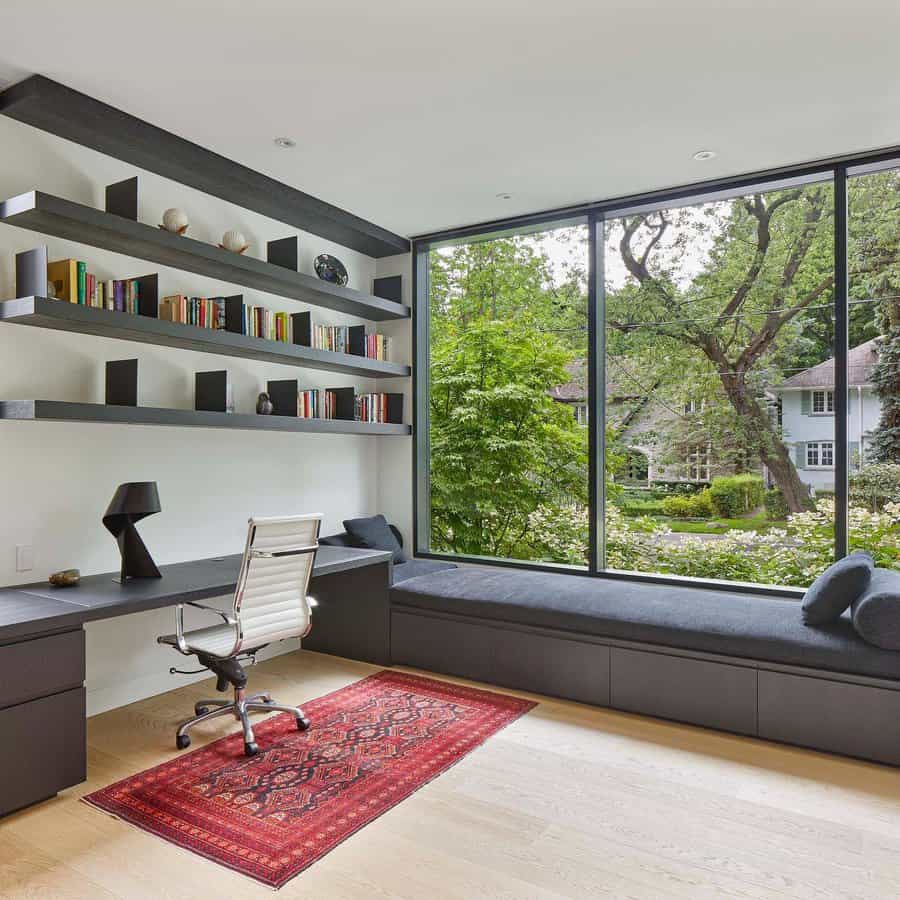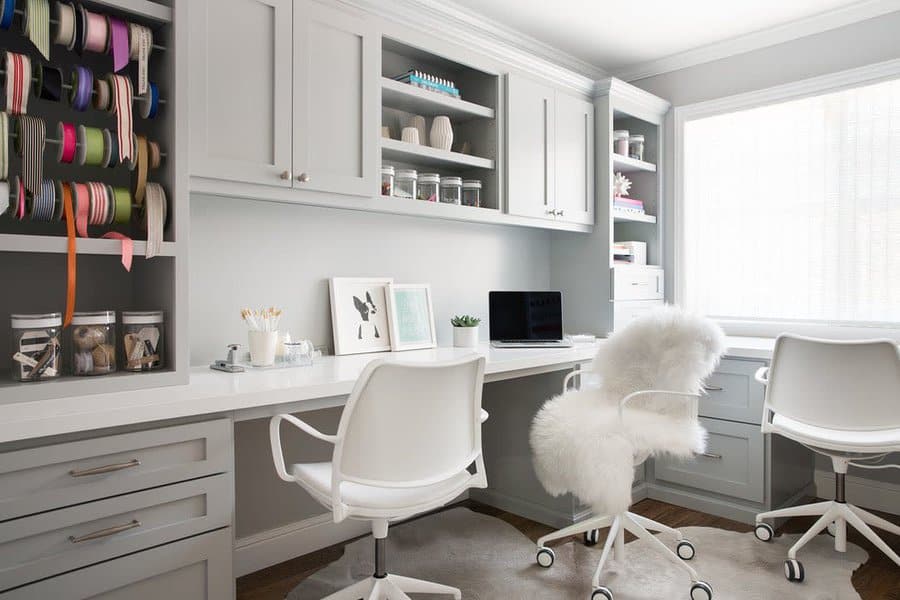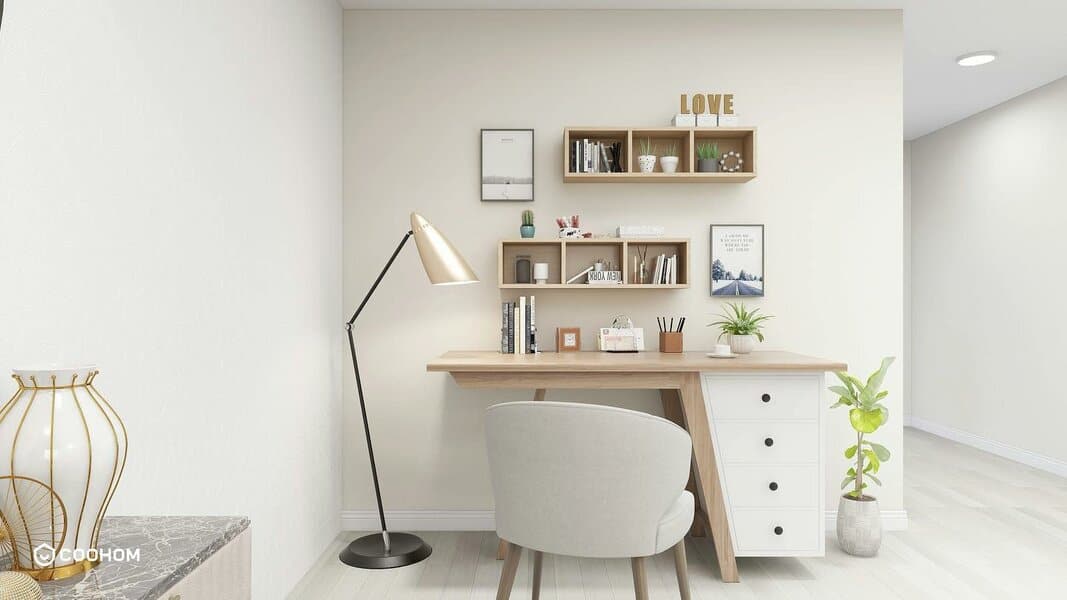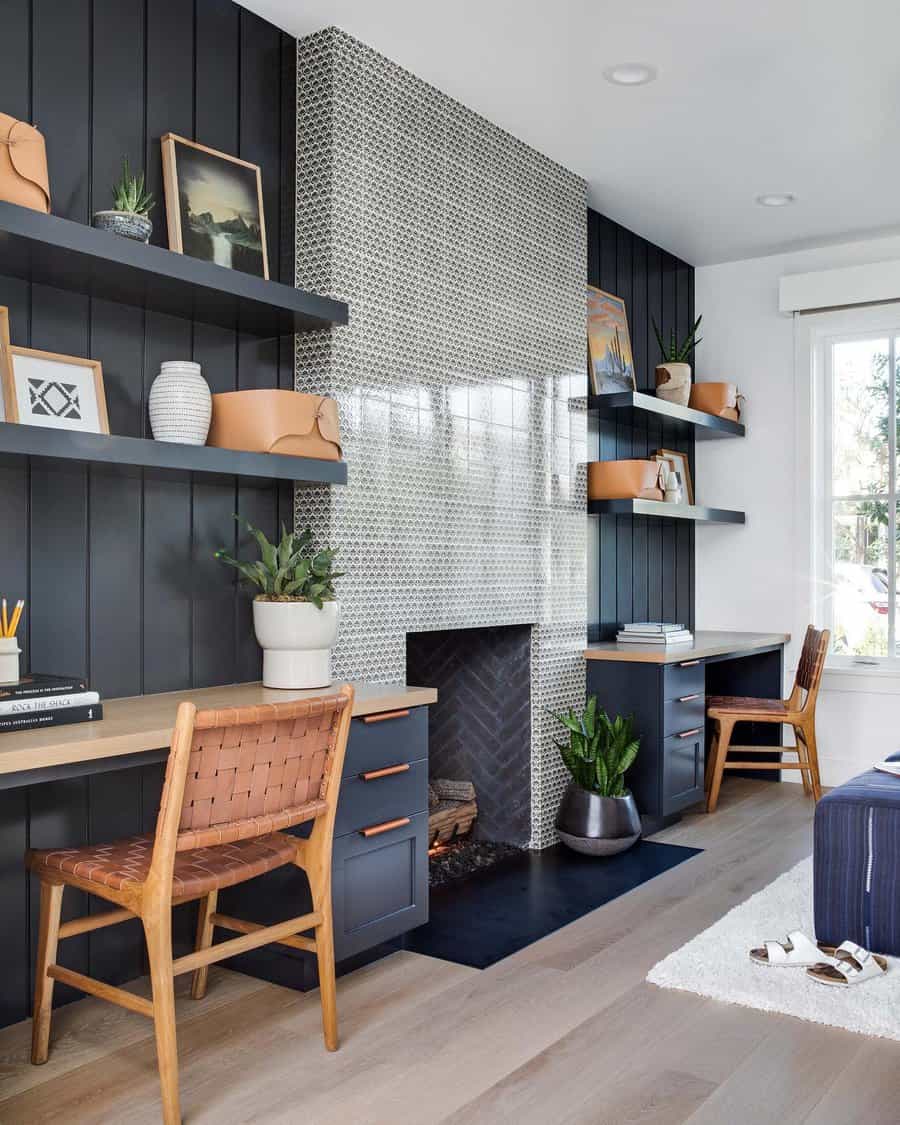 12. Home Co-Working Space
Create a dynamic and collaborative environment by incorporating a home co-working space into your design. Whether you're sharing the space with a partner, or a colleague, or simply need multiple workstations for different tasks, this setup offers a practical and stylish solution. This arrangement allows everyone to have their dedicated area while fostering a sense of unity and productivity.
To enhance functionality, include ample storage solutions such as floating shelves, cabinets, dividers, or drawers to keep your workspace organized and clutter-free. Add vibrant touches with plants, artwork, or decorative accents that inspire creativity and boost your mood.
By creating a modern home office with separate work desks, you'll not only foster productivity but also provide a collaborative environment that encourages teamwork and innovation.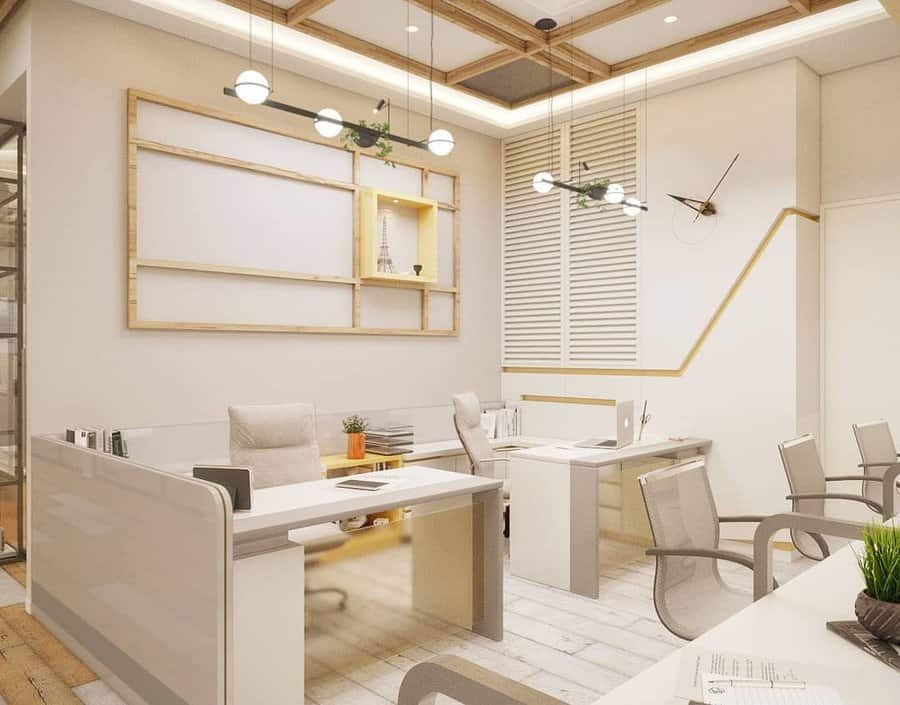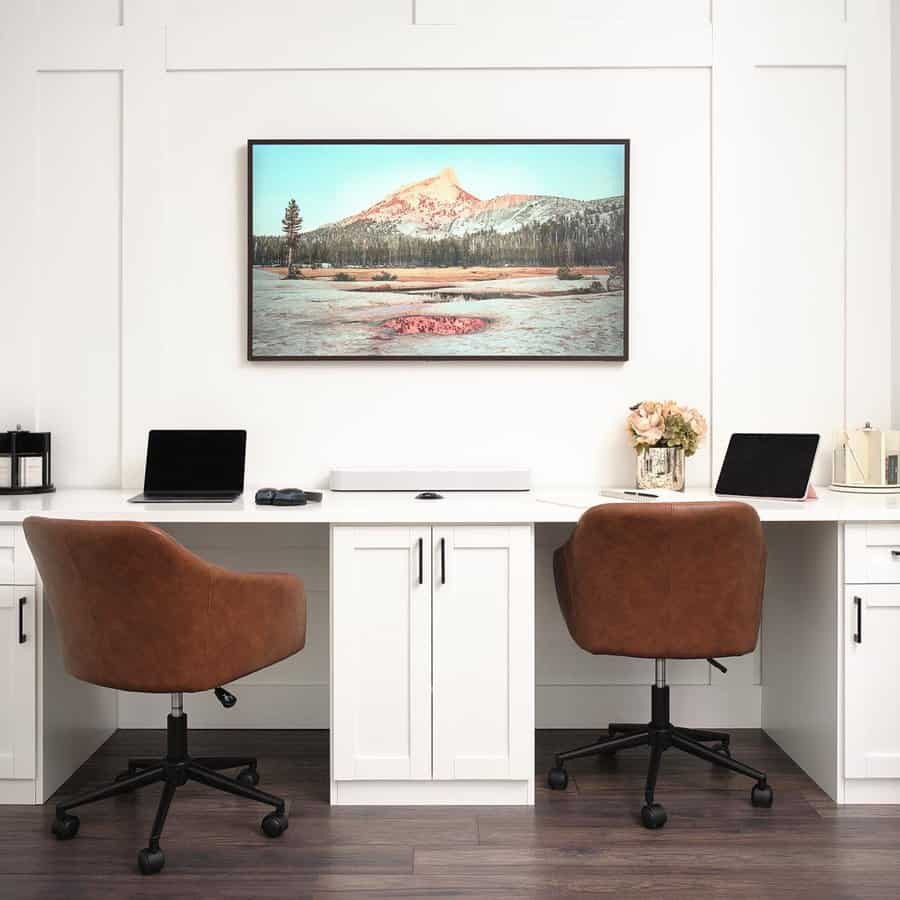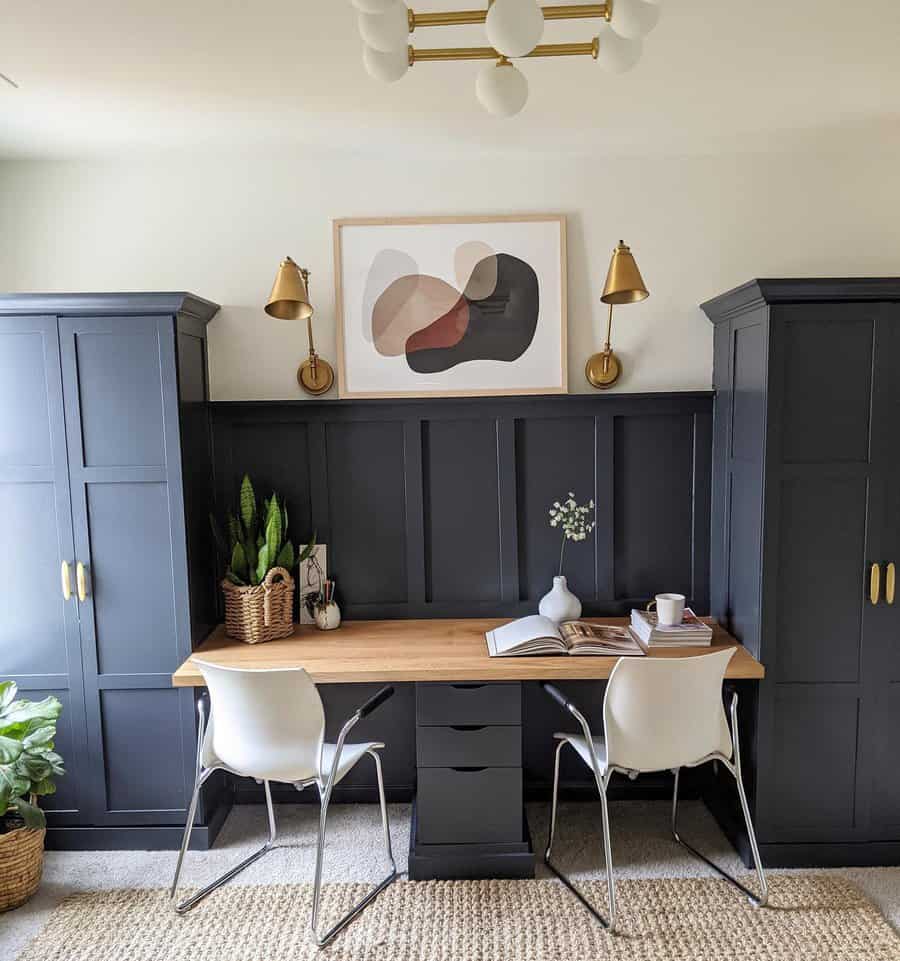 13. Classic Office Bookcase
Incorporating a standalone bookcase into your workspace is not only a practical storage solution but also a chance to showcase your personality. Choose a sleek and contemporary bookcase that complements the overall aesthetic of your office. It should offer ample space for organizing your favorite books, along with dedicated compartments for storing cables, printers, and other essentials.
Embrace the minimalist approach by arranging books and decor items in a curated manner, creating a visually appealing display. Add pops of color through decorative accessories and plants to infuse energy into the space. Keep the surfaces clutter-free, allowing your workspace to remain clean and organized.
Modern home offices are all about clean lines, simplicity, and functionality. Consider incorporating a mix of open and closed shelving units to strike the perfect balance between showcasing your prized possessions and keeping your office neat.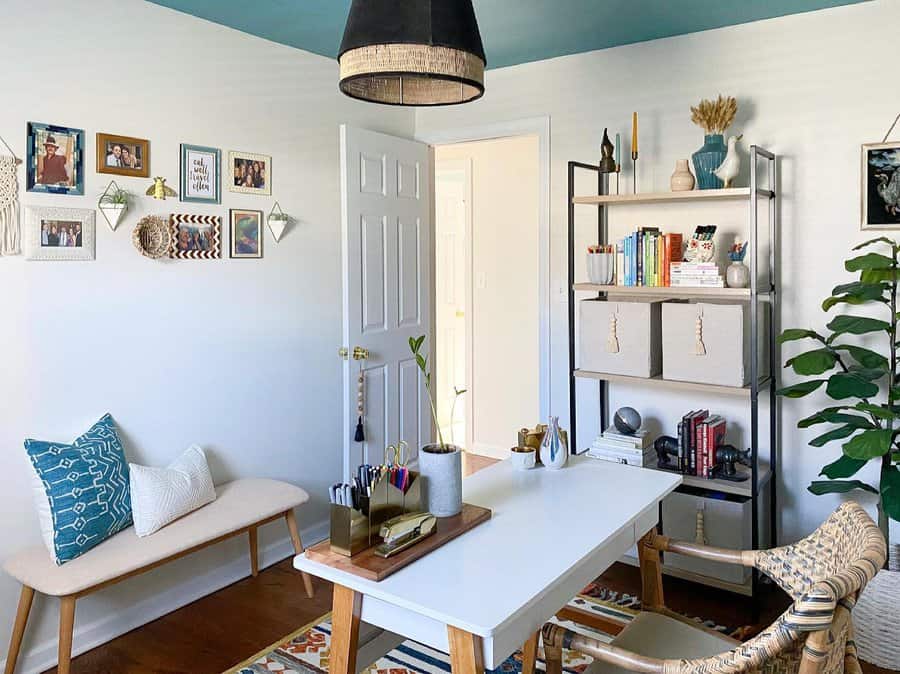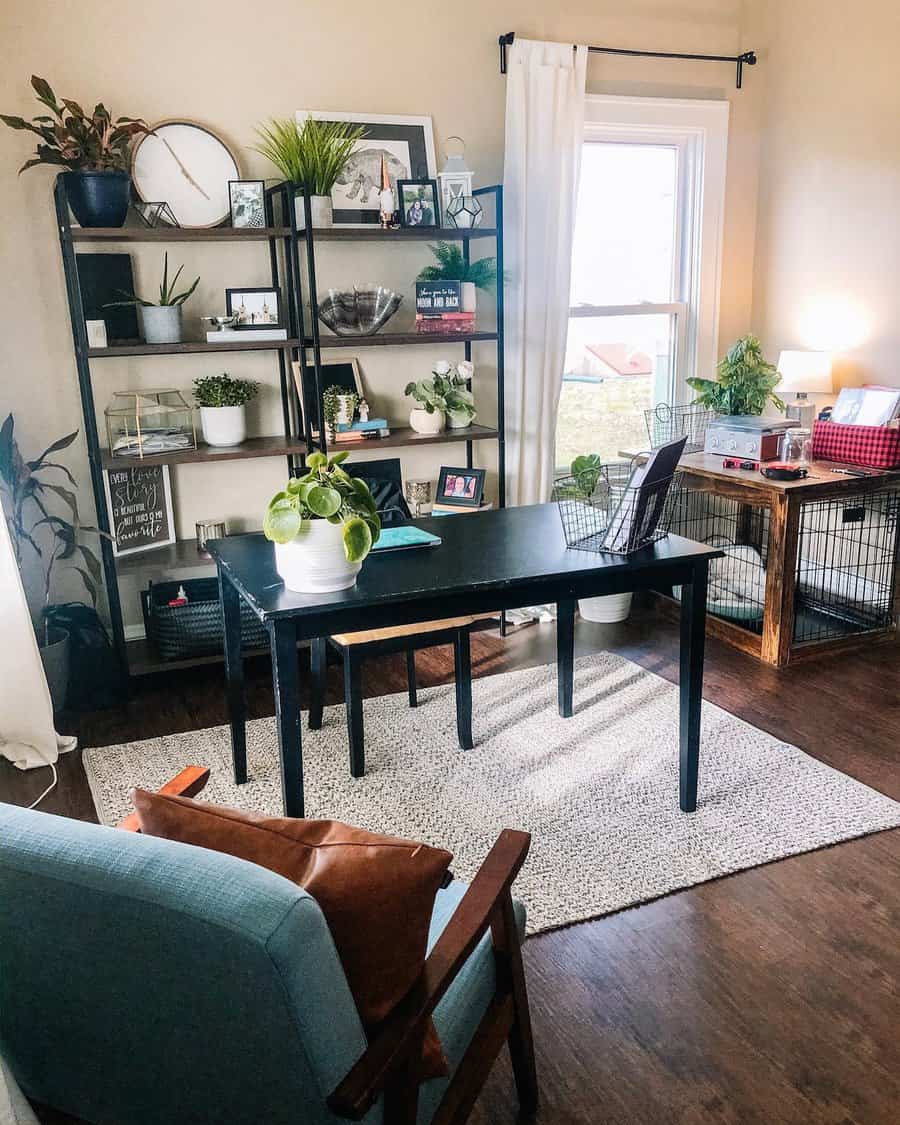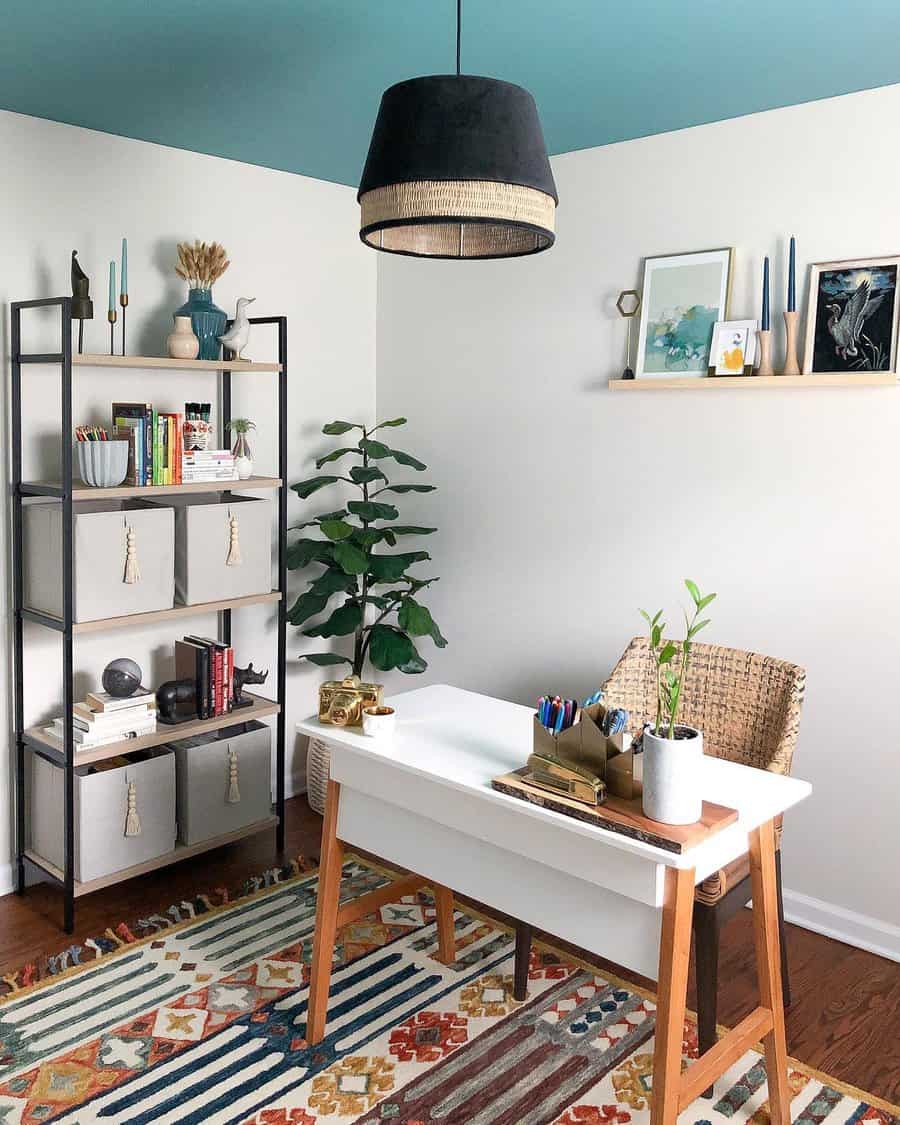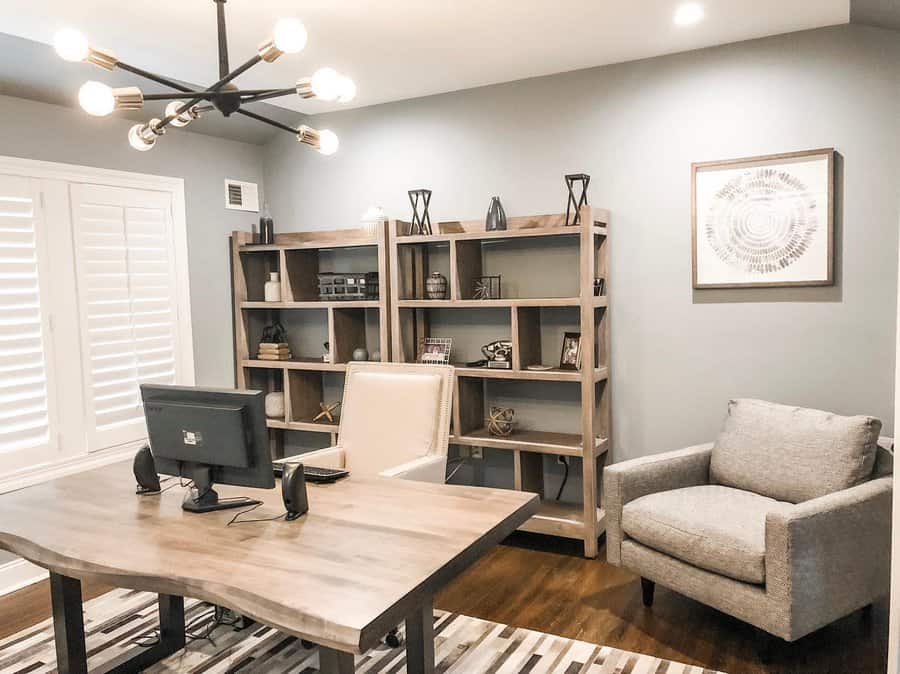 14. L-Shaped Office Desk
An L-shaped modern home office table offers the perfect combination of functionality and style. With ample workspace, it allows you to comfortably accommodate your PC and paperwork, providing a dedicated area for both digital and physical tasks. The L-shaped design maximizes the available surface area, giving you plenty of room to spread out and work efficiently. Choose a table with clean lines and a minimalist aesthetic to create a contemporary look that inspires productivity.
Opt for a sleek finish like glossy white or a rich wood tone to add a touch of sophistication to your workspace. To further enhance the modern vibe, incorporate smart storage solutions such as floating shelves or minimalist filing cabinets to keep your essentials organized and within reach.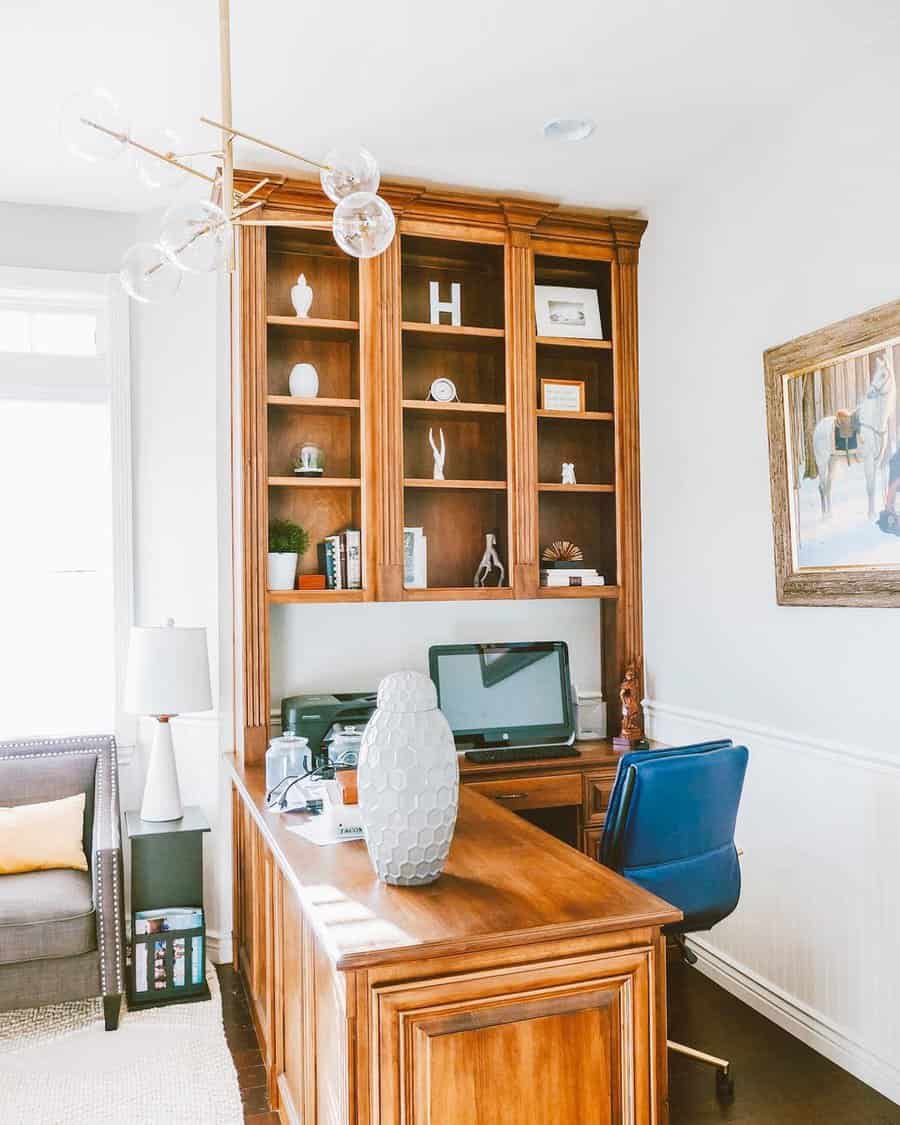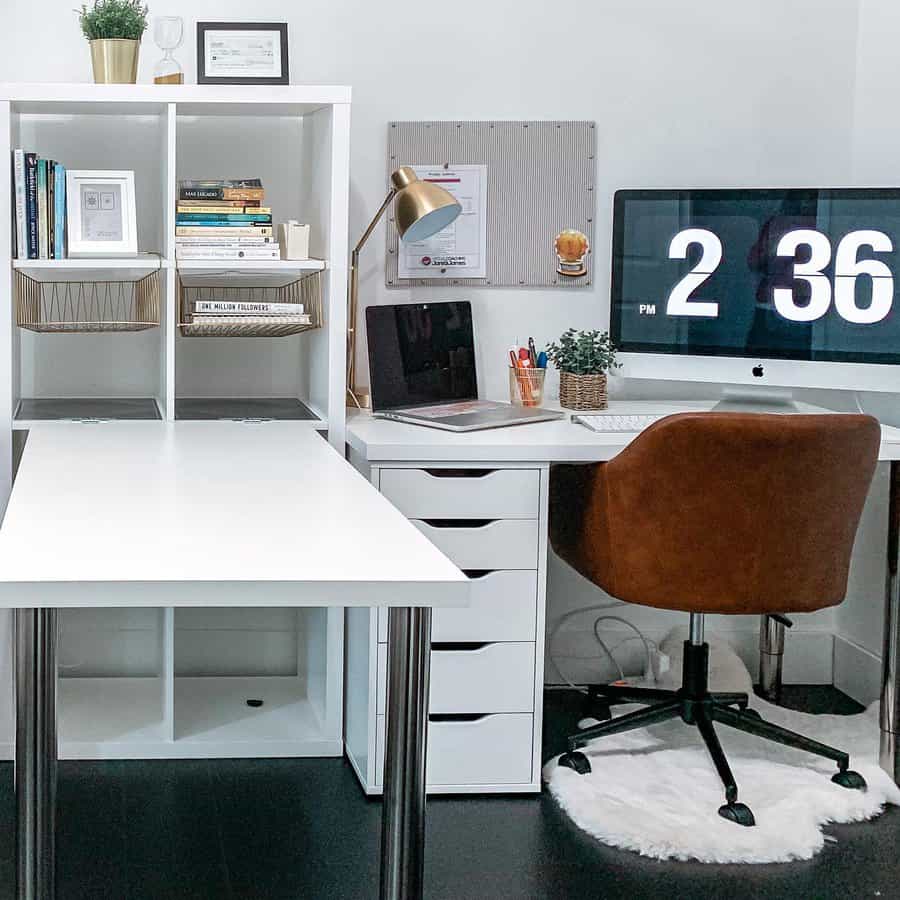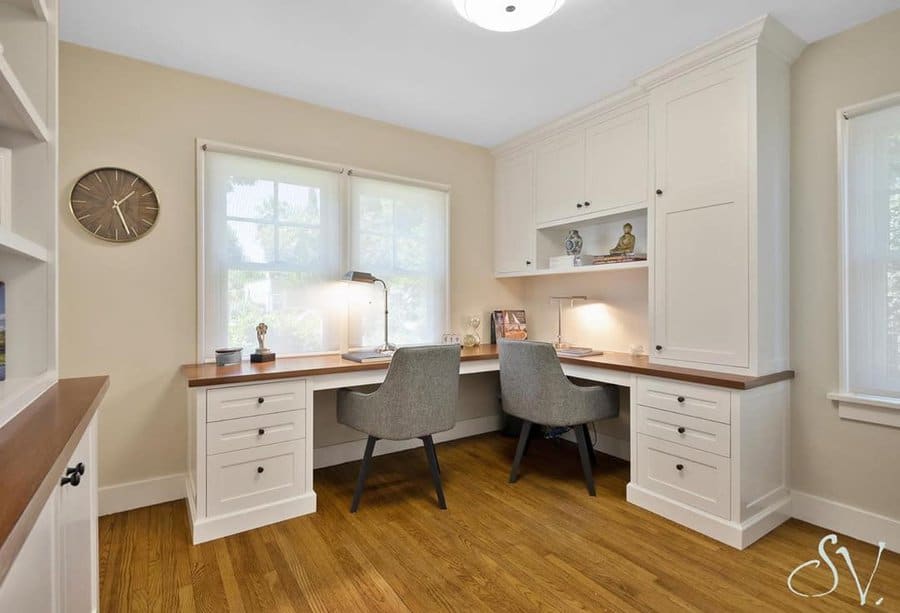 15. Glass Desk or Tabletop
One standout feature is a glass desk countertop, which adds a touch of sophistication to your office setup. The transparent surface not only creates a visually appealing aesthetic but also gives the illusion of a larger space, perfect for smaller home offices. The smooth and reflective nature of the glass adds a modern touch while seamlessly blending with any existing decor.
Pair the glass desk countertop with a minimalist desk frame in metal or wood to create a contemporary look. This combination not only provides a clean and elegant workspace but also allows natural light to flow through, enhancing the overall ambiance of the room.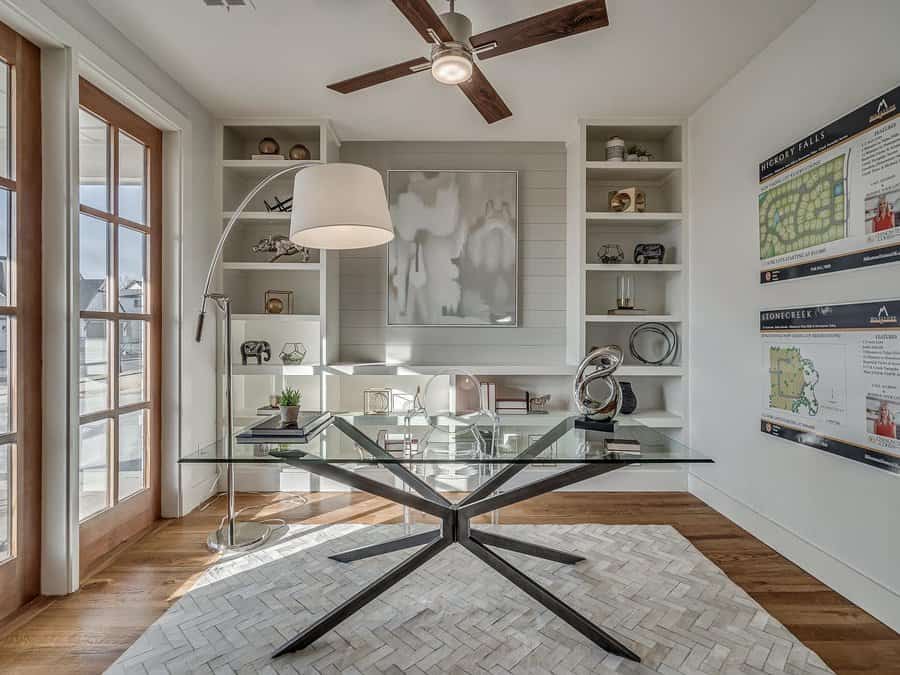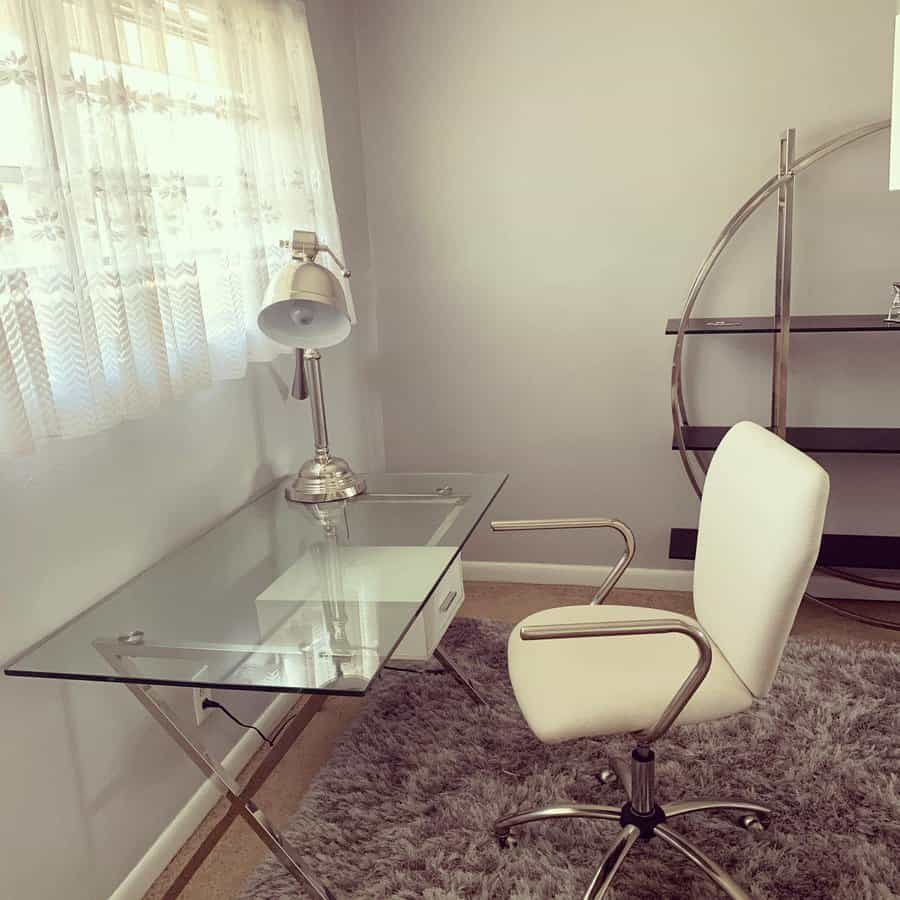 16. Gallery Wall
Create a modern home office that inspires creativity and productivity with the addition of a captivating gallery wall. This contemporary twist on traditional office decor allows you to infuse your workspace with personal touches and meaningful artwork. Incorporate a mix of family pictures, motivational quotes, and vibrant artwork to create a gallery that reflects your unique style and values.
Choose frames that complement your office aesthetic, whether it's sleek and minimalist or bold and eclectic. Arrange the pieces in an eye-catching layout, playing with different sizes and orientations for a dynamic effect. The gallery wall serves as a focal point in your home office, igniting inspiration and sparking joy as you tackle your daily tasks.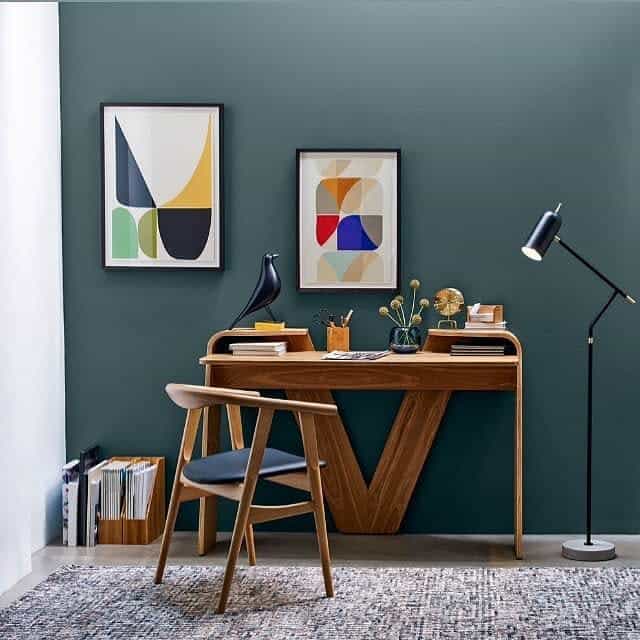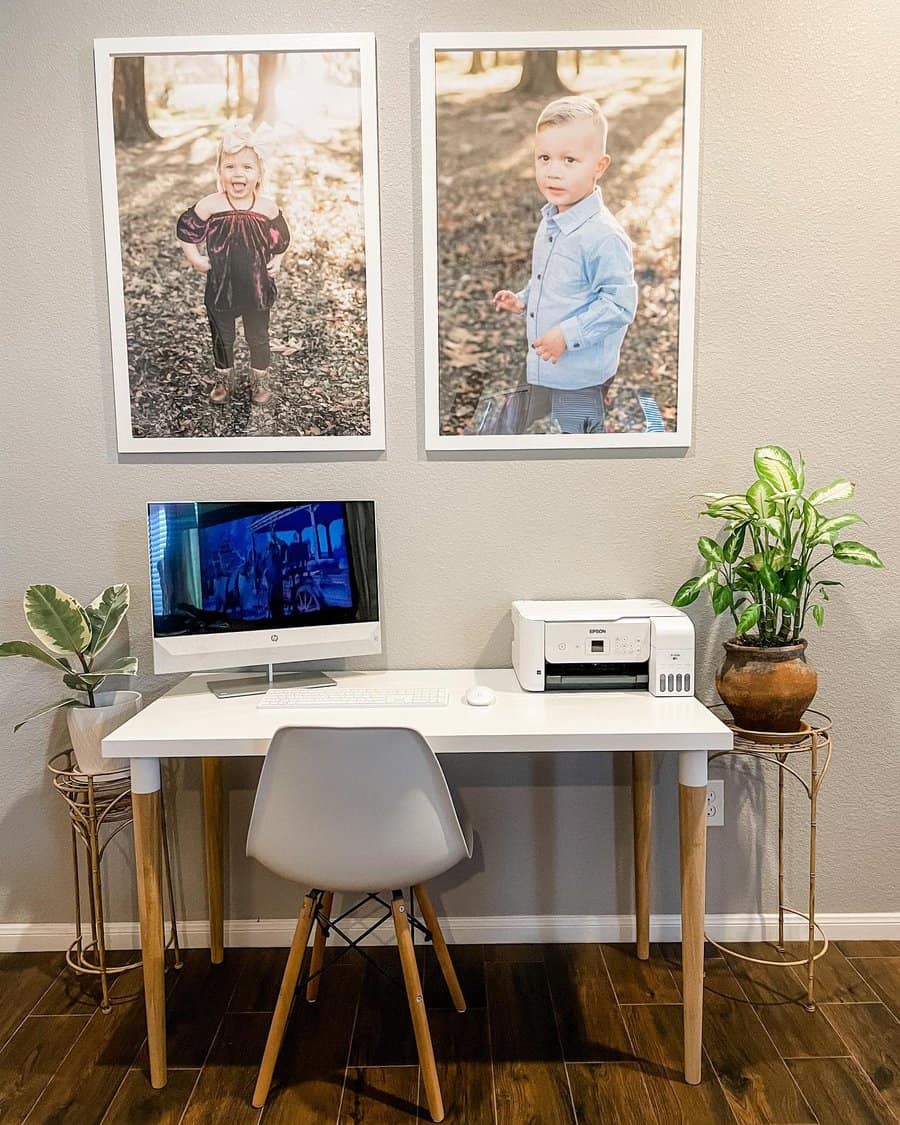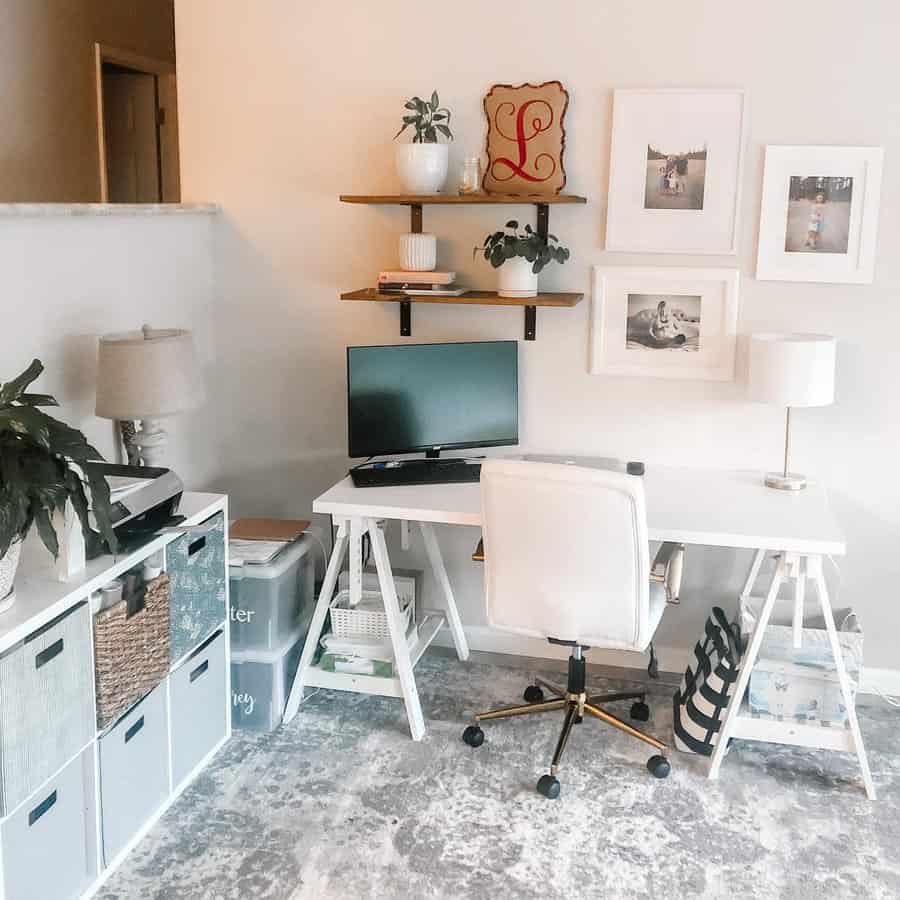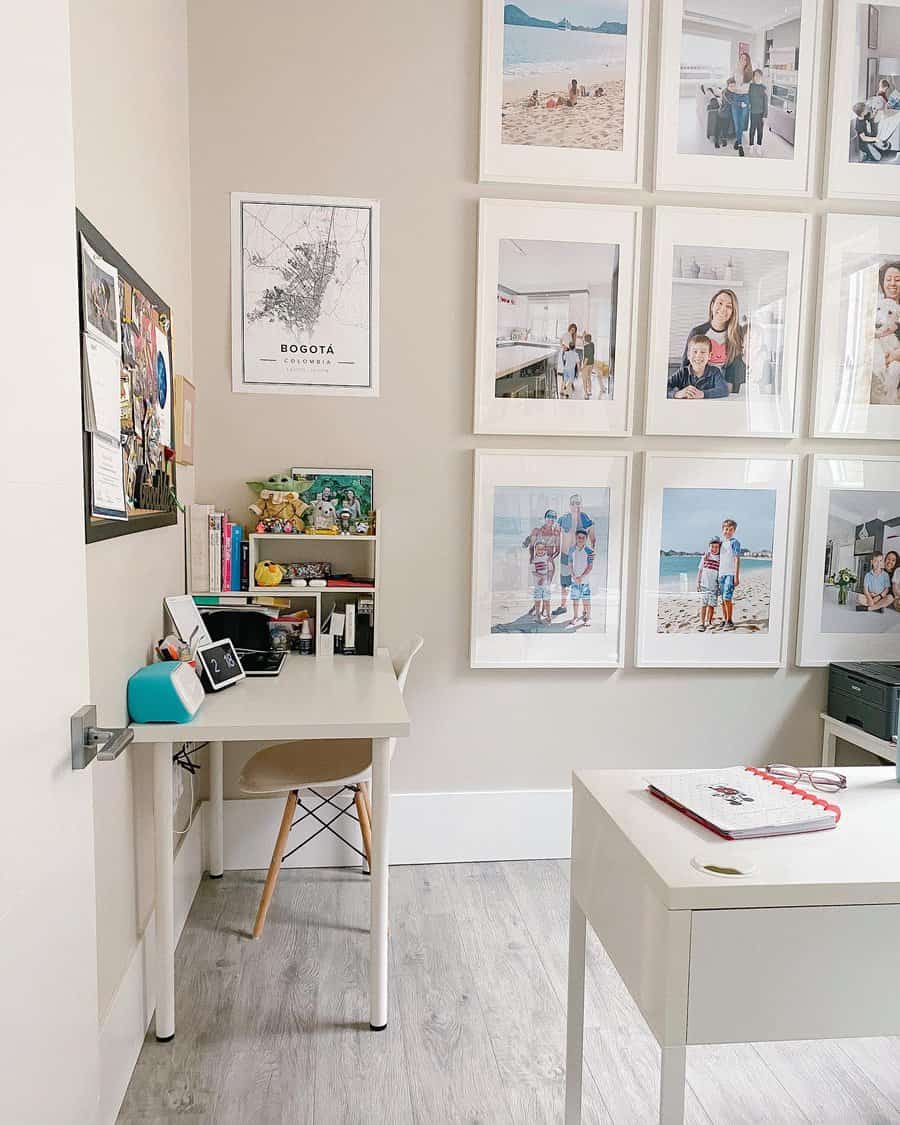 17. Curved Office Desk
Create a modern home office that effortlessly blends style and functionality with a curved office desk. This innovative design not only adds a touch of elegance to your workspace but also prioritizes ergonomics, ensuring a comfortable and productive environment.
The curved shape of the desk allows for a seamless workflow, providing easy access to your computer and other essentials without straining your body. It promotes a natural flow and encourages better posture, making those long hours at the desk a breeze.
Embrace the sleek and minimalist aesthetic of a curved office desk, complementing it with clean lines and contemporary decor.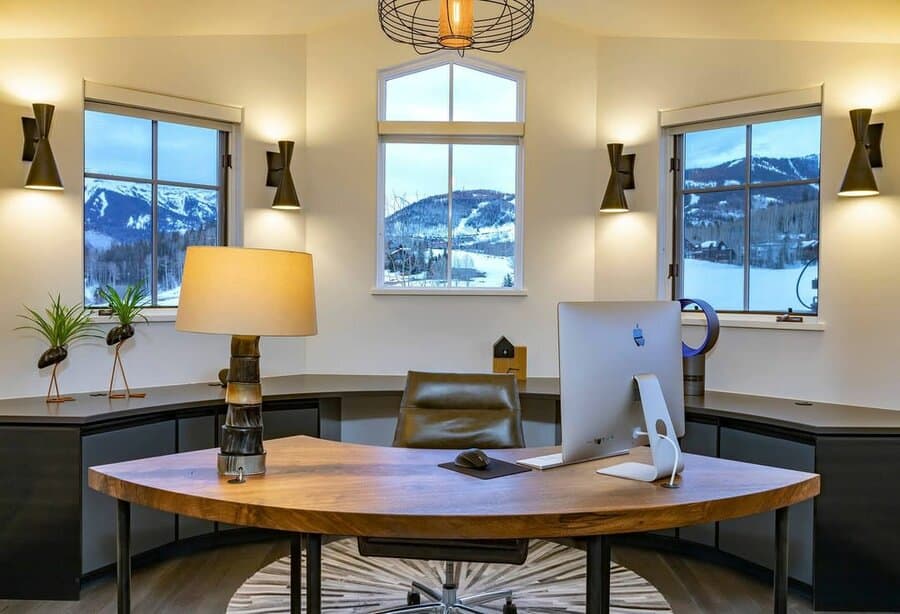 18. White Home Office
Create a modern home office that is both sleek and inviting with a white color palette and stylish wood accents. Embracing the simplicity and elegance of white, this design concept offers a clean and refreshing atmosphere for maximum productivity. Opt for white furniture pieces such as a minimalist desk and comfortable chair, providing a clean and organized workspace.
Pair these with white walls to create an open and airy feel, allowing your mind to stay focused and inspired. To add warmth and texture, incorporate wood accents, like woven baskets and wooden tabletop stands, throughout the space.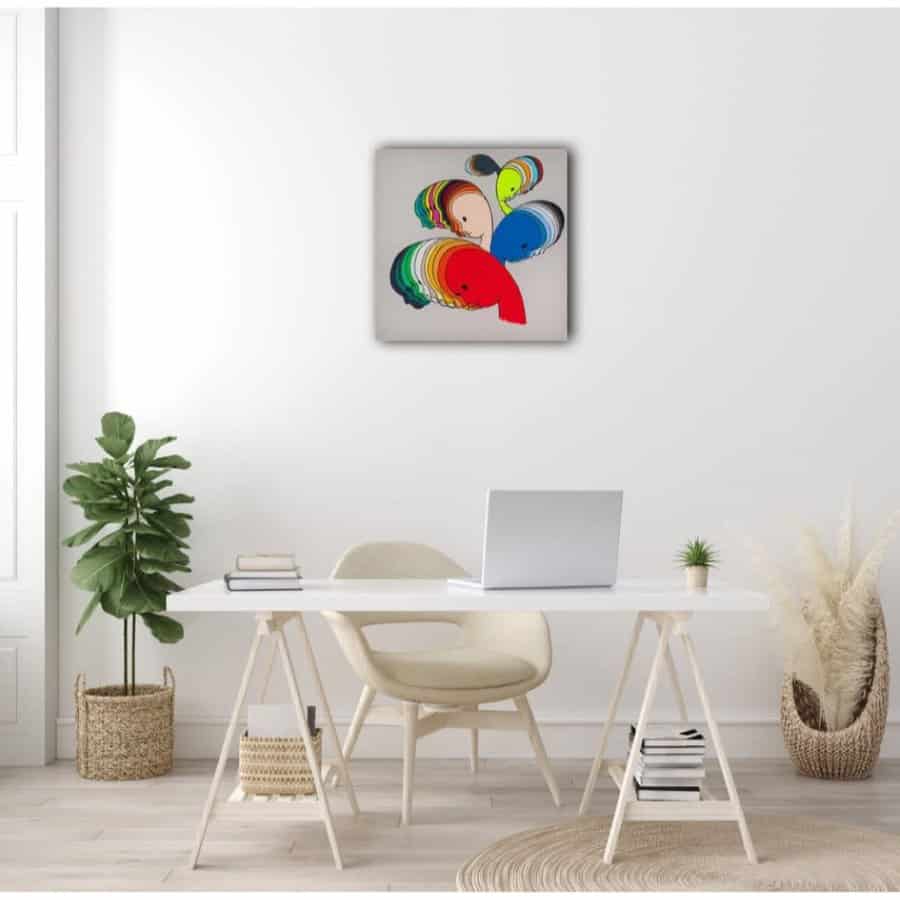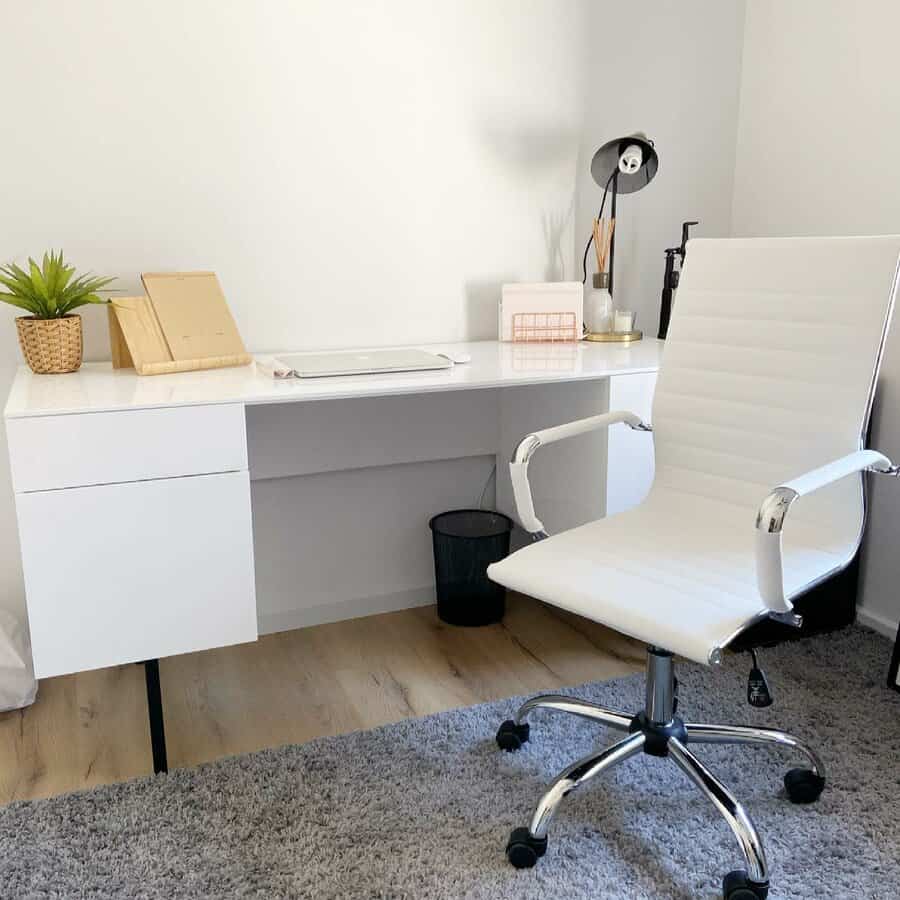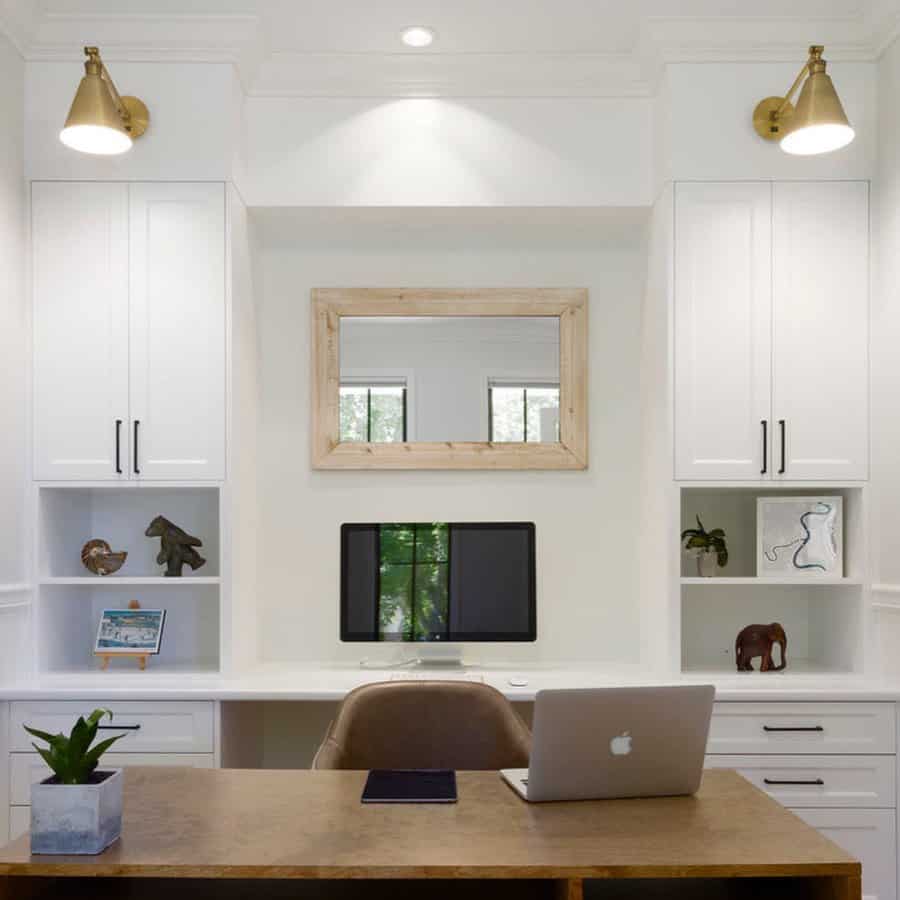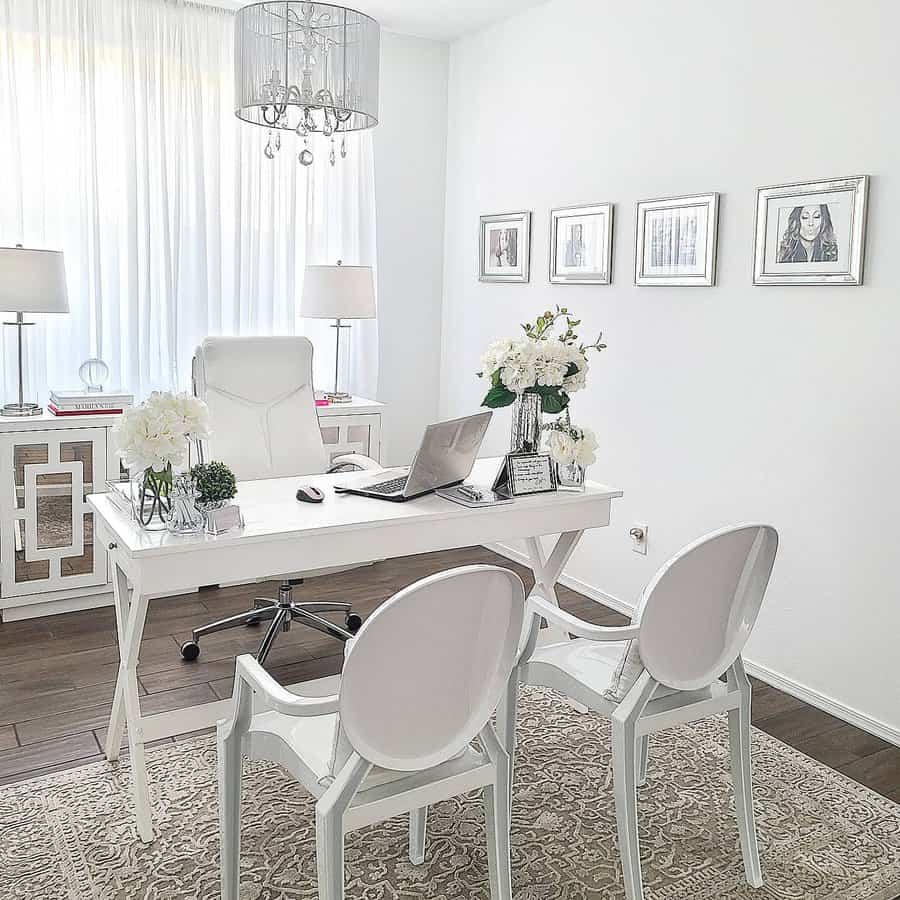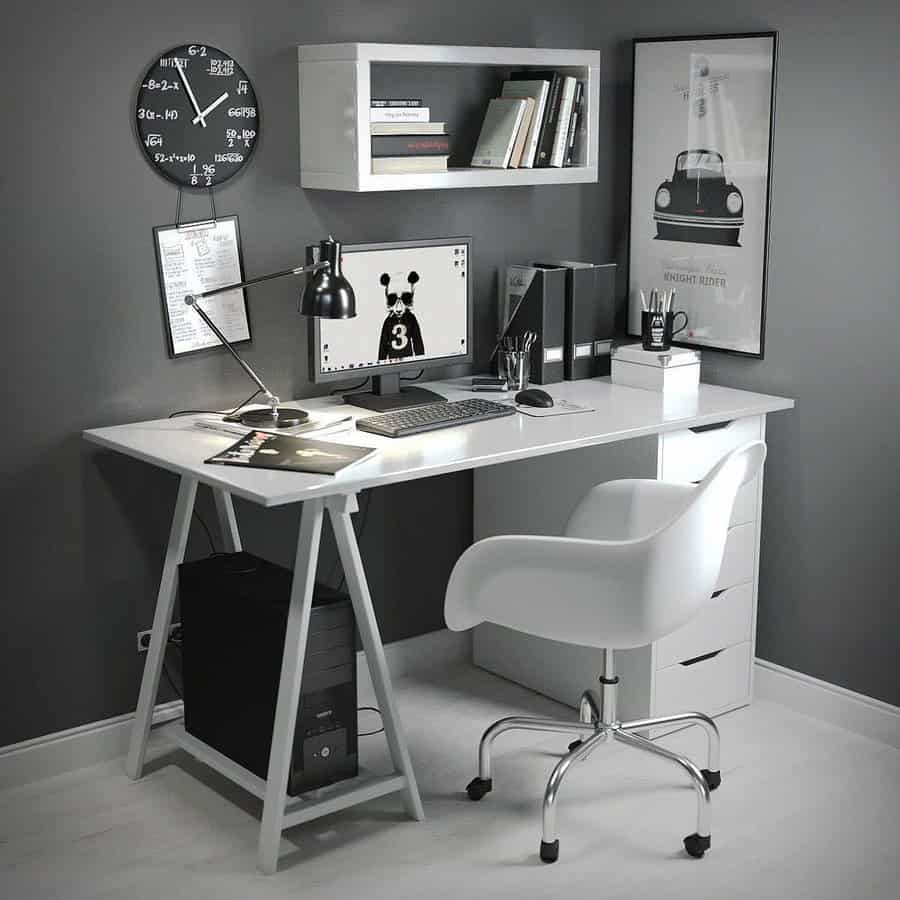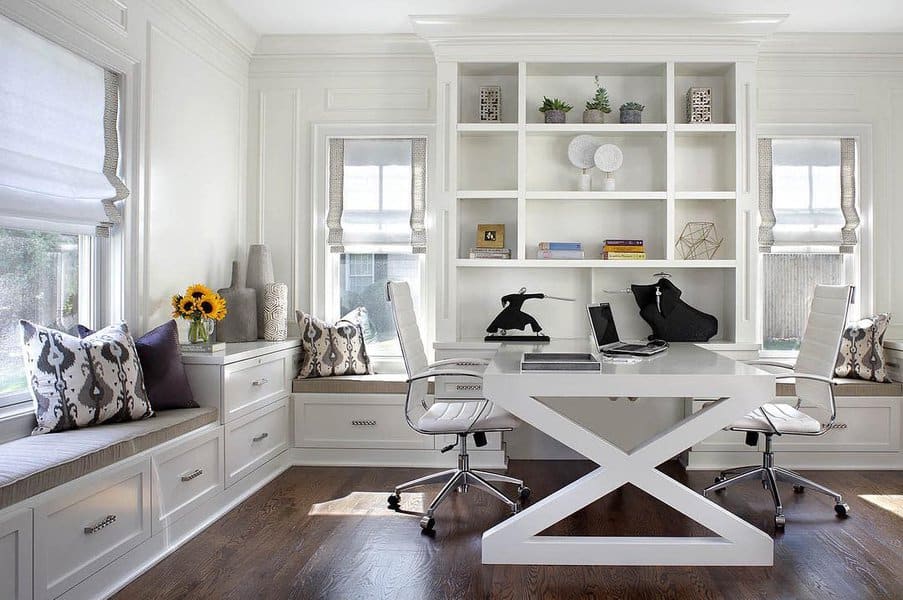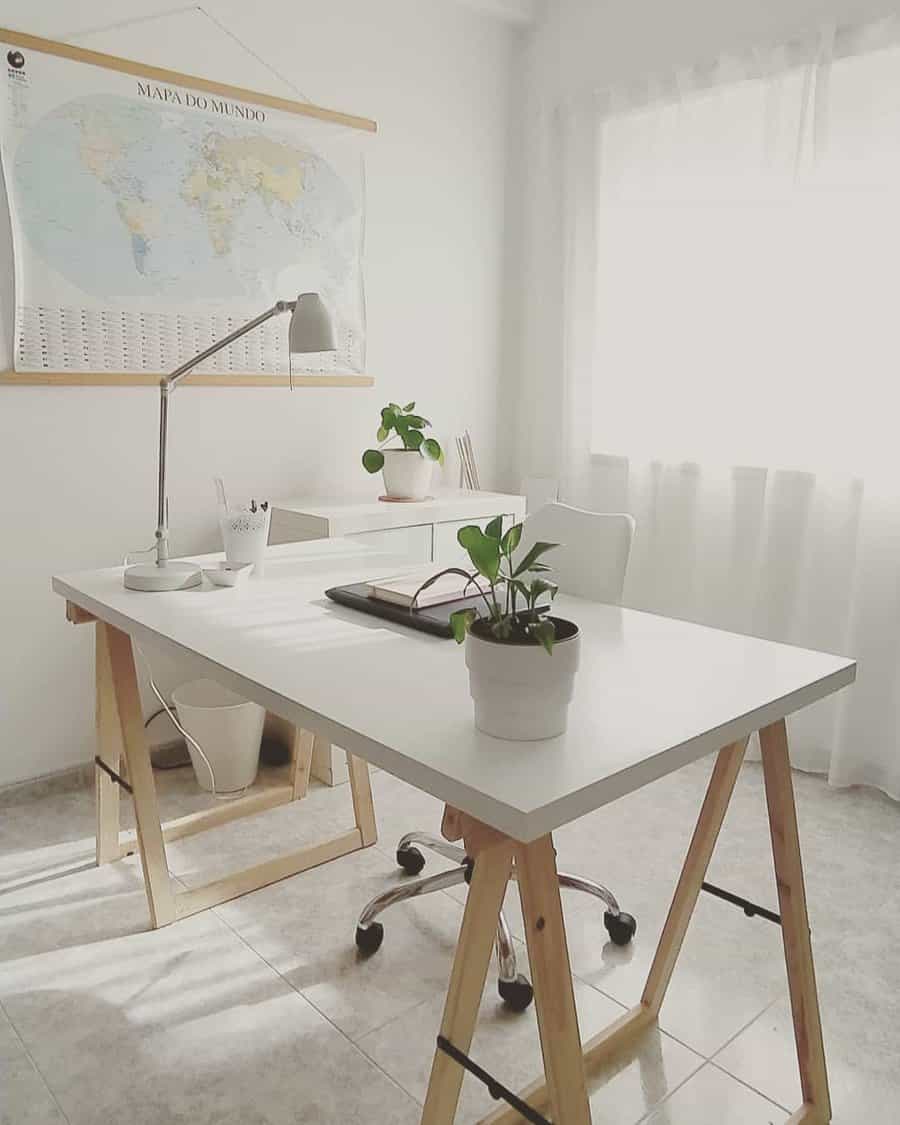 19. Office Loft
Make the most of your vertical space by utilizing the area near the staircase railings. Install a sleek and stylish desk that seamlessly integrates with the surrounding architecture. This innovative setup not only adds functionality but also brings a unique and contemporary touch to your home office. The office loft provides a dedicated workspace that is separate from the rest of your living area, allowing you to focus and concentrate on your tasks.
The proximity to the staircase railings creates an open and airy atmosphere, making your home office feel more spacious and connected to the rest of the house. Customize the desk with storage solutions such as shelves or drawers to keep your essentials organized and within reach.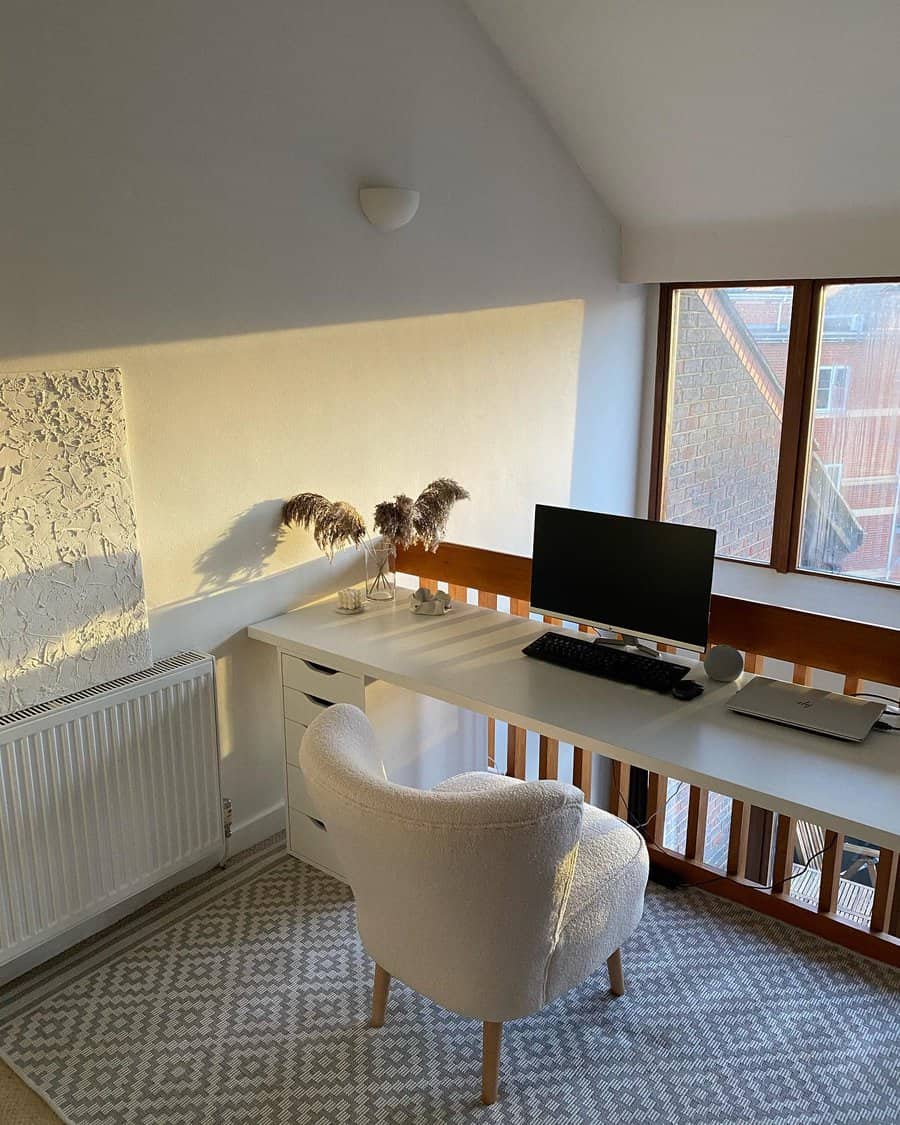 Modern Home Office FAQs
What is the best lighting for a home office?
Proper lighting is crucial to productivity as well as your home office design overall. Installing the wrong type of lighting in your office space could lead to eye strain, headaches, and other problems.
Avoid direct lighting as much as possible. Utilize the room's natural light throughout the day. Supplement the space with soft indirect lighting in the form of a wall fixture or floor lamp. Keep a desk lamp on hand for detailed tasks.
Can a home office be written off on taxes?
Maybe. But you shouldn't bank on using your new home office space to save money on your annual taxes.
Previously, at least in the United States, most workers were able to apply their home workspace as a tax deduction. However, the tax laws have recently changed to exclude those working for a traditional employer — even if they are 100% remote.
Other countries also offer tax deductions related to working from home but these laws vary greatly by location.
No matter your employment situation or geographical location, the best way to learn if your home office qualifies as a tax deduction is to speak to a local professional!