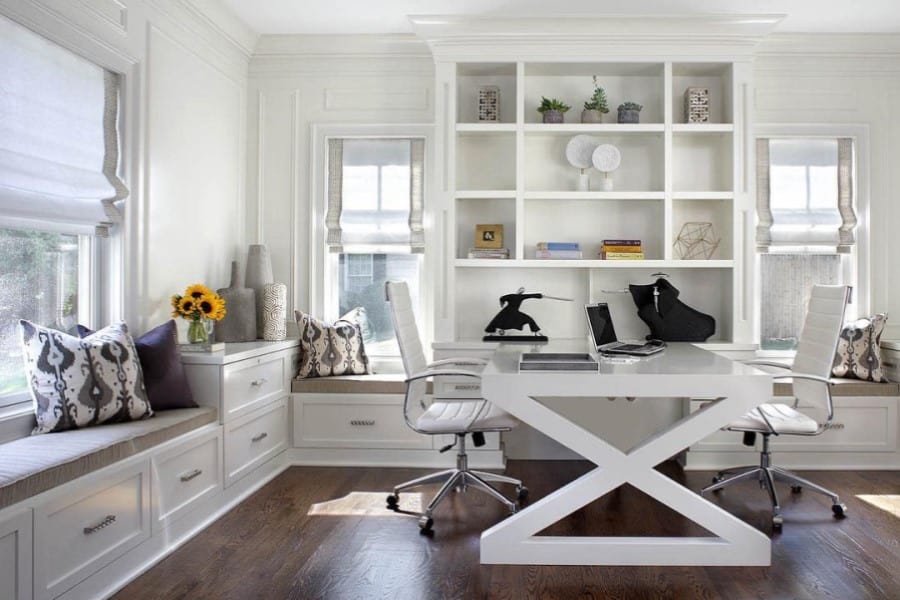 The Top 71 Modern Home Office Ideas
Many of us do our best work enveloped in a stylish environment. There's nothing wrong with this! But it does mean prioritizing your home office design is more crucial to productivity than you might realize.
Modern decor offers a clean, professional look that is perfect for creating an aesthetically pleasing workspace. And with so many branches of modern design to choose from, it's easy to find a home office style that suits your career and personality.
Keep reading for our favorite modern home office ideas that will have you looking forward to the start of each workday!
1. Basement
Not everyone is fortunate enough to have a spare bedroom ready to convert into a home office. If your main living space is at capacity, then the basement is likely your best option.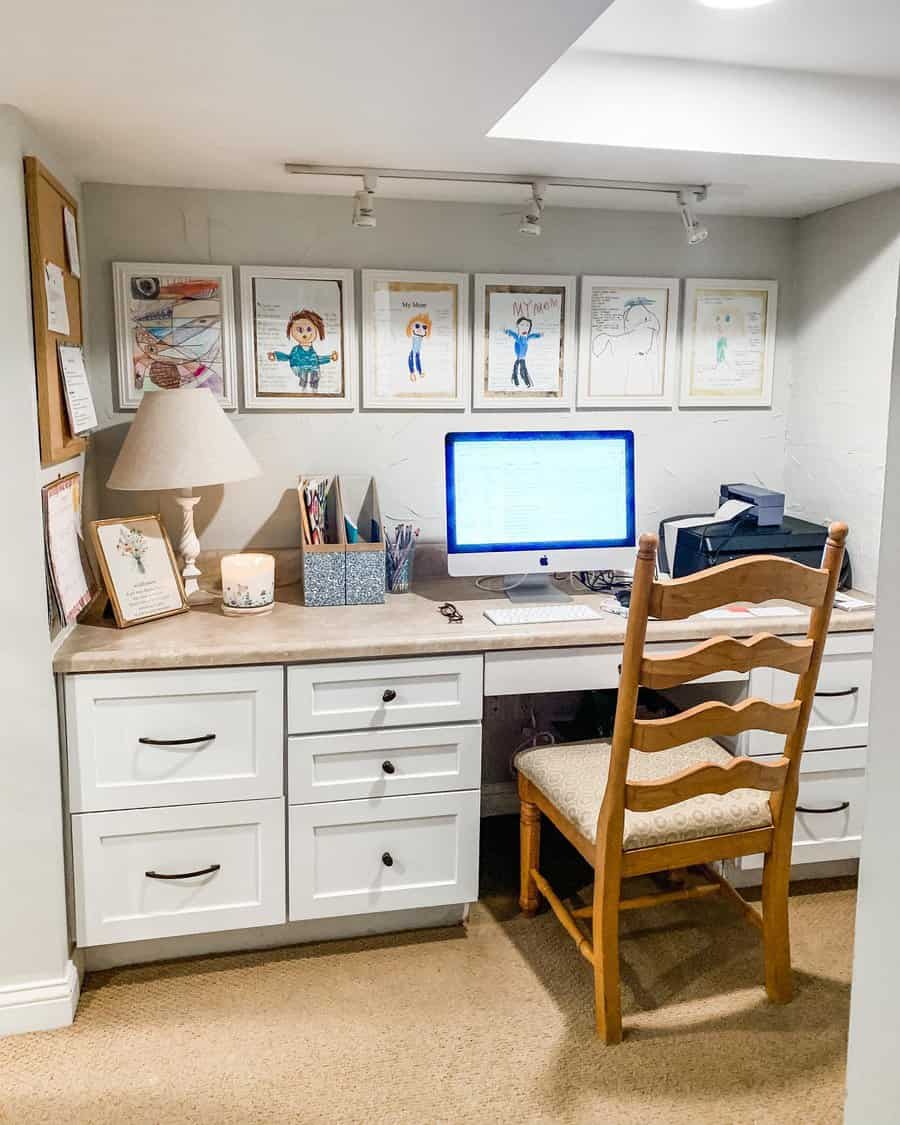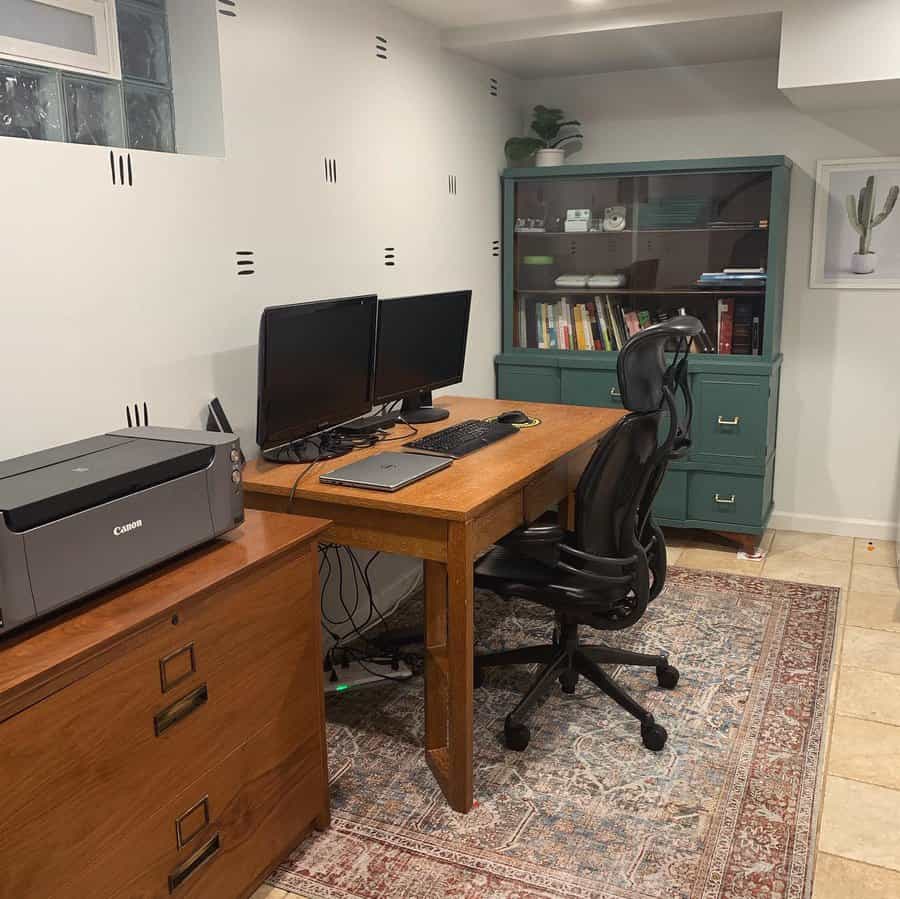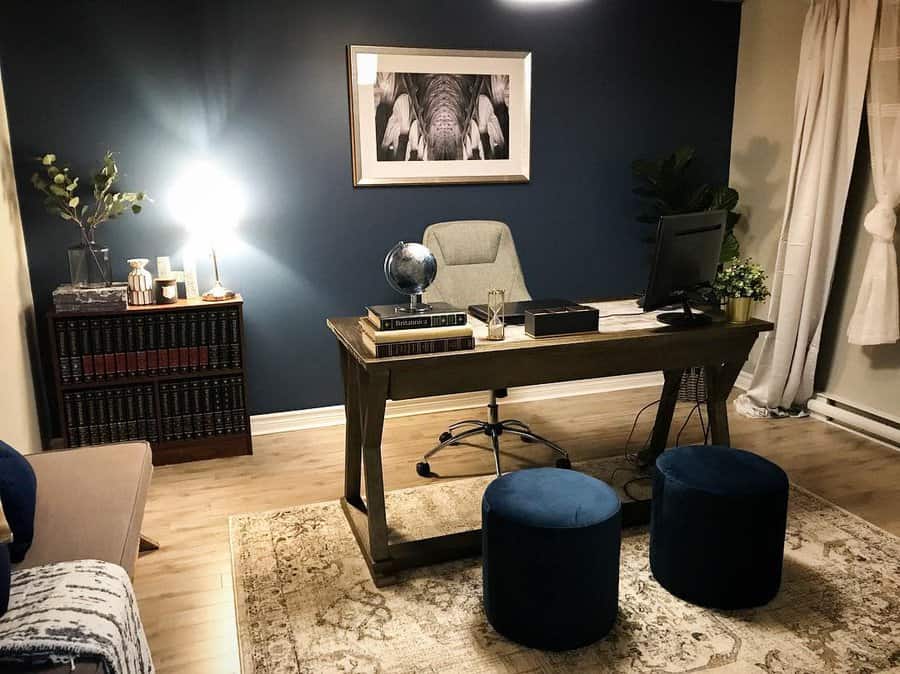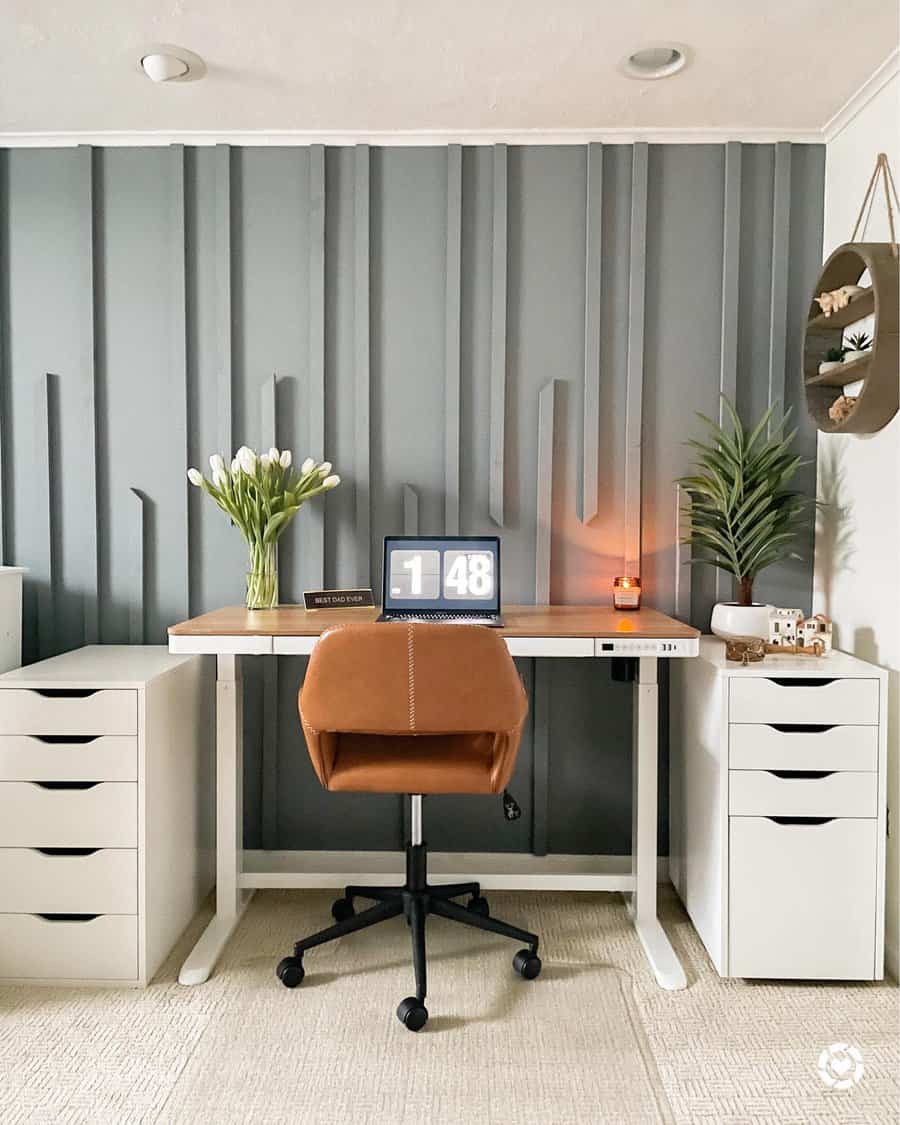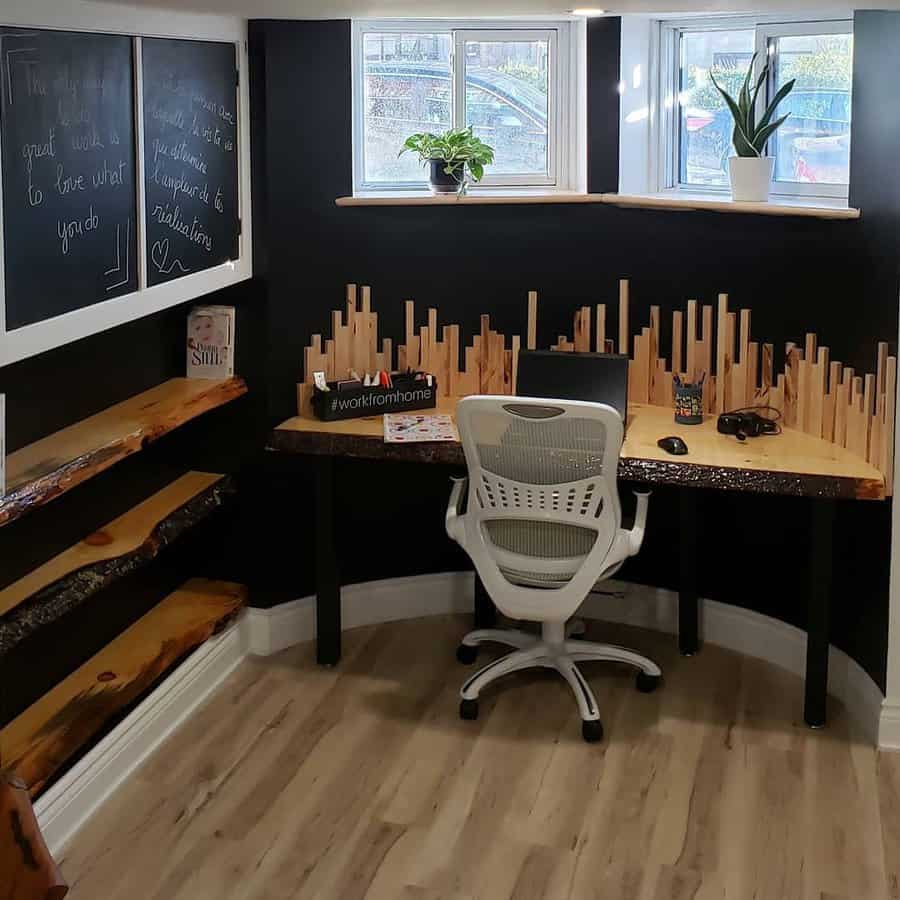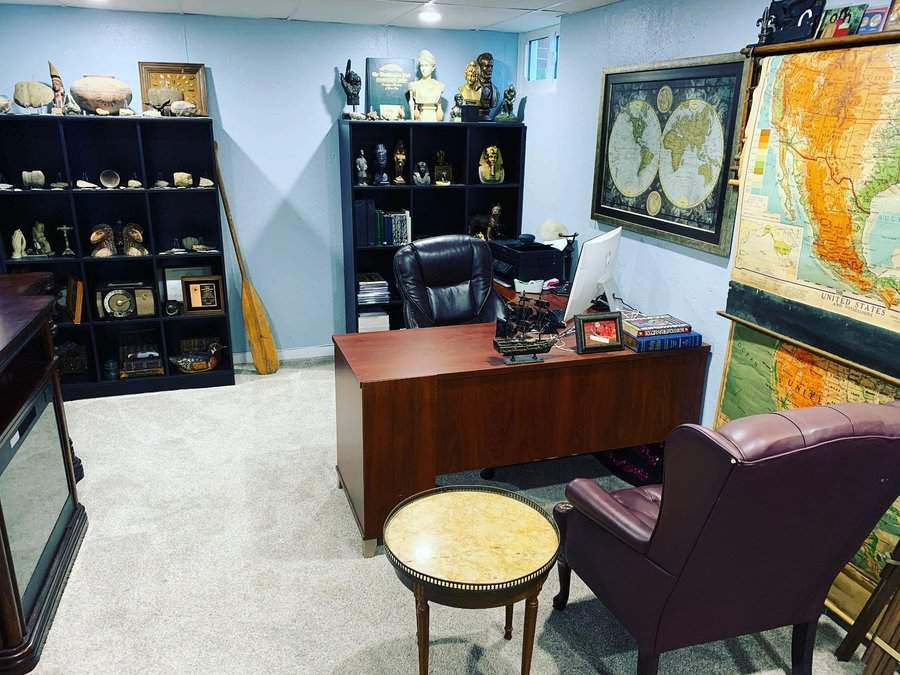 Start your design with a clean, finished canvas. Giving your basement walls a fresh coat of paint can make a huge difference in the general atmosphere. Throw down an area rug to cover cold tile, concrete, or hardwood flooring.
One of the biggest obstacles when designing a basement home office is the lack of natural light. Be sure to invest in high-quality light fixtures. And pay close attention to which light bulbs you install to avoid eye strain.
2. Bedroom
Modern spaces tend to prioritize versatility. Building a home office into your bedroom is a wonderful example of this versatility.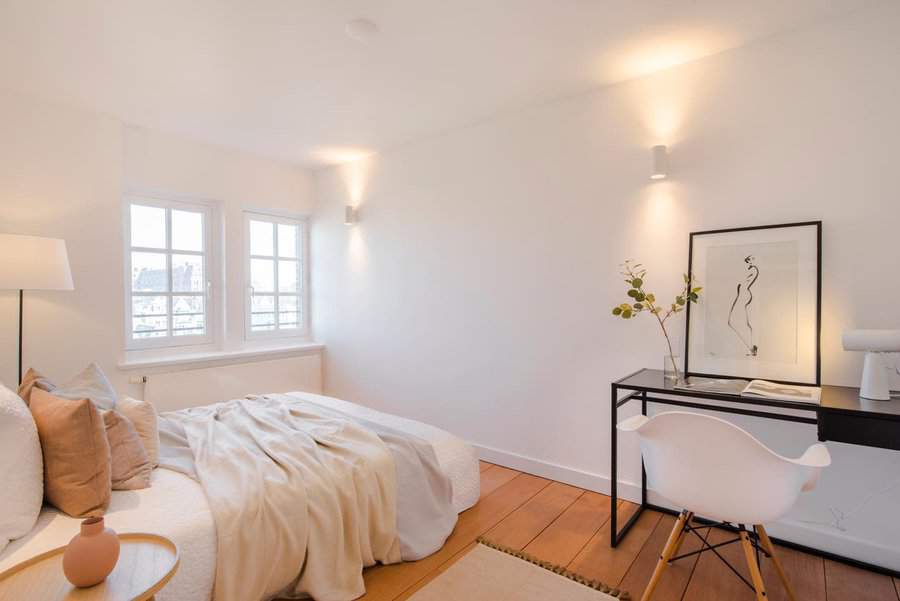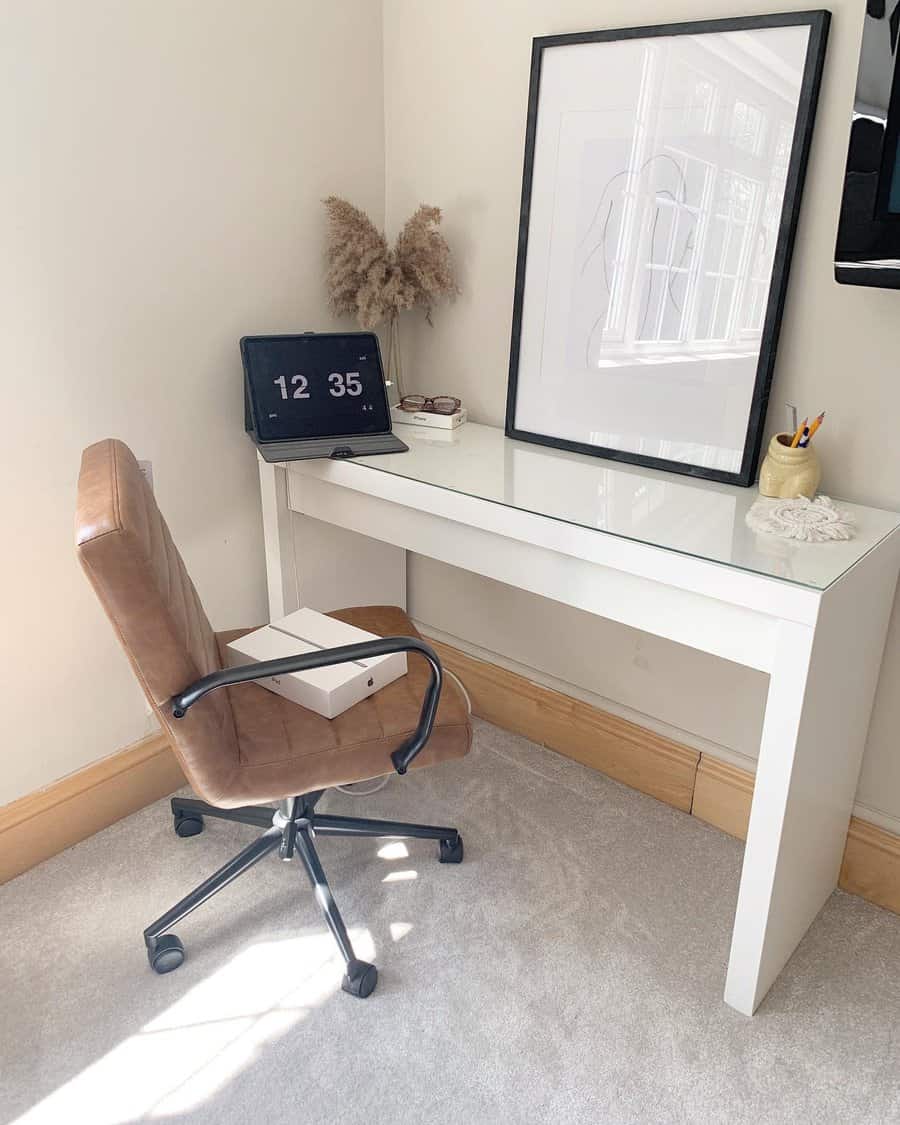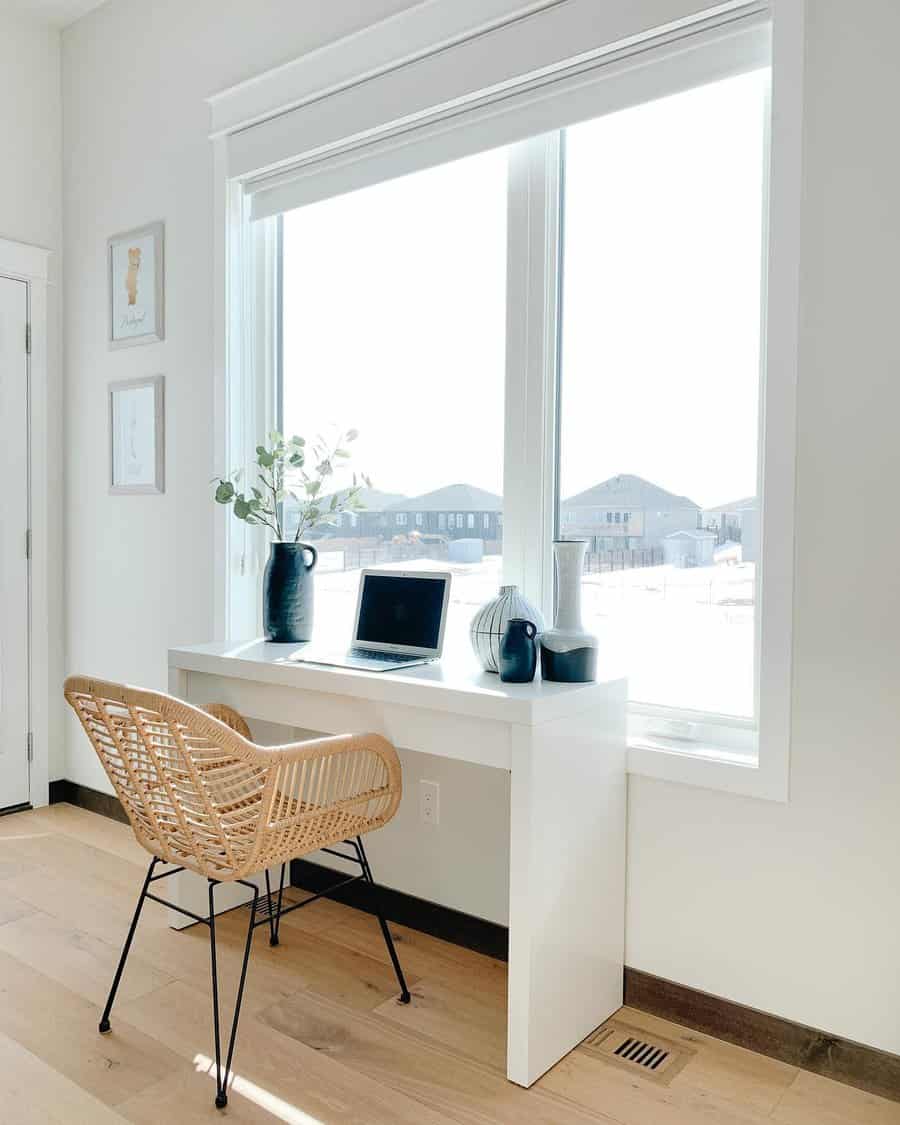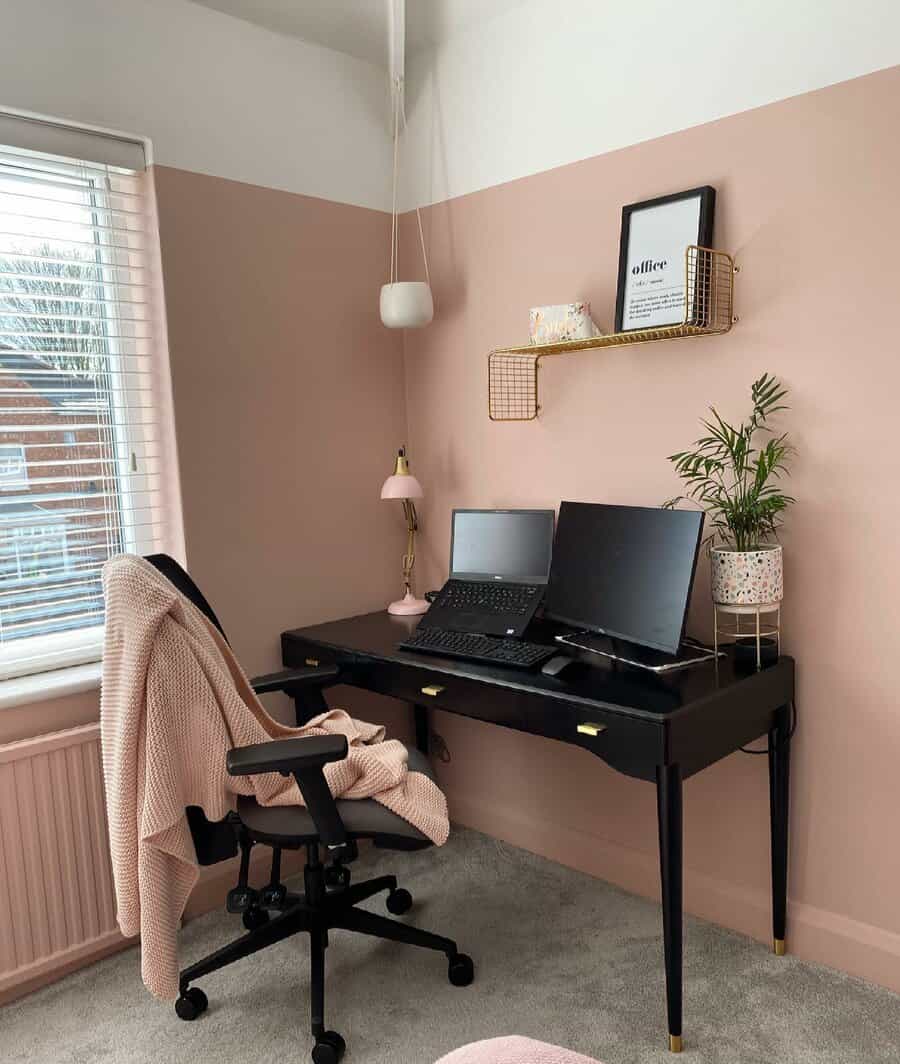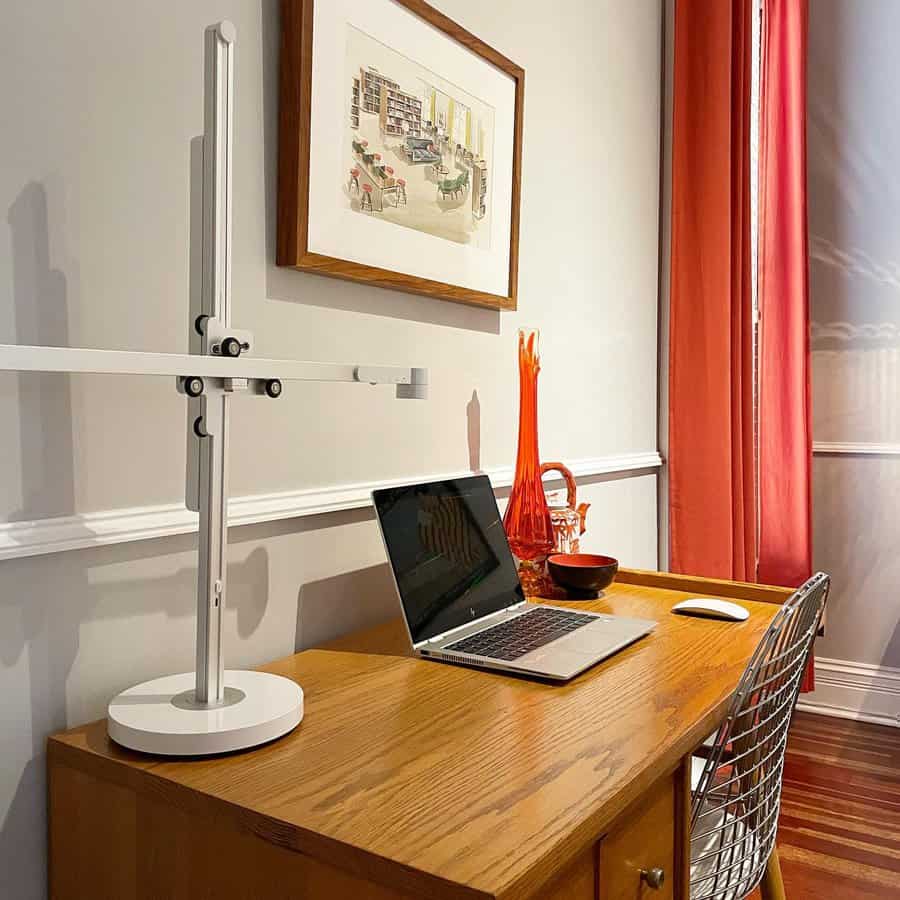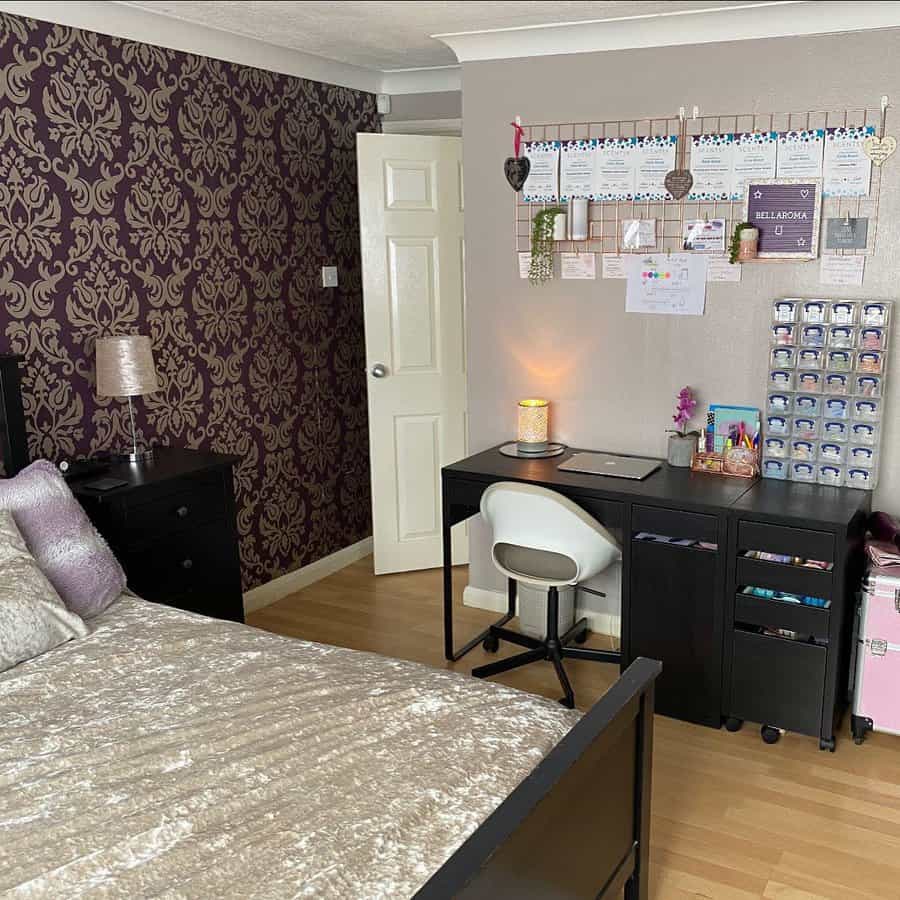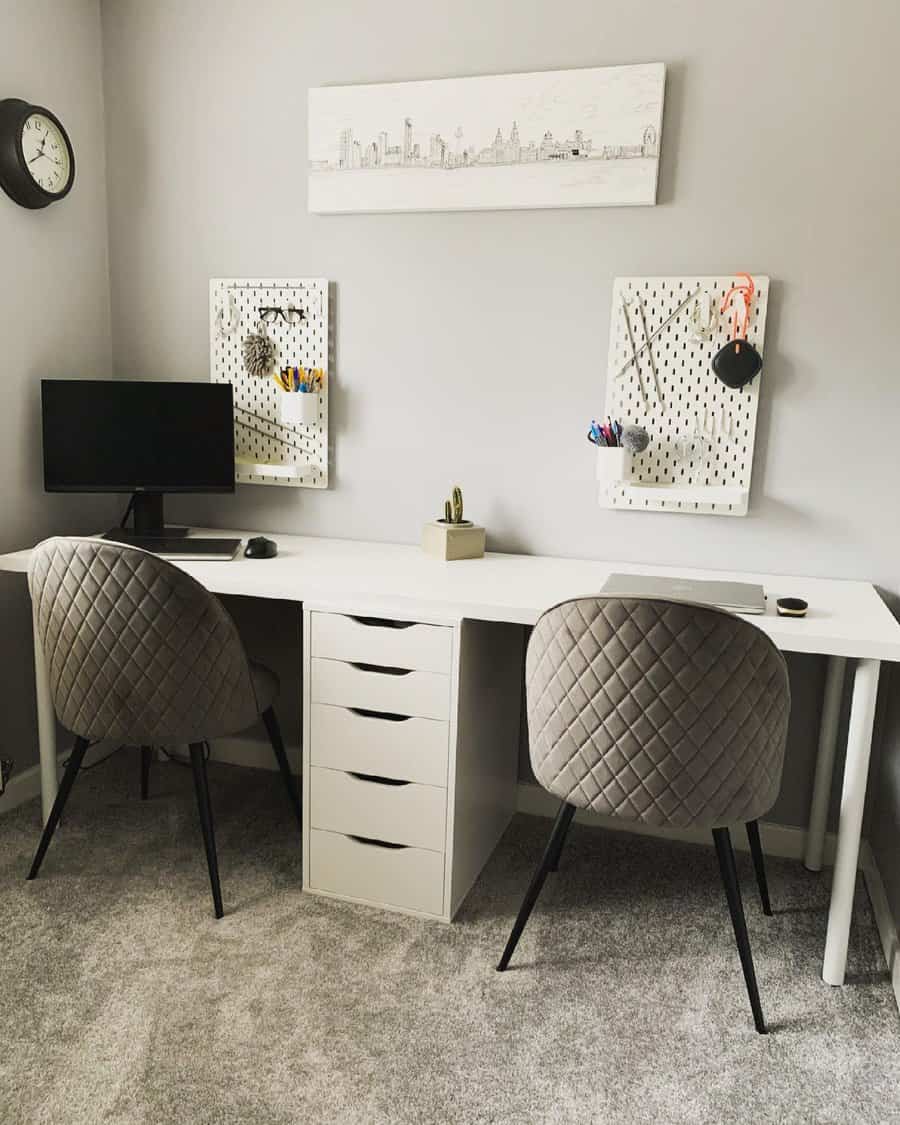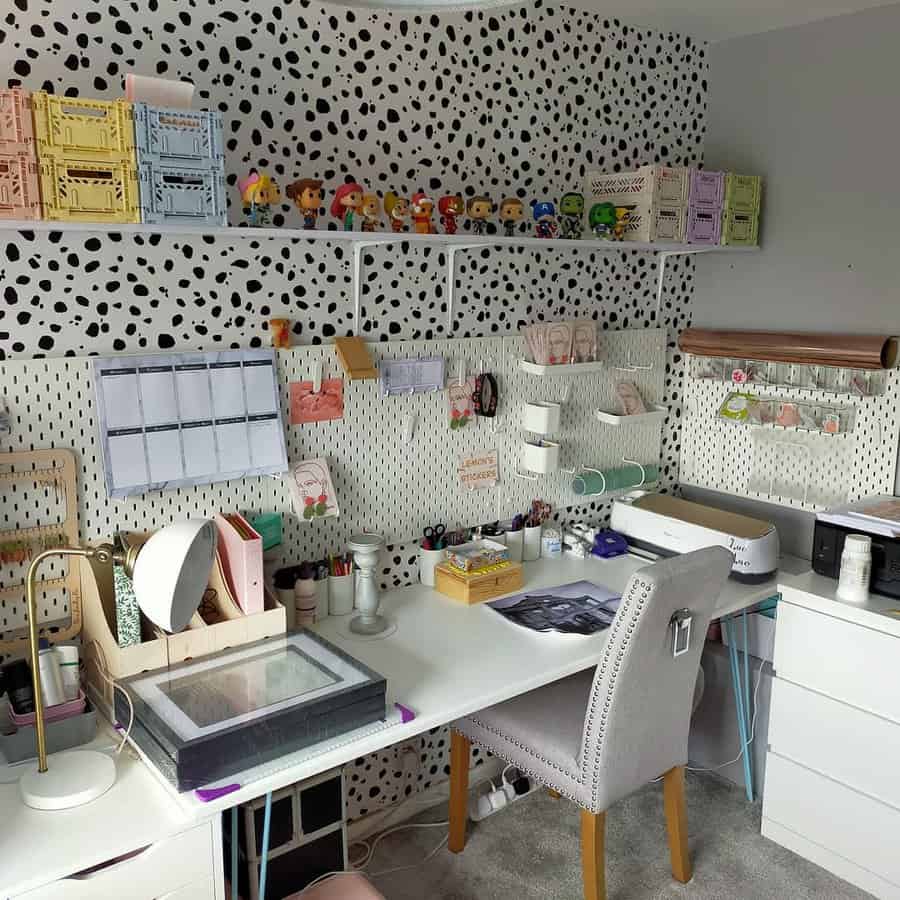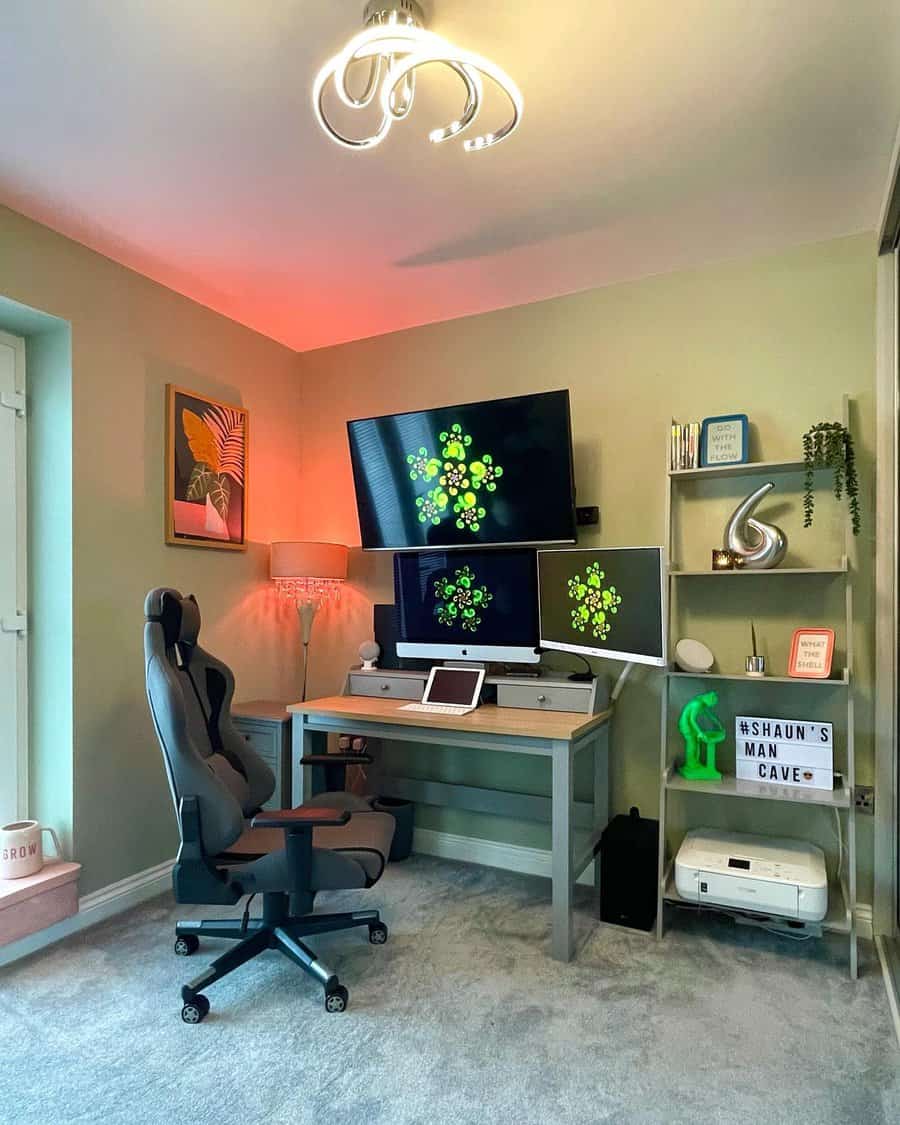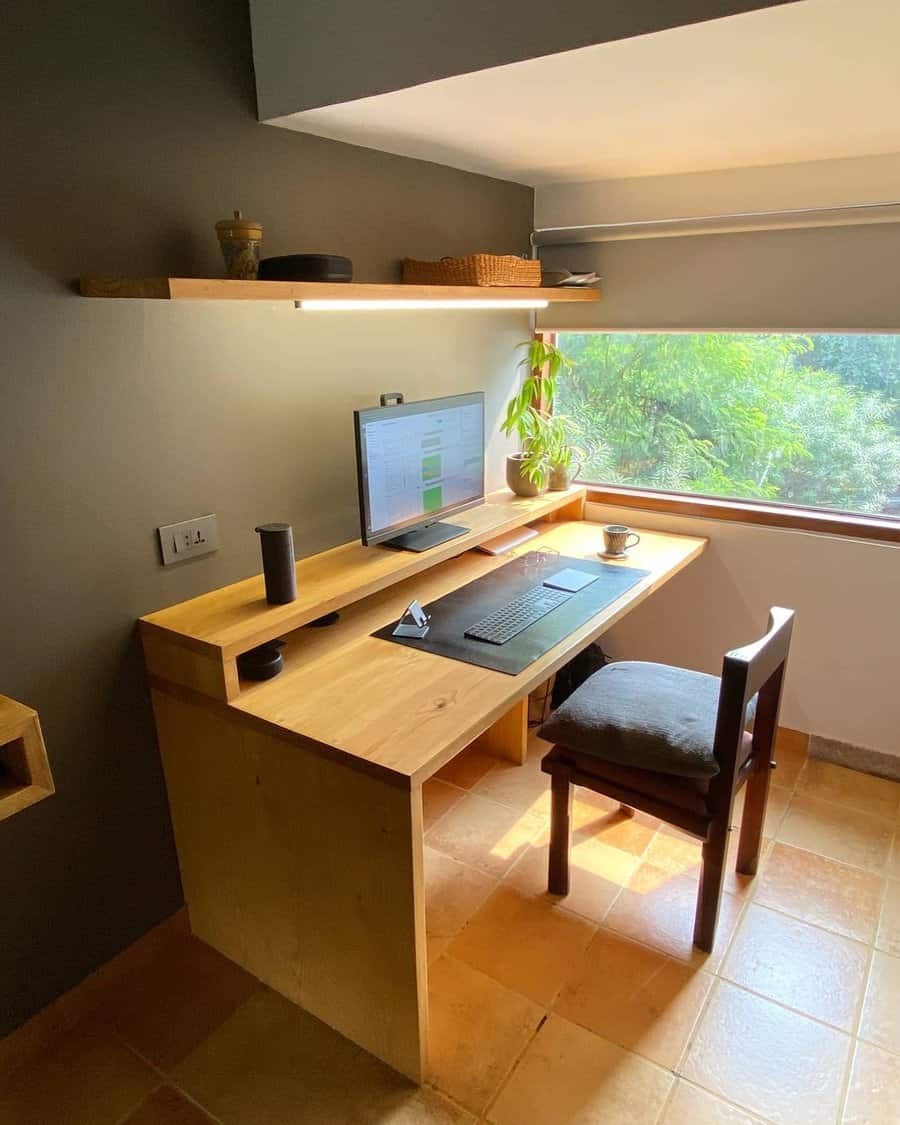 Modern home office decor is a perfect choice for a bedroom because it is both simple and flexible. Take a look around your bedroom and select office furniture that coordinates with the room's existing elements.
Do your best to differentiate between your workspace and the rest of the room. Select a modern desk with plenty of storage so you can keep work out of sight (and out of mind) when you're off the clock.
3. Chic
Commuting to a lifeless office is one thing. Including one in your very own living space is another thing entirely.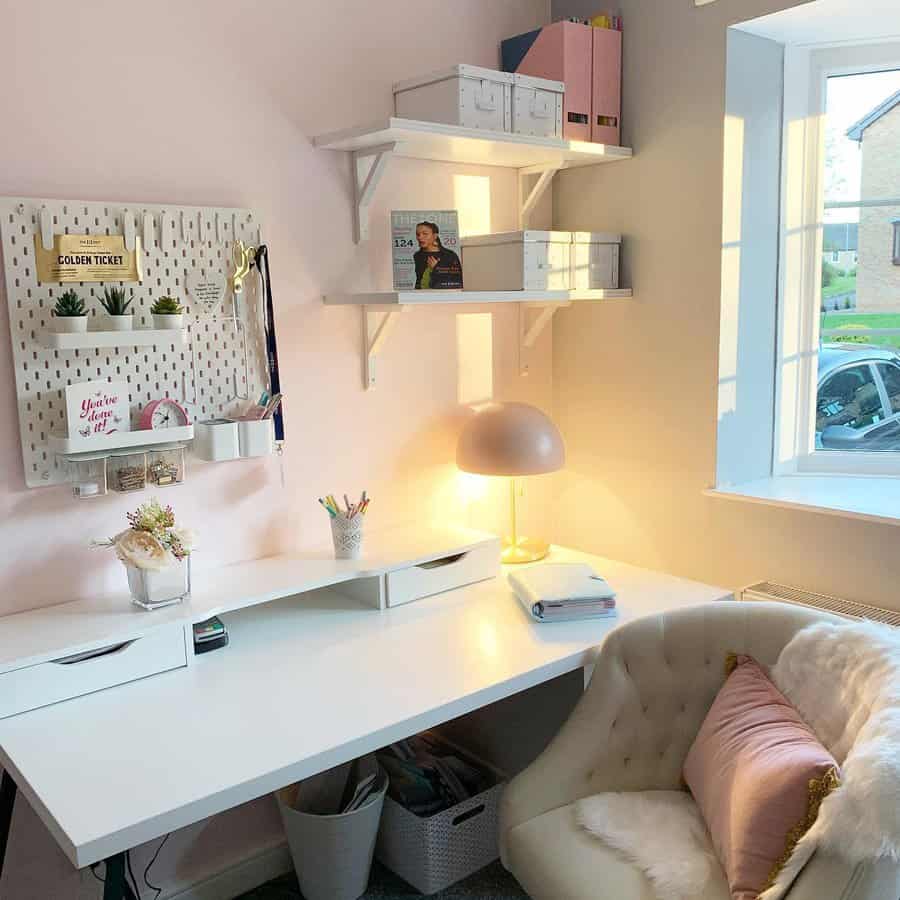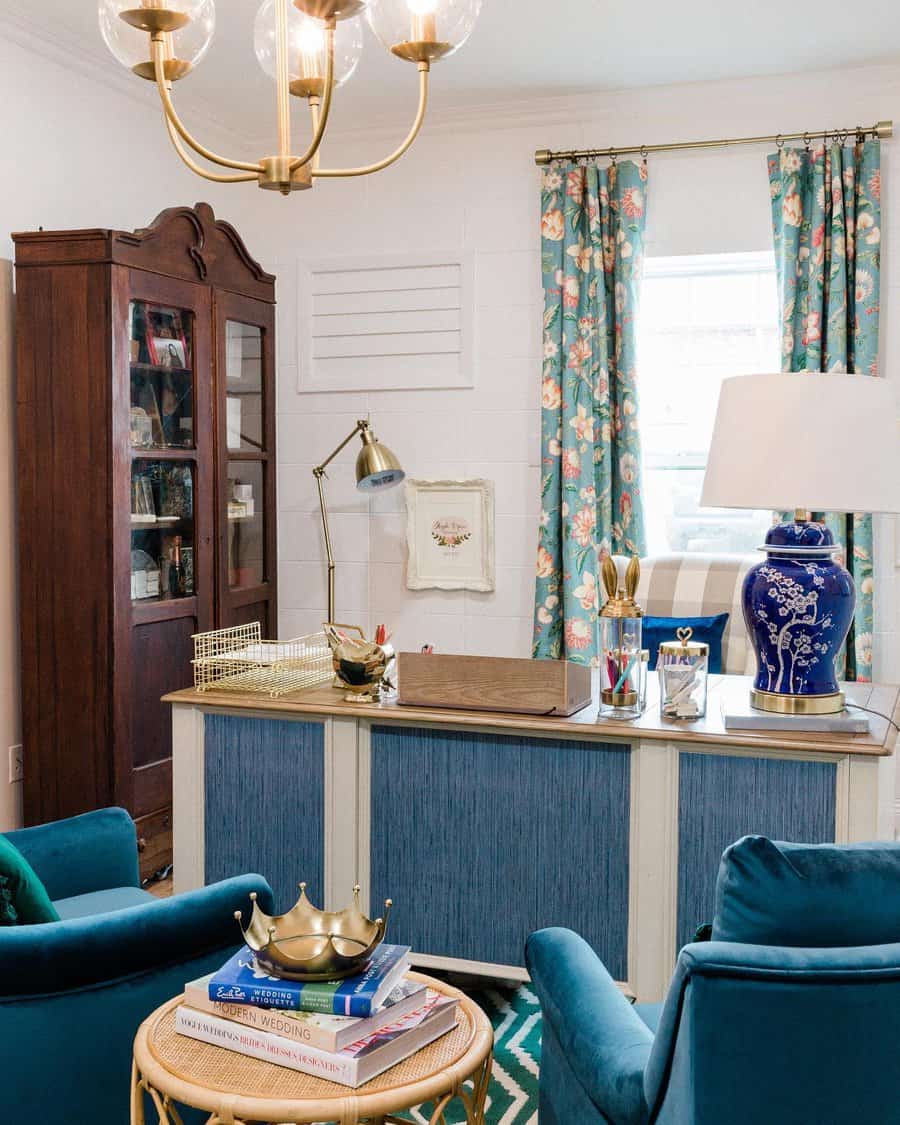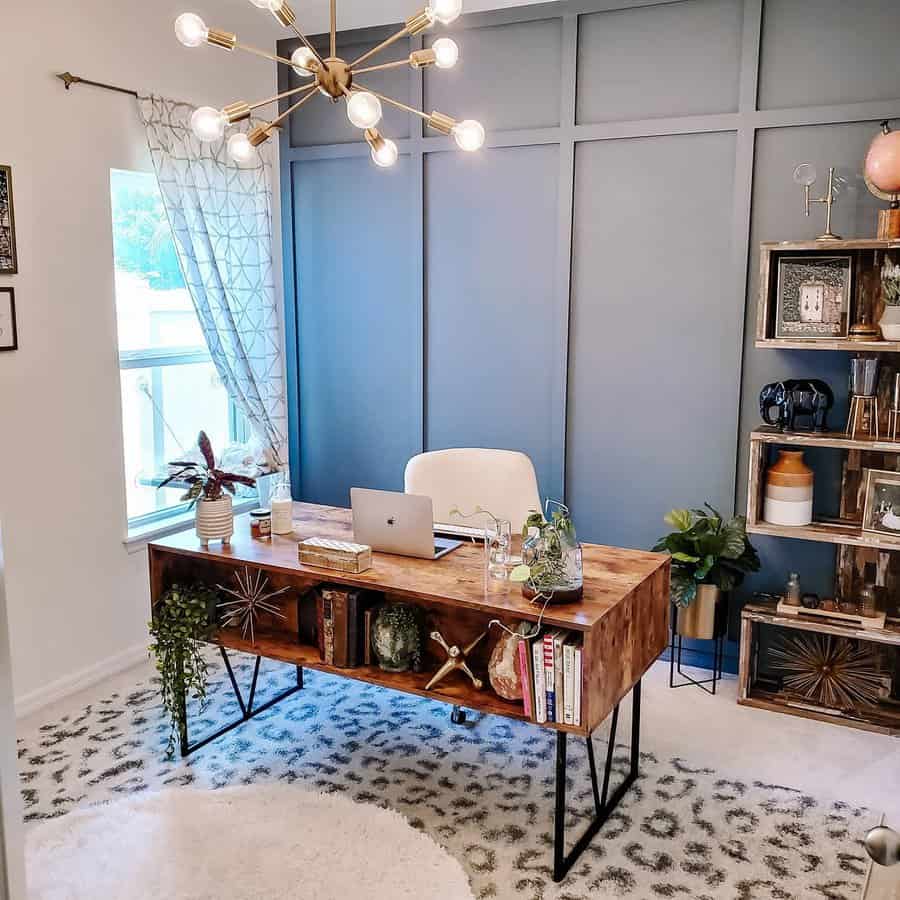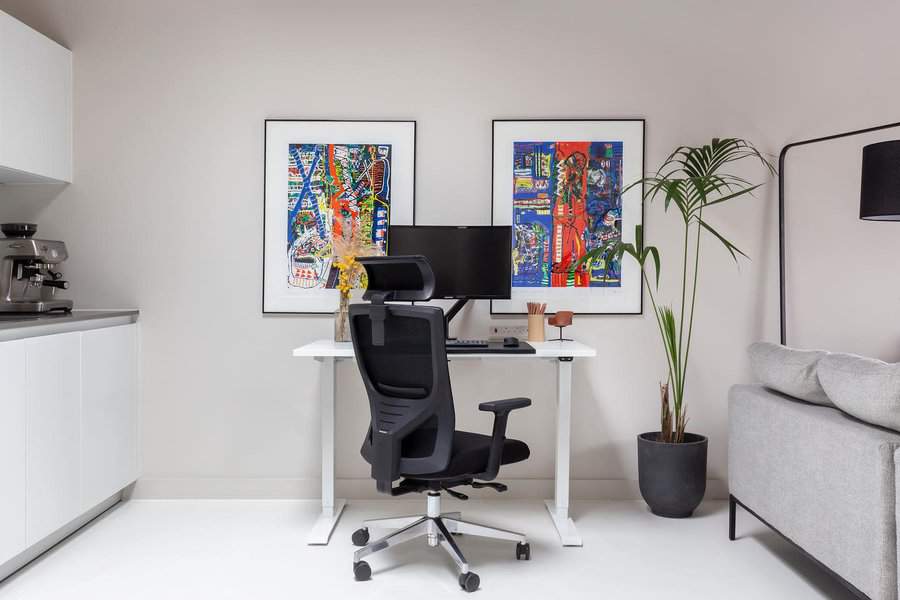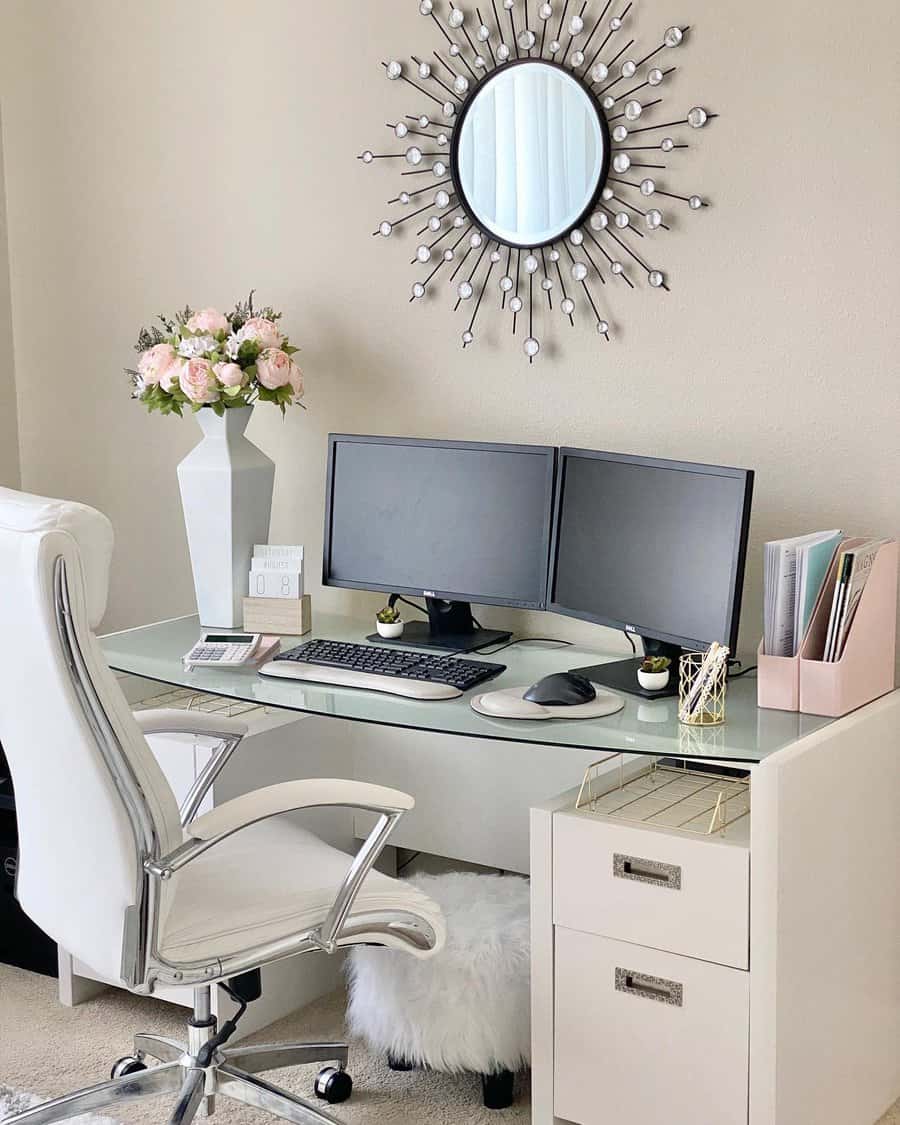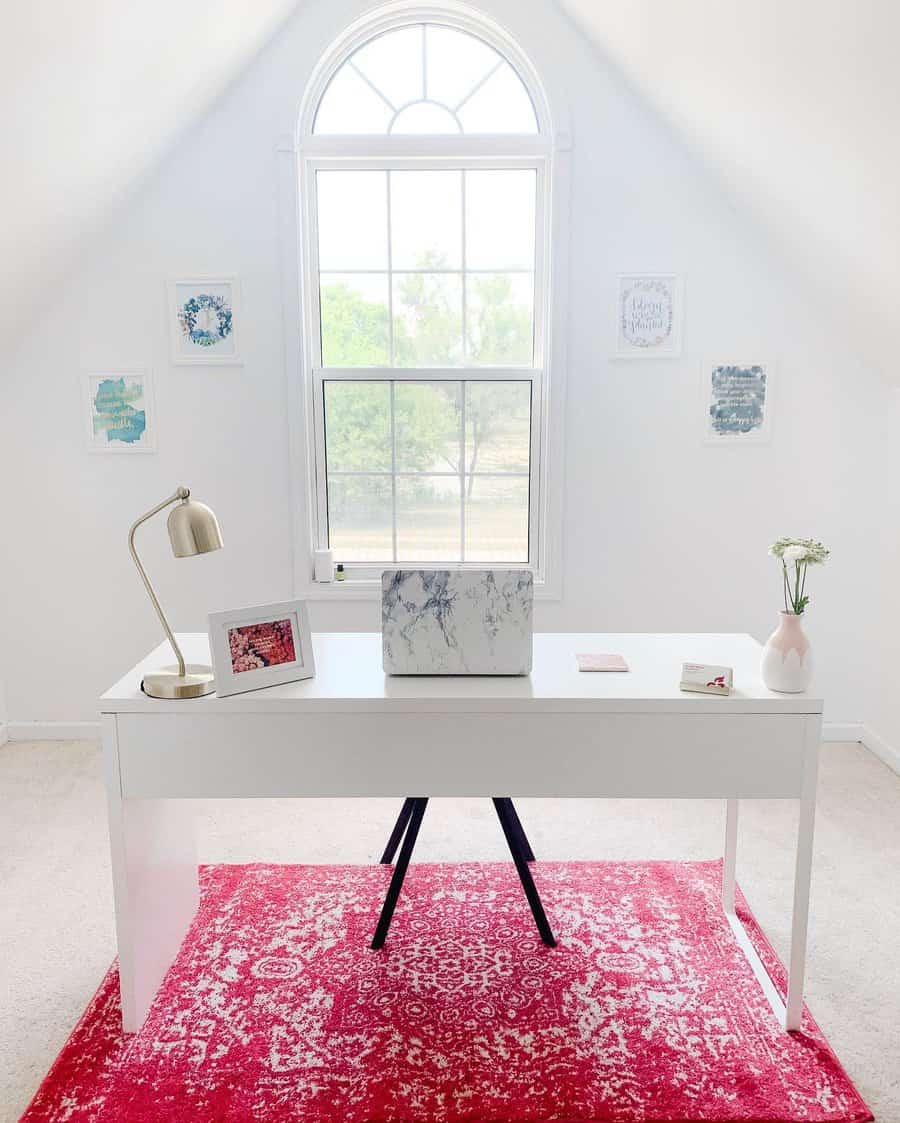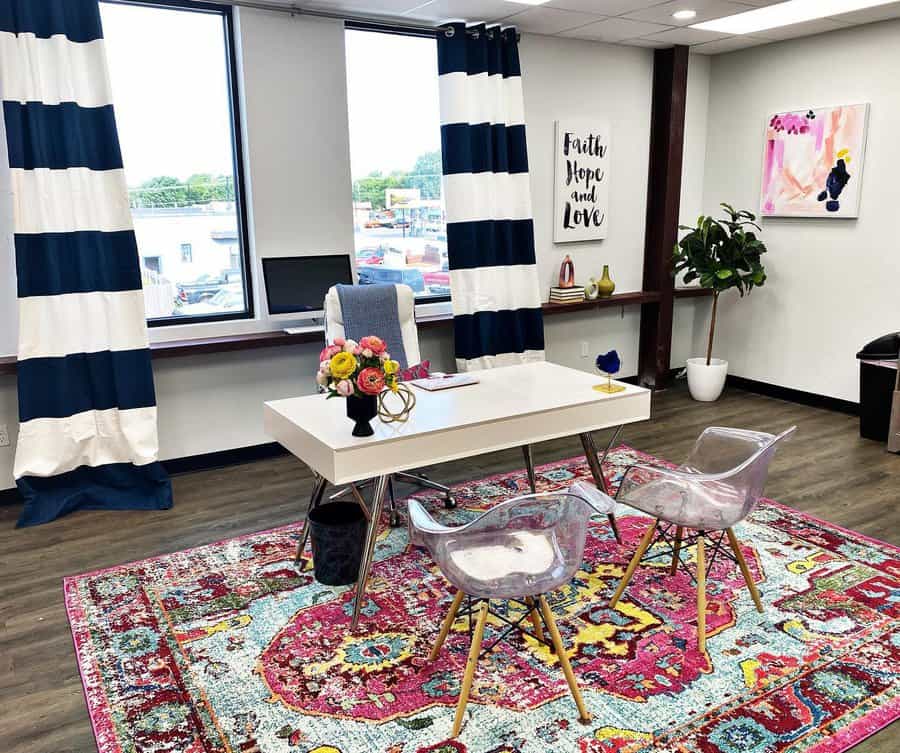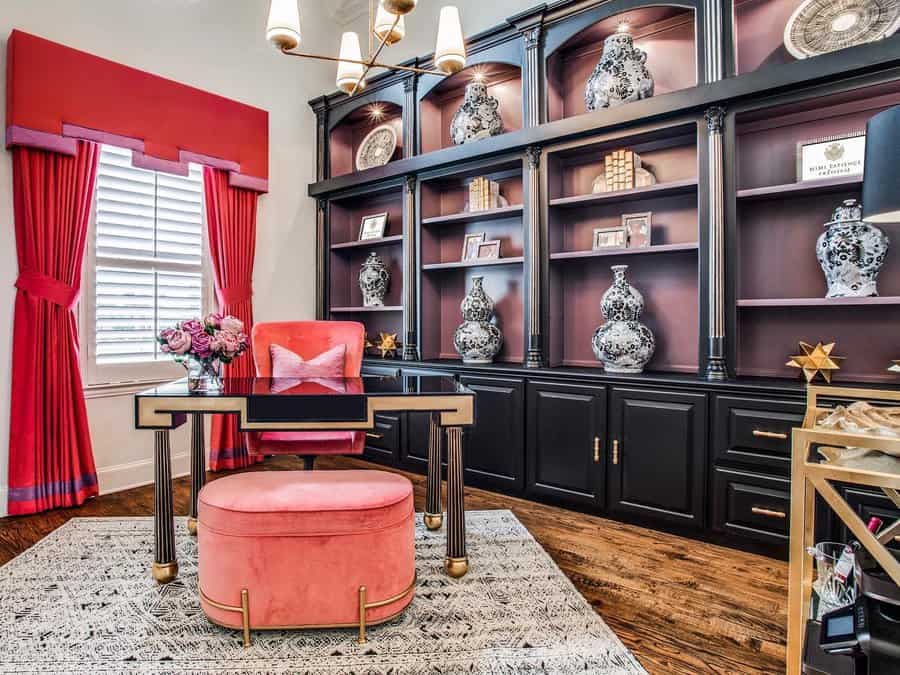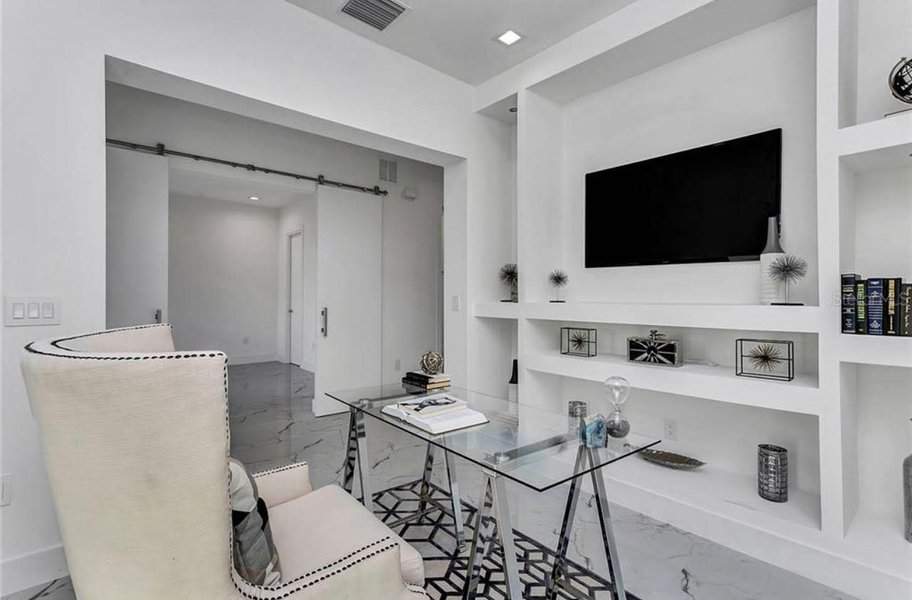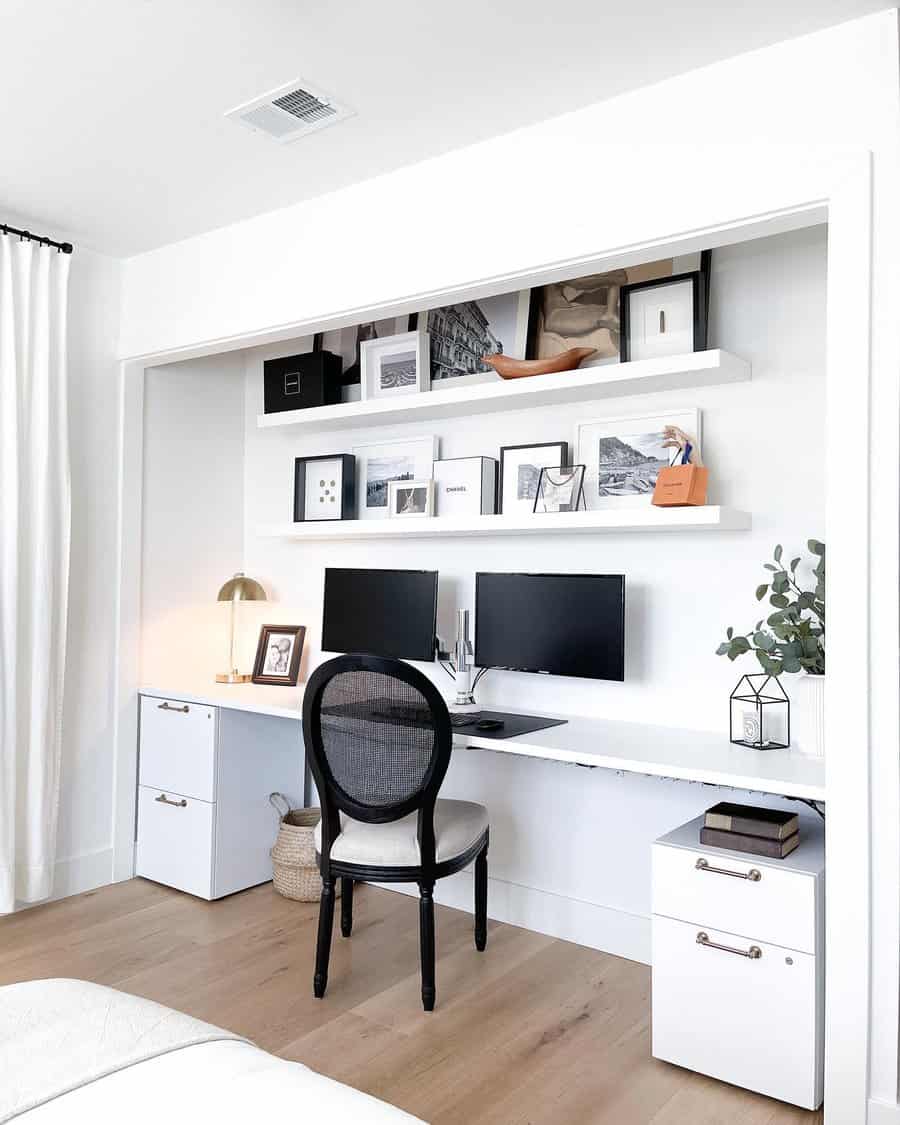 It doesn't take much to turn a simple workspace into a stylish home office. A great place to start is with your choice of wall decor. A few fun — yet still professional — art pieces can completely transform the look and feel of your home office.
Pay close attention to the details within your office space. Swapping out your standard office chair for something more interesting is a great idea. The same is true of any existing light fixtures in the room.
4. Contemporary
If you don't know the difference between modern and contemporary decor, don't worry! While modern decor is inspired by interior design trends of the 20th century, contemporary decor is all about what's popular right now.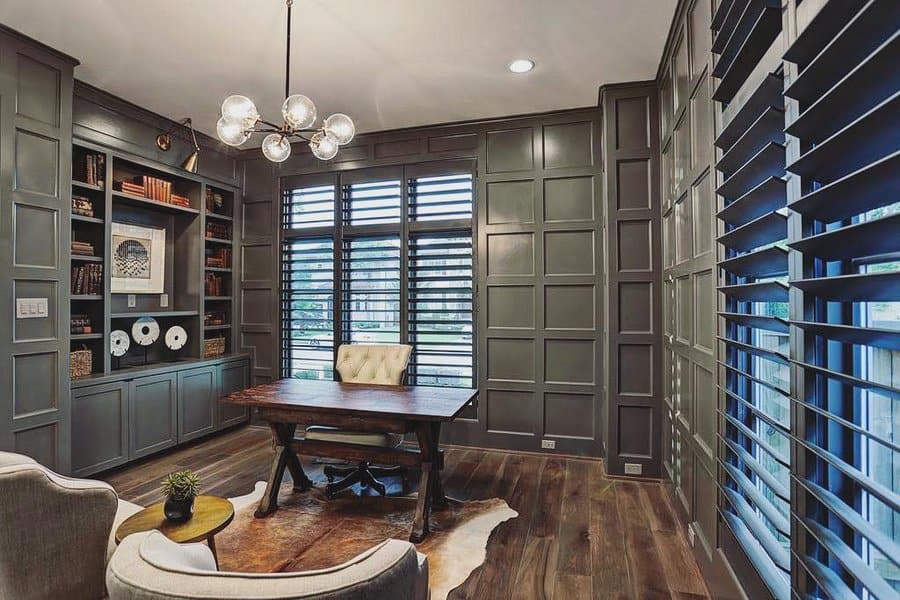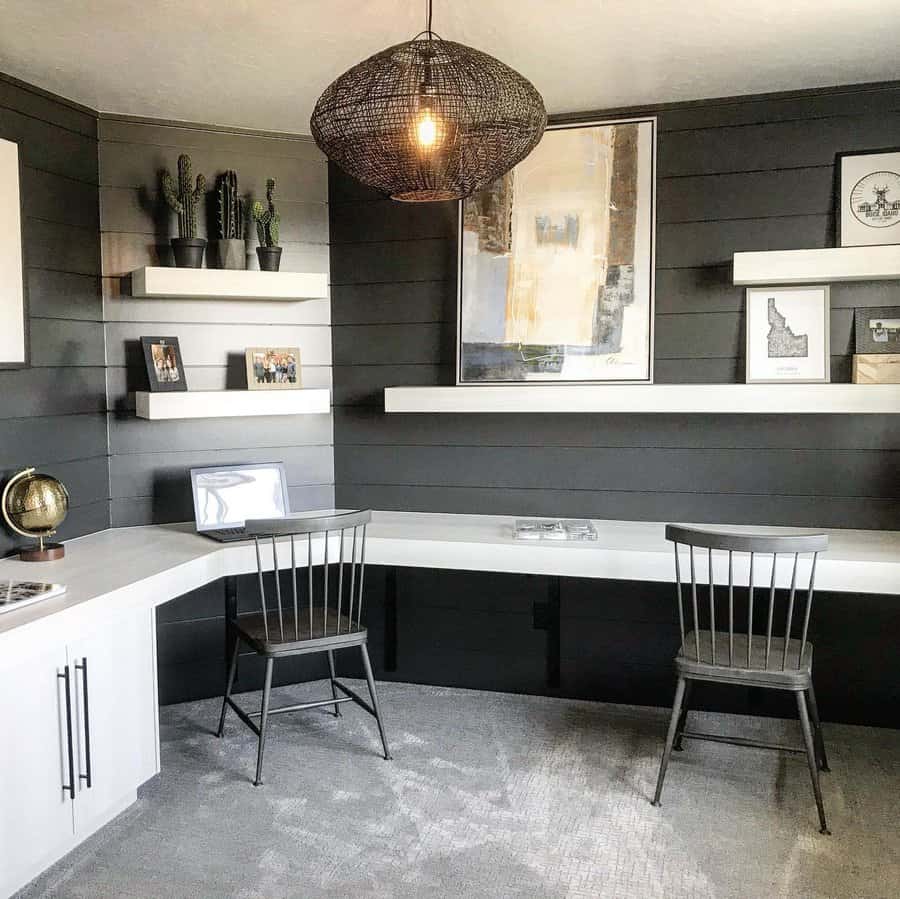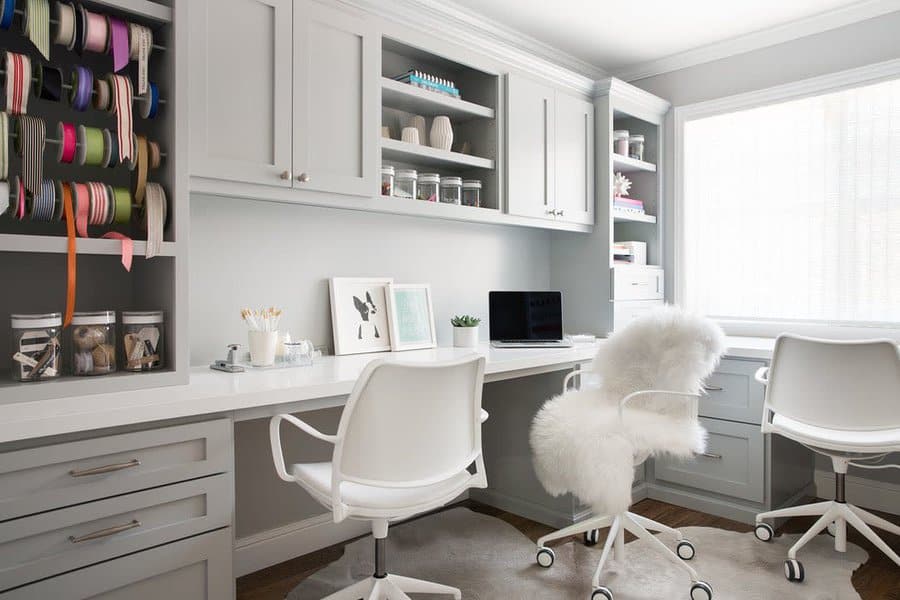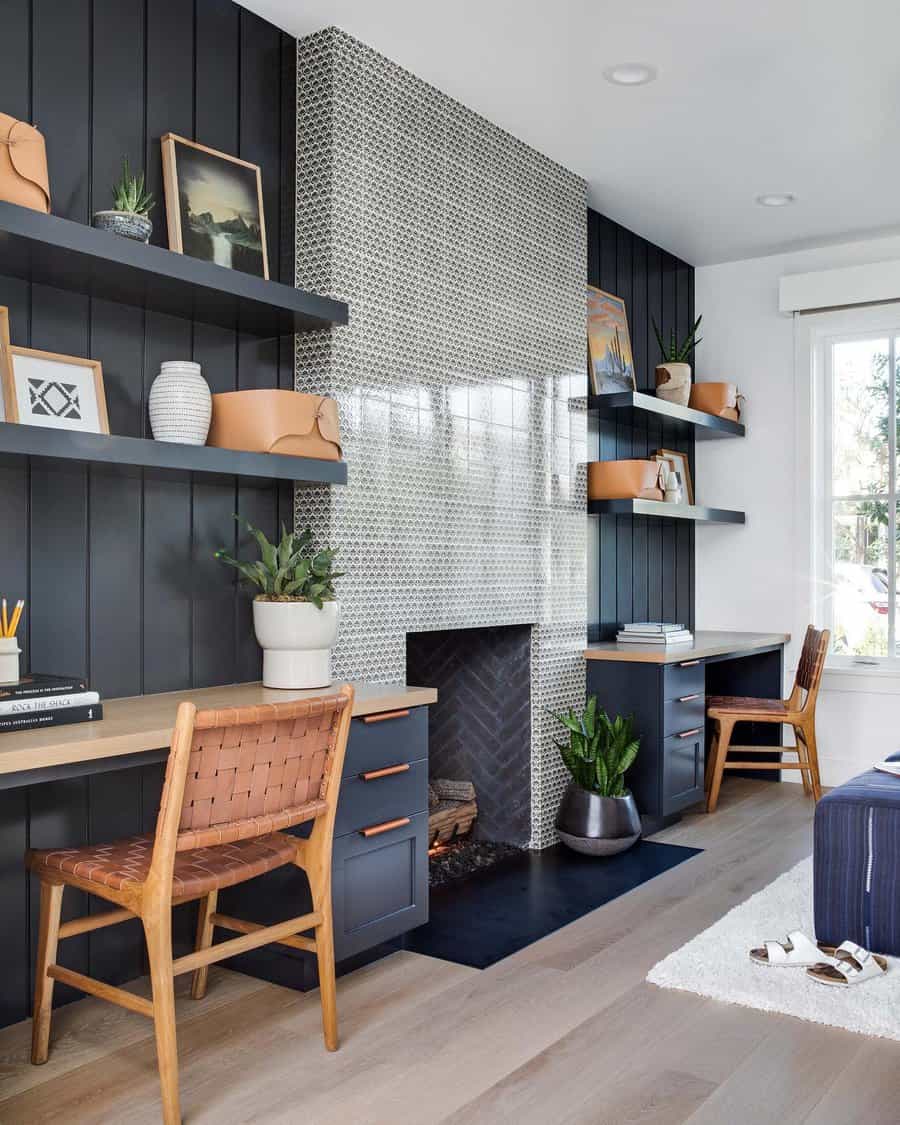 Contemporary trends are constantly changing. Keep your home office ideas from becoming outdated in a matter of months by investing in timeless modern furniture. Select a desk and shelving that will coordinate with a wide range of decor.
Give your home office a contemporary edge with accent decor that can easily be updated as you please. Items like lamps, wall art, and even desk chairs can be used to keep up with the current trends.
5. Design
If the thought of an office space that looks like a glorified cubicle breaks your heart, look no further than these stylish home office ideas.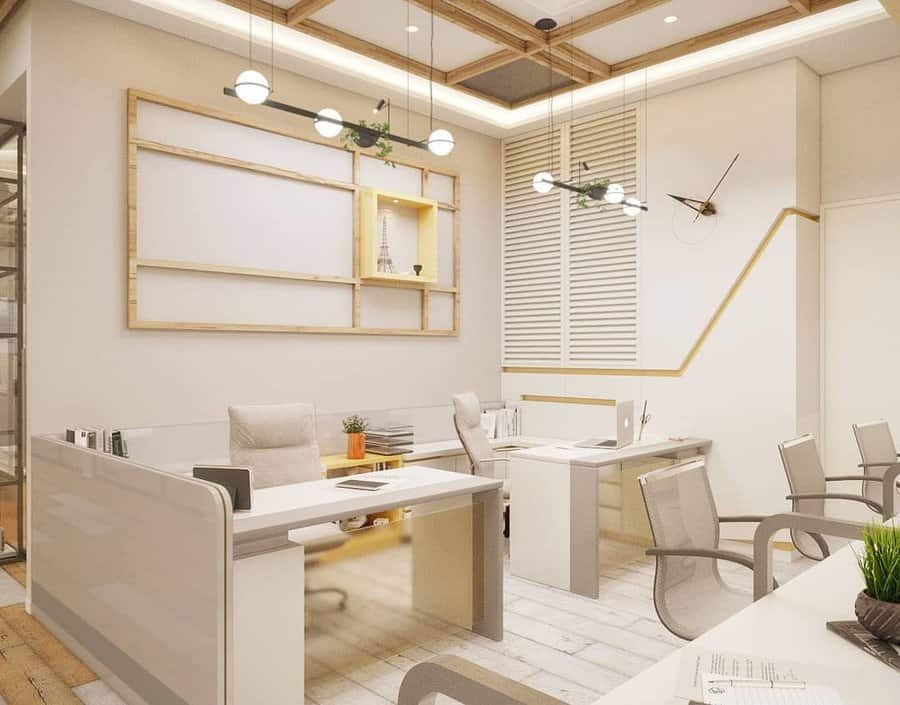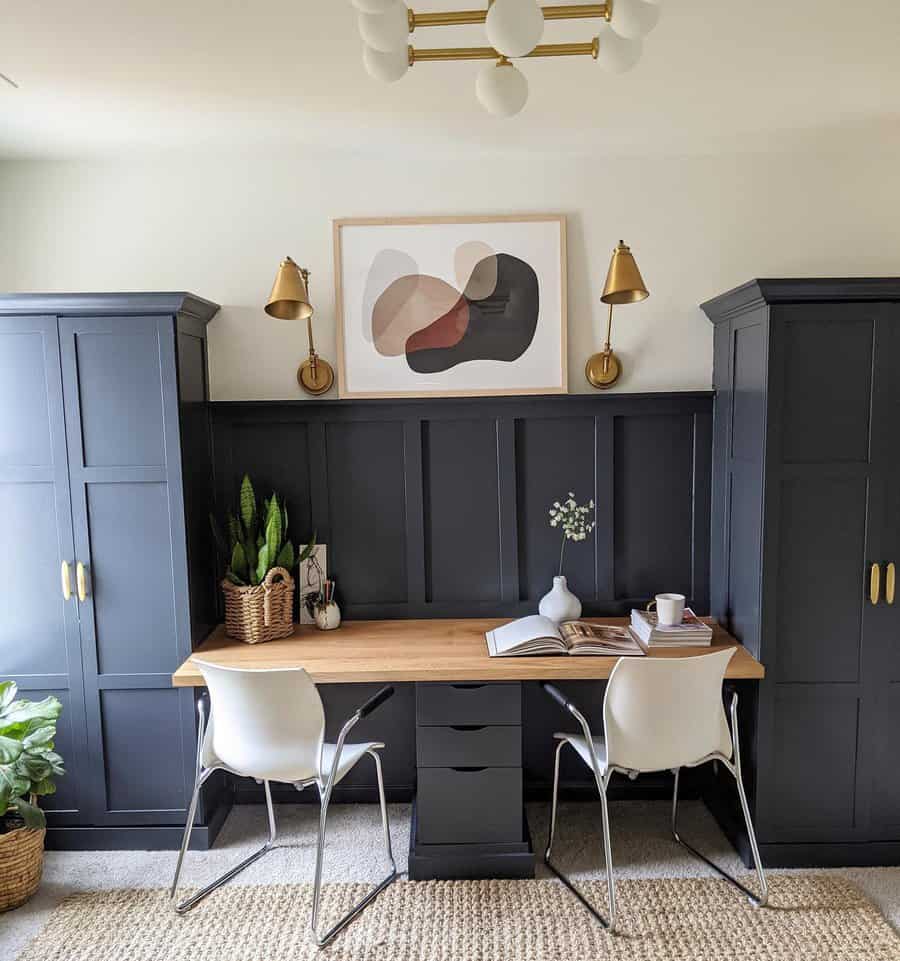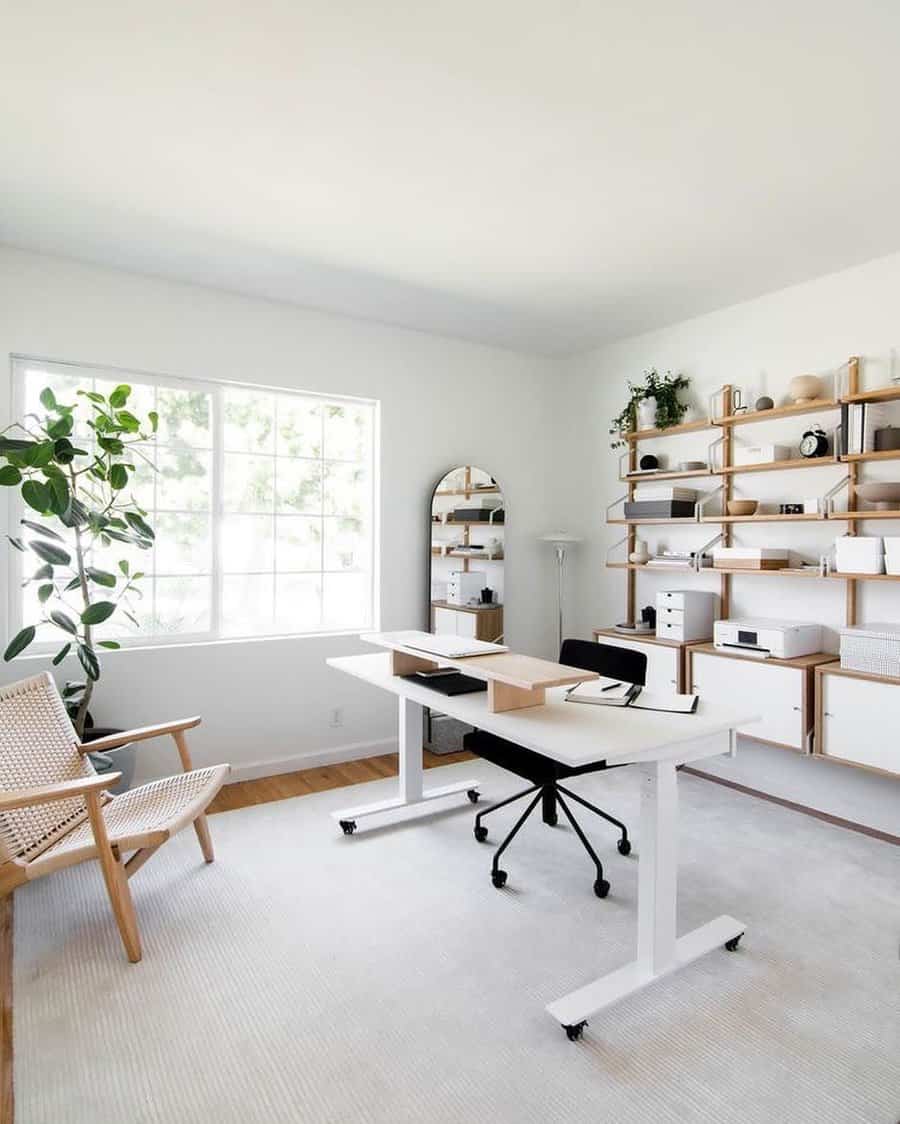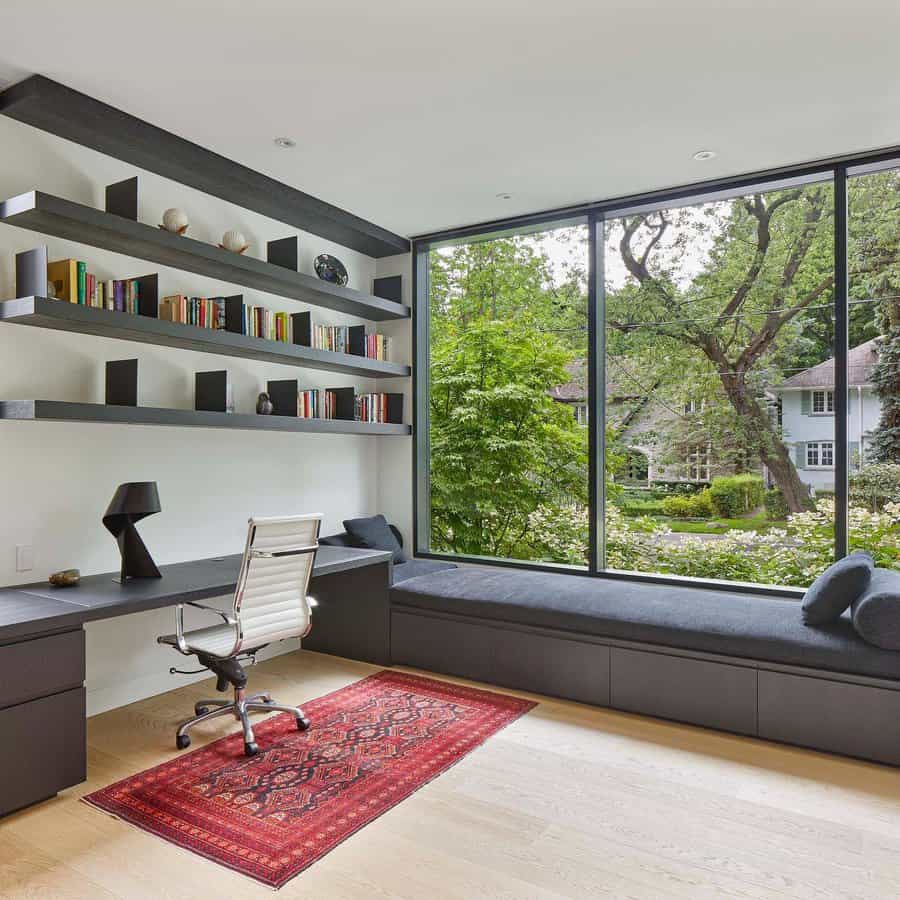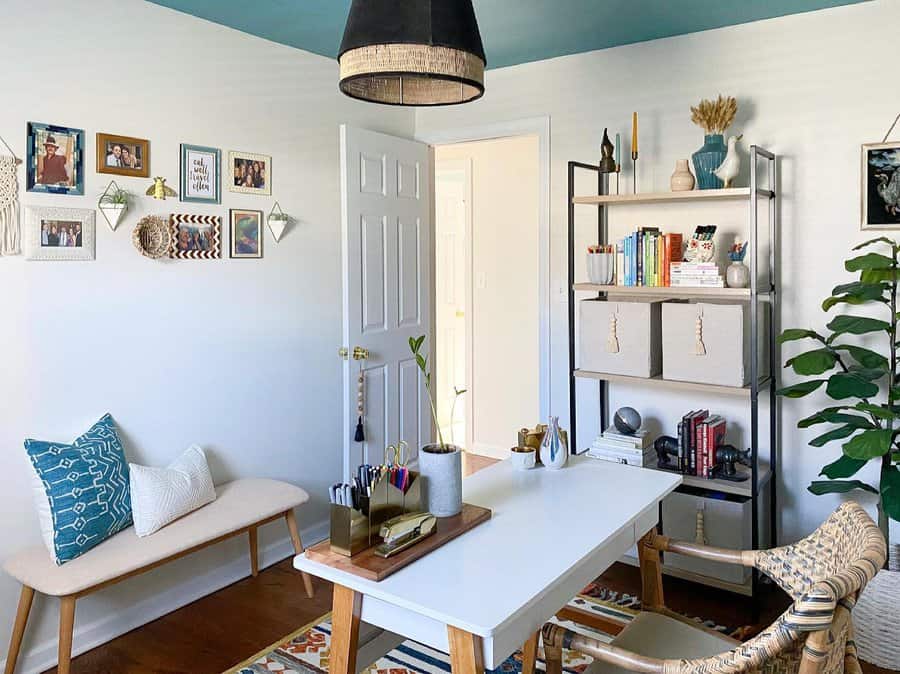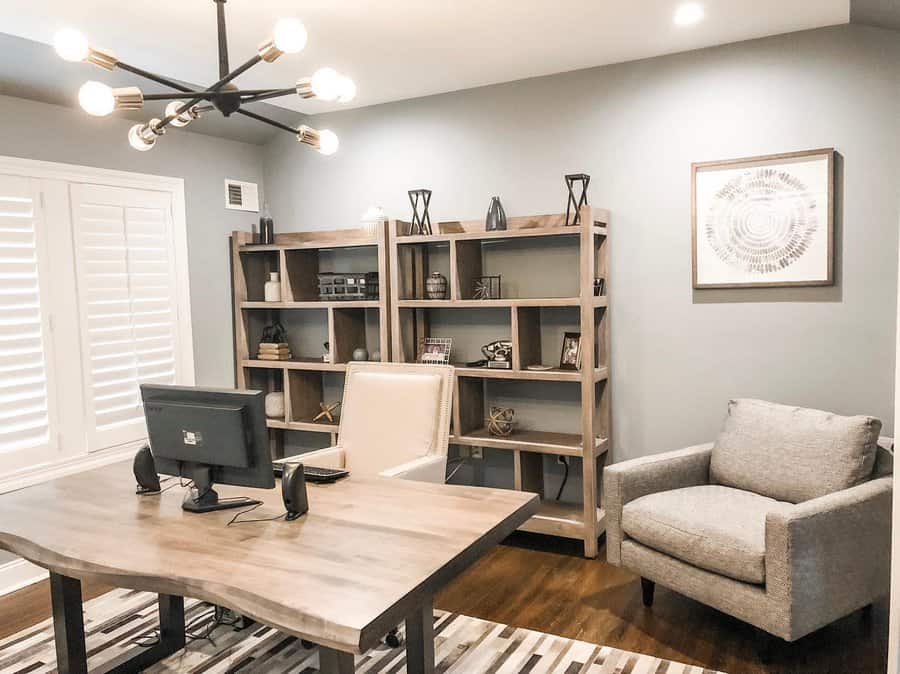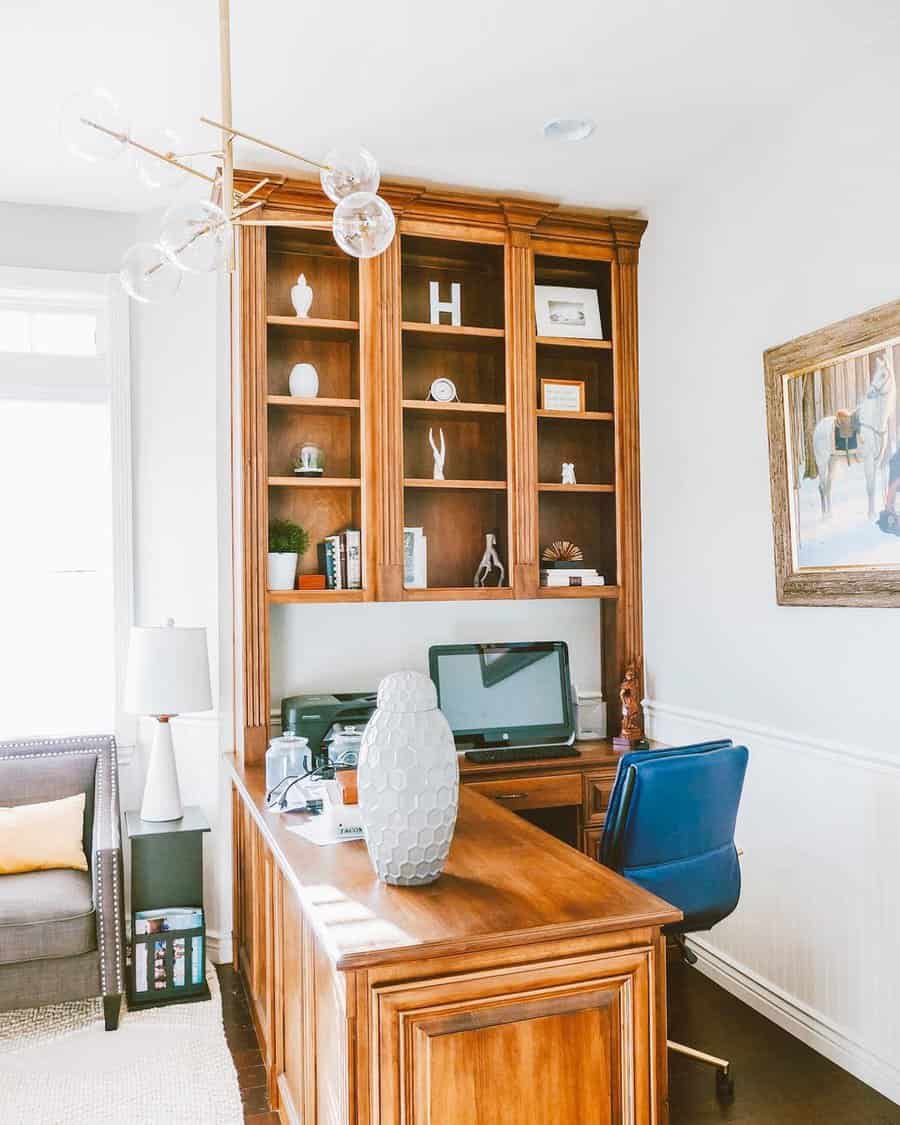 You don't need to sacrifice professionalism for an aesthetically pleasing workspace. Select one or two pieces of statement artwork to adorn your office walls. Even a change in paint color could have a huge impact on your office design as a whole.
The last thing you want to do is add clutter to your office space in the form of furniture and decor. Avoid adding anything to your home office design that doesn't serve a clear purpose. (Of course, "bringing joy" could be one such purpose!)
6. Desk
You can't have a modern office without a functional desk. While the desk is the centerpiece of any home office, it's important not to overthink this design decision! Simple is almost always better.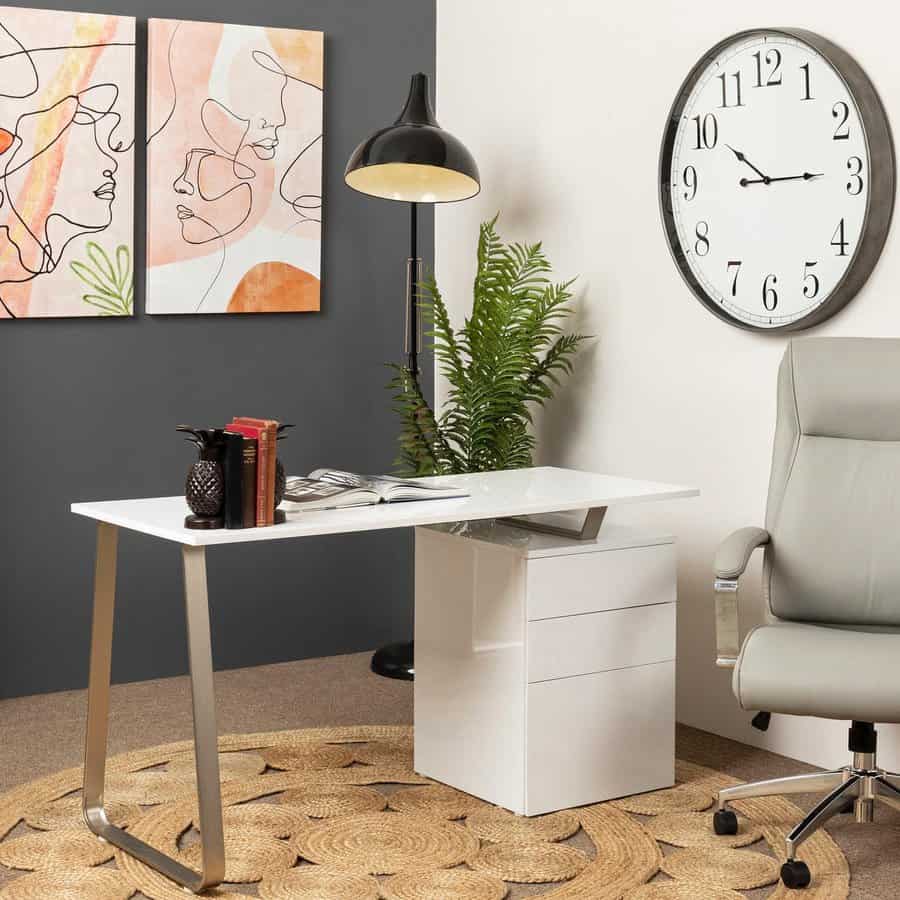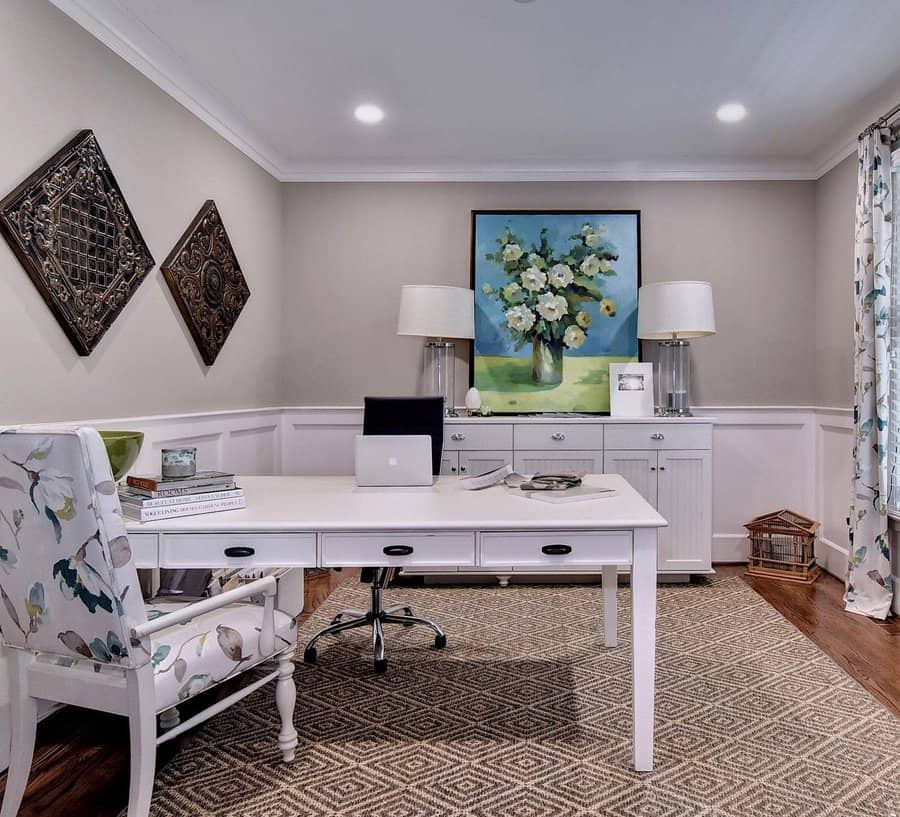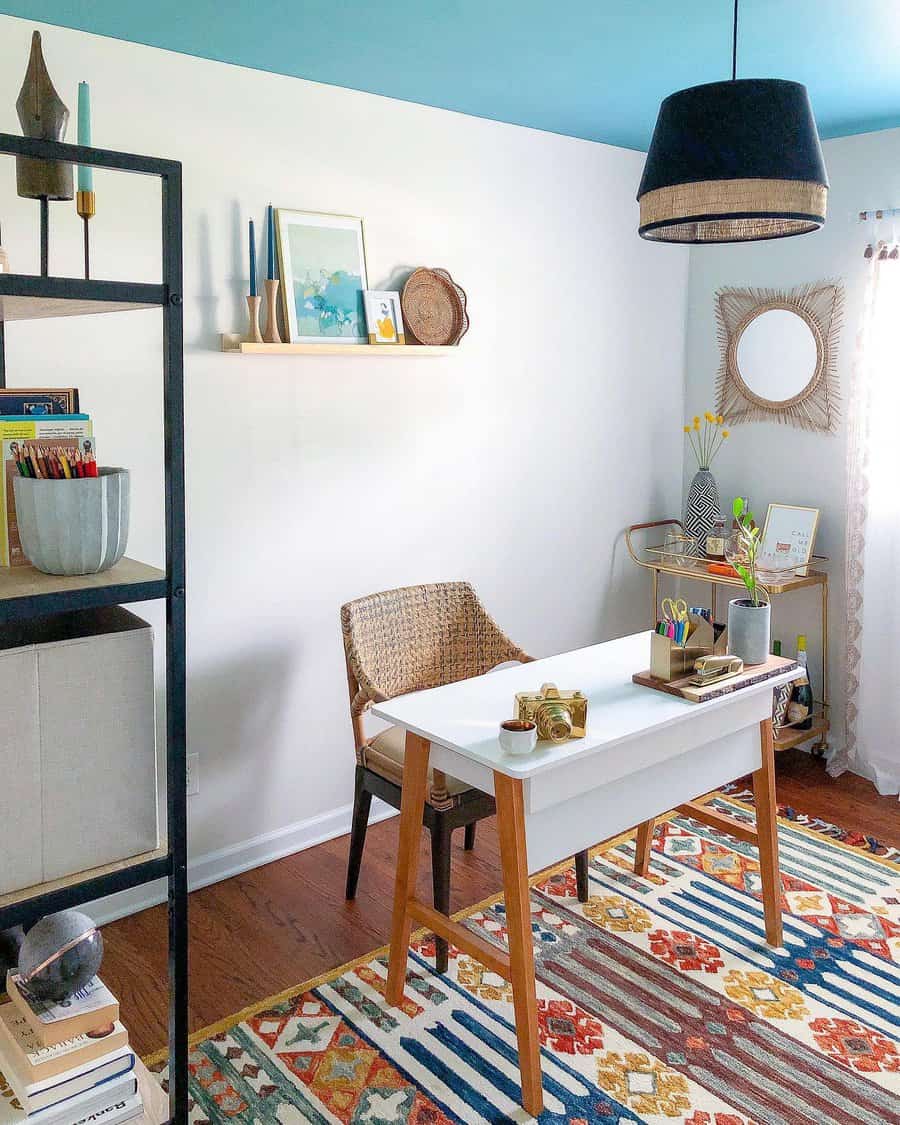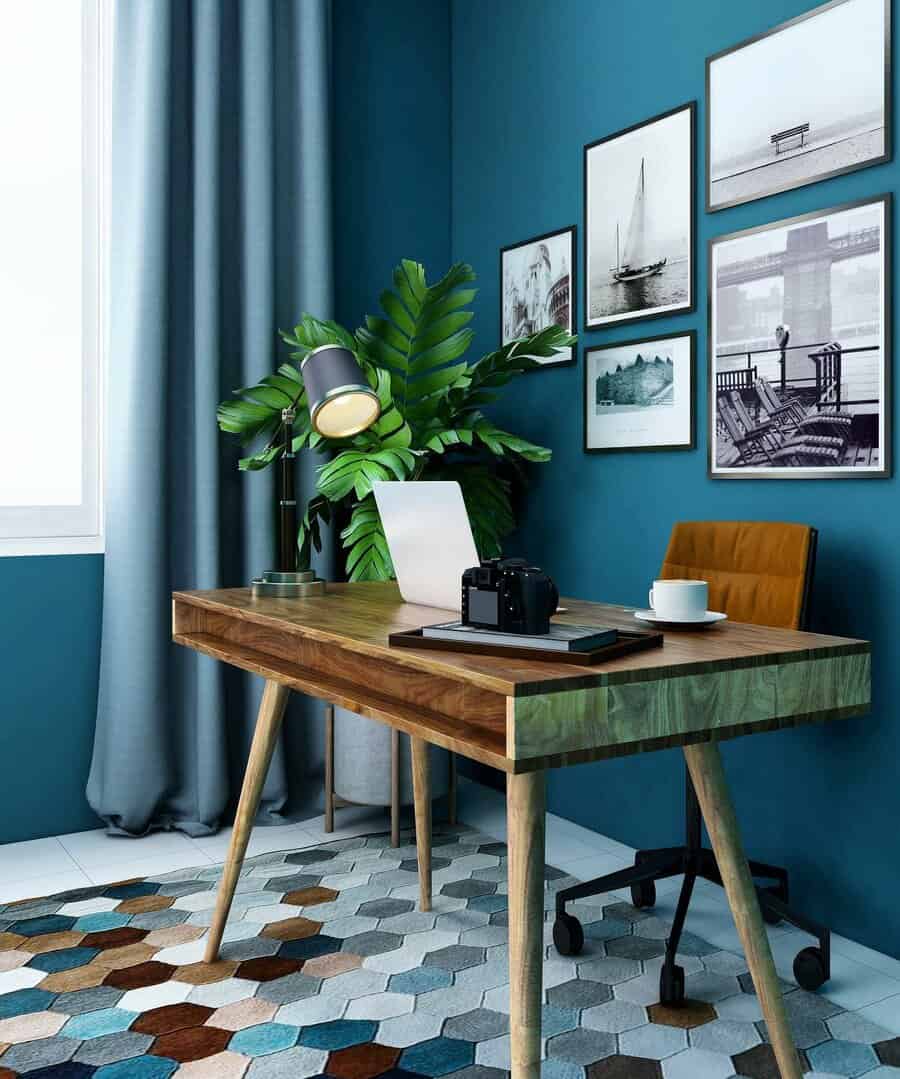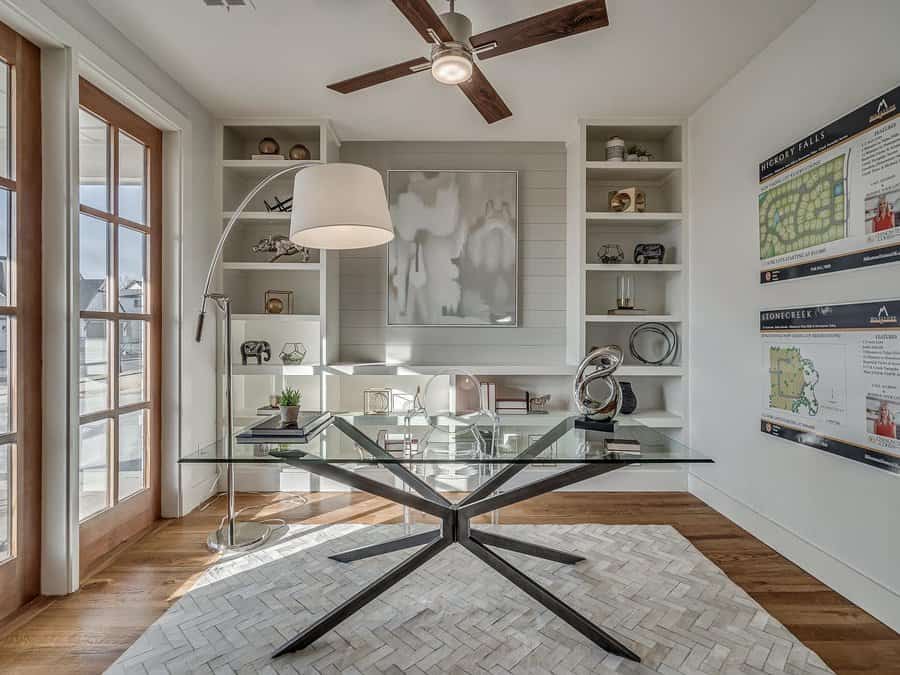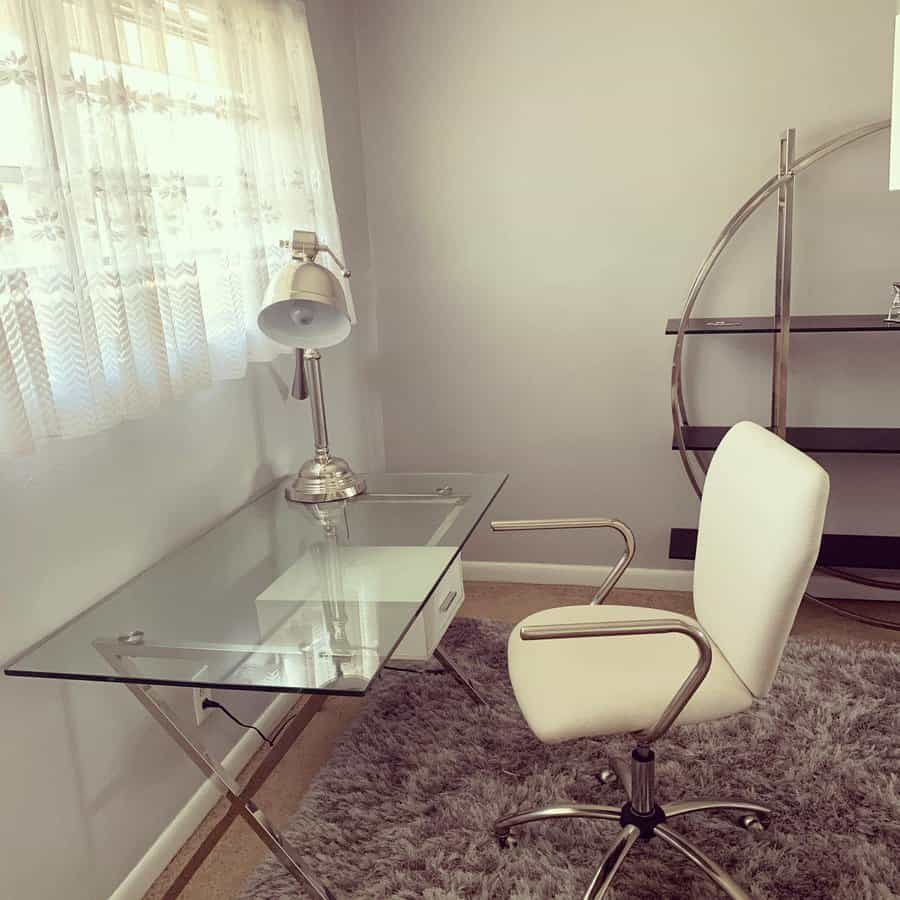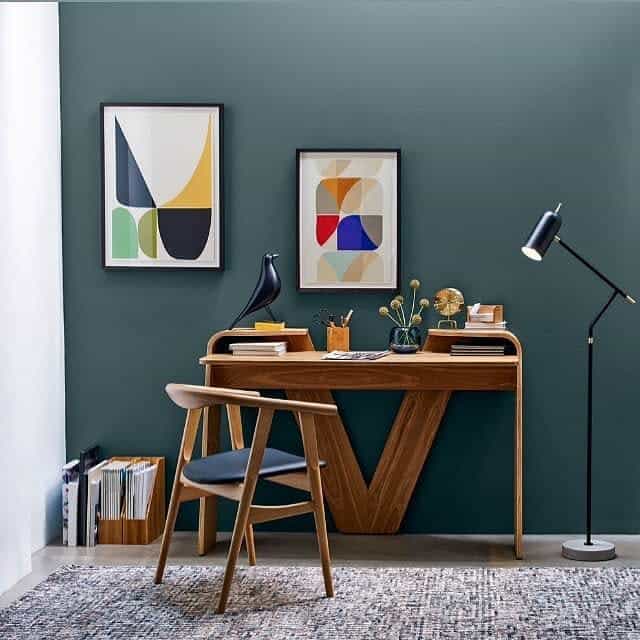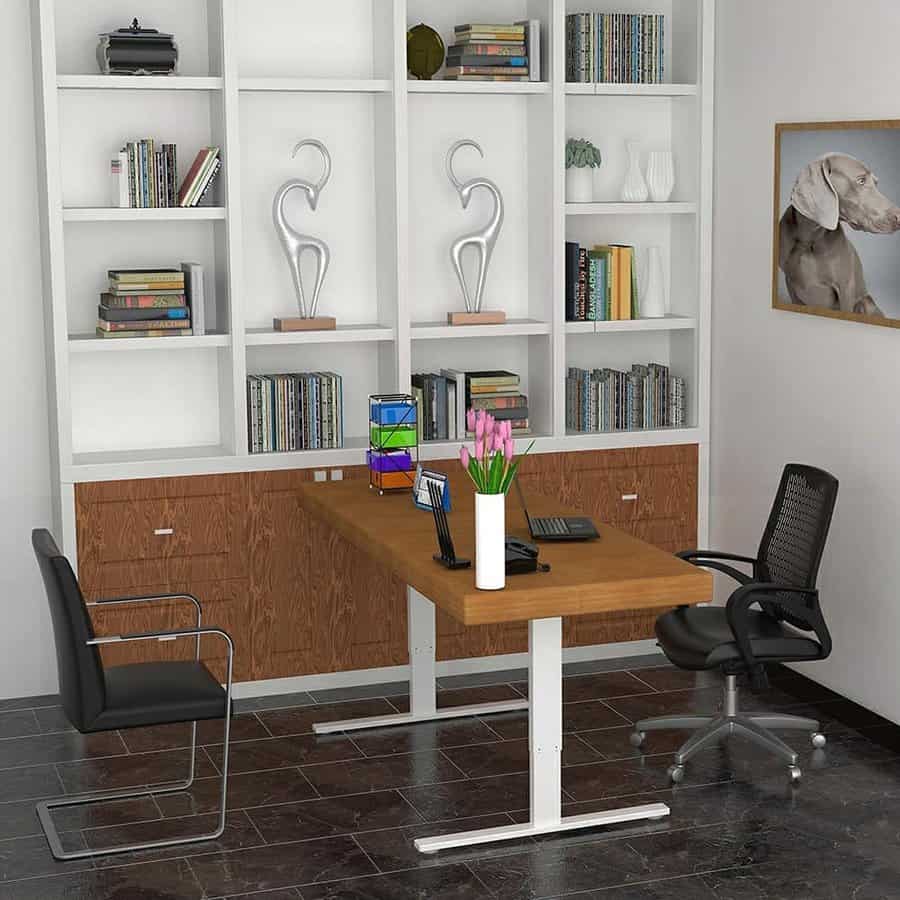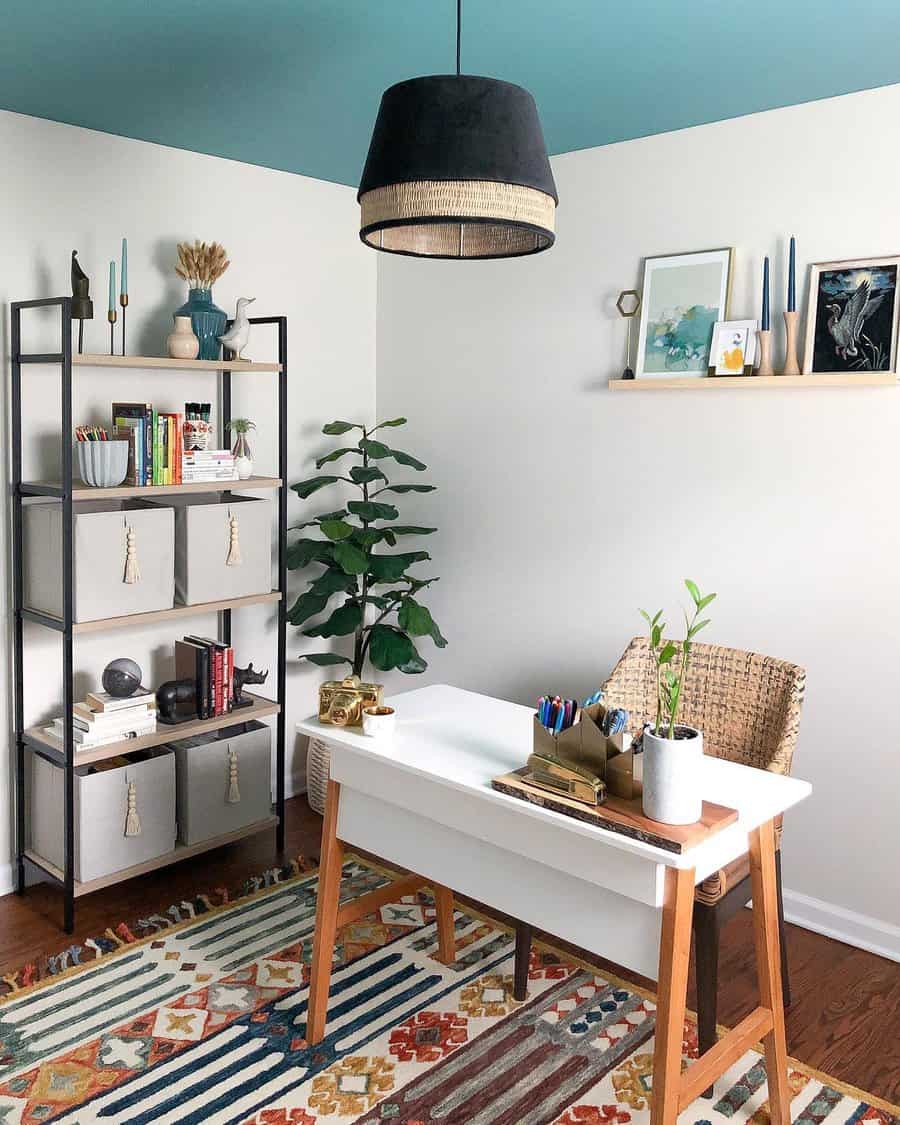 Your choice of office desk is a great way to bring a touch of personality to the space. All modern desks feature clean-cut lines. But the use of unique shapes and finishes can make your desk stand out as a work of art.
A clutter-filled desk is a sure way to cut down on productivity and increase stress levels. Prioritize storage solutions, like shelving or filing cabinets, to keep documents and other items well-organized.
7. Furniture
Modern furniture is defined by its sleek angles and unique finishes. This furniture is deceptively simple. Don't overlook the details!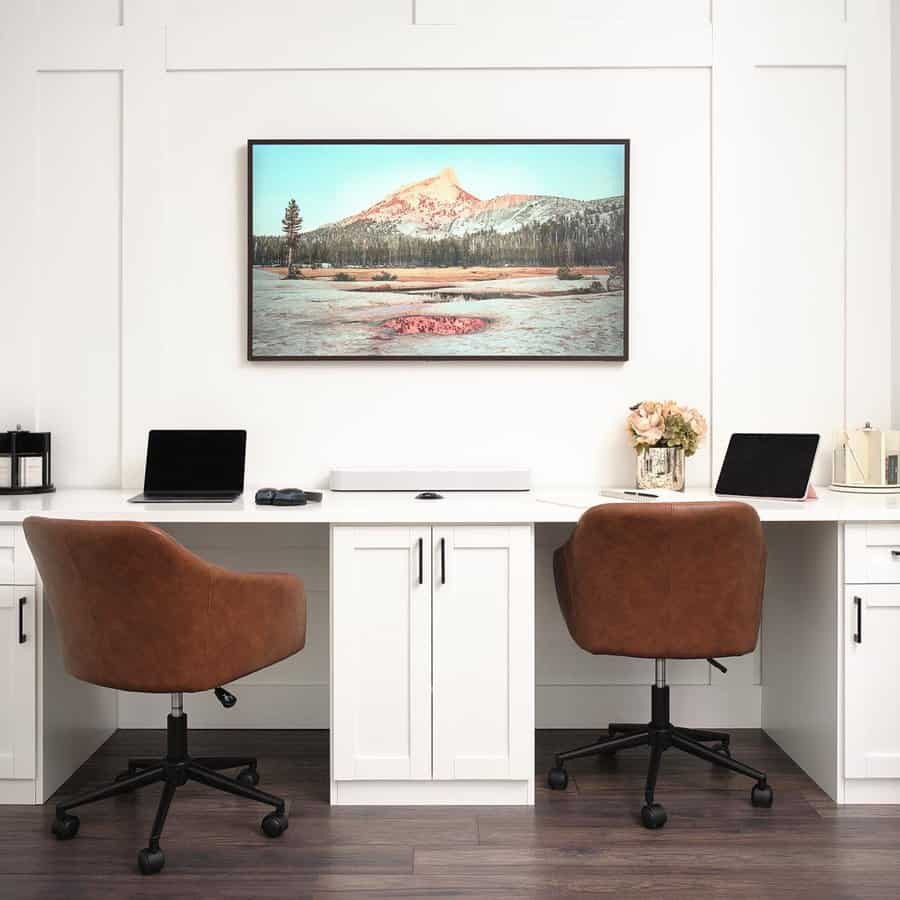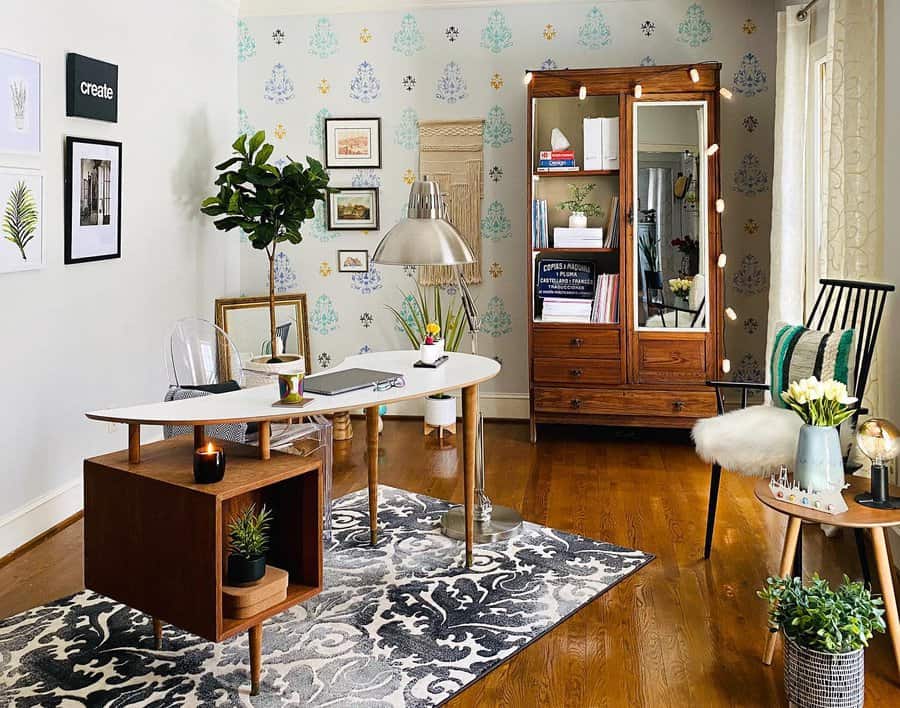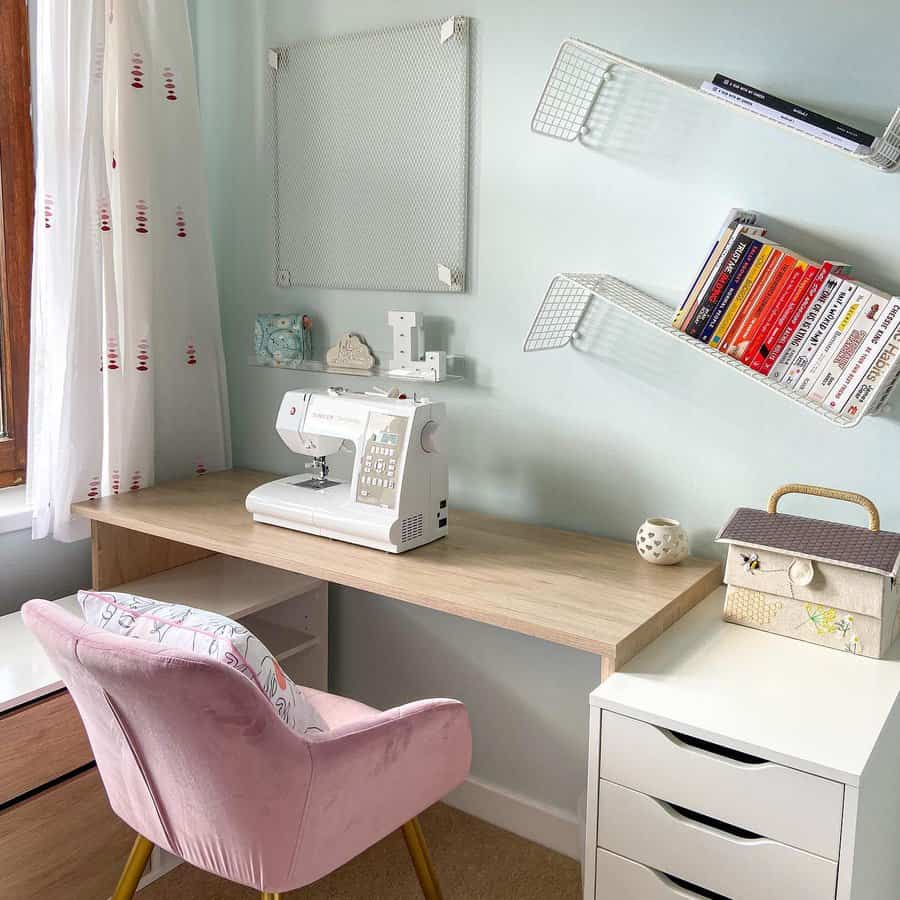 Many examples of modern furniture are actually vintage pieces. Pay a visit to your local antique seller and keep an eye out for unique mid-century modern or Art Deco furniture to include in your home office.
There are also tons of quality brands recreating these styles using updated materials and finishes. These pieces are easier to source (and often more affordable) than their original counterparts.
8. Living Room
Don't let the fact that your home office is in a central living space stop you from creating a practical and aesthetically pleasing design.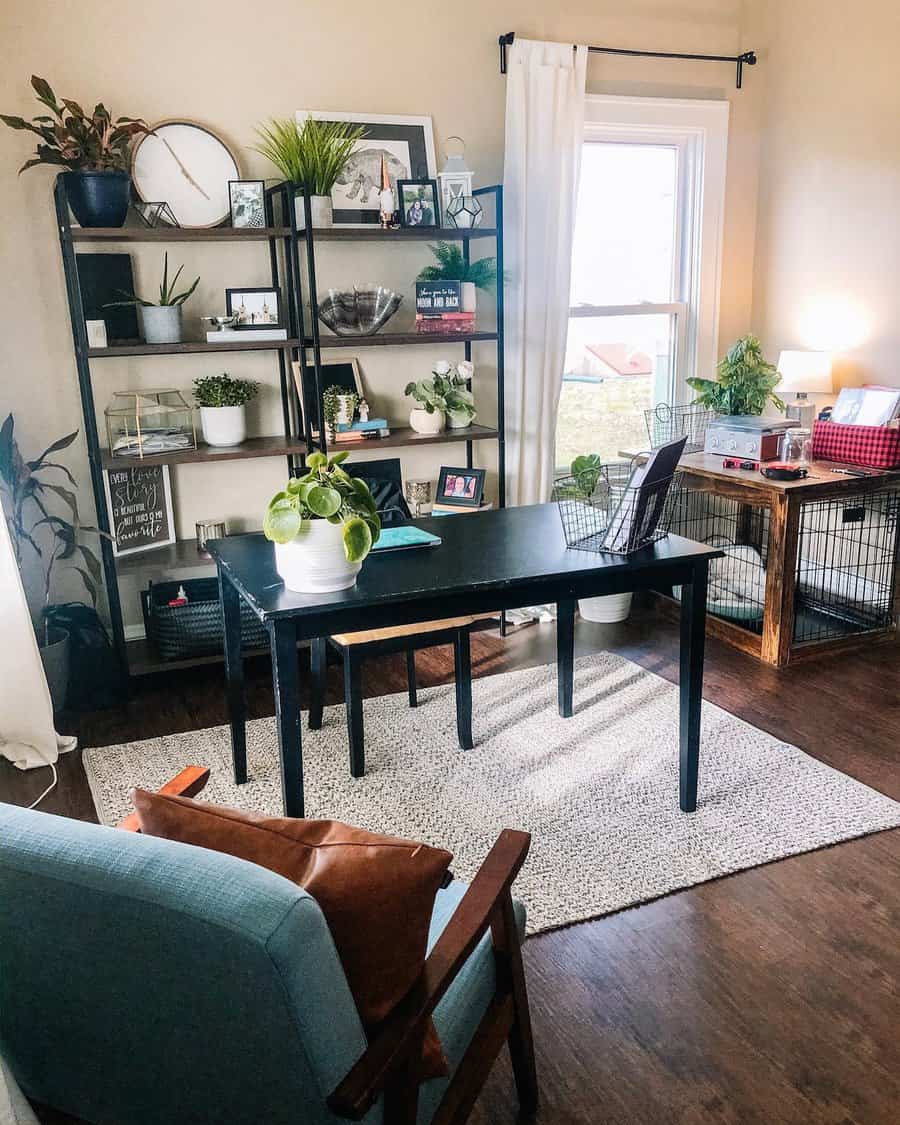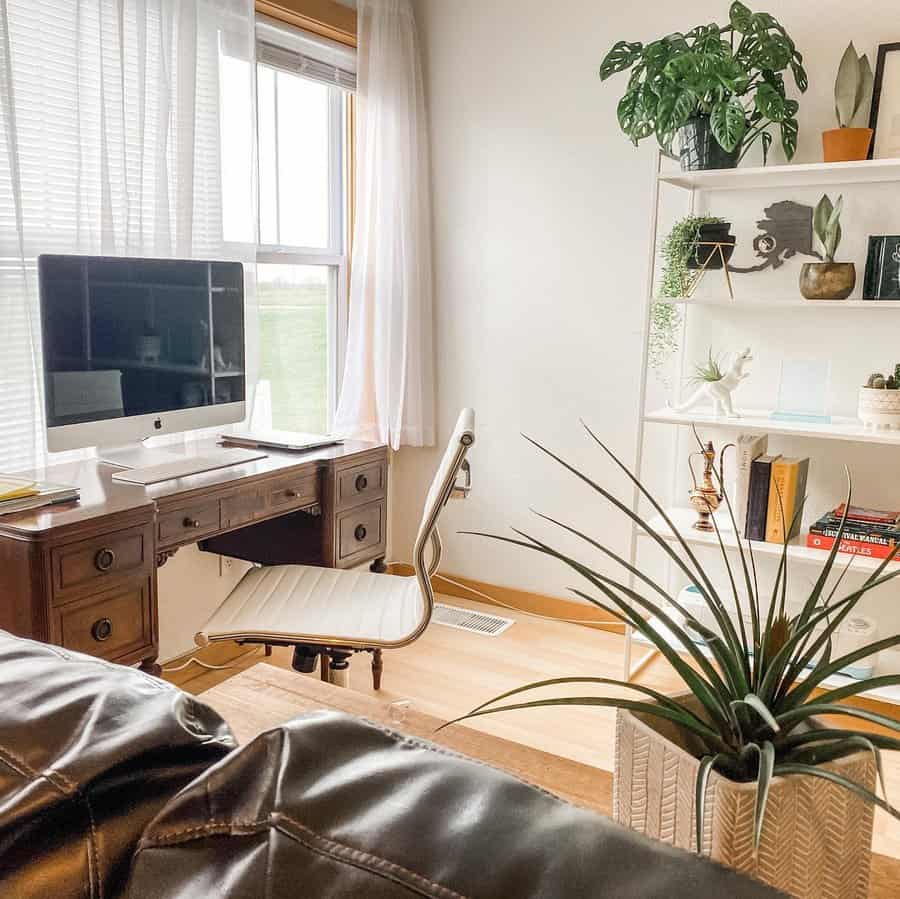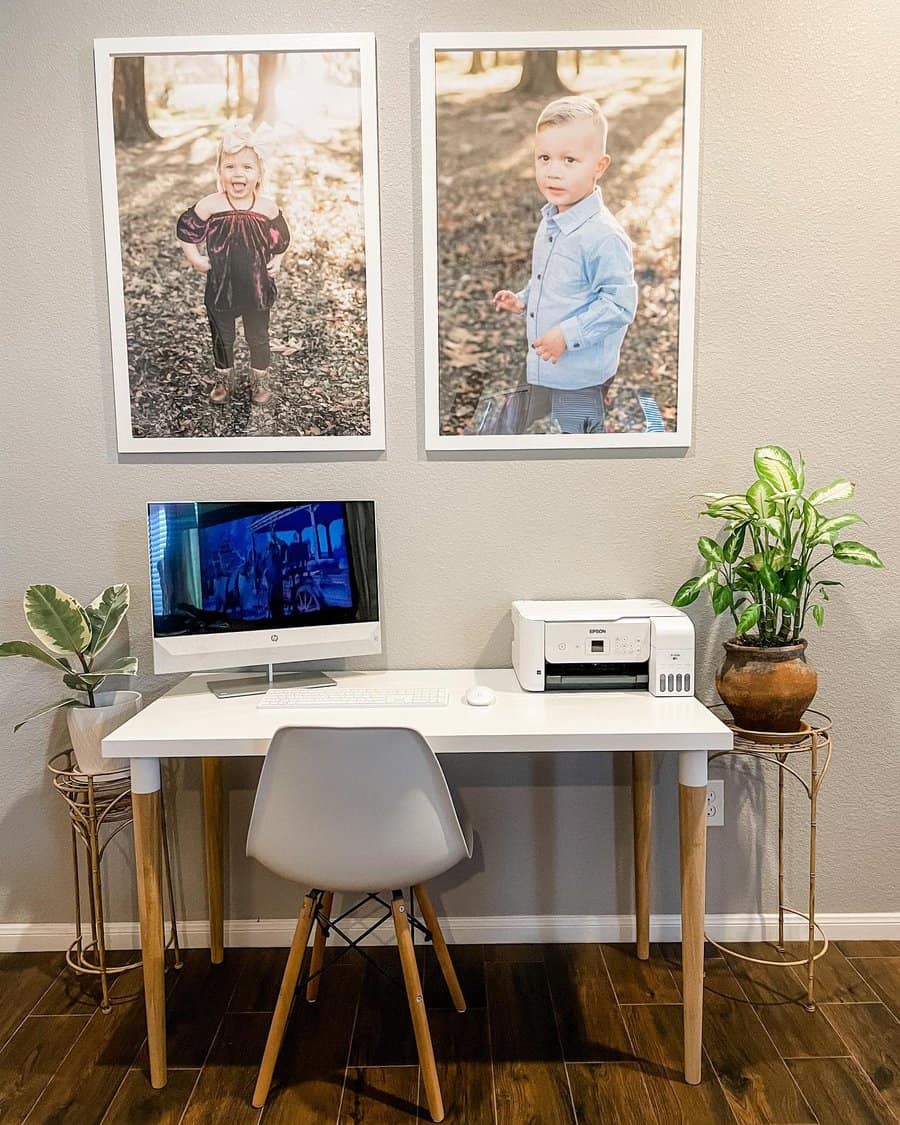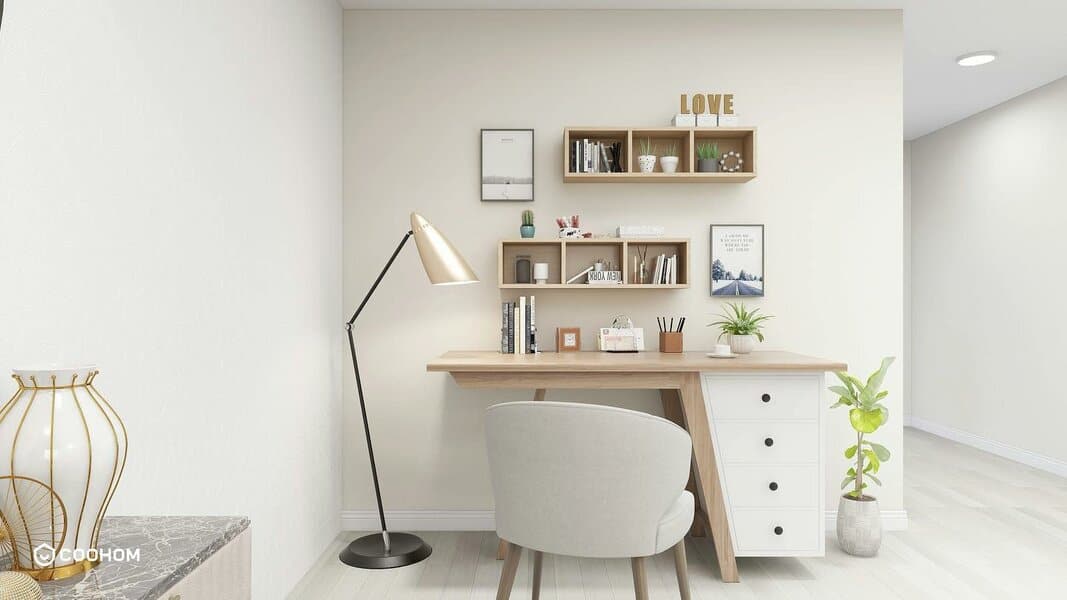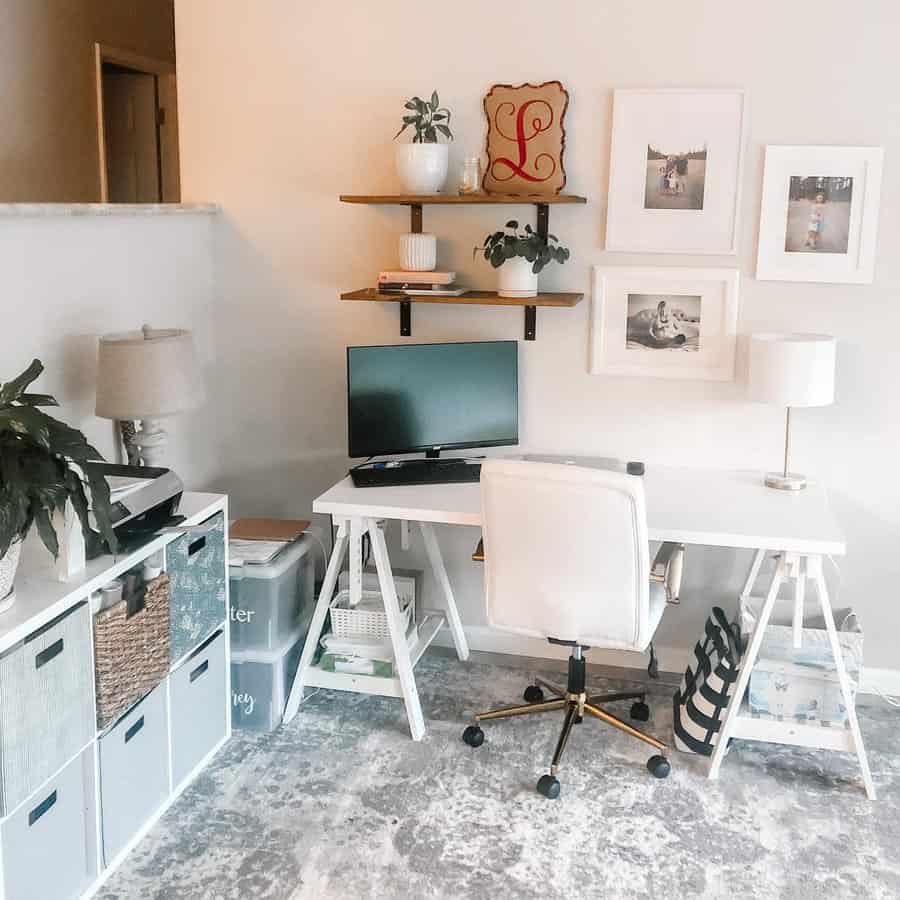 It's important to remember that your home office and living room design are one and the same. It's okay to create some physical distinction between one space and the other. Visually, however, your home office and living room should blend together as one.
The average living room gets a ton of foot traffic. Select a desk with adequate built-in storage to ensure none of your hard work goes missing during the day. A roll-top desk is a great investment for peace of mind and preserving a healthy work-life balance.
9. Minimalist
Not all modern office decor is minimalist. But there are few design aesthetics as well-suited to the home office as minimalism!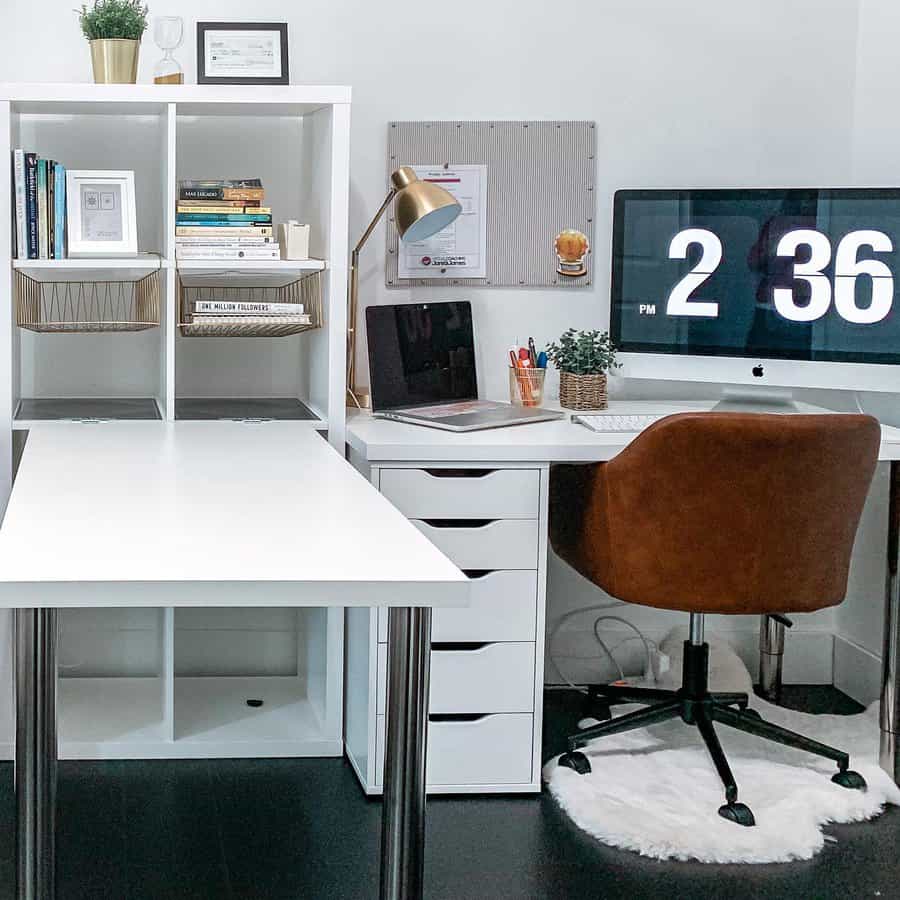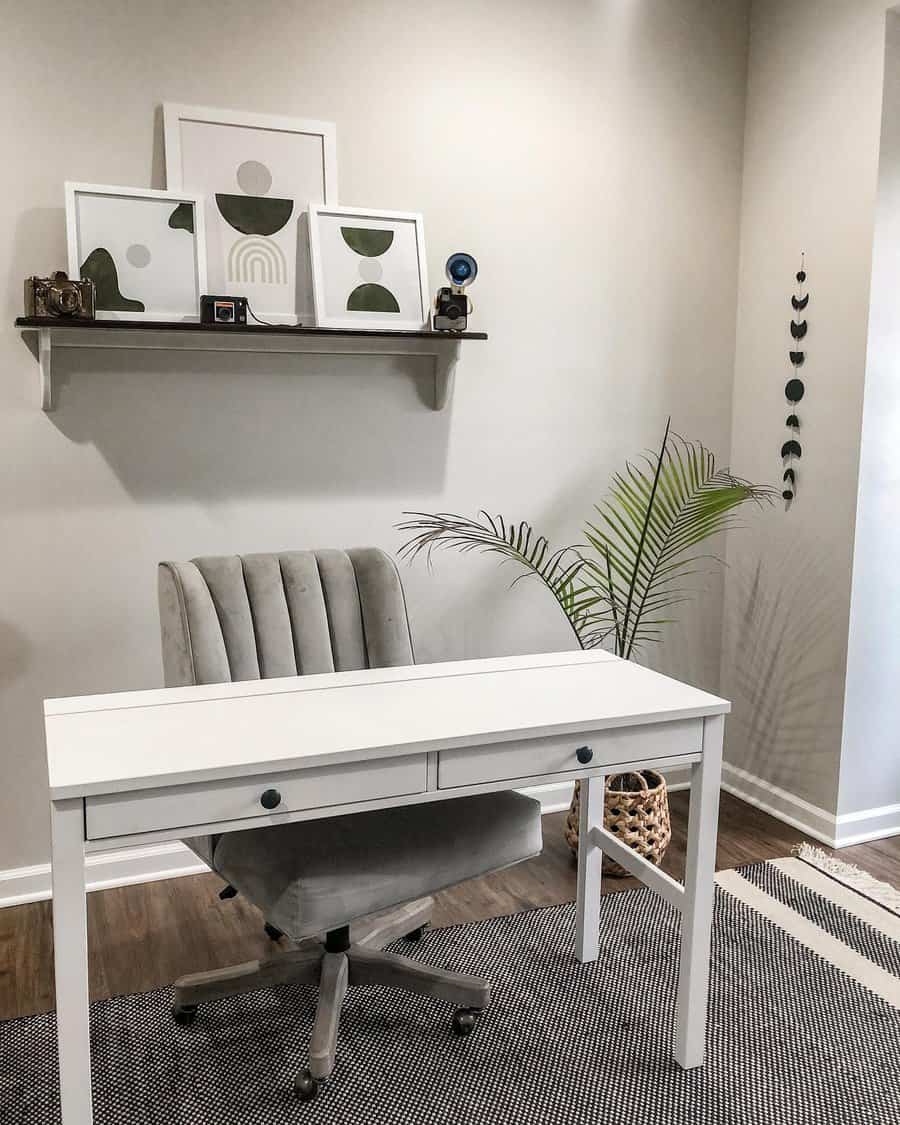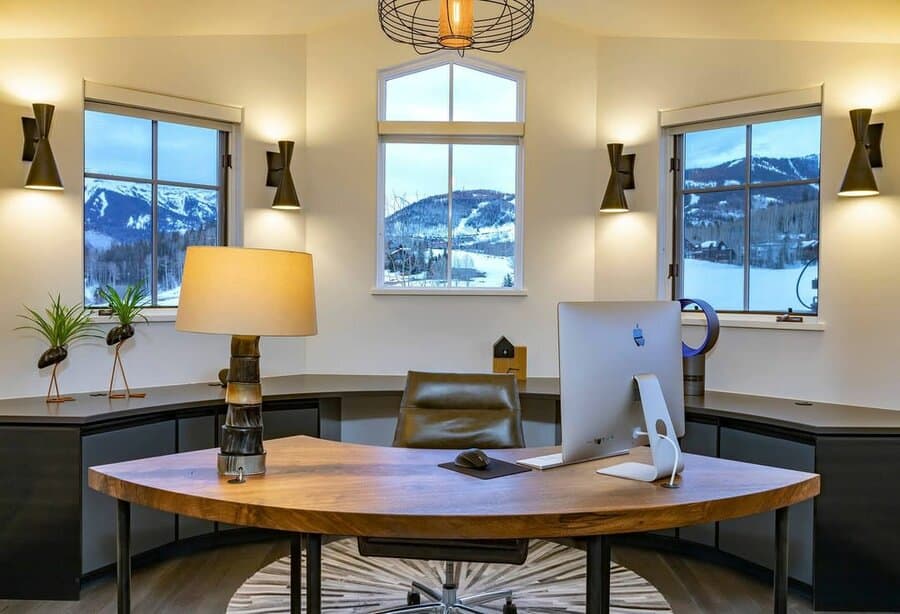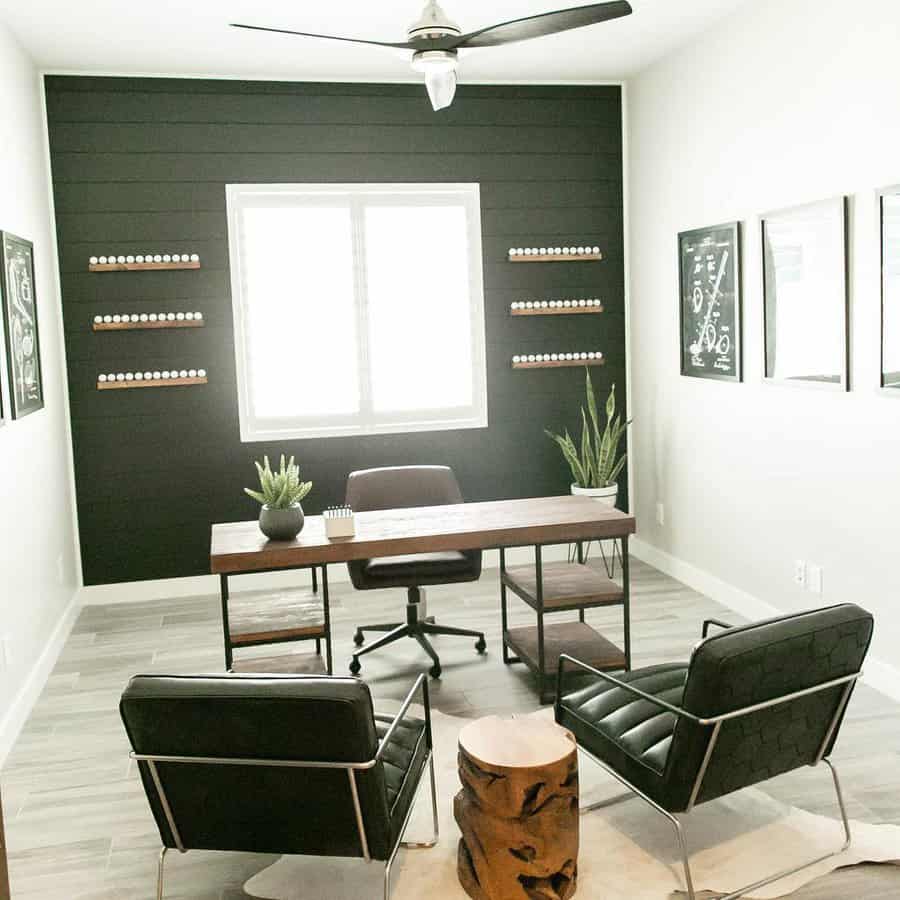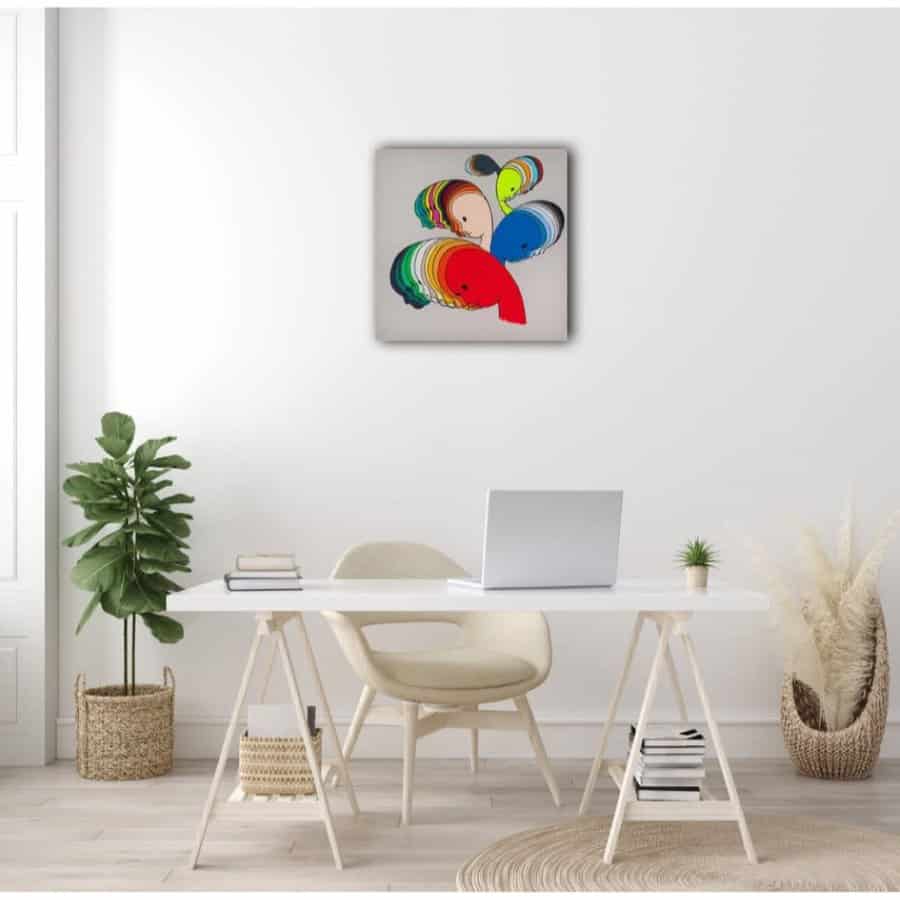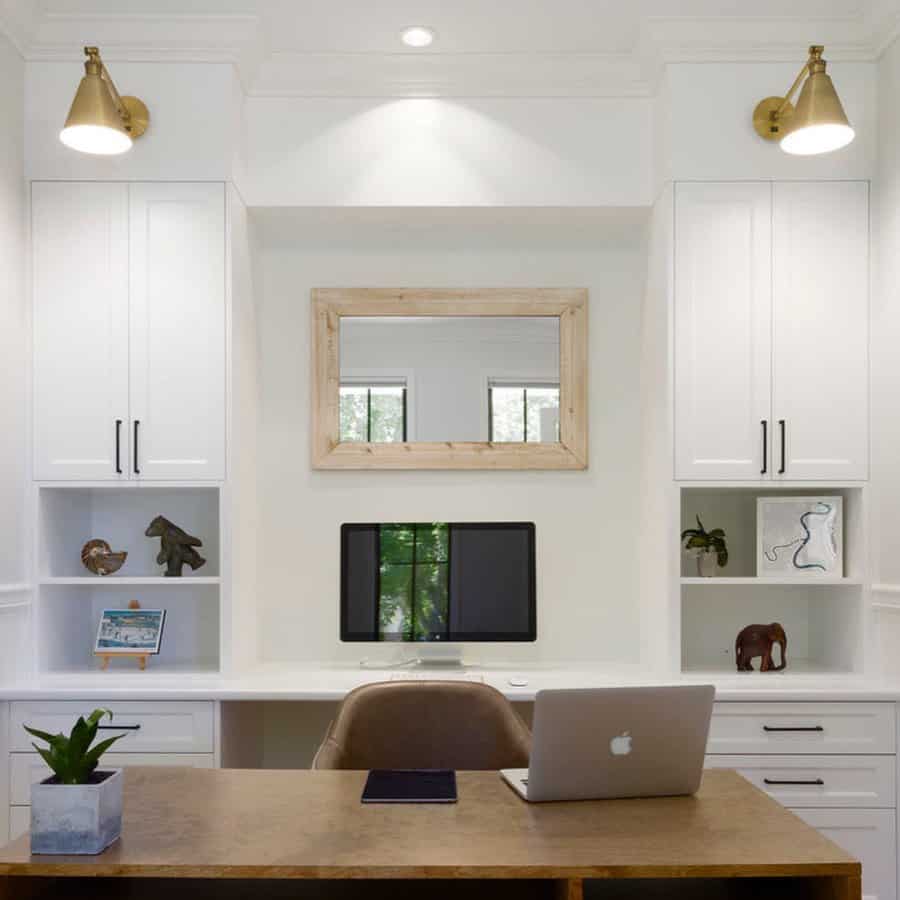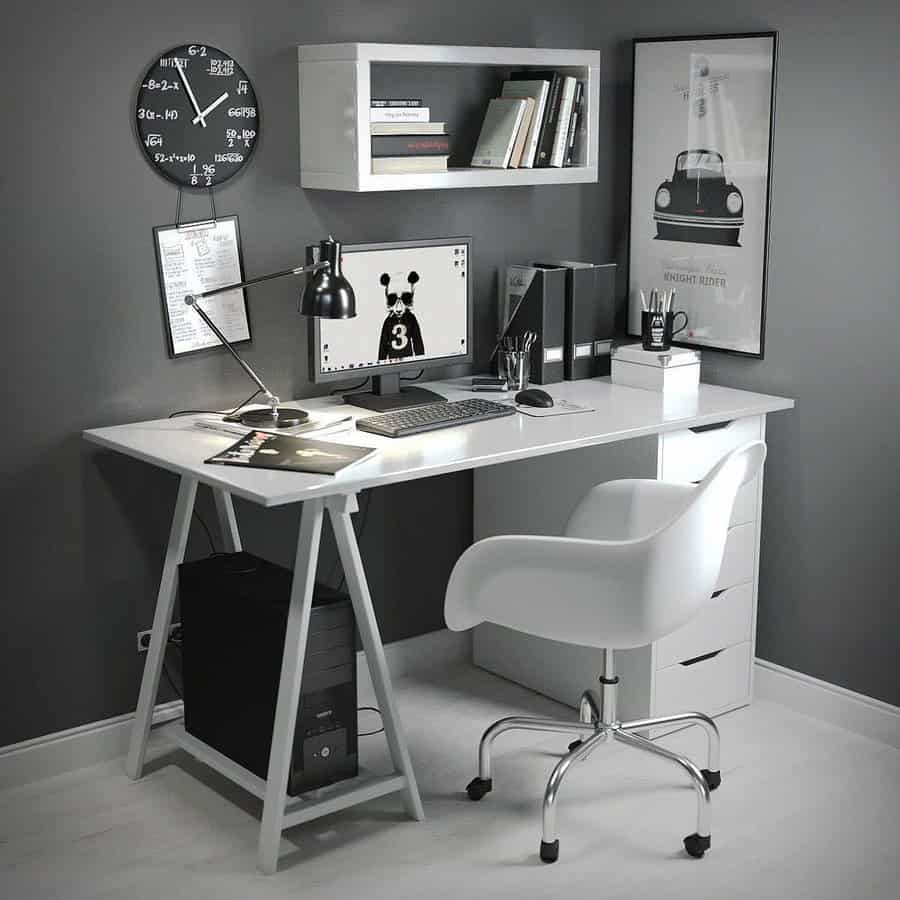 Minimalist design can be visual, physical, or both. For example, an all-white office space boasts a minimalist appearance regardless of how many items are inside. Or a minimalist office could be nothing more than a chair and a desk.
Minimalism does not need to be boring. You can infuse a ton of personality into a minimalist home office with unique light fixtures, office supplies, and furniture pieces.
10. White
White is the most versatile color in home design. On top of going with everything, it can also create the illusion of a room that is larger and brighter than reality.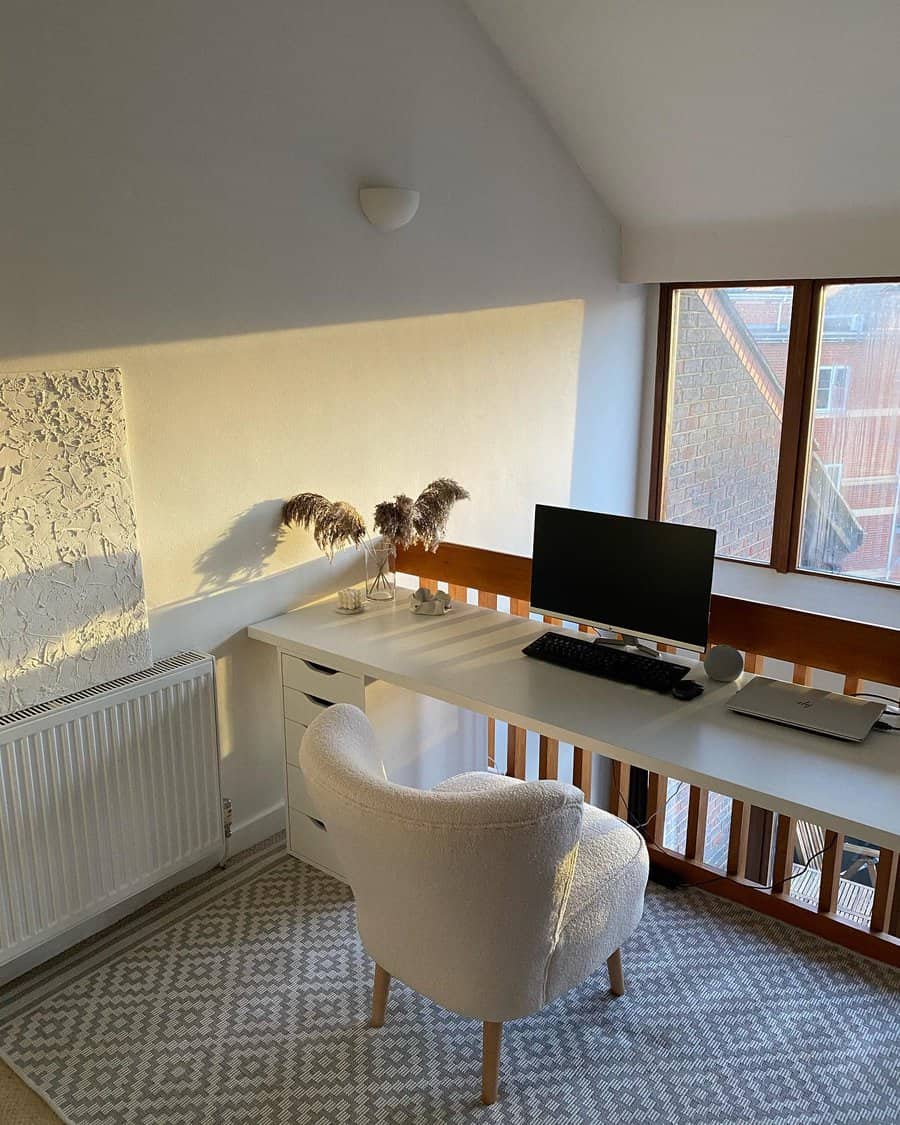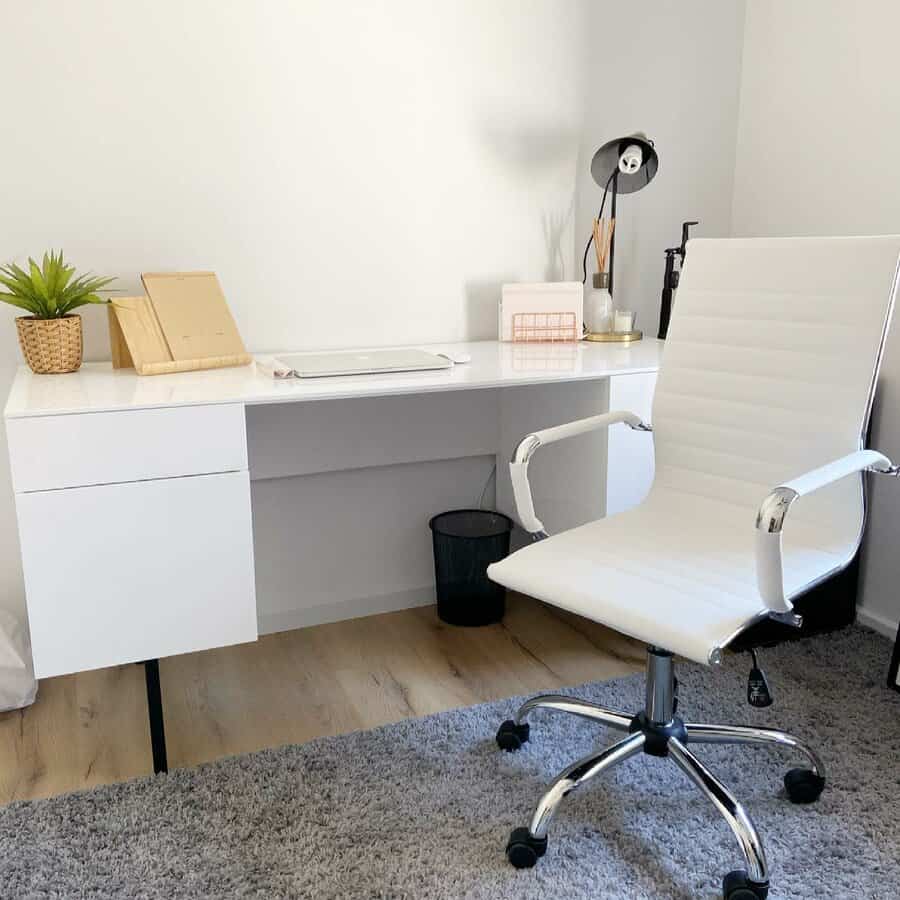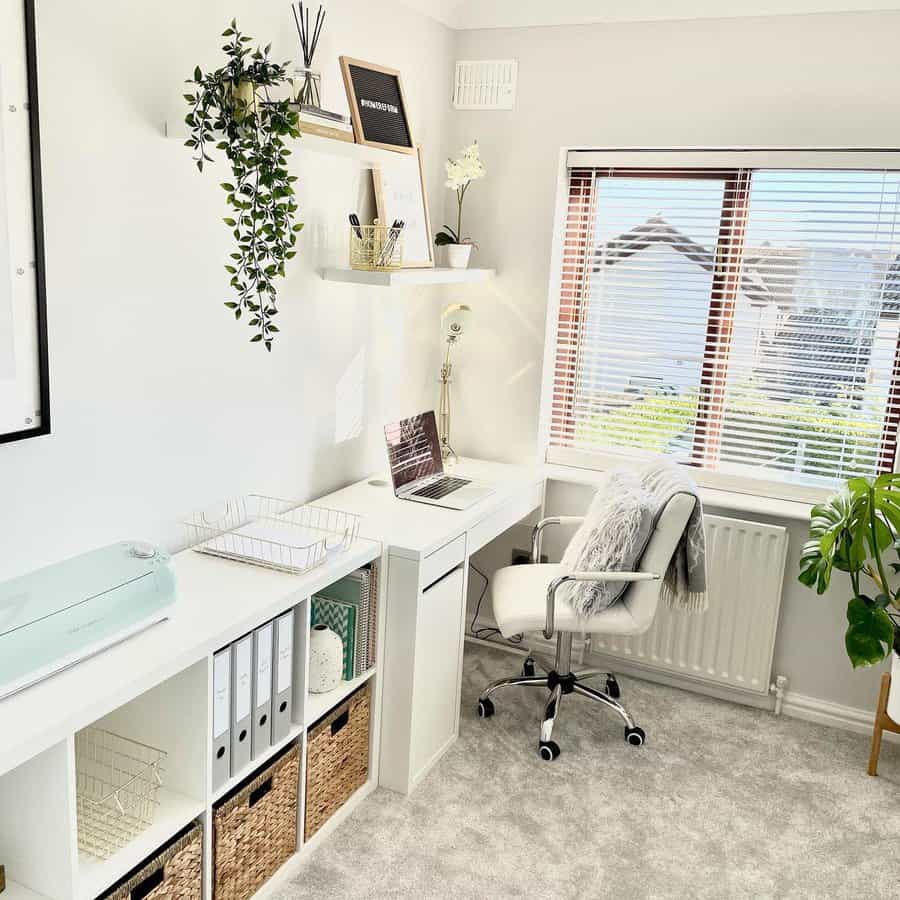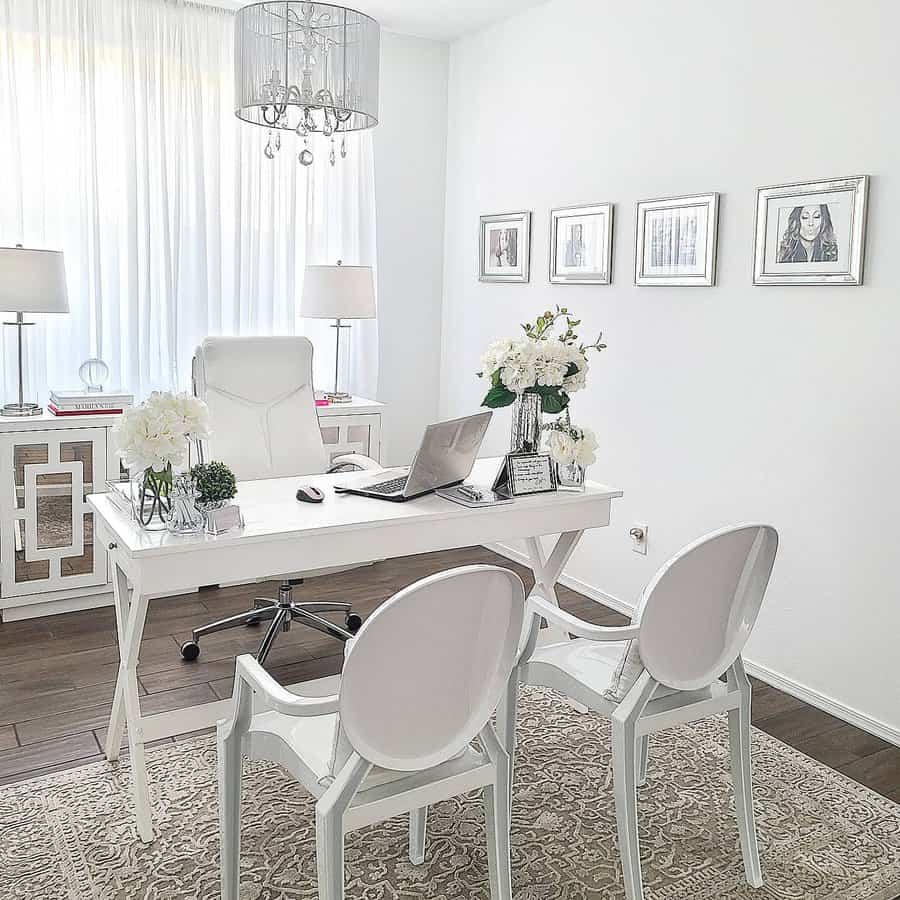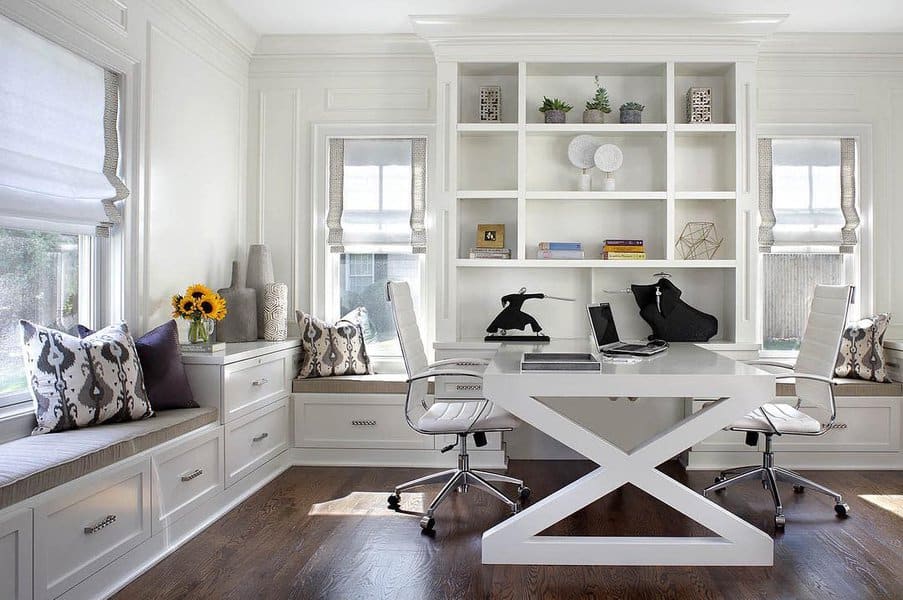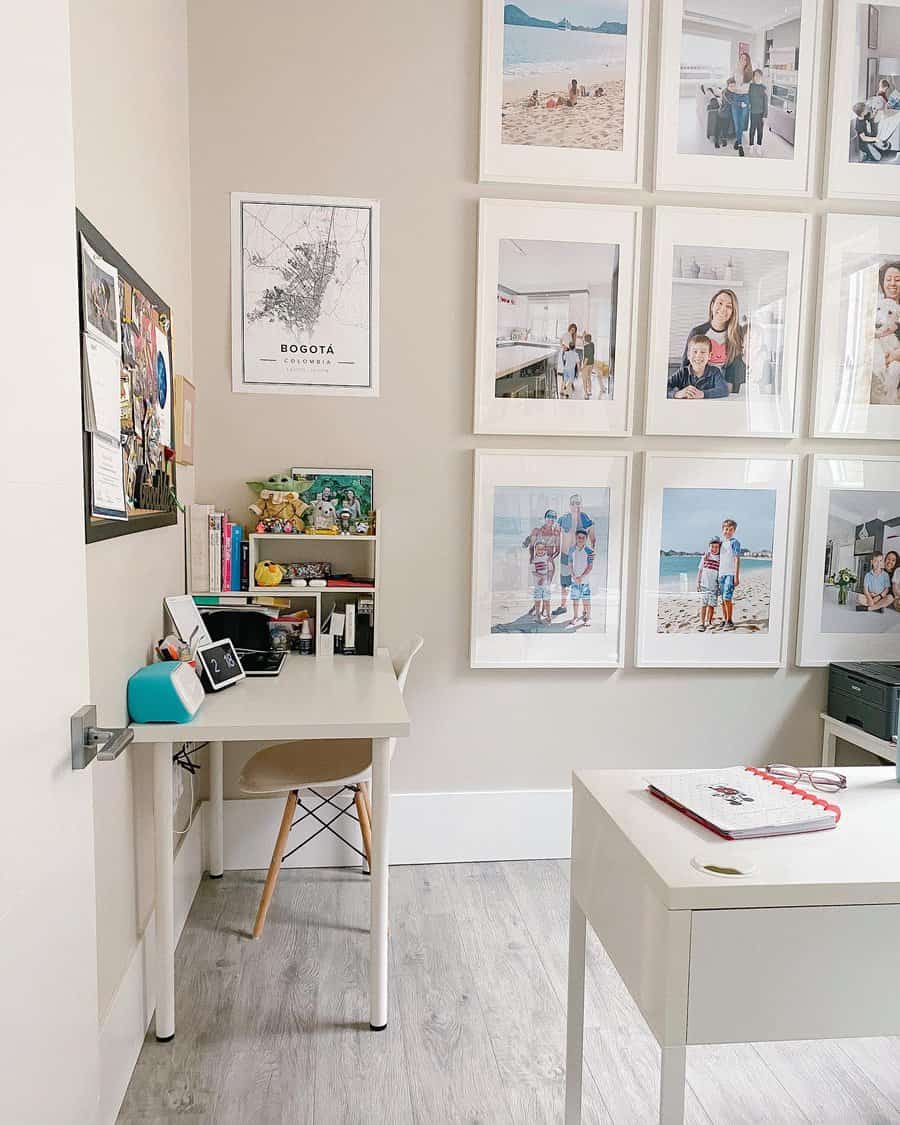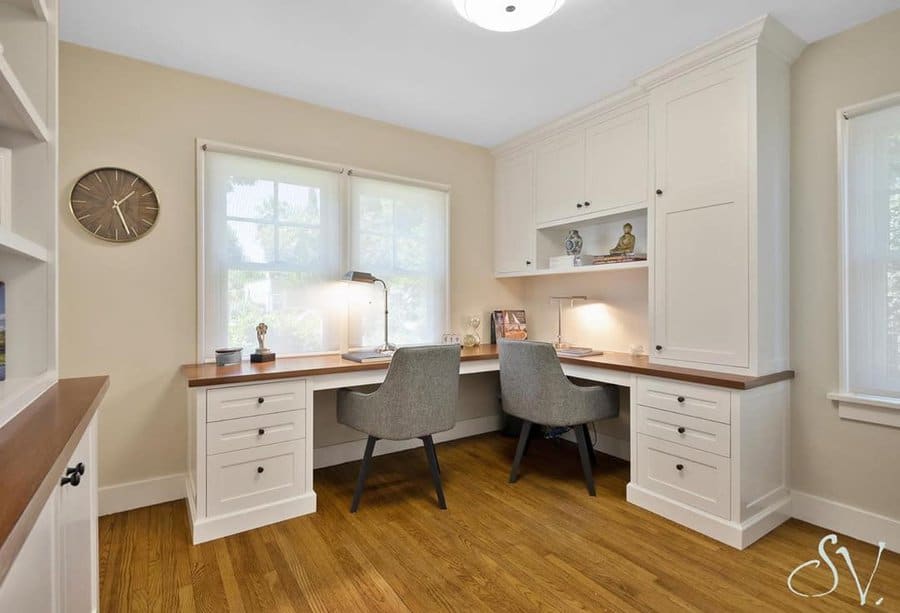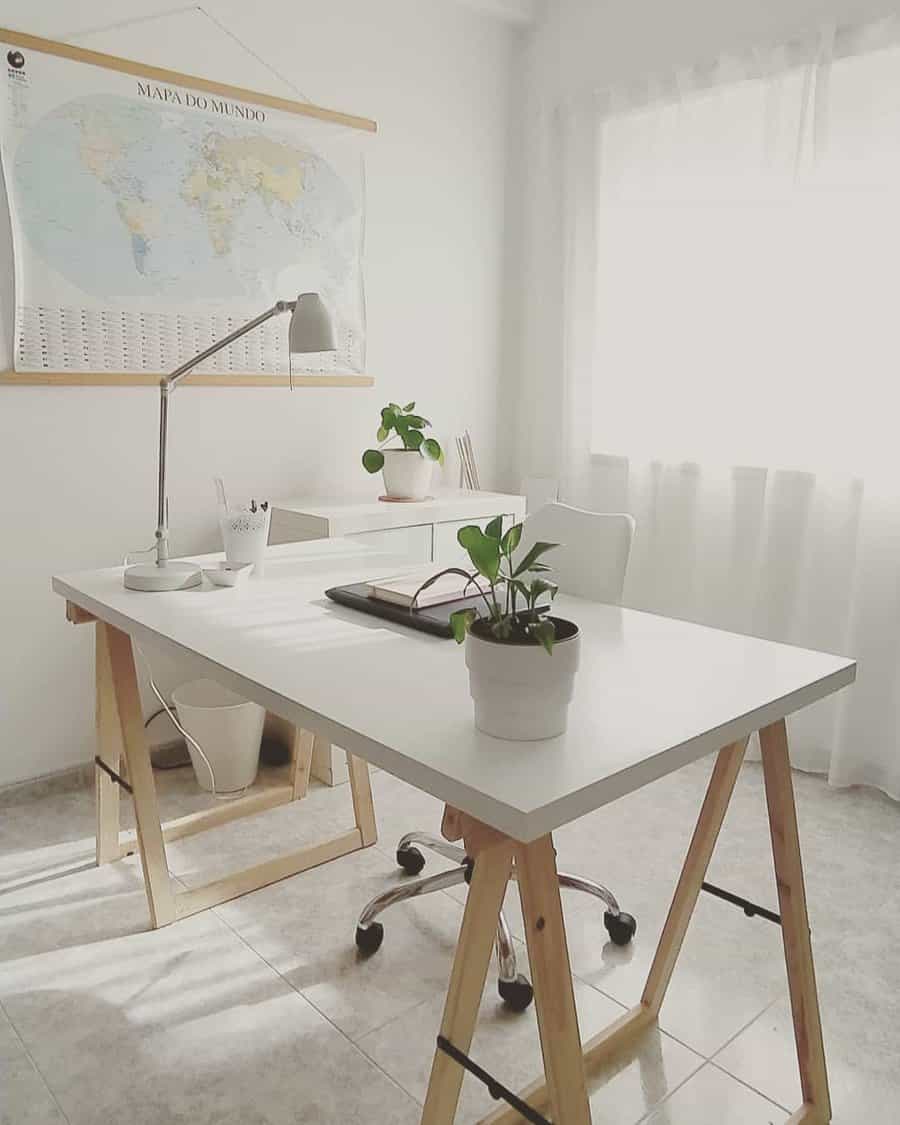 Opting for white walls or office furniture does not mean saying no to all color. Small pops of color can be incorporated in the form of desk decor or throw pillows. Or you can go big and bold with a statement art piece.
Natural wood grain pairs beautifully with white and will fill the space with warmth. Combine wood furniture or shelving with potted plants to complete the aesthetic.
Modern Home Office FAQs
What is the best lighting for a home office?
Proper lighting is crucial to productivity as well as your home office design overall. Installing the wrong type of lighting in your office space could lead to eye strain, headaches, and other problems.
Avoid direct lighting as much as possible. Utilize the room's natural light throughout the day. Supplement the space with soft indirect lighting in the form of a wall fixture or floor lamp. Keep a desk lamp on hand for detailed tasks.
Can a home office be written off on taxes?
Maybe. But you shouldn't bank on using your new home office space to save money on your annual taxes.
Previously, at least in the United States, most workers were able to apply their home workspace as a tax deduction. However, the tax laws have recently changed to exclude those working for a traditional employer — even if they are 100% remote.
Other countries also offer tax deductions related to working from home but these laws vary greatly by location.
No matter your employment situation or geographical location, the best way to learn if your home office qualifies as a tax deduction is to speak to a local professional!