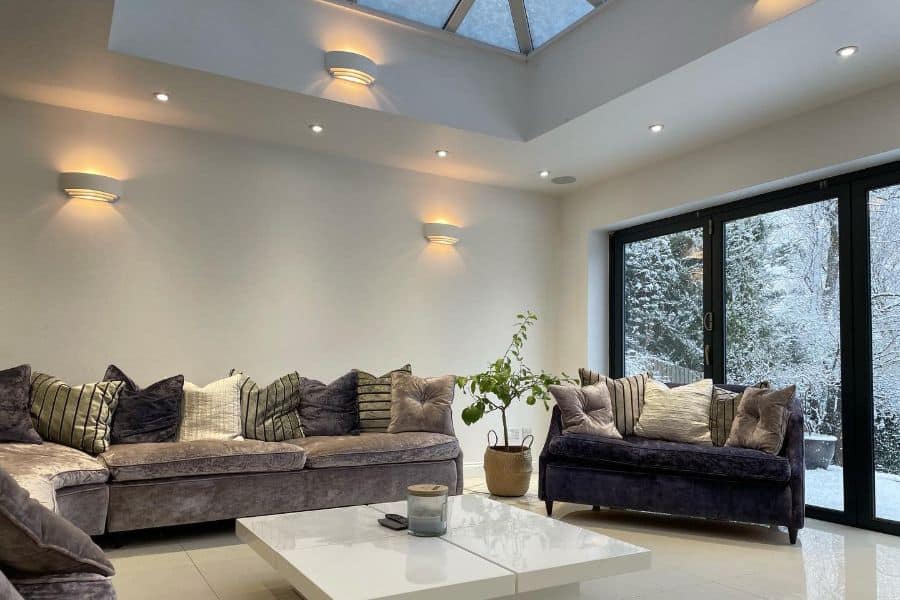 The Top 33 Modern Living Room Ideas
by — Kendrick Hulse

Published on September 6, 2021

Updated on October 4, 2023
The modern interior decor is extremely versatile and stylish. Yet far too few homeowners understand what makes this design movement so special.
While you can incorporate these trends into your living room design at any time, there's been a huge uptick in modern-inspired home decor shared on social media and sold by retailers in recent years. So if you care about being up-to-date with the latest interior design styles, now is as good a time as ever to familiarize yourself with everything the modern aesthetic offers!
Keep reading for our favorite modern living room ideas to help you blend the best of 20th and 21st-century design!
1. Elevate Your Space with Area Rugs
Enhance your modern living room's aesthetic by introducing a well-chosen area rug. Opt for geometric designs to infuse elegance and texture into the space. Select a single large rug or multiple smaller ones to create visual interest and open up the room. Pay attention to color, fabric, and size to achieve a captivating and cohesive design.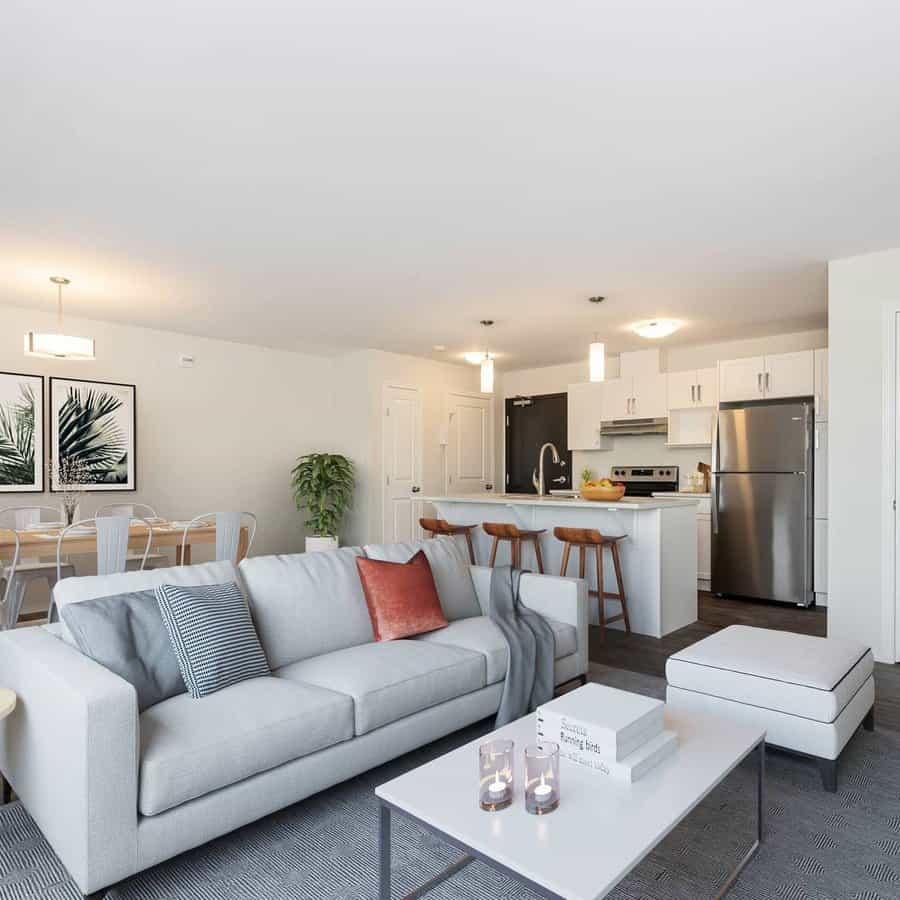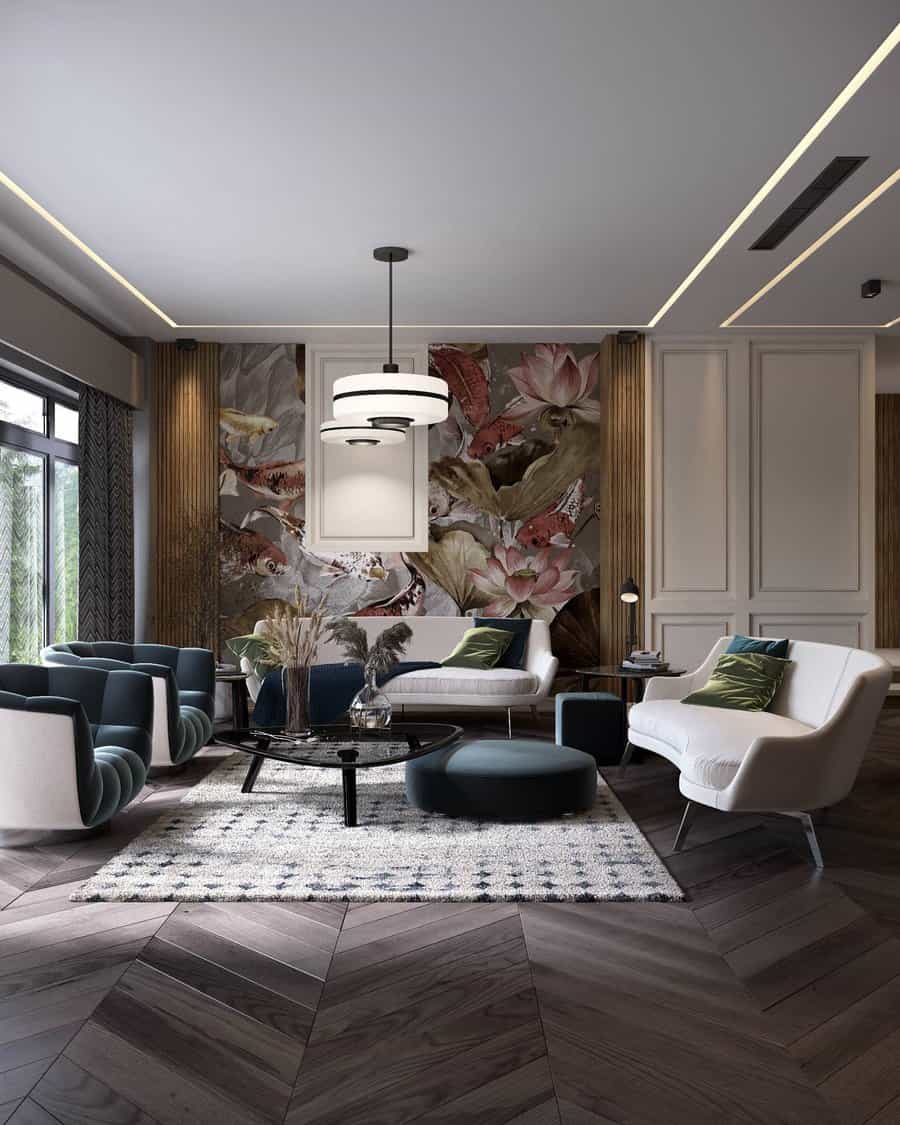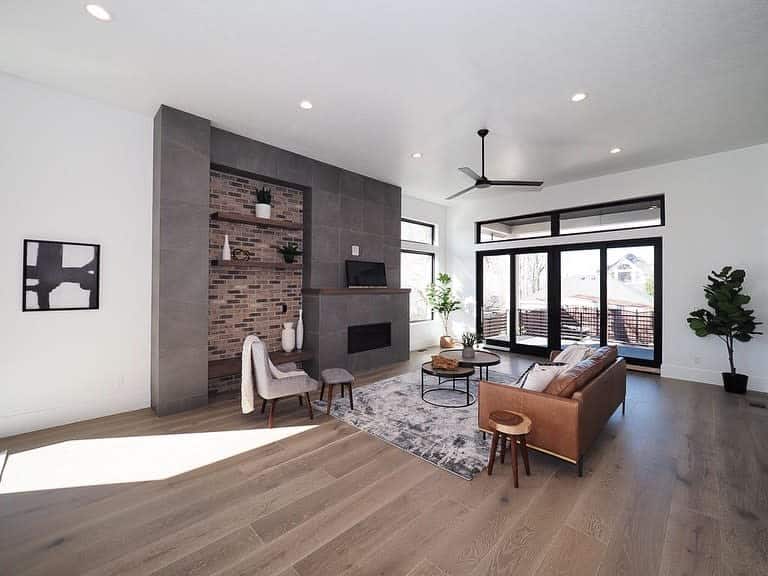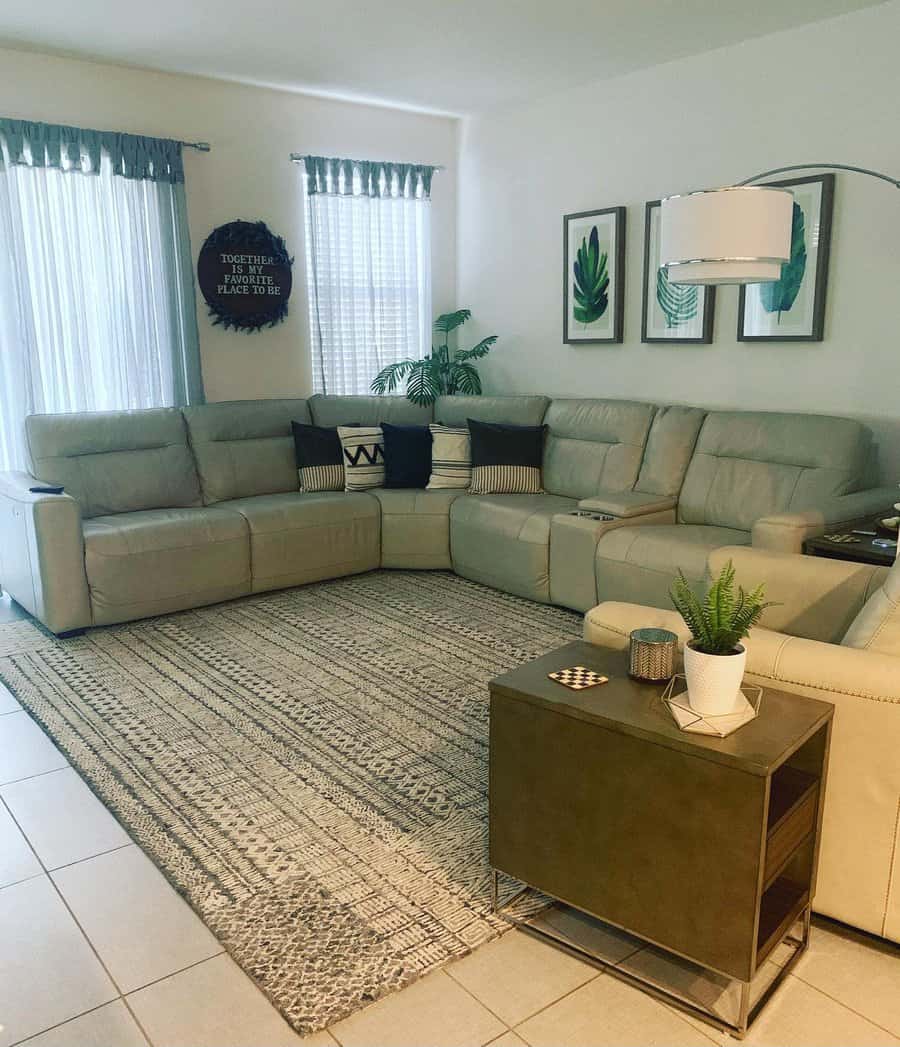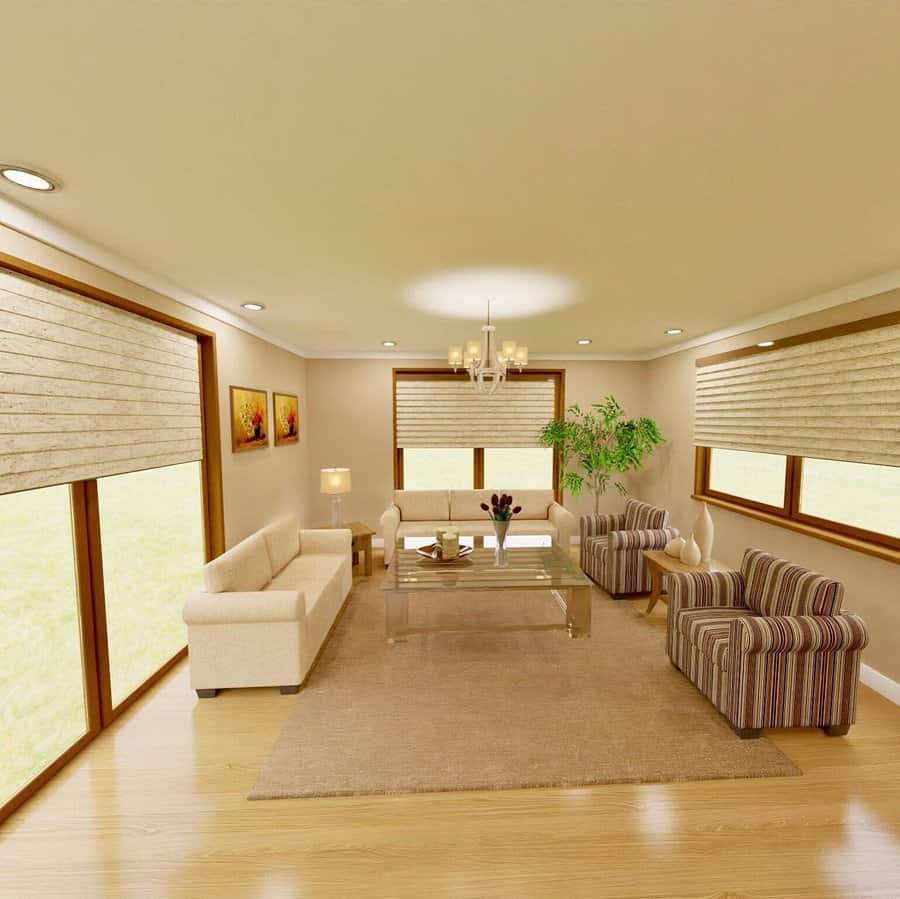 2. Infuse Energy with Vibrant Colors
Inject life into your modern living room by embracing vibrant colors. Create a dynamic and functional space by incorporating a diverse color palette and accent shades. Play with contrasting textures and color combinations, such as pairing a red velvet sofa with a light gray backdrop or mixing geometric patterns with bold hues. Add personality and visual interest through art pieces, and enhance comfort with lively throw pillows. This approach ensures your living room is both stylish and inviting.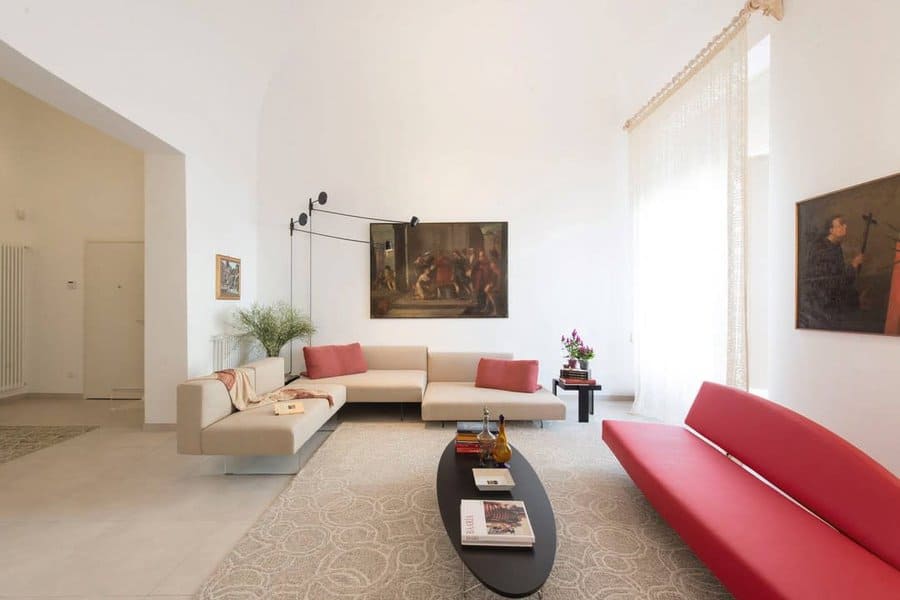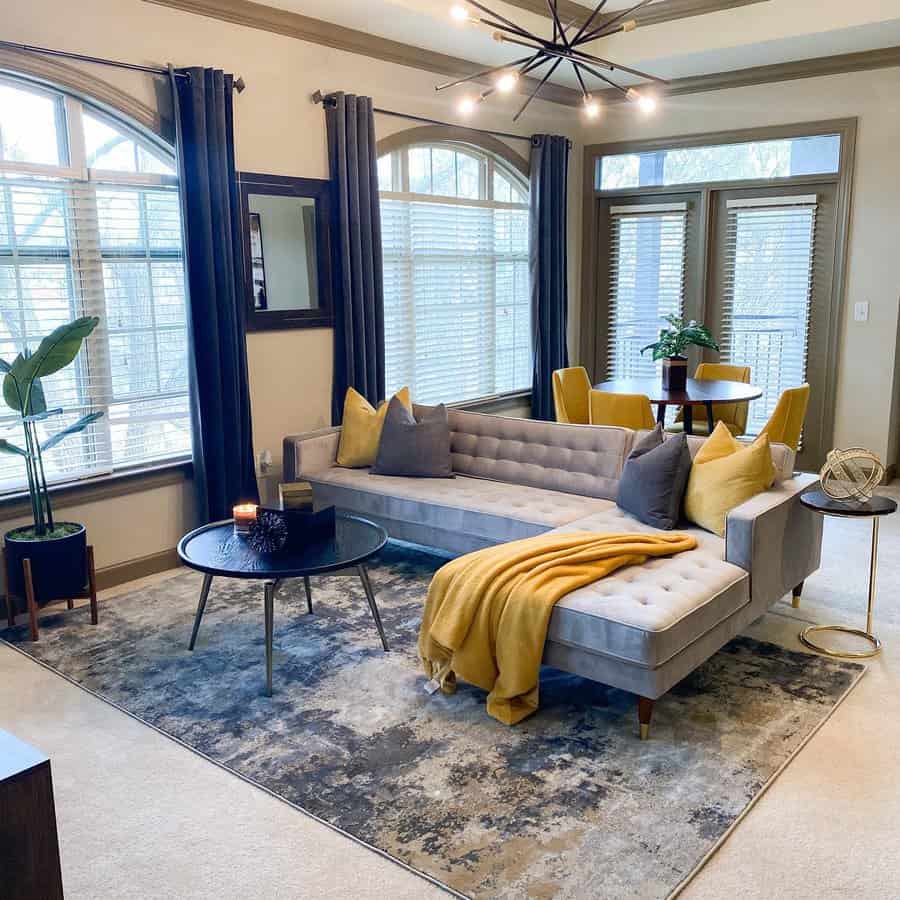 3. Contrast with Wood Slab Coffee Table
Achieve a modern and cozy atmosphere in your living room with the addition of a wood slab coffee table. Incorporating warm wooden hues, this table creates an inviting ambiance. Its unique blend of materials and organic shape adds character and intrigue, contrasting beautifully with sleek modern furniture. Furthermore, it serves as an eye-catching focal point, sparking conversations and enhancing the overall appeal of your space as guests imagine themselves enjoying a drink while admiring its beauty.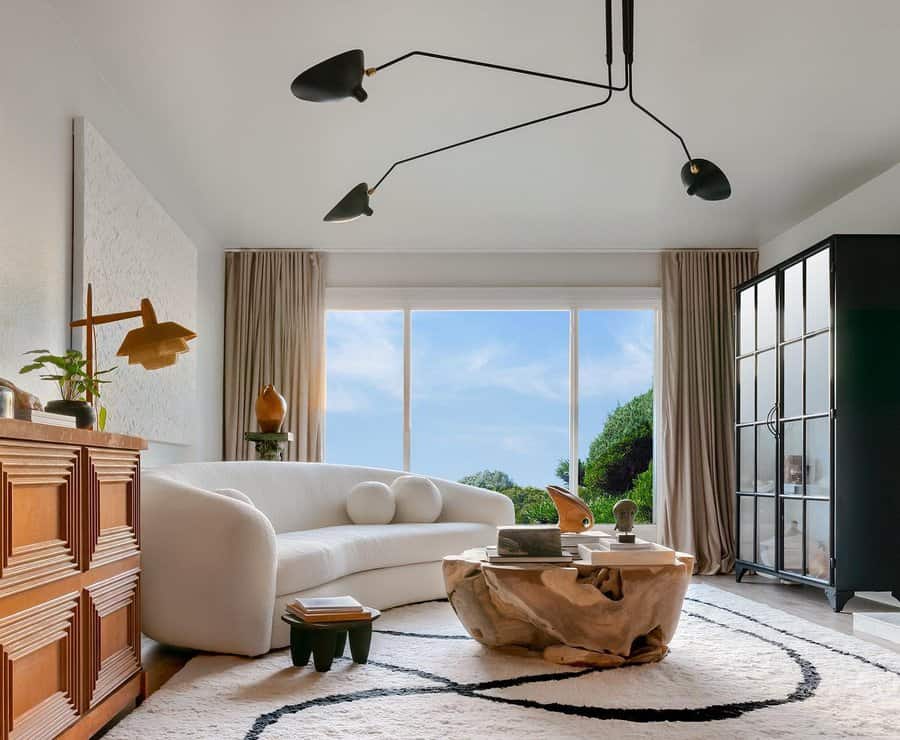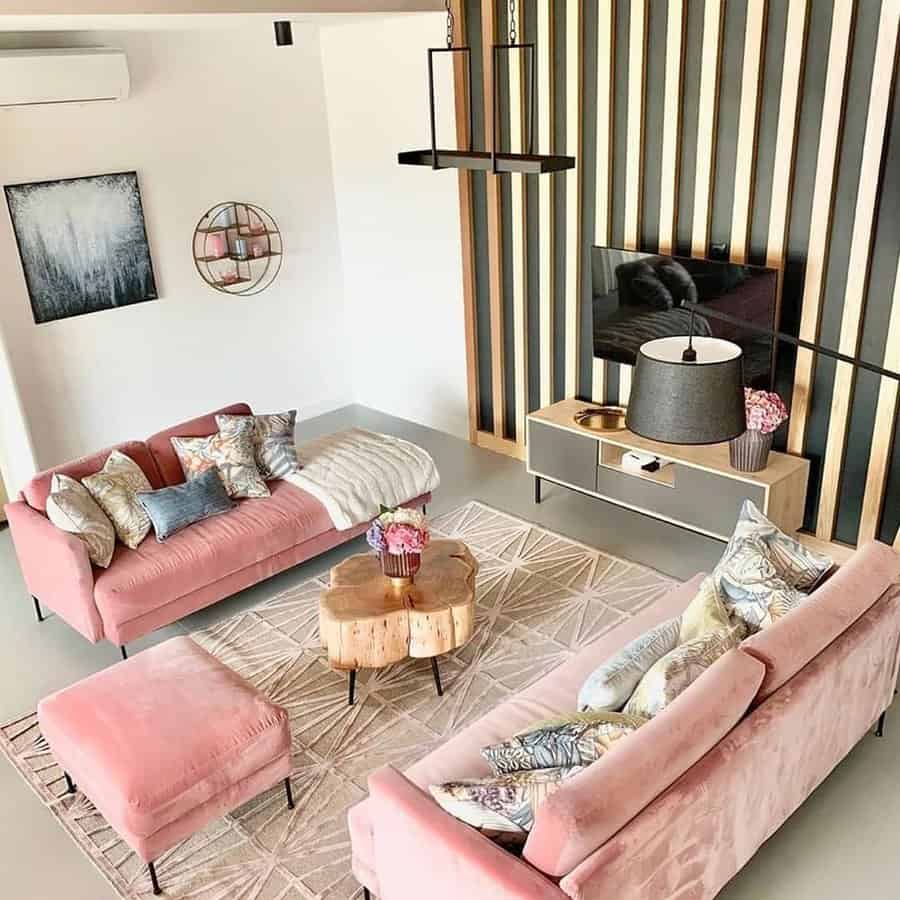 4. Embrace Coastal-Style Interiors
Transform your living room into a tranquil coastal retreat by embracing coastal-style interiors. Begin by painting your walls white to create a bright, airy atmosphere. Incorporate key accent pieces like white cushions, blue pillows, sheer curtains, and intricate lighting fixtures to evoke the soothing coastal vibe. It's the attention to subtle details that can turn an ordinary living space into a captivating coastal haven, offering a refreshing and inviting atmosphere.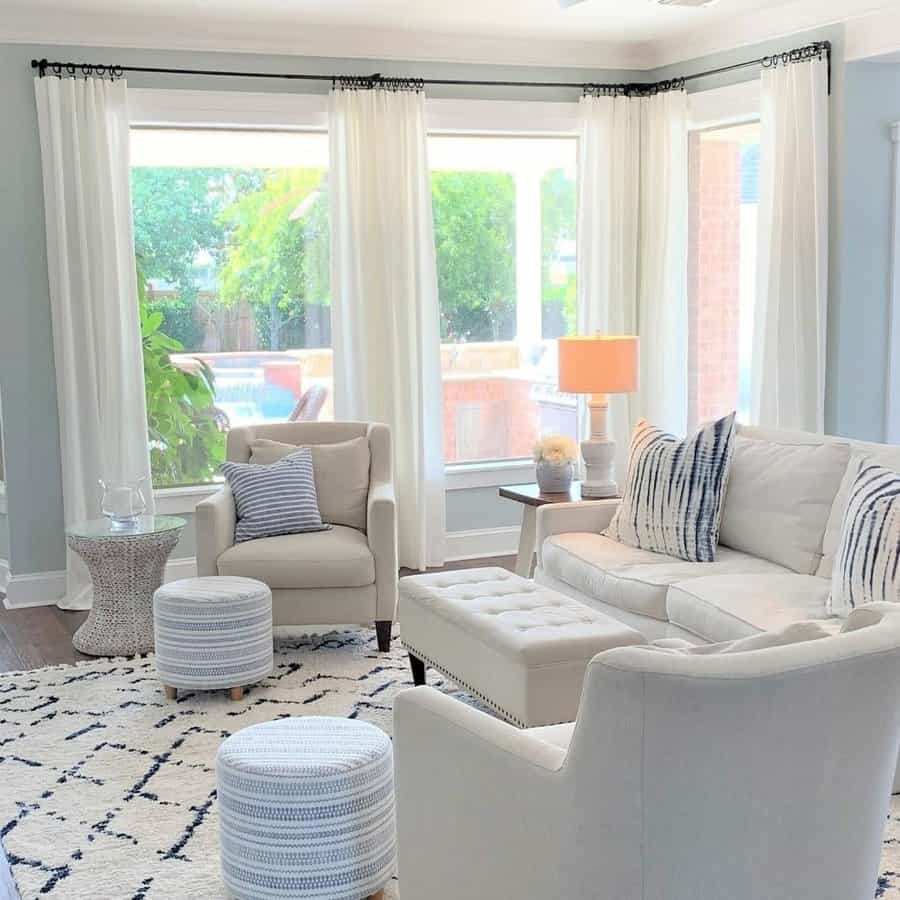 5. Enhance Style with Throw Pillows
Elevate the style of your modern living room effortlessly by incorporating statement throw pillows. These accessories add personality and flair without the need for significant changes. Start with a neutral base of whites and creams to provide versatility. Then, strategically introduce vibrant colors or eye-catching patterns with your pillows to set the tone.
Explore shades like blue, pink, or bold oranges for a unique touch. Once you've curated the perfect combination of colors and prints, your living room will become a comfortable, stylish, and inviting space that reflects your personal style.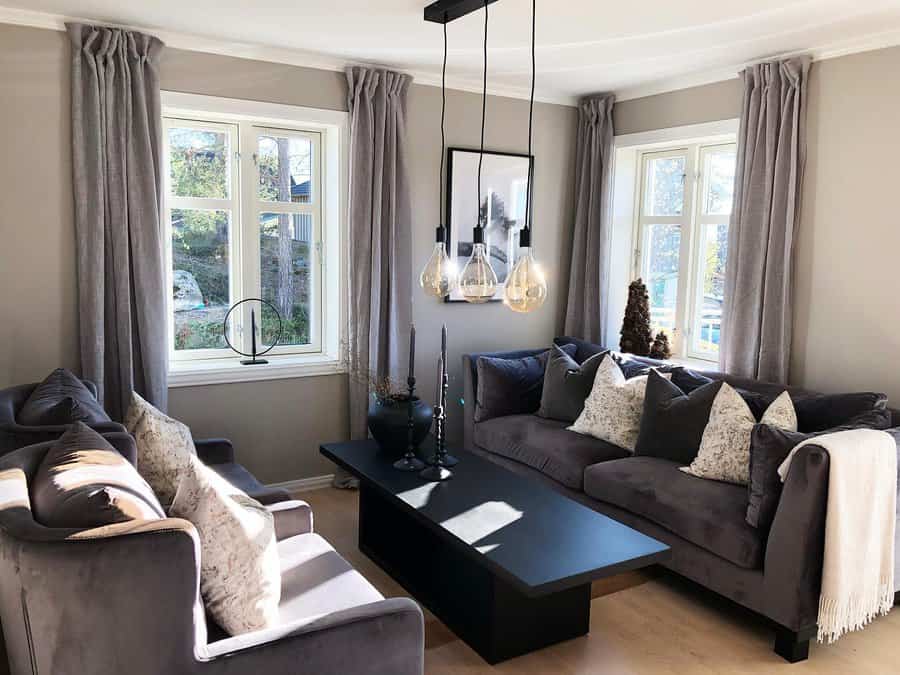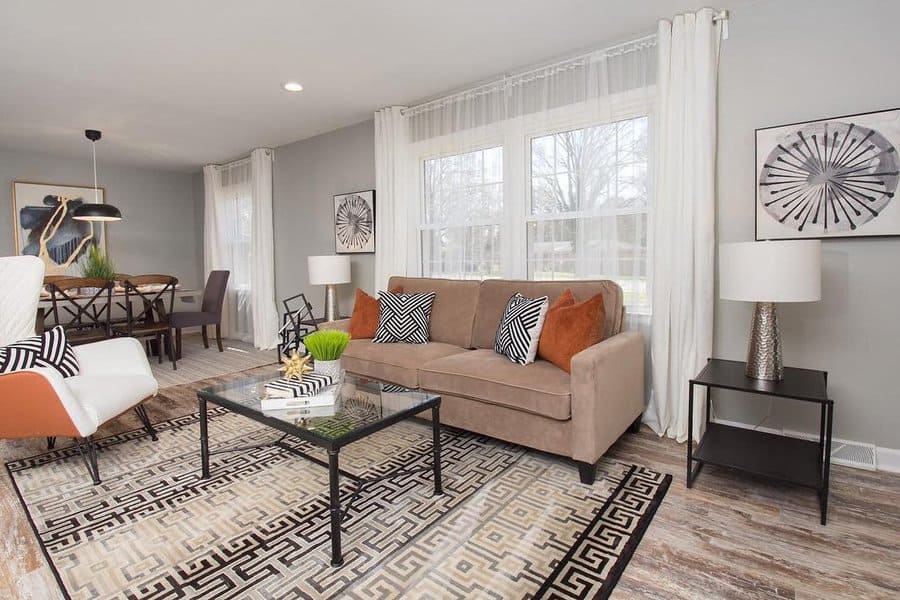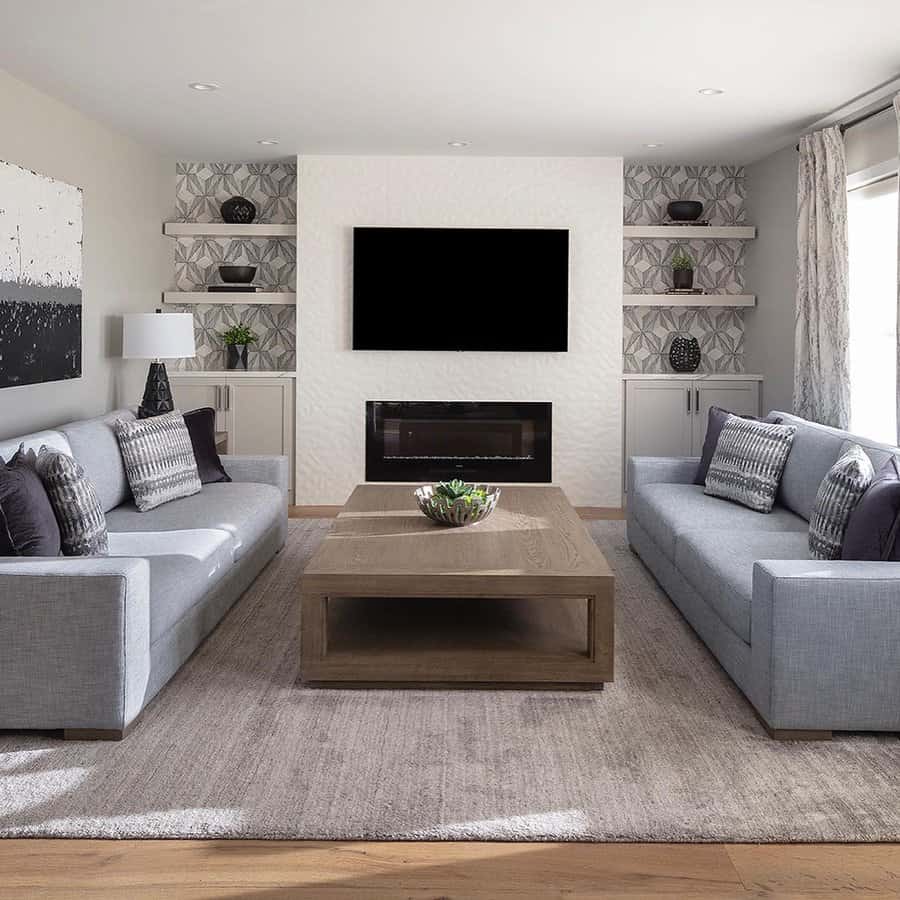 6. Modernize with a Gas Fireplace
Easily transform your practical modern living room into a stylish and inviting space by adding a gas fireplace. These fireplaces provide ambiance and serve as captivating focal points, enhancing the room's visual appeal.
With their sleek lines, gas fireplaces effortlessly create a modern aesthetic that blends functionality with eye-catching style. Invest in a high-quality model to enjoy the added comfort and warmth it brings during chilly winter evenings, making your living room both fashionable and cozy.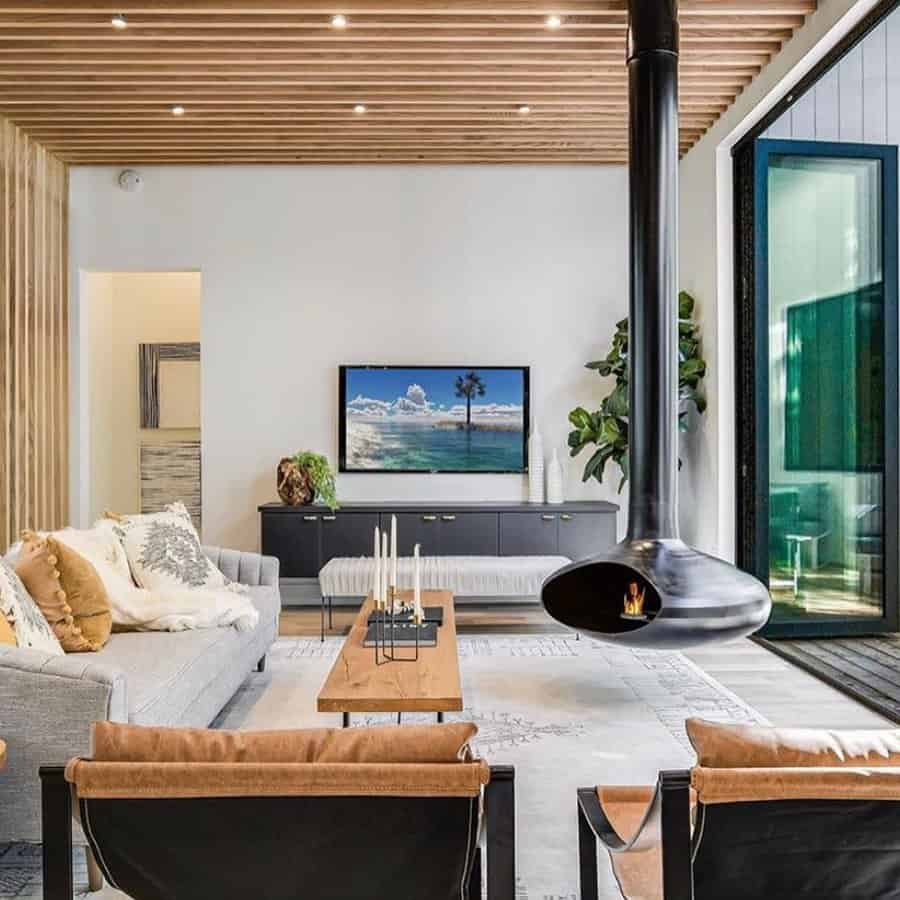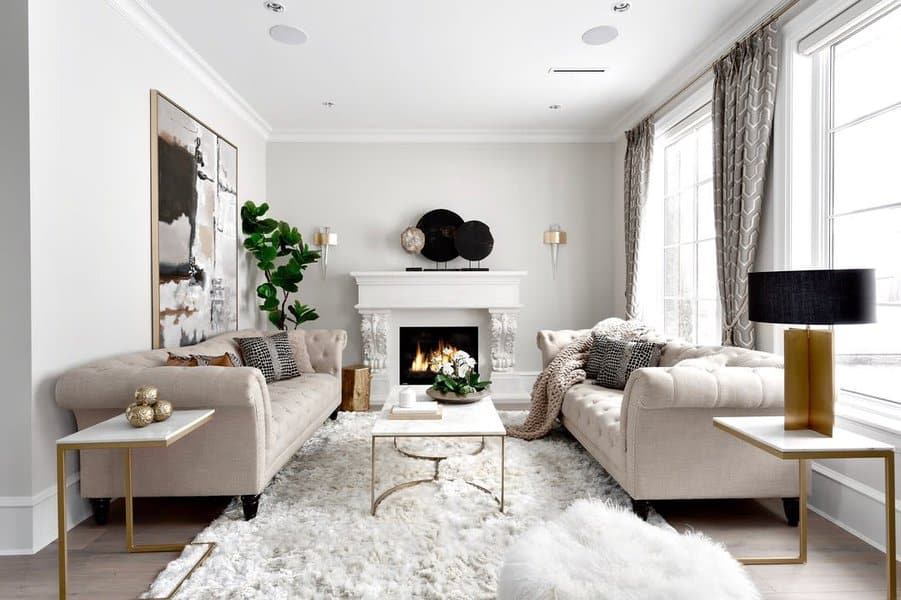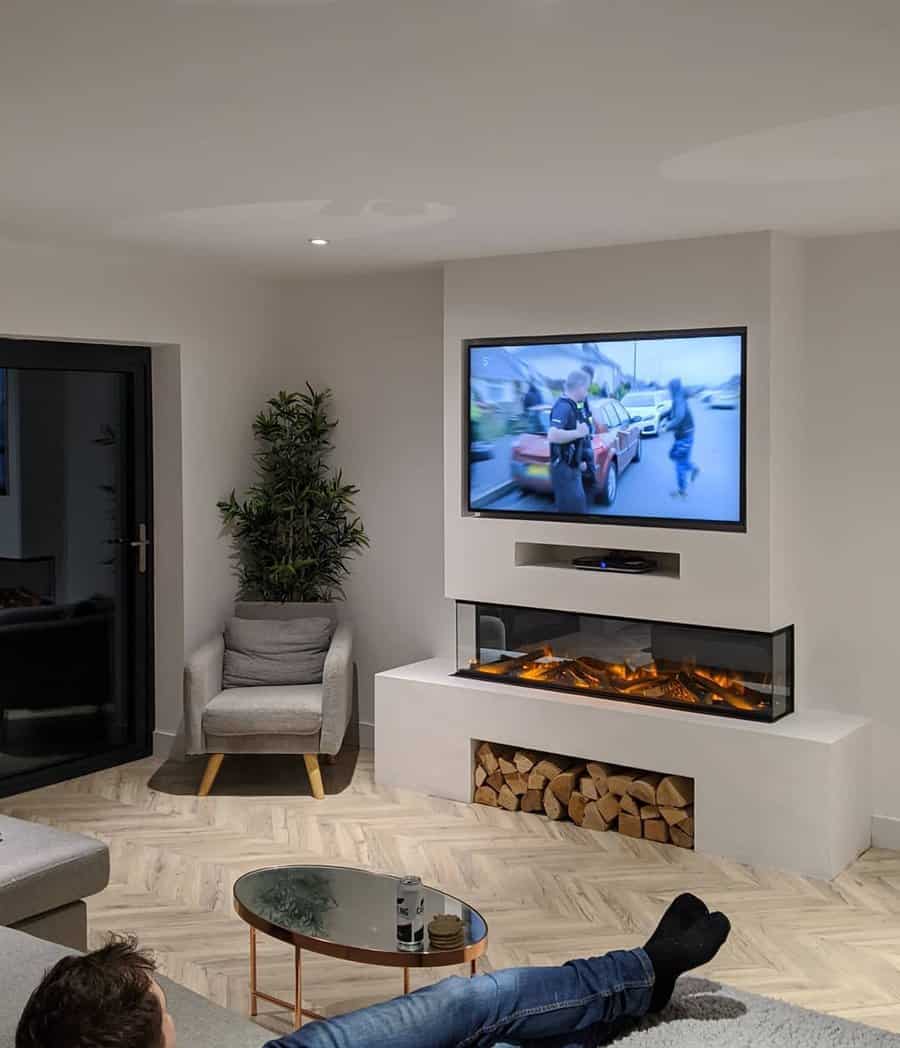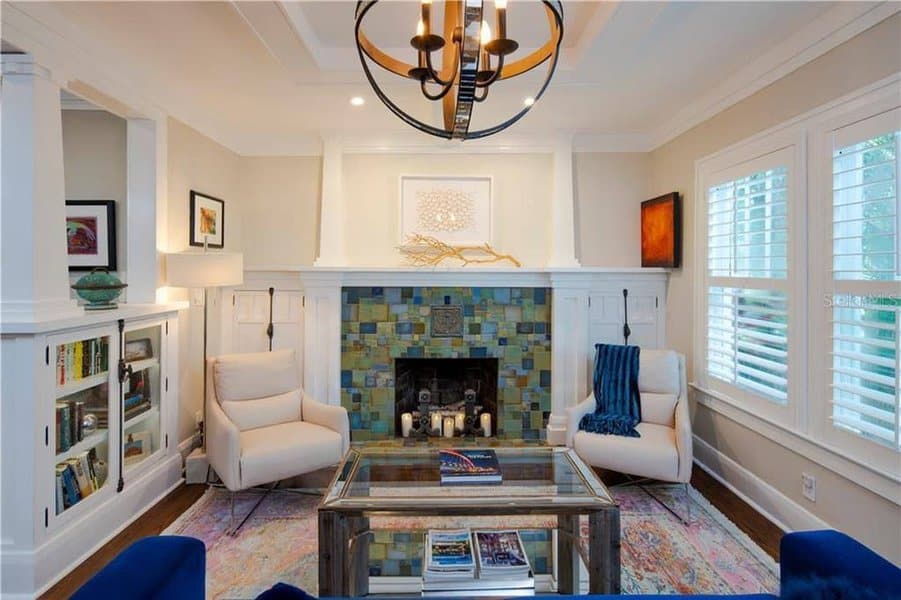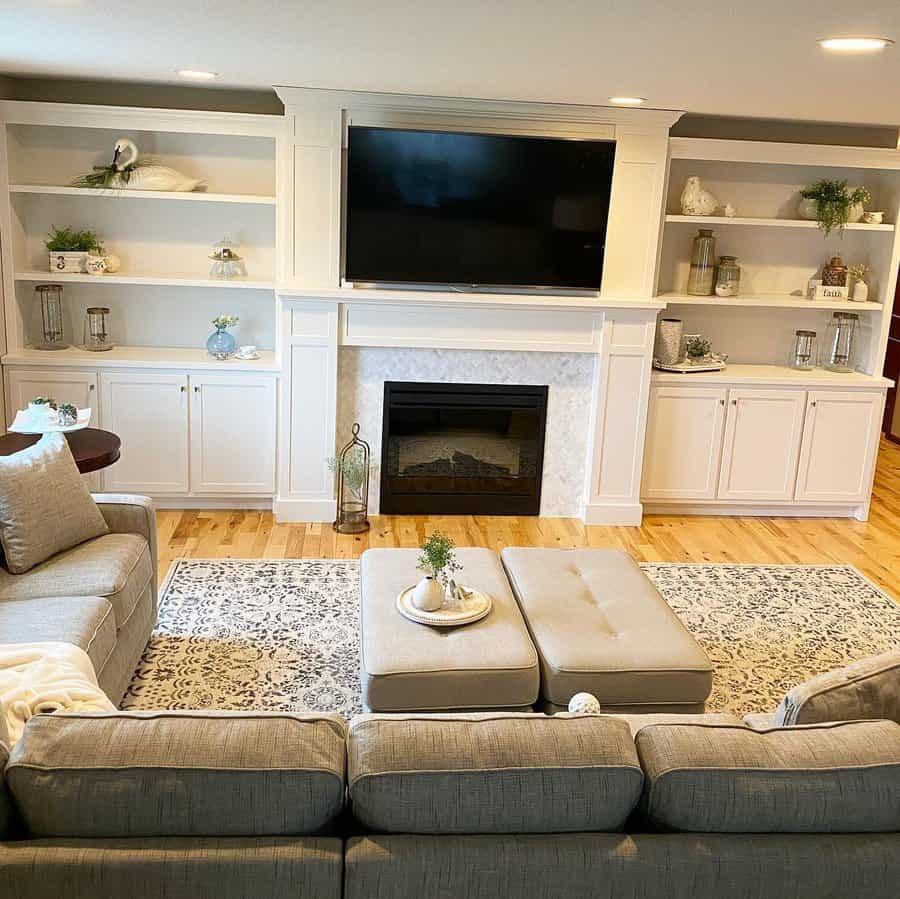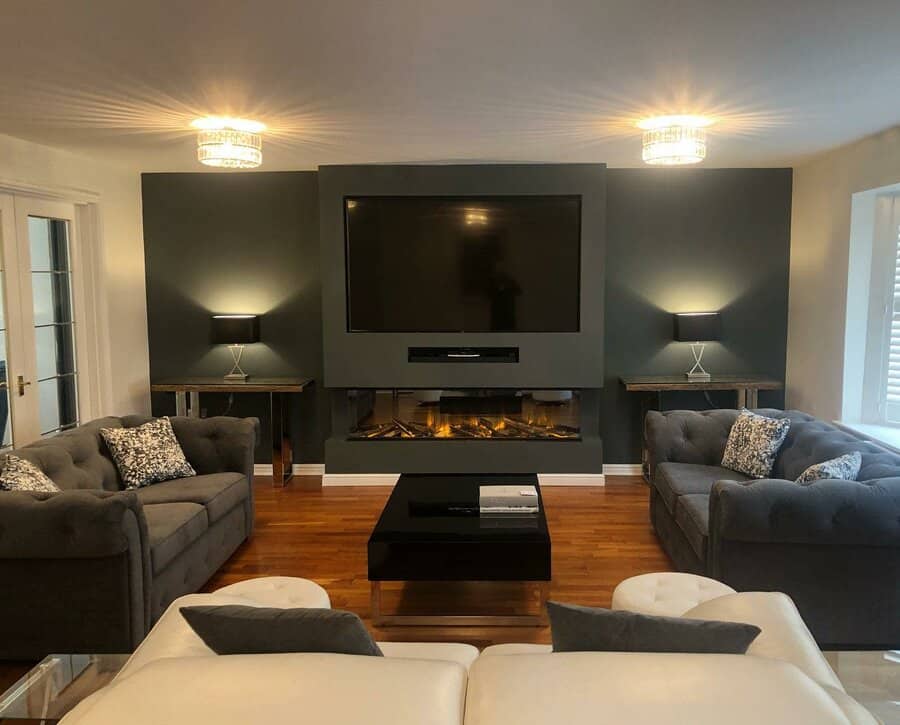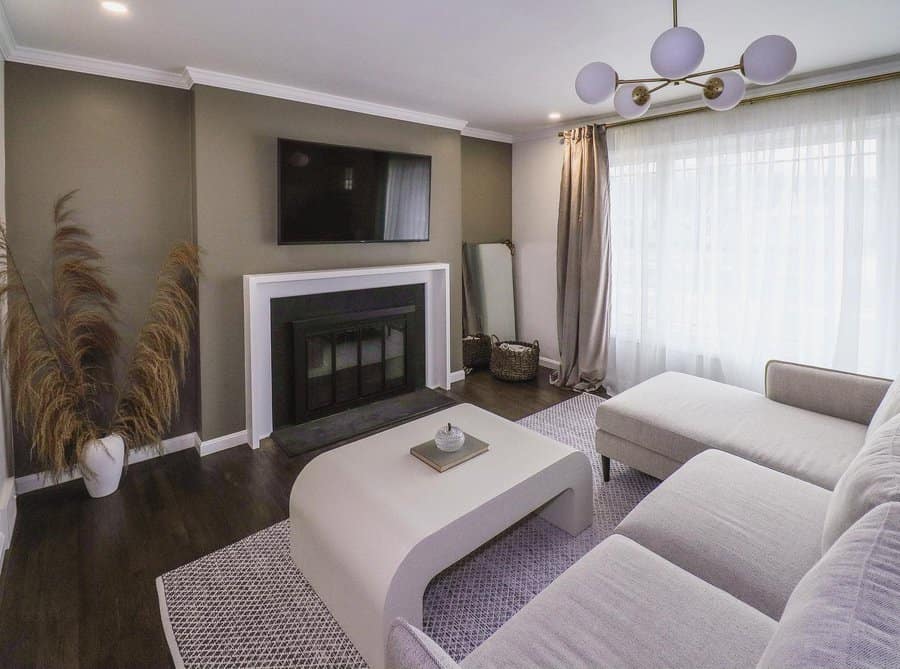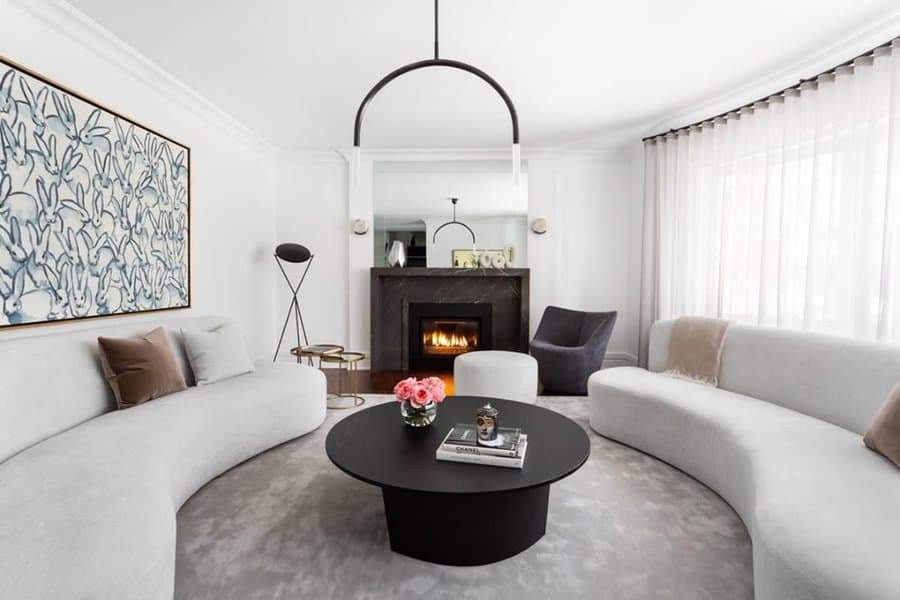 7. Center Bench Seating Solution
Unlock the potential of modern living room design by reimagining traditional seating arrangements with a unique center bench stool. This furniture piece instantly elevates style, infusing your space with charm and character that captivates guests.
Additionally, it provides versatility, allowing for various lounging and seating configurations. Whether you're an experienced interior designer or a novice, adding a center bench stool is a simple way to achieve a modern look for your living room, enhancing both style and functionality.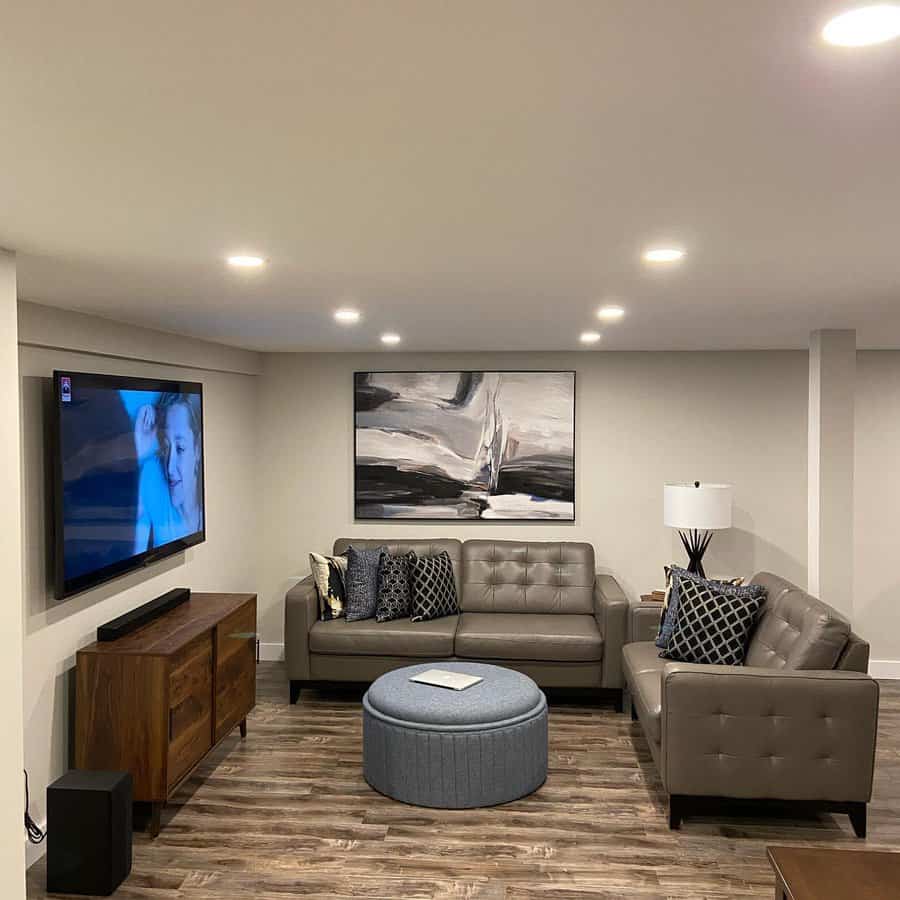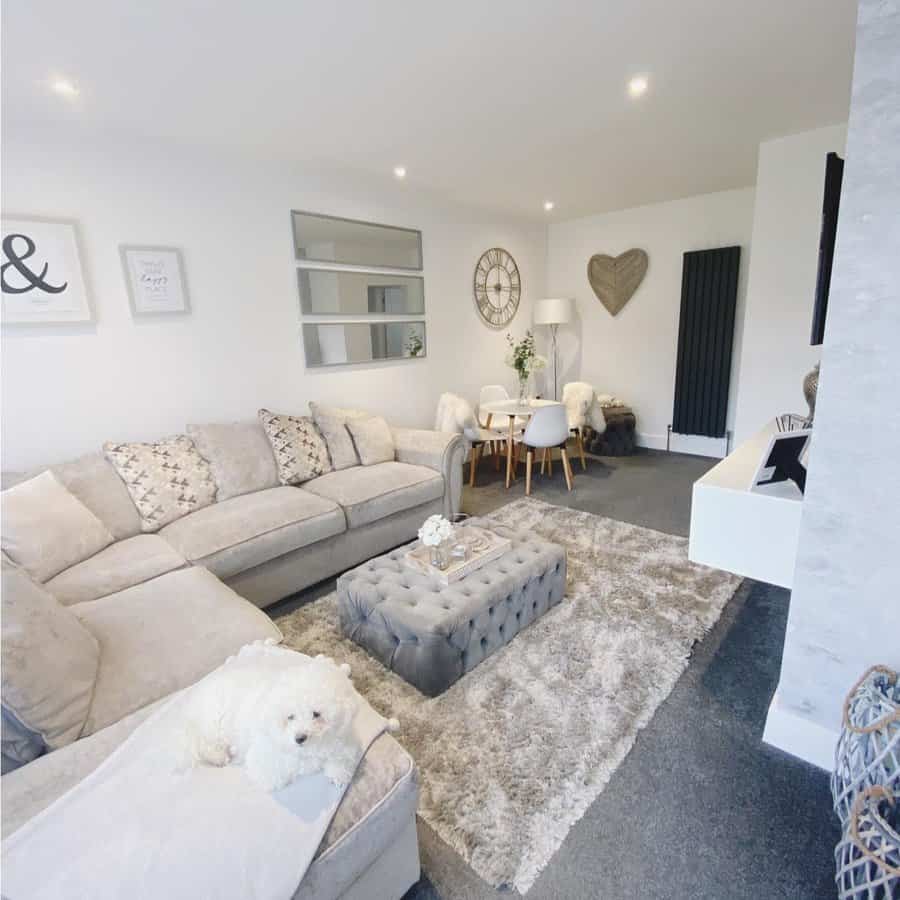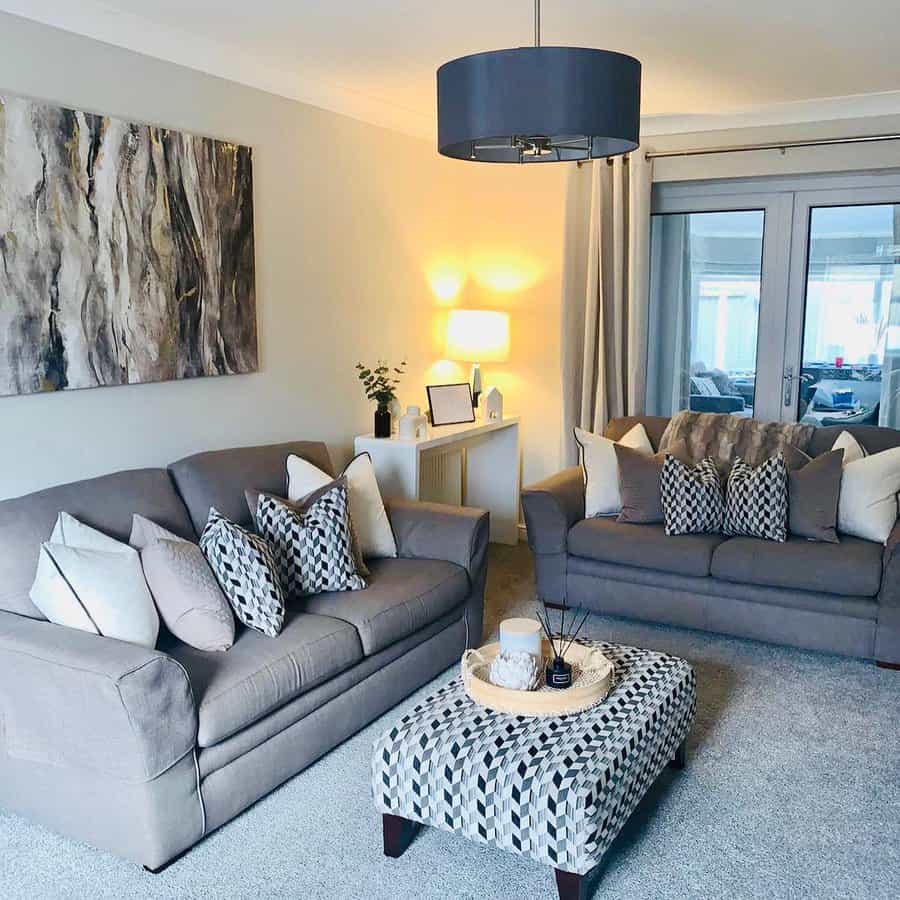 8. Expand Seating Options Creatively
Embrace the excitement of designing a modern living room by creatively expanding your seating options. From couches to sofas to stools, the possibilities are endless. Whether you're hosting guests or seeking a cozy retreat, diversifying your seating choices allows for versatility.
Don't hesitate to explore your creative side—mix and match different styles to craft a unique and thoroughly modern atmosphere. Let your imagination and personal style be your guide as you create the living room of your dreams, tailored to your preferences and needs.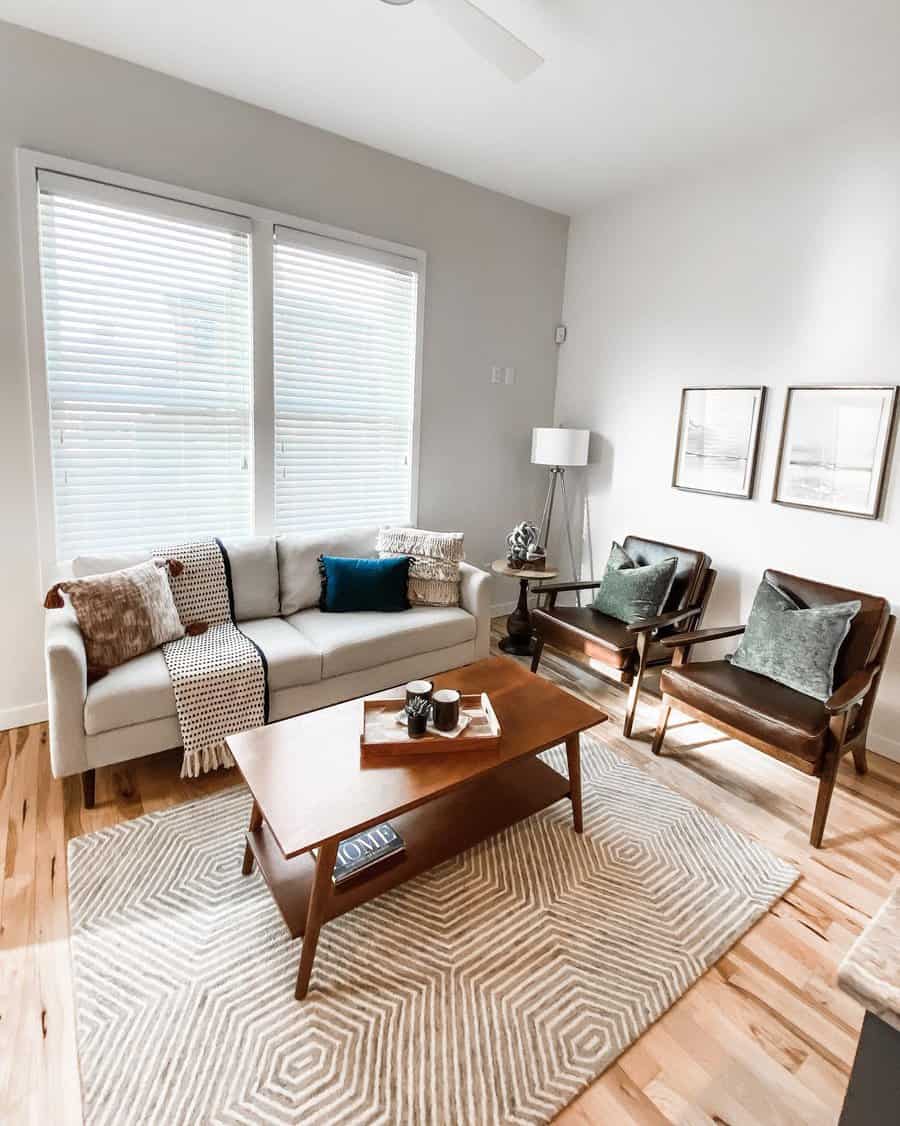 9. Elegance Through Glass & Silver
Create an iconic modern living room aesthetic by incorporating the elegance of glass and silver elements. Elevate the space with a contemporary chandelier for added drama. Harmonize these features with metal fixtures to infuse an elegant yet modern sensibility.
Craft the perfect living room design by carefully selecting pieces that resonate with your unique style—whether it's a distressed look or timeless elegance, you have the opportunity to make a striking statement that reflects your personal taste.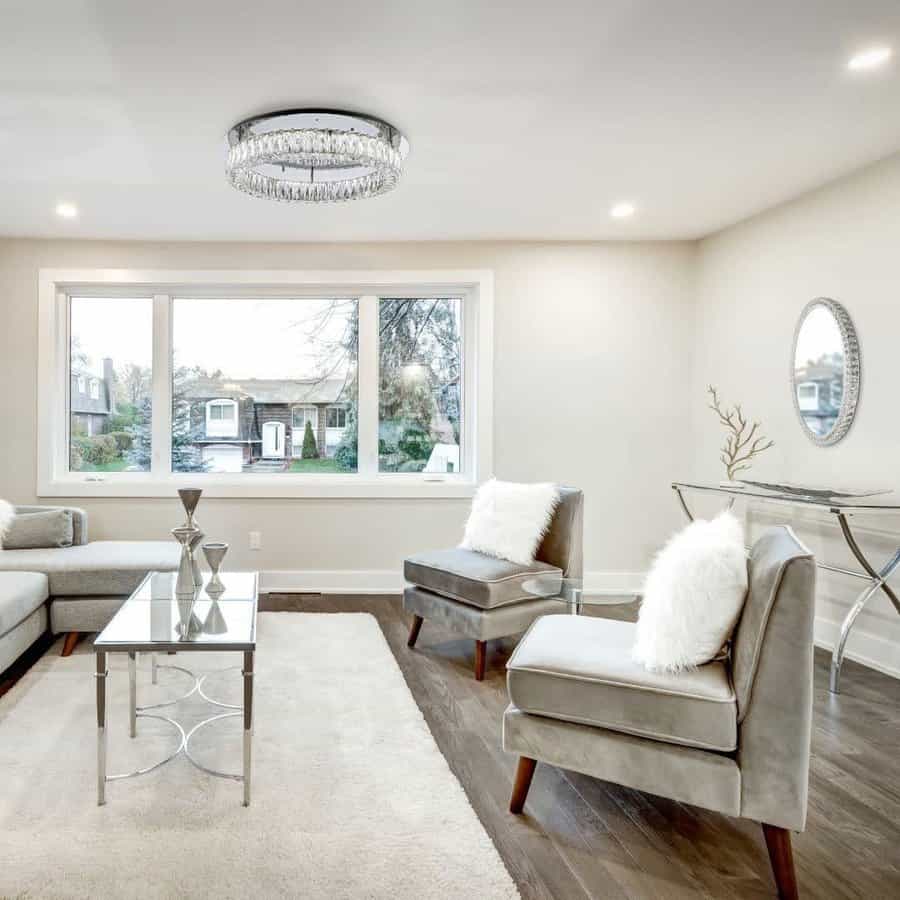 10. Make a Statement with an Accent Wall
Energize your living room with a creative touch by making a statement with an accent wall. This colored feature not only adds depth but also becomes a captivating focal point. Alternatively, infuse a soothing ambiance with pastel hues in throw blankets, pillows, and other decor elements for a more subtle effect.
Whether you lean toward bold statements or a relaxed atmosphere, these modern design ideas enhance the inviting and enjoyable nature of any living room, allowing you to express your unique style and preferences.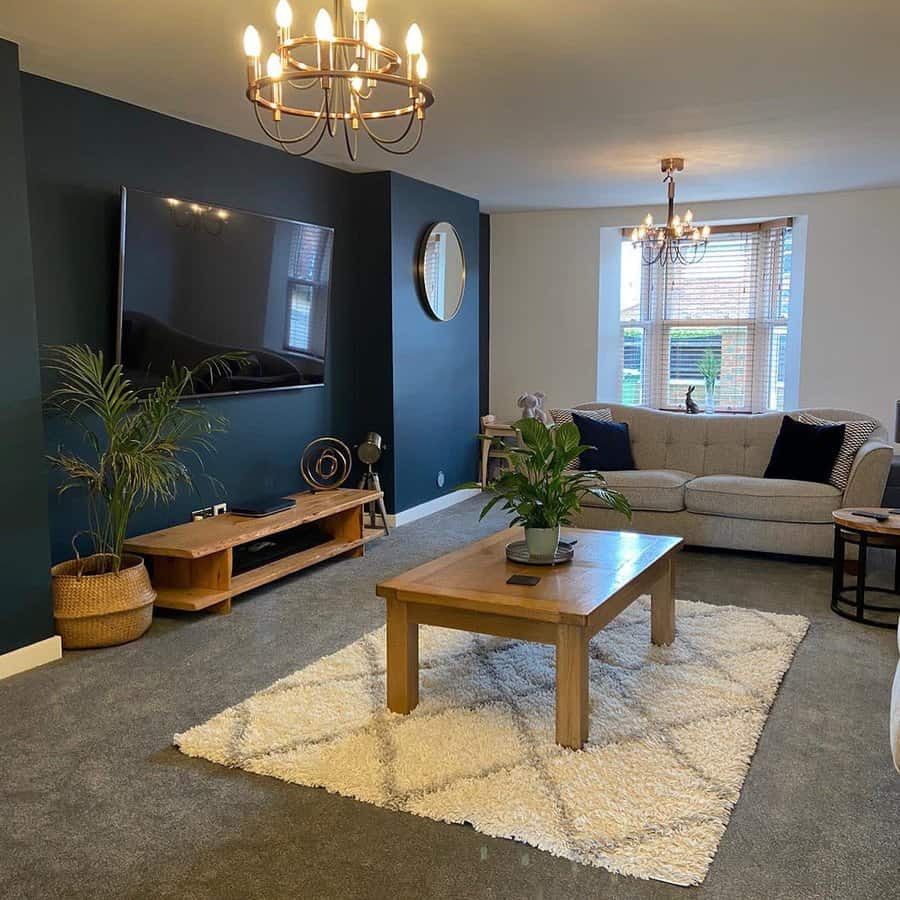 11. Chic Roman Shade Curtains
Add a modern edge to your living room with chic Roman shade curtains. These timeless window treatments have made a comeback and perfectly complement modern home decor. Whether you choose neutral tones or vibrant prints, the soft pleats create an intriguing focal point that enhances the contemporary ambiance.
Roman shades are incredibly versatile, allowing you to switch between different themes without a major commitment, making them ideal for today's evolving styles. Elevate your decor with a patterned selection to ensure your living room stays on-trend in the modern age, giving you both style and flexibility.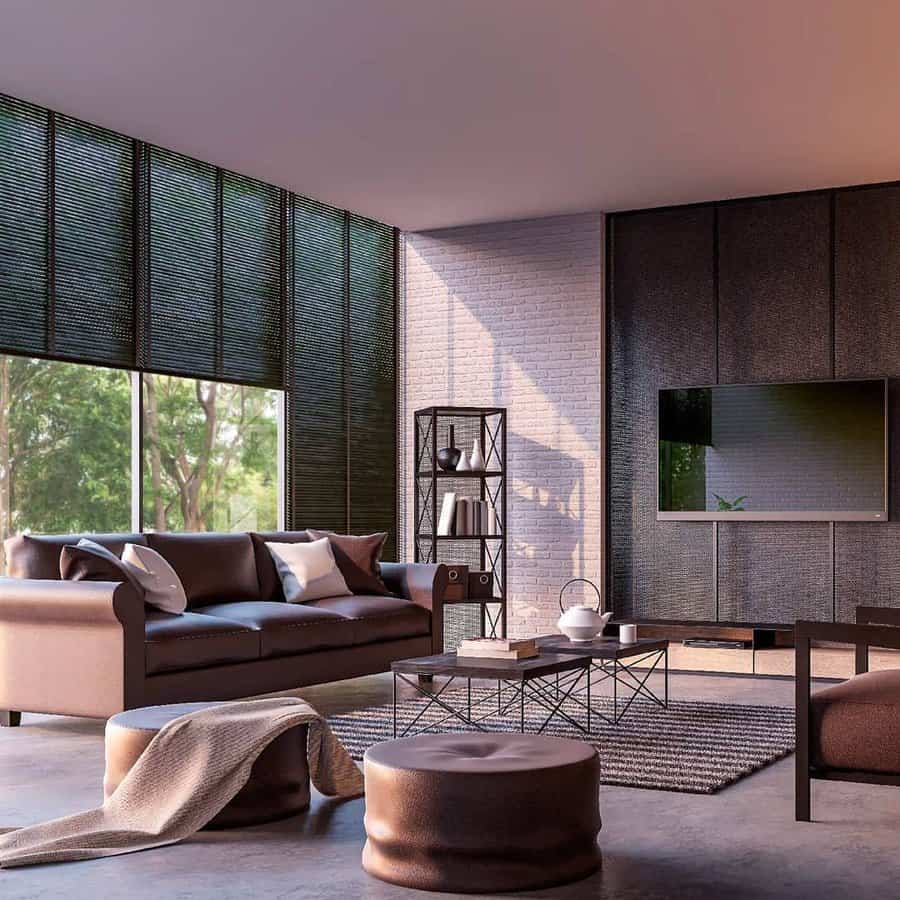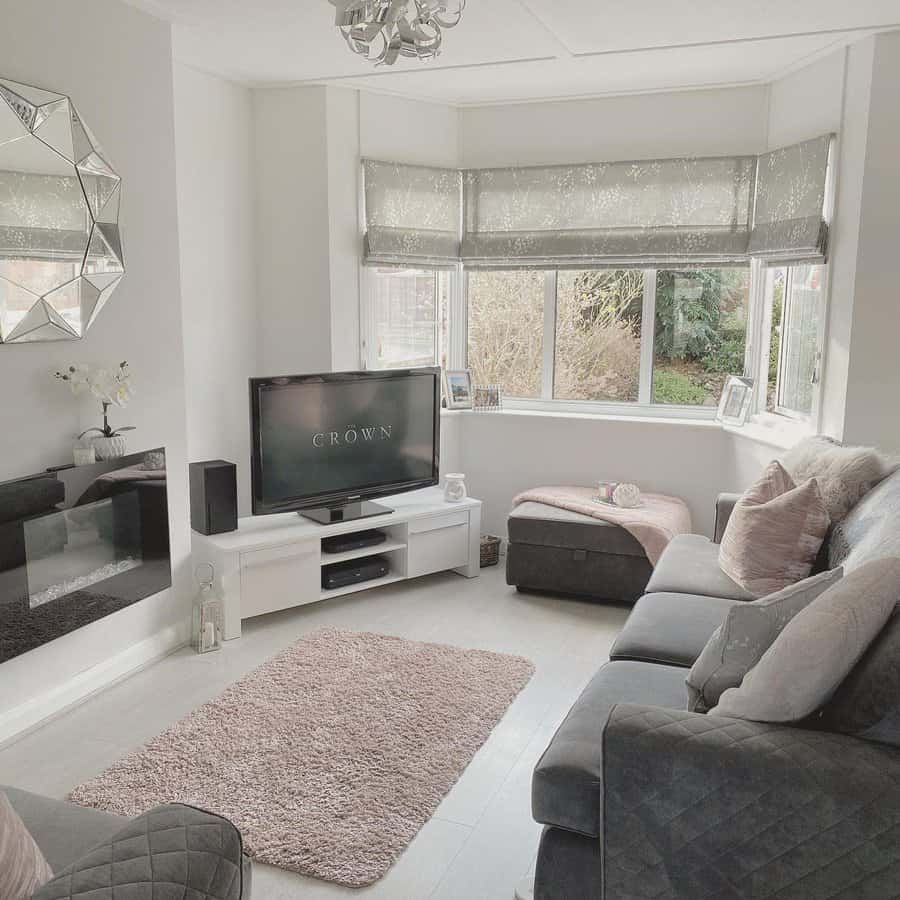 12. Minimalist Wall Trim for Sleekness
Elevate your living space with minimalist wall trim to achieve a sleek and sophisticated look. Choose streamlined crown molding for subtle yet effective elegance. Customize the trim with your preferred color or wood stain to create the perfect accent. For an extra creative touch, consider incorporating fabric to highlight natural elements like stone or wood grain in the trim.
Don't underestimate the impact of lighting! Installing recessed fixtures near the crown molding can create an inviting atmosphere, turning your living space into a cozy haven with a modern twist.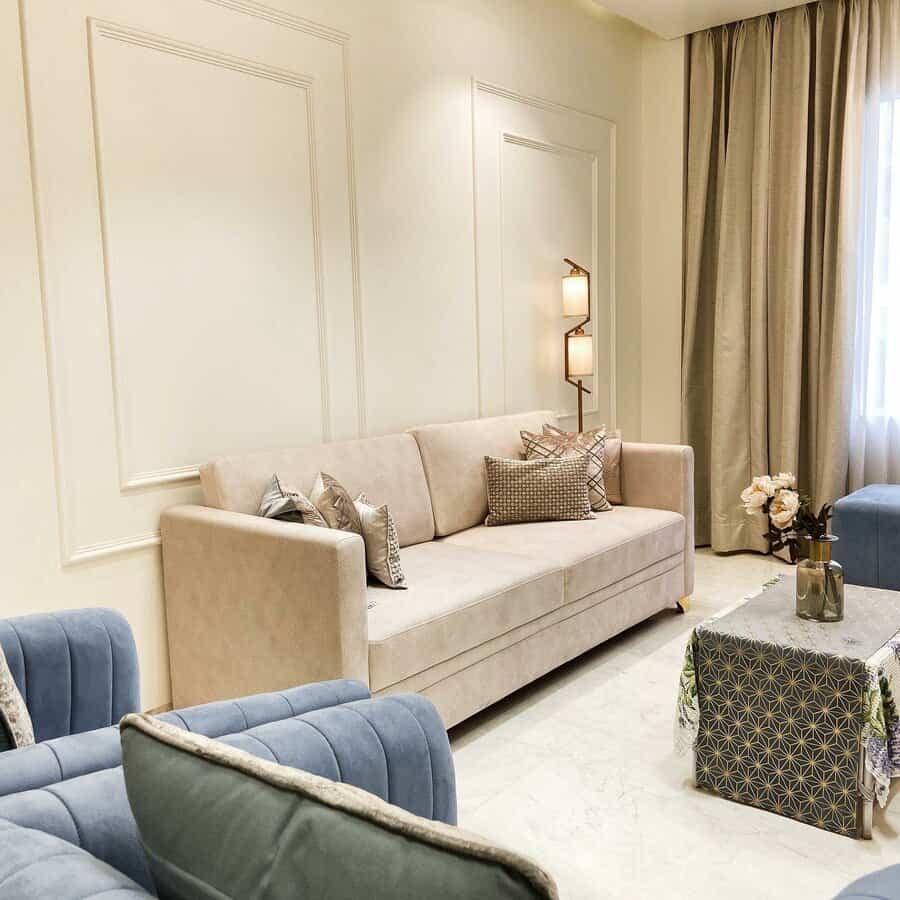 13. Illuminate with Pendant Lighting
Lighting is a key element for a stylish modern living room. Go beyond a single lamp or overhead fixture by introducing pendant lights and a table lamp. Pendant lights add height and drama, while a table lamp on an end table provides convenient lighting control. By incorporating various lighting sources, you can create a well-balanced modern setup that combines functionality with chic aesthetics in your living room.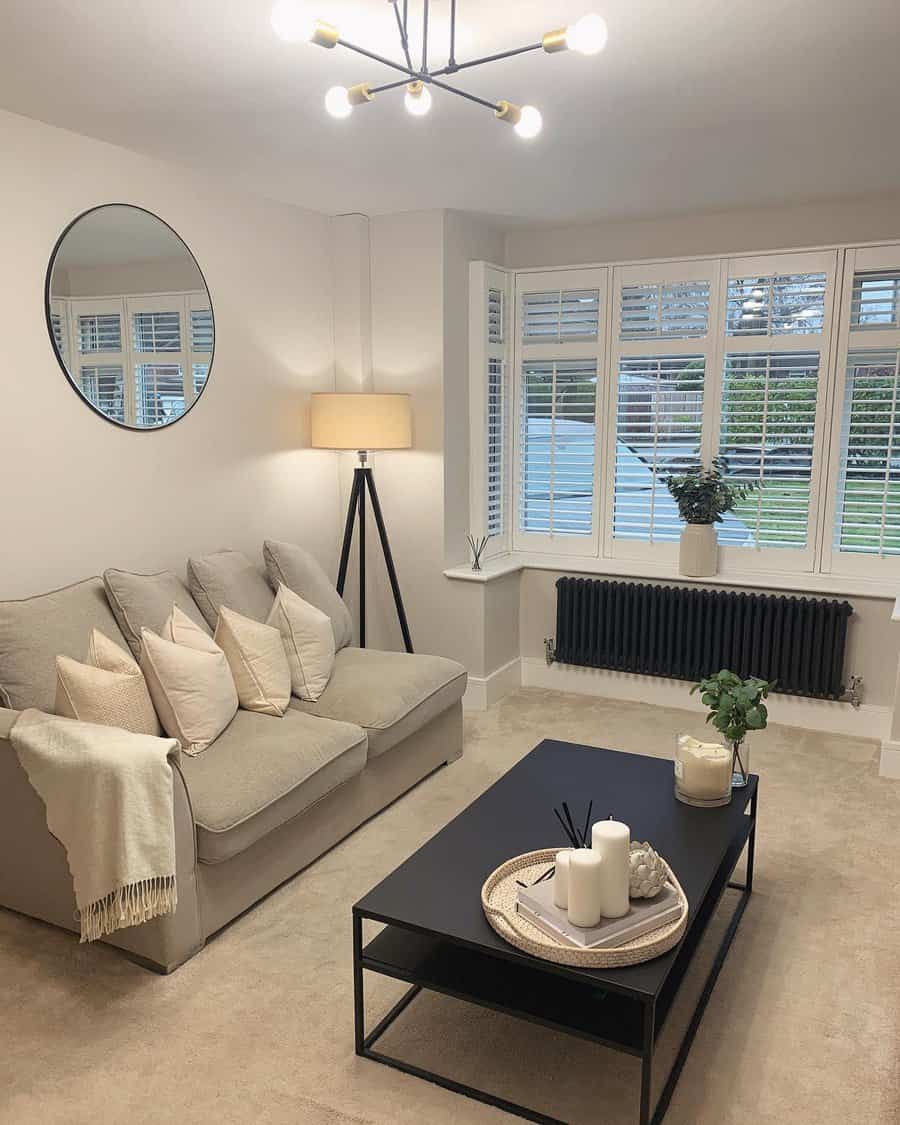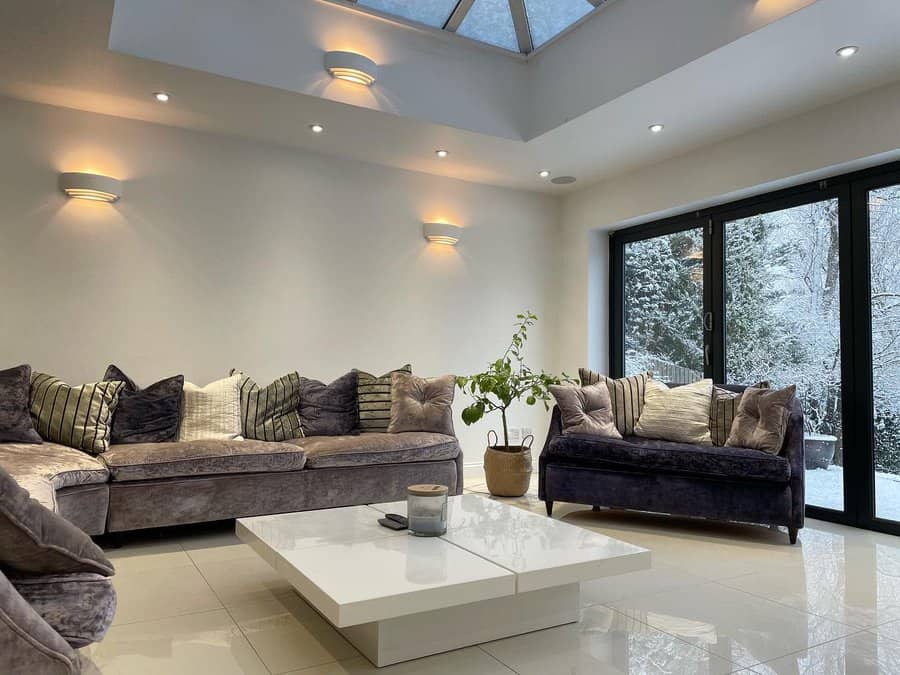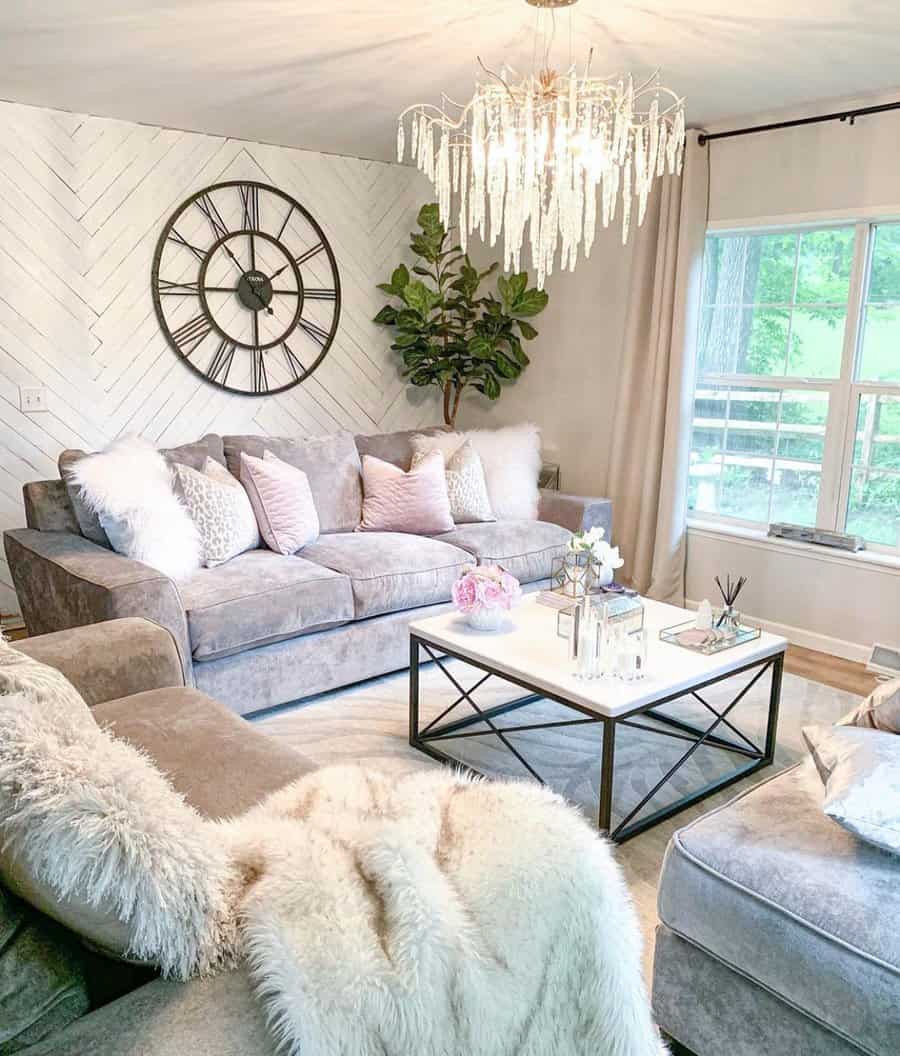 Modern Living Room FAQs
What is mid-century modern design?
There are many types of modern living room design to choose from. One of the most popular in today's home is called mid-century modern.
Mid-century modern specifically refers to design trends that originated in the mid-20th century. Most mid-century modern furniture pieces boast elements that were popular in the 1940s to 1960s.
Twenty years is a long time when it comes to interior design trends! As a result, mid-century modern decor encompasses a wide array of materials, silhouettes, and color palettes. There's lots of flexibility involved in recreating a mid-century living room in the 21st century home.
Are modern living rooms cozy?
Modern decor gets a bad rap for feeling cold and sterile. It's true that some styles of modern decor are far from cozy. But there are also several types of modern decor that are extremely warm and inviting.
For a cozy living room, look for inspiration in Scandinavian or Bohemian design. Modern farmhouse is another very popular trend that blends together organic elements with the sleekness typical of more minimalist design movements.