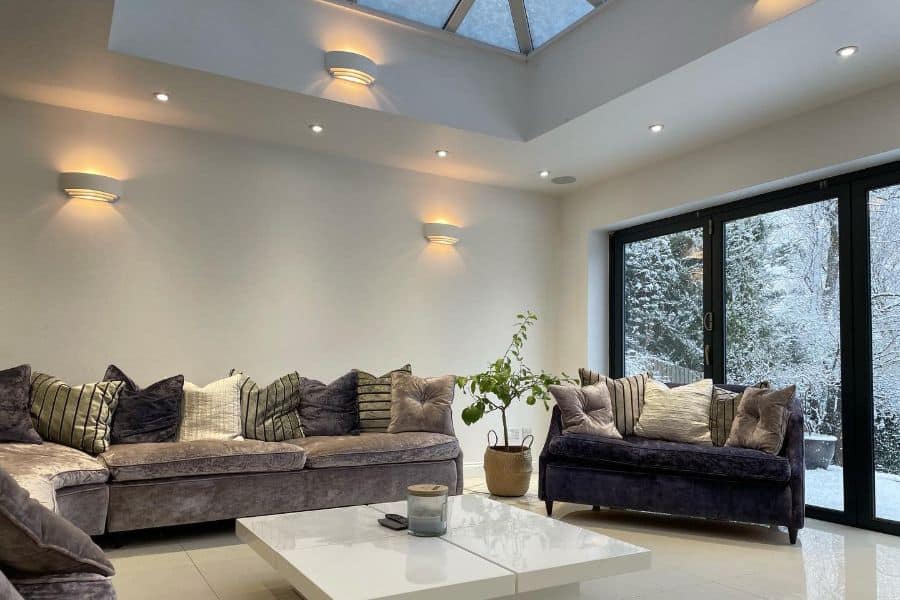 The Top 33 Modern Living Room Ideas
The modern interior decor is extremely versatile and stylish. Yet far too few homeowners understand what makes this design movement so special.
While you can incorporate these trends into your living room design at any time, there's been a huge uptick in modern-inspired home decor shared on social media and sold by retailers in recent years. So if you care about being up-to-date with the latest interior design styles, now is as good a time as ever to familiarize yourself with everything the modern aesthetic offers!
Keep reading for our favorite modern living room ideas to help you blend the best of 20th and 21st-century design!
1. Add An Area Rug
Give your modern living room an unbeatable look by incorporating a stylish area rug! Geometric design rugs will bring out elegance in any contemporary space while also giving it a bit of texture.
Choose either one large statement-making area rug or multiple smaller ones to really open up the room and add some personality. With the right color, fabric, and size, a modern living room is sure to be an eye-catching success.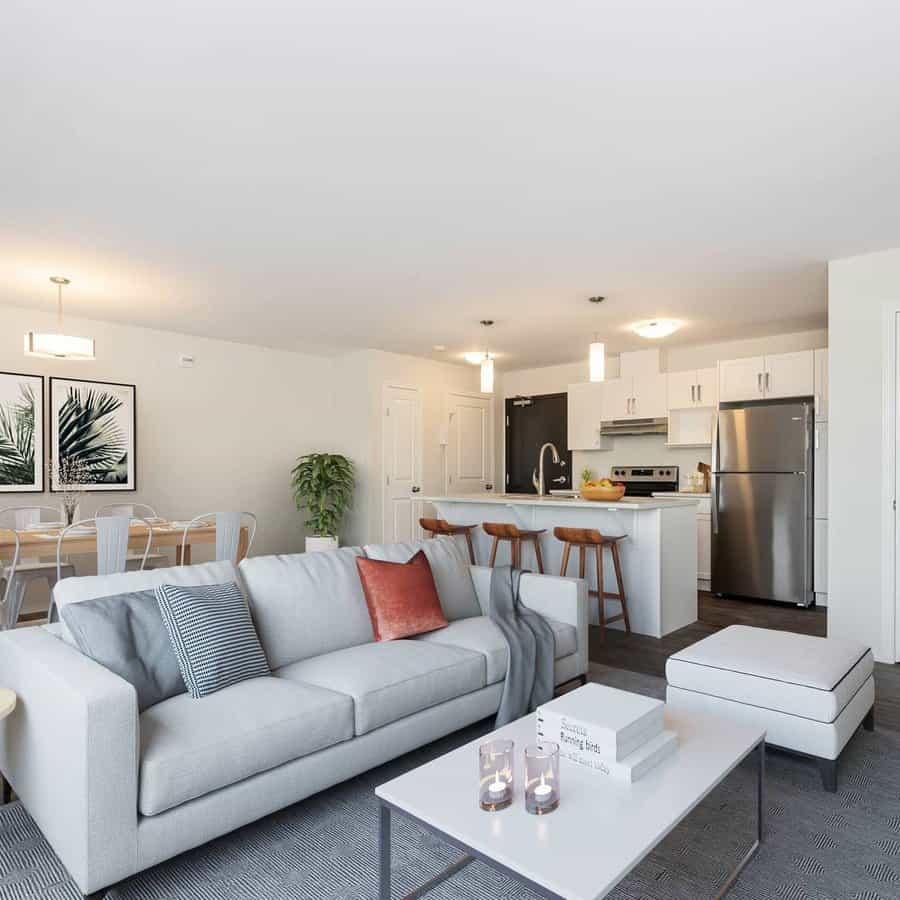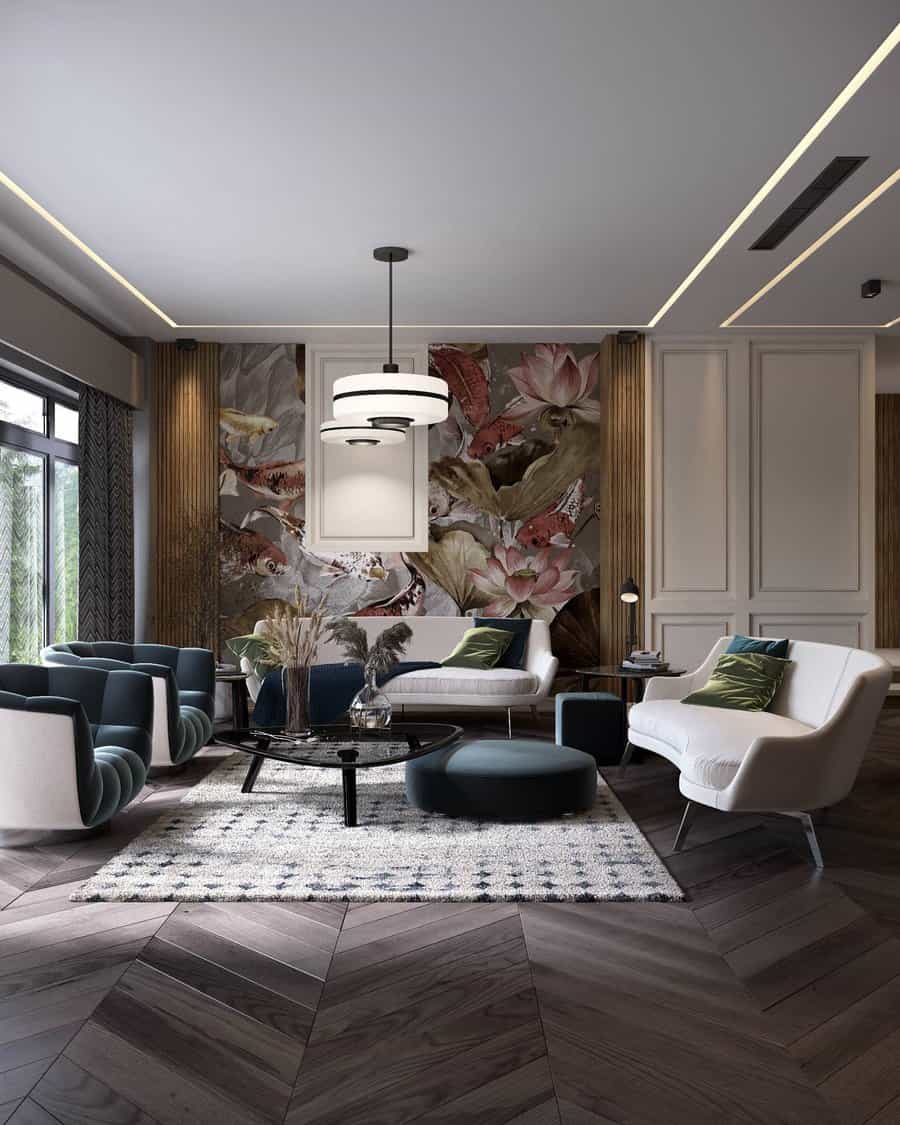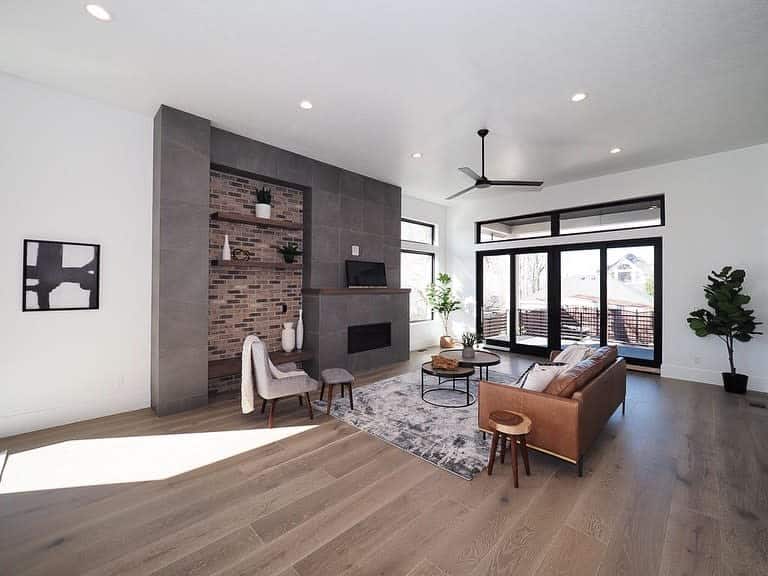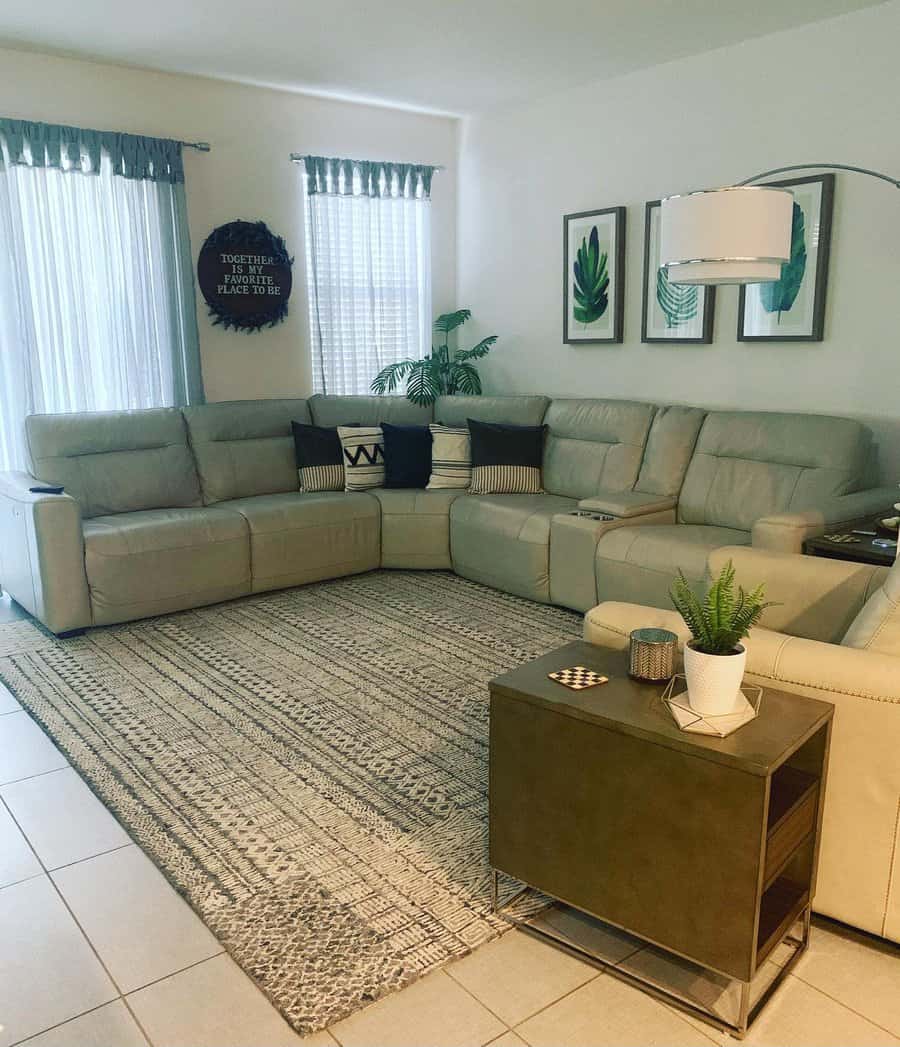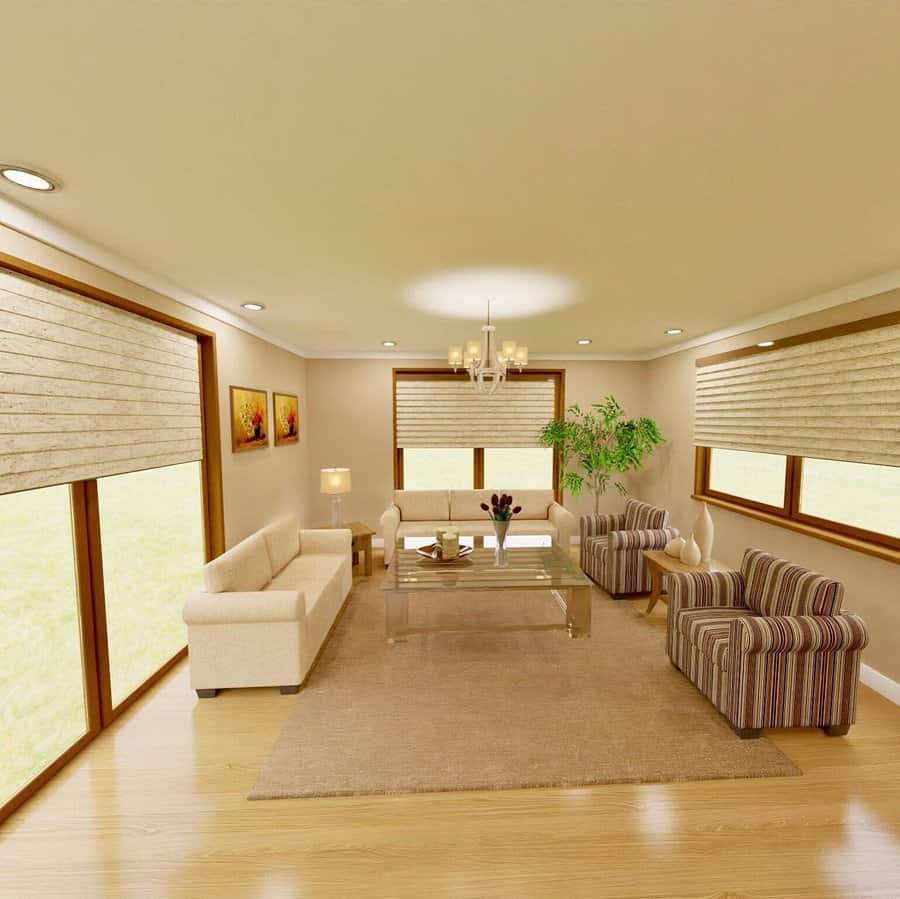 2. Vibrant Color Palette
Modern living room ideas can bring new life to your space. From a vibrant color palette to an accent color to help pull the whole look together, you can create an aesthetically pleasing yet functional modern living room.
Experiment with colors and textures, such as a red velvet sofa with a light gray wall, or pair chic geometric patterns with bold colors to create eye-catching designs that feel cohesive and inviting. Incorporate art into the design for pops of personality as well as visual interest. Add fun pillows to complete the space and make it comfortable, cozy, and most importantly, stylish.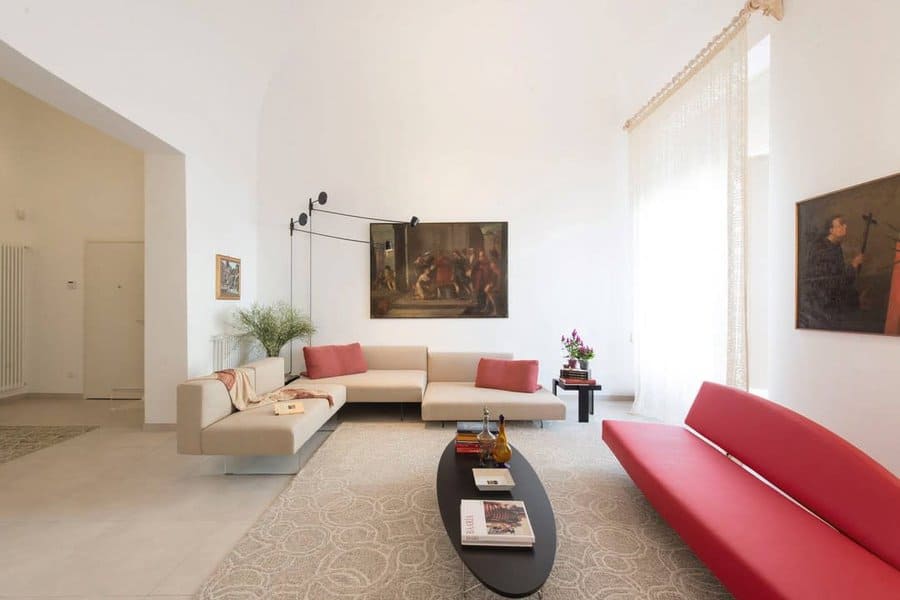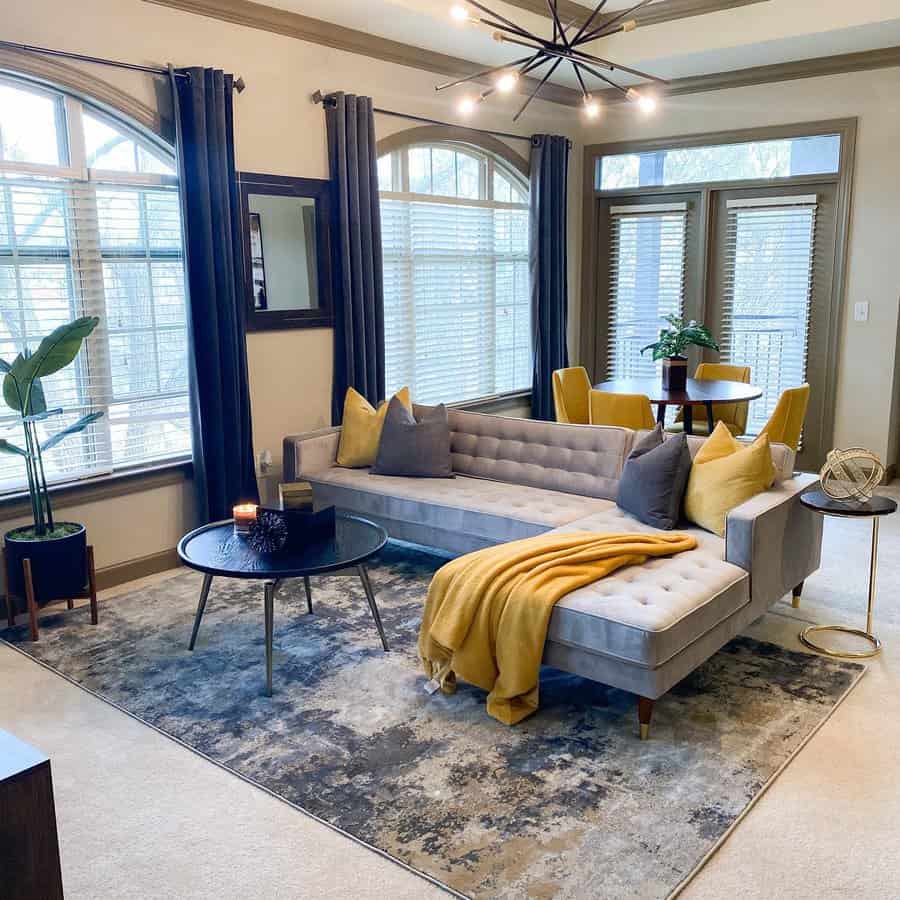 3. Wood Slab Coffee Table For Contrast
Thinking of ways to give your living room a modern, yet cozy flair? Look no further. A wood slab coffee table can bring warm tones of wood into your interior for a welcoming atmosphere.
The combination of materials and its organic shape provides a great contrast to more rigidly designed pieces of modern furniture, adding interest and personality to the room.
Plus, it will be sure to draw the eye and become an instant conversation starter; everyone will instantly envision themselves taking in its beauty with a cup of tea or coffee in hand.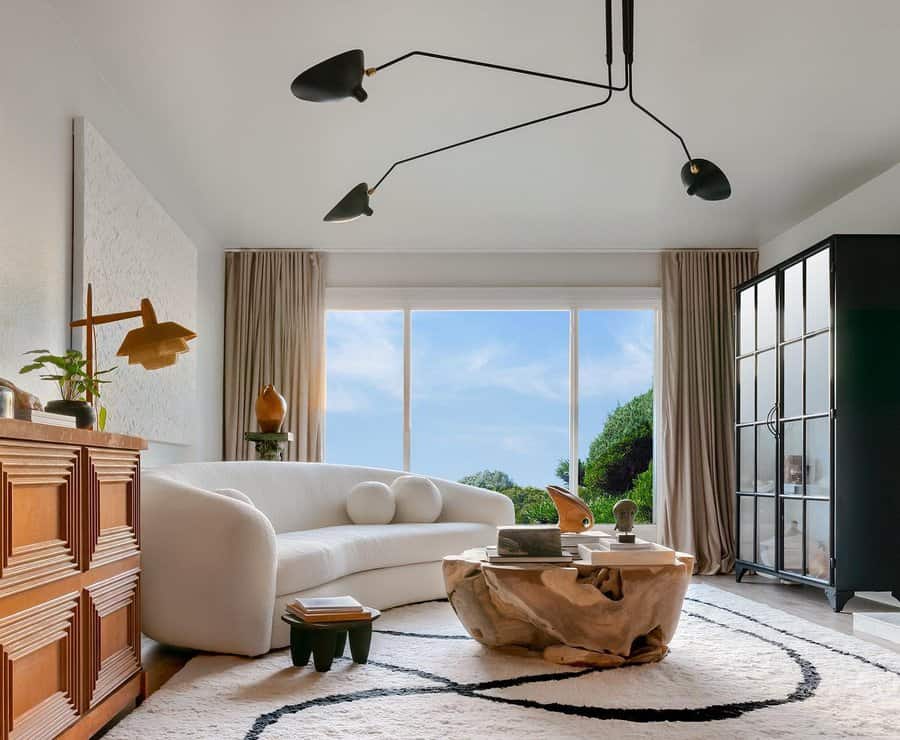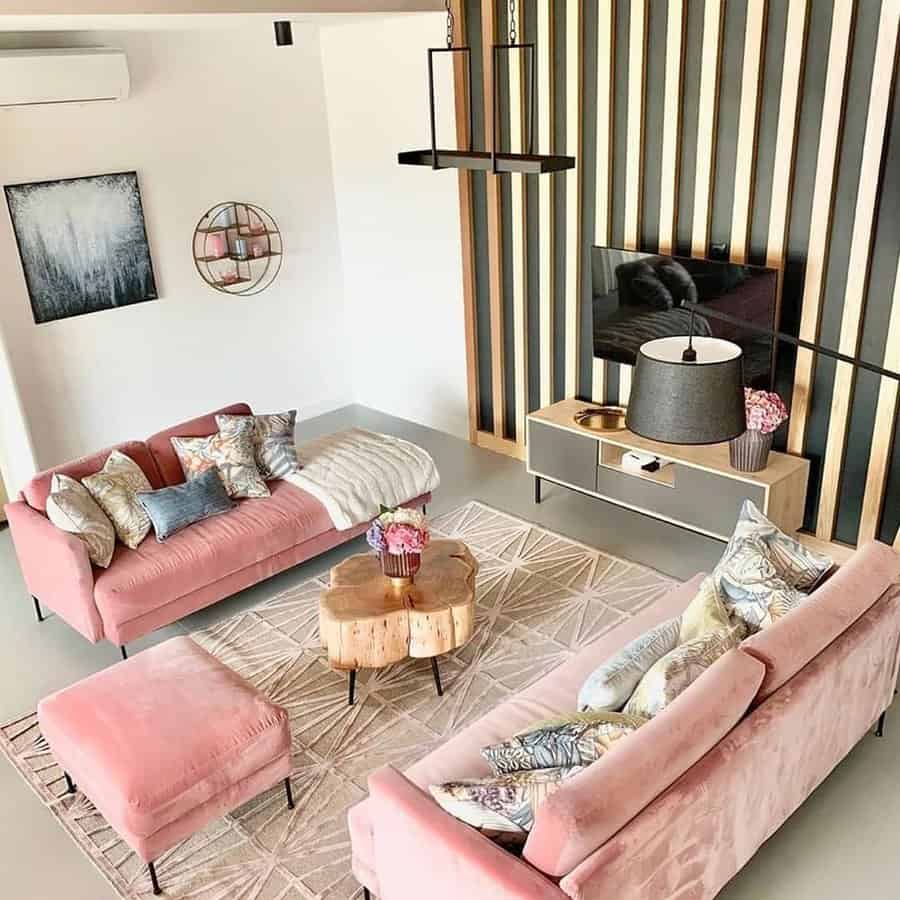 4. Coastal-Style Interior
Looking to spruce up your living room? Why not try a coastal-style interior? This modern style of decor is sure to bring the feeling of being on holiday right into your home. It doesn't take much to get started; simply brighten up the space with white walls and add a few accent pieces.
White cushions, blue pillows, sheer curtains, and intricate lighting fixtures can also be used to bring an area from drab to divine. Whatever style you choose, don't underestimate the influence of just a handful of details which can make all the difference between an ordinary living room, and one that really stands out!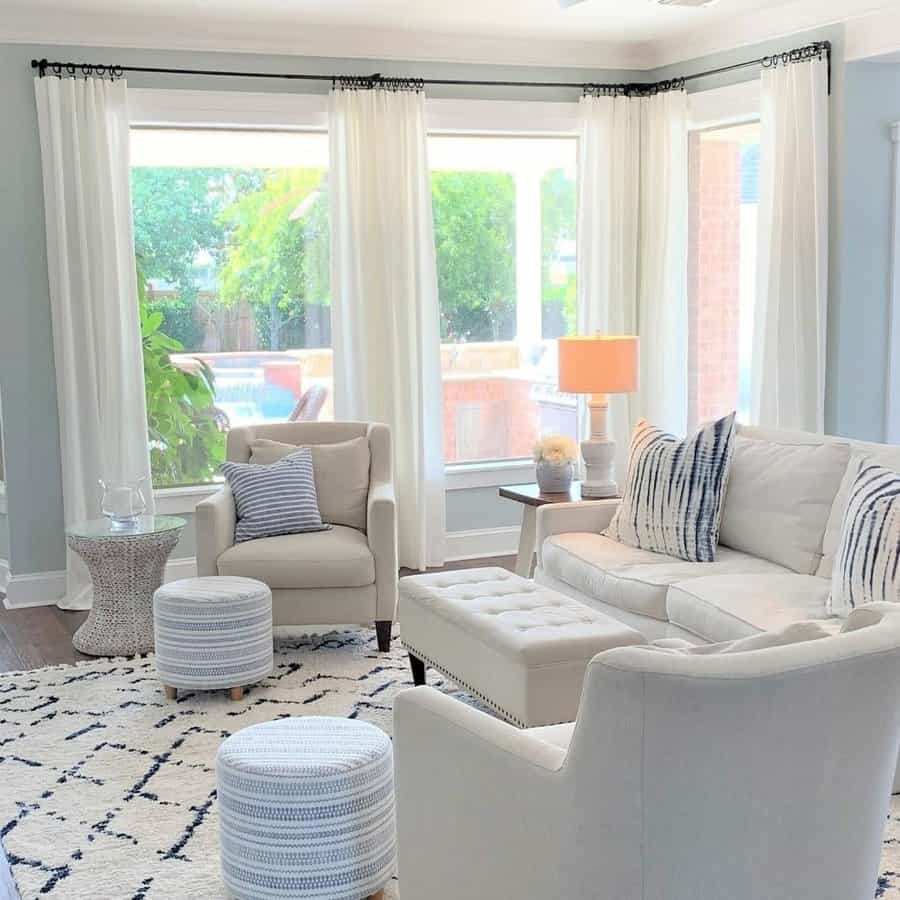 5. Style With Throw Pillows
Spice up modern living room ideas with some statement throws and pillows! It's an easy way to add a bit of personality and style, without investing in a new couch or major changes to the space. Start with a neutral canvas of neutrals – whites and creams are always a safe bet – then tastefully introduce brightly colored or printed pillows to set the stage.
Think hues of blues, pinks, and even bright oranges for those looking for something unique and daring. Once you've created the perfect mix of colors and prints, you'll have yourself a comfortable, stylish, and inviting modern living room.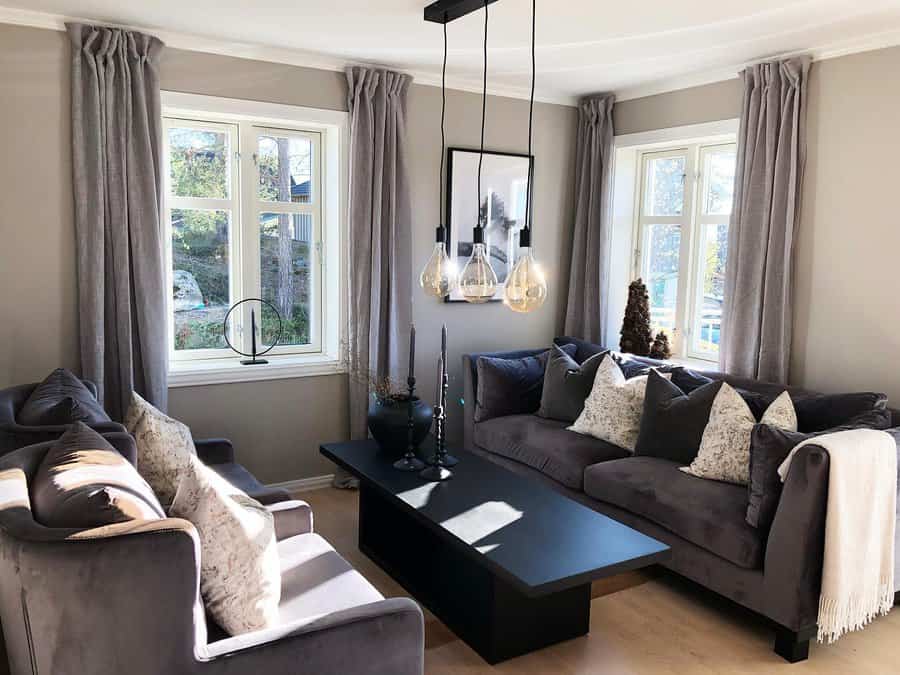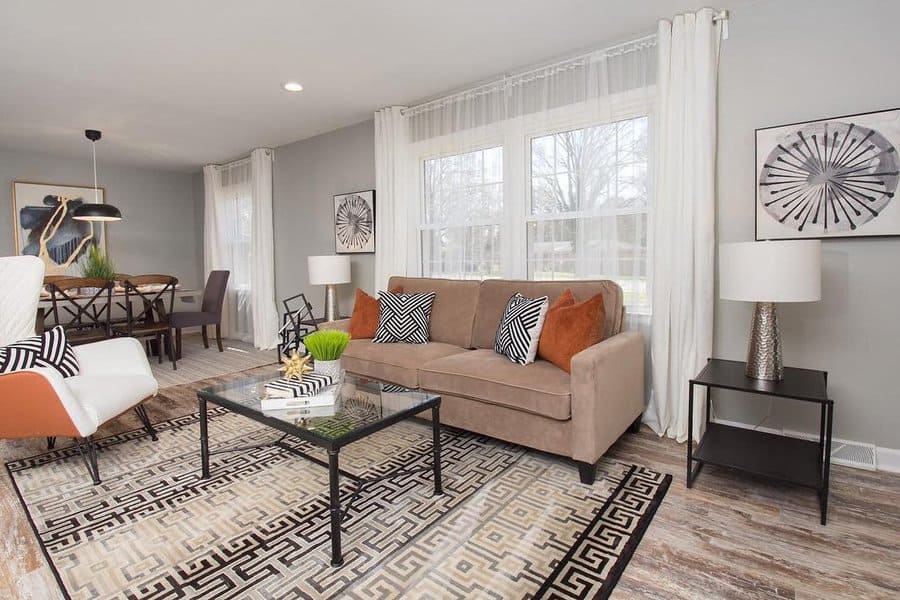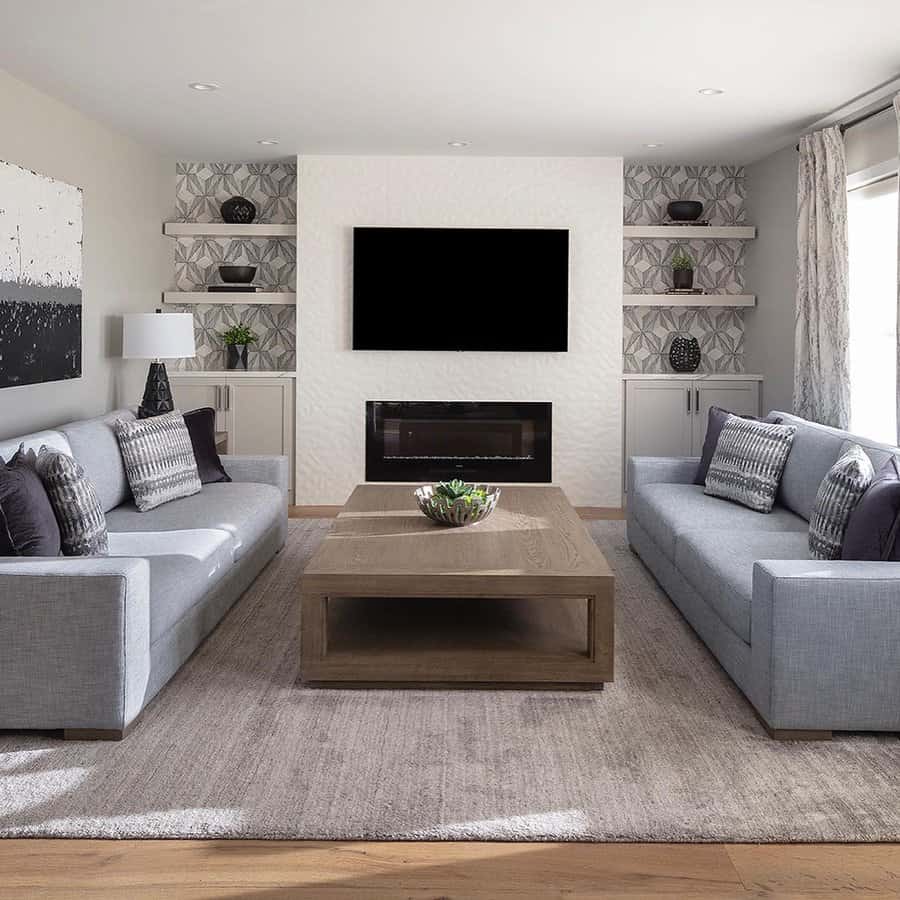 6. Modern Gas Fireplace
A modern living room can be easily and quickly transformed from utilitarian to stylish and inviting with the addition of a gas fireplace. Not only are gas fireplaces great for adding atmosphere, but they are also attractive centerpieces that can add great visual interest to a room.
With elegant lines, it's an ideal way to create a modern aesthetic that has both functional values as well as eye-catching style. Invest in a quality piece, and it'll prove to be a great addition that offers comfort and warmth on those cold winter nights.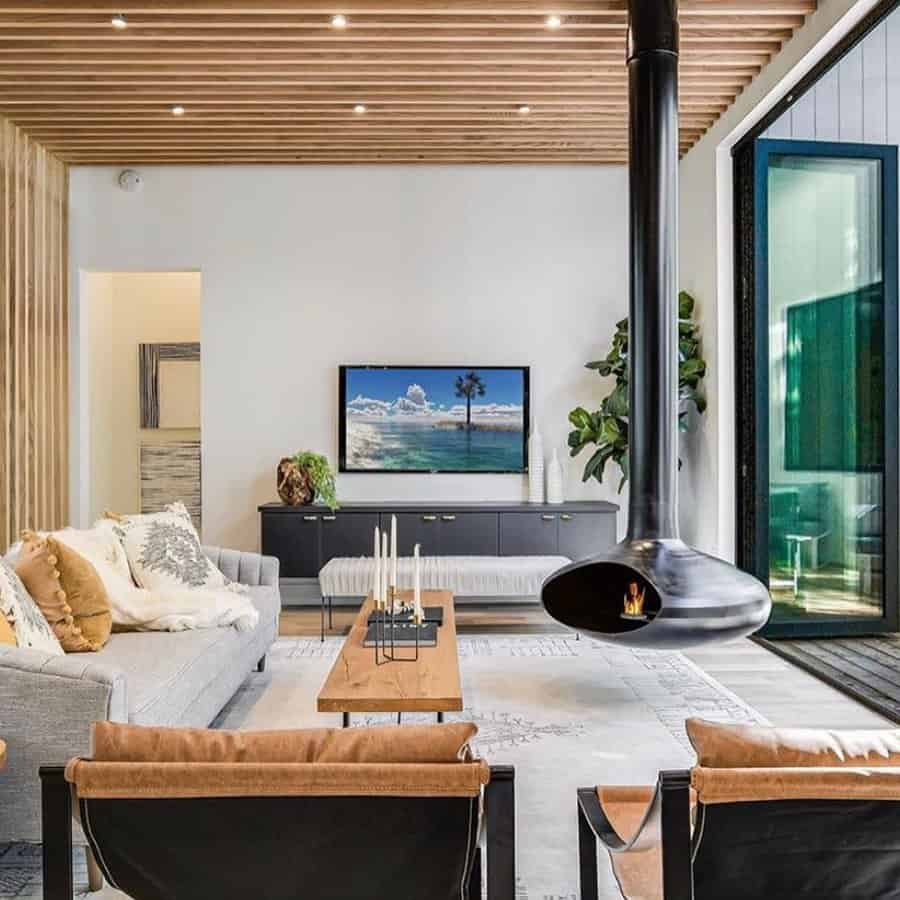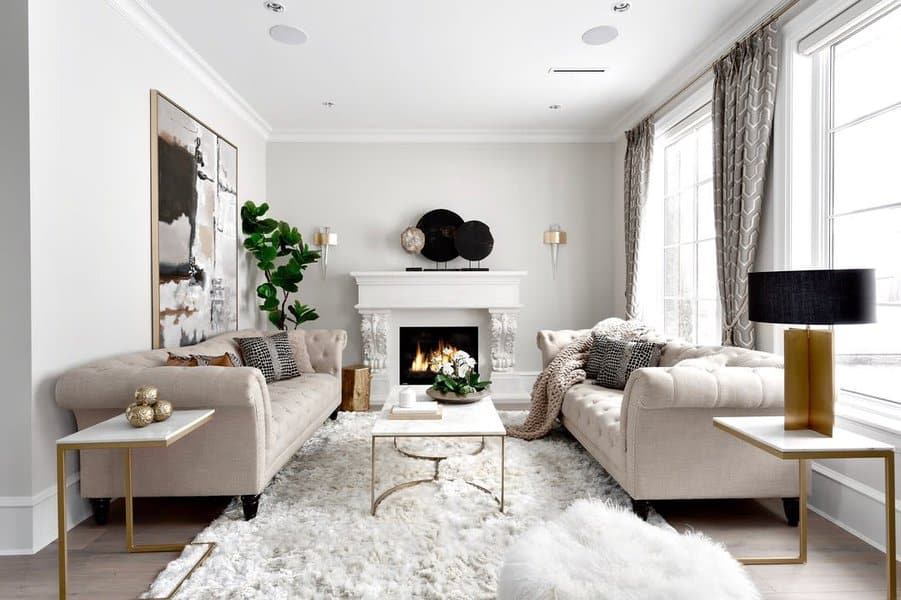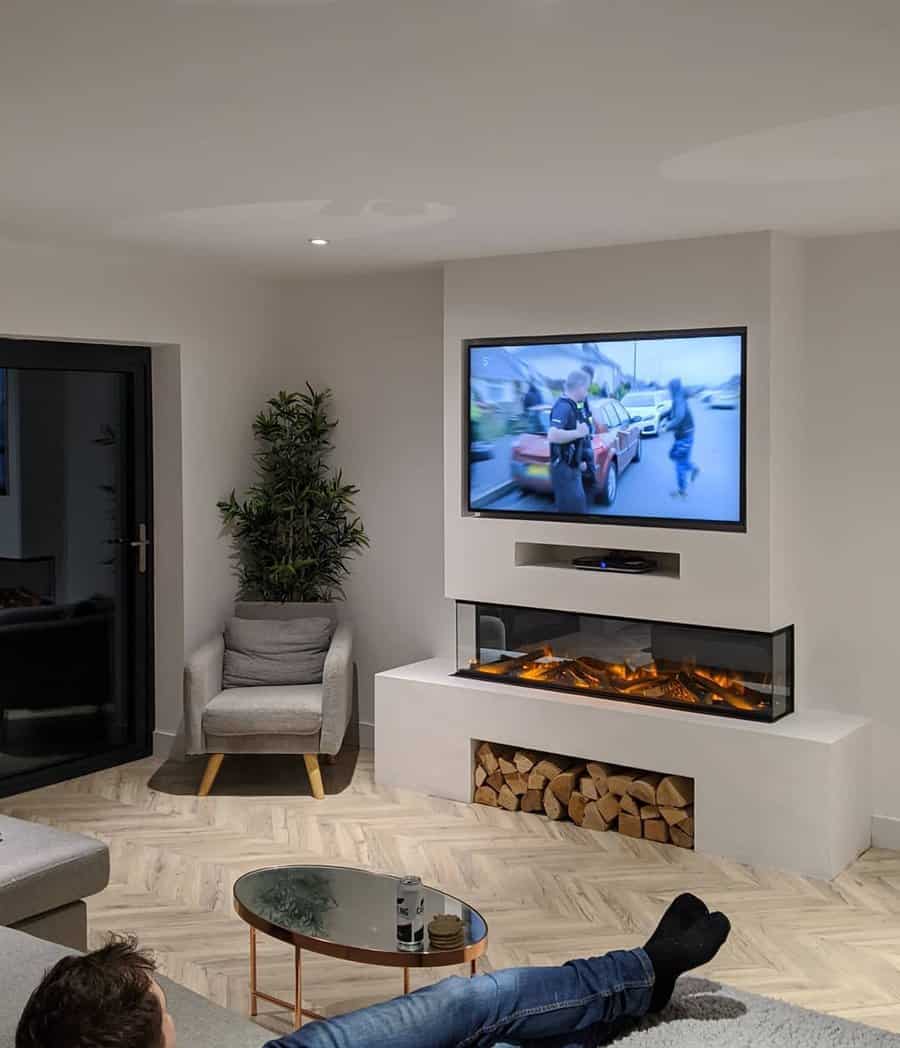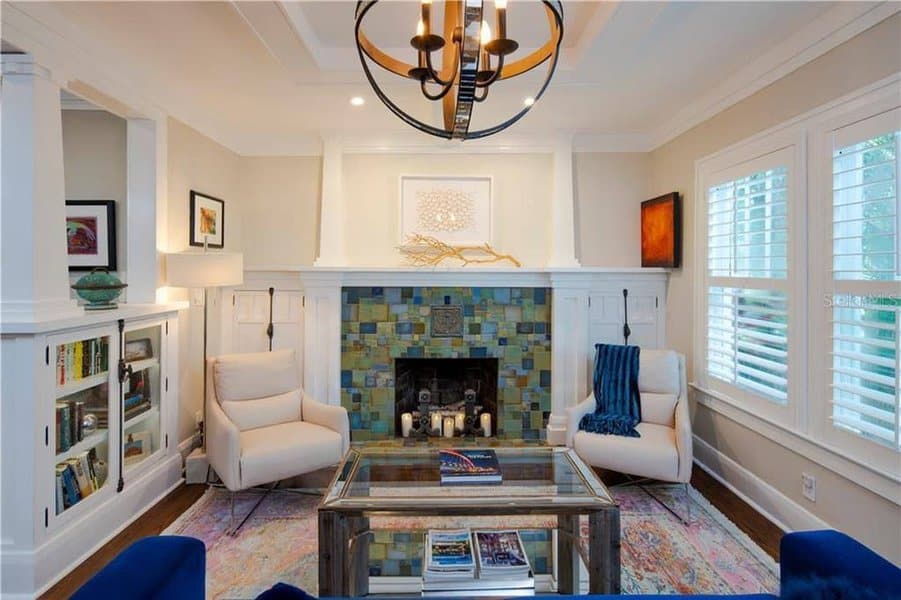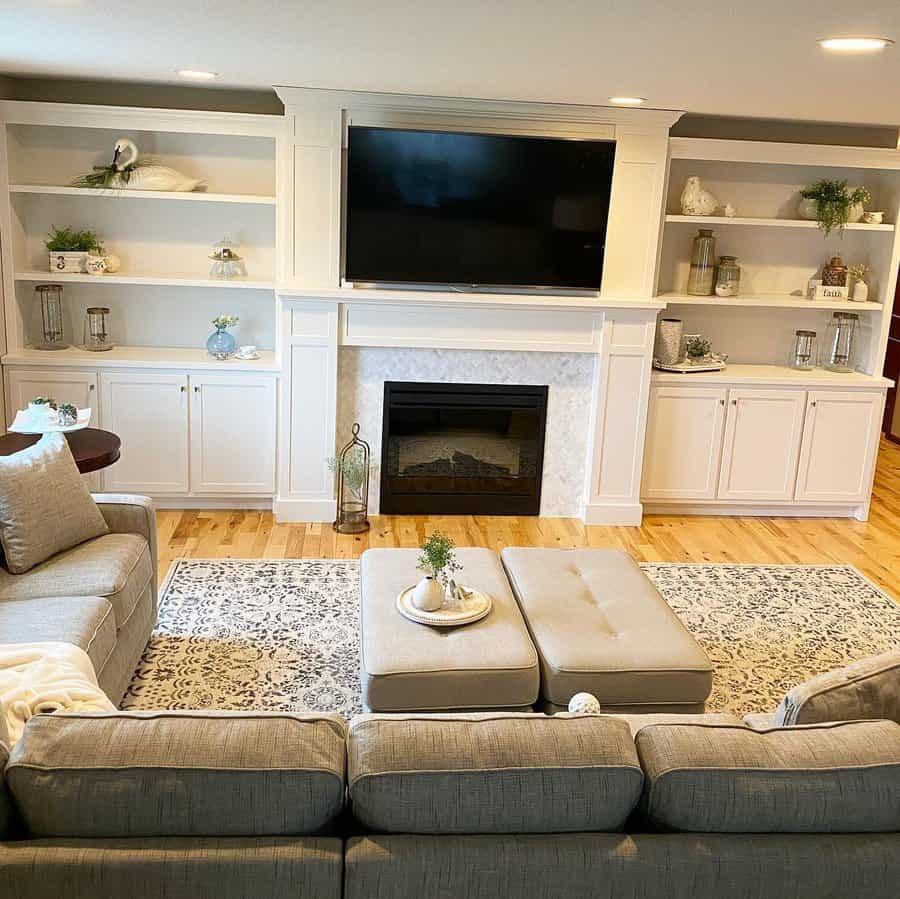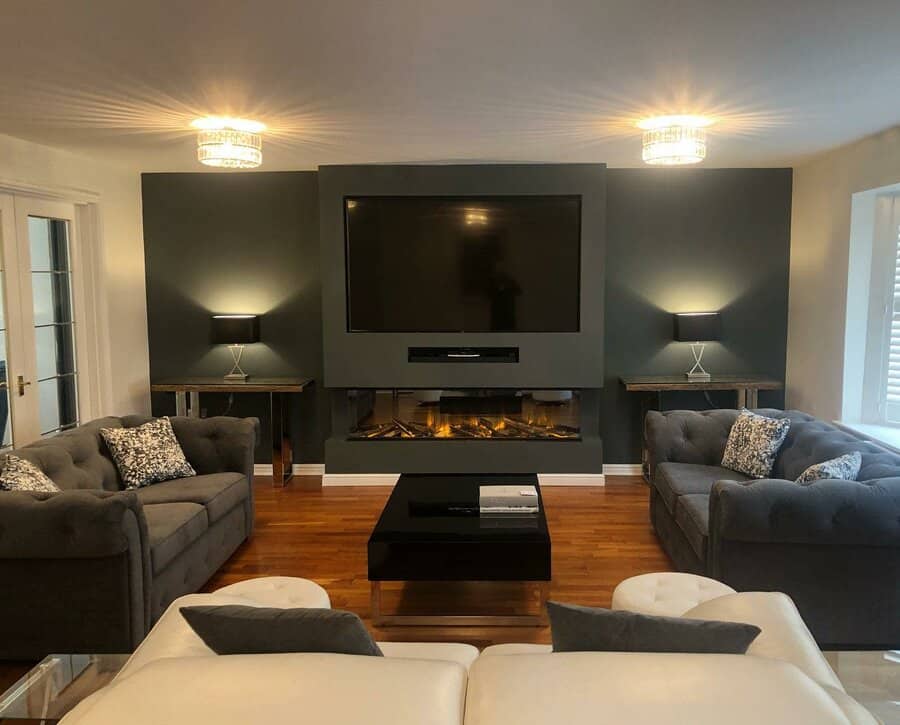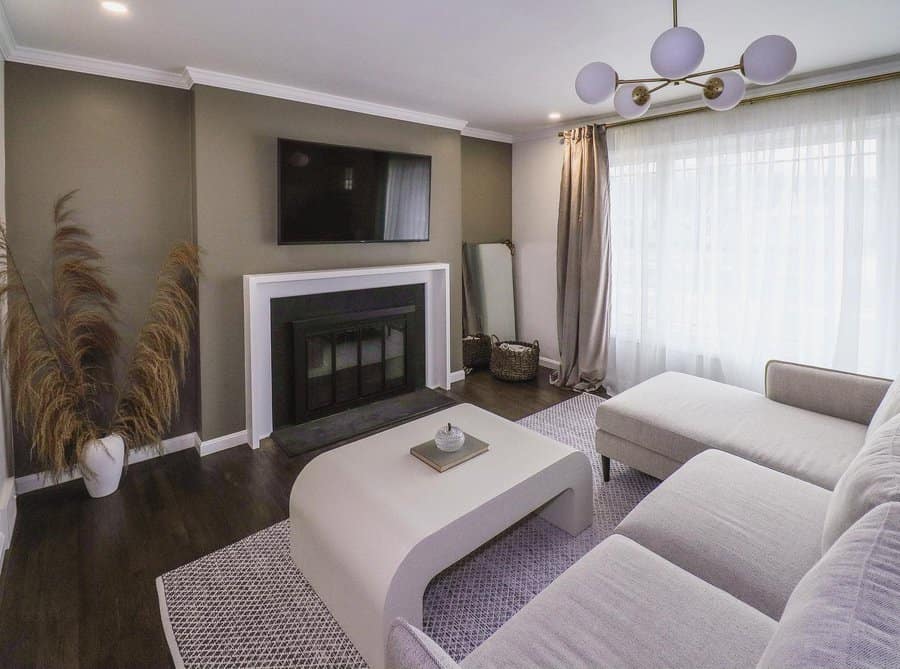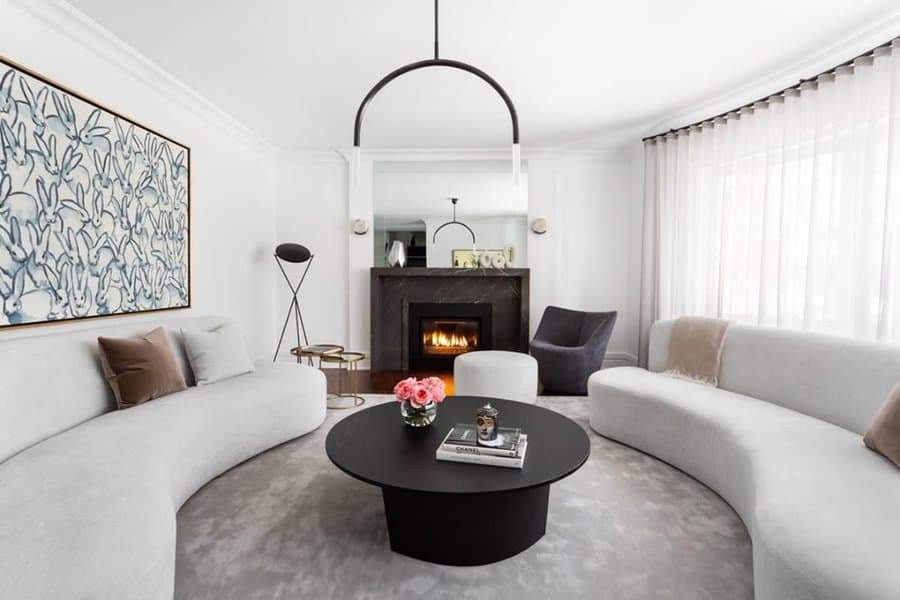 7. Center Bench
Possibilities are endless when it comes to designing a modern living room. For starters, why not amp up the traditional sofa-lounger combo with a unique center bench stool? This furniture piece acts like an instant tastemaker for any kind of space, instantly drawing in eye-catching charm and character that will have guests swooning over your decor choice.
Plus, it adds practicality for both lounging and seating flexibility. Whether you are great at interior design or have never attempted it before, adding a center bench stool is an easy way to make your living room look totally modern.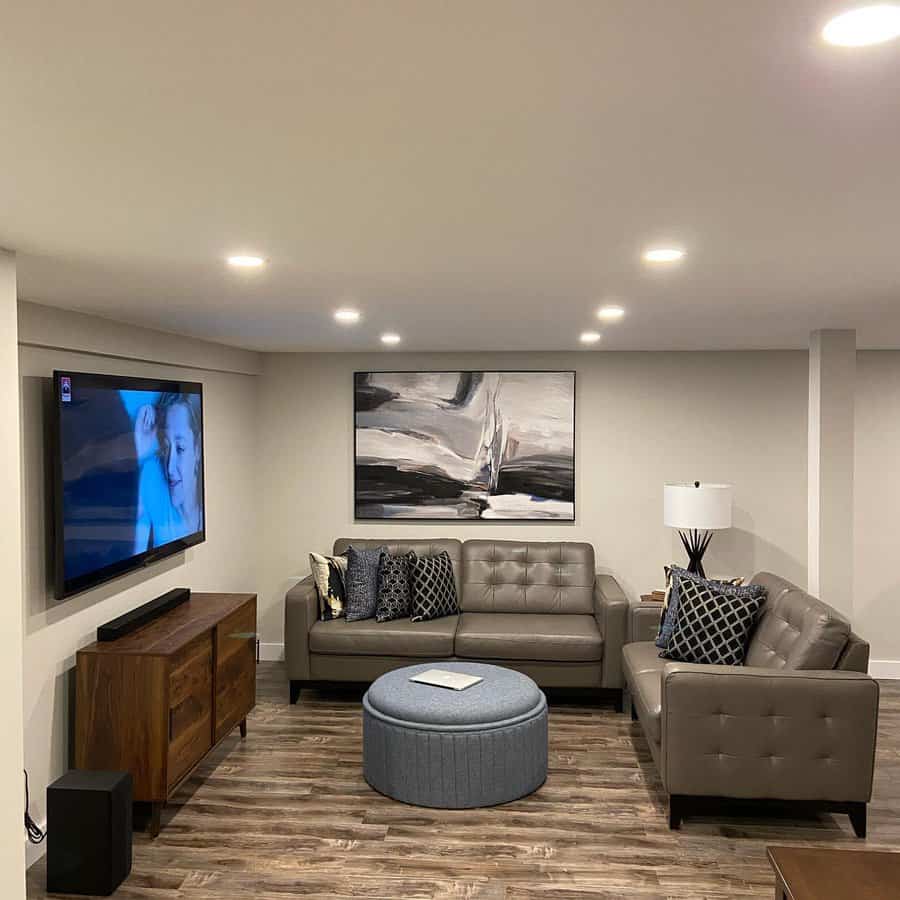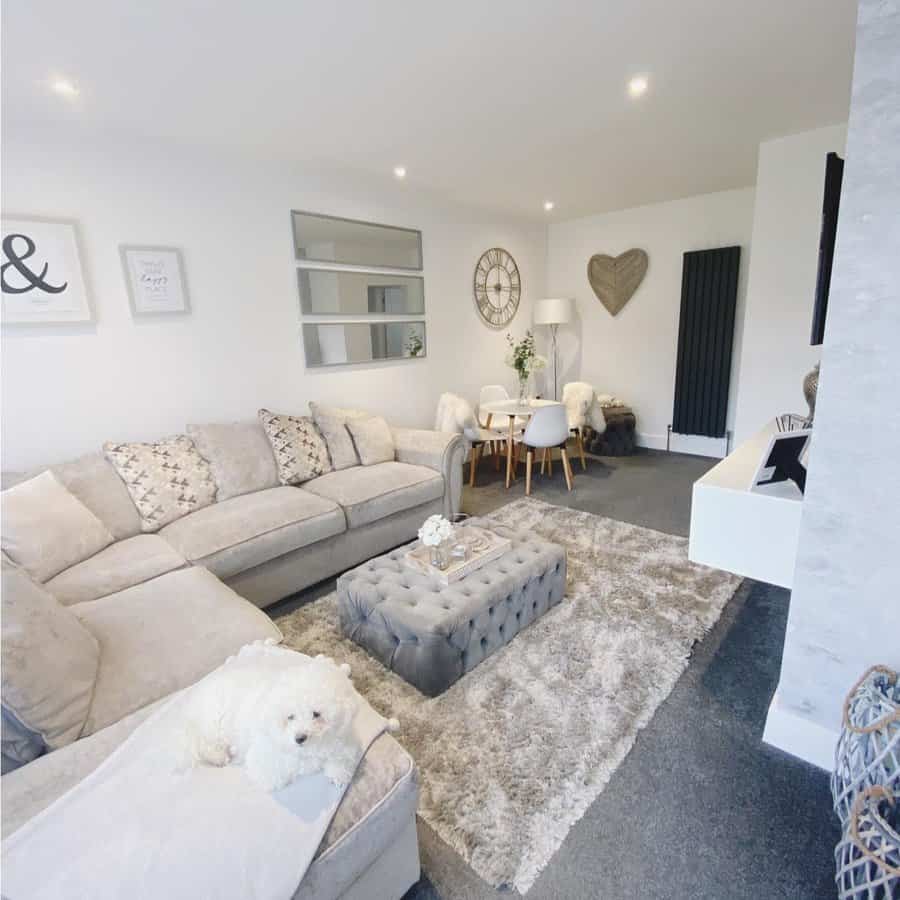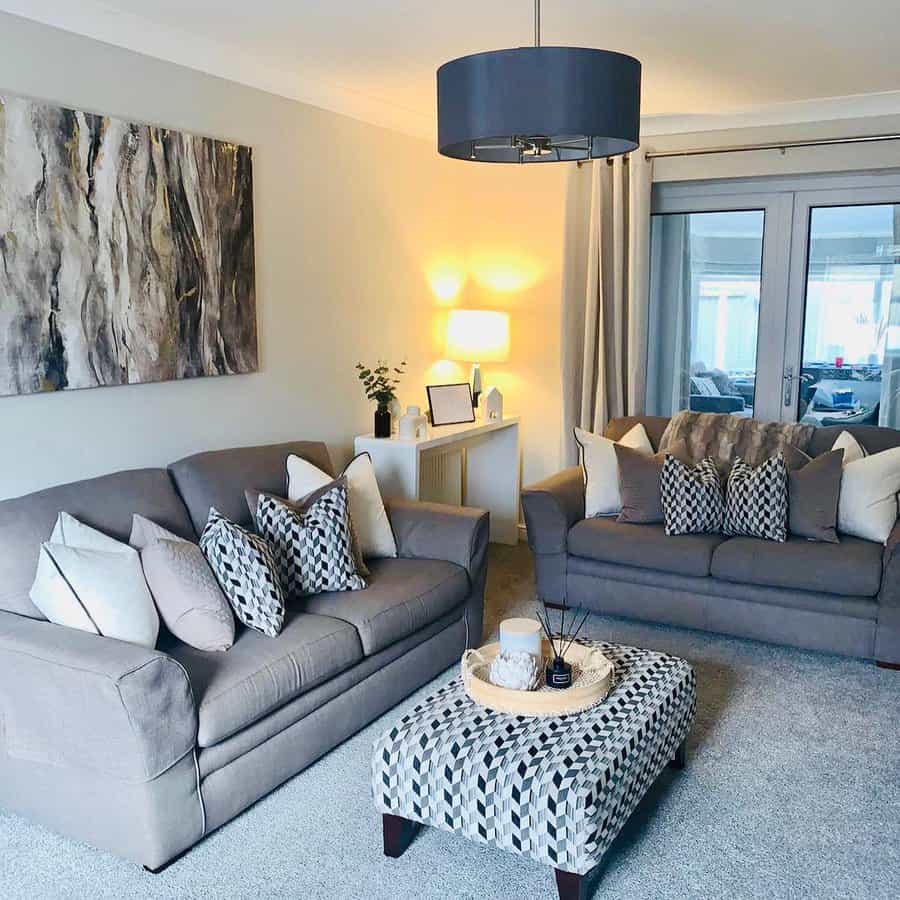 8. Diversify Seating
Creating a modern living room doesn't have to be a mundane task! With the opportunity to diversify seating arrangements and choose from couches, sofas, and stools, the possibilities are endless. No matter your taste, you can transform any space into an inviting area for guests or a cozy spot for some alone time.
Don't be afraid to get creative — mix and match different styles to achieve a unique and original look with modern vibes. Your thoughts combined with your style will soon have you creating the room of your dreams!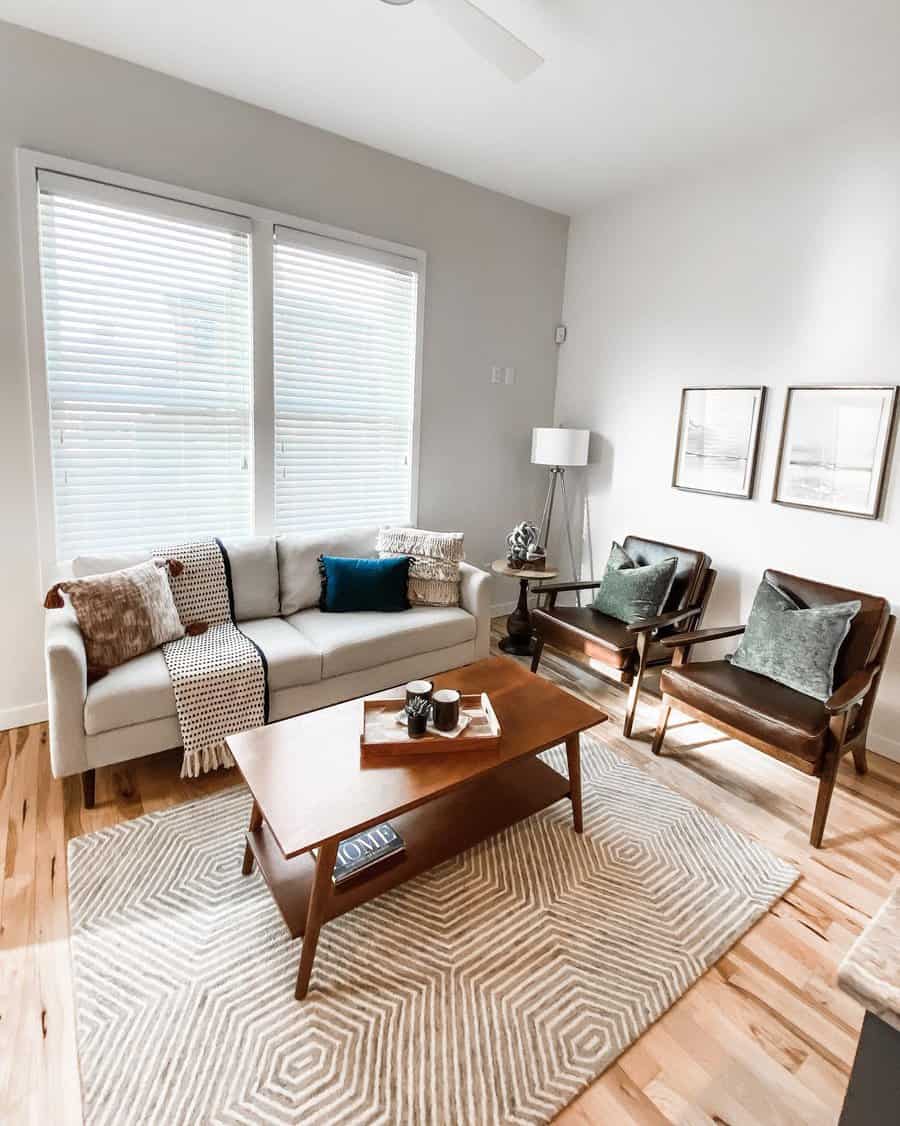 9. Glass & Silver Elements For Elegance
Create an iconic modern look in your living room with glass and silver elements that shimmer when light hits them. Introduce a contemporary chandelier which will add drama to the space. Pull all the elements together by introducing metal fixtures for an elegant yet modern flair.
Achieve the perfect Living Room design by carefully selecting pieces that bring out your signature look; from distressed to timeless, you'll be sure to make a statement!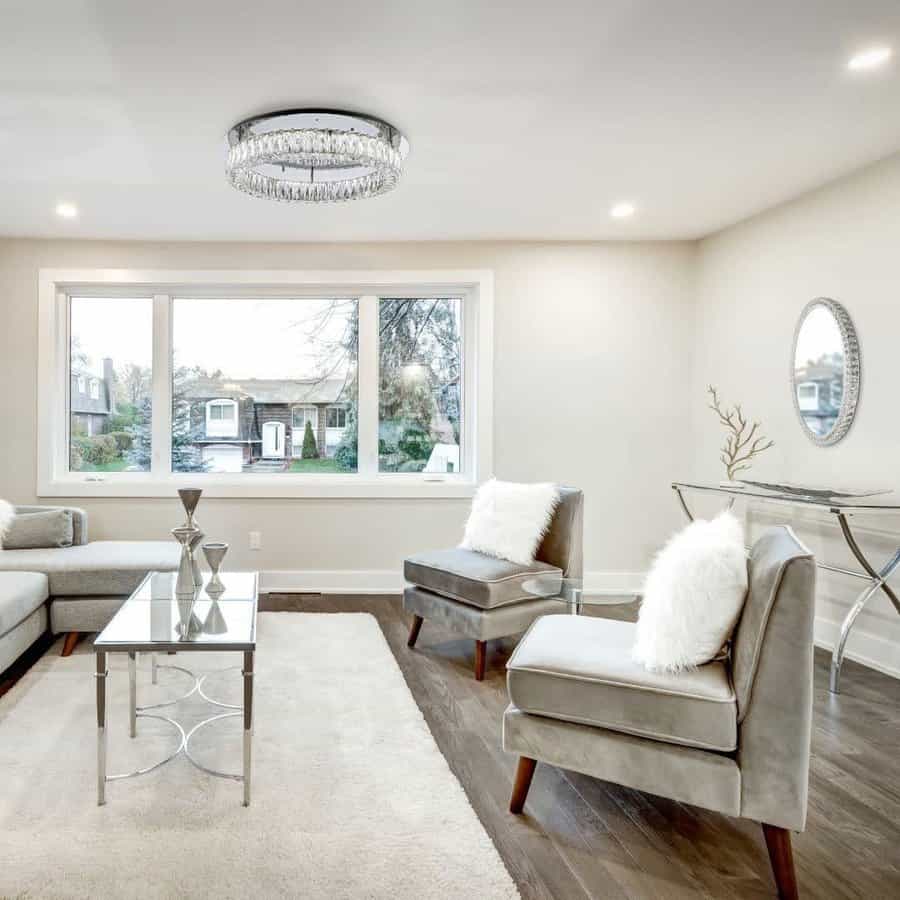 10. Accent Wall
Infuse life into your living room with a creative twist! A colored accent wall can add dimension to the space and be an eye-catching focal point that stands out. Looking for something more subtle?
If you're after a more calming aesthetic, incorporating pastel hues in throw blankets, pillows, and other décor pieces adds another layer to the room in an understated manner.
Whether you're feeling bold or relaxed, modern design ideas like these make any living room inviting and enjoyable to spend time in.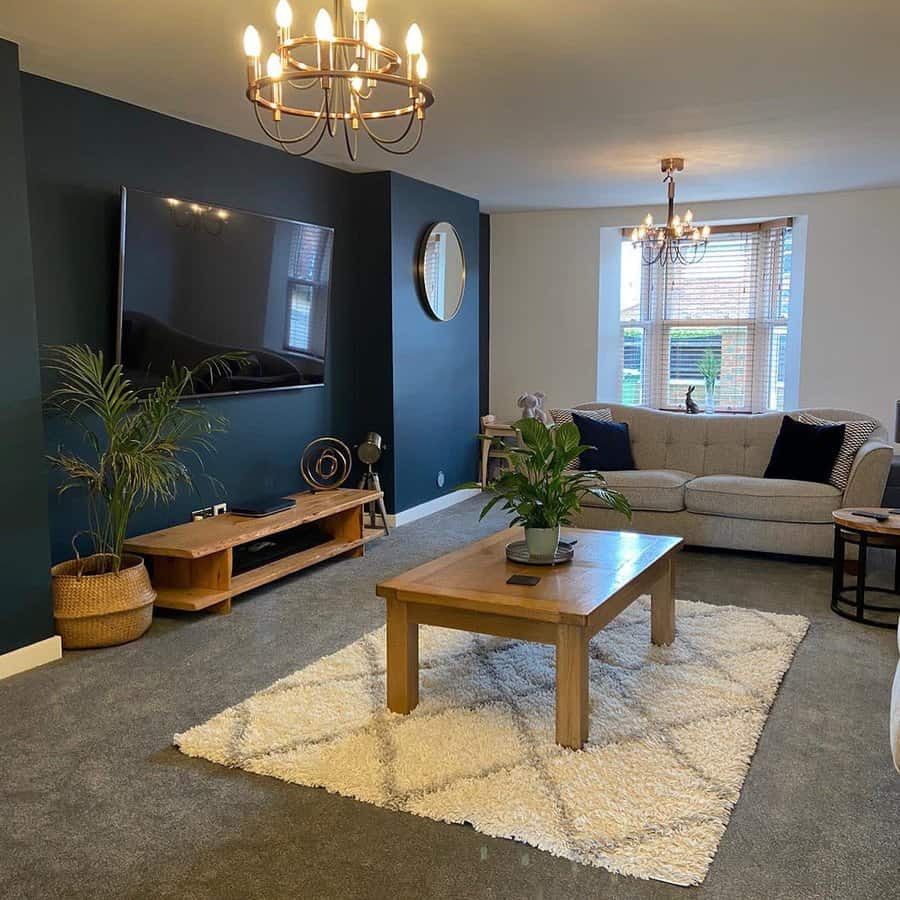 11. Roman Shade Curtains
Looking to give your living room a modern twist? Consider installing a Roman shade curtain. This classic window treatment has resurged in popularity over the past few years and promises to be an eye-catching solution that fits perfectly with the modern decor of your home. Whether you choose neutral tones or bright and bold prints, the soft pleating provides an interesting focal point for a contemporary look.
Its versatile design allows you to easily transition between different themes without needing to commit fully, making it perfect for today's ever-changing styles. Add some pizazz by choosing a patterned option and you're guaranteed to have an on-trend living room fit for the modern age!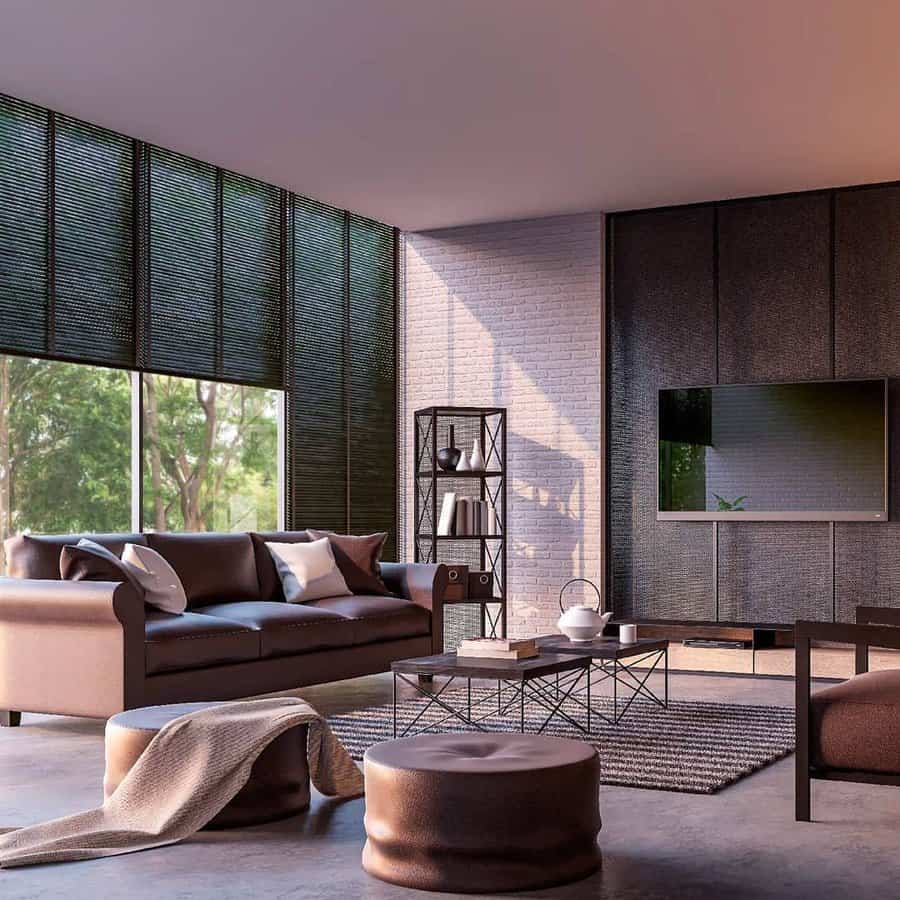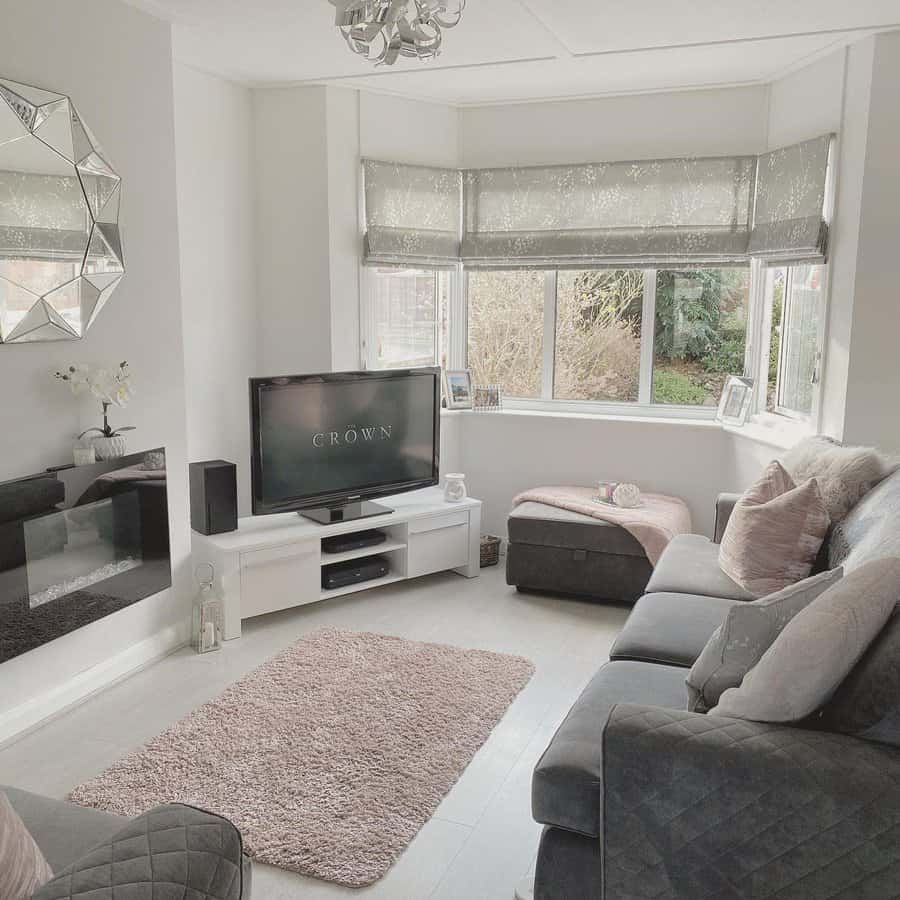 12. Minimalist Wall Trimming
Consider minimalist wall trimmings to add style and sophistication to any living space. Use crown molding with a sleek, streamlined design for a subtle but effective touch of elegance.
Paint the trim a light shade of your favorite color or use a wood stain to give it just the right accent. Add some creative flair by using fabric to bring out beautiful natural elements like stone or wood grain in the trim.
And don't forget the lighting! Installing recessed fixtures near the crown molding can help create an inviting atmosphere that will make you feel right at home.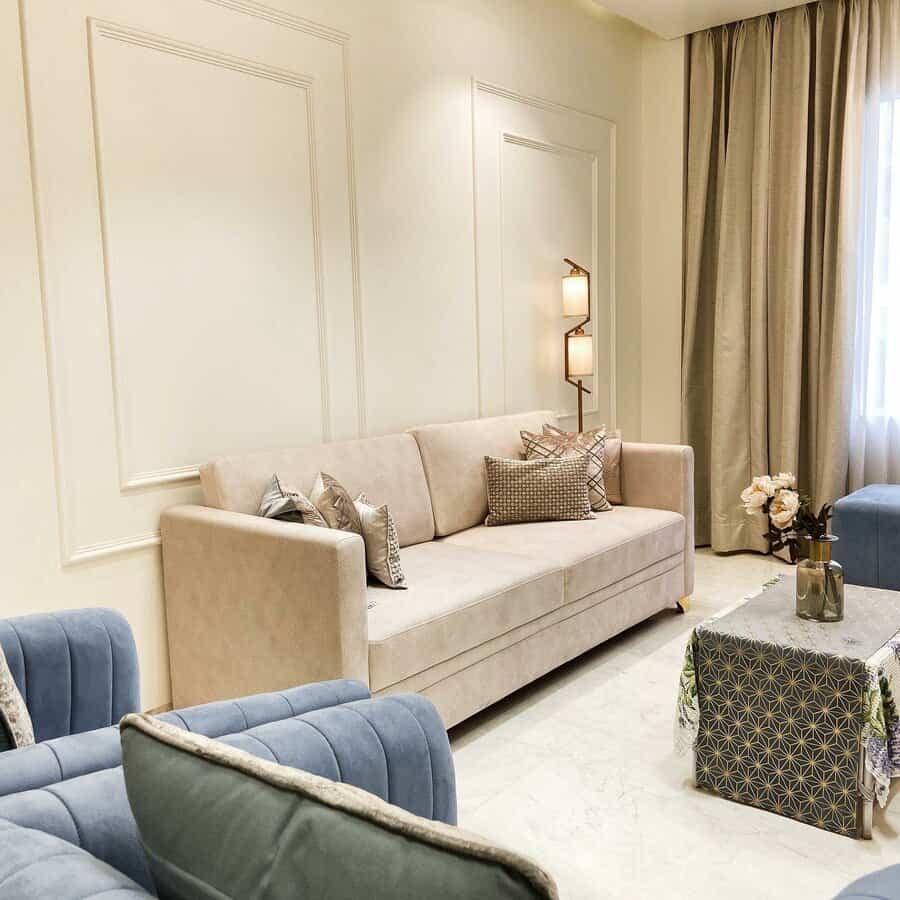 13. Play With Pendant Lighting
When looking to create a modern living room, one of the most stylish elements you can add is lighting. Instead of settling for just one lamp or overhead light, why not diversify your lighting with some pendant lights and a lamp?
Pendant lights provide height and drama to any space, while a lamp on an end table allows you to control your lighting easily. With something as simple as adding different sources of lighting, you can create the perfect modern set-up that looks both functional and chic in your living room.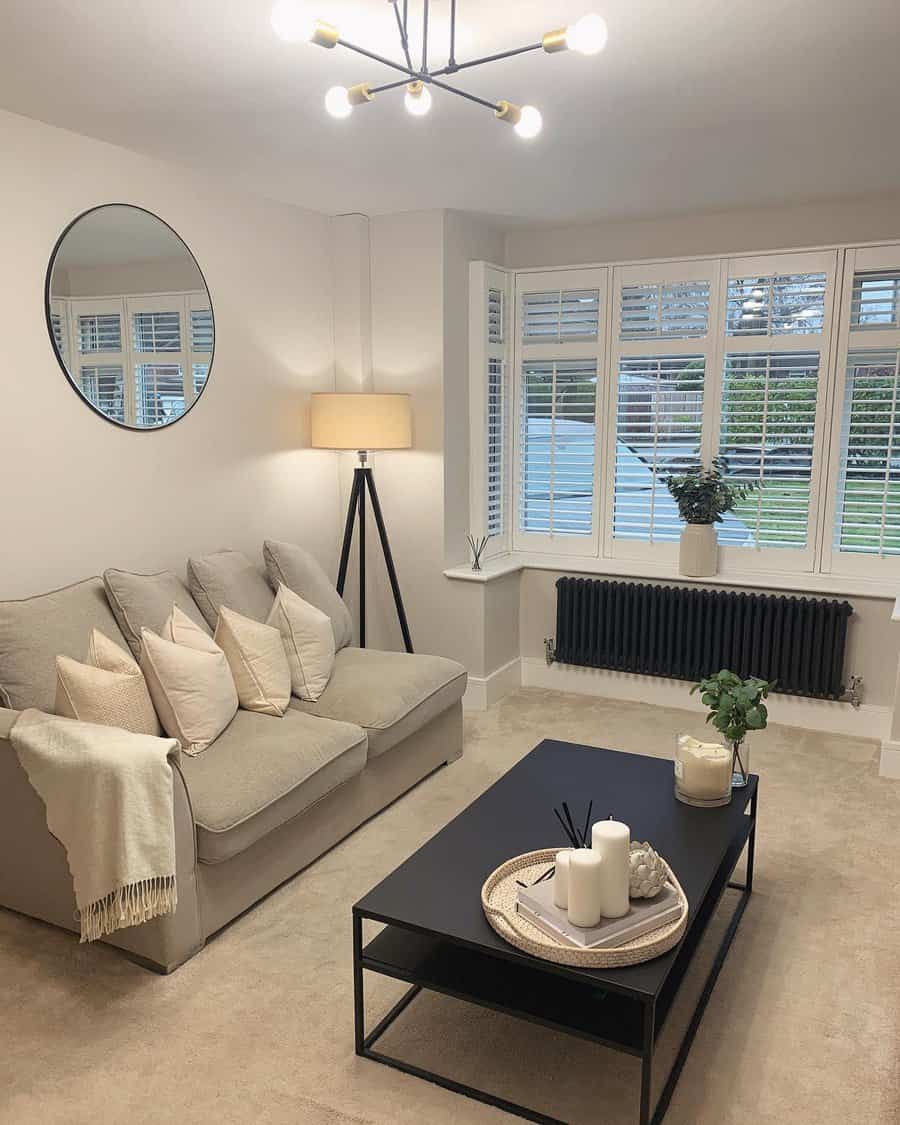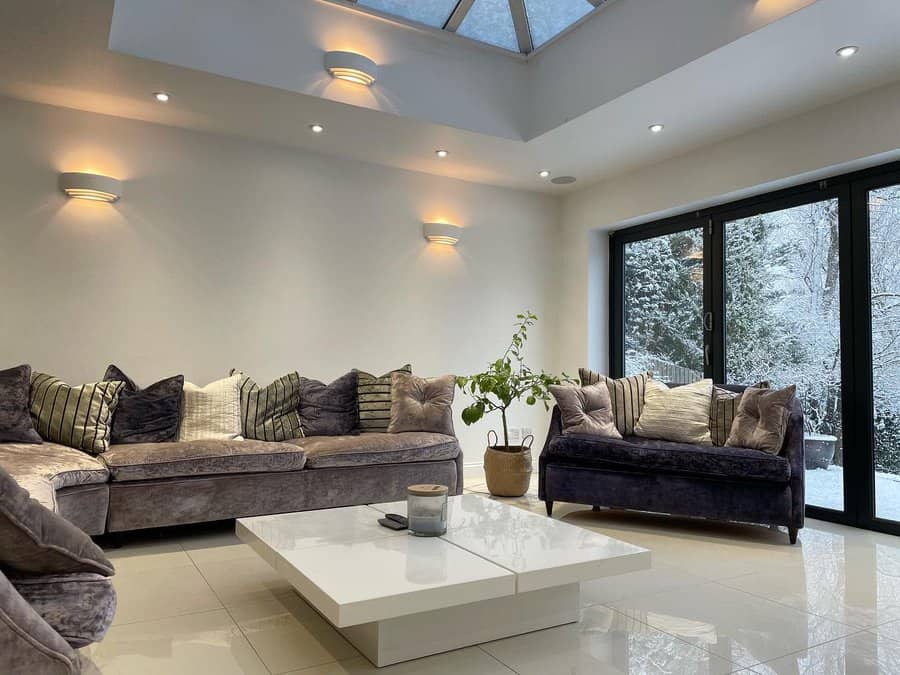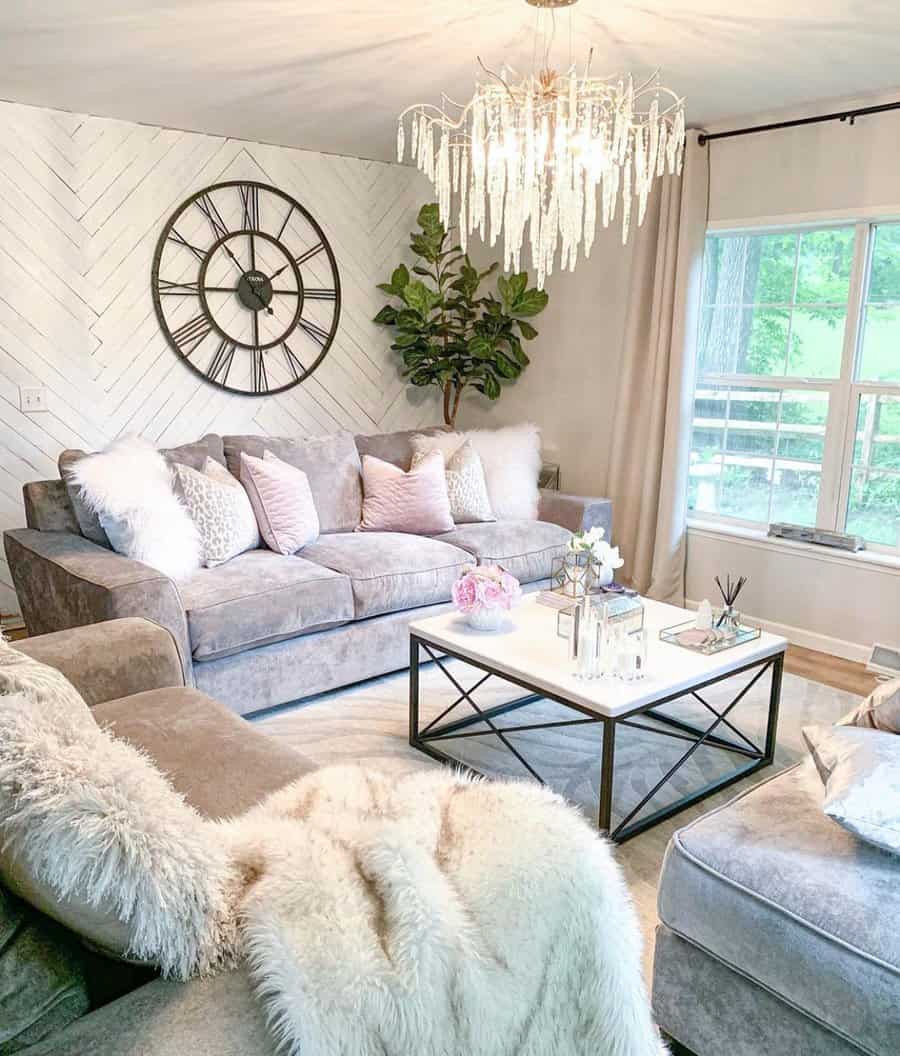 Modern Living Room FAQs
What is mid-century modern design?
There are many types of modern living room design to choose from. One of the most popular in today's home is called mid-century modern.
Mid-century modern specifically refers to design trends that originated in the mid-20th century. Most mid-century modern furniture pieces boast elements that were popular in the 1940s to 1960s.
Twenty years is a long time when it comes to interior design trends! As a result, mid-century modern decor encompasses a wide array of materials, silhouettes, and color palettes. There's lots of flexibility involved in recreating a mid-century living room in the 21st century home.
Are modern living rooms cozy?
Modern decor gets a bad rap for feeling cold and sterile. It's true that some styles of modern decor are far from cozy. But there are also several types of modern decor that are extremely warm and inviting.
For a cozy living room, look for inspiration in Scandinavian or Bohemian design. Modern farmhouse is another very popular trend that blends together organic elements with the sleekness typical of more minimalist design movements.