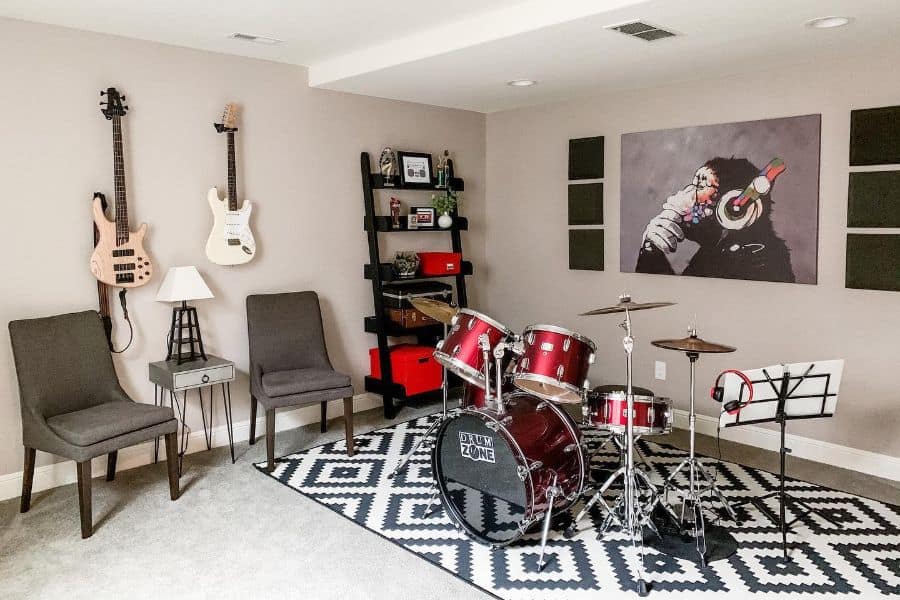 "Music needs room to breathe." – Ennio Morricone
Music brings energy and life to your home. Having a dedicated space in your home gives you a place to be creative and hone your skills as a musician.
If you're a music lover, you should celebrate your passion in your home as an expression of who you are.
If you have a spare room, you could turn it into an entire music room. However, all you need is a dedicated corner. When building your music room, the first step is deciding how much space you need. Then decide how you'll set up the space and decorate it.
You'll also want to consider soundproofing so you don't disturb others in your home. These music room ideas will help you get started building your own music room.
1. Create A Gallery Wall
A music room is the perfect space to showcase your love for music and art. One great way to add personality and style to your music room is by creating a wall decor gallery wall. This can be achieved by displaying music-related artwork, retro art, and concert posters. You can mix and match different styles and sizes of frames to create a unique and eclectic look.
The gallery wall can also serve as a focal point of the room and add a touch of color and character. If you have a particular music genre or artist that you love, you can find artwork or posters that reflect your taste and add them to the gallery wall. A music room with a gallery wall not only looks cool, but it can also inspire creativity and motivation.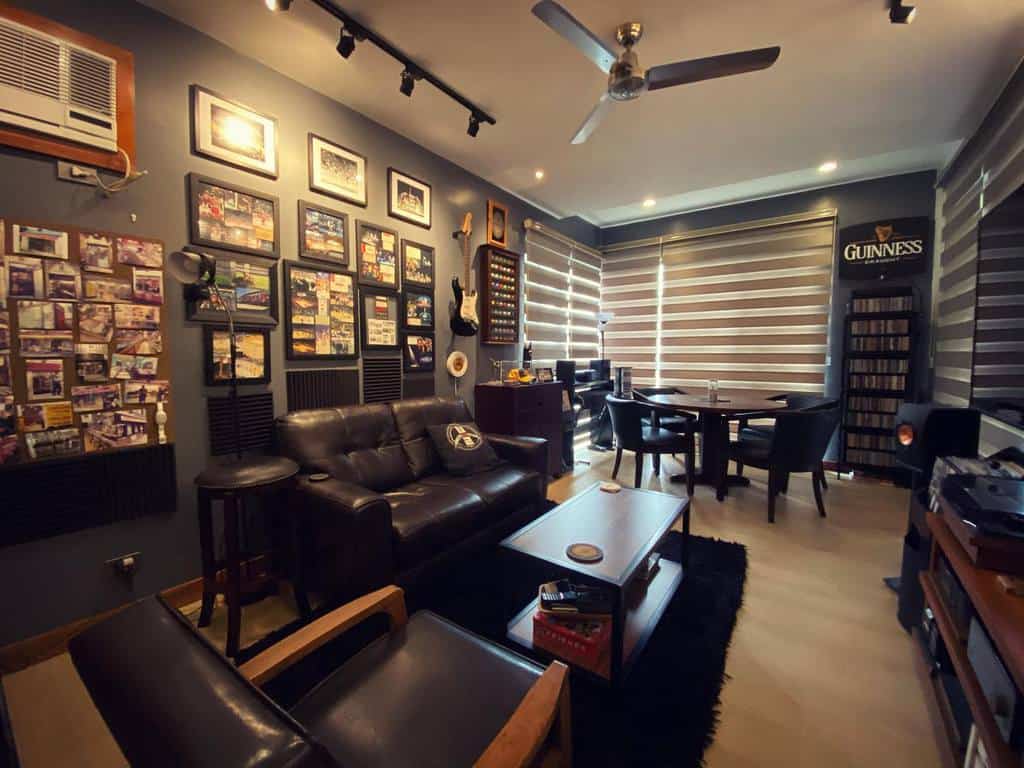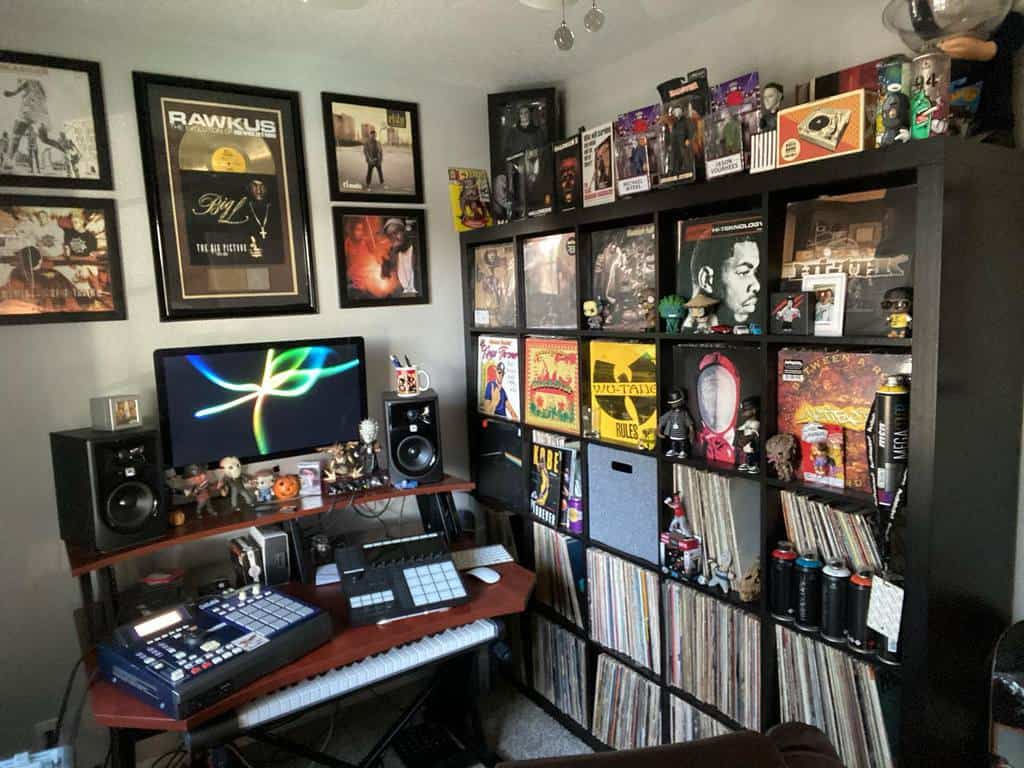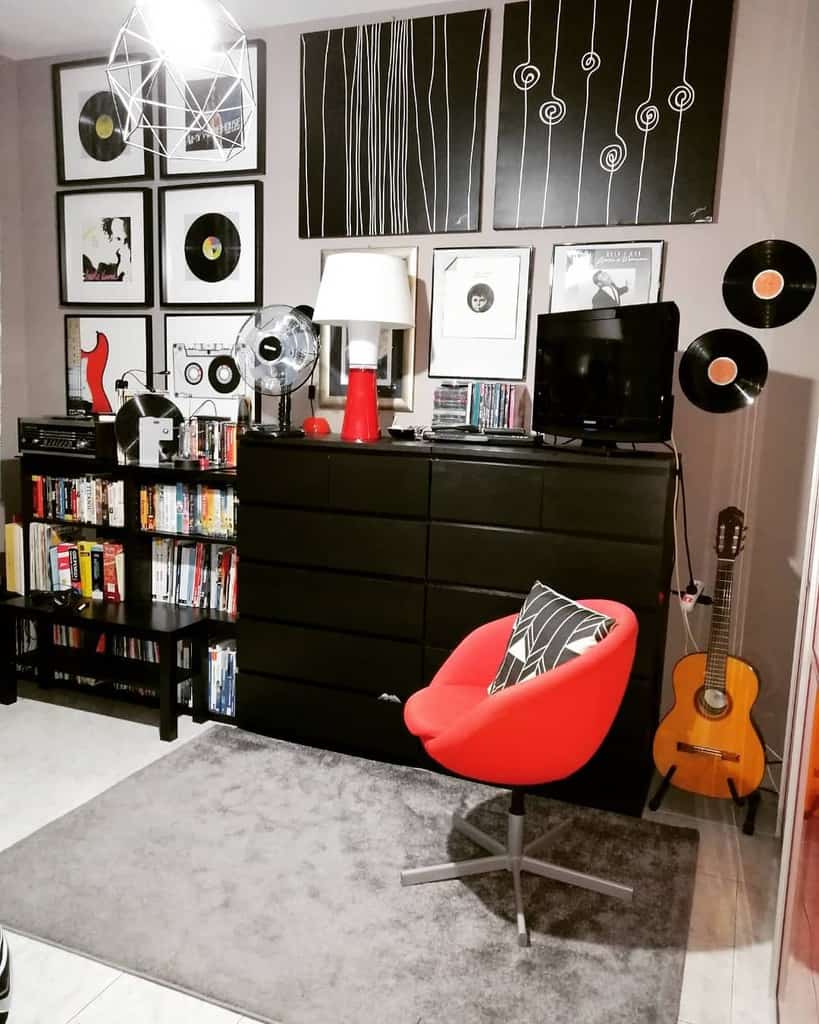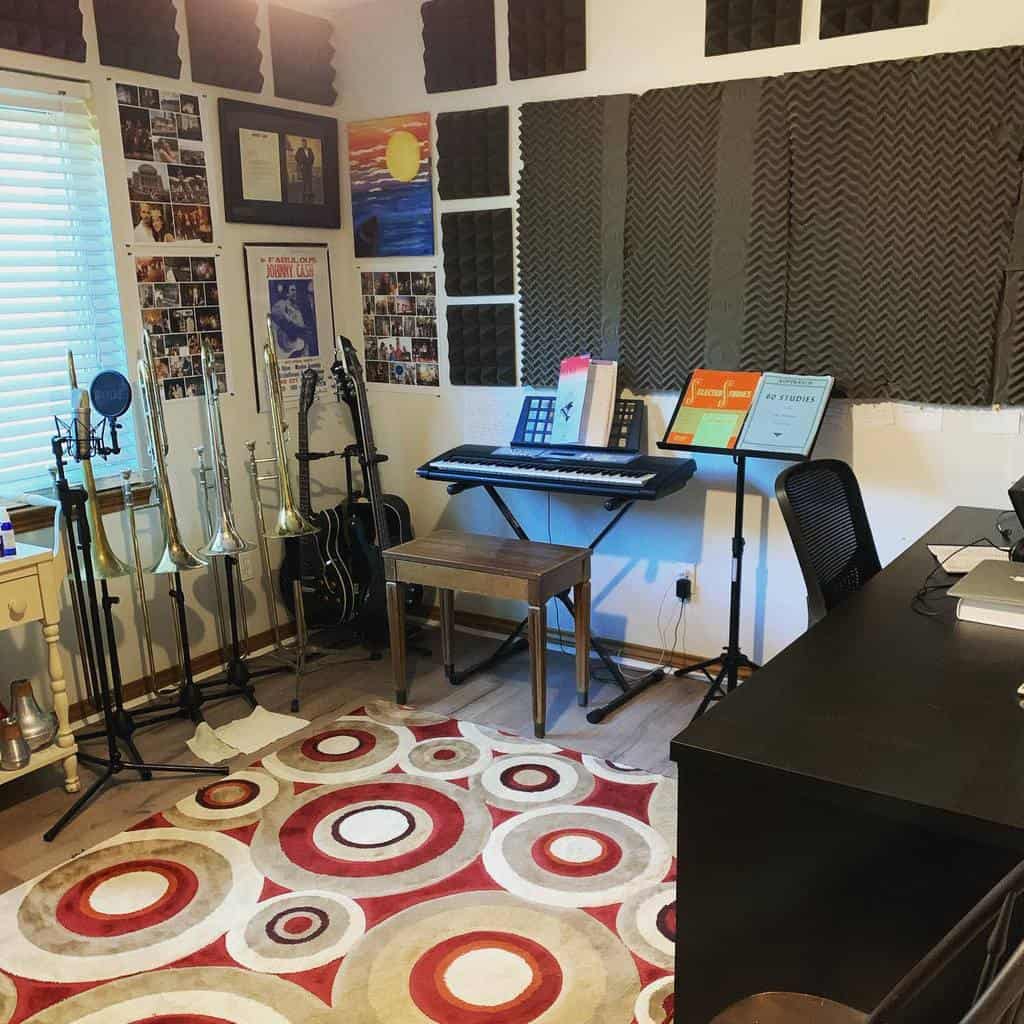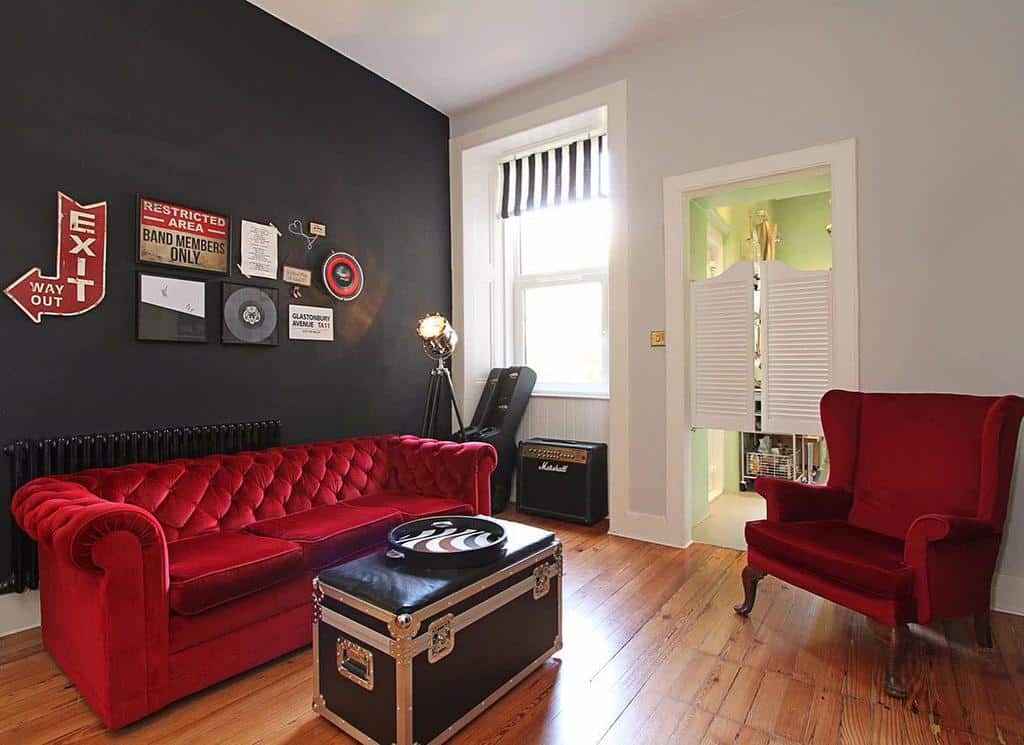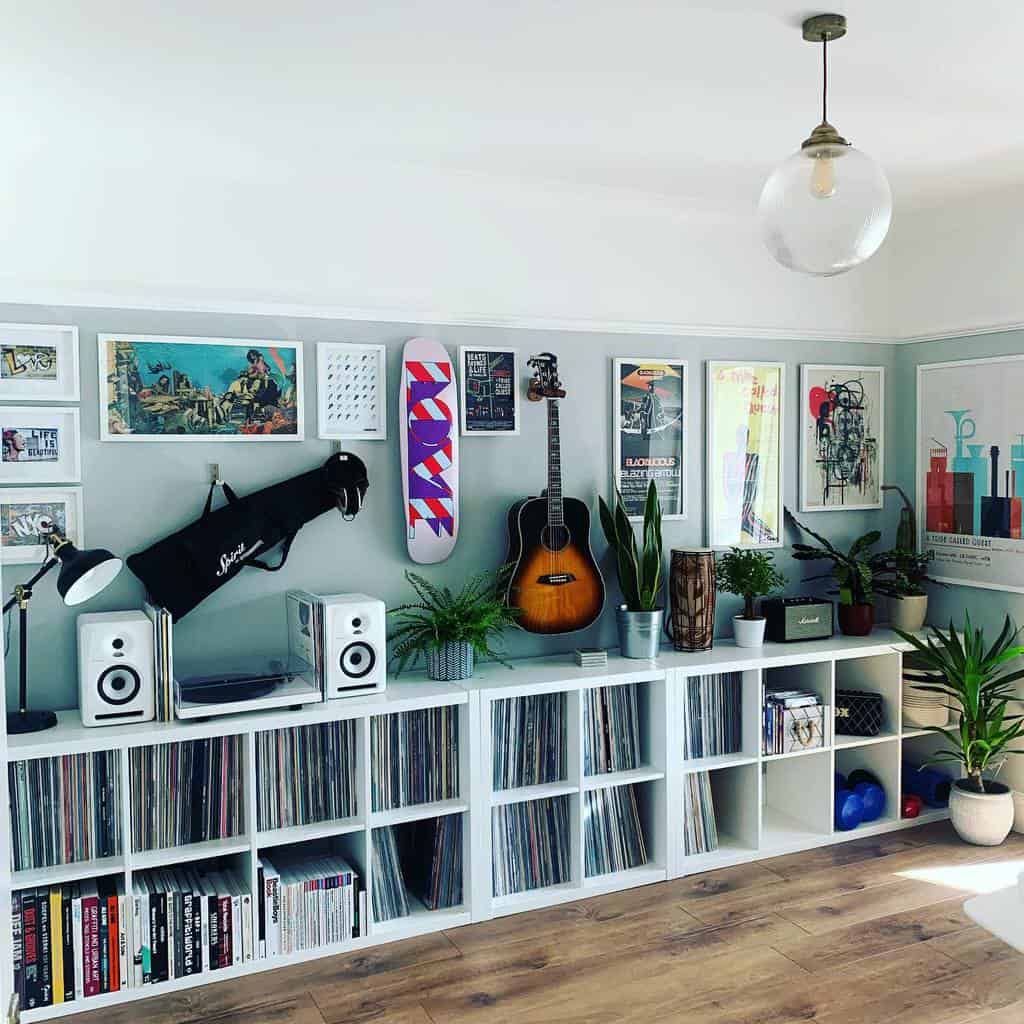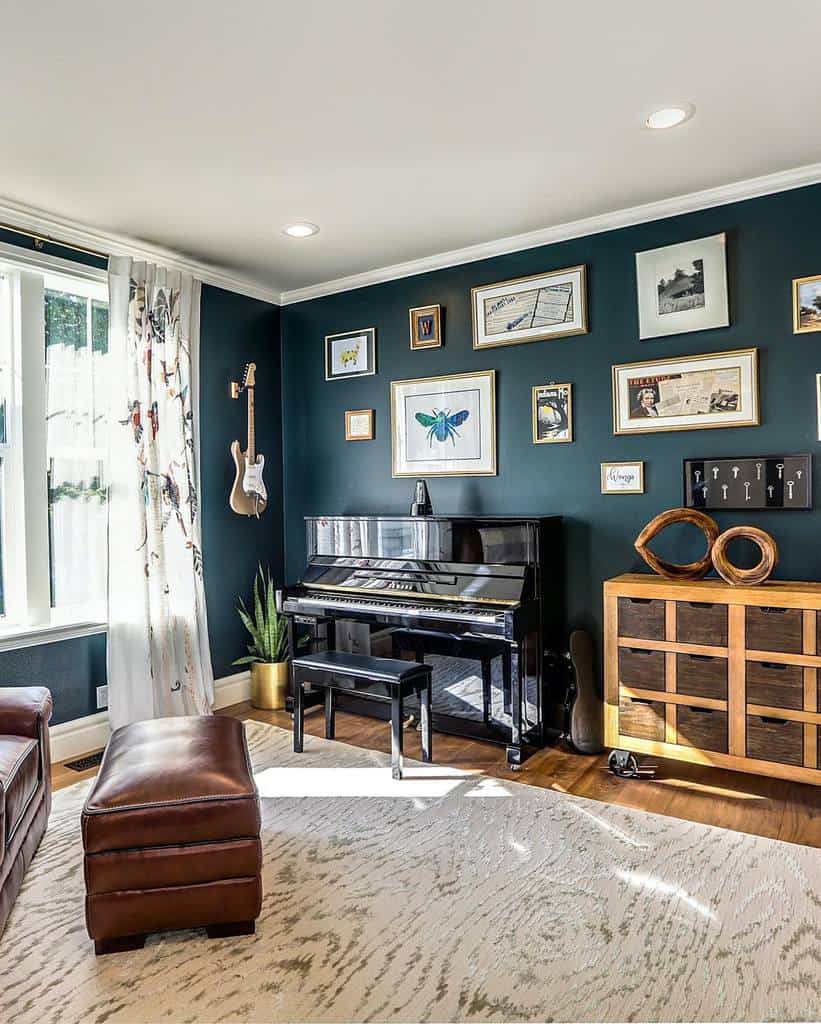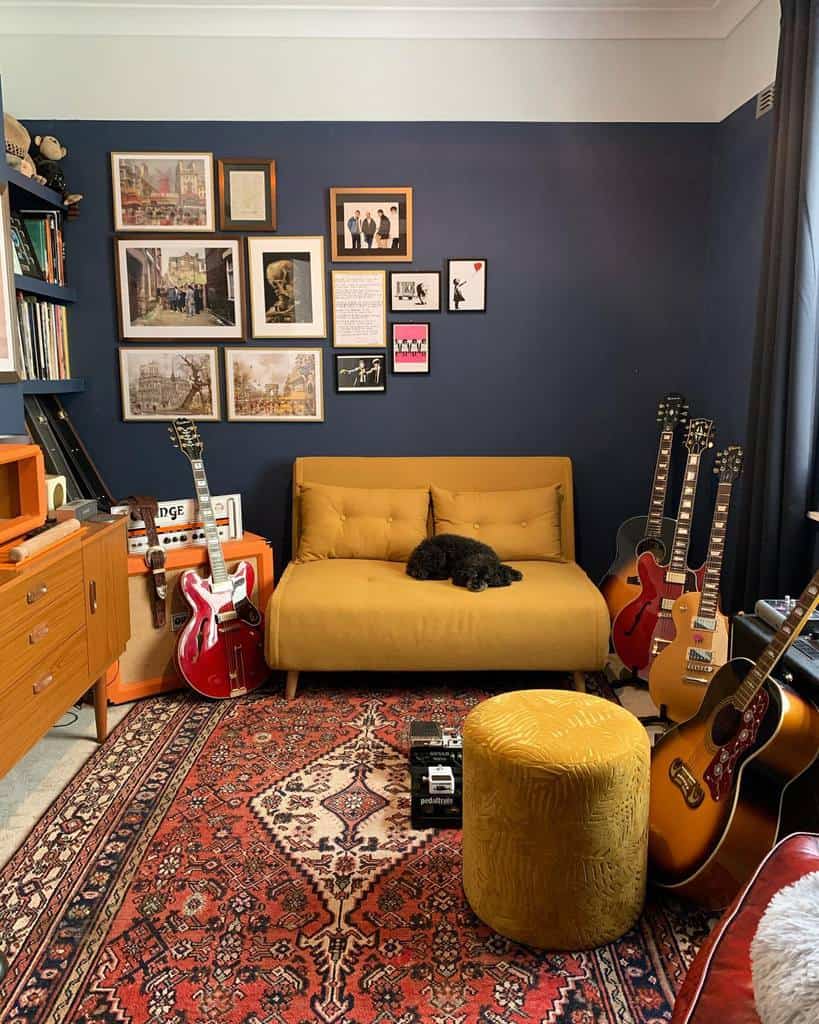 2. Wall Mount Instruments
By utilizing vertical space, these racks free up floor space and make it easy to access and display instruments. Wall-mounted racks come in various sizes and designs, making it easy to find the perfect match for your music room's decor.
They can hold guitars, ukuleles, violins, and other stringed instruments. Not only do they look great, but they also protect your instruments from damage caused by clutter and disorganization. Some racks even come with built-in hooks for storing accessories like cables, picks, and straps.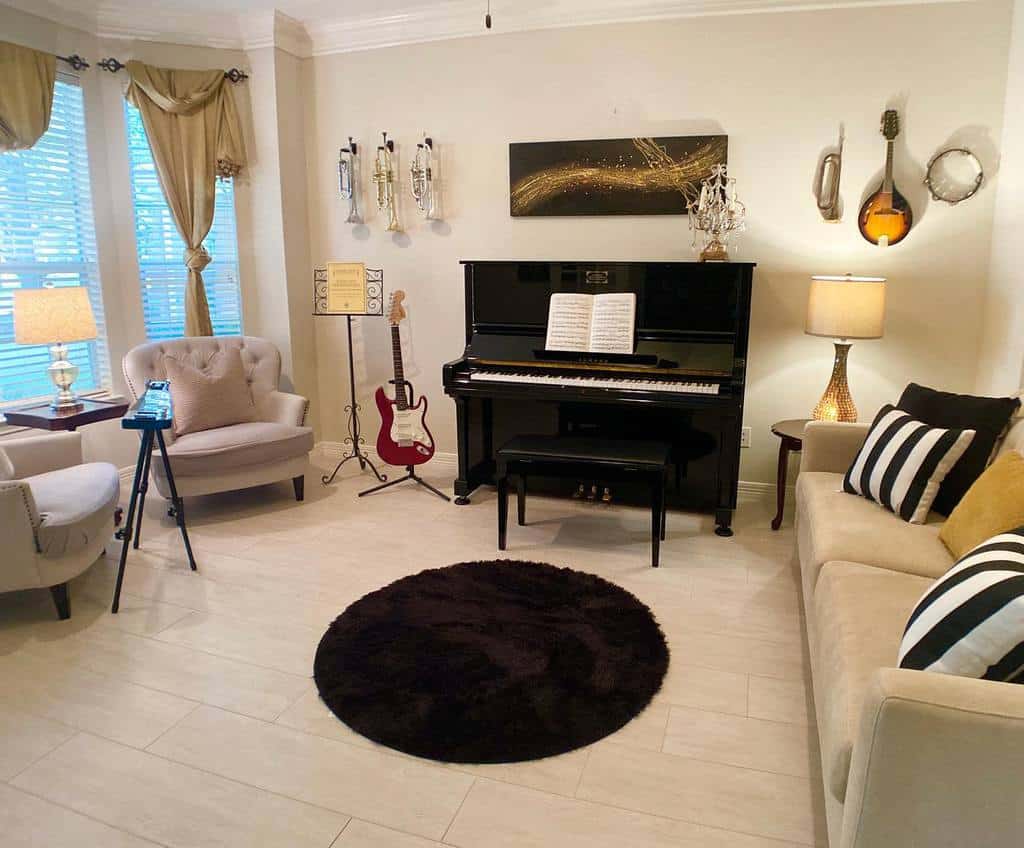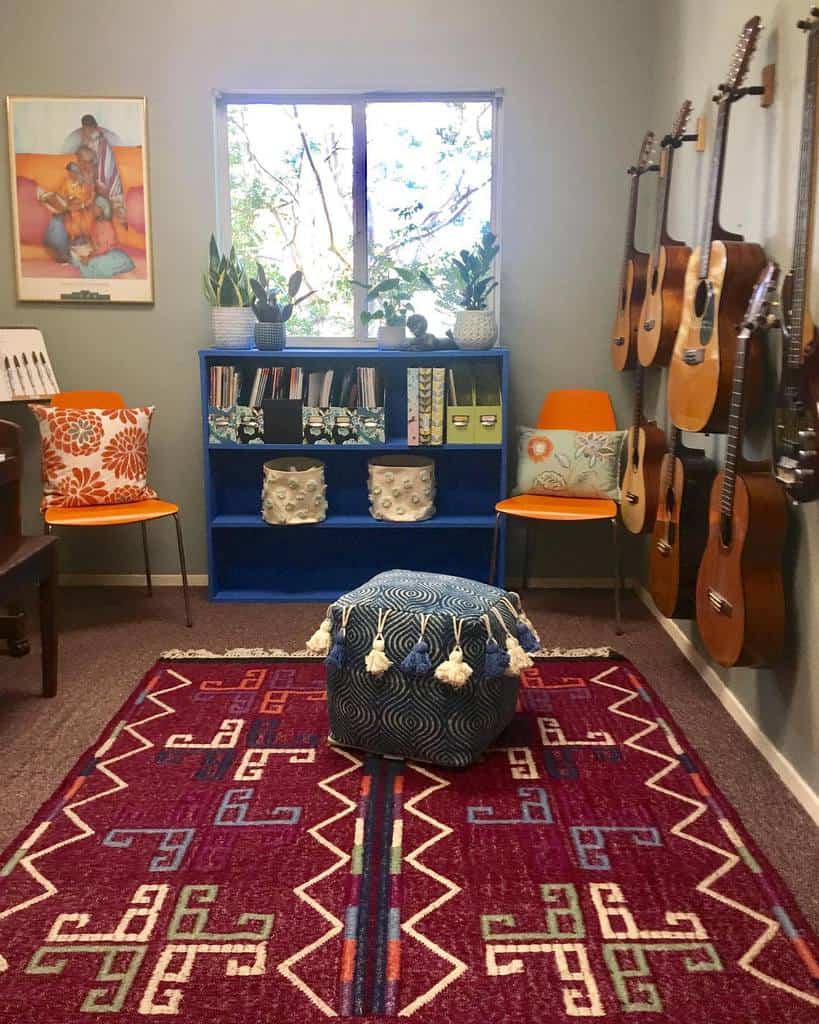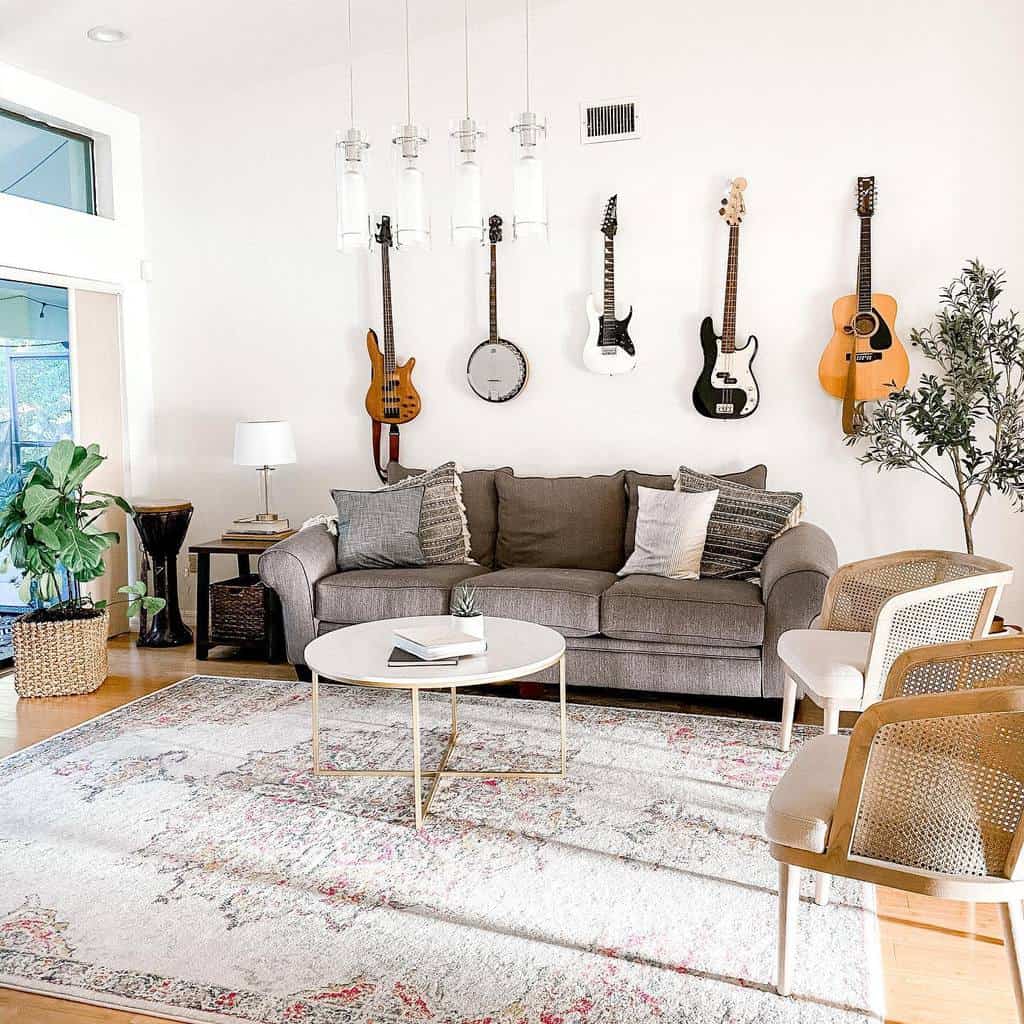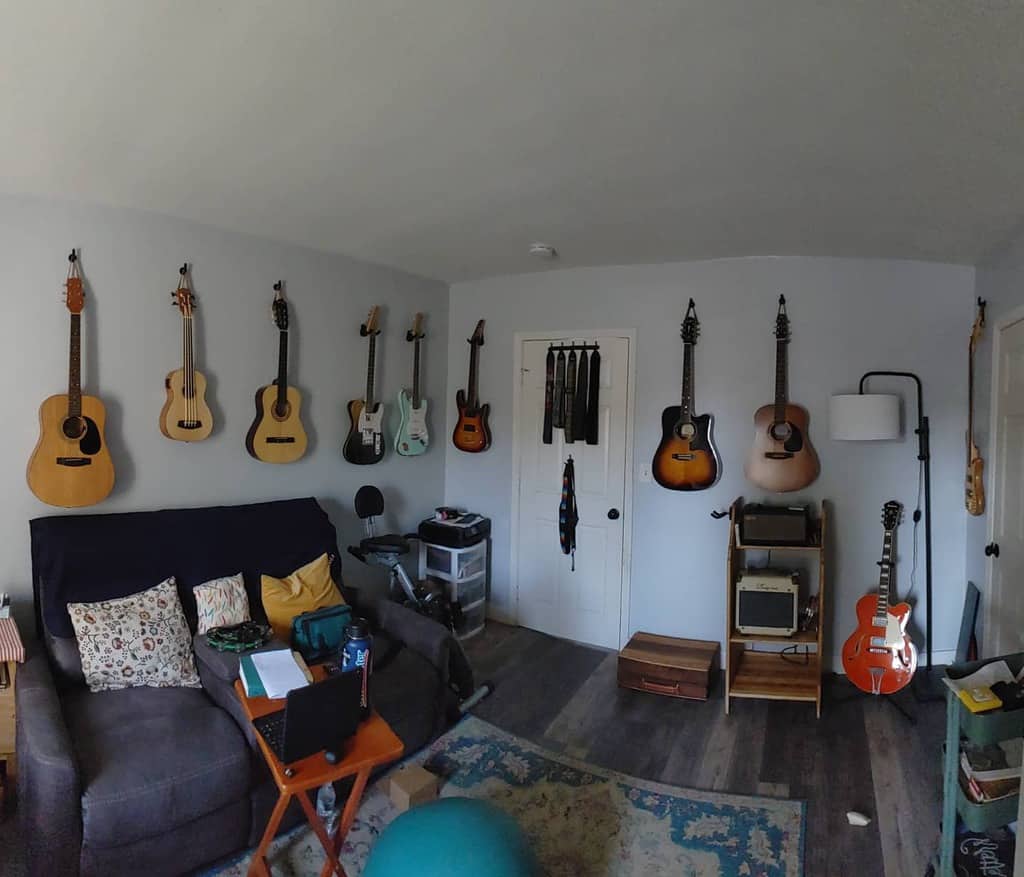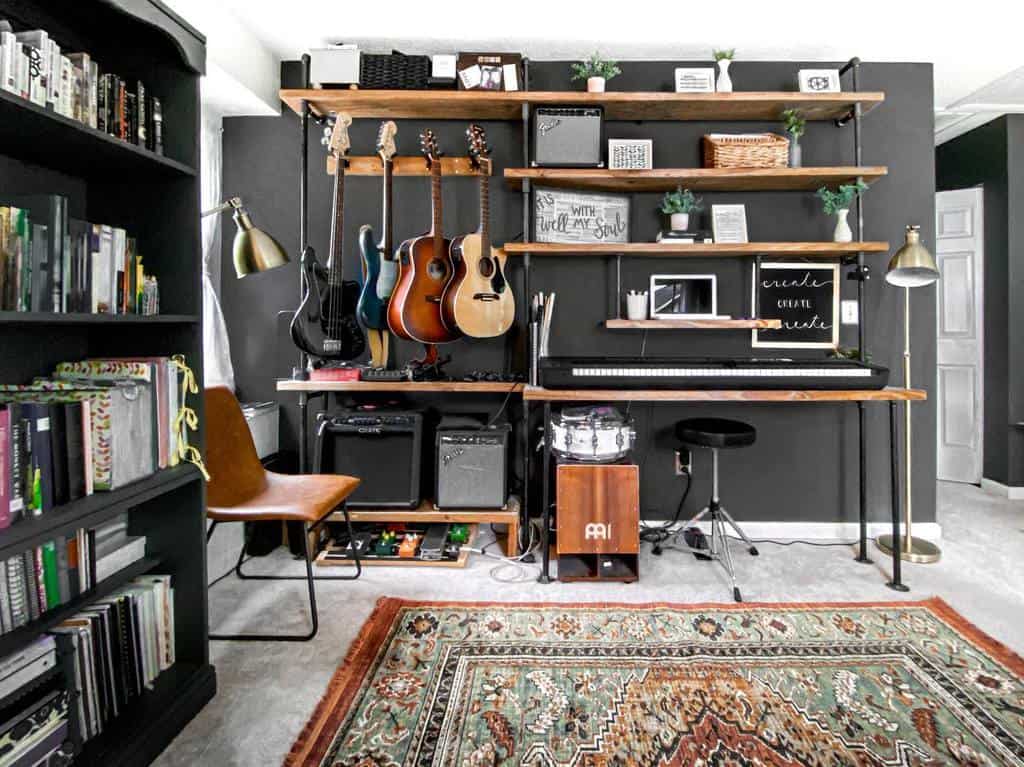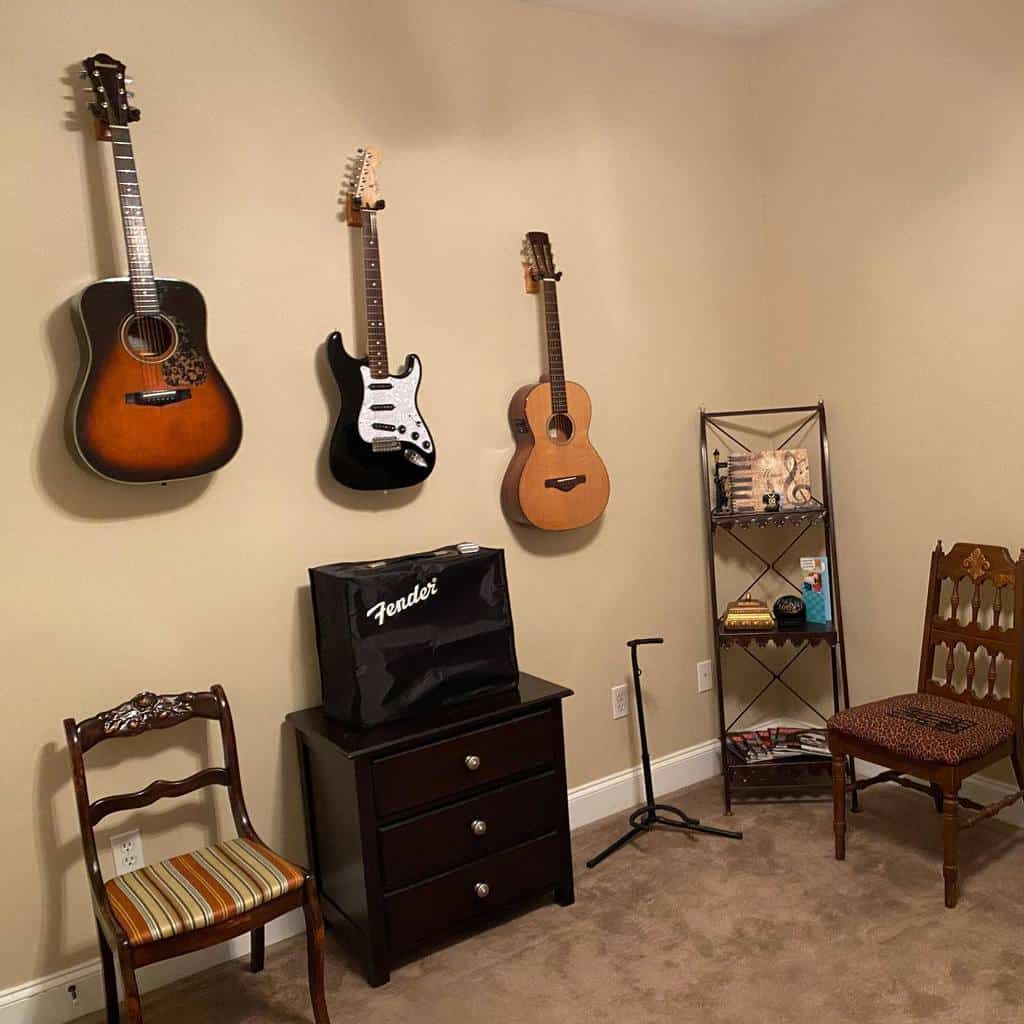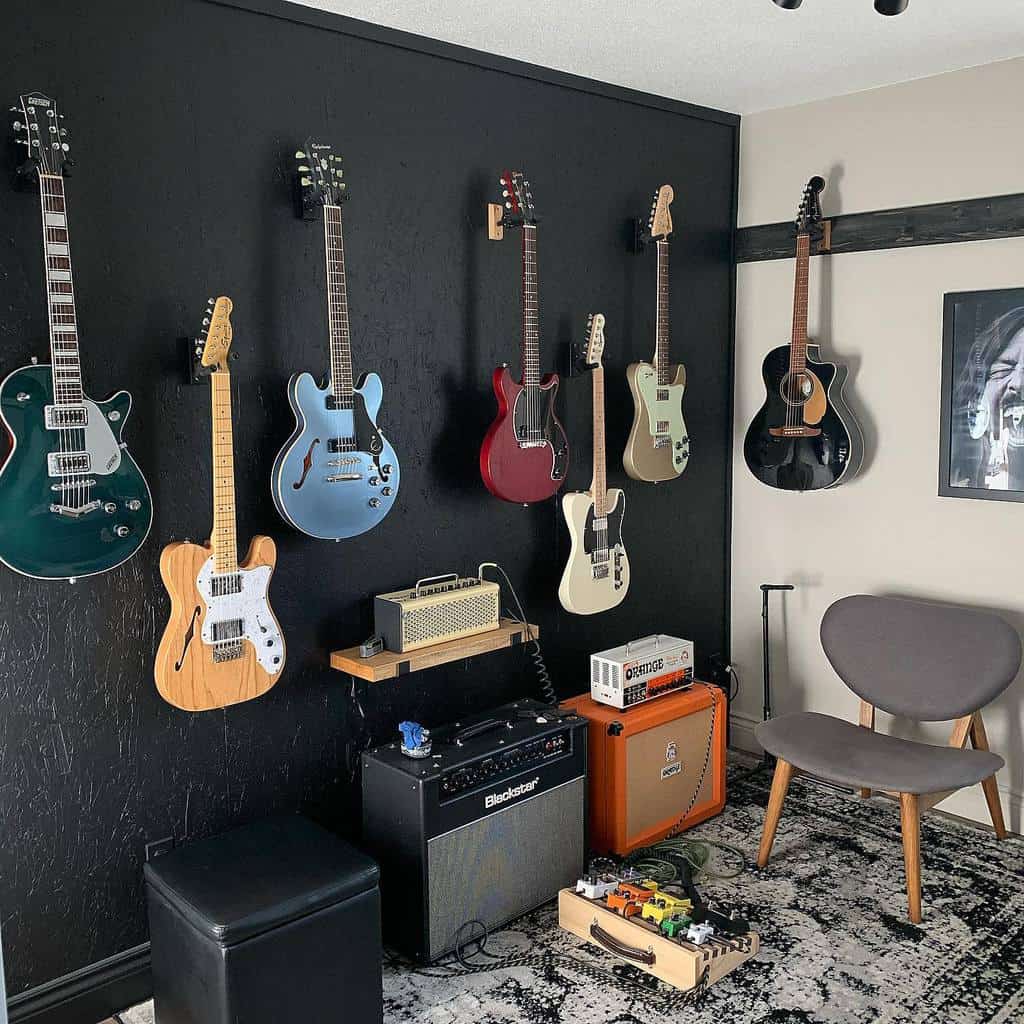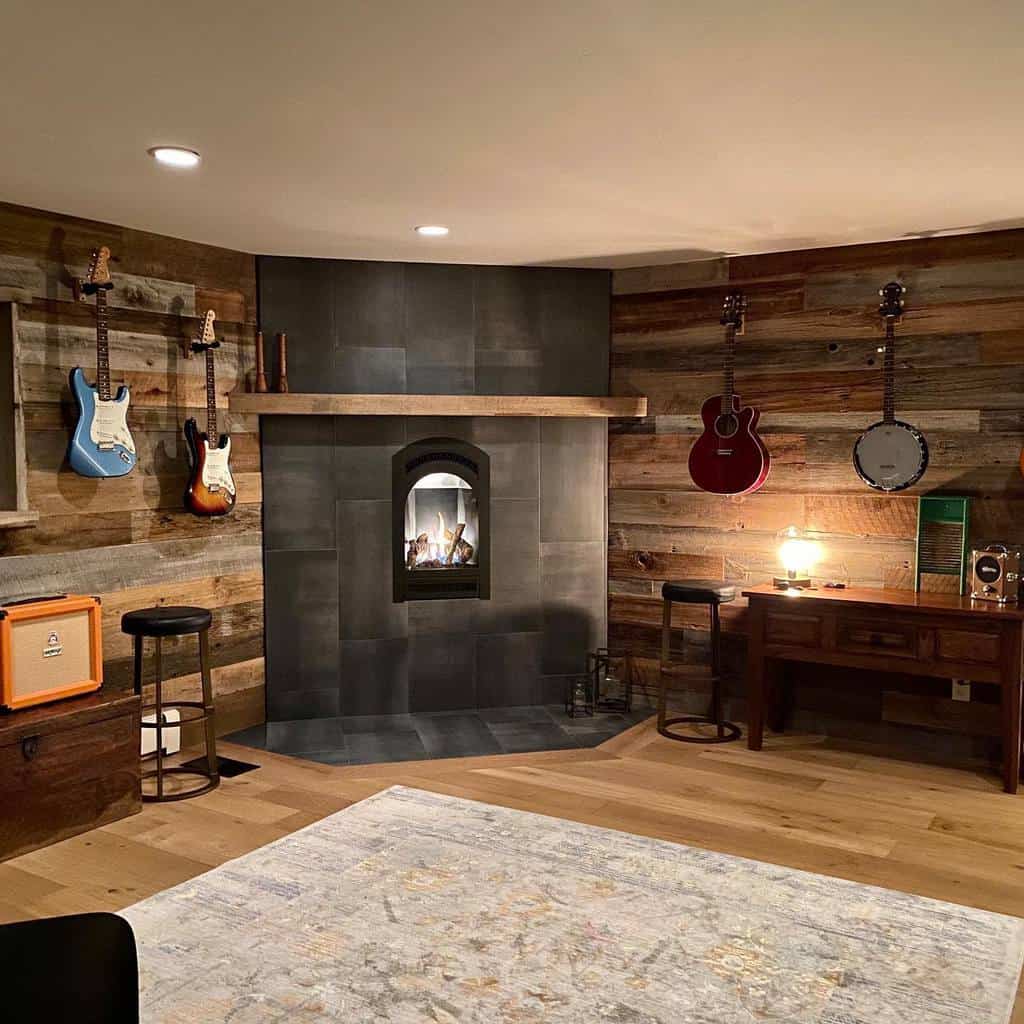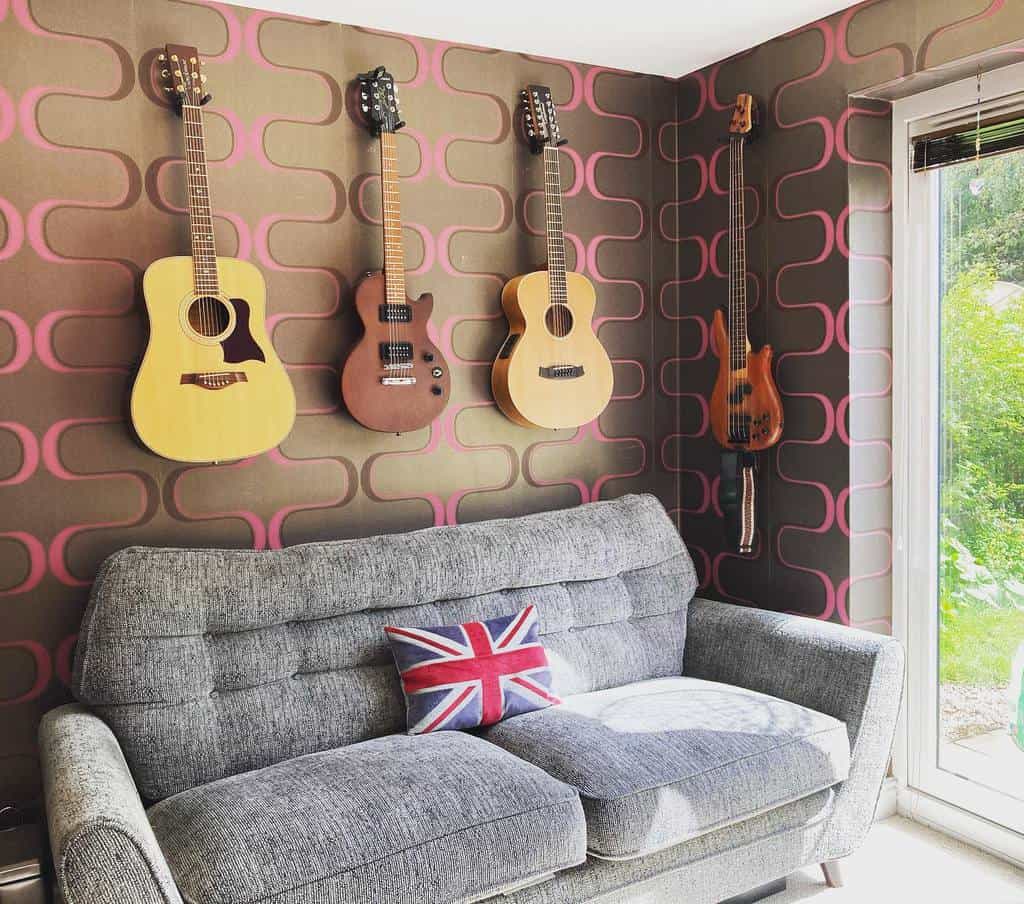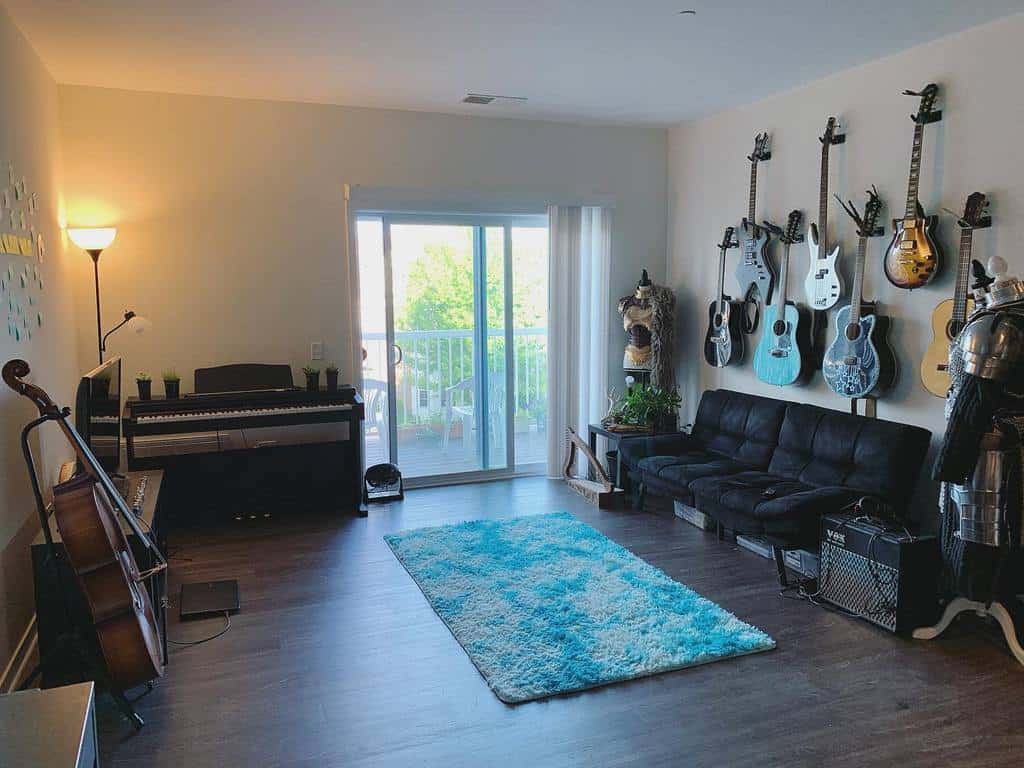 3. Create a Cozy Sitting Area
A music room with a cozy seating area is a dream come true for any music lover. The perfect spot for jamming out with friends or spending quiet time with your instrument, a music room needs to be a comfortable and inviting space. Incorporating comfortable seating like plush sofas, chairs, or bean bags into the room can make the space perfect for relaxing and playing music.
Cozy lighting like string lights, lamps or candles can also add to the warm and inviting atmosphere. When it comes to music room decor, it's all about creating a space that reflects your personal style and taste.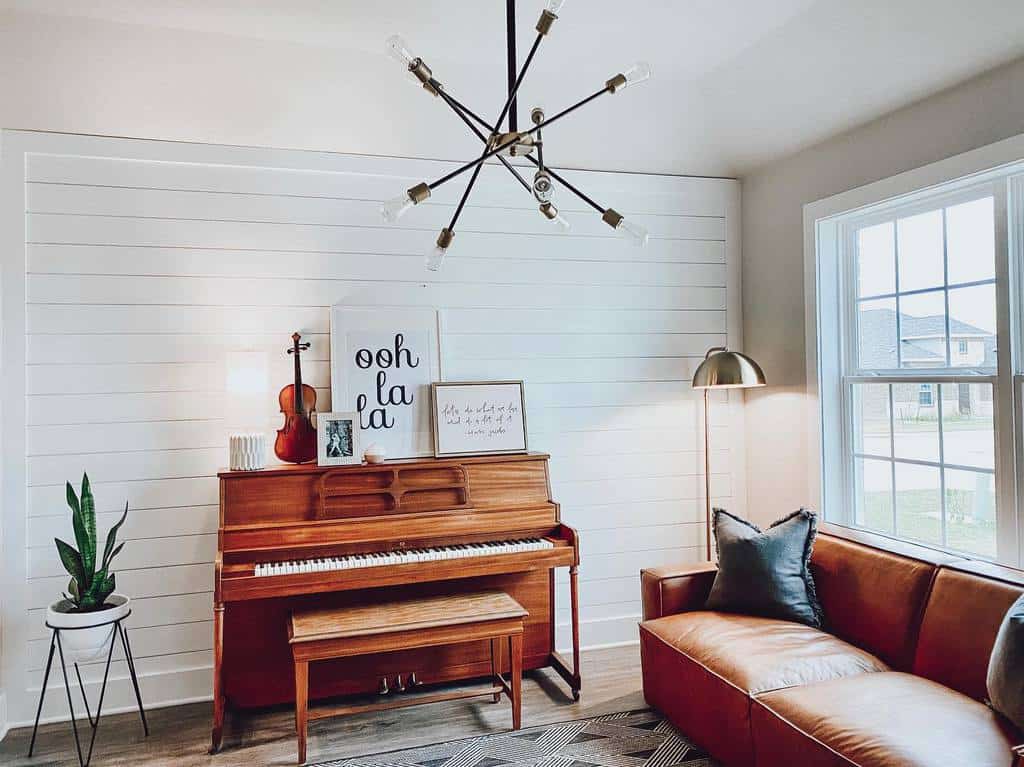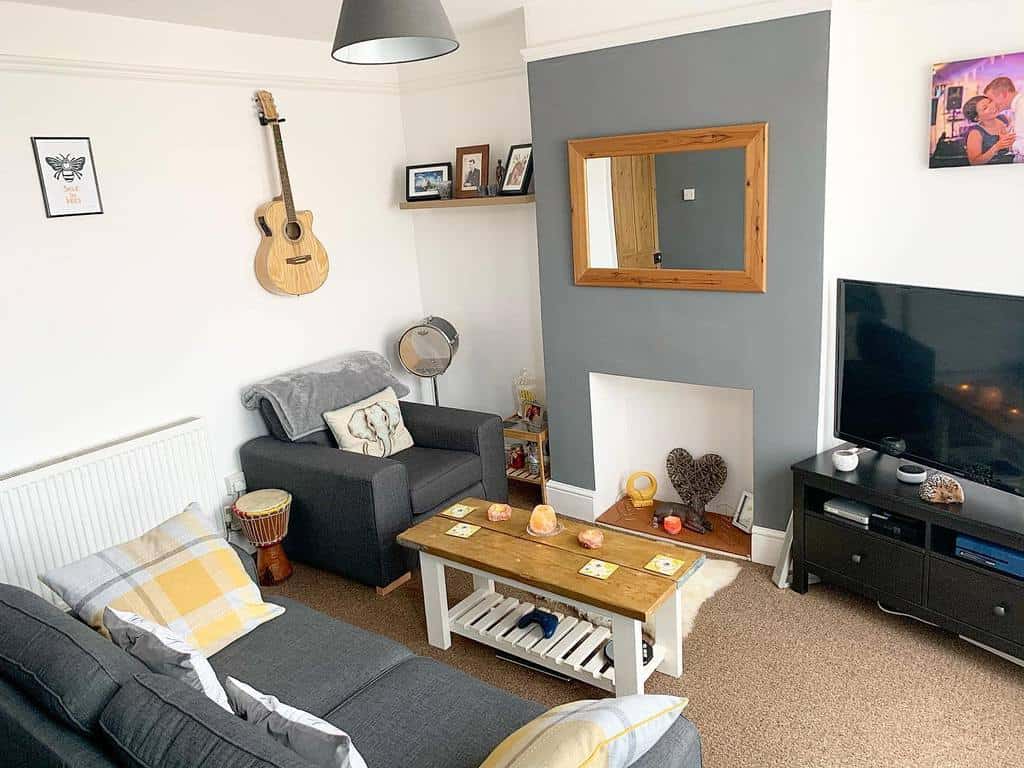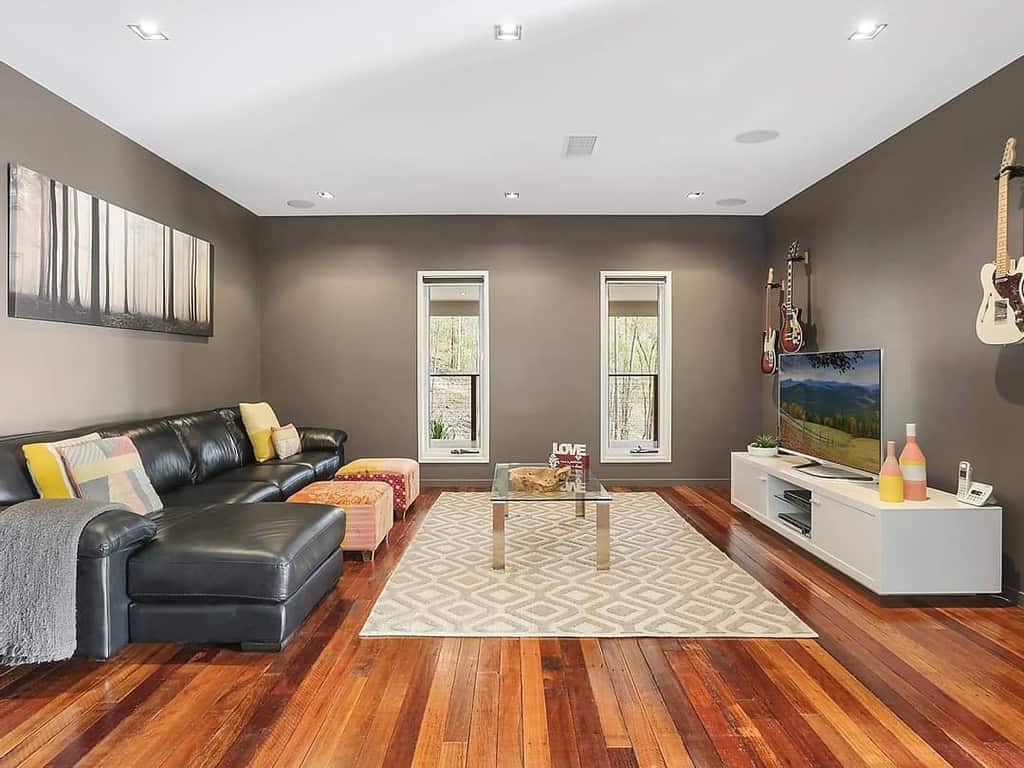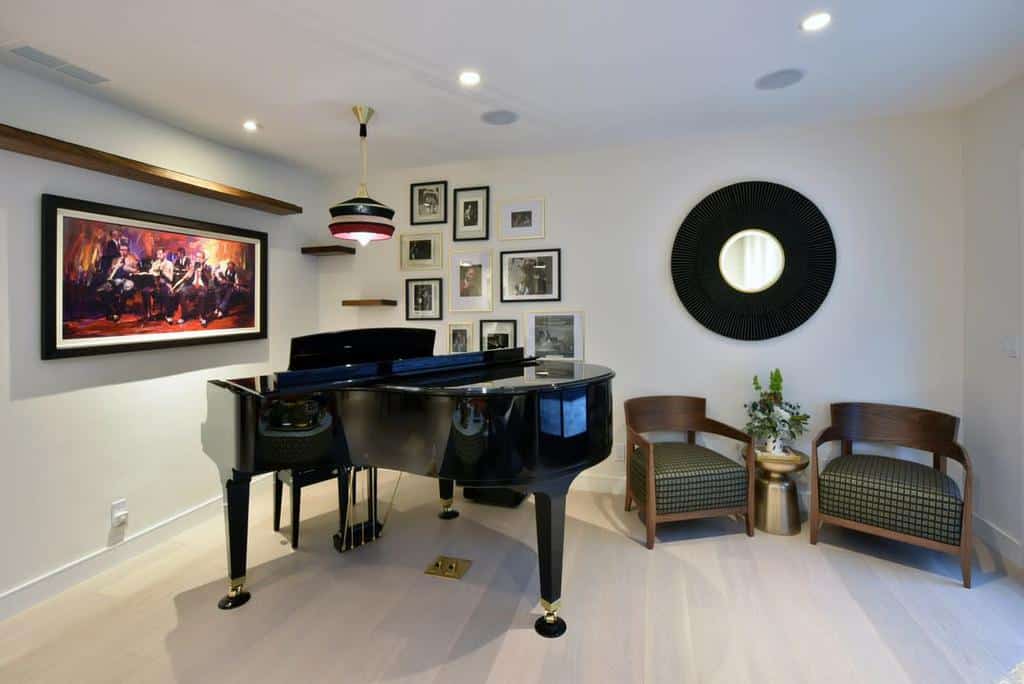 4. Set Up Shelves
A music room is an excellent space to showcase your instruments and creativity. However, it can be challenging to keep all your musical items organized in one place. That's where shelves come in handy. Installing shelves in your music room can provide ample storage space for your instruments, sheet music, and other music-related items.
With shelves, you can easily keep your music room organized and clutter-free. You can choose to have open shelves, which will make your musical instruments more accessible, or you can opt for closed shelves to keep your items hidden.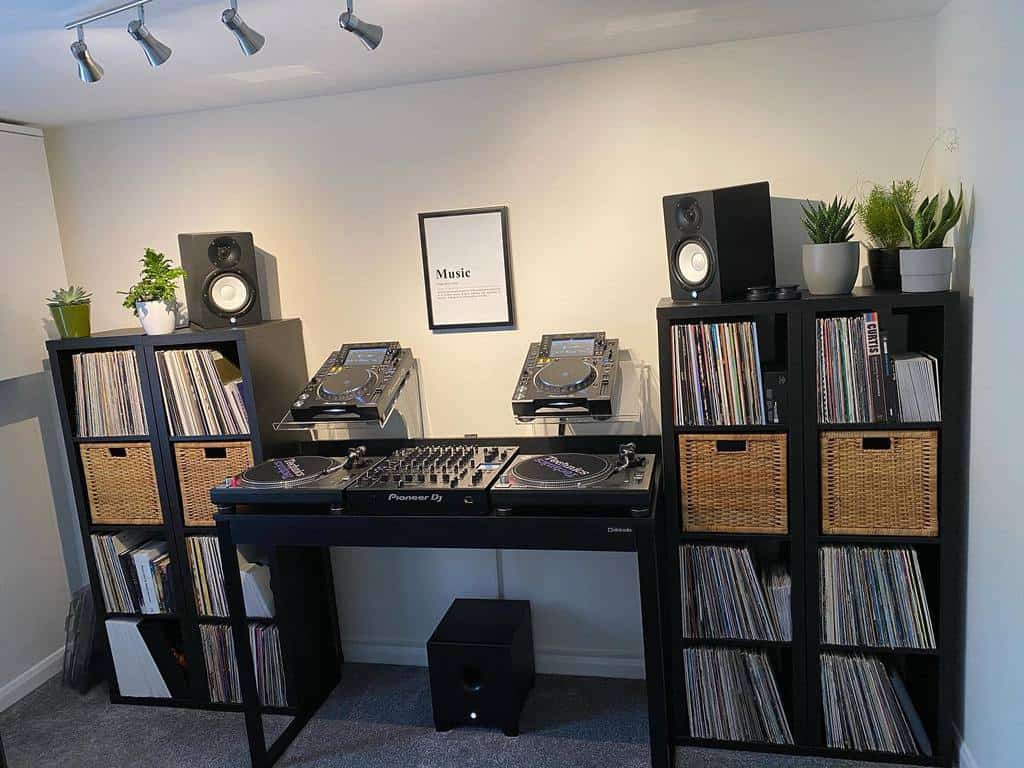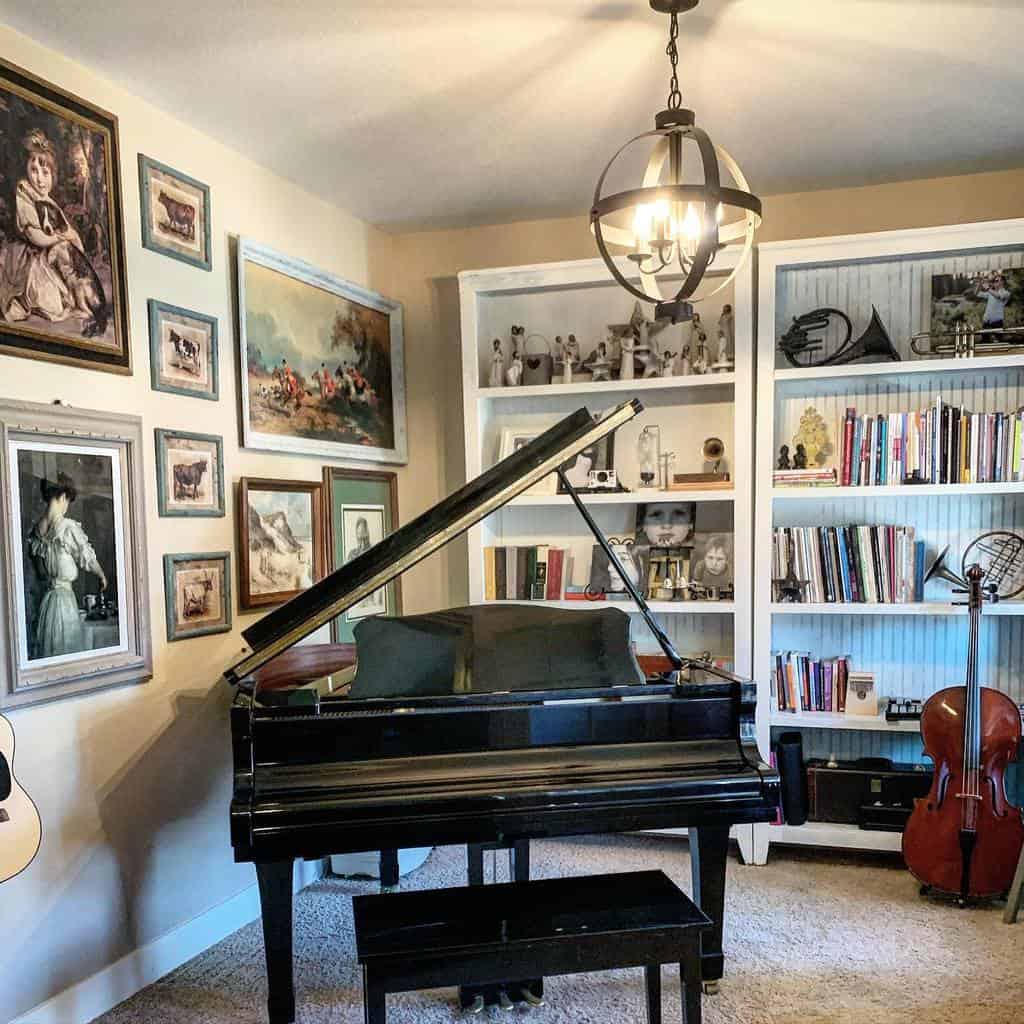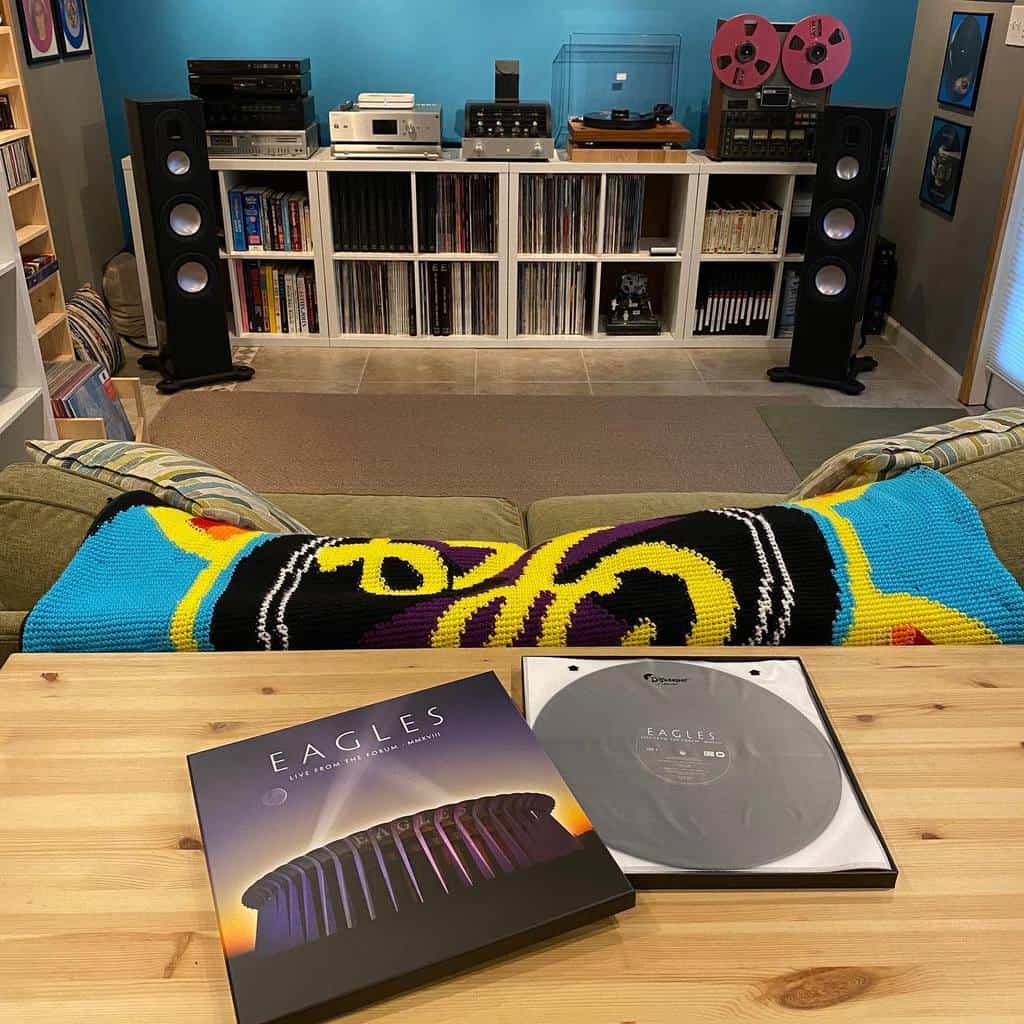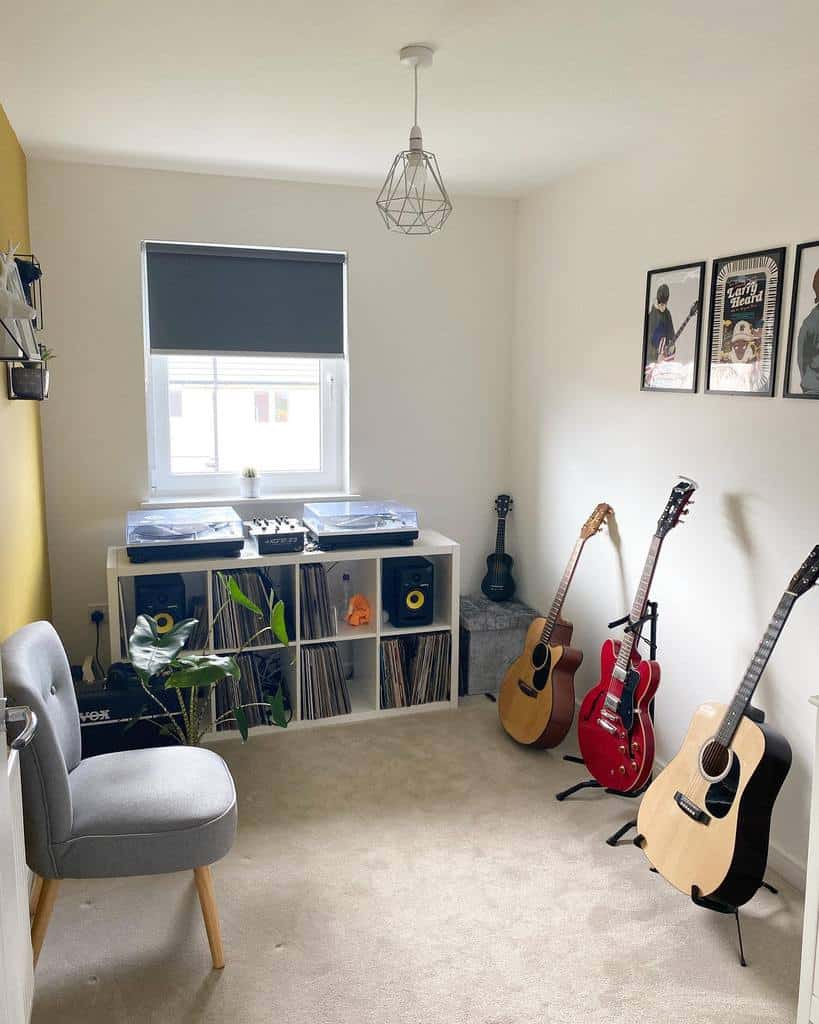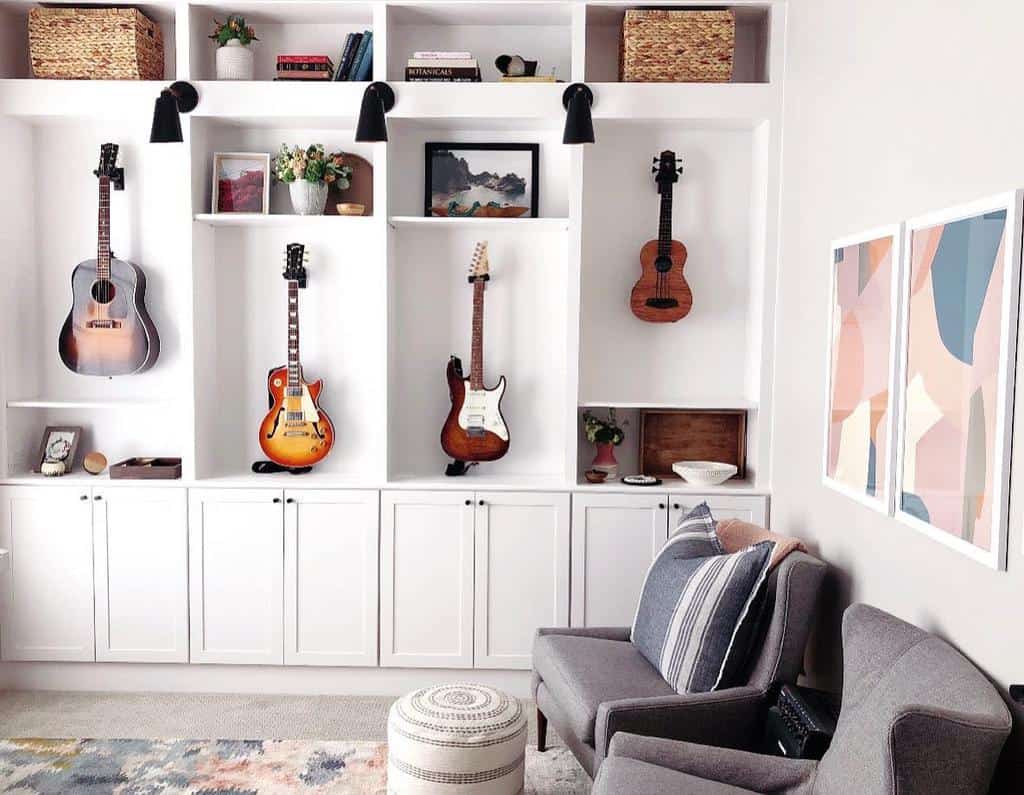 5. Use a Large Area Rug
Adding an area rug to the music room can enhance the room's acoustics and create a cozy and inviting atmosphere. An area rug can also protect your flooring from scratches and dents caused by musical instruments.
When choosing an area rug for a music room, it's important to consider the rug's material and texture. A wool rug with a dense pile is an excellent option as it helps absorb sound and is durable enough to withstand heavy foot traffic. An area rug can also be a great way to add color and personality to your music room.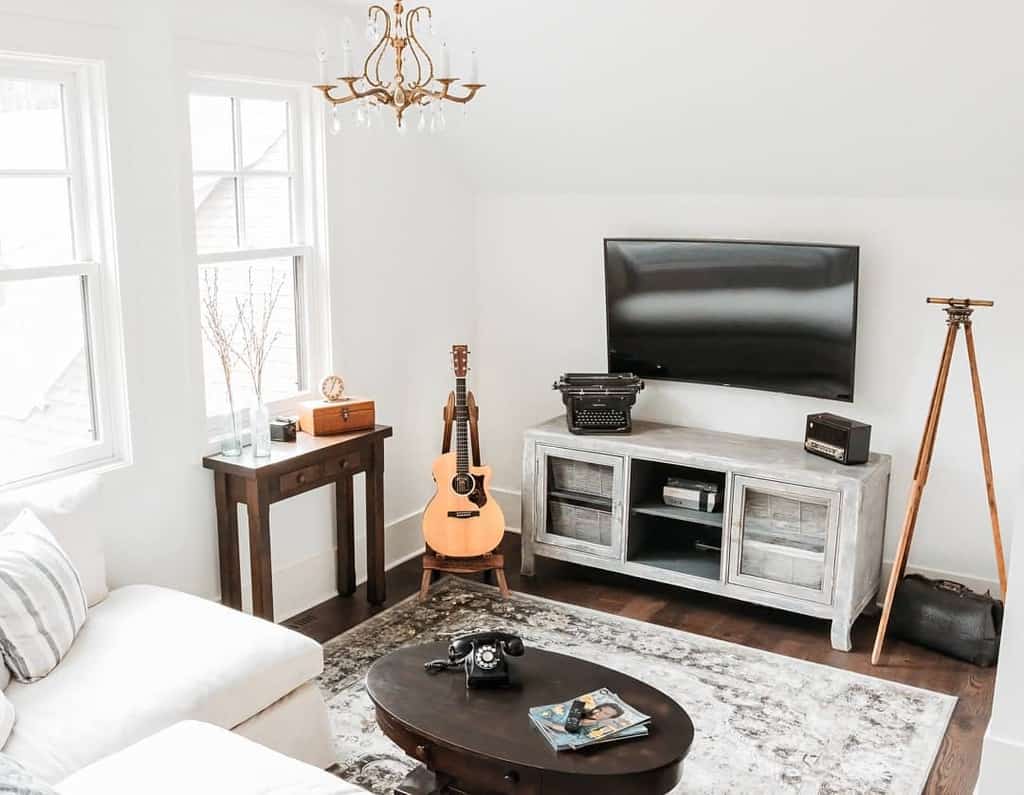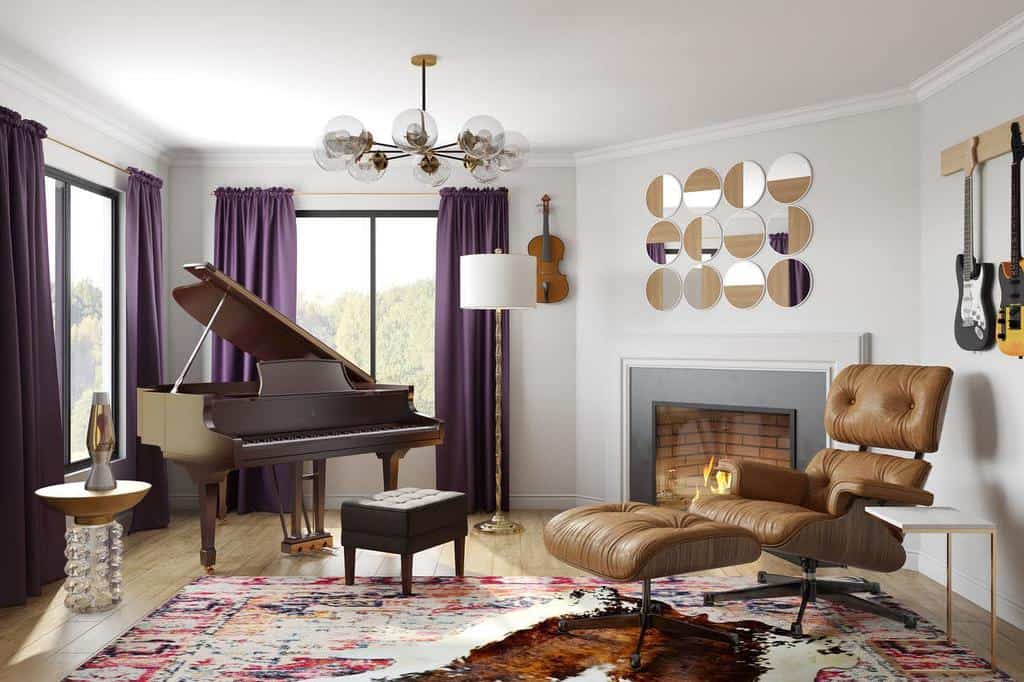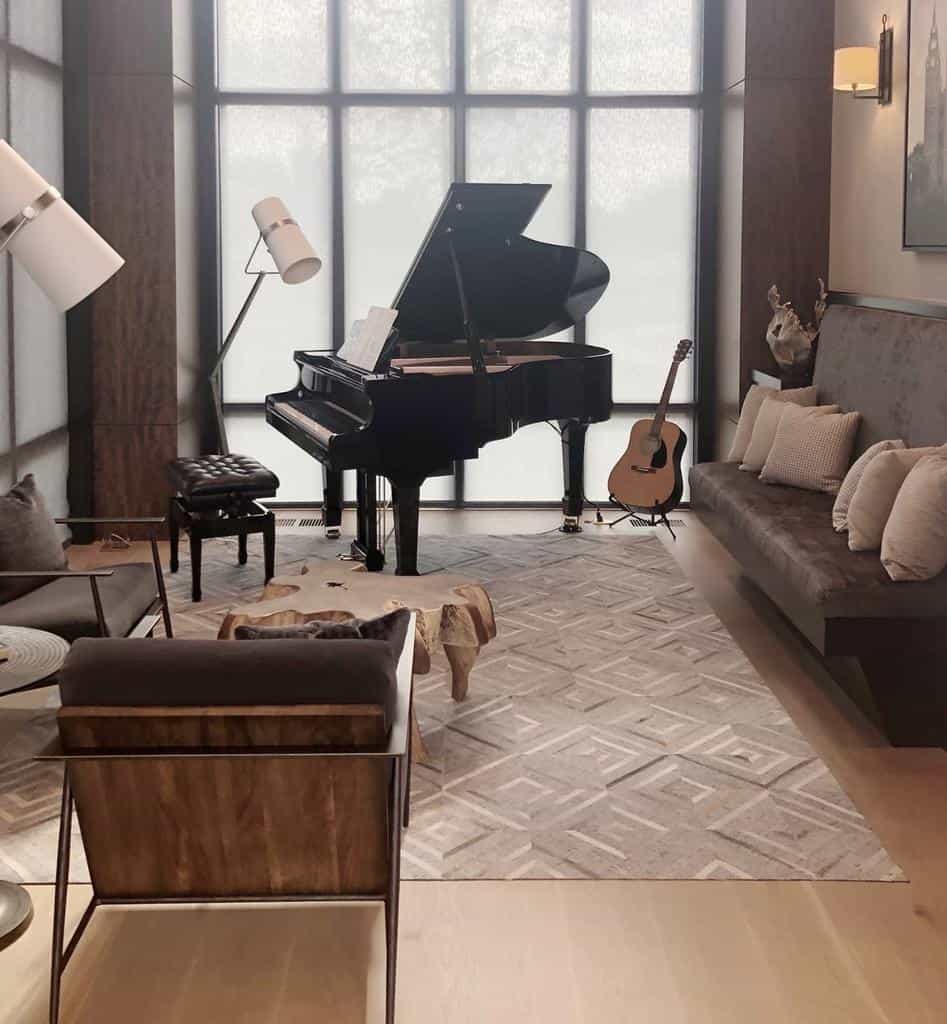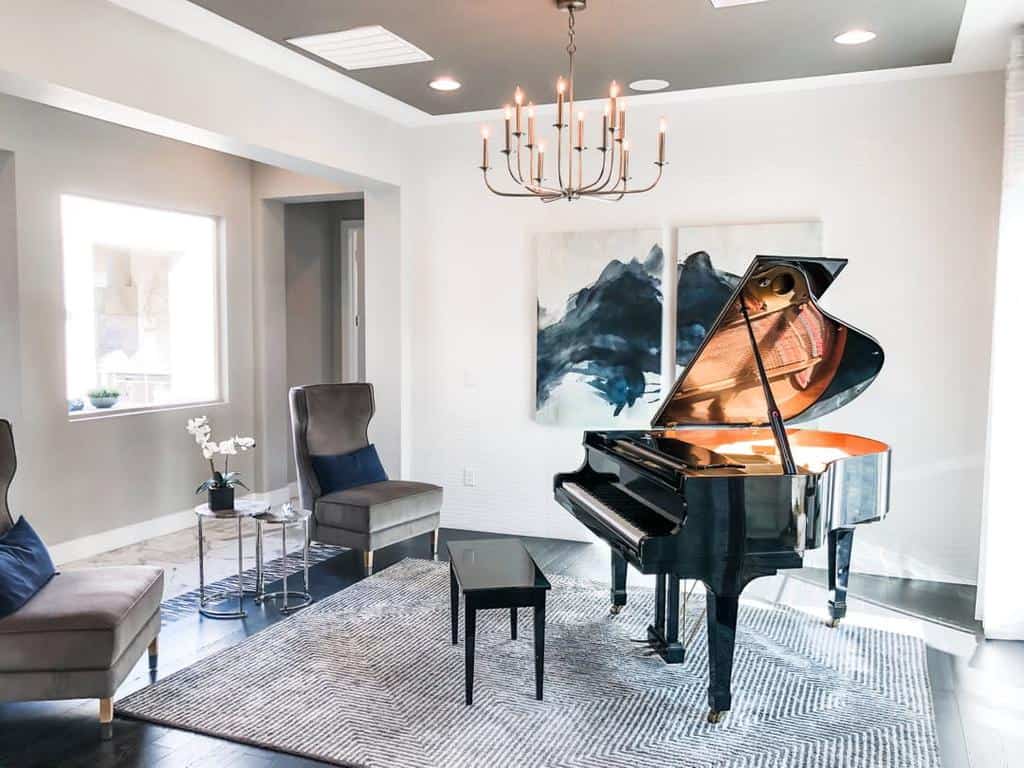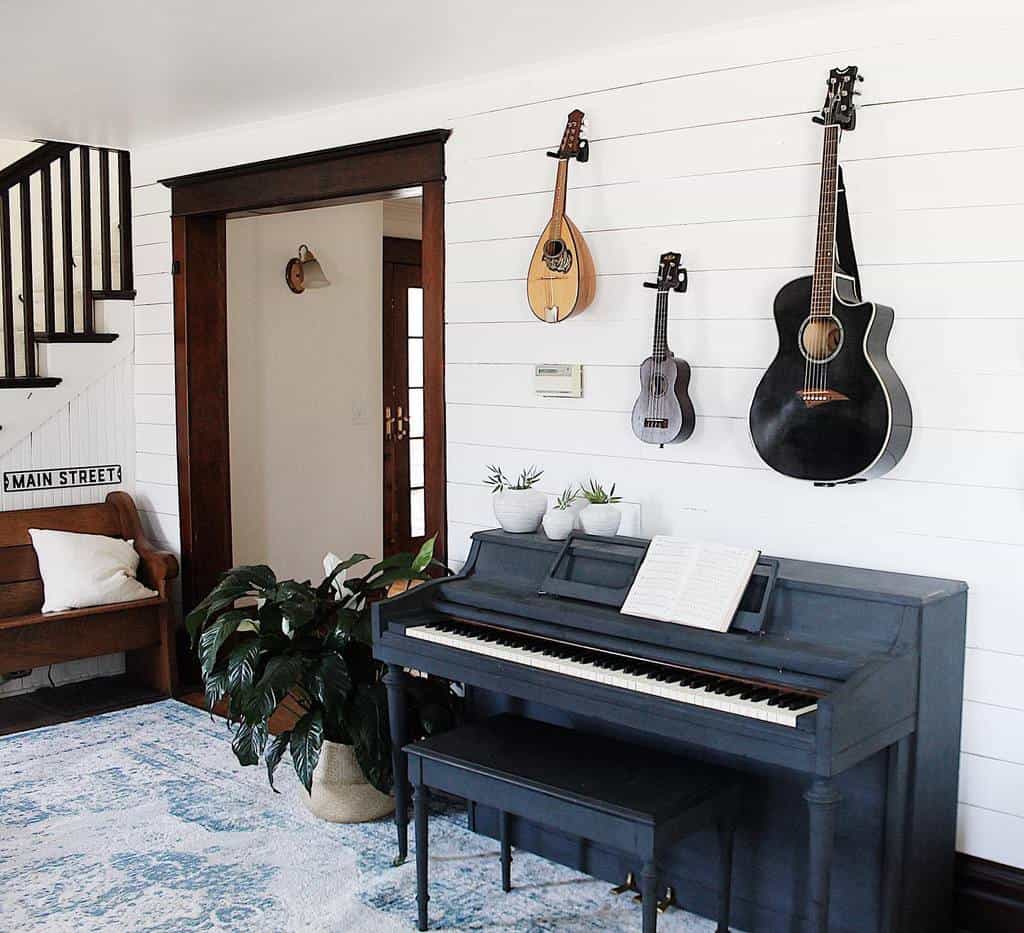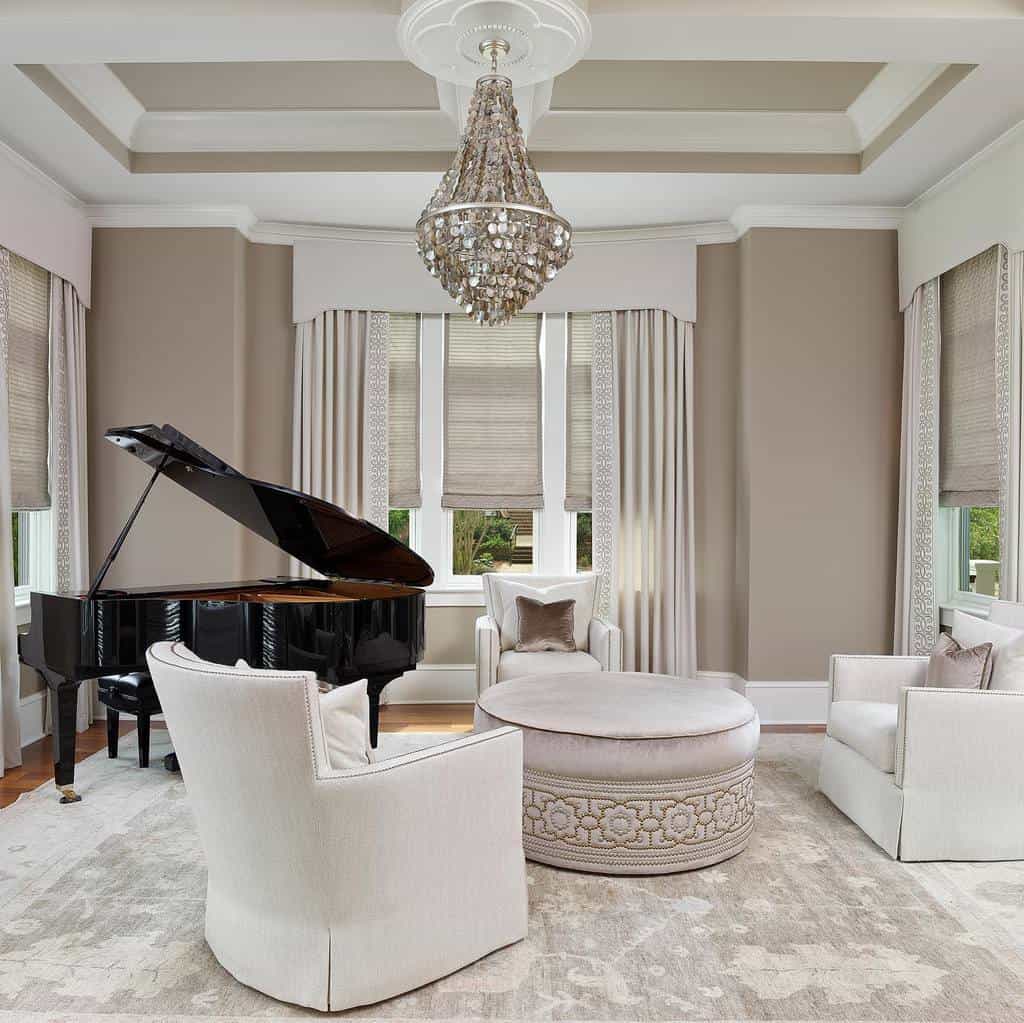 6. Use a Built-In Bar for Entertaining
A wall-mounted bar table provides a space-saving solution while adding a modern touch to the room. This type of bar table is ideal for entertaining guests during music sessions or hosting small gatherings. It also frees up floor space, making it easier to move around the room with instruments or equipment.
A music room with a built-in bar table is a great way to create a cozy atmosphere that's perfect for entertaining. You can customize the bar table to match the decor of the room and add comfortable seating options for guests.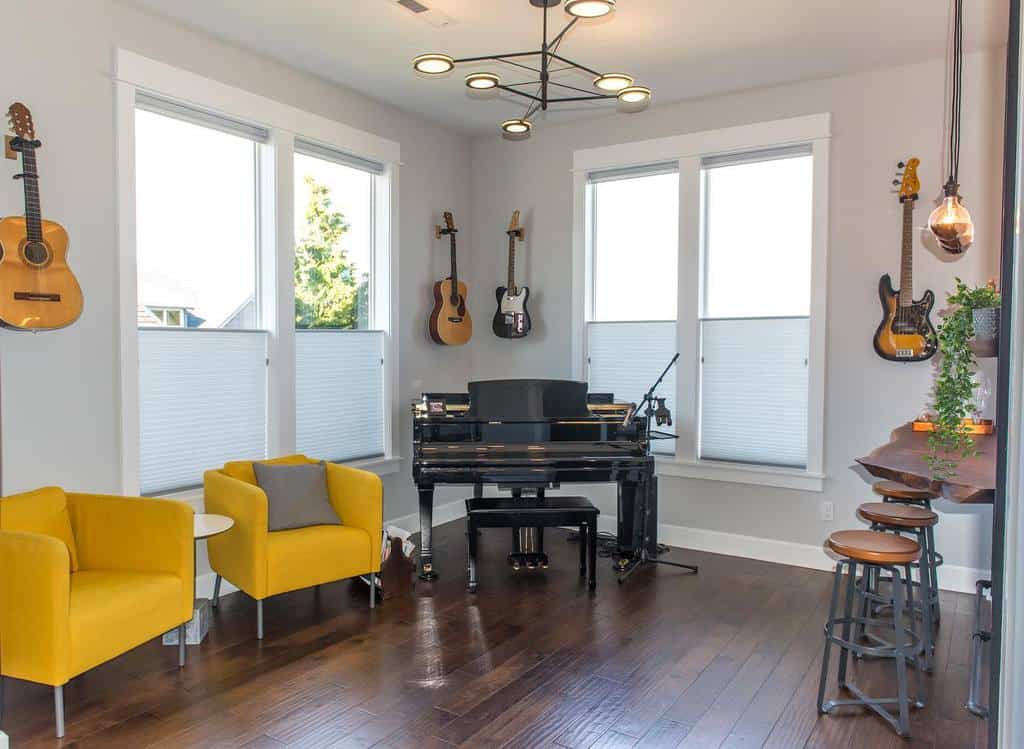 7. Use a Piano as Focal Point
A music room with a piano can be a dream come true for any music lover. The piano serves as the focal point of the room and adds a touch of elegance and class to the space. The piano is a classic instrument that has been around for centuries and has the ability to transport you to another world with its beautiful sound. When designing a music room with a piano, it's important to keep the acoustics in mind.
The placement of the piano and the materials used in the room can significantly affect the sound quality. It's also important to create a comfortable and inviting space for playing and listening to music. Adding comfortable seating, such as a plush armchair or a cozy sofa, can make the room feel inviting and cozy.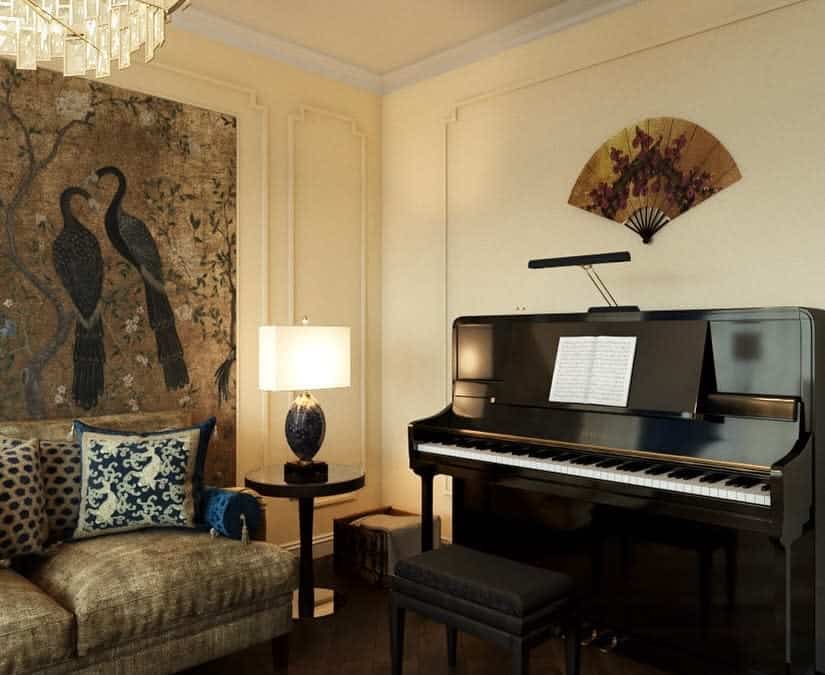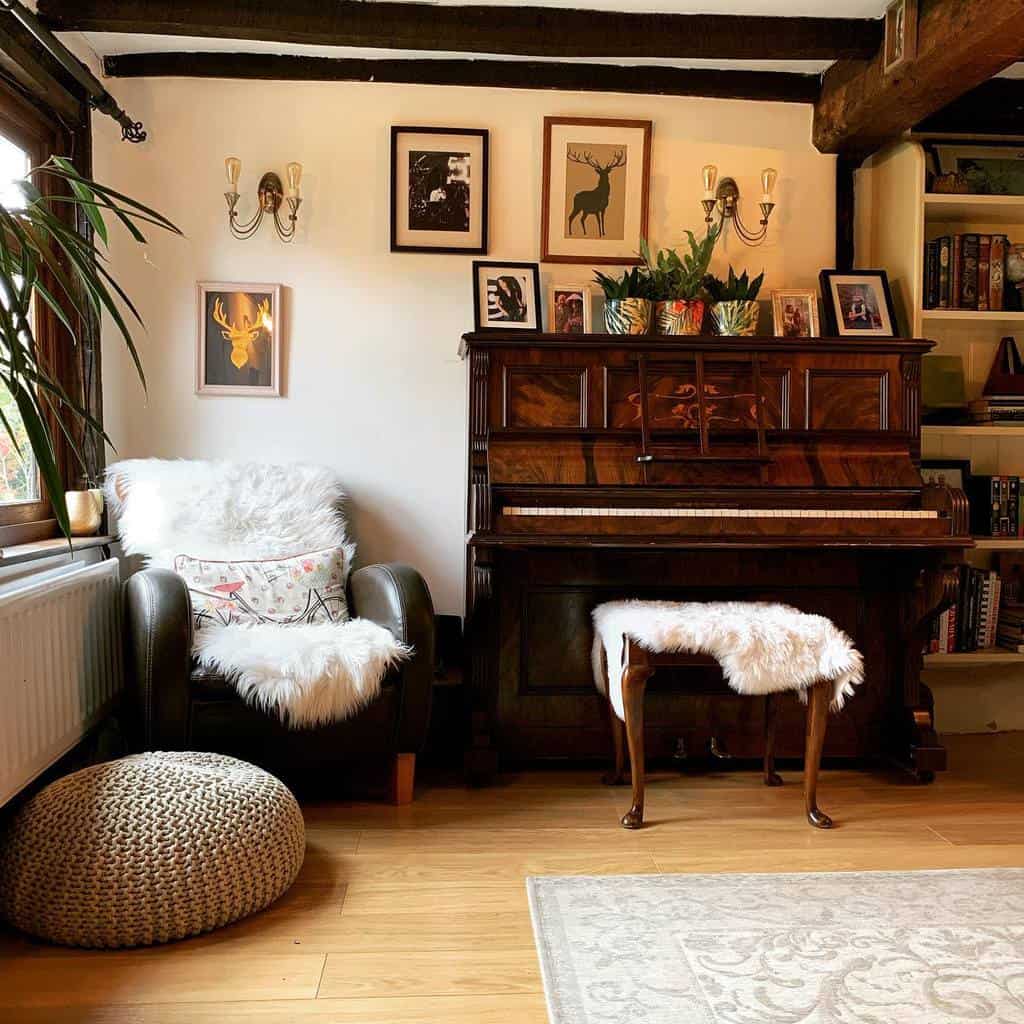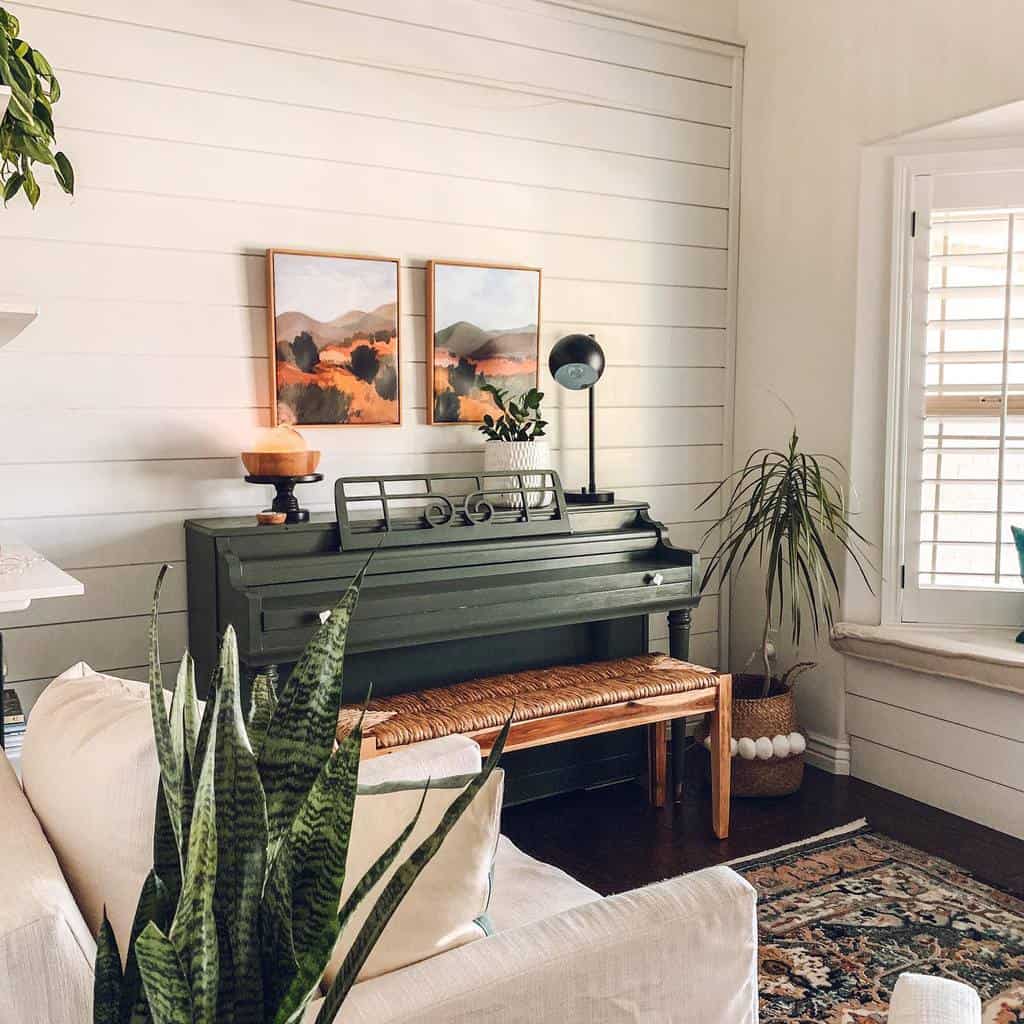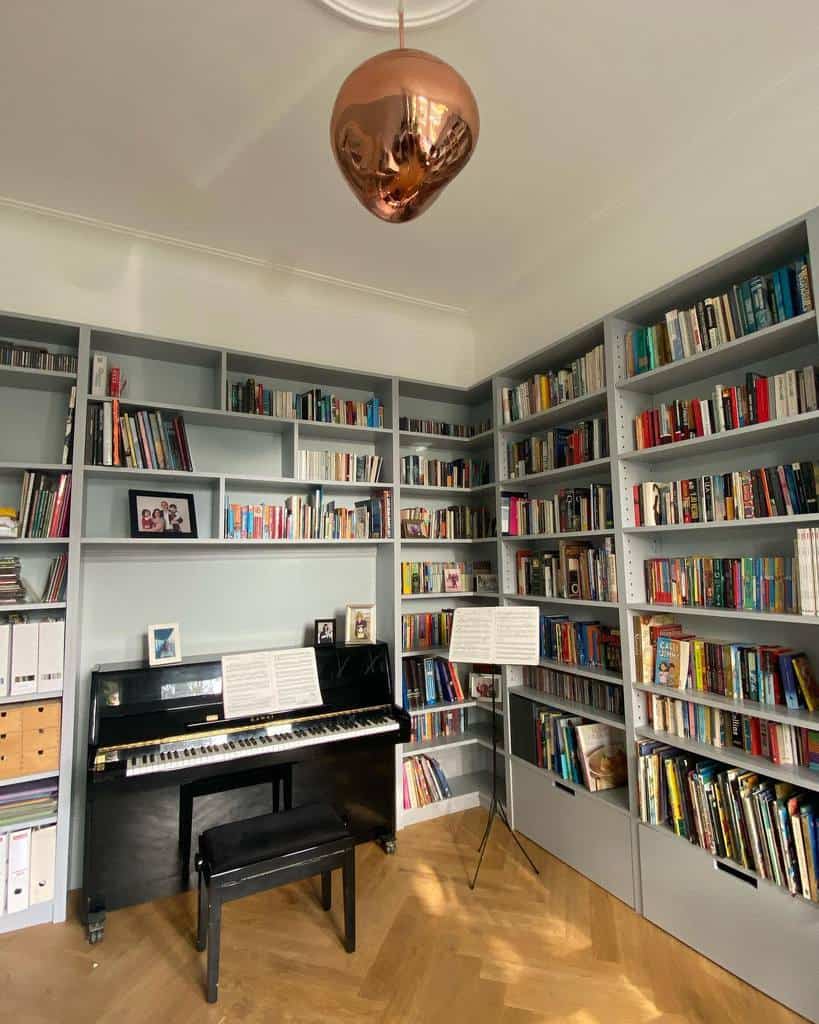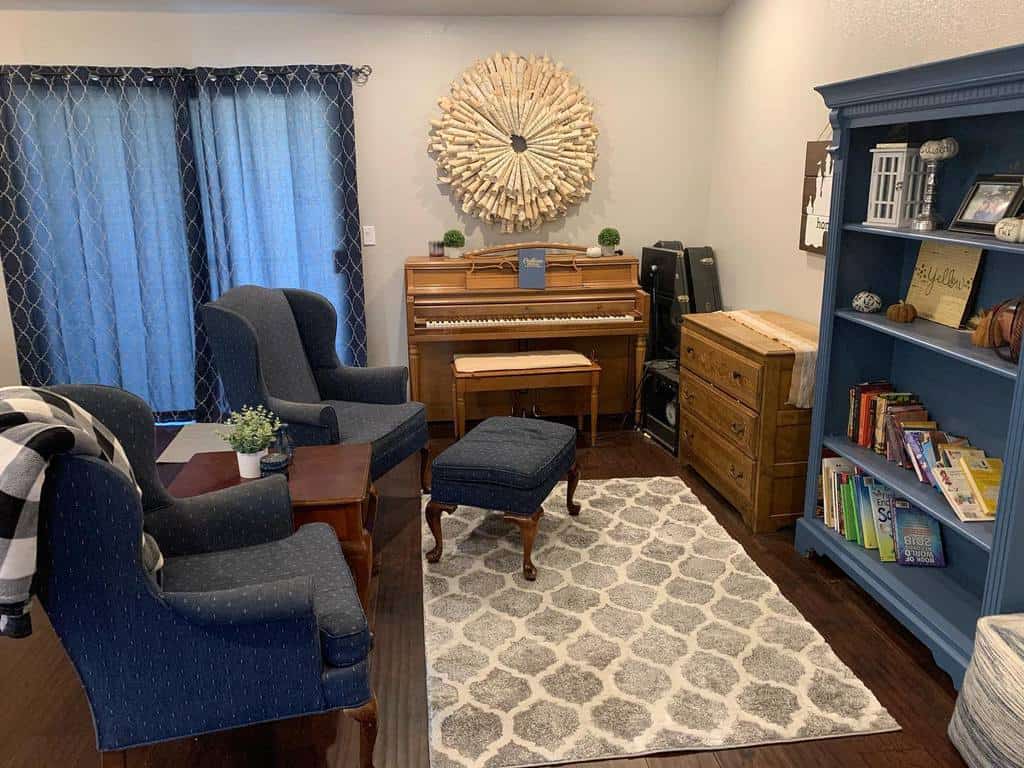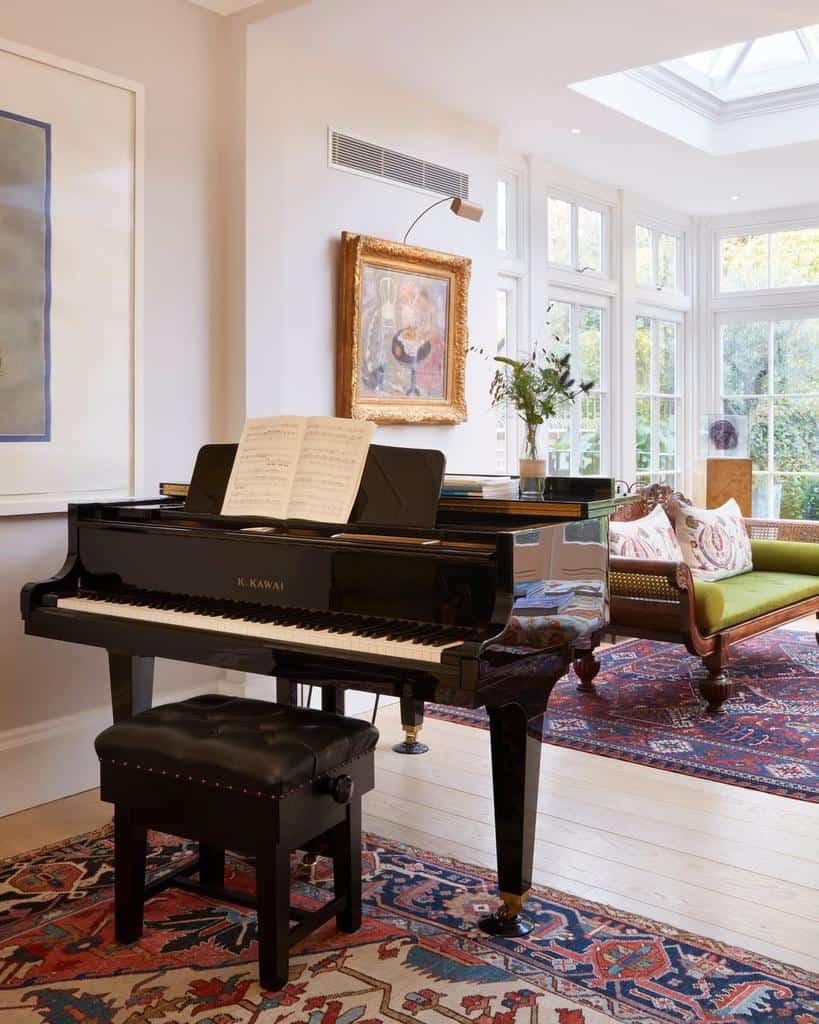 8. Maximalist Retro Wall Decor
Maximalist retro wall decor is all about creating an eclectic and vibrant space that reflects your personality and style. Typography art, artworks, and vinyl displays are popular choices for creating a maximalist retro music room gallery wall. The key to creating a successful maximalist wall decor is to mix and match different styles and textures, creating a visually interesting and harmonious display.
You can include a variety of vintage posters, retro prints, and colorful artwork to make your music room gallery wall stand out. Adding a vinyl record display can also add a unique touch to your retro wall decor.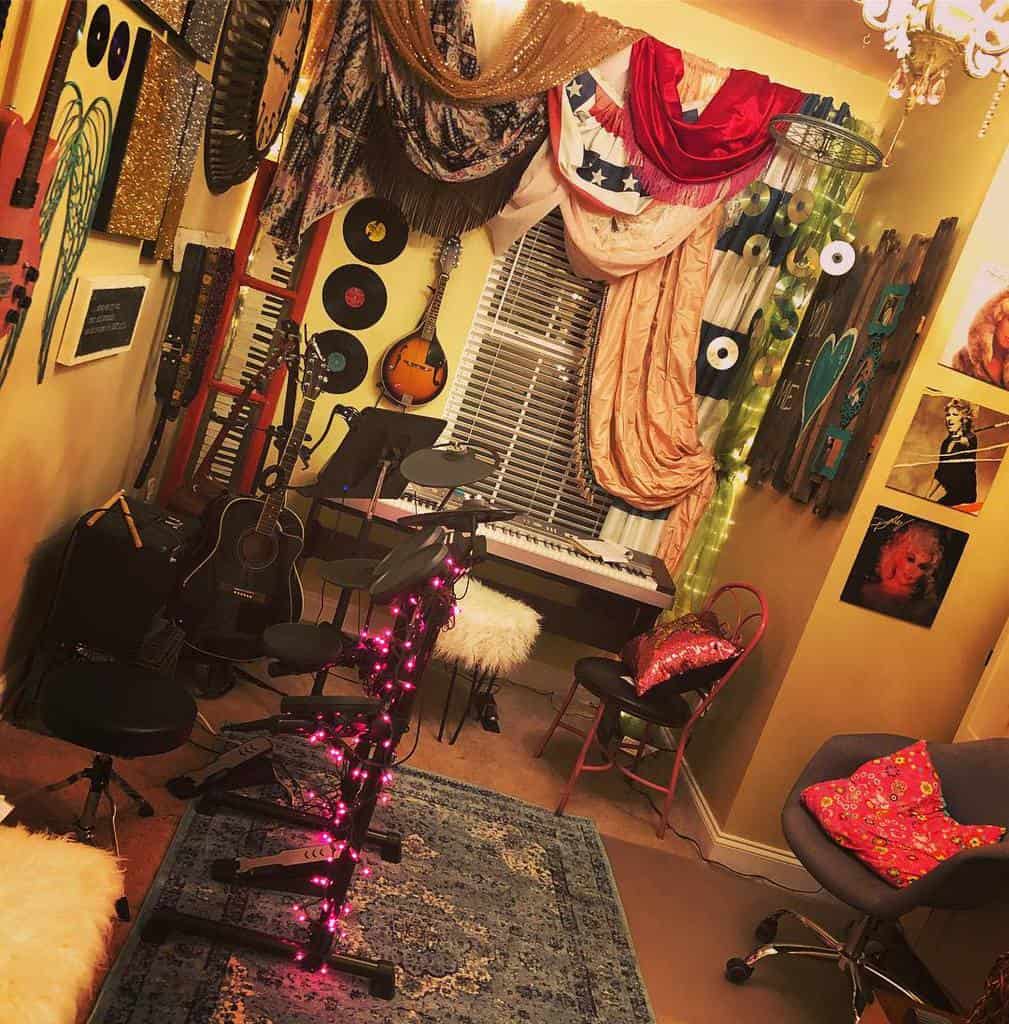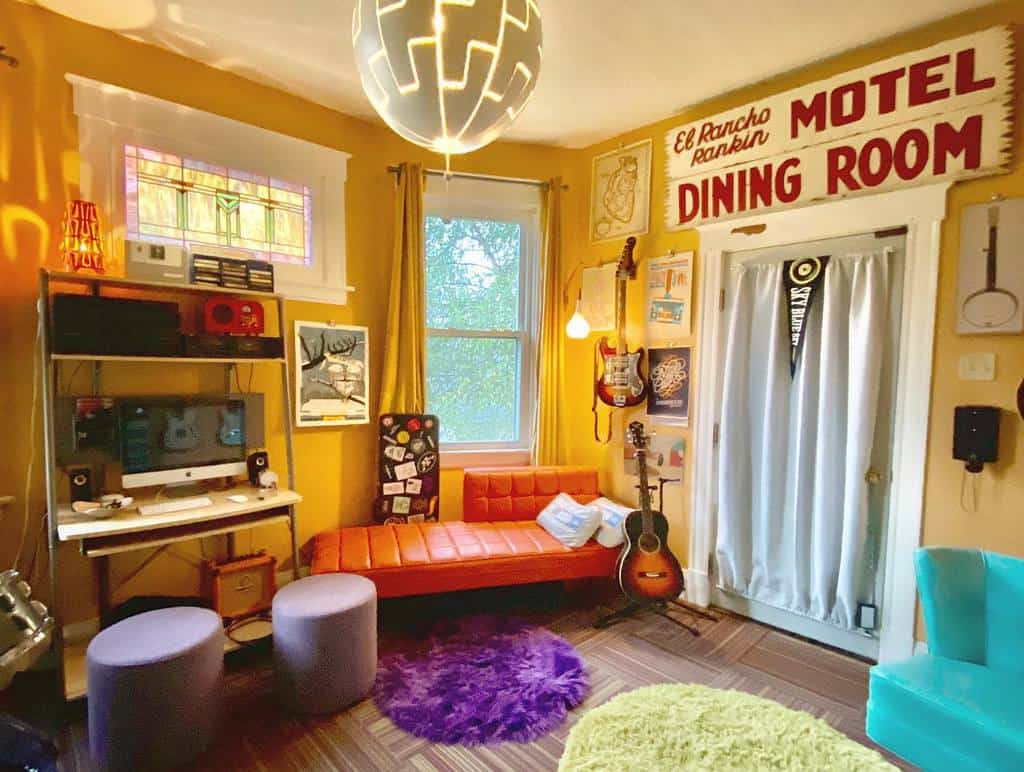 9. Get A Guitar Rack
A standalone rack can accommodate multiple guitars, making it perfect for those with a guitar collection. These racks are available in a range of materials, such as wood, metal, or acrylic, and can be customized to fit your specific needs. Some racks even have built-in features such as humidity control, which is important for keeping your guitars in top condition.
When designing your music room, consider the placement of your guitar rack. It should be easily accessible and in a location where it won't be bumped into or knocked over. A music room with a guitar rack is not only functional but also visually appealing, as it can showcase your guitar collection as a unique decor element.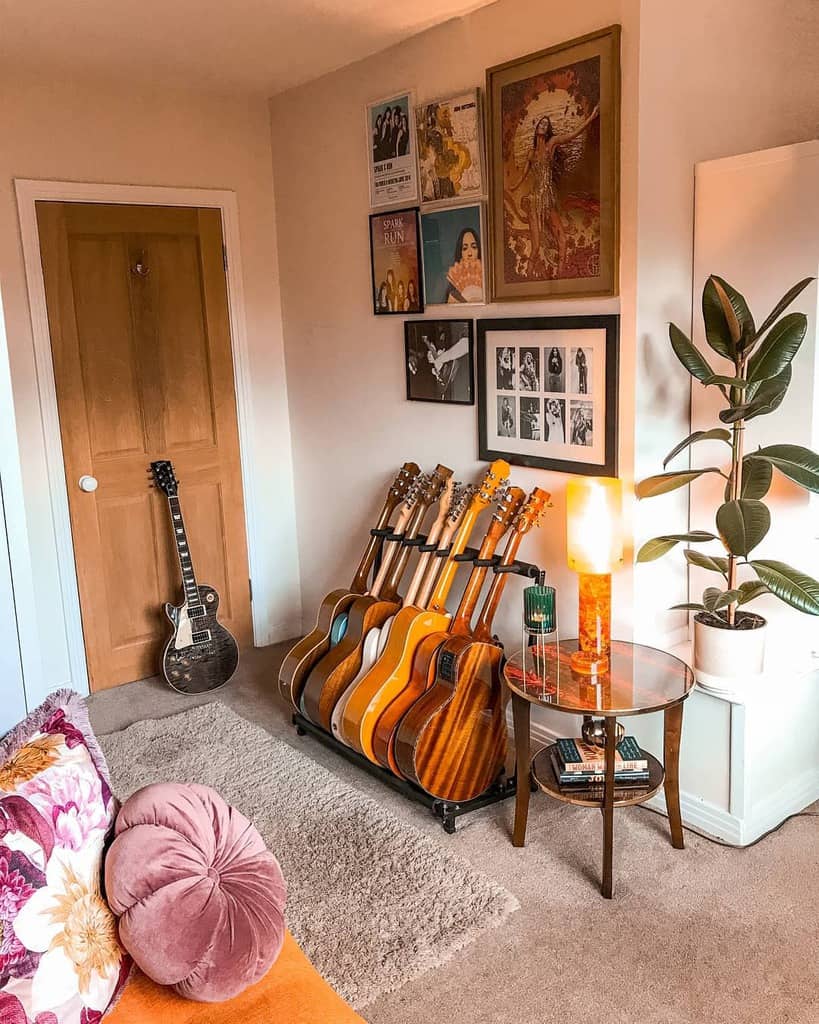 10. Create a Vinyl Record Collection Display
A music room is the perfect space for those who love to collect and display vinyl records. One great way to showcase your collection is with wall-mounted floating shelves. These shelves not only provide storage space for your vinyl records but also add an element of style to the room.
The shelves can be customized to fit any space and can be placed at varying heights to create visual interest. Wall-mounted shelves also free up floor space, allowing you to add more seating or instruments to the room.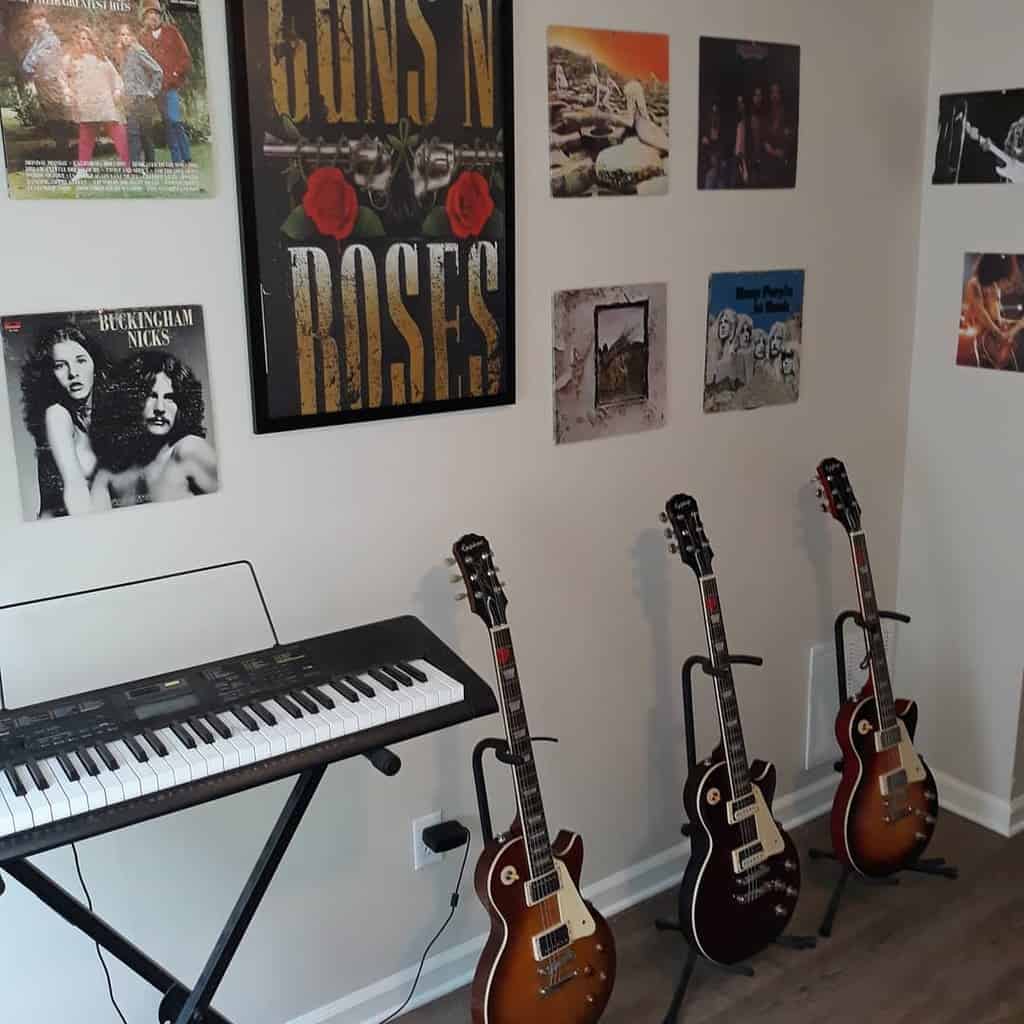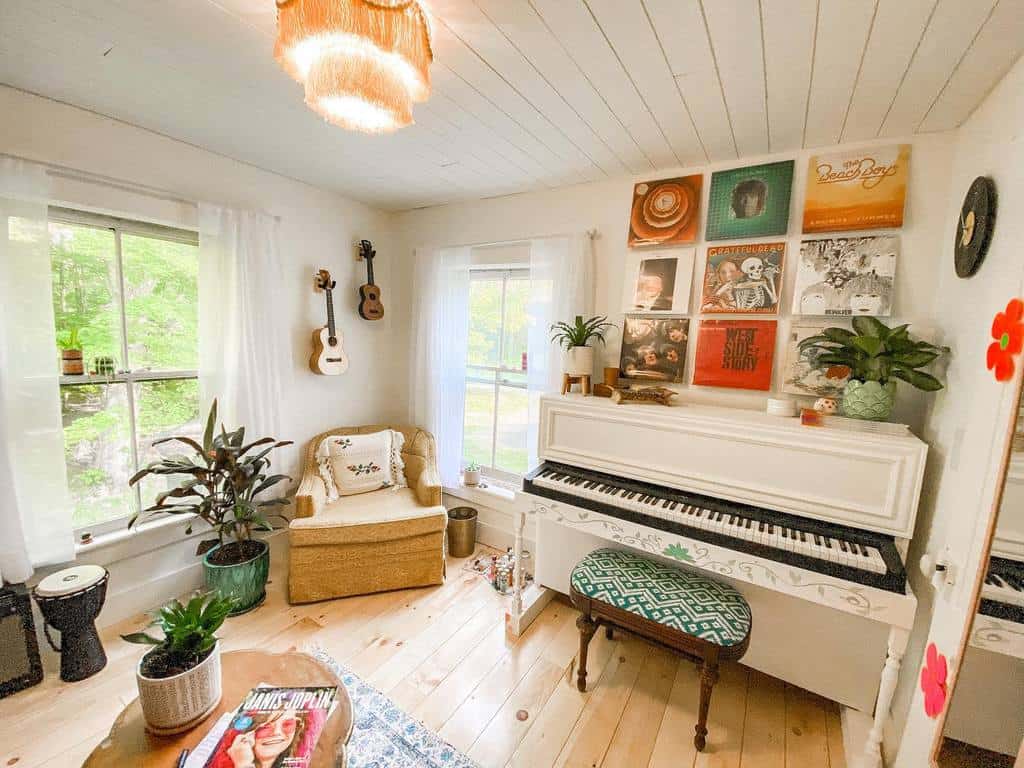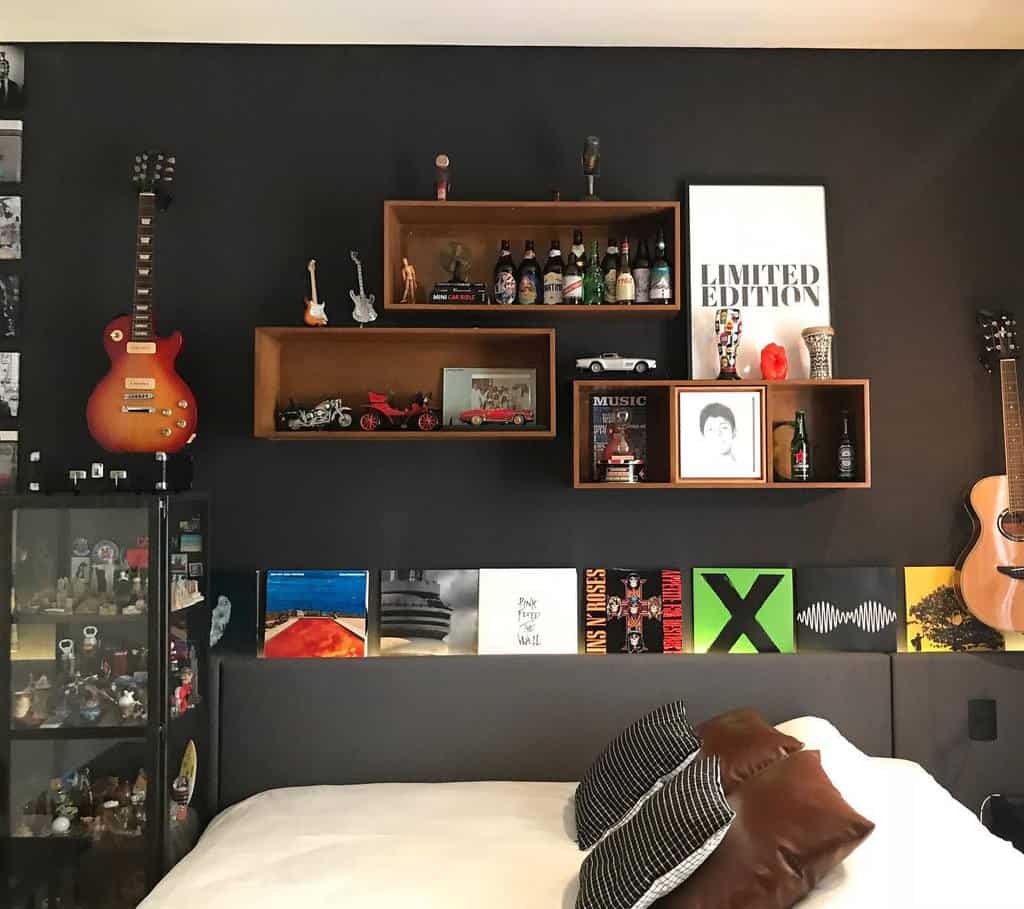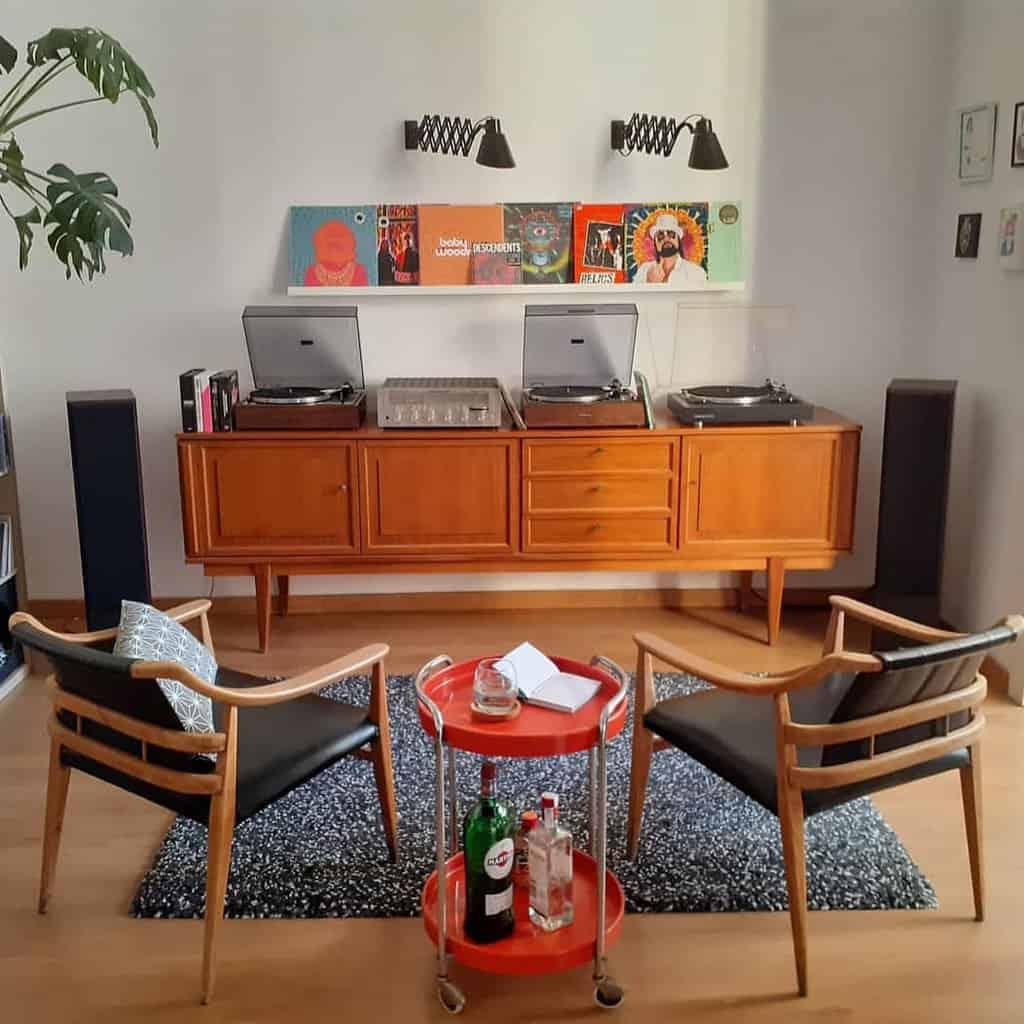 11. Install Floating Shelves
Floating shelves provide a sleek and modern look and maximize storage space without taking up too much floor space. They are perfect for storing musical instruments, sheet music, books, and other music-related items. You can install the shelves at different heights to create a visually pleasing display of your musical instruments.
For example, you can place guitars or violins on higher shelves and books on lower shelves. Additionally, you can add decorative items such as plants or picture frames to make the shelves look more attractive. With floating shelves, you can easily organize and access your music gear and create a beautiful and functional music room that inspires creativity.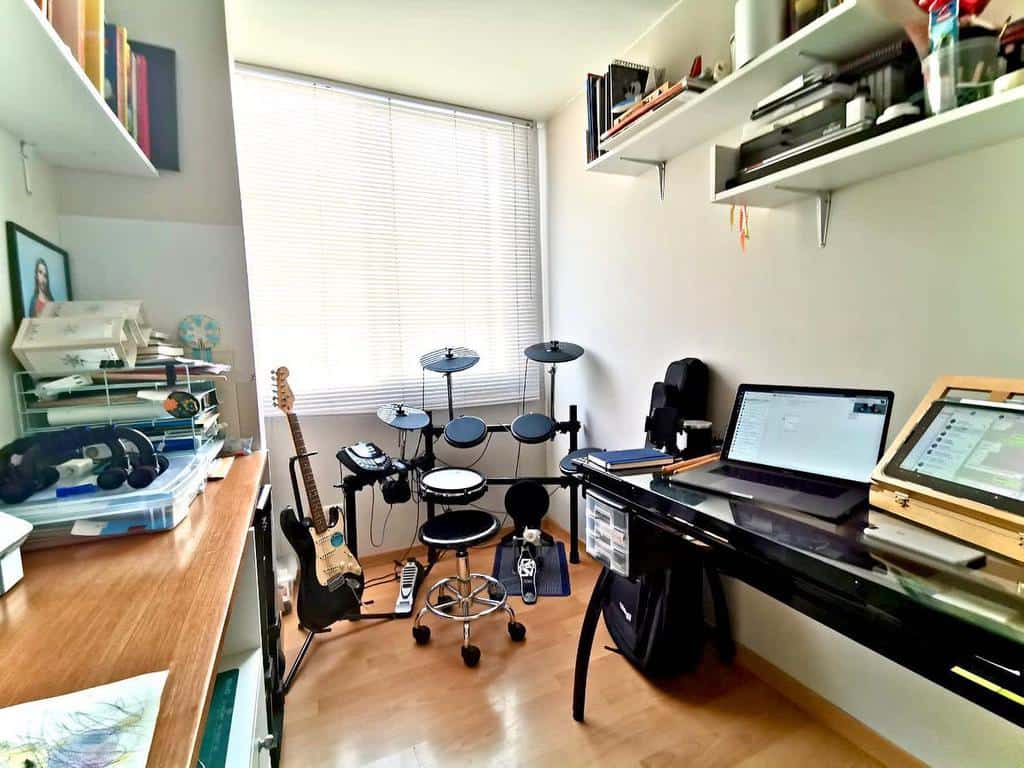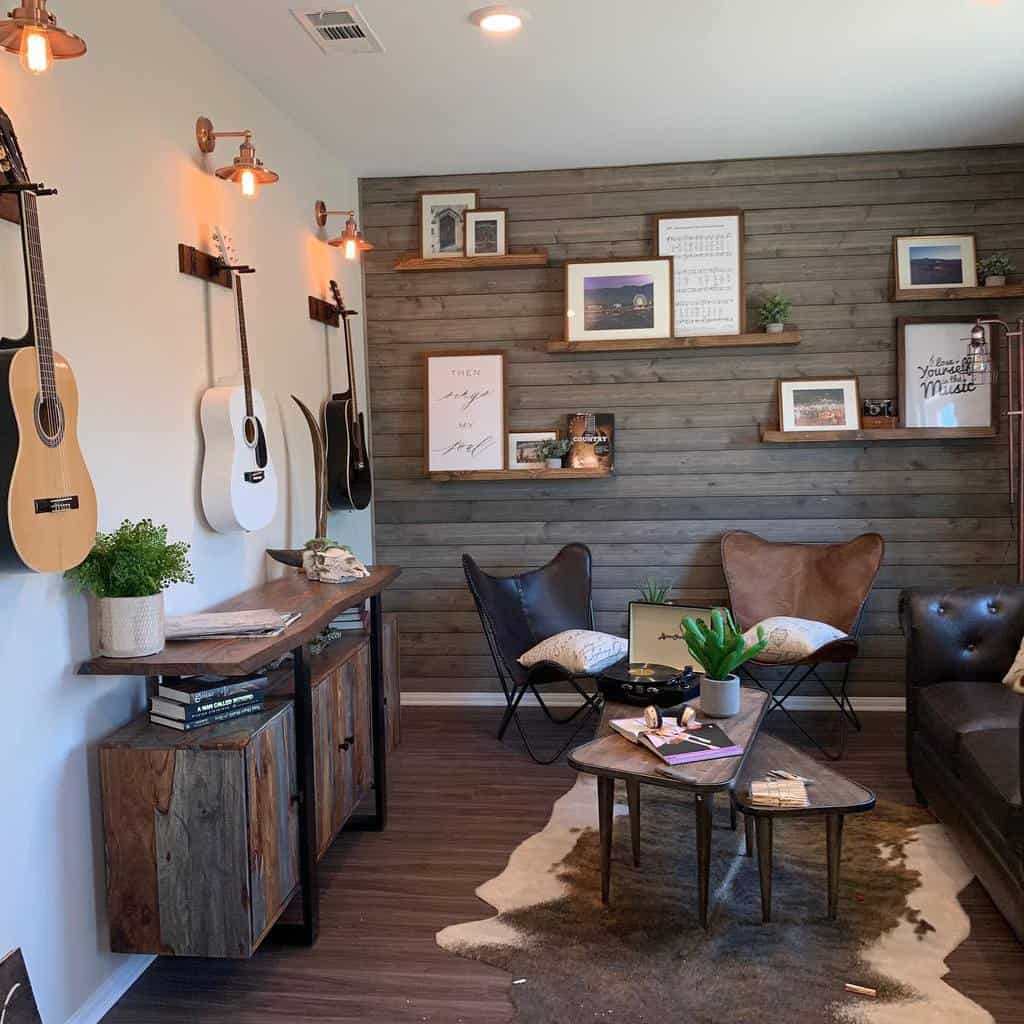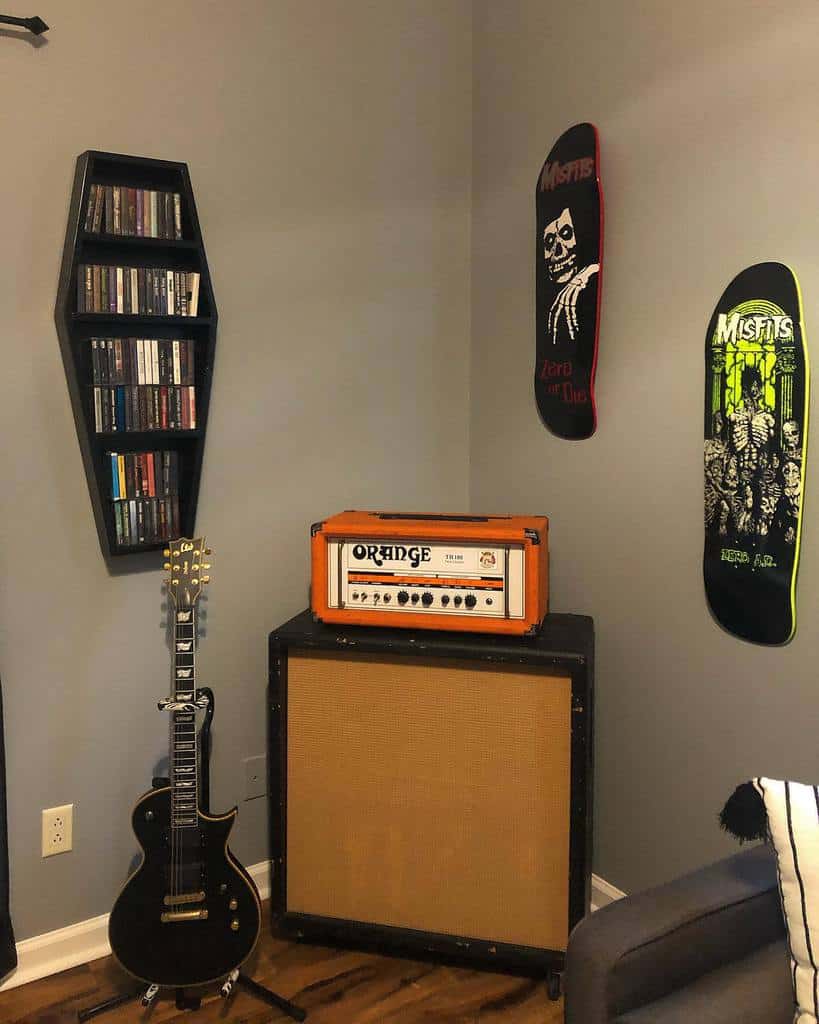 12. Install Soundproofing
Soundproofing can be achieved in a variety of ways, including the use of bass straps. Bass traps are made of heavy-duty rubber and are designed to absorb low-frequency sound waves that often escape through walls and floors. When used in conjunction with other soundproofing materials such as acoustic panels, bass straps can greatly reduce the amount of noise that travels outside of the music room.
Soundproofing not only benefits the people outside of the music room but also the people inside. Without proper soundproofing, musicians can experience ear fatigue, making it difficult to hear their own playing accurately. A music room with soundproofing allows musicians to focus on their playing without any distractions, creating an optimal environment for practicing and performing.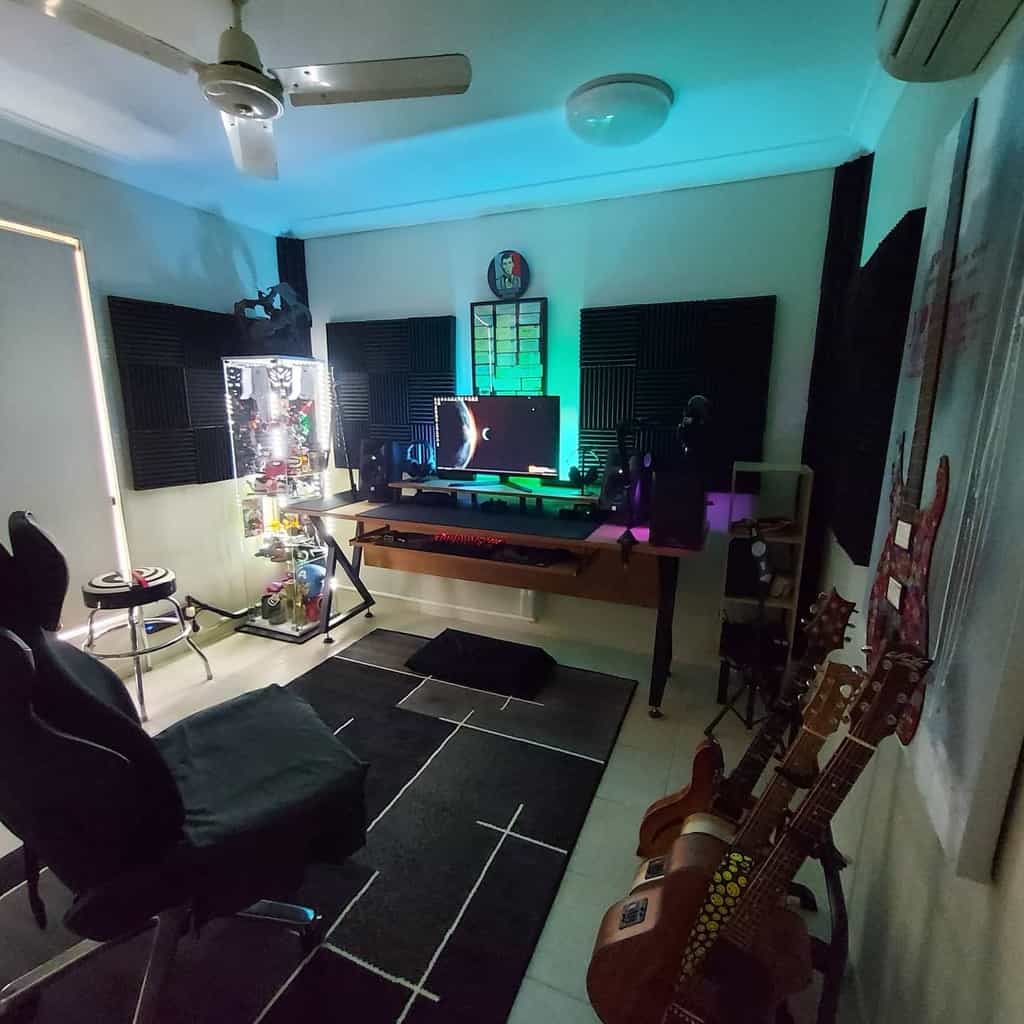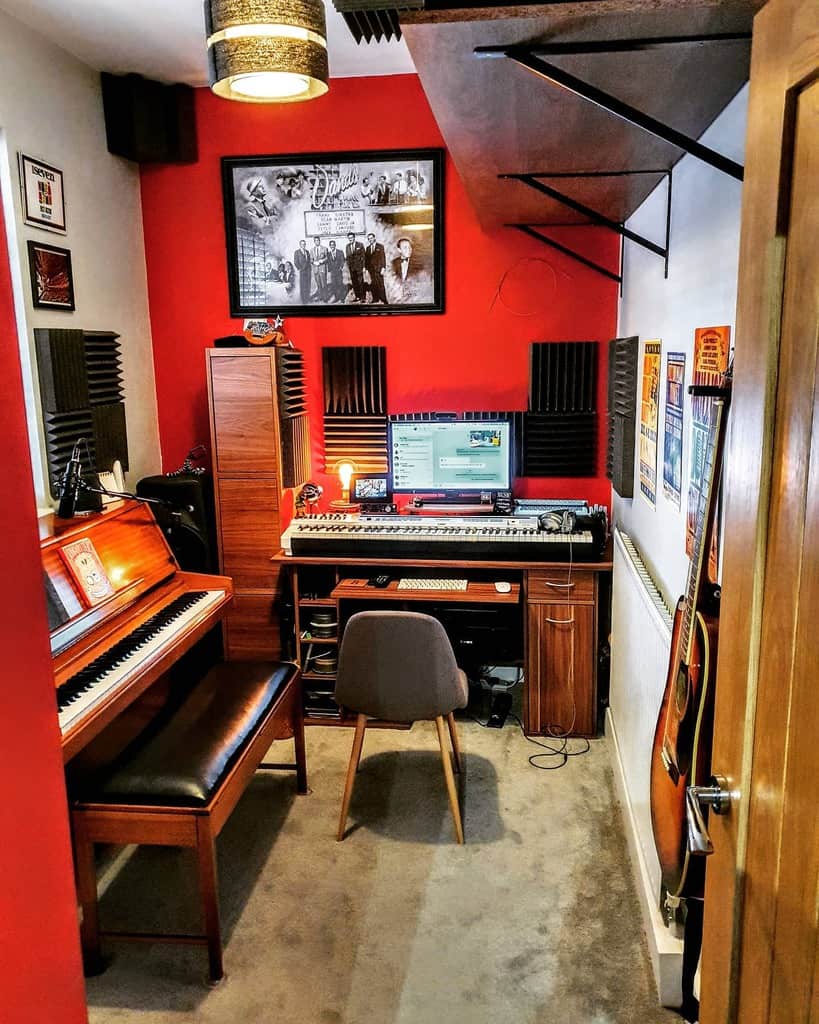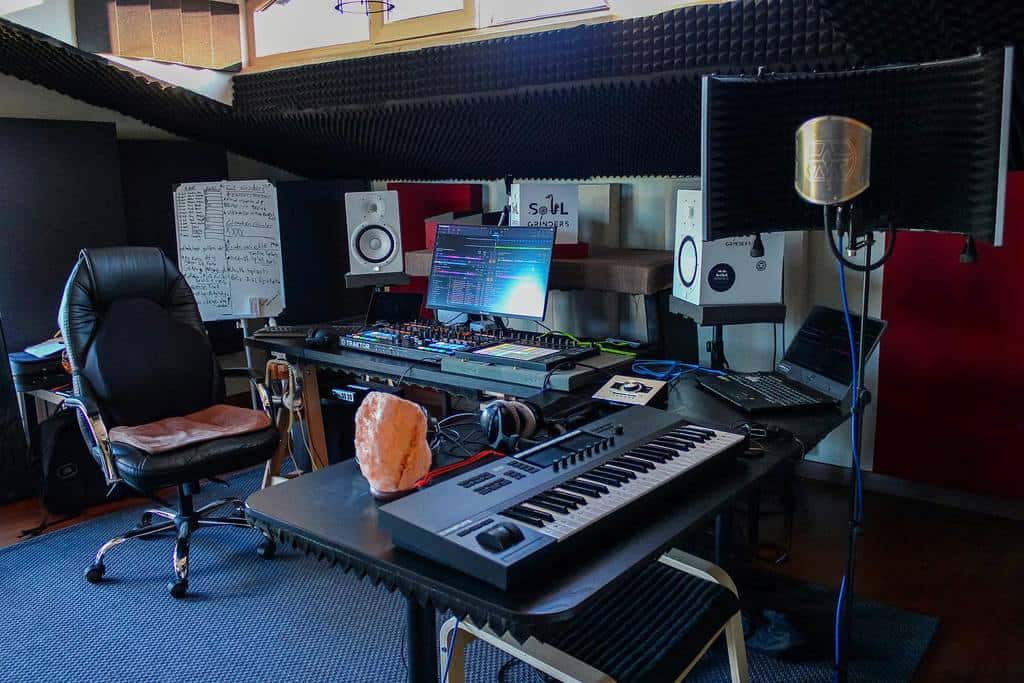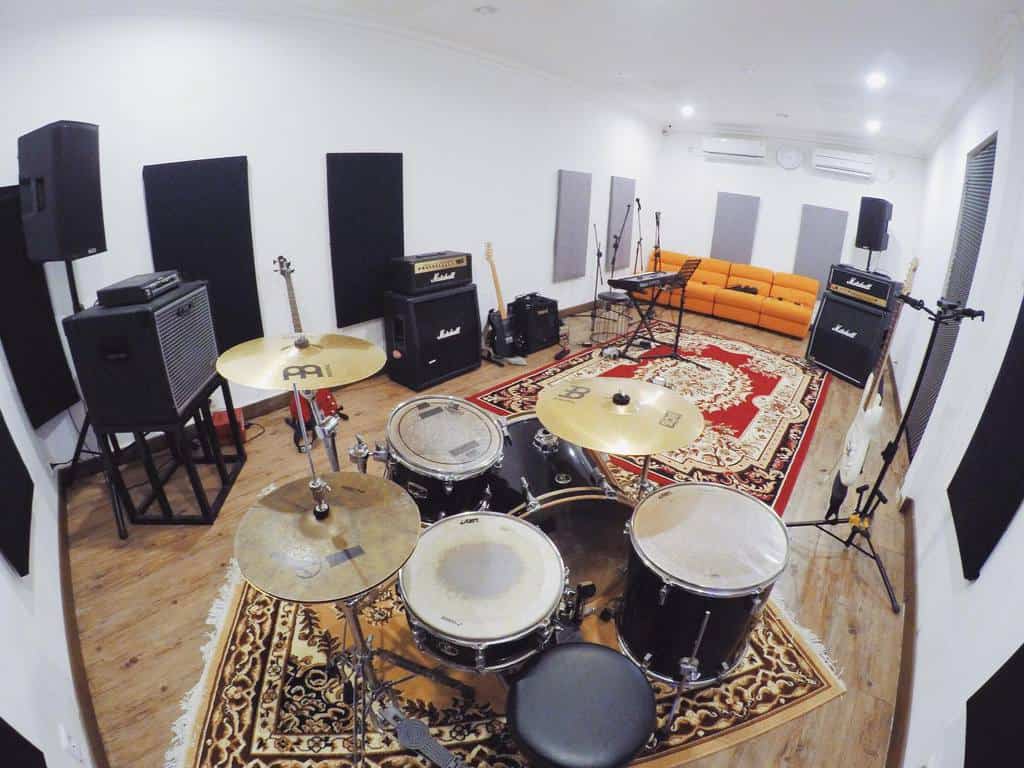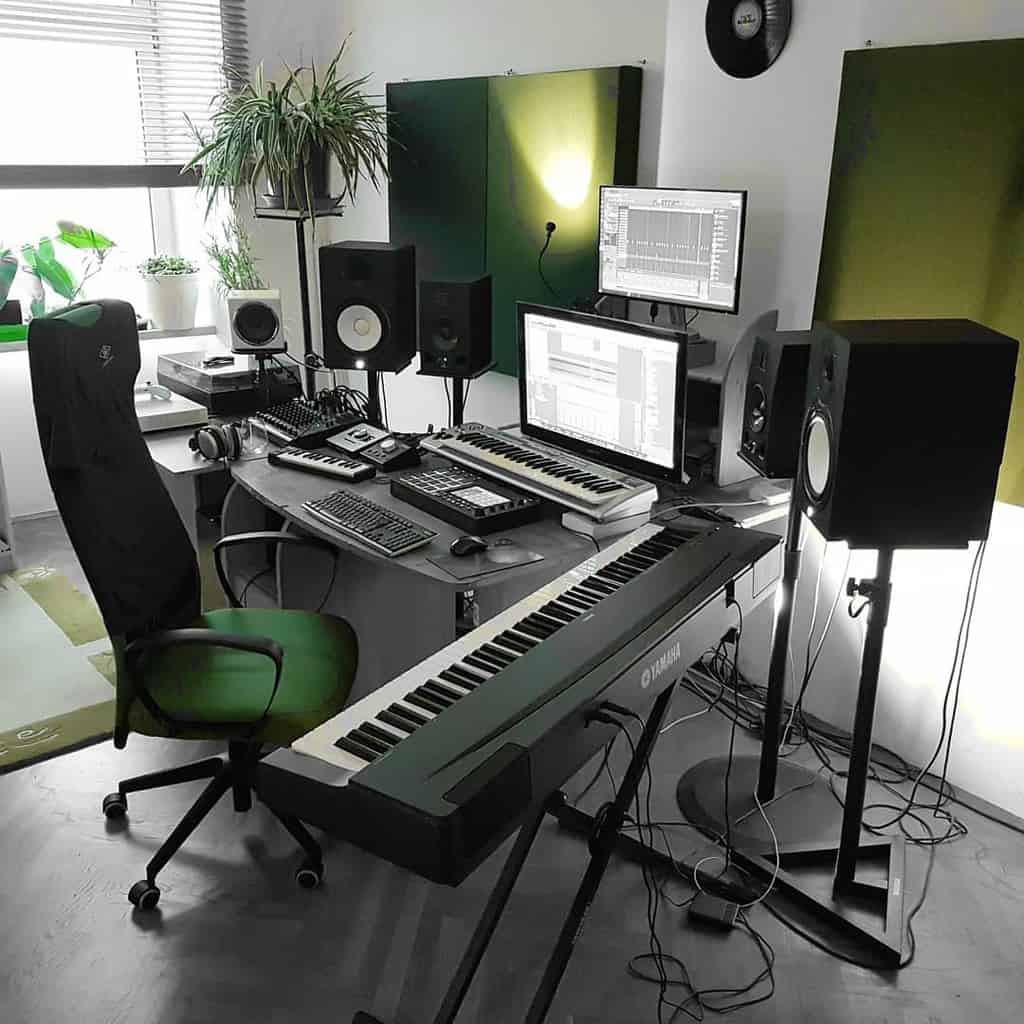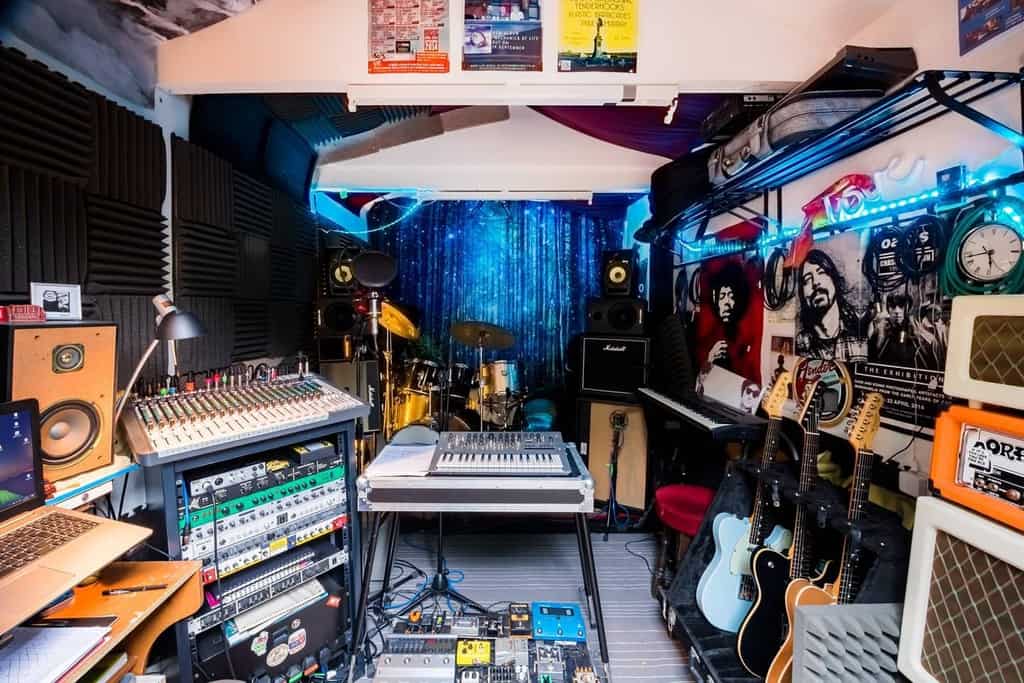 13. Choose A Vibrant Wall Color
A music room with vibrant-colored walls can add a playful and energetic vibe to any home. Colors like blue, green, and orange are known as energy colors and can stimulate creativity and productivity, making them perfect for a music room. A blue wall can bring a calming and serene atmosphere, which is ideal for relaxation and meditation before a performance or practice.
Green walls, on the other hand, can evoke a sense of nature and growth, which can be motivating for artists and musicians. An orange wall can bring a burst of energy and enthusiasm, which can be perfect for getting in the mood for a lively music session.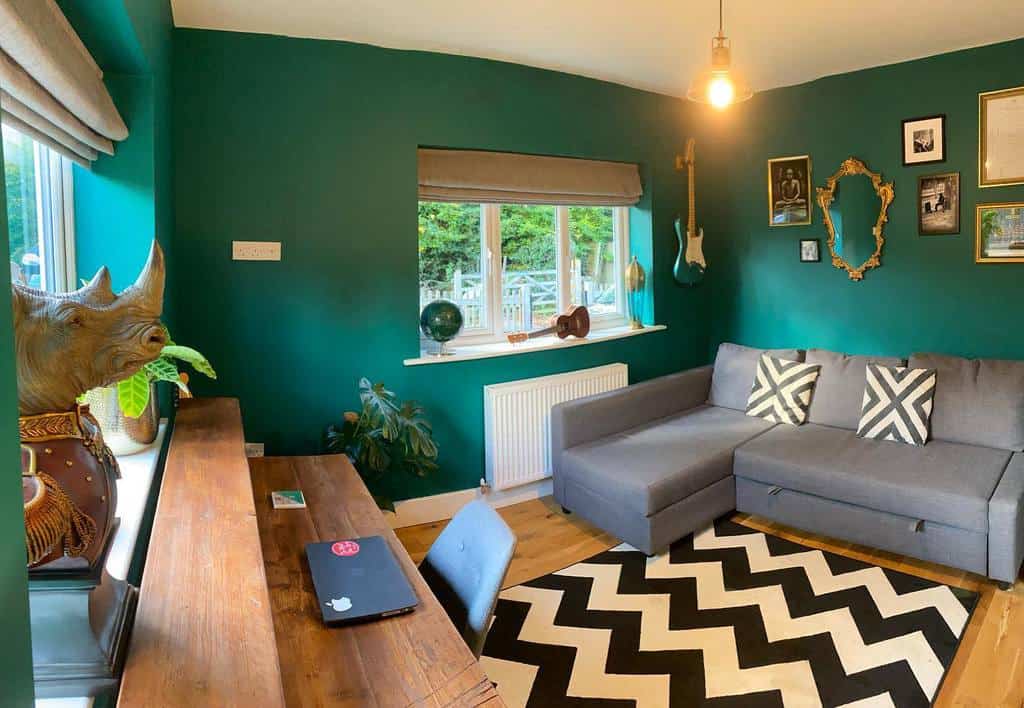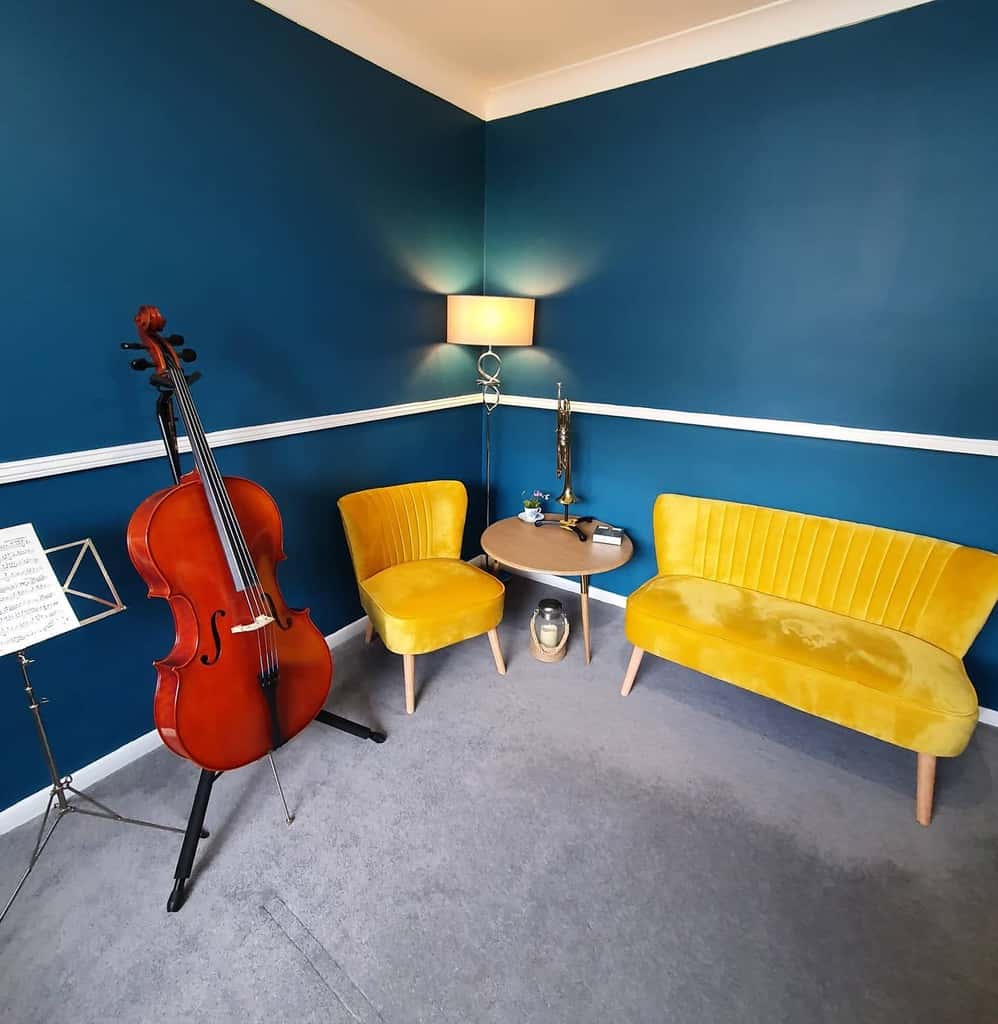 14. Built-In Recessed Shelves
A music room with built-in recessed shelves is an excellent addition for any music lover. These shelves are not only practical, but they also add a unique and stylish touch to the room. The recessed shelves are designed to fit seamlessly into the walls, creating a minimalist and modern look.
The shelves can be used to store records or music equipment, saving space and reducing clutter in the room. Built-in shelves are a great way to display your favorite records or vintage music equipment, while also keeping them organized and easily accessible. The shelves can also be customized to fit your specific needs, with adjustable heights and widths to fit different-sized items.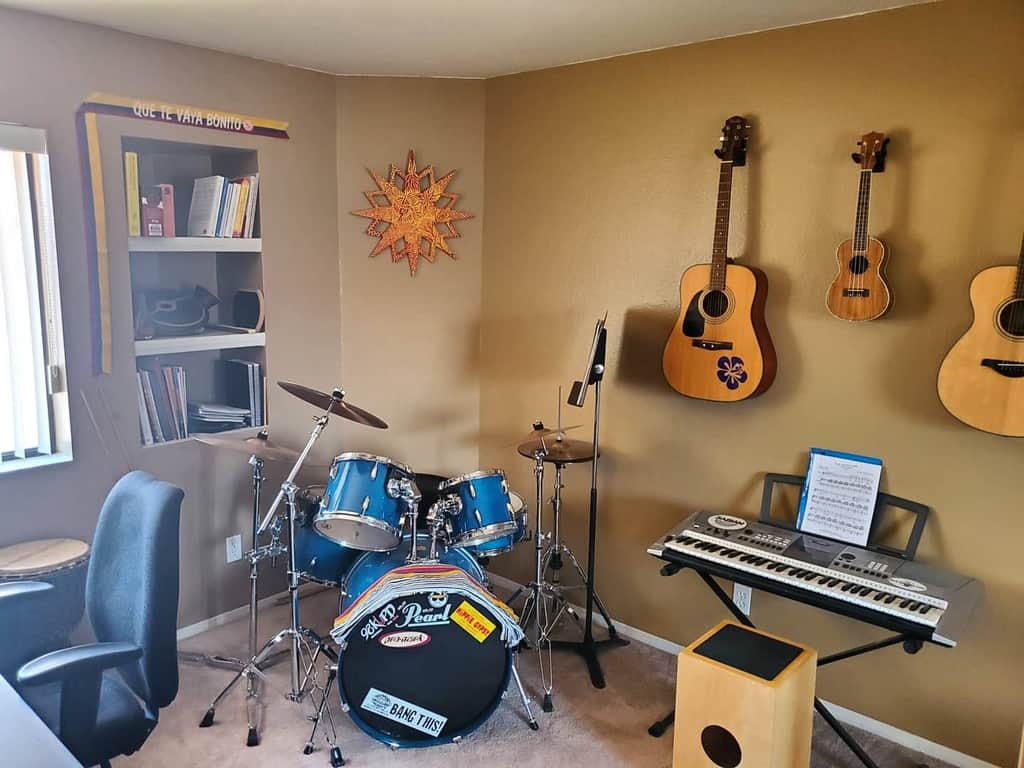 15. Invest In Wall Artwork
Investing in artworks that complement your music room can create a visually stunning space that is both inspiring and comfortable. A gallery wall is a popular option for displaying artwork in a music room. It allows you to showcase a variety of pieces, from photographs and paintings to posters and prints, all while keeping the space cohesive.
When selecting artwork, consider pieces that evoke emotions and stimulate your senses. Music-themed artwork, such as album covers or musical notes, can be a great addition to a music room. Alternatively, select artwork with colors and textures that complement the existing décor of the room. Whatever you choose, invest in quality pieces that you truly love and that will add value to your music room for years to come.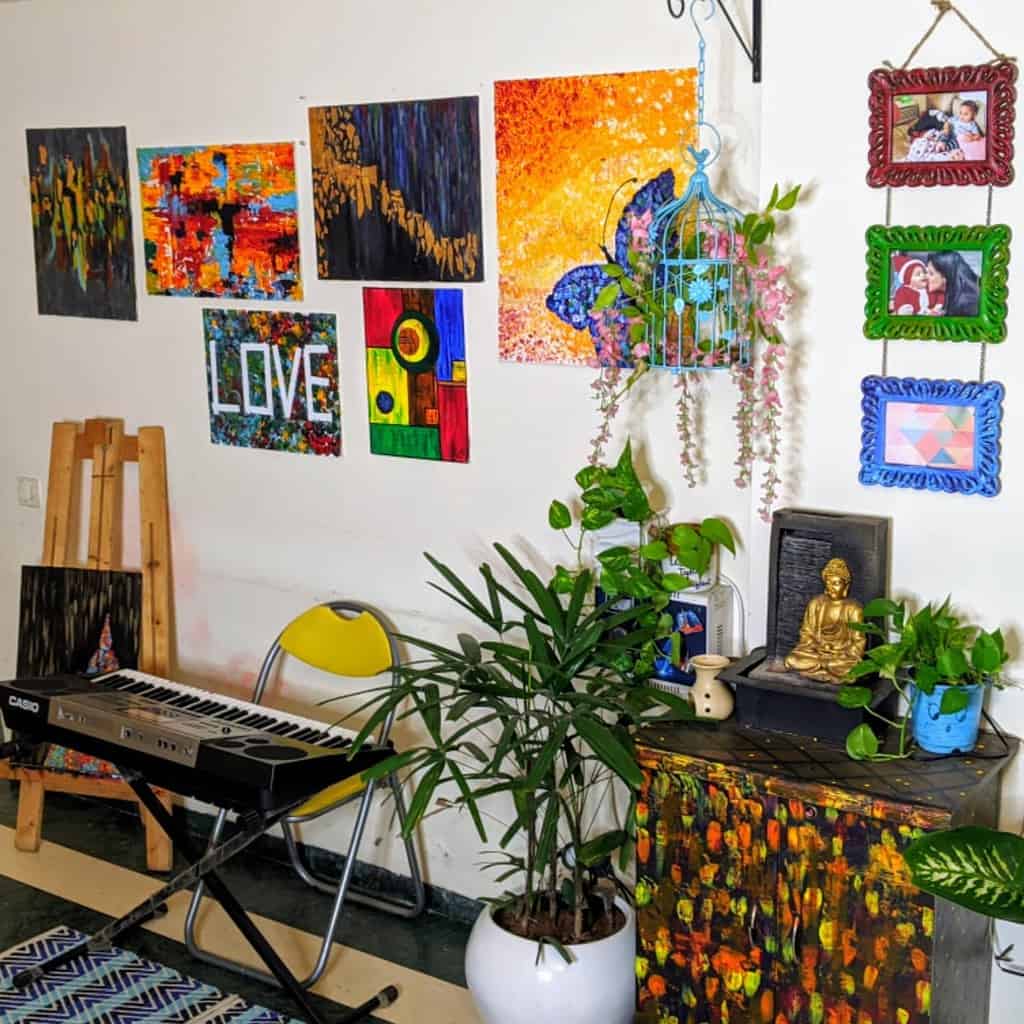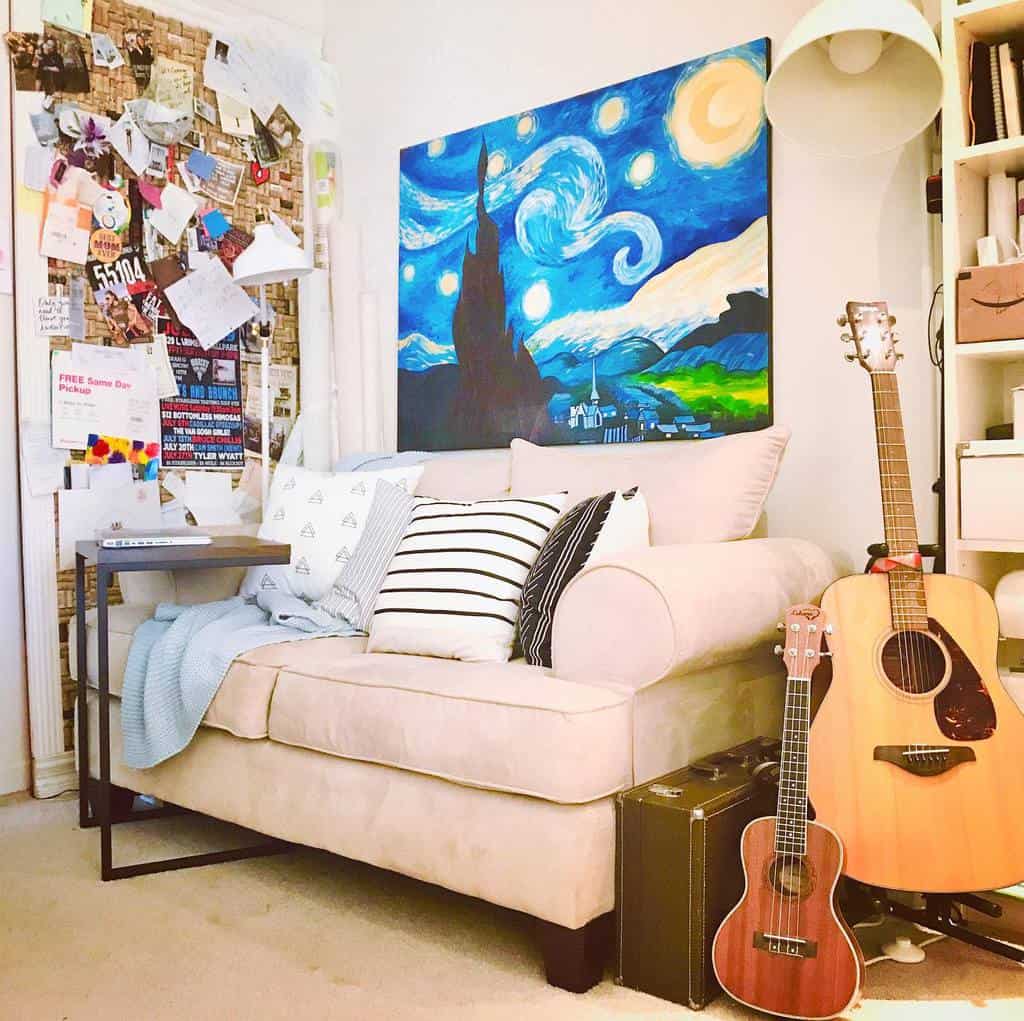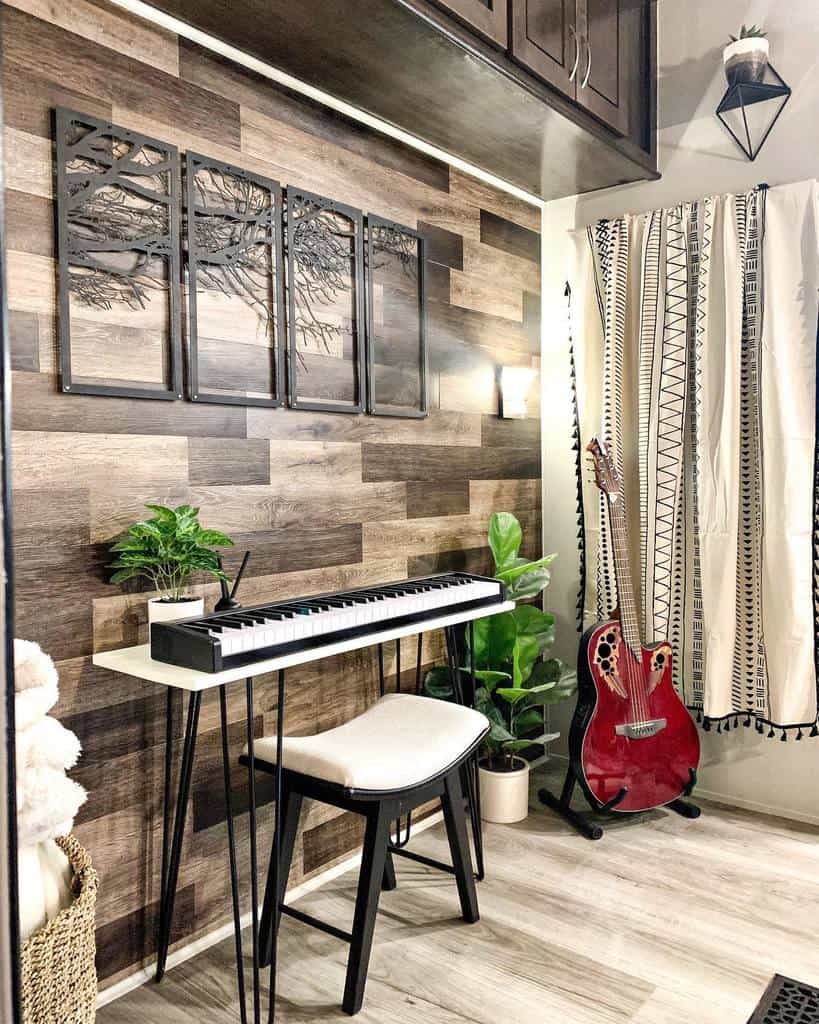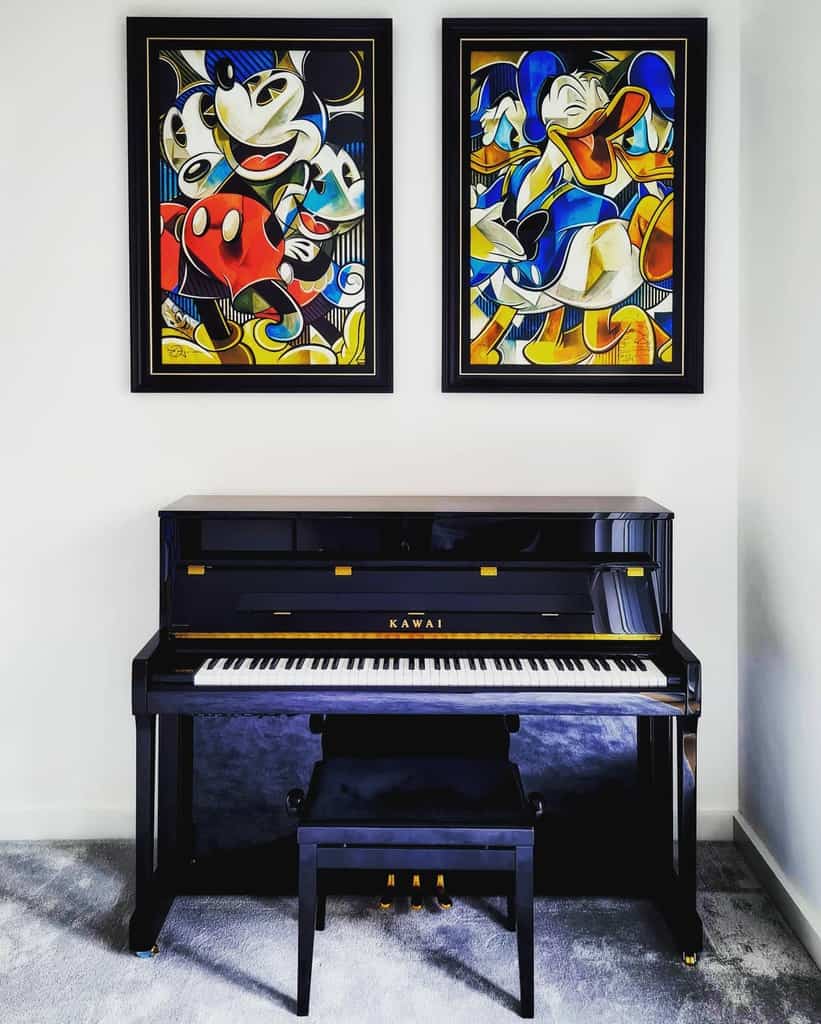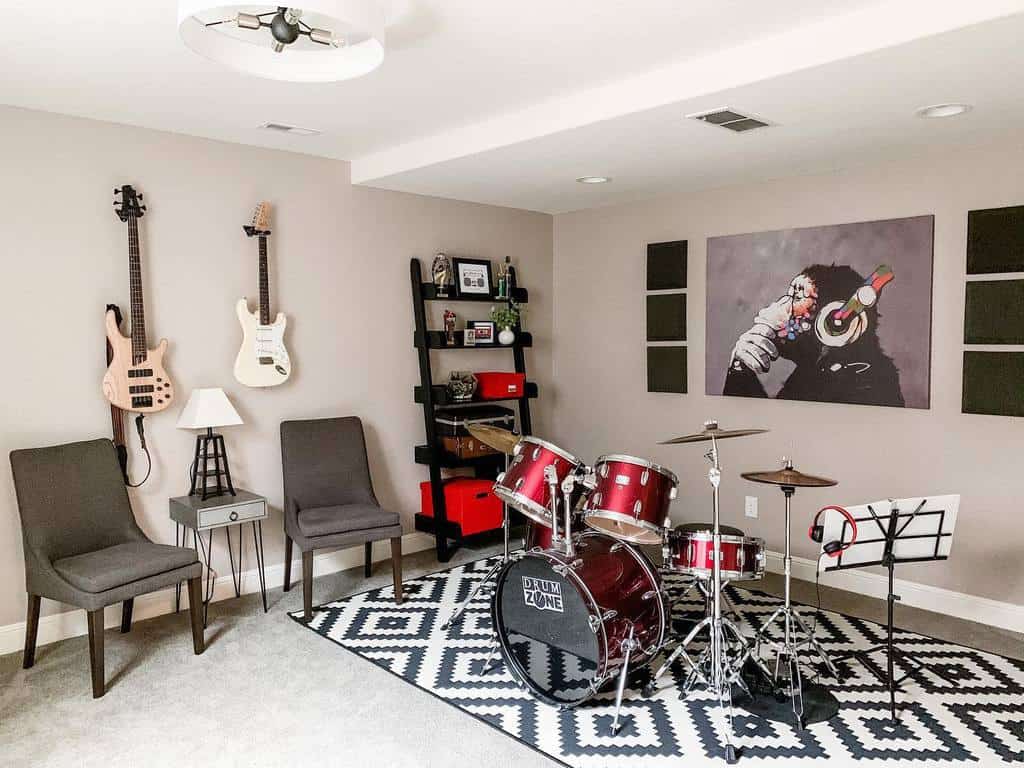 16. Paint A Wall Mural
One way to elevate the look of your music room is by adding mural art with geometric prints. Geometric prints are a popular design element that can add a modern and sophisticated touch to any room. Whether you choose to paint the mural yourself or hire a professional artist, geometric prints can be customized to fit your personal style and preferences.
For a music room, you can choose prints that resemble sound waves or musical notes to tie the design element to your hobby. These prints can be incorporated into the mural along with other geometric shapes to create a unique and eye-catching design.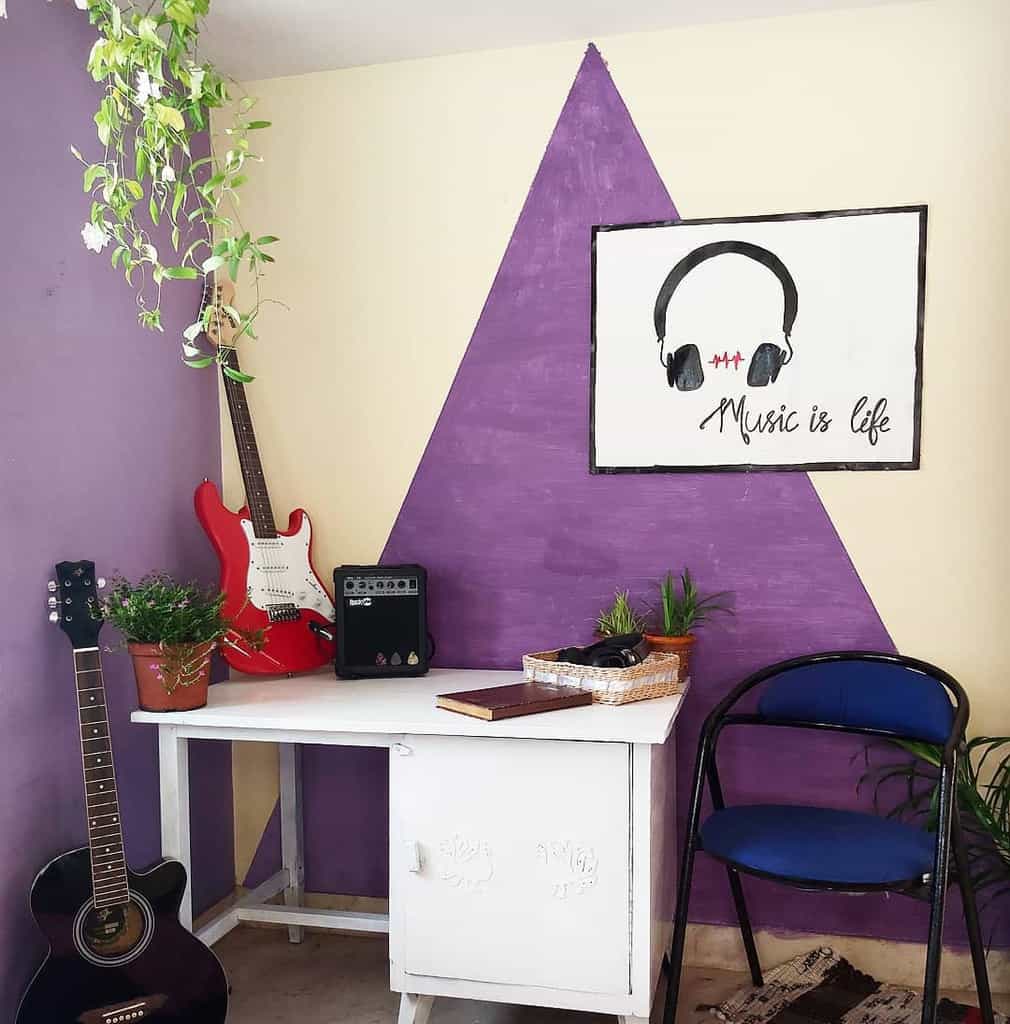 17. Get A Decorative Wallpaper
To make your music room more interesting and unique, consider adding wallpaper art with music-related prints. Music-themed wallpaper art is a creative and stylish way to express your love for music while also adding visual interest to your space.
Whether you prefer vintage sheet music prints or more abstract musical graphics, there are plenty of options to choose from. You can also mix and match different prints to create a unique and personalized look. Wallpaper art with music prints is a great way to add texture, depth, and character to your music room without overwhelming the space.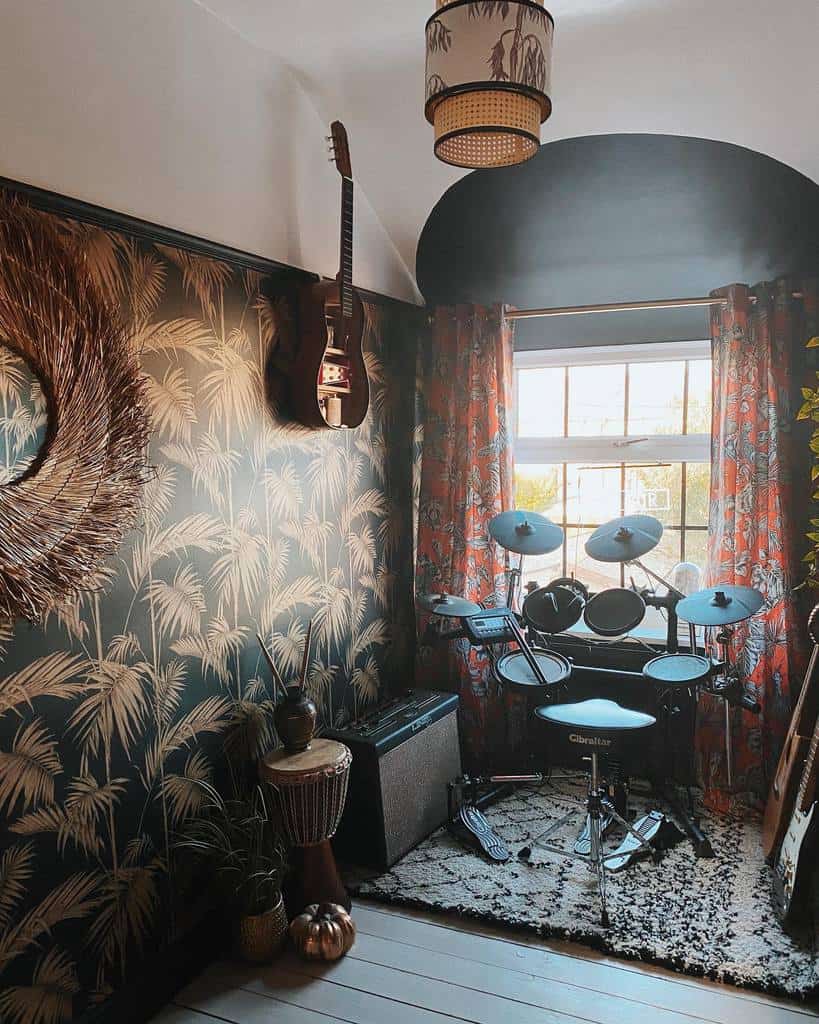 18. All-White Music Room
A white music room is a popular choice, as it offers a minimalist and non-distracting backdrop that allows for maximum creativity. White walls, floors, and ceilings provide a blank canvas that can be easily decorated with musical instruments, art, or other elements that reflect your personal style.
This versatile room can serve multiple purposes, such as a home recording studio, a rehearsal space for bands, or simply a spot to unwind and listen to music. The minimalism of the white room also helps to keep the focus on the music itself rather than any distracting decor.