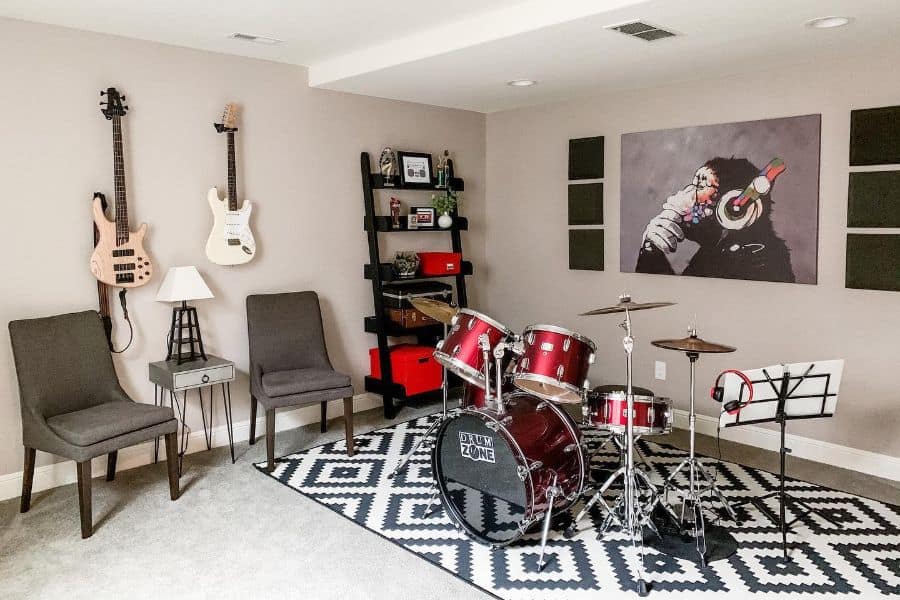 "Music needs room to breathe." –  Ennio Morricone
Music brings energy and life to your home. Having a dedicated space in your home gives you a place to be creative and hone your skills as a musician.
If you're a music lover, you should celebrate your passion in your home as an expression of who you are.
If you have a spare room, you could turn it into an entire music room. However, all you need is a dedicated corner. When building your music room, the first step is deciding how much space you need. Then decide how you'll set up the space and decorate it.
You'll also want to consider soundproofing so you don't disturb others in your home. These music room ideas will help you get started building your own music room.
1. Decor
Creating a music room in your home is the perfect spot for displaying your music memorabilia and collectibles. Your music room decor and wall art will set the mood and help you get inspired.
Unlike the other rooms in your home, your music room design is all about you. As long as it's a creative space that you love to be in, that's all that matters.
Look for music room decor ideas that you respond to on an emotional level. These are ideas that you connect with and will have a more powerful effect on your musical aspirations.
Perhaps you have a collection of guitars that you want to display. Or maybe you have autographs from all of your favorite artists.
2. Home Music Room
Having a home music room is the perfect way to enjoy your passion and practice your hobby.
You can turn any space in your home into a music room. Perhaps you have a spare room or bedroom that you can transform into a space dedicated to music.
Share your passion for music and playing instruments by turning your space into a music classroom.
You could teach your children, family members, friends, or anyone else. Set up an area for you, the teacher, to demonstrate. Then set up another place where your students can play.
3. Living Room
You don't have to turn your entire living room into a music hall. However, you can create a small music area in one corner.
Arrange the furniture in the room so that family, friends, and guests can sit and relax as they enjoy your playing.
Consider adding sound panels to the walls or ceiling. This will dampen the sound and prevent an echo.
You can also place a large area rug on the floor. This will also help to absorb sound waves and make it more enjoyable to listen to live music.
4. Modern
Give your music room a modern feel by ensuring it has plenty of natural light. Choose a room with large windows. Paint the walls white or another light color.
This helps to reflect more light around the room to keep it feeling bright and light. Hang a large mirror on the wall opposite the window to reflect the light even more.
Choose a minimal amount of furniture. You want to keep the room feeling spacious and open.
The furniture you choose should have simple and straight lines with crisp corners. If it's on legs, this will help the space to feel more open.
5. Piano
The piano is a classic musical instrument that may take up a lot of space, but it's perfect for adding music to your home.
Purchasing a piano is more than just buying an instrument. It's about buying a piece that will look beautiful in your home.
Plan to invest in a quality piano. It will last for generations and sound beautiful. You'll also need to have it regularly tuned to ensure it stays in working order.
Highlight the piano in your home by making it the focal point. Spread out an area rug underneath it and add either a chandelier or large lamp over it.
6. Retro
Embrace days that have gone by with a retro-inspired music room. This works well if there is an era that you particularly enjoy.
Choose curtains, seating, and lighting that all coordinate with your chosen time period. This creates a themed room that will help you get in the mood for enjoying some music.
You could hang vinyl records as decor. Embrace an art deco theme for a room that's right out of the roaring 20s.
If you love classical music, you could create your own baroque or romantic room. Arrange ornate furniture on an elegant Oriental rug. Then hang paintings and a mirror with gilded frames.
7. Small
You don't have to have a large amount of space available to create a music room.
You only need a corner to create a cozy space for playing your guitar. This small home studio space is just big enough for the casual musician.
Embrace the small space by making it feel cozy. Layer a few small rugs on the floor and place a comfortable accent chair. Add a lamp that gives off a warm light. Paint the walls a darker hue.
8. Studio
If you want to do more than just play an instrument, then turn your music room into a music studio.
The first thing you'll need to do is soundproofing with acoustic panels. This will help you get the right acoustics in your recording studio. You'll be able to achieve a better sound quality.
Invest in quality equipment that will let you record your music. Then you'll be able to take your hobby to the next level. Don't forget to install speakers for playing your music back so you can enjoy the fruits of your labor.
9. Wall Color
Skip the boring and bland beige walls for your music room. Instead, opt for a strong color scheme that creates a bold statement.
This helps your music room have an identity that's separate from the rest of your home.
You could choose a bright color that is vibrant and lively. This is perfect if you like playing more upbeat and fast-paced music.
For a more tranquil space, try a soft grey or pastel. This will create a calming environment that's perfect for playing soft music. Create an elegant space to play music in by painting the walls a rich emerald or burgundy.
10. Wall Art
The wall art in your music room can be themed, such as music posters. Or it can be elegant interior design pieces, such as a music-themed sculpture.
Some design ideas embrace the idea of having wall art that is both beautiful and functional.
You can do this by mounting decorative sound panels on the wall or hanging an ornately decorated cabinet.
You can find musical wall art in all genres of art. You could go bold with colorful paintings or sleek with a metal sculpture.
A wood carving would give your music room a natural touch. You could even purchase vintage musical instruments to hang on the wall as decor.
11. White
An all-white music room will blend in with the rest of your neutral or white-themed home. Stick with white walls and light-colored furniture.
Finish the room with gold or silver hardware and fixtures. Gold will make the temperature of the room warmer, while silver will give the room a cooler feel.
If this looks too light, then try painting one gray wall as an accent. This will ground the space and keep it from feeling too sterile.
Remember, music is about celebrating life. A white room can take the vibrancy out of that, which leaves you feeling uninspired.
12. More Music Room Ideas