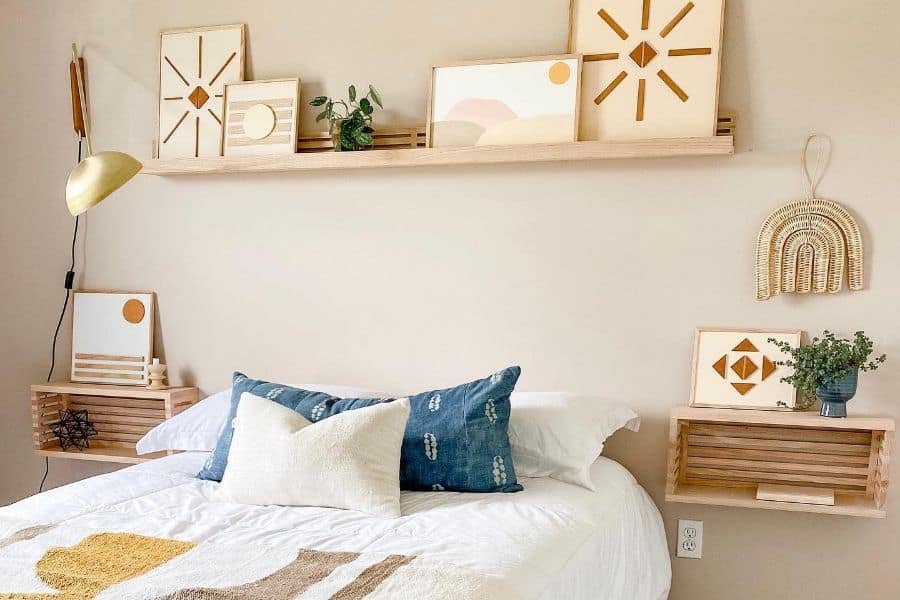 The Top 33 Nightstand Ideas
For many, the most important room in the home is the bedroom. This space needs to be comfortable and functional. But it also doesn't hurt to put a little extra care into the details of your bedroom design.
If you've never paid much attention to your nightstand, now is the perfect time to start.
Aside from your bed, your nightstand is the last piece of furniture you interact with at night and the first you encounter in the morning. Without this humble piece of furniture, your night-time essentials would have nowhere to call home.
Whether you use a traditional bedside table or a repurposed stool, your nightstand is important. Check out these nightstand ideas for inspiration.
1. DIY
With a DIY nightstand, you can save money and customize your bedroom furniture to your exact specifications. You don't even need to be handy to create a beautiful nightstand all your own.
There are plenty of great DIY nightstand ideas that don't require any manual labor. Repurpose old furniture — e.g., a step ladder, stool, or console table — as a bedside table. Use a wooden crate for an instant DIY nightstand anyone can build.
Building a nightstand is a quick and easy woodworking project for aspiring DIYers. Use chalk paint for a vintage or farmhouse aesthetic. If you're partial to rustic or industrial bedroom decor, try out using reclaimed wood to build your new bedside table.
2. Drawer
It's important for your new nightstand to look great and match the rest of your bedroom decor. But the perfect nightstand also needs to be extremely functional. When it comes to storage space, the more drawers the better!
It's easy to let your nightstand drawer turn into a catch-all for day-to-day clutter — there's a reason the term "junk drawer" exists.
Invest in drawer organizers early on. If you have a small bedroom, take advantage of your nightstand drawers to store clothes, bedding, and other necessities.
Remember: You're not limited to furniture explicitly designed for use as a nightstand. If space allows, get creative by using a console table or other piece of furniture for your bedside essentials.
3. Modern
If a traditional nightstand isn't your style, opt for something sleek and clean-cut instead. Go with a neutral color scheme — white and black are classics. Add warmth and dimension with wood grain or mirrored nightstand drawers.
The best way to give your bedroom decor a modern appearance is with a minimalist nightstand. Make sure your bedside table has plenty of built-in storage. This will help deter clutter and maintain the sleek look you're going for.
Don't stop with a modern nightstand. Adorn your bedside furniture with a sleek table lamp and alarm clock. Turn to popular design trends like art deco or mid-century modern for inspiration.
4. Rustic
Despite being one of the biggest design trends of the last decade, rustic decor isn't going away anytime soon! If you're a fan of rustic interior design, you can't go wrong with an all-wood nightstand set.
Let your nightstand's organic wood texture really shine. Choose contrasting wood colors or go with a one-of-a-kind live-edge end table to really make your bedroom decor feel one with nature.
You can repurpose antique furniture for a ready-made rustic finish. Or give new furniture a weathered appearance with some sandpaper. Swap out contemporary drawer hardware for cast iron pulls.
5. Tall
If your bedroom is short on floor space, a tall nightstand can help you get the most from a limited footprint. Get creative — you can even use a bar stool as a nightstand for a bed on risers.
Opt for a bedside table with built-in storage underneath. Drawers are extremely common but don't overlook the usefulness of a cabinet or open shelf in your nightstand's design. Use this storage as extra dresser space, or leave it empty for the perfect guest room.
You can create the illusion of even more height by decorating your nightstand with a tall bedside lamp or vase. Hang framed artwork or a wall sconce over your nightstands to complete the elegant look.
6. Unique
In far too many bedroom designs, the nightstand is an afterthought. But if you want to give your bedroom a personal touch, it's the perfect canvas on which to stretch your creative muscles!
There's no shortage of unique nightstand ideas to choose from. Many furniture companies recognize the demand for one-of-a-kind designs and have stepped up to the plate. It's easier than ever before to find bedside furniture styled after vintage pieces or made from interesting materials.
Of course, DIY is always an option. Use stencils to add a fun pattern to a reclaimed console table. Swap out the original hardware for something head-turning. Add table legs to a vintage suitcase. Imagination is your only limitation!
7. Wall Mounted
Decorating a small space can be more frustrating than fun. It's tempting to do away with any furniture or decor that isn't absolutely necessary. Rather than make do with an ultra-small nightstand, consider installing a wall-mounted shelf instead.
A floating nightstand saves room and creates the illusion of more usable floor space. You can hang a basic floating shelf or a full set of drawers. Either way, don't hesitate to take advantage of the space underneath for additional storage.
For a quick DIY version, mount a set of sturdy wooden crates on each side of your bed frame. If building a hanging nightstand from scratch, incorporate details like power cable holes for improved organization.
8. White
Furniture doesn't need to be bold to be stylish. This is especially true in a bedroom, where your top priorities should be functionality and comfort. If you're happy with your current bedroom decor, then a white nightstand will fit right in.
White nightstands might go with everything but you still need to pay attention to the details of your bedside furniture. For a modern look, go with a clean, geometric design. If you prefer more ornate interior decor, look for a nightstand with turned legs.
Use your nightstand's hardware to finalize your bedroom decor. Simple cast iron hardware works well for a vintage-inspired aesthetic. Go with silver or gold hardware for a more contemporary look.
Nightstand FAQs
What should you keep on a nightstand?
Your nightstand is a great place to set up a simple table lamp — this is a must if you enjoy reading before bed. Use a jewelry tray to store your daily accessories. Many people also choose to keep their everyday medications and vitamins within easy reach on their bedside table.
How do you organize charging cables?
Your bedside table is the perfect spot to keep your phone and other electronics at night. It's also where most people charge their gadgets in preparation for the next day. This can quickly lead to a bundle of tangled cords.
Invest in a dedicated charging station for your most-used electronics. You can attach cable clips to the back of your bedside table to hold cords in place when not in use (no more digging around for the right charger in the dark!)
What is the ideal size for a bedside table?
As a general rule of thumb, your nightstand should be the same height as your bed. Most bedside tables are between 24 and 28 inches tall. Leave a gap of about 3 inches between your nightstand and the edge of your bed frame.