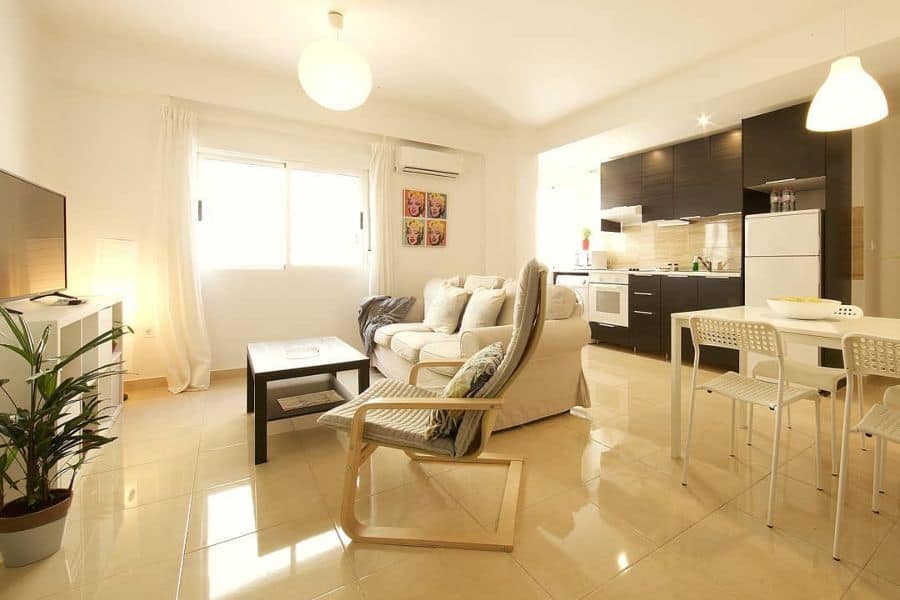 For almost a century, open floor plans were the be-all-end-all of contemporary homeownership. While much of society is returning to smaller, more private living spaces, these vast layouts certainly aren't going anywhere!
Home design magazines and HGTV can make an open-concept space seem like the secret to decorating on "easy mode." Once you actually begin curating your home's furniture and decor, however, it becomes clear that the opposite is true.
Before you take a sledgehammer to your interior walls, check out these open floor plan ideas to ensure you're setting out on the right track.
1. Apartment
Open floor plans are incredibly popular in newer apartment buildings. After all, there's no better way to make limited square footage appear bright and roomy.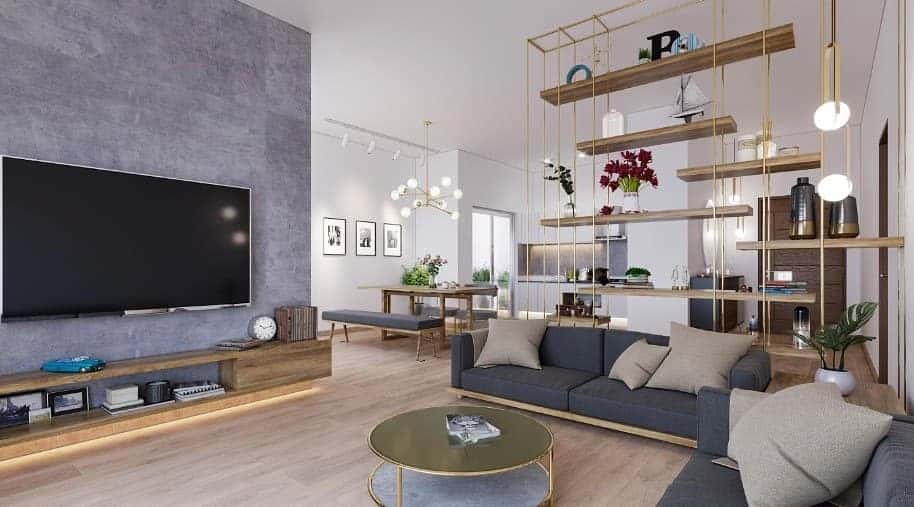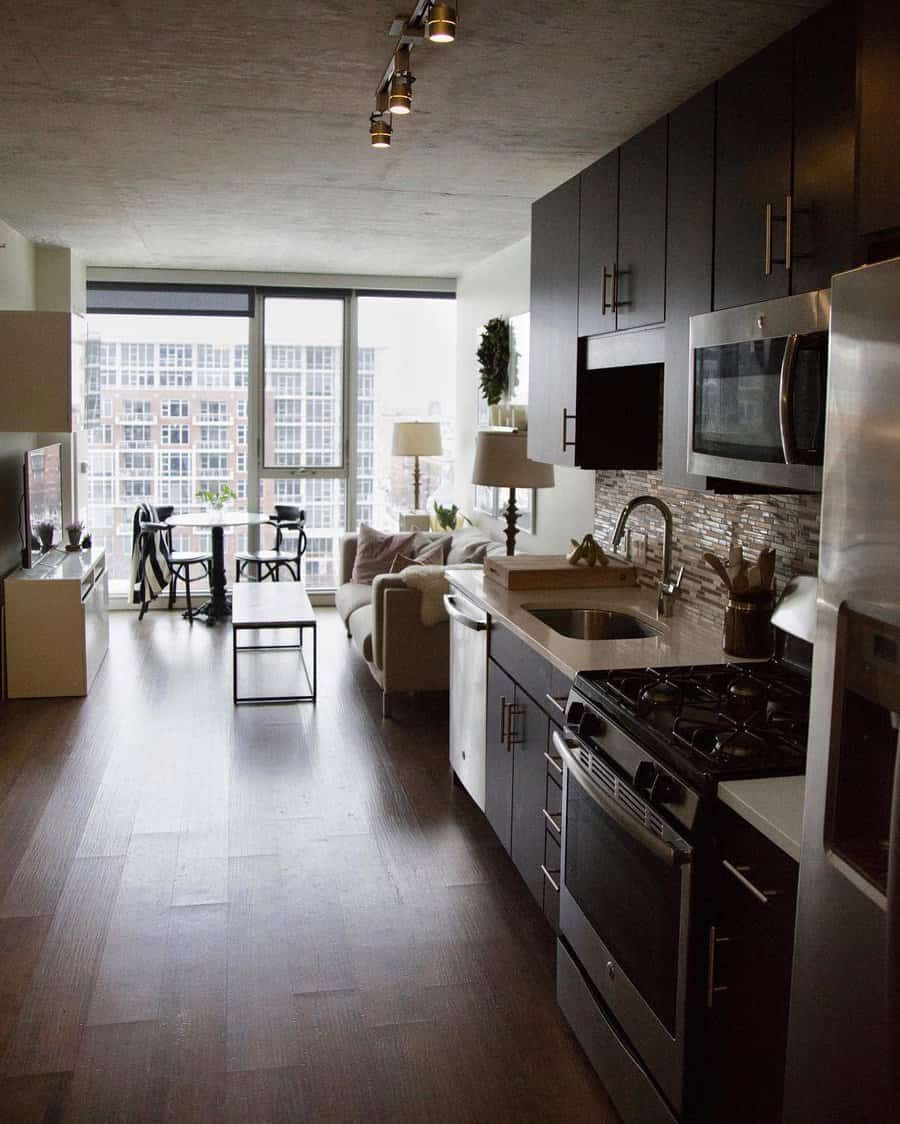 Decor like room-dividing curtains or screens can split up an open-concept floor plan. But this can have the unintended effect of making your apartment feel smaller than it is.
Maintain a similar color scheme throughout your apartment for visual harmony. Arrange furniture in clumps — as if there are interior walls — to create separate living areas. You can also use area rugs to define sections of your apartment.
2. Basement
Open floor plans are the standard for contemporary finished basements. This is especially true if your basement serves as a casual family room, rec room, or home bar area.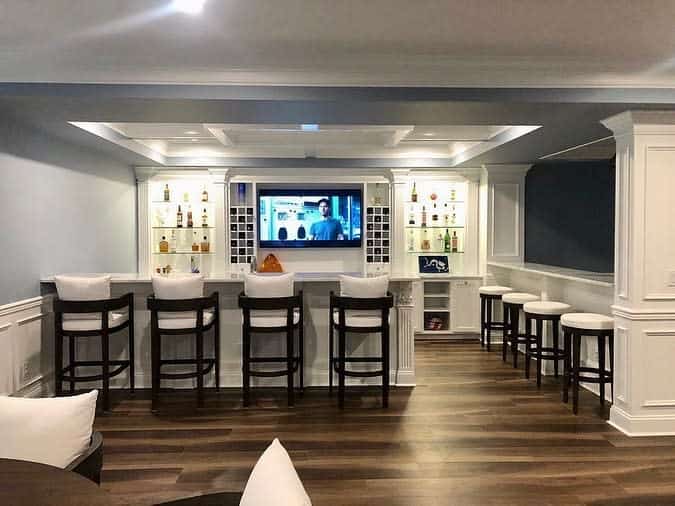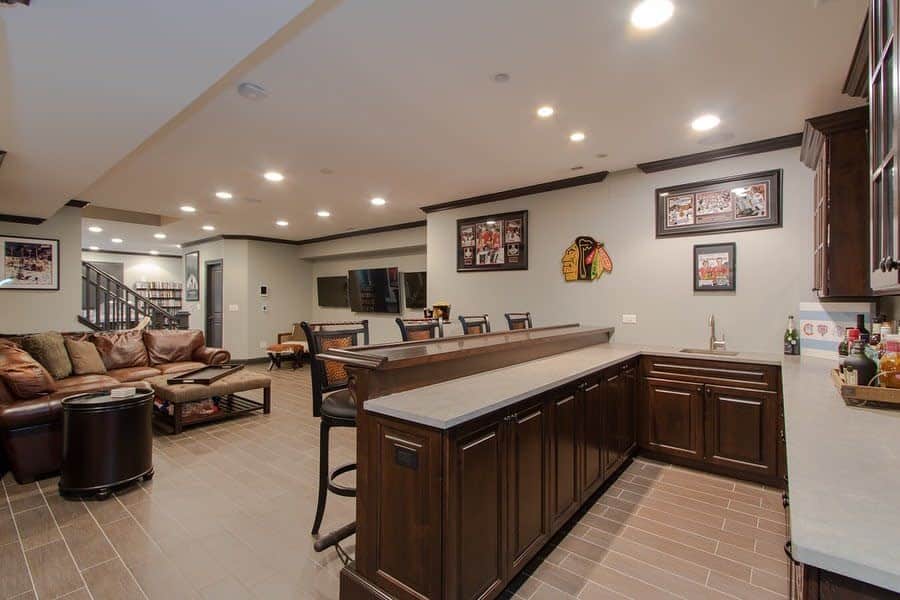 There tends to be little issue with using fewer walls in a basement remodel and letting the entire space flow together as one. Using an open layout in a basement tends to reap all of the benefits with few (if any) of the drawbacks.
An open-concept basement can help distract from common concerns like low ceilings or lack of natural light. Still, it doesn't hurt to set aside one or two small spaces for a closed laundry room or private office.
3. Design
One of the key factors in interior design is scale. Open floor plans tend to need larger, more dramatic decor elements to balance out the sheer size of the space. This applies to furniture as well as details like light fixtures, artwork, and window treatments.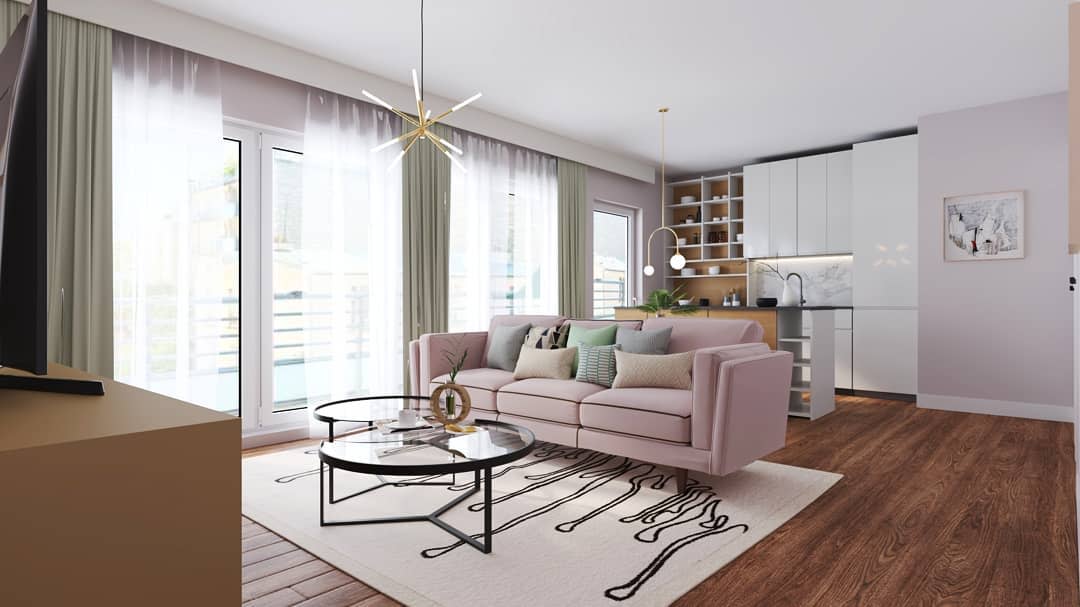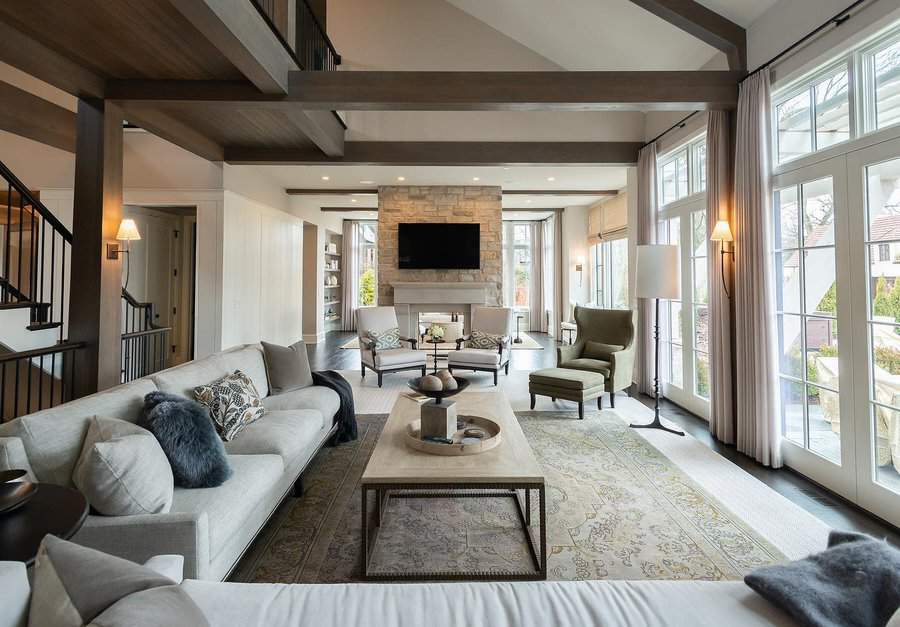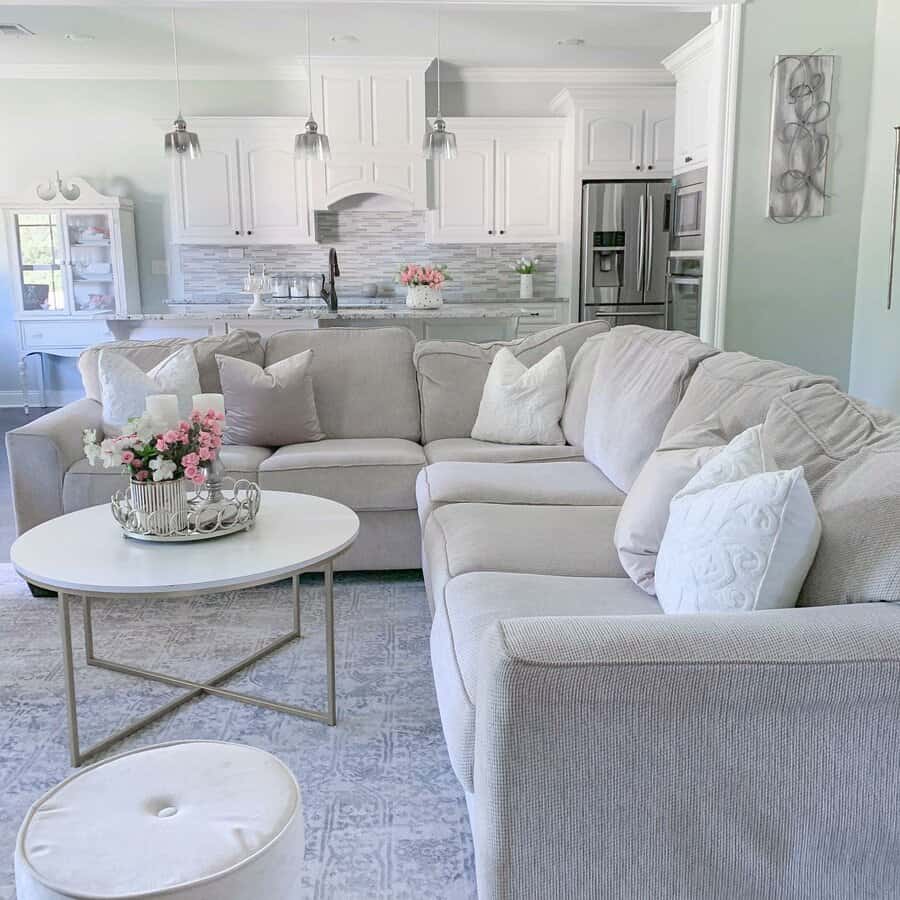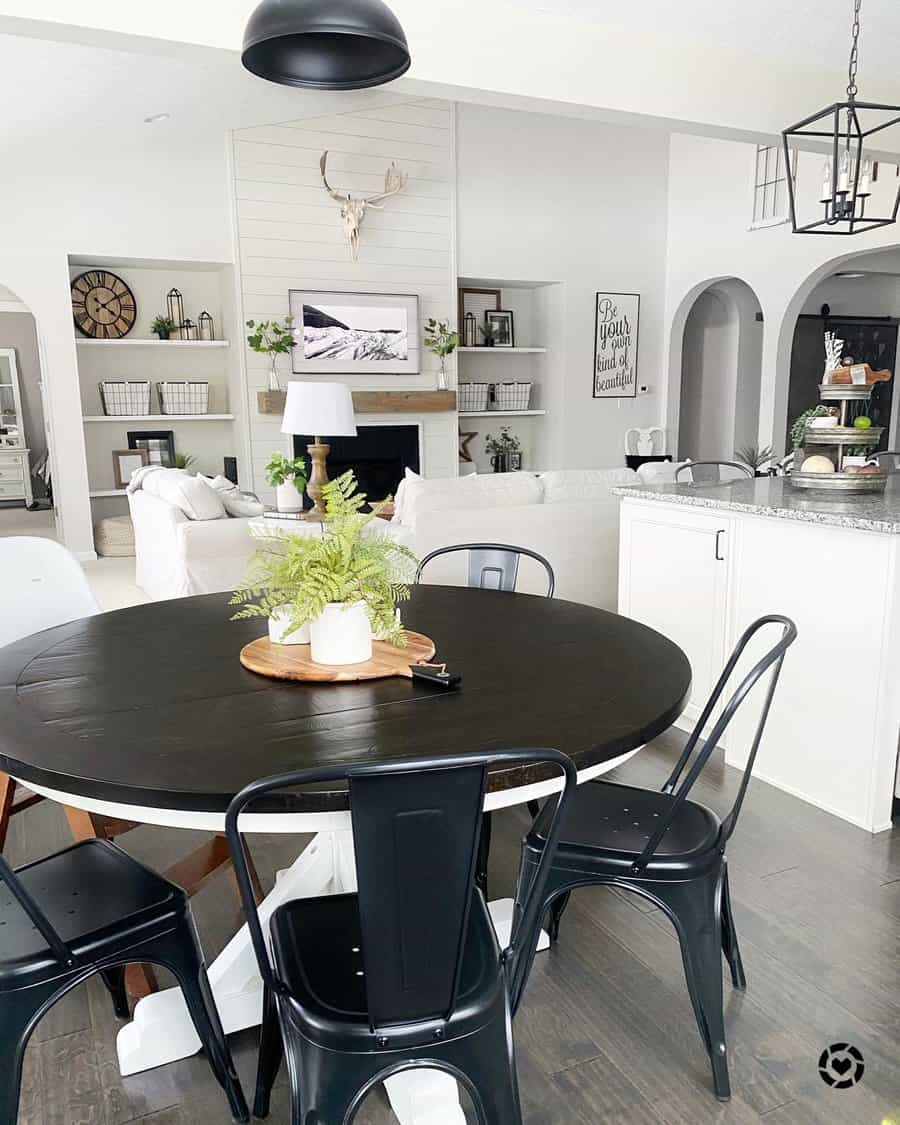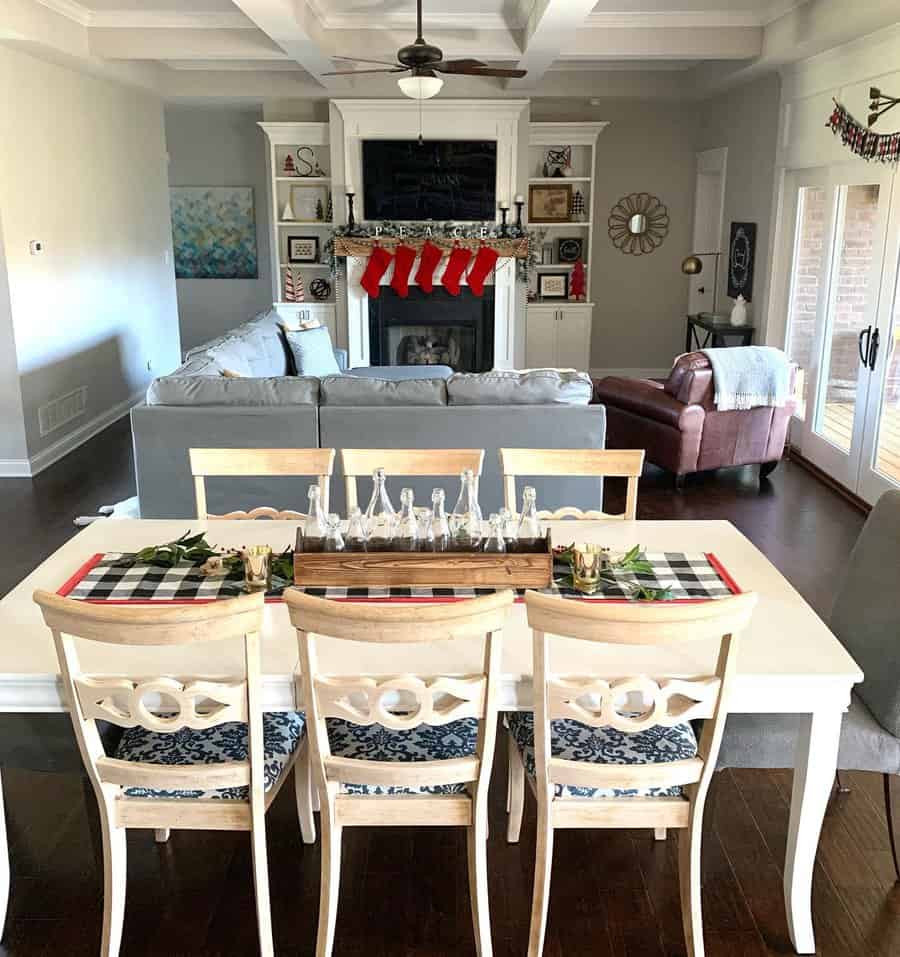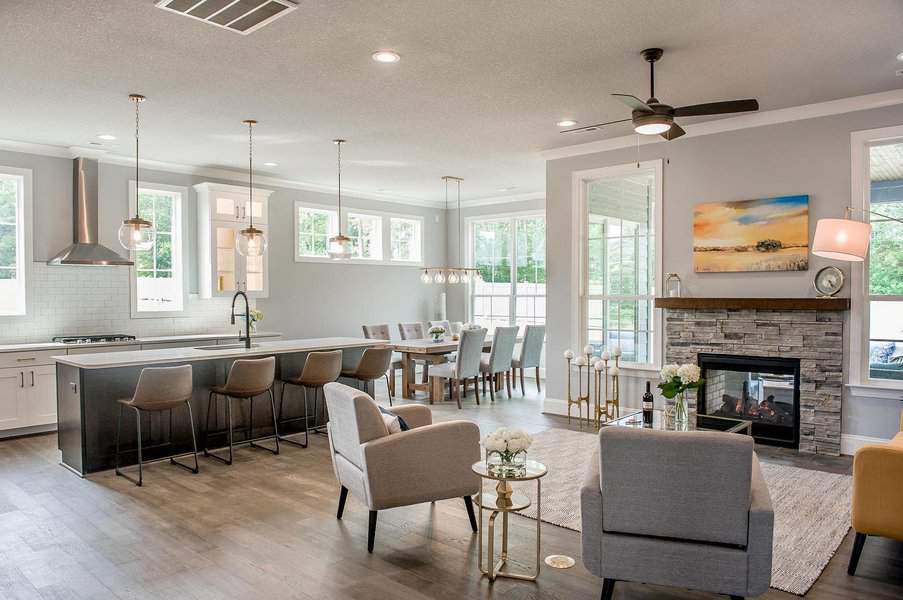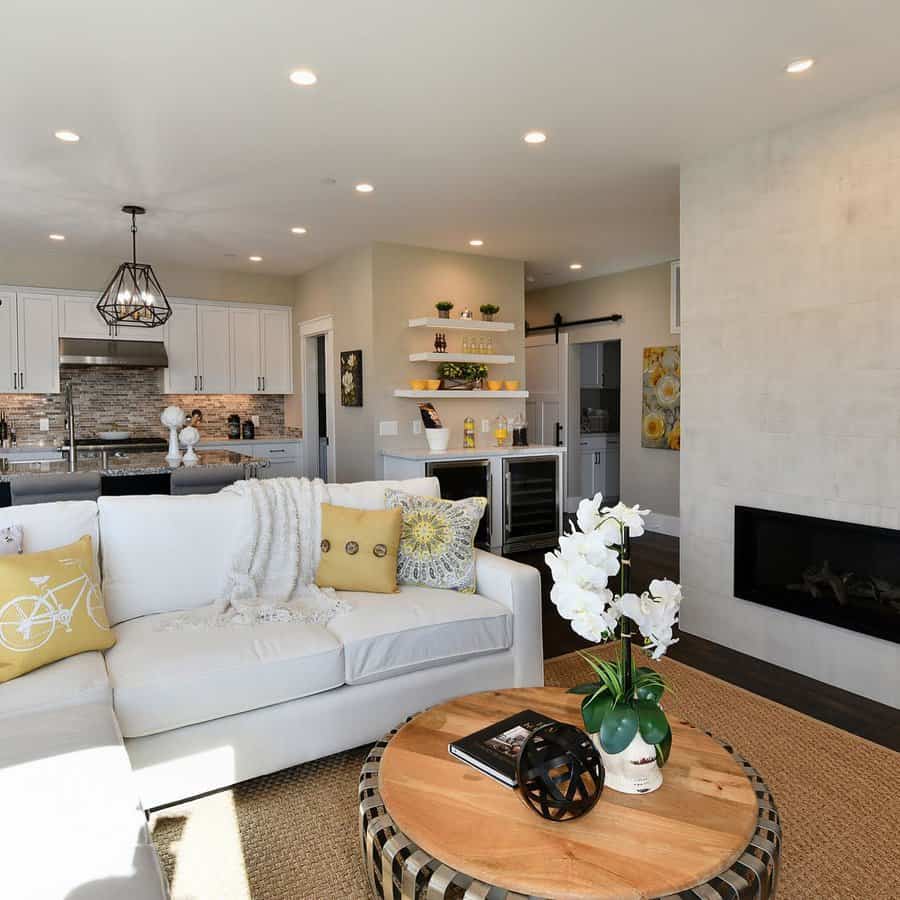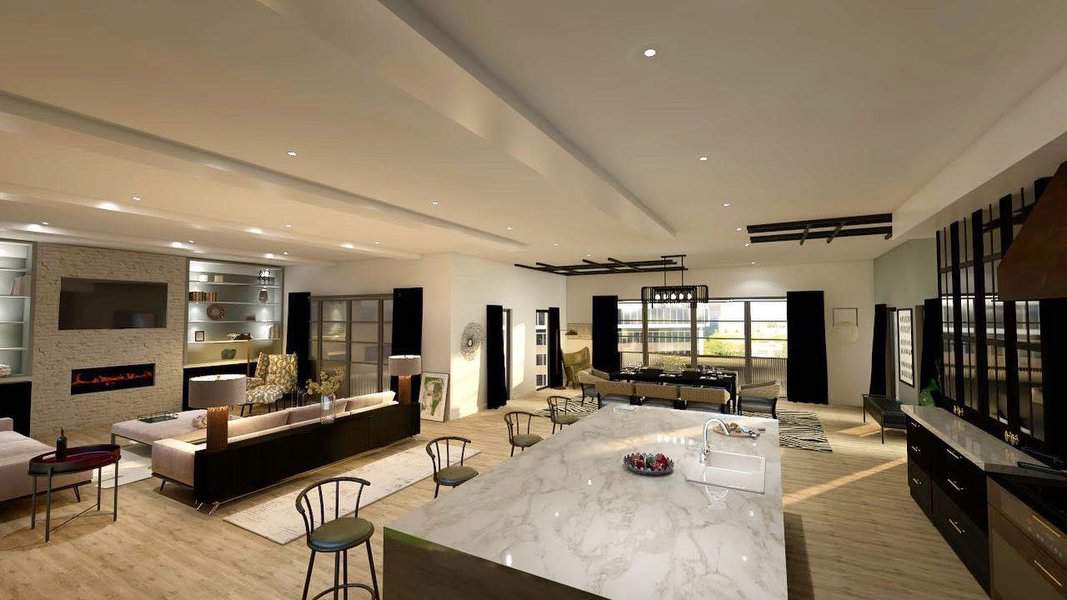 You can still break up the space without walls. Something as simple as the direction your sofa faces can differentiate the living area from your dining room. Area rugs can also trick the mind into seeing separate rooms when there are none.
Color scheme can be a limiting factor in open floor plan design. While the entire space should share a common palette, don't be afraid to add coordinating accent hues throughout.
4. Farmhouse
Farmhouse decor largely defined the past decade. And one strategy countless homeowners have used — and continue to use — to make their farmhouse-inspired homes feel more contemporary is to pair the trend with an open floor plan.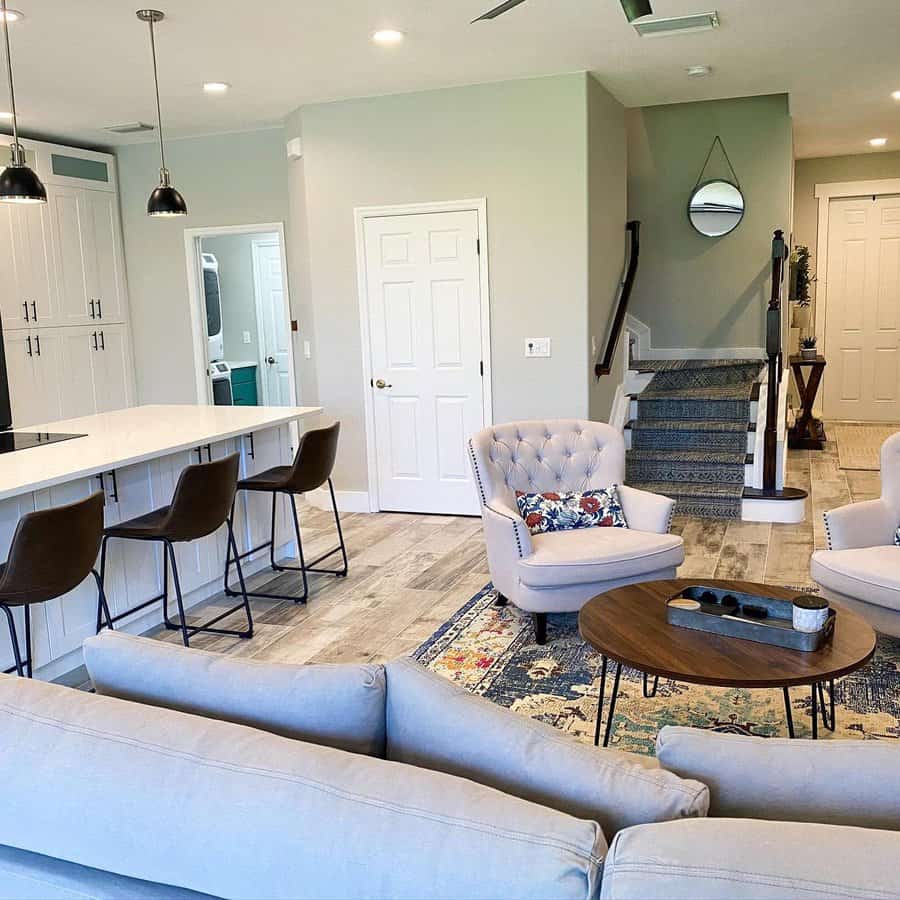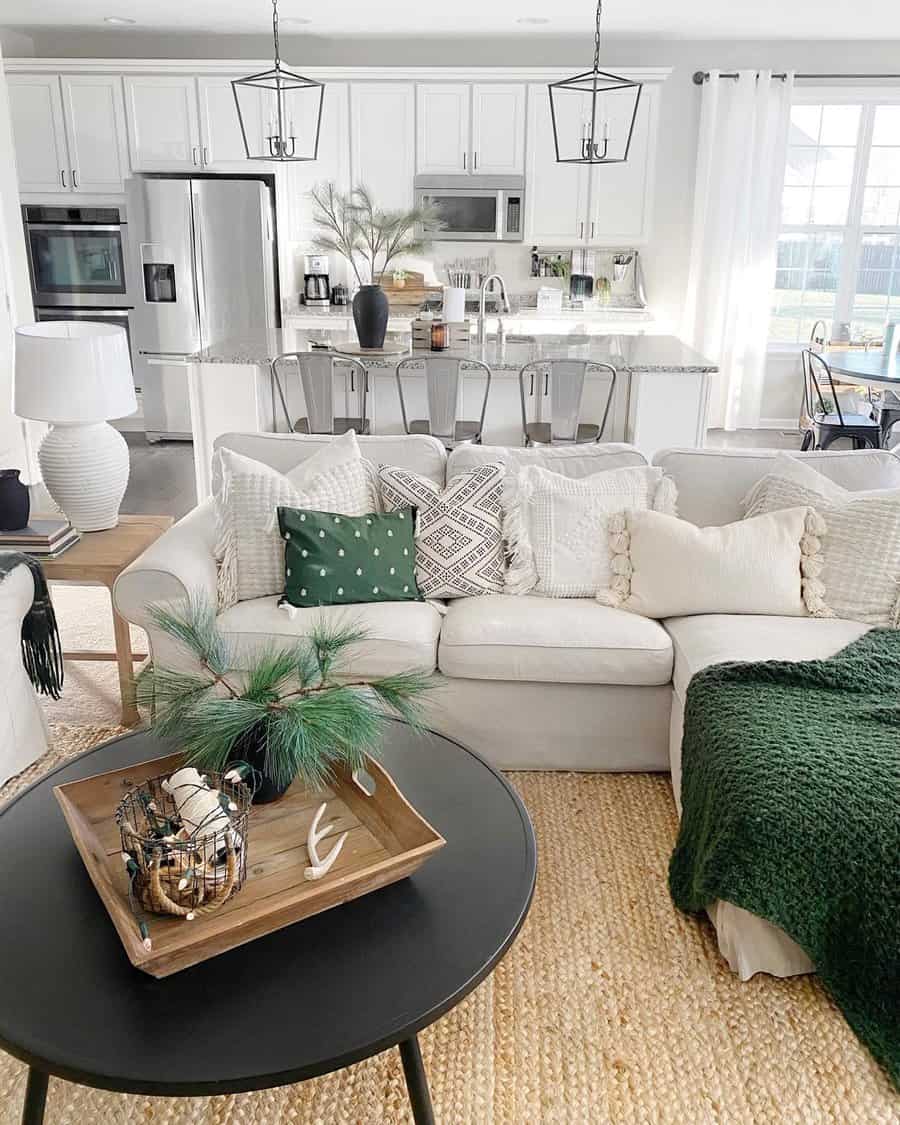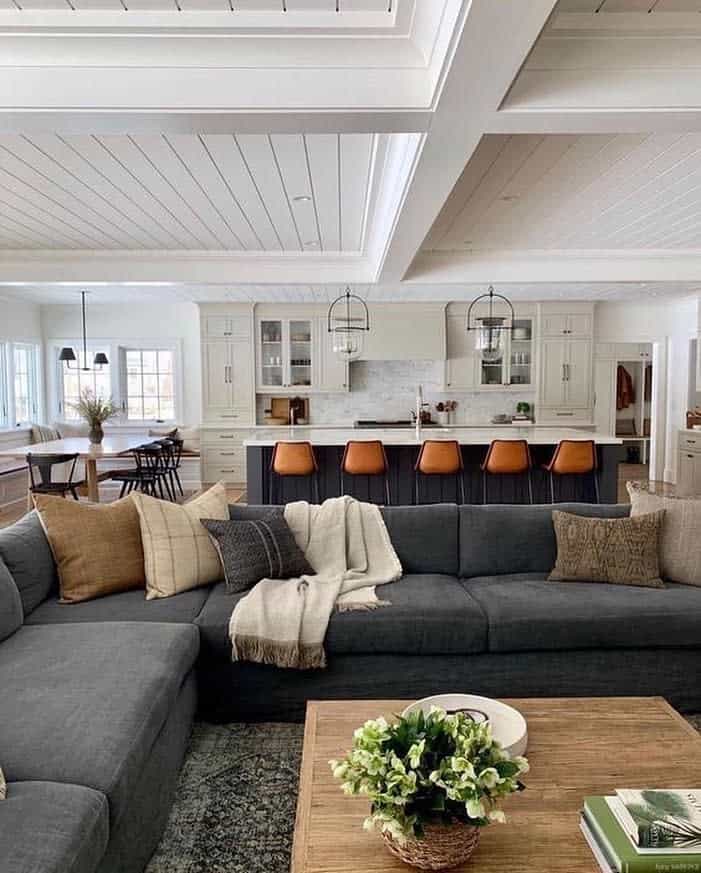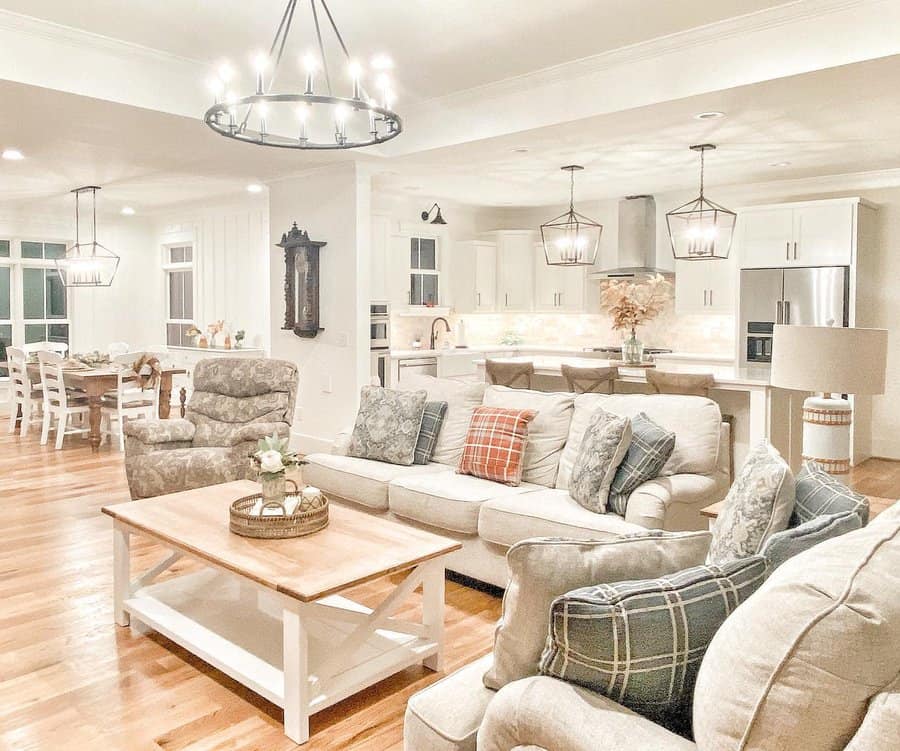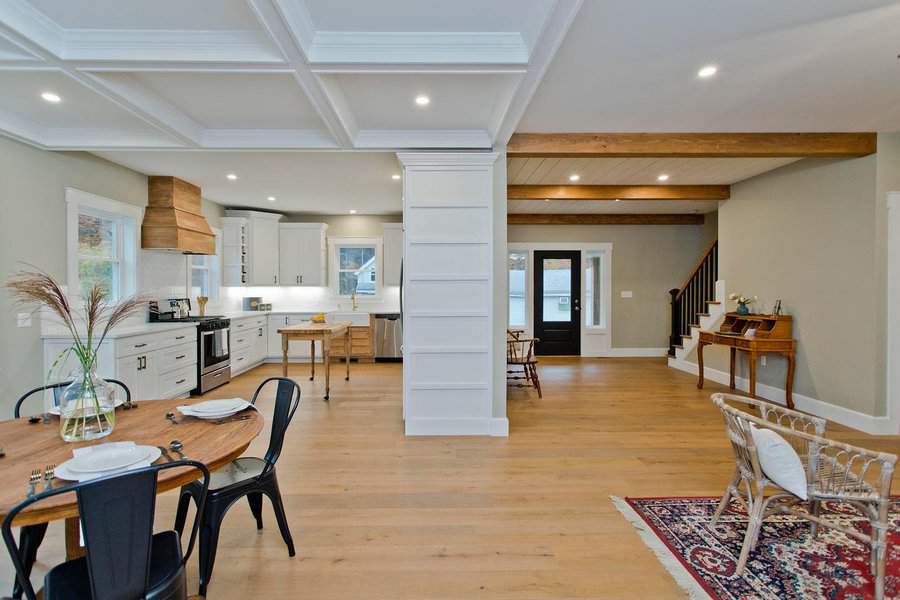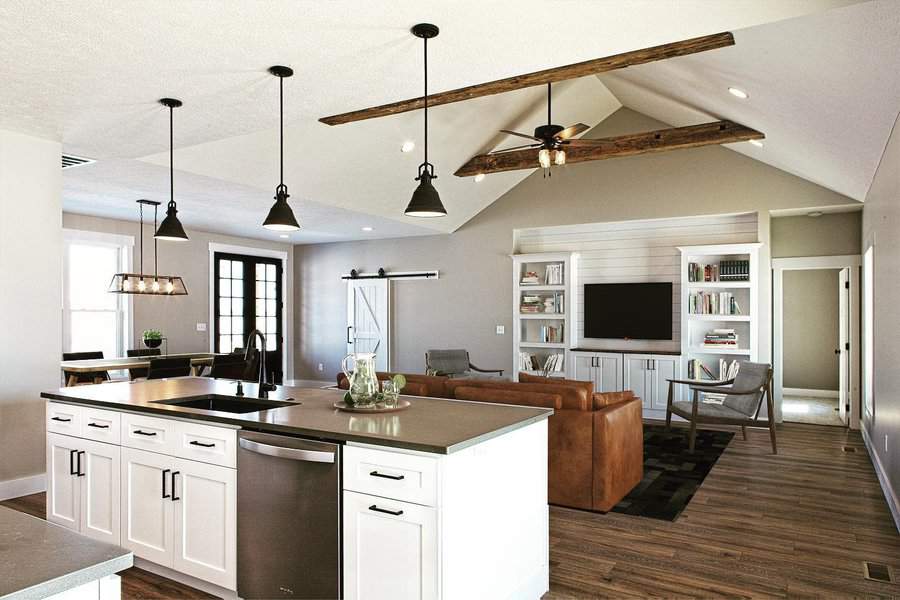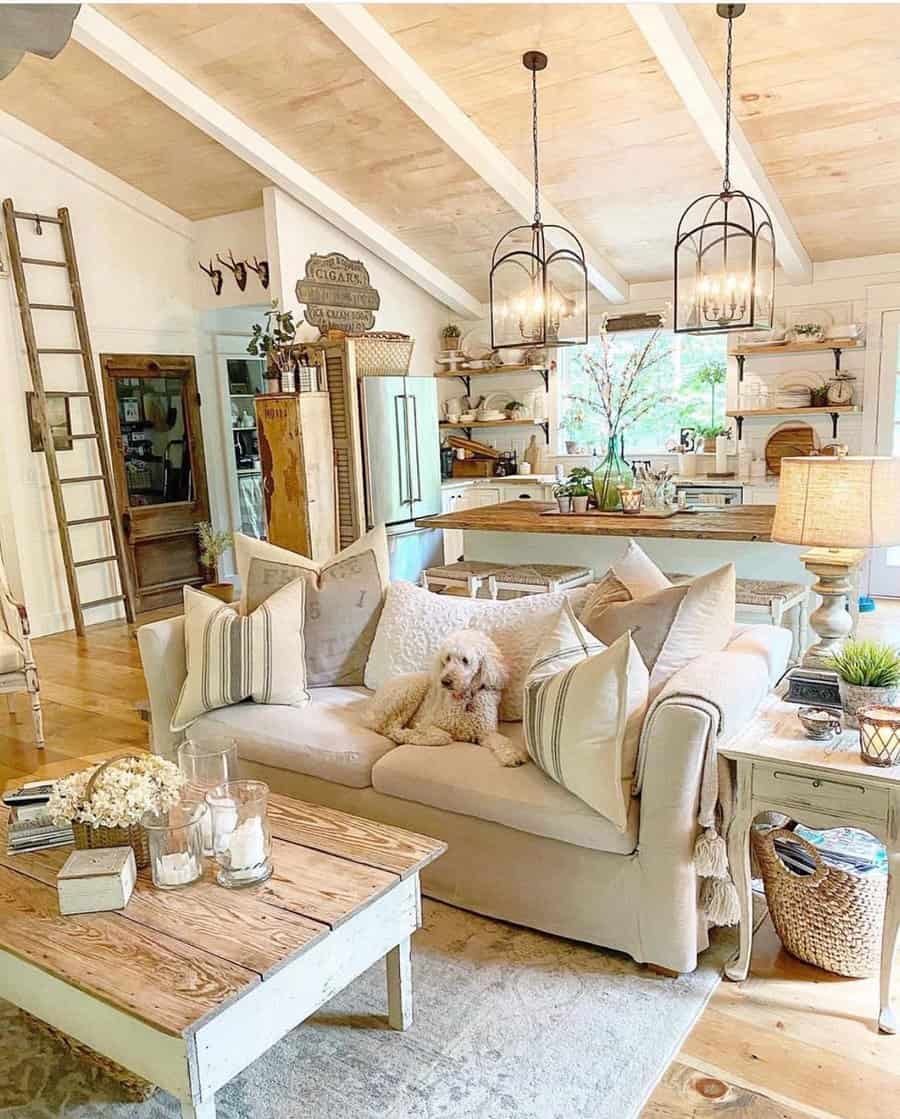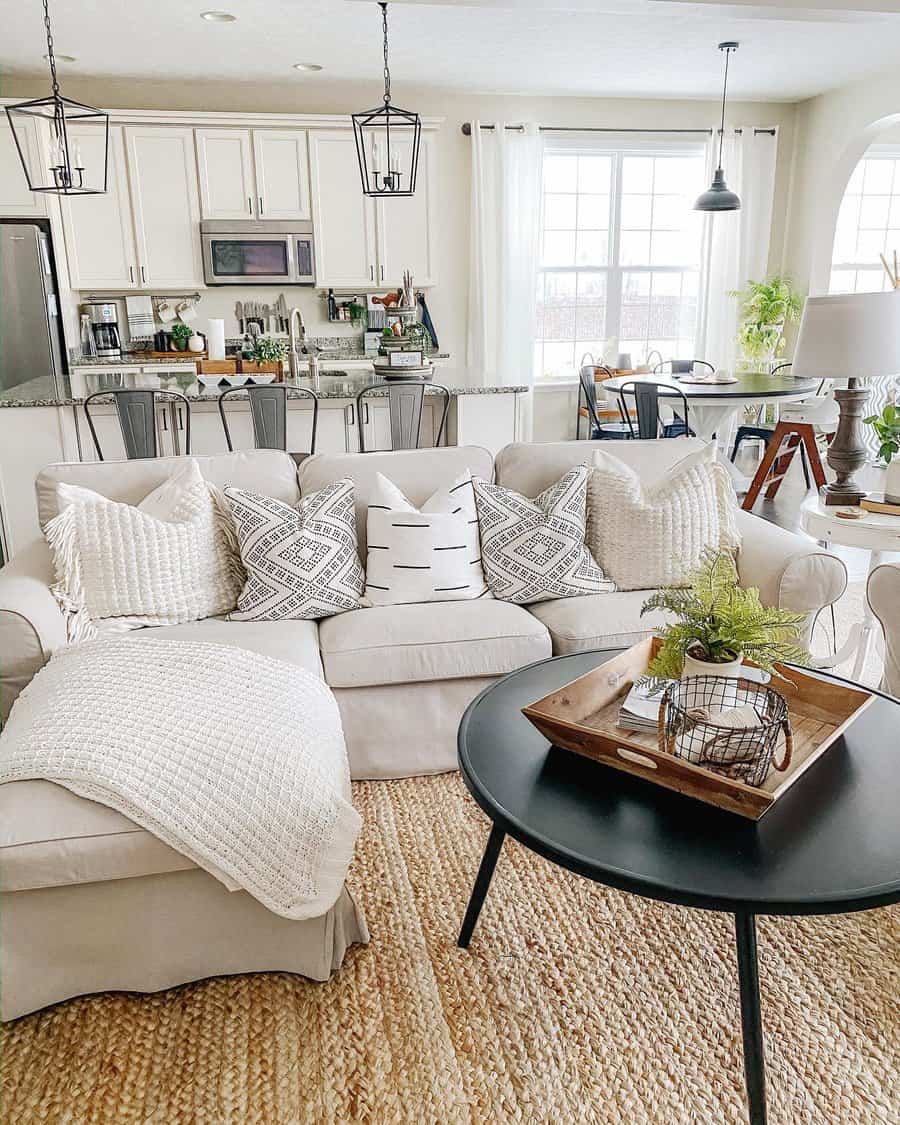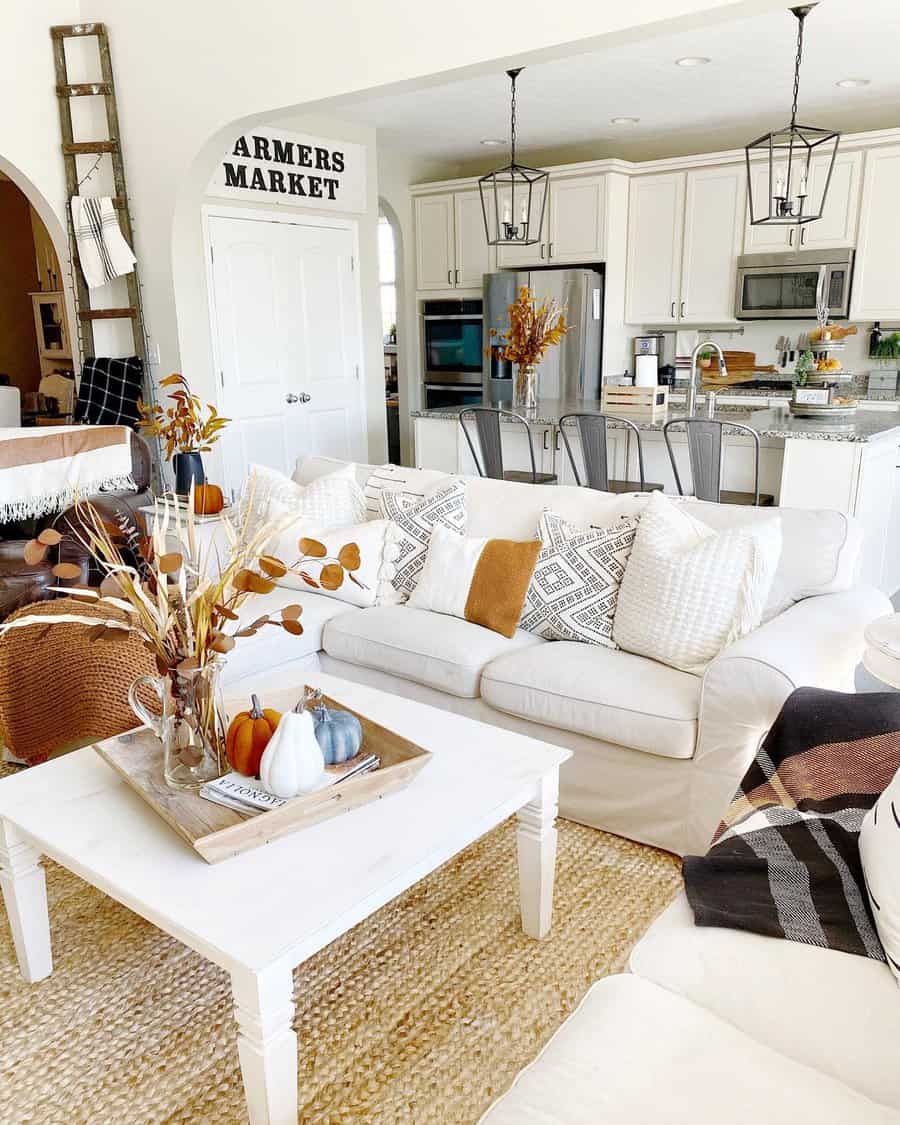 It might seem counterintuitive but farmhouse design often benefits from making the room feel smaller than it is. By starting with a wide-open space, you can achieve this look without sacrificing physical square footage.
Take advantage of all vertical space. Hanging light fixtures or exposed rafters are great options. A floor-to-ceiling fireplace surround can also help draw the eye up.
5. Furniture
Without the presence of interior walls, furniture arrangement is incredibly important. How you place your furniture throughout the space will define the space as a whole.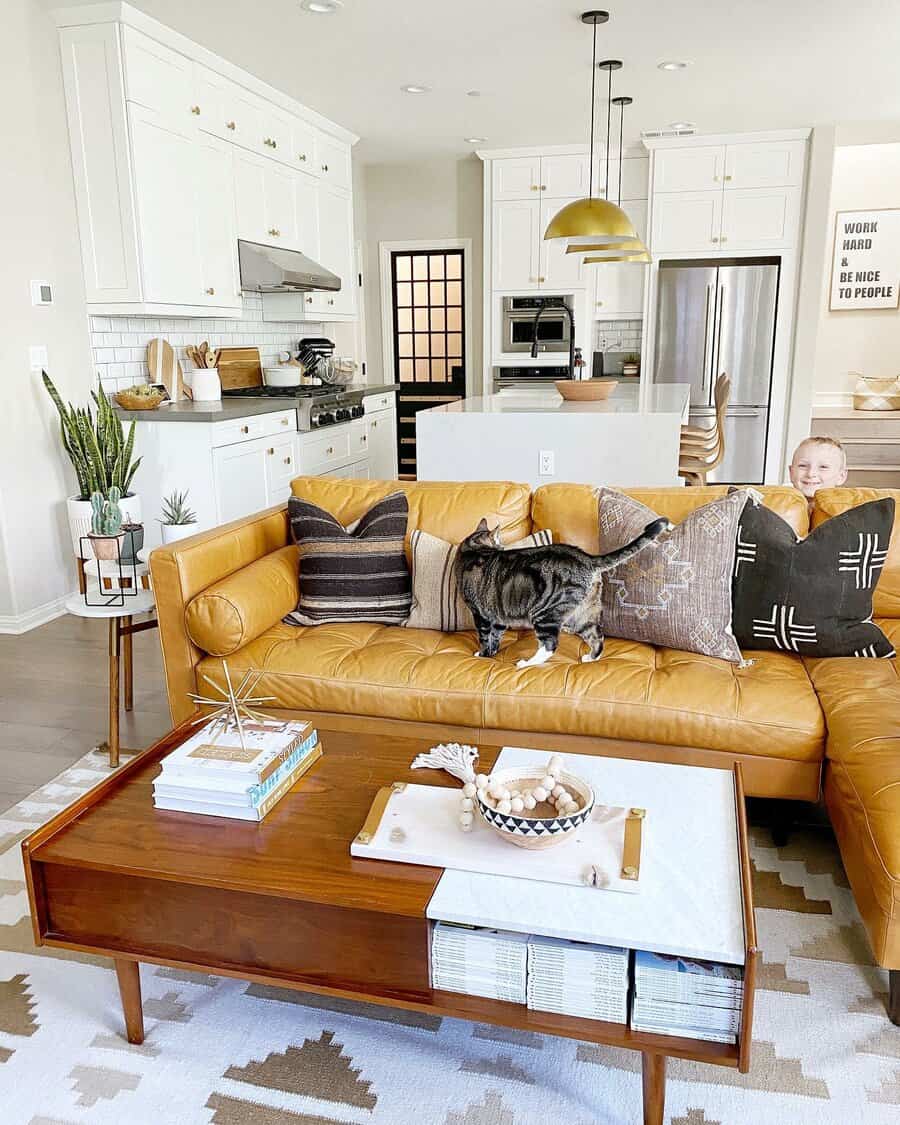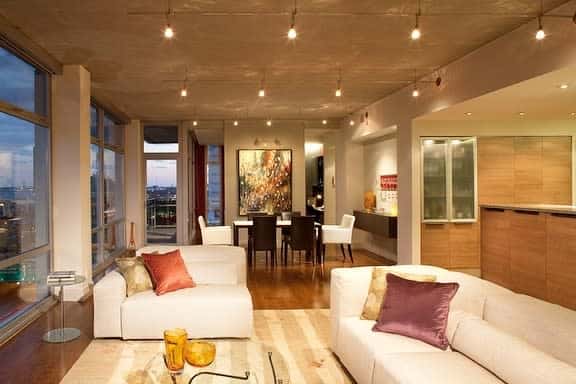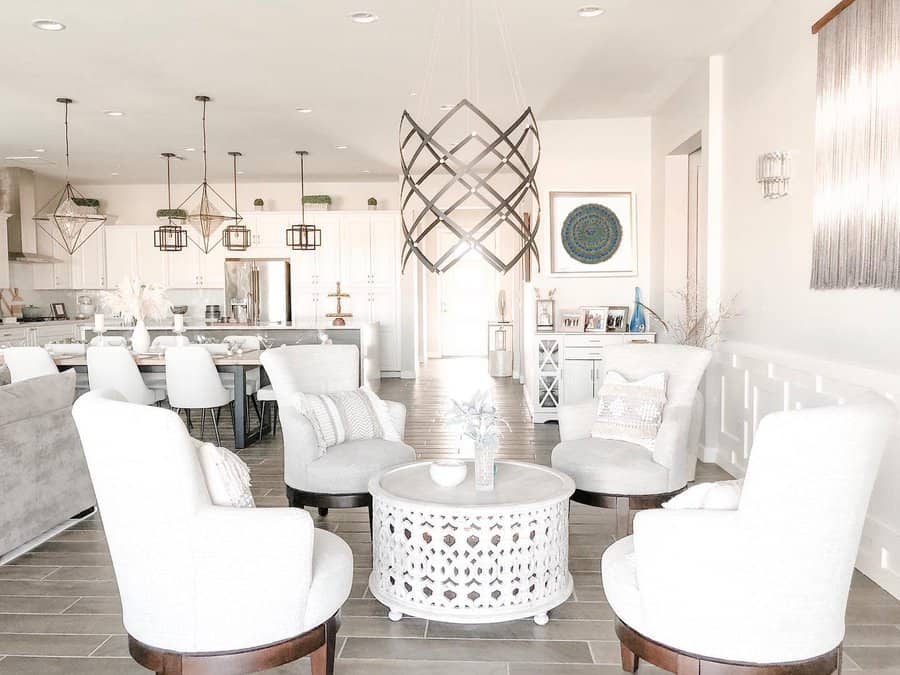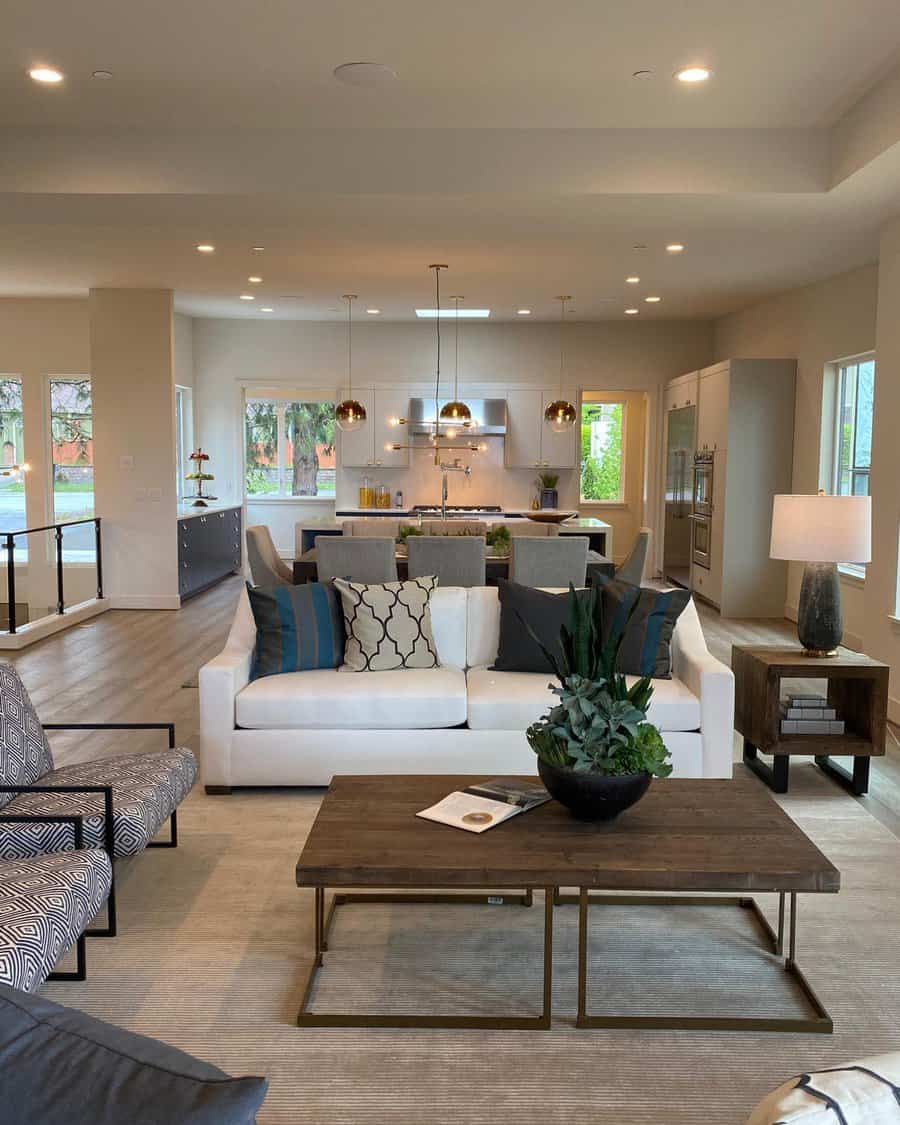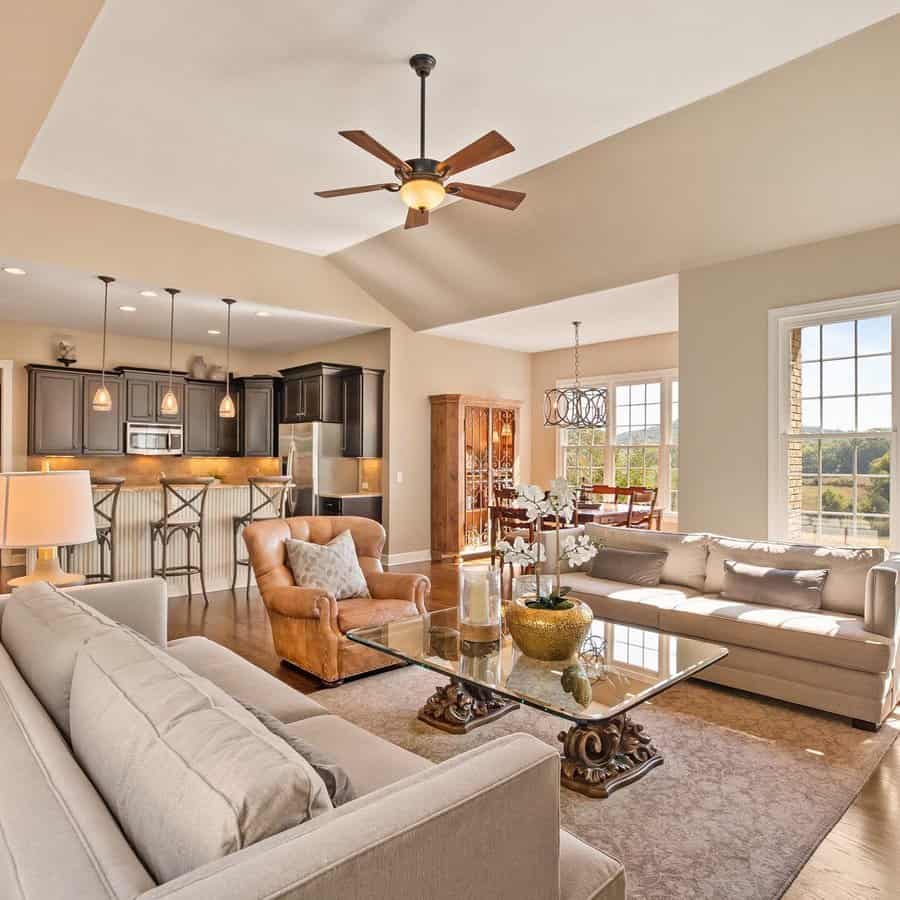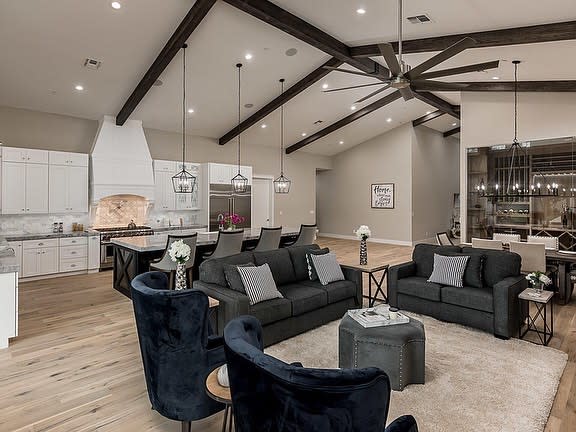 Most open-concept homes place the living room directly adjacent to the kitchen or dining area. Yet you should still face your sofa away from the kitchen to maintain some distinction between the two spaces.
If you're struggling to put together a plan, look for "anchor" furniture within each space to build around. Such pieces could include an entertainment center, coffee table, kitchen island, or dining table.
6. Lighting
Open-concept homes are popular in part because they are so bright and airy. But choosing the wrong lighting solution could leave your home feeling dim.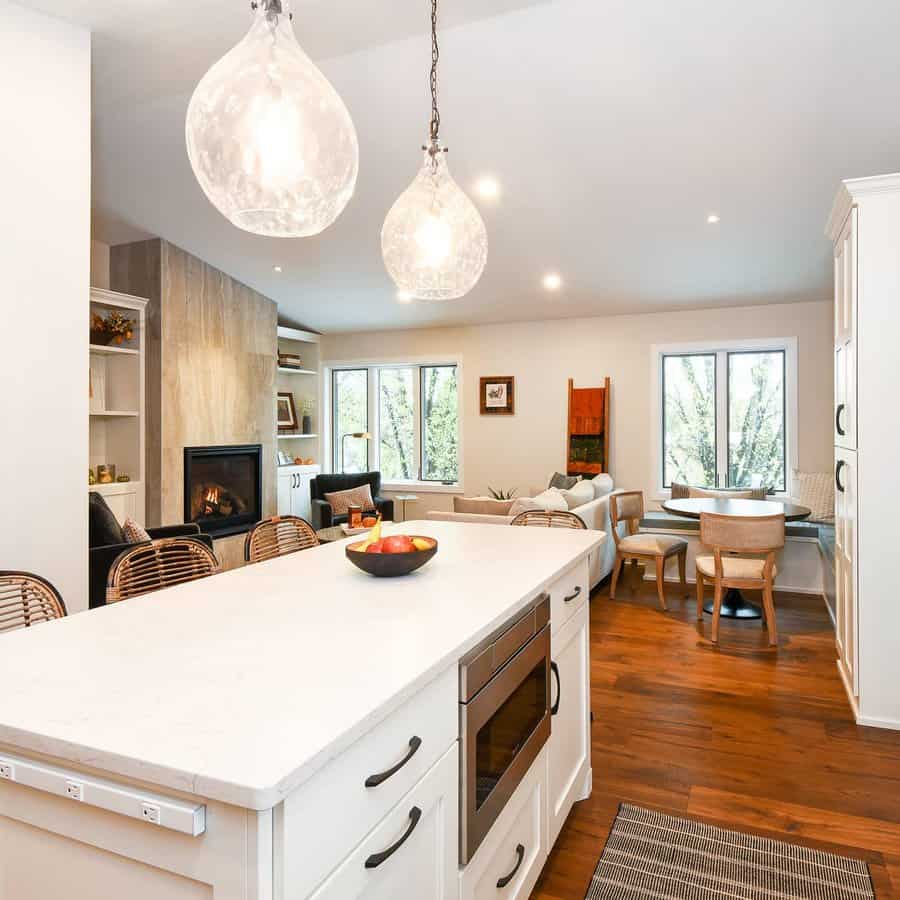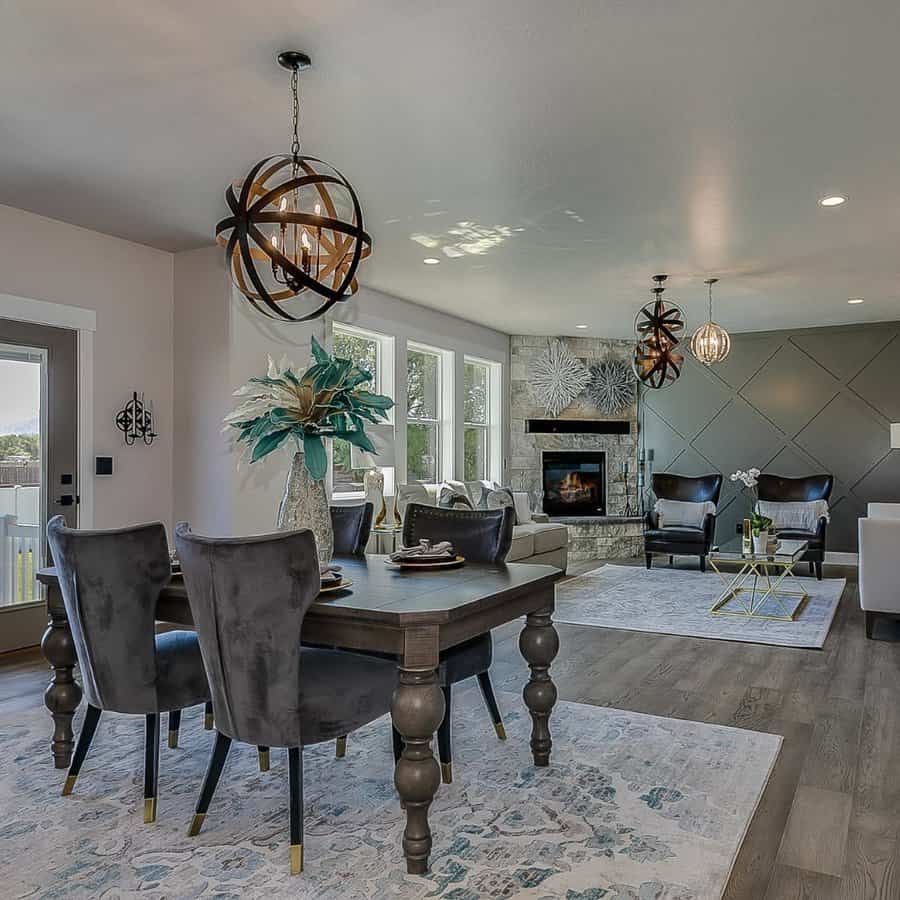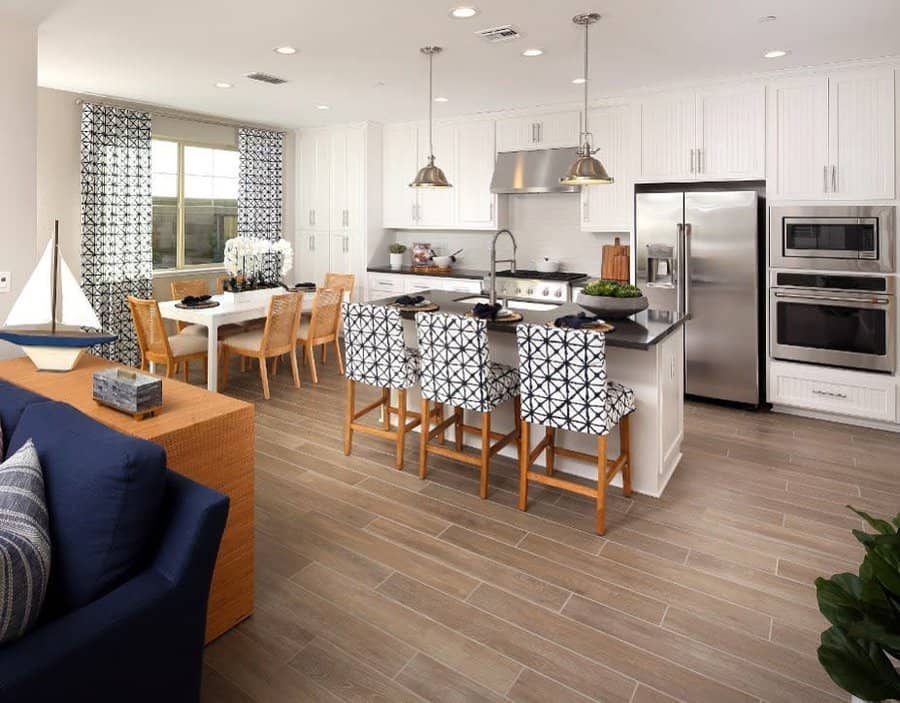 To light any large space, one fixture will rarely suffice. Select a single fixture to serve as the primary light source for each living area. Supplement the rest of the space with subtle recessed lighting or wall sconces.
You don't need to install the same lighting fixtures throughout your entire open floor plan. But each fixture should feature the same general style and finish. This will ensure the space looks cohesive without forcing you to use the same fixtures for your kitchen and family room.
7. Modern
The open floor plan was gaining popularity throughout much of the modern design era. It's common to see mid-century modern furniture or Scandinavian-inspired decor in an open-concept space.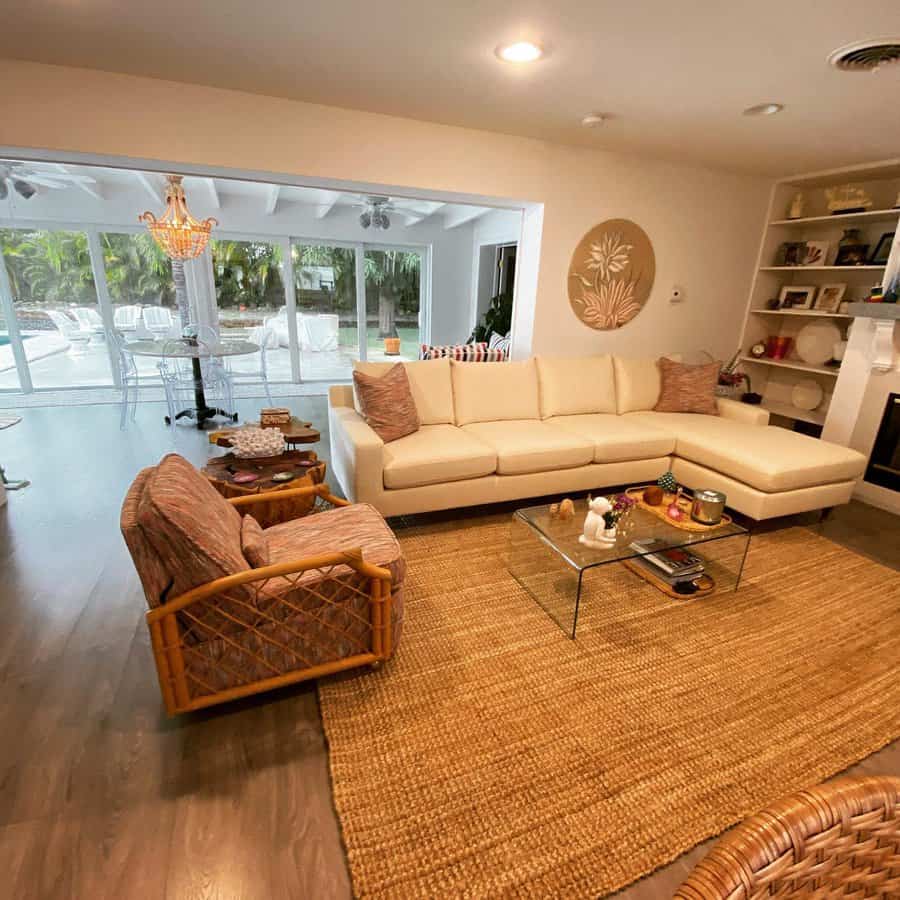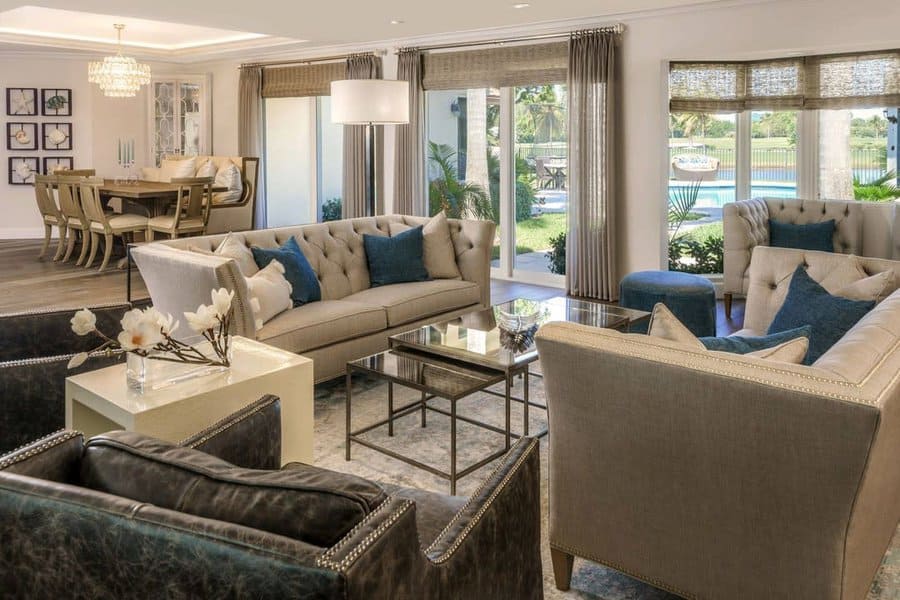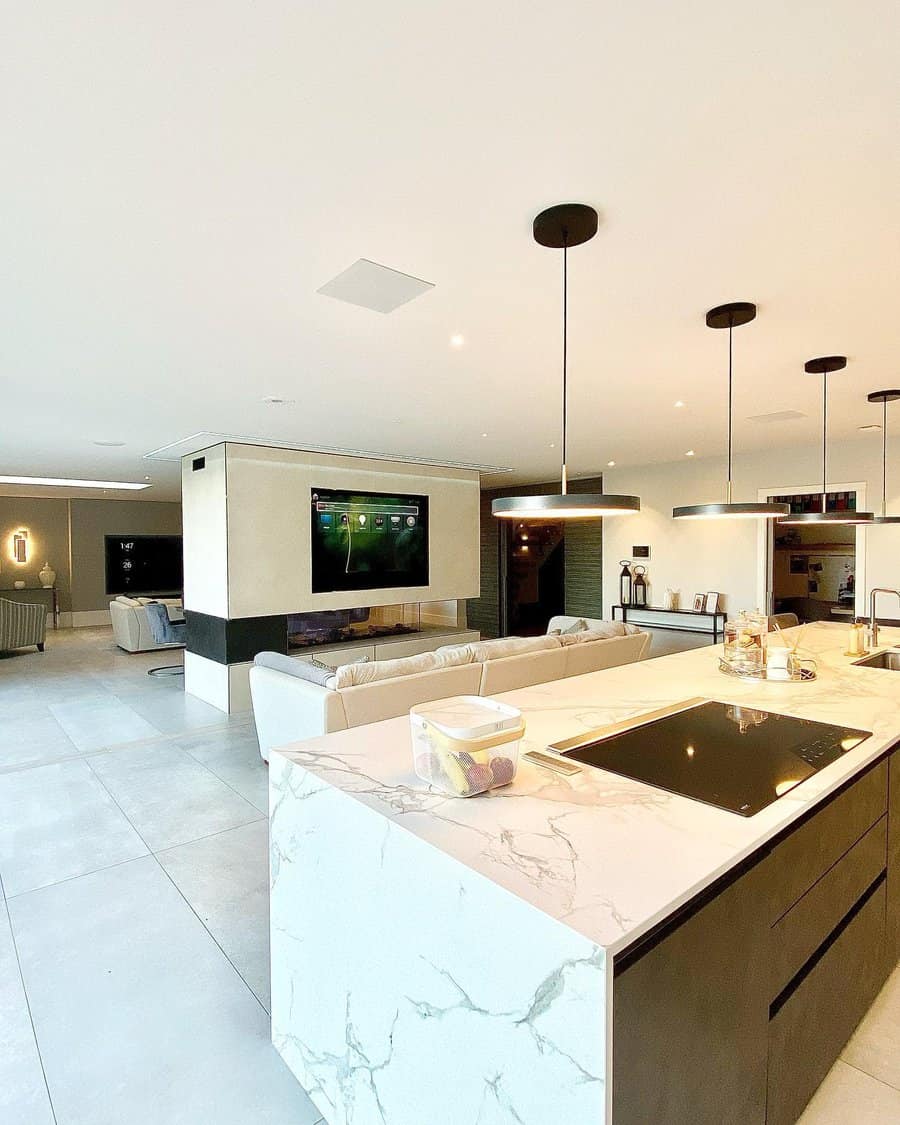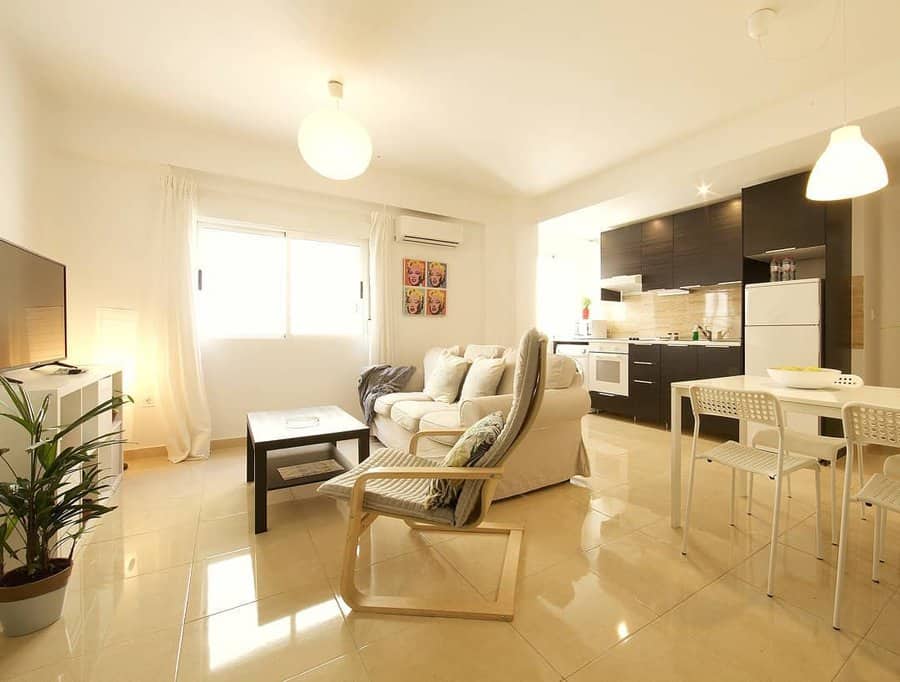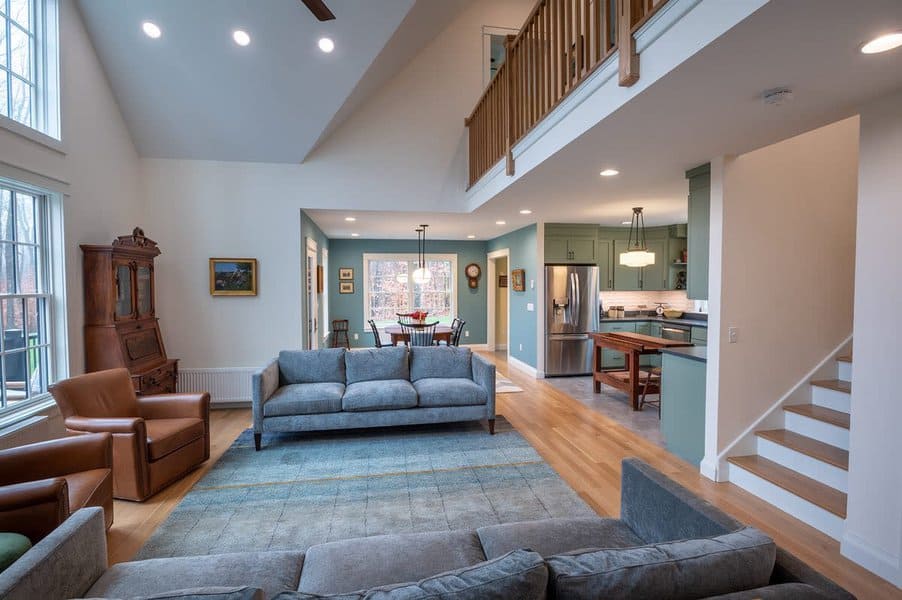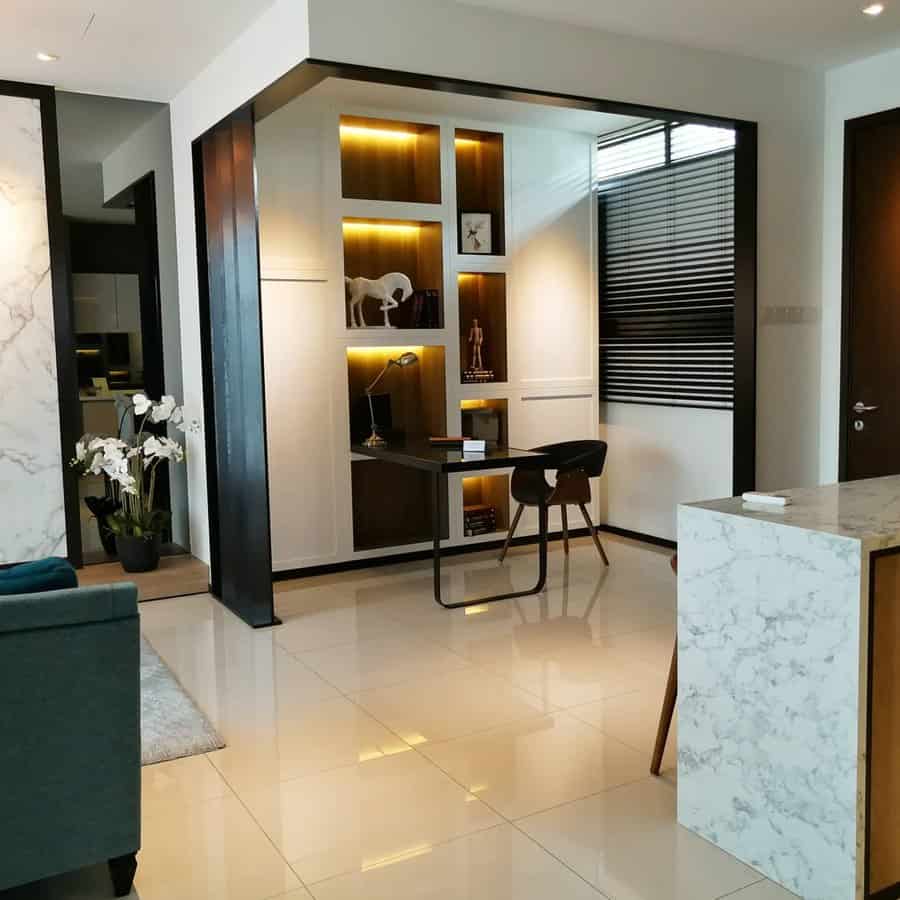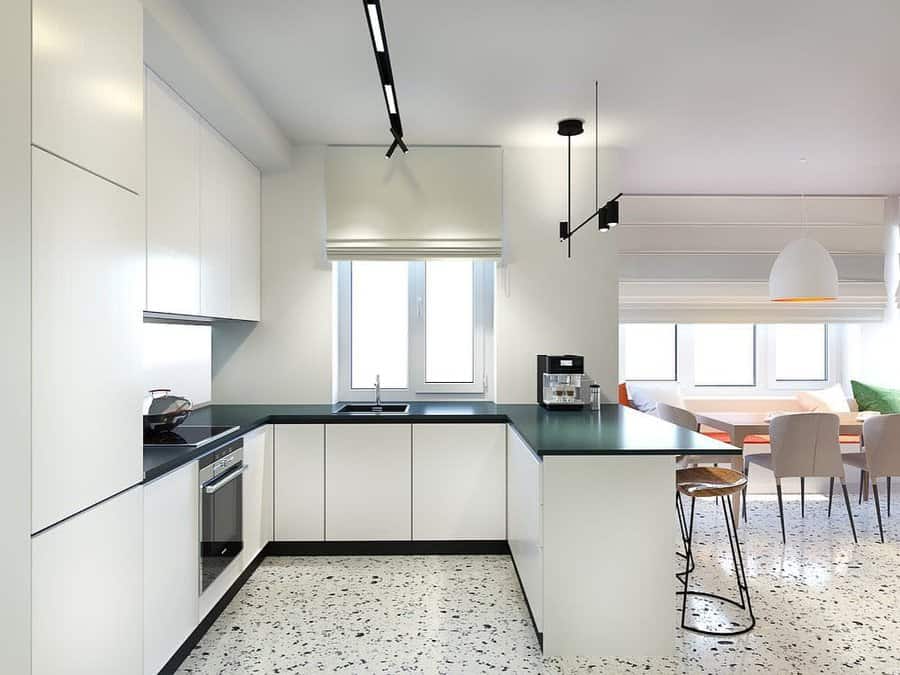 Because these elements fit together so well, much of the planning is already done for you! Select furniture that is proportional to the space as a whole. A sofa that is too large or a dining room table that is too small will stick out like sore thumbs.
Also, don't let all of that extra elbow room tempt you. Modern interior design is closely related to minimalism. Avoid filling the space with decor that adds nothing but visual (or physical) clutter. Everything should serve a purpose.
8. Rustic
Despite being outshone by the farmhouse trend in recent years, rustic interior design is a versatile style for any living space. It also pairs well with open-concept homes, as the materials used in rustic decor can make the average space feel cramped.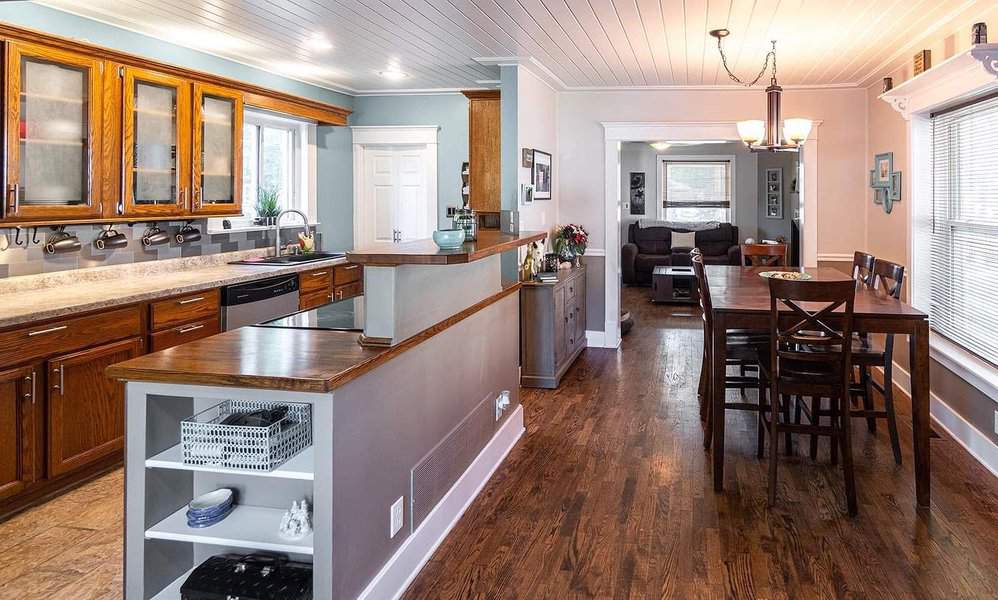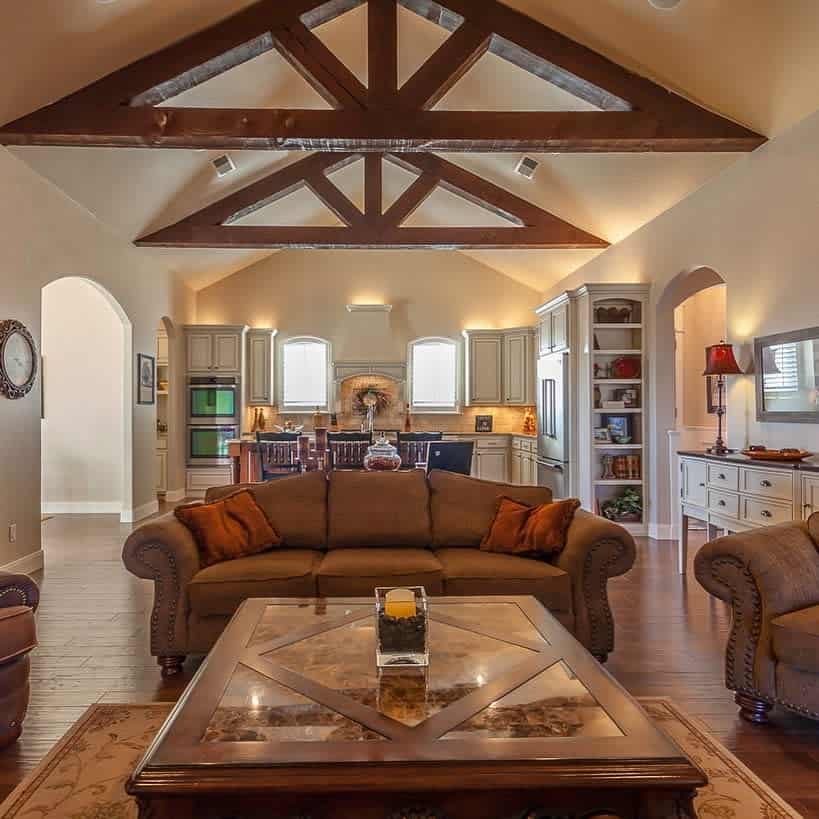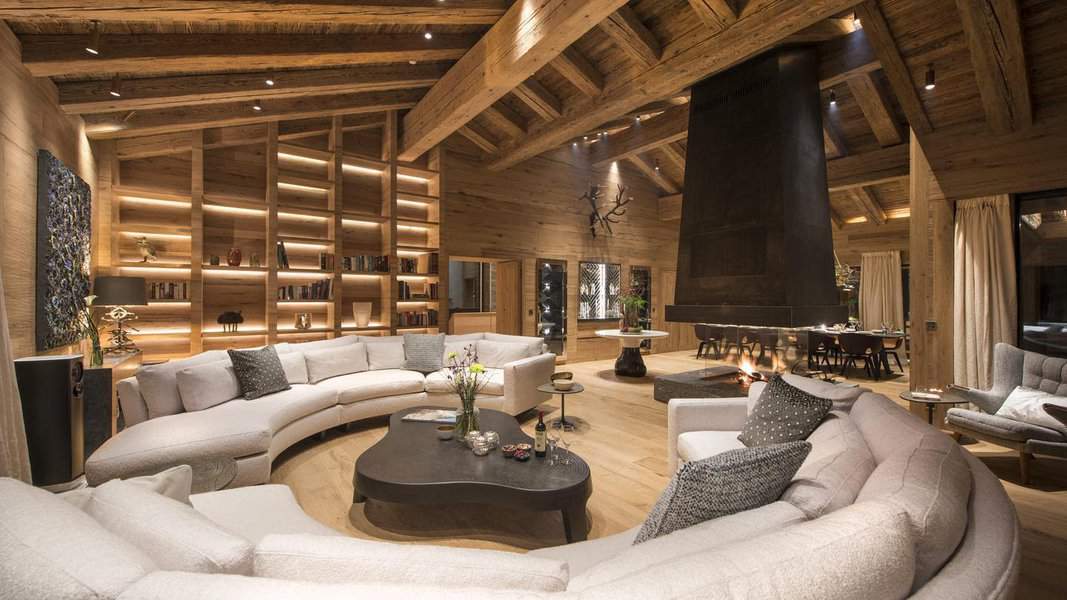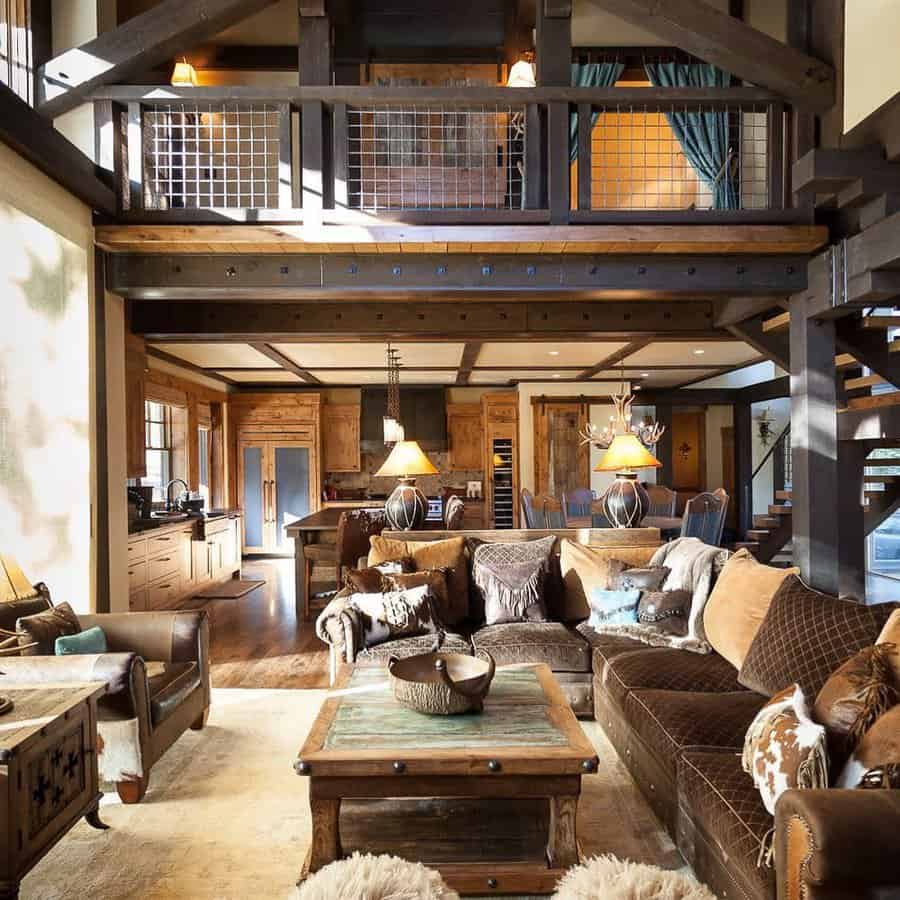 Many homeowners evoke a cabin aesthetic using taxidermy or live-edge wood furniture. Others turn to the French Country design movement for a more feminine aesthetic.
You can pull inspiration for your rustic living room or kitchen from a number of sources. But they all share common elements like neutral colors, natural materials (i.e., wood, fur, stone, and leather), and a warm atmosphere.
9. Wood
While open-concept homes offer plenty of benefits, there are some inherent challenges to designing such a vast space. If you find yourself struggling to breathe warmth into your open floor plan, you're certainly not alone.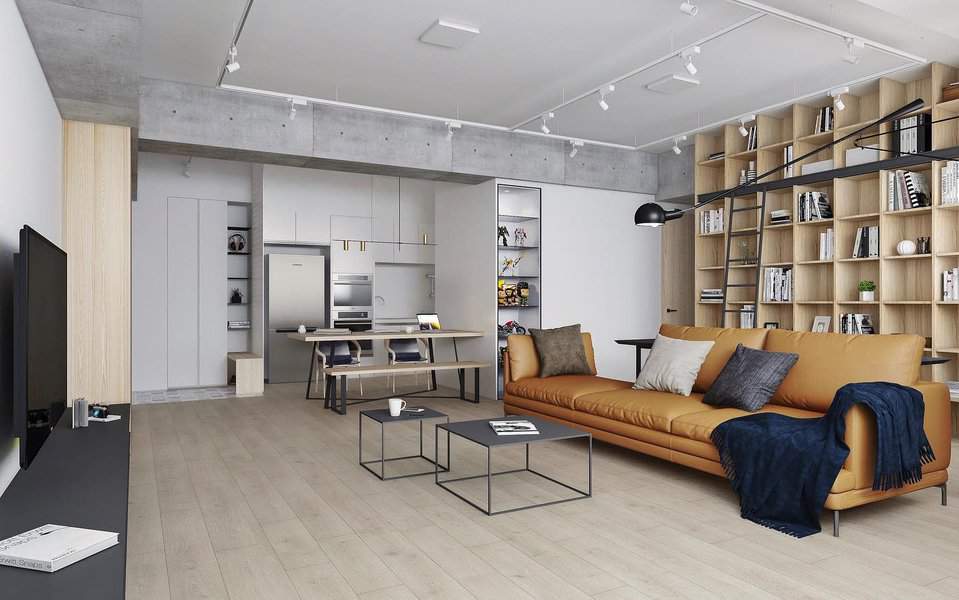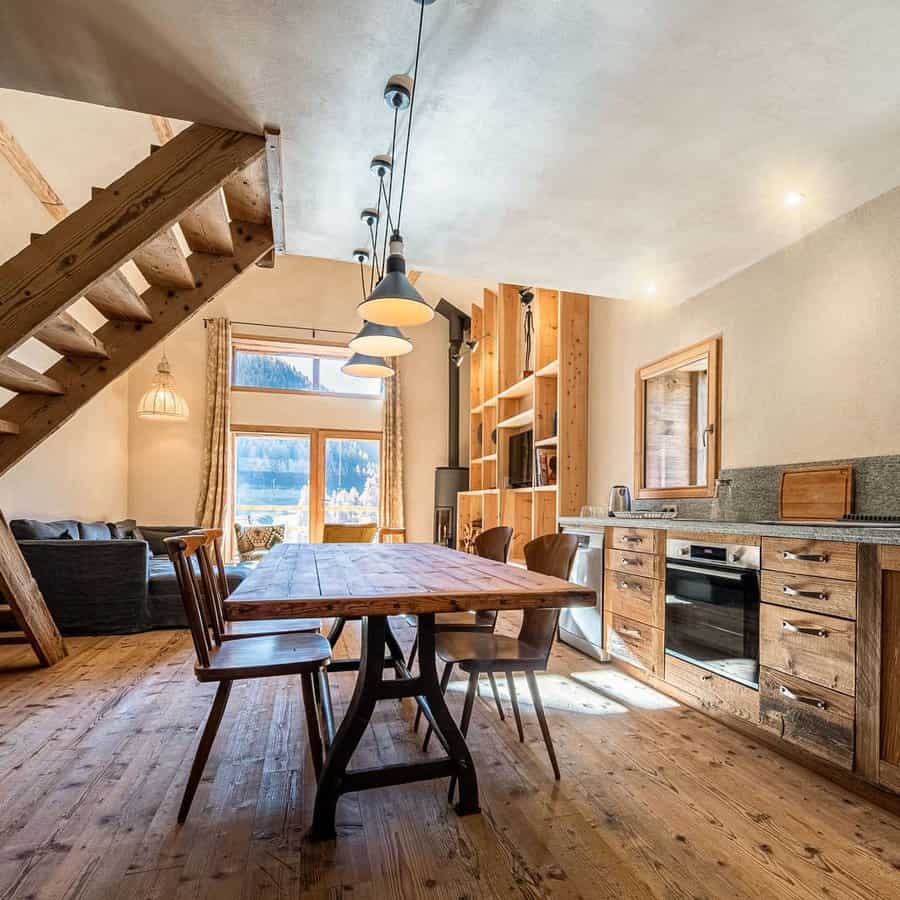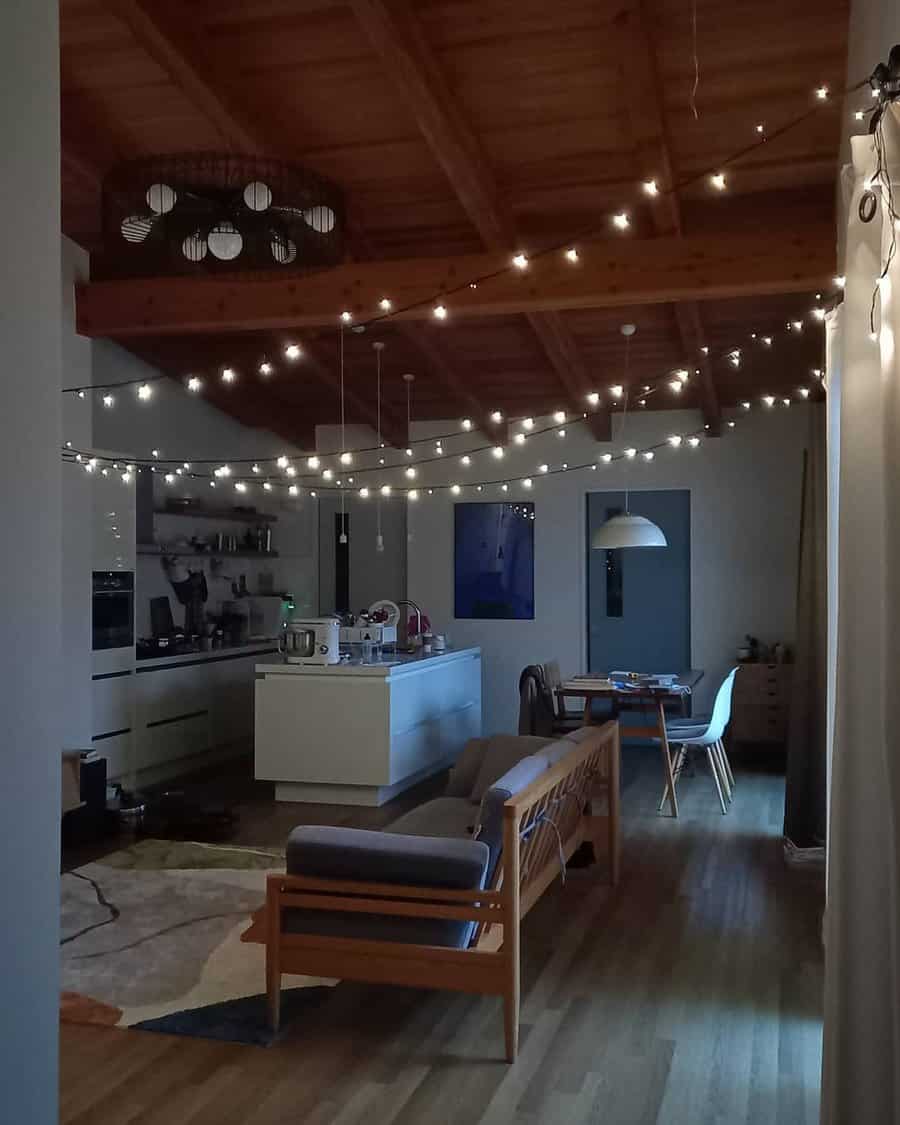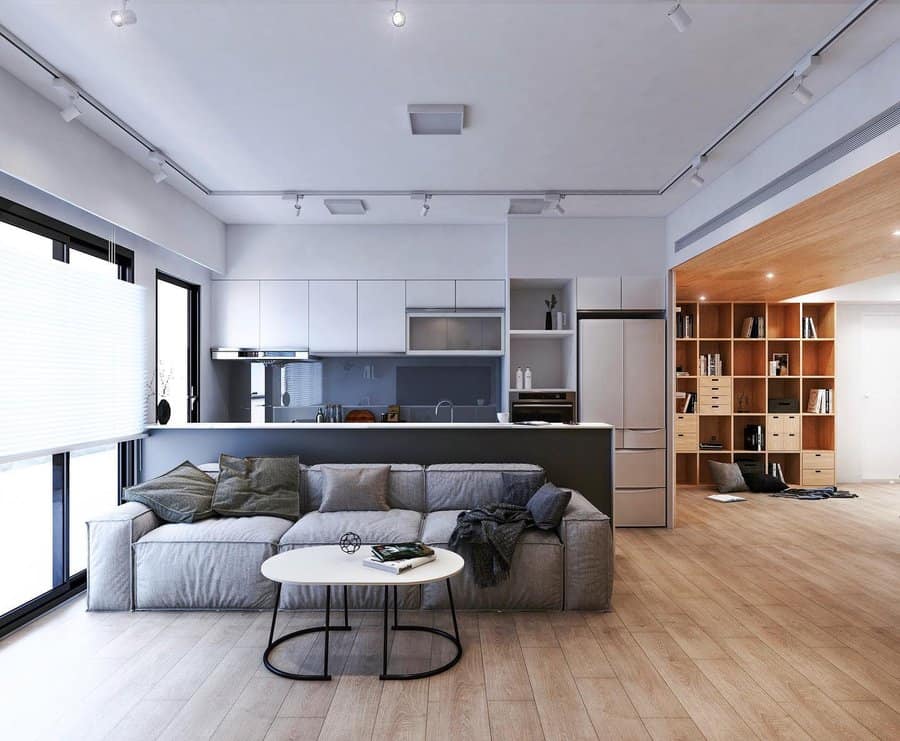 Wooden elements like built-in furniture, support beams, hardwood flooring, rafters, and wall trim are all excellent additions to a large open space. They can even be used strategically to visually break up your floor plan without physical walls.
For a clean appearance, avoid using a variety of wood finishes in your home design. This can be a challenge when it comes to matching furniture pieces to existing wood elements in your home — select a finish that is easy to replicate.
Open Floor Plan FAQs
Are open floor plans out of style?
It's true that, after almost a century of immense popularity, open-concept floor plans are falling out of favor. That doesn't mean these home layouts are dated or going out of style. But it does mean new builds with open-concept spaces will be slightly less common.
Regardless, you shouldn't choose a floor plan style for its popularity. Your personal preferences, lifestyle, and household needs are what matter most.
Can any home be converted into an open-concept space?
Yes, to an extent. Removing interior walls can open up a home originally designed with a closed floor plan. However, you'll need to work around support walls that can't be safely removed.
Work with a skilled remodeler to ensure your home retains its beauty, value, and structural integrity. If your home is older, it's also important to check its historical status before making any major changes.