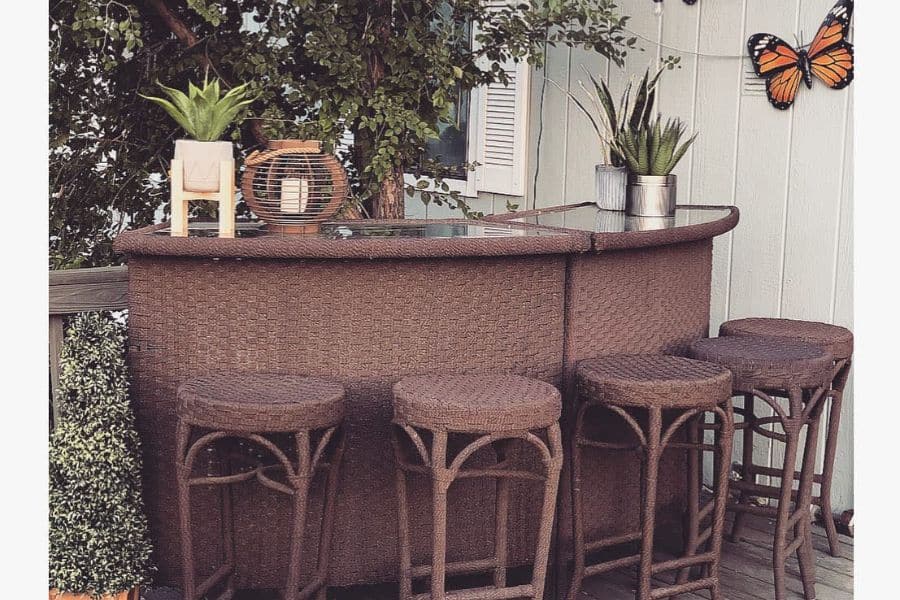 The Top 38 Outdoor Bar Ideas
The weather is beautiful outside, and you'd love to host an event in your backyard. The only problem is that you have nowhere to serve people. This leaves everyone heading inside every time they need another drink. This is just annoying for everyone. What you need is a backyard bar.
These outdoor bar ideas will help you create your own outdoor living space to entertain. It could be a separate building located in your shed. Or you could have an ornate stone bar with a fireplace and an outdoor living room.
1. Brick or Stone
Help your outdoor space blend into the surrounding nature by using brick or stone to build your bar. Natural stone gives your bar a rustic feel. Choose larger stones that are irregular for a country and rustic feel.
Stones that are smaller and uniform in shape create a stacked look. This elevates the look of the stone for a classier feel.
Build out your stone bar by creating an entire outdoor living space. Adding a fire pit gives you and your company a place to sit and gather. You can build the fire pit out of stones so that everything blends together.
Don't forget about the color of your stone. Bricks and stone come in a wide range of colors, from natural greys and browns to bold red and orange.
2. DIY
You can build your DIY bar out of almost anything. It just needs to be durable enough to withstand the weather, climate, and elements. Perhaps you find a beautiful reclaimed old door that you can use for the front of your bar.
Or you could use curated metal for an industrial look. An old window frame with glass can create a stunning visual effect with bottles lined up behind the glass and LED lights.
Look at DIY outdoor bar ideas to get an idea of what is possible. You can keep it simple by combing whole pallets. Or you can go completely custom with a unique design and shape, glass panes, and LED accent lights.
3. Luxury
If you enjoy hosting elegant get-togethers, then you need a luxurious bar to host them at. Just because you're in your own backyard doesn't mean it has to be rustic or low-key. The simplest addition is a rolling bar cart. You can choose one with glass shelves and an ornate metal frame. This lets you bring it inside when you're not using it and roll it outside when hosting.
If you want to build a permanent luxury bar, use more expensive materials that you would find in a high-class lounge. You could have a marble or granite countertop. Decorate your outdoor bar area with expensive decor pieces, like wine barrels or a crystal chandelier.
4. Mancave
Turn your backyard into the ultimate hang-out spot by creating a man cave. Start with patio or deck space. Then build it out to include a grill or even an outdoor kitchen. This gives you a place for rustling up some snacks to go with your drinking. Then build the outdoor bar with plenty of casual seating.
Plan the placement of your backyard bar and seating to make sense with the other features. It could center around a fireplace or be the perfect spot for watching a game on TV. Then look for durable materials that make maintaining your bar easy.
Stainless steel for the countertops is good because it's easy to sanitize and is corrosion resistant.
Read also: 48 Garage Man Cave Ideas
5. Mobile
When you use your backyard for multiple purposes, building a permanent bar structure may not be practical. That's when you need a mobile bar cart. Bring the serving cart out while you're entertaining and roll it away when you don't.
You could outfit it with everything you need. That way, you could host guests with drinks at a moment's notice. Add a bottle opener, shaker, measuring glass, and ice bucket.
If you don't plan to keep your bar cart outside all of the time, you have more freedom in the type of cart that you choose. Perhaps yours has glass shelves that are more delicate. Or it could have an ornate frame that would easily get dirty if not kept inside.
6. Patio
If you already have a patio on the backside of your house, then this is the perfect place for building your outdoor bar. Now you have a patio bar that's ready for entertaining. The close proximity to your home makes it easy to bring supplies out and in from the house. The hard patio flooring makes it easier and safer to stand and walk around.
Turn your patio bar into more of an outdoor lounge. Add string lighting overhead. Arrange loveseats and sofas with coffee tables and side tables. Spread an area rug on the floor to visually tie everything together. Add a few potted plants around the perimeter to create a sense of privacy.
Read also: 57 Cheap Patio Ideas
7. Rustic
An outdoor pallet bar is simple and rustic but gets the job done. It's the perfect DIY outdoor bar for those who don't have a lot of building or woodworking experience.
A wooden pallet has uniform-sized and shaped pieces of wood that you can use to build your bar. Or you can leave the pallet intact and build your bar out of the actual pallets.
The trick to building a successful rustic outdoor bar is that it should look rustic but not actually be rustic. Pallet and reclaimed wood should be treated. This helps protect it from the weather and moisture.
8. Shed
Turn your old shed into a bar. Start by emptying it out, giving it a good scrubbing, and making any necessary repairs. Next, convert your potting bench and workspace into the bar and seating area. You could cut a window in one side of the shed for a walk-up style bar. This makes it easy to close the shed up and secure everything when it's not in use.
If you don't currently have a shed in your yard, then you can easily buy a premade one or a kit. Then decorate the outside of the yard to make it look less like a storage shed and more like a minibar.
9. Small
You don't need a sprawling backyard to have an outdoor area dedicated to your bar. Look for outdoor bar ideas that embrace small spaces. You could have a small rolling cart. Or a floating shelf on the wall.
There are even some bars that are mounted flush against the wall with several shelves. If you want a little more working space, then you could have a bar that folds out. Tuck it away when you don't need it and unfold it when you do.
Don't try to cram too much furniture into your small bar. Stick with bar stools that have a small footprint. Or have a bench that runs the length of your patio area for more freeform sitting.
10. Tiki Bar
Build a backyard tiki bar and create your own tropical oasis that's just steps from your back door. Look at tropical bar designs that are from your favorite tropical getaway locales. Perhaps you love the tiki bar tourist look with plenty of brightly colored kitschy decor.
You could go more elegant with your design, mirroring the high-end tropical resorts. Stick with neutral colors for the bar and other structural elements. Use luxury materials like exotic hardwoods. Then add color through the decor, like brightly colored throw pillows and an area rug.
11. Wood
The easiest material to build your outdoor bar out of is wood. It's easy to work with and readily available. There are also several types, so you can buy the type of wood that your budget allows. Just be careful to only buy wood that's suitable for outdoor use. You don't want your bar mildewing or developing moisture rot.
When building your wooden bar, start by deciding how big you want the bar to be. You need to leave space for seating. You could continue the wood theme with wooden crates and cushions for low seating. Or build your own bar height wooden chairs. Give the space shade by building a pergola over your bar with cloth drapes or louvered slats.
Outdoor Bar FAQs
What can I use as an outdoor bar?
As long as what you are using is durable enough to be left outside, you can use almost anything for your outdoor bar. It could be a cement form or a tiled bar. You can use wood as long as you treat it to prevent moisture rot. Stone would give you an adorable structure. A metal cart could be a mobile bar that gives you more flexibility to place your bar.
Can you build a bar in your garden?
As long as there isn't a local ordinance or law that prohibits it, you can build a garden bar. Consider the size and height of your outdoor bar when looking at the local laws. The more permanent the structure, the more likely you'll have to get permits for your new structure.
How do you set up an outdoor bar?
Choose an ideal location for your bar. It needs to be someplace that is shady and comfortable. People will gather around your bar, so you also need space for people to sit or stand and mingle. Arrange a bar height flat top work area along with shelving for your supplies. Add lighting if you plan to use your outdoor bar at night. It can also help to add speakers for music.