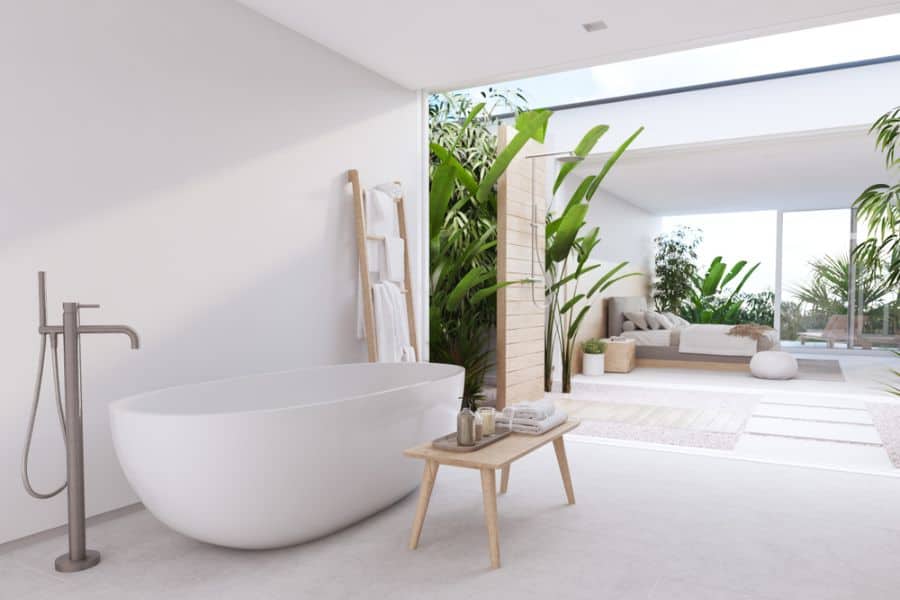 The Top 43 Outdoor Bathroom Ideas
Wouldn't it be nice if you had an outdoor place where you could rinse off or use the restroom? You could get clean outside and never have to worry about tracking dirt into your clean home.
If you have a swimming pool, this is the perfect bathroom to use to not track pool water through your home.
Outdoor bathrooms don't have to be purely for functional uses. It can also be a luxurious spa-like experience. It can be your outdoor escape to commune with nature. These outdoor bathroom ideas will have you planning a new remodeling project for your home.
1. Modern Minimalist Oasis
Imagine stepping out of your house into a tranquil oasis where you can bask in the sun and enjoy the serenity of nature while having a refreshing bath. That's the beauty of a modern minimalist outdoor bathroom. From the sleek design to the natural elements incorporated, a modern minimalist outdoor bath brings a whole new meaning to relaxation.
The absence of clutter and unnecessary decor provides an uncluttered ambiance that allows you to unwind and forget about the stresses of everyday life. The use of natural materials such as concrete, metal, and wood gives the space a clean feel that blends seamlessly into the outdoor scenery.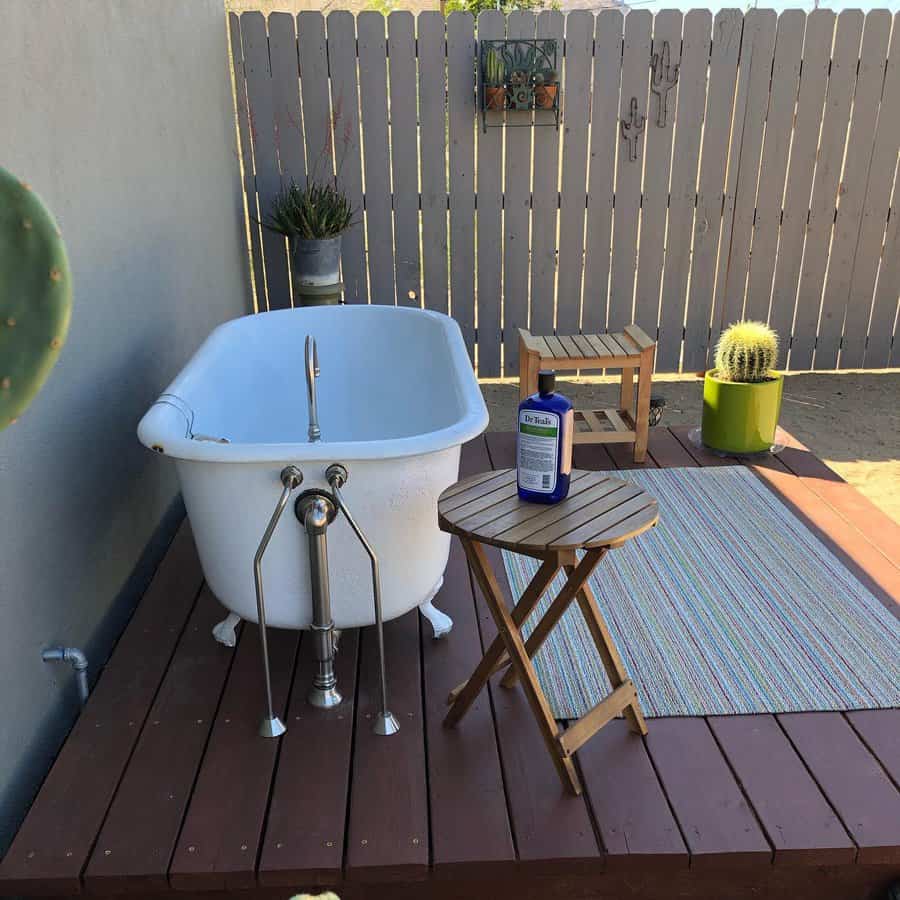 2. Tropical Island Paradise
Imagine treating yourself to a refreshing shower surrounded by lush tropical foliage and the soothing sound of rustling leaves. That's exactly what a tropical outdoor bathroom can offer. The warm breeze and dappled sunlight filtering through the trees create a natural and tranquil ambiance that is unmatched by any ordinary bathroom.
From bamboo accents to stone flooring, every detail is carefully chosen to evoke a sense of relaxation and tranquility. Whether you're enjoying a steamy hot shower or lounging in a hammock, a tropical outdoor bathroom will transport you to a world of serenity and simple pleasures.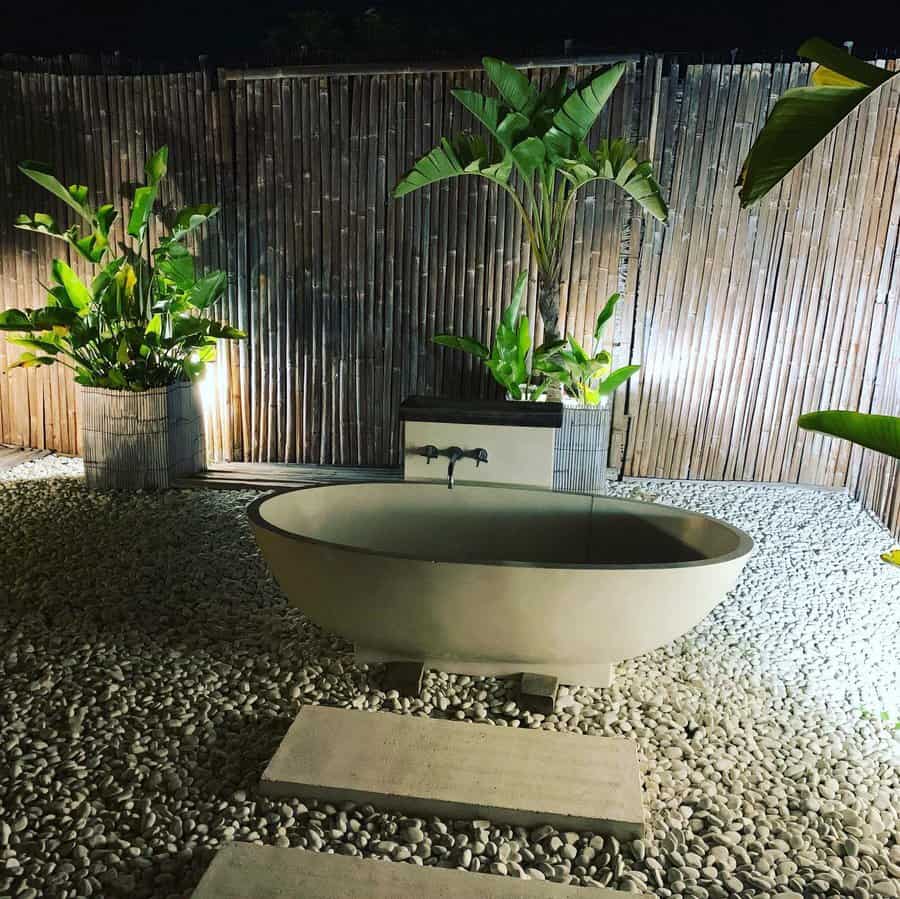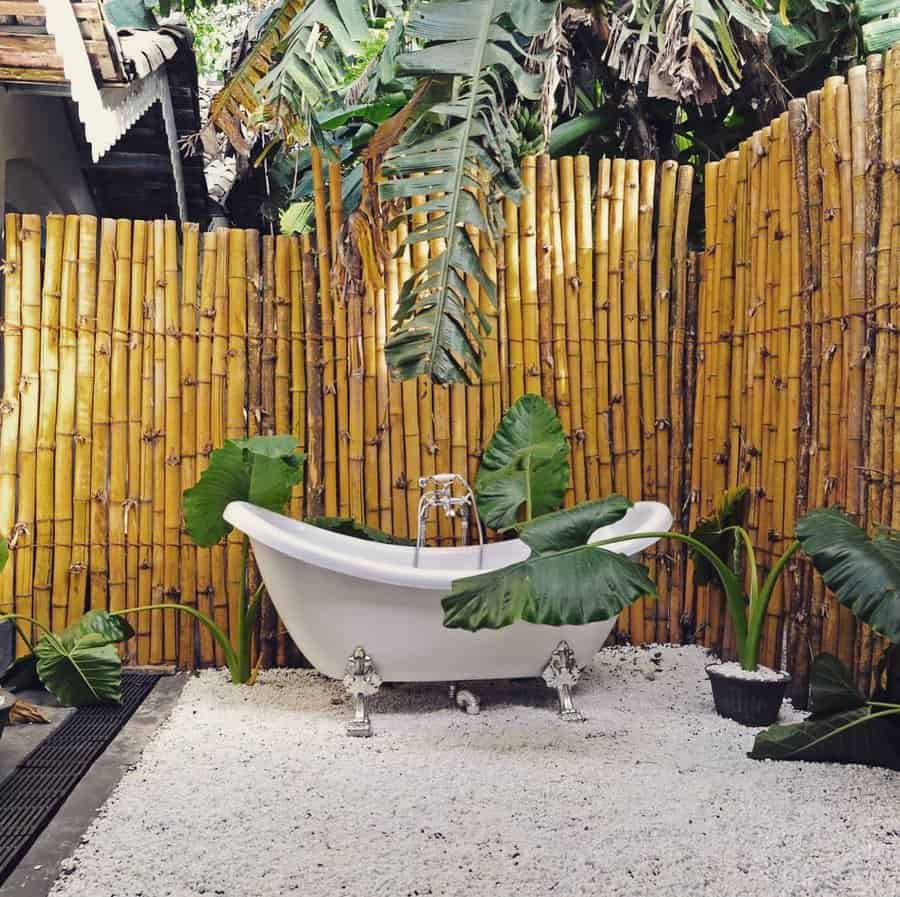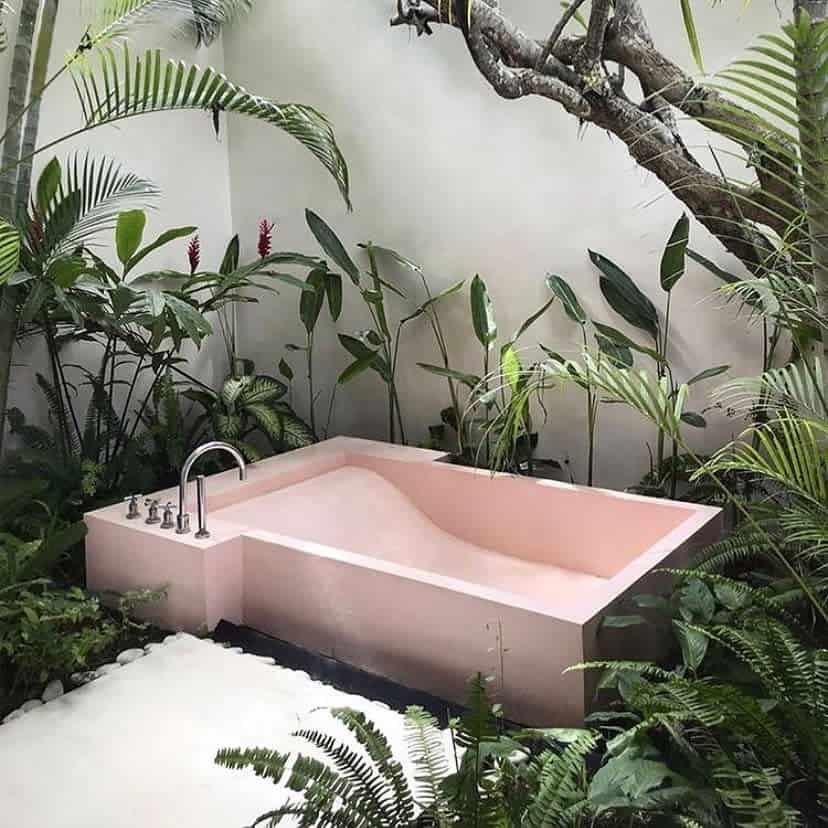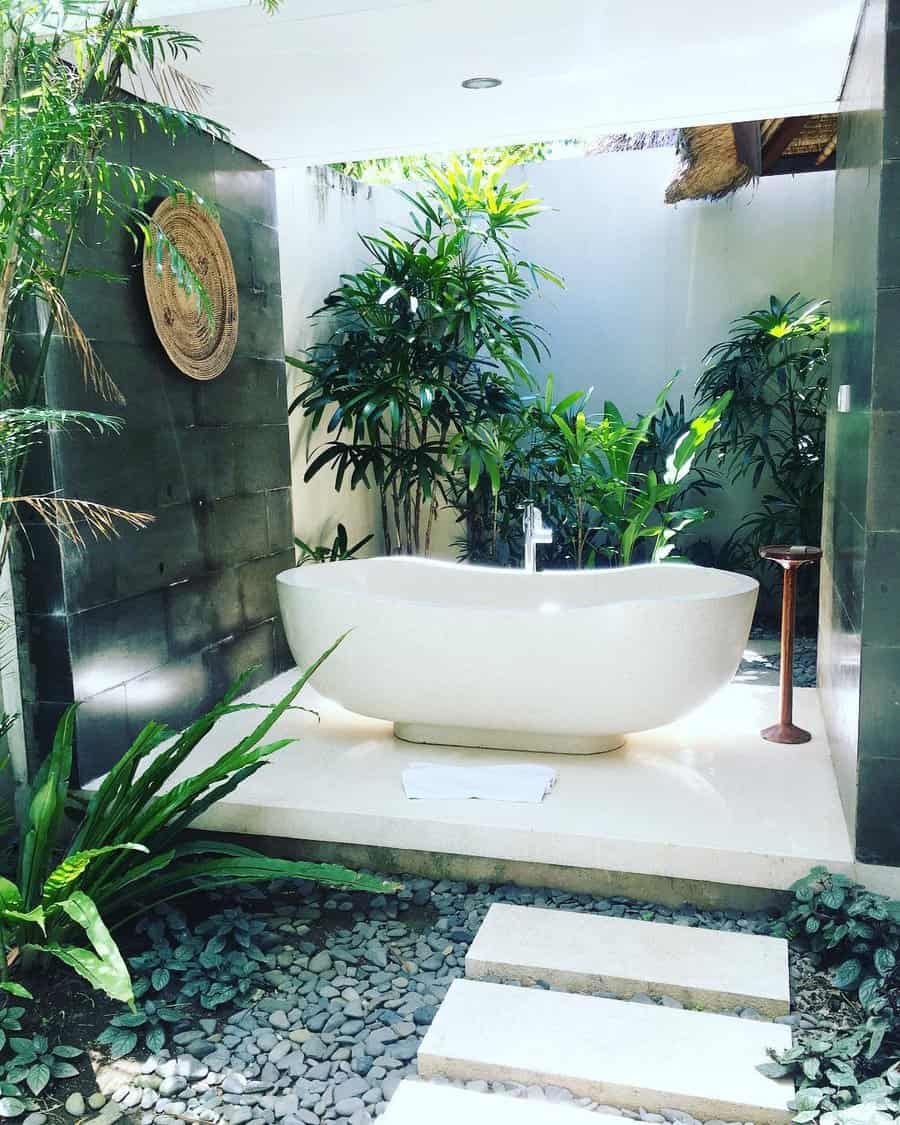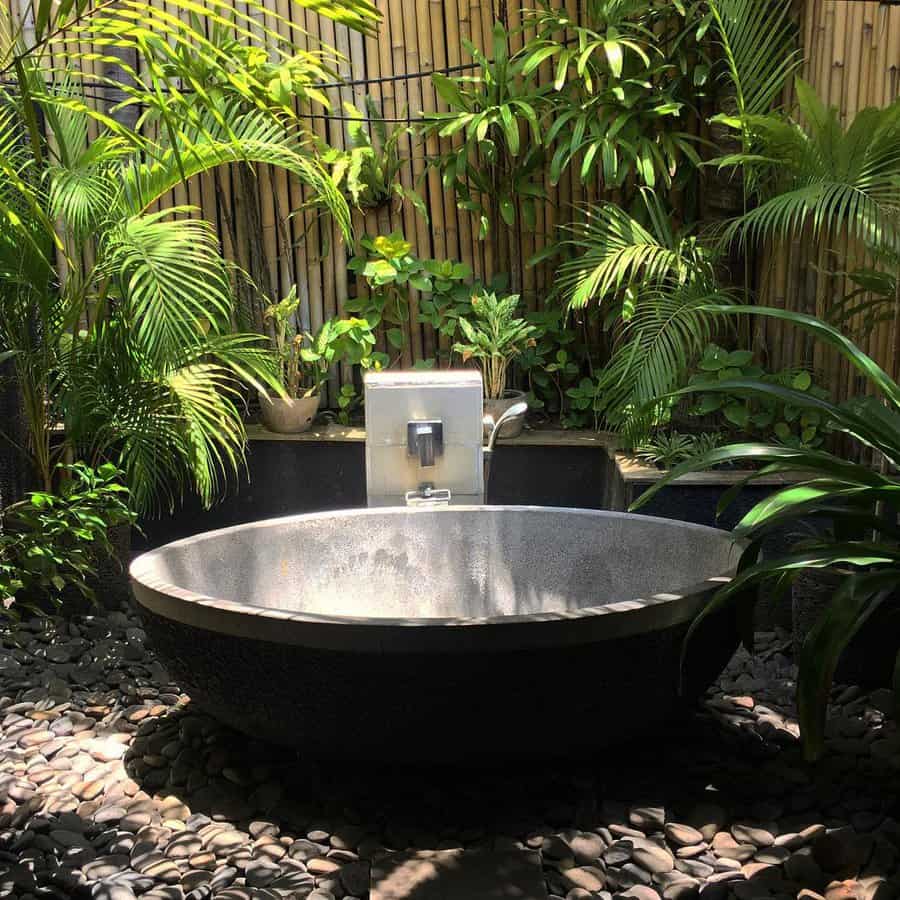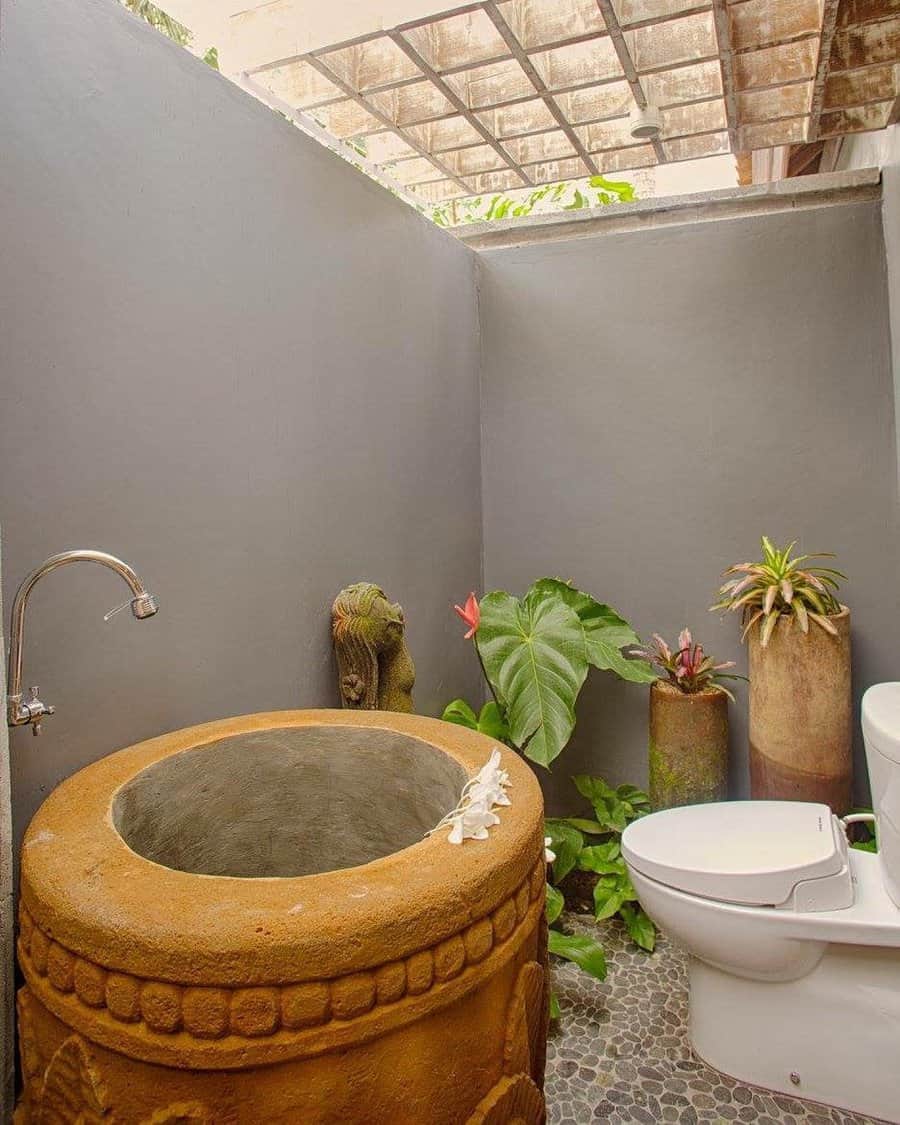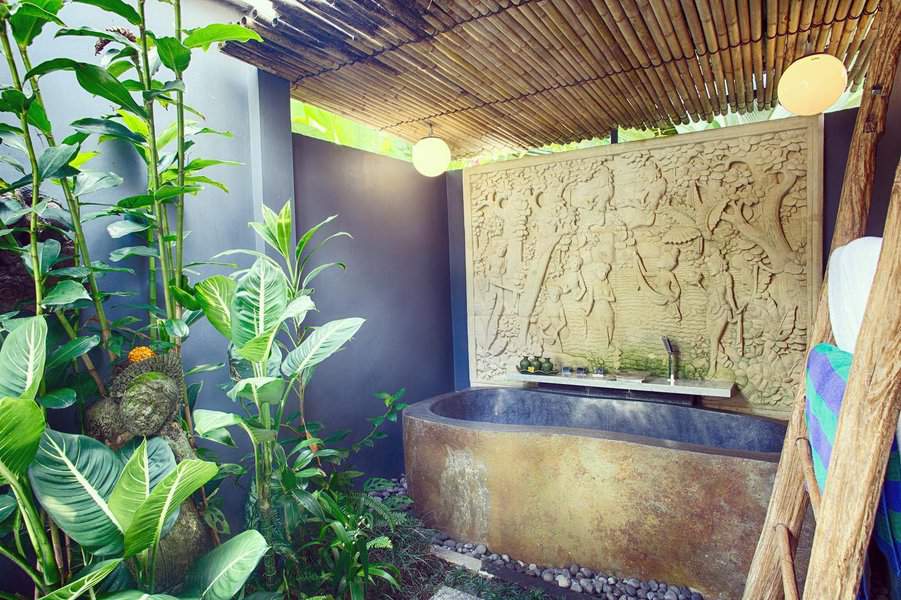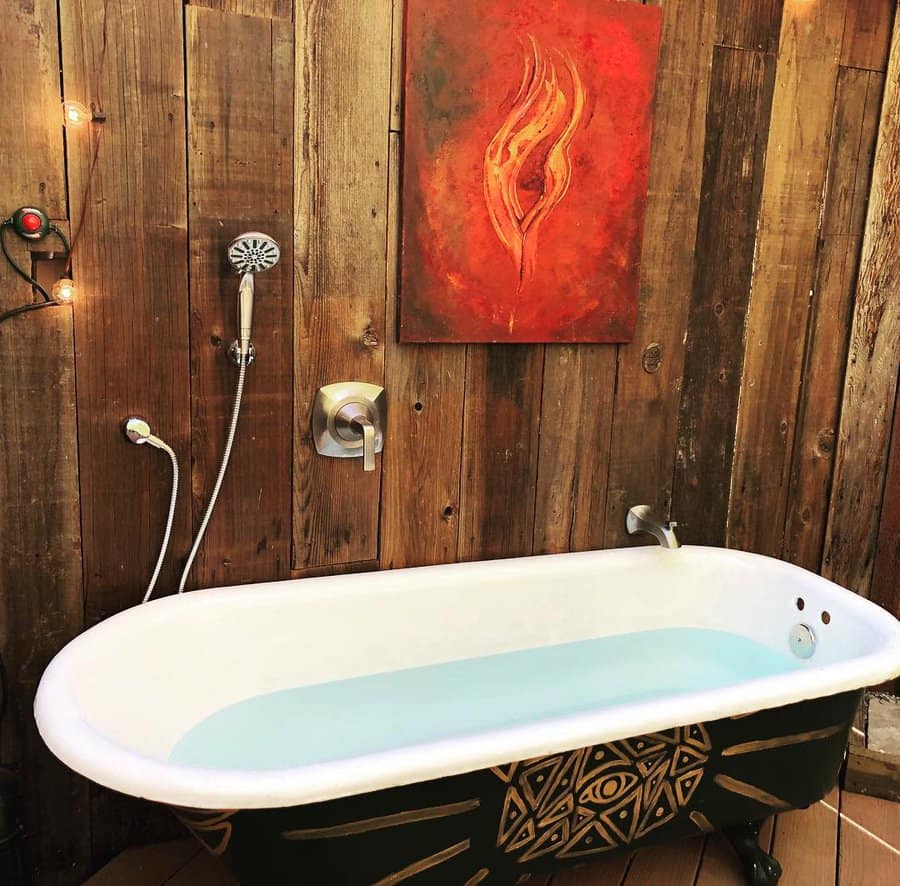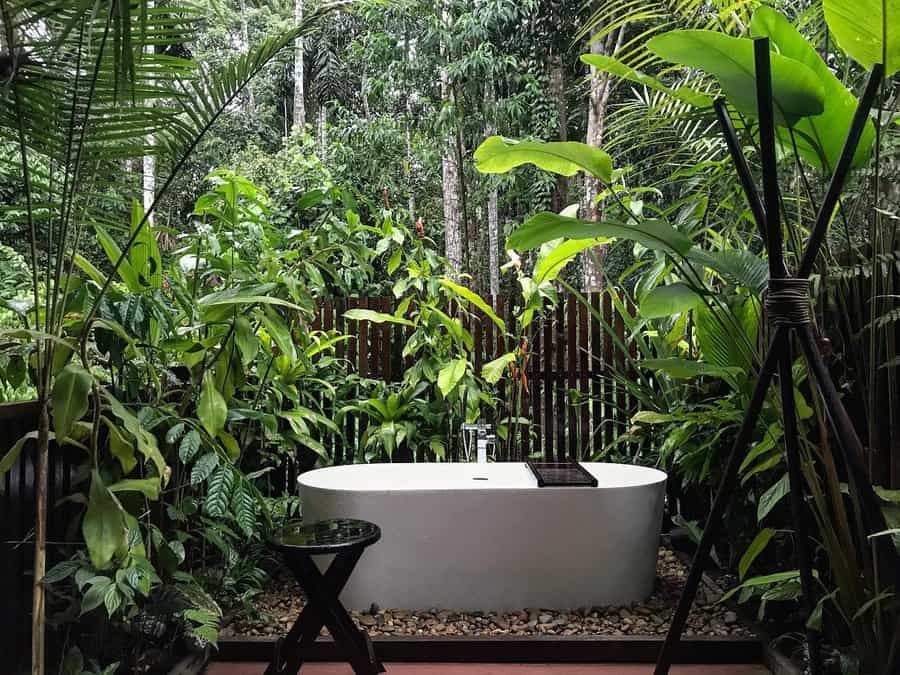 3. Asian Zen Garden Spa
Imagine laying back and soaking in an exquisite Asian zen outdoor bathtub, surrounded by the calmness and tranquility of nature. White stones add an extra layer of serenity, as they glisten in the sunlight and add a touch of sophistication to the already serene atmosphere.
Surrounded by lush foliage and the sound of trickling water, you feel a sense of calm washing over you. The minimalist design of the bathtub perfectly complements the natural beauty around you, allowing you to fully immerse yourself in the serenity of the moment. This is the ultimate way to unwind and connect with nature.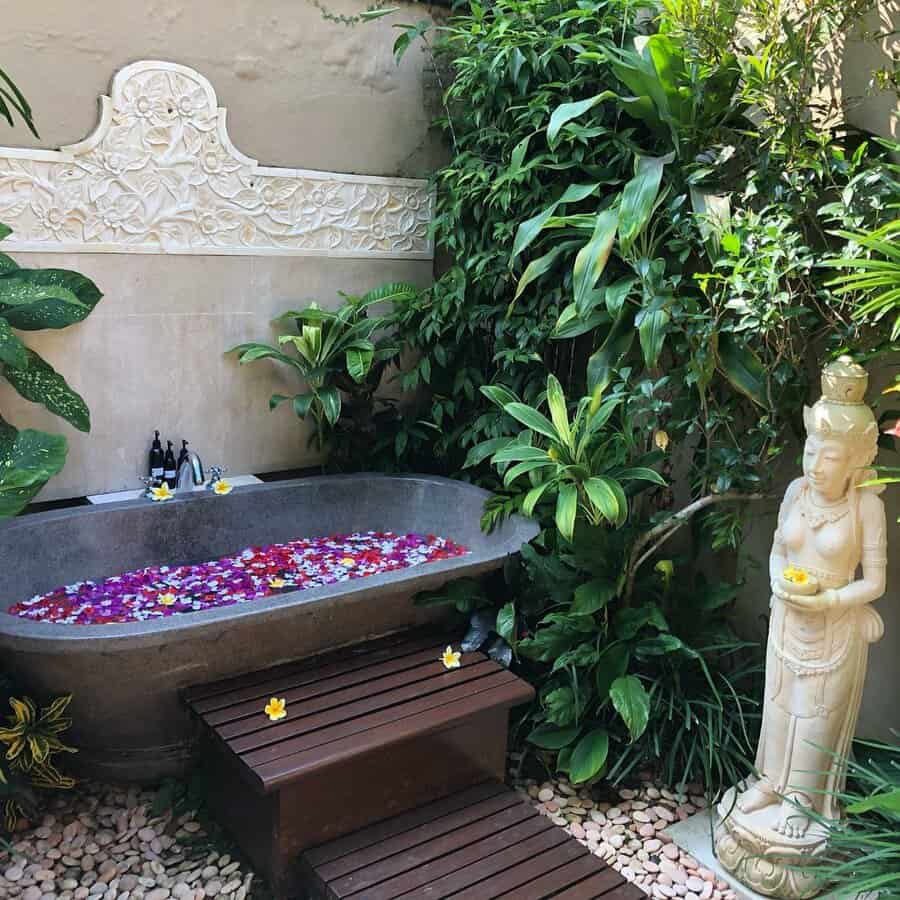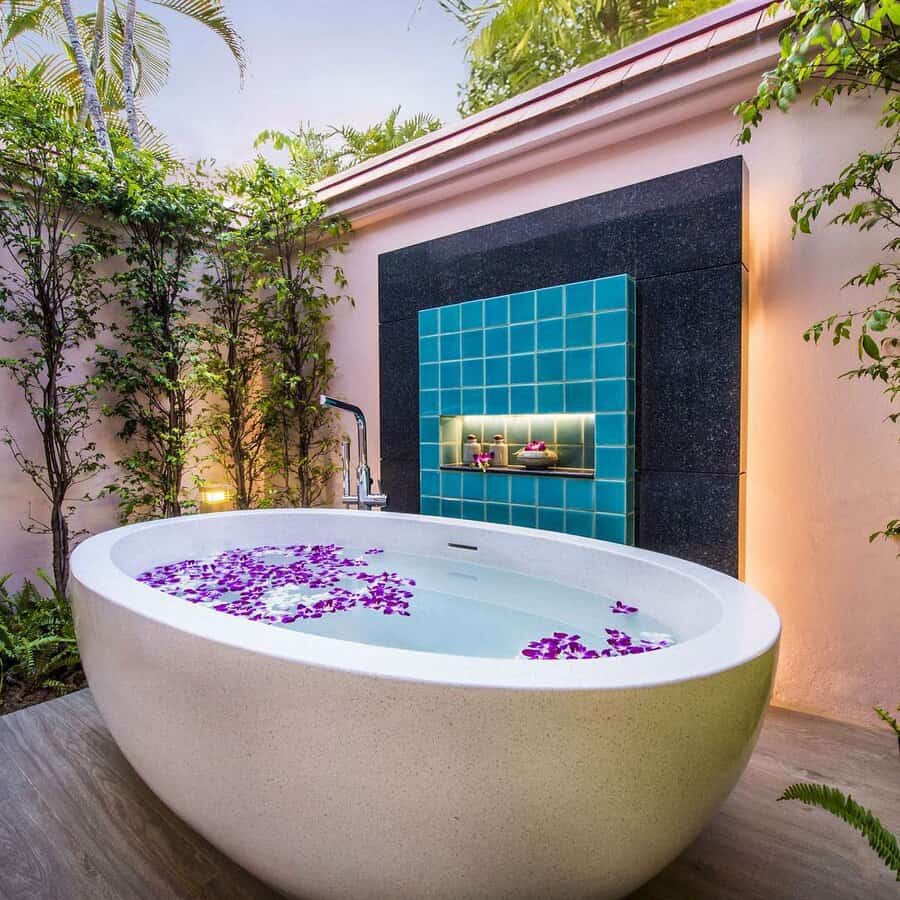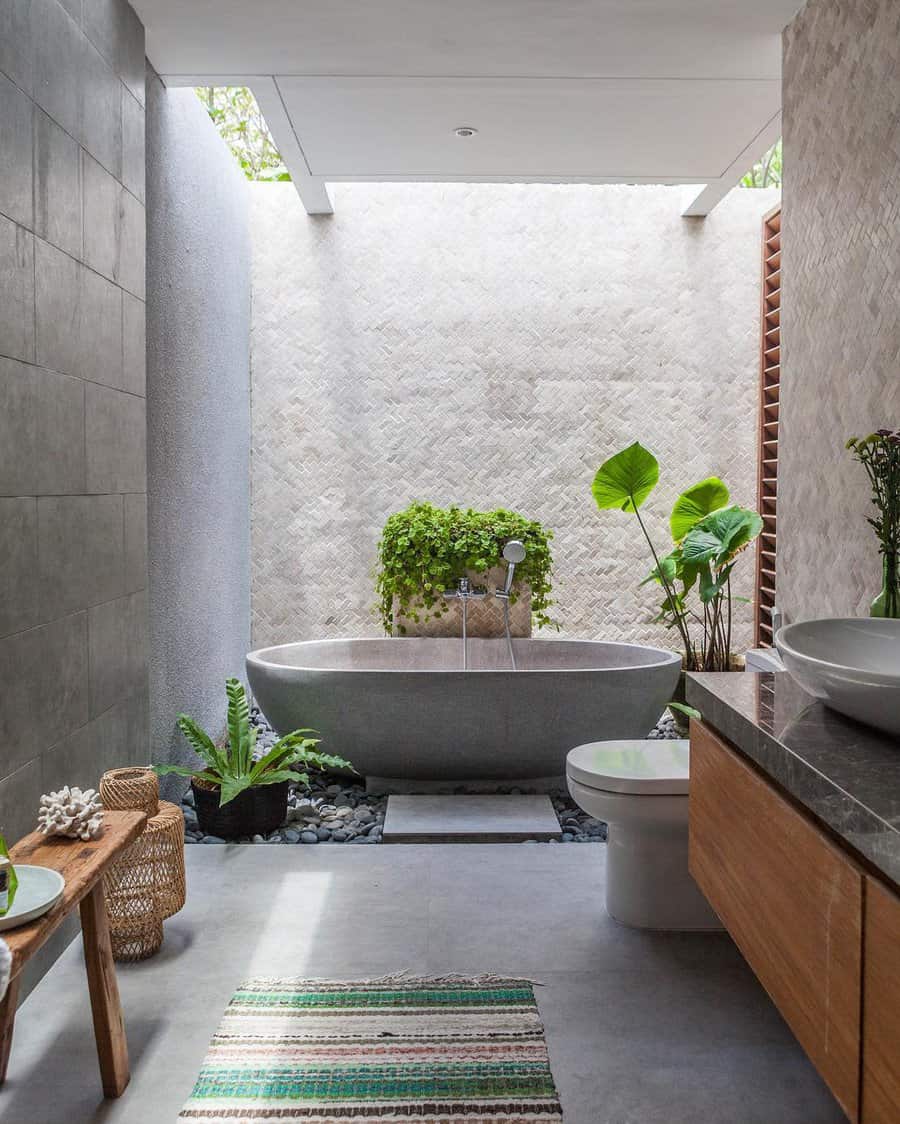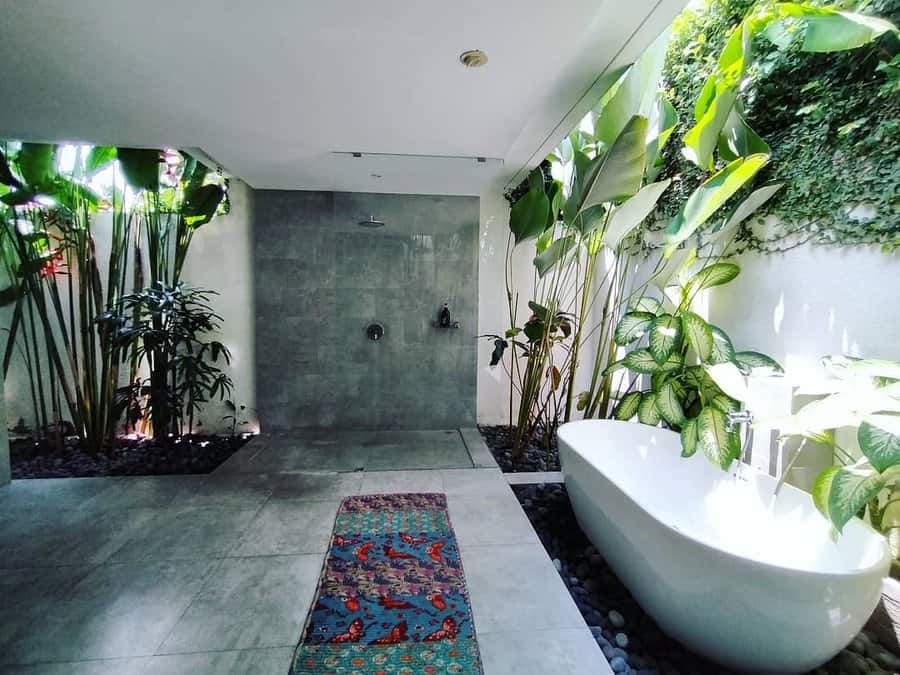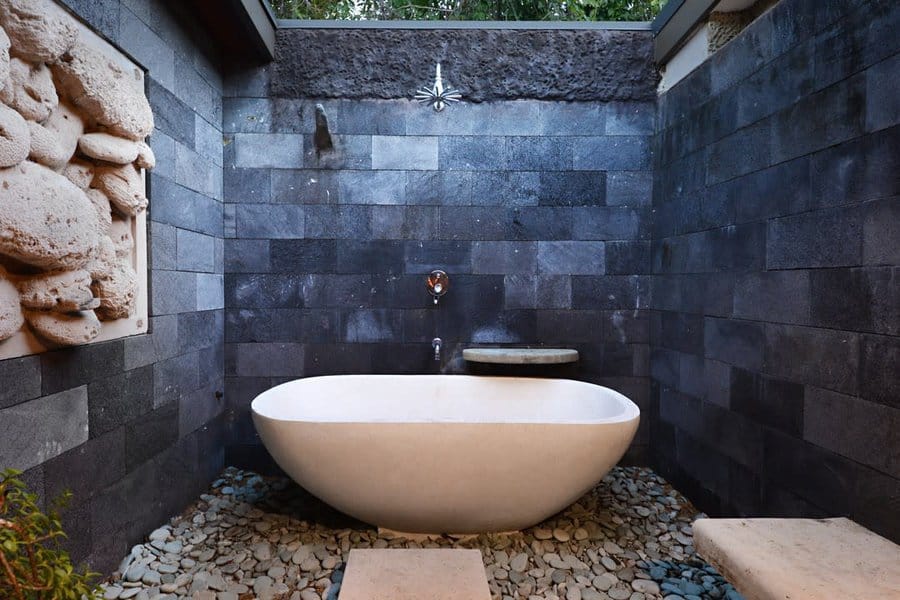 4. Mediterranean Hideaway
Imagine soaking in a vintage-style bathtub as the warm Mediterranean sun kisses your skin and a gentle breeze caresses your face. This is what a Mediterranean outdoor bathroom can offer. It's not just a place to wash up, but a place to indulge in a true spa experience surrounded by nature.
The organic elements, rustic tones, and nostalgic copper fixtures create a serene and calming ambiance. A Mediterranean outdoor bathroom is not just a retreat, it's a romanticized lifestyle.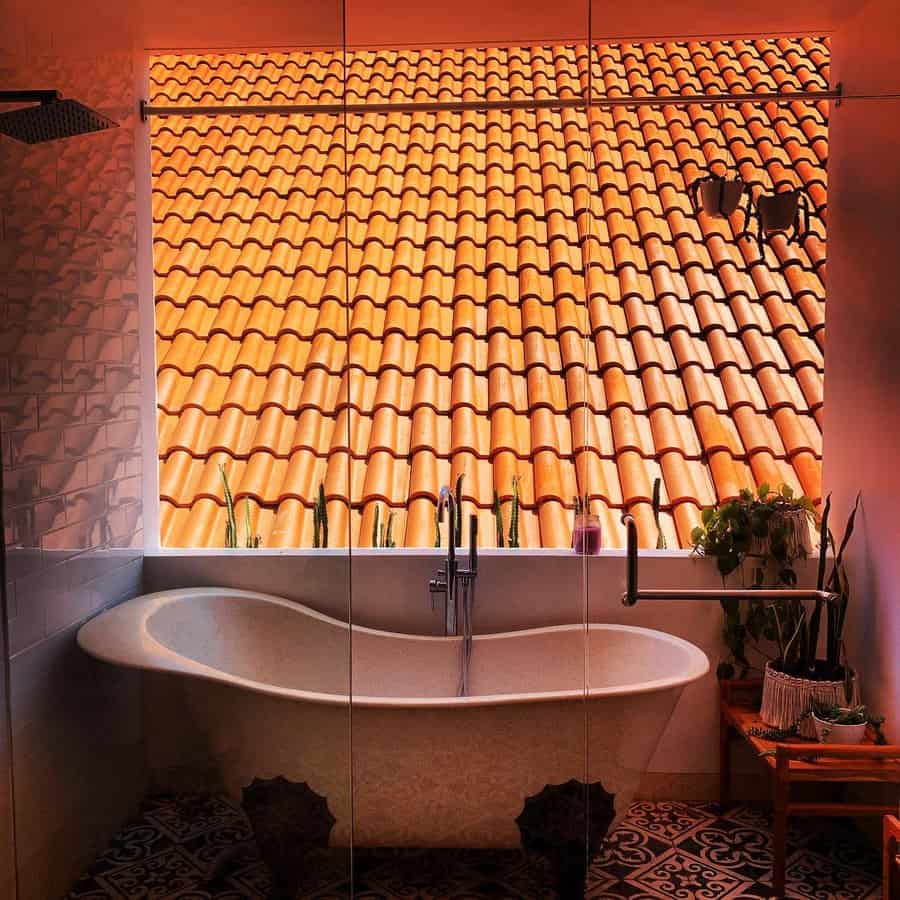 5. Scandinavian Bath
Immerse yourself in the beauty of nature with a Scandinavian outdoor bathroom. Imagine soaking in a warm bath under the stars, surrounded by the peaceful sounds of rustling leaves and chirping crickets. The simplicity and minimalism of Scandinavian design allow for the perfect balance between function and aesthetics, making it the ideal style for an outdoor bathroom.
The use of natural materials like light wood and stone provides a cohesive connection to the surrounding environment, while the clean lines and neutral colors create a serene and calming ambiance. Transform your backyard into a luxurious retreat with a Scandinavian outdoor bathroom that is both refreshing and revitalizing.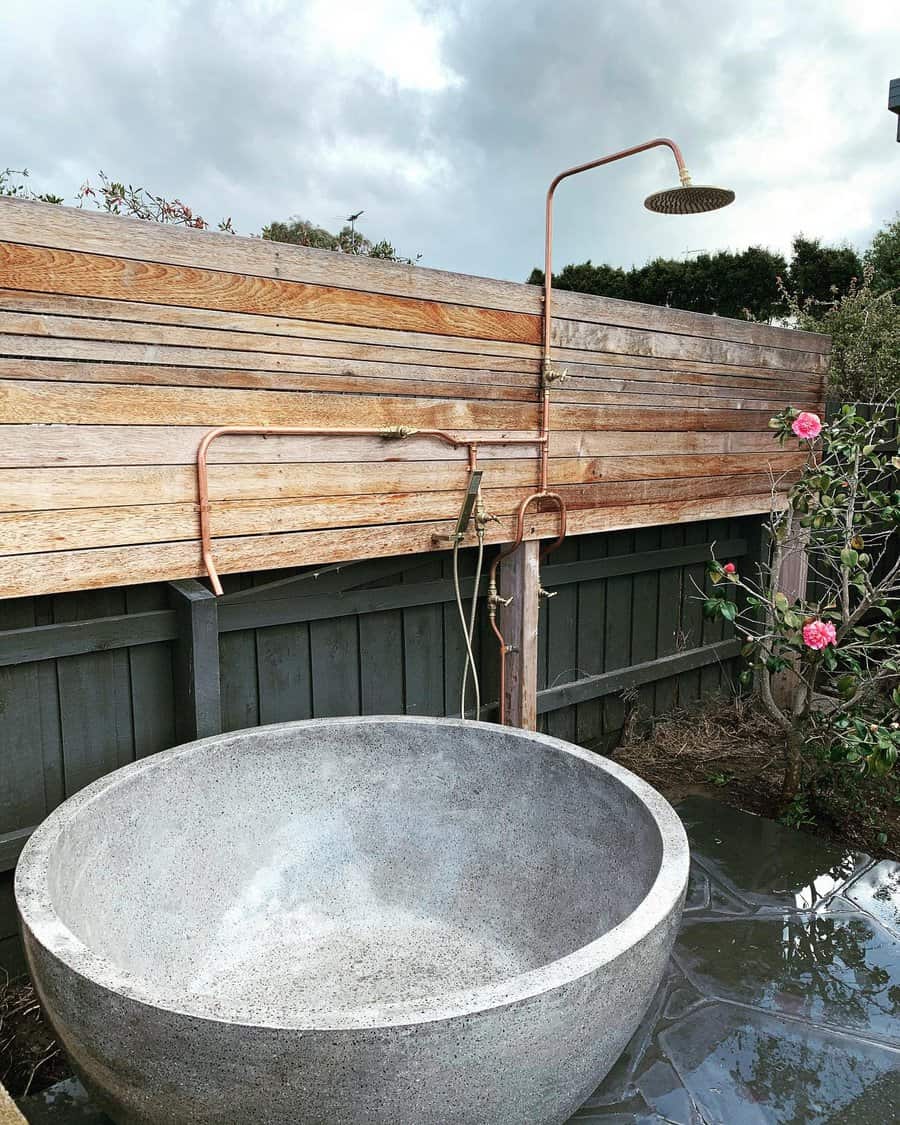 6. French Country Farmhouse Bath
Imagine soaking in a luxuriously deep bathtub, surrounded by the lush greenery of a French countryside. The minimalist and rustic design of the French country house blends the simplicity of nature with elegance in its architecture. The rustic charm of the French countryside is reflected in the design of these outdoor bathrooms.
From delicate mosaic tiles to elegant vintage fixtures, each detail has been carefully chosen to create a space that is both stylish and comfortable. A French country house outdoor bathroom is truly a retreat for anyone who seeks a unique and refreshing escape from the hustle and bustle of everyday life.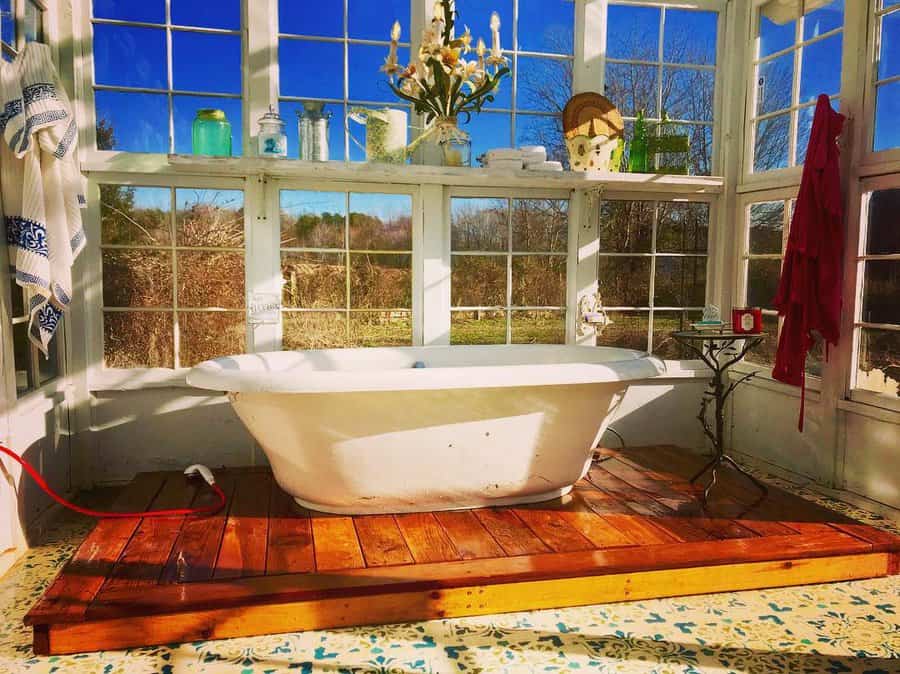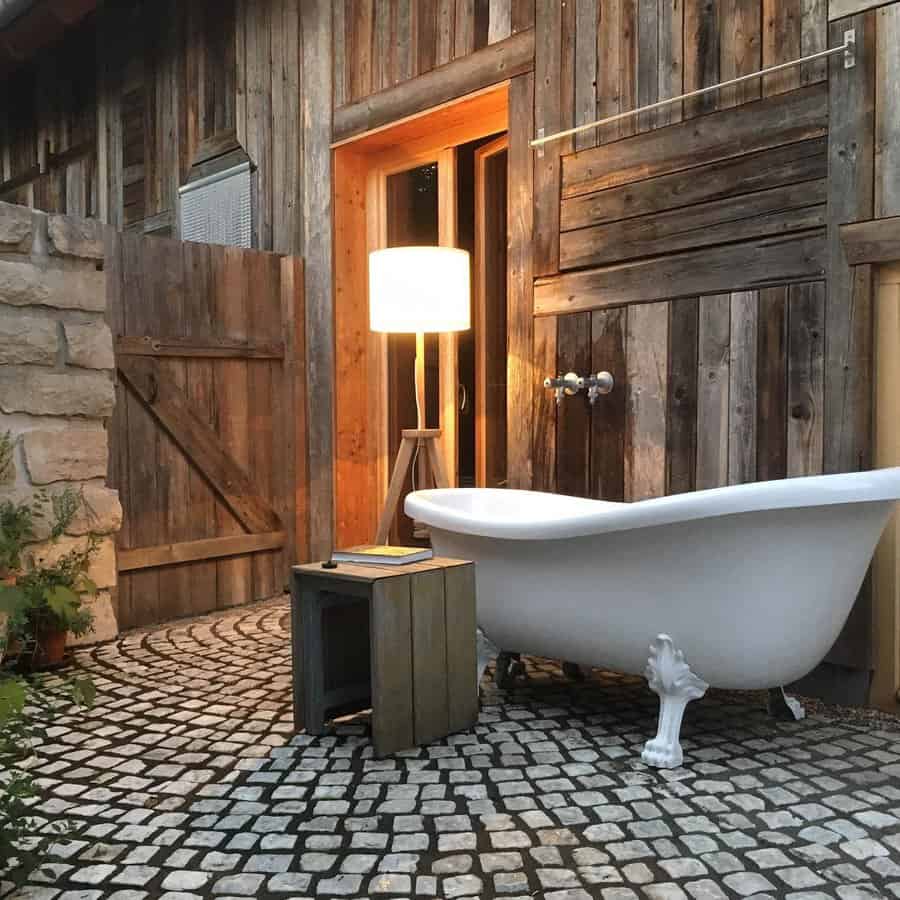 7. Industrial Loft Bath
When it comes to creating an industrial outdoor bathroom, there are a few key elements that can really tie the space together. Adding industrial-style lighting fixtures and accessories, such as metal shelving or wire baskets, can help create a cohesive design.
Incorporating raw materials, like concrete or rusted metal, can provide a feeling of authenticity and grittiness. And don't forget to include plenty of plants to soften the space and create a natural element.
By combining these elements, you can create an outdoor bathroom that feels both functional and stylish. So why not bring a little bit of industrial edge to your outdoor oasis?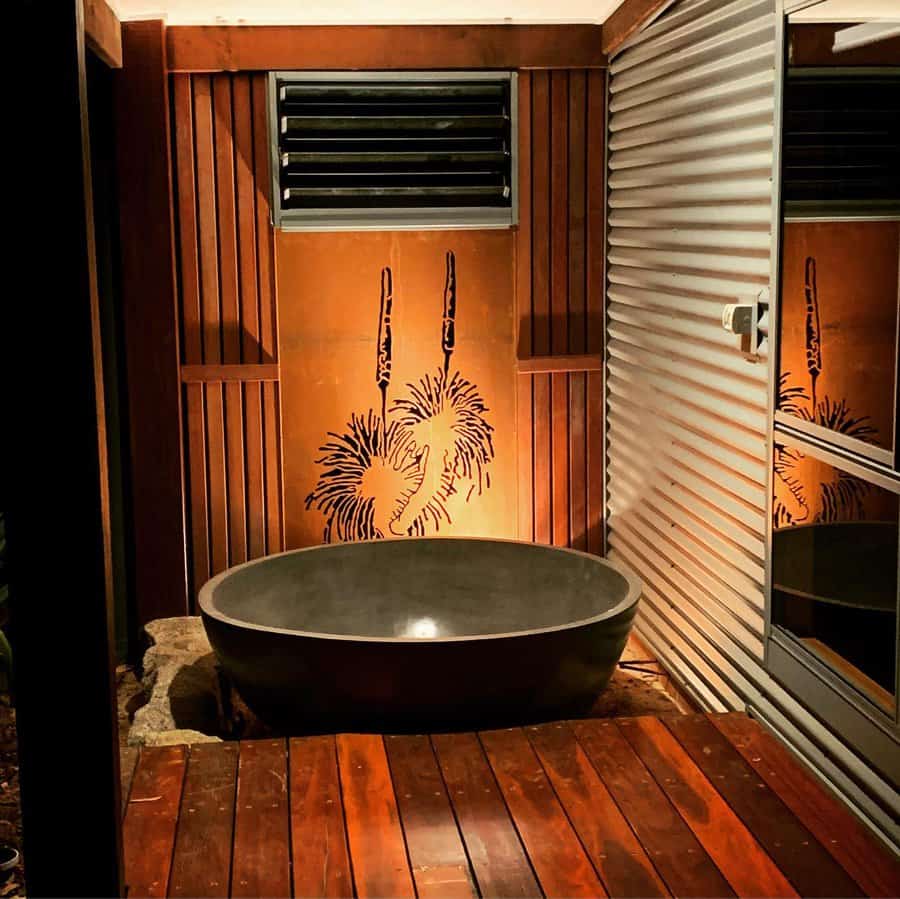 8. Coastal Outdoor Bath
The thought of an outdoor bathroom may seem unconventional to some, but with the stunning views and sea salt breeze, a coastal outdoor bathroom can be the ultimate luxury. Imagine soaking in a bathtub on a warm summer night while listening to the crashing waves or taking a shower while gazing out at the endless horizon.
The coastal environment adds an extra level of relaxation to the experience, bringing nature to your doorstep. Plus, the element of privacy can be enhanced by lush greenery or carefully placed screens.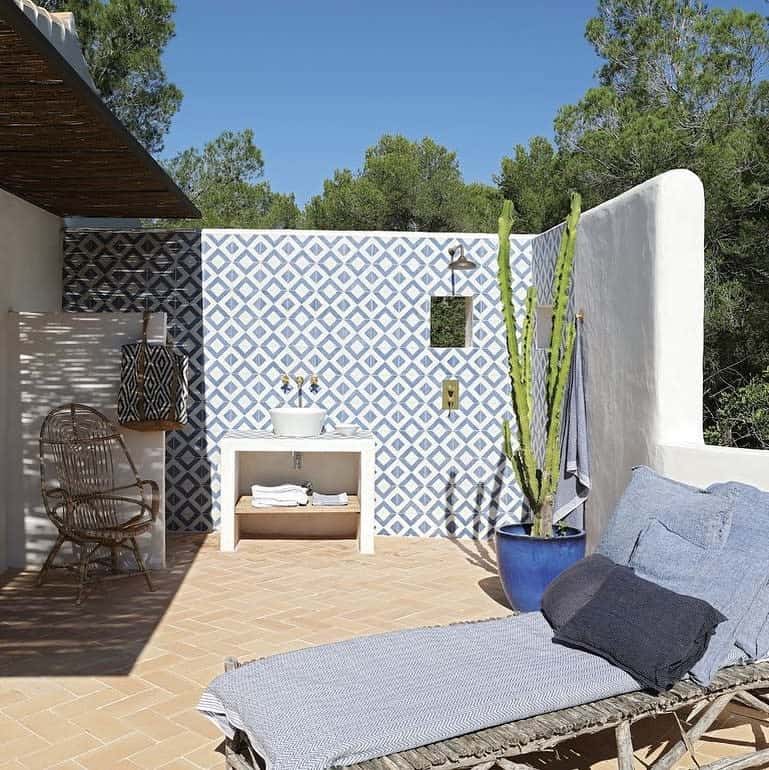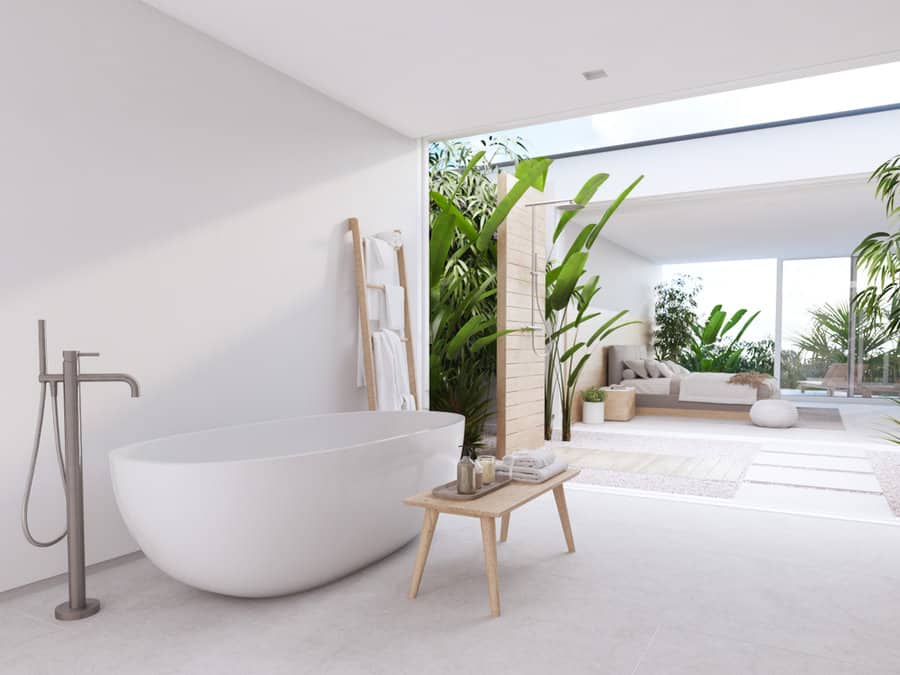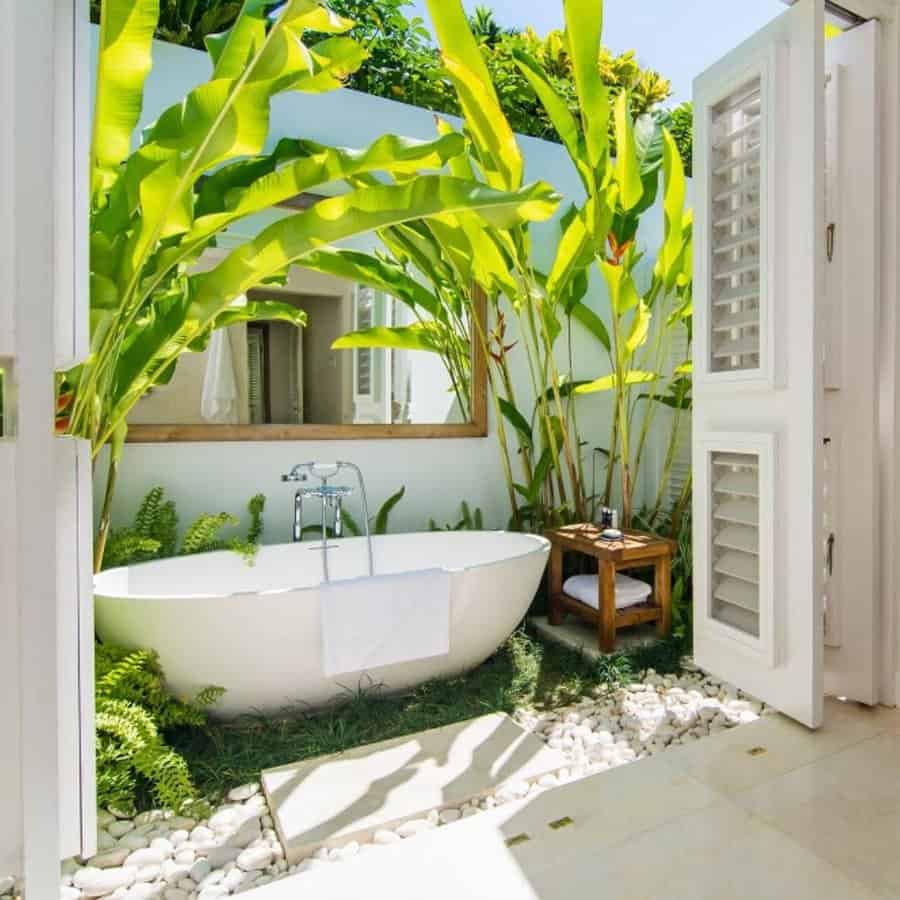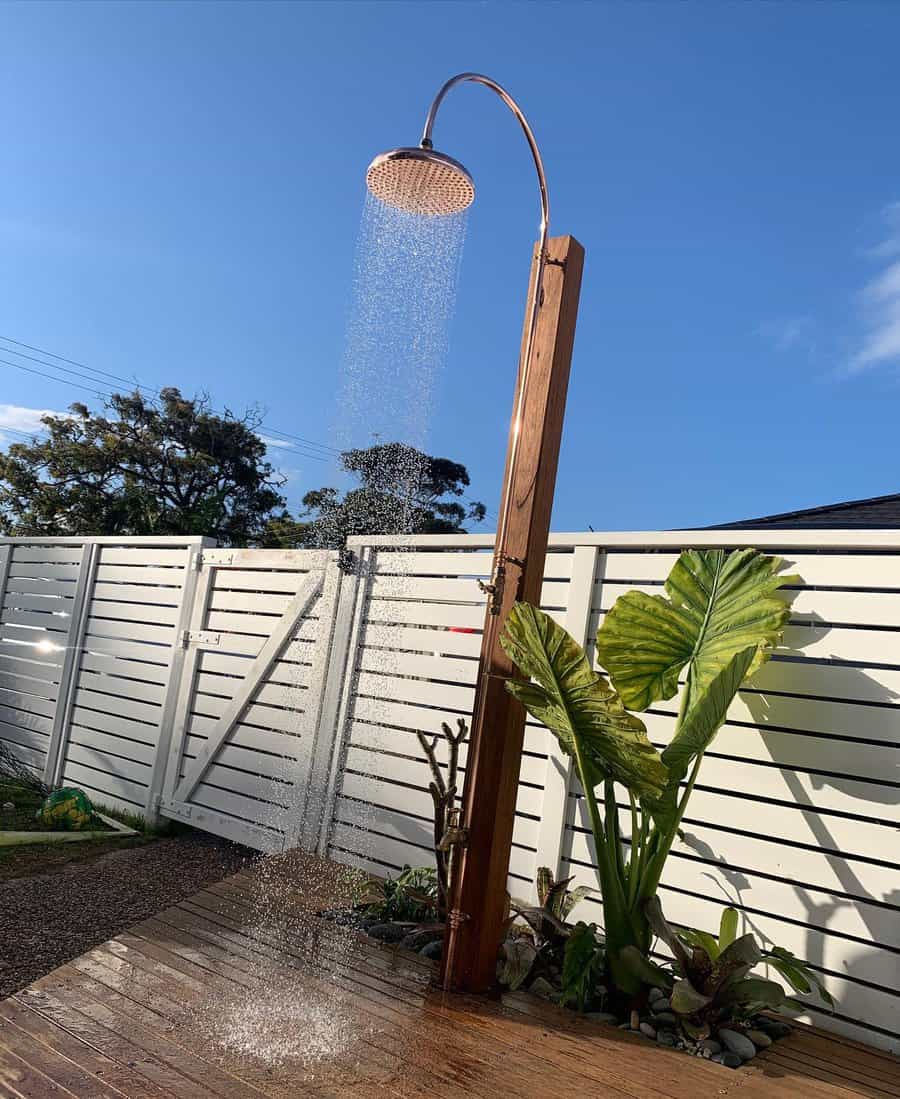 9. Contemporary Bath
Escape from the hustle and bustle of everyday life with a contemporary-minimalist outdoor bathroom. Complete with a sleek and modern design, this outdoor retreat features clean lines and a simplistic aesthetic that lends itself perfectly to relaxation and tranquility.
Imagine taking a long, leisurely soak in a bath under the open sky with nothing but the sounds of nature surrounding you. Or, if you prefer a more invigorating experience, enjoy a refreshing shower that will leave you feeling energized and revitalized.
With the contemporary-minimalist outdoor bathroom, you can be one with nature while indulging in the ultimate luxury experience.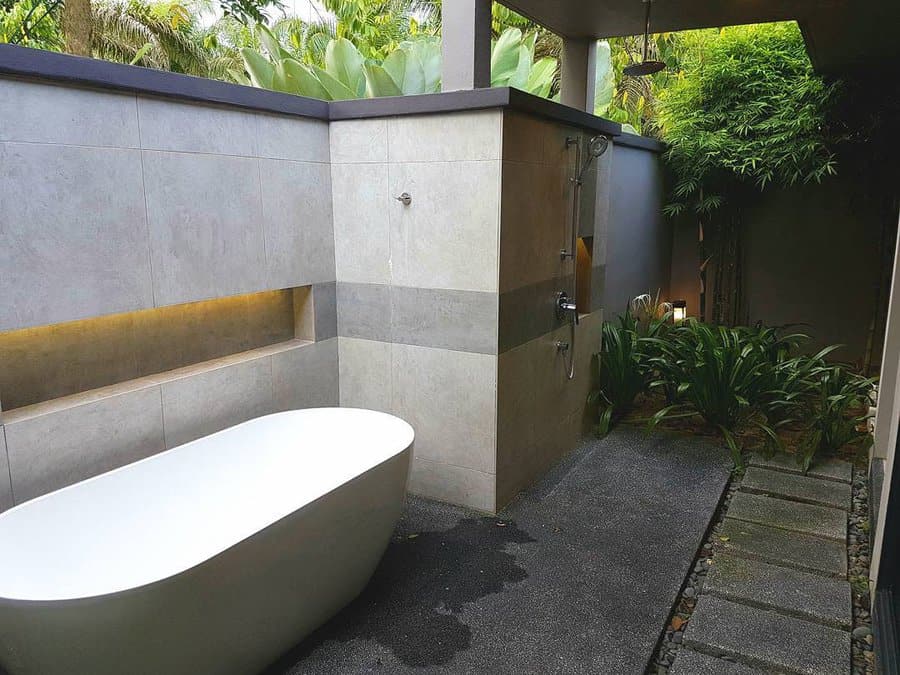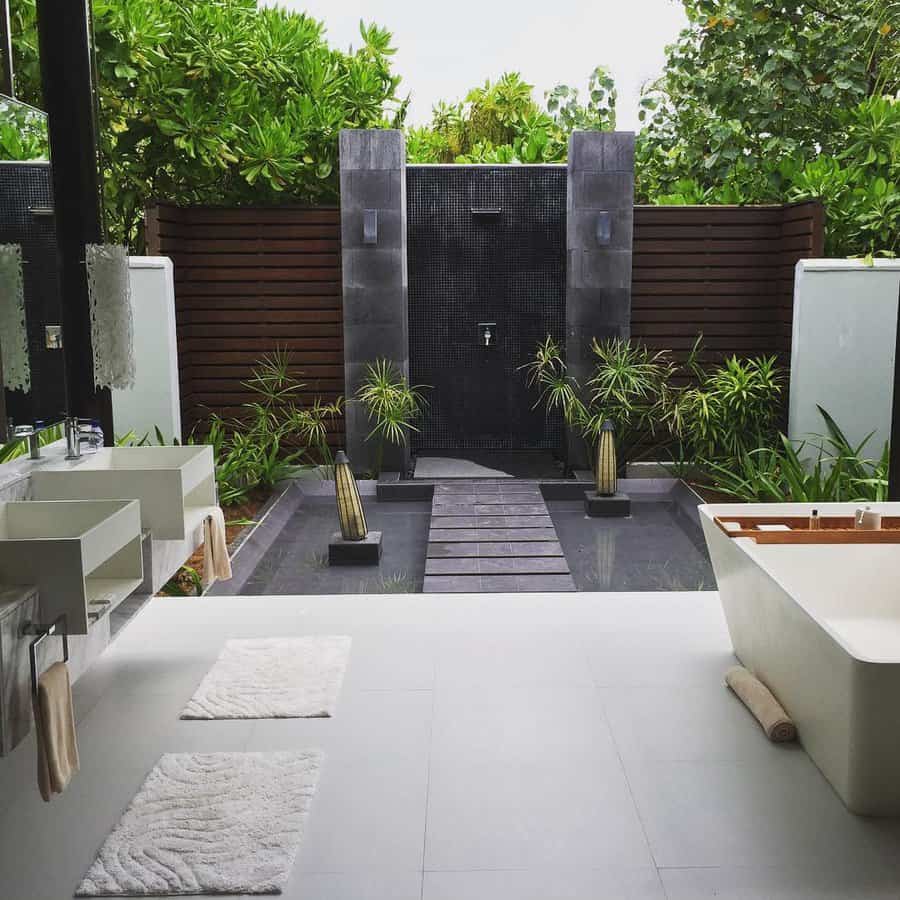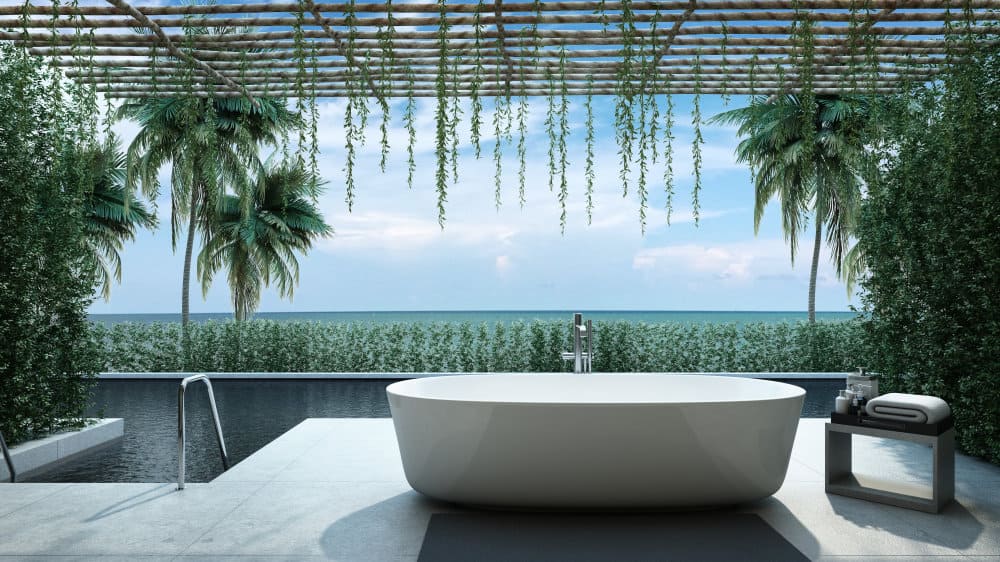 10. Outdoor Stone Bath
Imagine stepping out of a hot afternoon hike in the picturesque southwestern desert and into your own personal oasis – an outdoor bathroom surrounded by plants and giant cacti. This unique design blends seamlessly into the natural landscape, providing uninterrupted views of the endless desert horizon while you freshen up.
Feel the cool desert breeze on your skin as you plunge into the stone bath or take a refreshing shower under the bright blue sky. Escape the heat of the day while still experiencing the breathtaking beauty of the Southwest in this one-of-a-kind outdoor bathroom.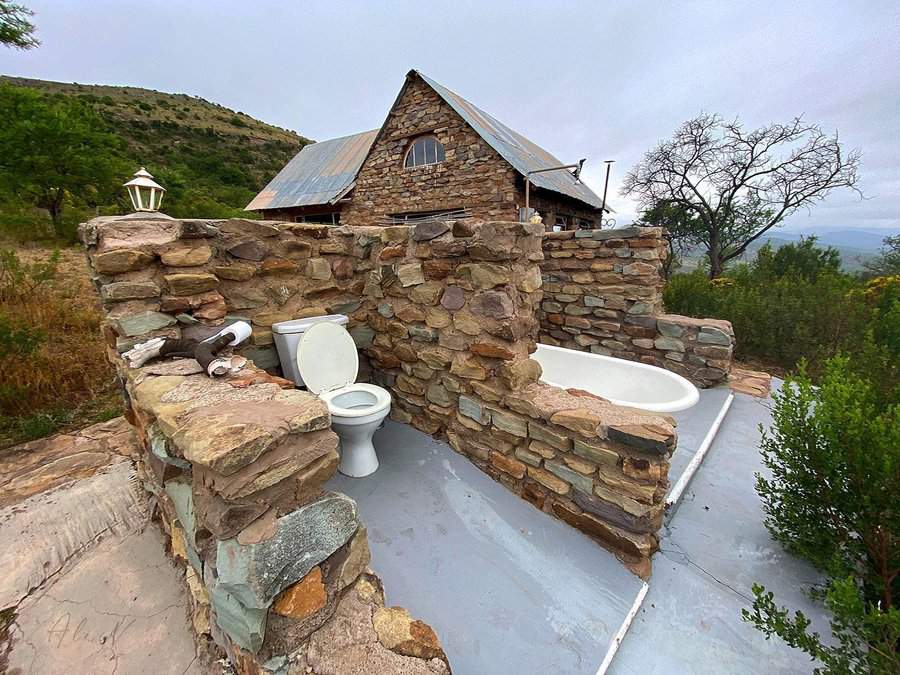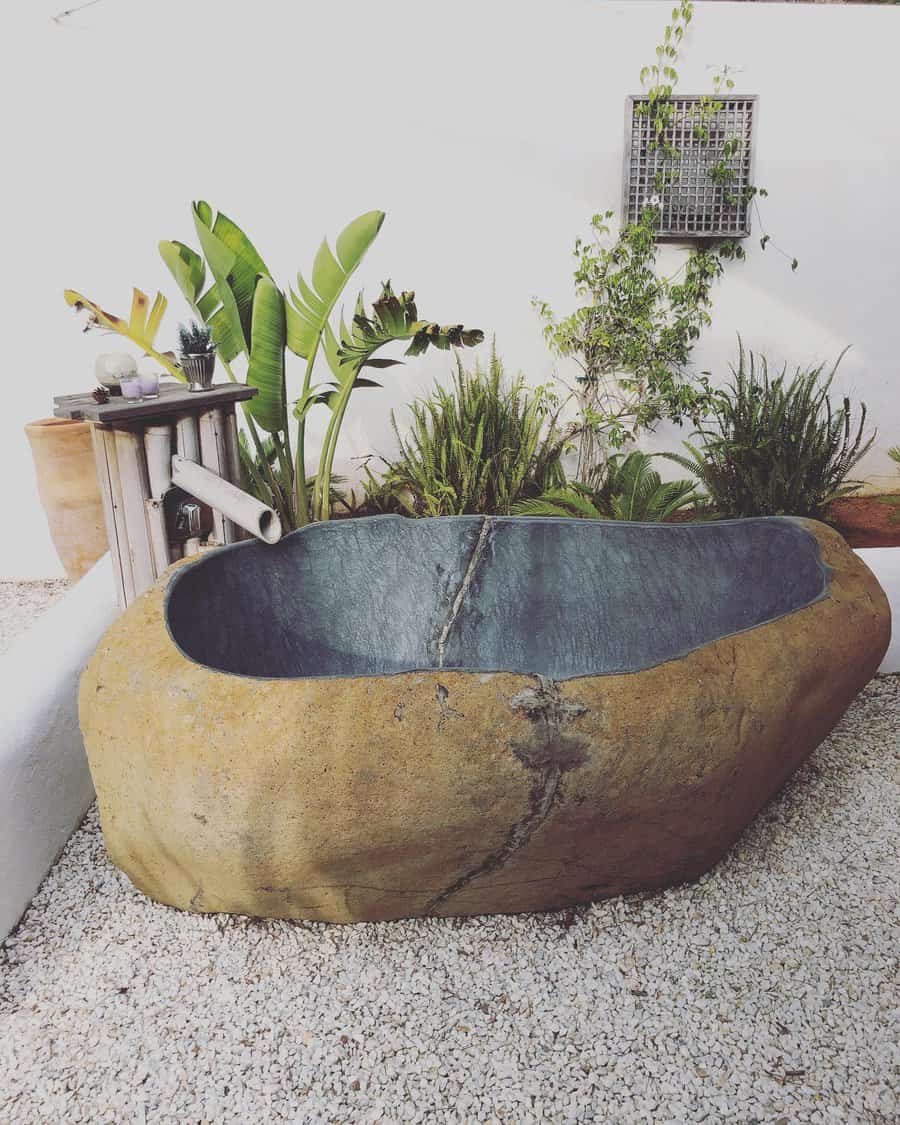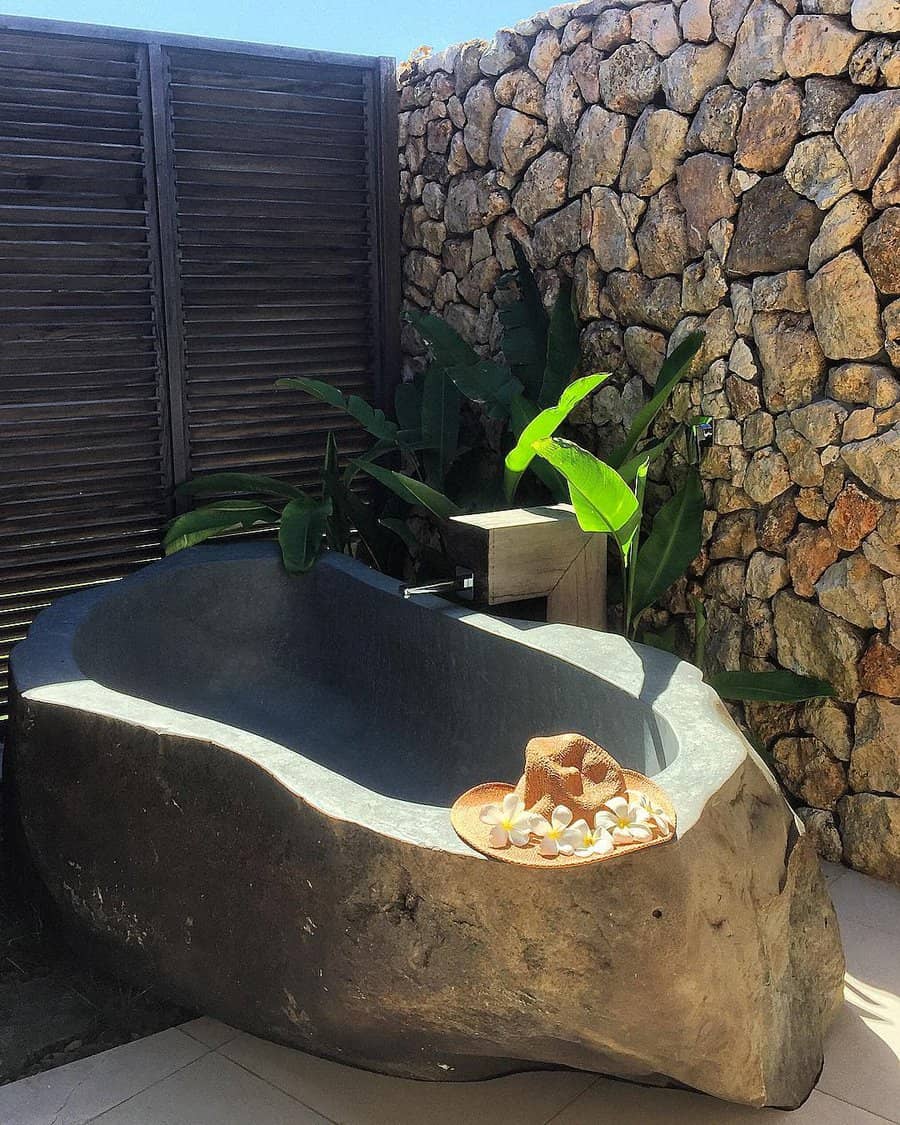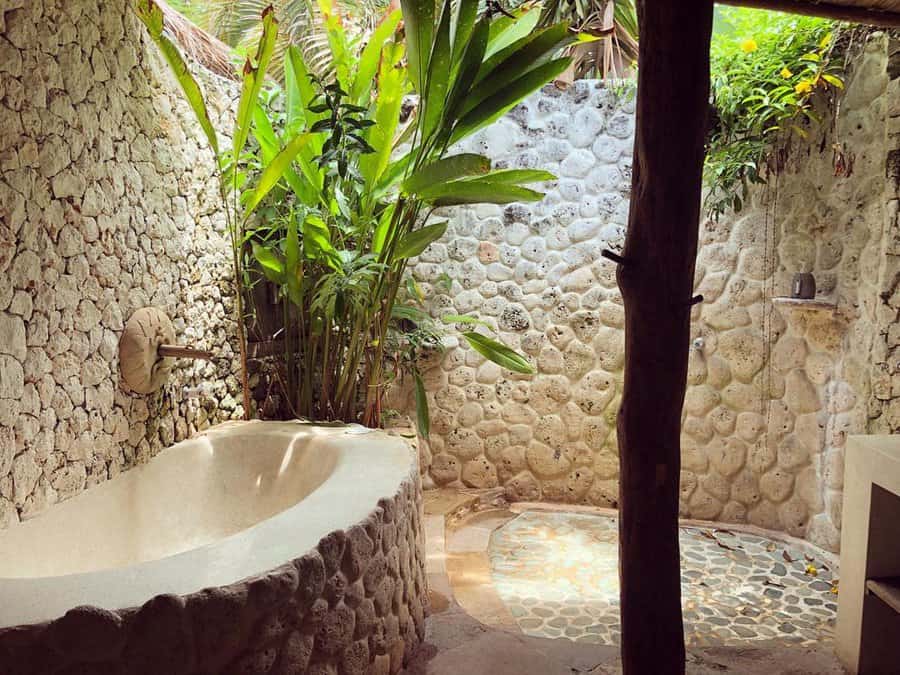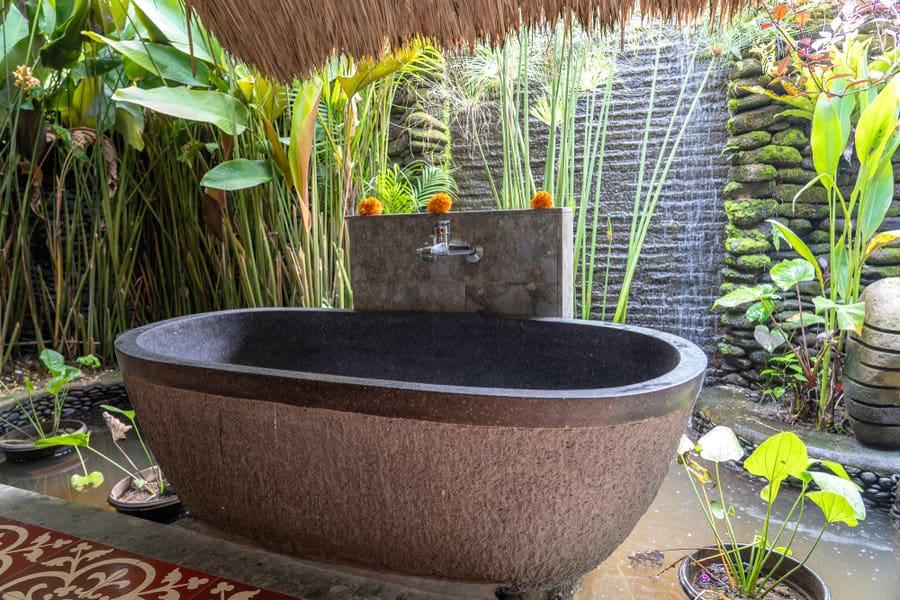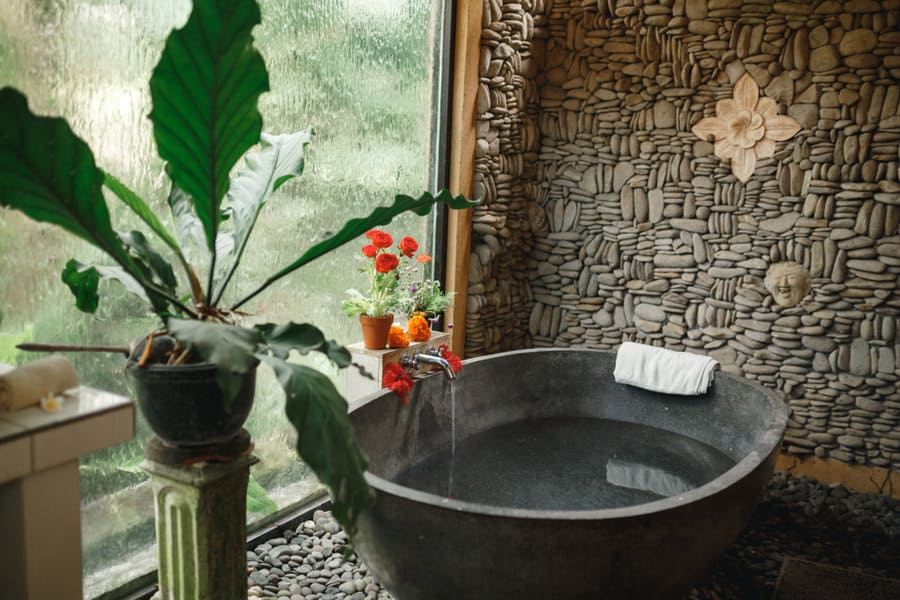 11. Rustic Woodland Retreat
Escape the city and indulge in a perfect blend of rugged and luxury with a rustic outdoor bathroom. Nestled among the trees and surrounded by nature, this unique concept combines the beauty of the great outdoors with the comforts of a lavish bathroom.
Imagine soaking in a clawfoot tub while listening to the calming sounds of a nearby waterfall, or showering under the stars with nothing but the moon and the trees as your witness.
With natural stone or wooden accents, and decorative plants as the finishing touch, this alfresco bathroom is the perfect escape for those seeking a serene and memorable getaway.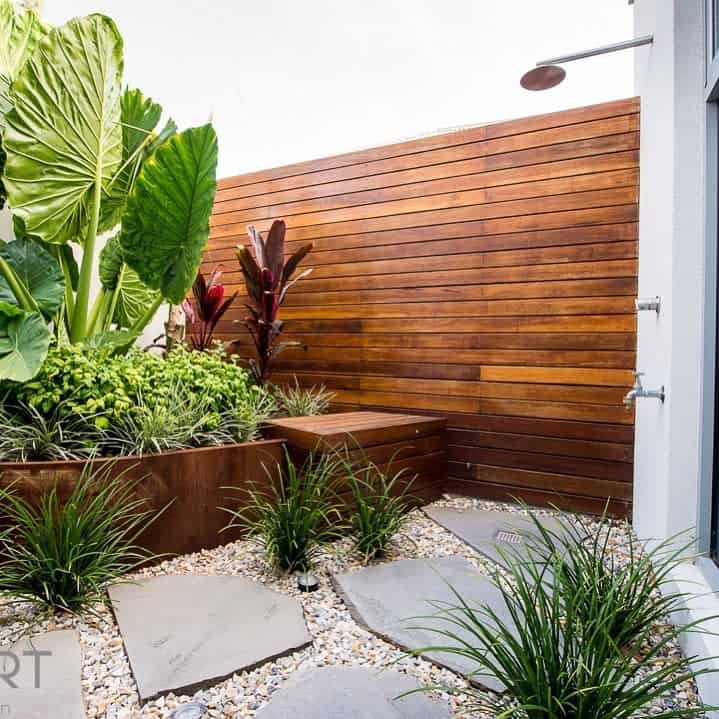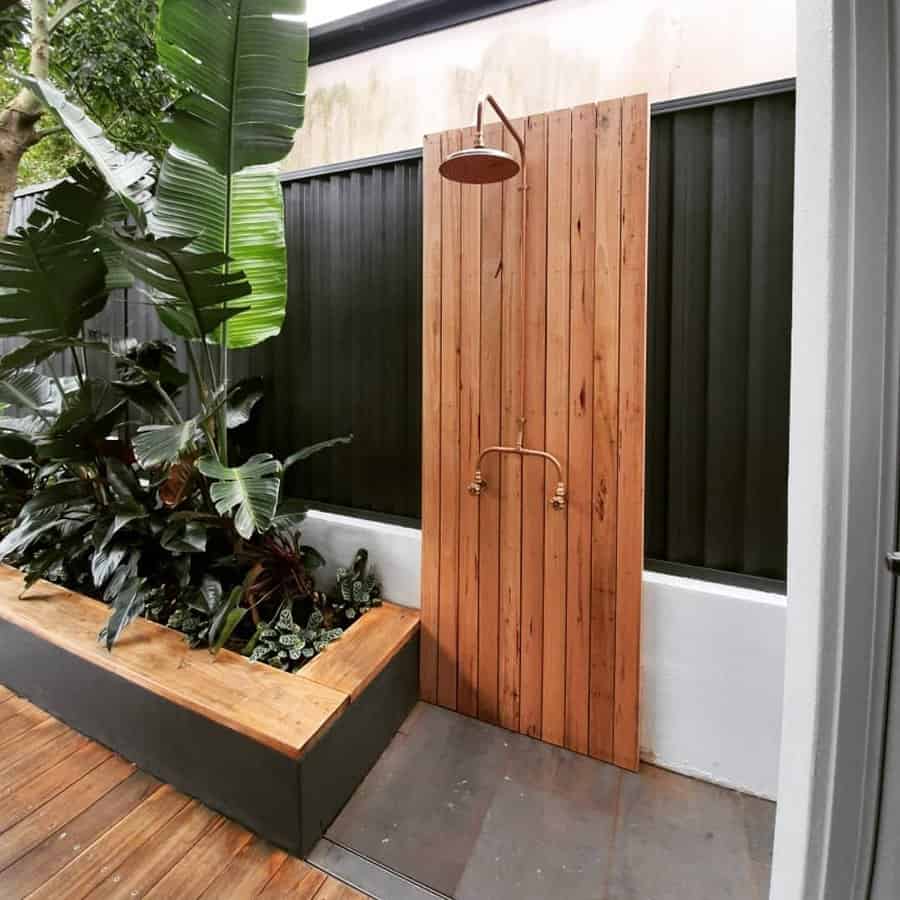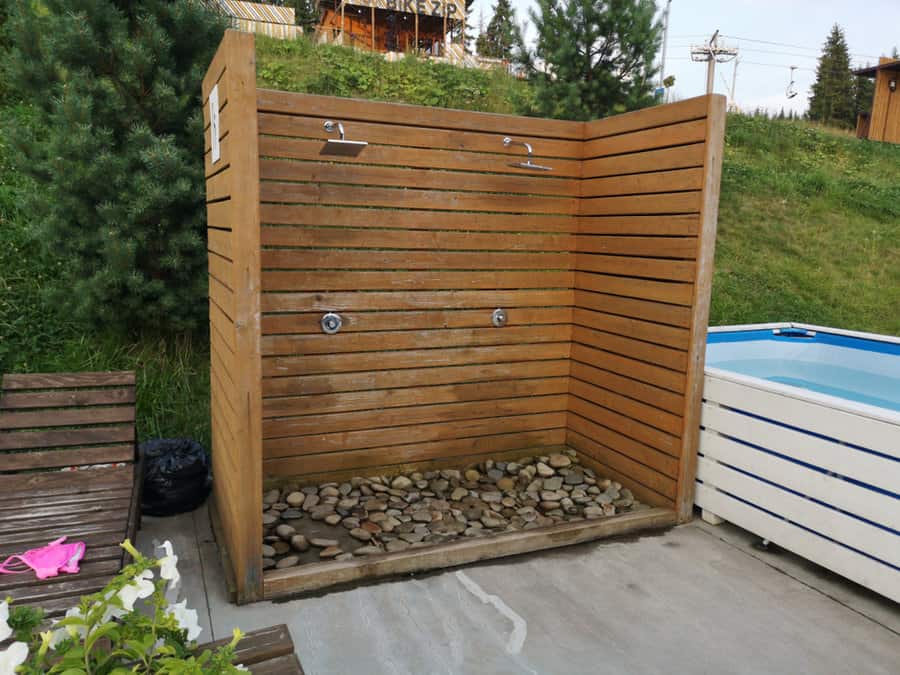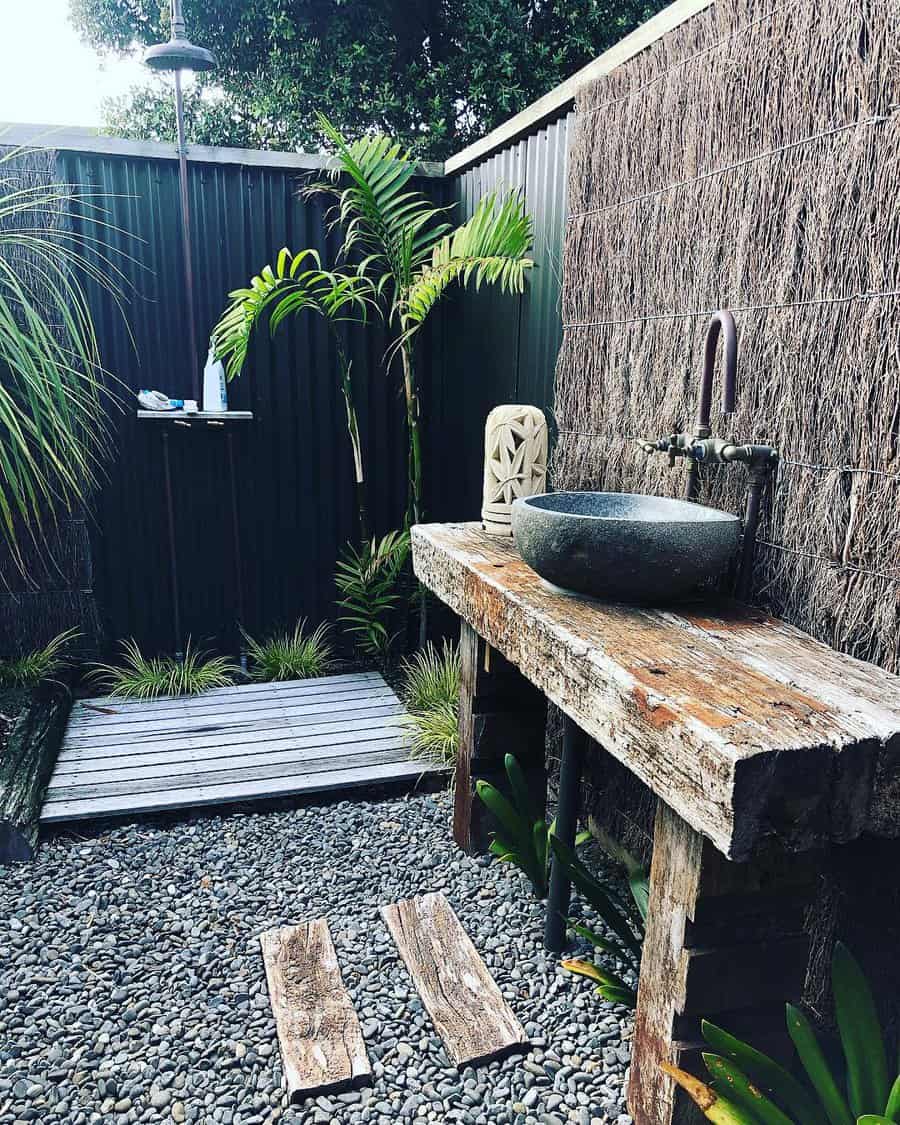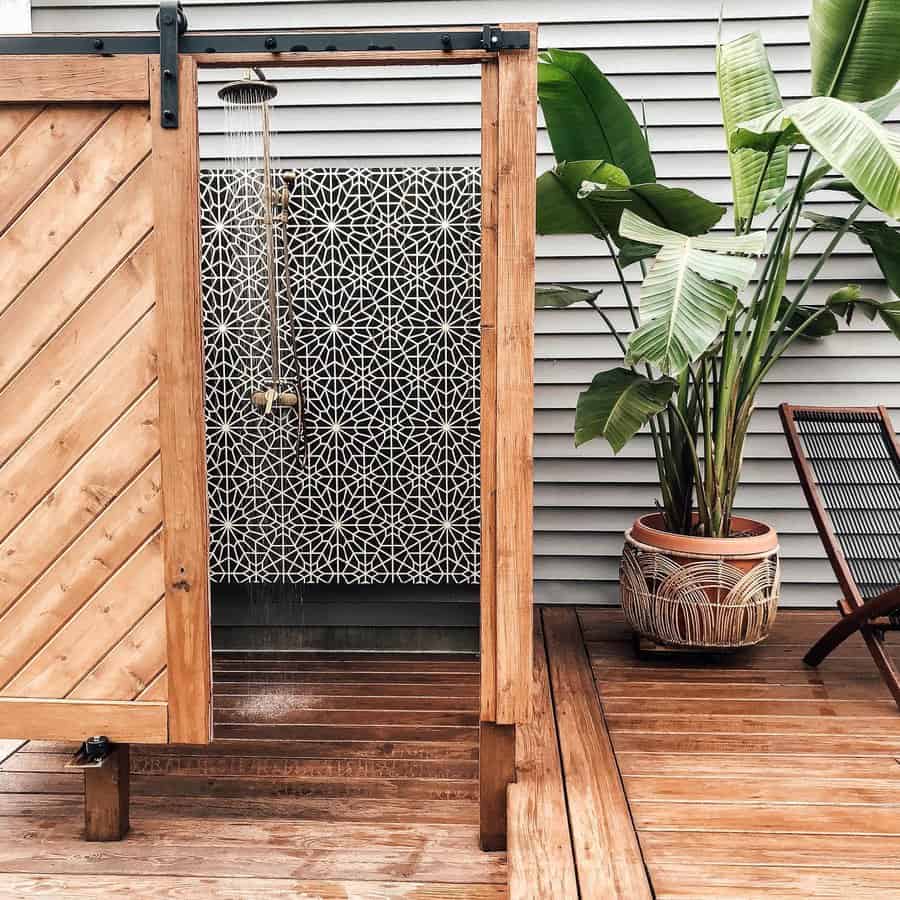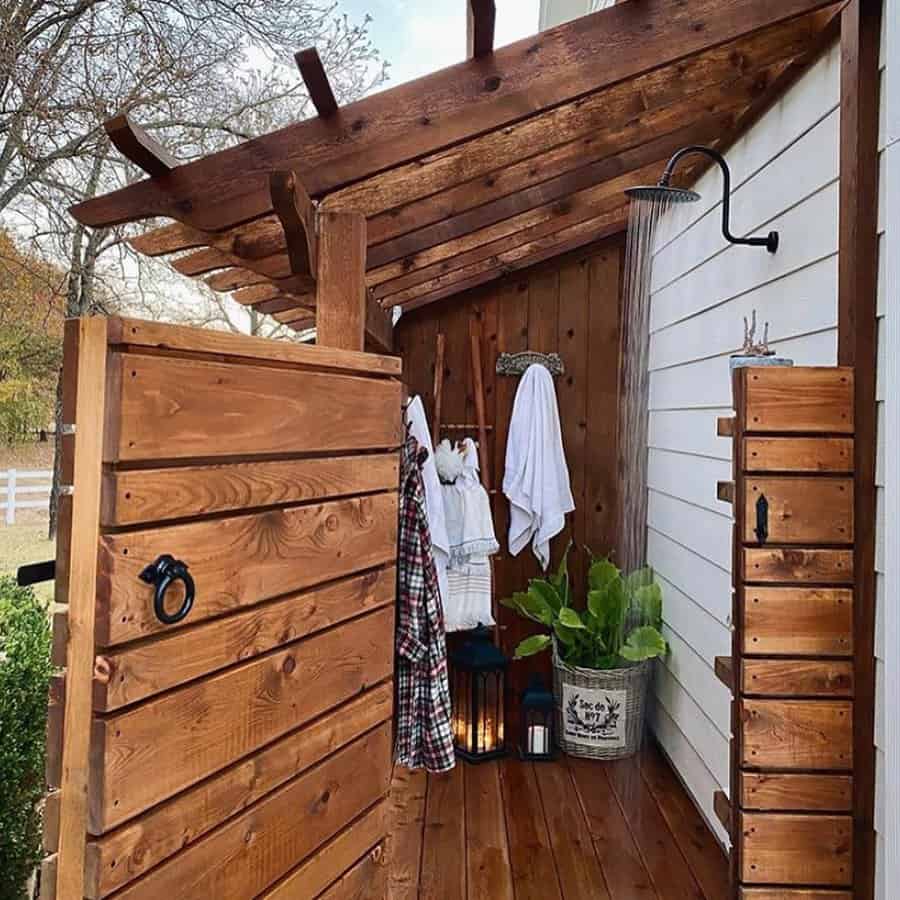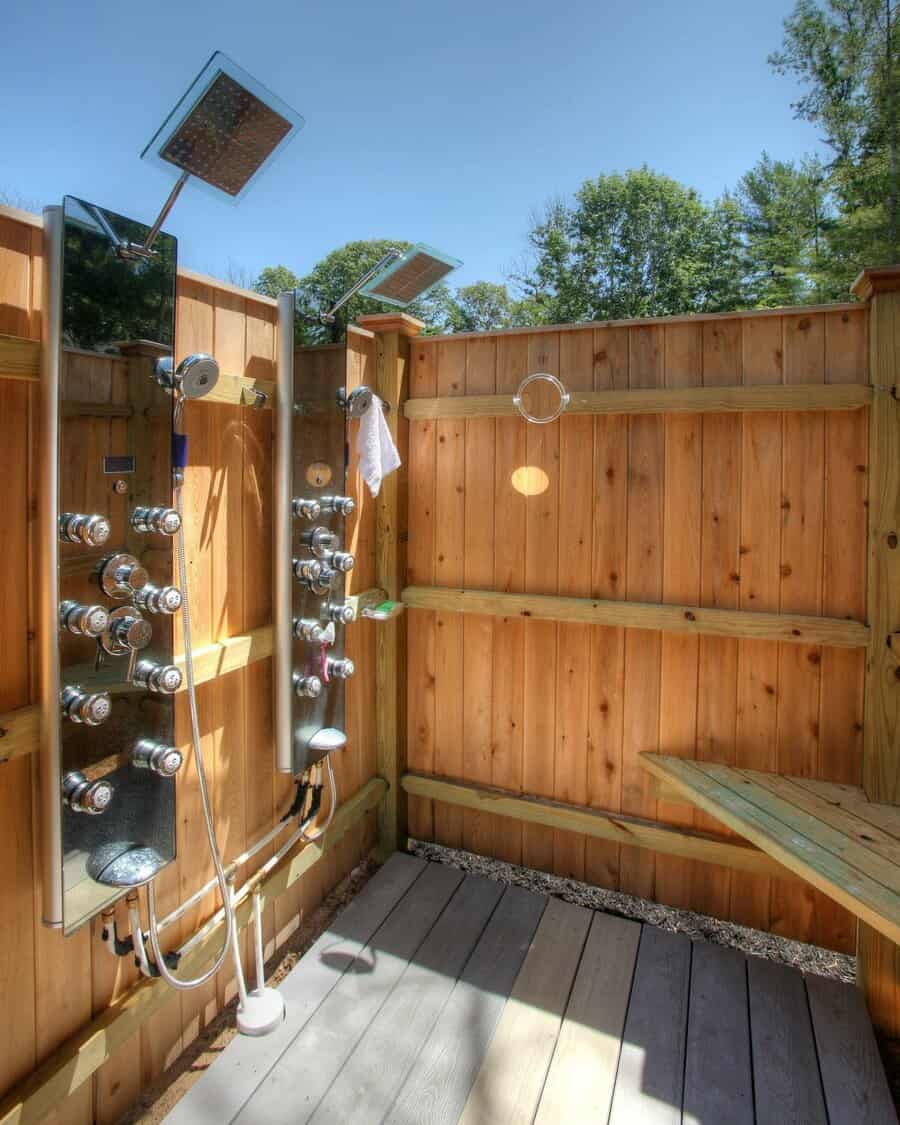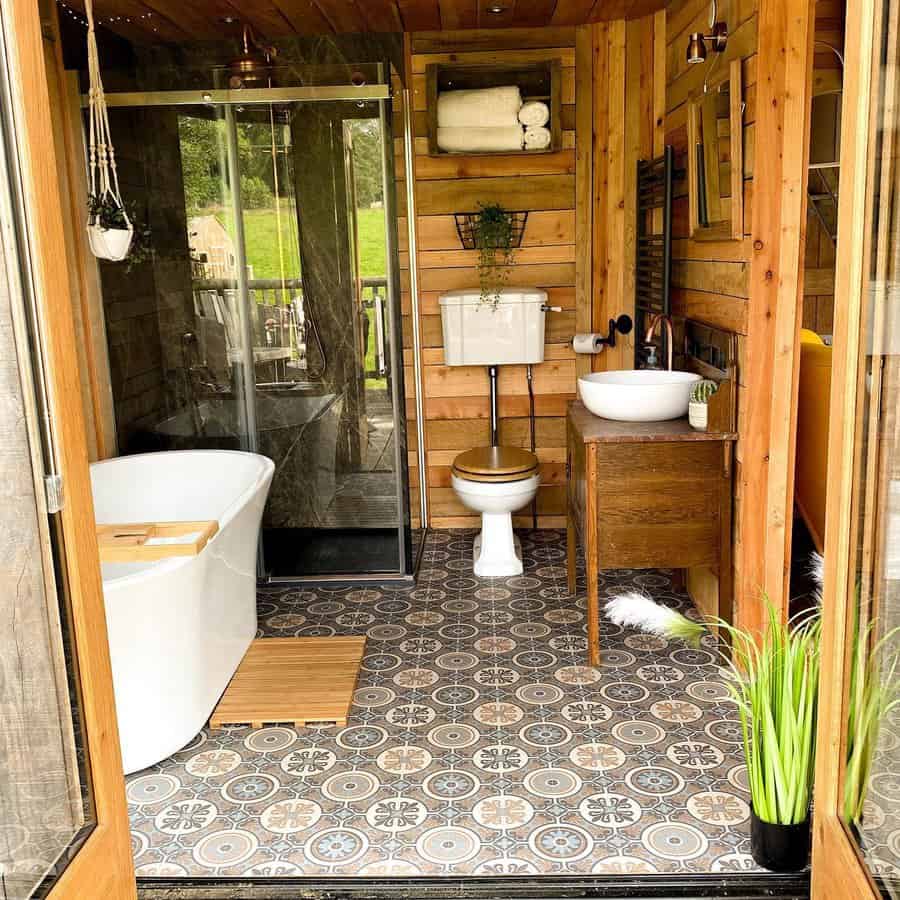 Outdoor Bathroom FAQs
How much does it cost to build an outdoor bathroom?
Expect to spend at least $10,000 to build your outdoor bathroom. The bigger and more elaborate your outdoor bathroom is, the more it will cost. Using expensive building materials will also increase the cost. Hiring a contractor will cause you to incur labor costs. You'll also need to pay for permits.
Do you need a drain for an outdoor shower?
Generally, outdoor showers only need a simple drain system. If the outdoor shower is built a good distance from the house or pitched away, the water will naturally flow away from your home. If you plan to install a toilet, you will need to have a drainage system for the waste.
Does an outdoor shower add value?
Surprisingly, an outdoor shower can add a considerable amount to the value of your home. This is especially true if you have a pool. Many homeowners today look for features that encourage connecting with nature and more outdoor living. An outdoor shower does just that by allowing you to intimately commune with nature.