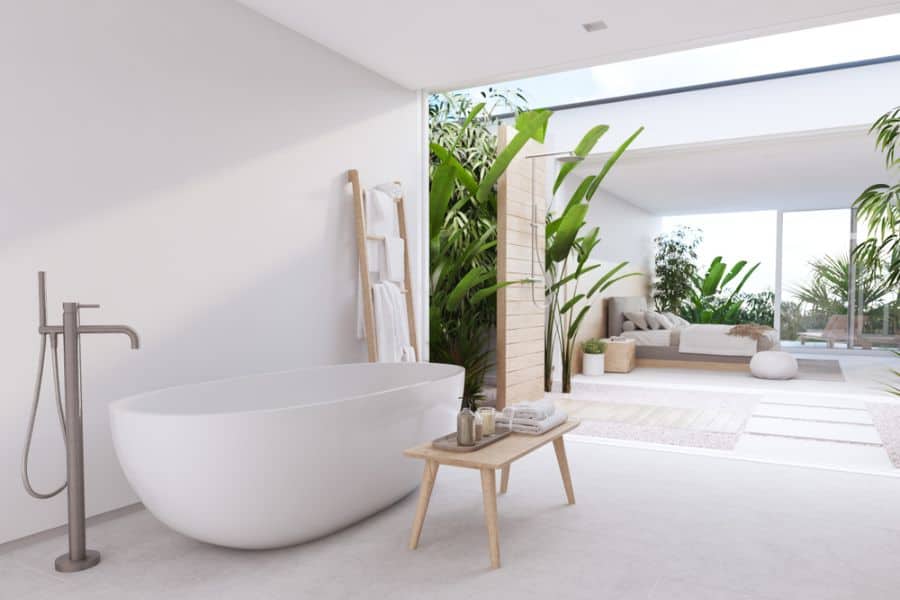 The Top 43 Outdoor Bathroom Ideas
Wouldn't it be nice if you had an outdoor place where you could rinse off or use the restroom? You could get clean outside and never have to worry about tracking dirt into your clean home.
If you have a swimming pool, this is the perfect bathroom to use to not track pool water through your home.
Outdoor bathrooms don't have to be purely for functional uses. It can also be a luxurious spa-like experience. It can be your outdoor escape to commune with nature. These outdoor bathroom ideas will have you planning a new remodeling project for your home.
1. Backyard
Outdoor living spaces are trending as more homeowners embrace the idea of using their property outside of their homes. You can take this idea one step further than having an outdoor living or dining room.
Build an outdoor bathroom on the back of your home and have an entire outdoor living space.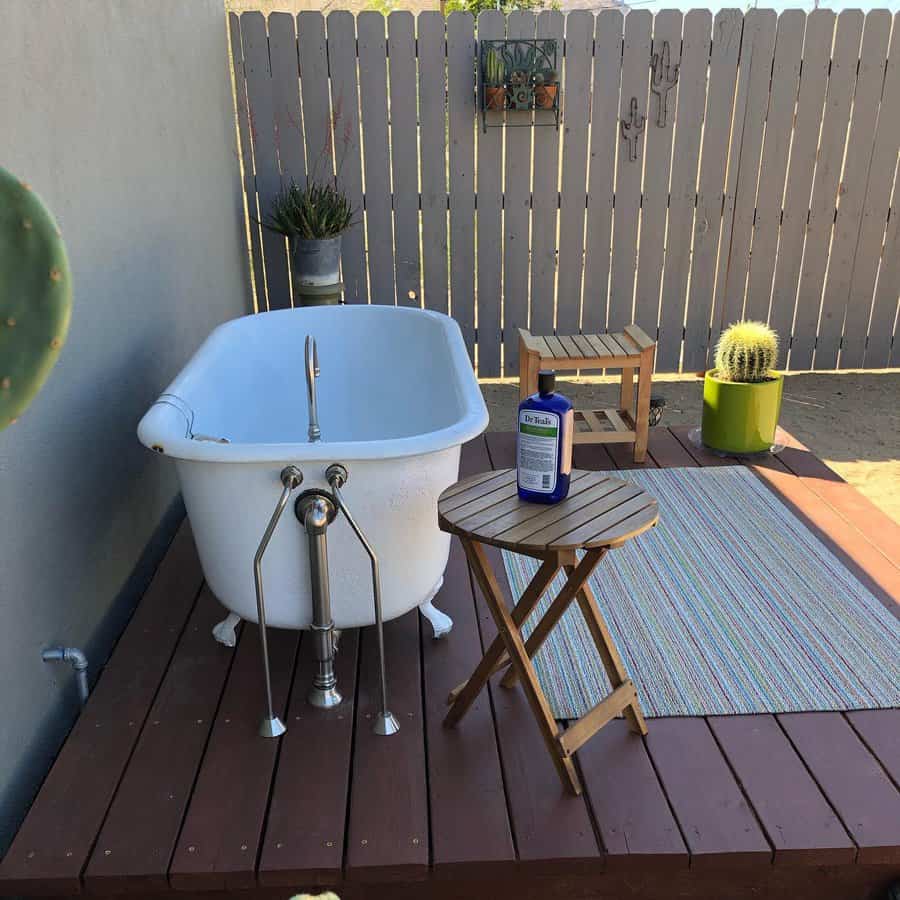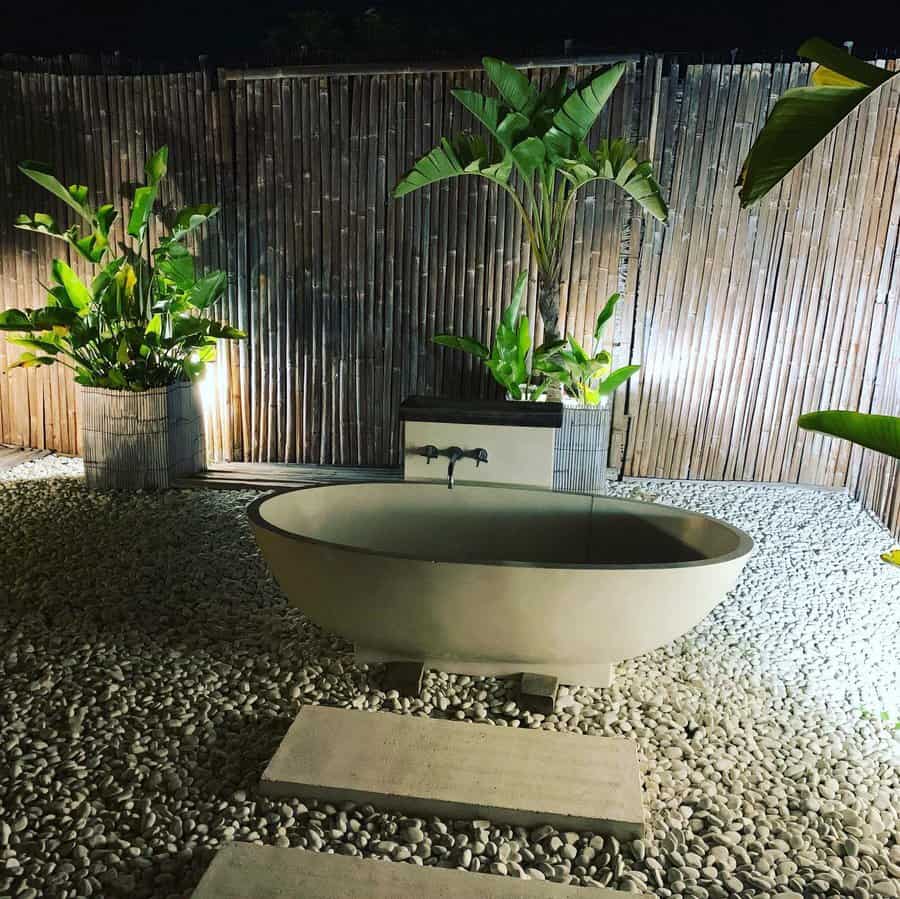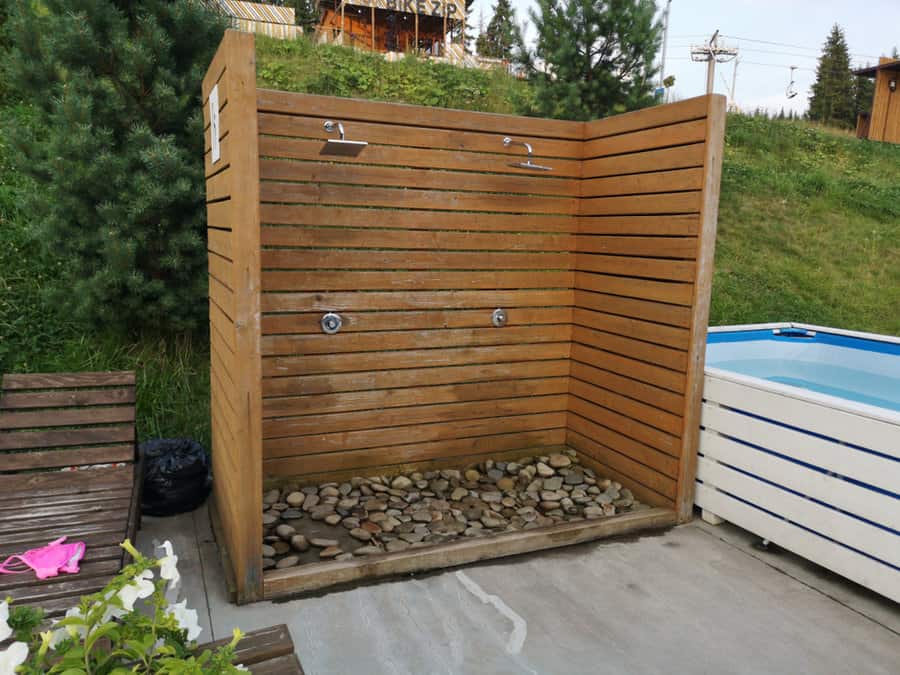 Several outdoor shower ideas use a privacy wall. Consider where your neighbors are when deciding where to build your shower. It can help to have two walls that overlap to create plenty of privacy. You'll also want to build it far enough away from your other outdoor living spaces to create privacy.
2. Bathtub
Add an outdoor bathtub to your outdoor bathroom space and give yourself the ultimate in spa-like luxury. You're already installing a shower, so the plumbing won't be too much more to add the lines for a tub. You could even have the shower directed into the tub for a single drain.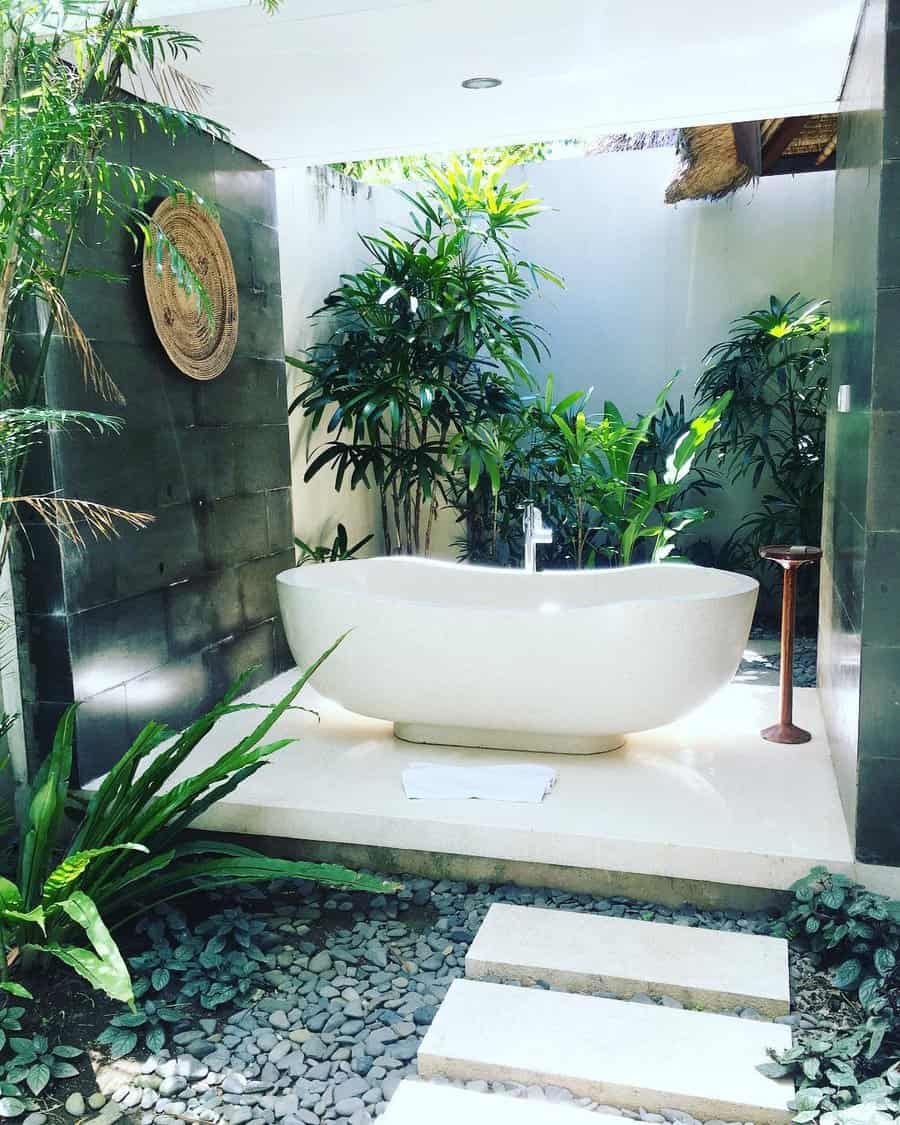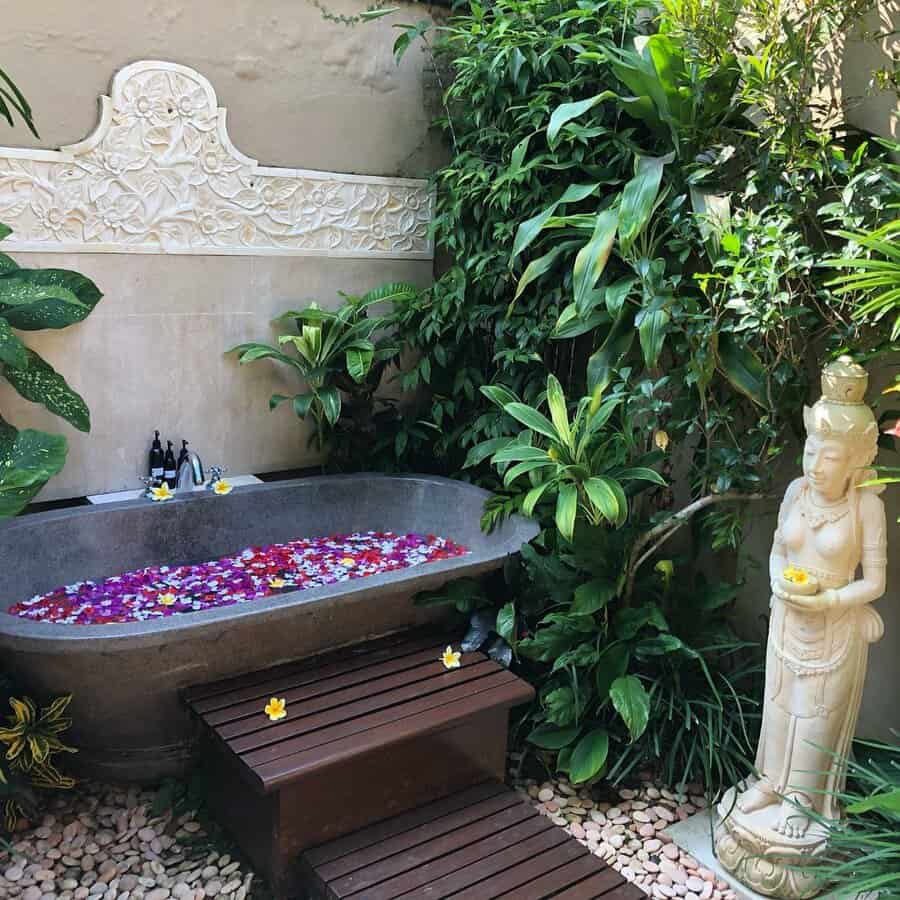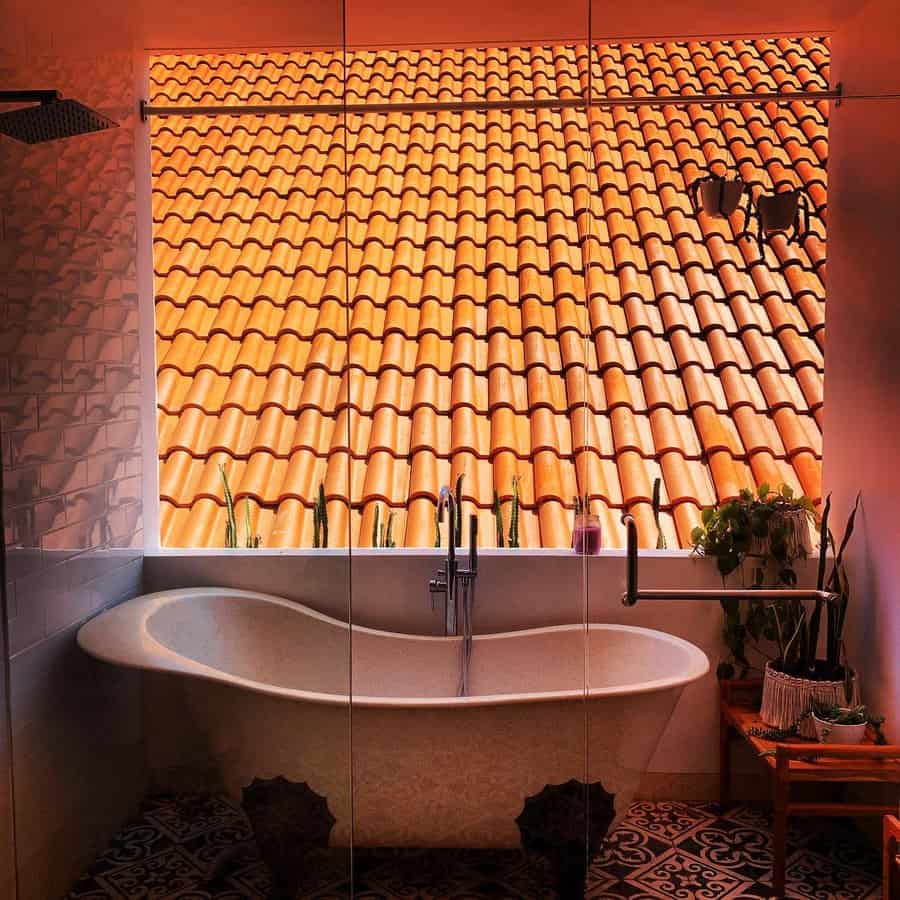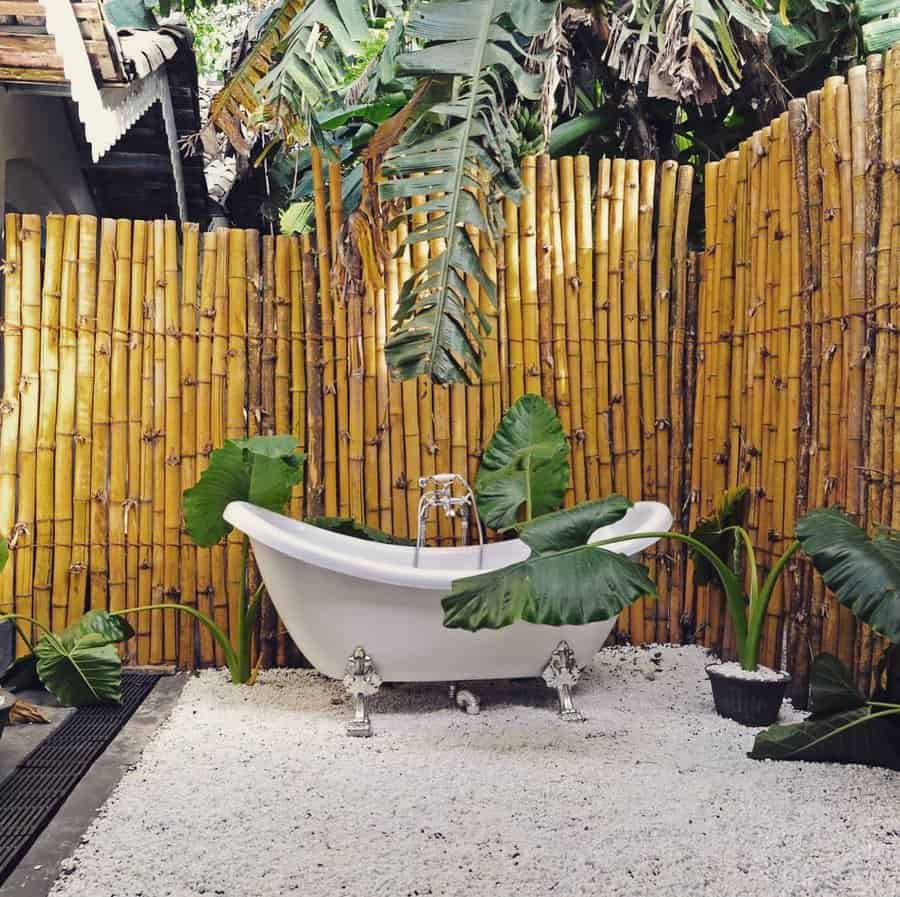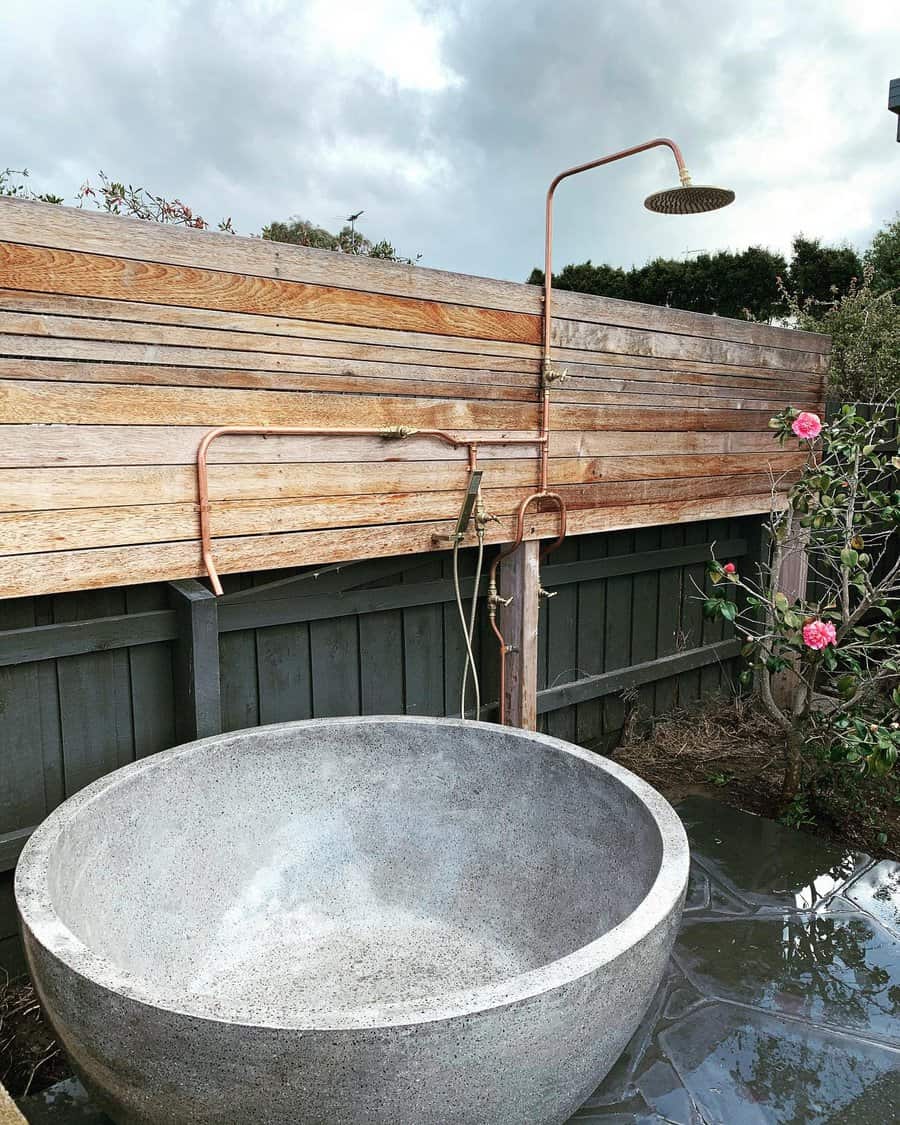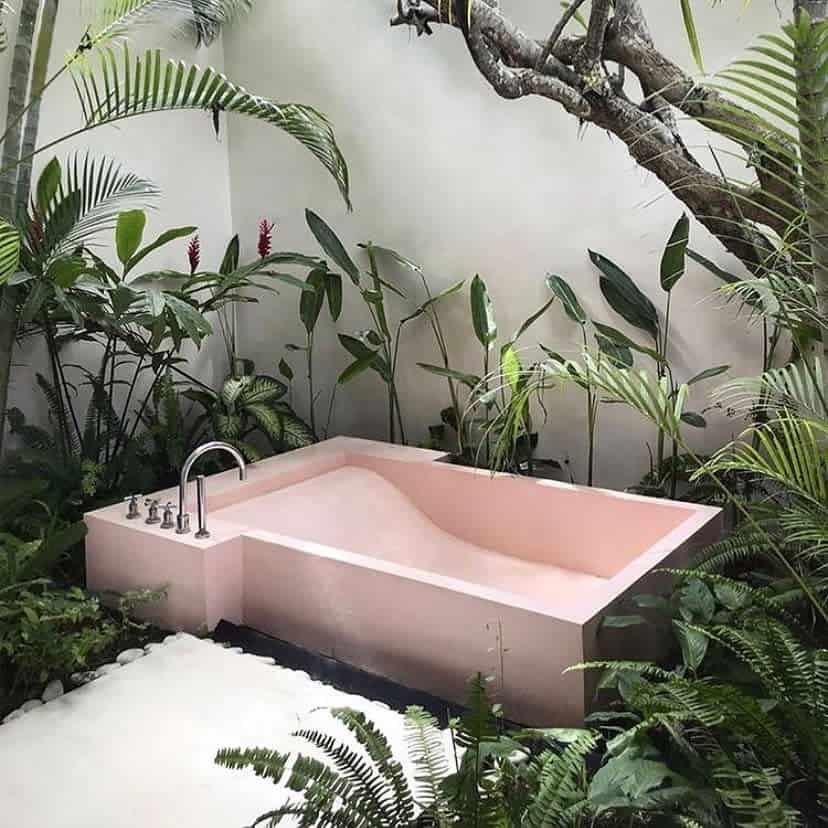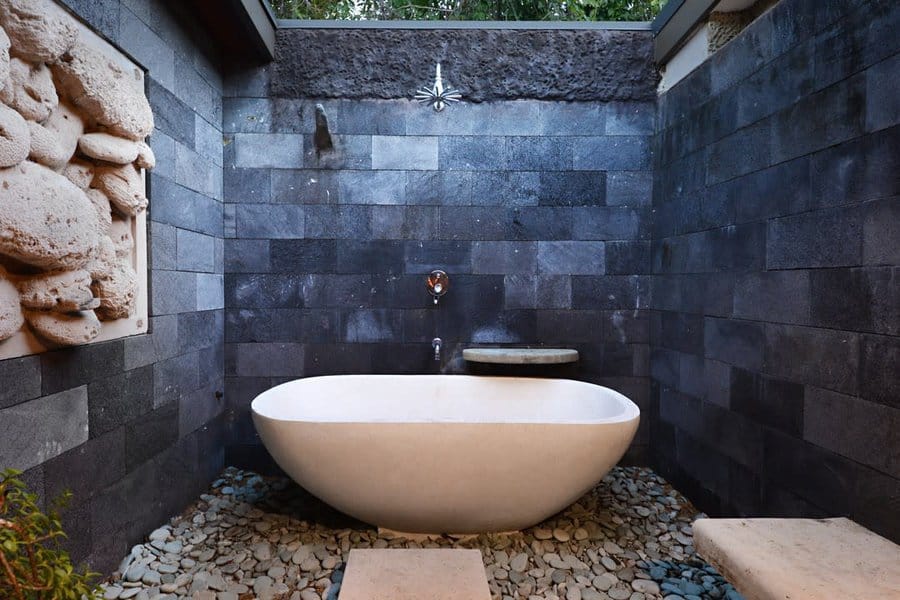 Bathroom design ideas look at more than just adding a tub. Treat it like you would an interior design project. Consider the size and shape of the tub you choose.
It could be a classic white claw foot, a natural-looking carved-out stone, or a sleek modern white sitting tub. Add ambiance by growing several plants. Add string lights overhead or lanterns for safe night-time bathing.
3. Minimalist
If your home has a minimalist design, then you should continue this look with your outdoor shower. This will help your home to blend in with the rest of your home.
Use similar materials to build your shower that your home was made out of. A combination of metal, wood, and glass will look nice. Try adding a frosted glass door.
This is smart because it will give you privacy, make your bathroom look luxurious, and the glass won't rot.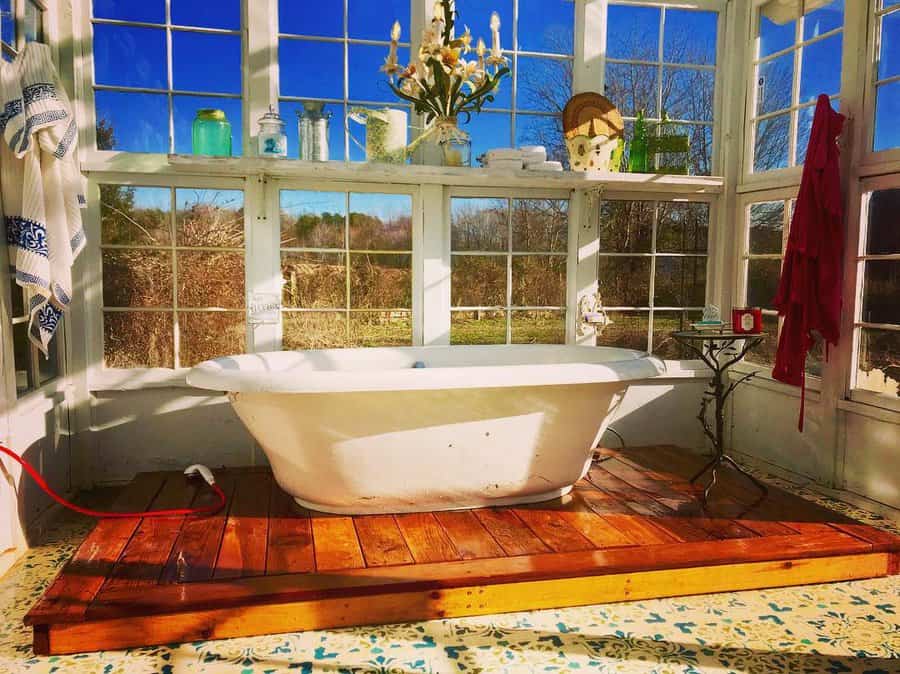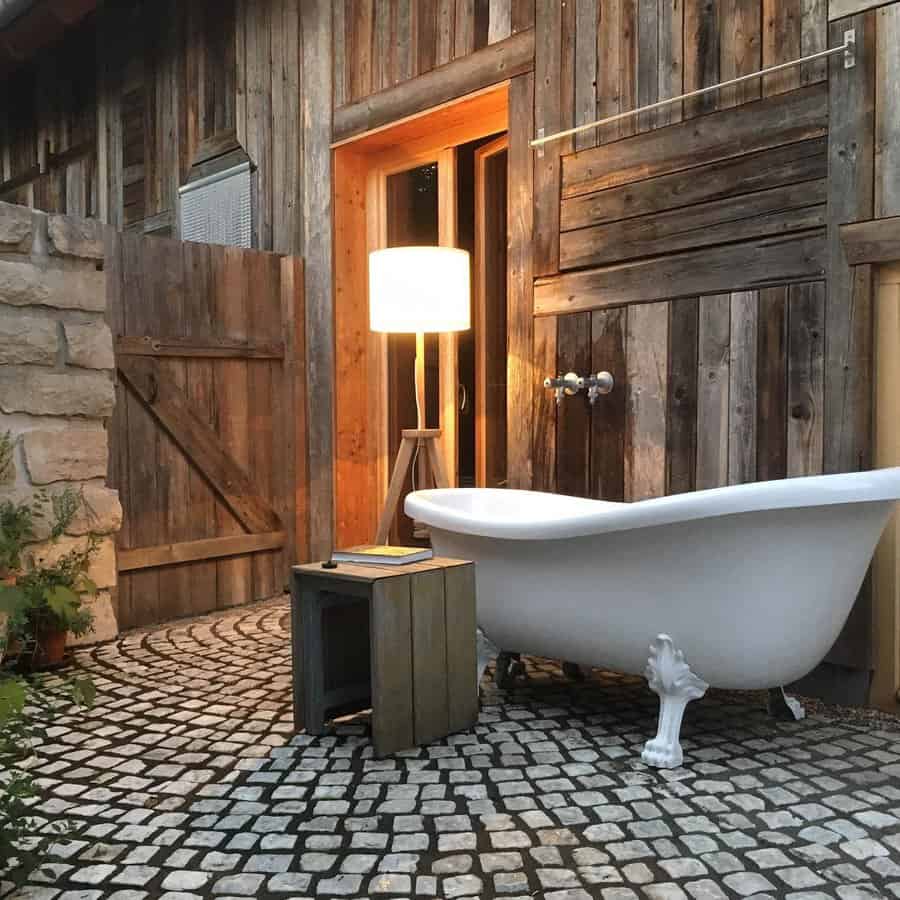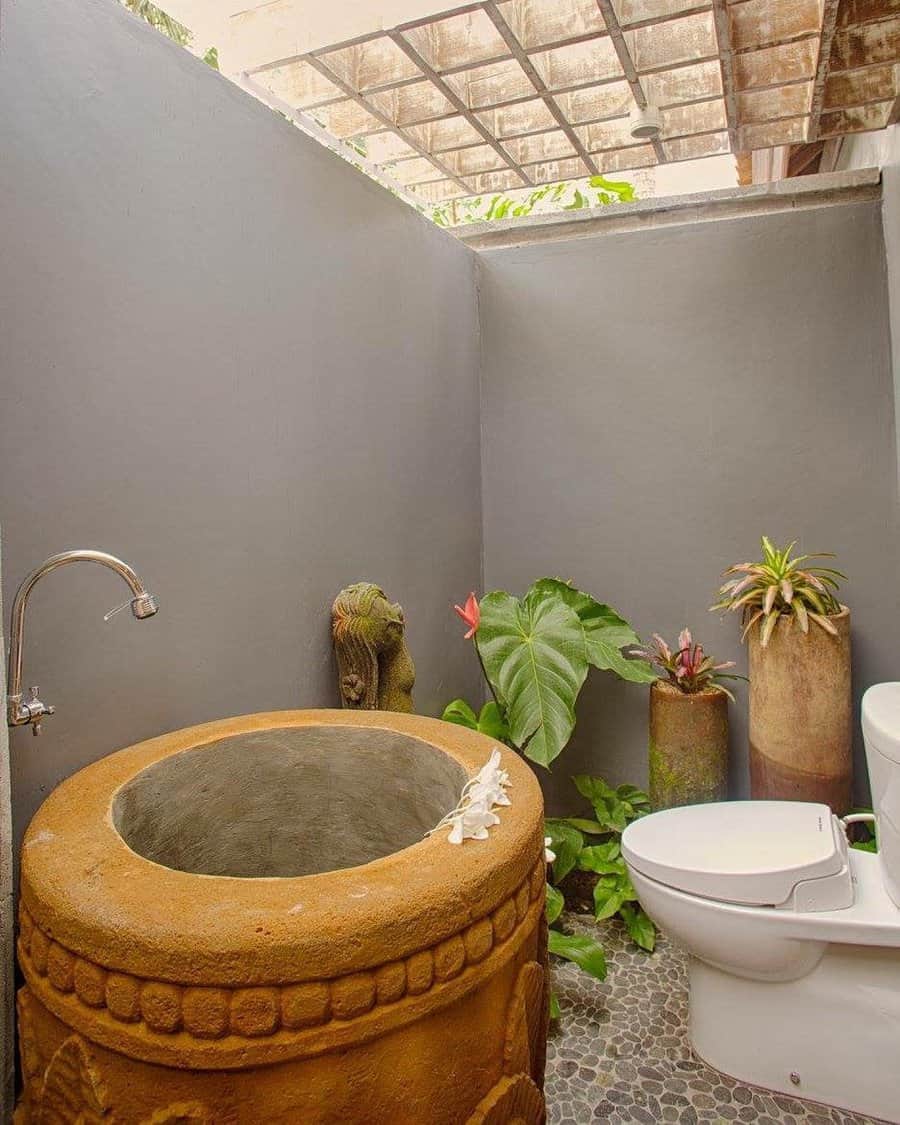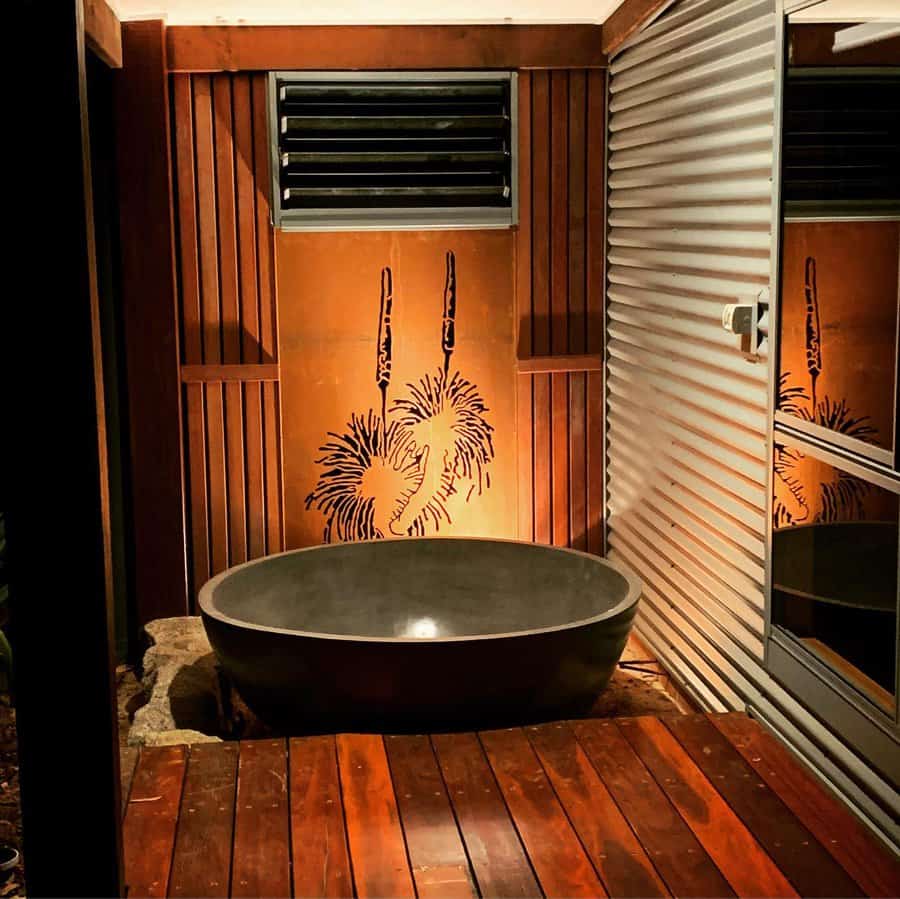 Don't add a ceiling to your bathroom, leaving it open to the sky above. Then keep things simple with a single wall that you could the shower head on. Large black slate tiles and teak planks will look sleek and modern while also being durable enough to last.
4. Modern
Focus on creating a simple yet functional and comfortable outdoor shower. Modern bathrooms aren't bare like minimalist ones, but they also aren't overly ornate or cluttered.
Use wood to create an elevated walkway to the shower in your outdoor bath. Have an elevated platform that a tube sits on that's surrounded by a river rock moat.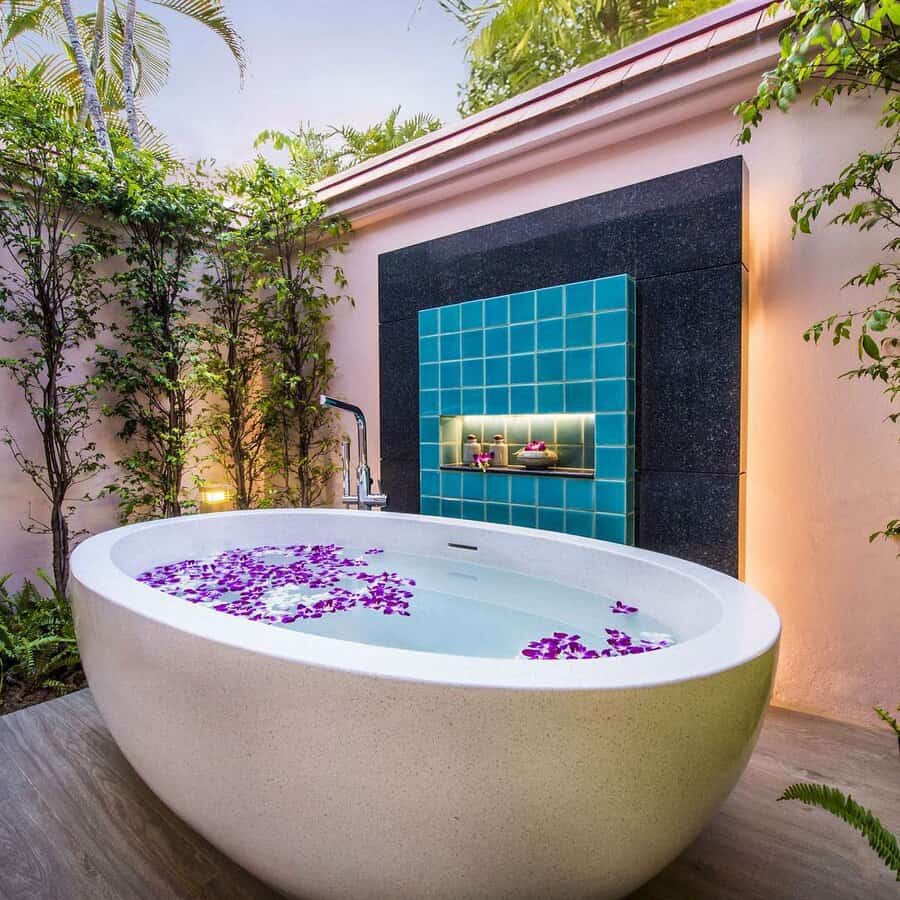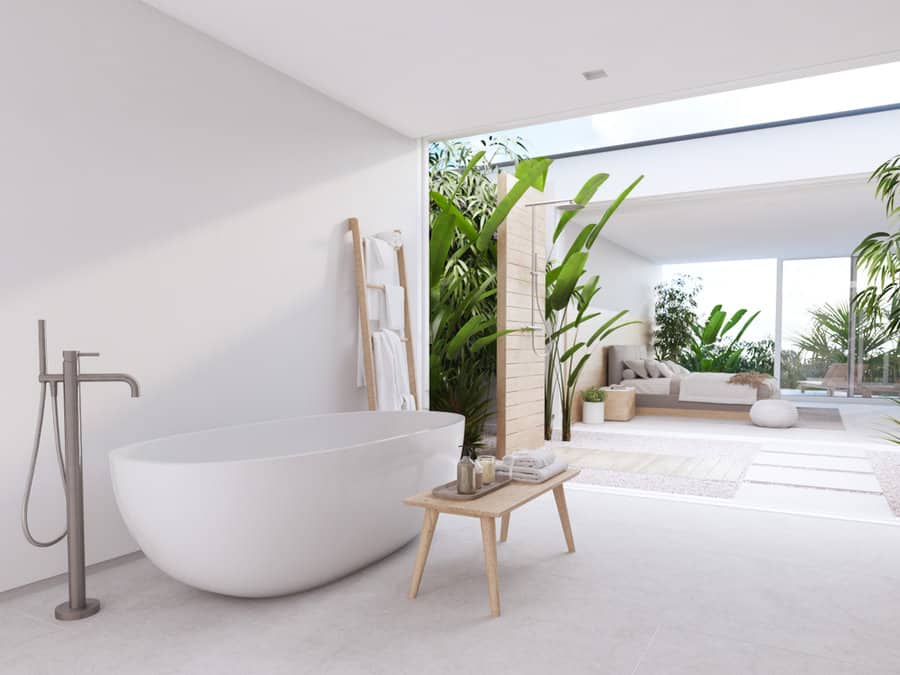 Another modern take is to combine your outdoor and indoor bathroom. You'll remodel your home to add a large glass door that leads outside of your bathroom. This increases the size of the usable space in your current bathroom. It also gives you more usability out of your outdoor bathroom.
If your current bathroom only has a shower, then place a tub outside. Conversely, you could have the tub inside and build a shower area outside.
5. Design
Outdoor bathroom design is about blending a traditionally private indoor space with nature. Think about how you use your indoor bathroom when deciding what to include in your outdoor bathroom.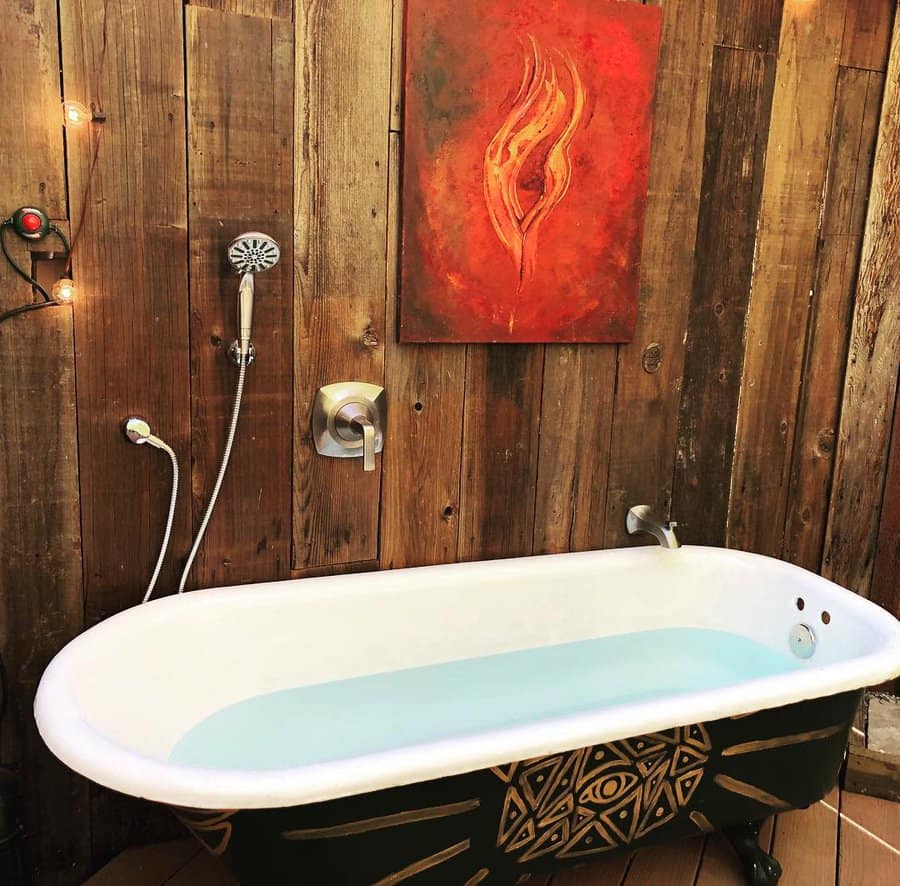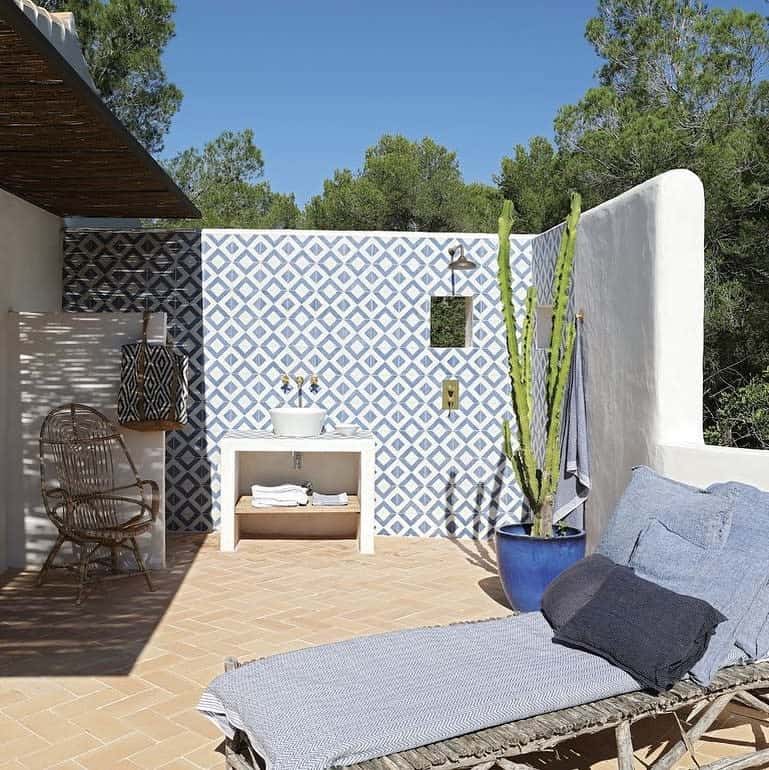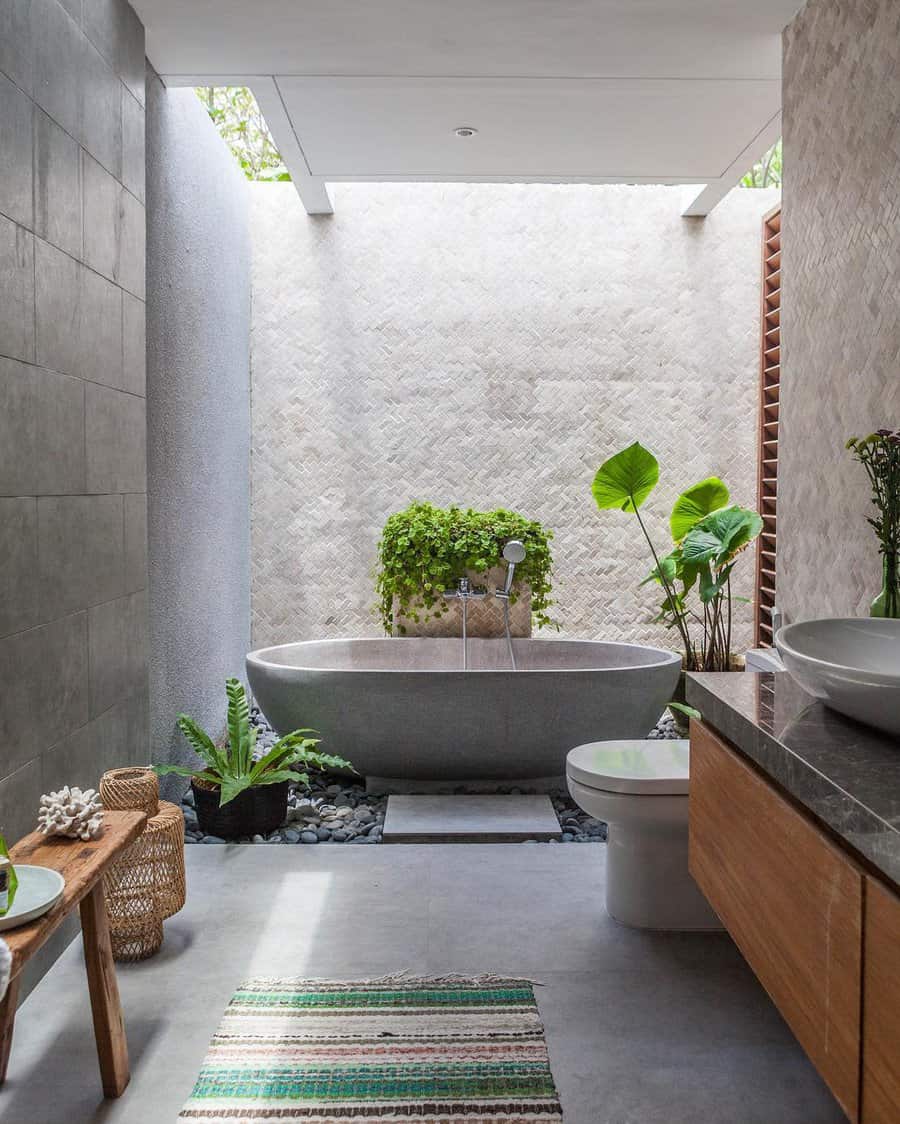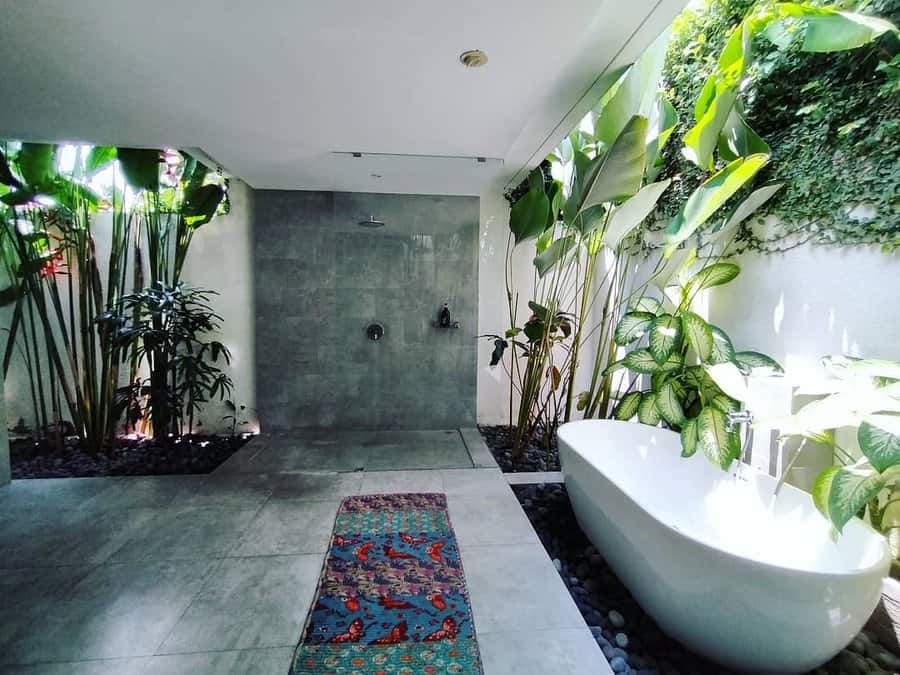 Many people skip the sink, but this is something you'll want to include if you decide you want a toilet. If your outdoor bathroom is going to be more of a recreational or spa-like space, then you only need a shower or tub.
6. Resort
For inspiration, look at exotic resorts for some of the most beautiful shower rooms. You can emulate them when building your outdoor bathroom. They feature unique designs, like a large glass wall for the shower stall. Build extra-tall walls for an increased feeling of privacy.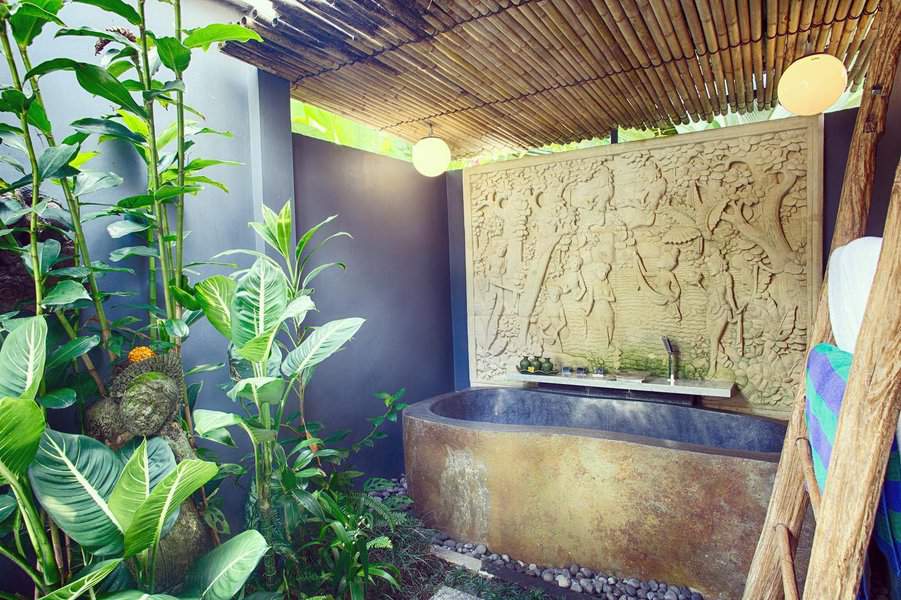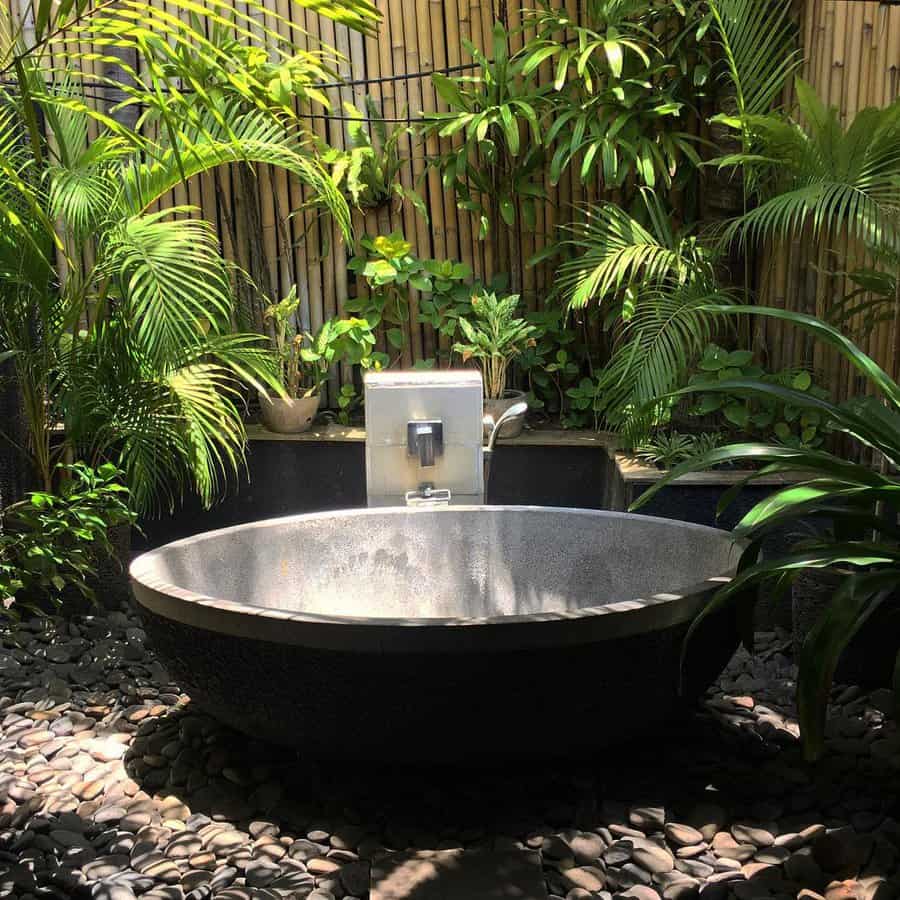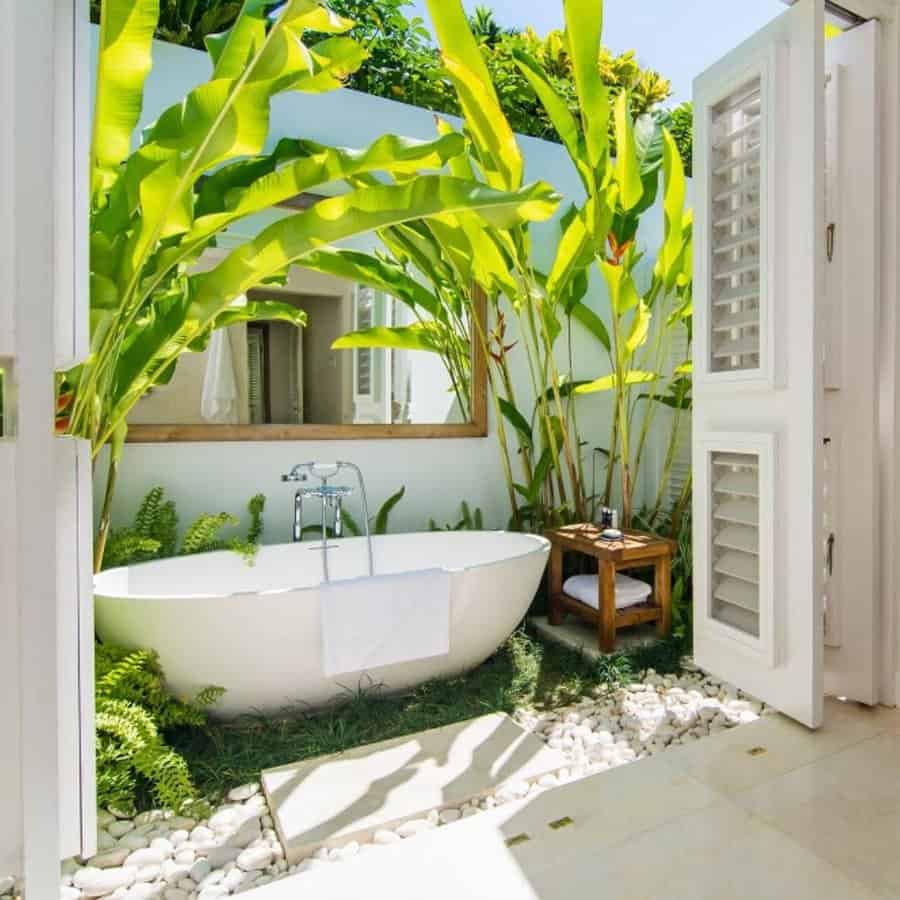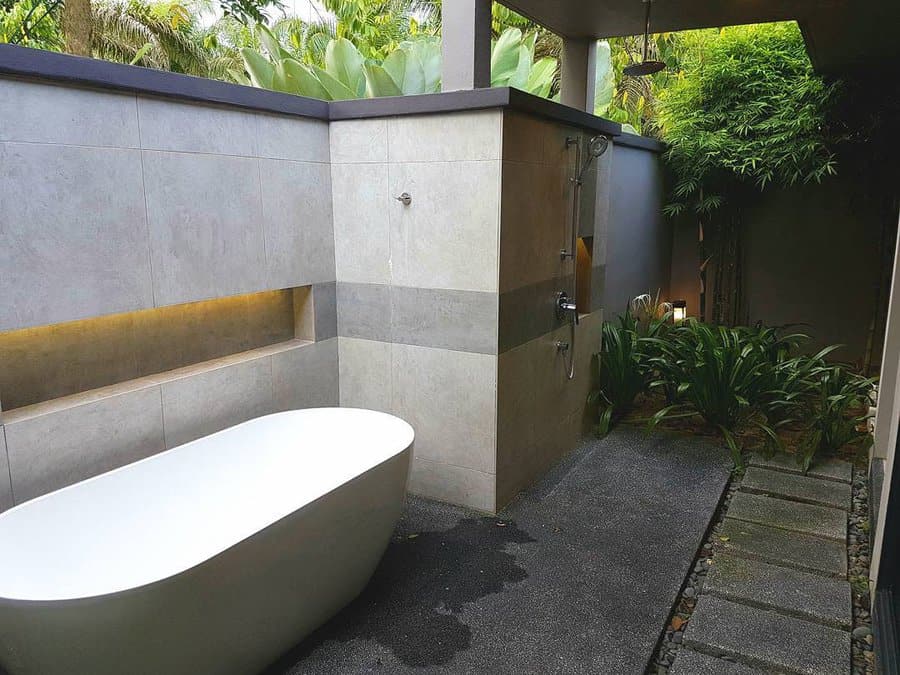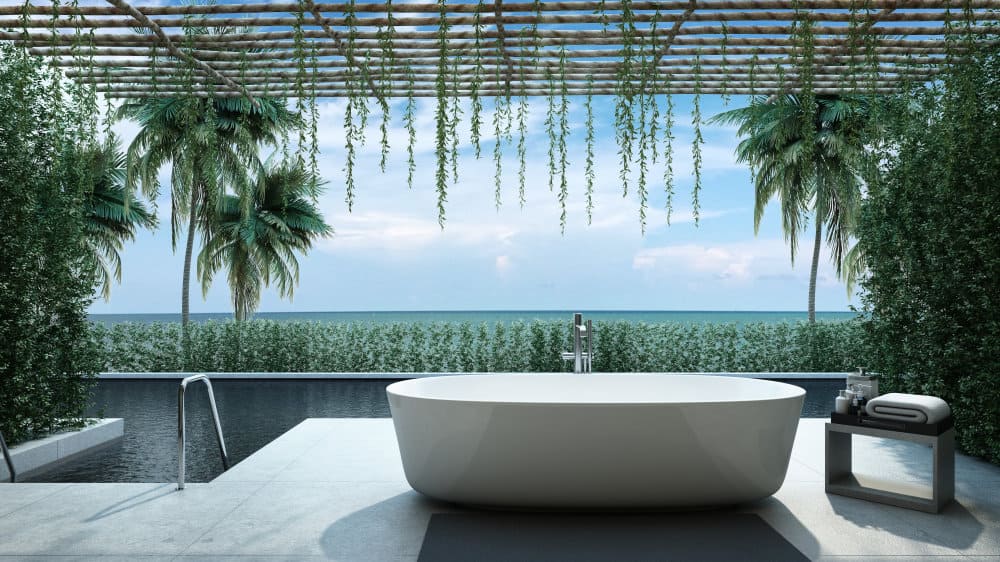 Don't install a standard shower head. Instead, opt for a waterfall effect or rainwater-style shower head. Add accent lighting in your outdoor shower. You could have lights strung overhead. Or you could install hidden LED strip lighting for custom colored lights.
7. Shower
The simplest outdoor bathroom you can have is a single shower head. For a quick and easy shower, mount the shower head on the side of your home.
Then build a platform and direct the water away from your home. This is ideal when you have a swimming pool because it doesn't provide any privacy.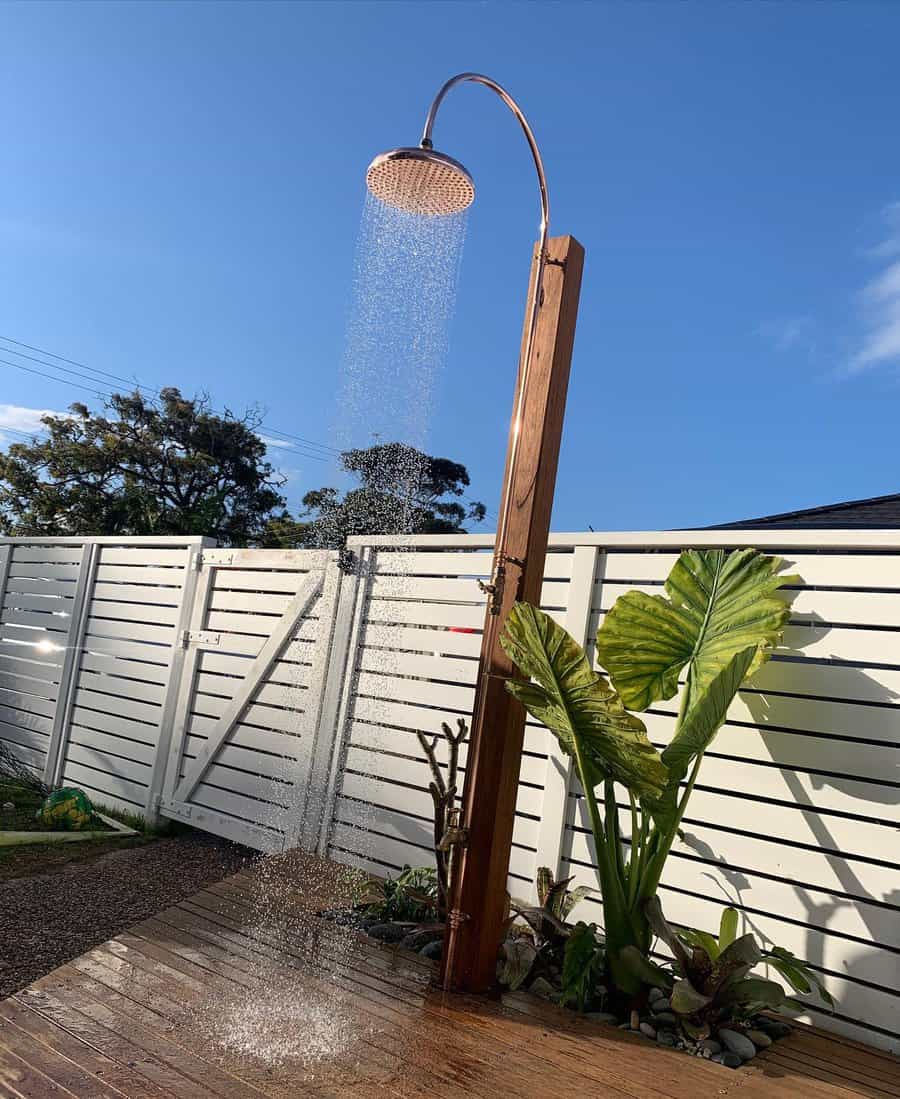 If you plan to use your shower as a traditional bathroom, then you'll want more privacy and space. Build a wall around the shower area. Then build another wall that will block the opening, creating an overlapping effect and a walkway.
For more convenience, build another room separate from the shower area. This will give you a dry place to keep your clothes and change.
8. Stone
Building a stone wall out of natural stone to create your shower enclosure is a smart idea. The stone is durable, gives you privacy, creates a natural aesthetic, and is impervious to water.
Large stones are best for building the wall because you can stack them. Use small pebbles for the flooring under the shower. Standing on the small pebbles will feel like a foot massage.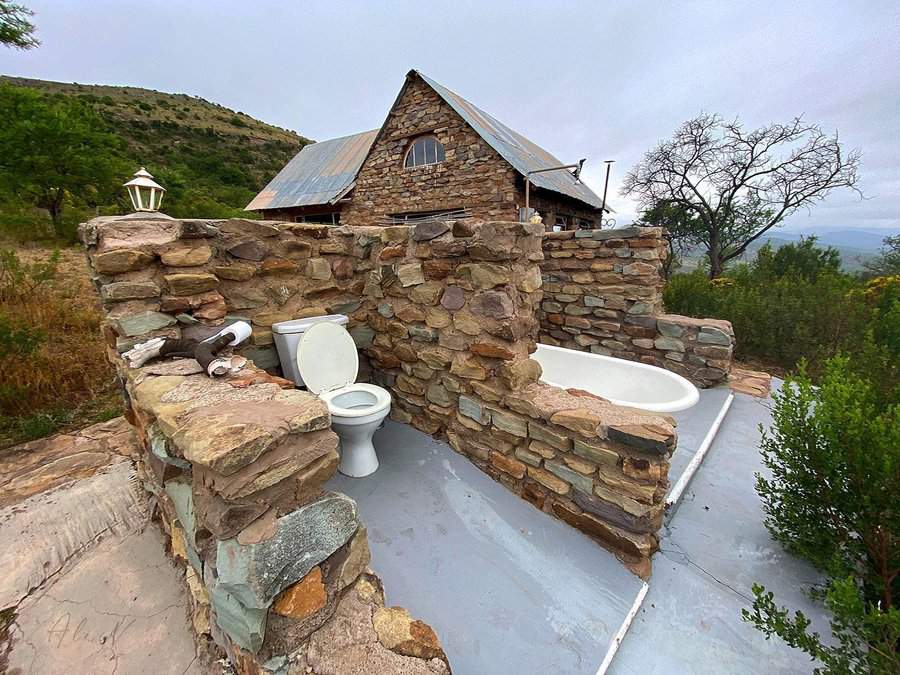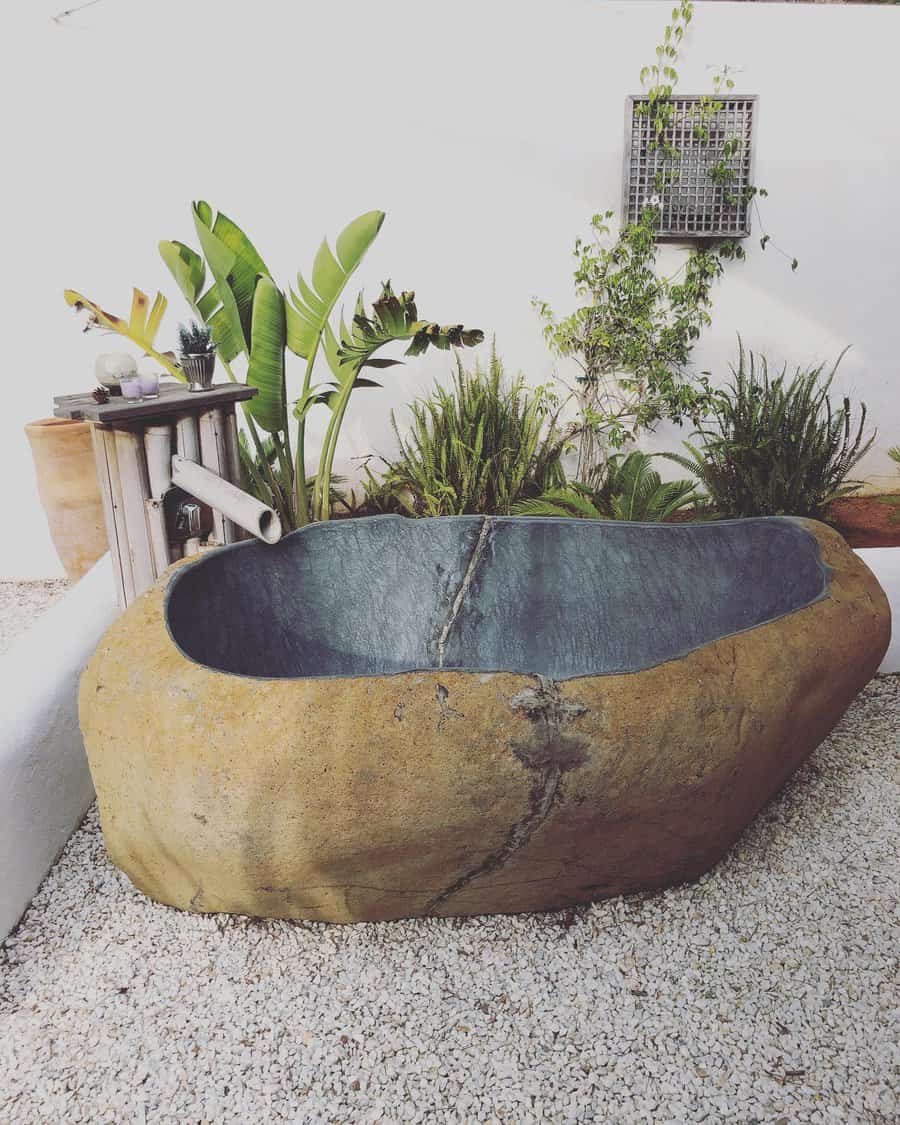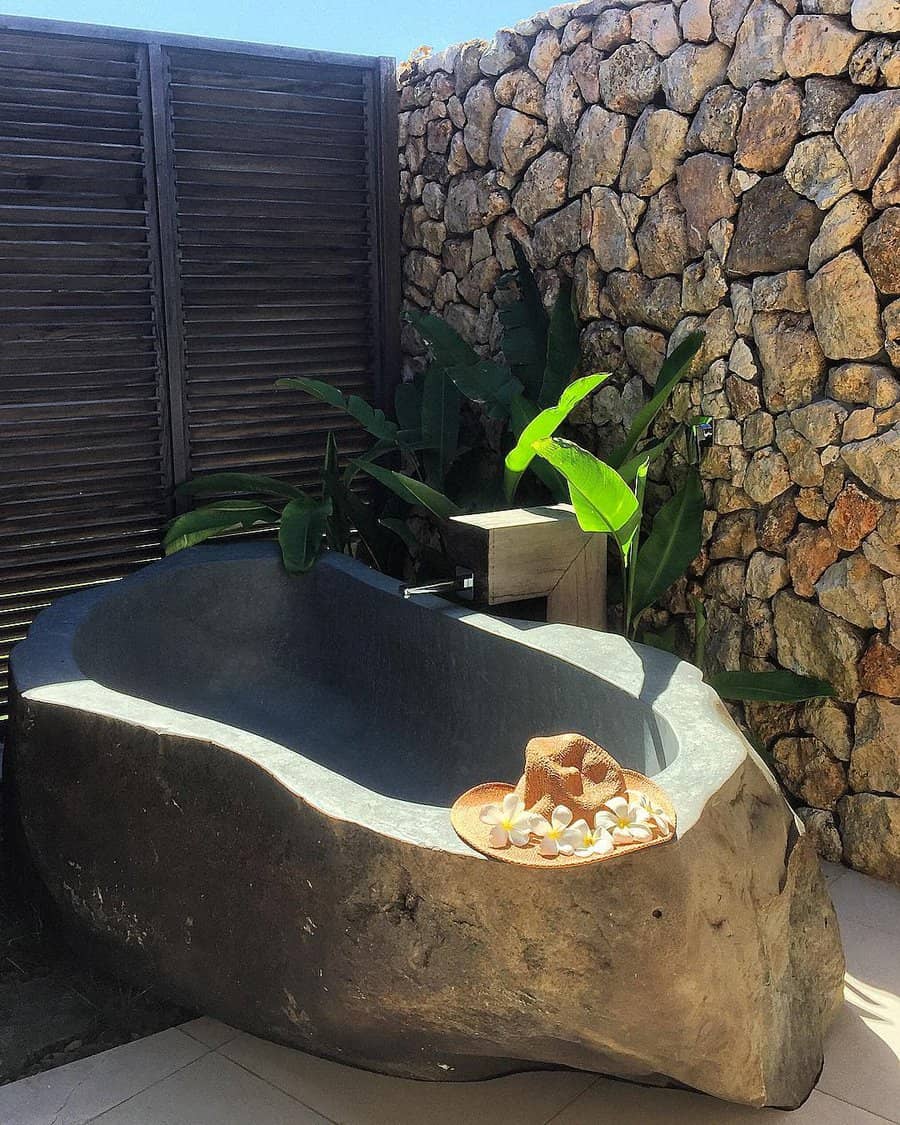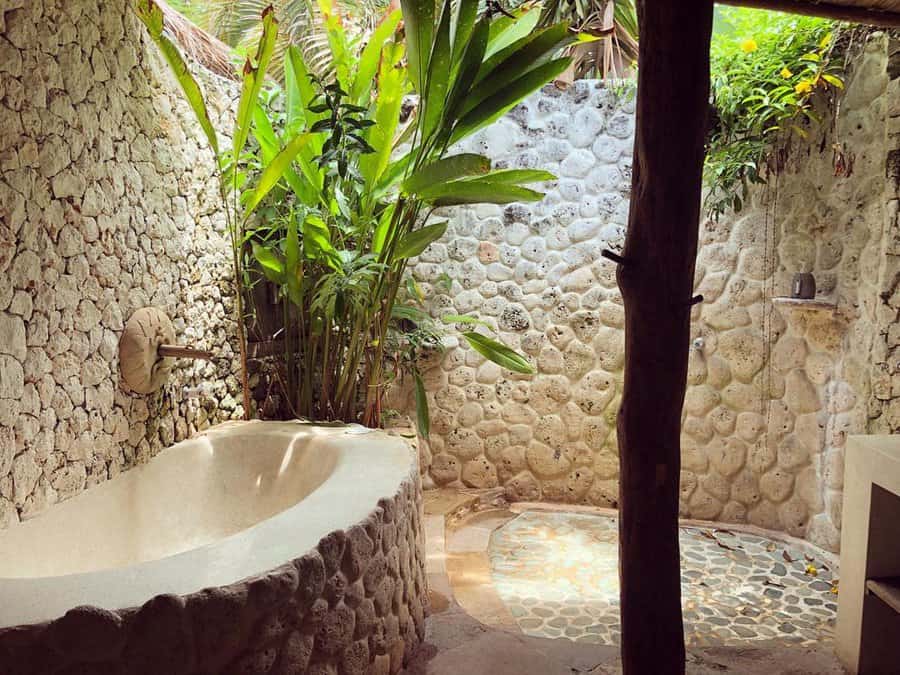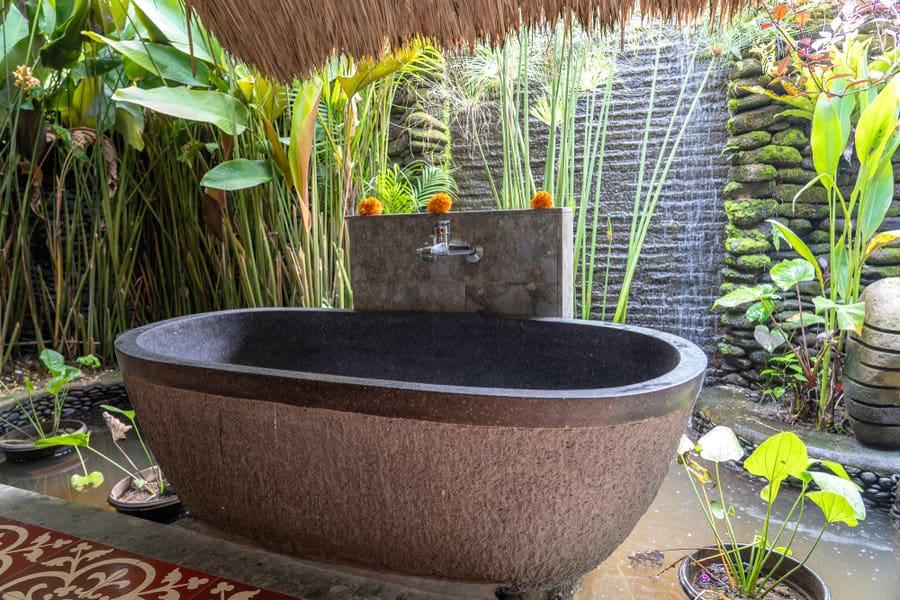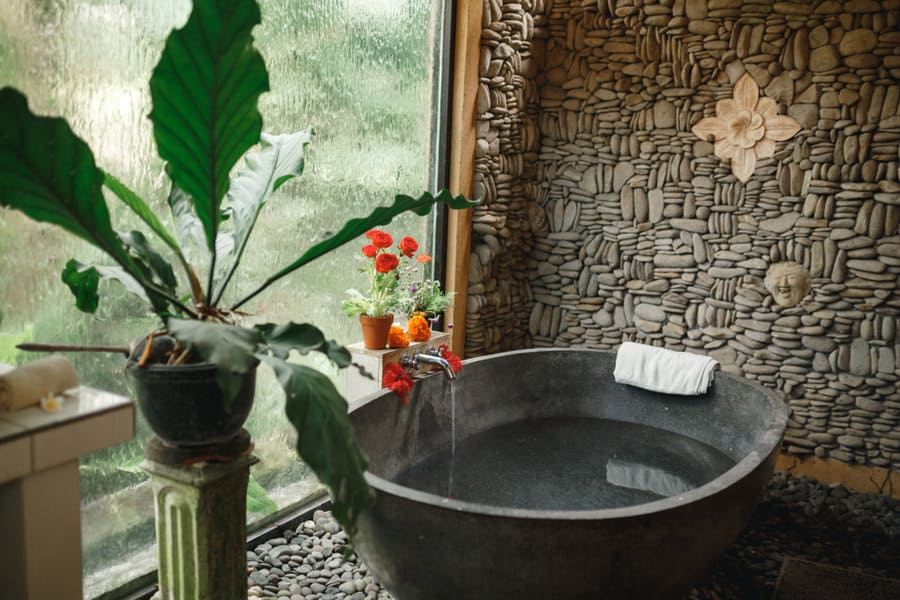 Stone tiles will give you a natural look but in a more refined way. Slate is a greyish black stone that you can buy as tiles. They will give your outdoor shower a modern and upscale look.
For a luxurious feel, you can use marble or granite for your outdoor shower. Be careful with this; you'll want to use smaller tiles with plenty of grout. This will give you traction. Smooth polished stone will get very slippery when it's wet.
9. Tropical
Turn your outdoor bathroom into a tropical escape. Add plenty of greenery in hanging pots from the roof, potted plants, and planted in the ground. You can feel like you're bathing in your garden.
Skip the drain and let the water runoff into the surrounding ground. Then your tropical plants will grow lush. You'll want to have a concrete or wood platform under the shower head. This will help you stay clean by keeping the dirt off of your feet.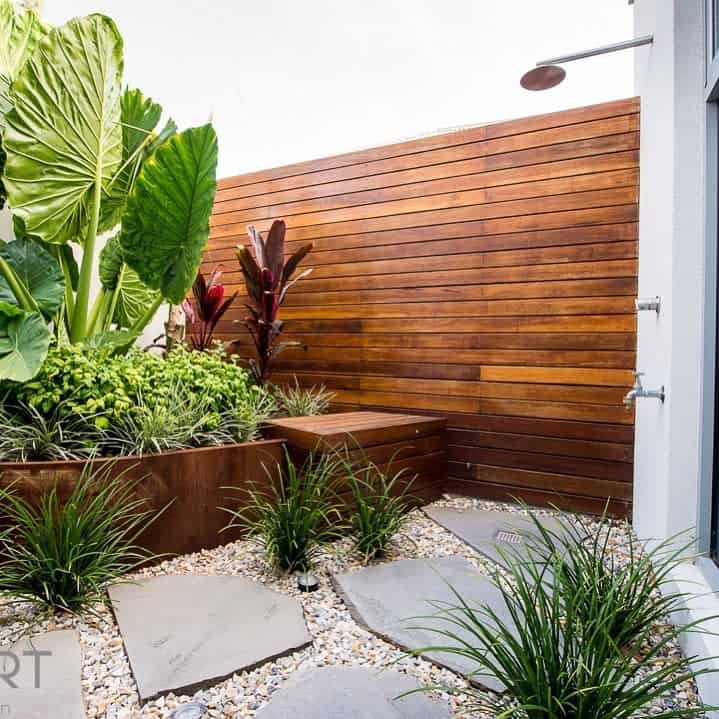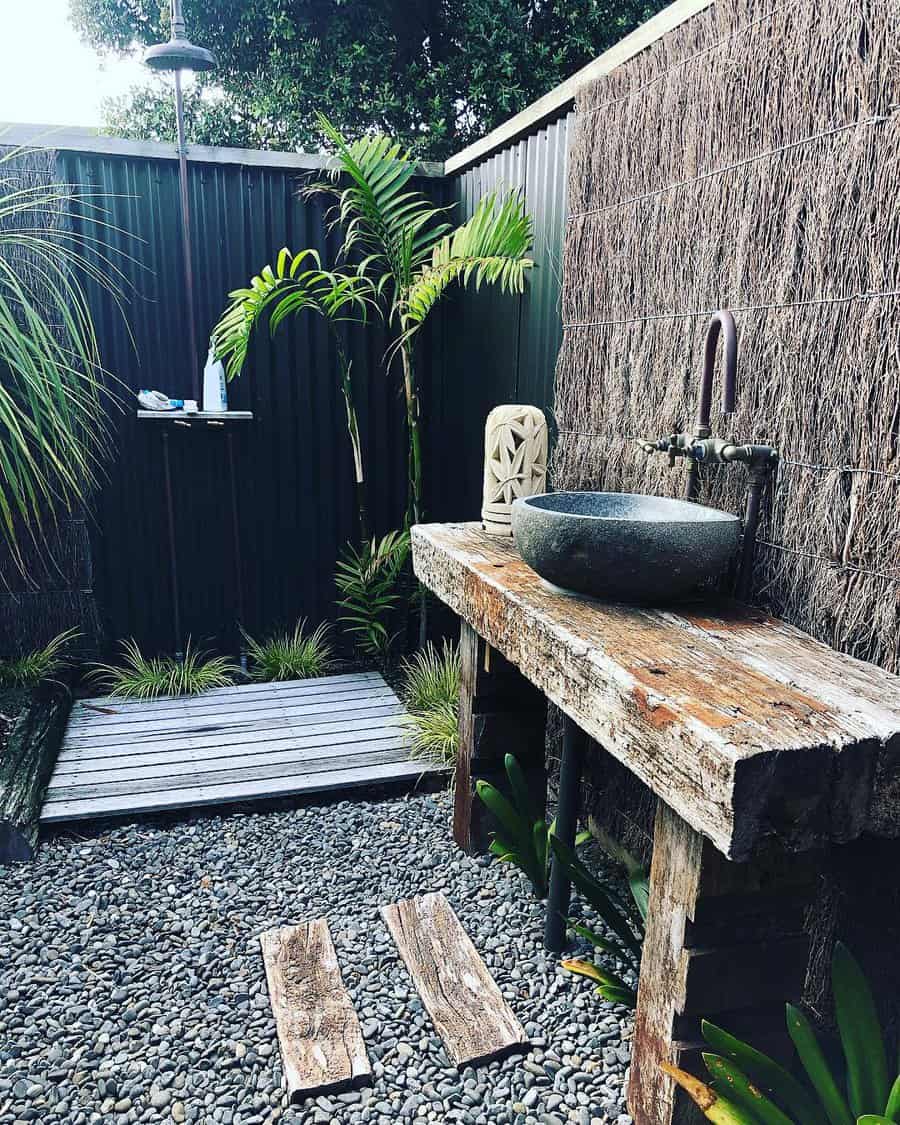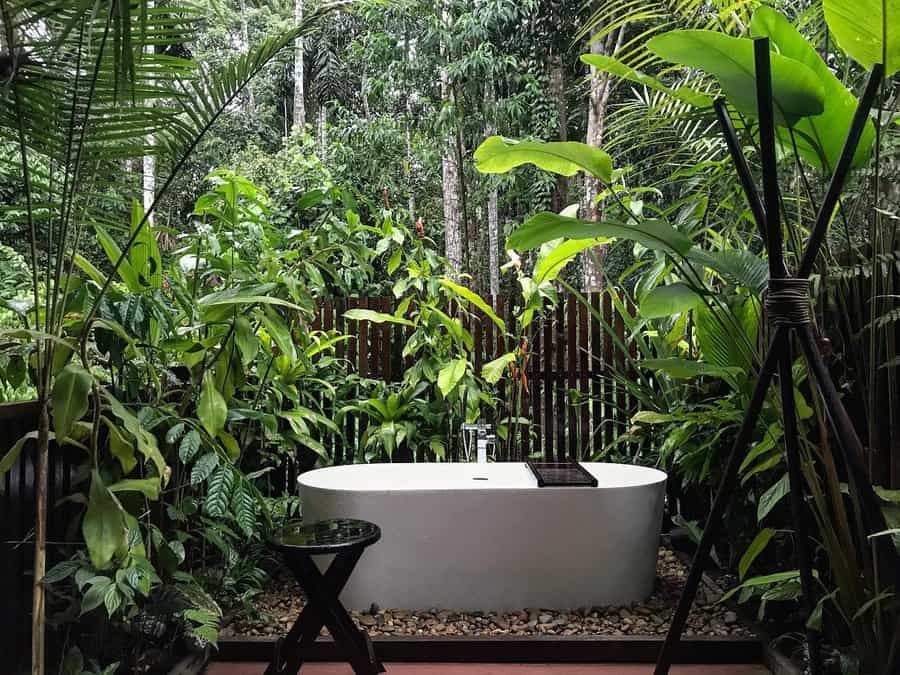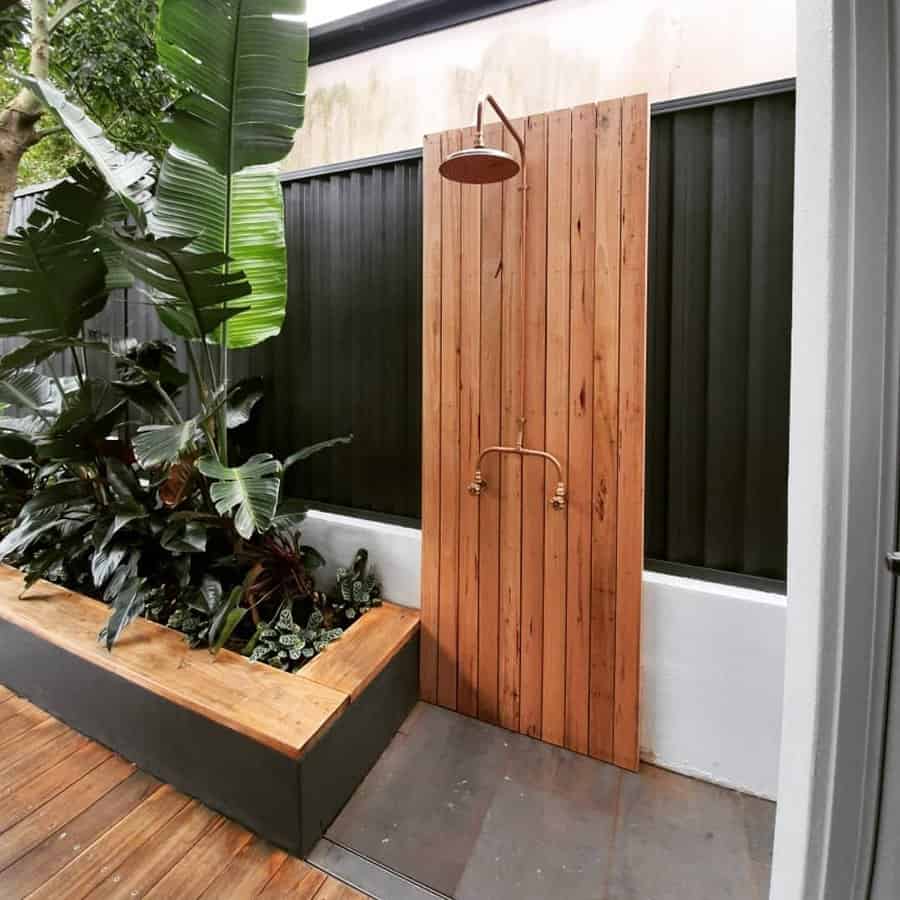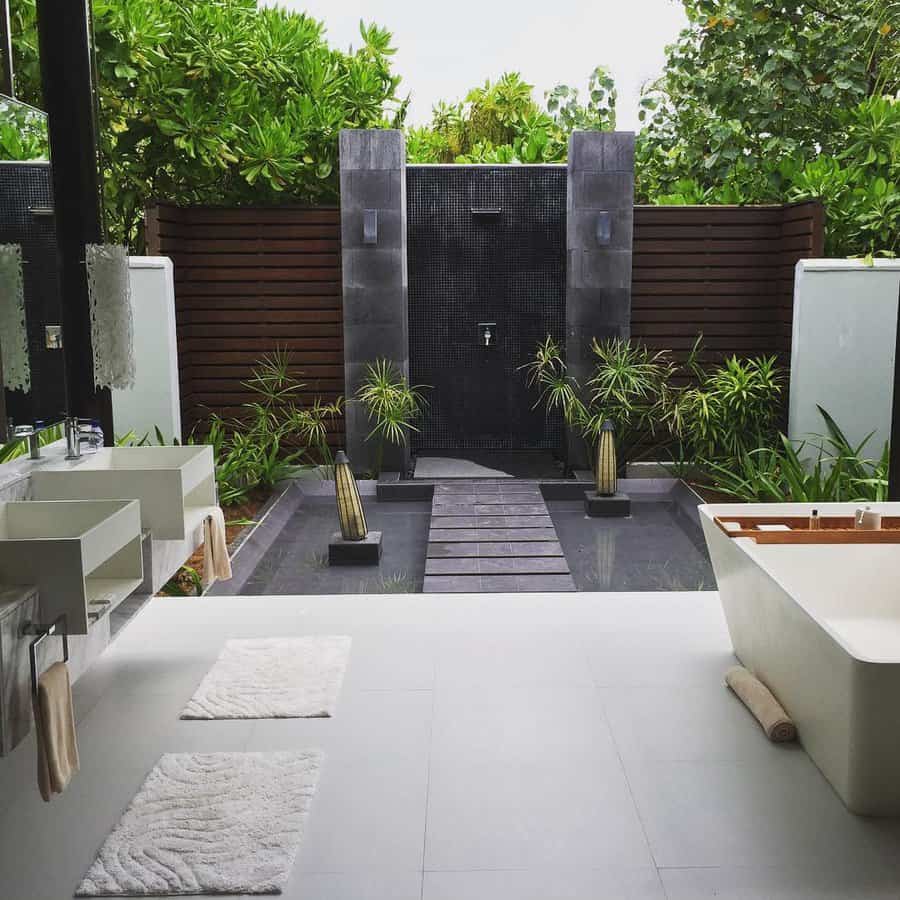 Use materials that you would find in tropical places. It can help to look at pictures of outdoor bathrooms from tropical resorts. Use tropical wood, bamboo, and stones.
Build a covering over your outdoor bathroom by building a pergola or grass roof. You'll want to let the sunshine in, but it should be shaded.
10. Wood
Using the right type of wood can turn your outdoor bath into a luxury bathroom. You also need to consider the wood's durability. It will be exposed to the elements year-round.
The bathroom area will experience more moisture than the rest of your backyard. You could use wood to create a platform for the shower area. You can also use the wood to create a privacy wall or roof.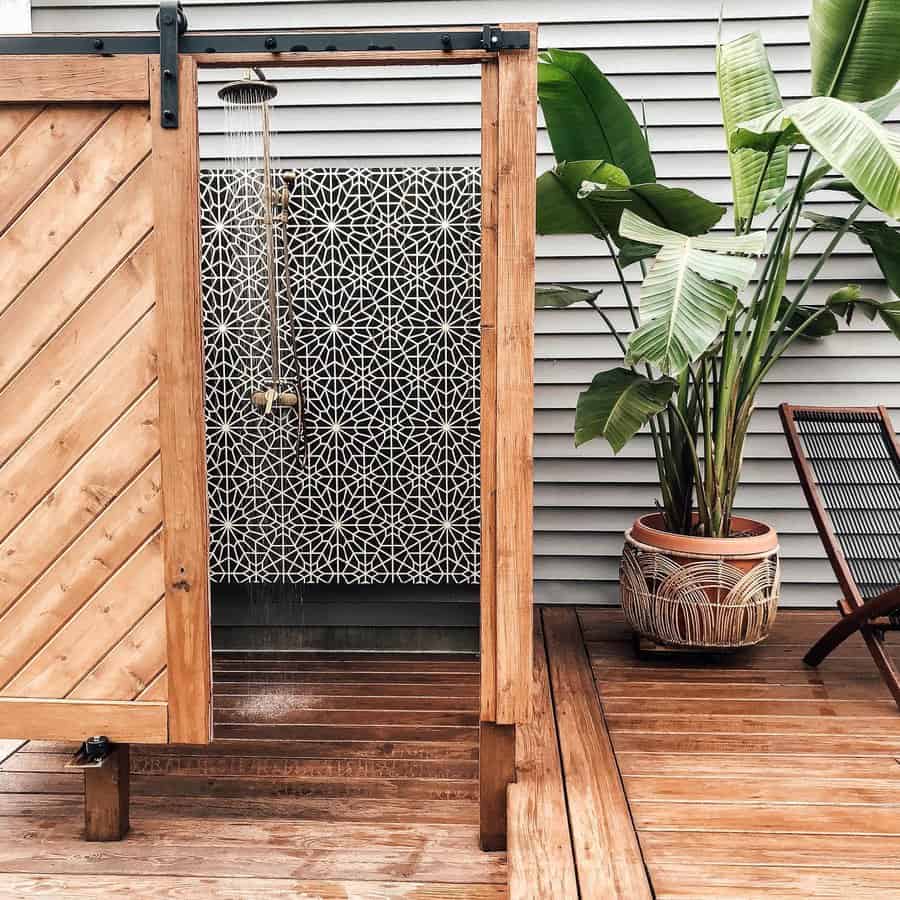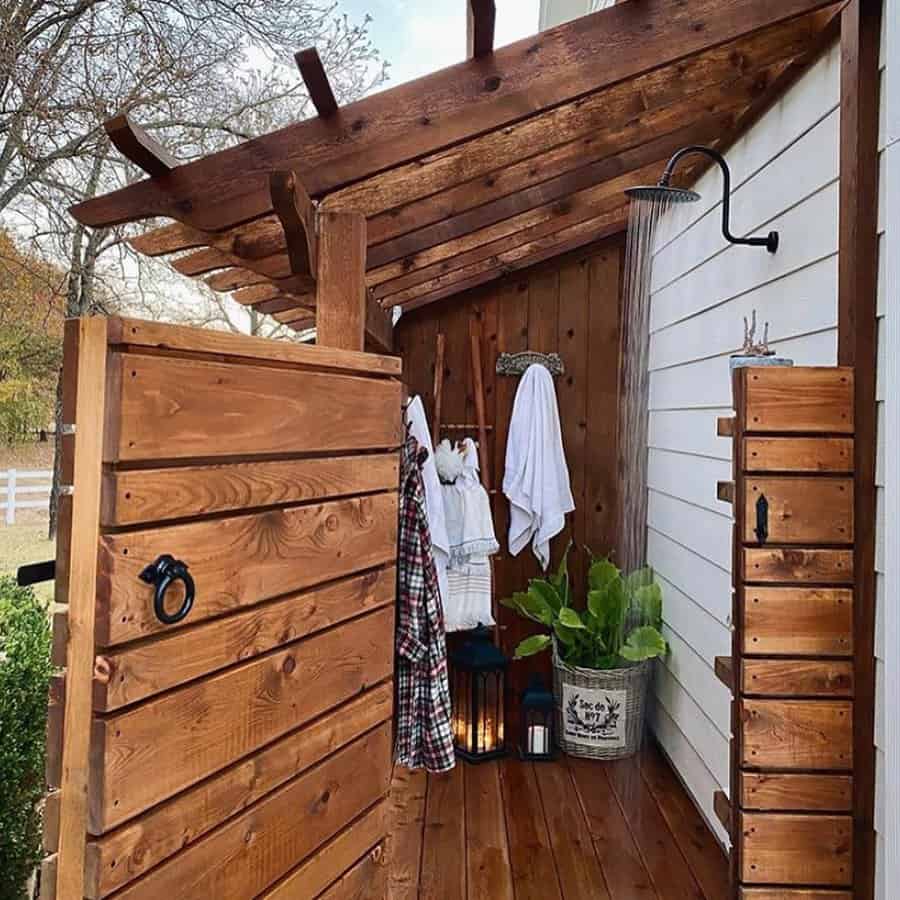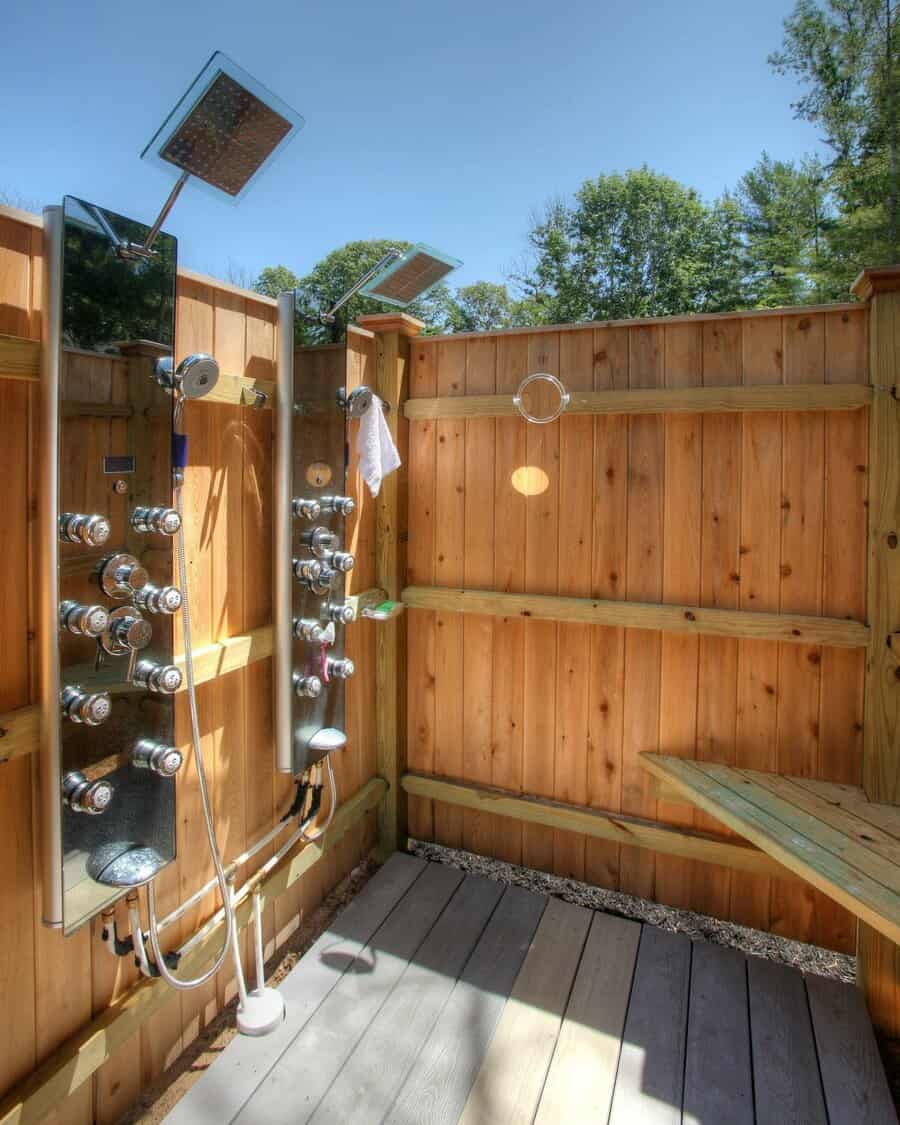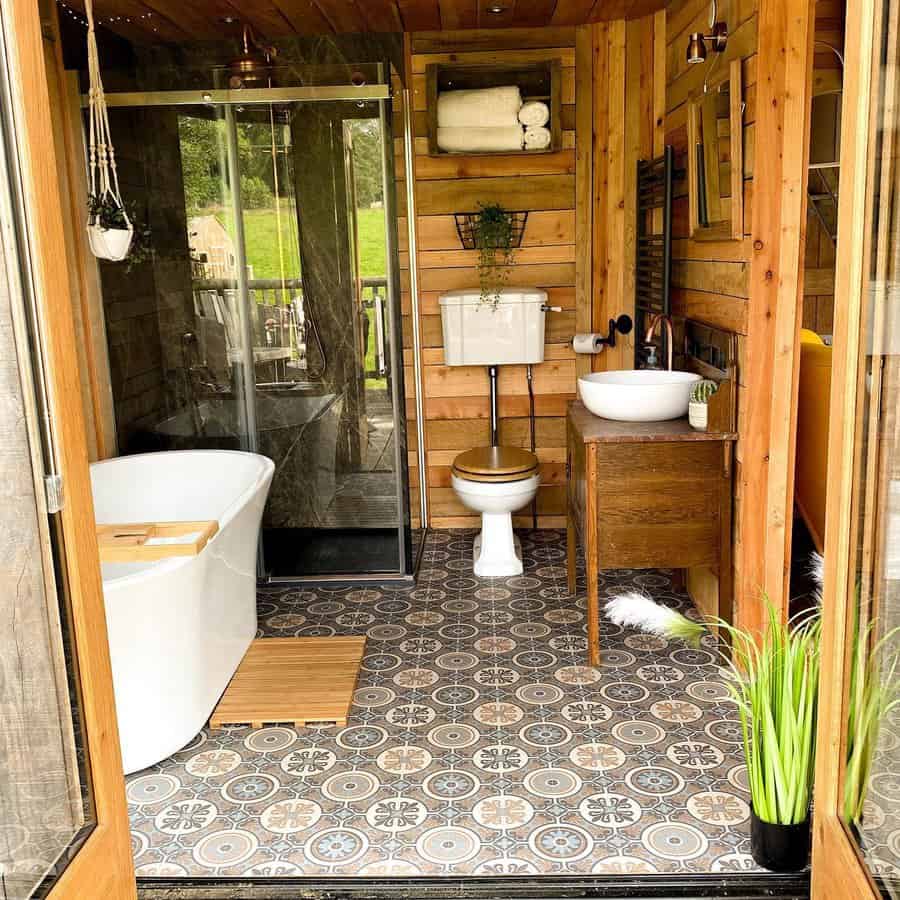 Hardwoods that are good to use are acacia black locust, cedar, cypress, ipe, douglas fir, redwood, and teak. These woods are impervious to water, so they are less likely to swell, shrink, rot, or warp.
Outdoor Bathroom FAQs
How much does it cost to build an outdoor bathroom?
Expect to spend at least $10,000 to build your outdoor bathroom. The bigger and more elaborate your outdoor bathroom is, the more it will cost. Using expensive building materials will also increase the cost. Hiring a contractor will cause you to incur labor costs. You'll also need to pay for permits.
Do you need a drain for an outdoor shower?
Generally, outdoor showers only need a simple drain system. If the outdoor shower is built a good distance from the house or pitched away, the water will naturally flow away from your home. If you plan to install a toilet, you will need to have a drainage system for the waste.
Does an outdoor shower add value?
Surprisingly, an outdoor shower can add a considerable amount to the value of your home. This is especially true if you have a pool. Many homeowners today look for features that encourage connecting with nature and more outdoor living. An outdoor shower does just that by allowing you to intimately commune with nature.