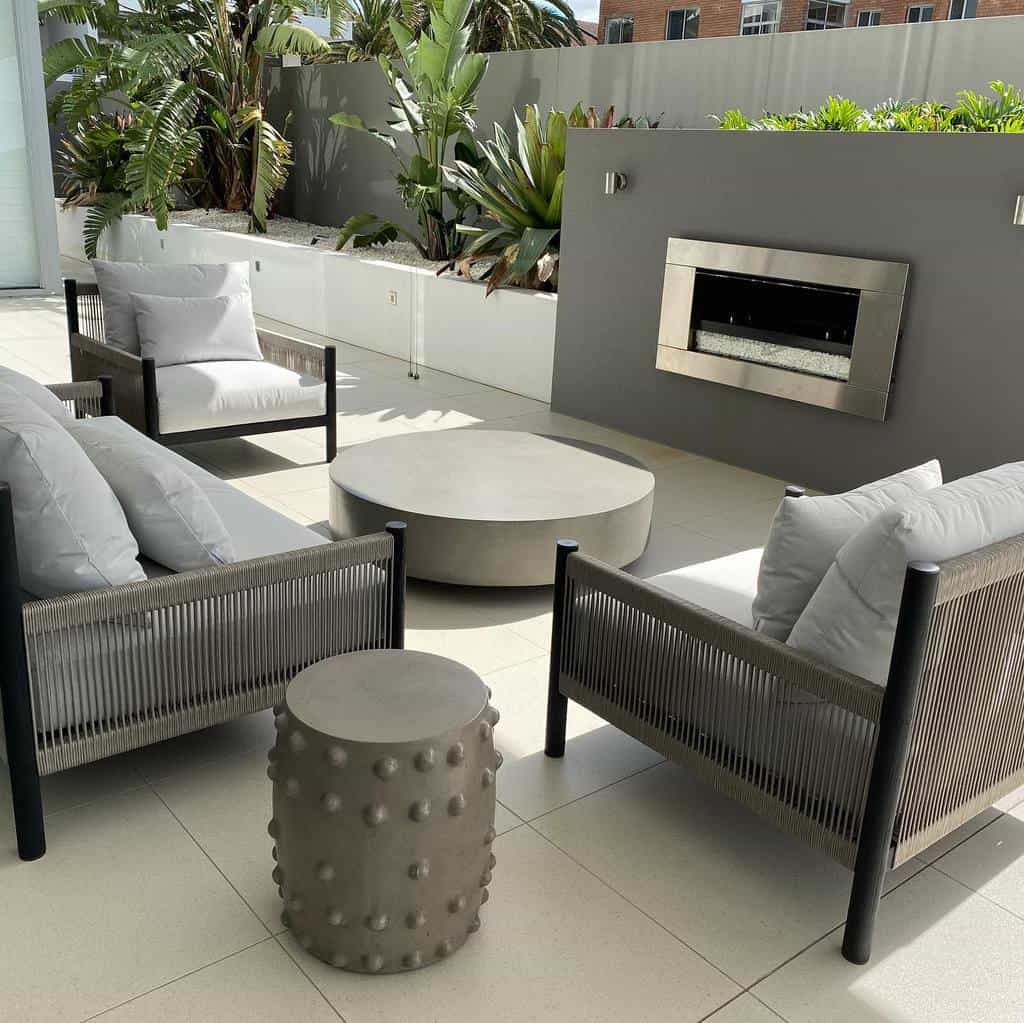 The Top 30 Outdoor Living Space Ideas
Recent events have taught many of us the value of a comfortable and versatile outdoor living space. But bringing that vision to life often feels easier said than done!
Good news: If you can decorate an interior room, you can create a stylish outdoor space.
The first step to designing an outdoor living area is taking a good look around the available space. Next, think about how you want to be able to use the space once it is complete. Last but not least, decide what kind of decor you want to include in the final design.
Ready to get started? Check out our favorite outdoor living space ideas below!
1. Backyard
One of the best places to create an outdoor living space is right in your own backyard!
Constructing a concrete slab or paver patio is a great way to create a designated seating area in your yard. Arrange cozy, outdoor-safe furniture throughout the space. Include a table for outdoor dining or for use as a home office during the day.
Any size backyard can be turned into a functional living space. But your lifestyle and household needs — pets and children included — will ultimately determine just how much grass you can trade for furniture and decor.
2. DIY
Your backyard is one of the best locations to test your DIY skills.
Of course, not everyone can jump straight into building a pergola from the ground up! But with the right tools and materials, you can bring your dream outdoor space to life with little more than your own two hands.
Backyard DIY projects aren't limited to building things from scratch. A fresh coat of paint or new outdoor fabric is all many secondhand furniture pieces need for a new lease on life. (And you can save a pretty penny while you're at it!)
3. Deck
A deck bridges the gap between indoor and outdoor living in more ways than one. Whether you're a routine sunbather or prefer to sit in the A/C, adapting your deck into the perfect outdoor living space is probably easier than you think.
Comfortable and functional furniture is the first step in making the most of your current deck space. Wicker furniture is a classic choice. But there are patio furniture sets out there suited to all tastes and styles.
Basic amenities like shade sails, ceiling fans, and patio heaters can make your deck enticing even in subpar weather. Be sure to allot a large enough seating area for guests!
4. Design
From furniture layouts to lighting, creating an outdoor living space is not much different than designing an interior space. Many of the design elements that make an appearance in the average dining or living room can also be utilized outdoors.
Don't be afraid to experiment with decor you don't normally see outside. For example, an outdoor rug is a wonderful way to tie a patio seating area together.
When planning out your patio, porch, or deck area, be sure to select items that are built to live outdoors. Otherwise, exposure to rain and sunshine will have them looking worse for wear before you know it!
5. Firepit
For many homeowners, a backyard living space isn't complete without some sort of fire pit.
There are many different types of fire pits to choose from. Some people adore the idea of constructing a built-in fire pit to roast marshmallows over. Meanwhile, renters and those looking to add versatility to their outdoor living space should invest in a freestanding fire pit.
Choosing the ideal fire pit for your outdoor space also means selecting a style that suits the existing decor. Fire pits can be built using natural stone, metal, brick pavers, and a variety of other materials.
6. Fireplace
A more formal outdoor living space might be best served by a traditional fireplace. (Yes, outdoor fireplaces exist!)
An outdoor fireplace can be a wonderful source of heat during the fall or on chilly summer nights. It also offers soft ambient light that won't disrupt the cozy atmosphere of your backyard deck or patio.
Outdoor fireplaces are typically built into a large pergola or another type of shelter. Some homes even feature fireplaces that connect to both the interior and exterior living spaces for maximum versatility.
7. Furniture
Your outdoor living space may lack walls. But you can still arrange furniture throughout the space as you would a standard living room, dining area, or any other interior room.
Before purchasing furniture for your outdoor living area, you need to have a plan. Will the space contain a dining table for lunch al fresco? Or will it be a comfortable outdoor seating area for relaxing and entertaining?
Once you construct a basic blueprint, you can start narrowing down the type and style of furniture you want to include. Remember, many of the best outdoor living space ideas borrow inspiration from multiple sources!
8. Garden
All of the modern comforts in the world can't replace the peaceful atmosphere of an outdoor room that is one with nature.
Find ways to incorporate the existing garden landscape into your design — e.g., using a mature tree in place of a shade sail. Select furniture and decor that complements the garden beds surrounding your outdoor living space rather than compete with it.
Potted plants can help blur the line between your backyard patio and the garden around it. Hang additional baskets from your pergola, nearby tree branches, or any other available structure.
9. Luxury
An oceanside view or Olympic-sized swimming pool is sure to give a backyard living space a dose of elegance. But you don't need to live in a mansion to partake in a bit of luxury.
Every little detail counts when designing a luxury space. Even one mismatched piece of furniture or out-of-place light fixture could throw off the entire look. For this reason, less is always more.
Crafting a peaceful atmosphere is also crucial. Invest in privacy panels to block unwanted noise and keep prying eyes out of your backyard. A small fountain or garden water feature is a wonderful way to drown out background noise if necessary!
10. Modern
If you think modern decor is best left to the controlled environment inside your home, think again. In fact, modern design is one of the top trends in outdoor living right now.
Select matching patio furniture in muted or neutral tones. For a slightly organic aesthetic, opt for a sofa or chairs made of streamlined wicker or rattan.
Potted plants contrast perfectly against the sleek lines of modern decor. Structured species of palms, ferns, and other tropical foliage are great starting points. You can also experiment with varieties of cacti and other succulents if your climate permits!
Outdoor Living Space FAQs
Is an outdoor kitchen worth it?
For homeowners who enjoy cooking on their decks or patios, an outdoor kitchen is often 100% worth the investment!
An outdoor kitchen can be used for traditional backyard fare like grilling or BBQing. Or you can upgrade your culinary setup with a wood-fired pizza oven or other specialty appliances.
If space is limited, consider ways you could incorporate elements of a backyard kitchen into a more general outdoor living room or dining area.
How do you light an outdoor living space at night?
Adequate lighting is a must if you want to enjoy your outdoor living room at all hours of the day! And there are a surprising number of ways to light a patio, porch, or deck that will boost functionality and curb appeal.
Many outdoor living space ideas rely on string lights for ambient lighting. For a more permanent solution, consider installing a traditional overhead light fixture.
Landscape lighting can be used to highlight key elements of your backyard or garden. You can even invest in accent lighting for your pool or hot tub!