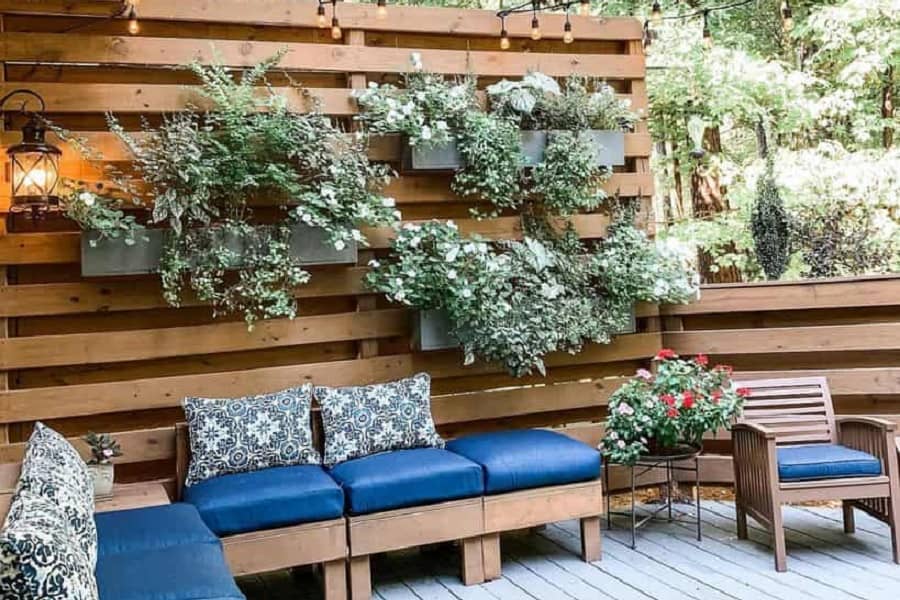 The Top 43 Outdoor Privacy Screen Ideas
"I'm low-key. I like my privacy." –  Kemba Walker
You have plenty of property and could turn your outdoor area into a beautiful outdoor living space. Perhaps you build a deck off the back of your home. Or maybe you'd like to have a floating patio with a fire pit and couches. This would give you additional square footage outside of your home to spend time with friends and family.
However, it doesn't matter what you build. You can't fully enjoy it and relax if you know you're constantly being watched. Nothing puts a damper on your entertainment like a nosy neighbor getting involved.
What you need are these outdoor privacy screen ideas. They'll act as a barrier and give you the privacy you crave to enjoy your backyard fully.
1. Backyard
No matter how small or large your backyard is, you can create a sense of privacy. Consider the size and style of your property when choosing the right method for creating your privacy wall. Small backyards that need privacy from above can benefit from a shade sail. This stops people from viewing your yard from above.
Ornamental grass is suitable for blocking the ground-level view. It grows tall and dense, creating a natural barrier. Bushes that grow quickly and are dense can also create a natural wall around your backyard. You can let the bushes grow as thick or as tall as you need them to be.
2. Bamboo
Bamboo panels make a beautiful and natural privacy screen. You could grow natural bamboo around the perimeter of your outdoor space, but bamboo grows quickly, and if you don't properly maintain it, it can get out of control.
An affordable option is to buy a large roll of bamboo screen. Then you can unroll it and use as much or as little as you need. There are also premade bamboo screens with a metal frame and feet. These bamboo privacy screens are useful for creating balcony privacy. The panels can stand on their own and are easily removable when you move out.
3. Deck
When creating privacy on a deck, build a wood privacy screen that blends with your deck materials and design. For a complete look, combine your privacy screen with a pergola. You can hang planters from the pergola. Fill them with blooms that will create a colorful display. Or use plants that vine to create an elegantly draped curtain. Then you have a natural privacy screen where the plant's leaves and flowers will give you privacy.
You can do the same thing with your patio. Build the pergola over the patio. Then add screens or curtains to the sides. This creates an outdoor living space that's protected from the elements and nosy neighbors.
4. Decorative
Don't let yourself get so focused on gaining privacy that you forget to think about how the screen will look in your backyard. Your backyard privacy shouldn't sacrifice the beauty of your backyard. A trellis can function as a privacy panel and as a frame for stunning blooming plants that vine over it.
Don't just build a privacy fence. Add a decorative element to the top of it. Bushes can create a natural and dense privacy barrier. However, you'll want to keep it trimmed and pruned so that it looks neat and not sloppy.
5. DIY
Build your own custom DIY privacy screen out of PVC pipe. Construct a curtain rod and then hang an outdoor curtain from it. Then you can close and open the curtain as you need more or less privacy.
You can also easily build your own privacy screen out of wood pallets. Mount the pallets to a frame, and you're done. If you don't want to work with pallets, you can create a similar look with wood posts and planks. Instead of planks, secure a sheet of lattice to the posts.
6. Fence
The classic solution for creating more privacy on your property is to build a fence. Build your privacy fence out of wood or PVC. Both have their advantages and will look beautiful enclosing your property. Deciding on a wooden fence means you'll want to maintain the wood, so it looks nice long term.
A privacy fence needs to be taller than a standard fence. It should be solid enough that it block prying eyes. However, it doesn't need to be solid. A lattice with small openings will obscure enough. Or wood slats placed close together will also provide enough privacy. Leaving the small gaps and openings encourages airflow, helping your backyard to feel cool.
7. Gate
You want more privacy, but you shouldn't have to give up access to your property to have it. Using a gate in your privacy screen or fence gives you easy access to your backyard. Otherwise, you're stuck walking through your house every time you want access to your backyard. This is inconvenient if you're trying to do work in your backyard.
Don't give up on this backyard privacy idea if you decide to use another privacy screen idea besides a fence. You can build a gate into a hedge wall. Mount posts to support the gate. Then have the hedge grow right up to the posts.
8. Modern
Give your backyard a modern look by cultivating a living wall. Start with a stable self-supported privacy panel or build a sturdy fence. Then use succulents and other greenery to create a vertical garden on the fence. This garden style can get quite heavy, so you'll want to make sure the fence can support the additional weight.
Another modern look is to purchase privacy panels that use a combination of wood and metal. Look for one with decorative metal panels that are mounted and a frame and surrounded with wood.
9. Panel
Using panels to build your patio privacy screen lets you customize your privacy screen's look and size. You can easily buy several wooden screens and connect them. Or you could buy a raw lattice screen and cut it to the size and shape that you need. Give the lattice a finished and polished look by mounting it on a metal or wooden frame.
You can mount the panels into the ground around your patio or deck. Add one or two to a balcony on your home. This will tie the entire outdoor area together for a cohesive look throughout the property.
10. Patio
Turn your patio into an outdoor living room with a privacy screen on one or two sides. Build the privacy walls to be taller than a standard fence. They should be like stand-alone walls that you can then hang string lights from or place an outdoor sofa in front of.
If you don't have a lot of space, then look for a stand-alone outdoor screen. There are beautiful ones with planters at the bottom. You can then plant perennial blooms or ornamental grass in it.
11. Patterned
Create visual interest and a statement with your privacy screen. Skip the wood and bamboo and use a metal cutout panel. There are countless designs, including leaf, Osaka, lantern, Marrakech, bungalow, mahjong, and sultan.
The larger the cutouts, the more visibility you'll have. If you want the maximum amount of privacy, then look for screens with smaller cutouts.
Another beautiful option is to use solid sheets of metal with wood planks. Alternate the metal and wood to create a customized pattern. Create a woven pattern for a fluid look that blends traditional privacy fence with modern design.
12. Wood
Build a fence around your property and have as much privacy as you want. Start by placing your wooden posts where you plan to build your wood fence. Then you can build wooden frames with a wood lattice panel in them.
If you don't need to build a complete fence, then you can build a single wood panel. This works well when you have a patio, and you want to create a living room feel.
You only need a panel on one or two sides of your patio. Build the frame to your desired height, and then mount horizontal or vertical panels. Use panels of varying widths to add visual interest.
Outdoor Privacy Screen FAQs
How can I make a cheap privacy screen?
You can create a privacy screen out of anything that will create a visual and sound wave barrier between you and those around you. It doesn't have to be a solid wall; this would also block airflow. A simple pot with a tall plant in it will work. Or you could build your own screen out of a prefabricated lattice and a PVC frame.
How do I block neighbors' view of my yard?
You could build a fence, plant tall bushes or trees, or place a freestanding screen. A partially enclosed pergola will give you both side and overhead coverage. This will create a more intimate feel and turn your outdoor space into more of a cozy and room feel.
What plants make the best privacy screens?
Plants that make good privacy screens are those that grow fast, are low maintenance, and can achieve a decent height. Bamboo, holly, boxwood, skip laurel, privet, and arborvitae are all great options for creating an effective living privacy wall.