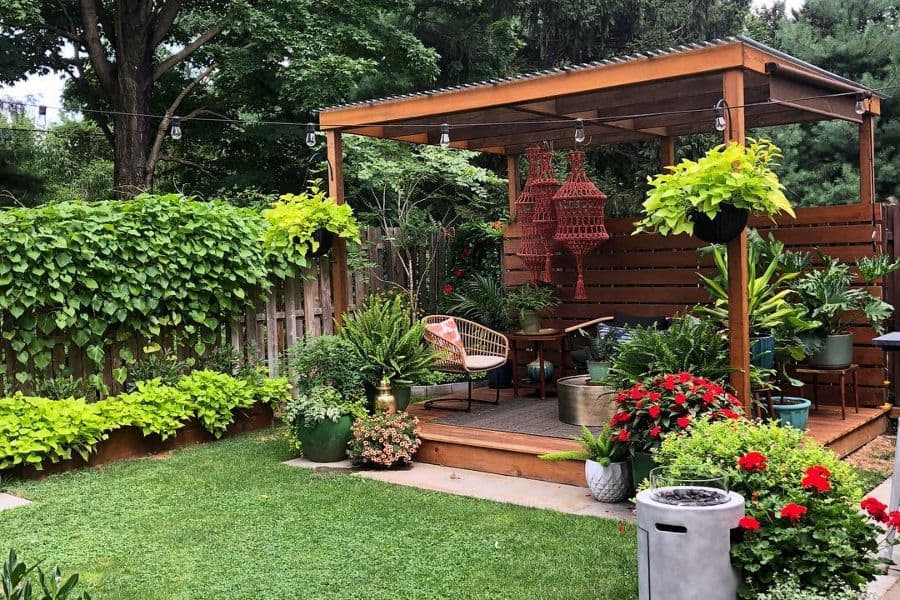 88 Outdoor Shade Ideas for Your Patio and Backyard
In recent years, we've become increasingly aware of just how bad prolonged sun exposure is for our complexions. Many people have even cut down on using their outdoor spaces to avoid this UV damage!
The good news is that you don't need to give up lounging on your deck or tending to the garden to save your skin. Installing a shade sail, awning, or canopy is a relatively easy way to block harmful UV rays and keep your outdoor living area cool and comfortable.
Keep reading to learn about some of the best outdoor shade ideas you can utilize in your own backyard.
1. Backyard
The whole point of having a nice backyard is being able to enjoy it! So it can be frustrating when the midday sun keeps you inside.
Investing in shade protection could be the solution to a more functional and comfortable backyard.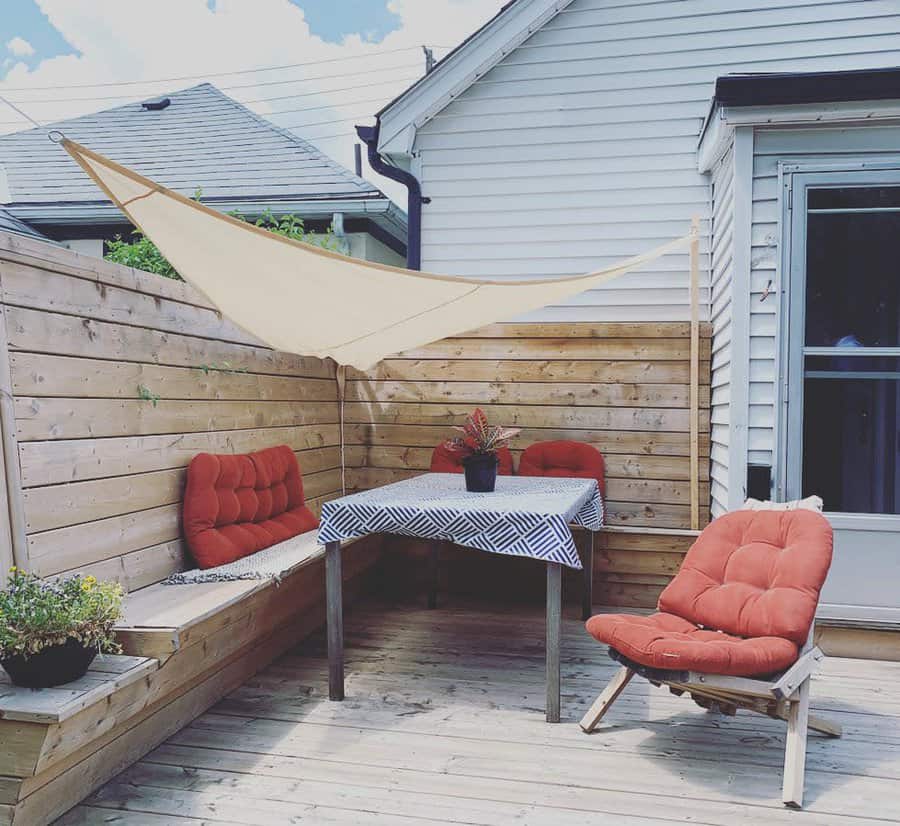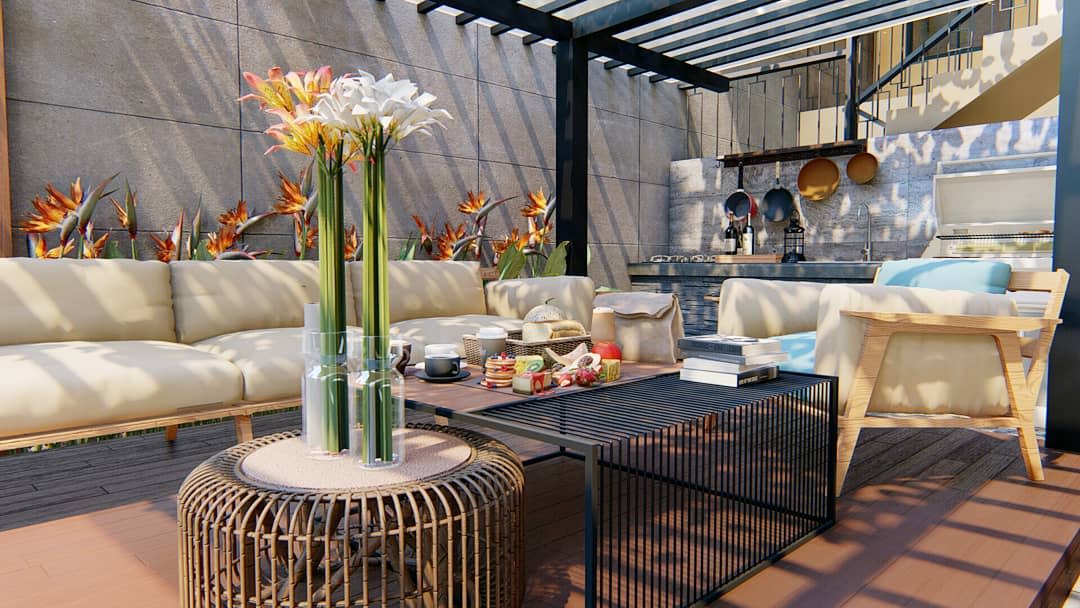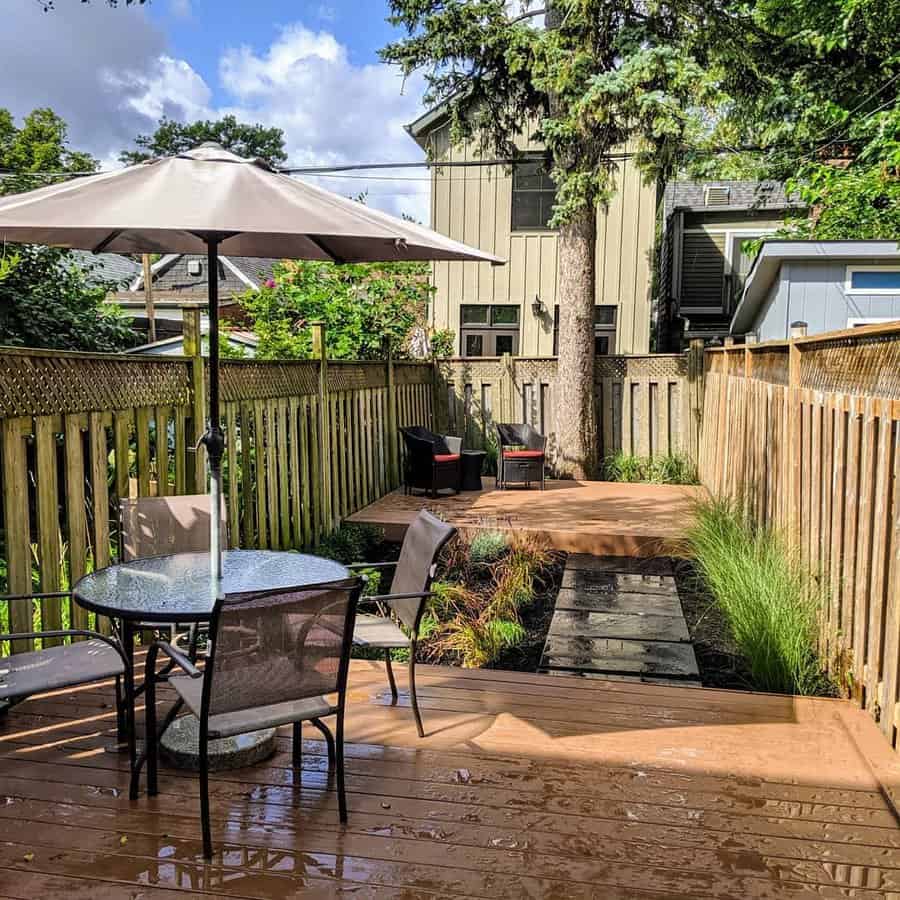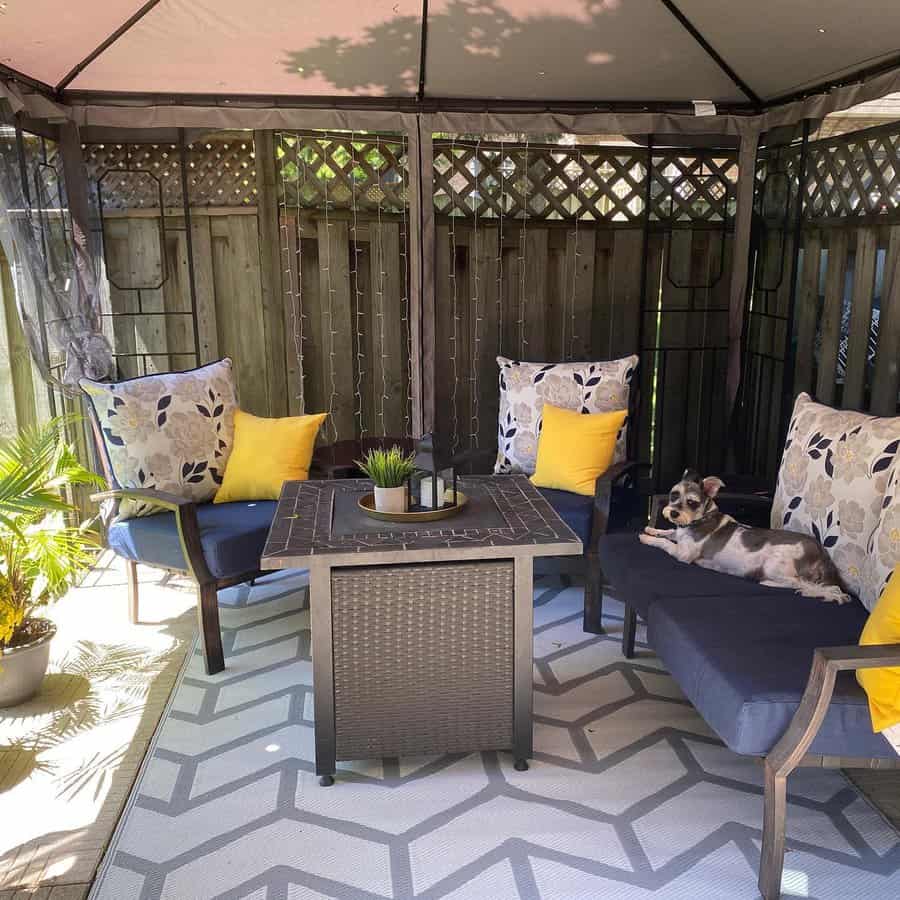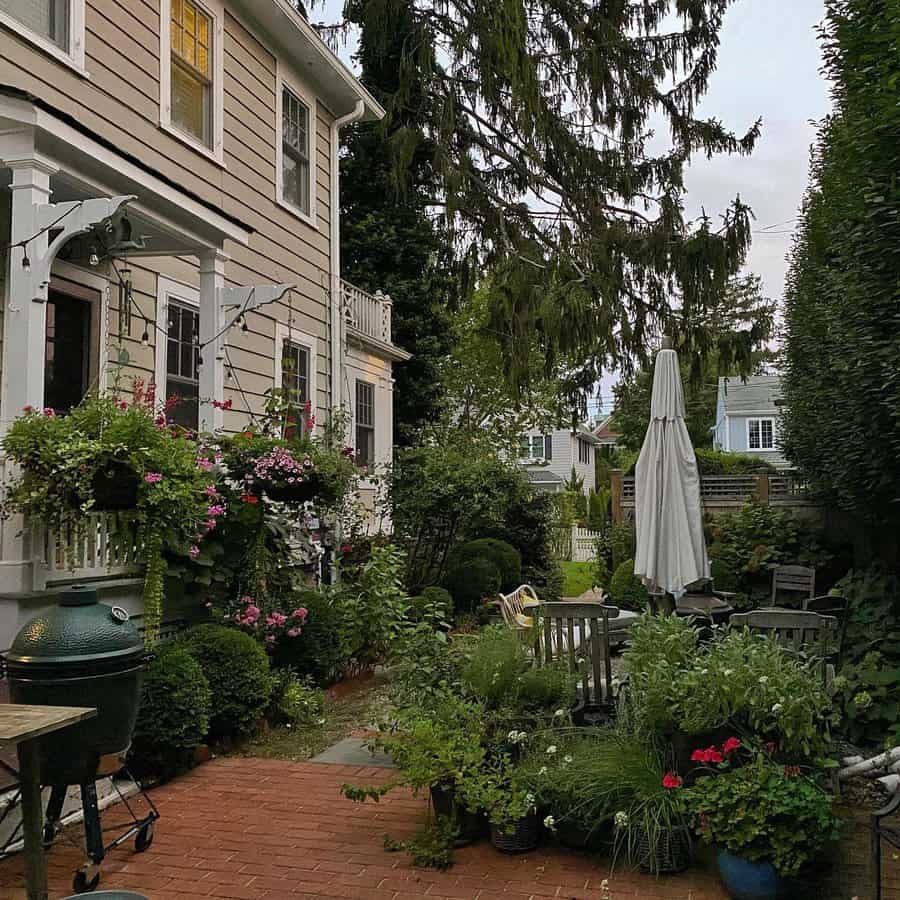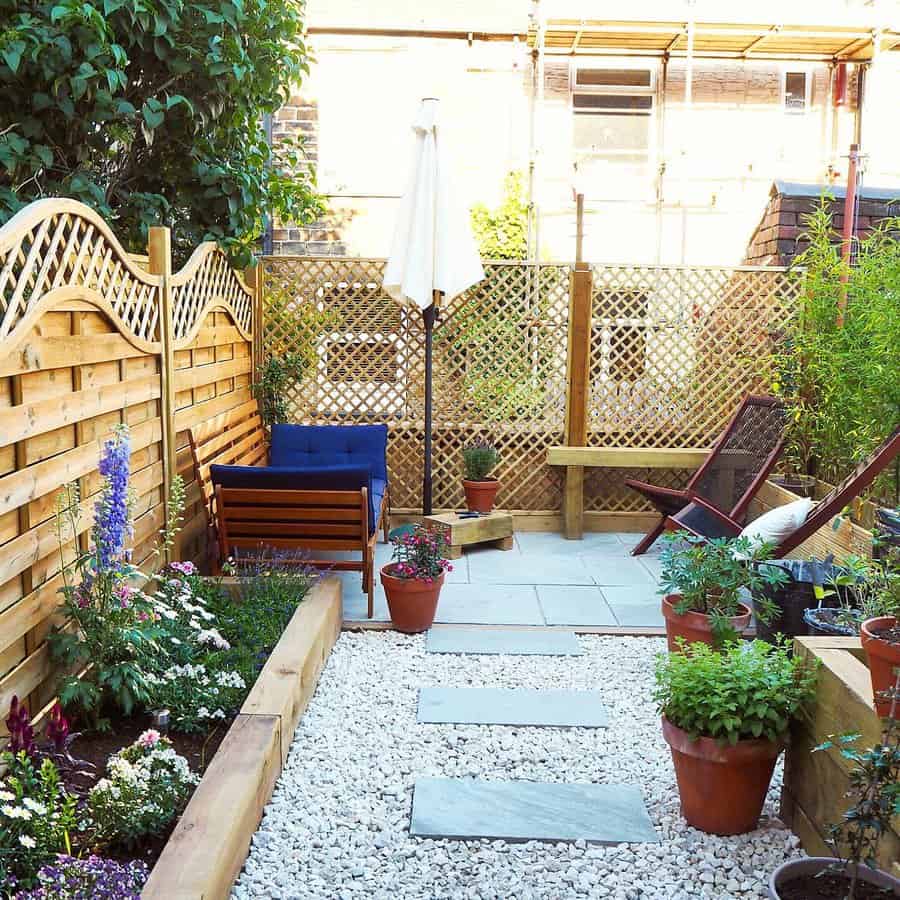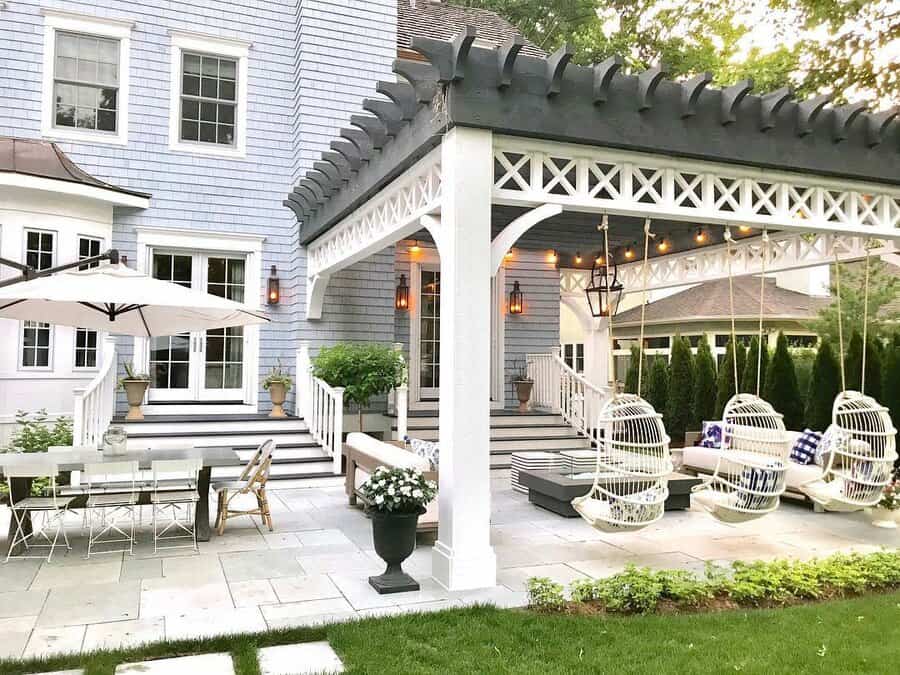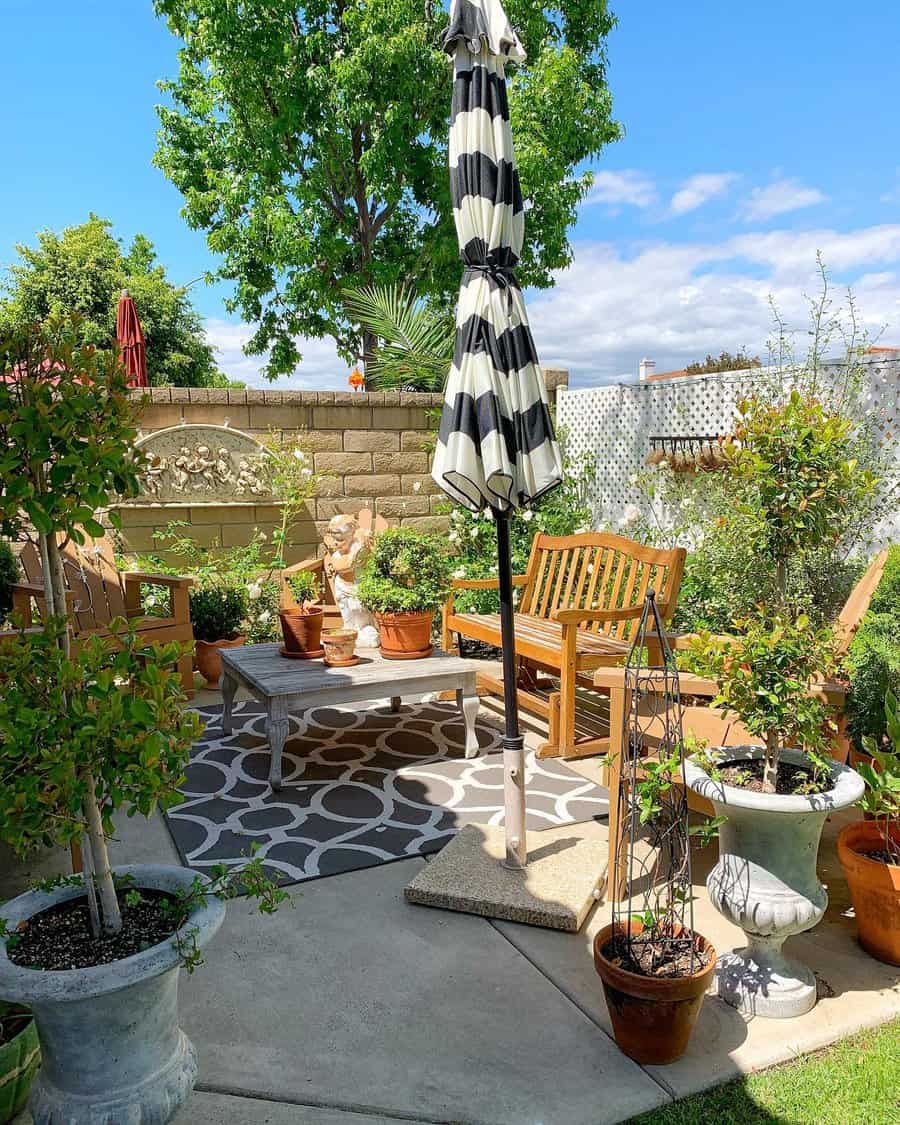 Sun umbrellas are super convenient, especially if you have a compact backyard or patio. If you want to cover a larger outdoor area, then a cantilever umbrella is an excellent shade idea.
While not as portable as an umbrella, a sun sail is a great option for covering a small corner of your backyard. You can hang this temporary shade between a couple of trees, garden posts, or along your home's exterior.
2. Bamboo
Many homeowners worry that installing a patio shade will impact the appearance of their backyard. If you're a fan of modern decor, then a bamboo screen might be the perfect compromise between style and sun protection.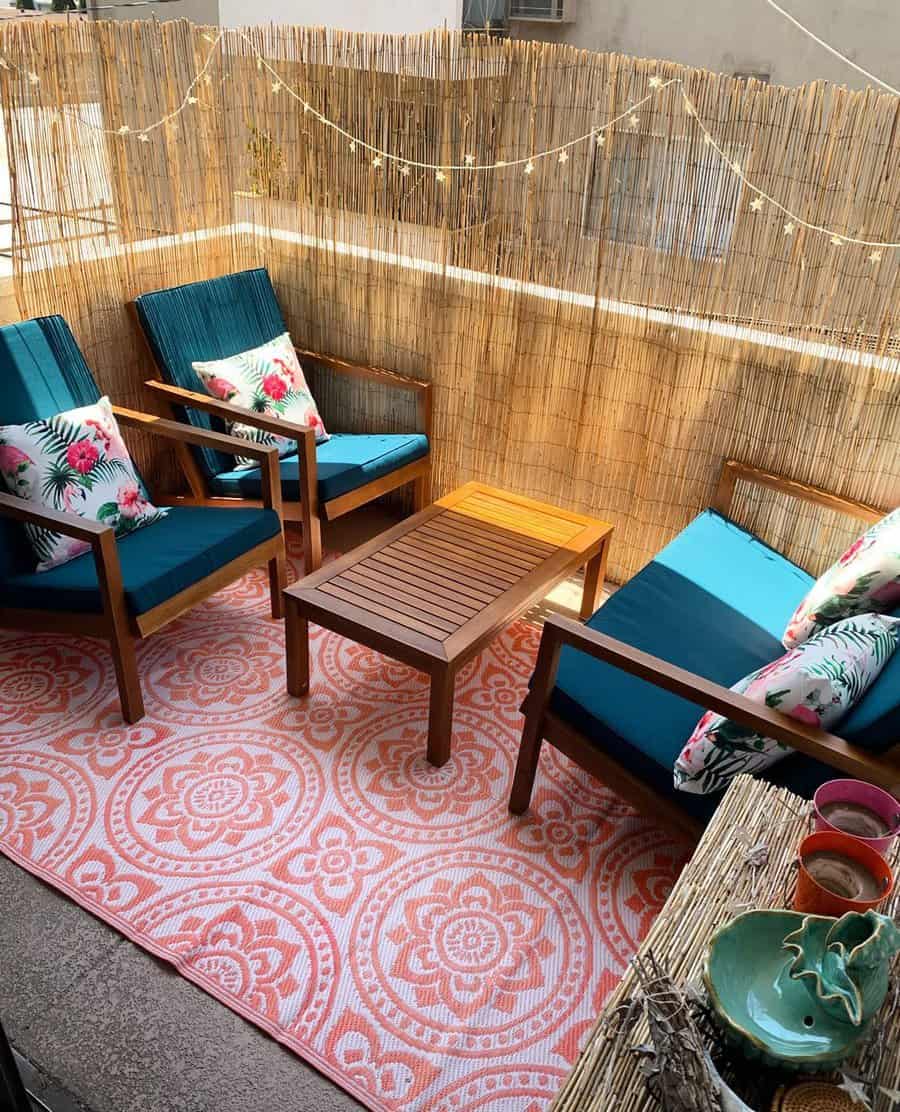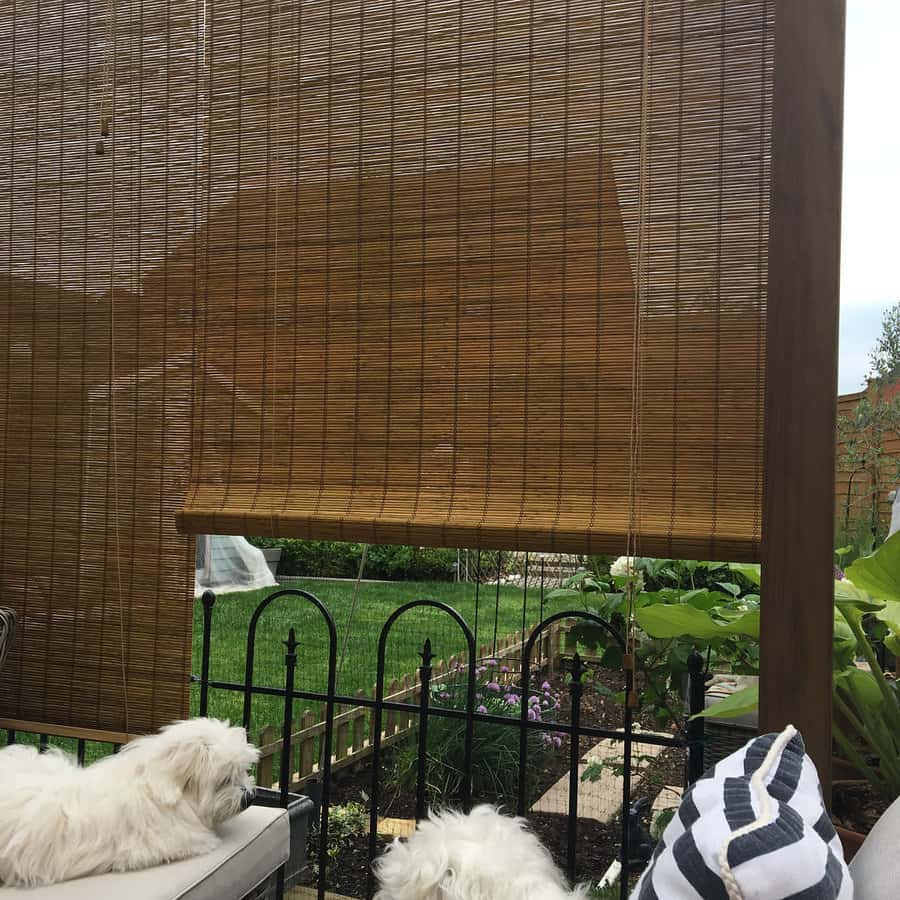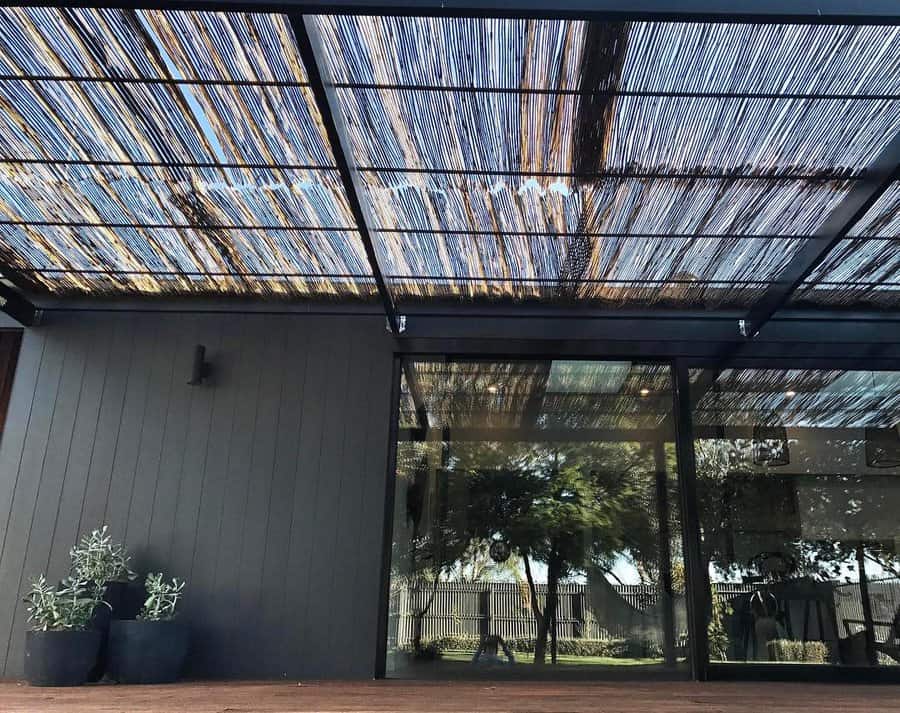 Bamboo panels are affordable, versatile, and easy to install. You can set them up as a short-term solution for an outdoor gathering or invest in permanent bamboo screens for your pergola or gazebo.
One downside to bamboo is that it doesn't offer as much protection as other shade canopies. Use this material when you are okay blocking some — but not all — UV rays. Also, be sure to choose bamboo screening designed for outdoor use.
3. Canvas
Canvas is one of the best materials to use for your backyard shade ideas. Not only does canvas effectively block the sun's rays but it can also offer protection from rain and wind.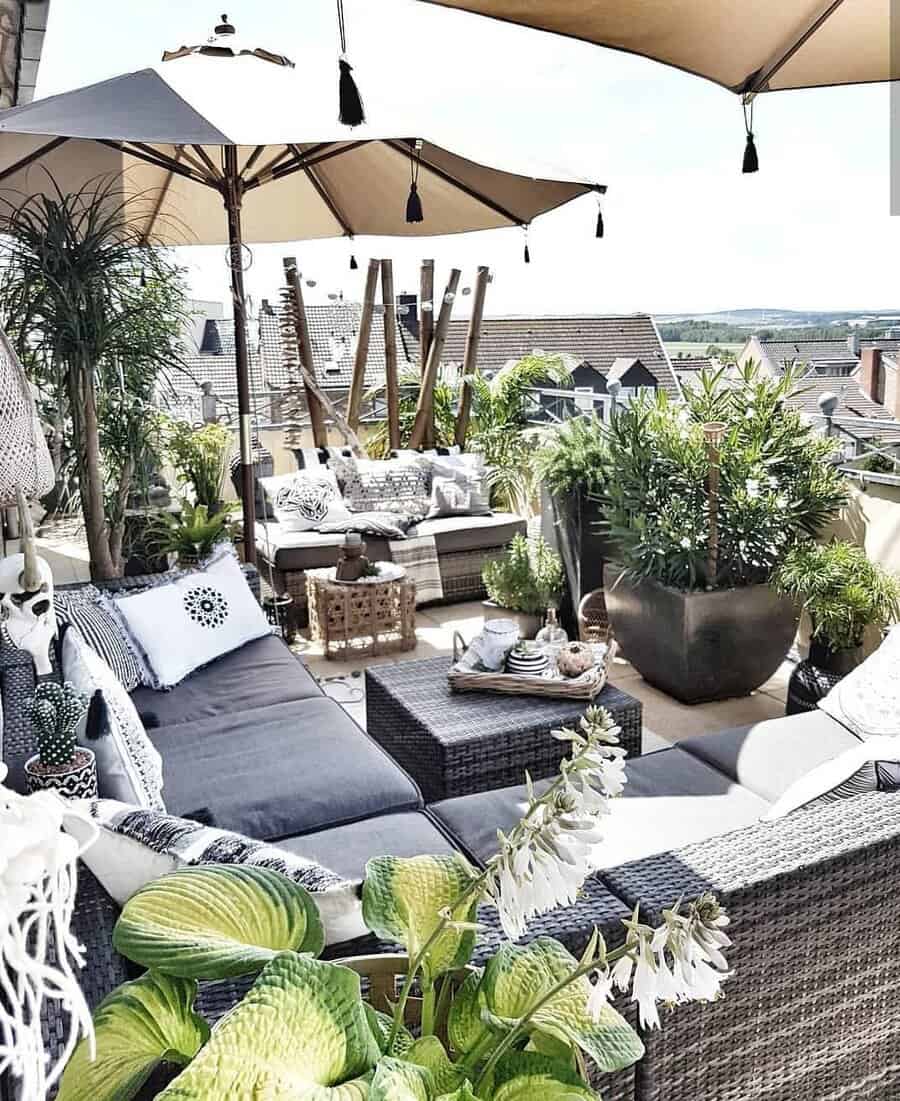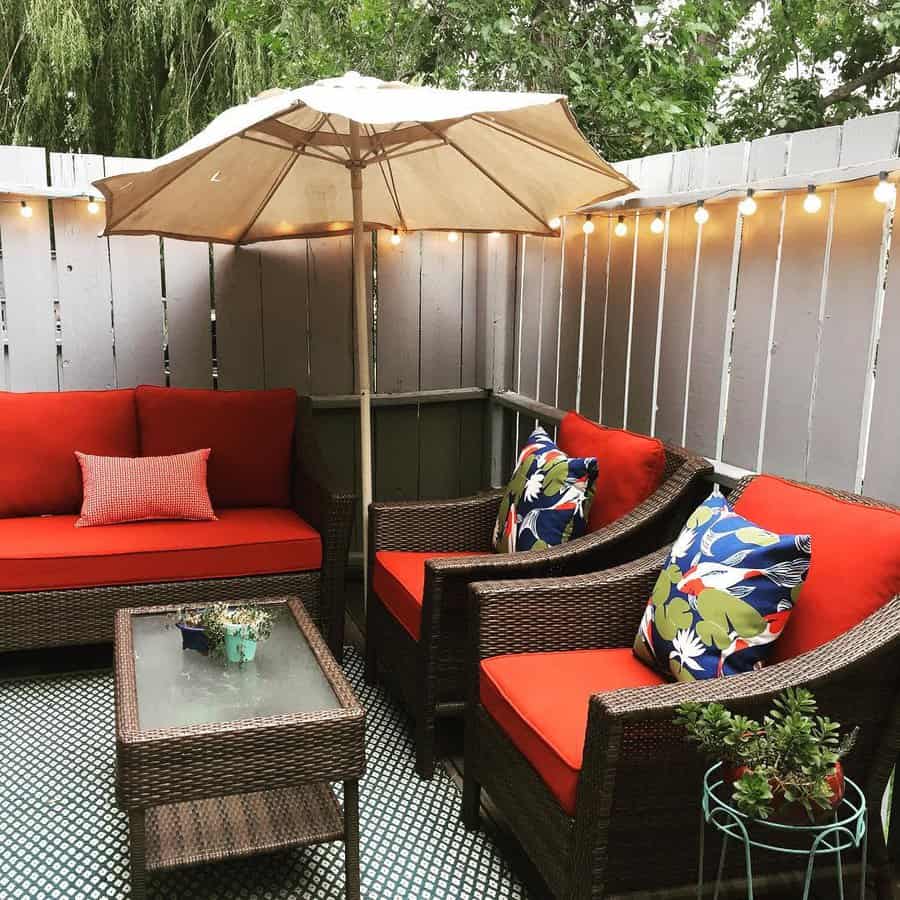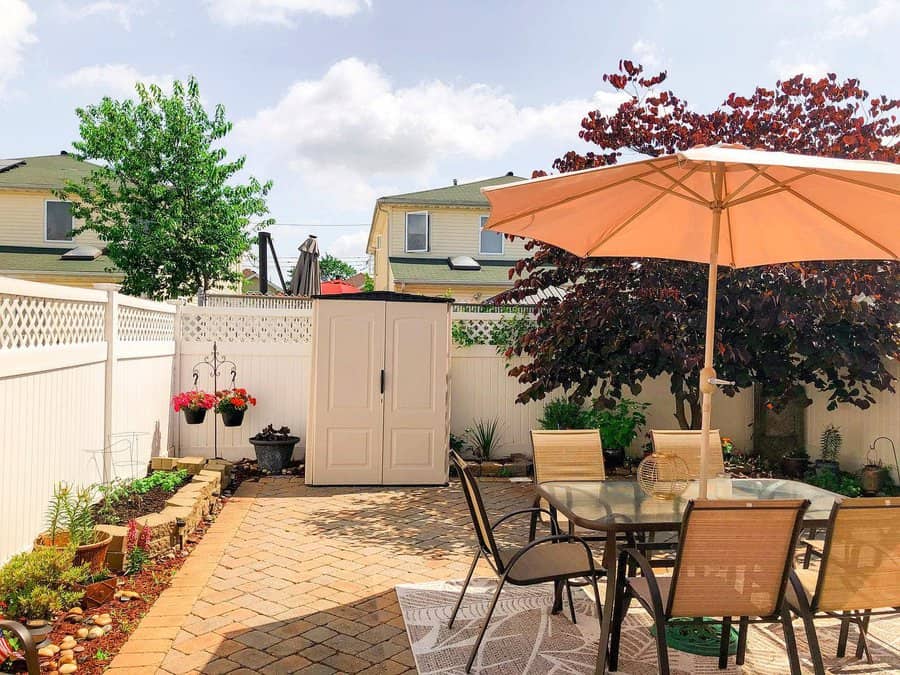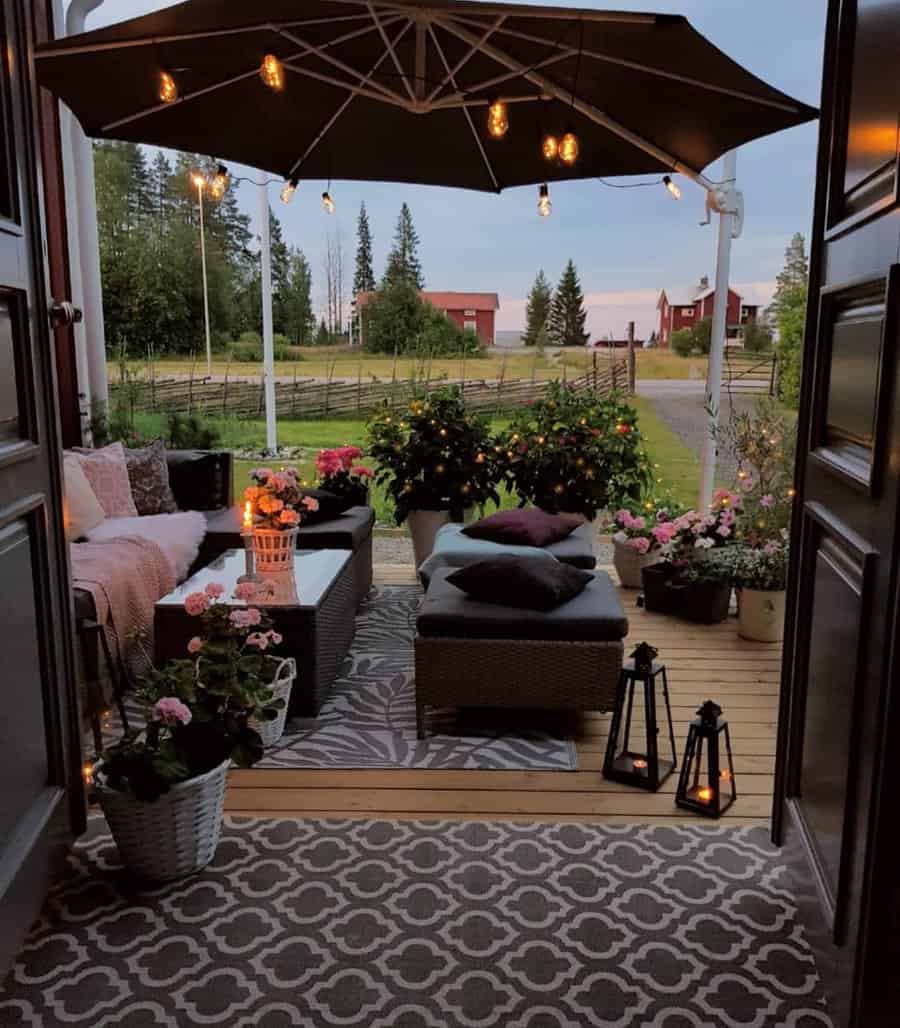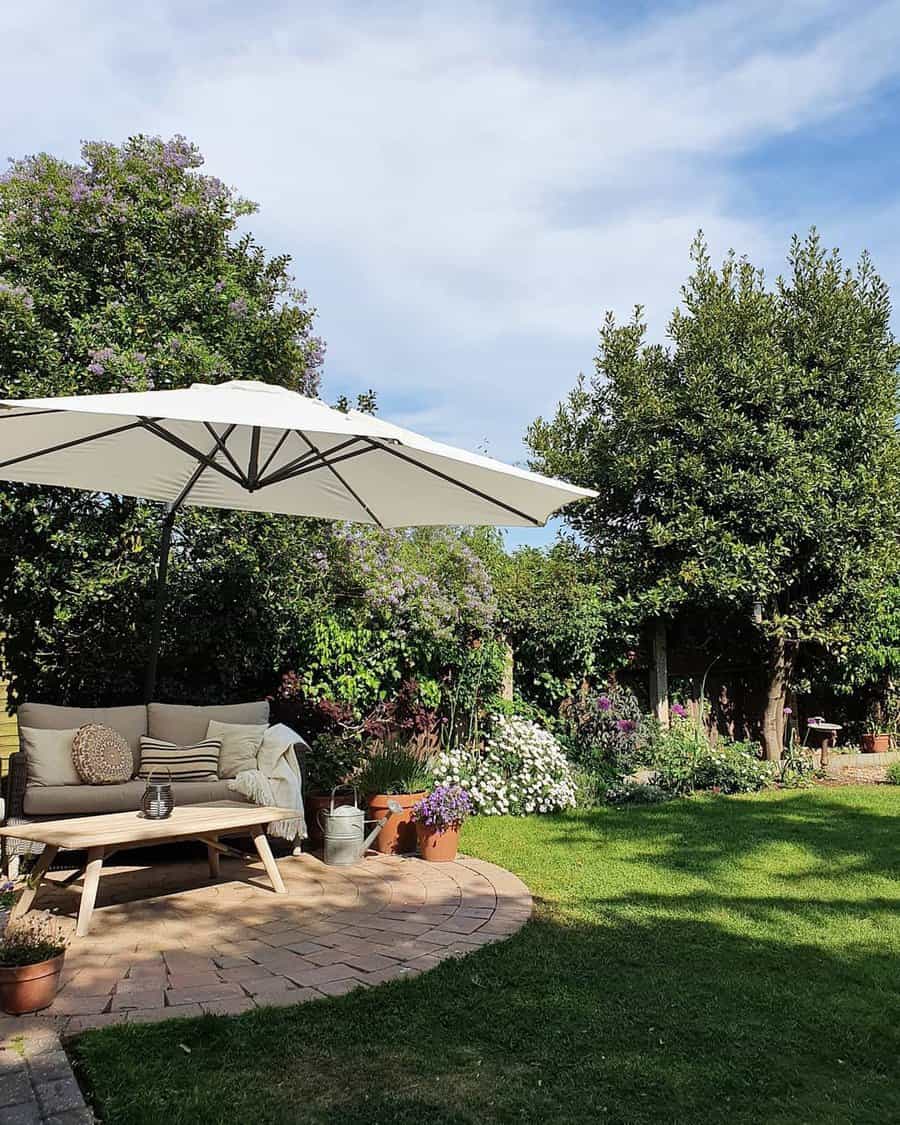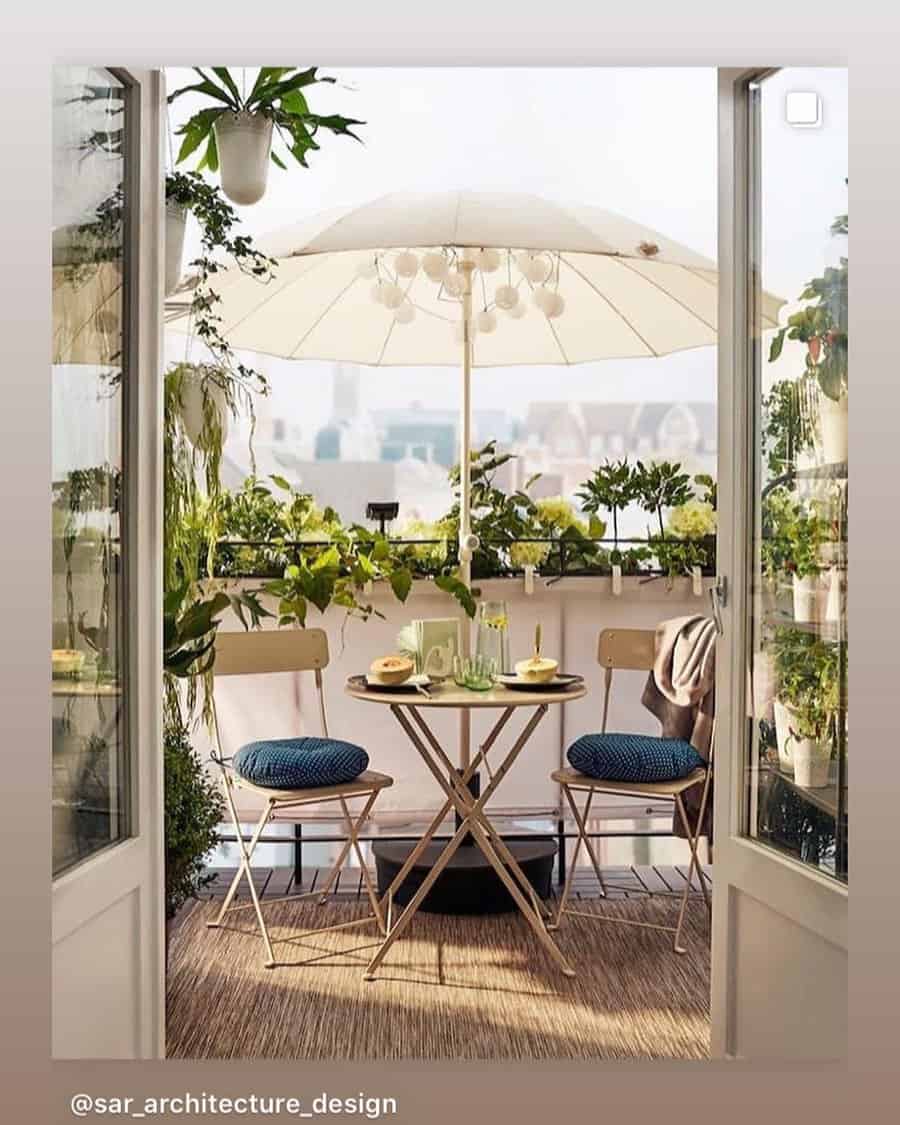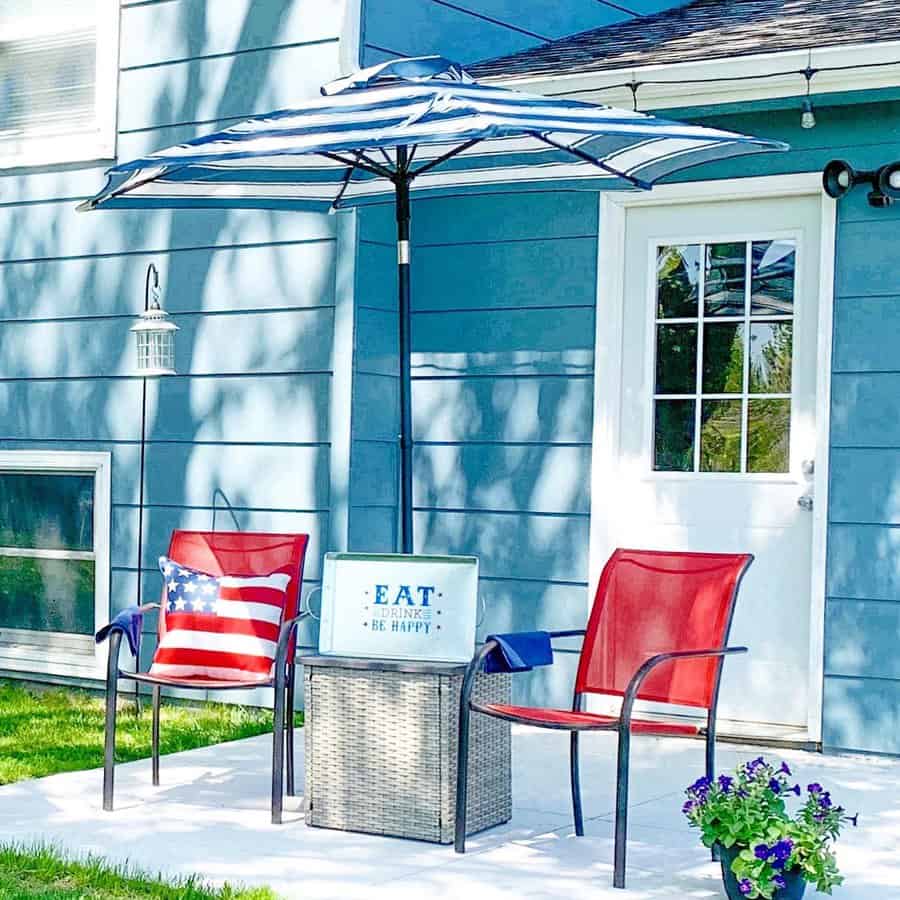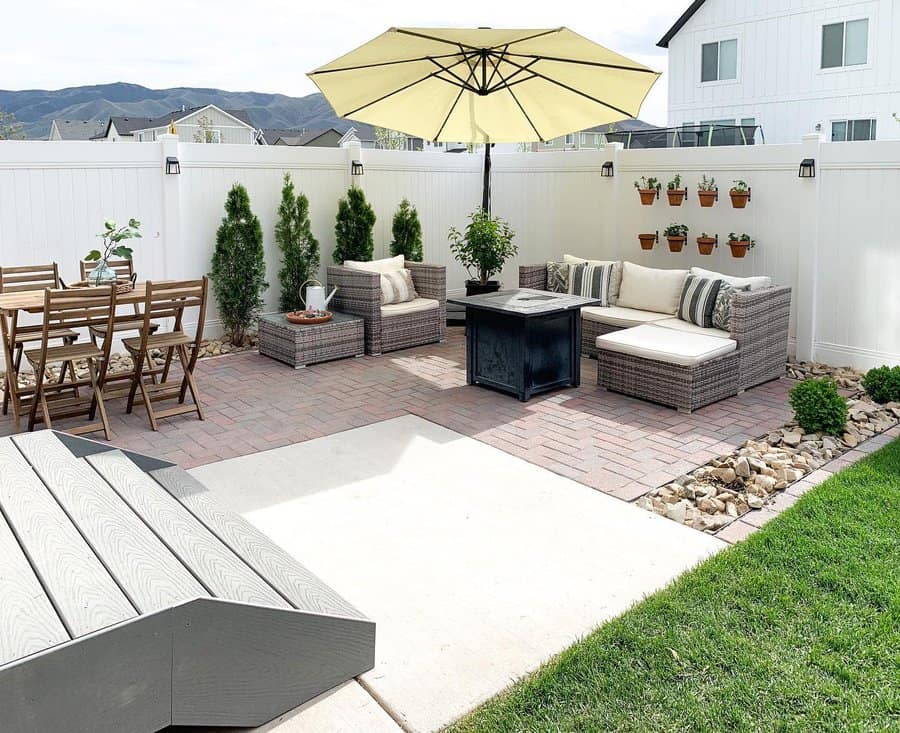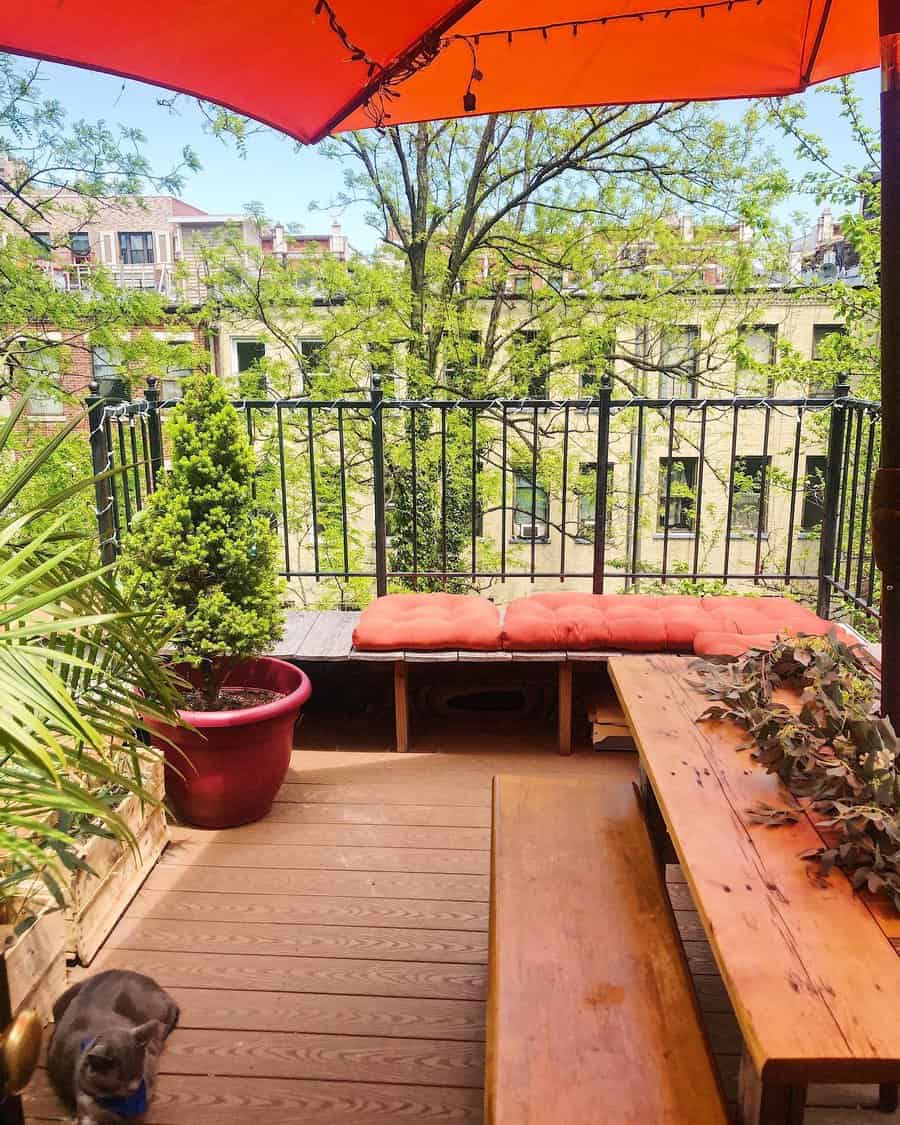 You can find canvas shade canopies in the form of umbrellas, sails, patio covers, and more. So you should have no trouble finding a solution that fits your outdoor space.
Look for a sun shade made from high-density fabric (dark colors block UV rays most effectively). If weather protection is important to you, choose a water-resistant shade canopy.
Hang string lights underneath your shade structure to make up for the lack of natural light.
4. DIY
Finding a shade solution for your yard is easy if you have access to professional installers.
But if you're in the midst of remodeling your outdoor living area yourself, then coming up with a DIY shade canopy is likely at the top of your to-do list.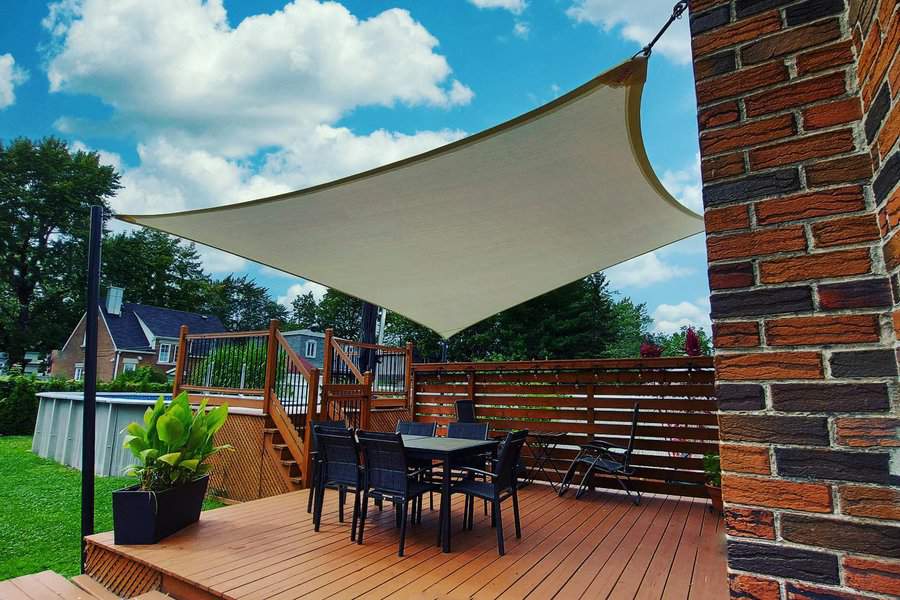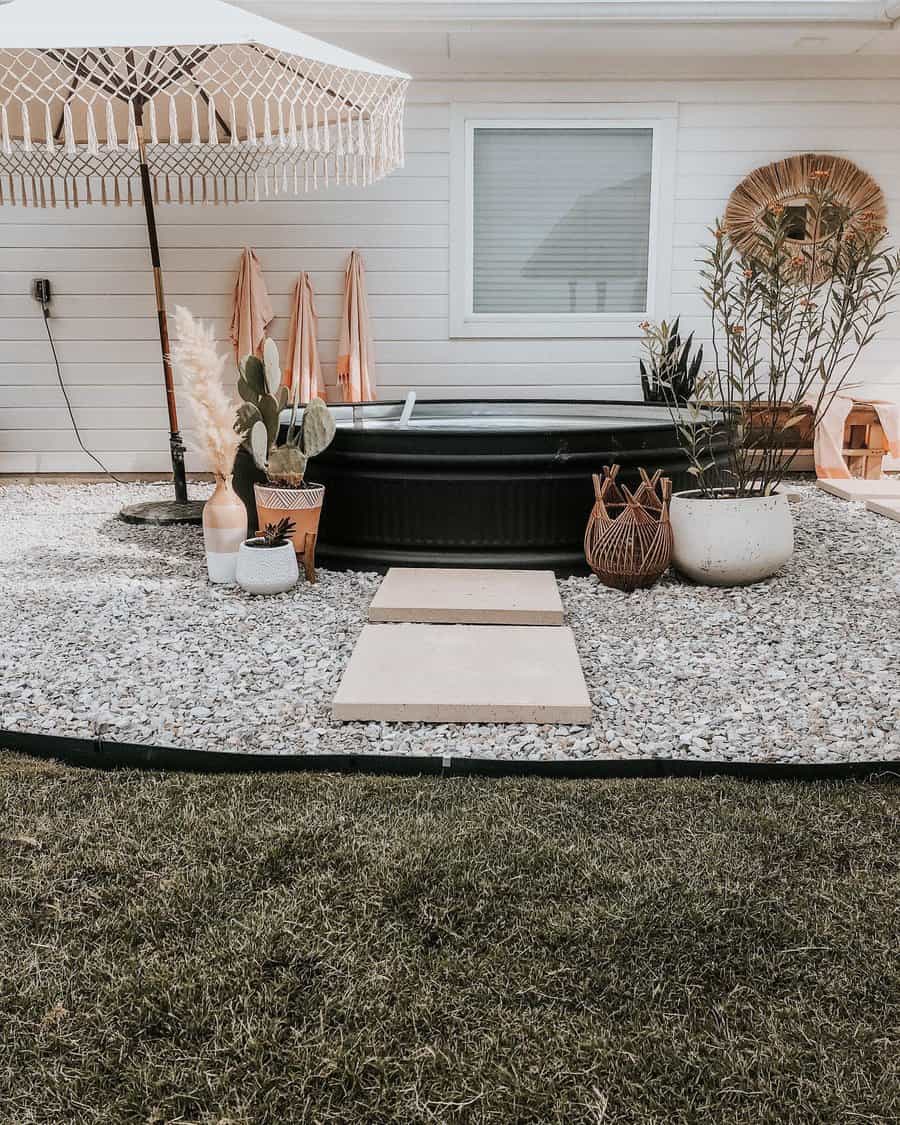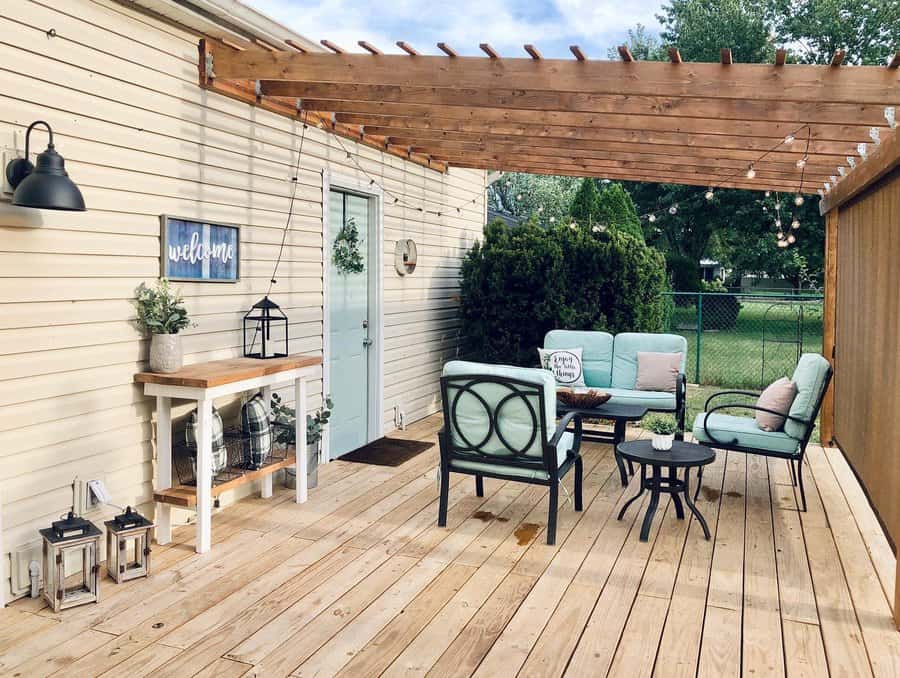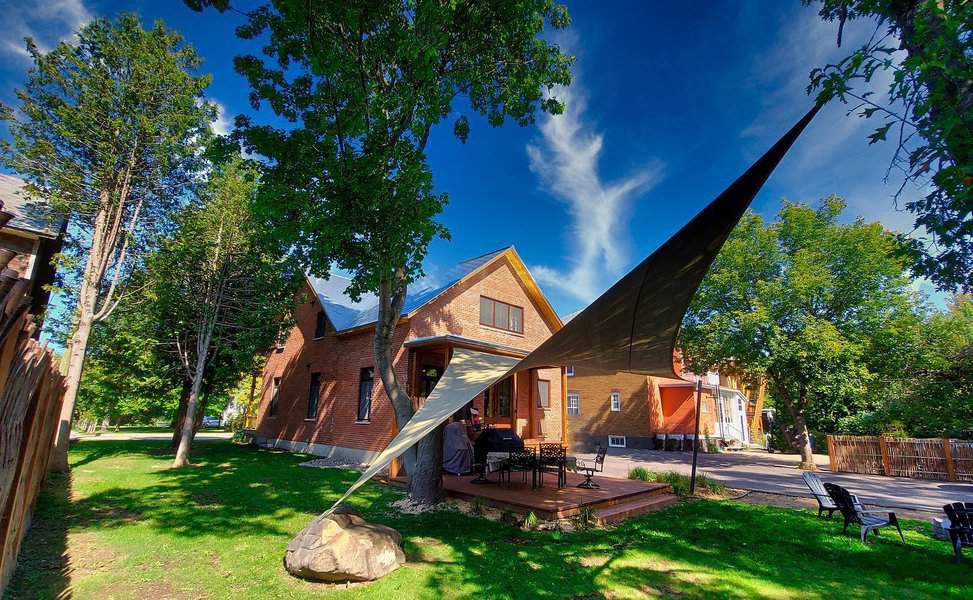 Don't overthink your patio shade idea. Even something as simple as anchoring a canvas sheet overhead will make your outdoor space cooler and limit the amount of sun exposure.
Look for shade solutions that double as wind or rain barriers. For example, installing slats along the sides of your wooden pergola will provide shade, privacy, and deter harsh winds.
Add heavy curtains for even more protection from the elements.
5. Deck
Owning a large, functional deck is a staple of suburban life. Whether you consider yourself a bona fide grill master or enjoy kicking back with a glass of wine after a day at work, the more comfortable your deck is the better!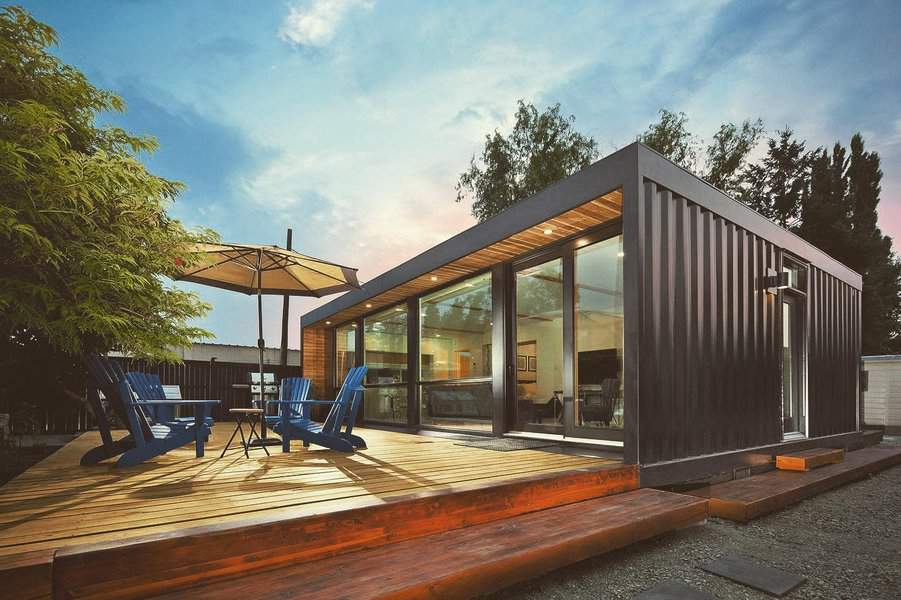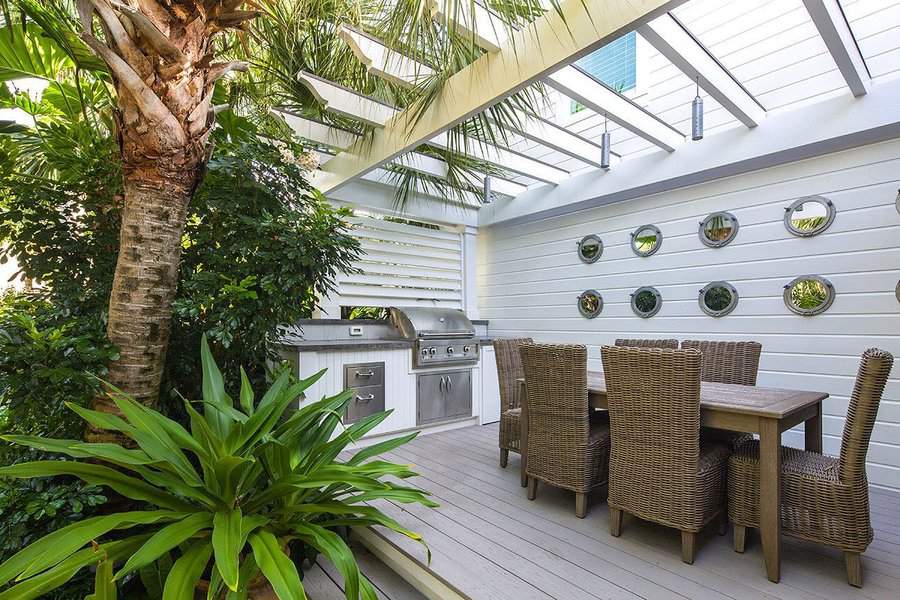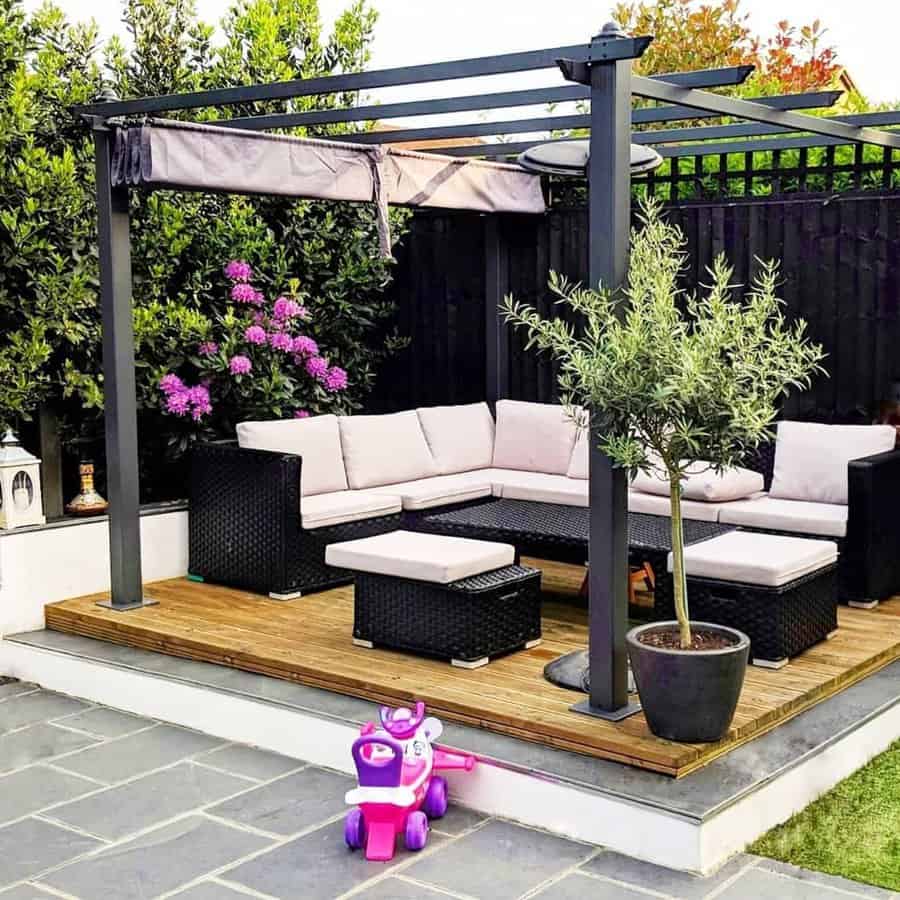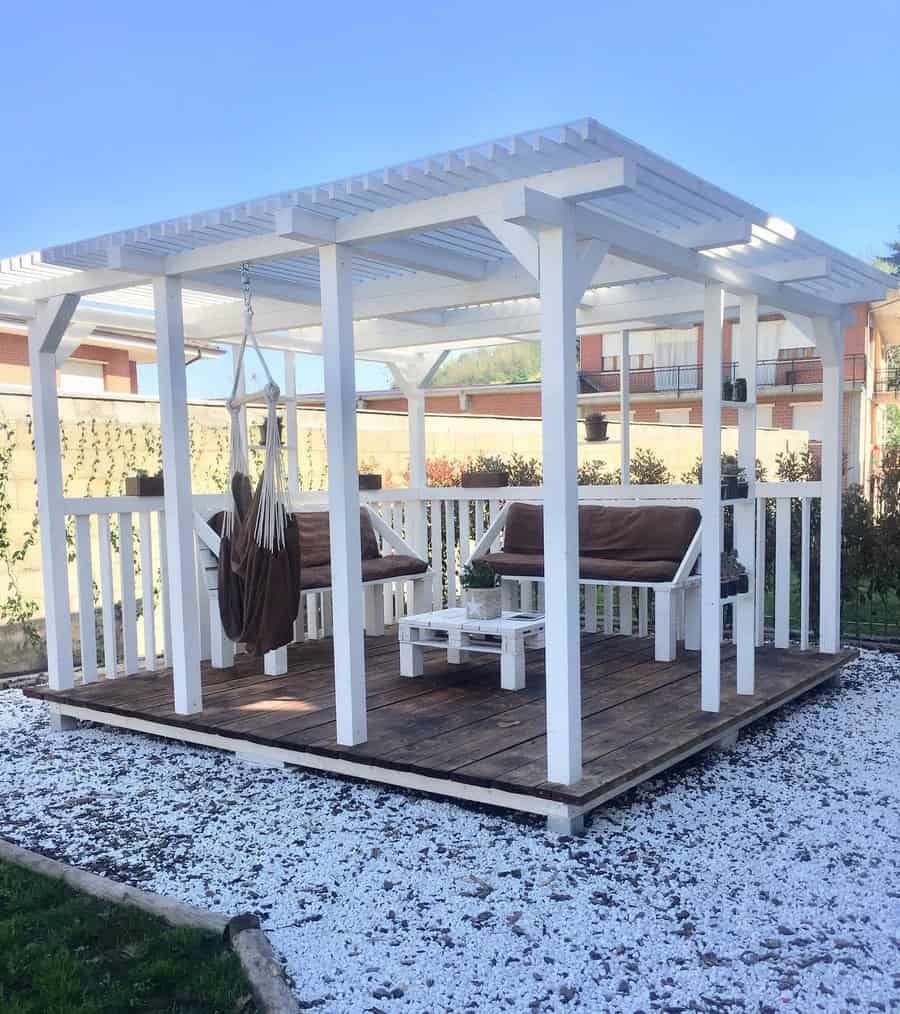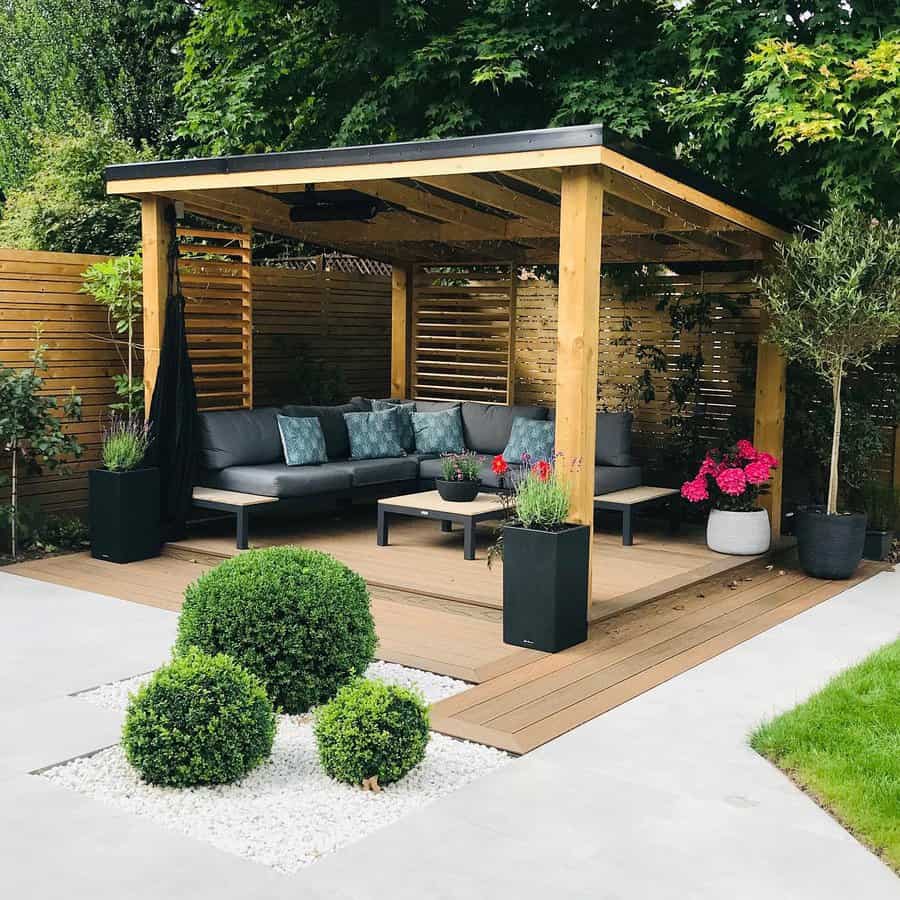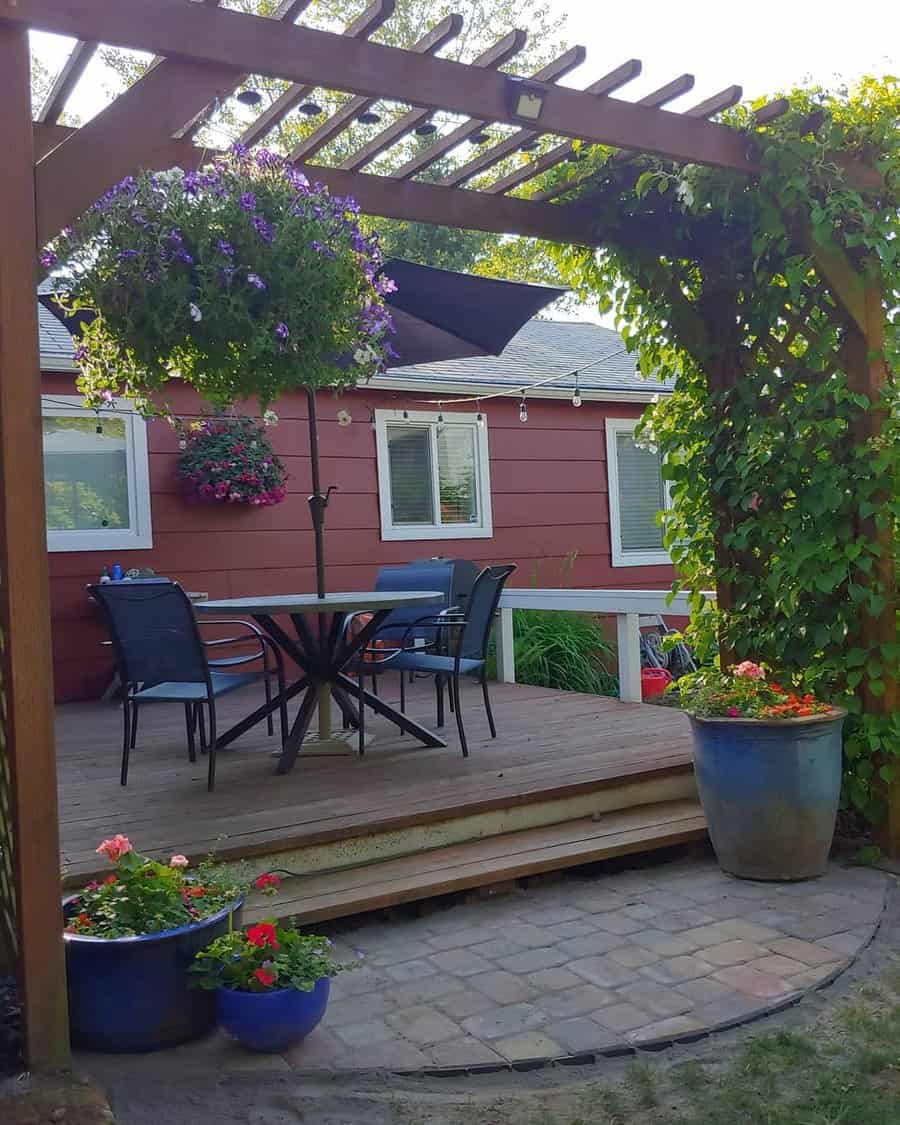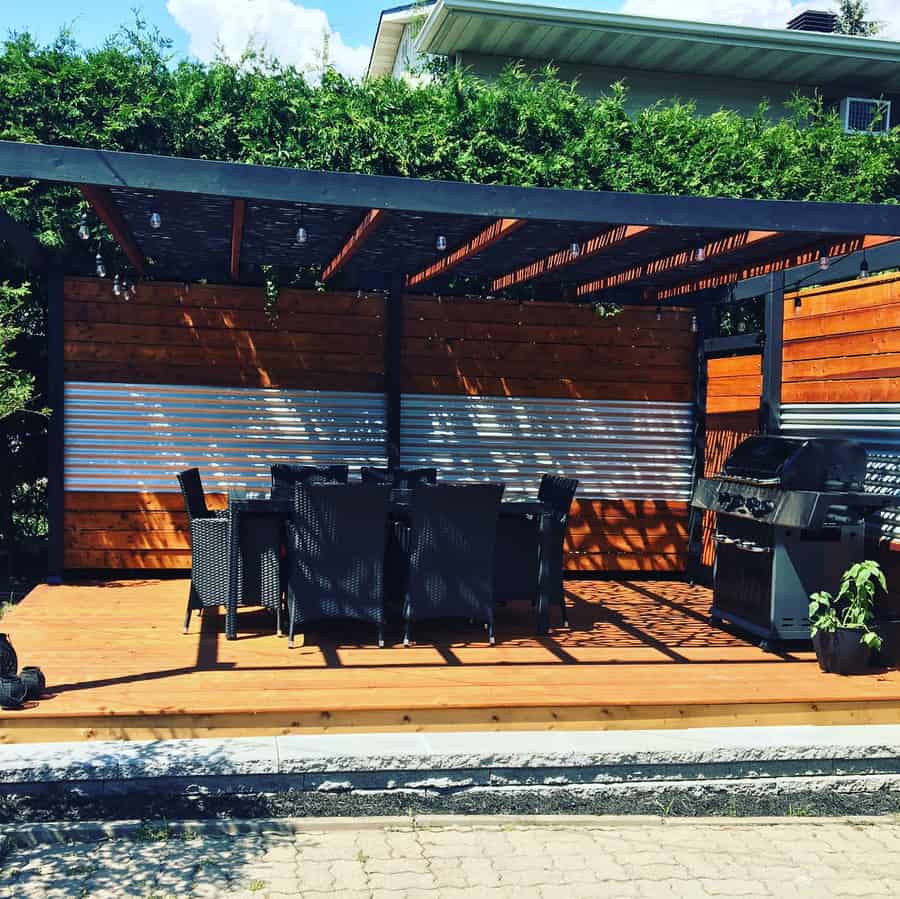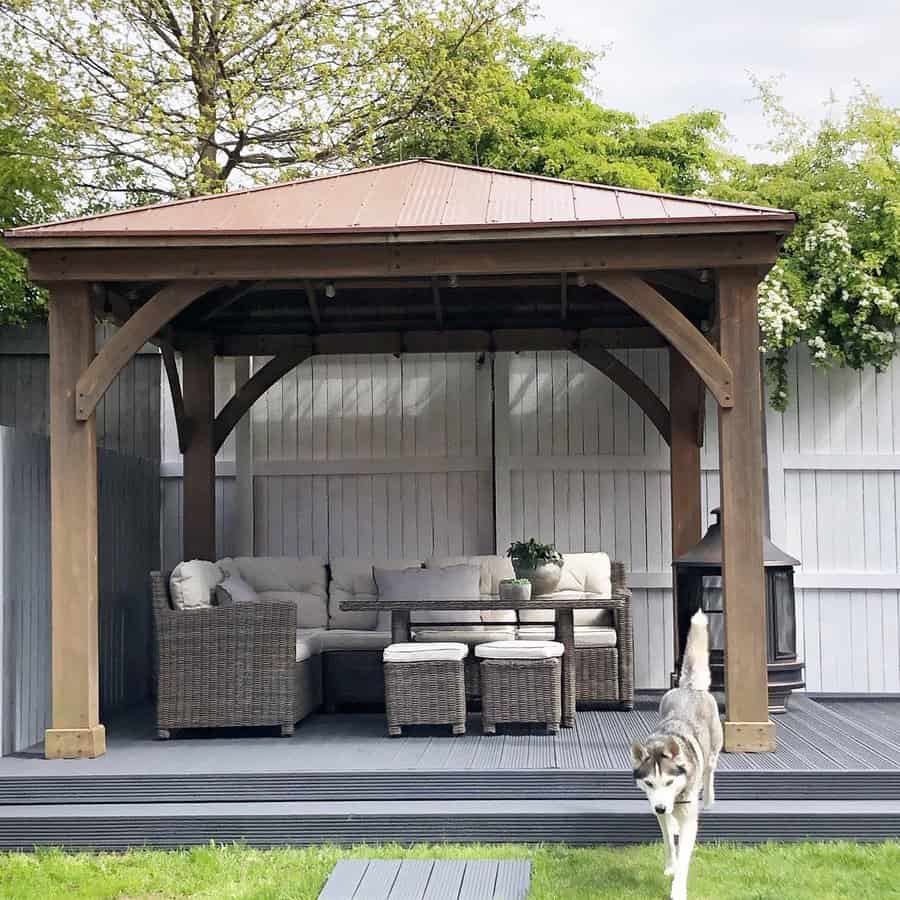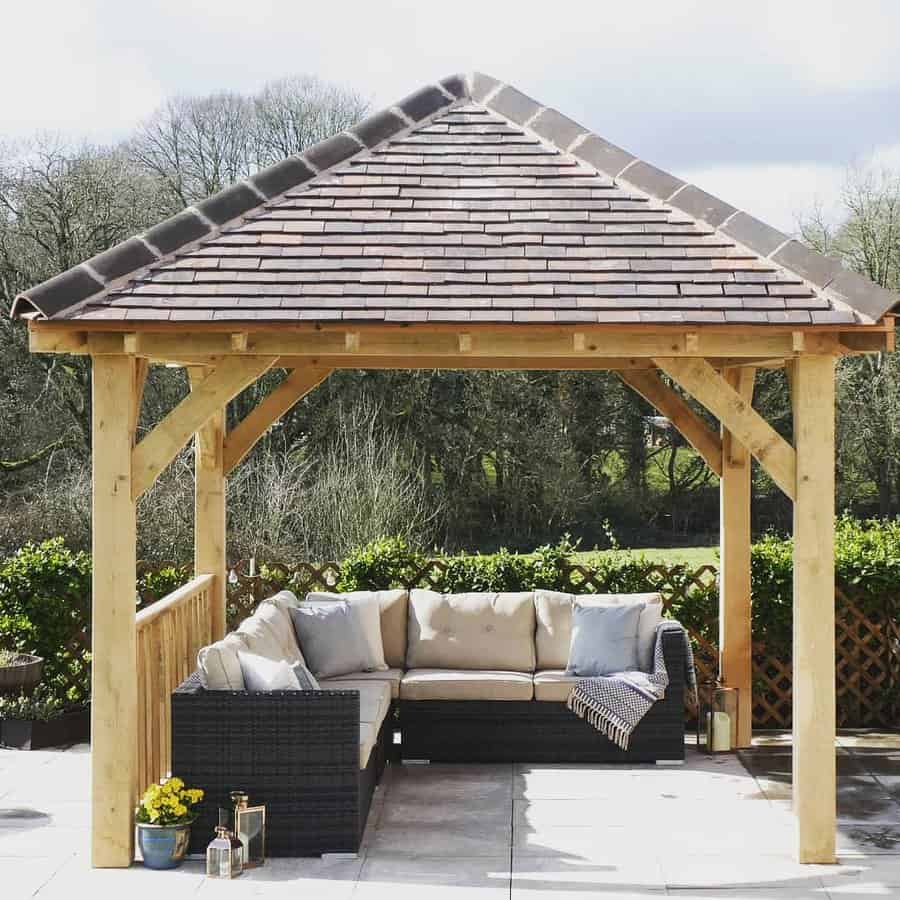 Covering all or part of your deck can block the sun's rays and provide relief from the sweltering summer heat. It can also serve as a shelter when the sky inevitably rains on your backyard BBQ or neighborhood get-together.
On the other hand, many homeowners view adding a roof to their deck as defeating its entire purpose. Instead of a permanent roof, consider installing a canvas canopy that can easily be rolled up in favorable weather.
6. Metal
There are very few things as important as UV protection. Yet countless homeowners put off investing in outdoor shade because they feel like a canvas sail or awning will ruin their backyard aesthetic.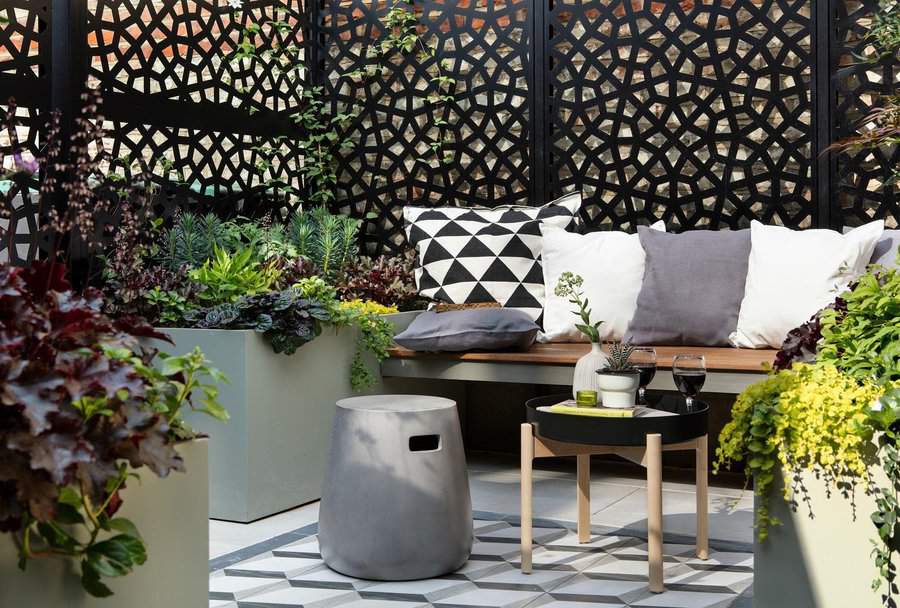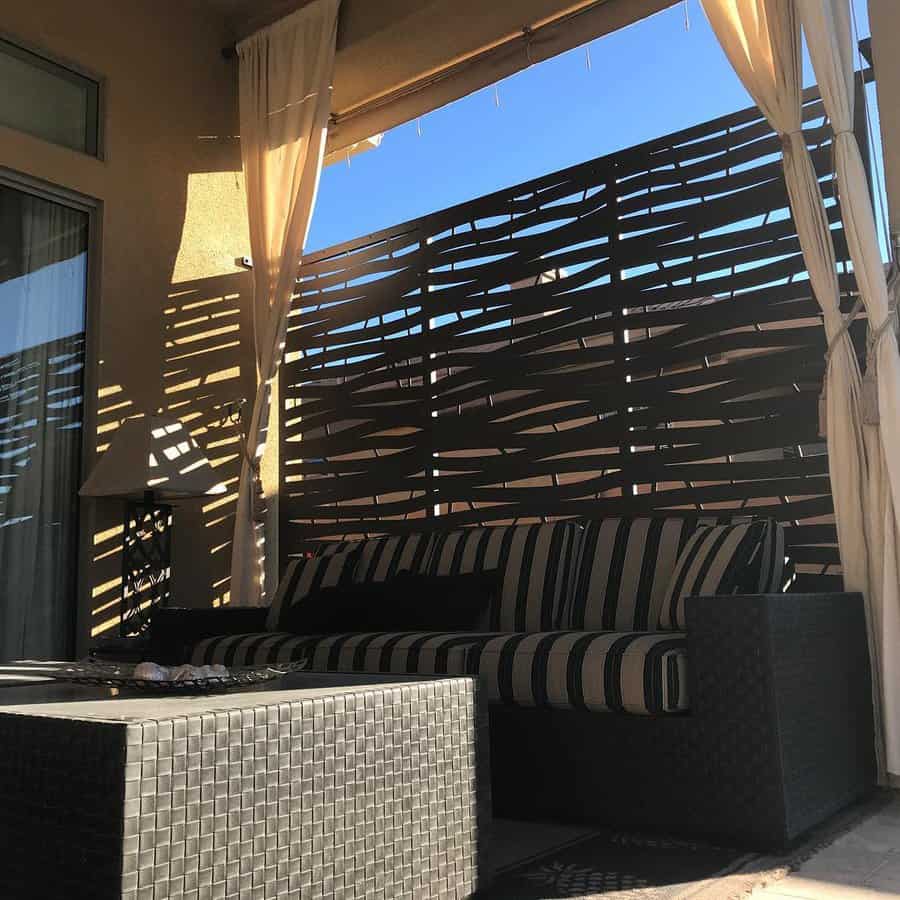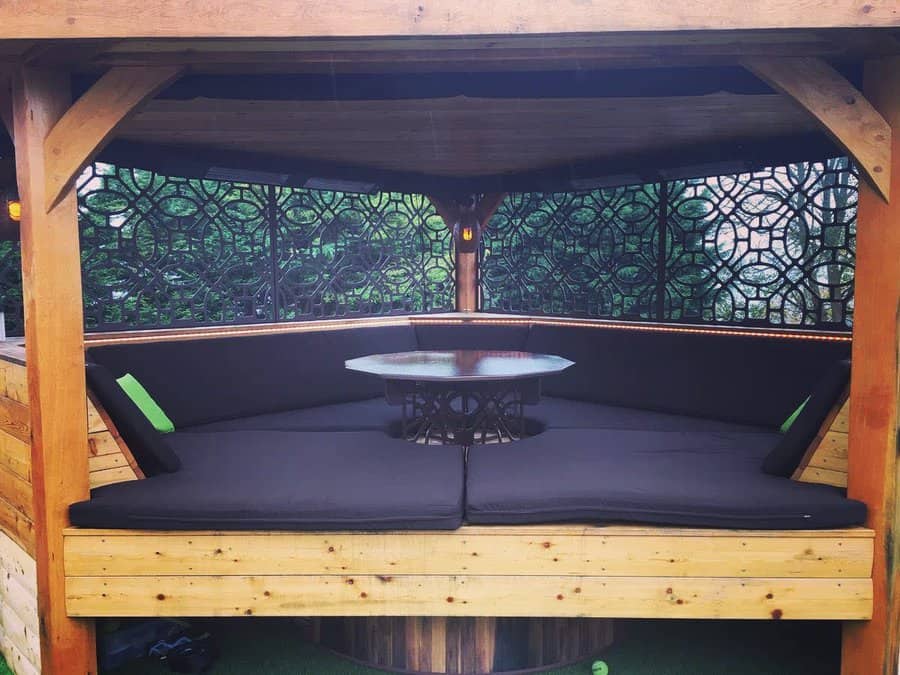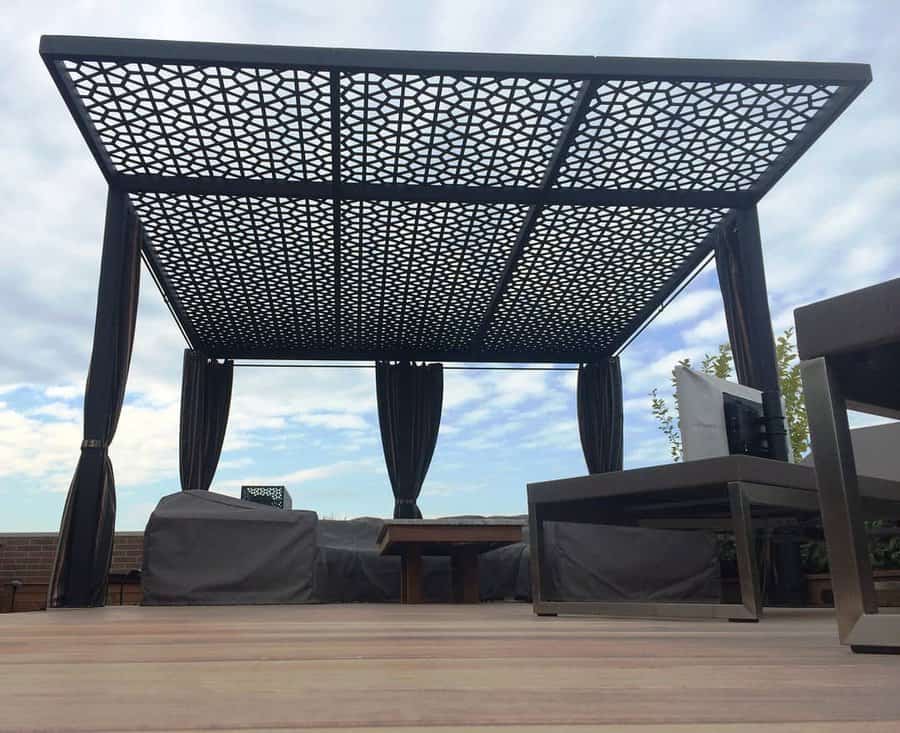 If a vine-covered trellis isn't your cup of tea, consider installing a metal privacy screen.
These screens are available in a wide range of designs and will let in as much or as little sunlight as you want. You can even custom order a screen to fit your personal style.
Metal panels can be used for a more protective pergola roof or to line the sides of an enclosed gazebo.
The possibilities really are endless and can be created using all kinds of outdoor-safe metal.
7. Patio
No two patios are alike. When it comes to patio shade ideas, what will work best for you really comes down to the size and type of outdoor space you have.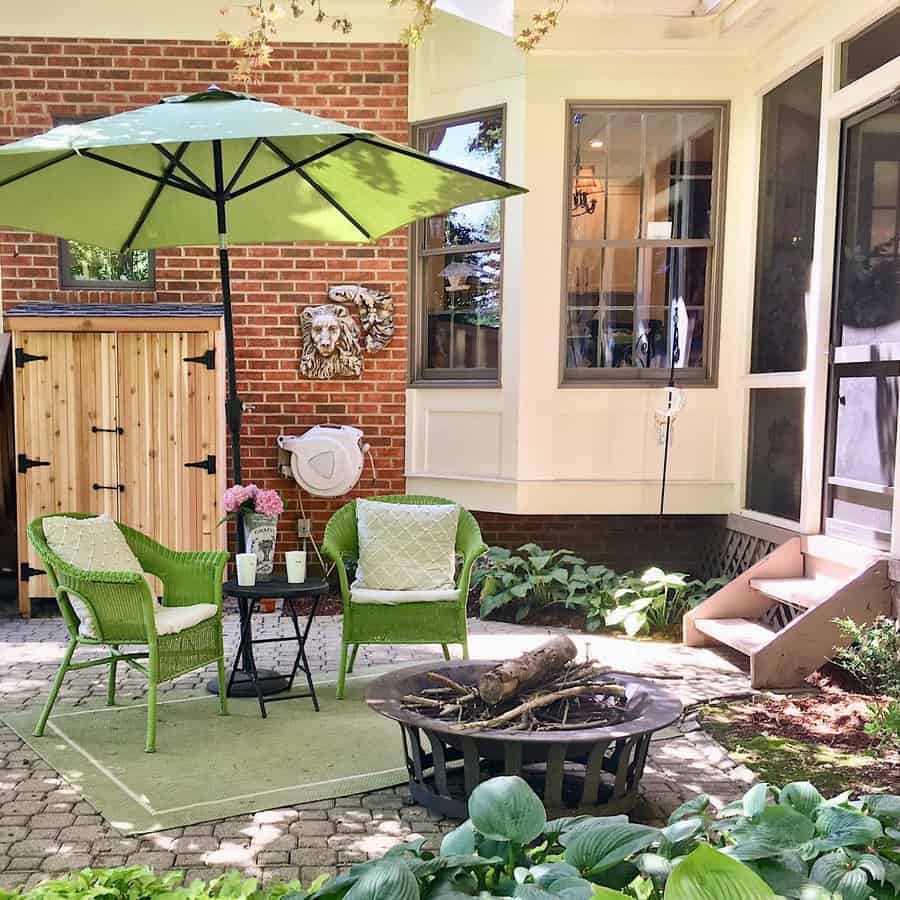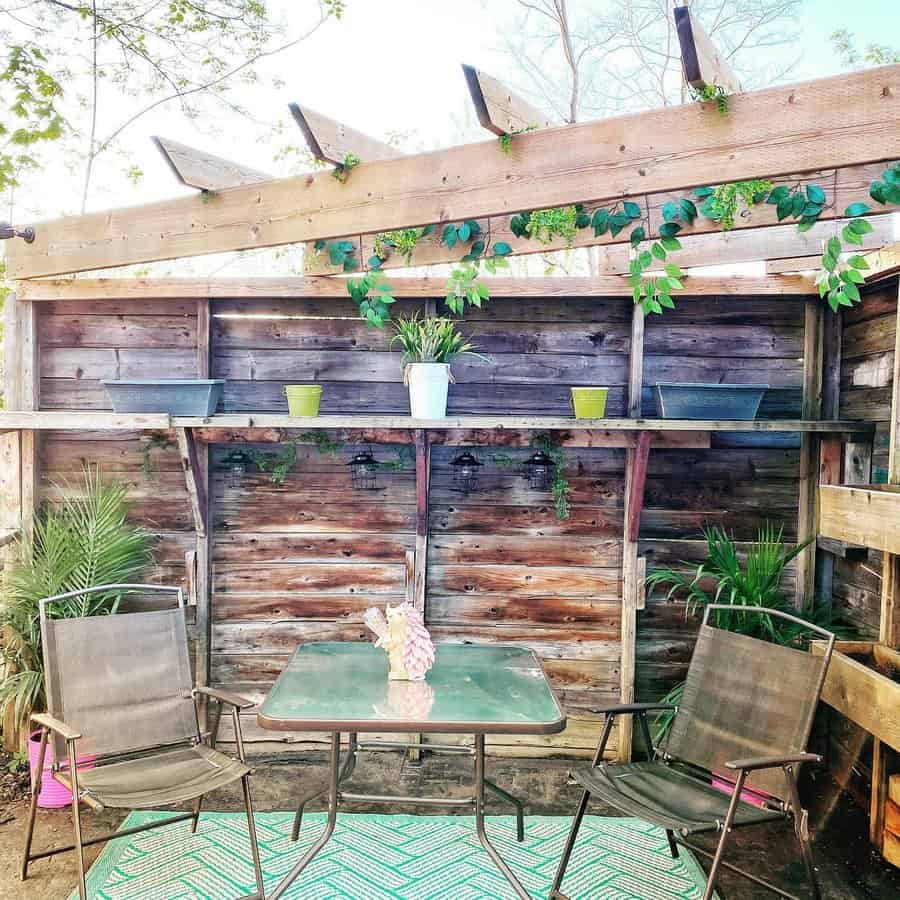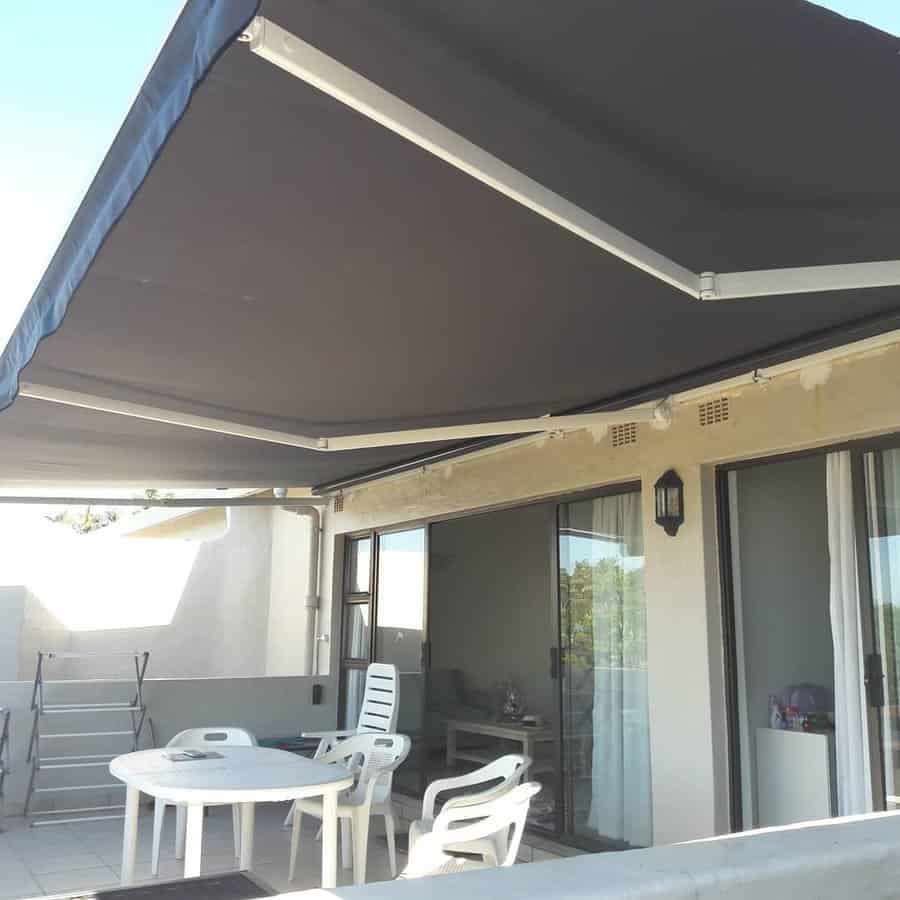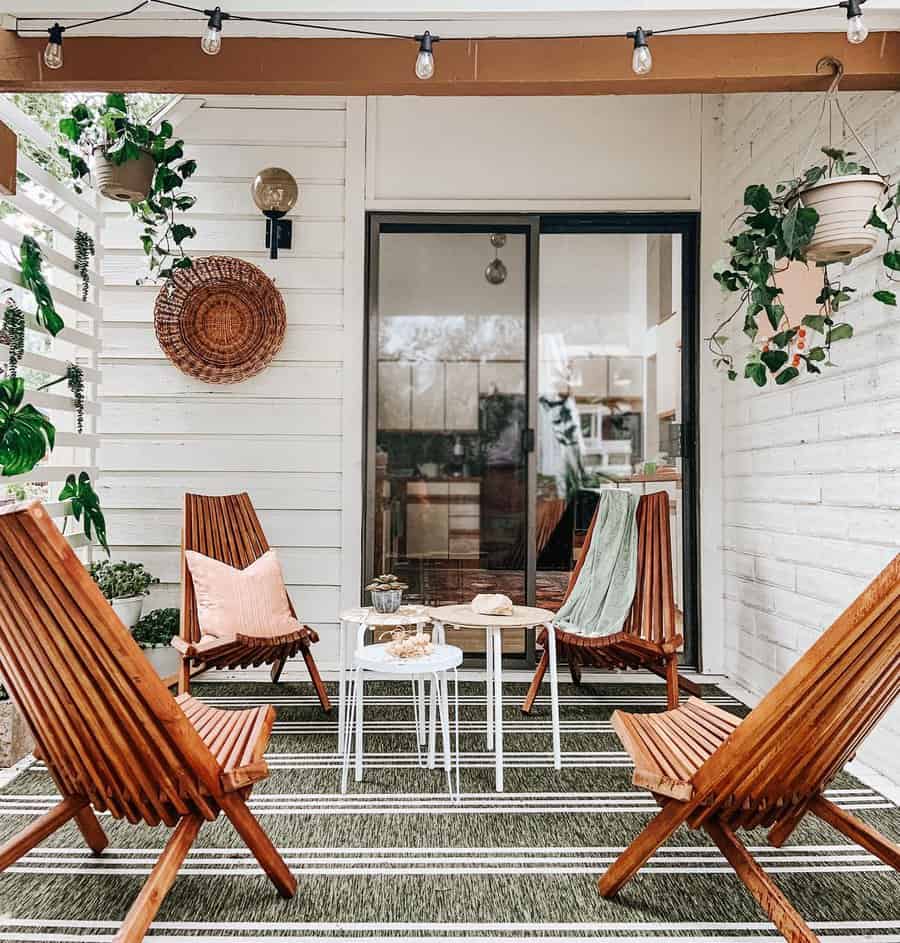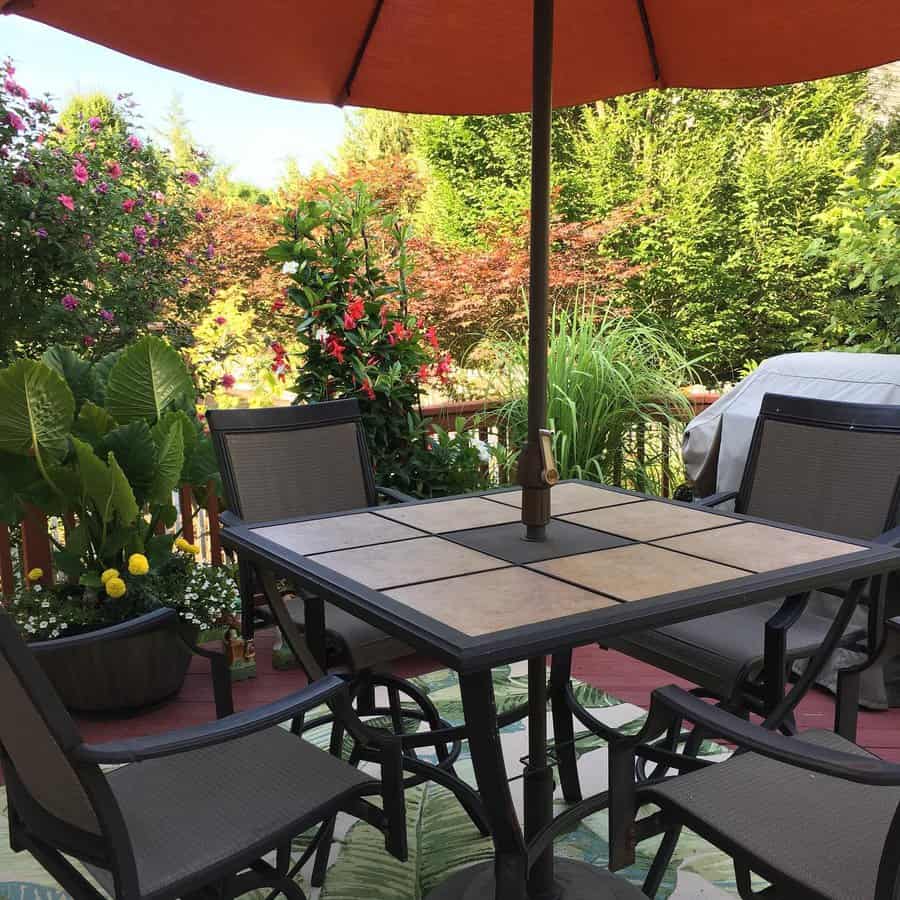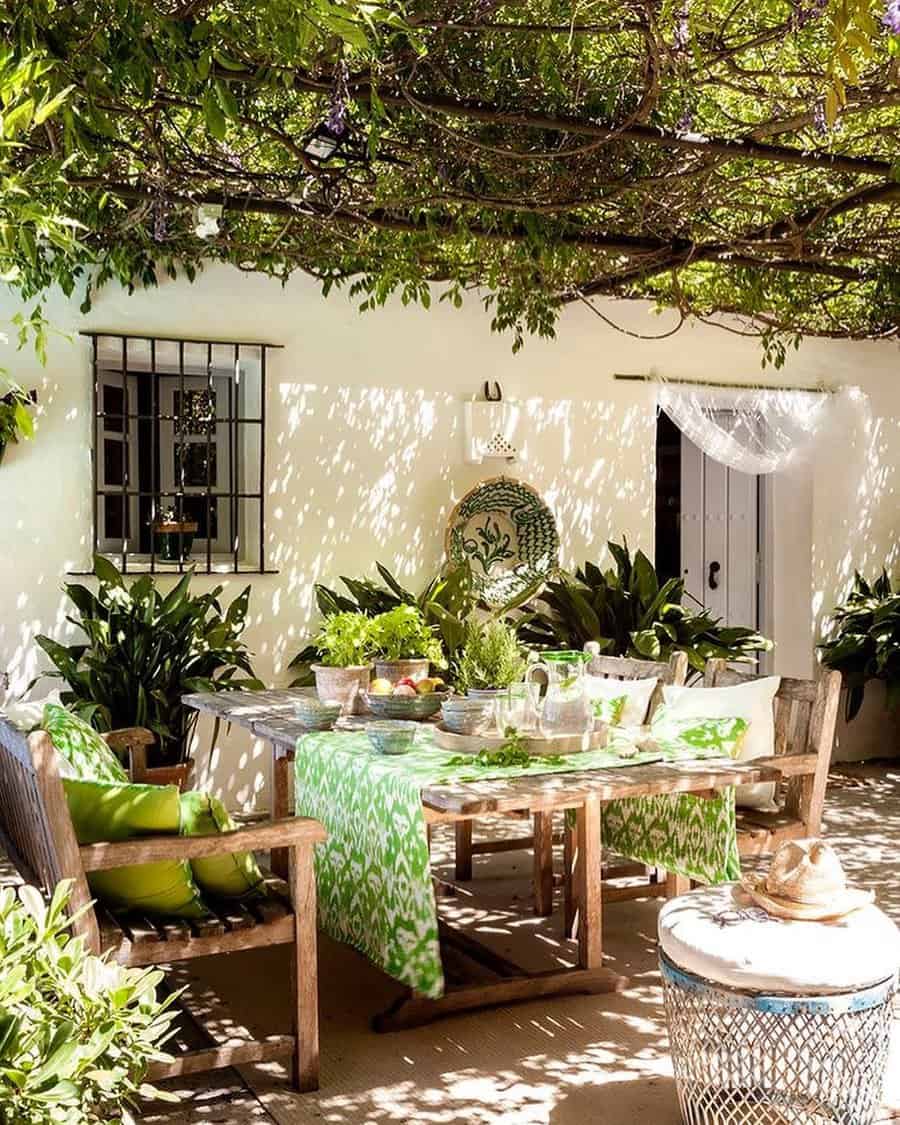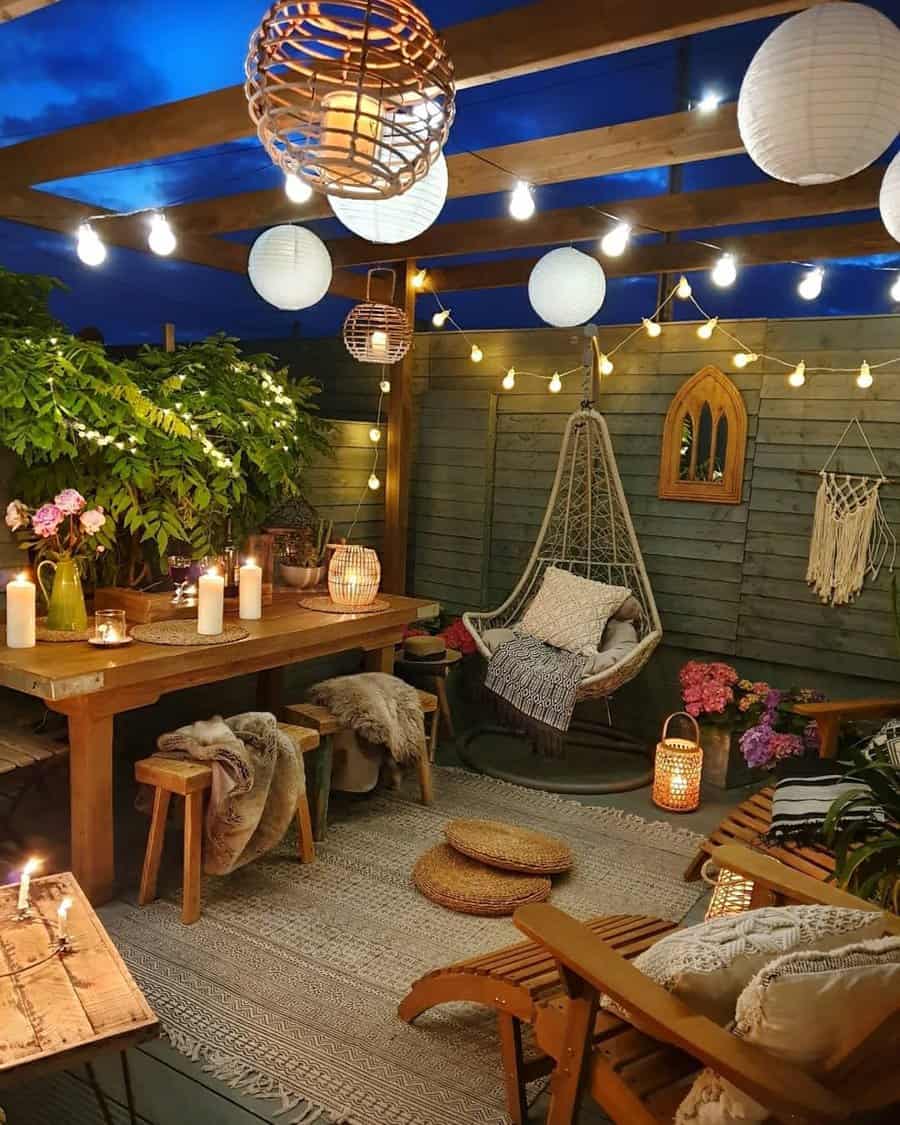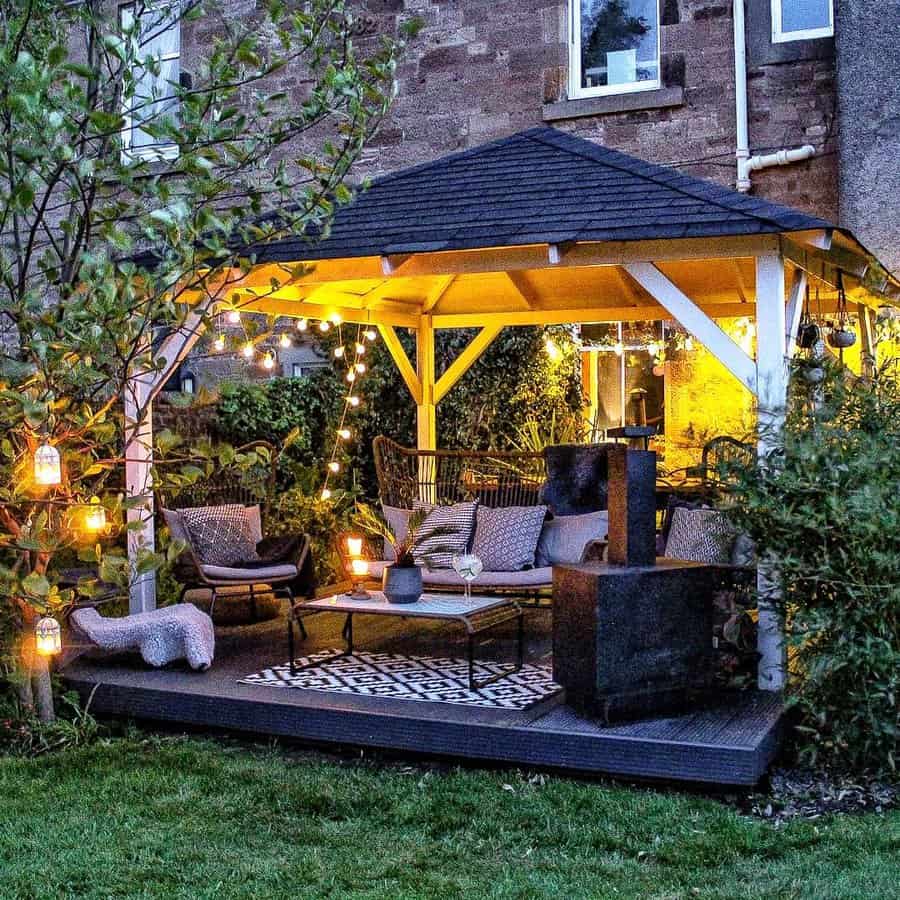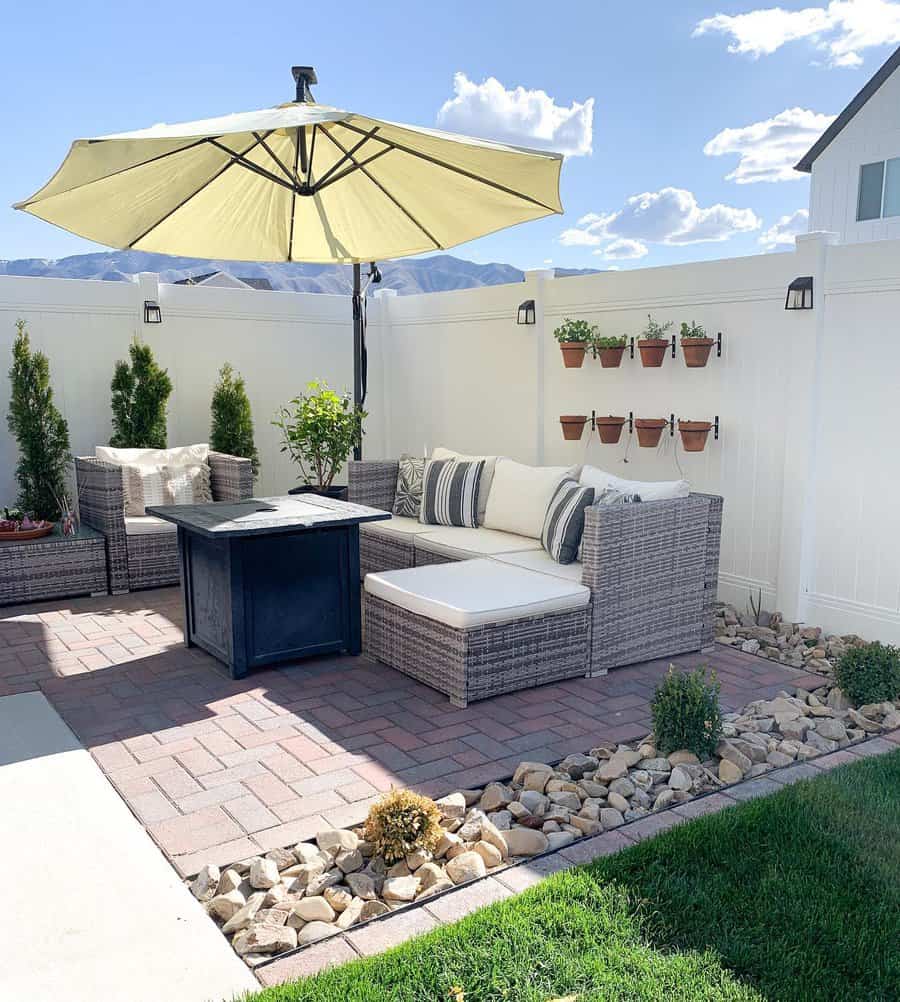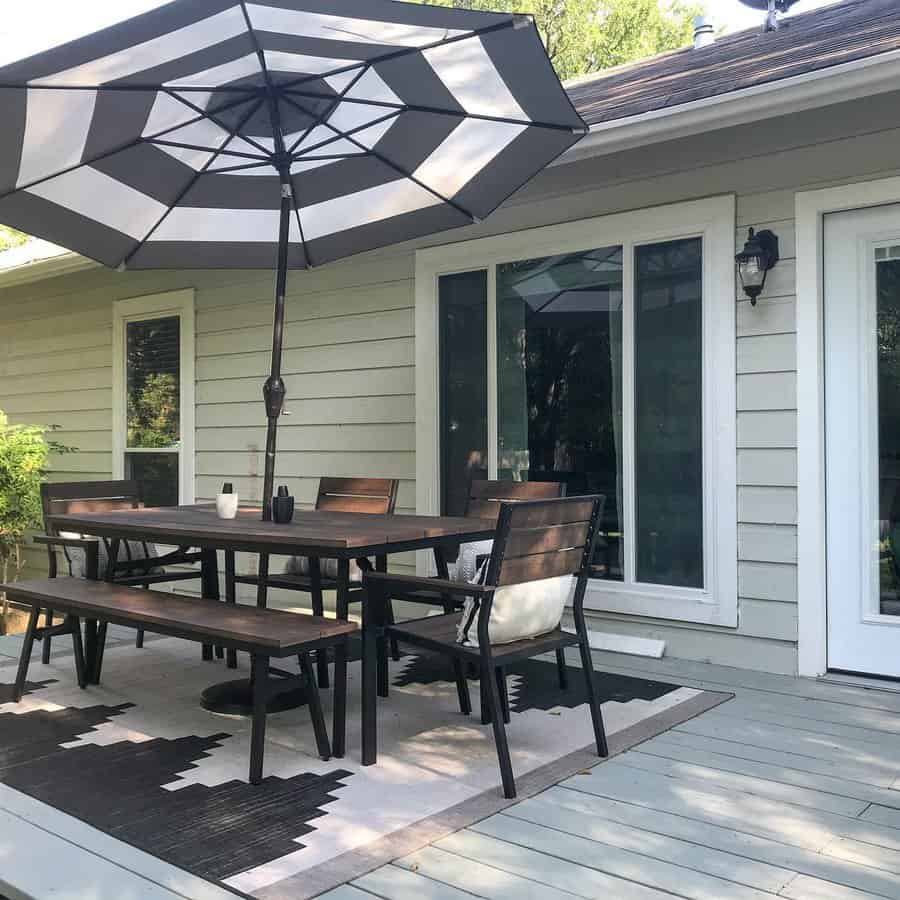 Sun umbrellas are one of the simplest and most affordable solutions for adding shade to a deck or patio. But they do cover a very small area. Anchoring a canvas sun shade sail to your patio wall offers more protection but isn't always the most practical.
Another option for coverage only when you need it is a retractable awning. If having a beautiful, well-shaded patio is on your must-have list, plant shade trees around the perimeter (or install your patio where trees are already planted).
8. Pergola
You'd be hard-pressed to find an outdoor structure as versatile as the pergola. But the one glaring drawback to these garden structures is the lack of shade.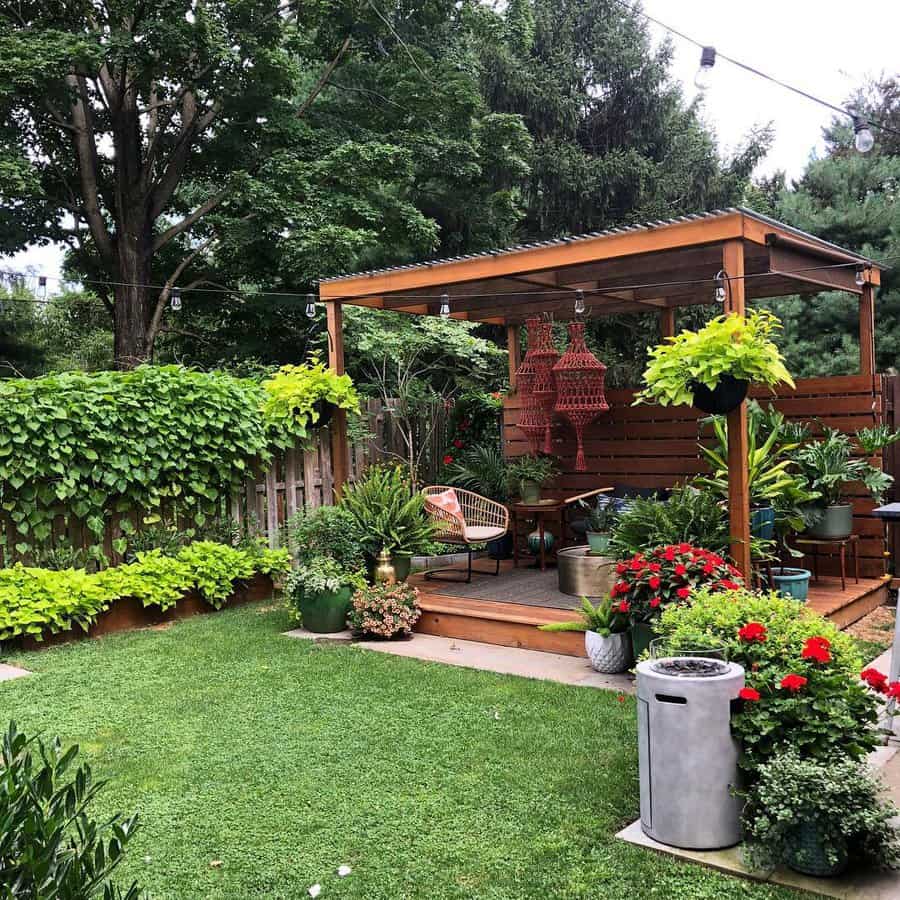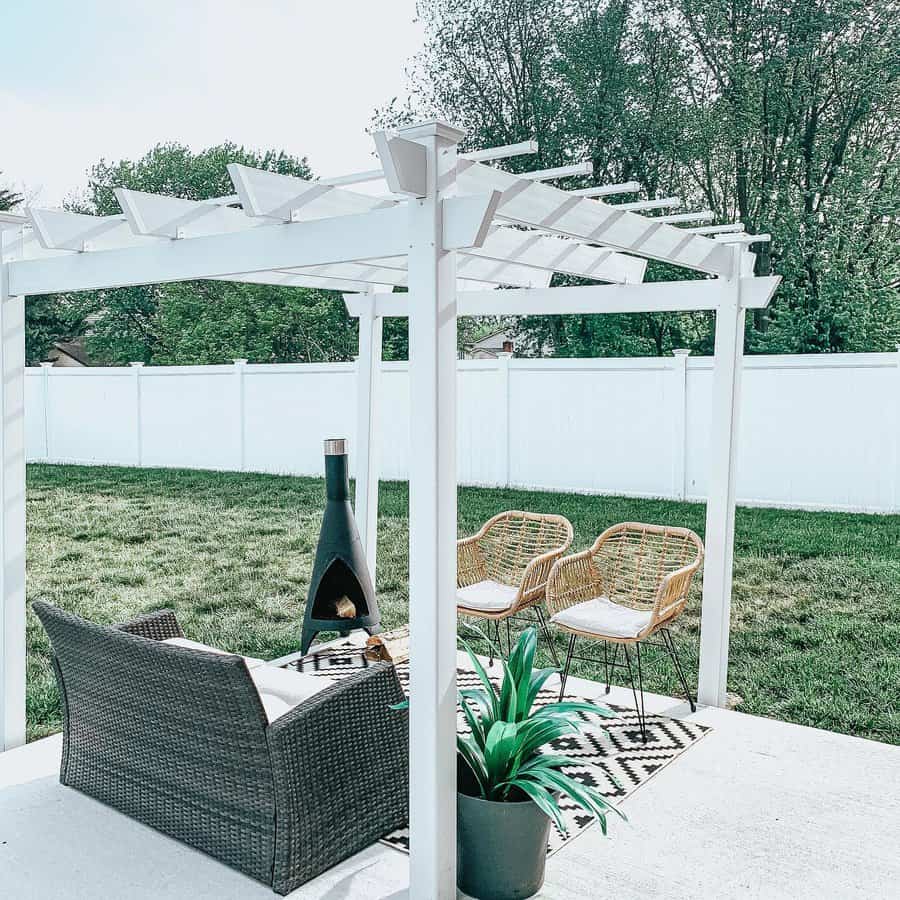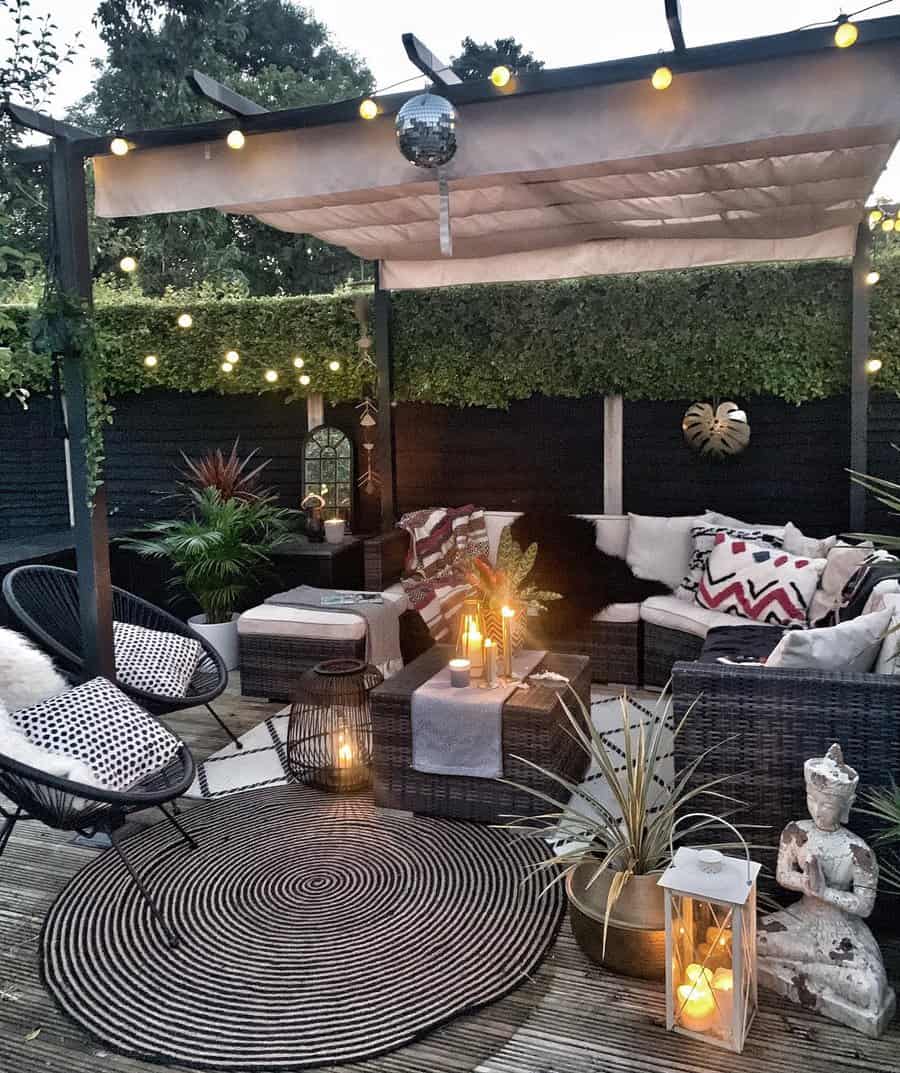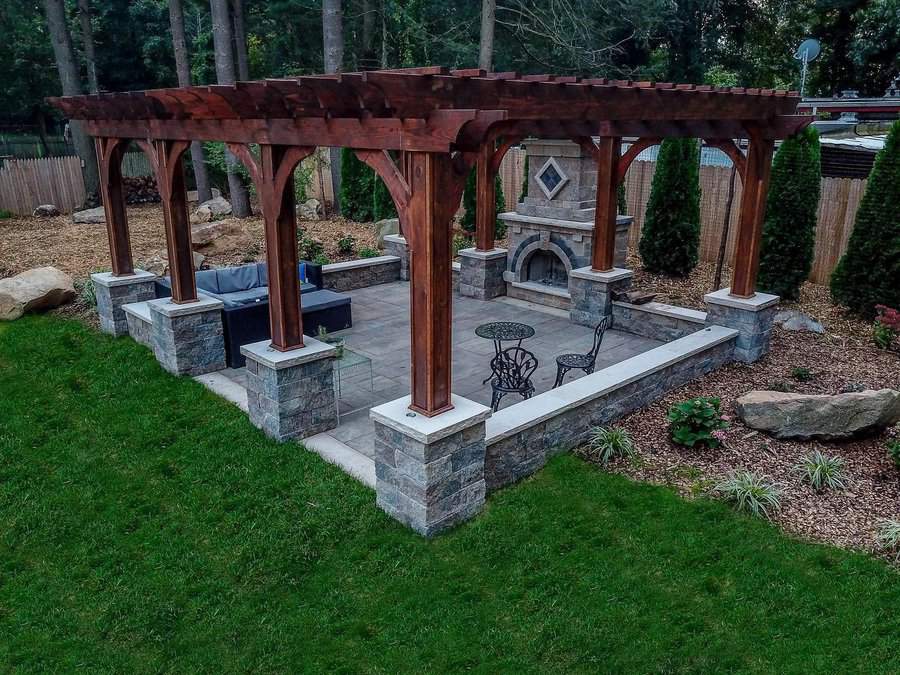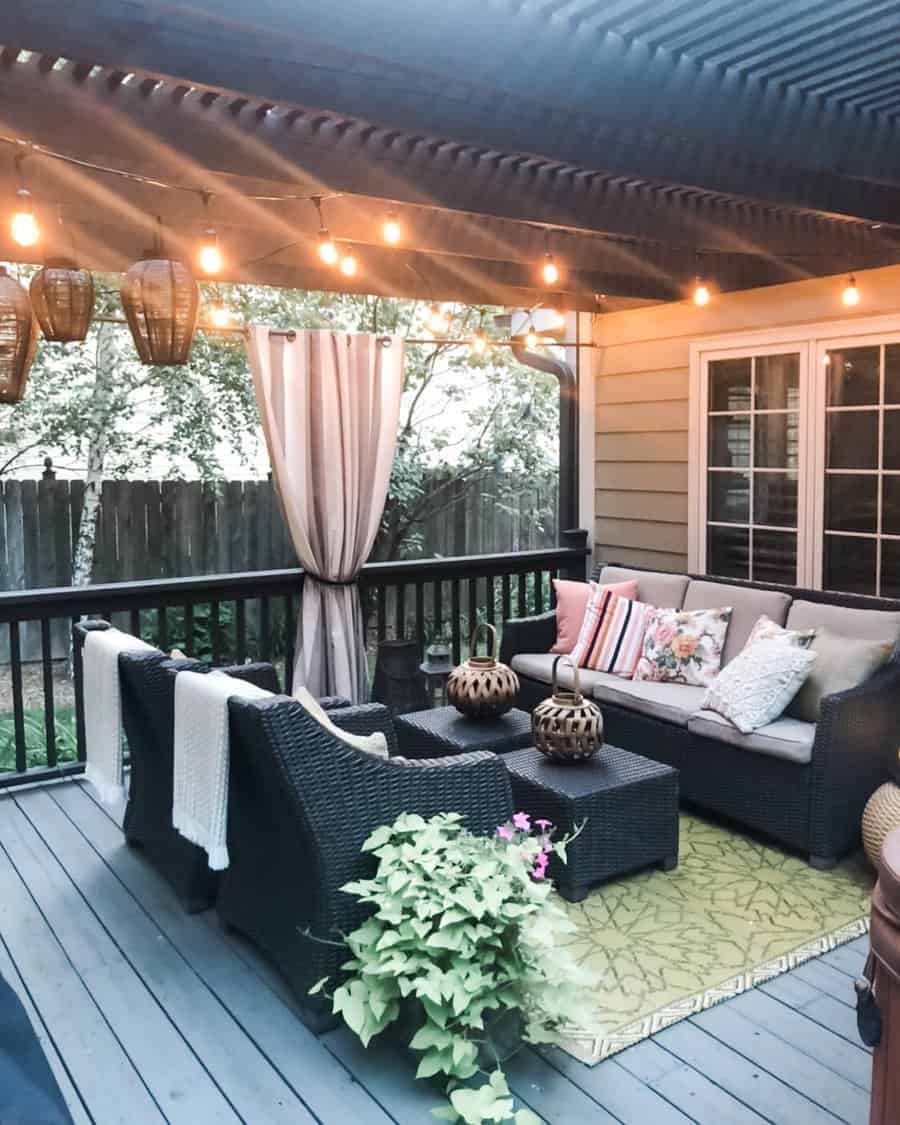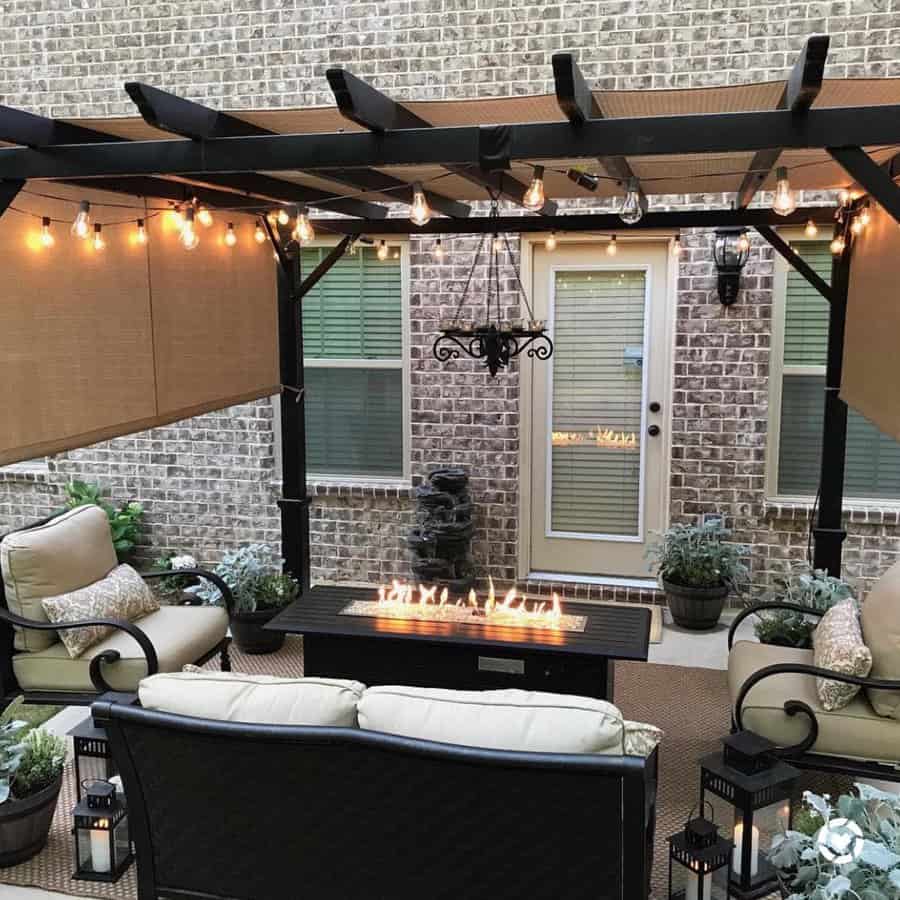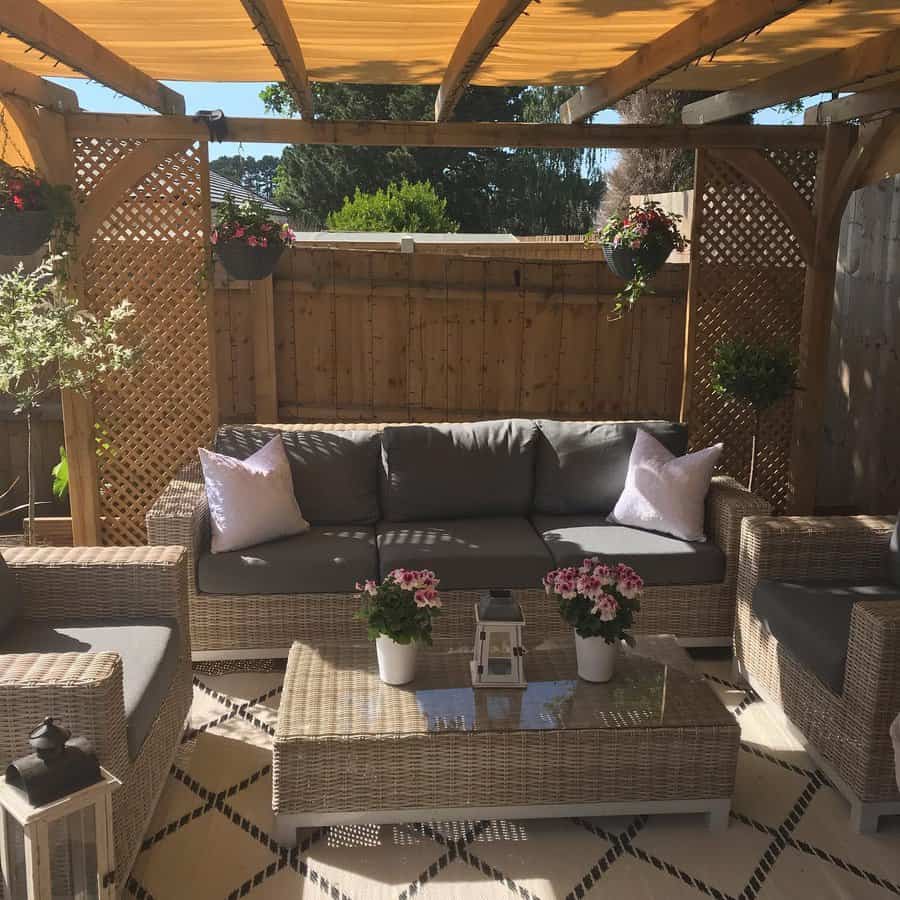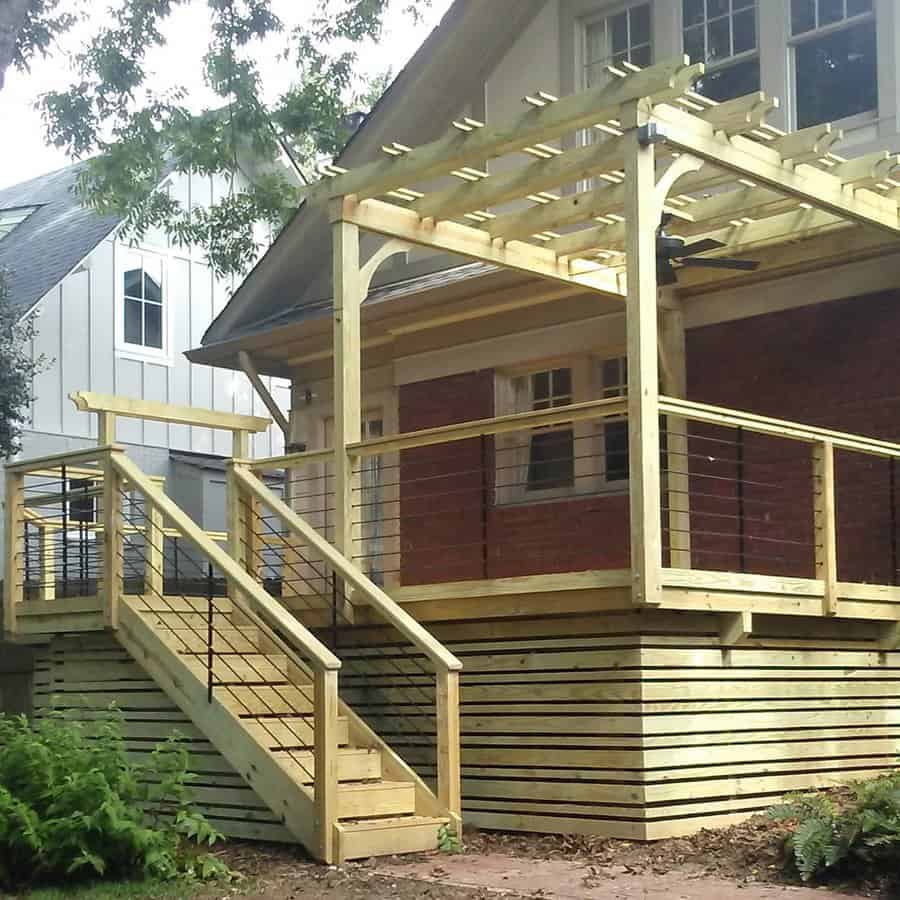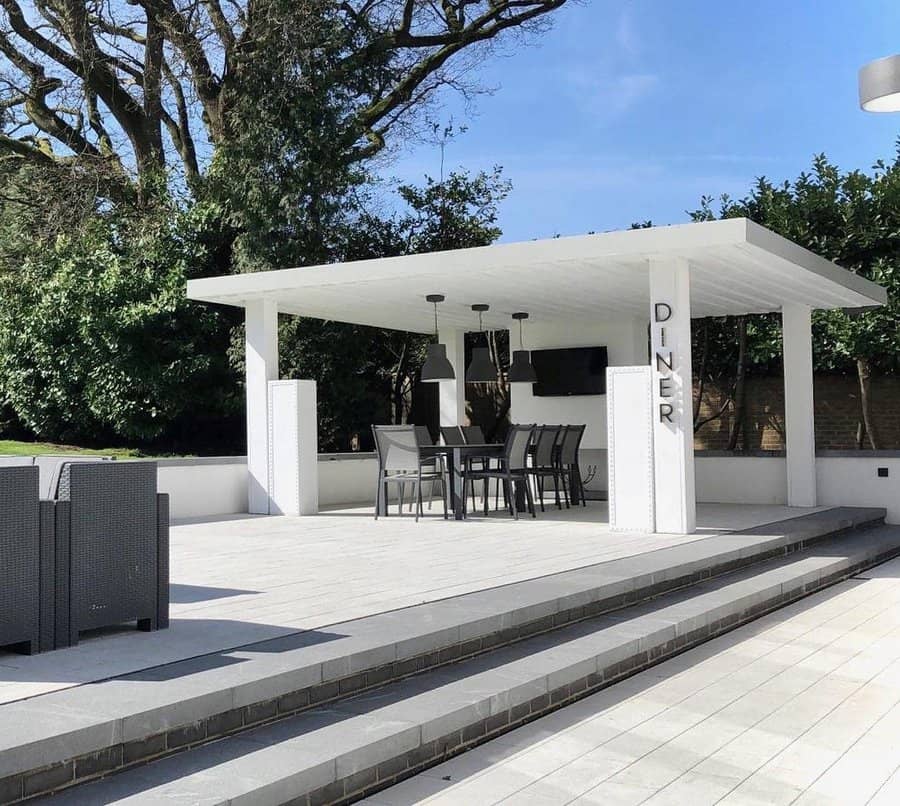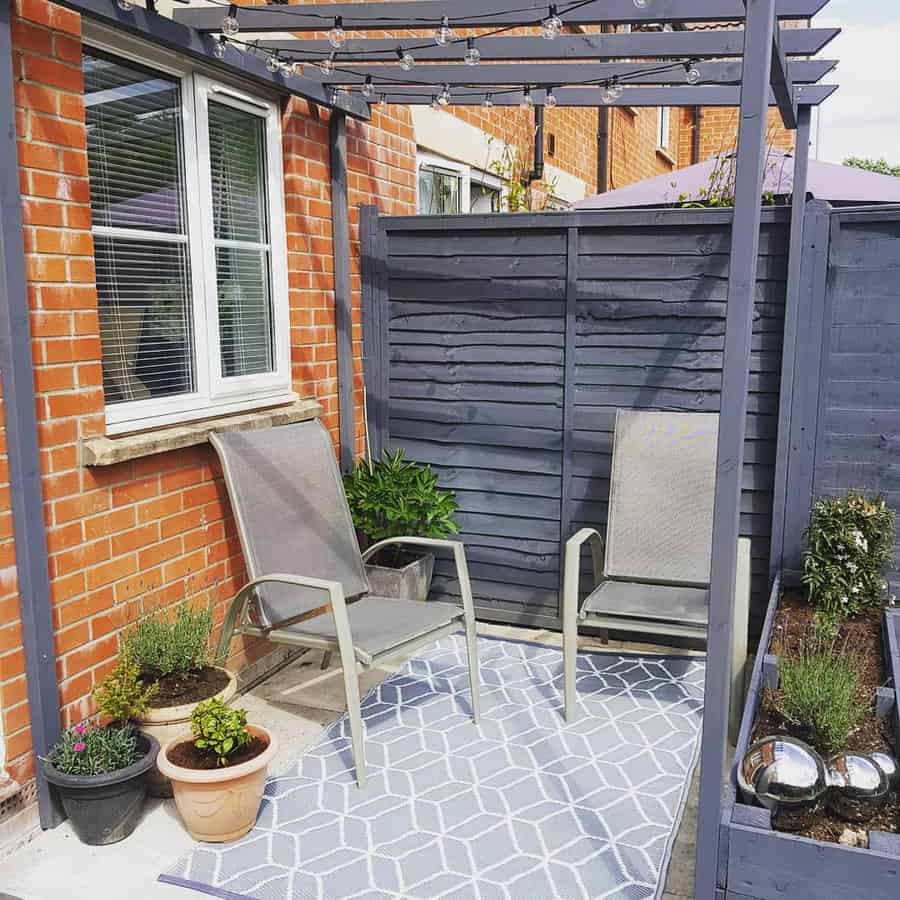 Some pergola owners choose to install permanent roofs. Others opt for shade sail installation or a simple canvas cover. If you still want the ability to bask in an open-air pergola, invest in a retractable canopy.
Since pergolas generally have an open top, everything inside is exposed to the sun's rays. So adding a cover to your metal or wood pergola can even prevent your outdoor furniture from fading or becoming waterlogged.
9. Screened
Many homeowners opt to install a screen around their pool or to enclose an outdoor room.
Screens keep out insects, wind, and add privacy to your patio. If you invest in a set of specialty shade screens, they also offer protection from the sun.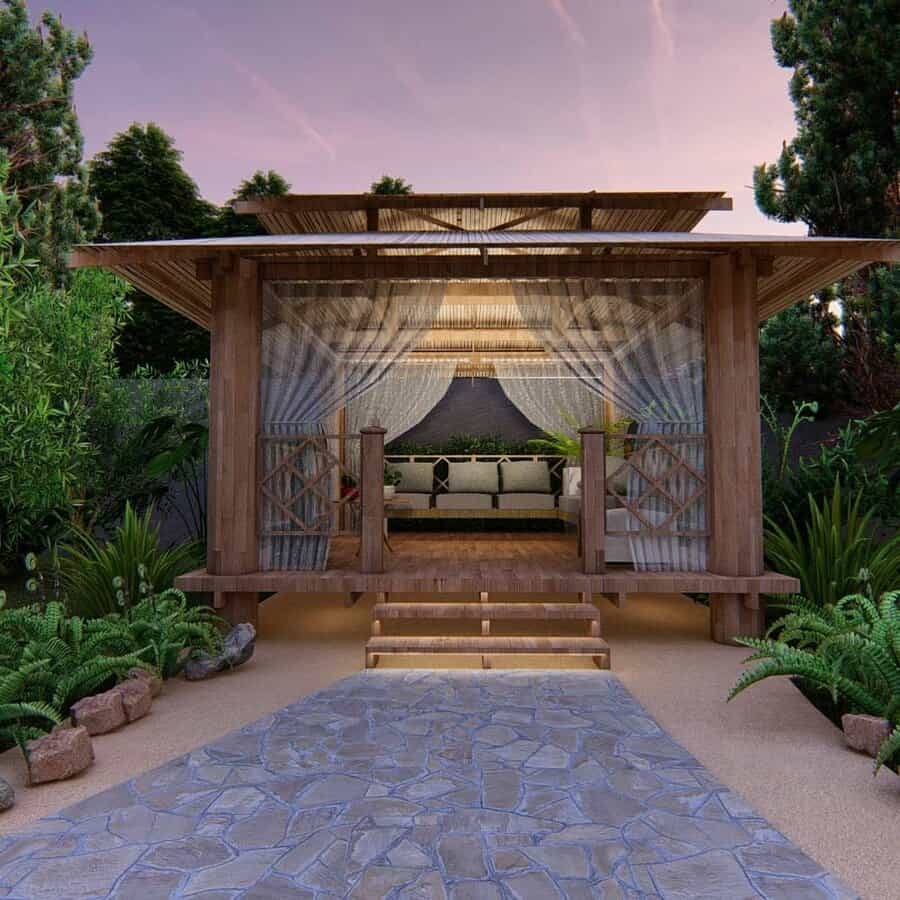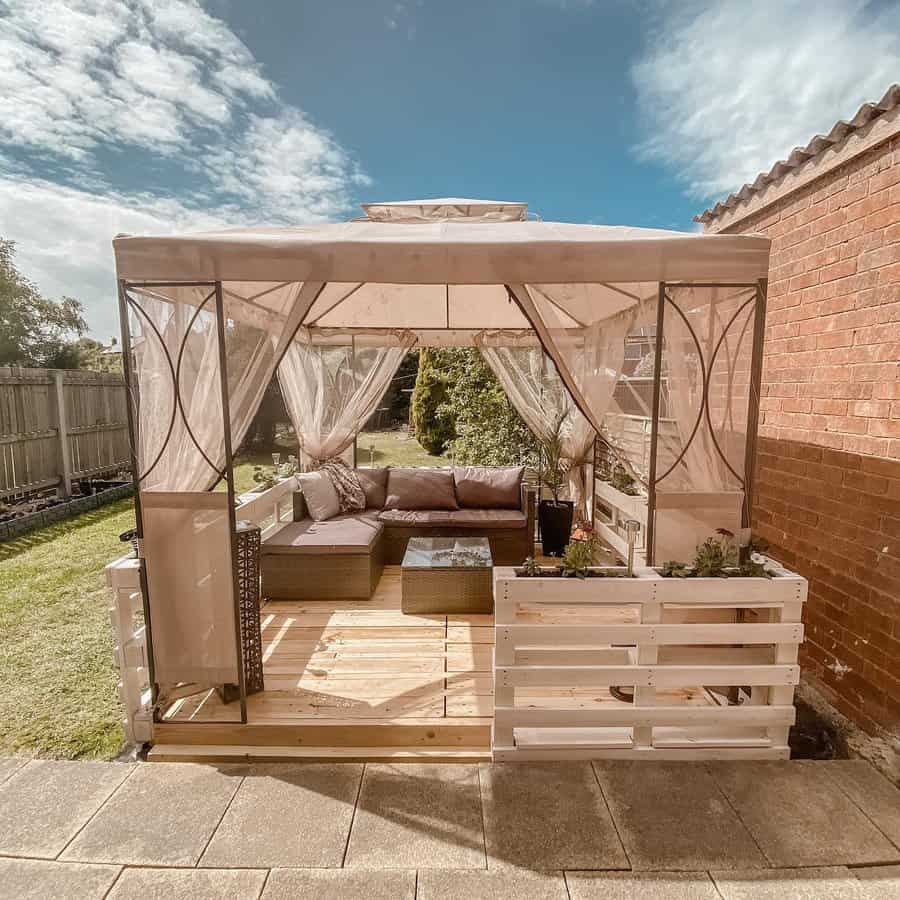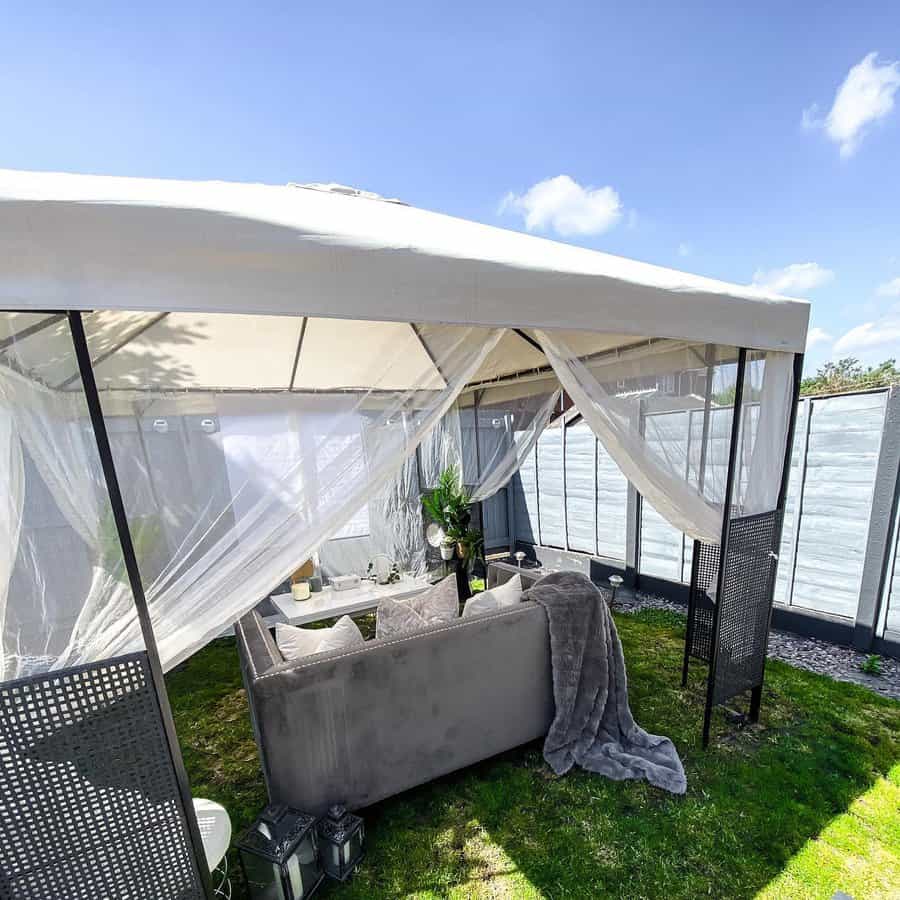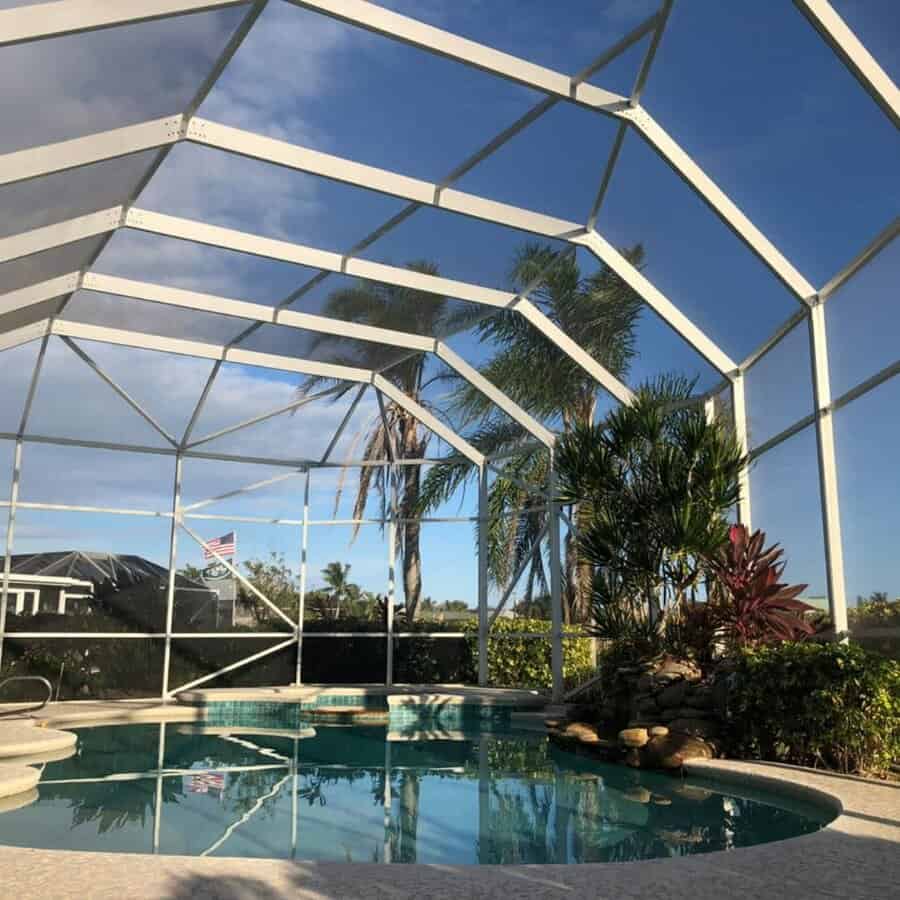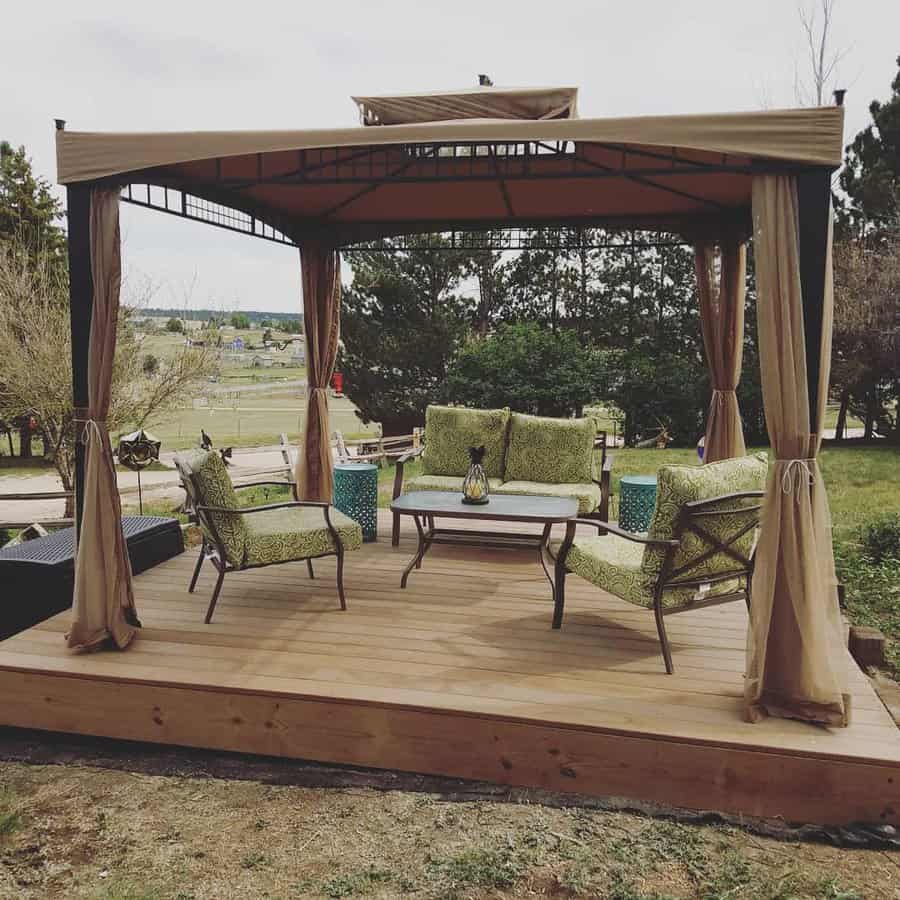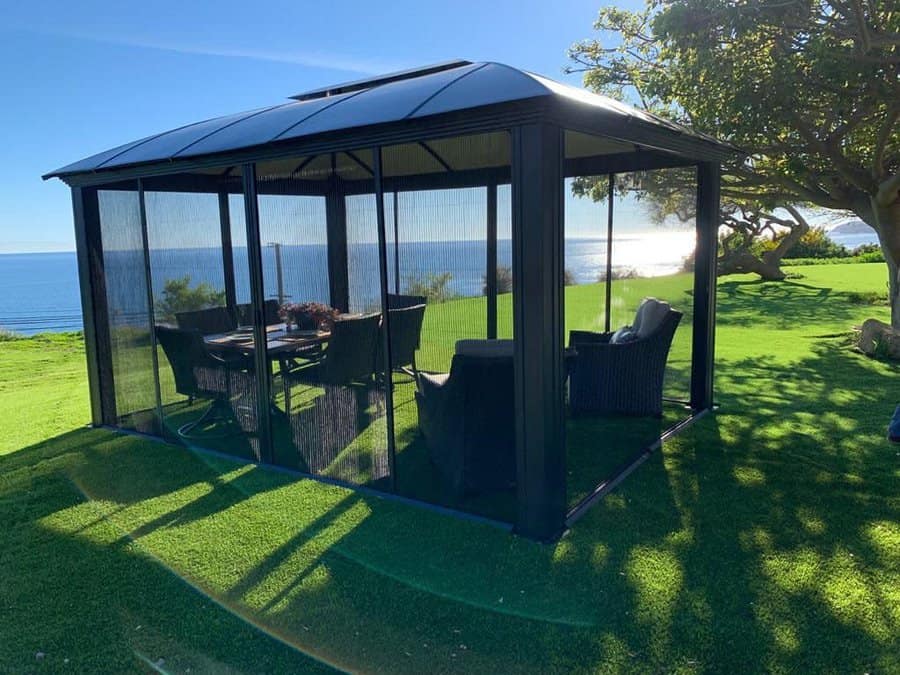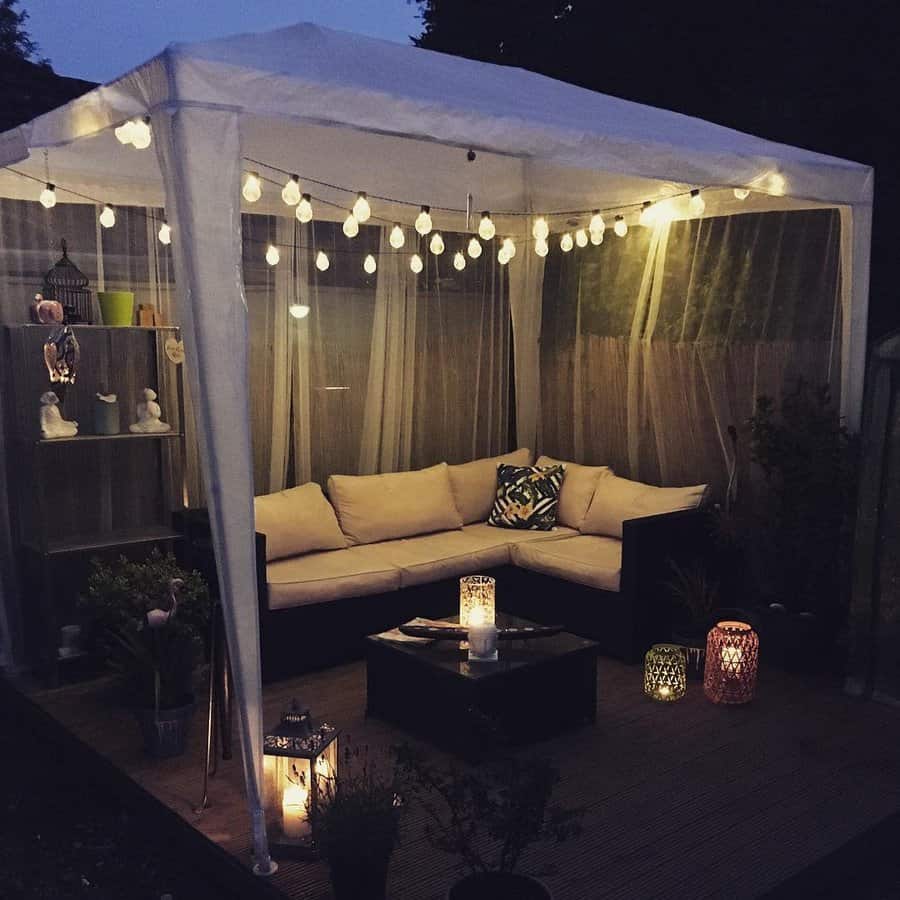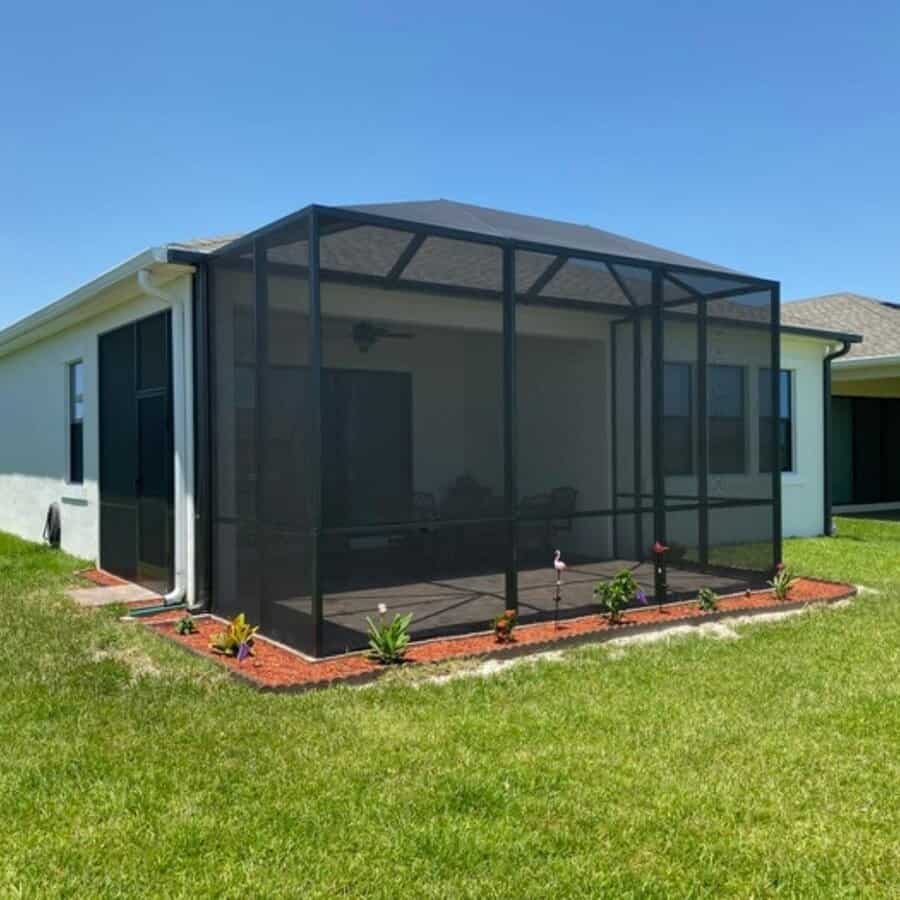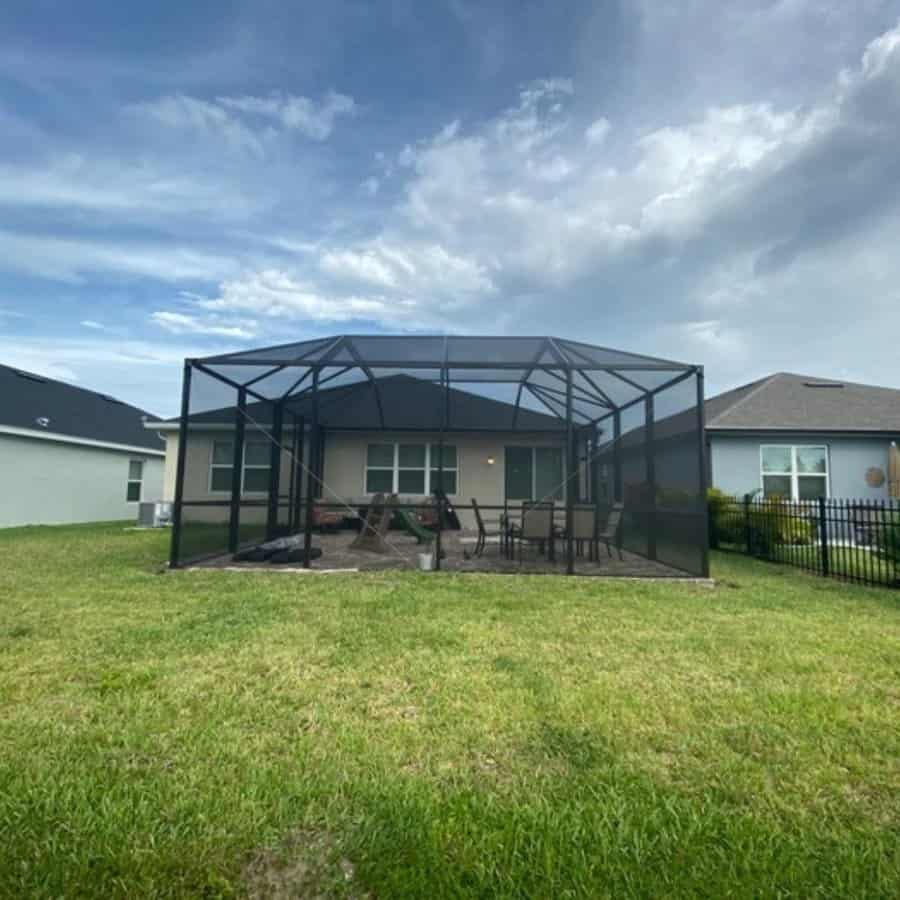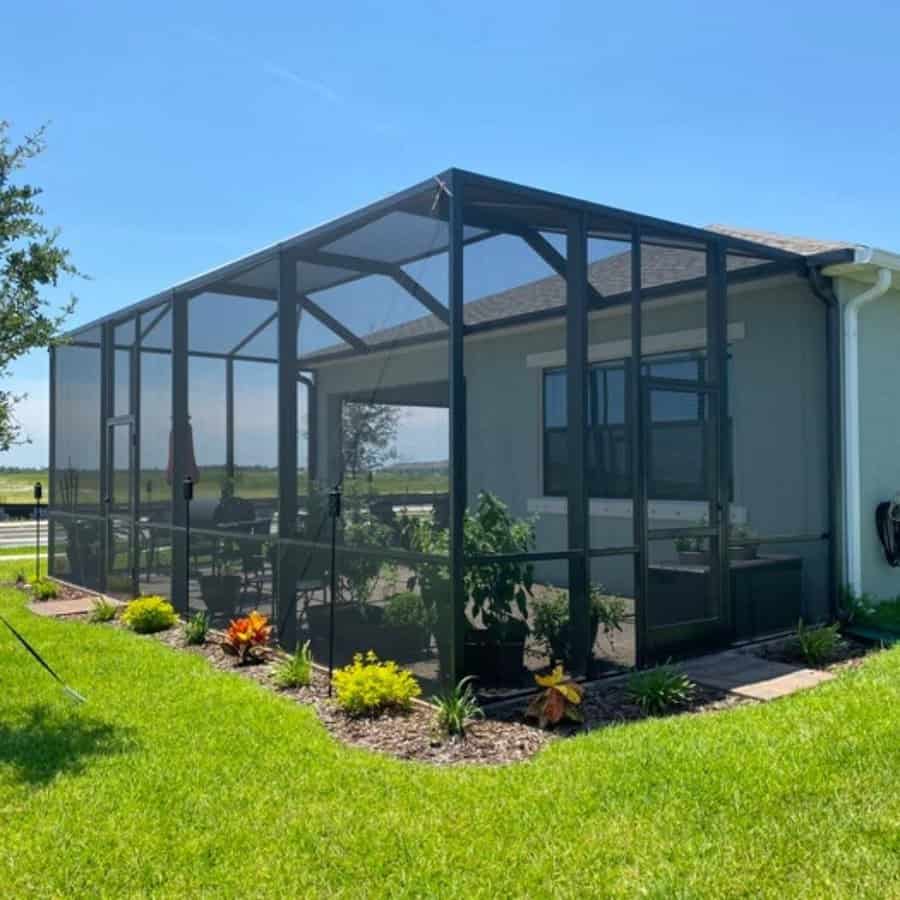 Installing screens over your pool or deck has the added bonus of letting some light in. This can make your outdoor space more practical even on days the sun isn't shining.
Because of their semi-transparency, shade screens don't offer the same UV protection as solid canvas. Most screens will list the amount of sun blocked as a percentage. You should still take precautions against sun exposure even when laying under a shade screen.
10. Trees
Trees truly are nature's shade. Choose species with dense limbs and foliage that will provide plenty of shade at midday. If you can find trees native to your area, even better!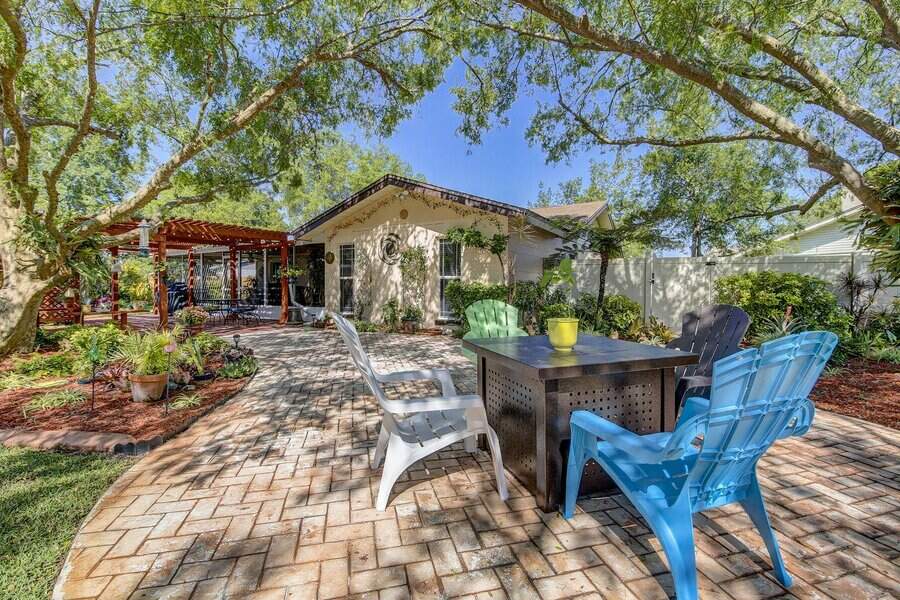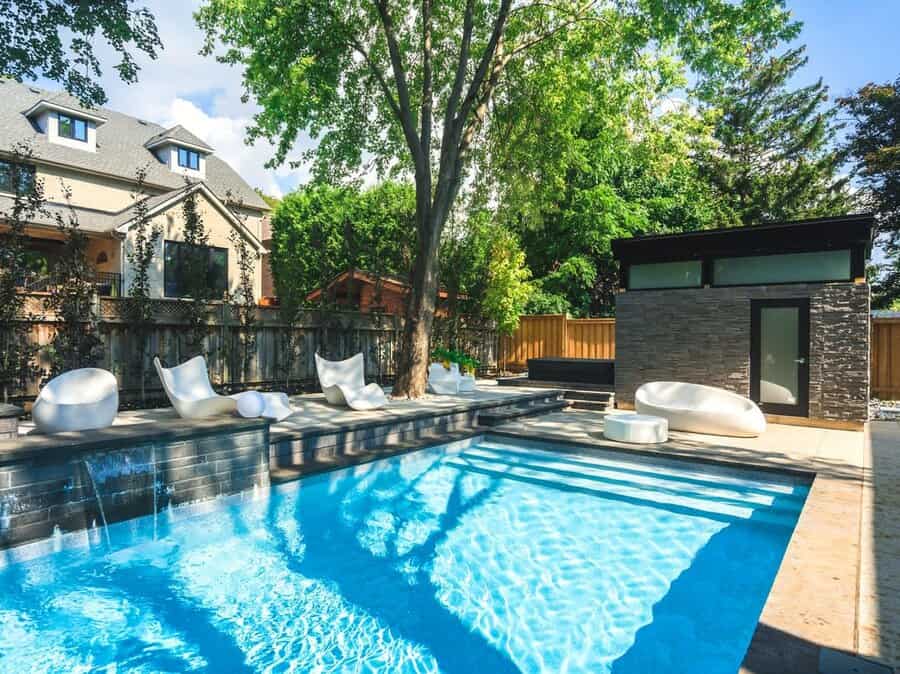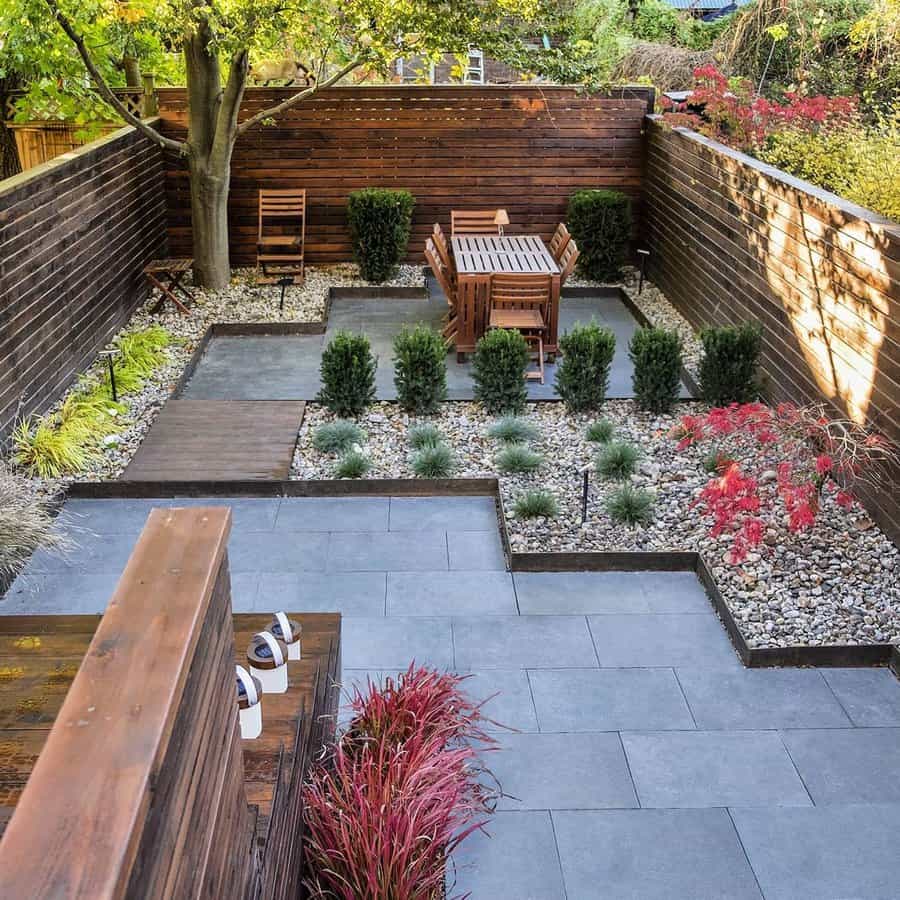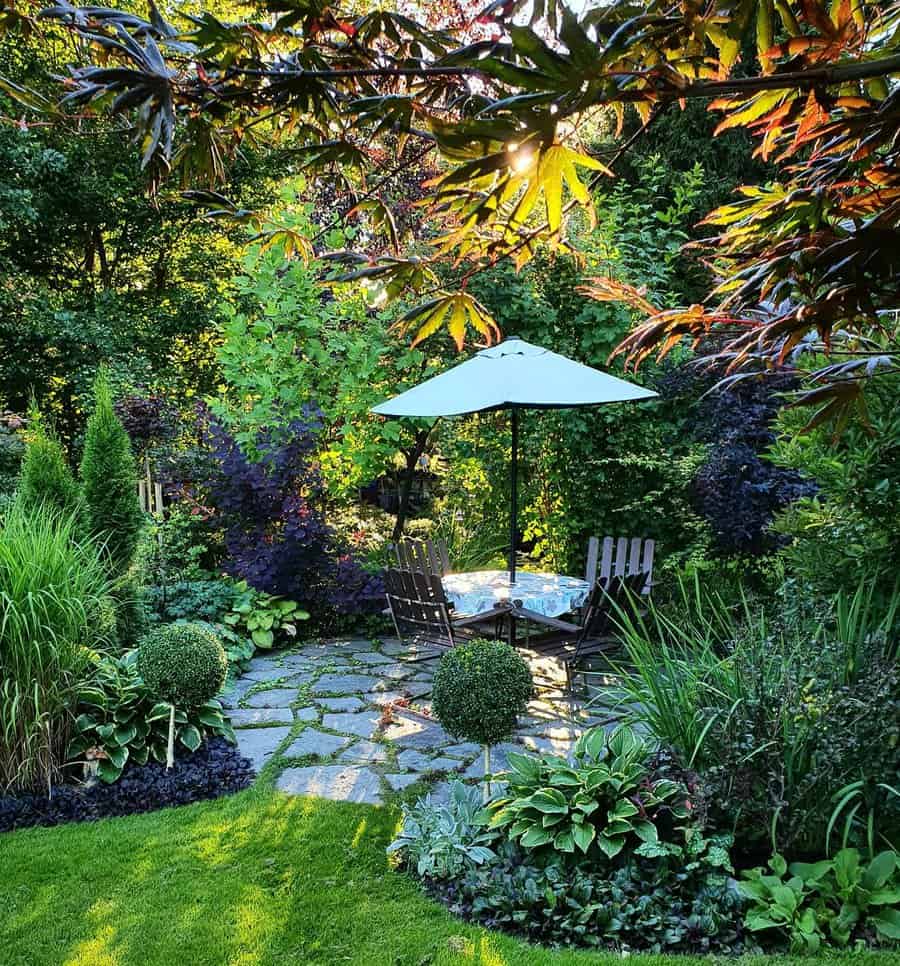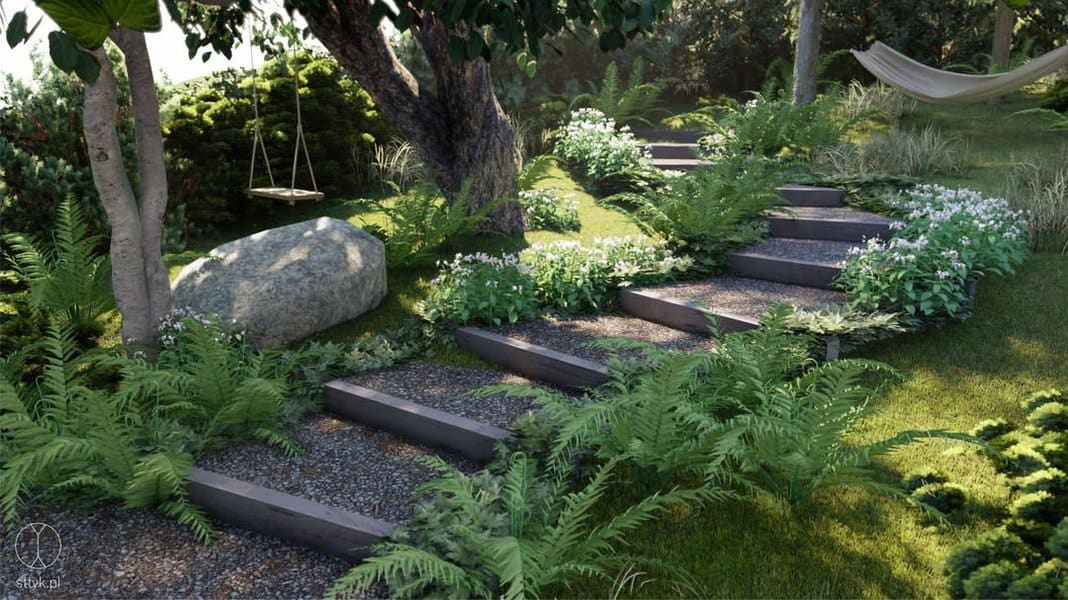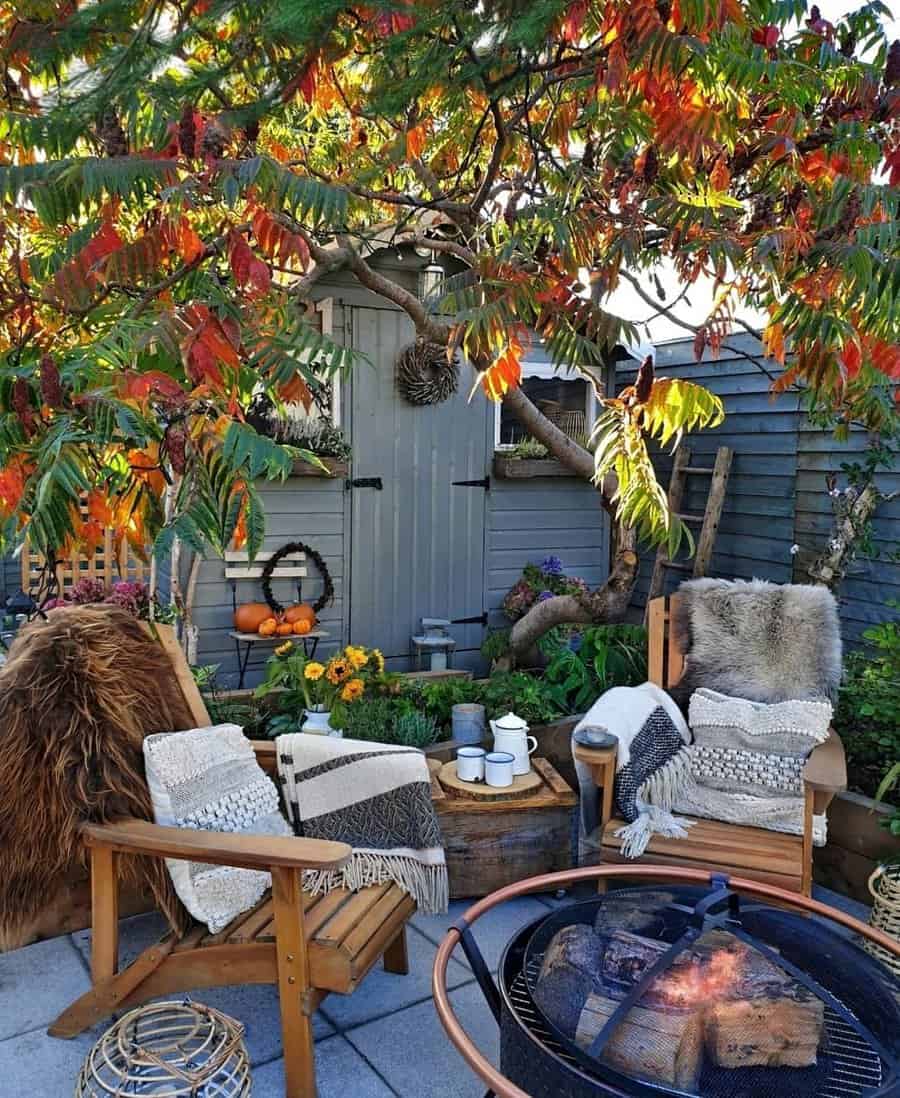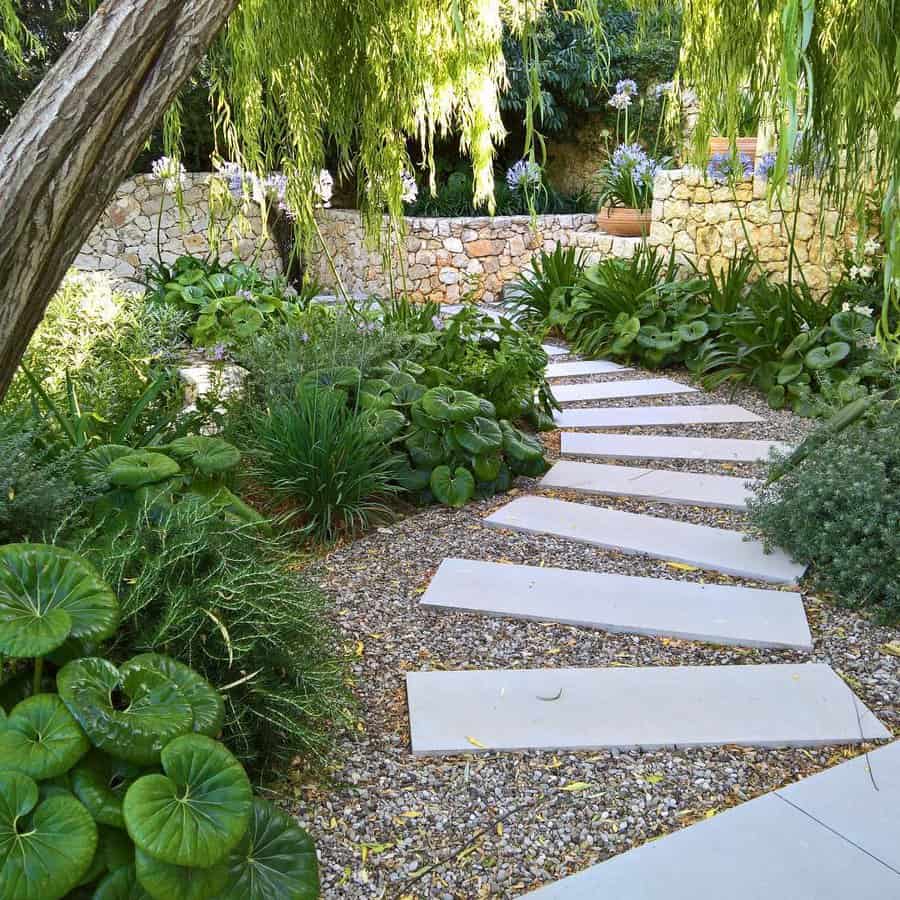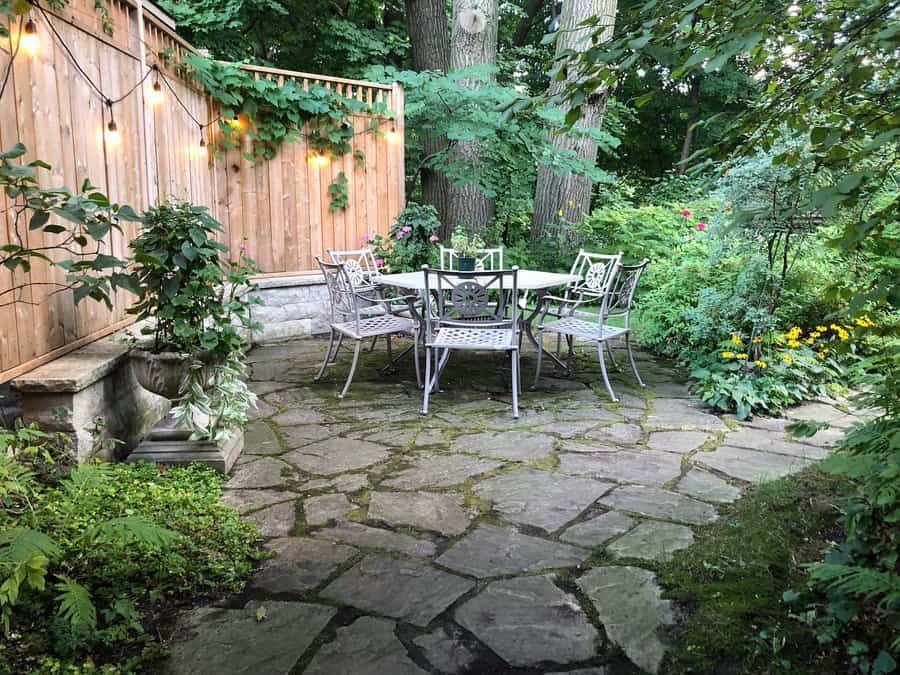 Planting trees around your property can offer much-needed protection from the beating sun. It can also lower your energy costs by draping your home in shade during the summer months.
Most trees need several years to mature before providing adequate shade. This can be frustrating for homeowners who need a shadier backyard right away. However, planting young trees today will ensure you have plenty of protection from the sun in years to come.
11. Vertical
A shade solution doesn't need to be installed overhead to be effective. After all, the sun isn't always directly above us!
Adding vertical shade panels to your porch or pergola will block the sun's heat and UV rays throughout the day.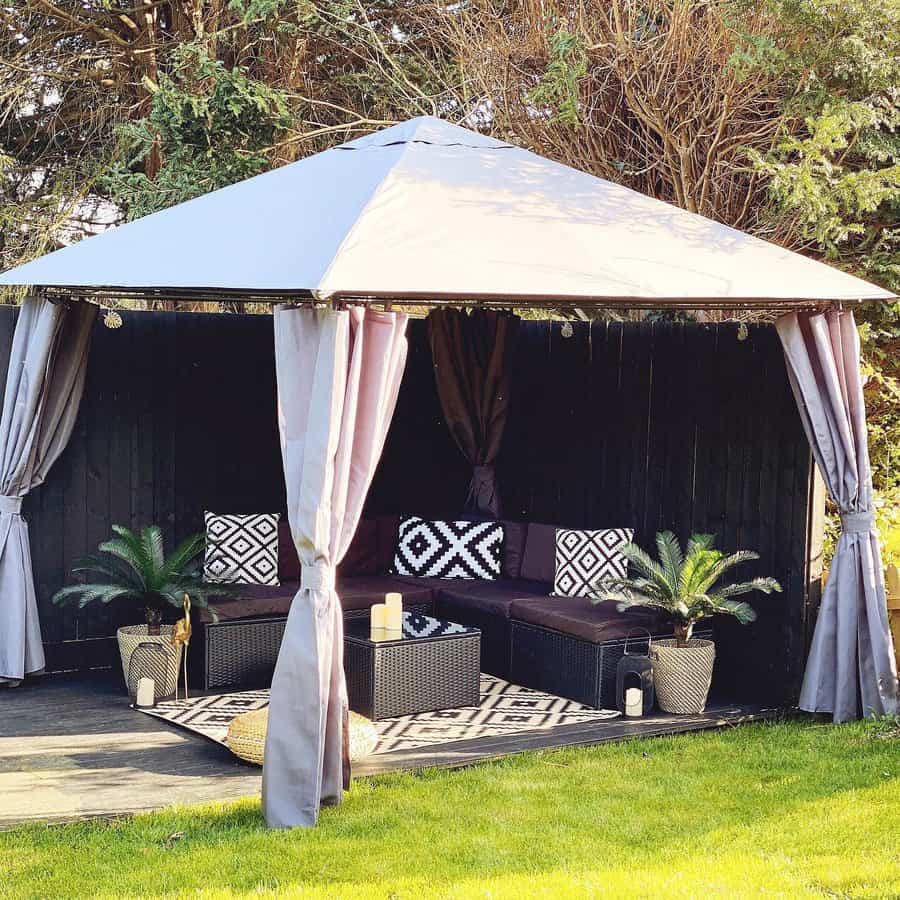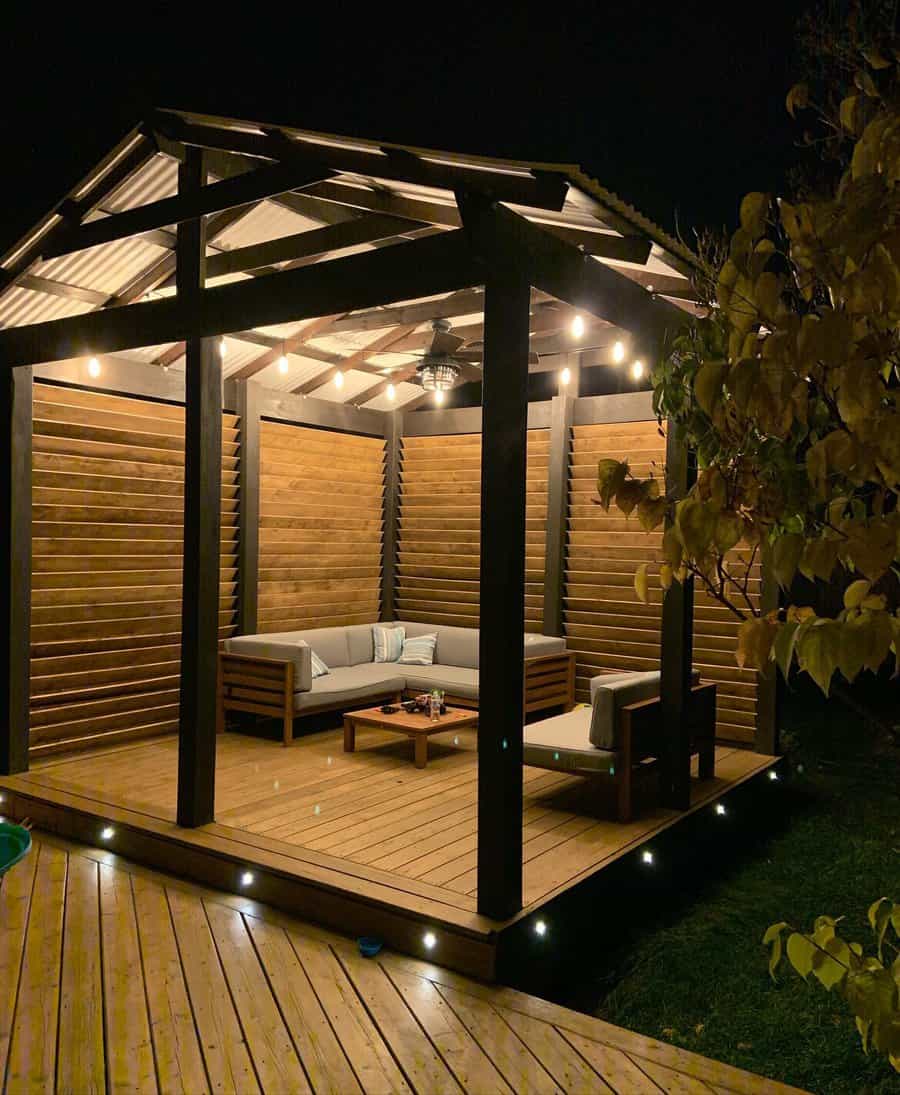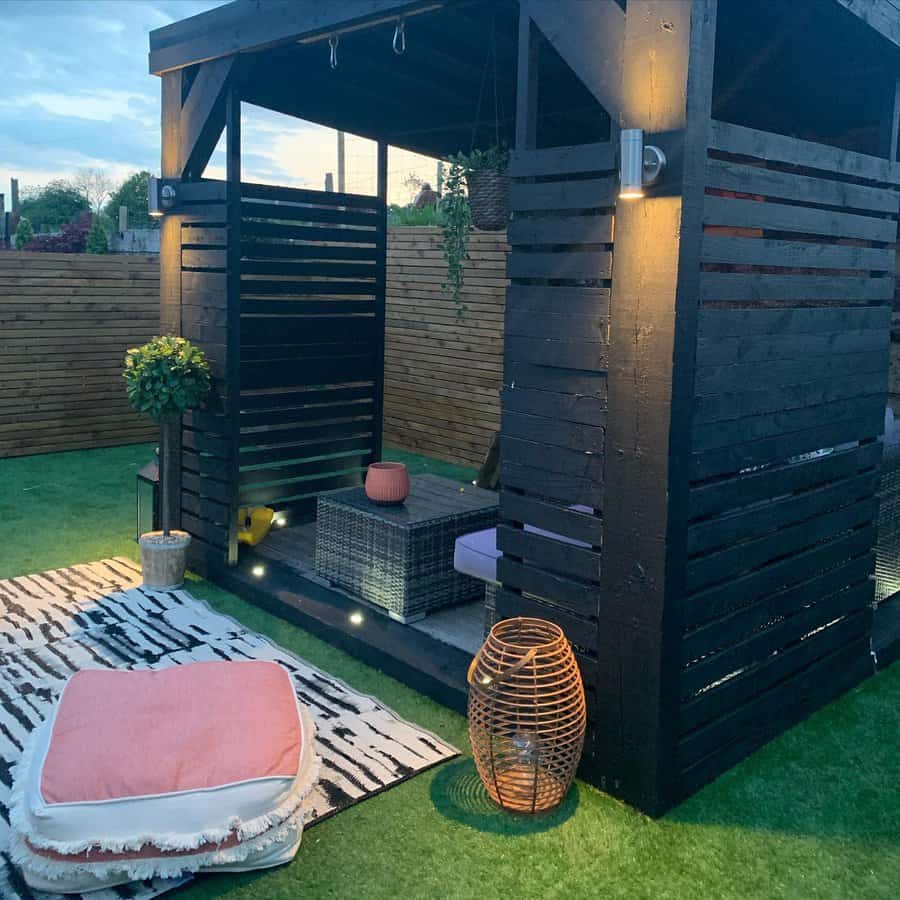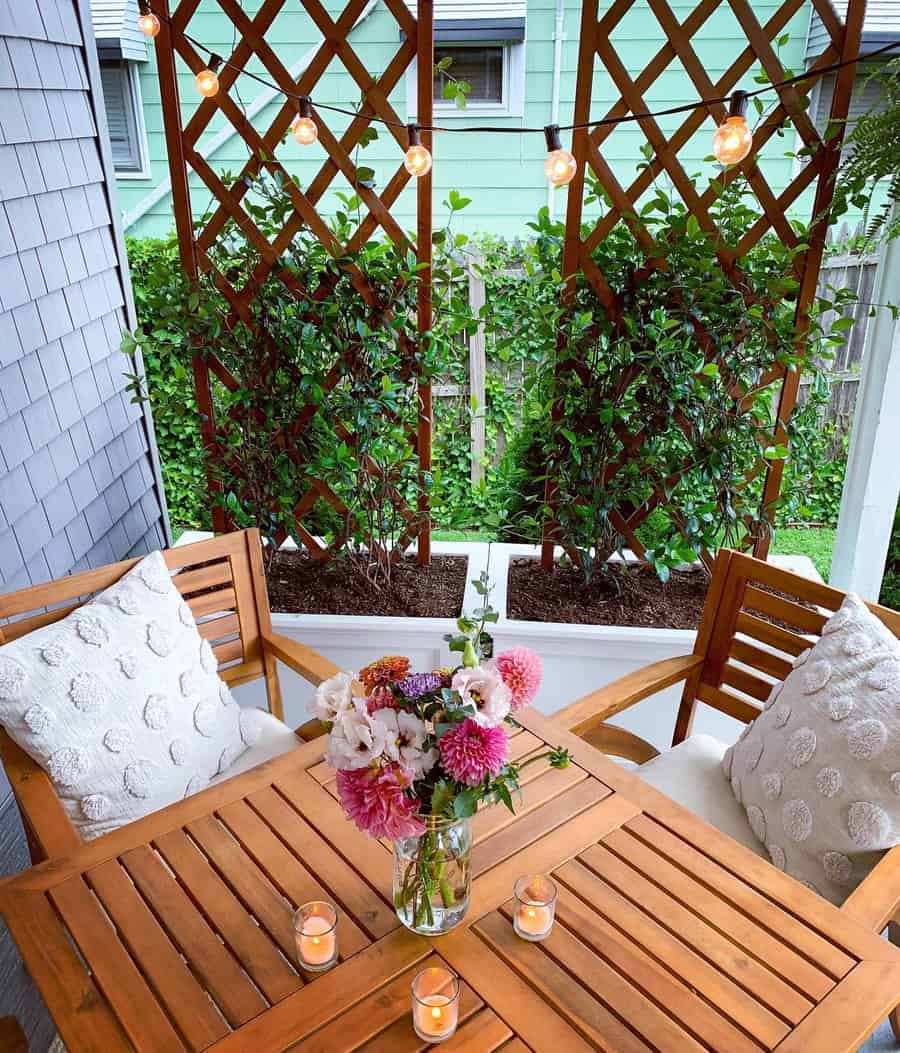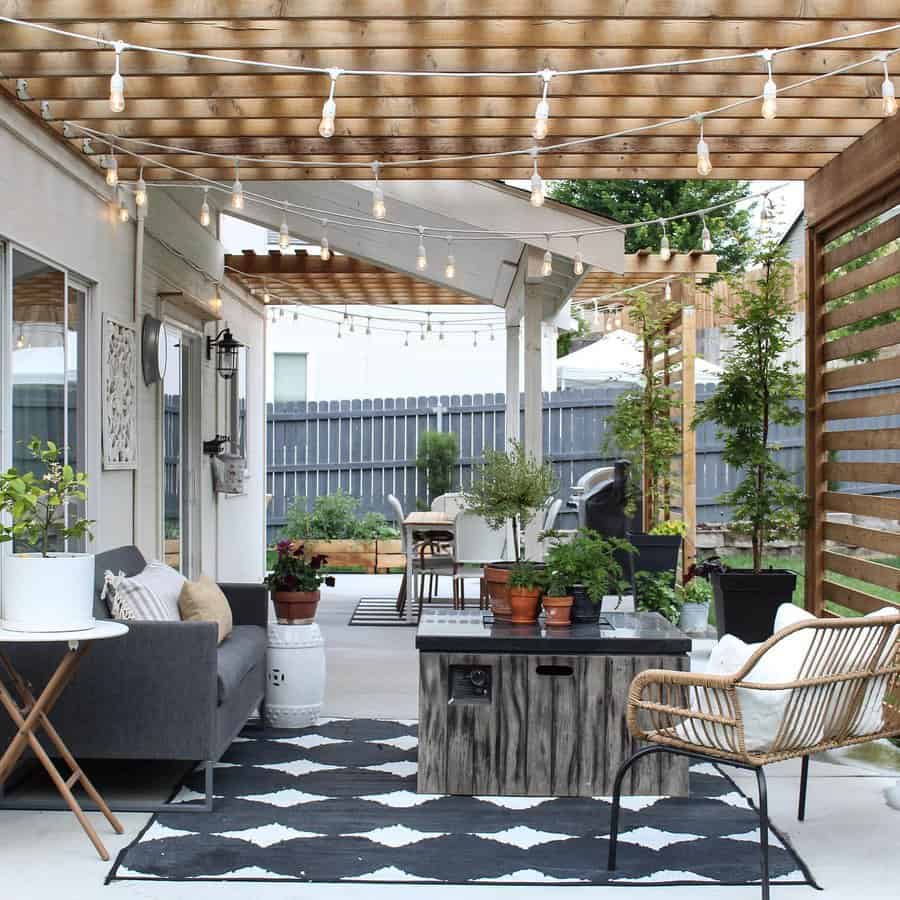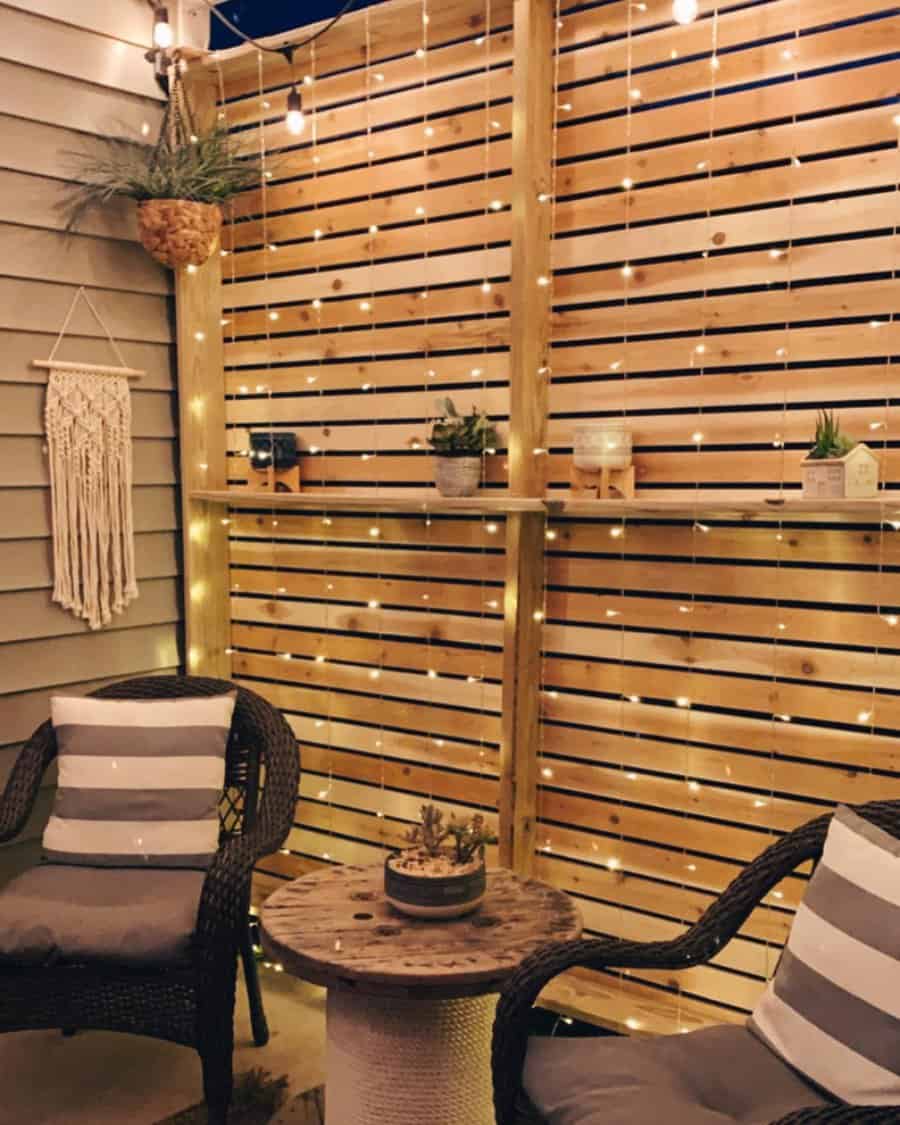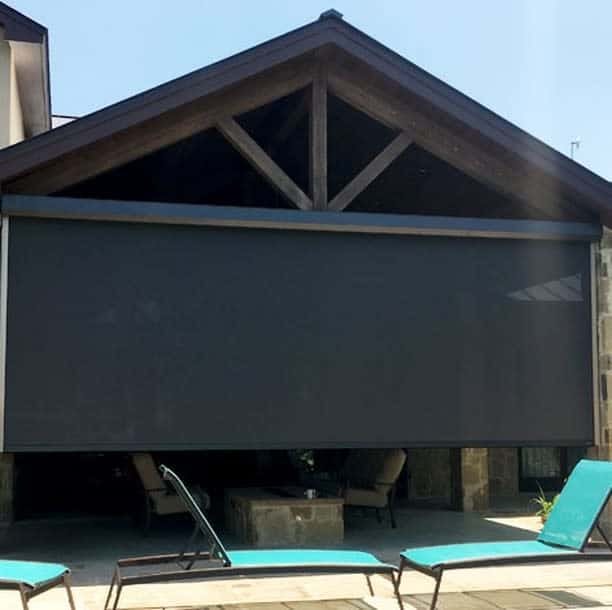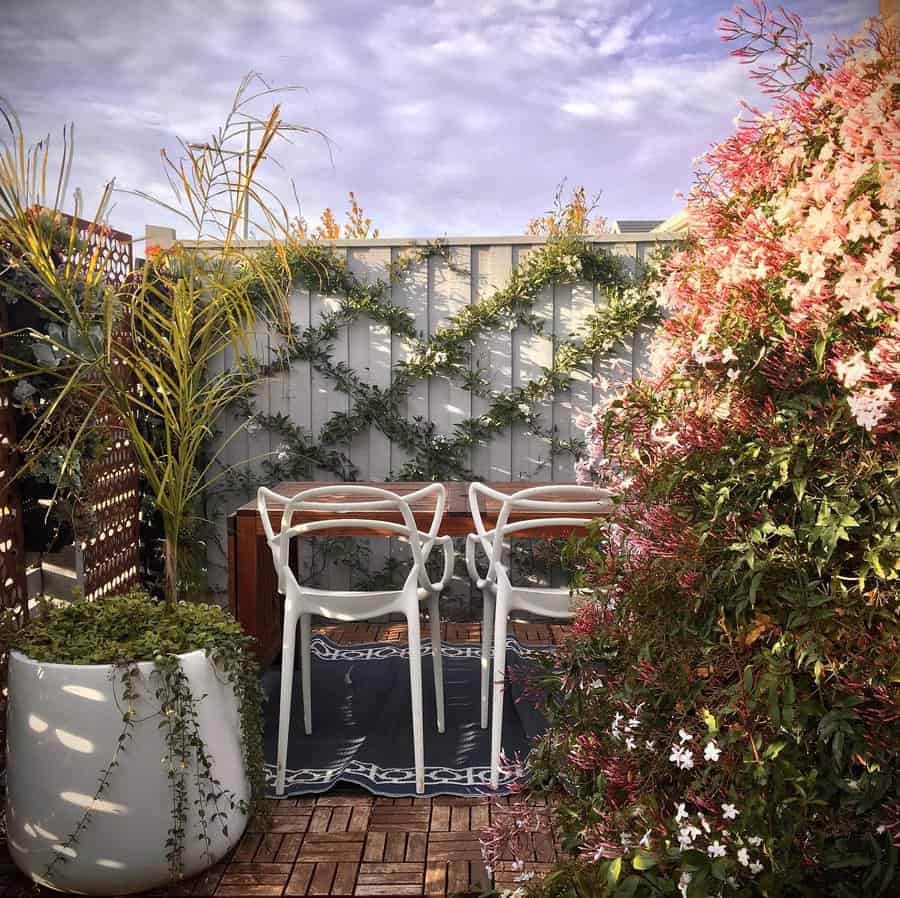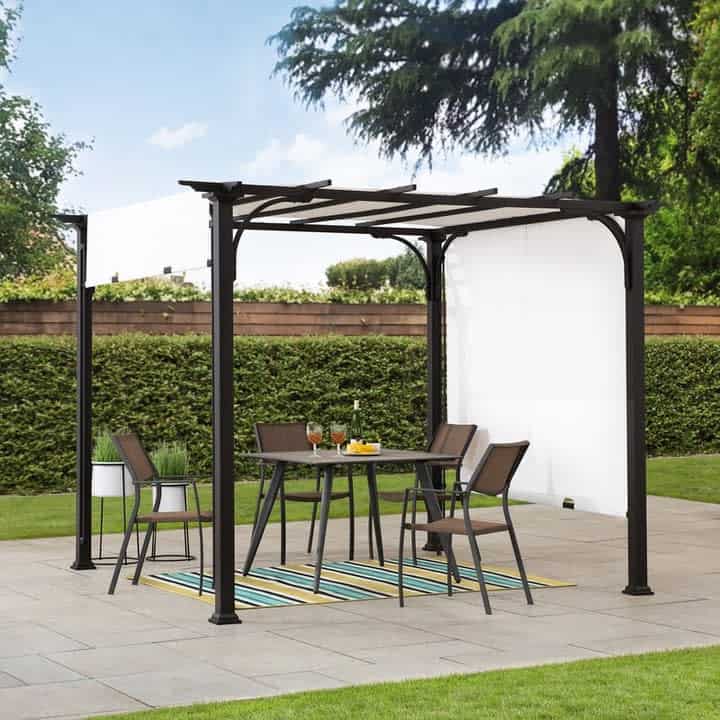 Outdoor curtains are an excellent way to keep out the sun during the day. At night, they can take the place of mosquito netting and protect against the brisk evening air.
If traditional curtains don't fit your space, consider installing pull-down shade panels.
You can also use a garden trellis to protect your outdoor living space from the harsh sun. Plant a climbing vine under your trellis for greater shade in the future.
Outdoor Shade FAQs
Which color blocks the most UV rays?
While any shade cloth is better than nothing, some colors offer more protection than others. Research shows that dark colors absorb more UV rays than light ones.
With that said, most shade panels are constructed of a special fabric that blocks most rays regardless of color. So you can opt for whichever color you like best as long as the material is rated to block UV rays.
Which color shade canopy is the coolest?
If keeping your outdoor living area as cool as possible is your top priority, then you want to choose a color that reflects as much light as possible. Just like wearing white clothing can help keep you cool in summer, installing a white fabric canopy can help keep your patio or pergola from overheating.
Do I need to wear sunscreen when under a patio umbrella?
You should always wear sunscreen when spending time outside, even if you plan to spend the entire time in the shade!
High-quality sun umbrellas can block up to 99% of UV rays but they're not perfect. You also need to consider that you won't always be directly under the umbrella or other shade structure.