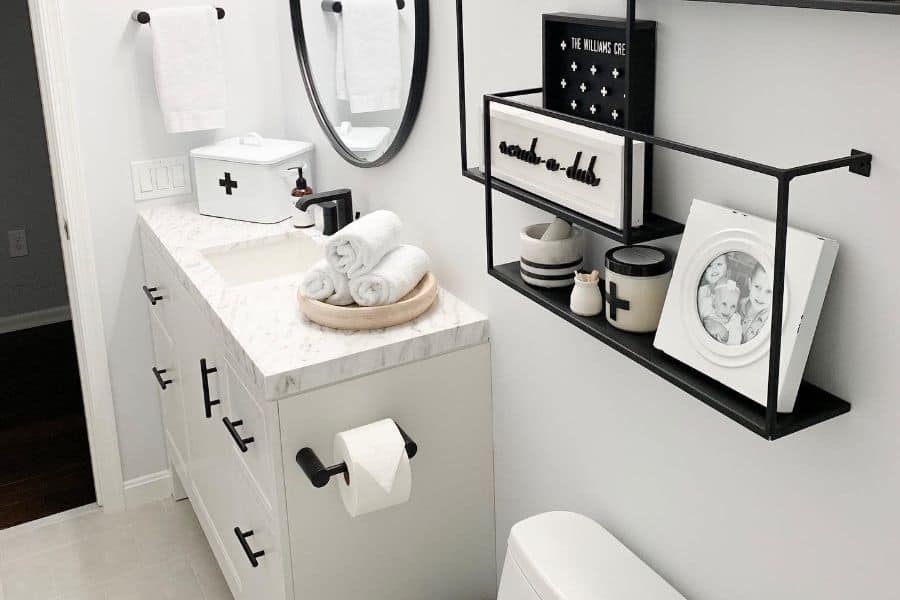 The Top 96 Over The Toilet Storage Ideas
You're using the bathroom and realize it's out of toilet paper. You look around in panic for a replacement roll. Except, there isn't one.
Your small bathroom lacks storage space, and you have to keep the extra toilet paper in the linen closet down the hall. What you need is more storage in the bathroom.
It's time for a bathroom makeover. Consider bathroom storage ideas to create more storage for your toiletries and bathroom essentials. The most often neglected space is the area above your toilet.
This open space is the perfect place to create additional storage and decor. Check out these over the toilet storage ideas and get inspired.
1. Bathroom Towel Holder
Where do you keep your bath towels? Are they in the bathroom hanging on a towel bar? What about the ones that aren't currently in use?
Many bathrooms lack the storage space needed to store your towels in the bathroom. So you end up keeping them in a linen closet down the hall. This isn't convenient.
Install a towel rack over your toilet to use as towel storage and display. It can have several shelves that are perfect for organizing and displaying your towels.
Roll them up and give your bathroom a spa feel. Or fold and stack them to look like a display you'd see at a store. Choose one that has a towel bar on the bottom and use it to hang decorative hand towels.
2. Cabinet
Installing a bathroom cabinet can give you a hidden storage solution. These cabinets are larger and deeper than a medicine cabinet, so they can hold larger or bulkier items.
You could use it as a linen cabinet to store extra towels. Or you could use it as a storage unit for hiding away extra toiletries or cleaning supplies.
Pay attention to the cabinet doors. You want the doors to secure closed and not randomly swing open. They should also allow air to flow so that moisture doesn't build up inside the cabinet. They could have slats, a lattice weave, or a cutout design.
3. DIY
If you're struggling to find the right shelf, cabinet, or rack for your toilet cabinet, then try building your own bathroom storage. This lets you build a wall cabinet or shelving that's the perfect size for your small bathroom.
This is a smart approach when looking at small bathroom storage ideas. Even if you amount a simple plank or reclaimed wood, you appreciate the extra storage space. You don't even have to build anything. Use repurposed or recycled materials, such as wood crates, baskets, or metal tins.
4. Freestanding
Sometimes it doesn't make sense to drill holes in your walls to hang a cabinet or shelf. In this situation, you should look for a freestanding unit that sits above the toilet tank. Some look like a ladder. You can use it as a linen tower with several towels rolled up and set on each shelf.
You'll need to have enough floor space around your toilet to fit a freestanding unit. Some make this easy by having four slim legs.
Others are more substantial with solid sides. A ladder shelving unit will look more open but will have legs that extend out more forward and could be in the way.
5. Ledge
Have more than just a toilet shelf above your toilet. Instead, take an idea from your shower and build a ledge. Instead of having a small shelf with limited space, you can have a ledge that extends the entire length of your bathroom space.
Think outside of the box when choosing the location of your ledge. It could start over your toilet and wrap around the bathroom and over your tub. Or you could extend through the vanity over the sink.
Choose a substantial material for your ledge. While wood will work, you should pick a piece that's thicker than a standard 2 x 4. Consider using a stone like marble or granite.
6. Niche
Instead of mounting a cabinet or shelves on the wall, try creating a cutout niche. If you're doing a bathroom remodel, you can work with your contractor to create a custom niche.
However, you can also create your own in a finished bathroom. You can then have an adjustable shelf that lets you move it up and down as you need it.
When building your niche, you'll want to be careful to avoid cutting into a wall that has electrical and plumbing behind it. You'll also want to build your niche between a set of studs. This ensures the wall retains its strength and integrity.
7. Shelves
Give your bathroom a modern look by mounting a floating shelf over your toilet. Consider the type of wall shelf you use to help create a cohesive interior design look in your bathroom. A reclaimed wood plank will look rustic and perfect in a farmhouse bathroom.
A metal shelf can look industrial or sleek and modern, depending on the styling. A glass bathroom shelf with metal accenting can blend perfectly in a luxurious bathroom. Glass is also smart in a small bathroom because its transparency helps the bathroom to feel large and not closed in.
8. Wall Hang
Express your personal style by hanging a shelving unit. These are perfect because they have shelves of different heights and sizes, making them perfect as toilet shelving. It can also double as a bathroom vanity when you lack counter space above your bathroom sink.
You'll wonder how you ever lived without this type of wall hanging, and it will quickly become a bathroom necessity. A modern one will have a refined black frame that features straight lines and crisp square corners. You could choose one with a curved gold frame for a more organic feel.
Over the Toilet Storage FAQs
What should I put above my toilet?
You can use this space as additional storage. Then you can store toilet paper, towels, toiletries, and other bathroom essentials on it. If you don't need the additional storage space, then turn it into a decorative space. Place plants, a small mirror, artwork, or a candle on the shelves.
How can I make my bathroom look expensive?
By choosing the right material and style for your over the toilet shelf, you can make your bathroom look more expensive. Incorporate metallic and gold accents. Consider adding undershelf lighting. Add a plant to sit on the shelf. Choose expensive materials for the construction of your shelf.
How deep should shelves above the toilet be?
The average depth of the shelves over a toilet should be 14 inches. If you go too narrow, the items you place on the shelves will look like they are hanging onto the edge.
If you have a shelf that's too deep, you risk hitting your head on the shelves when using the toilet. However, consider shelves that are 19-24 inches deep for a more glamorous look. You'll need to mount them high enough to not hit your head, though.