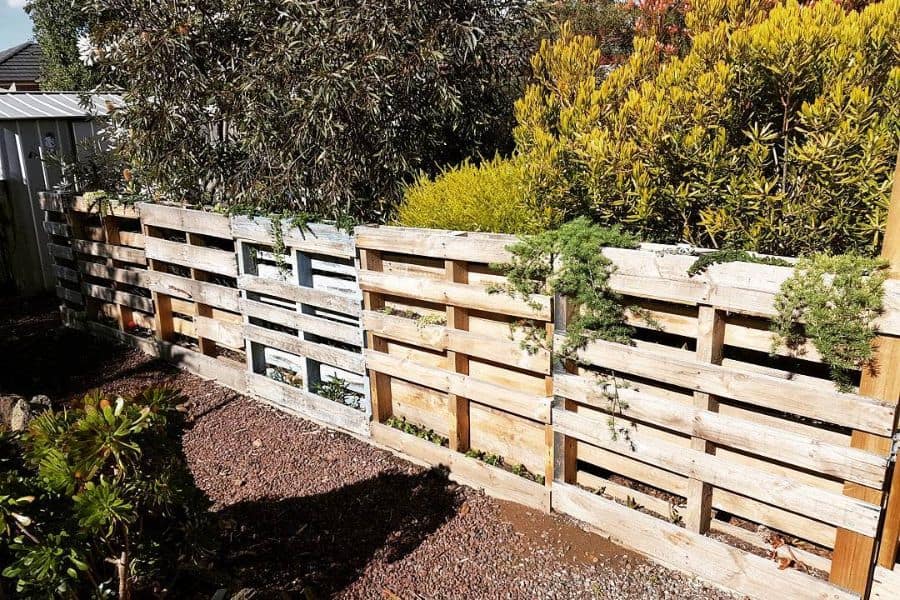 The Top 63 Pallet Fence Ideas
by — Andra DelMonico

Published on March 9, 2021

Updated on October 20, 2023
They say that good fences make good neighbors. A fence gives you the right amount of privacy that's required for enjoying your property in peace.
However, you don't want to put up just any fence. A chain-link fence won't give you any peace as anyone can look right through it.
What you need is a solid wood privacy fence. You can build your own wood fence from pallets. The pieces of wood are all the same size and cut.
You'll be reusing wood for a new purpose, making it environmentally friendly. So check out these wooden pallet fence ideas and get inspired to build your own fence.
1. Vertical Pallet Fencing
Choosing a vertical-style fence combines both aesthetics and functionality. The vertical orientation creates a sense of height, expanding your outdoor area and ensuring privacy for your garden or backyard retreat. The rustic charm of wooden pallets complements various outdoor designs, making it a versatile choice.
To achieve this look, you can leave the wood as is for a natural feel or customize it with paint or stain. Consider adding climbing plants or decorative lighting to enhance the ambiance. Vertical pallet fencing provides an affordable means to turn your outdoor space into a secluded haven while adding a touch of rustic elegance.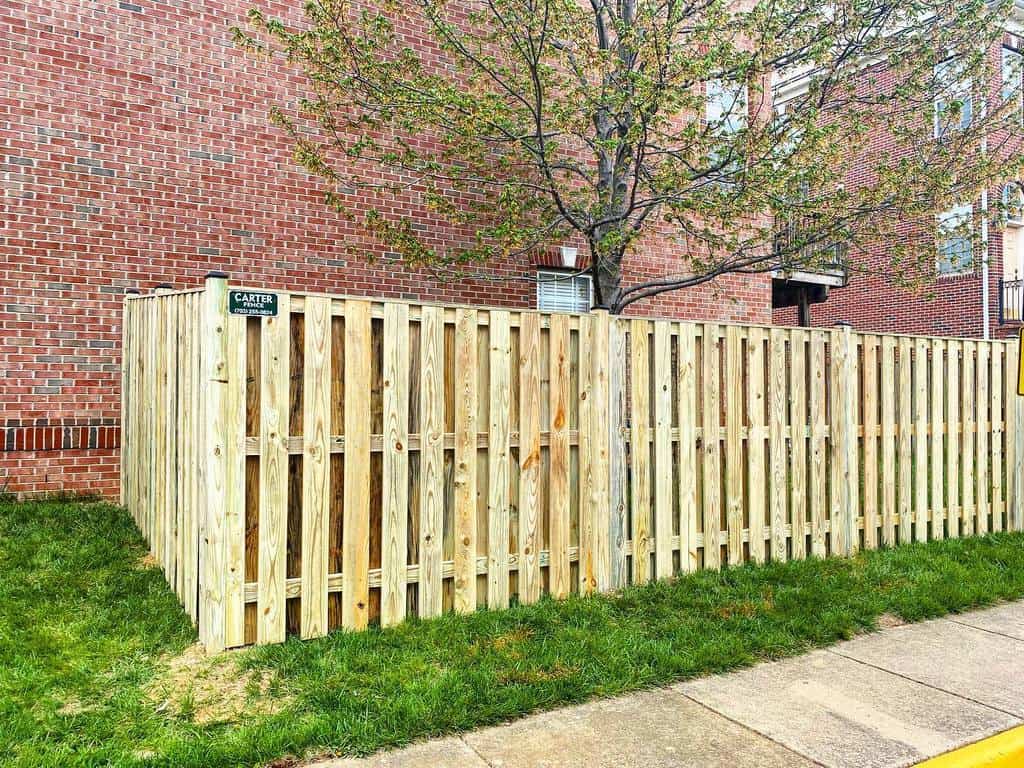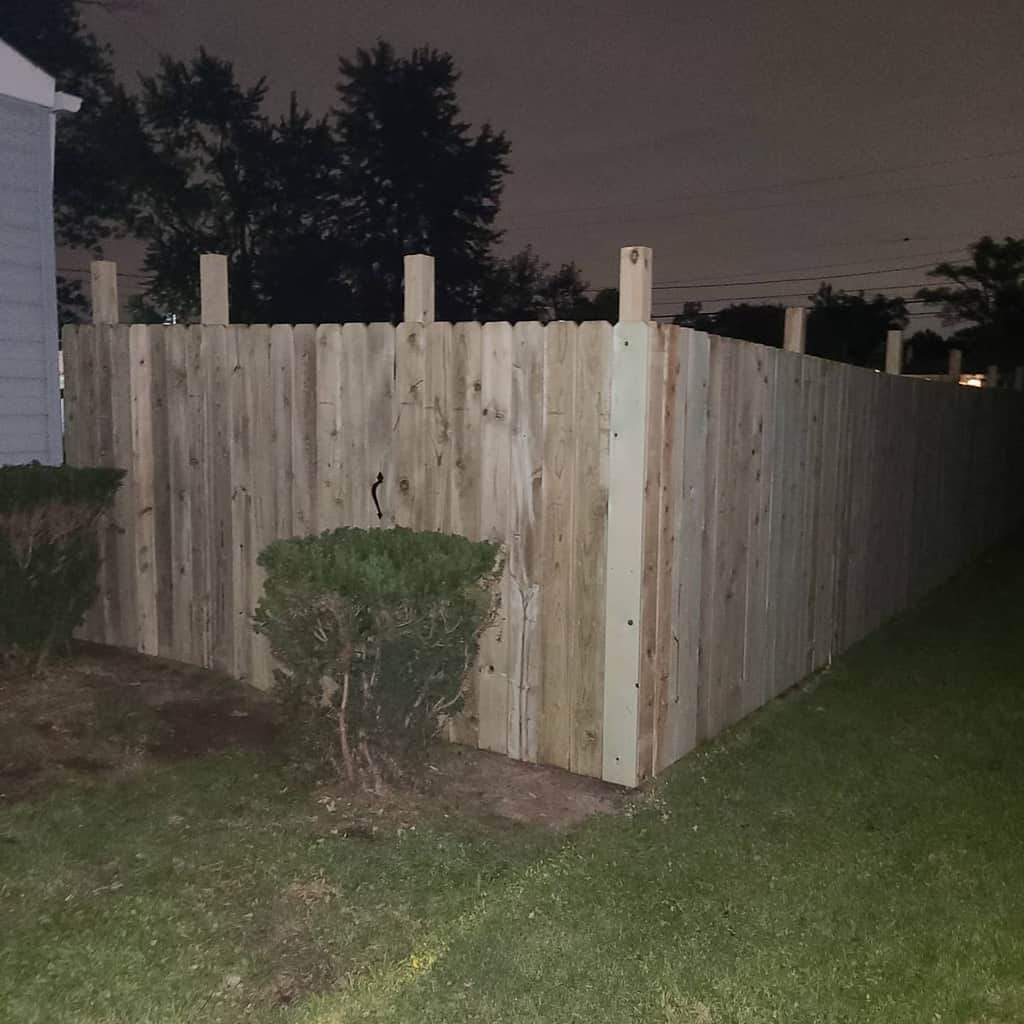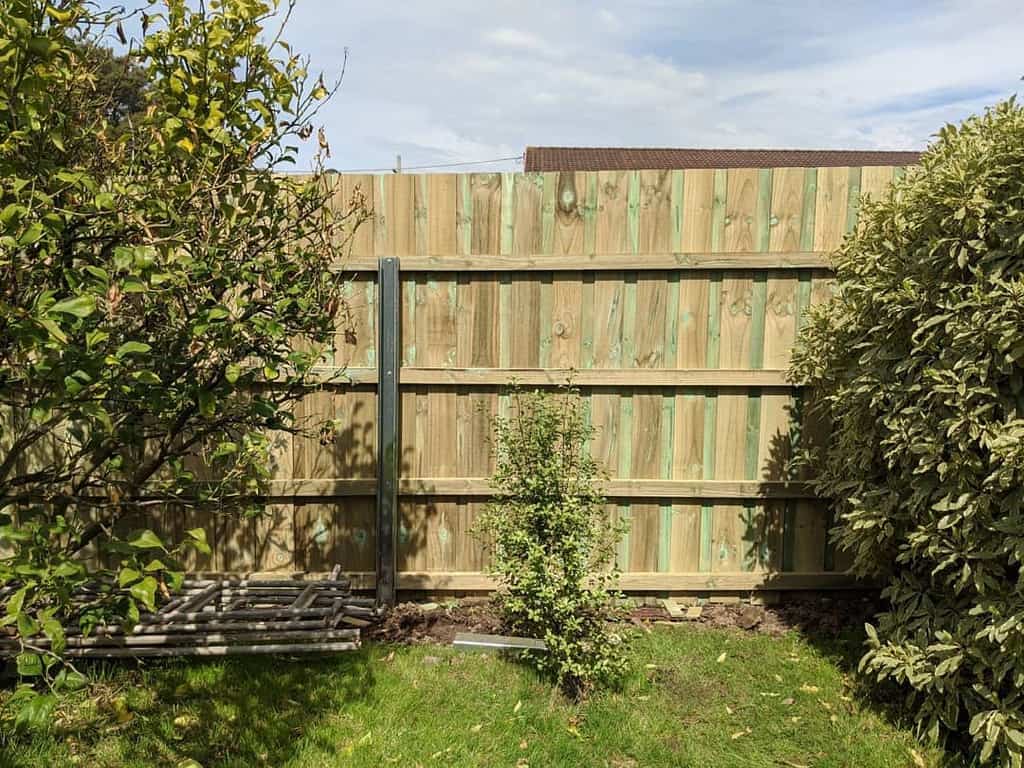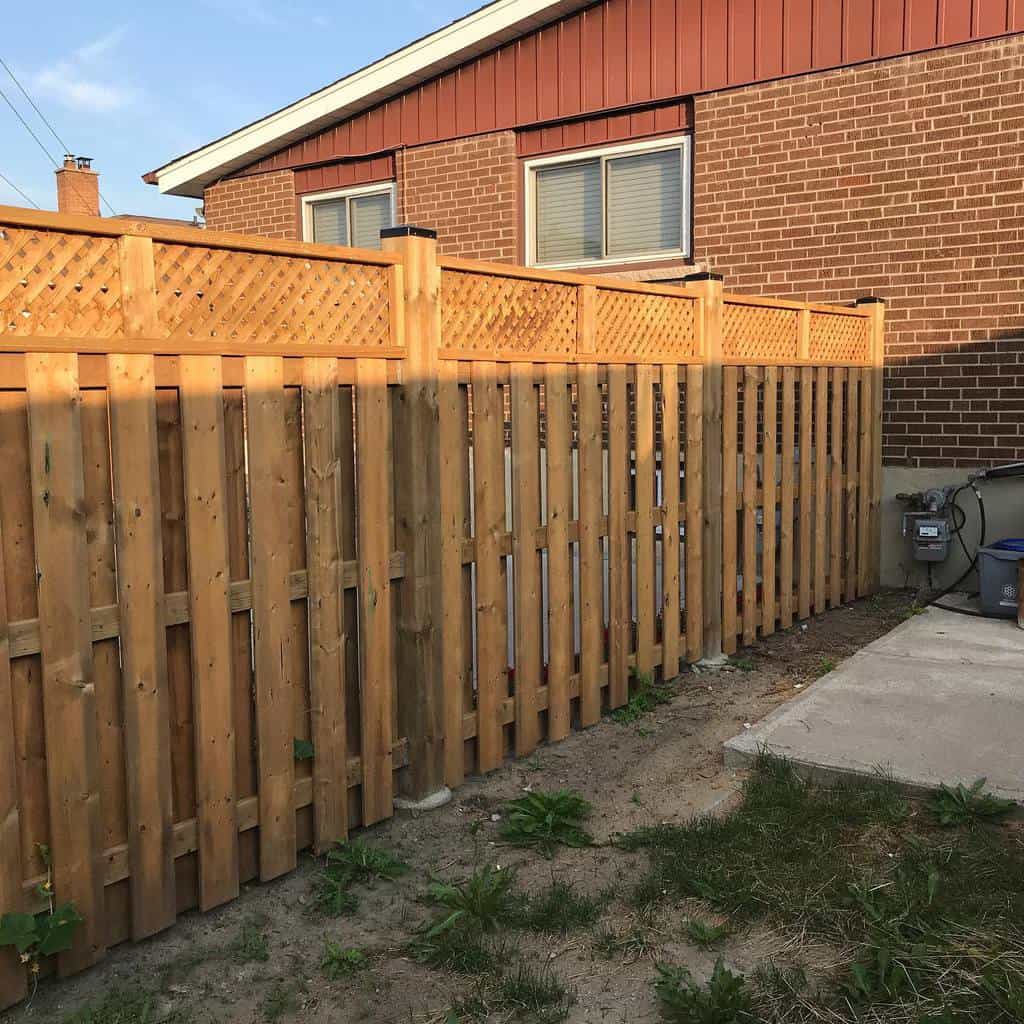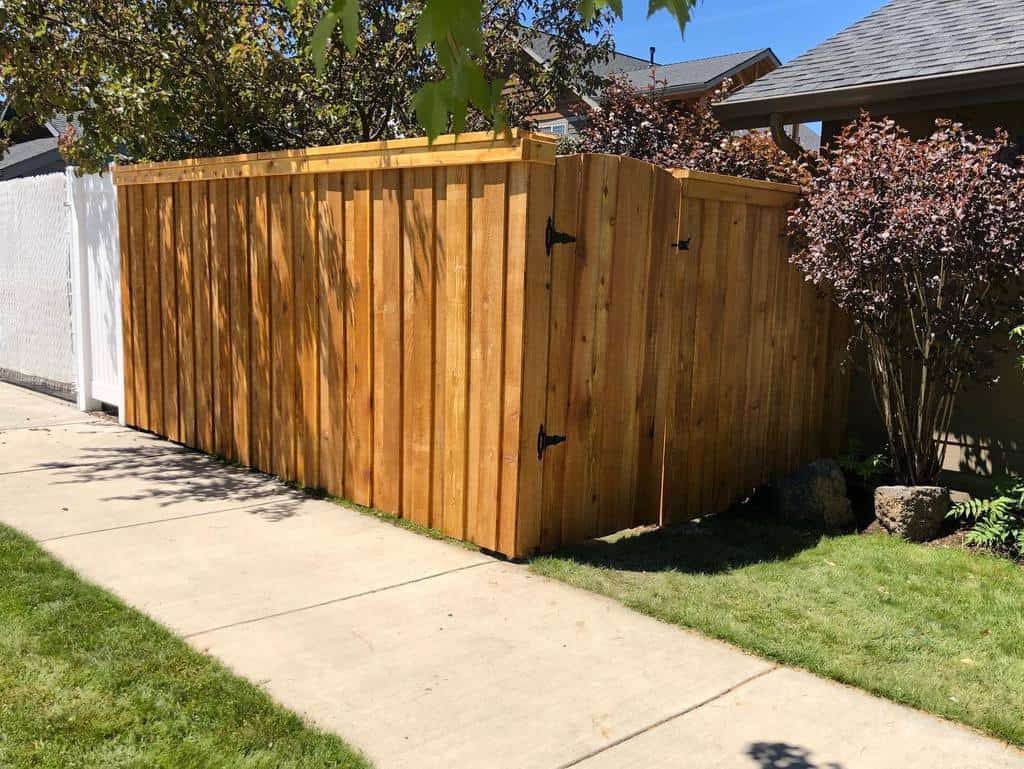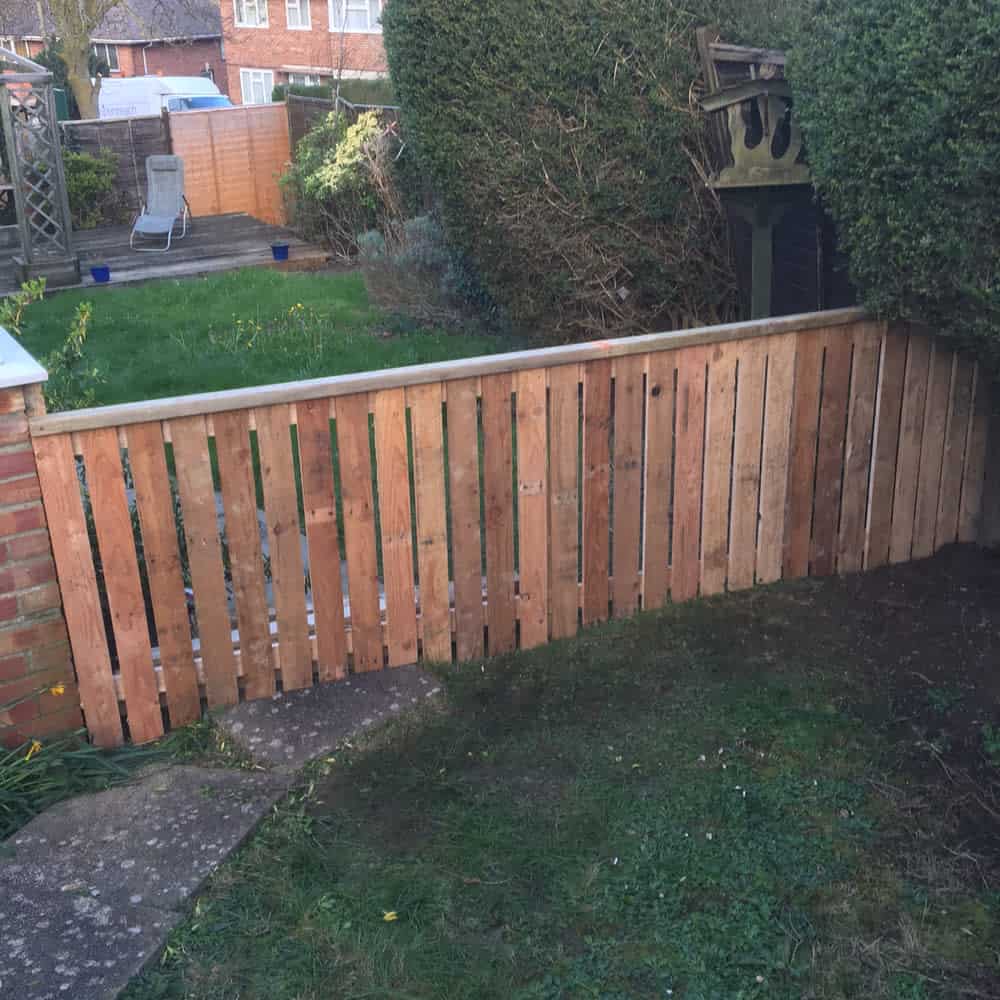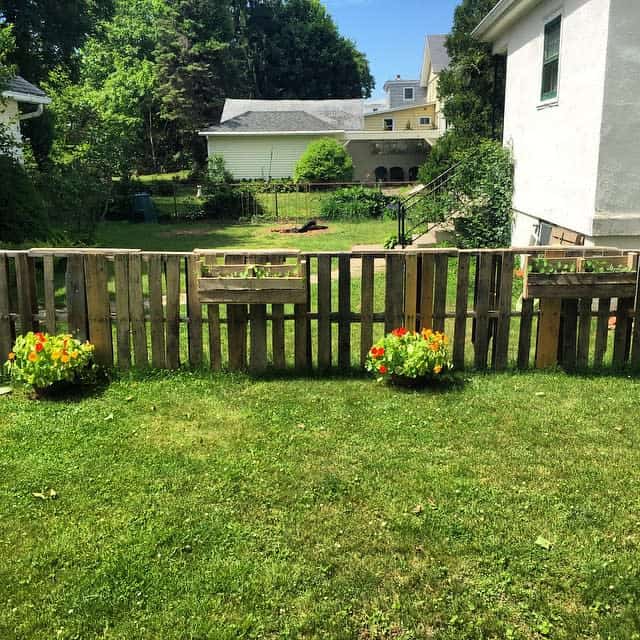 2. Horizontal Pallet Fencing
Opting for a horizontal style fence offers a modern twist to the traditional vertical design. The horizontal alignment of wooden pallets adds a sleek and contemporary look that complements various architectural styles.
To achieve this design, ensure secure and level placement of pallets. Consider alternating the direction of the planks for added visual interest. This style not only makes your space appear wider but also utilizes eco-friendly materials, repurposing wood that might otherwise go to waste. Horizontal pallet fencing offers a stylish and sustainable choice for enhancing your outdoor area.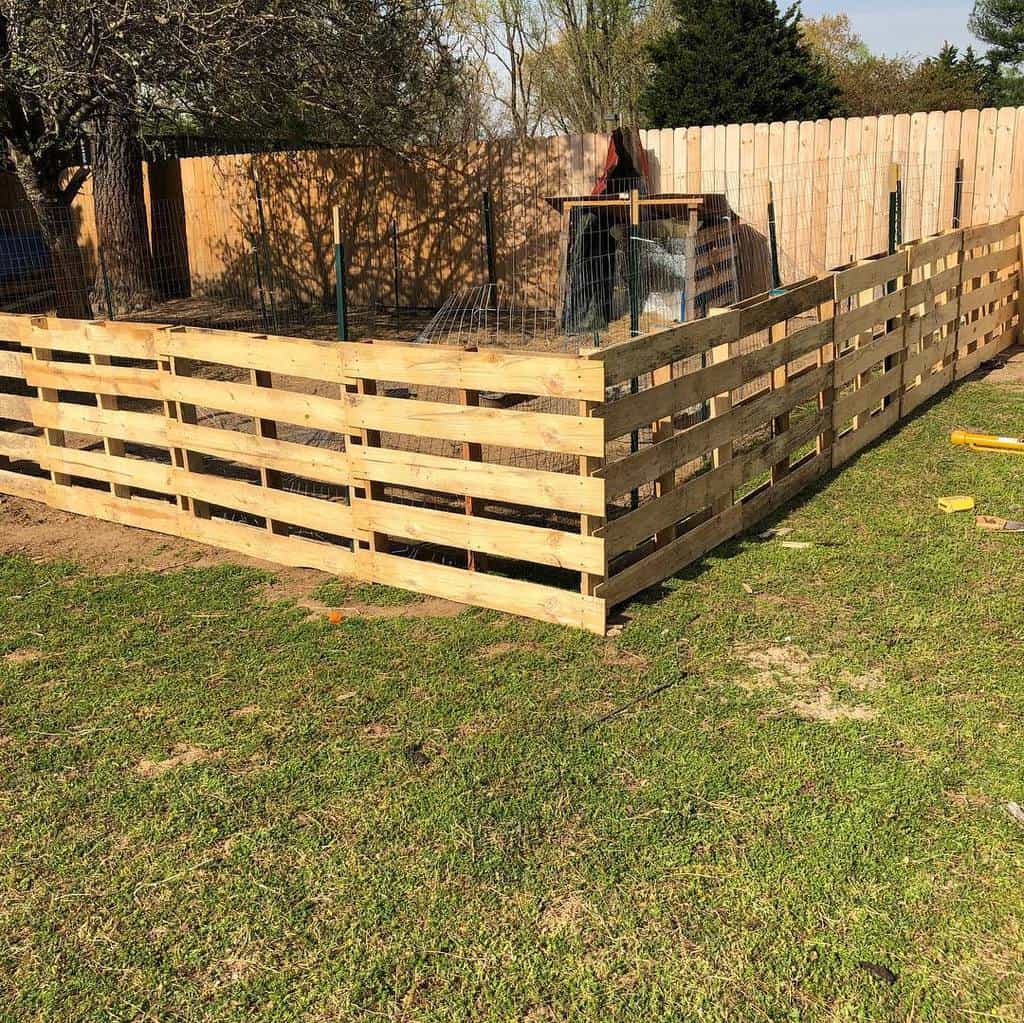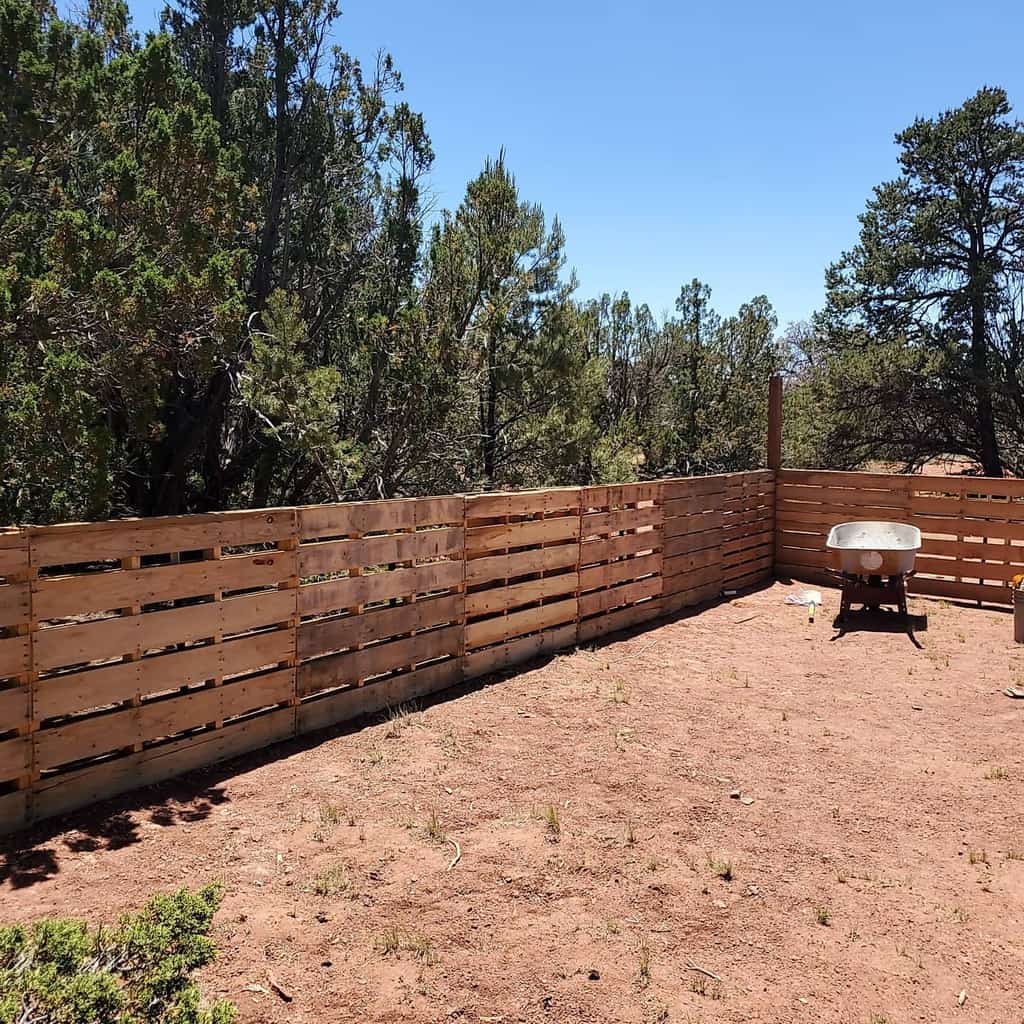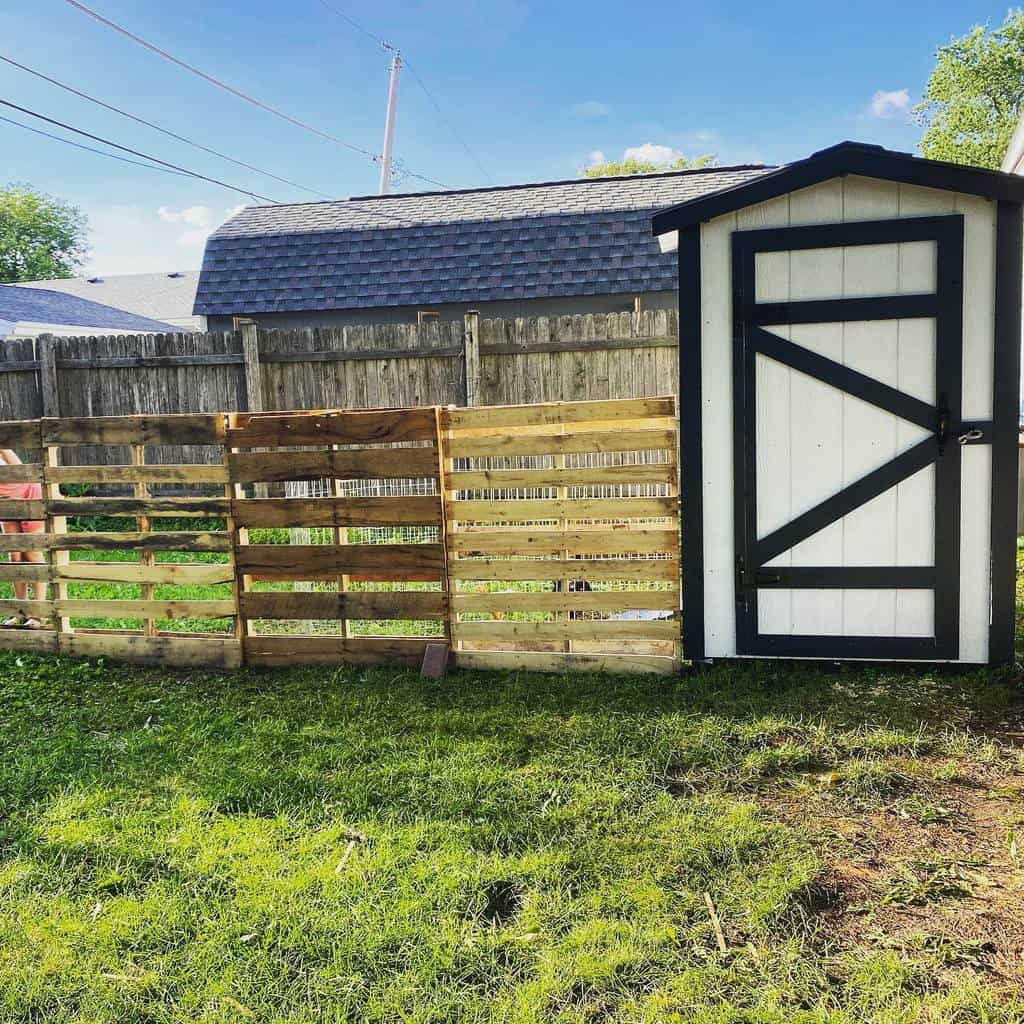 3. Reclaimed Wood Picket Fence
Infuse rustic charm into your outdoor oasis by crafting a reclaimed wood pallet garden fence. Upcycling old pallets not only champions sustainability but also infuses your garden with a distinctive and creative touch. The weathered, time-worn wood adds character and coziness to your outdoor space.
Arrange pallets vertically or horizontally to match your preferred aesthetic, securing them for durability. Opt for a natural wood finish or paint it to harmonize with your garden's overall look. Consider planting climbing vines nearby to complement the rustic vibe. A reclaimed wood pallet fence adds character and eco-conscious style to your outdoor retreat.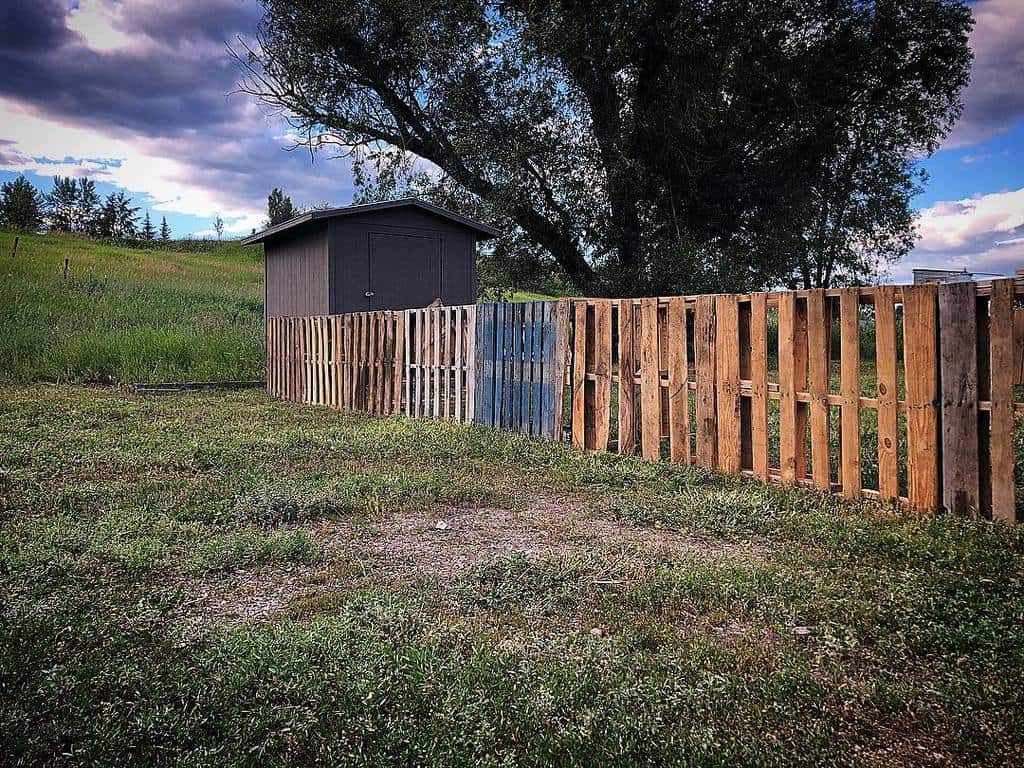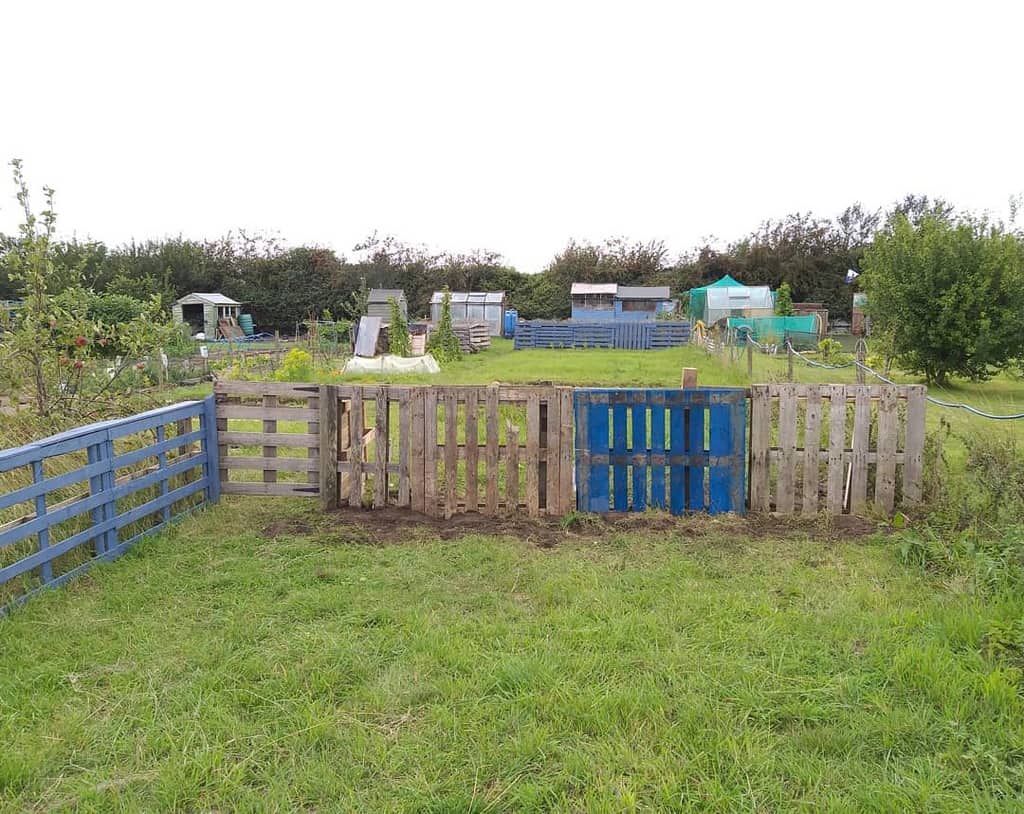 4. Vibrant Painted Pallet Fencing
Elevate standard pallets into eye-catching focal points by embracing vibrant colors. Opt for daring shades like bright yellow, fiery red, or serene blue to inject character and flair into your outdoor space. A painted wood pallet fence instantly becomes a statement piece, capturing attention and adding a playful twist to your garden or yard.
When arranging pallets, consider both vertical and horizontal orientations for your desired privacy level and aesthetic. Get creative by alternating colors or introducing patterns for a truly unique design. With their inherent texture and vibrant tones, painted wood pallet fences are both functional and an artistic expression of your distinctive style.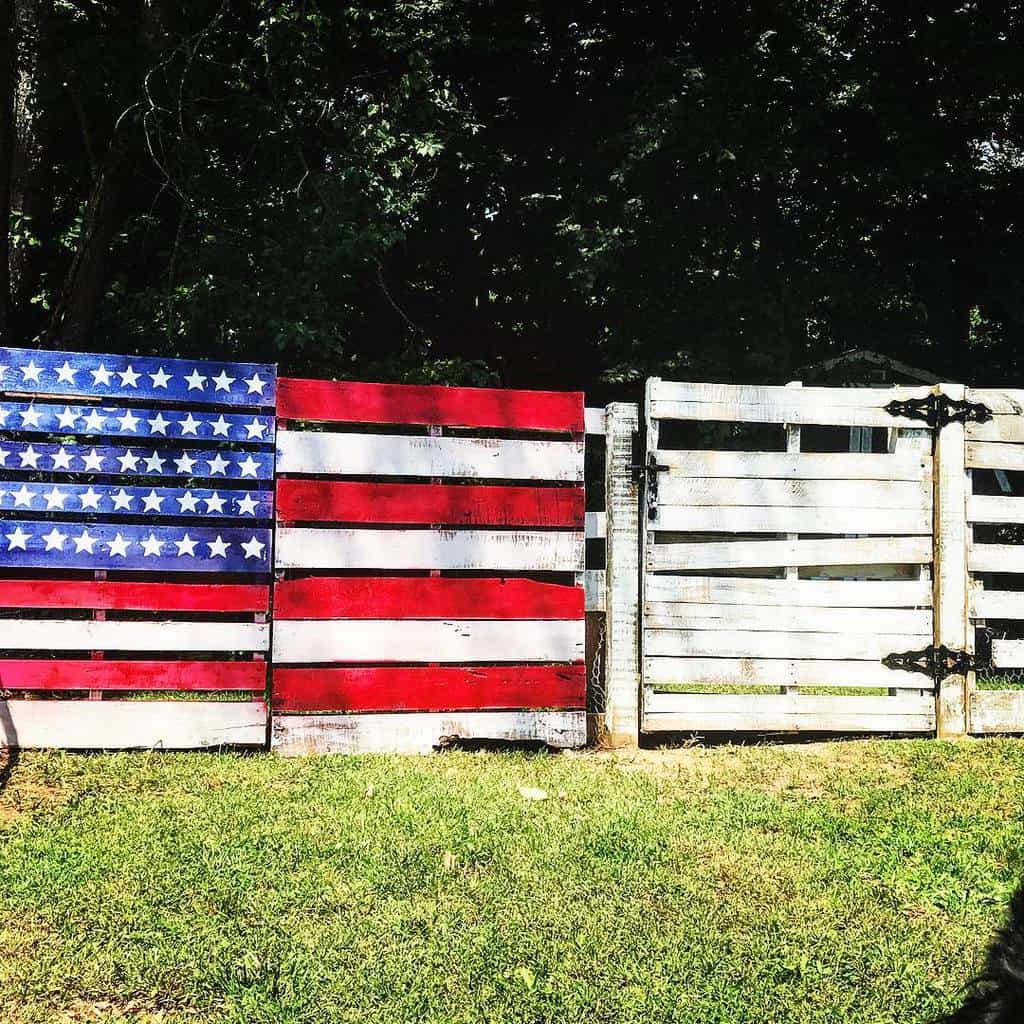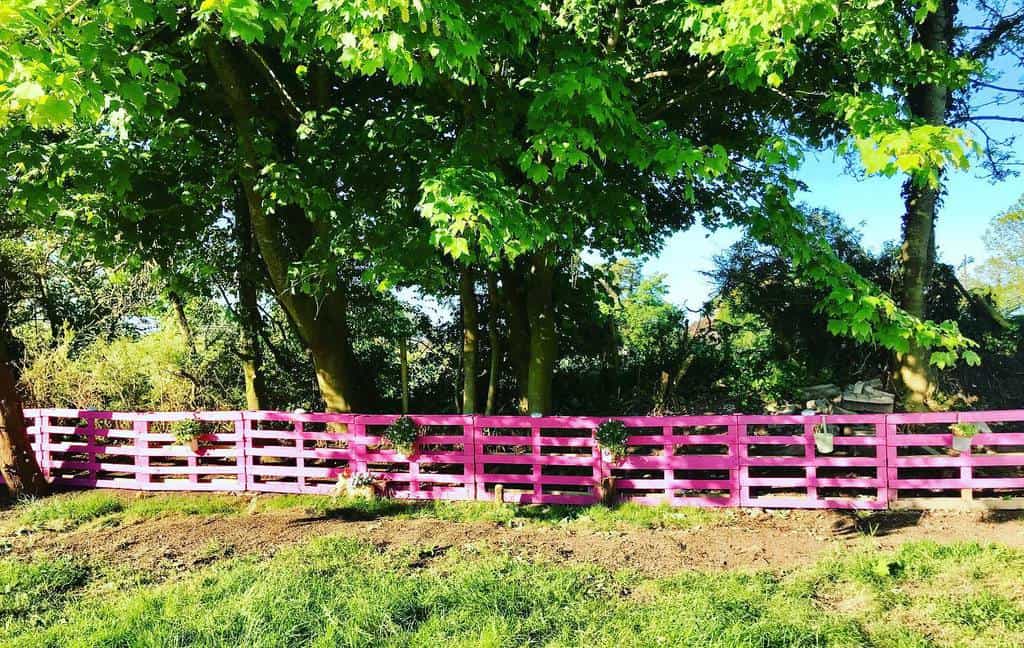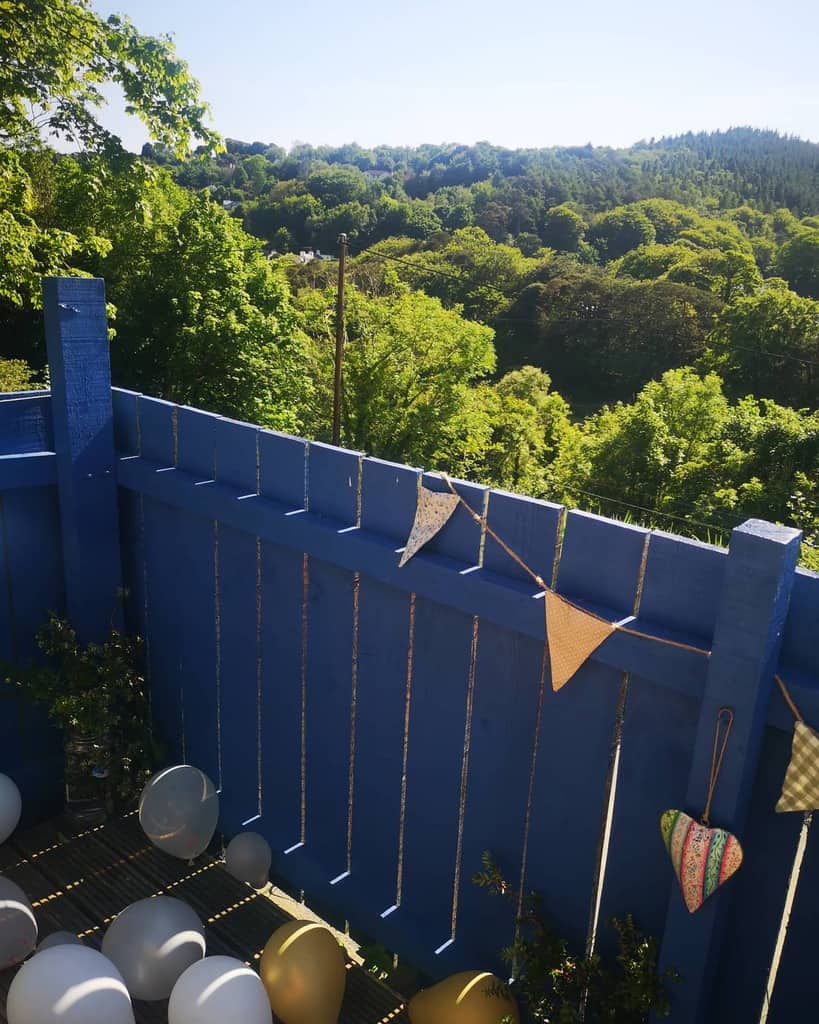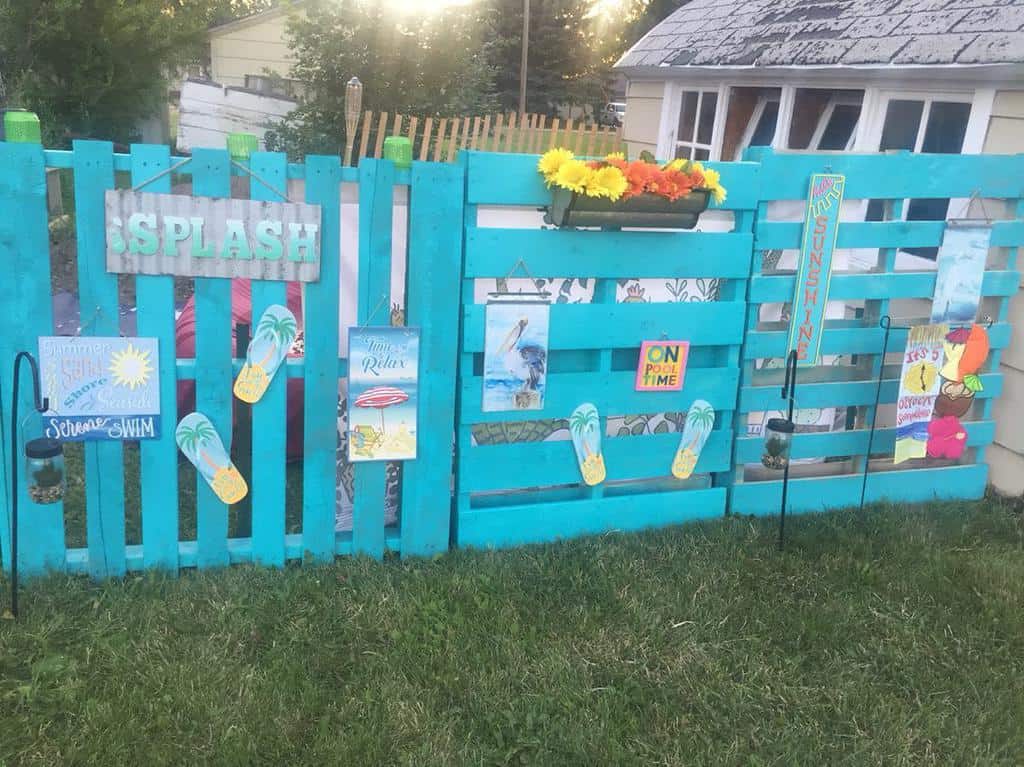 5. Pallet Fence with Planters
Enhance the allure of your outdoor area by incorporating plant boxes into your pallet fence, transforming it into a living green wall. Fill these plant boxes with your preferred flowers, aromatic herbs, or cascading vines for a captivating and colorful showcase. The fusion of wooden pallets and flourishing greenery bestows a natural and sophisticated ambiance upon your space.
Whether you possess a petite urban balcony or an expansive backyard, a wood pallet fence adorned with plant boxes offers a creative and enchanting solution for introducing privacy, aesthetics, and a delightful DIY element to your outdoor haven.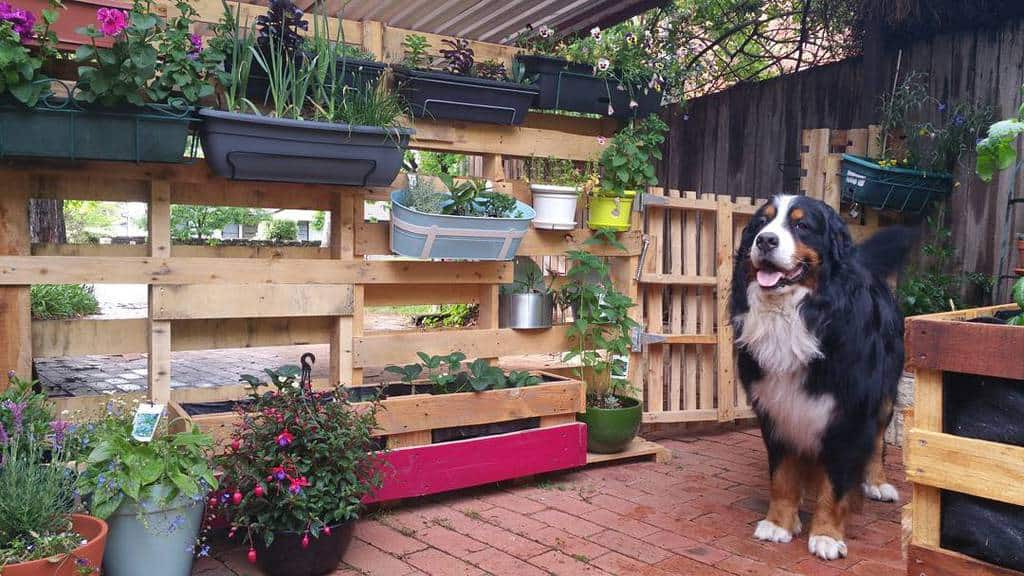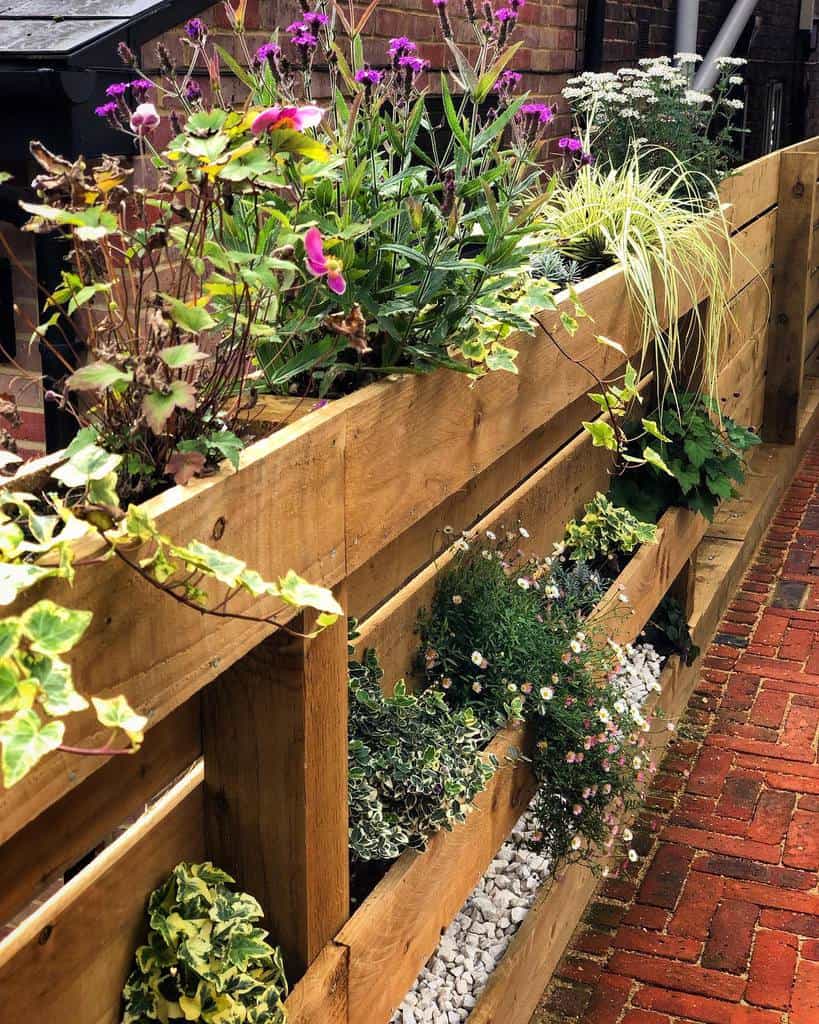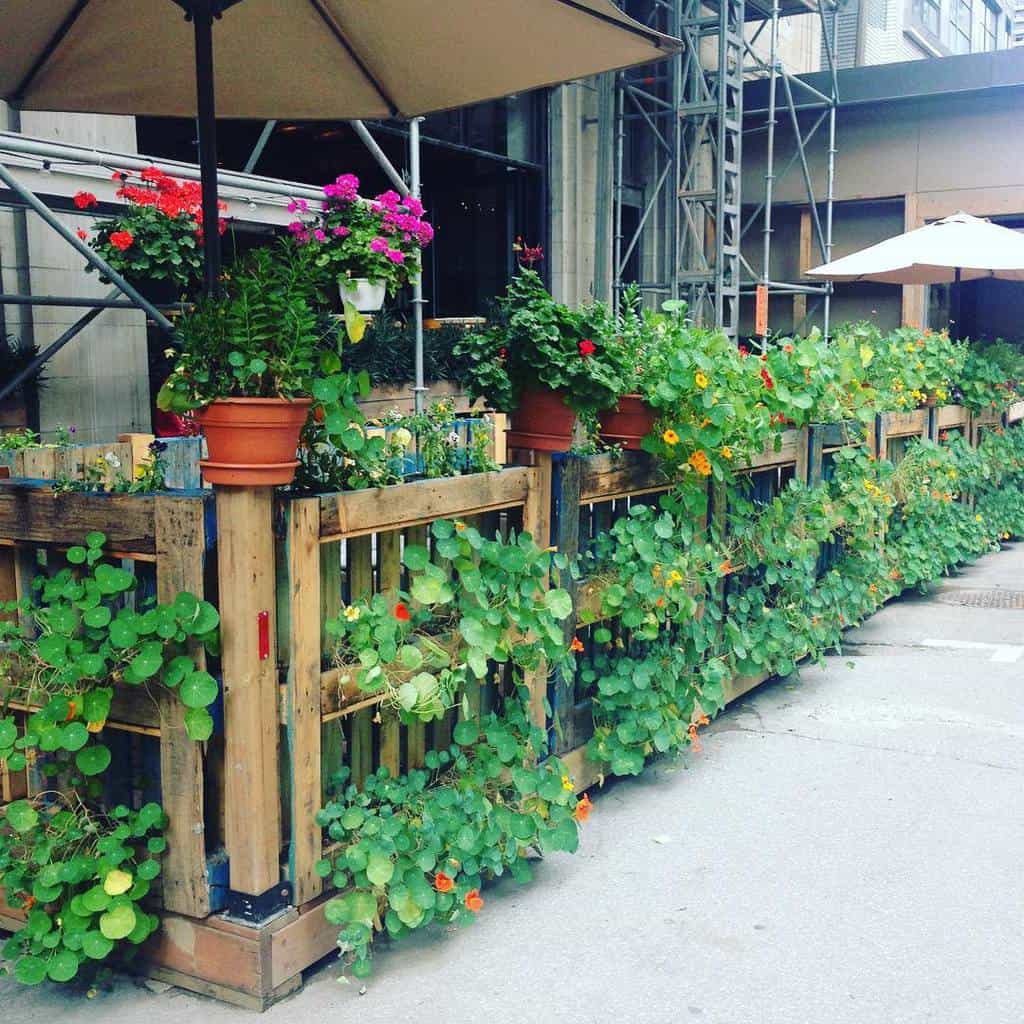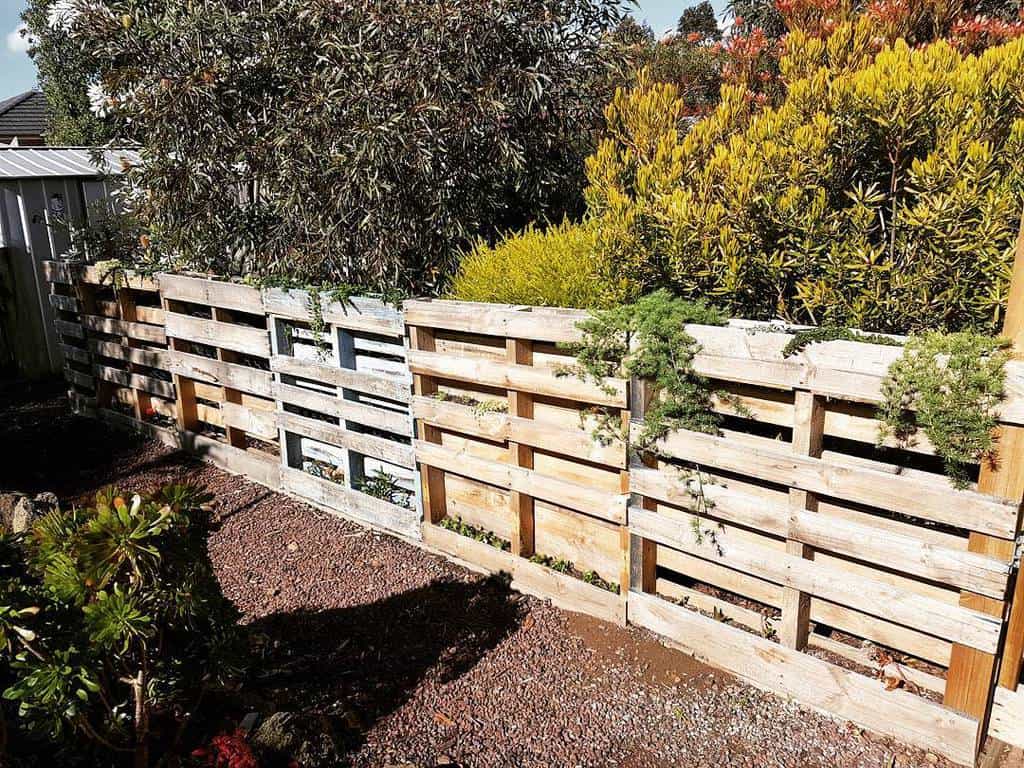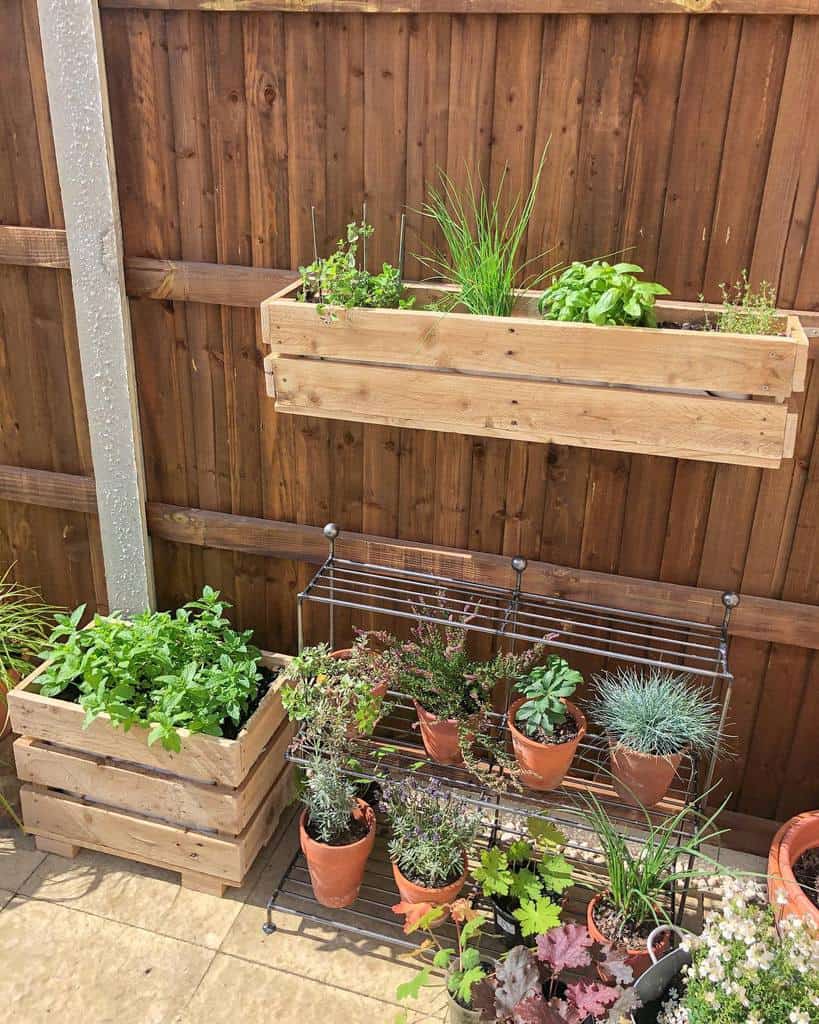 6. Private Wood Pallet Boundary
Transform wooden pallets into a privacy screen that combines repurposing with style. Strategically arrange the pallets to minimize gaps, providing both seclusion and a glimpse of your surroundings. The wood's natural texture and warm hues imbue your outdoor space with an inviting ambiance.
Opt for the rustic appeal of untreated pallets or apply a fresh coat of paint to match your outdoor decor. Experiment with pallet arrangement and orientation for a distinctive pattern that harmonizes with your landscape.
Whether you employ the wood pallet fence to enclose a specific area or demarcate your patio, it introduces character and privacy to your outdoor retreat.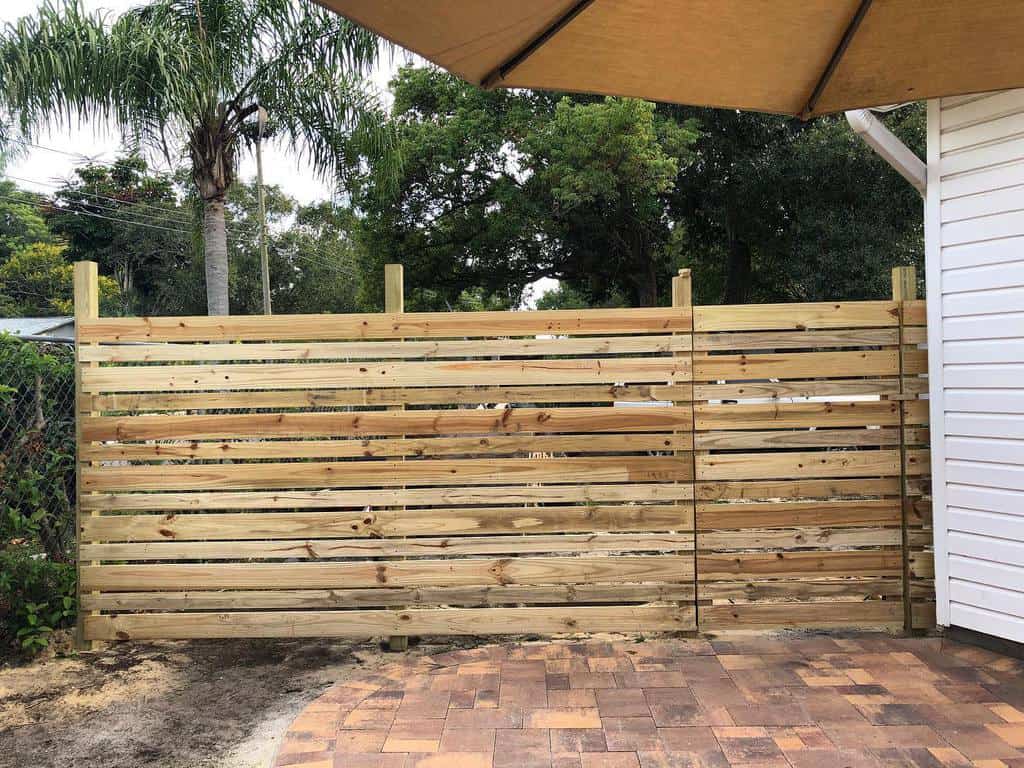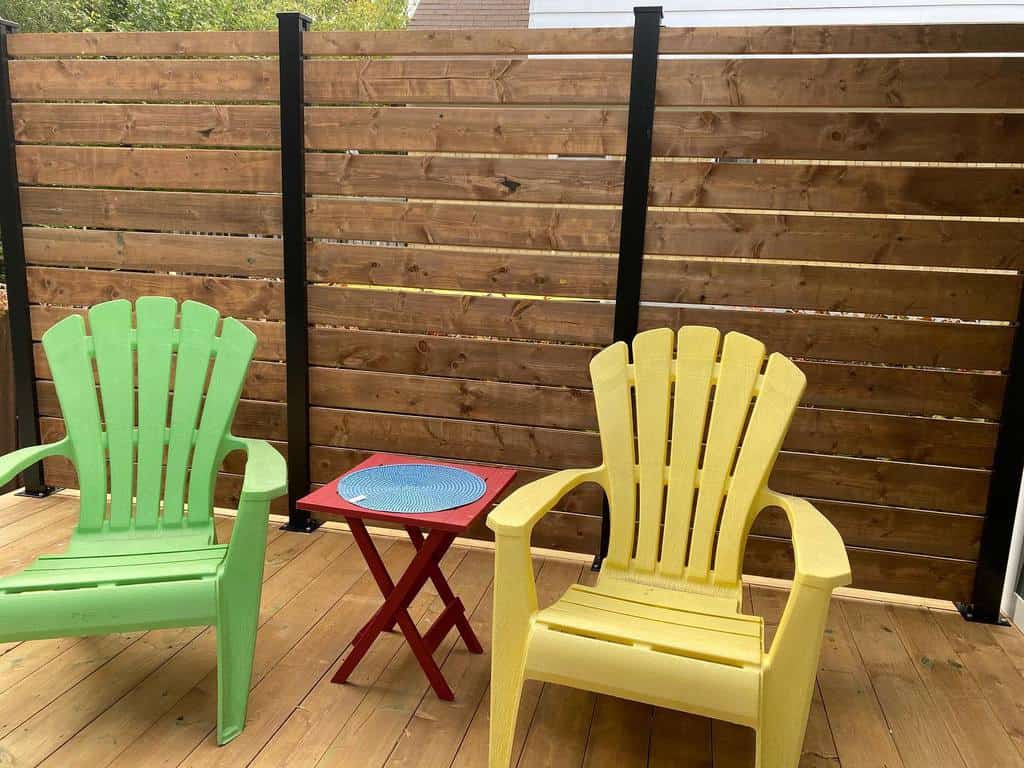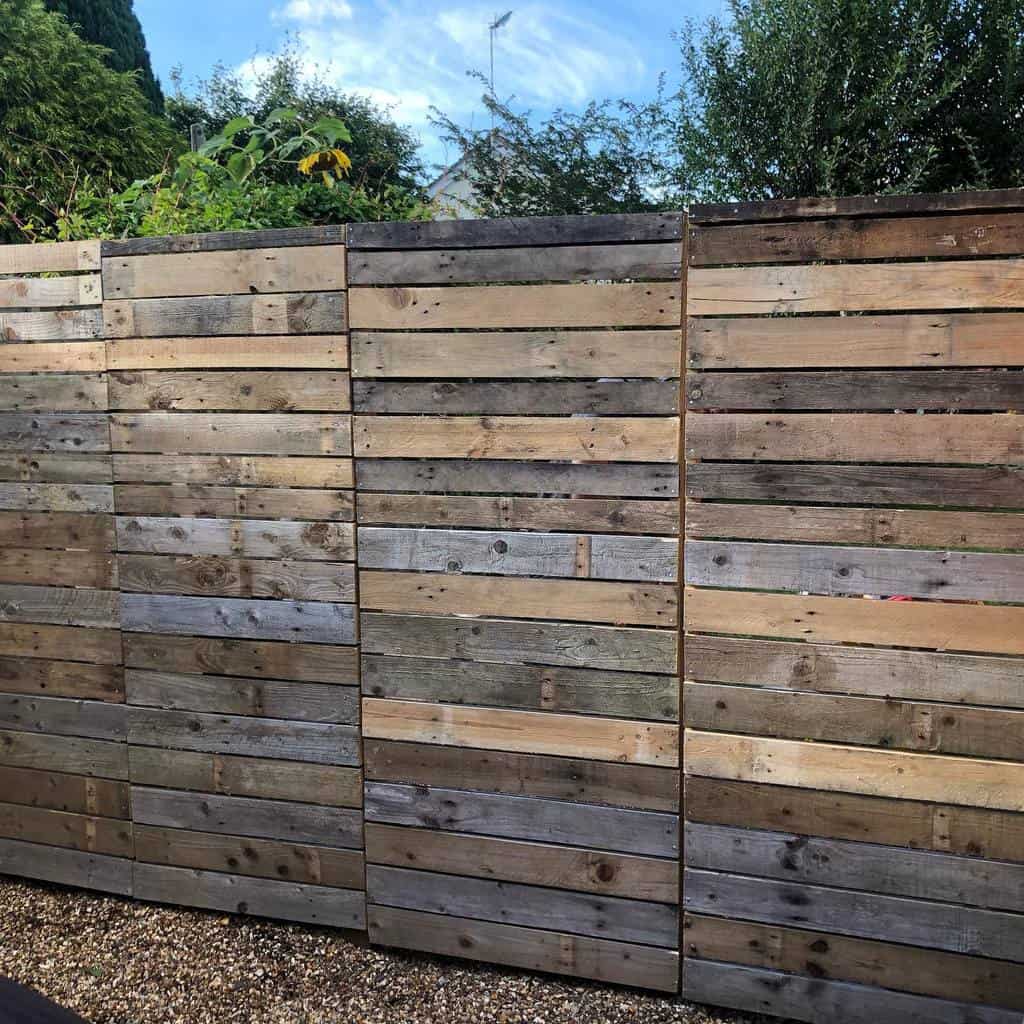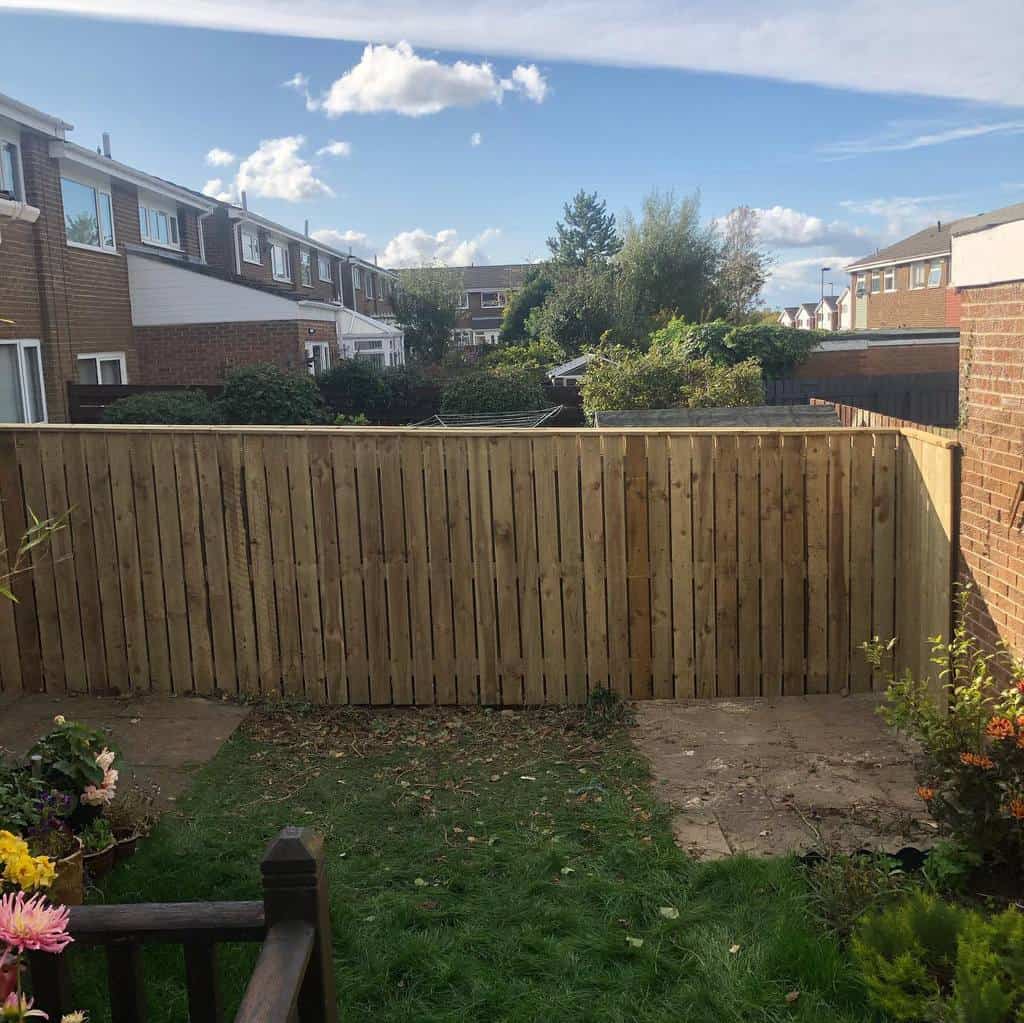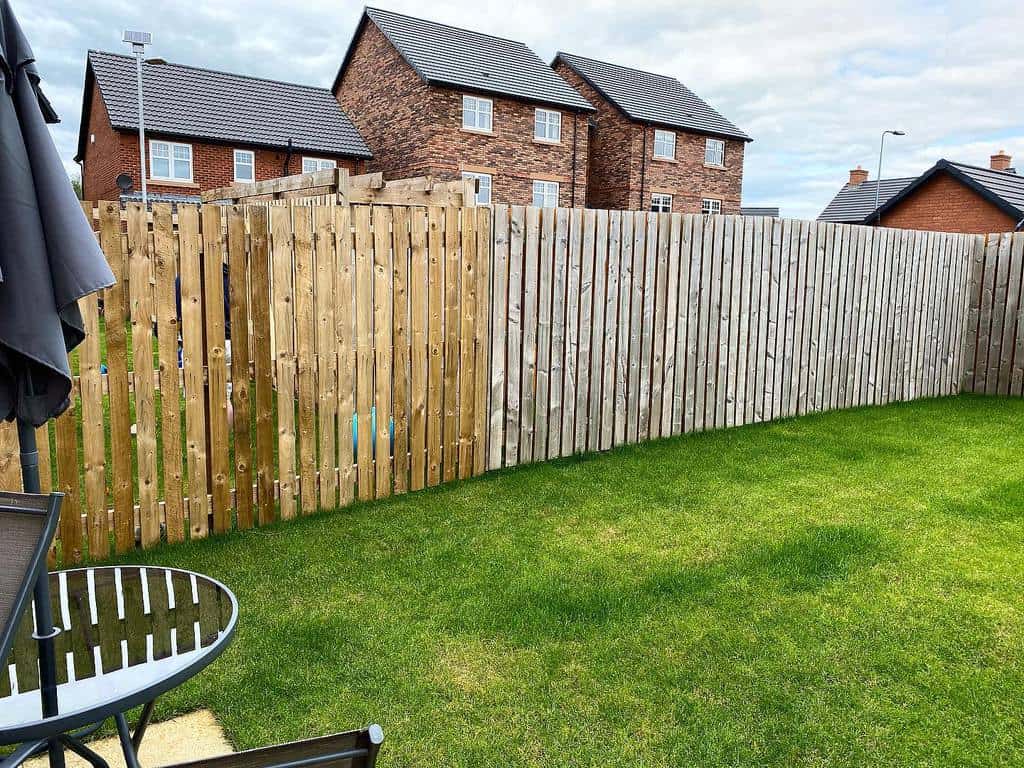 7. Patio Pallet Privacy Fence
Inject privacy and personality into your patio with a creative DIY project using pallets. Secure them vertically for a substantial and solid barrier, or arrange them horizontally to maintain an open and airy atmosphere.
Choose between the rustic charm of untreated pallets or paint them in a hue that complements your outdoor aesthetics. For a whimsical touch, explore the idea of suspending potted plants or string lights from the pallets to cultivate a welcoming and cozy ambiance. Craft a patio pallet privacy fence that exudes charm and functional style.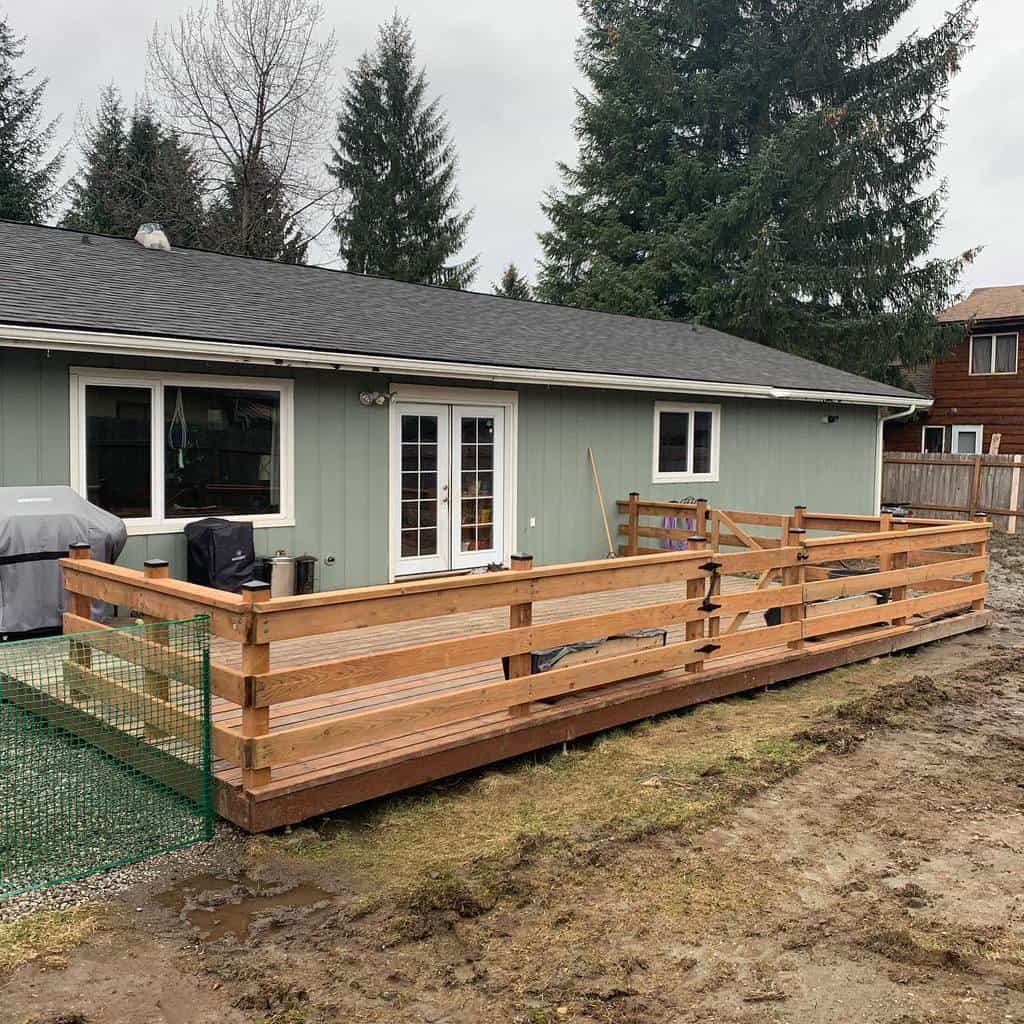 8. Veggie Garden Pallet Fence
Elevate your vegetable garden into a functional and charming sanctuary by incorporating wood pallet fences. These rustic additions not only infuse natural warmth into your garden but also come with a host of practical advantages.
Foremost, a wood pallet fence acts as a protective shield for your precious vegetable crops, guarding them against curious critters and potential damage. The pallets' robust and enduring nature ensures both security and an attractive perimeter.
Furthermore, these fences are both budget-friendly and eco-conscious, offering a sustainable solution by repurposing discarded pallets and reducing waste. They grant flexibility in terms of design, allowing you to tailor the fence's height and layout to precisely suit your garden's requirements. A veggie garden pallet fence is an ideal blend of aesthetics and function.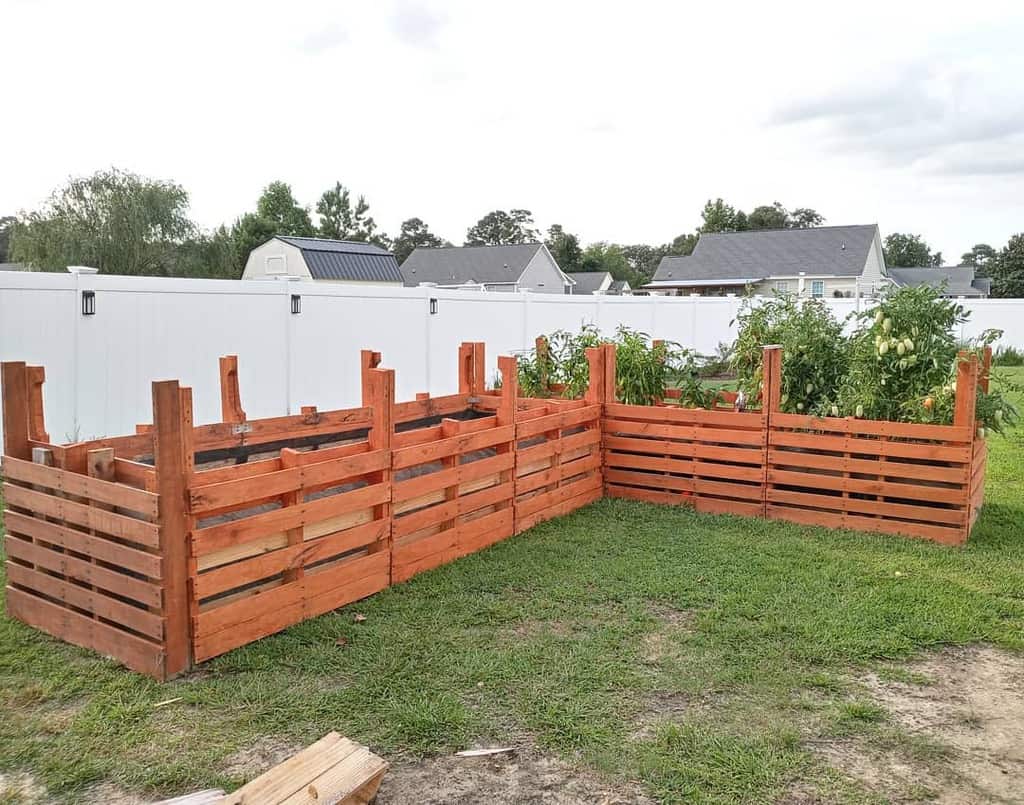 9. Shelf-Enhanced Pallet Fencing
Introduce rustic charm and a dash of greenery to your outdoor haven with wood pallet fence ideas that incorporate plant shelves. Repurposing wood pallets not only adds a unique and eco-conscious dimension to your fence but also offers a creative platform for showcasing your beloved plants.
Begin by securely assembling the pallets to form a robust fence structure. Next, strategically attach plant shelves to the pallet slats, providing space for potted plants, aromatic herbs, or dainty succulents. Vary the shelf heights to craft an eye-catching display of greenery along your fence.
Consider including cascading vines, vibrant blooms, or fragrant herbs to heighten the visual allure and infuse your outdoor space with the magic of nature. A shelf-enhanced wood pallet fence marries functionality with botanical beauty.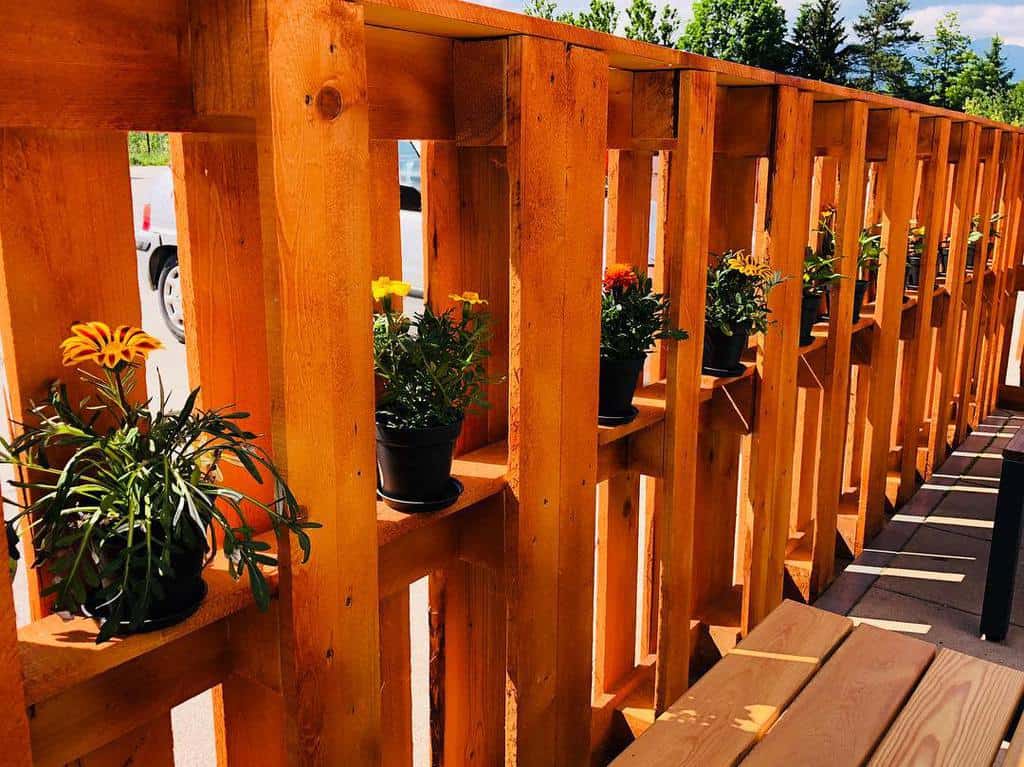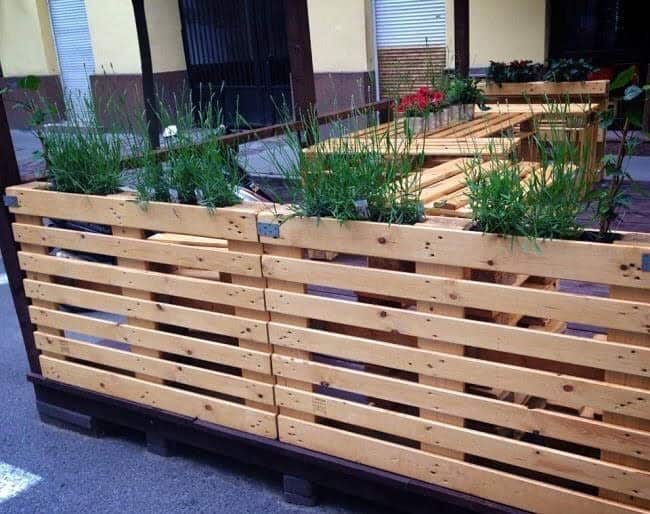 10. Elegant White Pallet Fence
Infuse your outdoor space with elegance by painting your pallet fence white. The crisp white hue imparts a sense of cohesion and refinement to the structure. Elevate the overall aesthetics by considering the addition of climbing vines or hanging planters, introducing greenery to soften the fence's appearance.
This project offers flexibility, allowing you to tailor the fence's height and design to your liking, making it both cost-effective and uniquely personalized. Embrace the inherent beauty of wood pallets and the versatility of white paint to craft a charming and visually captivating fence that elevates your space's aesthetics.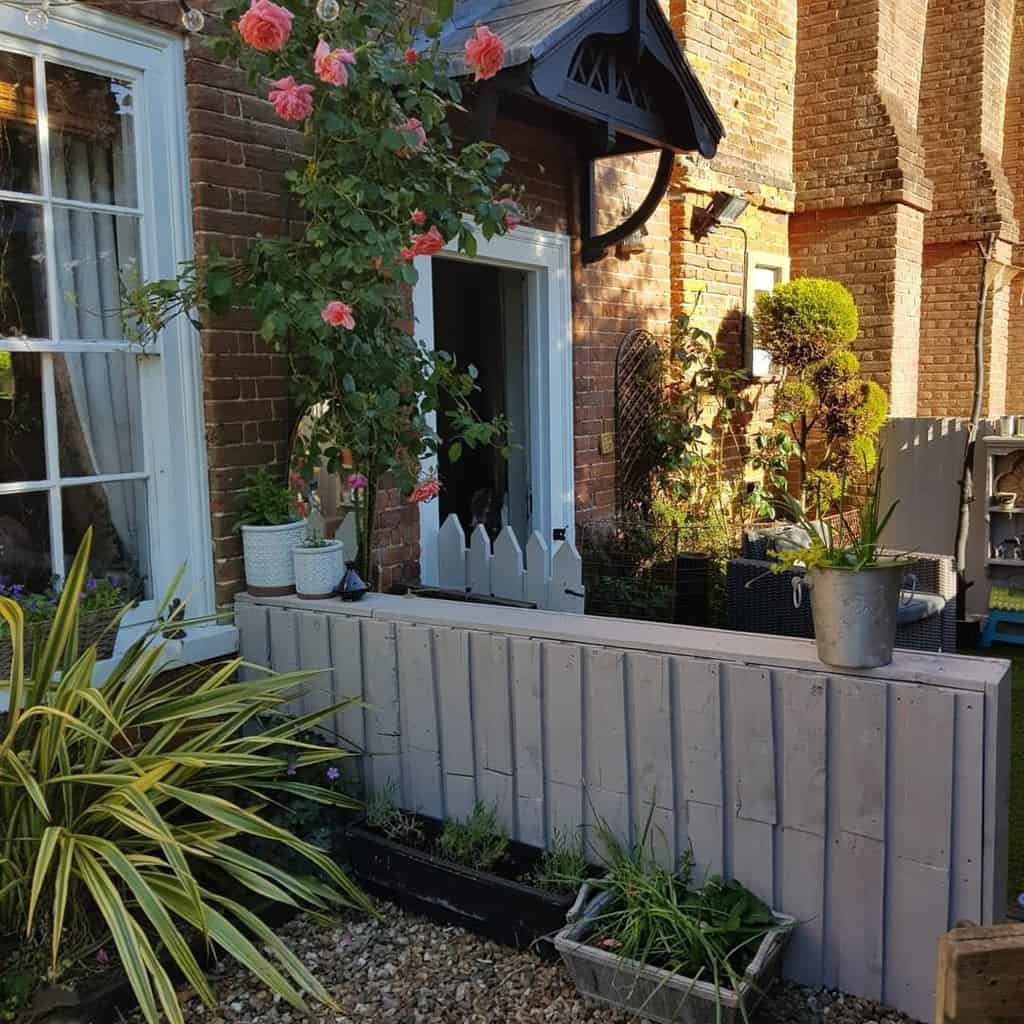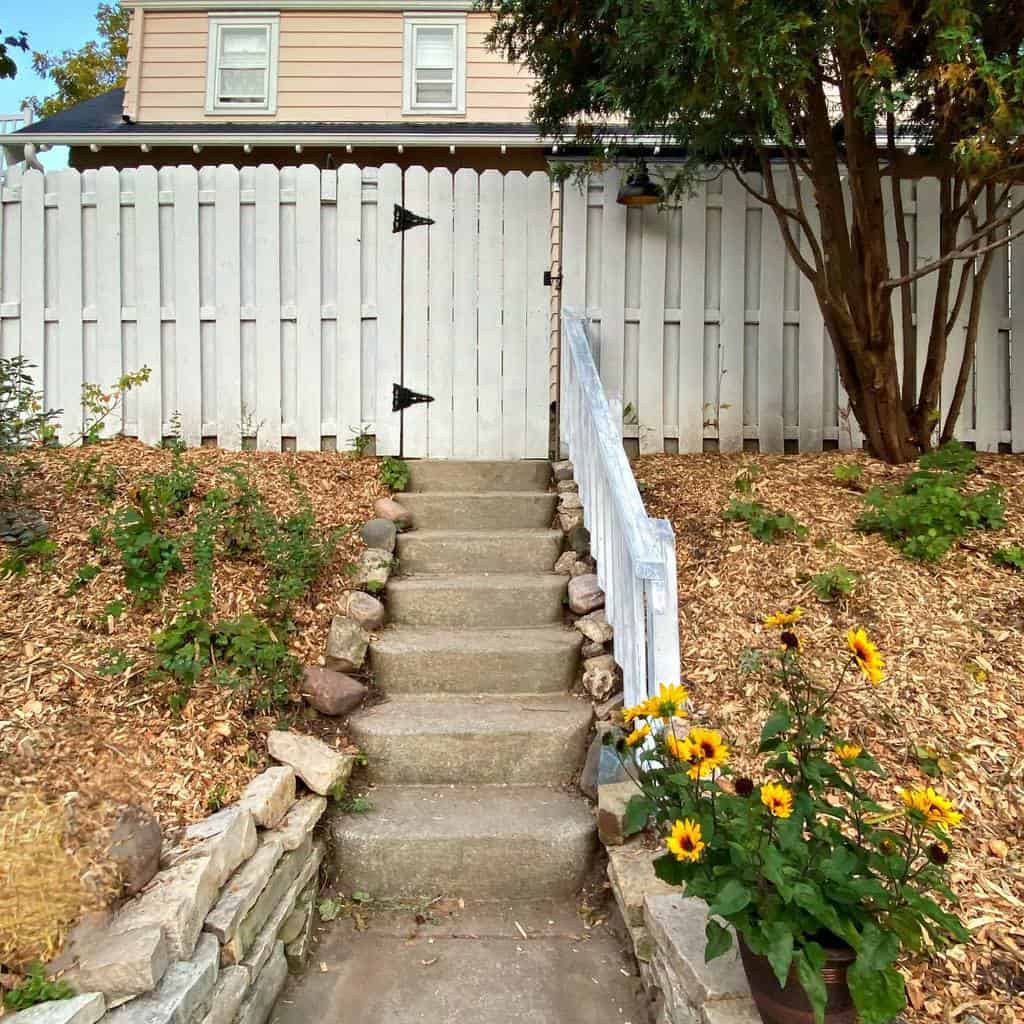 11. Chic White & Wood Fencing
Revamp your outdoor space with a rustic-meets-modern twist through a white and wood pallet fence. This budget-friendly DIY project adds privacy and personality to your yard, letting your unique style shine. Begin by sourcing wooden pallets, often available for free or at minimal cost.
Apply a fresh coat of white paint to these pallets, crafting a clean and luminous backdrop that complements the wood's inherent warmth. Securely arrange the pallets vertically or horizontally to construct a robust fence. The interplay of white and wood offers a striking contrast, infusing your outdoor area with timeless allure.
The wood pallets' natural texture and patterns introduce rustic charm, while the white paint imparts a touch of contemporary brightness. Embrace this chic fusion to redefine your outdoor space's aesthetics.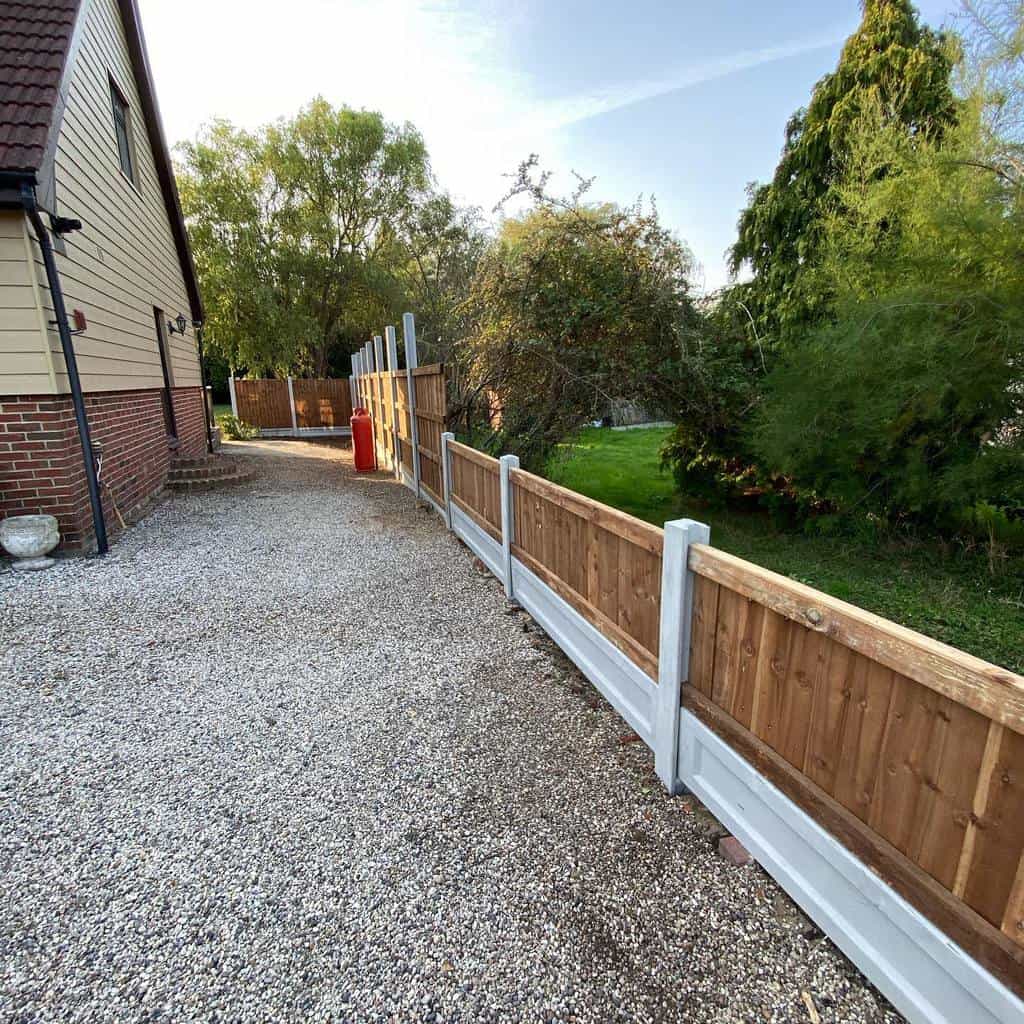 12. Tinted Wood Privacy Fence
Elevate the rustic charm and versatility of wood pallets by transforming them into an exceptional and budget-conscious fencing option. Enhance their appeal by applying a tint that harmonizes with your overall aesthetic.
Explore hues like weathered grey or rich brown stain to accentuate the wood's innate beauty, infusing your fence with depth and character. This tinted finish not only safeguards the wood against the elements but also imparts a unified and refined appearance. Customize your space with a tinted wood privacy fence that marries form and function seamlessly.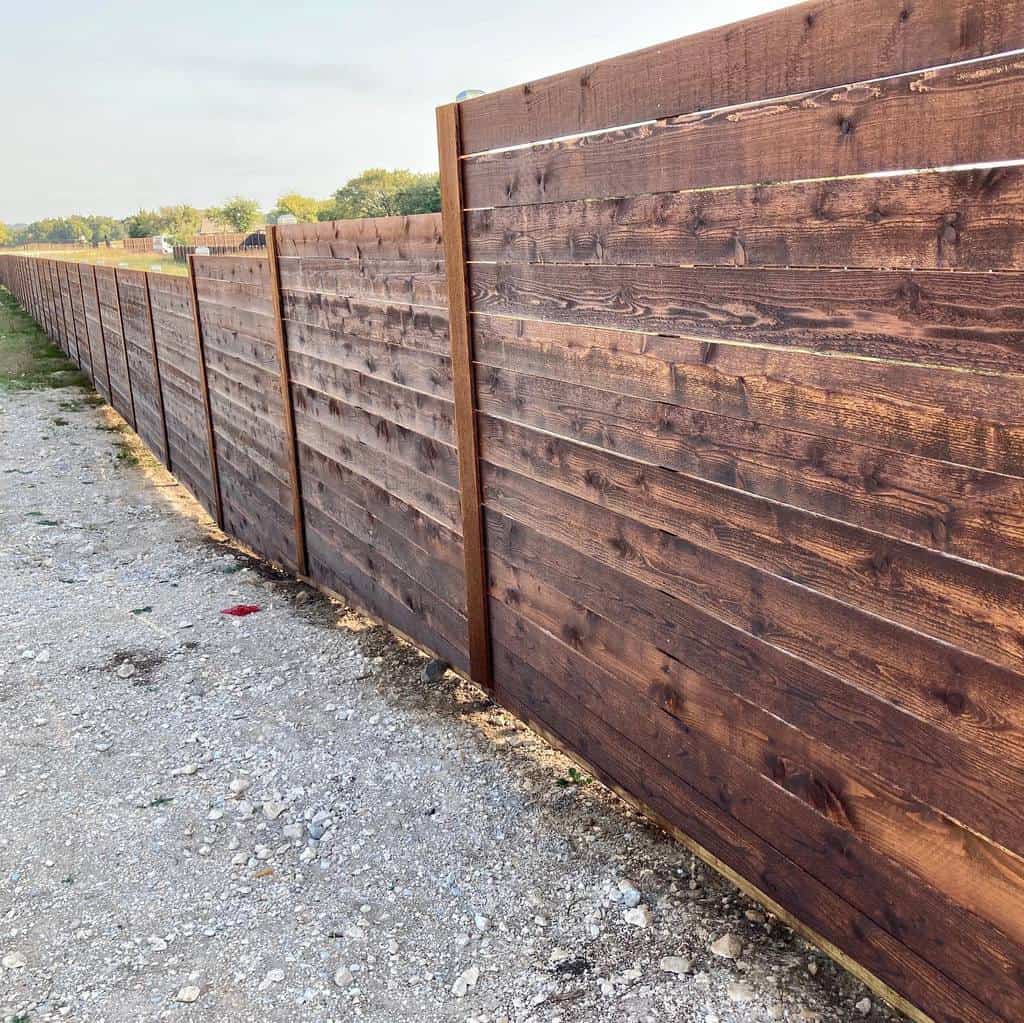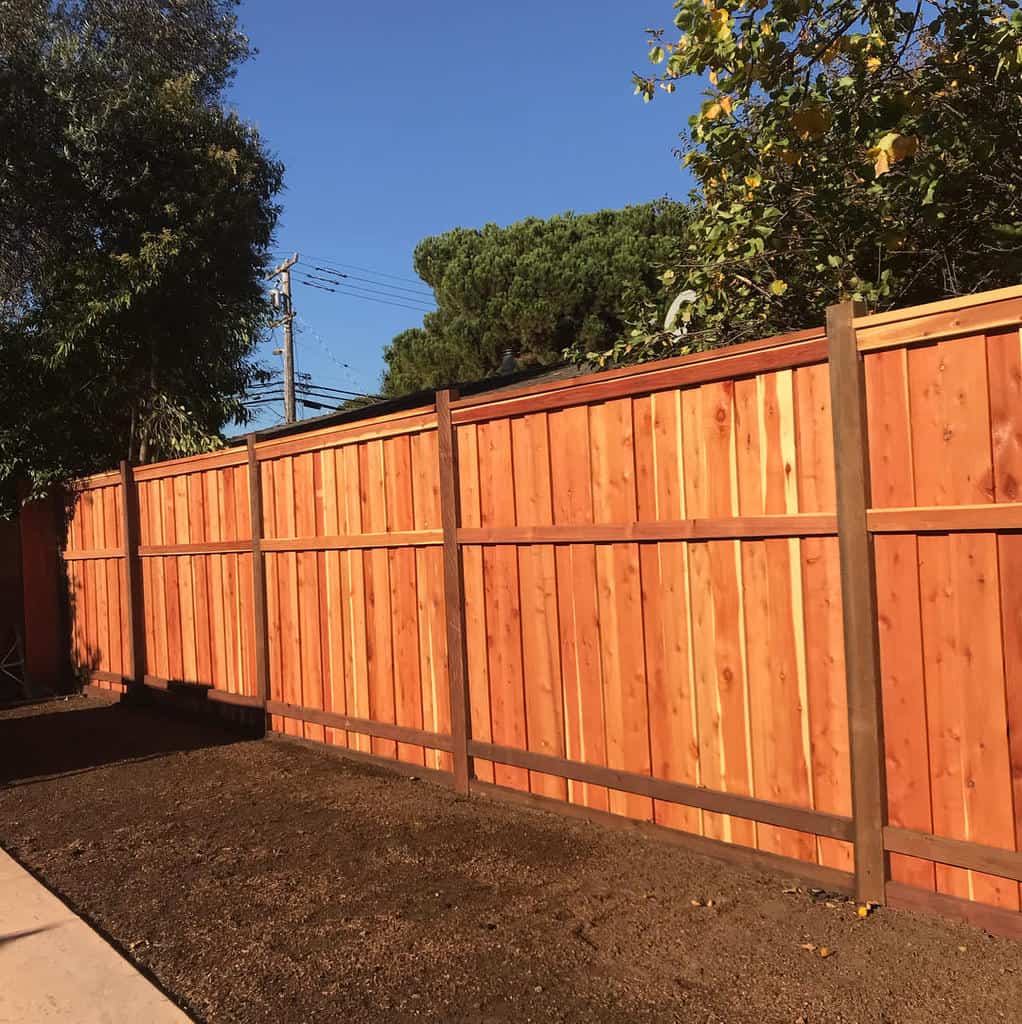 13. Pallet Fence with Gate
Craft a rustic and inviting privacy boundary with a wood pallet fence featuring a gate door. Weathered and distressed wood pallets infuse warmth and character into any yard or garden, offering both eco-friendliness and a canvas for your creativity.
Begin by sourcing sturdy pallets and aligning them vertically to shape the fence panels. Secure them together with nails or screws for extra stability. To maximize functionality, incorporate a gate door crafted from pallets. Attach hinges and a latch for easy access while preserving privacy and security.
The wood pallets' natural tones and texture bestow rustic charm upon your outdoor space, creating an atmosphere that feels cozy and welcoming. Customize the fence further by introducing potted plants or climbing vines to soften the look and seamlessly blend with nature. A pallet fence with a gate combines aesthetics and practicality to enhance your outdoor haven.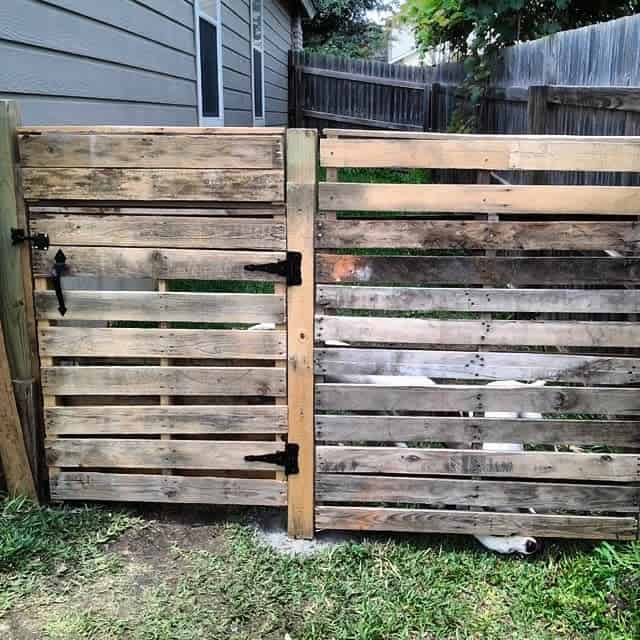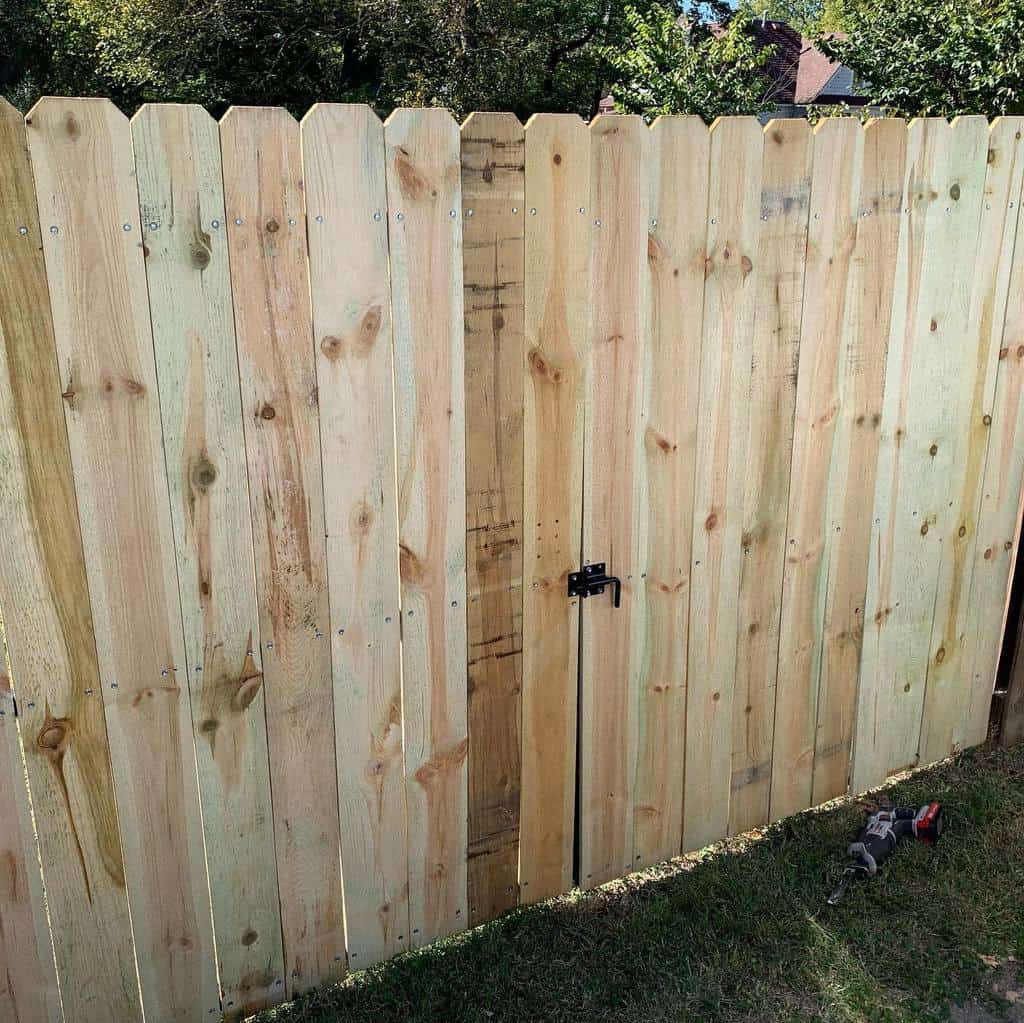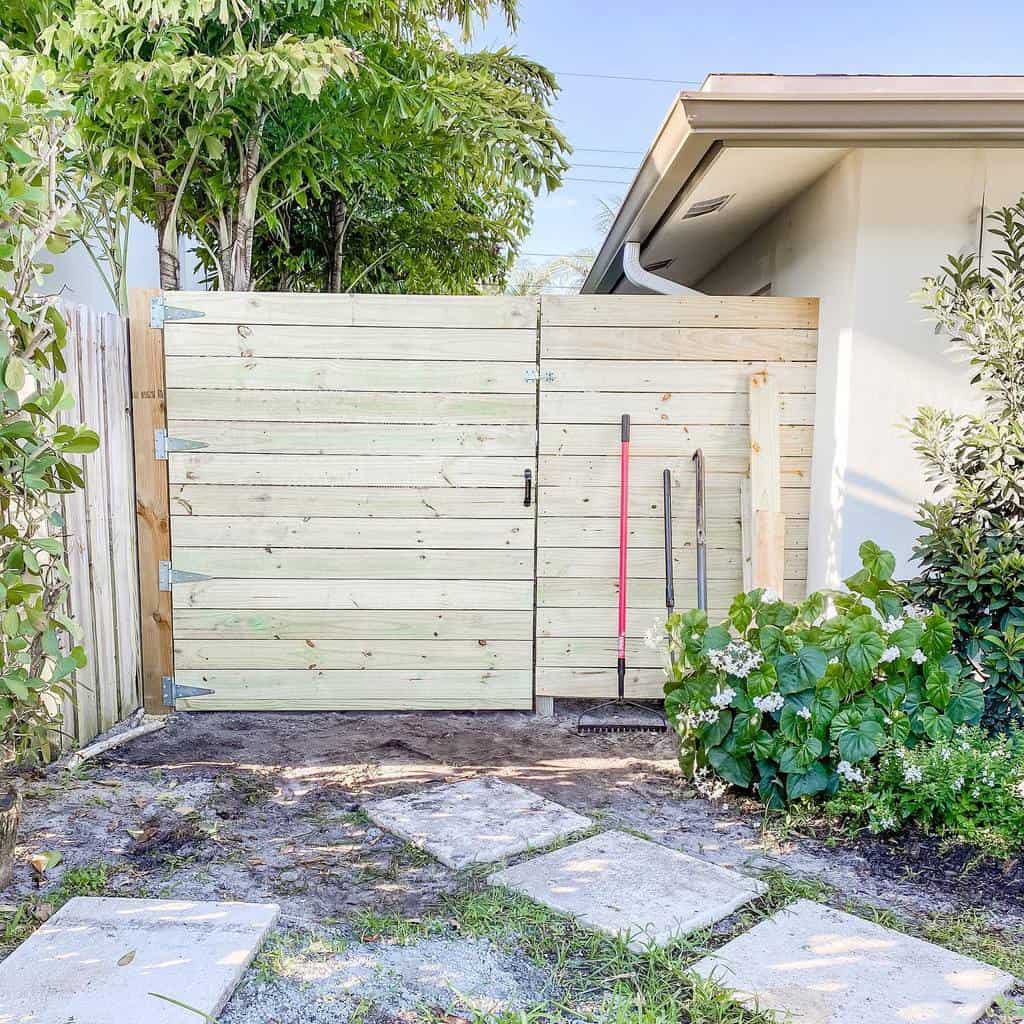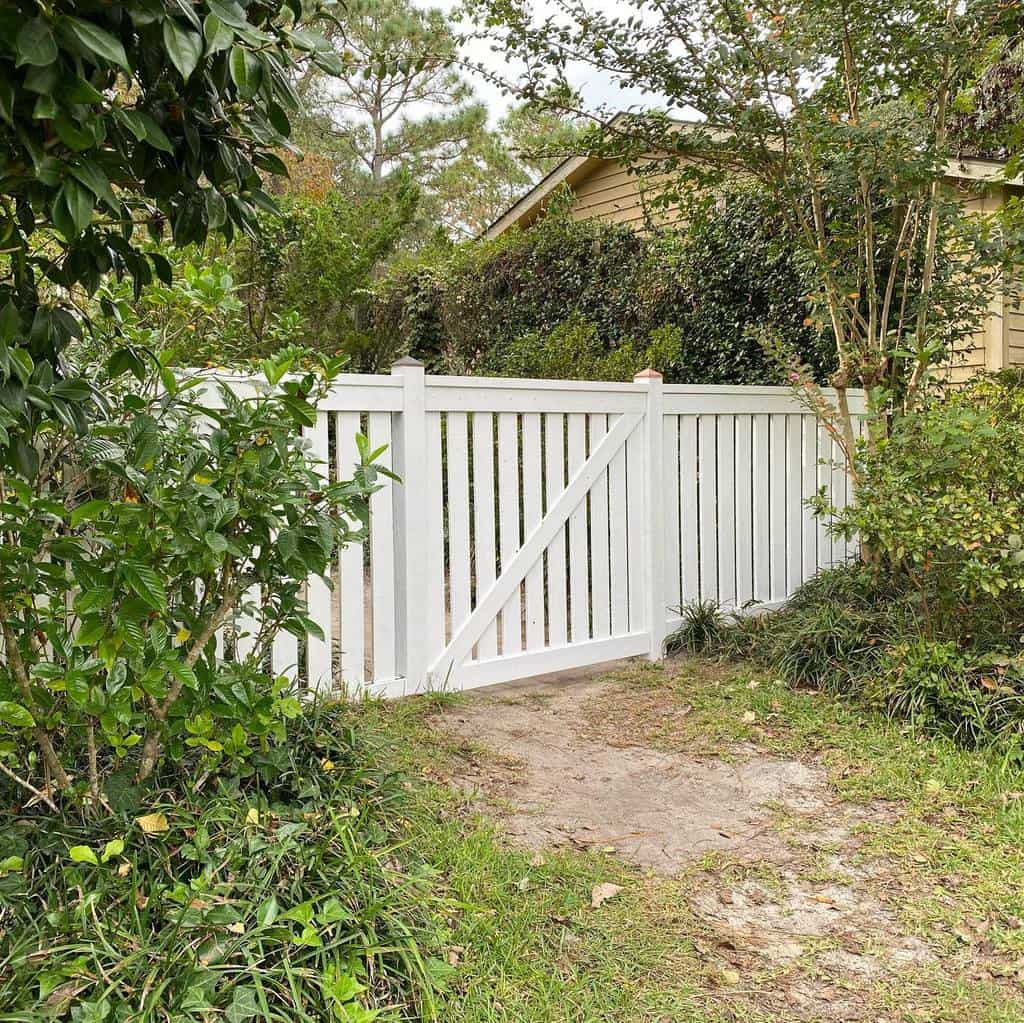 14. Arched Pallet Privacy Fence
Infuse your outdoor space with rustic charm and seclusion through an arched wood pallet fence. Wood pallets, known for their versatility and budget-friendliness, become the foundation for a distinctive and stylish fencing concept. The arch design introduces visual intrigue and elegance to your outdoor haven.
Arrange the pallets to form a graceful arch, securely uniting them to forge a robust structure. Opt for the natural wood finish to embrace an organic and rustic appeal, or choose a paint color that harmonizes with your overall outdoor aesthetic. As the fence takes shape, it elevates the character and allure of your yard or garden, making it a charming and secluded retreat.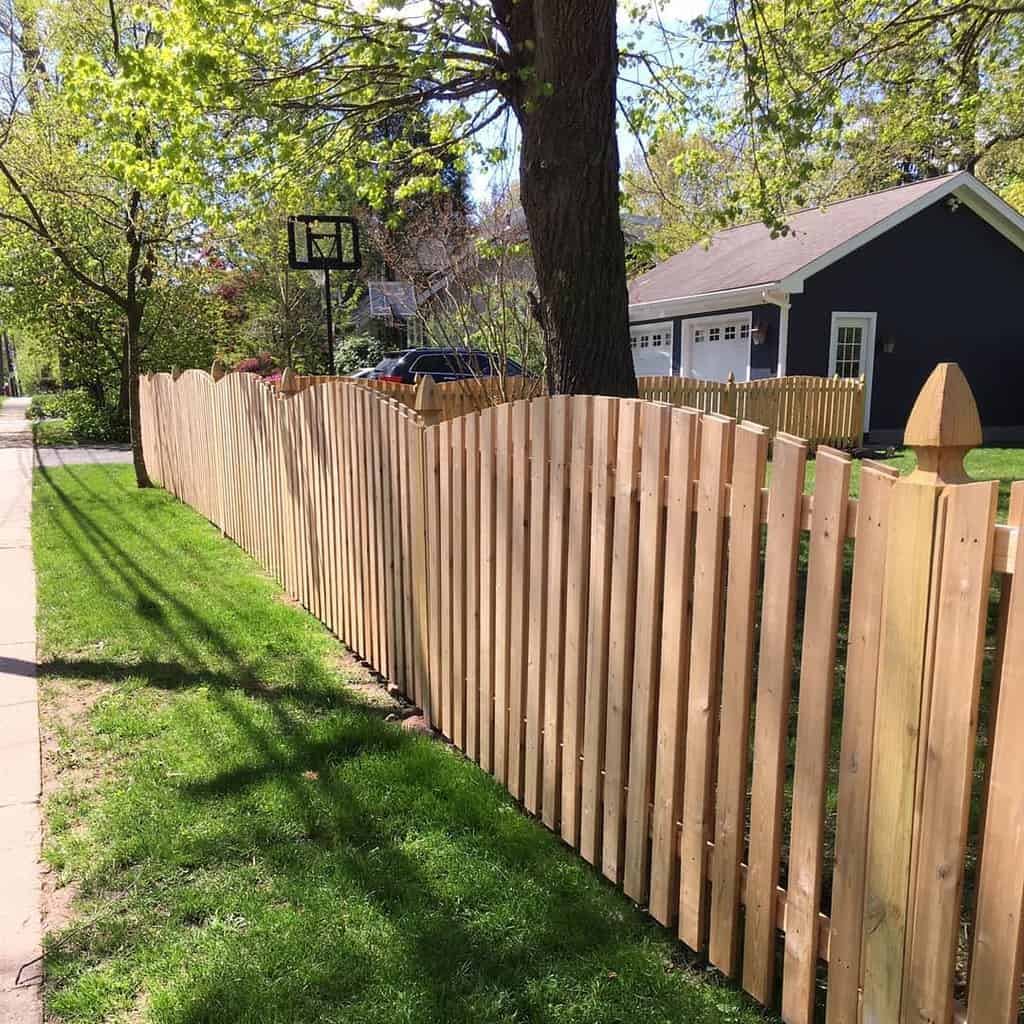 15. Artistic Mural Pallet Fence
Transform your outdoor sanctuary into an enchanting oasis with a wood pallet fence transformed into a canvas for mural art. This imaginative and distinctive approach accomplishes more than providing privacy and boundary definition; it becomes a captivating centerpiece that reflects your unique personality and style. Embrace your inner artist by collaborating with a local talent or unleashing your creativity to craft the mural yourself.
Picture a vibrant floral design injecting bursts of color into your backyard or a whimsical nature-inspired scene that transports you to a mystical forest. For a contemporary flair, explore abstract geometric patterns or intricate mosaic-inspired murals.
The possibilities are limitless, allowing you to select a design that harmonizes with your existing outdoor decor or serves as the centerpiece for a comprehensive outdoor transformation. With a wood pallet fence adorned with mural art, your backyard evolves into an open-air gallery of creativity, sparking attention and sparking conversations.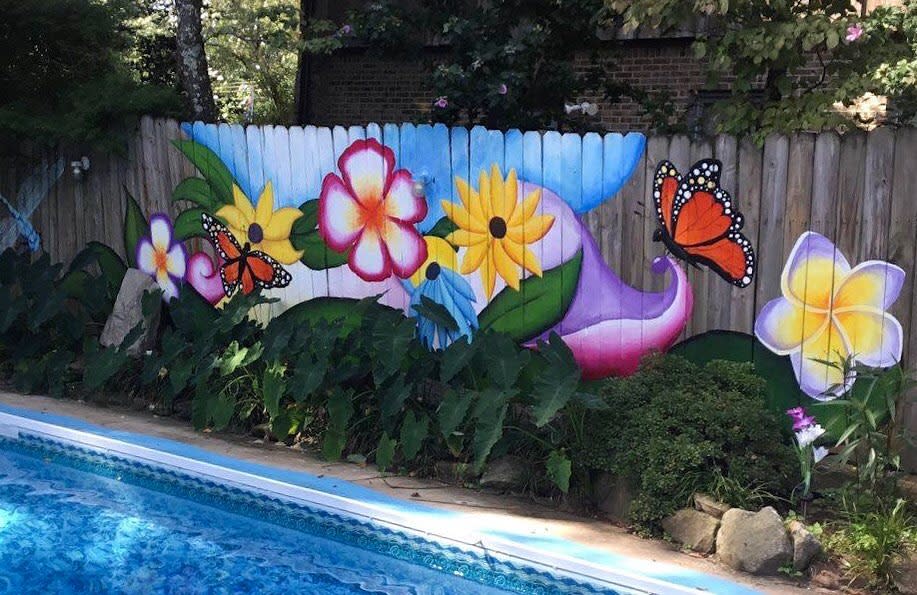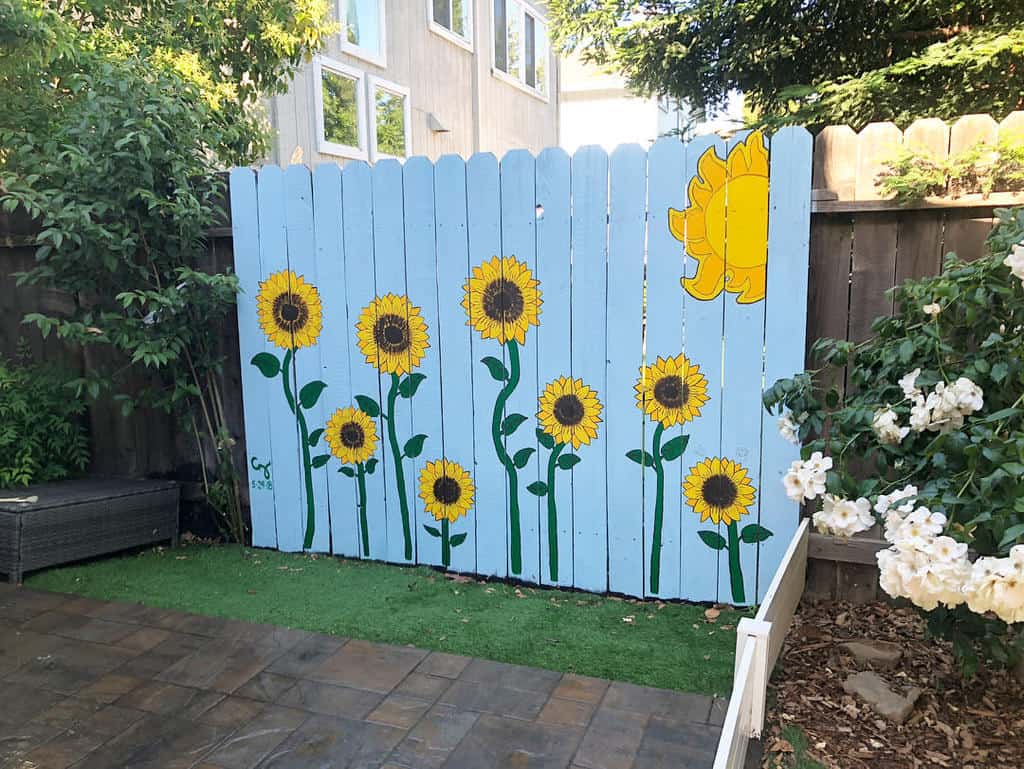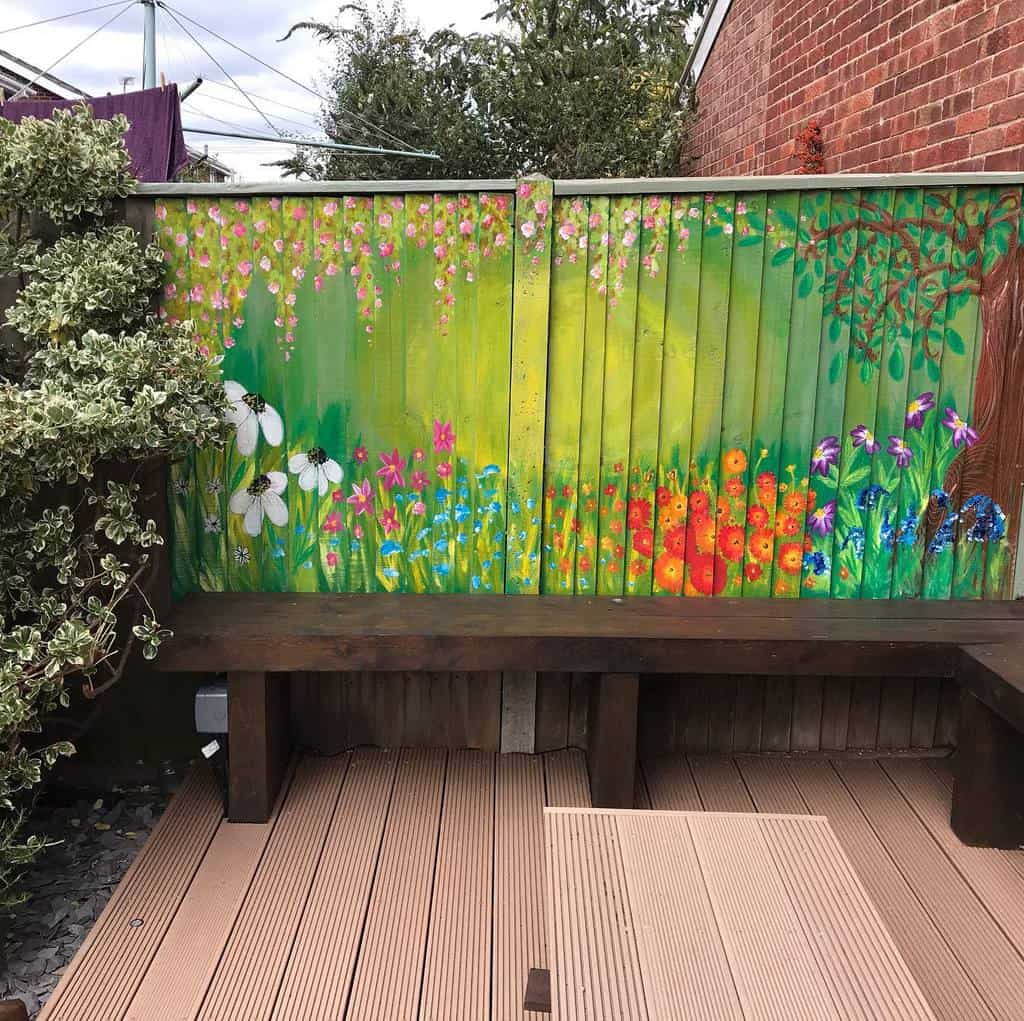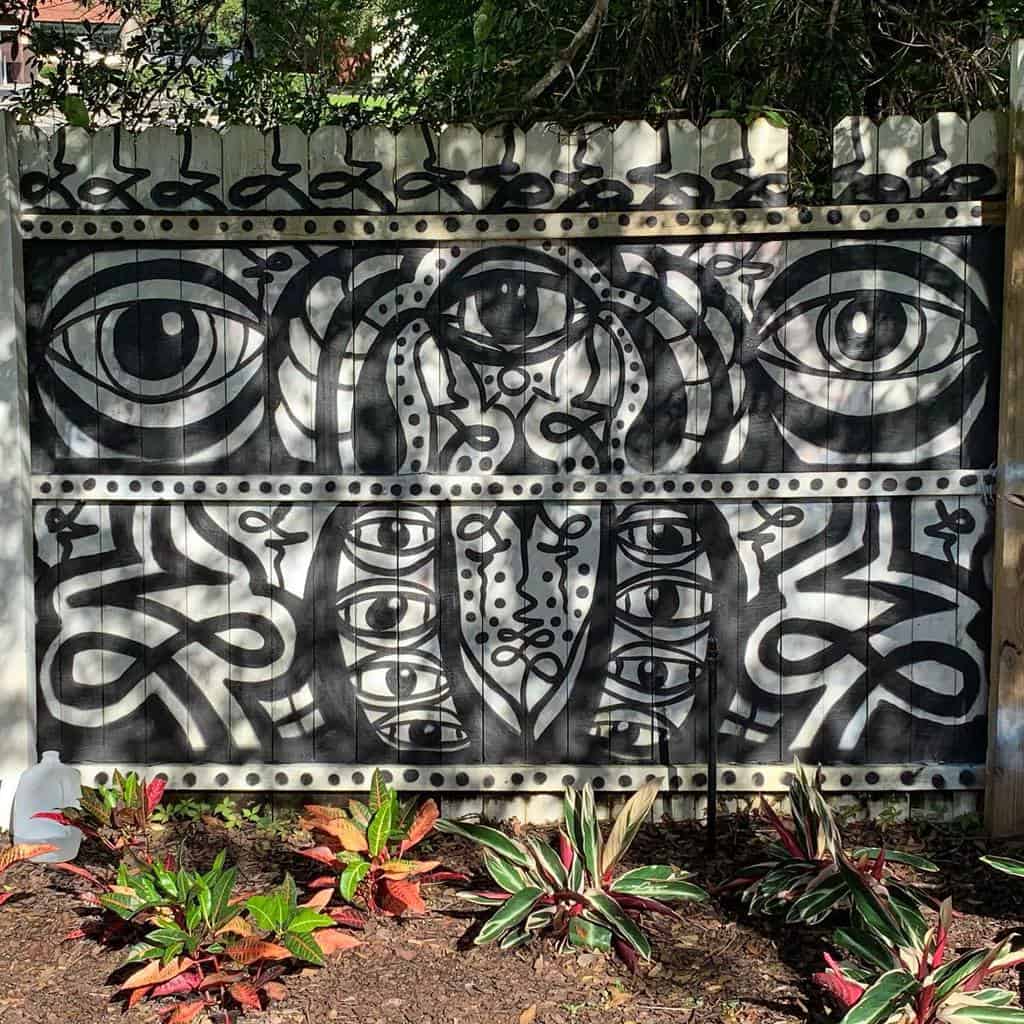 16. Vinyl-Clad Pallet Fencing
Achieve the timeless charm of a traditional picket fence with durability and minimal upkeep by repurposing vinyl pallets. The process involves cleaning and preparing the pallets, cutting them into picket shapes, and securing them to robust posts. Vinyl's inherent durability adds extra protection against the elements, ensuring a long-lasting fence that demands little maintenance.
This DIY endeavor offers the freedom to tailor the fence's height, spacing, and color, creating a personalized and distinctive outdoor statement. Whether you aim for a cottage garden ambiance or a rustic farmhouse allure, a vinyl-clad pallet picket fence presents a creative solution to enhancing privacy, defining boundaries, and elevating your outdoor space's overall appeal.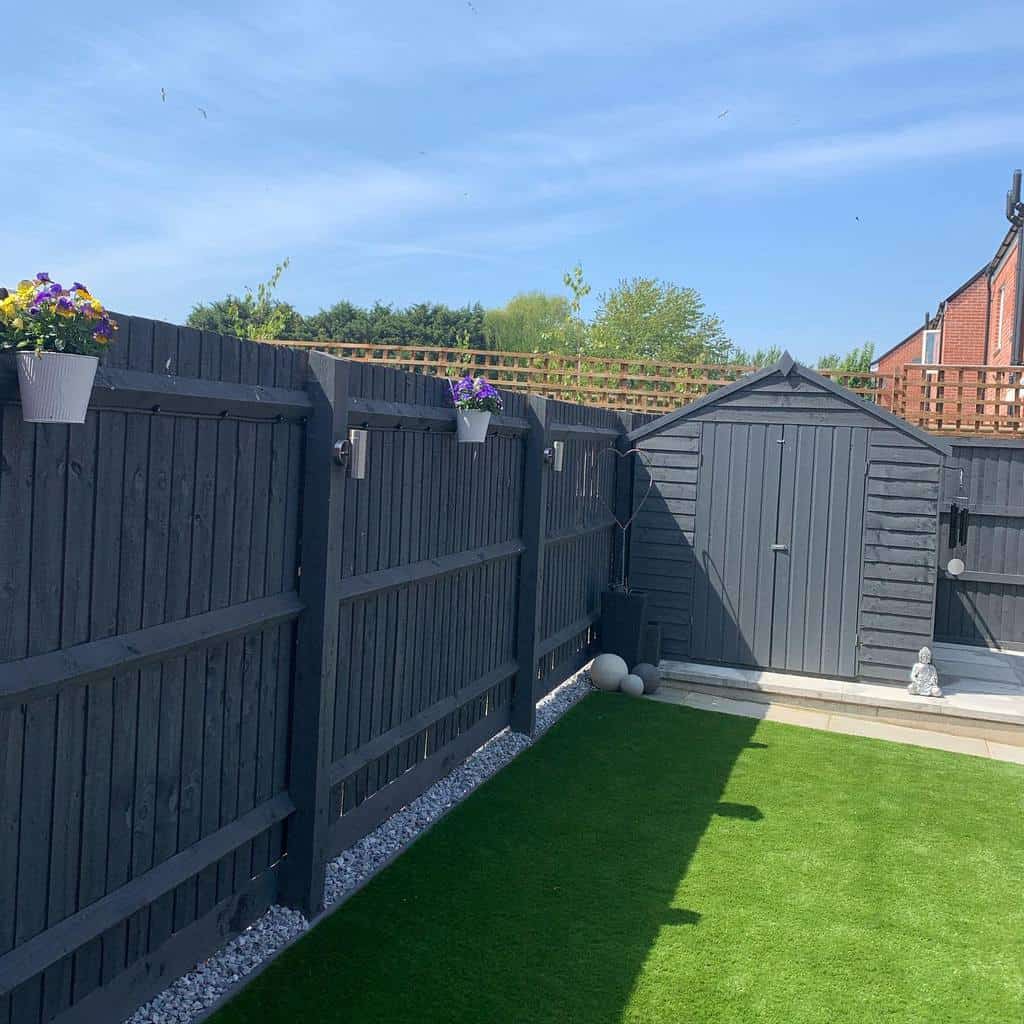 17. Classic Picket Pallet Fence
Opt for an eco-friendly and creative approach to fashion a distinctive fence filled with character by repurposing wooden pallets. Begin by gathering robust wooden pallets and carefully disassembling them to retrieve individual boards. Next, vertically assemble these boards, securely affixing them to sturdy posts, thereby creating the iconic picket fence design.
The wood's innate texture and warm tones infuse your yard or garden with a cozy and inviting ambiance. For a whimsical flair, contemplate leaving gaps between the boards or varying their heights to craft a more playful and eclectic appearance. You can further elevate the fence's aesthetic by staining or painting it in a hue that complements your outdoor style, enhancing its visual appeal and making it uniquely yours.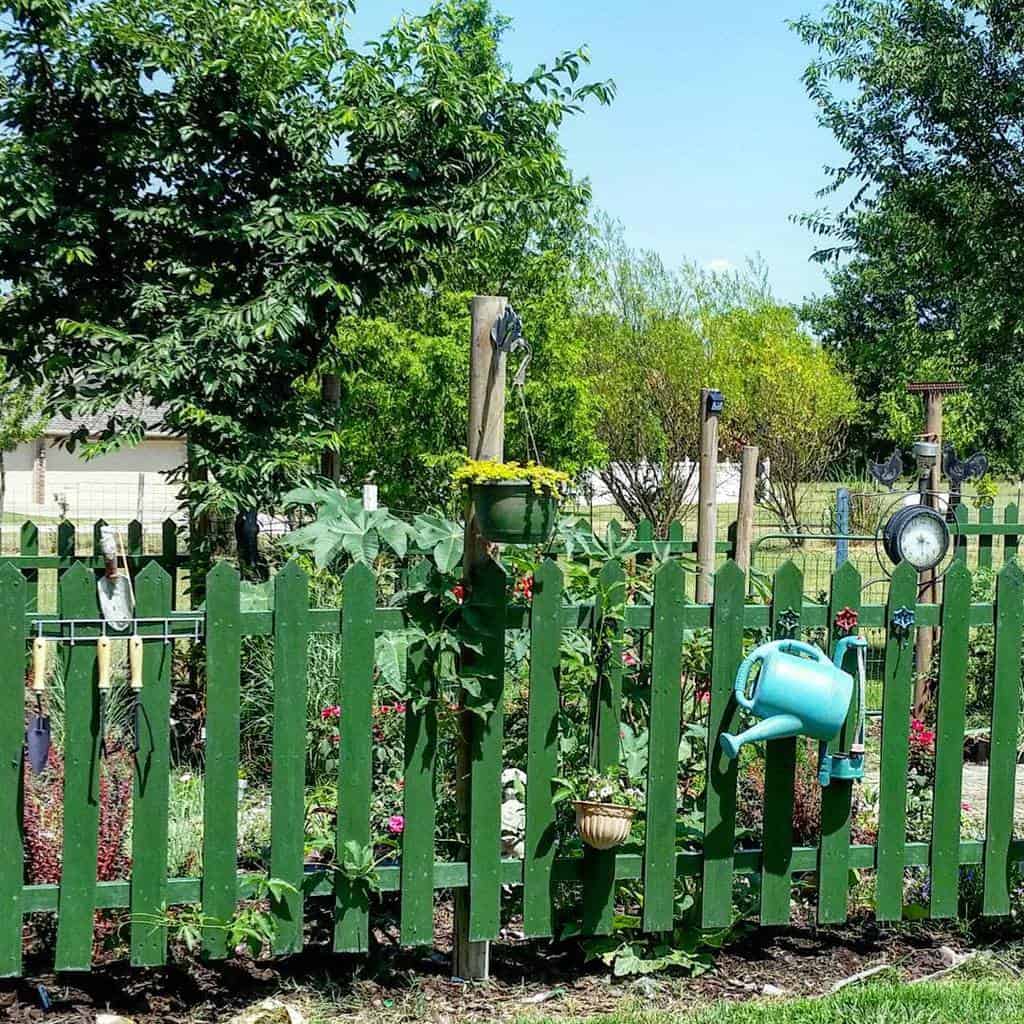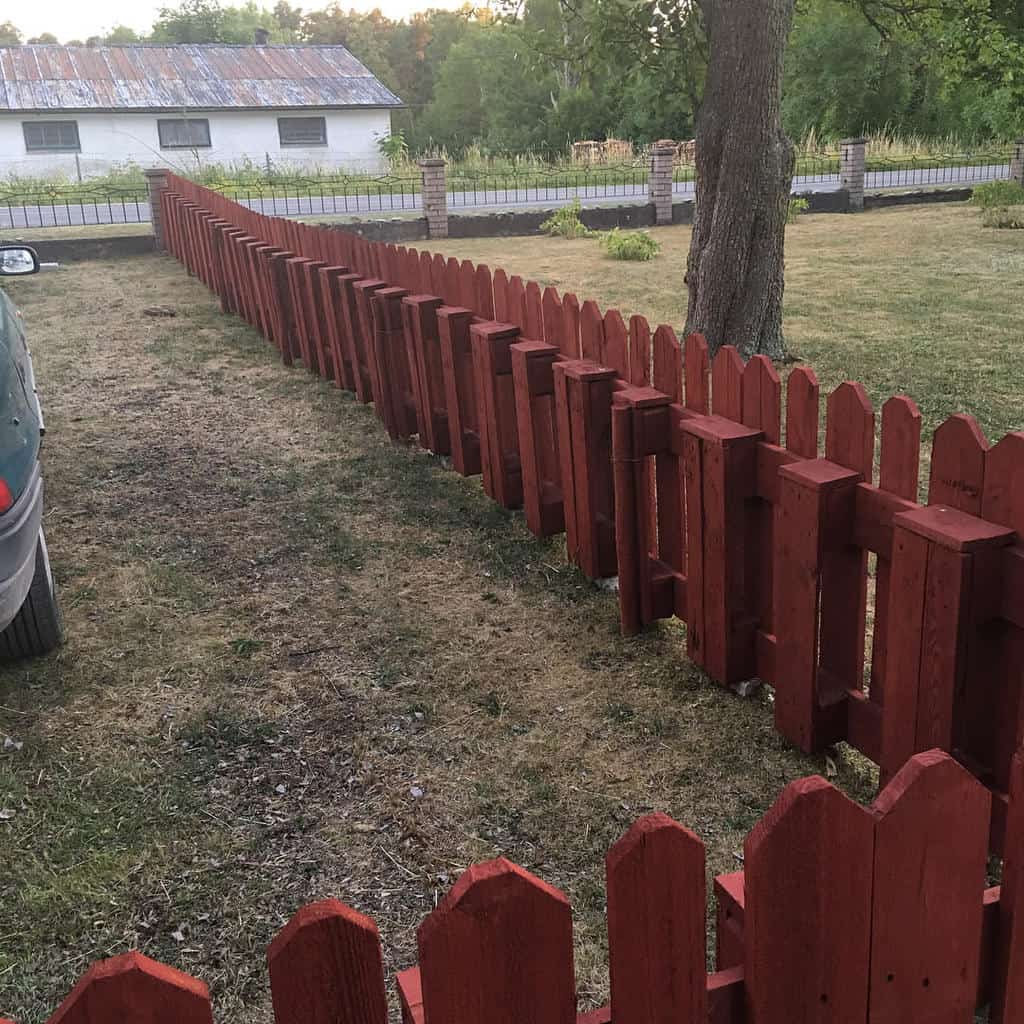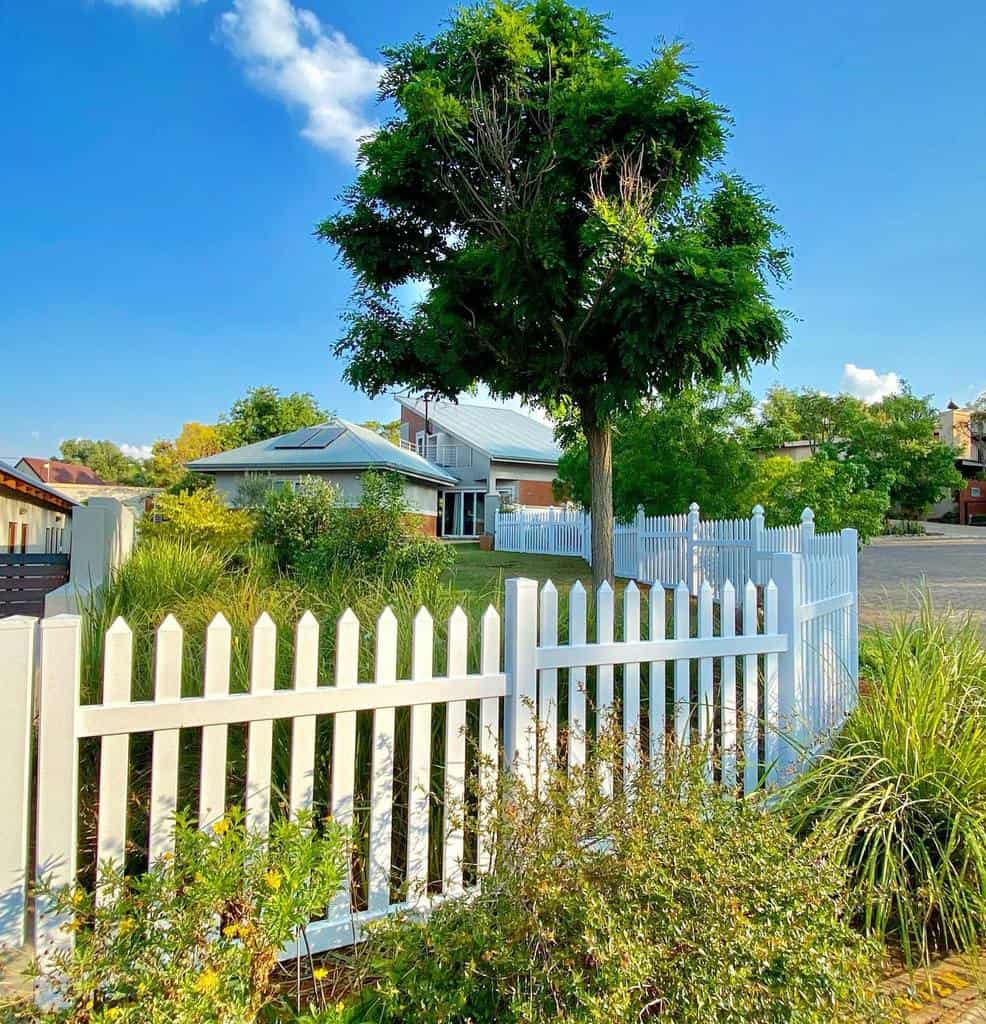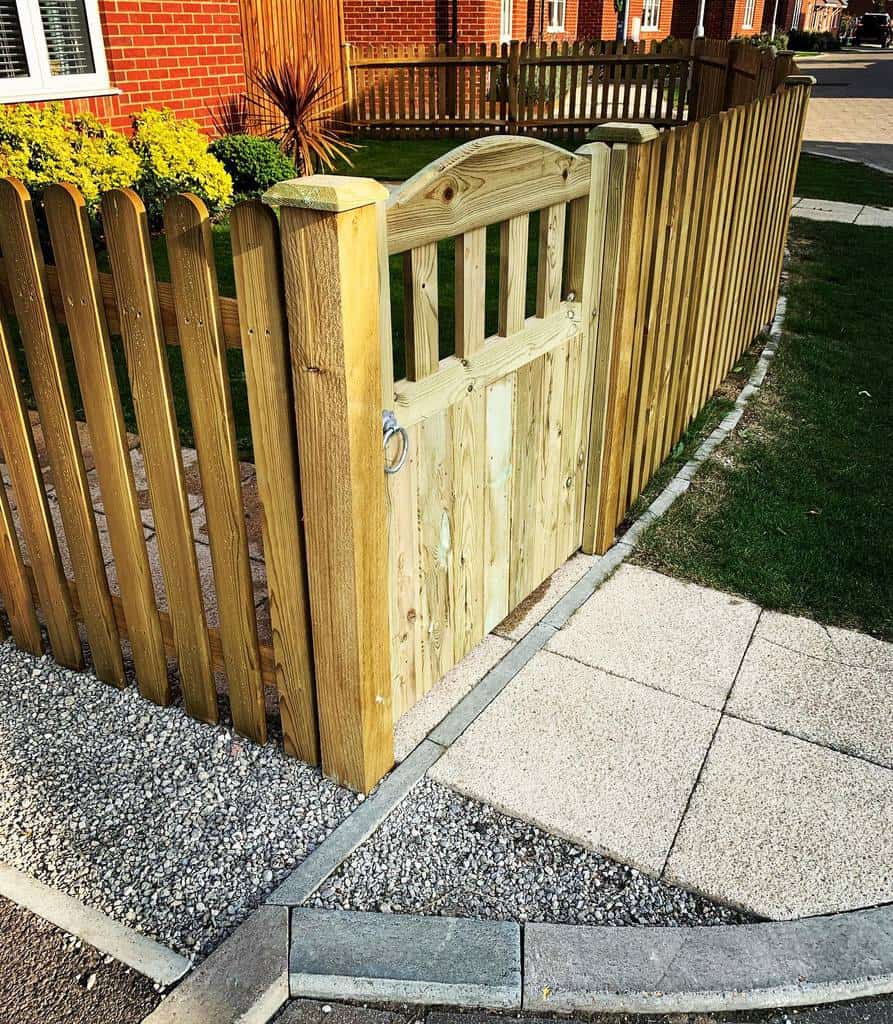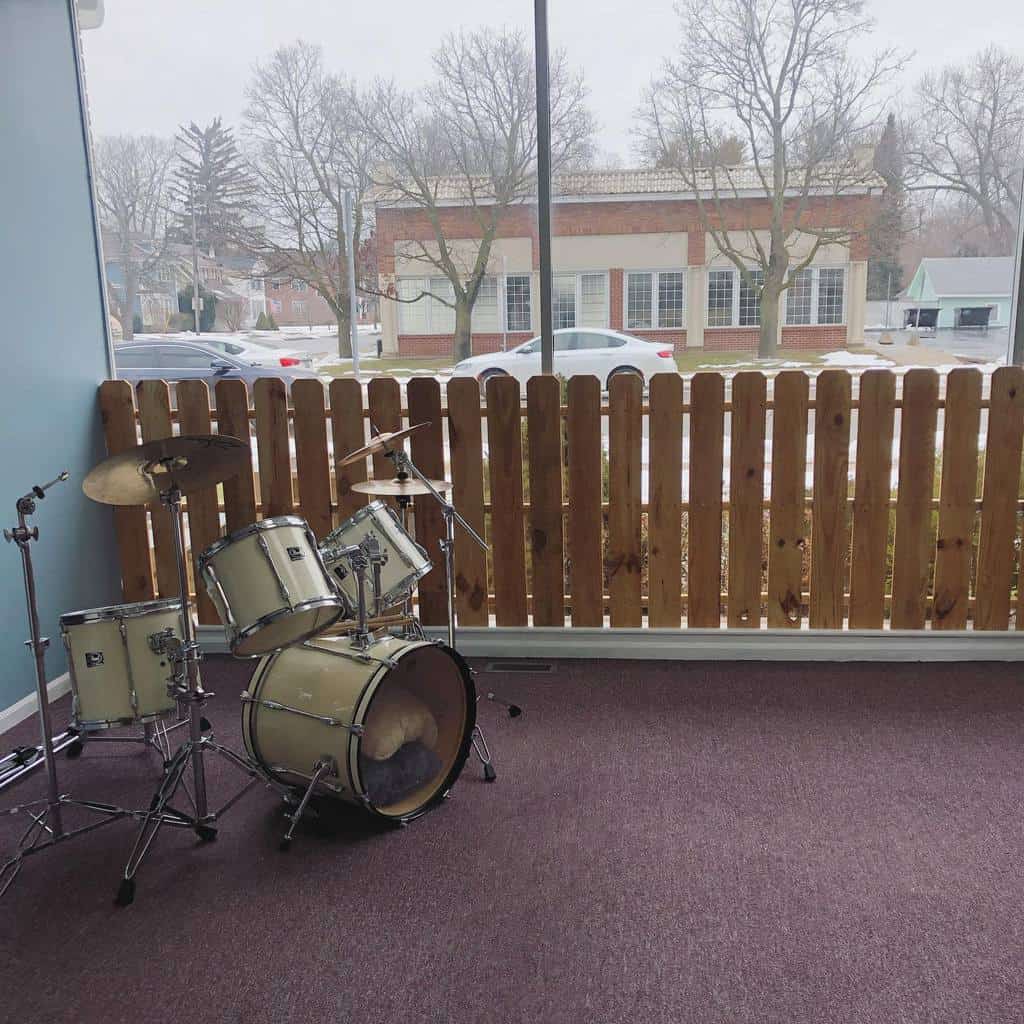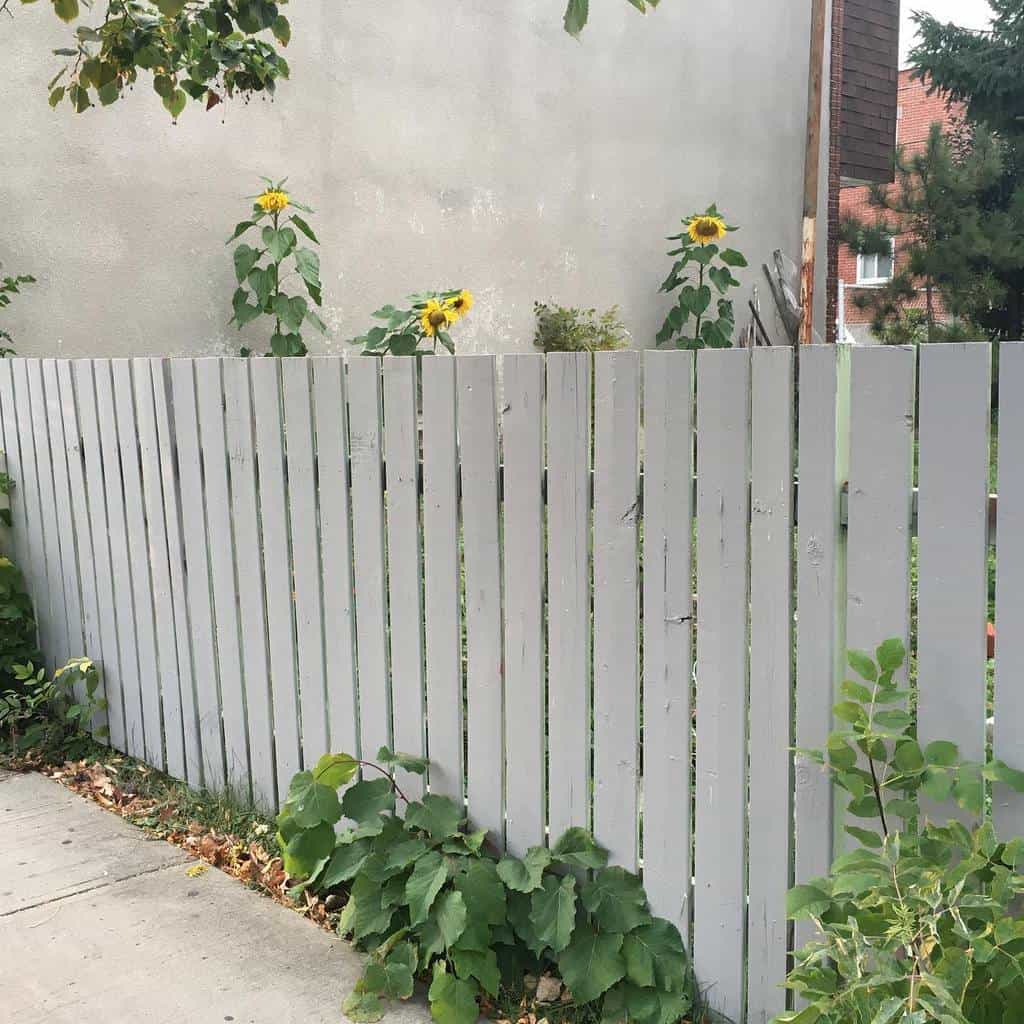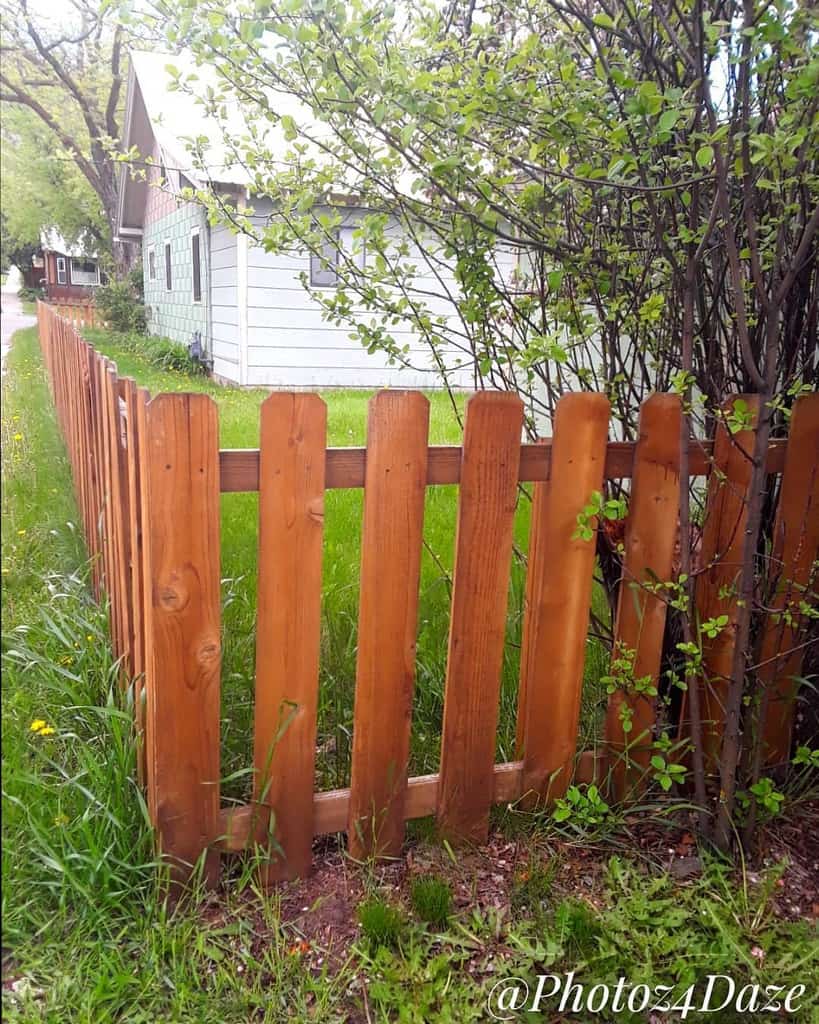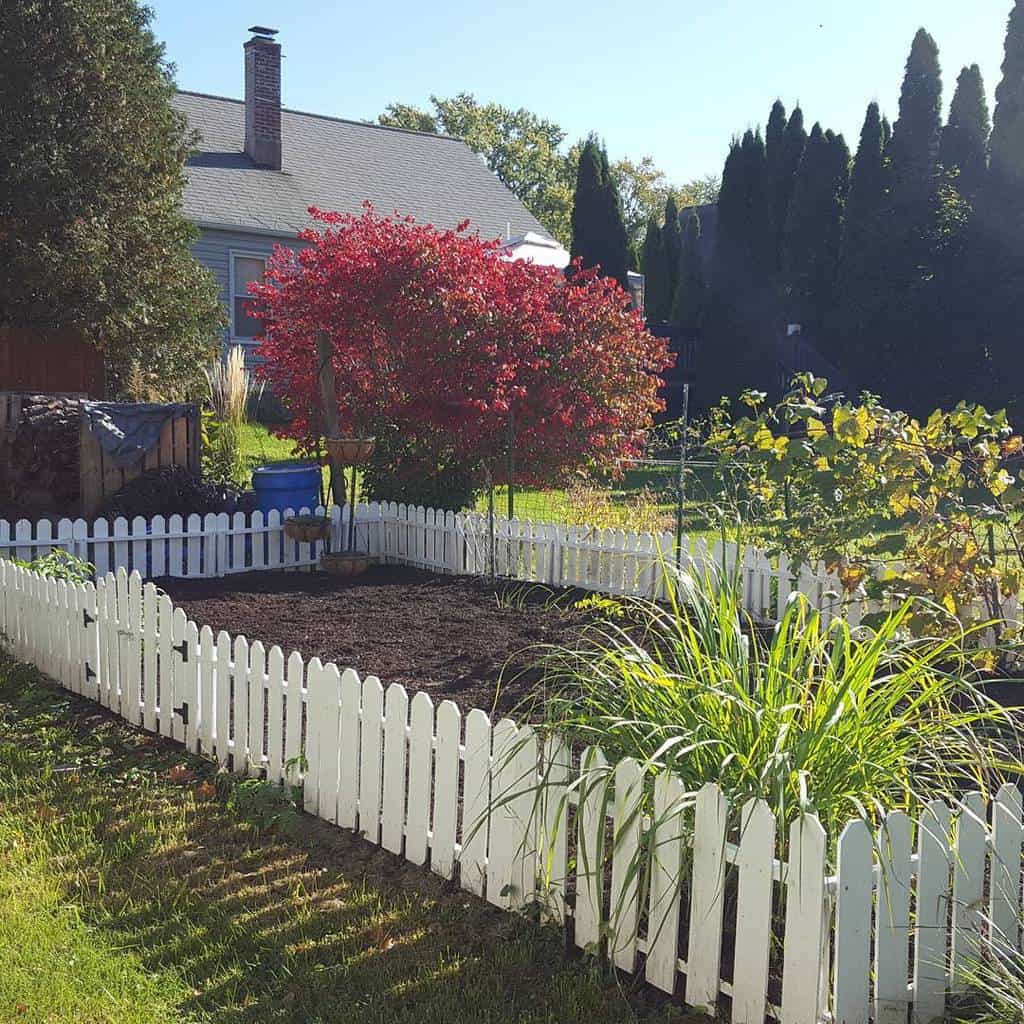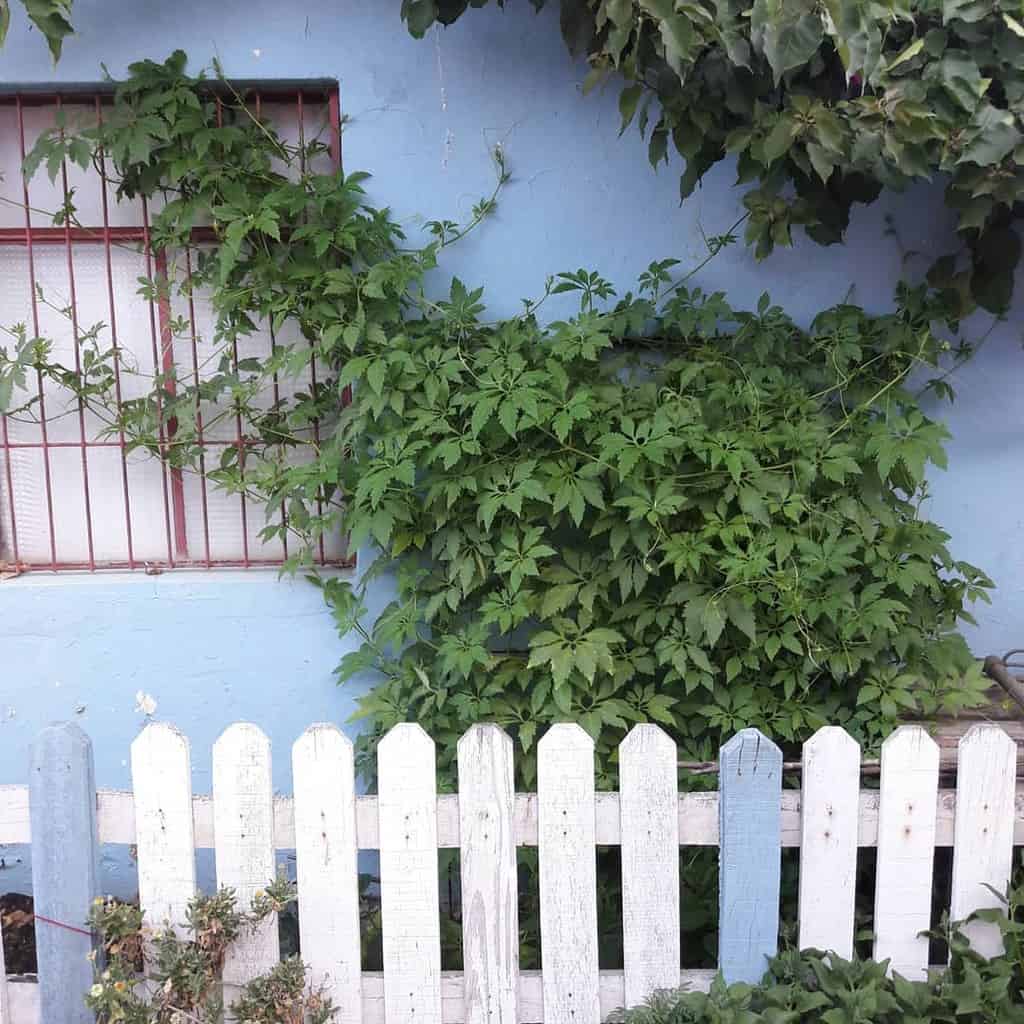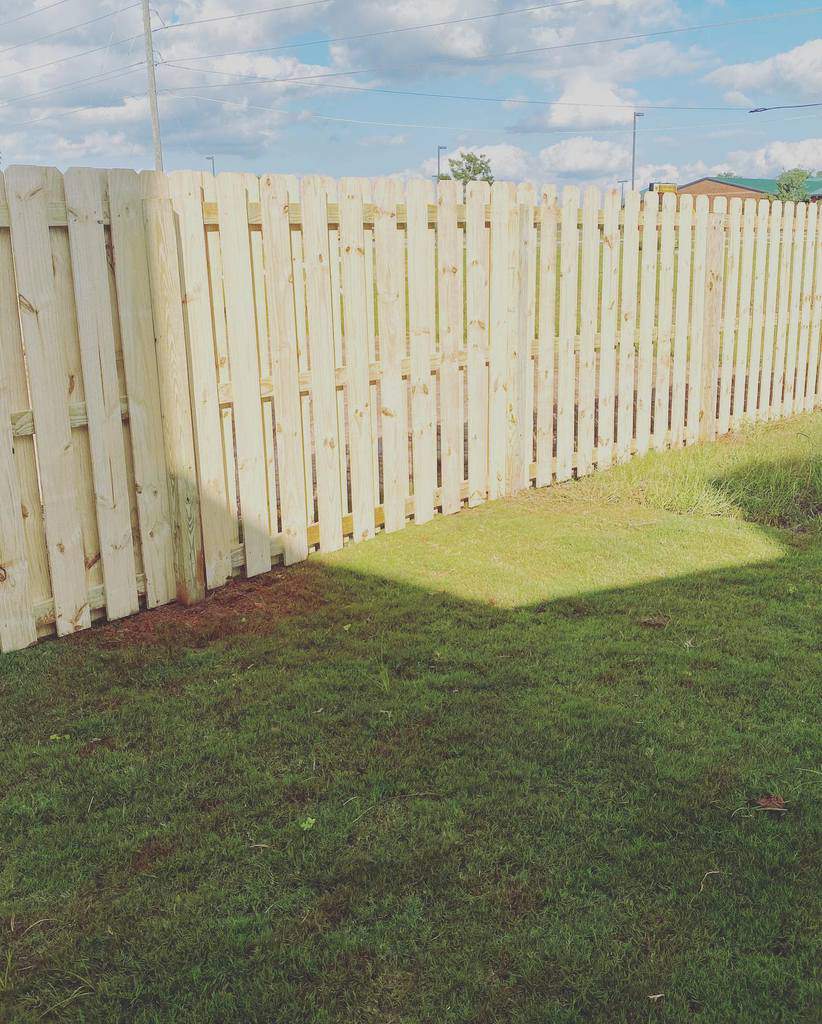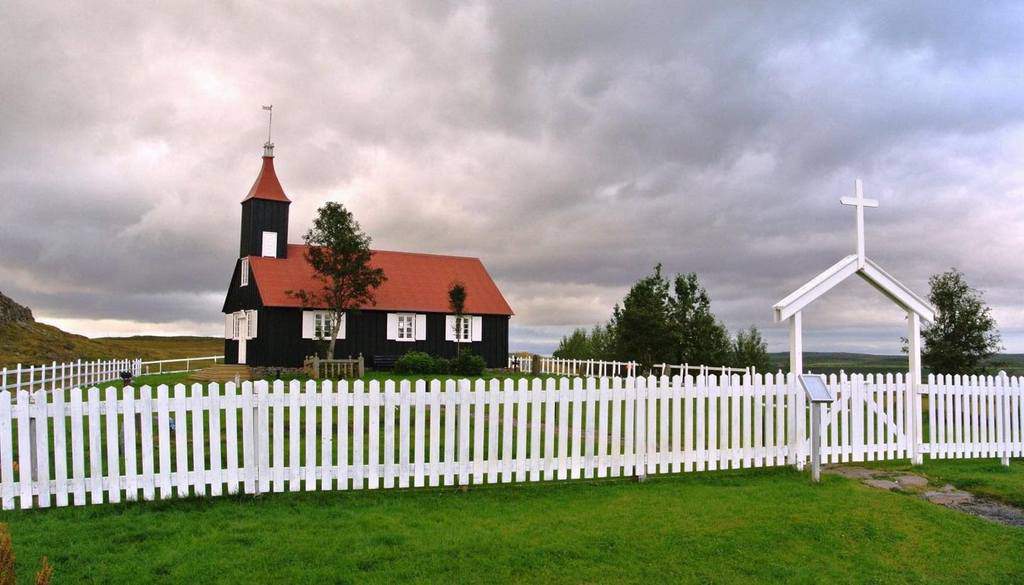 18. Lattice-Top Pallet Fence Design
Infuse your outdoor oasis with rustic charm and privacy using a wood pallet fence adorned with a lattice top. This DIY project seamlessly blends functionality with style, breathing creativity into your backyard. Start by securing wooden pallets and thoughtfully disassembling them, salvaging the robust planks for your fence panels.
Assemble the panels to your desired height and width, ensuring stability and uniform spacing. Elevate the design with an elegant lattice top, fashioned from slender wooden strips, introducing an alluring pattern that exudes sophistication. For a crisp and contemporary appearance, contemplate painting the wood pallet fence in a pristine white hue.
This not only accentuates the wood's natural allure but also infuses a touch of modernity into the overall aesthetic. The lattice top delivers decorative charm while granting glimpses of the surrounding landscape, rendering your outdoor space both stylish and functional.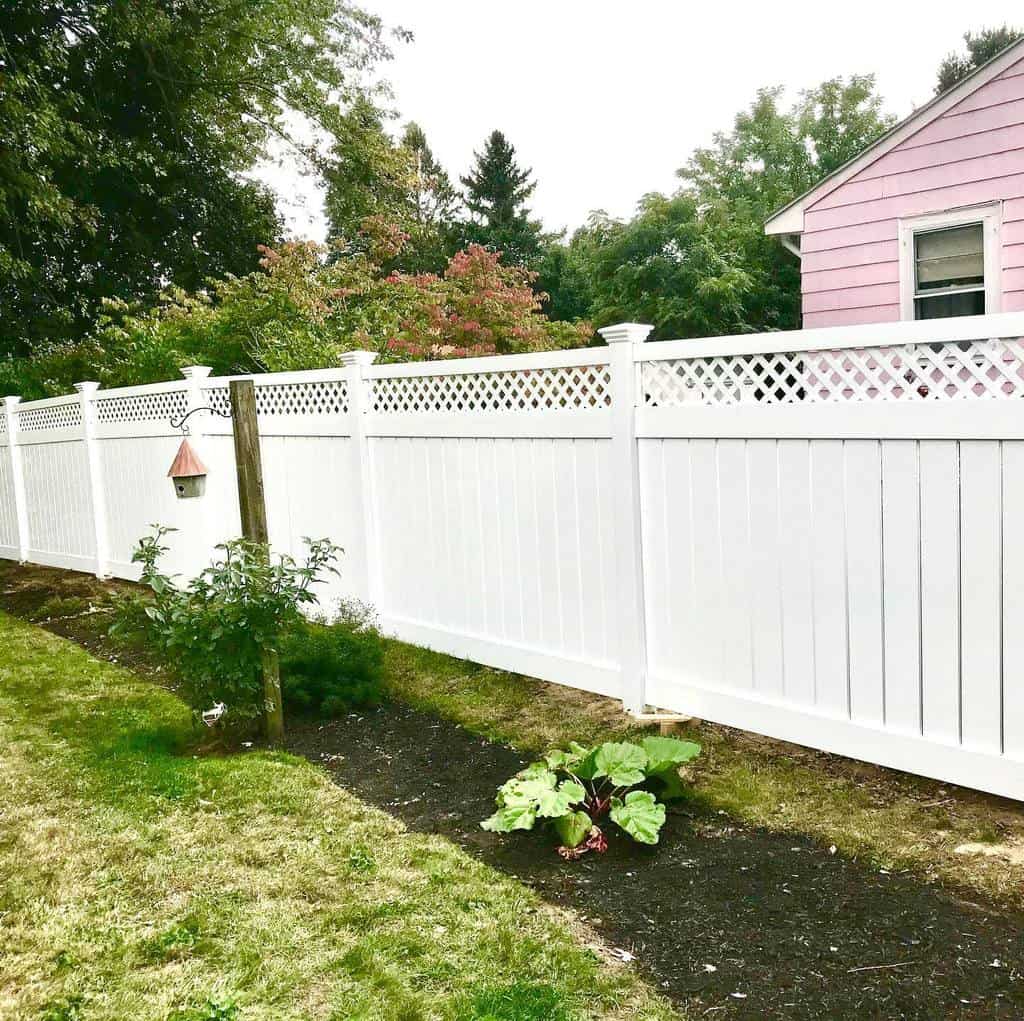 Pallet Fence FAQs
How do you attach pallets together?
Use bolts or roofing nails to hold your pallets together. Both of these are large enough to hold the thicker pieces of wood together and are durable enough to withstand the harsh weather elements. This will ensure your fence lasts for years to come.
Is taking pallets illegal?
Depending on the pallets that you take, it can be illegal. Pallets are considered property, so taking them without permission is stealing. You'll also need to check the laws in your state. Some have legislation against owning proprietary shipping containers that are treated with harmful chemicals.
How much is a pallet?
The cost of your pallet will depend on its size, type, and quality. You should be able to buy pallets for around $120. However, you could find some for as little as $5 or as expensive as $200. When choosing a pallet, you should focus less on price and more on the quality of the wood and whether or not it will work for your fence project.