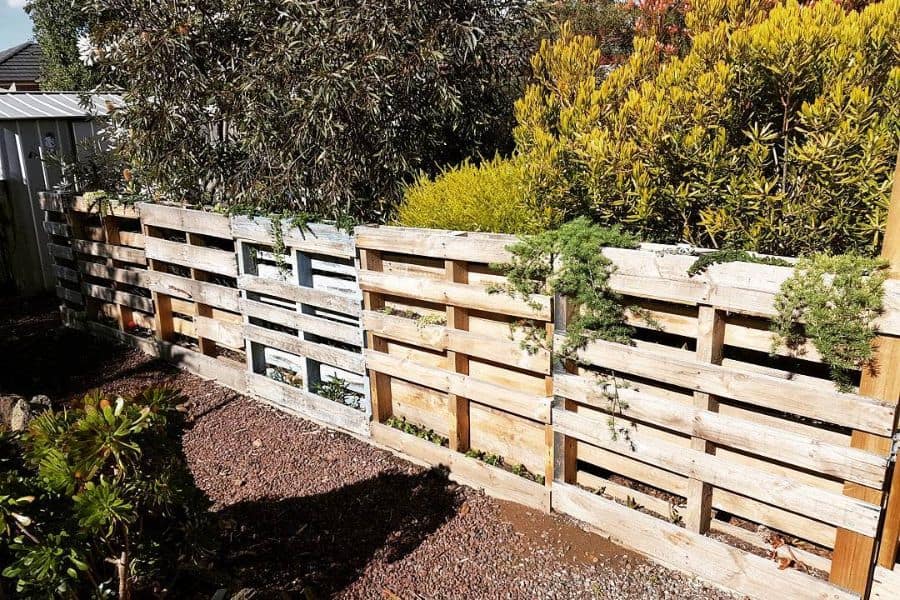 The Top 63 Pallet Fence Ideas
They say that good fences make good neighbors. A fence gives you the right amount of privacy that's required for enjoying your property in peace.
However, you don't want to put up just any fence. A chain-link fence won't give you any peace as anyone can look right through it.
What you need is a solid wood privacy fence. You can build your own wood fence from pallets. The pieces of wood are all the same size and cut.
You'll be reusing wood for a new purpose, making it environmentally friendly. So check out these wooden pallet fence ideas and get inspired to build your own fence.
1. Backyard
Build a DIY pallet fence around your backyard and create a barrier around your property. A backyard fence is perfect for keeping people off of your property. It'll also keep your pets or other animals on your property.
You can build a simple fence with posts and pallets. Space the posts out and bury them in the ground.
They should be just far enough apart that you can slide a pallet down between them and get held in place with the pallet planks overlapping the posts. Then you can secure everything together by nailing or bolting the pallet into place.
2. DIY
While a DIY fence out of pallets is relatively easy to build, there are a few things you need to know. Many DIY fence builders fail to sink their fence posts deep enough into the ground.
The taller and heavier your fence will be, the deeper your fence post needs to be. An amazing DIY pallet fence may need posts that are sunk several feet into the ground.
You also need to build it on your property or get permission from your neighbor to have the fence on their property. Only use hardware that is corrosion resistant so that it's durable enough to last.
3. Farm
If you own animals or live on a farm, then you may not want to have a solid wood fence. However, a standard three plank fence may not provide the level of security and confinement that you need for your animals.
You can build a fence frame out of pallet wood and fence posts. The body of the fence will be made out of chicken wire or chain link.
Start by mounting your fence posts in the ground. Then attach your wire to the posts. Add a fence top across the top with wood planks. You can also add cross beams in an "X" shape for additional support if needed.
4. Garden
Protect your garden by building a fence around it. A pallet fence is perfect because it will add to the rustic beauty of your garden.
Your garden fence doesn't have to be very tall, just big enough to keep people and animals from easily walking into your garden.
If you prefer to have a taller fence, then consider building planters into the fence. This will give you more growing space in your garden. You could grow smaller plants like herbs in planters that are hung on the fence.
5. Horizontal
Horizontal planks are a classic wooden fence look and easy to create with pallets. This simple pallet fence is easy to build by standing a pallet on its side.
If you aren't concerned about having total privacy, then you can leave the pallets the way they are with openings. This is great for retaining airflow.
However, if you want more privacy, you'll want to add wood planks to cover the gaps. This will create a layered look and prevent people from looking through the gaps.
Another option is to take the pallet apart and mount the planks horizontally between the fence posts. Then you can control the size of the gaps between the planks.
6. Painted
While you could leave your pallet fence as raw wood, this isn't the best idea. Pallets are designed to be durable, but that doesn't mean the wood is durable enough to be a fence. If you want to have a wooden fence, you should seal or treat the wood to preserve it.
Another option is to paint the fence. The right kind of outdoor paint will seal the wood and protect it. You don't have to worry about bugs making their home in the wood or moisture causing the wood to rot. Both of these will deteriorate the integrity of your fence.
7. Picket
You can build a decorative picket fence with your pallet wood. Create a decorative look with your fence design by cutting the top of the planks.
You could create a scallop shape on the top or give each plank a point. This DIY pallet fence idea is perfect for giving your yard a decorative border.
You can also build a simple fence gate for your walkways. This gives the fence a finished look and makes it easy to walk in and out of your yard.
Add a gate at your walkway at the front of your home. Then add another gate somewhere else in the fence. You should always have two entry points for safety purposes.
8. Privacy
Give yourself some peace and quiet by building a privacy fence around your yard. These fences are taller than your average fence.
Typically, they're about six feet tall to prevent the majority of people from easily looking over the fence and into your yard. You can build a privacy fence out of pallet wood by stacking two pallets on top of each other.
Another option is to take the pallets apart and build a custom wood fence out of the planks.
For a modern look, start with tall posts that are evenly spaced. Then create a chevron pattern between the posts with the planks. This will create a natural pattern and use a modern design to keep your fence looking fresh.
9. Recycled
Technically, all DIY pallet fence ideas use recycled pallets. You are using pallets that were originally designed and used for one purpose in a new way to give them a new life. You can recycle old wooden pallets by using them for your fence.
However, you'll want to make sure you use the right recycled wooden pallets. Not all pallets are built and treated the same. Some are meant for use in harsh environments, making them more durable for use outdoors as a fence. Others are only meant for use indoors, and therefore, not meant for use as a recycled pallet fence.
10. Tall
You have two options when building your tall fence. Stack one pallet on top of the other. The standard wood pallet measures 48 by 40 inches.
Lay two pallets on their long side, and you'll have a fence panel that's four feet wide and 6'6" tall.
All you'll need to do is anchor them to posts buried in the ground and fill in the open gaps with planks from deconstructed shipping pallets.
Your other option for your fencing is to build a fence from scratch. Take your old pallets apart and use the planks to build the fence panels. You could create any pattern you want by attaching the planks at different angles.
11. White
A white fence looks fresh and clean. The bright white color is easily achieved by painting your pallet fence white. Use durable outdoor paint that you can simply rinse off when it gets dirty. This makes your fence easy to care for and keep clean.
You should also look for paint that will seal the fence. This will protect the pallet wood from insects, bugs, and decay.
For a traditional look, you could have a white picket fence. But you can also create this look on taller fences for a bright white wood pallet fence. Just remember that you'll need to occasionally repaint the fence to keep it looking clean and white.
Pallet Fence FAQs
How do you attach pallets together?
Use bolts or roofing nails to hold your pallets together. Both of these are large enough to hold the thicker pieces of wood together and are durable enough to withstand the harsh weather elements. This will ensure your fence lasts for years to come.
Is taking pallets illegal?
Depending on the pallets that you take, it can be illegal. Pallets are considered property, so taking them without permission is stealing. You'll also need to check the laws in your state. Some have legislation against owning proprietary shipping containers that are treated with harmful chemicals.
How much is a pallet?
The cost of your pallet will depend on its size, type, and quality. You should be able to buy pallets for around $120. However, you could find some for as little as $5 or as expensive as $200. When choosing a pallet, you should focus less on price and more on the quality of the wood and whether or not it will work for your fence project.