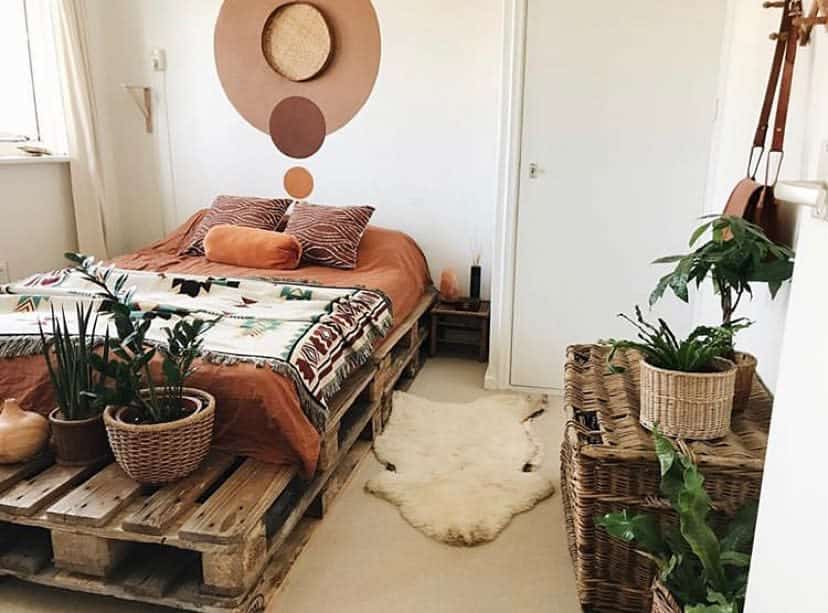 66 Easy DIY Pallet Ideas and Projects
"It is better for you to be free of fear lying upon a pallet, than to have a golden couch and a rich table and be full of trouble." – Epicurus
Recycling and upcycling is a trend that will never go away as we become more aware of our environment and our effect on it. One of the easiest and most popular ways to embrace this trend in your home is by using wood pallets. The wood is already cut into planks, so you can immediately get to work assembling them into something new.
Check out these wood pallet ideas and get inspired to tackle some projects around your home. Don't make the mistake of thinking the pallet projects are all rustic or farmhouse appropriate. Several pallet ideas will look beautiful in a contemporary, American traditional, or modern home.
1. Desk Made from Pallets
While you could build a desk completely out of pallets, it won't look sophisticated, and it'll feel clunky. Instead, give your pallet desk an upgrade by starting with a metal frame. Then use the pallet wood to create the shelves and desktop.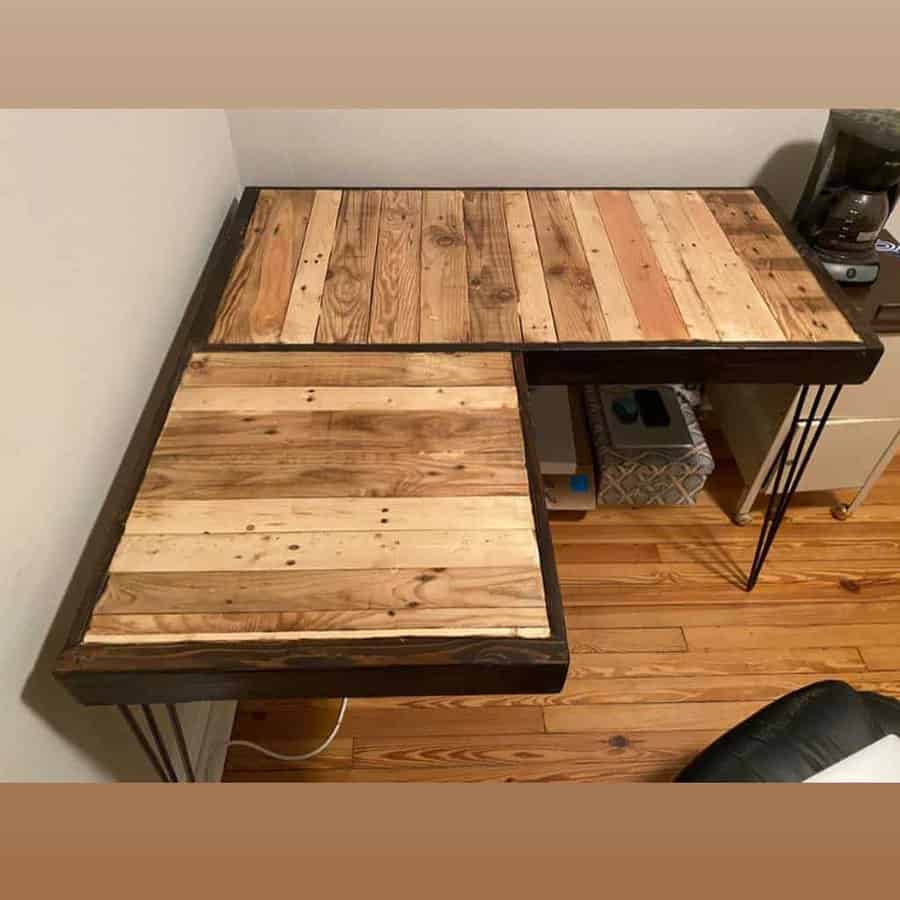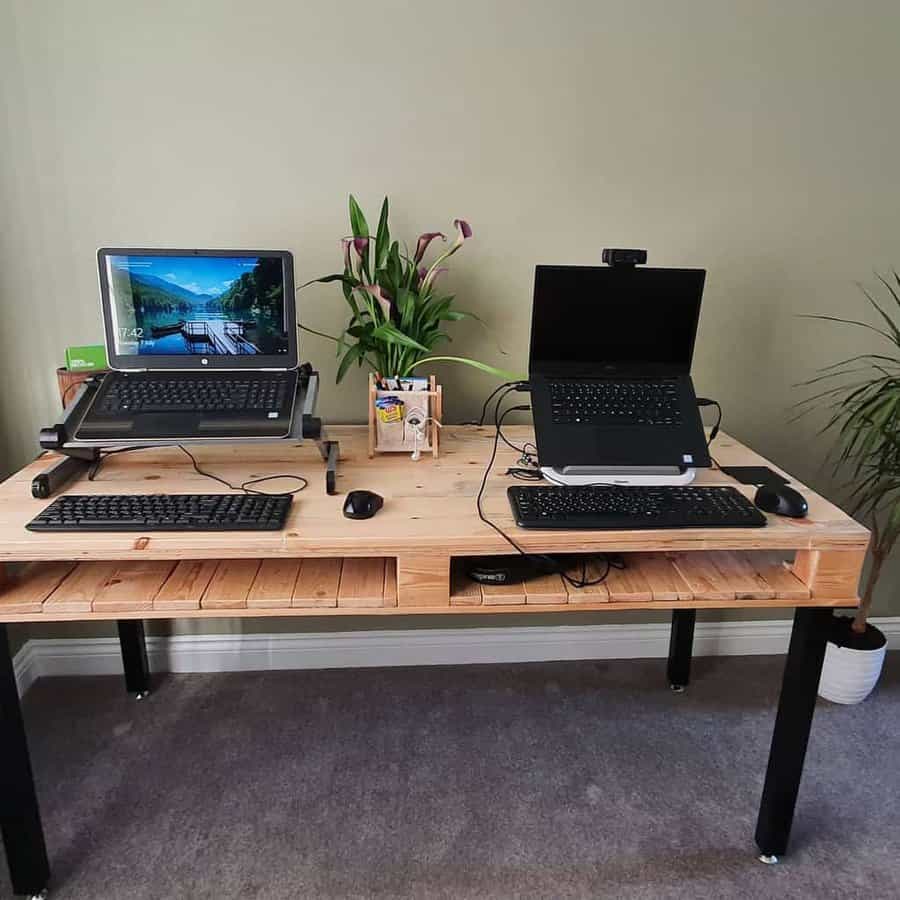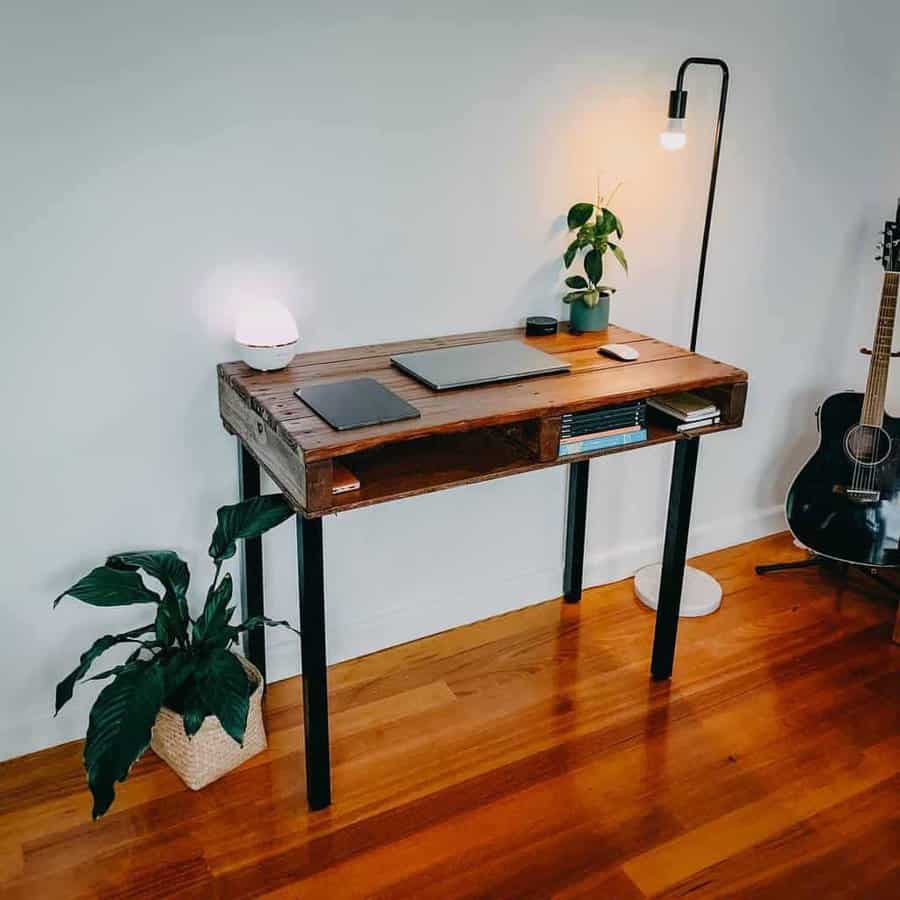 If you have your heart set on a rustic pallet desk, start with two sawhorses for the legs. Then place pallets on top to create the desk surface. Finish the desk with a piece of glass on top of the pallets. This gives you a smooth surface for working on.
2. Fences Made from Pallets
Using reclaimed pallets to build a fence can be a simple solution. All you have to do is mount the fence posts in the ground and then slide the pallets down between the posts. The plank hangover will wrap around either side of the post and hold it in place.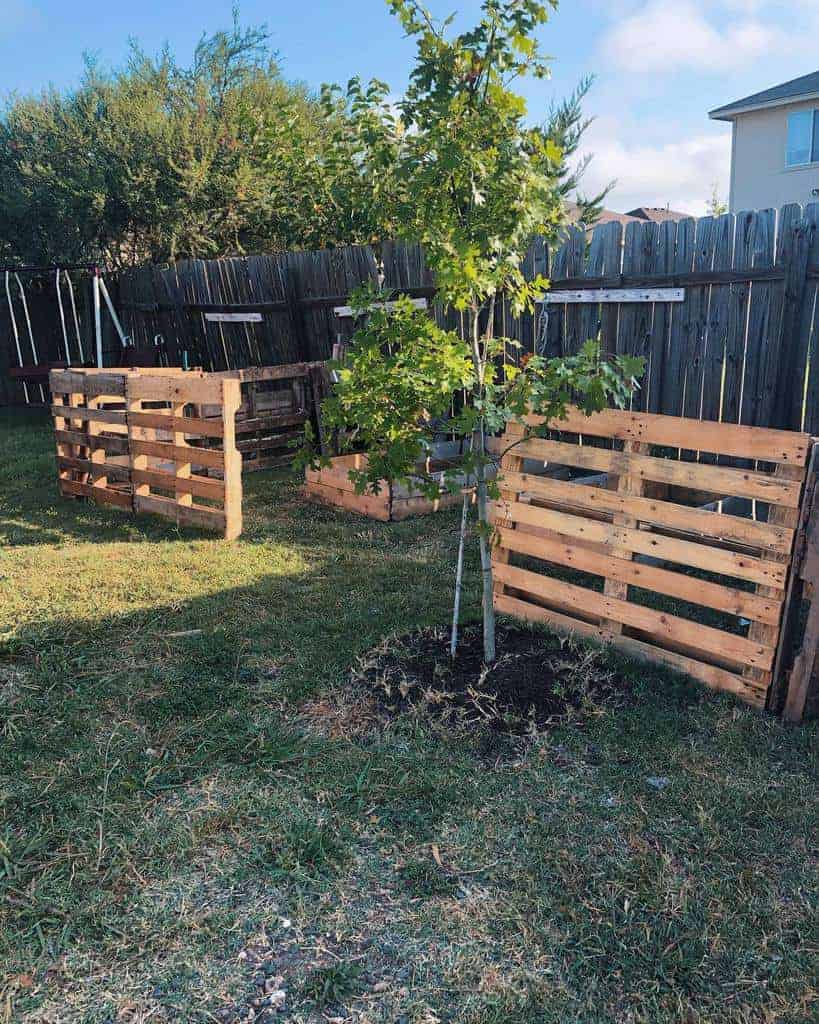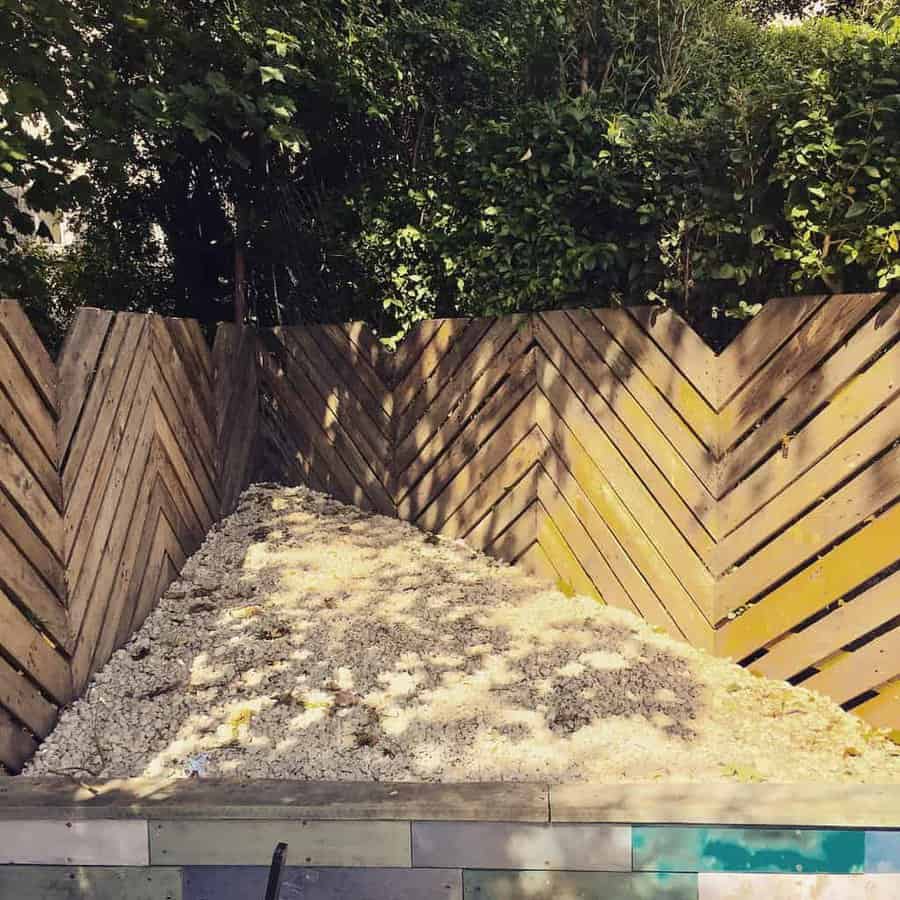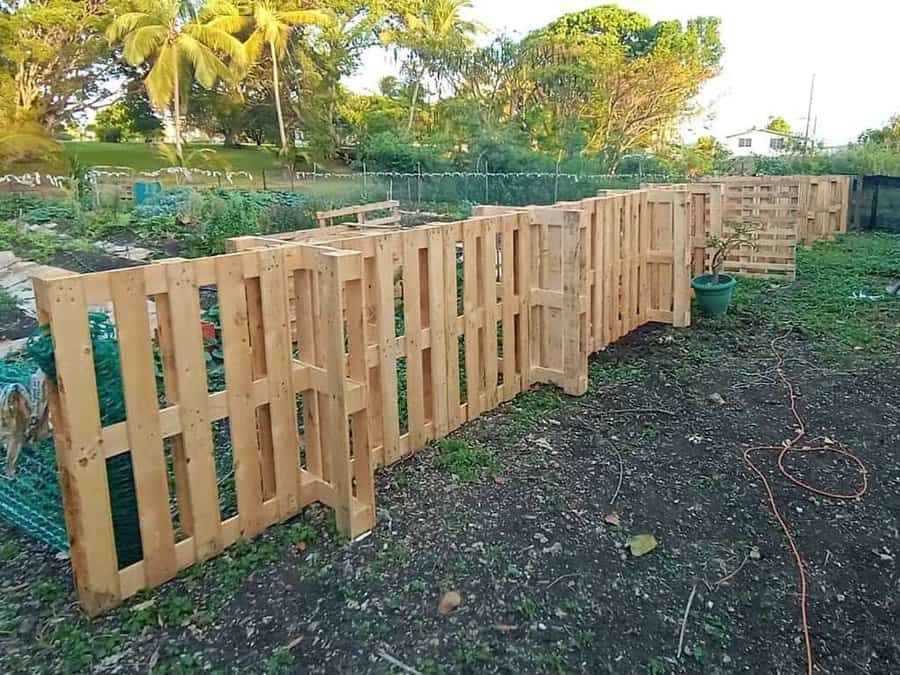 For more style, paint the wood so that your fence is one color. Otherwise, you may find that the pallets are all different colors based on the type of wood they're made from and the pallet's age.
3. Tables Made from Pallets
Build a rustic table out of your pallet wood. The easiest table to build is a pallet coffee table for your living room. These are smaller and low to the ground. You can build it to the exact size and shape that works with your living room.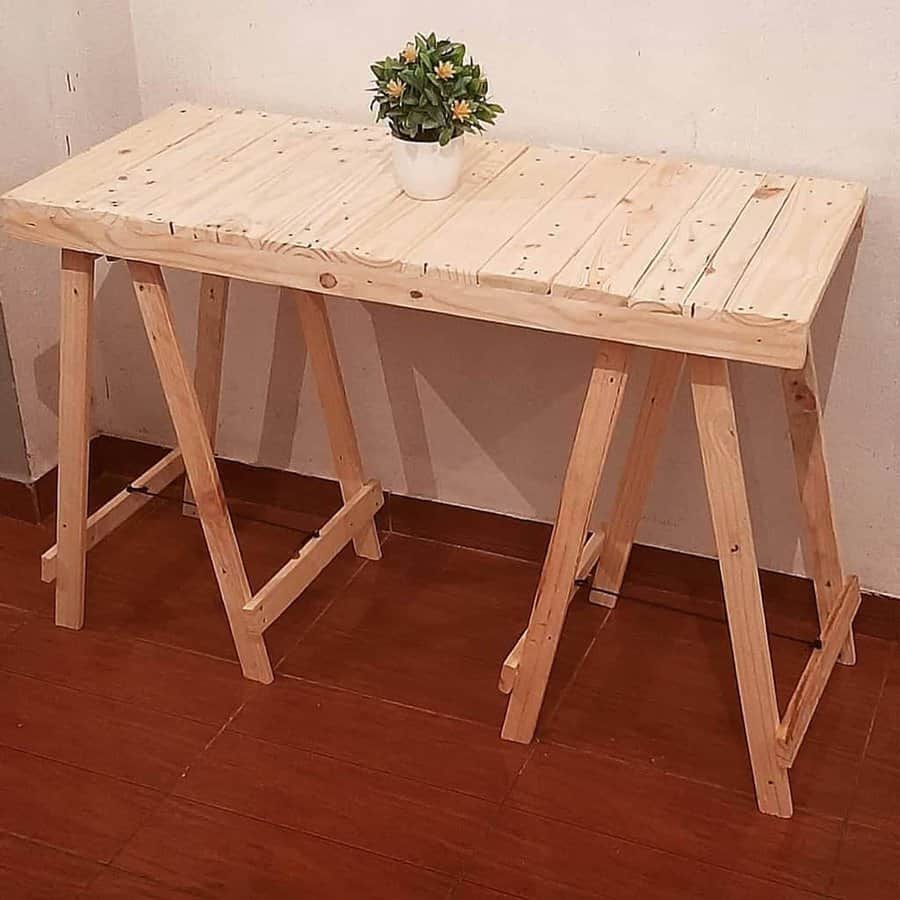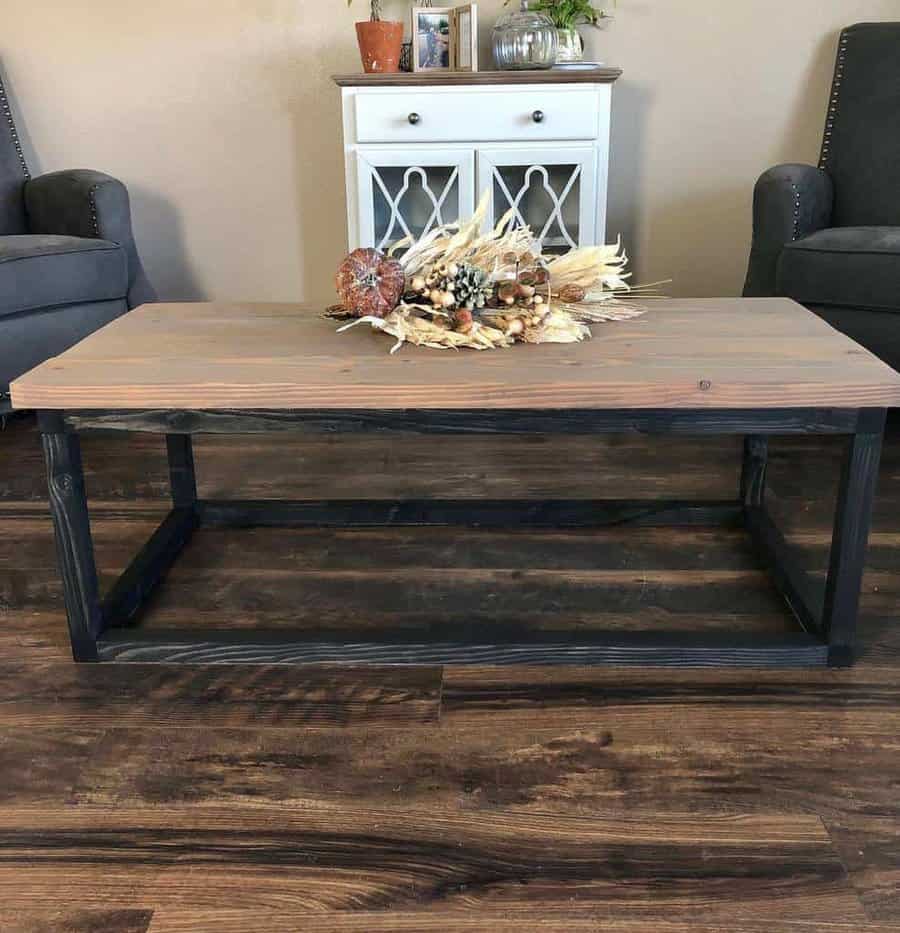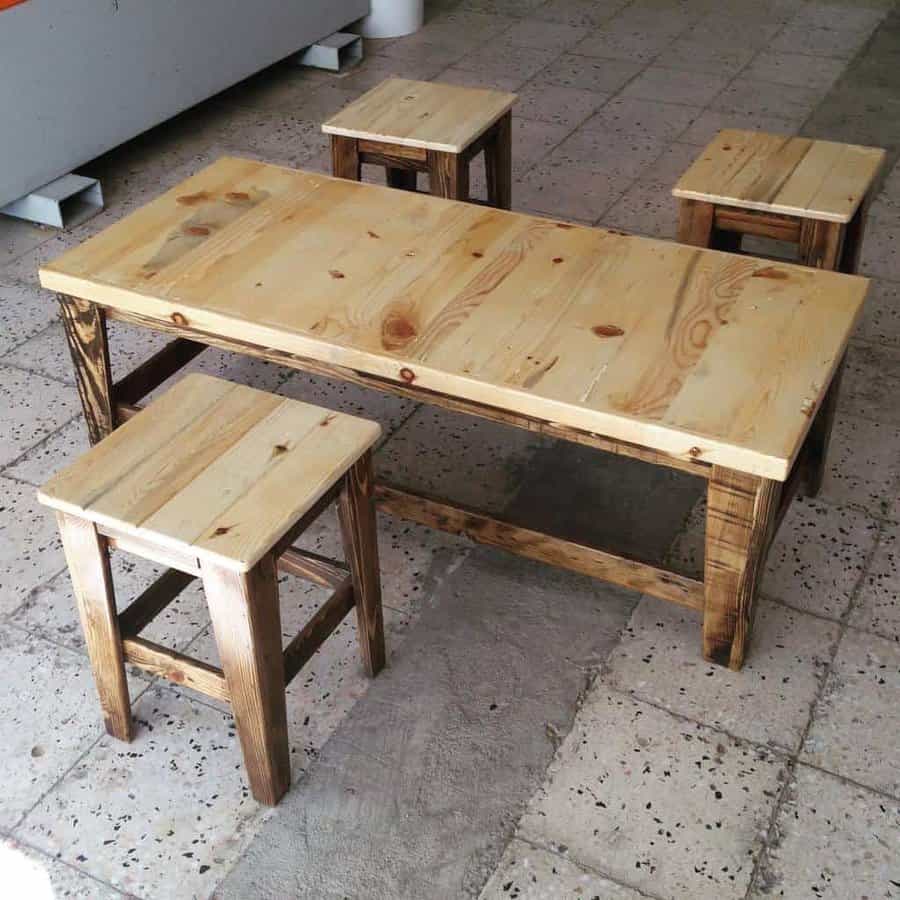 For a more adventurous project, you could build a console table. This is a narrow table that you place behind your sofa, in a hallway, or at your entryway. Complete the upcycled pallet look with mason jars that have candles or flowers in them.
Elevate the look of your upcycled wood table by adding metal legs. This gives it an industrial look. Or place a sheet of glass over the top of the table for a smooth and stable surface.
4. Home Bar Ideas Using Pallets
Build a simple fold-out bar by mounting a pallet on the wall. Then add a hinged door that closes the bar in and hides what's stored inside. This is one of the most popular recycled pallet ideas because you can try it both inside and outside of your home. It's a simple way to create an entertainment space on your backyard patio or deck.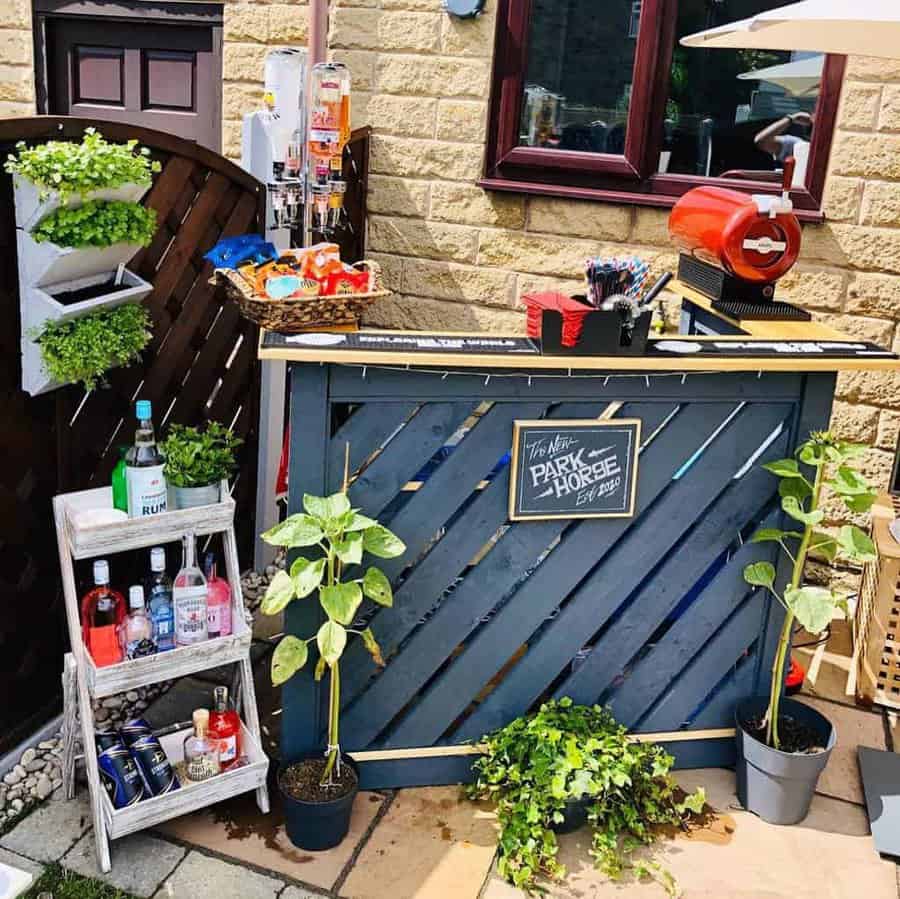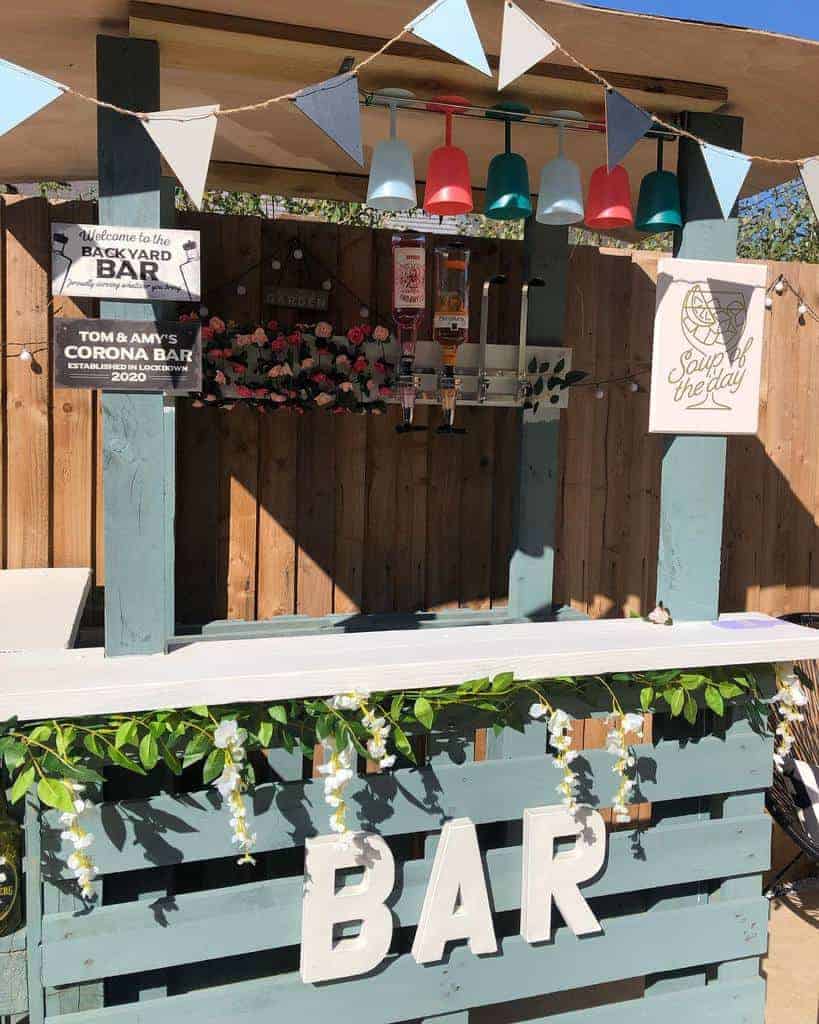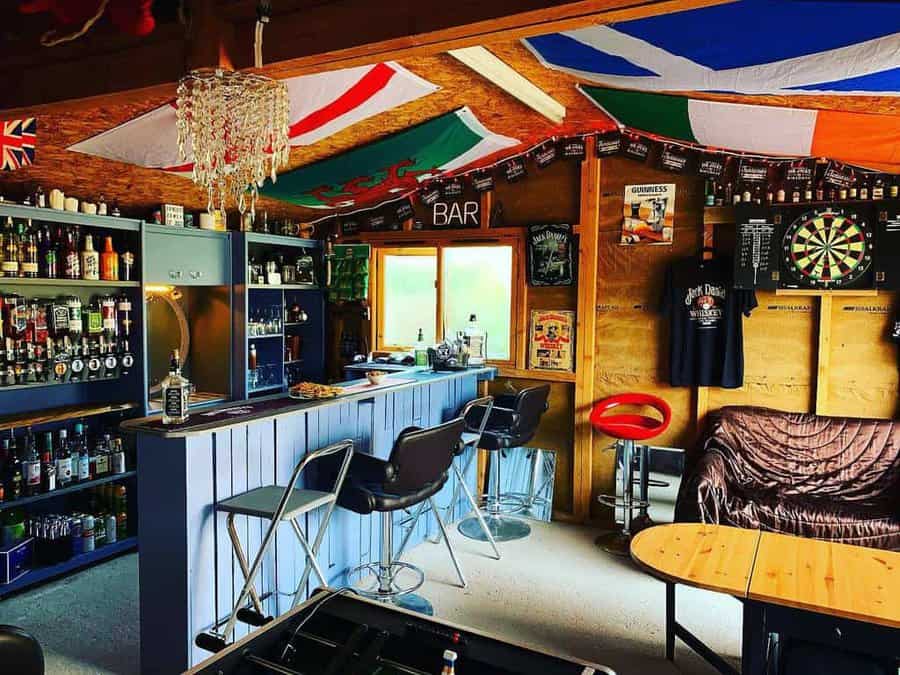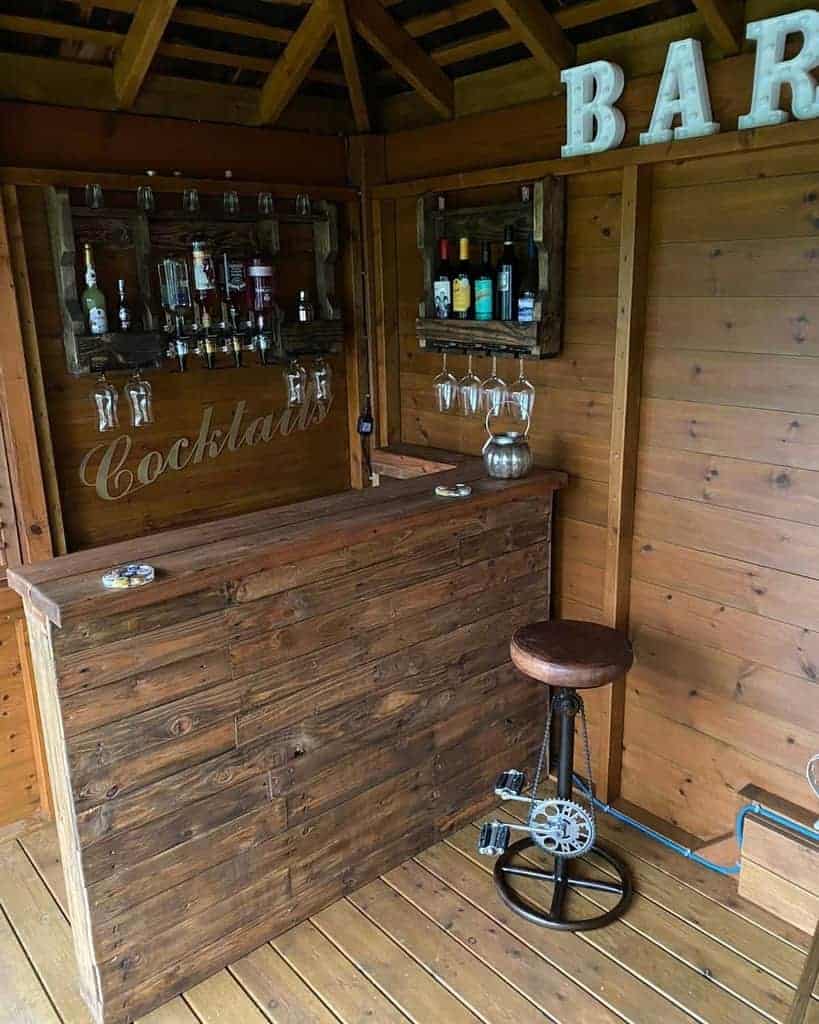 For a more advanced project, try building an entire bar. Start with a solid front. Then build shelves, worktop, and bar counter. Keep it simple by standing the pallets on their side. Or get more creative by taking the pallets apart and custom building a bar that fits your space.
5. Shelves Made from Pallets
Add a rustic look to your room by mounting a pallet shelf or two on the wall. You could make them floating or purchase shelf brackets. This creates a minimalist look and lets you add small accents to small spaces.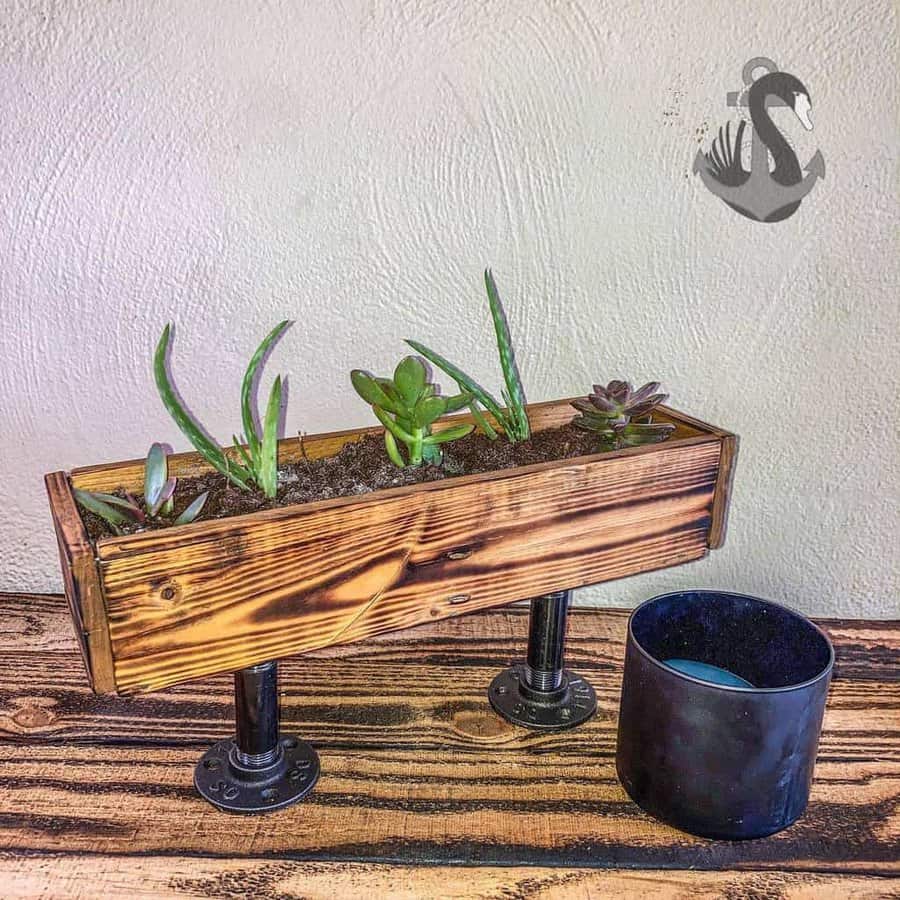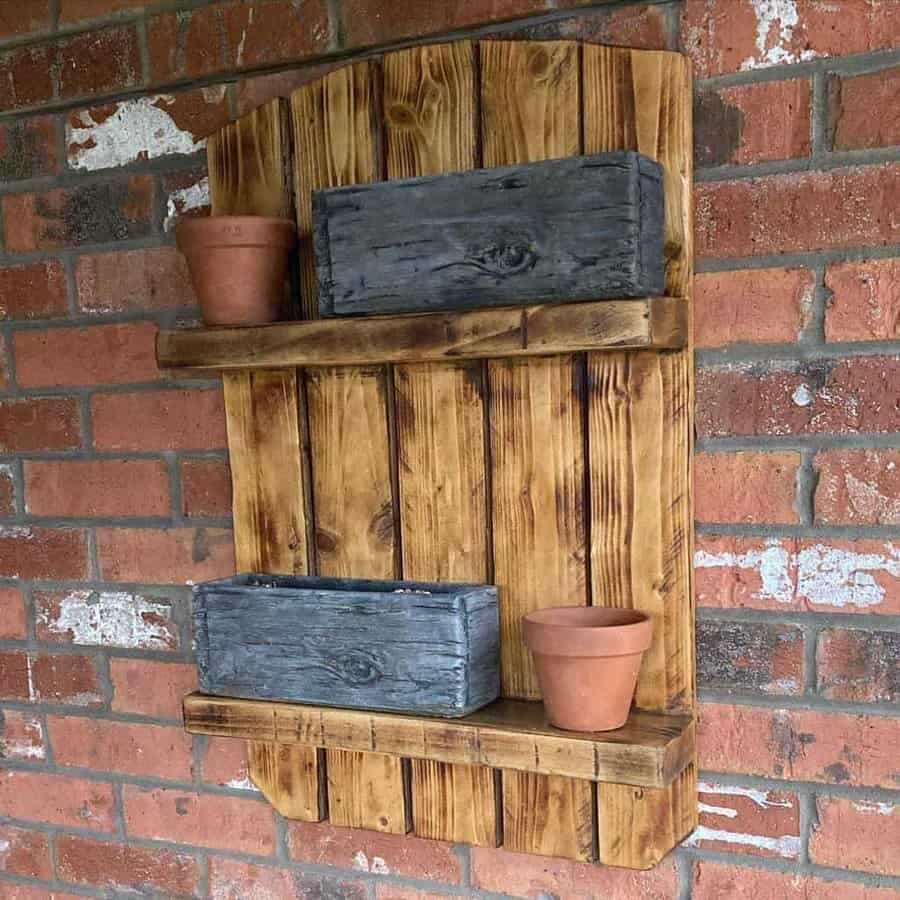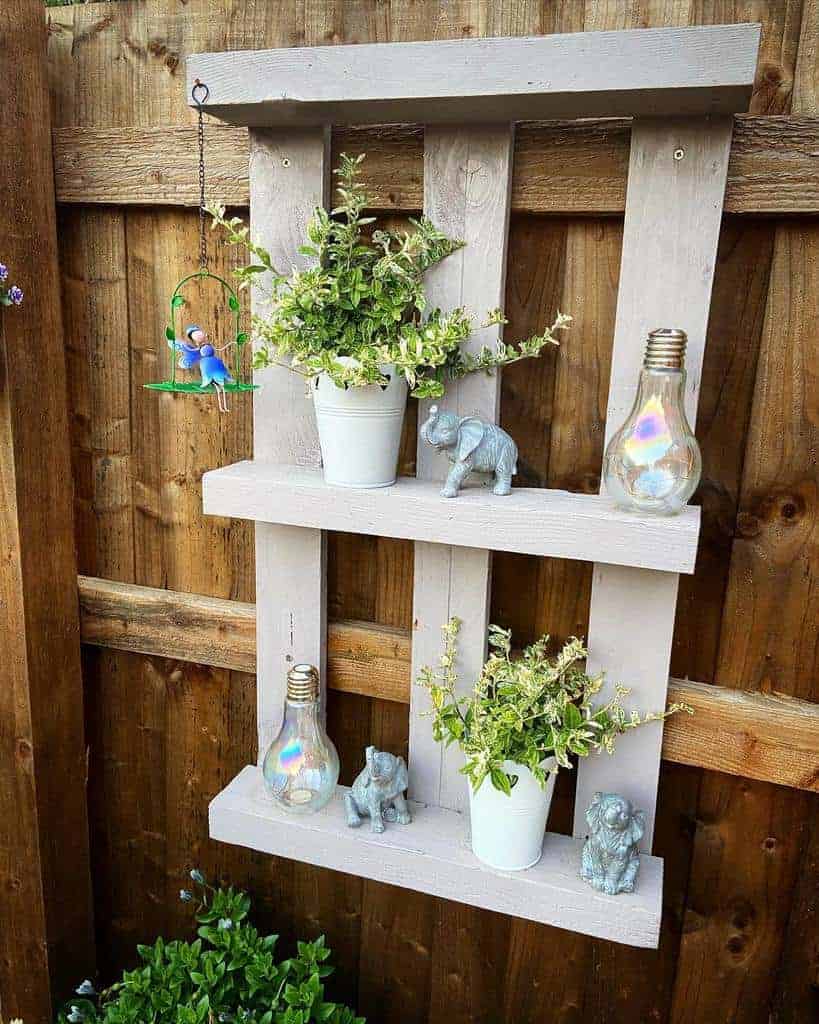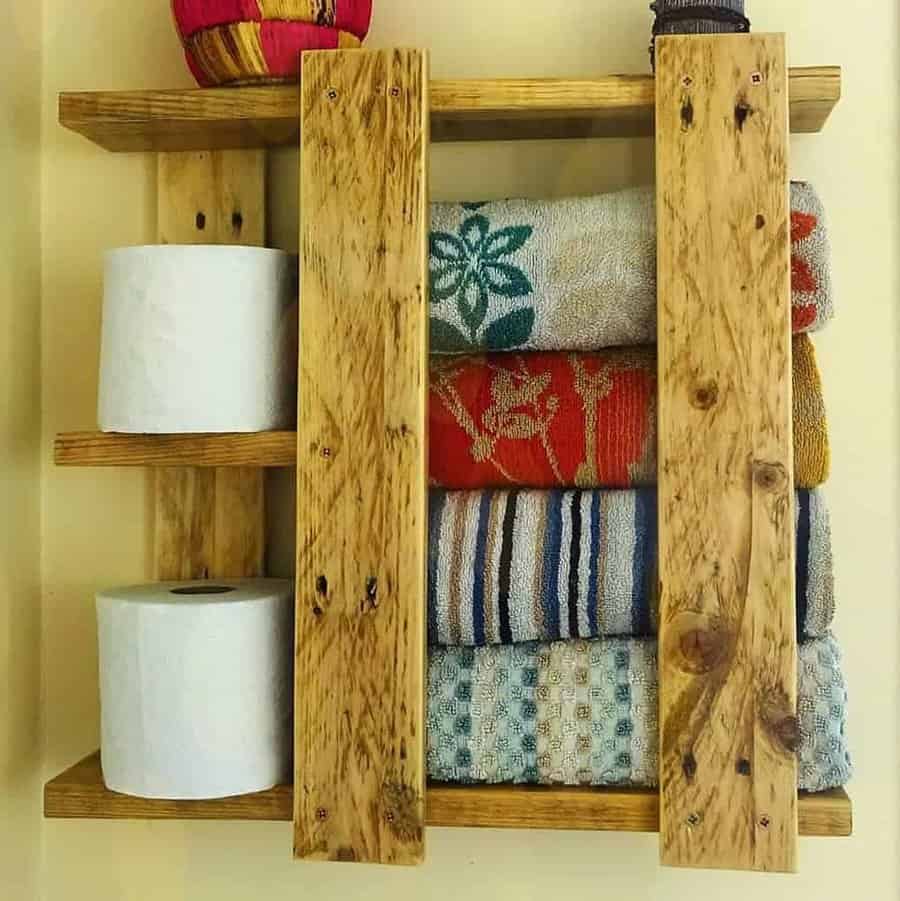 Another option is to build a bigger unit, such as a pallet bookshelf. Take apart one of your old wooden pallets and line the planks up next to each other to create a solid board. Then mount smaller pieces of the wood planks to create the shelves. You could have several evenly spades shelves for a traditional look. Or you could have sporadic smaller shelves for a creative feel.
6. Chairs Made from Pallets
Build an oversized chair or small loveseat by stacking two pallets on top of each other. Then use another for the backrest and sides for armrests.
Place your pallet chairs on wheels to make them easier to move about. Keep in mind that pallets are solid wood, and your completed chair can get quite heavy.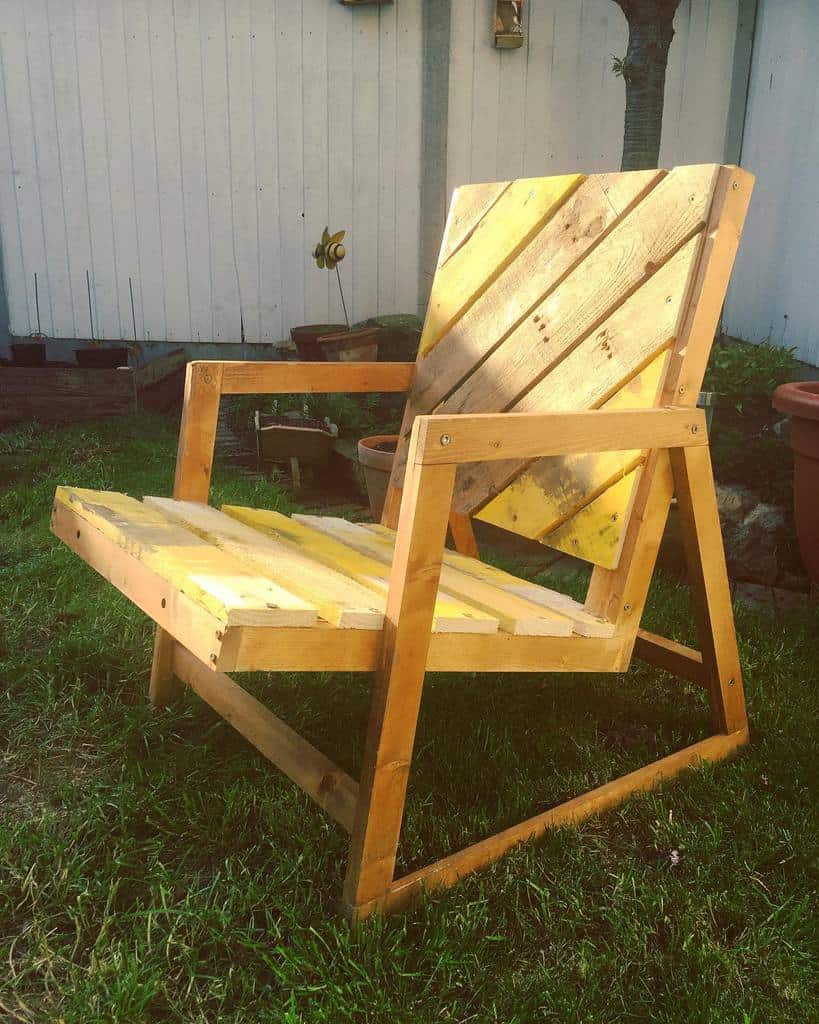 If you have patio space, hang your pallet loveseat from chains. Now you have a pallet swing made from reclaimed wood. To make your chair, loveseat, or swing more comfortable, slant the back of the chair. If it's straight up and down at a 90-degree angle, you won't want to sit in it long. A slight recline will let you sit back and relax into the chair.
7. Wine Racks Made from Pallets
If you have leftover wood from your other pallet projects, you can use it to build a wine rack. You can build the rack to be as small or large as you need for the amount of wine you want to display. Most racks hold three to ten bottles.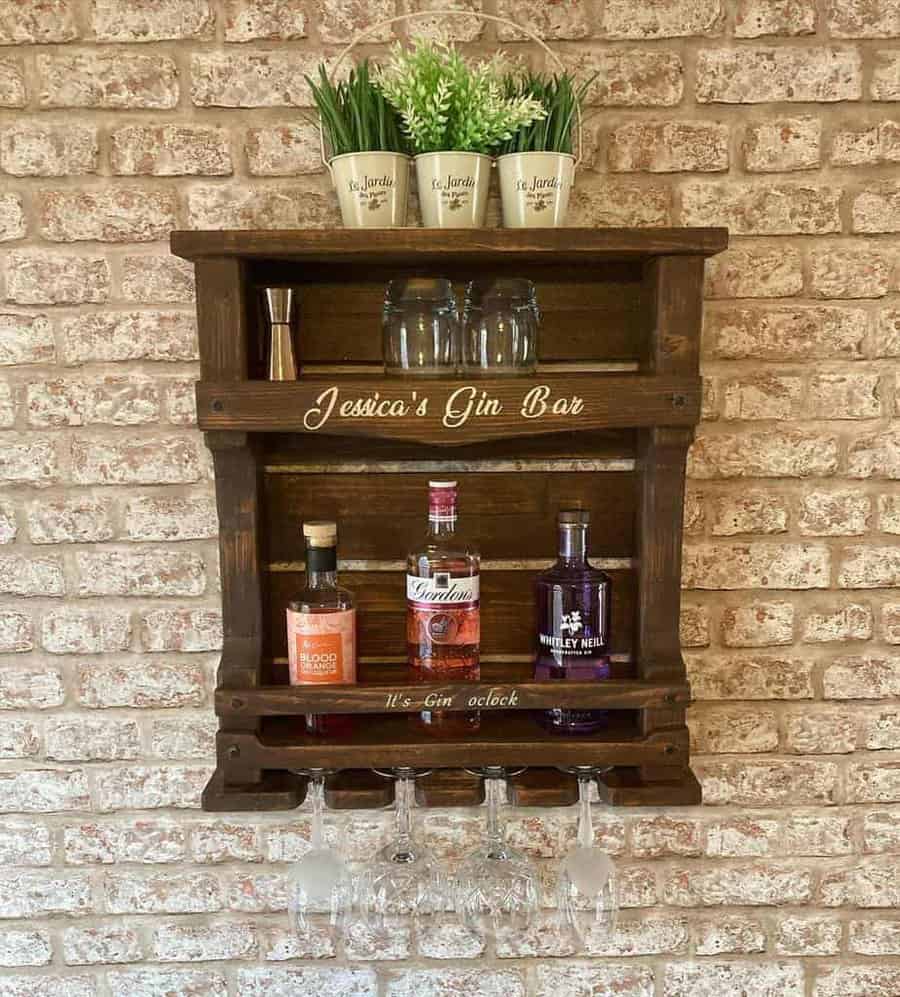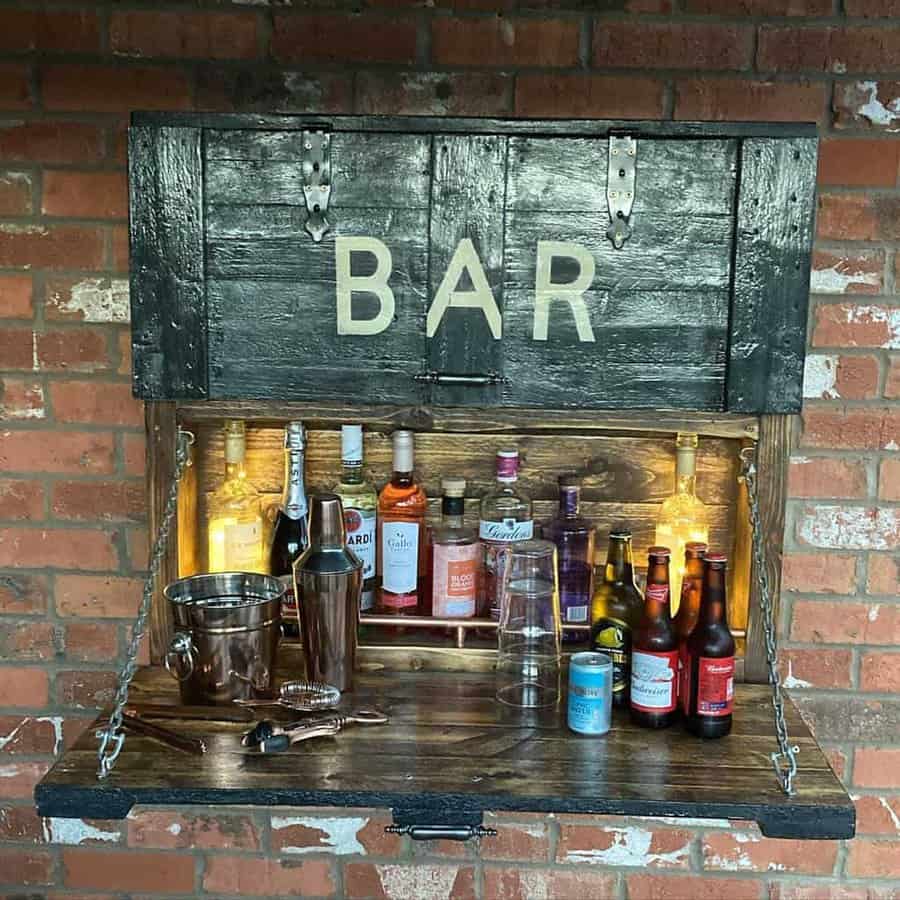 The easiest approach to building your rack is to cut an old pallet in half and place the top flat against the wall. Then add a piece to the new front to create a shelf that holds the bottles in place. You now have a flat surface on top to set smaller bottles and a rack long enough to hold several bottles of wine.
A slightly more complicated project is to dismantle the pallet and use the wood to create a custom-sized rack. Always add a front to the shelf so that the bottles are held in place.
You could also cut small pieces of wood that are cut at an angle. Then attach them to the bottom of the rack by the narrow side. You can then slide the base of wine glasses into the voids. The wider portion of the woodblocks will hold the glasses in place.
8. Handmade
You don't have to have woodworking experience to build your own furniture or decorative items out of pallet wood. All you need is some tools and creativity. It helps to look at other DIY ideas to get inspired and help guide you through your project.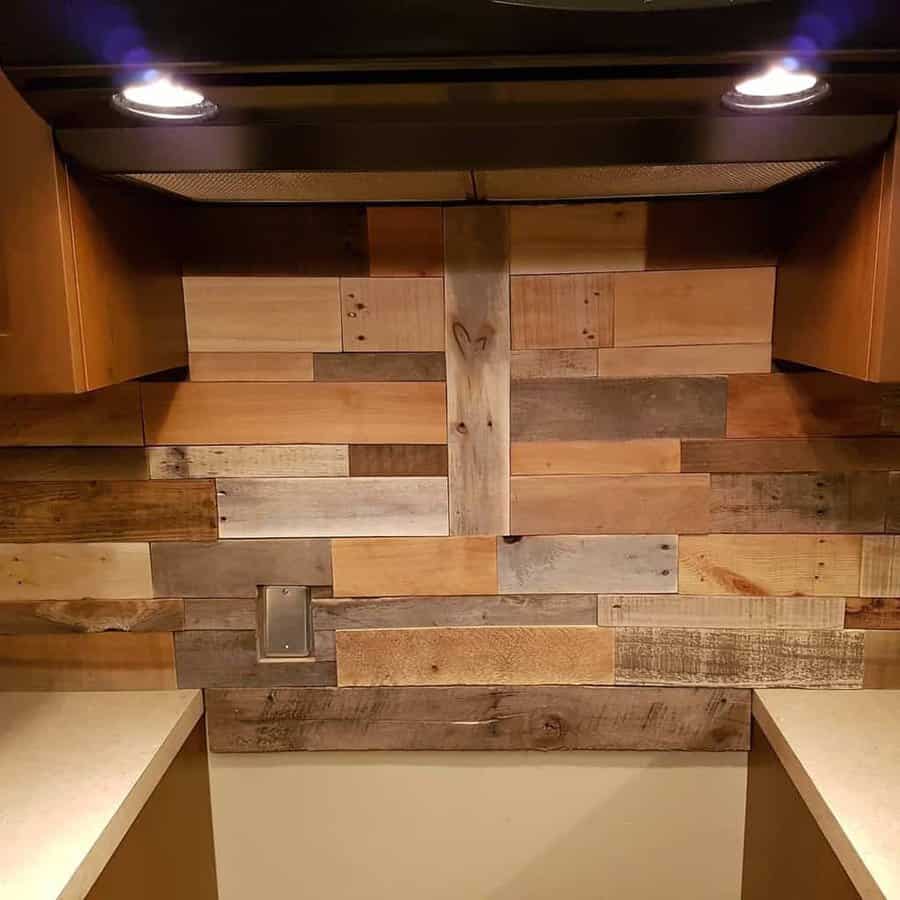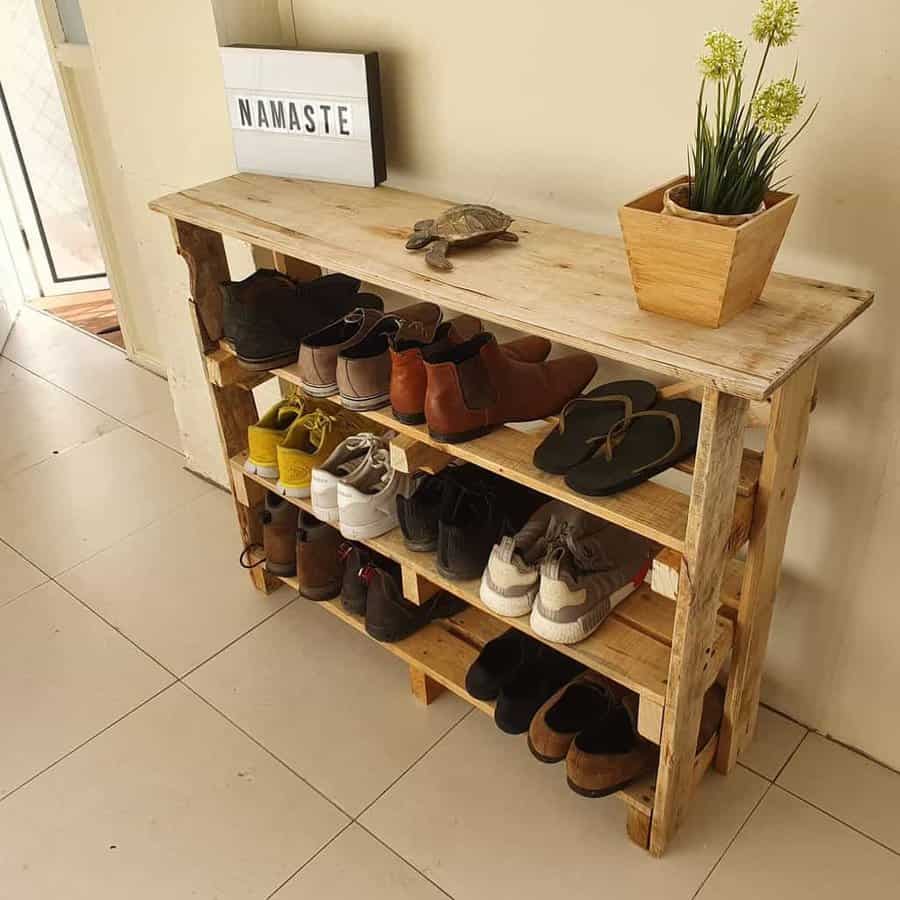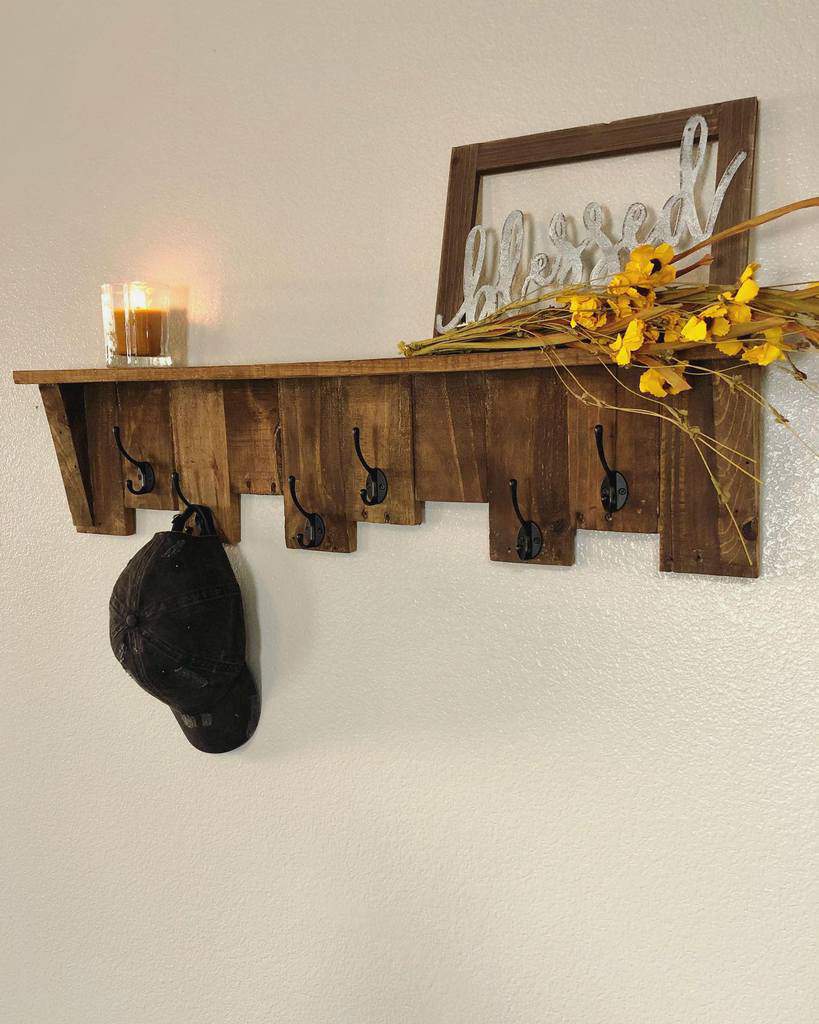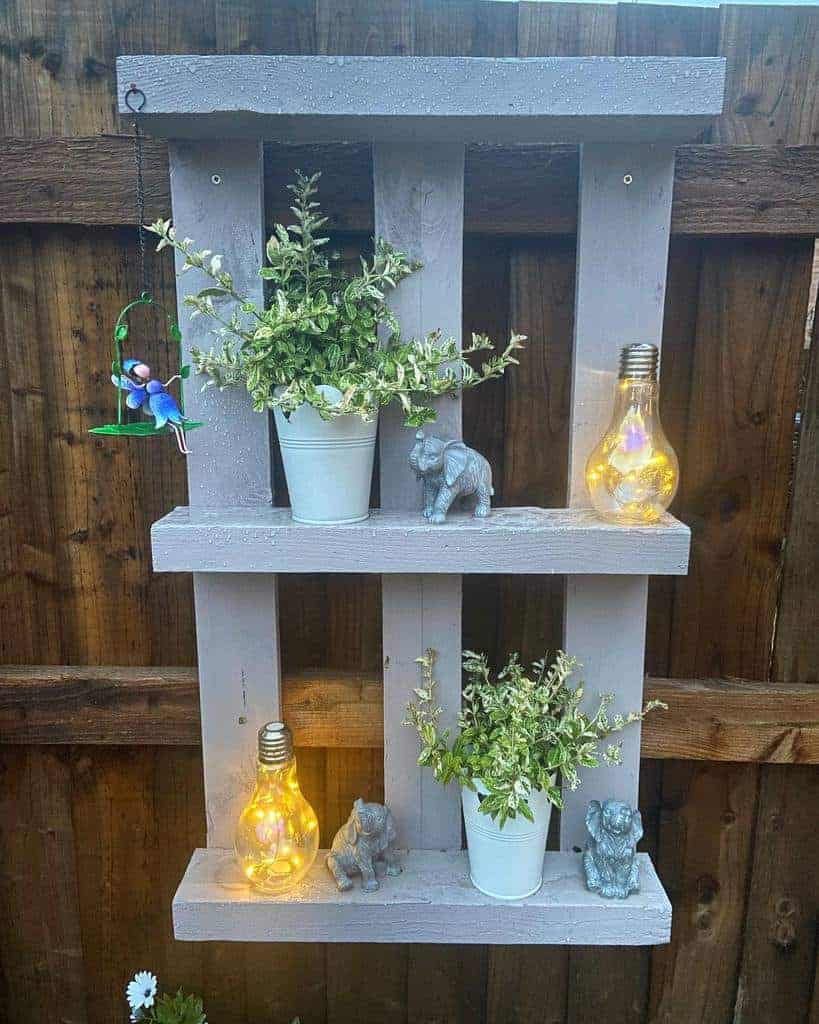 If you want to build a pallet sofa, look for DIY pallet furniture ideas that show your sofa's possible configurations. Some are as simple as stacking the pallets and laying a cushion on top. Others are more complicated, such as taking the pallet apart and reconstructing a sofa from the wood pieces.
With any DIY wood pallet project, you want the finished product to look beautiful and be functional. Consider sanding and staining the wood. This elevates the look of the wood and eliminates any rough spots that could splinter.
9. Accent Walls Using Pallets
Create a beautiful accent wall by mounting pallet boards on the wall. This breathes new life into the plank wall idea. Worn and used pallets give your DIY project a feeling of authenticity.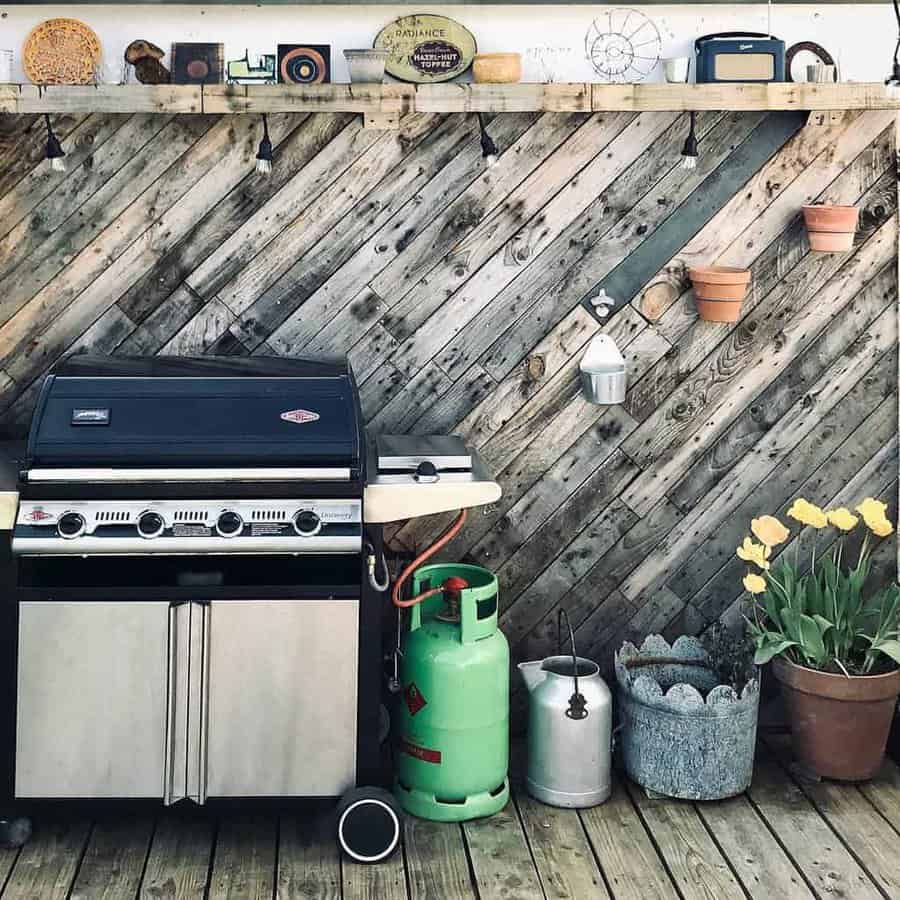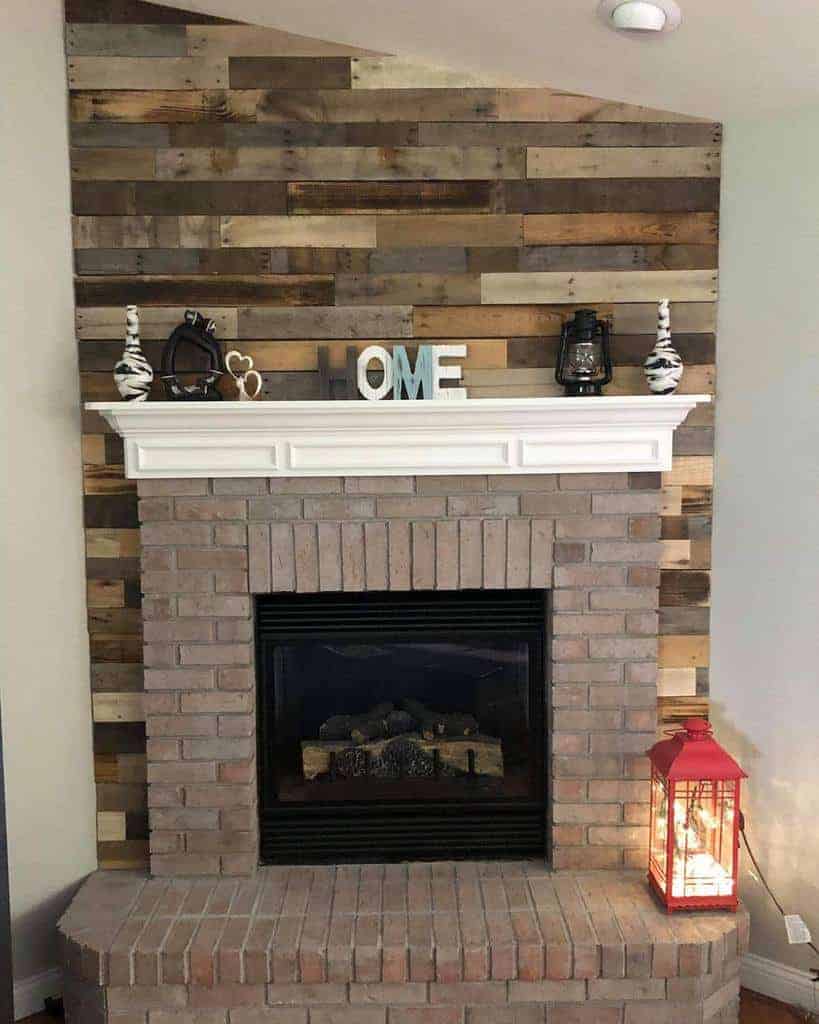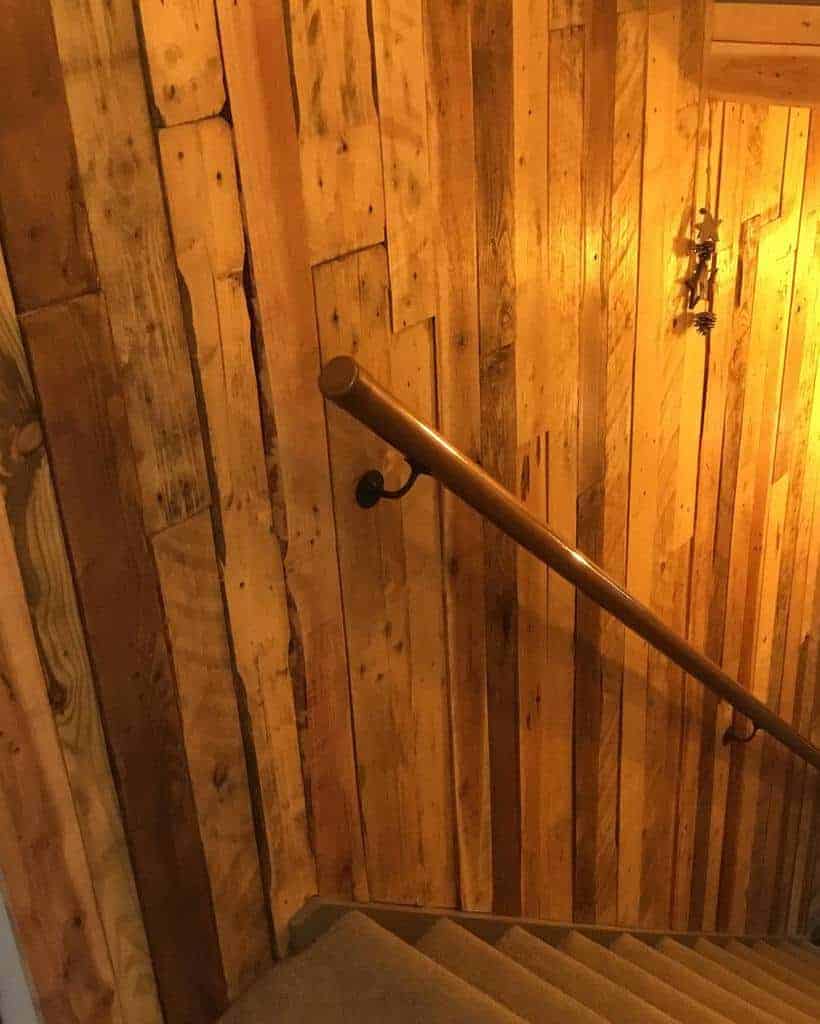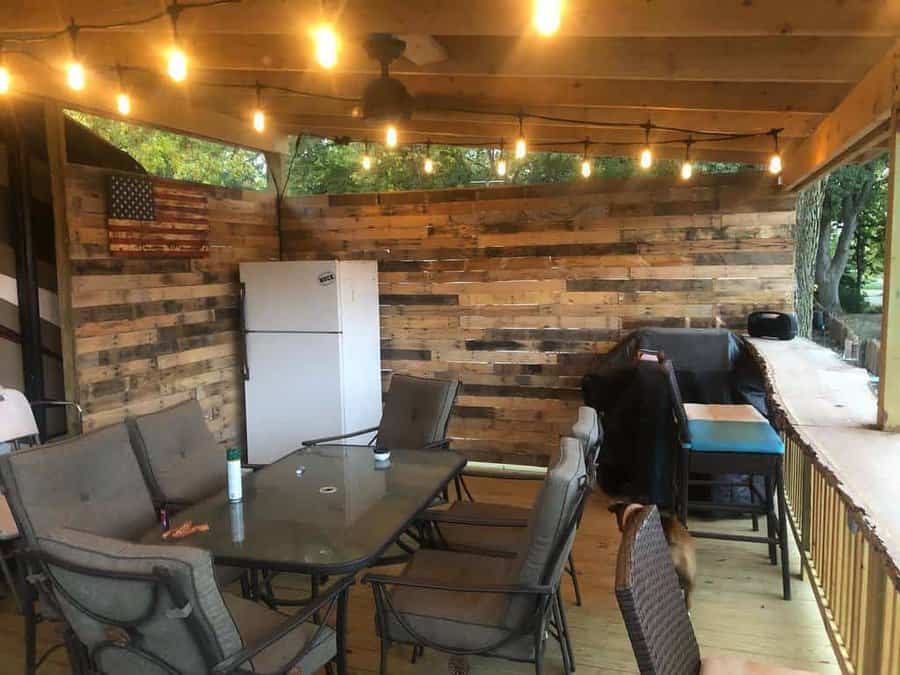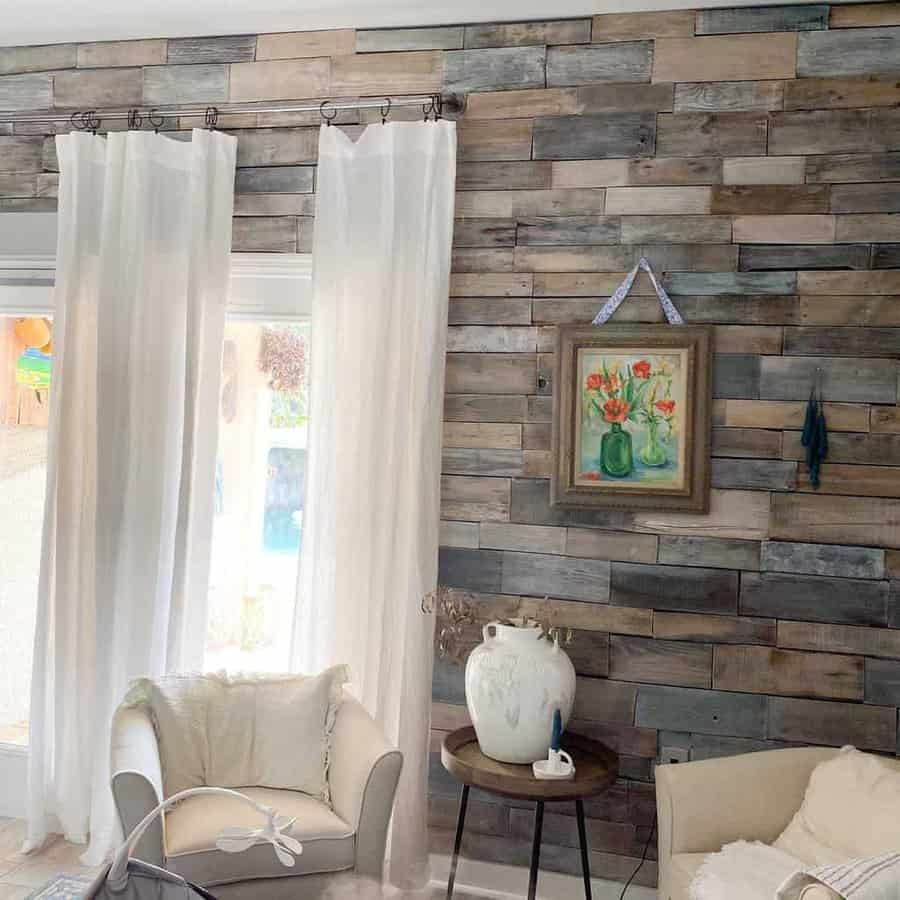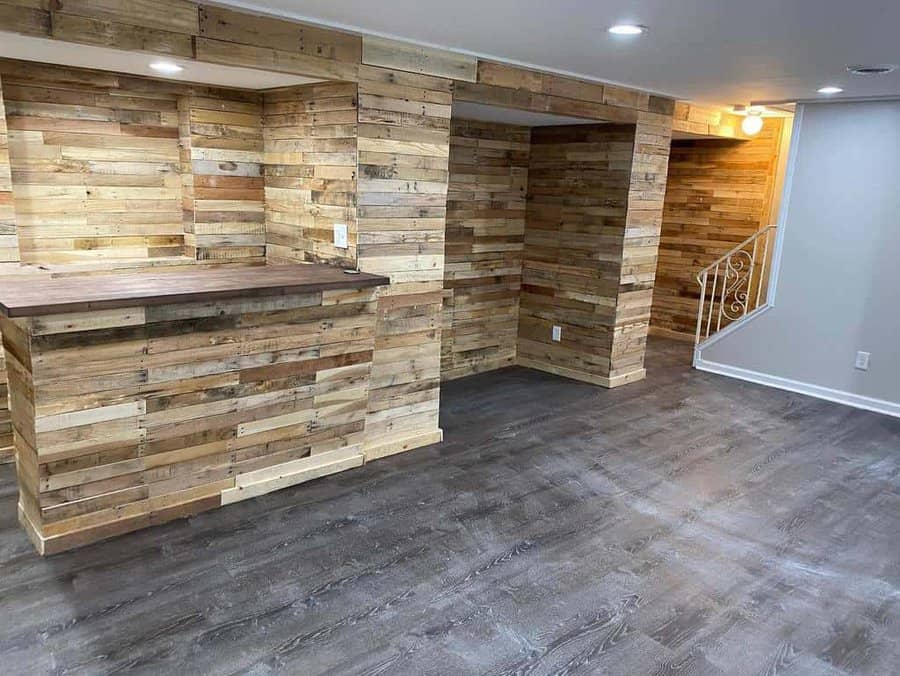 Start your pallet wall by preparing your shipping pallet planks. Smooth them out so that they are straight on all sides. This will let them lay flat against the wall and lay flat against each other. You don't want the wall to look wavy as the boards bend away from the wall or have gaps between the boards.
10. Sofa Pallet Designs
Building a sofa out of pallets in your living room isn't possible for most of us. Pallet furniture takes up a lot of space, and your sofa would end up taking up the entire living room. That's why most people choose to attempt their pallet furniture ideas outside.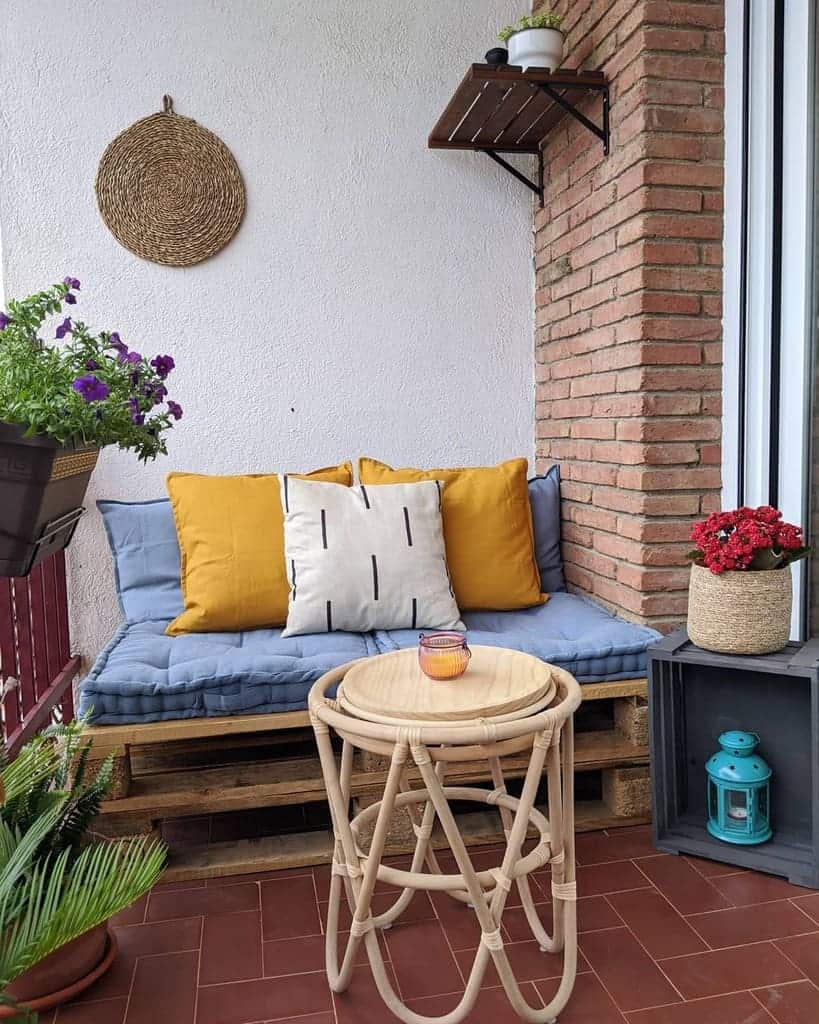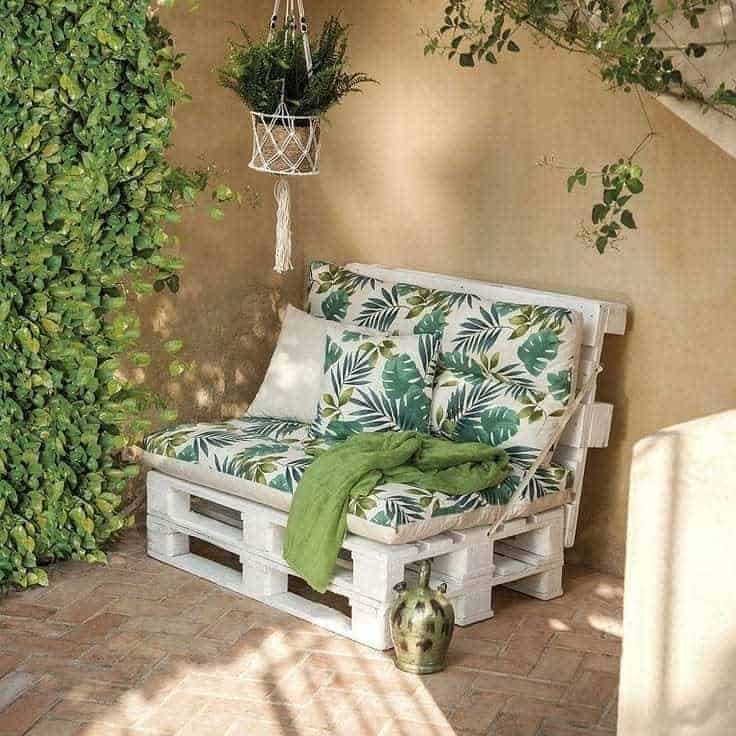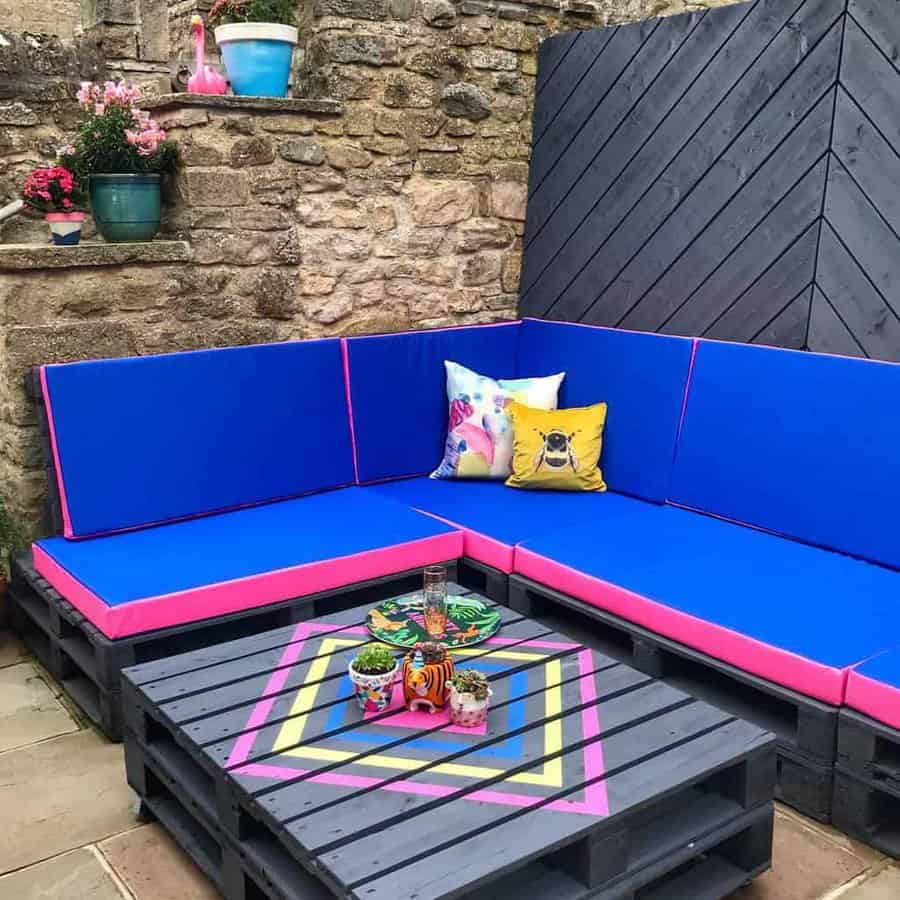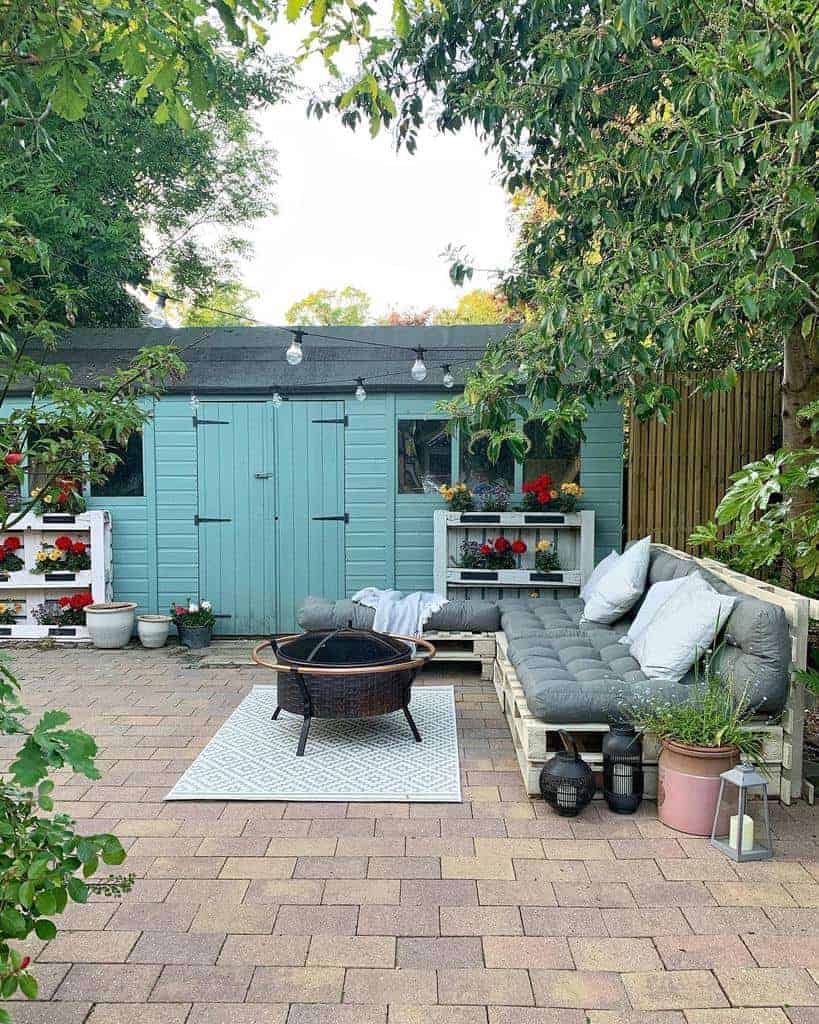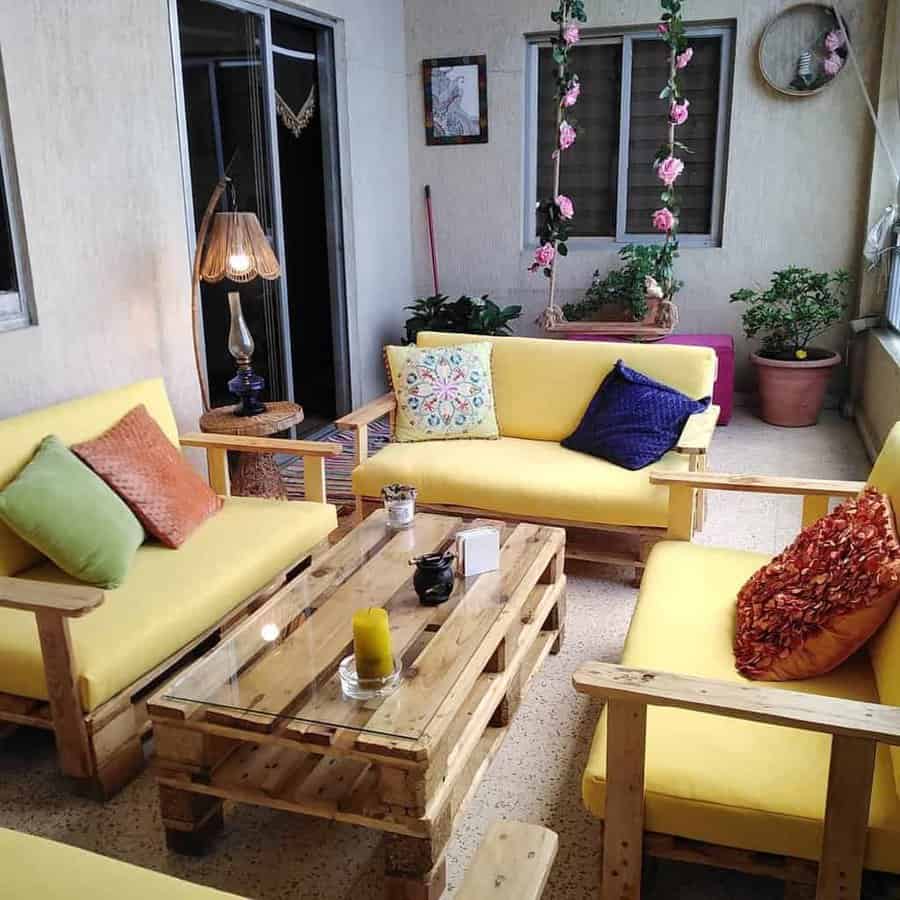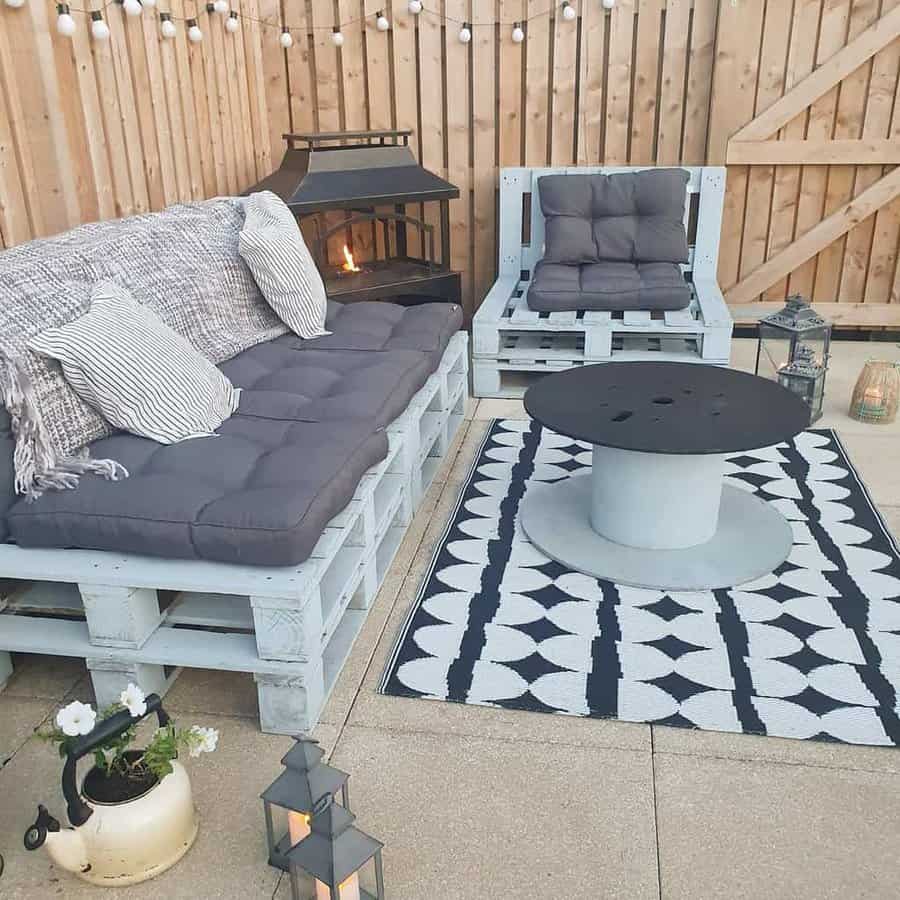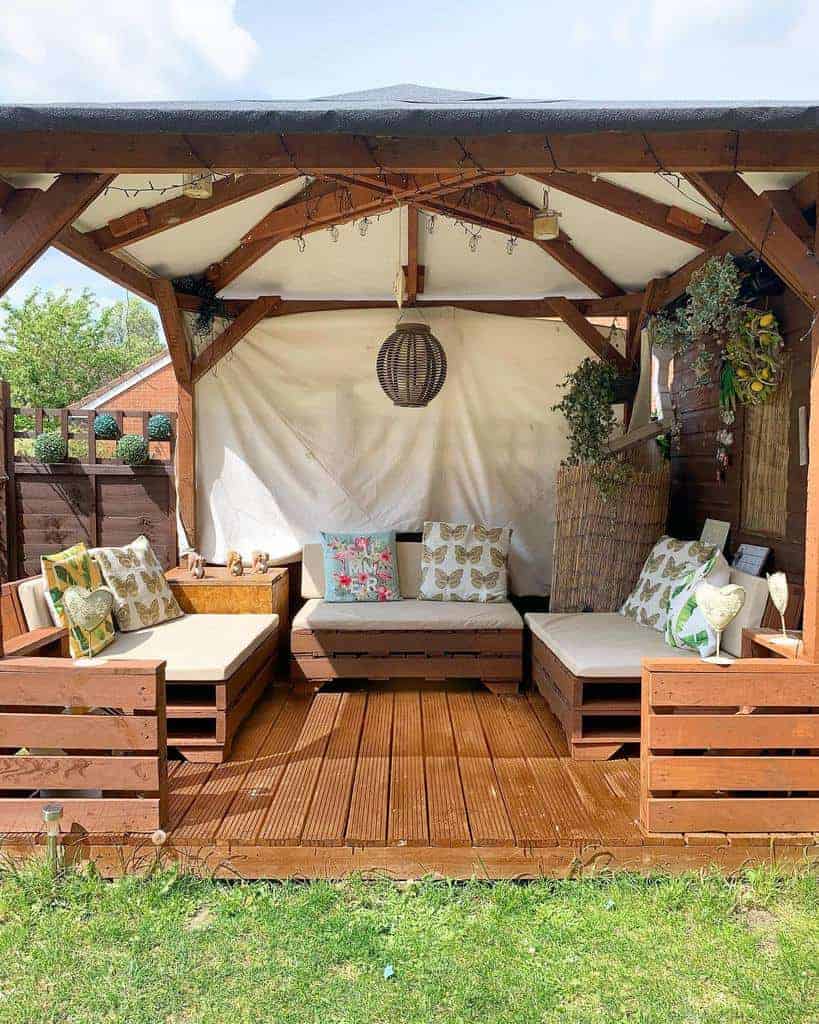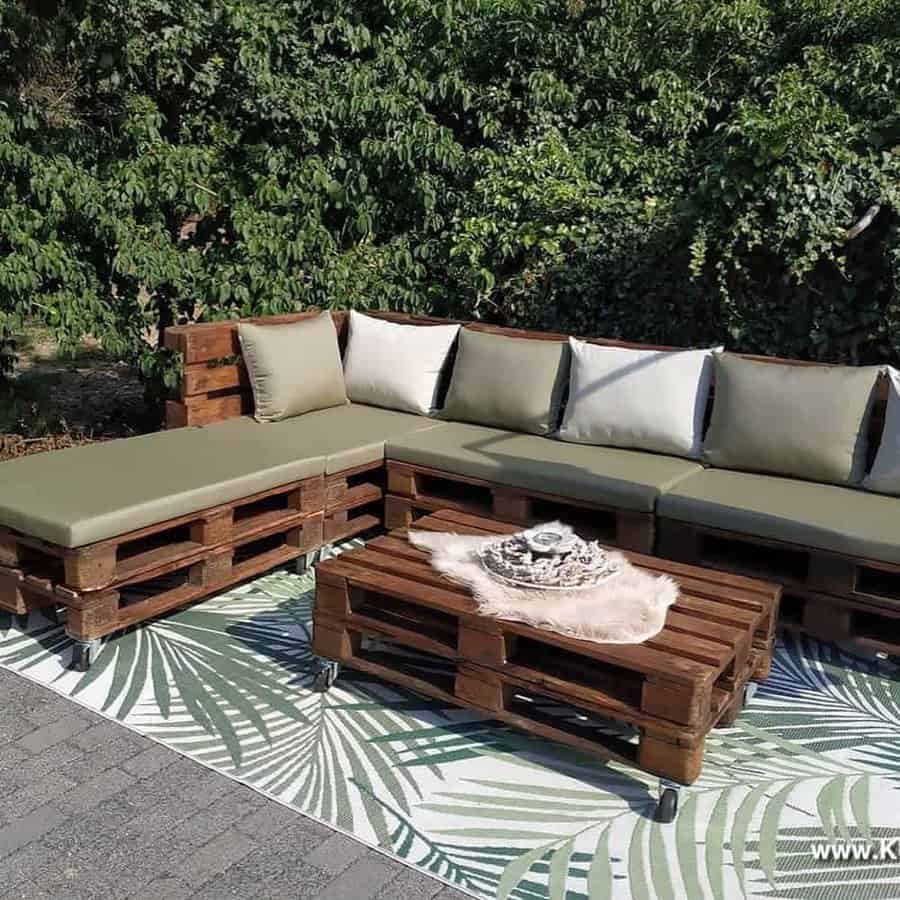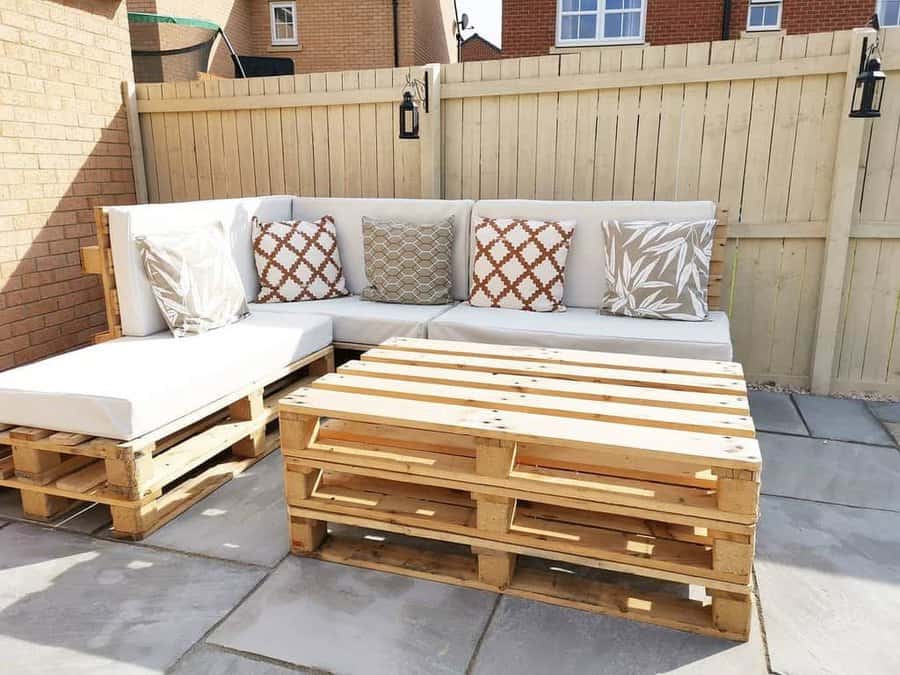 Build a pallet sofa in your backyard by stacking pallets. You'll need a lot of them for this pallet project. For a small pallet sofa, you'll need four to build the seat and two for the seatback. For a corner sofa, add two more pallets for the seat and another pallet and a half for the seatback.
11. Deck Pallet Ideas
What's nice about building a pallet deck is that pallets are designed to efficiently support a lot of weight. You can easily build a deck by leveling the ground where you want to build your deck.
Lay good quality pallets down to cover the surface, lining them up at the edges. Stringer pallets are good for this because they have extra support built into the pallet.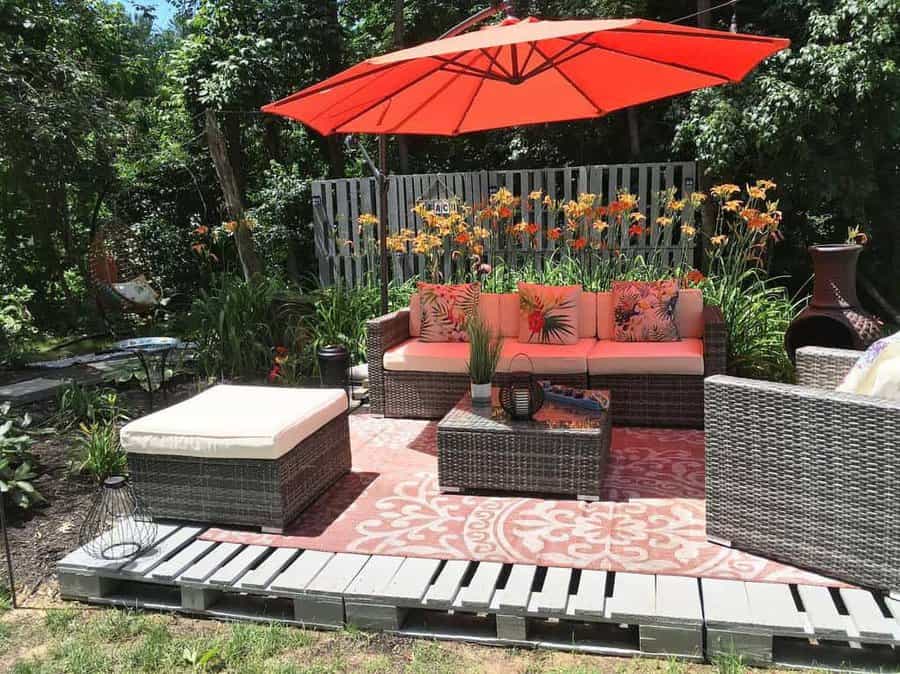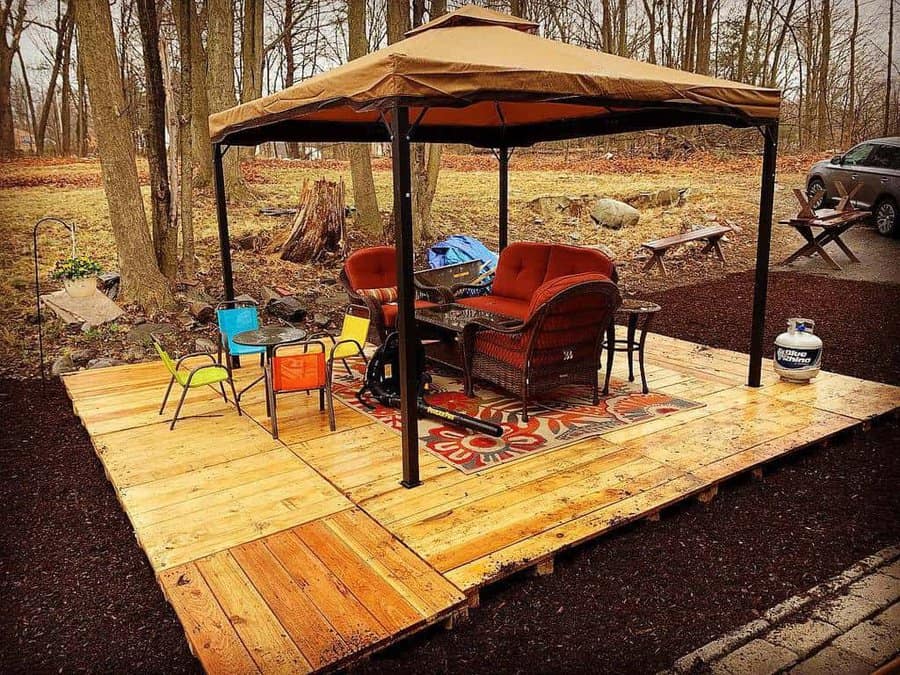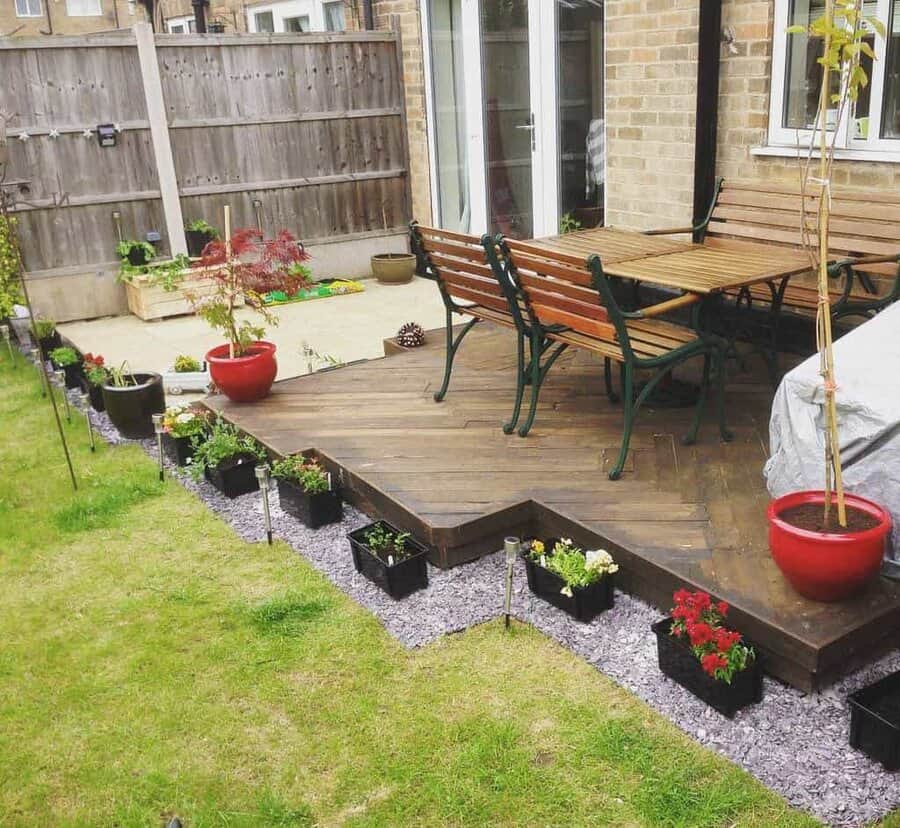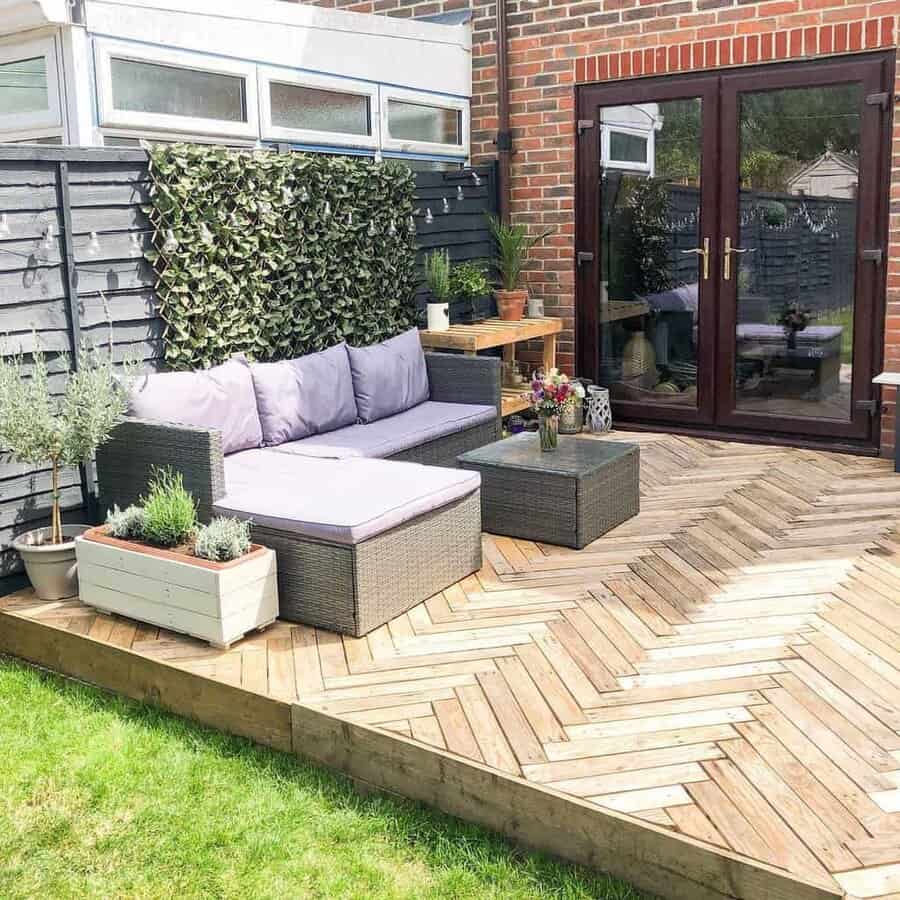 Once the pallets are secured into place, lay down the surface of your deck by taking apart pallets and laying the planks down in a pattern that appeals to you. Carefully pick your pallet boards; you only want to use the straight ones that don't have twisting or warping.
12. Shed Pallet Ideas
Tackling a pallet shed project is best left for someone who has experience with building. If you don't build your shed properly, you risk it falling down and injuring someone. So of all the wood pallet ideas on this list, this is one that should be taken on with the most caution.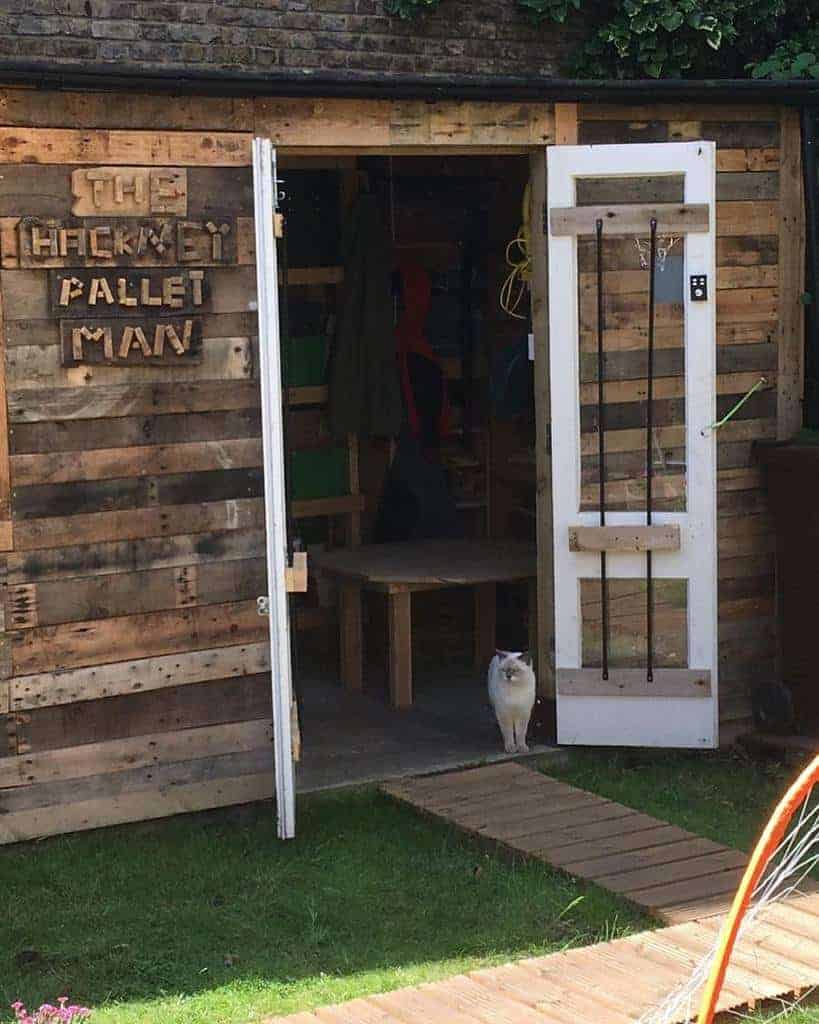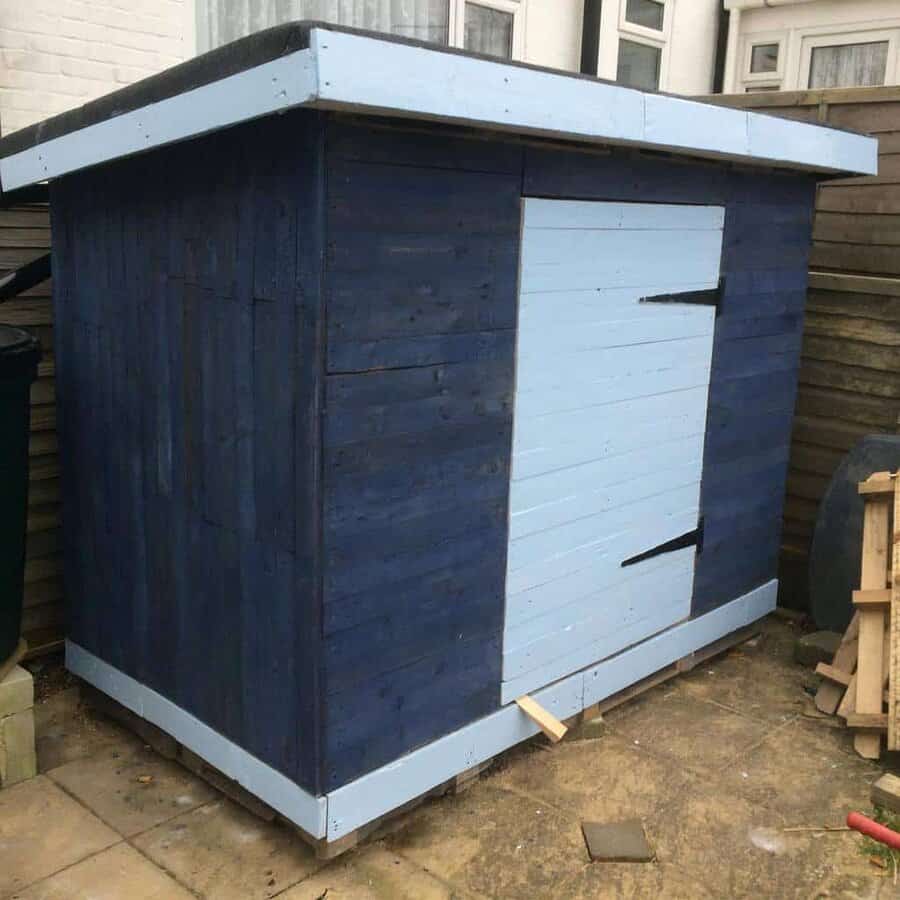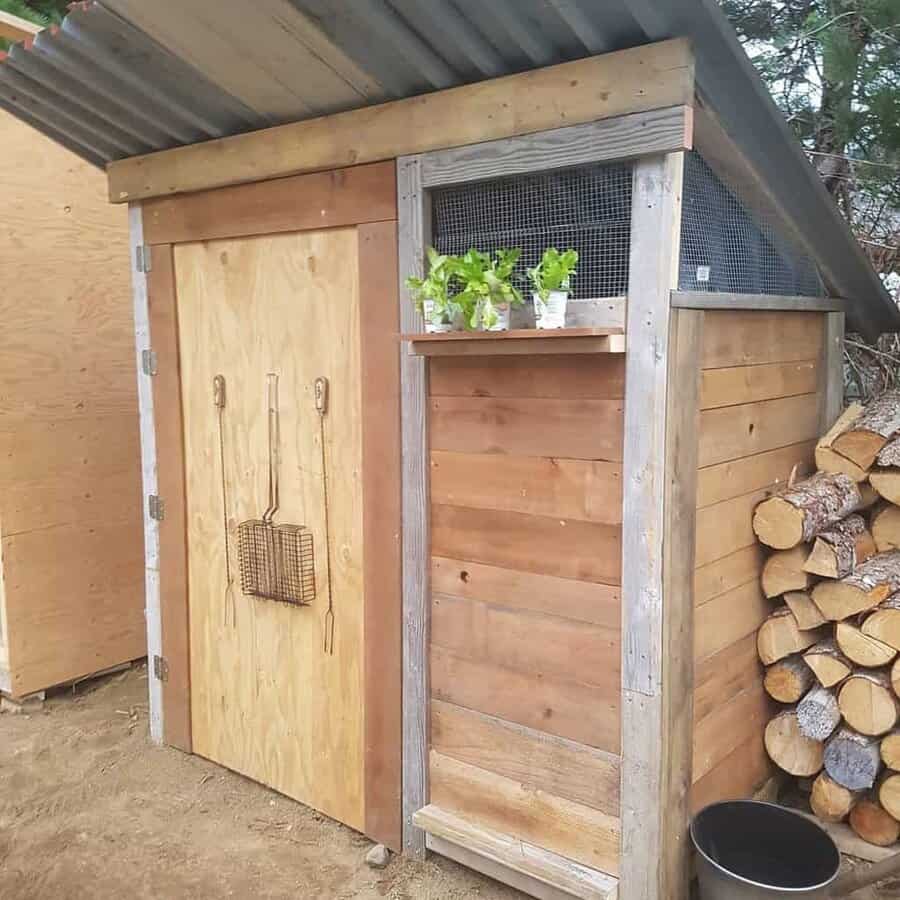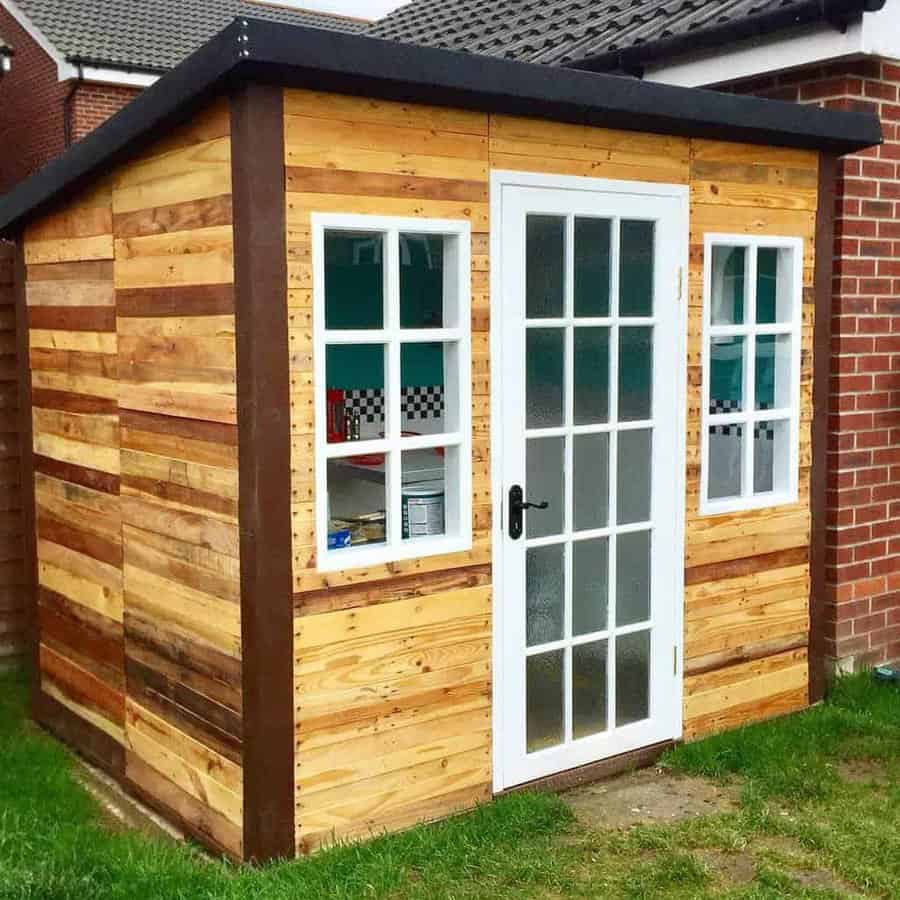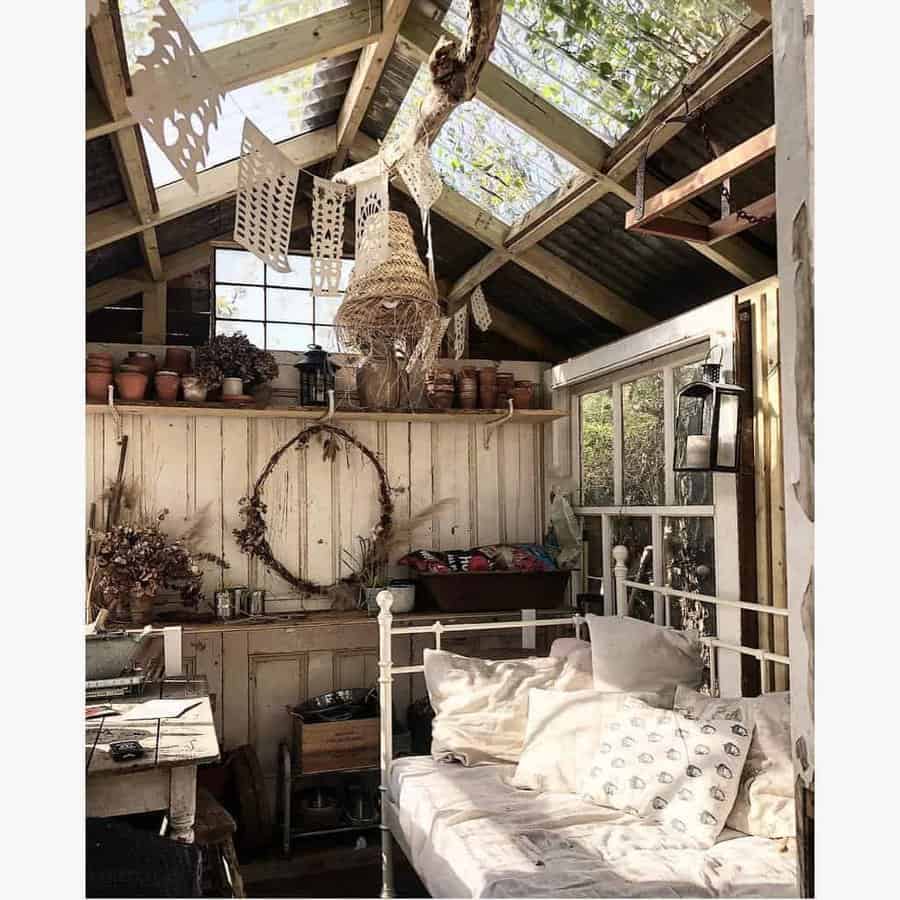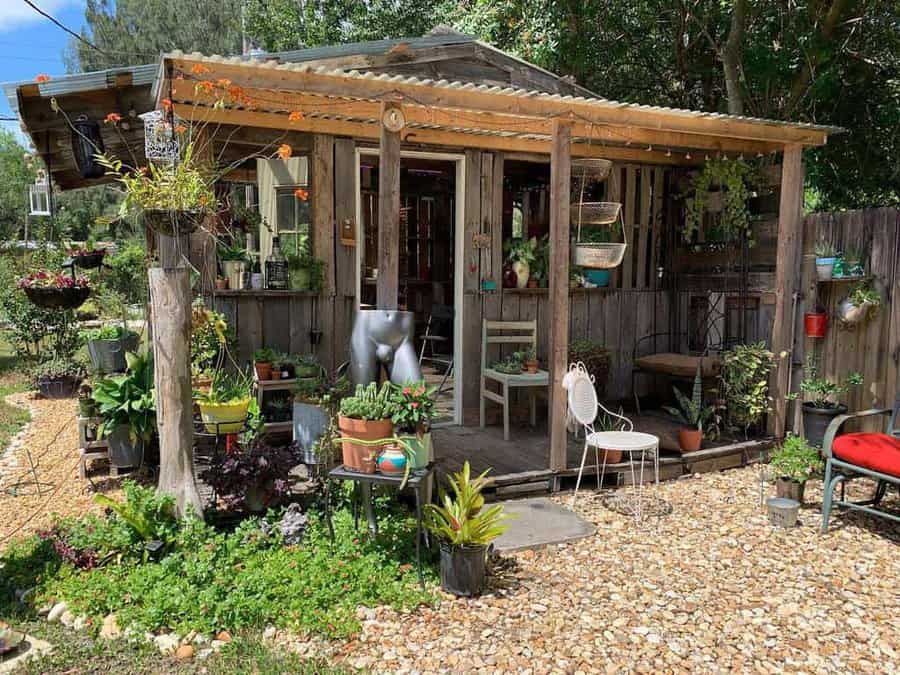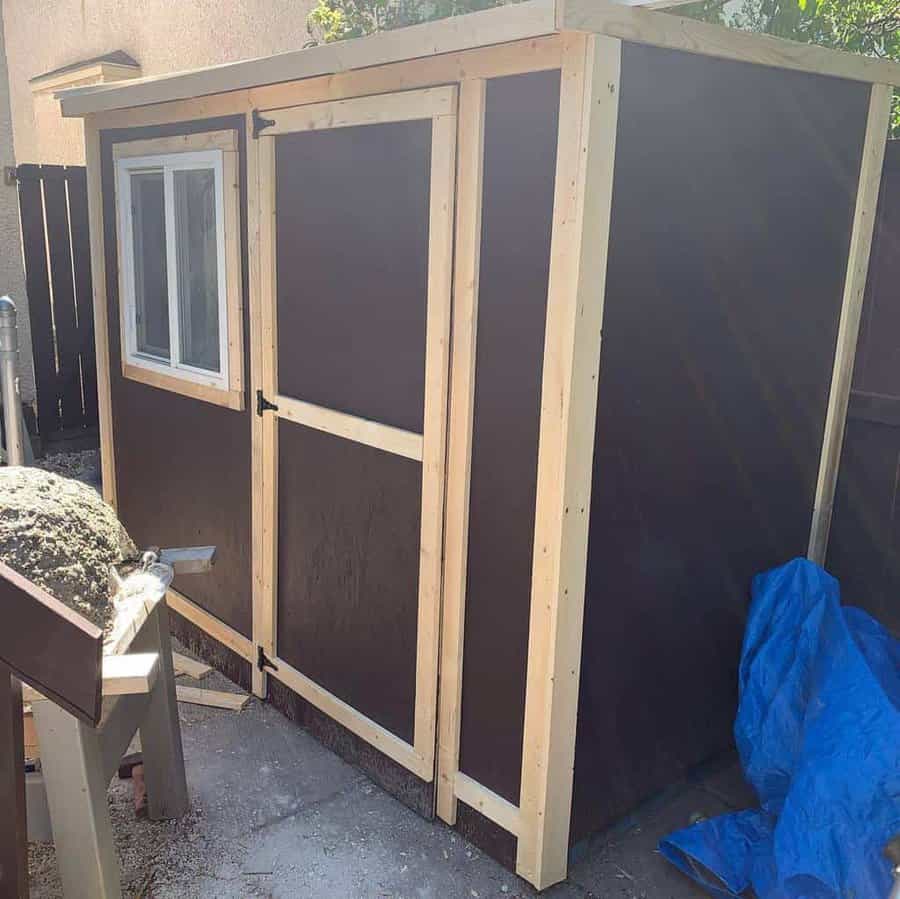 No matter how you decide to build your wooden pallet shed, always start with a solid frame. This supports the pallets and creates a frame that you can then plan your pallets around. It will also give the pallets stability and strength to support a roof.
13. Wall Art Pallet Ideas
You don't have to get fancy with your wall art. Gather the leftover pieces you have from your other DIY pallet projects and create your home decor. You could build a pallet clock, star, or shelving unit. A pallet sign could look cute. Create a sign shape with your pallet pieces and then use paint to create a message or sign out of it.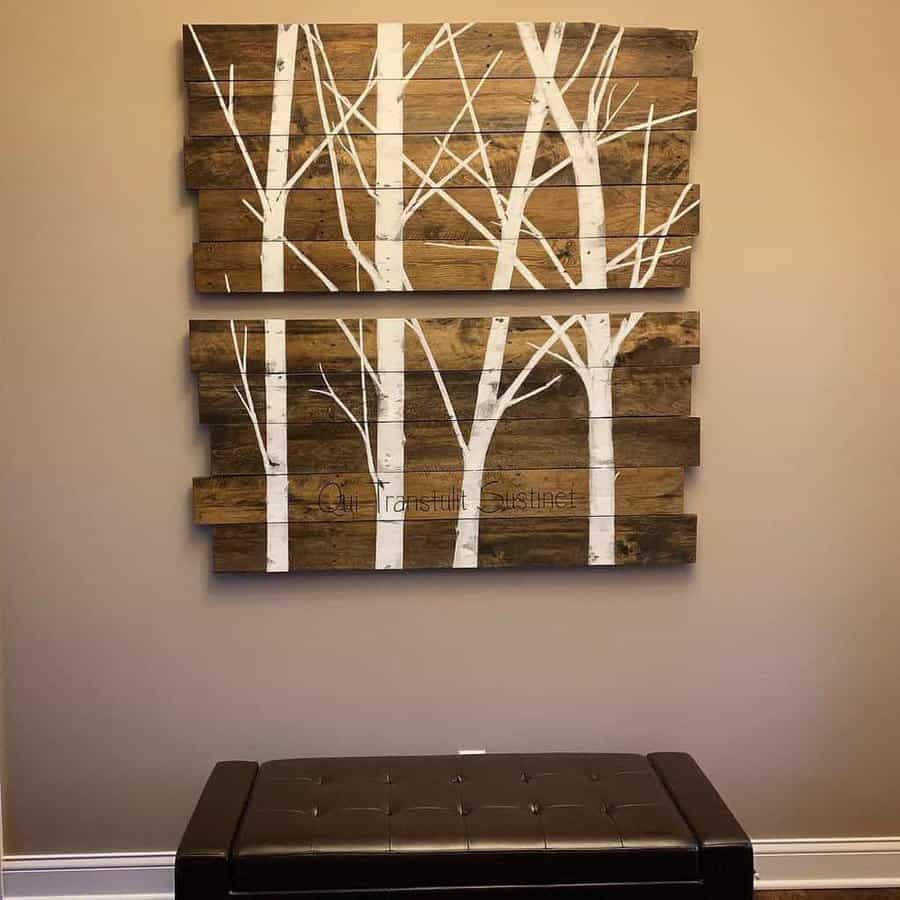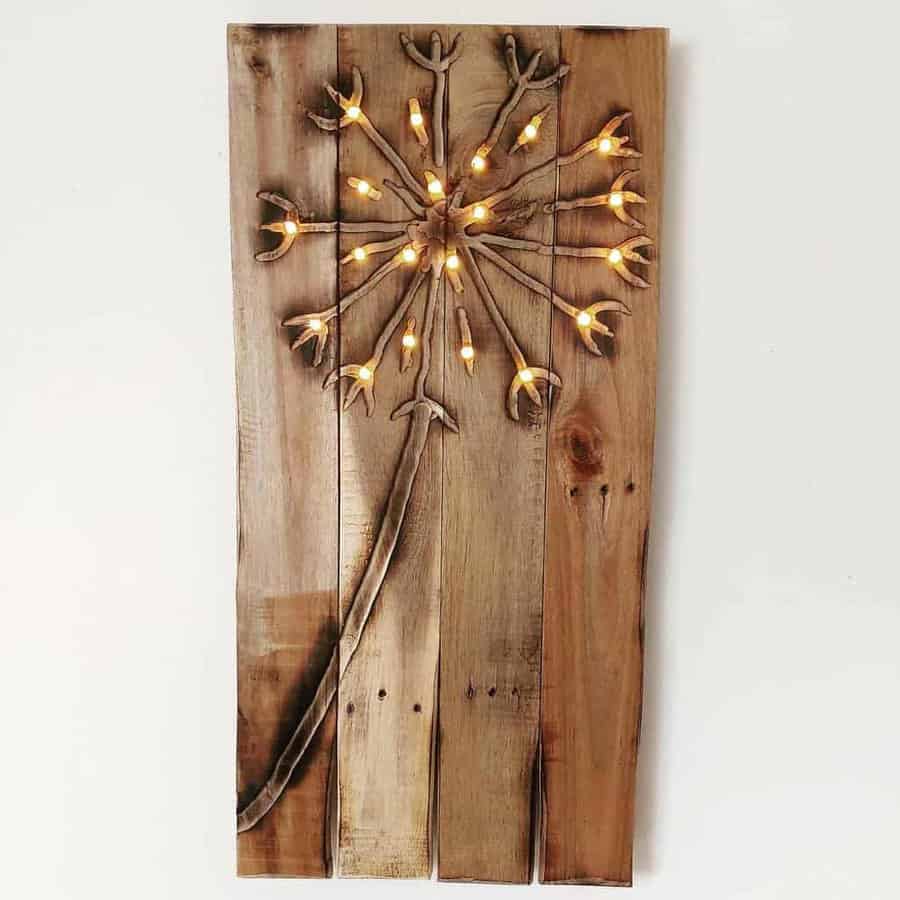 Not all pallet decor gets hung on the wall. Build a serving tray out of pallet planks and place it on your kitchen counter or coffee table. A small tray could fit on your bedroom dresser or on the back of your toilet.
14. Beds Made from Pallets
Similar to the DIY pallet sofa, the easiest way you can build a pallet bed is to lay the recycled pallets down and stack them. However, similar to the sofa, this approach limits the bed's size and shape that you build. The pallets may not be the right size for your mattress. You could embrace this and have a step-up platform around the outside of your bed.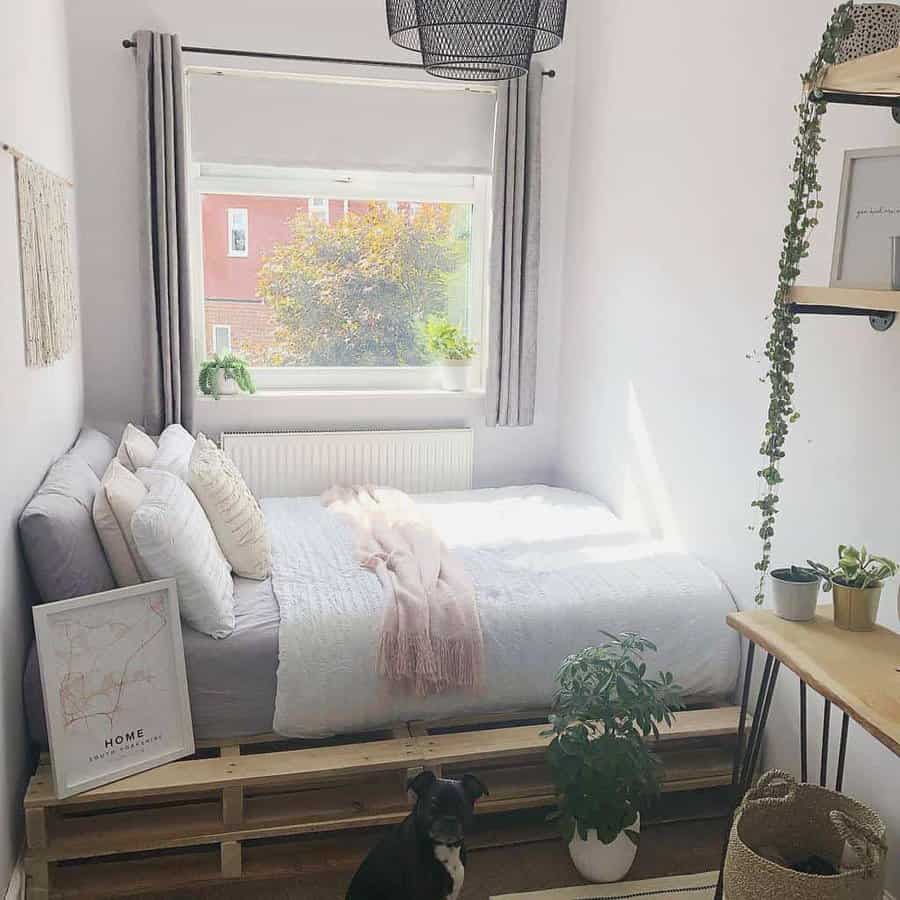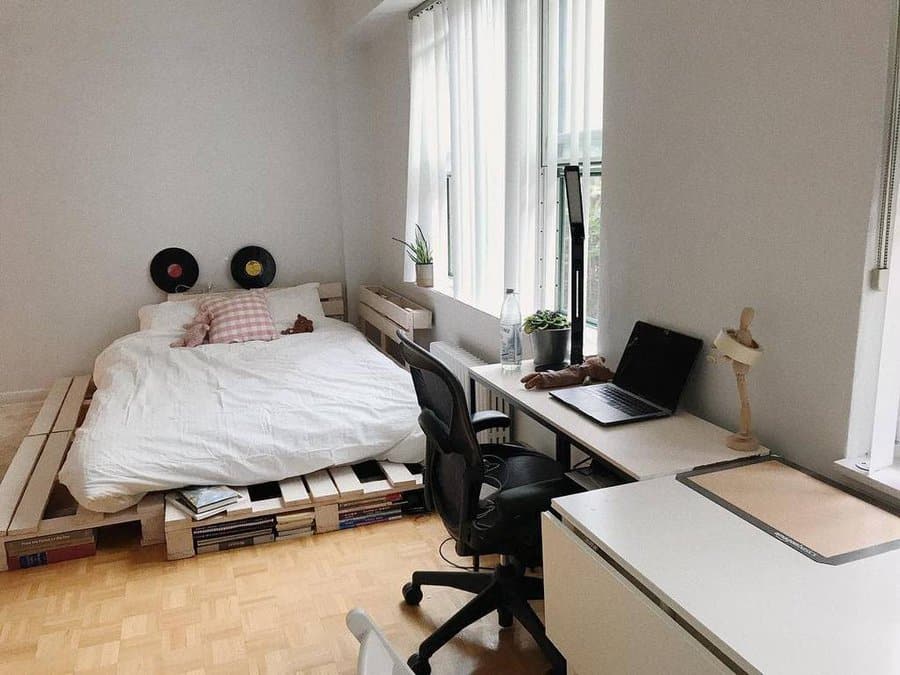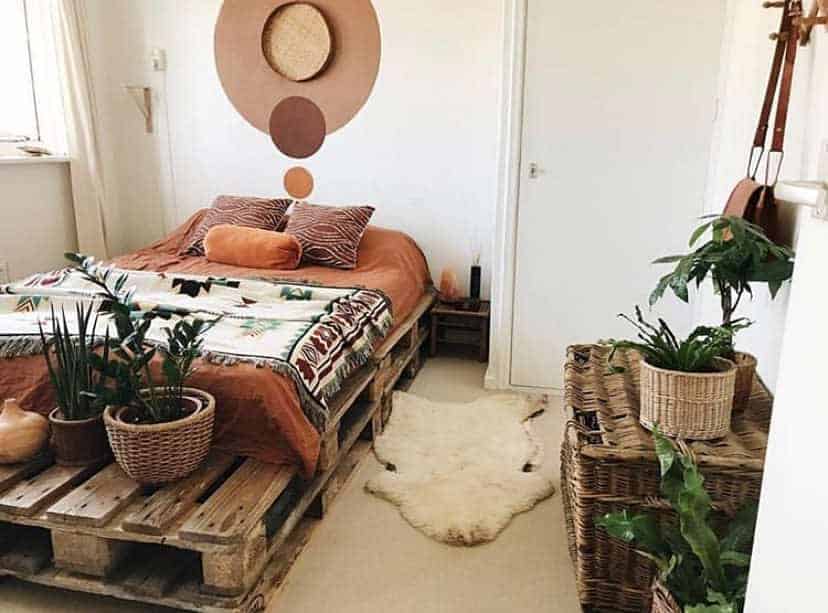 Get creative with your pallet bed. Stand two up at the end of your bed against the wall to create a headboard. Make the ultimate outdoor hangout spot by building a pallet swing bed. All you need is two pallets, a small mattress, and some sturdy rope to hang it.
15. Pallet Ideas for the Garden
Hang a pallet on a fence of the exterior of your home and turn it into a hanging planter. This is perfect for growing herbs and smaller plants. You'll make small troughs by attaching a flat board to the open side of the pallet. Then fill with dirt and plant your herbs.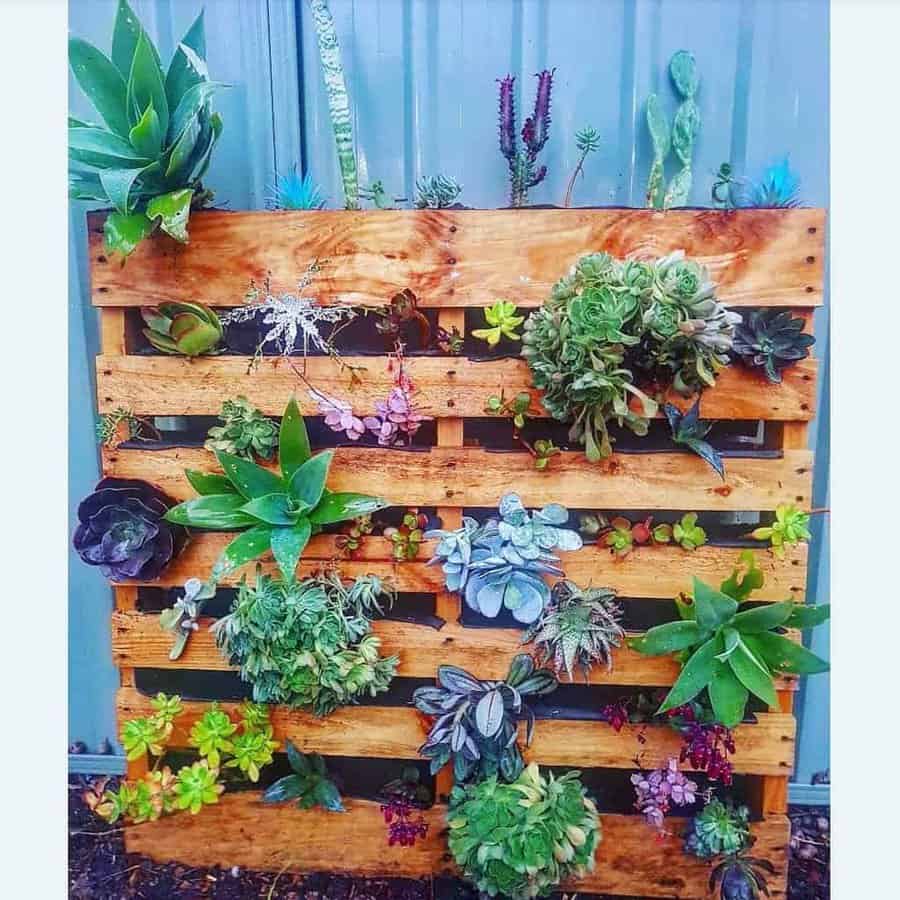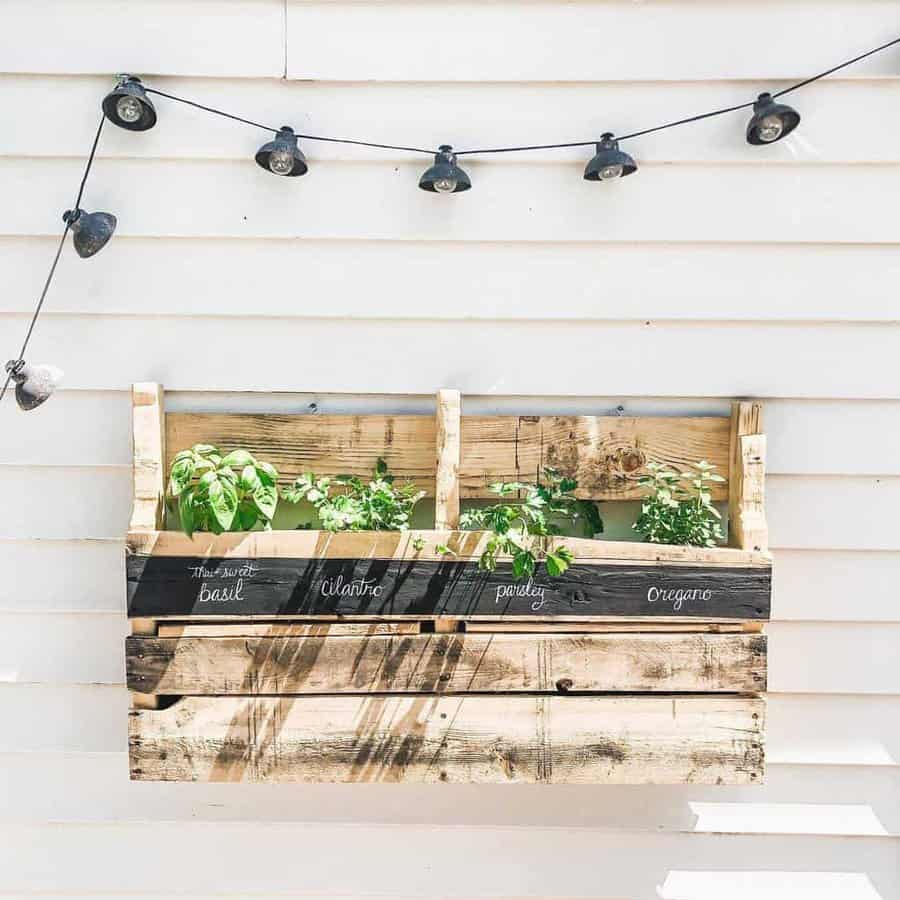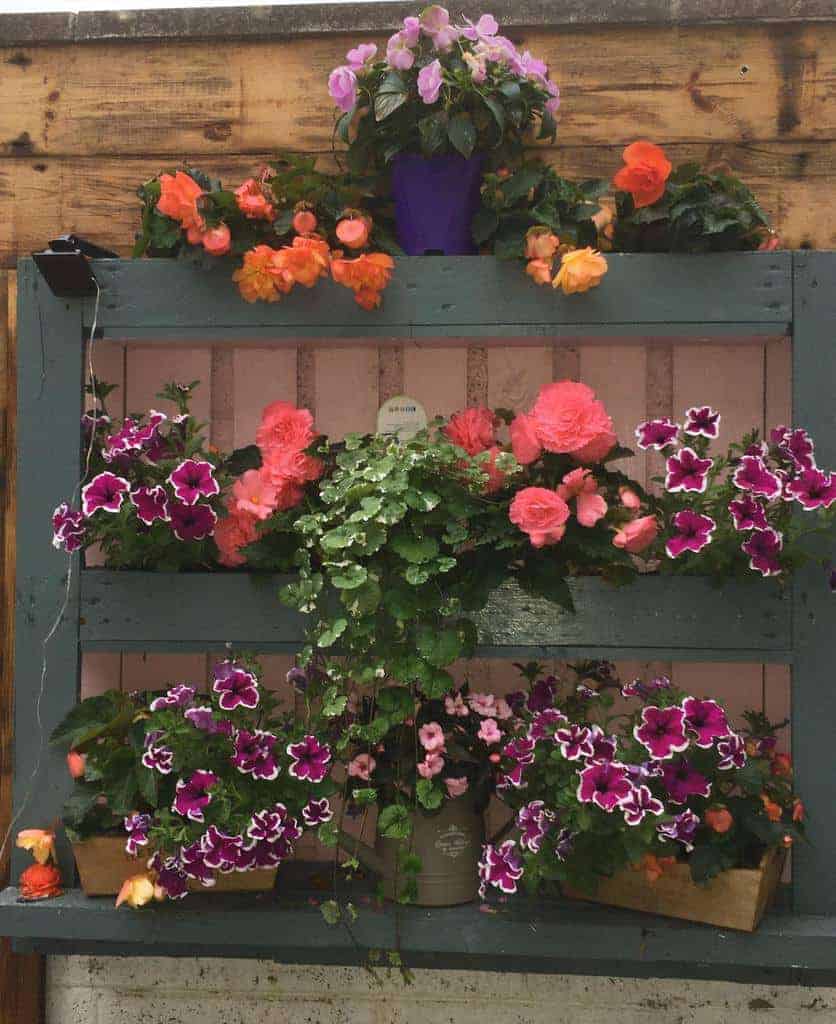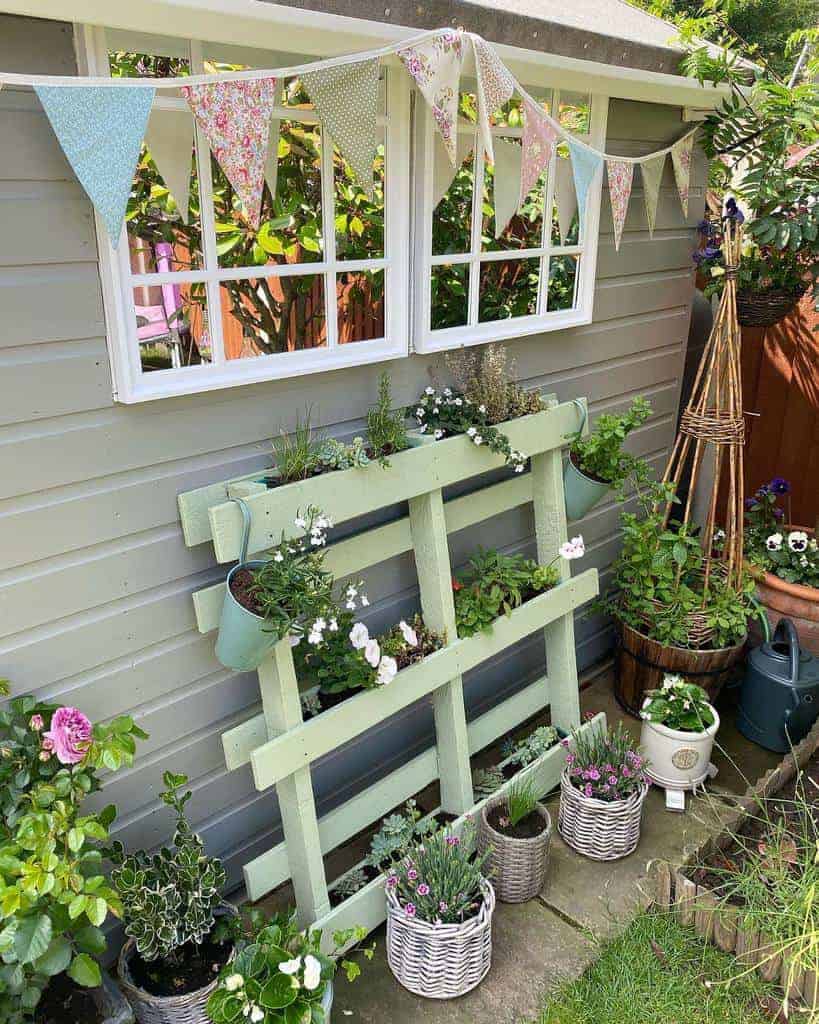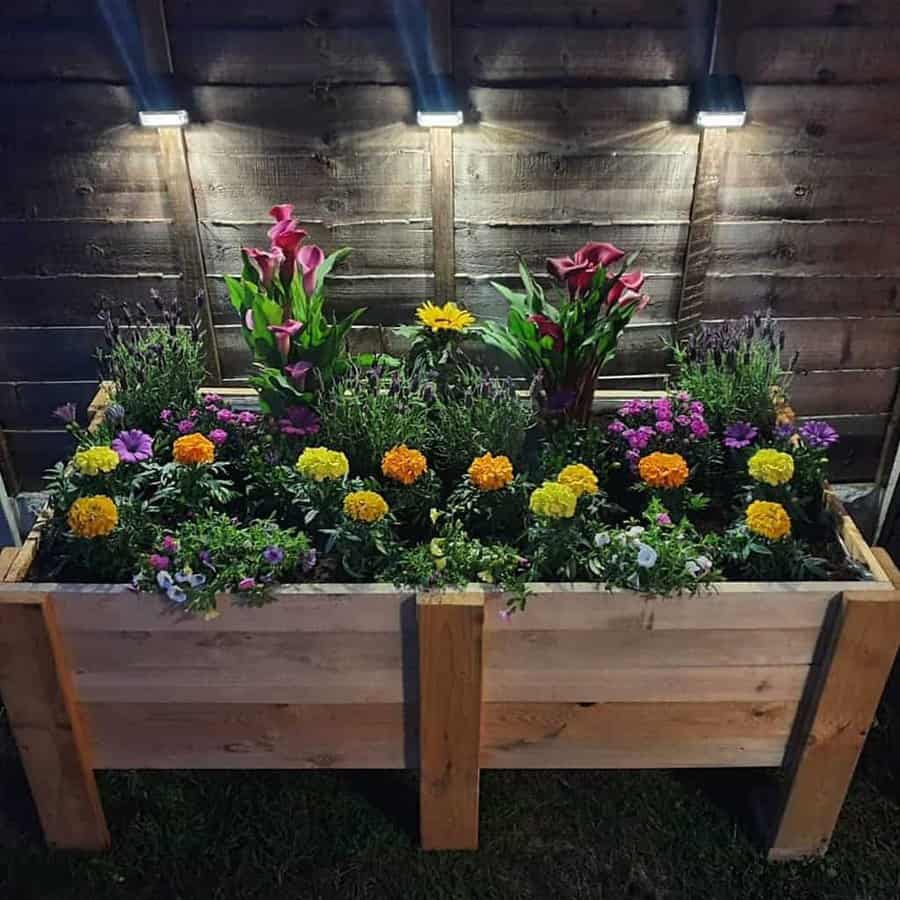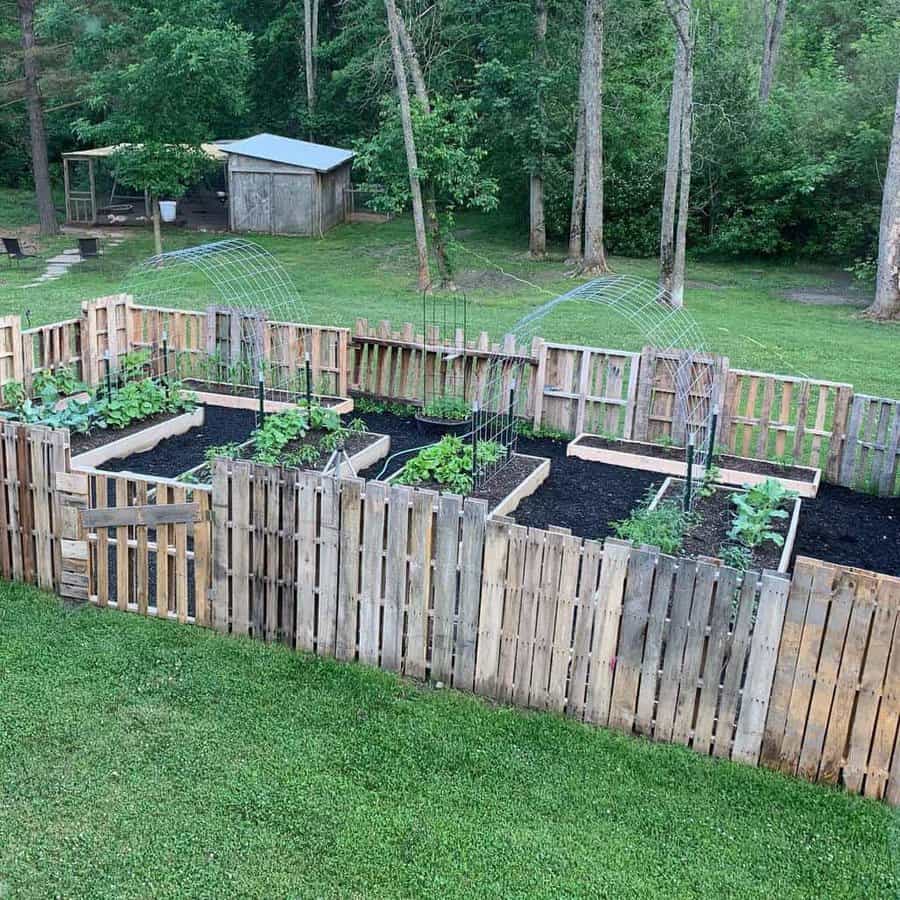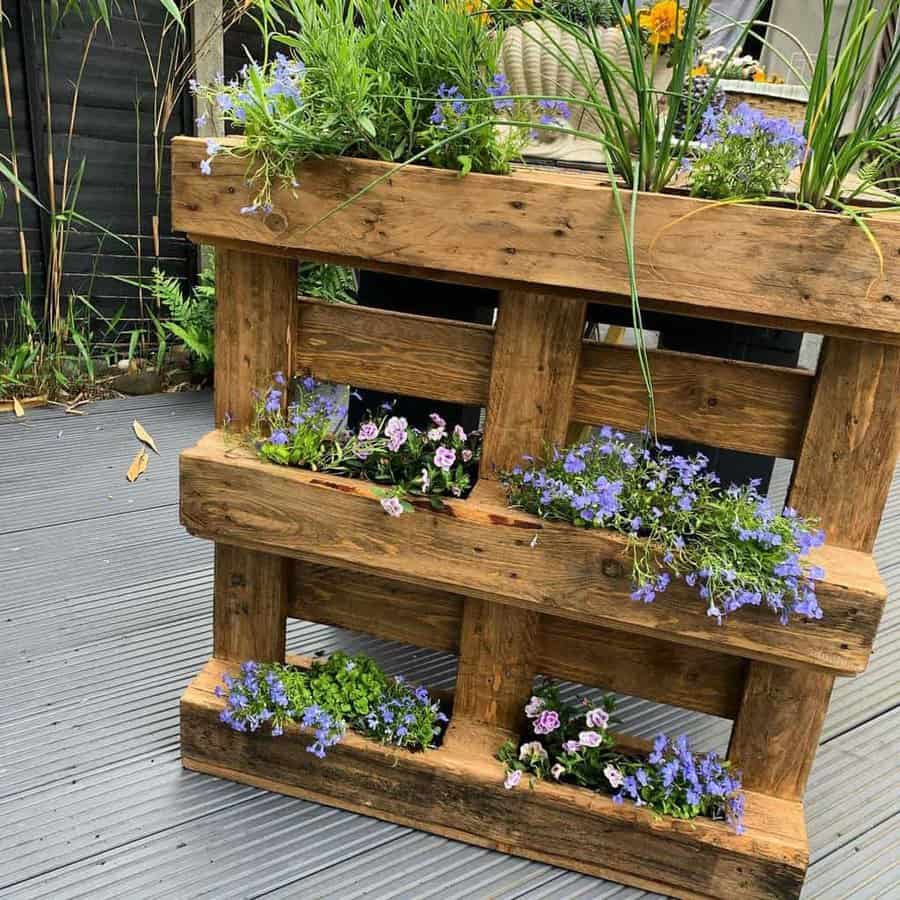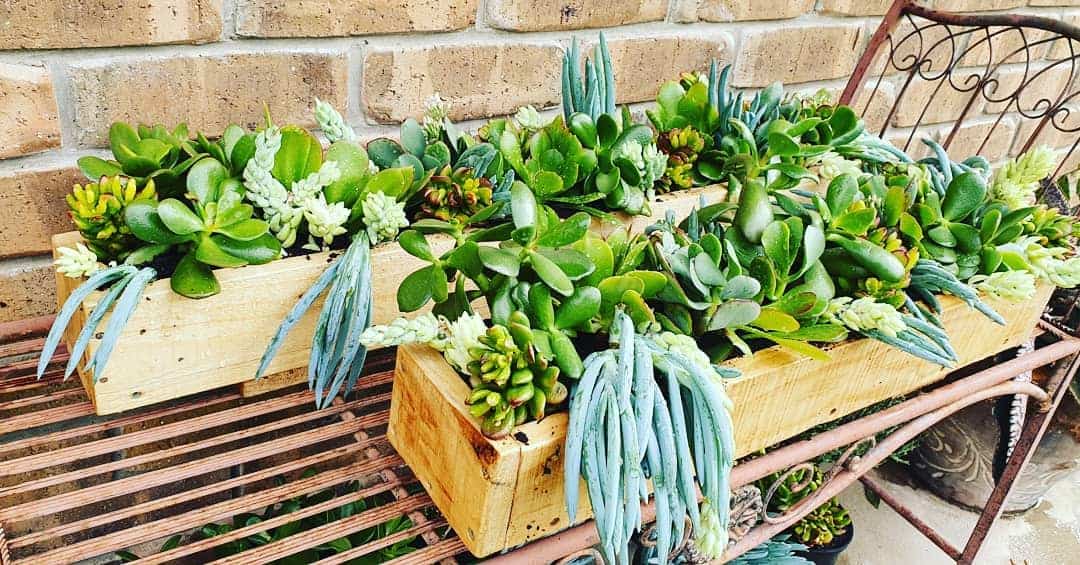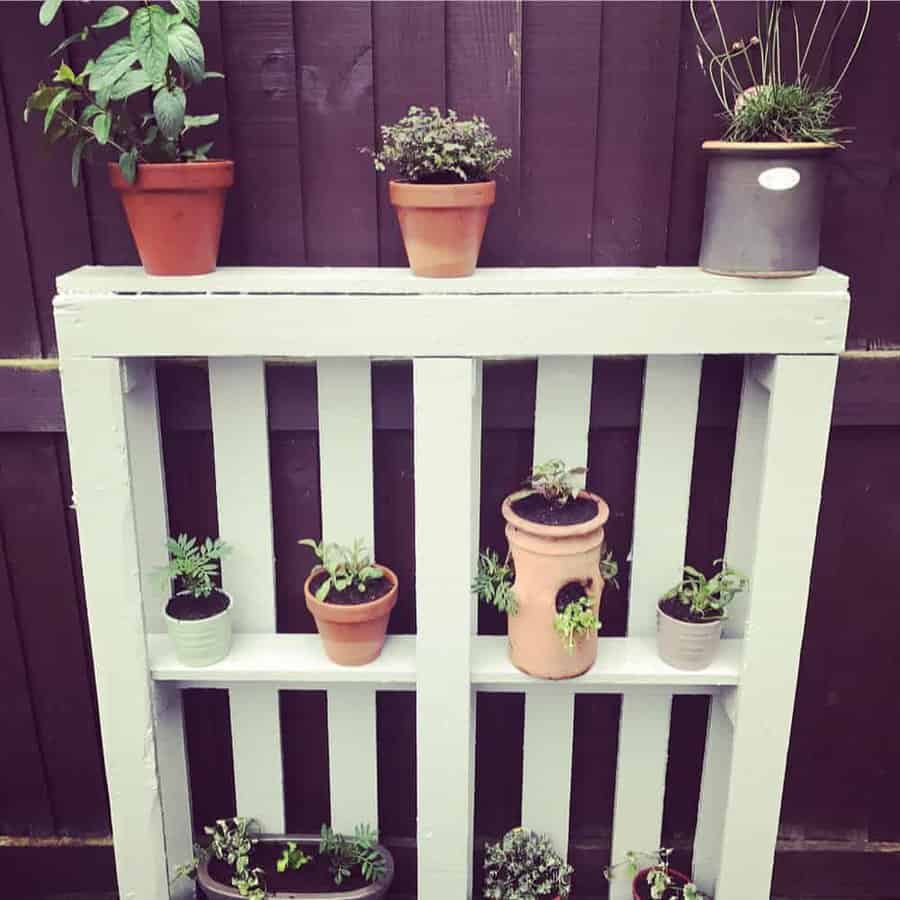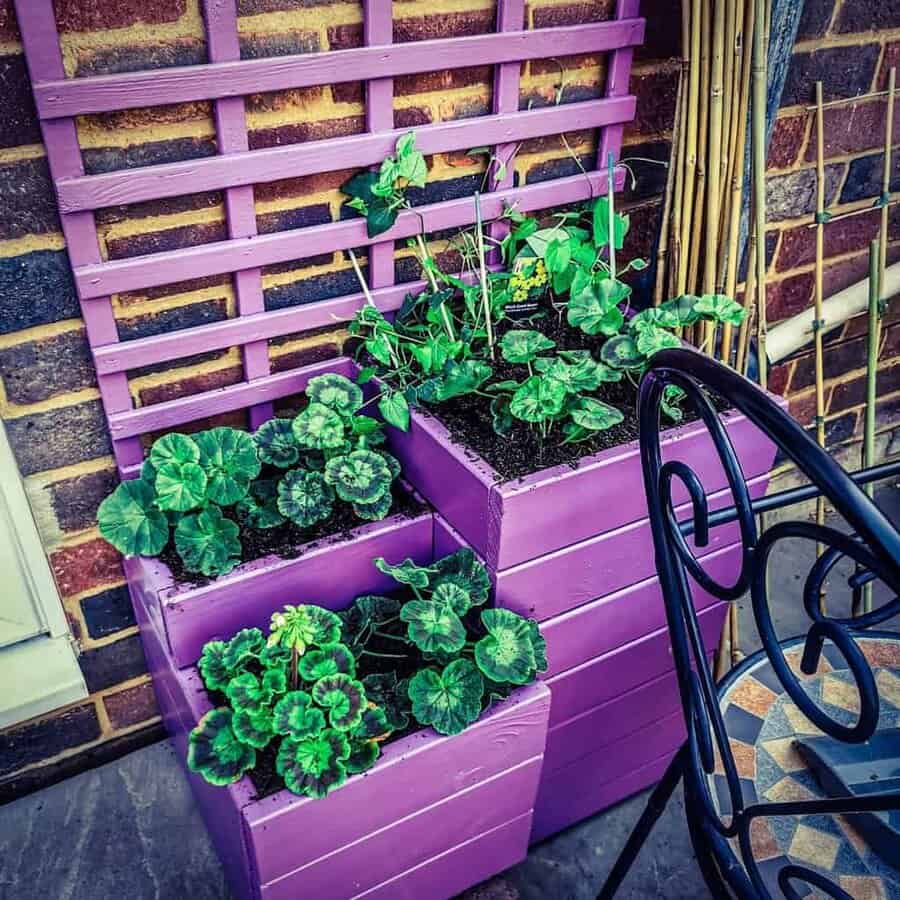 A pallet planter can be a beautiful accent to your patio, deck, or backyard. You could have a skinny one that sits on the railing of your patio. Or you could build larger ones that sit on the ground and function as your container pallet garden.
Pallet FAQs
How do you make wood pallets look good?
Leaving your pallet wood raw makes it look cool for a rustic appearance, but it isn't very functional. Sand the wood to make it smooth and eliminate the splinter risk. Then stain it a rich color that will look beautiful in your home.
Do pallets have termites?
Pallet wood is susceptible to termites. Look for holes and small woodpiles as evidence of a termite infestation. You also need to be careful where you get your pallets from. Grocery store pallets can have spills and stains from food products. This can lead to mold and other insect issues.
Are pallet beds safe?
It depends. Some pallets are treated with a large number of chemicals. These can be toxic and are not good for use when building your pallet bed or other furniture. However, if you use pallet wood that's only heat-treated, you should be fine. This wood gets heated to a minimum of 60 or 56 degrees, depending on the type of wood. This eliminates current and future infestation issues.