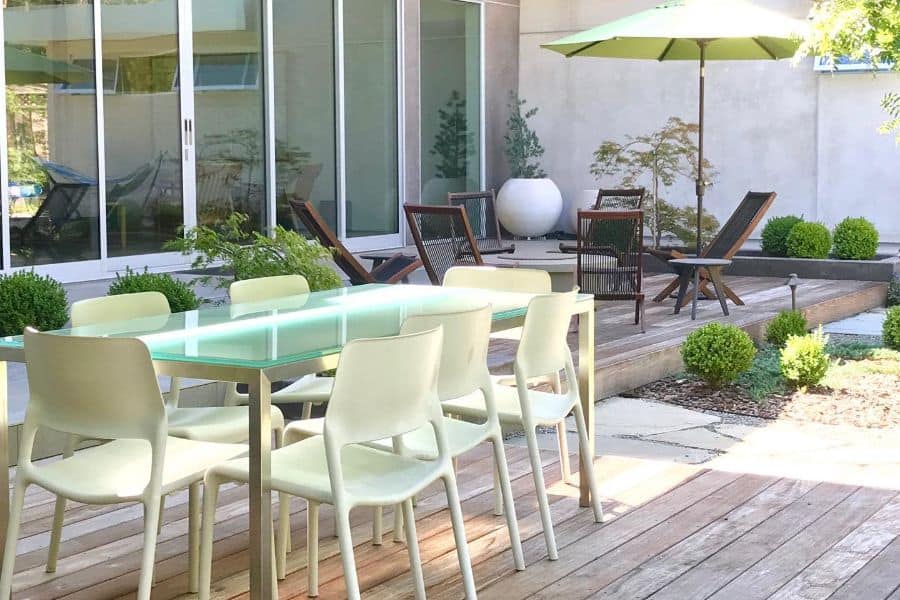 The Top 76 Patio Furniture Ideas
by — Andra DelMonico

Published on March 29, 2021

Updated on October 26, 2023
Isn't it time you did something with your backyard? It's your property, so it's time you start enjoying it. Perhaps it's a dirt patch where grass only grows on part of it. Or maybe you have a concrete patio that's just ugly.
What you need are some patio furniture ideas. Once you place some outdoor furniture, you'll begin to see your outdoor space start to take shape. Similar to the rooms inside your home, your outdoor space will become a welcoming spot for hanging out and entertaining. Which one of these ideas will work in your backyard?
1. Classic Comfort with Adirondack Chairs
Adirondack chairs, recognized for their ergonomic design and wide armrests, promise ultimate relaxation. To amplify their classic charm, opt for durable woods or weather-resistant resins. Pair them with plush cushions and vivid throw pillows for added comfort and to introduce color and texture to your outdoor setting. Their timeless appeal will effortlessly enhance your patio's ambiance.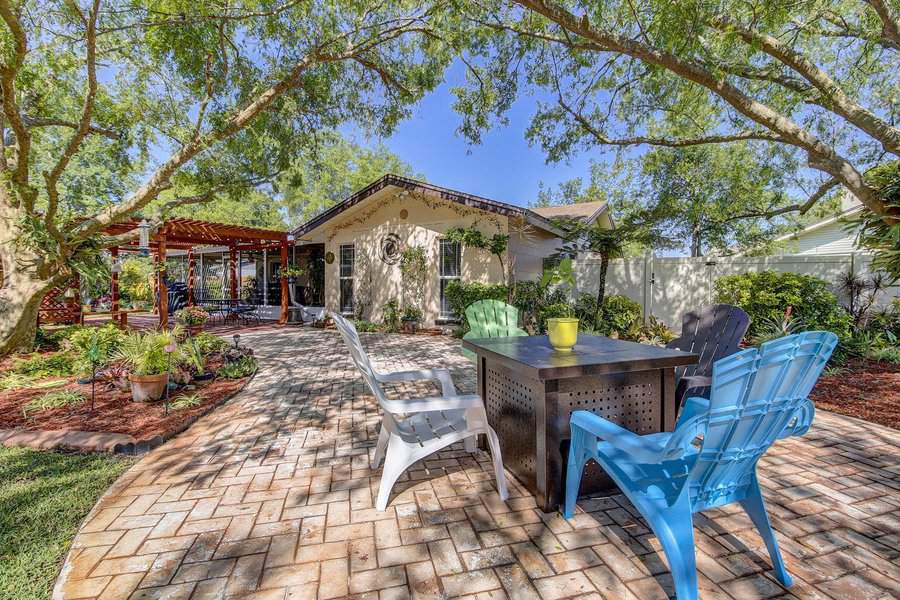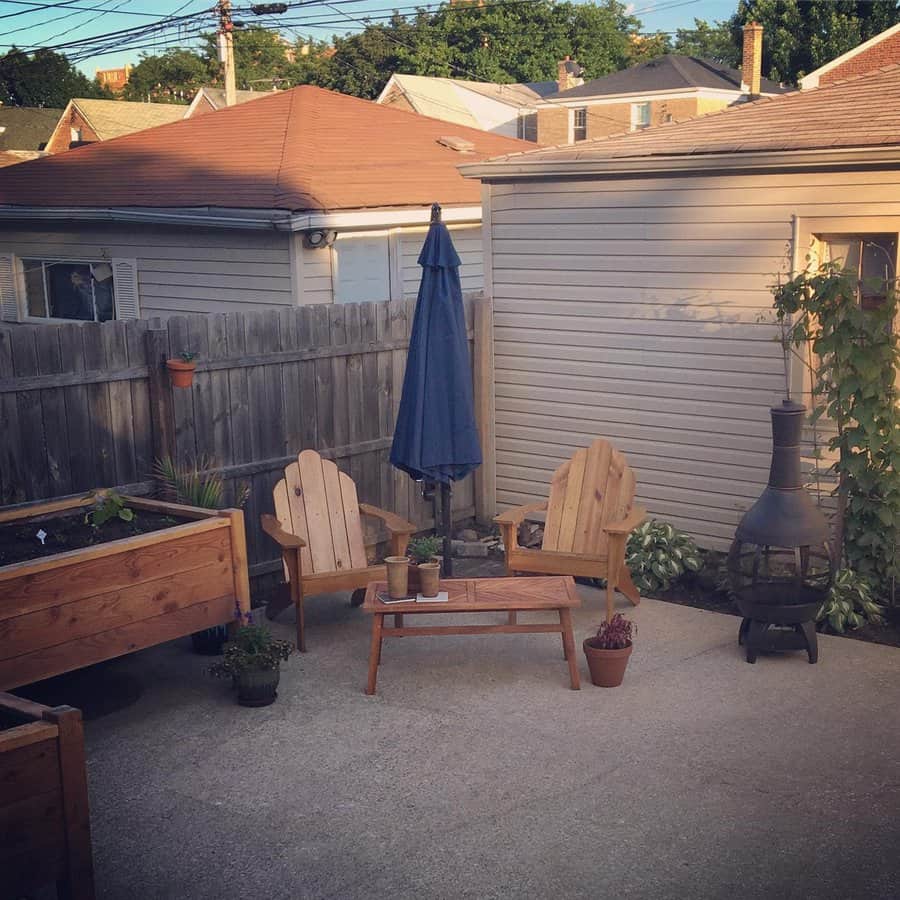 2. Timeless Appeal of Wicker Furniture
Wicker furniture infuses your patio with rustic elegance, transforming it into a snug and welcoming retreat perfect for both entertaining and relaxation. Select a plush wicker sofa as your centerpiece, and augment it with soft cushions and throw pillows for an irresistible invitation to unwind. The intricate weaving of wicker not only adds sophisticated texture but also creates an enchanting visual interest, turning your outdoor space into an attractive focal point. Wicker's versatility makes it suitable for various settings, ensuring you enjoy your patio, be it during a lively social gathering or a tranquil solo evening.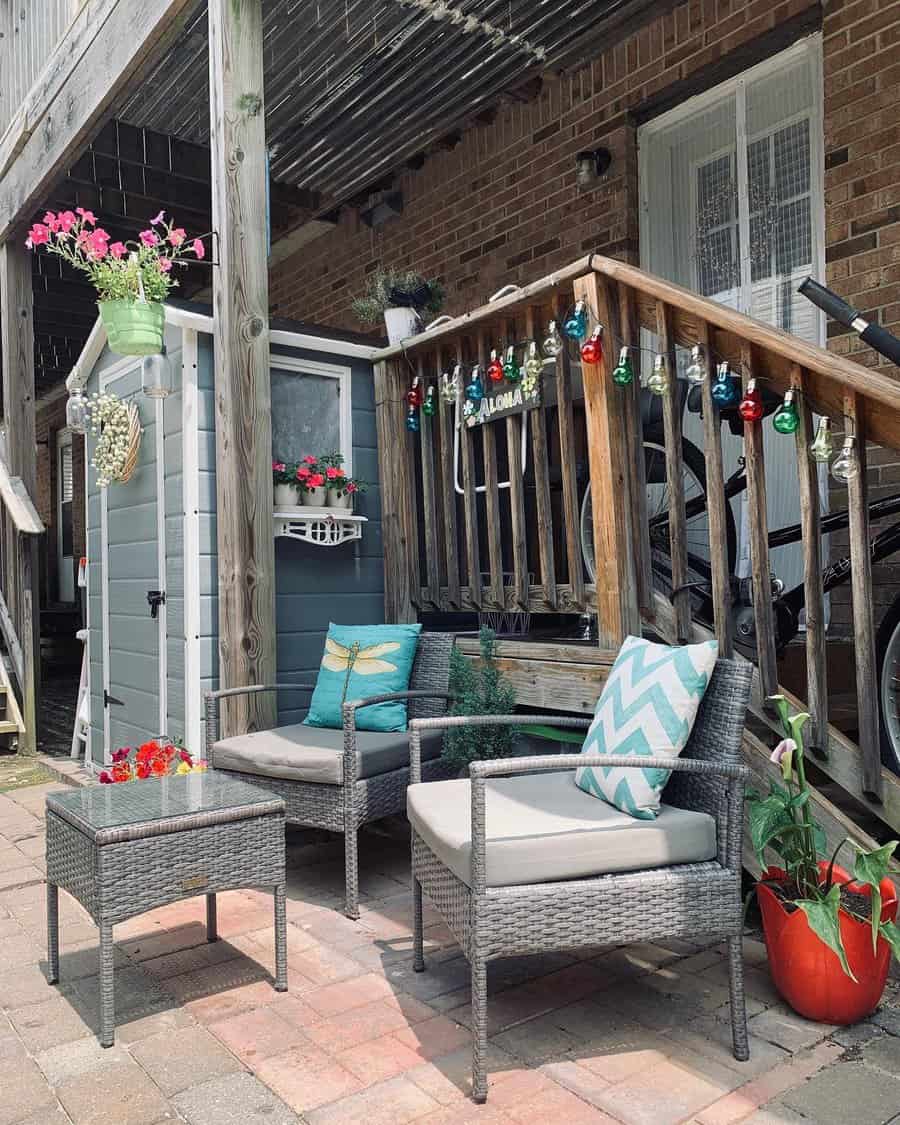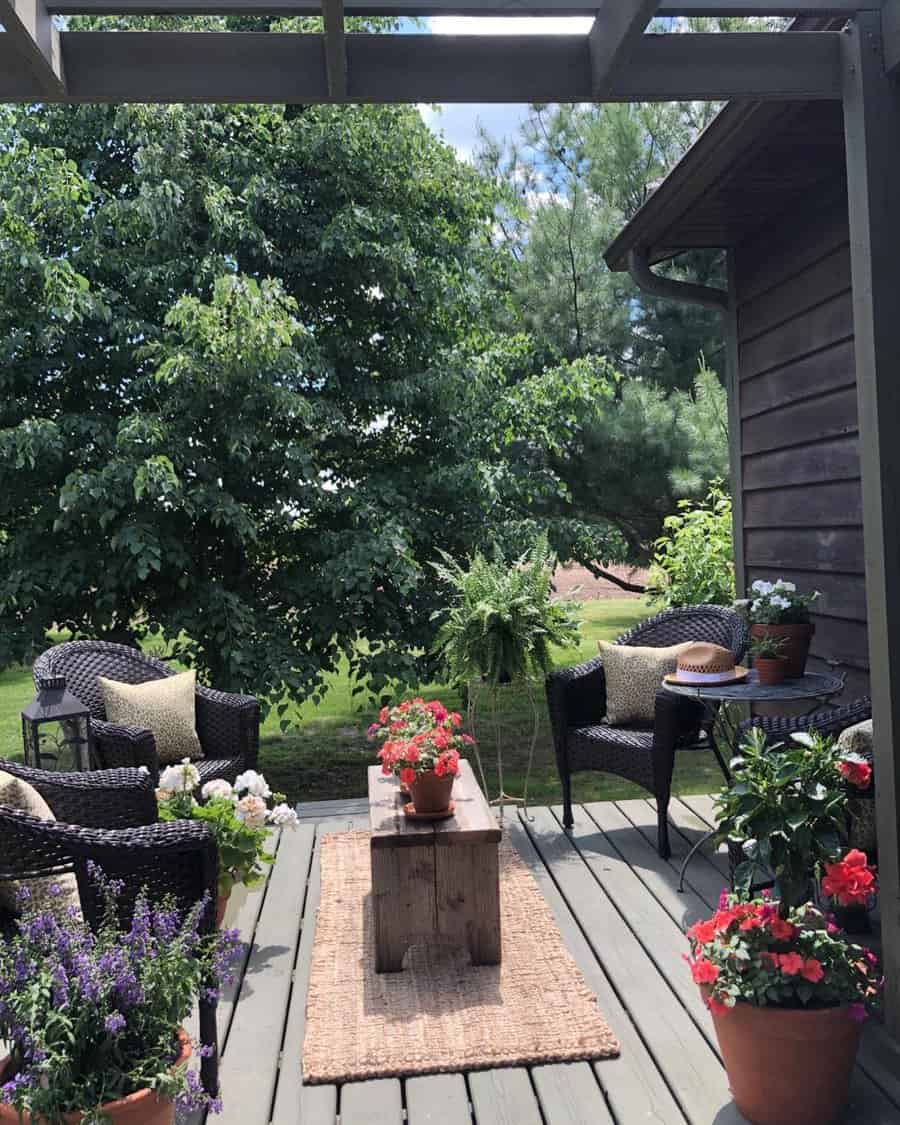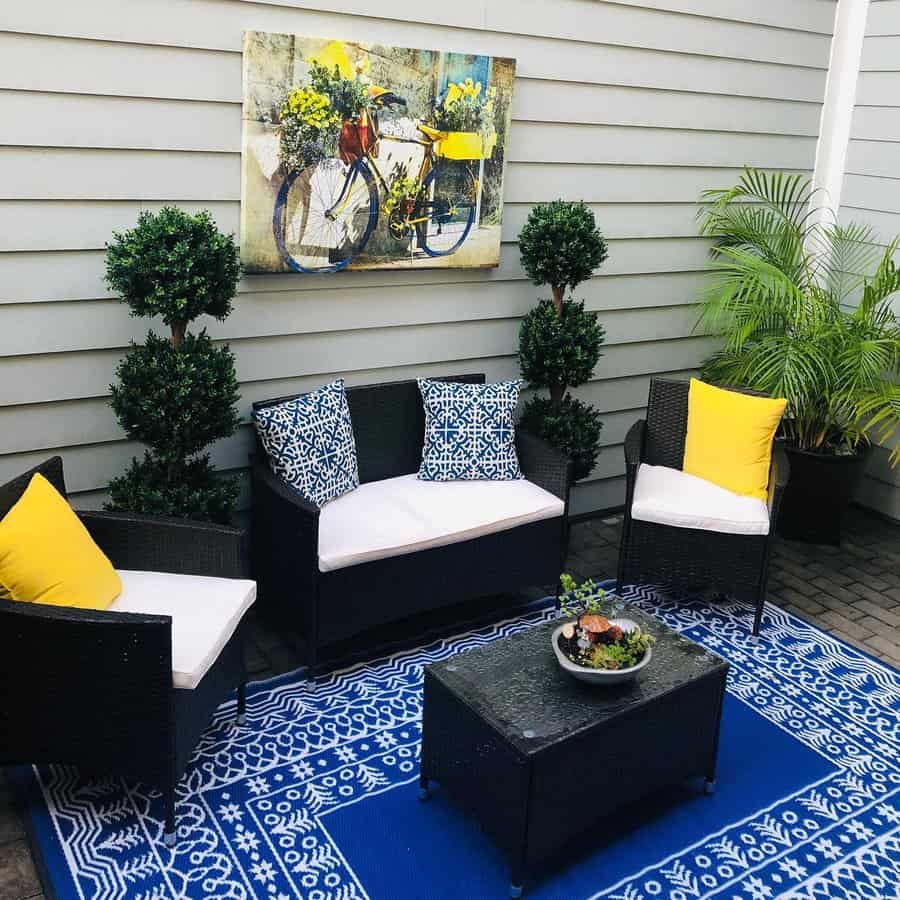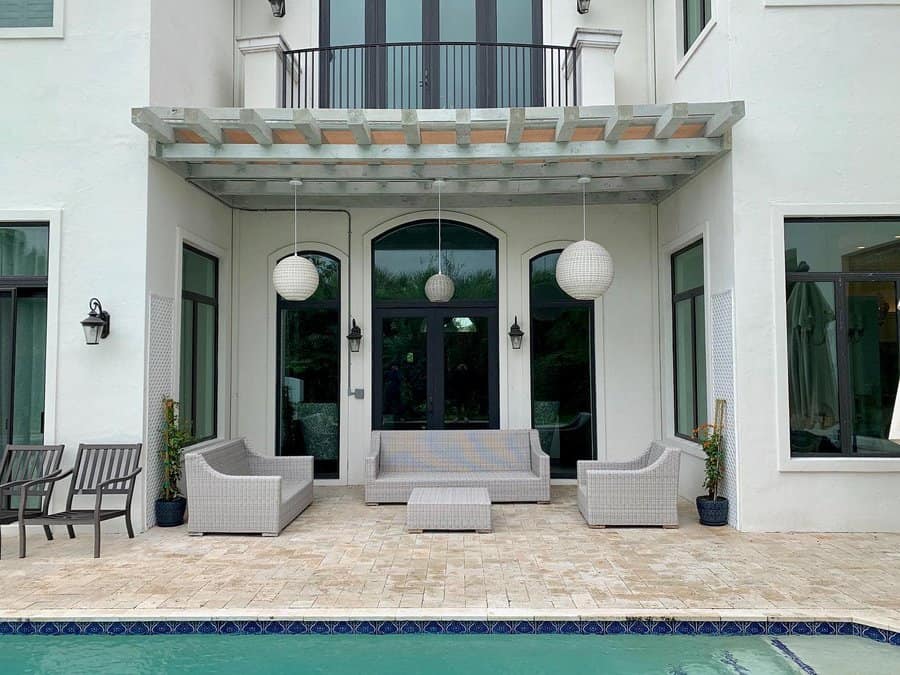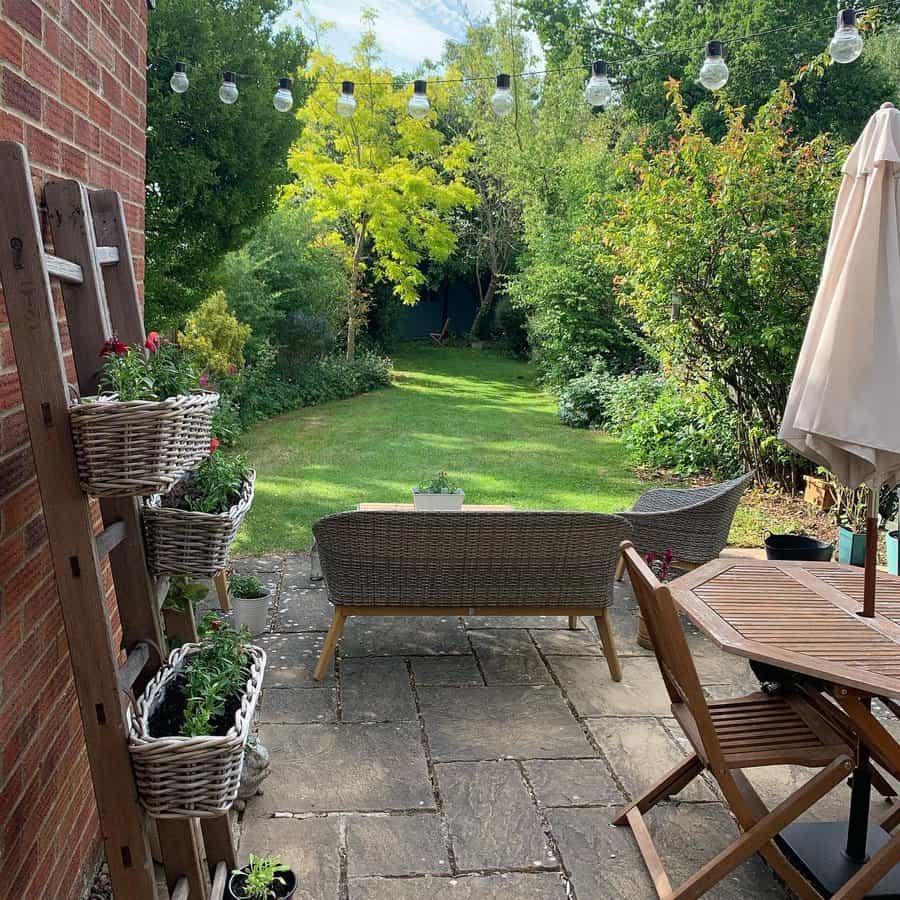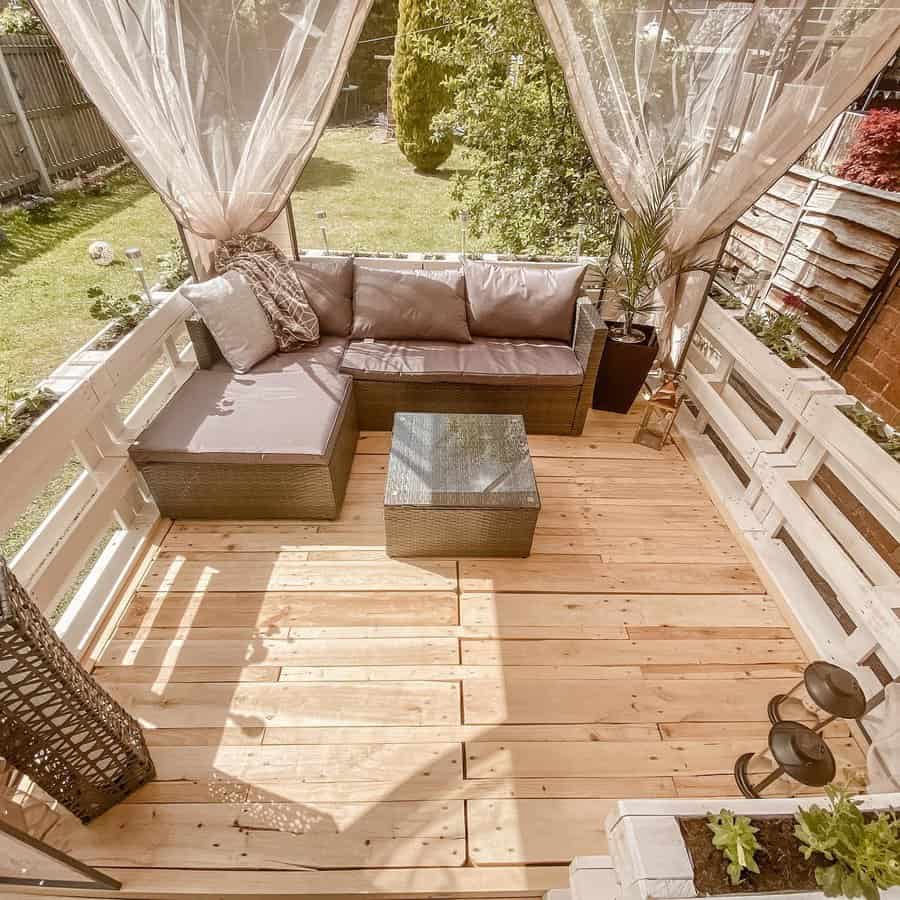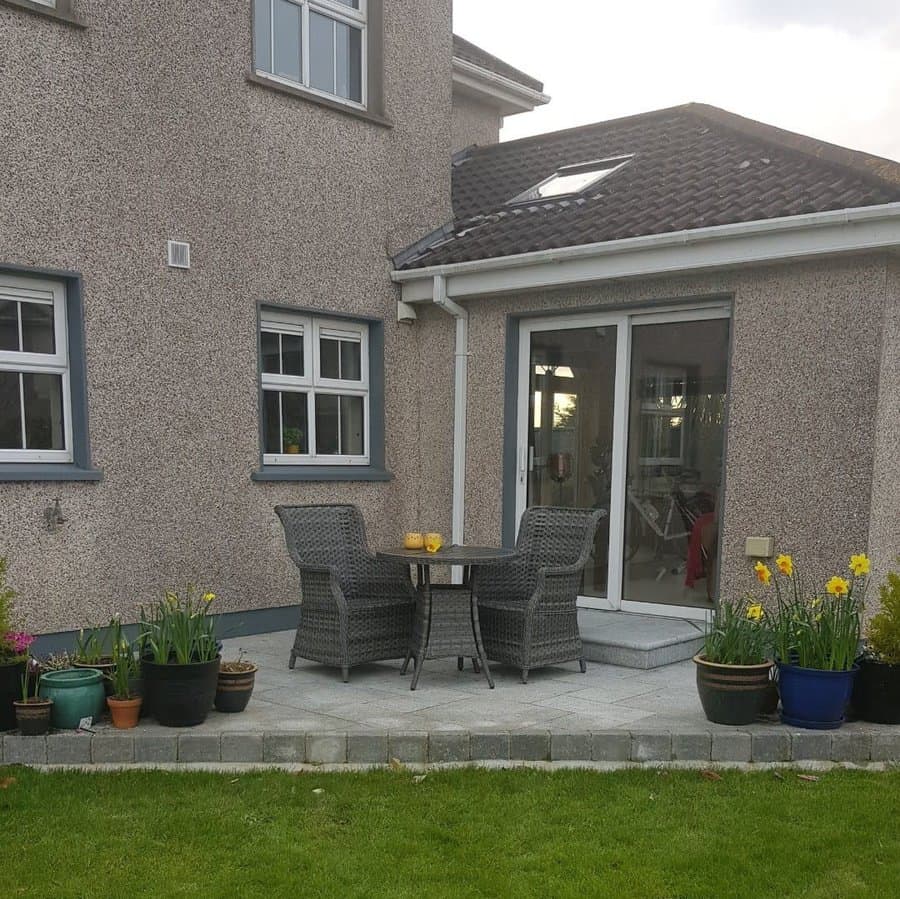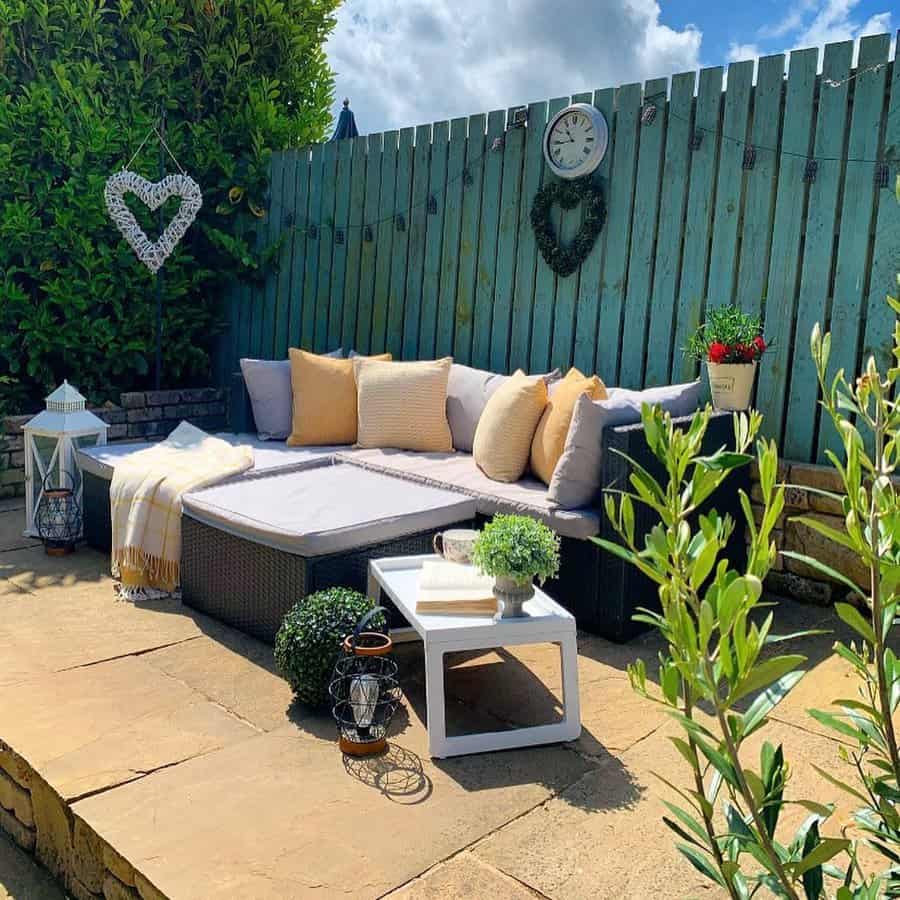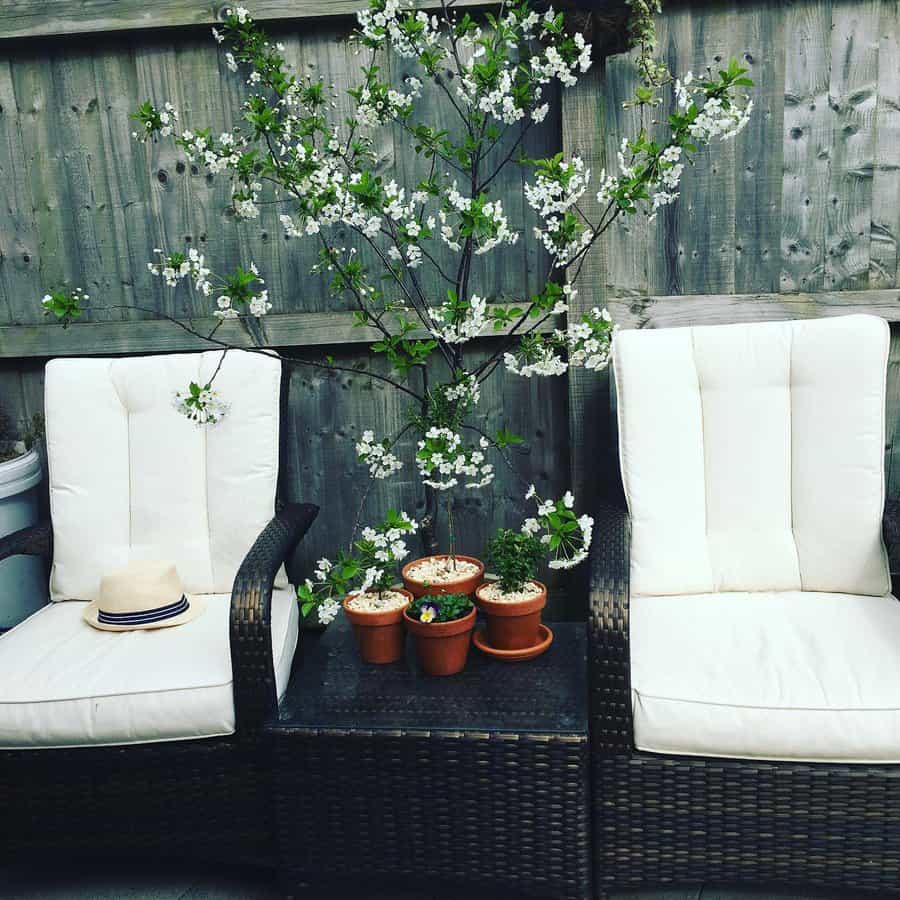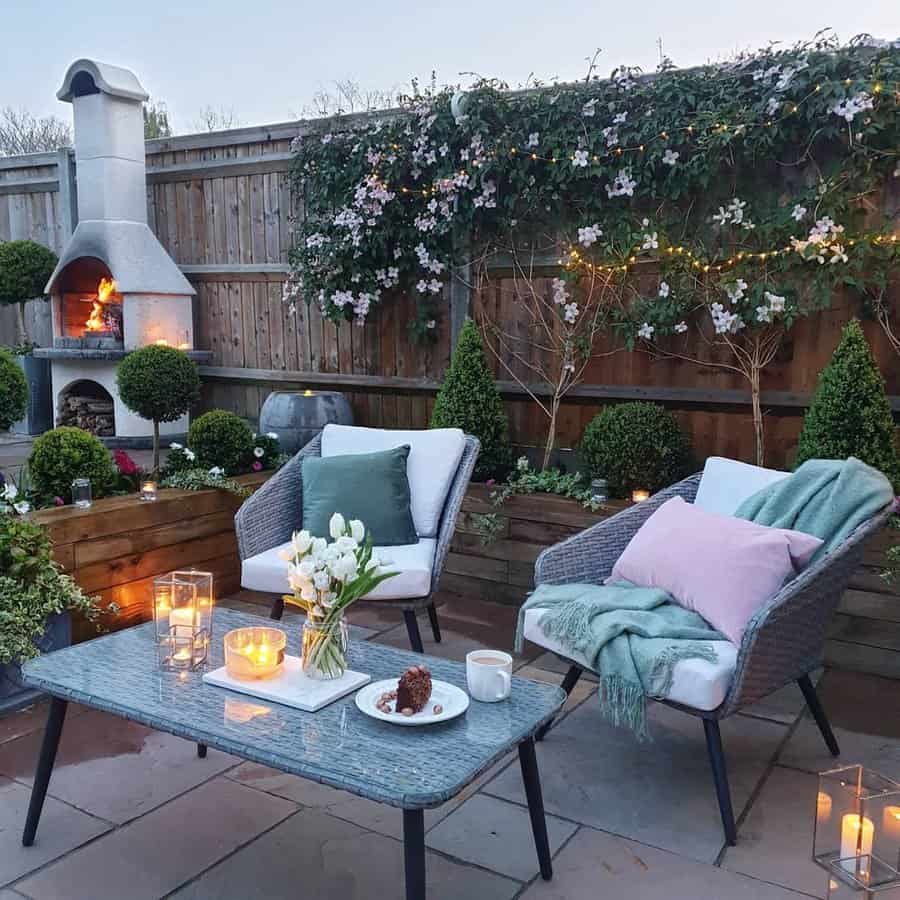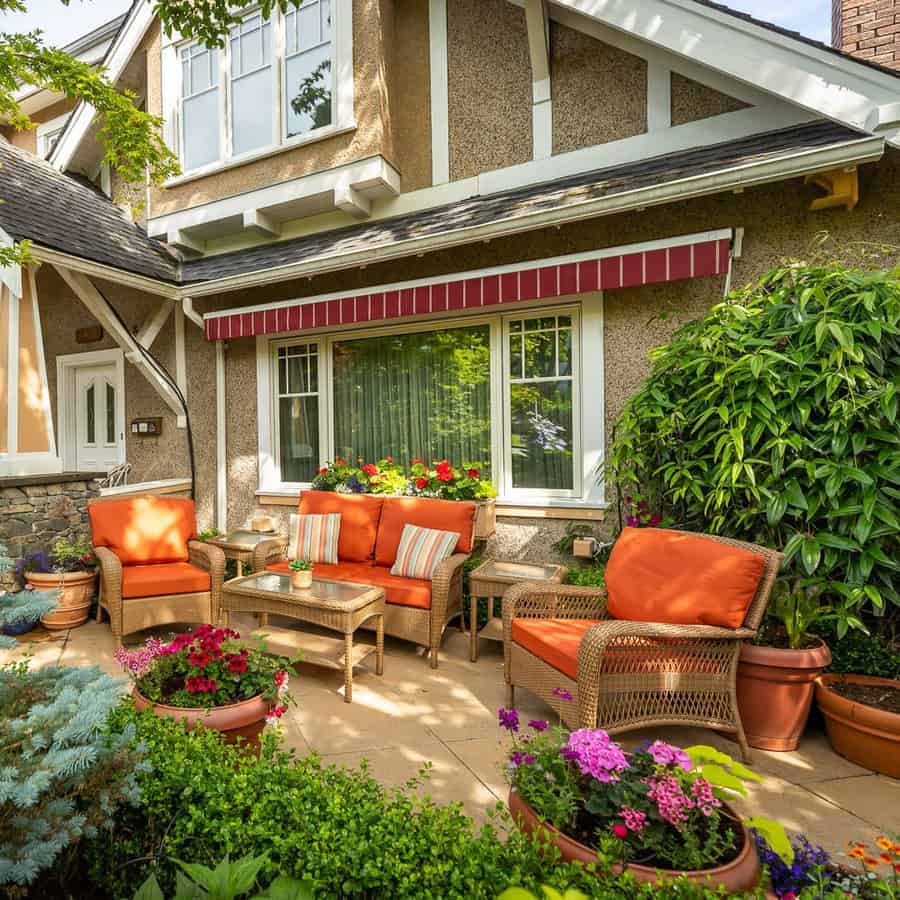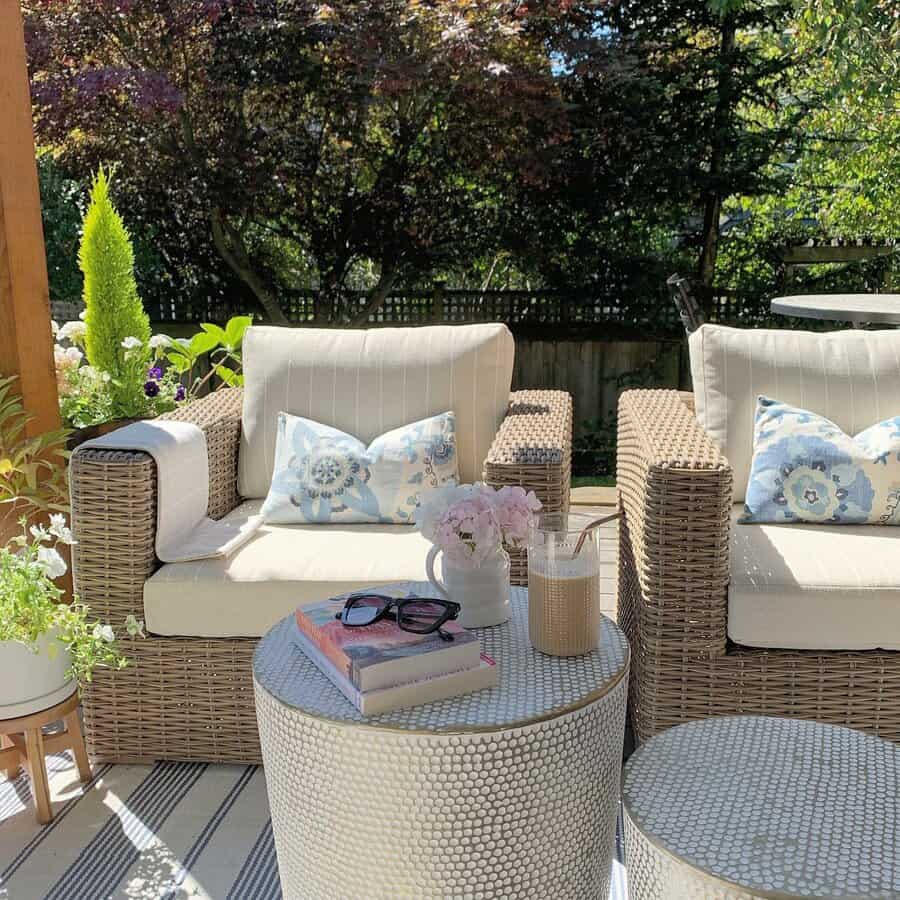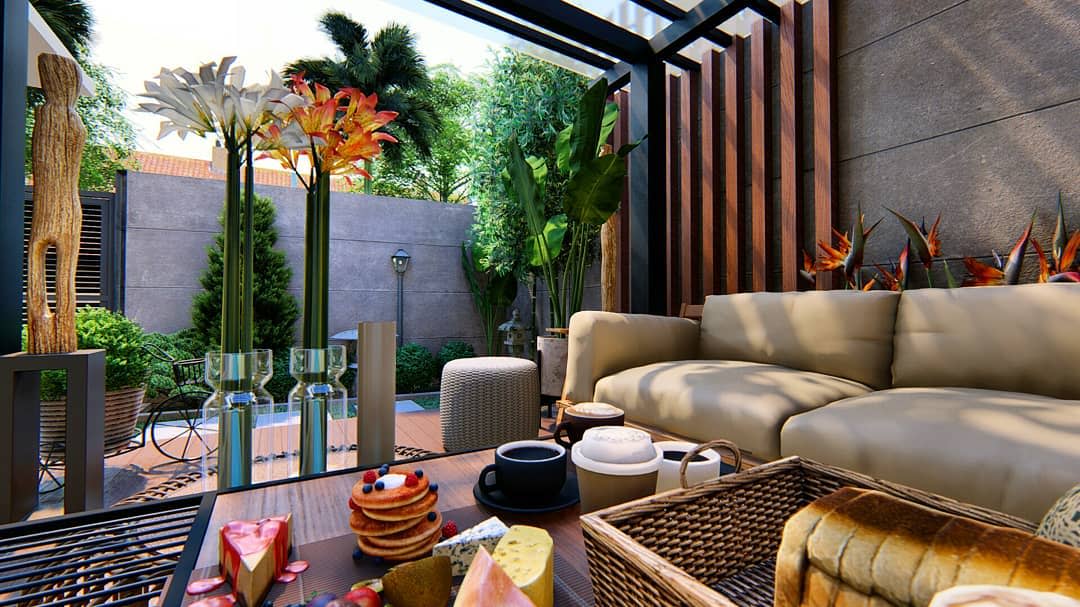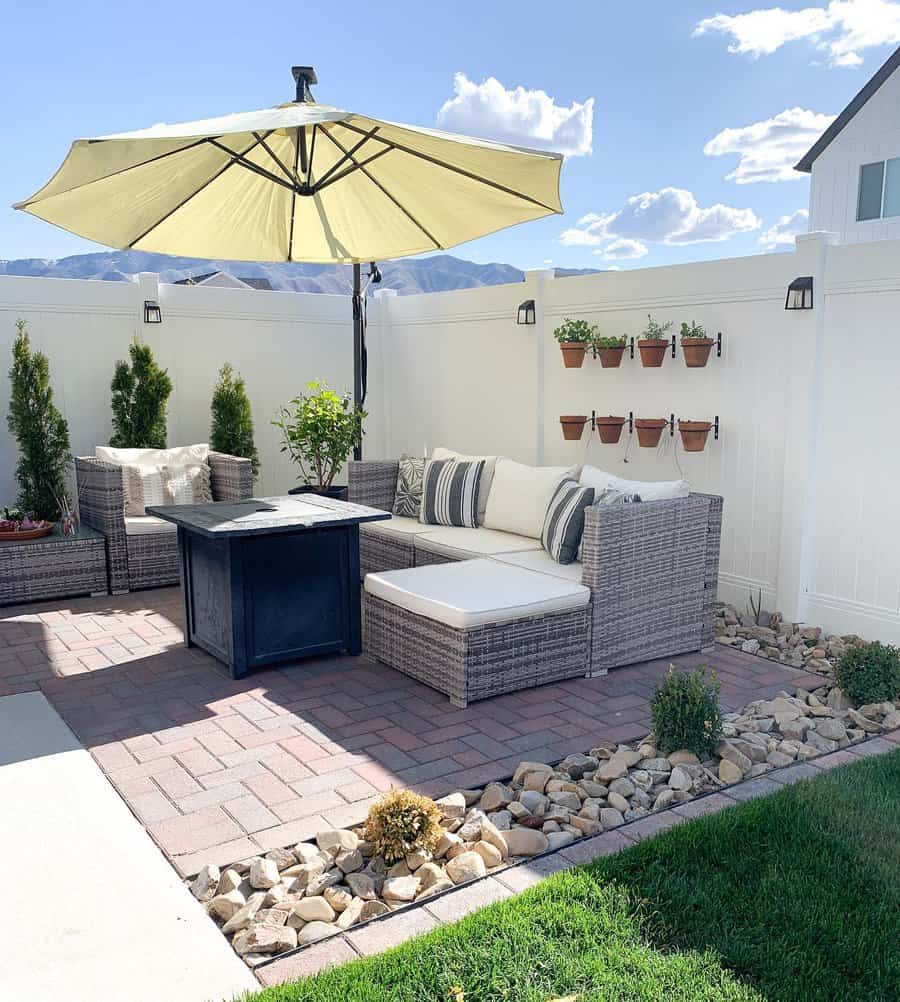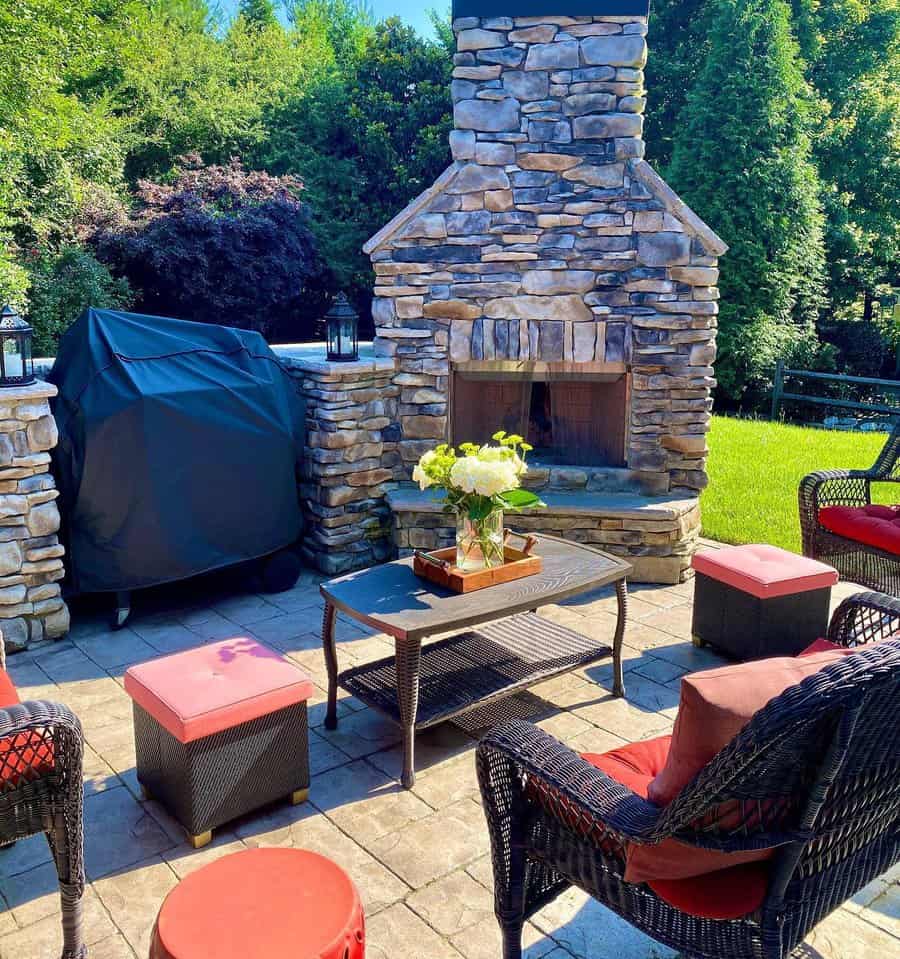 3. Cozy Conversation Sets for Intimate Gatherings
Conversation sets effortlessly blend comfort with elegance, perfect for fostering intimate and memorable interactions. To create an inviting hub, combine plush sofas featuring soft cushions with a low table, emphasizing closeness and dialogue. Such setups not only accommodate multiple guests but also infuse sophistication into your outdoor space. From tranquil morning coffees to vibrant evening get-togethers, these sets elevate your patio into a preferred destination for comfort-driven gatherings.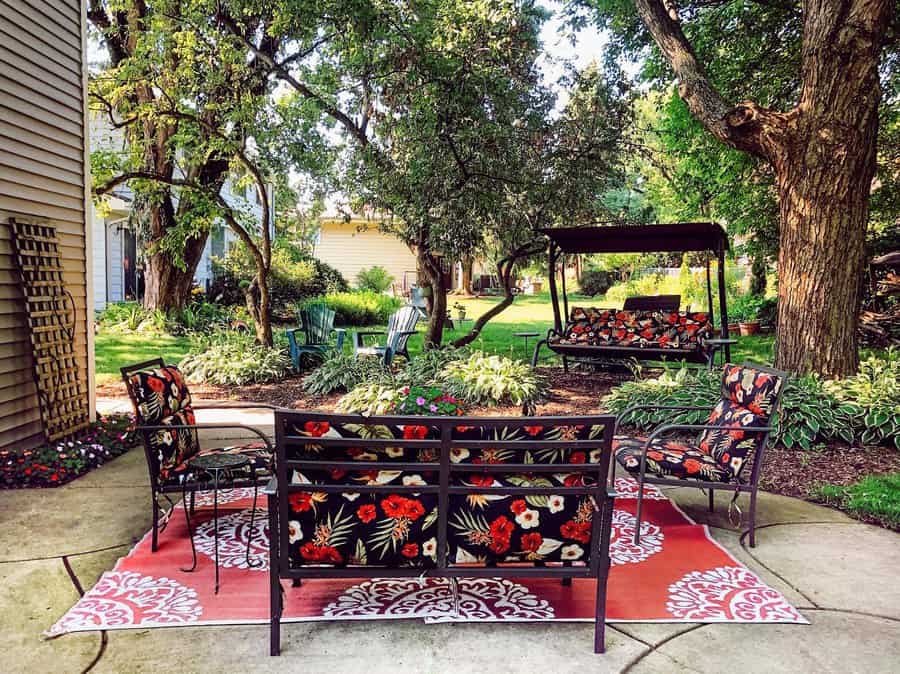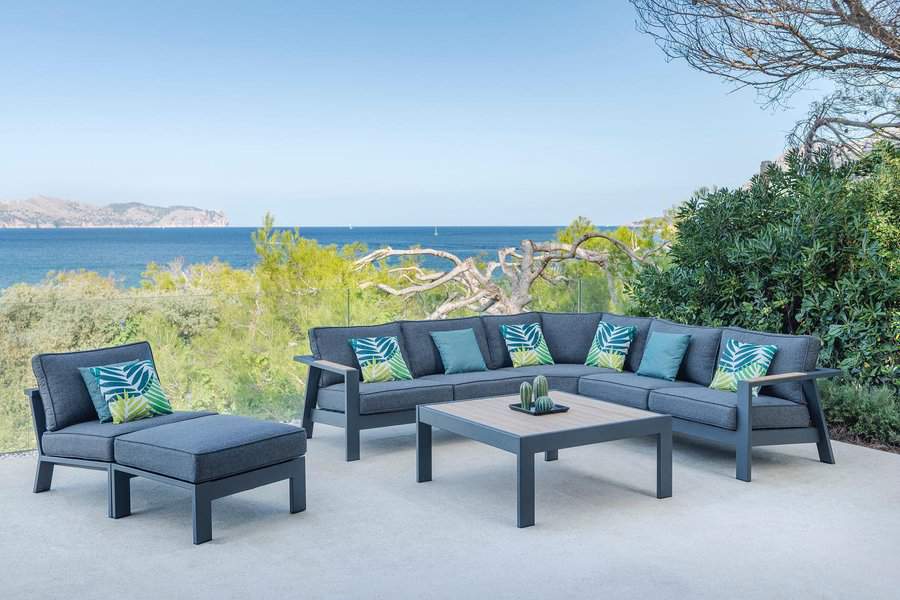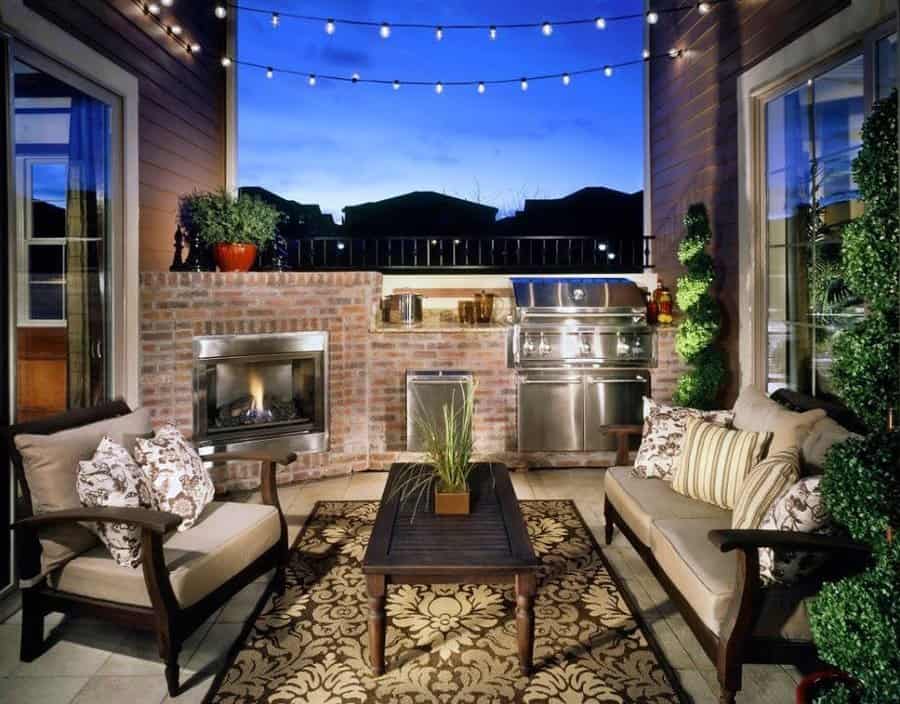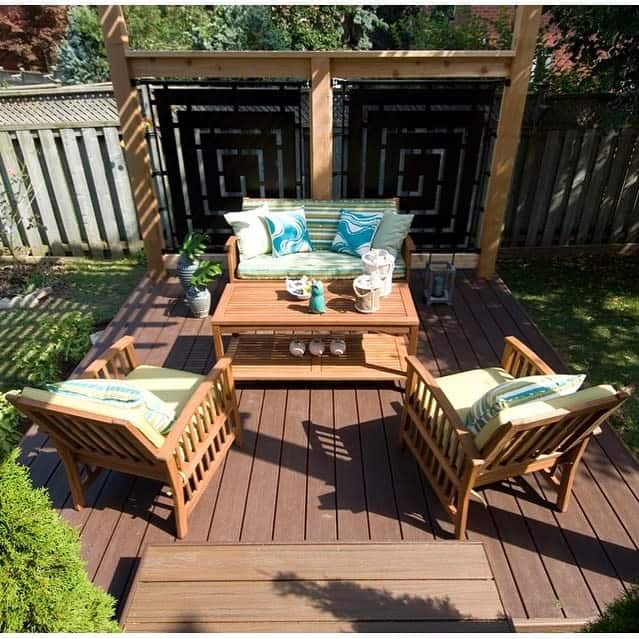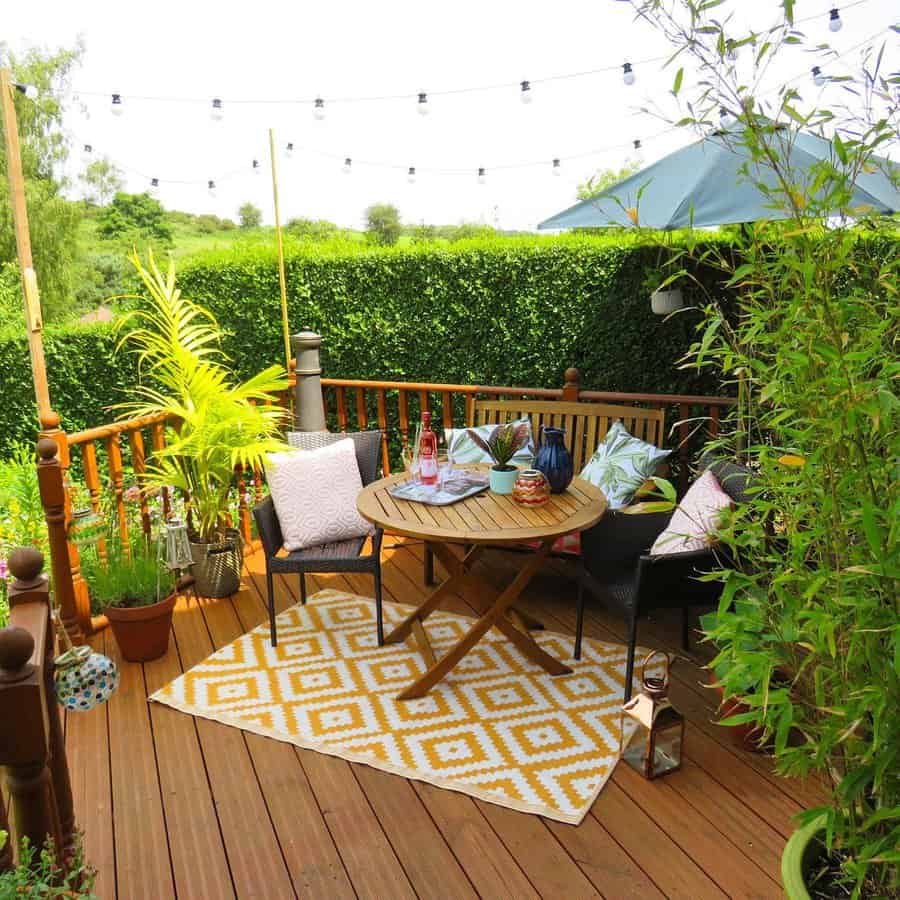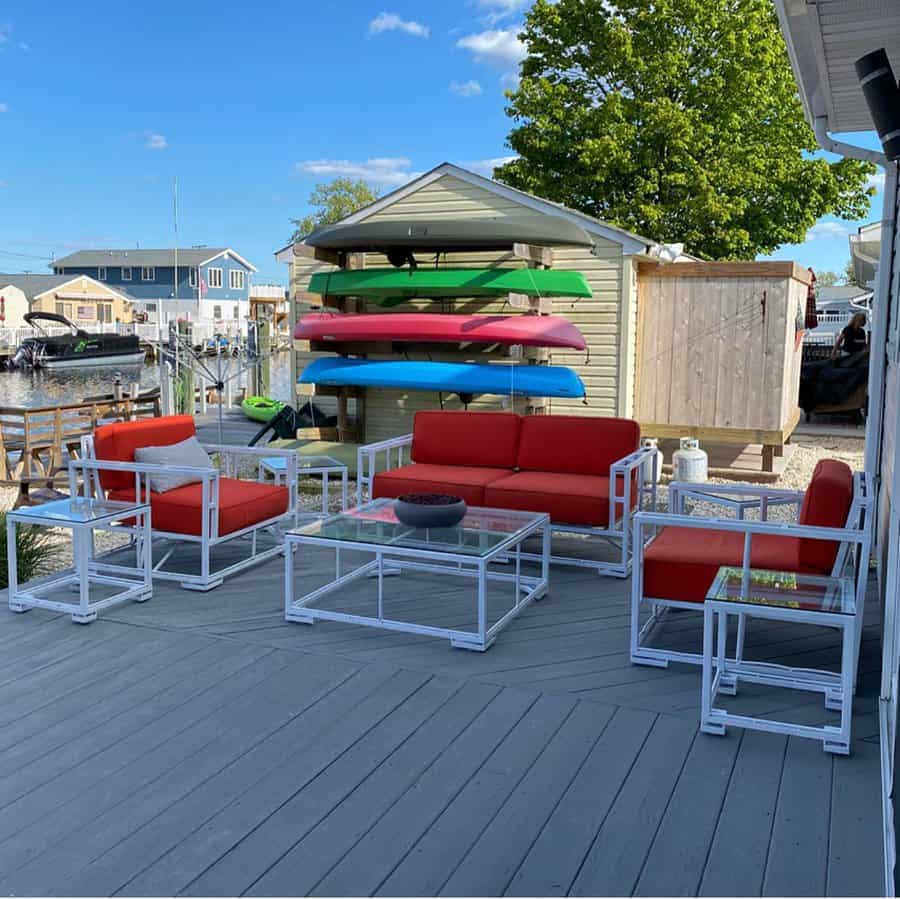 4. Elevate Your Space with Outdoor Coffee Tables
Transform your patio into a welcoming haven for relaxation and socializing with a chic outdoor coffee table at its heart. Select a size that comfortably fits your space, ideally suited for small groups, enhancing the intimate vibe of your gatherings. Ensure that the table's design and material seamlessly blend with your patio's existing style, be it modern minimalism or rustic charm. A well-chosen coffee table not only serves as a functional centerpiece but also significantly amps up your outdoor area's style quotient, making it a delightful space to unwind or entertain.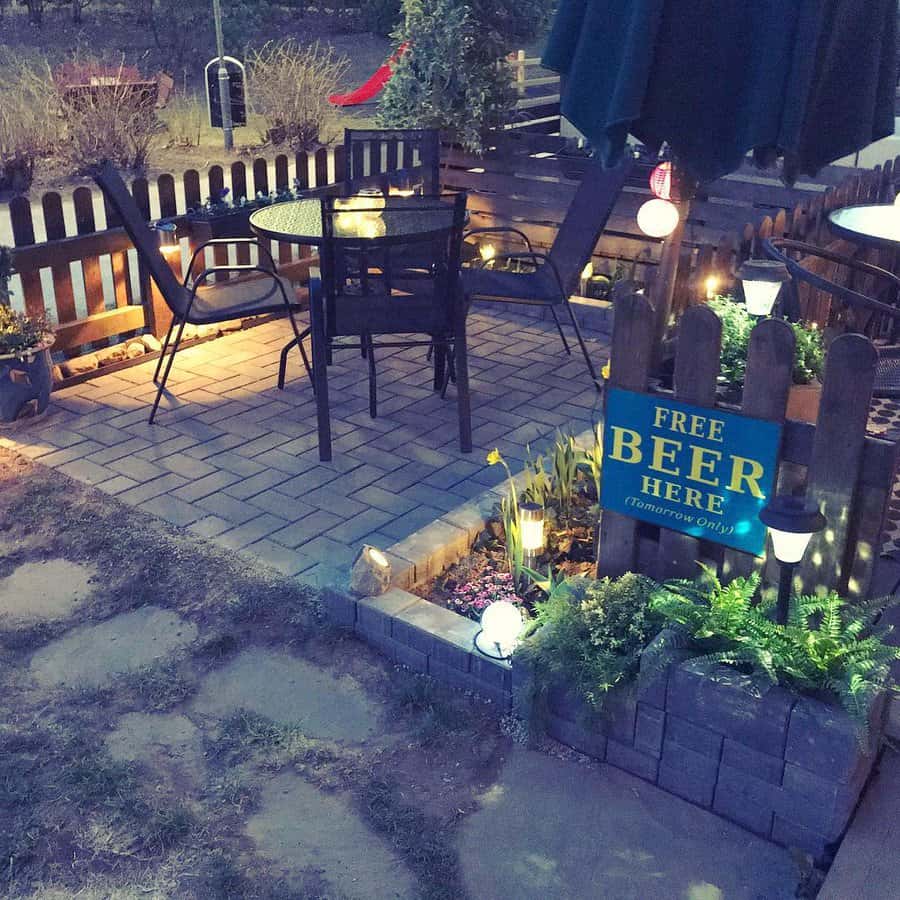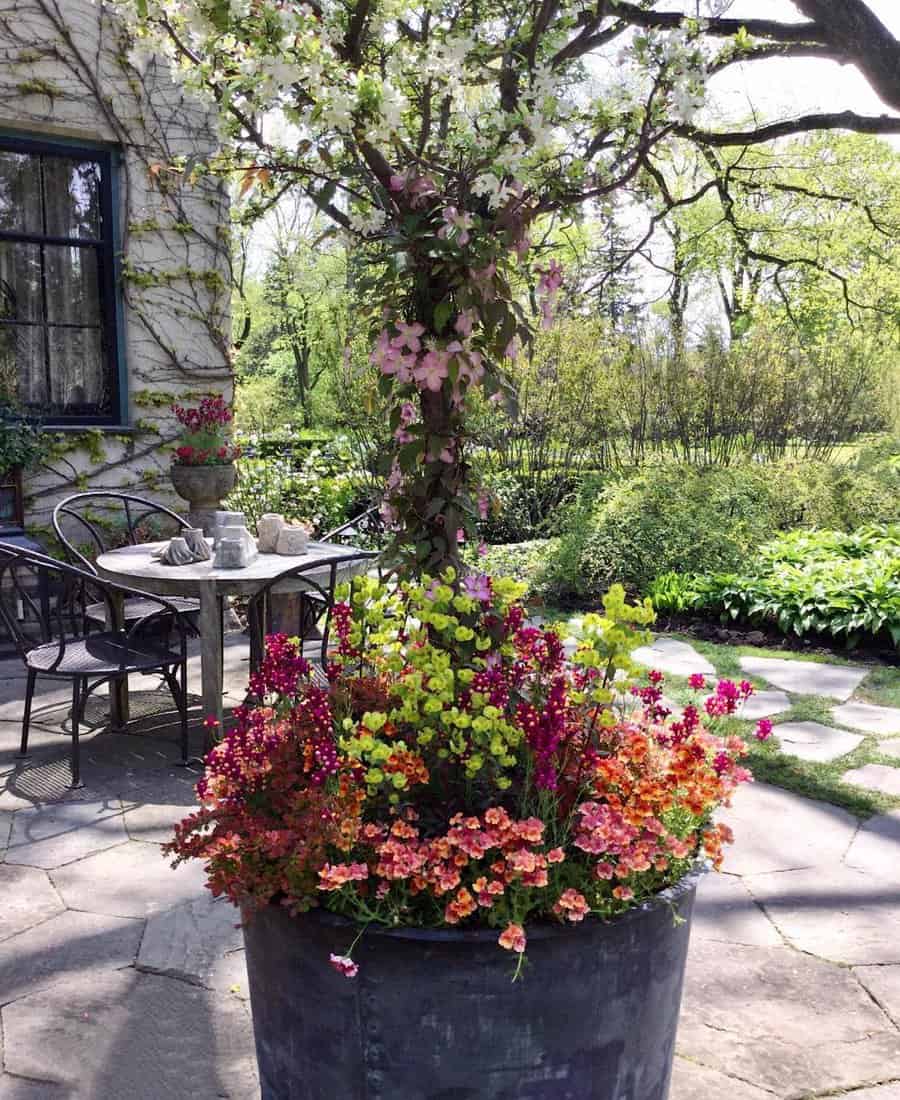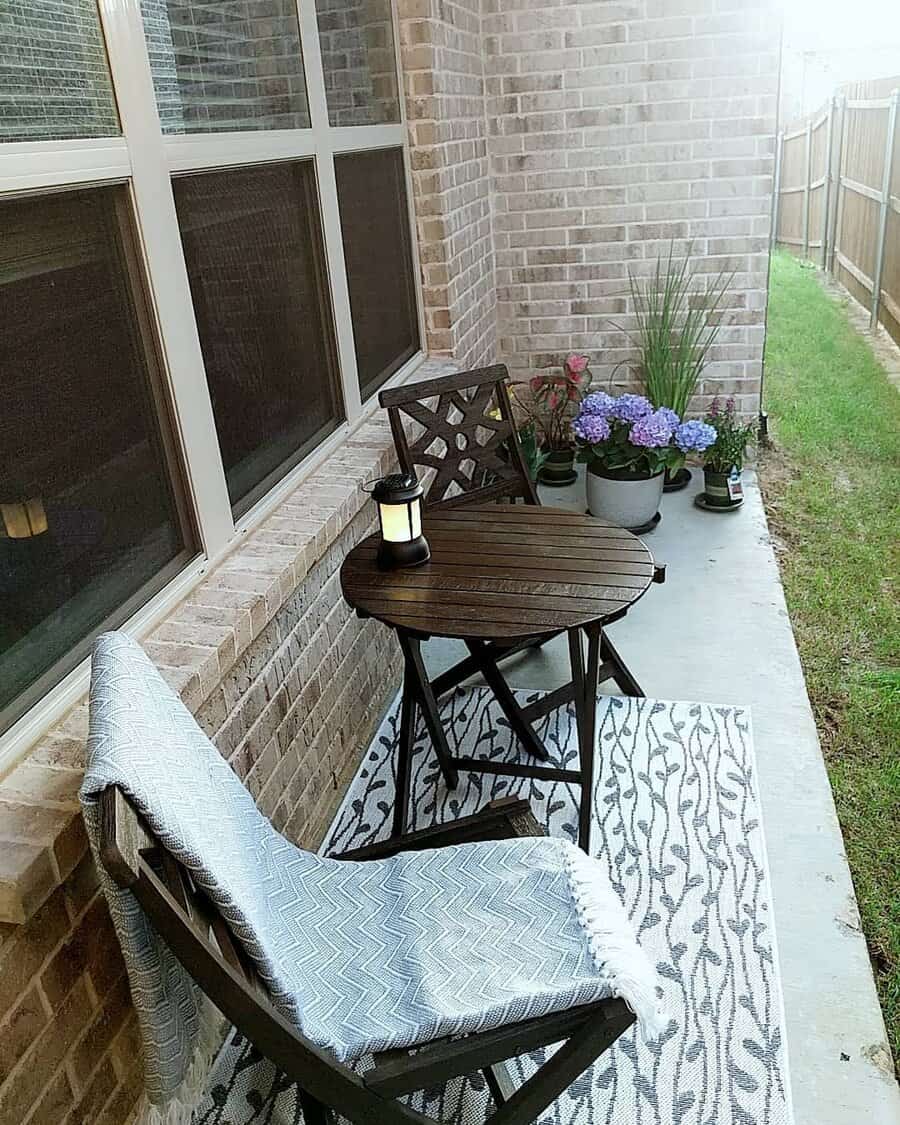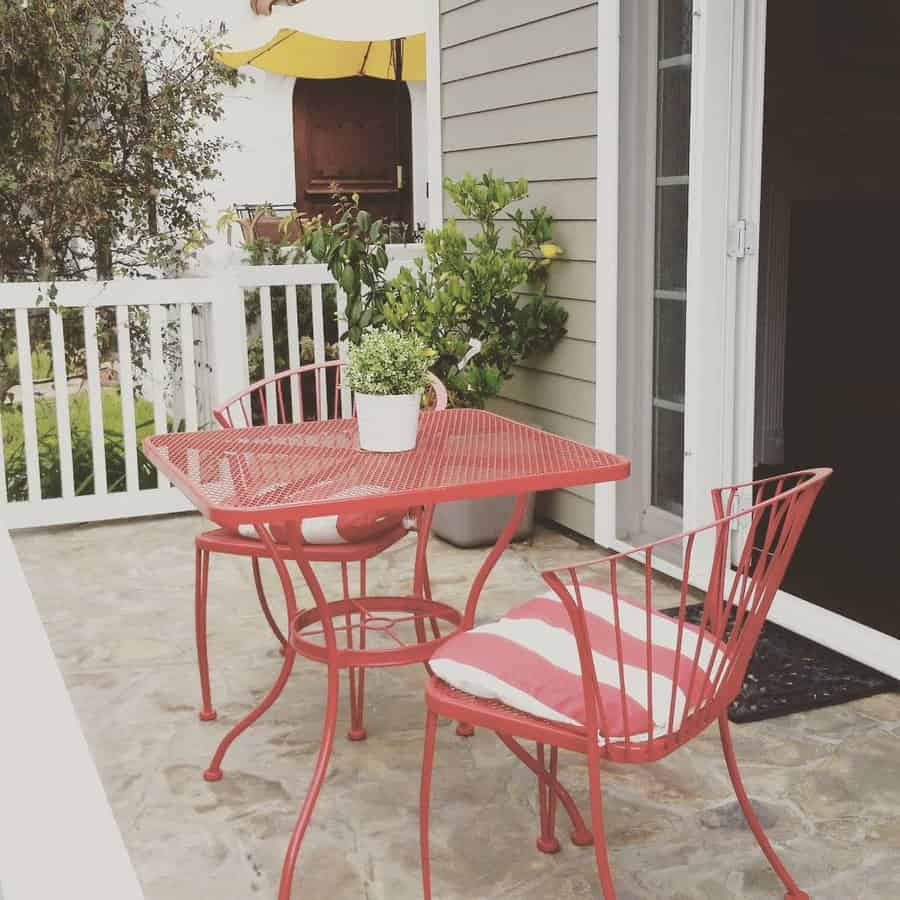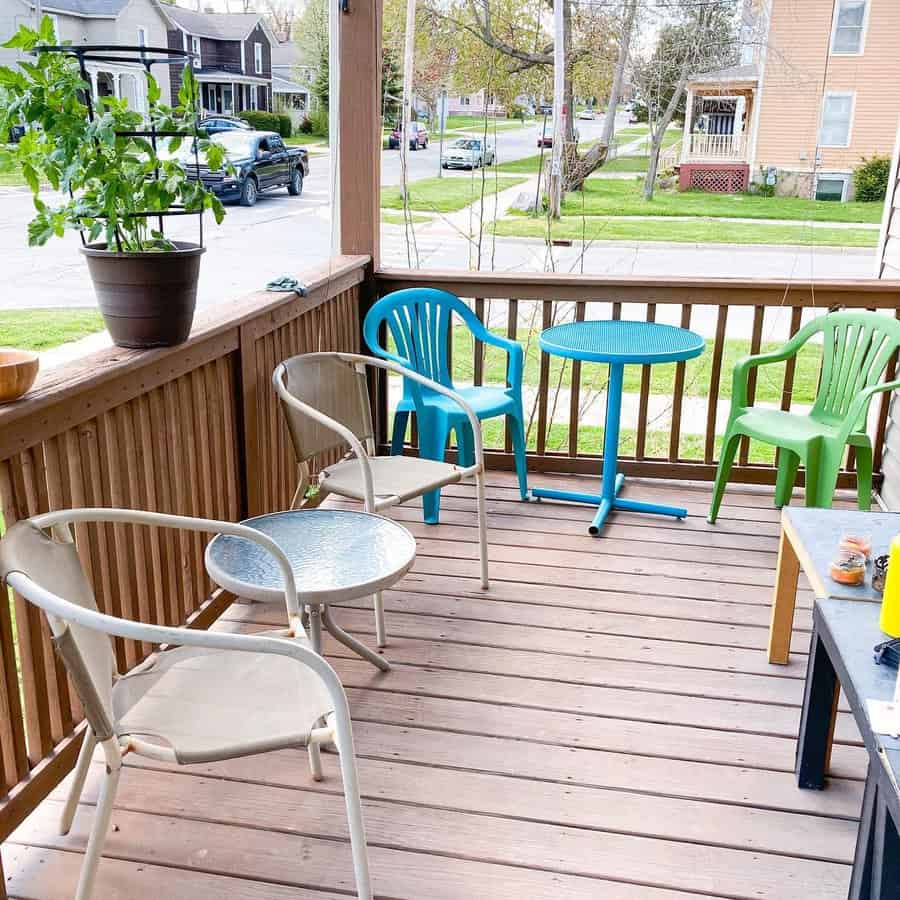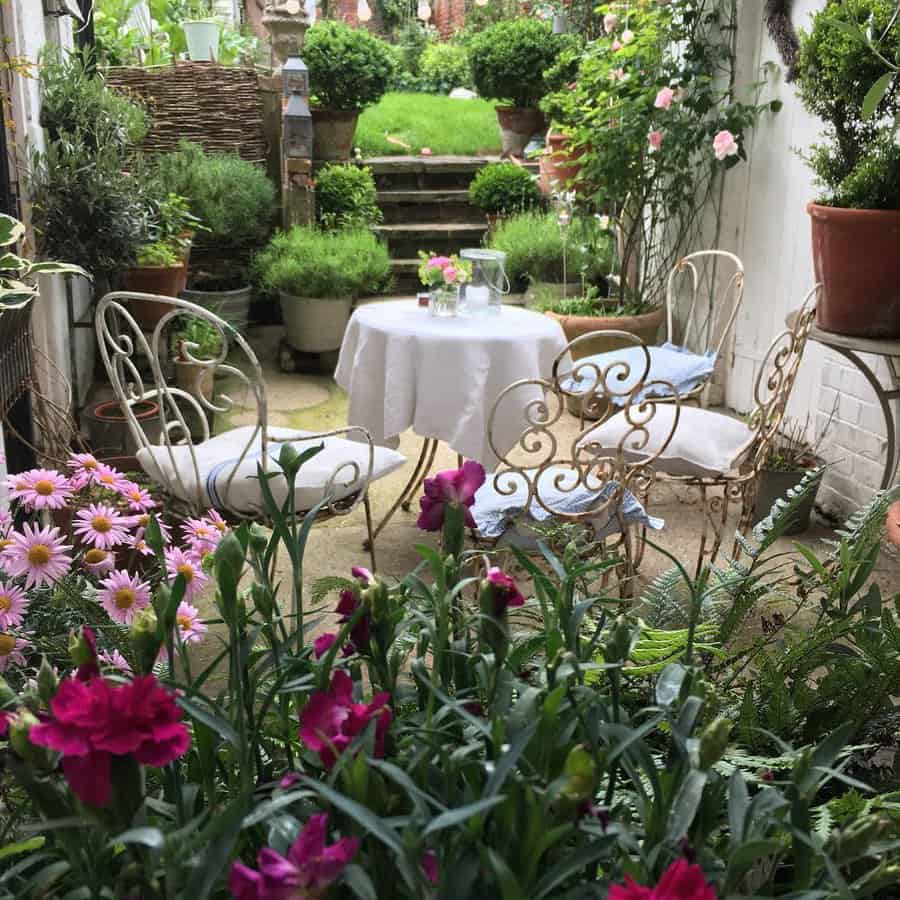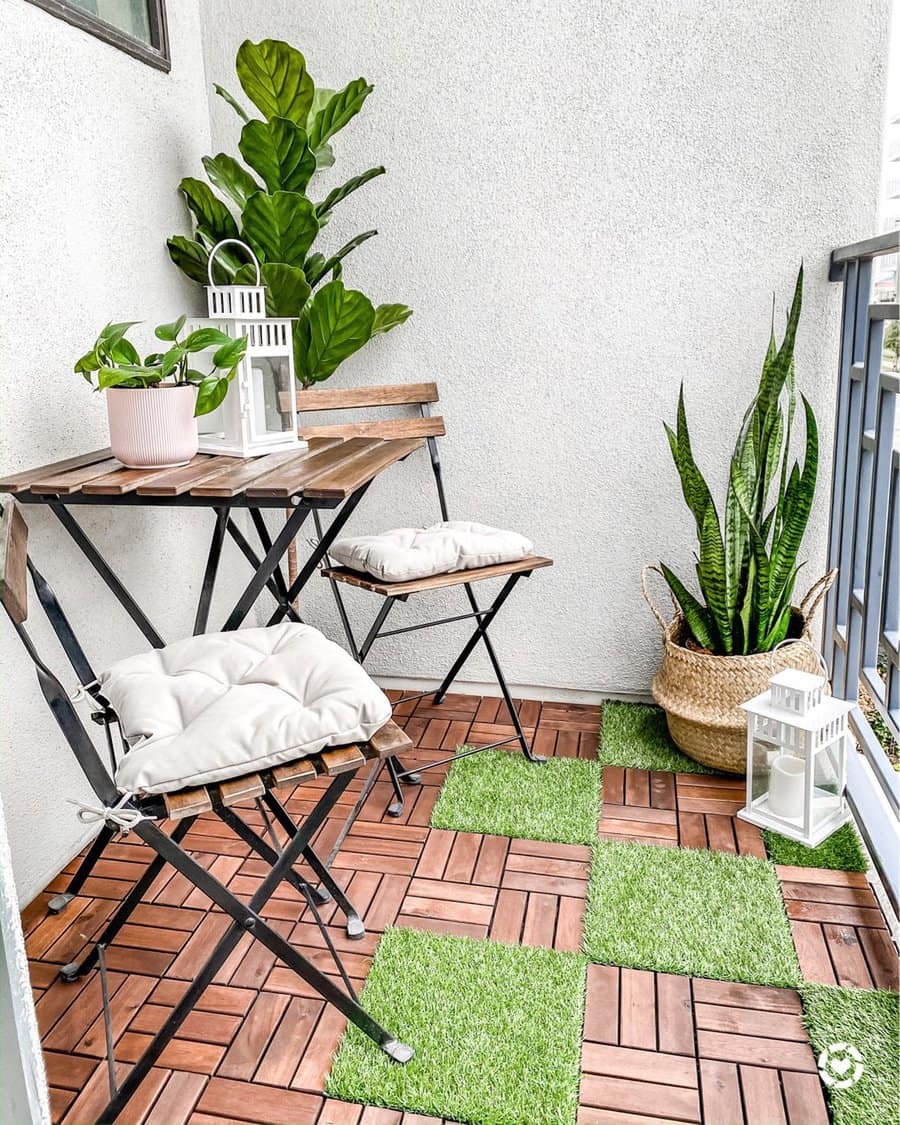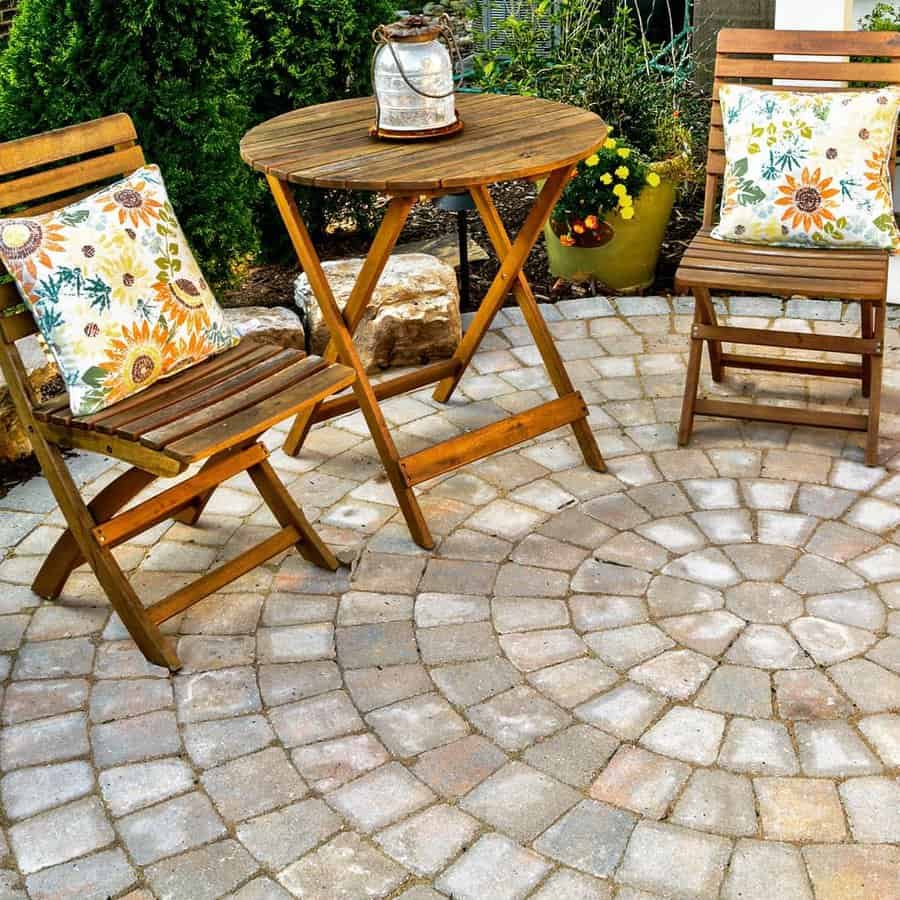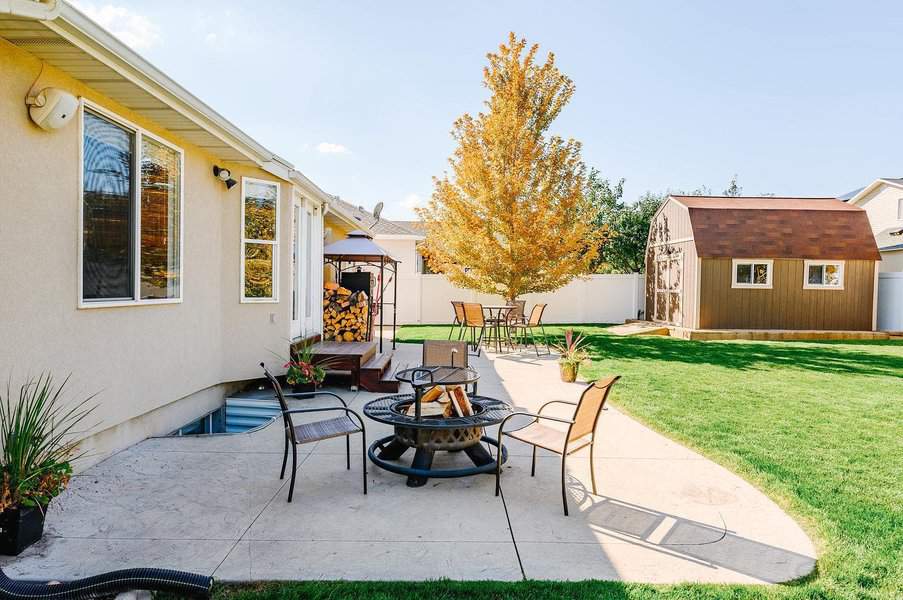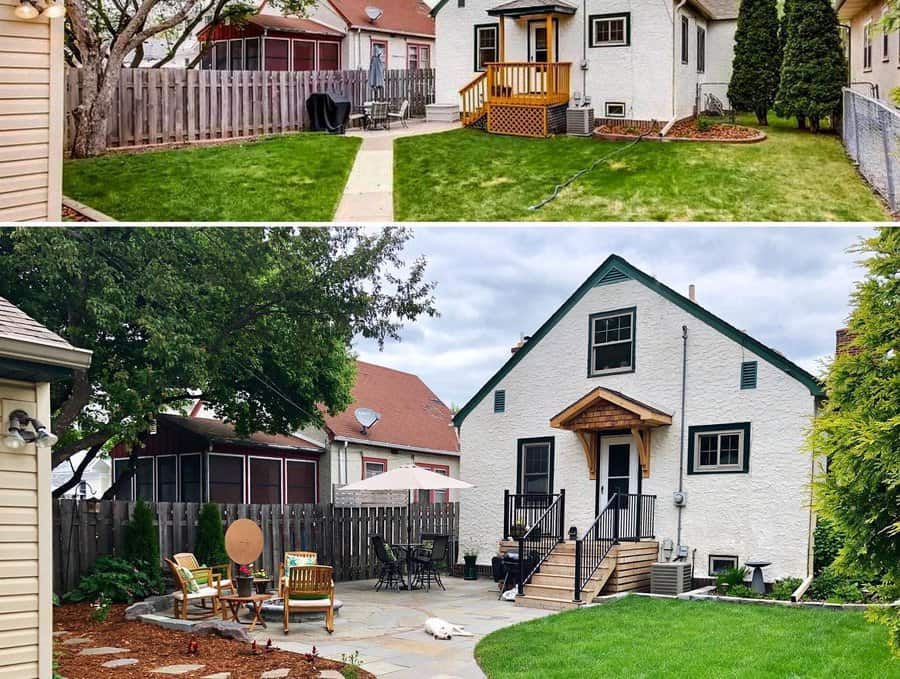 5. Relaxing Patio Swings for Leisurely Afternoons
Patio swings transform your outdoor space into an enchanting retreat, offering both comfort and a touch of whimsy. As you gently rock back and forth, you can bask in the sunshine or enjoy a cool evening breeze, creating moments of blissful tranquility. Choose from a variety of styles, ranging from classic wooden options to contemporary hanging pod chairs, ensuring your patio swing complements the aesthetic of your space. Beyond being a delightful seating option, patio swings stand as a unique focal point, inviting relaxation and evoking a sense of freedom and ease in your outdoor gathering area.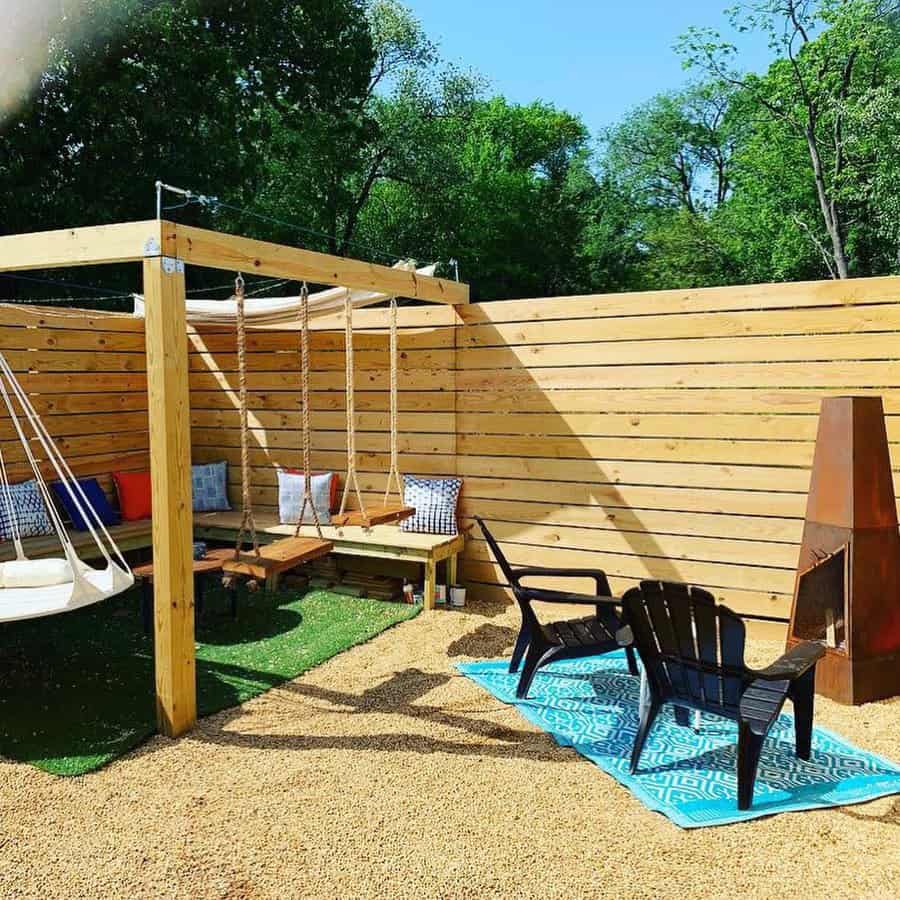 6. Creative and Eco-Friendly Wood Pallet Furniture
Wood pallet furniture offers an innovative and sustainable approach to sprucing up your patio space. Embrace the DIY trend by transforming wooden pallets into bespoke pieces that reflect your personal style—from quaint coffee tables to snug loungers. With just a few essential tools and a dash of creativity, you can craft stylish and functional seating arrangements tailored to your outdoor area. For an added touch of comfort and a pop of color, garnish your pallet furniture with vibrant cushions and throw pillows, making your patio both welcoming and environmentally friendly.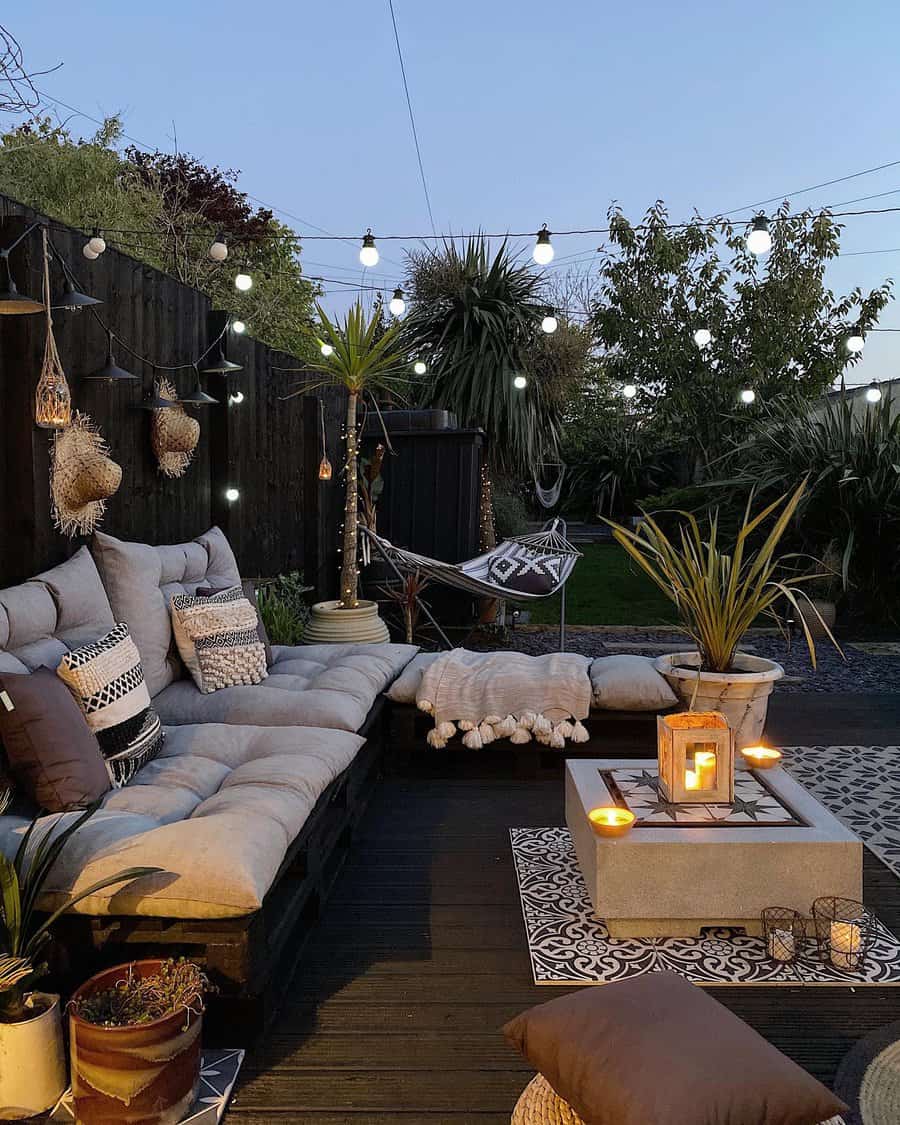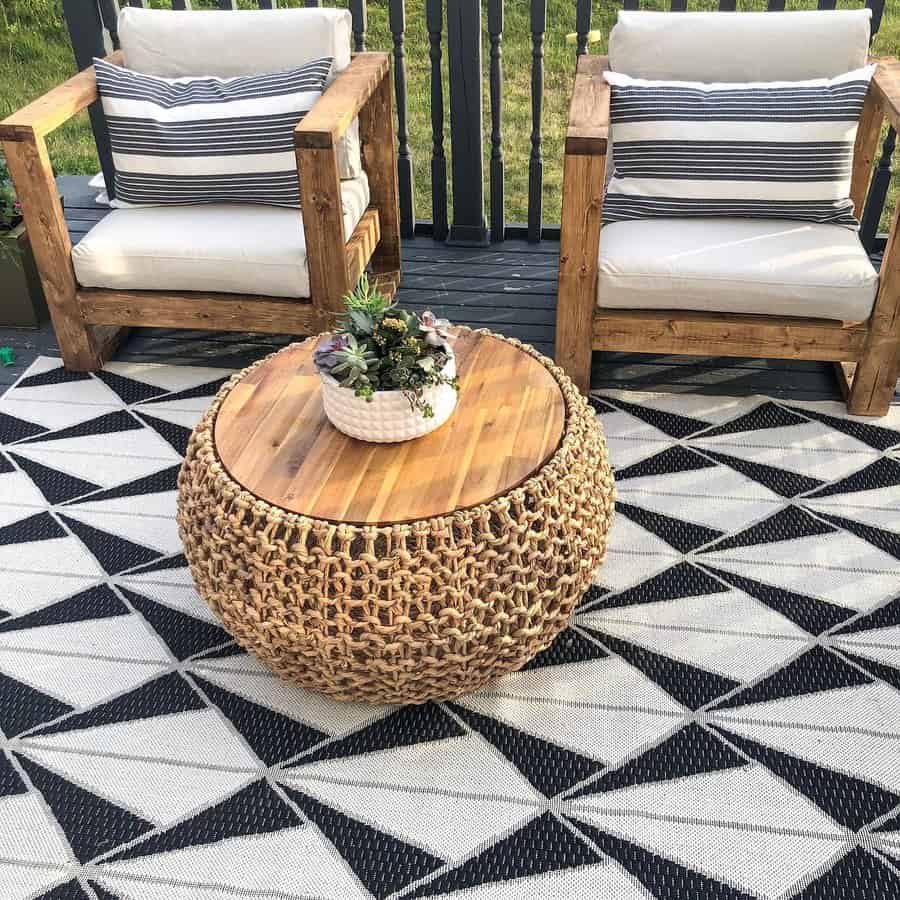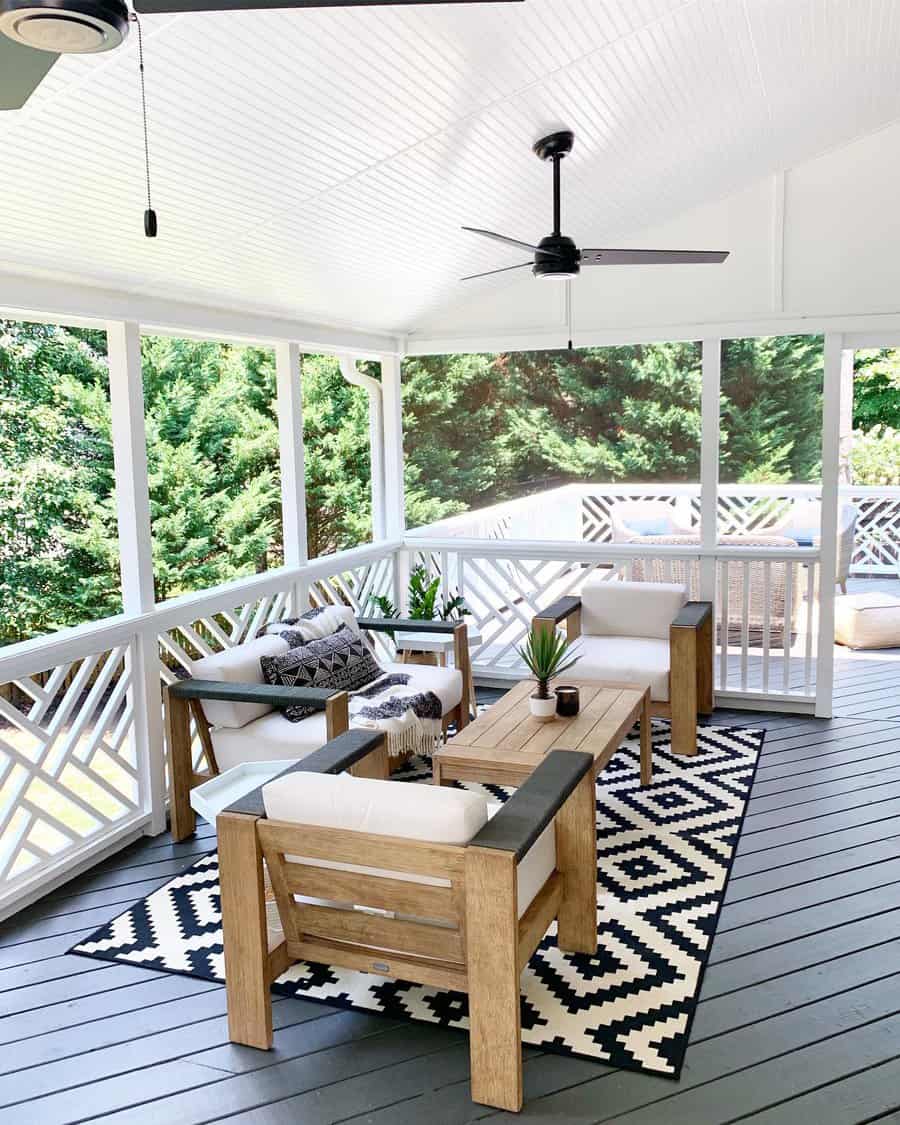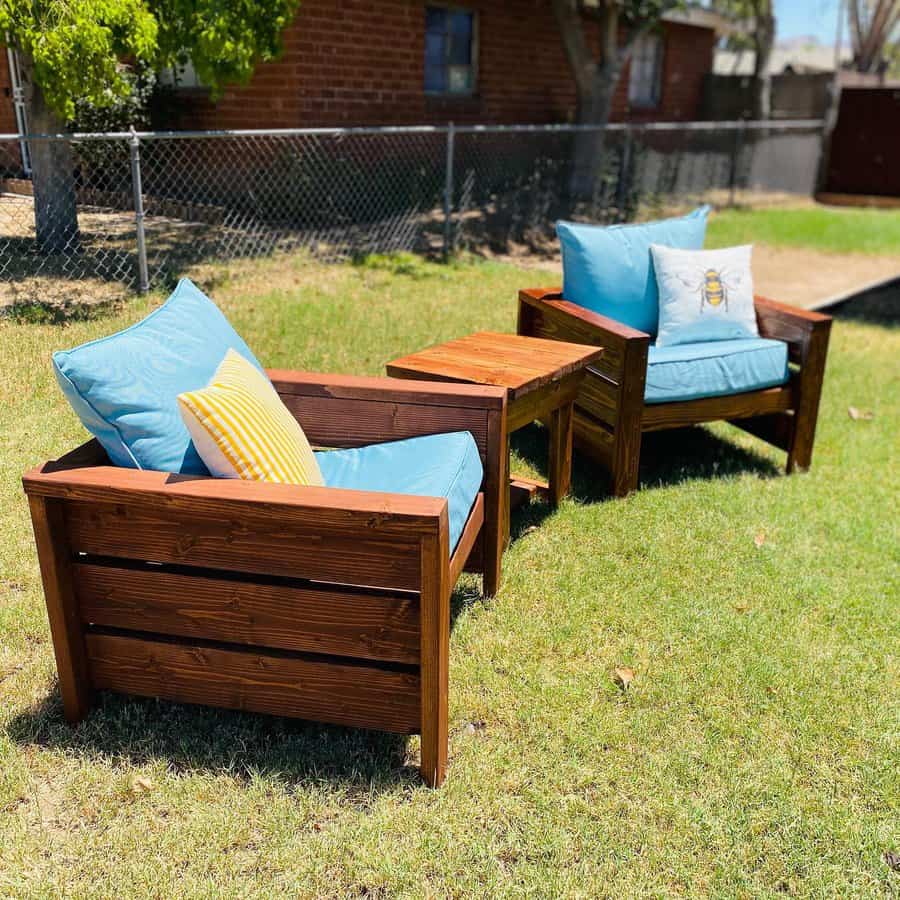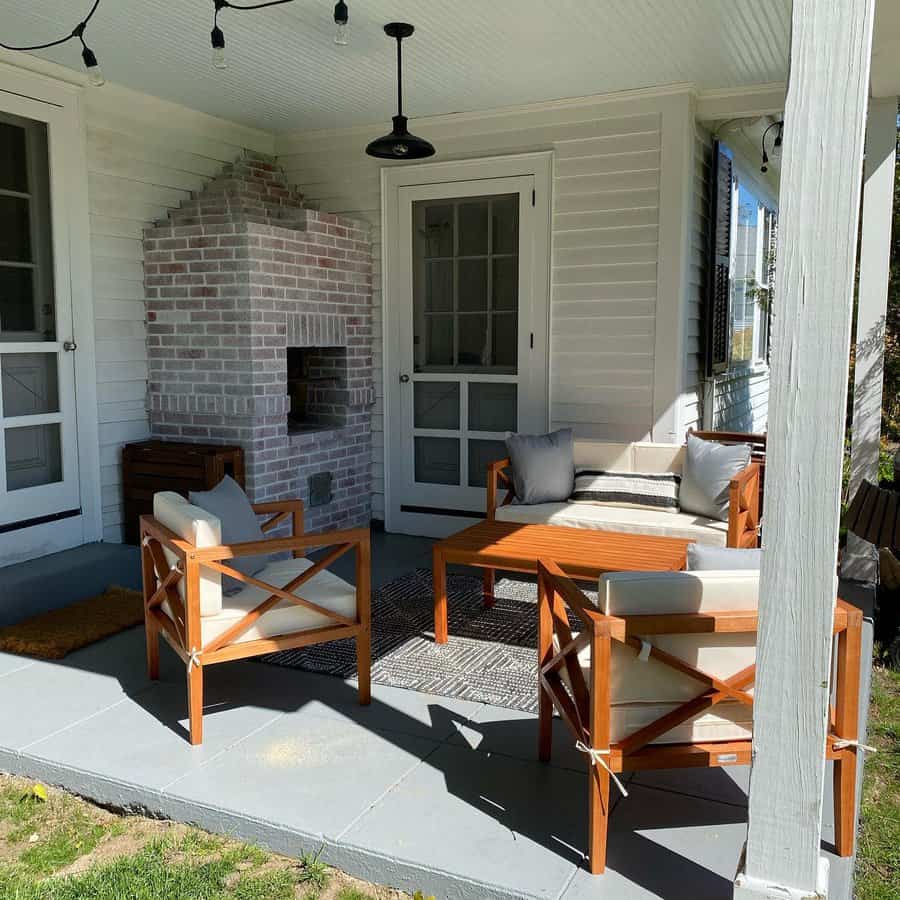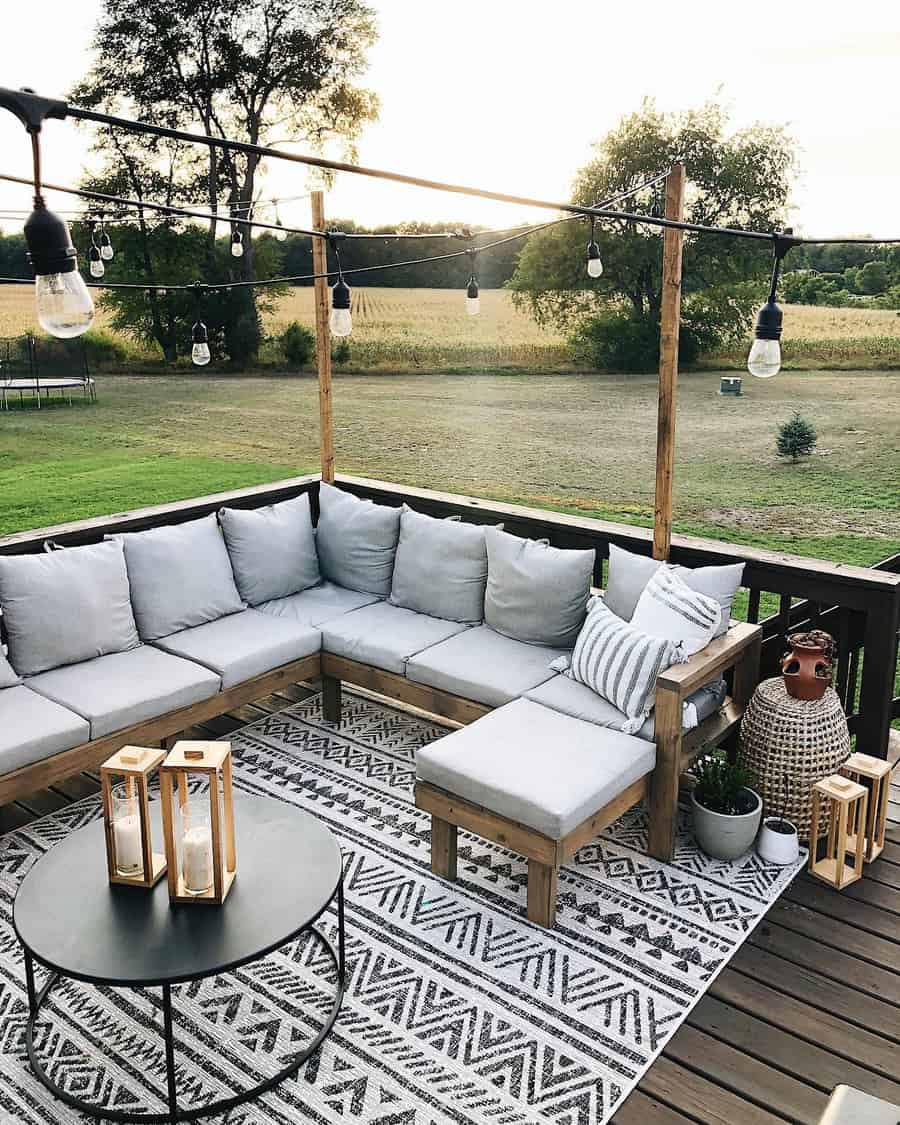 7. Chic and Durable Woven Furniture Choices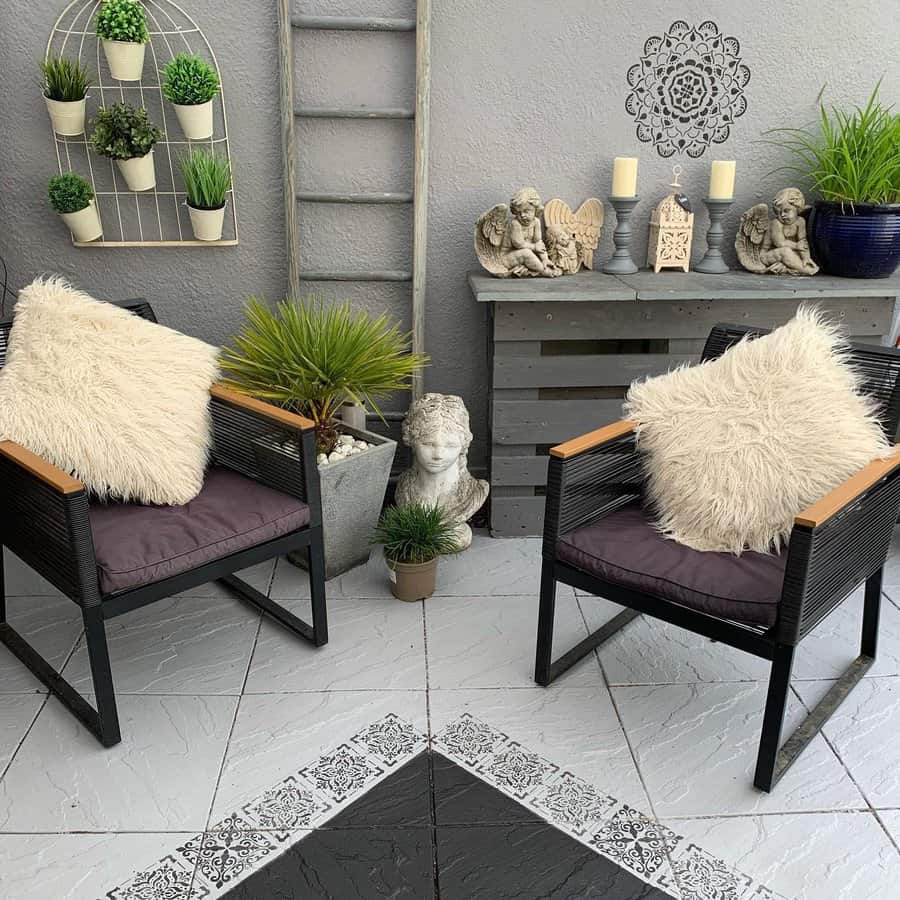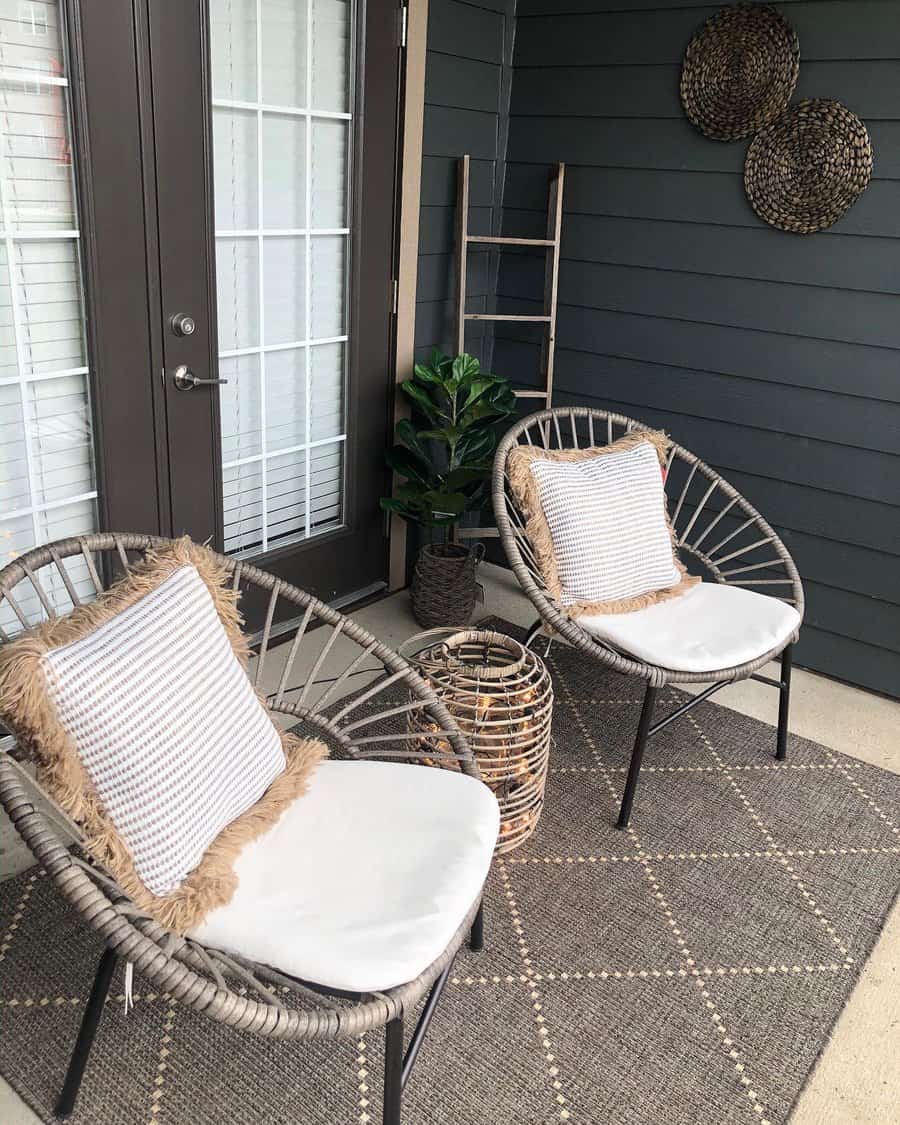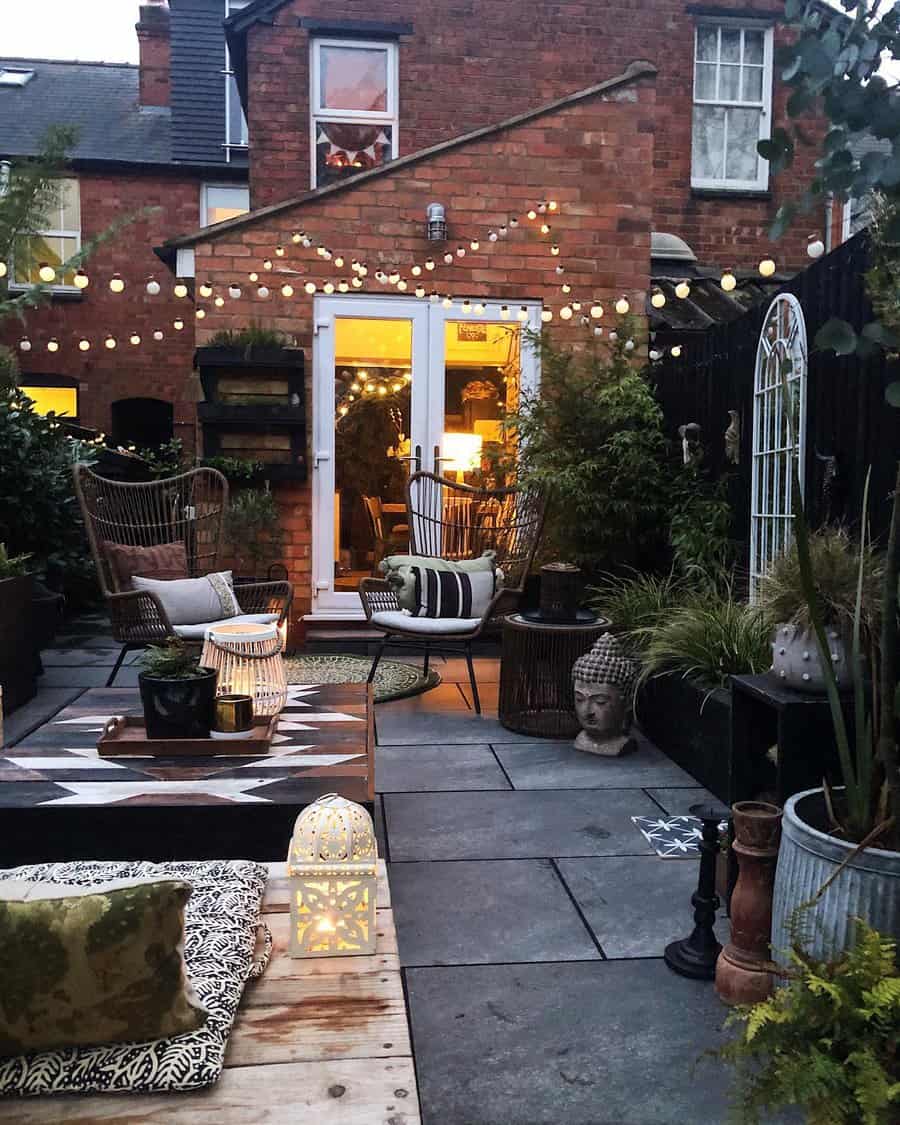 8. Versatile Outdoor Stools for Any Setting
Outdoor stools stand out as practical and stylish additions, seamlessly fitting into any patio setting. They shine in smaller spaces, ensuring comfort doesn't have to be sacrificed for the sake of saving space. With a plethora of designs and materials at your disposal, finding stools that complement your patio's aesthetic becomes a breeze. From sleek, modern metal options to warm, rustic wooden choices, these stools bring charm and versatility to your outdoor area, offering flexible seating solutions that can be adjusted to suit various gatherings and layouts.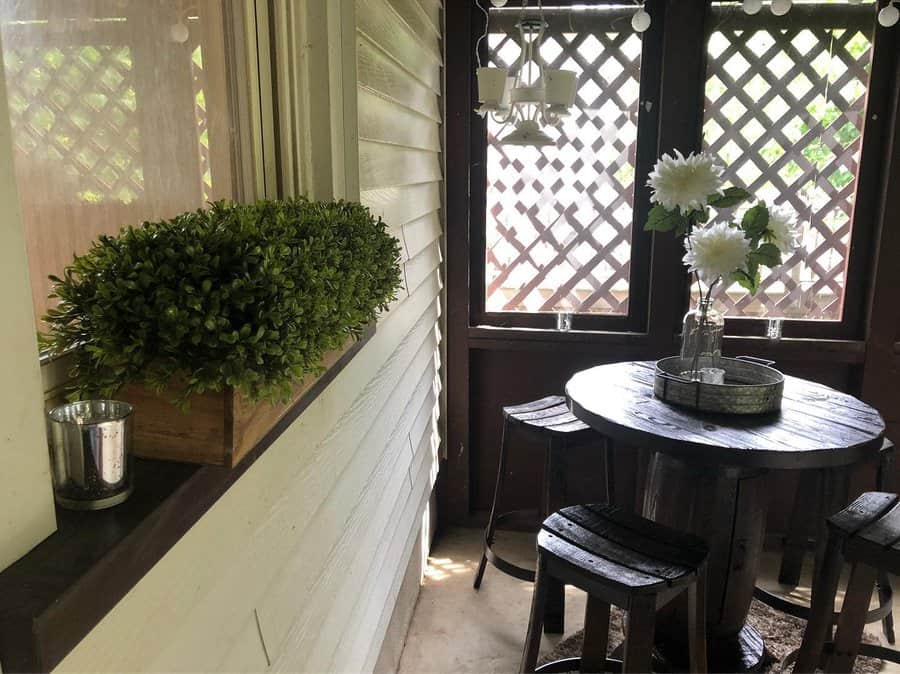 9. Embrace Eclectic Vibes with Mismatched Furniture
Inject a dose of eclectic charm into your backyard patio with a curated selection of mismatched furniture. Create a distinctive and personal ambiance by marrying diverse styles, hues, and materials. Seamlessly blend old-world vintage pieces with contemporary selections, or mix varying patterns and textures for a look that's effortlessly stylish. To bring cohesion to your eclectic ensemble, anchor your space with a consistent element, be it a recurring color, shape, or material. This playful yet thoughtful approach to patio decor allows for a full expression of your individuality, crafting a space rich in character and allure.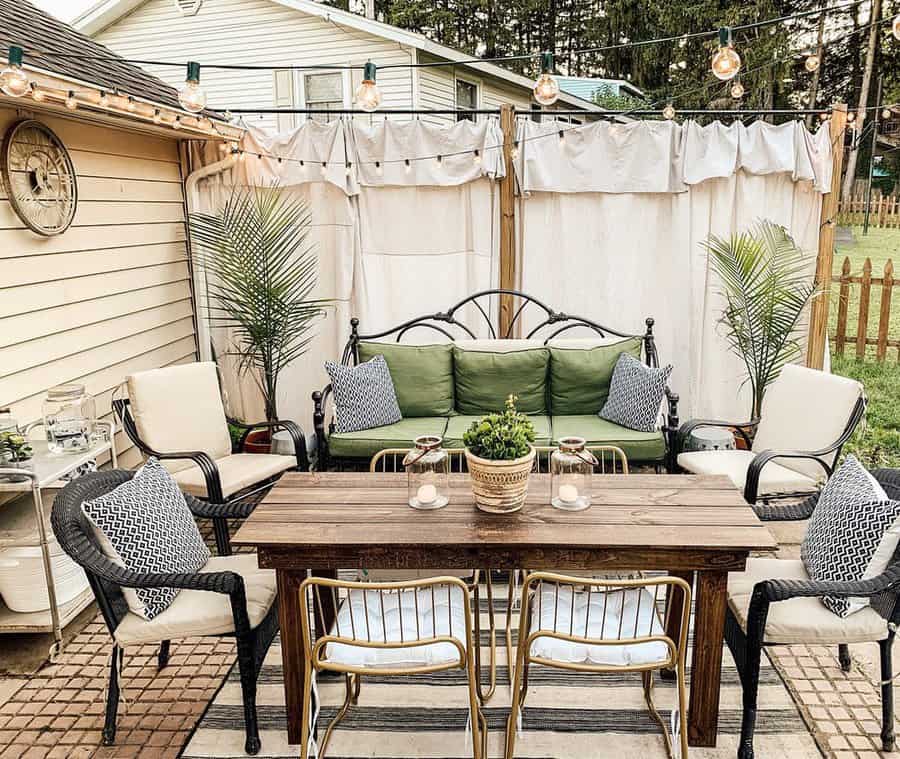 10. Luxurious Lounging on a Daybed Couch
Indulge in unparalleled comfort and style with a sumptuous daybed couch on your patio. Recline on its plush cushions, soaking in the sunshine or enjoying a quiet moment with your favorite drink in hand. A daybed couch not only affords generous seating space but also injects an element of elegance into your outdoor sanctuary. Enhance this luxurious lounging experience with a chic coffee table nearby for your refreshments, snacks, or a charming potted plant. This combination promises a retreat of relaxation and refined style, ensuring your patio becomes a cherished space for making lasting memories.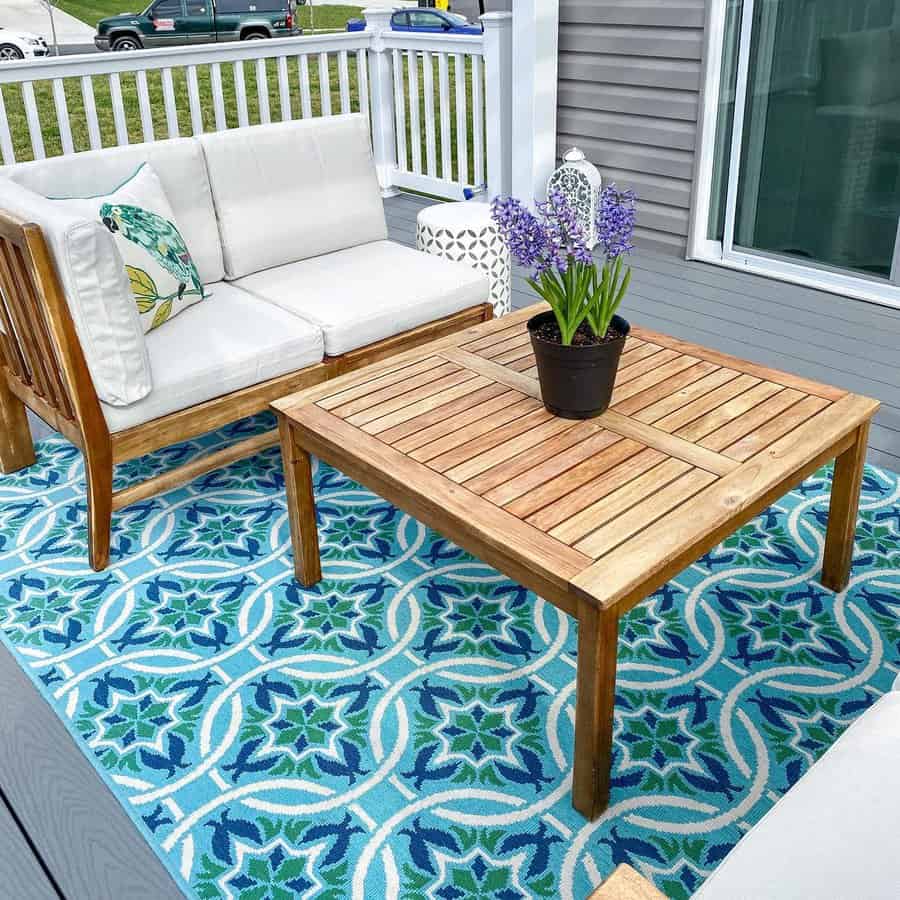 11. Stay Cool with Patio Seating and Umbrella
Enhance your outdoor experience with patio seating complemented by an umbrella, ensuring comfort while protecting you from the sun's intensity. This combination not only offers a refuge from the heat but also introduces an elegant flair to your exterior space. Opt for furniture sets that boast easy assembly and storage capabilities, providing you with convenience and versatility. With this strategic and stylish addition, enjoy crafting a shaded haven that merges practicality with a strong sense of aesthetic appeal.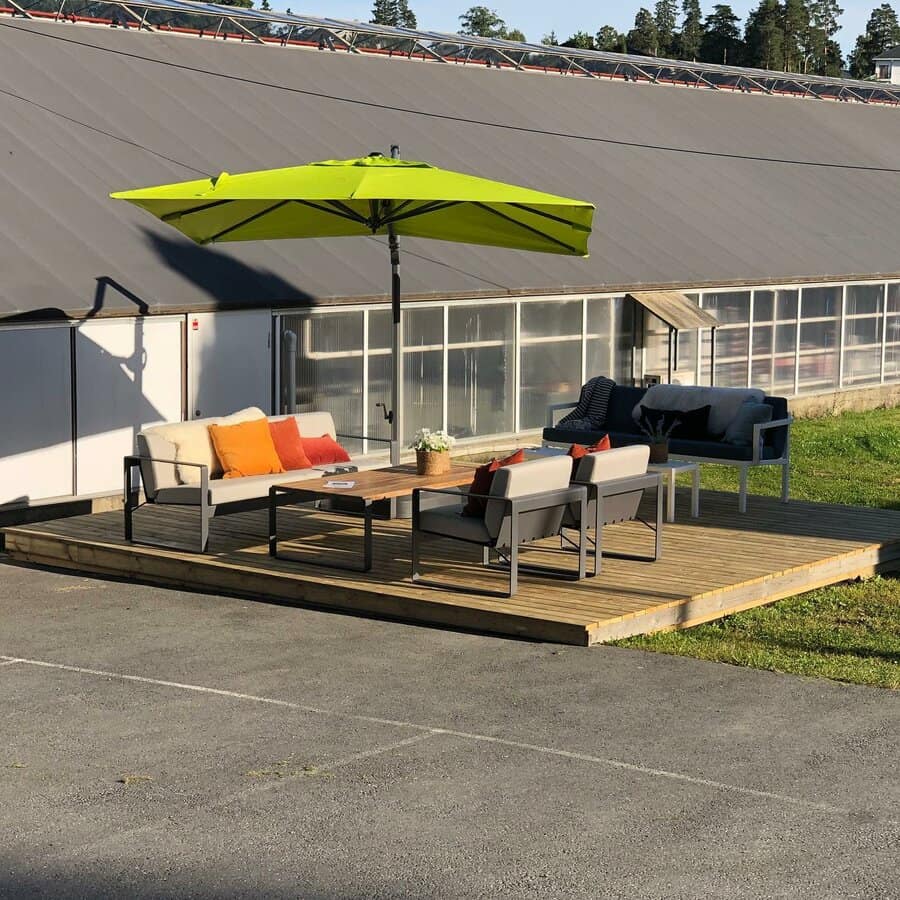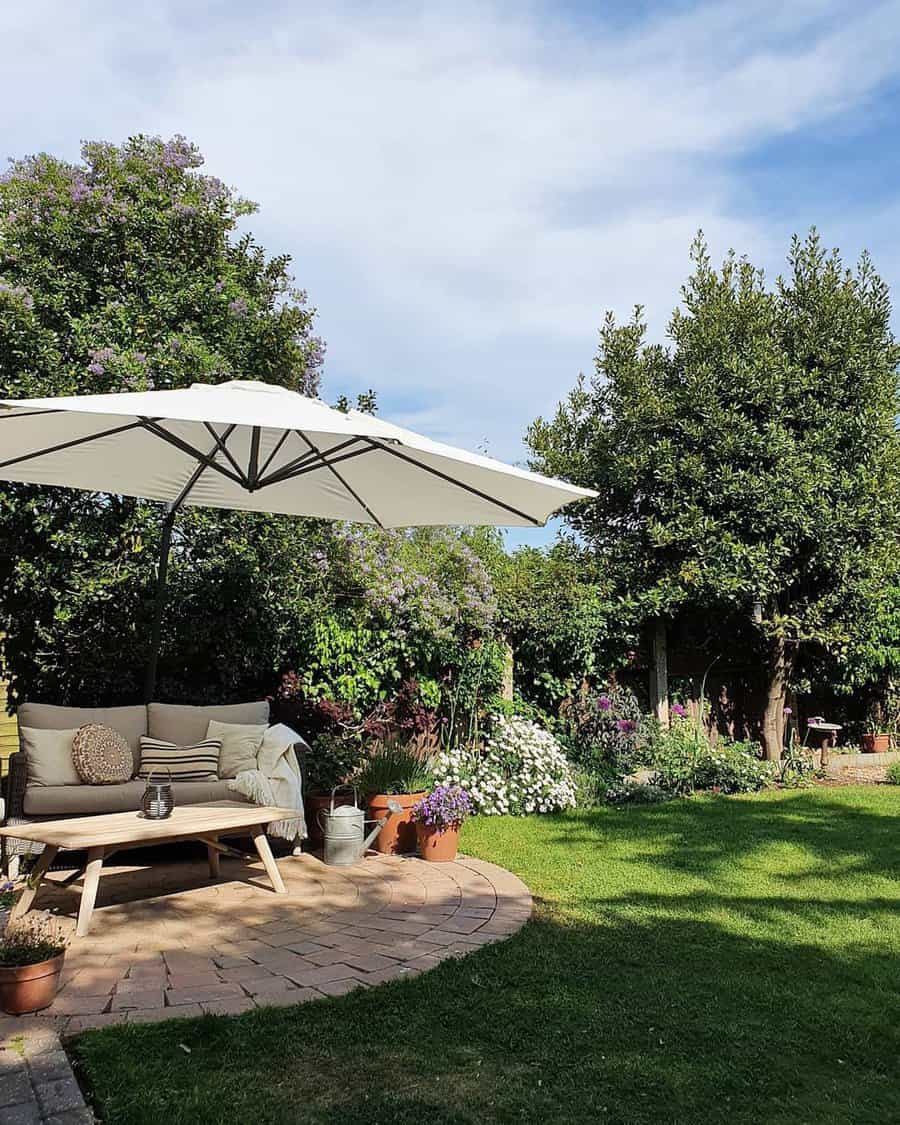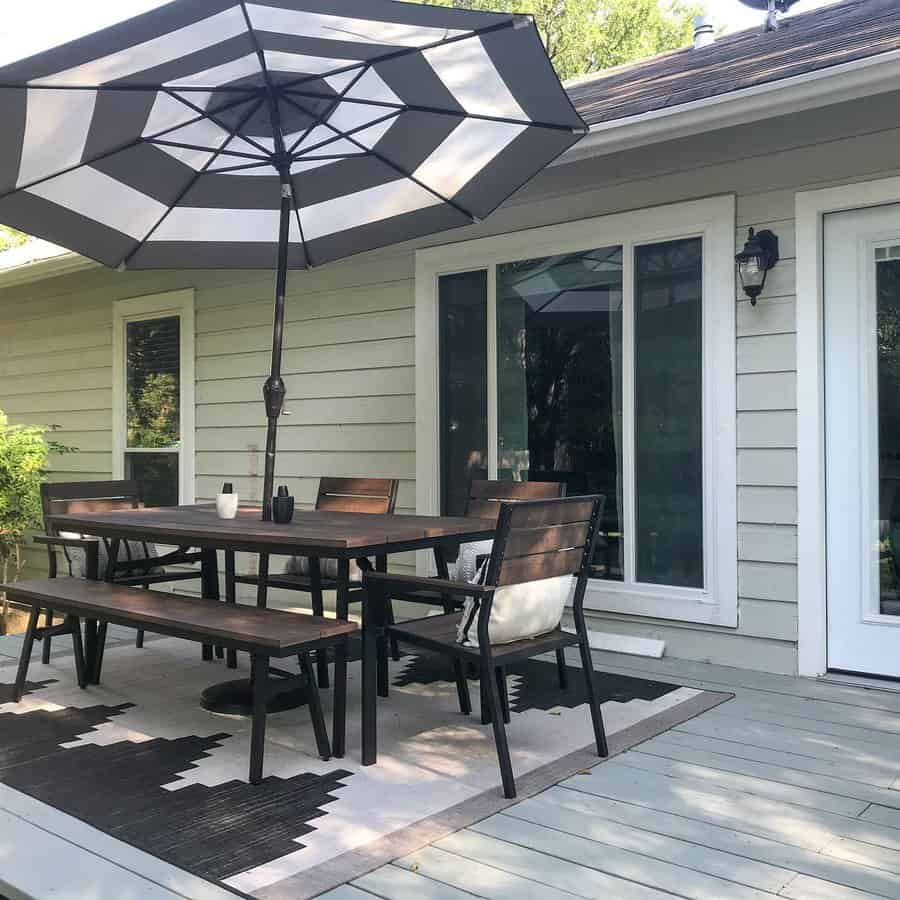 12. Enhance Your Outdoor Experience with a Pergola
Elevate your patio setting by incorporating plush seating under the graceful shelter of a pergola, creating a stylish sanctuary ideal for unwinding. The pergola not only bestows a generous amount of shade for those bright, sunny days but also carves out an intimate space that invites relaxation. Envision yourself nestled in cozy cushions, a cool drink in hand, all while a soft breeze dances around you, courtesy of the pergola's elegant coverage. To amplify the space's comfort and charm, introduce decorative throw pillows and cushions, infusing both personality and a welcoming textural element to your alfresco haven.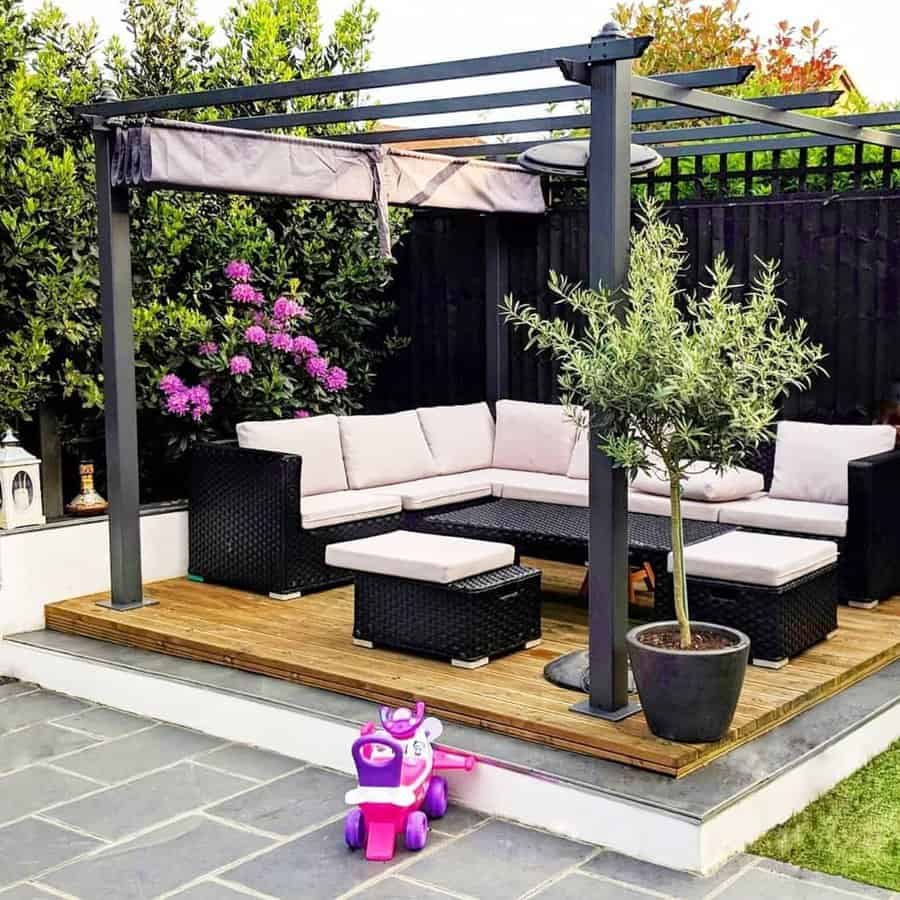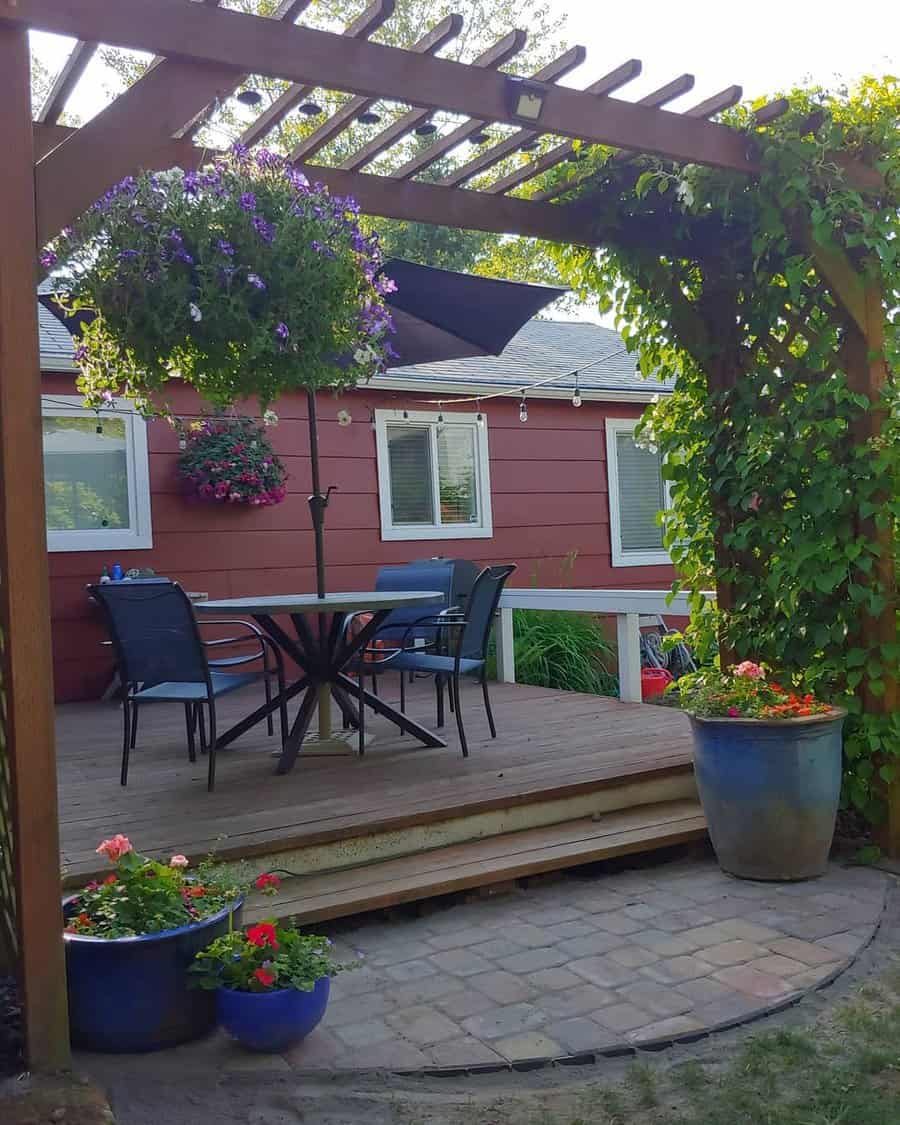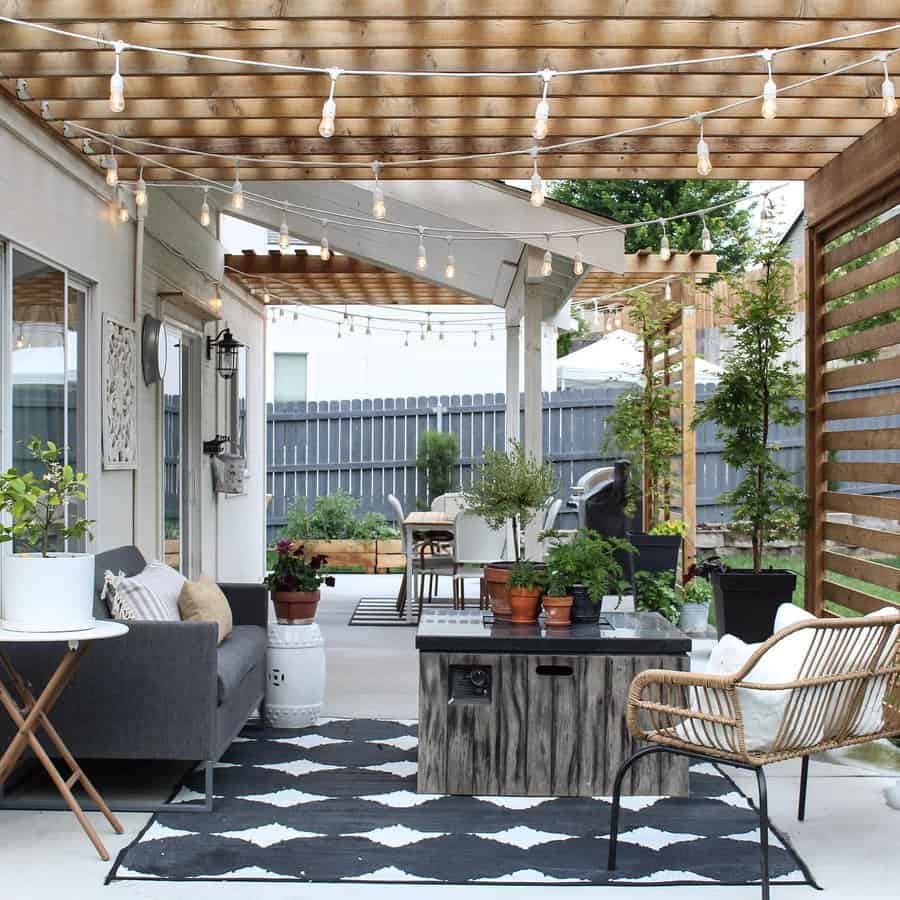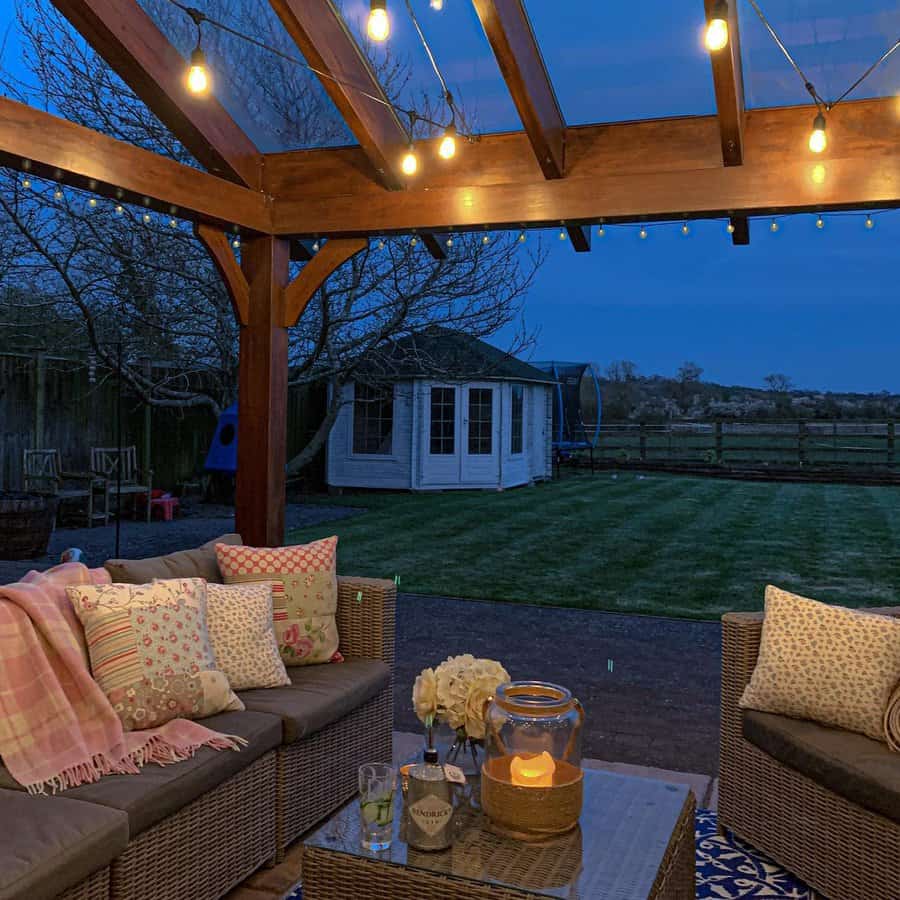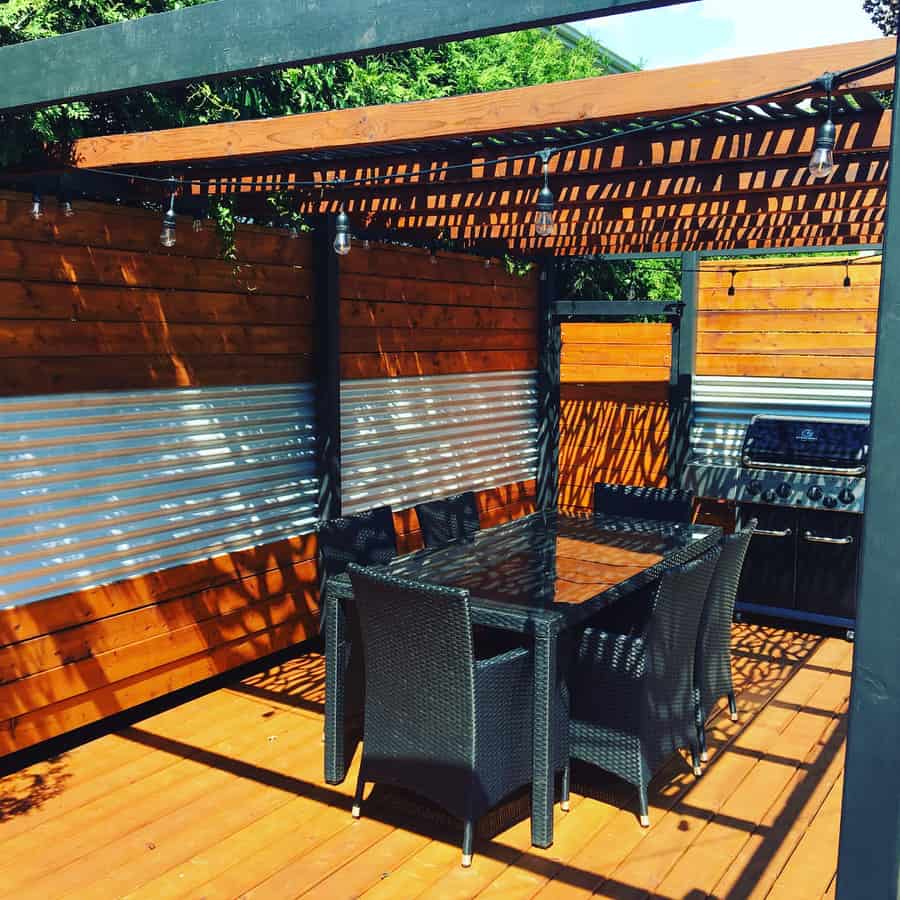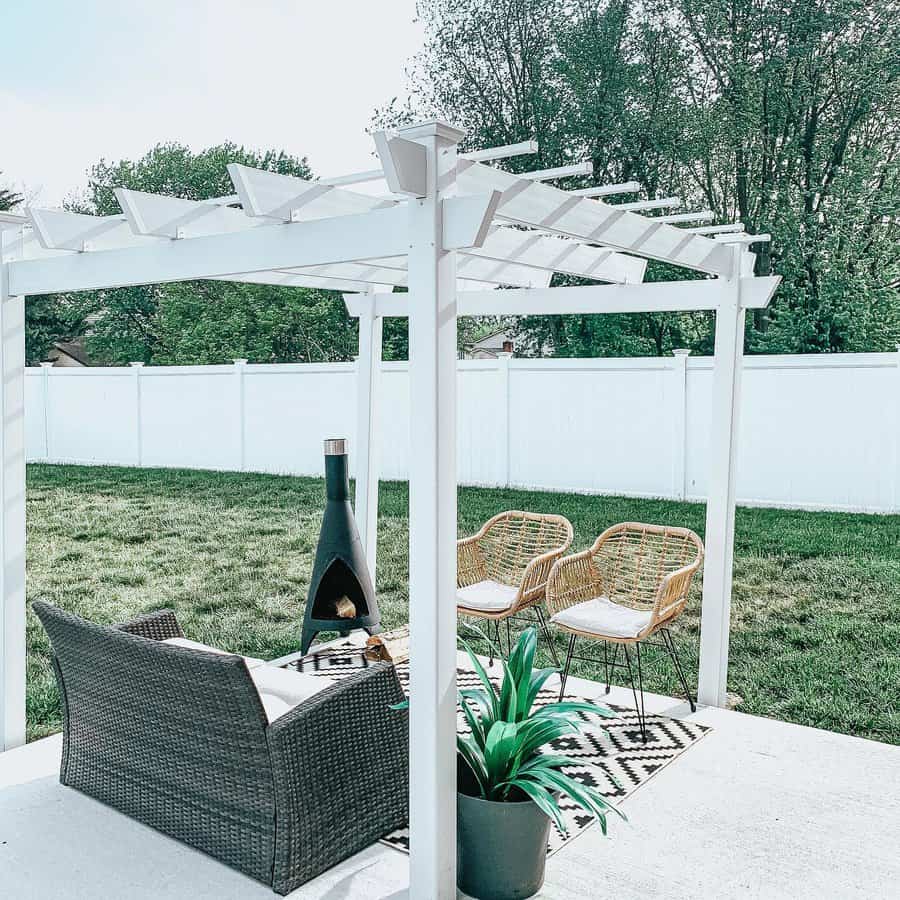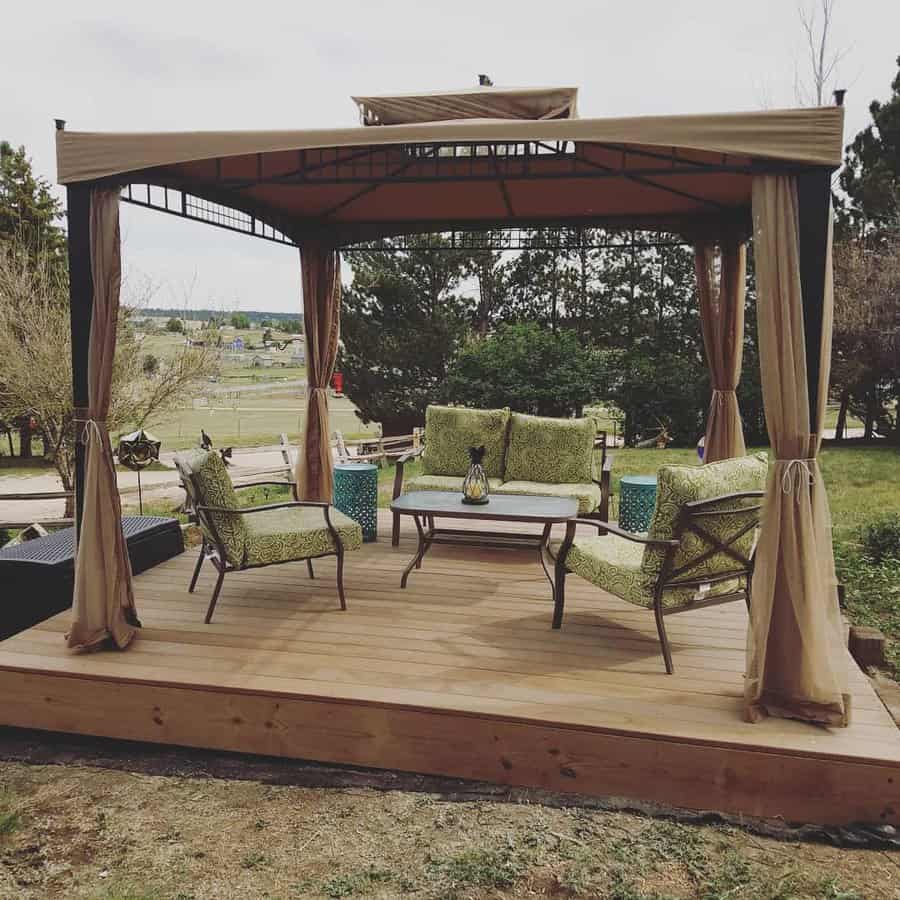 13. Add Comfort with Outdoor Cushions and Pillows
Enhance your patio's comfort and style quotient with the strategic addition of outdoor cushions and pillows. These plush accessories do wonders for your space, offering an extra layer of luxury while injecting texture and personality. Dive into a sea of options, selecting from various patterns, colors, and fabrics to perfectly align with your personal taste and the overarching theme of your outdoor sanctuary. Whether you're drawn to the bold and vibrant to make a statement, or lean towards subtle, neutral tones for an air of sophistication, integrating throw pillows and cushions will undoubtedly transform your patio into a snug and alluring retreat. Enjoy elevated comfort during pool lounging sessions, barbecue parties, or tranquil evenings under the stars with these chic and cozy additions.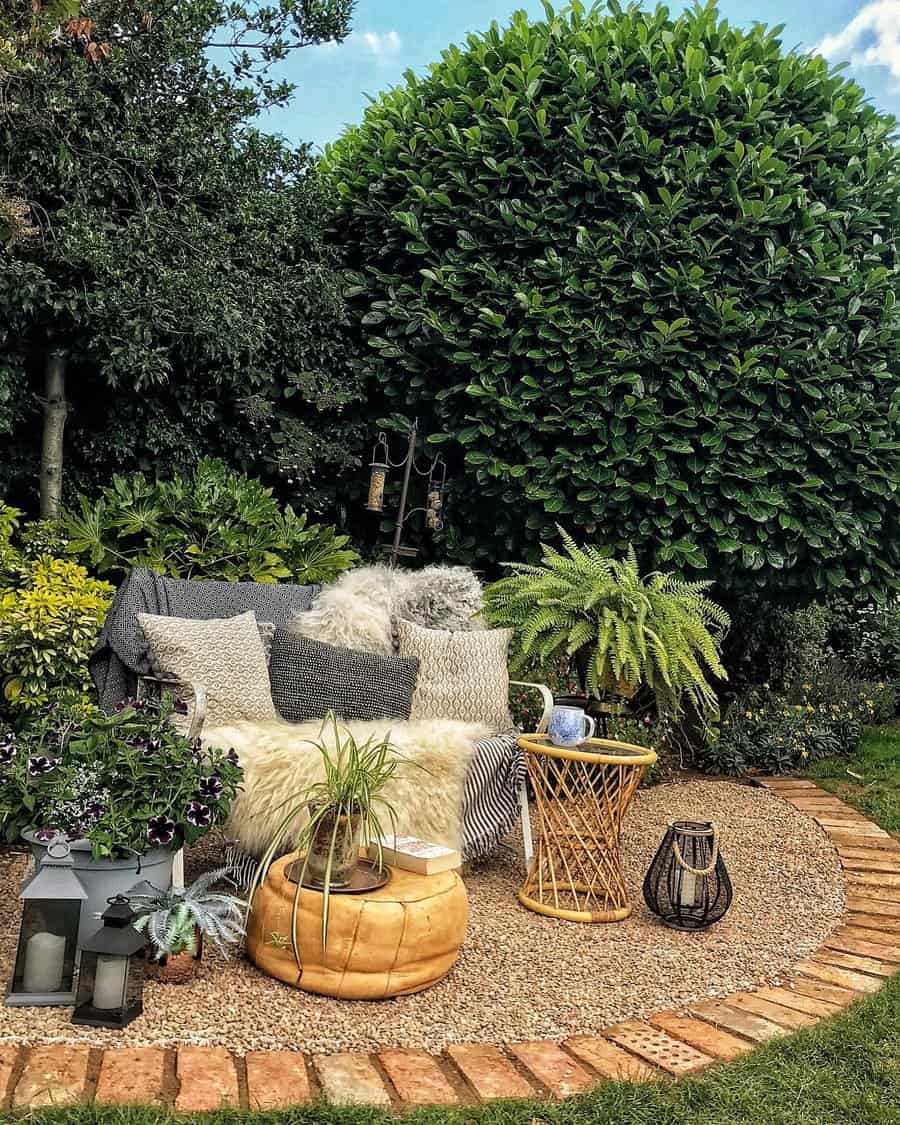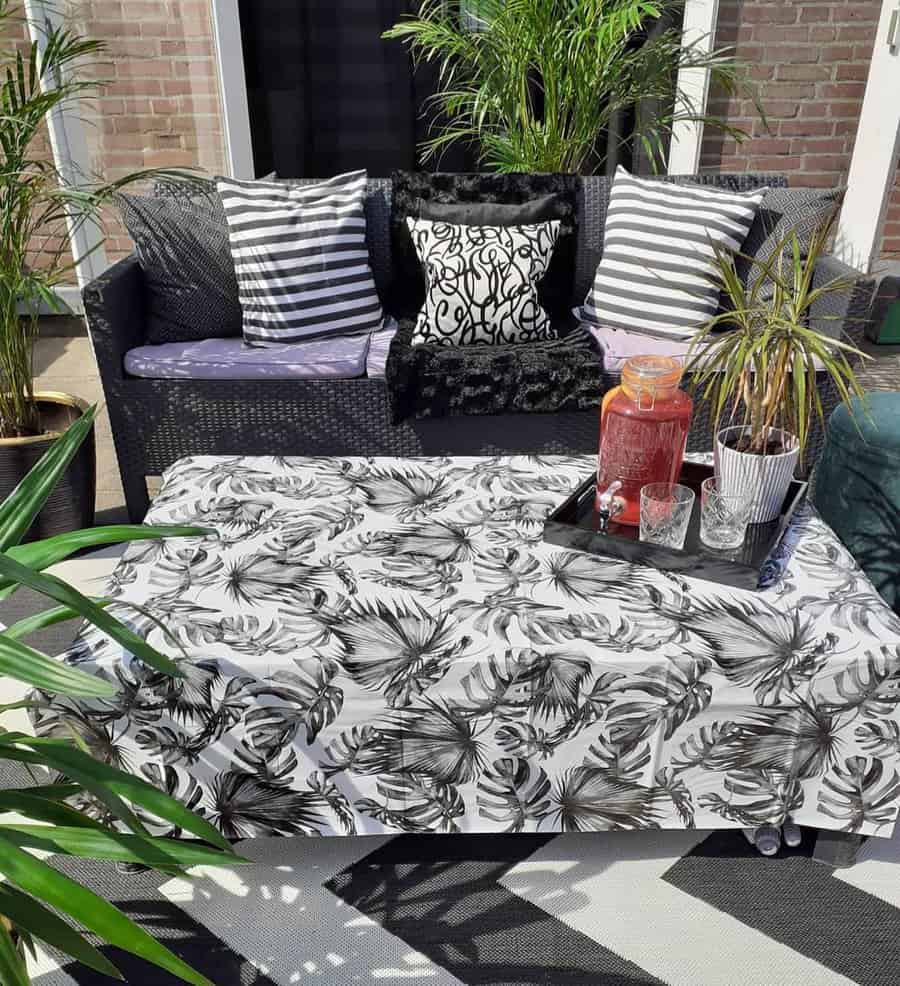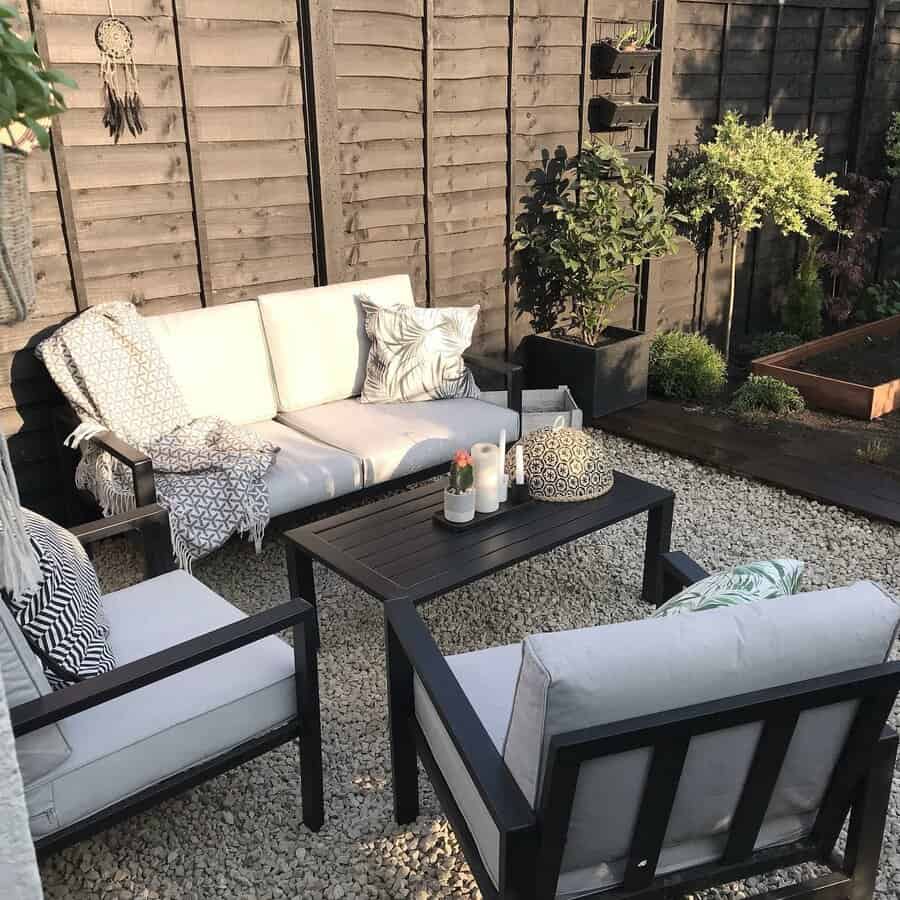 14. Unwind in a Unique Half-Moon Wood Chair
Elevate your outdoor seating with the distinct elegance of a half-moon wood chair. Beyond its striking appearance, this chair crafted from premium wood promises lasting beauty and sturdiness. For a harmonious ensemble, consider pairing it with a complementary wooden coffee table or ottoman. To heighten its allure, accessorize the chair's natural wooden tones with plush cushions and decorative pillows, potentially in contrasting vibrant hues or intricate patterns. As you incorporate these patio furniture ideas, your outdoor area transforms, becoming an ideal backdrop for tranquil summer evenings or cherished gatherings.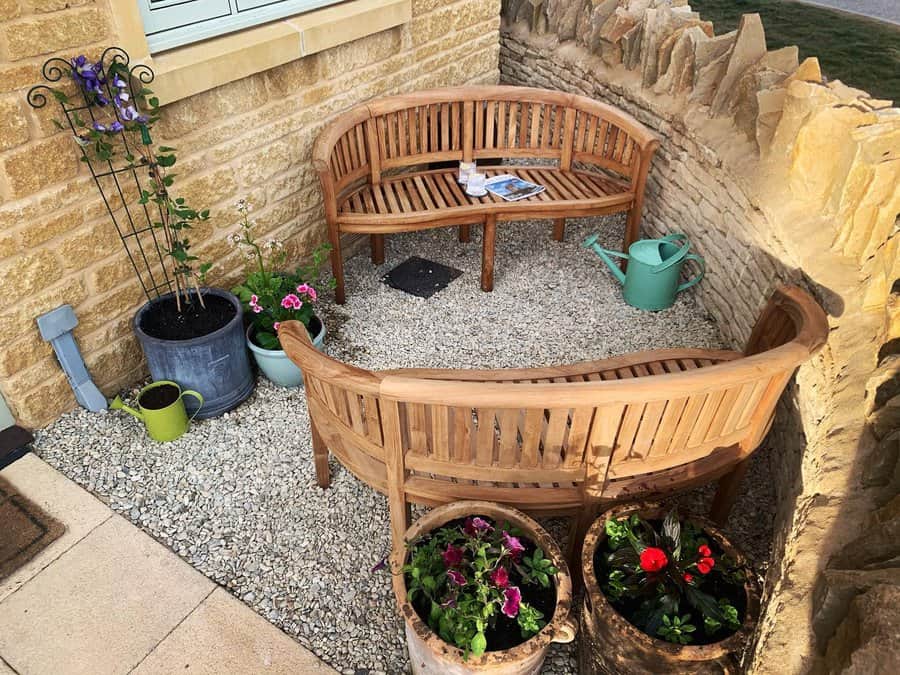 15. Sleek Style with a Metal Coffee Table Set
Infuse your patio with a dose of modern sophistication by selecting a metal coffee table set, a choice that effortlessly brings contemporary elegance to your outdoor space. Ensure long-lasting appeal and durability by opting for high-quality, weather-resistant materials. Elevate the ambiance by pairing your metal furniture with plush, comfortable cushions in eye-catching colors or contemporary patterns, creating an inviting area perfect for relaxation and engaging conversations. Consider adding a chic umbrella or canopy to furnish shade and shield from the sun's rays. This metal coffee table set is poised to transform your patio into an ultimate haven, setting the stage for tranquil mornings, lively gatherings, or serene evenings unwinding in style.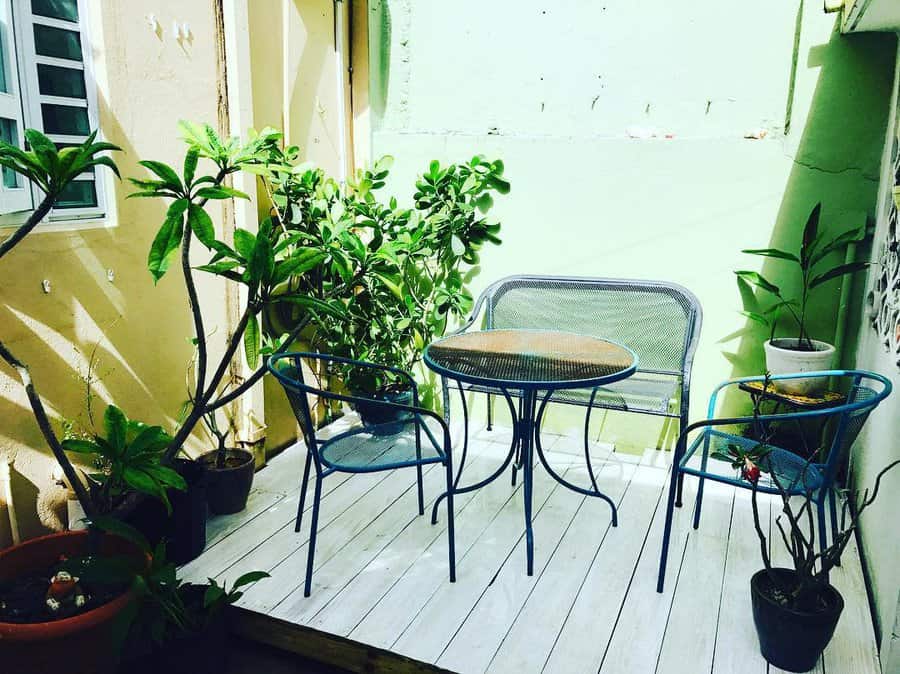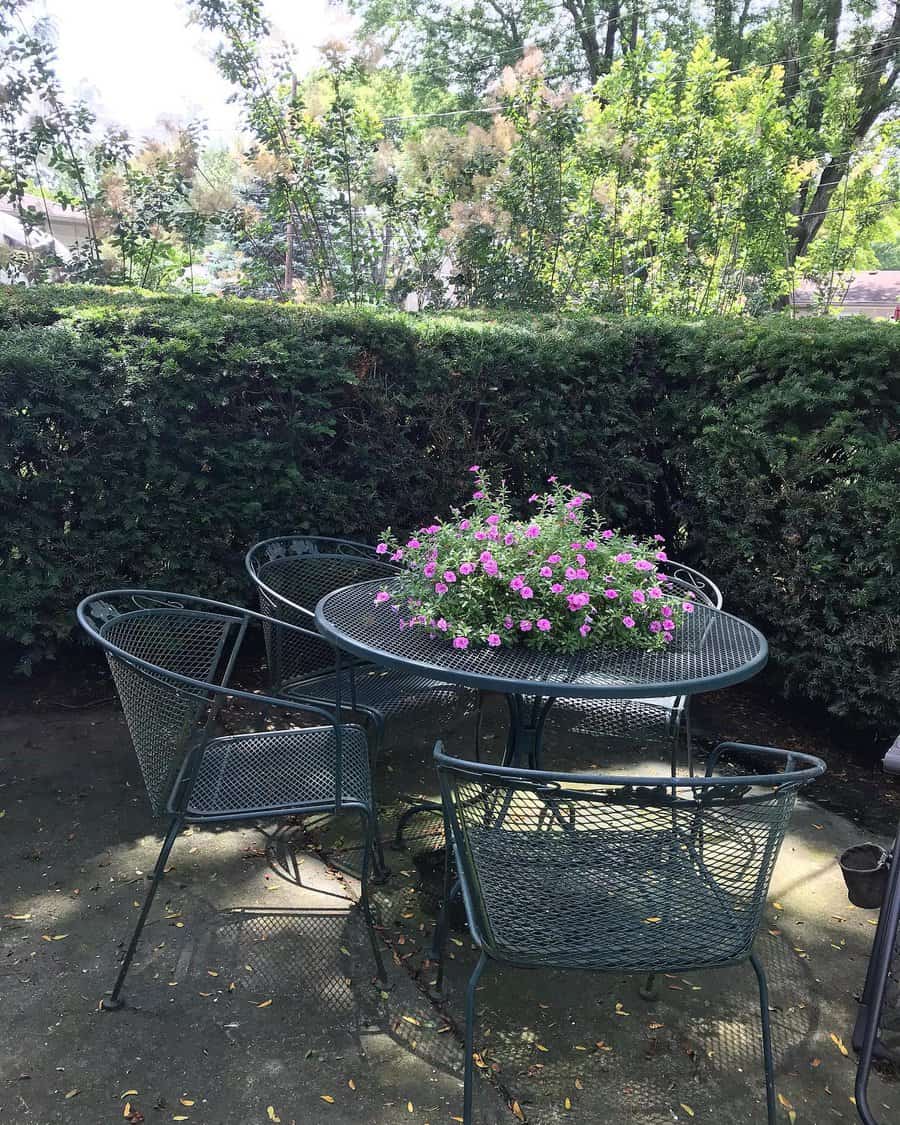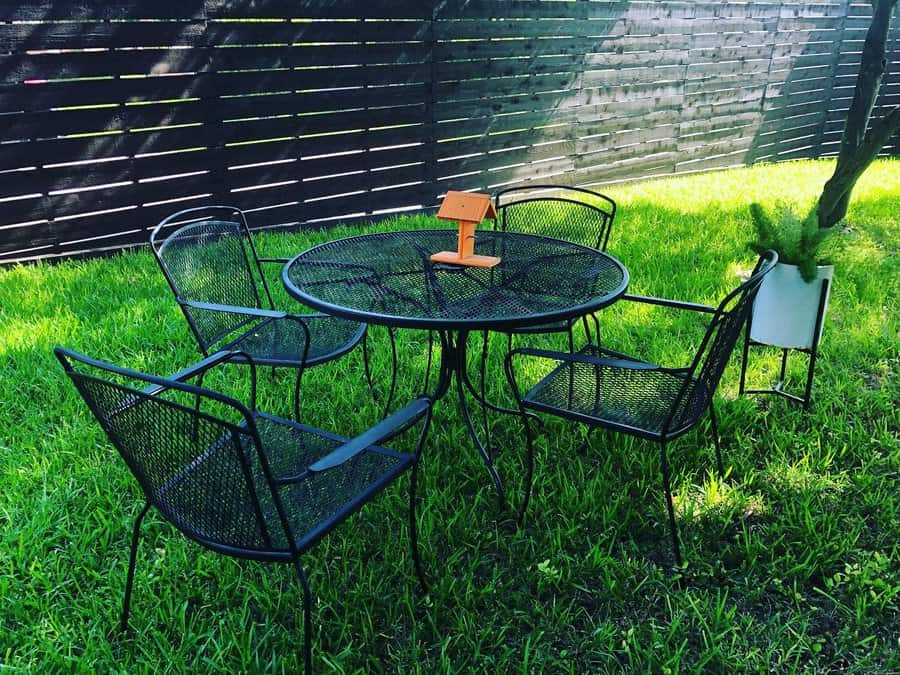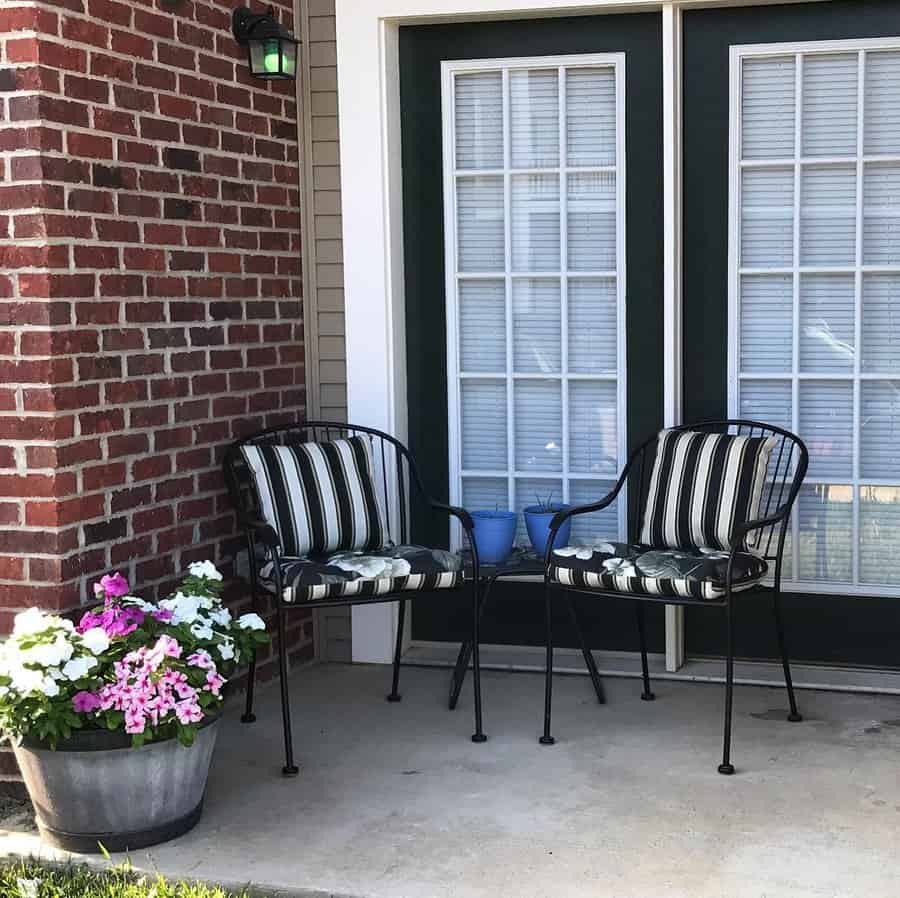 16. Warm Up Your Evenings with a Modern Gas Firepit
Transform your evenings into a haven of warmth and elegance with a modern gas firepit, creating a captivating focal point for your outdoor space. Encircle the firepit with stylish and comfortable seating, ranging from lush lounge chairs to a sophisticated sectional sofa, ensuring ample room for guests to unwind and engage in delightful conversation.
Choose resilient materials like weather-resistant wicker or powder-coated aluminum, enhancing the space with a blend of durability and chic design. Elevate the ambiance by adorning your seating with plush cushions and vibrant throw pillows, adding layers of comfort and a burst of color to your patio.
This setup, centered around the allure of a modern gas firepit, promises to transform your backyard into an enchanting retreat, perfect for hosting gatherings or savoring solitary moments under the stars.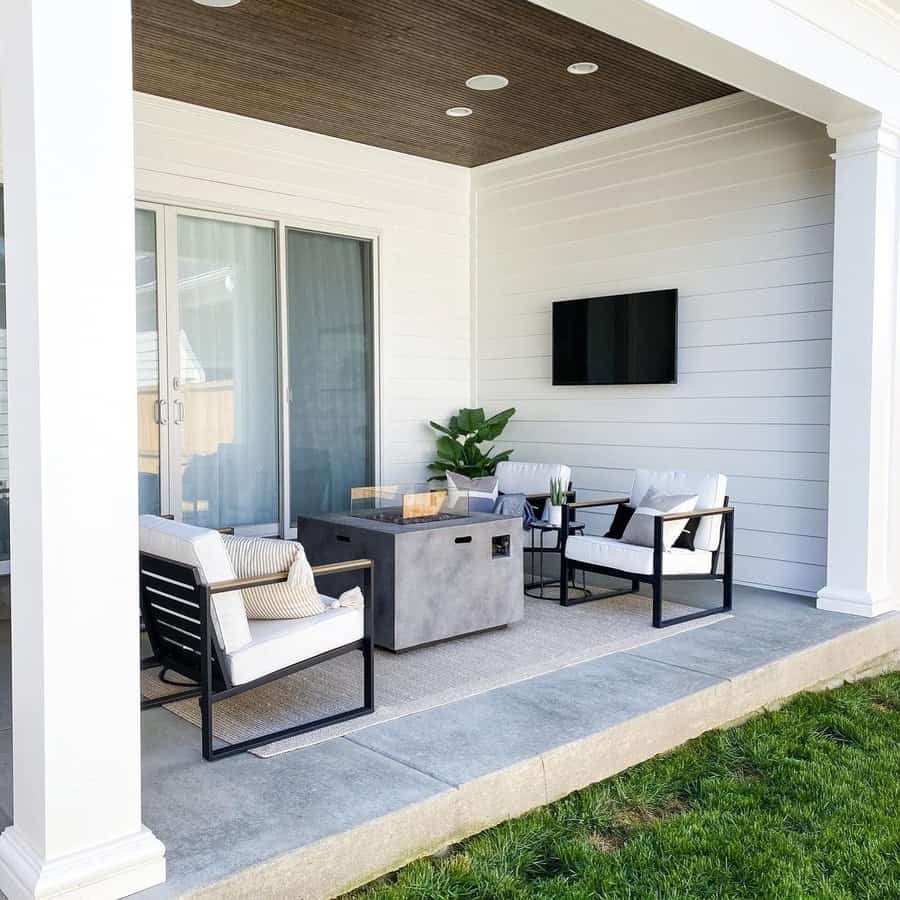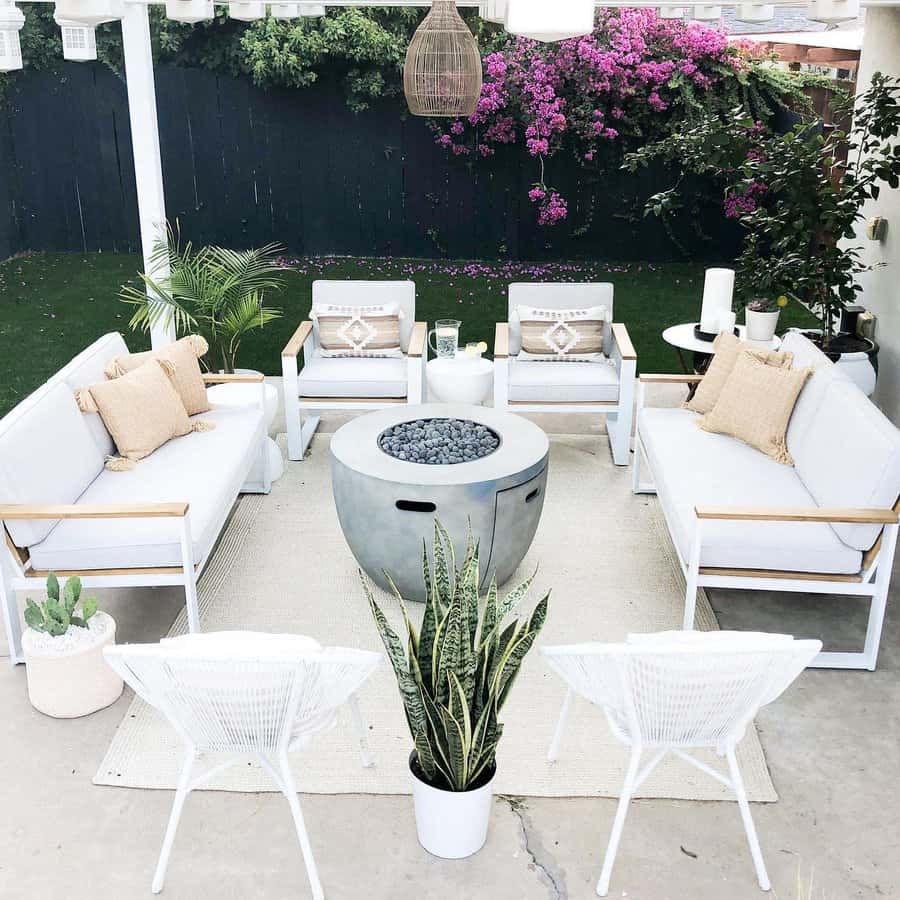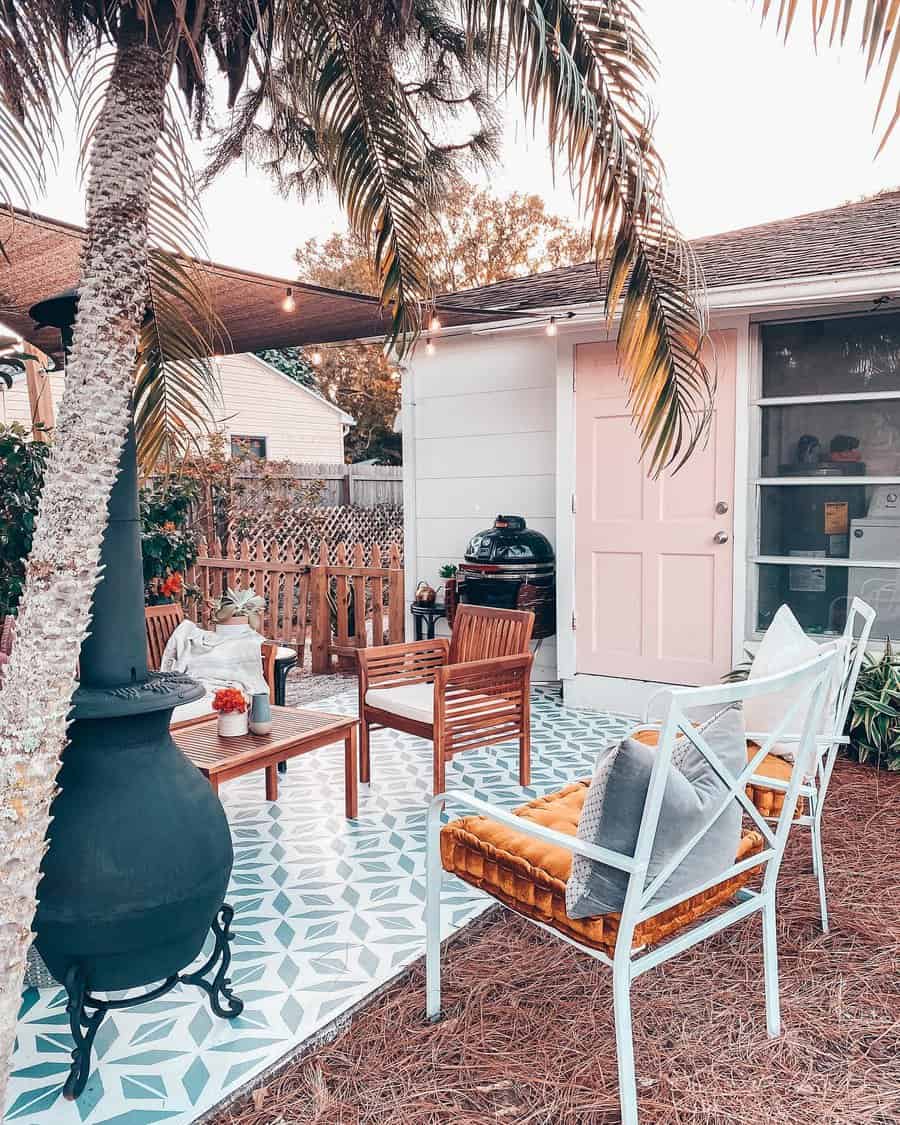 17. Intimate Moments on a Comfy Outdoor Loveseat
Create a charming nook in your outdoor space with a cozy outdoor loveseat, offering a perfect blend of elegance and comfort. Delight in the plush cushions and tranquil atmosphere as you take a moment to unwind and recharge. Select a loveseat crafted from weather-resistant materials such as rattan or wicker, ensuring durability while infusing a touch of natural grace into your patio.
To further elevate the space, adorn the loveseat with vibrant throw pillows and snug blankets, creating an inviting ambiance that encourages relaxation. Incorporate a coordinating coffee table as a convenient spot for beverages and snacks, enhancing the functionality of your intimate seating area. This stylish and comfortable patio furniture setup will transform your outdoor space into a welcoming oasis, perfect for enjoying quiet moments and making cherished memories.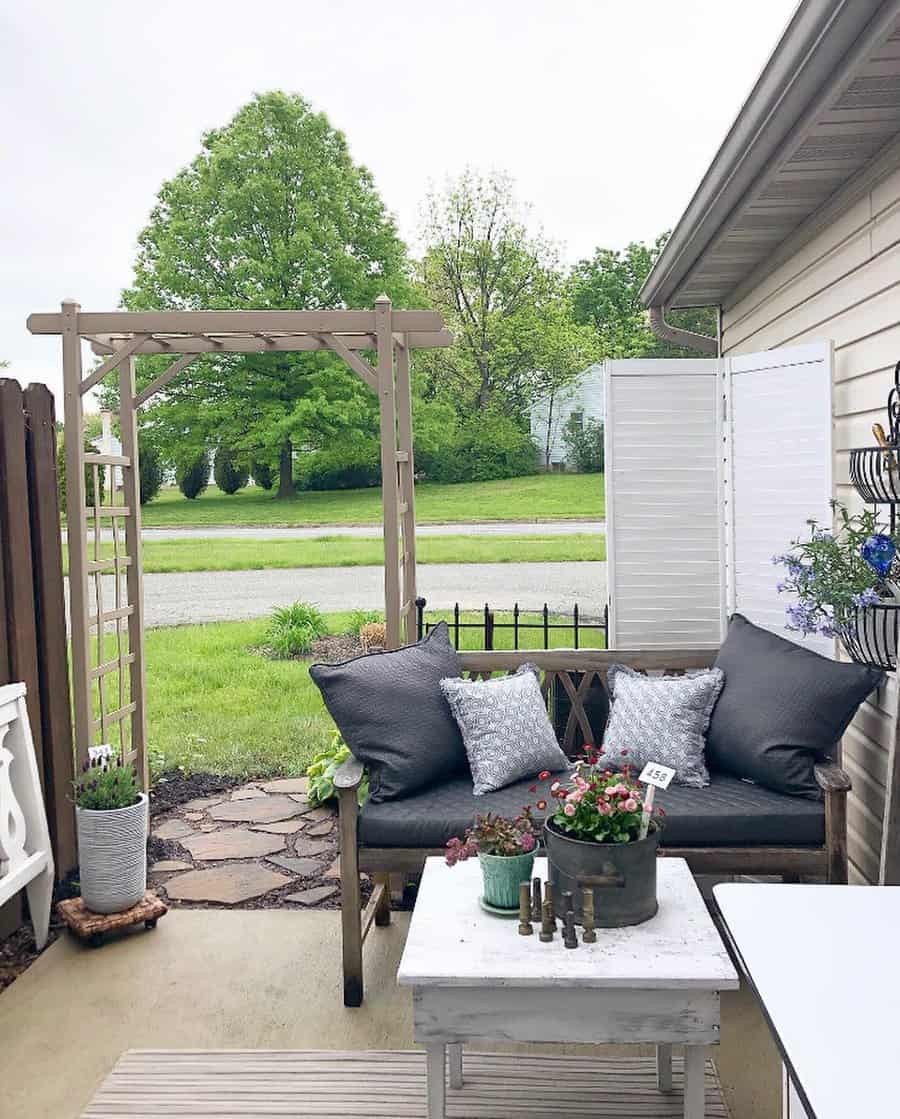 18. Repurposed Charm with a Barrel Coffee Table
Add a touch of rustic allure to your patio with a repurposed barrel coffee table. This innovative piece not only exudes vintage charm but also acts as a testament to sustainable design. Complement this unique table with weather-resistant seating—think plush cushions on refined metal or wooden frames—to strike a balance between old-world charm and modern comfort.
For an added layer of ambiance, drape string lights or position lanterns around the area, casting a soft glow during evening gatherings. This combination of repurposed charm and modern elegance ensures your outdoor space stands out, making it an ideal spot for relaxation and lively chats.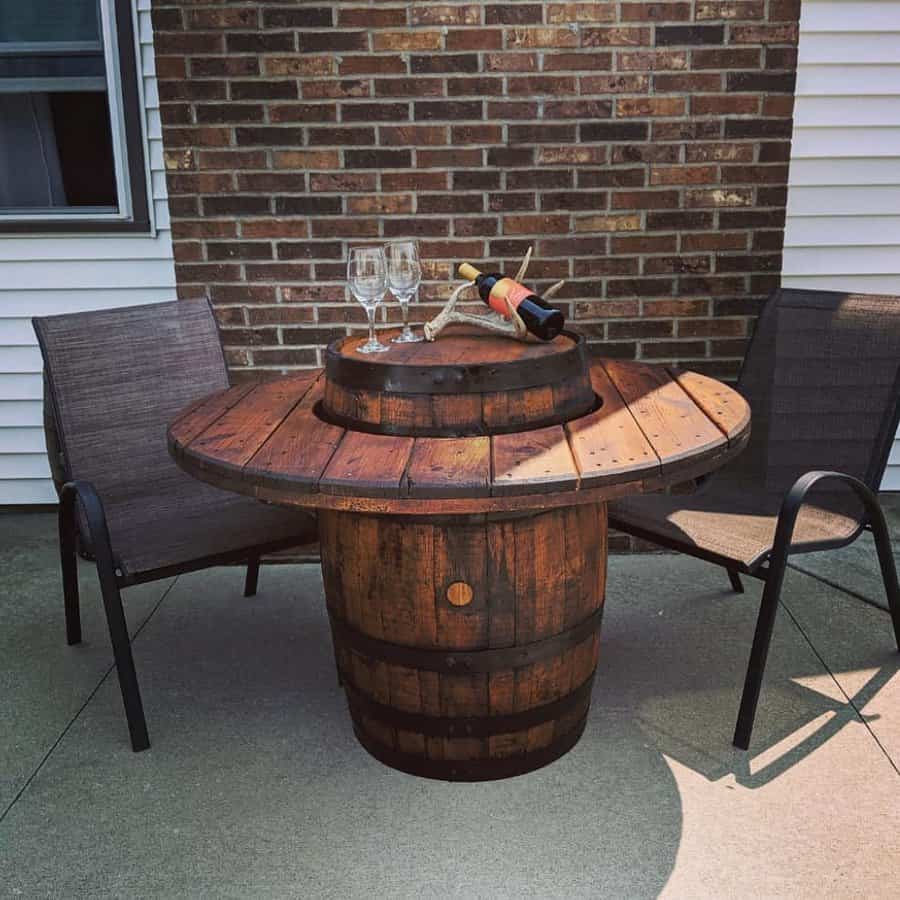 19. Gentle Relaxation with Rocking Chairs
Introduce gentle motion and timeless style to your patio with elegant rocking chairs. These quintessential outdoor furniture pieces not only provide a comfortable seating option but also infuse your space with a sense of nostalgia and charm. Picture yourself unwinding with a book or enjoying a refreshing beverage, all while being cradled by the soothing back-and-forth motion.
To personalize your space, select rocking chairs that reflect your style, choosing from options in wood, metal, or wicker. Perfect for solitary moments of relaxation or for socializing with loved ones, rocking chairs transform your patio into a serene and stylish retreat. So, embrace the leisurely pace and make every moment spent outdoors a delight with these charming additions.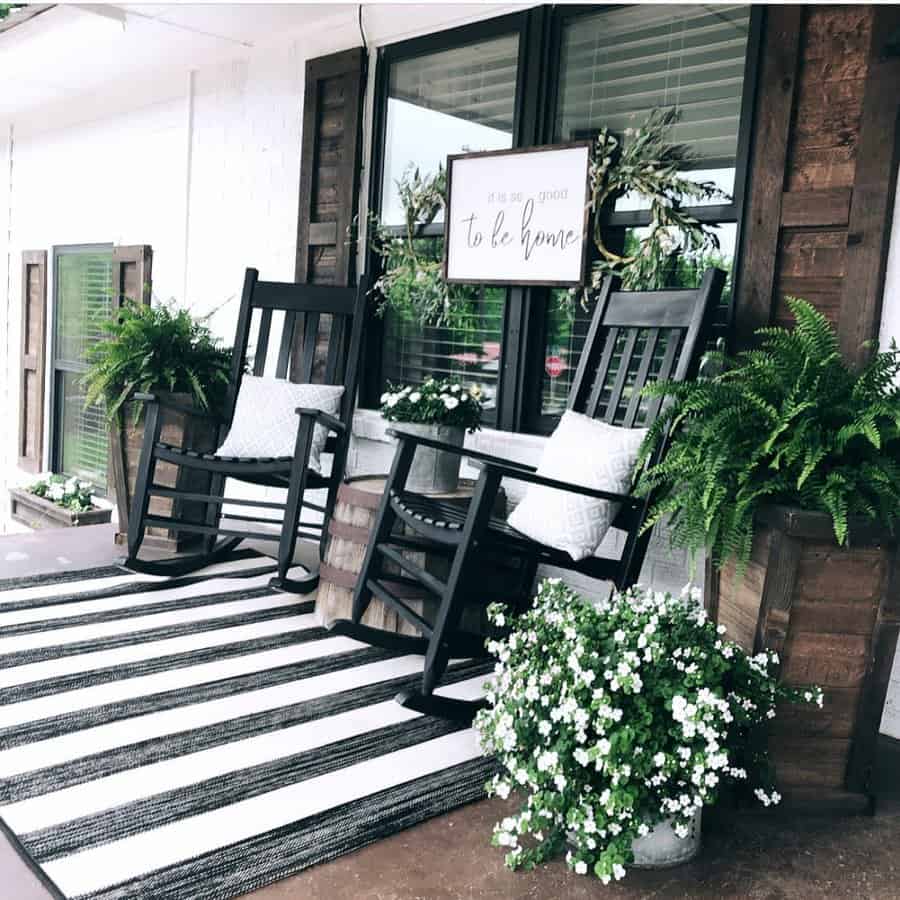 20. Perfect for Two: A Quaint Bistro Set
For intimate gatherings and moments of solitude, a quaint bistro set is the perfect addition to your outdoor space. This compact furniture choice suits various settings, from patios and decks to secluded garden nooks, ensuring versatility and functionality. Opt for durable materials such as metal or rattan to balance style with long-lasting use.
The bistro set invites you to enjoy leisurely meals, savor your morning coffee, or unwind with a glass of wine, all while immersed in the beauty of your outdoor environment. It's not just for dining; use this versatile set for reading, working, or simply relaxing. Create a charming and intimate outdoor retreat with this delightful patio furniture option.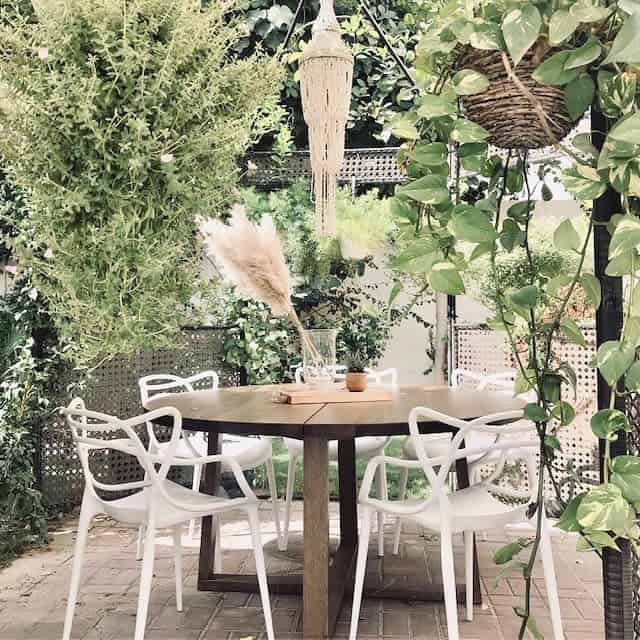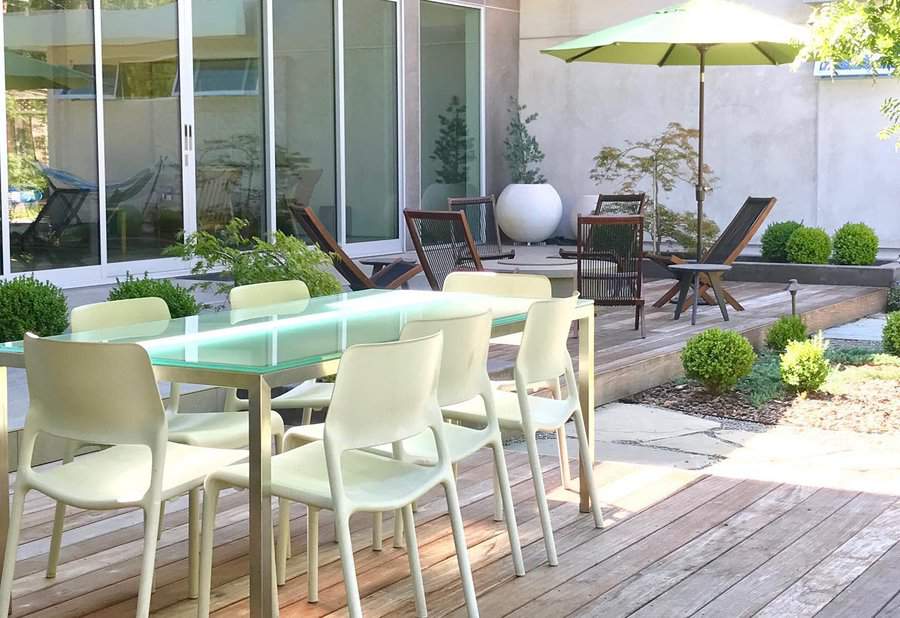 Patio Furniture FAQs
How can I make my patio look nice?
Use the same decorating principles that you would use indoors when decorating your patio. This will create a comfortable and welcoming environment. Start with furniture that's scaled for the space. Provide plenty of seating that's cushioned and perfect for lounging out. Create vertical height with a cover, umbrella, or tall potted plants.
What kind of patio furniture is most durable?
Wrought iron is the most durable material for your patio furniture. It can easily last for several decades. It also happens to be the heaviest material for your patio furniture. The downside of wrought iron is that it can also be expensive. Affordable alternatives are aluminum, stainless steel, cast aluminum, and wrought aluminum.
What is the best month to buy patio furniture?
A smart time to buy your patio furniture is towards the end of summer when retail companies are looking to clear out their inventory. This means buying your furniture between the end of August and October. You can also find deep discounts in the middle of winter. Many companies want to clear out inventory before the end of the year, which means you can get deeply discounted patio furniture that's still hanging around.