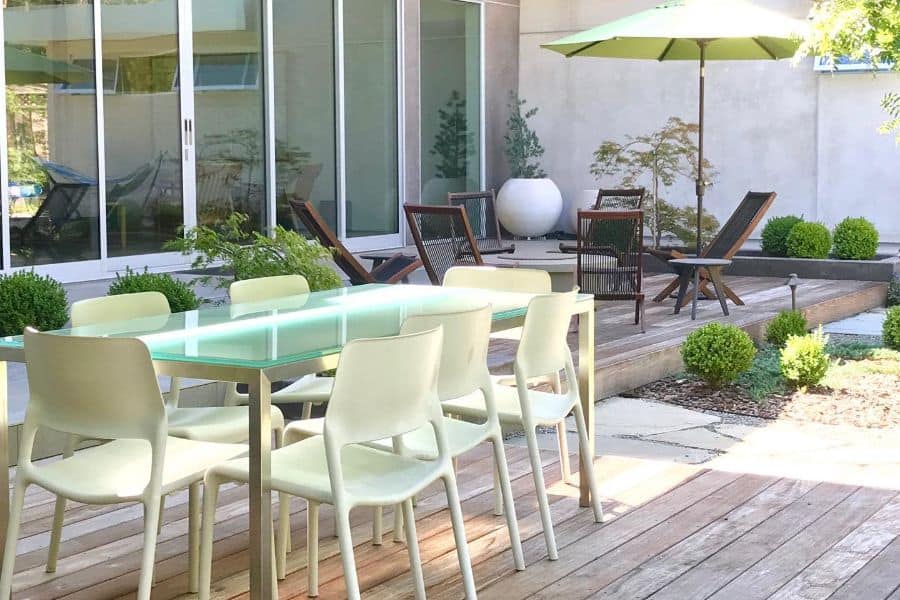 The Top 76 Patio Furniture Ideas
Isn't it time you did something with your backyard? It's your property, so it's time you start enjoying it. Perhaps it's a dirt patch where grass only grows on part of it. Or maybe you have a concrete patio that's just ugly.
What you need are some patio furniture ideas. Once you place some outdoor furniture, you'll begin to see your outdoor space start to take shape. Similar to the rooms inside your home, your outdoor space will become a welcoming spot for hanging out and entertaining. Which one of these ideas will work in your backyard?
1. Backyard
The outdoor patio furniture that you choose should fit the space that you have available. If you only have a small patio area, then a cafe table and chairs or a love seat bench could be perfect. A mid-sized patio or deck could support a dining table that can seat four to eight people. Or perhaps you use the space to create an outdoor living room.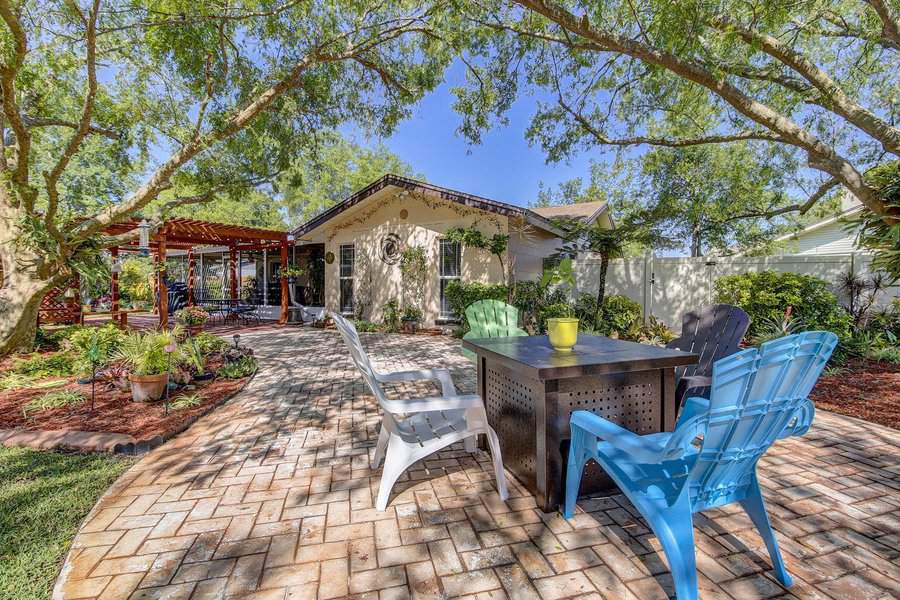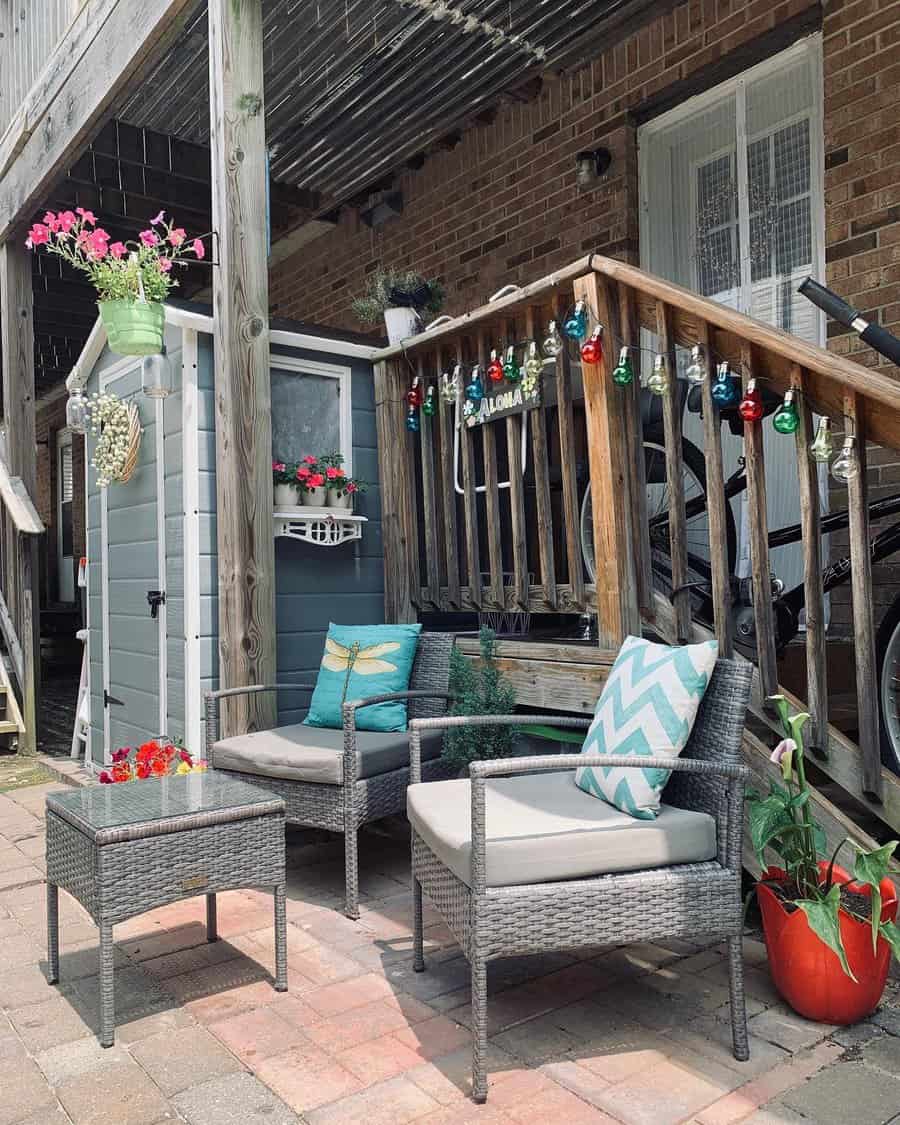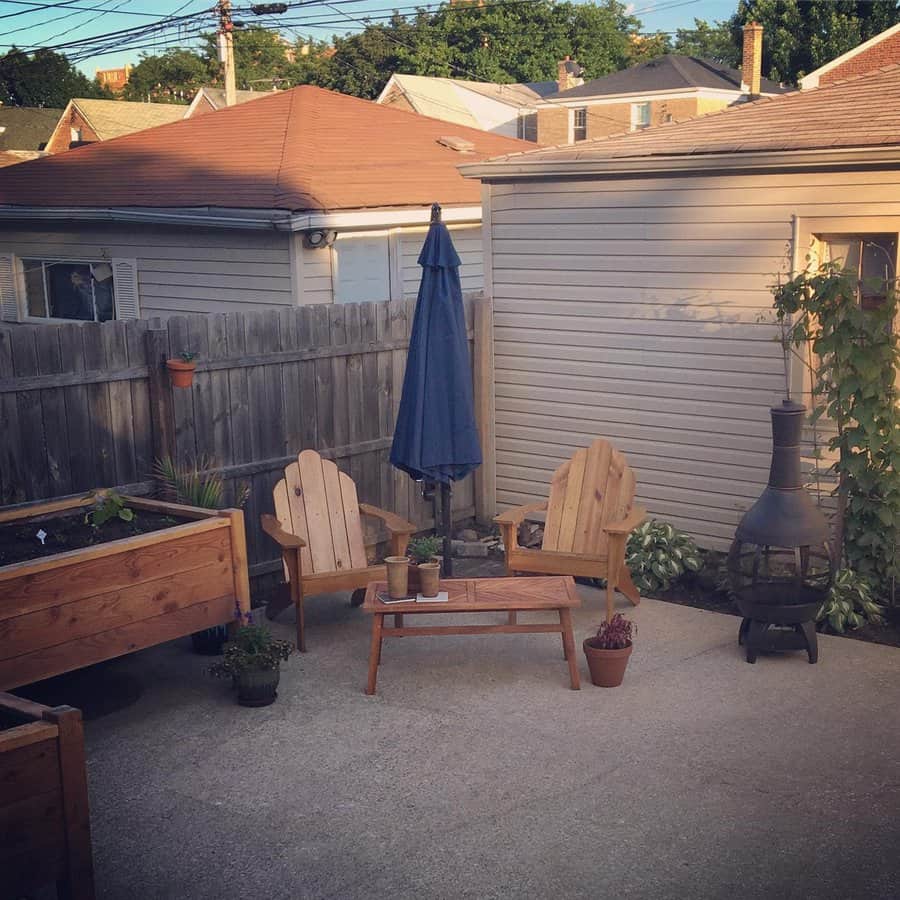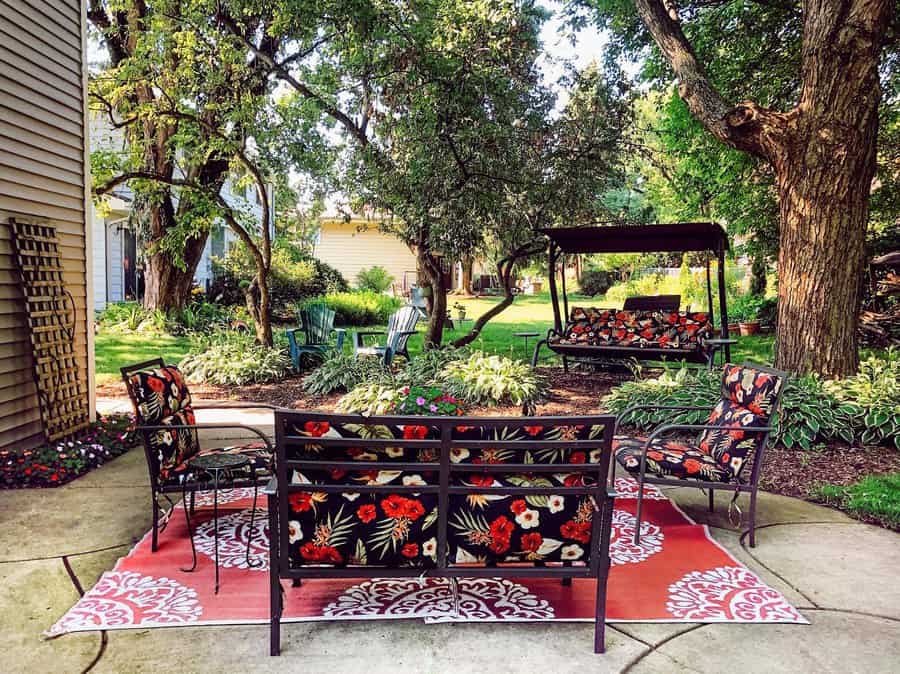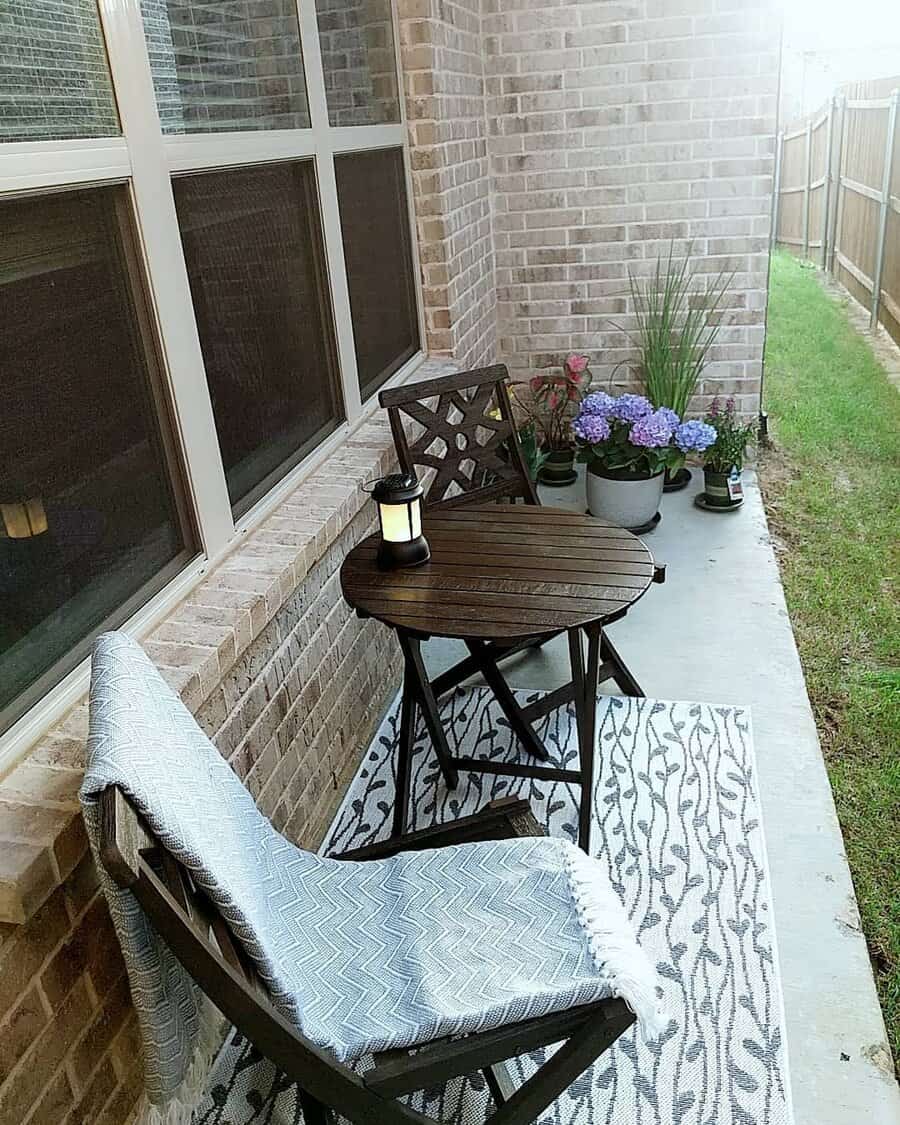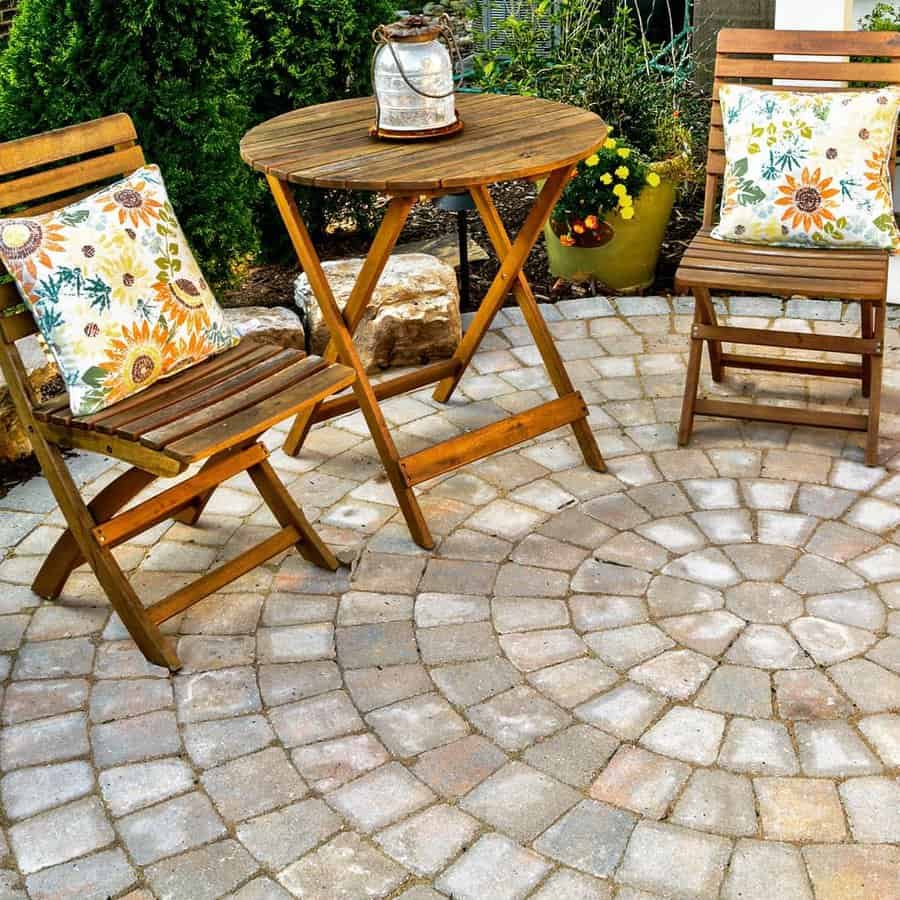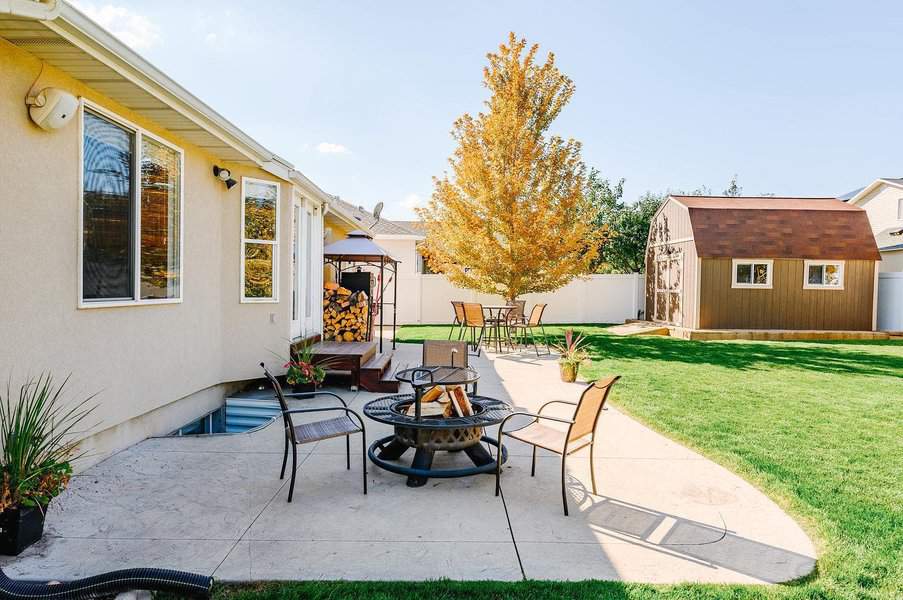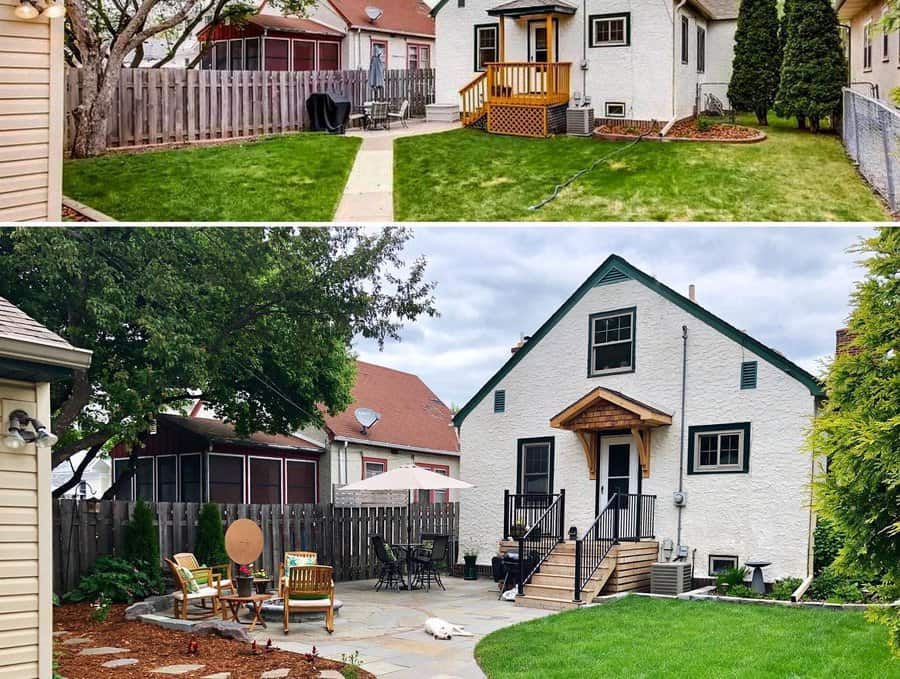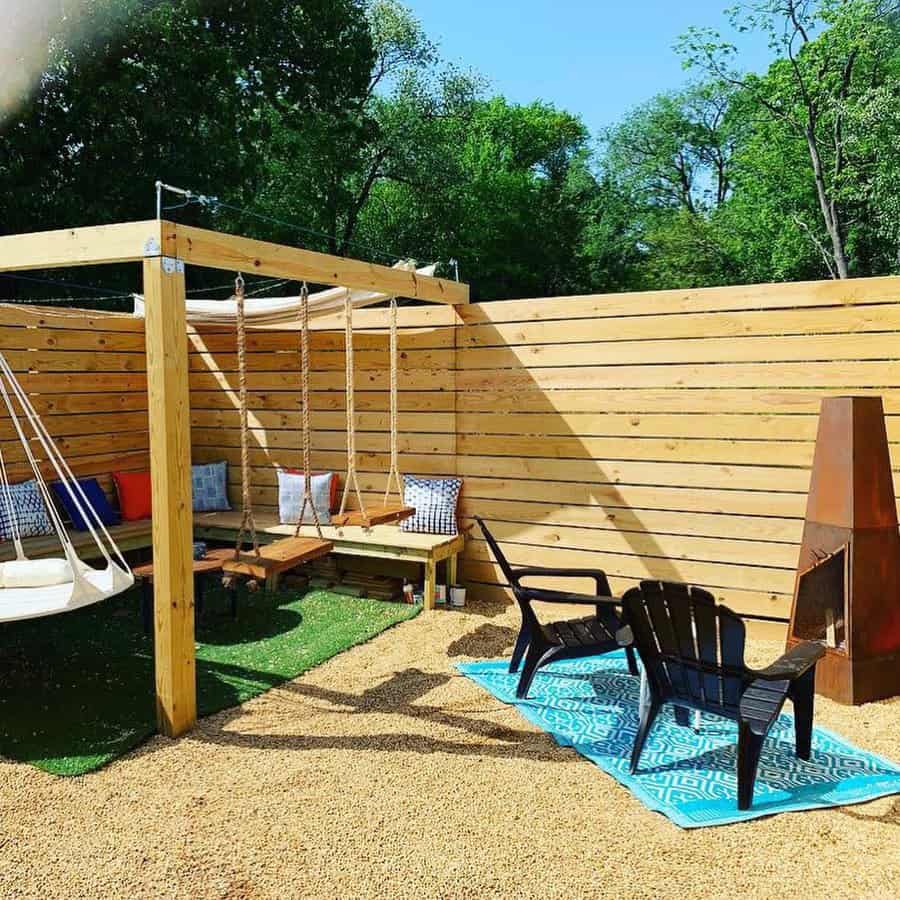 The largest of decks can be used as a multi-functional space. In one area, you install your outdoor kitchen, and in another, you have your dining table. You could even have a separate area where you have a fire pit and chairs.
2. Couch
Adding a sofa to your patio gives you a comfortable place to relax and lounge out with friends. Choose a couch that's large enough to give you enough seating.
You may need to have two sofas that face each other with a coffee table in the middle. Or you could have a love seat and two accent chairs.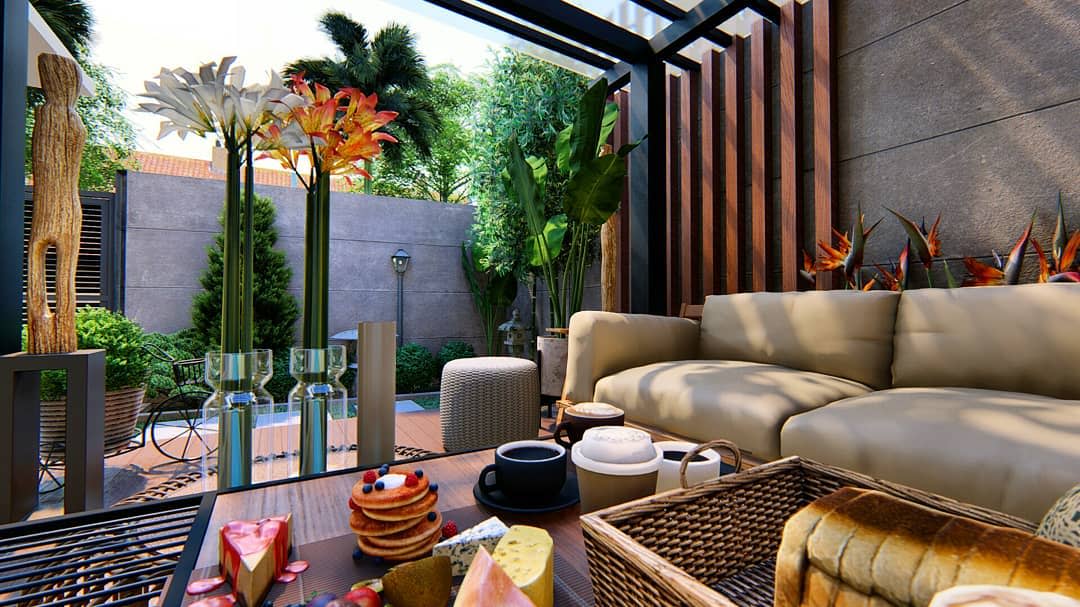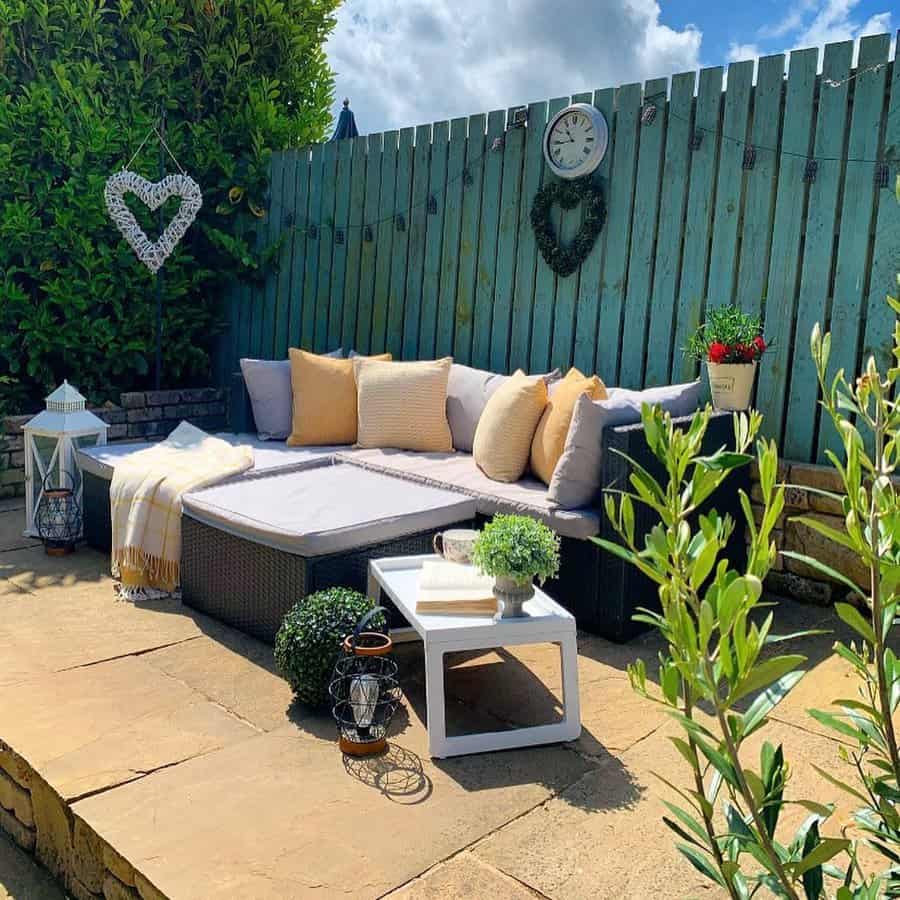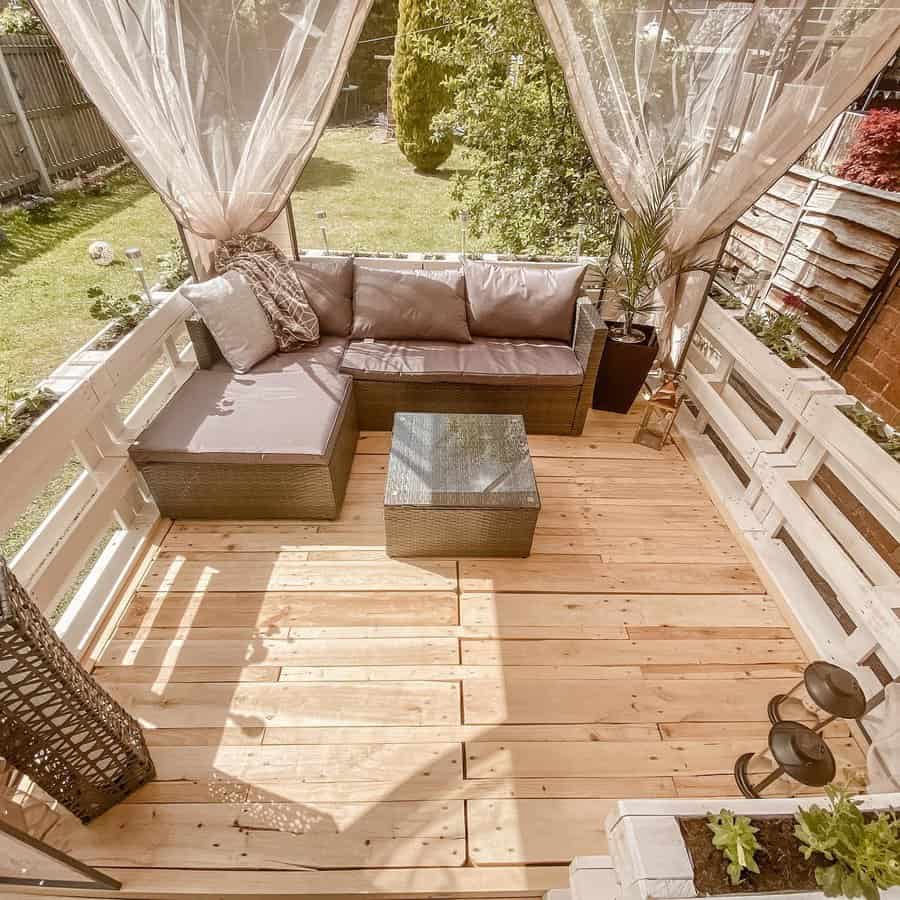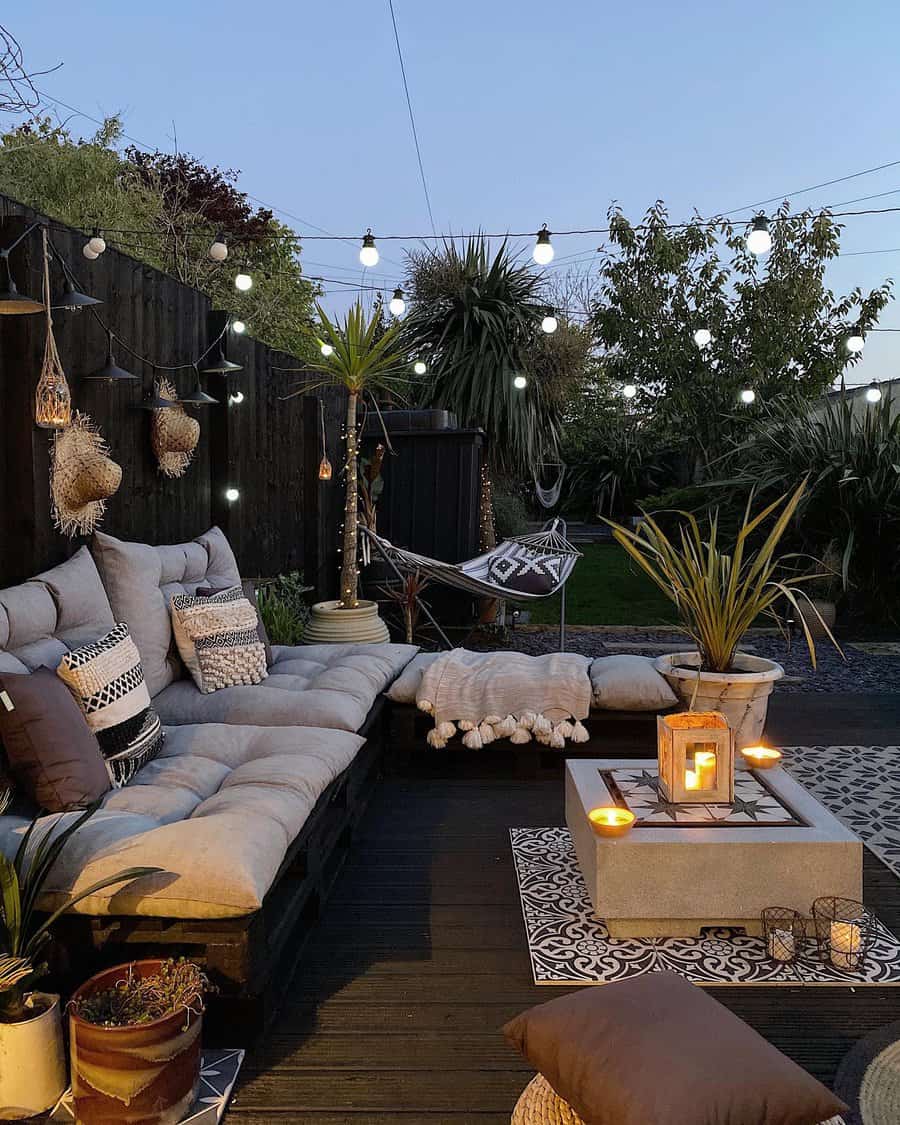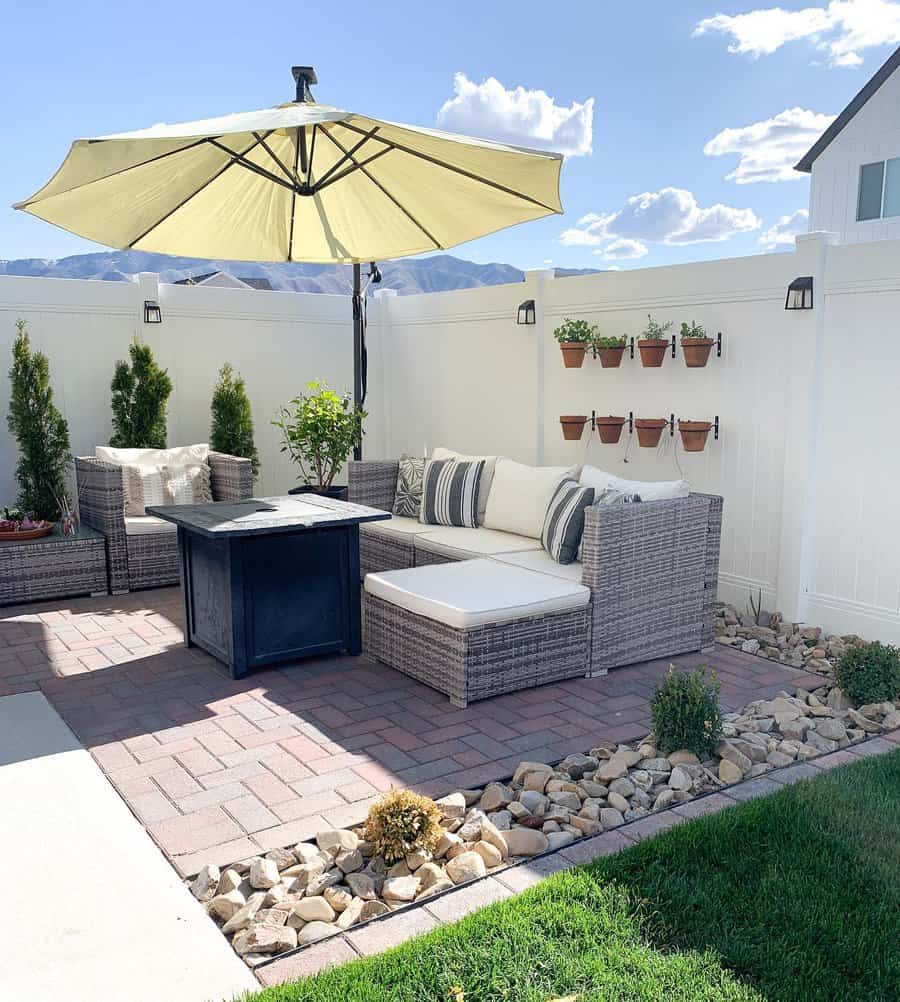 Complete the living room feel by having throw pillows on the sofas. Place a large outdoor area rug underneath to tie the space together. Arrange potted plants around the furniture to give the patio a tropical feel.
3. DIY
You can build your own DIY patio furniture out of wood. A common idea is to use pallet wood, making the project simple for those who don't have woodworking experience.
Start with one furniture piece for your outdoor area to learn how to build furniture.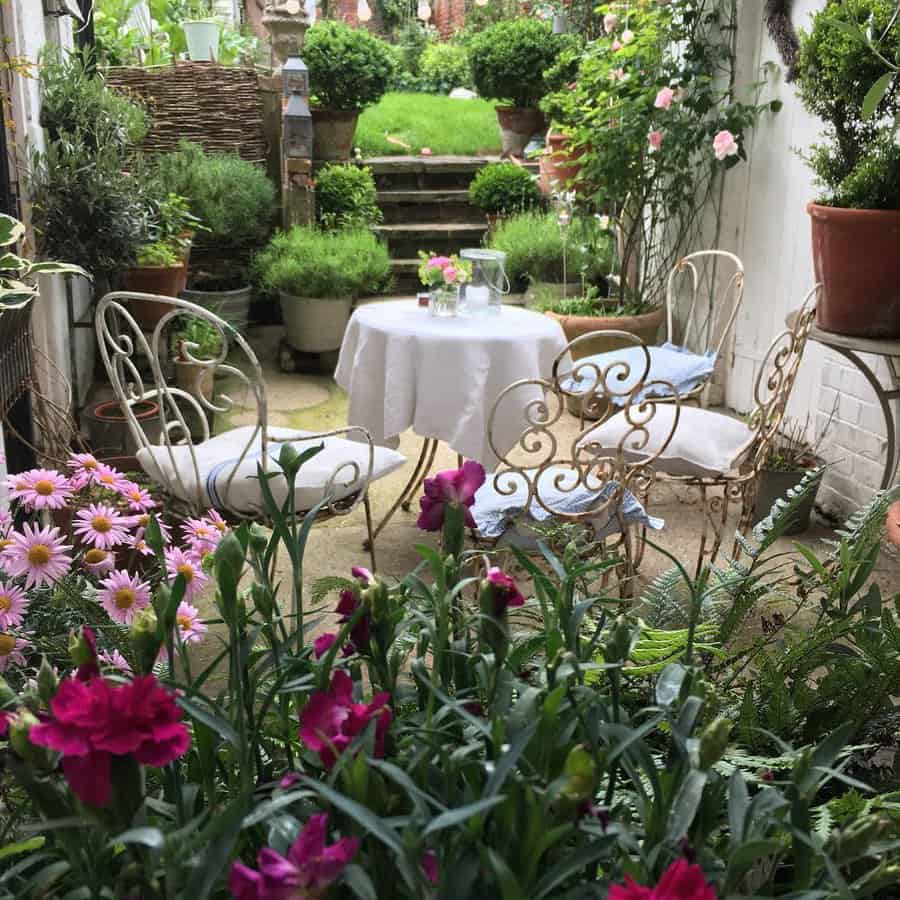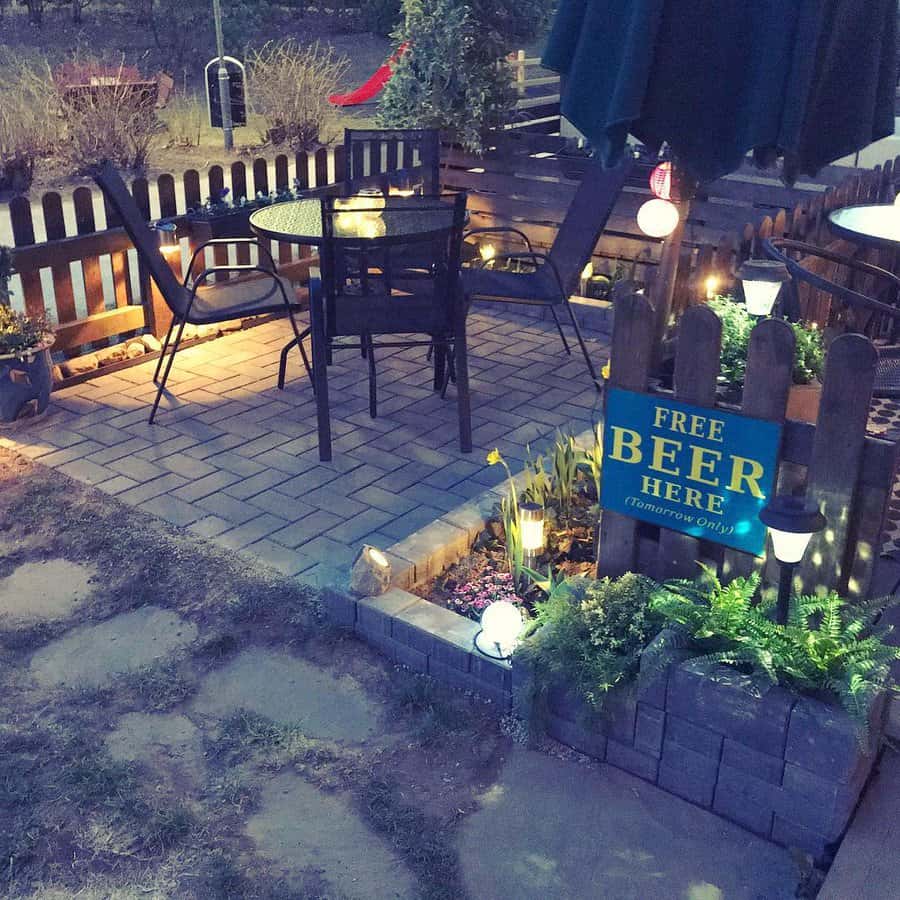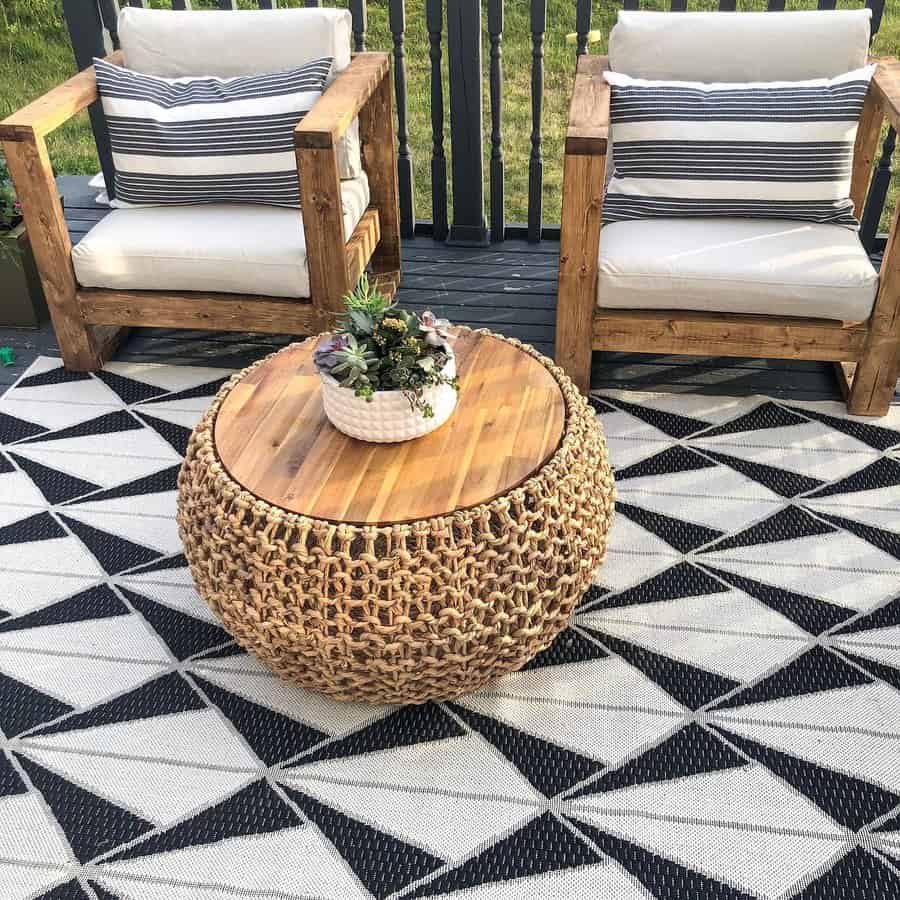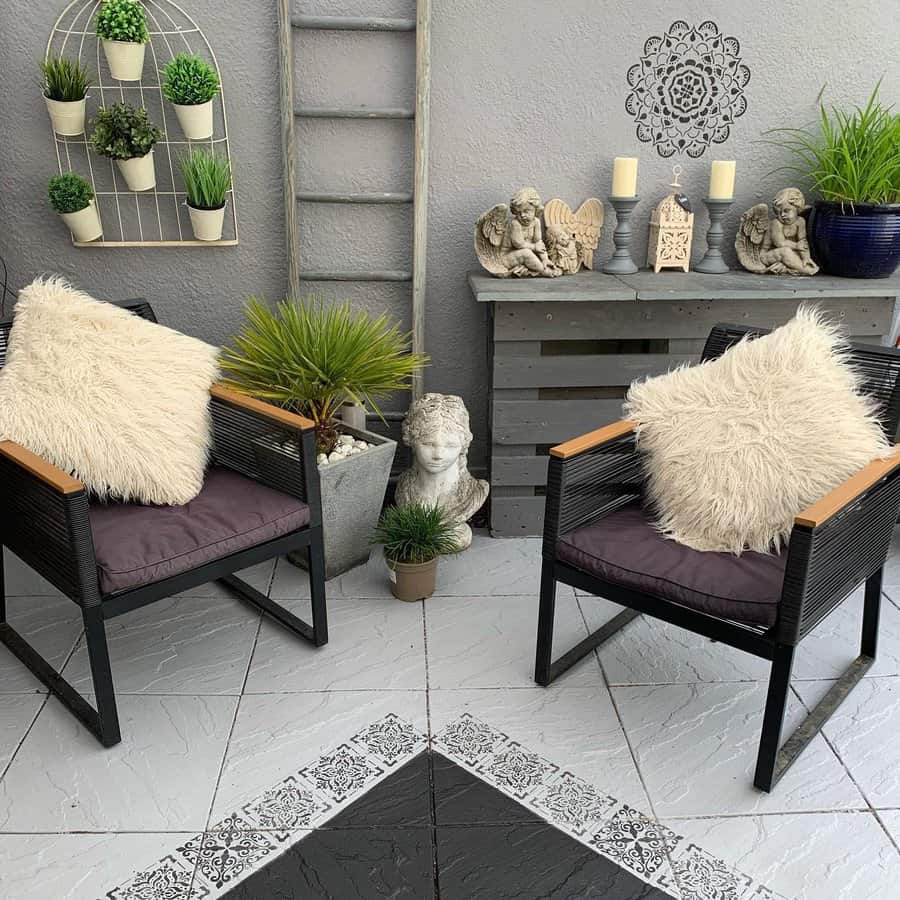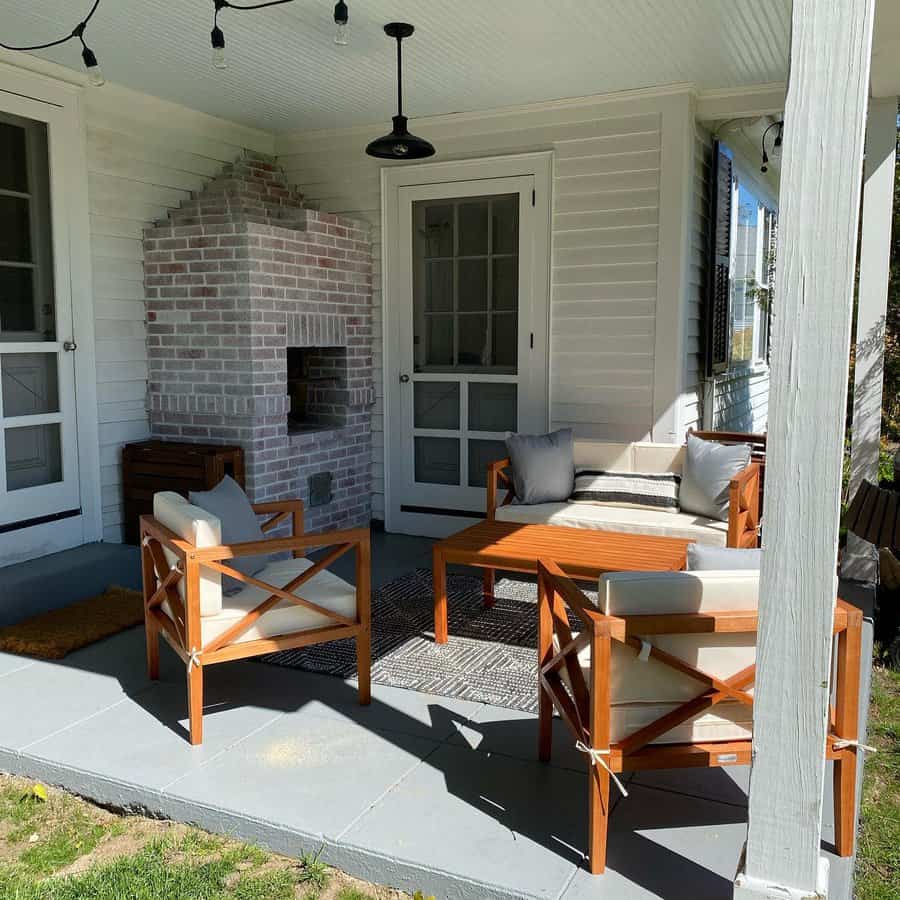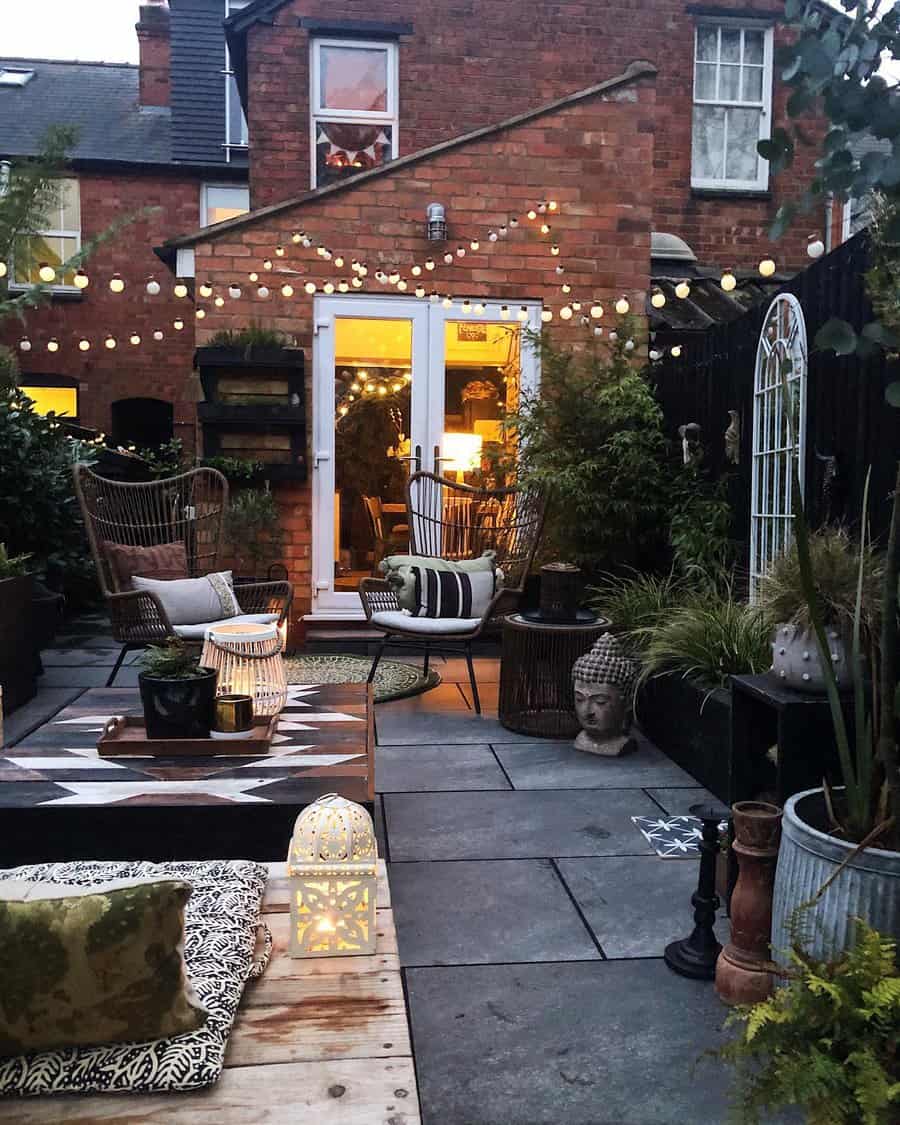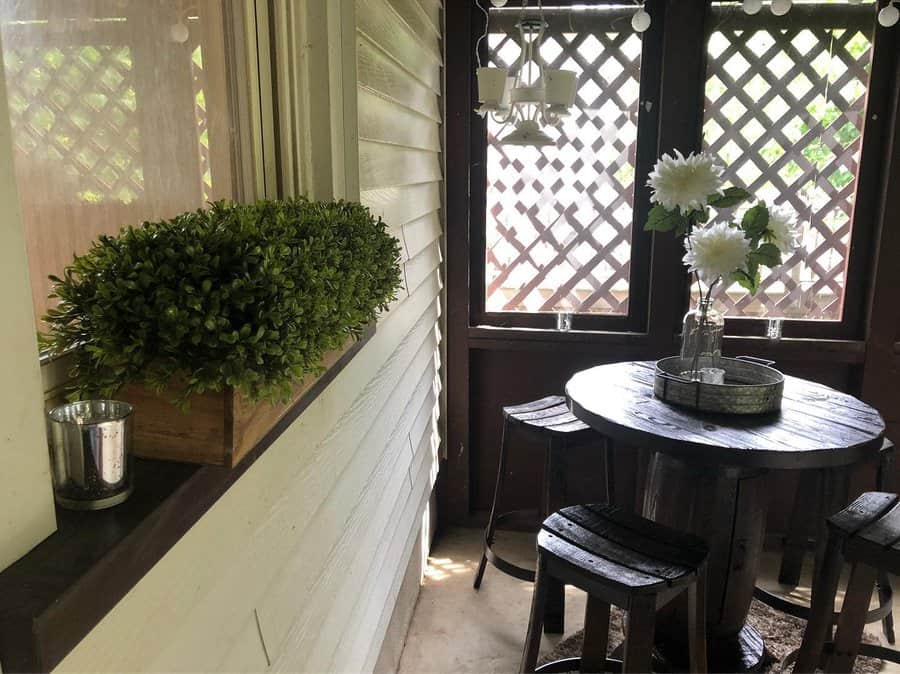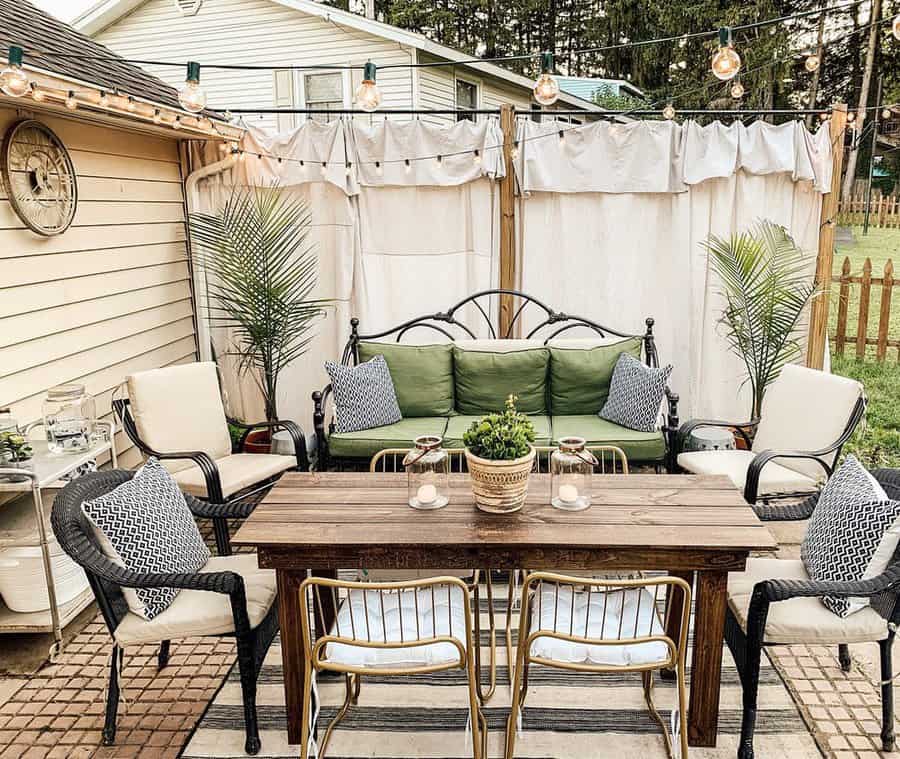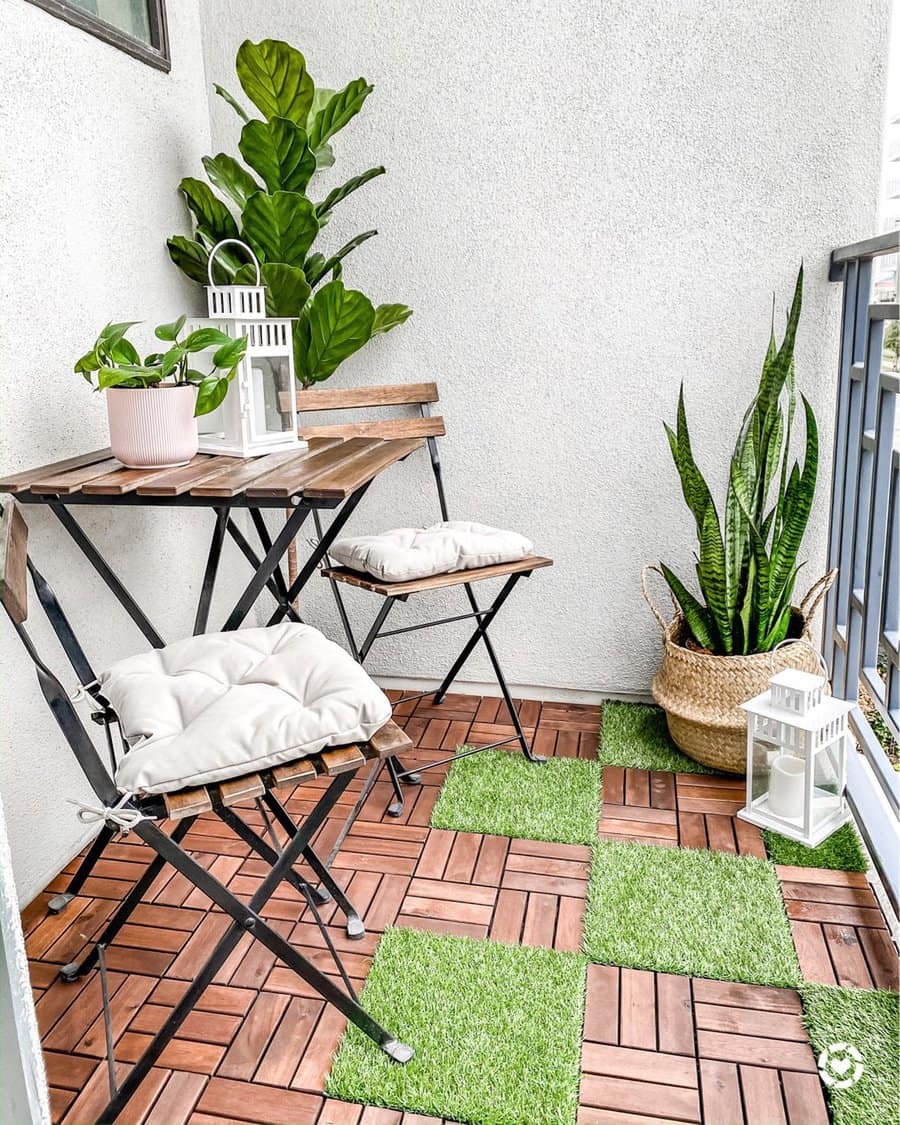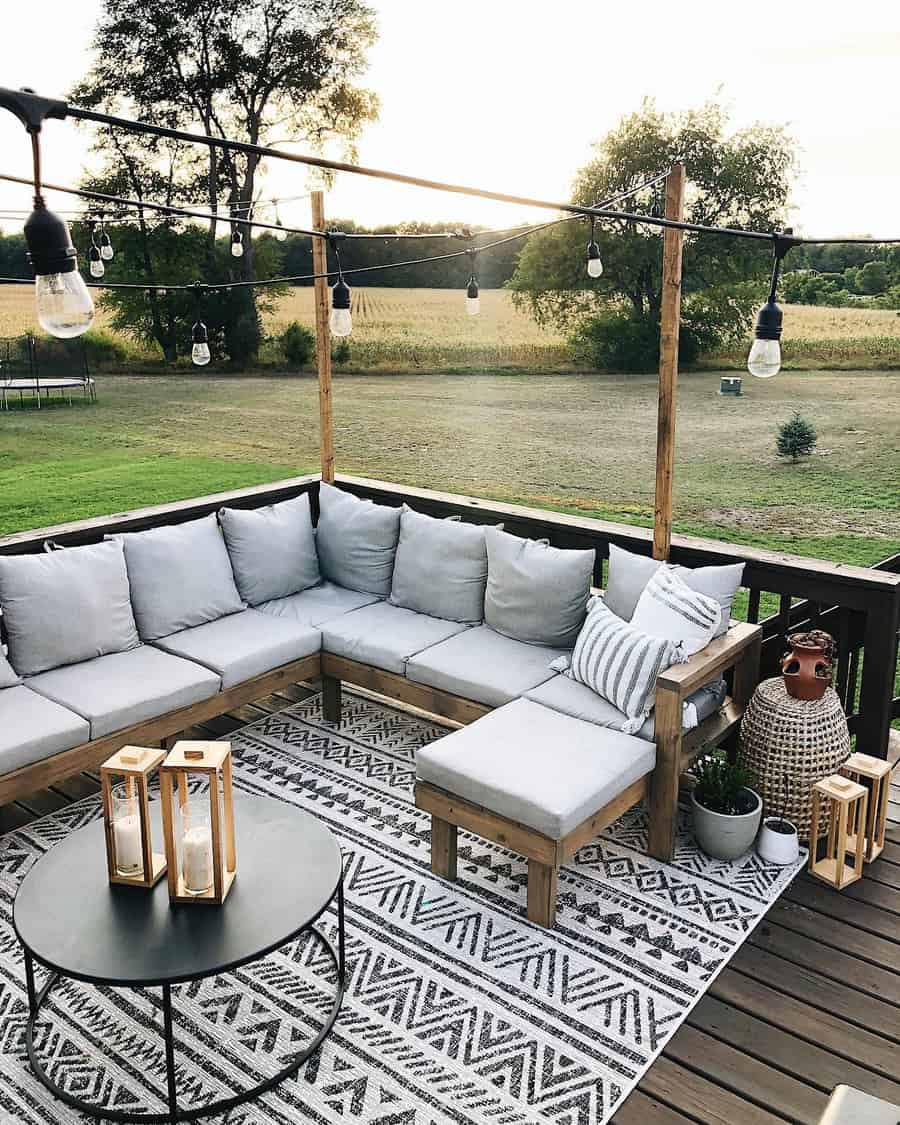 Once you get the hang of it, you can build benches and chairs that sit around a firepit. You can also build your own fire pit for a completely custom design. Use concrete blocks, bricks, or pavers to build the walls of your fire pit.
See more DIY patio ideas here.
4. Deck
A large deck is a perfect place for setting up your outdoor living space. Start with an outdoor rug to spread out and define the space.
It should be large enough to reach just under the front legs of the furniture you plan to place on it. Too small, and it won't anchor the space, leaving it to feel like it's randomly floating in the middle of your deck.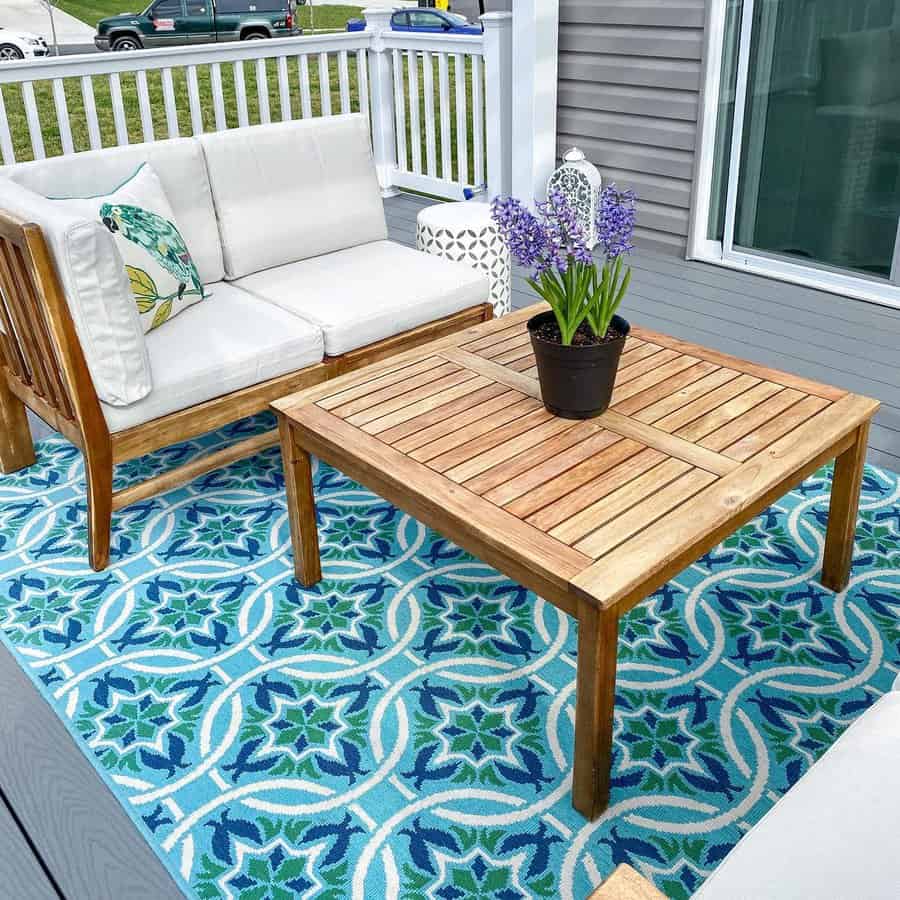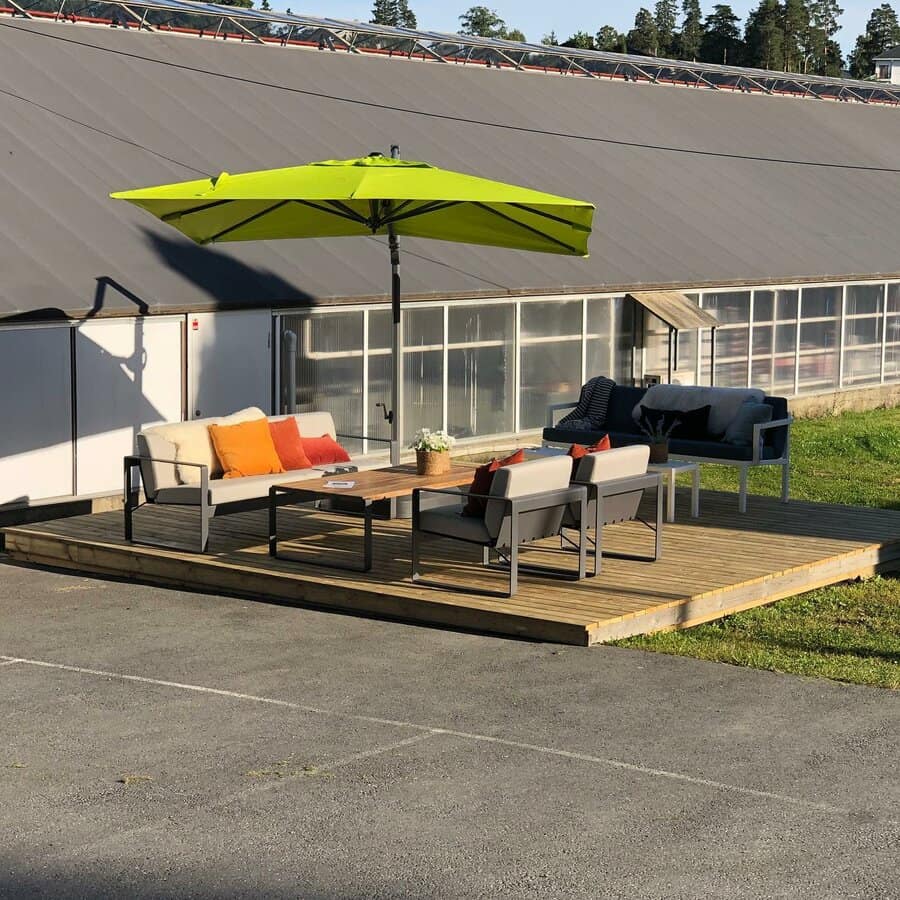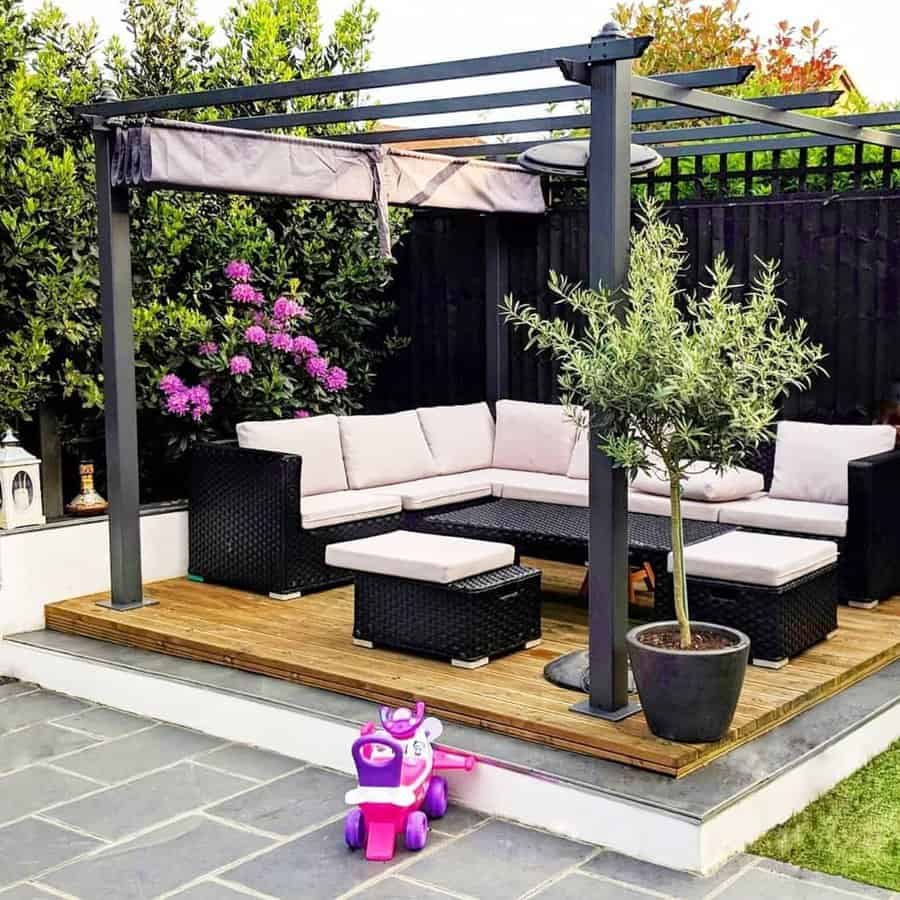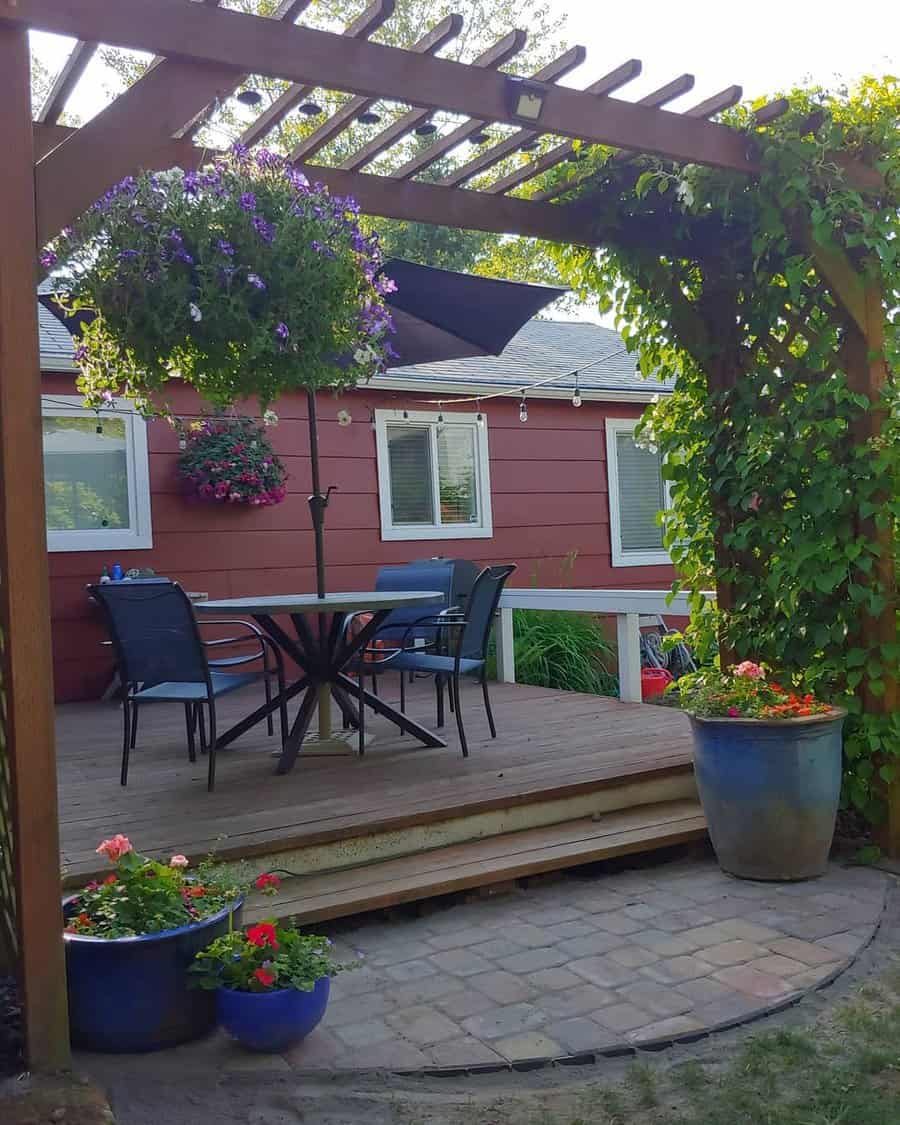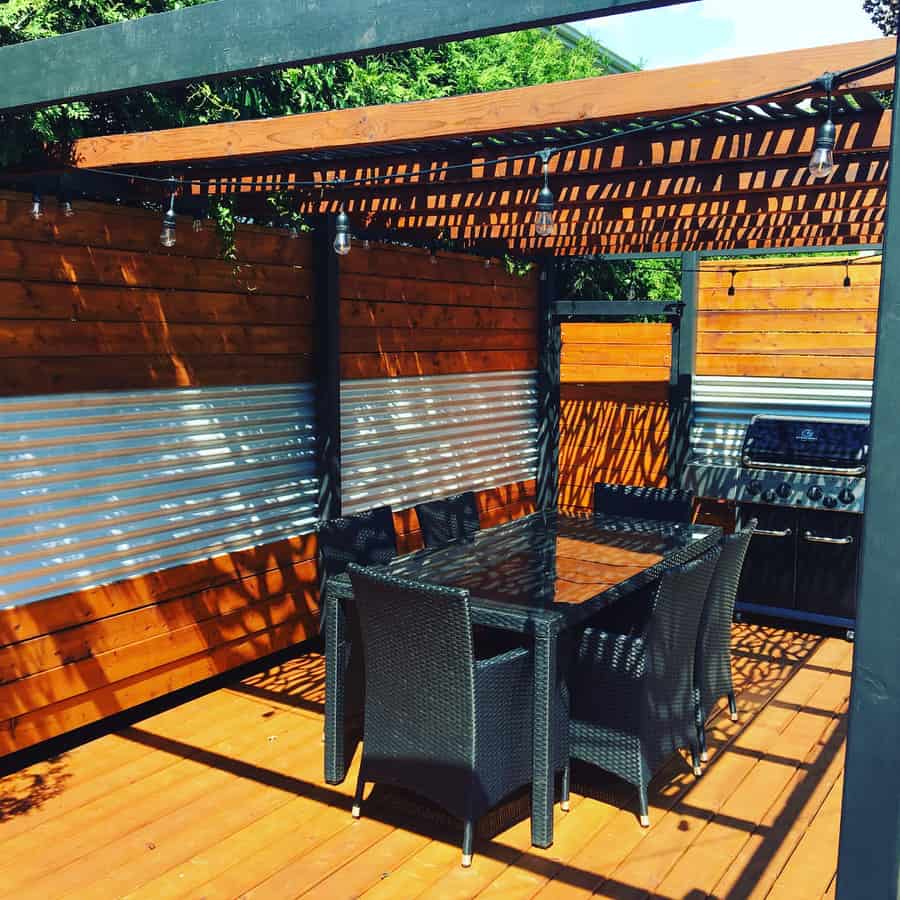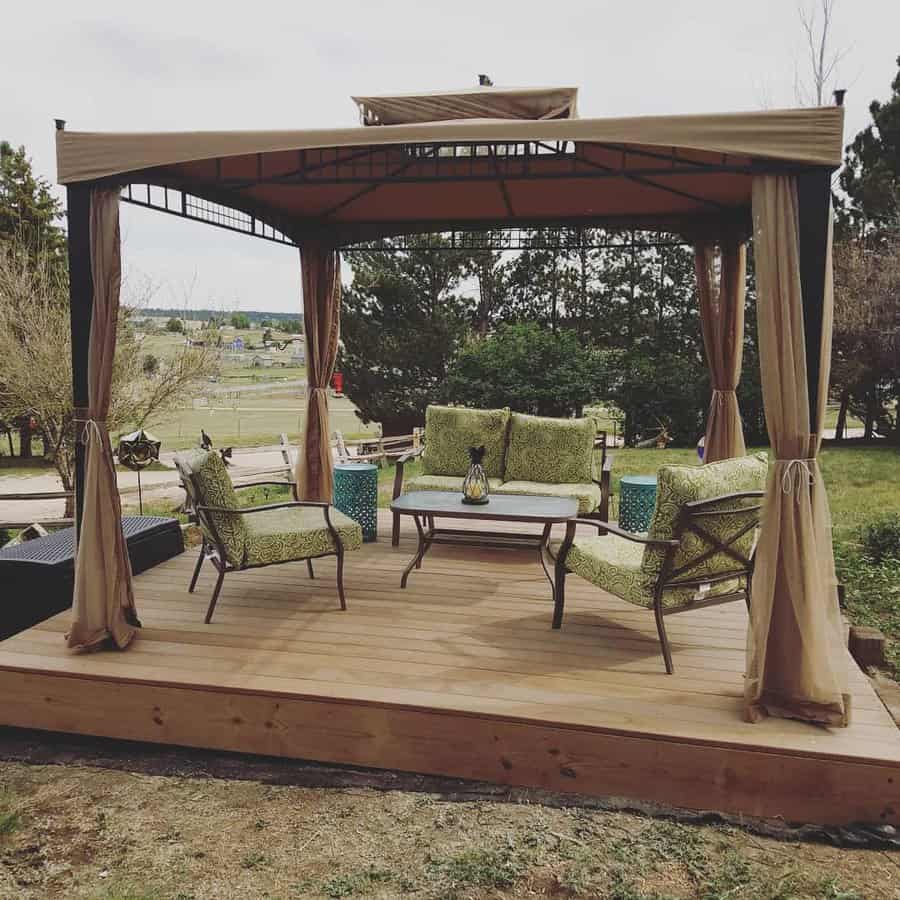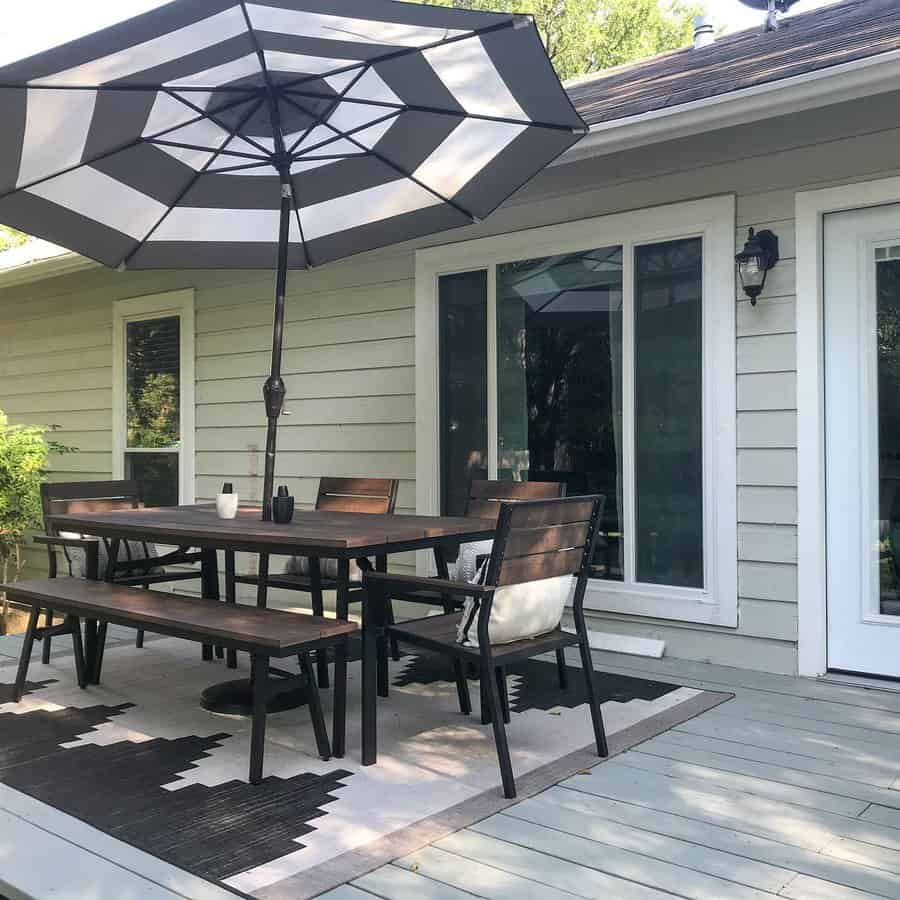 Place a coffee table in the center of your seating area to give people a place to kick their feet up or place their drinks down.
To make this outdoor room feel more comfortable, add decor. Hang lights and outdoor-friendly art. Add a bar cart to make outdoor entertaining easy.
5. Garden
A garden is a perfect place to build a small patio. This gives you a spot to sit among your plants and admire your hard work.
You can place a small bench or a few chairs. Add a cover so that you can use it no matter what the weather. A gazebo works well for this too.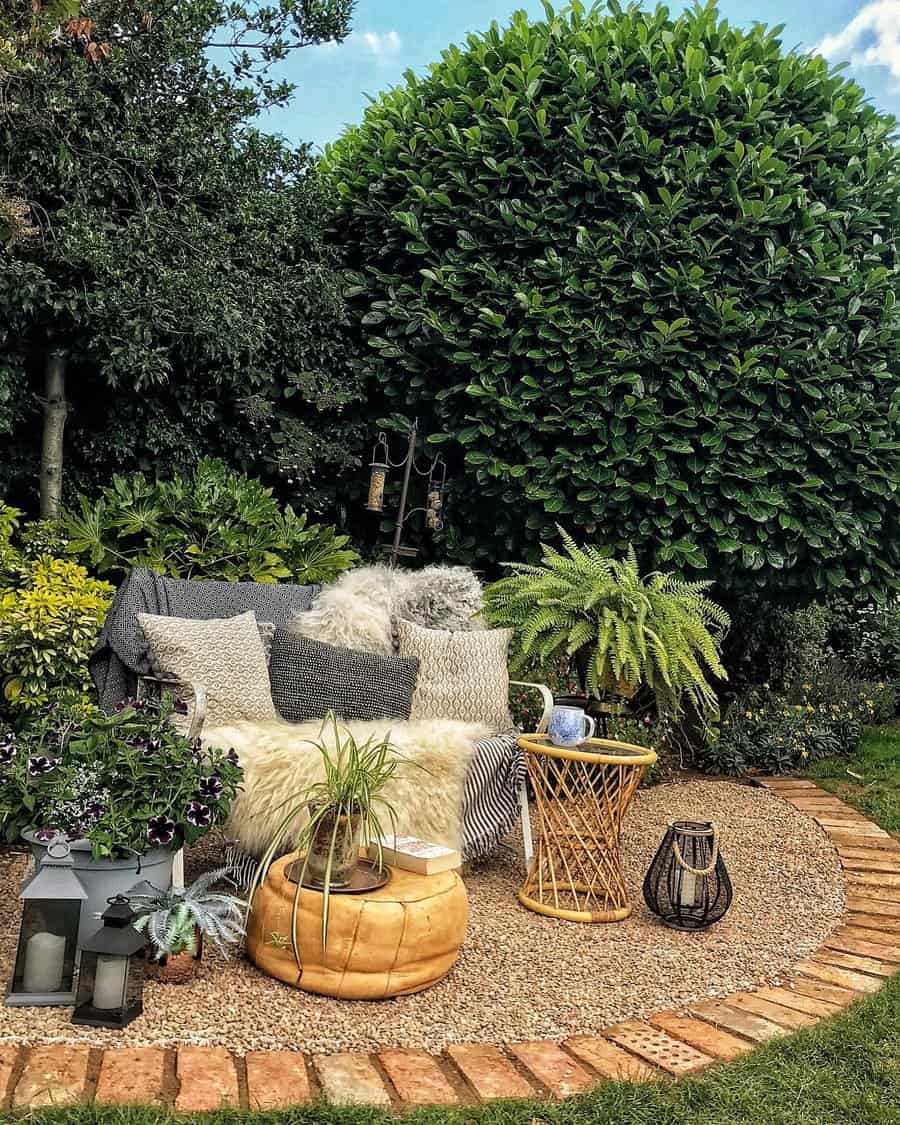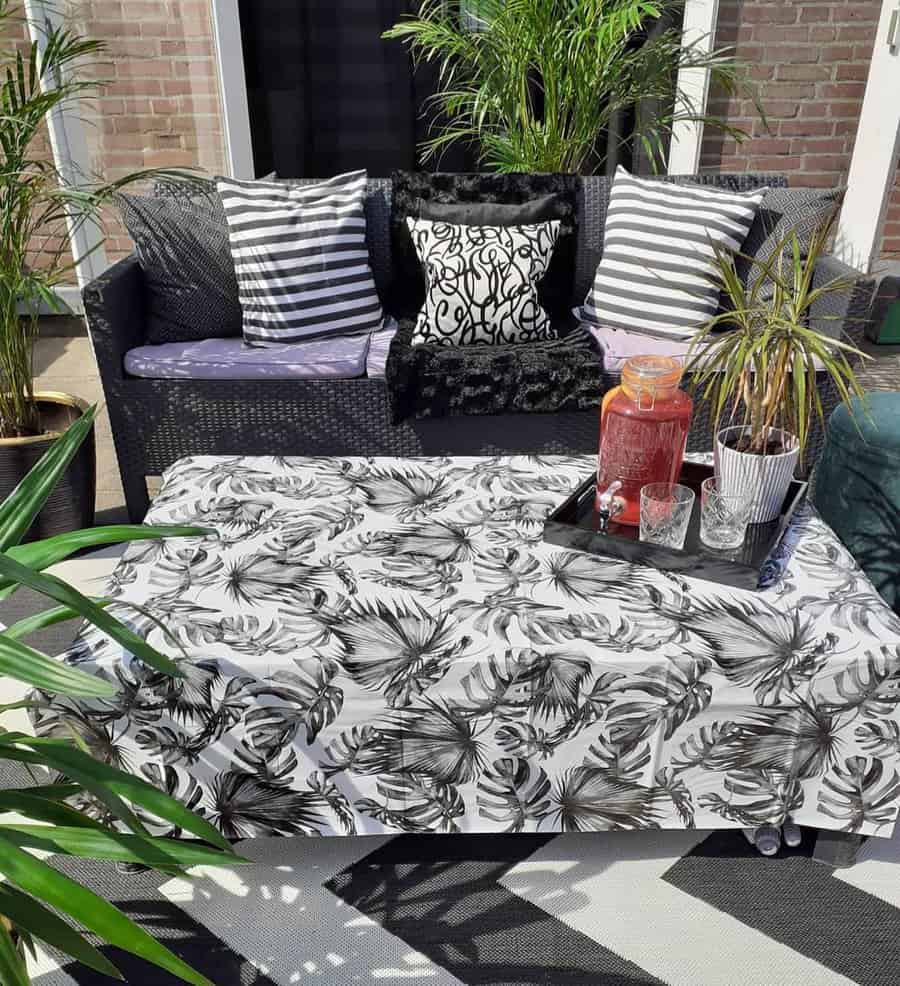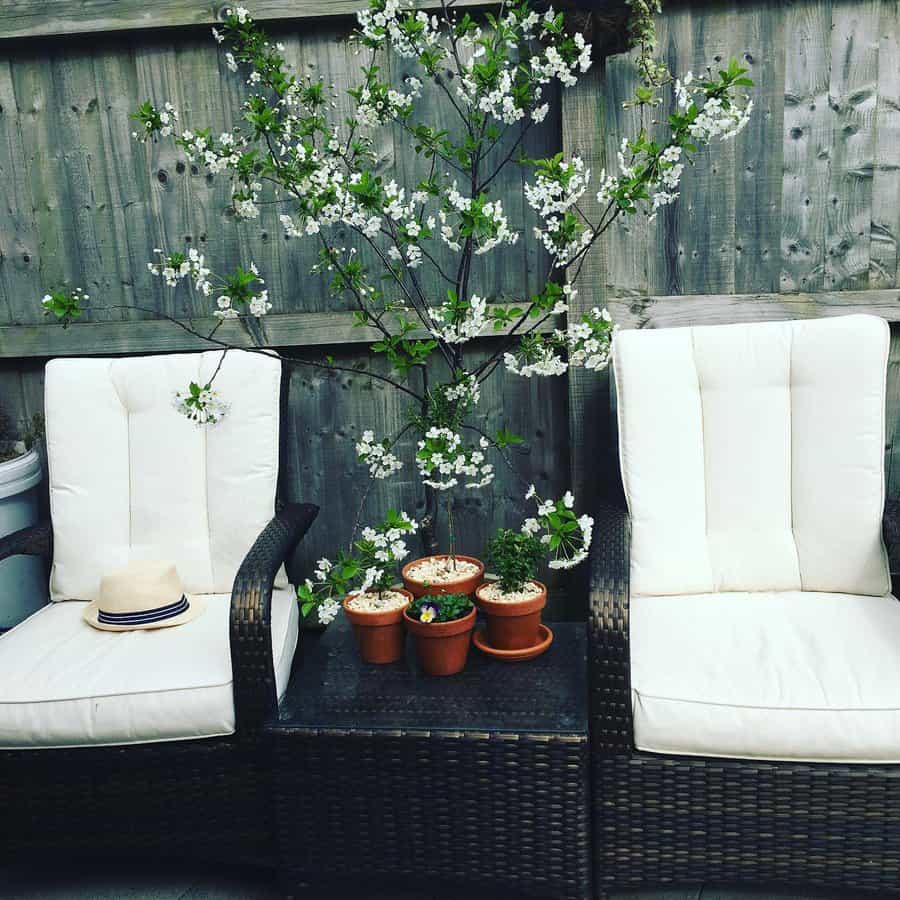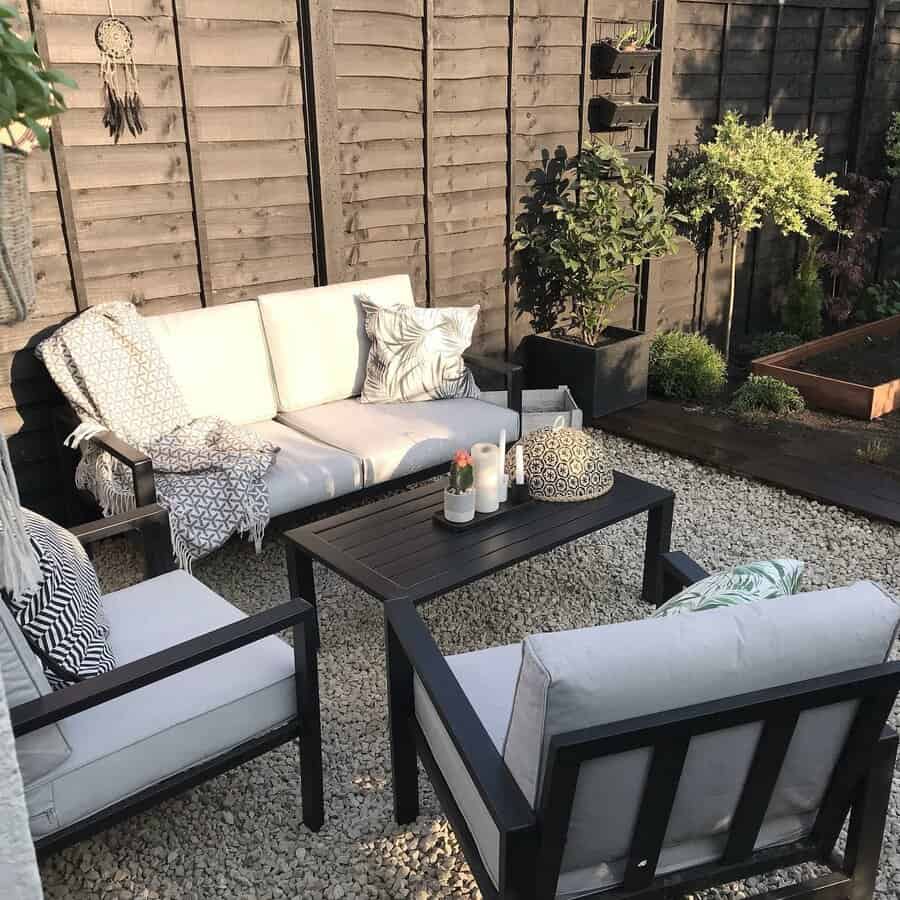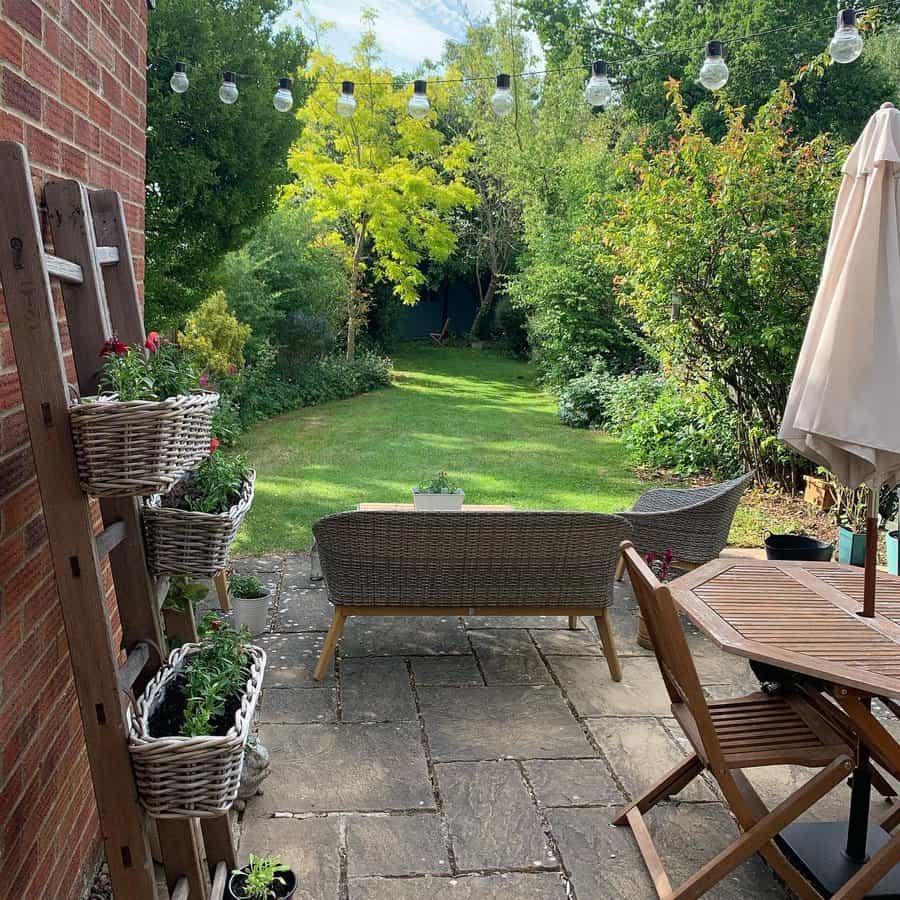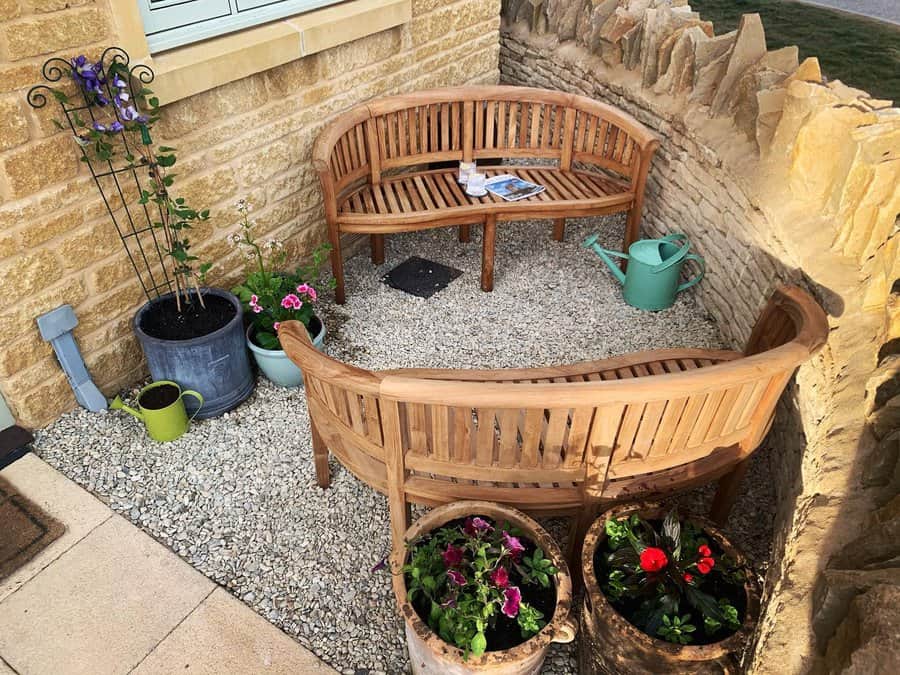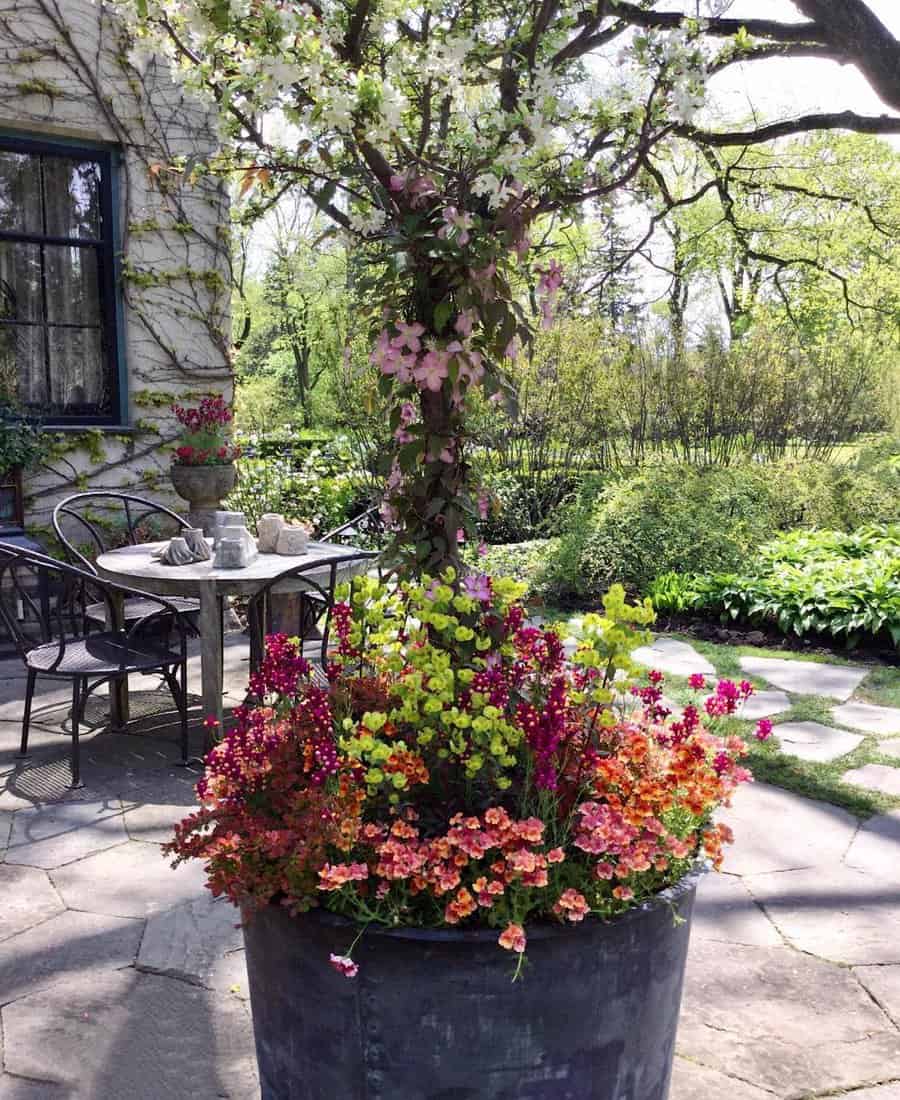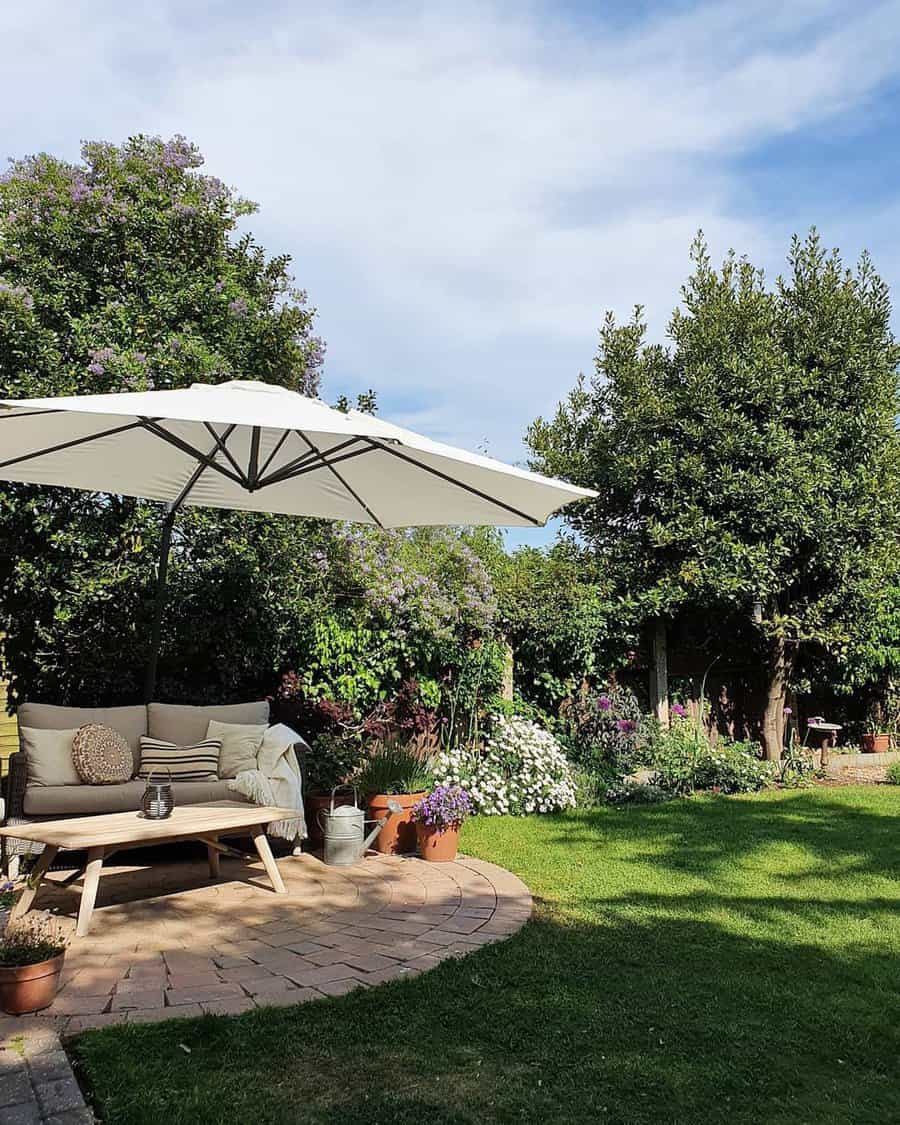 Instead of cultivating a garden, you could turn your existing deck or patio into the garden.
Surround your patio furniture with potted plants. If you have a small patio you can install a hanging garden. This turns your outdoor space into a lush oasis that's perfect for escaping the stress of the day.
6. Iron
The most durable patio furniture that you can buy is made from wrought iron.
Several furniture ideas are made from this metal, but the most common are patio chairs and a matching table. This furniture tends to be smaller in scale because wrought iron is very heavy.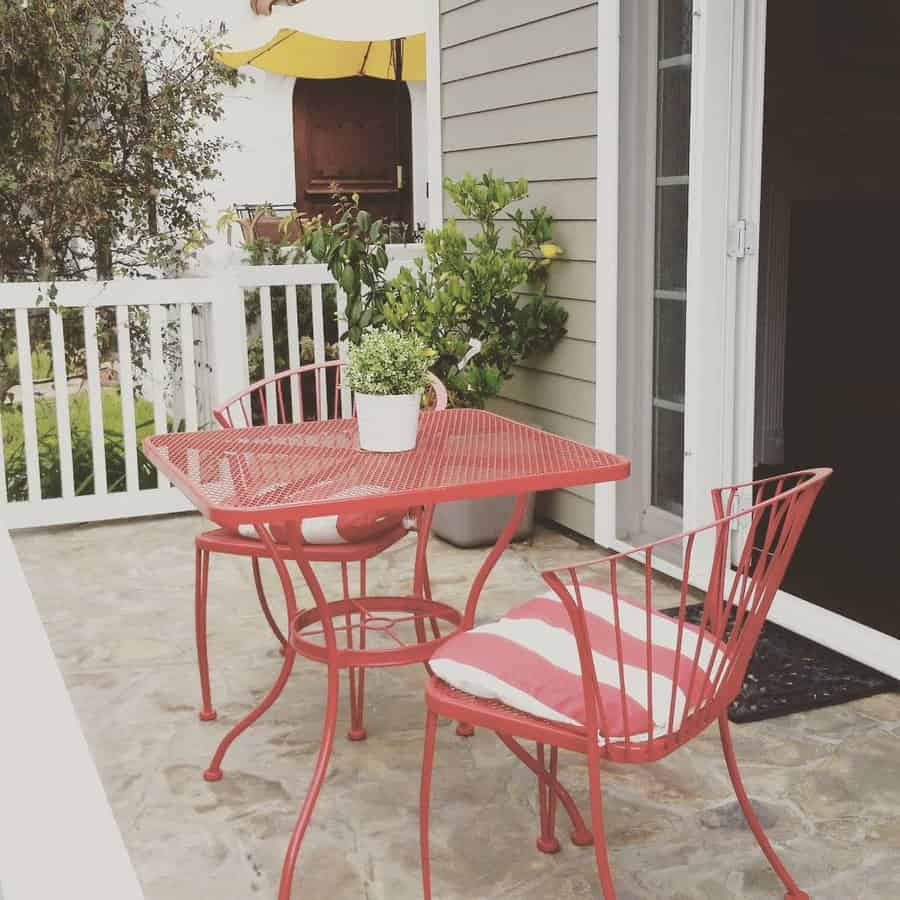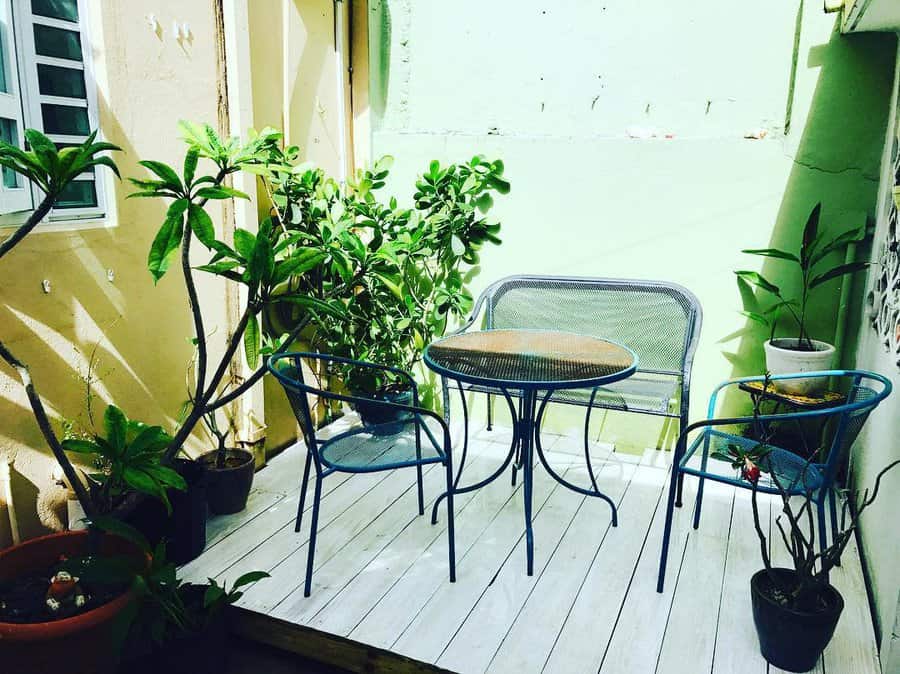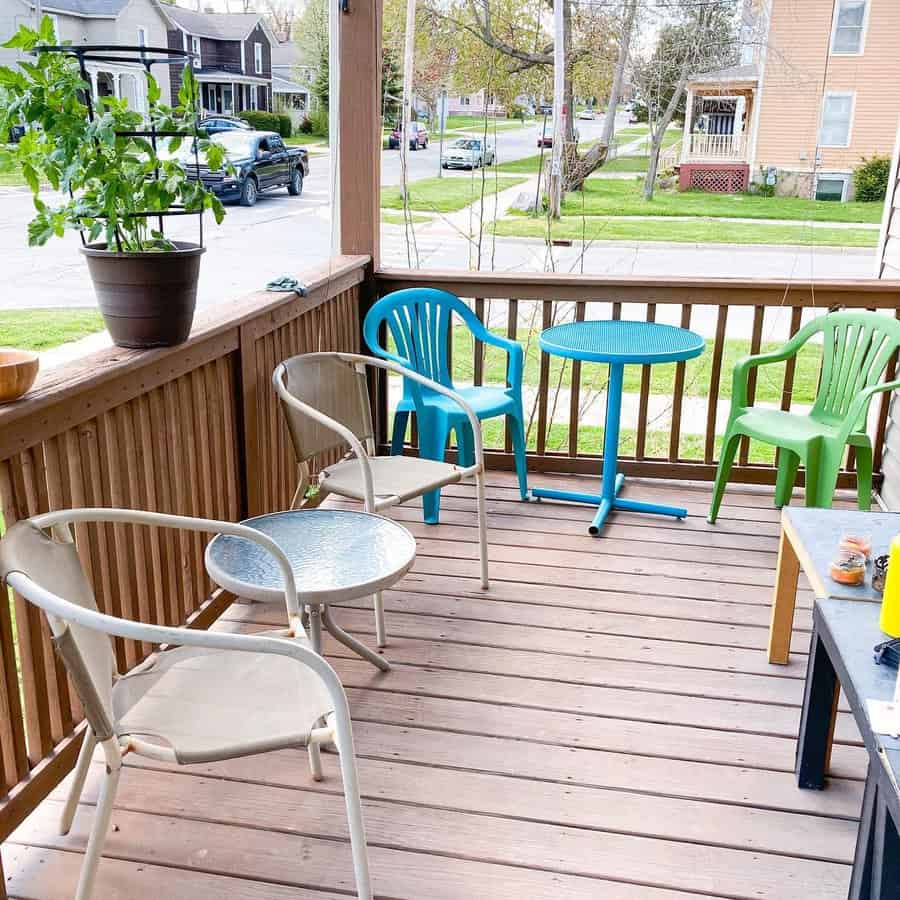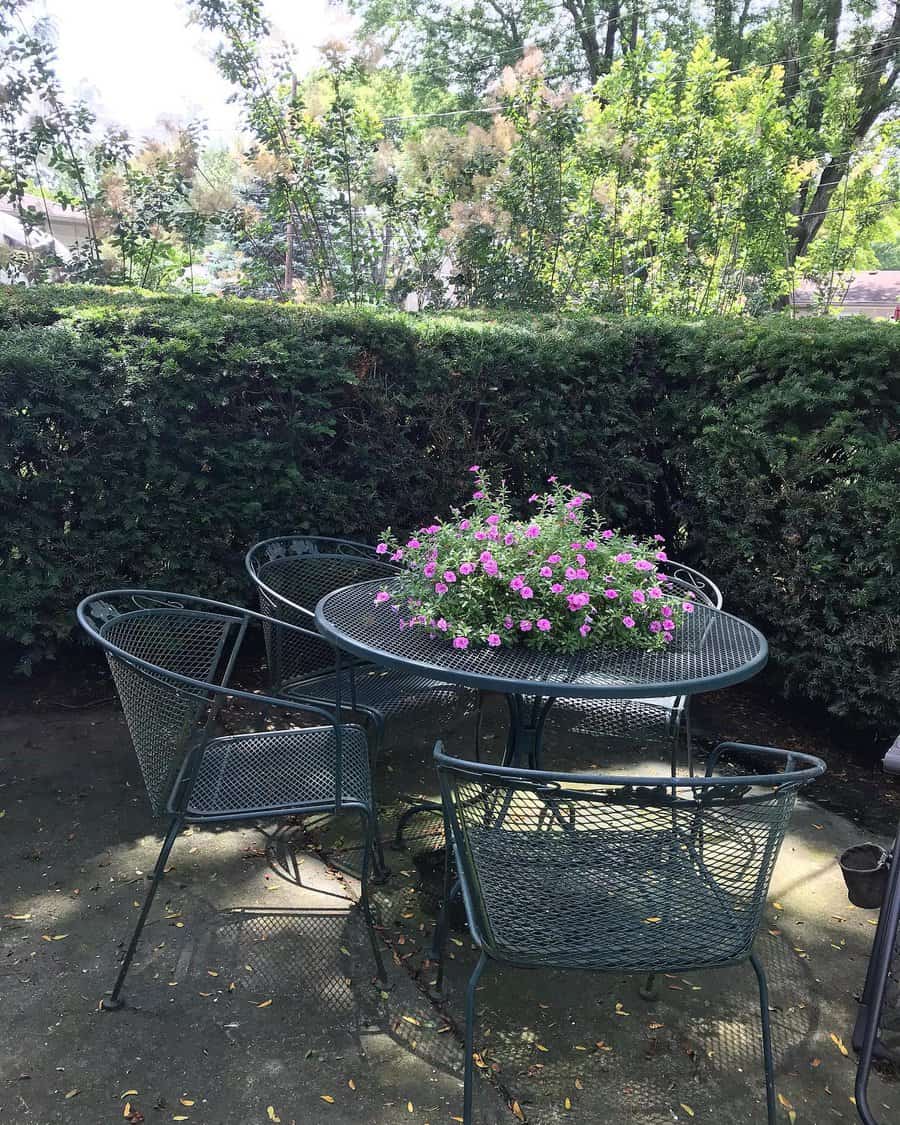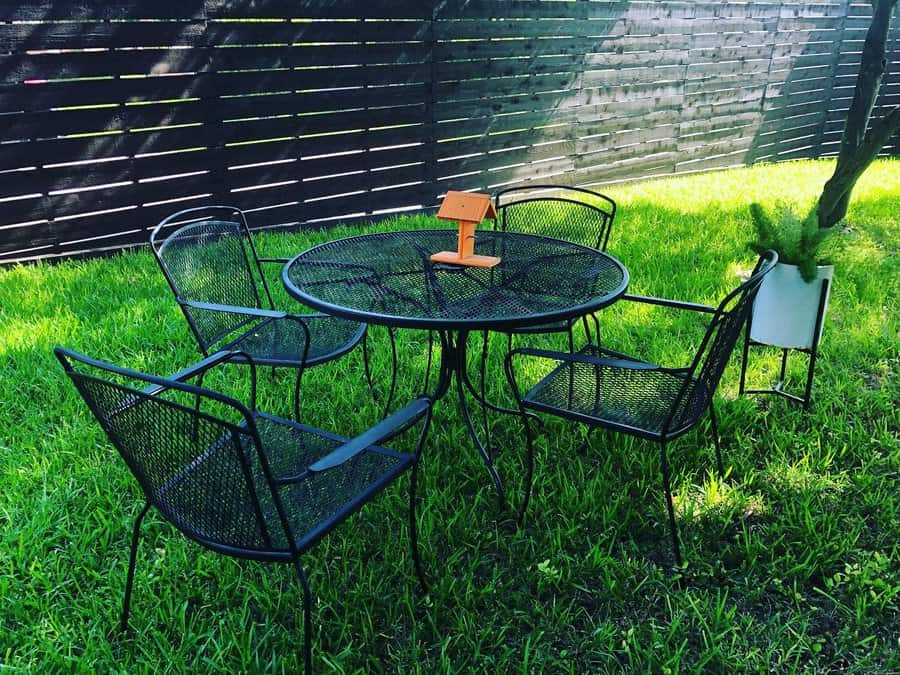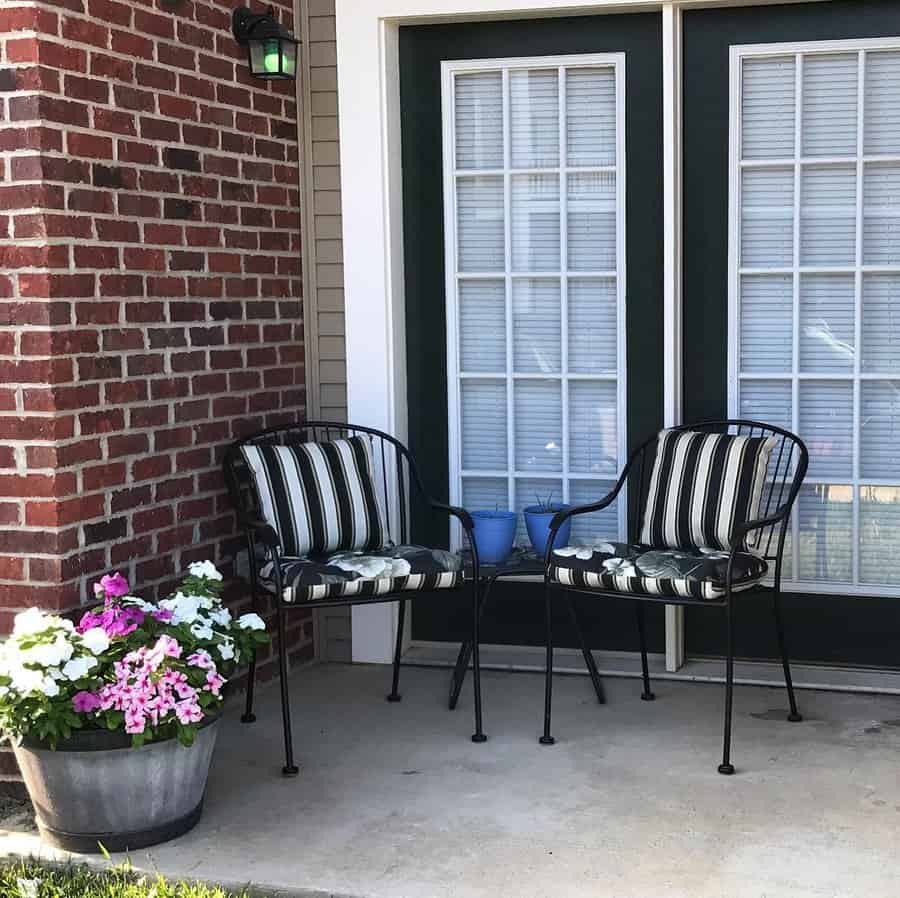 This makes it perfect for a terrace or small porch. Because of the neutral nature of the iron, you have more freedom with your patio design.
Classic furniture will be full of intricate designs and ornamentation. More modern options will have straight lines and sharp corners.
7. Modern
Give your backyard patio a modern makeover with new modern patio furniture. It'll pair perfectly with your new outdoor kitchen.
Choose furniture that has a simple design with sharp square corners or gentle sloping curves.
It shouldn't have detailed ornamentation or designs. Then the cushions should be neutral colored square cushions that mirror the shape of the furniture frame.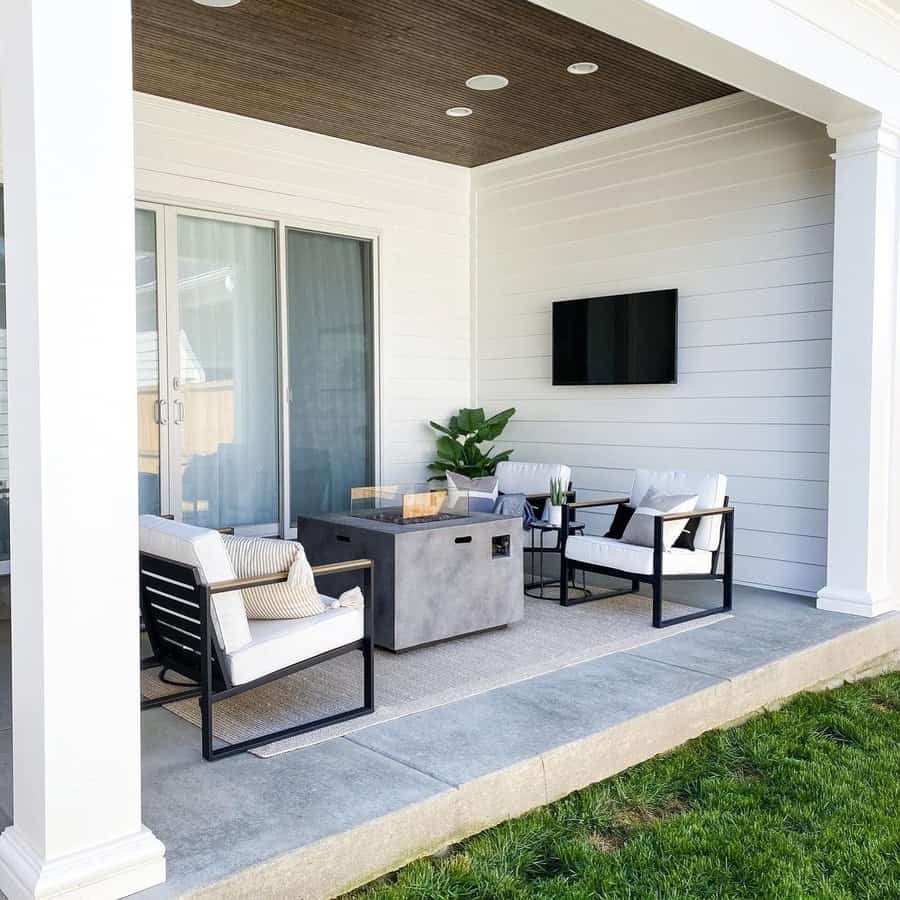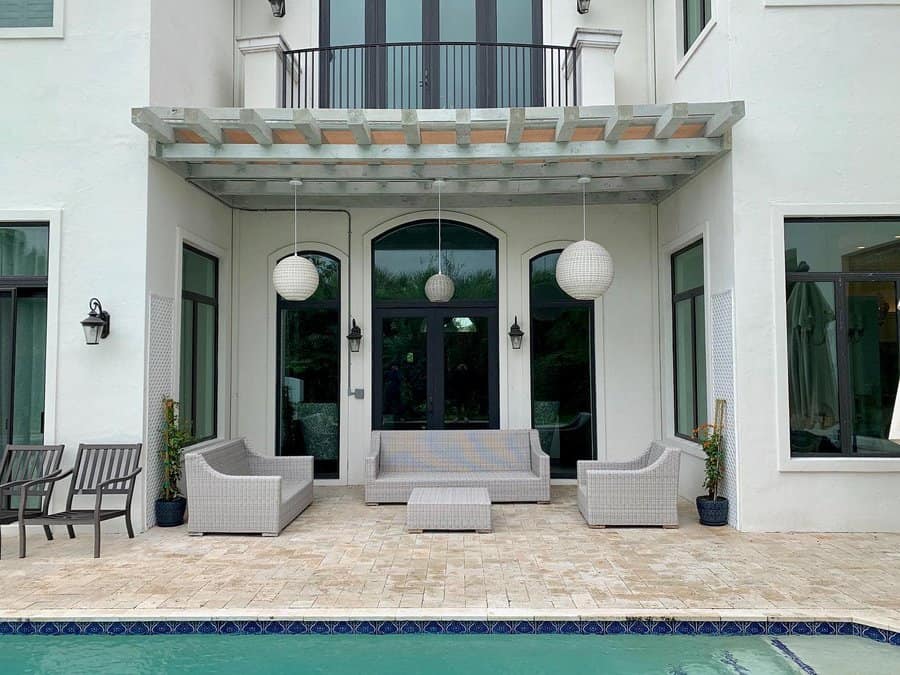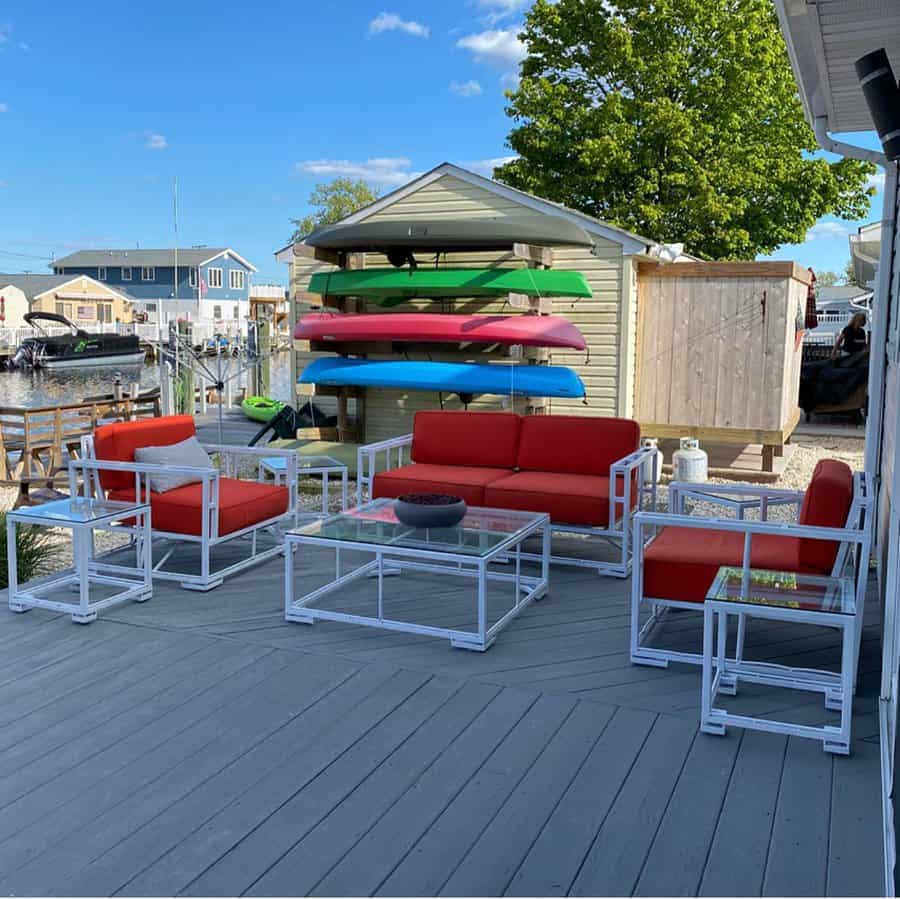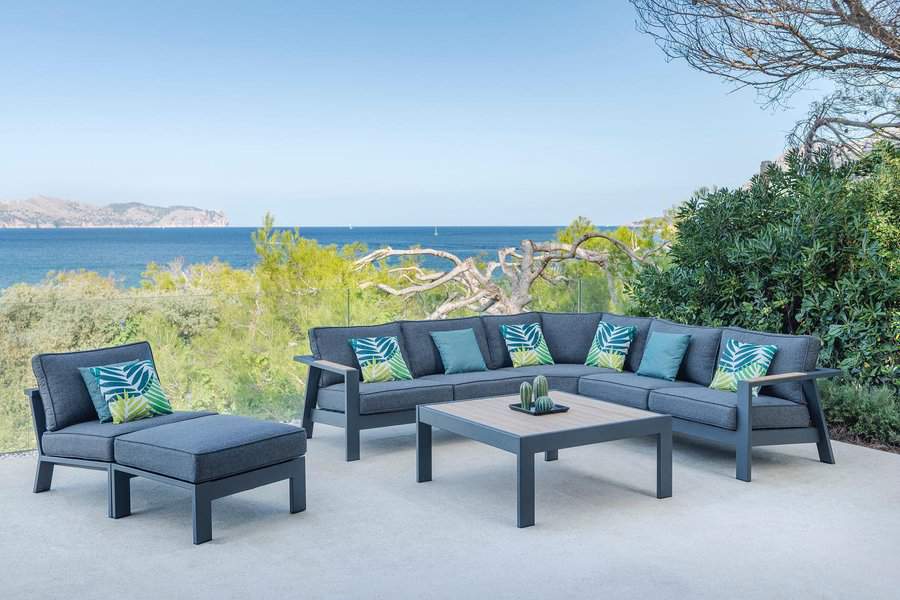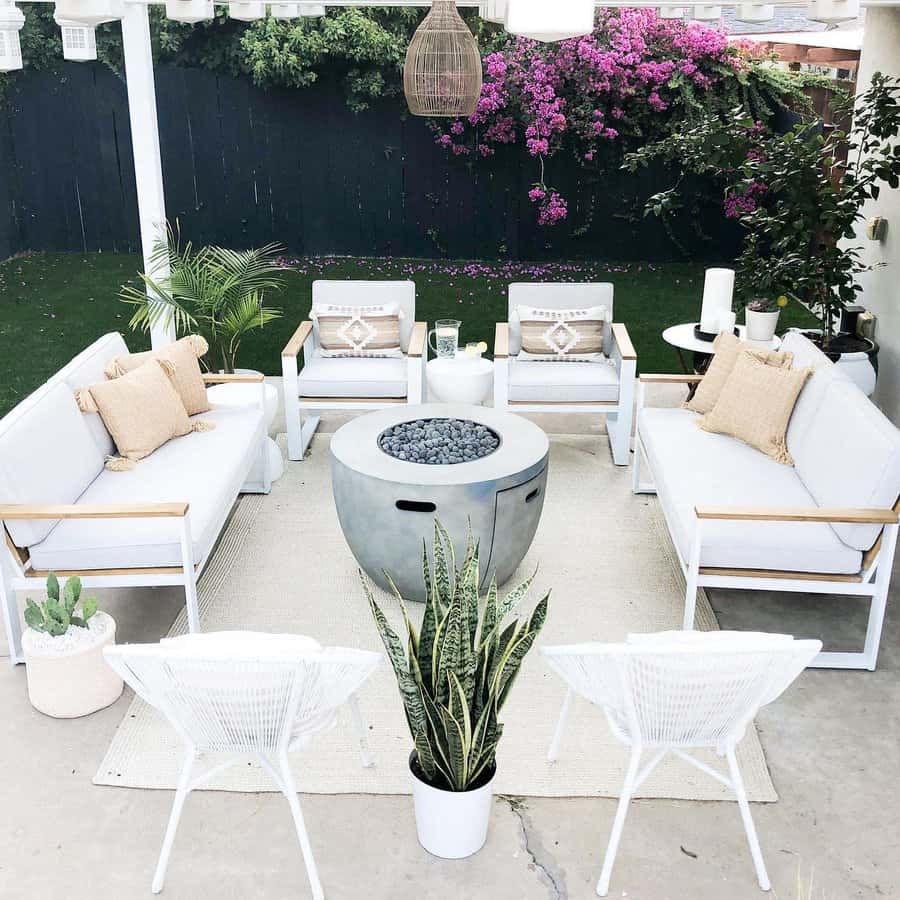 You could also embrace modern building trends, such as using concrete to form the shape of the bench seat and table.
Don't be afraid to mix your materials. Your furniture could have metal and wood for the frame construction with a thin concrete slab for the tabletop.
8. Rustic
Nothing is more dreamy than settling into a super comfy Adirondack chair while gazing into a rolling fire.
The leaned-back style makes these chairs more like a lounge chair. This makes them perfect for sitting around a fire pit and enjoying drinks with friends.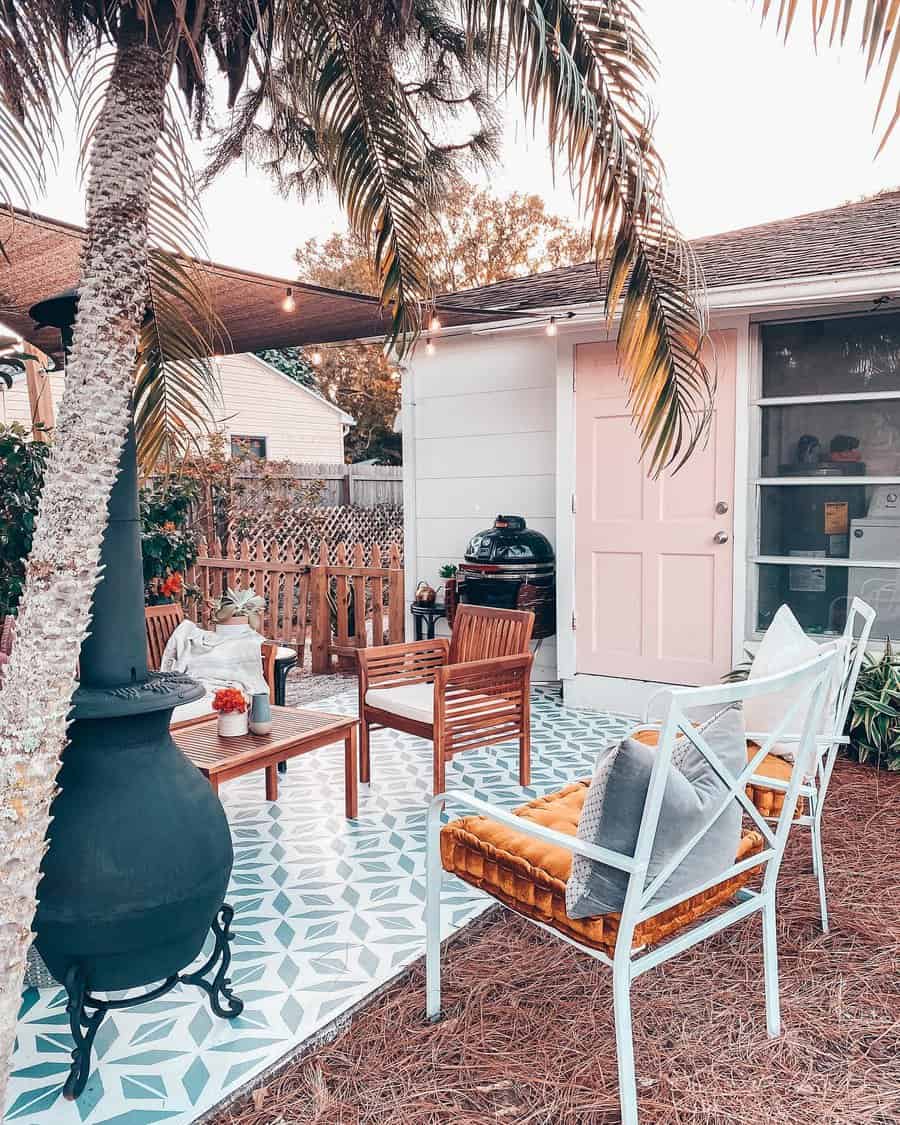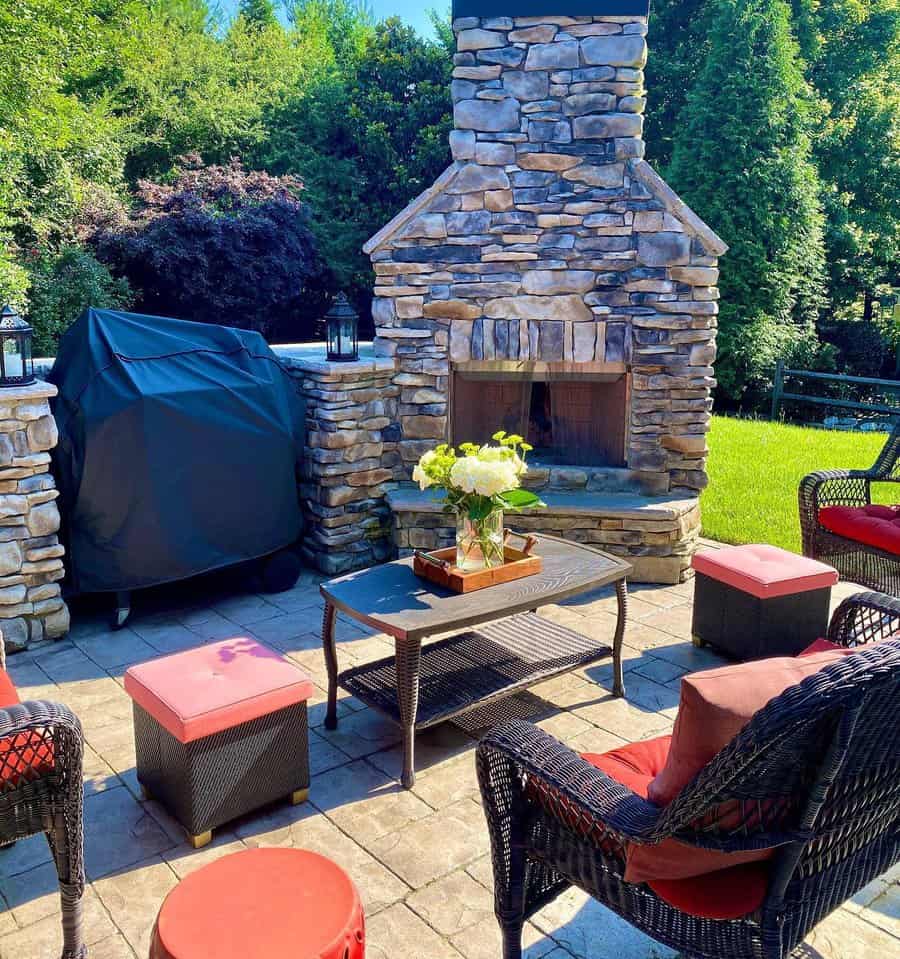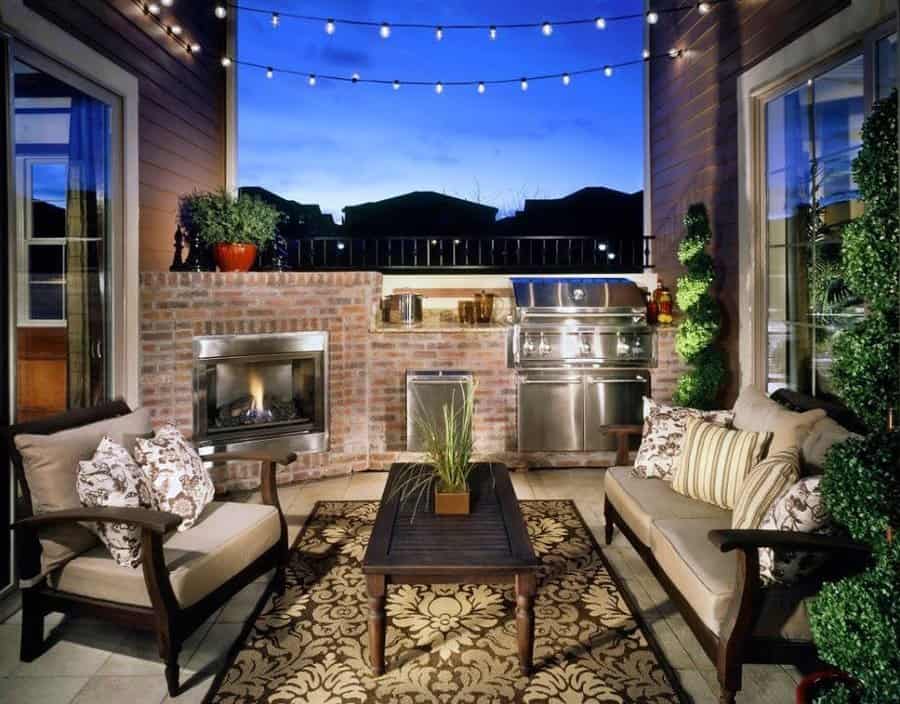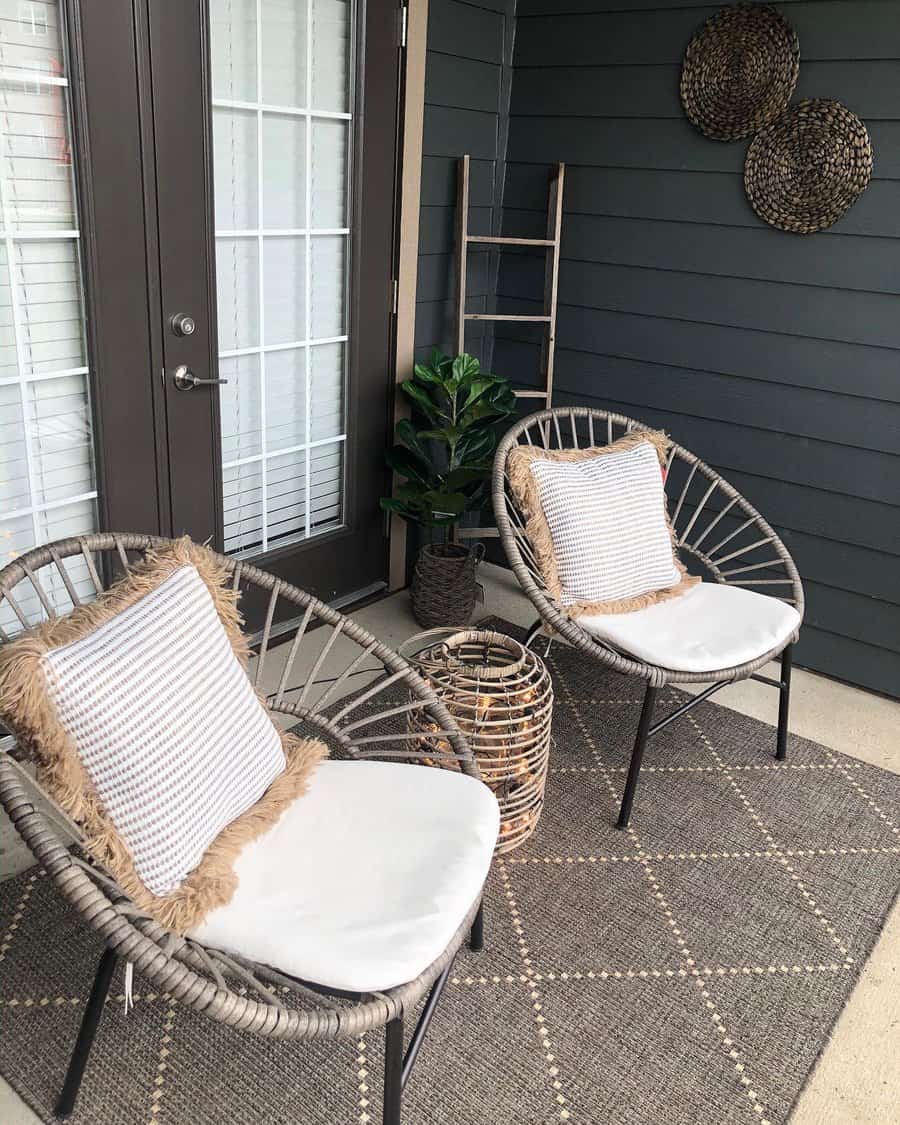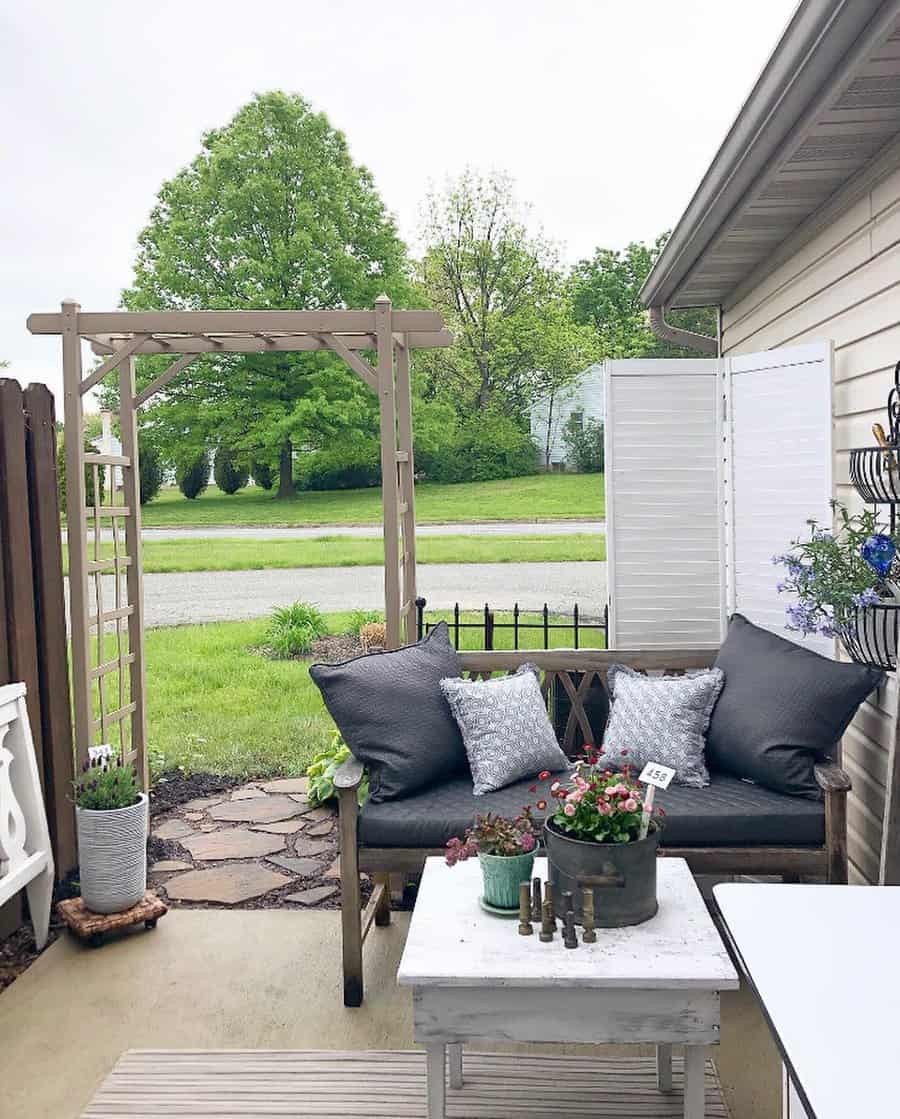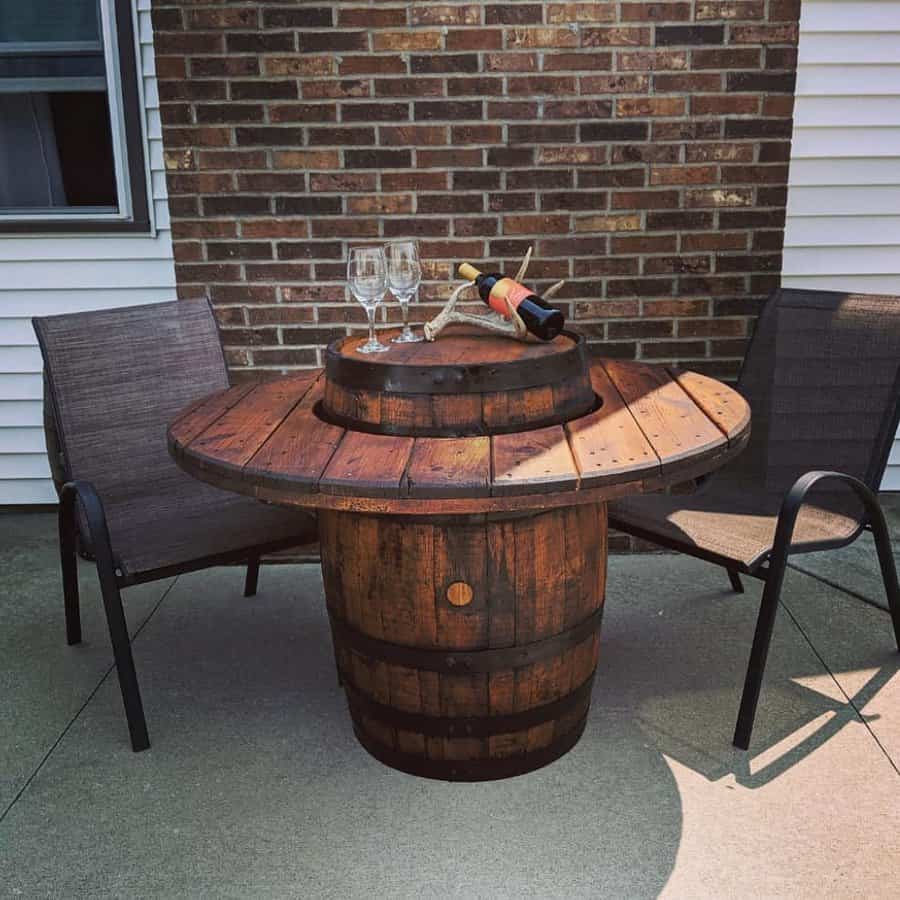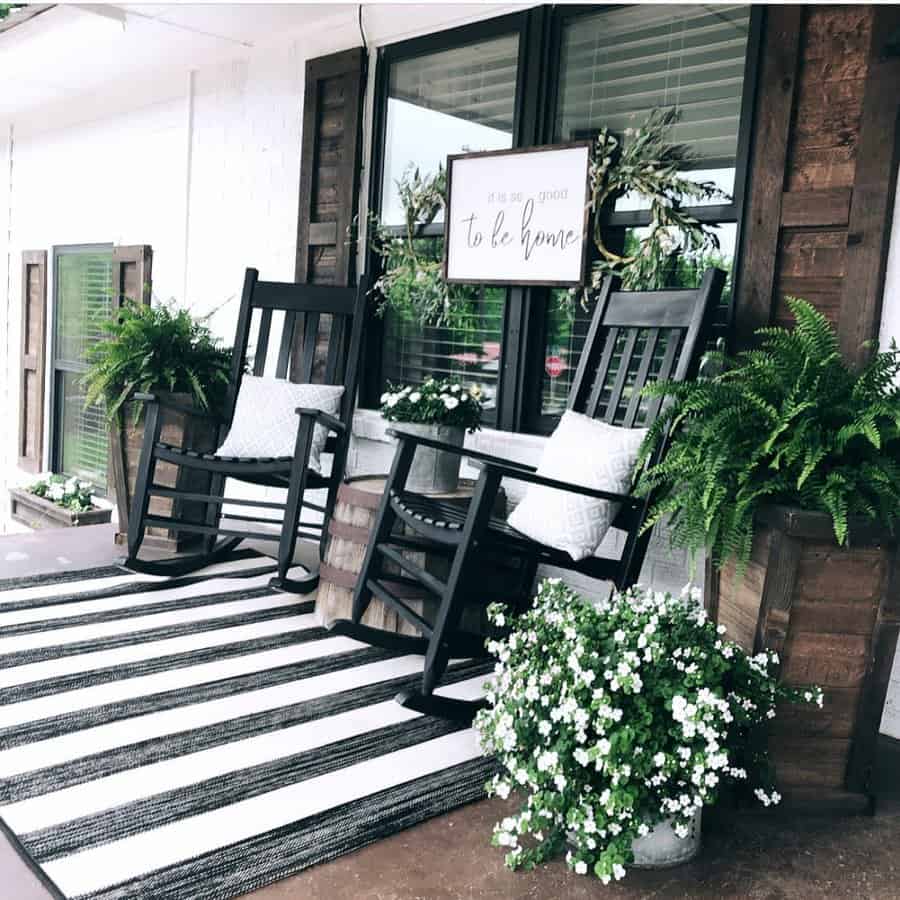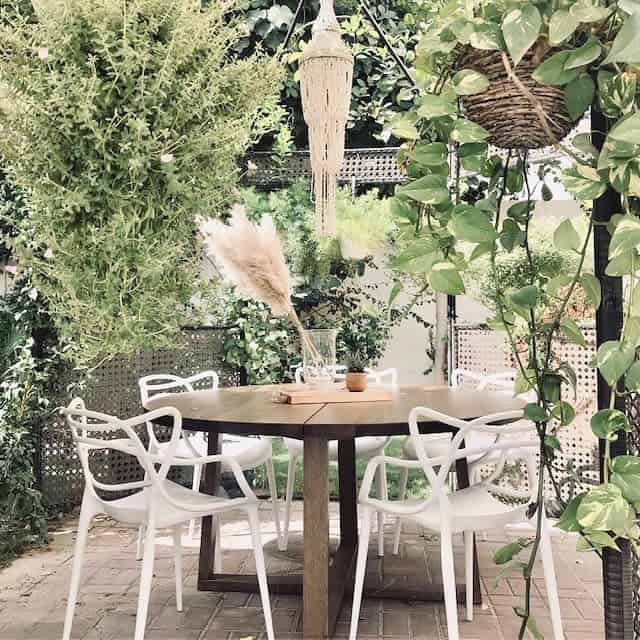 If your backyard patio has a great view, they work well here too. The one place where these chairs don't work is sitting around a table. However, you could place a side table next to them for a convenient place to set down drinks and plates.
9. Table
Add a table to your patio and start hosting dinners outside on your patio. You could purchase a complete patio dining set that comes with a table and chairs. Or, for a more casual feel, you could place a picnic table.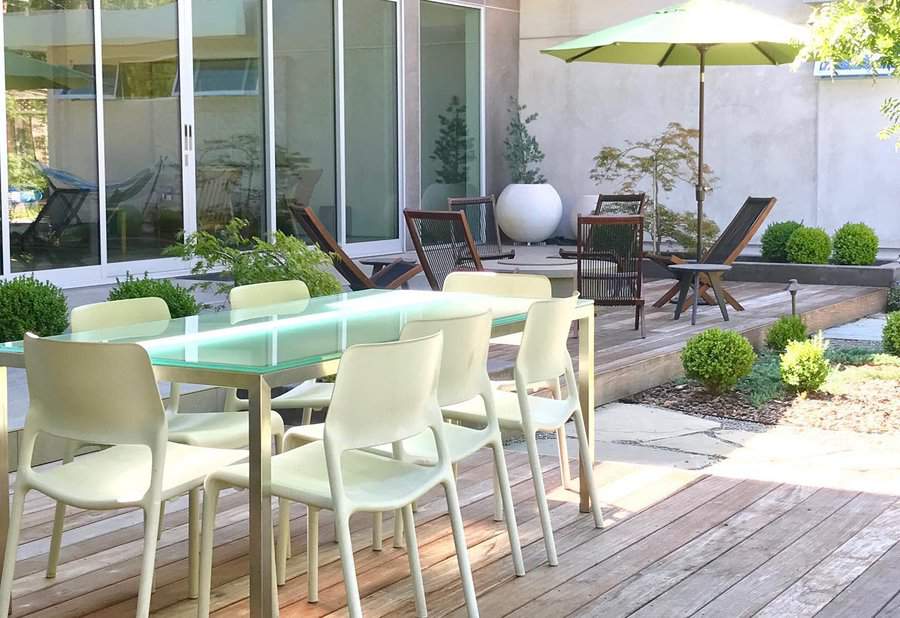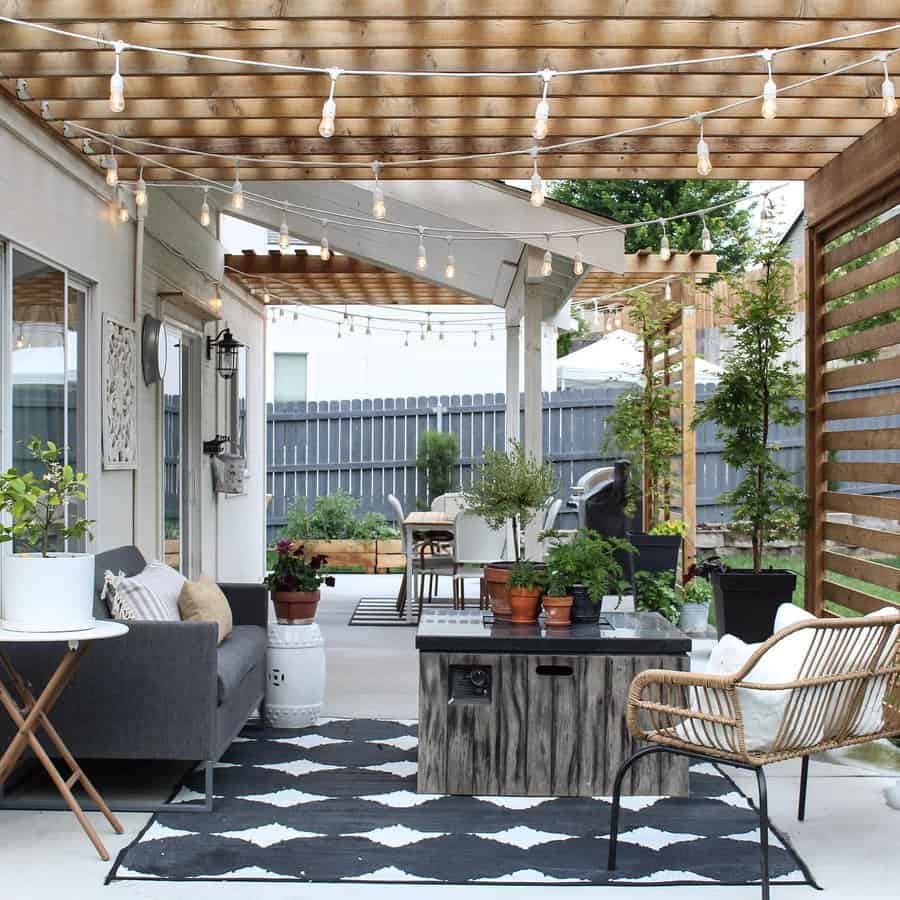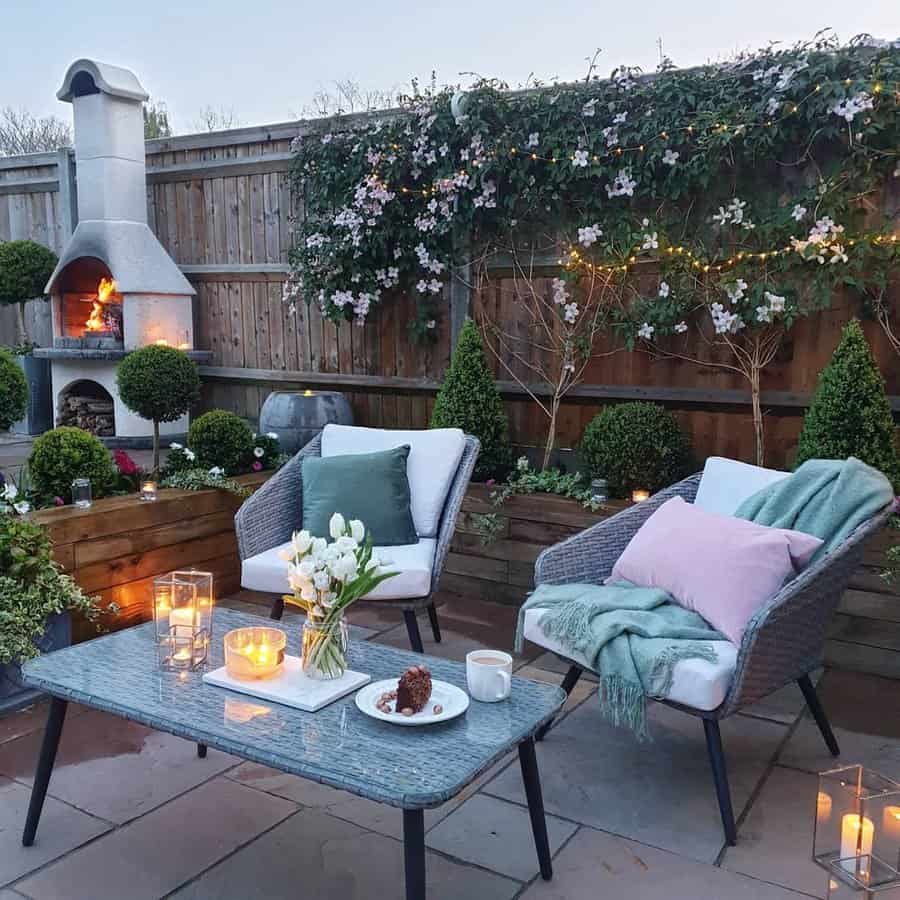 Don't be afraid to create a custom design by purchasing your patio table separate from the chairs.
Then you can buy the perfect outdoor dining table for the space and then pair it with the chairs that take up the right amount of space.
Finish the setup with a patio umbrella that can shade the table from the sun and block it from the rain. This lets you get more use out of the table.
10. Wicker
A classic patio furniture material is wicker. It's woven together to create tables, sofas, shelves, and almost anything else you can think of.
While modern interior design trends embrace this material for furniture inside your home, it got its start outside.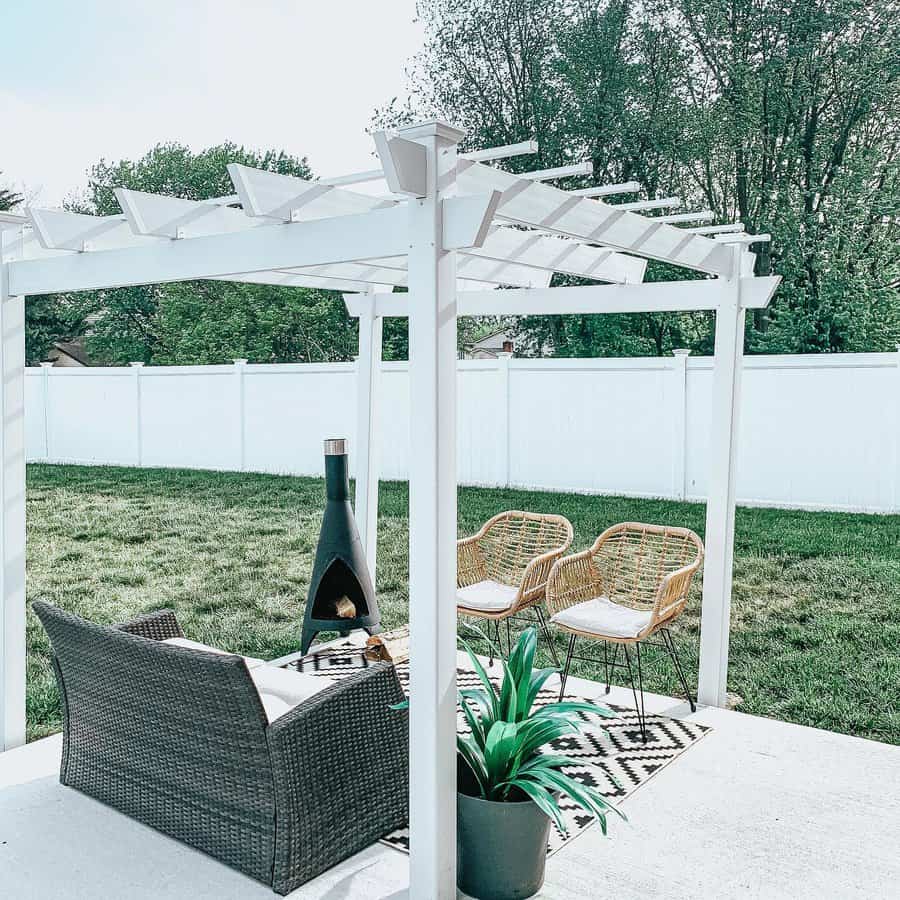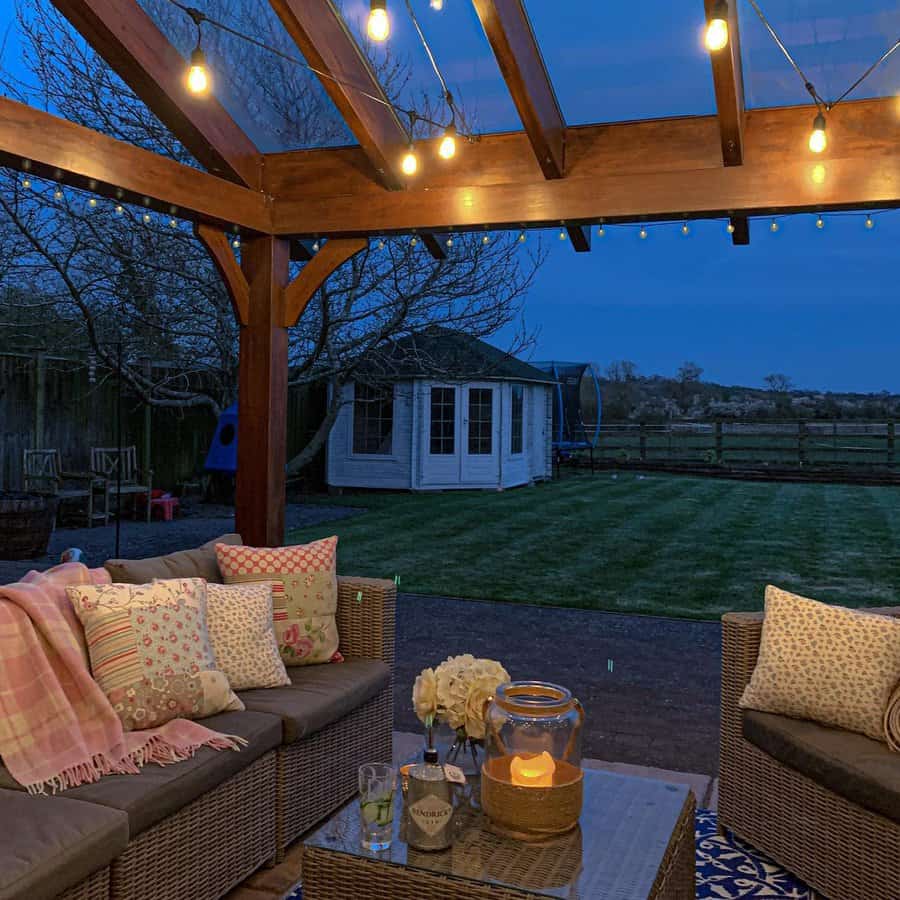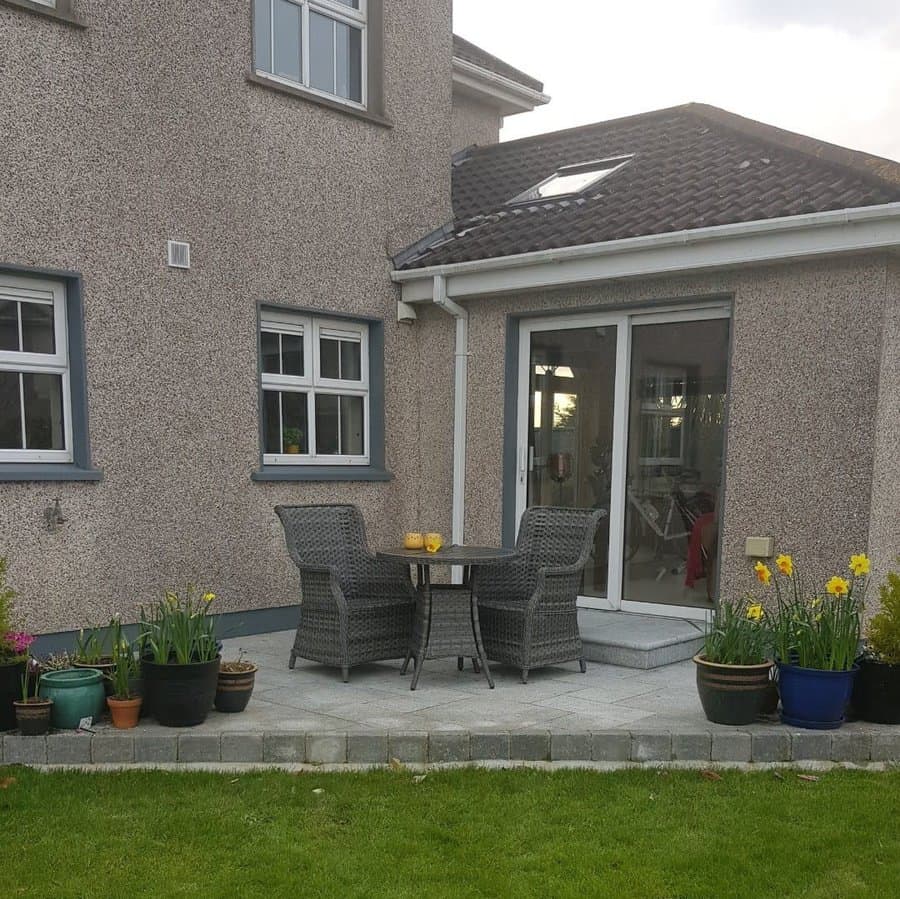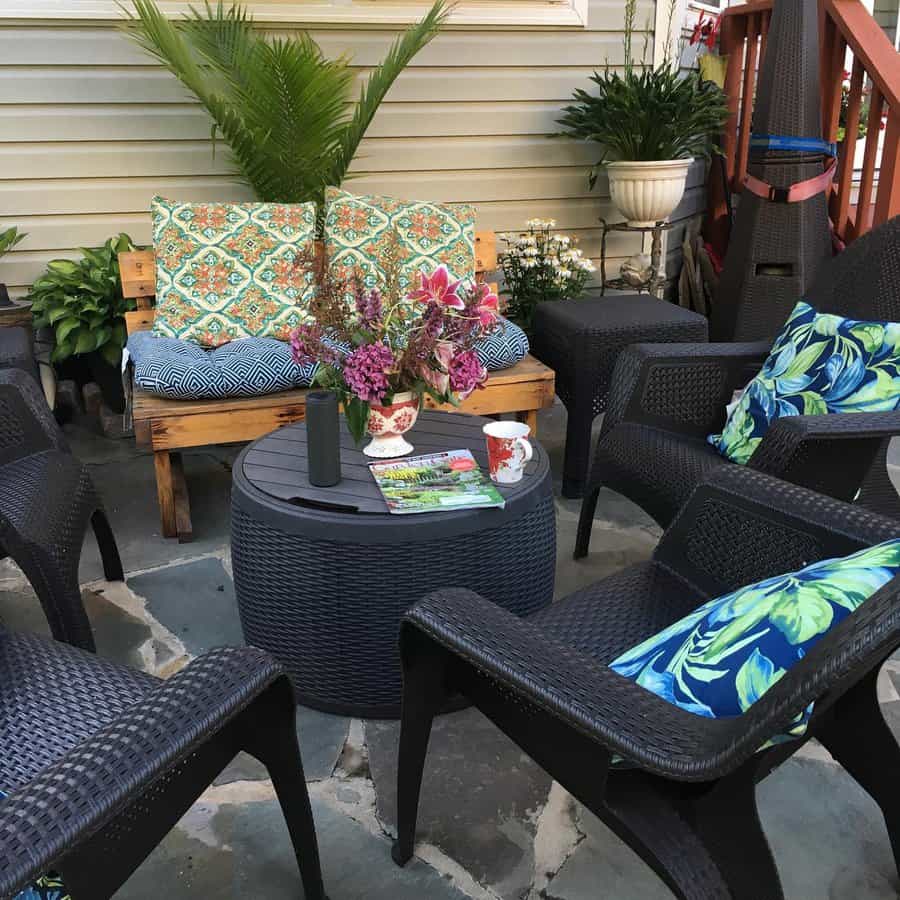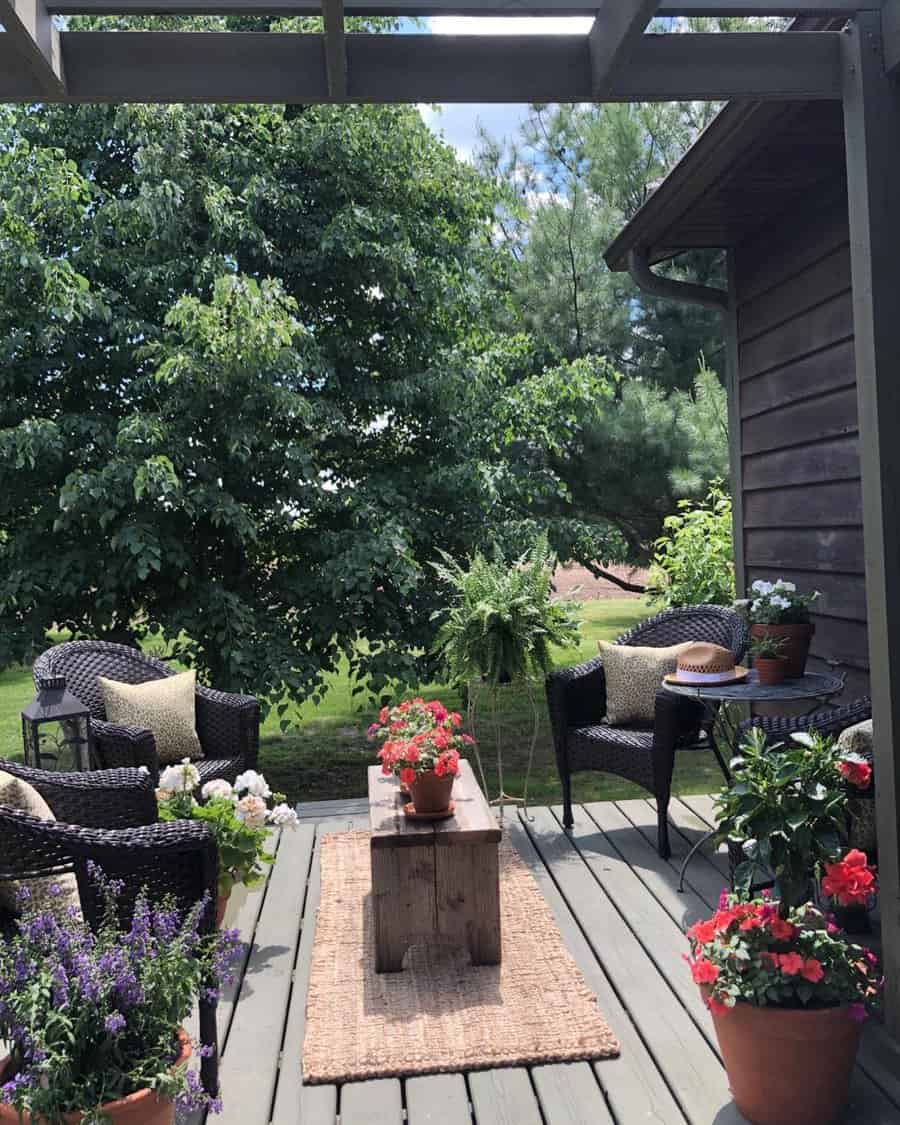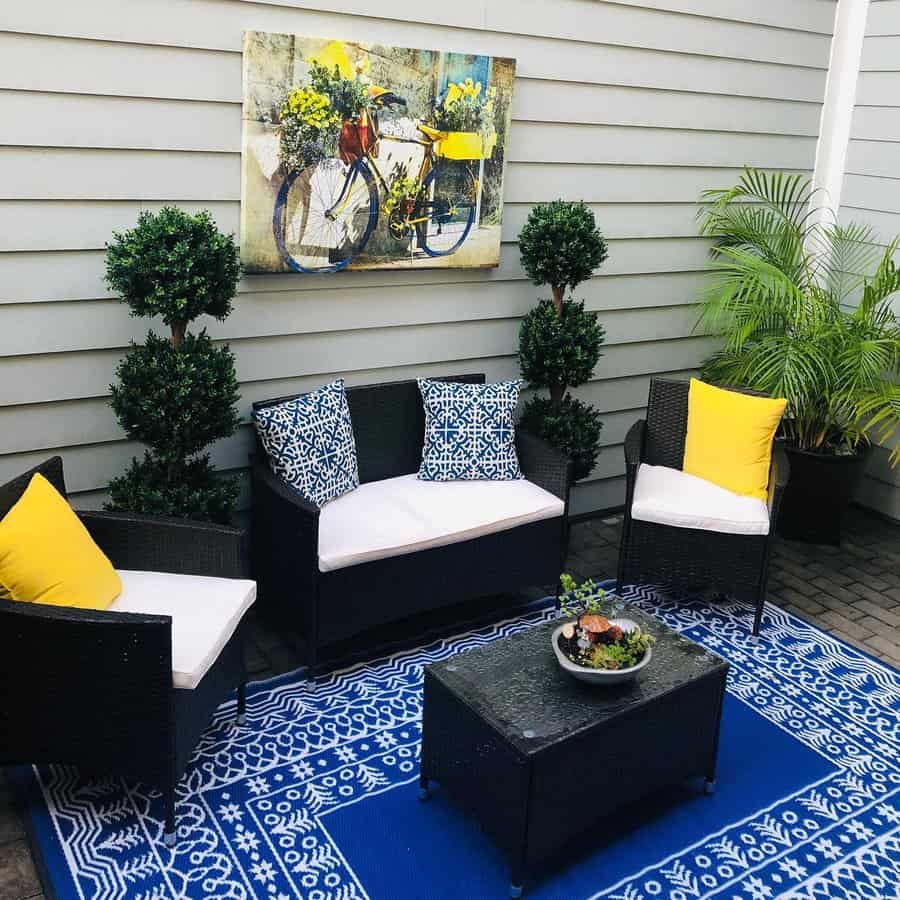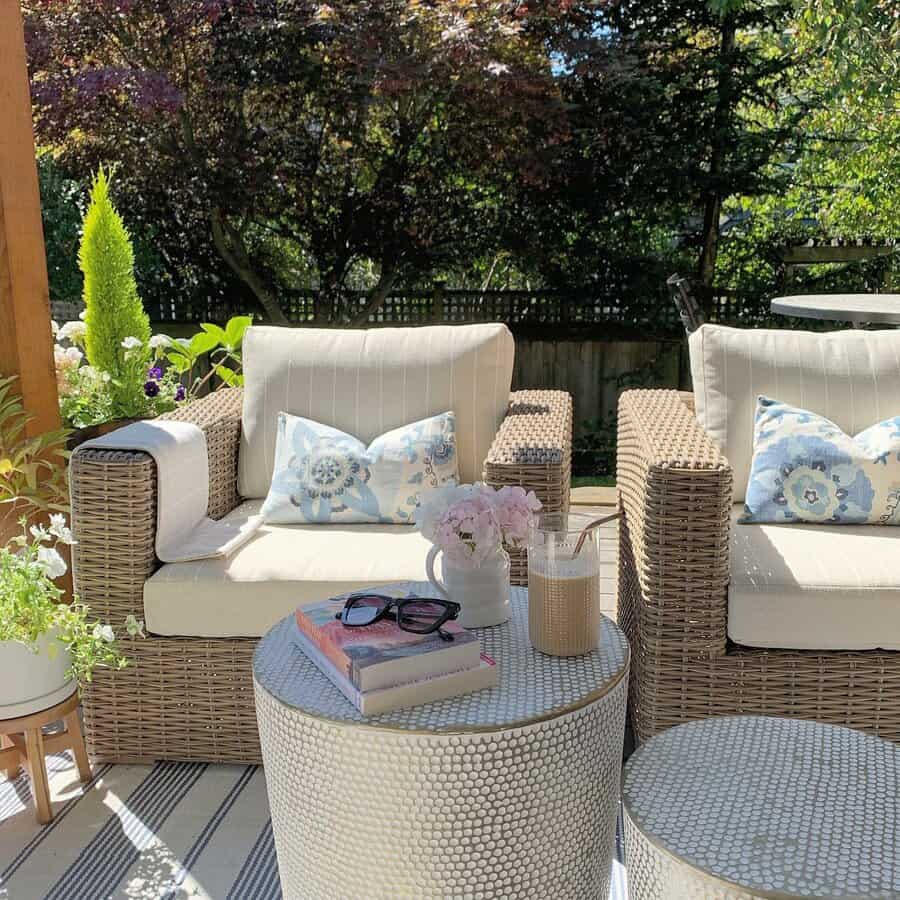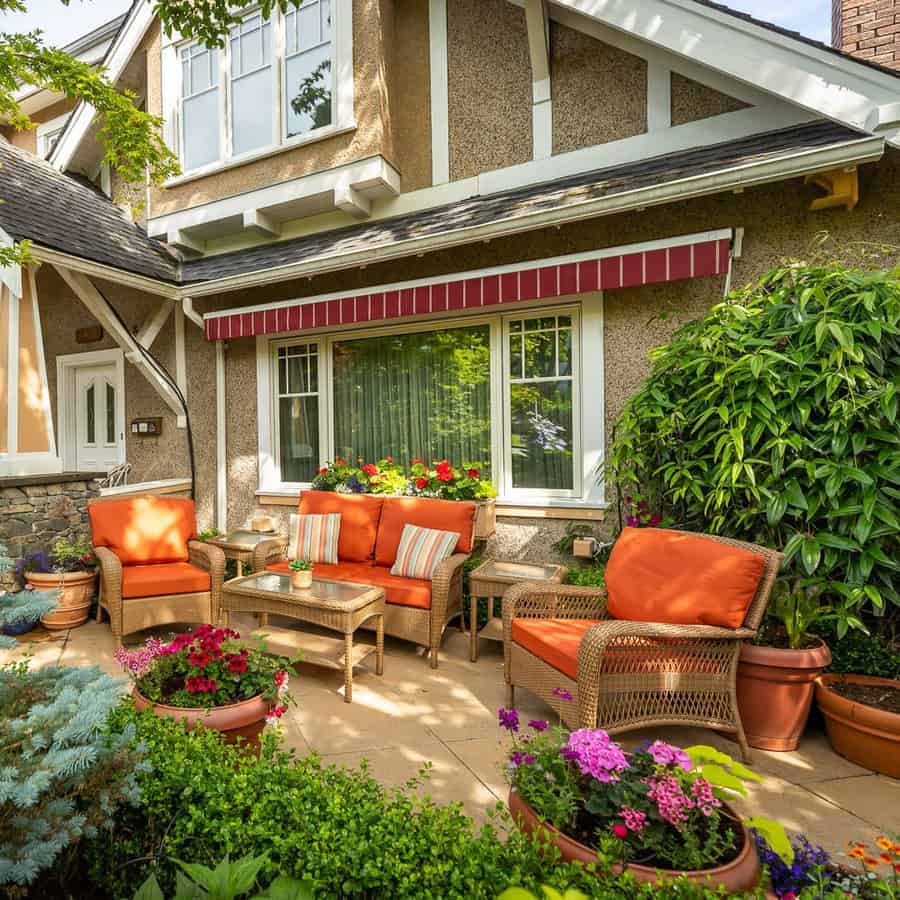 Classic patio ideas will have you placing a wicker sofa with outdoor cushions and a wicker coffee table with a glass top.
Consider a modern take of this classic design with furniture with a woven wicker design but is made out of synthetic materials.
These use polypropylene or other plastic/vinyl type of material. It looks just as beautiful but is more durable to the sun and changing weather conditions.
11. Wood
If you decide to have wood patio furniture, it needs to be the right kind of wood. Softwoods aren't very durable, and this makes them a poor choice for your furniture.
Since the furniture will get left outside throughout the year, the wood needs to be impervious to rain, snow, and ice. Hardwoods are a better option because they are denser, and this makes them impervious to water.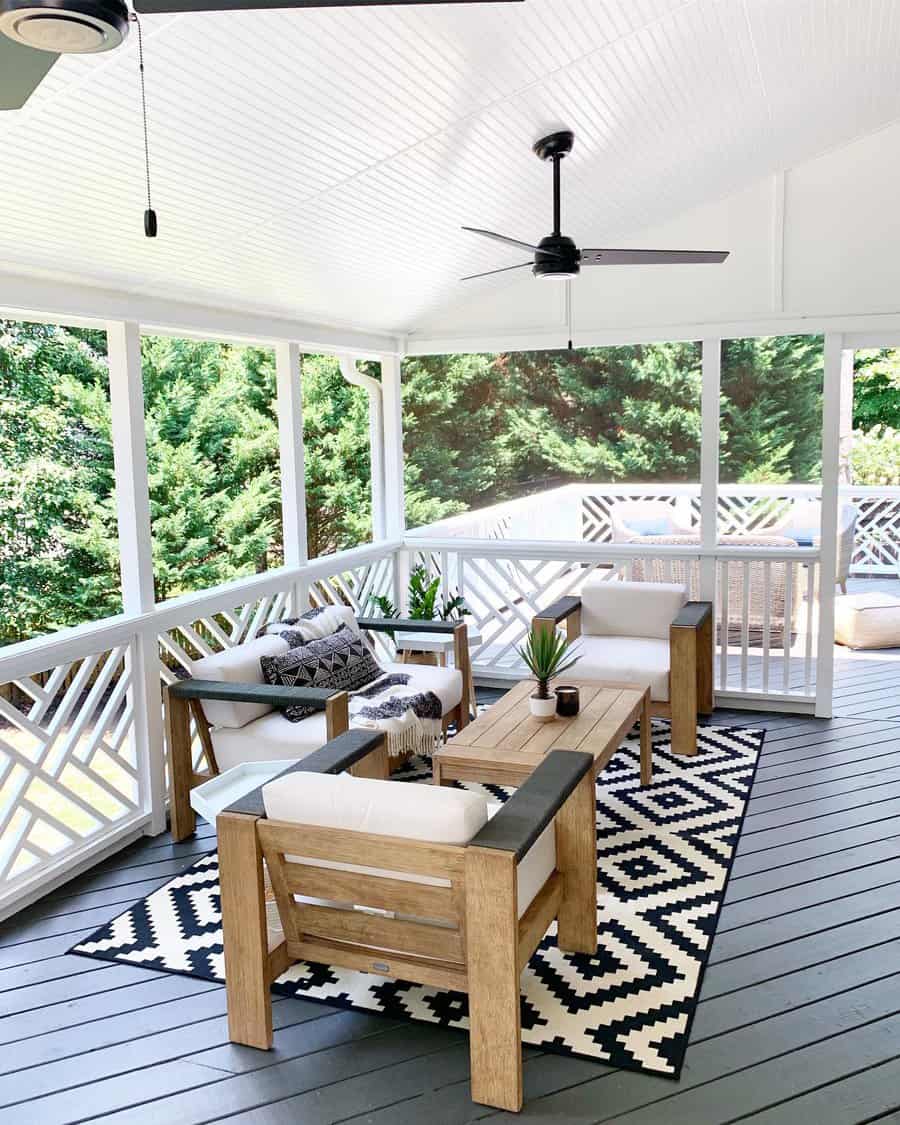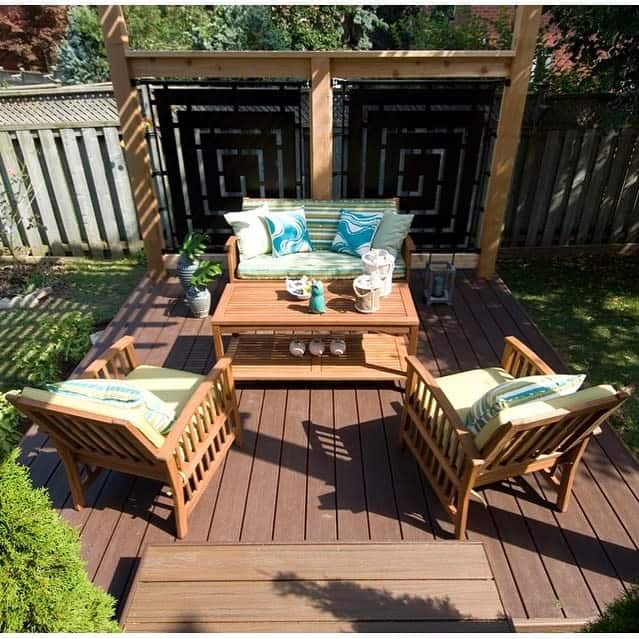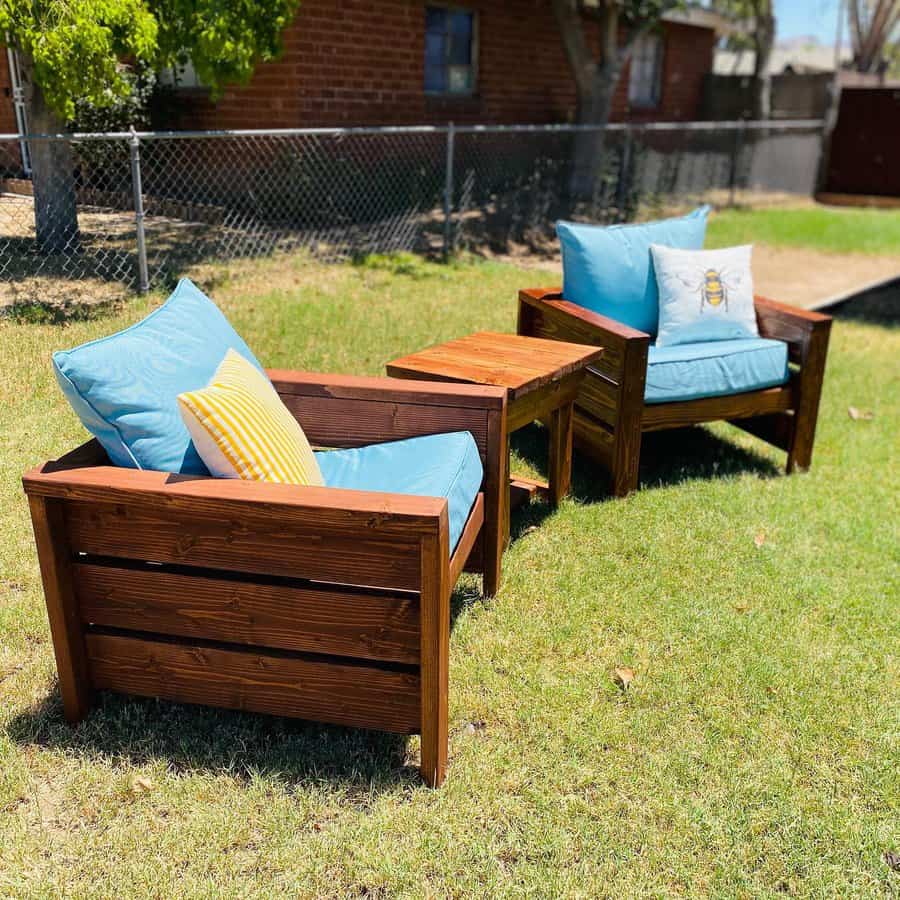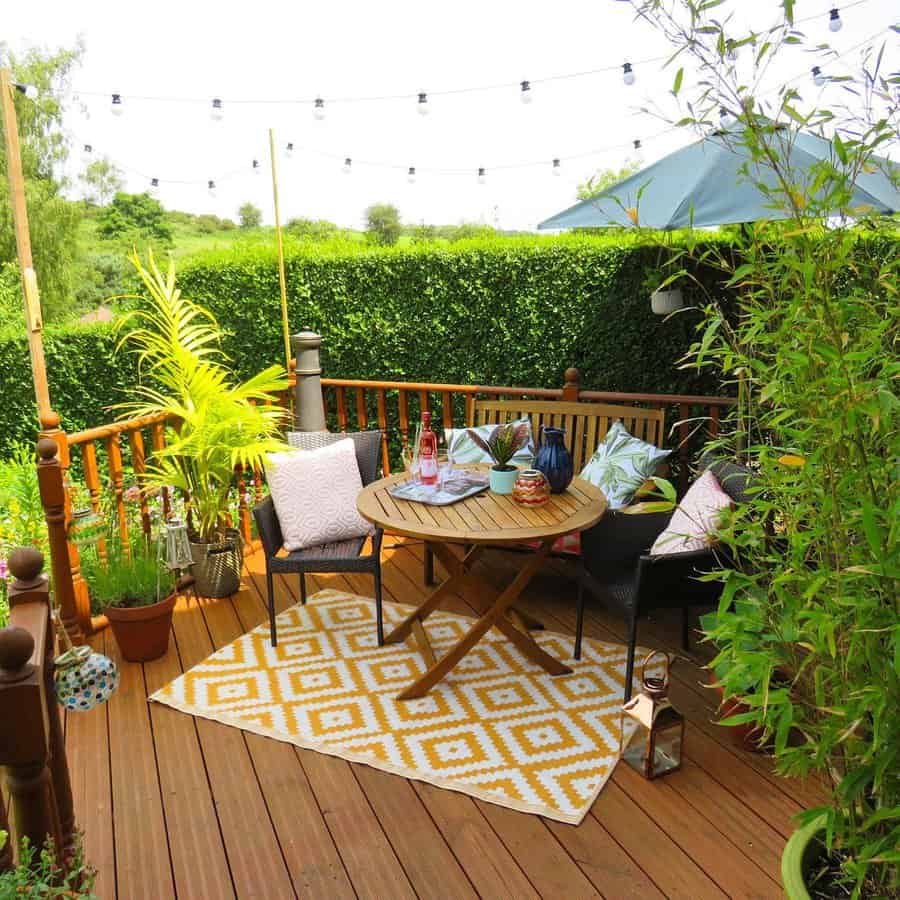 Teak is a top choice. There's a reason you see teak used on boats and other nautical applications.
Teak furniture is a bigger investment but well worth it for its beautiful looks and longevity. You'll find plenty of patio decor to match the modern look of teak furniture.
Patio Furniture FAQs
How can I make my patio look nice?
Use the same decorating principles that you would use indoors when decorating your patio. This will create a comfortable and welcoming environment. Start with furniture that's scaled for the space. Provide plenty of seating that's cushioned and perfect for lounging out. Create vertical height with a cover, umbrella, or tall potted plants.
What kind of patio furniture is most durable?
Wrought iron is the most durable material for your patio furniture. It can easily last for several decades. It also happens to be the heaviest material for your patio furniture. The downside of wrought iron is that it can also be expensive. Affordable alternatives are aluminum, stainless steel, cast aluminum, and wrought aluminum.
What is the best month to buy patio furniture?
A smart time to buy your patio furniture is towards the end of summer when retail companies are looking to clear out their inventory. This means buying your furniture between the end of August and October. You can also find deep discounts in the middle of winter. Many companies want to clear out inventory before the end of the year, which means you can get deeply discounted patio furniture that's still hanging around.