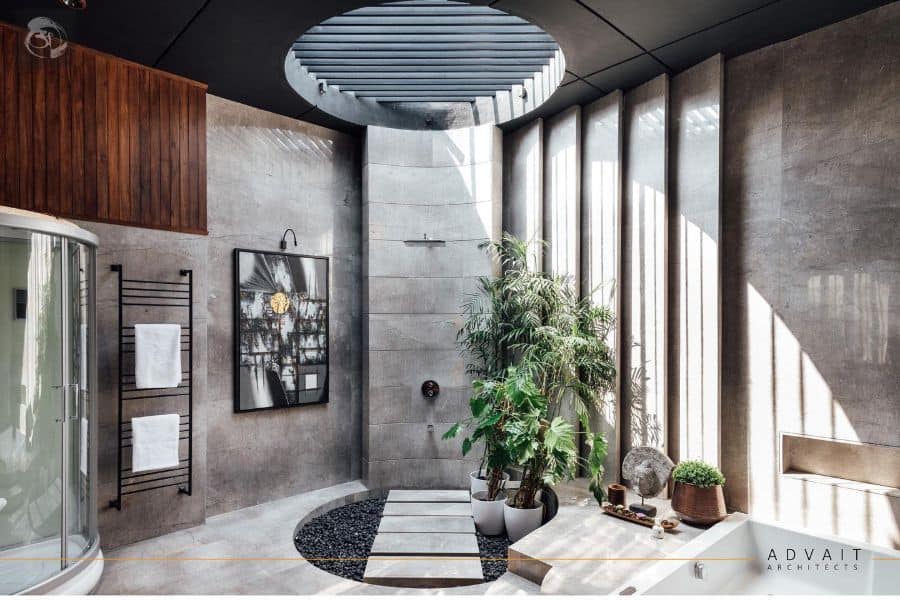 23 Rustic Bathroom Decor Ideas
by — Andra DelMonico

Published on September 27, 2021

Updated on October 13, 2023
"For marriage to be a success, every woman and every man should have her and his own bathroom. The end." – Catherine Zeta-Jones
Rustic bathroom ideas look so appealing with their comfortable aesthetic and welcoming bathroom decor. They look like a place you want to go into and settle in, which is just what you want when creating a relaxing space in your bathroom. This design theme can look great in a variety of home architectural designs. You can also adapt it to be as rustic as you want.
These ideas will help you get inspired to create the perfect rustic bathroom in your home.
1. Embrace Greenery with Indoor Plants
Incorporating plants in a rustic bathroom enhances the natural ambiance and connection with the outdoors. Consider ferns and spider plants, which thrive in humid, low-light conditions, making them perfect for bathrooms. Complement this green touch with macrame plant hangers for a bohemian feel and added texture, effectively marrying aesthetics with air-purifying benefits.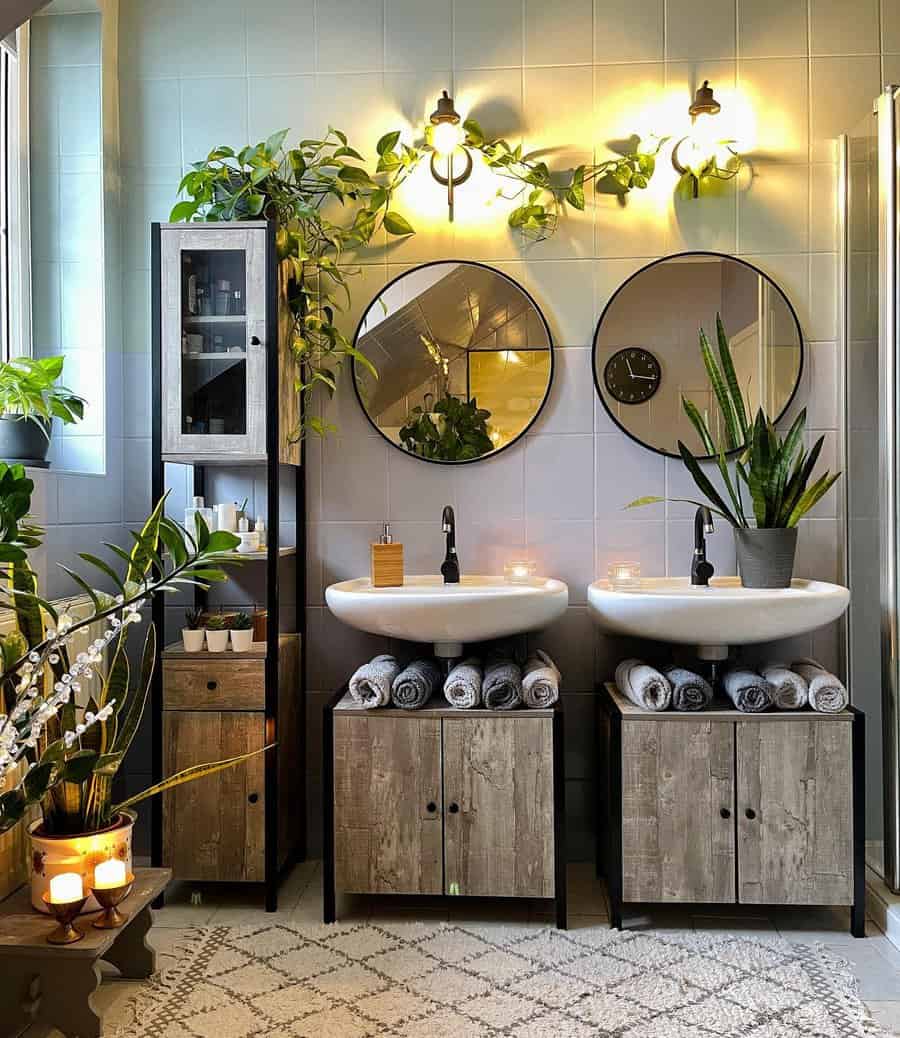 2. Utilize Wicker Baskets for Neat Storage
Wicker baskets seamlessly blend storage utility with rustic charm, offering an efficient way to organize towels, toiletries, and essentials. Their textured, neutral appearance pairs well with other rustic elements, elevating the overall design. To maximize visual appeal, consider varying basket sizes or adding decorative linens for an inviting touch.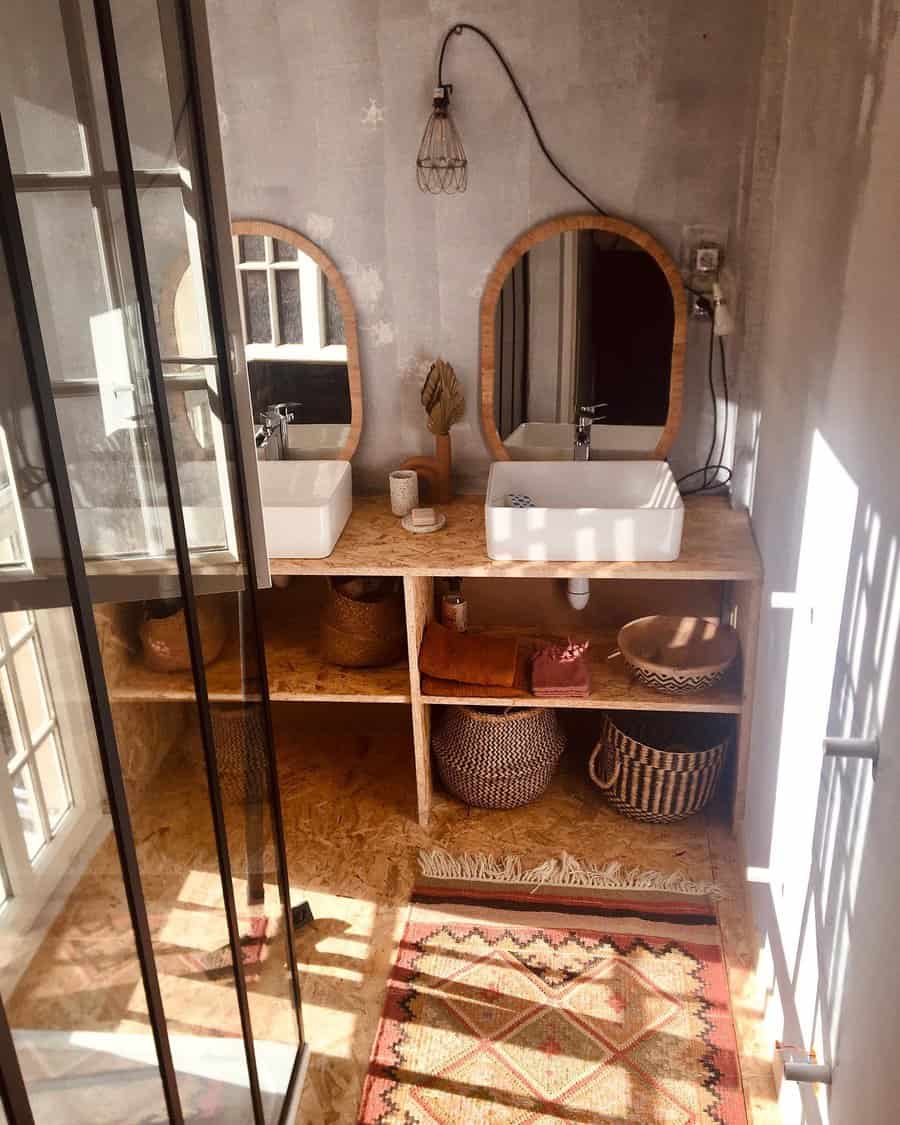 3. Warm the Floor with a Runner Rug
Runner rugs, crafted from natural materials like jute, hemp, or wool, effortlessly enrich a rustic bathroom's ambiance. Beyond aesthetics, they safeguard floors from water damage and offer slip resistance. For a harmonious design, select a rug with textures or patterns that resonate with other rustic elements in your space, ensuring both comfort and visual appeal.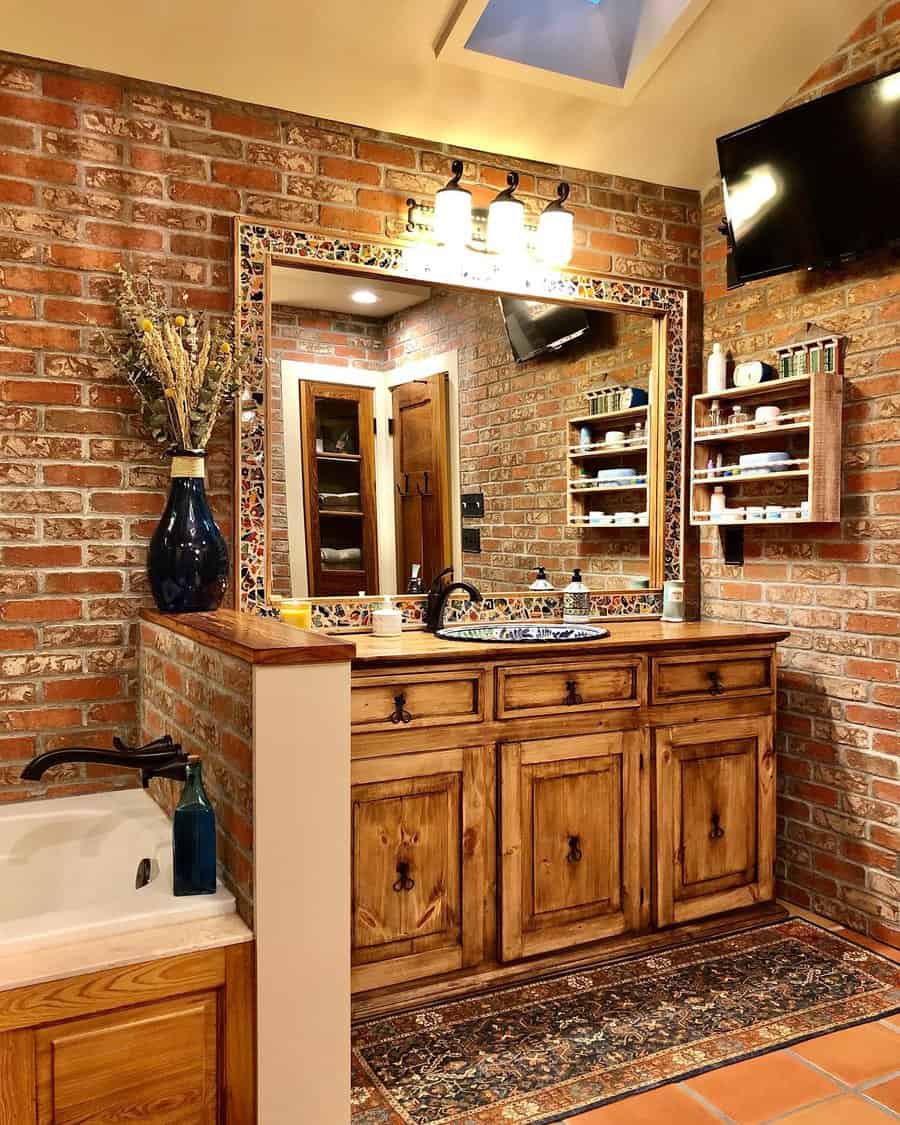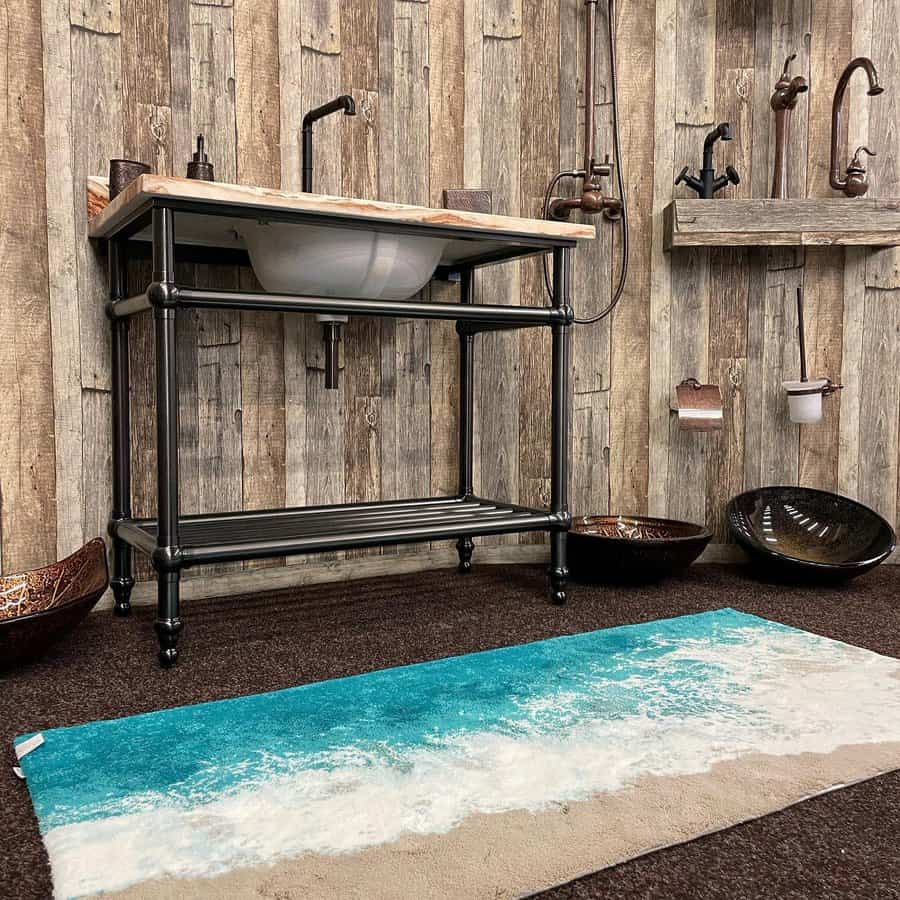 4. Choose Natural Pebble Shower Floors
Pebble shower floors bring a rustic, spa-like touch to bathrooms with their earthy tones and textured finish. Complement this nature-inspired feature by pairing it with wood paneling, exposed brick walls, or vintage lighting fixtures. Enhance its character further with river rock accents or wooden vanities, crafting a sophisticated yet cozy bathing sanctuary.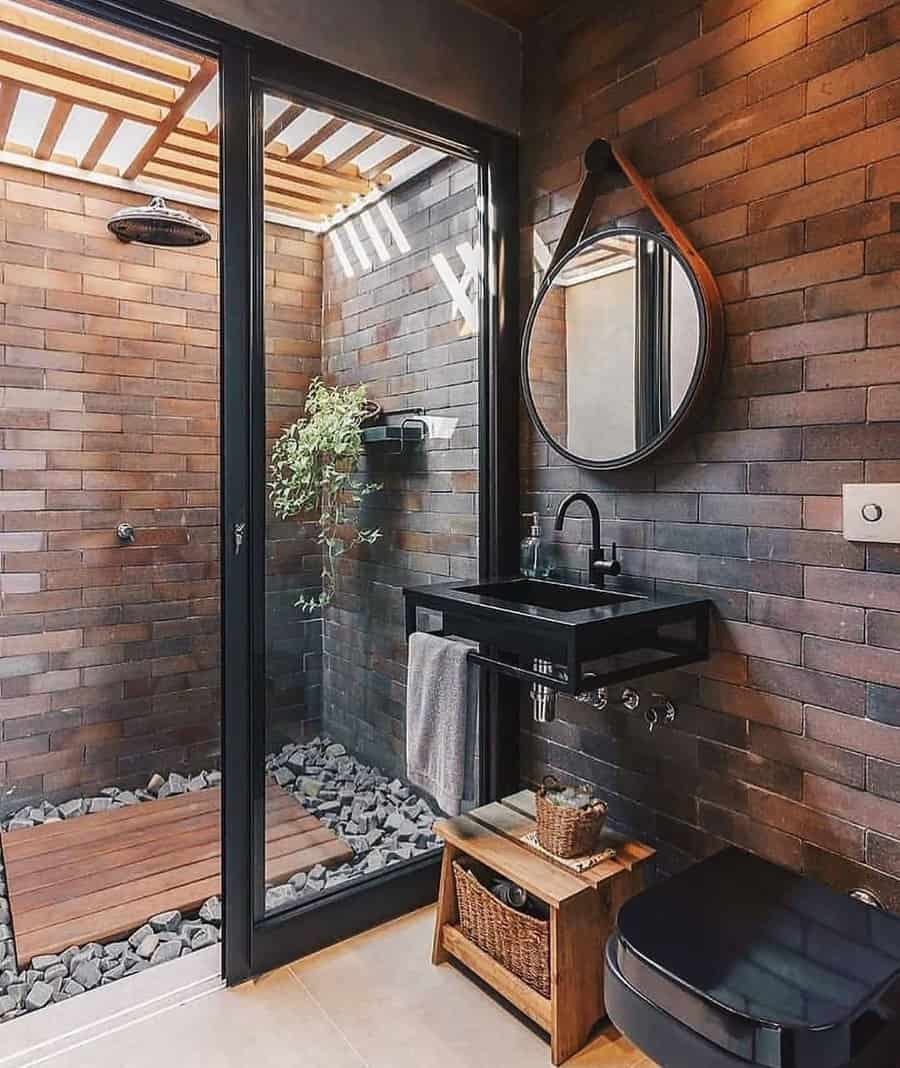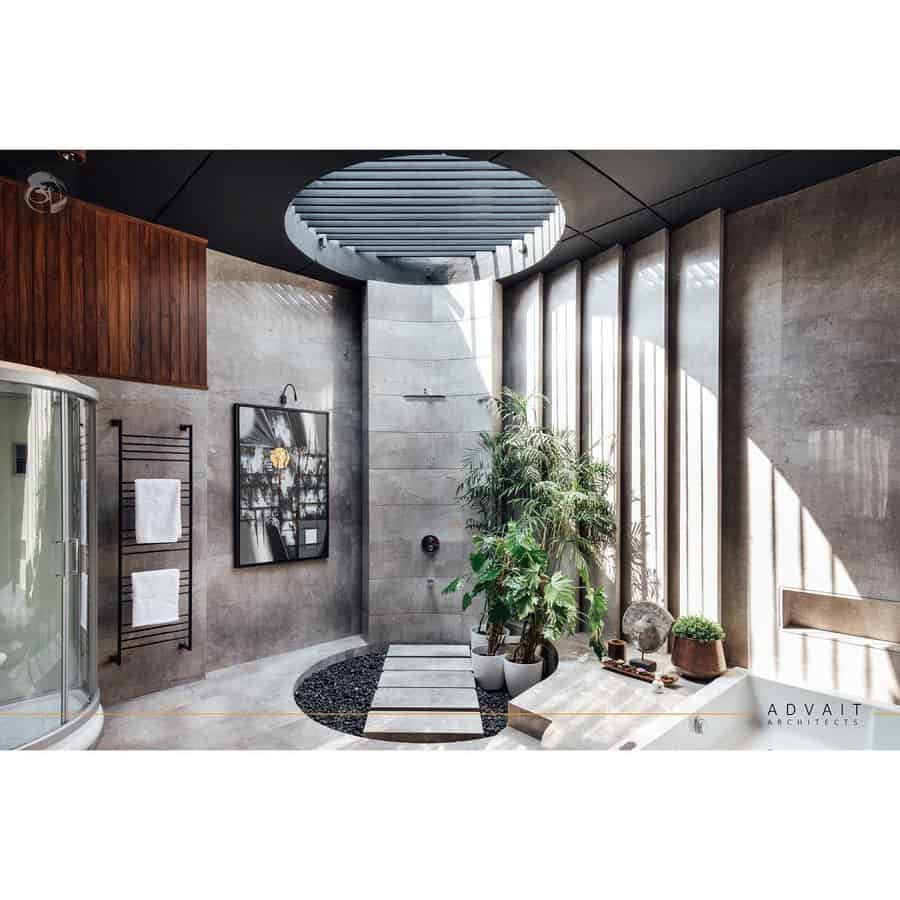 5. Bring Texture with Brick Walls
Brick walls infuse rustic bathrooms with a warm, textured charm, delivering both style and durability. Complement these walls with rustic wooden details, vintage fixtures, or even a clawfoot bathtub for timeless elegance. To elevate the design further, consider adding potted plants or industrial-style lighting, ensuring a space that's both functional and aesthetically pleasing.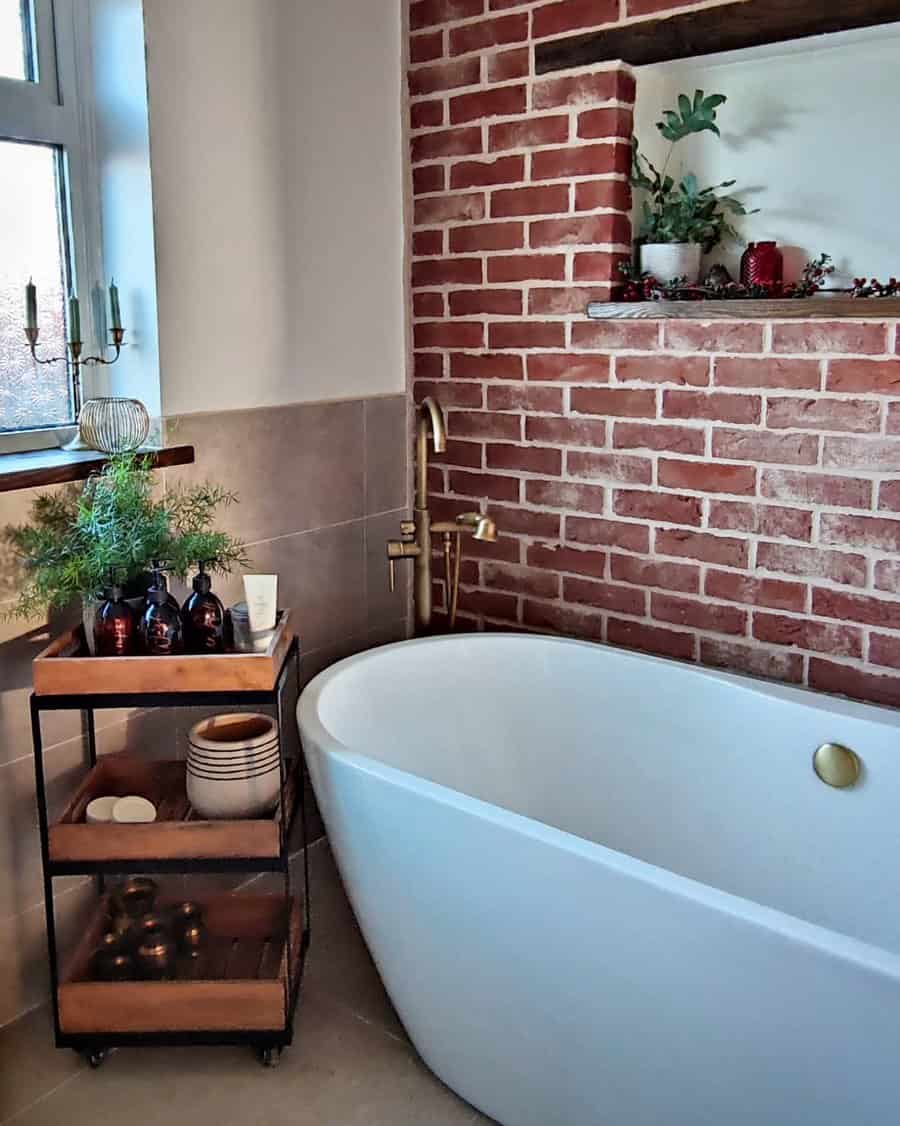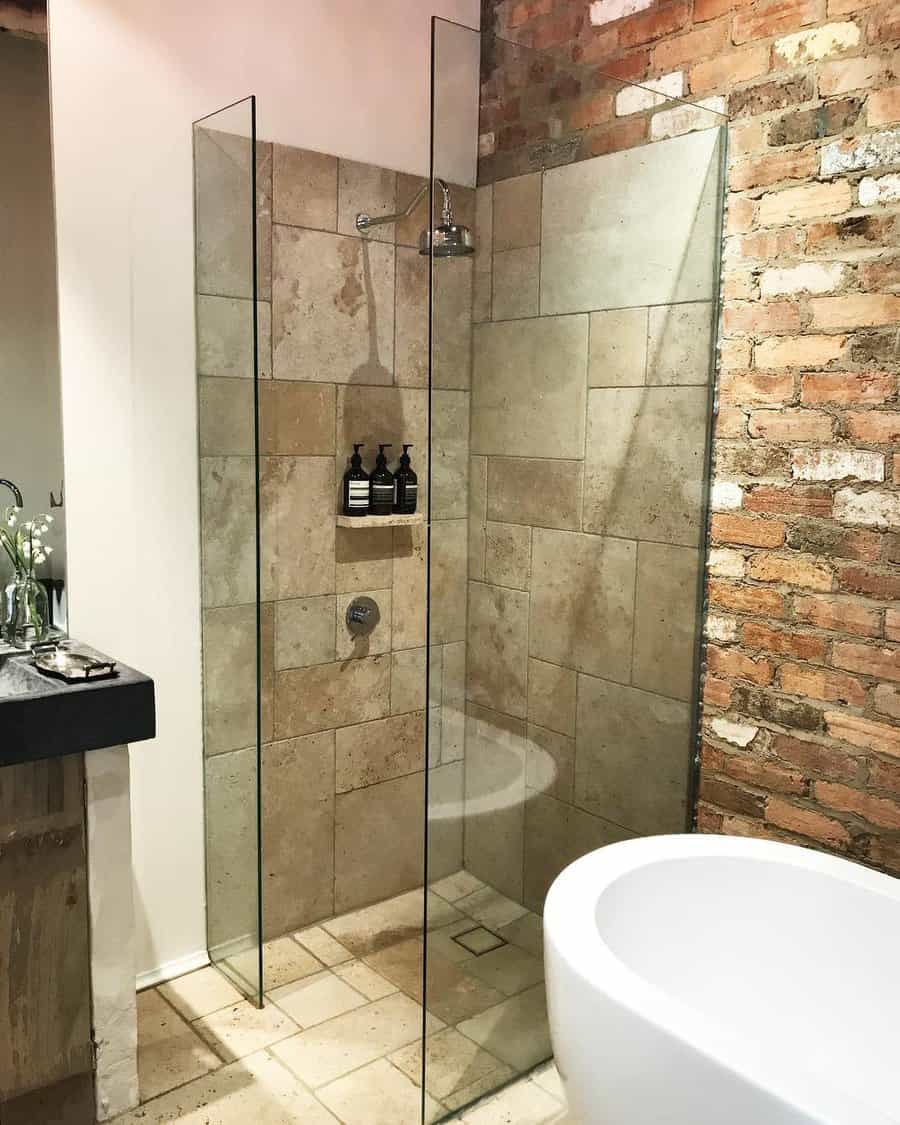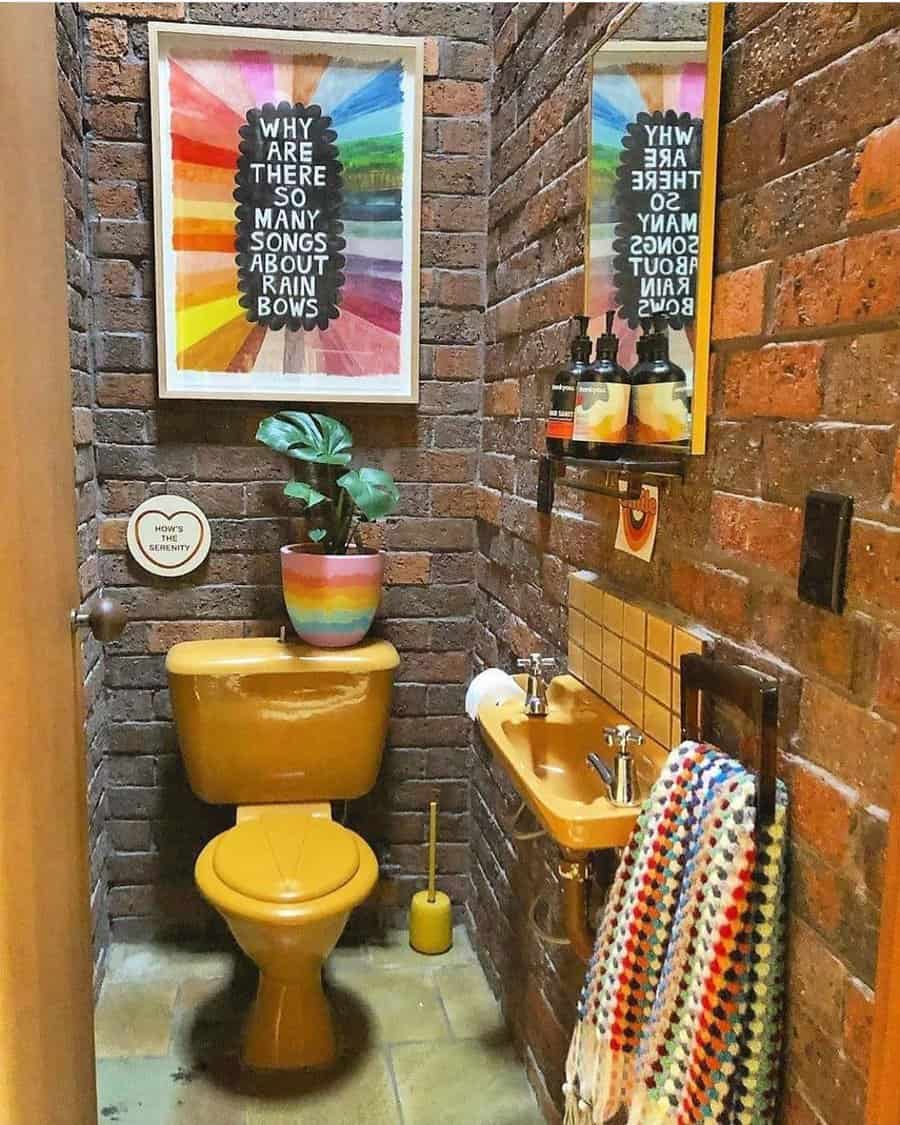 6. Enhance Character with Reclaimed Wood Walls
Reclaimed wood walls, particularly from wooden pallets, infuse rustic bathrooms with warmth and an eco-friendly touch. Their natural grain and texture set a cozy, spa-like tone. Depending on your preference, these walls can be tailored to appear distressed or polished. Complement with other rustic features or finishes, ensuring a sustainable yet stylish space that's uniquely yours.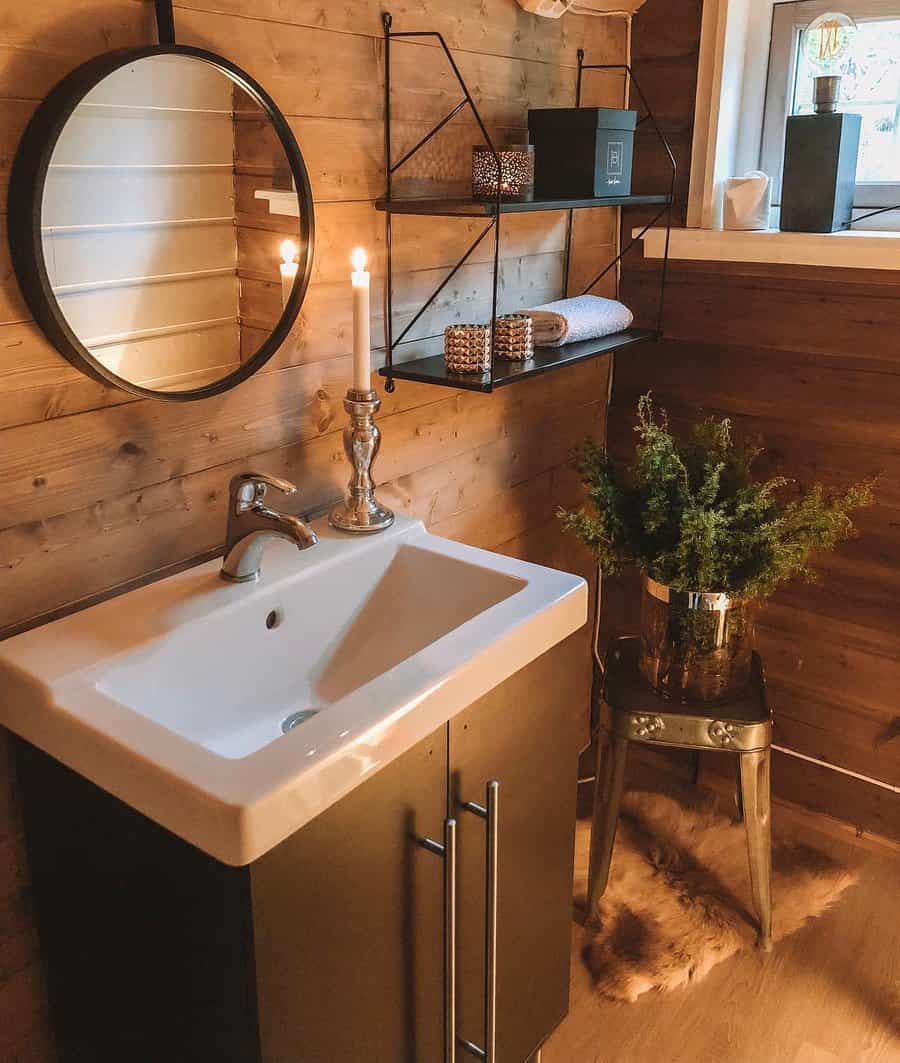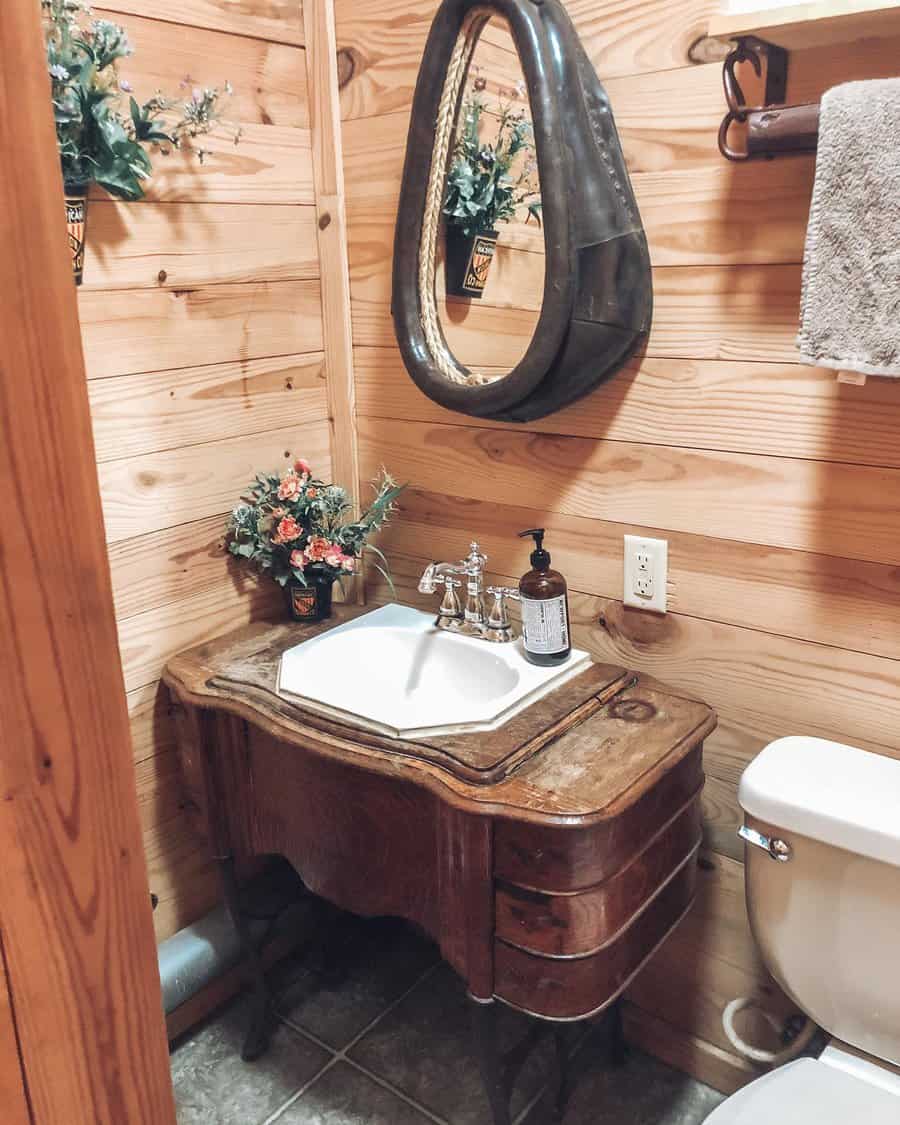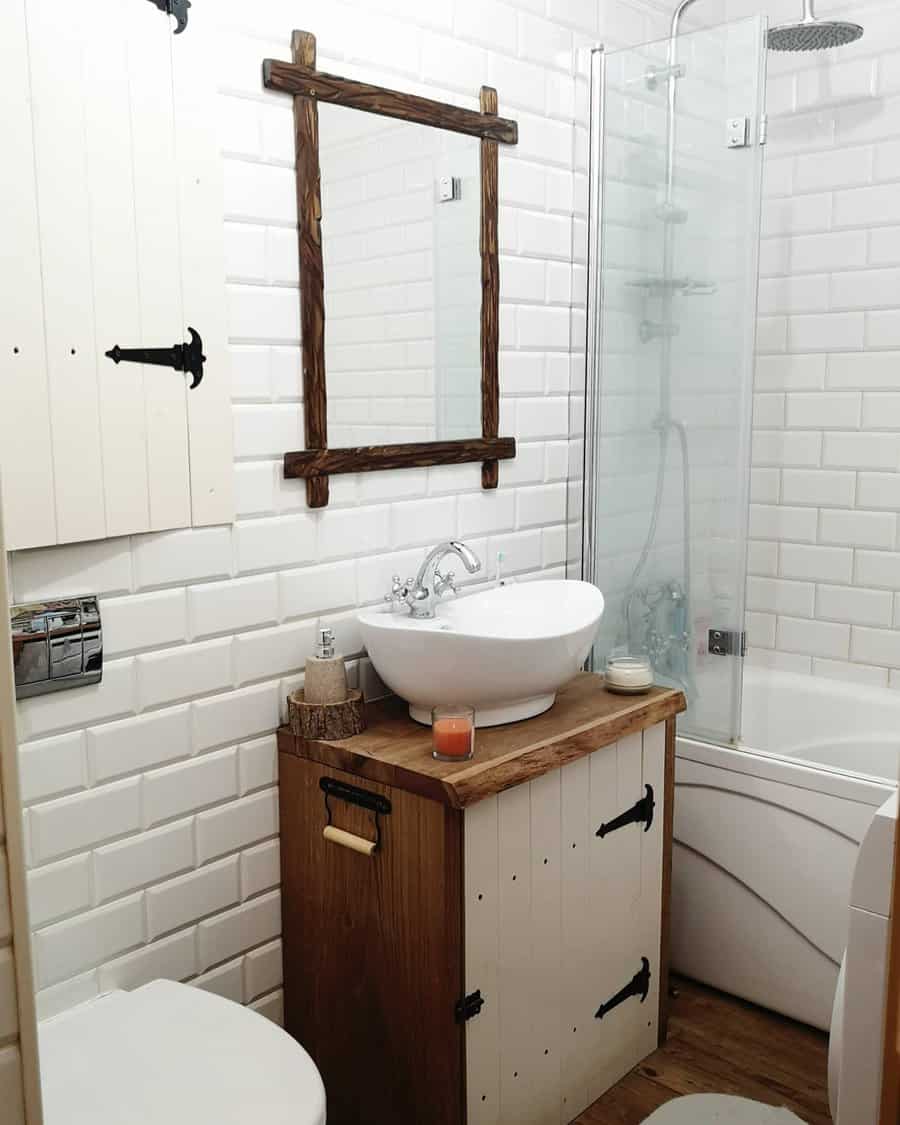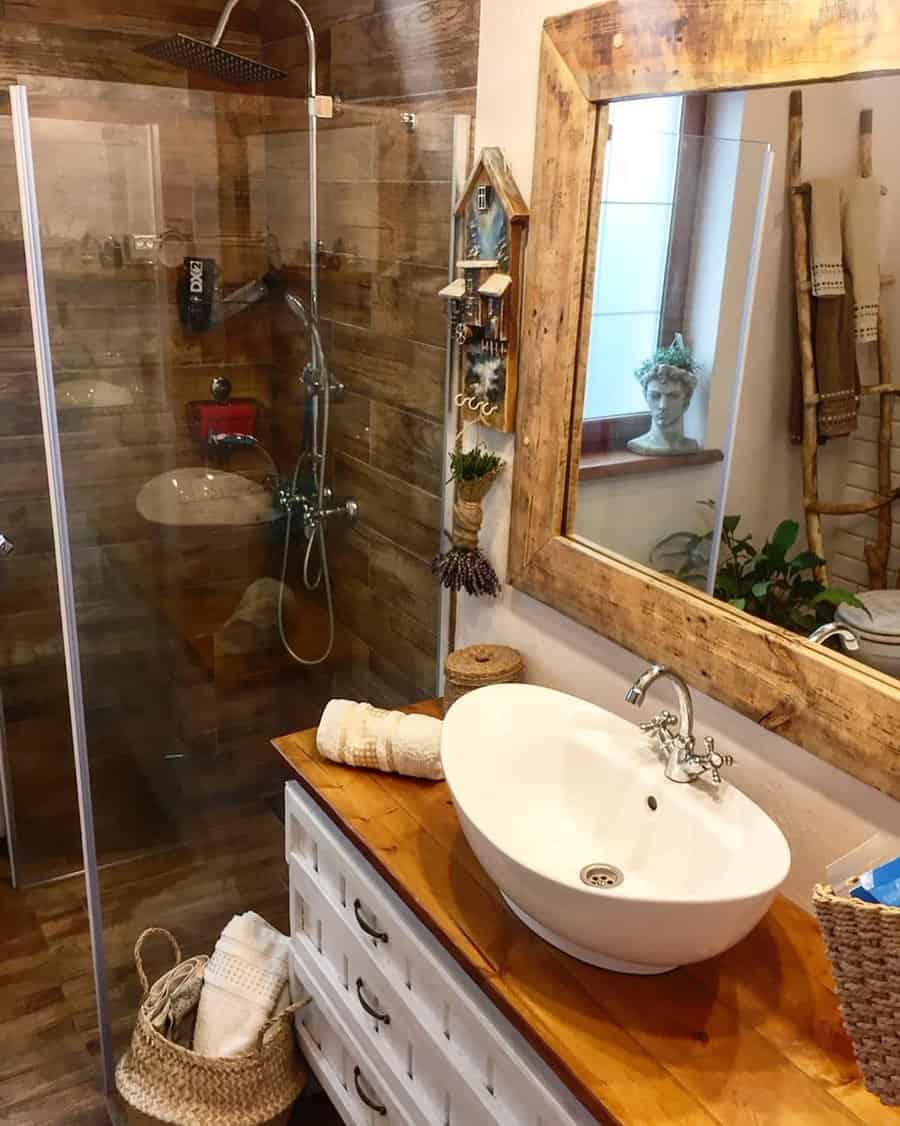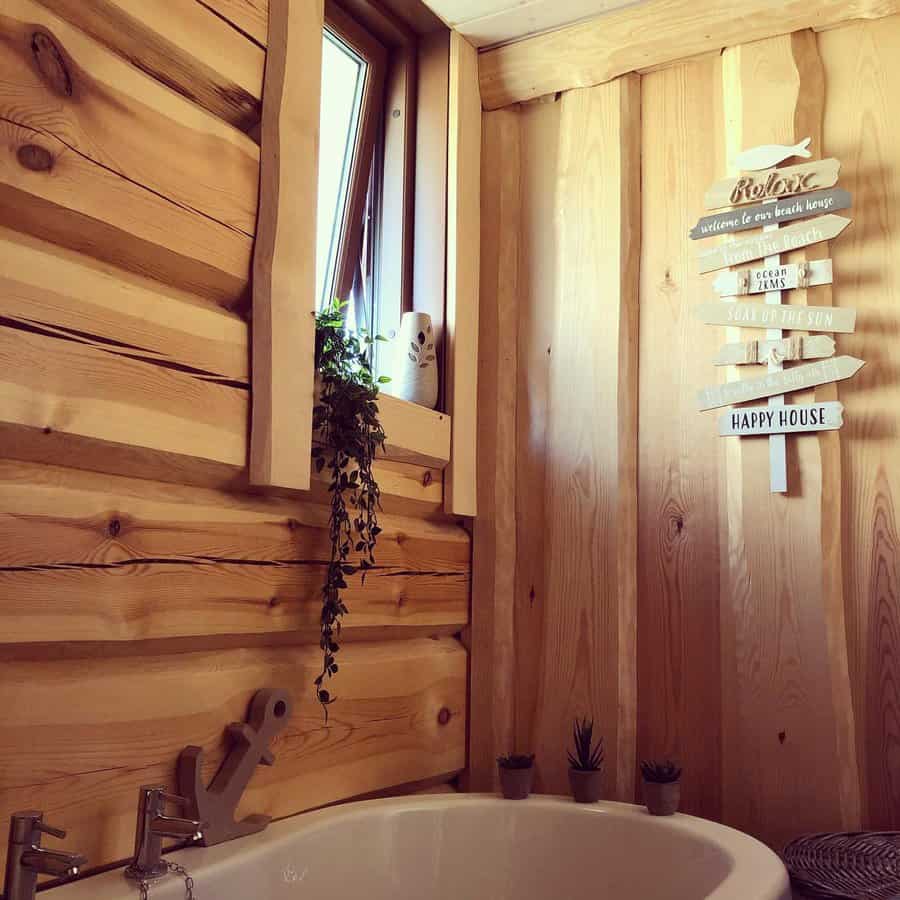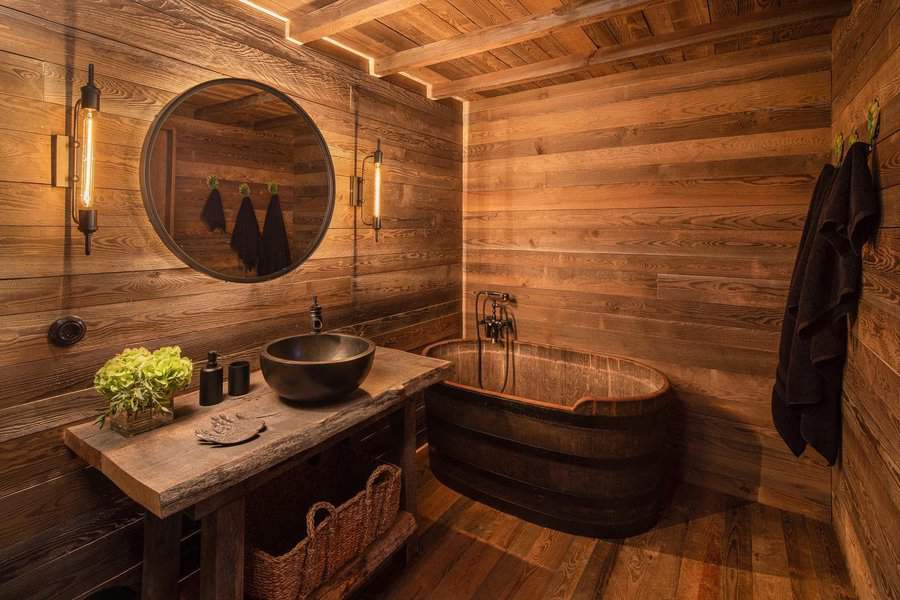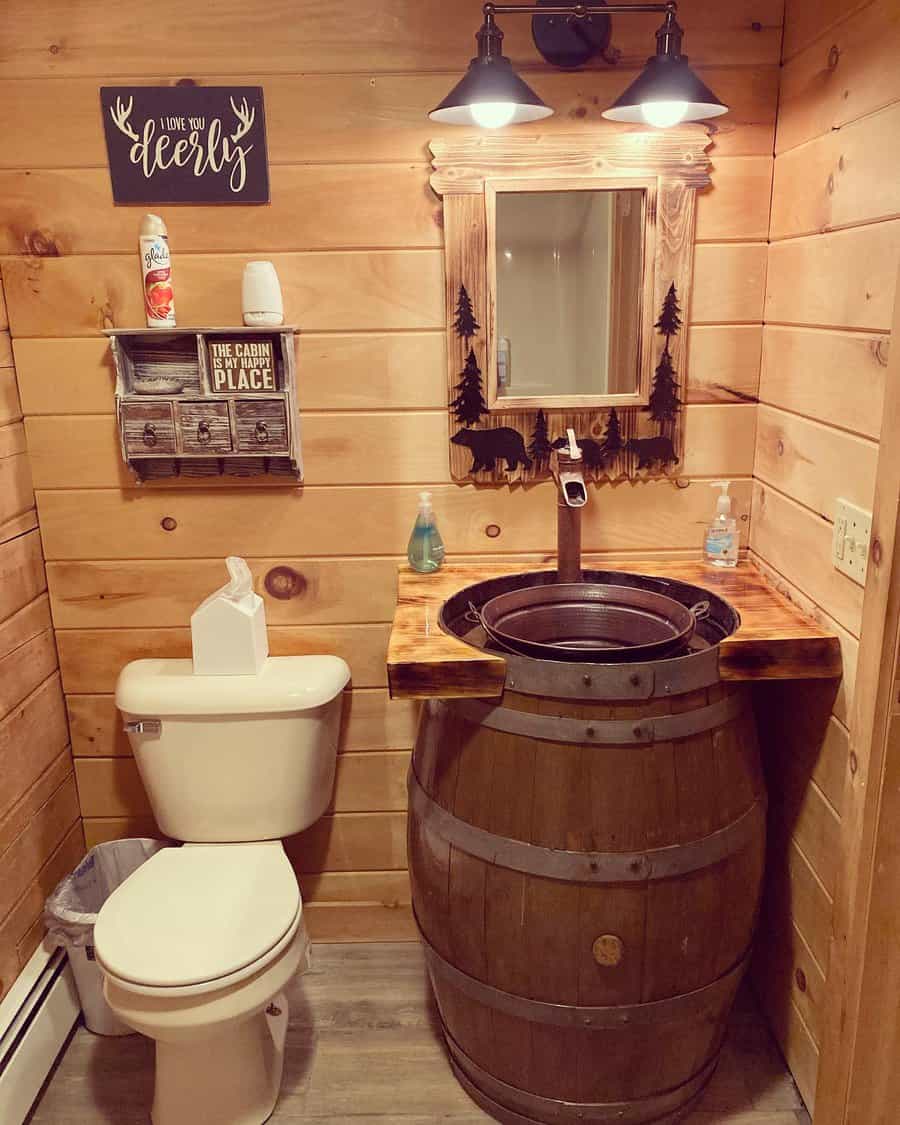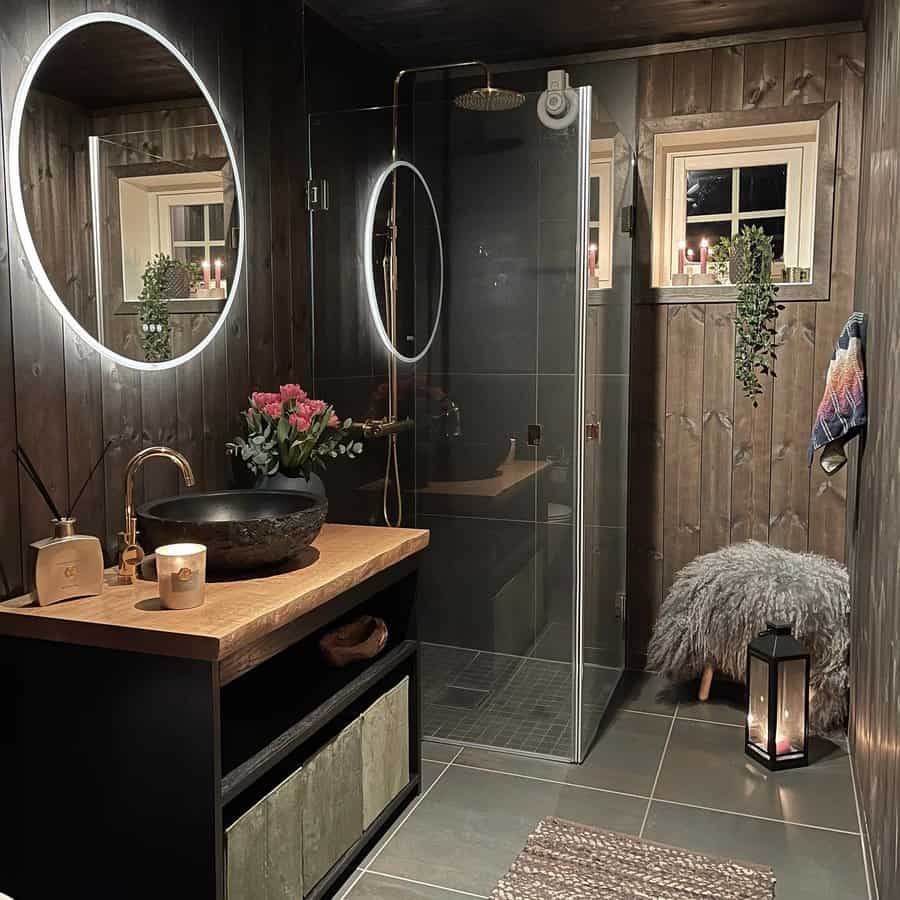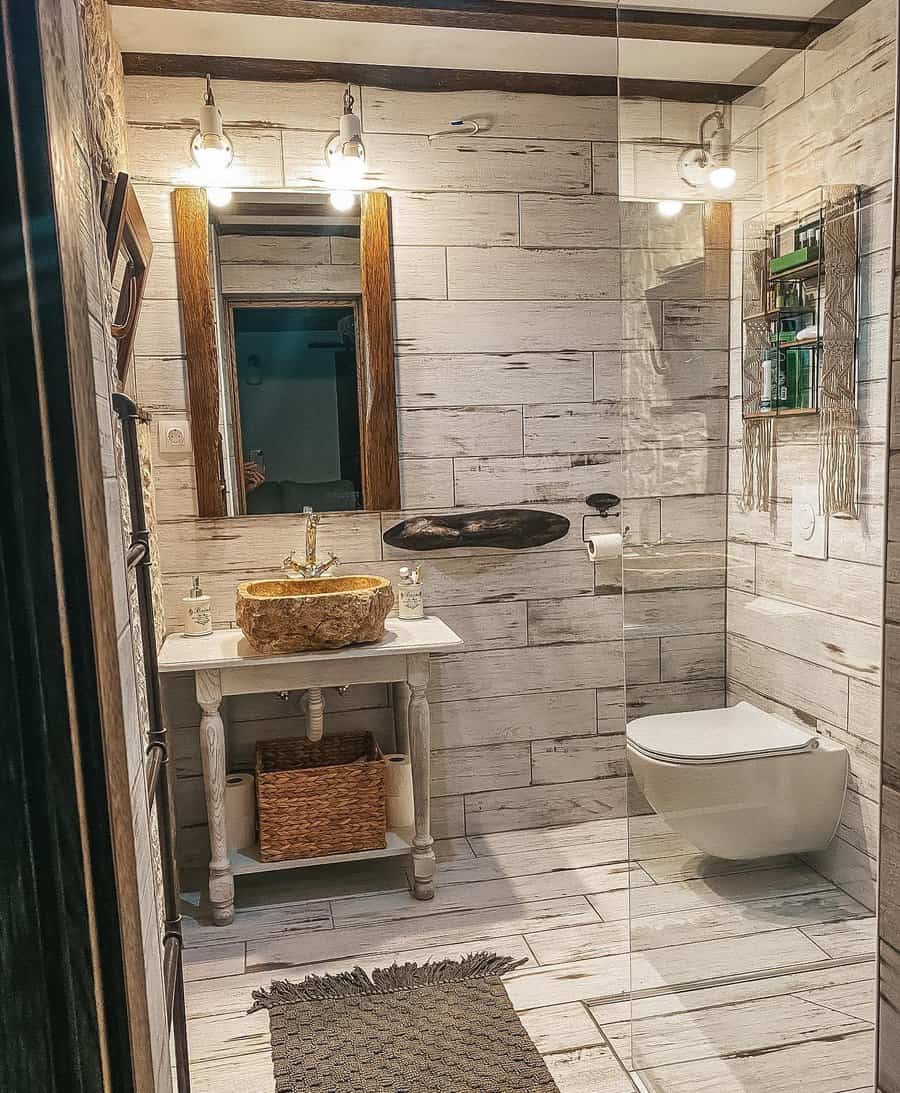 7. Highlight Details with Copper Fixtures
Copper fixtures, with their rich, earthy tones, are ideal for adding warmth to rustic bathrooms. Integrating vintage faucets or showerheads can evoke a sense of nostalgia, especially when paired with elements like clawfoot bathtubs or wooden vanities. Beyond plumbing, consider other copper accents like sinks, mirrors, or lighting, ensuring a cohesive and timeless design.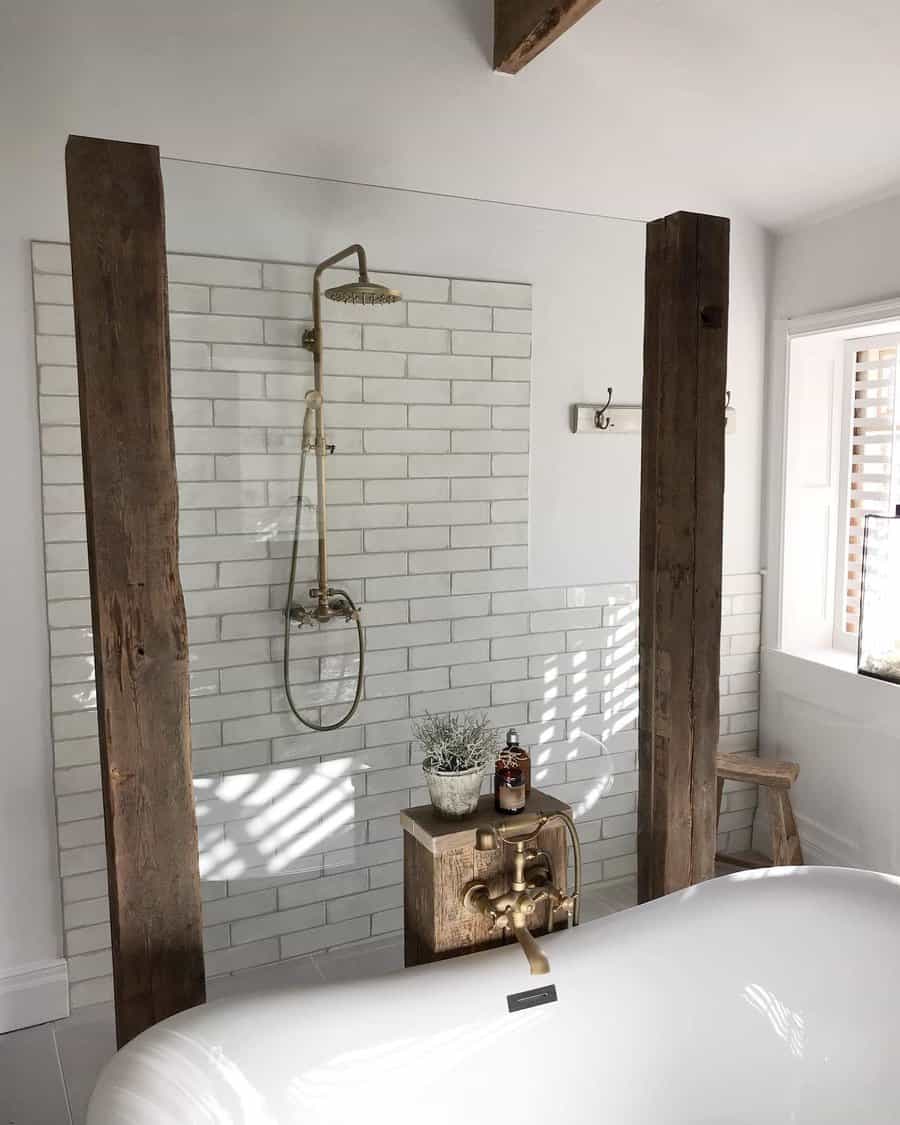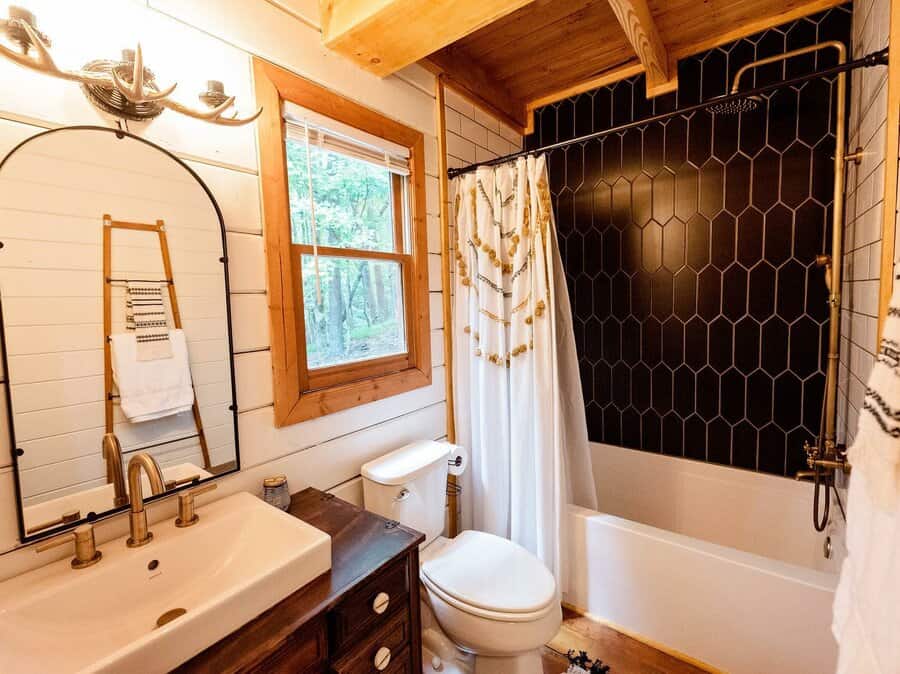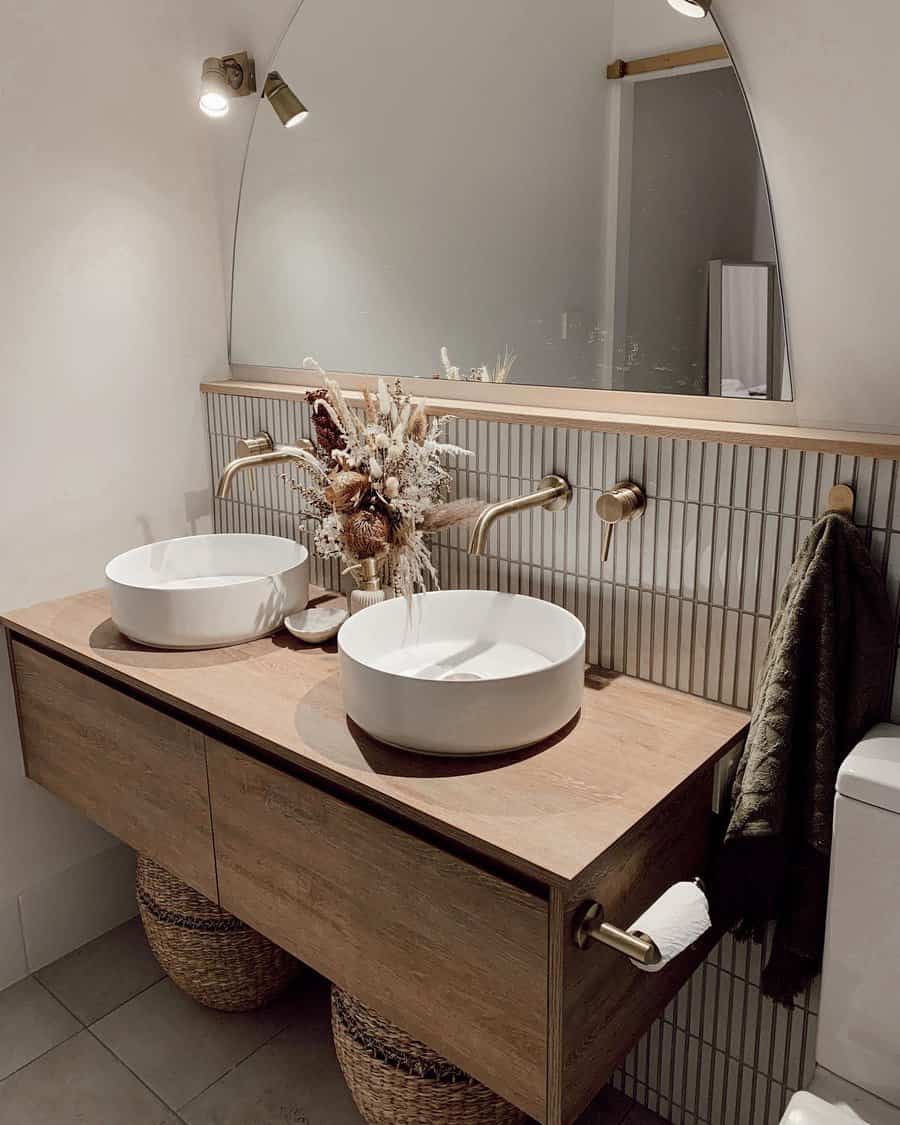 8. Elevate Style with Corrugated Metal Walls
Corrugated metal walls introduce an industrial edge to rustic bathrooms, creating a striking contrast with natural wood and stone elements. This combination crafts a visually captivating dynamic that stands out. Enhance this blend by choosing lighting that casts a warm, inviting glow, ensuring your bathroom remains a stylish yet cozy retreat.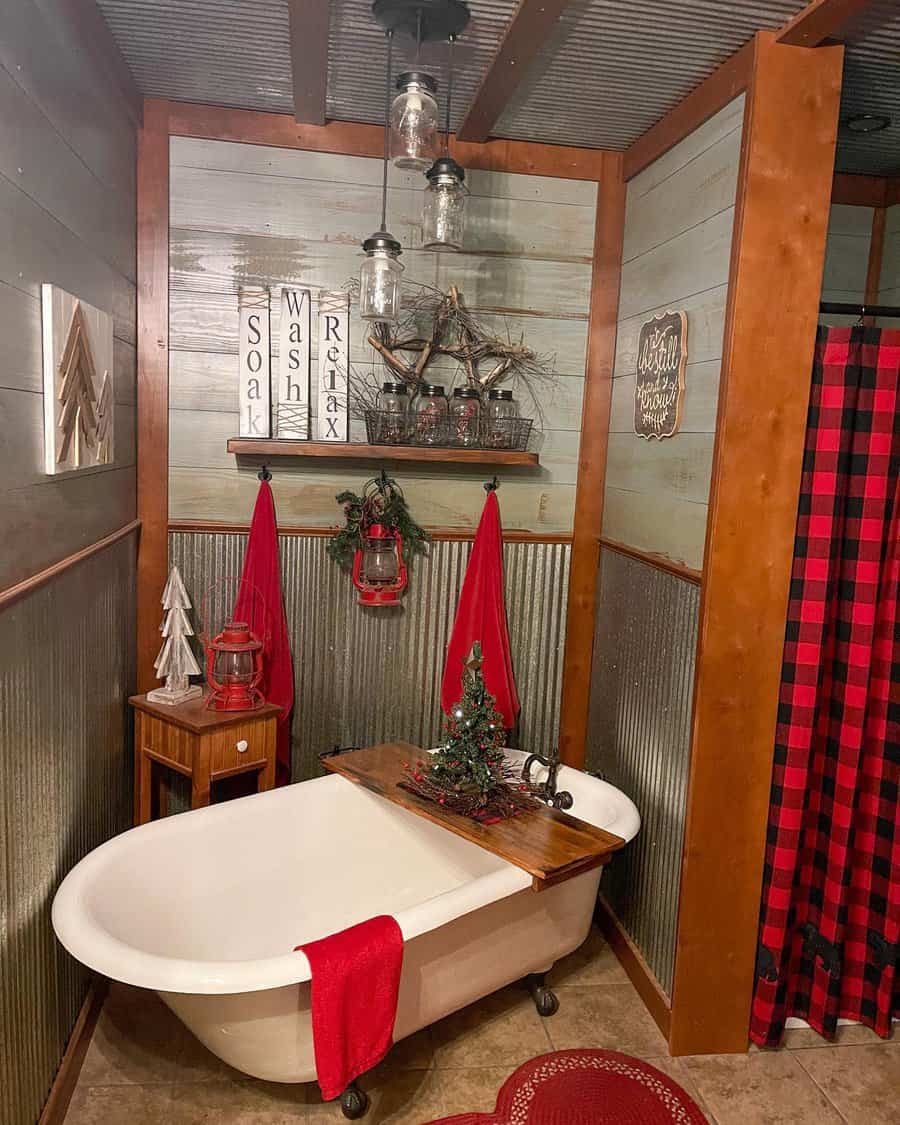 9. Infuse Charm with Shiplap Walls
Shiplap walls in rustic bathrooms offer a harmonious mix of classic and contemporary vibes. Paint them in soothing neutrals or let the wood's natural beauty shine for versatile style. Pairing shiplap with features like clawfoot bathtubs or antique lighting deepens its rustic appeal. Moreover, these walls are both durable and easy to maintain, making them a practical choice for bathrooms.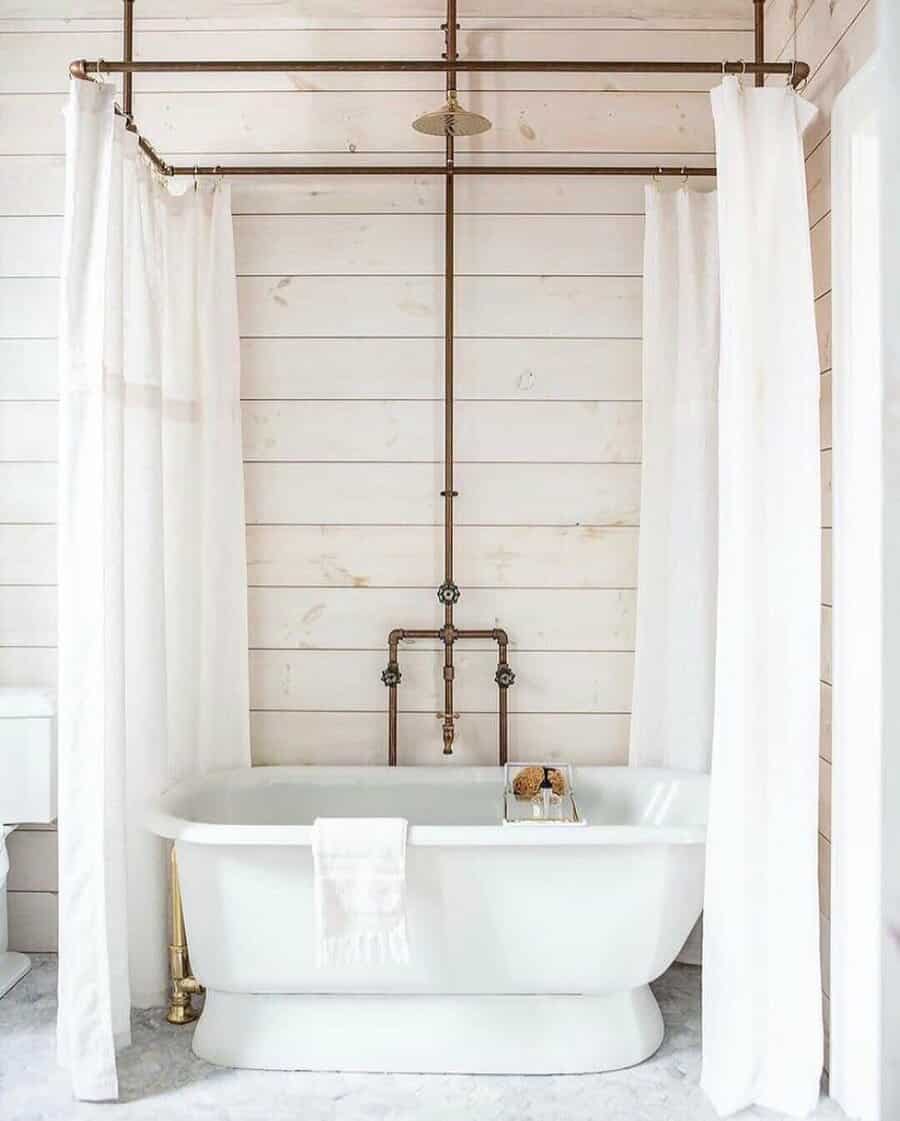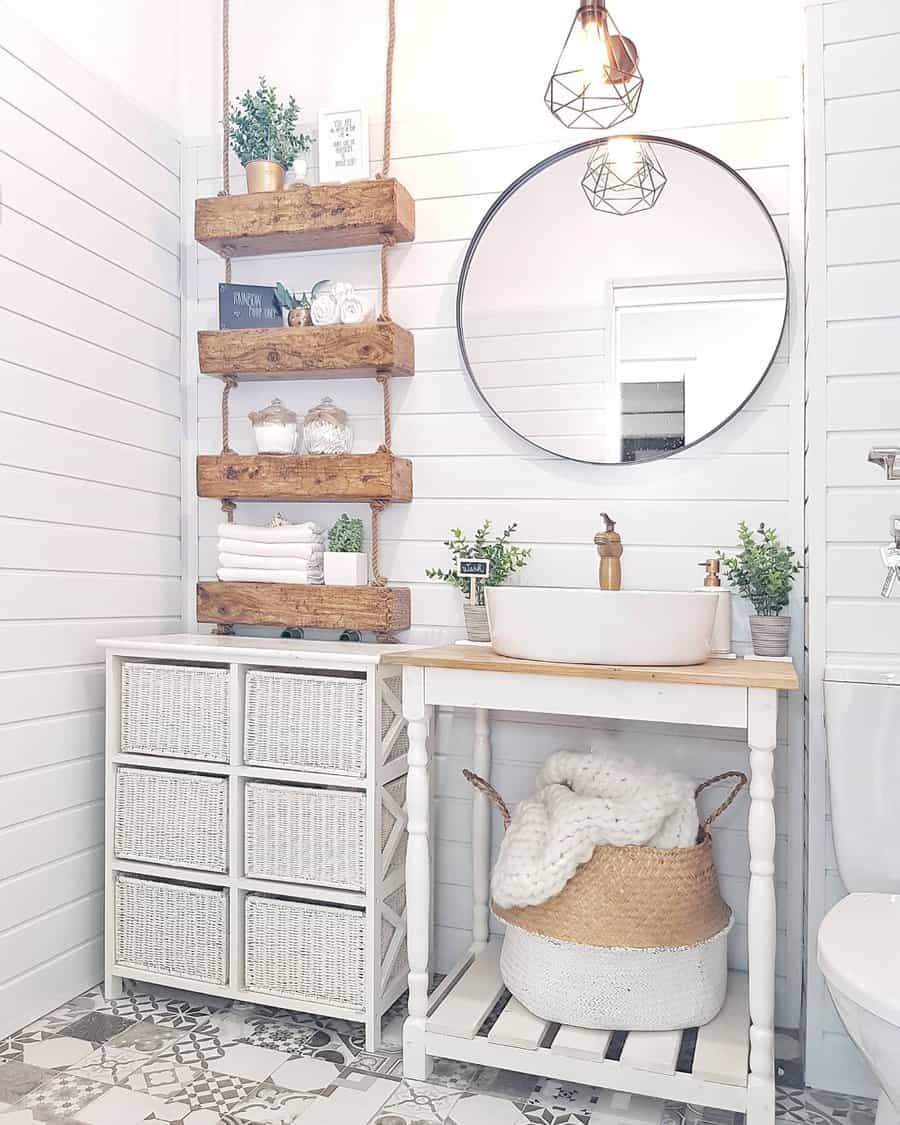 10. Display Artistic Wooden Wall Pieces
Wooden wall art enriches rustic bathrooms with a touch of warmth and nature-inspired elegance. Ranging from intricately carved masterpieces to simpler designs, these pieces can be tailored to resonate with your decor preferences. Whether serving as a standout focal point or complementing other rustic elements, wooden art ensures a space that feels both personalized and inviting.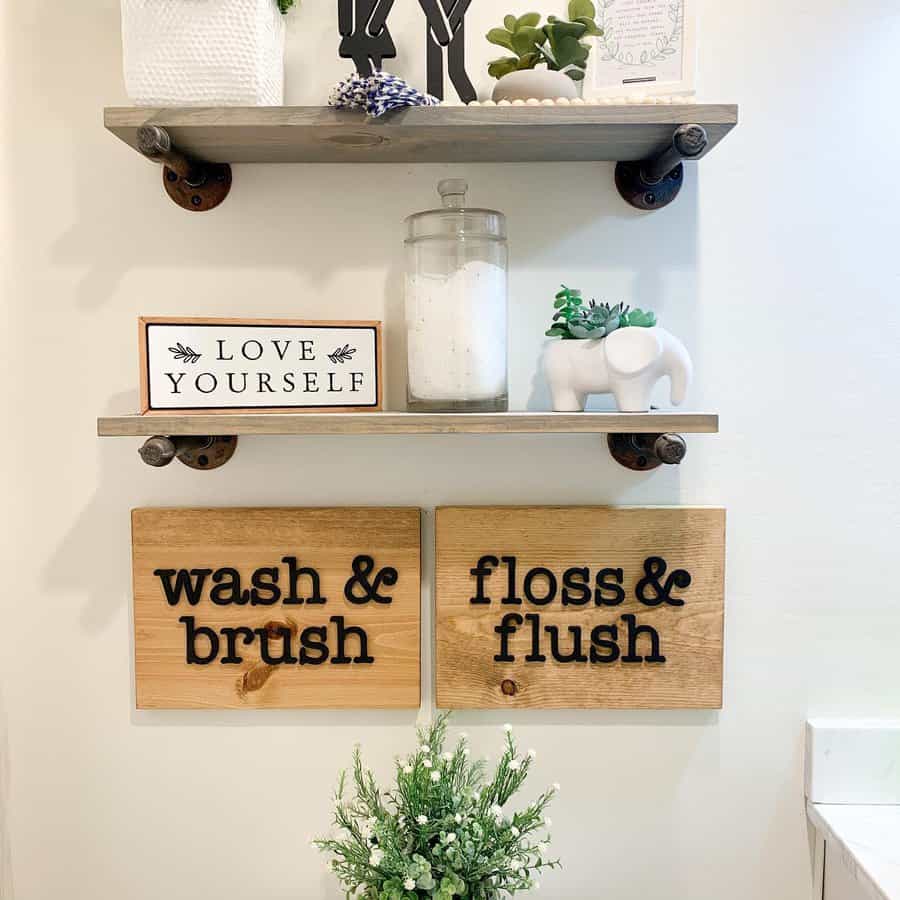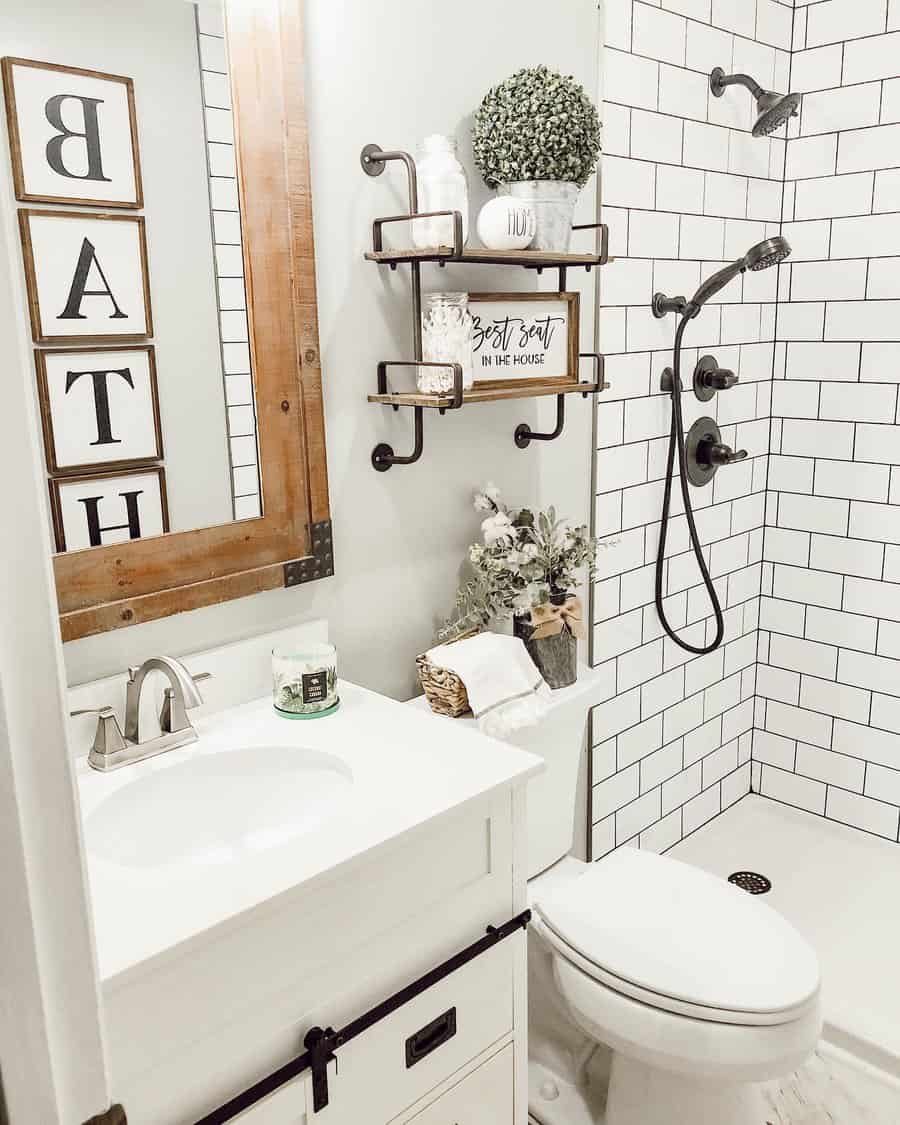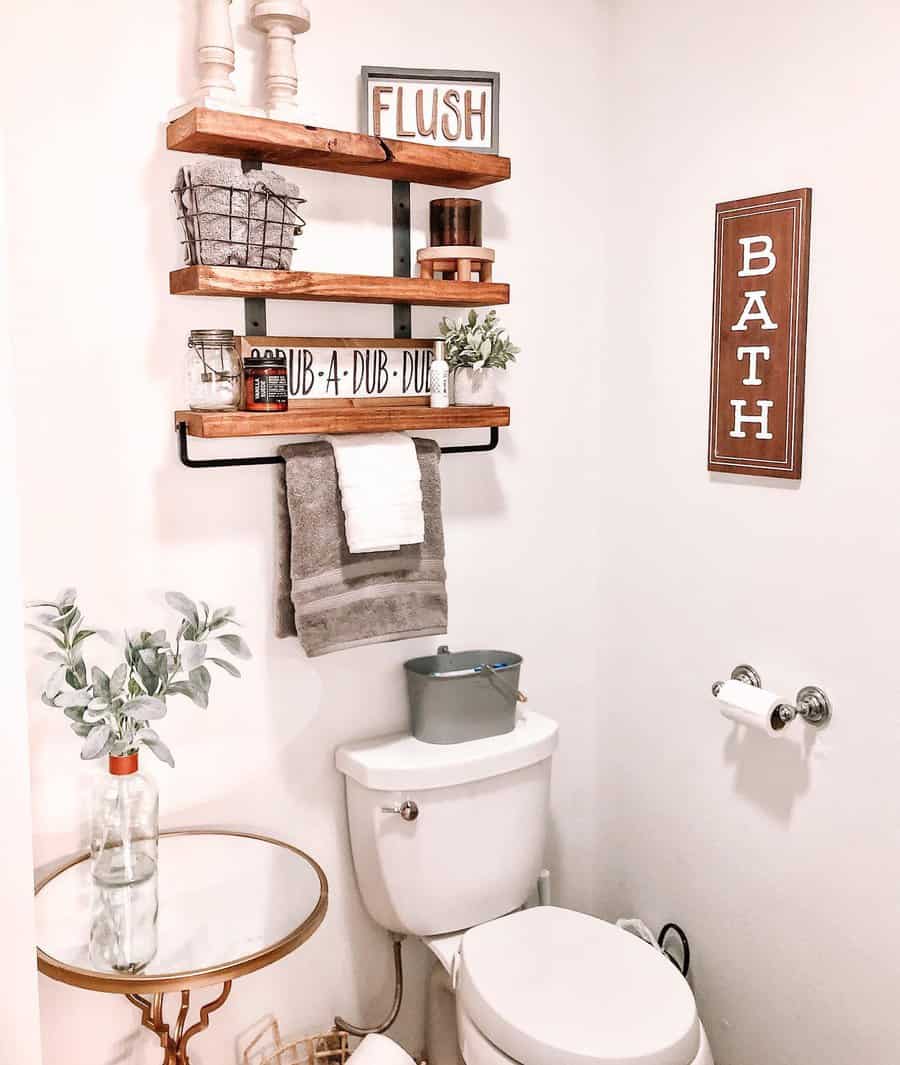 11. Add Elegance with Dried Flower Arrangements
A rustic bathroom with dried flowers is a stunning way to bring natural beauty and charm to your home. Decorate with dried flowers to create a warm and inviting atmosphere that captures the essence of rustic style. You can place a vase or a wreath of dried flowers on your bathroom vanity, add them to your shower curtain, or even use them to create a unique wall decor.
The natural earth tones and textures of dried flowers can complement a range of rustic elements, such as wooden accents, exposed brick, and vintage decor. And with the added benefit of being long-lasting, dried flowers make a low-maintenance and affordable way to bring a touch of nature into your rustic bathroom.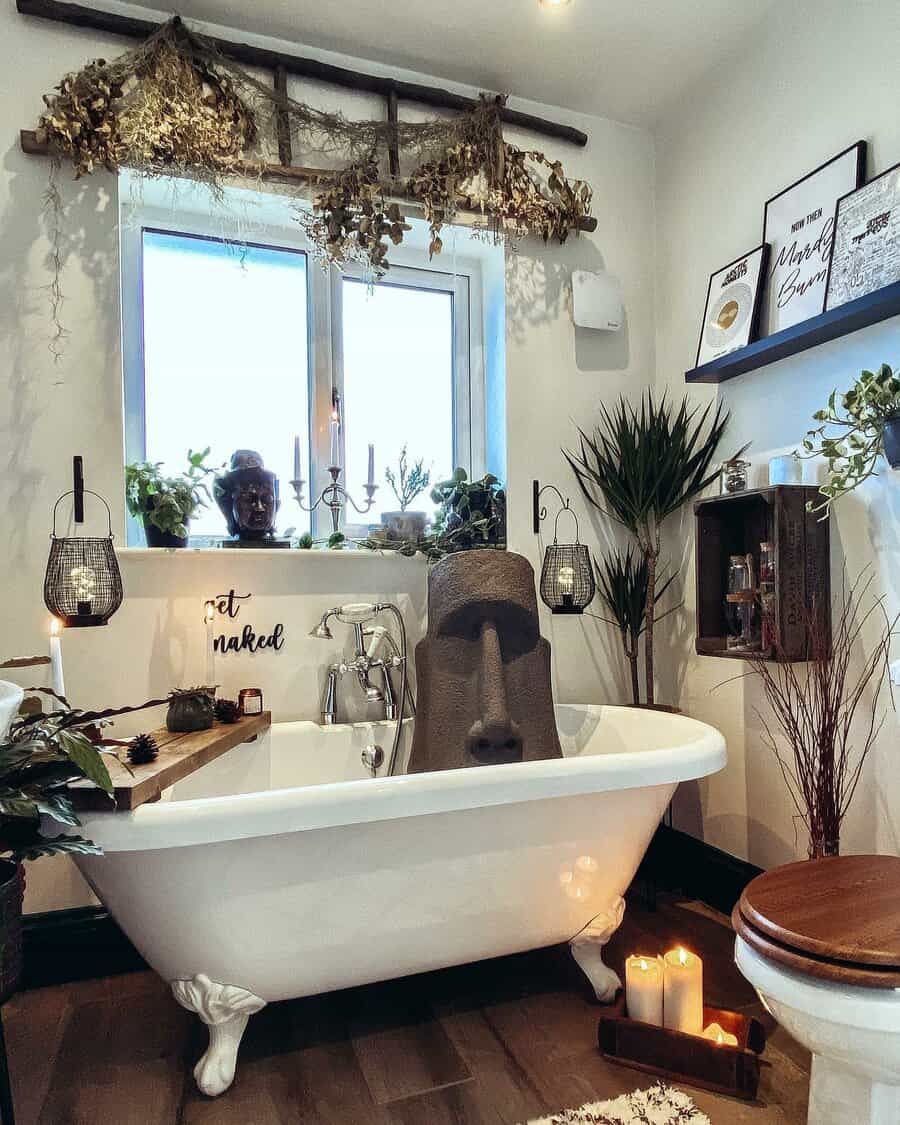 12. Feature a Wooden Vanity Basin
Wooden vanity basins introduce a natural elegance to rustic bathrooms, with their grain and textures exuding warmth. Available in diverse finishes and styles, these basins can be tailored to align with individual tastes. Beyond aesthetics, their ease of maintenance ensures durability. Embrace the wood's natural imperfections for added character and a genuinely inviting atmosphere.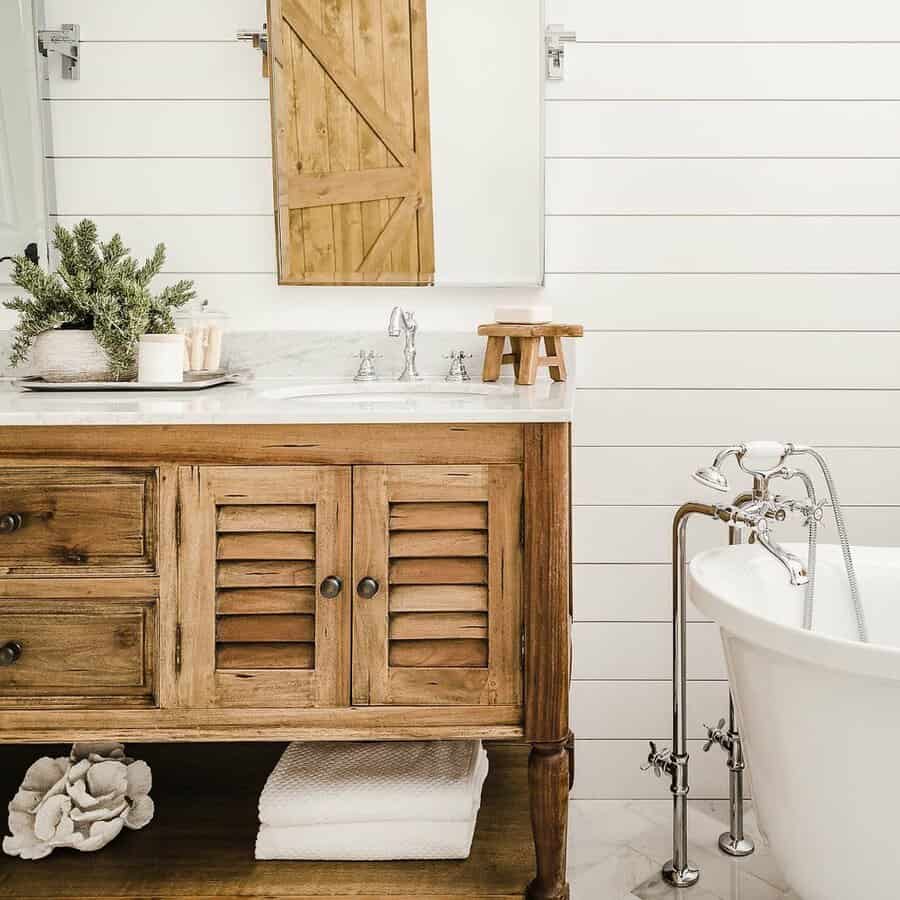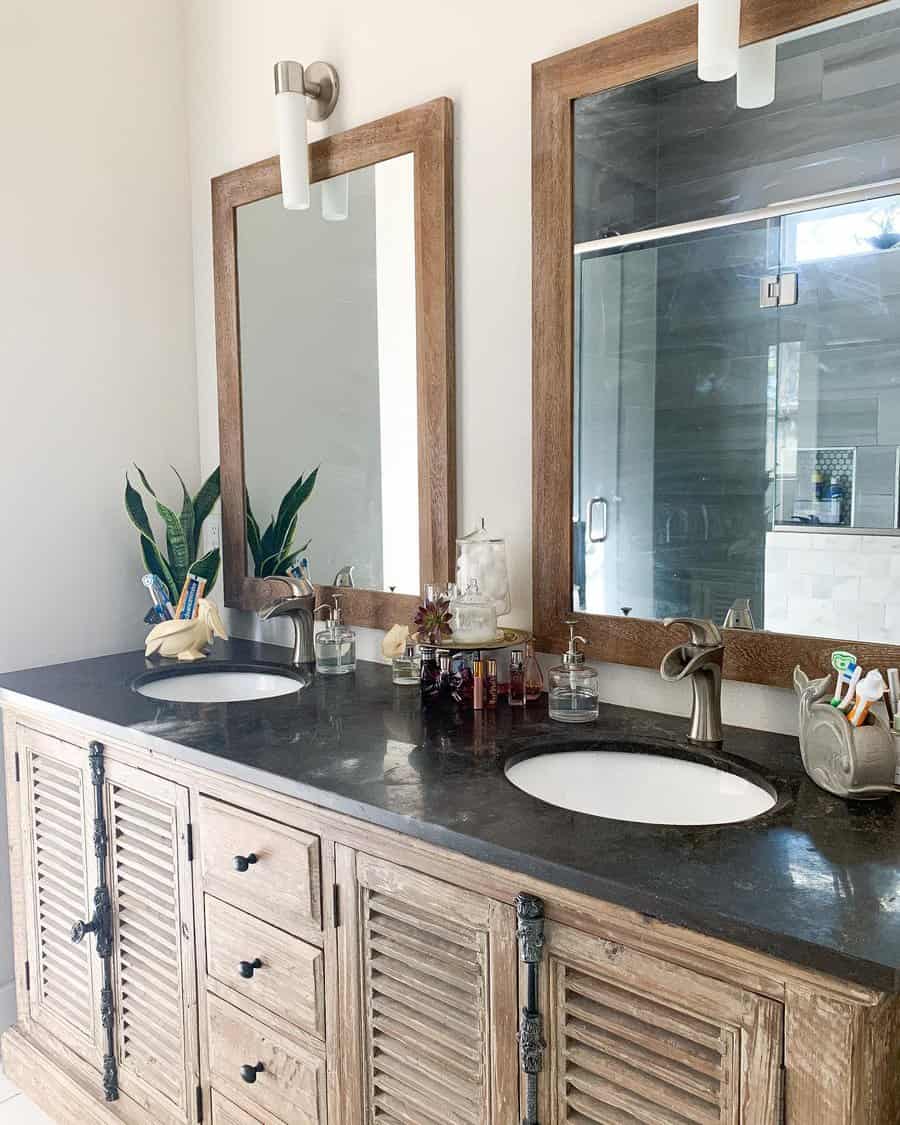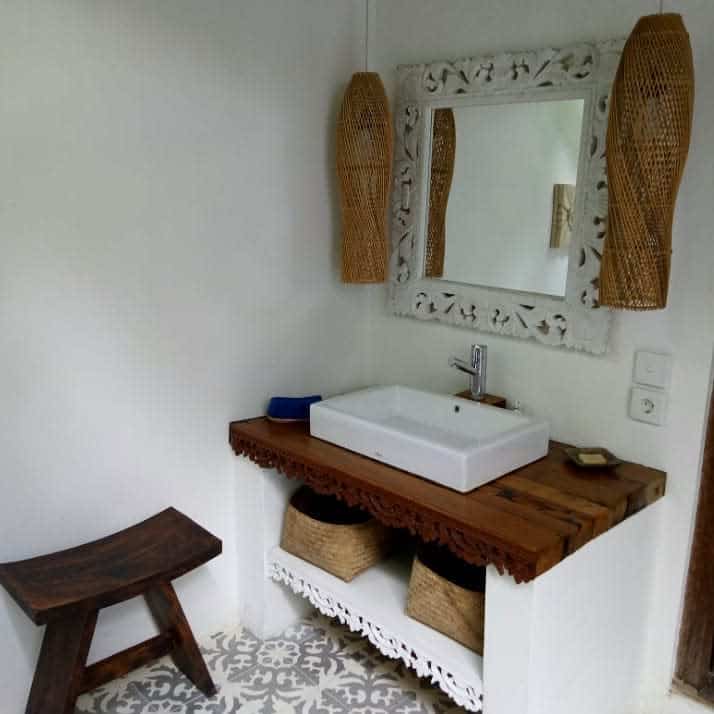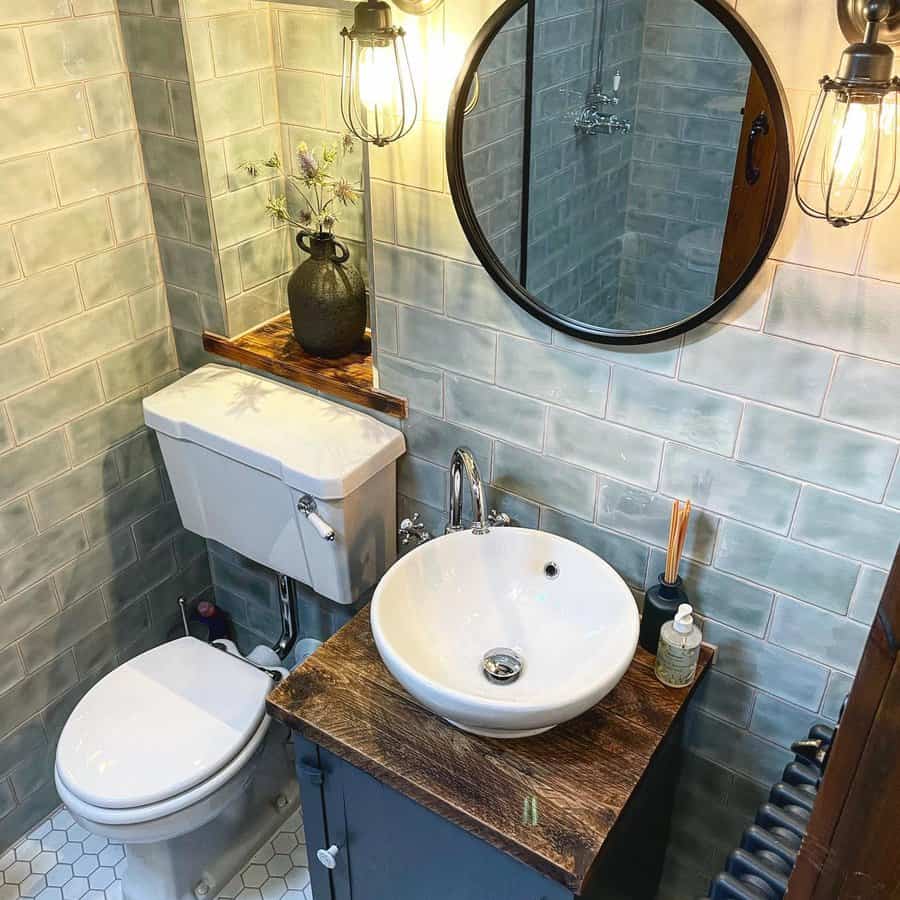 13. Choose Shower Curtains with Rustic Themes
Shower curtains with rustic designs, ranging from wildlife patterns to classic checks, seamlessly align with the essence of rustic decor. Besides elevating the room's aesthetics, these curtains offer practical benefits like privacy and water containment. To truly encapsulate the rustic spirit, select designs that resonate with your desired ambiance, be it a mountain lodge or a quaint cabin vibe.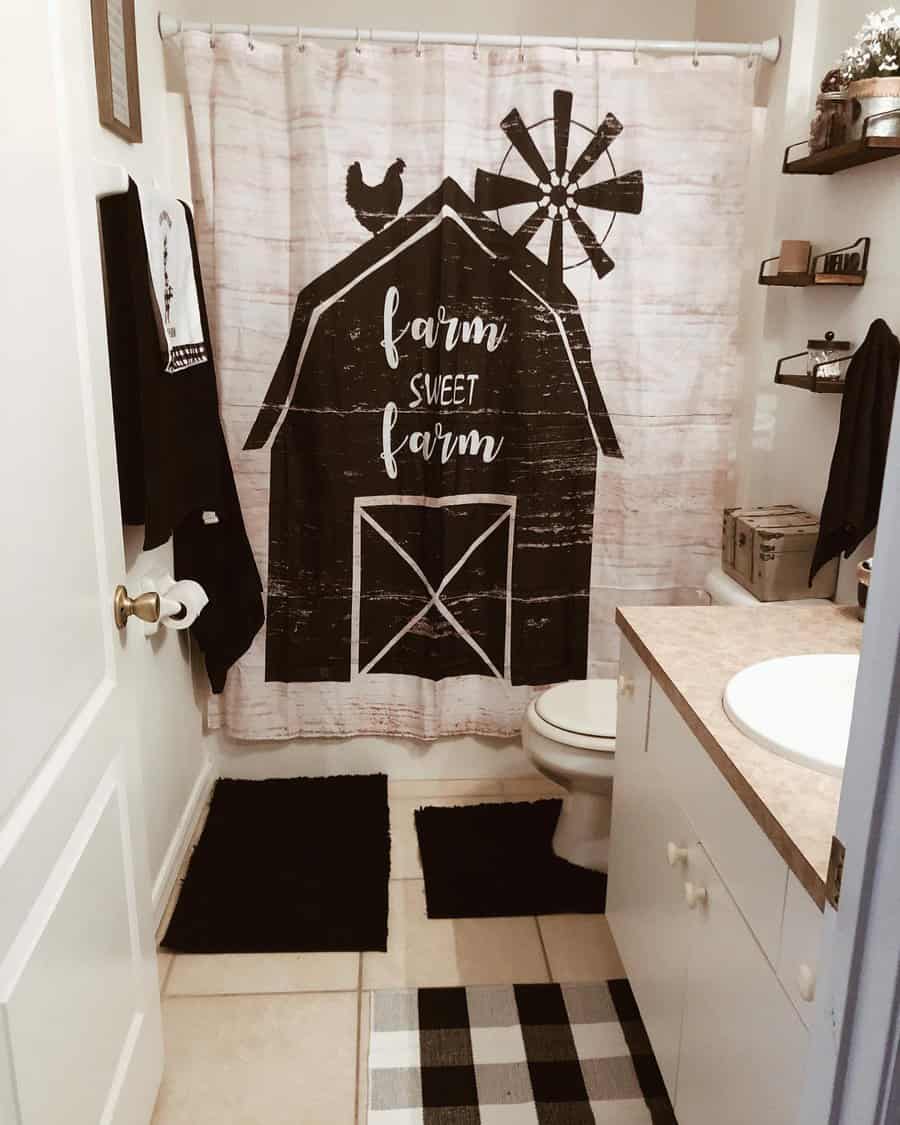 14. Opt for White-Washed Wood Accents
White-washed wood furniture in a rustic bathroom exudes charm and elevates the space's warmth. The combination of the wood's natural grain with the white-wash finish offers both depth and a clean aesthetic. Whether you choose a vanity or storage, this style complements varied decors seamlessly. Beyond its beauty, white-washed wood is durable, promising longevity for your space.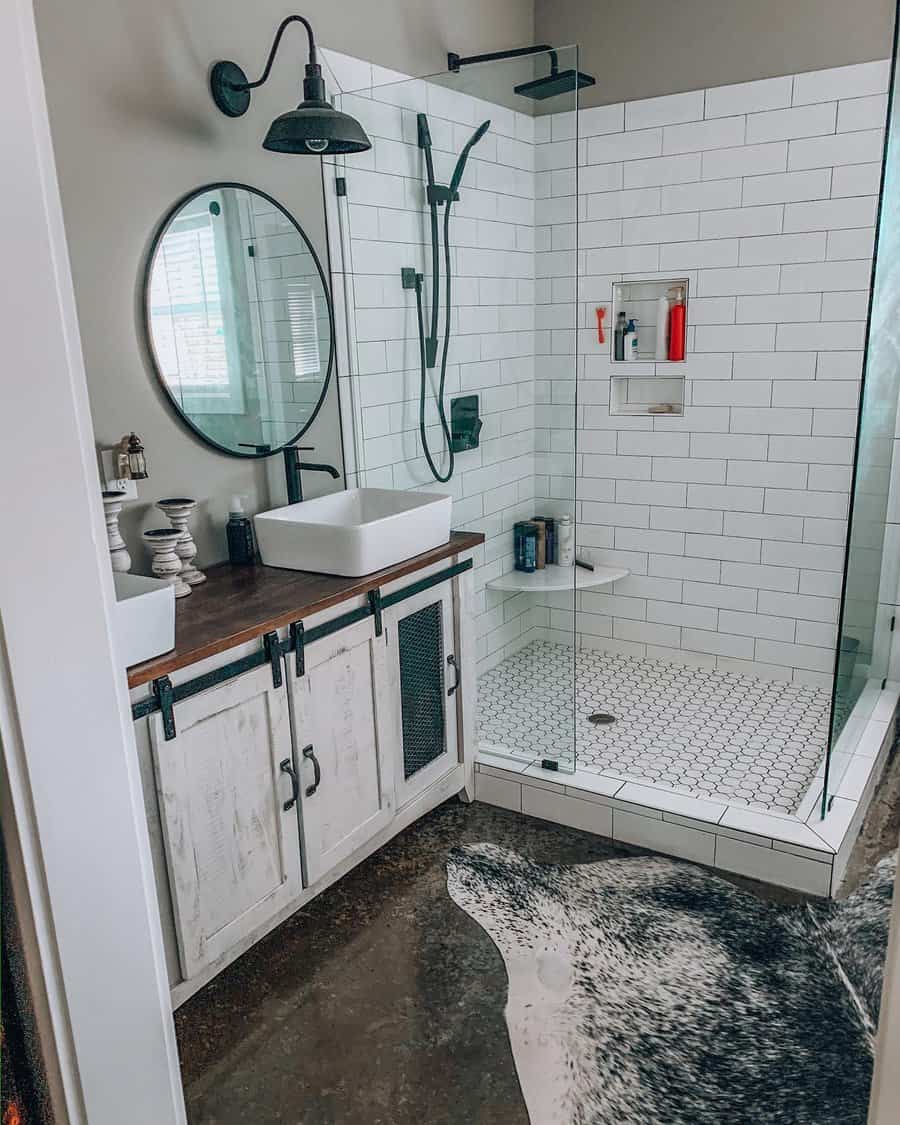 15. Make a Statement with Rock Basins
Rock wash basins bring the raw beauty of nature into rustic bathrooms. Their rugged texture pairs exquisitely with rustic decor, and the stone's durability ensures lasting elegance. These basins, with their earthy tones, integrate well with various bathroom themes, from cabin coziness to contemporary rustic. Whether freestanding or part of a custom vanity, rock basins undeniably stand out, offering both a visual treat and a serene ambiance.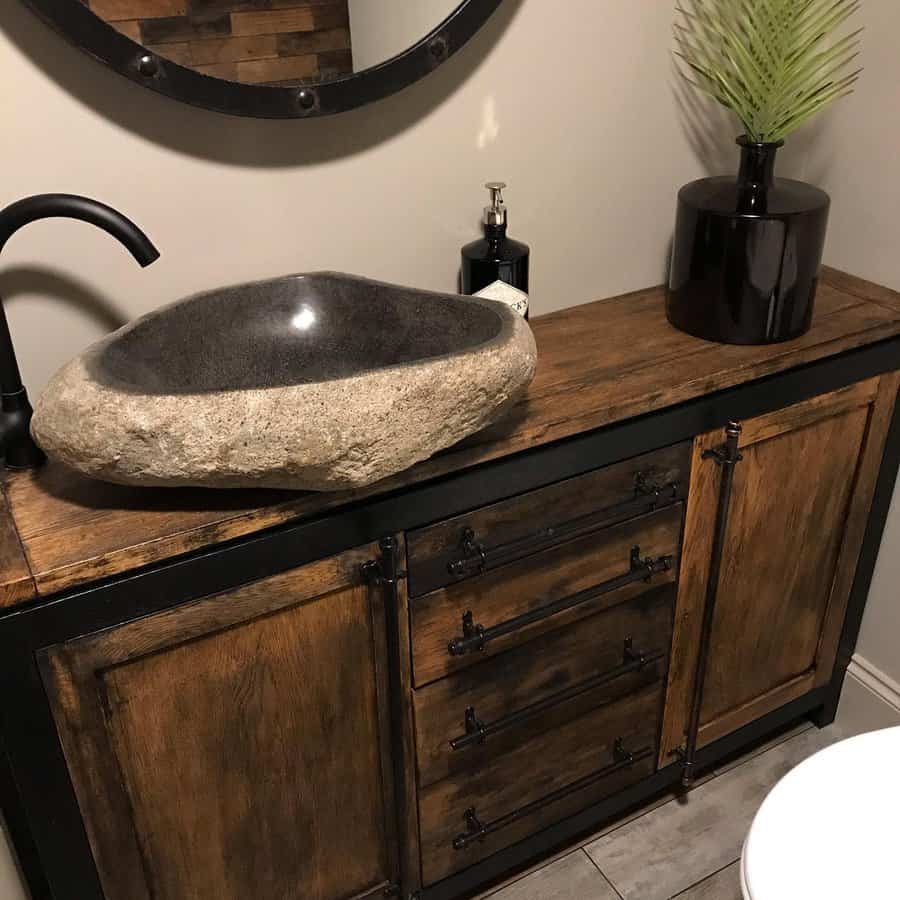 16. Illuminate with Natural Skylight Showers
Integrating a skylight into your rustic bathroom's shower area introduces a touch of the outdoors, creating a spacious feel and filling the room with natural light. This design choice, when paired with rustic materials like exposed wood and natural stone, harmonizes to produce a genuinely inviting space. Imagine the luxury of showering under a blue sky or beneath a canopy of stars; a skylight in the bathroom provides a daily touch of nature's magic, elevating your showering experience to something truly special.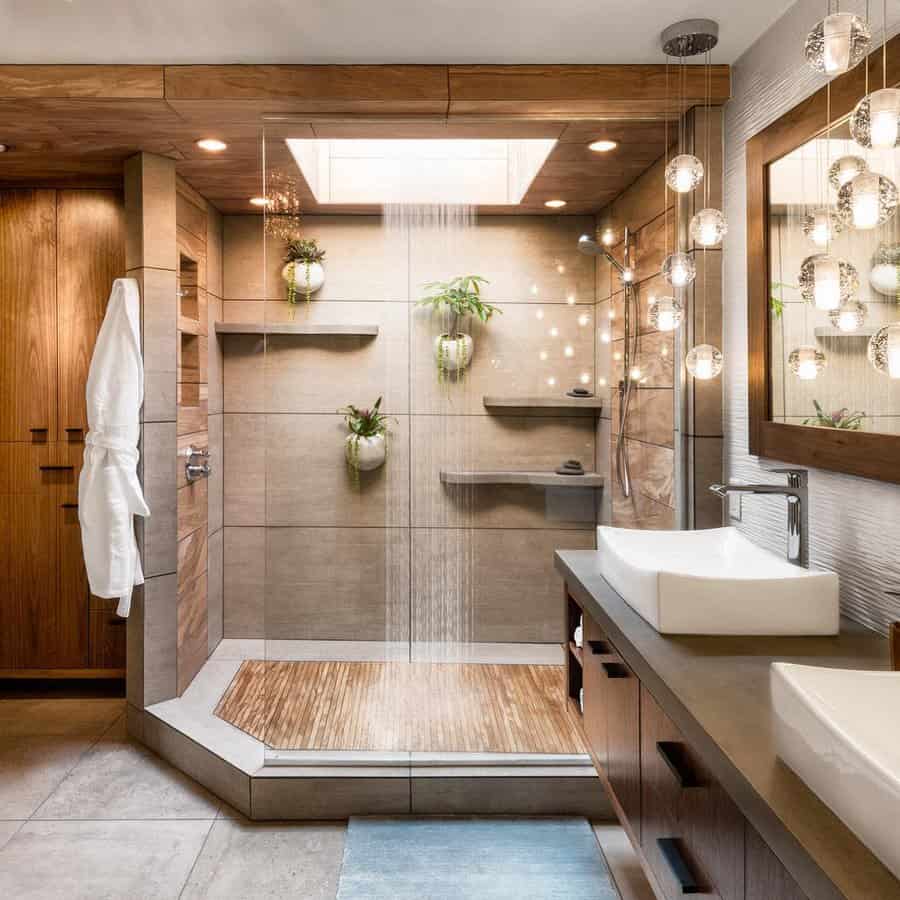 17. Enrich Ambiance with Ceiling Beams
Ceiling beams in a rustic bathroom effortlessly infuse warmth and authenticity into the space. Their presence can evoke feelings of being in a serene woodland retreat. Depending on your preference, these beams can retain their natural finish or be painted to harmonize with the bathroom's color scheme. Strategically placing lighting fixtures, like chandeliers or pendants, around these beams can further enhance the ambiance. To elevate the rustic theme, complement the beams with stone tiles, metal accents, and vintage fixtures.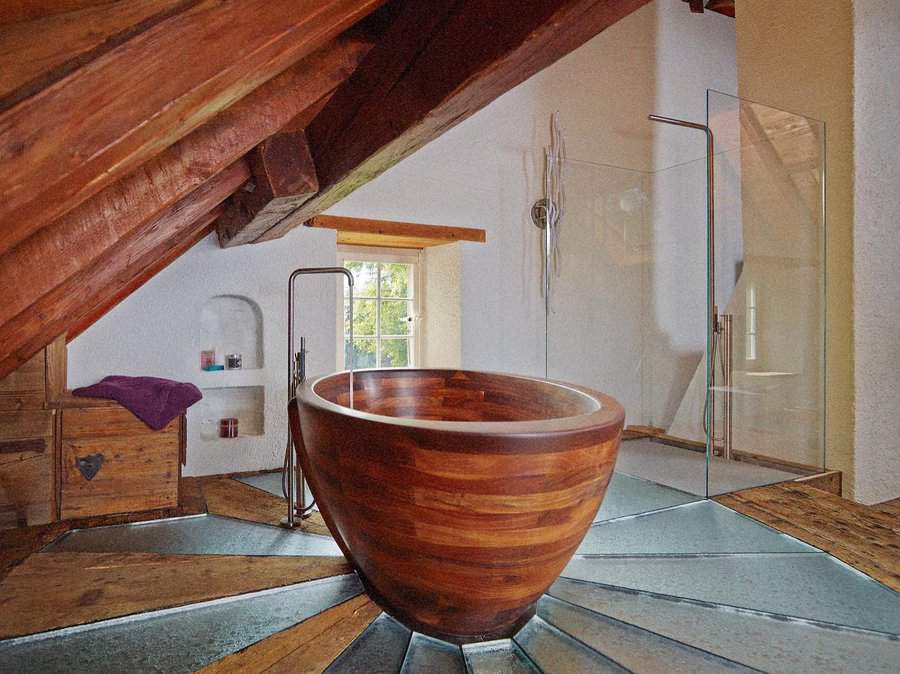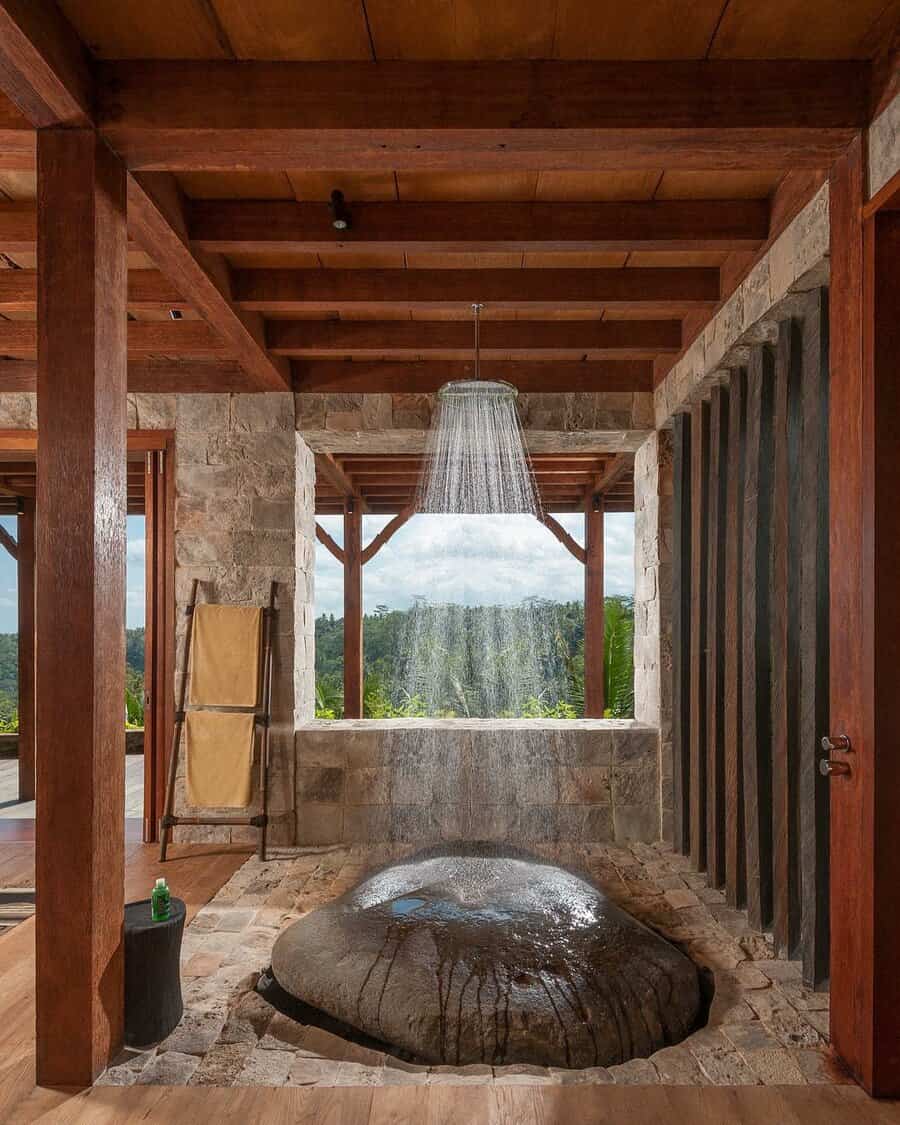 18. Blend Wood and Concrete for Rustic Modernity
Combining wood and concrete in a rustic bathroom strikes a harmonious balance between warmth and industrial chic. Concrete walls give a sleek, modern edge, while wooden accents infuse warmth and texture. To heighten this blend, consider wooden vanities or shelves, which seamlessly merge with the concrete's raw appeal. This duo not only creates a tranquil environment for relaxation but also offers a refreshing, nature-inspired retreat within your home.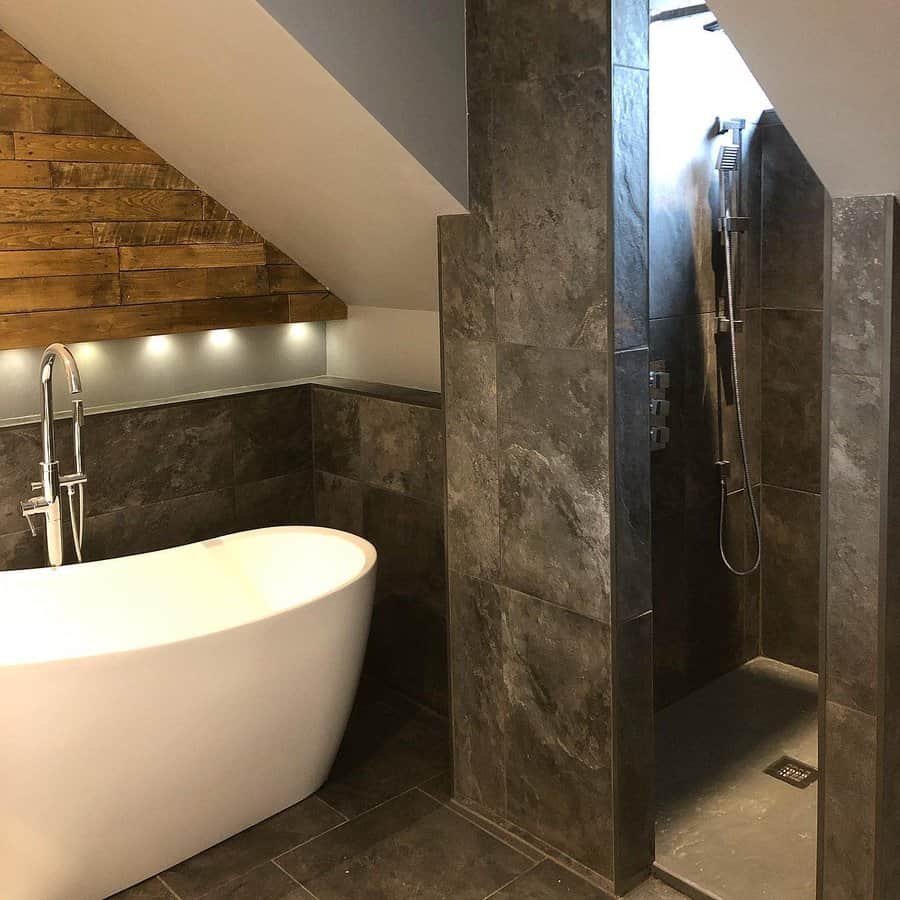 19. Impress with Stamped Floor Designs
Stamped flooring in a rustic bathroom melds durability with aesthetic appeal. Its non-slip nature ensures safety, while its customizable patterns offer versatility. When complemented with rustic features like distressed wood or natural stone countertops, the space feels both cozy and chic. With a plethora of design options available, stamped floors can truly elevate your bathroom's charm and functionality.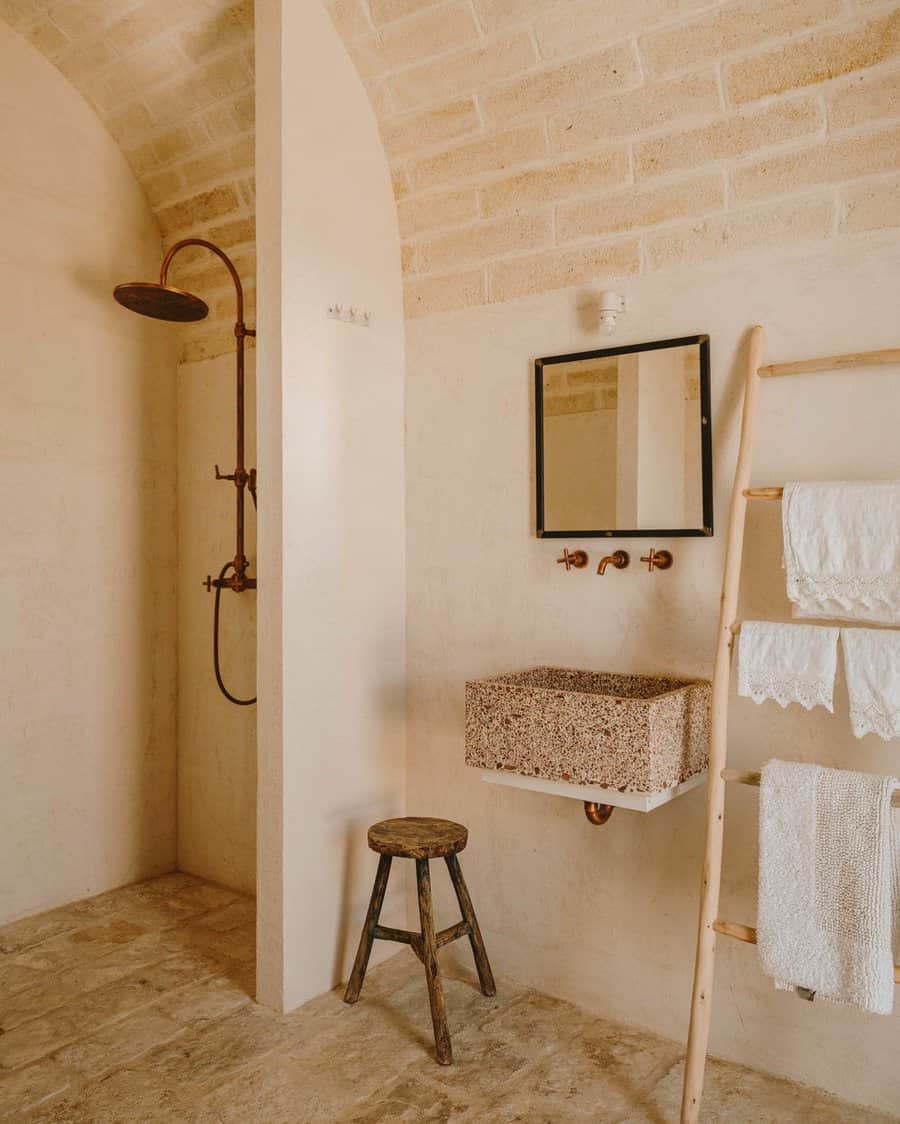 20. Add a Functional Wooden Rack Above Toilet
Introducing a wooden over-the-toilet rack in a rustic bathroom combines style with functionality. This smart storage solution maximizes vertical space, offering room for towels and bathroom essentials. Paired with distressed wood and vintage accents, it not only adds storage but infuses the space with a warm, rustic charm.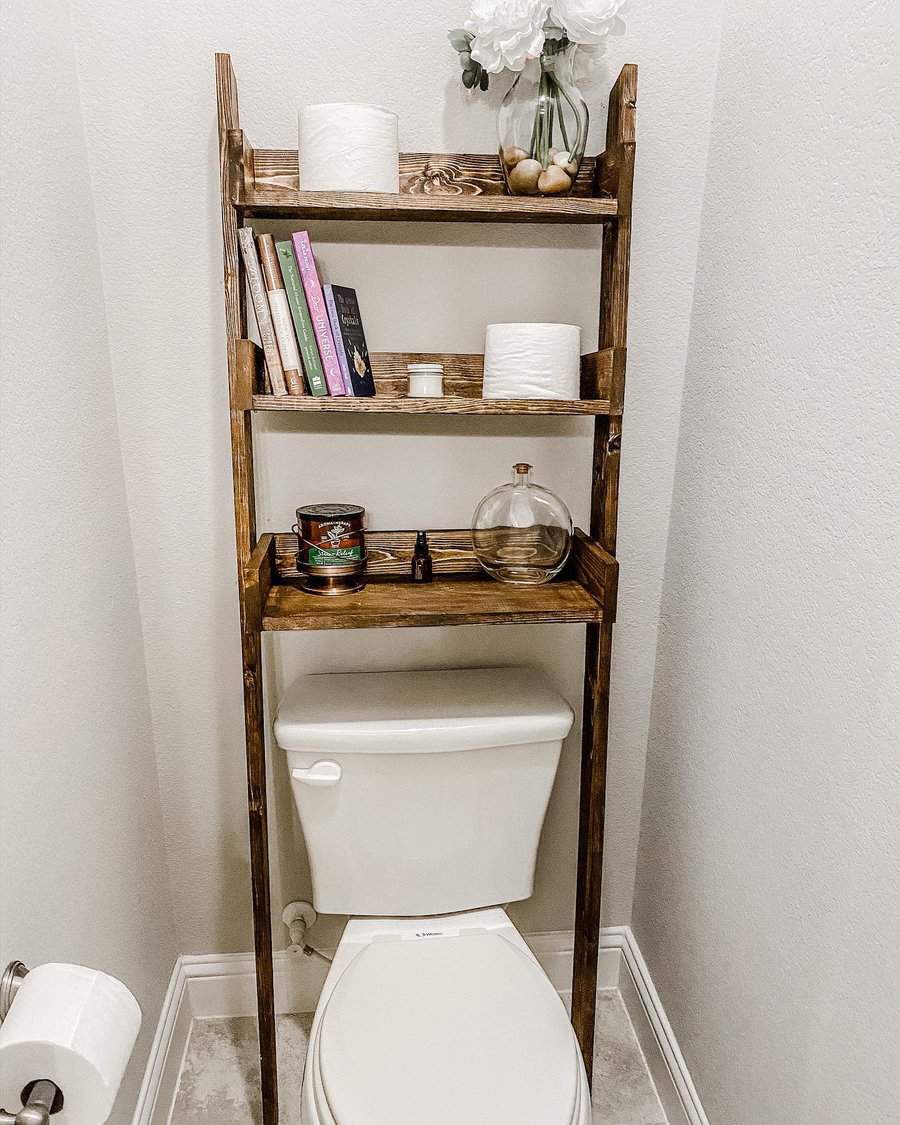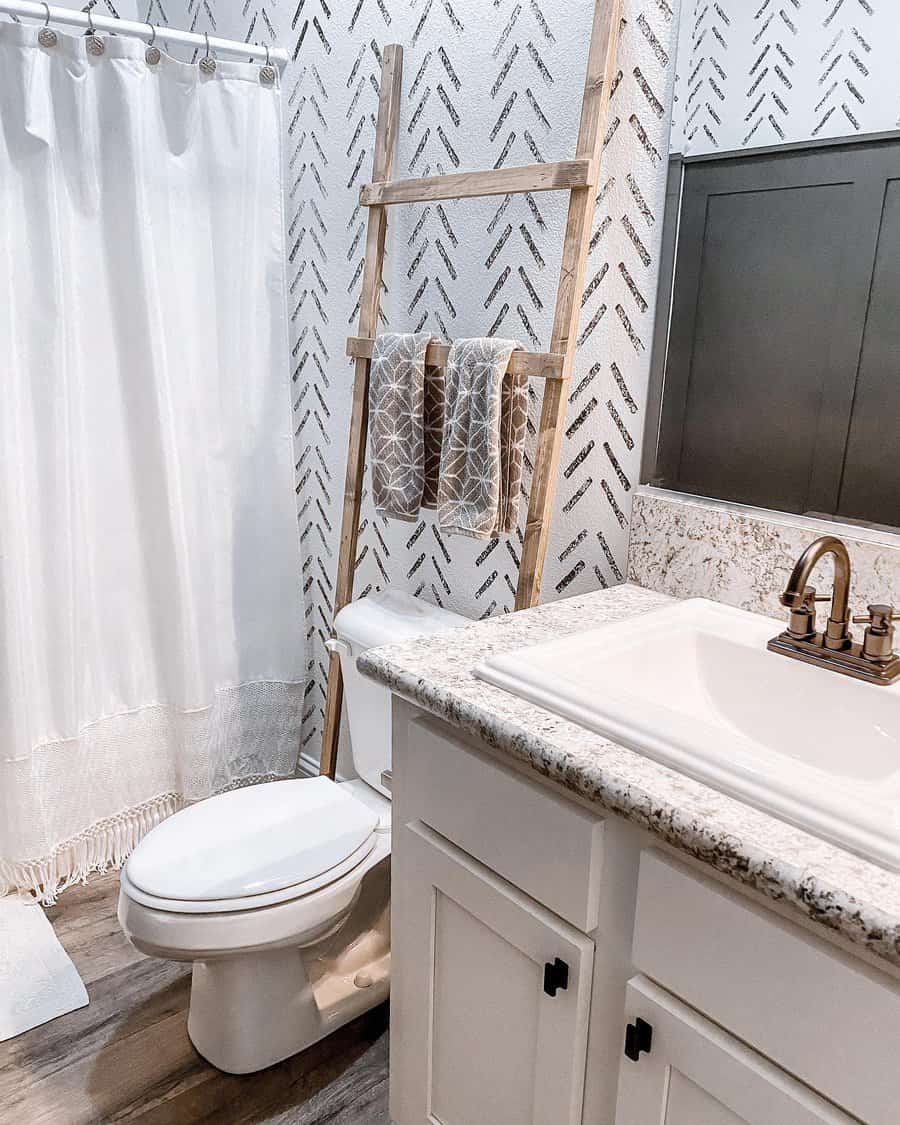 21. Showcase a Stone Brick Wall Feature
Introducing a stone brick accent wall in a rustic bathroom evokes an air of timeless elegance. This natural element instantly becomes a captivating centerpiece, drawing attention with its texture and character. Marrying the rugged appeal of stone bricks with wooden finishes, antique metal fixtures, and ambient lighting creates a harmonious blend of elements, reminiscent of old-world charm. Whether opting for authentic stone or a contemporary brick veneer, a stone brick wall promises a bathroom that exudes warmth, sophistication, and a deep connection to nature.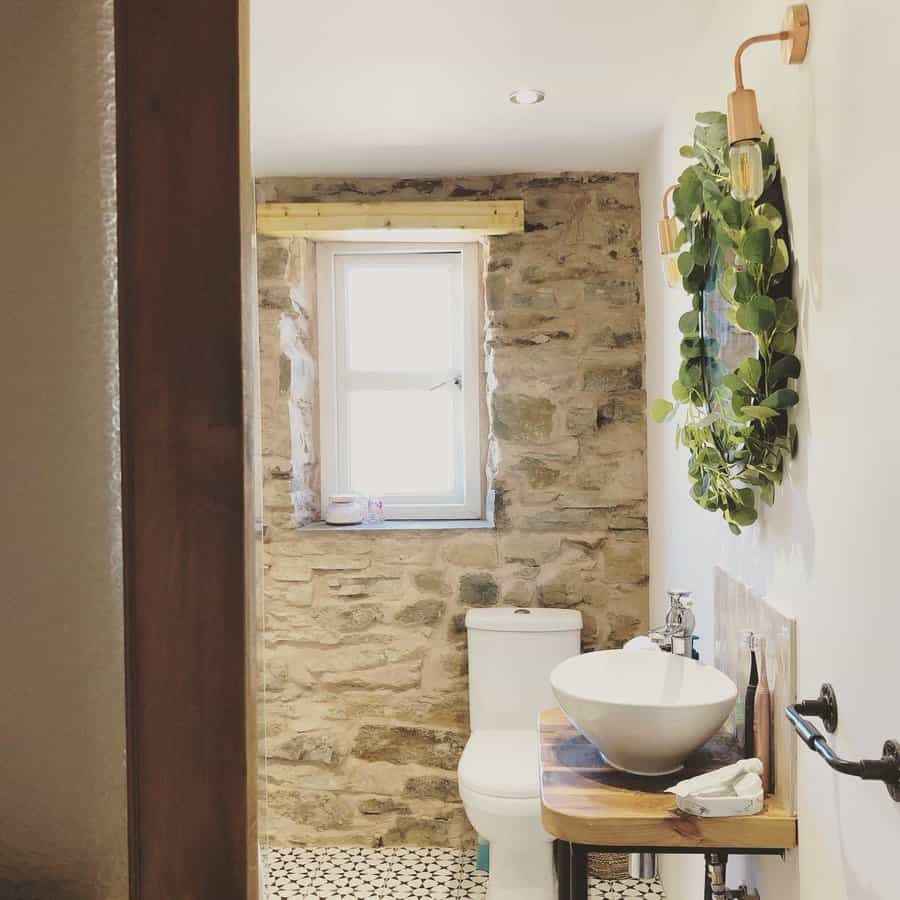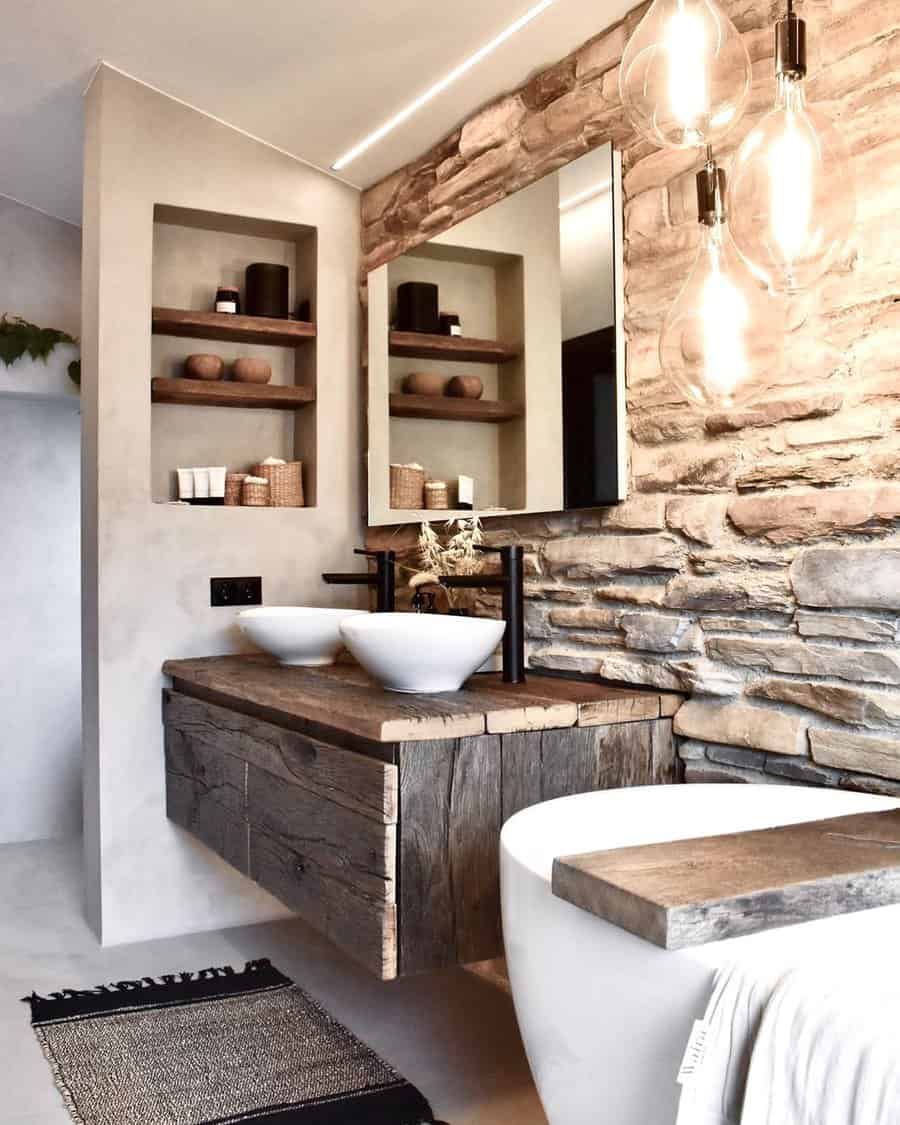 22. Enjoy the Durability of Concrete Countertops
Concrete countertops bring a blend of raw functionality and understated elegance to a rustic bathroom setting. Their inherent strength and resilience make them an excellent choice for spaces that require hardy surfaces. The sleek finish of polished concrete not only offers a touch of modern sophistication but also harmoniously balances the earthy nuances of rustic elements such as timber cabinets, stone backsplashes, and antique fixtures.
Furthermore, concrete's adaptability ensures it can be tailored to match a plethora of design aspirations. Whether you desire a minimalist gray, a tint reminiscent of natural stone, or embedded decorative elements, concrete countertops offer a versatile canvas. Their ability to seamlessly merge durability with design aesthetics ensures a bathroom space that is both stylish and enduring.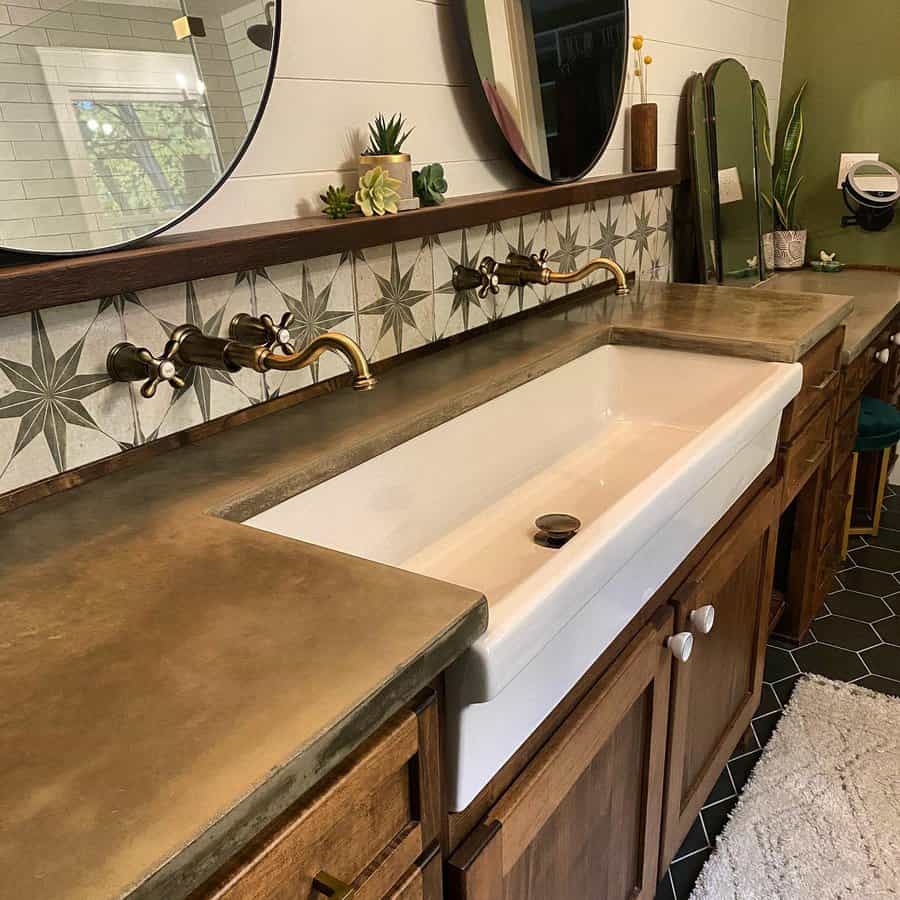 23. Set the Mood with Warm Lighting
Lighting is an essential aspect of creating the right ambiance in any room, especially in a bathroom where functionality meets relaxation. For a rustic bathroom, warm lighting is the key to accentuating its natural, cozy charm. When paired with raw materials like wood, stone, and aged metals, the soft glow from warm lighting can transform your bathroom into a calming oasis.
Opt for pendant lights with Edison bulbs or lantern-style fixtures to give off a nostalgic and gentle glow. Wall sconces with frosted or amber glass shades can cast a soothing luminance that is both flattering and relaxing. For those intimate evenings or restorative baths, consider adding candles or even a chandelier with dimmable bulbs.
Recessed lighting, when placed thoughtfully, can be adjusted to focus on specific areas, adding to the functionality without compromising the mood. And don't forget the potential of a strategically placed table lamp or floor lamp for that extra layer of warmth.
With the right warm lighting choices, you can evoke a serene, spa-like atmosphere, ensuring that every time you step into your rustic bathroom, it feels like a comforting embrace.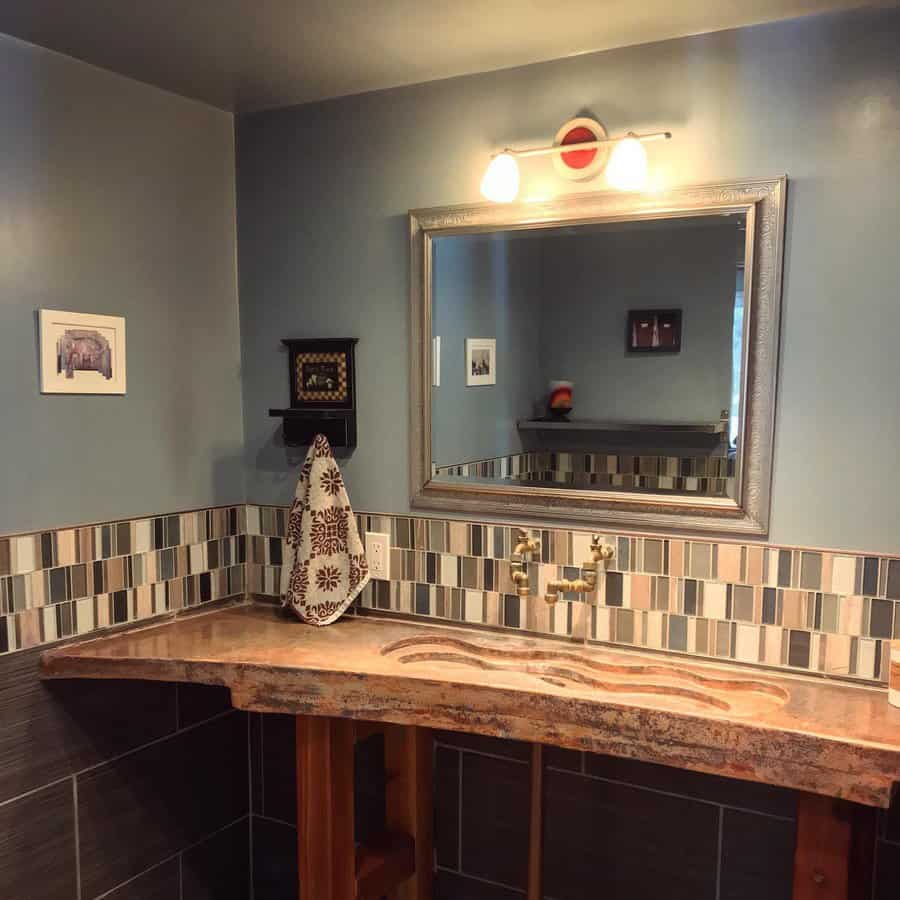 Rustic Bathroom FAQs
What is a rustic bathroom?
A rustic bathroom features finishes that are weathered or worn. Some rough surfaces and designs that are imperfect. The overall feeling should be one of comfort and welcoming. It has an unassuming touch that is almost humble. You won't find ornate designs, but they could be handmade.
What colors are considered rustic?
Typically, you will colors that are inspired by nature in rustic decor. This means lots of browns, beige, green, and grey. However, you are not limited to these colors. You can add any color you want. Rustic design is more about the condition, age, and wear of the decor.
Can you put reclaimed wood in a bathroom?
Of course you can! Reclaimed wood can look stunning in a bathroom. Be sure to only use wood that is in good condition and free from rot or termites. You can use the reclaimed wood for the door, ceiling, cabinets, vanity, or walls. Try to keep it away from the high moisture areas.