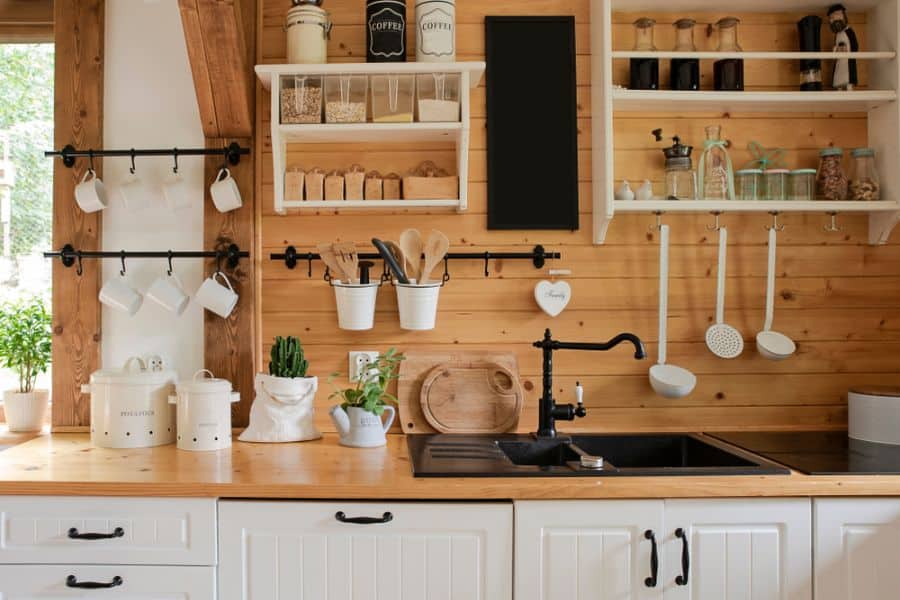 60 Must-See Rustic Kitchen Ideas – Vintage Inspired
"My personal decorating style is cozy, romantic and a little rustic, with a sense of whimsy." – Kimberly Schlapman
Create a sense of warmth and coziness in your kitchen by outfitting it with a rustic design. This unassuming design approach helps to make your kitchen feel warm and comfortable. The rustic vibe seems easy to pull off but can actually be quite challenging. You don't want it to be generic rustic, which can look ragged. It should reflect your multifaceted personality.
These rustic kitchen ideas will help you find just the right twist on this popular interior design theme.
1. Boho
Give your kitchen a boho touch by adding handmade elements to the rustic design. They don't have to be perfectly made. There is beauty in simplicity and the imperfect. You could add a rustic kitchen backsplash and use exotic handmade tiles. Hang handmade cutting boards that you collect from all over the world.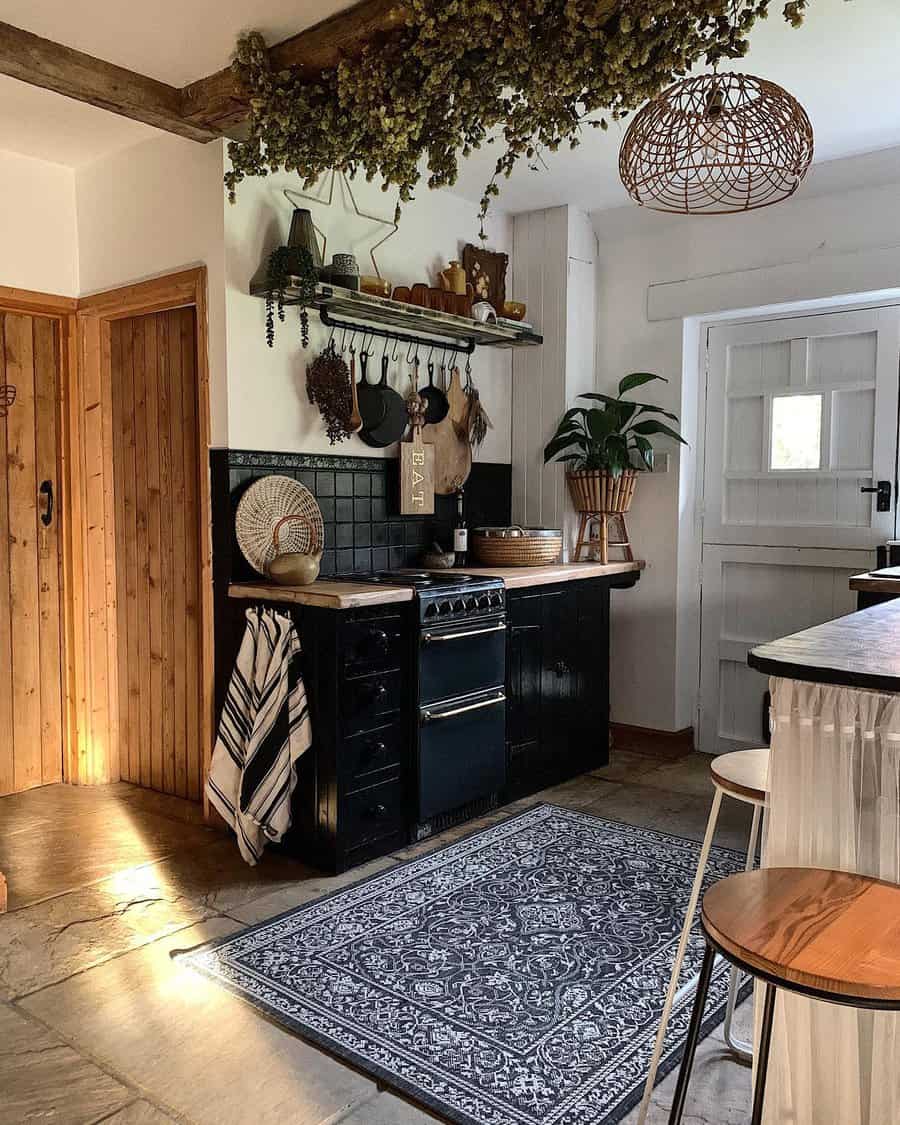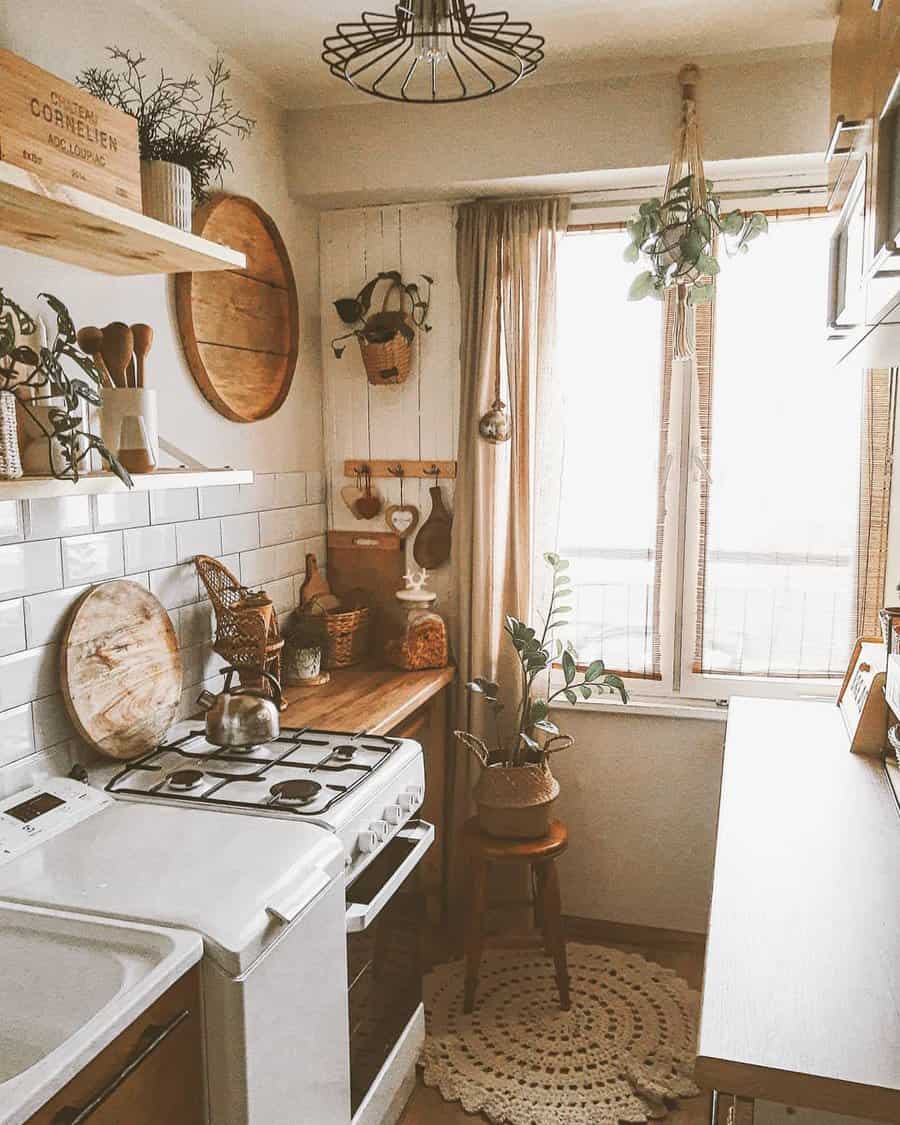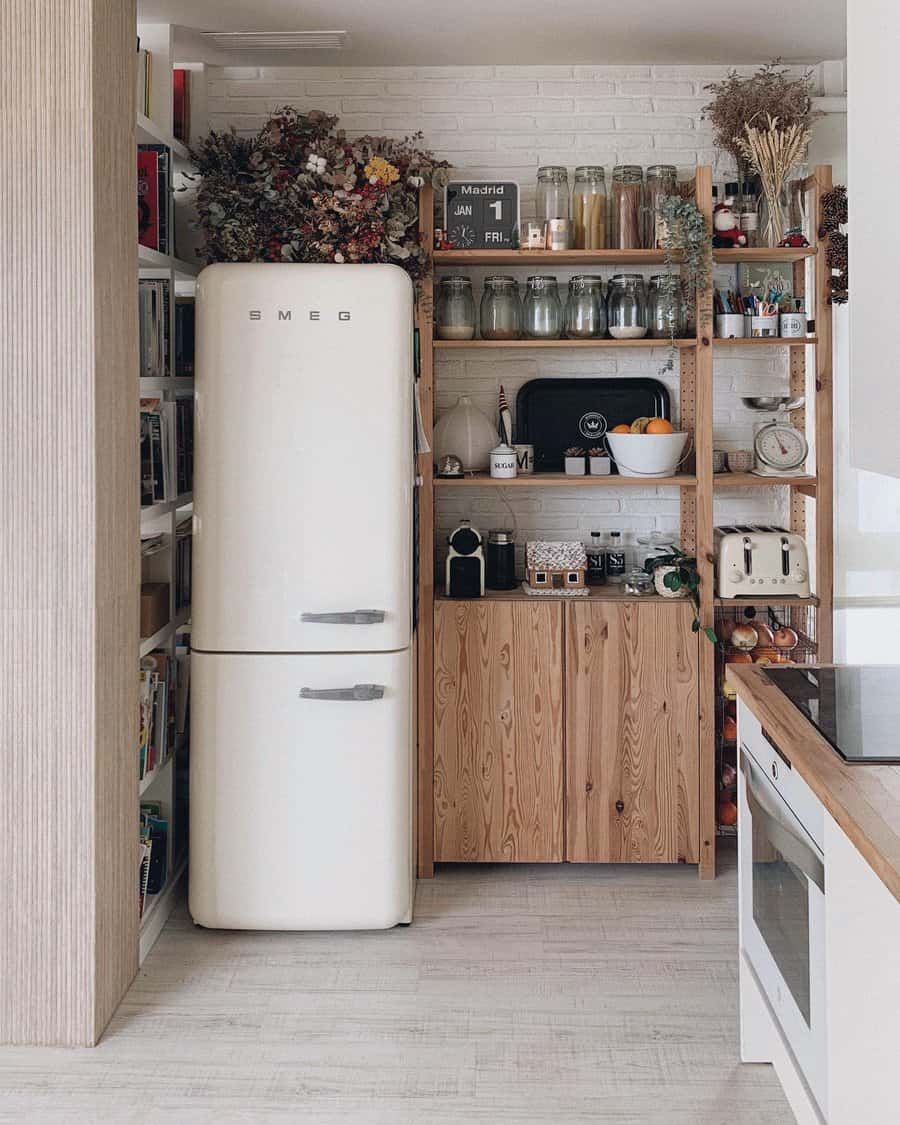 Think about exotic cultures that you love and use elements from them in your kitchen. Hang pendants with metal shades from India that have a hand-stamped design. You could use a hanging metal grate for arranging your pots and pans over the island.
2. Brick
Bricks are perfect for adding a rustic feel to your kitchen. Using reclaimed or salvaged bricks will have the perfect amount of wear and tear. This adds texture and color to your kitchen. A natural place for using bricks is on an accent wall or the floor. But there are other ways you can use bricks to add rustic charm to your kitchen.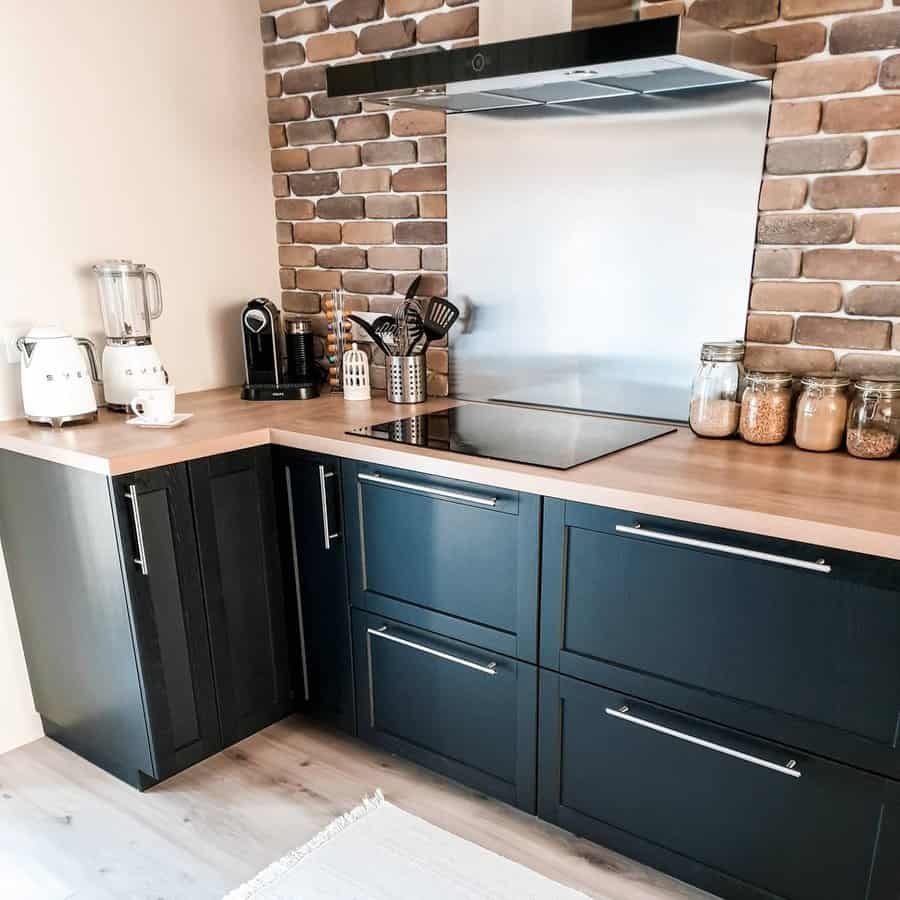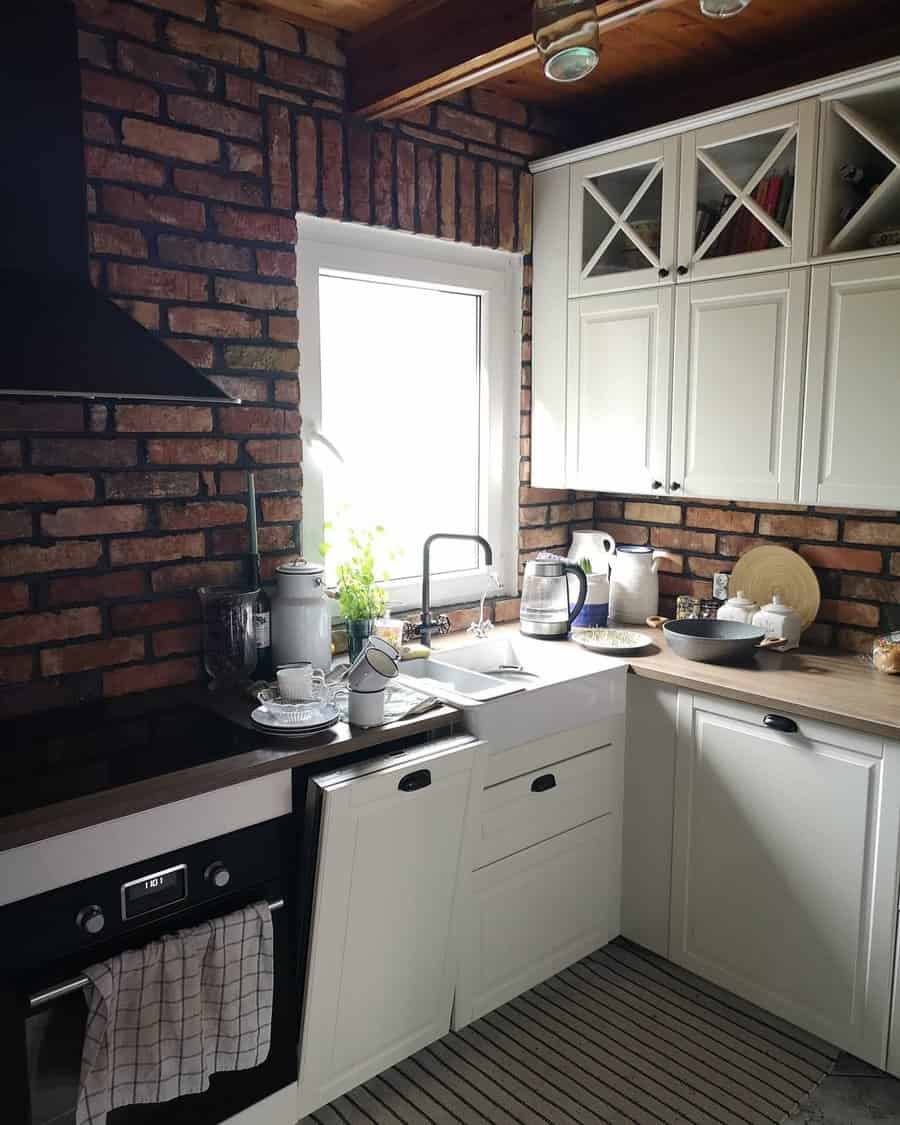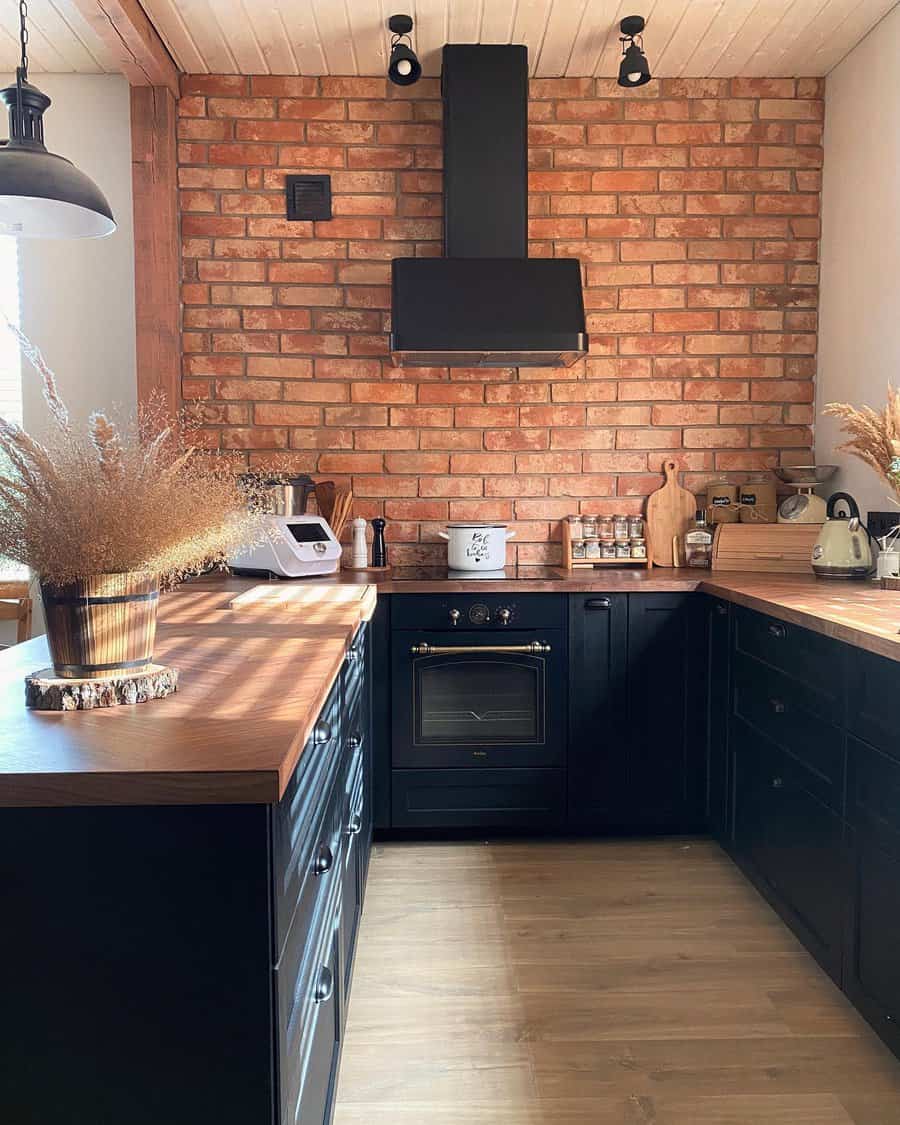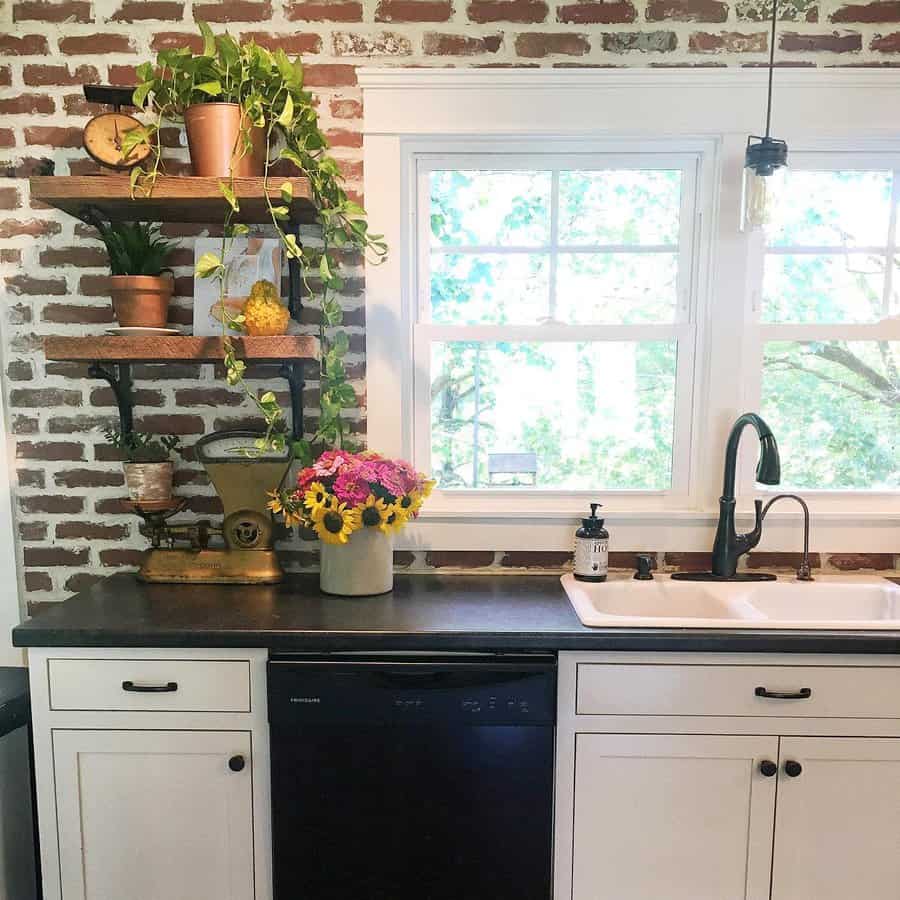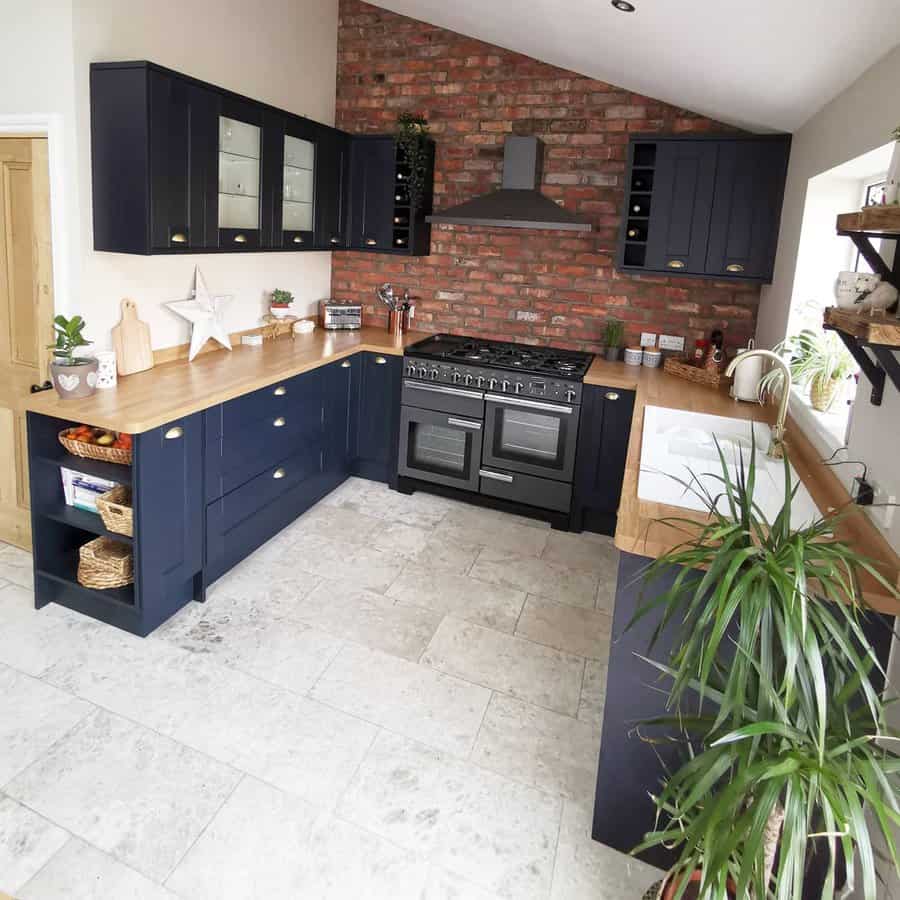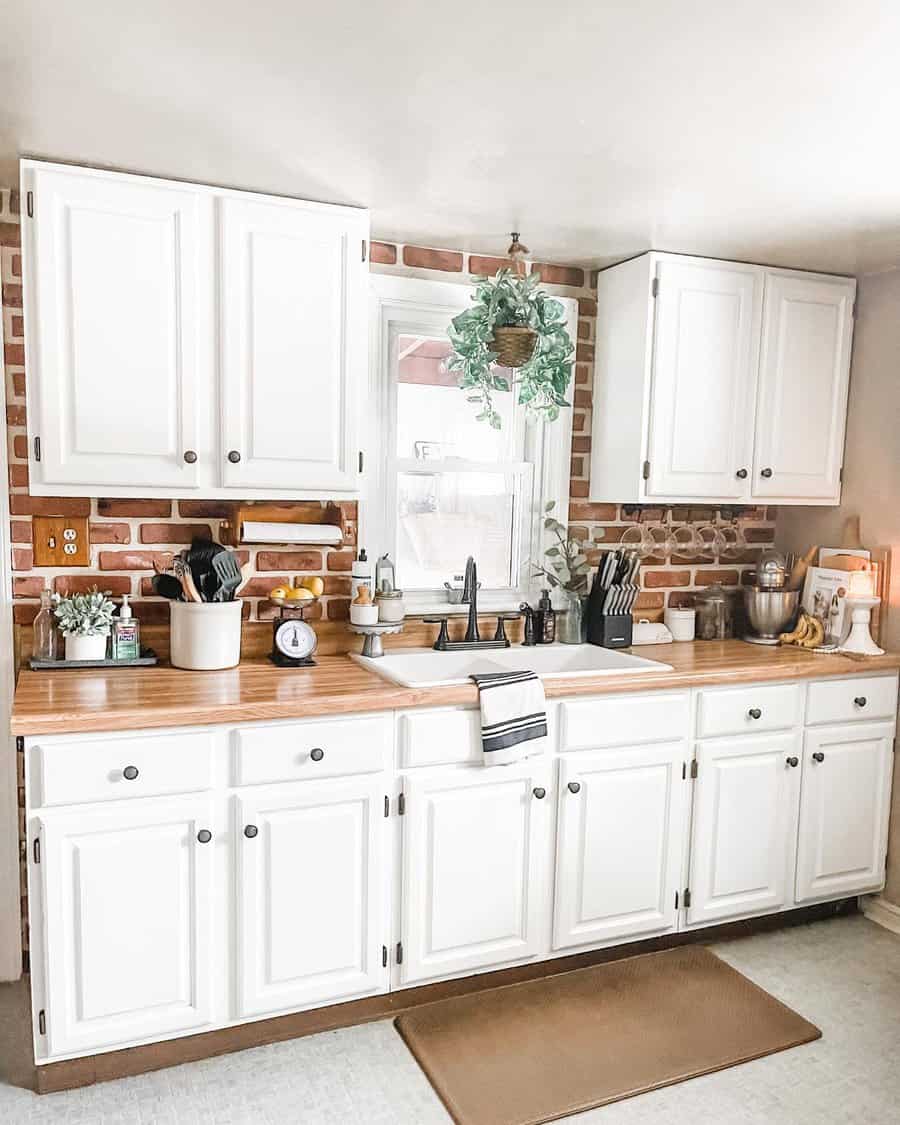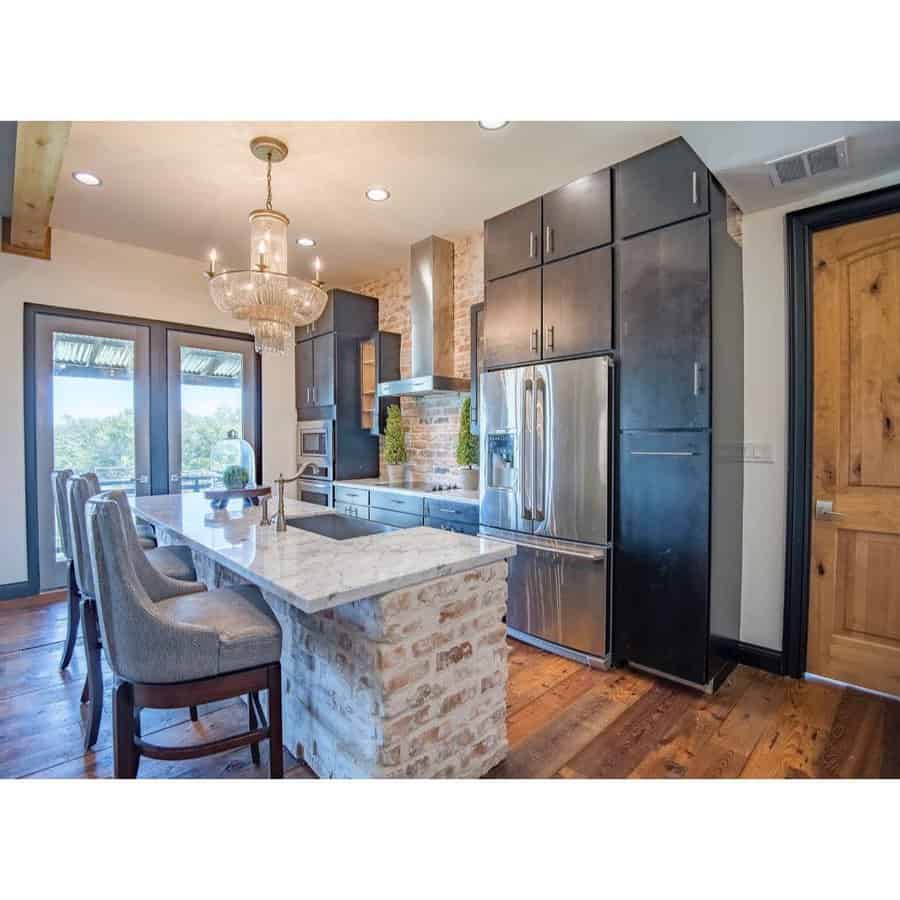 Use the bricks to build a fireplace. This harkens back to olden times when fireplaces were common in the fireplace and used for cooking. You could also use the bricks to add a backsplash and hutch around and over the stove.
3. Cabin
Imagine your kitchen was in a wood cabin located in the middle of the woods or on the side of a mountain. Now emulate that look in your kitchen. Start with wood flooring. If you don't want to or can't use real hardwood flooring, then vinyl or laminate can mimic the look. Pair your floors with wood on the ceiling. You could have exposed wooden beams and a white ceiling or cover the ceiling in wood planks.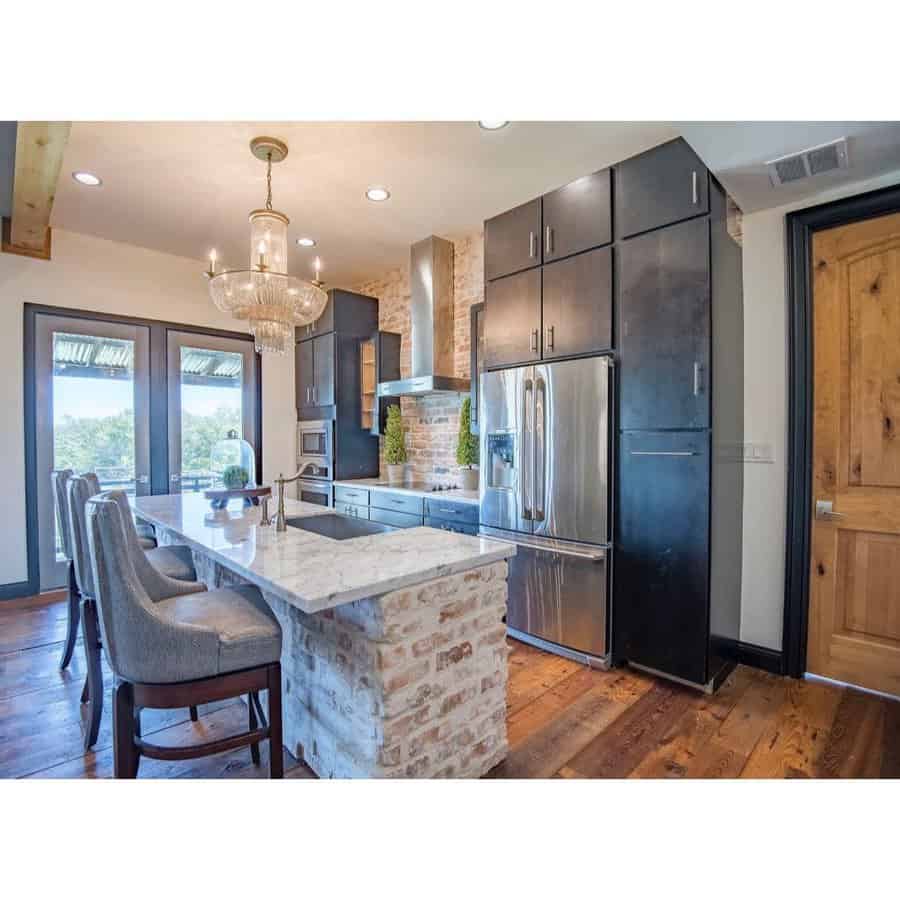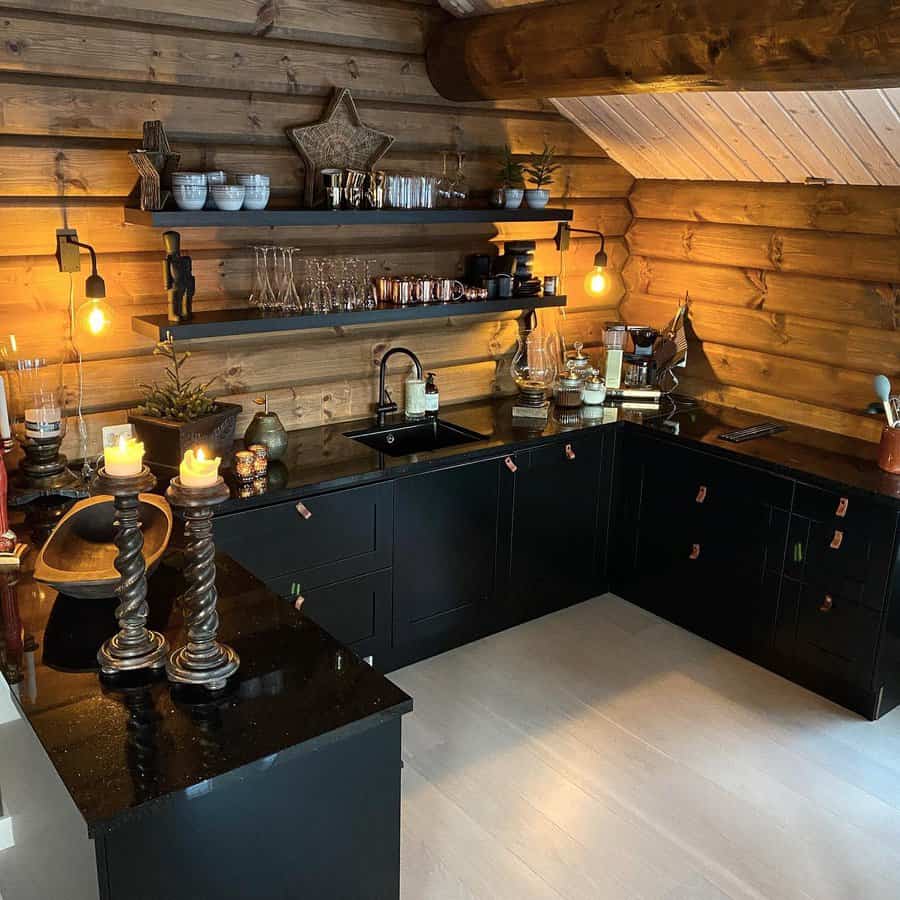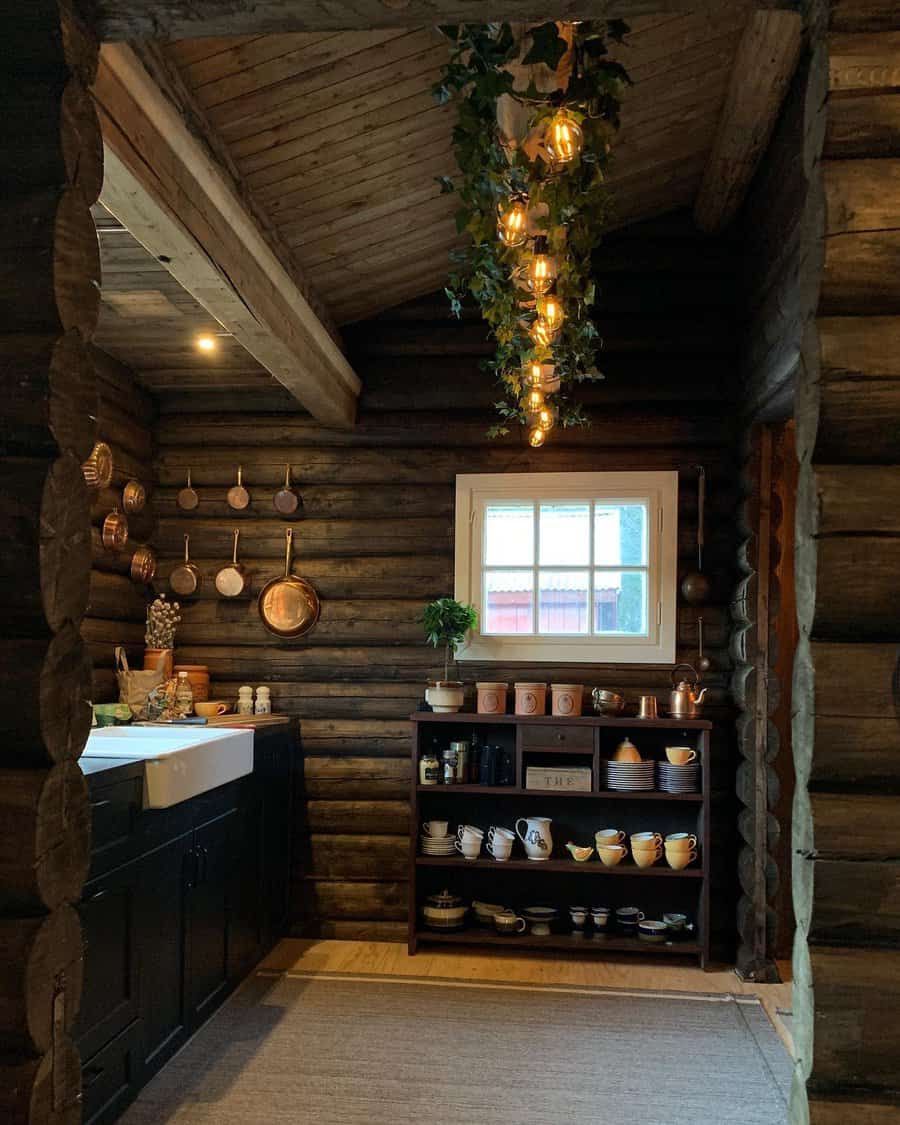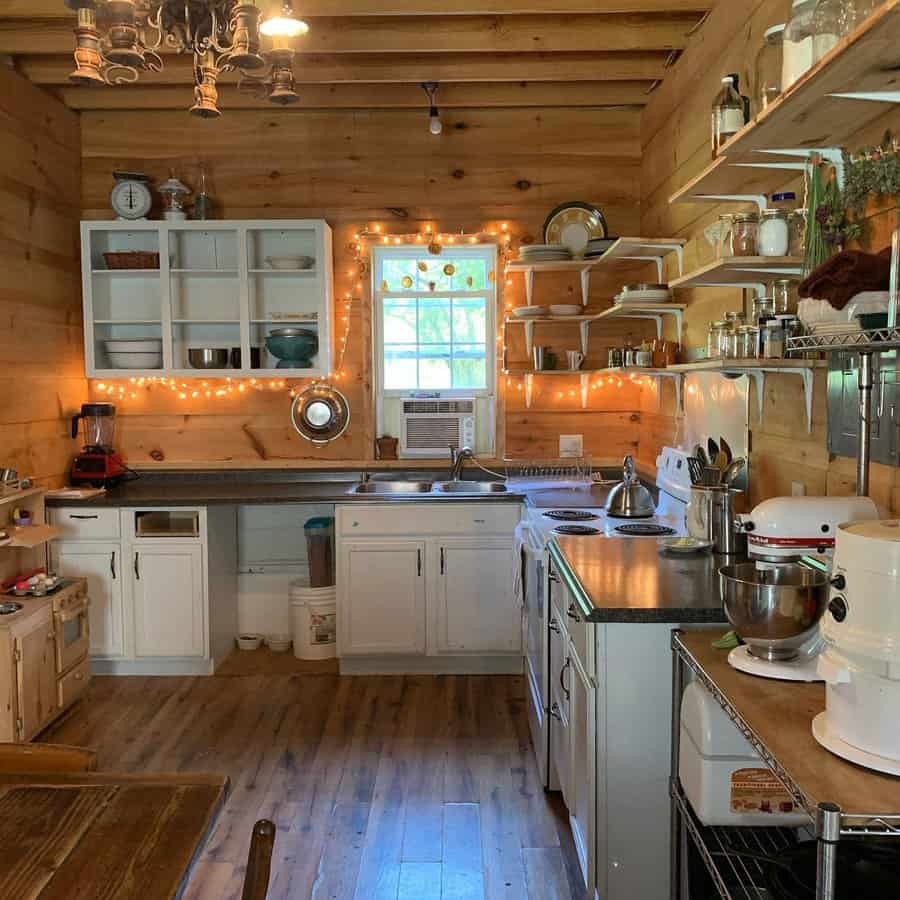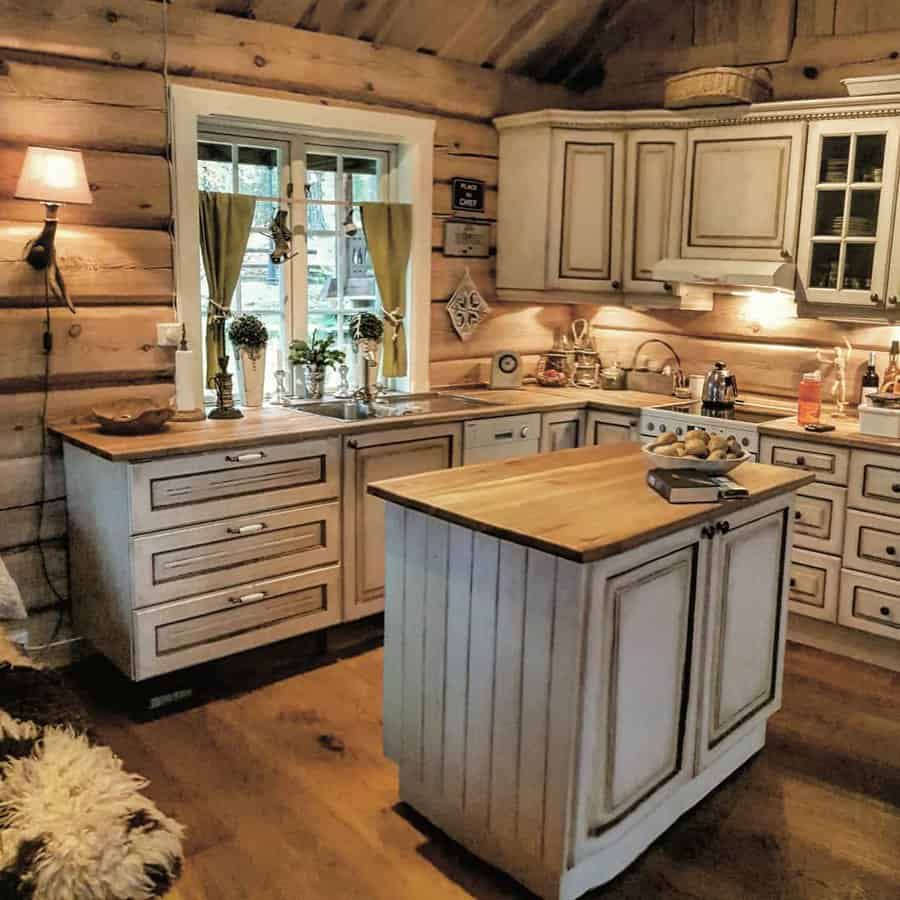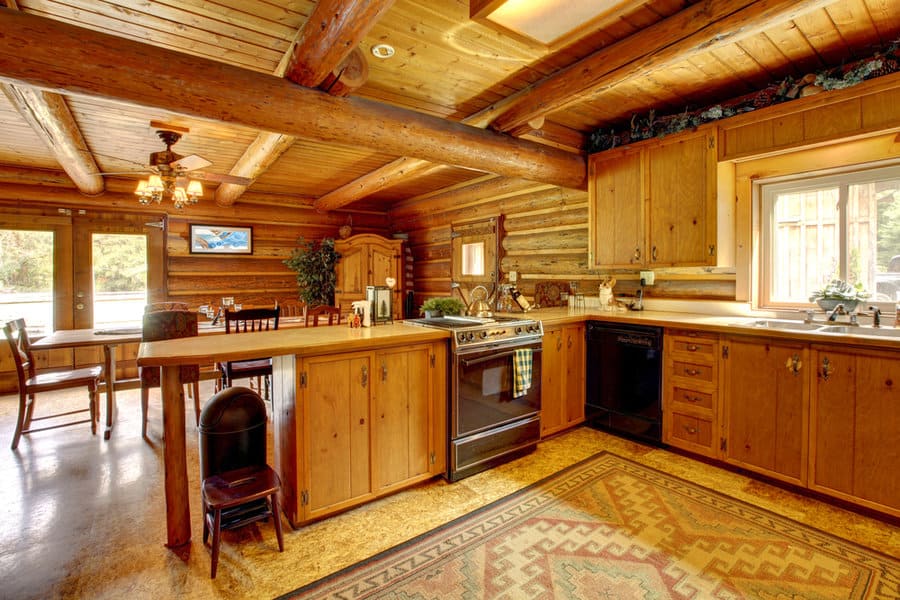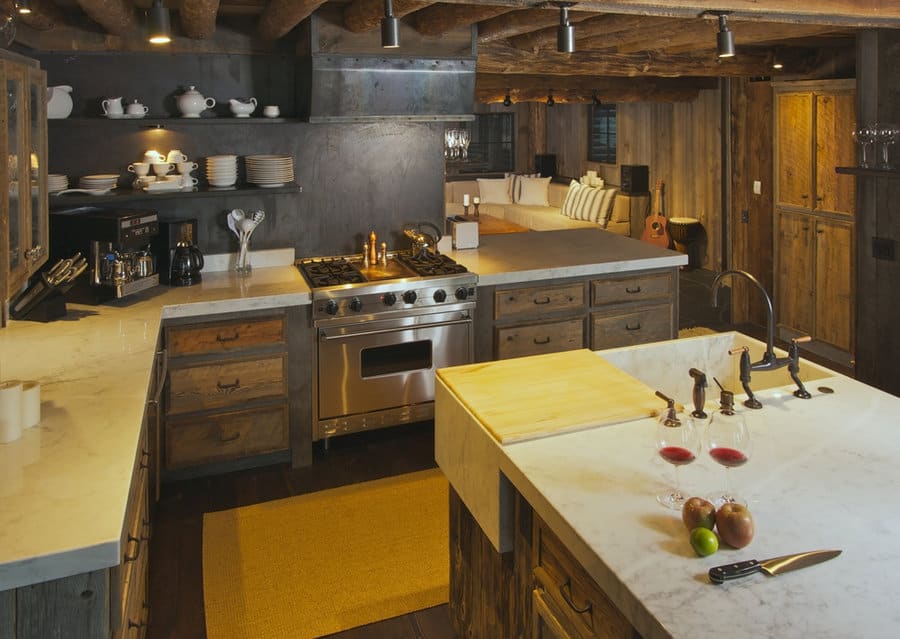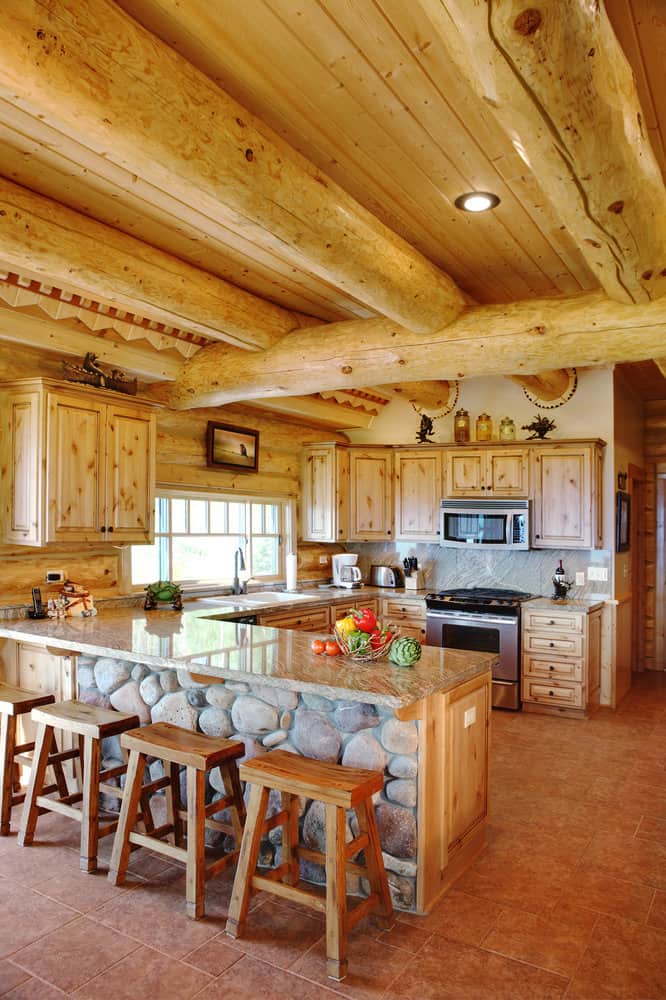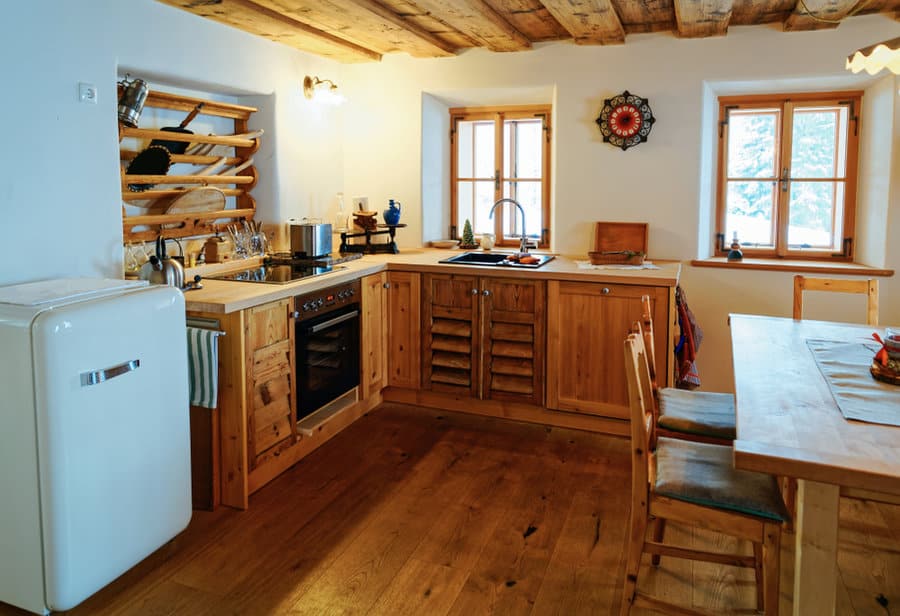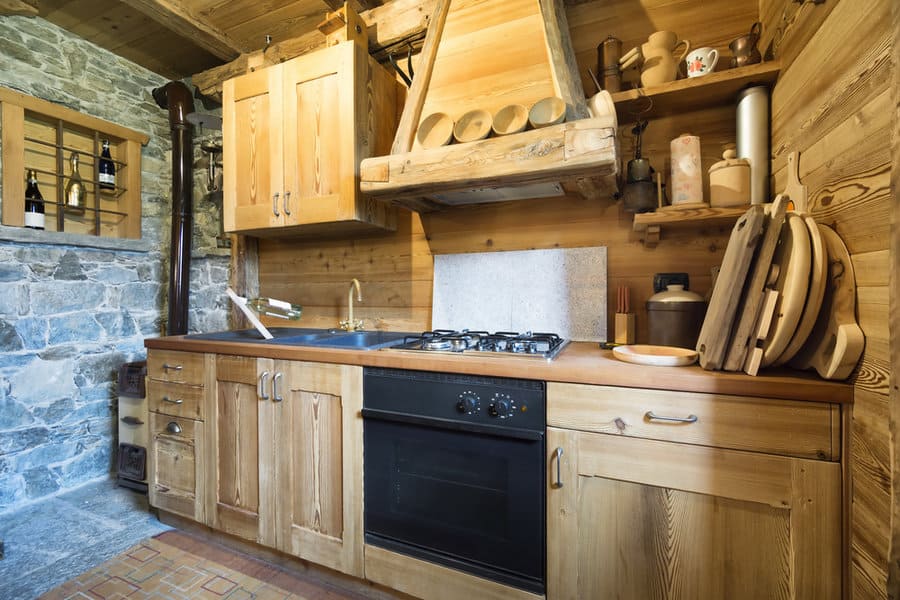 Don't be afraid to use dark wood in your cabin design. It can add warmth and drama to your kitchen. If you're afraid of it becoming too dark, lighten the space with the use of light colors throughout. This could be the curtains, an area rug, or countertop.
4. Cottage
Give your rustic kitchen cabinet a cottage-inspired theme by painting delicate flowers on the doors. Hang lace curtains over the kitchen windows. Add a small garden section where you can grow fresh herbs for cooking. Add seasonal blooms in a water pitcher to decorate the counters.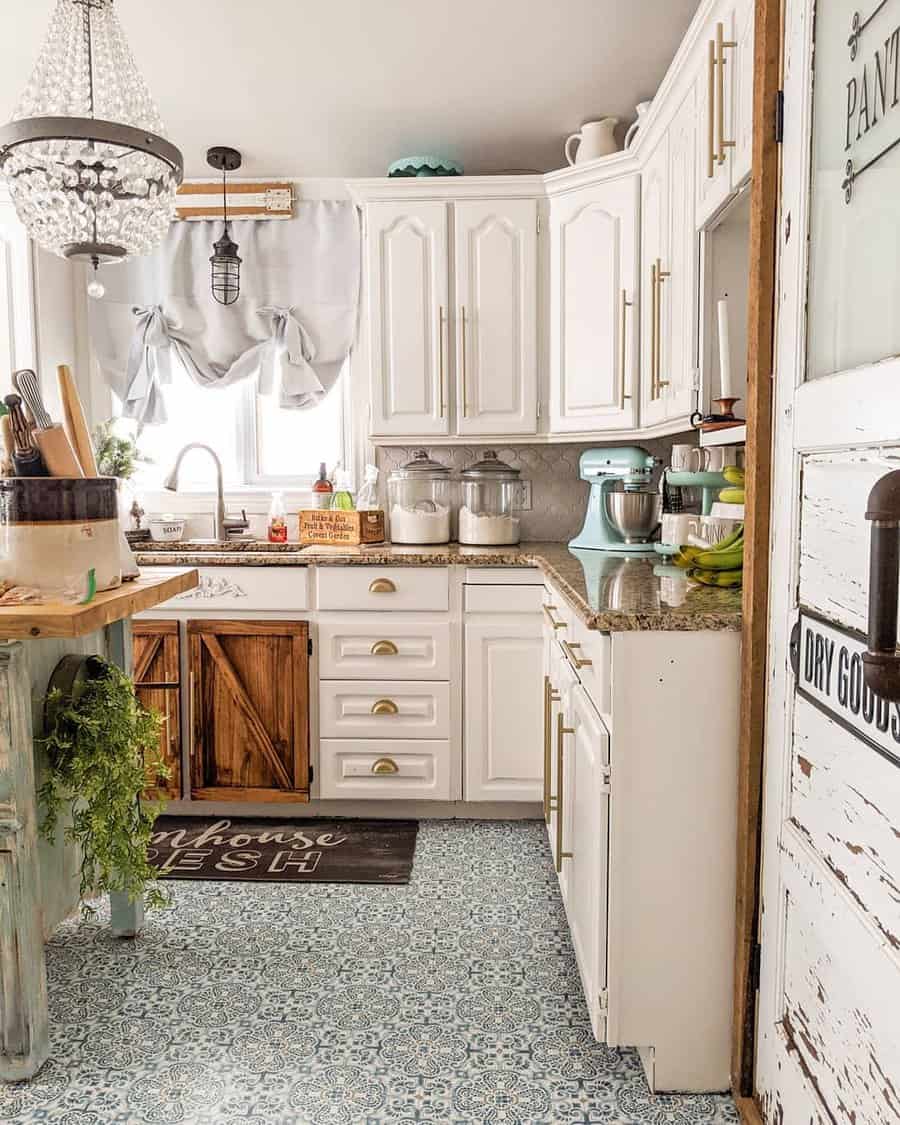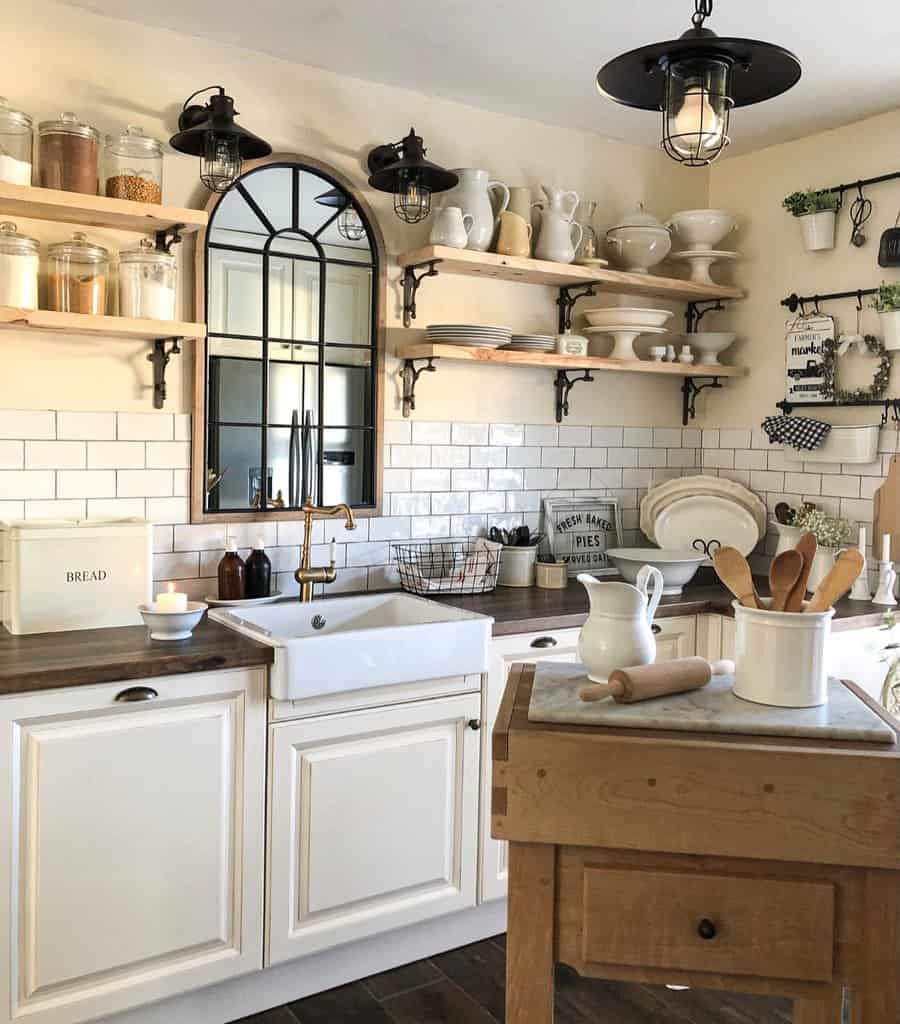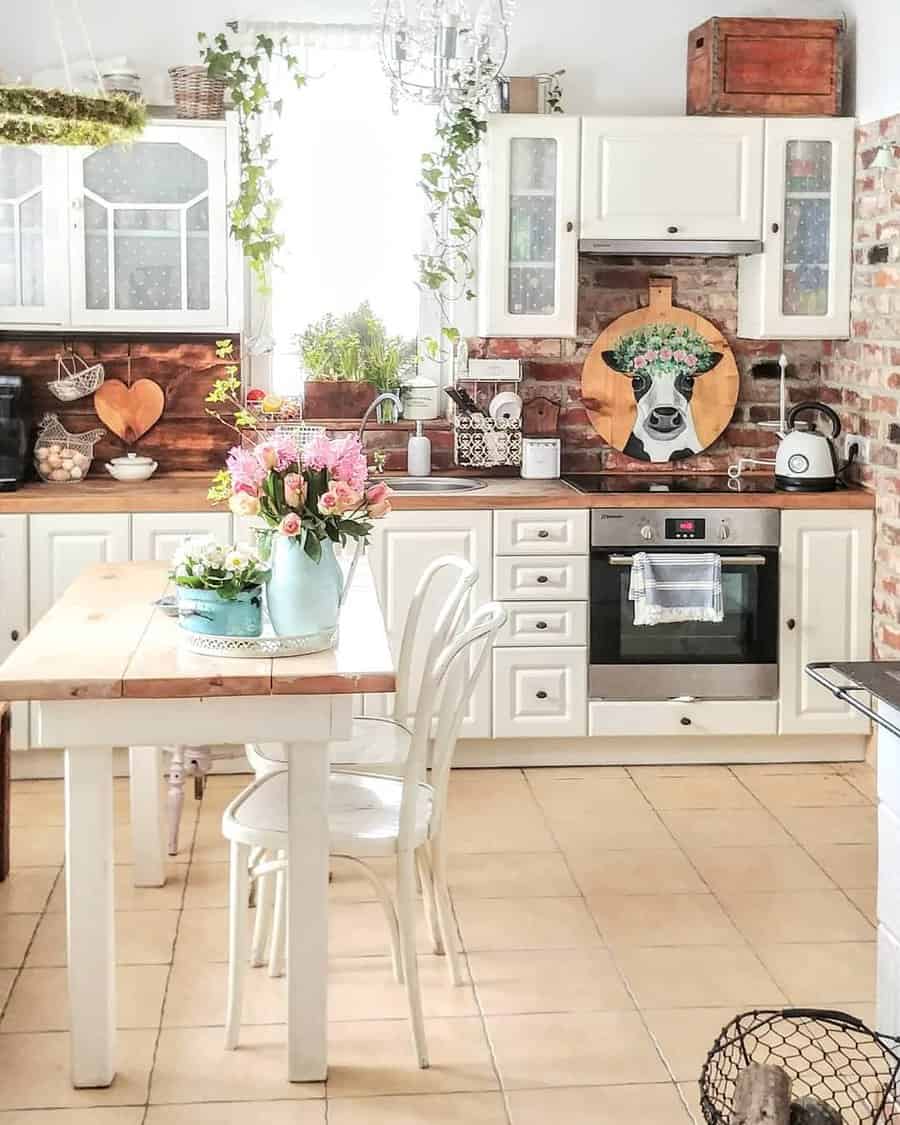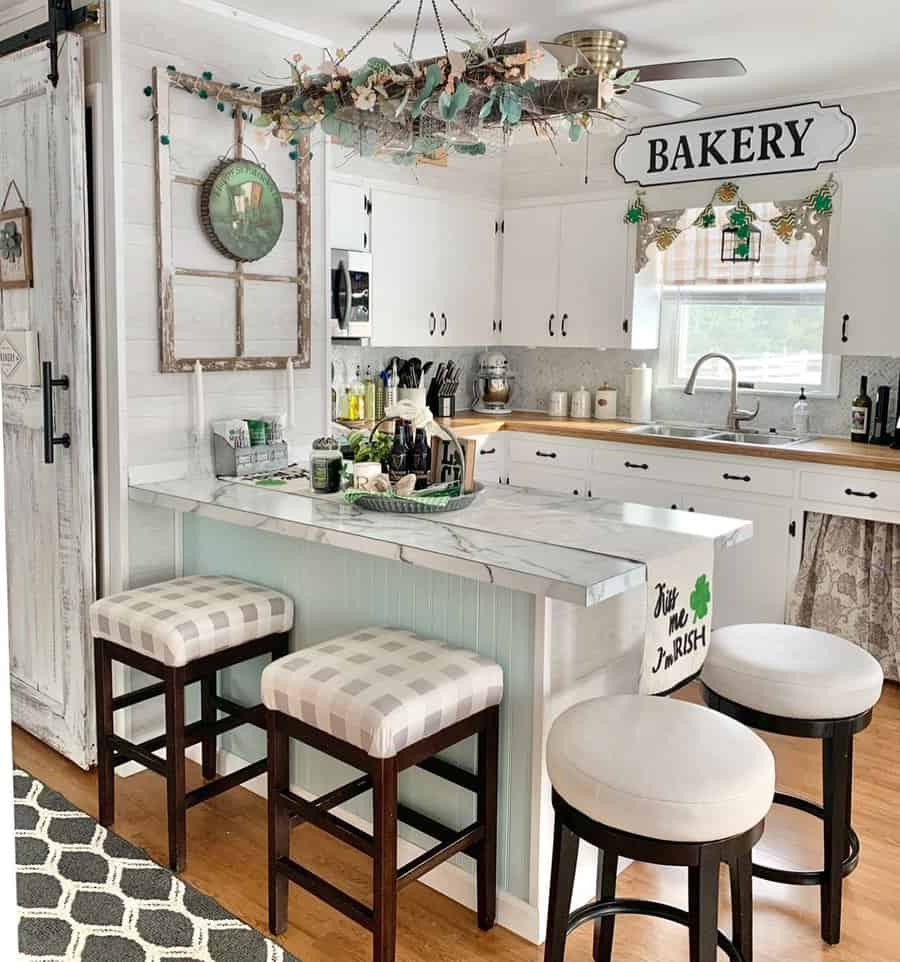 For the full look, replace your appliances with vintage-inspired ones. They come in a variety of bold colors that will bring life to your kitchen. Continue the color theme with the cabinets by painting them a soft, pale color. Keep the design feeling fresh by only painting some of the cabinets with color and keeping the rest white.
5. Country
Try adding a rustic kitchen island to your country kitchen. It could be open underneath to emulate the look of a table and keep the space feeling open. Arrange bar height chairs on one side for a makeshift breakfast bar. Hang a pot rack overhead to add to the country decor while also making your pots and pans readily available.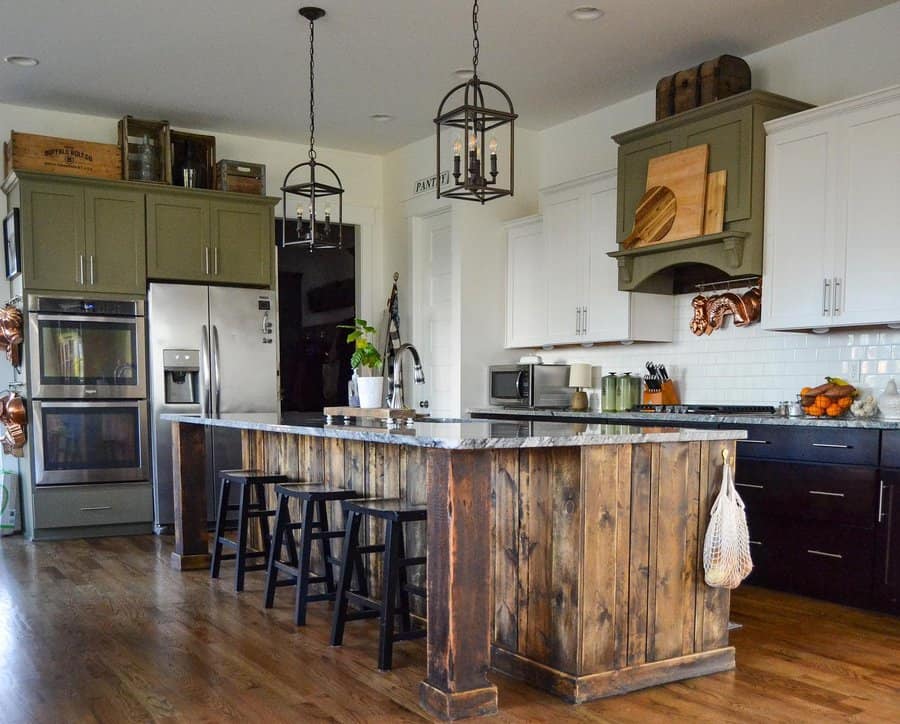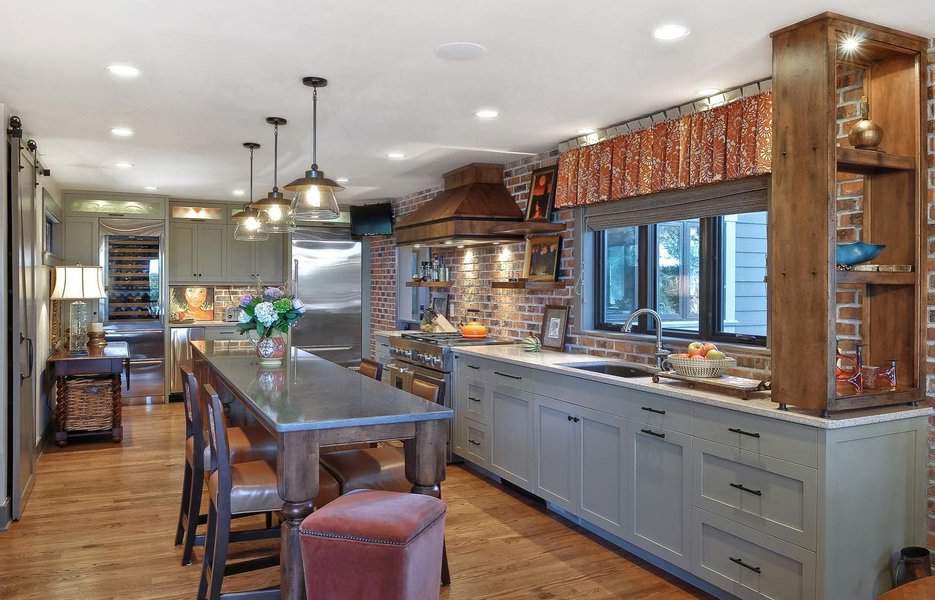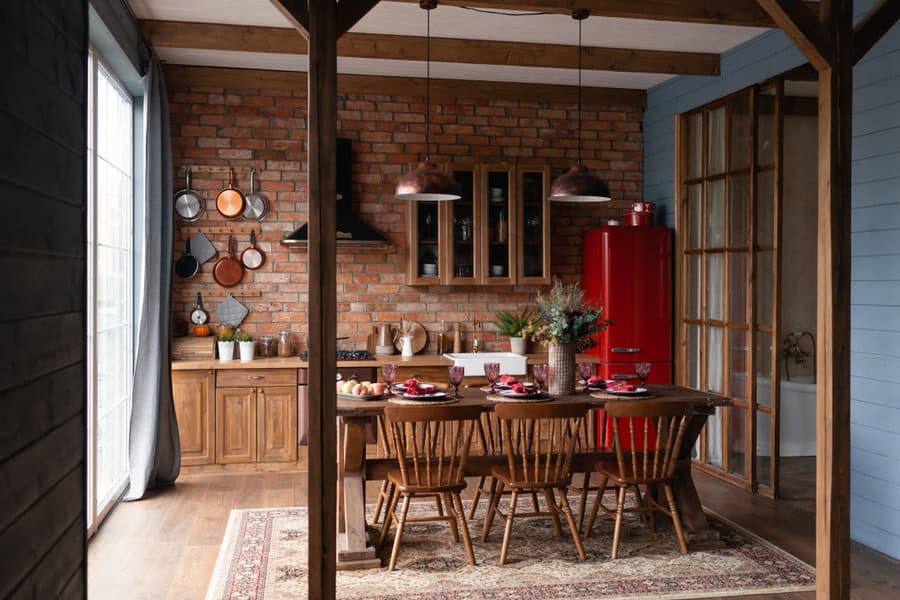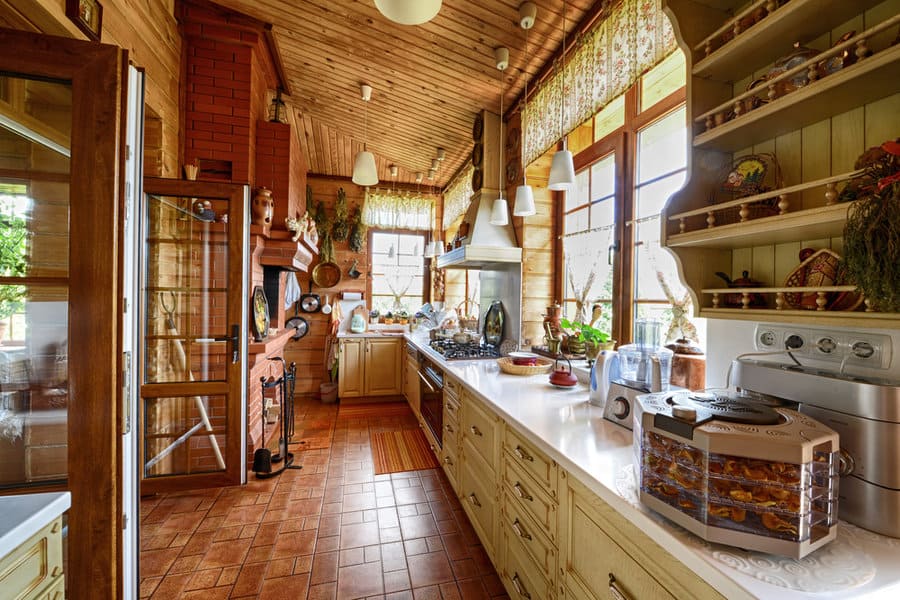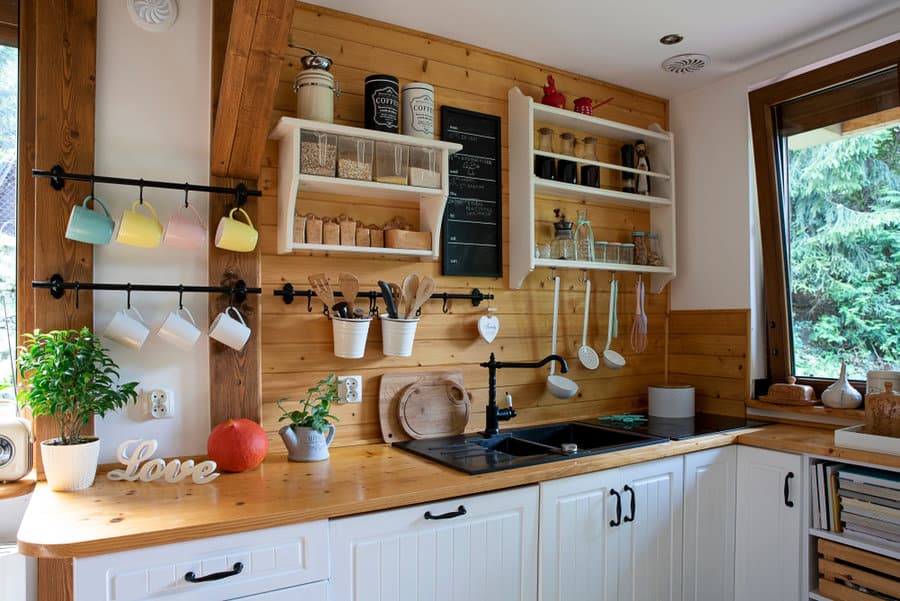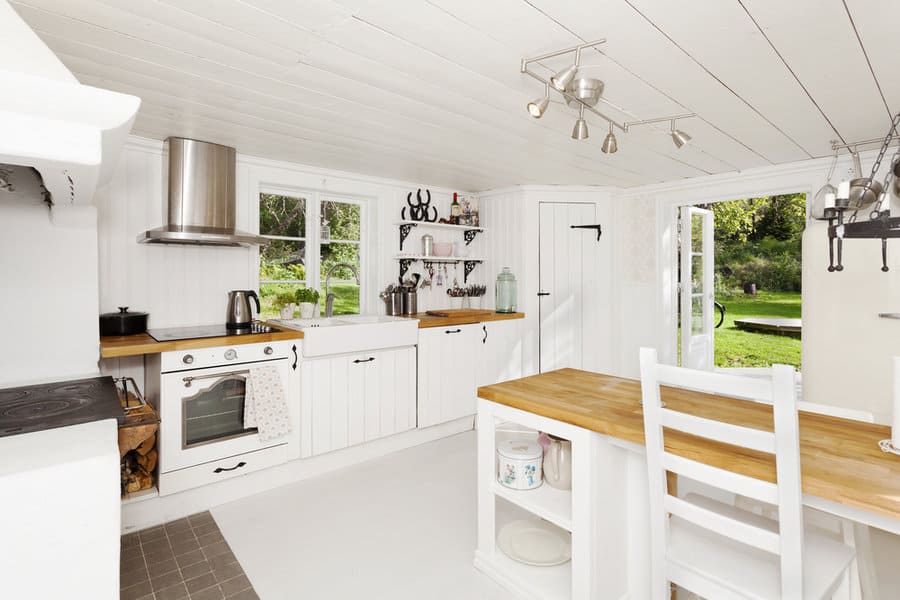 Give your wood kitchen cabinets an update to help them be country-inspired. Add beadboard to the front. Cut out a window in each door and cover it with chicken wire or mesh.
6. Decor
There are two approaches you can take when buying rustic decor for your kitchen. The first is to buy it new. This is the easier option as new rustic farmhouse decor is readily available. The downside of this approach is that it is all faux-aged. Too much of this type of decor and your kitchen will look overly styled, losing the charm that people love about rustic design.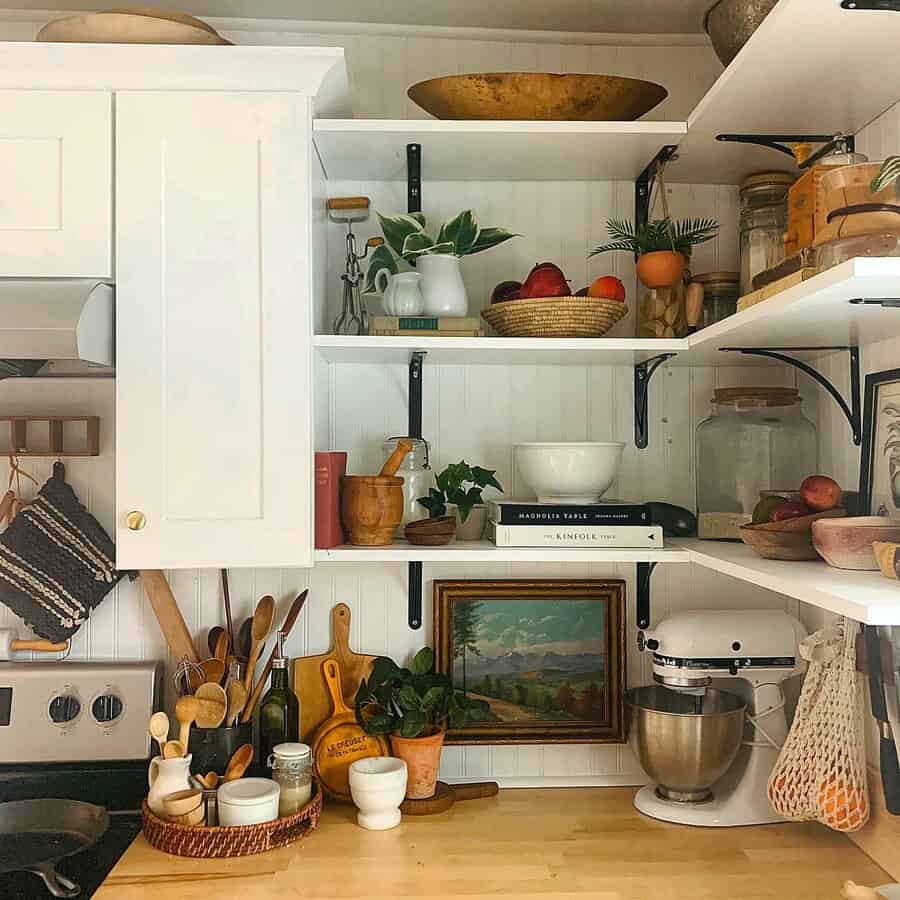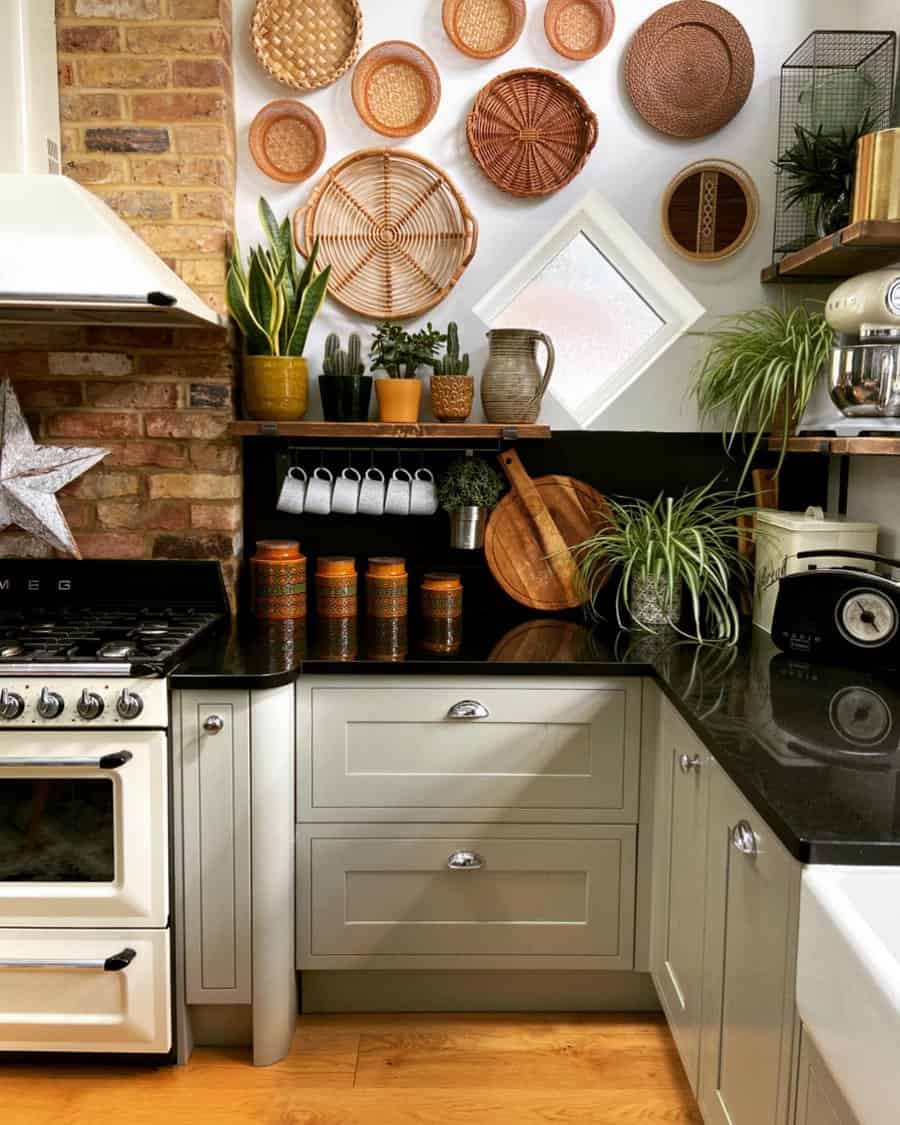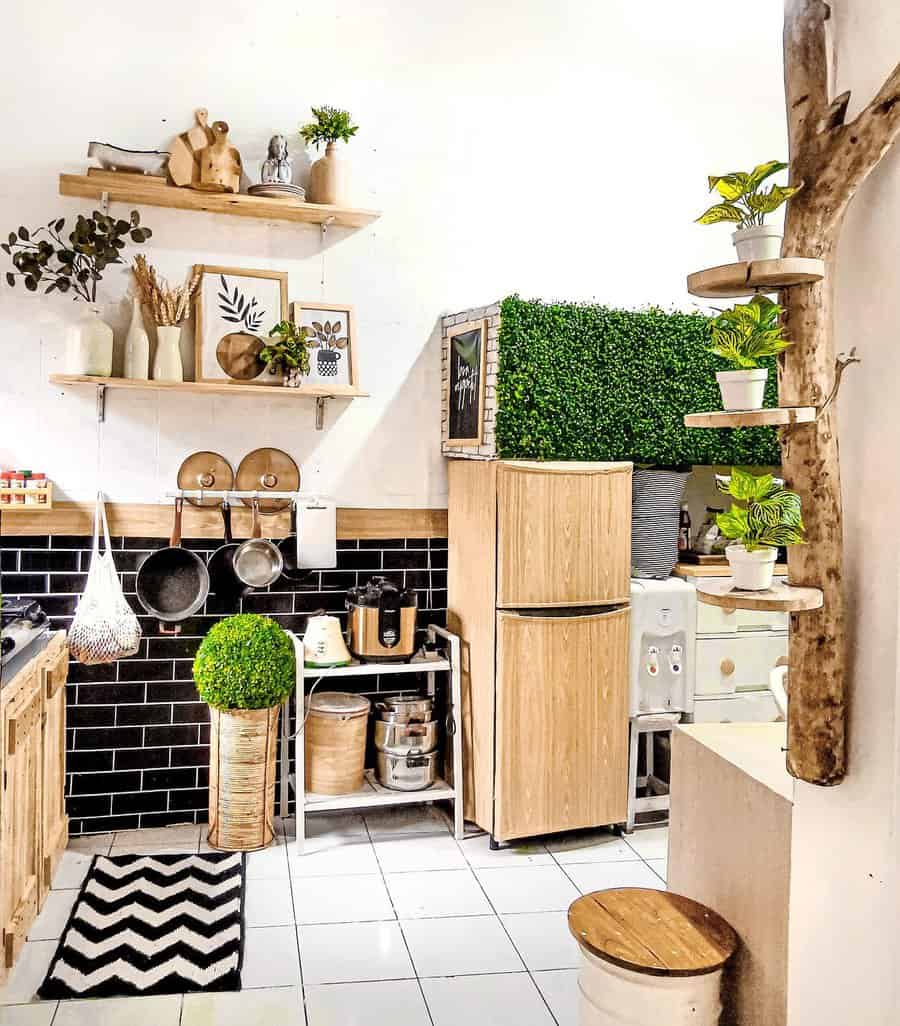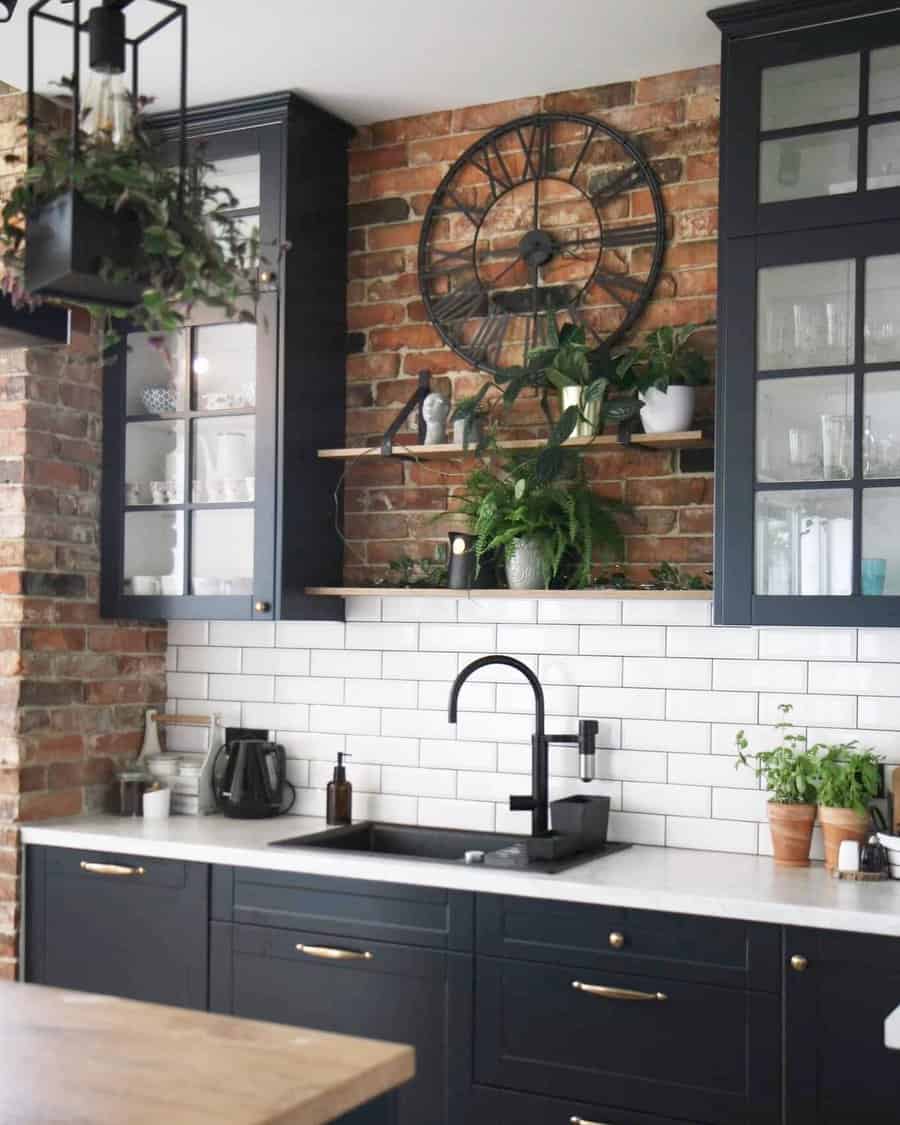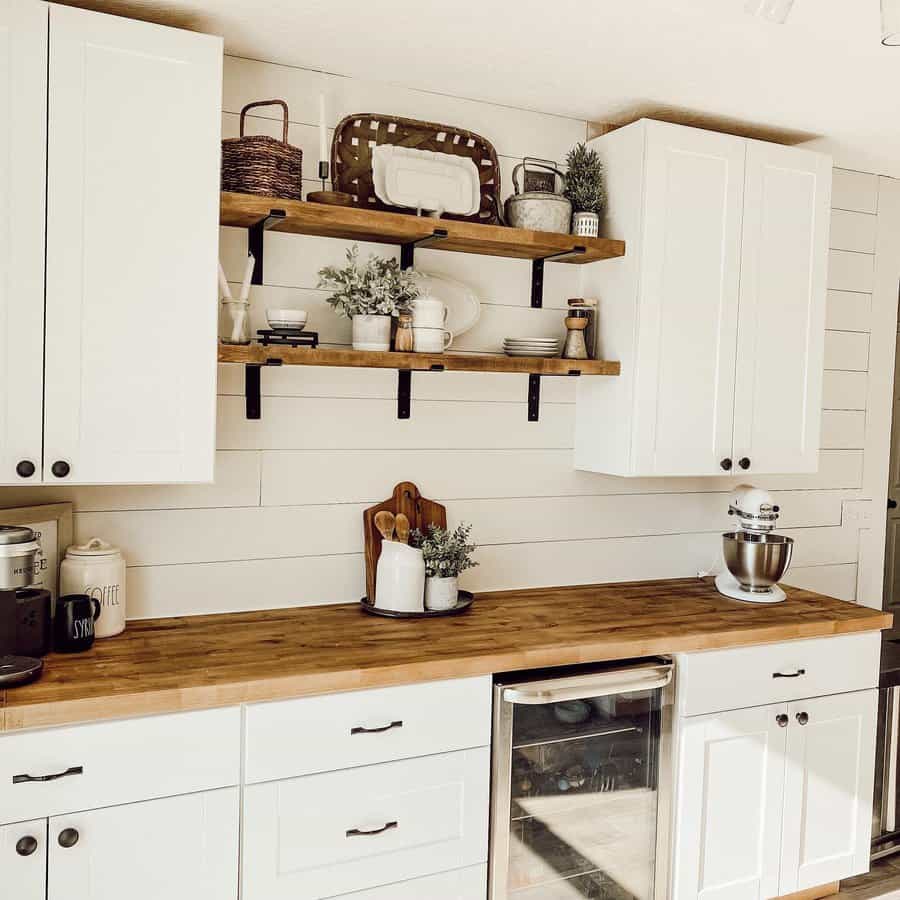 The other option is to find authentic rustic kitchen decor. This can be more time-consuming and challenging. You'll have to hunt for just the right pieces at yard sales, antique stores, and consignment shops. Too much of this type of decor can make your kitchen look run-down and shabby.
7. Farmhouse
Add a farmhouse sink to replace your drop-in sink. These sinks are also called apron sinks. You see them often in modern farmhouse kitchens. They give any kitchen an instant farmhouse style. Instead of sitting in a hole in the countertop, they take up a much larger space and have a front that replaces the counter and cabinets.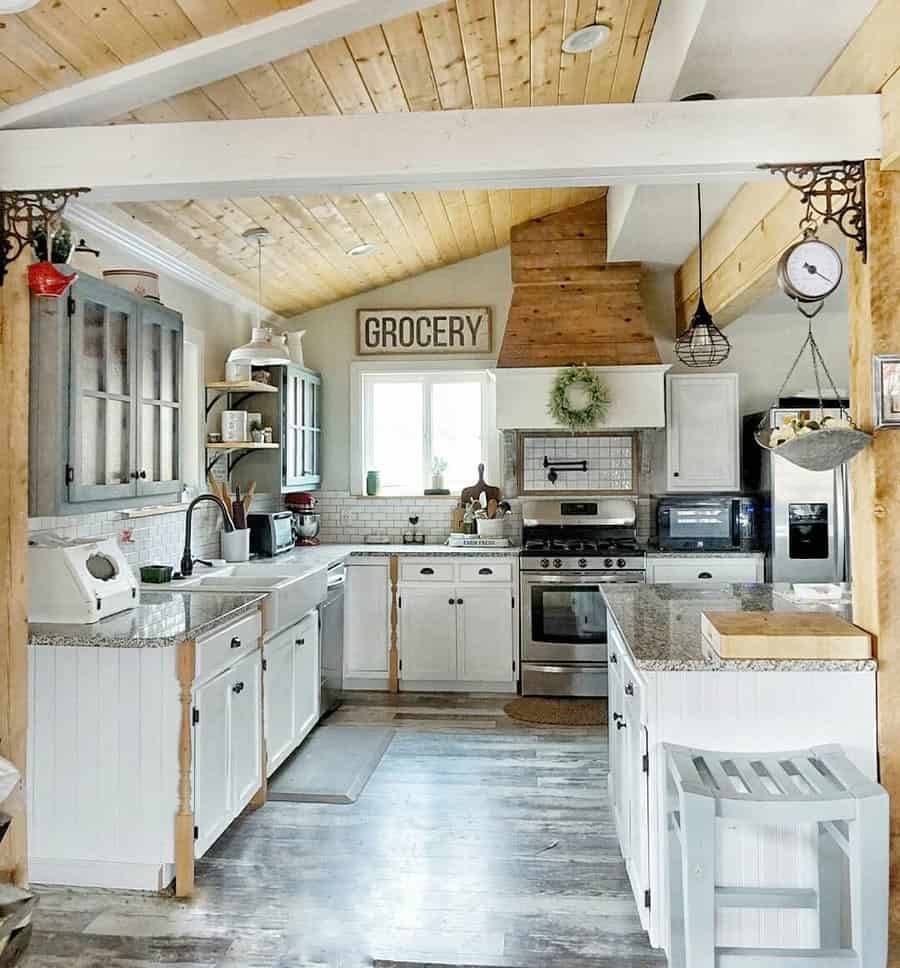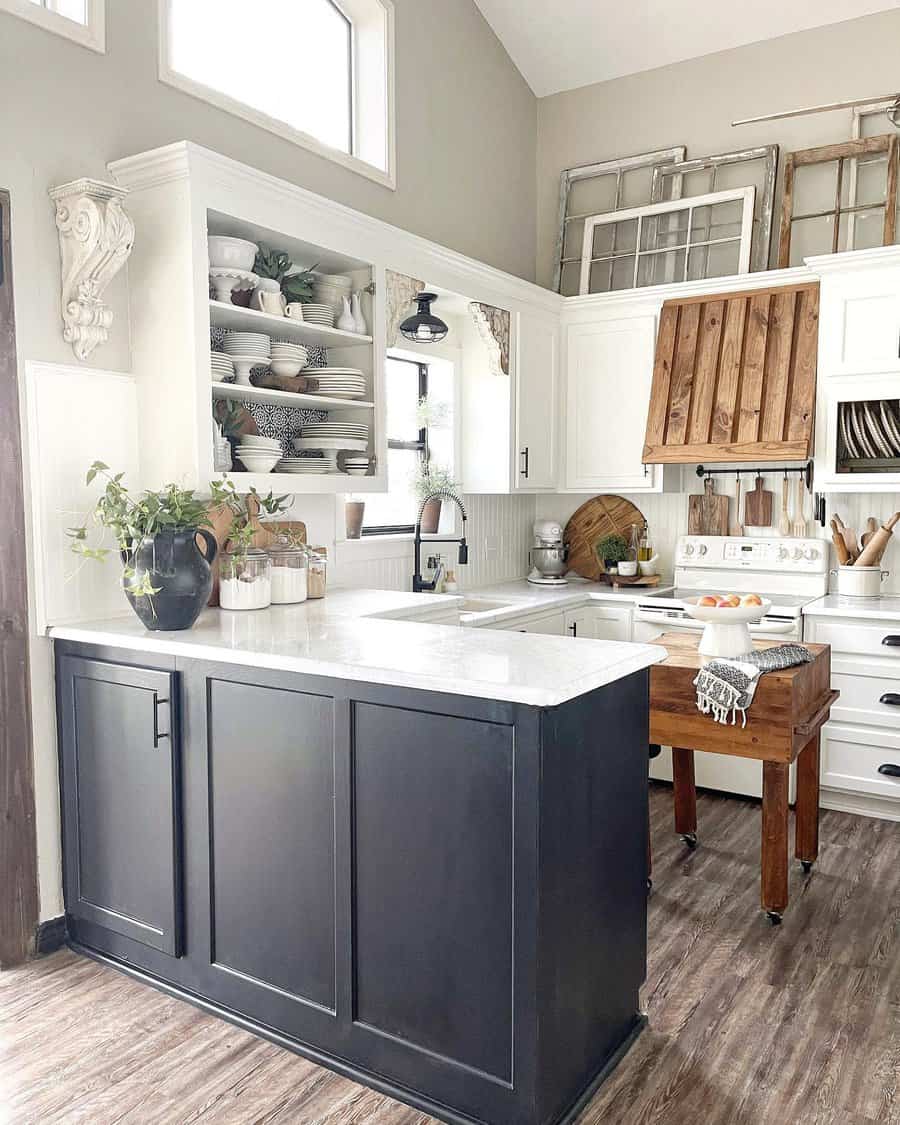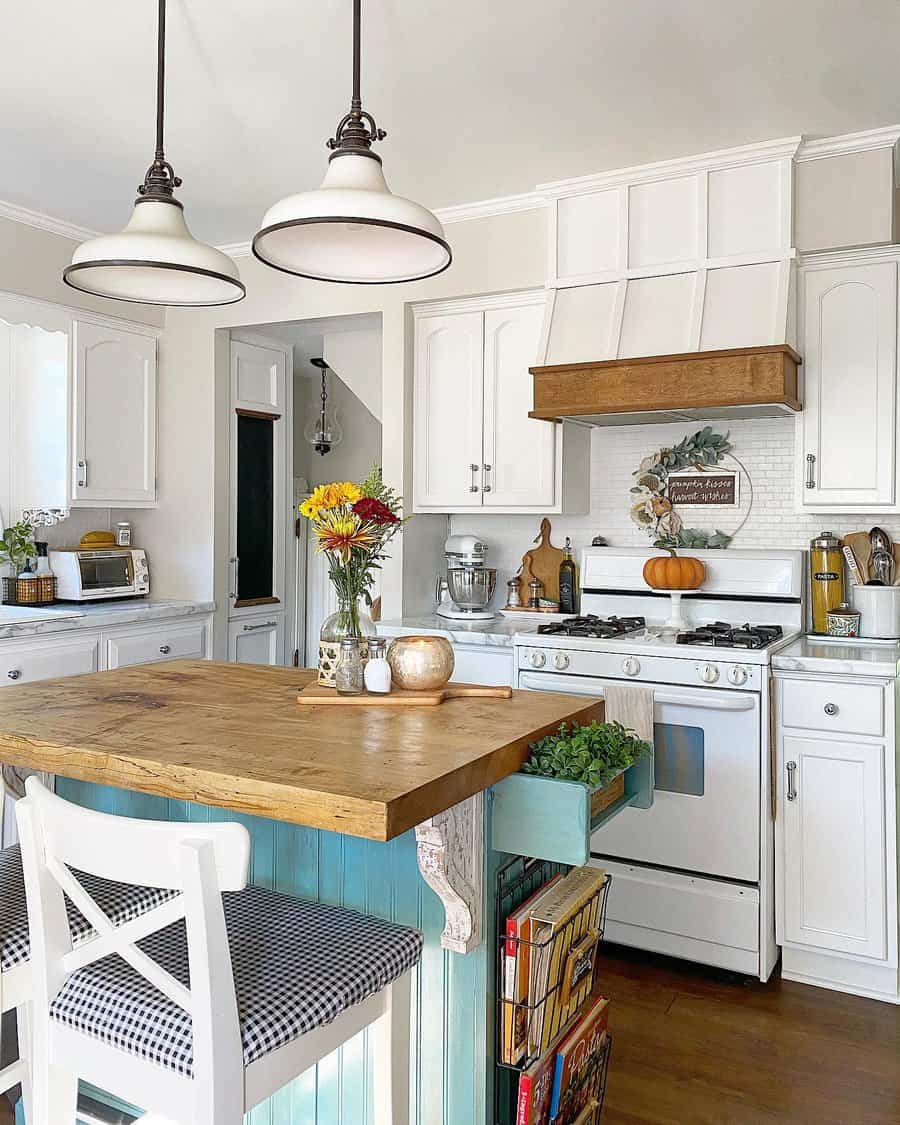 While you could find a salvaged version of this sink, they typically require a lot of work to restore them. It's much easier to buy a new sink that has the farmhouse style. These sinks look beautiful and are made from modern, durable materials.
8. Industrial
Add industrial elements to your rustic kitchen for a unique take that moves you away from country-chic and farmhouse. Look for pieces that are taken from commercial construction. It's best if they come from old-school factories. This could include rustic cabinets for your pantry that were once metal lockers for workers. Or use lighting that has the metal cages over the bulbs. Your bar stools could be a combination of wood and metal with exposed gears that adjust their height.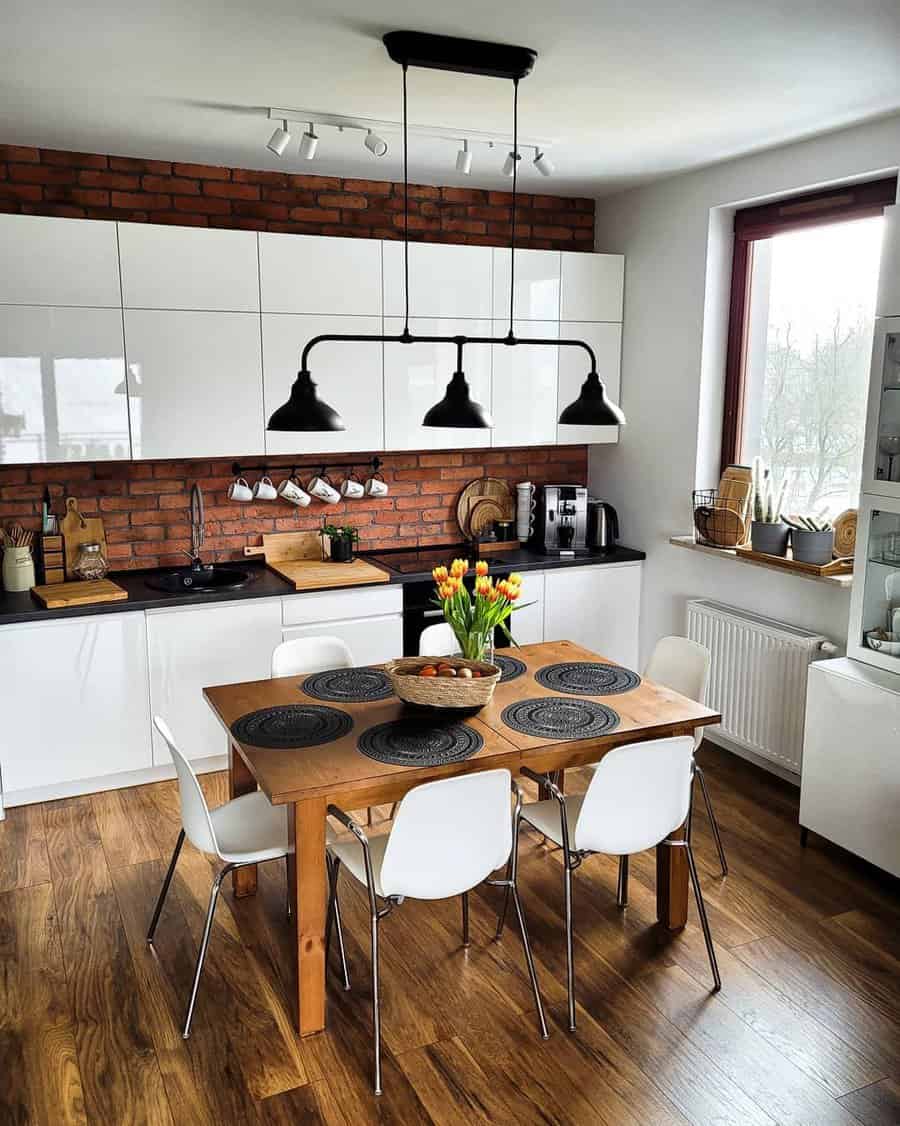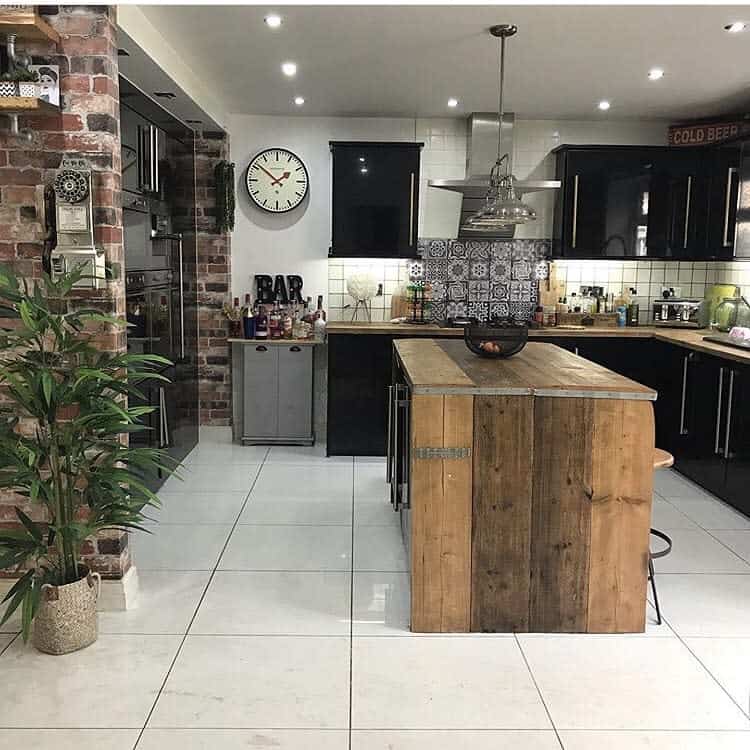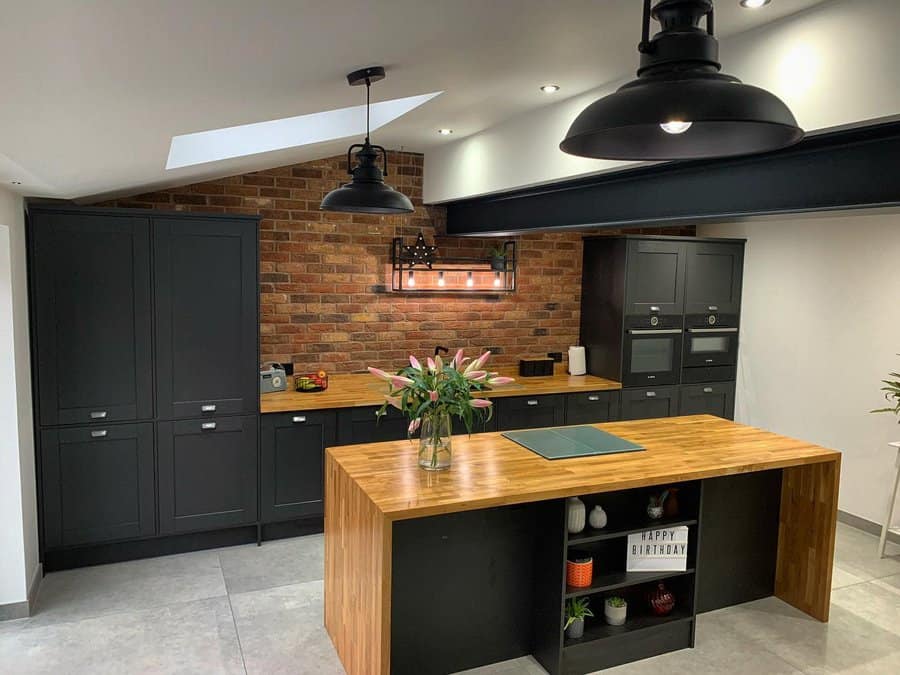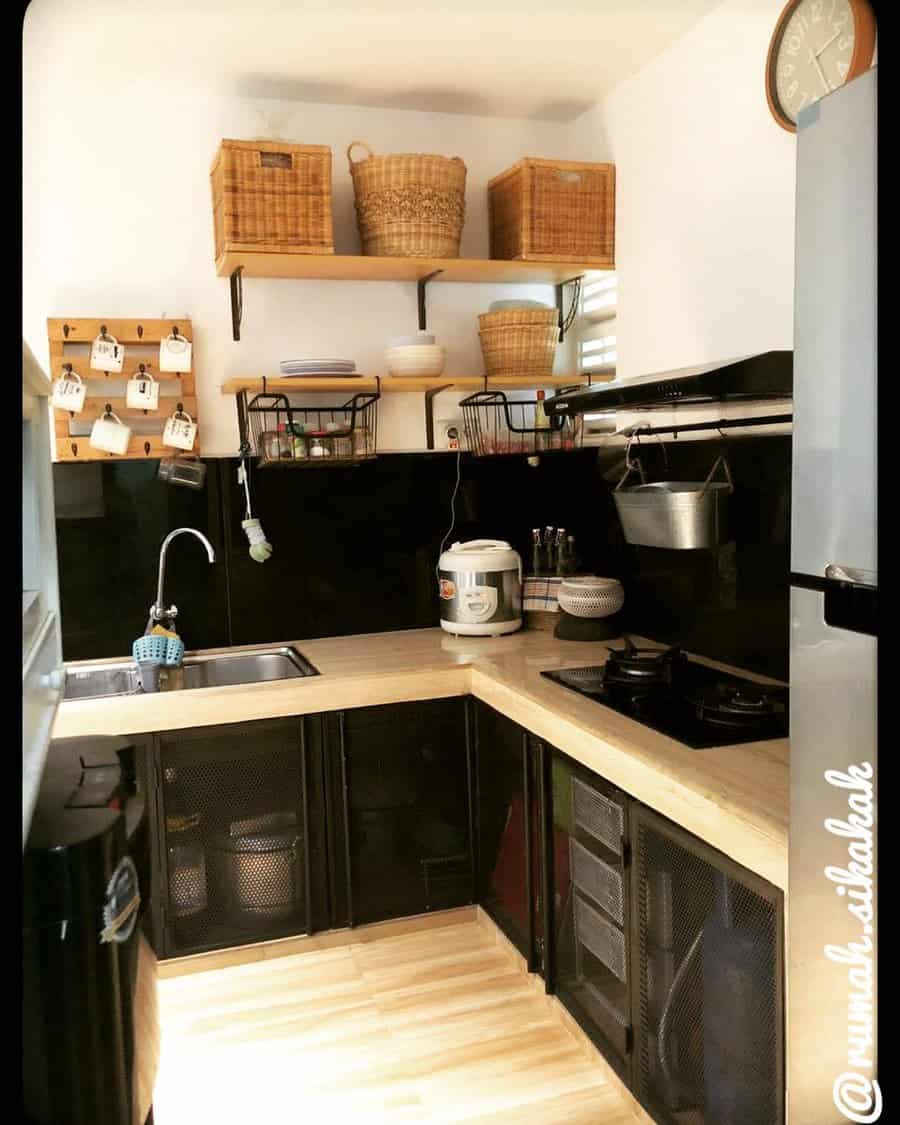 Continue this look through the design of the kitchen. Add exposed wood beams to the ceiling. You could leave the ceiling unfinished and leave the electrical and plumbing exposed too.
9. Modern
Add modern touches to your countertop to prevent it from looking too old and run down. Modern kitchens tend to be super sleek, so adding rustic touches softens the look. Pair your beadboard cabinets with a marble countertop. Modern rustic kitchen design is an artful combination of rustic and modern.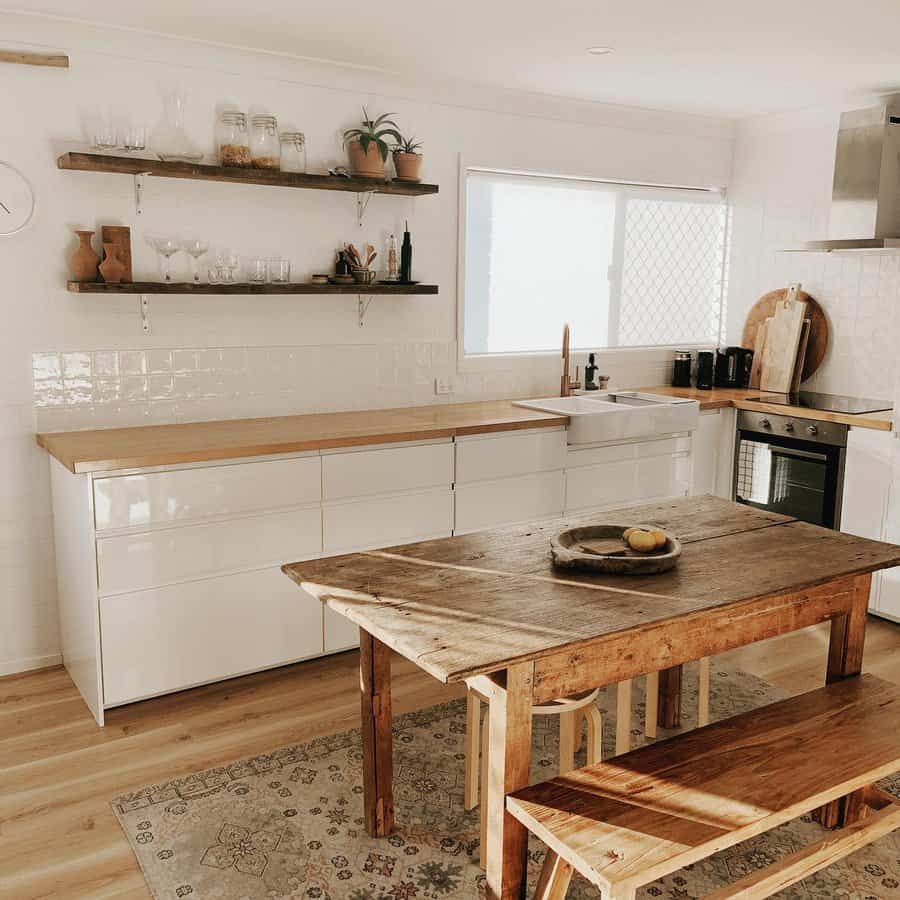 Granite countertops can look beautiful too. However, a wood countertop made from lightwood is the ideal blending of the two design themes. Another way to blend old and new in your modern rustic kitchen is to add new hardware to an older piece of furniture.
See more modern kitchen ideas here.
10. Open Shelving
It's time to say goodbye to your traditional cabinetry and replace them with a large wooden shelf. It can run the entire length of the kitchen. Choose solid and thick beams that can support plenty of weight. If you need more storage space, then have two shelves.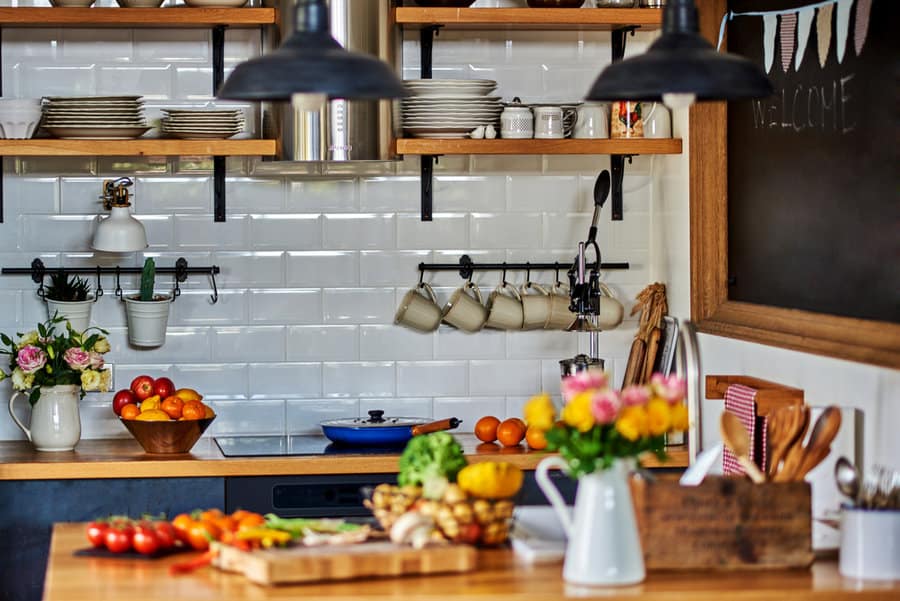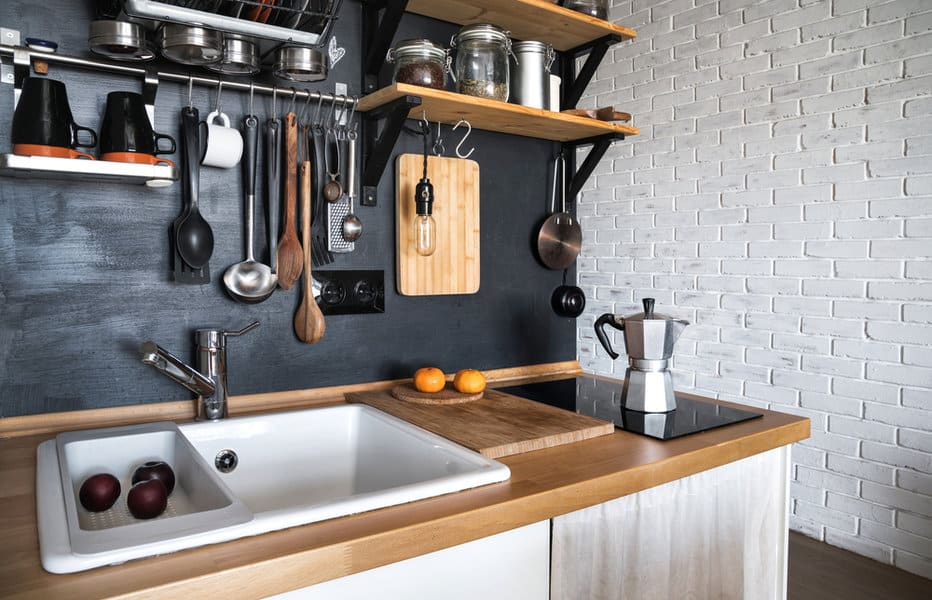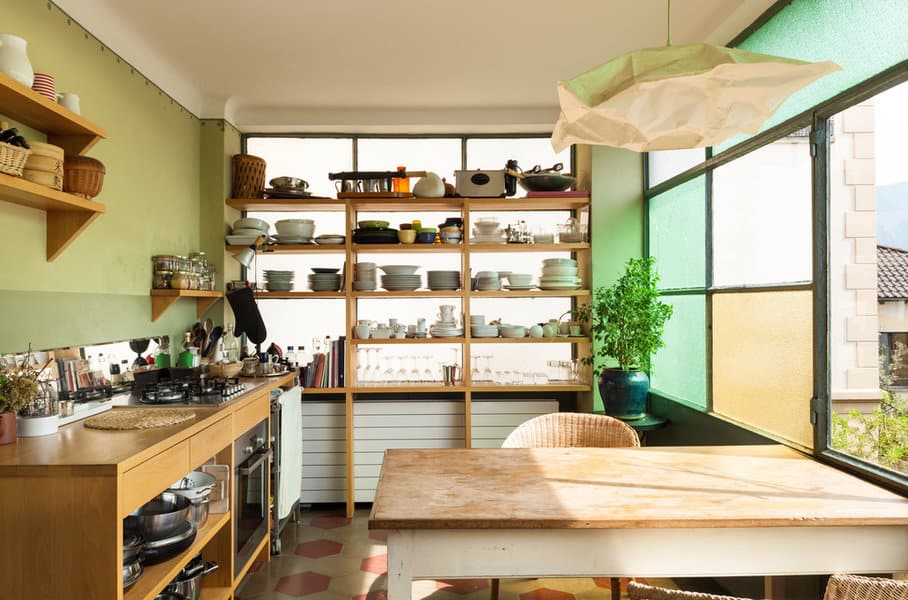 Be careful with open shelves. They can look cluttered and messy quickly. Anything you put on them can get greasy and dusty. If this doesn't sound appealing, then only take out half of your cabinets. Then you can keep your dishes and glassware protected while other often-used items can be on the shelves.
11. Reclaimed
Reclaimed wood is a great choice for your rustic look. This is wood that was previously used for another building project and is then taken out and used for a new and different building project. You can use reclaimed wood for the shelving. You can also create an accent wall or cover the ceiling.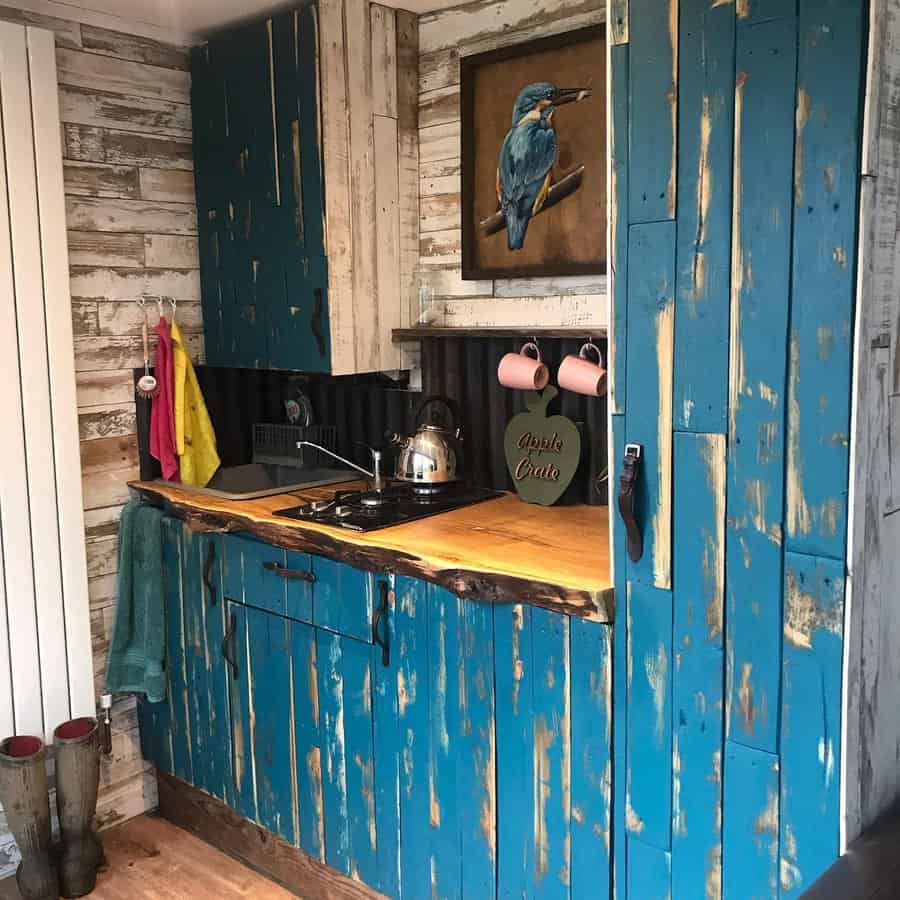 Be careful when buying reclaimed wood. Due to the rise in popularity of the farmhouse and rustic look, reclaimed wood has also become more in demand. To capitalize on this, people have begun faux aging wood. They call it reclaimed wood and charge a premium for this imposter product.
12. Scandinavian
The Scandinavian design theme doesn't use rustic elements in the sense that they are weathered and worn. Instead, focus on using natural elements, like hardwood floors. Keep the design simple and clean. Use subway tile for the backsplash. You could use light wood for the countertops.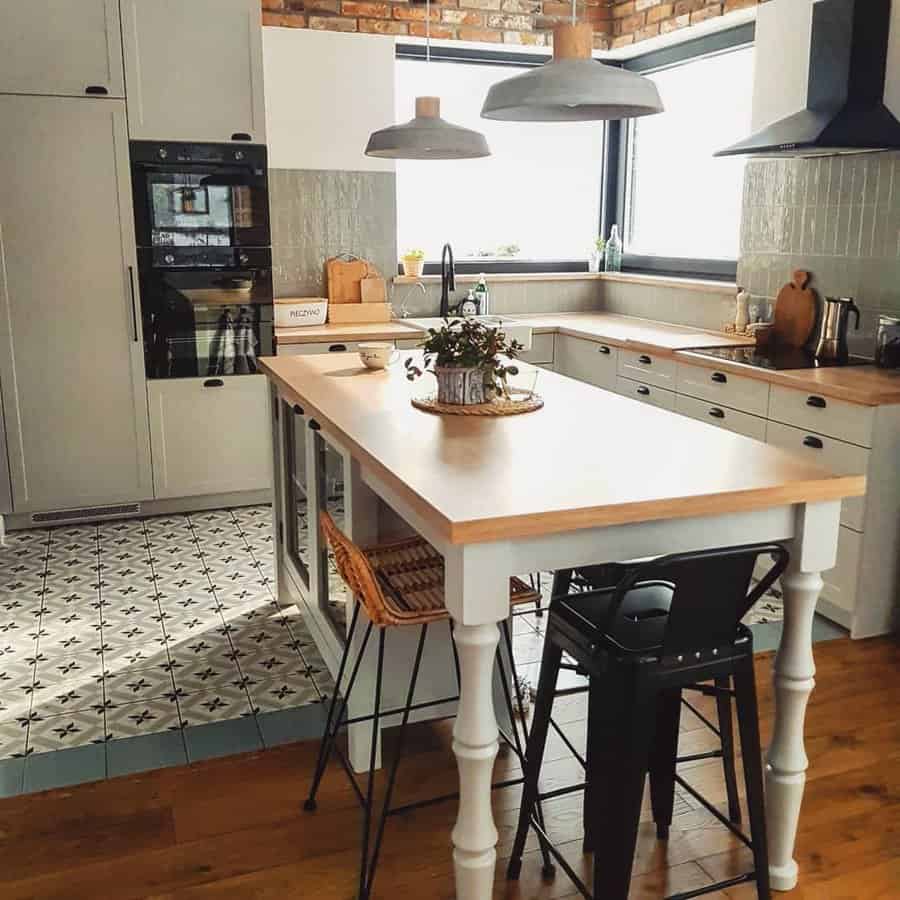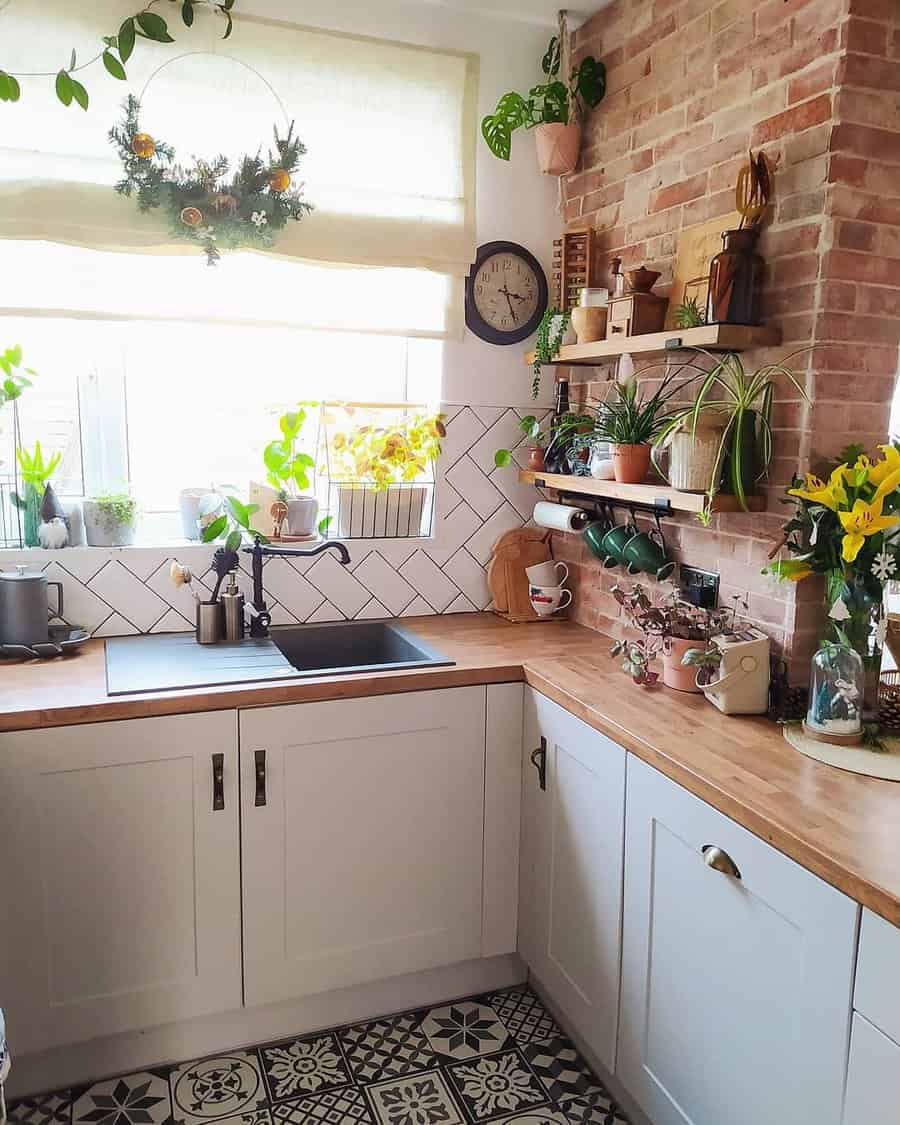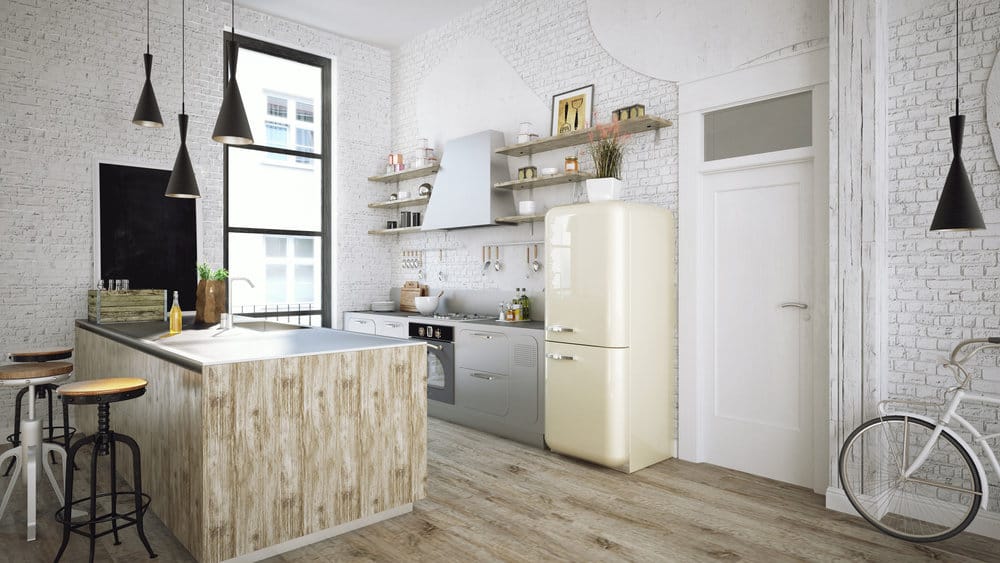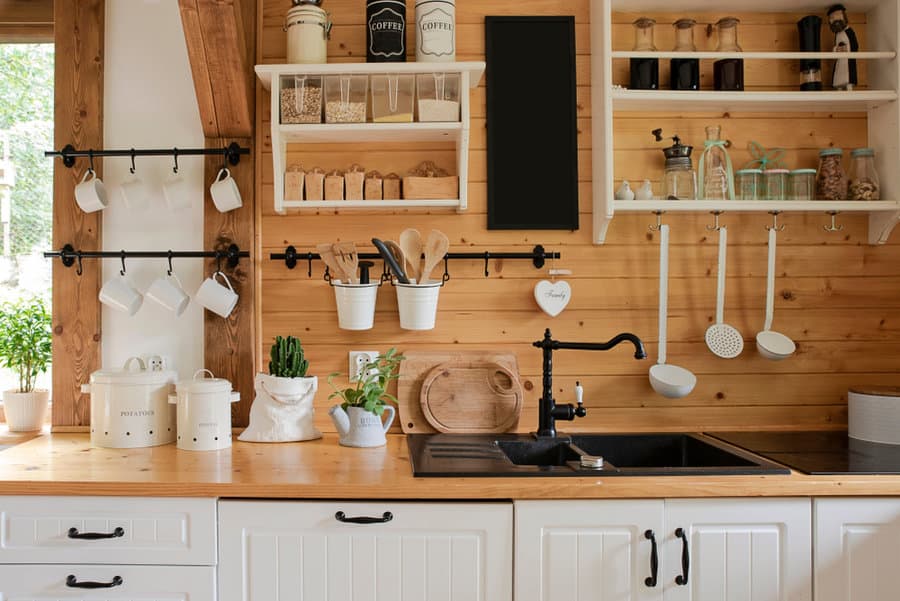 Add cozy elements to bring warmth to your kitchen. Flannel or brushed cotton curtains are a good start. Lay an area rug on the floor that takes up the majority of the floor space. Keep things light and bright with plenty of light fixtures and the use of a light color palette.
13. Small
Rustic country kitchen design is perfect for your small kitchen. You don't need a lot of decor, and you don't have to fill the space to achieve a rustic style kitchen. Look for kitchen ideas that showcase a small kitchen. This will give you a better idea of what your kitchen will look like.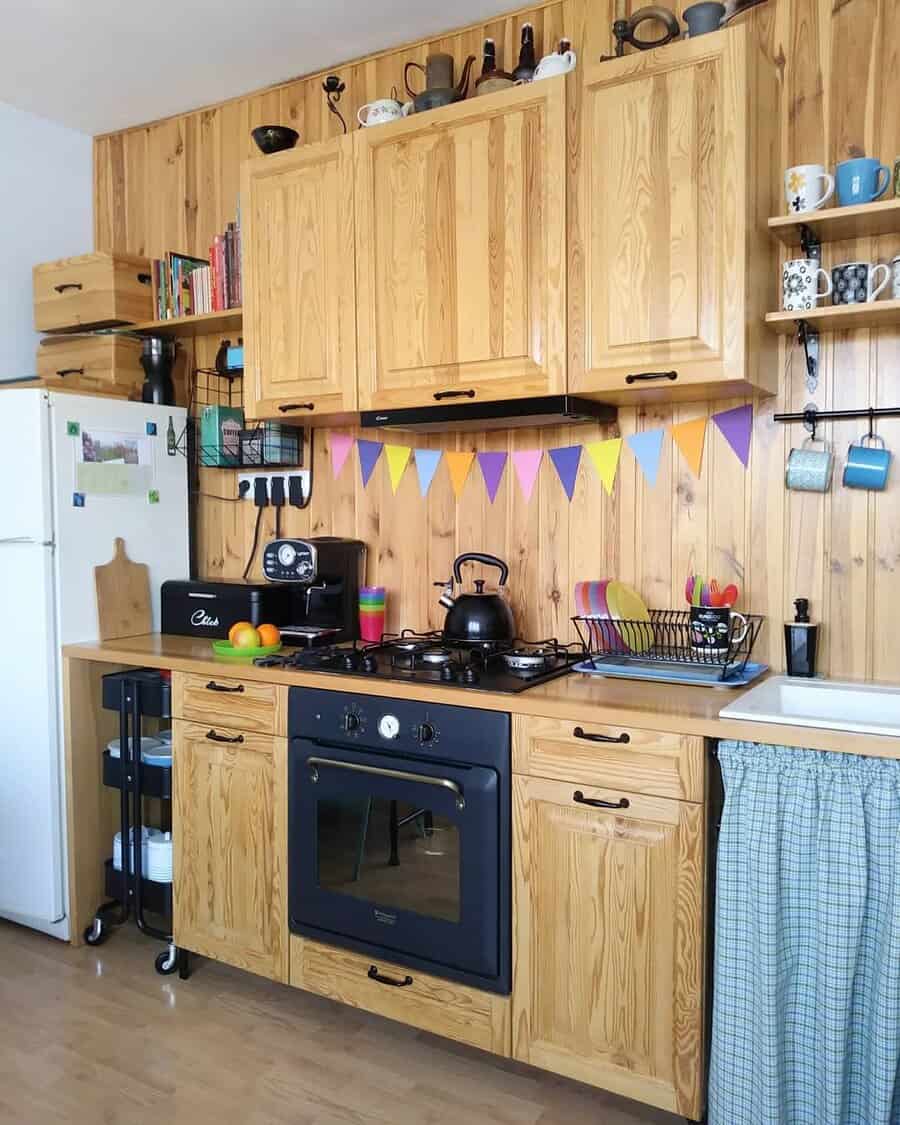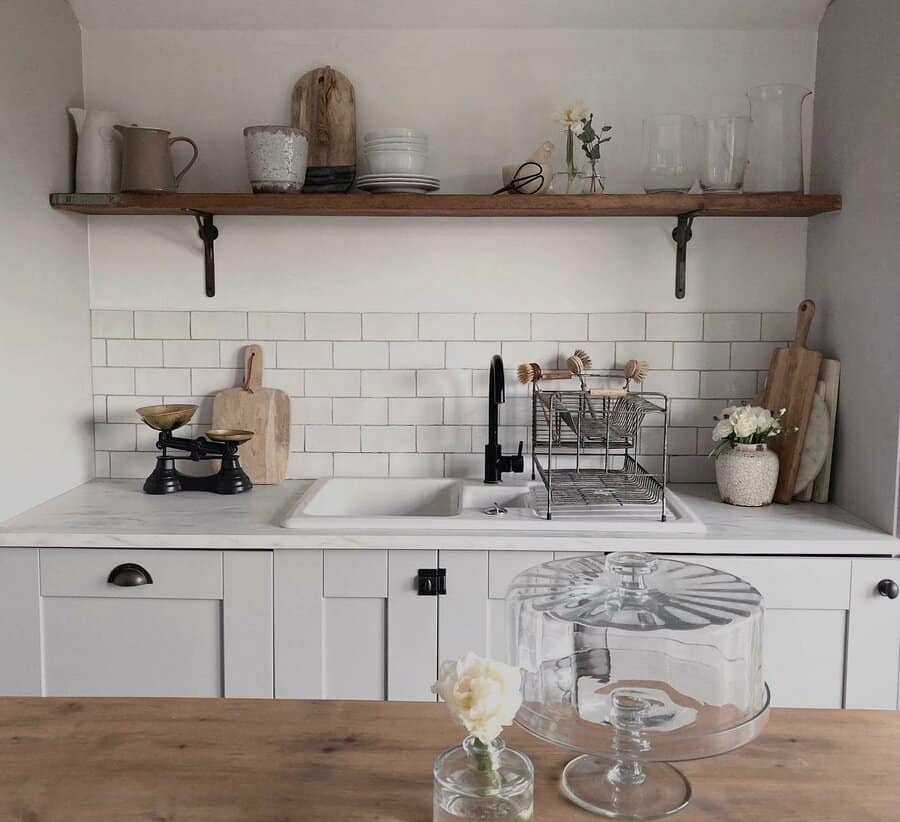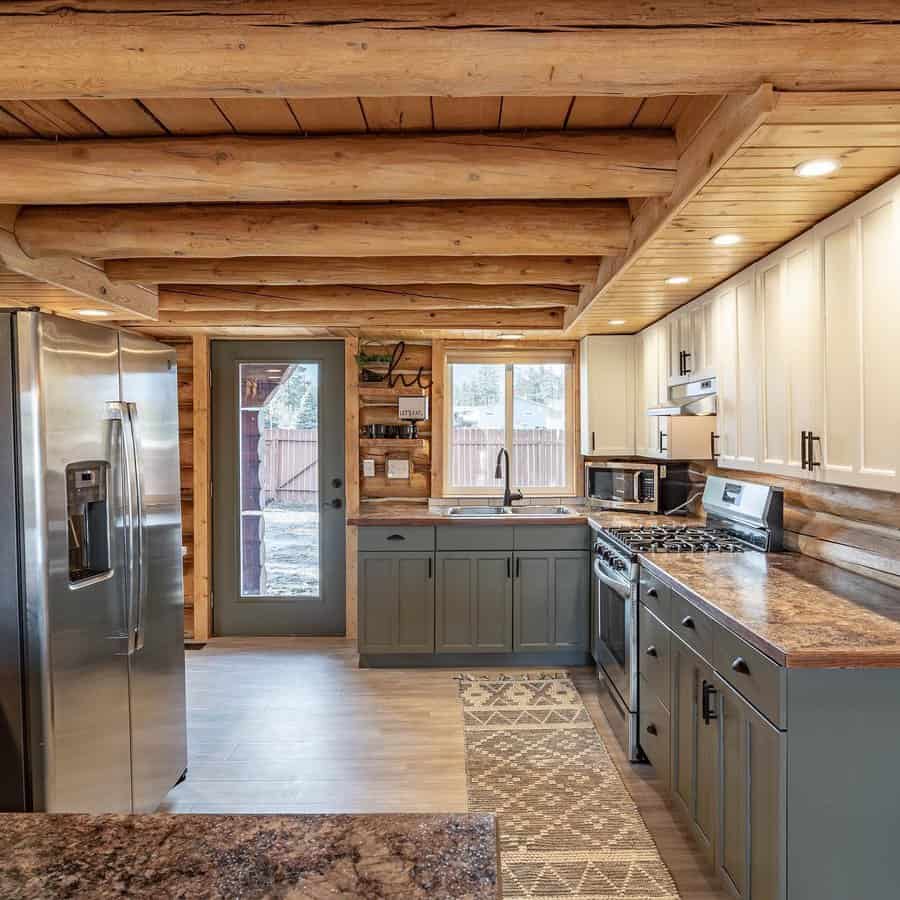 Don't try to fill your kitchen with too much furniture. This crowds your kitchen and makes it hard to actually cook. Embrace the vertical space in your small kitchen. You can use this space to display your cookware or hang baskets for produce.
14. Vintage
Adding vintage touches to your rustic kitchen can give it an authentic look and feel. Use an old wooden cabinet to hold your baking essentials or utensils. Perhaps an old printer's cabinet would be the perfect solution for organizing your large collection of spices.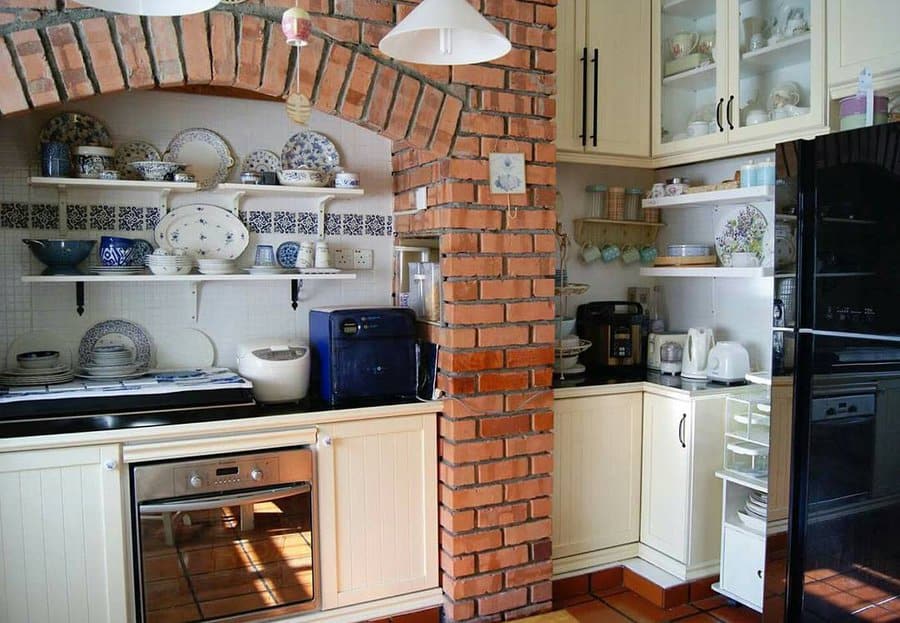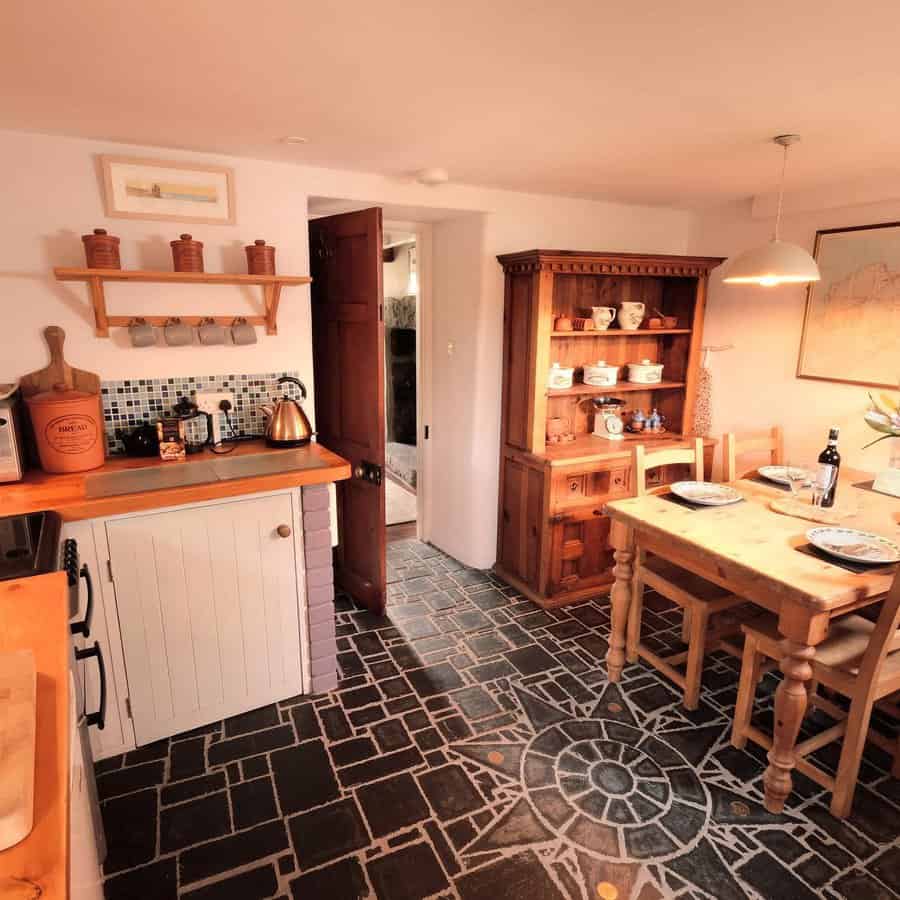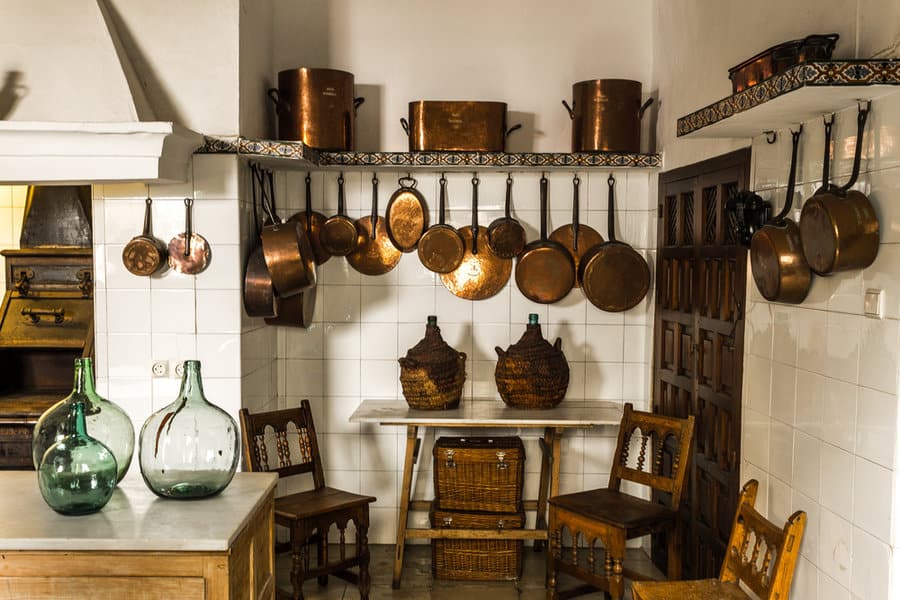 Don't be afraid to use elegant and sophisticated furniture pieces. Instead of looking for the furniture in the best condition, opt for pieces that show signs of use. Perhaps the paint is peeling, chipping, or wearing away. It could have scratches or dents in the front, sides, or top. This gives your rustic kitchen style an interesting twist.
Rustic Kitchen FAQs
What makes a kitchen rustic?
Adding wood elements to your kitchen helps it to feel more rustic. If the wood is slightly worn and aged, this helps bring about the rustic aesthetic. The decor and design should look simple and unassuming.
ow do I make my kitchen look farmhouse?
Add decorative elements to your kitchen that you would typically see in a kitchen that is located on a farm. There is the classic farmhouse sink. Choose open shelving or cabinet doors with chicken wire inserts.
What's the difference between rustic and farmhouse?
Farmhouse design tends to feel a bit brighter and fresher than rustic design. Farmhouse design also has fewer natural elements. Rustic can have farmhouse elements, but it can also look country or cabin. These have more natural elements.