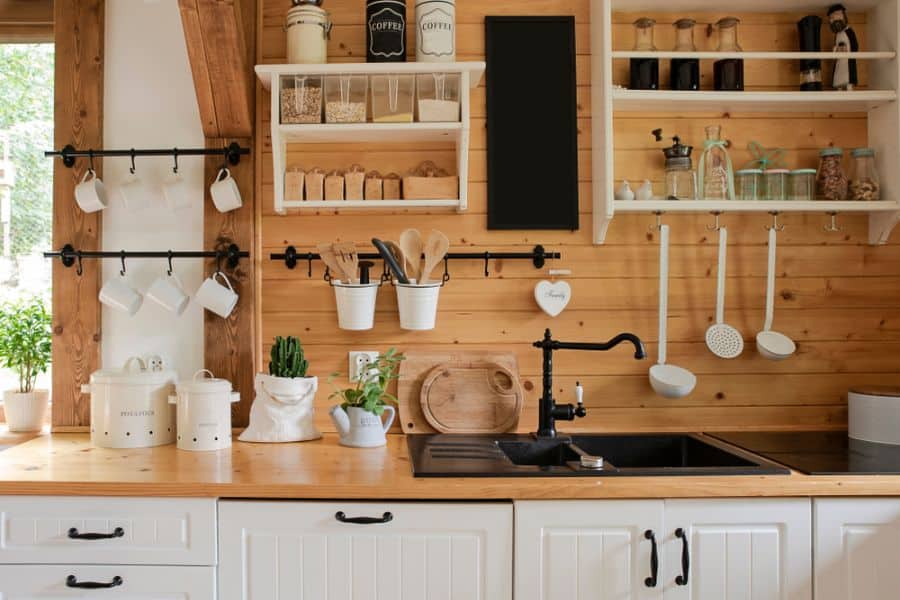 60 Must-See Rustic Kitchen Ideas – Vintage Inspired
"My personal decorating style is cozy, romantic and a little rustic, with a sense of whimsy." – Kimberly Schlapman
Create a sense of warmth and coziness in your kitchen by outfitting it with a rustic design. This unassuming design approach helps to make your kitchen feel warm and comfortable. The rustic vibe seems easy to pull off but can actually be quite challenging. You don't want it to be generic rustic, which can look ragged. It should reflect your multifaceted personality.
These rustic kitchen ideas will help you find just the right twist on this popular interior design theme.
1. Add Handmade Elements For A Boho Look
A great way to create the perfect rustic kitchen is by adding handmade elements throughout. Try macrame wall art, woven rugs for the floor, or a rattan light fixture. These touches will bring texture, life, and a unique character to your kitchen that doesn't come from mass-produced items.
Mixing in these homemade items also allows your personality to show through as every macrame piece can be different from another – giving each room an entirely different feel from the last. So if you want to bring some rustic charm into your kitchen – macrame is definitely worth looking into!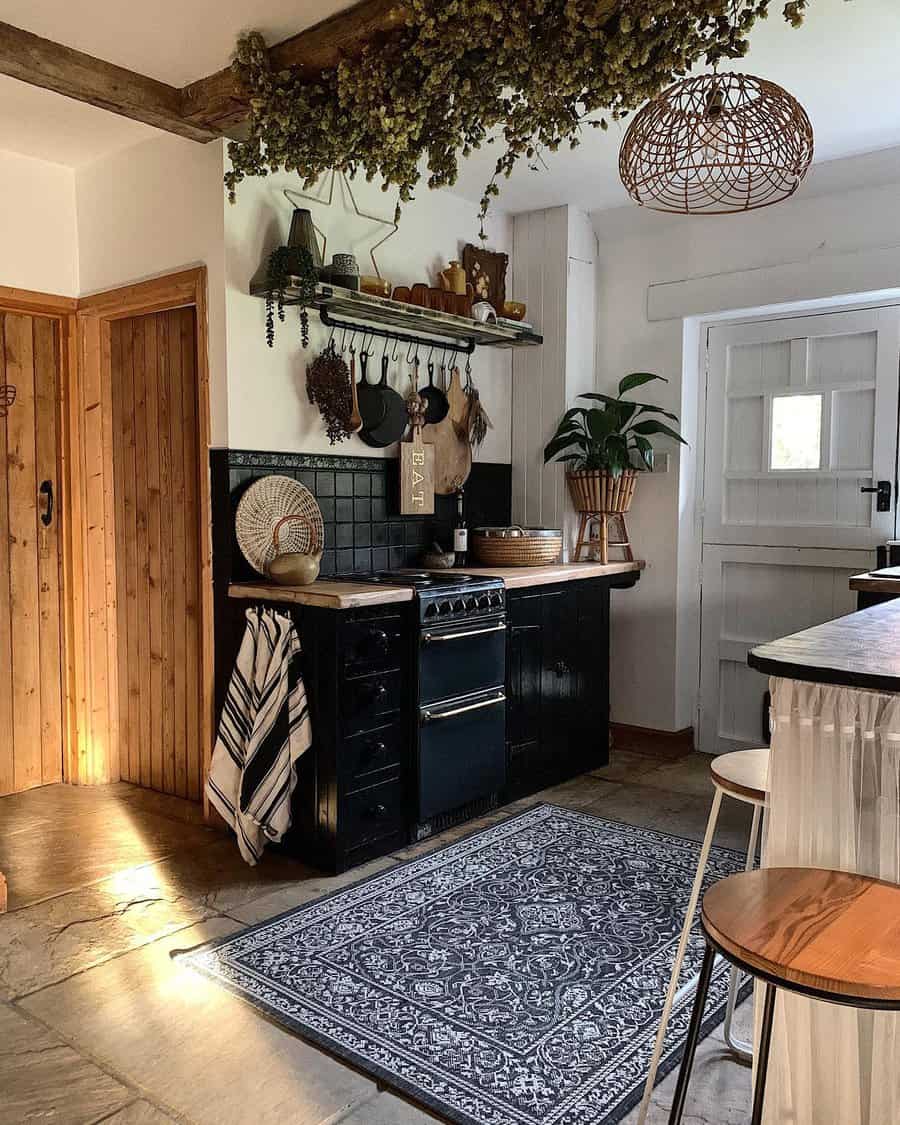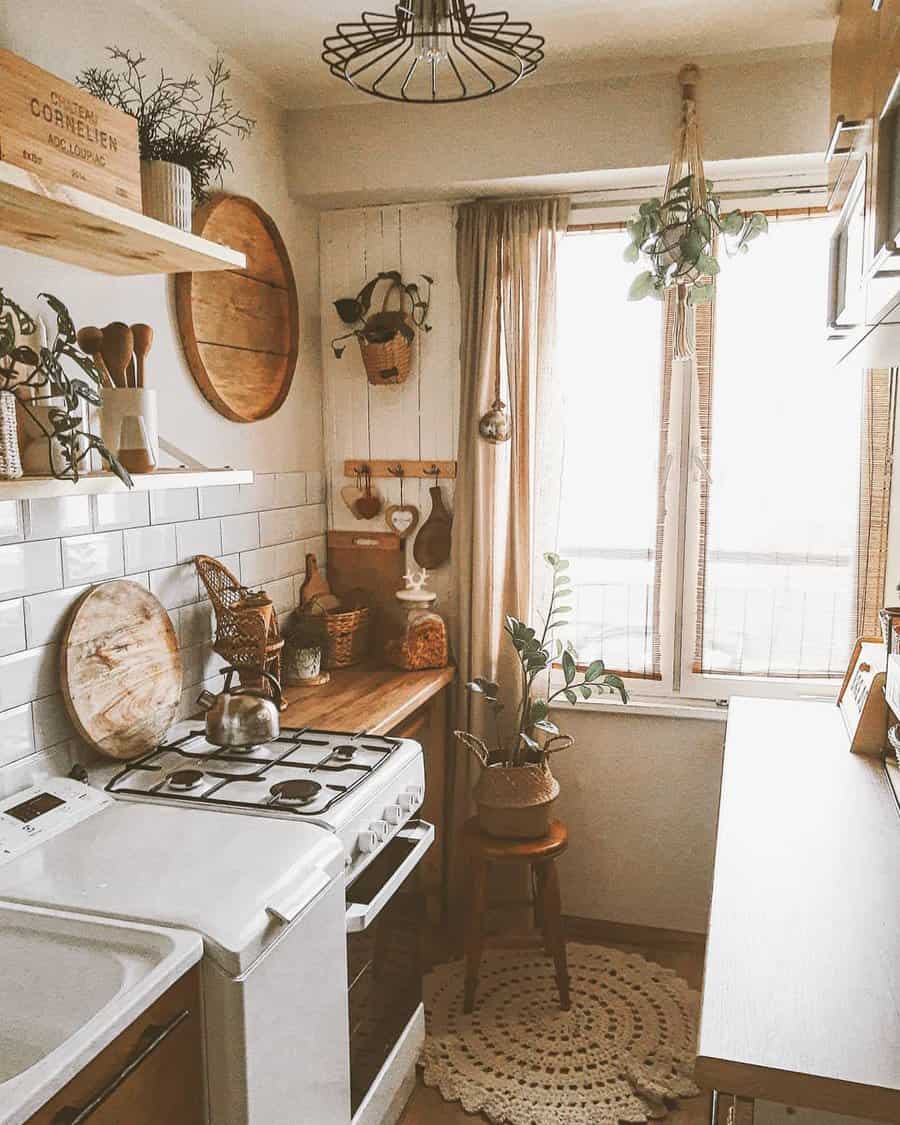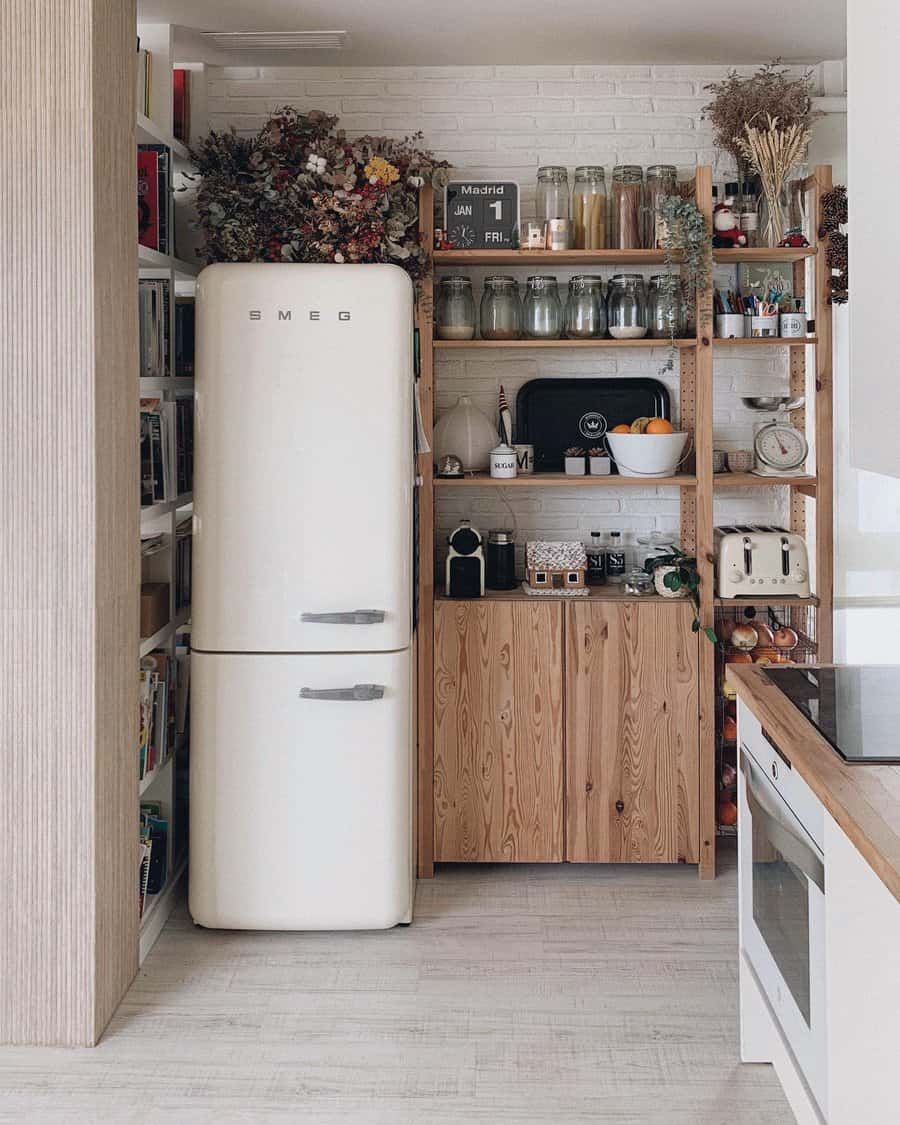 2. Install Exposed Bricks For Added Texture
If you're looking to achieve an industrial-rustic vibe in your kitchen, adding an exposed brick wall is a great way to go. Brick walls instantly add texture and interest to any room, and exposed brickwork is particularly inviting in a kitchen setting.
Balance this textured wall with earthy tones and metallic accents for a classic down-home feel that will take time travelers back to simpler days with country charm.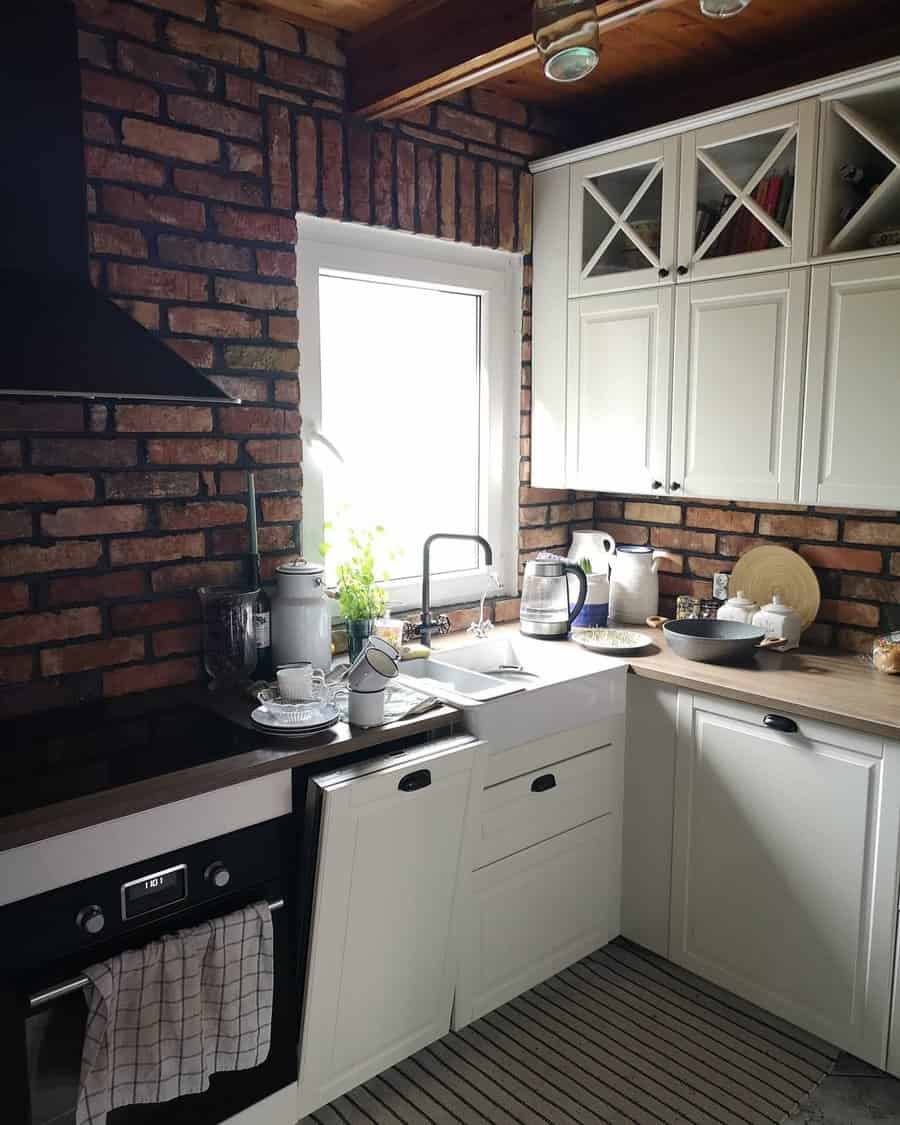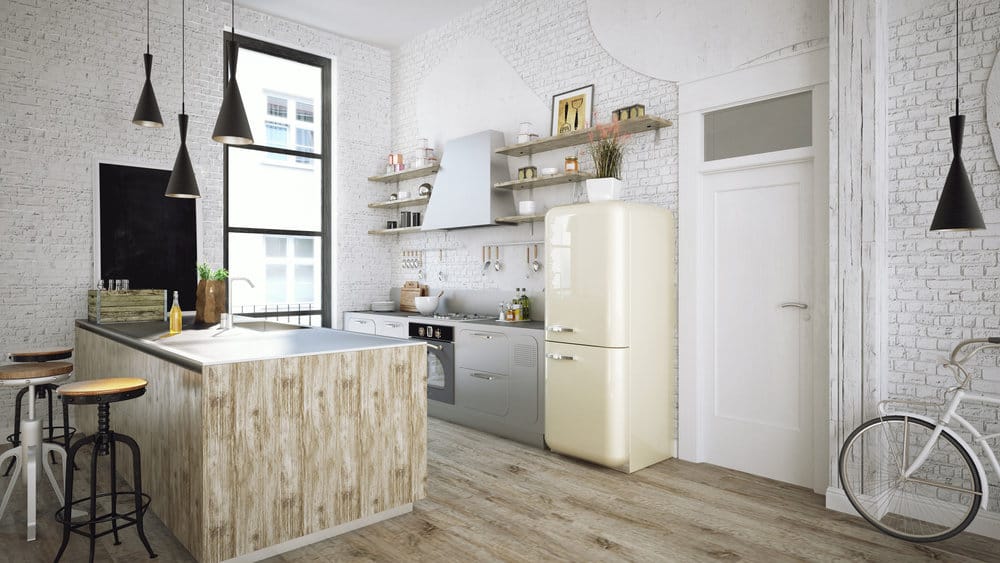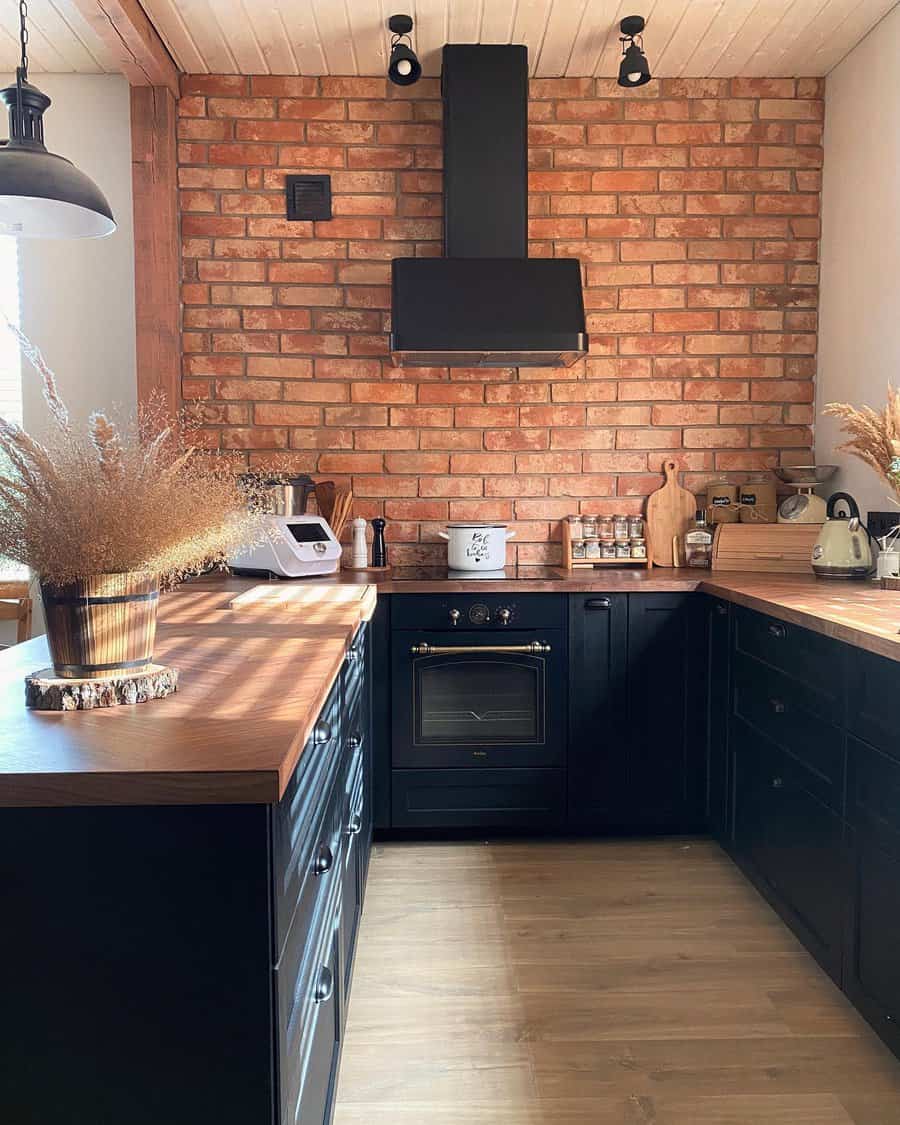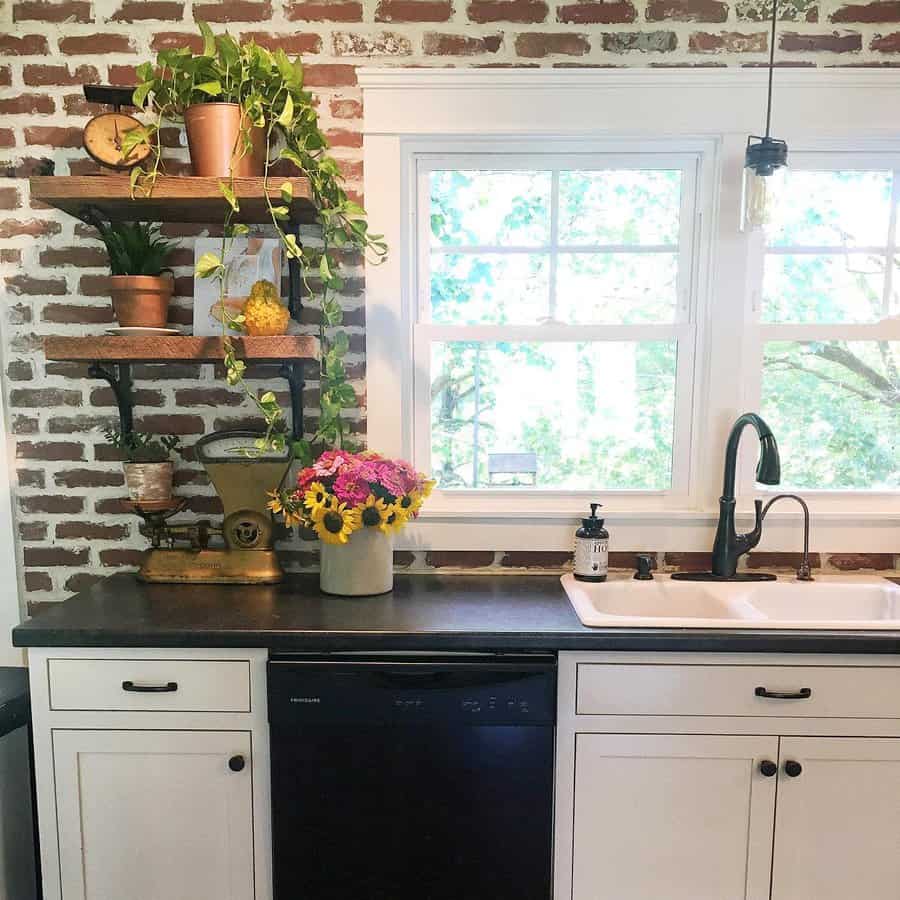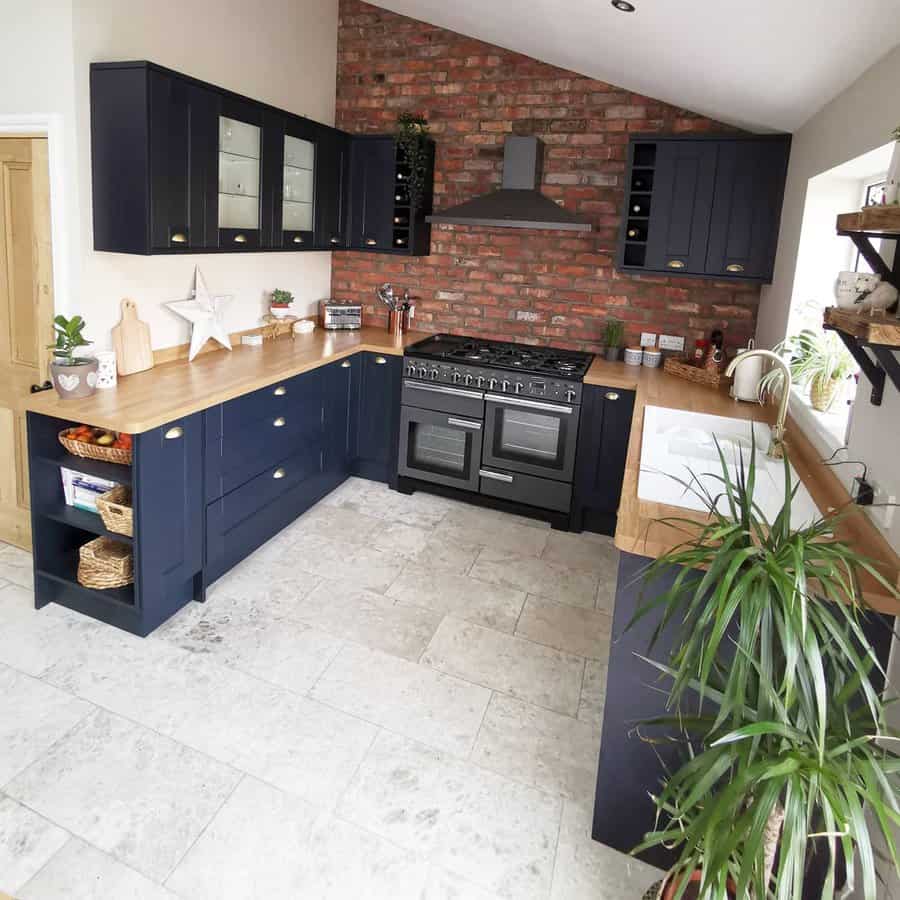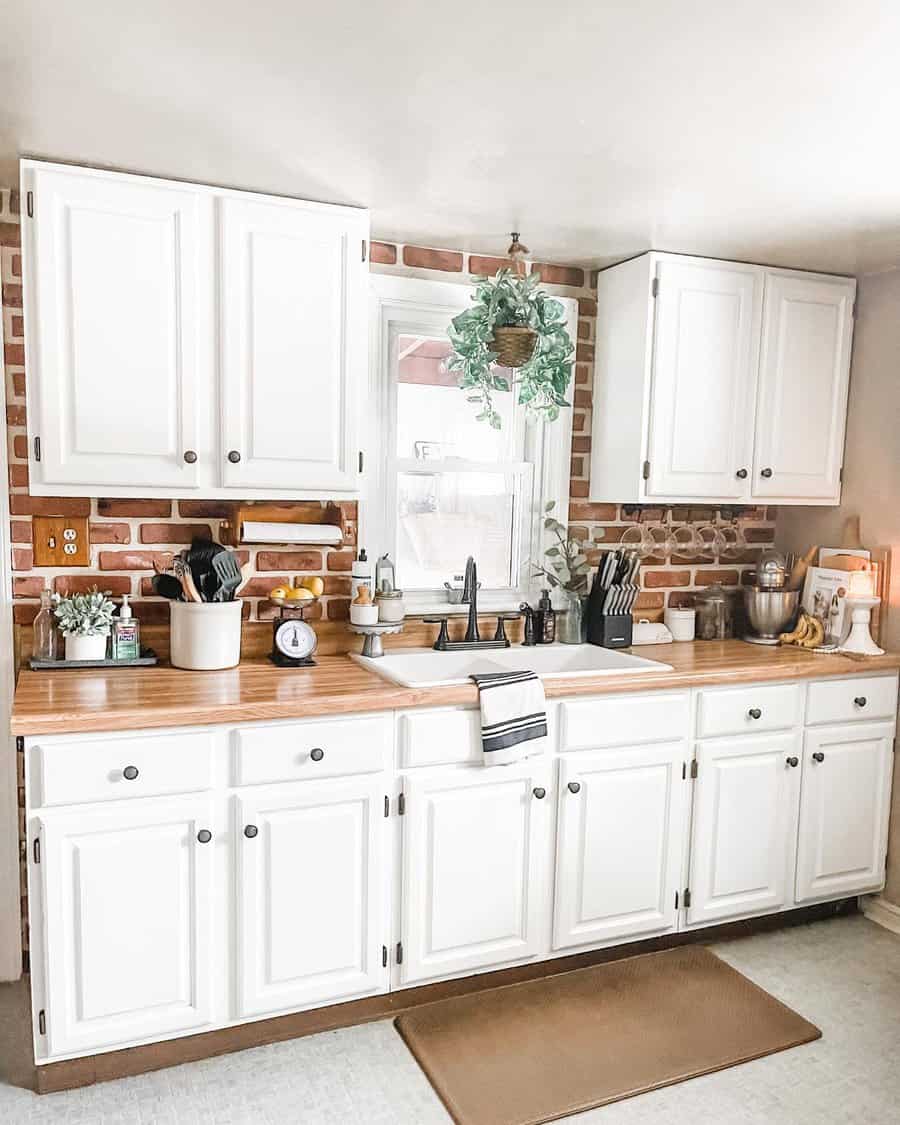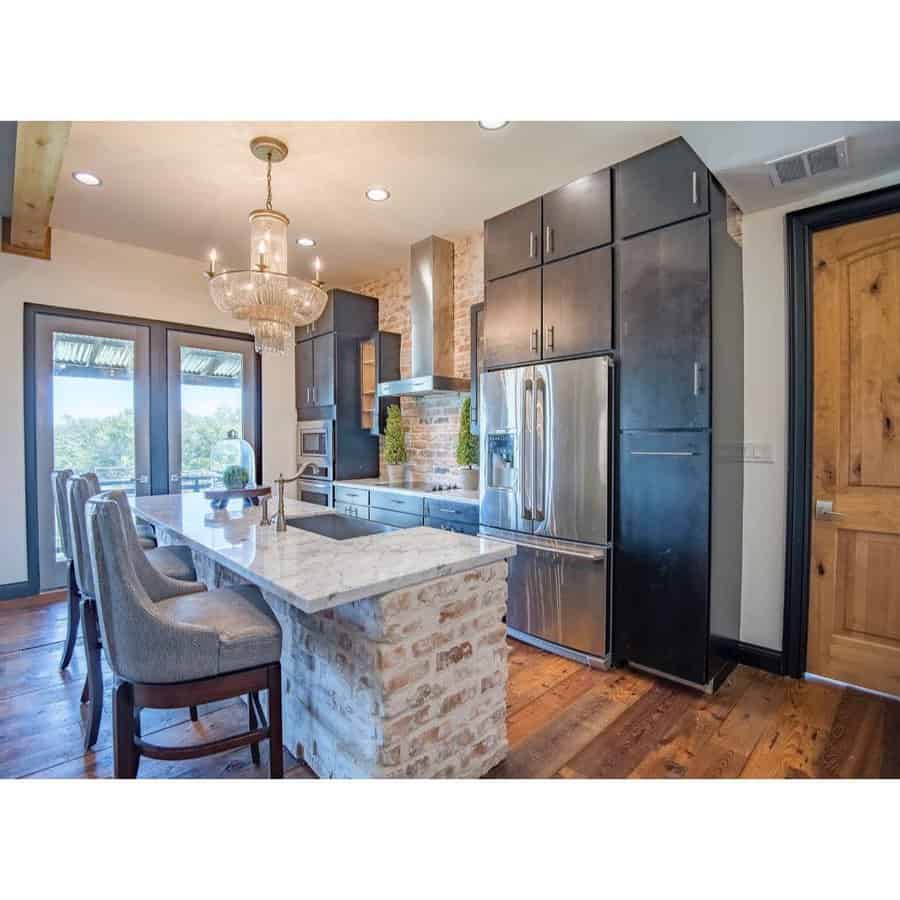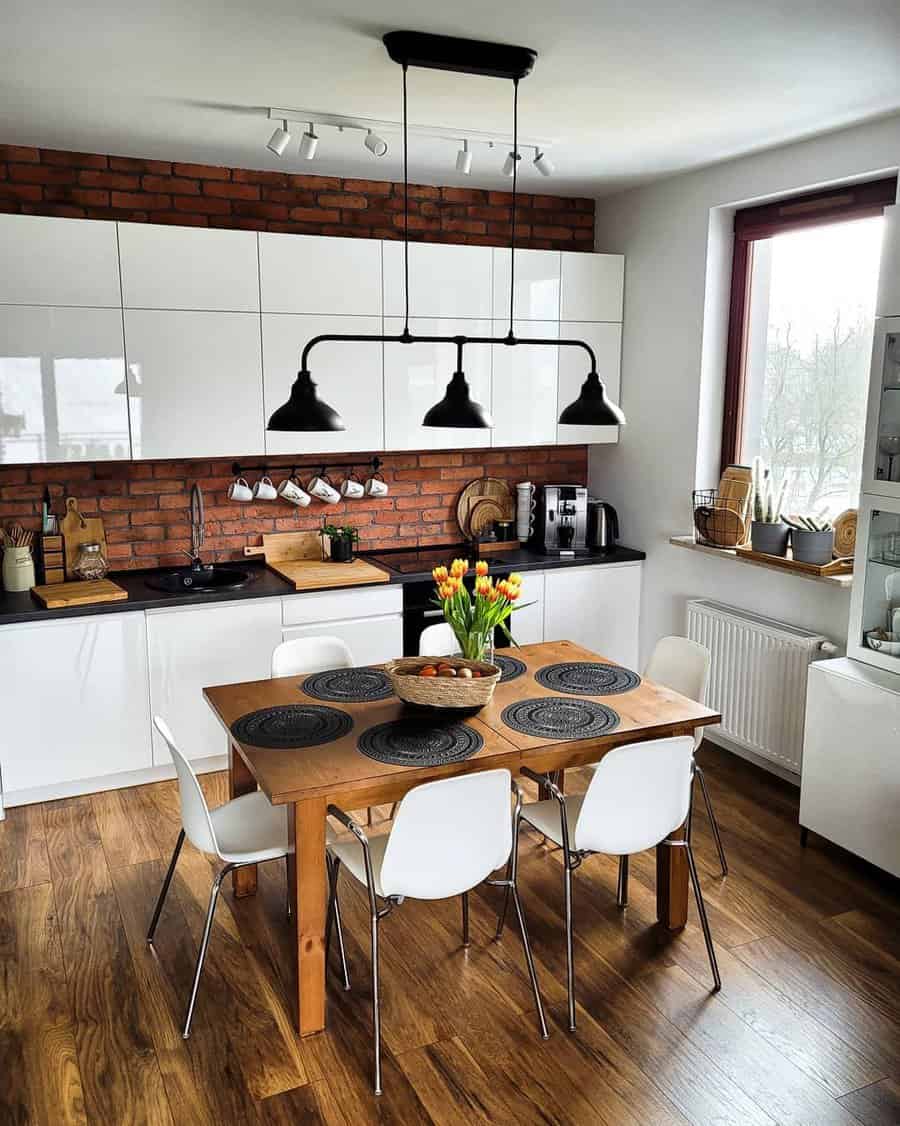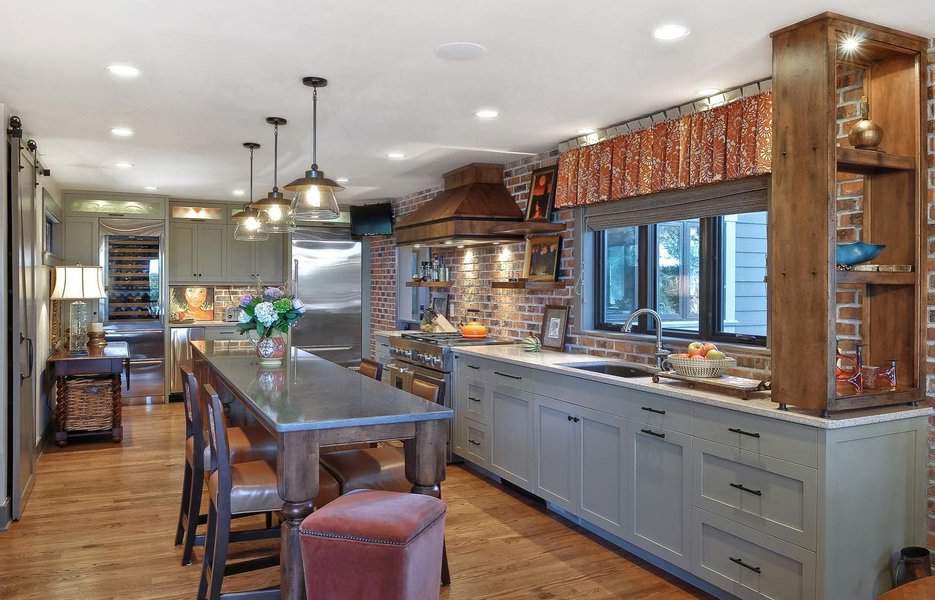 3. Wood Panels For A Cabin-Style Look
Rich wood panel walls and wooden shiplap give a charm to the cozy kitchen space. Allow natural elements of wood, stone, and metals to add texture to the room. Hang vintage tin signs that exude the feelings of the wilderness and nature-inspired lighting fixtures to bring illumination.
Top off the area with an old wooden beam on top of the panel walls for added warmth while cooking your favorite dishes. With this atmosphere, you'll find yourself inspired to create new flavors as you explore new recipes in this charming woodsy cabin kitchen!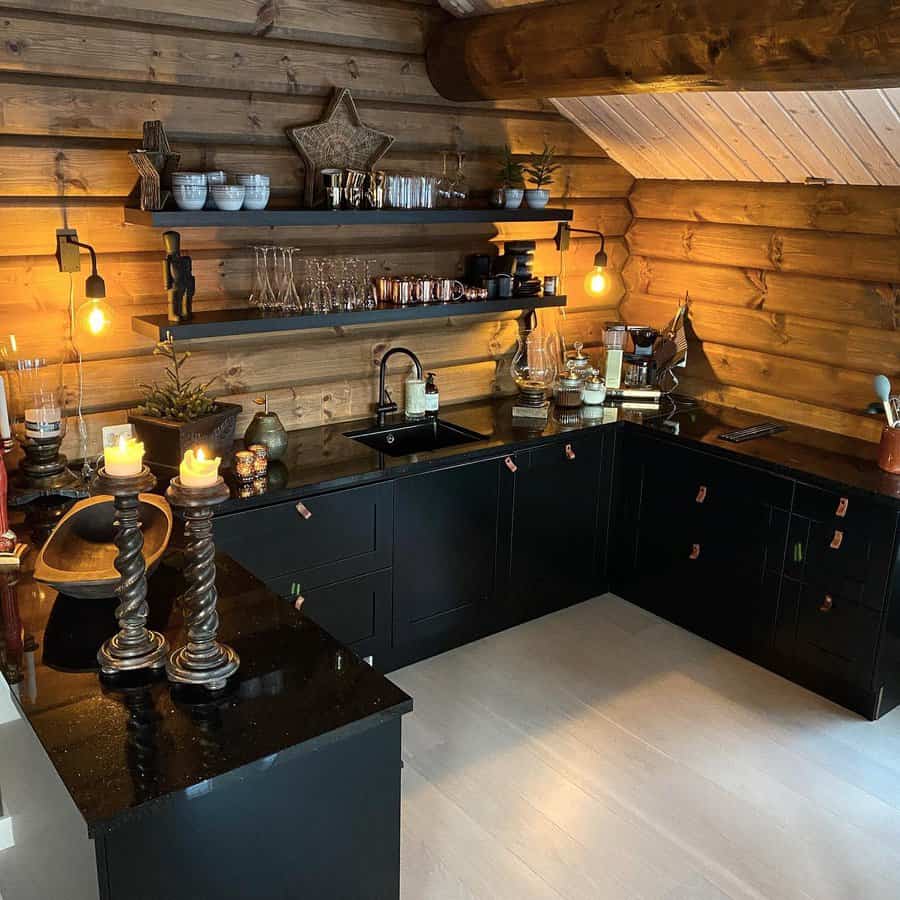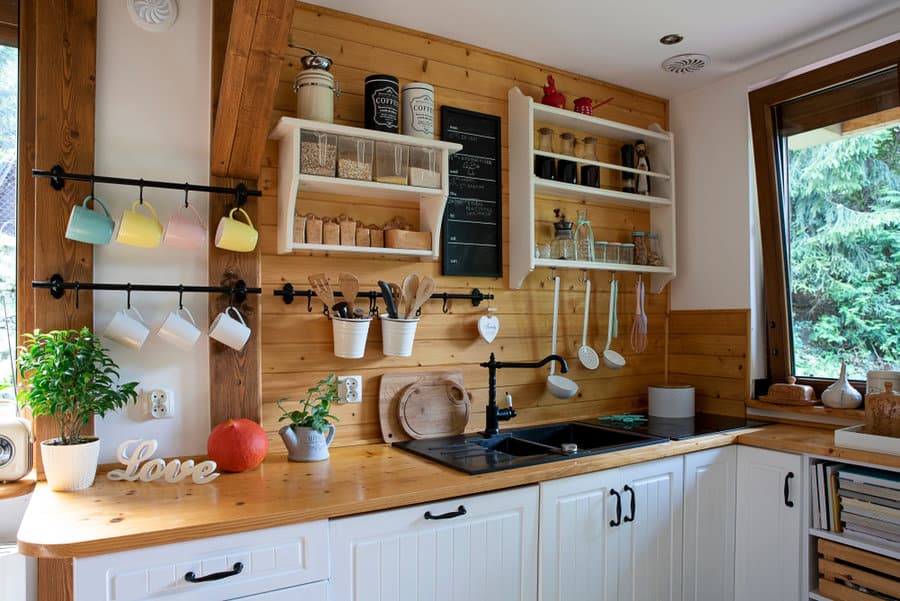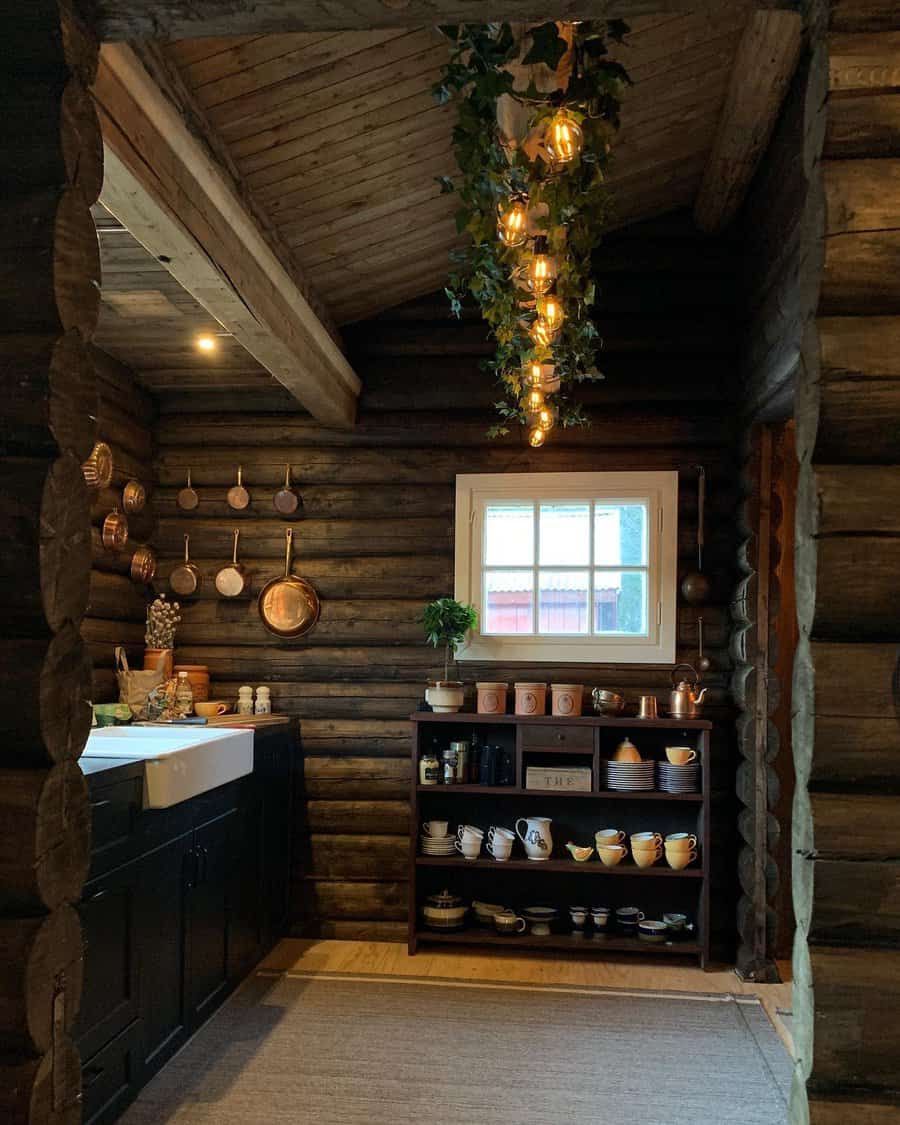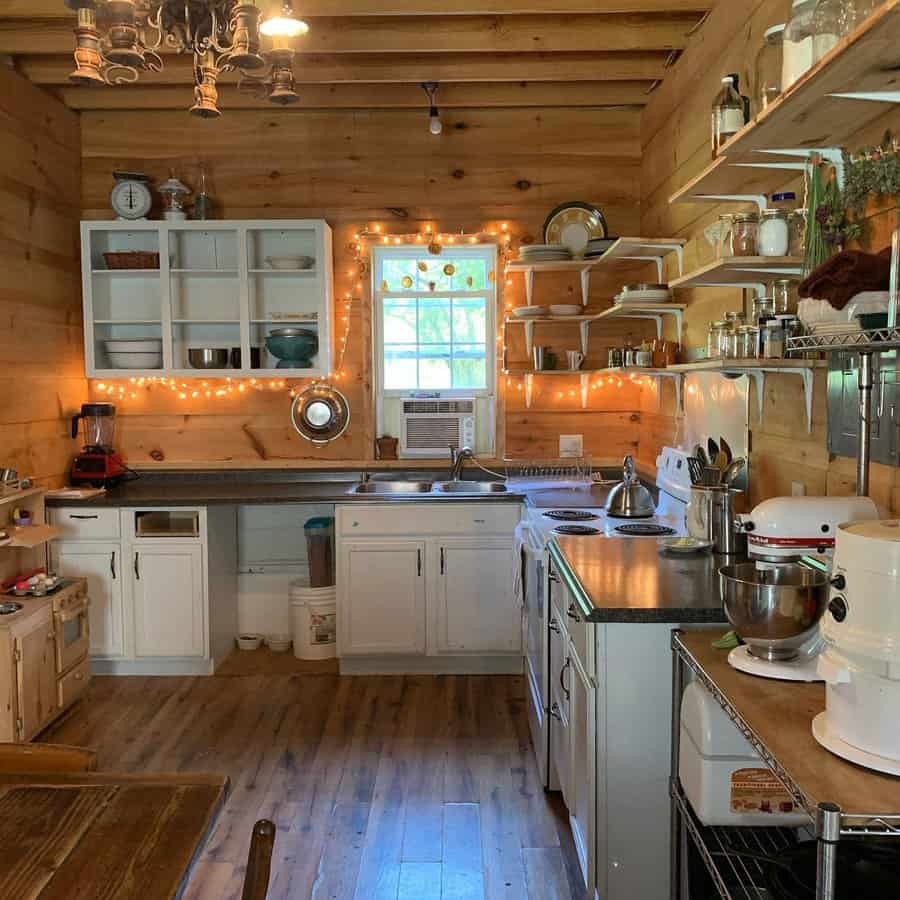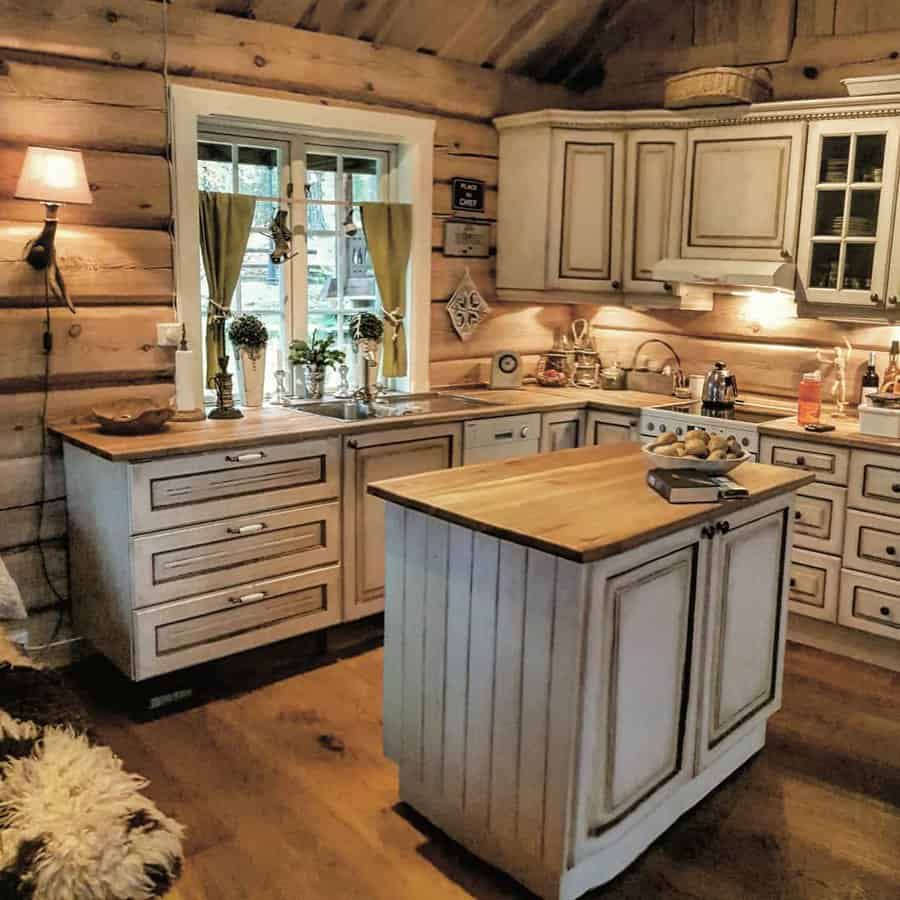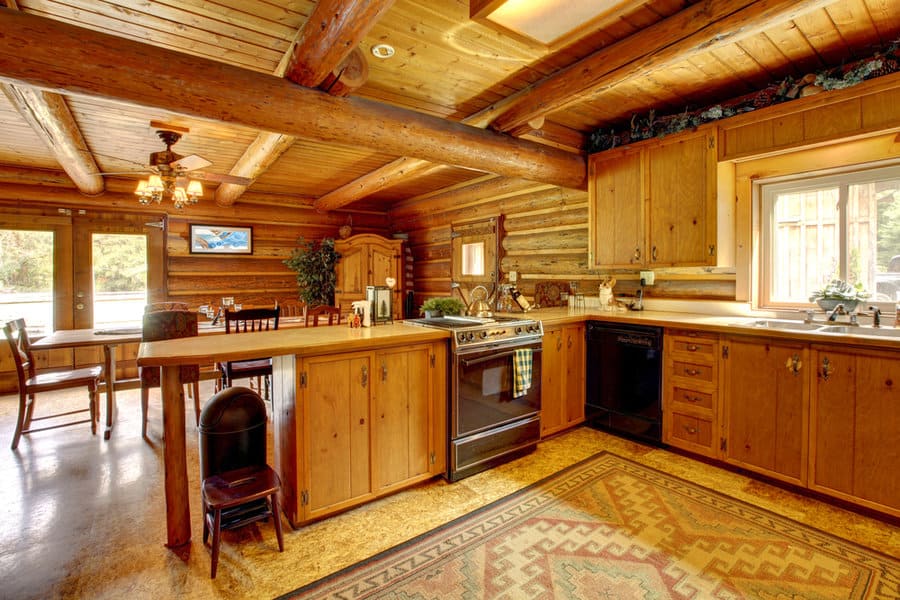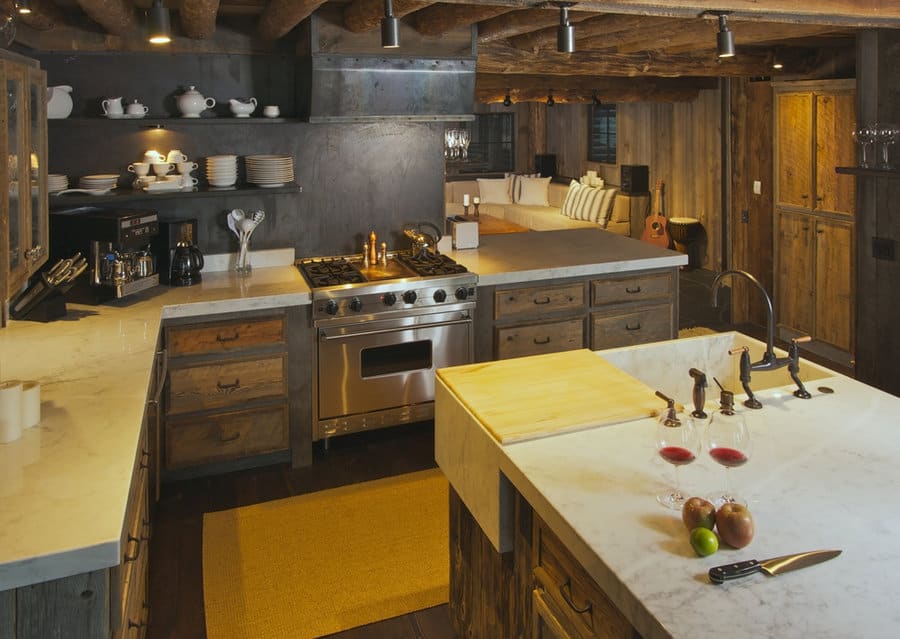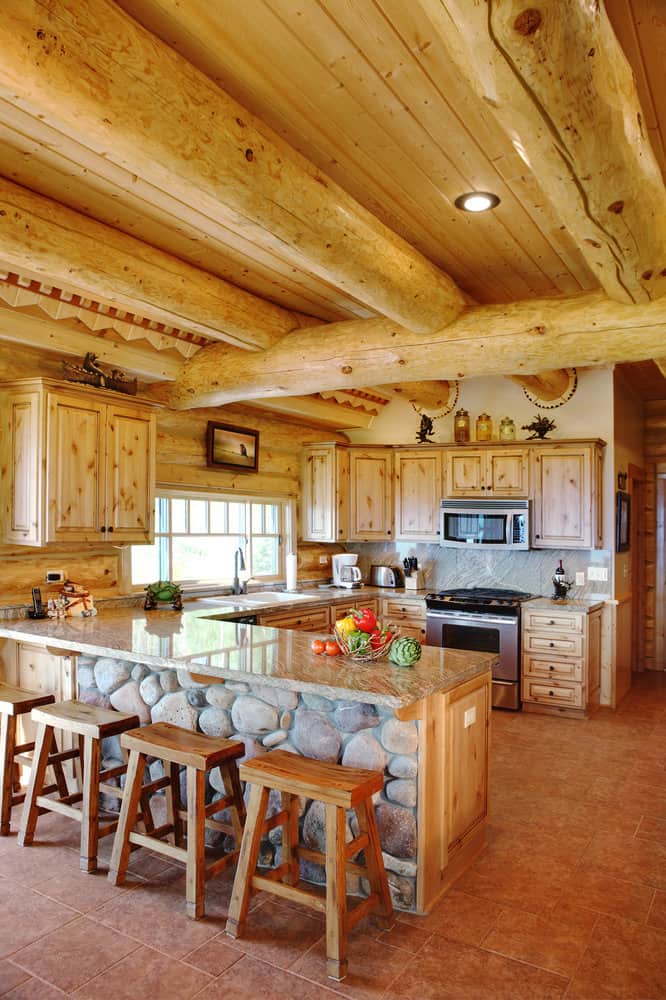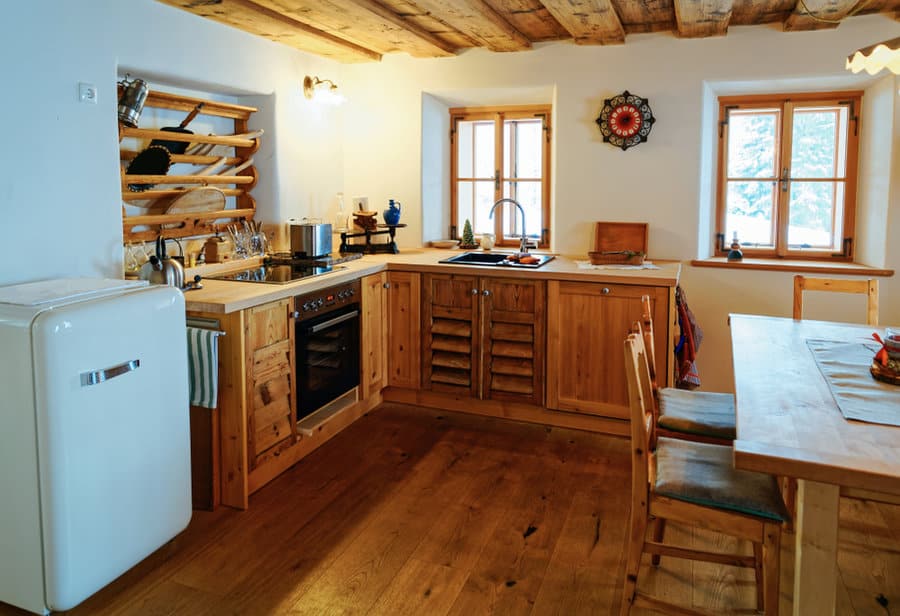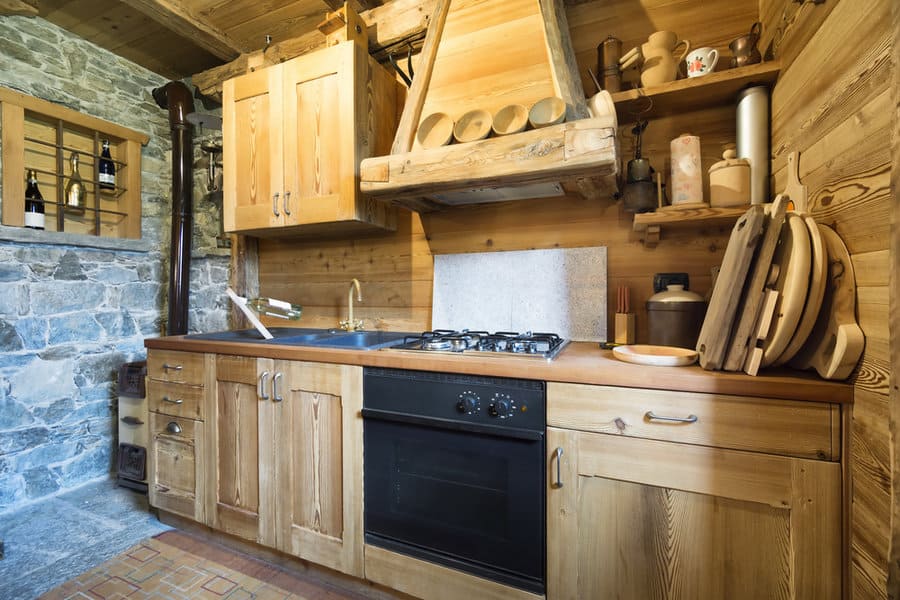 4. Go Shabby Chic With Weathered White Elements
If you are looking to add shabby chic style to your rustic kitchen, weathered white walls are a great option. To find the shabby-chic look you desire, mix shiplap walls with the existing materials in your space. You can also mix and match modern pieces of furniture and shabby chic décor for texture and contrast in the room.
Nothing defines shabby chic better than a balance of age-old charm and modern accents. Give your shabby chic rustic kitchen that extra special touch by adding hints of personality with unique design elements like distressed cabinets, handcrafted artifacts, or vintage-inspired fabric curtains.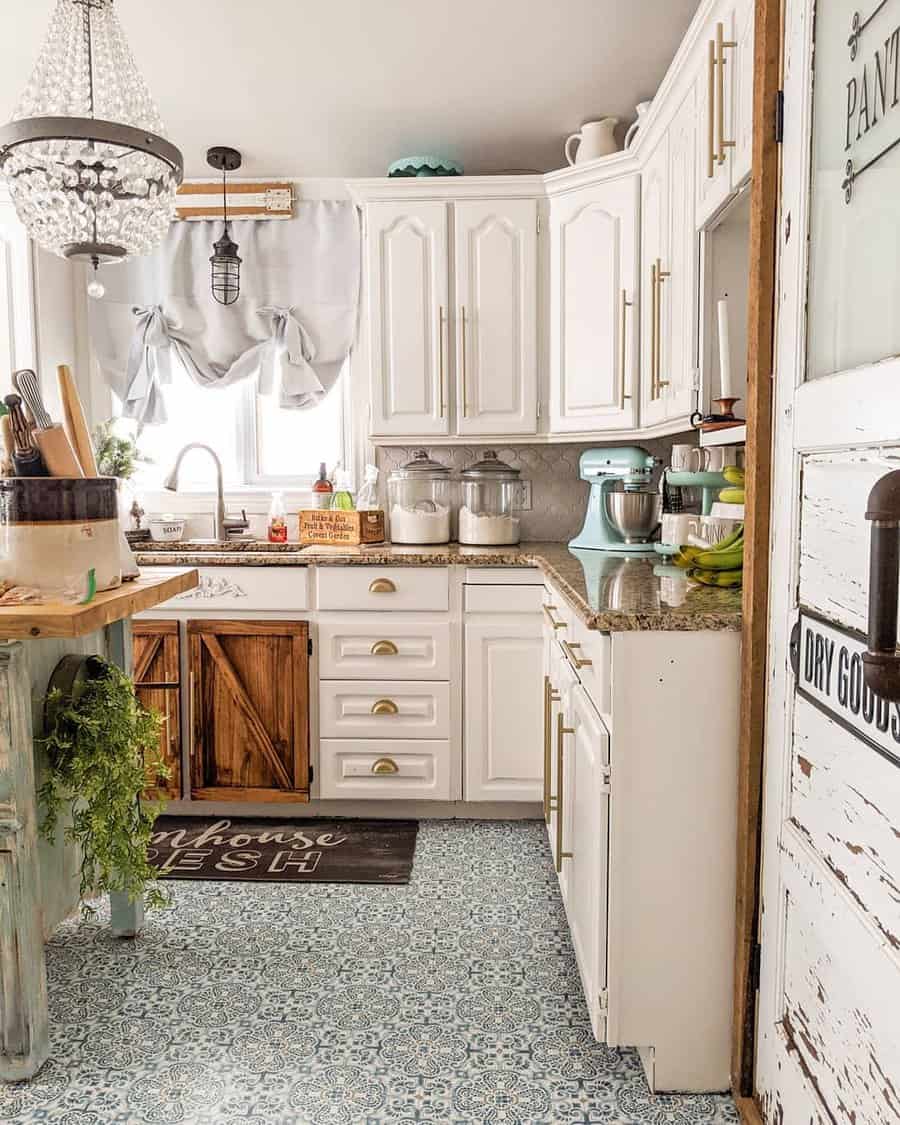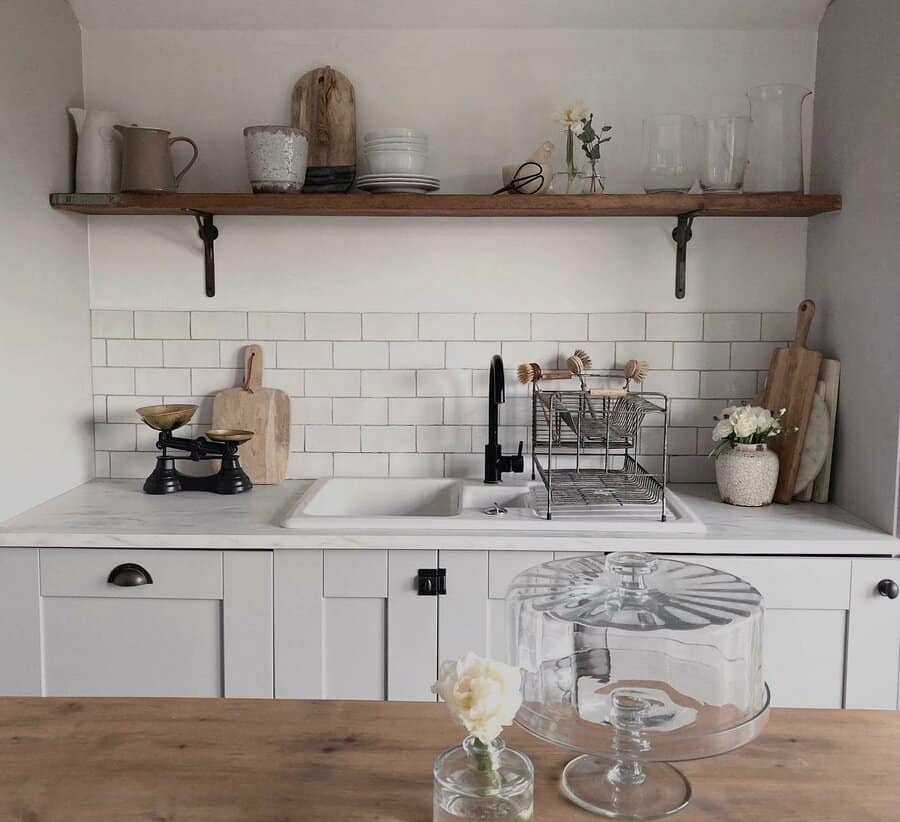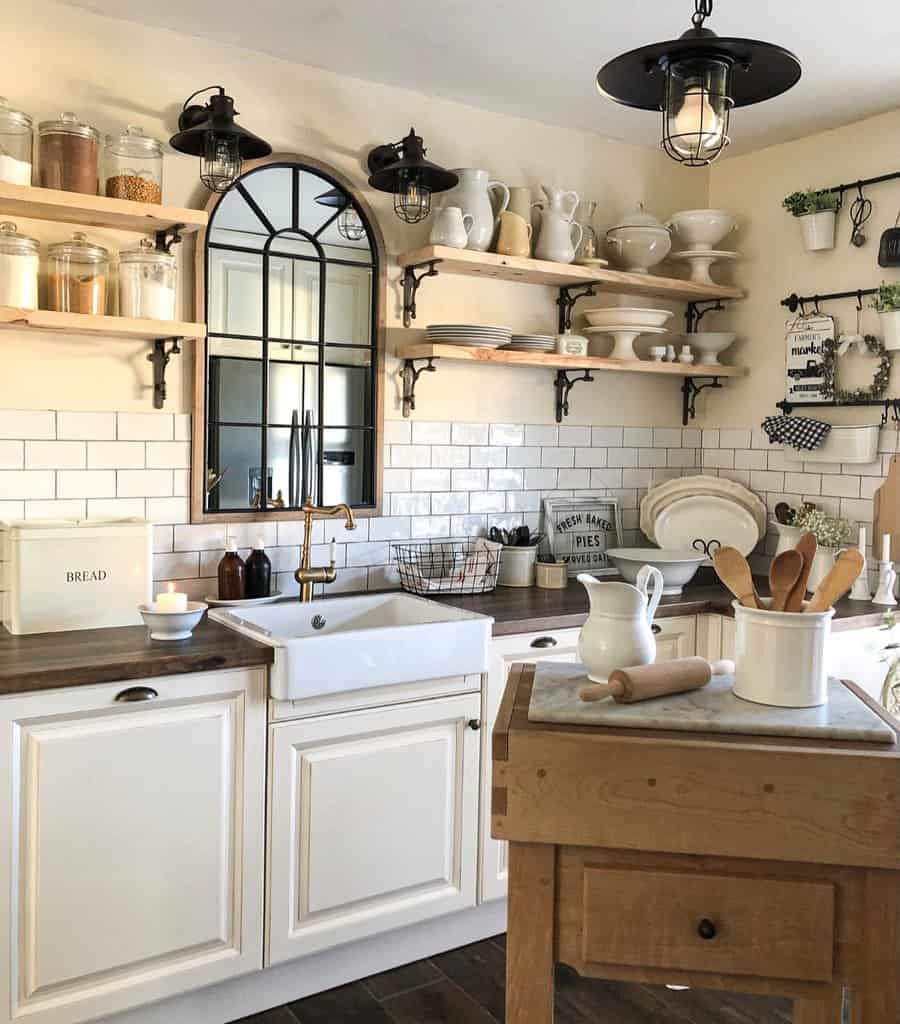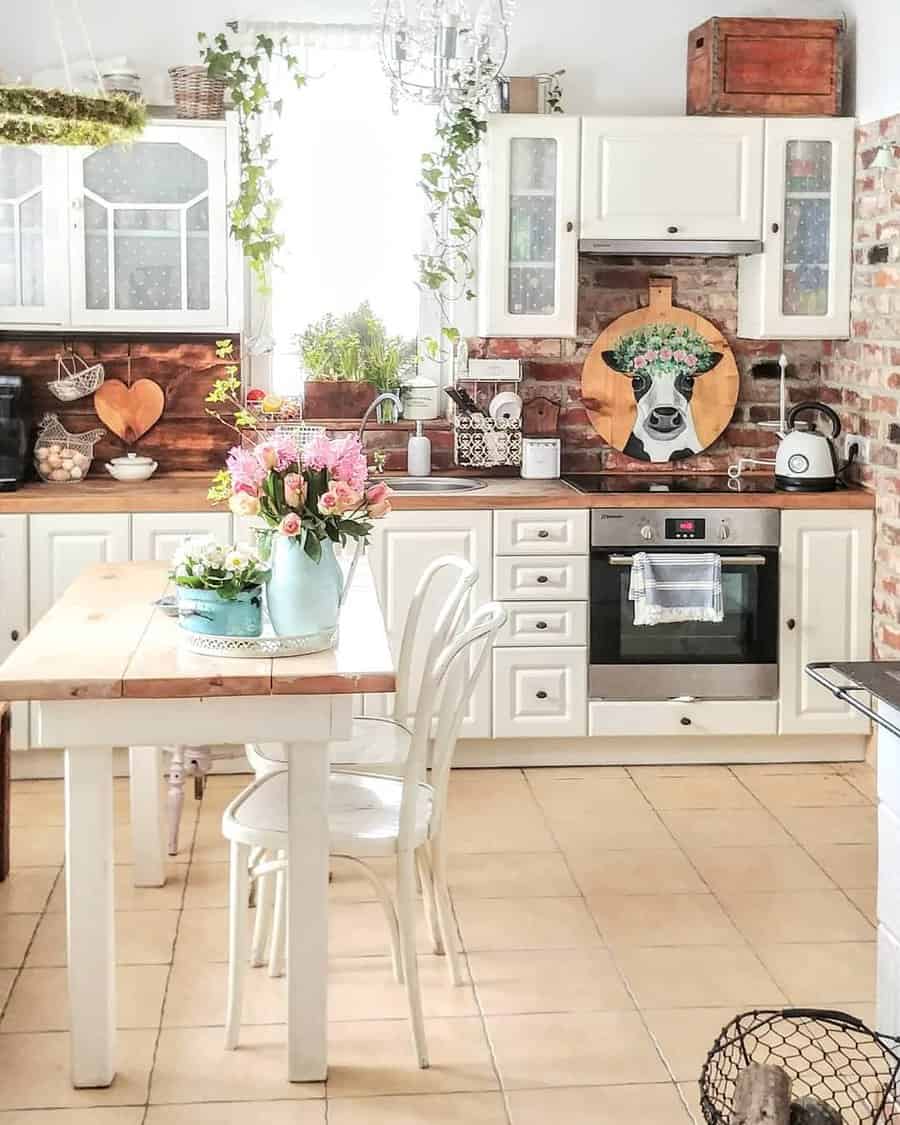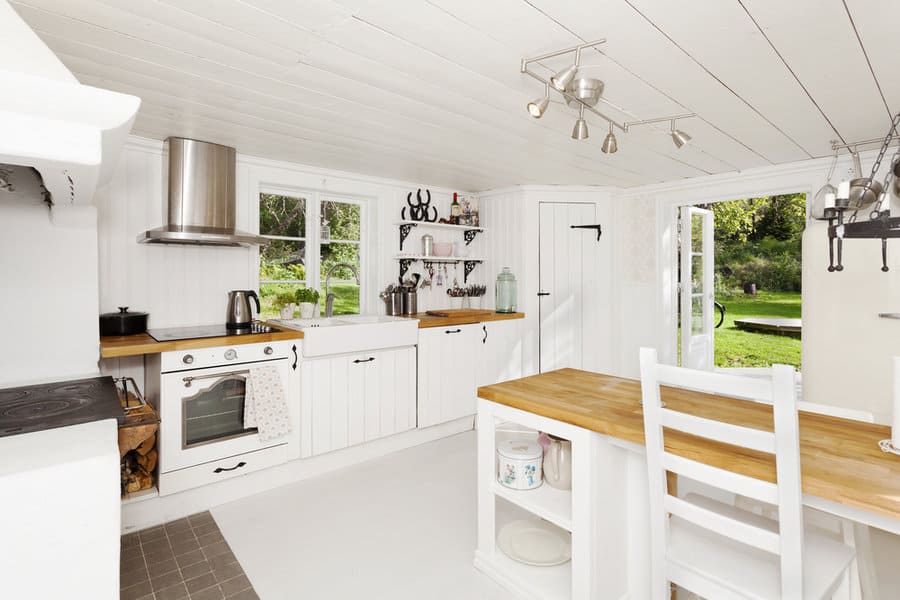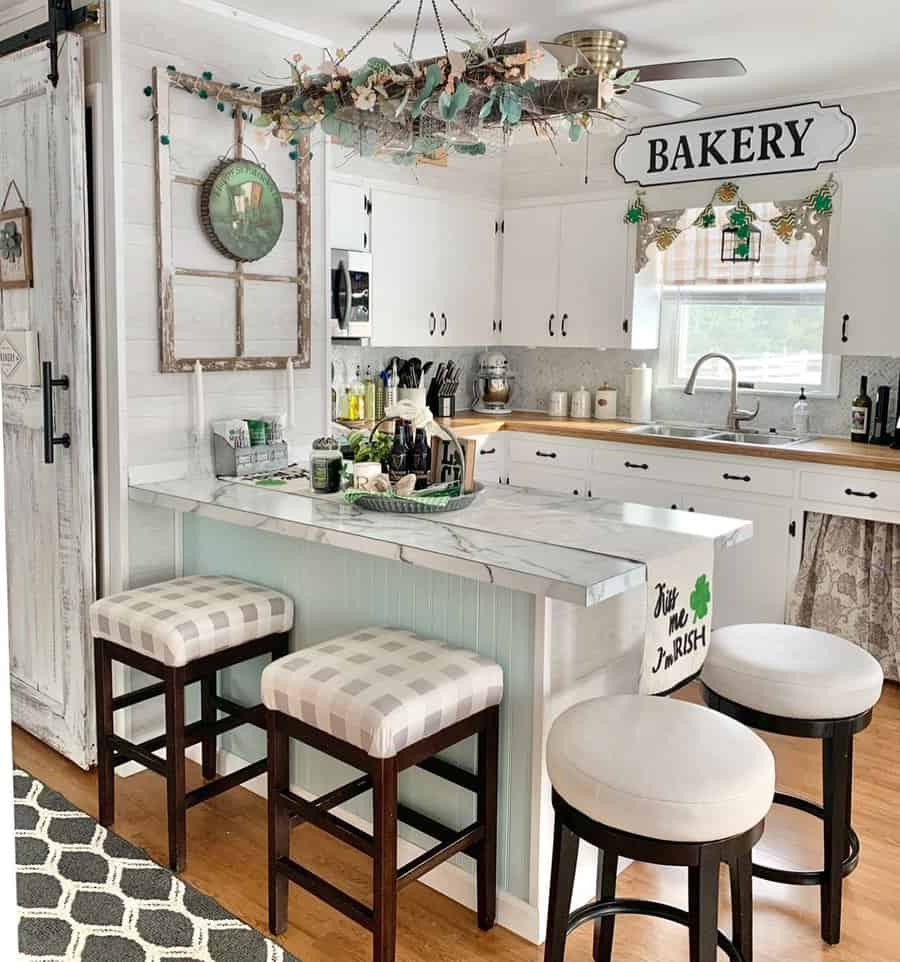 5. Set Up A Rustic Kitchen Island With Distressed Wood
If you want to add rustic charm to your kitchen, consider a rustic kitchen island as the centerpiece. Pick a wood countertop for a truly rustic look. Distressed wood looks great and is ideal for this look, especially if it's been properly treated.
Adding rustic elements like mason jar lights or antiques can also create a warm and inviting atmosphere that makes you feel right at home in your rustic kitchen.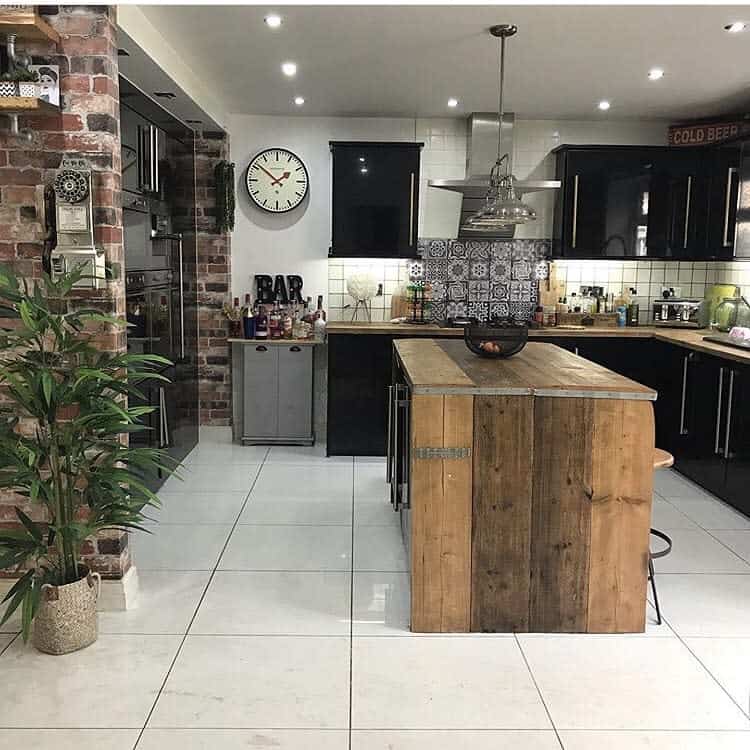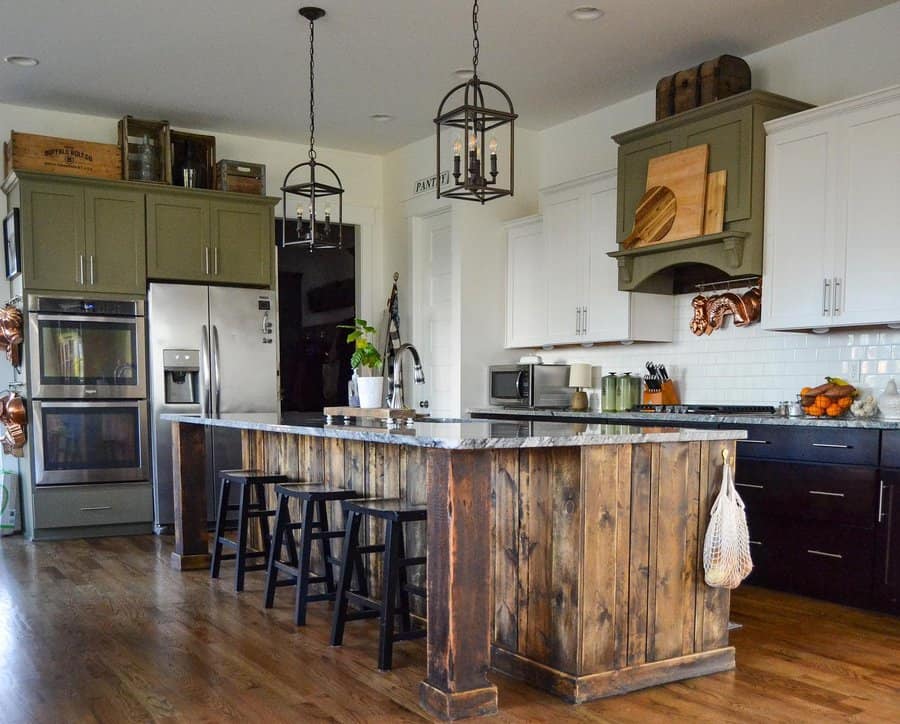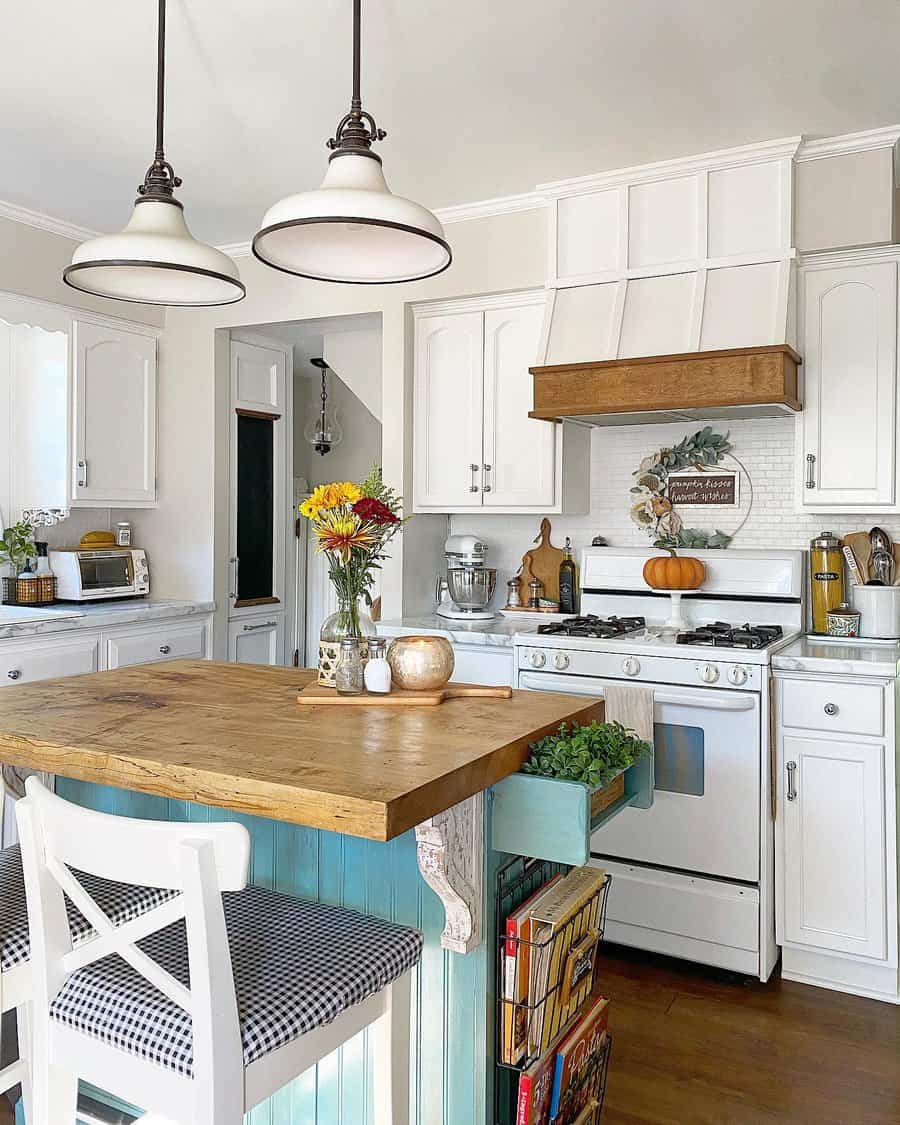 6. Add A Persian Area Rug
Wrap your kitchen in rustic style by adding a Persian or decorative area rug. This will anchor the kitchen and add an unexpected layer of texture to the room. The right rug choice can bring warmth and character to the space that simple cabinetry will not, providing depth while emphasizing other elements of décor.
Not only is it practical in reducing noise and protecting floors, but it's also a stylish addition, evoking images of traditional farmhouses with a cozy, inviting atmosphere. Place a Persian or decorative area rug beneath your dining room table or kitchen island for a look that moves beyond rustic charm and adds visual dimension.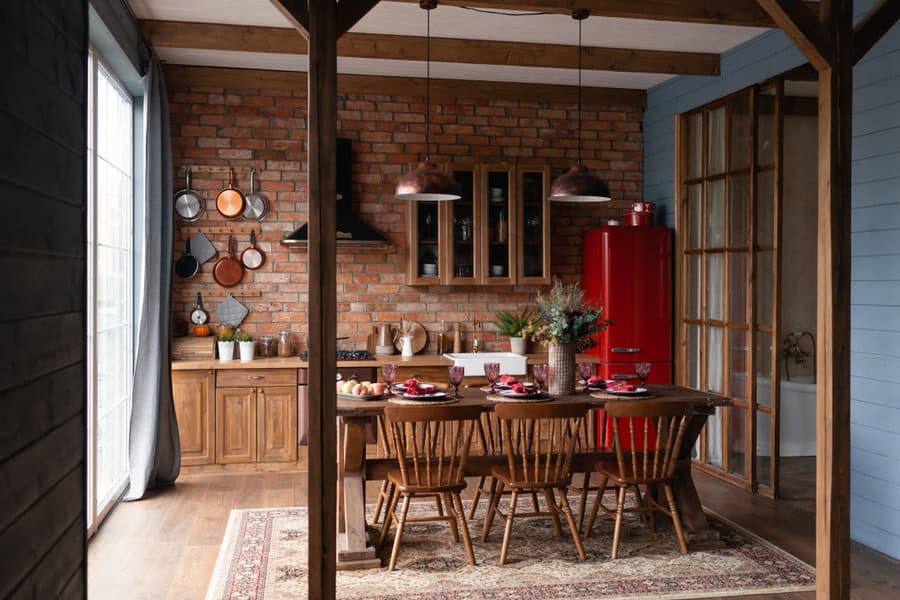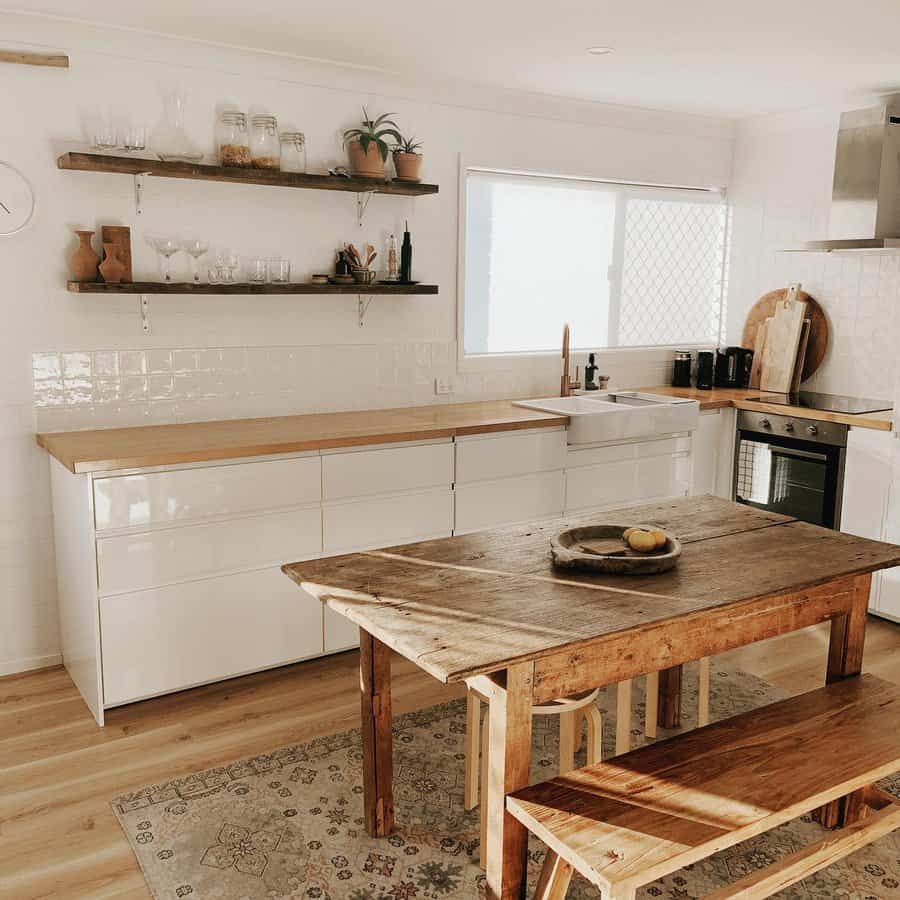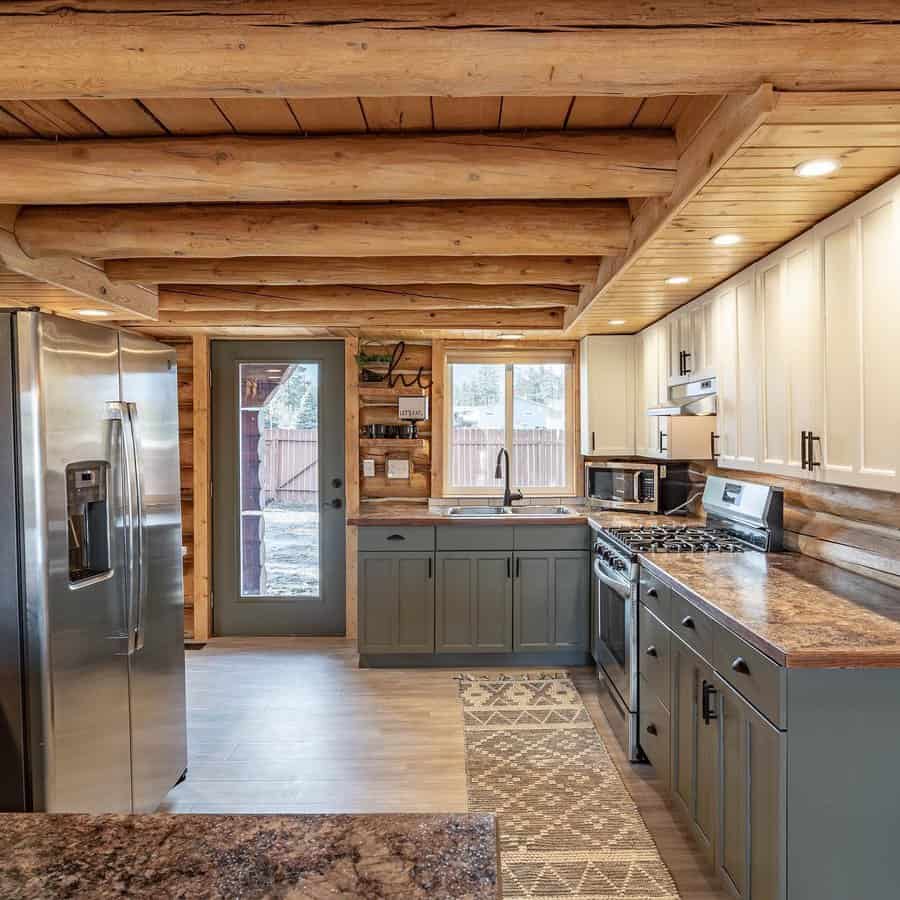 7. Add Pendant Lighting
If you're looking for a unique light fixture to complete your rustic kitchen, what could be better than a pendant lamp? A statement pendant lamp is perfect for cultivating a cozy atmosphere and works well with the laidback and outdoor decor of the rustic-style kitchen. This type of lighting is also very versatile and can be used in various locations – from the breakfast nook to the center island.
Not only does a pendant lamp add inviting illumination to your space, but this type of light fixture can also make a fun design statement. Choose one in a bold pattern or an interesting shape that can really up the wow factor within your space.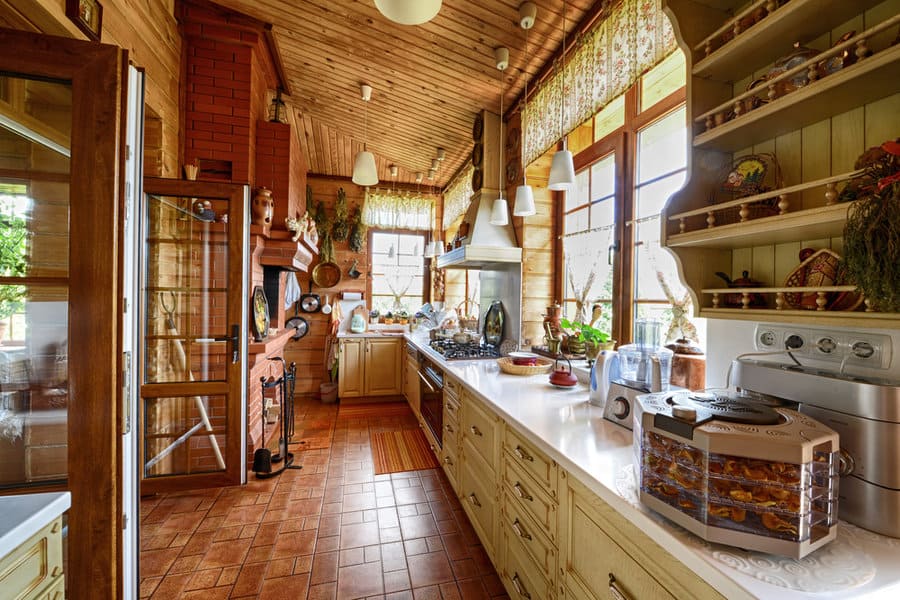 8. Utilize Vertical Spaces For Rustic Decor
If you're looking to give your rustic kitchen an extra boost of charm, try out vertical shelves with wall decor. Mounting vertical shelves can add visual appeal while providing the opportunity to curate a unique themed display. Creating a shelf with the vintage decor you have collected will make your kitchen truly special and sentimental.
To add, incorporating mounted baskets can hold a variety of items from spices to utensils and offer texture within the kitchen space keeping it both organized and inviting. Whether it's vertical shelves, decorated shelves, or mounted baskets in your rustic kitchen – you can't go wrong!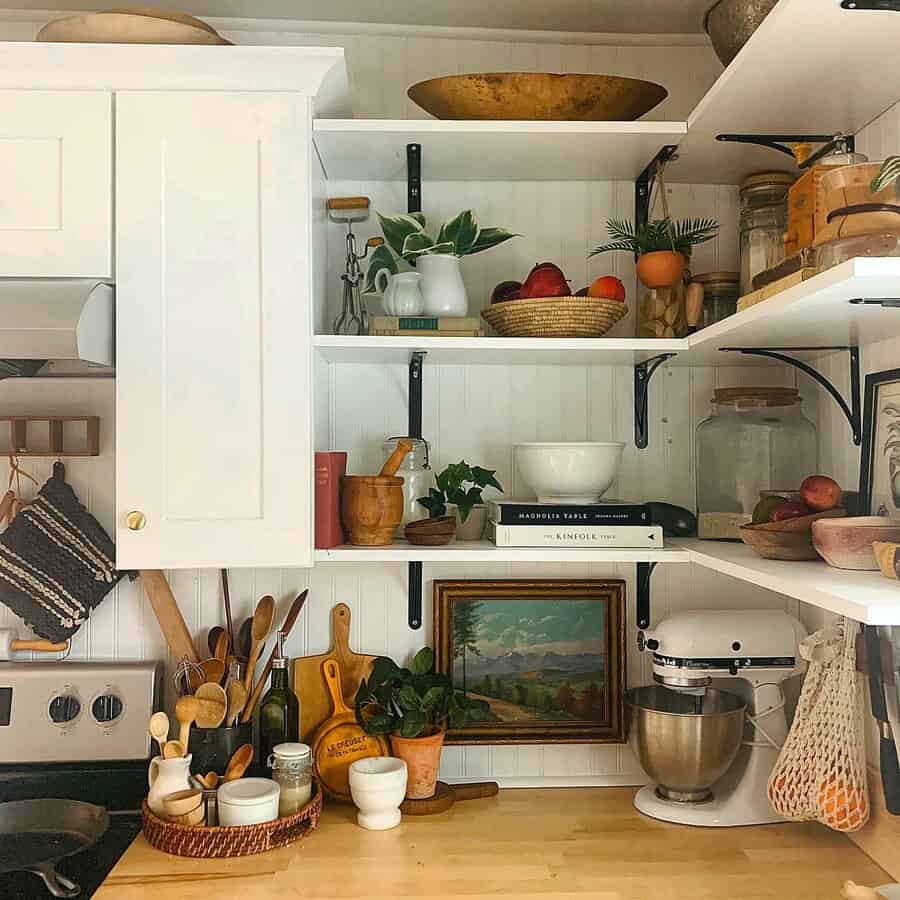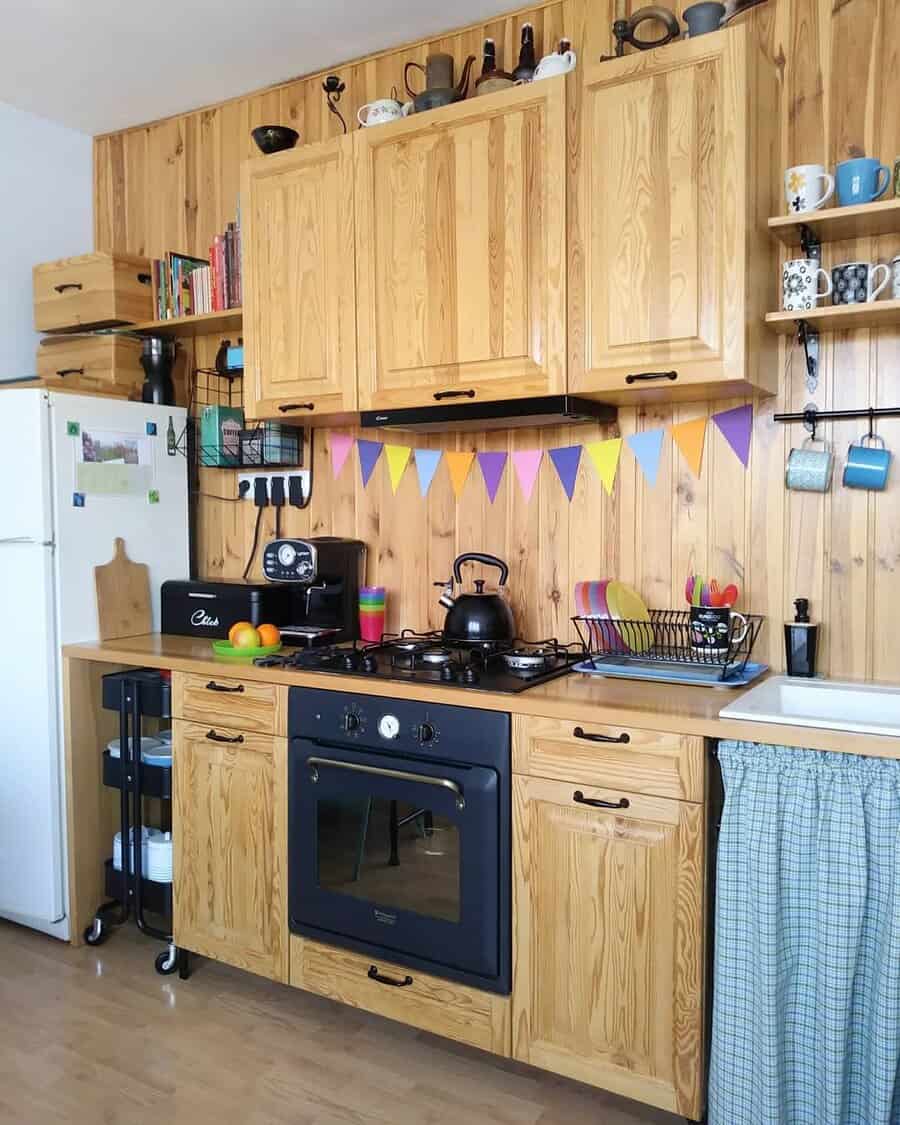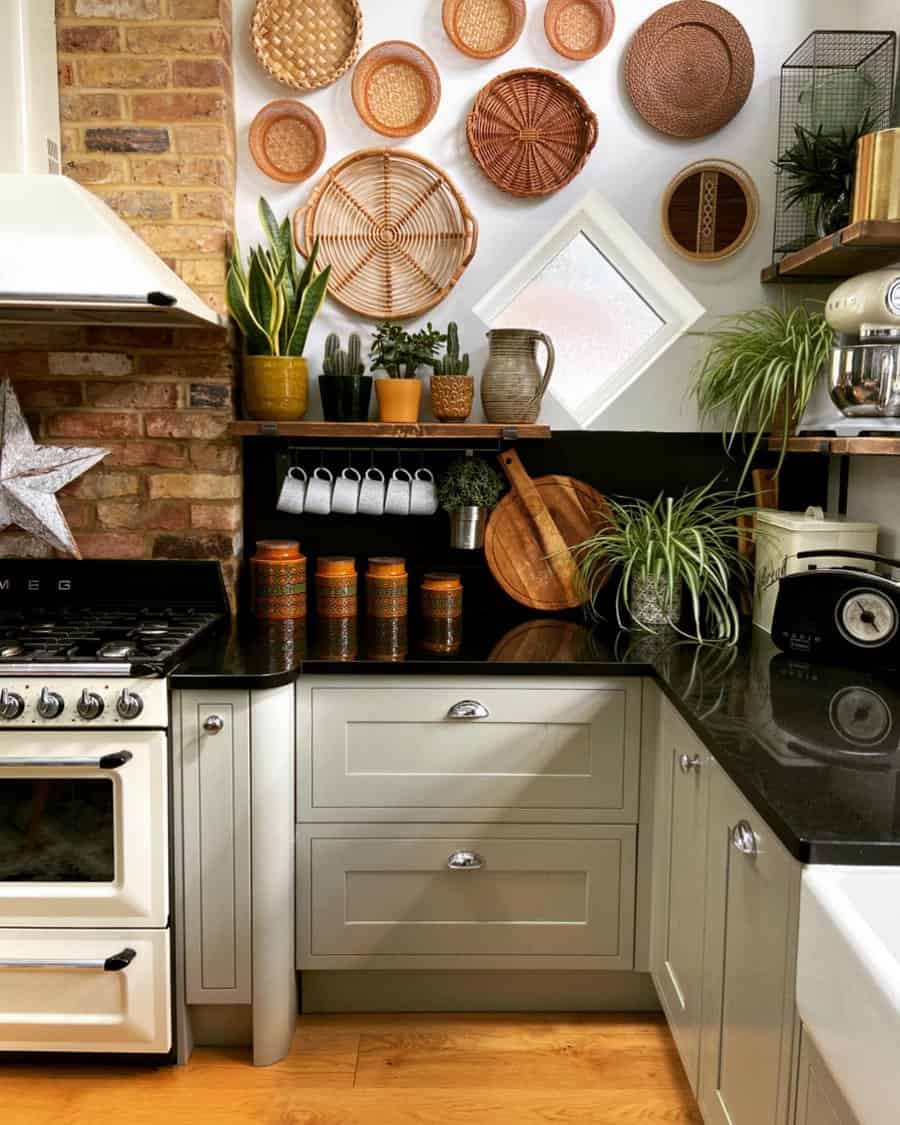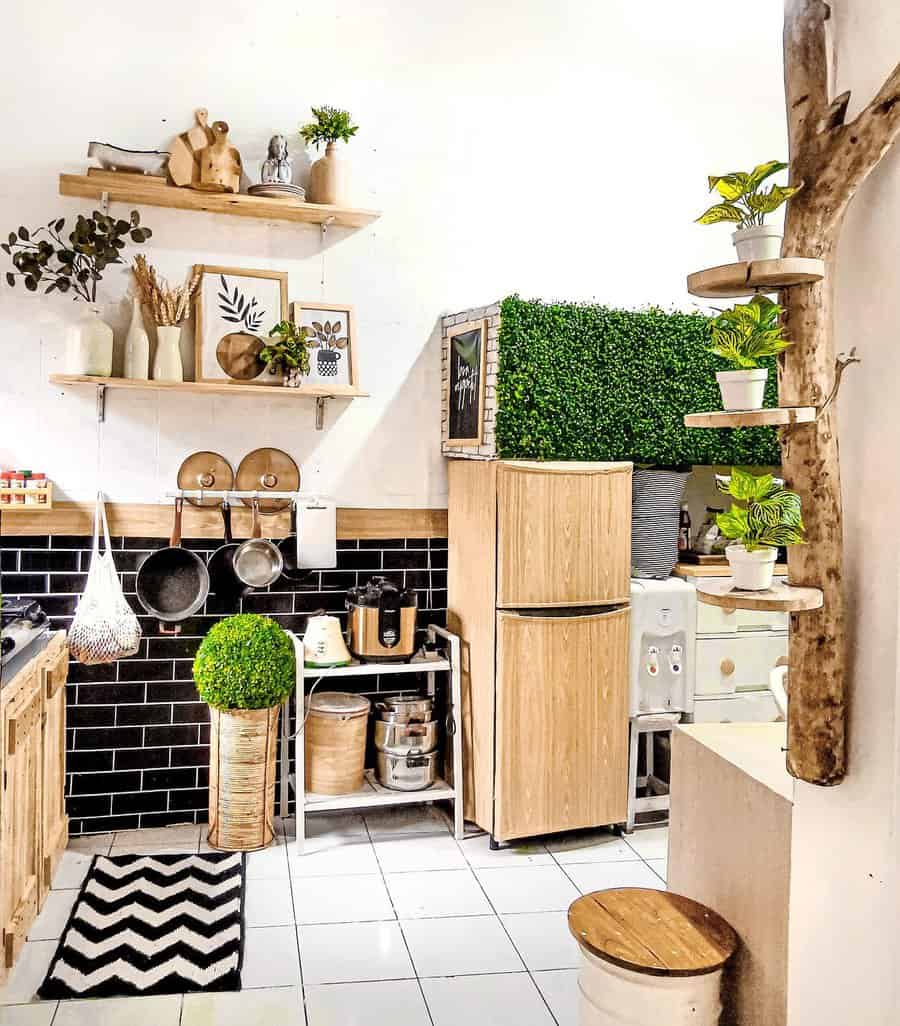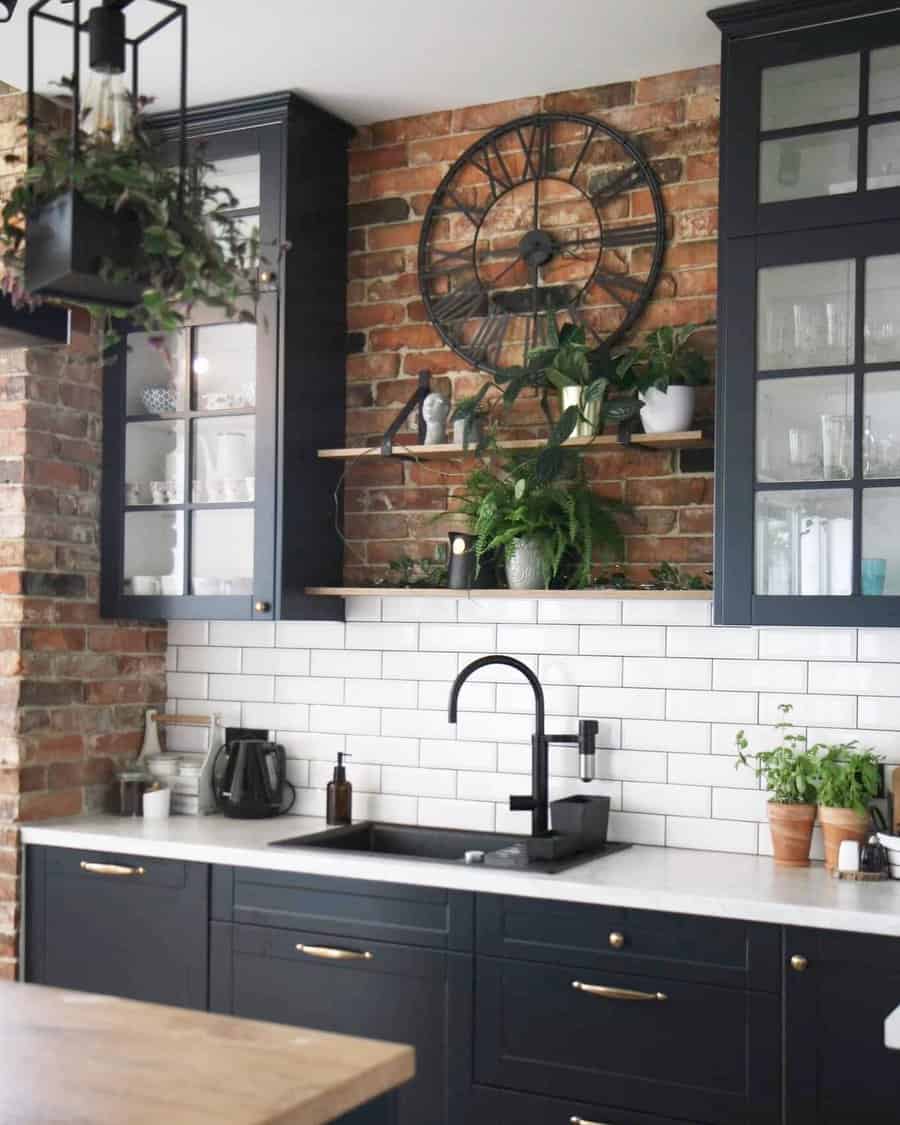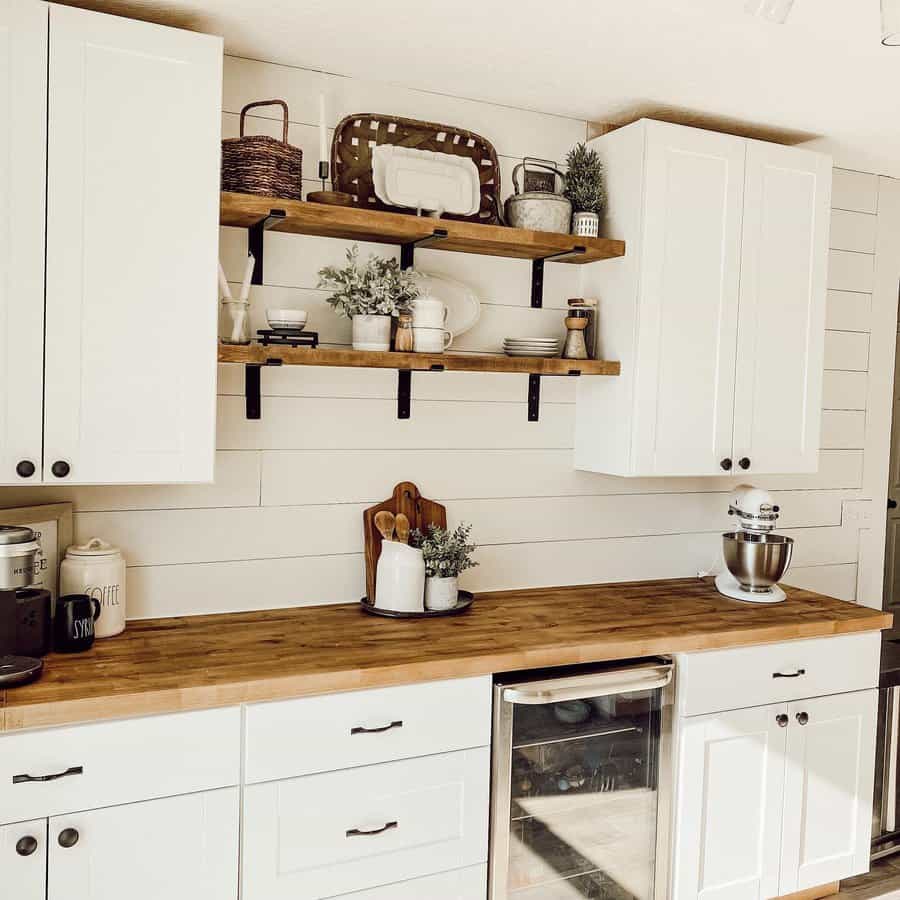 9. Add Ceiling Beams For An Airy Look
Creating a rustic kitchen with ceiling beams is a great way to add character and charm to any home. They bring a touch of the outdoors inside while providing an airy look with the open ceiling. Start by choosing beams that are wide enough to make a statement, but not so wide that they overwhelm the space.
Next, determine where you want your ceiling beams for maximum effect – perhaps across the ceiling as a whole or in sections for more visual contrast. Finally, consider complementing your ceiling beams with other features that are natural in nature such as wooden countertops and furniture pieces made from reclaimed wood.
With just these few steps, you can create a visually striking rustic kitchen that even the most experienced interior design enthusiast could appreciate!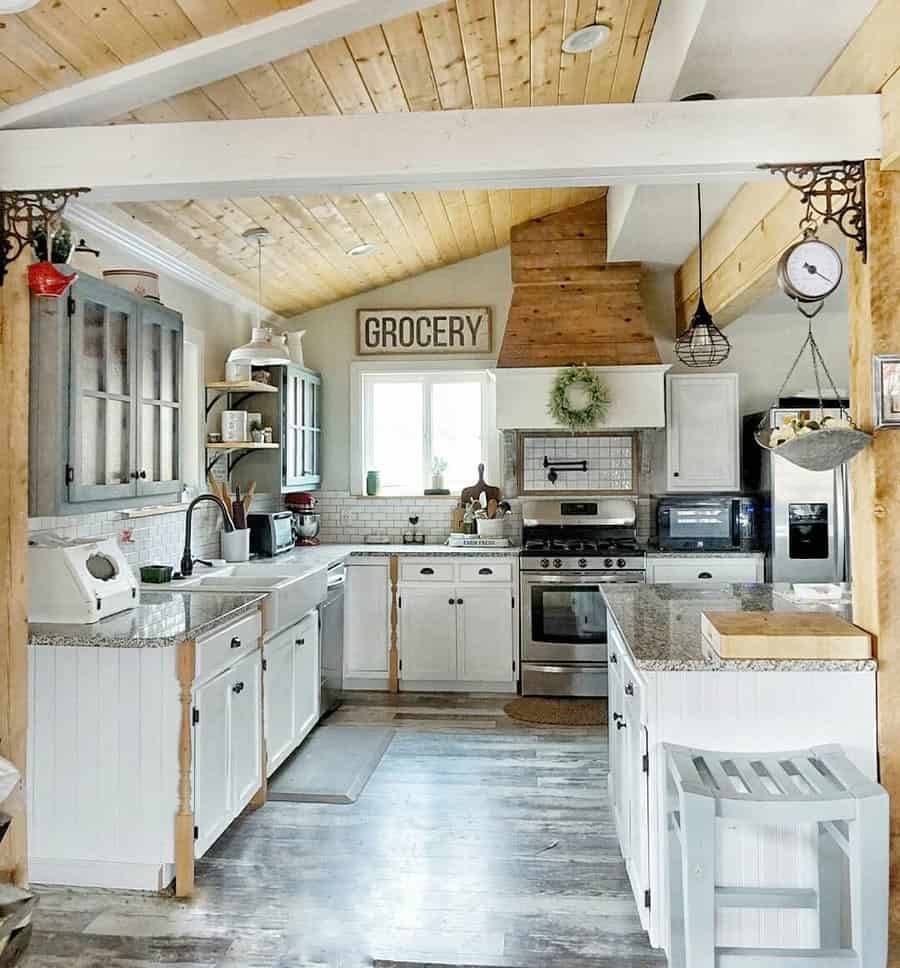 10. Find Repurposed Items For Decor
For a rustic, yet stylish kitchen, repurposed decor can be just the thing to liven it up. Head to your local thrift store and comb through bookshelves and back rooms for unique and repurposed items that can become conversation starters for visitors.
An old copper pot repurposed as a fruit bowl or a vintage wall clock brings an old-time country charm that can't be found in any store and is sure to spark nostalgia. Searching for repurposed items such as these provide an opportunity for you to create your own personalized decor that tells your story in a unique way!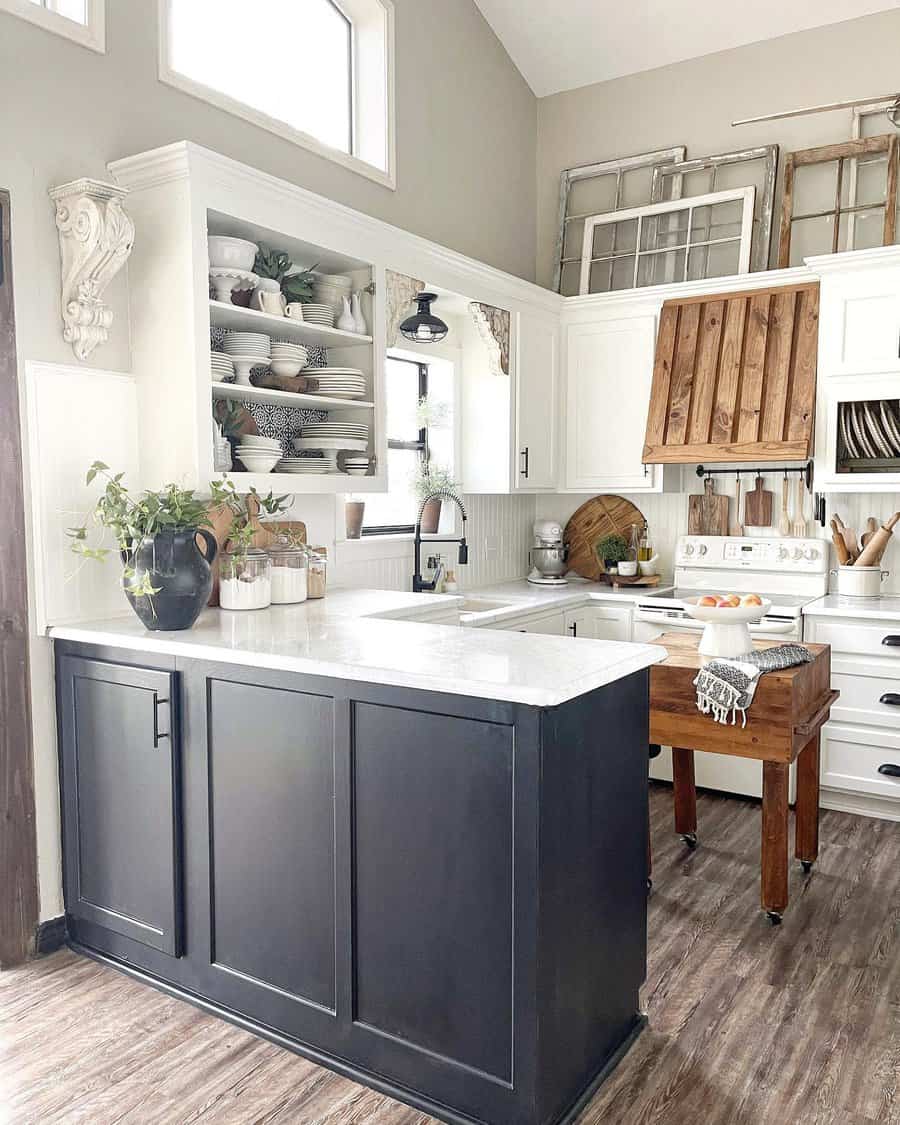 8. Go Industrial-Rustic With Black Fixtures
Transform your classic kitchen into an industrial-rustic style by discovering the perfect balance. To do this, try incorporating black fixtures will add drama to the room. Black fixtures along with muted earth tones will create a rustic, industrial feel in your kitchen.
With just a few simple additions, you can achieve an industrial-rustic kitchen with an element of sophistication using black fixtures.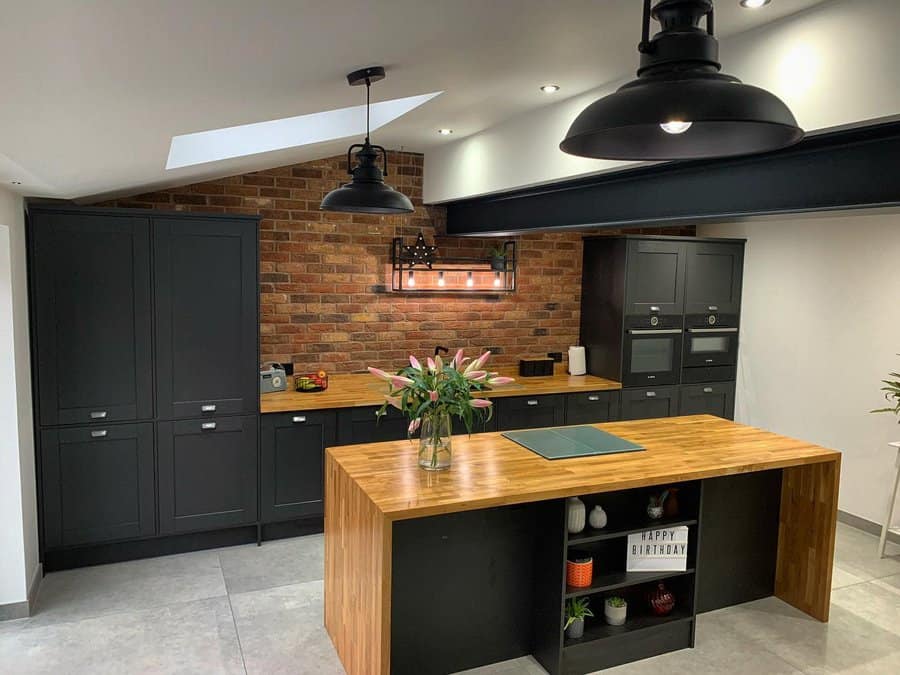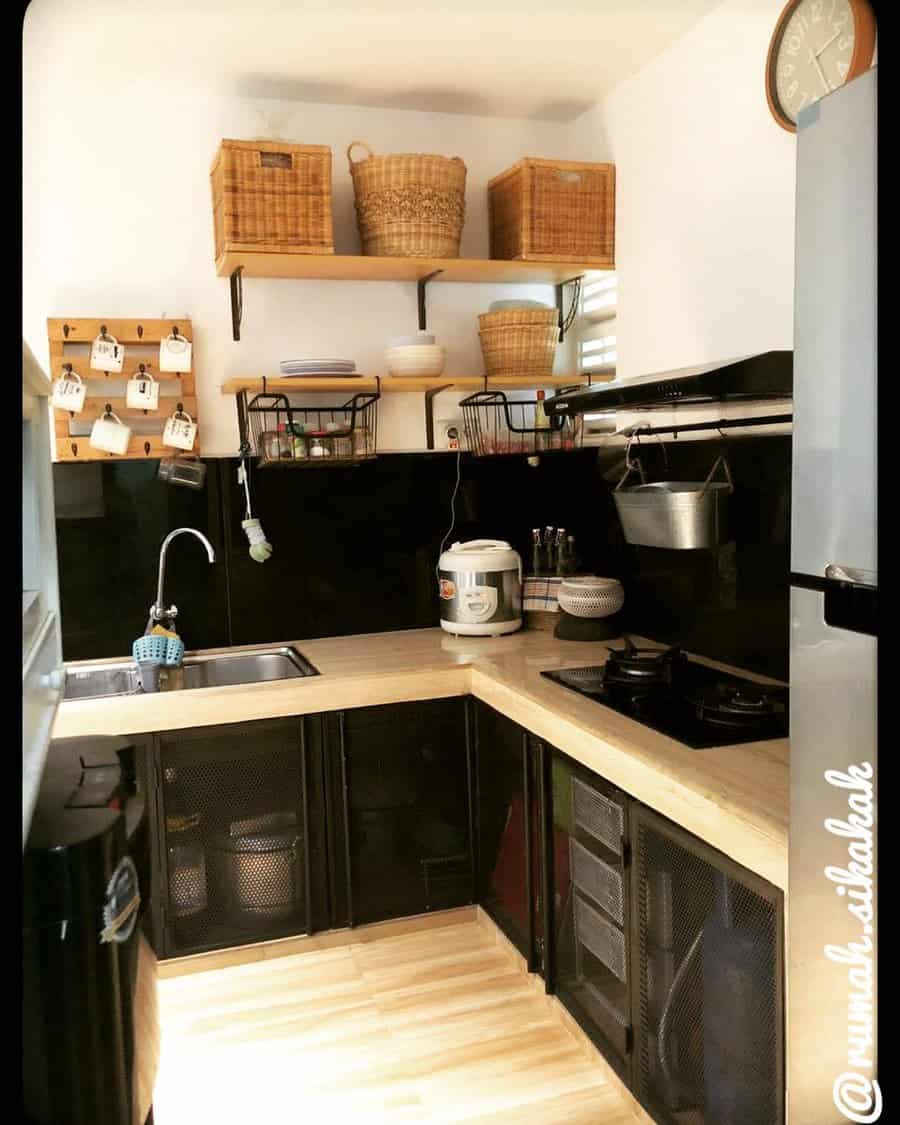 9. Choose A Wood Countertop
For a rustic yet sophisticated kitchen, consider installing a wood countertop. Not only will it bring warmth and depth to the space, but wood is one of the most dependable materials for house projects. Choose from hardwoods like walnut and cherry for a classic look, or opt for darker woods like mahogany for more of an air of elegance.
Using wood countertops can also give you the opportunity to get creative – adding a wood stain here or some etching there can add extra charm that complements different styles. With wood countertops, your kitchen has all the components of an inviting and modern atmosphere.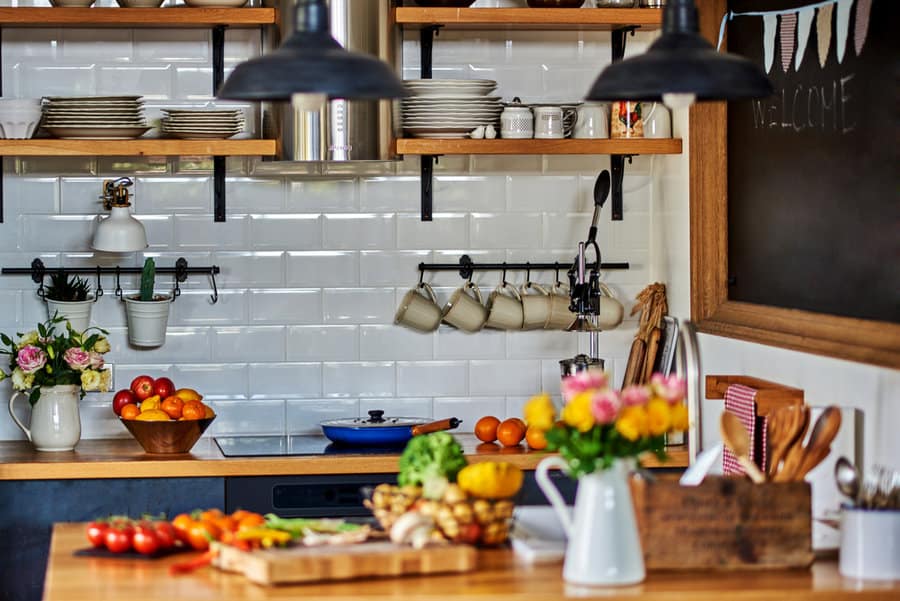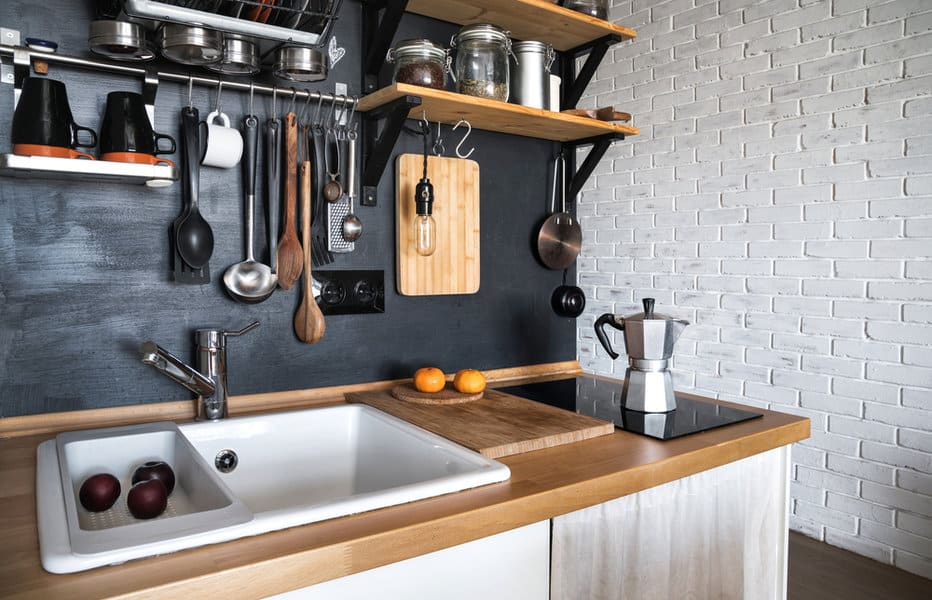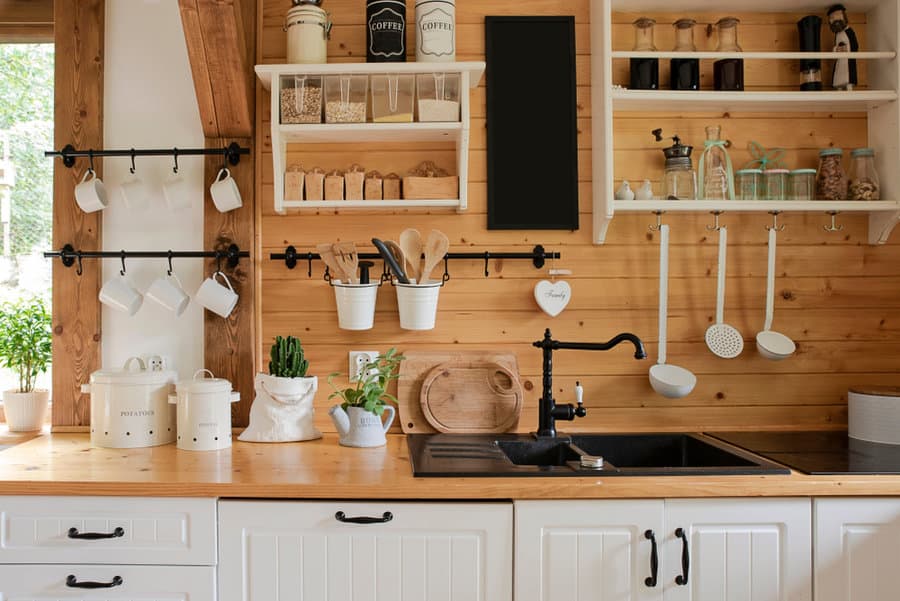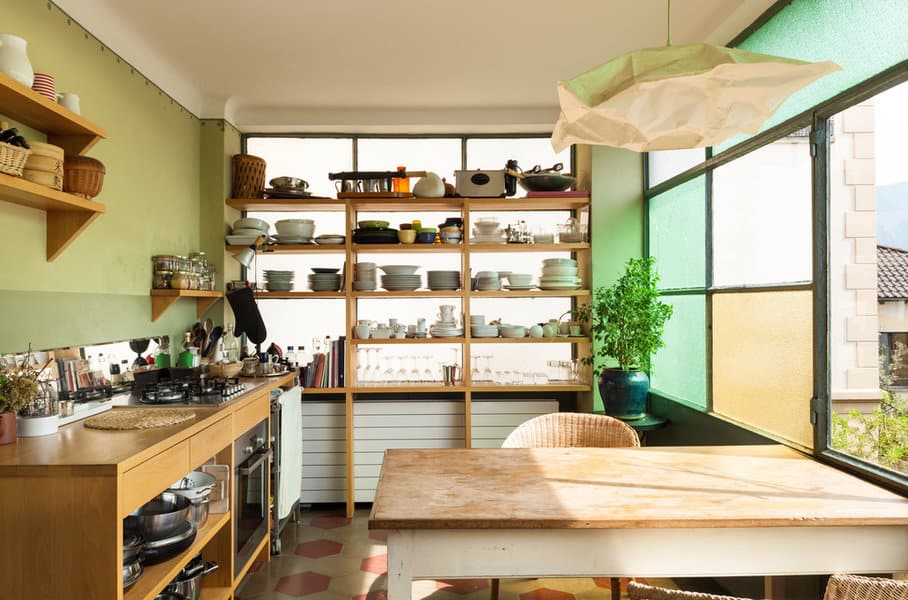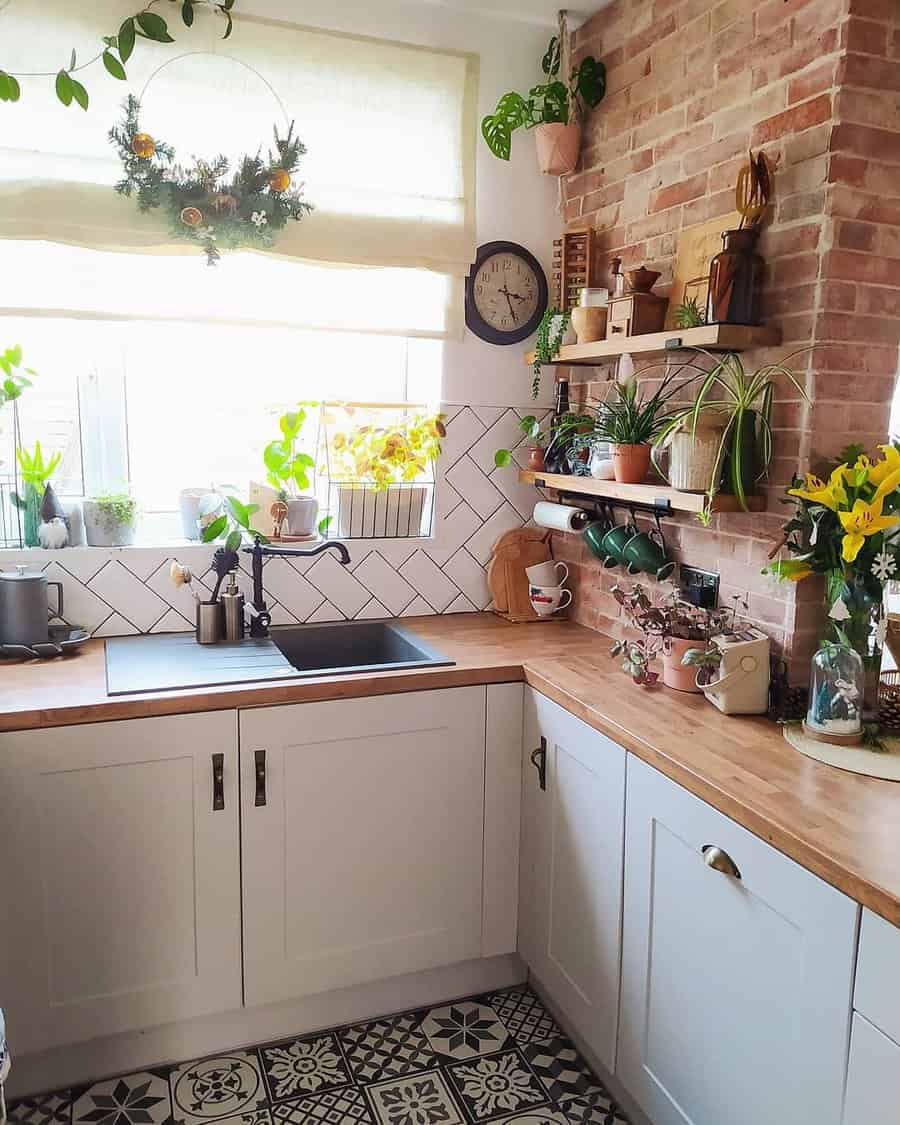 10. Build With Reclaimed Wood
To accomplish a rustic look in your kitchen, walls made of reclaimed wood will bring a unique character to your space. Reclaimed wood has beautiful imperfections like color variations and knots, making it perfect for a striking rustic aesthetic.
Not only does it give added visual interest, but you'll have the comfort of knowing the materials date back to earlier decades or centuries! Incorporating more rustic touches with metals and different textures can complete the look. Using reclaimed wood as an integral part of your decor is eco-friendly, timeless, and eye-catching all at once!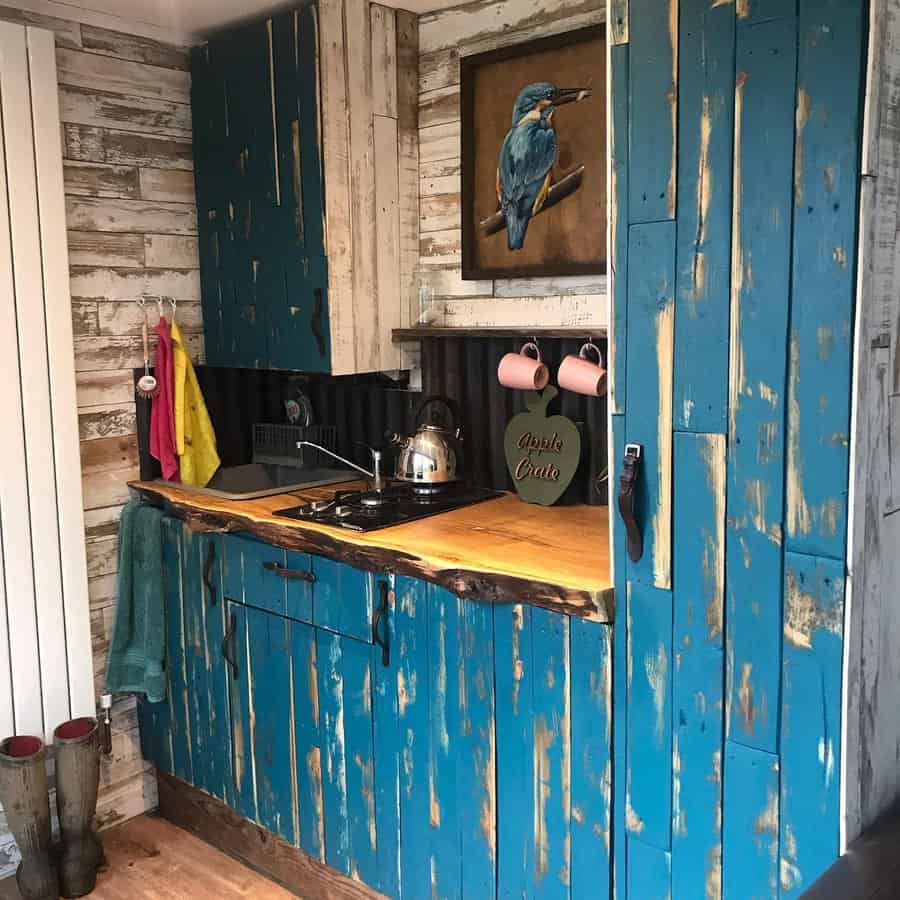 11. Mix & Match Tiling Styles
Having a rustic kitchen is the perfect opportunity to mix and match different types of tiles. To add a unique sparkle to the kitchen, consider using decorative or patterned tiles such as floral prints, paisley designs, or abstract shapes.
Bricks and subway tiles are always classic choices that serve as both backsplash and decoration. Whether it be bold colors, bright mosaic pieces, mix-shaped ceramic styles, or traditional slates – mix and match tiles when designing your rustic kitchen for a beautiful contrast of elements that will brighten up any space.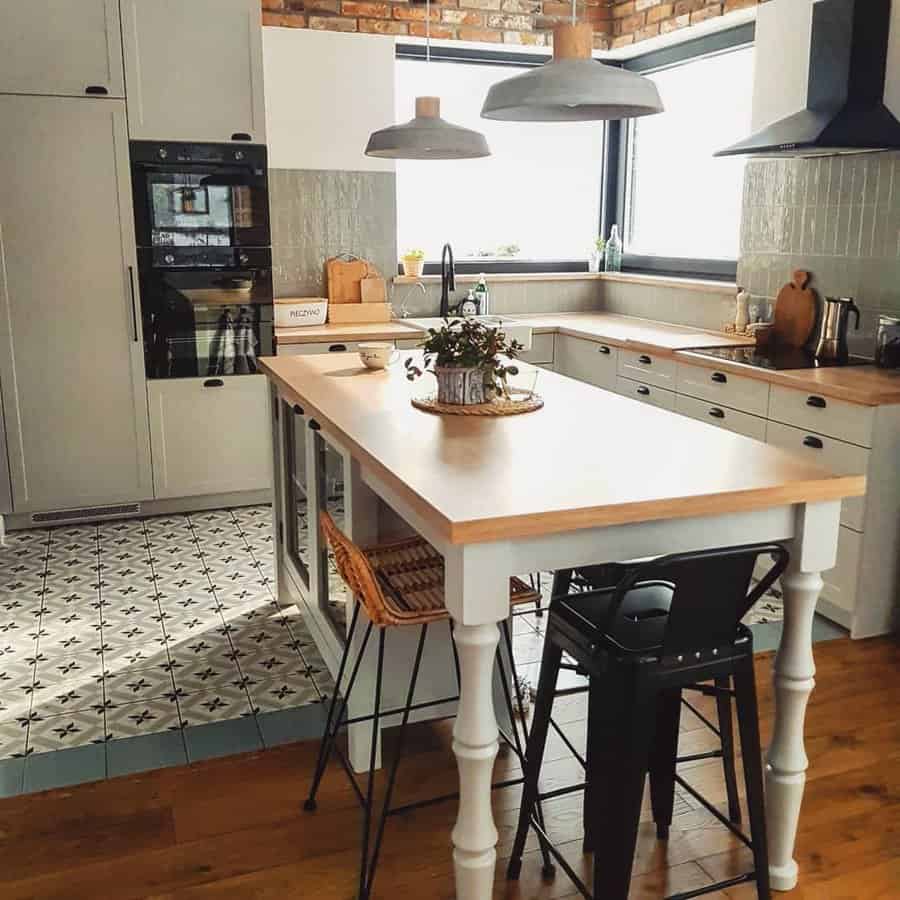 12. Collect Vintage Dinnerware For Decor
When it comes to decorating a rustic kitchen, vintage dinnerware not only adds a vintage charm but also helps make a statement. Collect vintage plates, mugs, and bowls that feature beautiful designs. Place them on shelves or hang them on the wall as an eye-catching focal point.
Create an organized display of vintage finds in larger pieces like cake plates, teapots, trays, or jugs on your countertop or tabletop. You can also add extra warmth to your rustic kitchen by including vintage decorations like baskets and tin cans on your shelving and mantles for visual interest.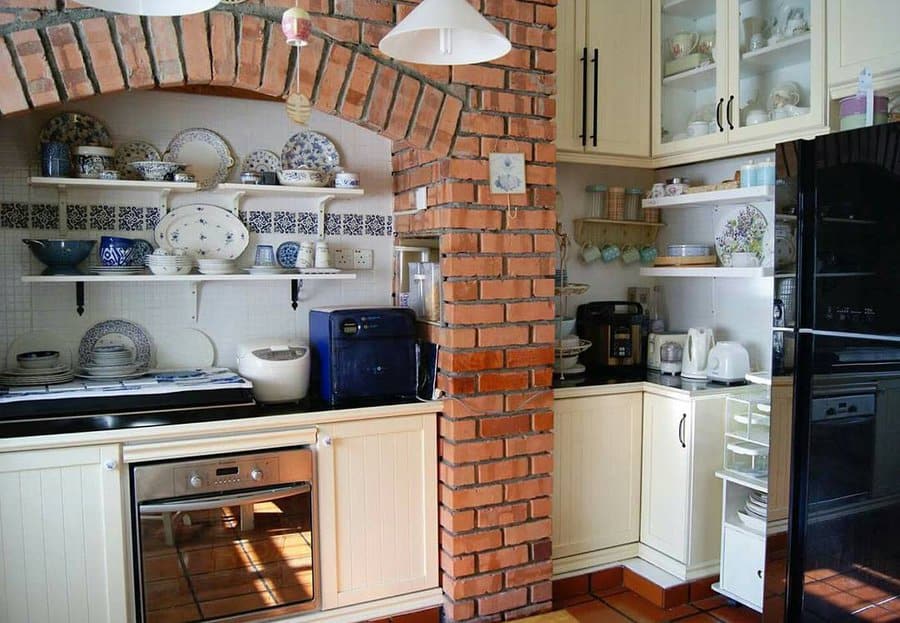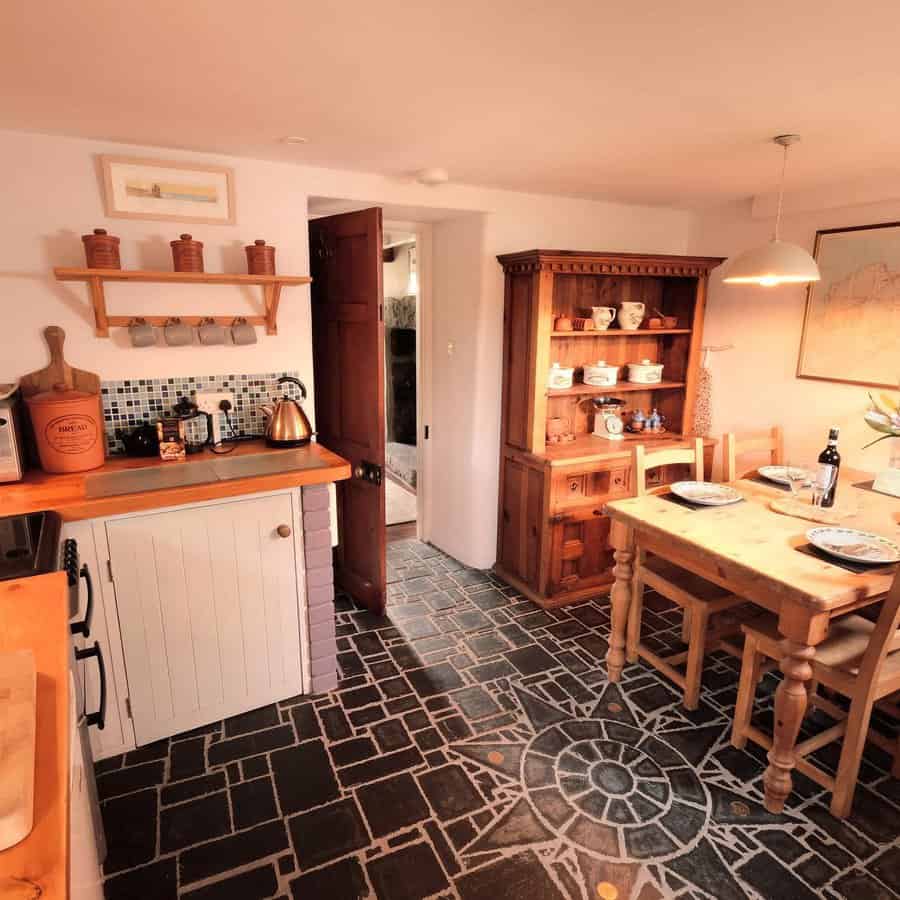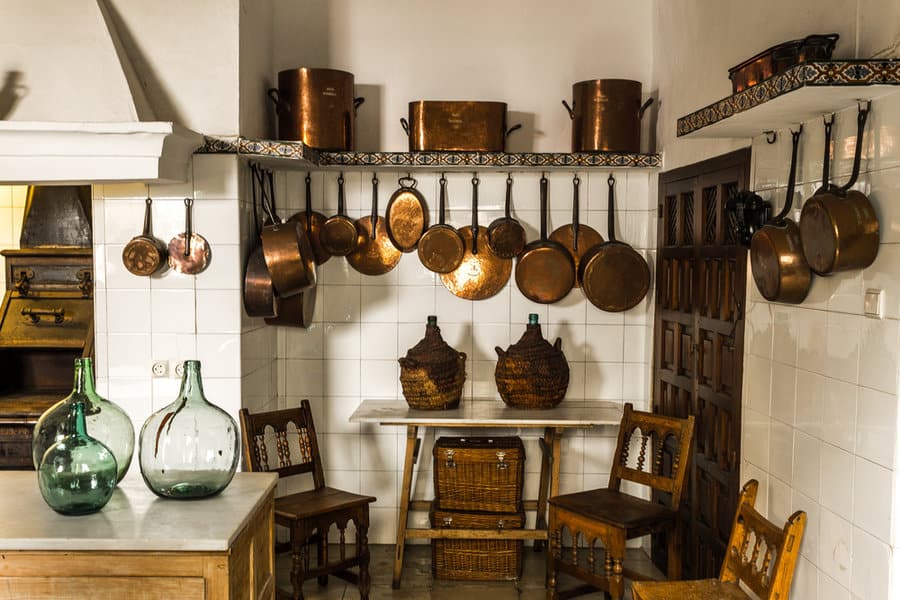 Rustic Kitchen FAQs
What makes a kitchen rustic?
Adding wood elements to your kitchen helps it to feel more rustic. If the wood is slightly worn and aged, this helps bring about the rustic aesthetic. The decor and design should look simple and unassuming.
ow do I make my kitchen look farmhouse?
Add decorative elements to your kitchen that you would typically see in a kitchen that is located on a farm. There is the classic farmhouse sink. Choose open shelving or cabinet doors with chicken wire inserts.
What's the difference between rustic and farmhouse?
Farmhouse design tends to feel a bit brighter and fresher than rustic design. Farmhouse design also has fewer natural elements. Rustic can have farmhouse elements, but it can also look country or cabin. These have more natural elements.