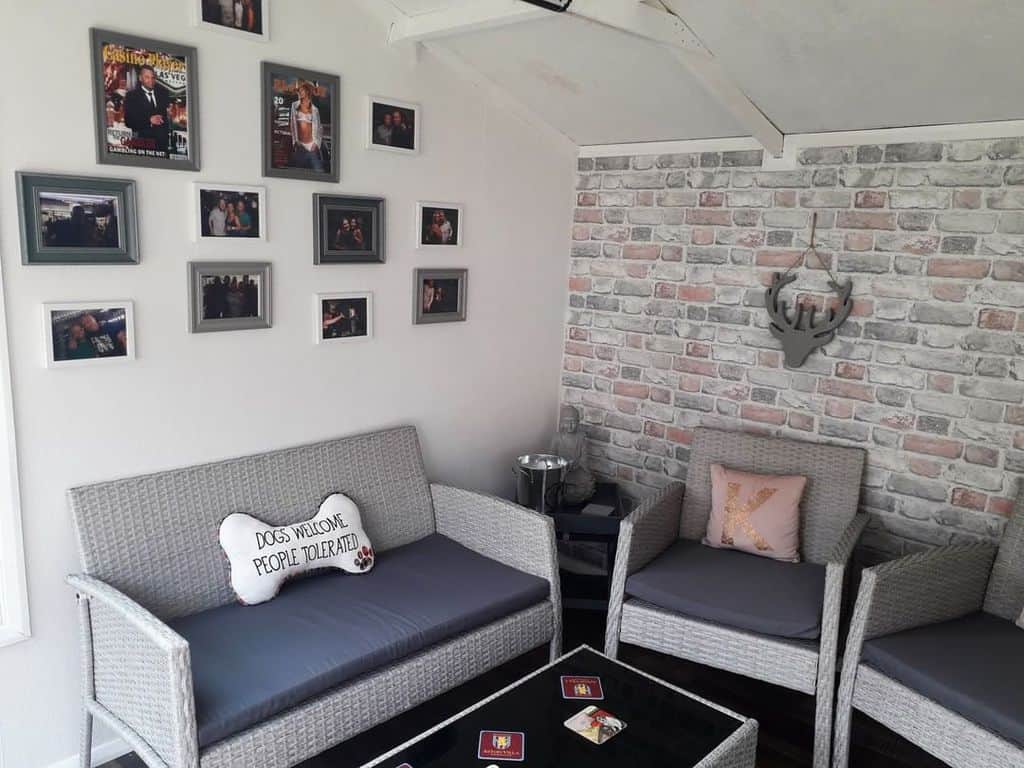 Man caves have gotten all of the attention over the years. It's time for a change. Instead of letting the men have all the fun, why not claim the old shed in the backyard and turn it into a woman cave? Instead of a cave, turn it into a bright and inviting space, better known as a she shed. These she shed ideas will help you get started building a private space where you can do your favorite hobbies.
1. Build A Cocktail Bar
Create a cocktail bar in your shed for the perfect girls' night in! Ideal for cocktail enthusiasts or simply those who want to mix things up, a wet bar set up in the garden provides a unique twist for entertaining guests. Set the scene by incorporating some eye-catching accessories, like colored glassware and bar tools of varying shapes and sizes.
Then fill your mini-fridge with an array of cocktail ingredients as well as garnishes like olives, citrus wedges, pineapples, etc. With the right setup and supplies, your evening will be filled with surprise cocktails and loads of laughs.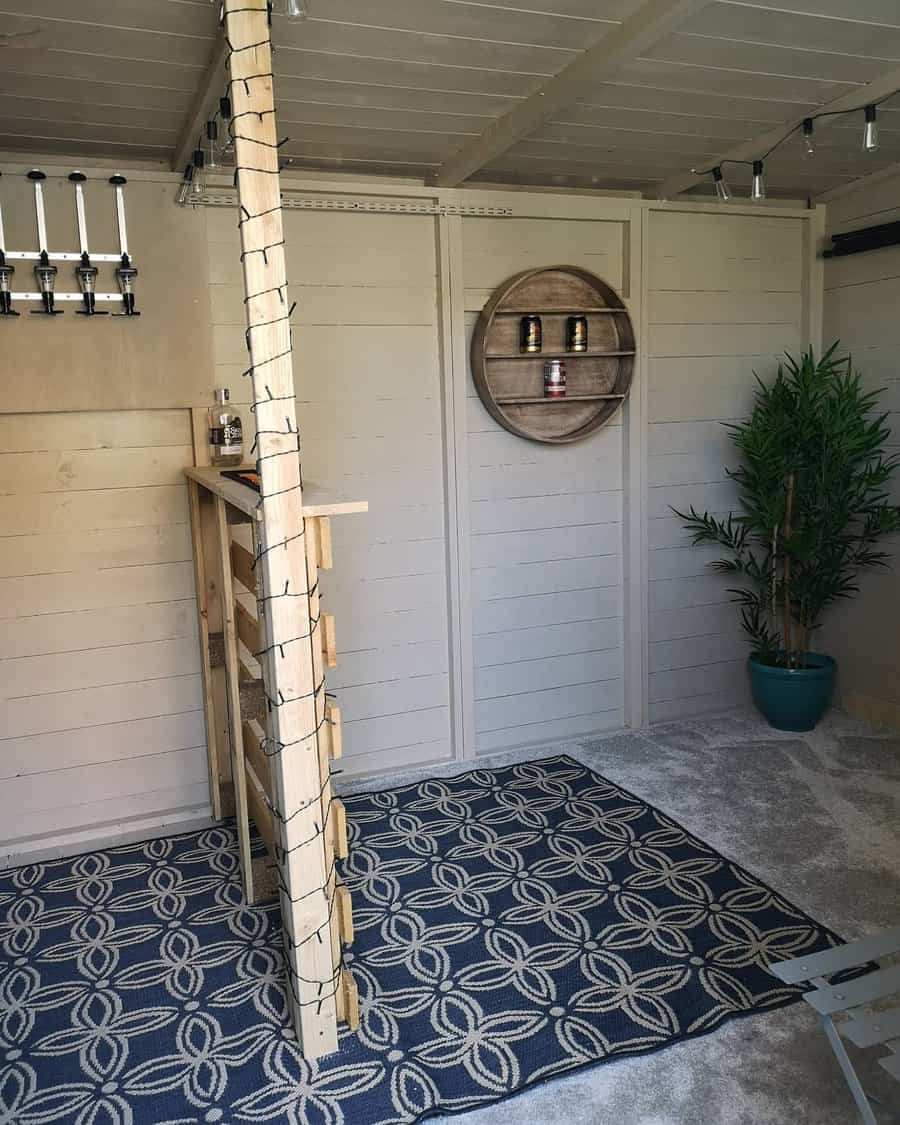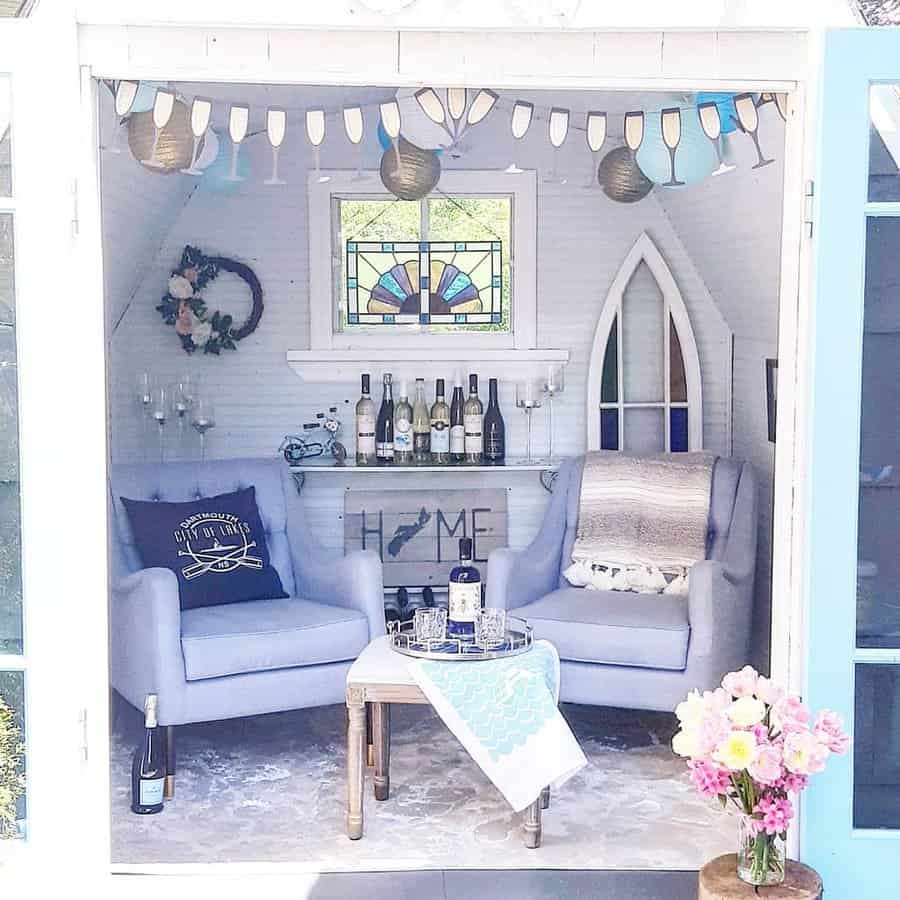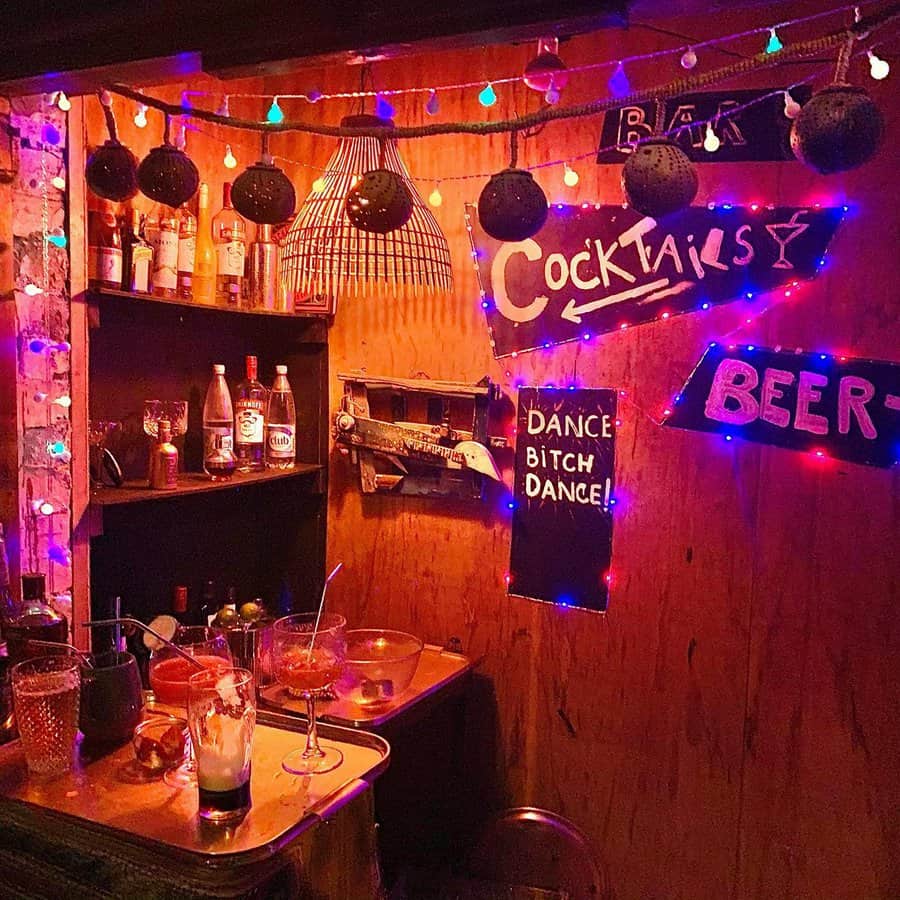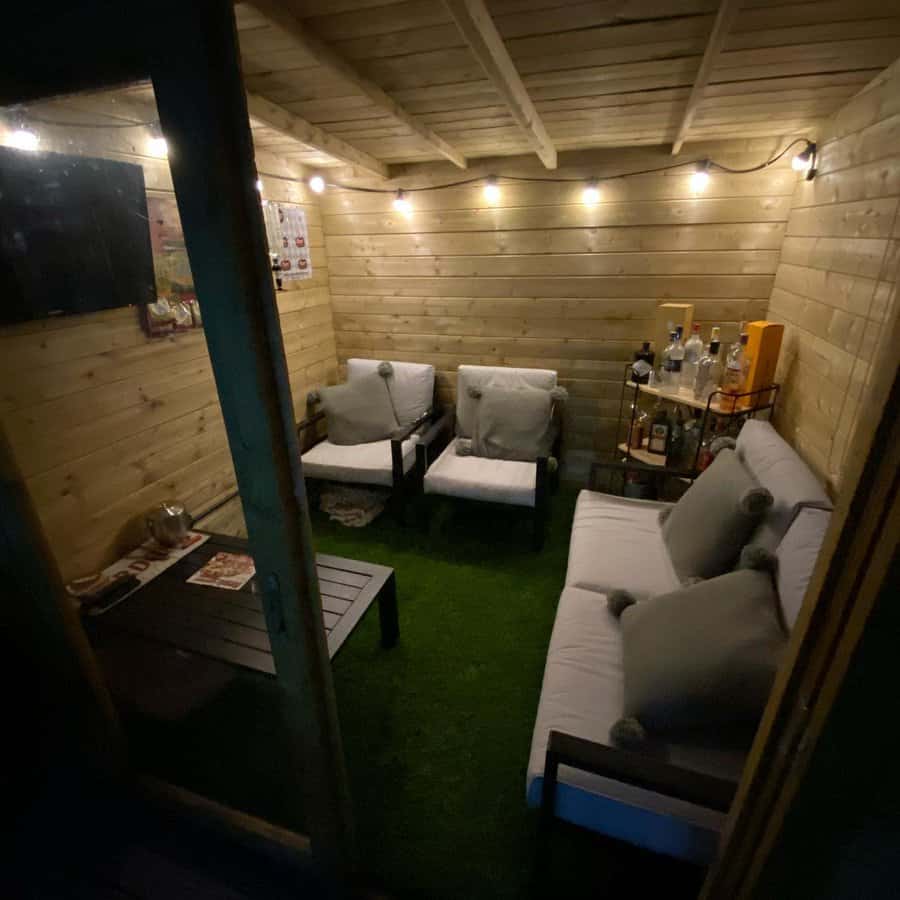 2. Set Up A Contemporary Room In The Backyard
Now your garden isn't just a space for weekend barbecues and having a catch, but also a contemporary-style lounge room where you can relax and escape the stresses of everyday life. If you've been looking for inspiration for your own yard getaway, why not consider transforming a corner of your outdoor area into a 'she shed'?
Stick to neutral tones for maximum style points and find scatter cushions and modern furniture pieces that are going to elevate the ambiance. A few wall-mounted bookshelves will give you plenty of options for decorating, whether that's with family photos on half shelves or literary favorites on the bottom shelves!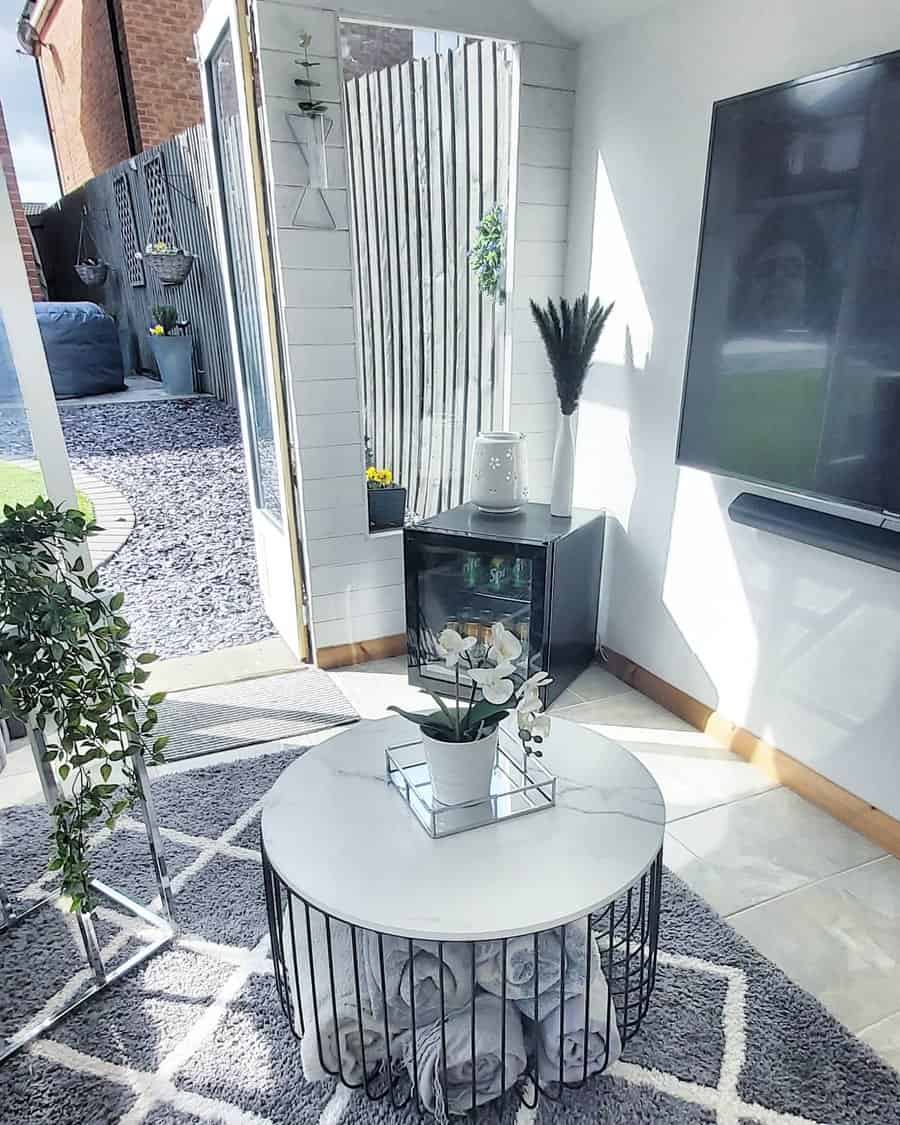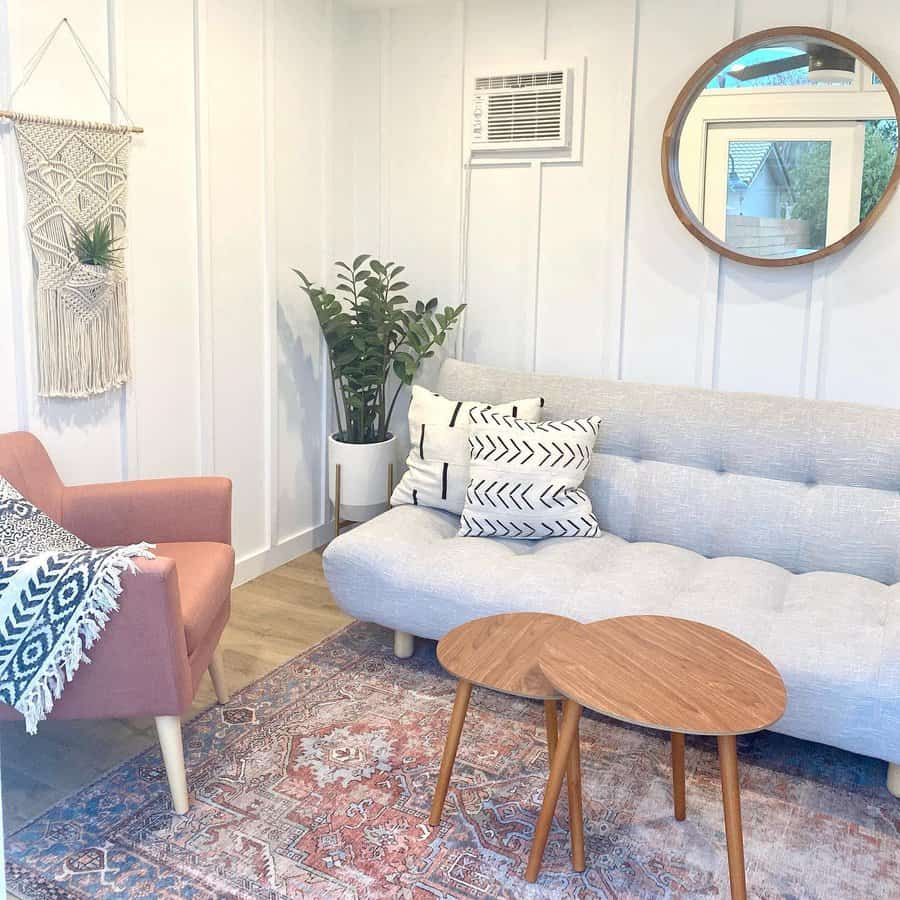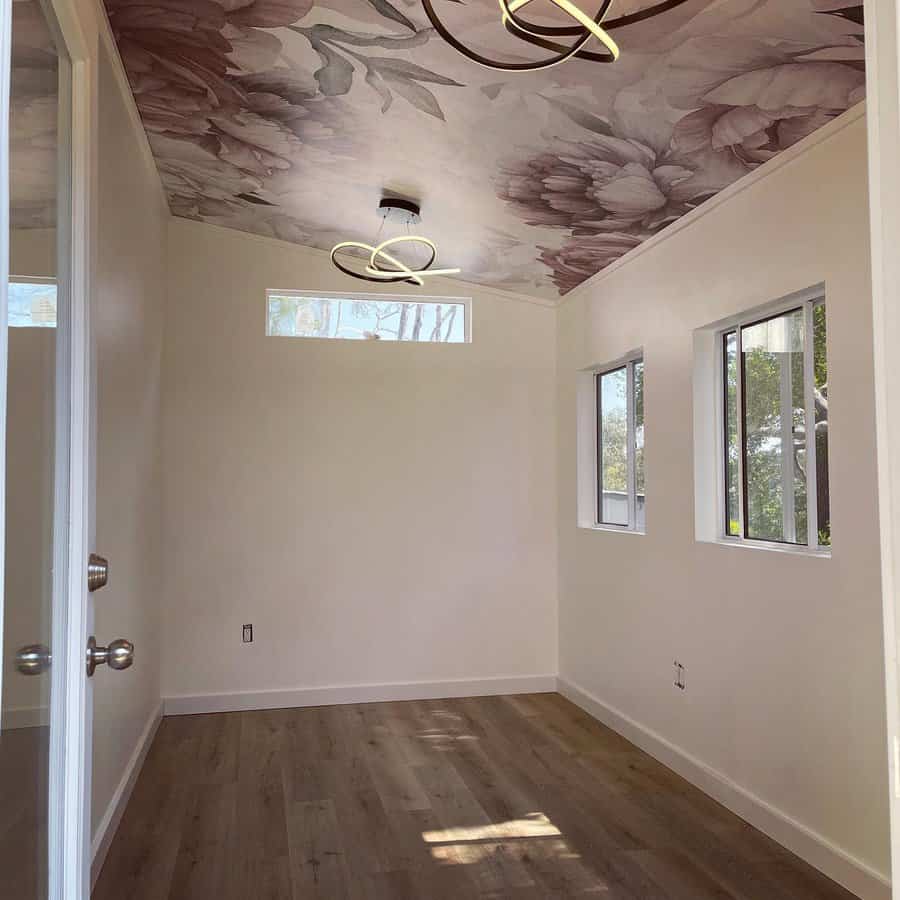 3. Build A Garden Tea House
If you have been considering adding a she shed to your garden, there are many exciting ideas to explore! Imagine transforming a garden shed into an English-style tea room with open windows and bright décor.
Or picture setting up an area with soft chairs that are perfect for savoring the garden's beauty on those sunny afternoons. Or why not go all out and build a traditional garden teahouse?
Whatever style suits you, adding a she shed to your garden will be the ideal area for relaxation, creativity, or simply enjoying time spent outside in nature.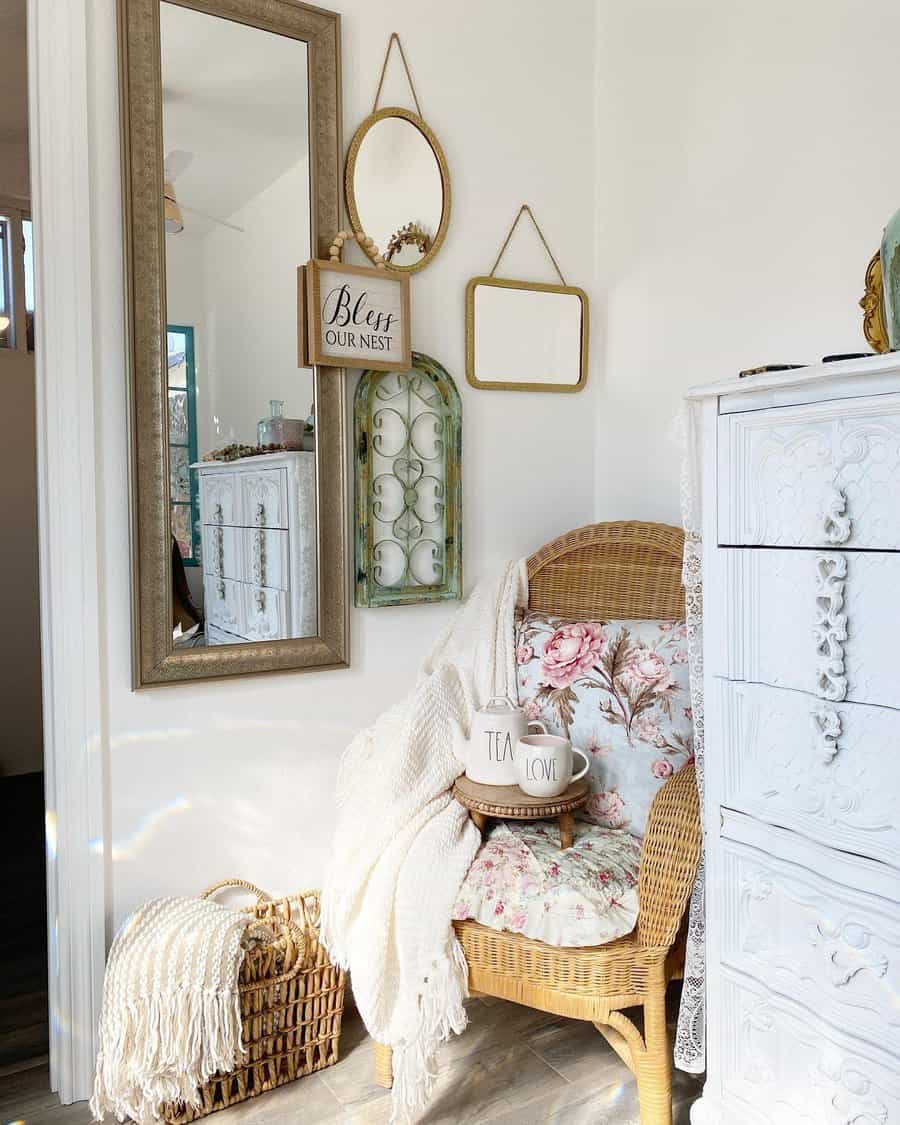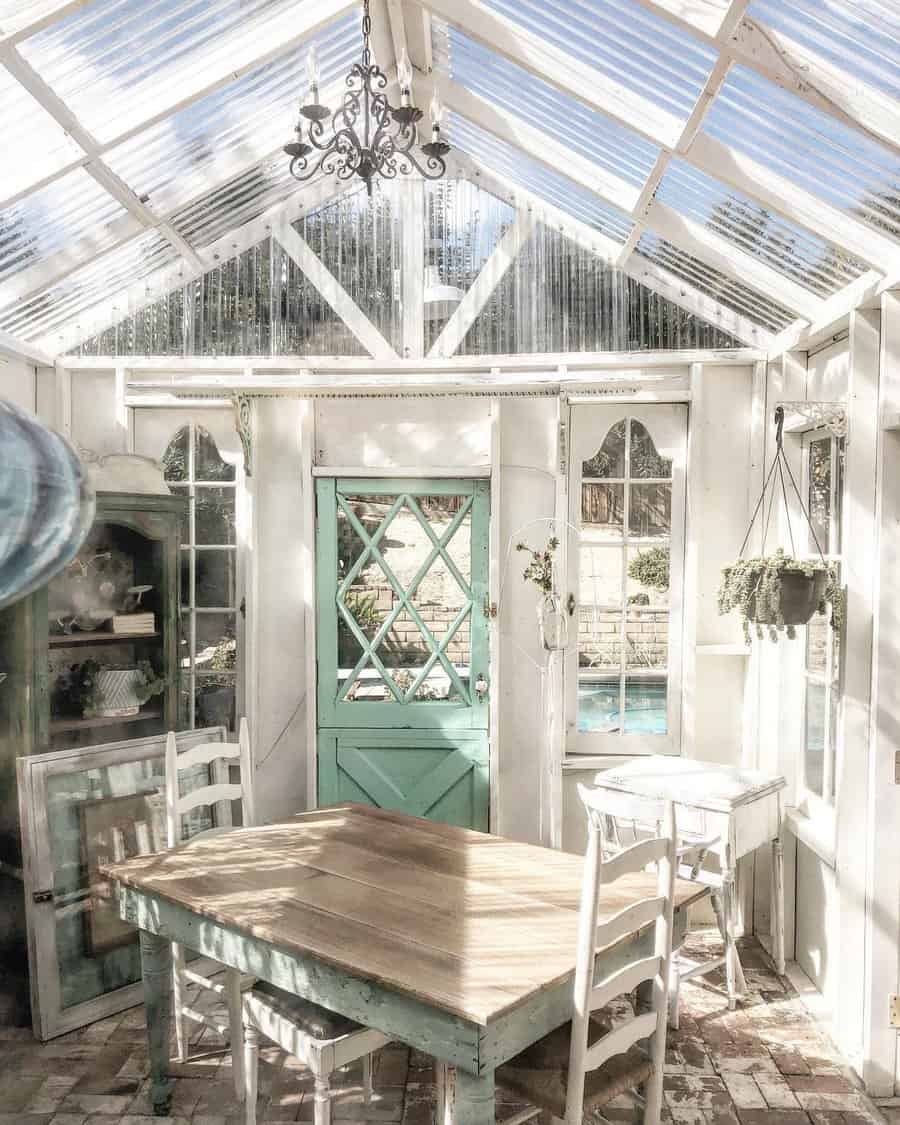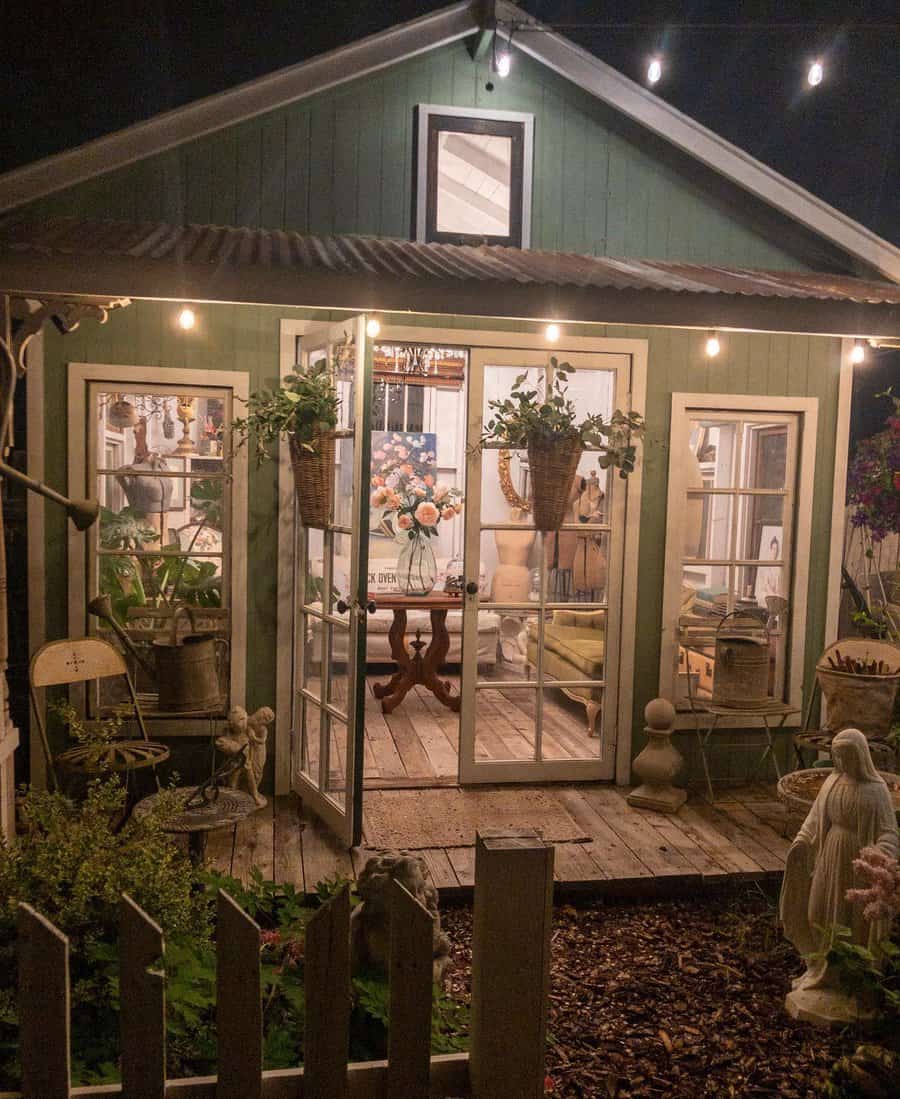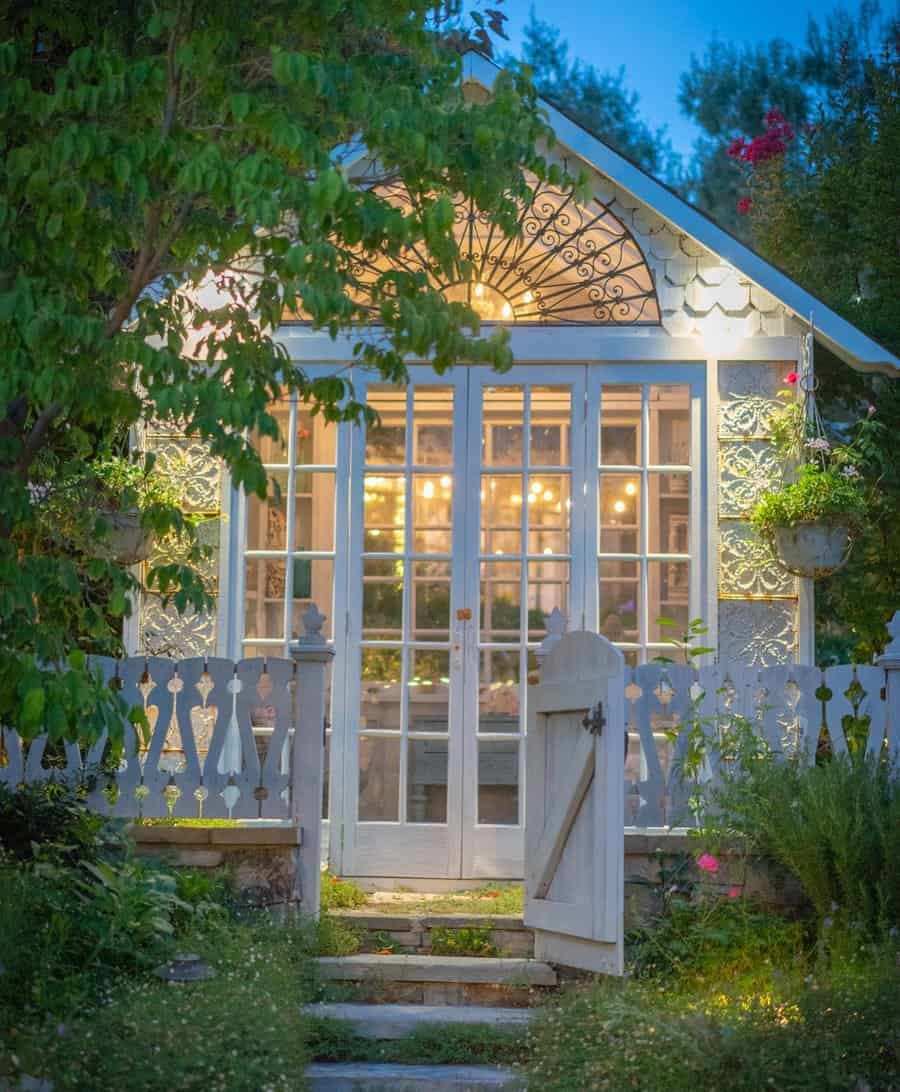 4. Create A Garden Room
If you're looking for an escape from reality, or a creative garden room to enjoy lounging outside your home, then consider making a she shed! She sheds are becoming increasingly popular as a safe space for women to relax and blow off some steam.
They offer the perfect environment to escape from the hum-drum of daily life and take time out for yourself in a peaceful garden villa.
With this rapidly growing trend, it's now easier than ever to find stylish she shed ideas on interior design blogs, Pinterest boards, and home decorating magazines so you can create your antidote to daily stress in no time.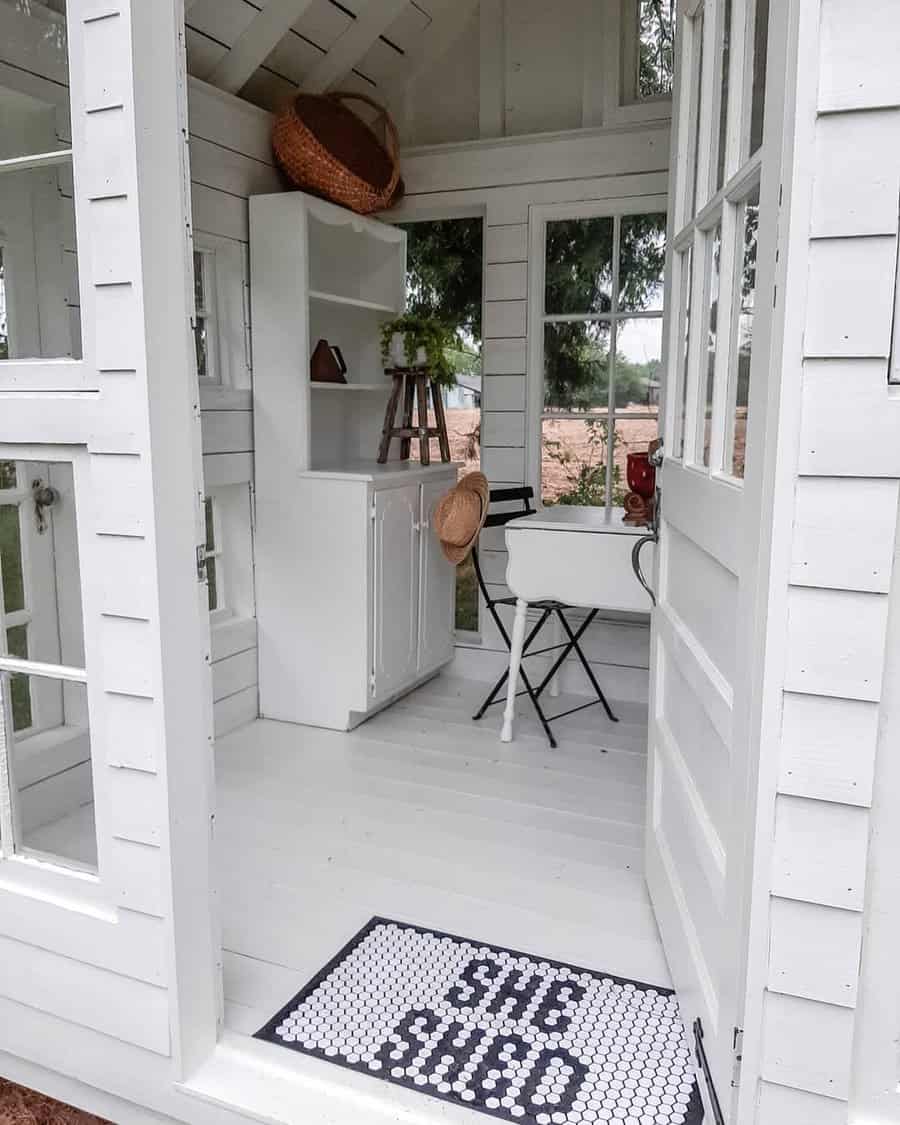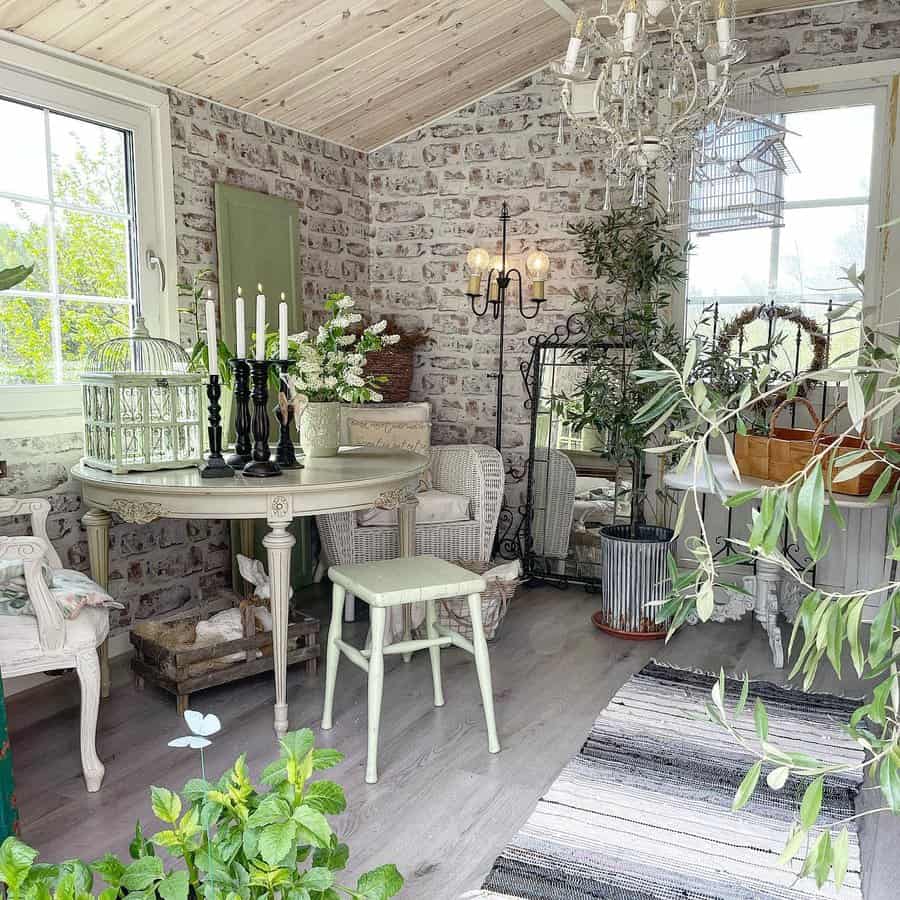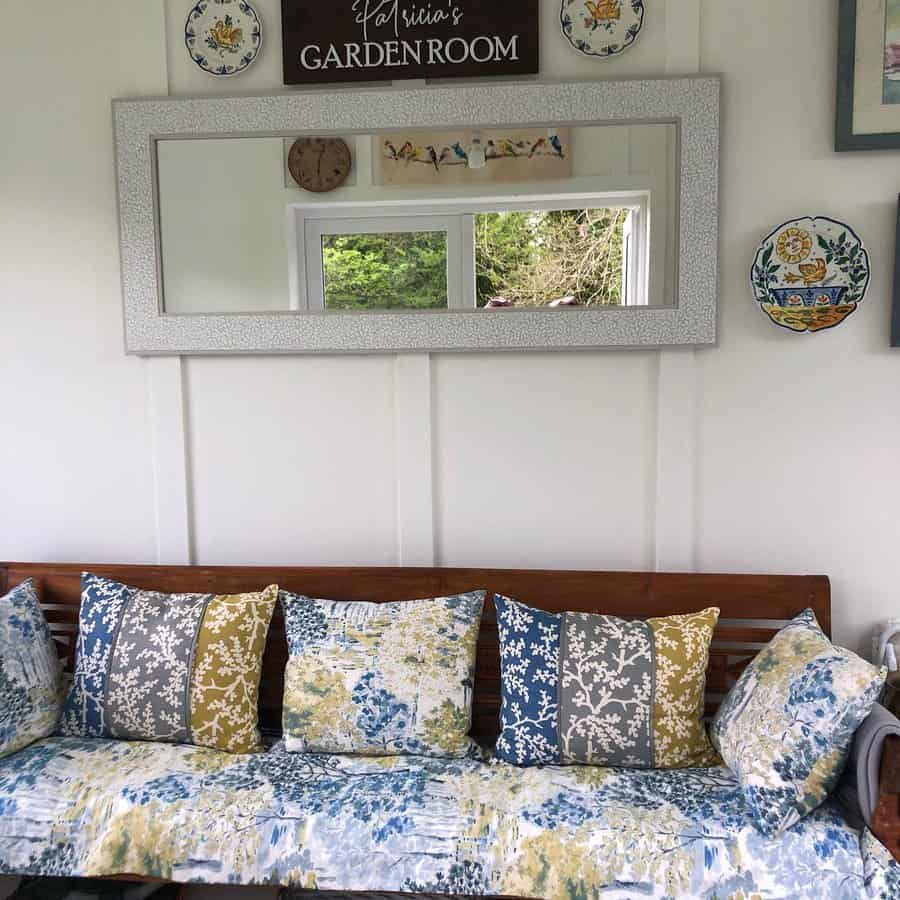 5. Set Up A Craft Room
Looking for a special place to craft, relax, and just hang out? Why not consider creating a she shed in your backyard? She sheds are perfect for all-purpose rooms that you can customize just the way you want so it serves your needs and style.
You don't even need much space to make a cozy craft room—all you need is a little bit of landscaping, some accessories, and lots of creativity. For example, kids love having their own craft space too; add some colorful decor with craft supplies that kids can use to create homemade gifts or decorations.
Depending on the size of your she shed, you could even outfit it as an art studio, workshop, potting area or music room. So make sure to take the time and plan out the perfect she shed for you and your kids—it's sure to be a secure hideaway where lots of fun memories will be made.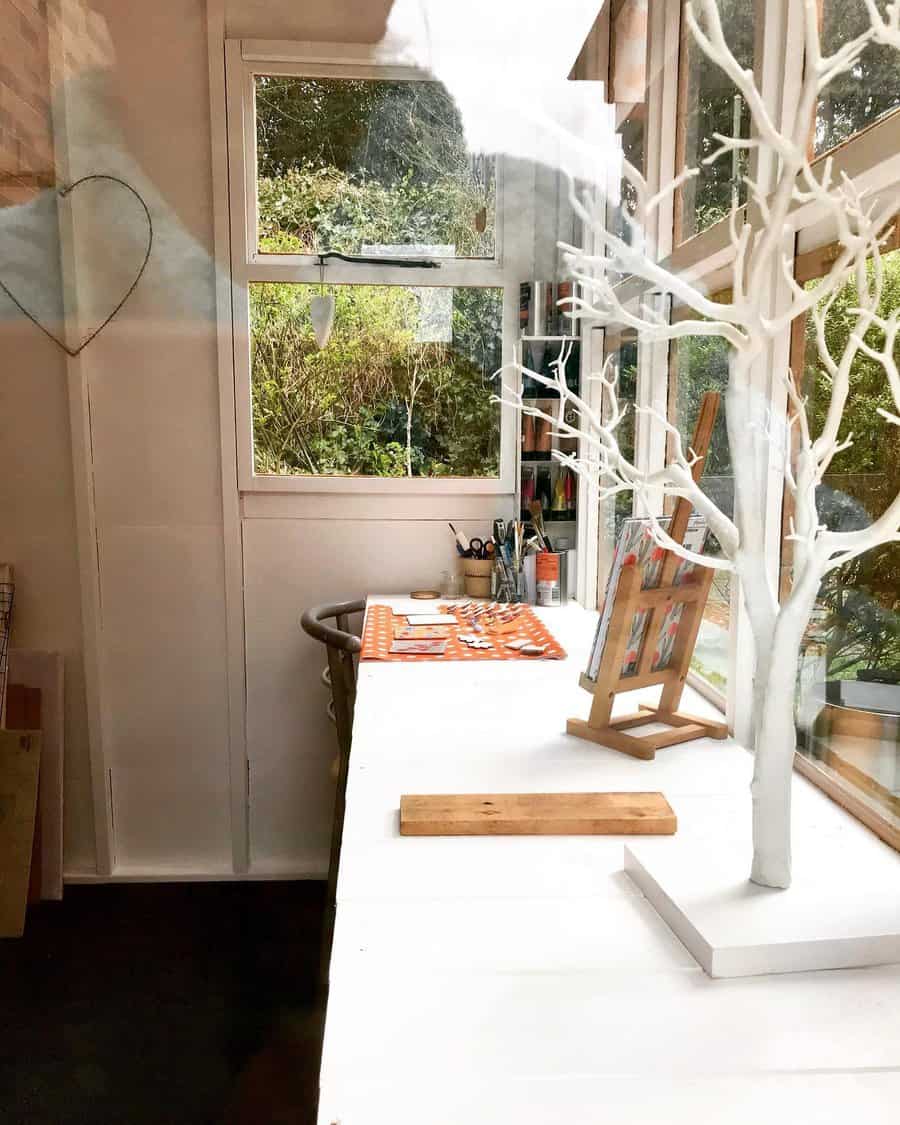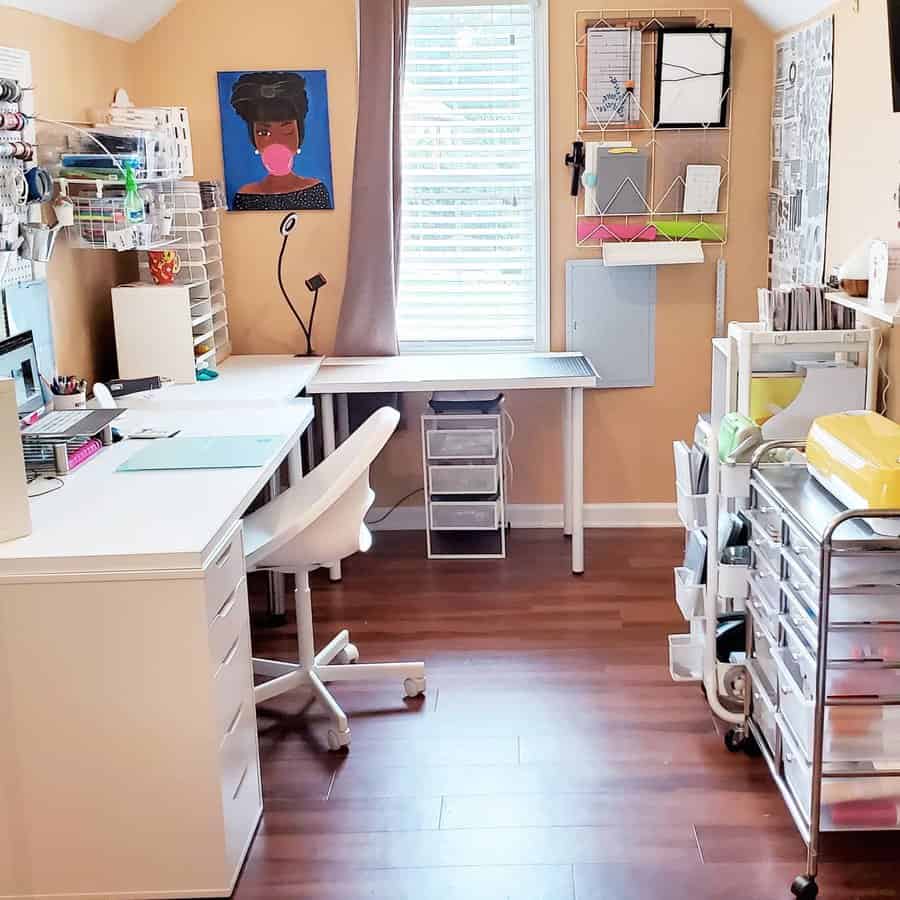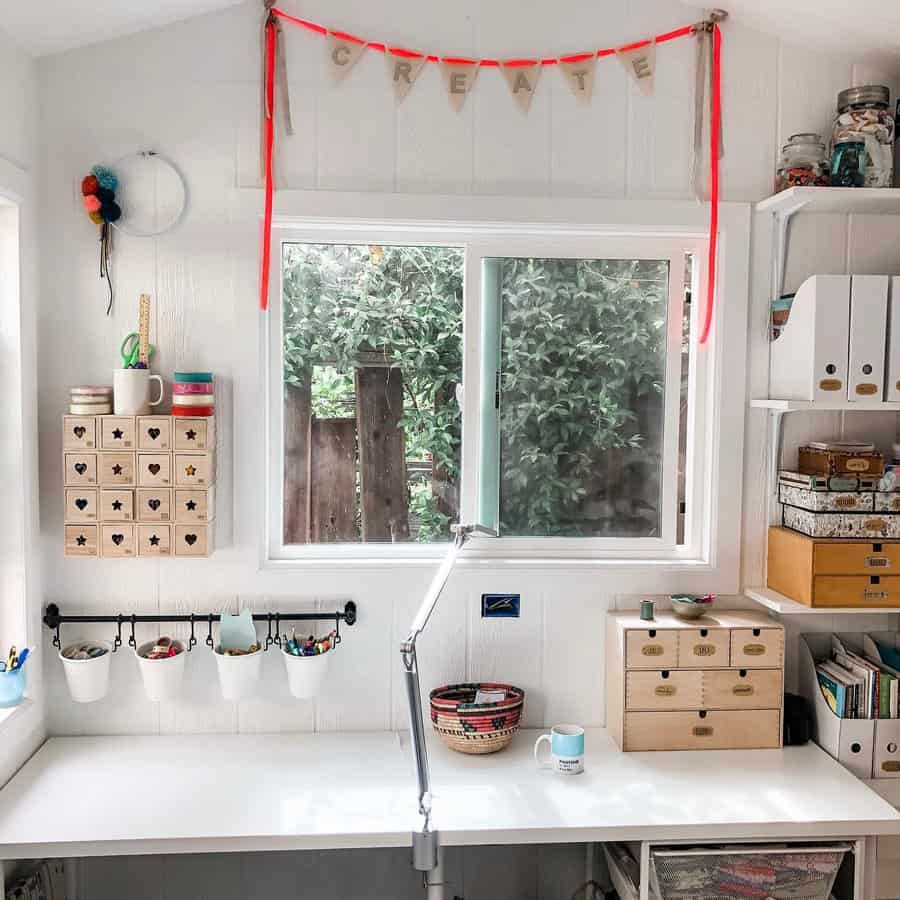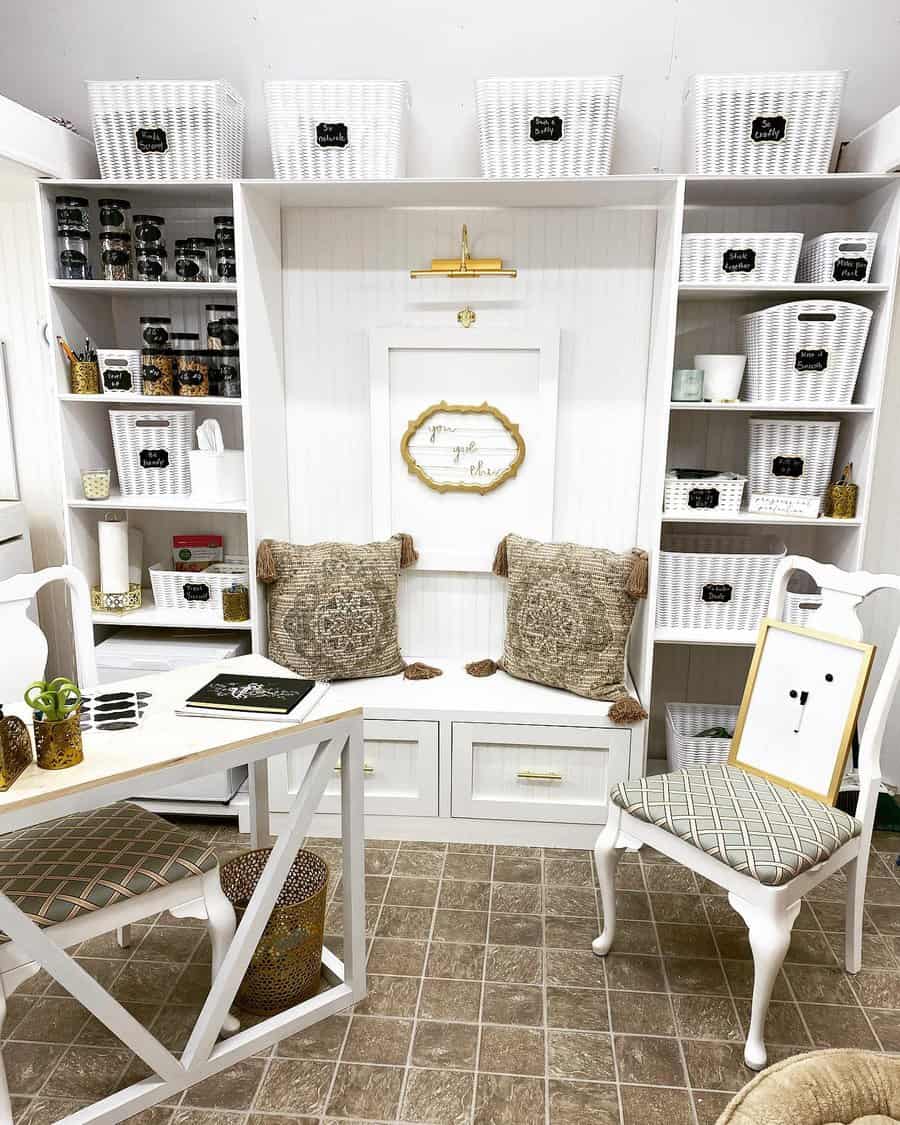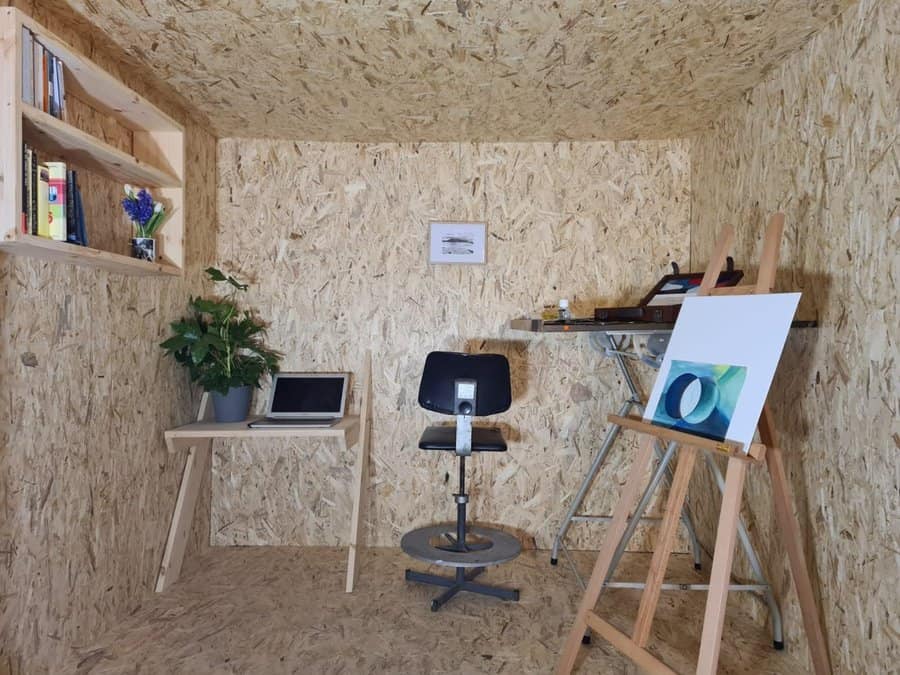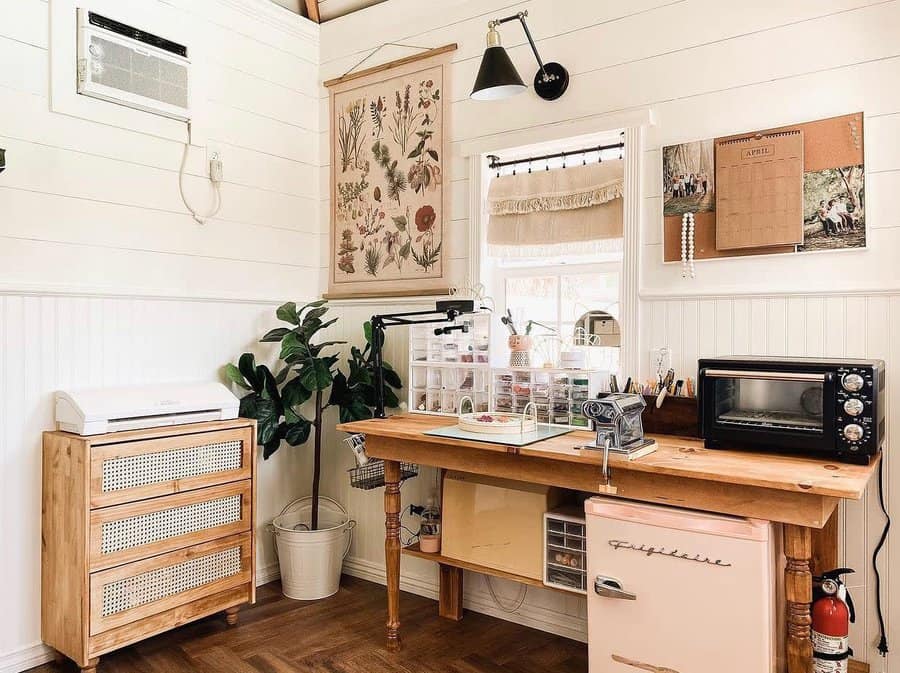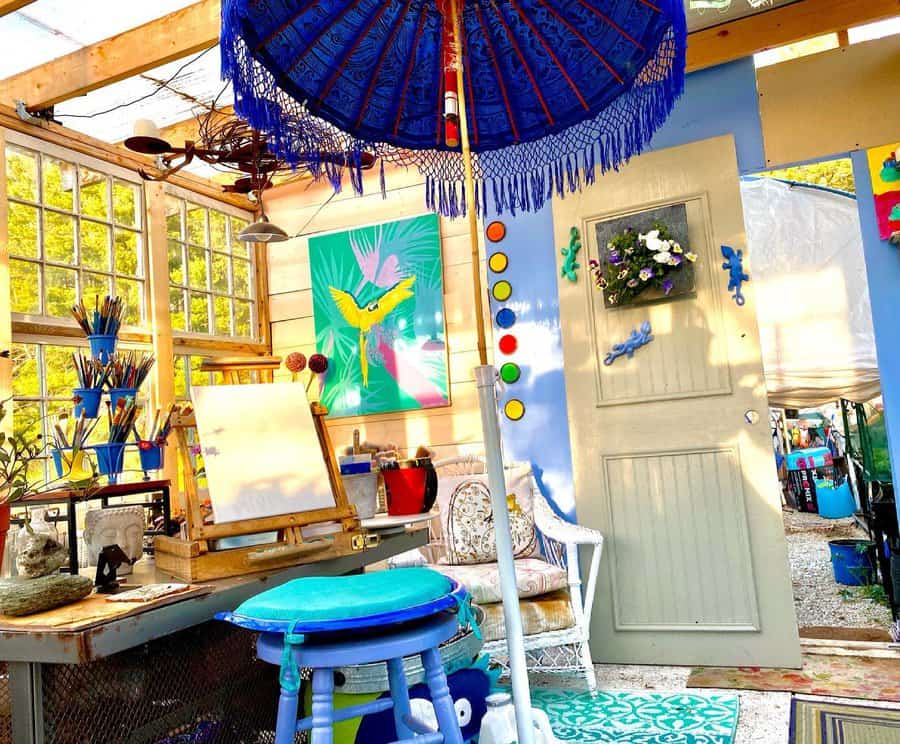 6. Set Up A Floral Shabby Chic Garden
Creating a floral Shabby Chic garden shed is a great way to express your love of gardening with your own unique style. You can design the interior and exterior with floral patterns for an idyllic air, as well as use natural elements like white wicker furniture and baskets of fresh-cut flowers to craft the perfect outdoor retreat.
An outdoor kitchen and living area can be transformed into a quaint nook that's perfect for summer evening get-togethers, while a breathing space filled with comfy swings and chairs can serve as an ideal reading nook during the warmer months. It'll truly become a wonderful joining of your passion for gardening and your love of cozy comfort!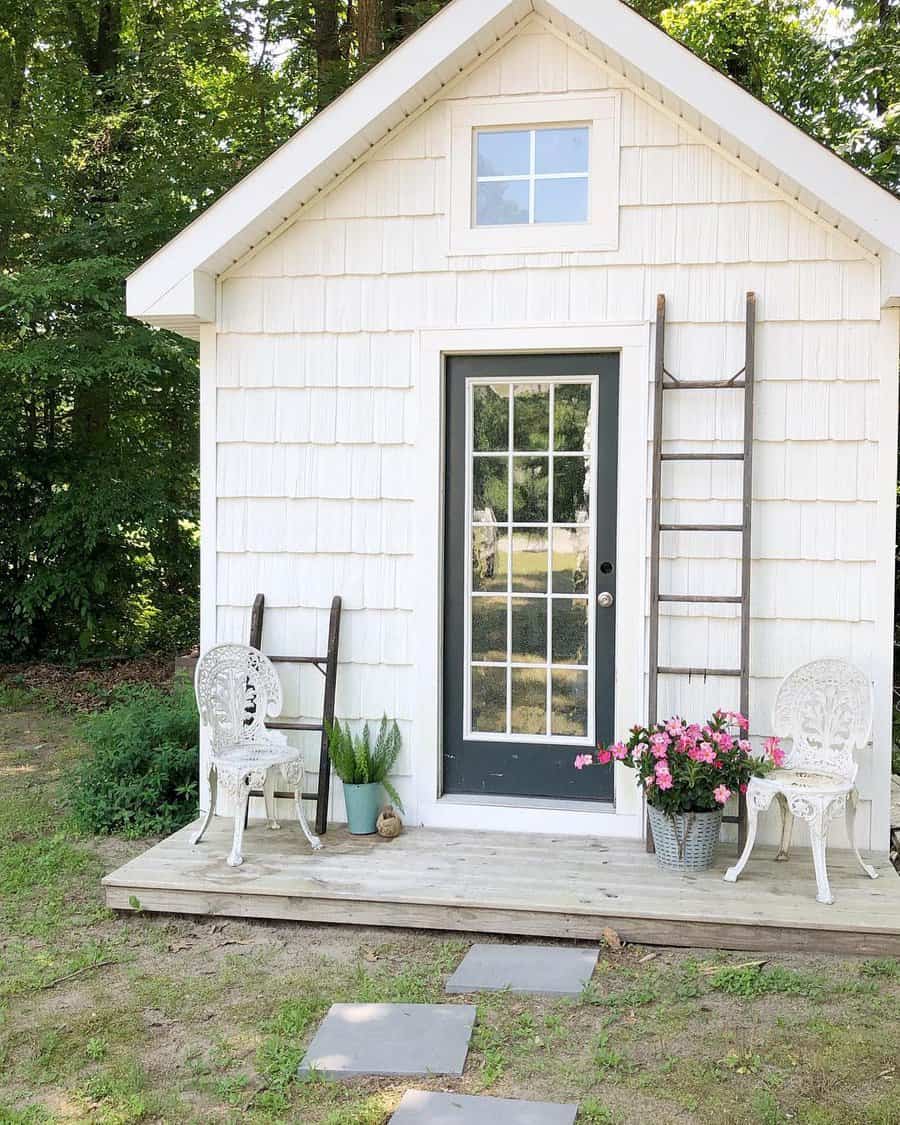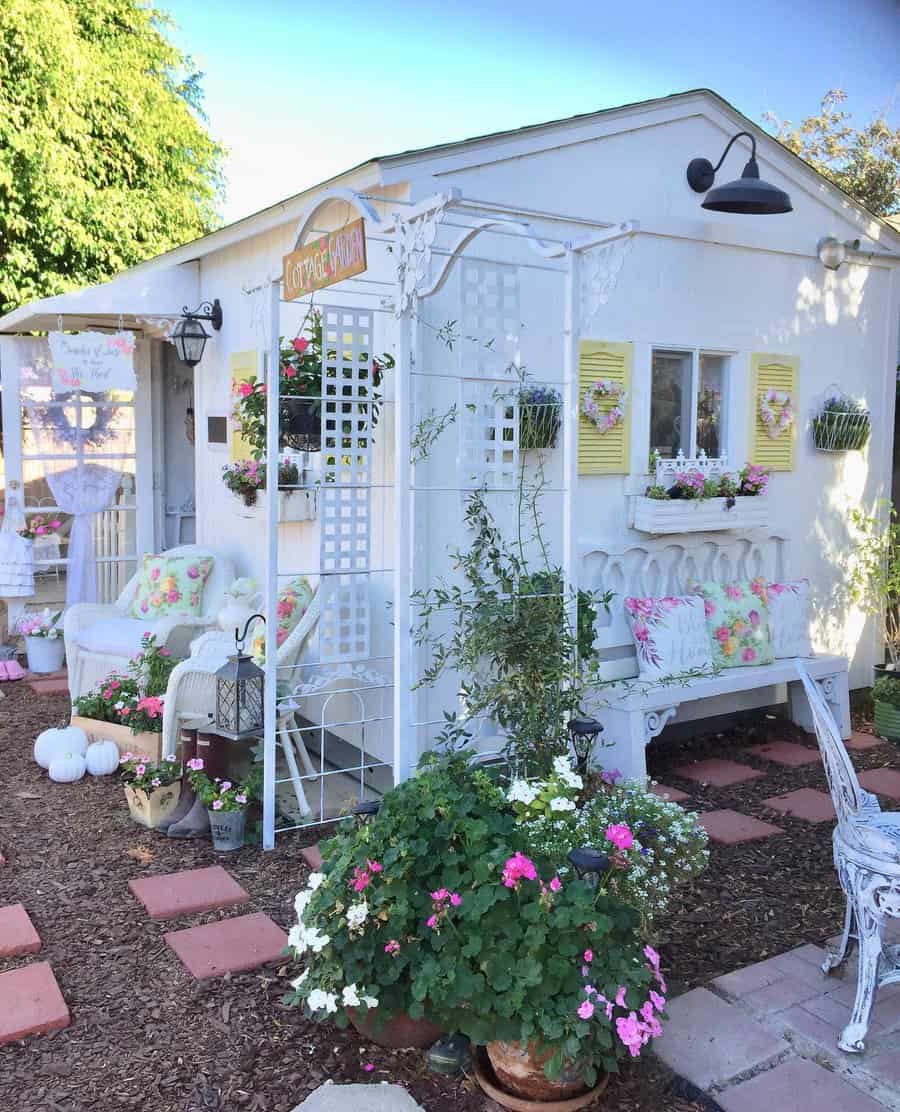 7. Set Up A Movie Room
Transform your outdoor space into an outdoor movie room she shed. Set up a flat-screen TV and movie projector to get the movie night experience any day of the week. Use plenty of comfy throw pillows and blankets, as well as a few boards for cards or other games to complete your movie room.
You can also turn this movie room she shed into a music nook complete with guitars and drums as a way to relax outside the home in an acoustic practice spot.
Let your movie room she shed be an inviting place for entertaining friends and family with some popcorn, classic movie titles, and plenty of appropriate tunes for hours of fun!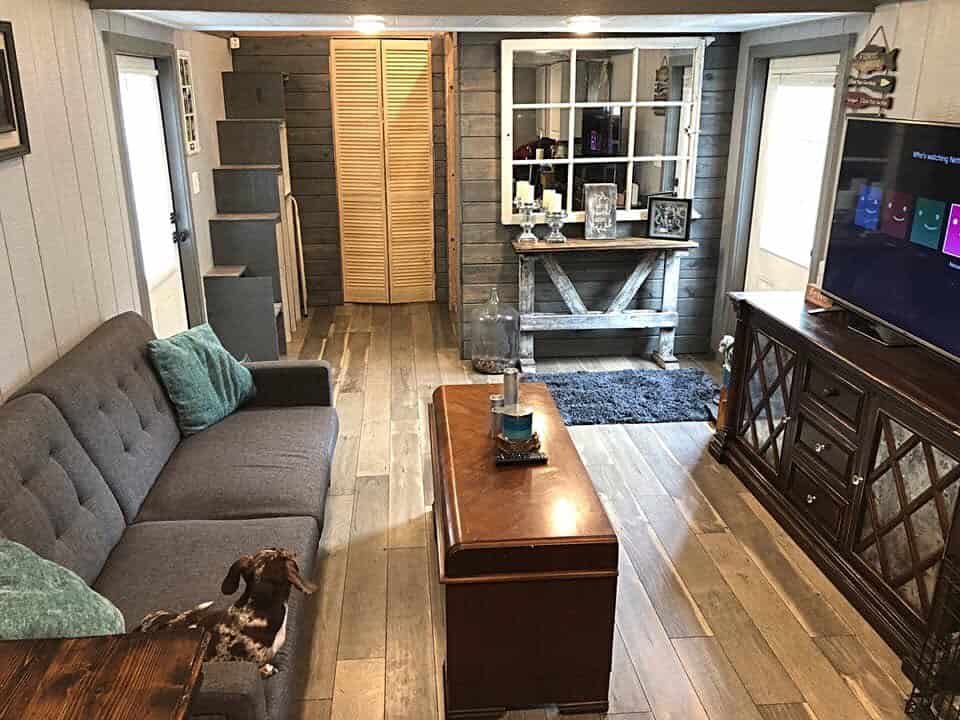 8. Create A GNO Bedroom
The perfect designated room for a girls' night out is a she shed! She sheds offer a designated space to relax and catch up with your friends while having all the amenities of home. With endless décor possibilities, you can create a personalized oasis and make it as beautiful, comfortable, and cozy as you like.
Add some greenery, decorate with plants or a fairy light curtain, pamper yourself with comfy pillows and relaxing soft music – whatever you need to feel relaxed is only as limited as your imagination. So why not build yourself that specially designated place for a girls' night out and let fun and laughter be the mainstay?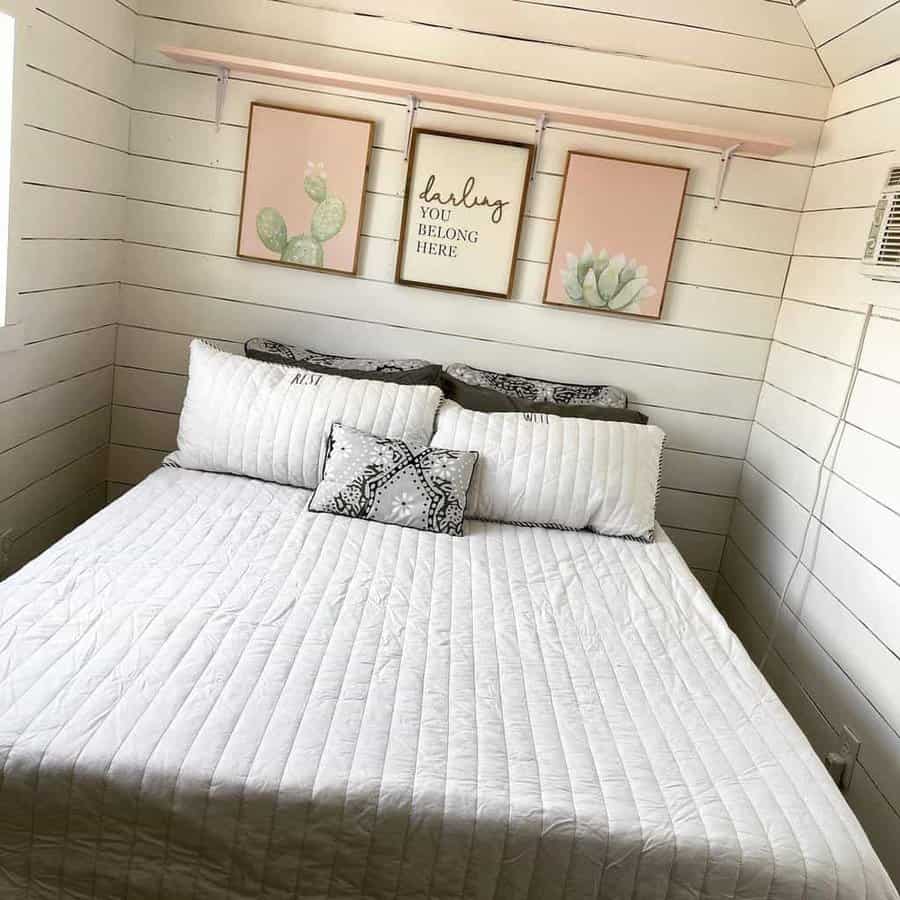 9. Assemble An Office Shed
Creating a she shed office space is perfect for those who are looking to get away from the hustle and bustle of their homes. Whether used as a workspace or simply a place of relaxation and self-care, the office shed provides maximum convenience and minimal distraction.
When not in use, it's the perfect hideaway in your back garden! So if you're looking for peaceful productivity—or just somewhere to escape the world—a she shed office might be the answer.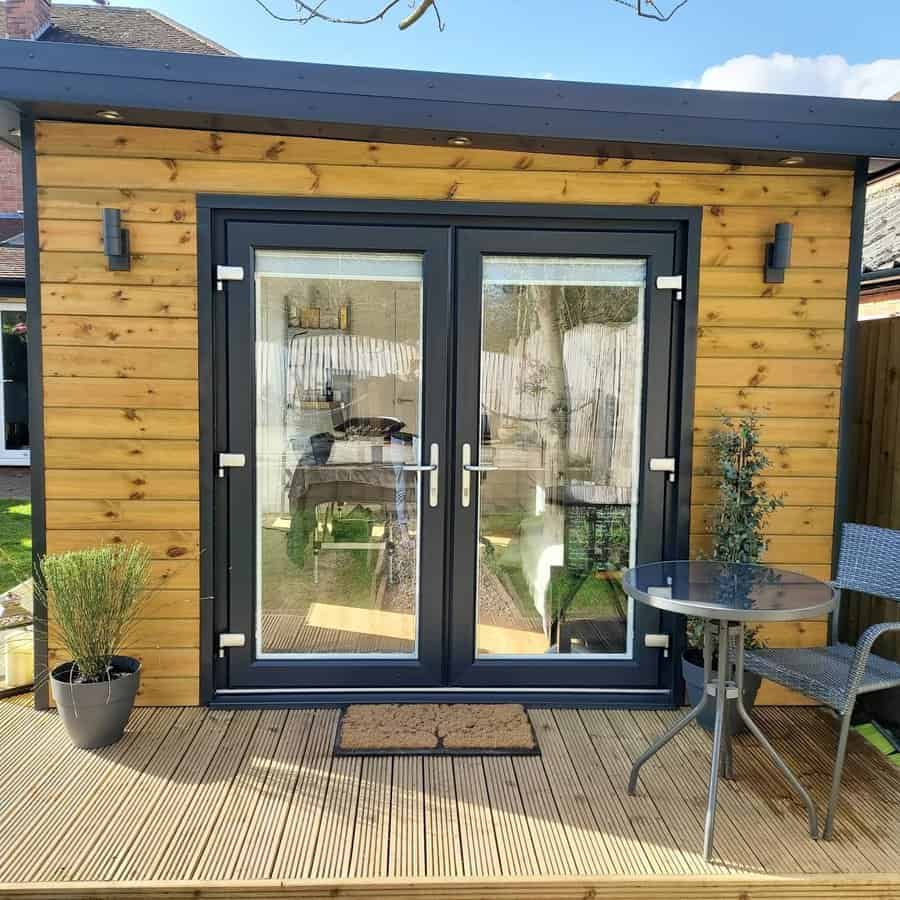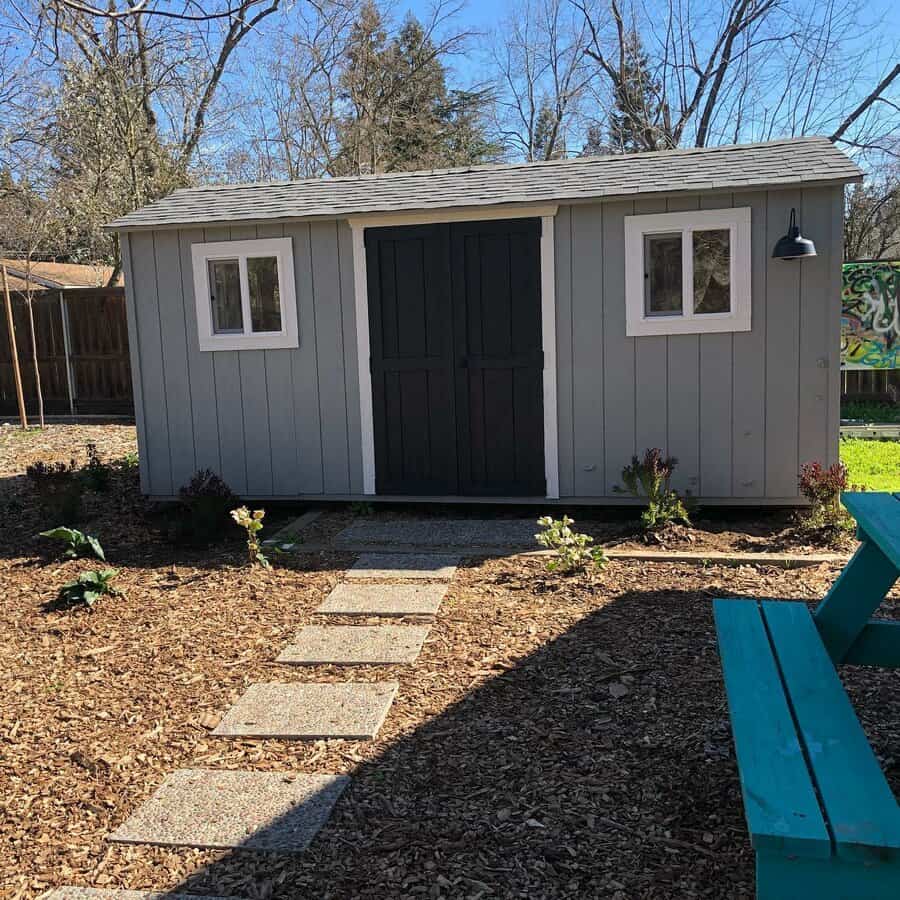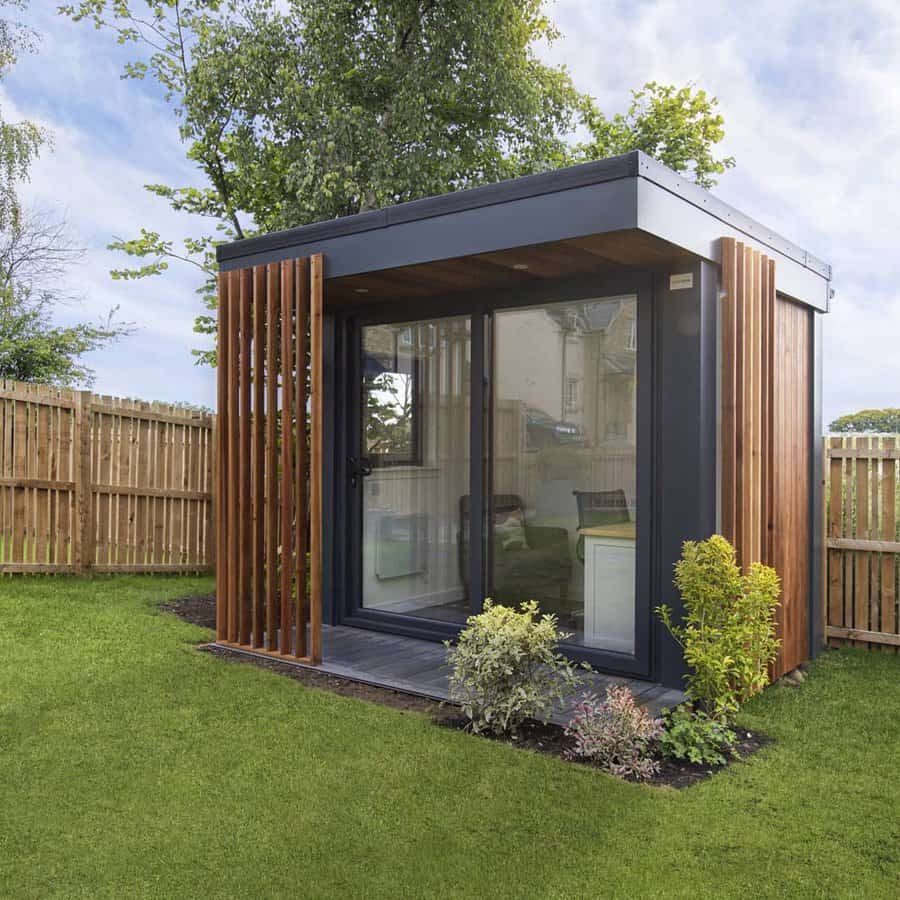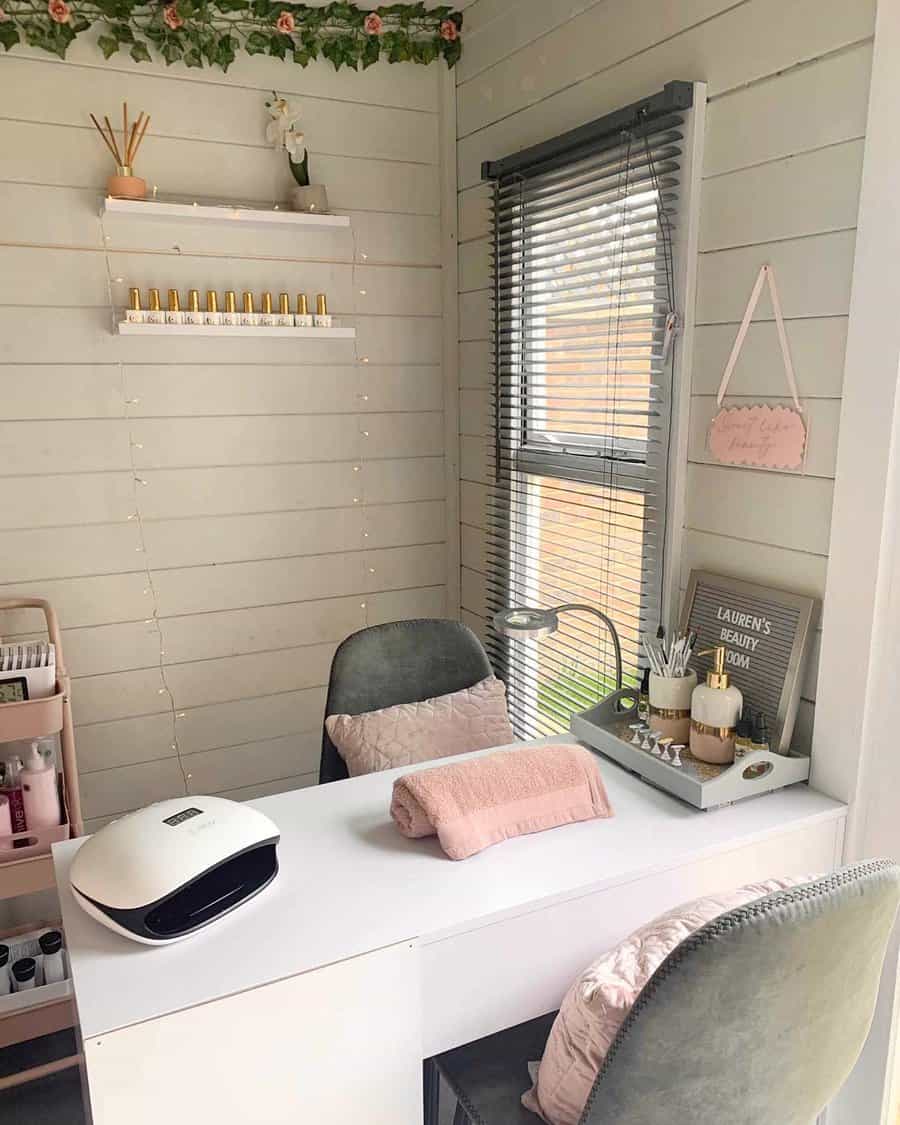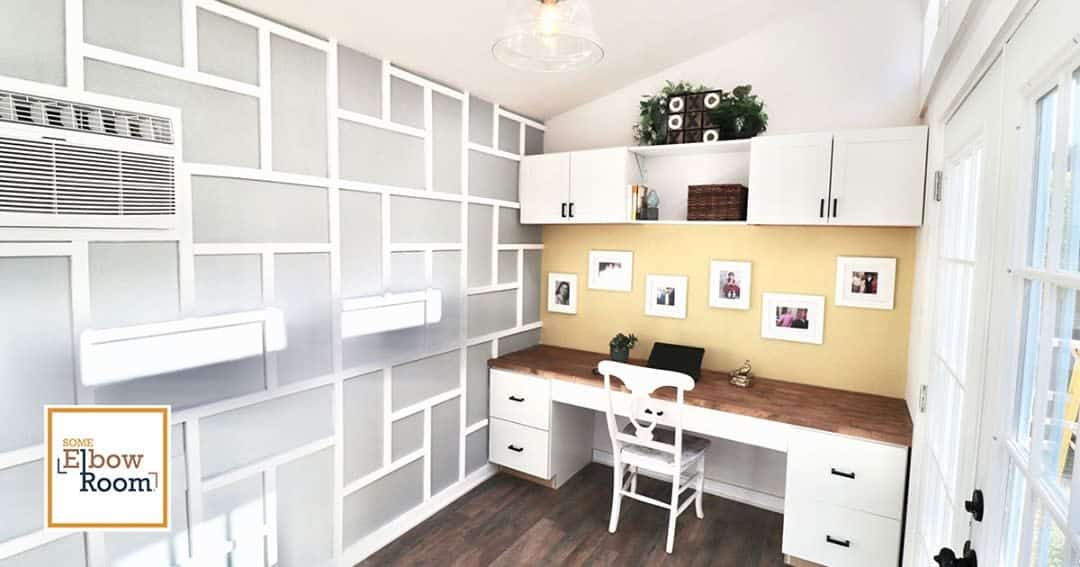 10. Outdoor Coastal Lounge Room
If you're looking for a space out of your house to relax and have some much-deserved "me-time," why not add a touch of coastal style to your she shed? This adorable little lounge room is the perfect escape, creating beachy vibes without leaving home.
Feel the coastal breeze coming in from the open windows and set up cozy seating so you can unplug everything and take time for yourself. Whether you use it as a reading nook, crafting corner, or just to enjoy some peace and quiet — it's always going to be your happy place!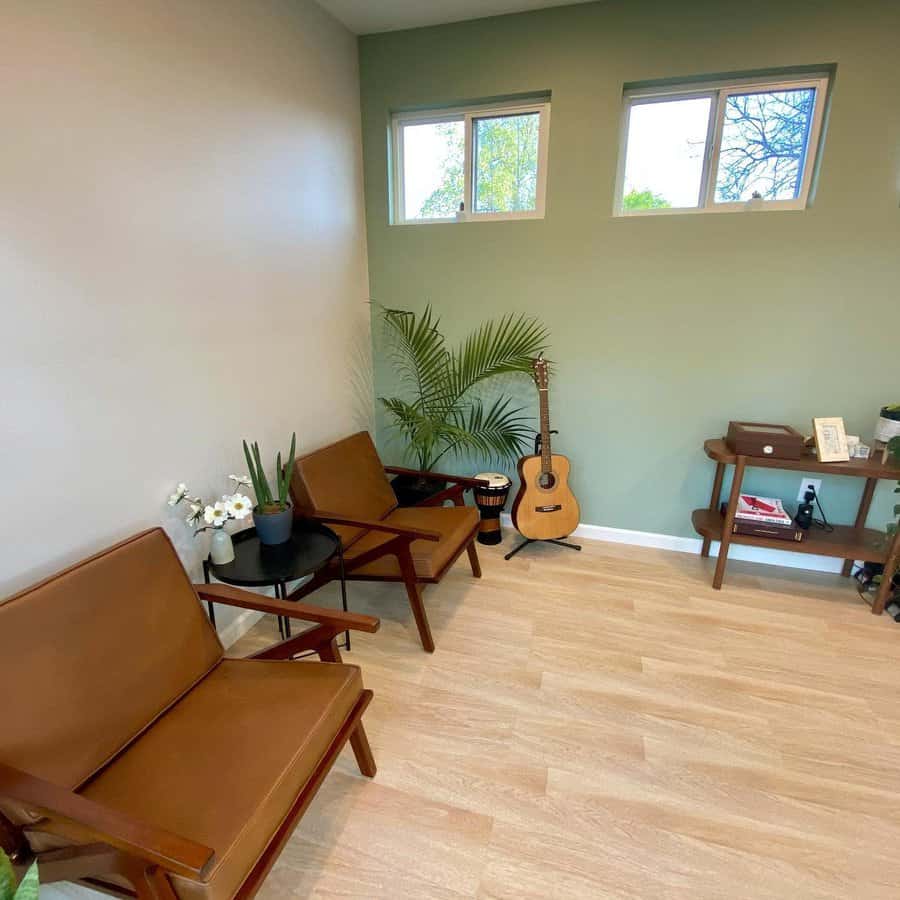 11. Build A Library
She shed dreams that have come true for women everywhere and can be used as a creative escape from the hustle and bustle of everyday life. Transform your shed into a library, filled with bookshelves to showcase your most beloved books.
Create a work desk to manage any administrative tasks without being in the same space where you relax. She shed bliss will be achieved when you open the door and find yourself instantly transported to a peaceful, quiet place dedicated solely to you.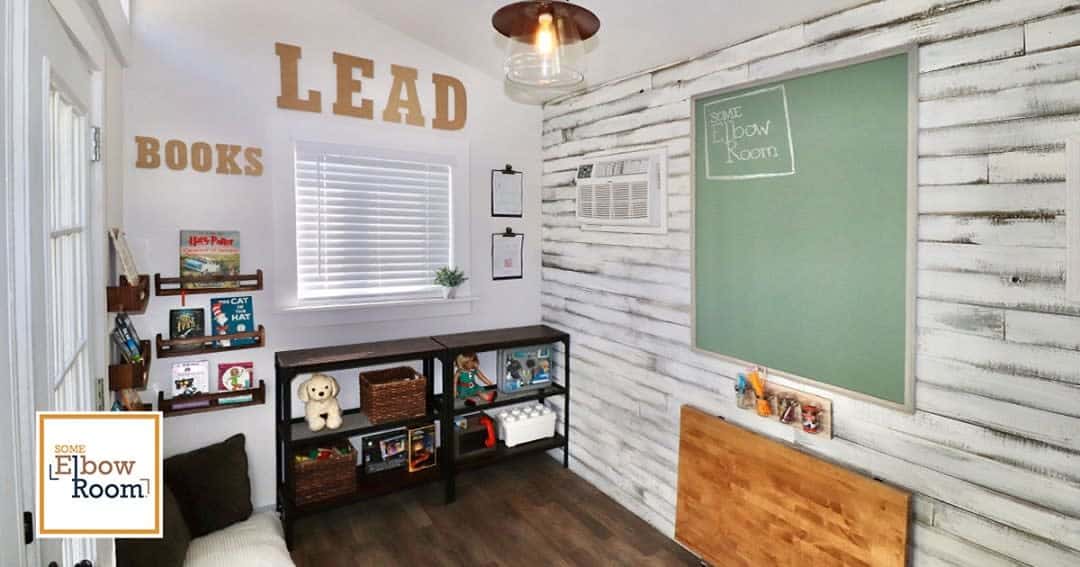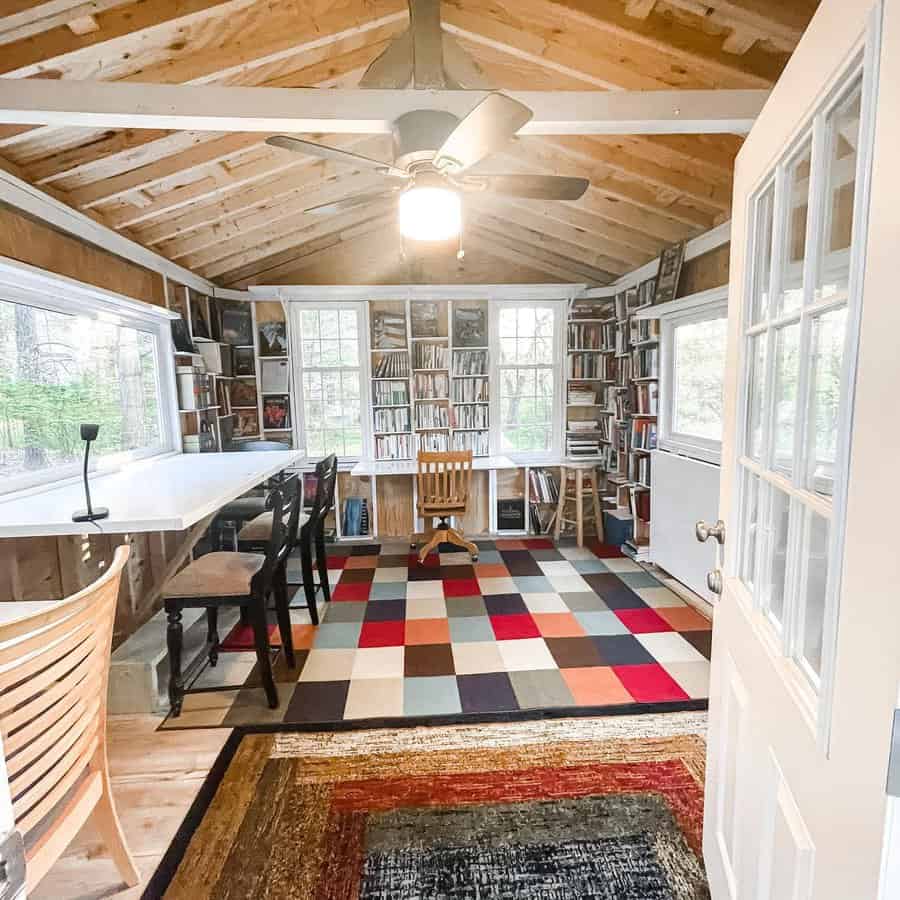 11. Designate A Shed For Potting Plants
Transform an old shed in your garden into a potting room and let your imagination take over! Change the insides to give it a cozy, garden-y vibe with potted plants for decoration. Make sure you include plenty of natural light by adding windows and skylights, as well as bringing in adequate lighting fixtures.
Utilize wall space by attaching hanging holders for potting supplies and other items like gardening books or decorations. You can also add a potting bench for potting up seeds and repotting plants – decorate it with little pots and succulents for an extra personal touch. Enjoy this special potting haven of yours and watch as your garden blooms from its efforts!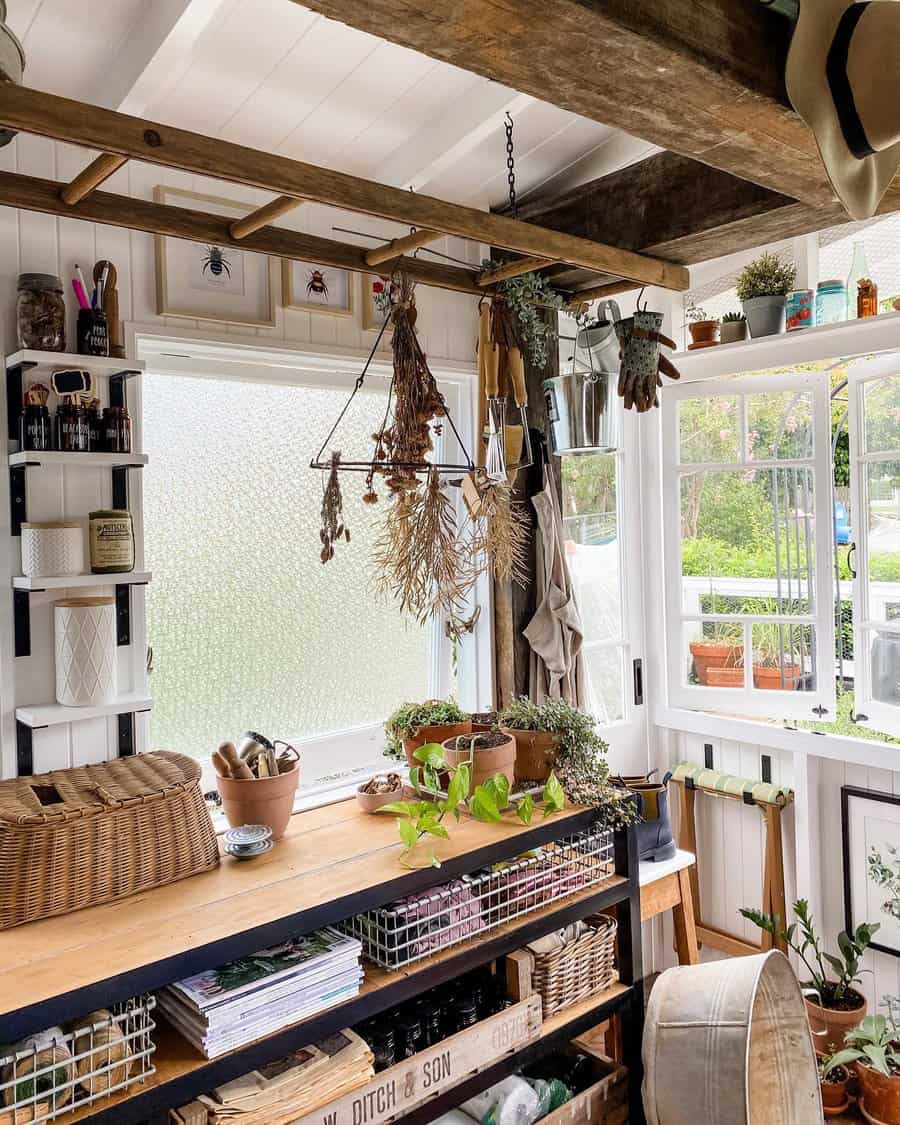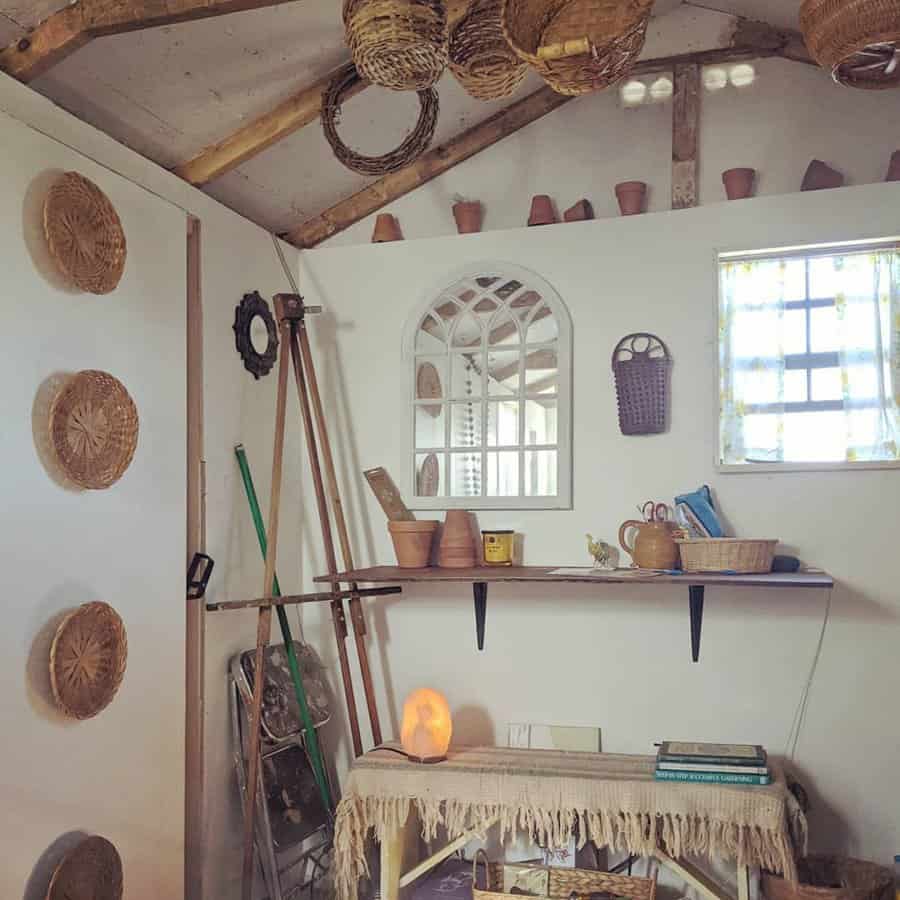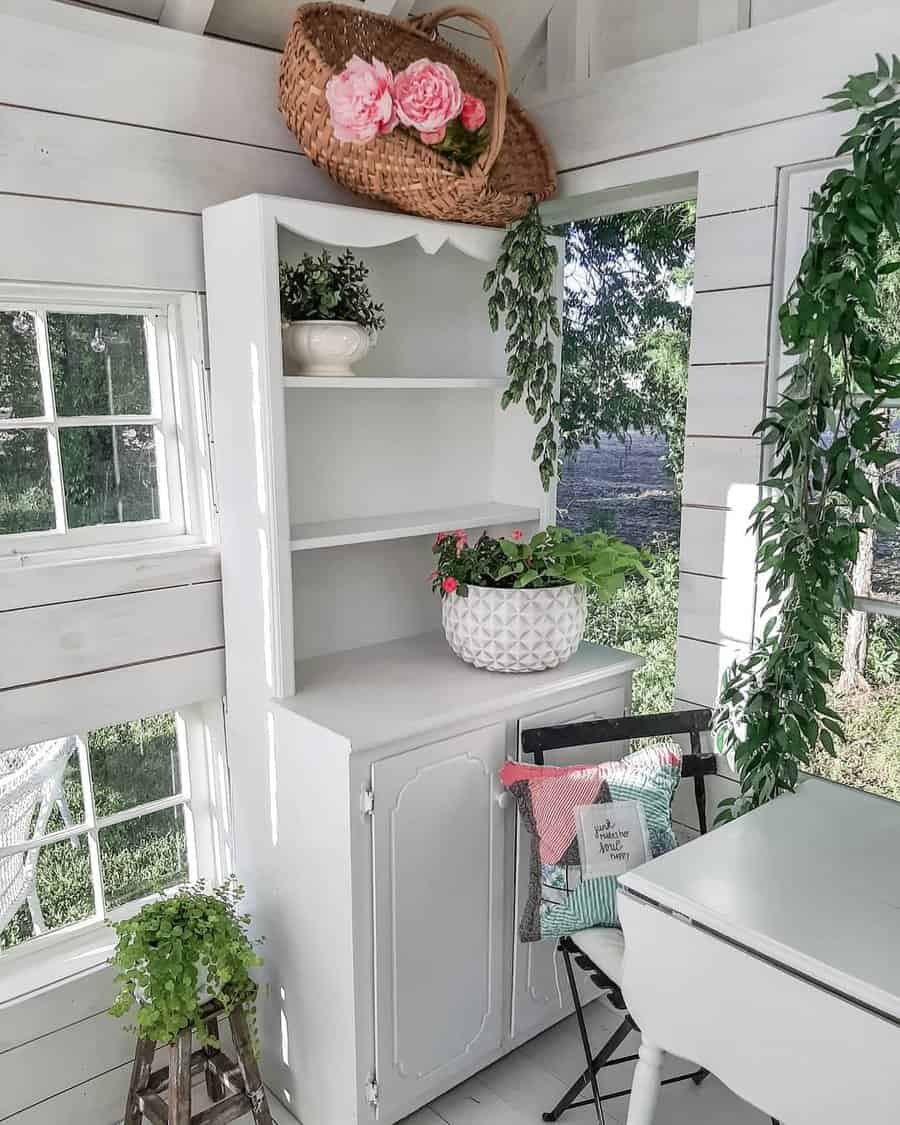 12. Style With Rustic Elements
If you're looking for an intimate space that oozes rustic charm, consider incorporating rustic elements such as exposed ceiling beams and wooden elements. From subtle updates like rustic textiles to more dramatic touches like a fireplace, these rustic details will add character and make your she shed a special retreat.
For the outdoors, rustic wooden furniture or even a rock garden will bring natural beauty to the space. With some imagination, you can transform any outdoor area into an inviting rustic she shed!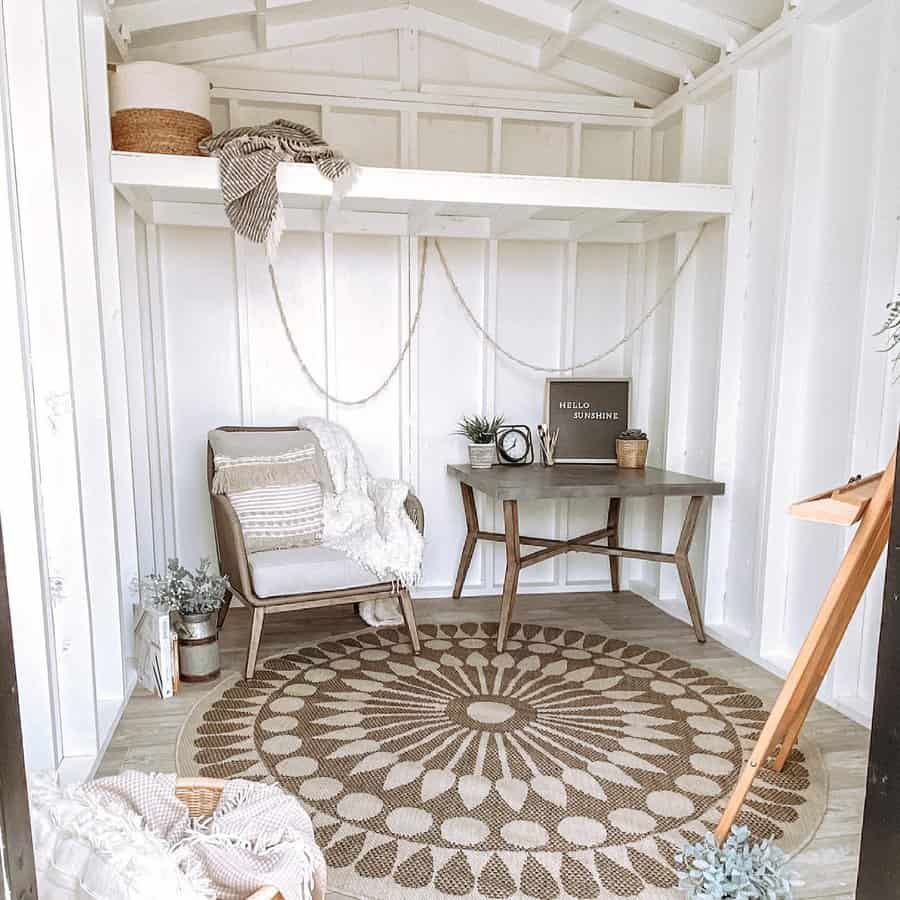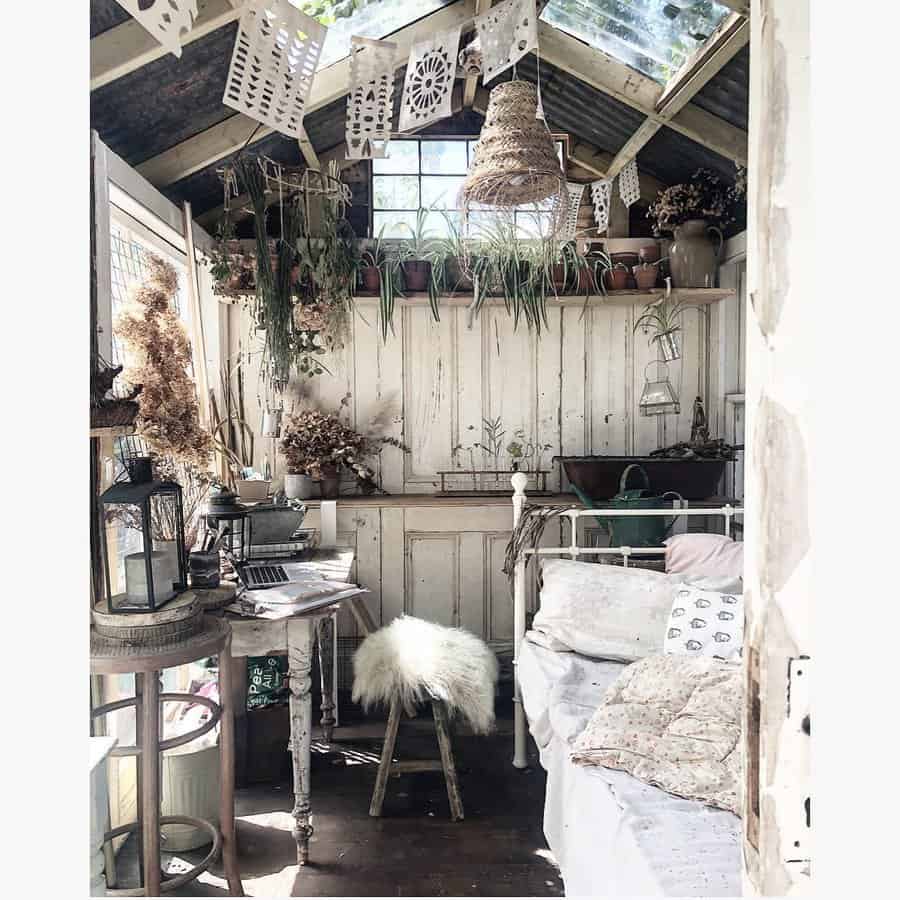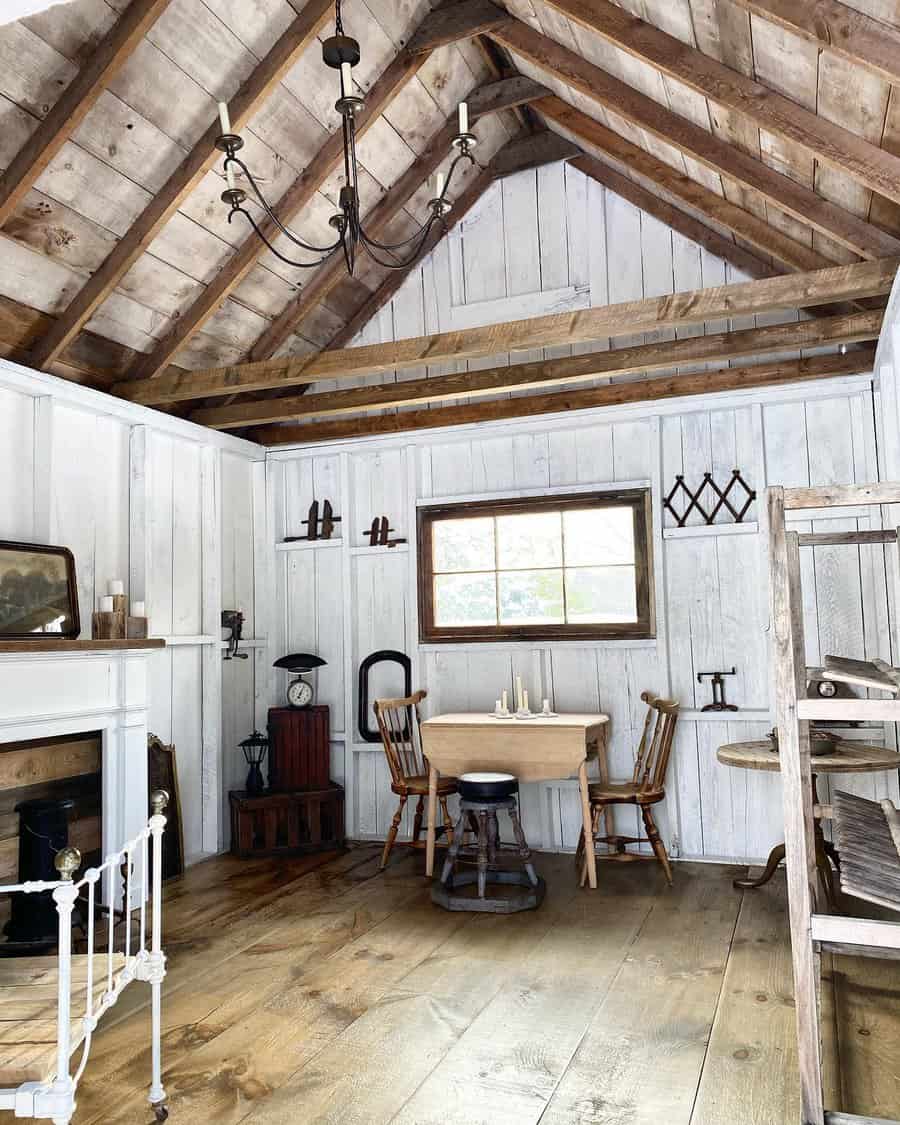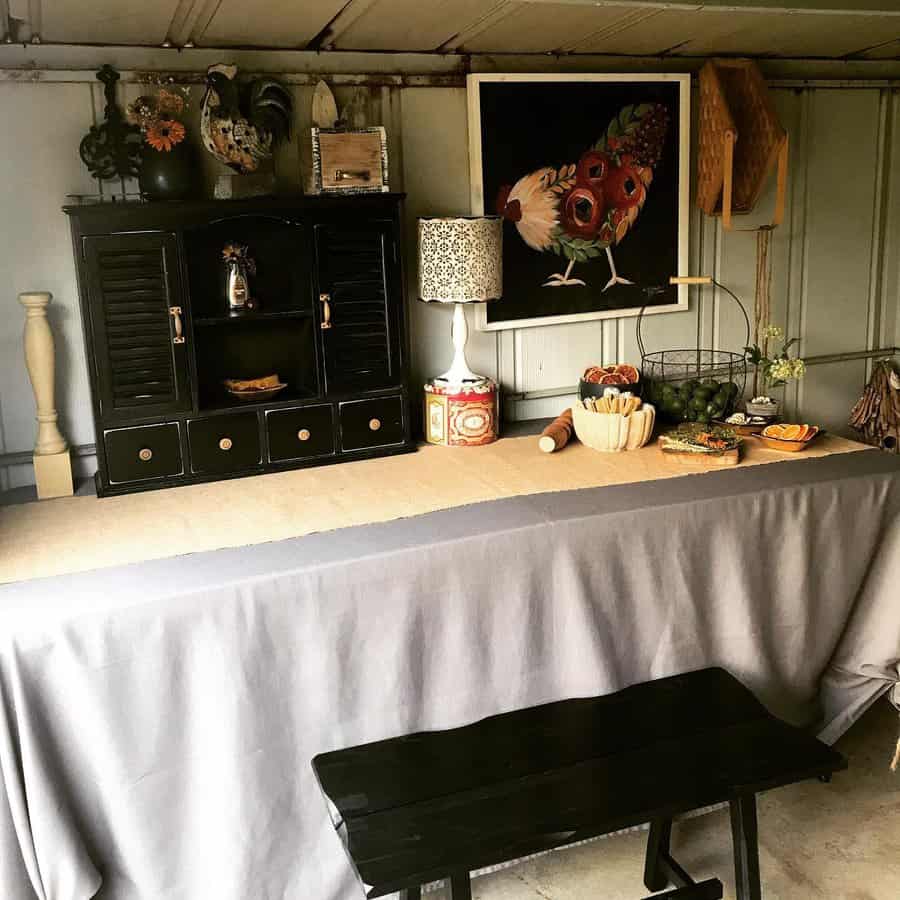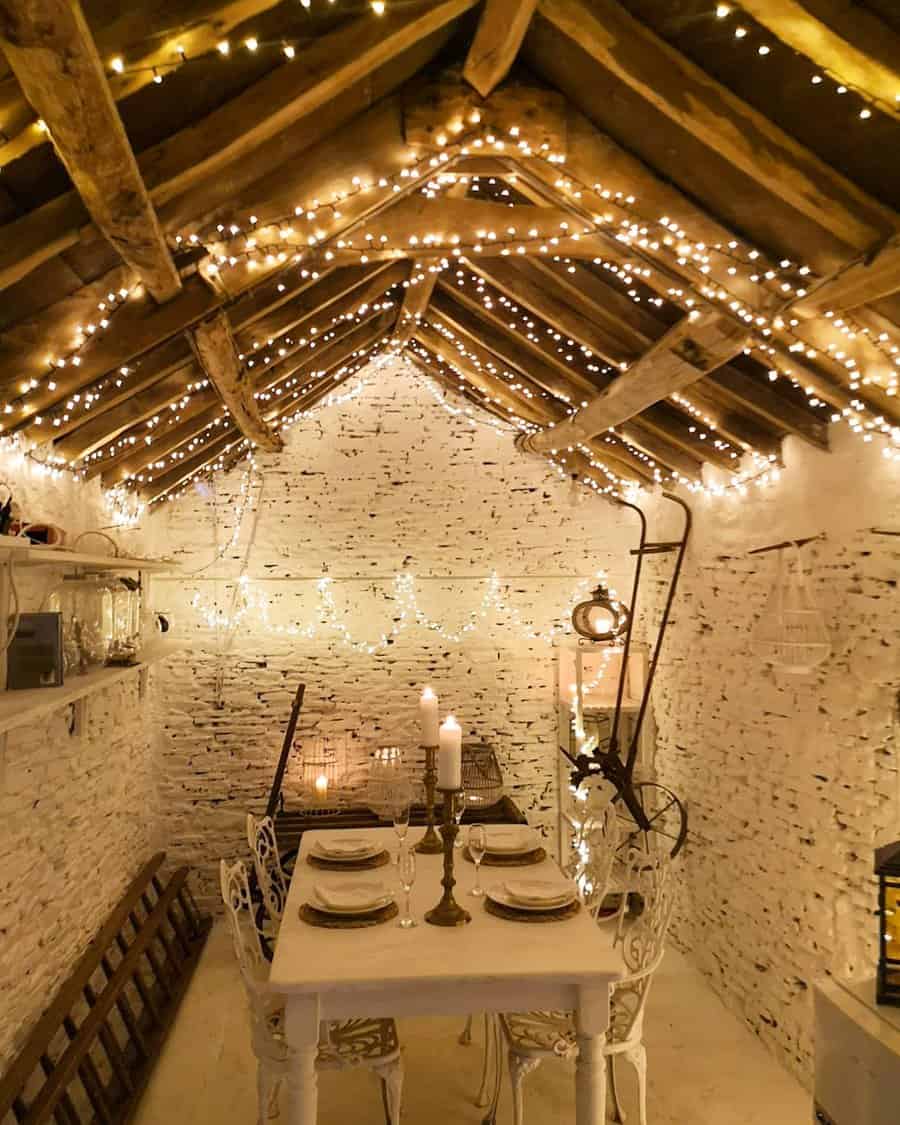 13. Create A Reading Nook
A she shed is an amazing space for you to unwind in – and your reading nook should be the coziest spot. Think of a comfy couch backed by pillows, lots of blankets to cozy up with (it's no problem if these are all mismatched!), and shelves full of your favorite books.
A reading nook tailor-made for you is the perfect sanctuary for winding down after a long day. So gather some cozy reading materials, lay back with a cup of tea, and just relax!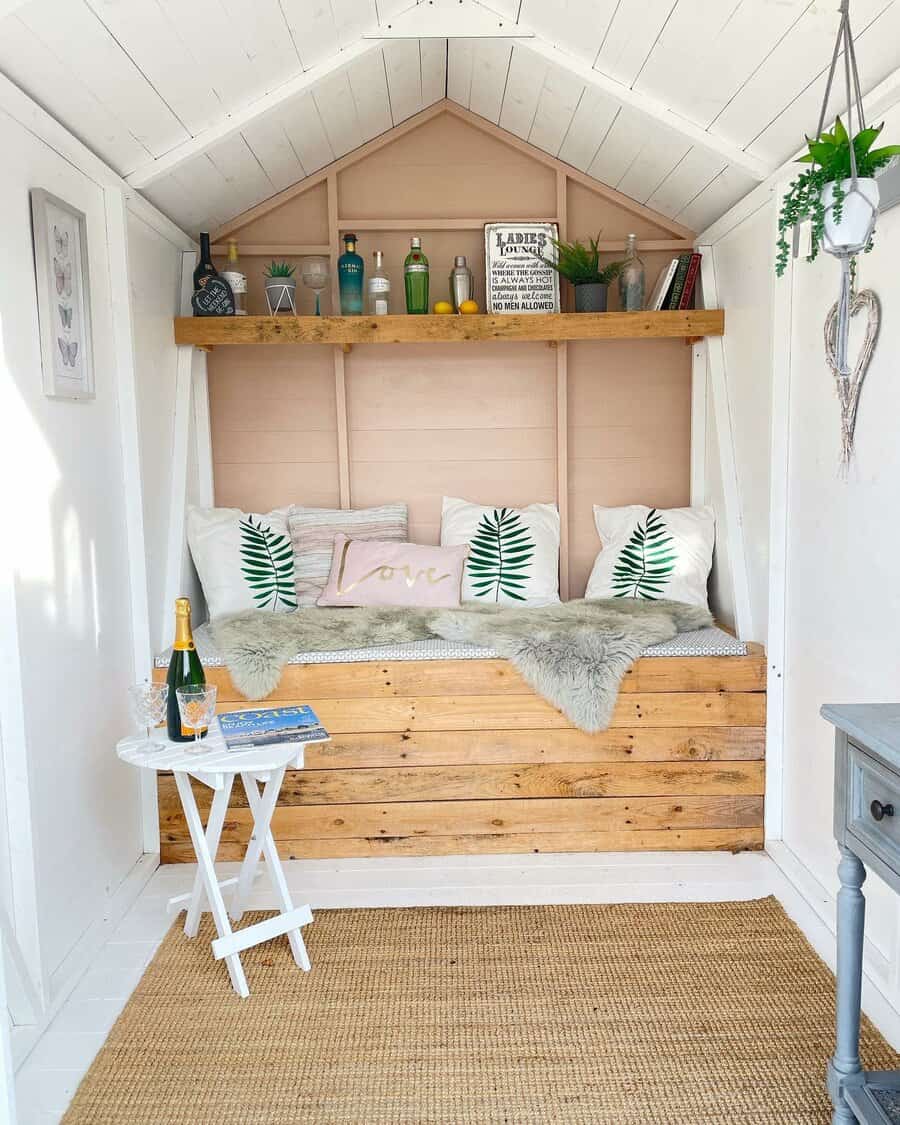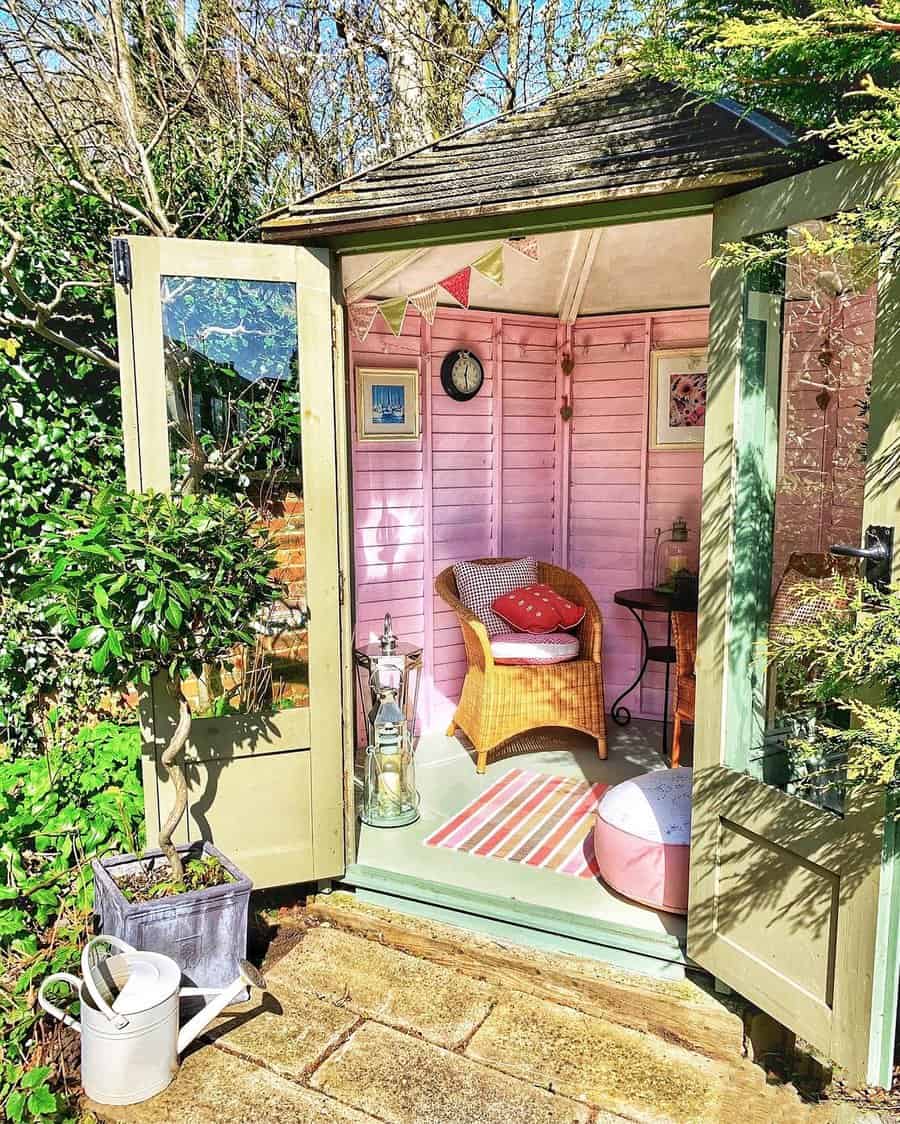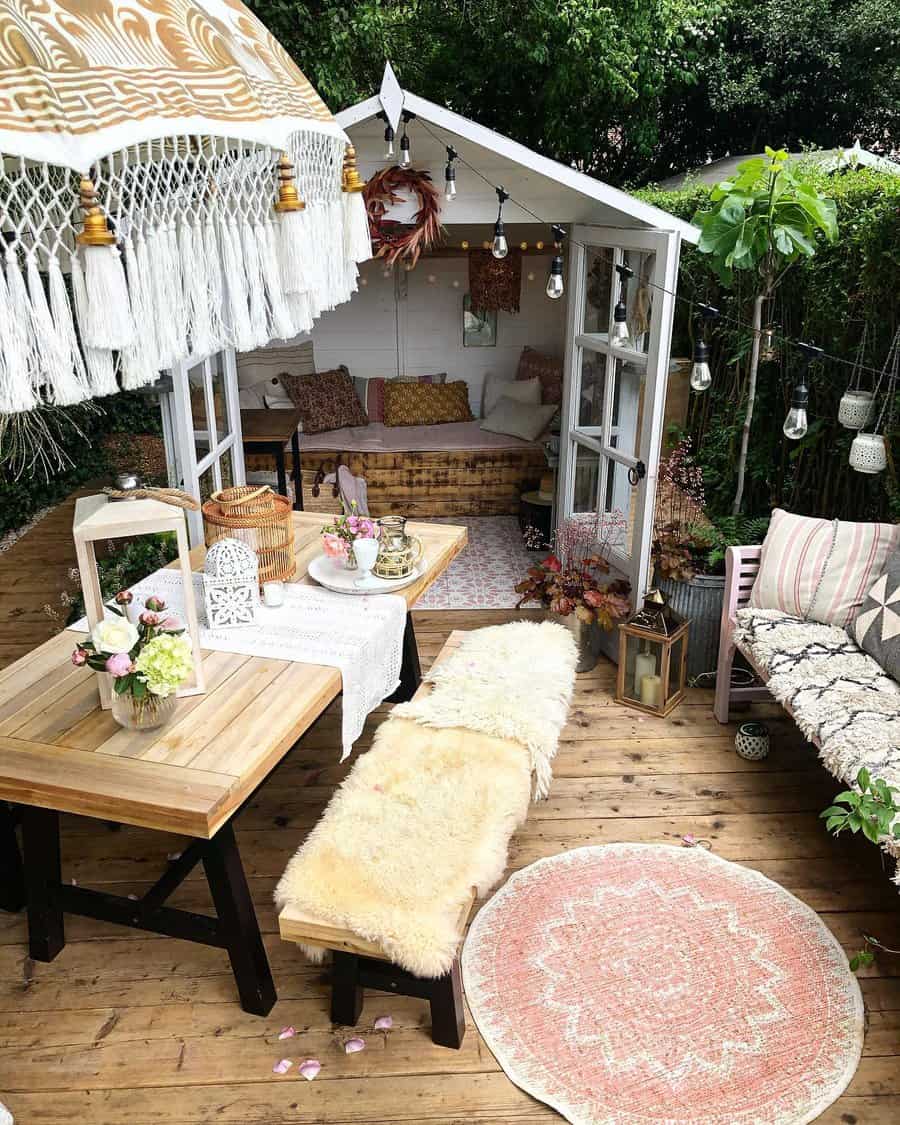 14. Express Yourself With A Studio Hobby Shed
Having your own hobby room is a great way to carve out time for yourself and find a new hobby. Whether it's a pottery studio, workshop shed, or anything else you dream up – the possibilities are endless! A hobby room can be whatever you want it to be – let your creativity shine through and create something that fits you and your hobby perfectly.
Investing in a she shed hobby room gives you the opportunity to really make something original and beautiful – with long-lasting utility as well. So start planning, dreaming about, and most importantly, enjoying the process of making something special just for yourself.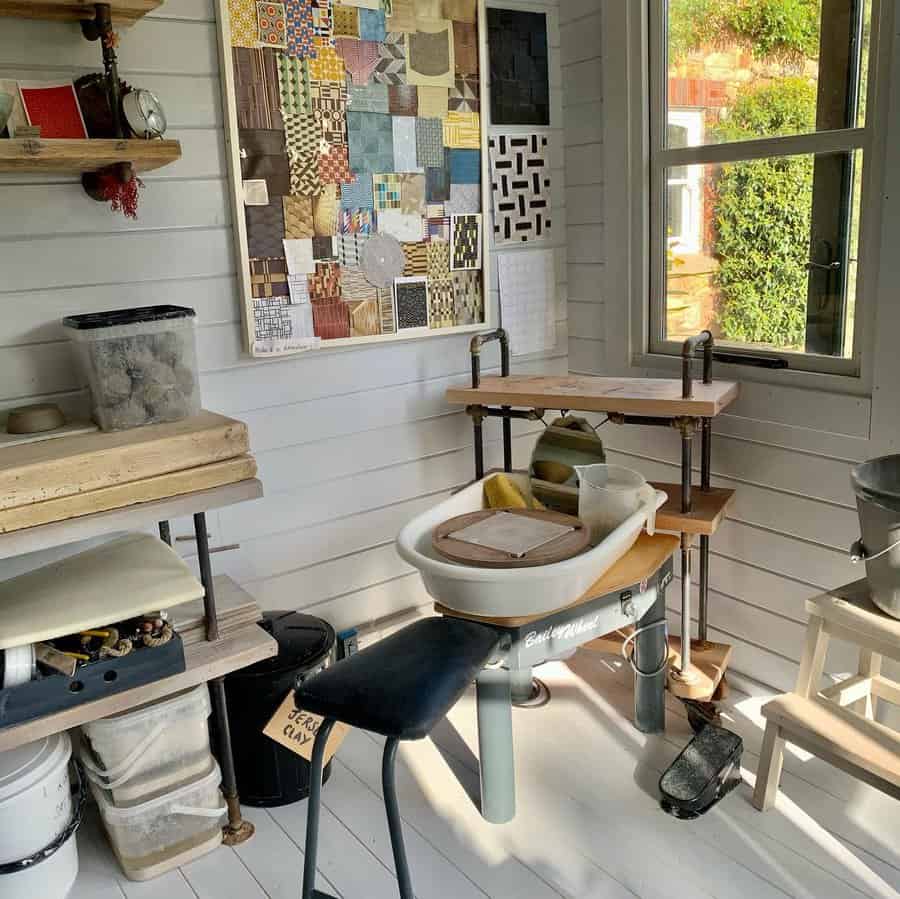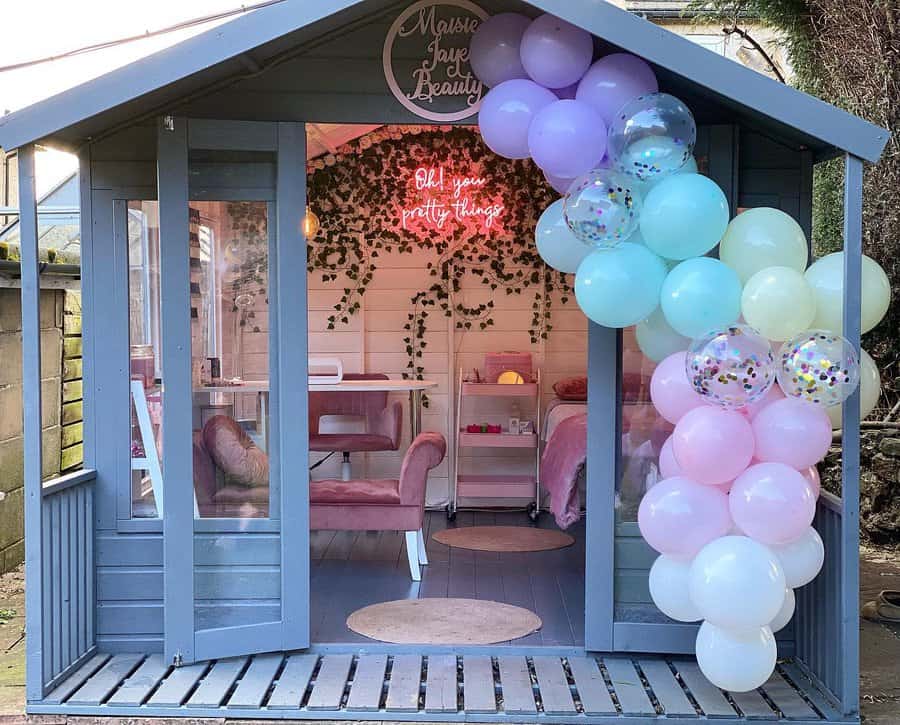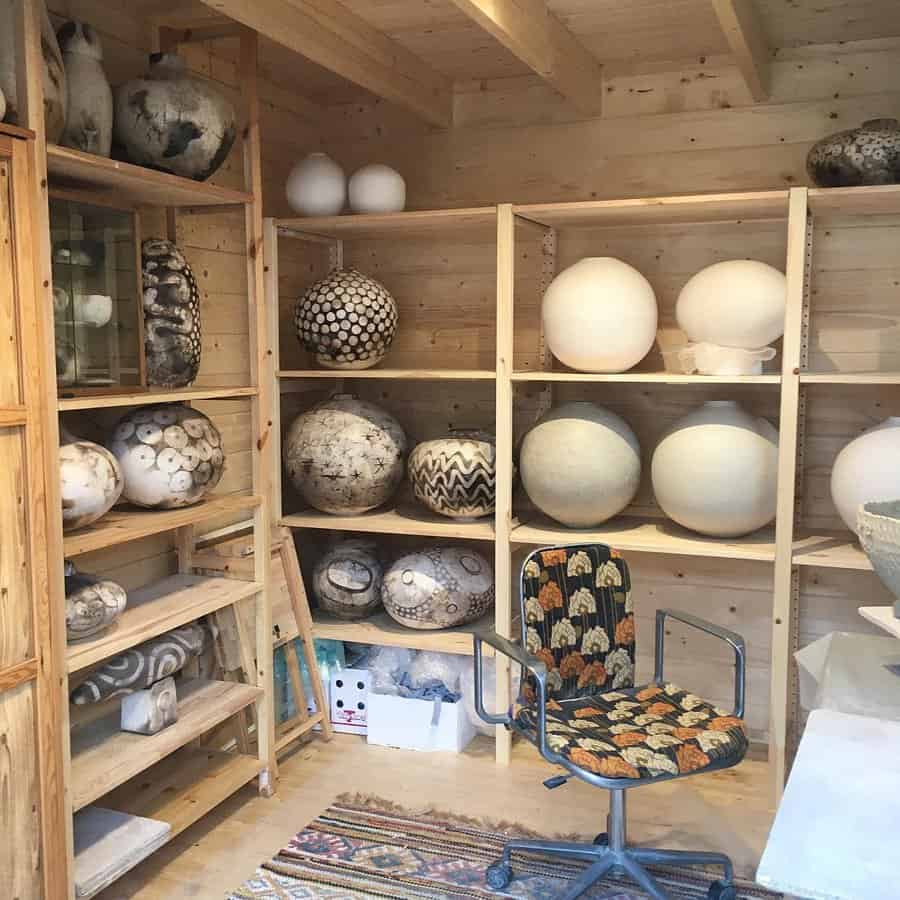 15. Summer House For The Guests
If you're looking for a special retreat to escape to this summer, a summer house could be the perfect addition to your home. Not only will it add a stunning feature to your garden, but it will also provide extra space that can be tailored to suit whatever activity you please.
Whether that's a she shed as an area of well-being and relaxation, or a spacious room for guests visiting during the warmer months; the possibilities are endless. When designing the interior, make sure there are lots of natural light with wide windows – after all, sunshine is key for the full enjoyment of this fabulous place!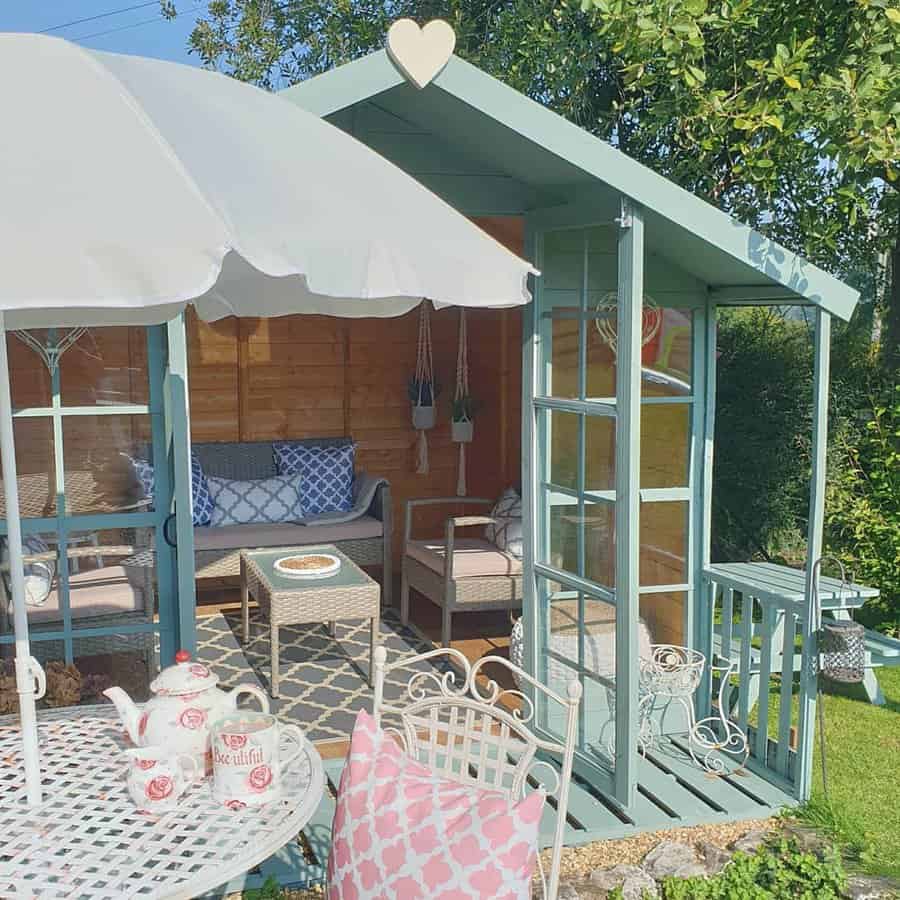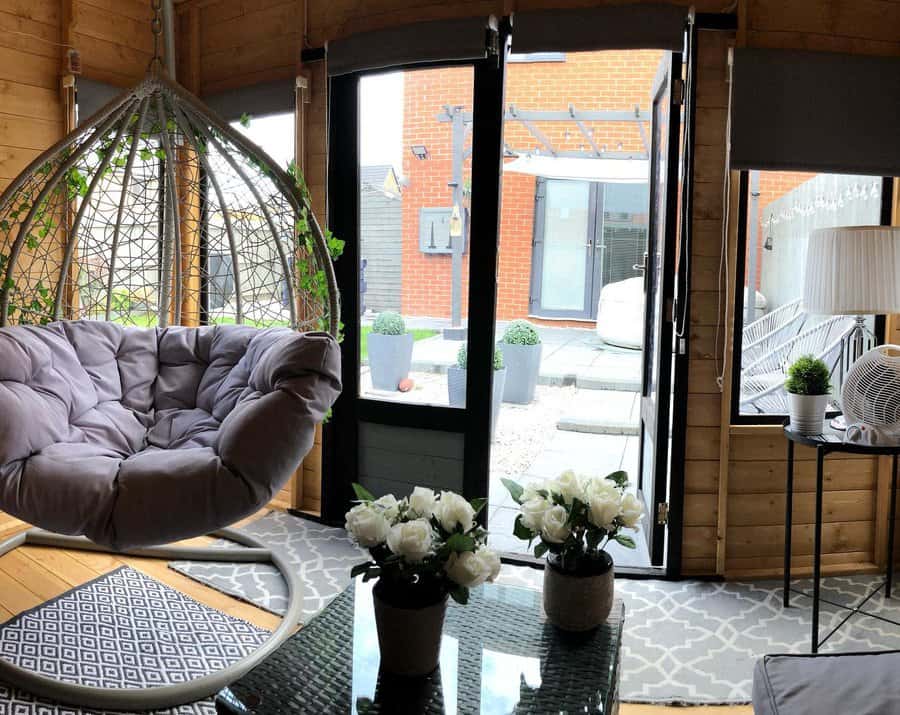 16. Make A Room For Your Vintage Collection
If you're a collector of vintage items, why not create your own room dedicated to those collections? A she shed is the perfect way to get some much-needed room for organizing and showcasing all those one-of-a-kind finds. She sheds provide a cozy atmosphere – think of it as a peaceful haven away from the hustle and bustle of everyday life.
To fully bring out the vintage aesthetic, go for a wabi-sabi style room, which brings together rustic elements, natural accessories, and creative decor. With such a room, you will have the ultimate personalized space where you can slow down, relax and admire your unique collections in peace.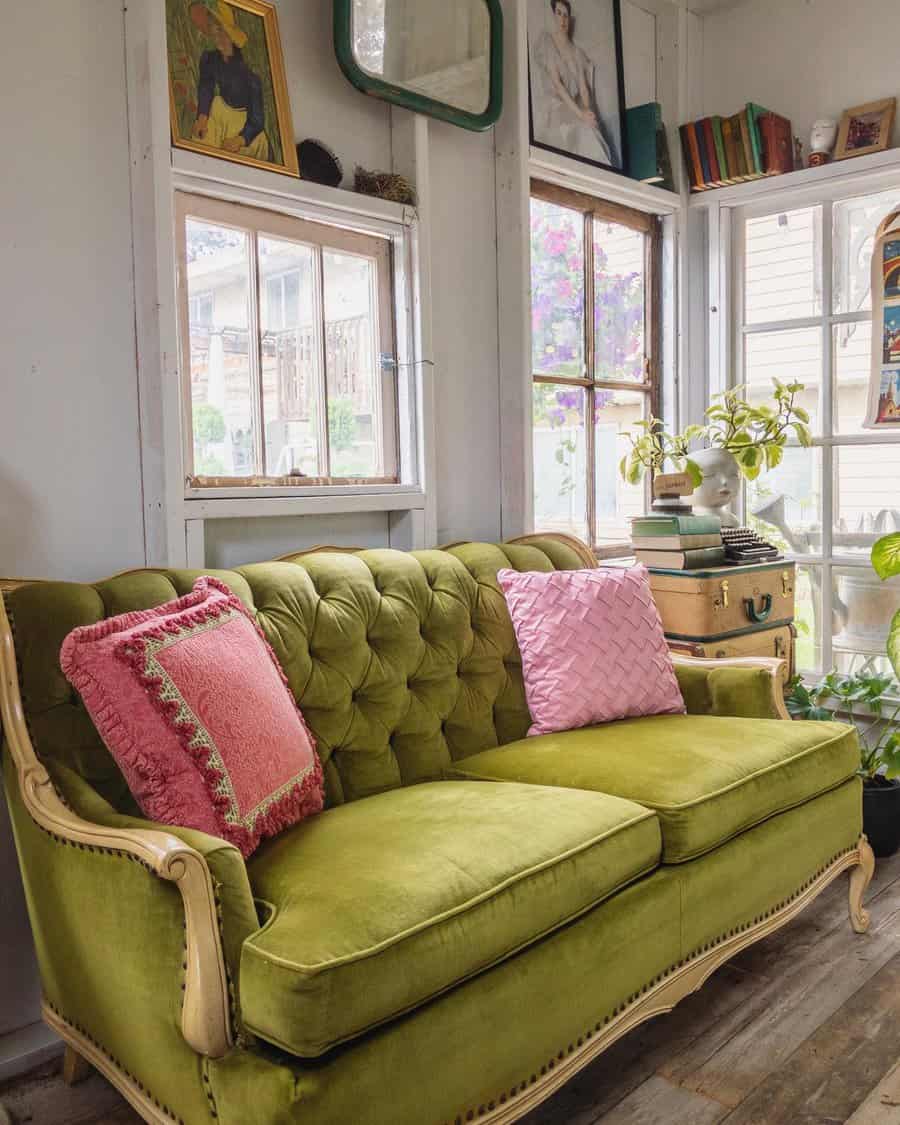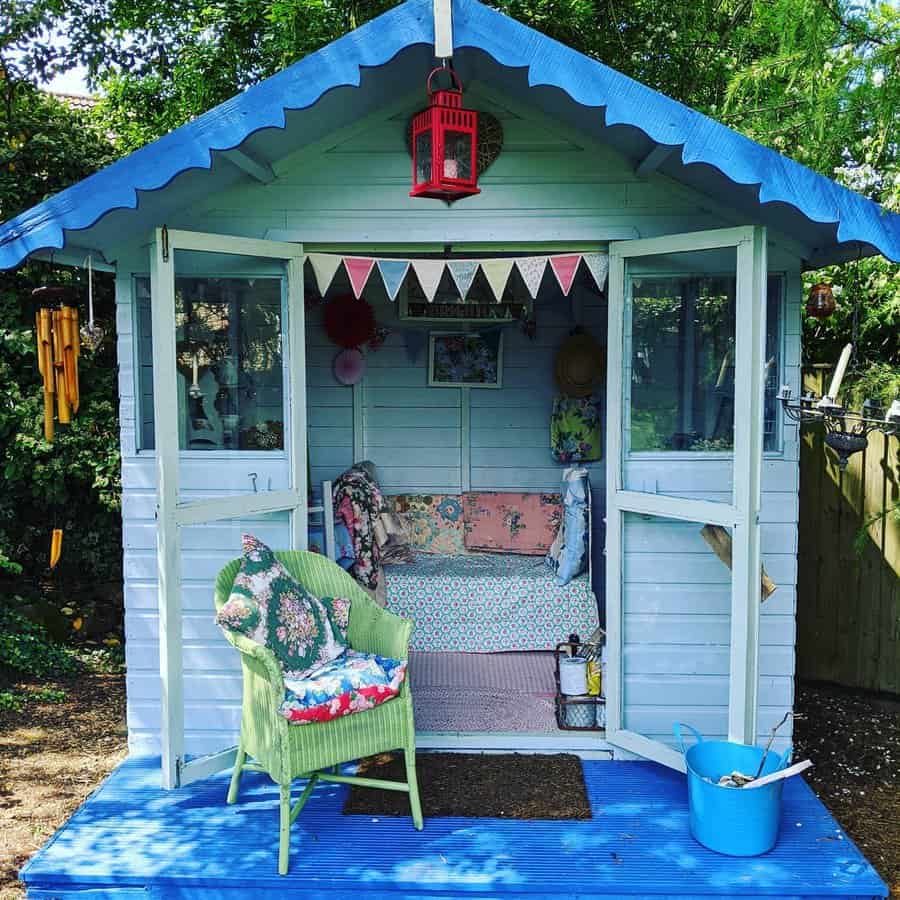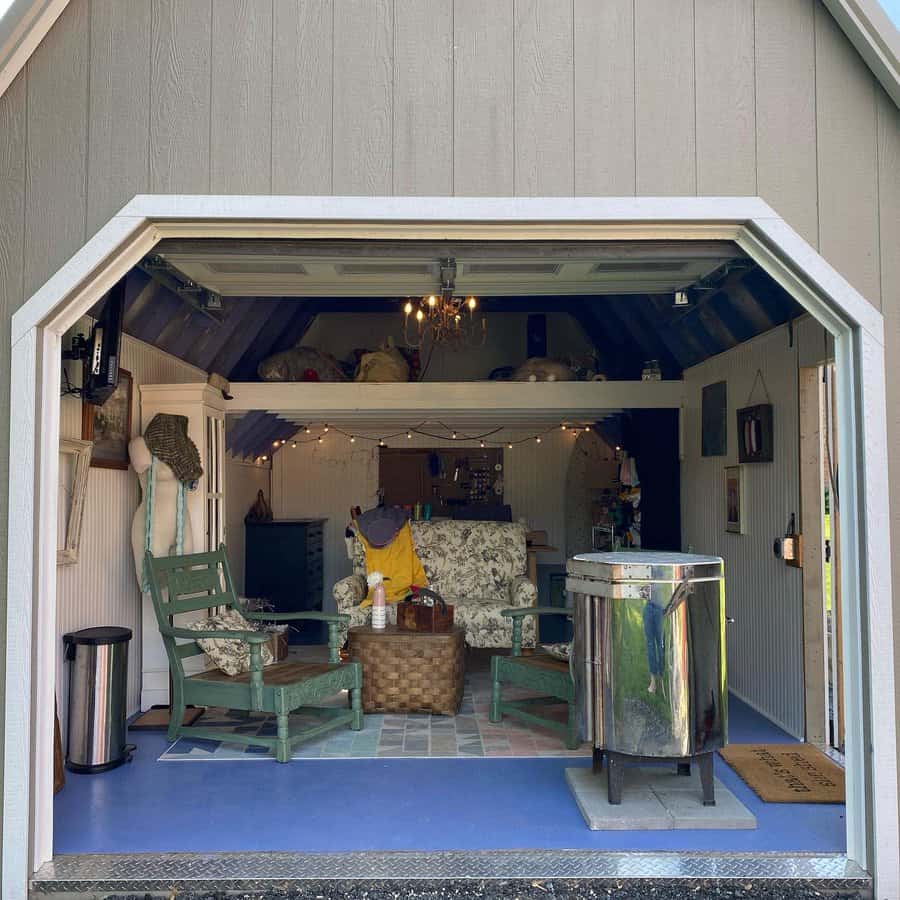 17. Make A Yoga or Gym Shed
Transform your she shed into the perfect yoga and fitness room! To get started, set up a yoga mat, some weights, and a yoga or Pilates block or two. You might also want to add mirrors so you can watch your yoga practice and check out your form while lifting weights.
If yoga isn't really your thing, no worries—create a gym shed fit for an at-home workout! Invest in some strength equipment like an Olympic barbell and bench press. Then, add yoga balls and free weights to round out your arsenal of workout gear. No need to leave the comfort of your backyard to get fit!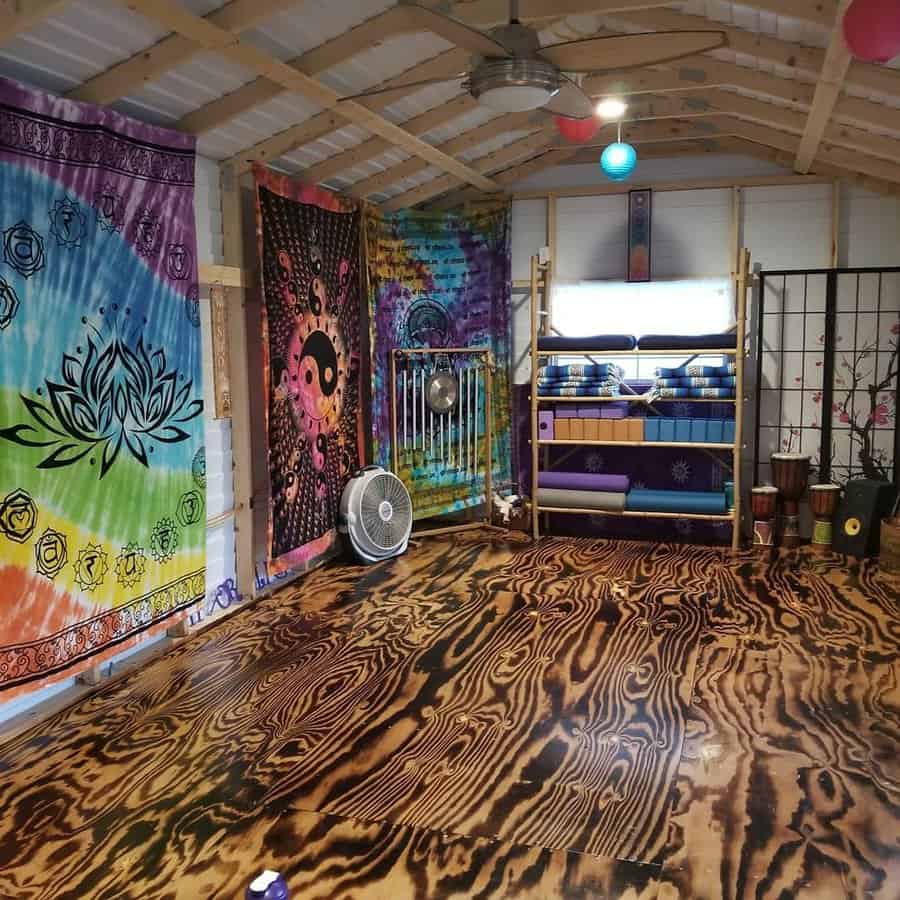 FAQs
Does a she shed add value to a home?
Yes, adding a she shed to your property will increase its overall value. Having an additional structure on your property increases its usability. The separate space can be a usable living space or serve as a storage space. Potential buyers can turn the shed into any type of space that they need it for.
How much does it cost to turn a shed into a she shed?
The cost of your she shed will depend on where you live, the size of your shed, and how elaborate you want the shed to be. Most homeowners will spend between $1,500 and $10,000. The average cost is around $3,600.
How do you insulate a shed?
The cheapest material you can use to insulate your shed is bubble wrap. However, this DIY option isn't durable and won't last. Instead, consider using foam, loose-fill, or spray insulation. These are professional quality insulation materials that will last and create a more comfortable atmosphere in your she shed.