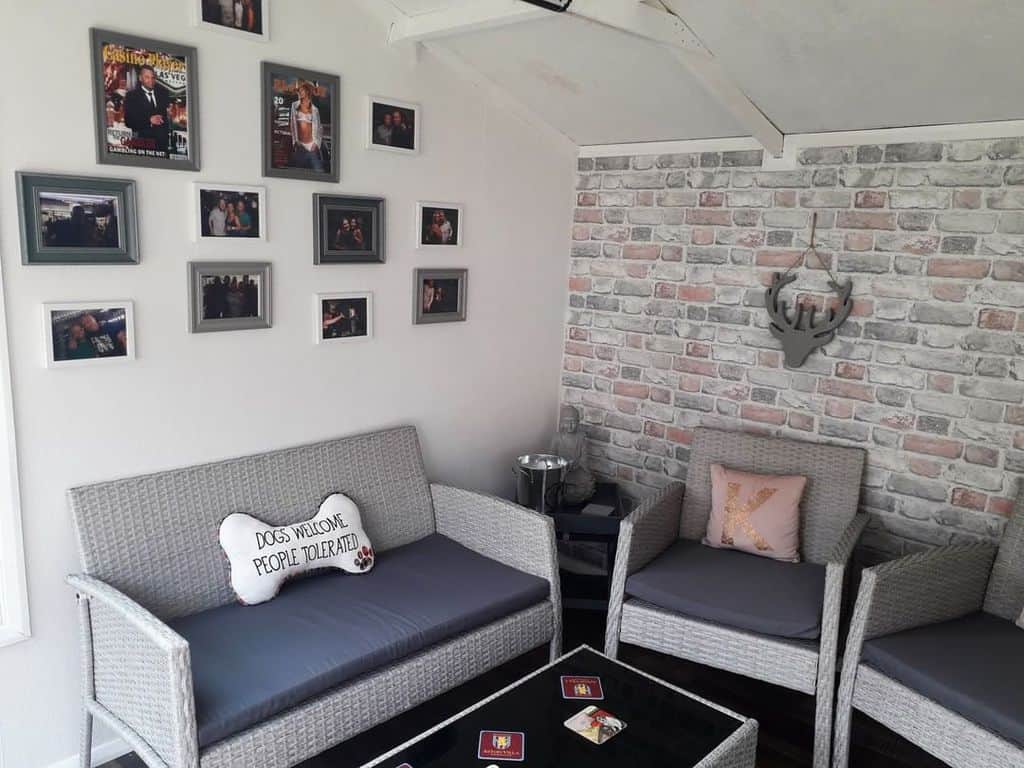 Man caves have gotten all of the attention over the years. It's time for a change. Instead of letting the men have all the fun, why not claim the old shed in the backyard and turn it into a woman cave? Instead of a cave, turn it into a bright and inviting space, better known as a she shed. These she shed ideas will help you get started building a private space where you can do your favorite hobbies.
1. Bar
Having a few drinks with friends isn't just for the men. Turn your existing shed into a bar. Then, instead of having a storage space, you have the perfect hangout spot. Cut a large hole out of one side of the backyard shed and turn this into a lift-up panel.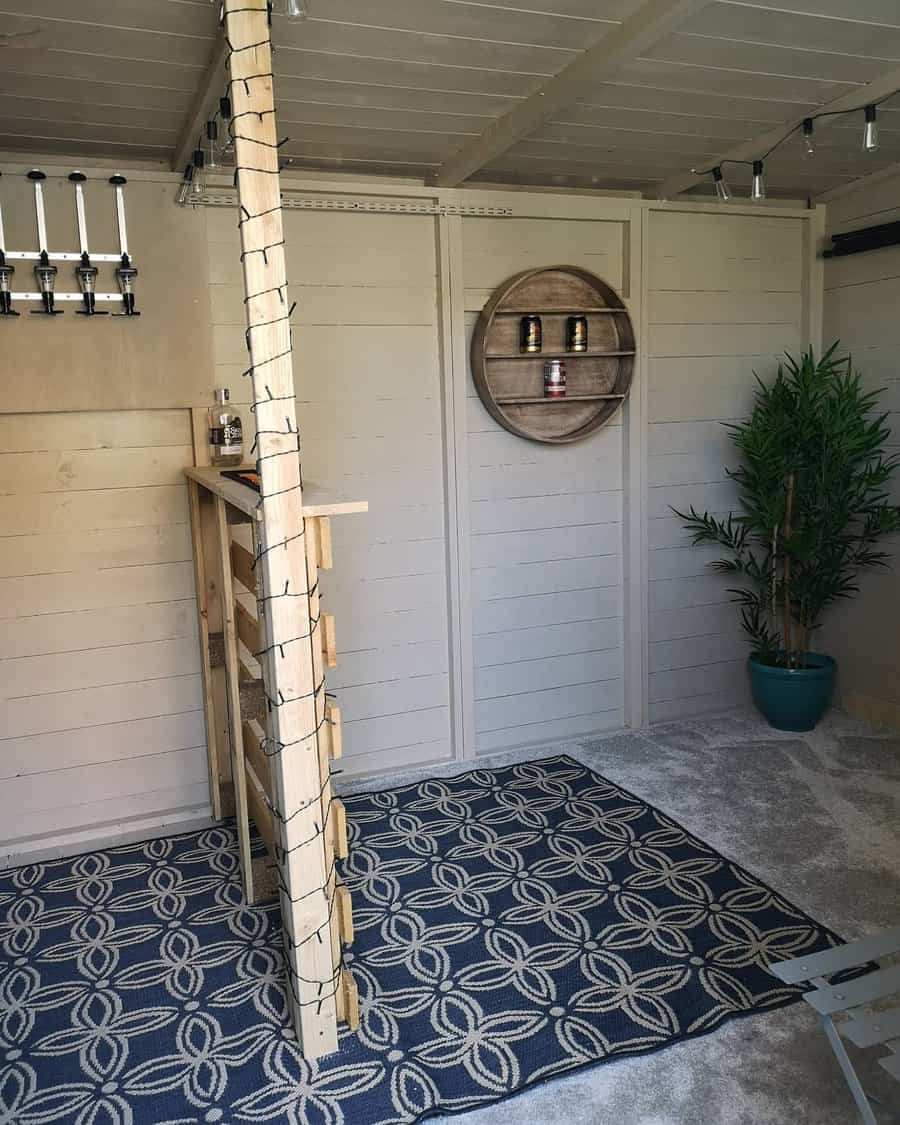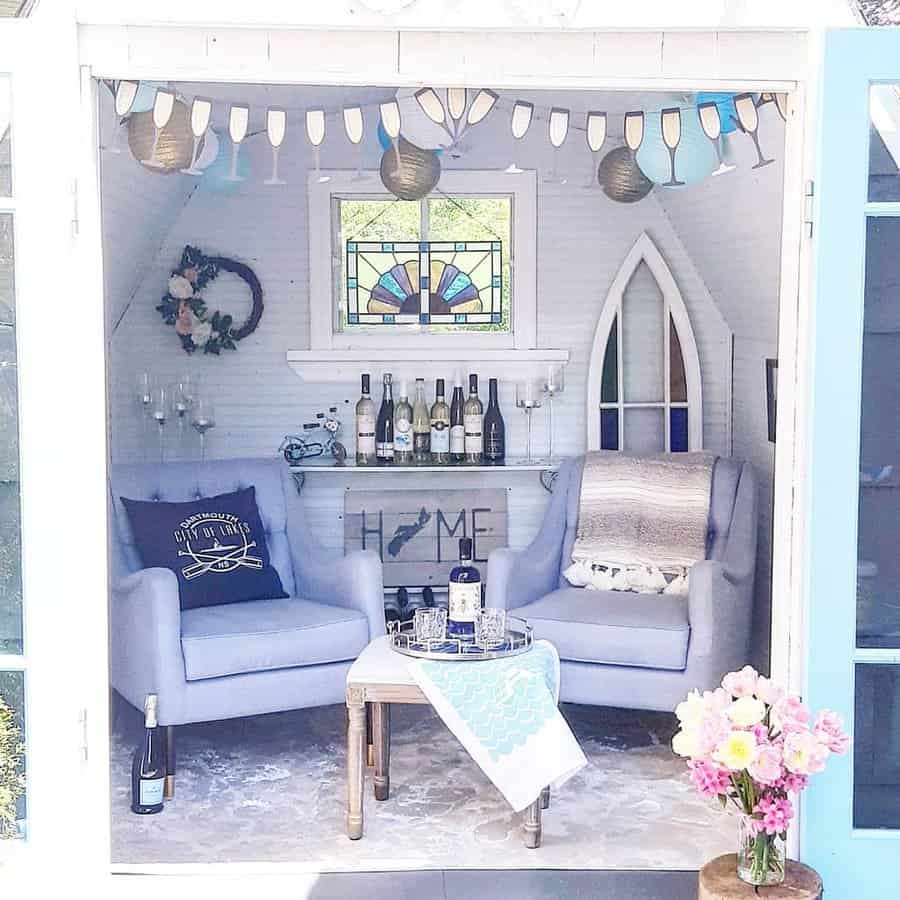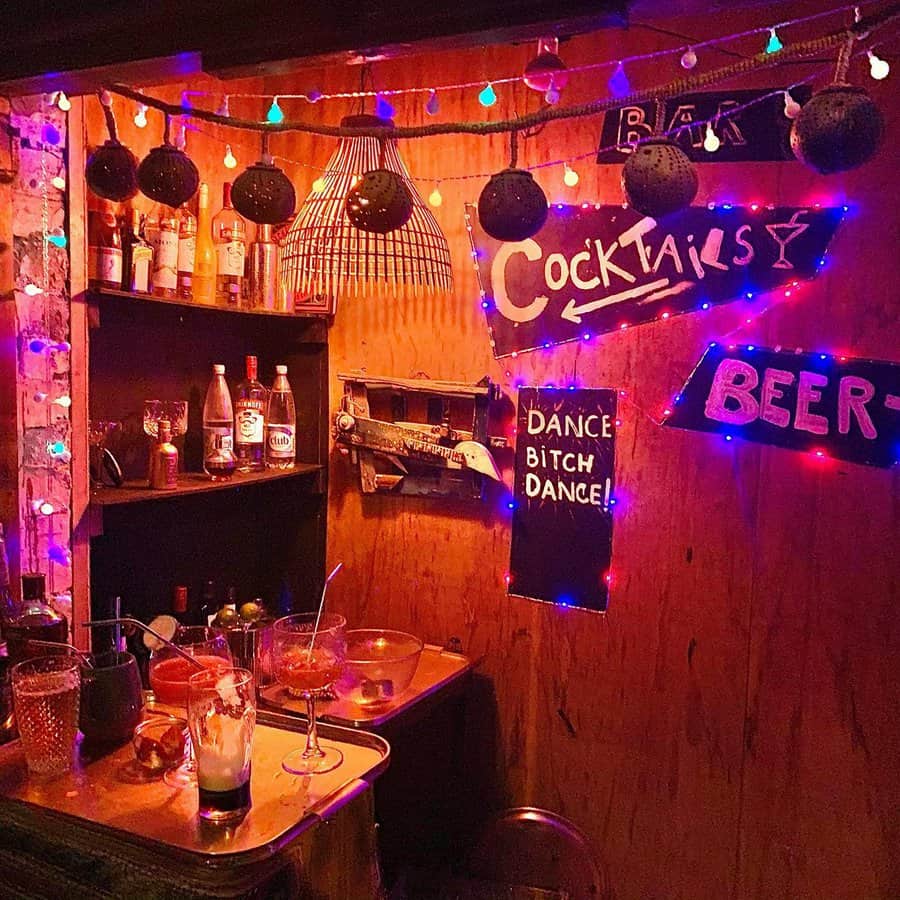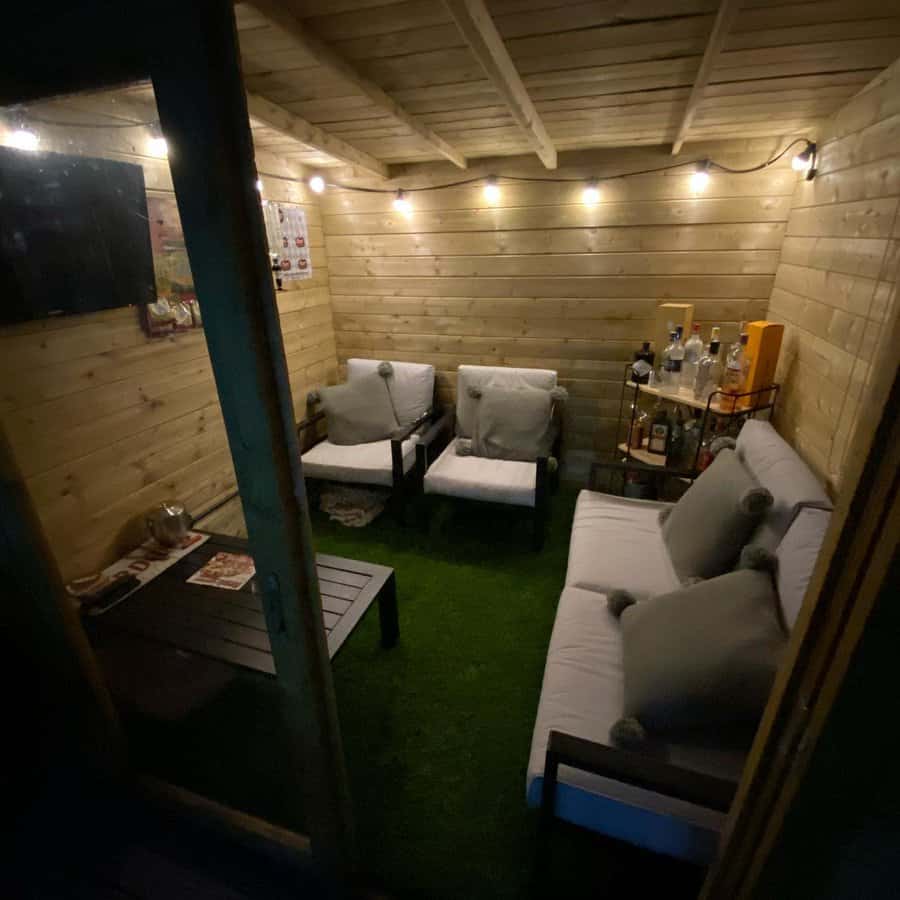 The bar top is inside, and you will stand in the shed while serving your guests. Line barstools up on the outside of the window where friends can sit as you serve them through the window. You can close the flap and secure your bar when not in use.
2. Contemporary
The contemporary interior design style isn't just for the outdoor living room in your home. This decorating idea also works well in the small space of your backyard retreat. With the contemporary approach, you can do almost anything with your she shed.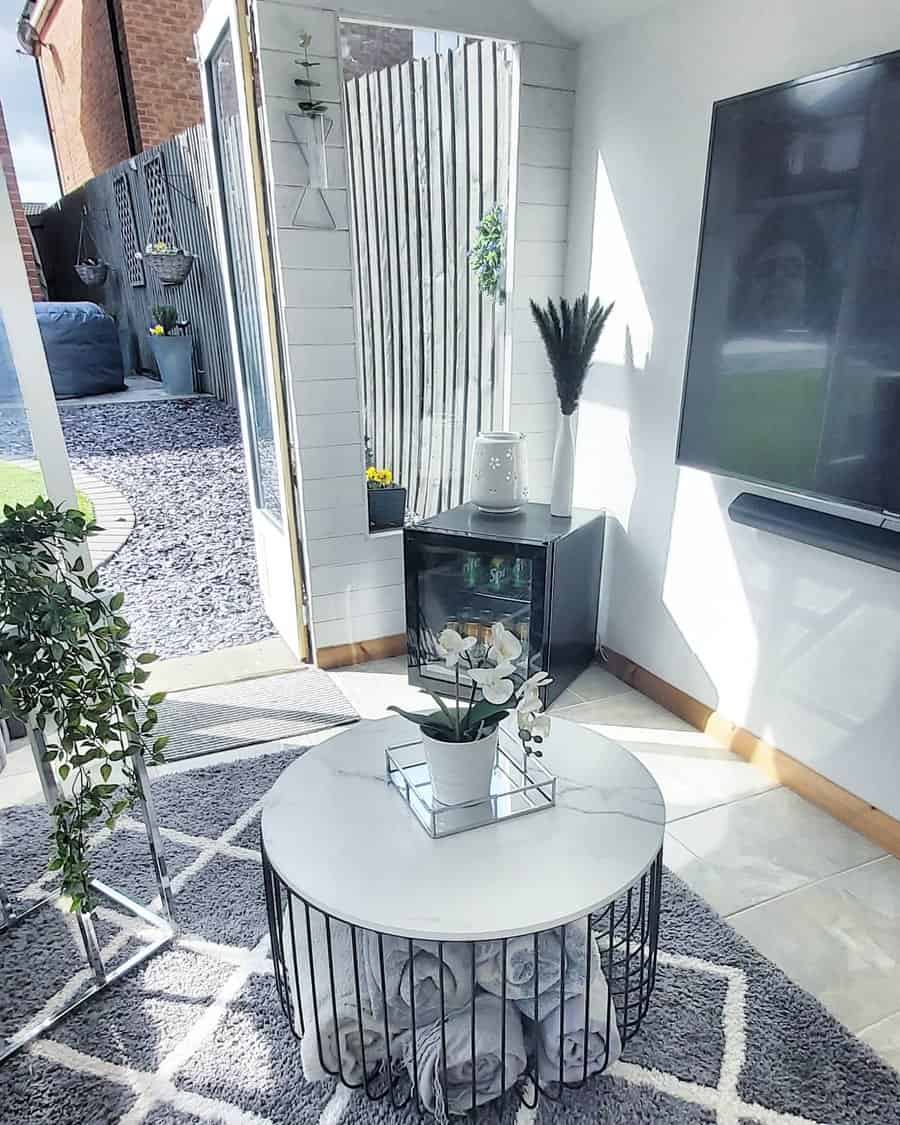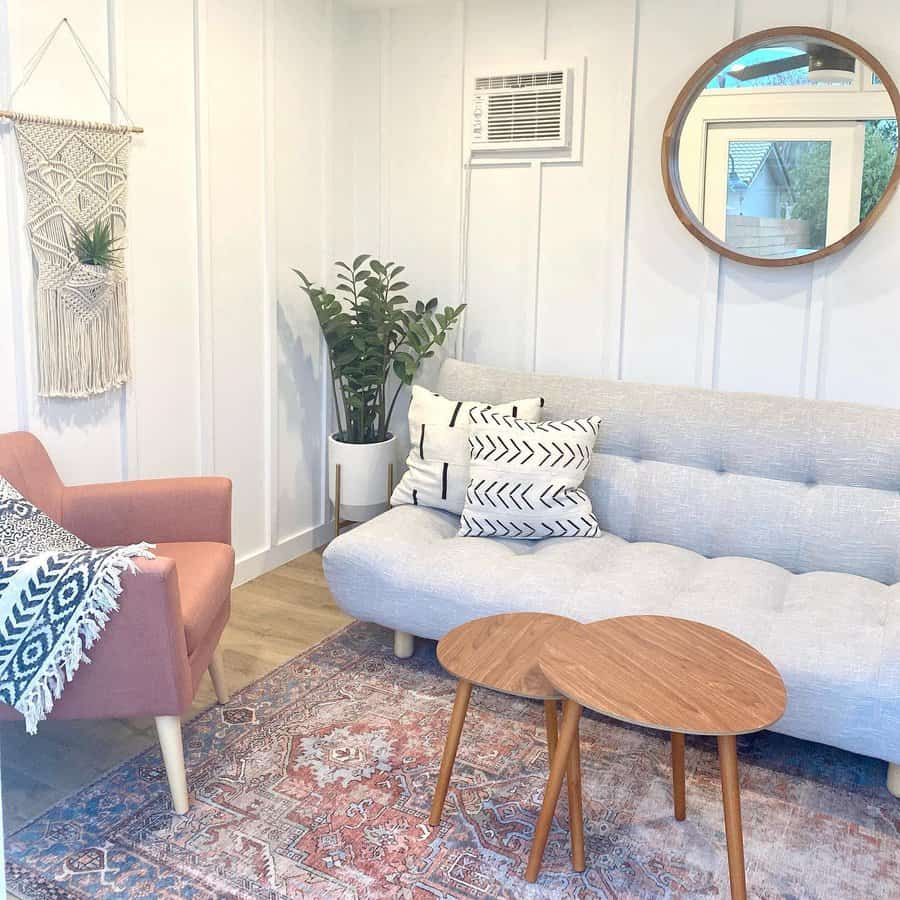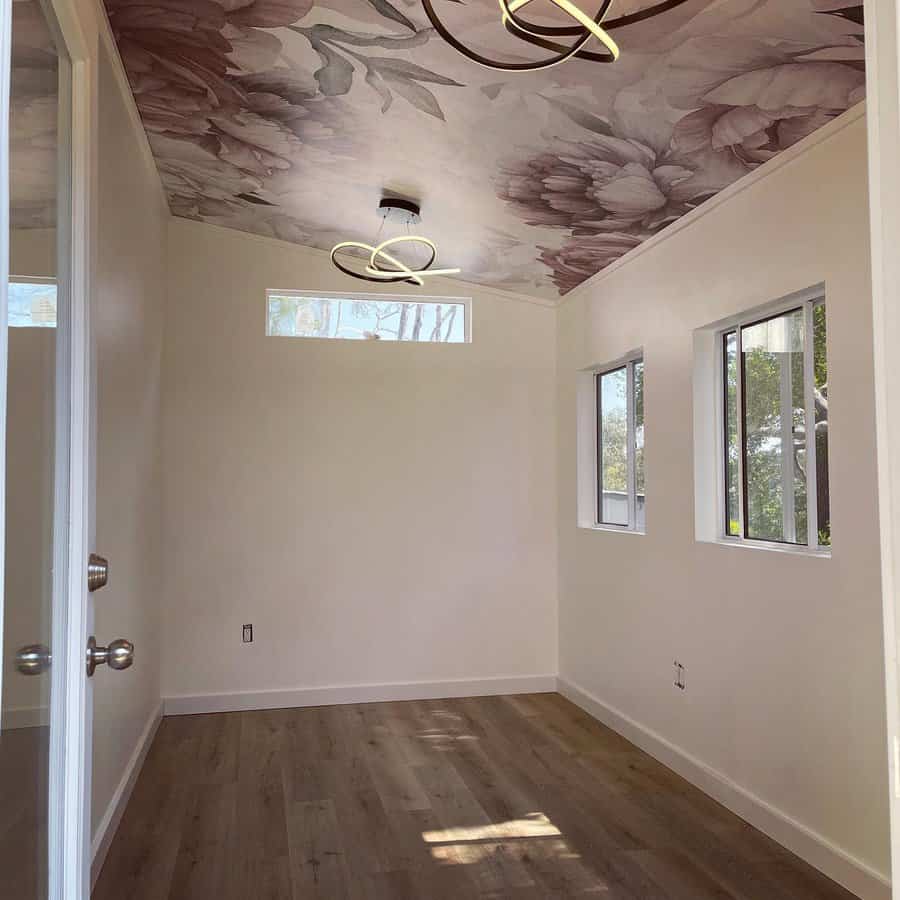 Turn it into a reading nook with a comfy chair, floor lamp for task lighting, and sound system to play soothing music. Use light woods, warm cream for the walls, and soft neutrals like greige, gray, or beige. Choose timeless furniture pieces that aren't overly ornate and have supportive cushioning that make extended sitting comfortable.
3. Cottage Style
Transport yourself to the English countryside with a flower patch farmhouse in your backyard. It's country living at its finest with window boxes, delicate florals, and fine China tea sets.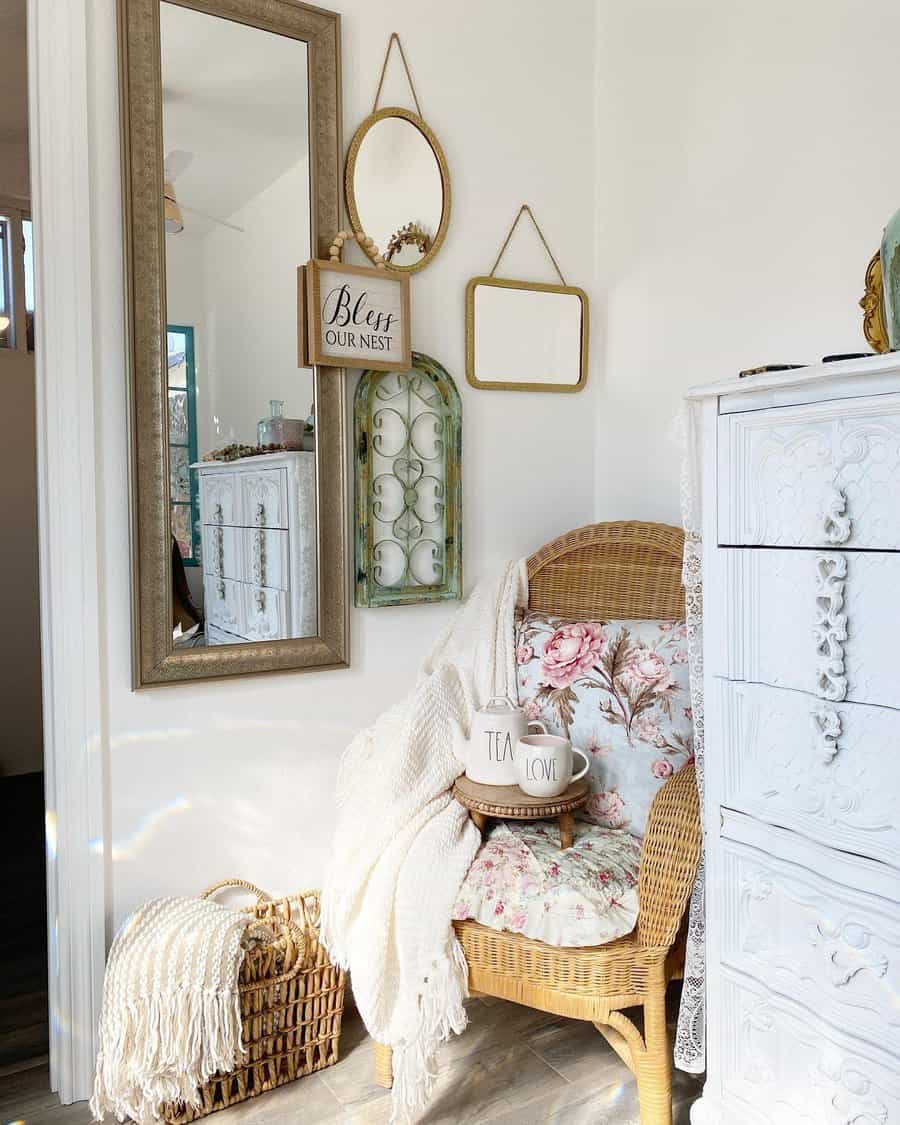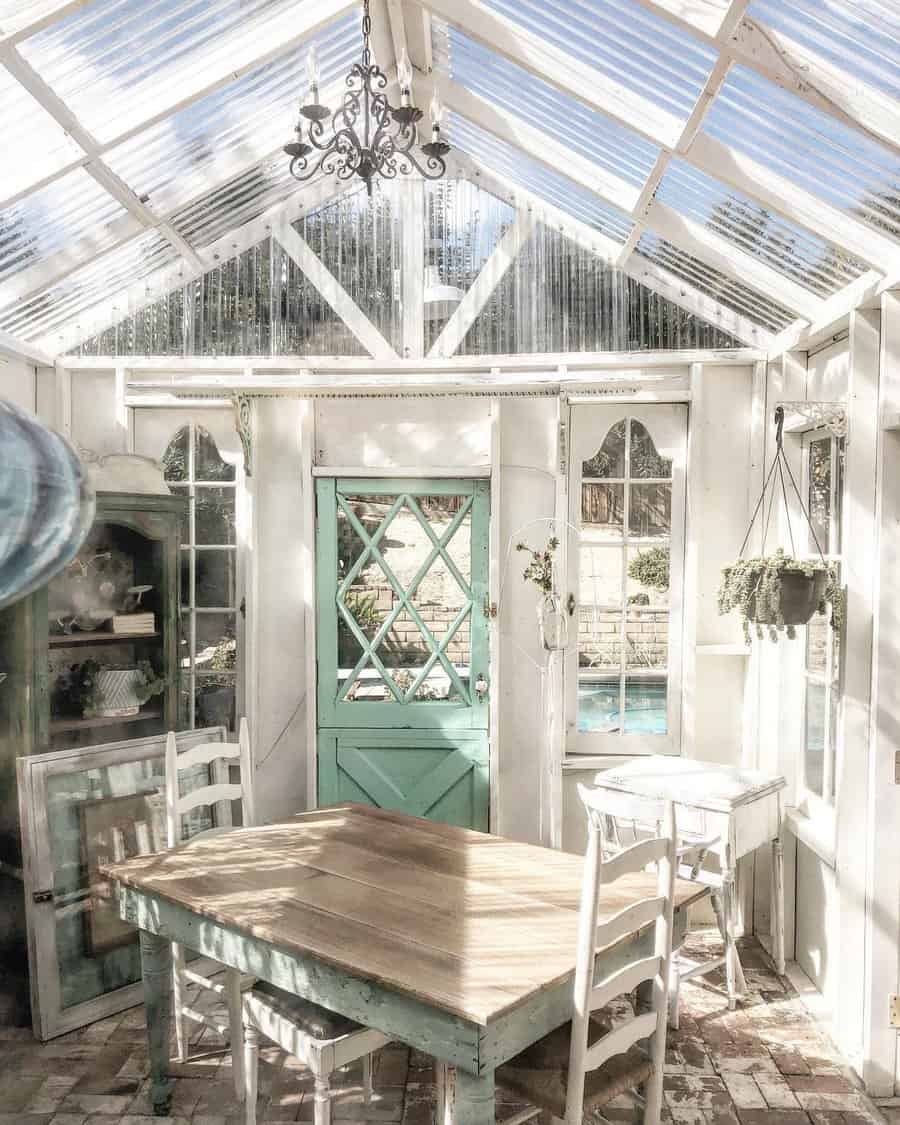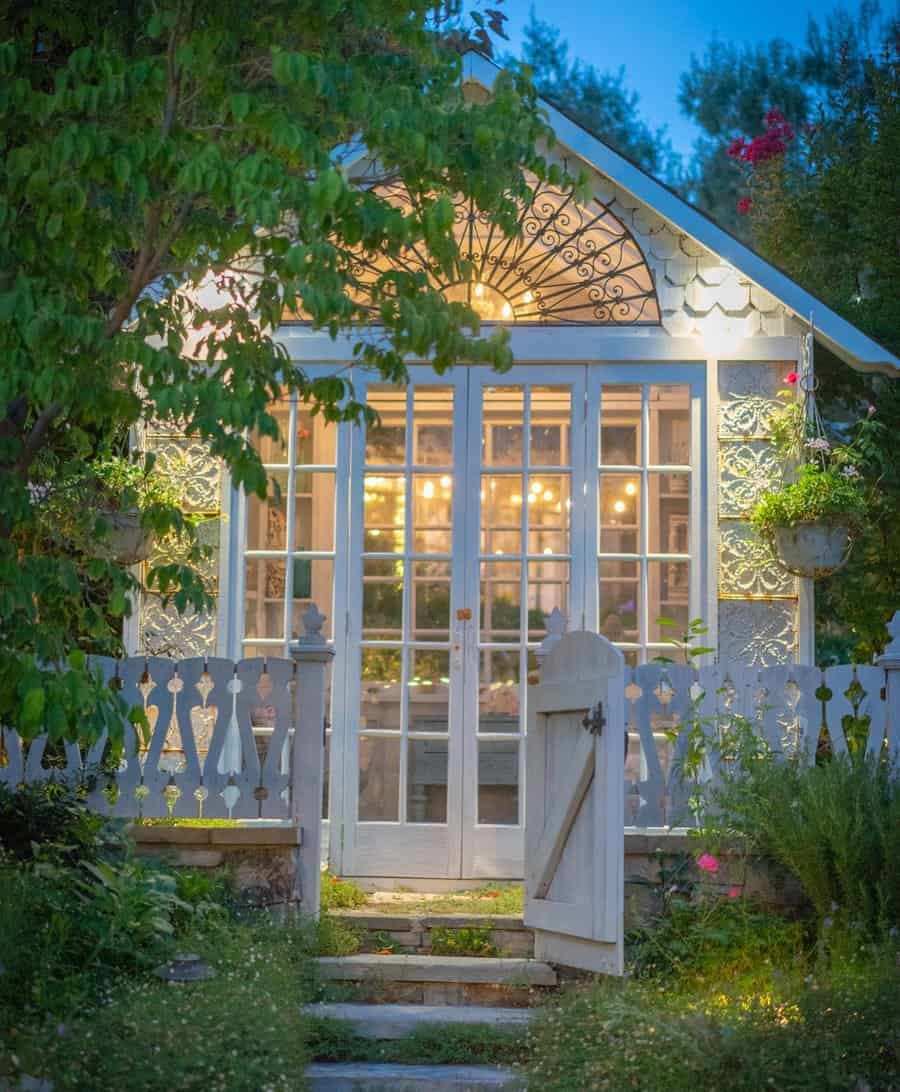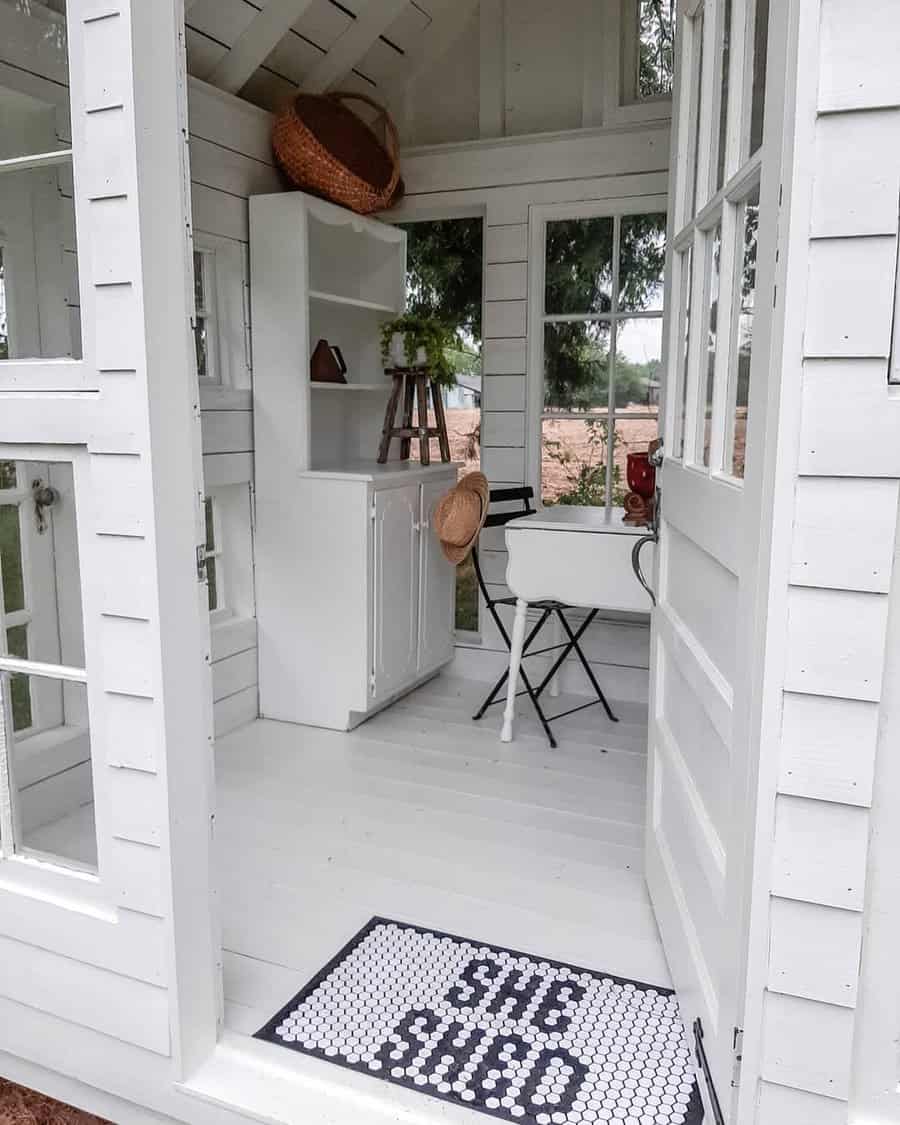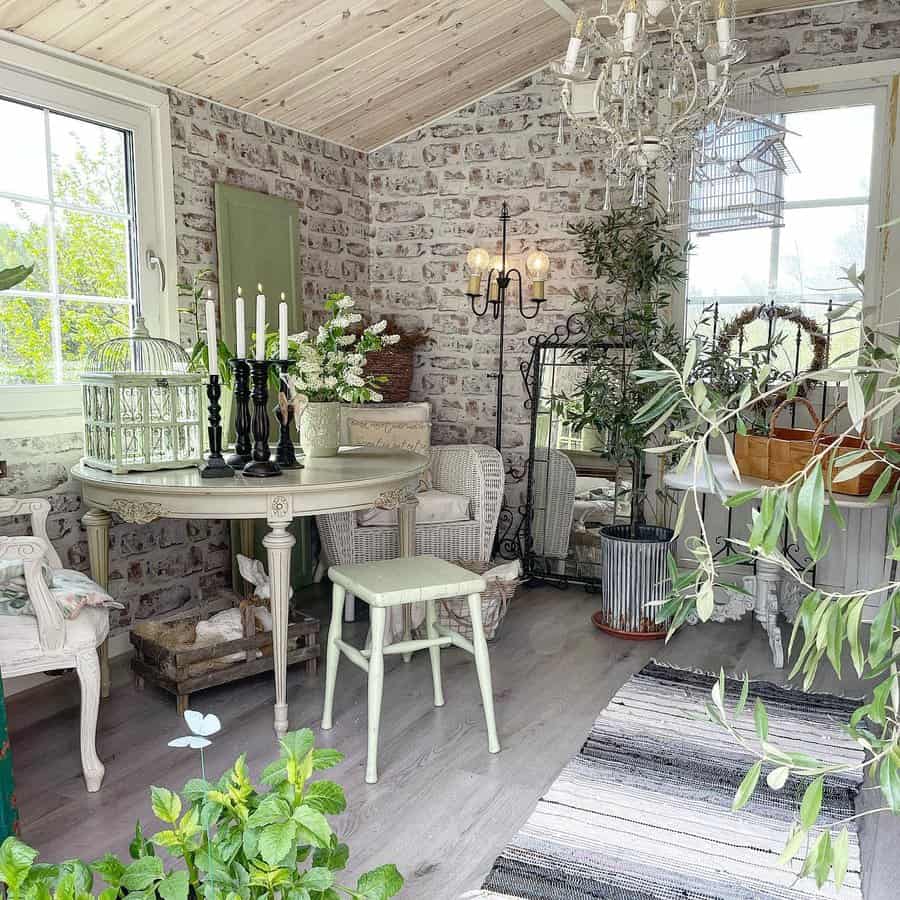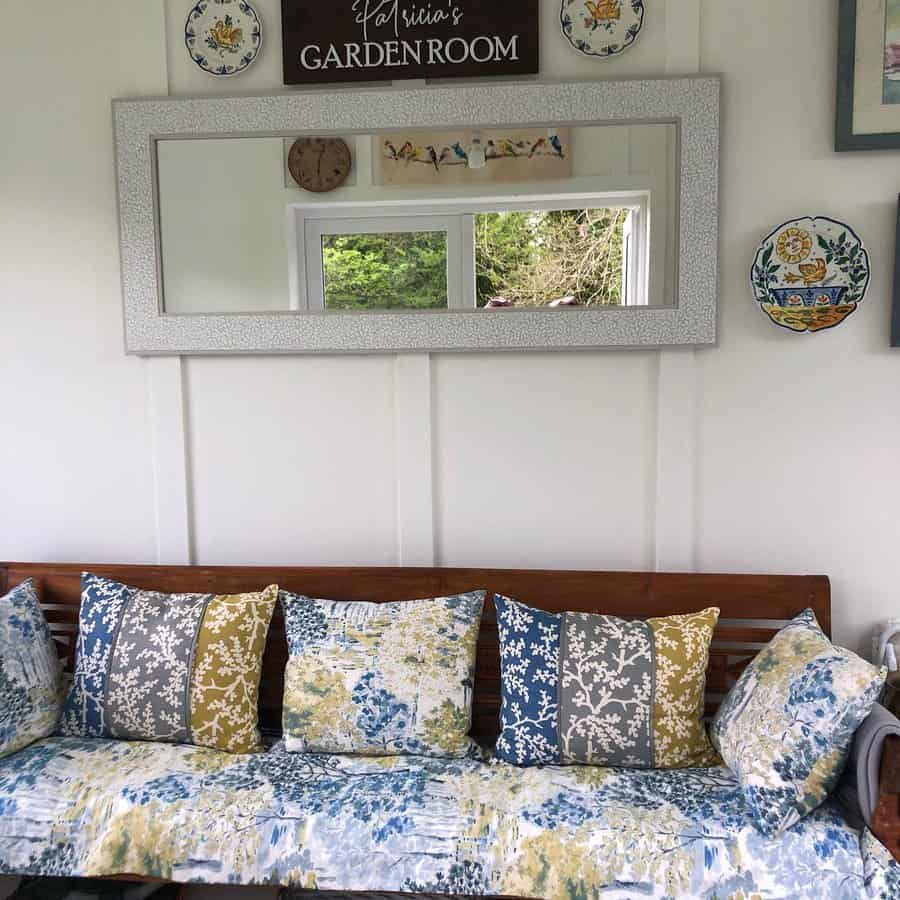 Keep things simple and fresh with white furniture that has colorful floral upholstery. Arrange seasonal flowers in the window boxes and have a few inside on the tables. Pay attention to the details, but keep the overall aesthetic unassuming and not overly ornate. Arrange a vintage tea set on the table with a tiered tray for finger foods.
4. Crafting Shed
Let's face it, crafting can take up a lot of room and become very messy. A she shed the perfect place for moving your craft room out of your house and into a separate space. This keeps your art studio separated from your home, so you don't have to worry about cleaning up when you're done crafting.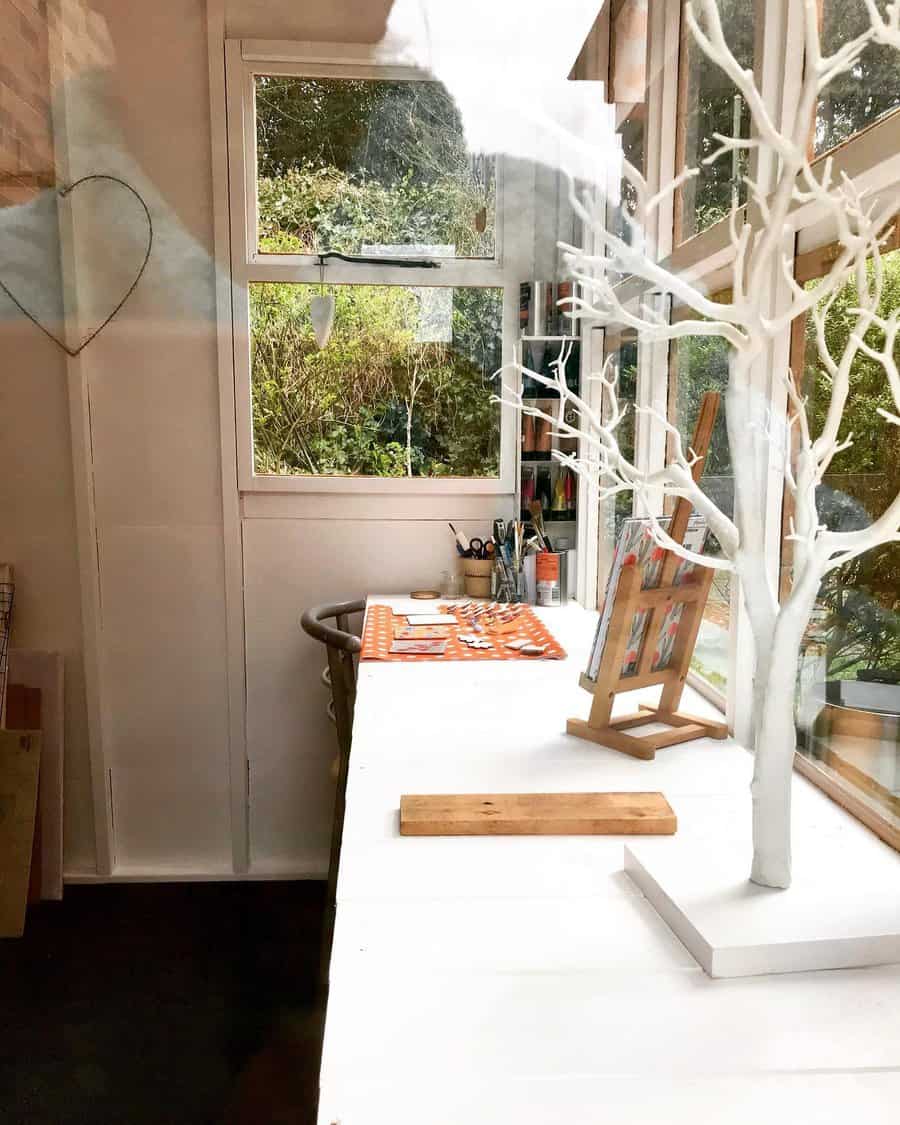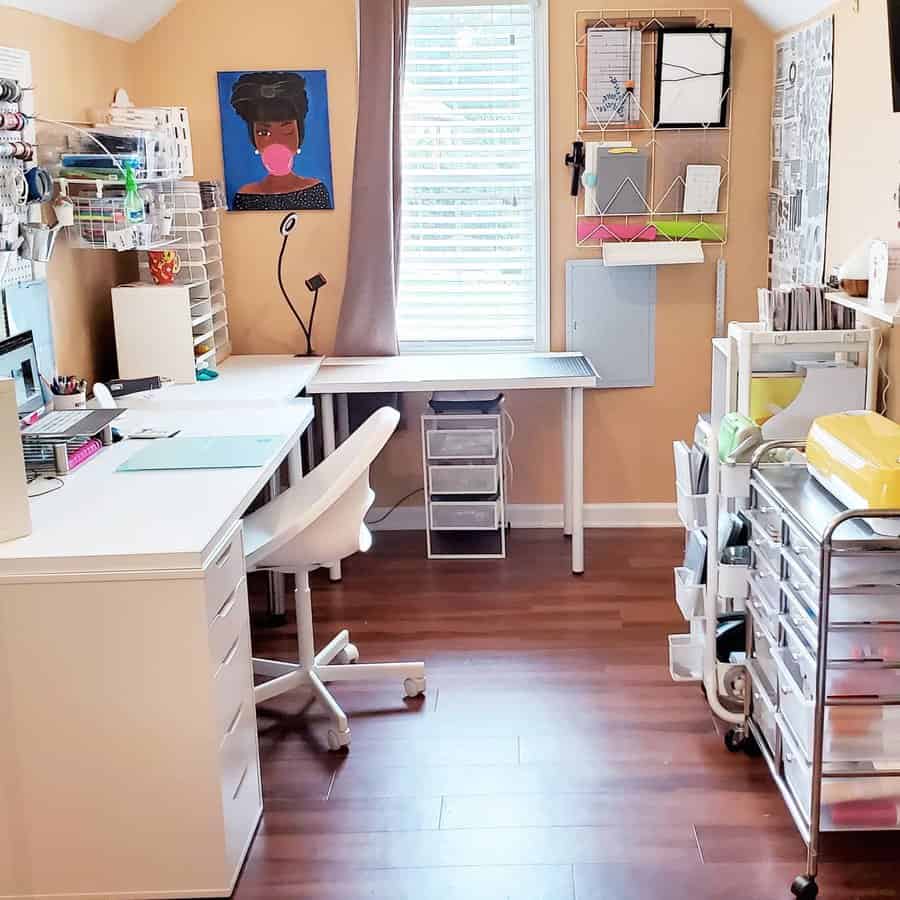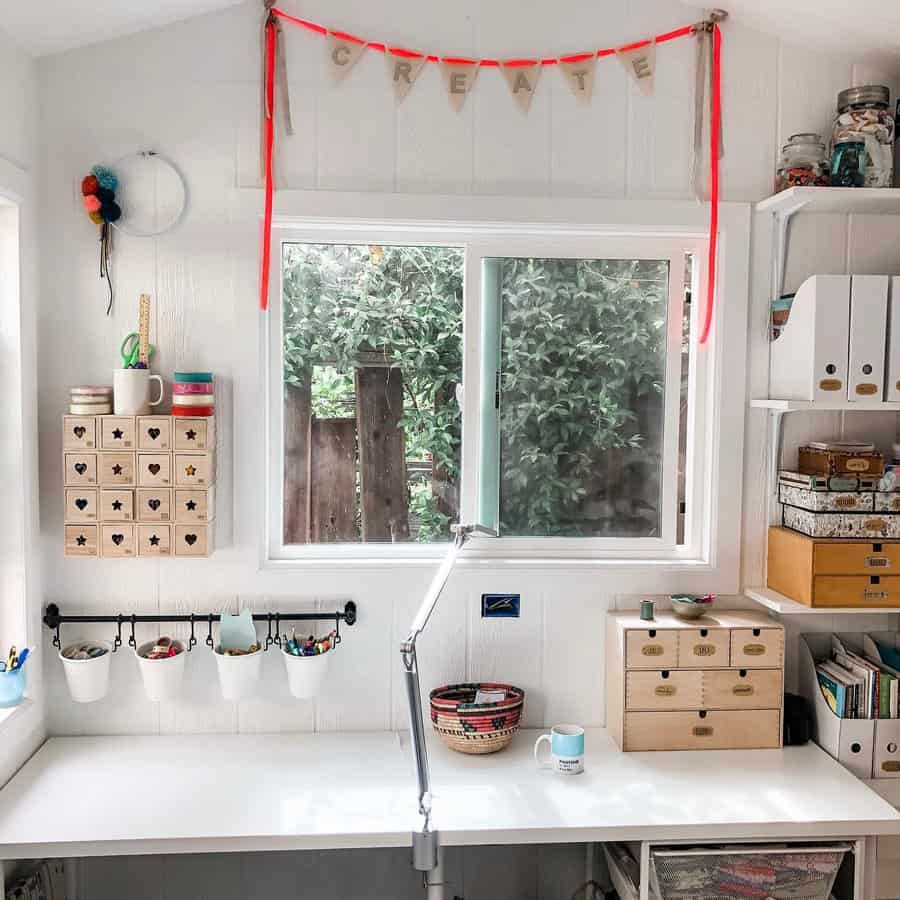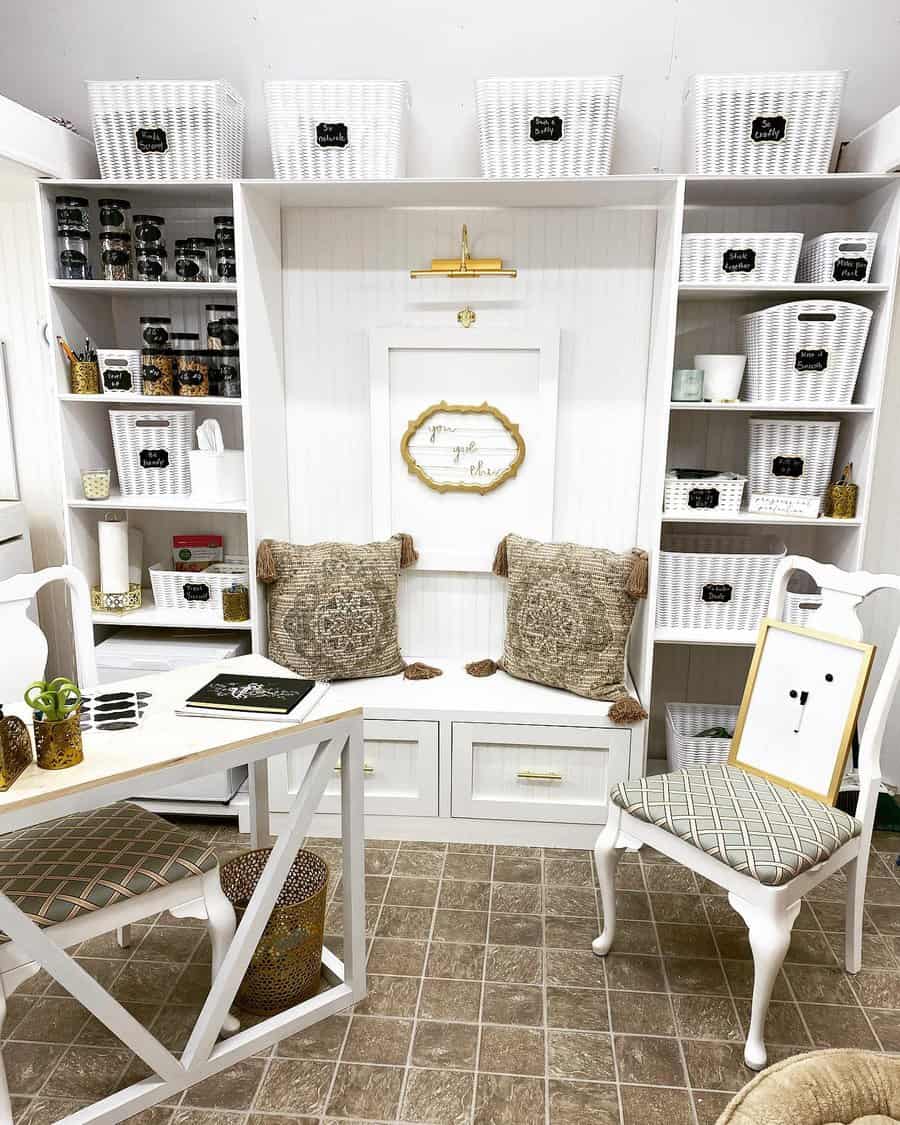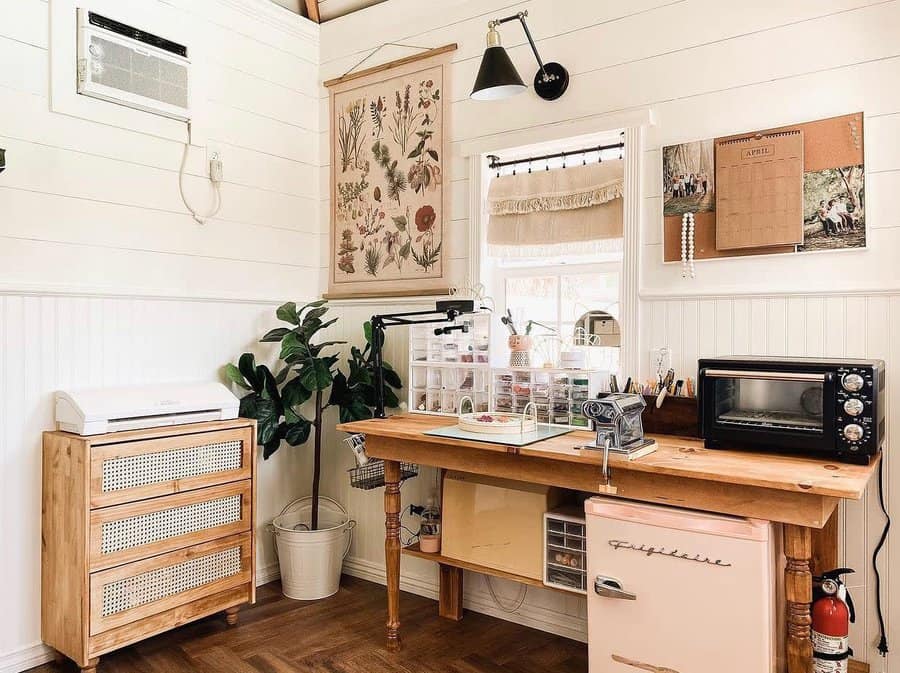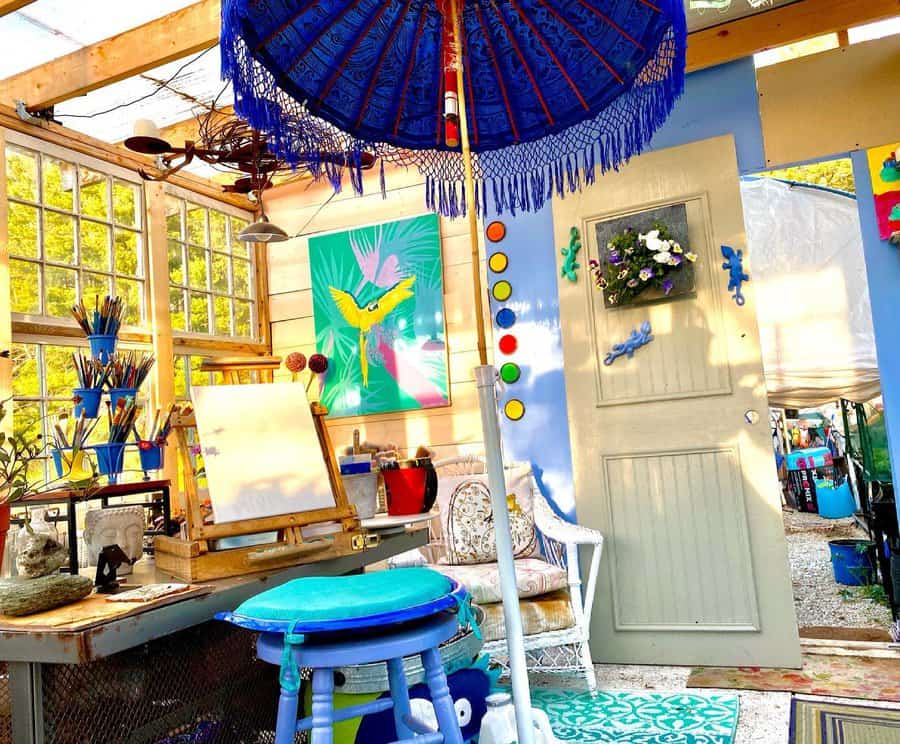 Leave your craft space as you want it so that you can pick up where you left off with minimal setup and cleanup time. Build a workspace and add plenty of organizational furniture. Add a wall unit with plenty of shelves or drawers for holding all of your crafting supplies.
5. Exterior Design
While it can be easy to focus on the interior of your storage shed, don't forget about the exterior. Painting your she shed will help it look nicer and protect it for greater longevity. Grab a can of Benjamin Moore or your favorite paint brand and add a coat to the exterior of your shed.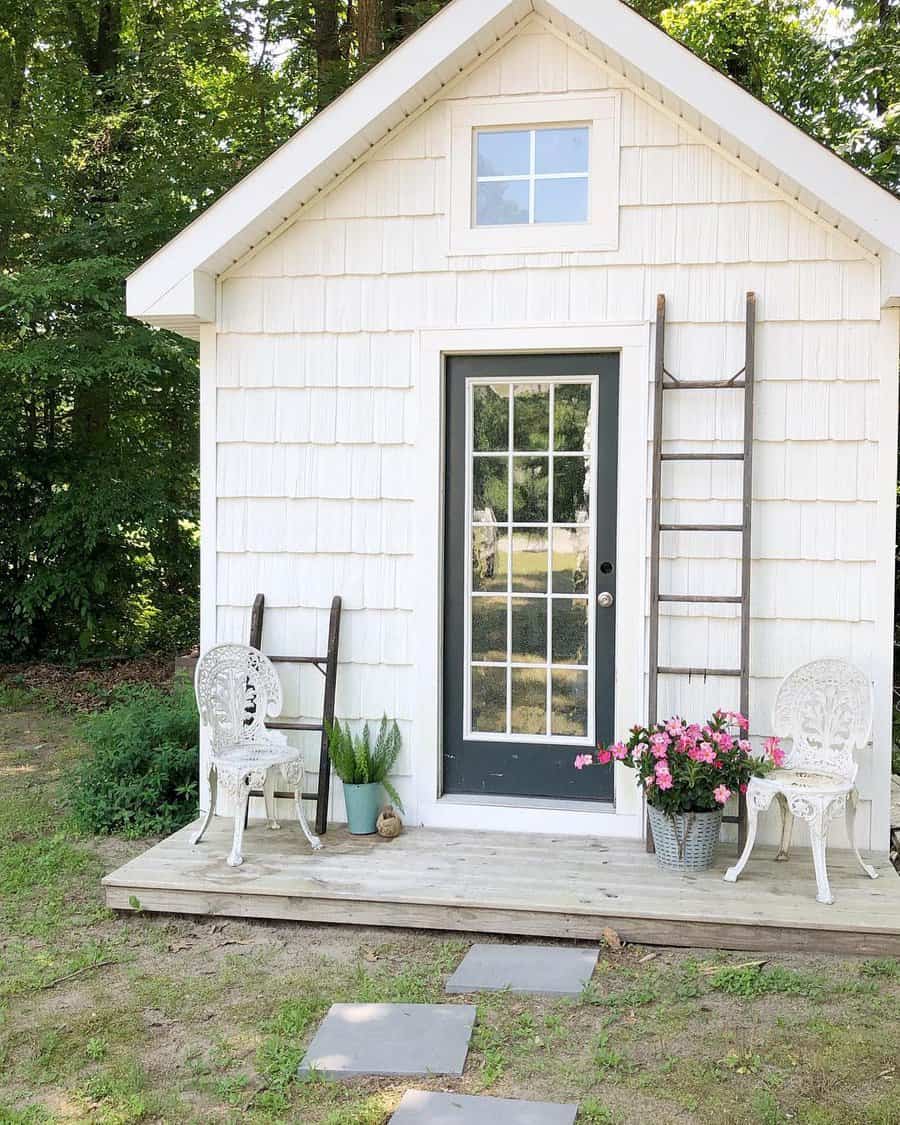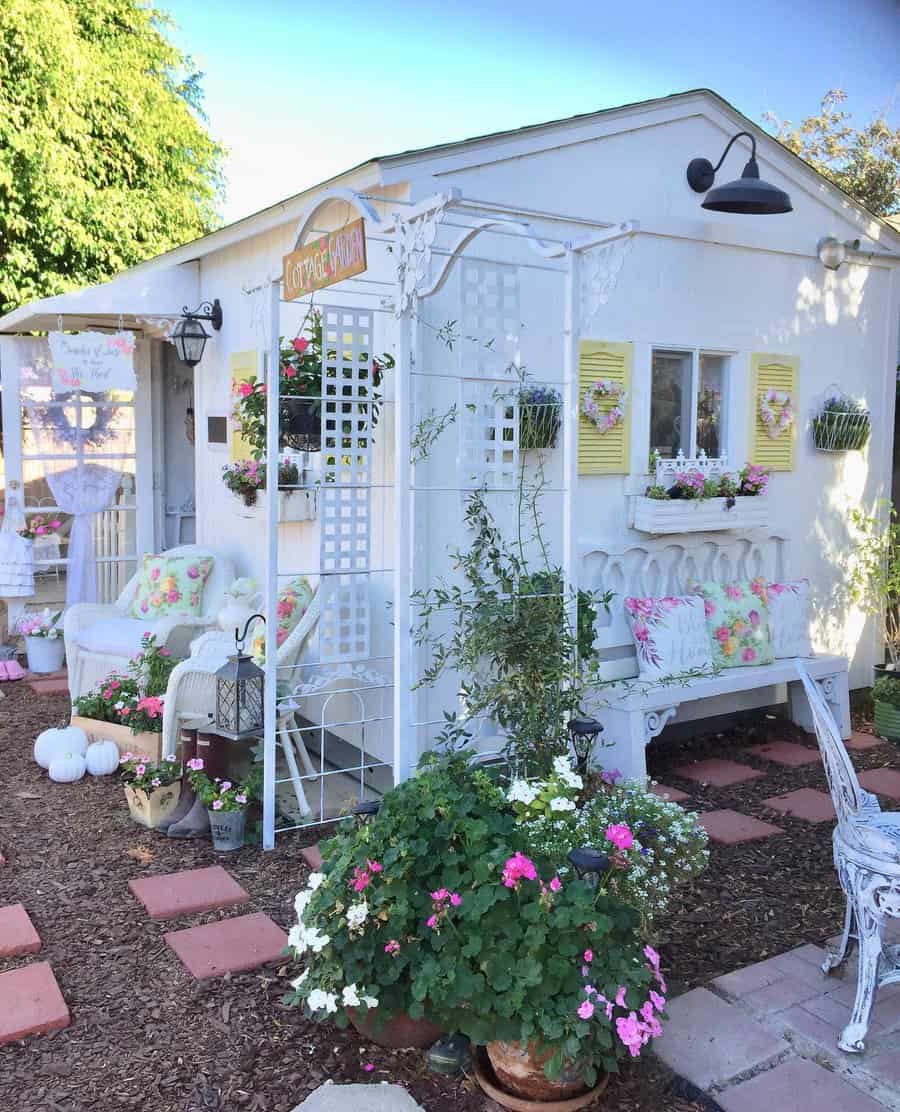 White, black, or gray are simple neutrals that will keep your shed looking nice. A bright and bold color will help your shed to stand out and look like an inviting space to be. Darker neutrals can help your shed to blend into the surrounding nature.
Read also: 49 Shed Door Ideas
6. Guest Room
It's wonderful having guests, but sometimes, you need your space. Instead of welcoming guests into your private space, you can bring them into your she shed. This will help to keep your house beautiful.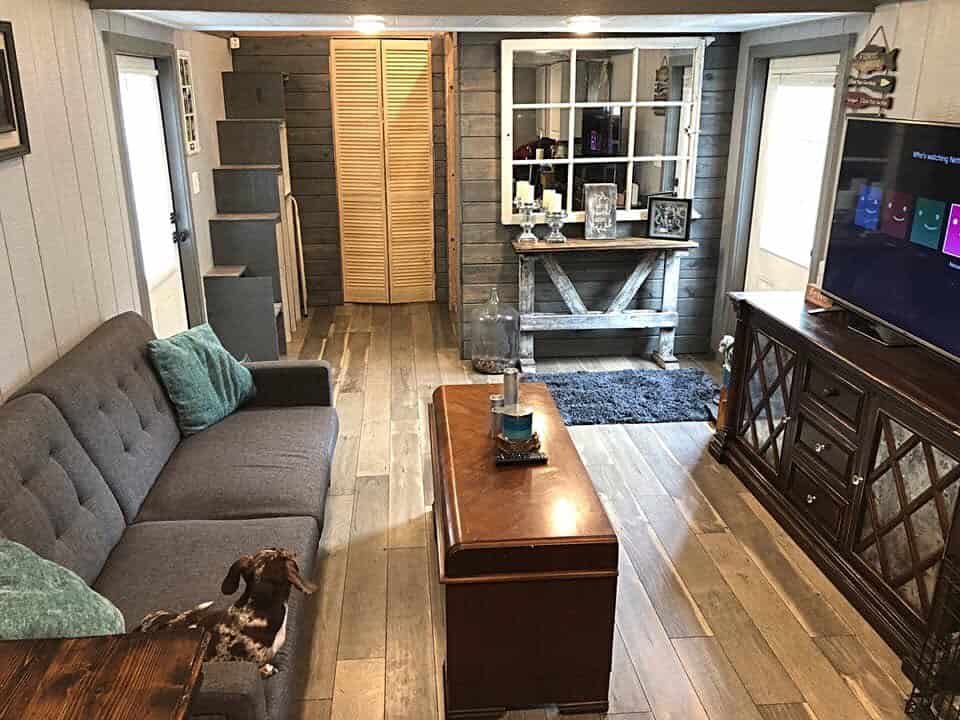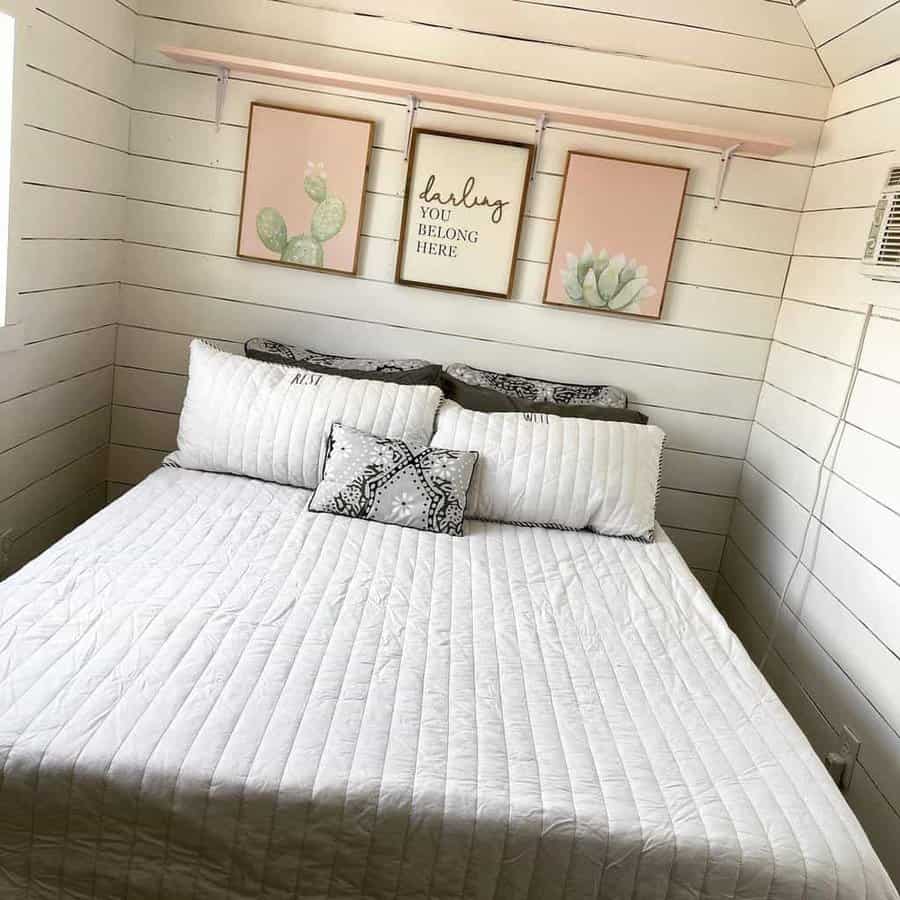 Look for design ideas that have comfortable seating. Create an intimate space with deep-seated sofas and chairs that face each other. Add accent furniture like end tables or a coffee table. Hang decor on the walls and add warm lighting. Now you have a comfortable space where you can entertain guests while keeping them out of your home.
7. Modern
A modern shed will increase the value of your home by adding another usable space to the property. To keep things modern, opt for simple and clean design. Add ambient, task, and accent lighting.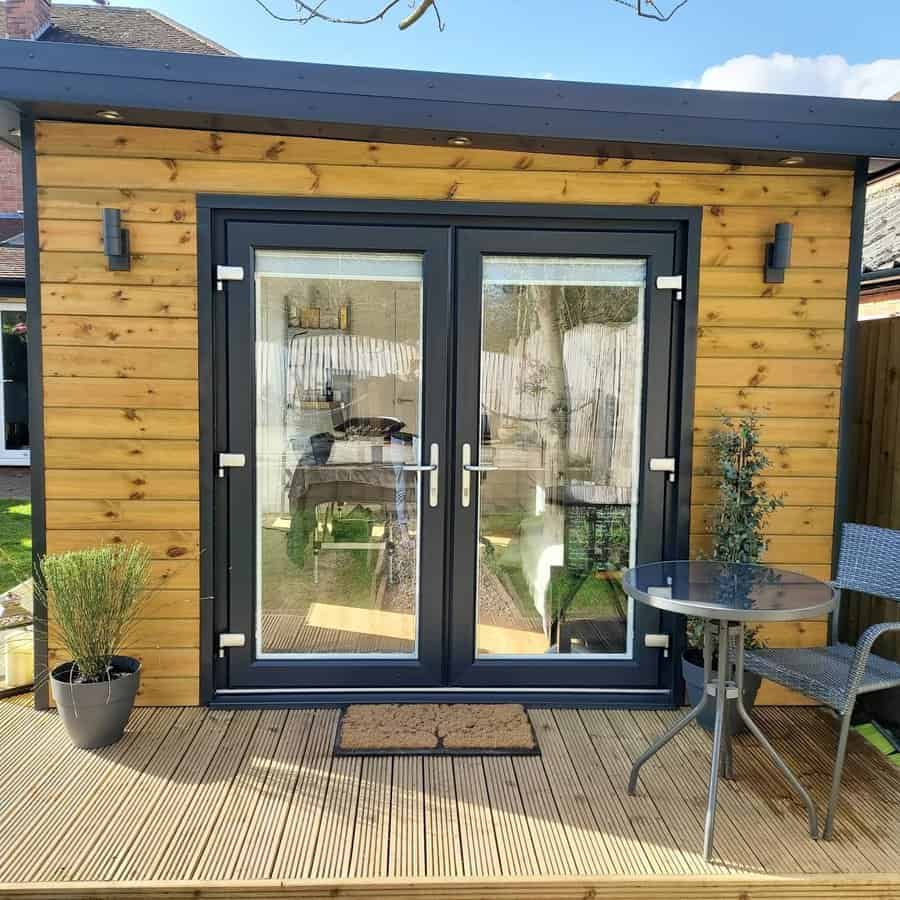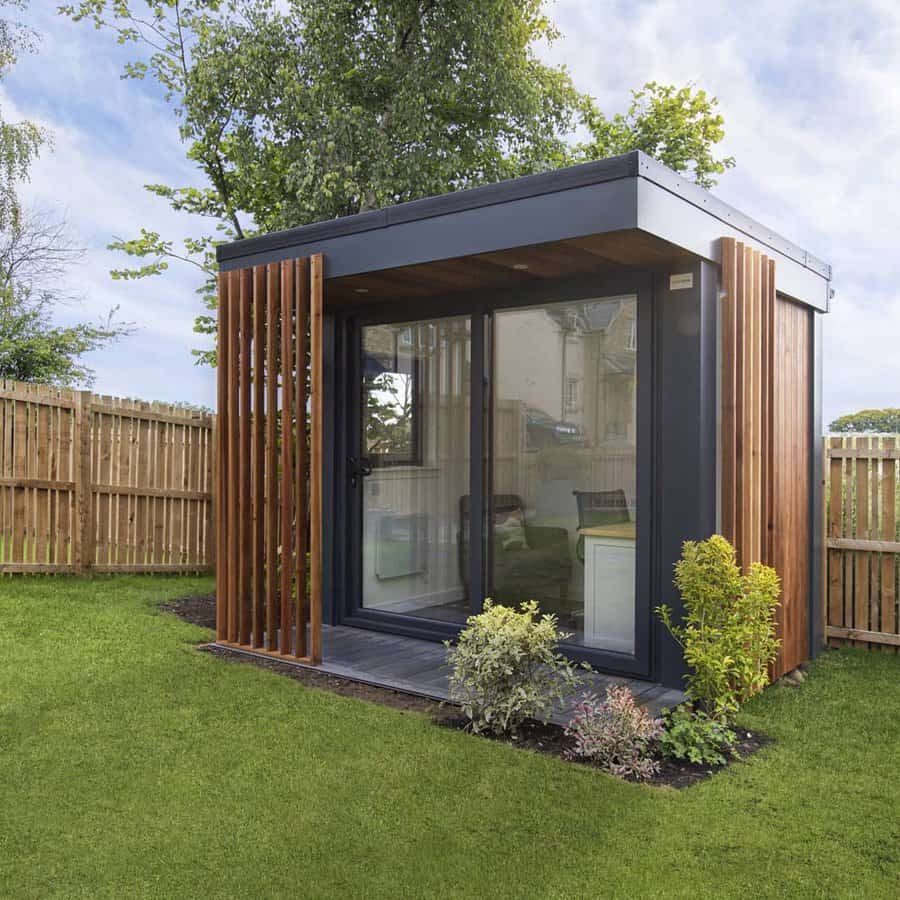 Use LED bulbs that are energy-efficient and long lasting. Keep the space flexible, so that future homeowners can transform the space into what they need. The color palette should be light neutrals for broad appeal. Add a large doorway that can open up a large portion of the shed. You could do this with a lift-up panel, sliding glass doors, or French doors.
8. Office Shed
A home office sounds like a great idea until you realize that you have to find space in your home to turn it into an office. Instead of giving up precious space in your home, adding an office she shed to your home is a perfect solution.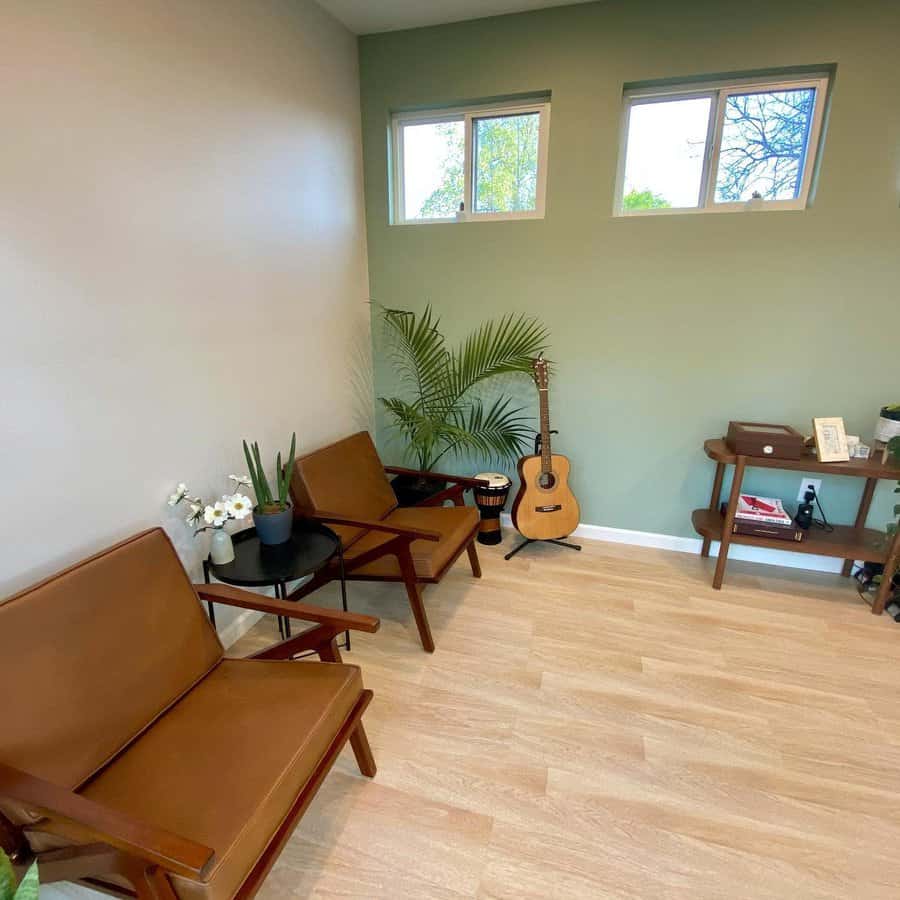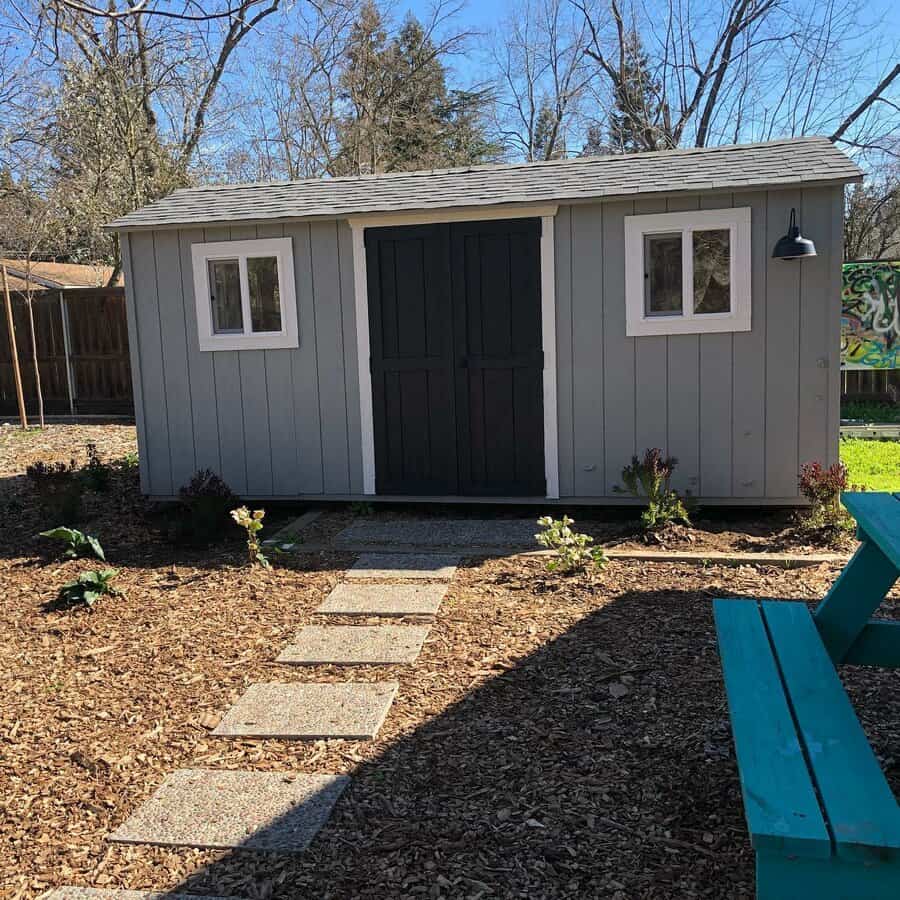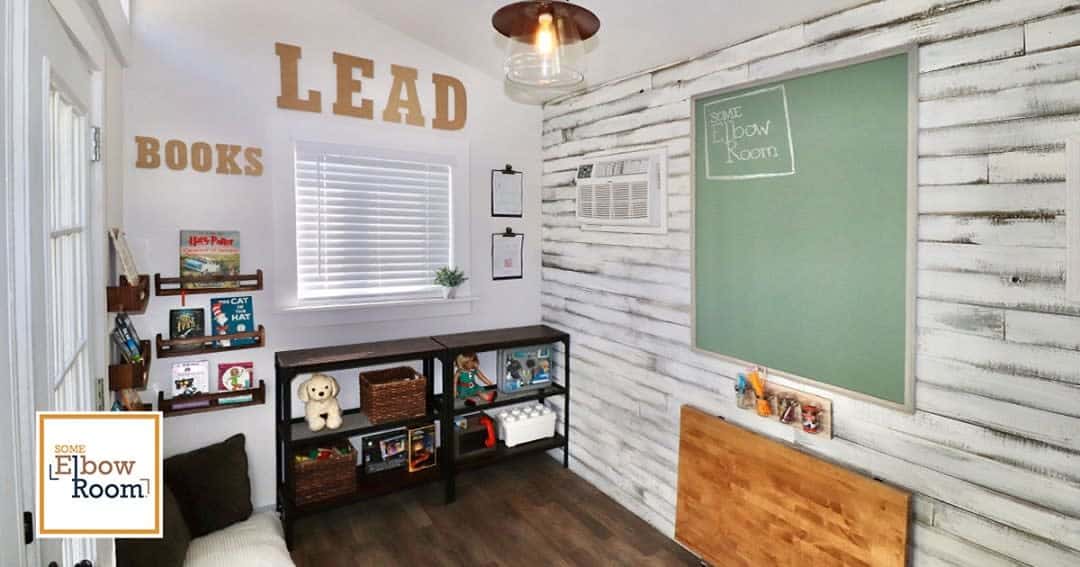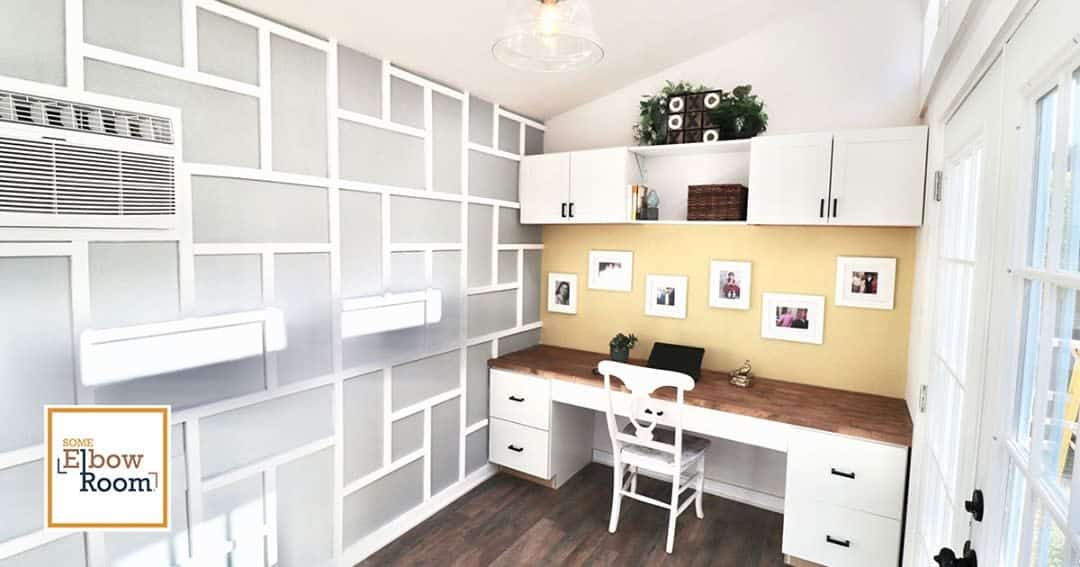 Creating an office space outside your home is also good for separating your home and work life. You'll experience fewer distractions from home throughout the day and be less tempted to work in the evenings. When setting up your shed office, think about how you work best and create an environment that will foster productivity.
9. Potting Shed
Having a garden shed is nice because it gives you a dedicated place for storing your supplies. However, you can do better than just a grubby shed in the backyard. Head to Home Depot or your local home improvement store to purchase a shed kit.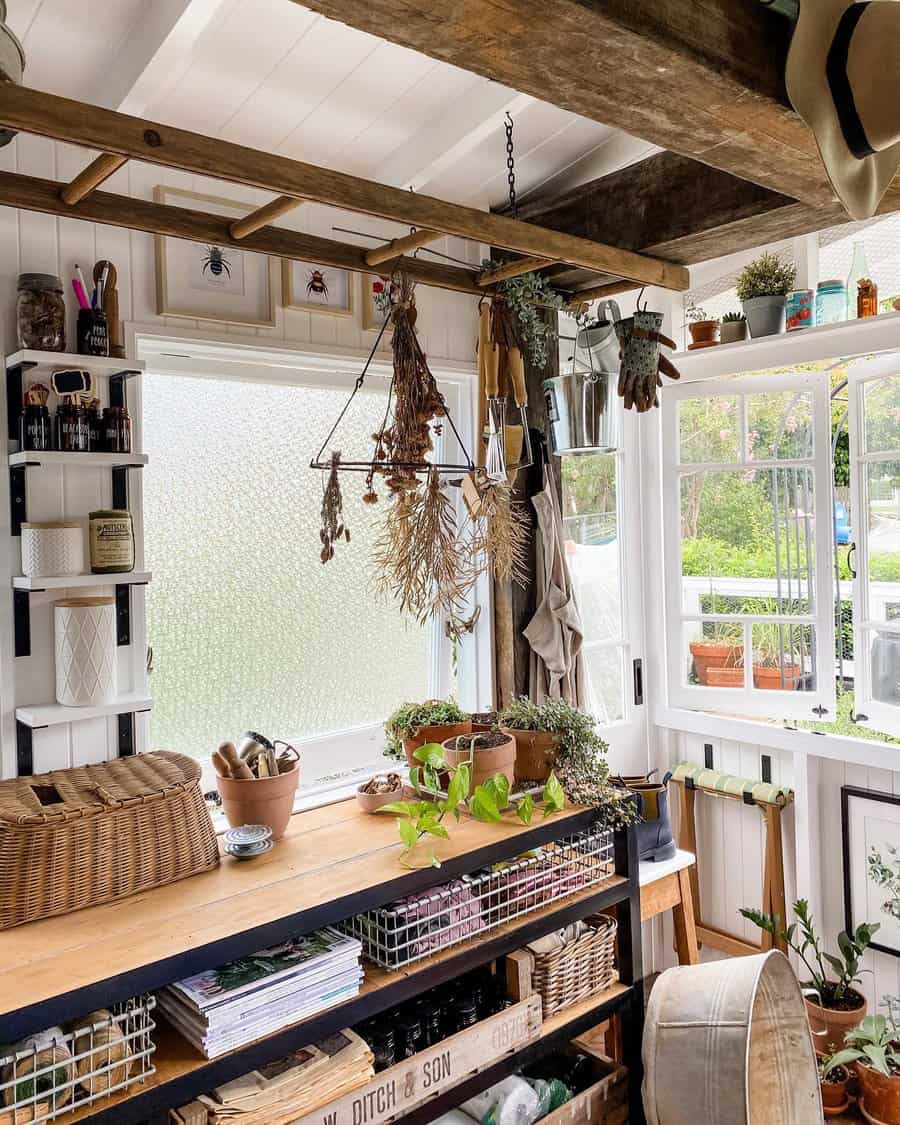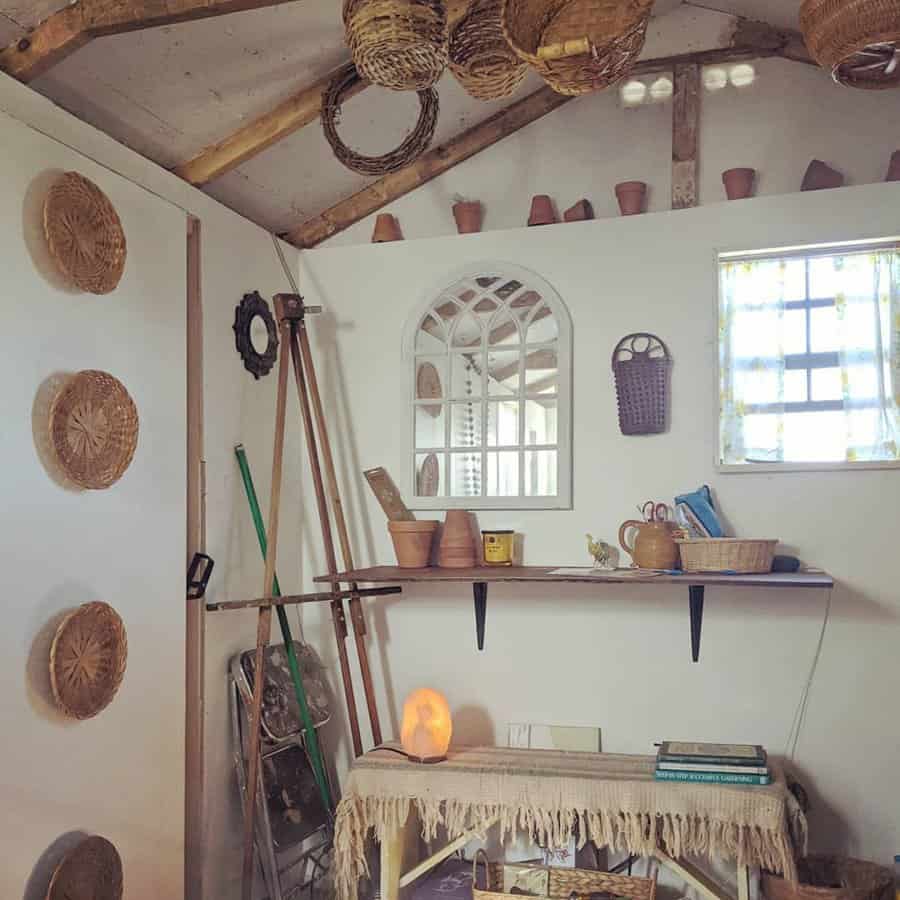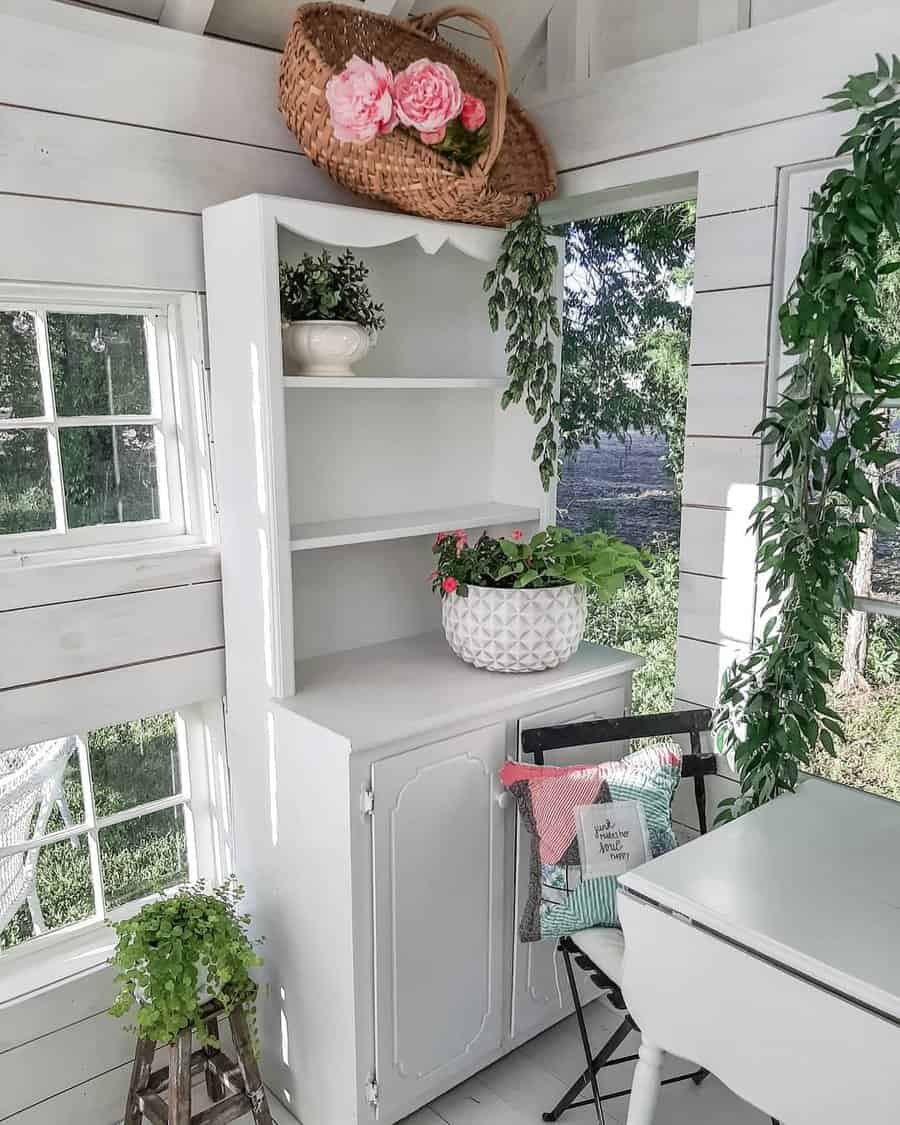 Choose one with plenty of space for a workbench. This lets you work with your potted plants without kneeling in the yard. Now you have a more elegant garden room. Keep extra supplies in your shed to make it easier to care for your garden, such as pots in various sizes, soil, gloves, rake, shovel, and trowel.
10. Rustic
Commune with nature and embrace the simpler life by keeping your she shed rustic. Add wood to the walls and install wood beams to a vaulted ceiling. Instead of adding wood to the floor, opt stone.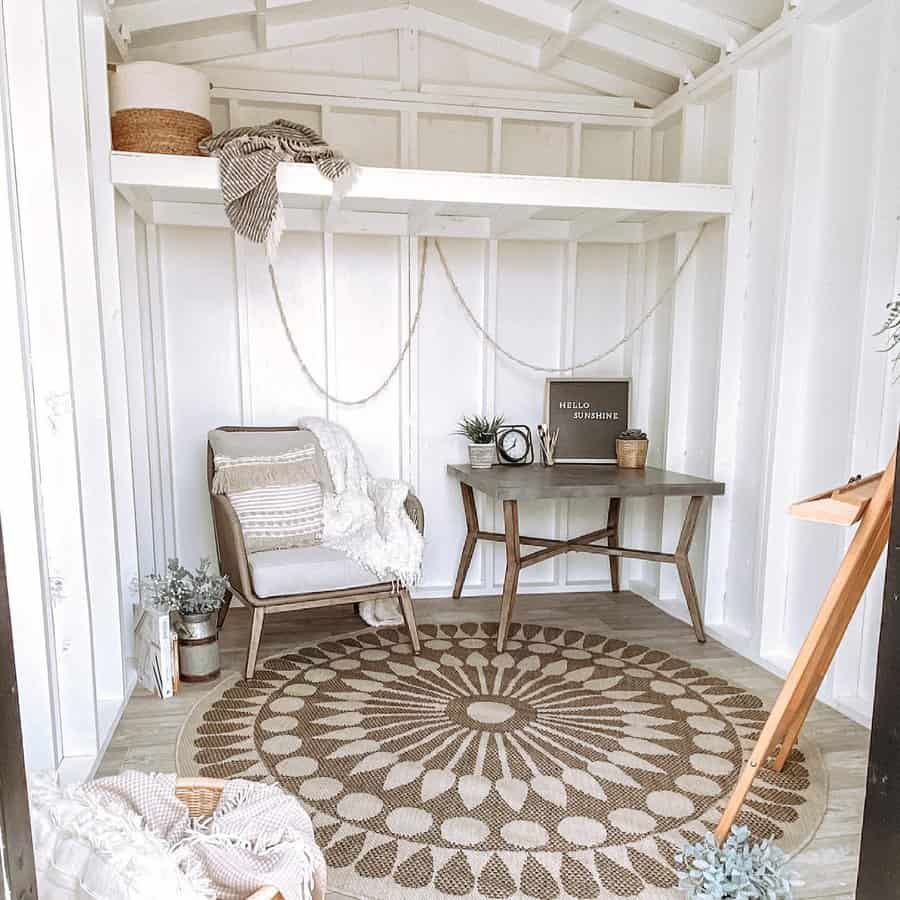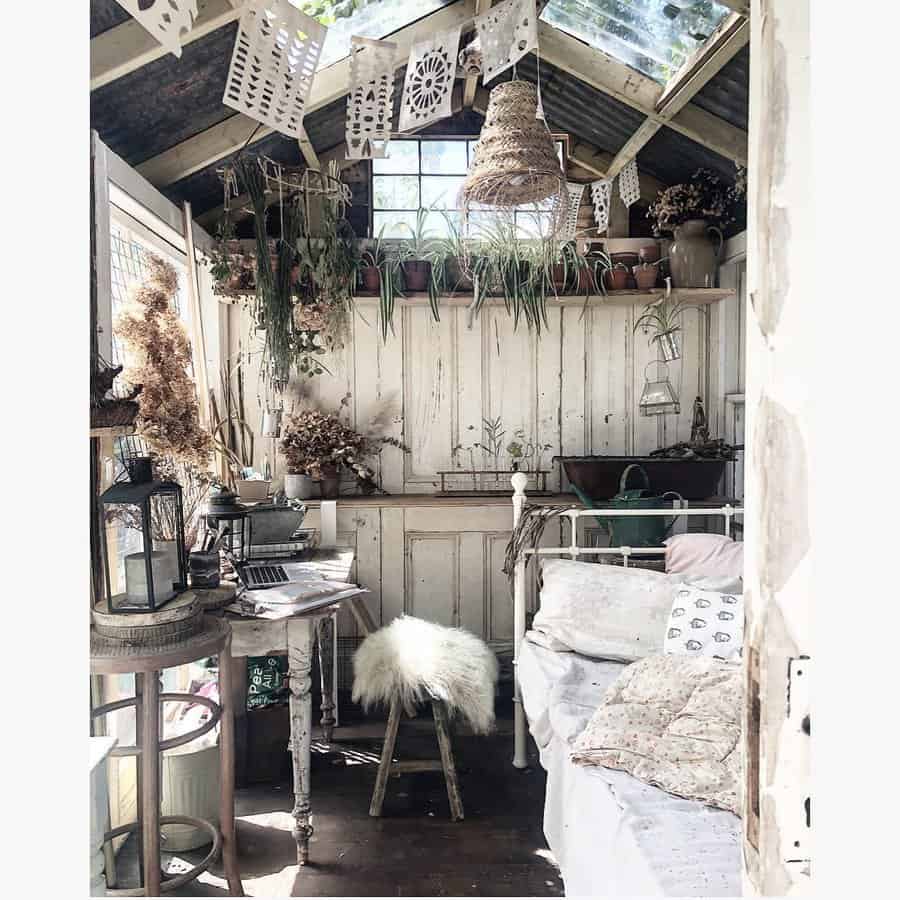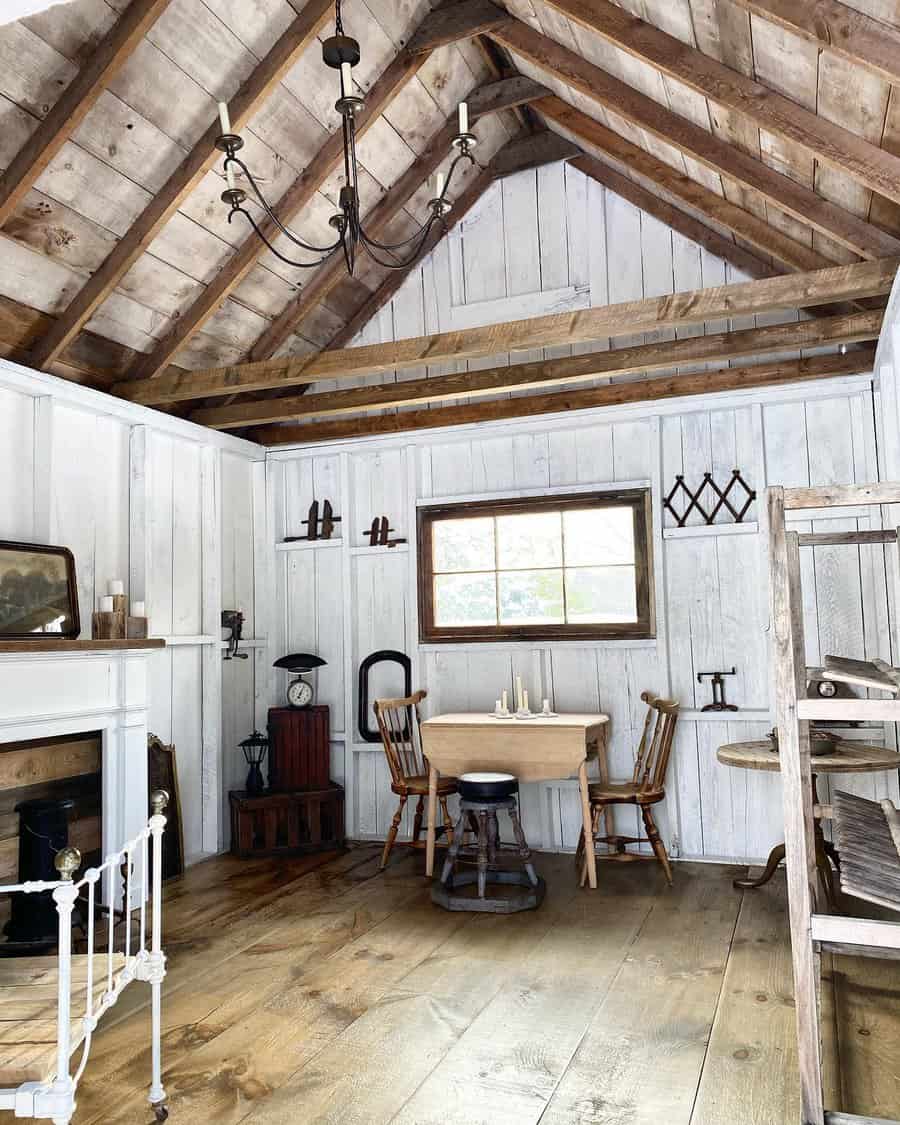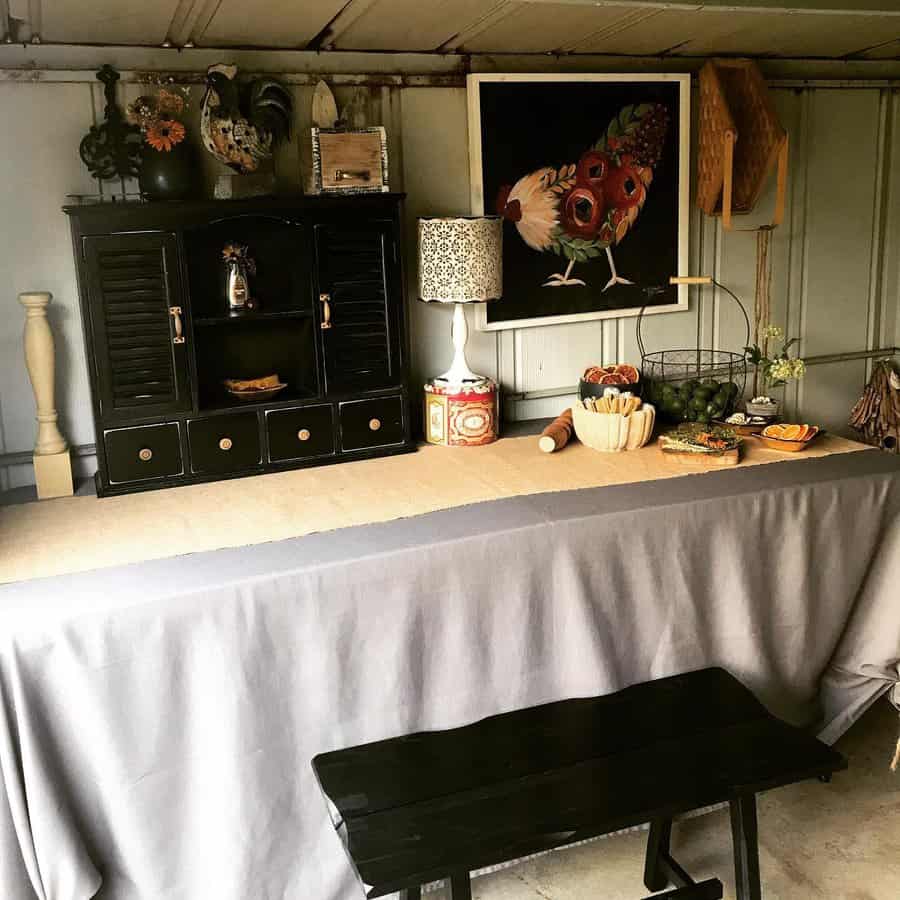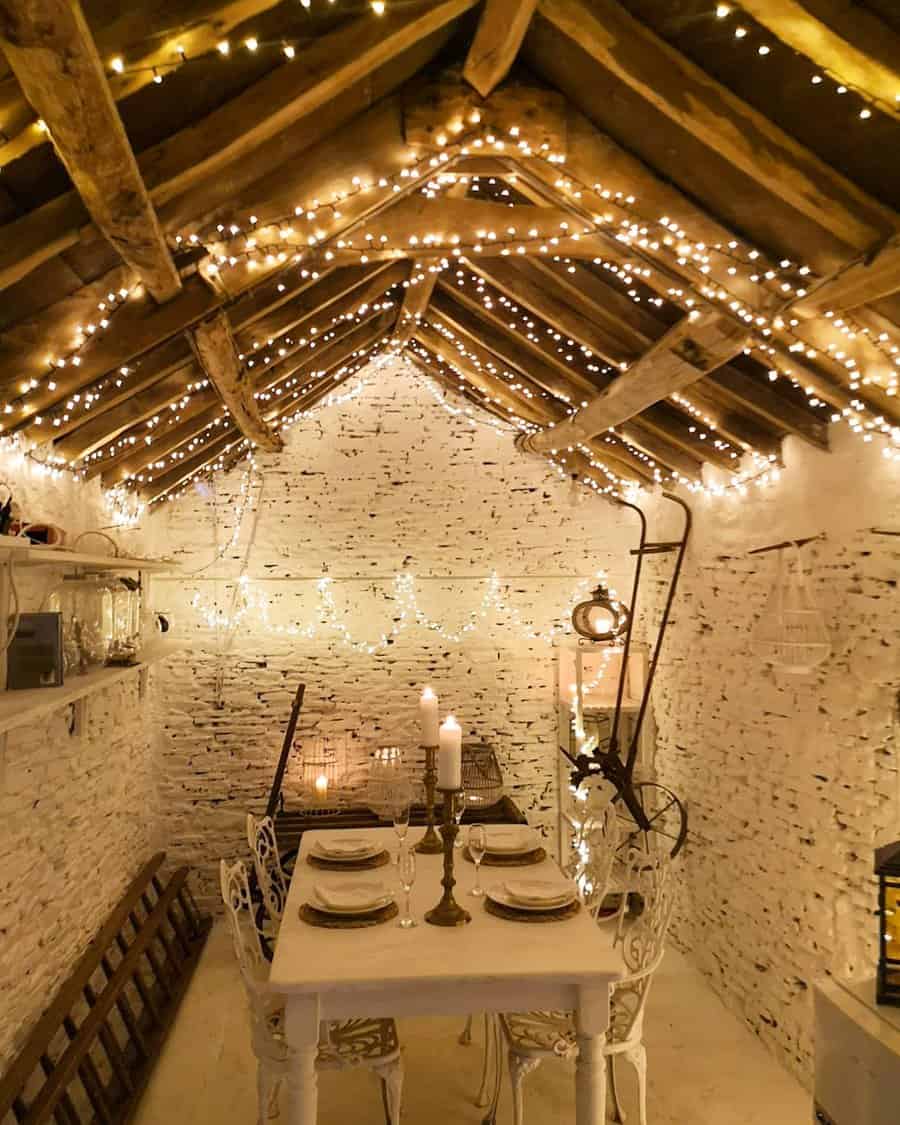 It breaks up the wood look, it's easier to clean, and you can extend it outside of the shed for a small patio area. This helps blend indoors with outside for a more rustic feel. Keep the furniture simple, as if it was handmade. Add handmade items, such as a blanket, wall art, area rug, or light fixture.
11. Small
Your she shed doesn't have to be oversized or extravagant to be an enjoyable or usable space. Choose a shed that fits the size of your backyard to prevent it from looking awkward or cramped.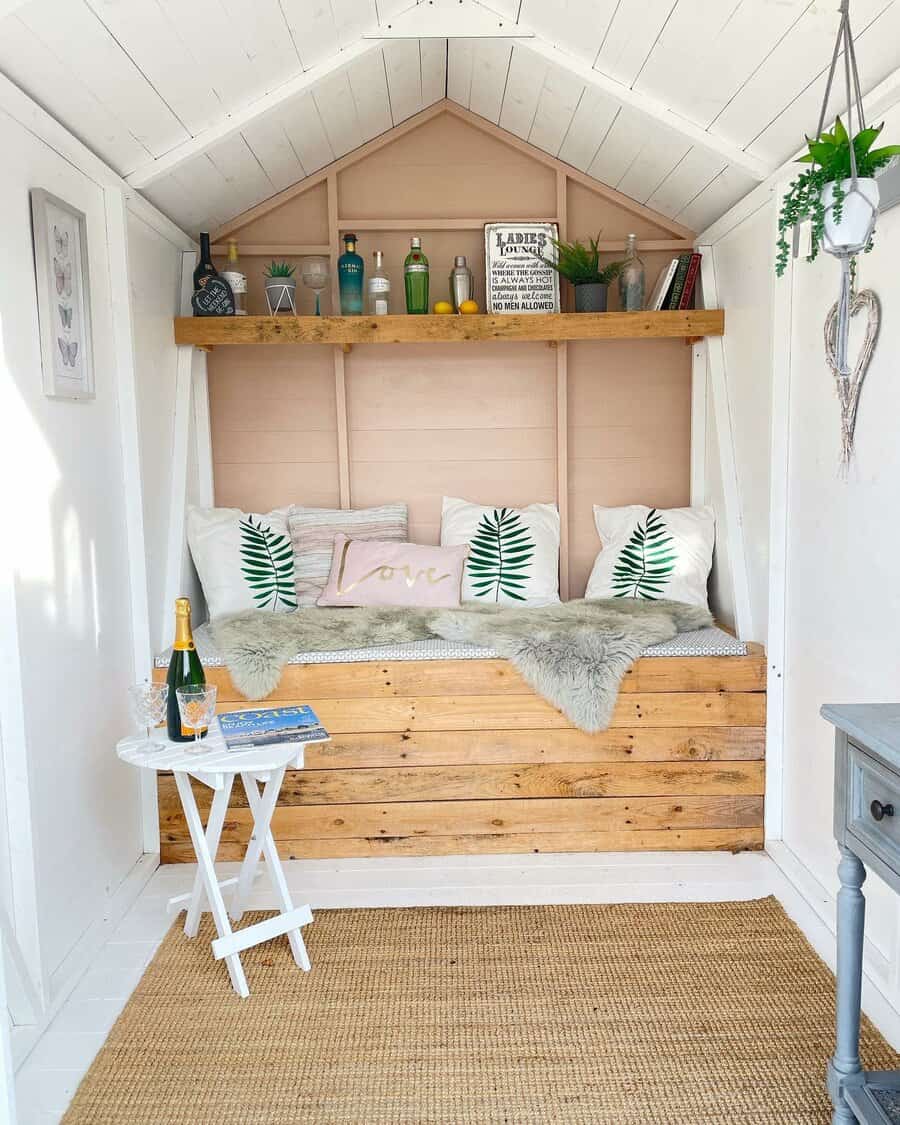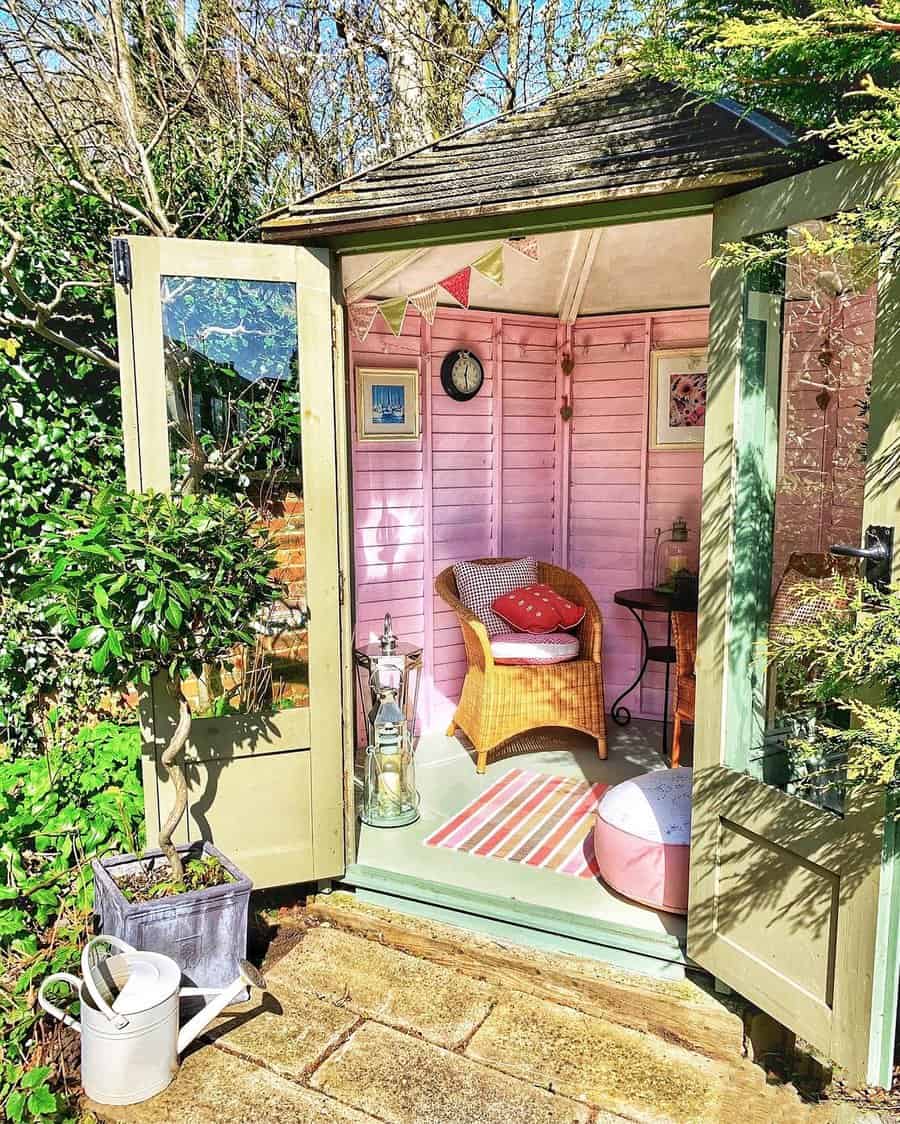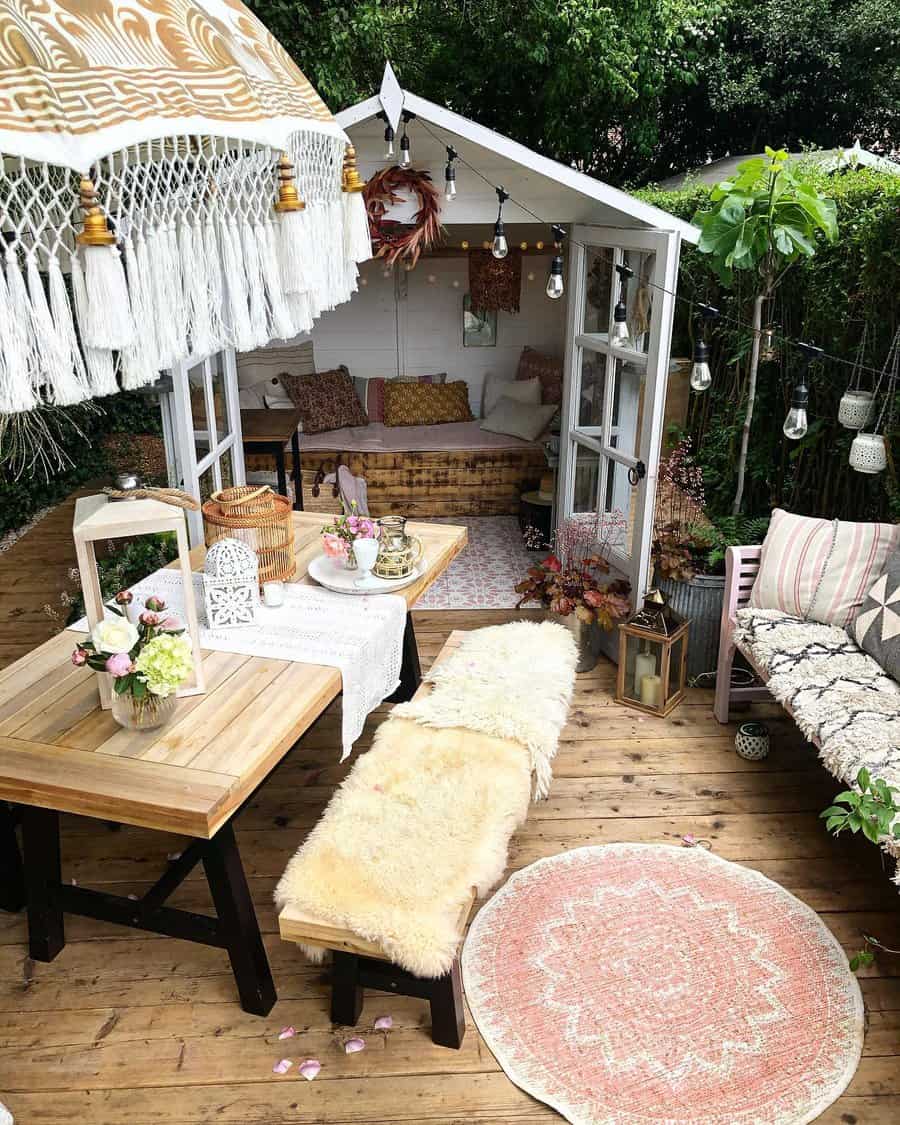 Style your small shed with scaled-down furniture that fits the space. That way, it won't feel overly cramped or tight when you're in the shed. It can also help to add plenty of natural light by adding windows or skylights. The more natural light that comes in, the bigger the space will feel.
12. Studio
Having a private studio shed is the perfect place to practice your craft, no matter what that craft may be. Your studio should be a creative space that creates the perfect environment for practicing your craft.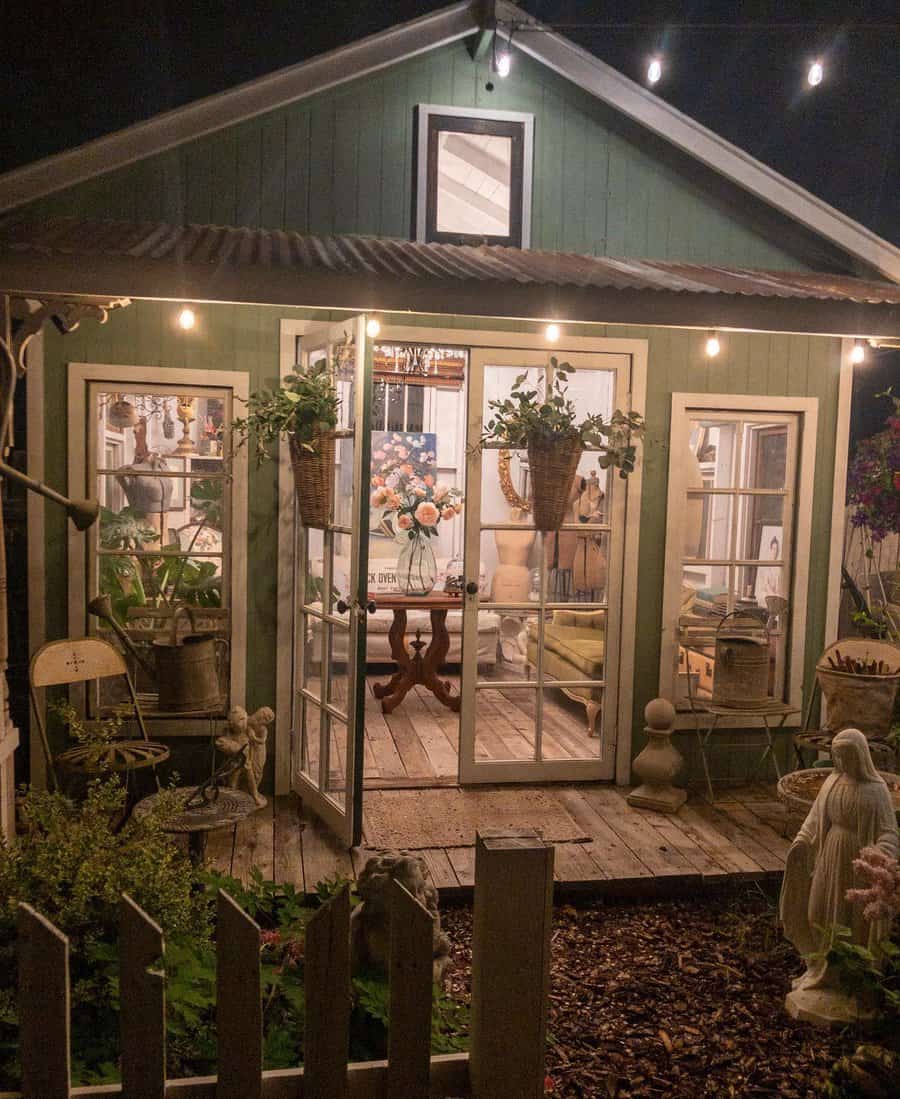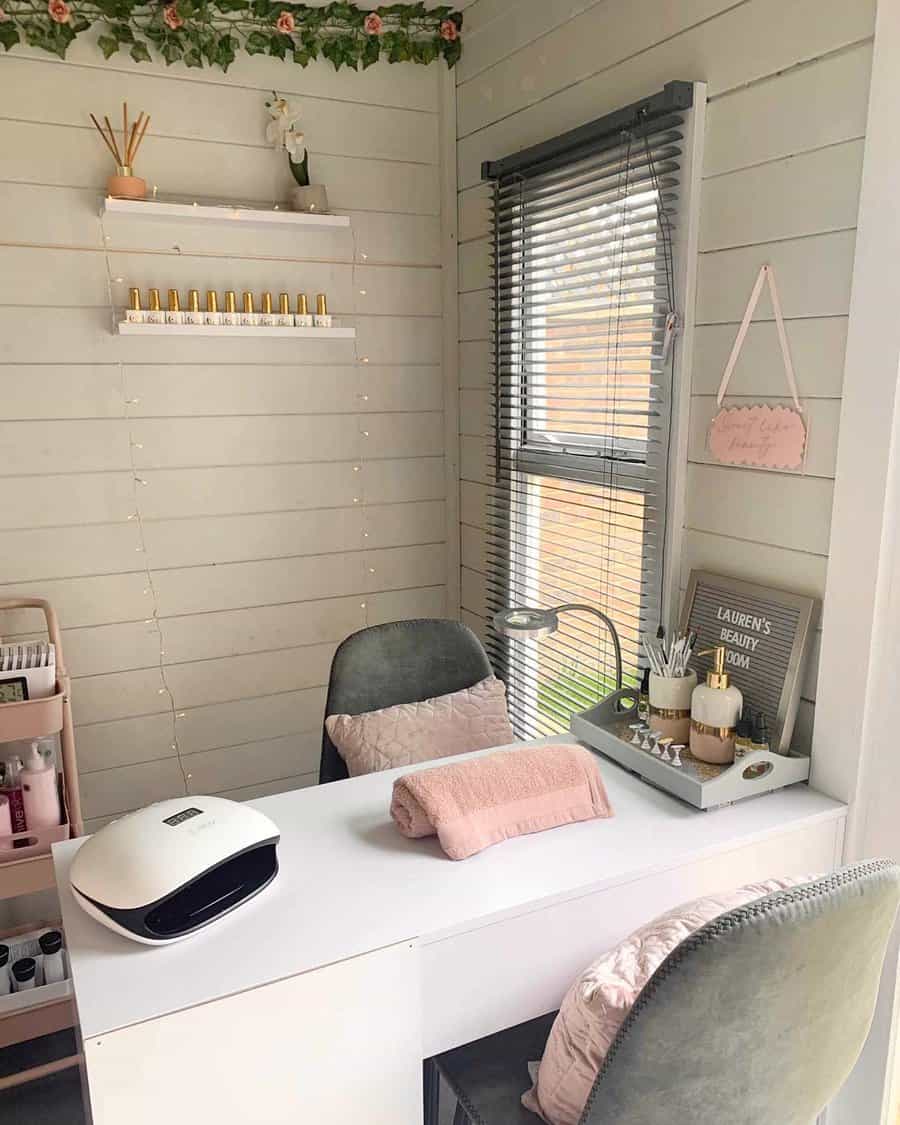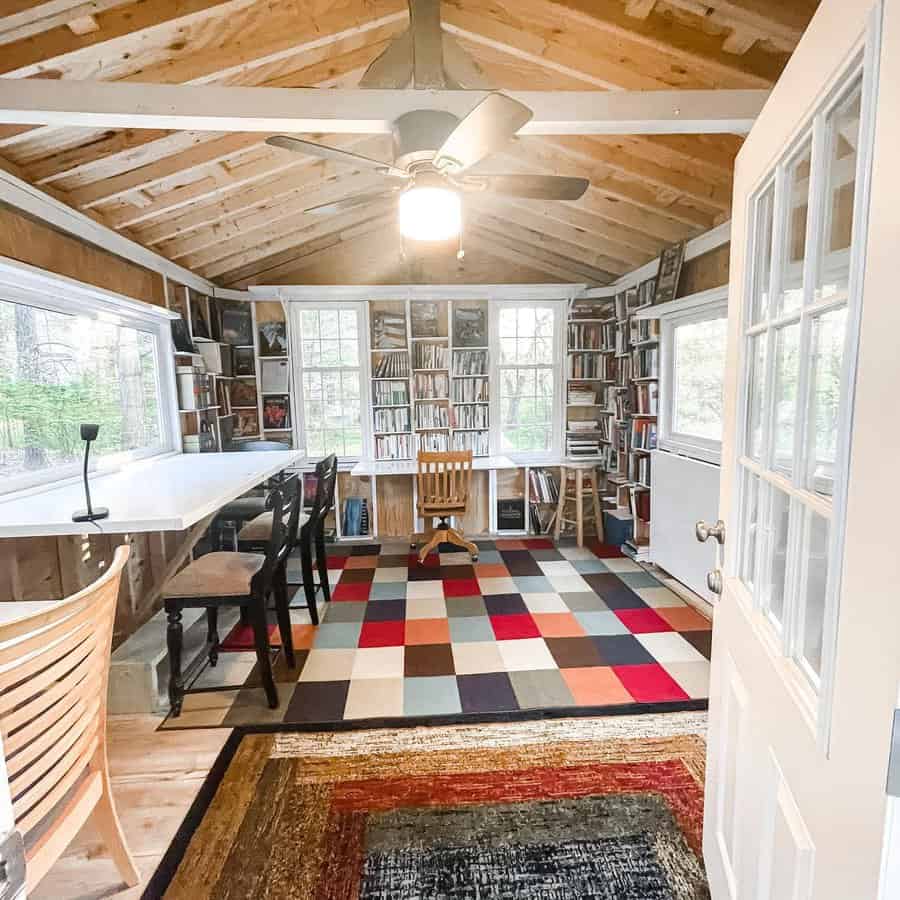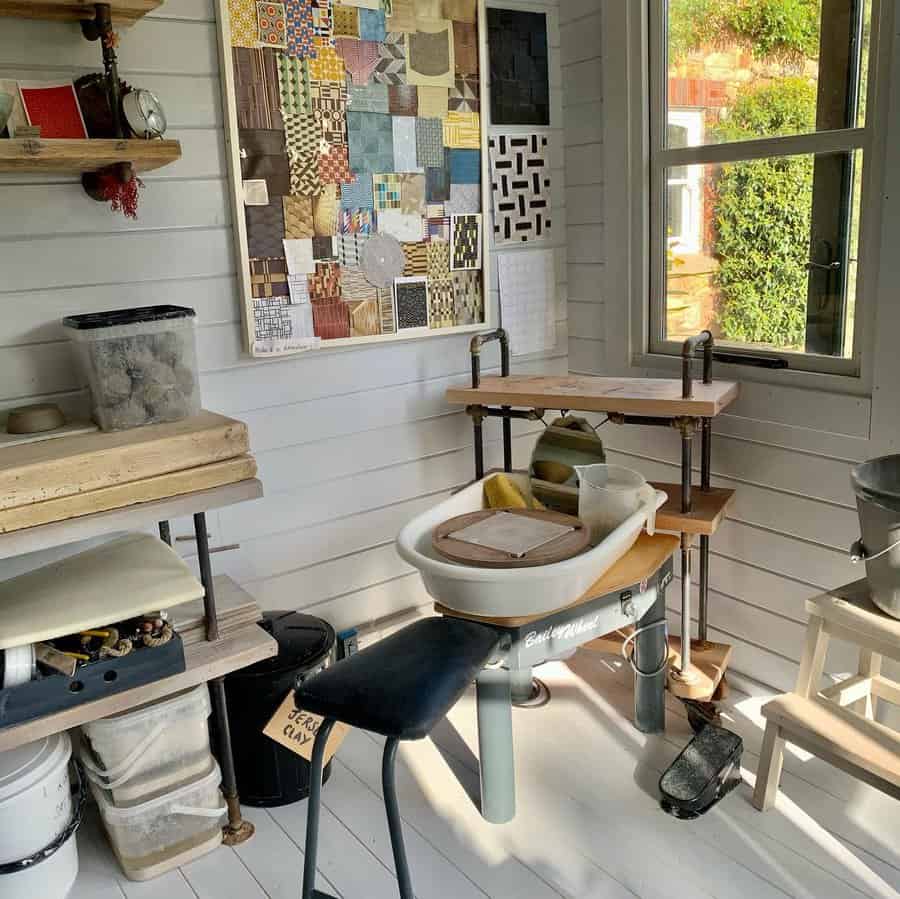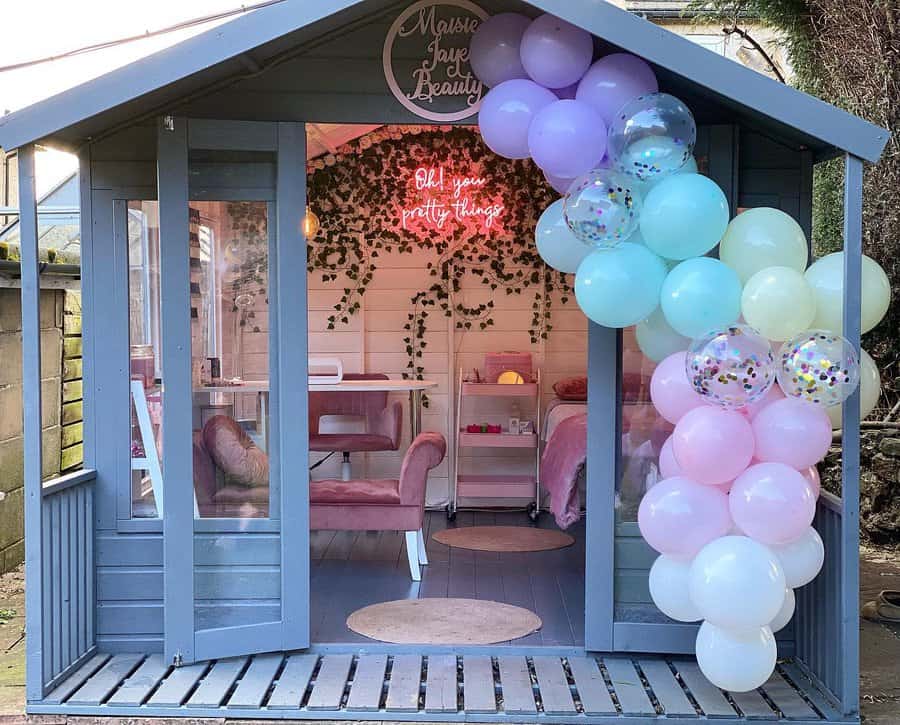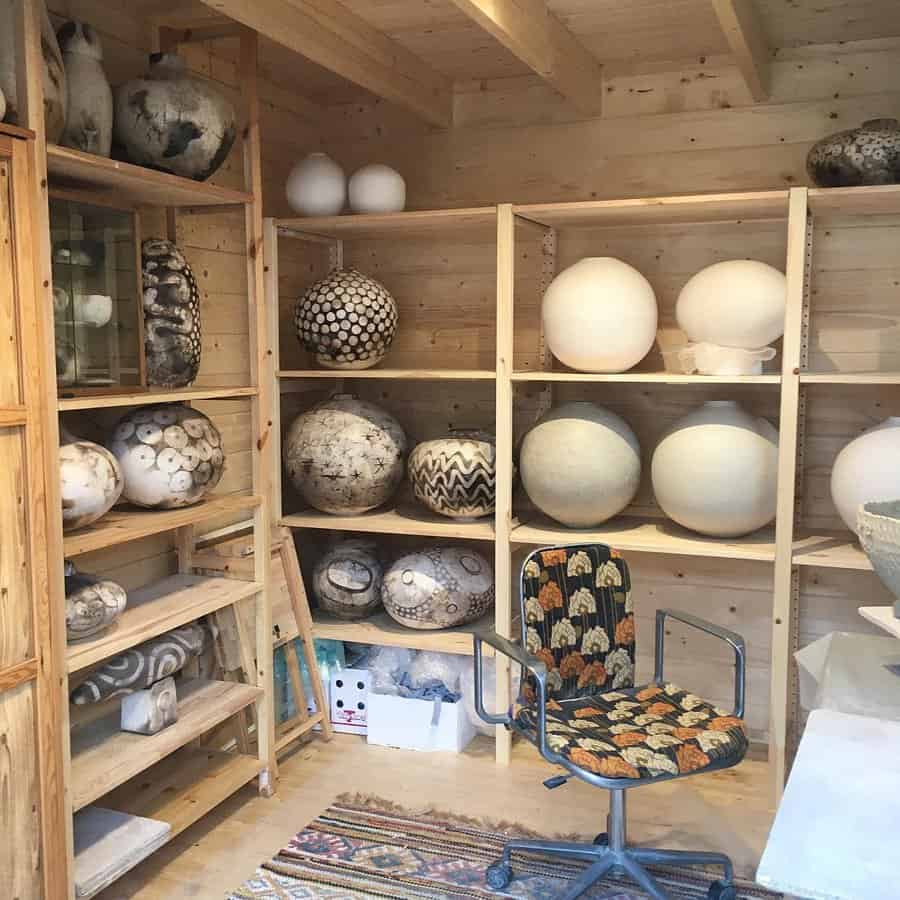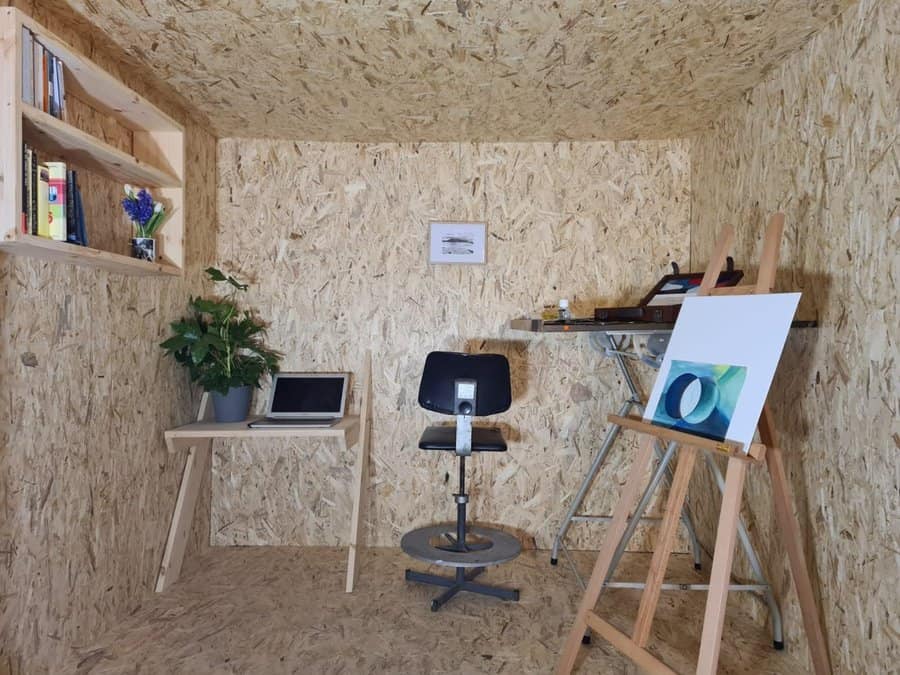 Perhaps you add sound dampening material to the walls for recording music or a podcast. Maybe you add a small stage and chairs for playing classical music. Maybe you're a painter and you hang some of your favorite pieces on the walls. Think about color theory and the energy you want to create when decorating your studio.
13. Summer House
If you live in a place that others come to for a vacation, you could be the home with seasonal house guests. It doesn't matter if you have a large or tiny home, extended house guests can wear on you.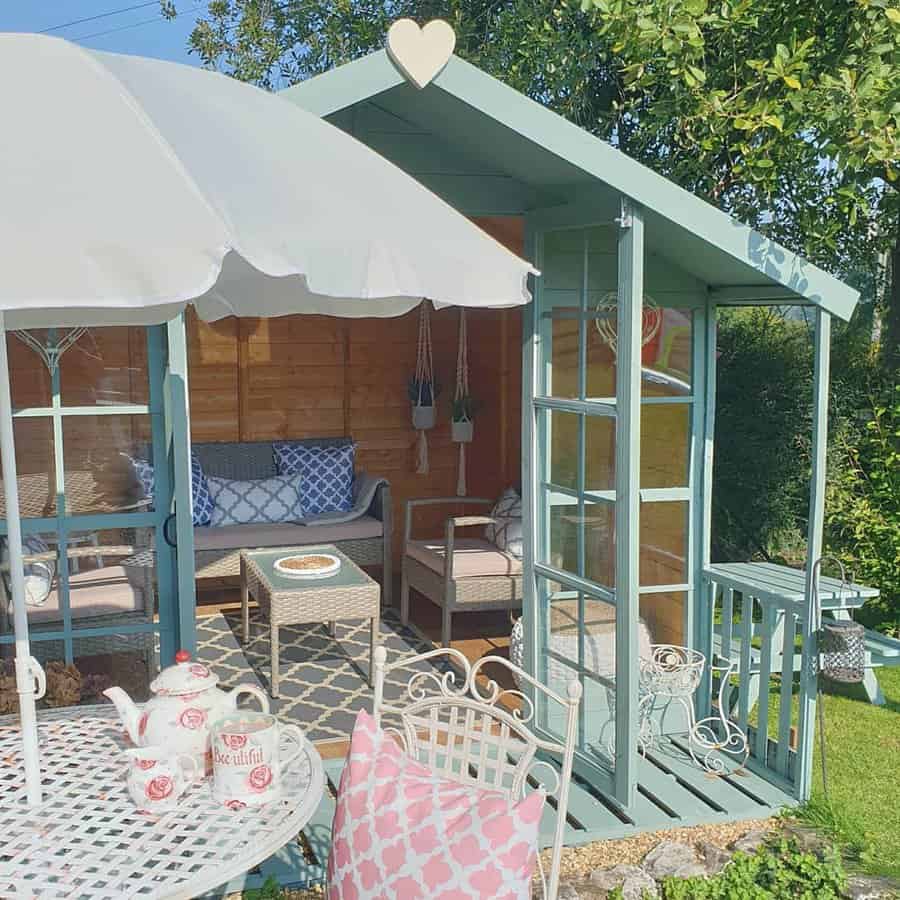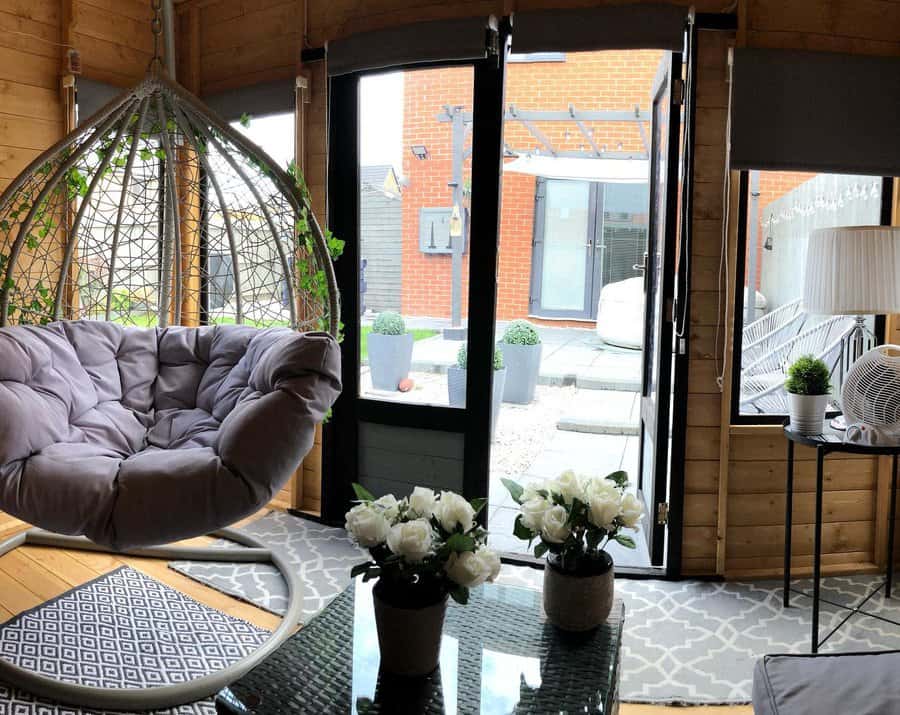 Instead of looking for a new home, you could add a summer house to your property. Think of it as a mini vacation home where friends and family can visit, but still have their space. That way, you can spend more time enjoying your seasonal guests and less time feeling invaded by them.
14. Vintage
If you can't turn your home into your dream vintage space, then add a she shed to your backyard and make it your personal vintage escape. Perhaps you love the cottage core aesthetic with delicate lace doilies and window flower boxes. Maybe French country is more your style with toile fabrics and touches of gilding. Then there's American colonial with beautiful handmade wood furniture.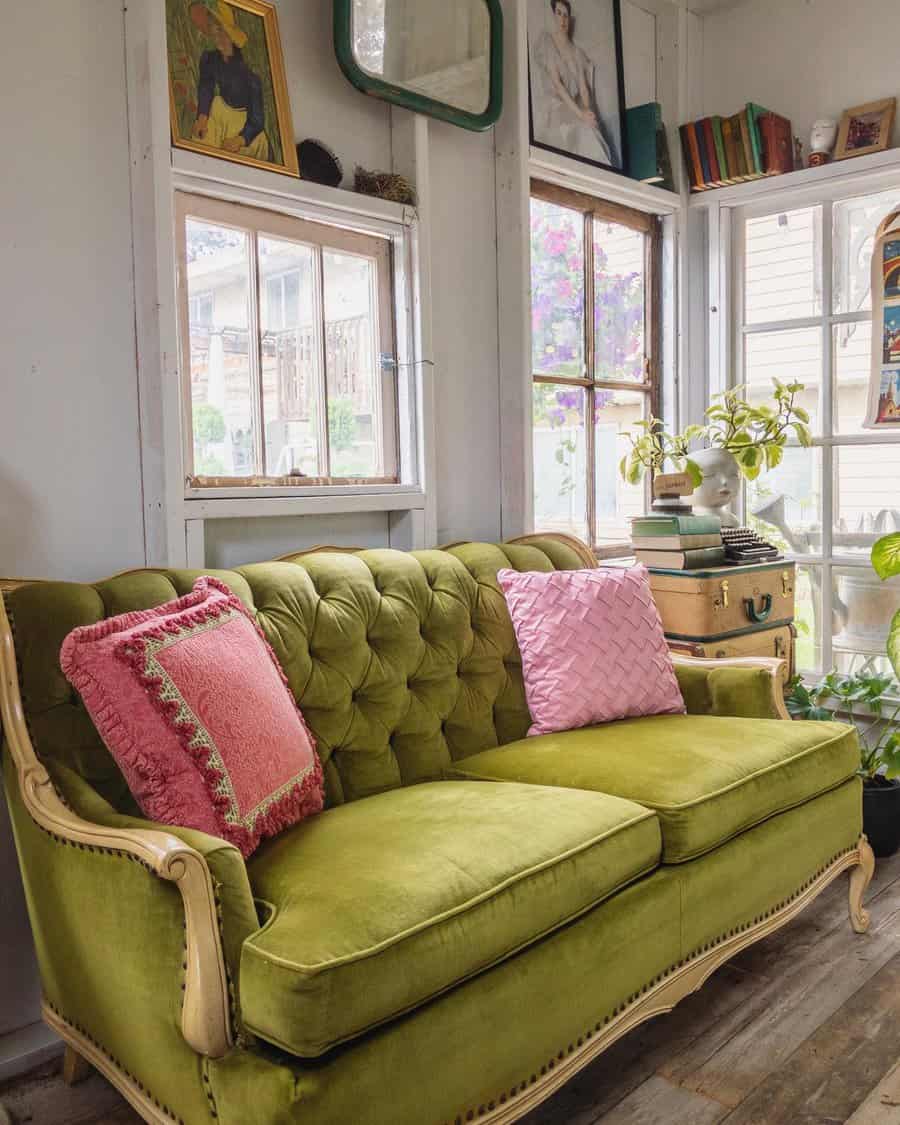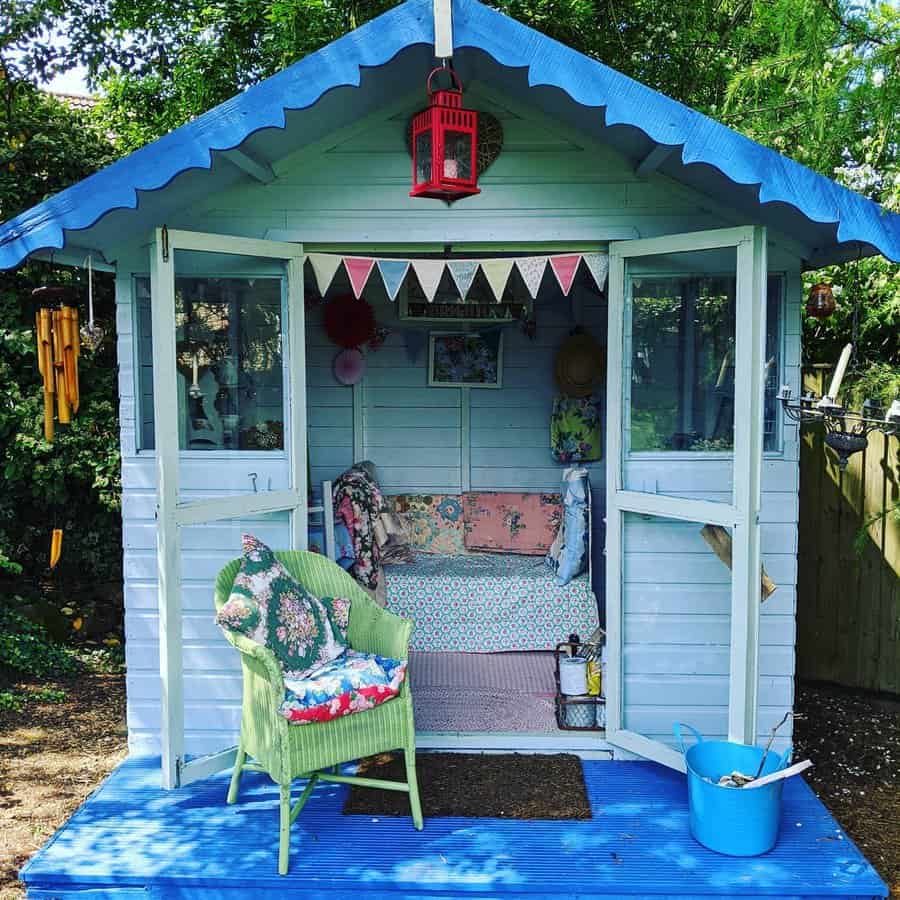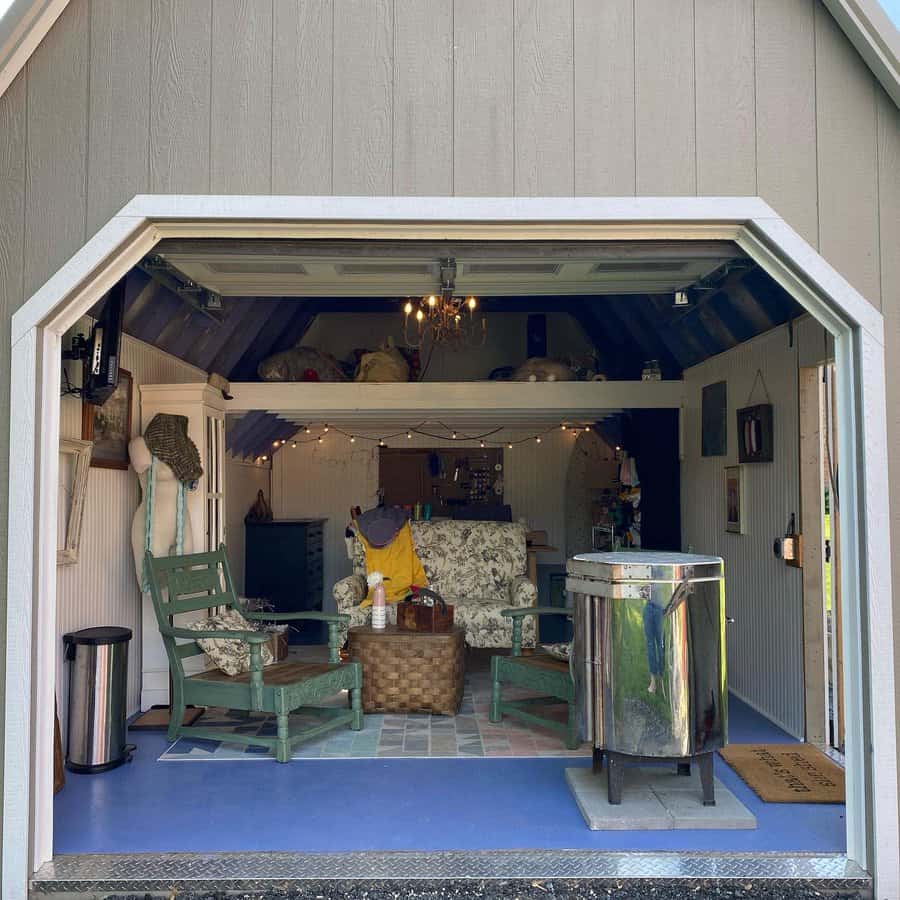 Look for vintage furniture pieces that you can collect to curate the perfect aesthetic for your little piece of vintage paradise. Don't be afraid to add a personal touch by refinishing a vintage piece that may need some repair or updating.
15. Yoga or Gym Shed
Make your she shed the ultimate yoga studio. Add smooth and easy to clean flooring, such as vinyl or laminate wood flooring. It won't feel as hard and cold as tile, and it will be more sanitary than carpet.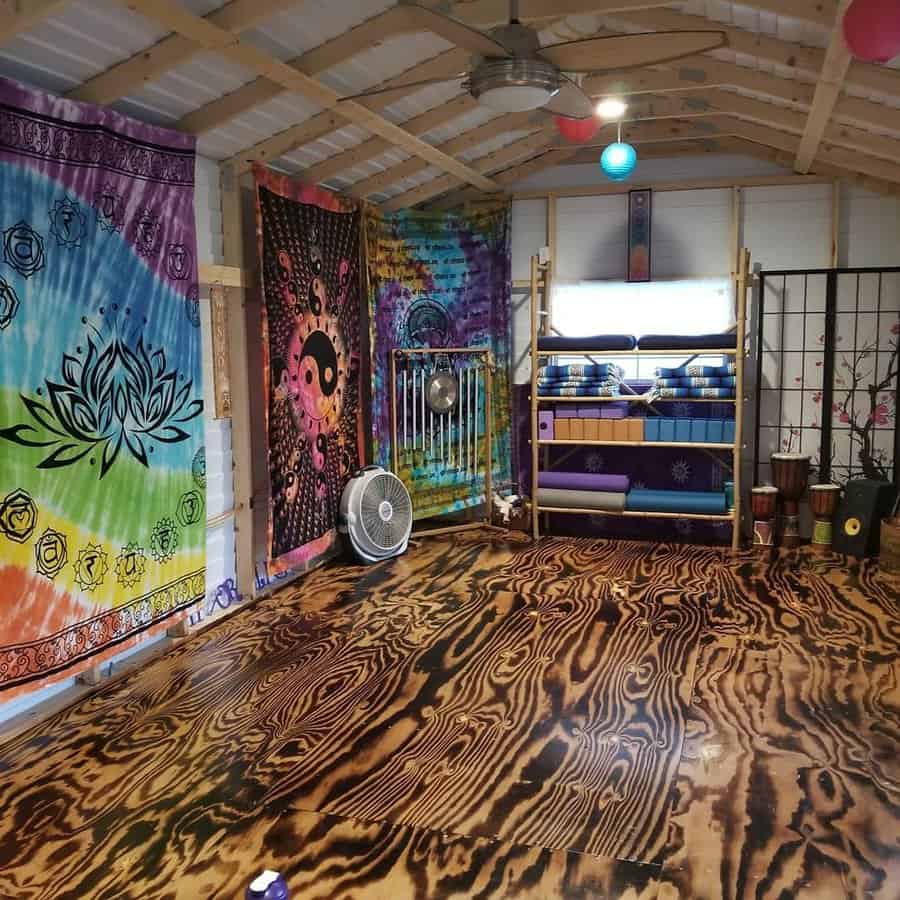 It's perfect for laying your yoga mat on. Add French doors that you can open and turn your shed into a protected outdoor space. This design idea gives you the perfect space for communing with nature as you find your inner peace and stay physically active.
FAQs
Does a she shed add value to a home?
Yes, adding a she shed to your property will increase its overall value. Having an additional structure on your property increases its usability. The separate space can be a usable living space or serve as a storage space. Potential buyers can turn the shed into any type of space that they need it for.
How much does it cost to turn a shed into a she shed?
The cost of your she shed will depend on where you live, the size of your shed, and how elaborate you want the shed to be. Most homeowners will spend between $1,500 and $10,000. The average cost is around $3,600.
How do you insulate a shed?
The cheapest material you can use to insulate your shed is bubble wrap. However, this DIY option isn't durable and won't last. Instead, consider using foam, loose-fill, or spray insulation. These are professional quality insulation materials that will last and create a more comfortable atmosphere in your she shed.