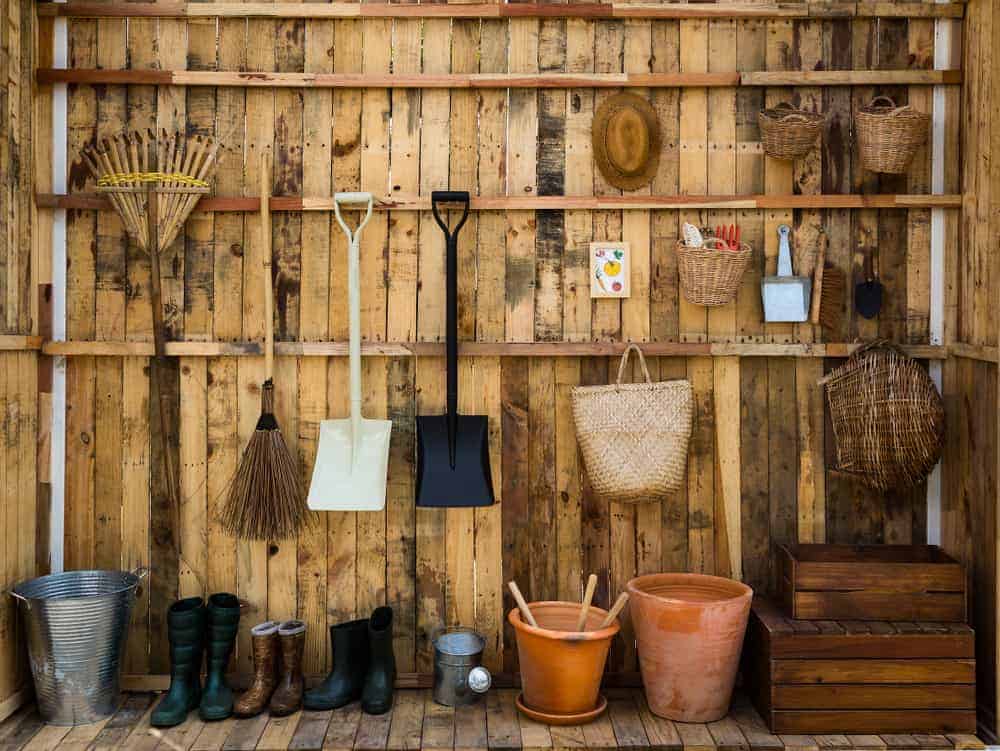 50 Shed Storage Ideas for Better Organization
Your garage has limited storage space, and you're quickly running out. You could keep your car outside, but that isn't ideal. You need to develop a better storage solution for your tools and garden equipment that doesn't require you to kick your car out. What you need is a shed.
This backyard storage solution gives you an additional workspace that can house all of your tools, yard care, and gardening supplies. Even if you aren't the handyman or green thumb type, having a shed can give you the additional storage space that your home or garage lacks.
These shed storage ideas will get you inspired to build your own work shed in your backyard.
1. Create A Mini Garage For Your Bicycle
Bicycles need special storage solutions that can withstand the elements, and bicycle shed storage can be the ideal mini garage for any savvy bicycle enthusiast. Bicycle sheds provide shelter from rain, snow, and sun in a brilliant way that not only keeps bikes safe but also saves precious garage space.
Certain bicycle shed storages are even large enough to house extra tools, equipment, and repair items – making it the perfect place to store your gear and make sure maintenance is quick and easy.
Whether you're looking for a place to store your bicycle on the go or just need some ample bike storage right at home, bicycle shed storage offers a solution like no other.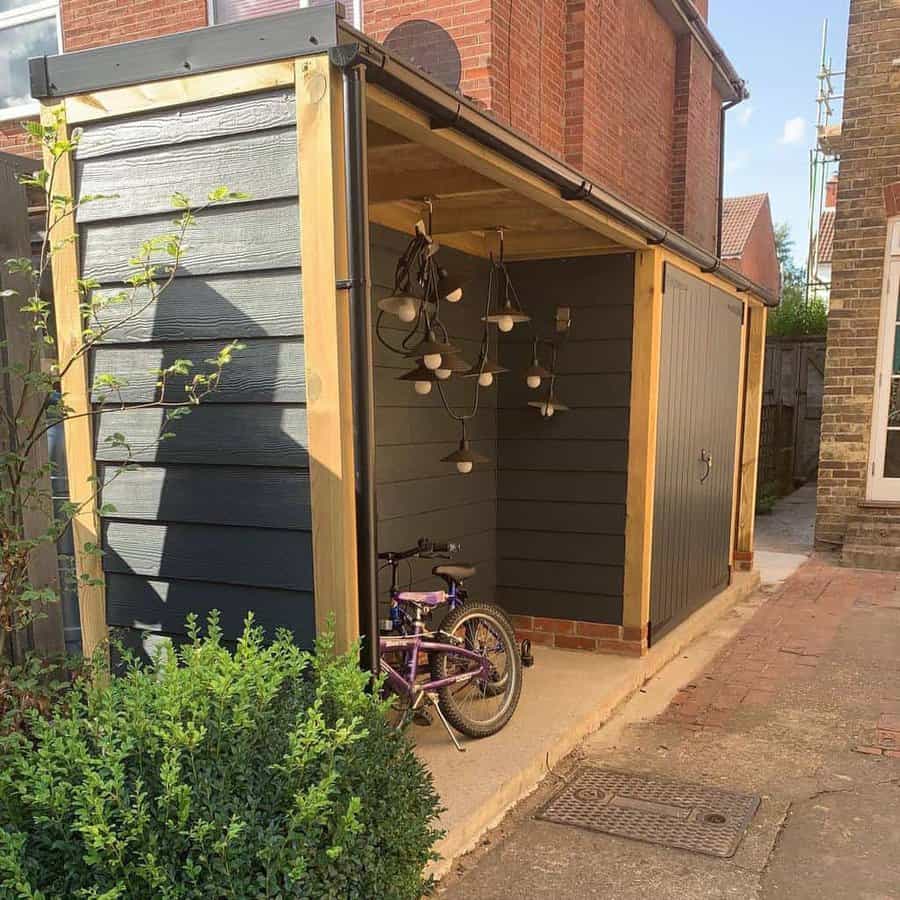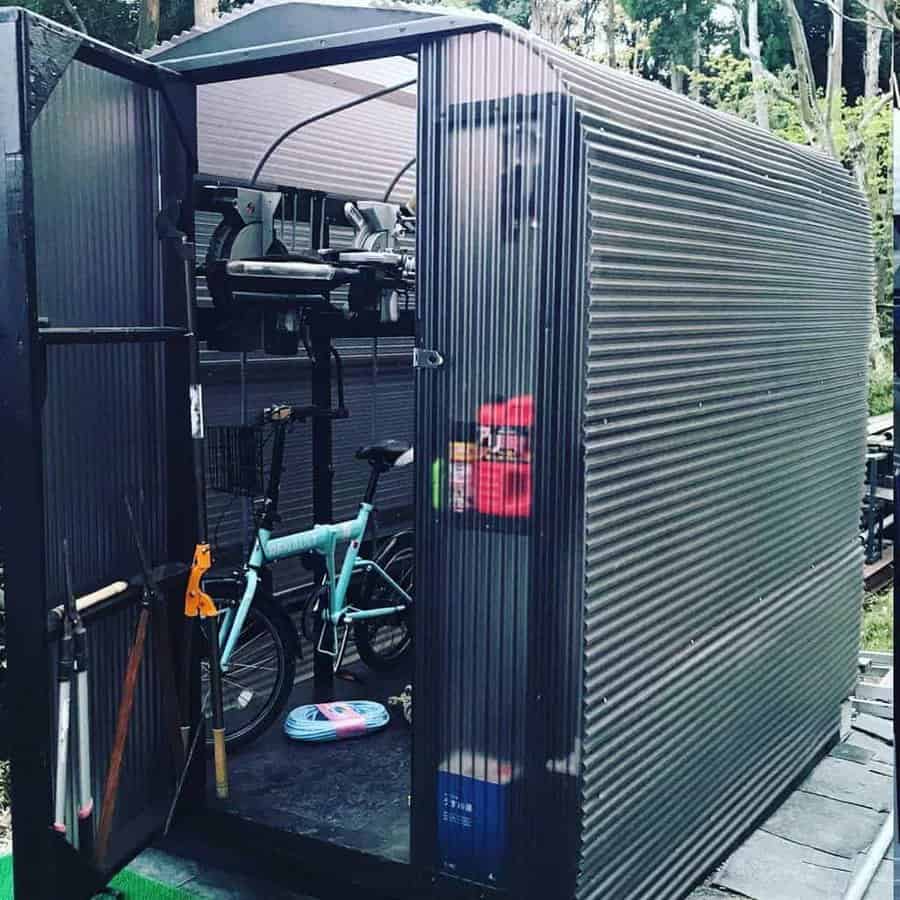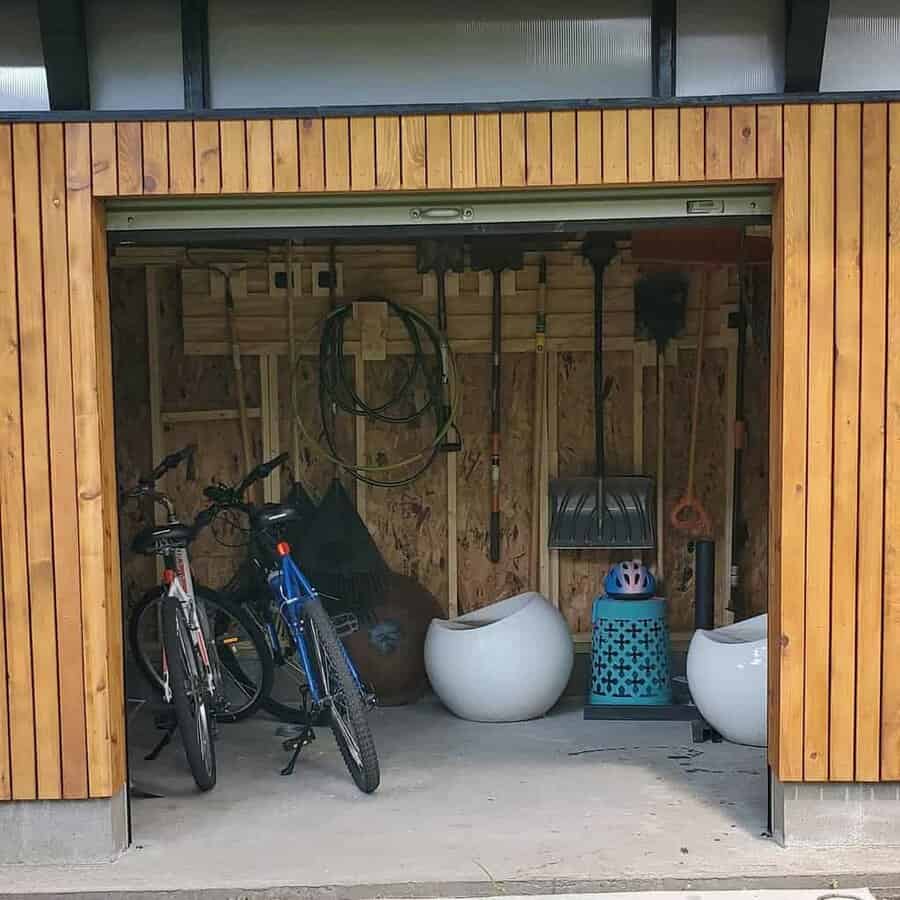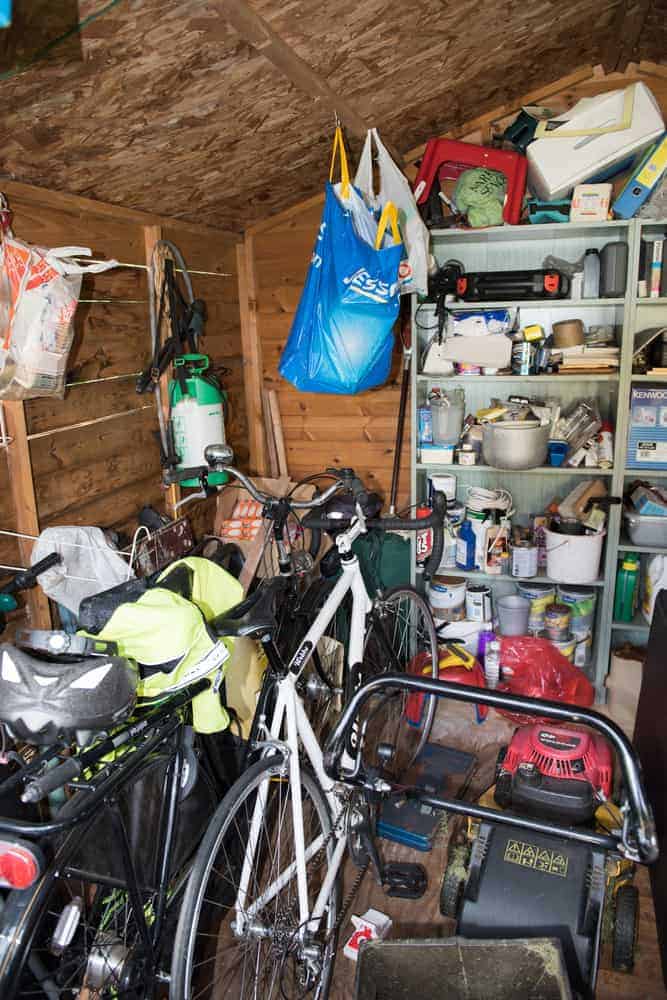 2. Install A Wall-Mount Storage System
There's nothing quite as satisfying as taking control of clutter and chaos, and wall-mounted shed storage can help you do just that. With a creative approach to organization, you can transform your shed into a tidy, functional space that inspires you to get things done.
Whether you're housing gardening tools, sporting equipment, or DIY supplies, wall-mounted storage allows you to maximize your available space without sacrificing style. From hooks and shelves to baskets and bins, the possibilities are endless – and with a little bit of imagination, you can turn your shed into a haven of creativity and productivity.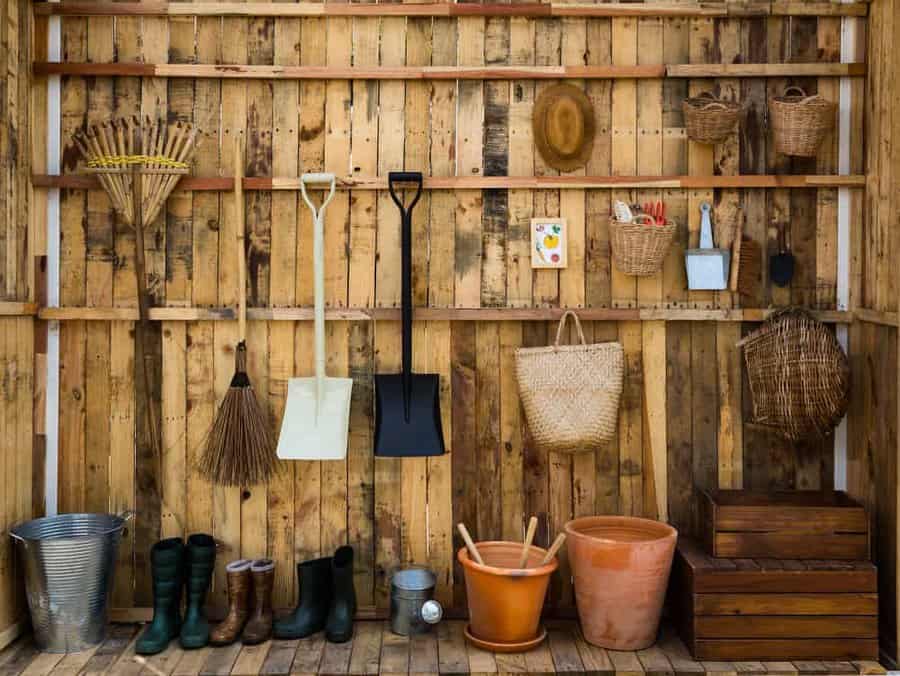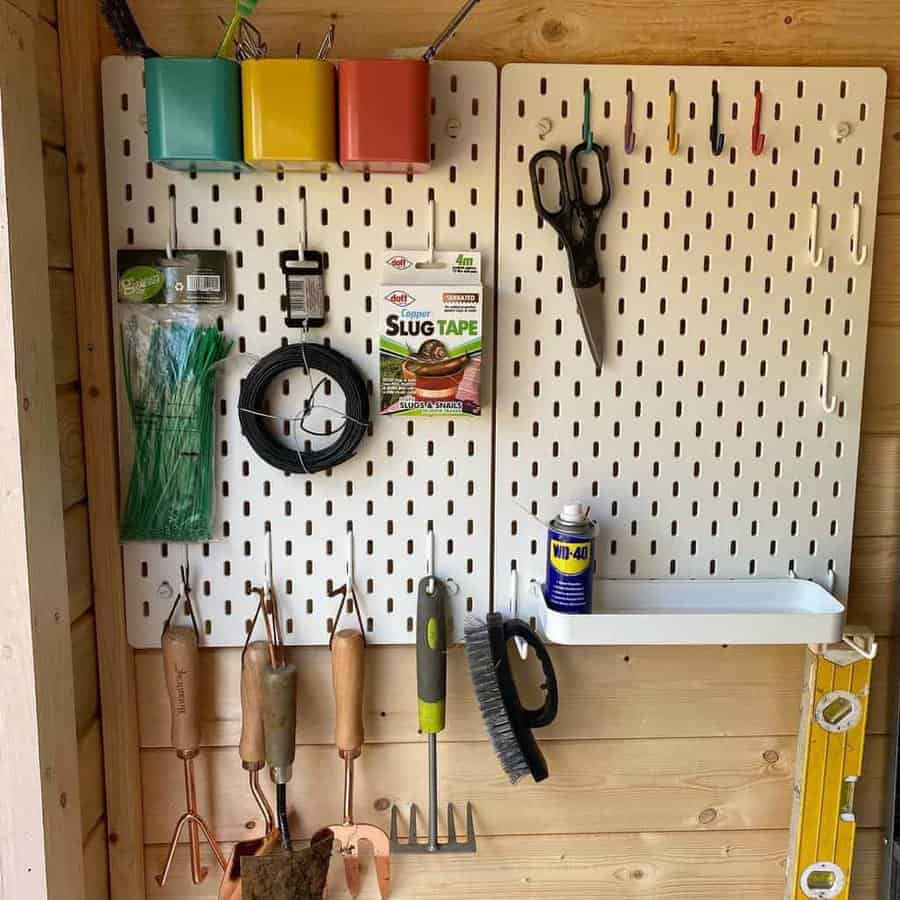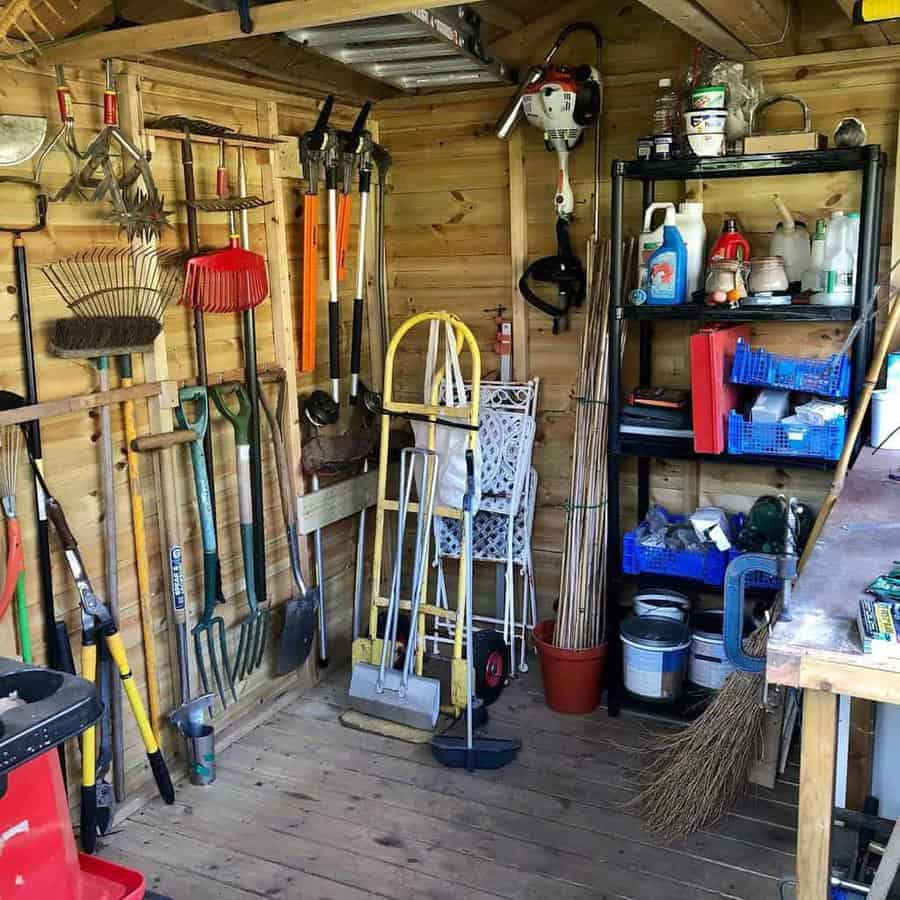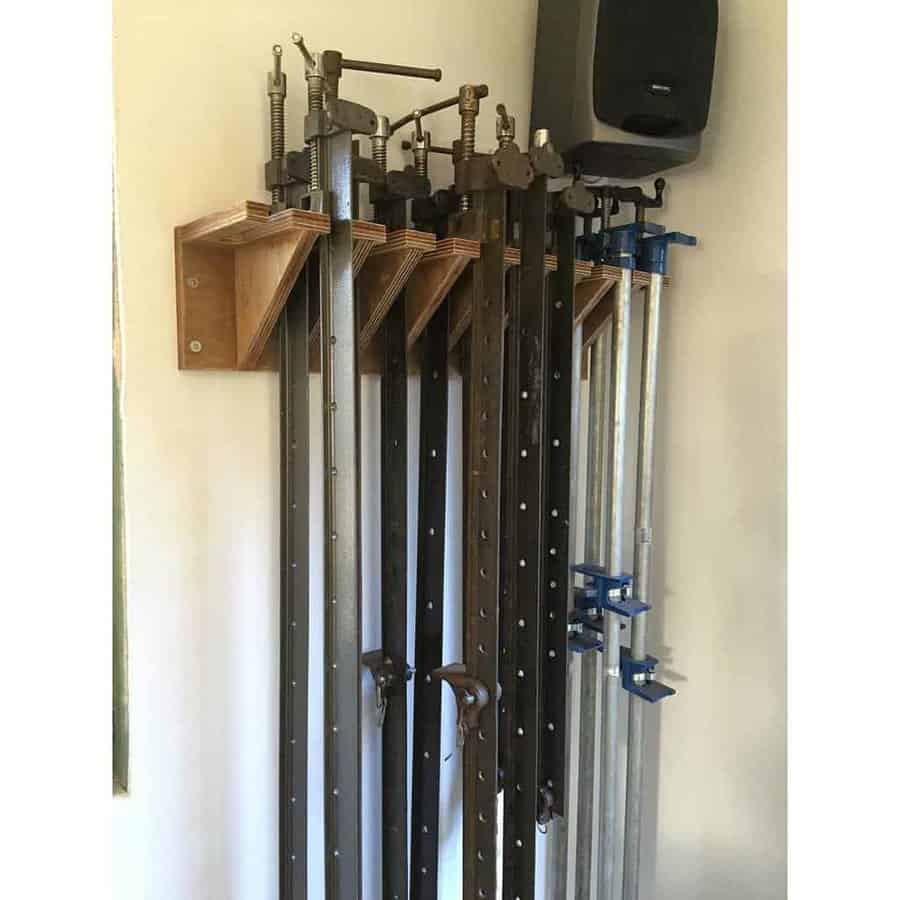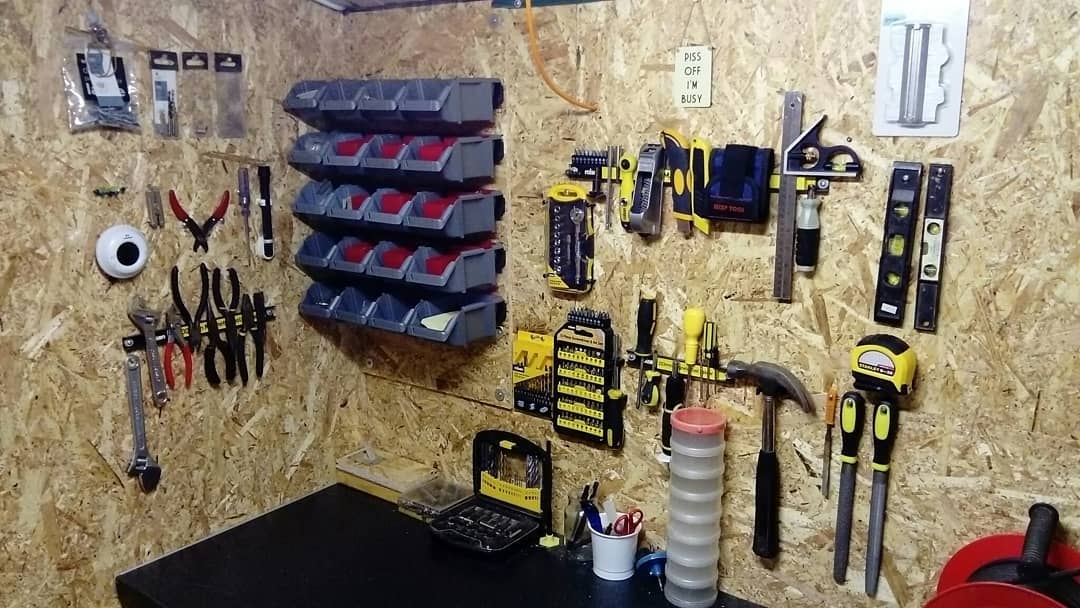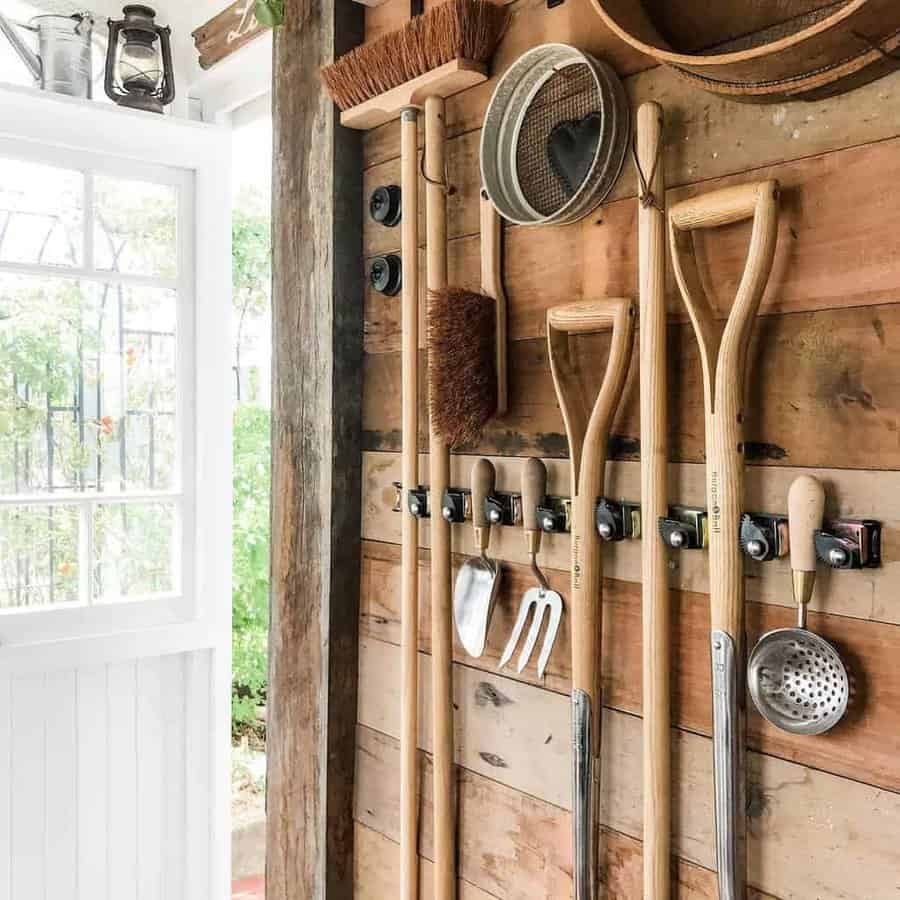 3. Enclosed Dark Shed For Weather-Sensitive Decors
An enclosed dark shed could be the perfect storage solution for your weather-sensitive home decorations. Shielding these items from light and rain, you can rest assured that they will remain safe and sound until it's time to take them out of their enclosed shed sanctuary.
Whether it's stored furniture, holiday lights, or a collection of art pieces, enclosed sheds provide the optimal conditions for preserving whatever precious treasures you need to store.
The days of worrying about excessive exposure to the elements are gone; with enclosed shed storage, you can now protect your belongings in a simple yet effective way.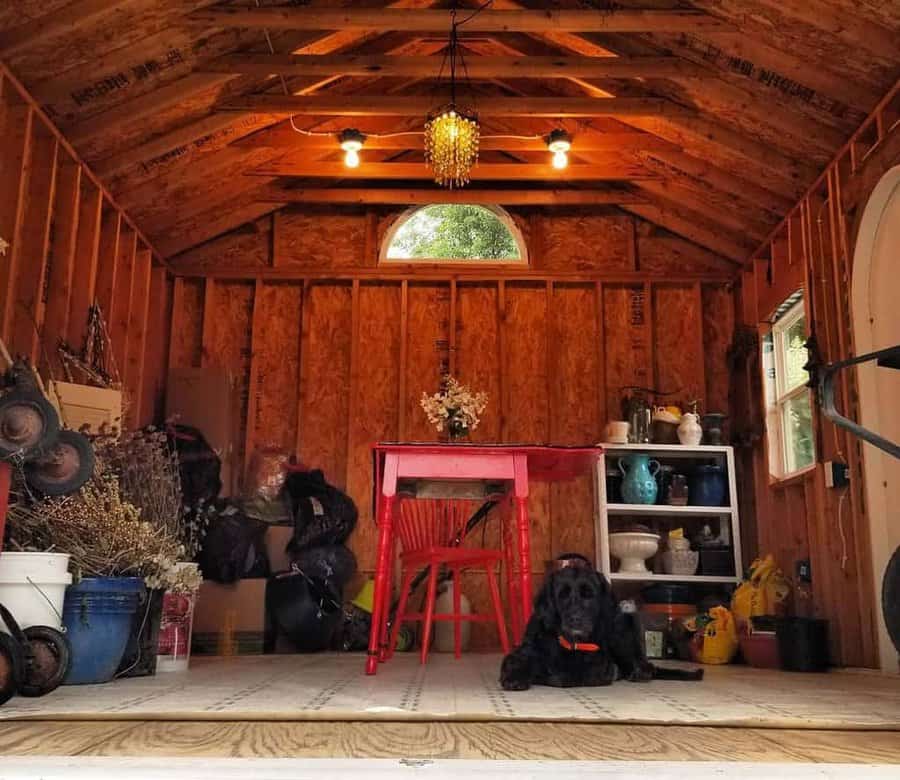 4. DIY A Small Barn-Style Shed
Whether you're looking for a shed to store your tools, backyard furniture, or seasonal decorations, nothing says classic charm like a barn-style shed.
Featuring shiplap walls and beams that add rustic style, these sheds provide the perfect sanctuary to store all of your outdoor items while still looking chic and organized.
The shed's stylish appeal makes it an easy addition to any home while still remaining functional and providing shed storage needs.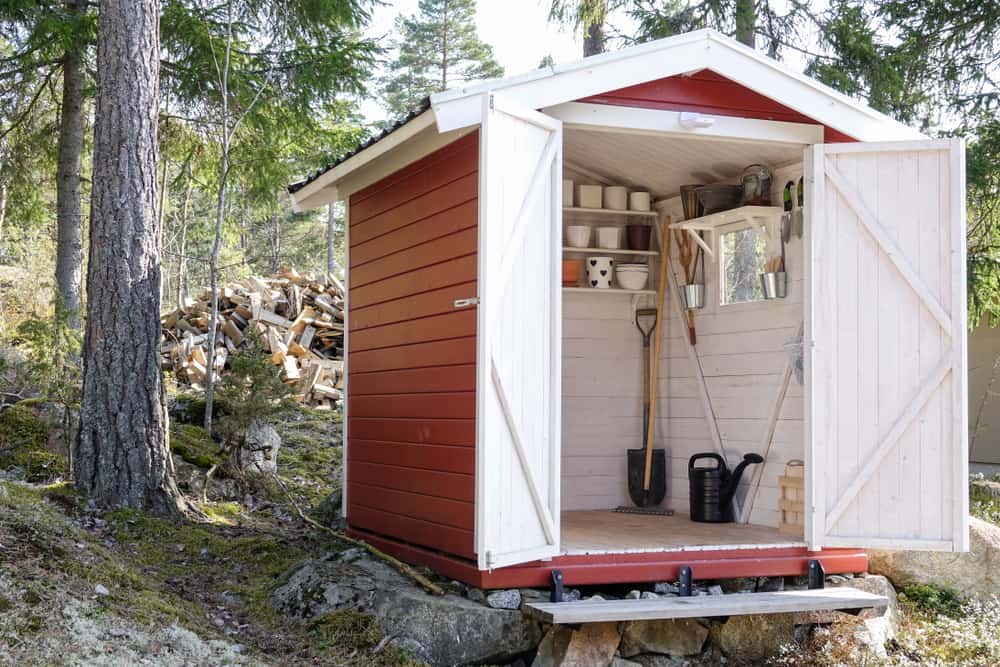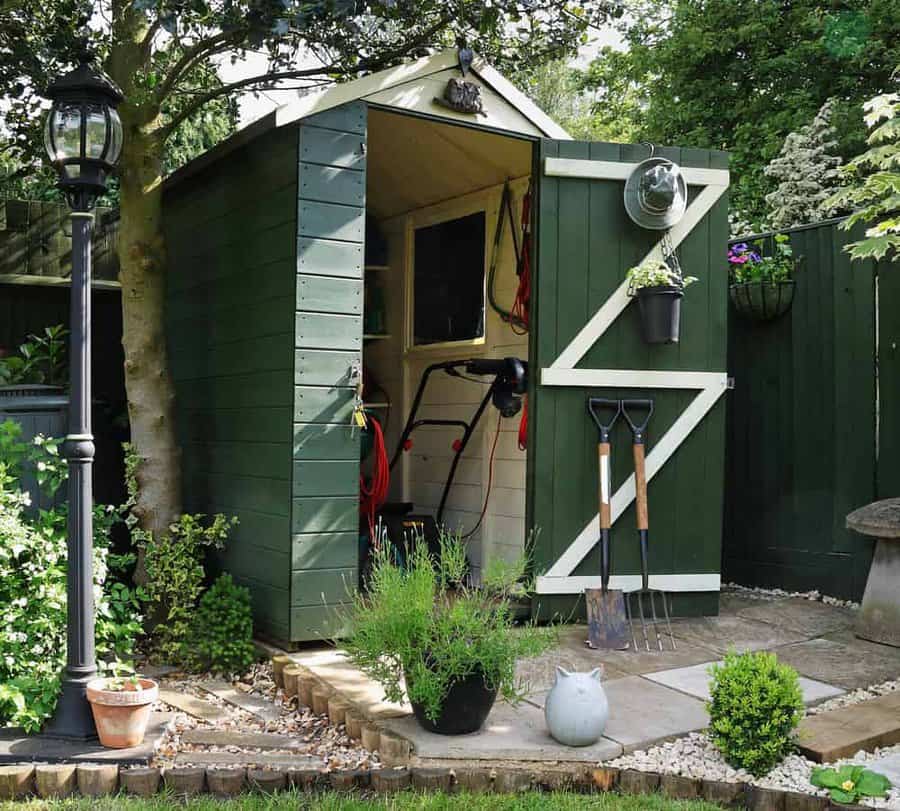 5. Create An Outdoor Storage System For Firewood
Organizing outdoor storage for firewood can be a daunting task. Sure, it's easy to toss logs into the shed and call it a day – but when you want to really make the most of space storage, it almost feels like an art form! Spend some time arranging your outdoor shed so that each type of wood is in a designated area, with labels for access and ease.
Get creative! Stacking outdoor firewood neatly and evenly not only looks good – it keeps pesky bugs, dirt, and mold from spoiling the wood as well. Make outdoor wood storage efficient, beautiful, and organized with ease.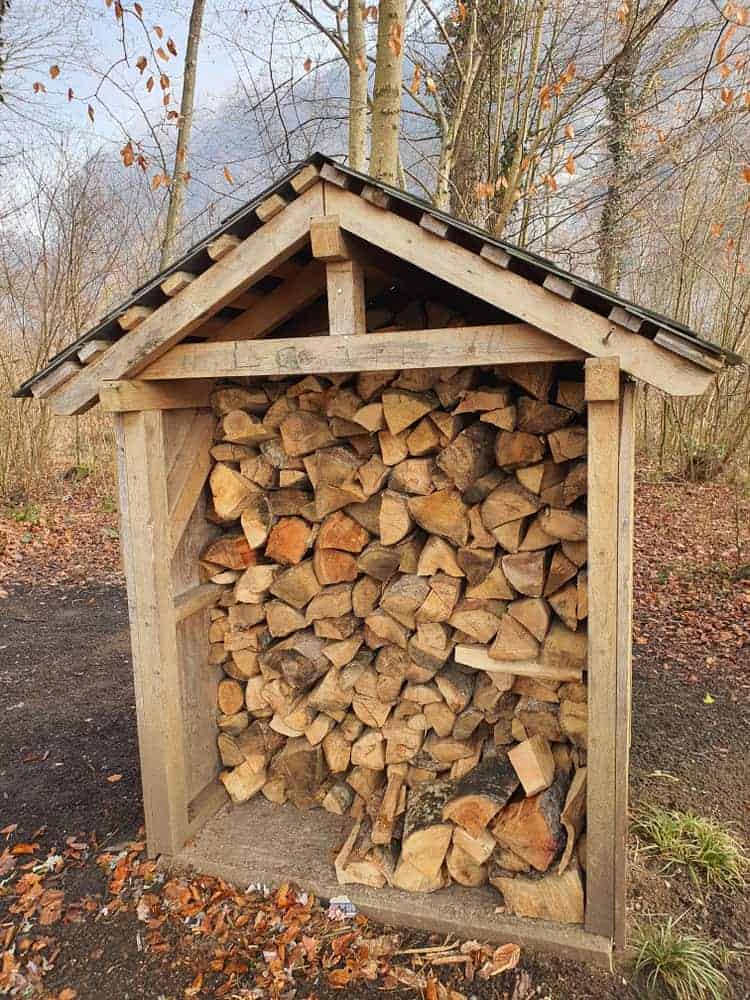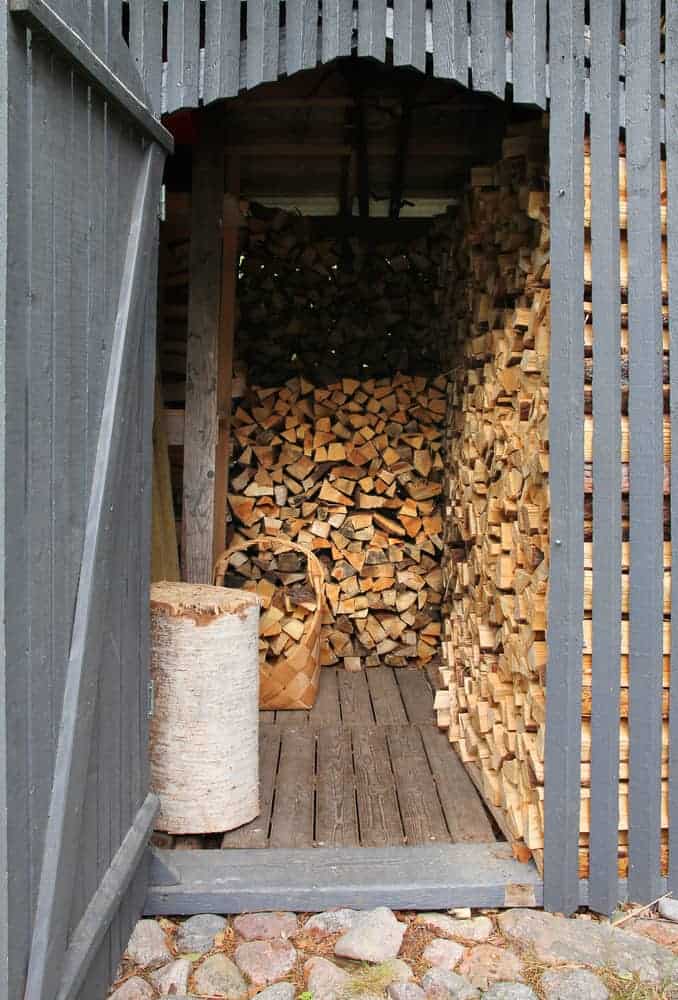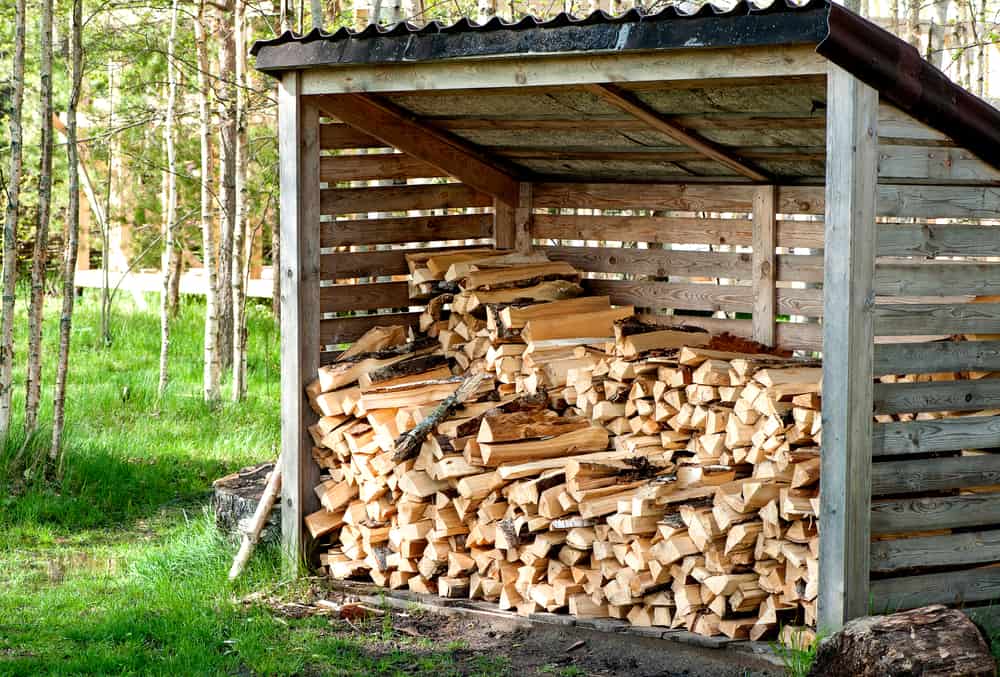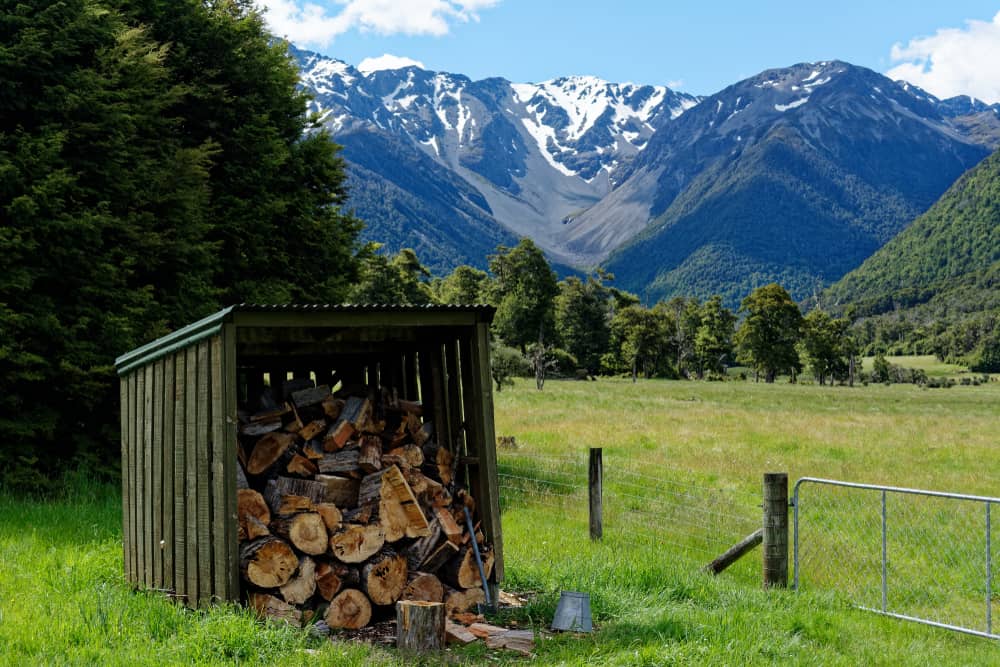 6. Metal Shelves For Heavy Items
When it comes to shed storage, metal shelves are essential for storing heavier items and machinery which need reliable sturdiness. For larger items, crates make great versatile storage containers – from outdoor tools to camping gear to seasonal decorations.
Don't forget the floor space: You can double up the use of your metal shelving by adding small pallets beneath them and filling them with larger items not suitable for metal shelves – such as sporting equipment, large fabric bags, or even light metal cabinets.
All in all, with shelves and crates at hand, you'll be able to have an organized and helpful storage solution for whatever you may need in your shed.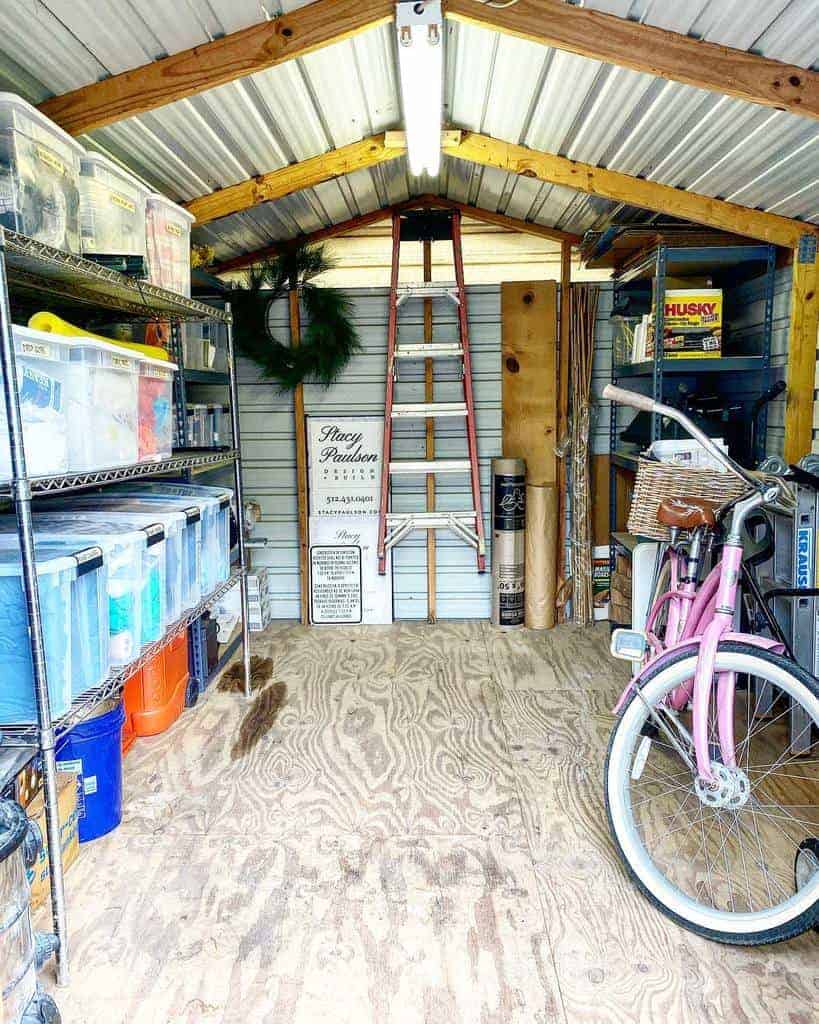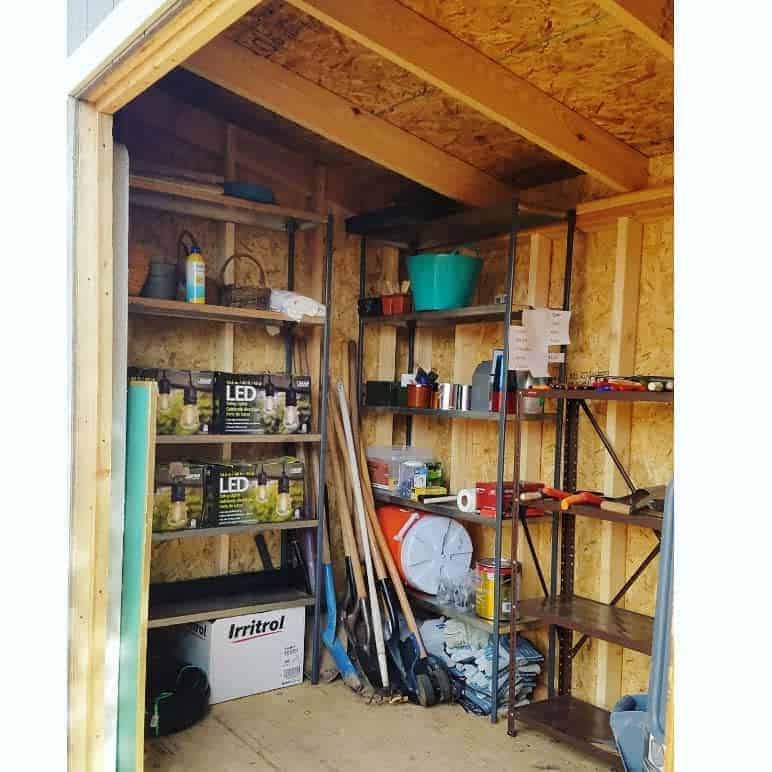 7. Install Floating Shelves
Transform your shed into an efficient storage zone, with floating shelves that make the most out of vertical space! Sheds are wonderful places to store gardening tools and shed supplies – but wouldn't it be great if all those items were organized and easy to access?
Investing in some floating shelves not only helps shed storage stay neat and tidy, but can give gardeners the chance to utilize the shed's vertical space.
For example, gardening gloves can hang on pegs while rakes and shovels fit neatly on shelves above! Get creative with shed storage and reap the benefits of a clean and efficient shed.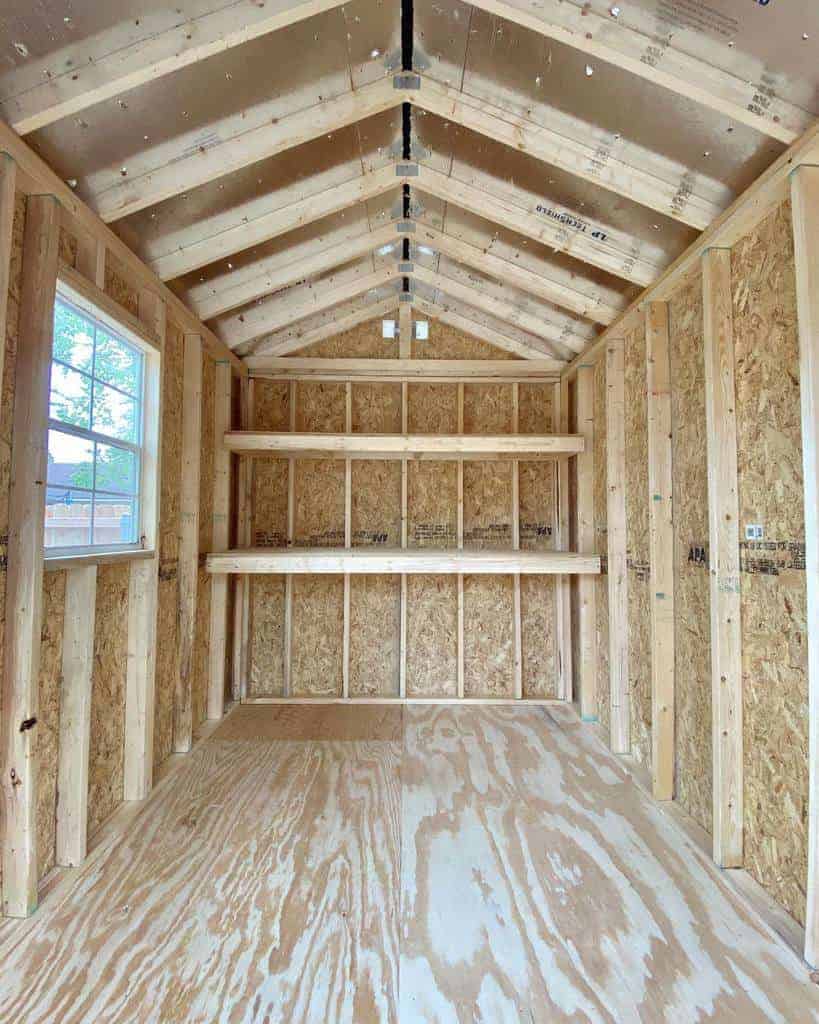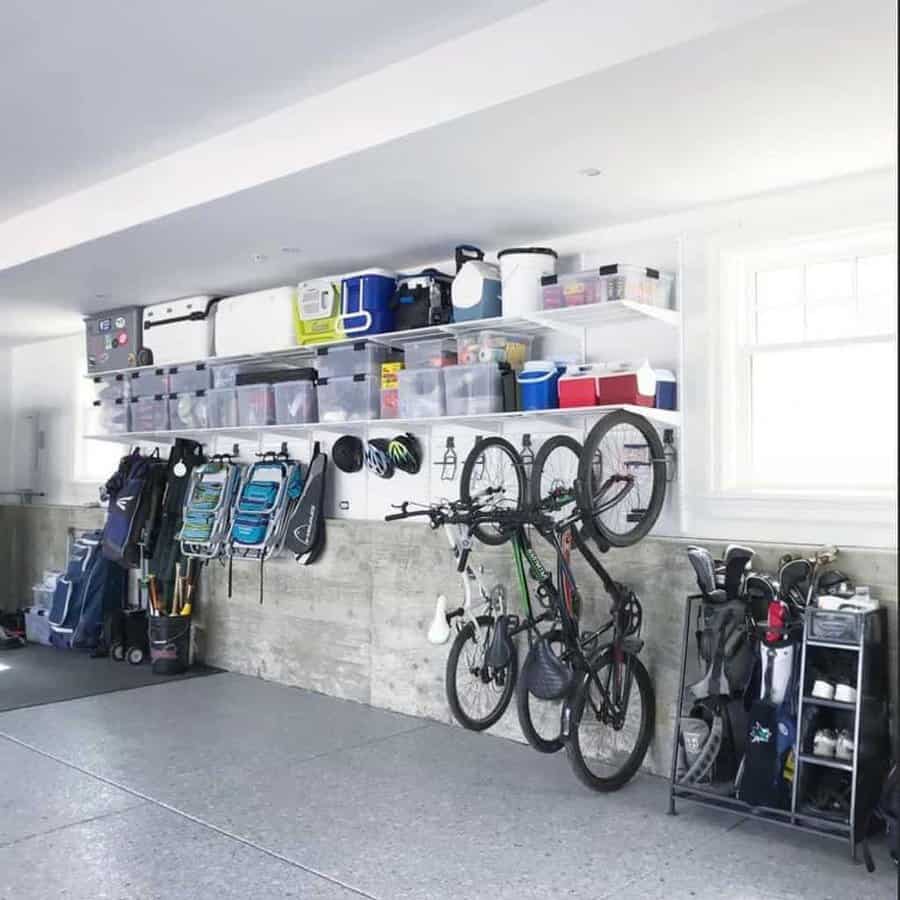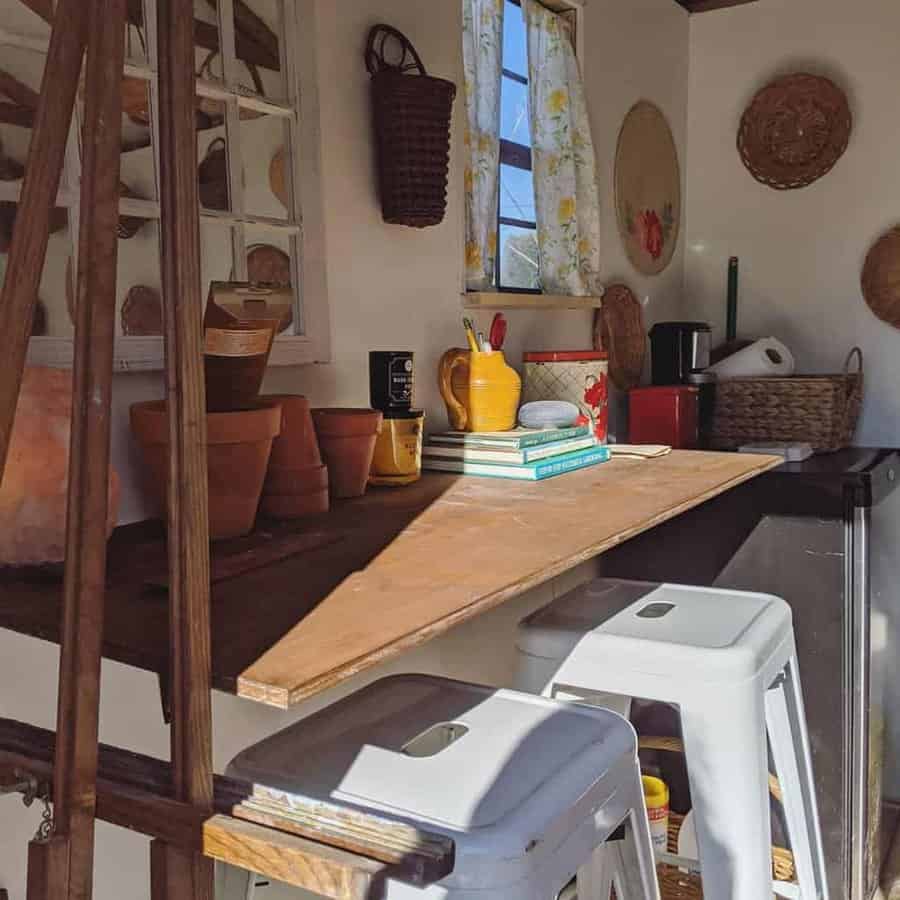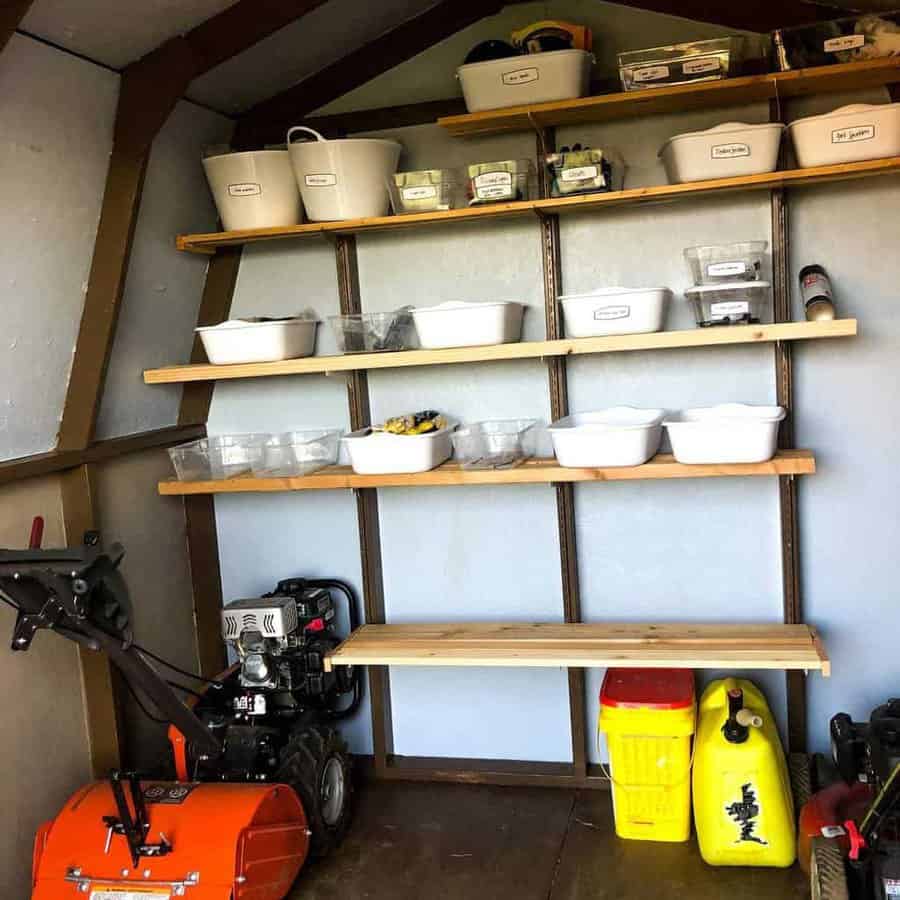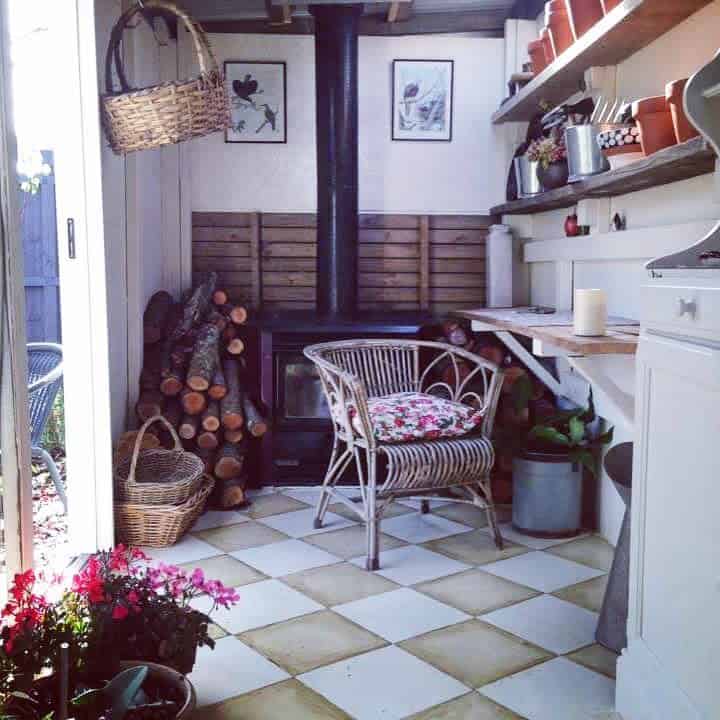 8. Black & Wood For An Modern Look
Sheds don't have to just be a utilitarian storage spaces; they can also have a chic and modern look that adds to the aesthetic of any outdoor area. With black and wood exteriors, sleek lines, and creative storage solutions, your shed can become an elegant statement piece.
Not only does it serve its purpose, but it elevates the look of your backyard, creating a more inviting atmosphere for you and your guests.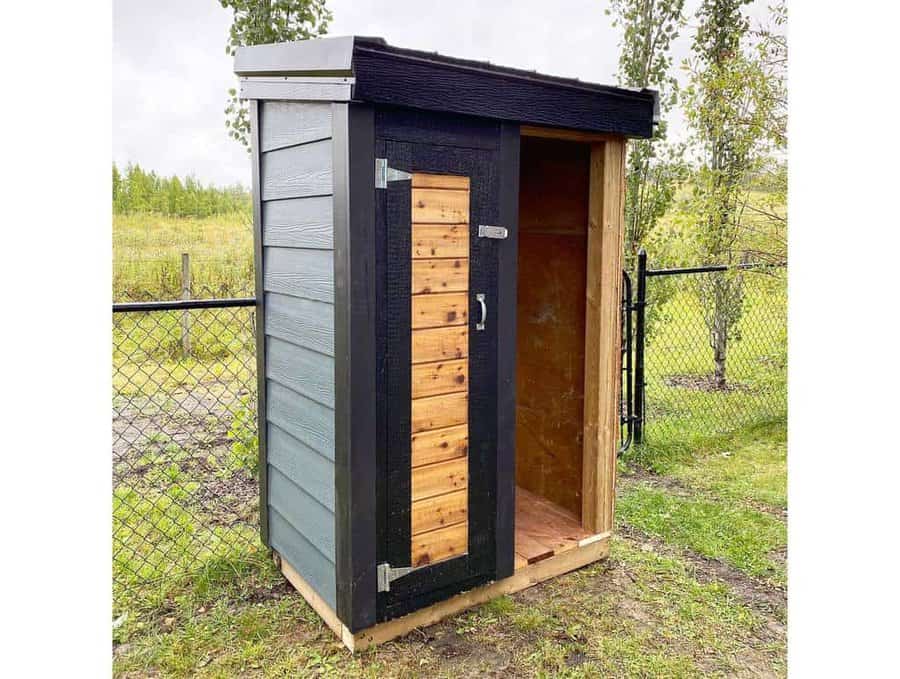 9. Utilize Overhead Space
The overhead shelf in the shed is like an attic without creepy cobwebs. Spacious, yet secluded, it provides the ideal place to store items not used as often such as winter coats and Christmas decorations. It's the perfect way to create extra storage in a confined yard shed – an overhead shelf providing space where none exists.
Of course, if you're looking for something more luxurious, variously sized overhead shelves provide enough space for storing and organizing all sorts of odds and ends that may take up limitless amounts of room on other surfaces. Now your shed will be the envy of your neighbors!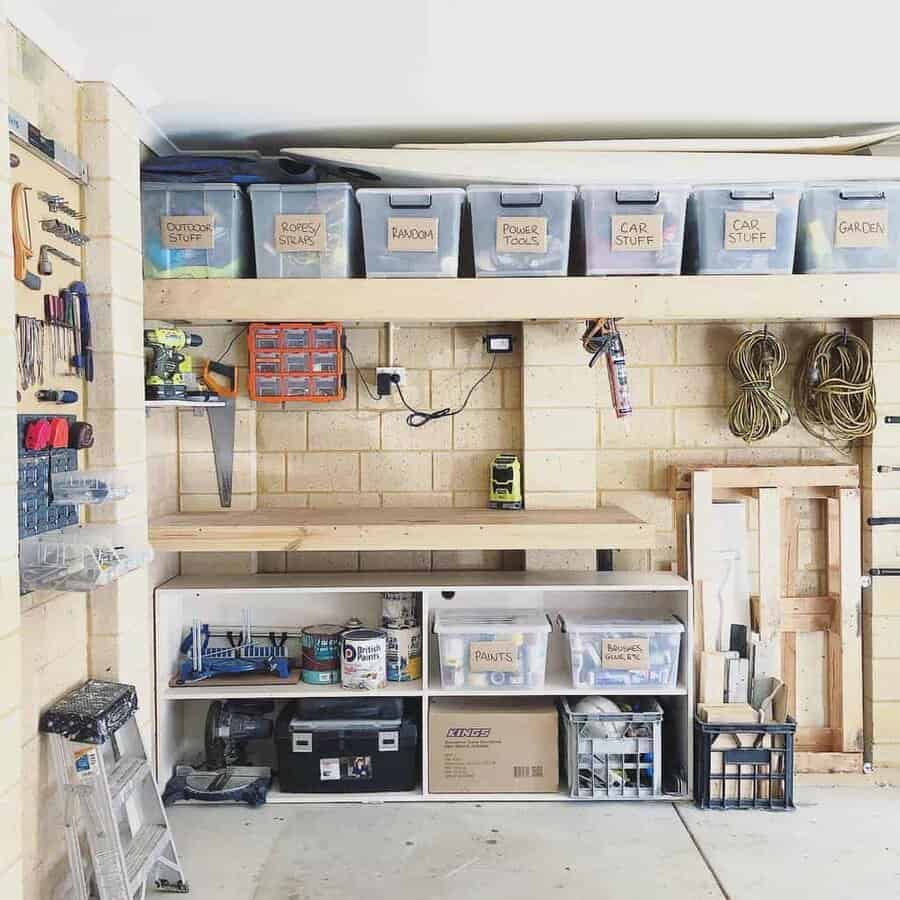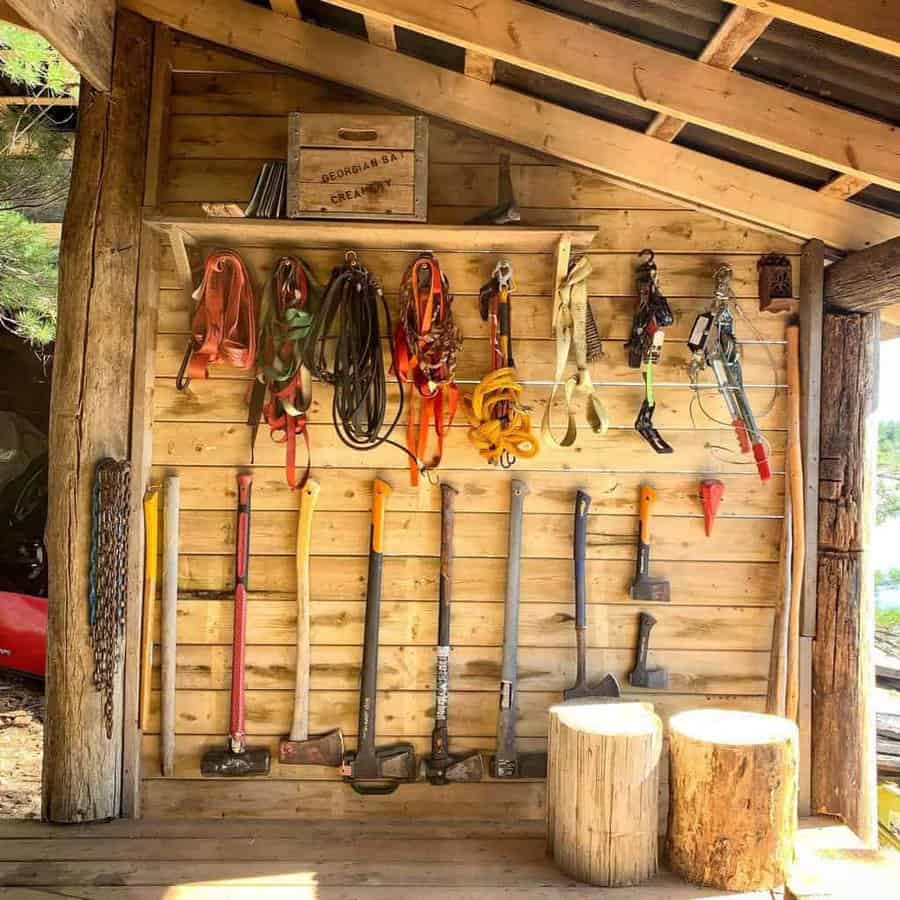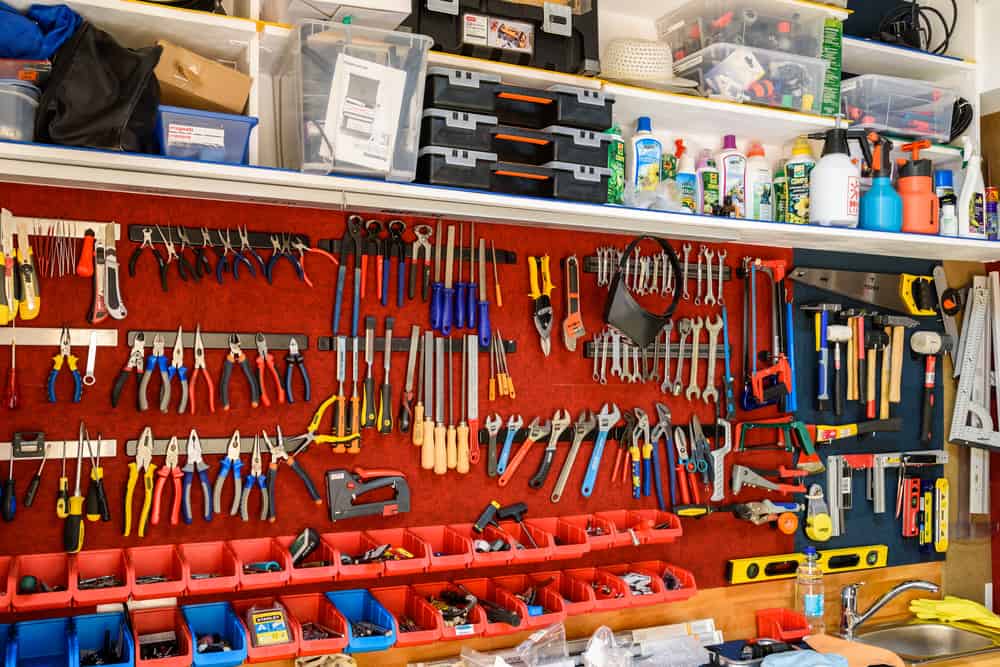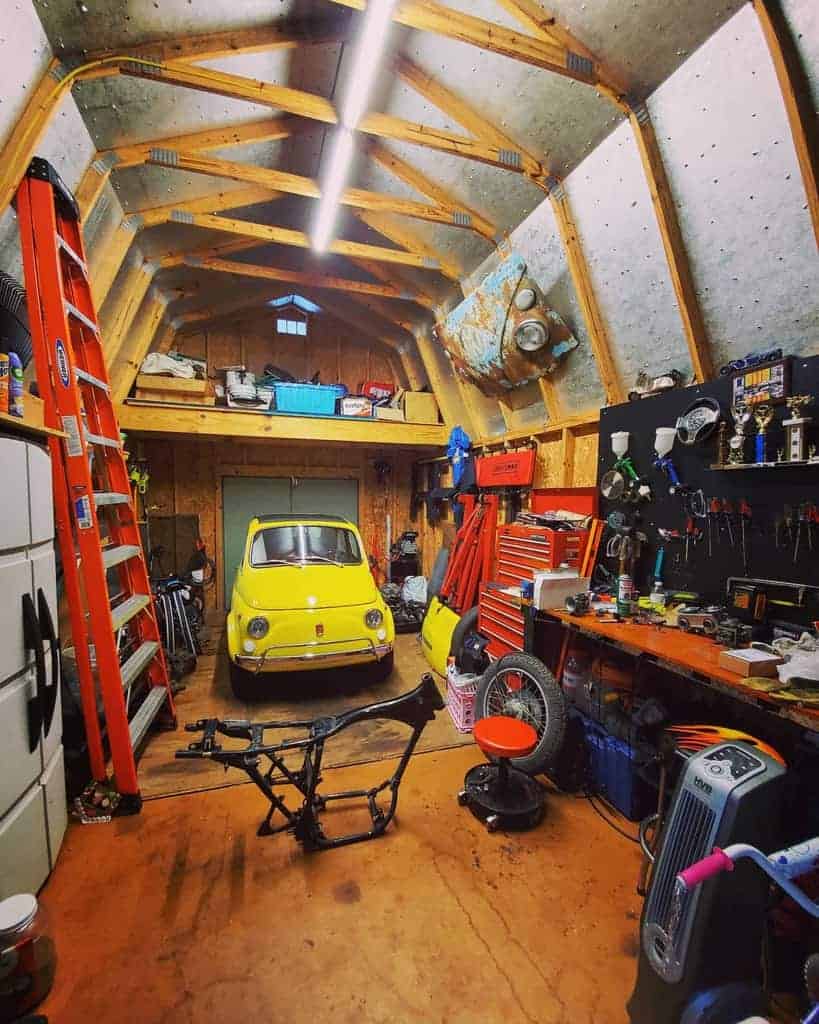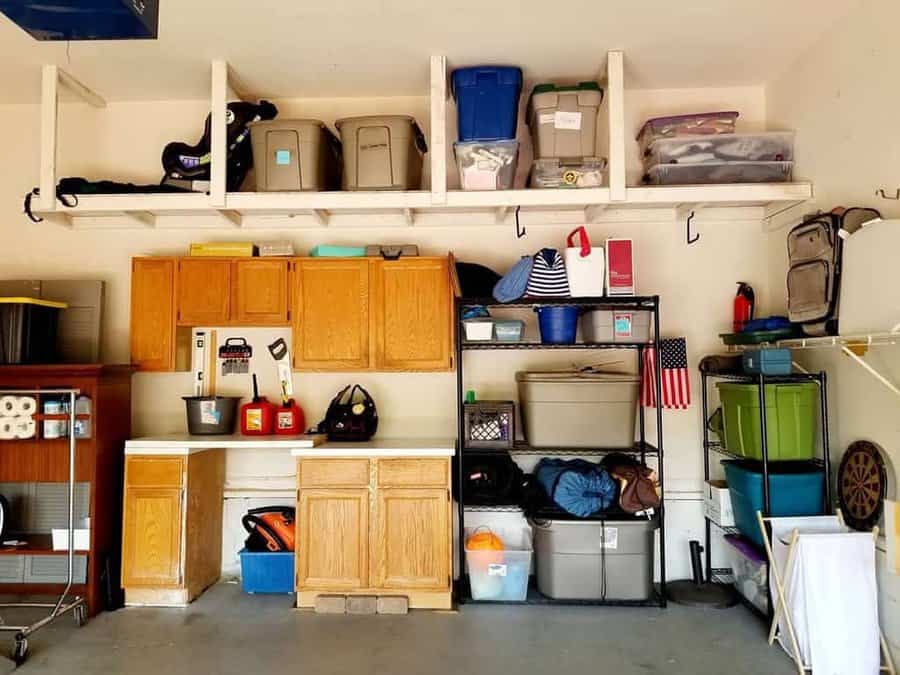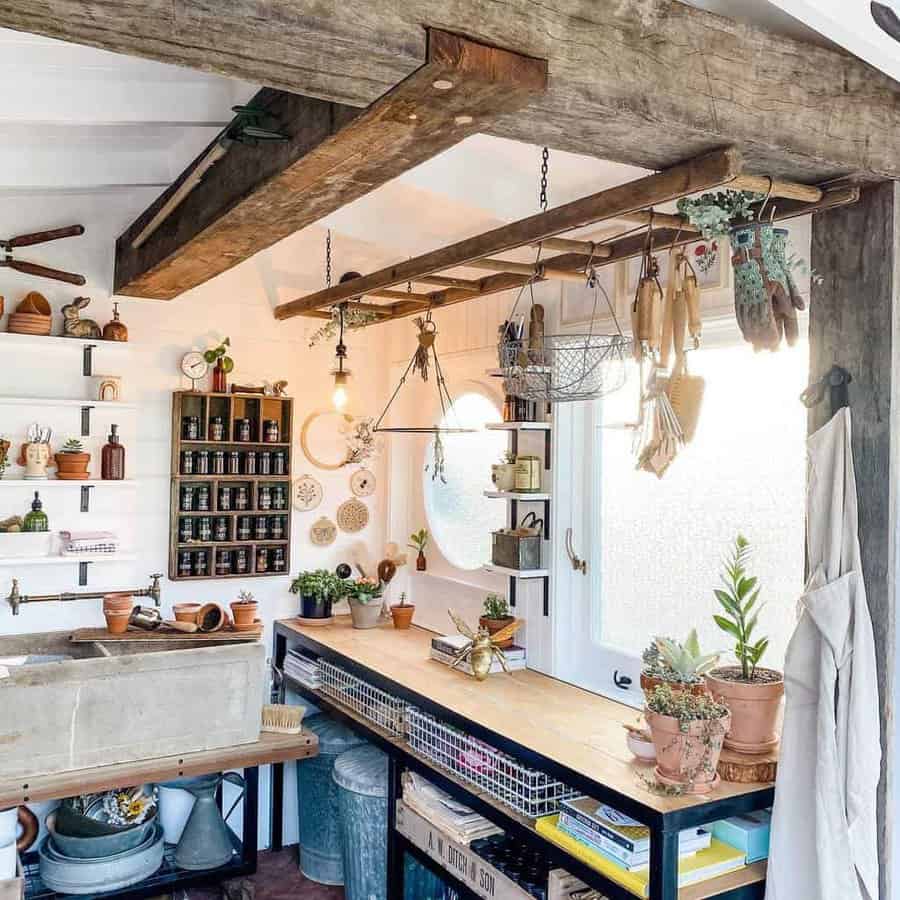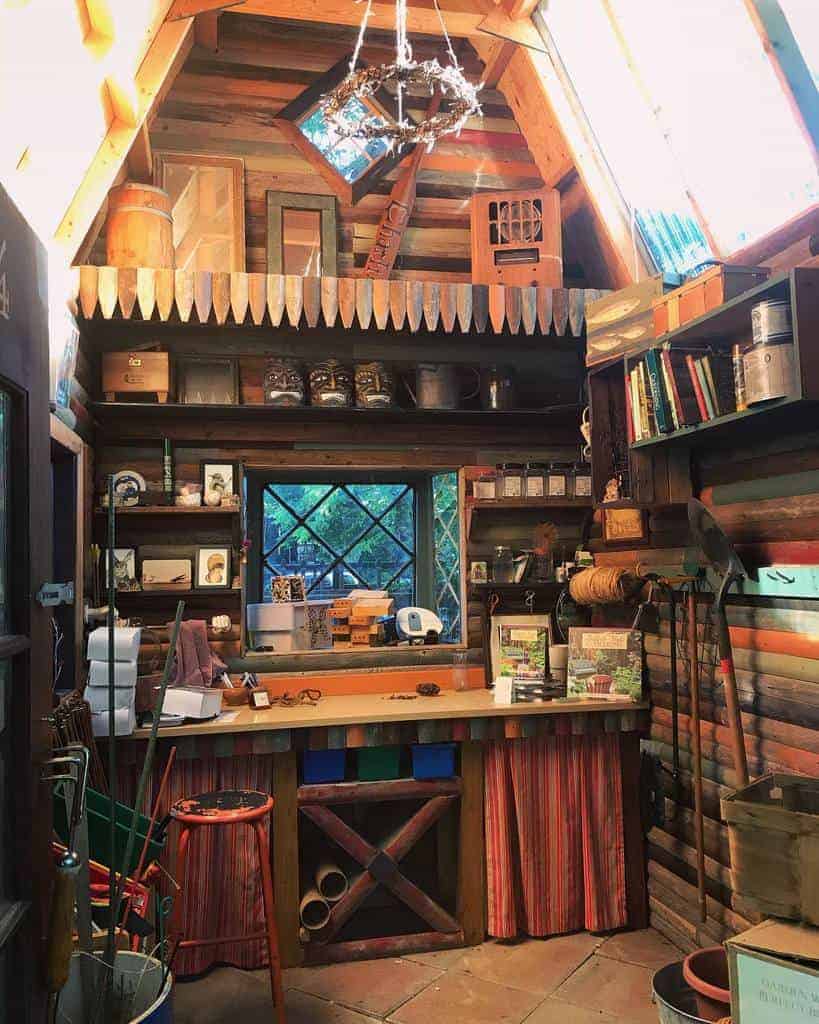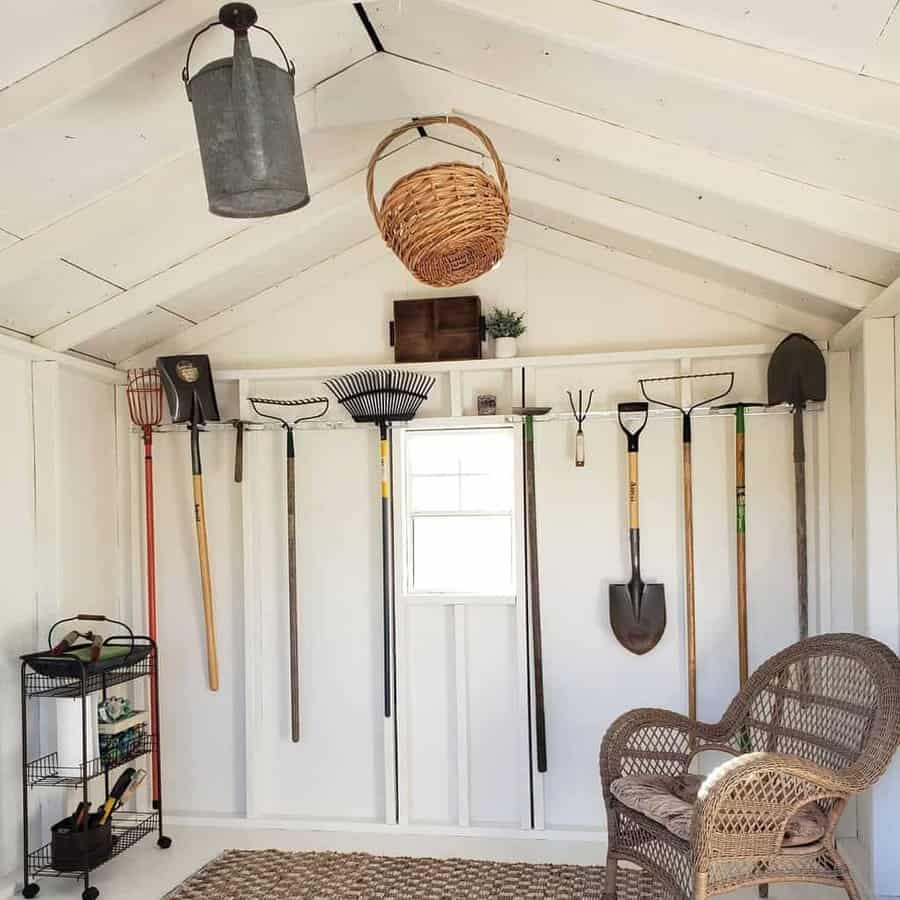 10. Wood Pallet Shed For A Clean & Organic Look
By investing in a wood pallet shed, you can create a storage solution with an overall clean and organic look. Not only does this provide aesthetic appeal, but it's also an extremely low-maintenance option for additional storage.
A wood pallet shed offers the perfect solution because of its charm, clean, organic look and low-maintenance property. It blends into nature perfectly, giving any yard an updated aesthetic without breaking the bank. Even better, wood pallets are easy to build with readily available materials – so you can make it an afternoon project that's sure to keep your backyard looking fresh!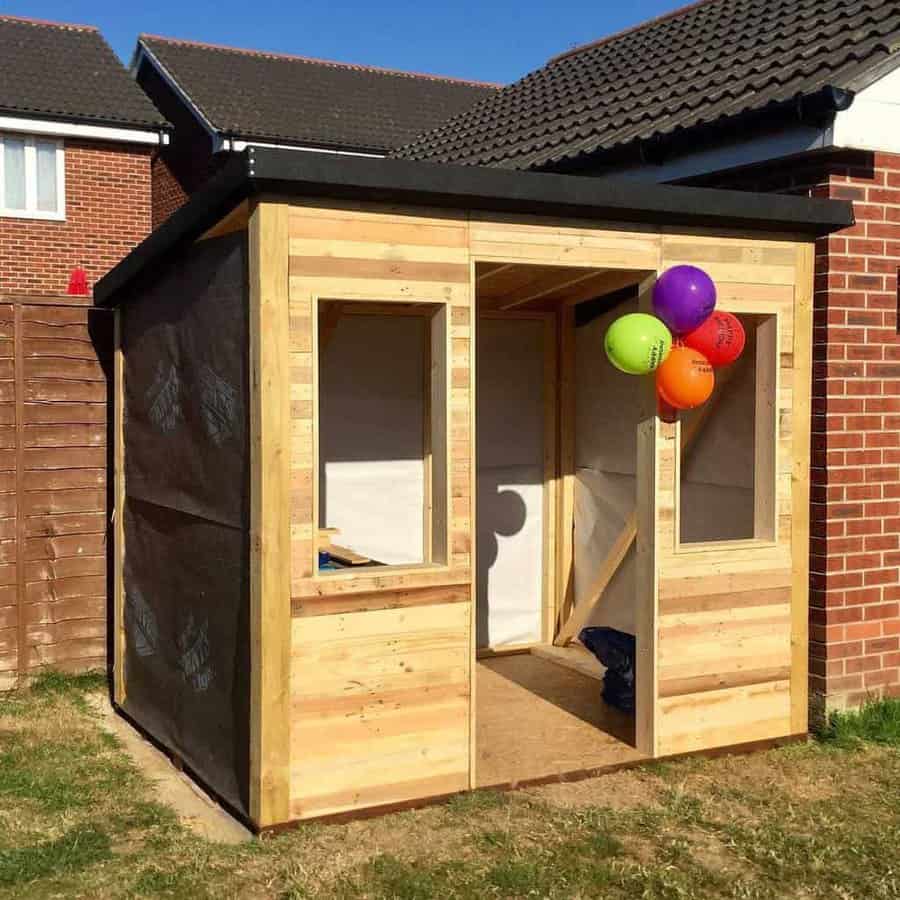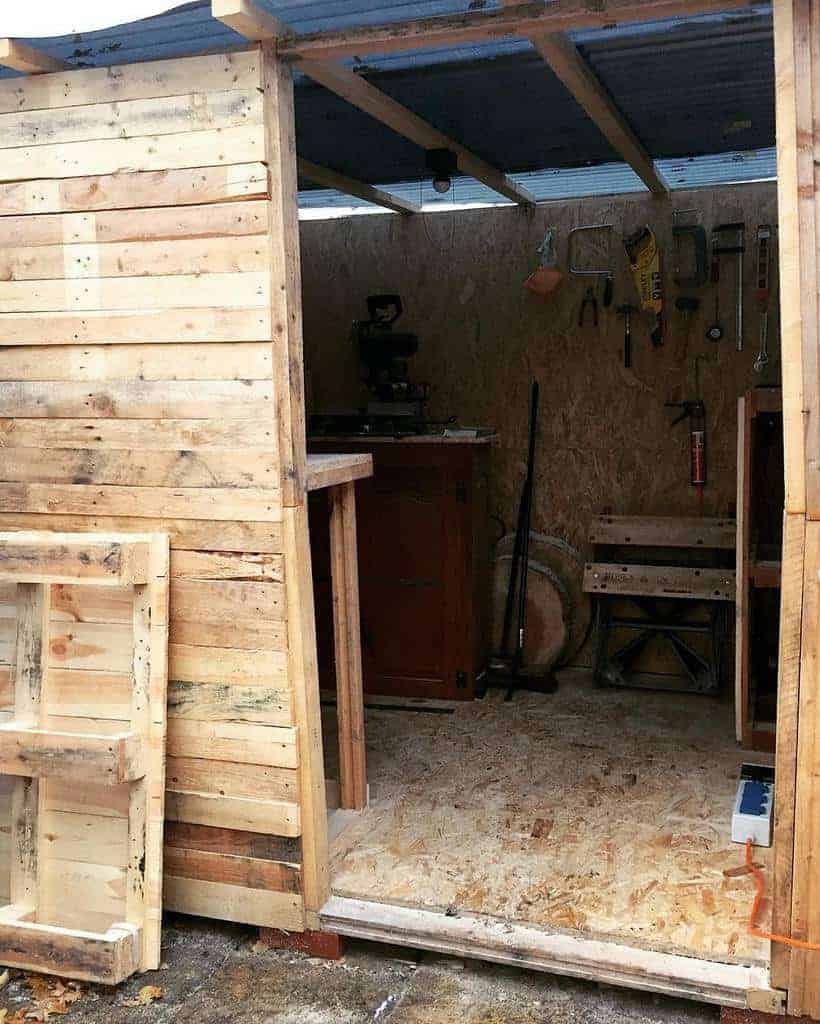 11. Categorize With Shelves
Finding a place to store all our extra stuff can be a challenge. However, with a shed, you create a specific area outside the house to store any extra items that you need quick access to. Utilizing add shelves in your shed can add even more versatility and help to keep everything organized and neat.
Categorize your items and add labels so that it is easy to find what you are looking for in an instant! Who knows, you may even find long-lost treasures during your reorganization! Shed storage is a great way to maximize the available space in your backyard while also organizing it into an efficient system.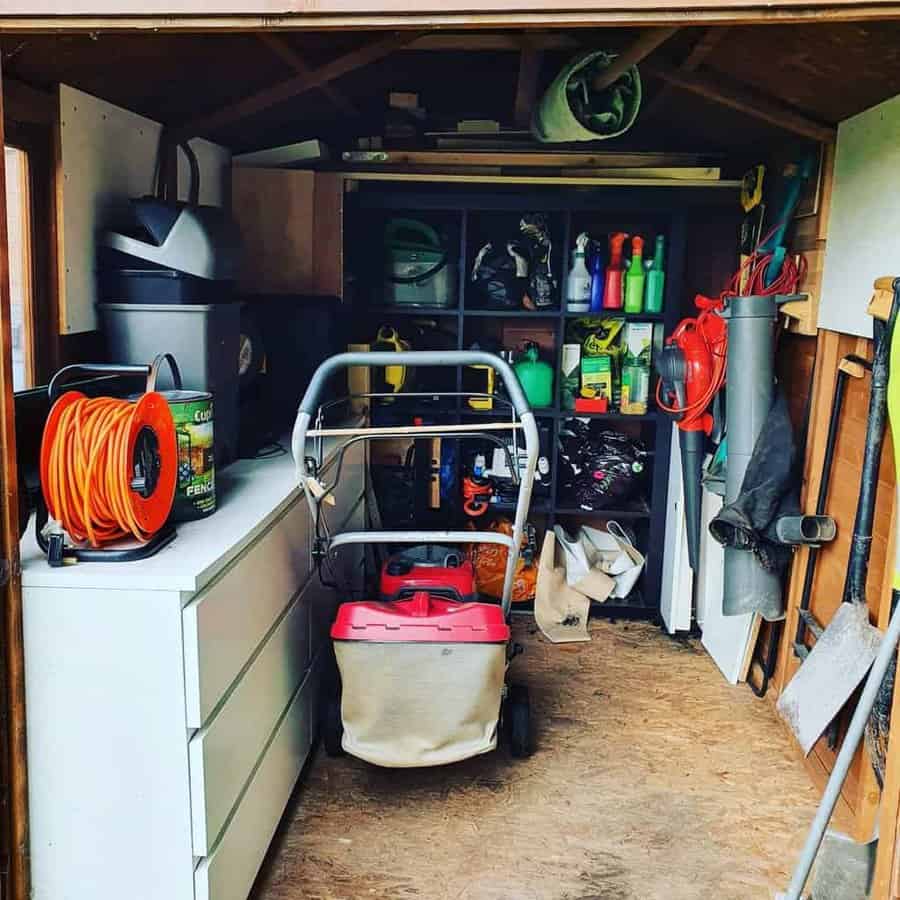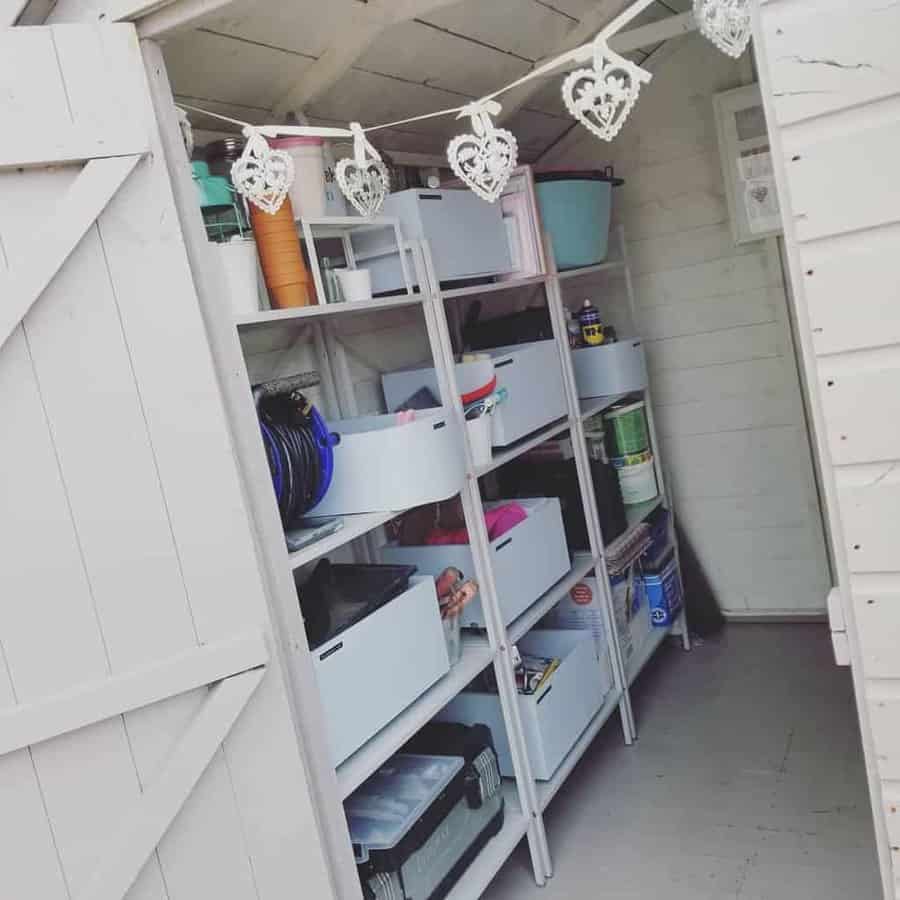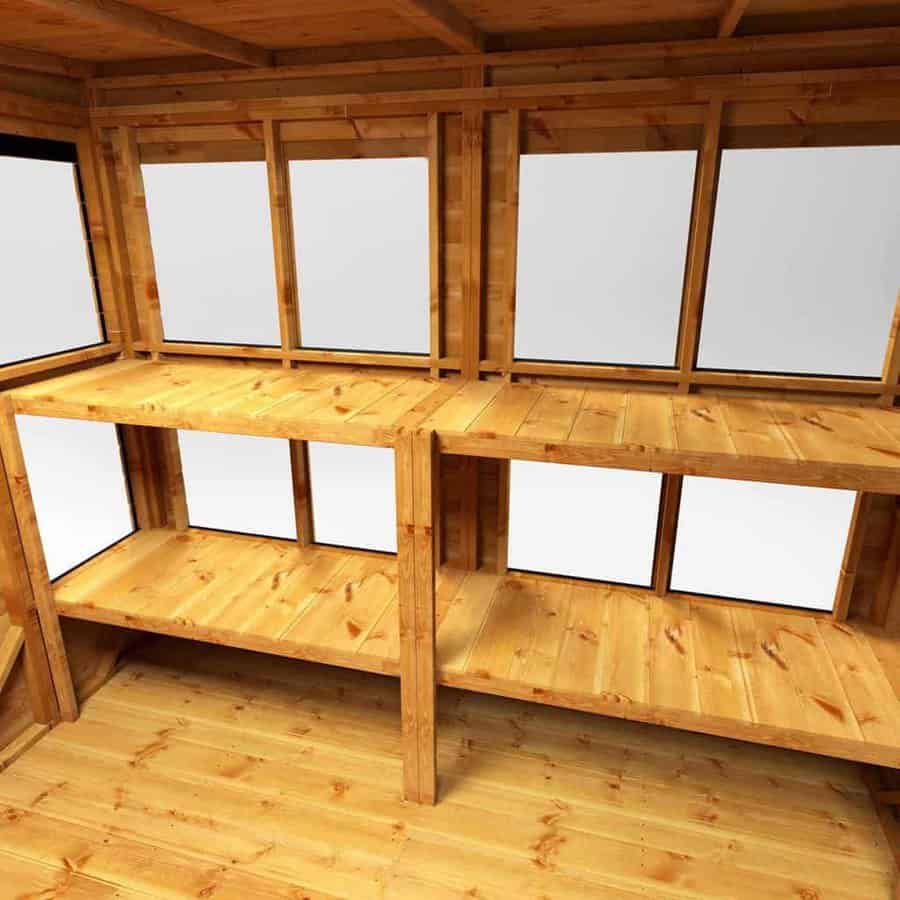 12. Add A Hook Rack For Garden Tools
Many shed owners run out of space to keep their garden tools, making it hard to find what you need when the time comes. To combat this issue, why not get creative with shed storage? An ingenious shed organization solution is setting up a shed with a hook rack that hangs on the wall, keeping all your garden tools tight and accessible – not to mention dry in inclement weather.
Who would have thought shed space could be this easily maximized? With the right shed storage system in place, you can enjoy easy access to the implements needed for any project and free up precious real estate in your shed.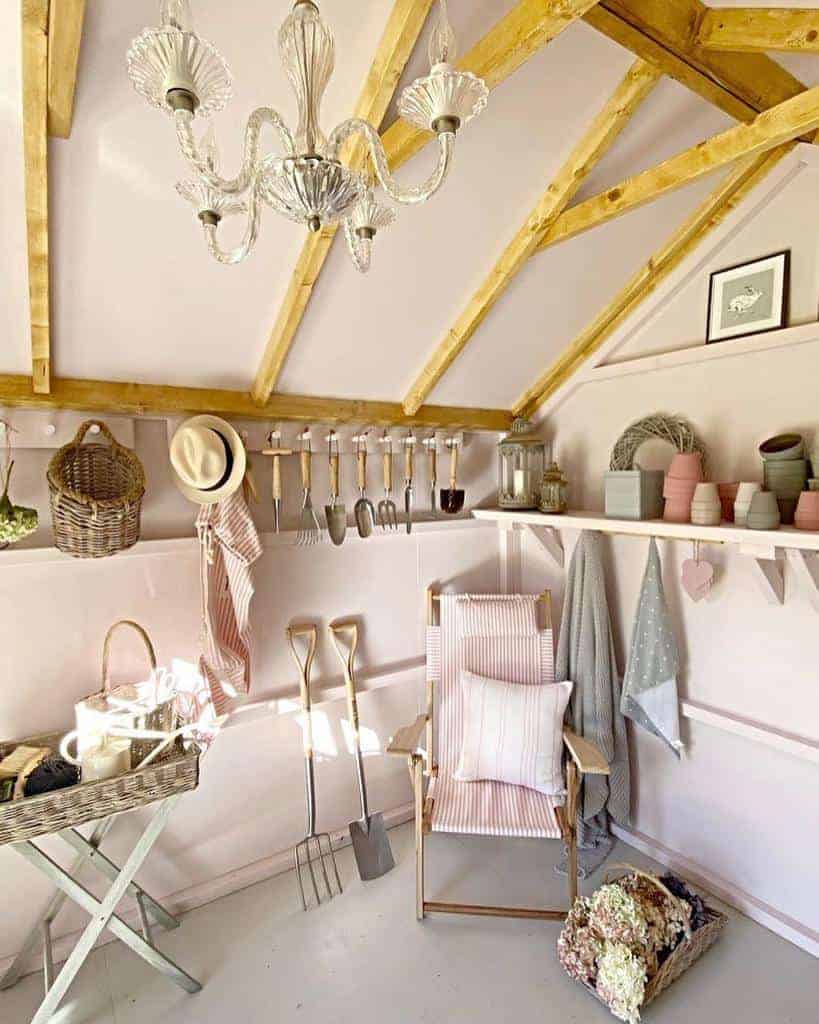 13. Install A Shed Work Desk With Shelves
Shed storage needn't be limited to garden tools and outdoor furniture – why not create a work desk with shelves attached? This way, you'll have a convenient work area that doubles as a storage space for various items. You'll no longer have to go back and forth in search of the papers you need at work.
Dedicate the bottom shelf to work files, while the top one can store any other items that need organizing. With a work desk with shelves, your shed will be transformed into an effective workspace and multi-purpose storage area.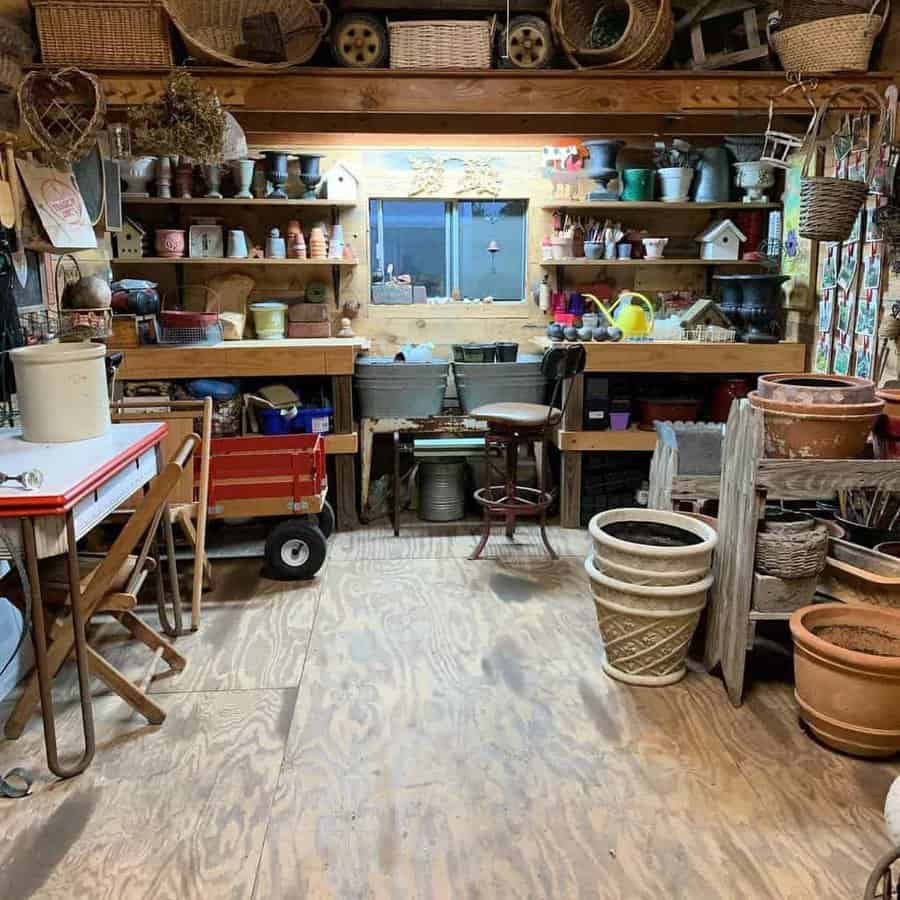 14. Organize With Repurposed Crates & Cans
Creating more storage in your shed doesn't require a complete overhaul. Just think outside of the box – or shelves, rather! With shelves made from repurposed cans and crates, you can store a wide range of items without taking up much space.
The shelves come with bonus accessories too – reuse old paint cans for planters or add chicken wire for hanging small tools. Your shed just got an instant upgrade!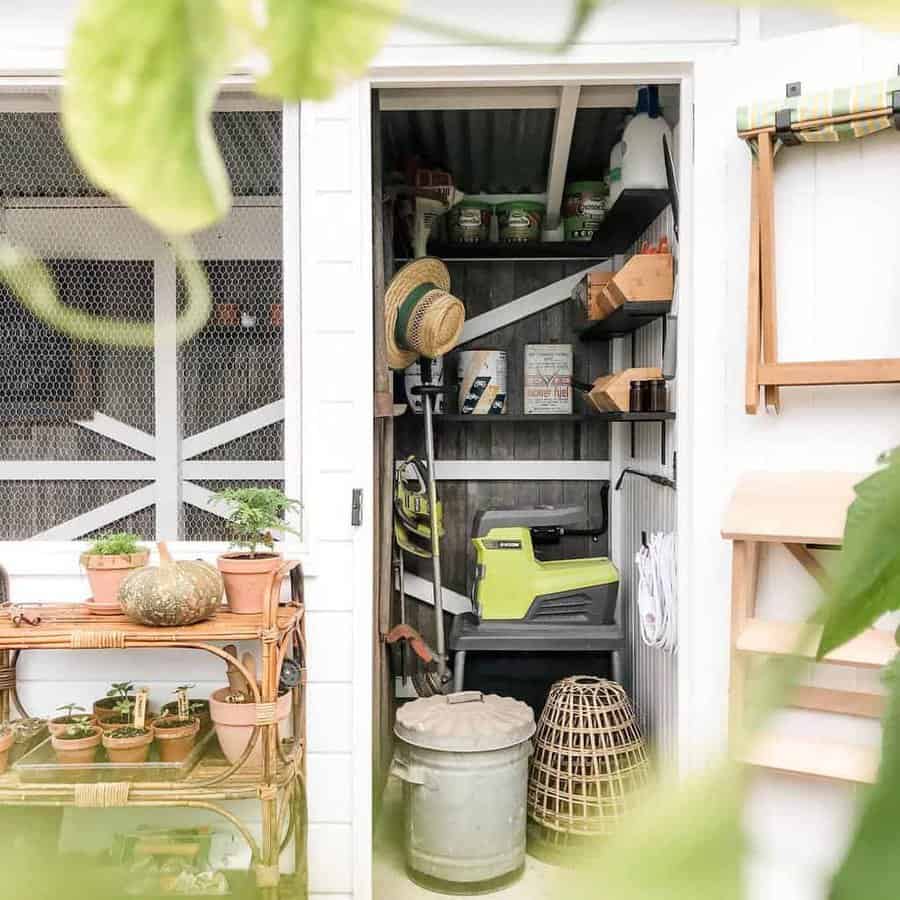 15. Cabinet Shed Storage For A Low-Cost Option
A cabinet shed storage option is a great, low-cost way to get the most out of limited space in a small shed. You can arrange to shelve or hang cabinets to fit the items you need to store while maintaining an organized look. Everything's in one place and easier to access, too!
With cabinet shed storage, you don't have to sacrifice style for function either – cabinet drawers come in all kinds of materials, colors, and shapes so you can find something that complements your home and maximizes storage potential.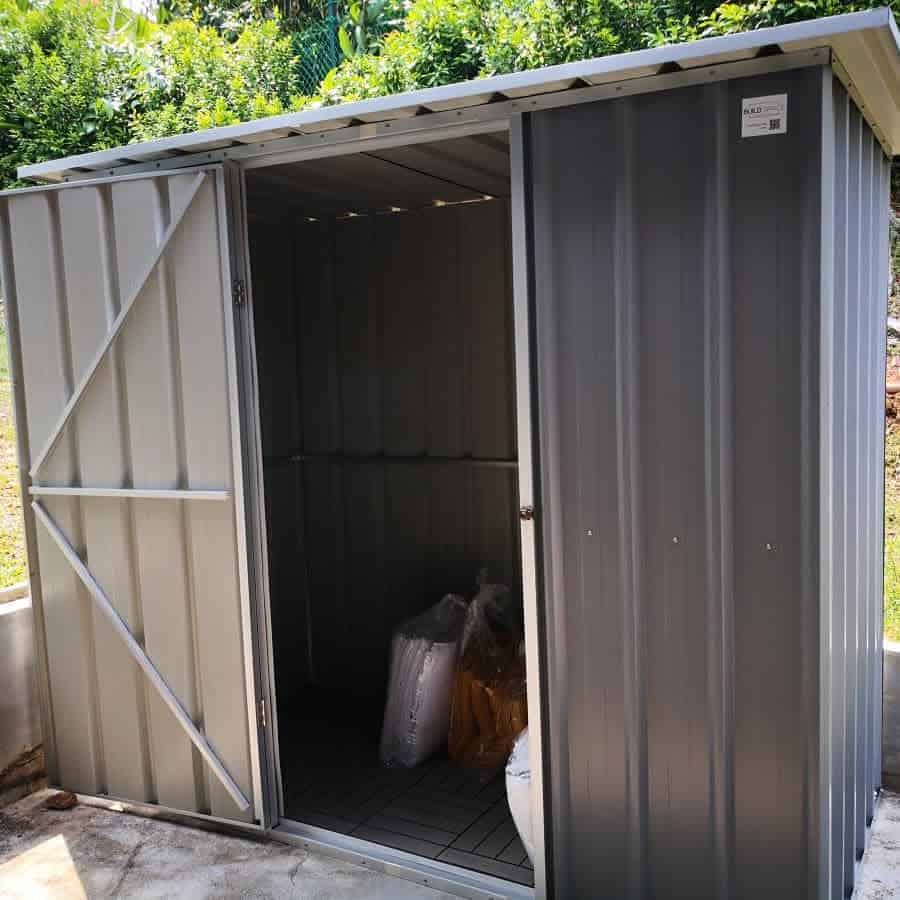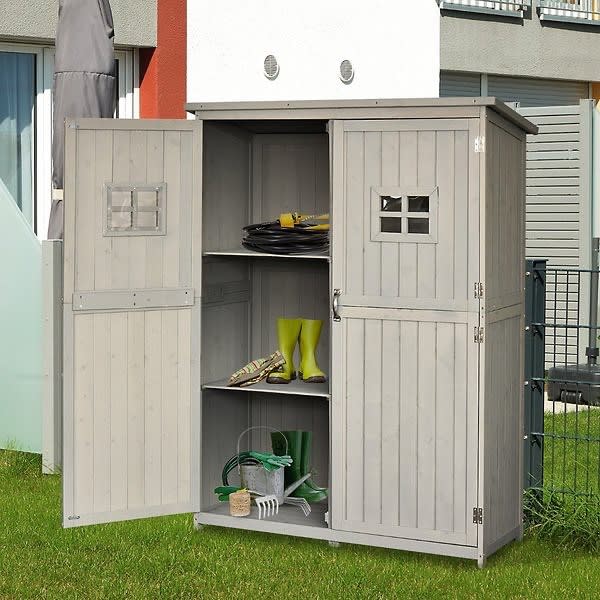 16. Install Double Doors
Shed storage with double doors makes the most sense if you have plenty of items to store away in an out-of-sight area. Not only does shed storage with double doors offer extra security, but it also makes it easier for you to quickly find what you are looking for when you need it.
No matter what type of shed storage solution you decide on, it's clear that shed storage is a great addition for any home or business looking to keep things neat and tidy while having easy access to all their stored items.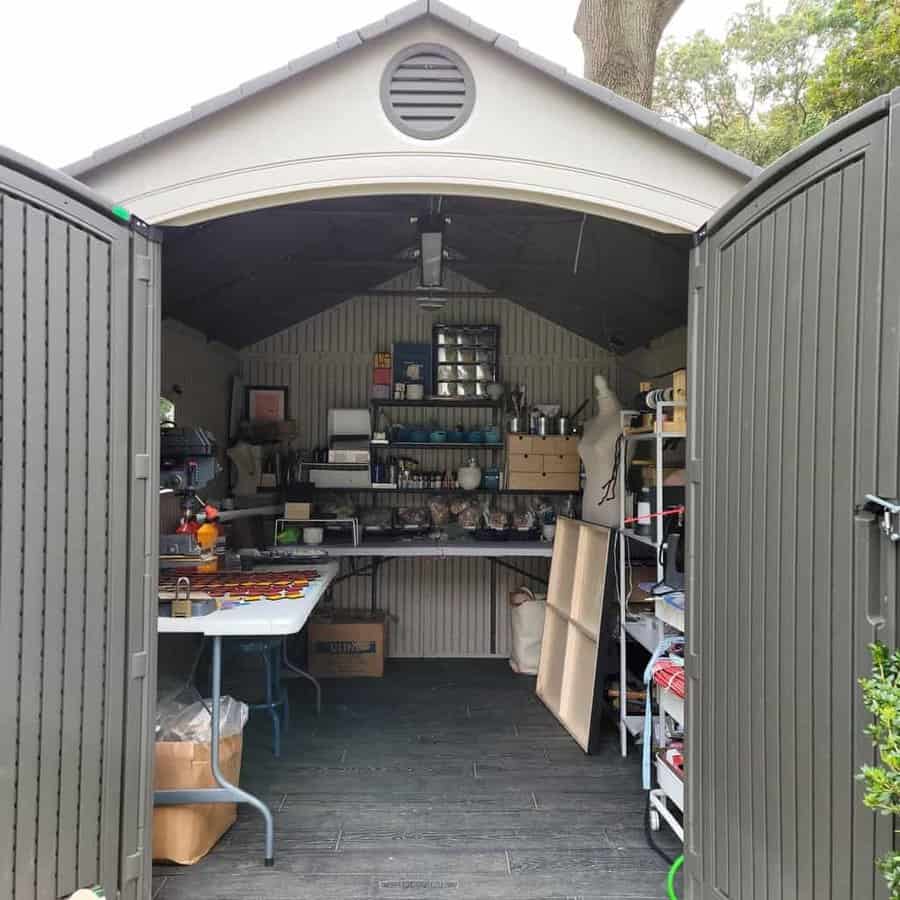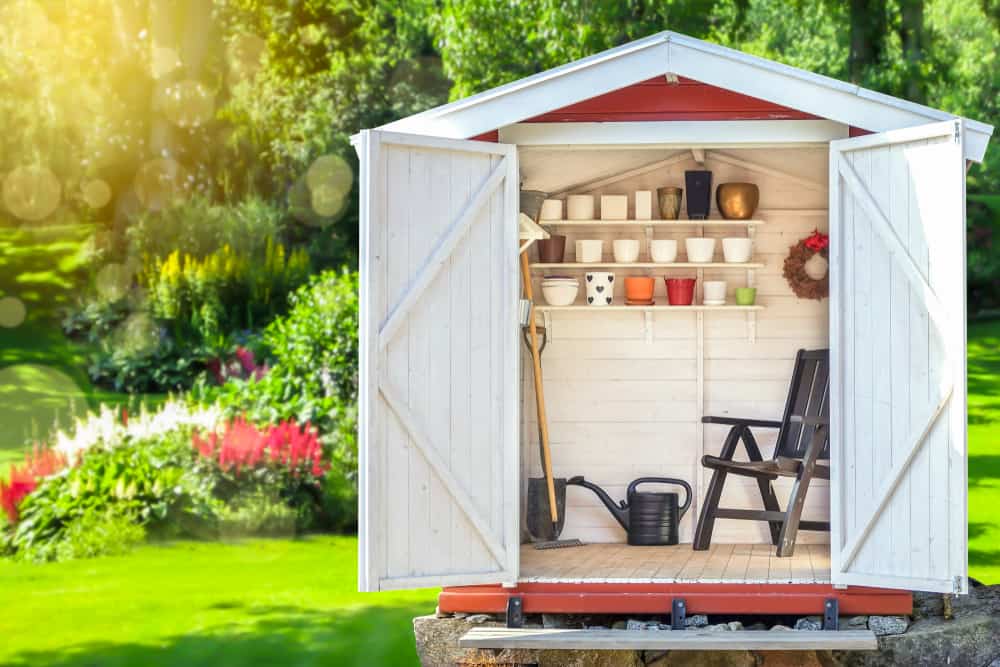 17. Compartmentalize Tool Storage With Panels
Sheds can be the perfect tool for maximizing storage space, especially for those with limited room. With some creative organization and wall-mounted tools, create wall storage sections with wood panels to set up a compartmentalized vertical arrangement of items. It's the perfect way to create an orderly and easily accessible storage system while utilizing space that you didn't know you had!
Whether it's rakes, shovels, or even garden hoses, create a solution that works best for your needs and budget. The possibilities are endless – seize the opportunity to create your dream organization with shed storage today!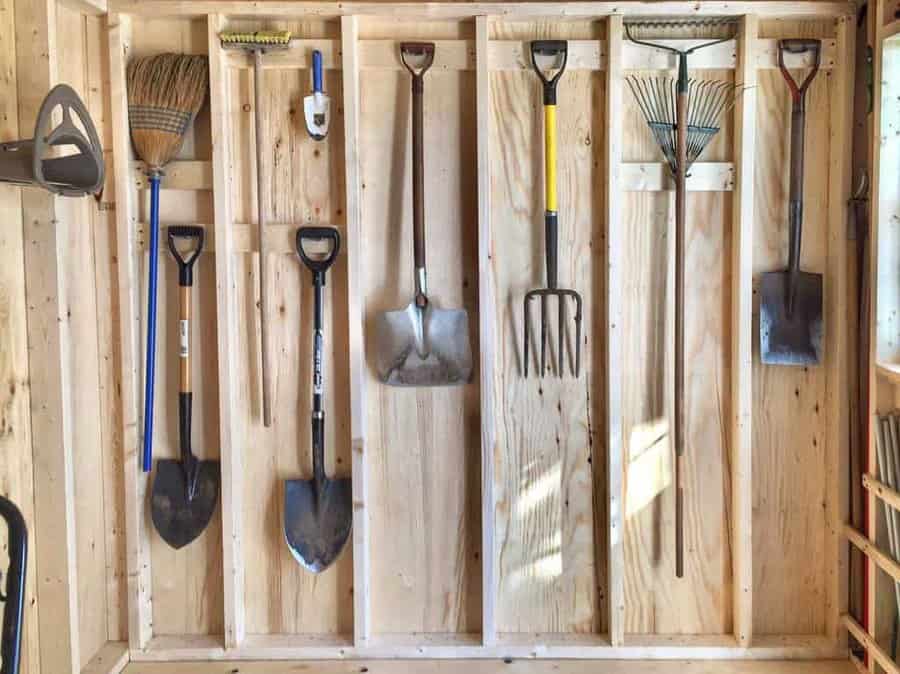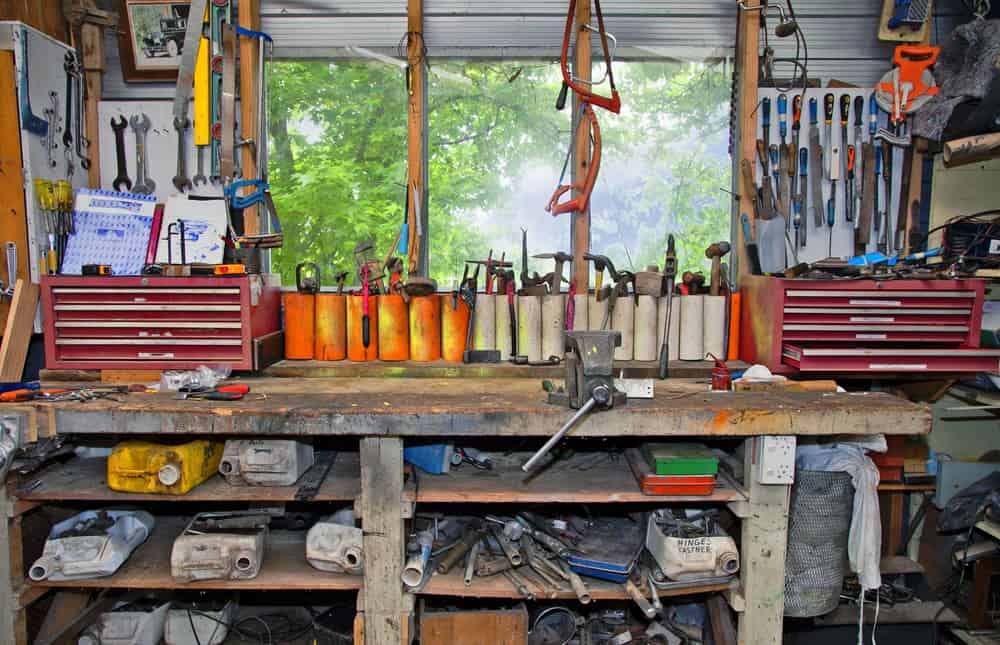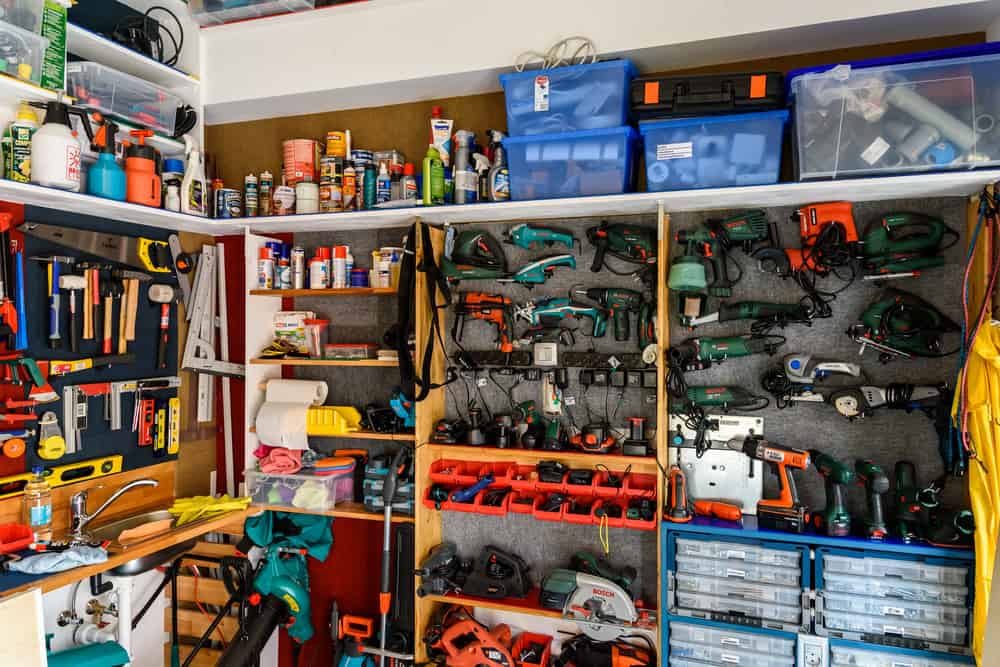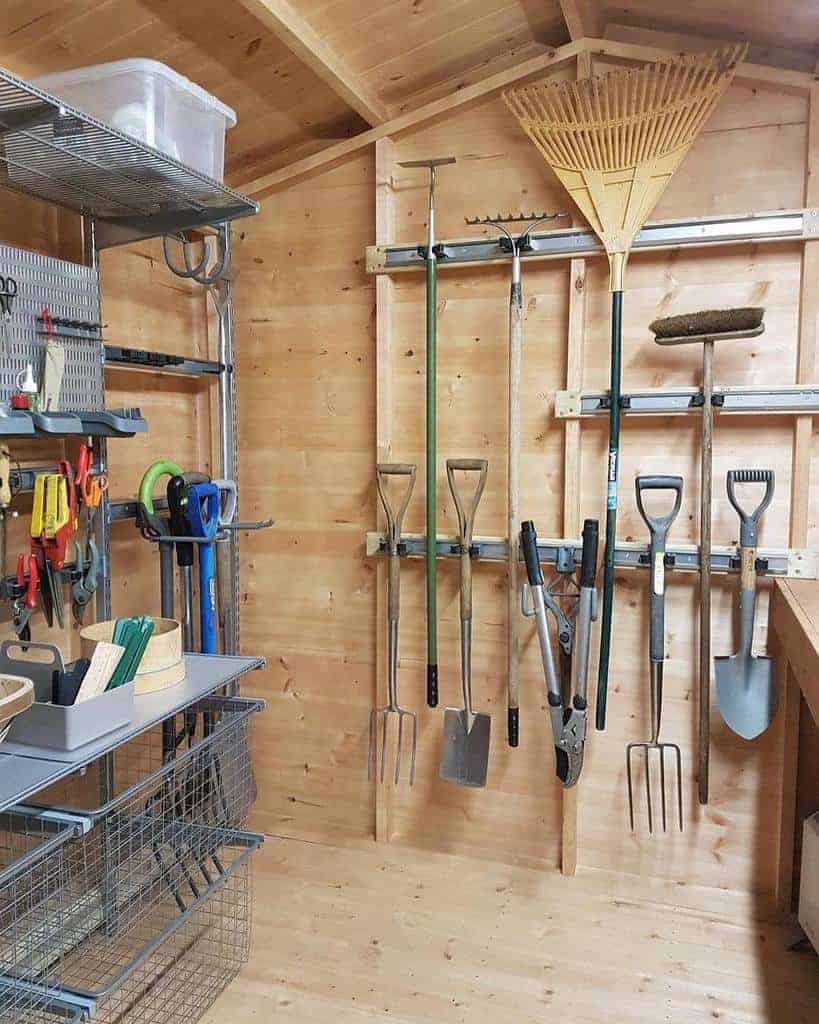 Shed Storage FAQs
How do I maximize my shed storage?
Look for ways to organize your shed better to maximize the space that you have available. Add adjustable shelving to the walls that you can customize to fit your changing storage needs. A pegboard is also useful because you can use it to hang and organize a wide variety of tools and bits.
What should you not store in a shed?
Don't keep anything in your shed that's delicate. Documents, jewelry, money, clothing, musical instruments, and food should not be kept in your shed. These are all items that will degrade with exposure to the changing temperatures, bugs and insects, and dirt. You also shouldn't store anything that's flammable, as this creates a risk of your shed lighting on fire.
How do you insulate a shed?
The simplest way to insulate a shed is by mounting an insulation board on the existing walls. Seal the gaps between the boards with a good sealant to prevent drafts. For more extensive insulation, use sheets of insulating batting that you unroll and place between the studs. Then cover with drywall or concrete board. This is thicker but is more effective.