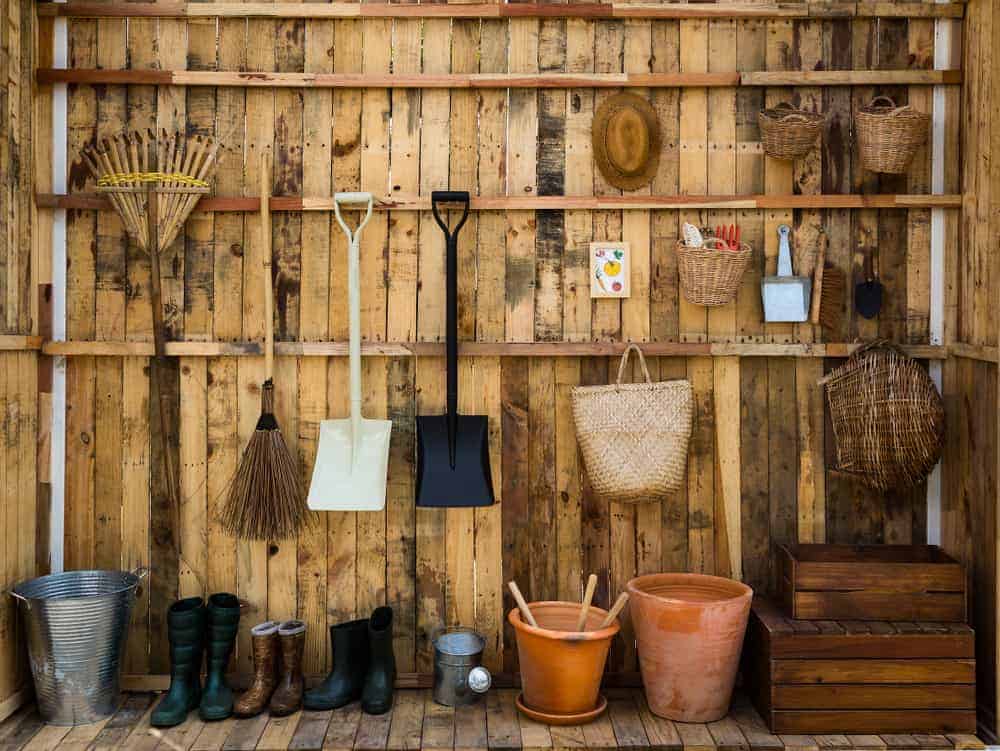 50 Shed Storage Ideas for Better Organization
by — Andra DelMonico

Published on February 8, 2021

Updated on October 16, 2023
Your garage has limited storage space, and you're quickly running out. You could keep your car outside, but that isn't ideal. You need to develop a better storage solution for your tools and garden equipment that doesn't require you to kick your car out. What you need is a shed.
This backyard storage solution gives you an additional workspace that can house all of your tools, yard care, and gardening supplies. Even if you aren't the handyman or green thumb type, having a shed can give you the additional storage space that your home or garage lacks.
These shed storage ideas will get you inspired to build your own work shed in your backyard.
1. Organize Bicycles in Mini Garage
Finding the right storage solution for your bicycles is essential, especially if you want to protect them from the elements and free up space in your garage. A bicycle shed serves as a miniature garage for bike enthusiasts, keeping your bicycles safe from rain, snow, and sun.
Moreover, some bicycle sheds are spacious enough to accommodate tools, equipment, and repair items, ensuring that your gear is always ready for use and maintenance is a breeze. Whether you're on the go or need convenient bike storage at home, bicycle shed storage provides a unique solution for keeping your bicycles organized and well-maintained.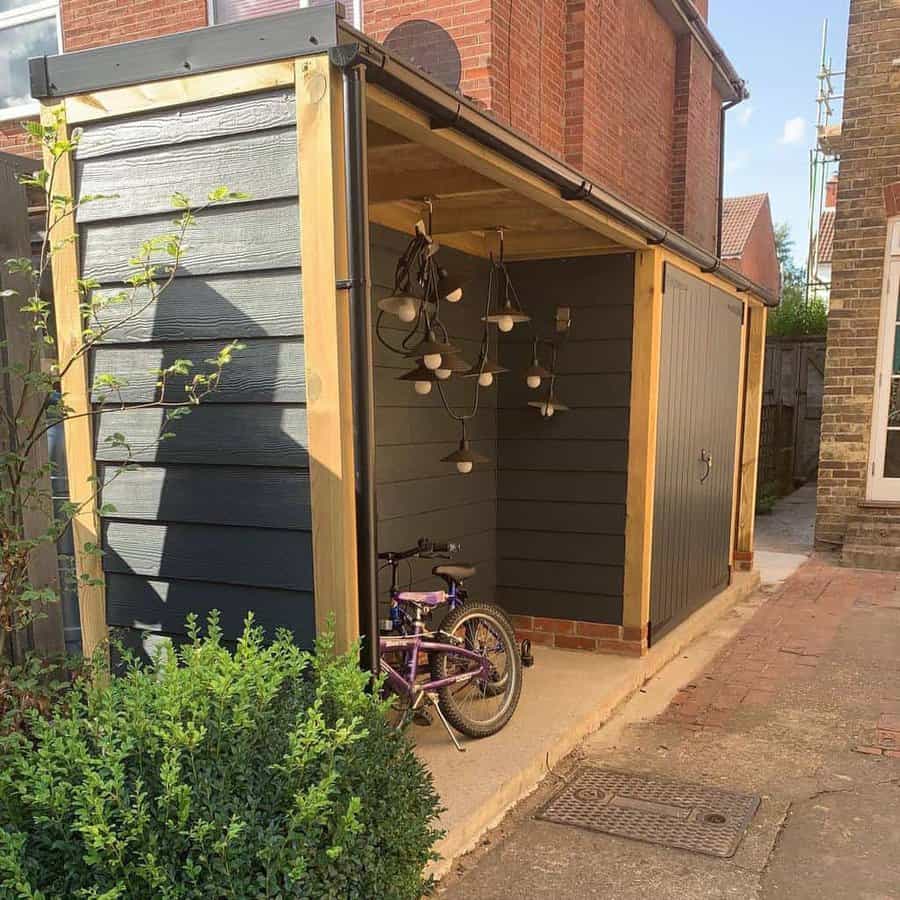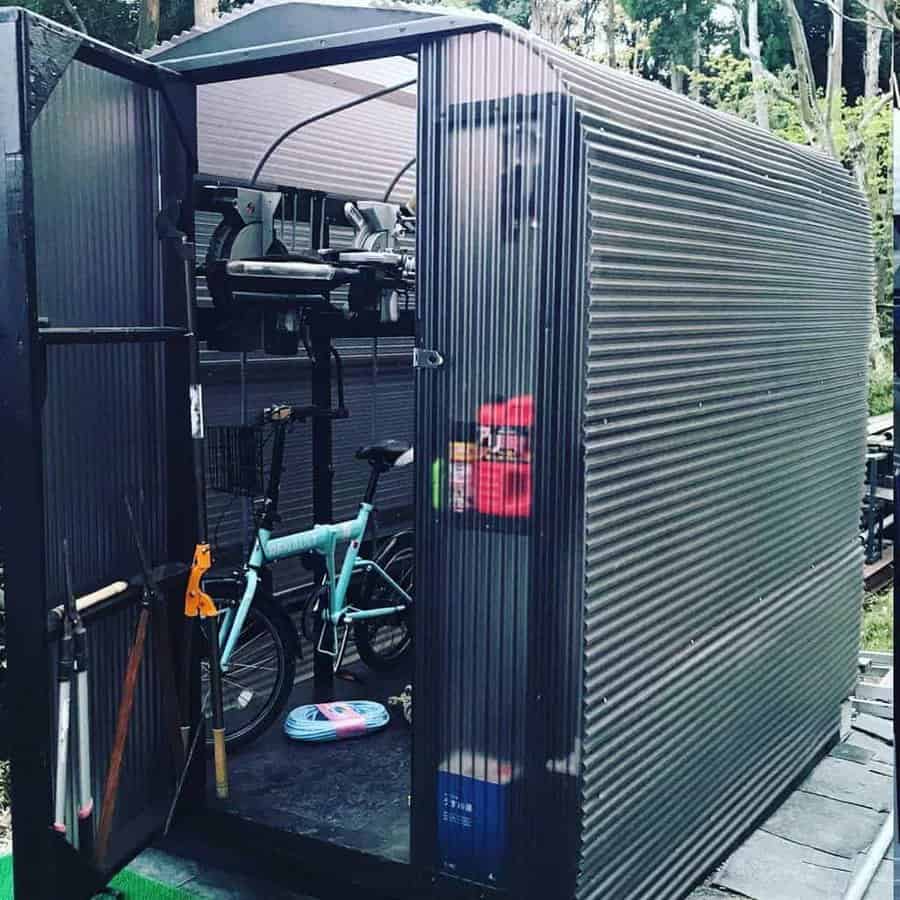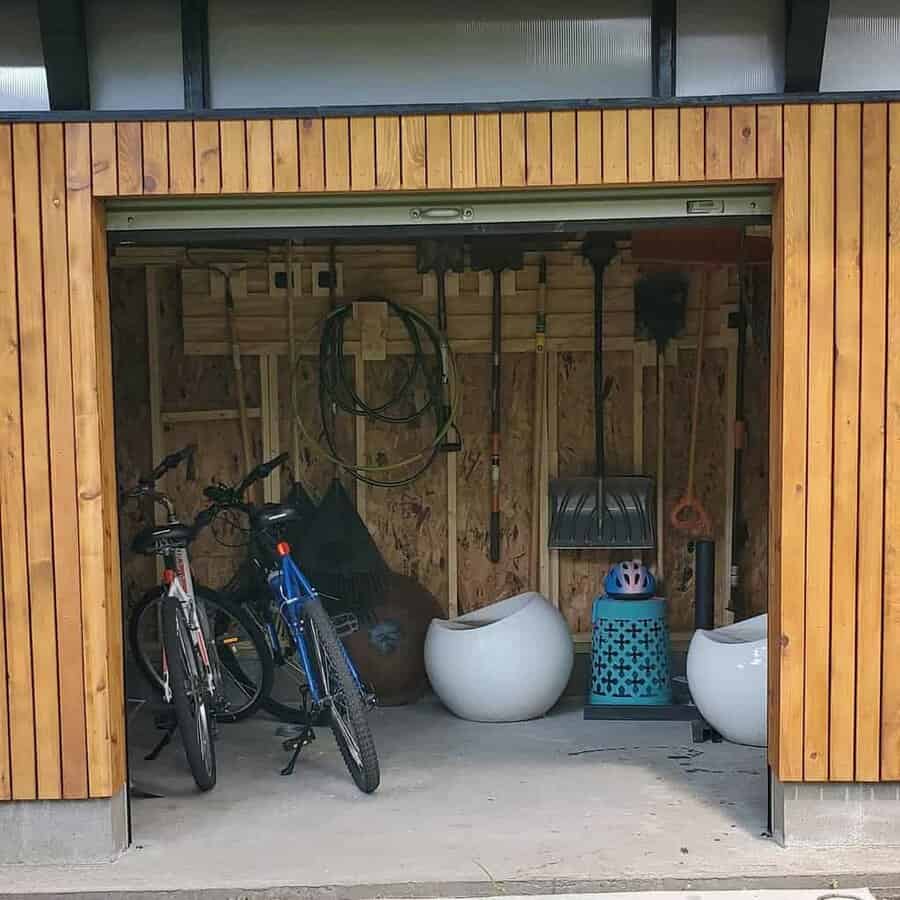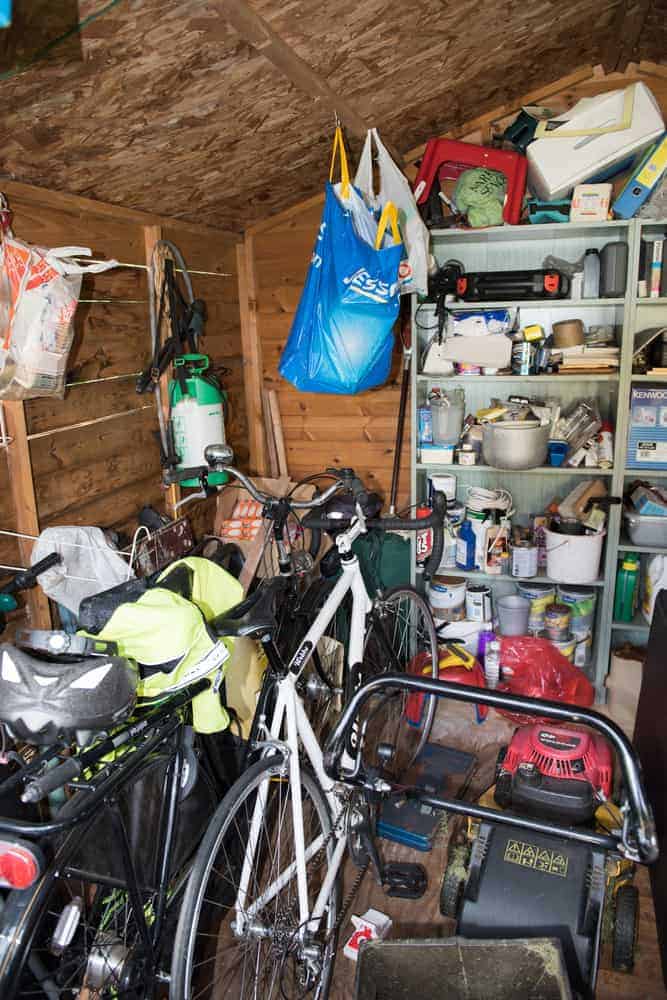 2. Wall-Mount Storage: Maximize Space
Bringing order to your shed and reclaiming valuable space is immensely satisfying, and wall-mounted shed storage is your ticket to achieving just that. Through clever organization, you can convert your shed into an organized and efficient workspace, no matter if it's for gardening, sports equipment, or DIY materials.
The beauty of wall-mounted storage lies in its versatility, offering solutions like hooks, shelves, baskets, and bins to cater to your specific needs. By using your creativity, you can transform your shed into a space that fosters both productivity and inspiration, while keeping clutter at bay.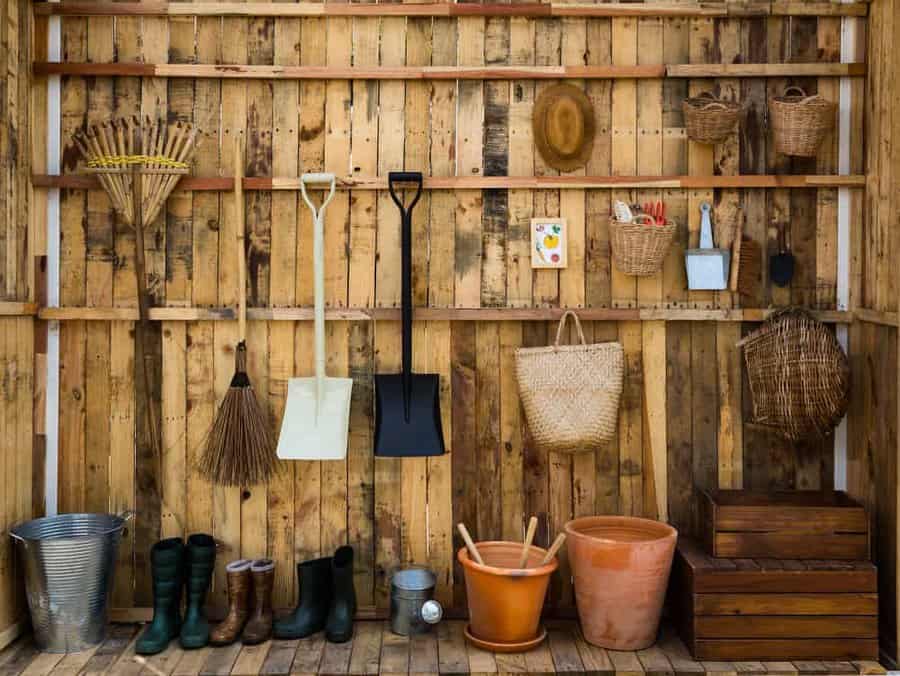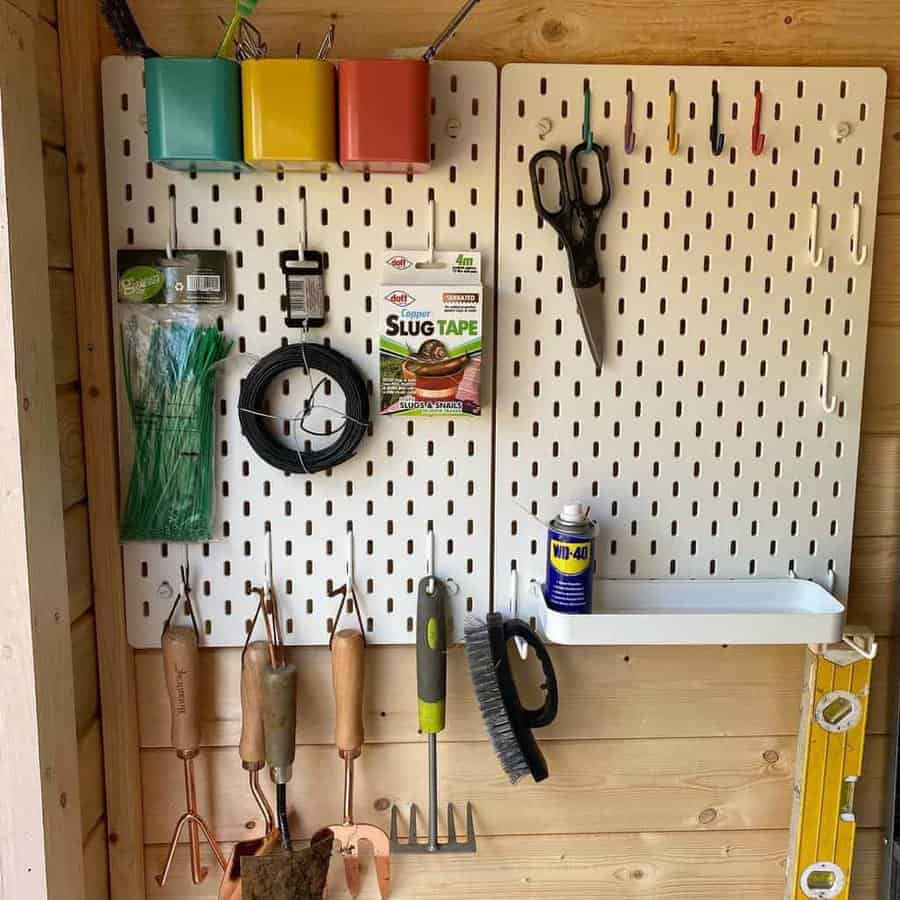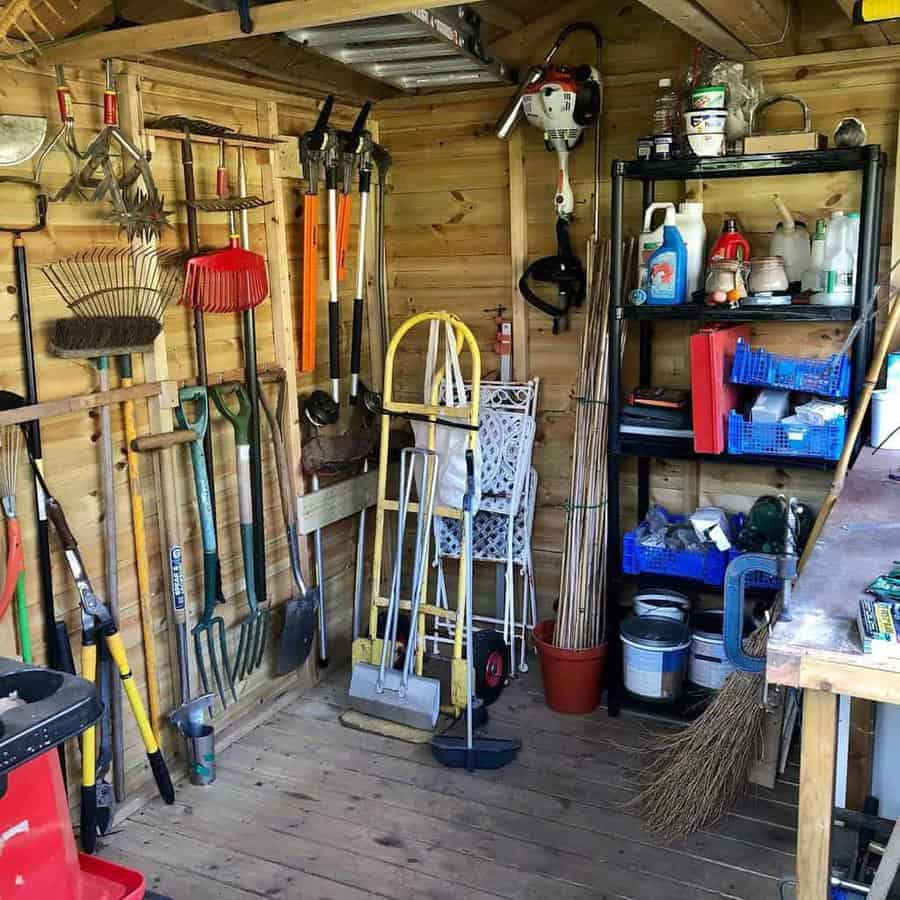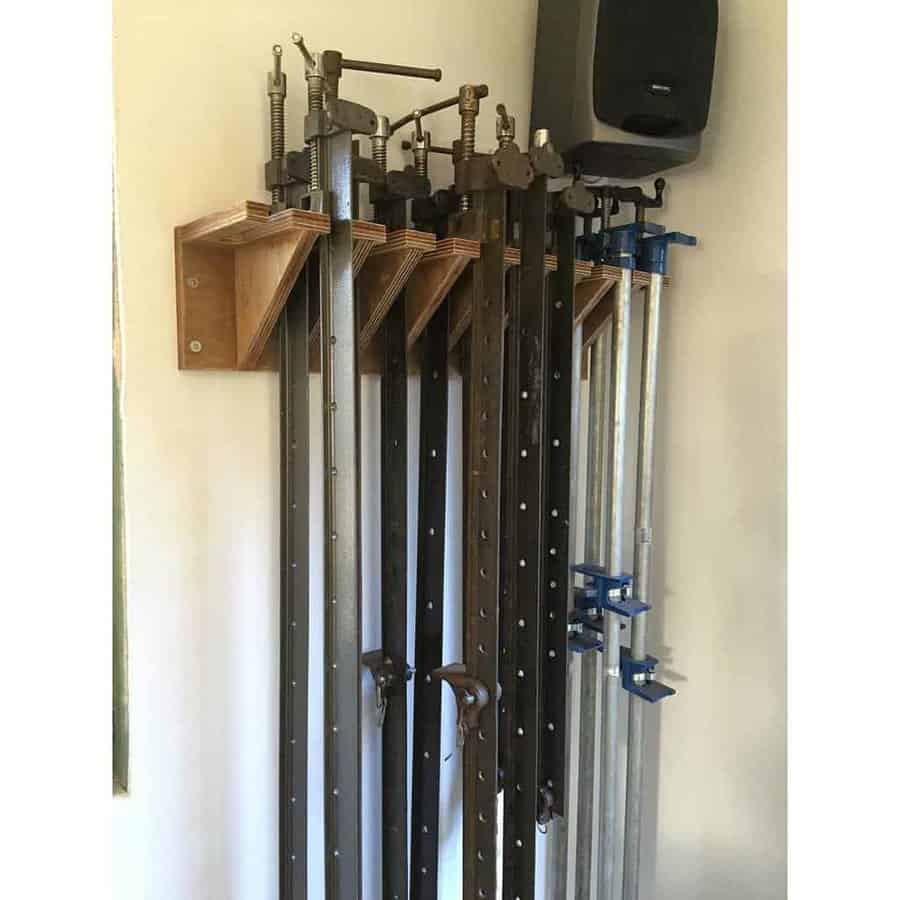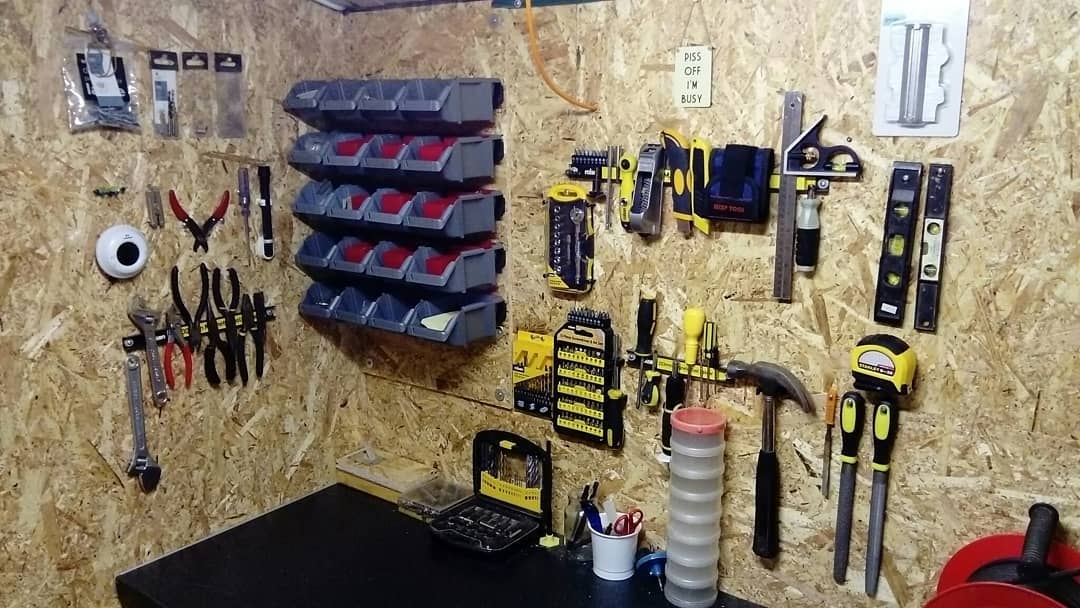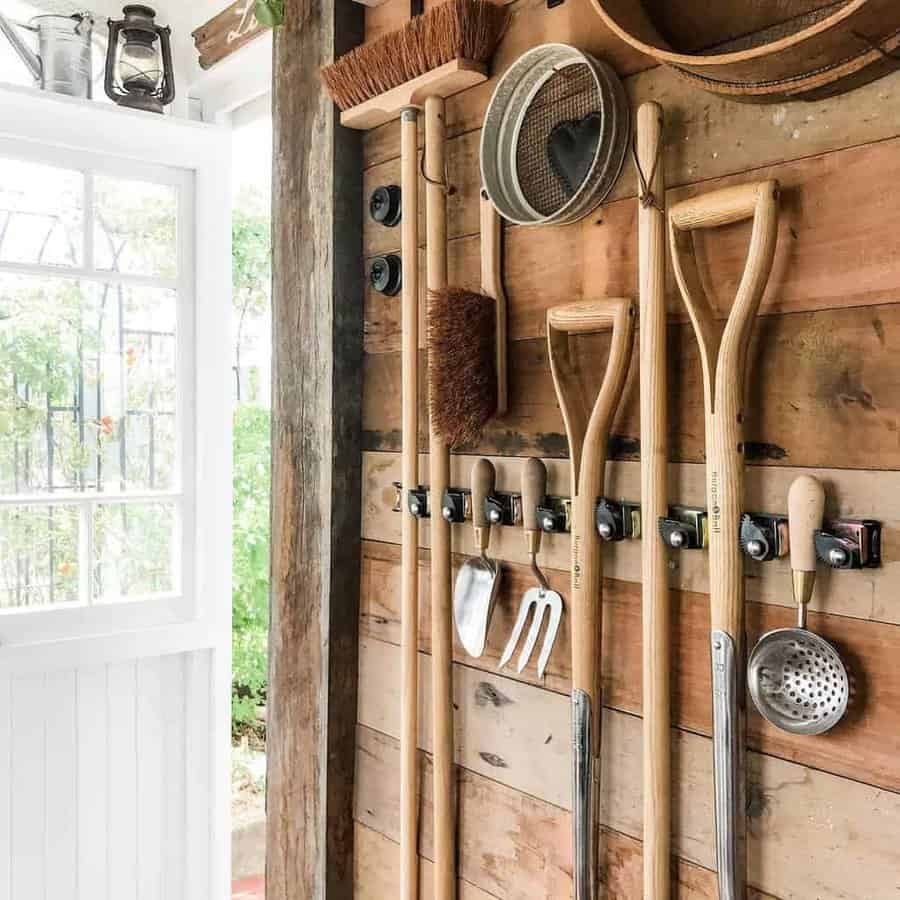 3. Weatherproof Shed for Delicate Decor
For those cherished but weather-sensitive home decorations, consider an enclosed dark shed as the ultimate storage solution. This type of shed effectively shields your items from both light and rain, ensuring their safety until they're needed once more. Whether it's furniture, holiday lights, or valuable art pieces, enclosed sheds offer the ideal environment for preserving your treasured possessions.
Say goodbye to concerns about exposure to the elements, as enclosed shed storage provides a straightforward yet highly effective means to protect your valuable belongings. To complement this setup, consider using moisture-absorbing materials or climate-controlled solutions to maintain the best conditions within the shed.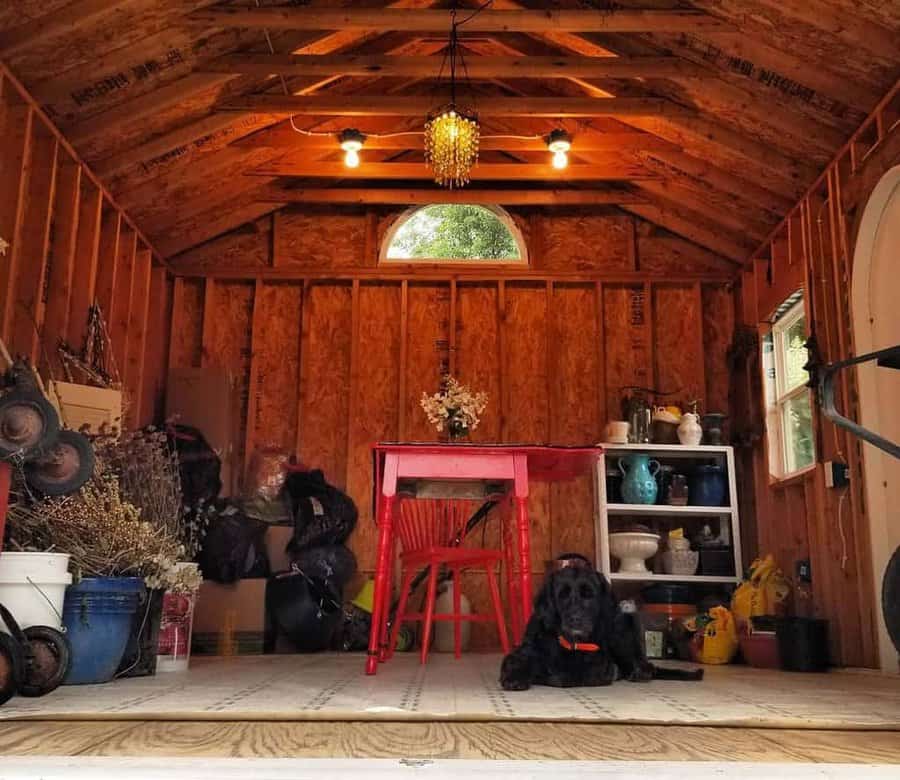 4. DIY Barn-Style Shed for Efficiency
If you're in need of storage for tools, backyard furniture, or seasonal decor, a barn-style shed is a classic and charming choice. With shiplap walls and rustic beams, it not only adds style but offers an efficient sanctuary for your outdoor belongings. Embrace the chic and organized look while ensuring your shed meets your storage needs.
When creating a DIY barn-style shed, consider using space-saving shelving and hooks to optimize the storage capacity. Don't forget to add a personal touch with creative lighting and a well-organized layout to enhance both the functionality and visual appeal of your shed.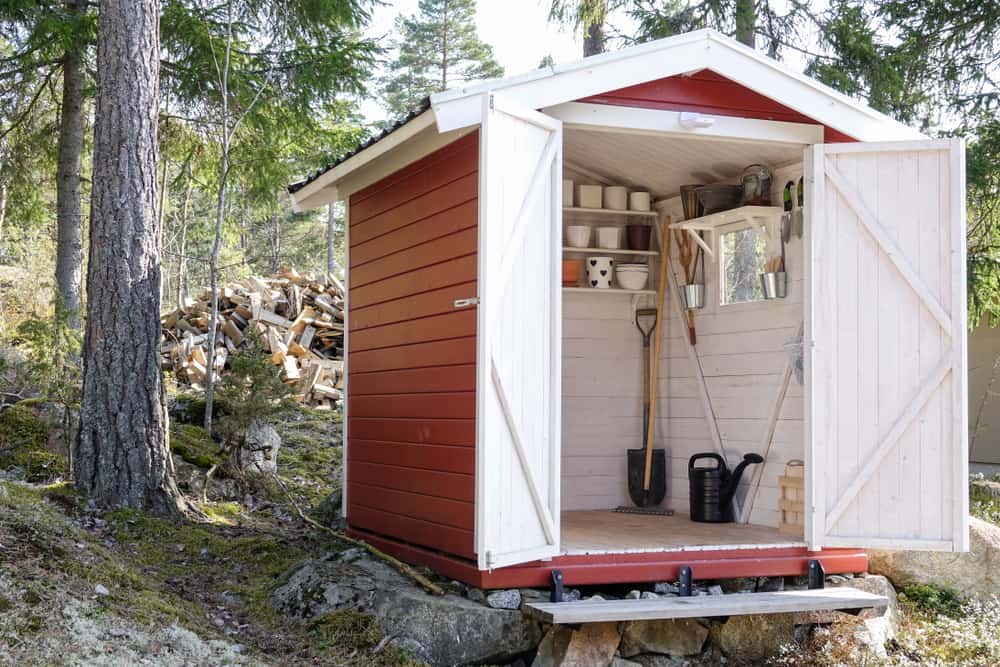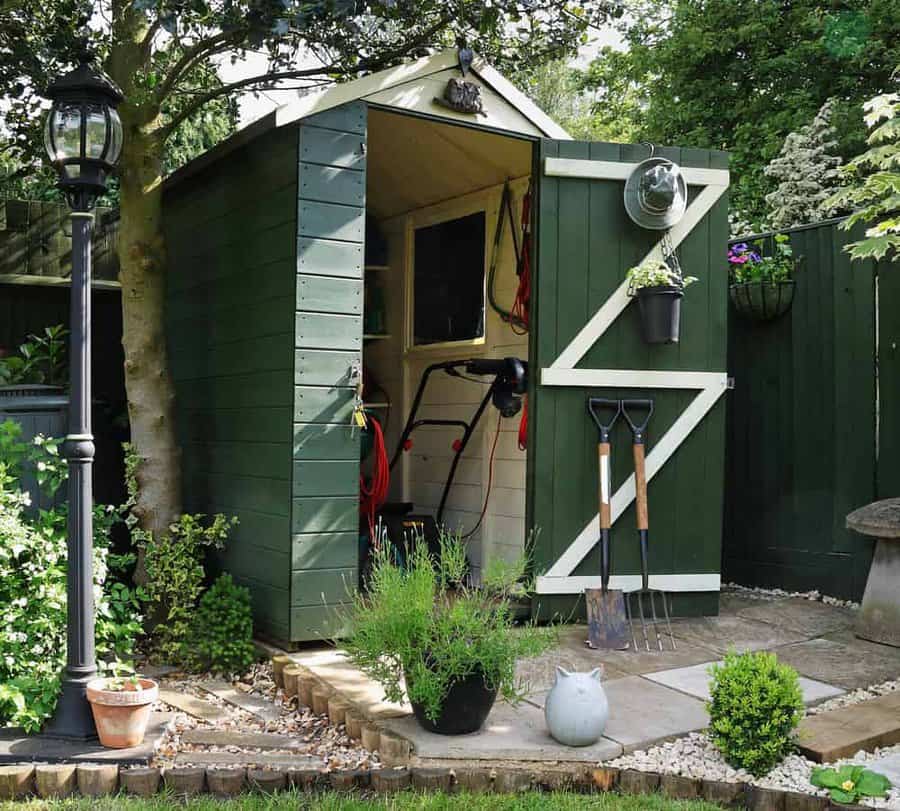 5. Outdoor Firewood Storage Solution
Creating an efficient and visually appealing outdoor firewood storage solution is a satisfying challenge. To maximize your space, organize your shed with designated areas for different types of wood, complete with clear labels for easy access.
Utilize your creativity in stacking firewood evenly; not only does it look great, but it also protects against pests, dirt, and mold. This article provides tips on how to achieve organized and beautiful outdoor wood storage effortlessly.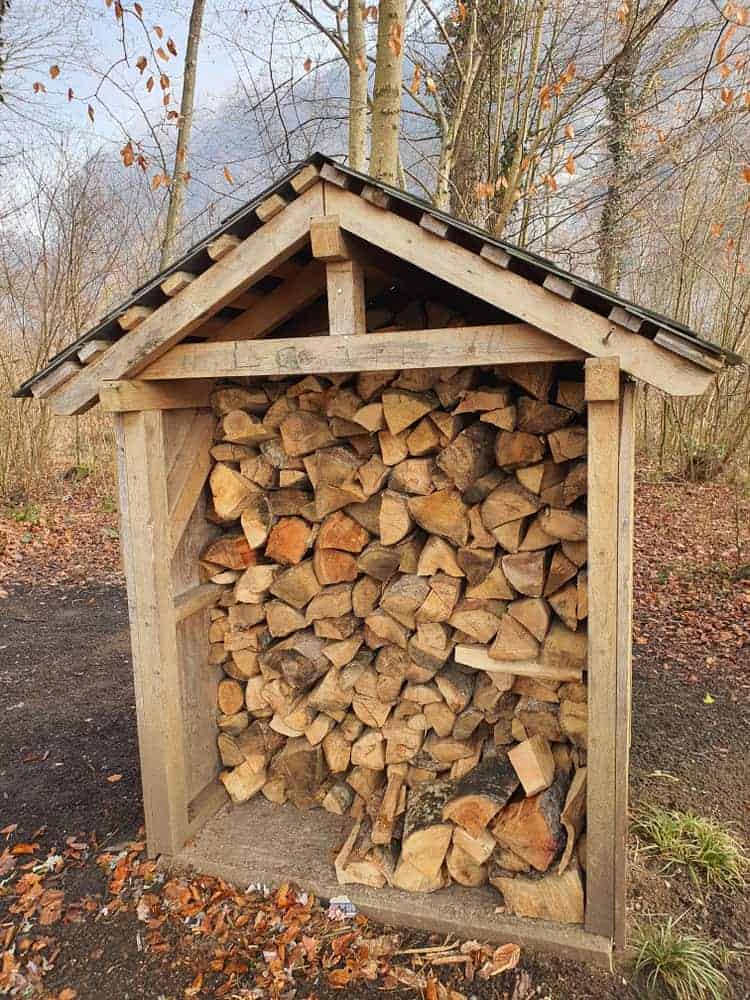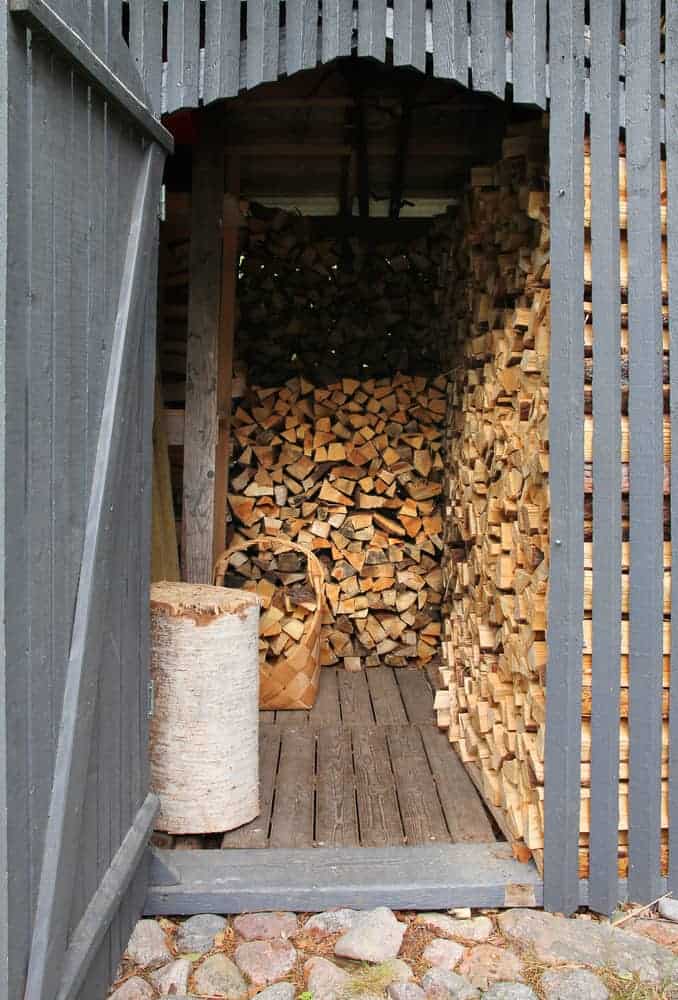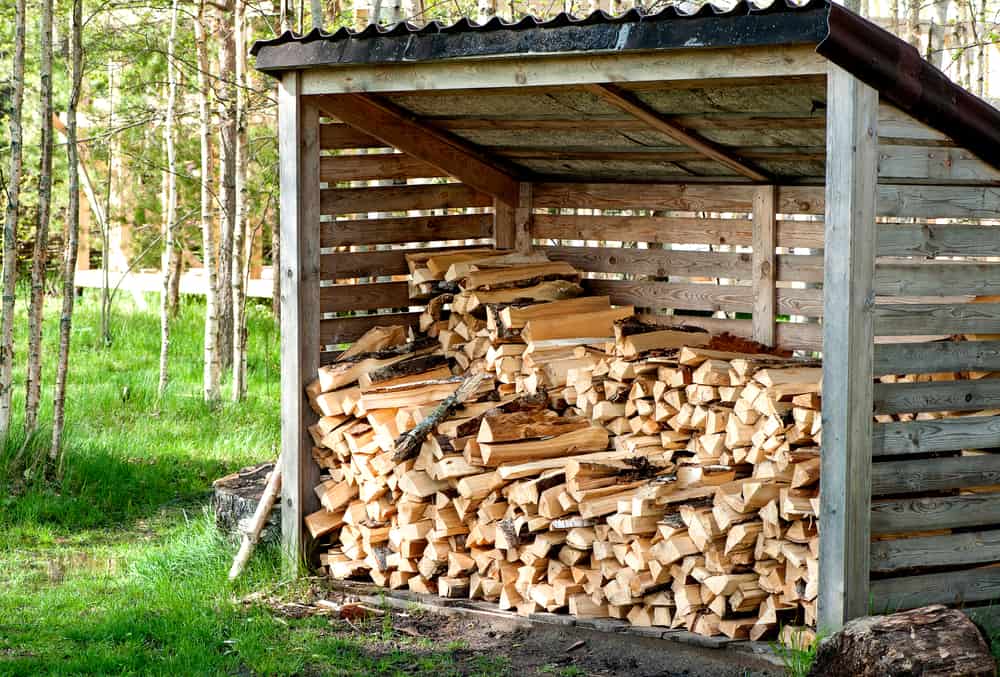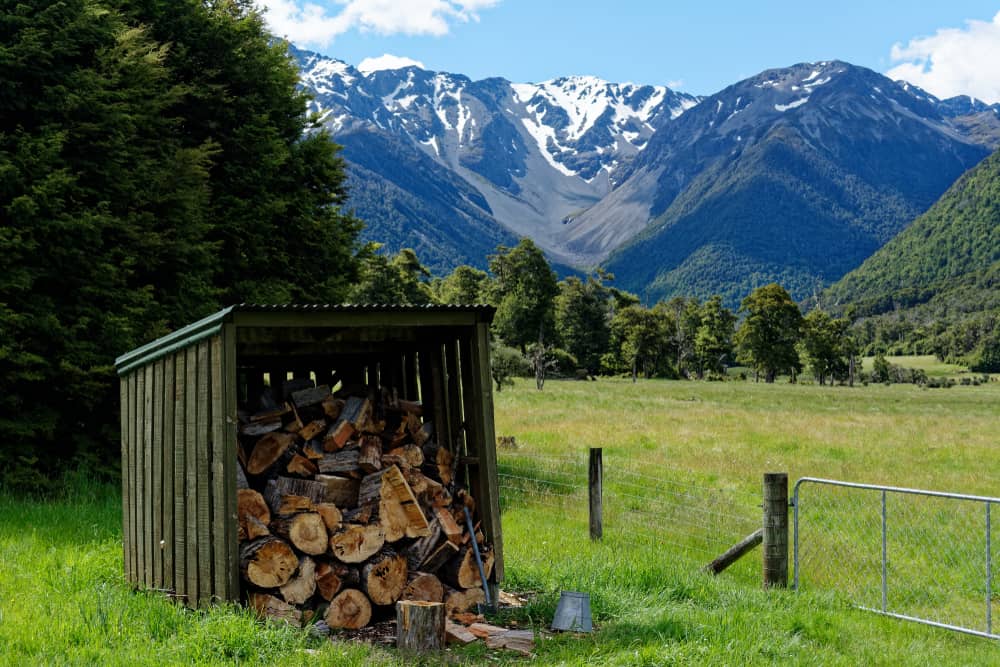 6. Metal Shelves: Sturdy Storage Solution
In the realm of shed organization, metal shelves are indispensable for securely storing heavy items and machinery. Utilize crates for versatile storage solutions, accommodating everything from outdoor tools and camping gear to seasonal decorations.
Maximize your space by placing small pallets beneath your metal shelves, offering additional room for larger, less-suited items like sporting equipment, oversized fabric bags, or lightweight metal cabinets. With a combination of metal shelves and crates, you can achieve a well-organized and practical storage system to meet all your shed's needs.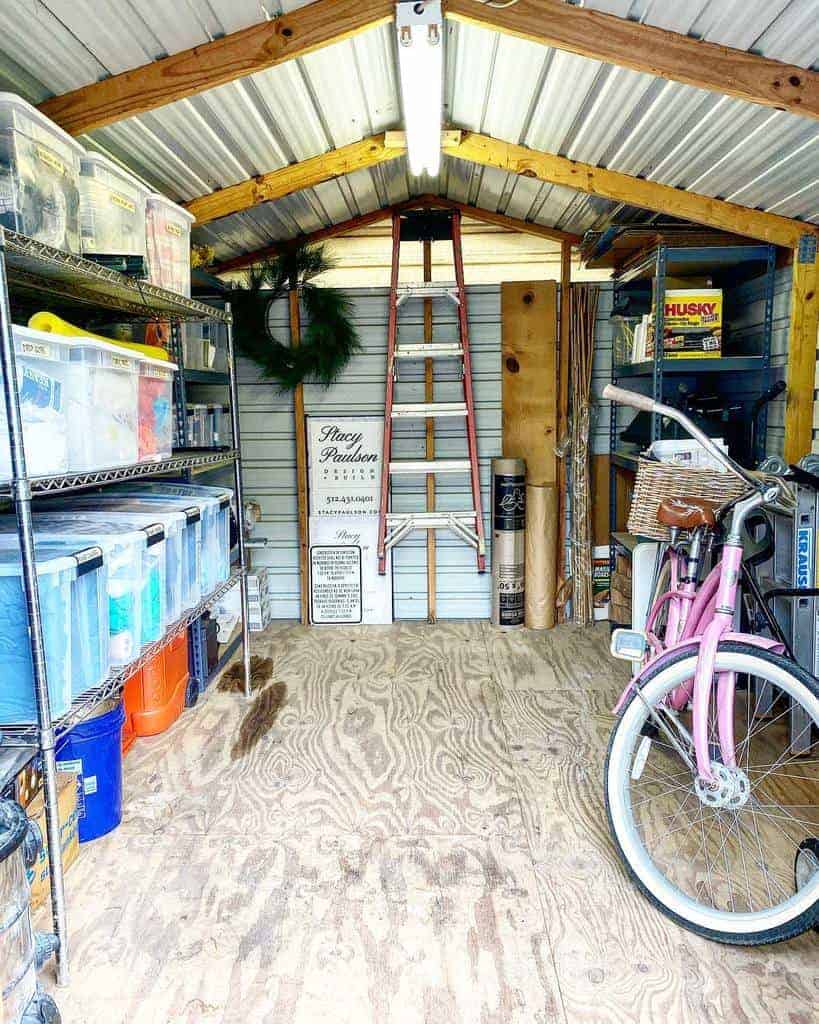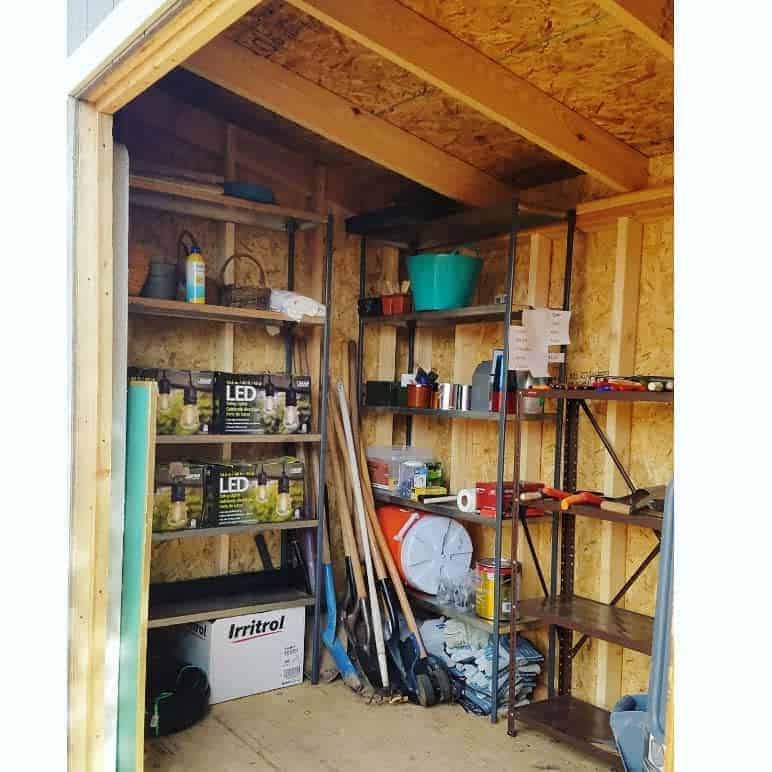 7. Floating Shelves for Minimalist Style
Achieve a more organized and efficient shed by incorporating floating shelves, which make the best use of vertical space. Sheds are excellent for housing gardening tools and supplies, and with well-organized floating shelves, you can enhance accessibility. For instance, hang gardening gloves on pegs, while neatly arranging rakes and shovels on the shelves above. Embrace innovative shed storage ideas to create a clean and highly functional space.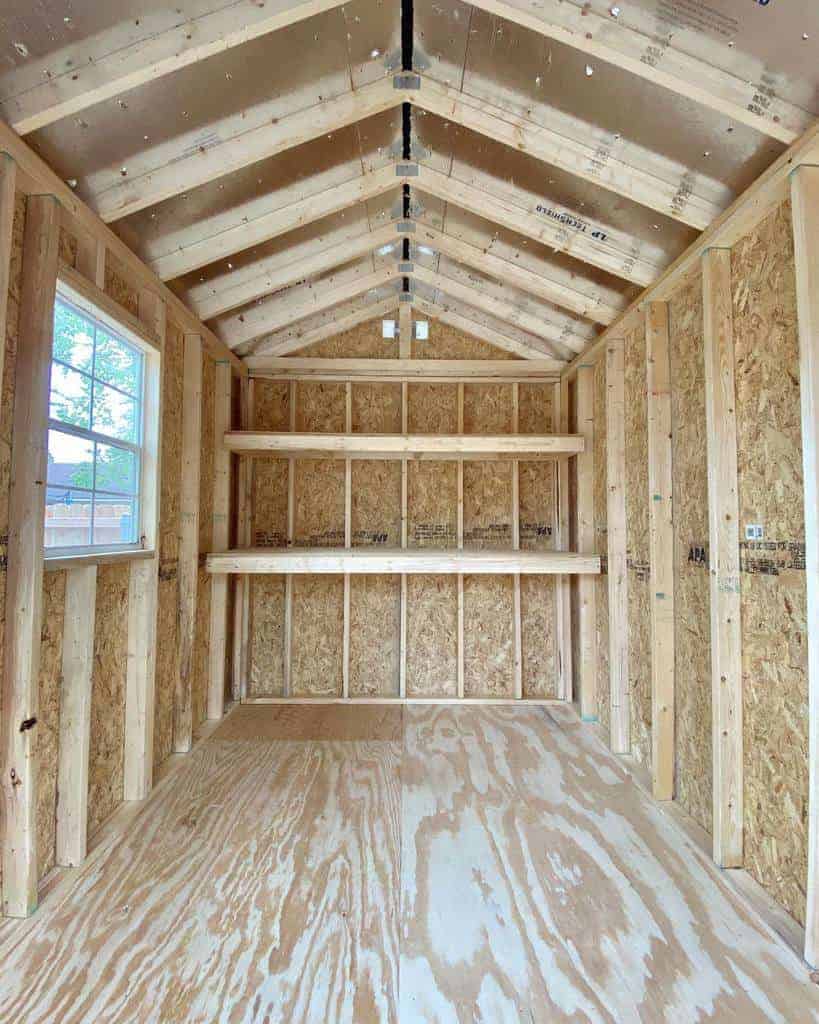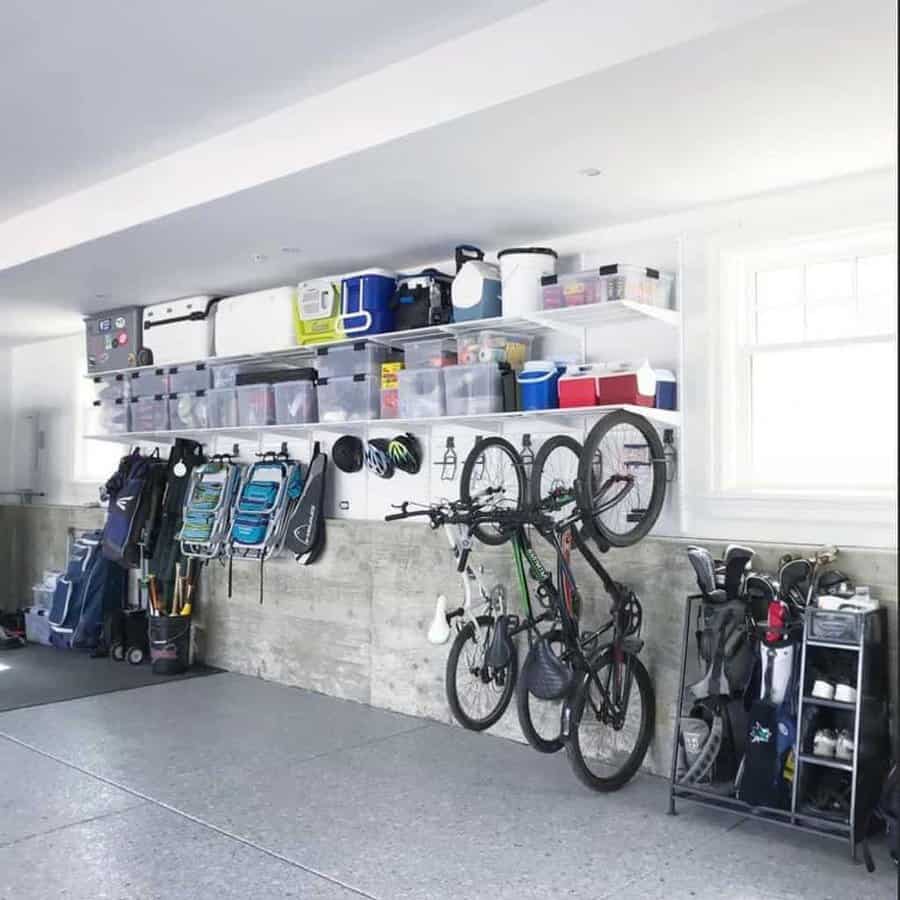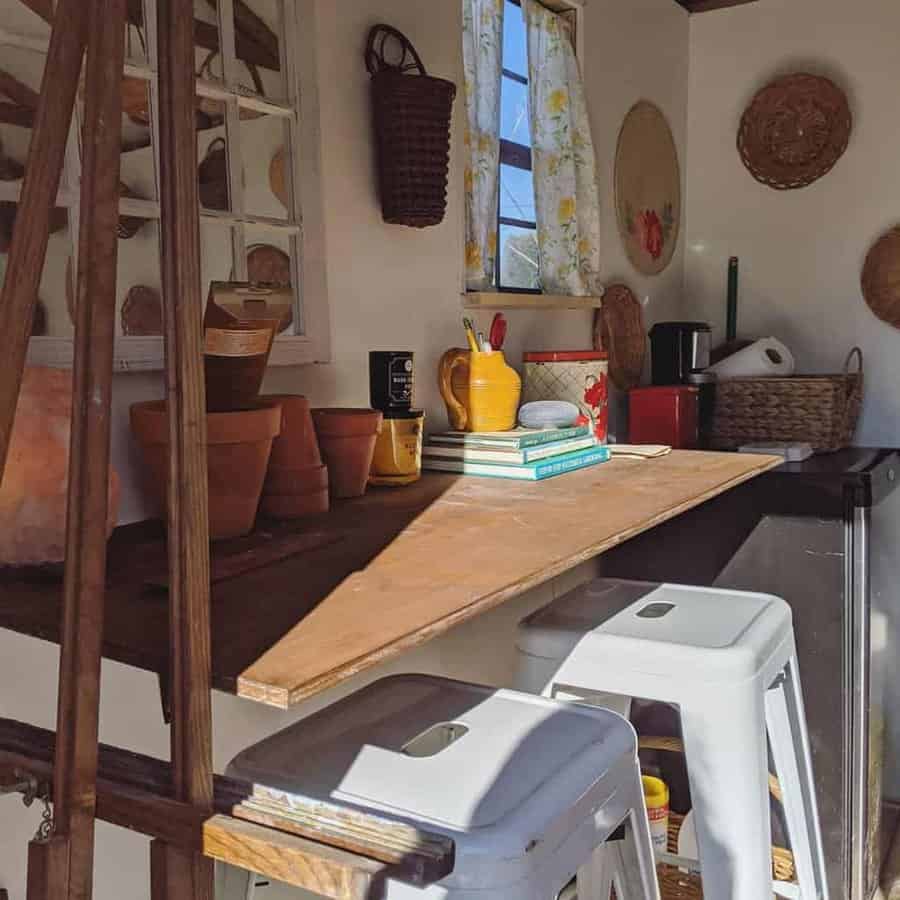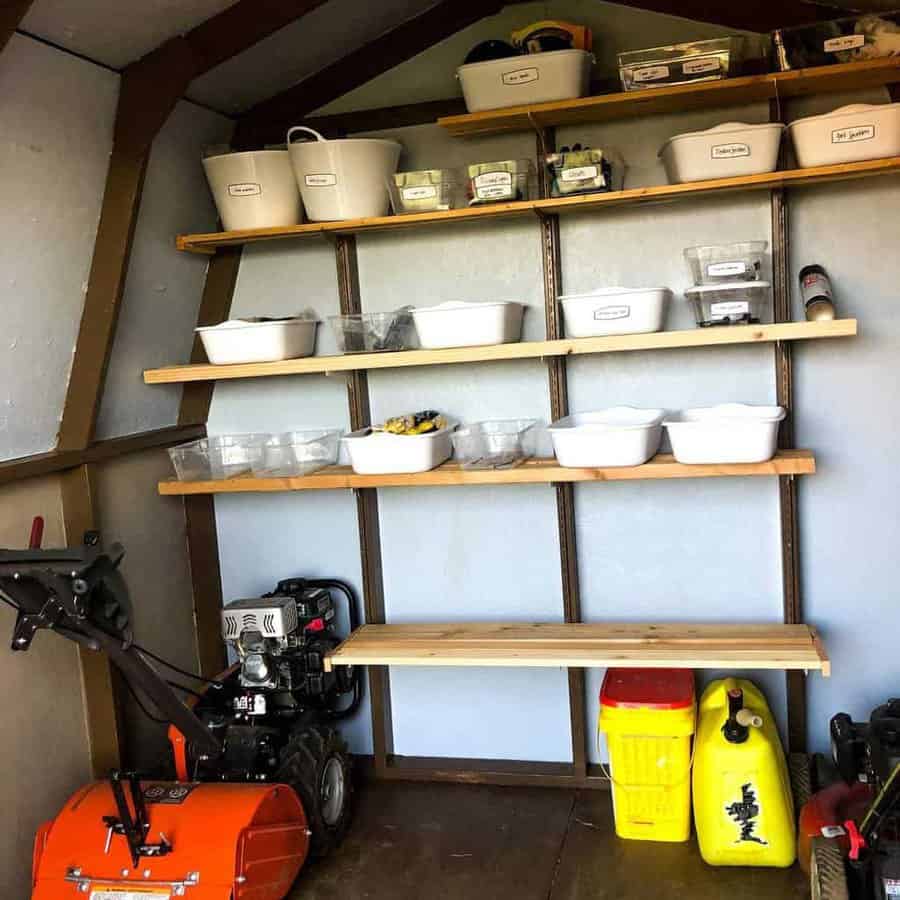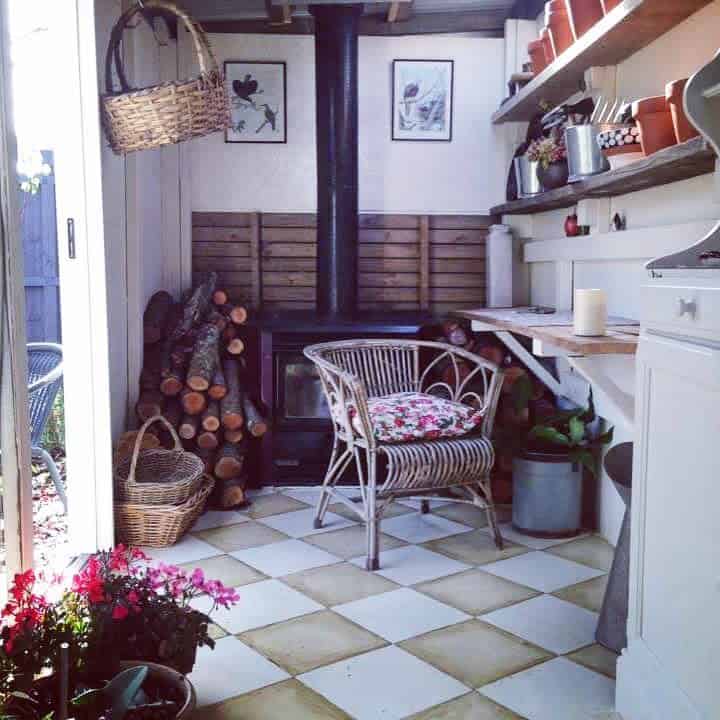 8. Modern Black & Wood Decor Storage
Sheds can go beyond mere utility and embrace a chic, modern aesthetic that enhances your outdoor space. By incorporating black and wood elements, sleek design, and innovative storage solutions, your shed can become a stylish focal point. This not only fulfills its storage role but also elevates your backyard's overall appearance, fostering a more inviting ambiance for both you and your guests.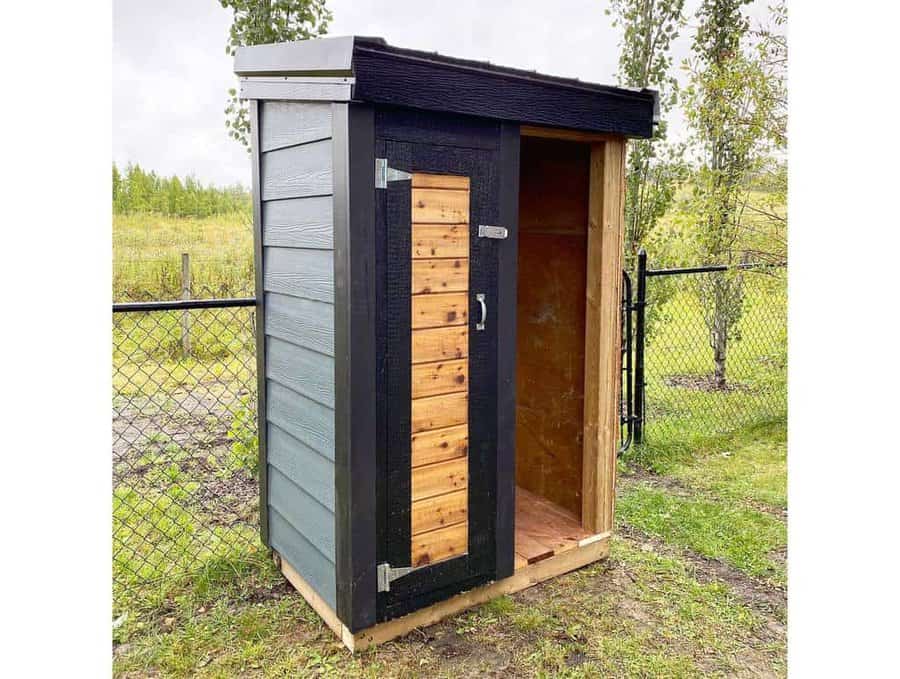 9. Utilize Overhead Space for Storage
The overhead shelf in your shed is a hidden gem for storage. It's an attic-like space without the cobwebs, ideal for items like winter coats and holiday decorations that aren't frequently used. This extra storage area is a clever solution for a small yard shed, effectively creating space where there seems to be none. Consider using variously sized overhead shelves to organize and store odds and ends, reclaiming valuable surface space. Your neighbors will envy your well-organized shed.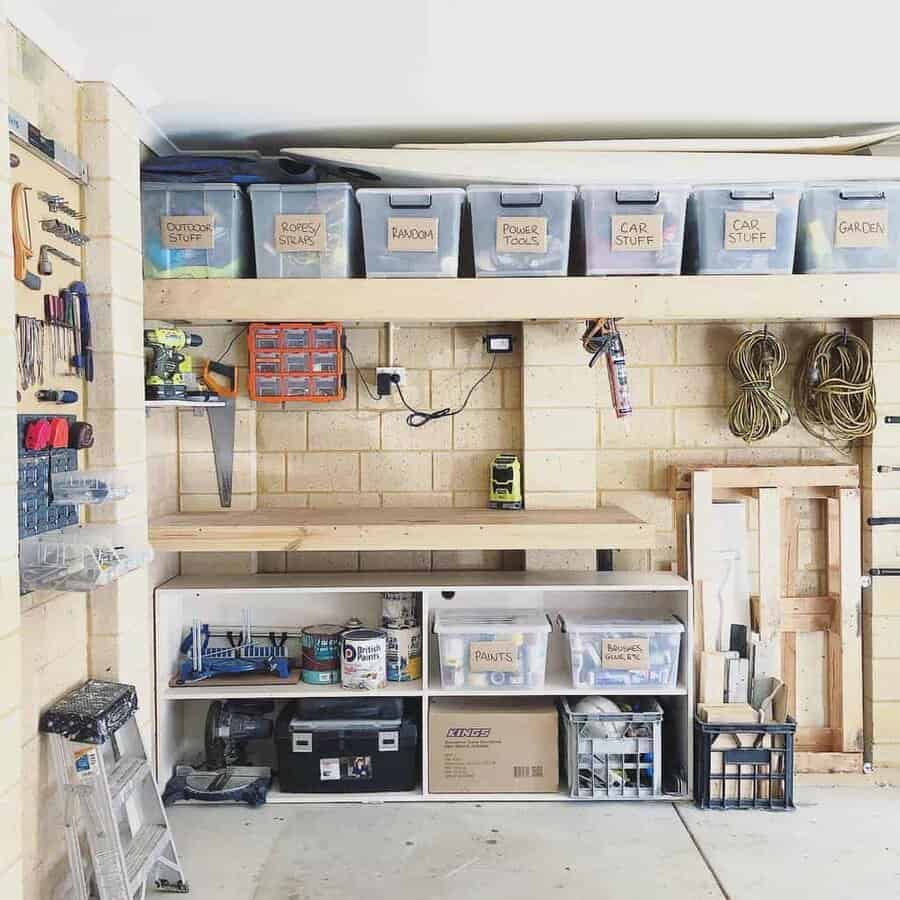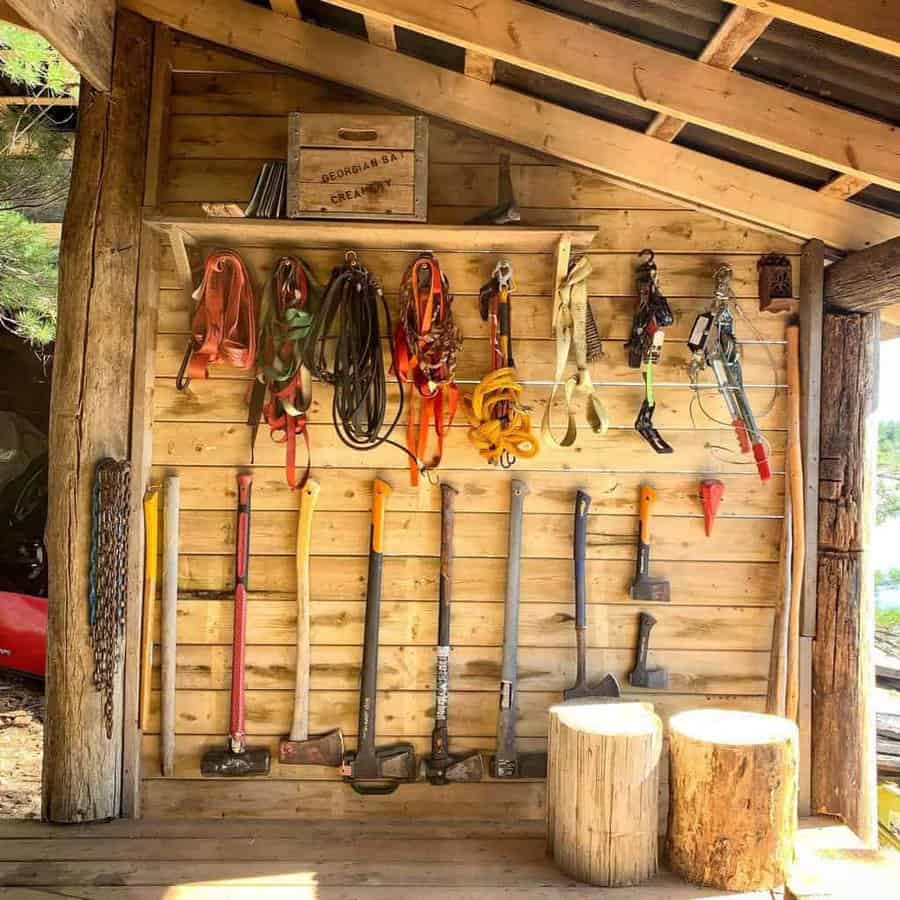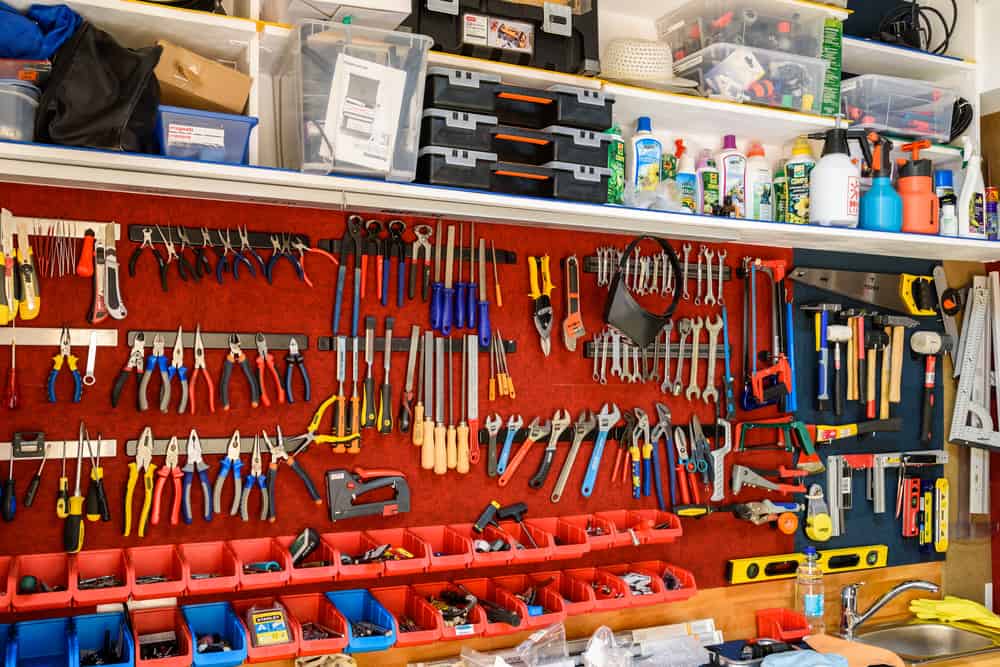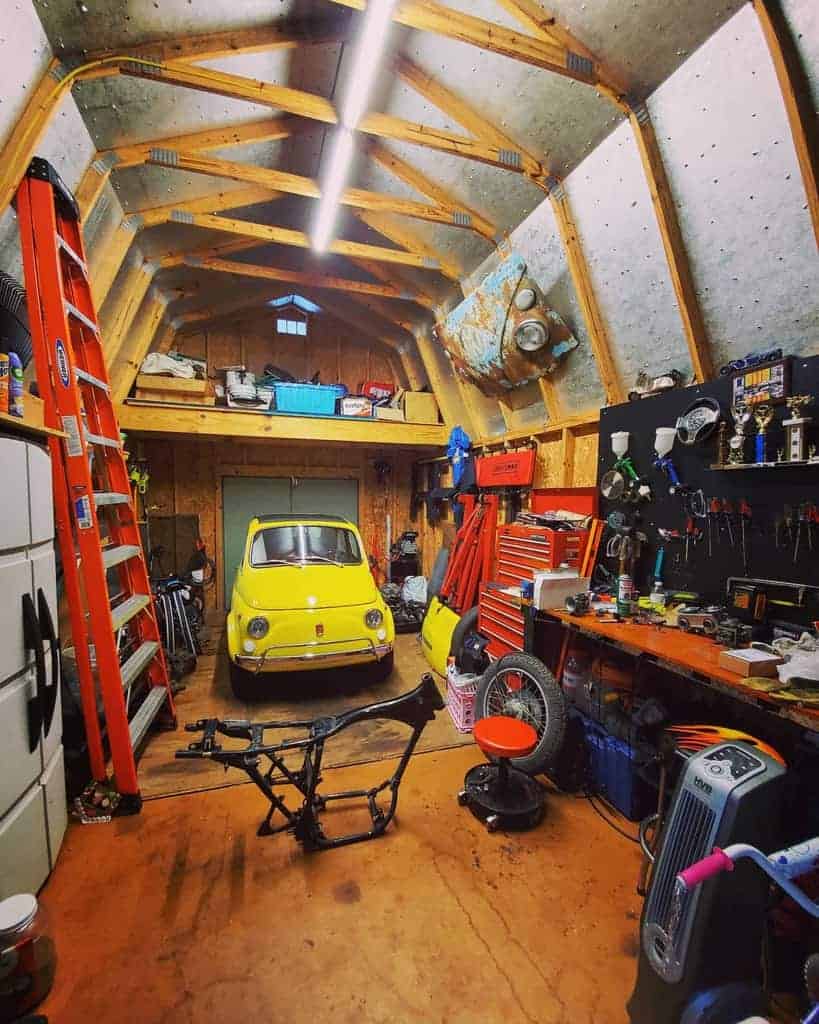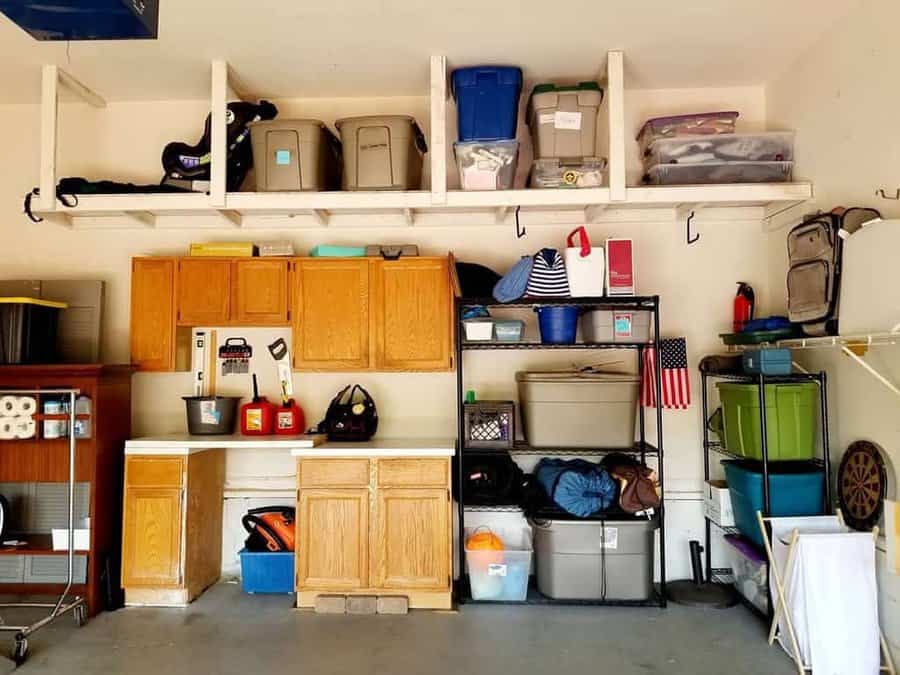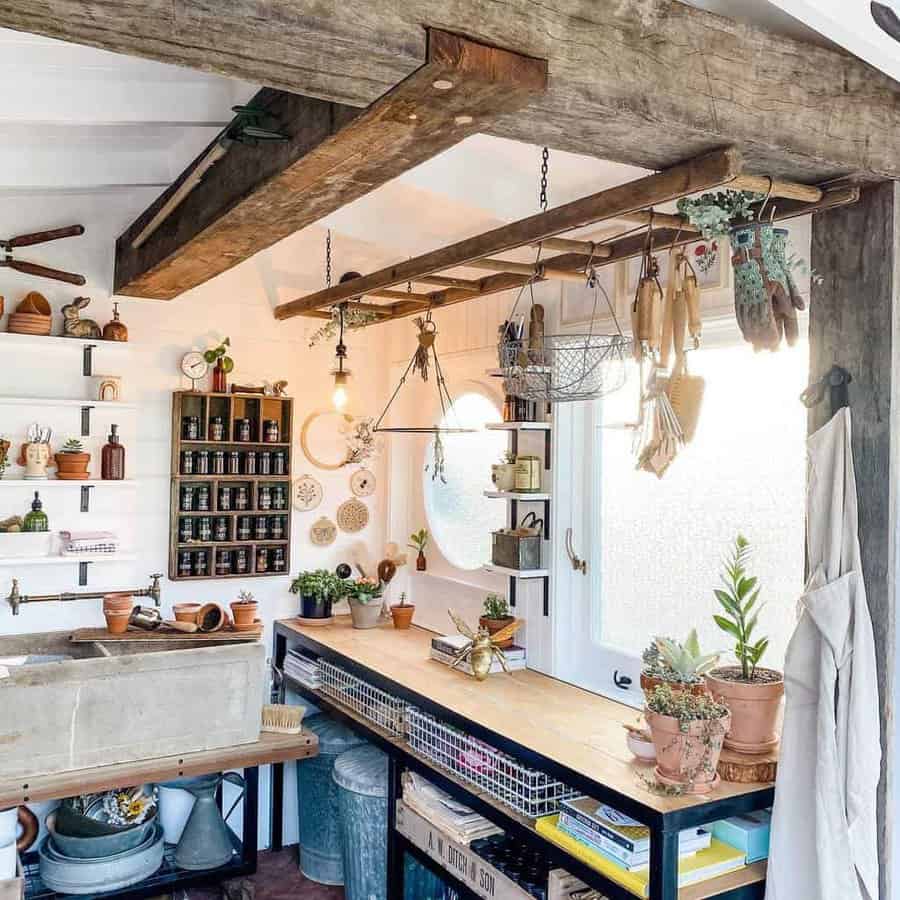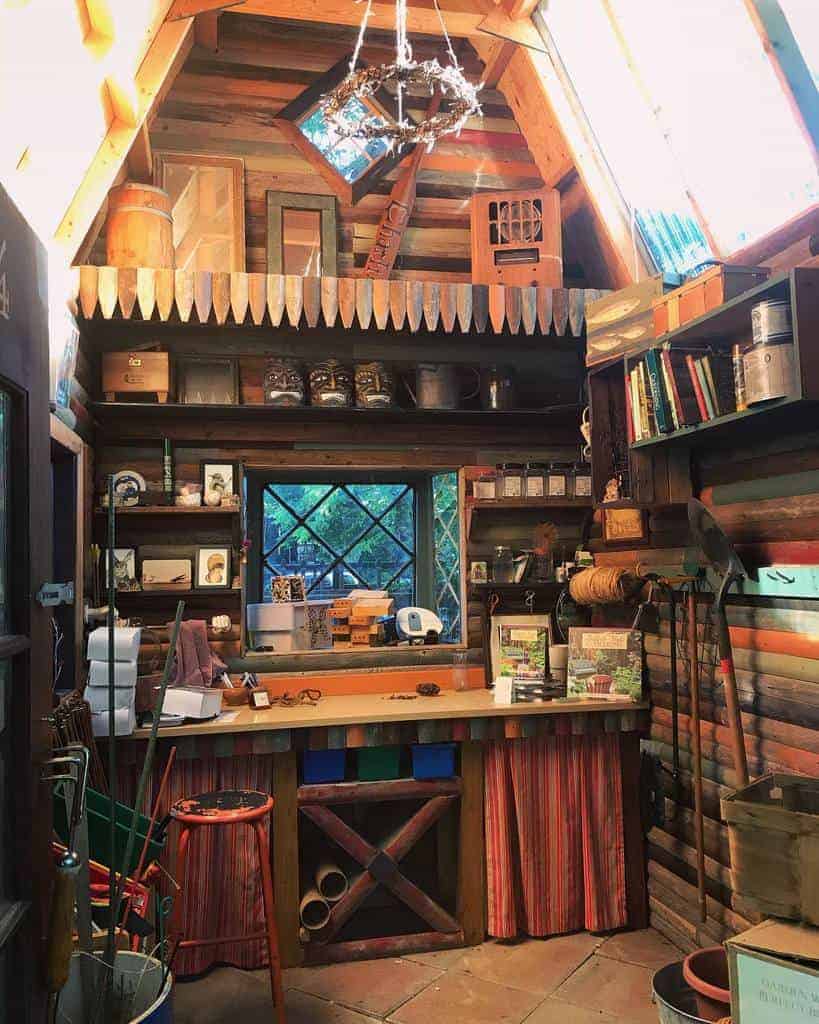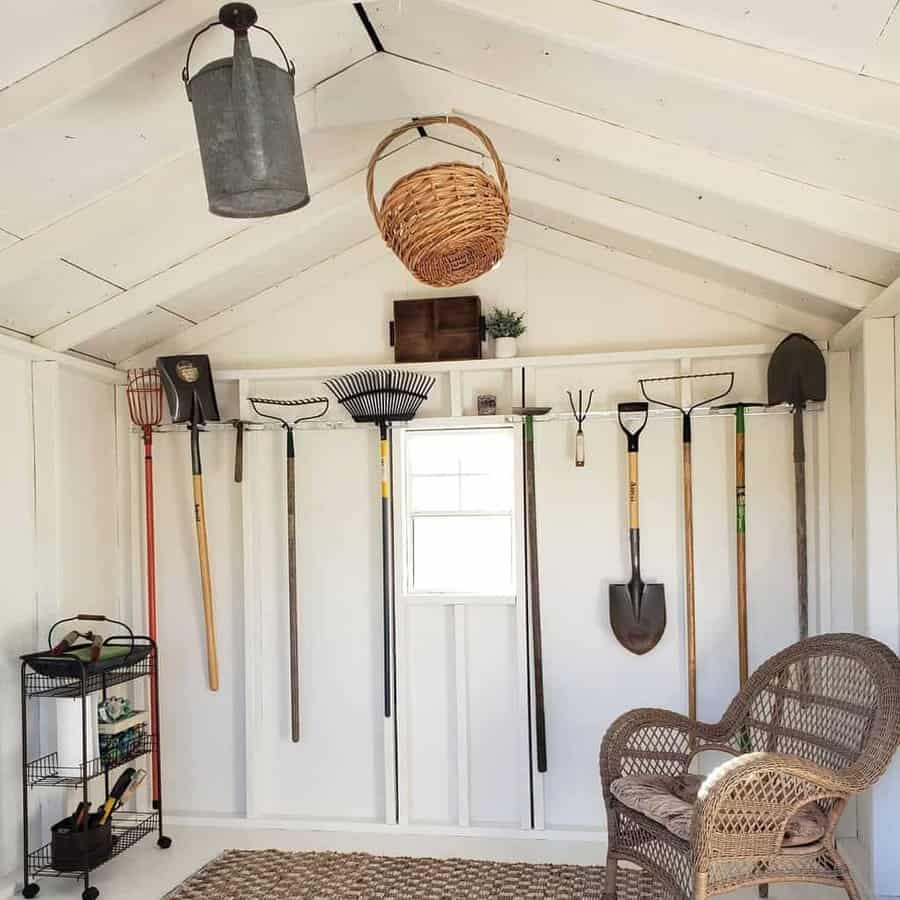 10. Clean Organic Look with Wood Pallet Shed
A wood pallet shed brings a clean, organic aesthetic to your storage solution. Beyond its visual appeal, it's a low-maintenance, cost-effective choice for added storage. The rustic charm and natural look seamlessly blend with your outdoor surroundings, enhancing your yard's overall appearance. Building a wood pallet shed is a straightforward afternoon project with readily available materials, allowing you to refresh your backyard's look with ease.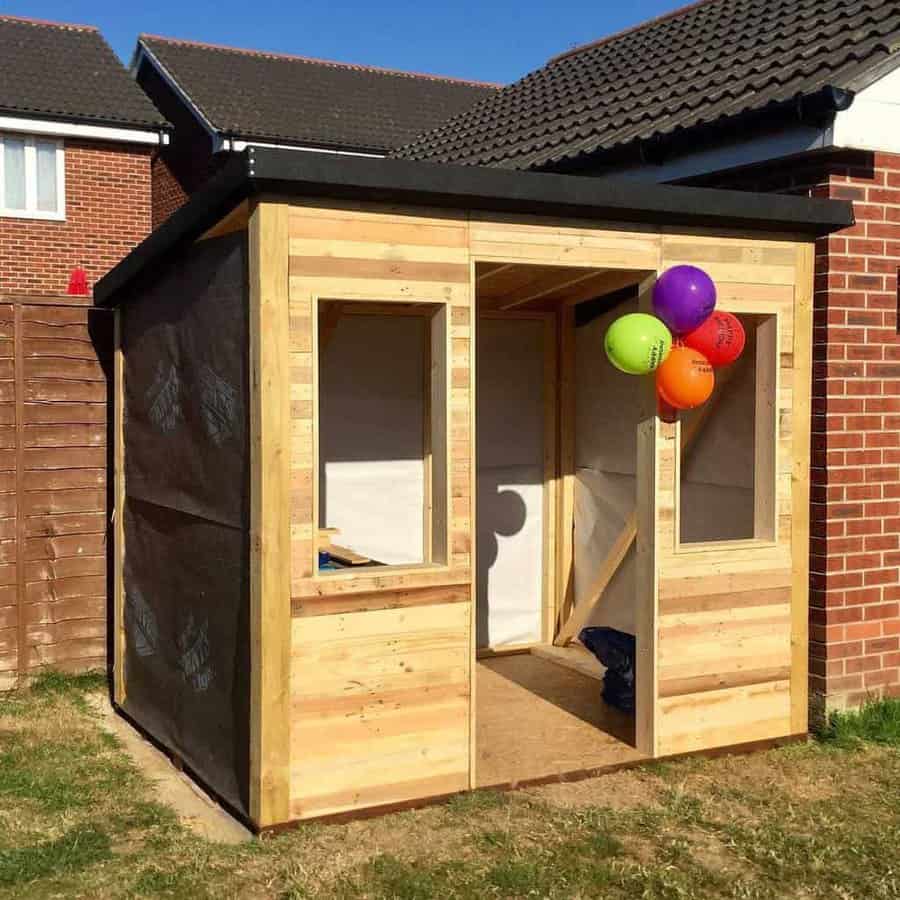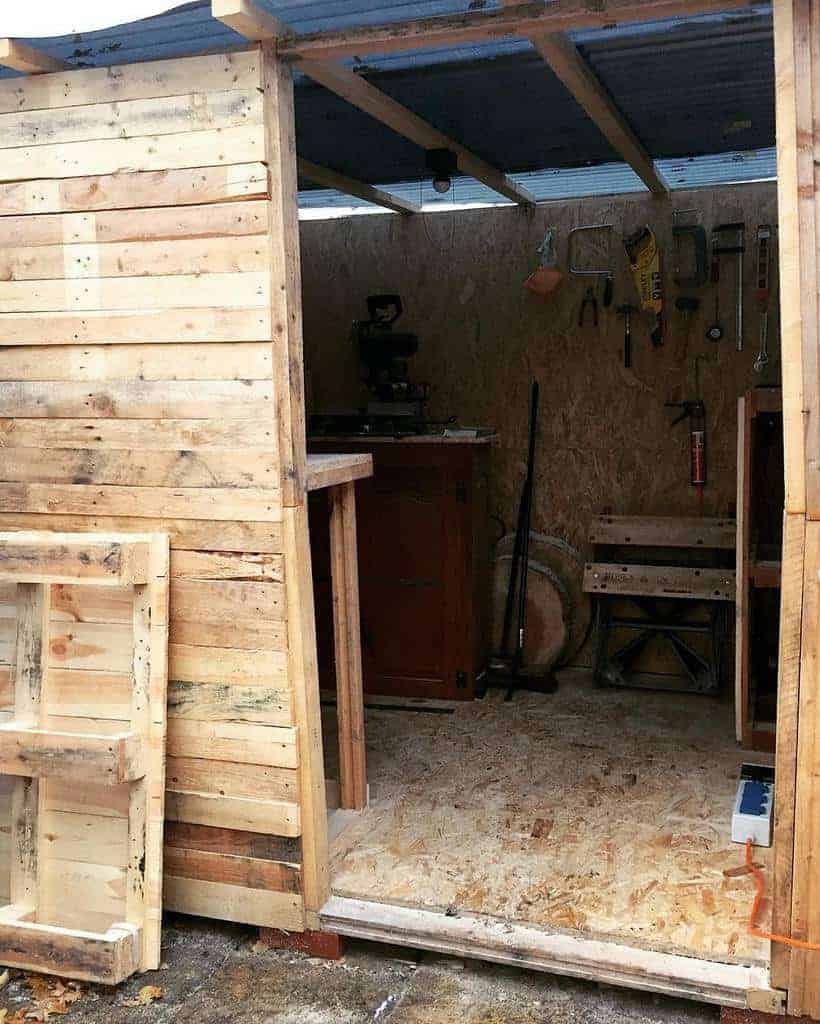 11. Categorize Items with Efficient Shelves
Shed organization can be a game-changer for your storage needs. Create a dedicated space outside your home for quick and convenient access to your extra items. Enhance the versatility and organization by adding shelves to your shed.
Categorize your possessions and label them for instant retrieval, ensuring you can easily locate what you need. Embrace this shed storage solution to maximize your backyard space and create an efficient and organized system.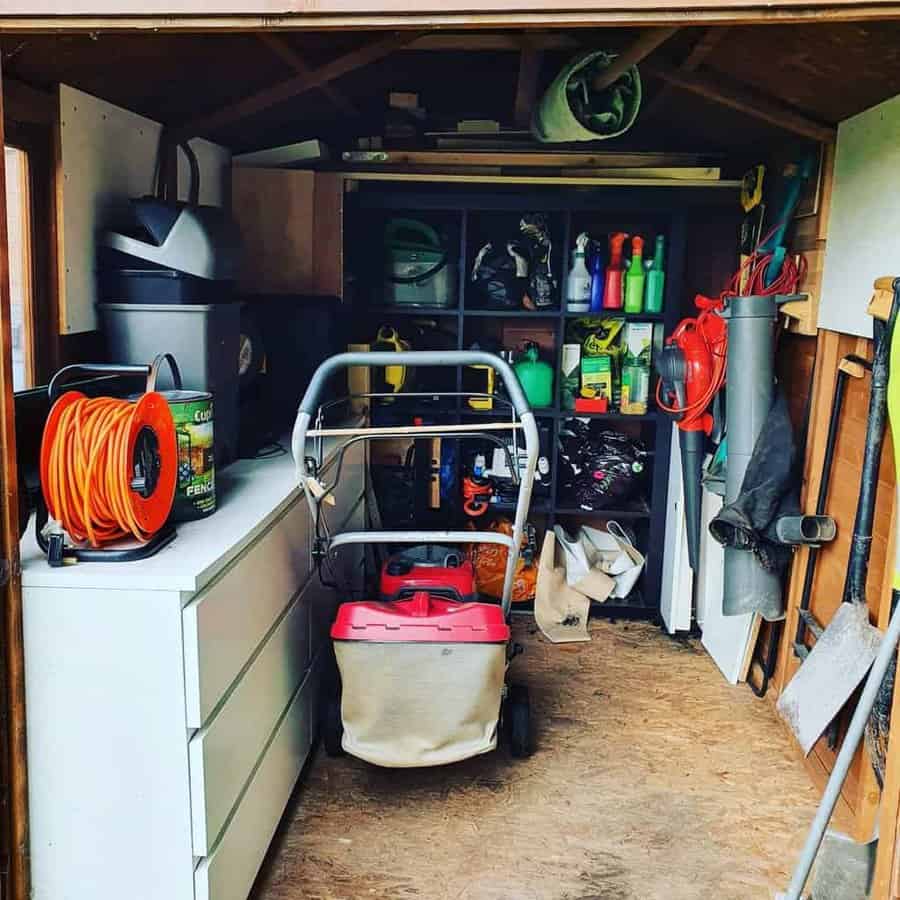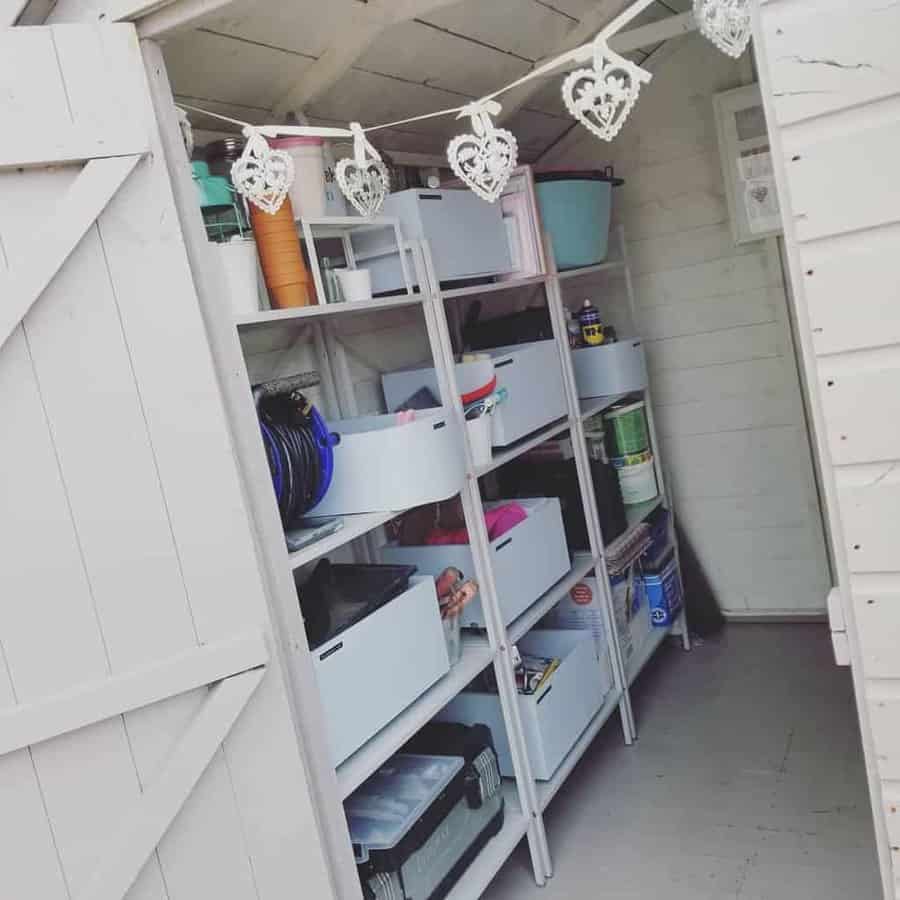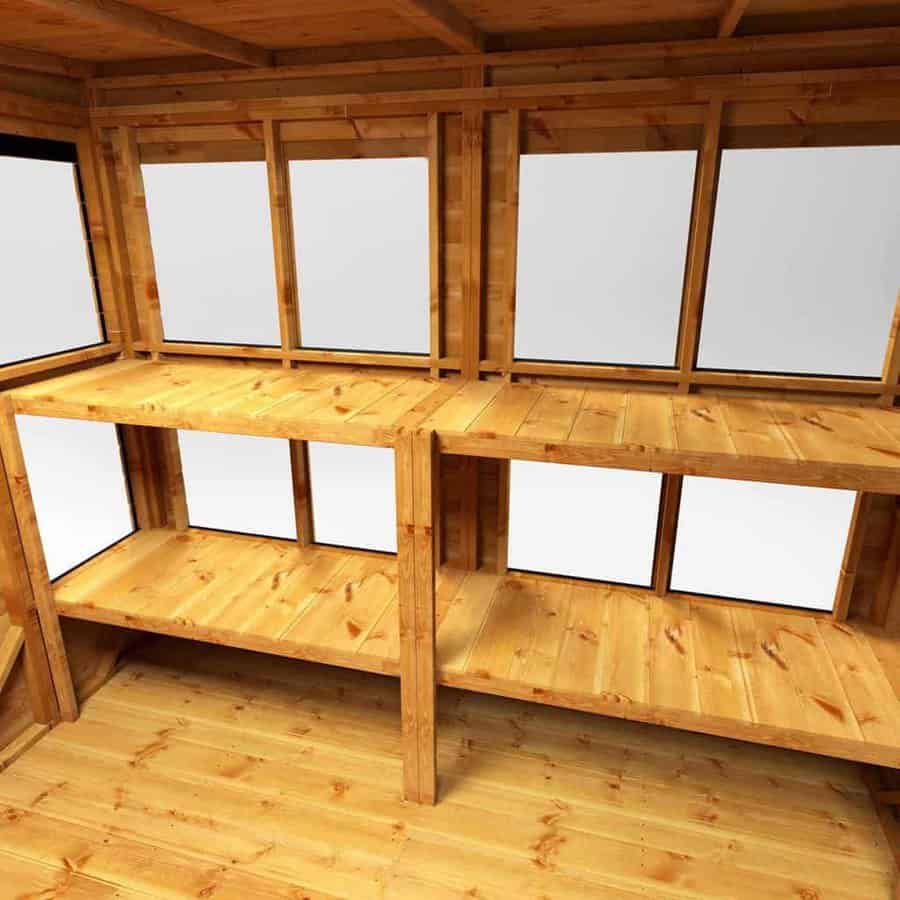 12. Garden Tools Rack for Easy Access
Maximizing shed space is crucial for garden tool organization. An effective solution is to install a hook rack on the shed wall, keeping your tools accessible and protected from the elements. This creative shed storage idea ensures that your garden tools are organized, dry, and easy to locate when needed. By implementing the right storage system, you not only free up valuable shed space but also streamline your gardening projects.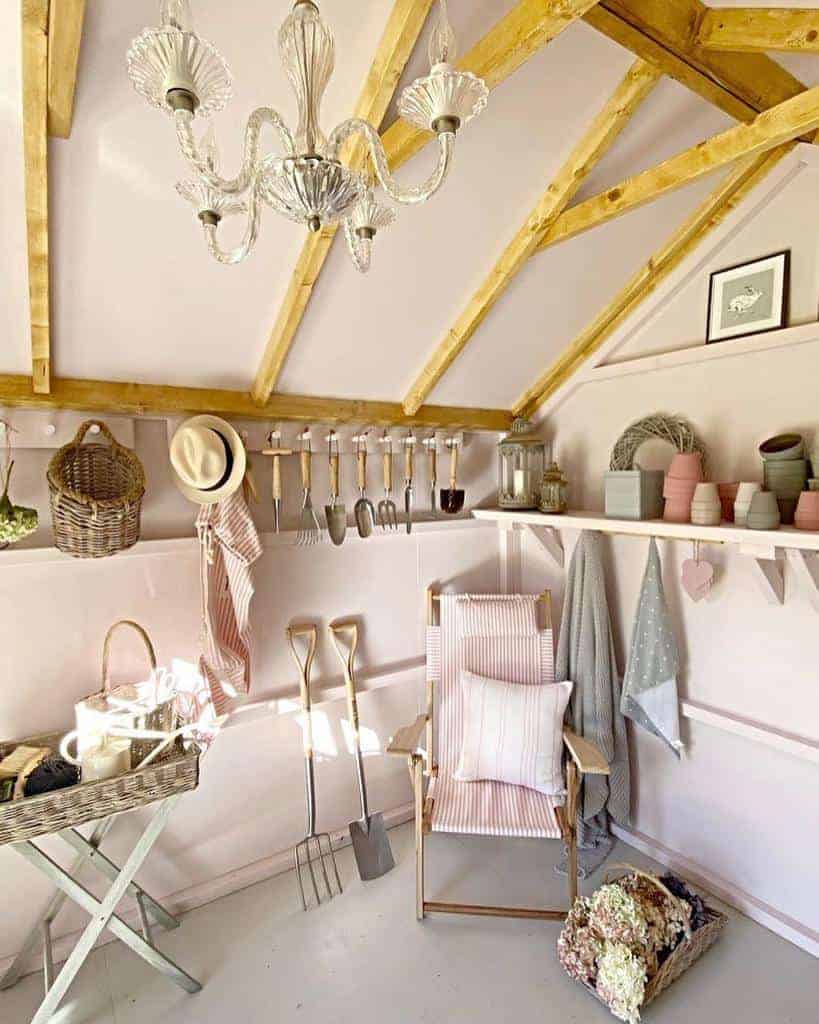 13. Shed Work Desk with Functional Shelves
Expand the functionality of your shed by creating a work desk with attached shelves. This innovative approach offers both a convenient work area and versatile storage for various items. No more need to search for work documents; dedicate the bottom shelf to files and the top one to other organizational needs. A work desk with shelves transforms your shed into a productive workspace with integrated multi-purpose storage.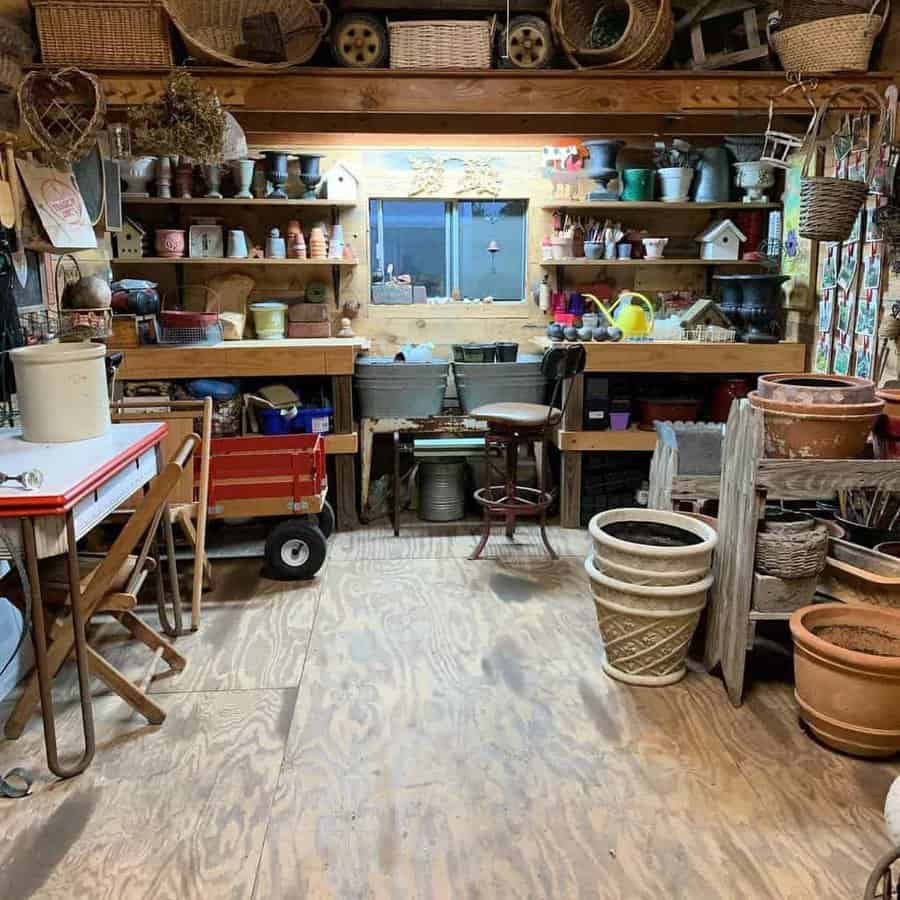 14. Repurposed Crates & Cans Organization
Enhancing shed storage can be achieved creatively without a major overhaul. Repurposing cans and crates into shelves offers an efficient solution for storing various items while conserving space. Take it a step further by repurposing old paint cans as planters or adding chicken wire for hanging small tools, elevating the functionality of your shed. This innovative approach instantly upgrades your shed's storage and organization.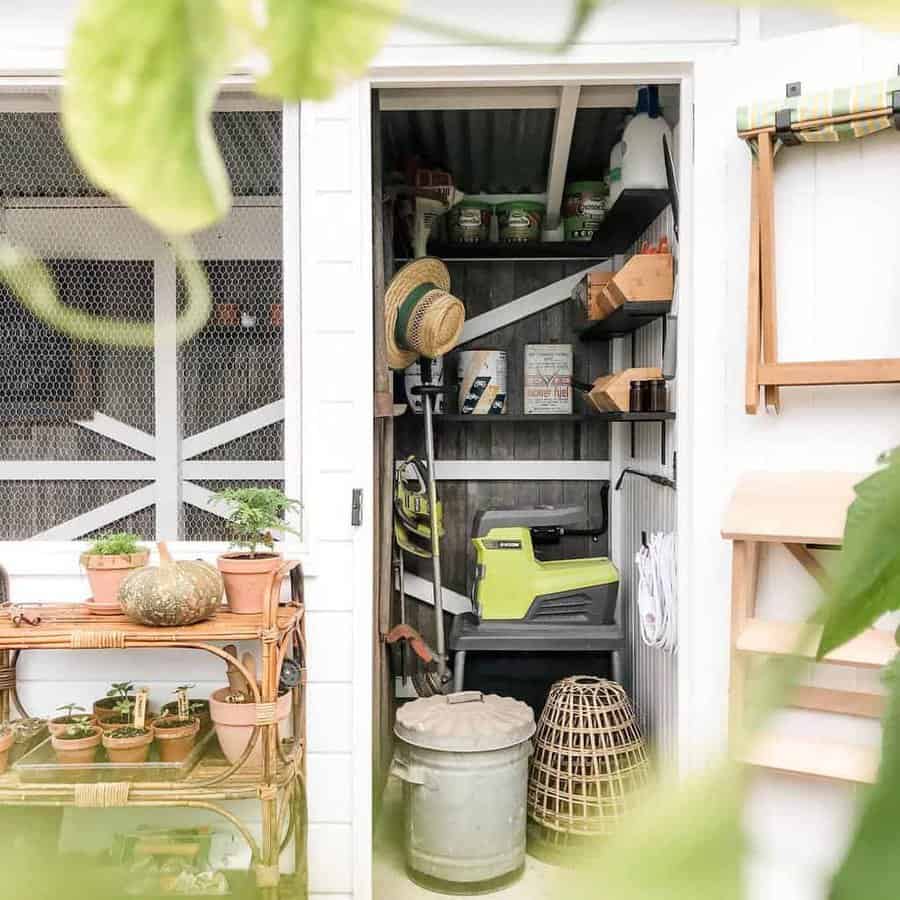 15. Low-Cost Cabinet Storage Solution
When dealing with limited shed space, a cabinet storage solution is a budget-friendly choice that maximizes organization. By strategically placing shelves or hanging cabinets, you can efficiently store your items while maintaining a neat appearance. With cabinet options available in various materials, colors, and shapes, you can easily integrate them with your existing home decor, adding both style and functionality to your shed storage design.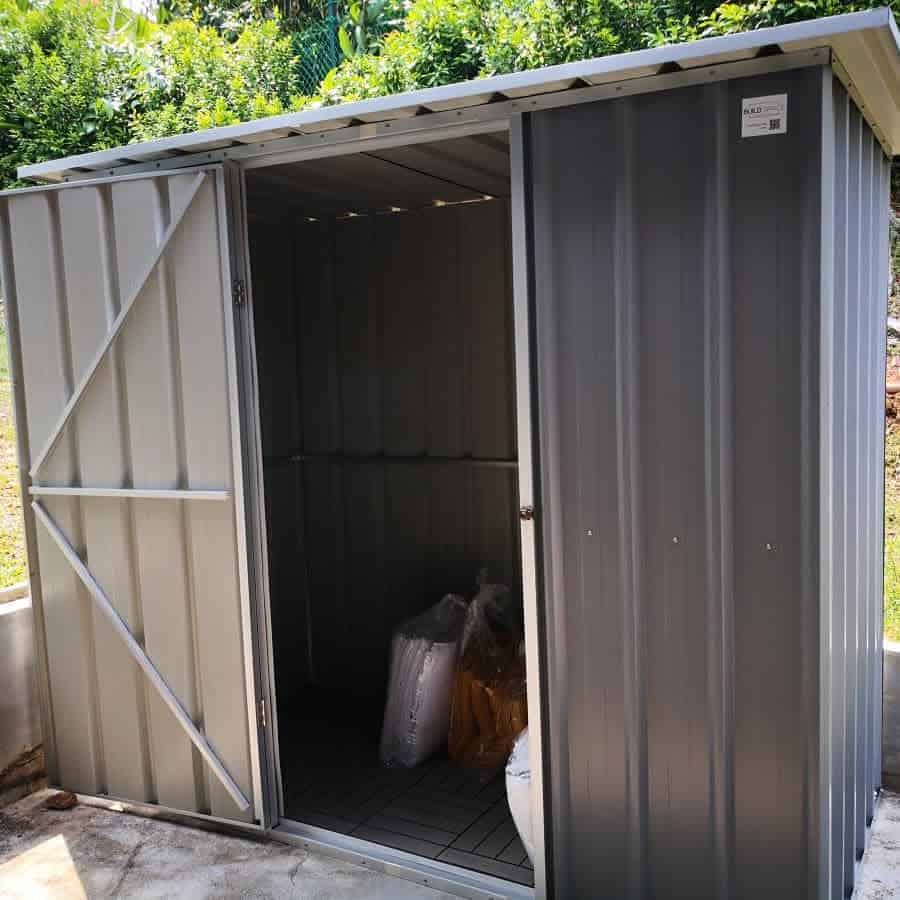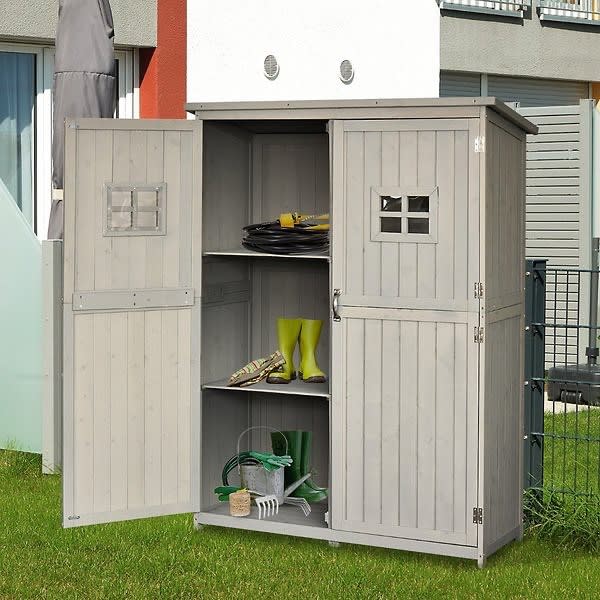 16. Double Doors for Easy Access
Opting for double doors in your shed storage design is a practical choice when you have a substantial number of items to store. Beyond providing added security, double doors enhance accessibility, ensuring you can easily locate your belongings when required. Whether you choose a cabinet or another storage solution, integrating double doors into your shed design offers a convenient and organized way to keep your items accessible and tidy.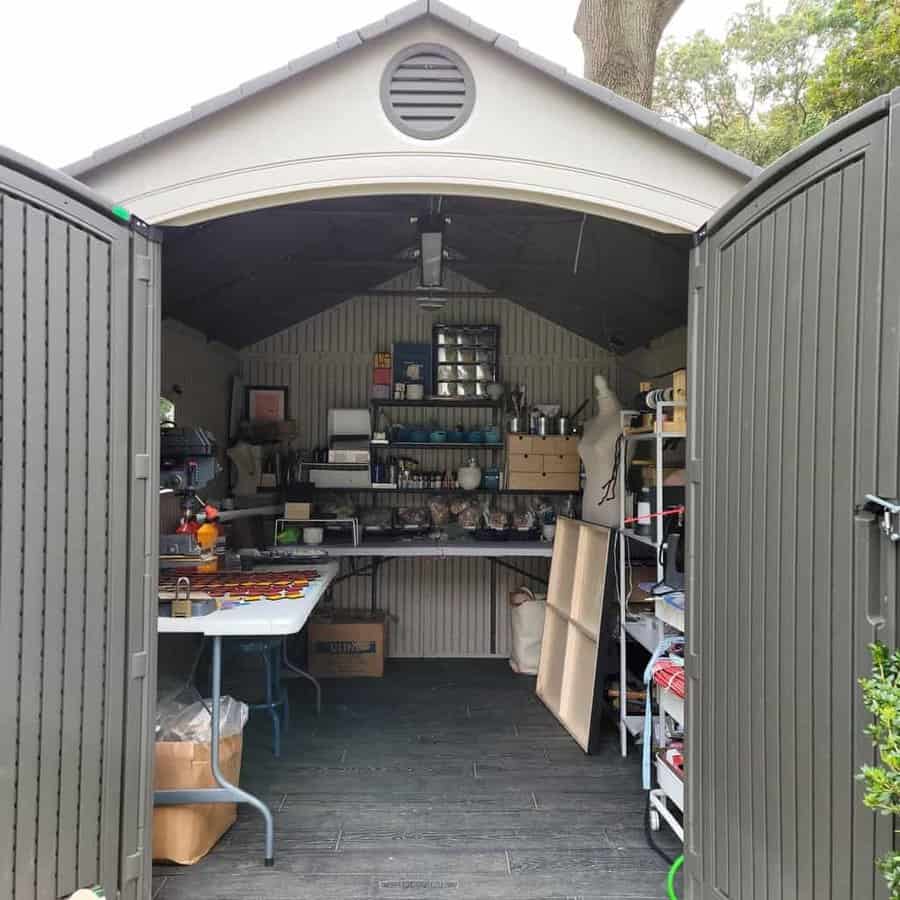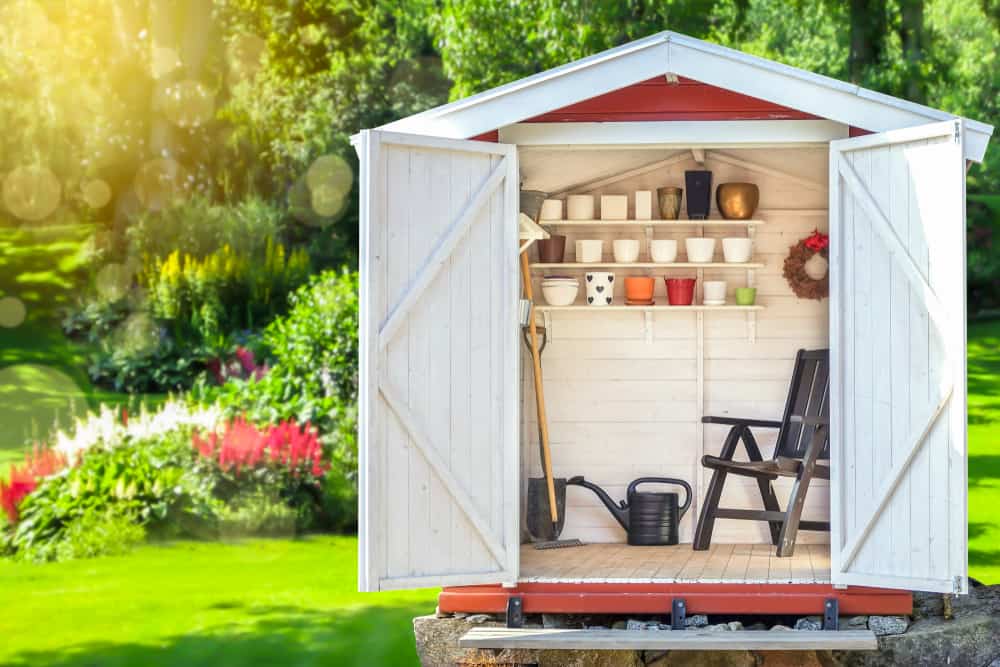 17. Compartmentalize Tool Storage with Panels
Maximize your shed's storage potential by using wood panels to create wall-mounted storage sections. This ingenious approach allows you to efficiently organize your tools and equipment vertically, making the most of your available space.
Whether it's garden tools, hoses, or sporting equipment, customizing your storage solutions to suit your needs and budget is a breeze. Take advantage of the endless possibilities and turn your shed into an organized haven that fits your unique requirements, while also complementing the overall design of your space.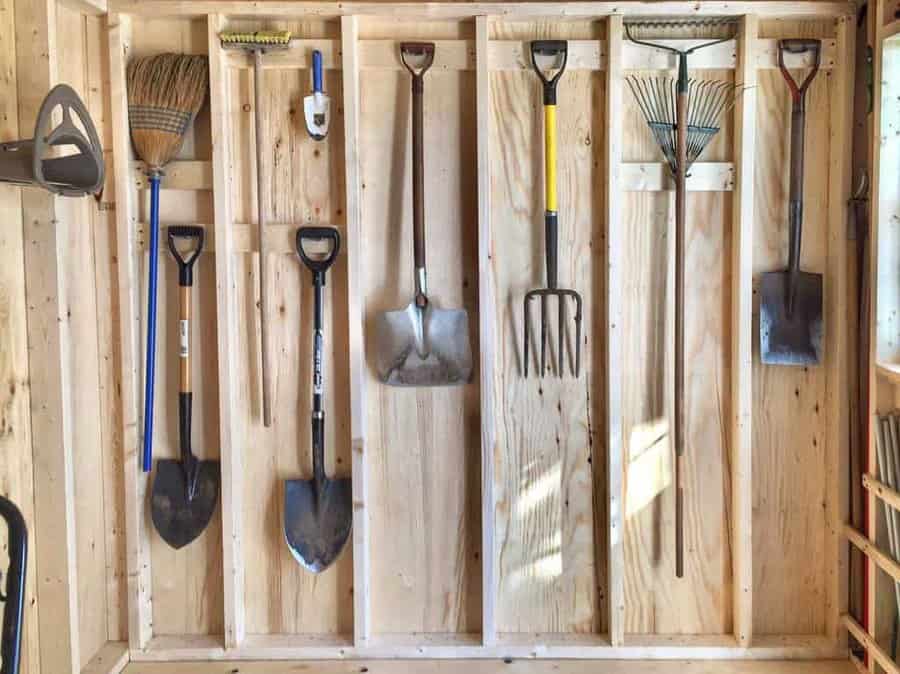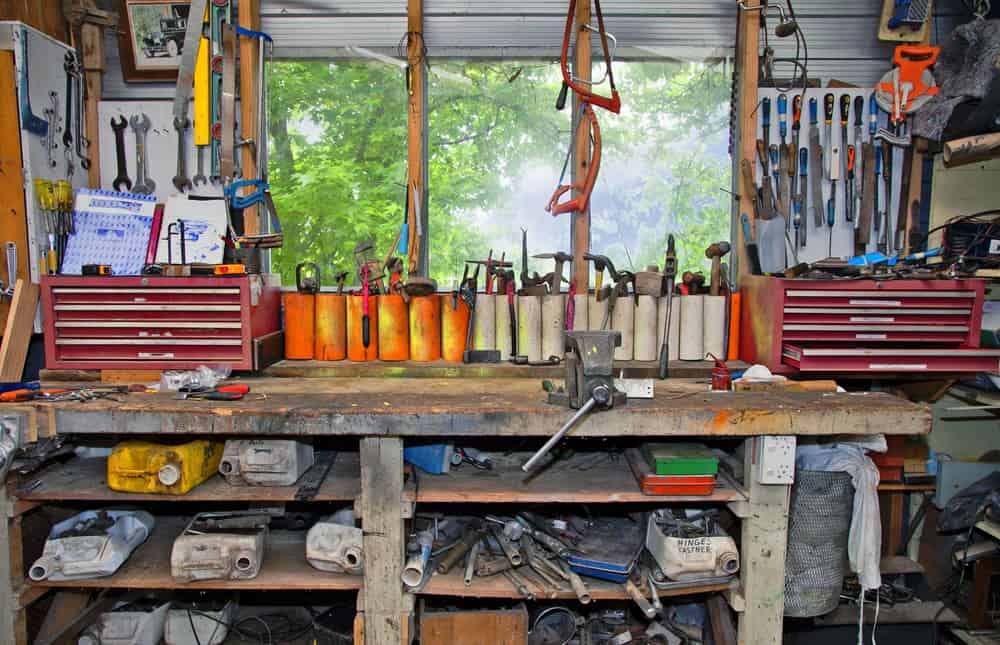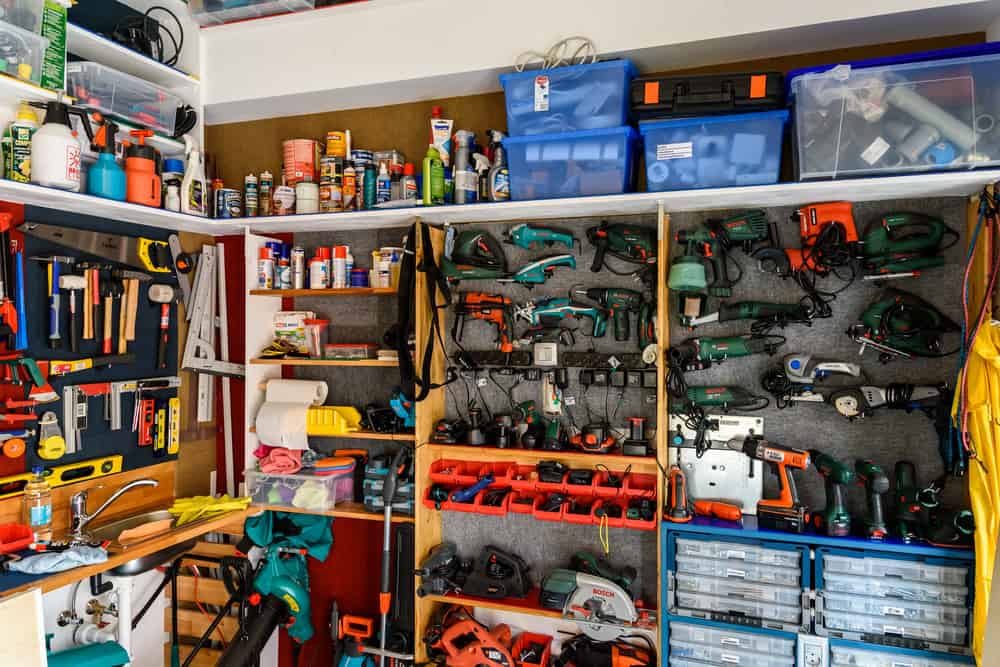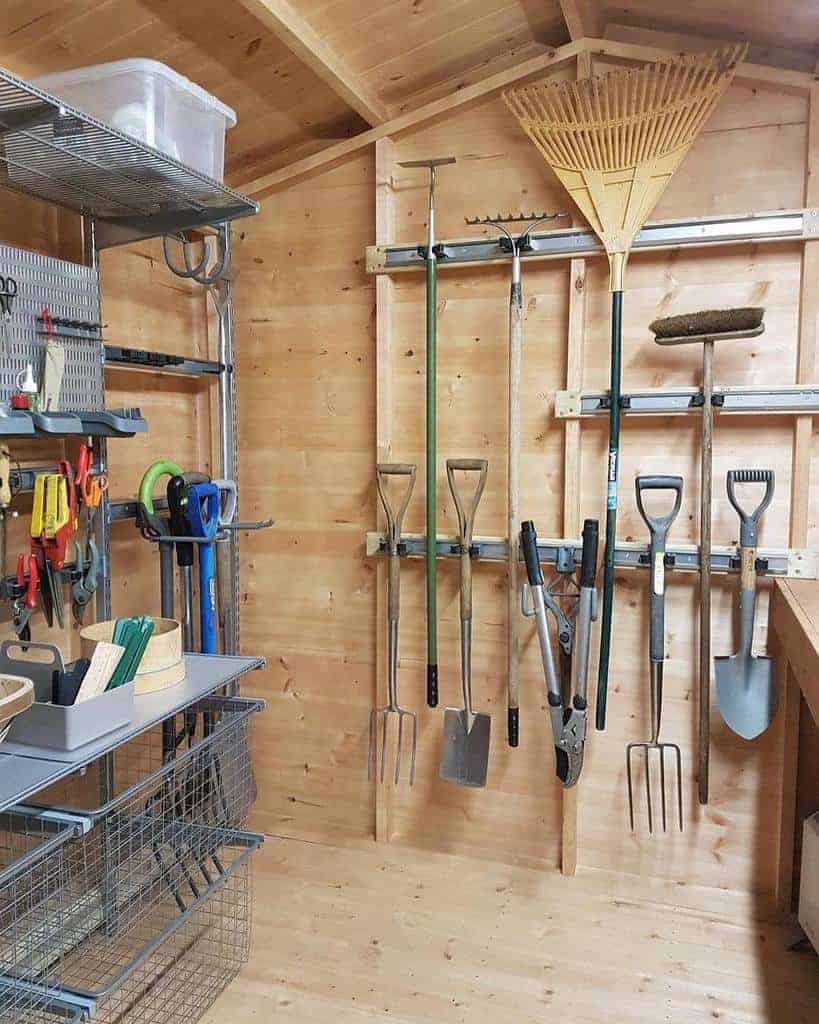 Shed Storage FAQs
How do I maximize my shed storage?
Look for ways to organize your shed better to maximize the space that you have available. Add adjustable shelving to the walls that you can customize to fit your changing storage needs. A pegboard is also useful because you can use it to hang and organize a wide variety of tools and bits.
What should you not store in a shed?
Don't keep anything in your shed that's delicate. Documents, jewelry, money, clothing, musical instruments, and food should not be kept in your shed. These are all items that will degrade with exposure to the changing temperatures, bugs and insects, and dirt. You also shouldn't store anything that's flammable, as this creates a risk of your shed lighting on fire.
How do you insulate a shed?
The simplest way to insulate a shed is by mounting an insulation board on the existing walls. Seal the gaps between the boards with a good sealant to prevent drafts. For more extensive insulation, use sheets of insulating batting that you unroll and place between the studs. Then cover with drywall or concrete board. This is thicker but is more effective.