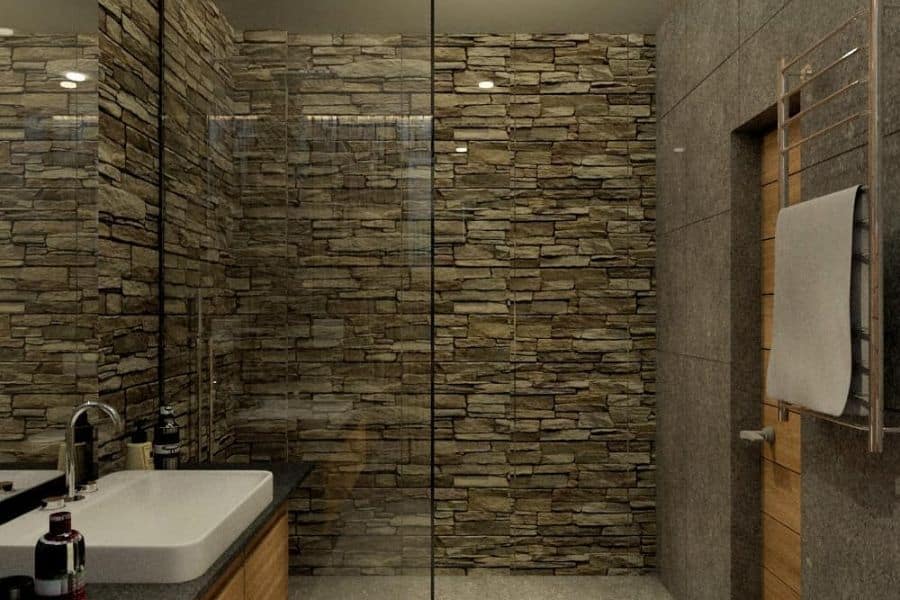 The Top 66 Shower Tile Ideas
"There's no half-singing in the shower, you're either a rock star or an opera diva." – Josh Groban
Spending time in your shower is your chance to enjoy those few precious moments to yourself each day. You can let your inner rockstar out, find your zen, or just get clean.
When your shower is a pleasant place to be in, you'll spend more time in it and enjoy your showers more. Plus, there's the added benefit of increasing your property value.
These shower tile ideas will help you remodel your shower. There's so much to think about, from shape and color to size and your budget.
Think about the aesthetic that you want to create and the overall style of your home. With the right tile, you'll transform your shower into a relaxing escape.
1. Beige
Do not put plain beige tile in your bathroom. It just looks plain, dull, dingy, and dirty.
Instead, look for natural stone tile that has the beige and neutral colors that you are looking for. Travertine tile is a popular option because you can buy it polished or as a textured tile.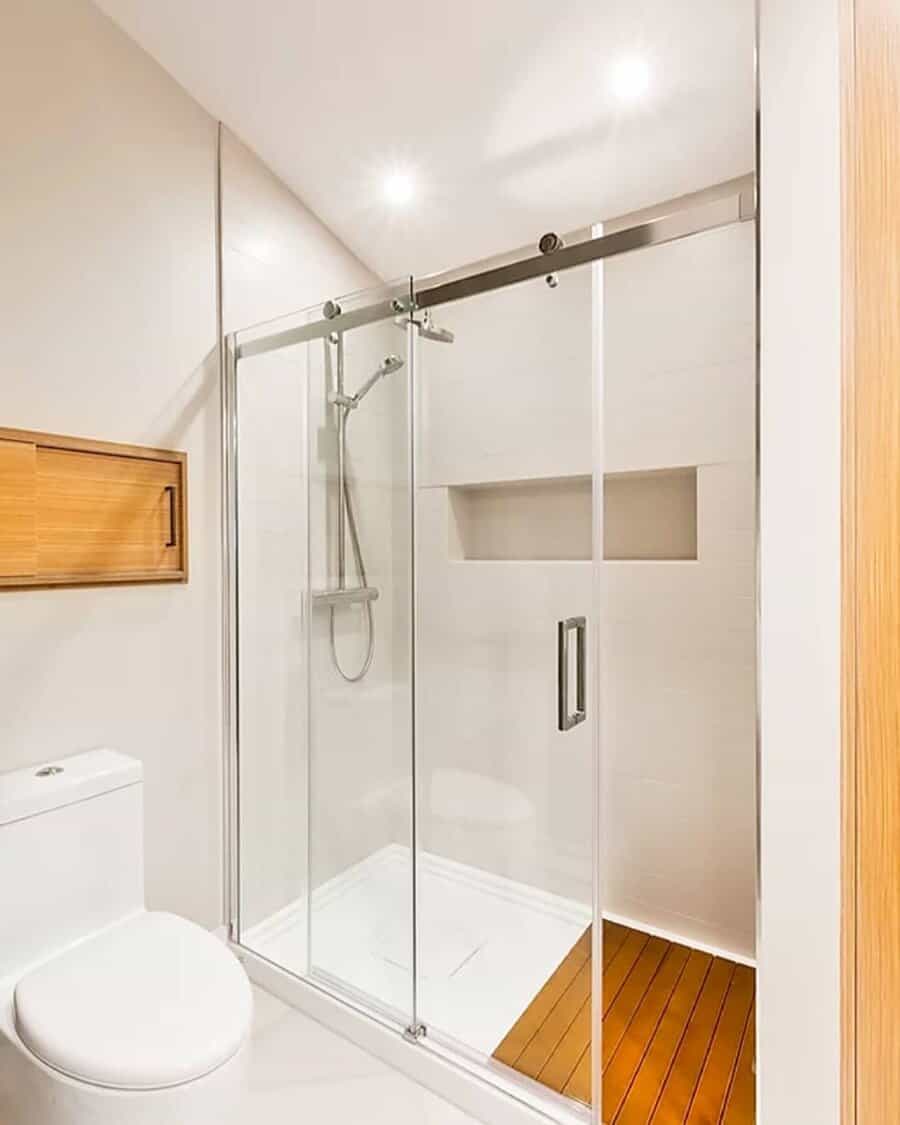 This gives you the freedom of using it on the floor or wall. The polished tile works well on the wall because moisture will easily roll off of it, preventing water spots.
The textured version is best for your shower floor because it won't get dangerously slippery when it's wet. Pebble tile is another good option for using a beige color but still having plenty of traction in the shower.
2. Bench
If you're remodeling your bathroom and shower, then now is the perfect time to add a bench to your bathroom design.
Build out the box for the bench in a place that won't get in the way of standing under the showerhead.
It should be at least wide enough for a single person to sit on it. However, you could build it out to extend the length of the shower.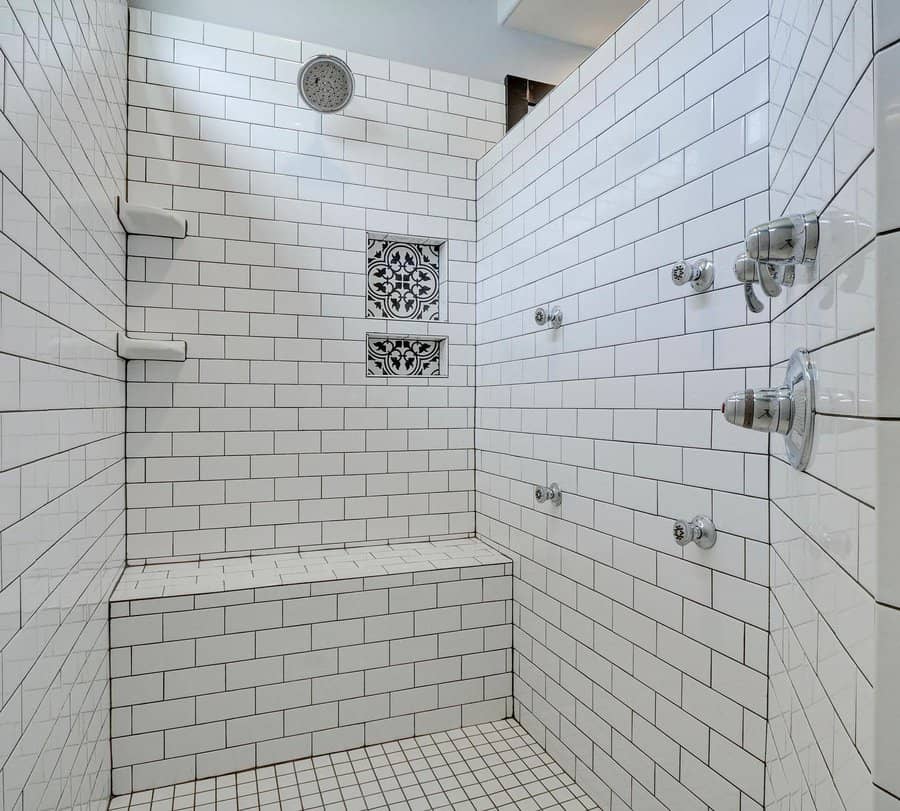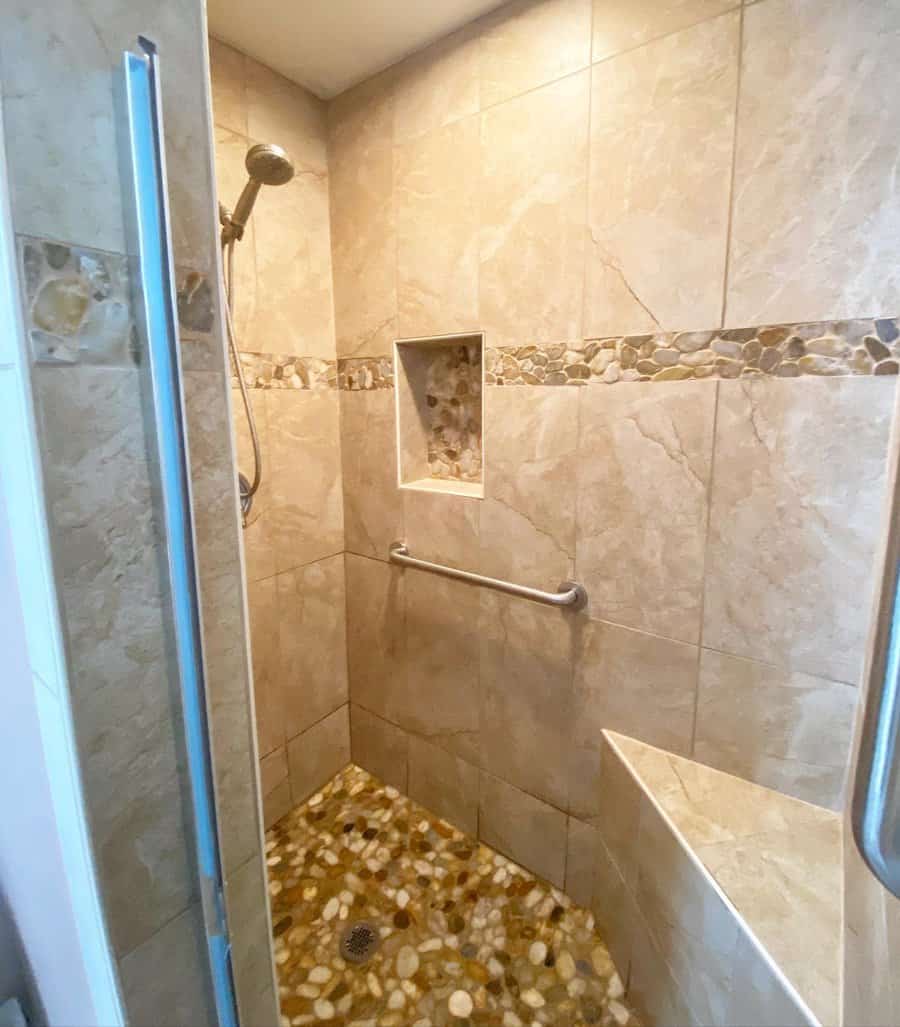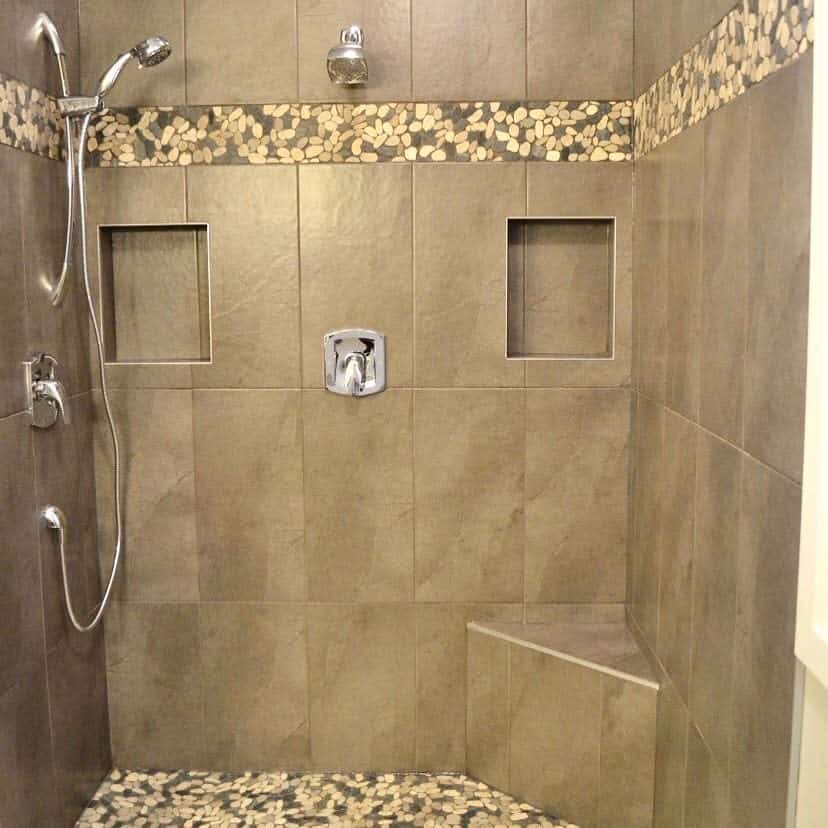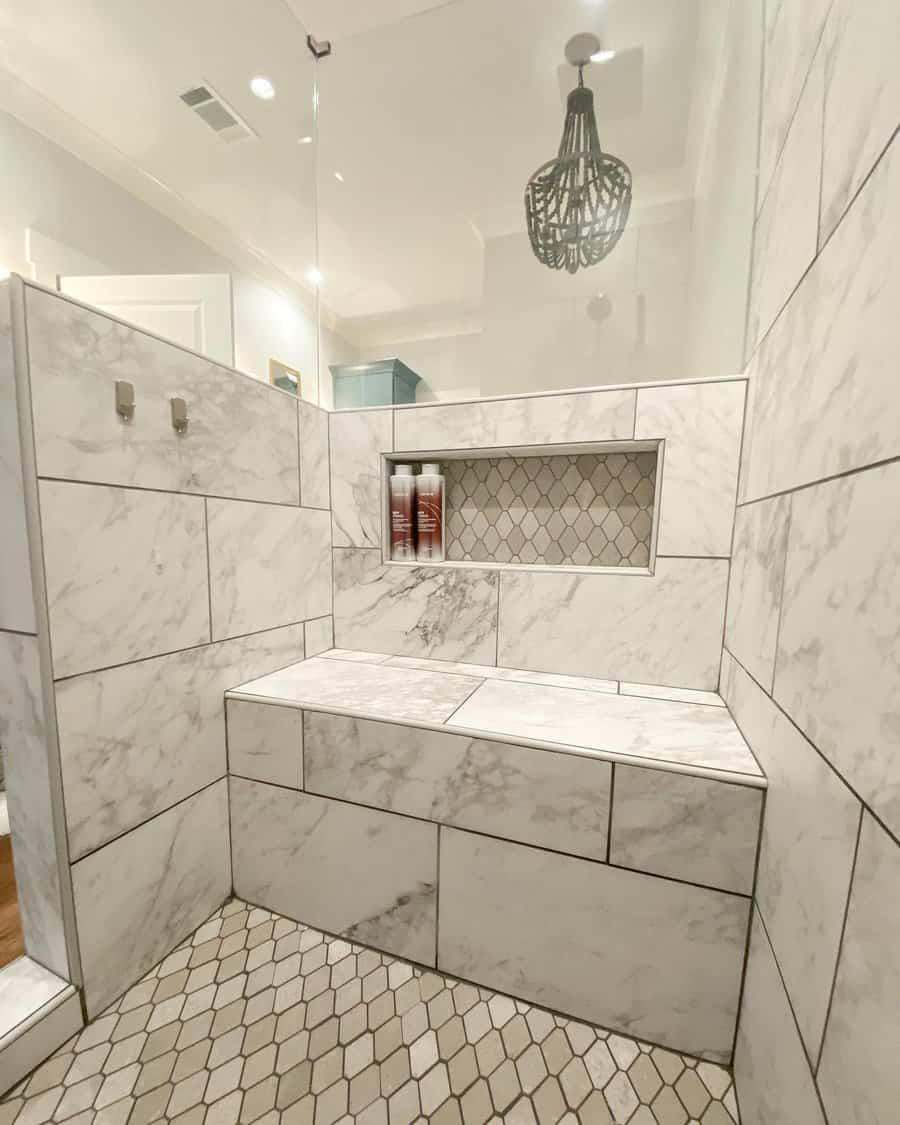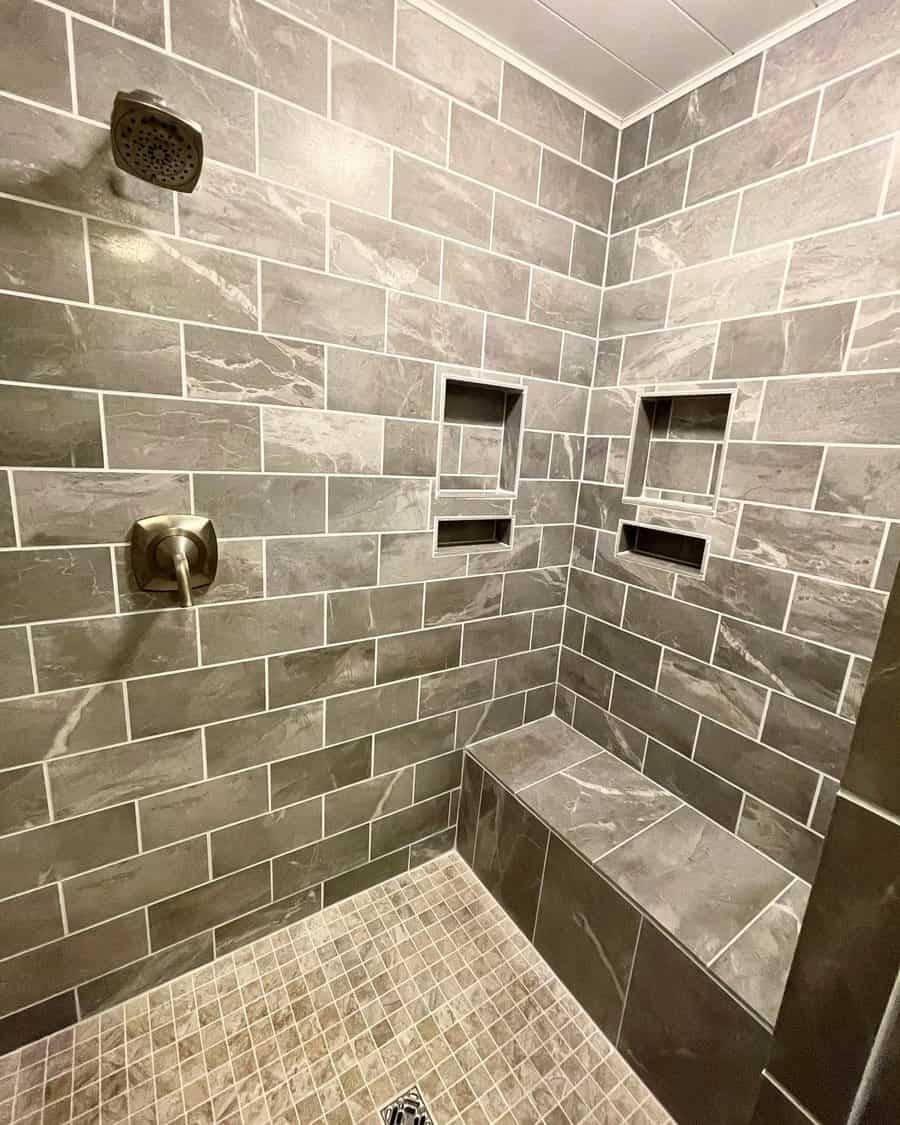 If you don't have a lot of room in your shower, build the bench into the corner. This will give you a small bench that will be just big enough for someone to perch on.
3. Border
Adding a border to your tile design creates definition and adds an accent to your shower tiling. You can choose a second tile to serve as the accent tile.
Where you place your accent tile will depend on the shape and architectural design of your shower.
You could have the accent down low along the floor, around the middle, or up high. You could even create a vertical line that visually divides the space.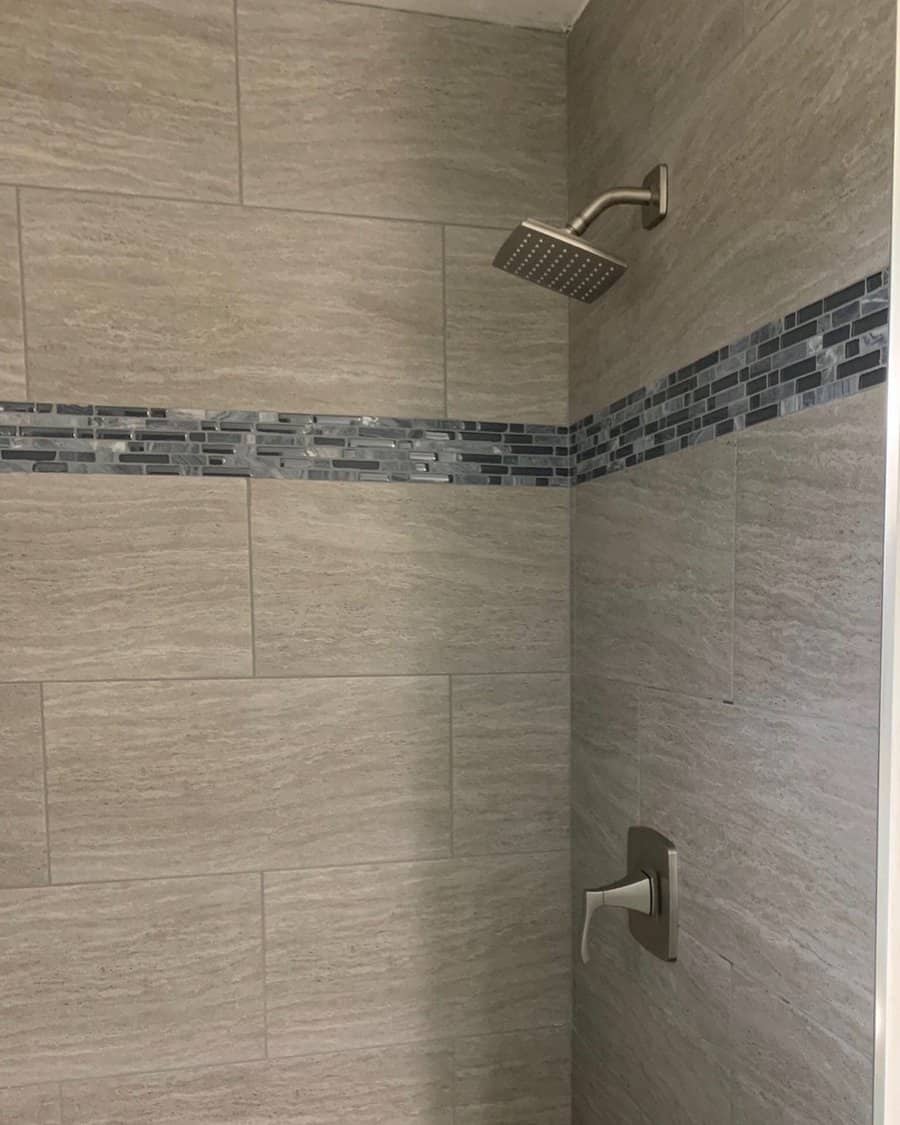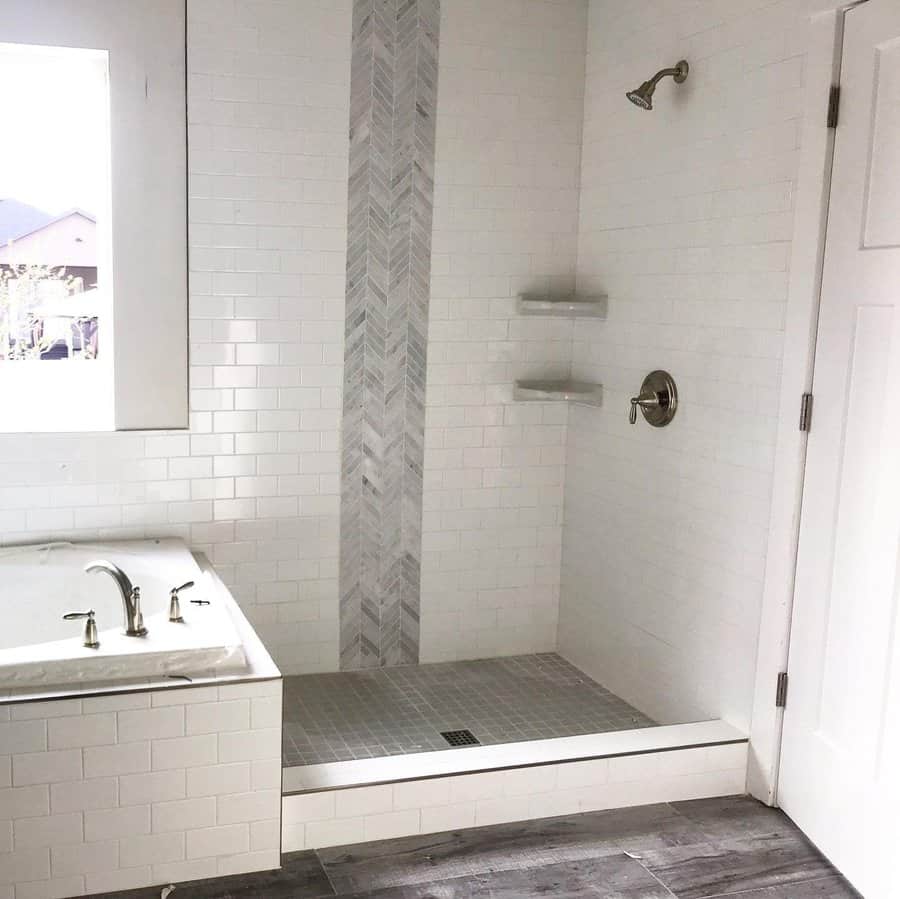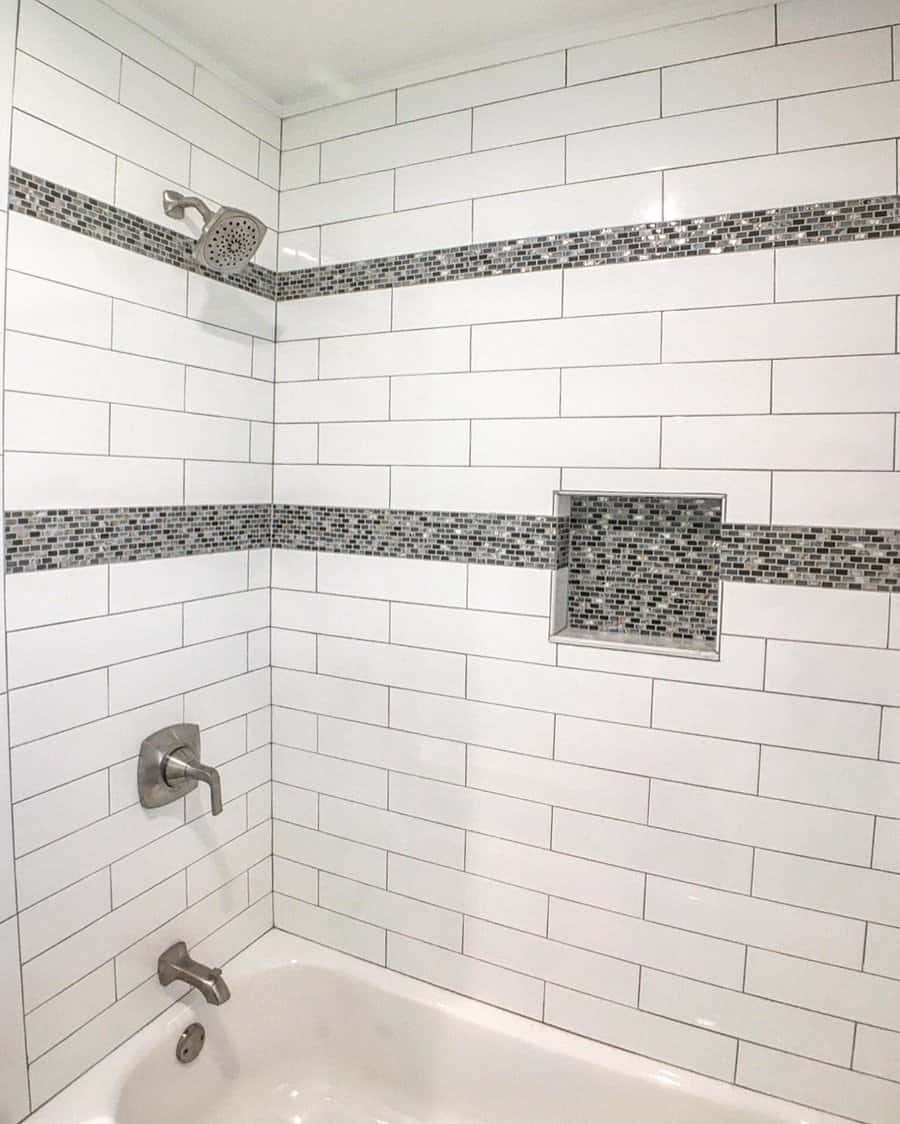 Choosing your accent tile is the fun part. Glass mosaic will reflect light and add a highlight to your shower.
Mosaic tile will give your shower an eclectic or artsy bohemian feel. A patterned tile will add more color and visual interest.
This is a smart choice if you're using neutral colors that can blend together and look flat. For a cohesive look to the bathroom, use the same tile as an accent for the bathroom vanity.
4. Brick
Many people don't consider bricks when choosing bathroom tile for their showers. However, brick and natural stone can give your shower can give your bathroom a warm and slightly rustic feel.
Try creating a feature wall within your shower that's made out of bricks or stone. Using stacked stone can give your shower more of a mountain cabin and less of a rustic farmhouse feel.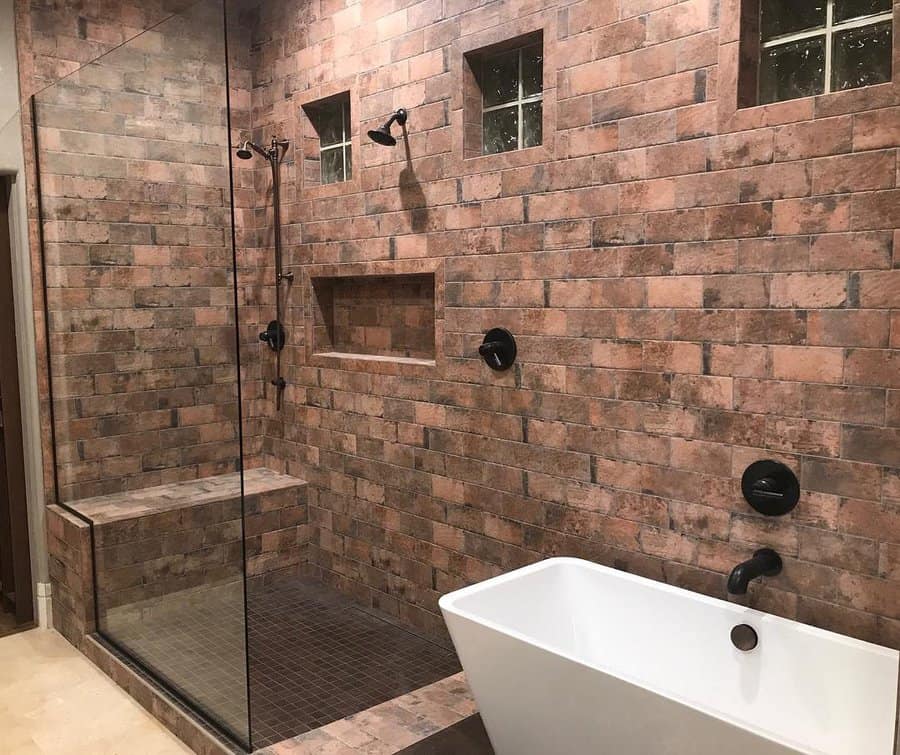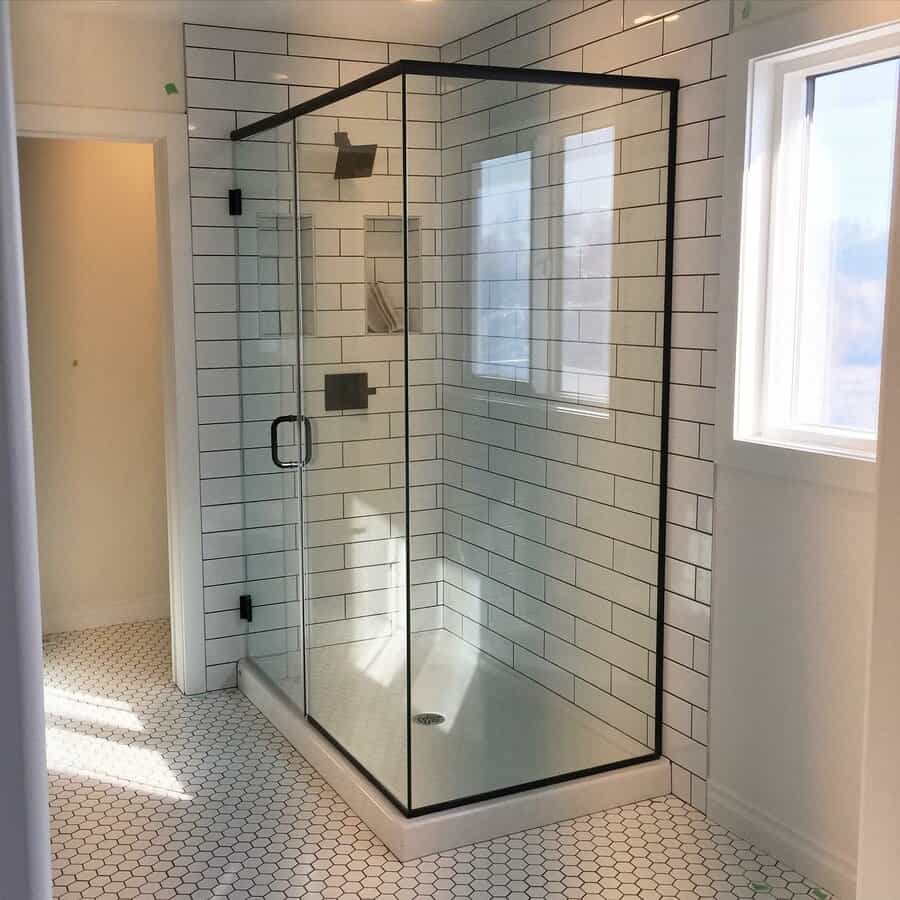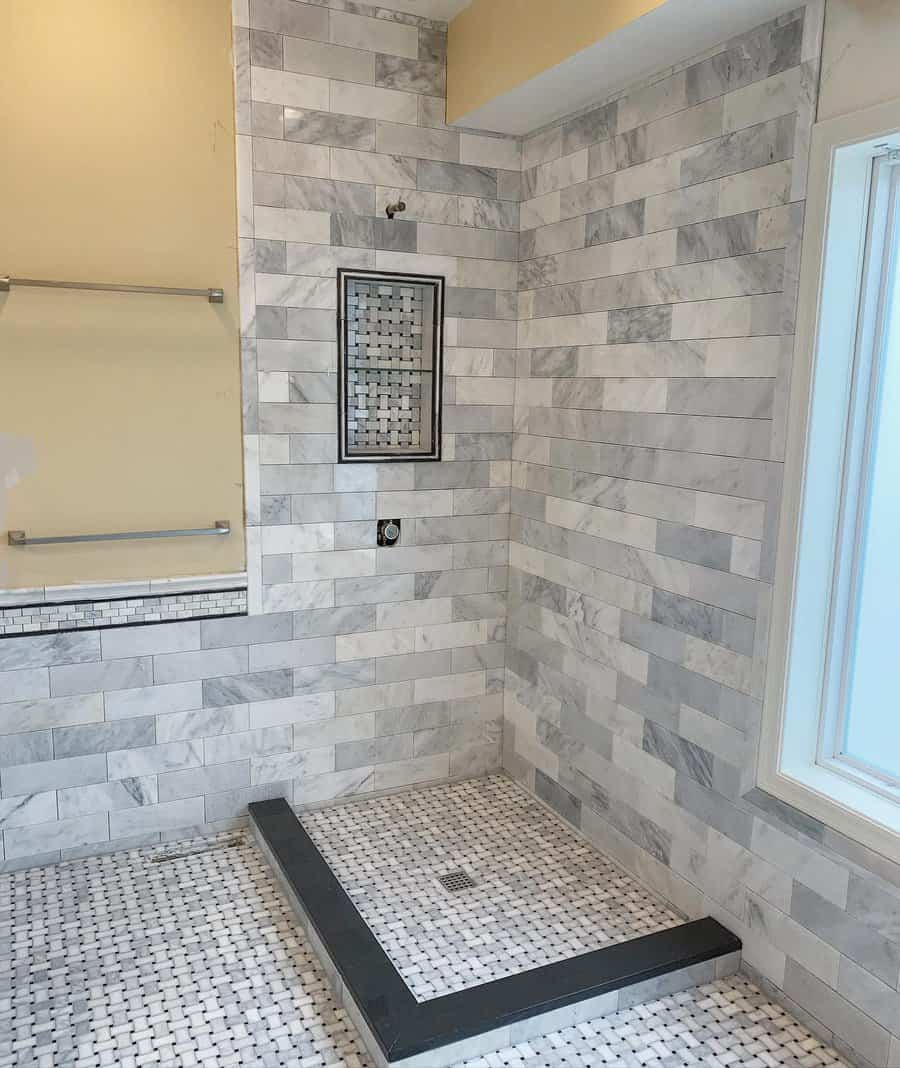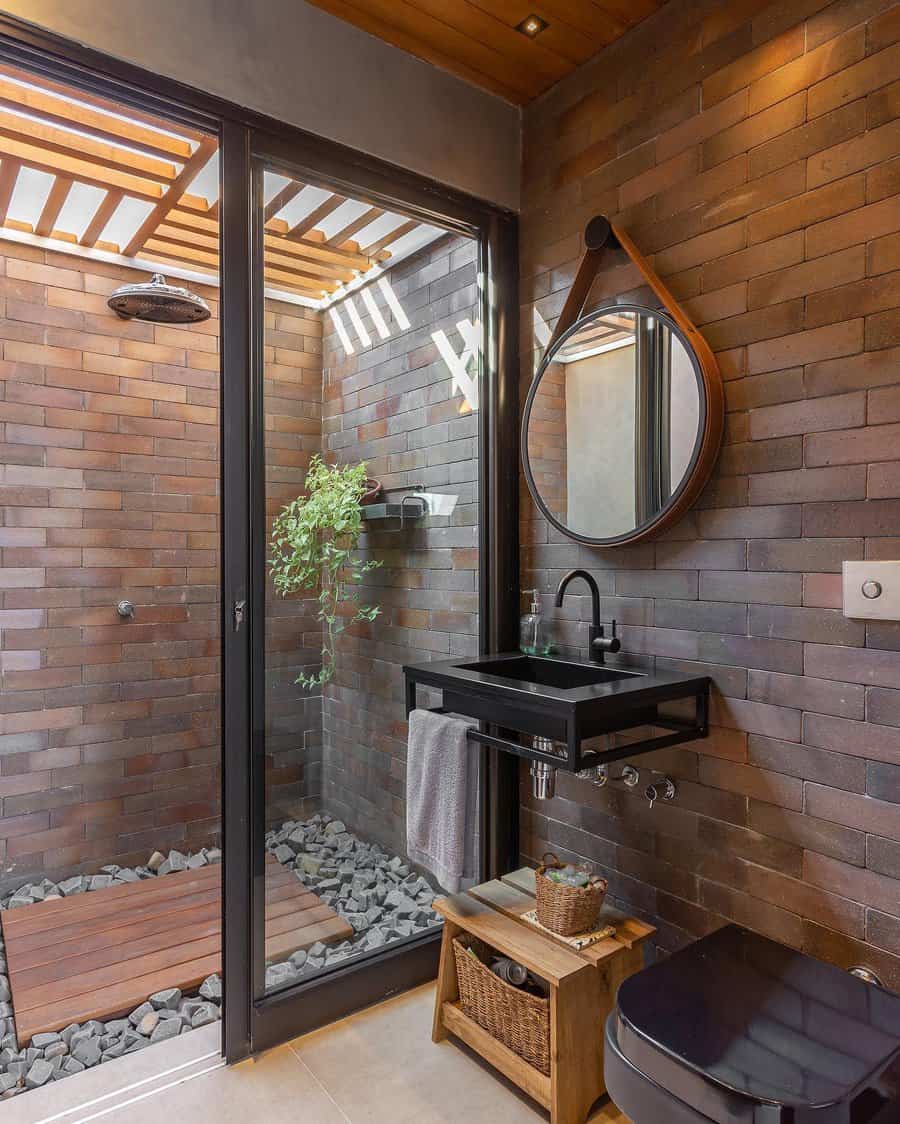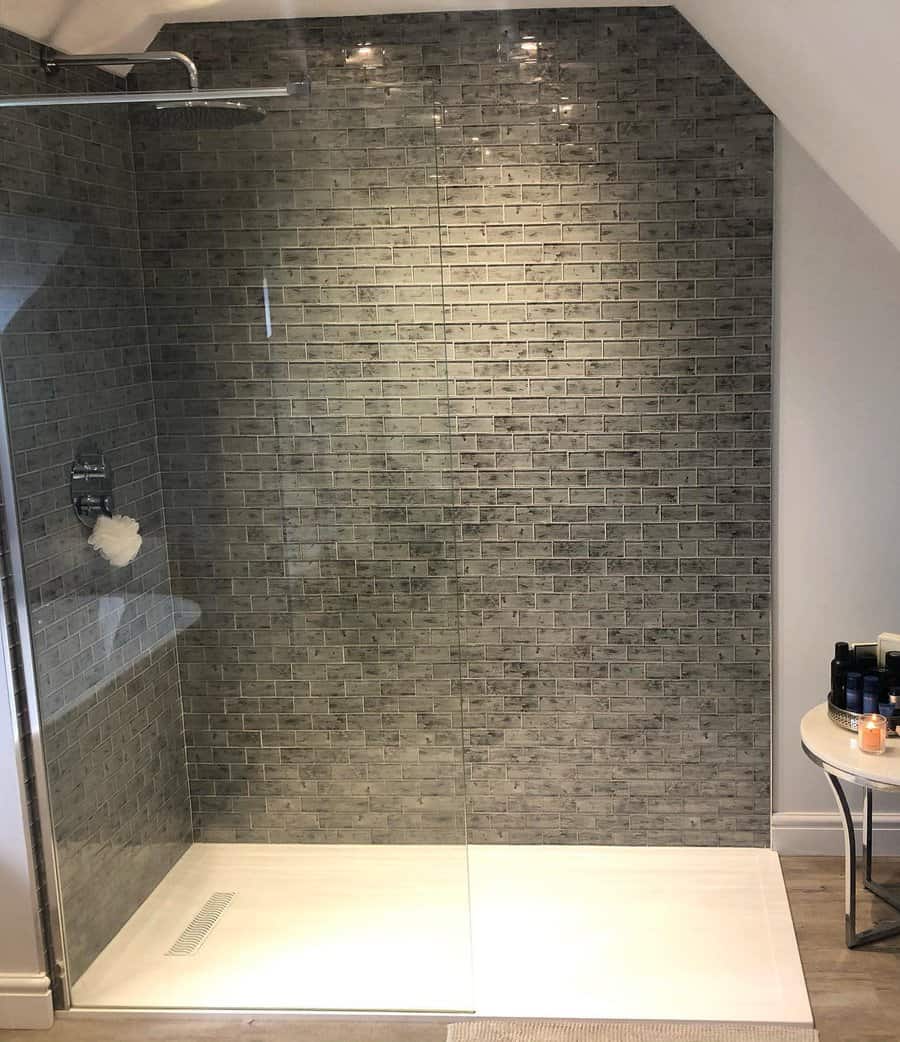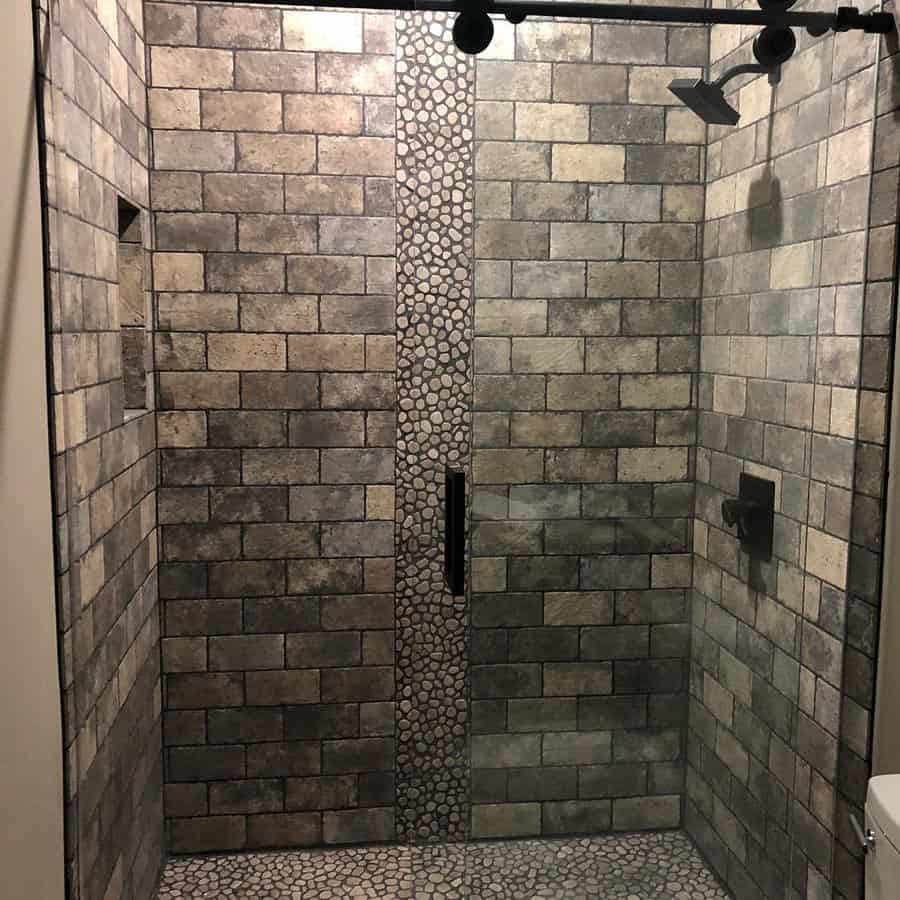 Instead of buying brand new bricks that are perfectly shaped, try using salvaged ones. These are bricks taken from buildings. They won't be perfect in shape and their colors vary. Their aged appearance will add a sense of authenticity to the vintage look they help create.
5. Contemporary
Contemporary bathroom design is about creating a clean, bright, and welcoming bathroom. There are two ways you can accomplish this.
The first is to choose a light-colored tile. It will keep the shower feeling bright. A white tile is a good option for this approach.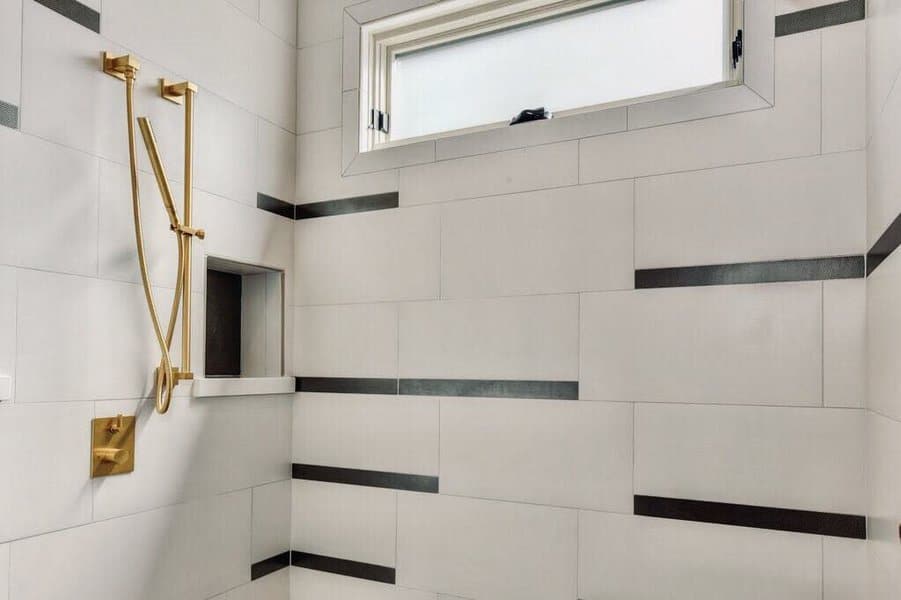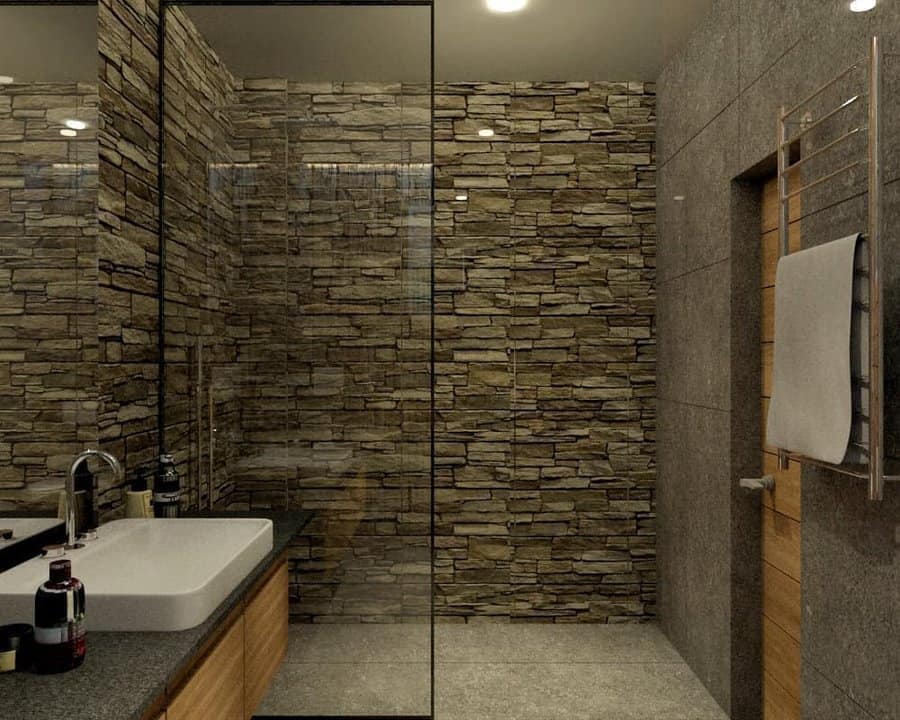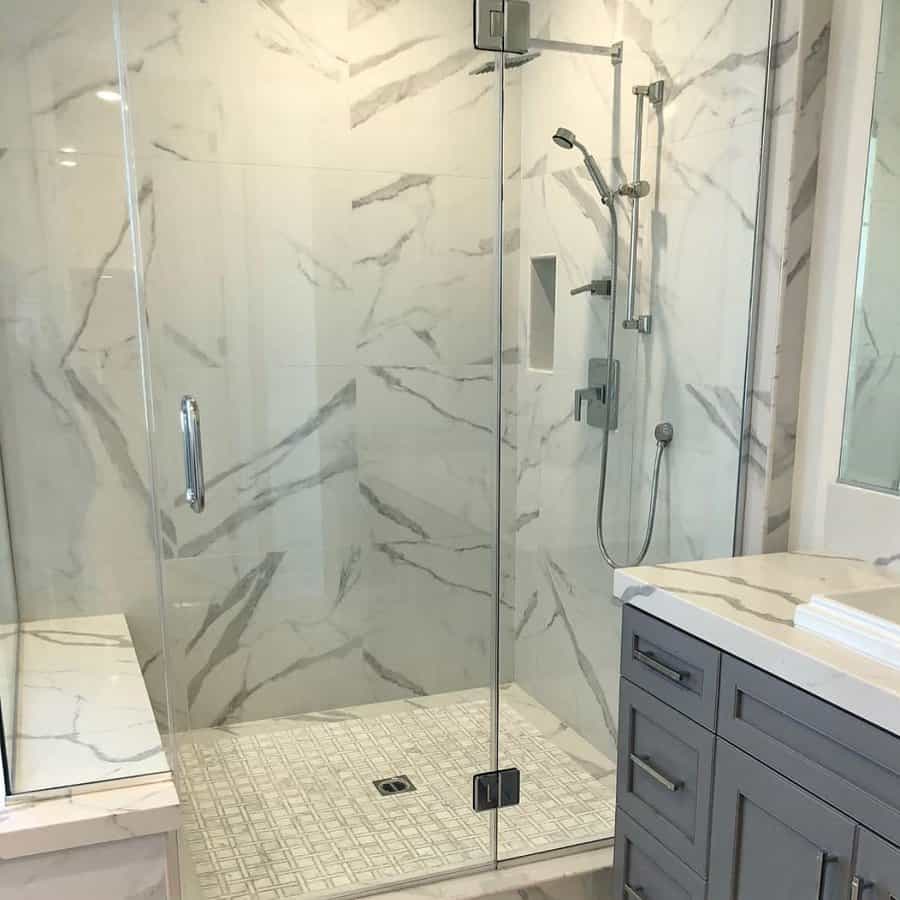 The other option is to choose a dark-colored tile. Choose tile that's in charcoal or dark grey.
It's softer than harsh black but also gives the illusion of a dark color. It balances the other light wood and crisp white colors in your bathroom.
6. Luxury
Turn your master bath shower into a luxury experience by using materials that are typically used in high-end shower designs. This typically includes using marble tile because it's an expensive building material and creates an elegant look.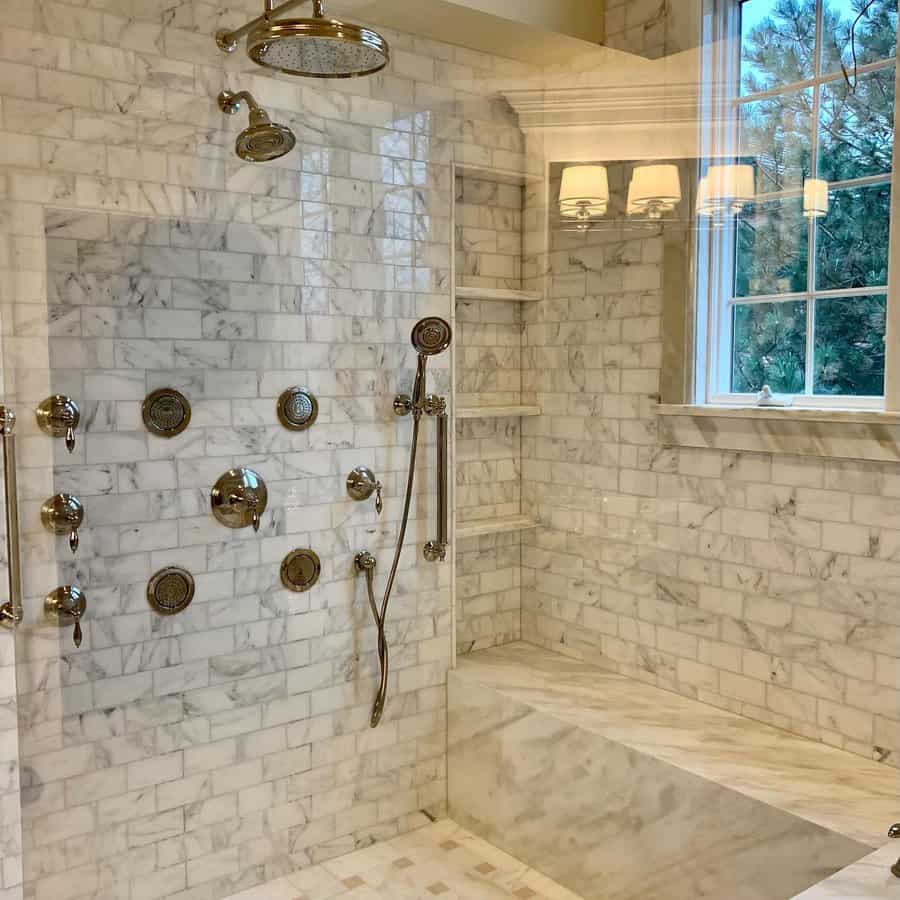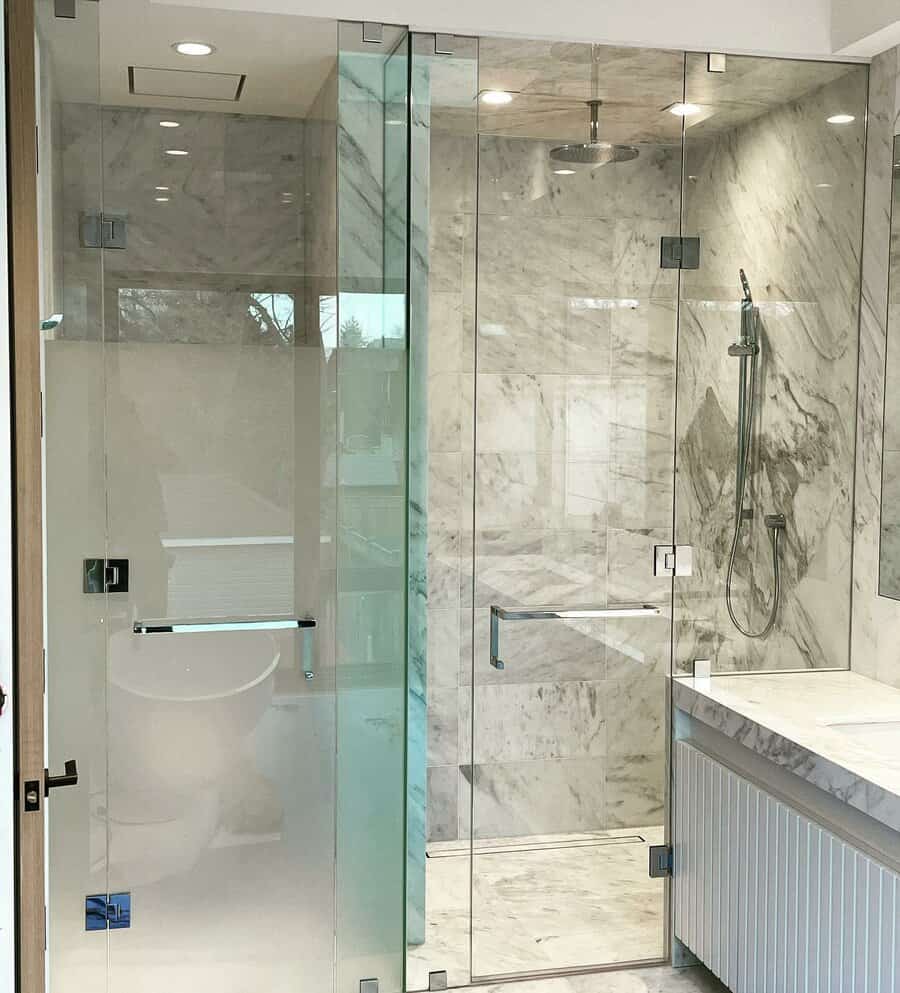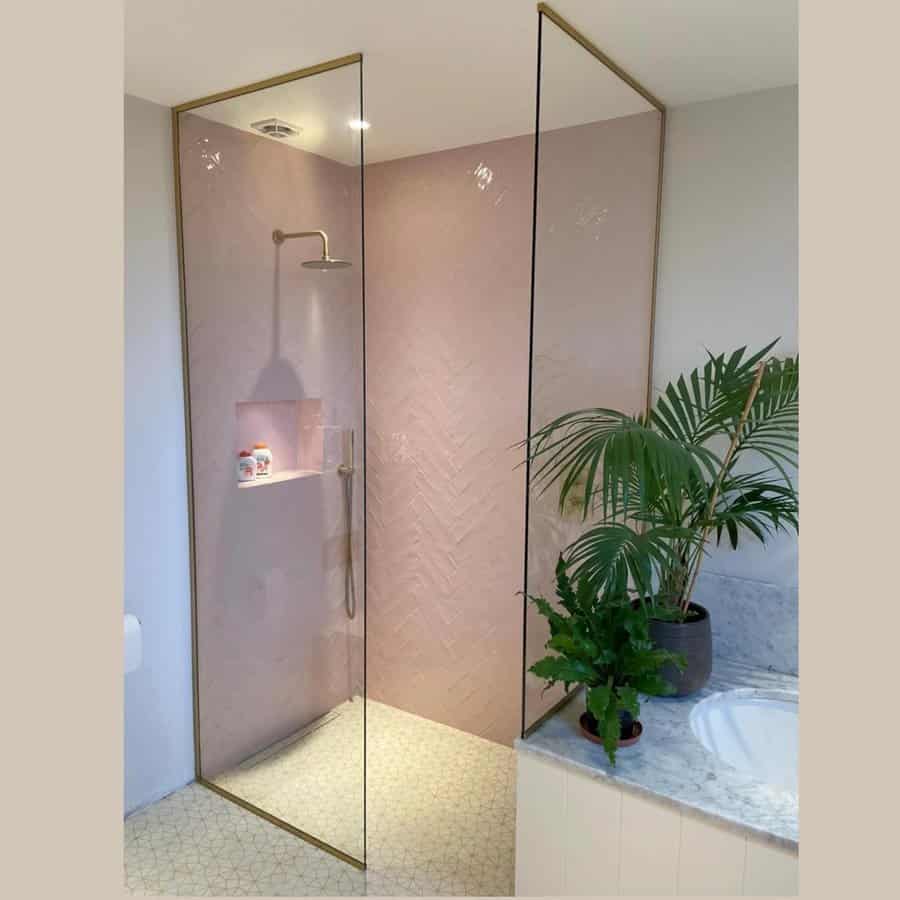 Another option is to use glass tile. It won't be clear glass that you can see through. It will have an iridescent look and can come in a variety of colors. The tiles will vary in color and opacity, giving your shower wall a stained glass effect.
7. Marble
It doesn't matter if you have an oversized master shower or tiny shower stall; you can use marble tile in your bathroom shower.
The tiles come in a range of sizes, from penny tile to large sheets. If you have a small bathroom, then a smaller tile will look better.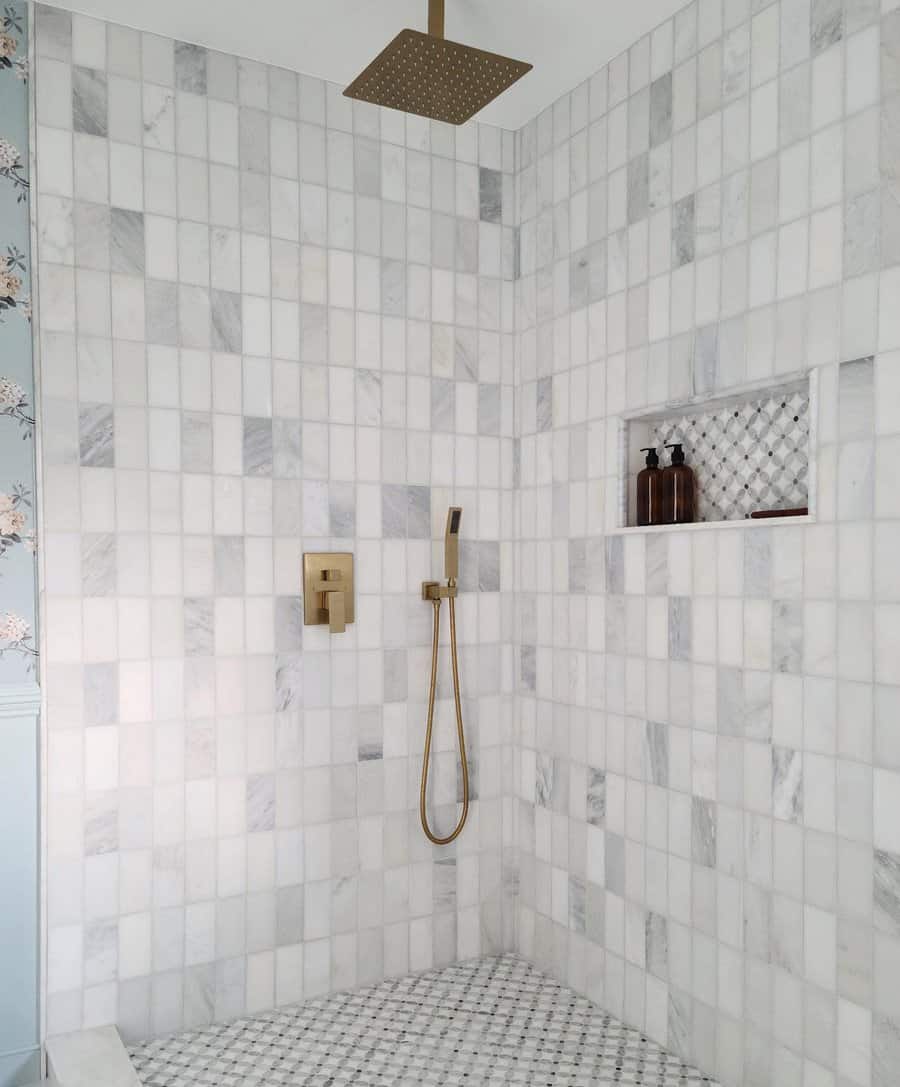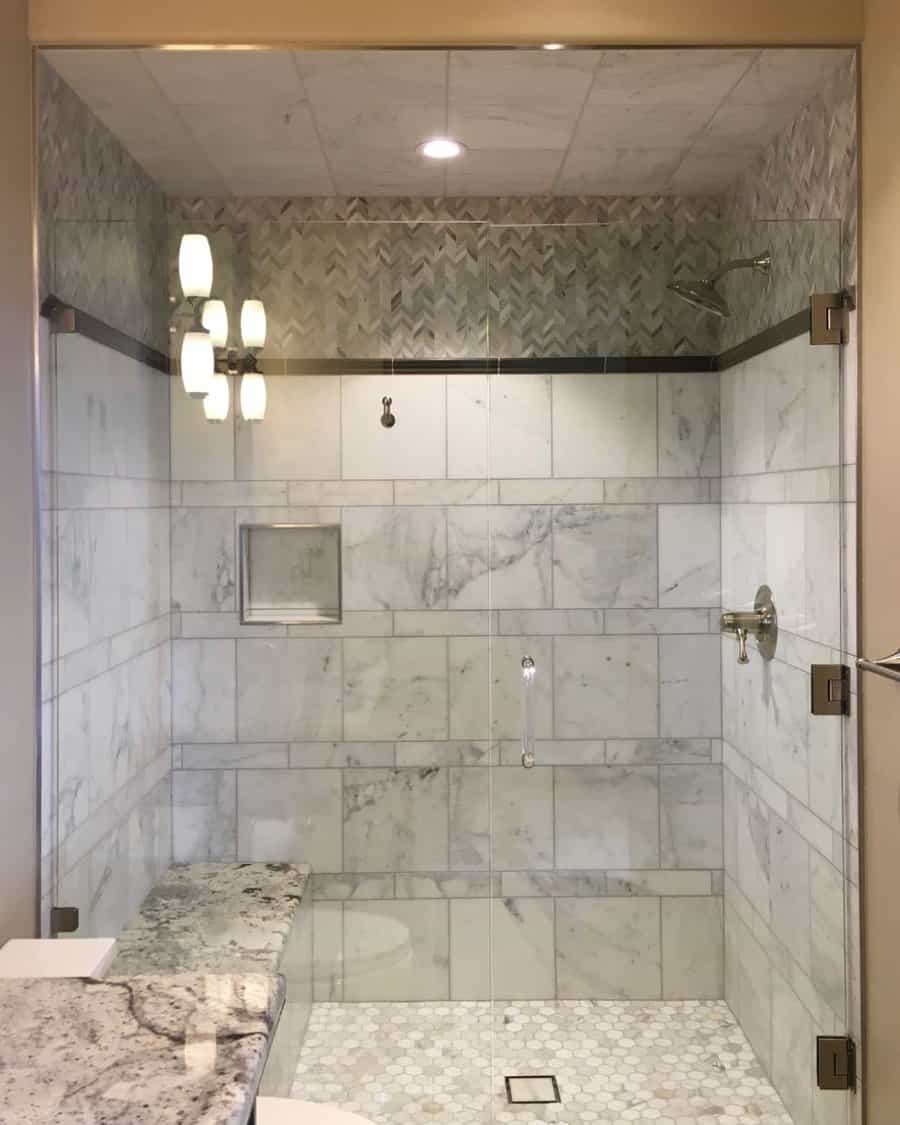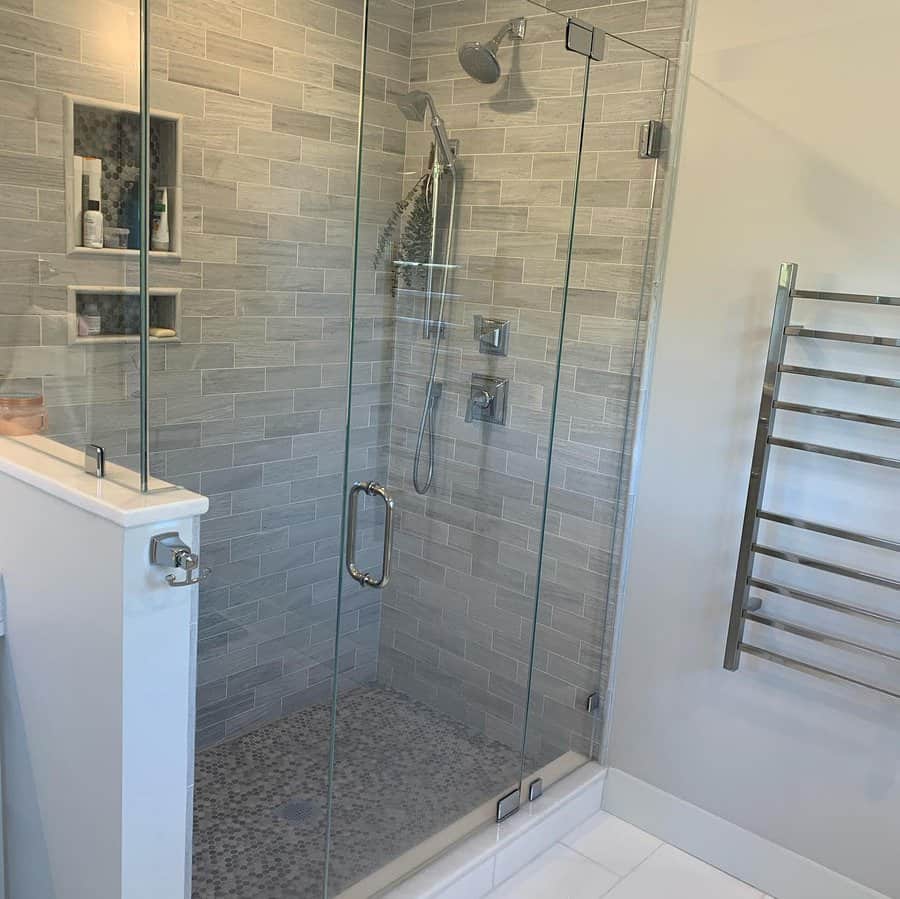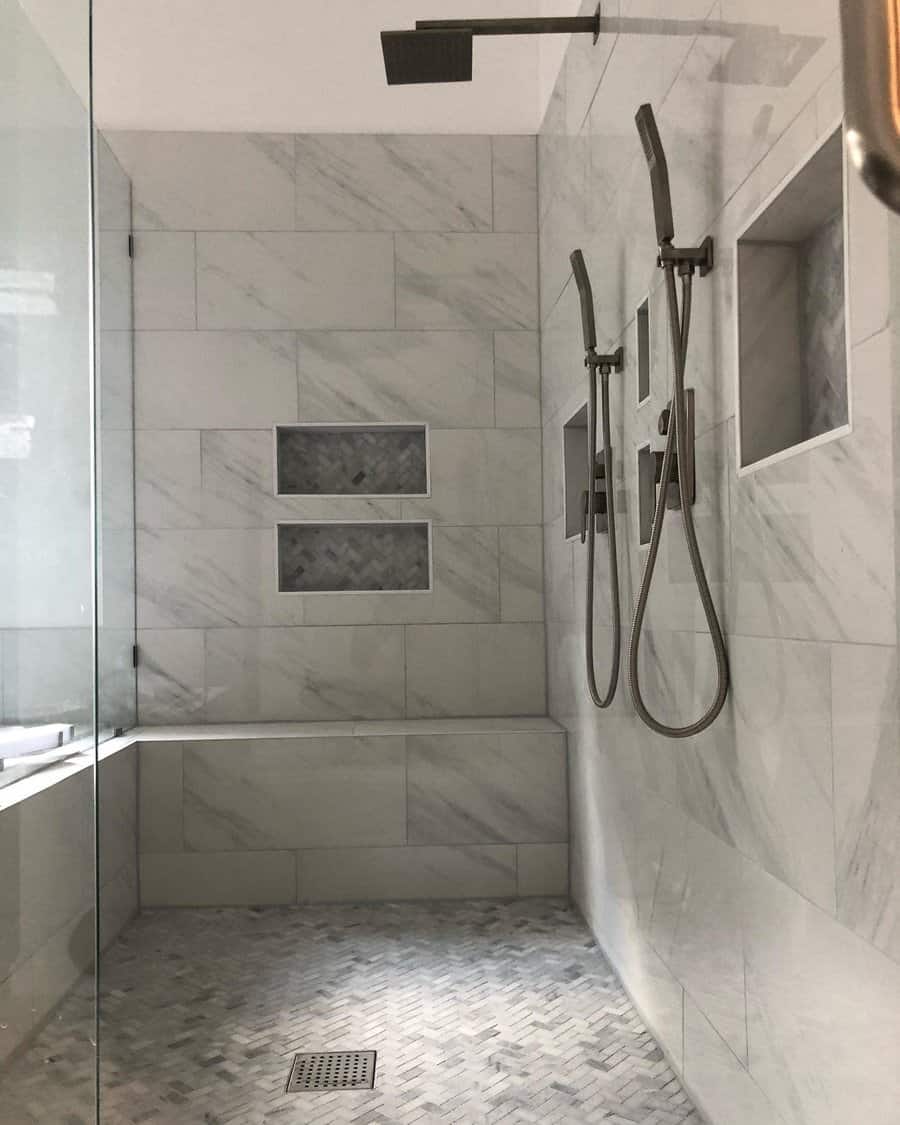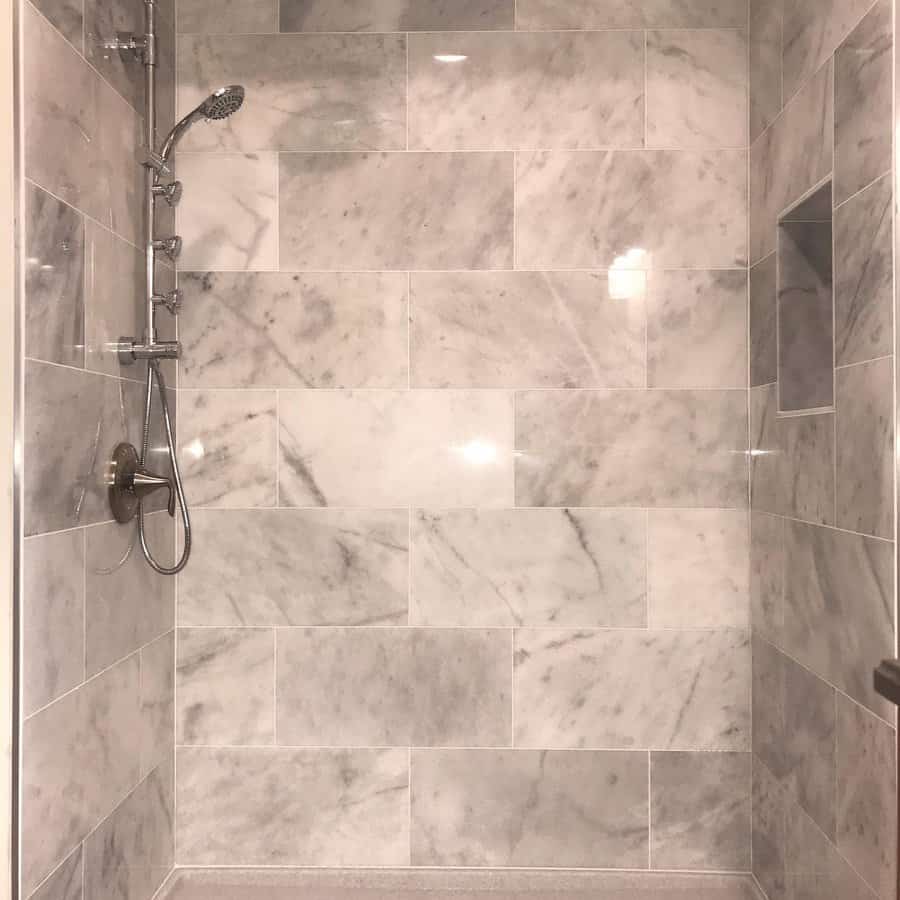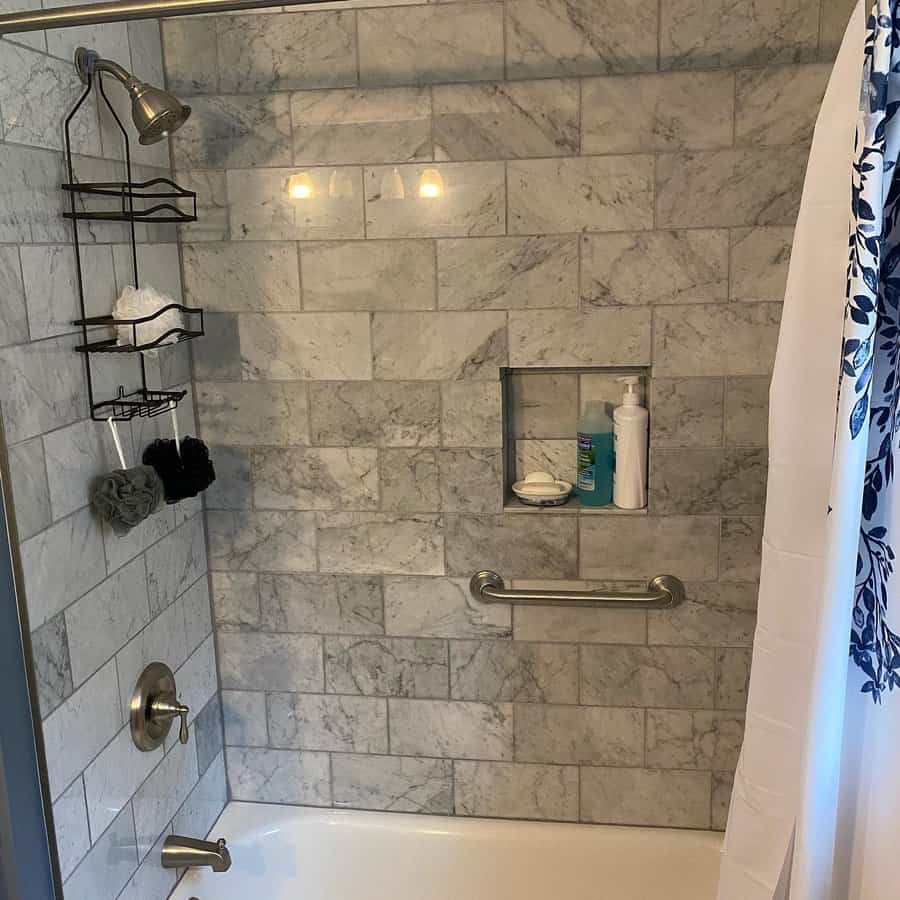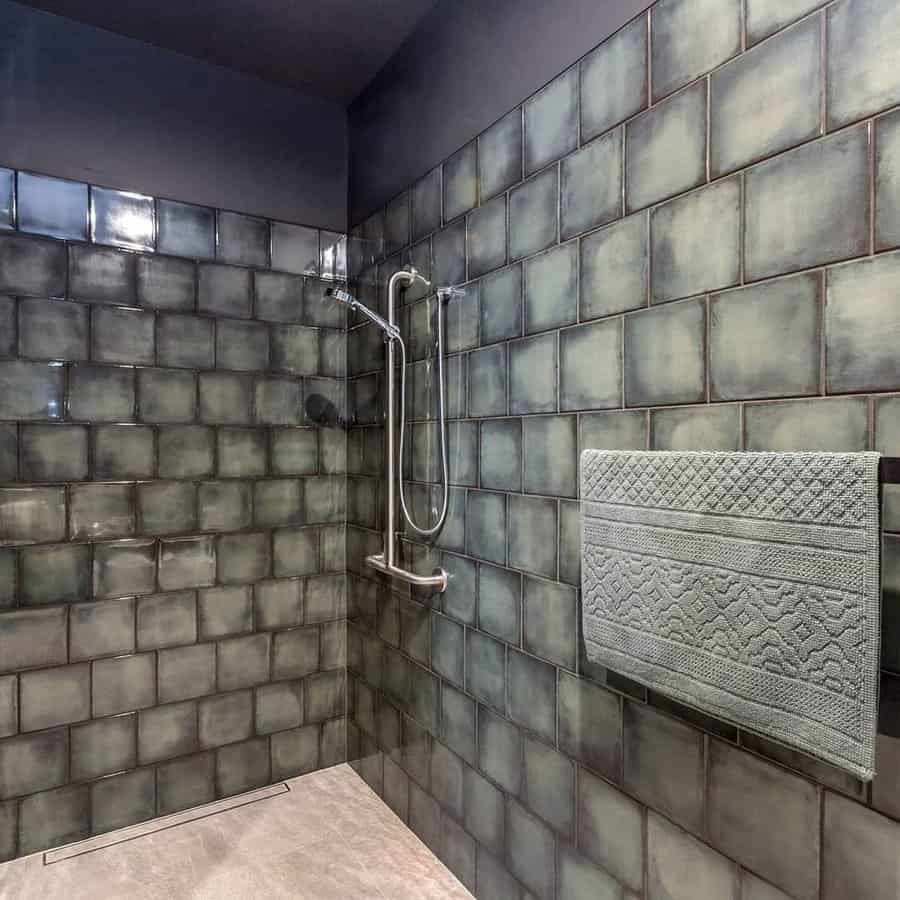 Creating a marble-tiled shower is your chance to create natural texture. Try using a small penny tile on the shower floor and then a larger tile on the walls.
You could use a uniquely shaped tile to create an accent design. Look at decorative tile ideas to get inspired.
8. Modern
A modern bathroom is one that is minimalist in its approach. The bathroom shower tile that you see the most often are large rectangles.
The shower area will either have the same tile as the rest of the bathroom or a contrasting tile.
If you choose a contrasting tile, the shower tile design should make a bold statement.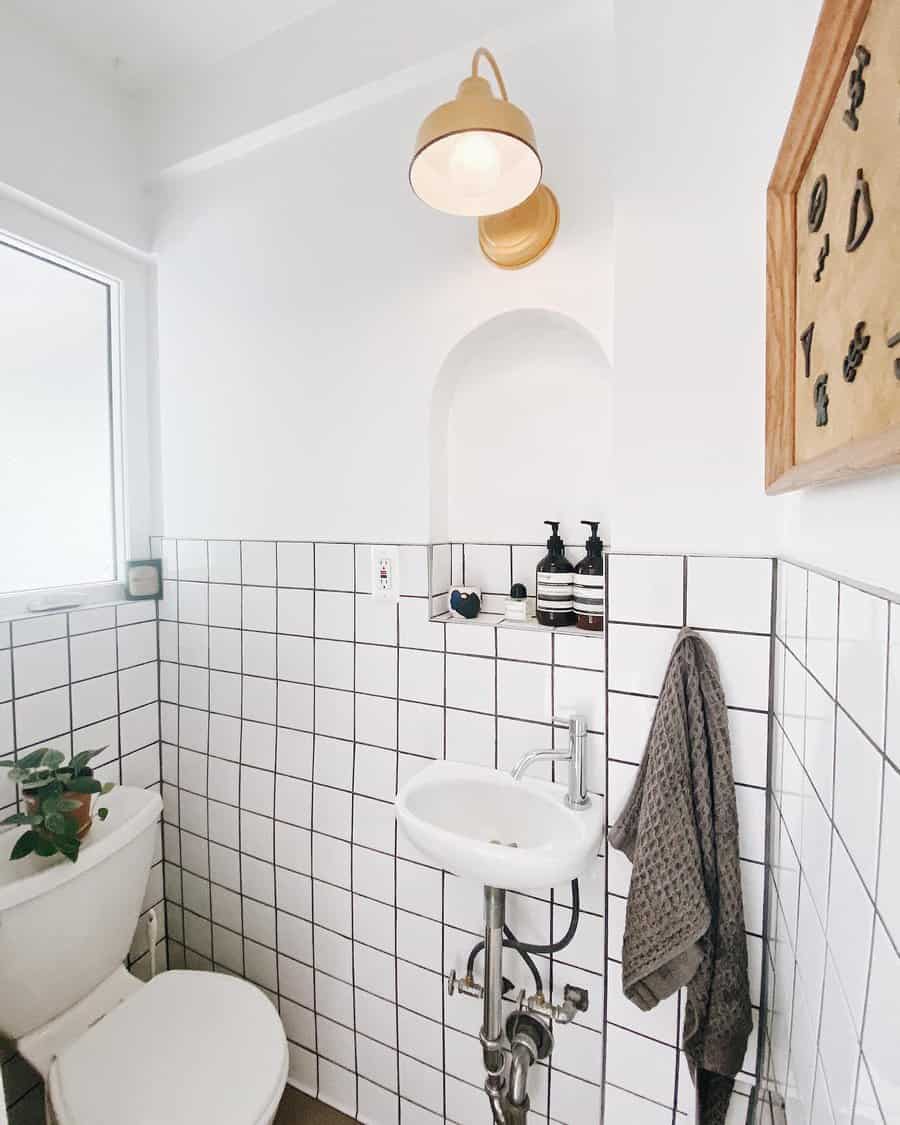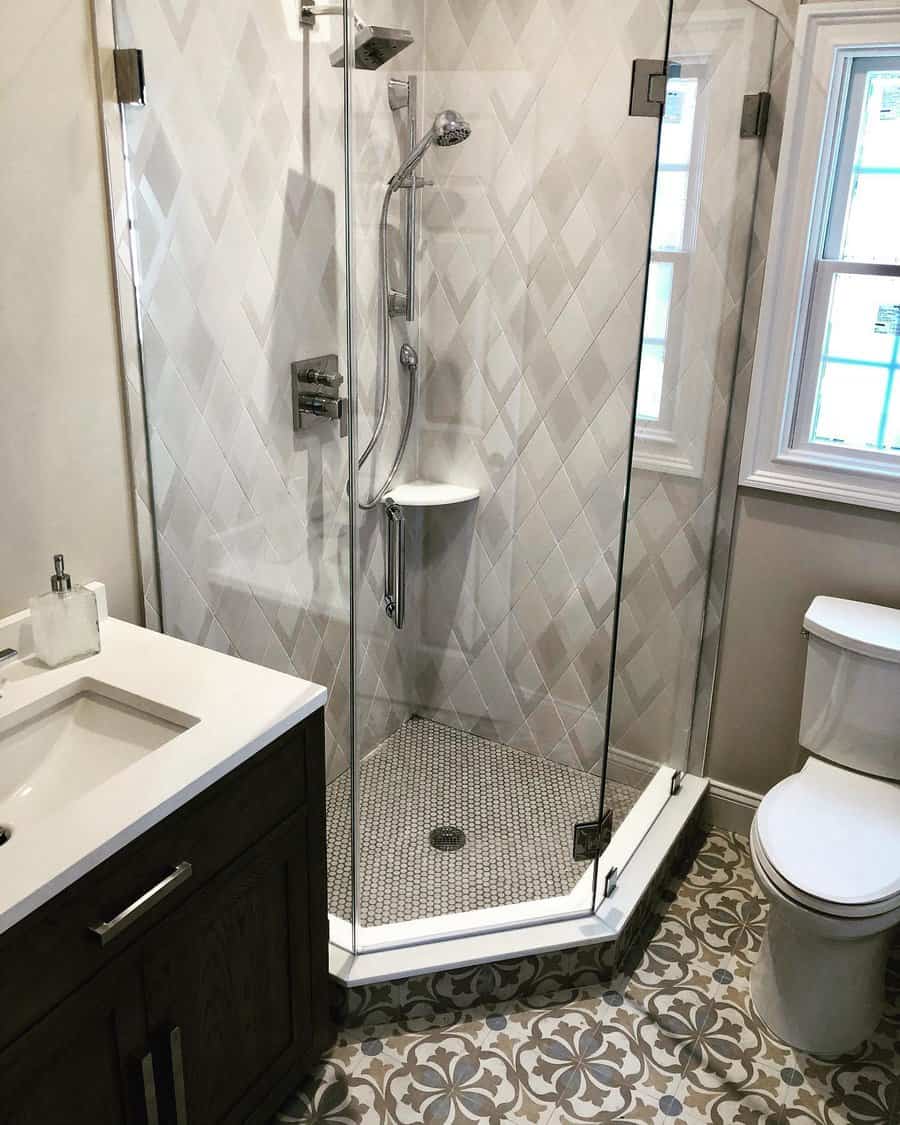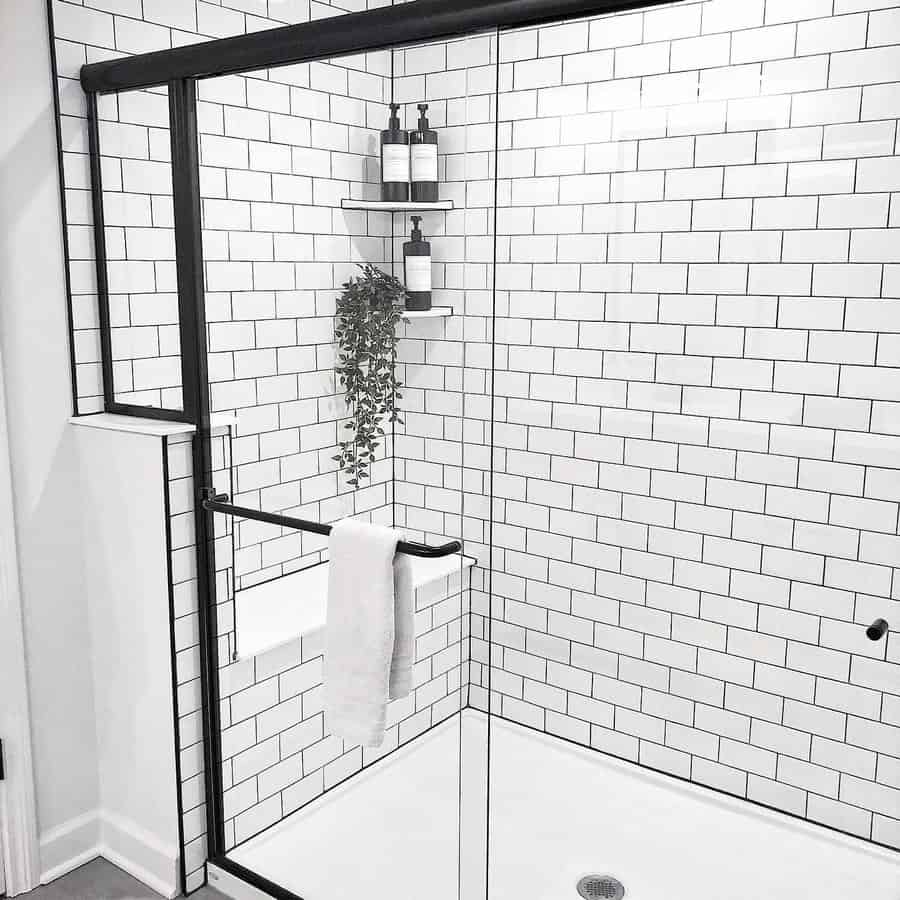 Skip the small tiles or subway tile for your modern shower. Instead, choose large format tiles with thin grout lines. This creates a smooth surface that has minimal lines to break up the visual.
Stick with shades of white and grey that will create a minimalist design. These colors will pair beautifully with either light or dark wood.
9. Niche
Adding a niche to your shower wall gives you a built-in place for the storage of your shower accessories.
This gets them off the shower floor and in a place that's easily reachable. It also elevates the look of your bathroom by having custom built-in niches.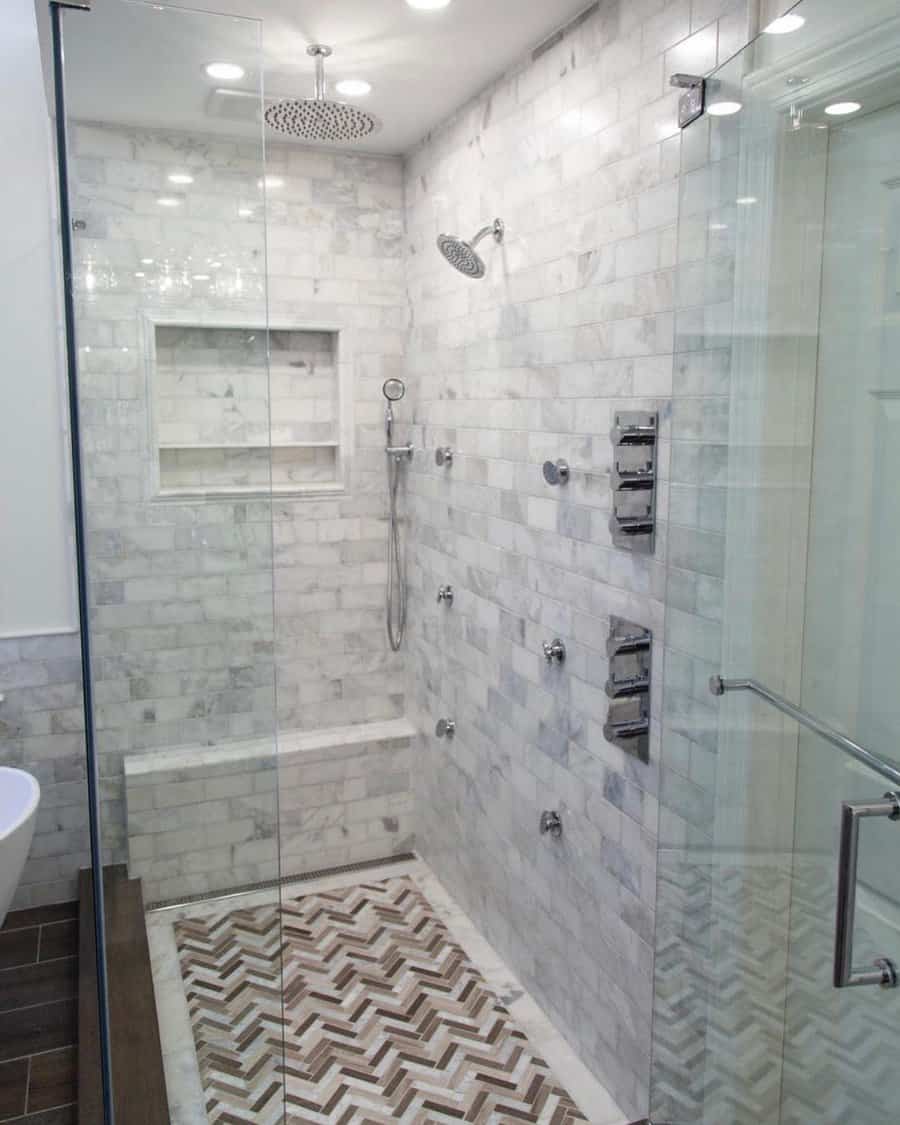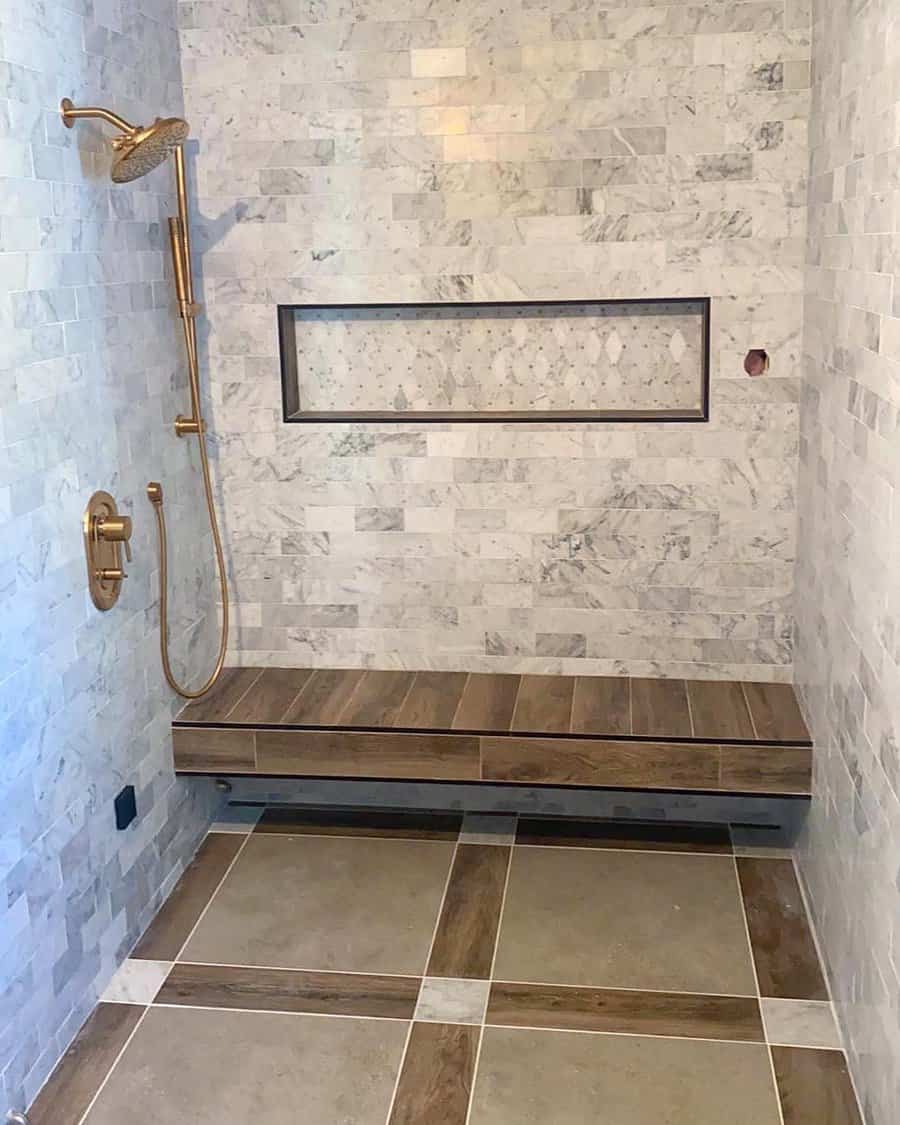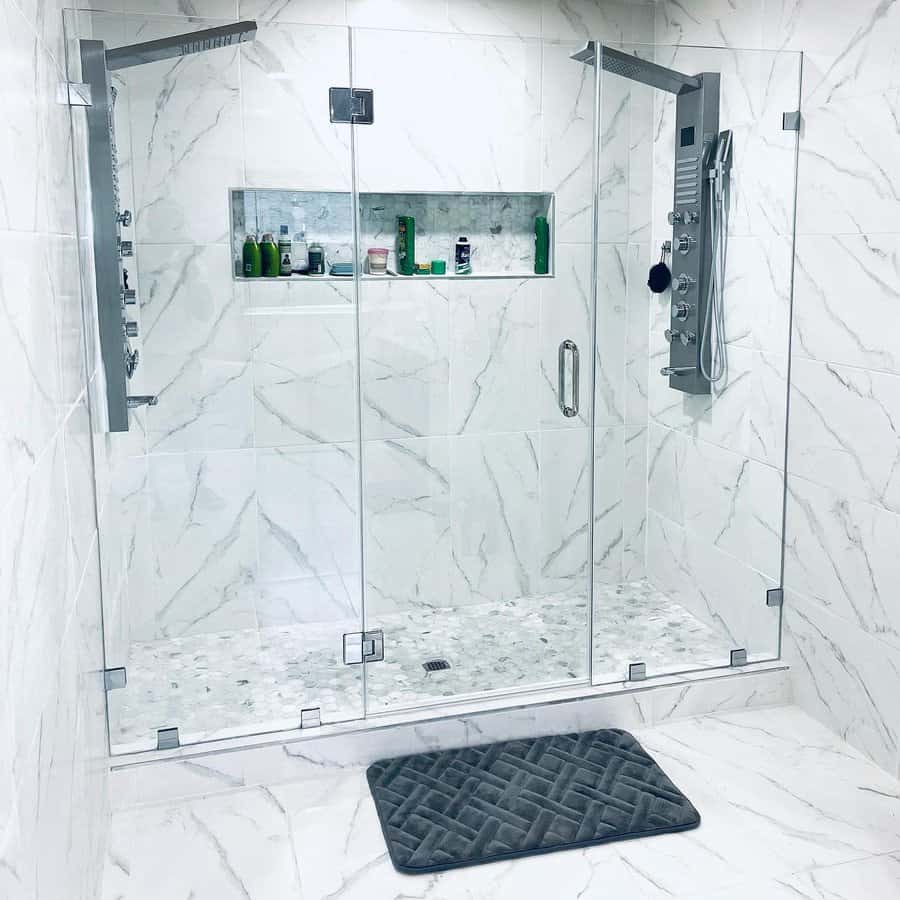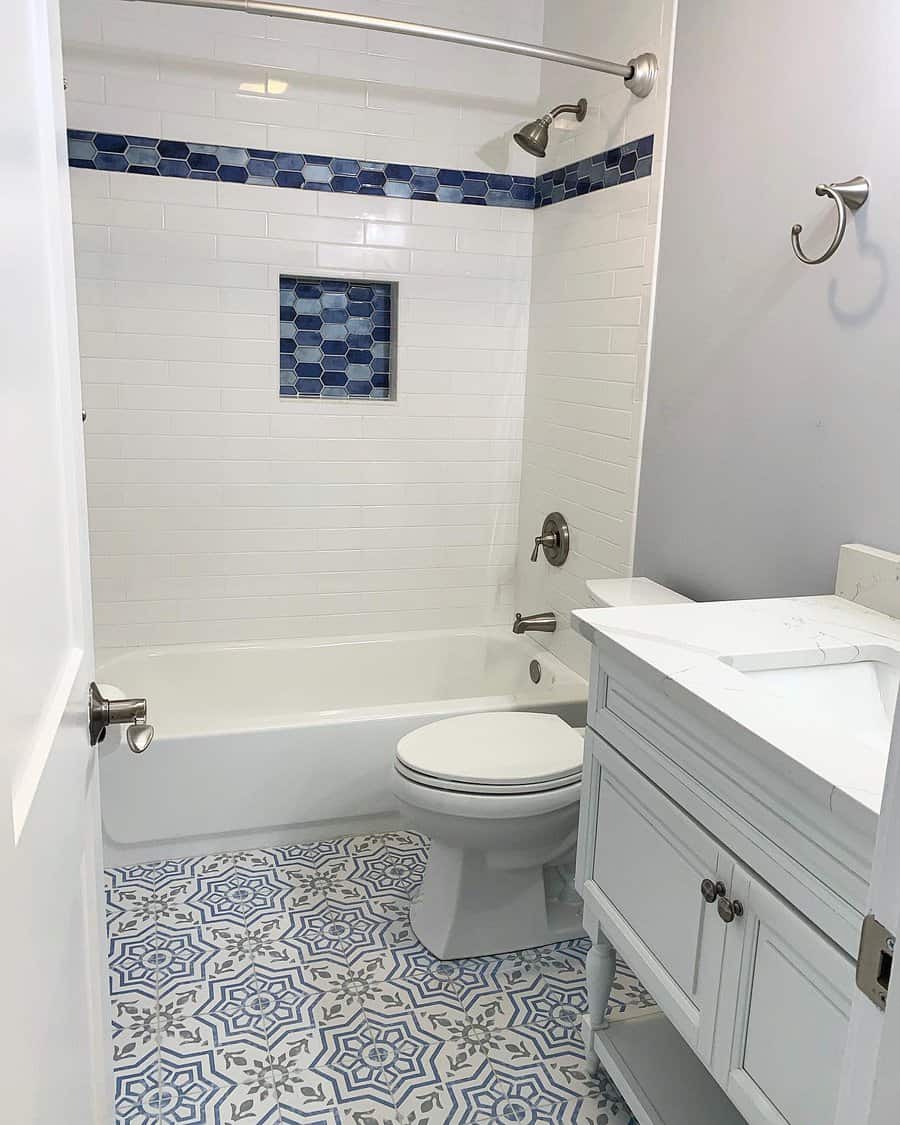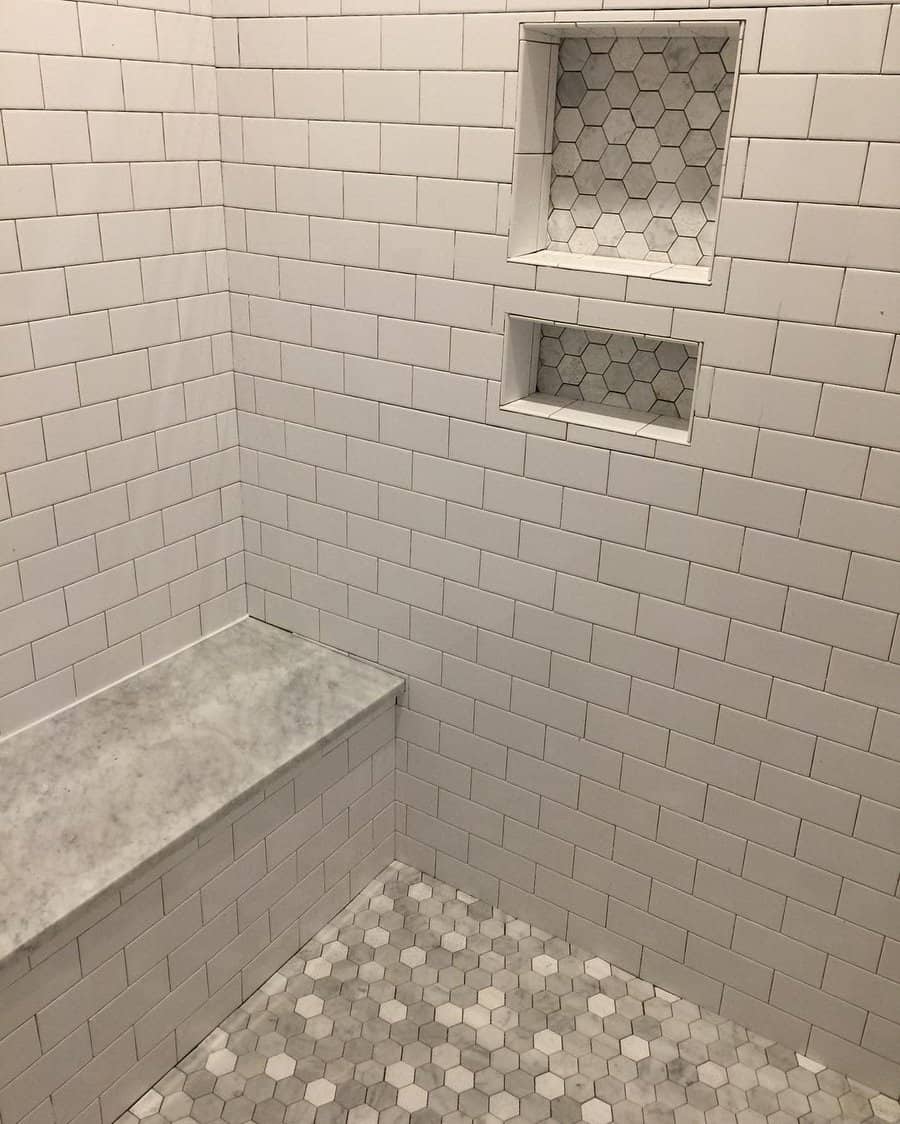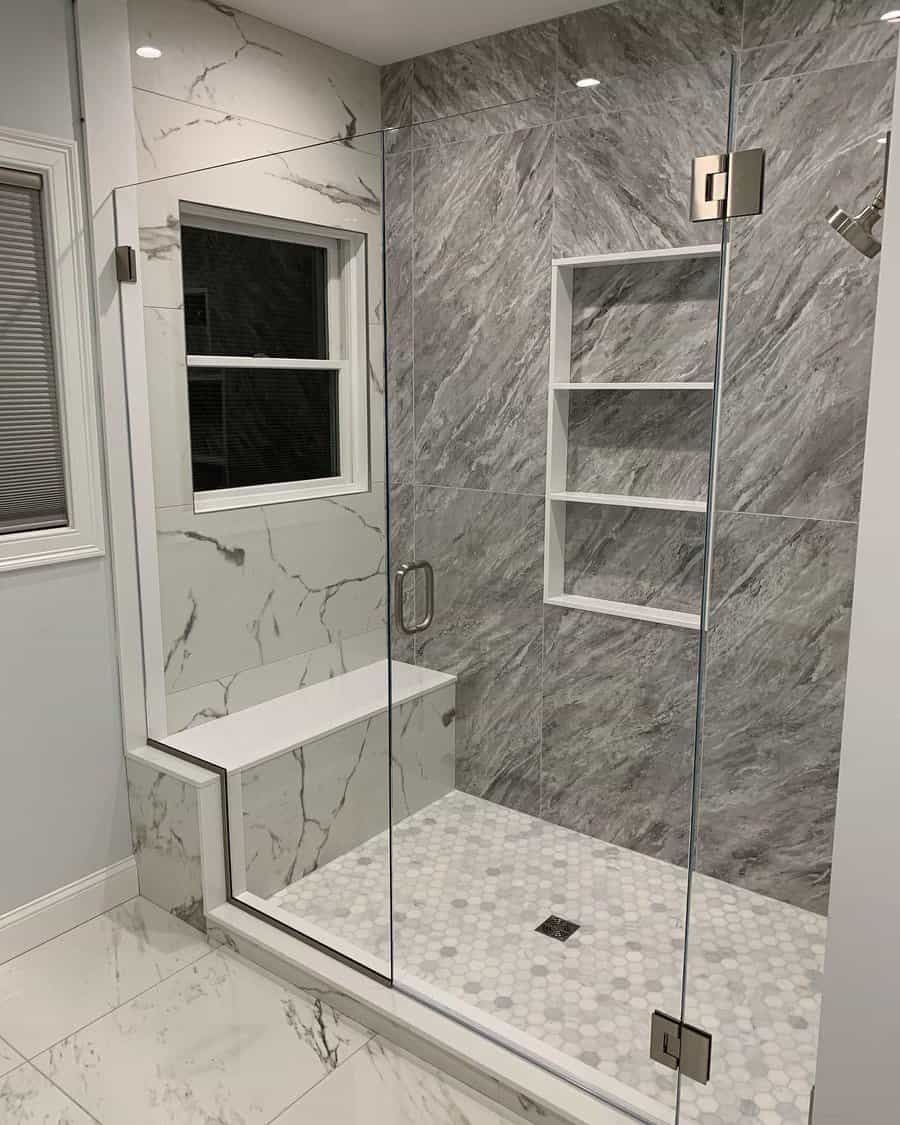 What your niche looks like will depend on the size and shape of your shower. A tall skinny niche with several shelves works well for a narrow or stall-style shower.
A long niche that extends the length of the shower works better for larger showers. Consider creating two smaller showers if you have the wall space.
10. Porcelain
The water resistance of porcelain tile makes it perfect for use in your shower enclosure. This makes it slightly better than ceramic tile. Porcelain also has more durability, making it good use as bathroom floor tile.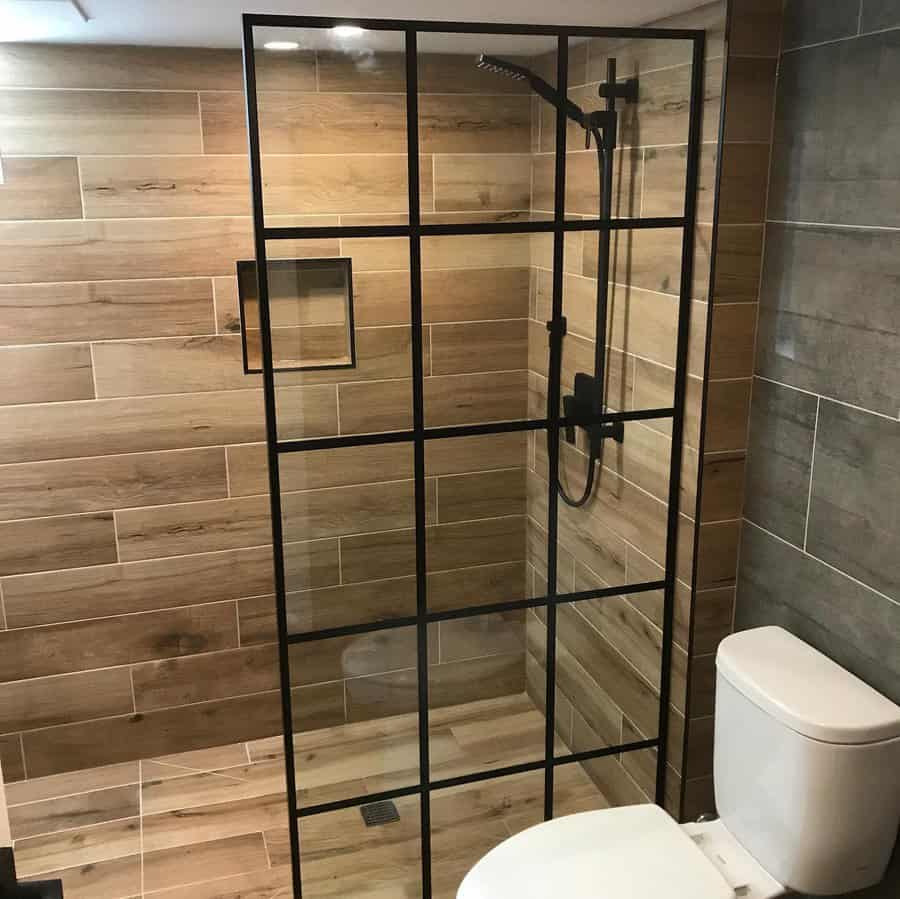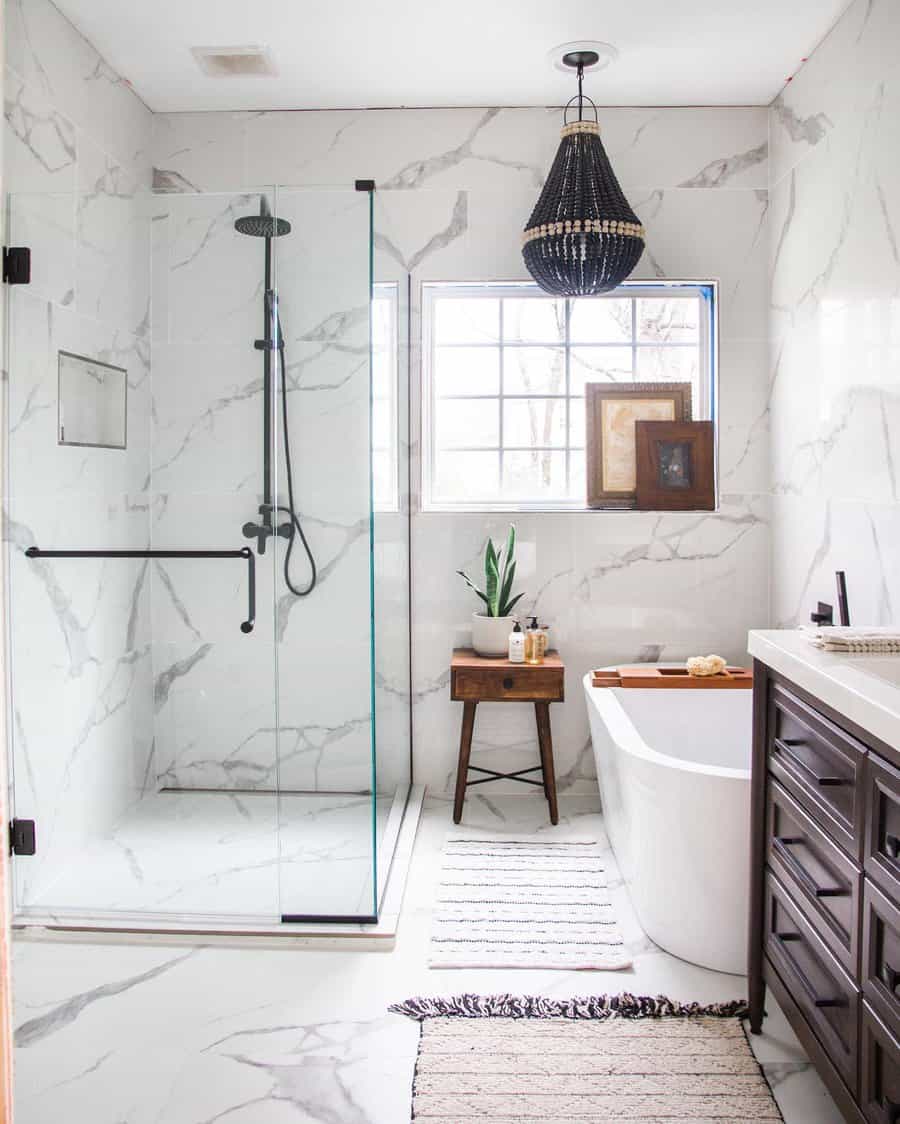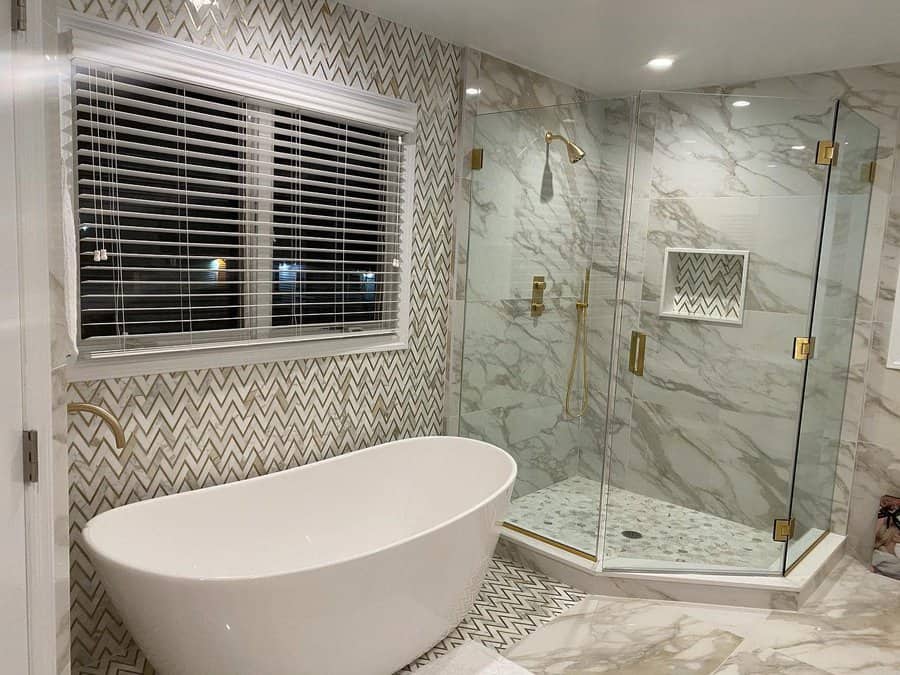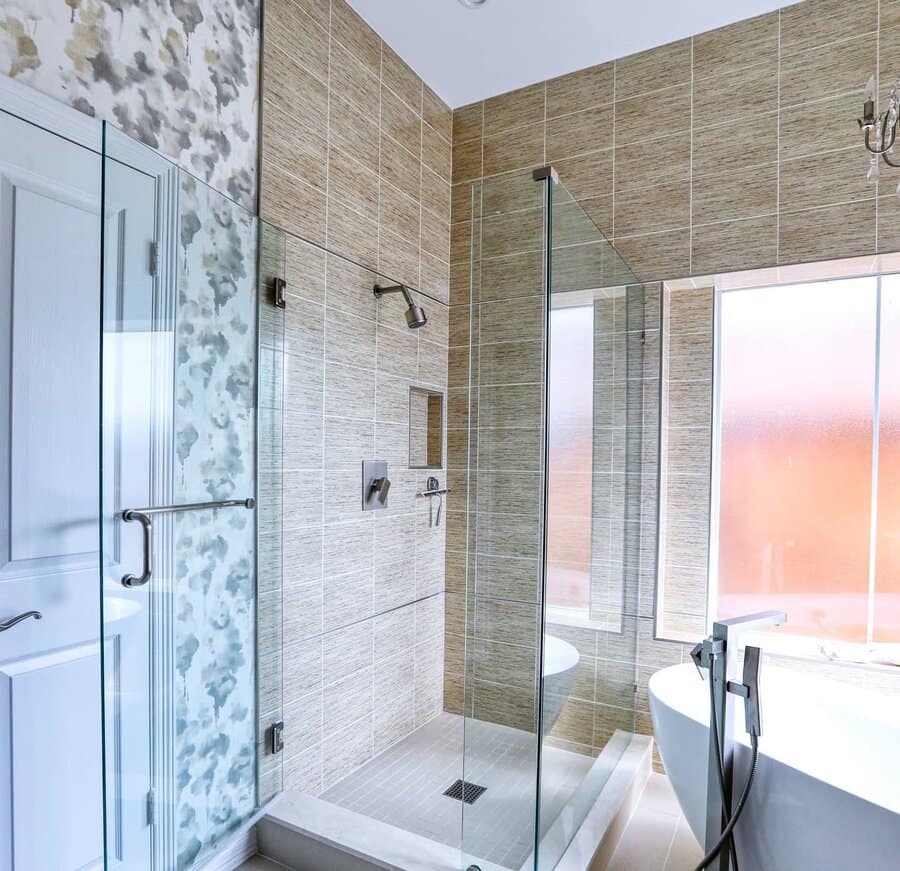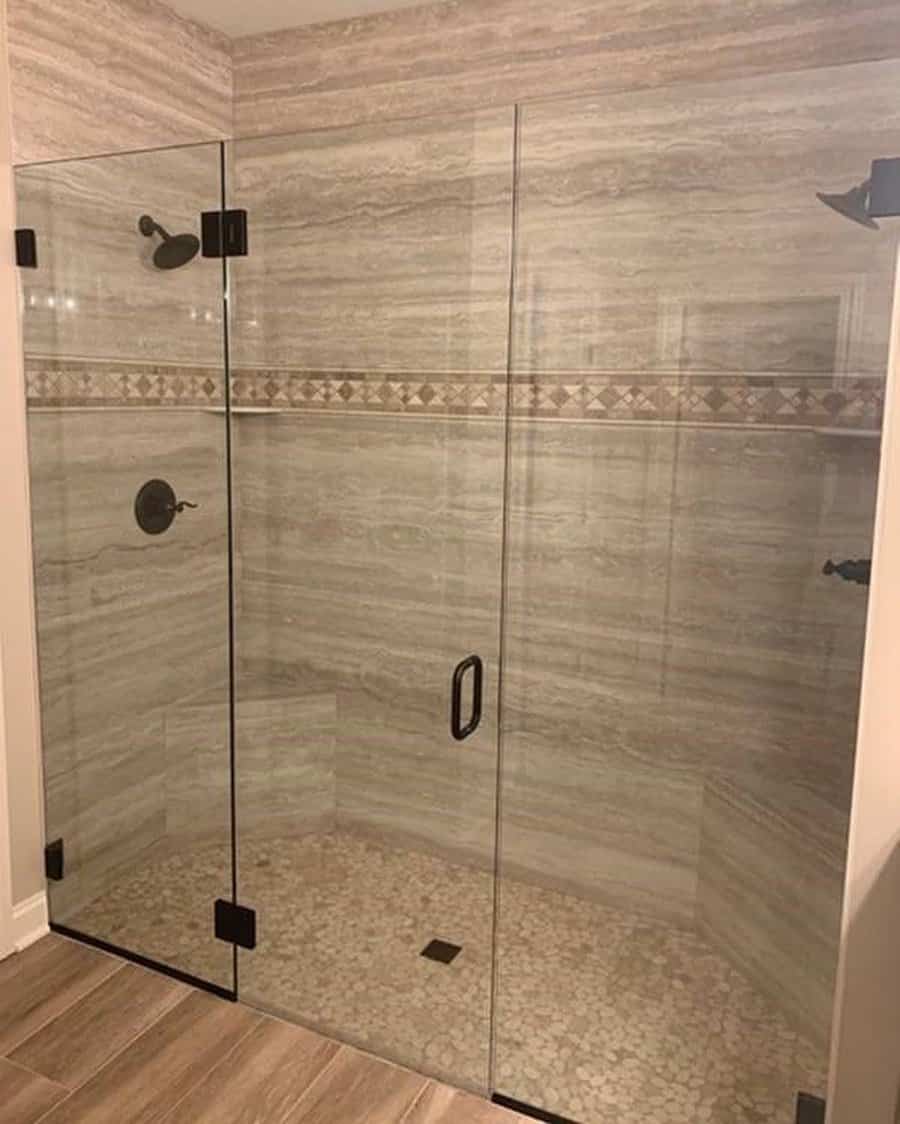 There is a wide range of colors, shapes, and sizes that you can use for your wall tile.
Keep your shower looking clean and modern with a light-colored plain tile in a large size. Trendy tile has a unique shape, like fish scales or a geometric shape.
While this tile may be the height of popularity right now, it tends to not last. This will make your shower look outdated quickly.
11. Remodel
Remodeling your bathroom is the perfect time to change your shower tile. Ripping out old tiles is a time-consuming and messy project. It isn't something you should do unless you're prepared to redo your entire bathroom.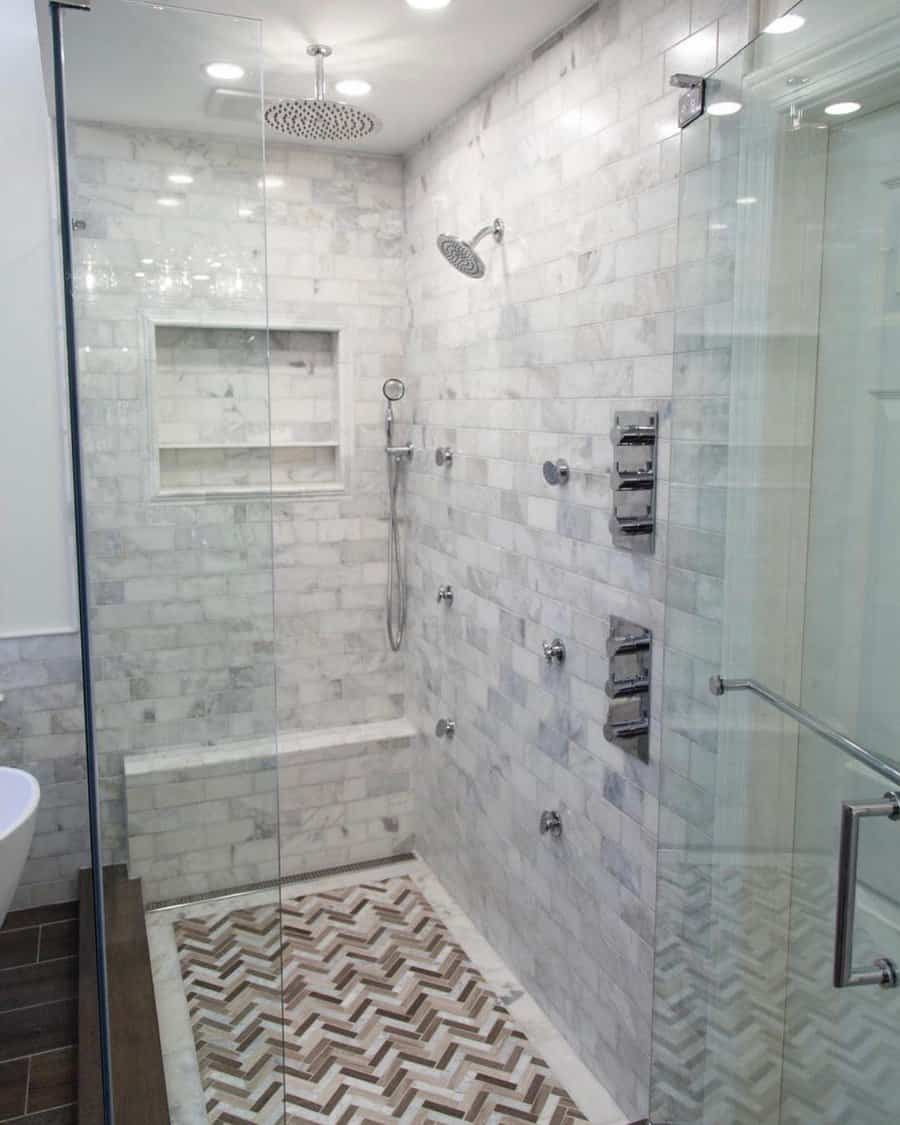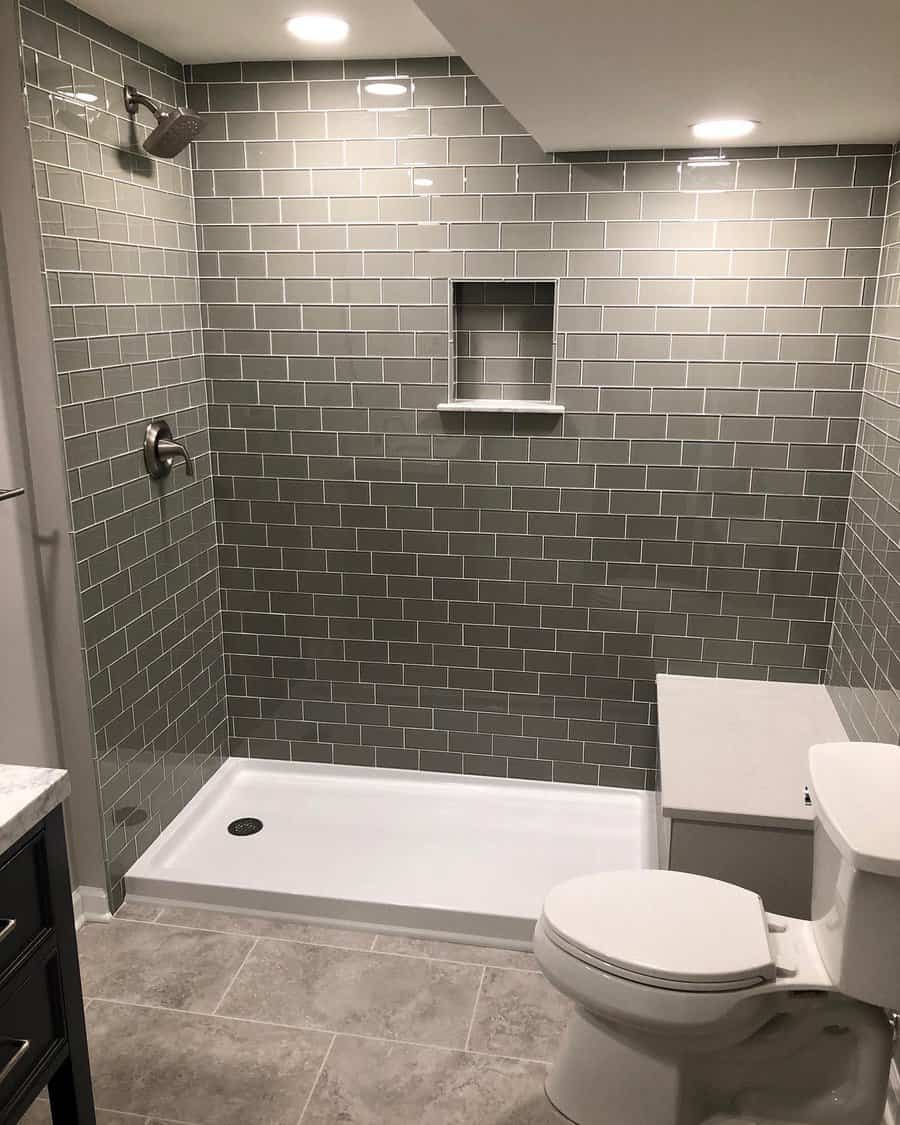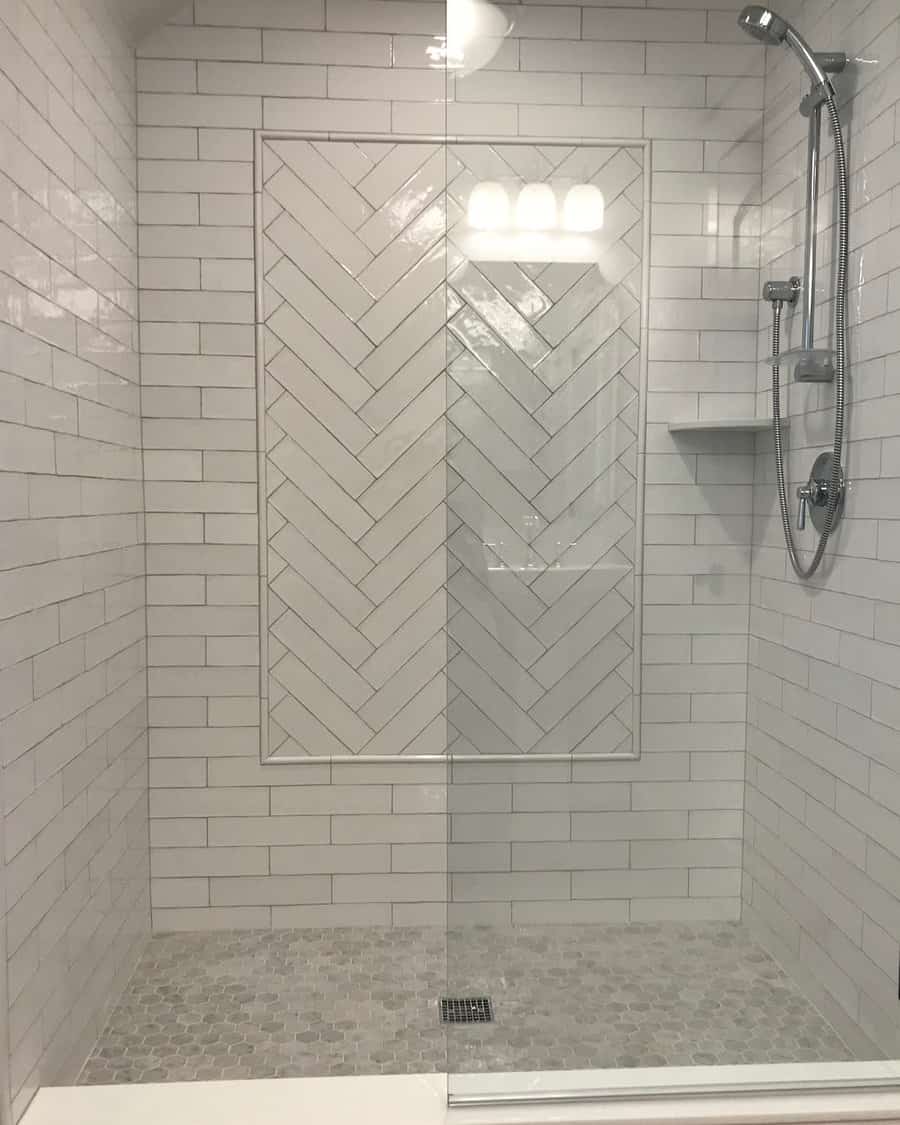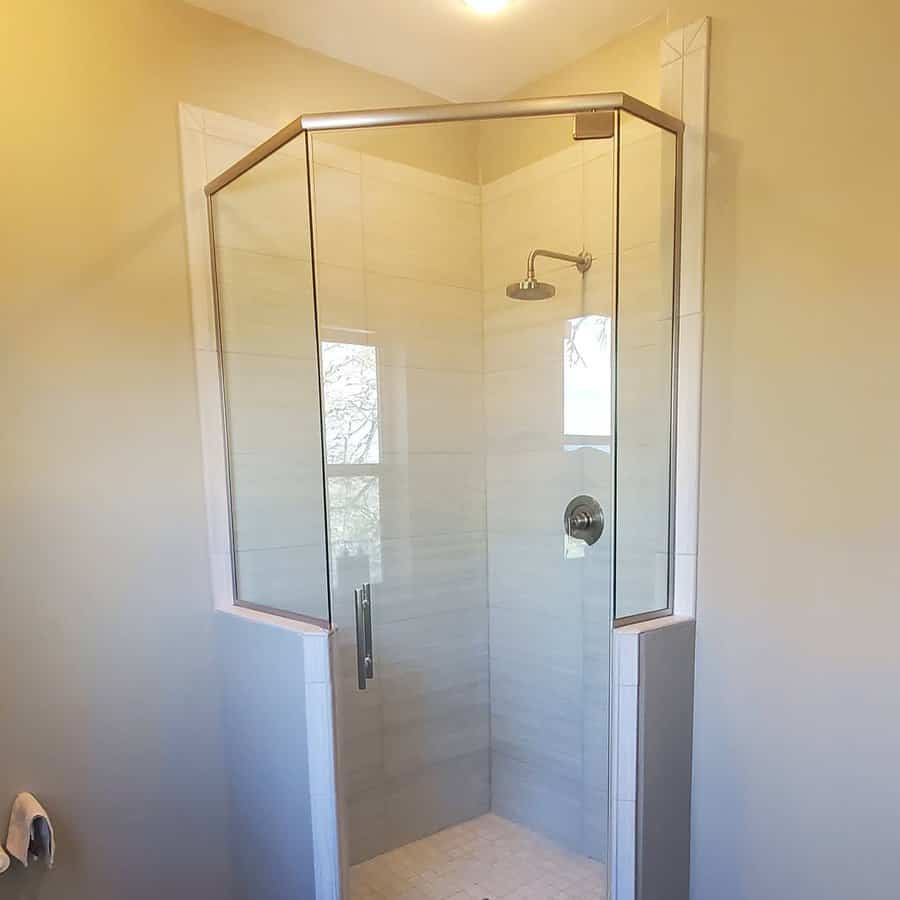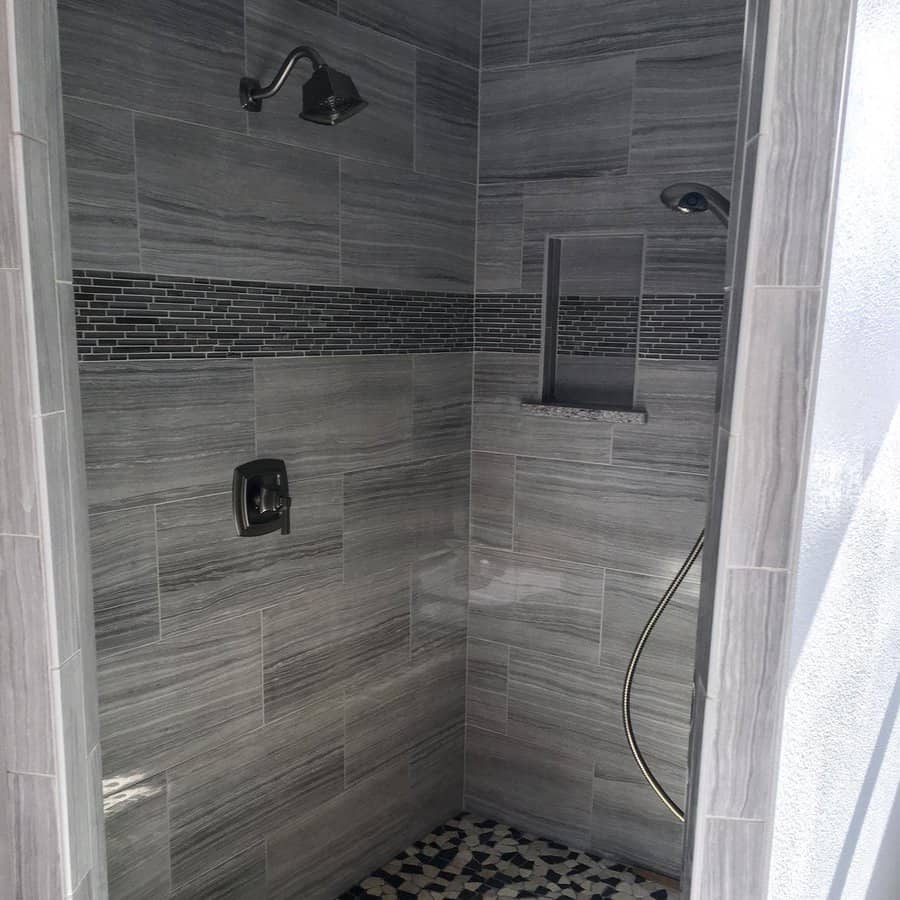 However, remodeling your bathroom means you're starting with a clean and blank slate. You can choose any or all of your favorite bathroom shower tile ideas.
Think about the architecture of your home and the size of your bathroom. Choose a tile that will visually define the space while accentuating the features you like the most.
12. Shower Design
Using white subway tile is a popular choice because the tile design is a traditional one that compliments several interior design themes. From traditional to contemporary, your metro tiles will be a neutral backdrop.
This is important because tile installation is expensive and intensive, which makes it something you don't want to do very often.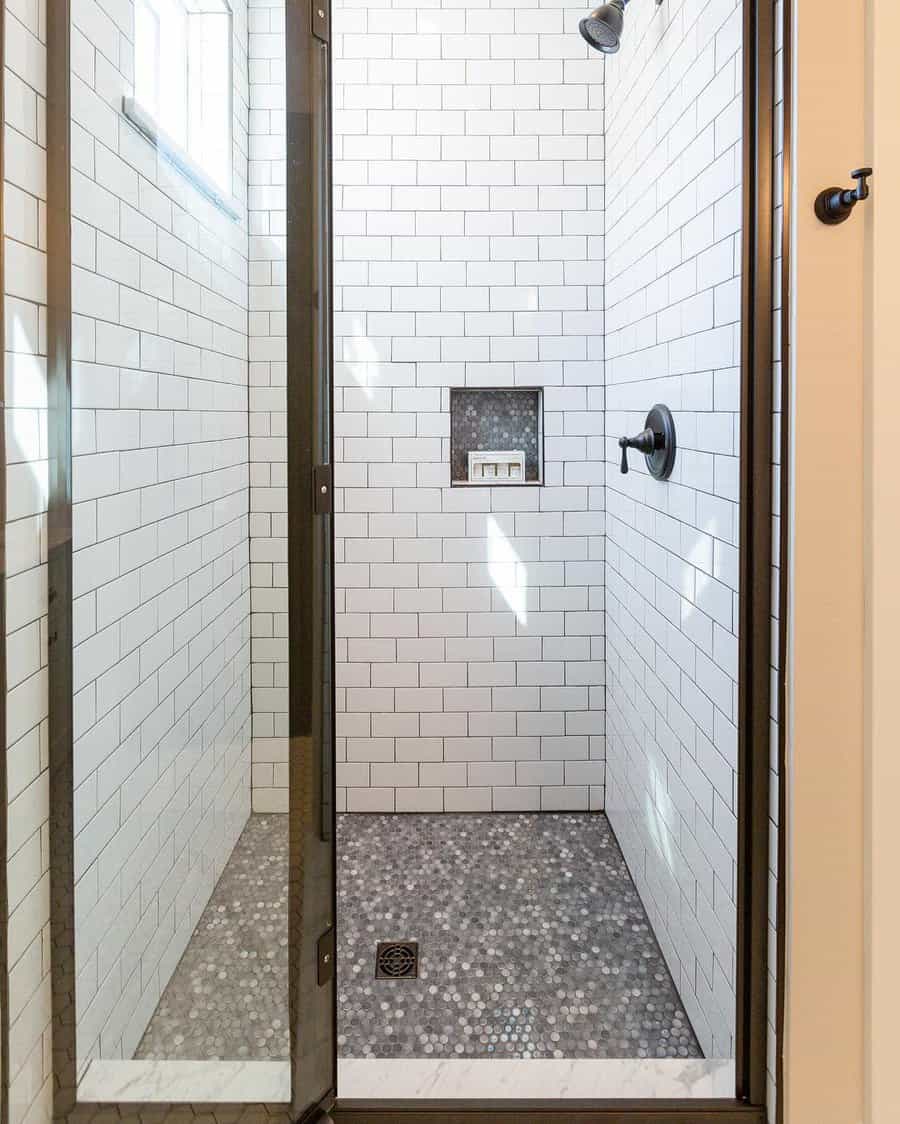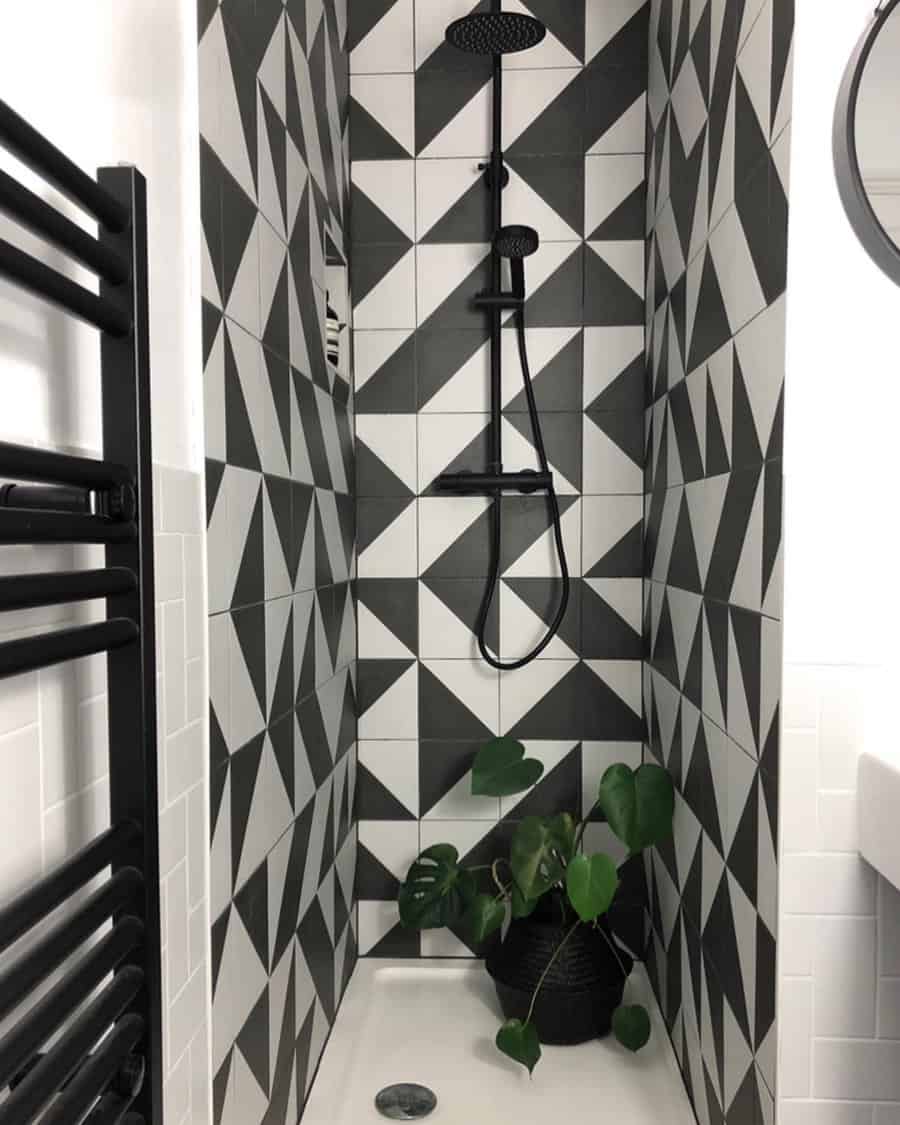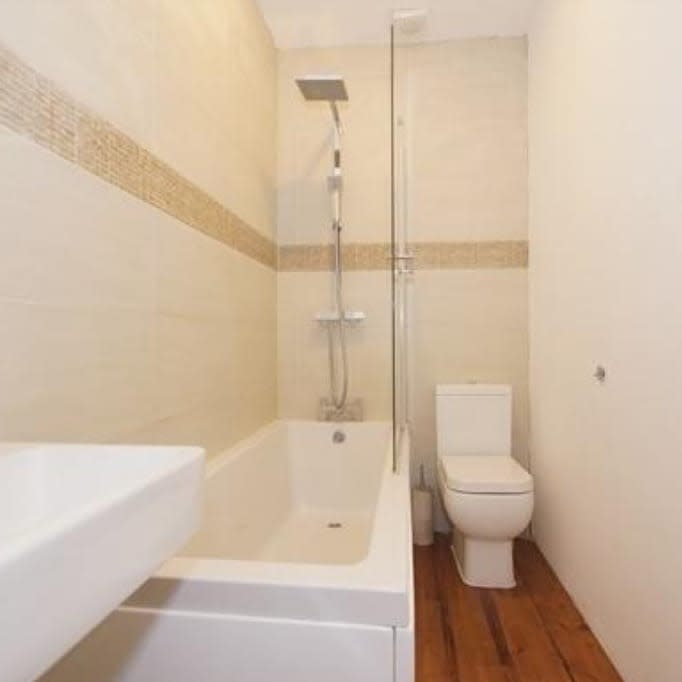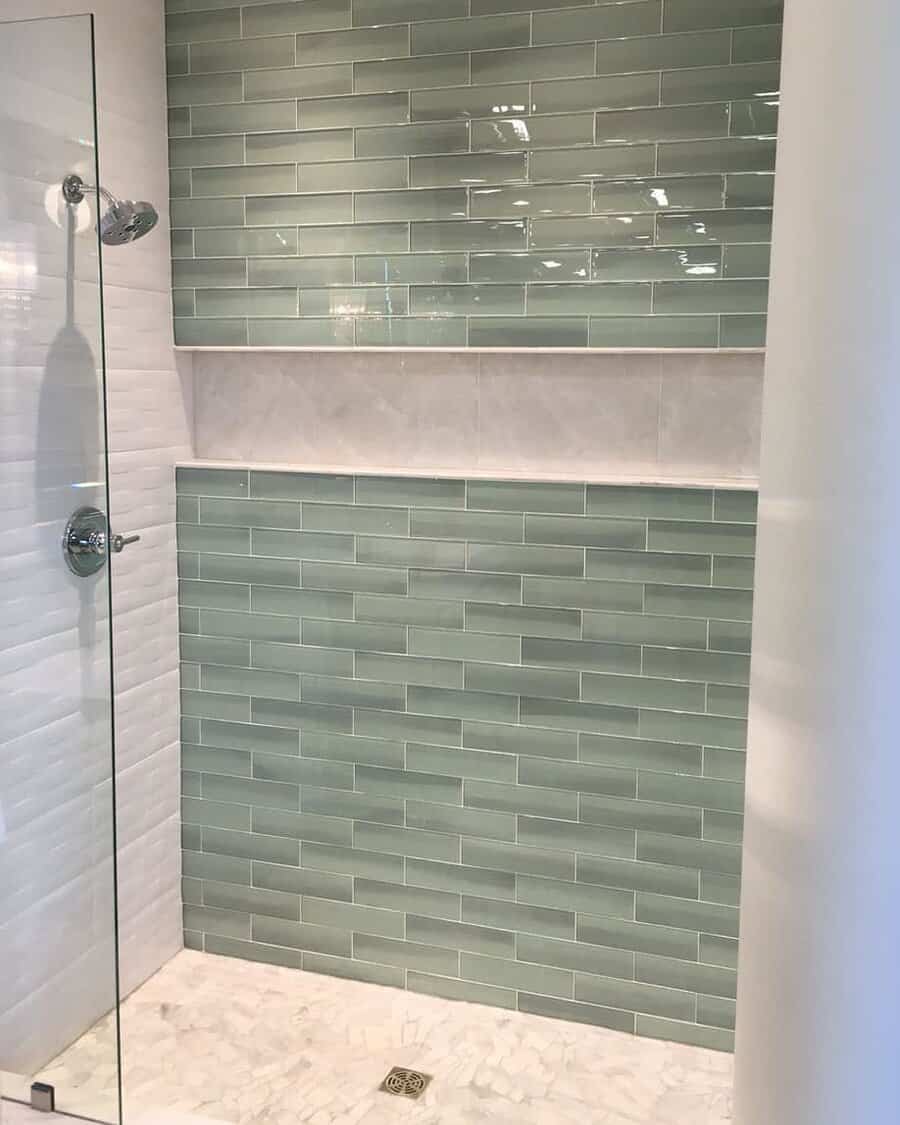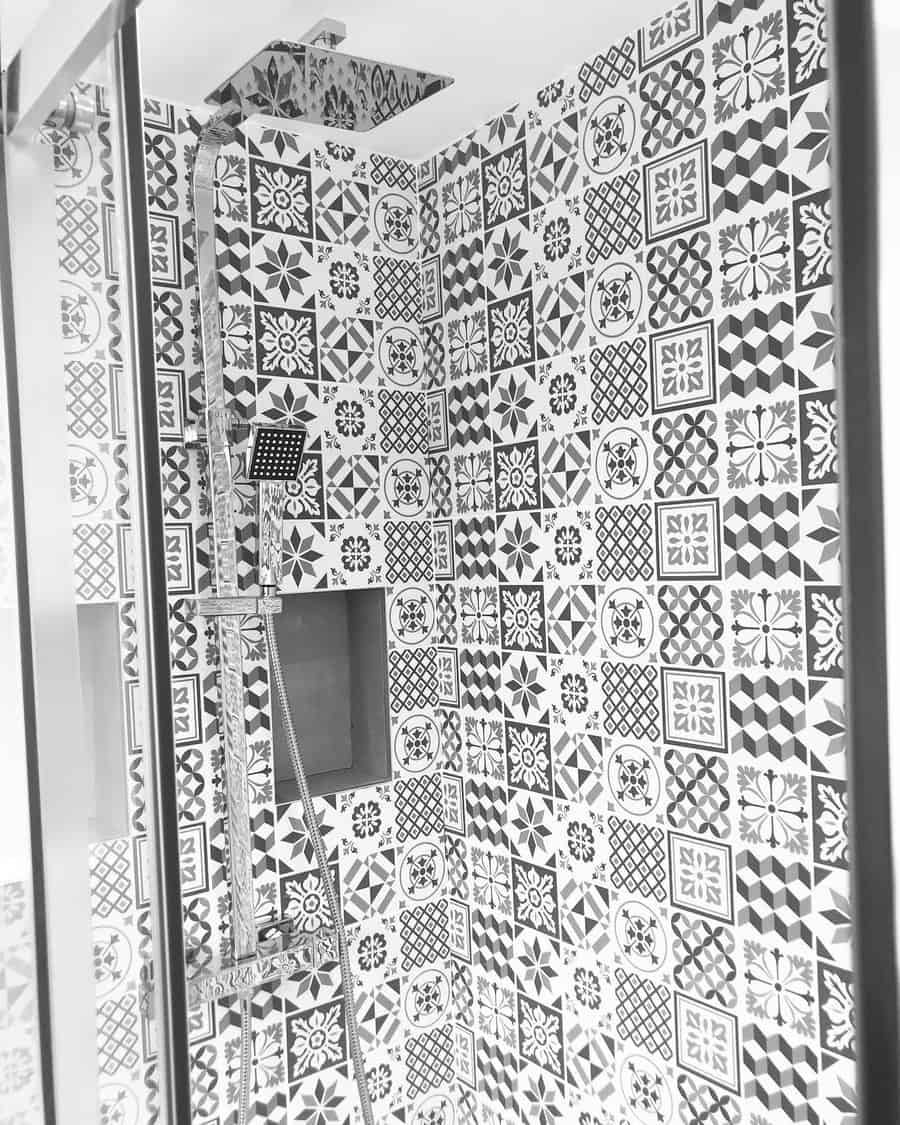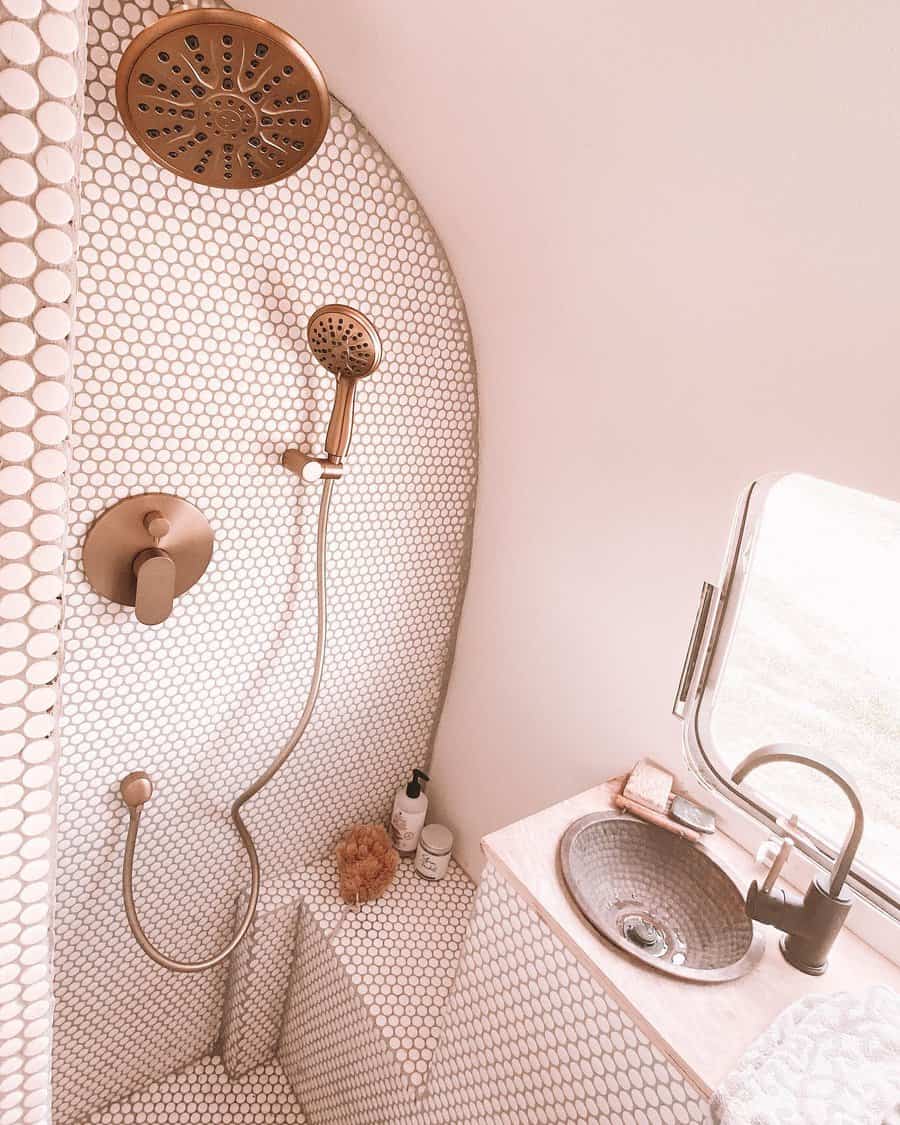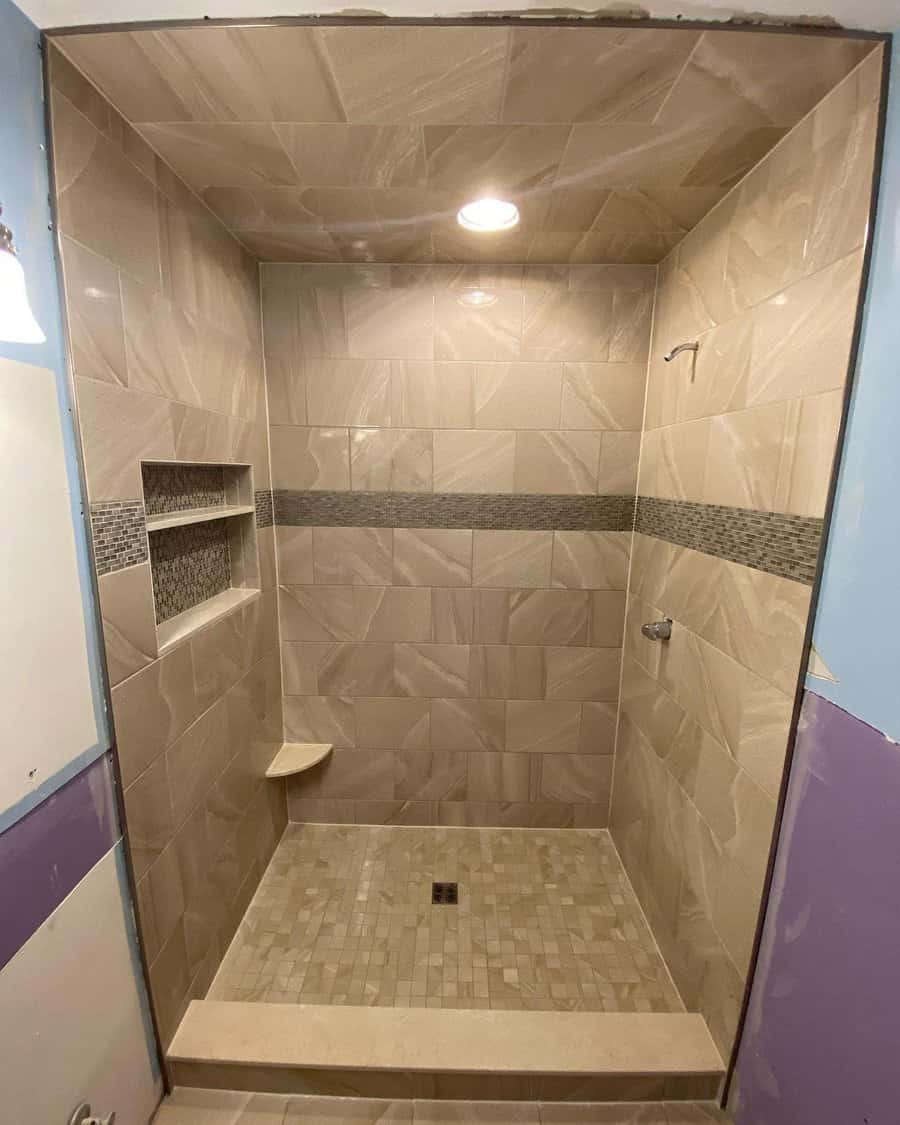 If you're confident that you are going to love your tile choice for years to come, you can go bolder in your tile design choice. However, keep in mind that if you plan to sell in the near future, you'll want to pick something with broad appeal.
13. Slate
Slate is a beautiful option for your shower. It's a natural stone that will add earthiness to your bathroom. However, slate is also modern-looking.
You'll see it is often used in modern bathroom tile ideas because it creates a cohesive and sleek look. It also helps to create an exquisite spa-like feel.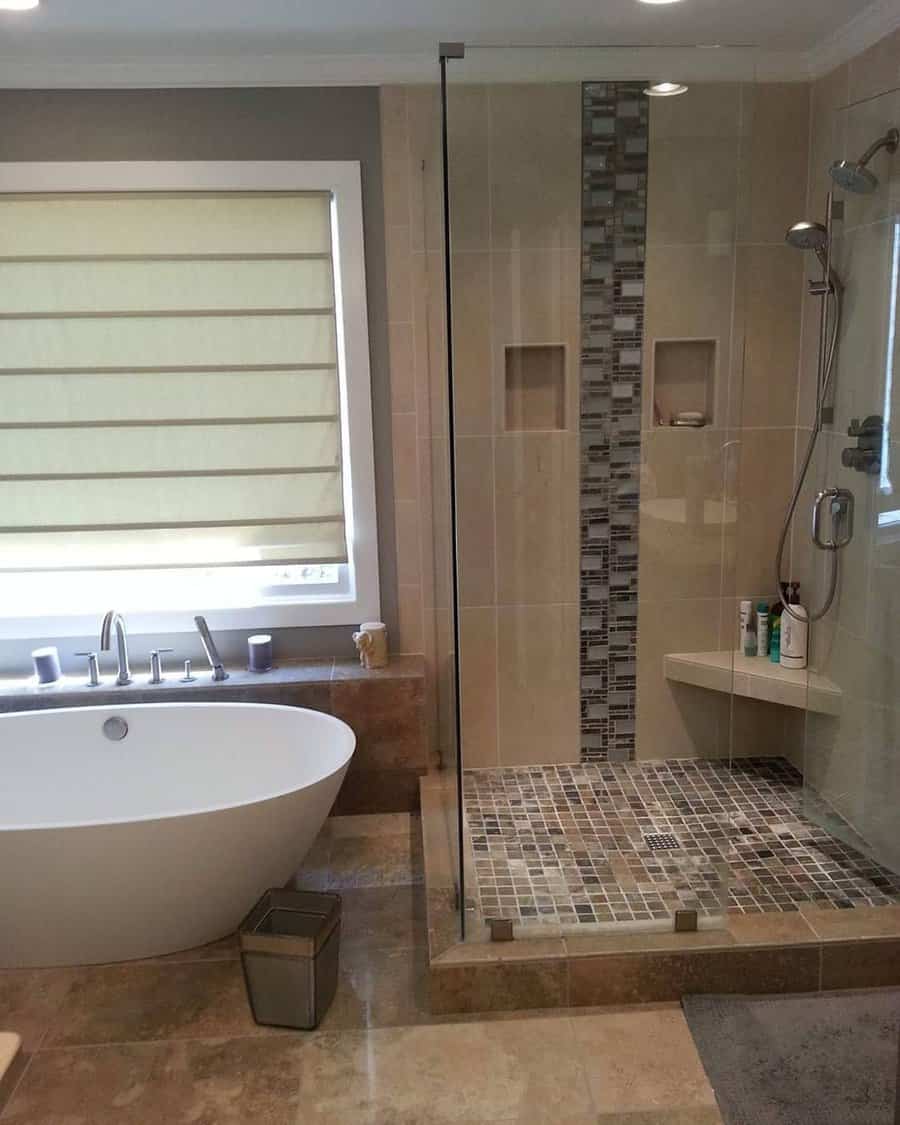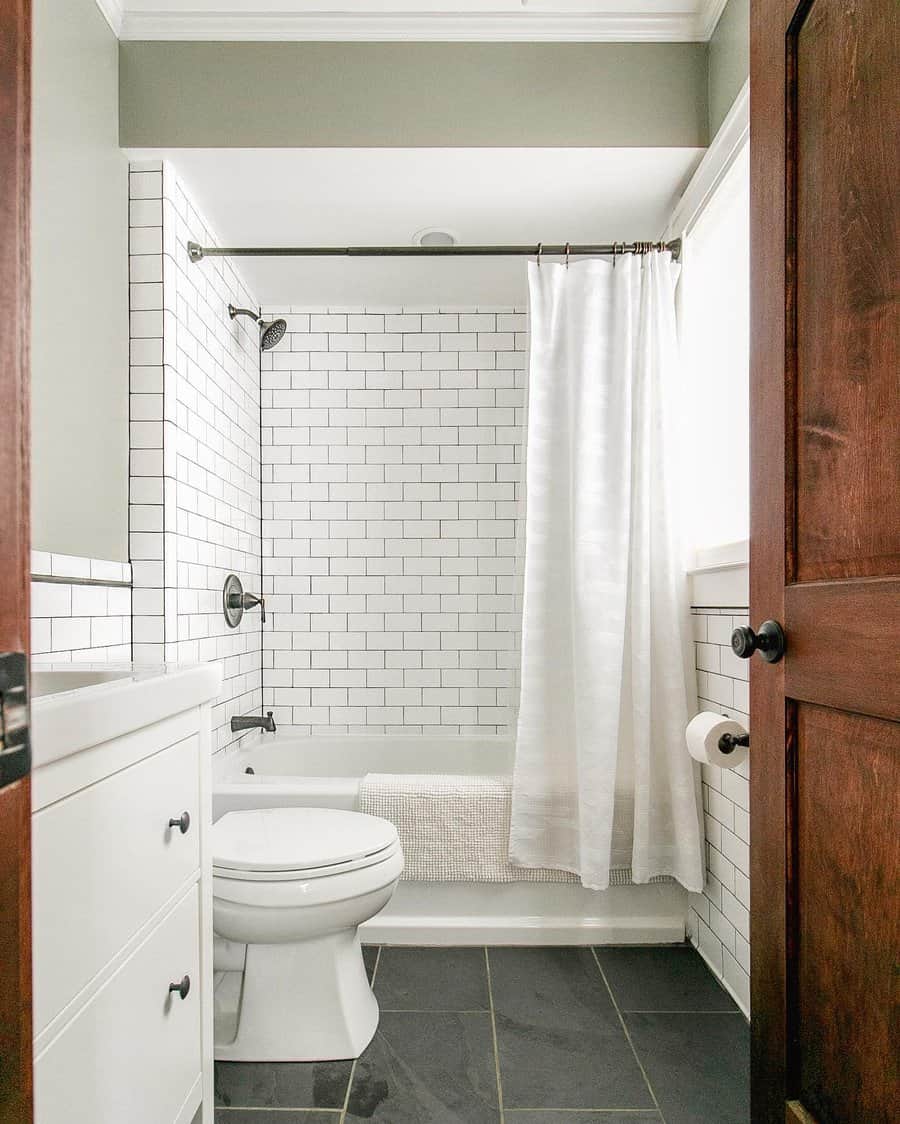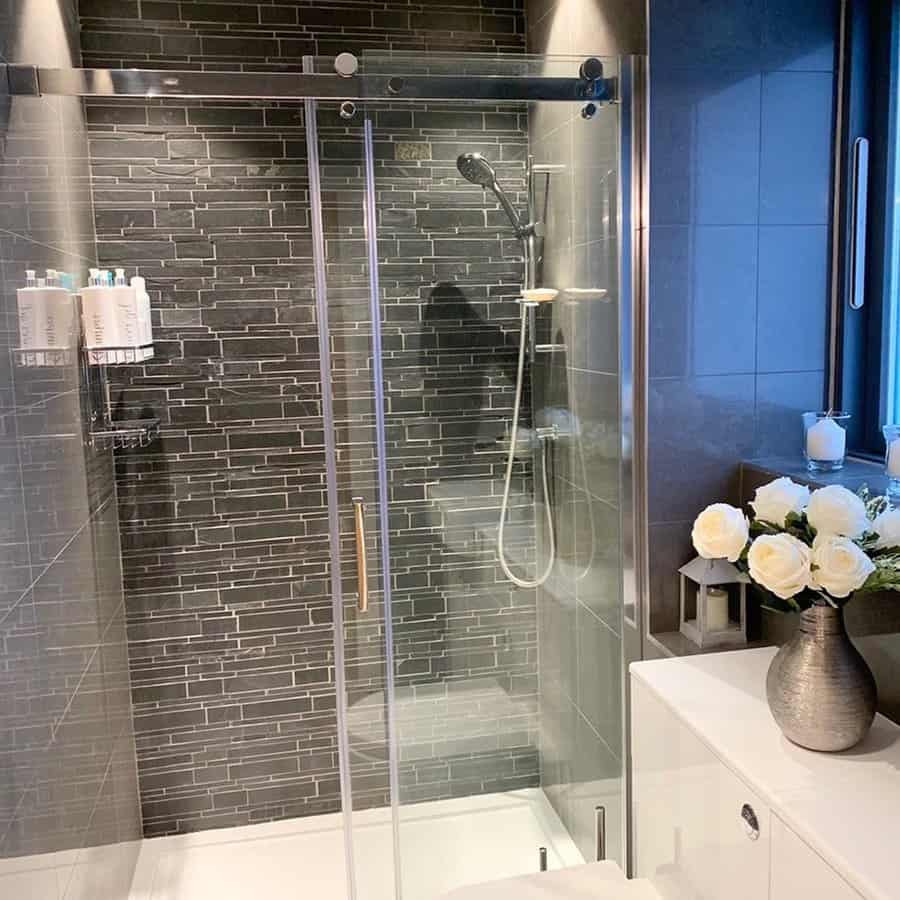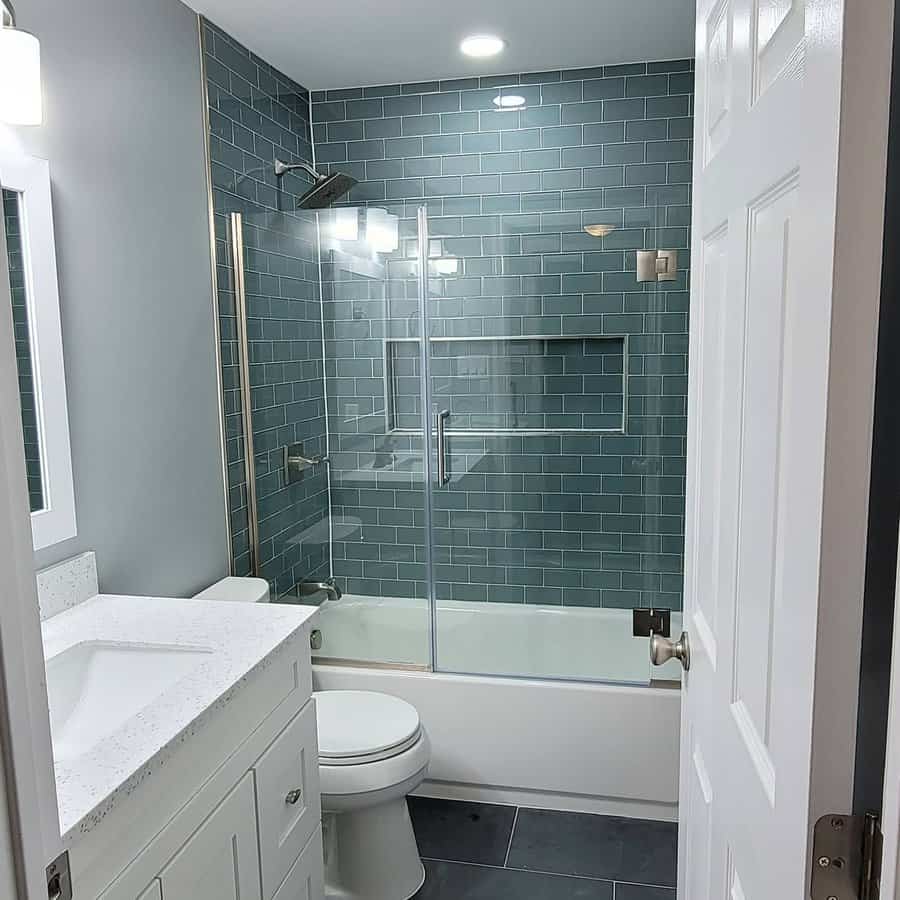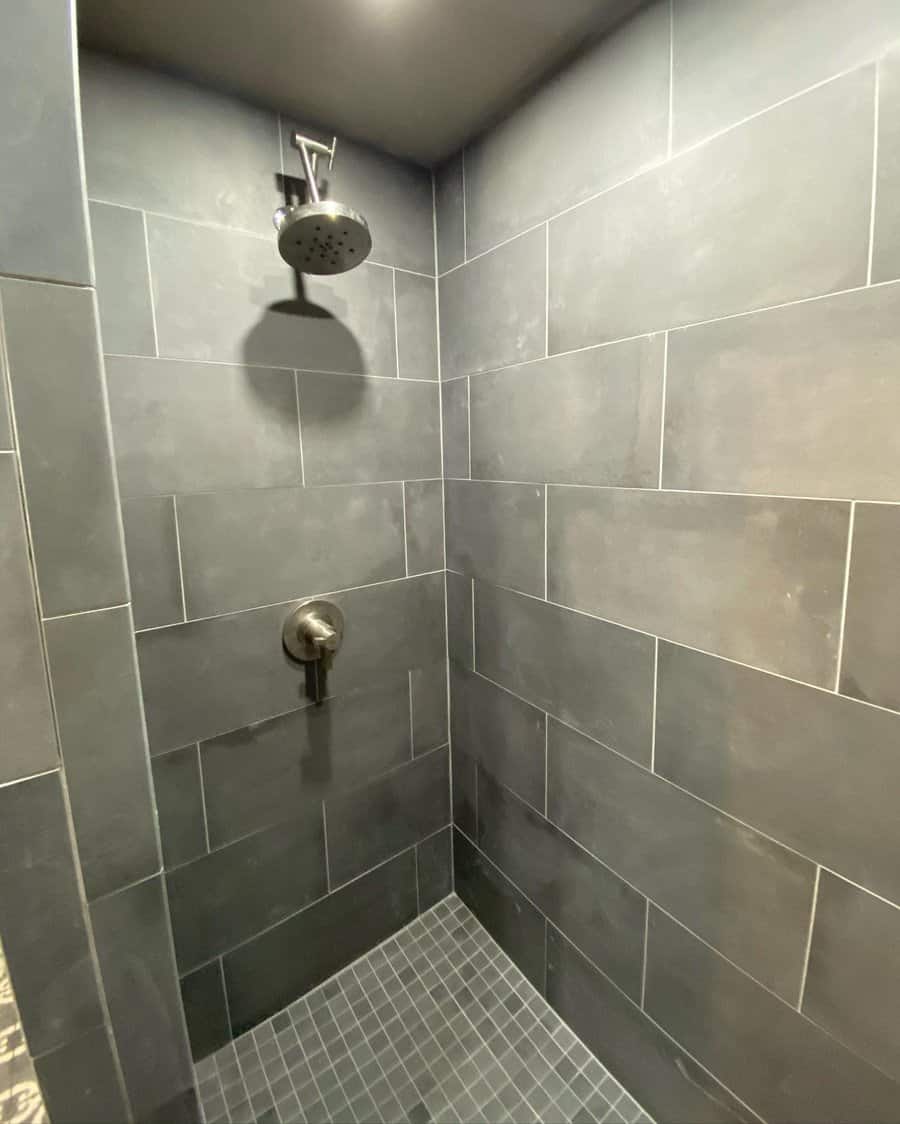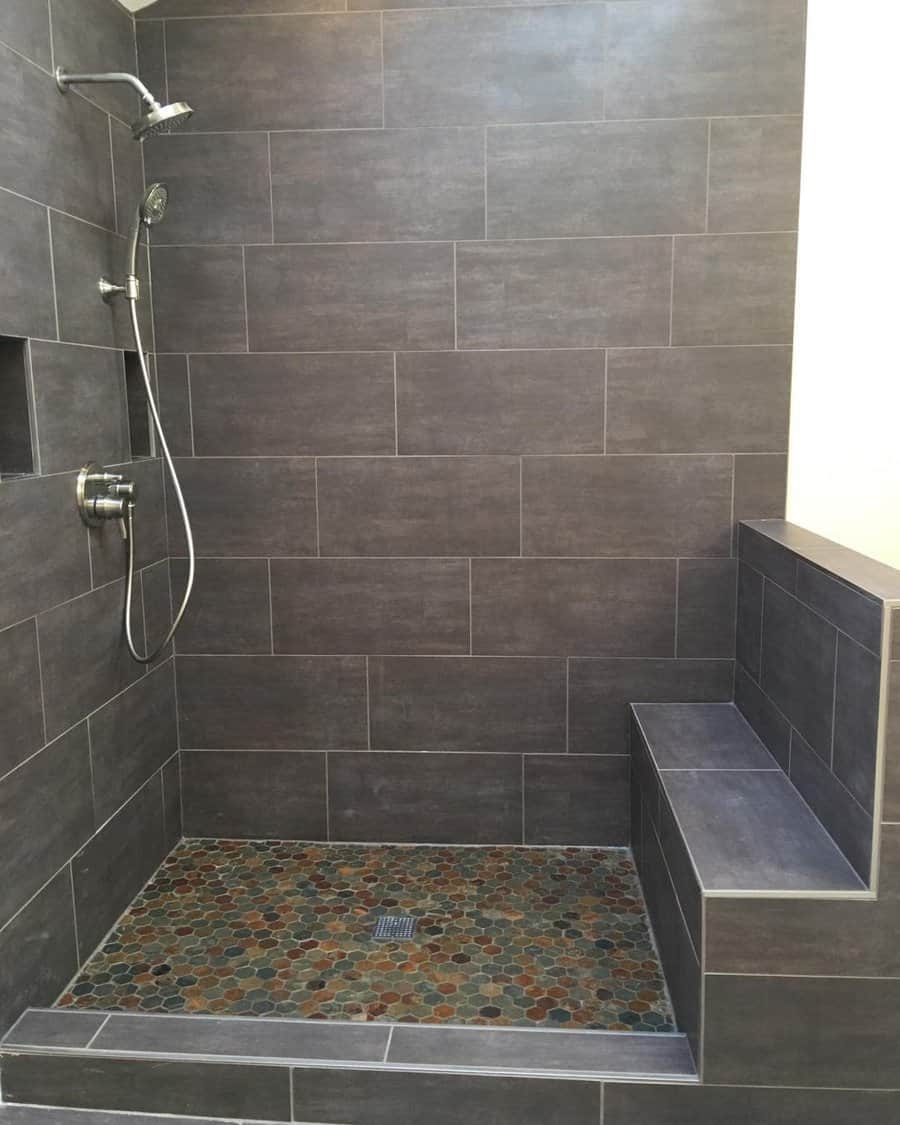 Large square slate tiles will give your bathroom tile design a modern feel with minimal grout lines. Smaller subway tile-shaped tile will give your shower a vintage feel. You can also create more texture and add color variety with the different shades of the stones.
Shower Tile FAQs
What is the best tile for a shower?
The best tile for your shower is one that's durable and has a classic design. This will help it to look great for decades to come. This gives you a neutral base that you can then design around without worrying about it clashing.
What is the easiest tile to keep clean in a shower?
The tile that's the easiest to keep clean is glass, polished porcelain, and natural stone. These are all non-porous materials. Choose large tiles that are in these materials with a minimal amount of grout. This will reduce the amount of grit that could collect dirt and grime.
Are ceramic tiles OK for showers?
There is no specific "shower tile" that you need to buy. Ceramic tiles are safe for your shower when they aren't highly polished. The more polished the tile is, the more slippery it becomes when it's wet.