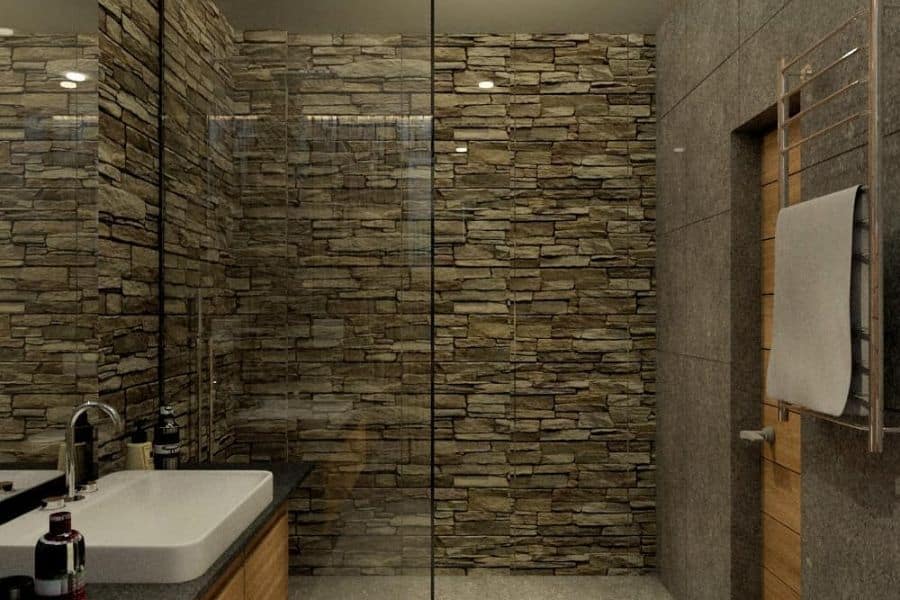 The Top 66 Shower Tile Ideas
"There's no half-singing in the shower, you're either a rock star or an opera diva." – Josh Groban
Spending time in your shower is your chance to enjoy those few precious moments to yourself each day. You can let your inner rockstar out, find your zen, or just get clean.
When your shower is a pleasant place to be in, you'll spend more time in it and enjoy your showers more. Plus, there's the added benefit of increasing your property value.
These shower tile ideas will help you remodel your shower. There's so much to think about, from shape and color to size and your budget.
Think about the aesthetic that you want to create and the overall style of your home. With the right tile, you'll transform your shower into a relaxing escape.
1. Ceramic Tiles
The crisp, clean lines of white ceramic tiles create a sense of openness and purity, transforming your shower into a sanctuary of serenity. The versatility of white allows for endless design possibilities, whether you opt for a sleek and modern look or a charming vintage-inspired ambiance. Create a focal point with a captivating mosaic pattern or keep it simple with a seamless monochromatic backdrop.
The smooth texture of ceramic tiles provides a soothing touch against your skin, making each shower a truly indulgent experience. Moreover, the white color reflects light, instantly brightening up your shower space and creating an airy atmosphere.
With white ceramic tiles, you can embrace a design that stands the test of time while infusing your shower with a touch of sophistication and tranquility.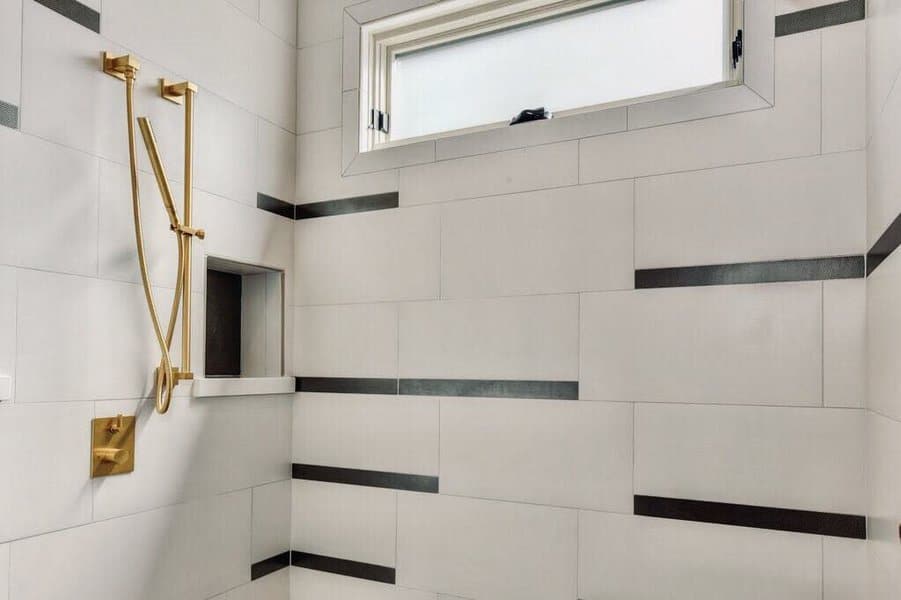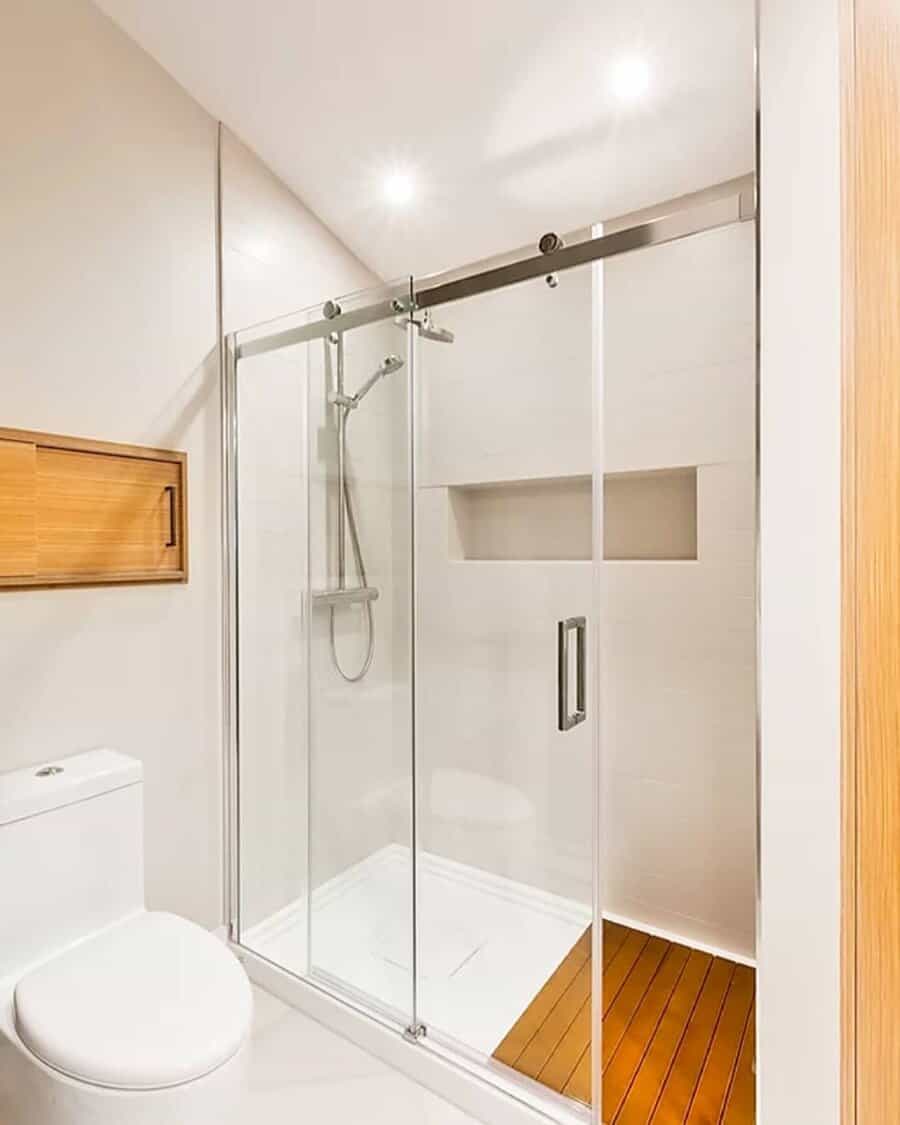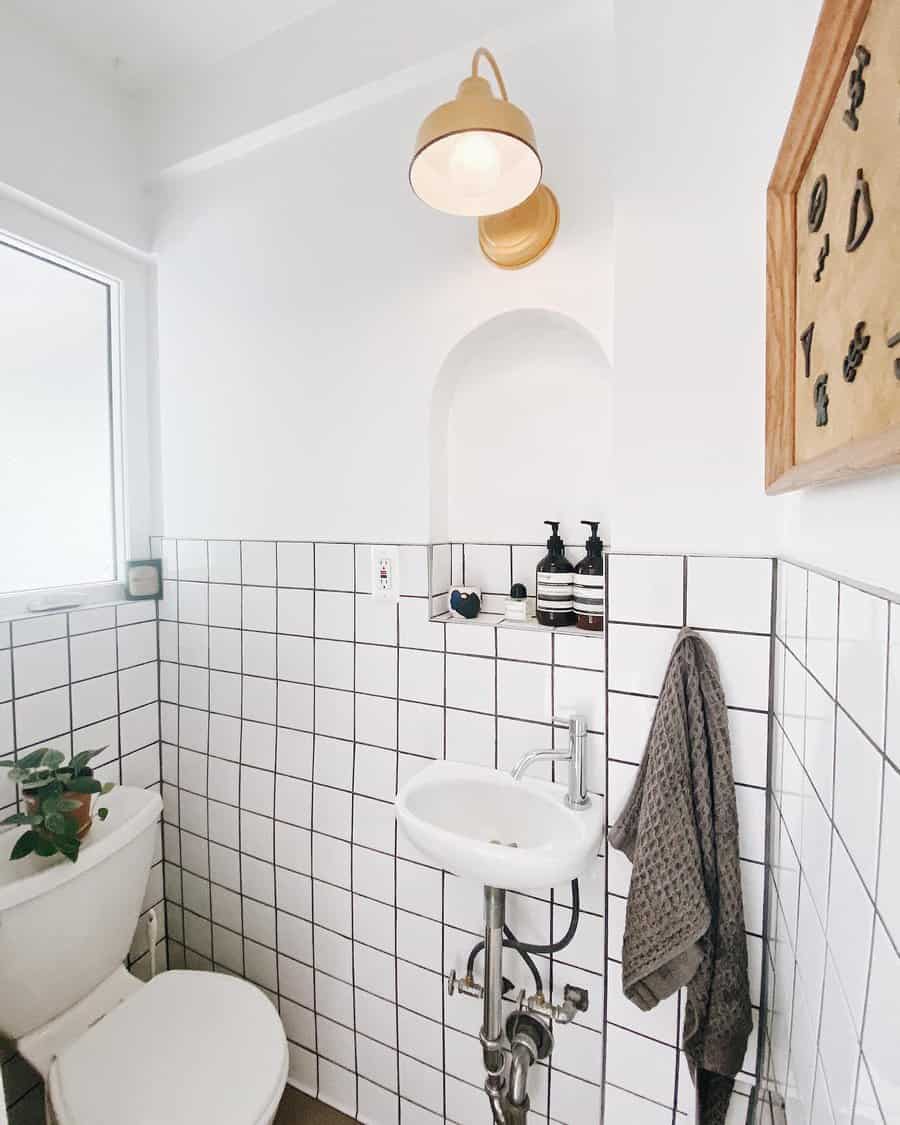 2. White Brick Tile
The simplicity of white brick tiles creates a modern and versatile backdrop, allowing you to play with various design elements and color schemes. Enhance the visual impact by choosing either black or white grout, each offering a unique aesthetic. Opt for black grout to make a bold statement, accentuating the geometric pattern and adding a touch of drama.
On the other hand, white grout lends a seamless and classic look, emphasizing the clean and airy atmosphere of your shower. Whichever grout color you choose, the contrast against the white brick tiles adds depth and character to the overall design.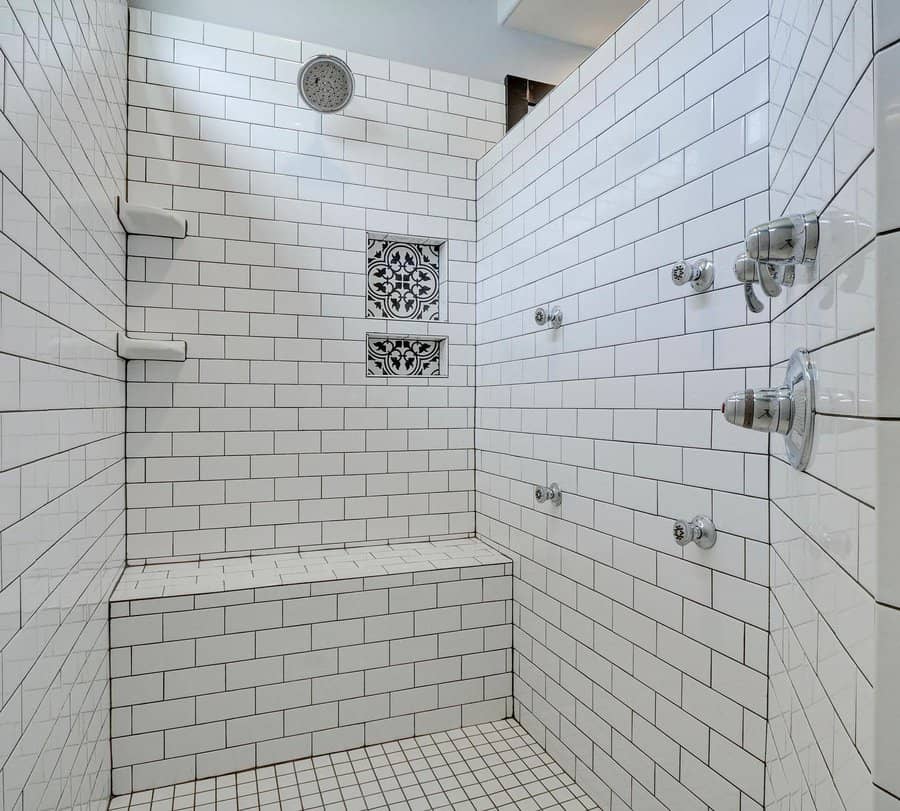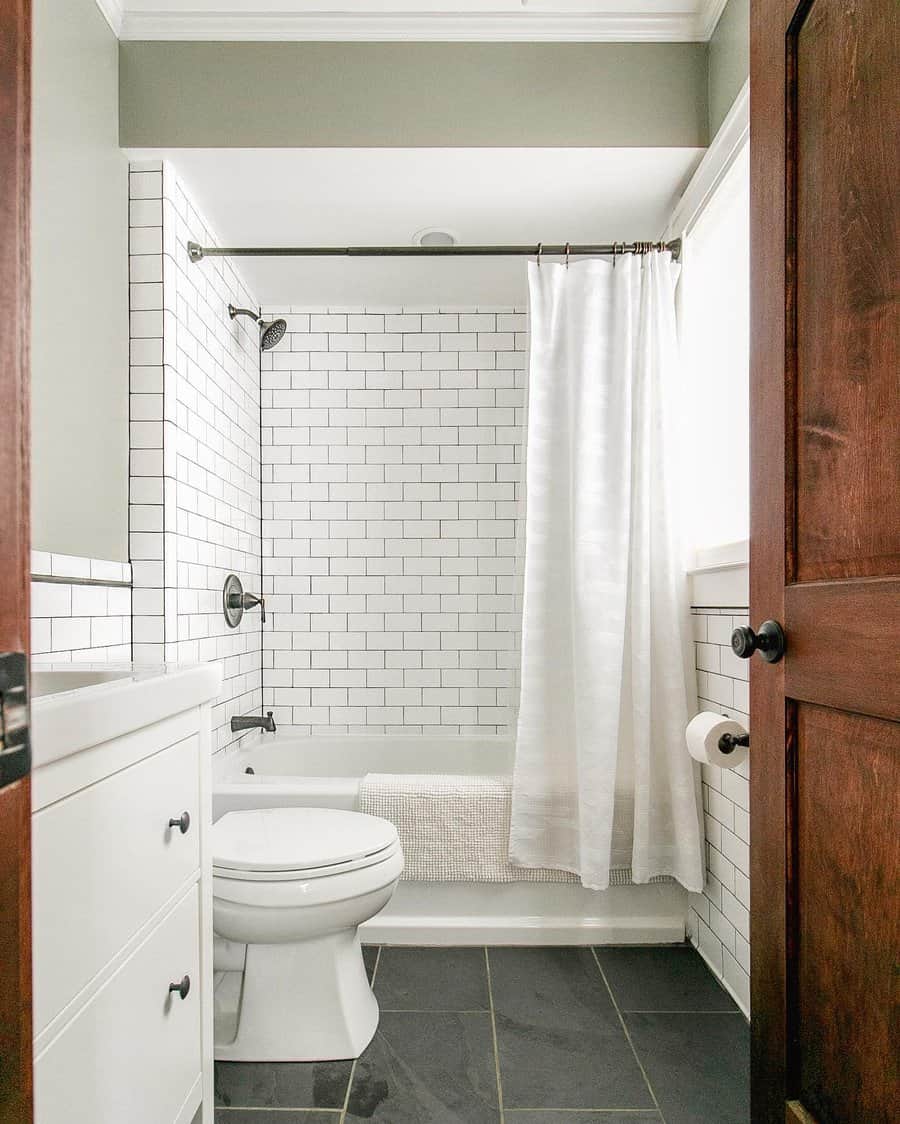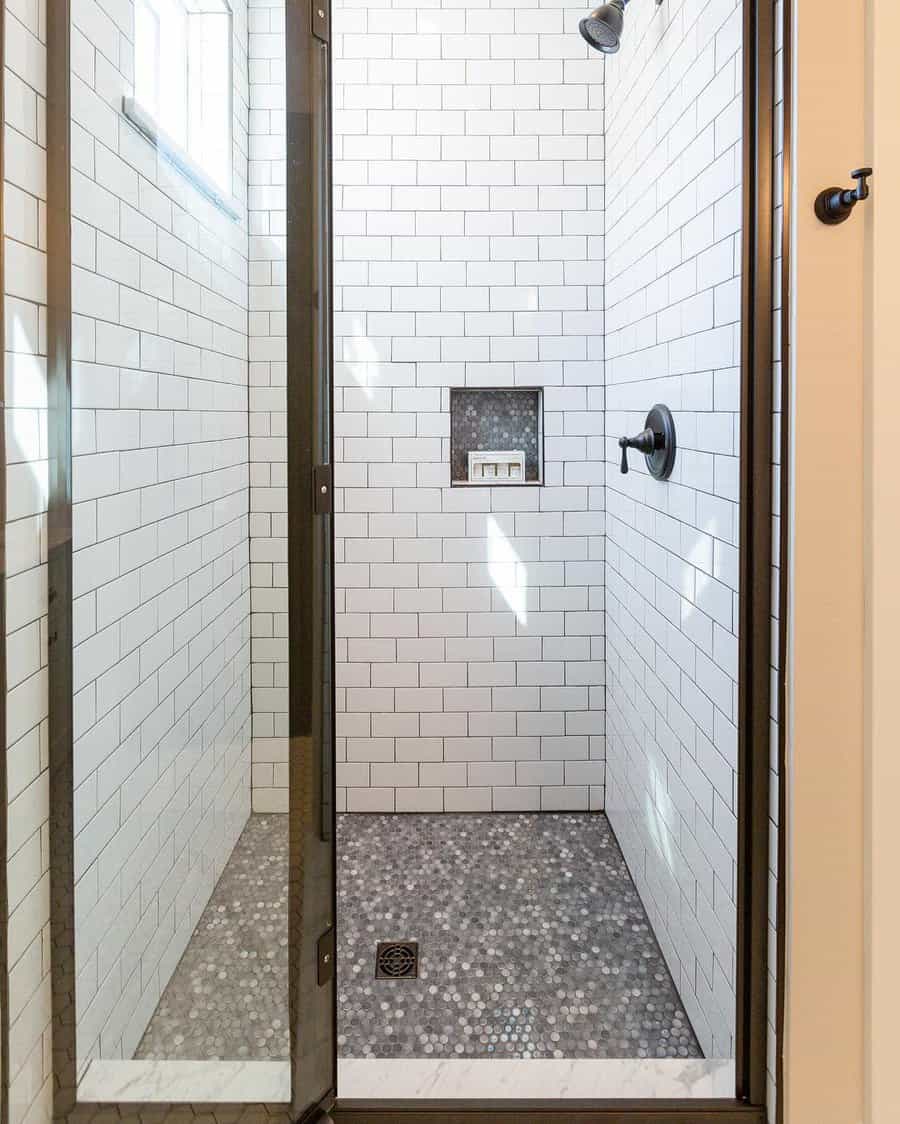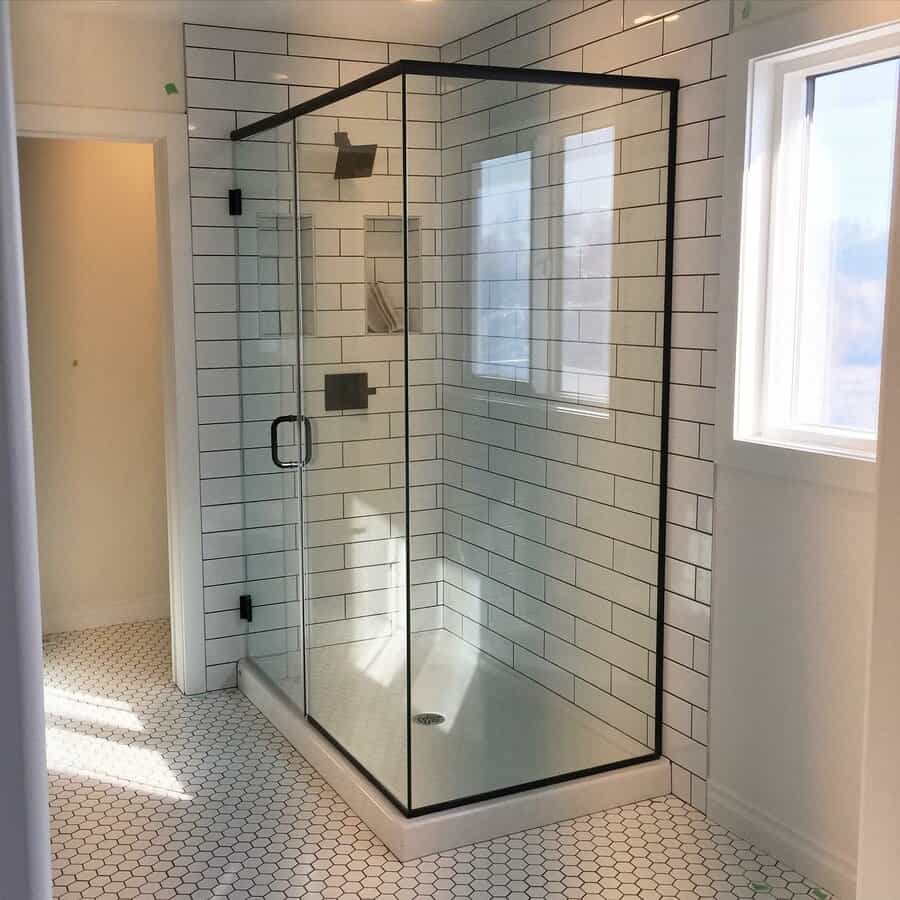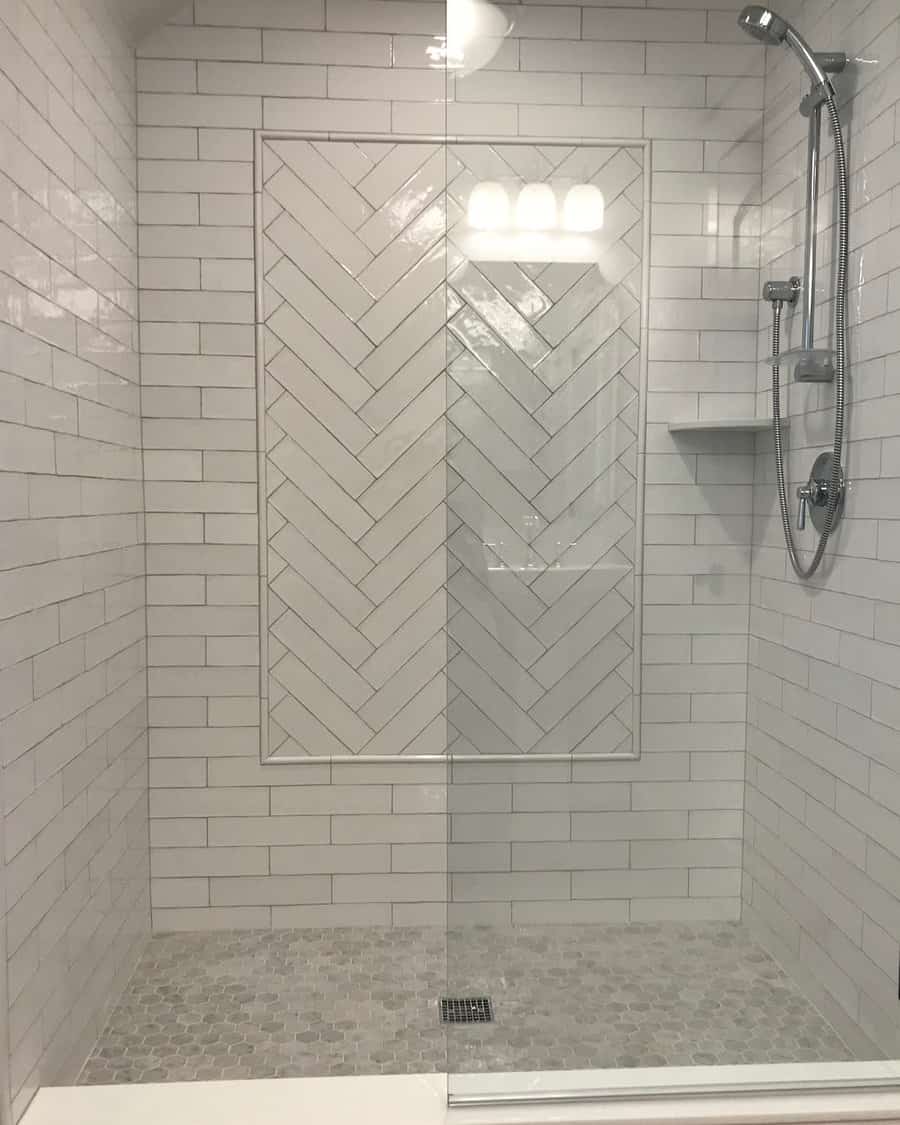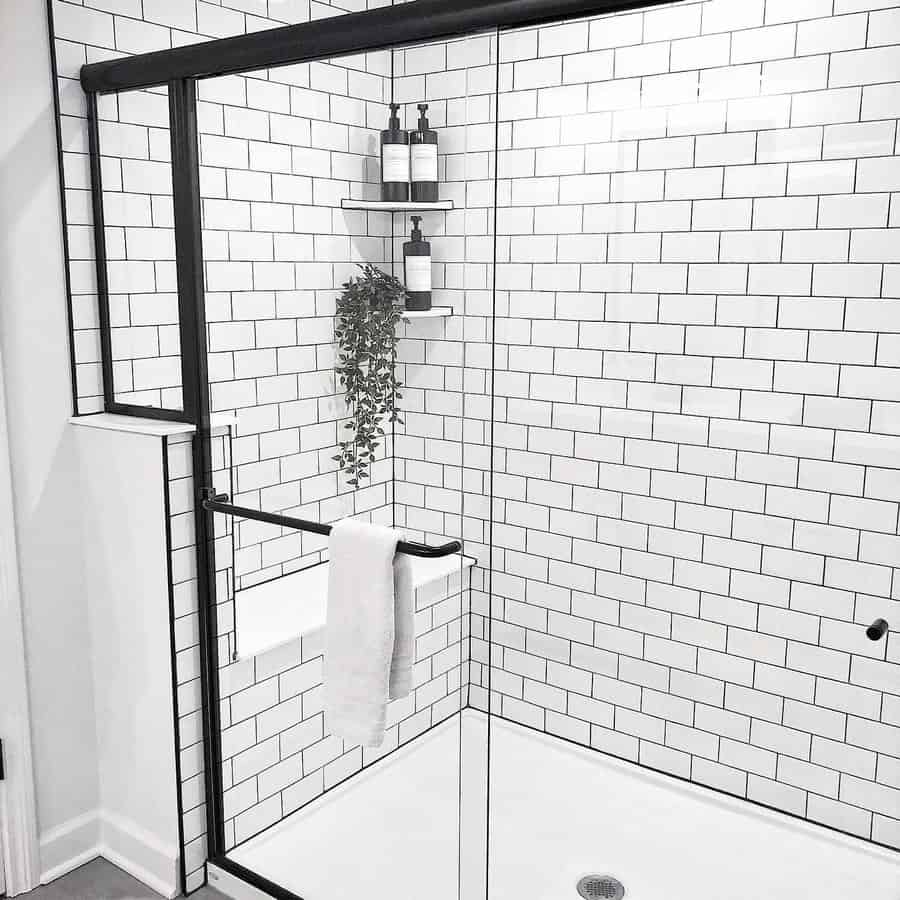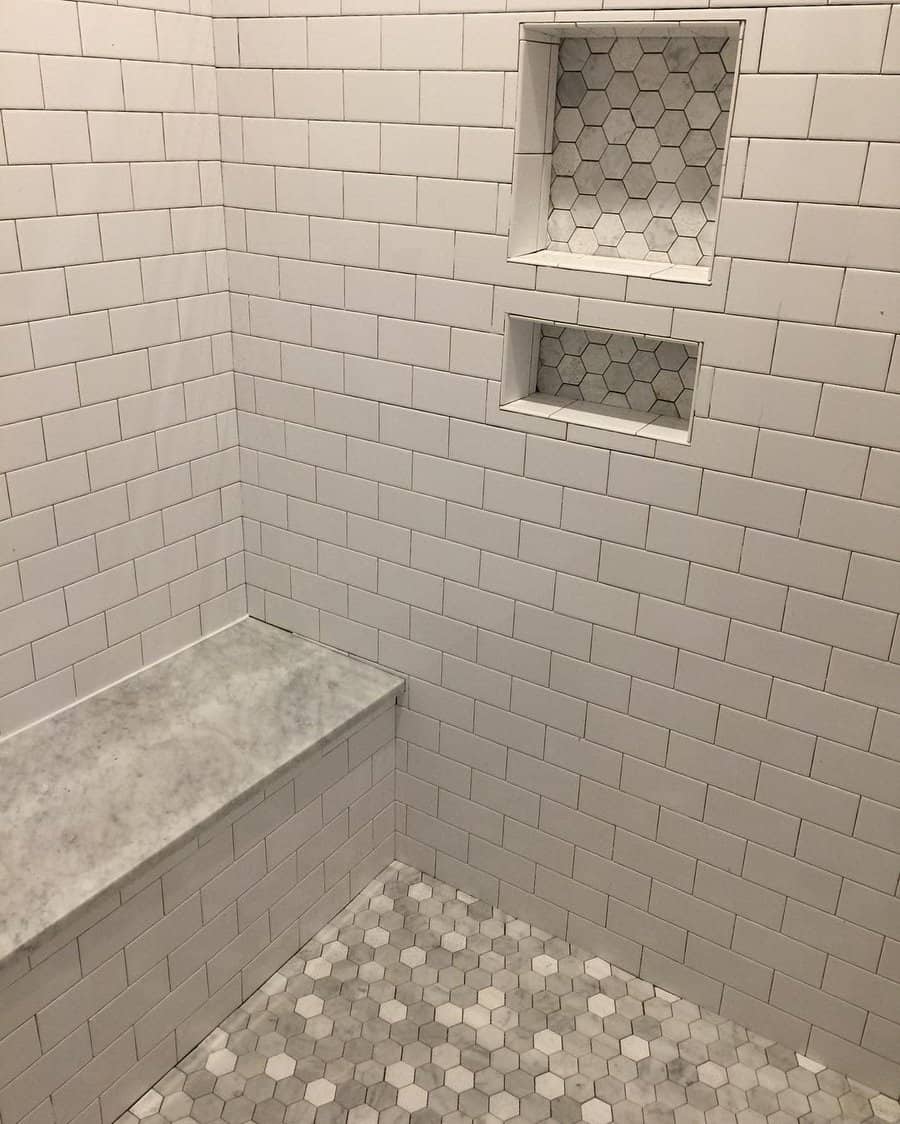 3. Pebble Tiles
Indulge in the tranquility of a spa-like oasis right in the comfort of your own bathroom with the enchanting beauty of pebble tiles. Imagine stepping into your shower and feeling the gentle massage of smooth pebbles beneath your feet, transporting you to a serene and natural escape. These exquisite tiles bring a touch of the outdoors inside, creating a harmonious connection with nature that rejuvenates the senses.
The organic shapes and earthy hues of the pebbles evoke a sense of calm and relaxation, turning your daily shower routine into a blissful experience. As the water cascades over the pebble tiles, their subtle texture adds a delightful sensory element, providing gentle exfoliation and invigorating your senses. The natural variations in color and shape create a visually captivating mosaic that transforms your shower into a work of art.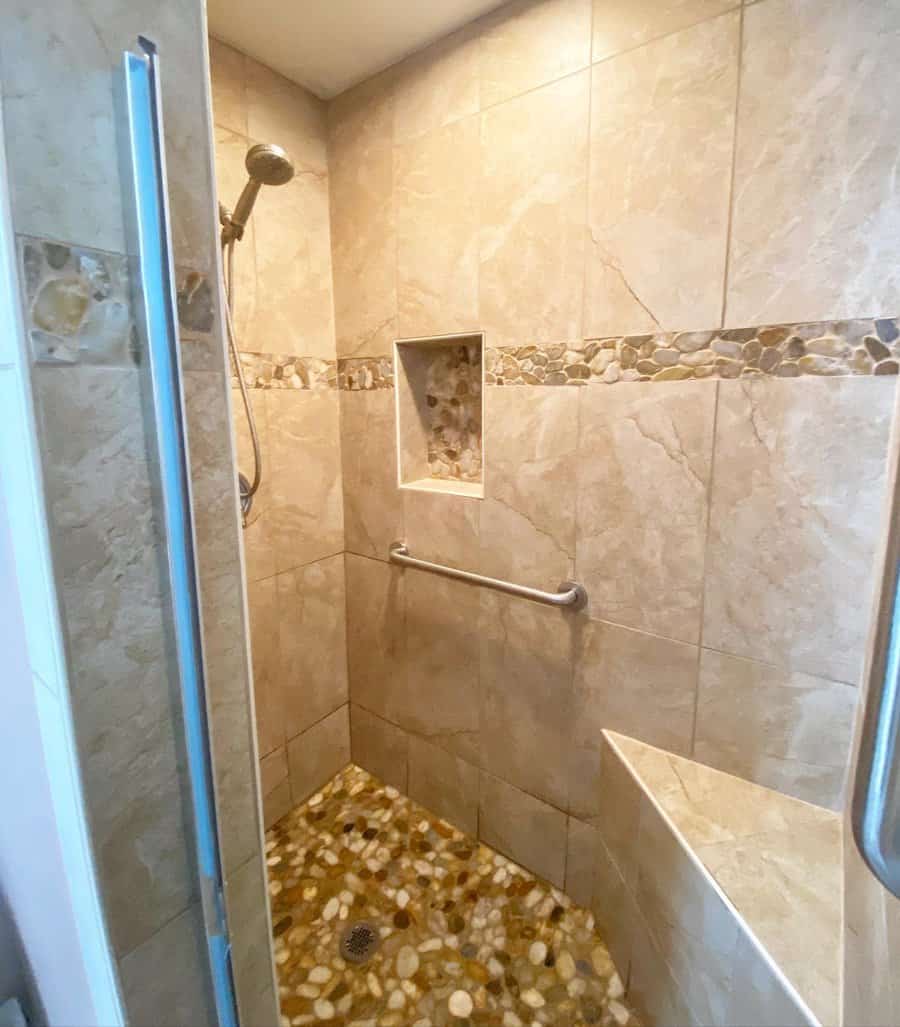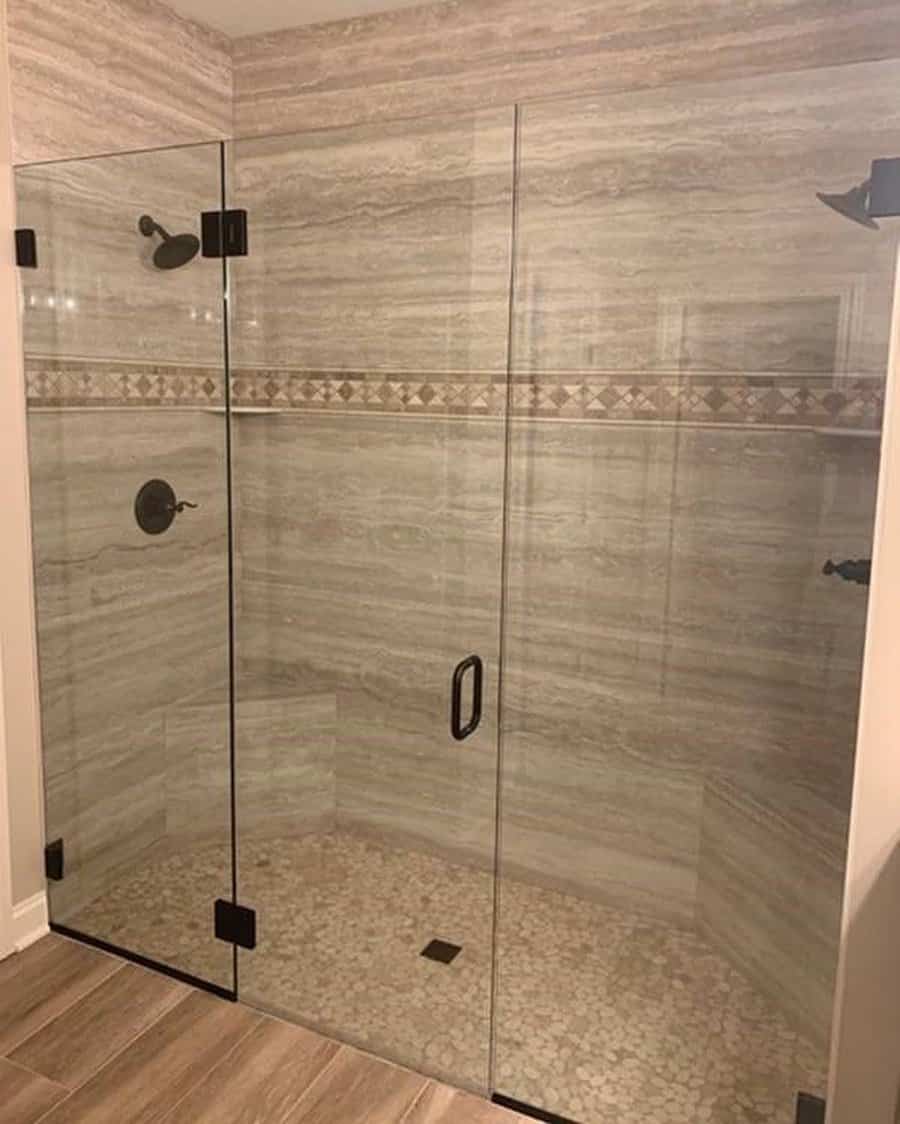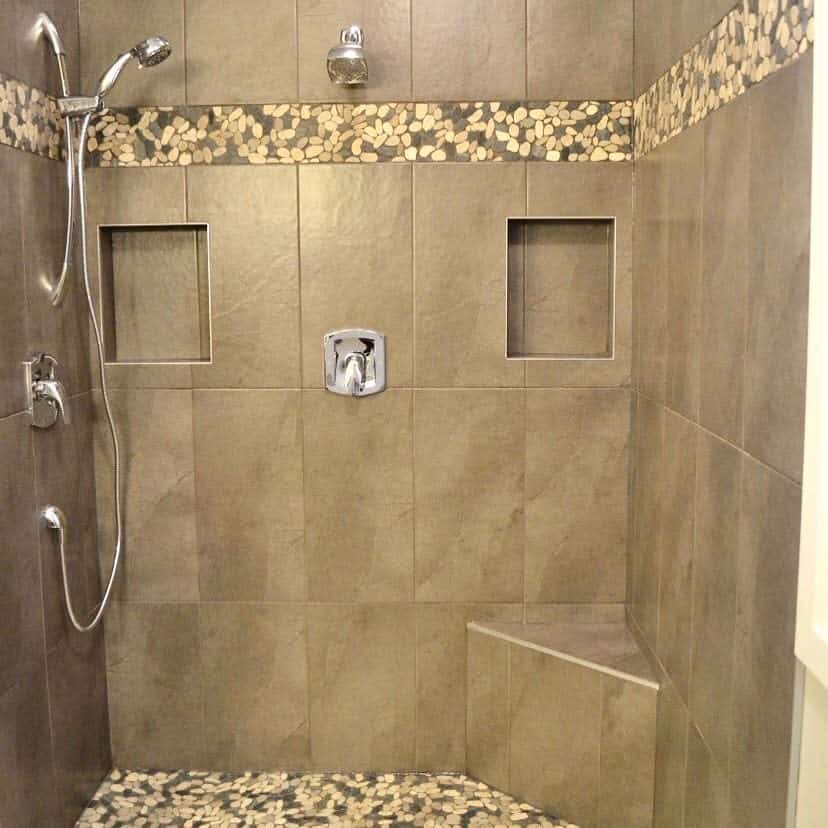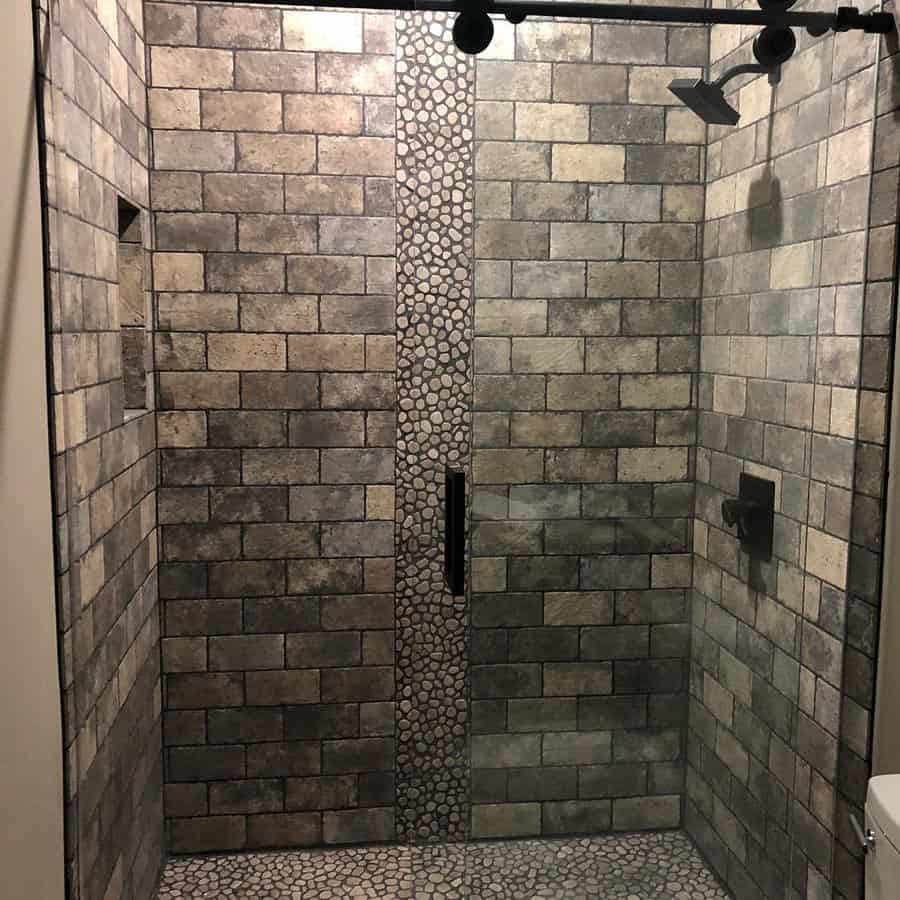 4. Marble Tiles
The durability and versatility of marble tiles make them a perfect choice for both modern and traditional bathroom designs. Whether you opt for classic white marble or embrace the boldness of black or colored varieties, the result is a shower that exudes refined charm and unmatched style.
As the water cascades down, the marble tiles shimmer and reflect light, adding depth and dimension to your bathing space. It's an indulgent experience that combines the beauty of nature with the comforts of modern living. Soak in the splendor of marble, and let it transport you to a realm of tranquility and beauty every time you step into your shower.
With marble tiles, you can create a shower oasis that is as breathtaking as it is functional, turning your daily routine into a luxurious escape.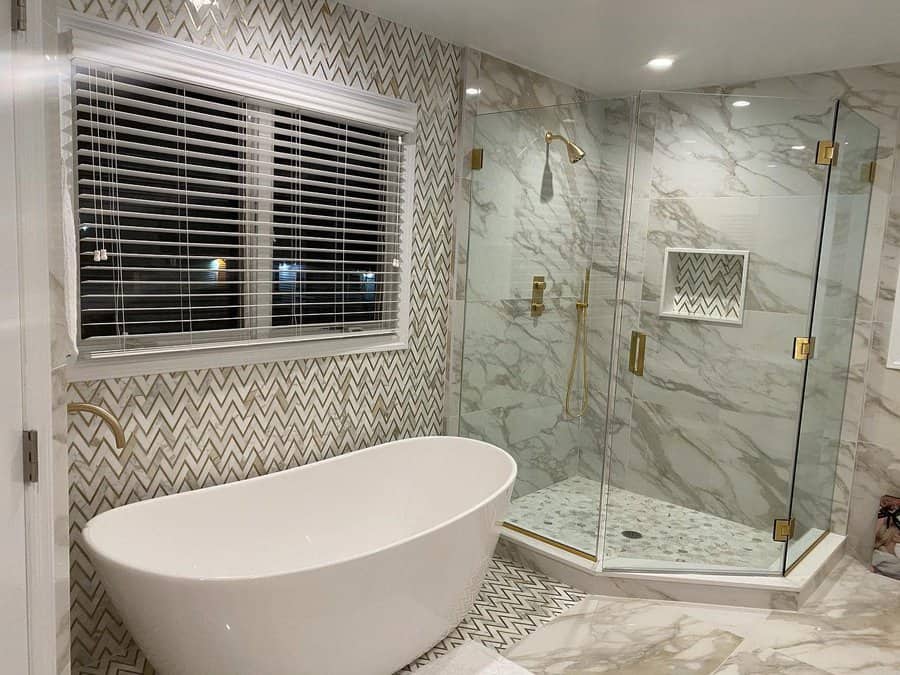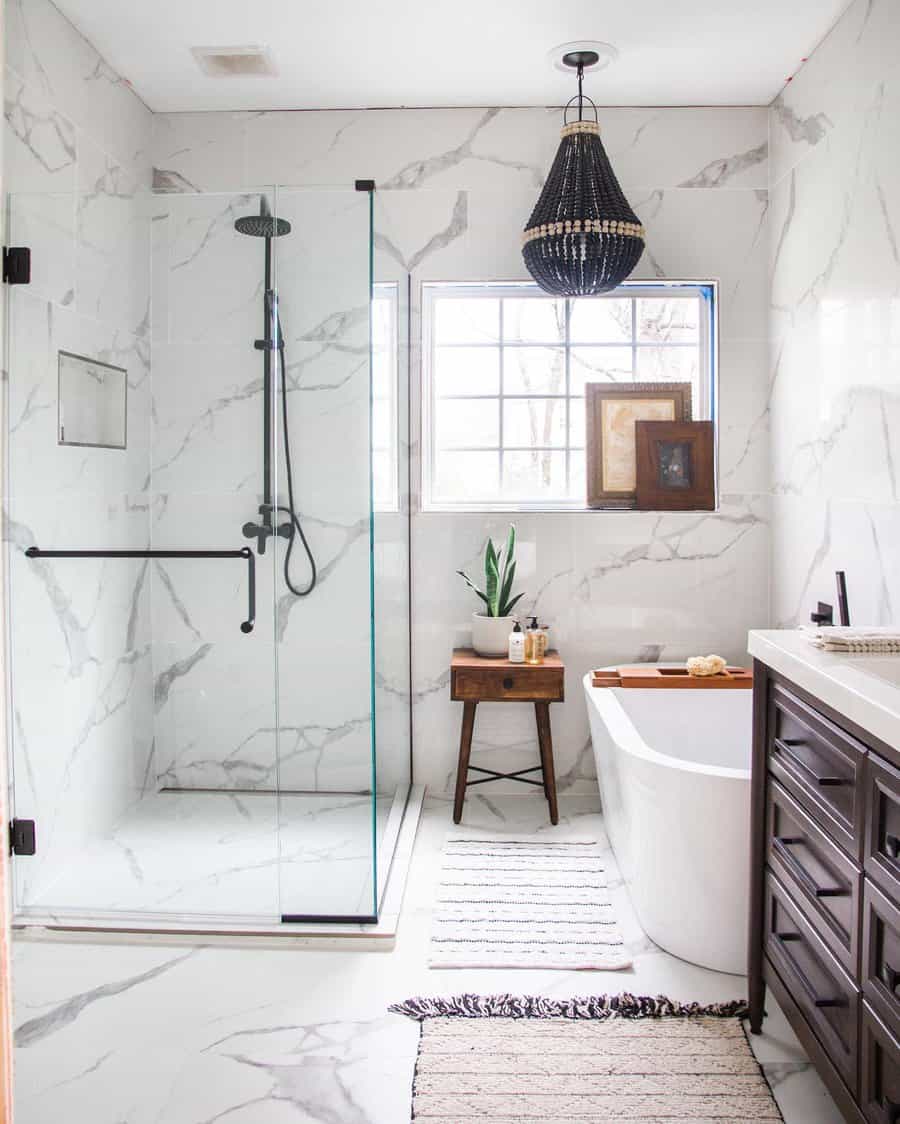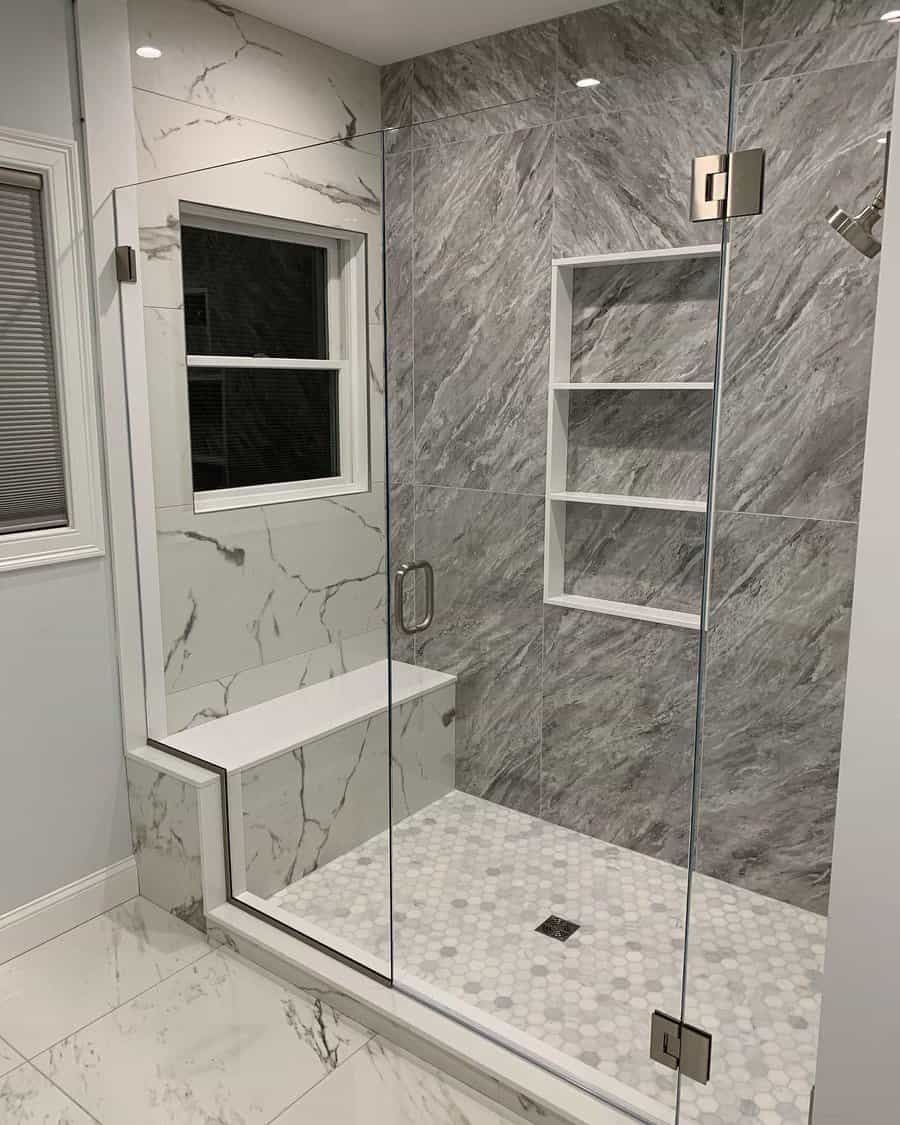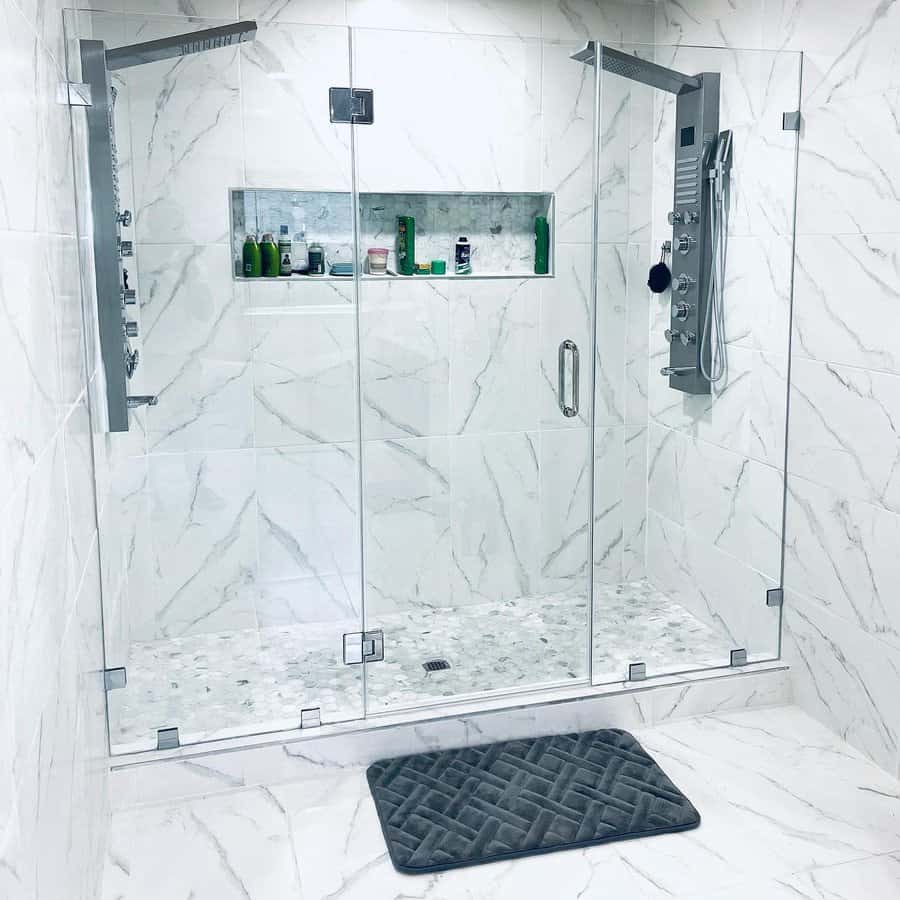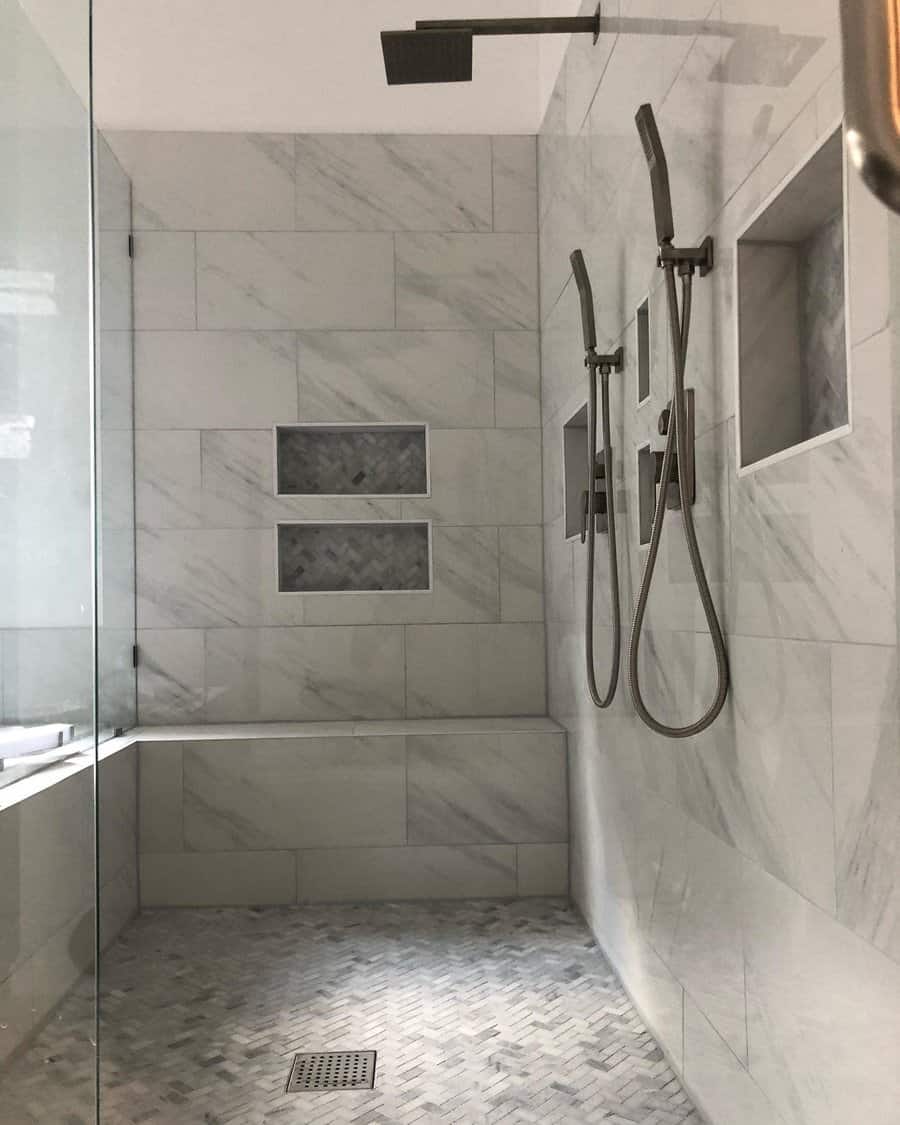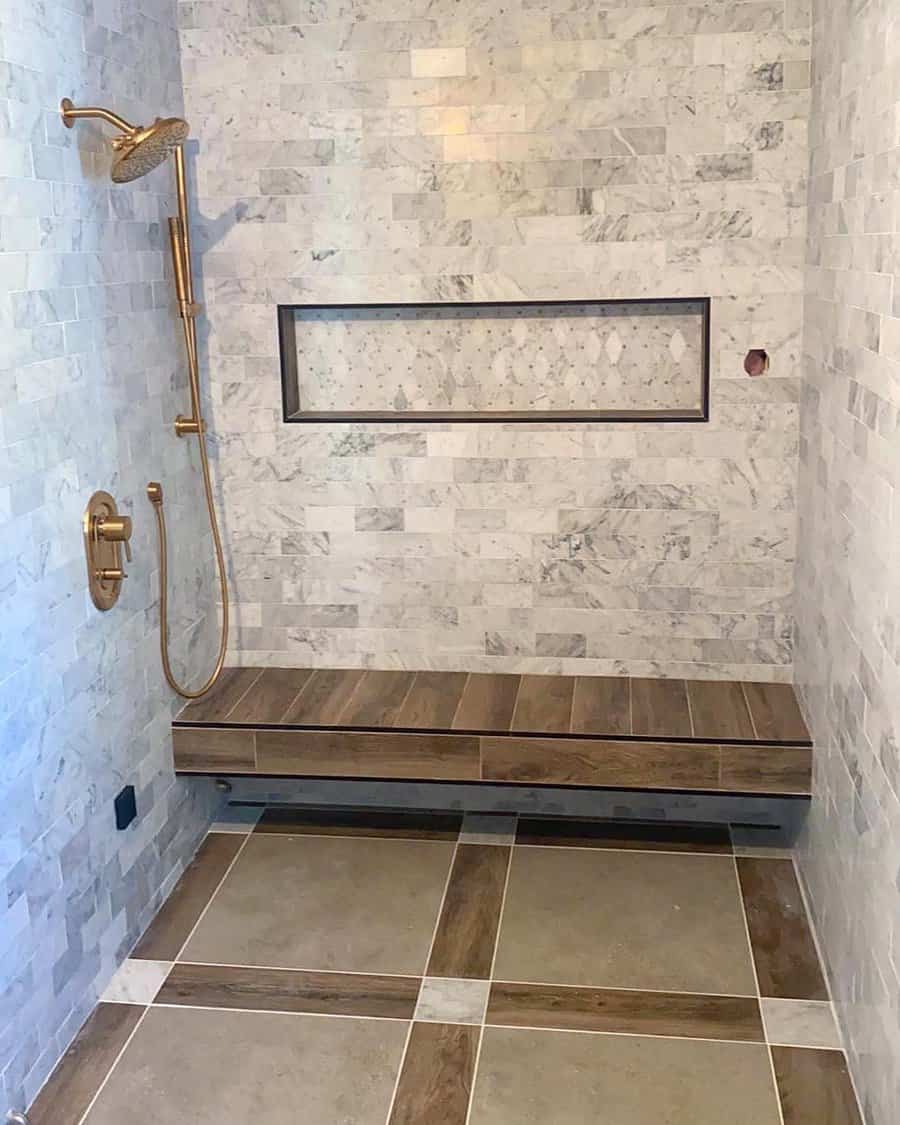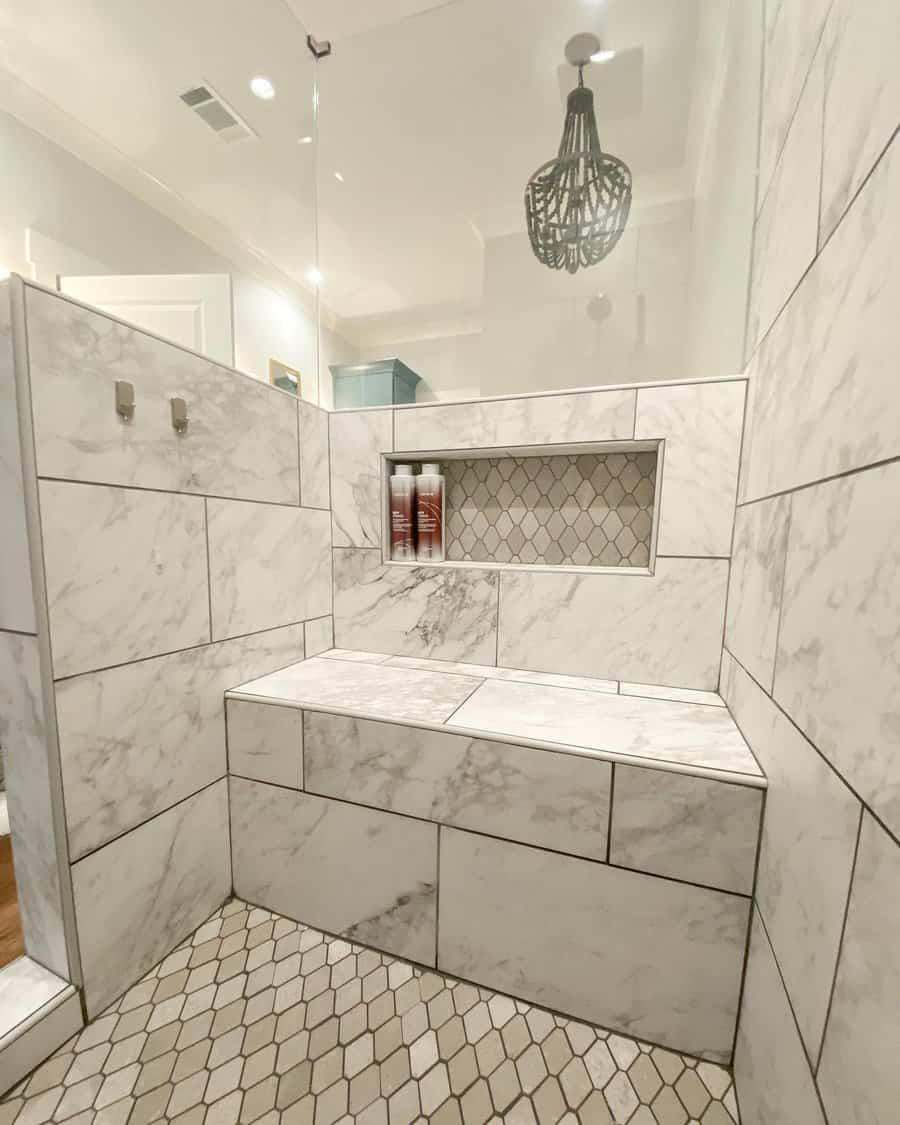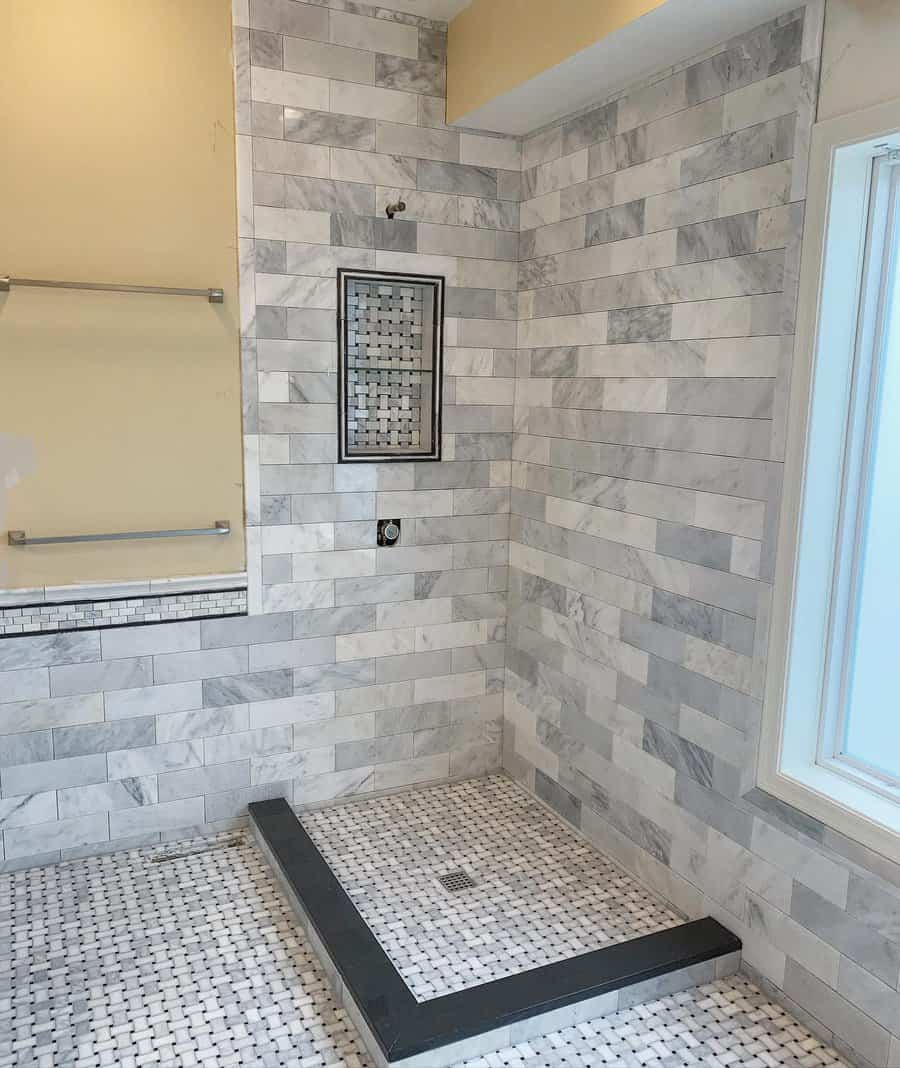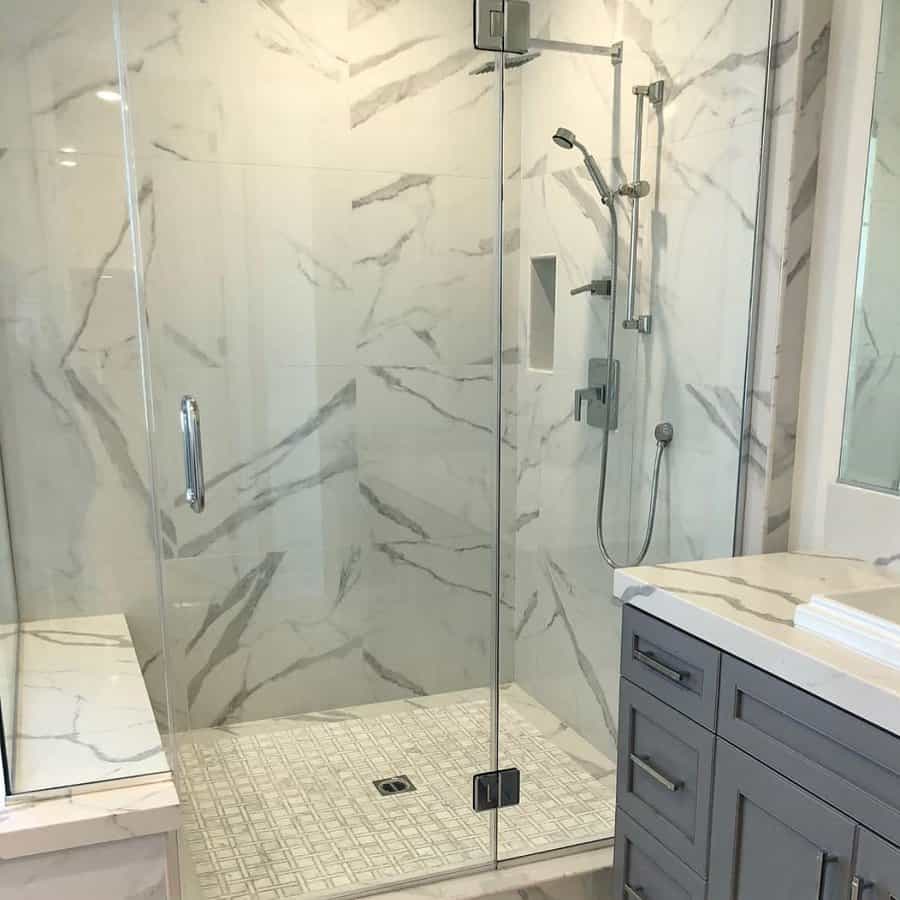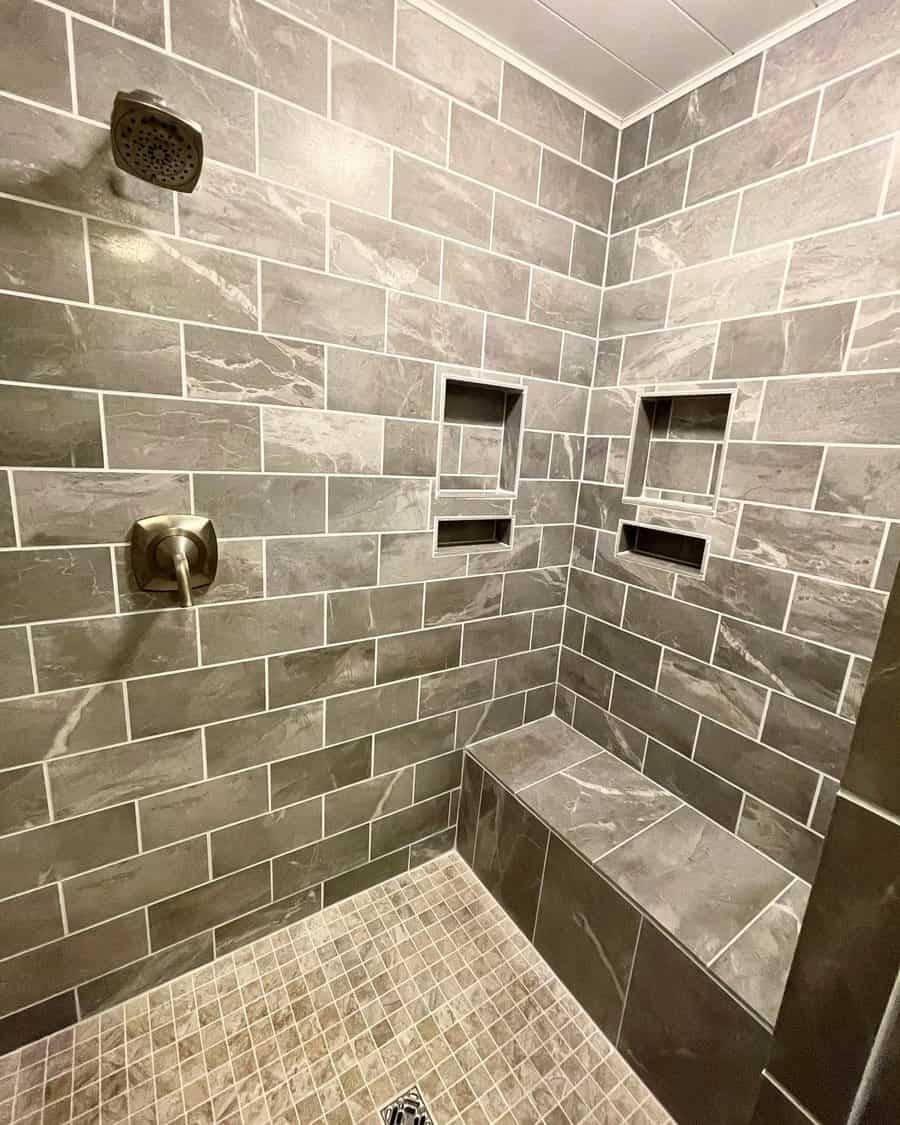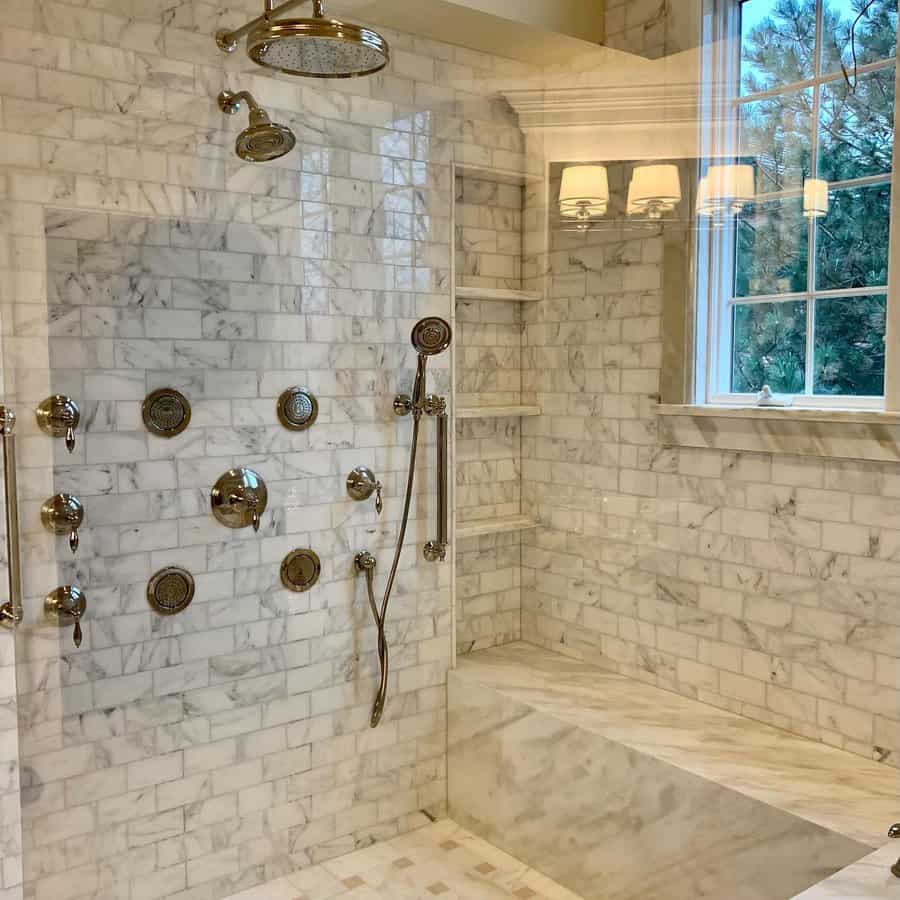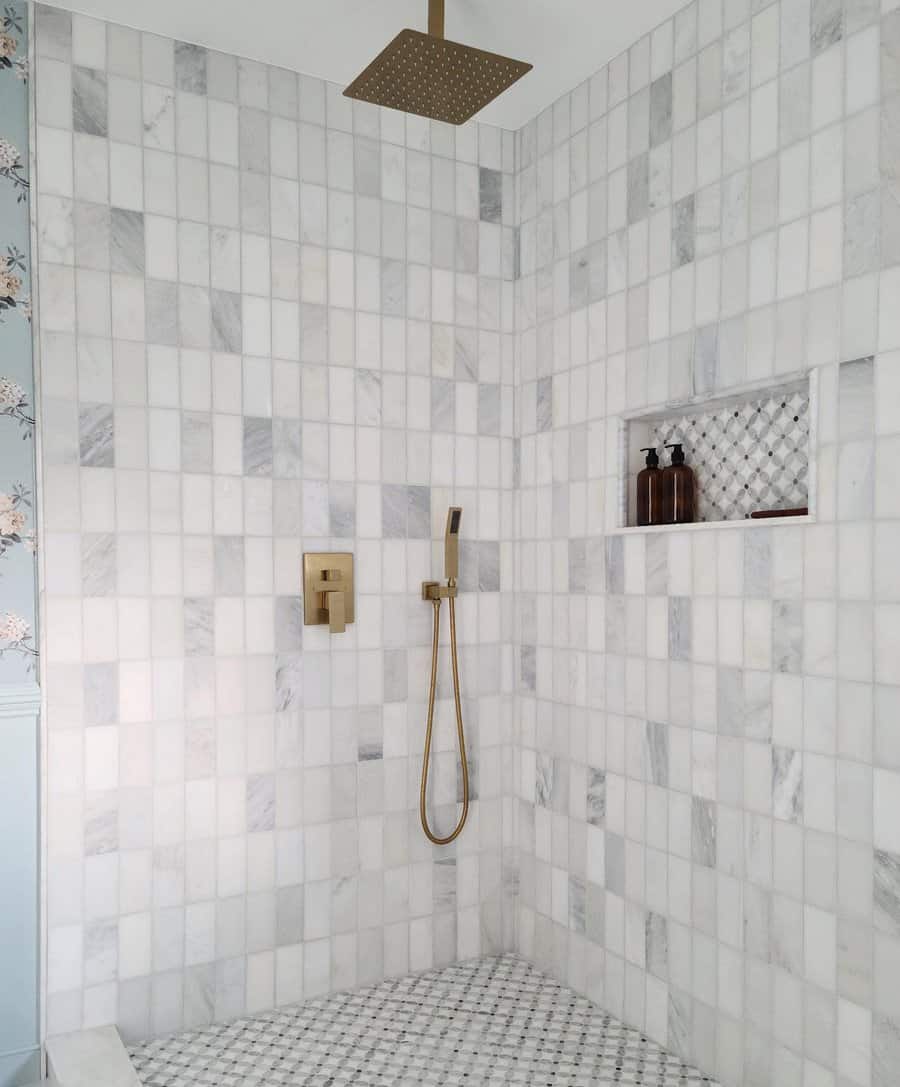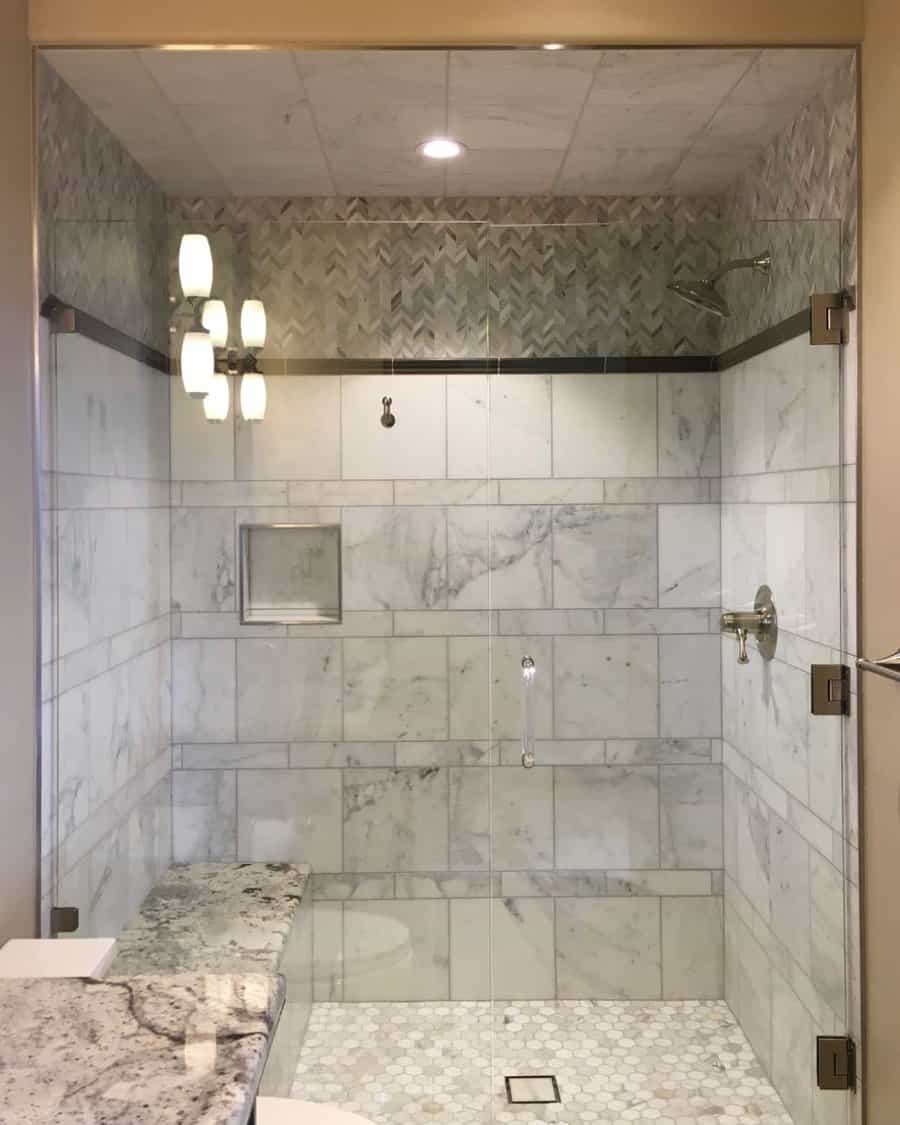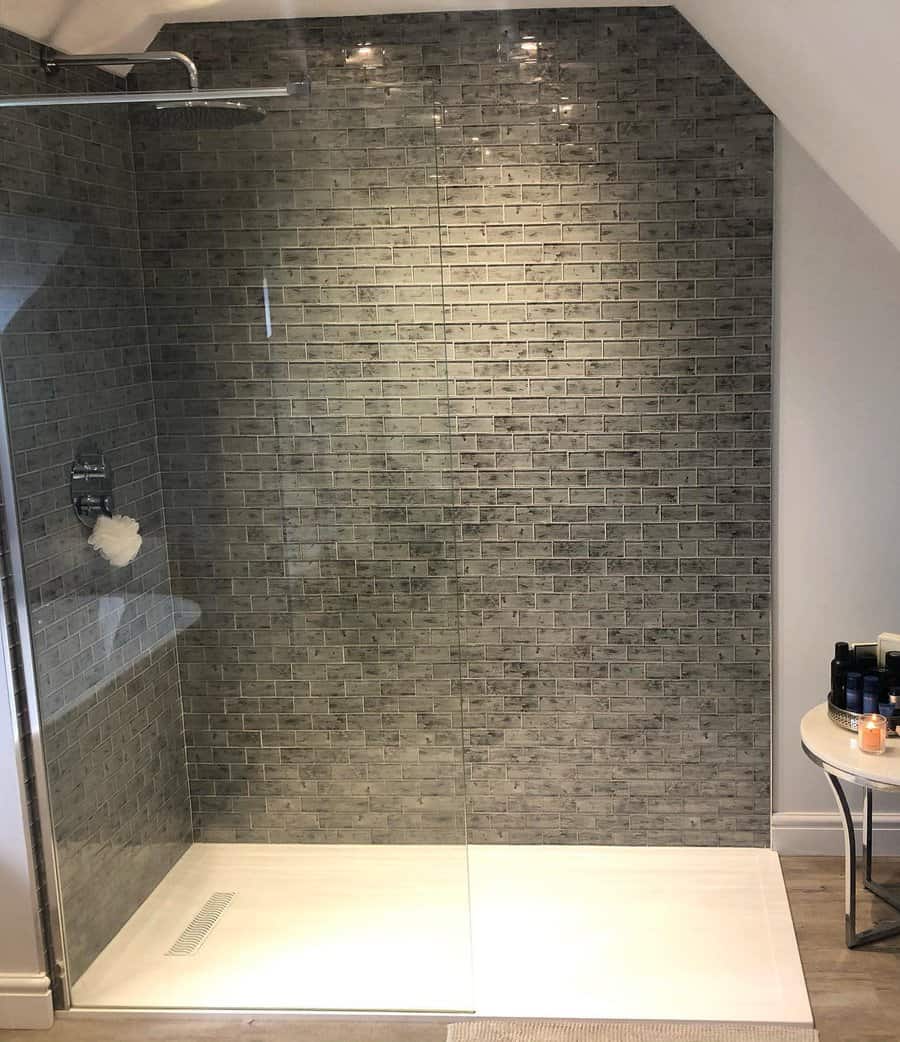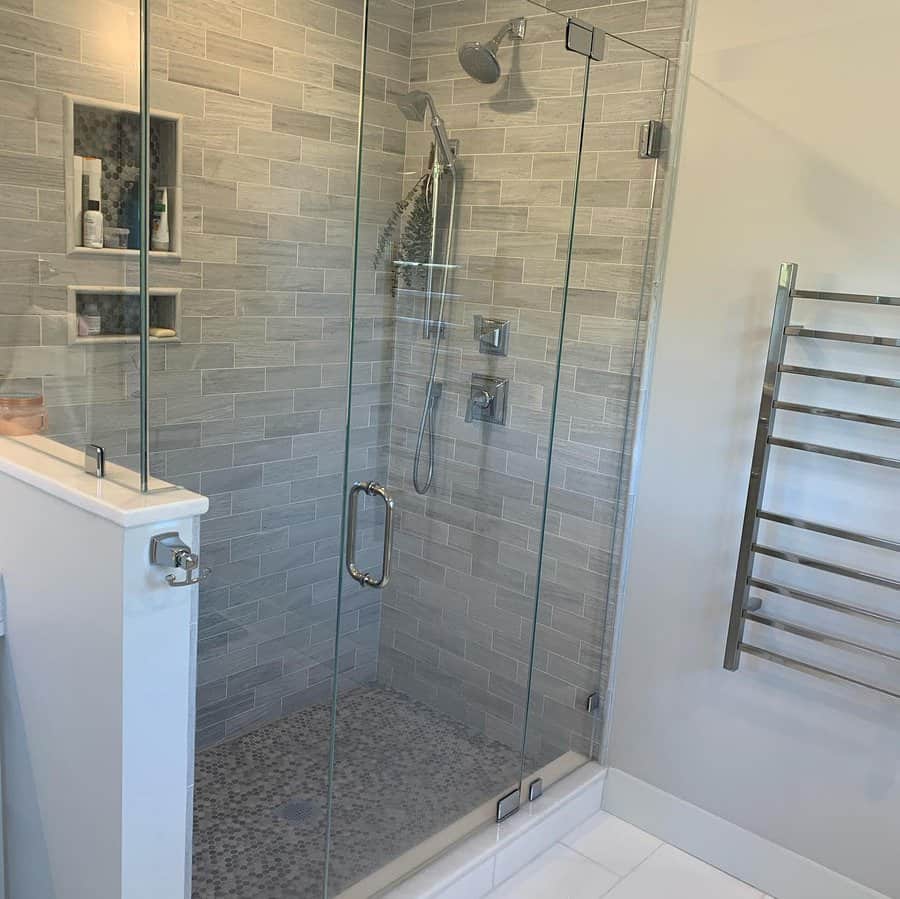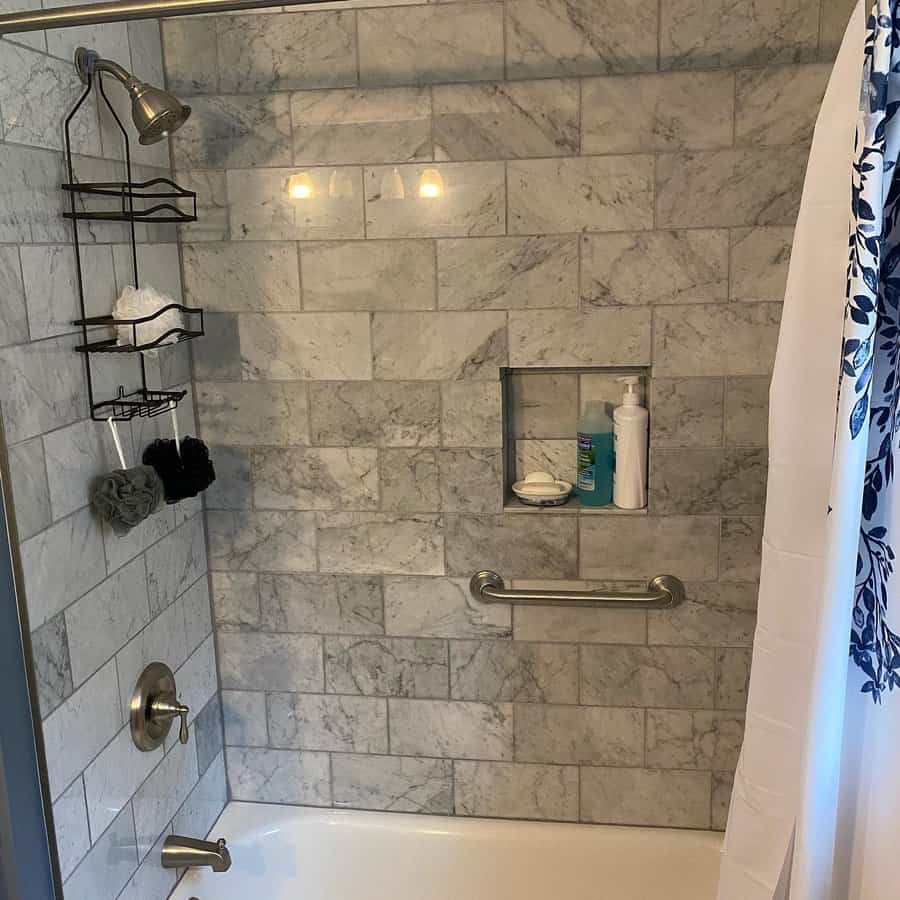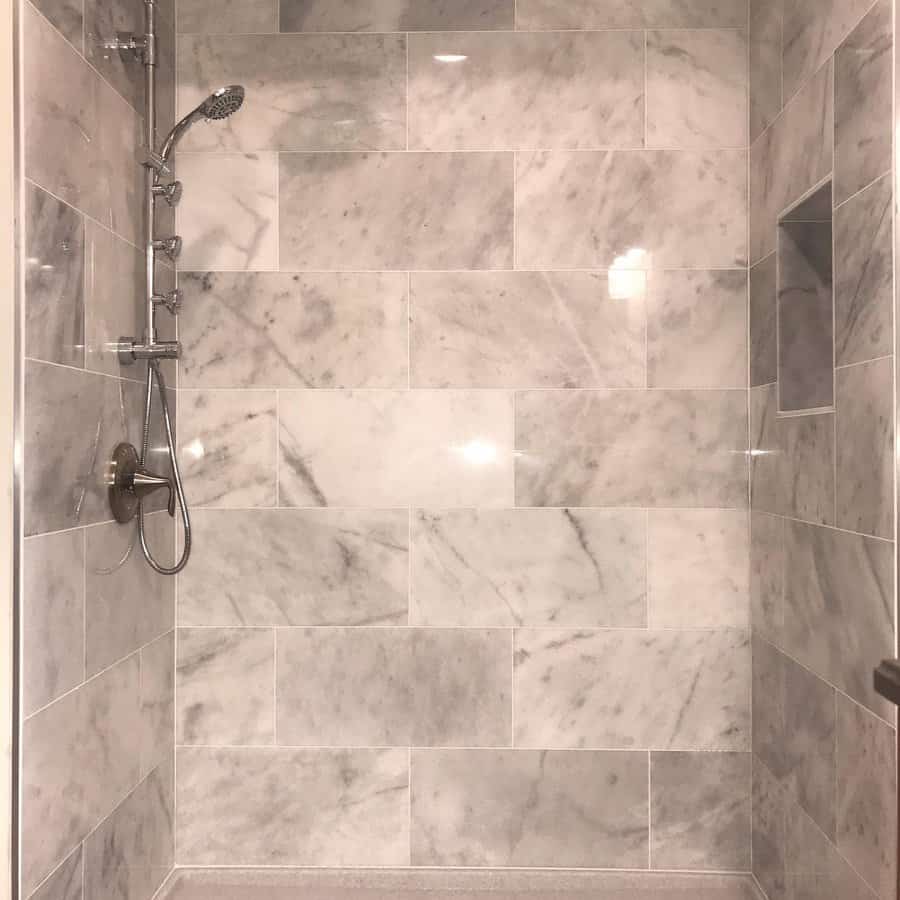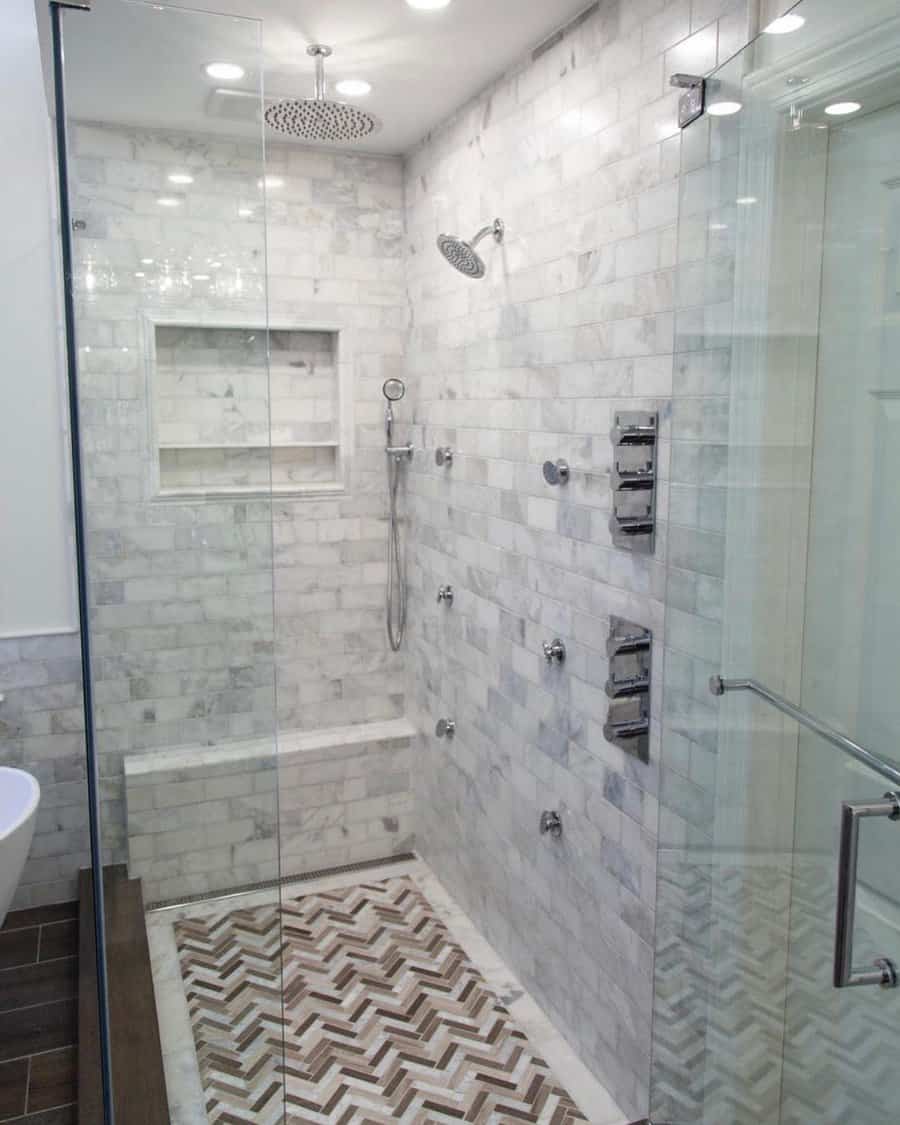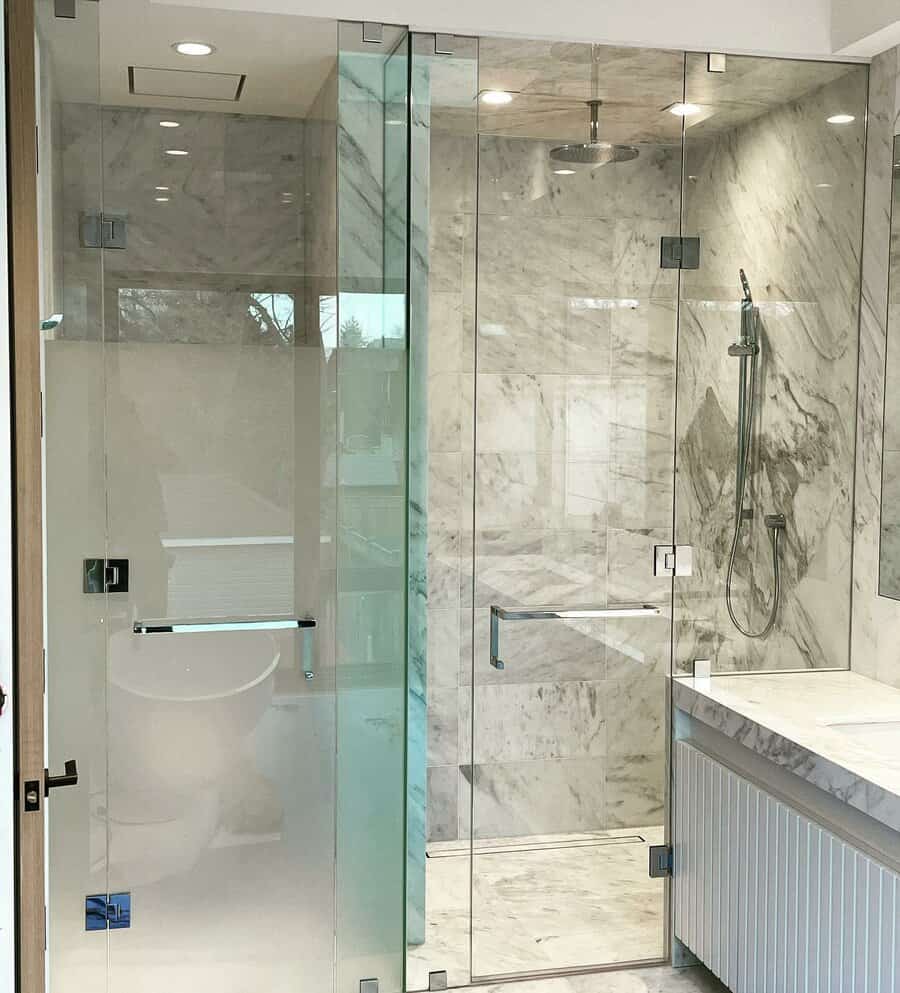 5. Mosaic Strip Accent
Whether you opt for a vibrant palette or a more subdued, earthy tone, the mosaic strip injects personality and character into your shower space. It serves as a visual statement, drawing the eye and creating a captivating focal point. The intricate patterns and captivating designs of the mosaic tiles invite intrigue and create a sense of luxury and style.
Let your shower be a canvas for your imagination, a place where artistry meets functionality. The mosaic tile strip accent is a testament to the power of small details, adding depth and dimension to your shower design.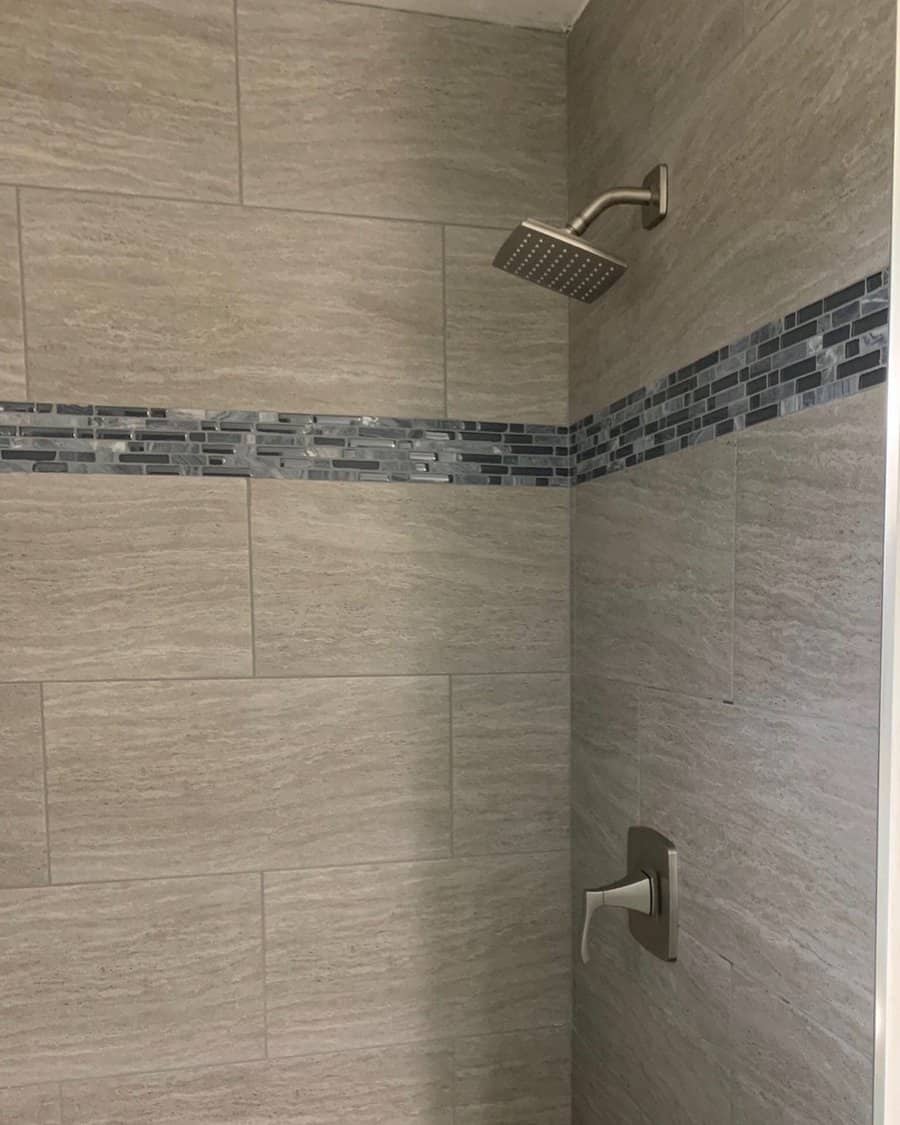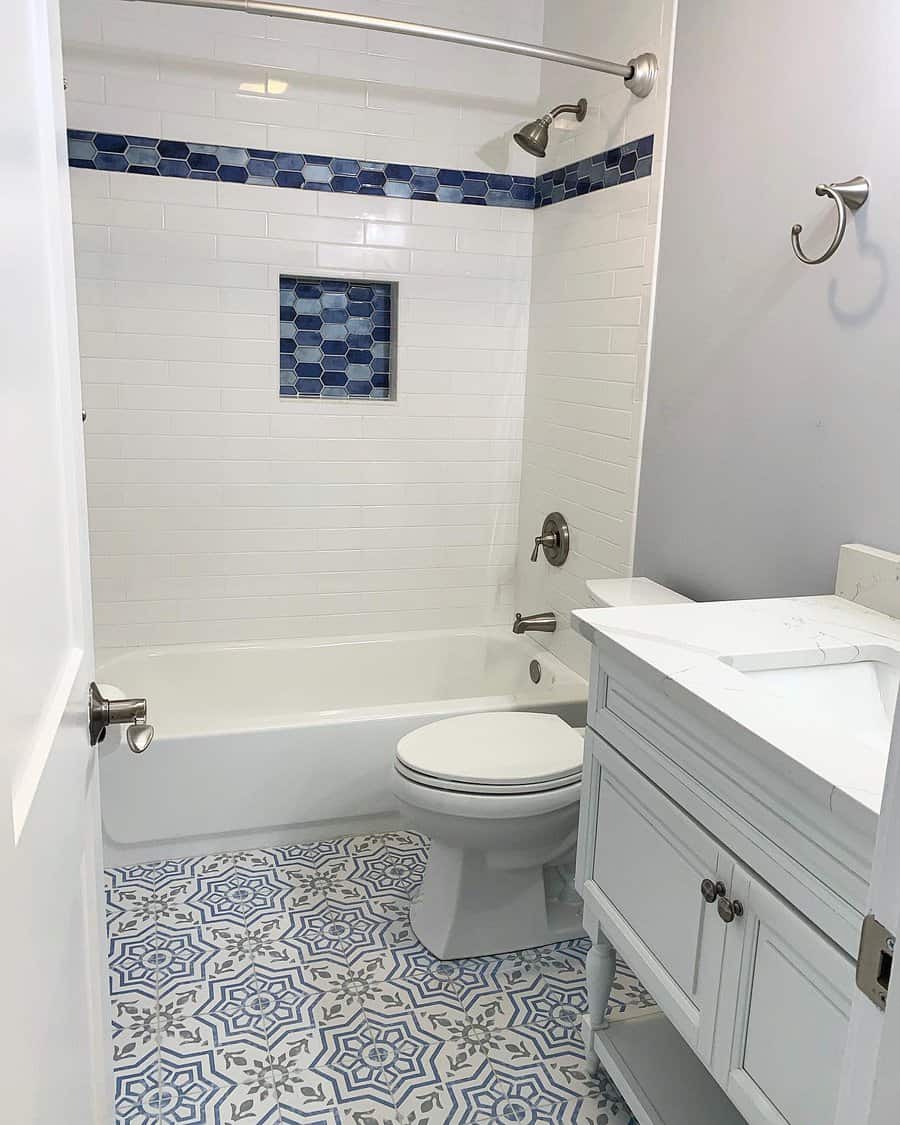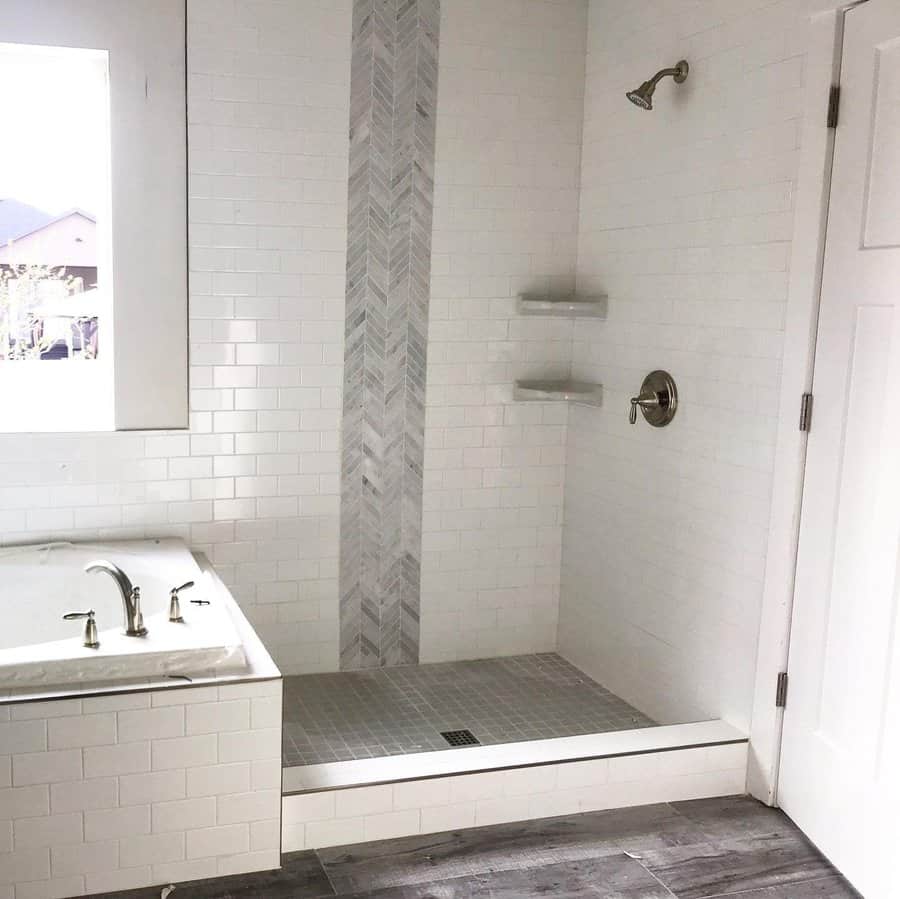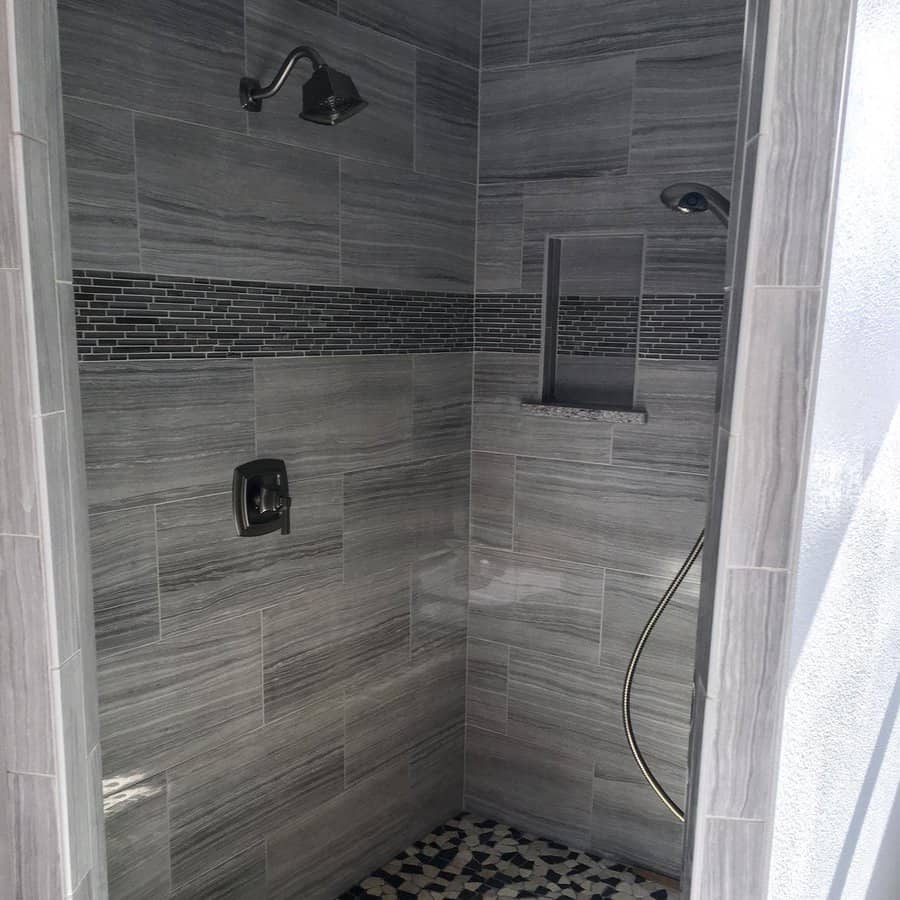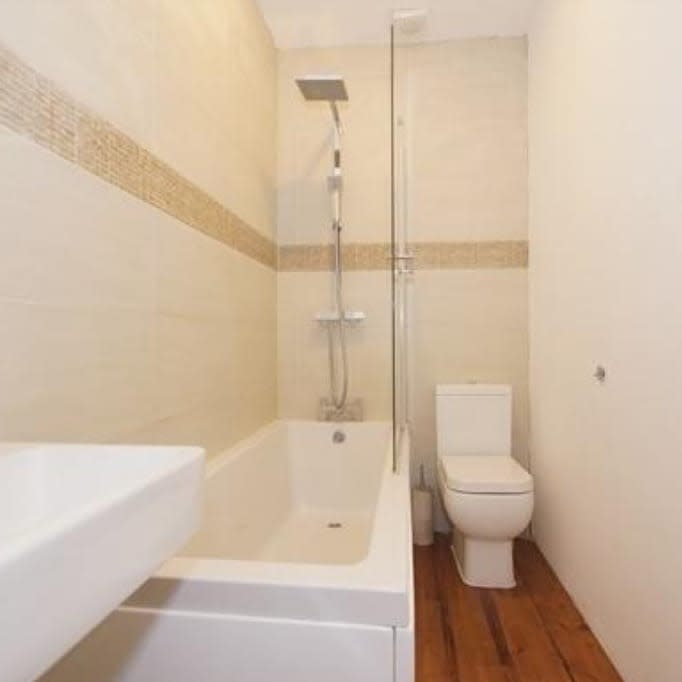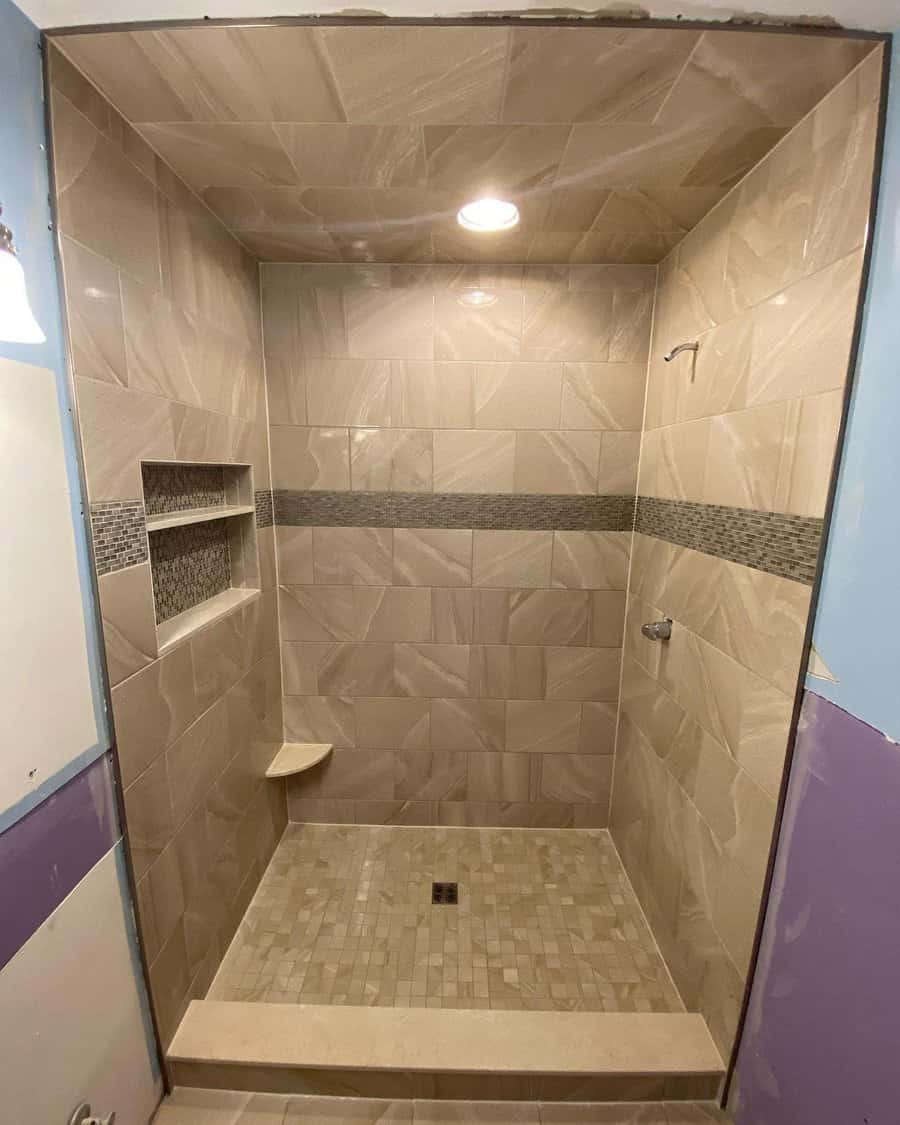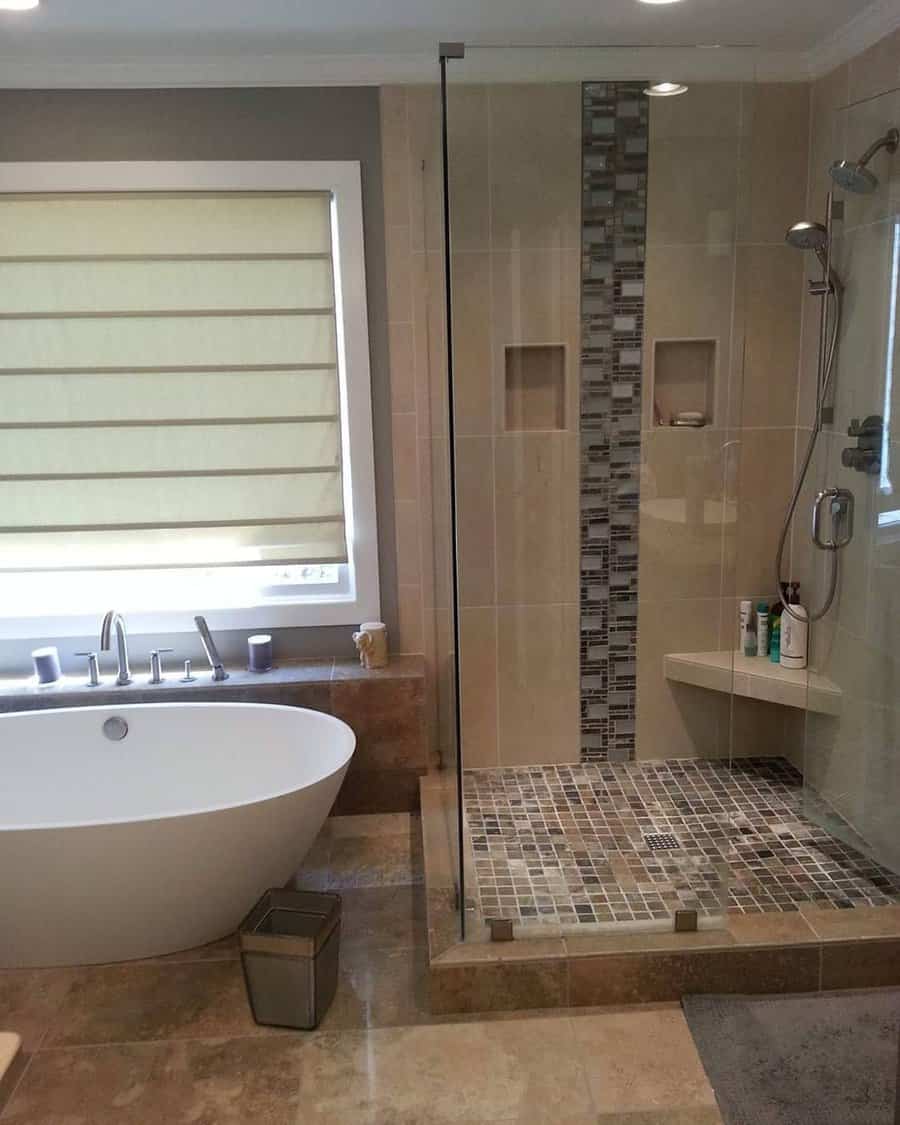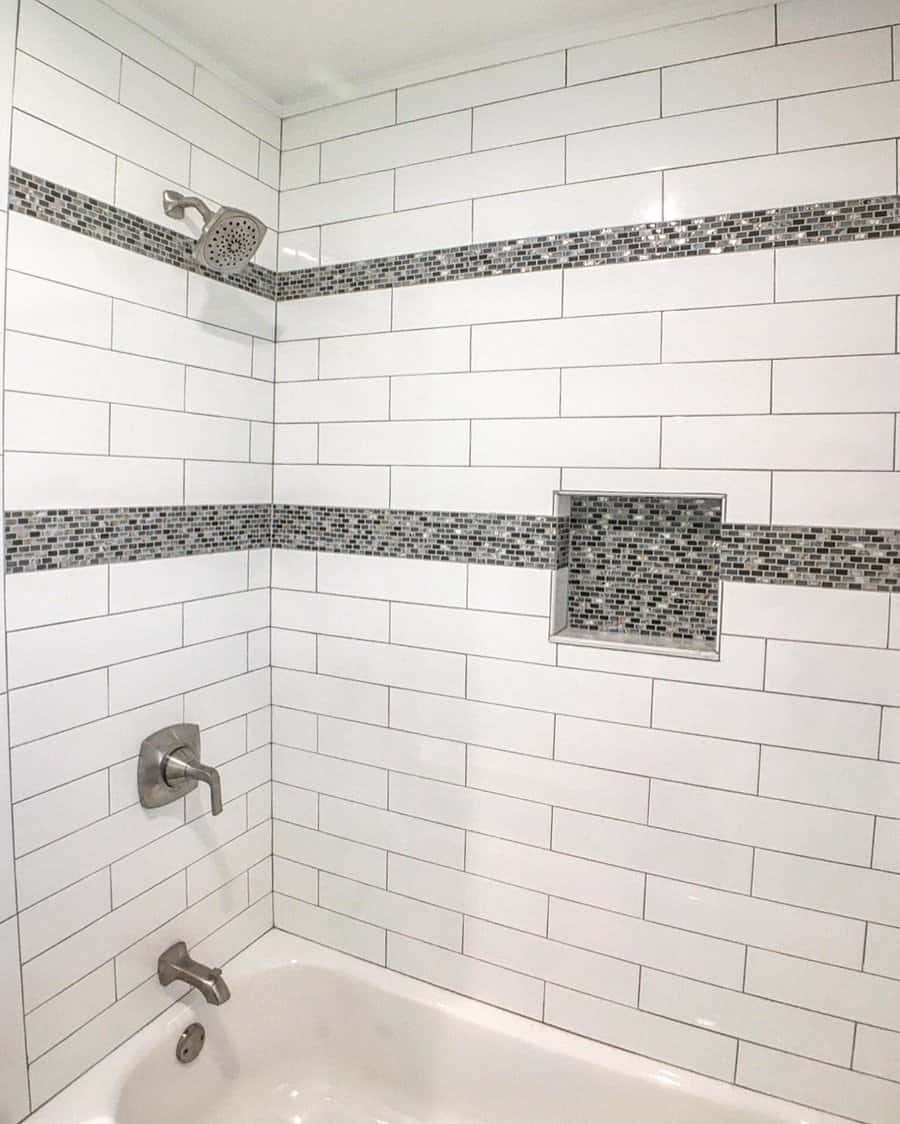 6. Brick Porcelain Tile
Embrace the vintage allure and raw texture that these tiles bring to your bathroom, transforming it into an industrial oasis. Each brick-shaped tile tells a story of craftsmanship and heritage, evoking a sense of nostalgia that resonates with those seeking a unique and unconventional style. The rough edges and distressed finish create an atmosphere of authenticity, reminiscent of old-world charm.
Let the warmth and character of these tiles envelop you as you step into your shower, transporting you to a bygone era. The juxtaposition of the raw, industrial aesthetic against the sleek lines and modern fixtures of your bathroom creates a striking visual contrast that is undeniably captivating. With brick porcelain tiles, your shower becomes a sanctuary where vintage meets contemporary, and industrial meets refined.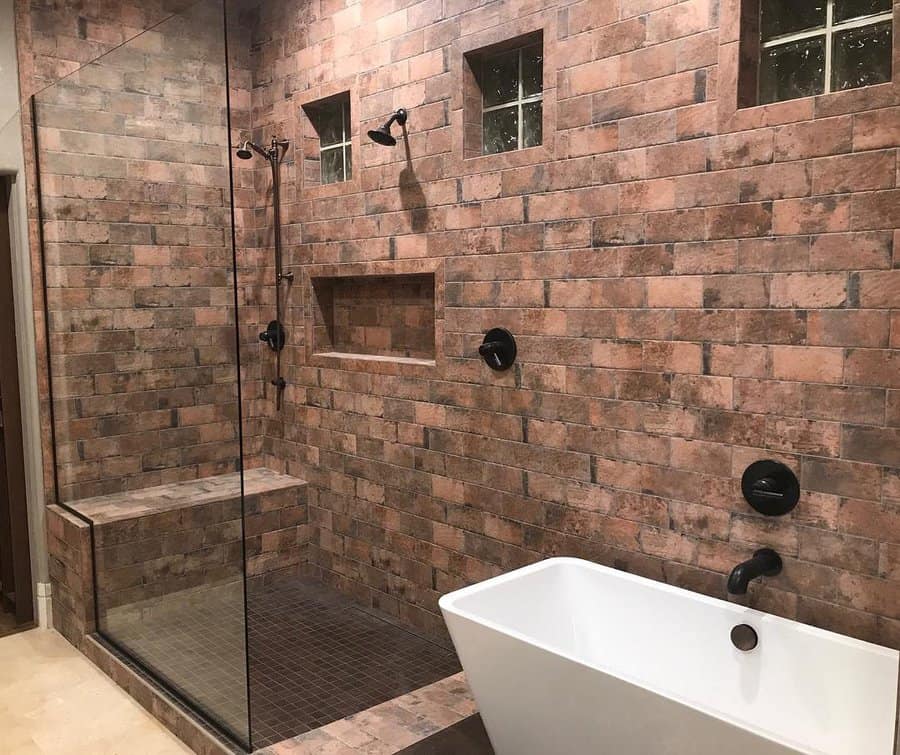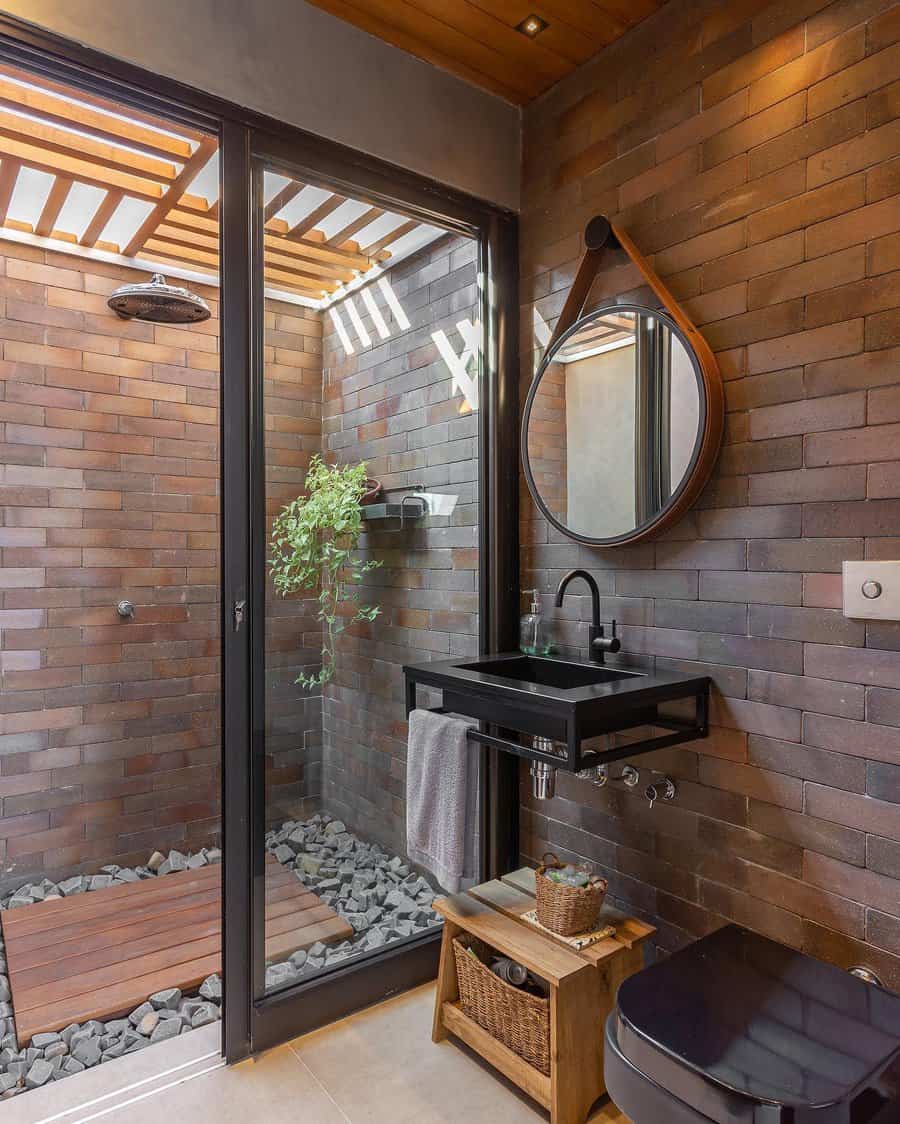 7. Stone Brick Wall
The rustic appeal of the stone brick wall adds character and warmth to your shower, bringing a touch of nature indoors. As the water cascades down the textured surface, you'll feel a sense of serenity and connection to the earth. The added texture of the tiles not only enhances the visual interest but also provides a tactile experience, awakening your senses with each touch.
Whether you're starting your day or unwinding after a long day, the shower becomes a rejuvenating haven that transports you to a place of natural beauty. Let the stone brick wall tiles become the focal point of your shower, creating a visual masterpiece that evokes a sense of rustic charm.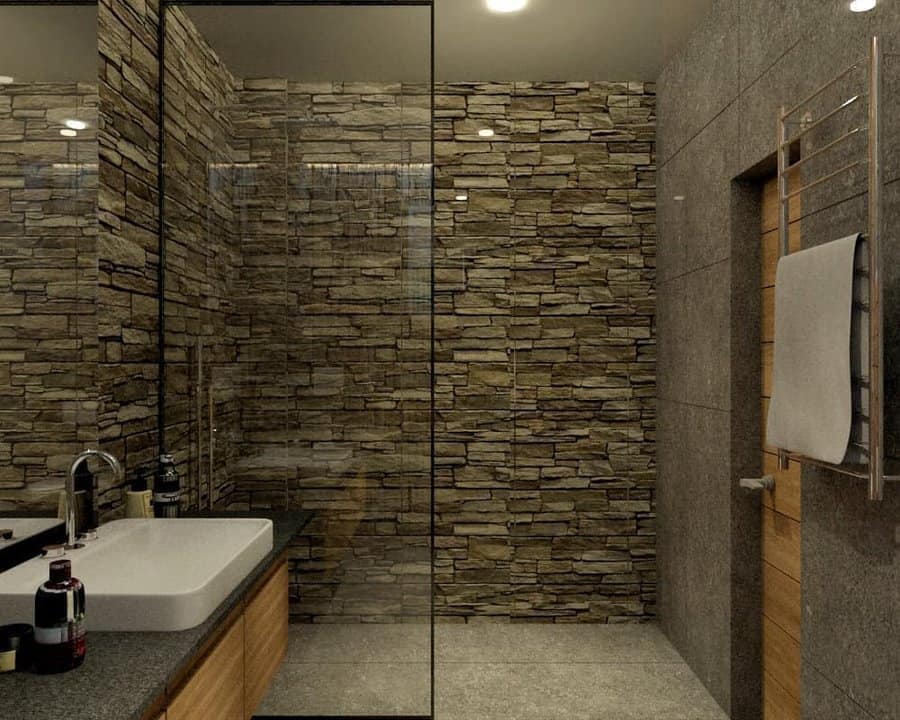 8. Herringbone Patterned Tiles
Imagine the walls adorned with narrow beveled tiles meticulously laid out in a captivating herringbone pattern. This intricate design adds a sense of movement and dimension to your shower, transforming it into a work of art.
The interlocking angles create a mesmerizing visual effect that will surely leave a lasting impression on anyone who enters. As the water cascades over the tiles, their texture and beveled edges create a subtle play of light and shadow, adding depth and allure to your shower space.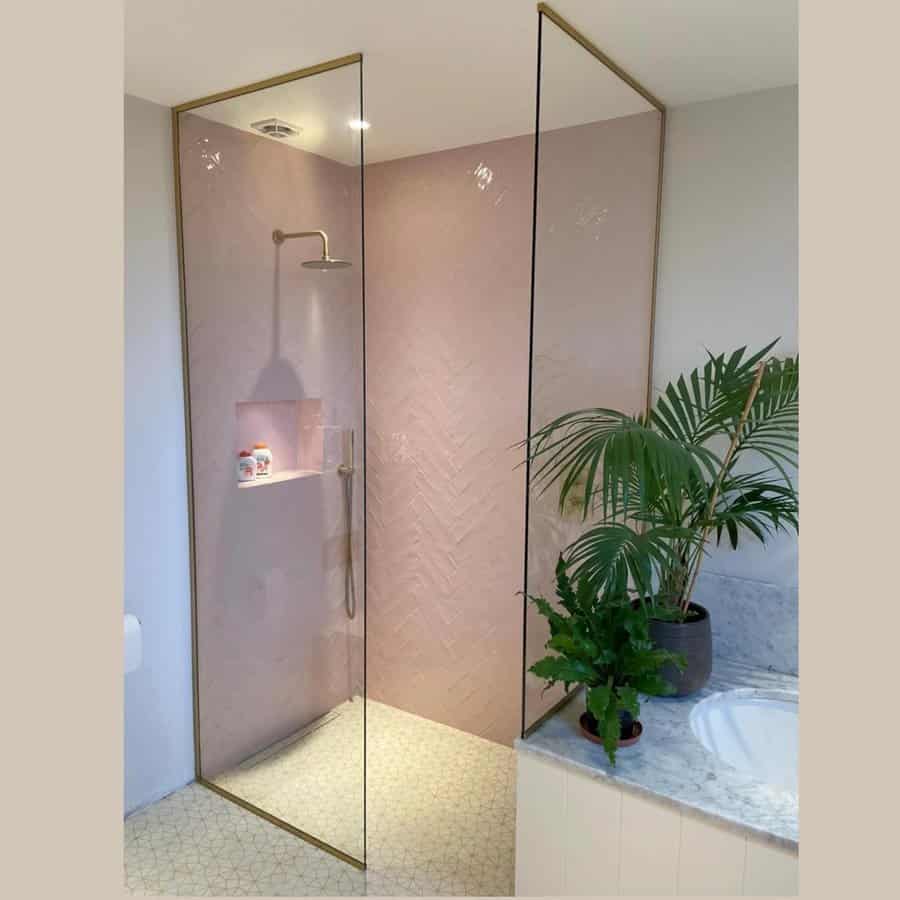 9. Porcelain Tiles
Imagine stepping into your shower, surrounded by a symphony of porcelain tiles glistening in the soft light. The glossy finish adds a touch of opulence, reflecting light and creating an illusion of spaciousness.
Whether you prefer a monochromatic color scheme or a mosaic of intricate patterns, porcelain tiles offer endless possibilities to customize your shower space. From contemporary designs to classic motifs, these tiles effortlessly elevate the aesthetics of your bathroom.
Not only do they exude a sense of refinement, but porcelain tiles also boast exceptional durability and water resistance, ensuring that your shower remains as stunning as the day it was installed.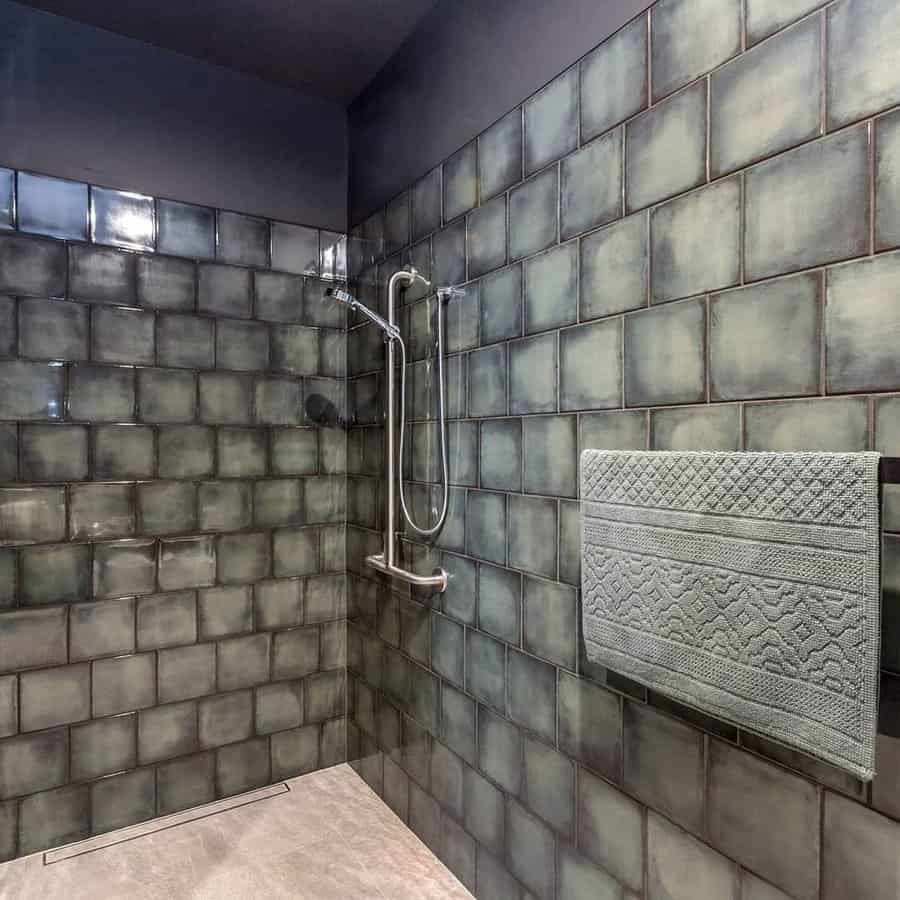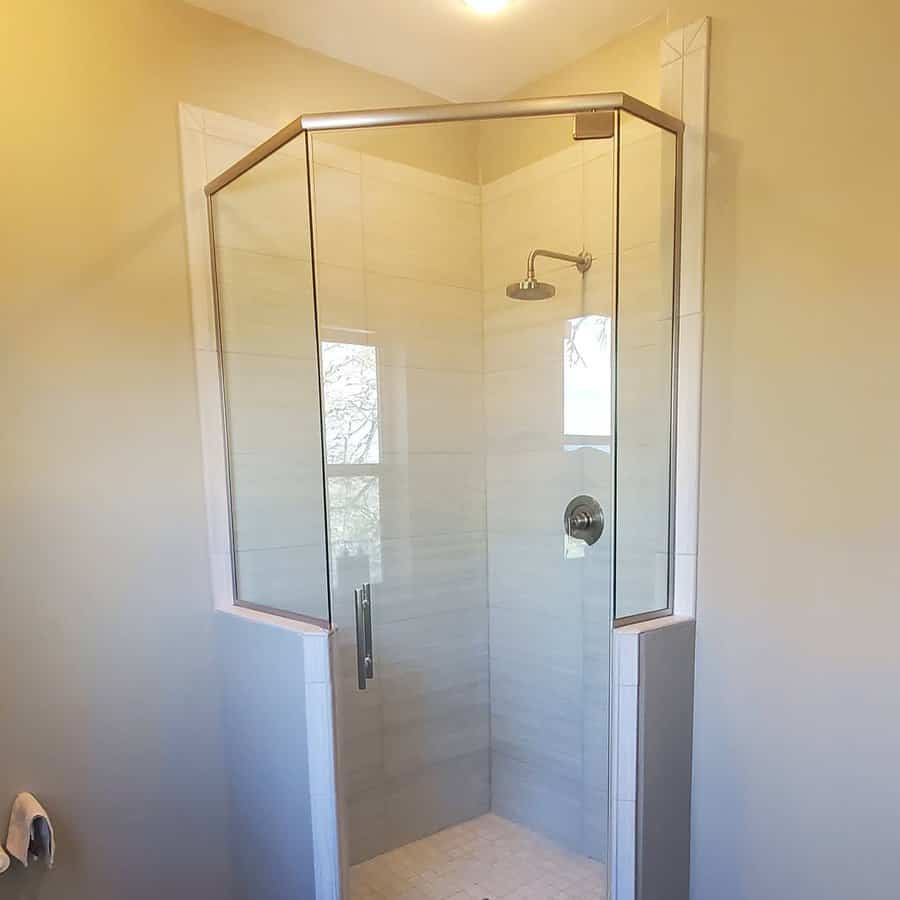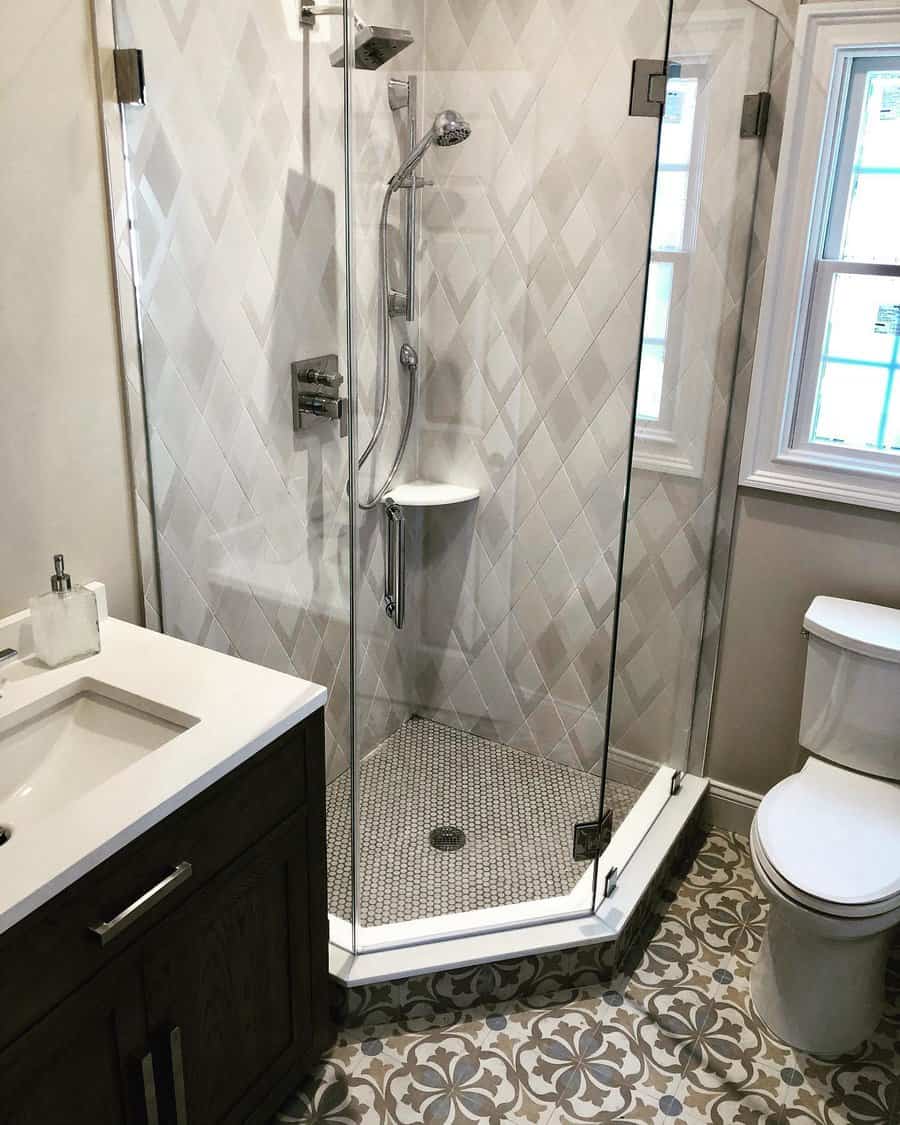 10. 3D Stamped Tiles
Imagine stepping into your shower and being greeted by a captivating display of geometric patterns and intriguing textures. The interplay of light and shadows adds a dynamic element, creating a mesmerizing visual feast for the eyes. With these tiles, your shower becomes more than just a functional space; it becomes a sanctuary of style and personality.
Embrace the power of texture and let your shower tiles become a reflection of your unique design sensibilities. Whether you're a minimalist or a maximalist, the white 3D-stamped tiles bring a touch of whimsy and charm to any bathroom.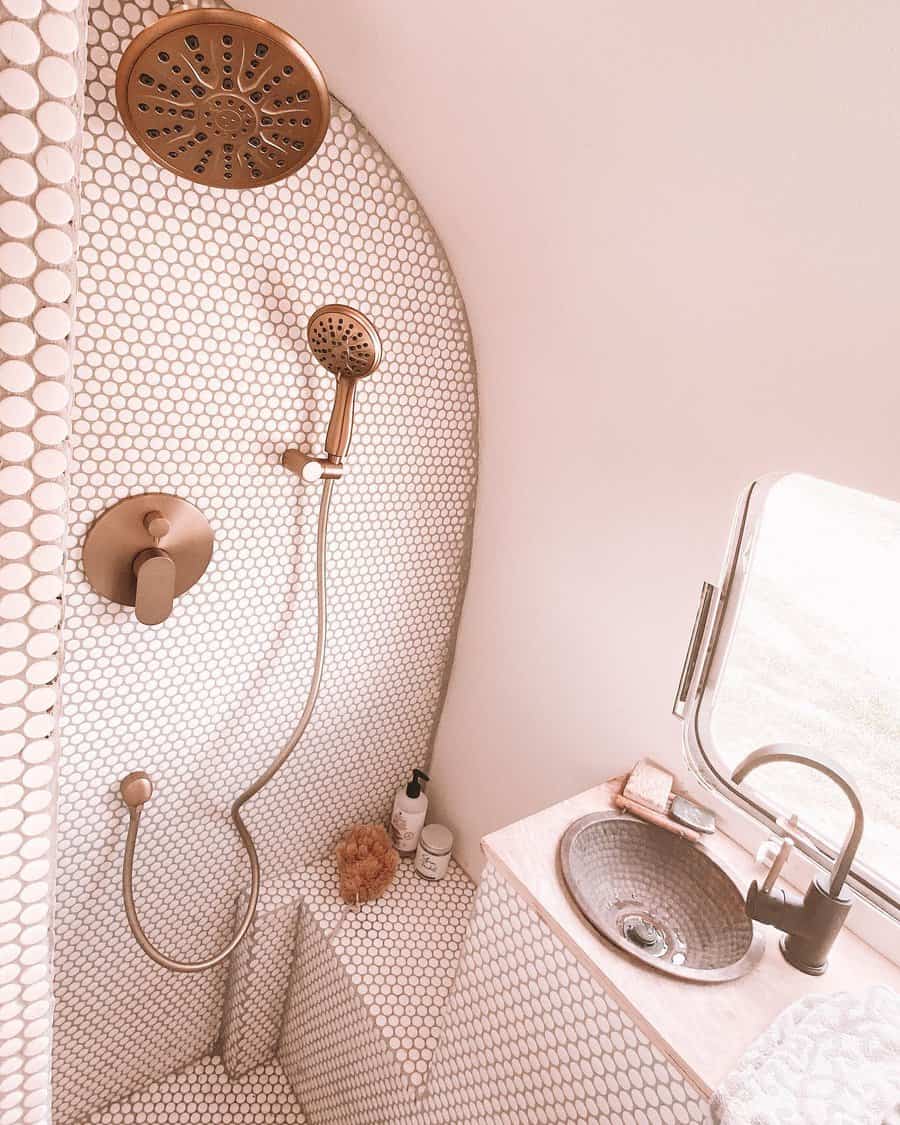 11. Luxury Vinyl Tiles
Transform your shower into a haven of style and sophistication with the captivating allure of LVT (Luxury Vinyl Tile) tiles. Embrace the natural beauty of wood without compromising on practicality. These wood-look LVT tiles bring warmth and elegance to your shower, creating a serene and inviting atmosphere.
With their realistic textures and intricate patterns, they exude the timeless charm of real wood, but with the added benefits of durability and easy maintenance. Step onto the faux wood tiles and let the smooth surface embrace your feet as if you were strolling through a serene forest. The wood-look LVT tiles effortlessly blend contemporary design with a touch of rustic allure, adding a sense of organic beauty to your shower space.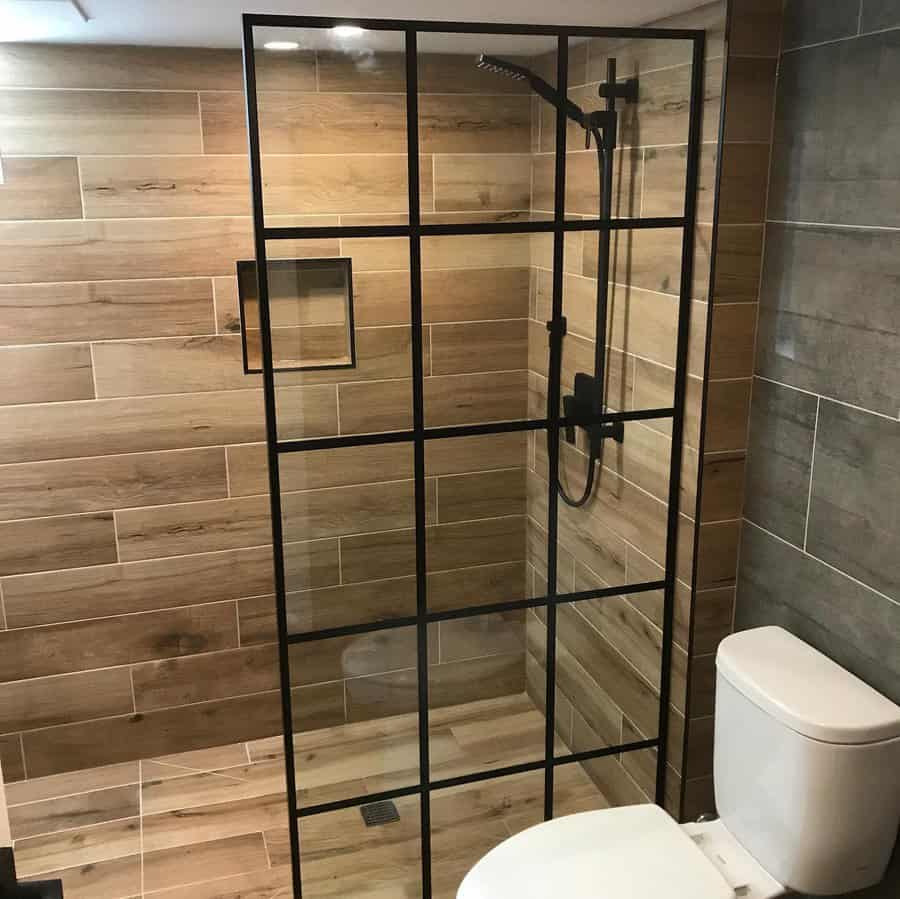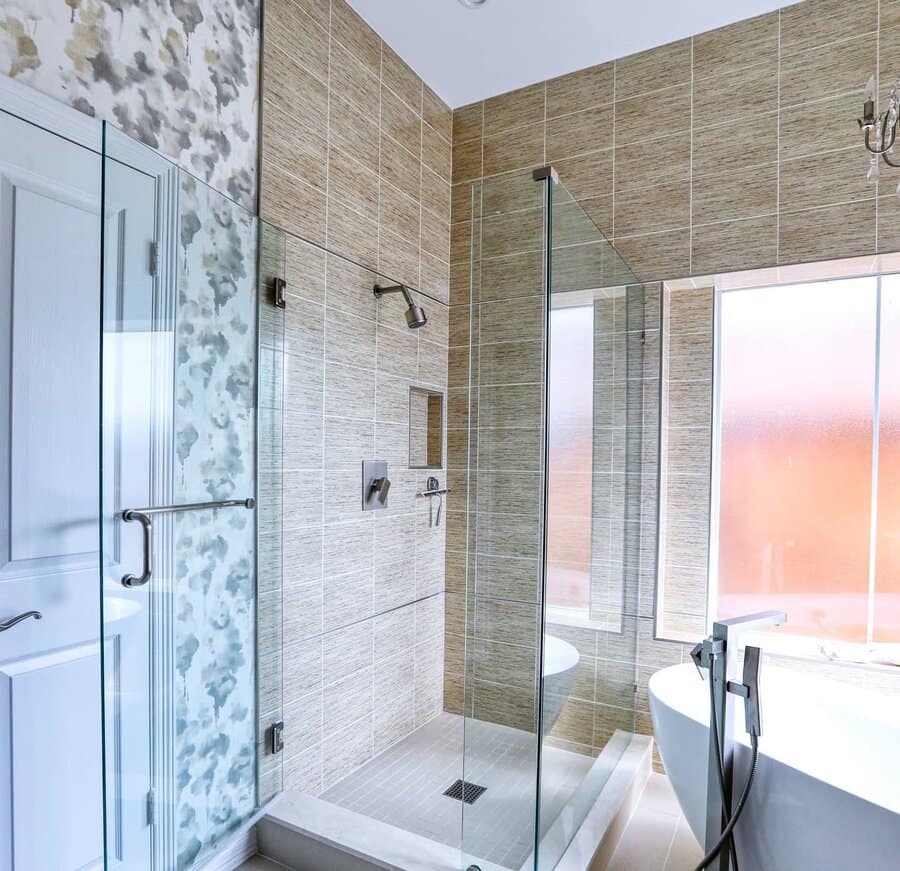 12. Beveled Tiles
With their angled edges and captivating play of light and shadows, beveled tiles create a stunning focal point in your shower space. Whether you opt for classic white beveled tiles for a clean and crisp look or go for bold and colorful options to make a statement, the beveled texture adds depth and dimension to your shower walls.
As water cascades down and interacts with the beveled surfaces, it creates a mesmerizing effect that enhances your showering ritual. Let the beveled tiles reflect your personal style, whether you prefer a modern and minimalist aesthetic or a more eclectic and artistic approach.
From subway-style arrangements to intricate patterns, the versatility of beveled tiles allows you to unleash your creativity and design a shower that truly reflects your unique taste.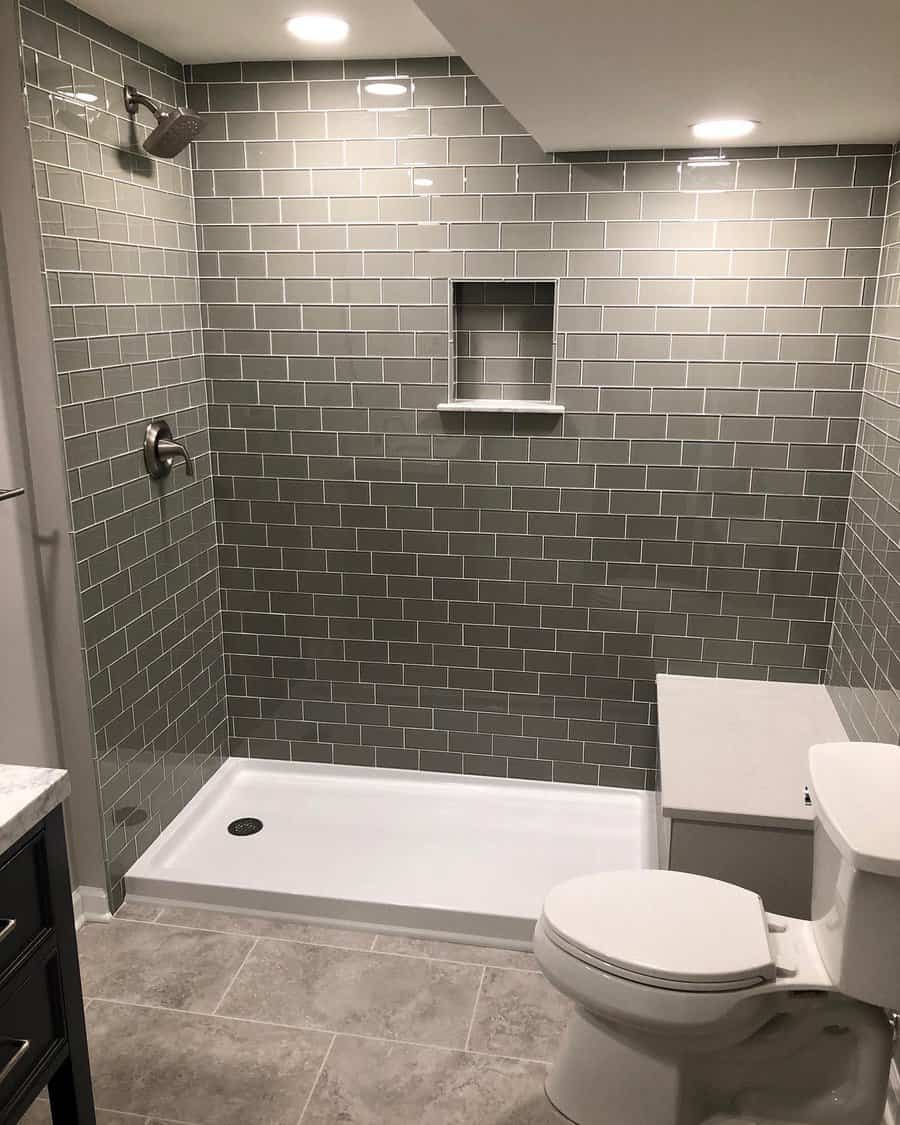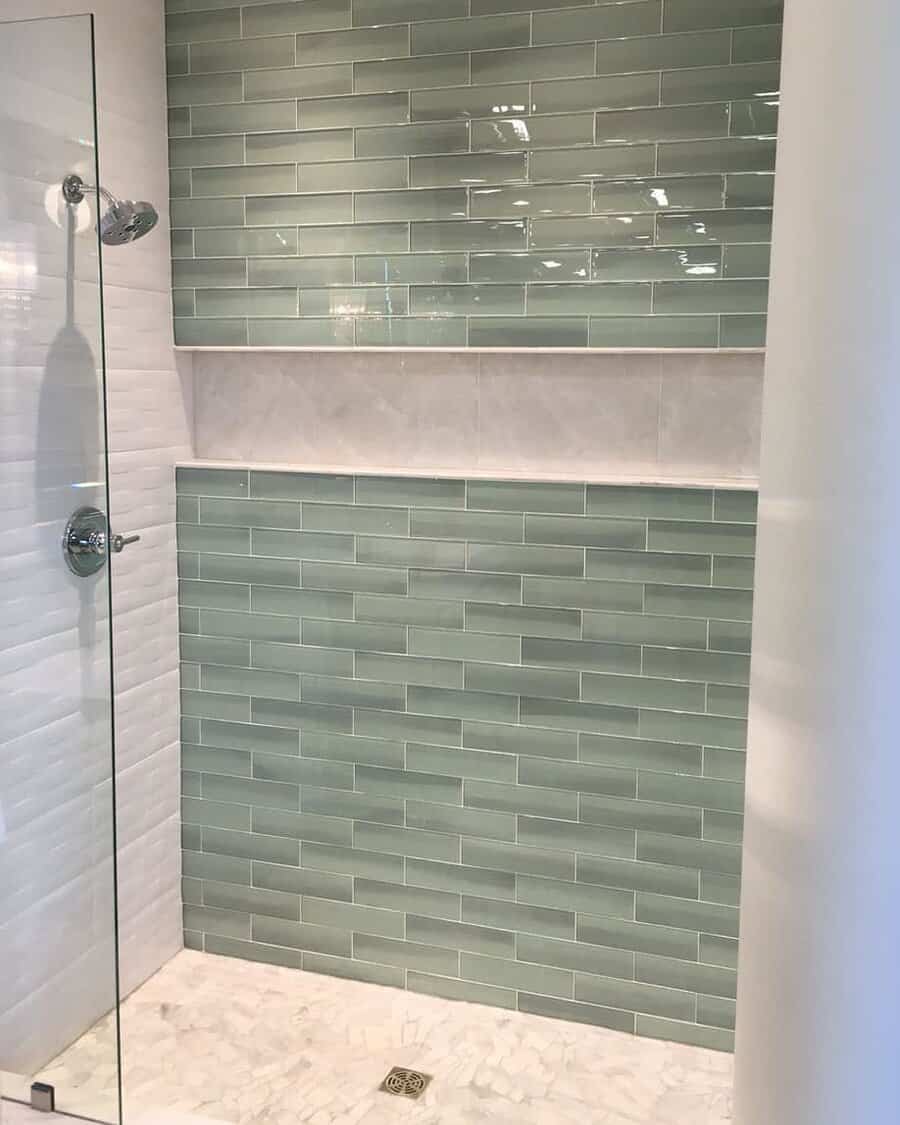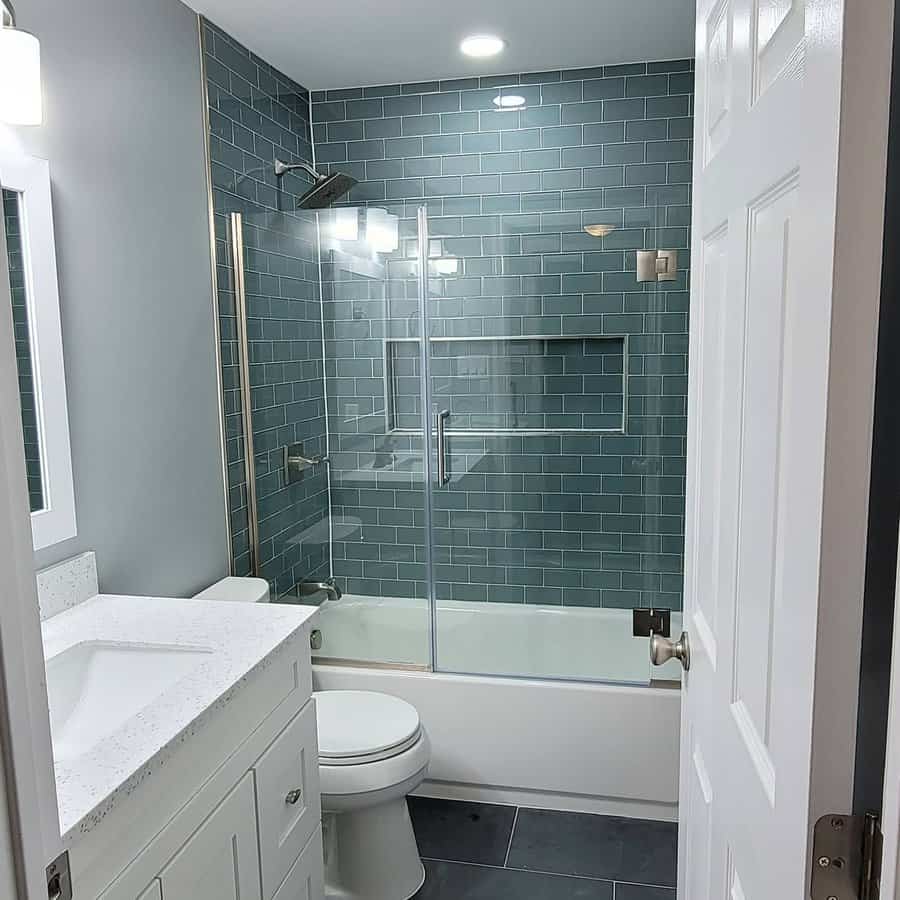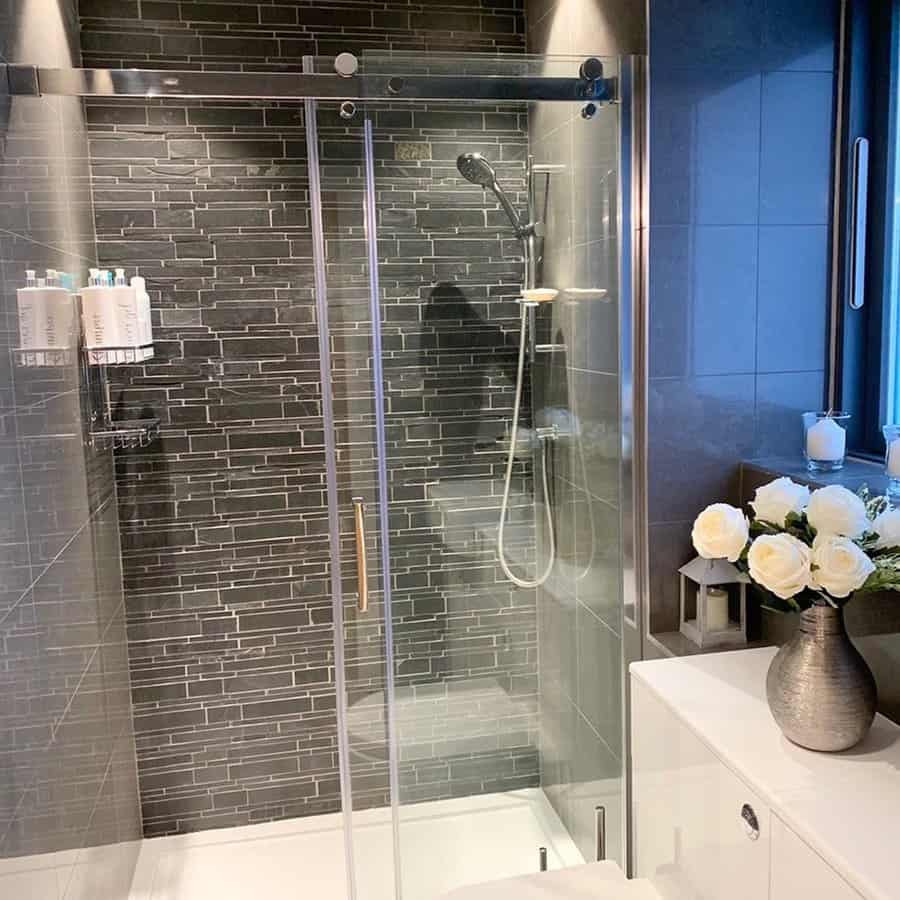 13. Honeycomb Tiles
The interlocking hexagons create a visual feast for the eyes, adding depth and texture to your shower walls. Whether you opt for classic white honeycomb tiles for a timeless look or experiment with bold and vibrant colors for a statement-making effect, these tiles are sure to make a lasting impression.
Not only do honeycomb tiles offer a captivating aesthetic, but they also provide a functional solution for water resistance and easy maintenance. Their seamless design ensures a smooth and hygienic surface, making them perfect for your shower. Let the honeycomb tiles transport you to a world of luxury and sophistication every time you step into your shower.
14. Decorative Tiles
Transform your shower into a gallery of artistry, where each step becomes a visual delight. Adorn your walls with intricate patterns and let the shower tiles tell a story of style and sophistication. Whether you opt for bold and vibrant geometric designs or opt for a touch of nostalgia with vintage prints, these decorative tiles will transport your bathroom to a realm of timeless elegance.
Every morning, as you step into the shower, let the patterns transport you to a place of serenity and inspire a sense of awe. Let the artistic allure of these shower tiles elevate your daily routine, transforming it into a moment of indulgence. Immerse yourself in a symphony of shapes and colors, and let your shower become a sanctuary of beauty and creativity.
With each splash of water, the intricate patterns come to life, enveloping you in a captivating embrace. It's time to infuse your bathroom with character and personality, and what better way than with the mesmerizing allure of patterned, geometric, or vintage printed shower tiles?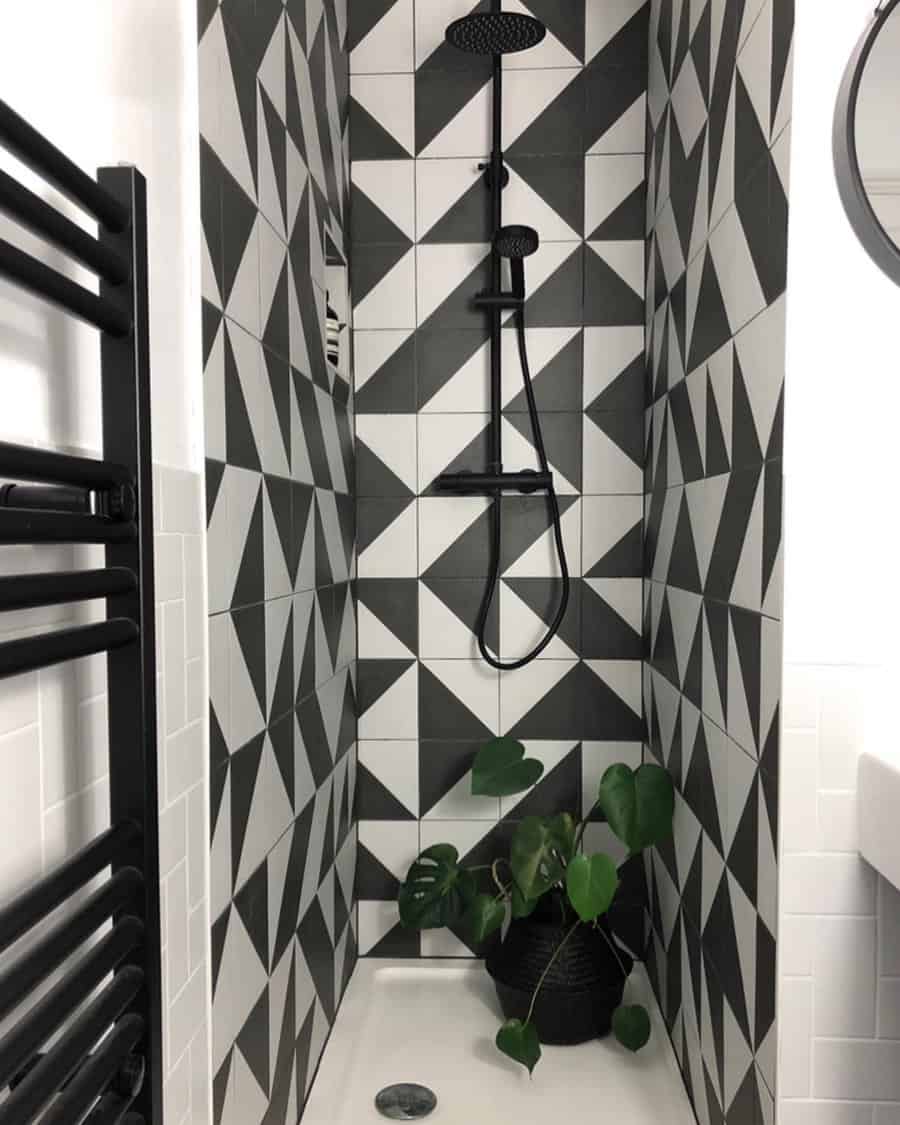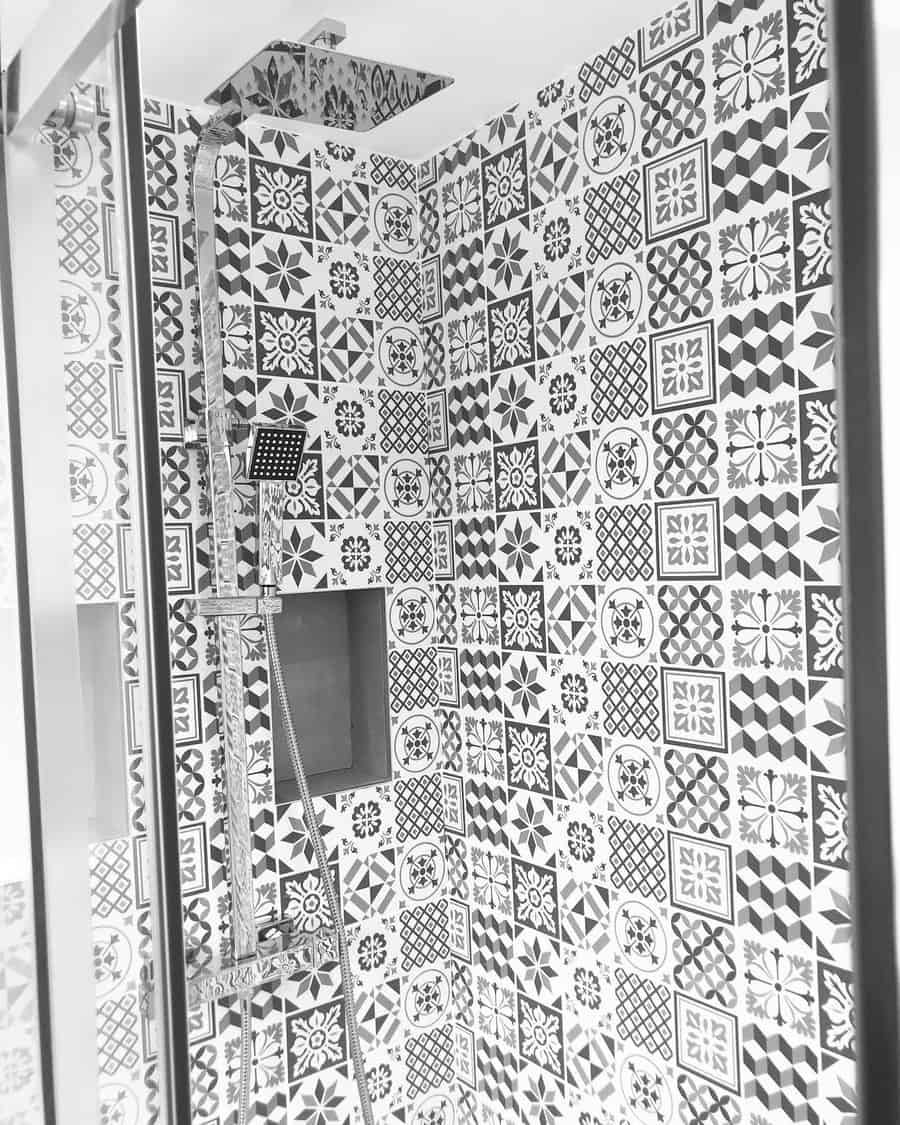 15. Stone Tiles
Stone tiles exude a sense of timeless elegance and natural charm, effortlessly transforming your bathroom into a serene retreat. Imagine the smooth and cool touch of stone beneath your feet as you indulge in a refreshing shower experience.
The limewashed look adds a touch of rustic allure, reminiscent of sun-kissed Mediterranean villas or ancient spa retreats. Each tile is a work of art, showcasing unique variations in color and texture that add depth and character to your shower space. The soft hues and gentle mottled patterns create a soothing ambiance, allowing you to unwind and wash away the stresses of the day.
Let the natural beauty of stone tiles envelop you in a cocoon of tranquility, evoking a sense of harmony and relaxation. Whether you opt for a light and airy palette or a deeper and more dramatic tone, limewashed stone tiles will elevate your shower to a whole new level of sophistication.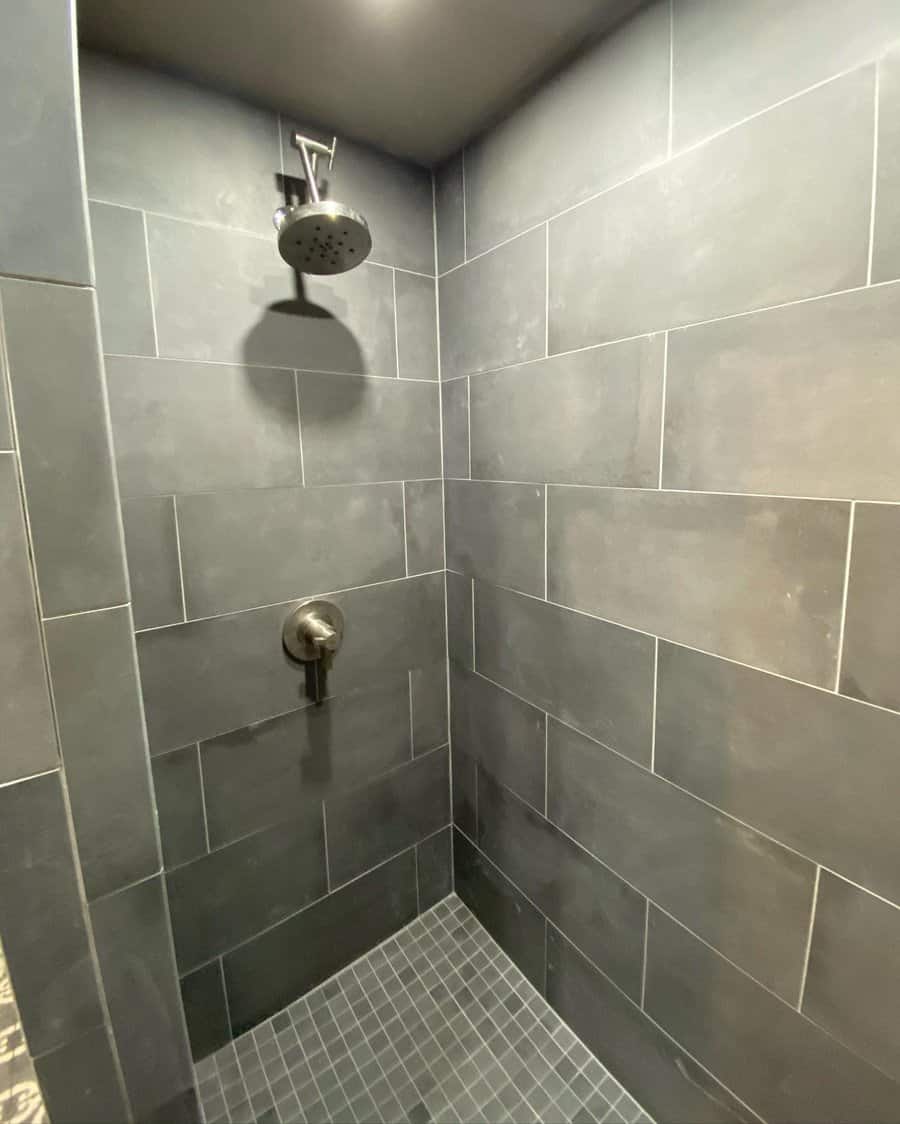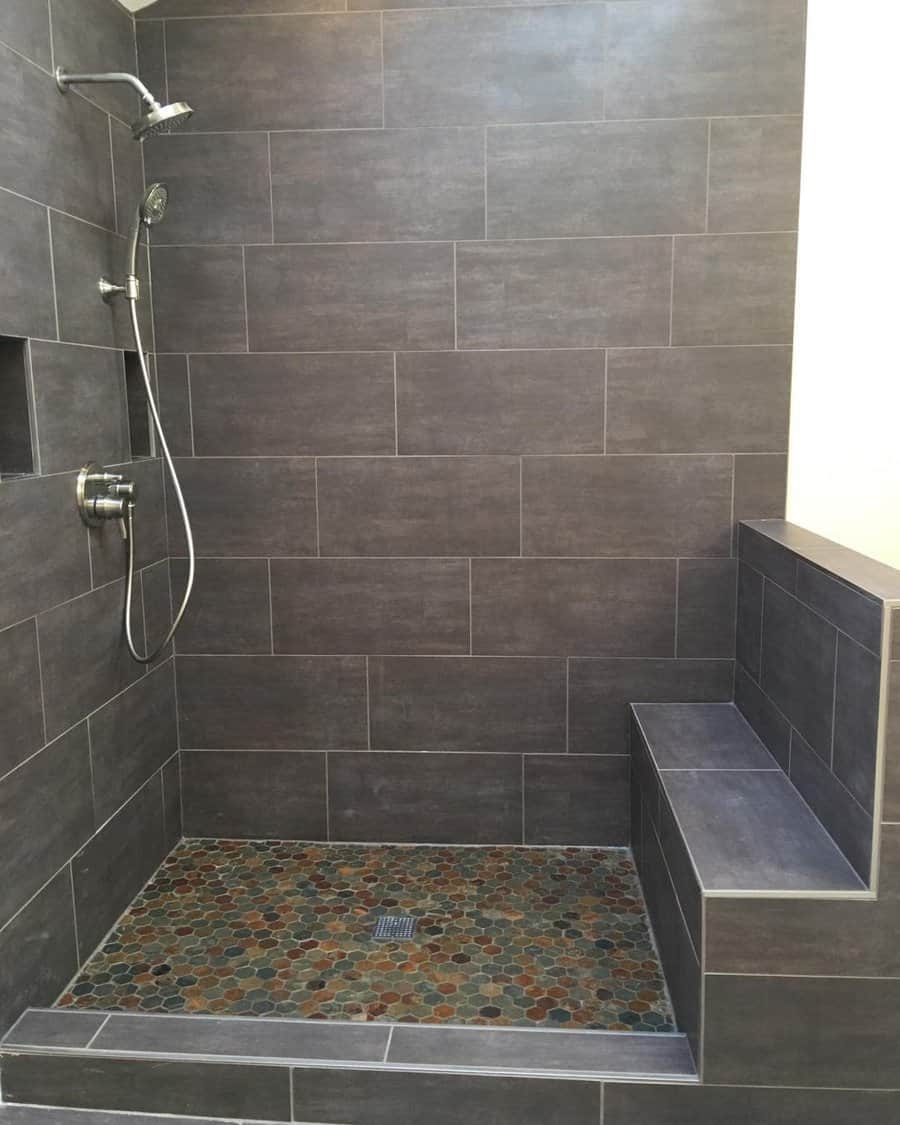 Shower Tile FAQs
What is the best tile for a shower?
The best tile for your shower is one that's durable and has a classic design. This will help it to look great for decades to come. This gives you a neutral base that you can then design around without worrying about it clashing.
What is the easiest tile to keep clean in a shower?
The tile that's the easiest to keep clean is glass, polished porcelain, and natural stone. These are all non-porous materials. Choose large tiles that are in these materials with a minimal amount of grout. This will reduce the amount of grit that could collect dirt and grime.
Are ceramic tiles OK for showers?
There is no specific "shower tile" that you need to buy. Ceramic tiles are safe for your shower when they aren't highly polished. The more polished the tile is, the more slippery it becomes when it's wet.