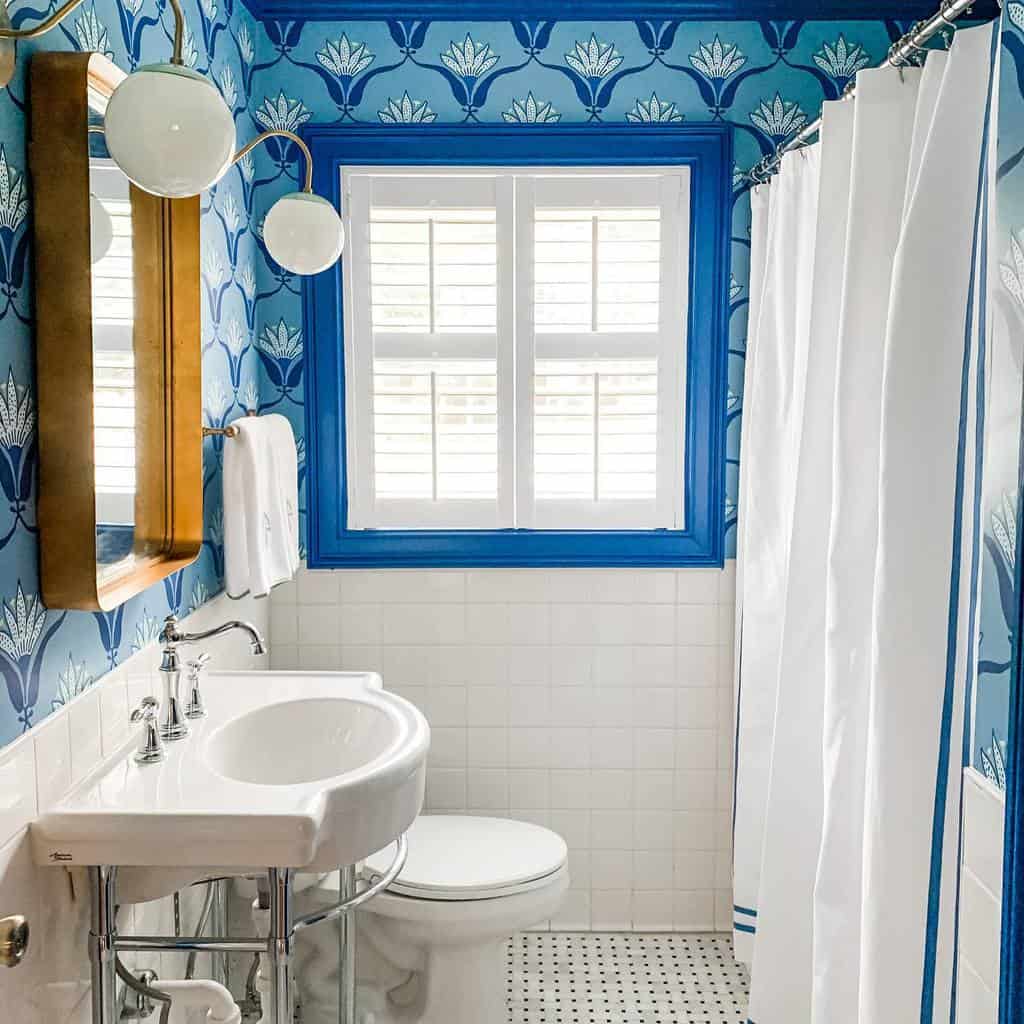 38 Small Bathroom Paint Color Ideas
by — Andra DelMonico

Published on April 27, 2022

Updated on October 4, 2023
Choosing a color scheme for your bathroom is what sets the tone for your entire day. Imagine walking into your bathroom and getting confronted with a bright and bold red. For some, this would be a great way to wake up and get energized for the day. For others, it would be a nightmare of overstimulation. You need a color scheme that matches your style, taste, and energy level. Check out some of the best small bathroom color ideas to get inspired for your bathroom.
1. Clean and Fresh with Off-White to Beige Tones
Achieve a clean and spacious look in your small bathroom by opting for off-white to beige paint tones. To enhance this aesthetic, consider incorporating contrasting elements like limewash tiles or marble on the floor or walls. This combination creates a modern and timeless feel, making your small bathroom appear more open and inviting.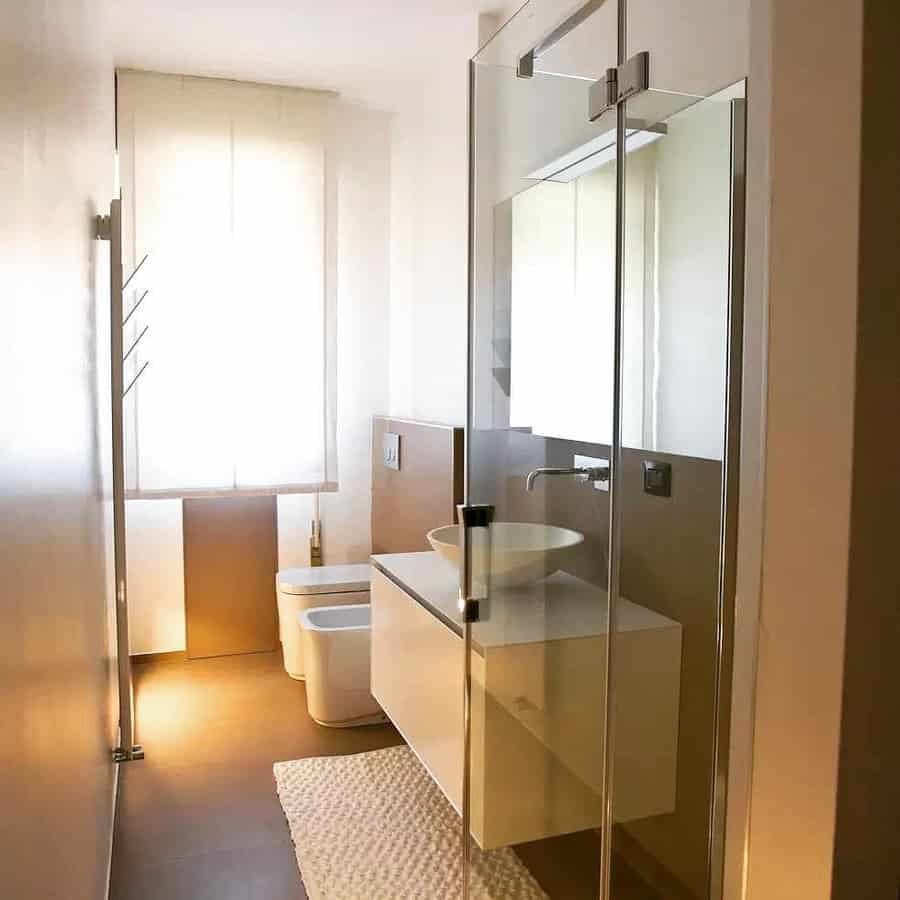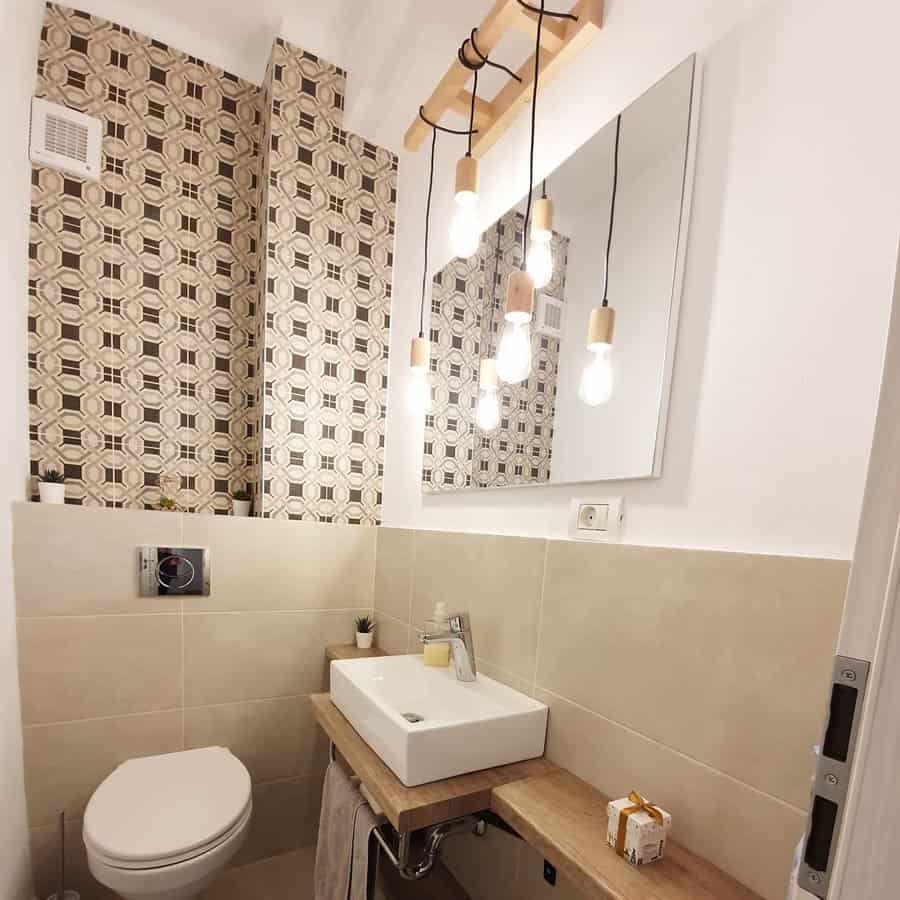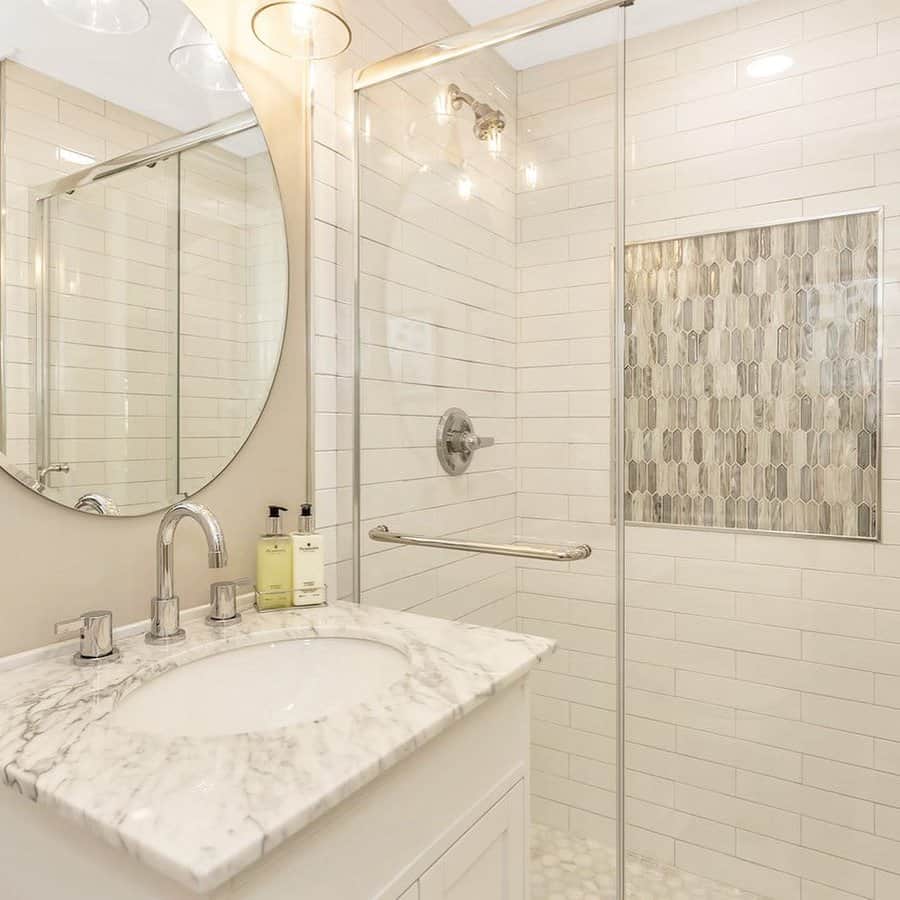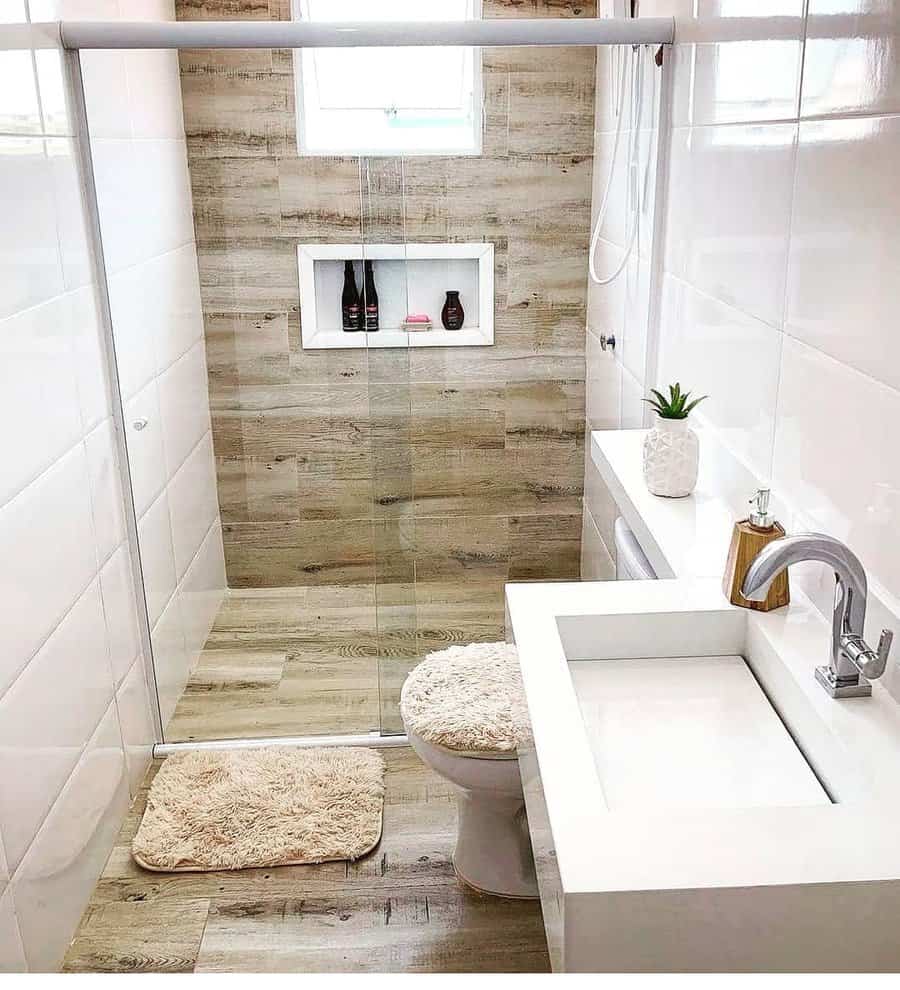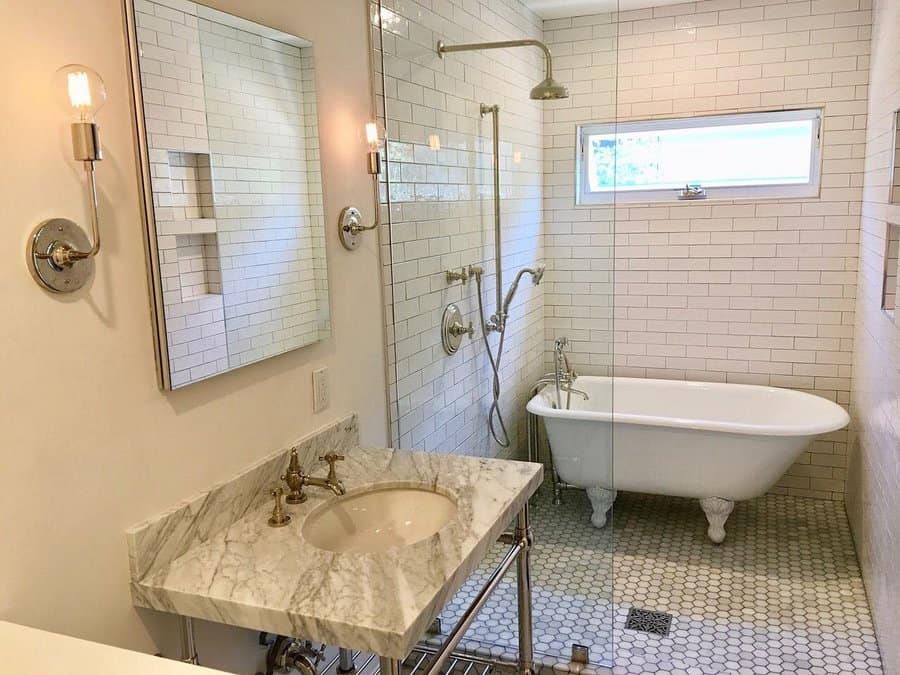 2. Embrace Femininity with Peach to Pink Shades
Pink to peach tones can transform your small bathroom into a calming oasis that feels spacious and uplifting. These hues have a reputation for their soothing qualities, making them an excellent choice for bathroom walls. Not only do they enhance the sense of space and brightness, but they can also boost your mood and confidence.
To achieve this look, choose soft pink or peach paints and pair them with white or light-colored bathroom accessories to create a harmonious and inviting atmosphere.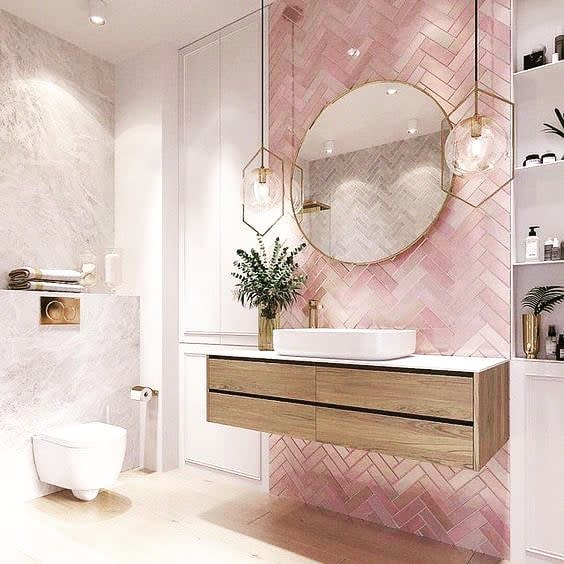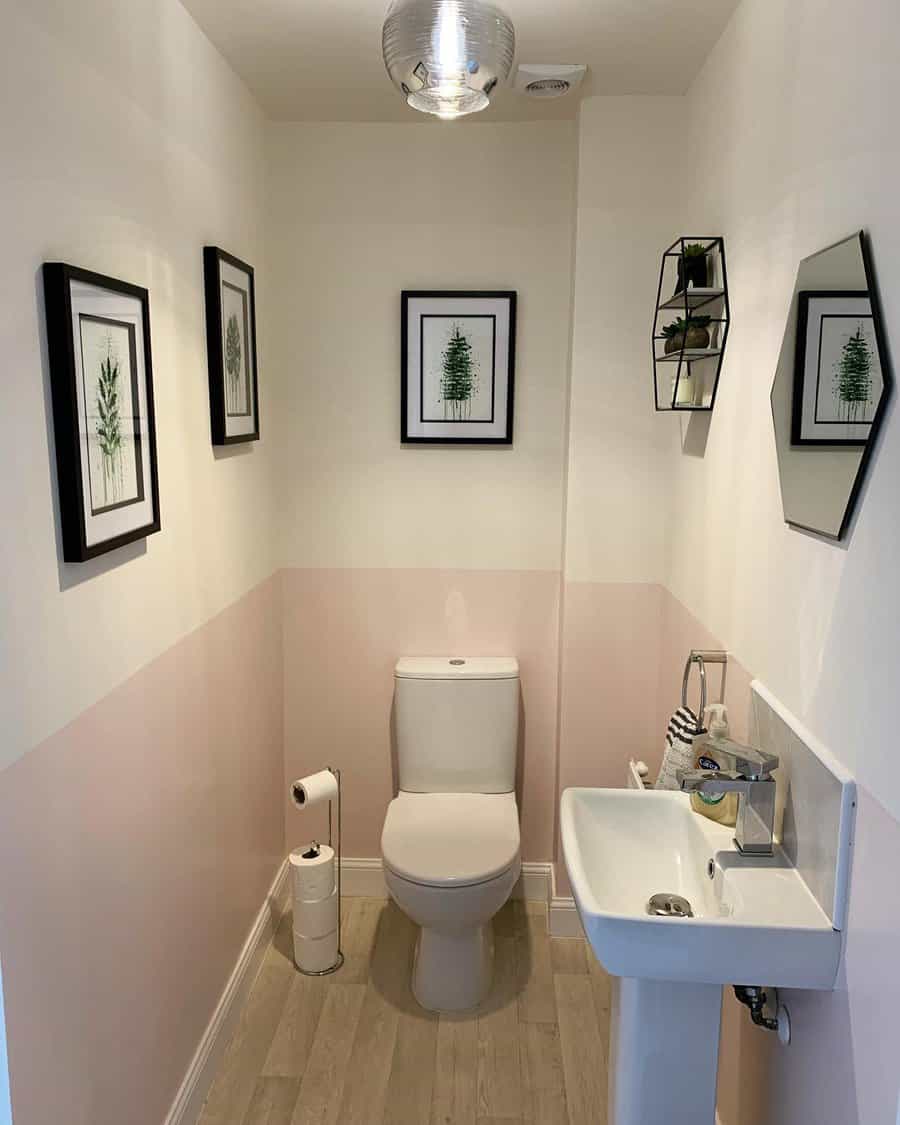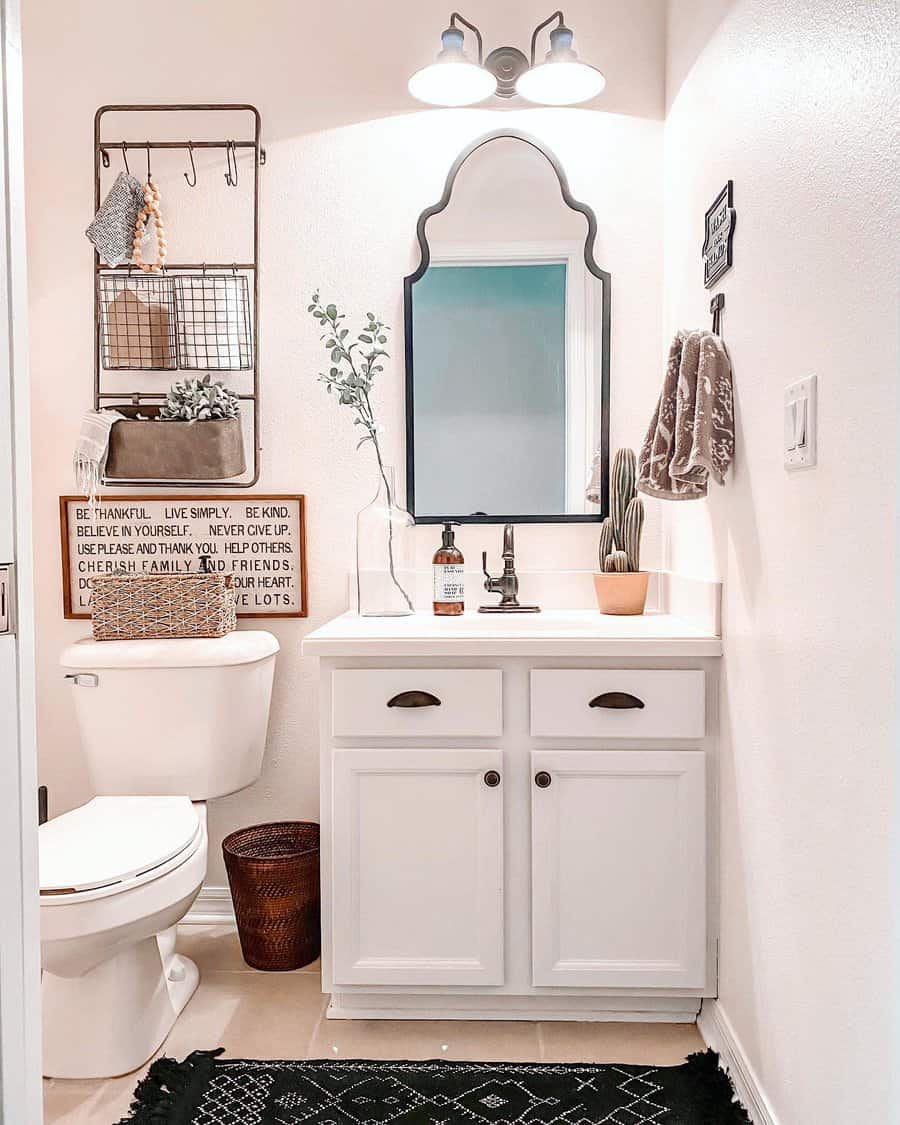 3. Vintage Charm with Warm to Gold Hues
Infuse your small bathroom with vintage charm by embracing warm and golden hues like ochre and gold. These colors evoke a sense of nostalgia and sophistication. To achieve a lavish look, complement these warm tones with gold fixtures such as faucets, lighting, and accessories like toiletry baskets. This combination of warm colors and golden accents will transform your small bathroom into a stunning and timeless design.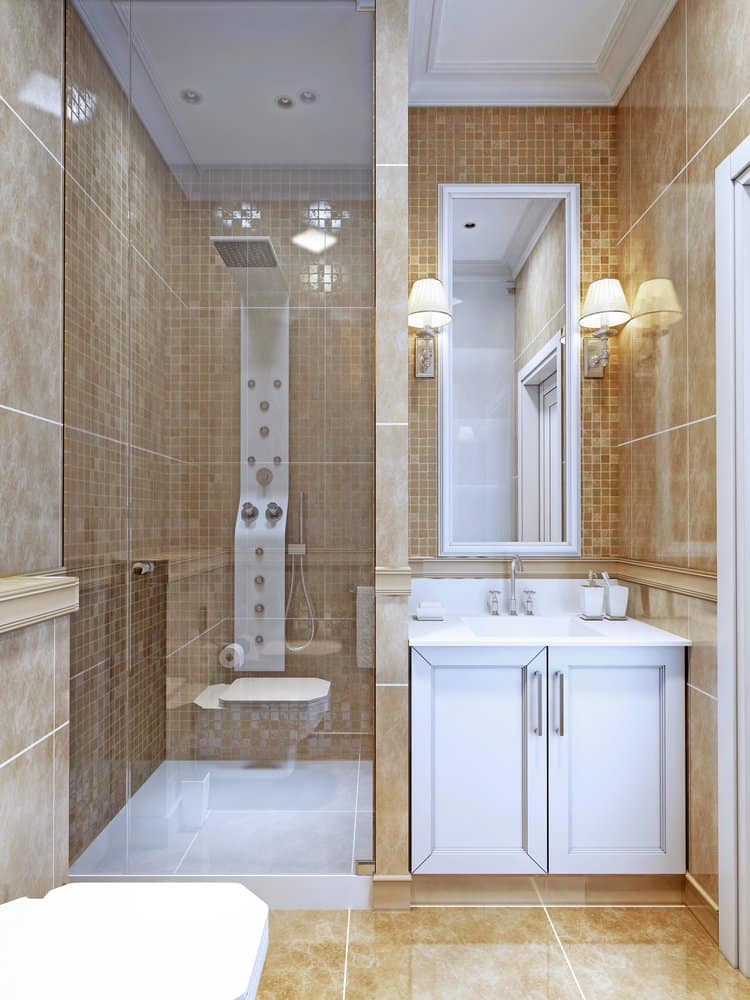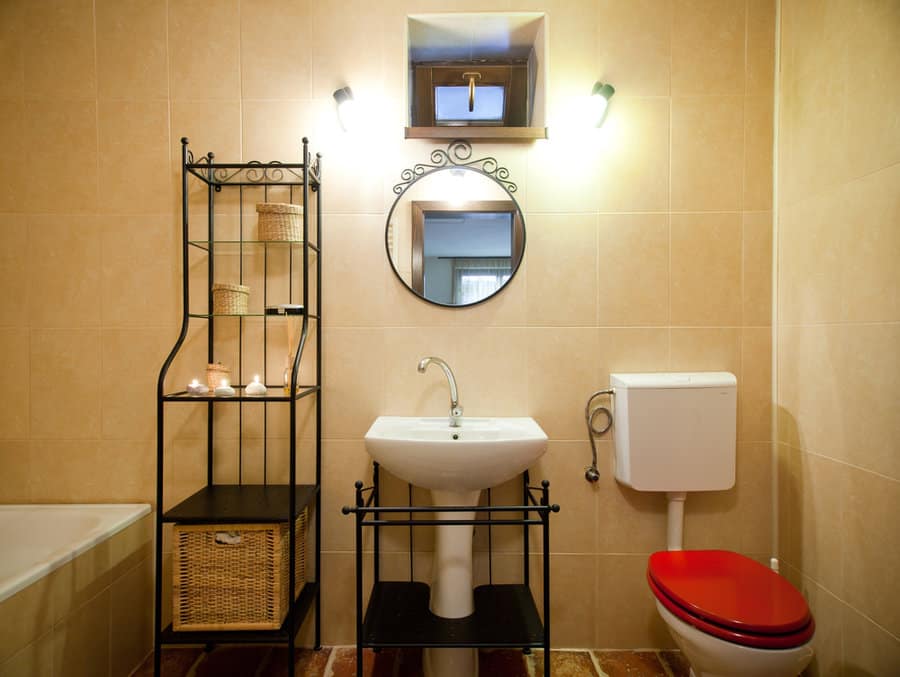 4. Coastal Vibes with Cool Bluish Tones
In a compact bathroom, achieving a coastal-inspired atmosphere is within reach. Opt for cool blue hues that capture the essence of the seaside. These calming tones instantly infuse your space with a refreshing and expansive aura.
To elevate the look, consider incorporating beige accents, such as window curtains or shower tiles. This subtle contrast not only adds sophistication but also gives the illusion of a more spacious bathroom. Whether your style leans towards timeless elegance or a lively and eclectic ambiance, cold-toned walls are your go-to choice for bringing your vision to fruition.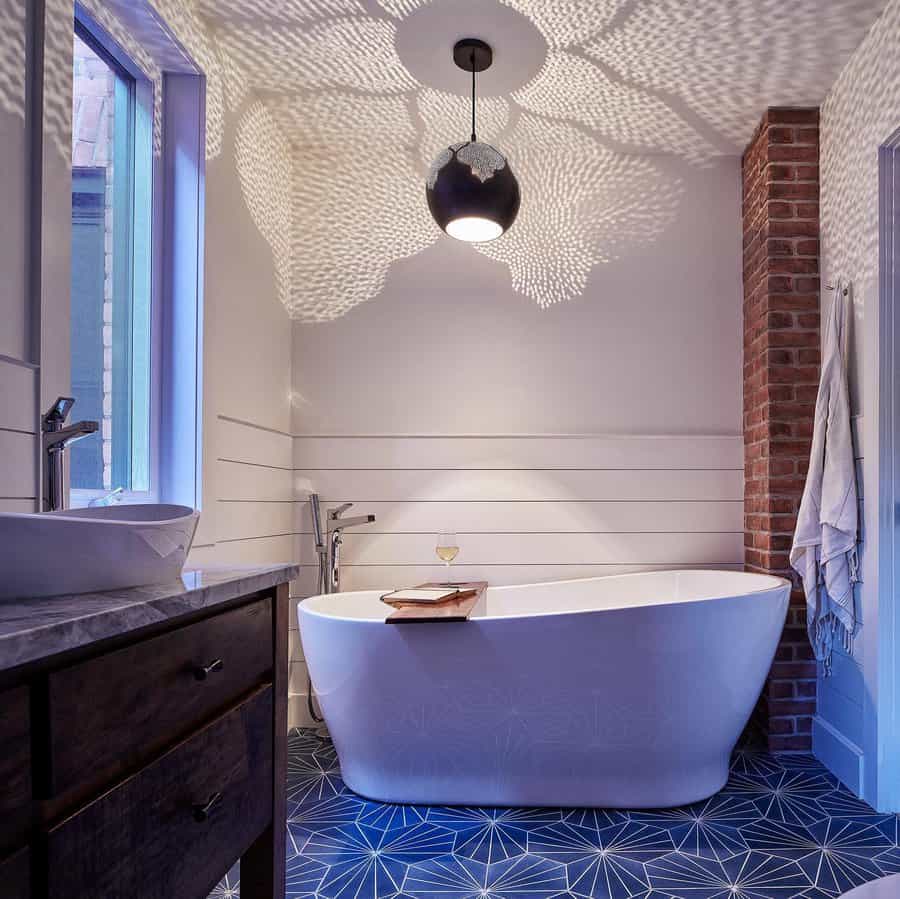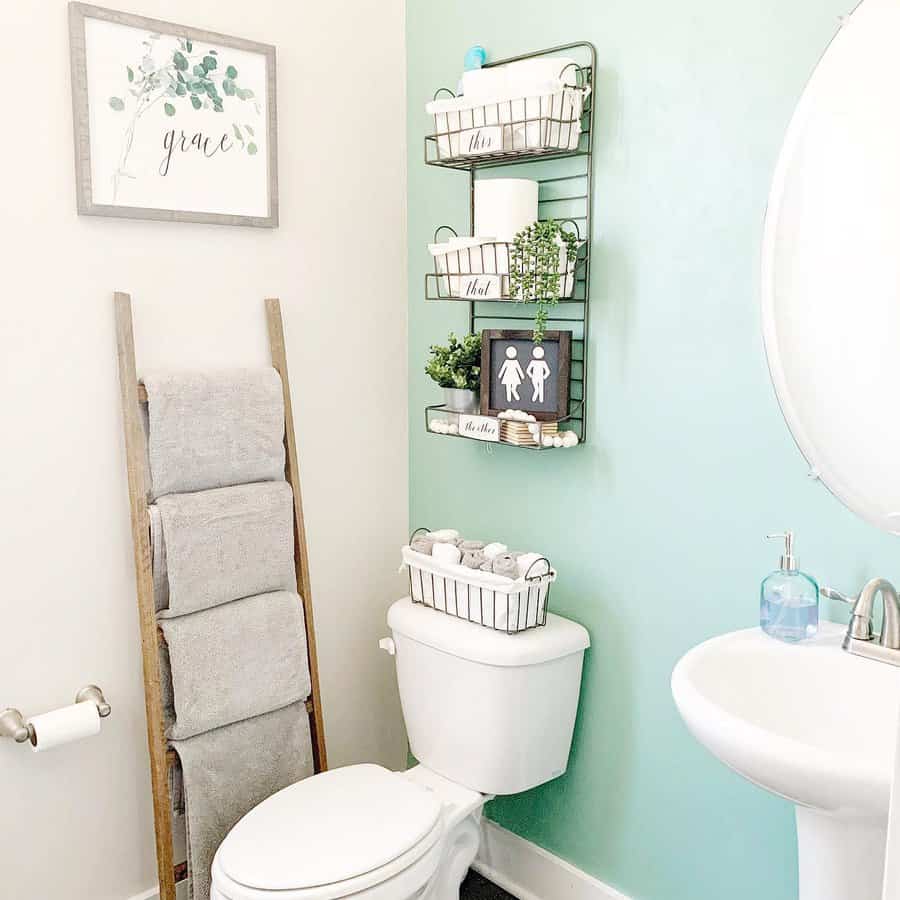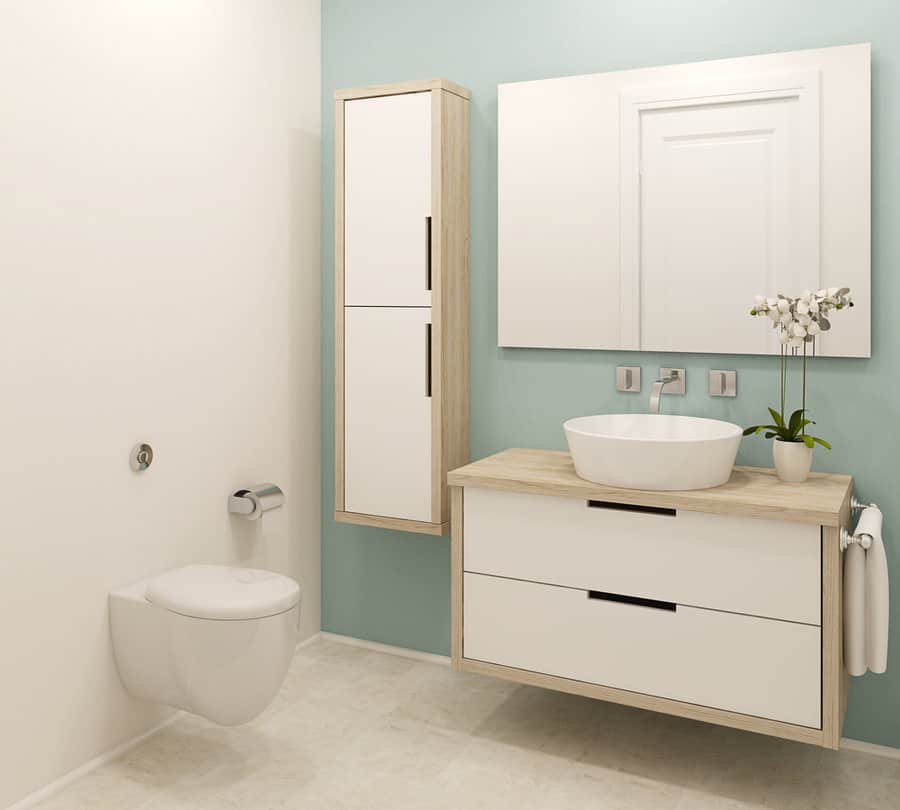 5. Industrial Chic with Dark Color Palette
For a unique twist in your small bathroom, consider embracing dark hues to impart an industrial charm. Opt for shades like deep grey, black, or rich brown, and pair them with dark fixtures like showers, baths, and cabinetry. This combination adds a touch of sophistication and masculinity to your bathroom while creating striking visual contrast. It's an excellent way to make your bathroom truly distinctive and visually captivating.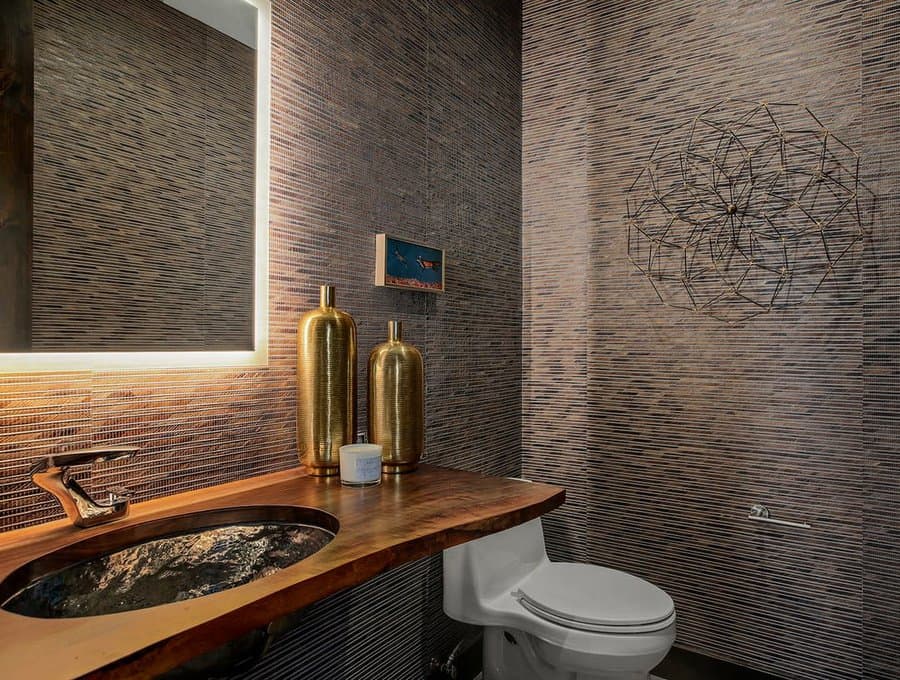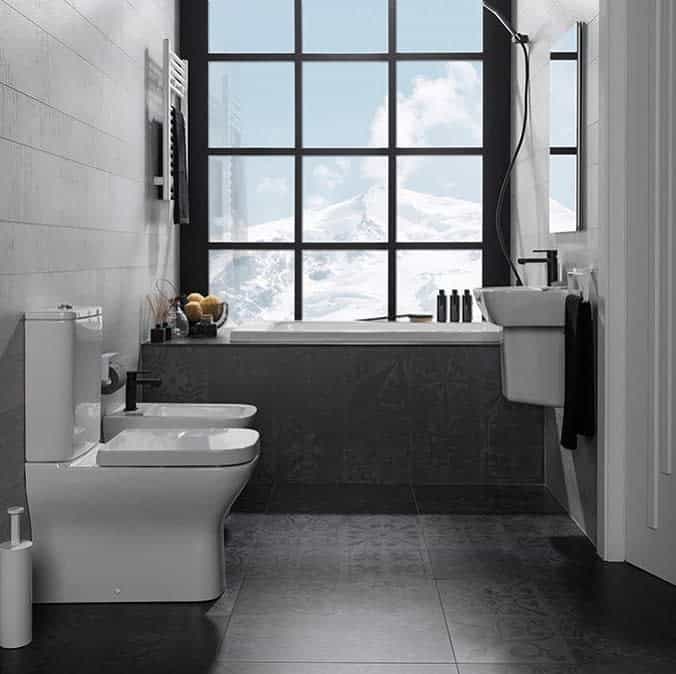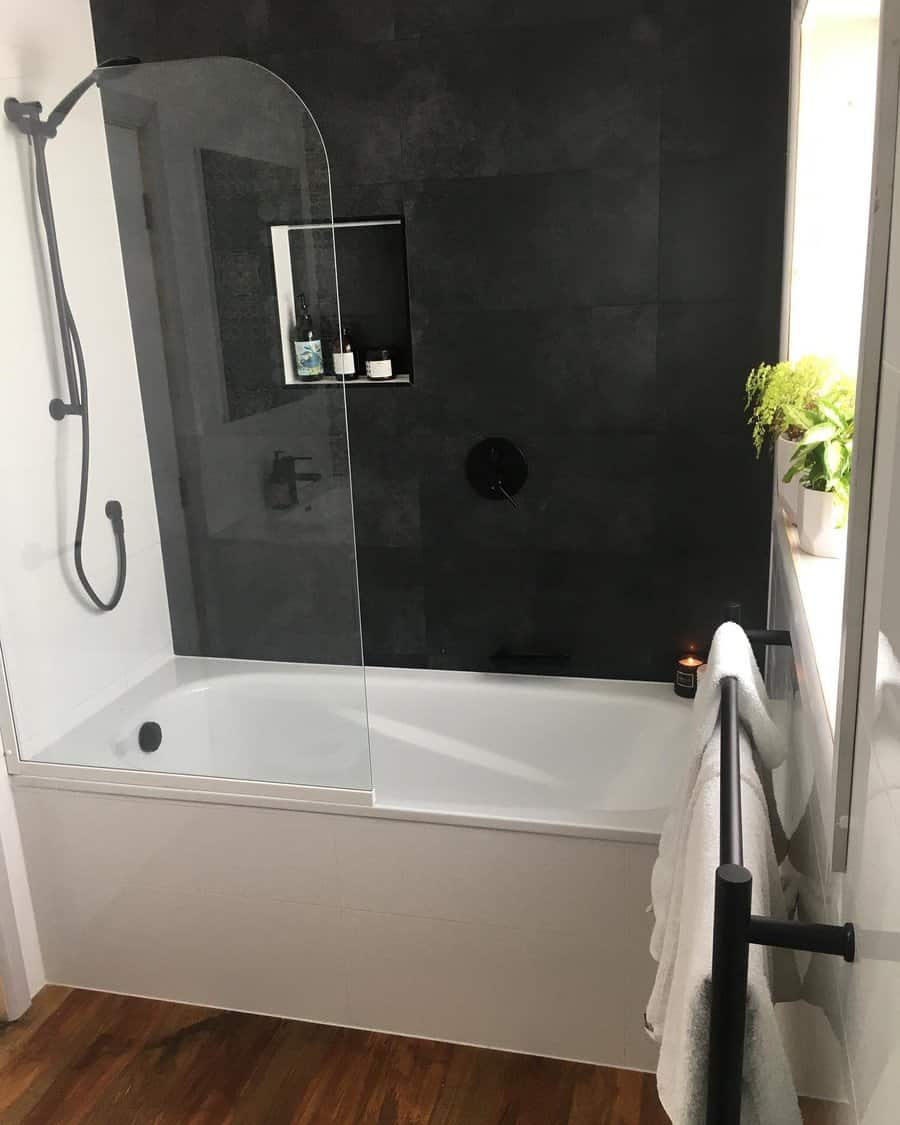 6. Zen Serenity in Neutral Grey Shades
Discover the tranquility of a zen-inspired small bathroom by choosing light grey tones as your paint color. Light grey creates a sense of spaciousness and calm in even the tiniest of spaces. To enhance the zen atmosphere, introduce indoor plants like bamboo or aloe vera; they not only complement the soothing grey but also purify the air, fostering a serene ambiance.
Unlike darker colors that can overpower a small bathroom, light grey strikes the perfect balance, allowing your other decor elements to shine while maintaining a serene and inviting vibe.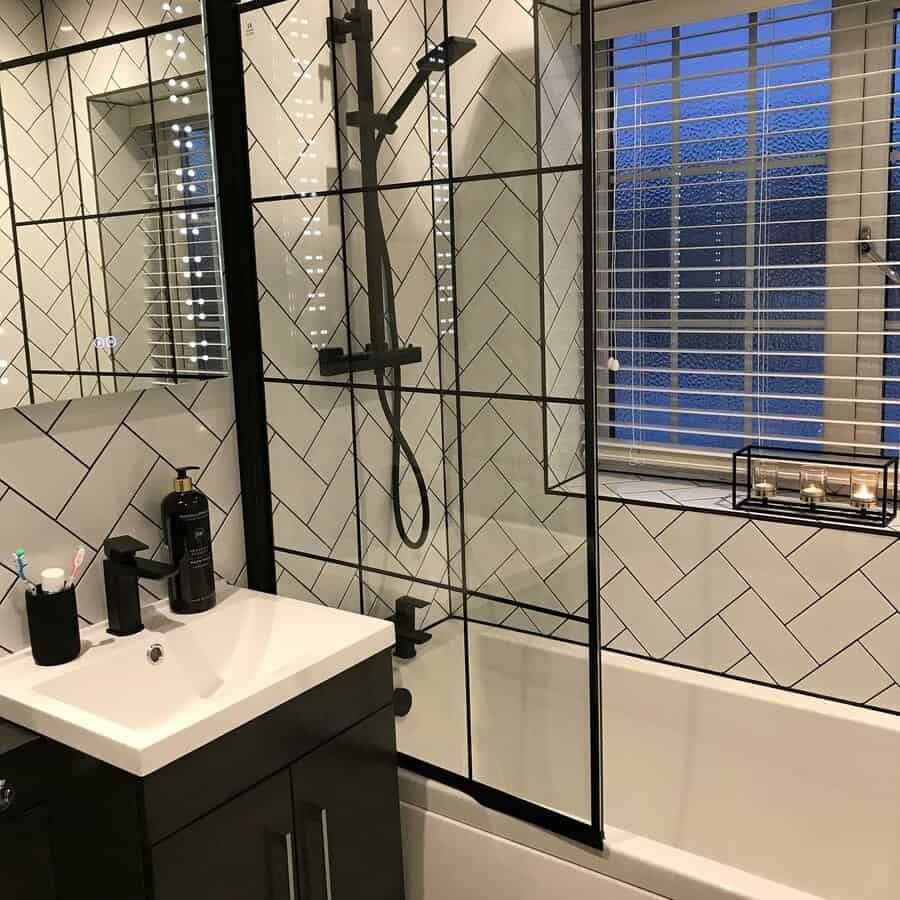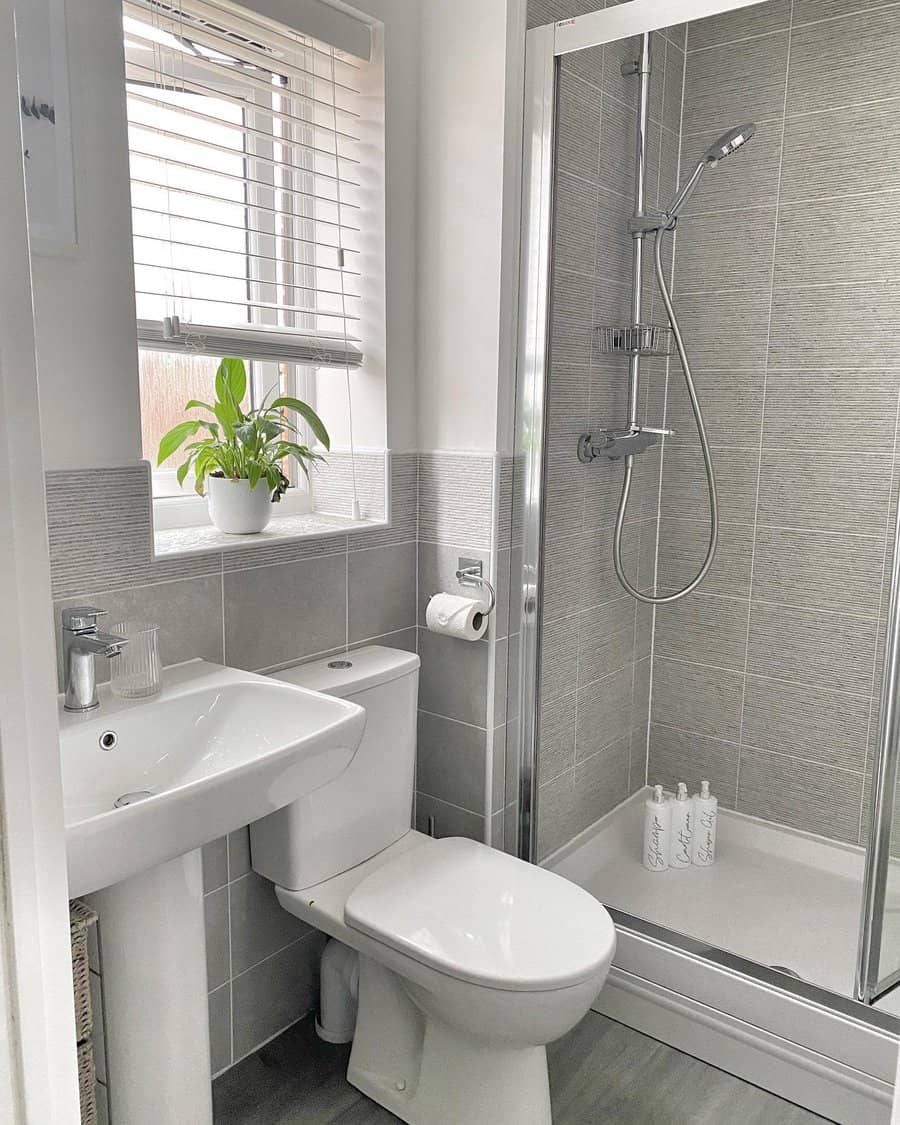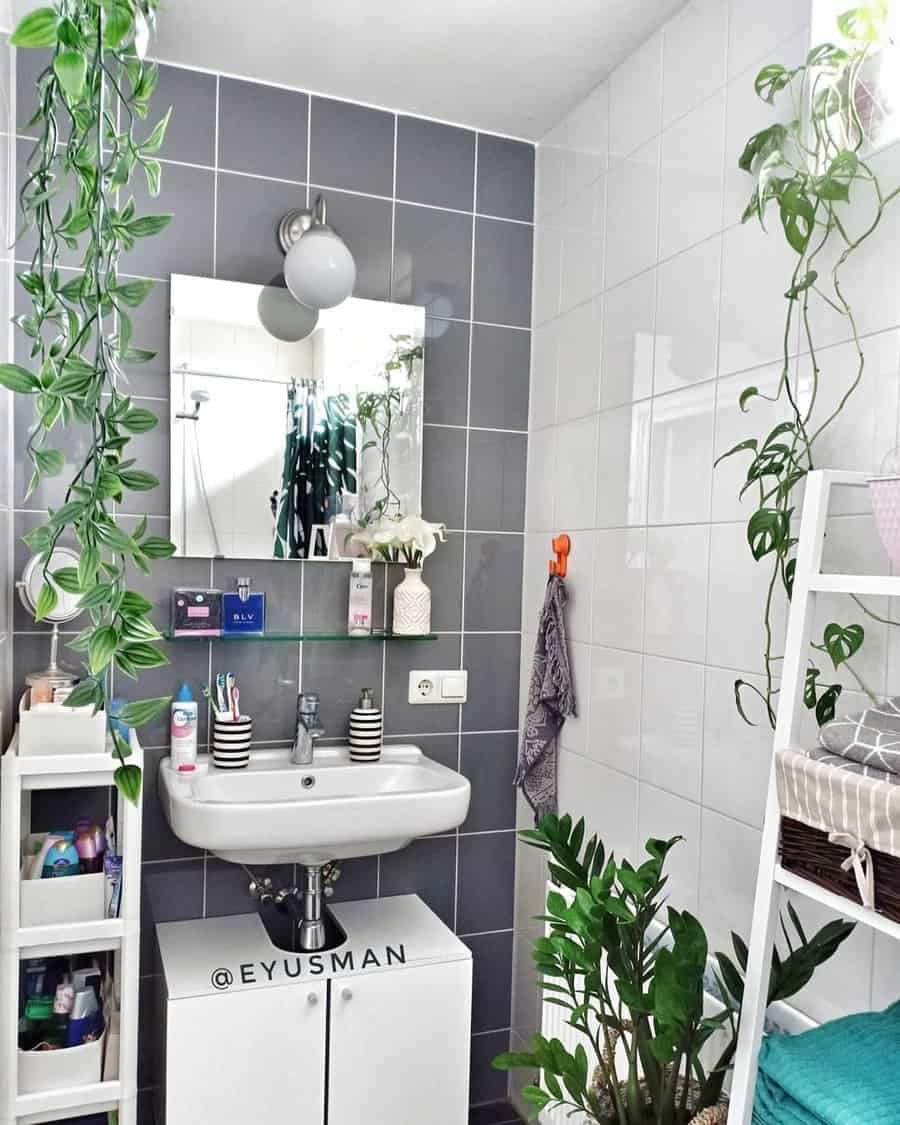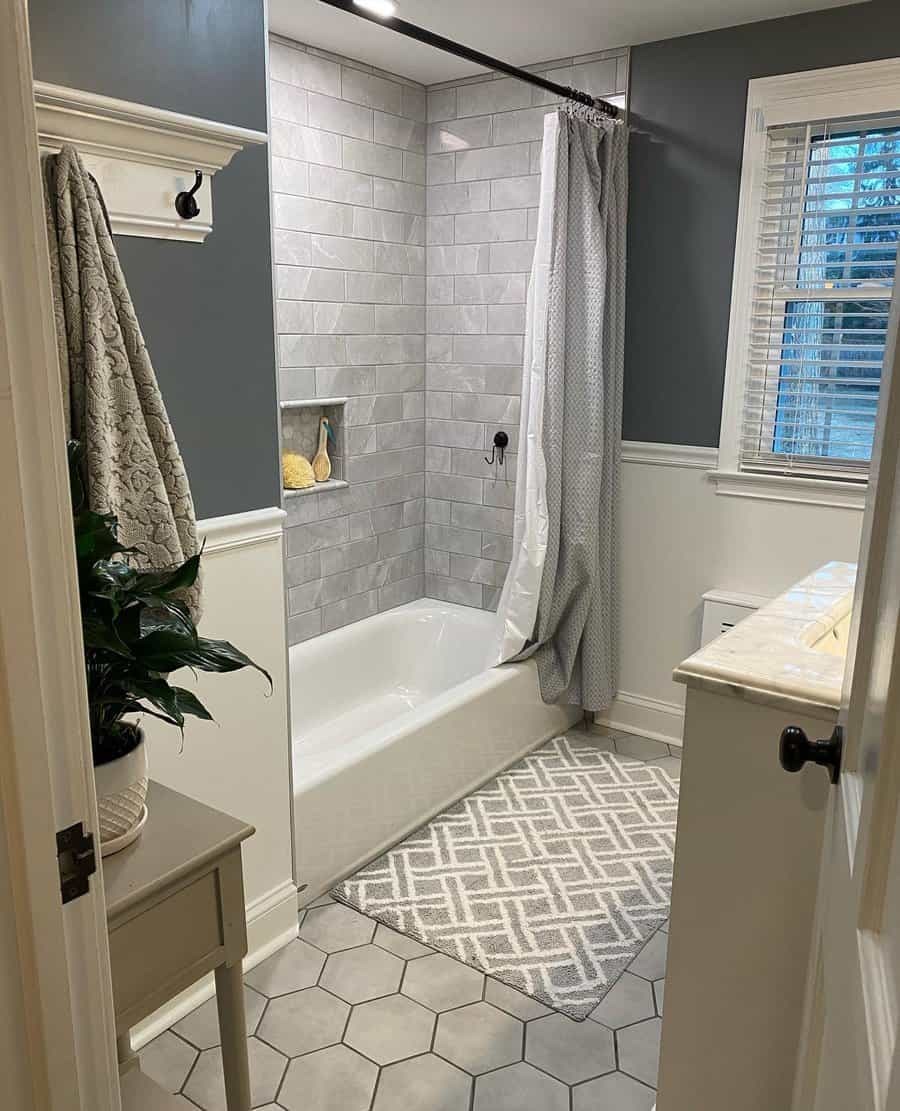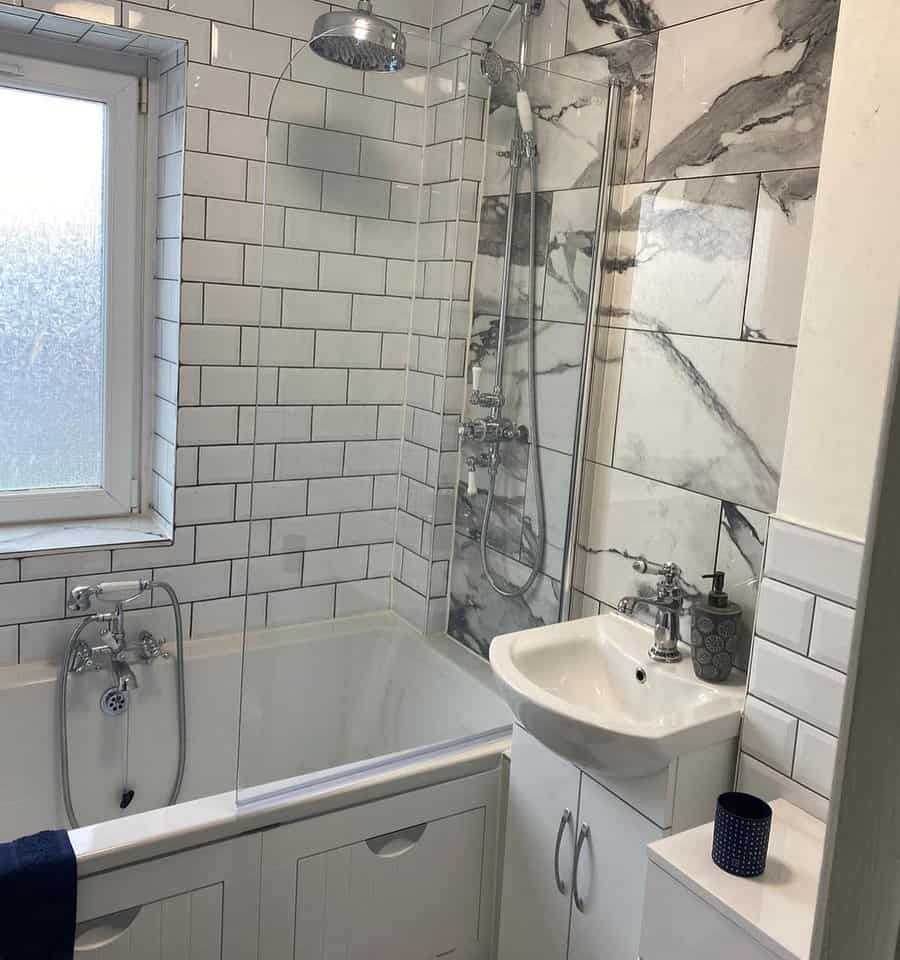 7. Rustic Warmth with Natural Wood Tones
When deciding on a paint color for your small bathroom, consider the inviting warmth of natural wood tones. To achieve a rustic and organic ambiance, explore wood-inspired color palettes. Take it a step further by incorporating wood tiles or selecting brown flooring to complement the walls. These minimalist yet captivating design choices will instantly anchor and define your bathroom with an inviting charm that's hard to resist.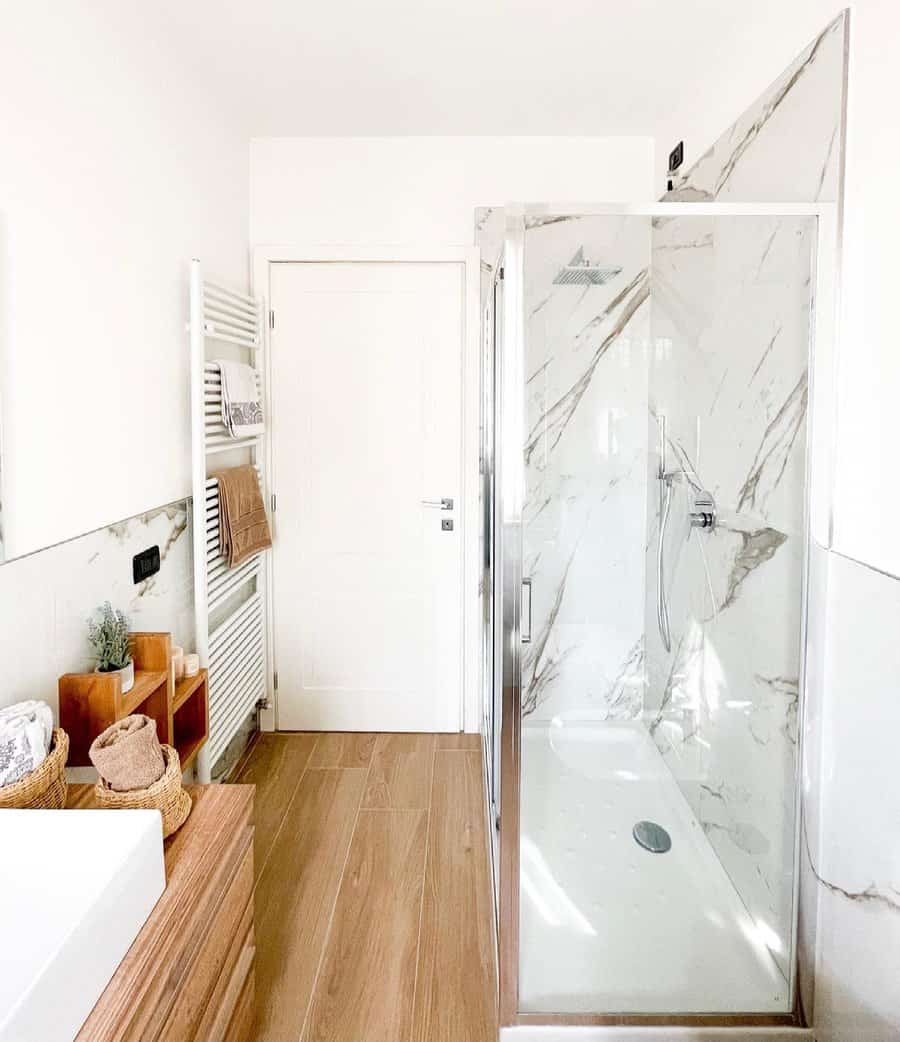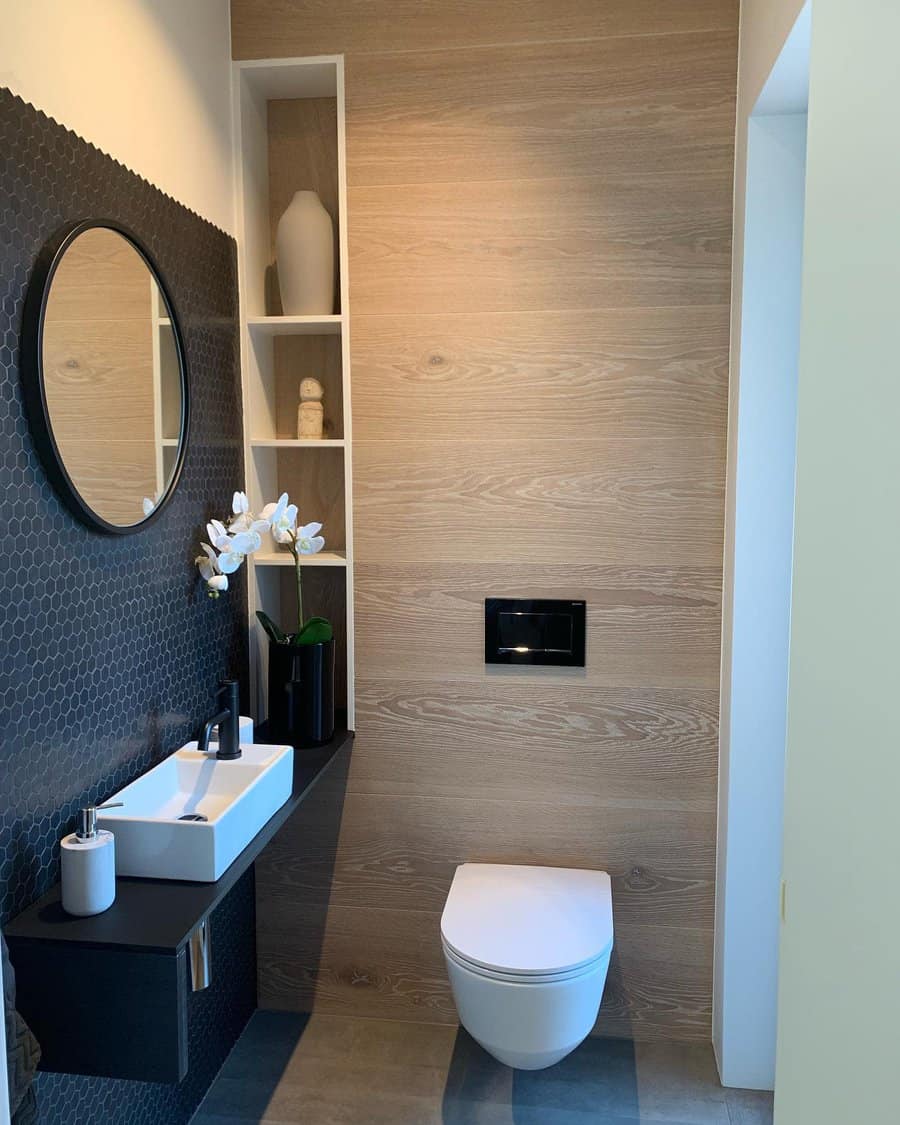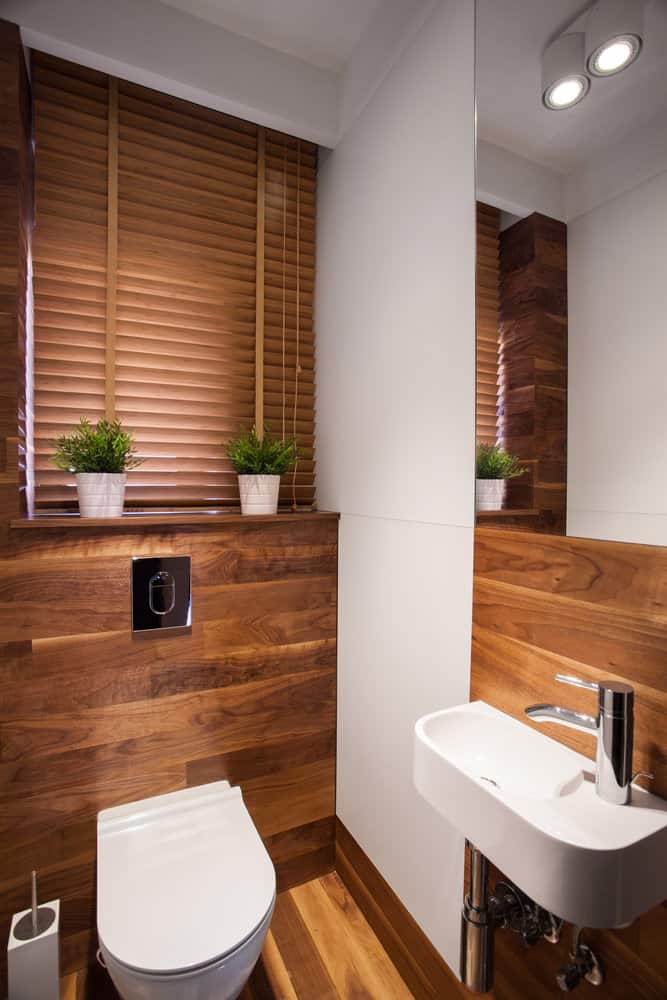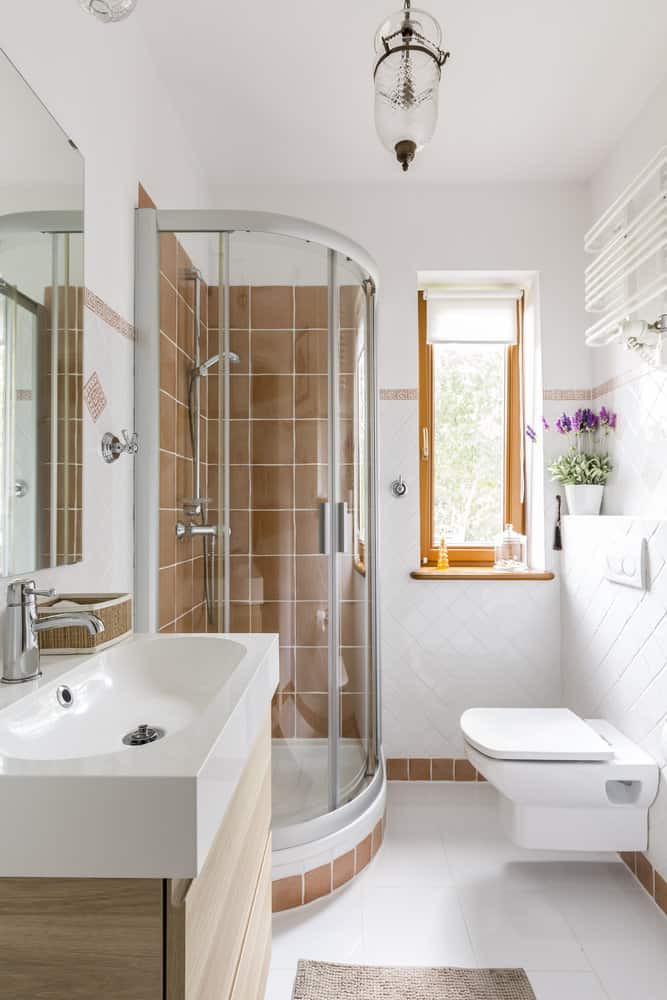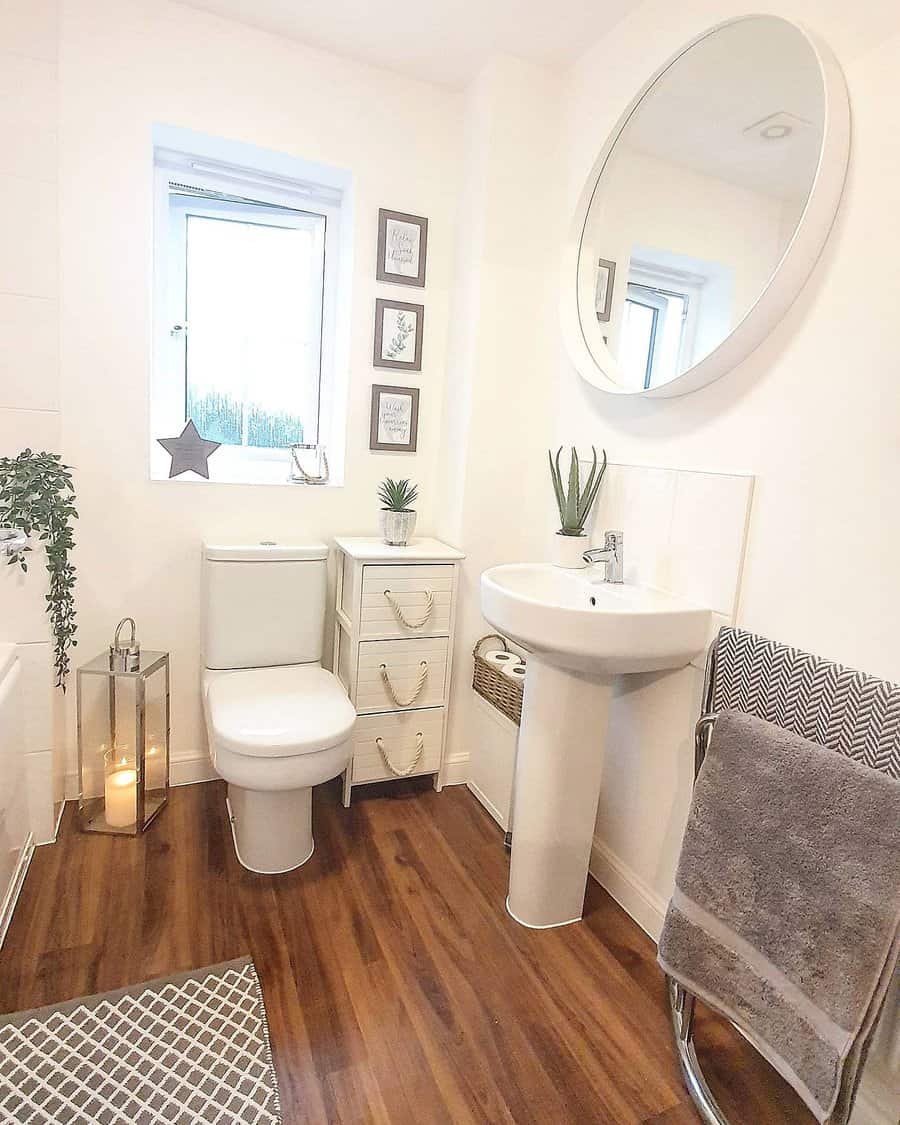 8. Vibrant Energy in Terracotta to Red Hues
Energize your small bathroom with a burst of vibrant color by opting for terracotta to bold red paint tones. These warm and lively hues can transform your bathroom into a lively space that's perfect for starting your day with enthusiasm. To complement the red tones, balance them with neutral elements like white or light gray tiles and fixtures. Consider incorporating colorful accessories such as towels, shower curtains, or artwork to accentuate the lively atmosphere and make your small bathroom feel more spacious and inviting.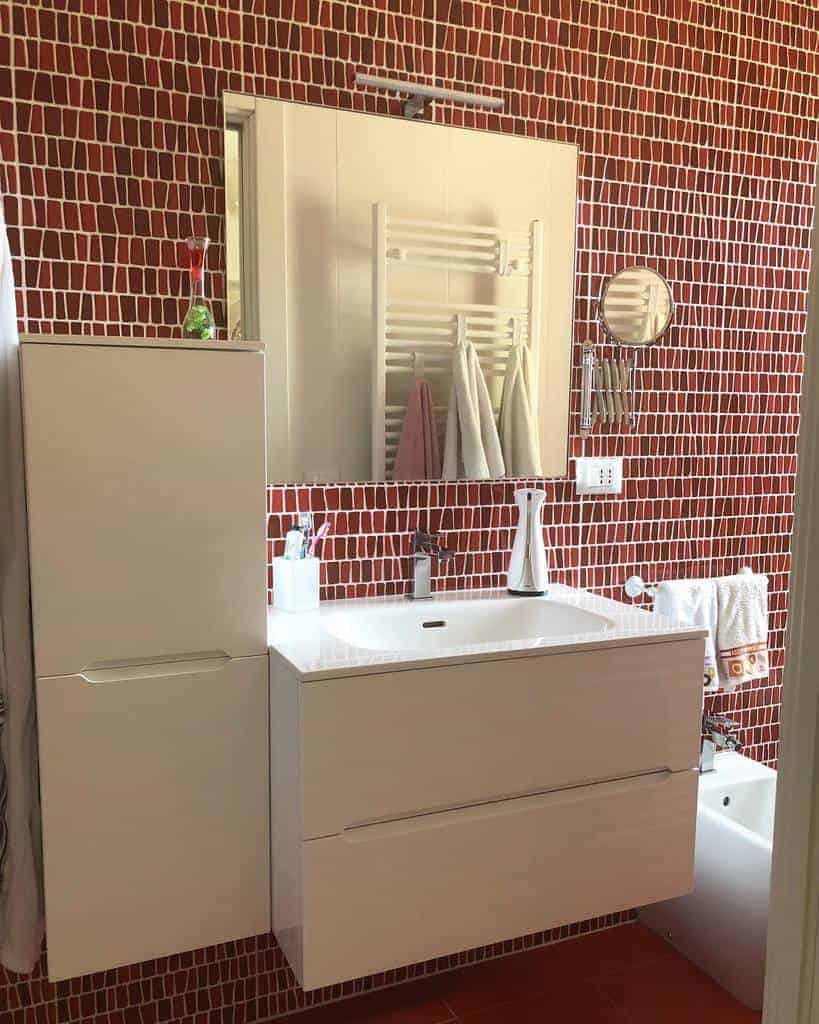 9. Retro Flair with Teal to Green Shades
Injecting a retro vibe into your small bathroom is a breeze with teal to green shades such as sea foam and teal quartz. To achieve a warm nostalgic feel, consider incorporating beveled tiles as an accent on the walls and countertop. These angled tiles not only reflect light to brighten up the space but also bring a unique vintage charm to your bathroom. Teal to green tones, reminiscent of the sea, create a soothing yet invigorating atmosphere, making your bathroom a beautiful oasis of calm and style. Transform your space with this timeless palette and the addition of beveled tiles for that perfect vintage twist.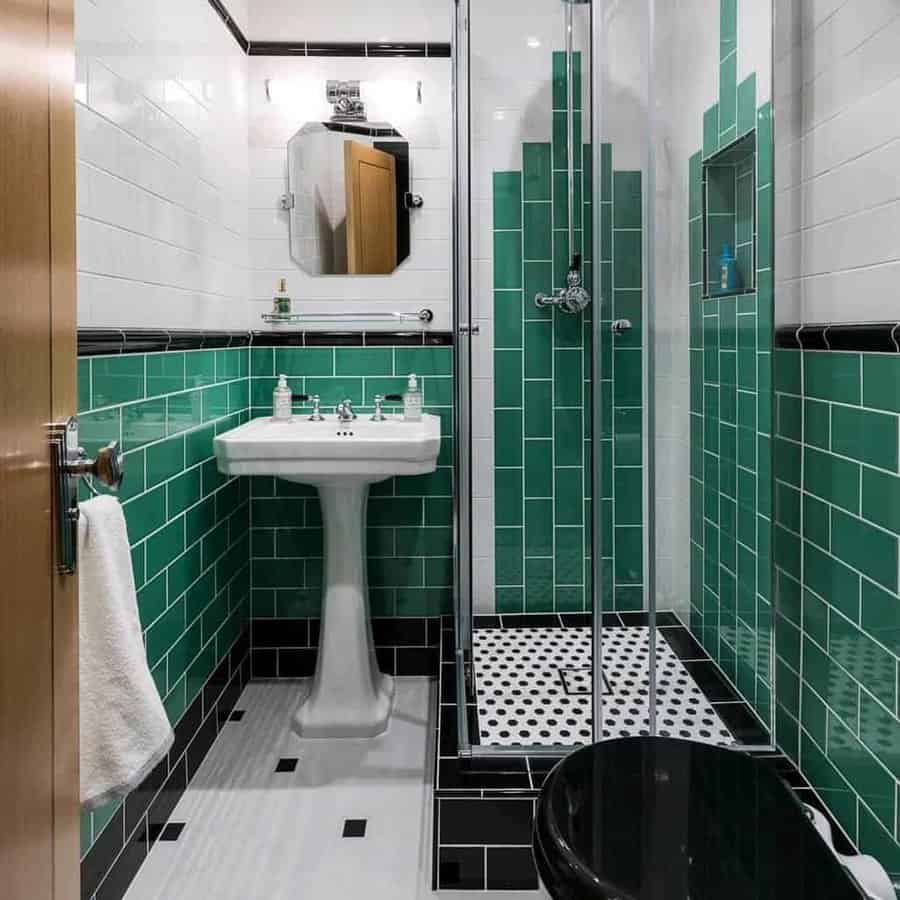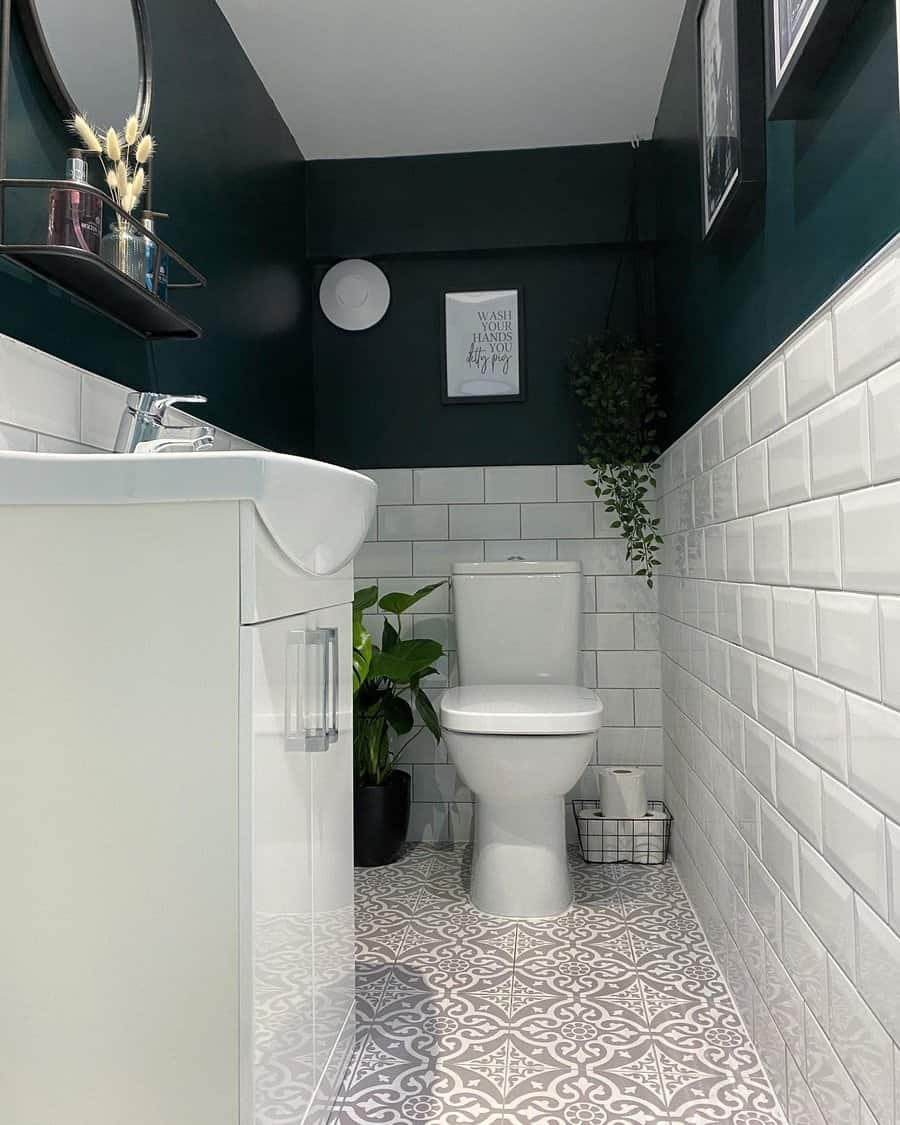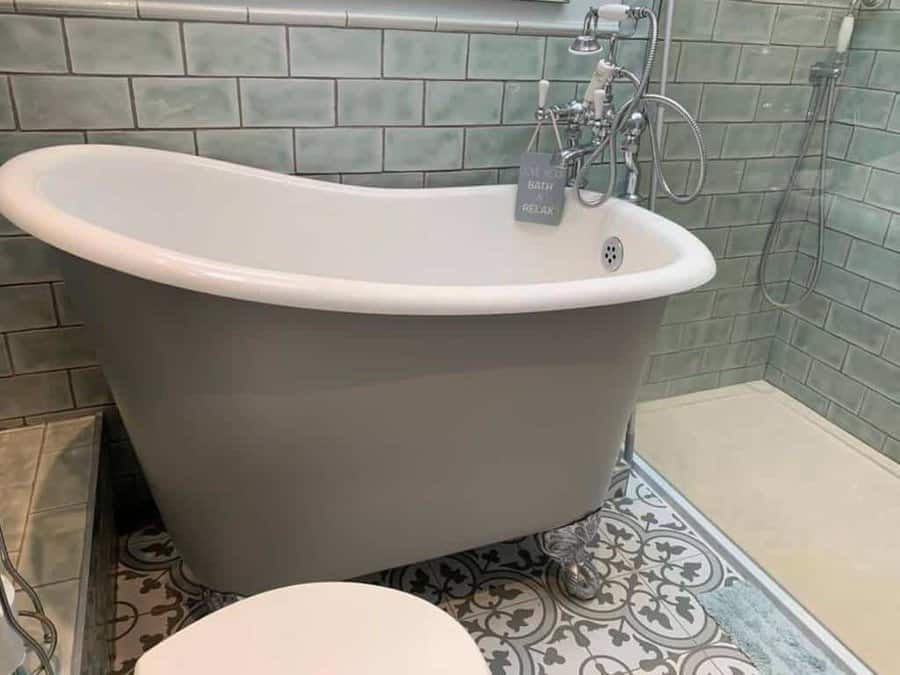 10. Playful Patterns with Printed Wallpaper
When aiming to infuse personality into your modest bathroom, printed wallpaper is a fantastic choice. Opt for a wallpaper with a playful and imaginative pattern that can breathe life into your space. Whether you prefer a tropical paradise or a mid-century modern look, printed wallpaper offers a versatile way to discover the perfect small bathroom paint color that marries aesthetics with functionality.
The best part? No need to tackle paintbrushes; printed wallpaper is a hassle-free, stylish alternative that's simple to install and maintain, ensuring your bathroom stays chic and vibrant effortlessly.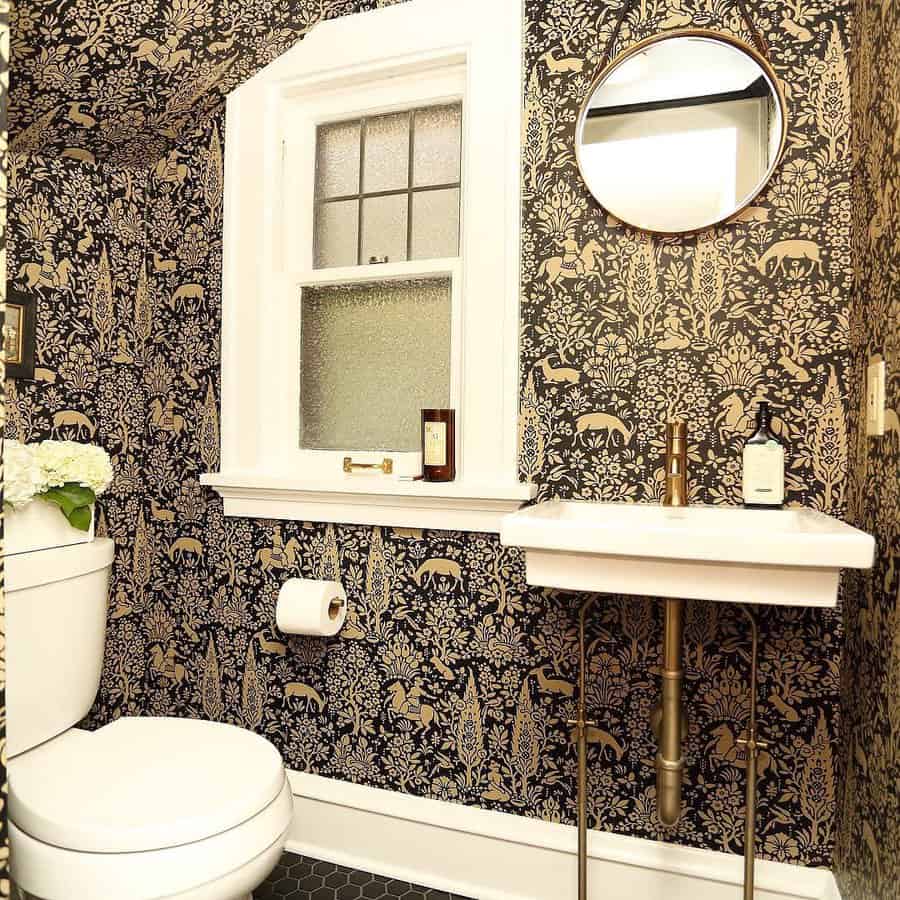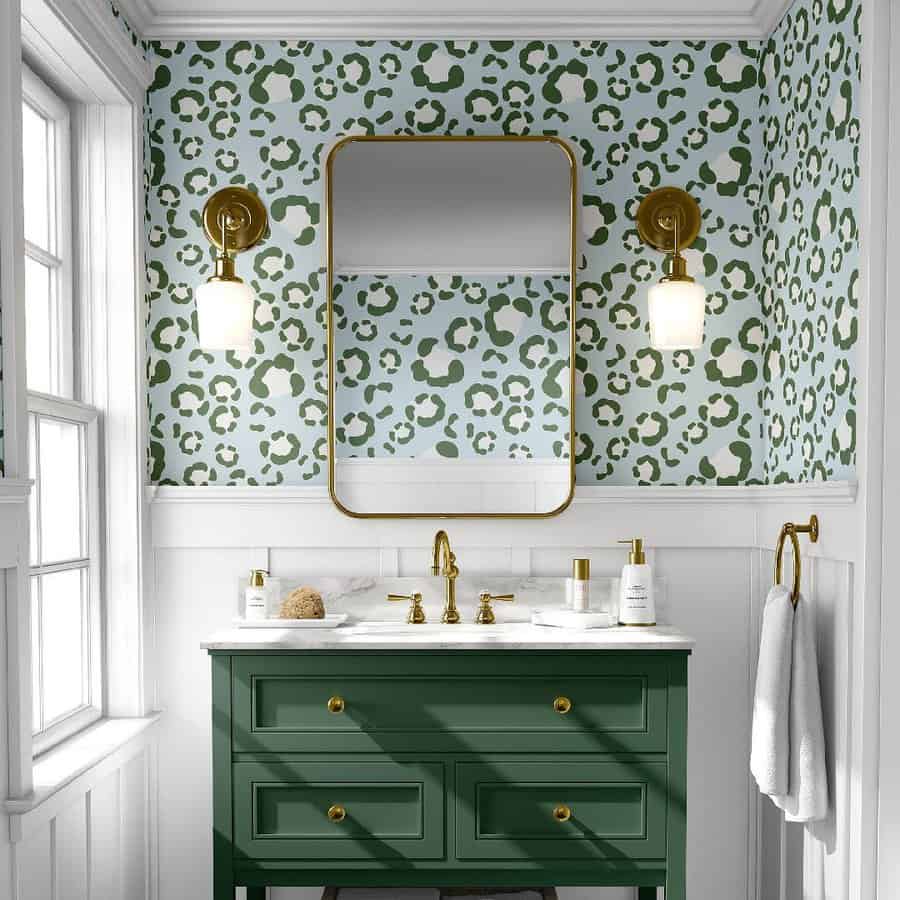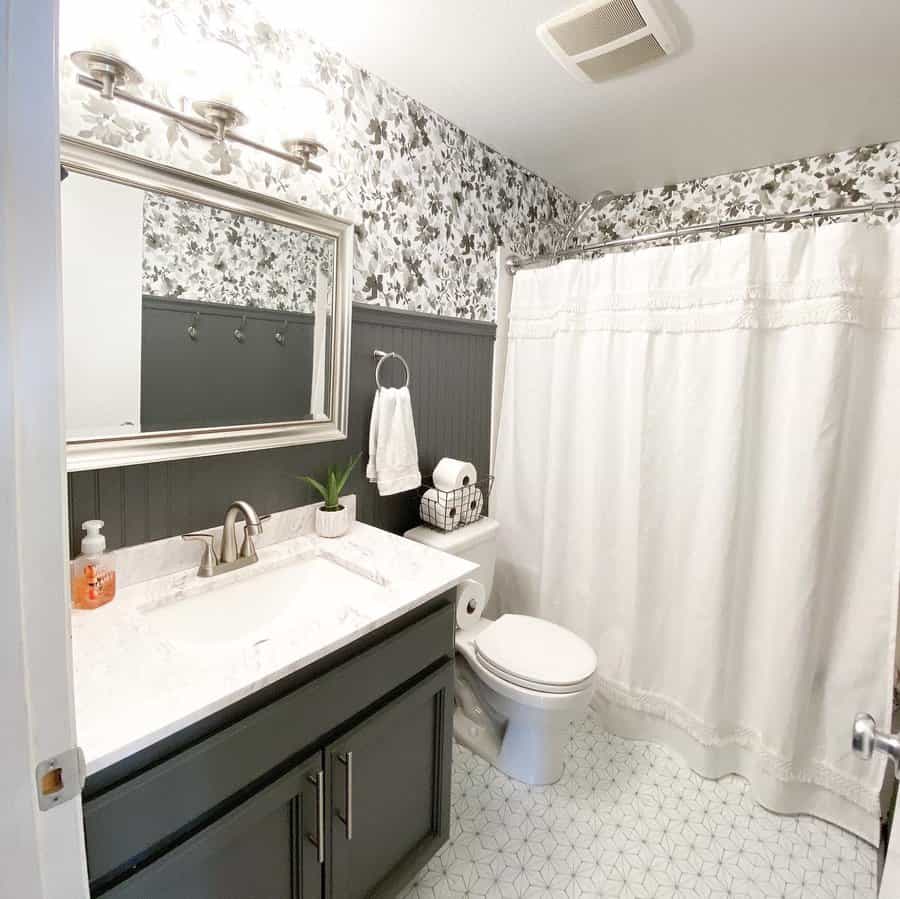 11. Bright and Airy with an All-White Palette
Optimize your small bathroom with an all-white color scheme to create an effortlessly bright and clean atmosphere. Paint the walls, ceiling, and even the trim in shades of white to maximize the sense of space.
To prevent the all-white look from feeling clinical, incorporate warm lighting through antique fixtures or DIY mason jar lamps. Consider adding texture with white subway tiles, wainscoting, or a beadboard wall to provide depth and interest. This timeless and hygienic design not only makes your small bathroom appear larger but also fosters a welcoming and airy ambiance.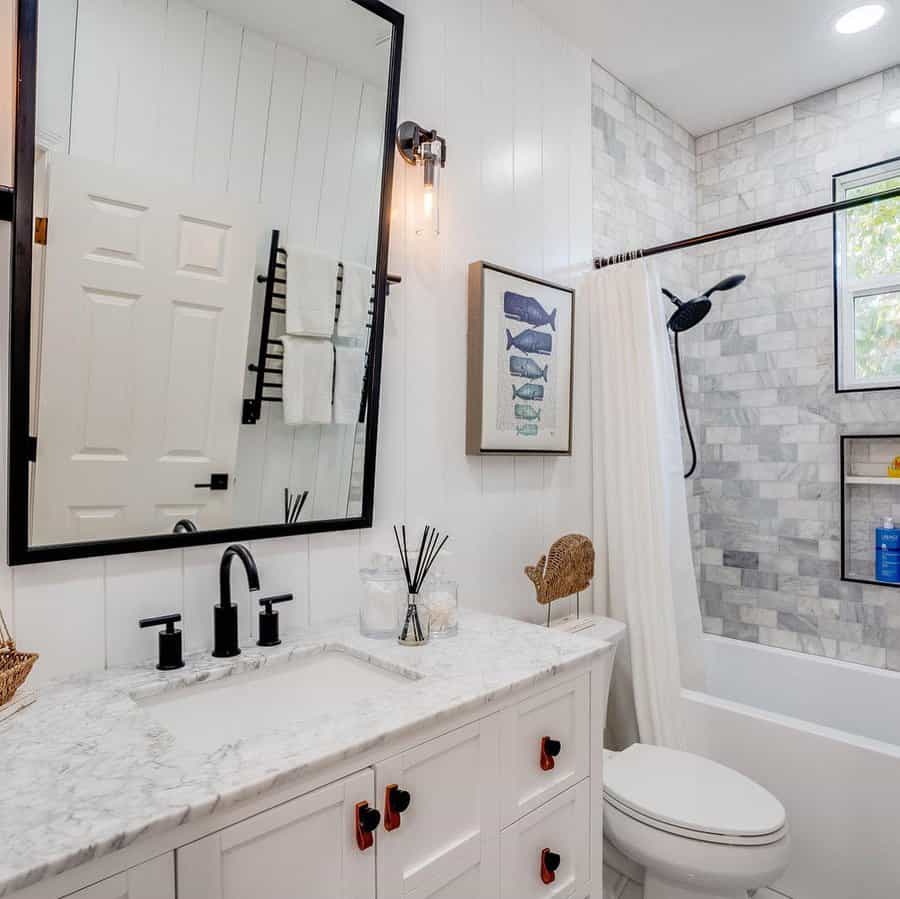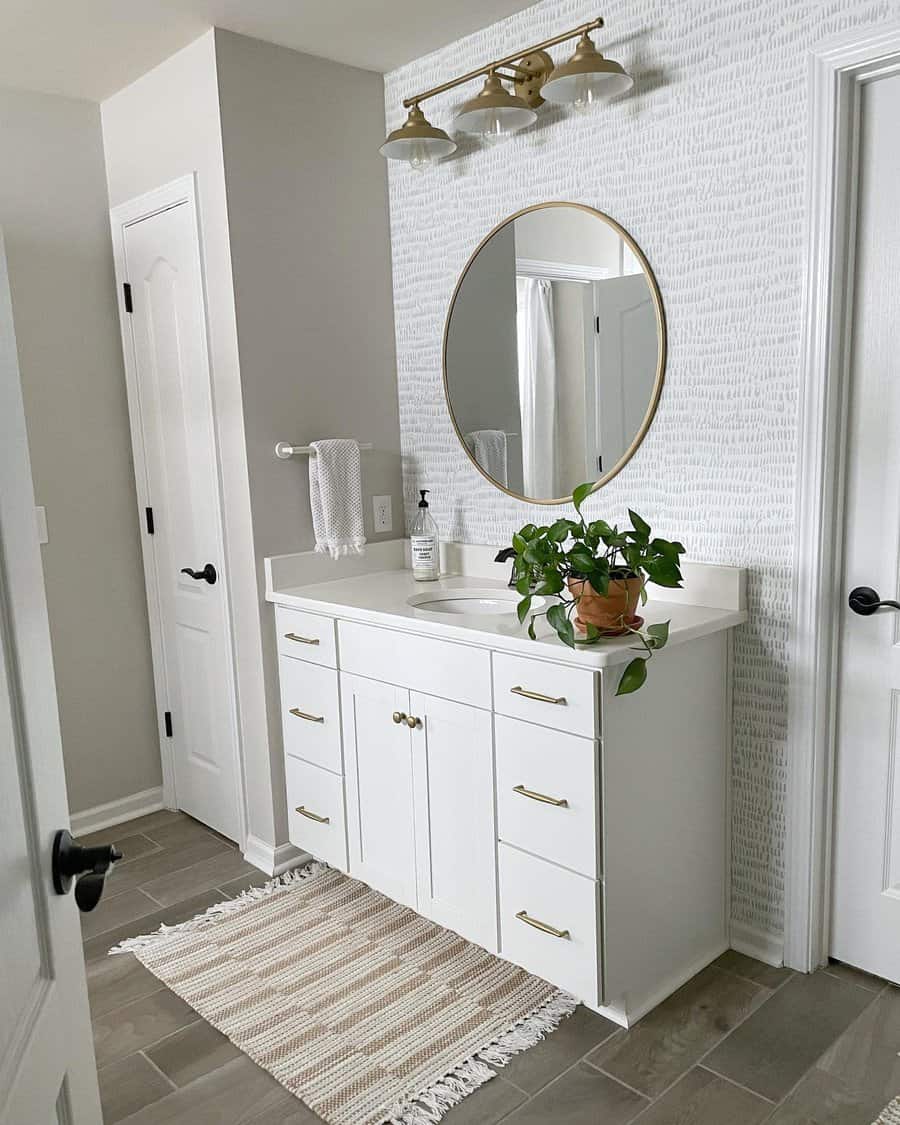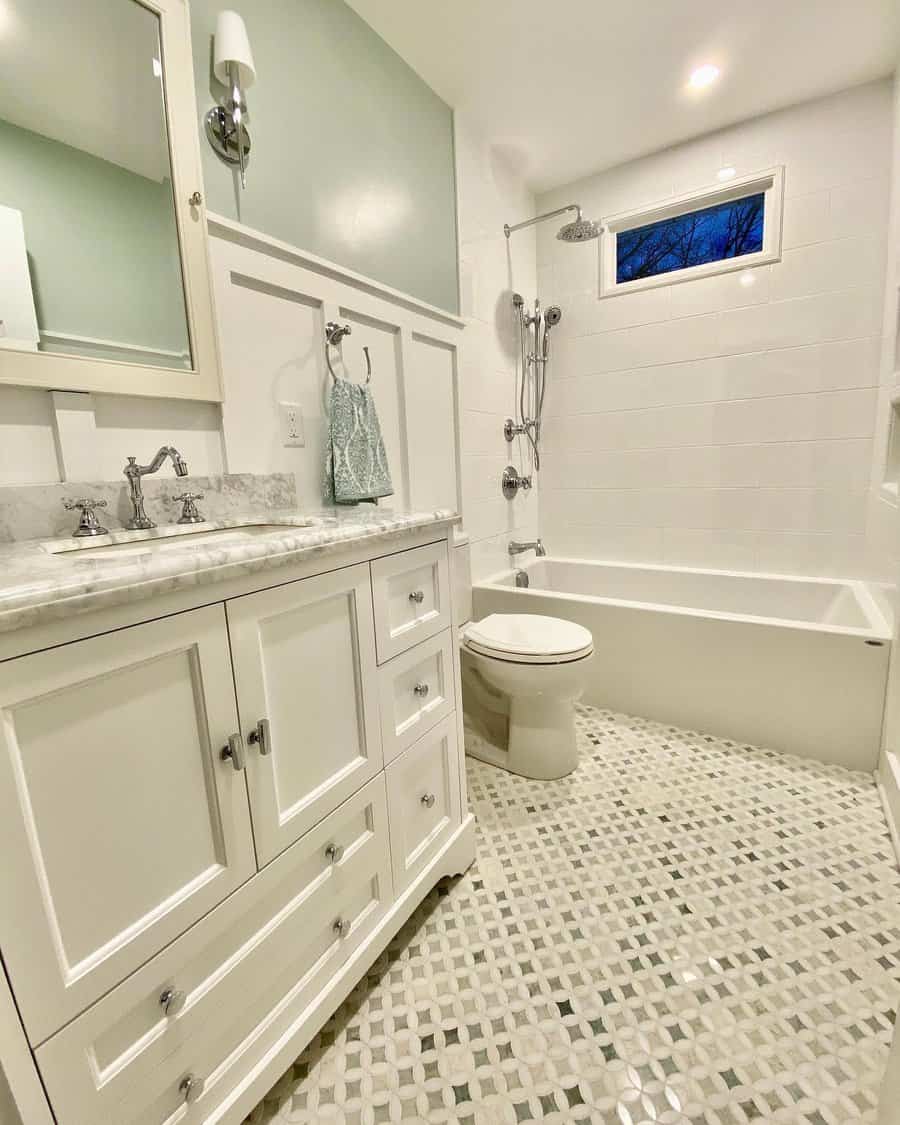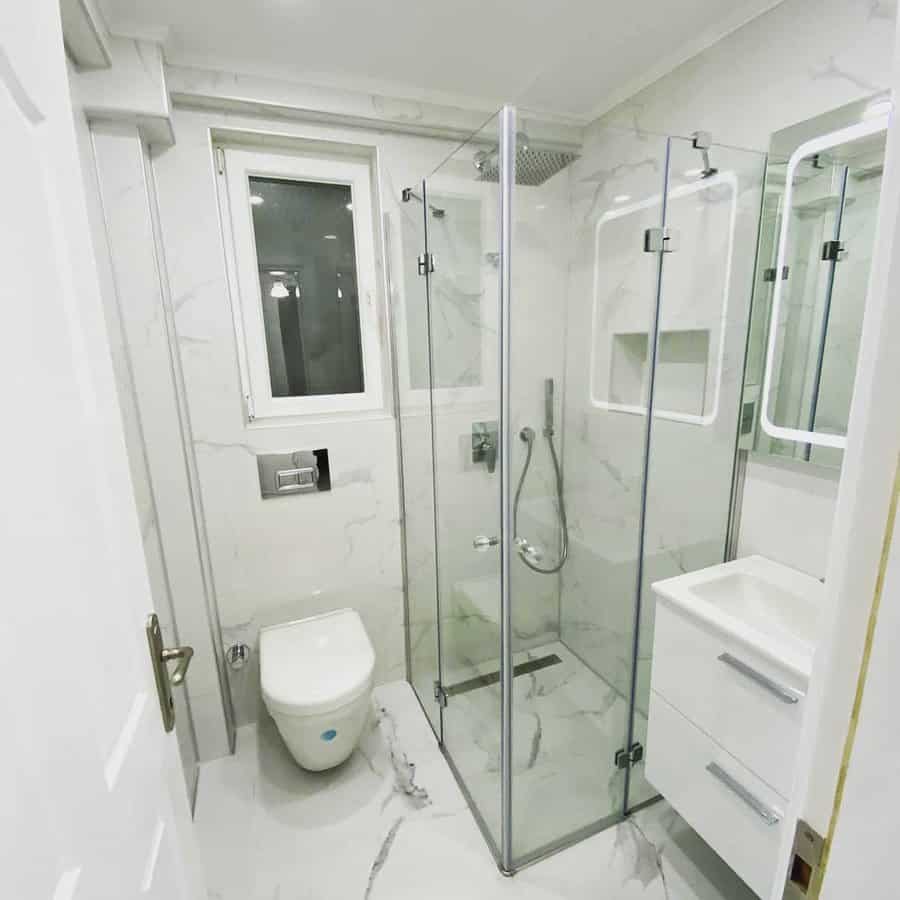 FAQs
How do you update a small bathroom?
One of the easiest methods for updating a tiny bathroom is to paint it. You can do this interior painting project yourself, and it won't cost a fortune. Choose a color that feels modern, like dark charcoal or a saturated blue. Instead of changing the wall color, you could paint the vanity.
How do you add color to a white bathroom?
You can add a lot of color by painting an accent wall. If you have a larger budget, you can add a colorful accent tile. Easy and more affordable methods for adding color include using decorative towels, a colorful shower curtain, or using floor rugs.
Should the master bedroom and bathroom be the same color?
While you can use the same colors in your bedroom and master bathroom, you don't have to. These are two separate rooms, so nothing is stopping you from choosing a different color school for each room. However, consider choosing two color sch3emes that complement or coordinate with each other. This will help the spaces flow from one room to the next.