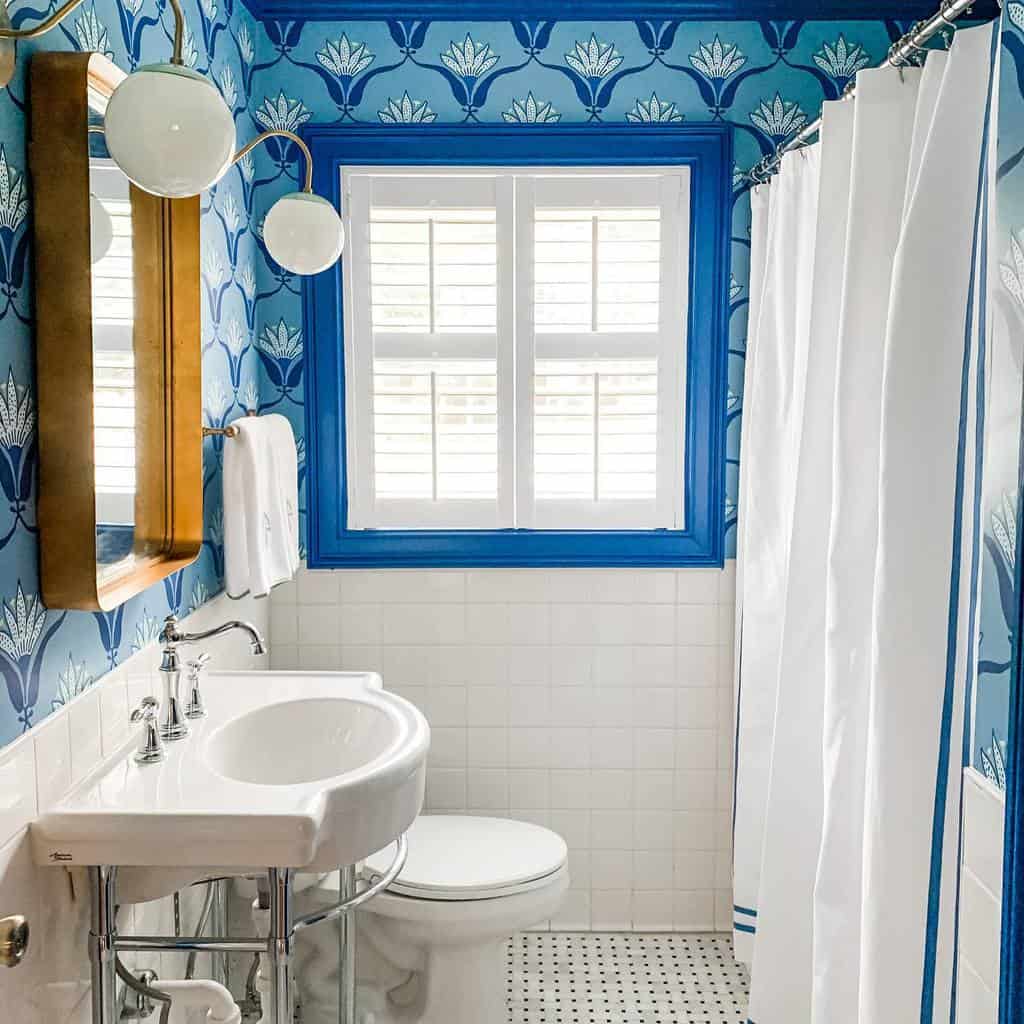 38 Small Bathroom Paint Color Ideas
Choosing a color scheme for your bathroom is what sets the tone for your entire day. Imagine walking into your bathroom and getting confronted with a bright and bold red. For some, this would be a great way to wake up and get energized for the day. For others, it would be a nightmare of overstimulation. You need a color scheme that matches your style, taste, and energy level. Check out some of the best small bathroom color ideas to get inspired for your bathroom.
1. Off-White To Beige Tones For A Clean Look
When it comes to painting a small bathroom, off-white to beige tones help your room look cleaner and bigger. Enhance the space even more by adding contrast with limewash tiles or marble on either the floor or walls, which will create a modern yet timeless feel to your bathroom. Achieving the perfect look for your small bathroom has never been easier!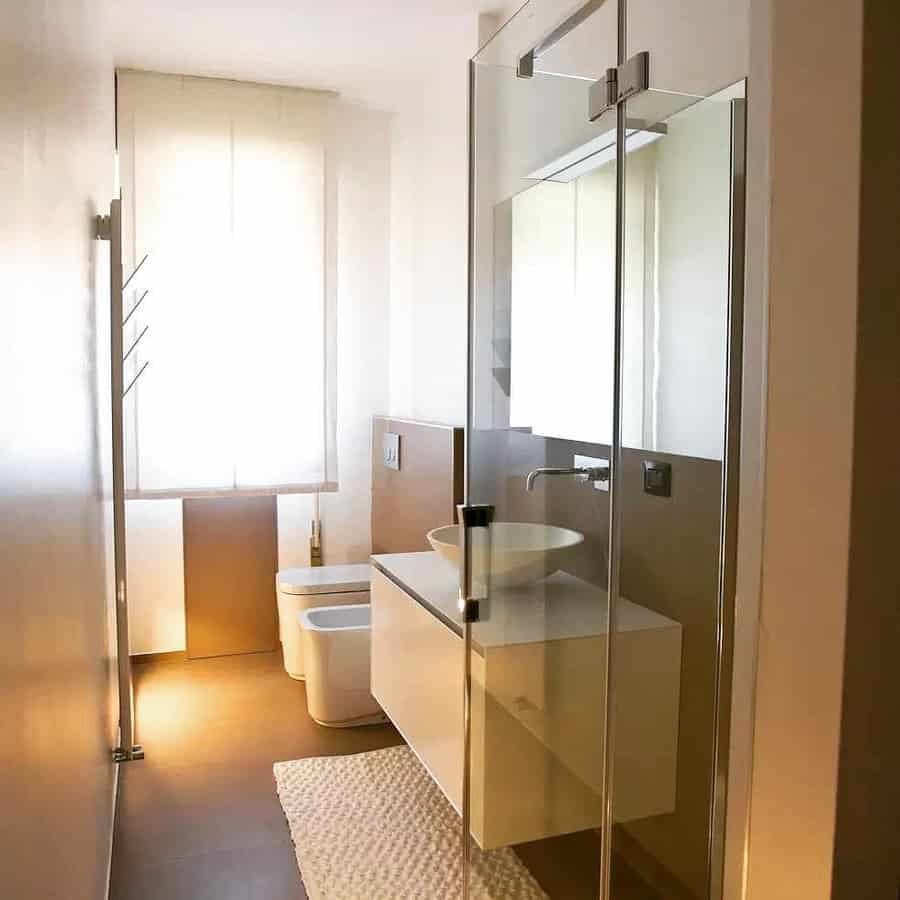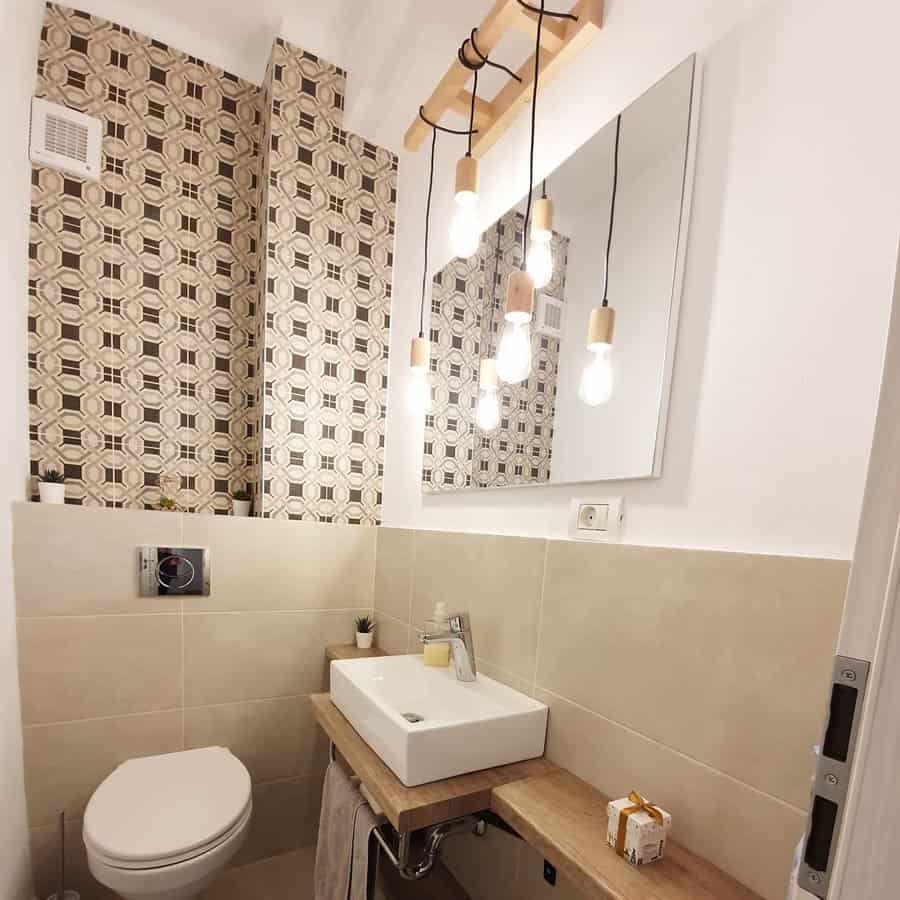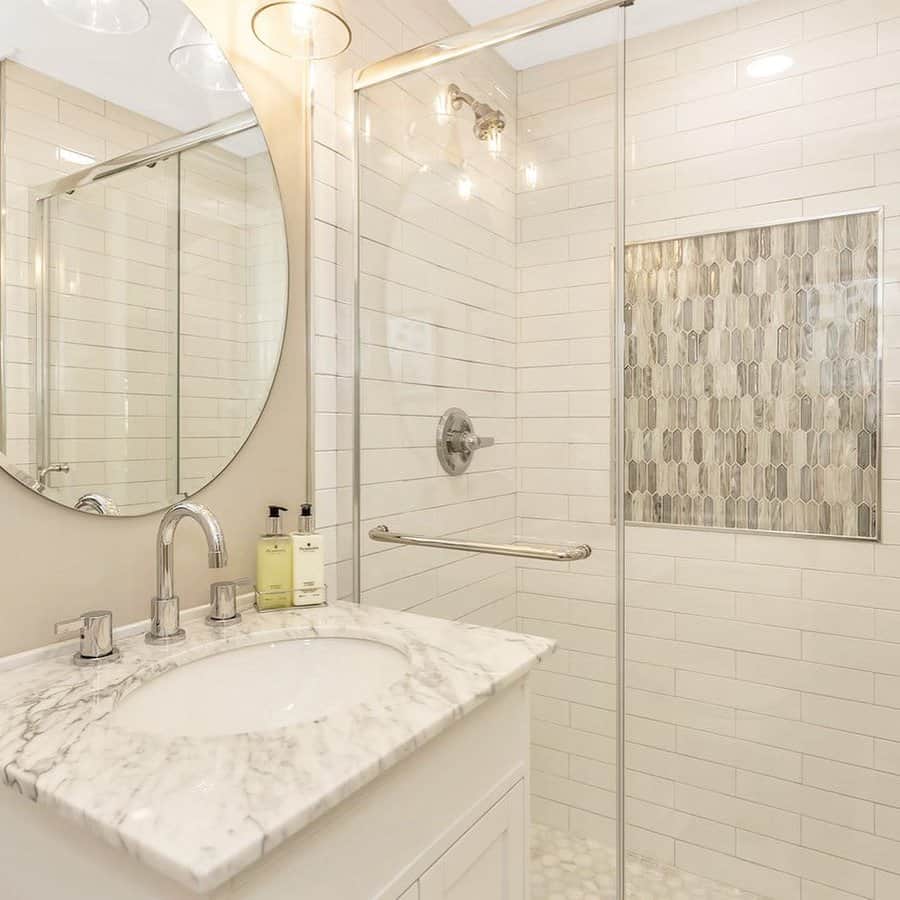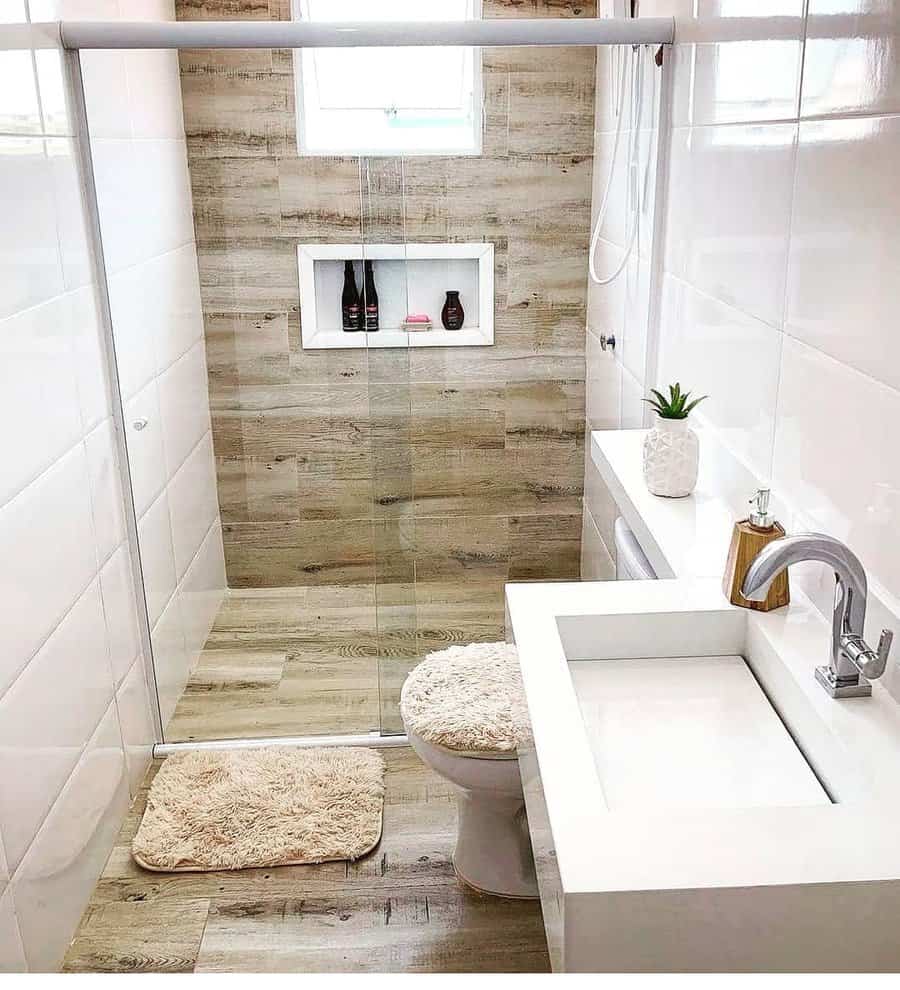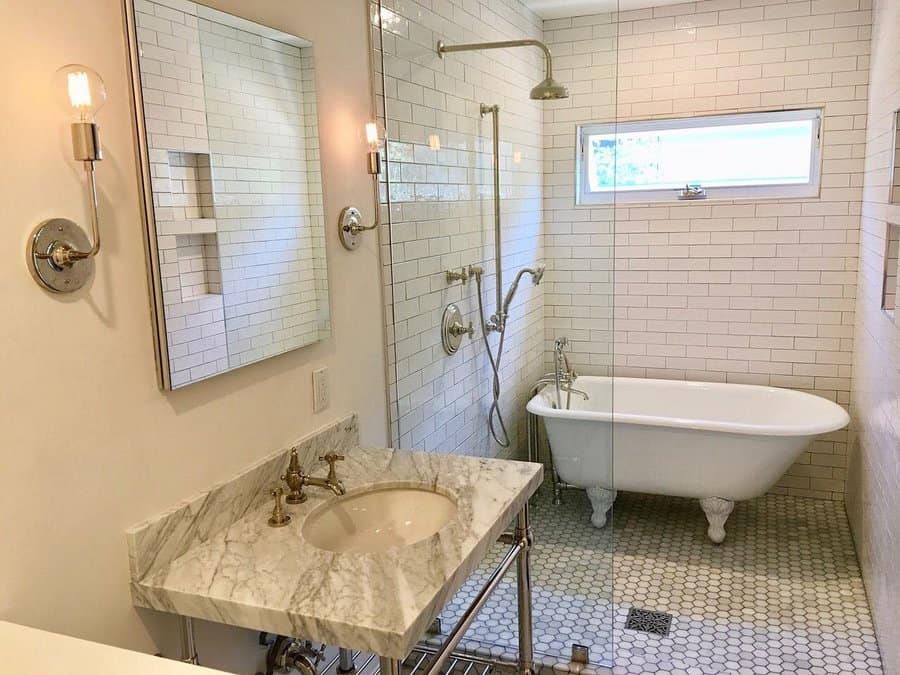 2. Peach To Pink Tones For A Feminine Look
Have you ever considered pink to peach tones for your small bathroom? If not, it is definitely something to think about! These feminine hues are known to be incredibly calming and soothing, as well as making the space appear larger and brighter.
In addition, pink to peach tones can also help boost your confidence while spending time in the bathroom; many customers report feeling more energized and positive after a paint job with these shades. The right pink to peach can be just the dose of brightness your small bathroom needs!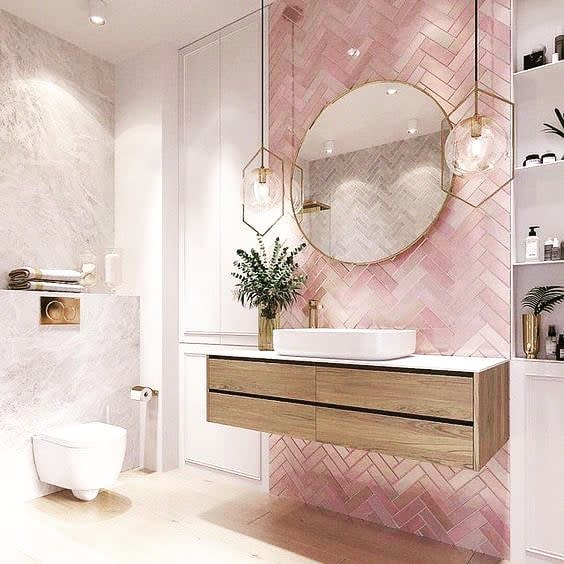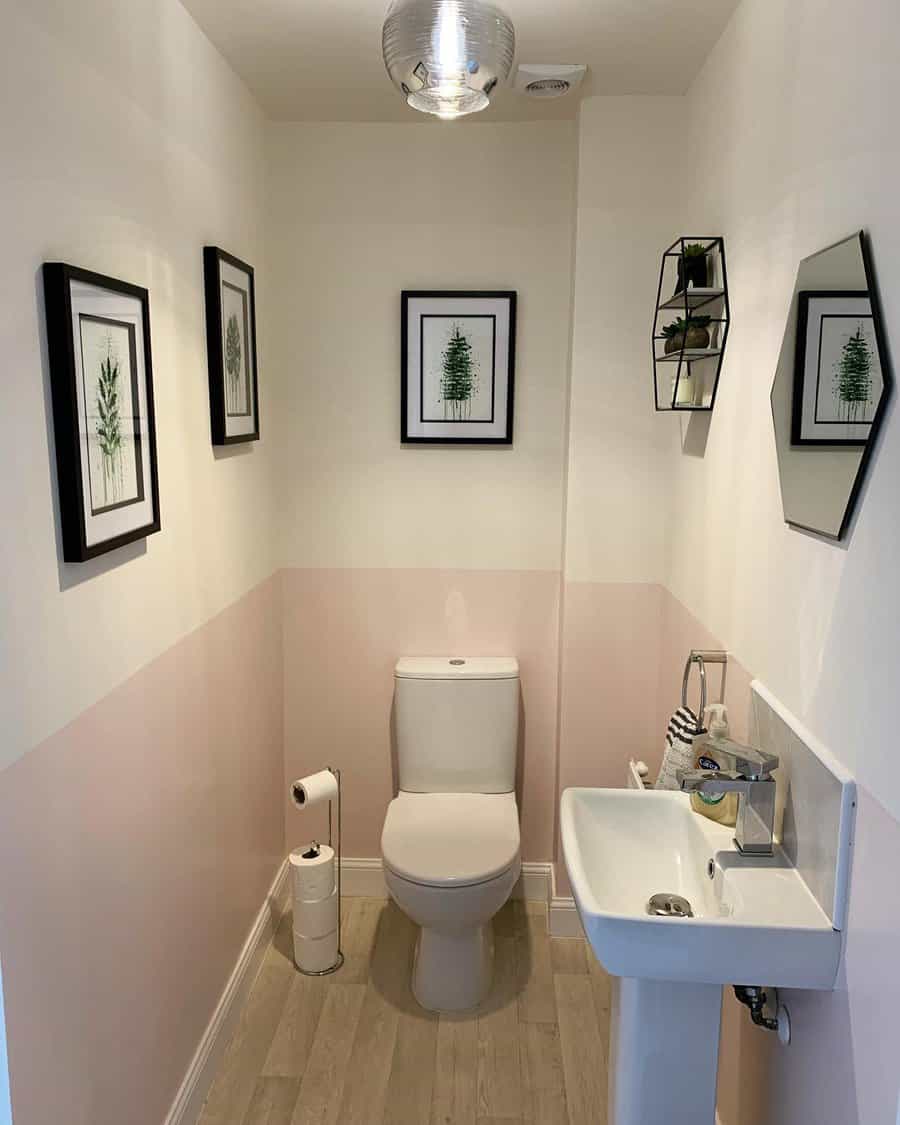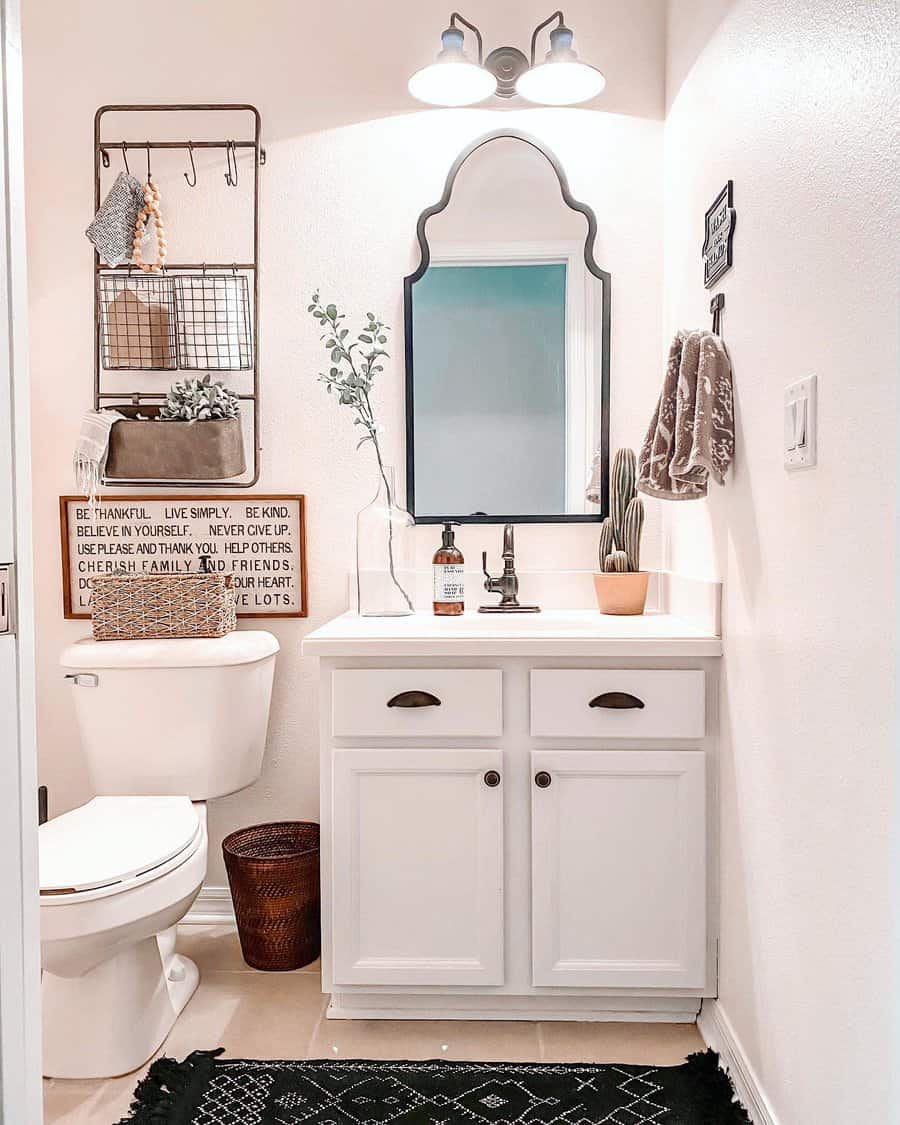 3. Warm To Gold Tones For A Vintage Look
Adding warm to golden tones to your small bathroom can provide an elegant and nostalgic feel that takes you back in time. Create a bathroom of grandeur with warm colors like ochre and gold.
To add a feeling of lavish luxury to the tiny space, incorporate gold fixtures like taps, lighting fixtures, and toiletry baskets. This will ensure that both the warm colors and golden touches bring together a truly stunning small bathroom design.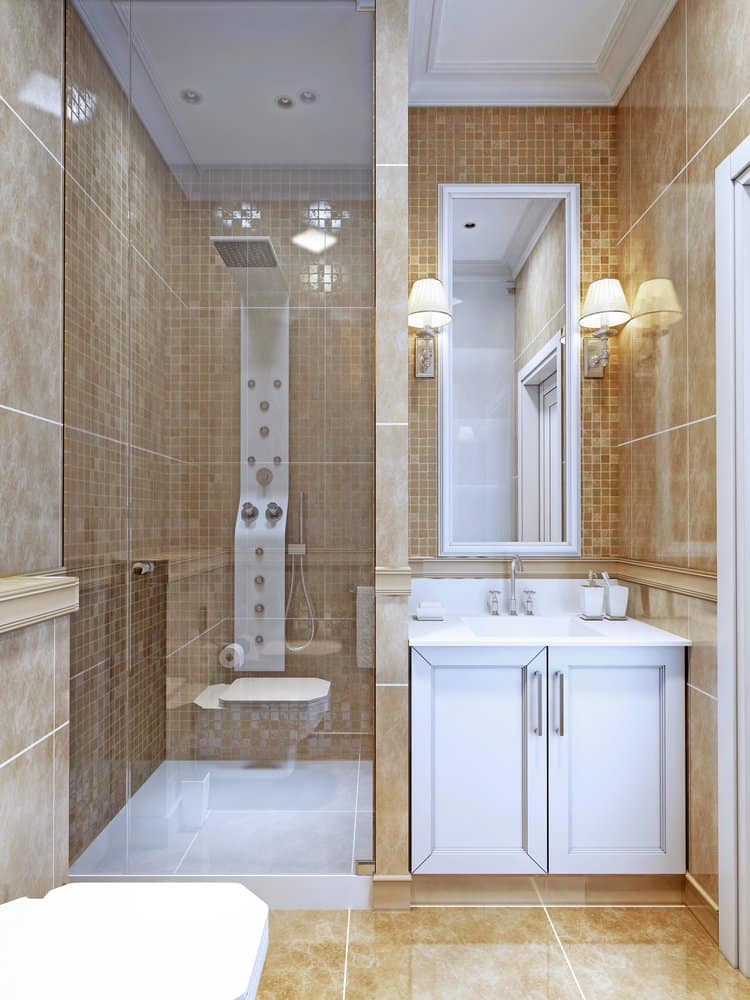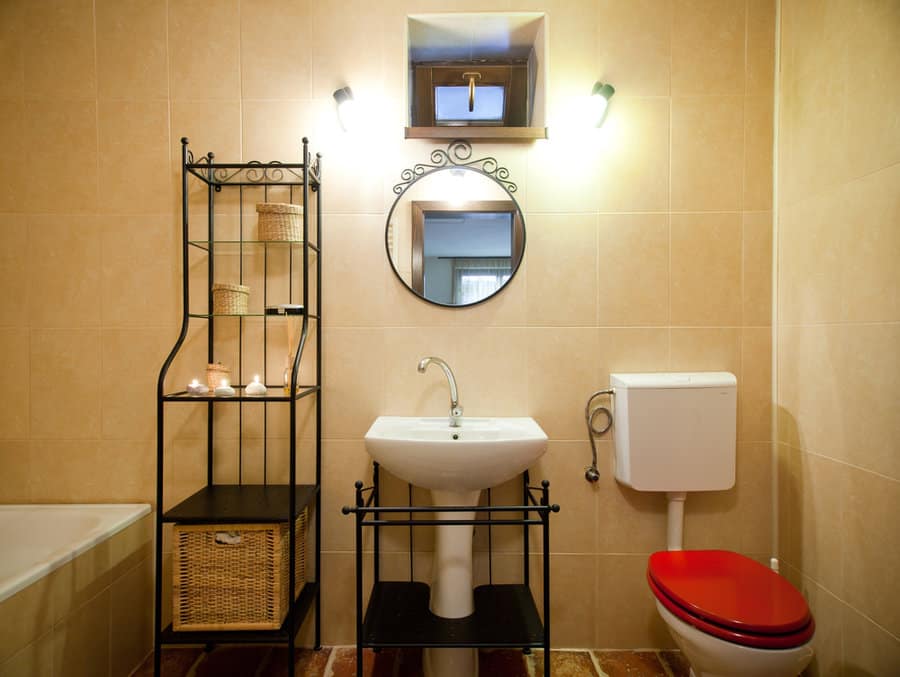 2. Cold Bluish Tones For A Coastal Look
When decorating a small bathroom, it's important to look for cold blue tones that evoke a coastal look. This will create a breezy and airy feel, no matter how small the space is.
For an added touch of sophistication, pair cold blue tones with beige elements like window curtains or shower tiles. The subtle contrast will create a room that looks bigger without sacrificing style.
Whether you want to achieve an elegant and timeless look or a playful and eclectic vibe, cold-toned walls can help bring your vision to life!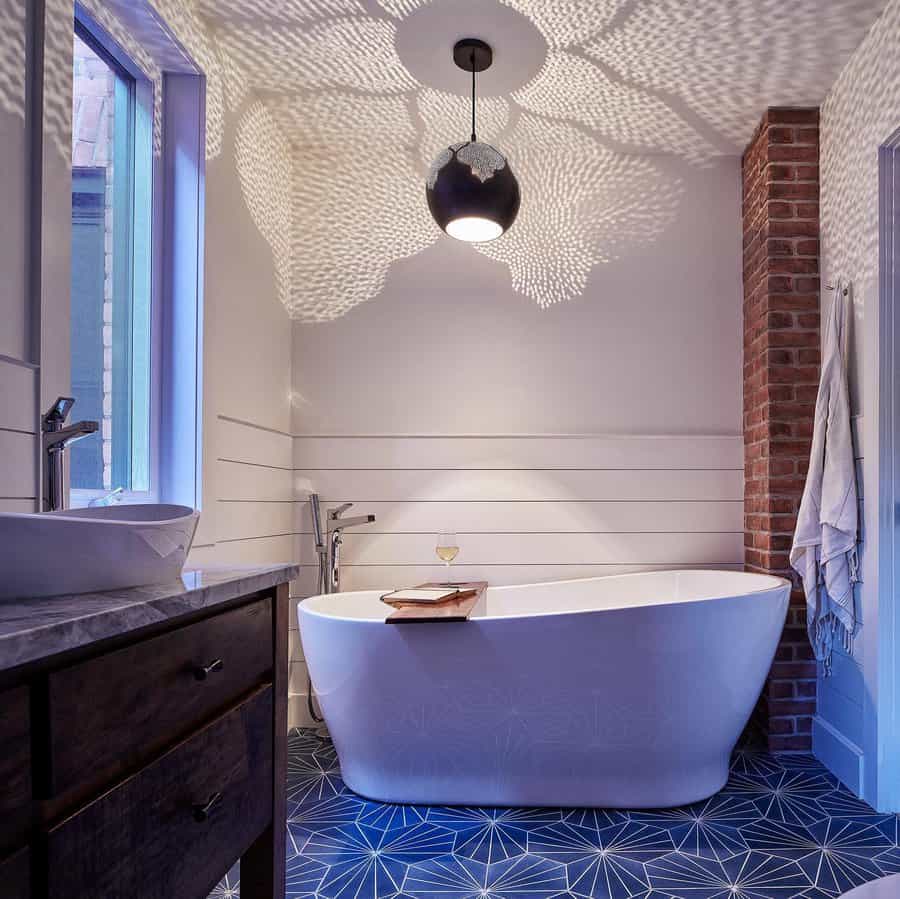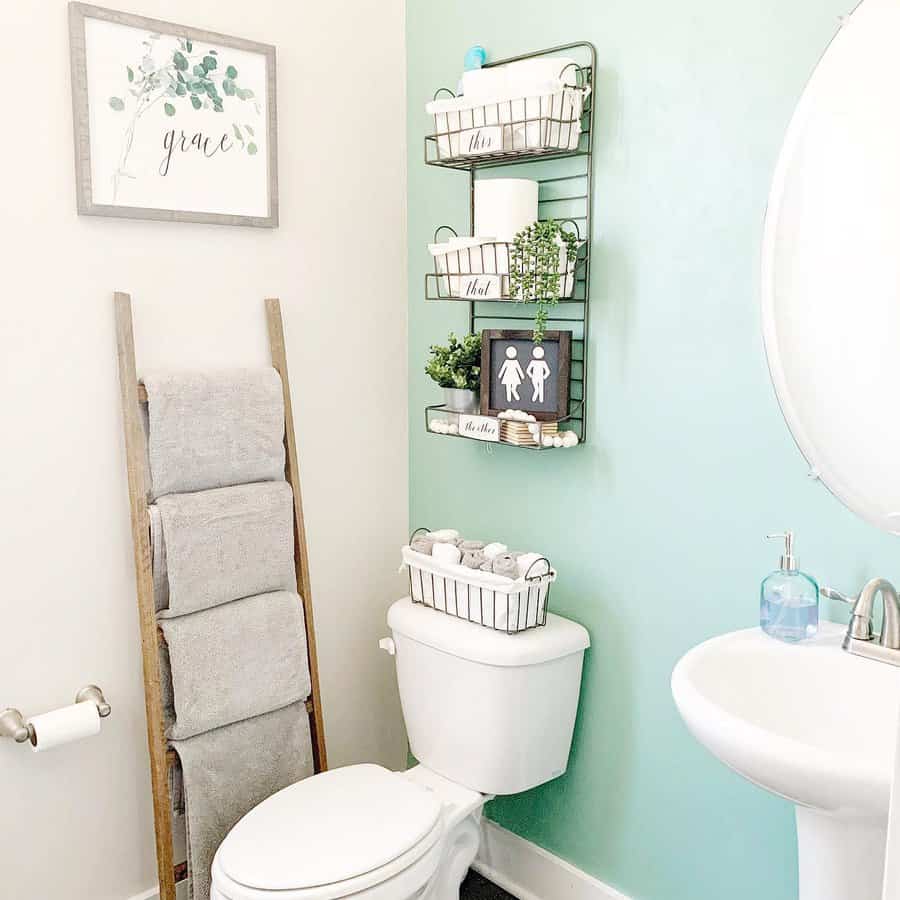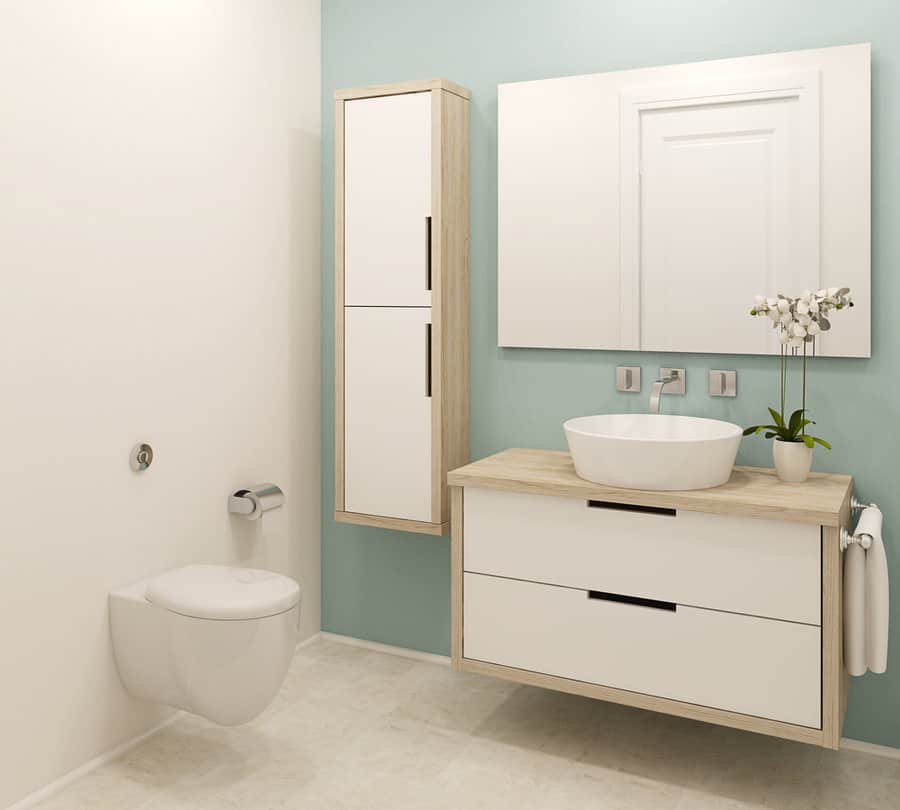 3. Dark Tones For An Industrial Look
If you're looking to get creative with a small bathroom paint color, dark tones can be a sophisticated and masculine way to give your space an industrial feel.
Create dark contrast with dark grey or black and dark brown features, such as showers, baths, and cabinetry. The result will give your bathroom a bold and complete look that makes it stand out from the rest.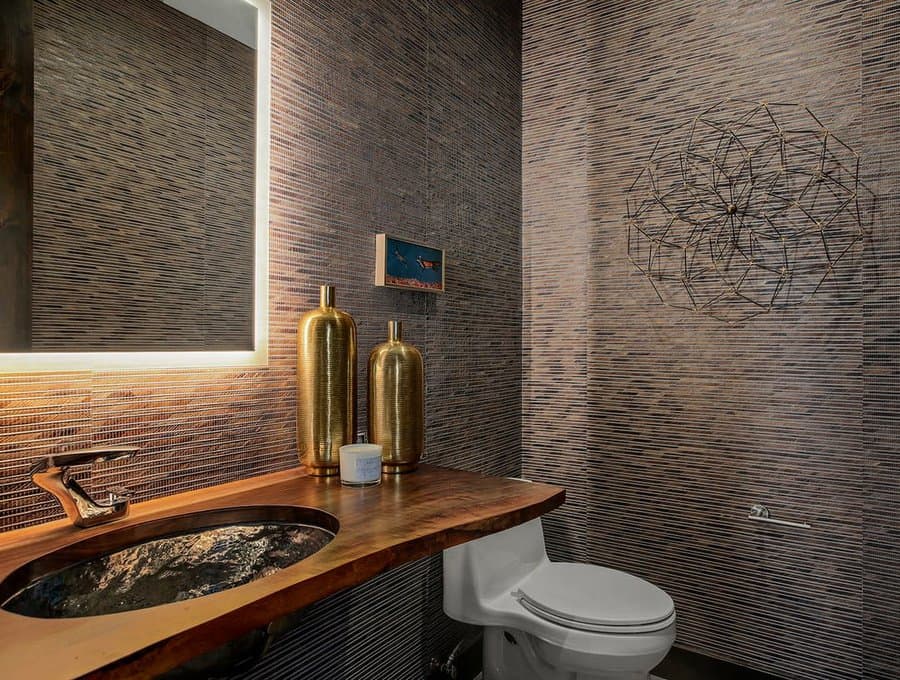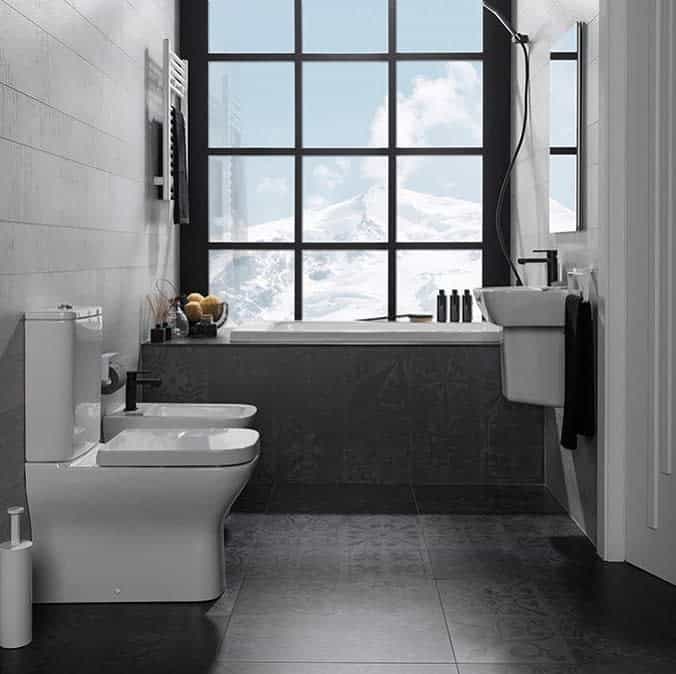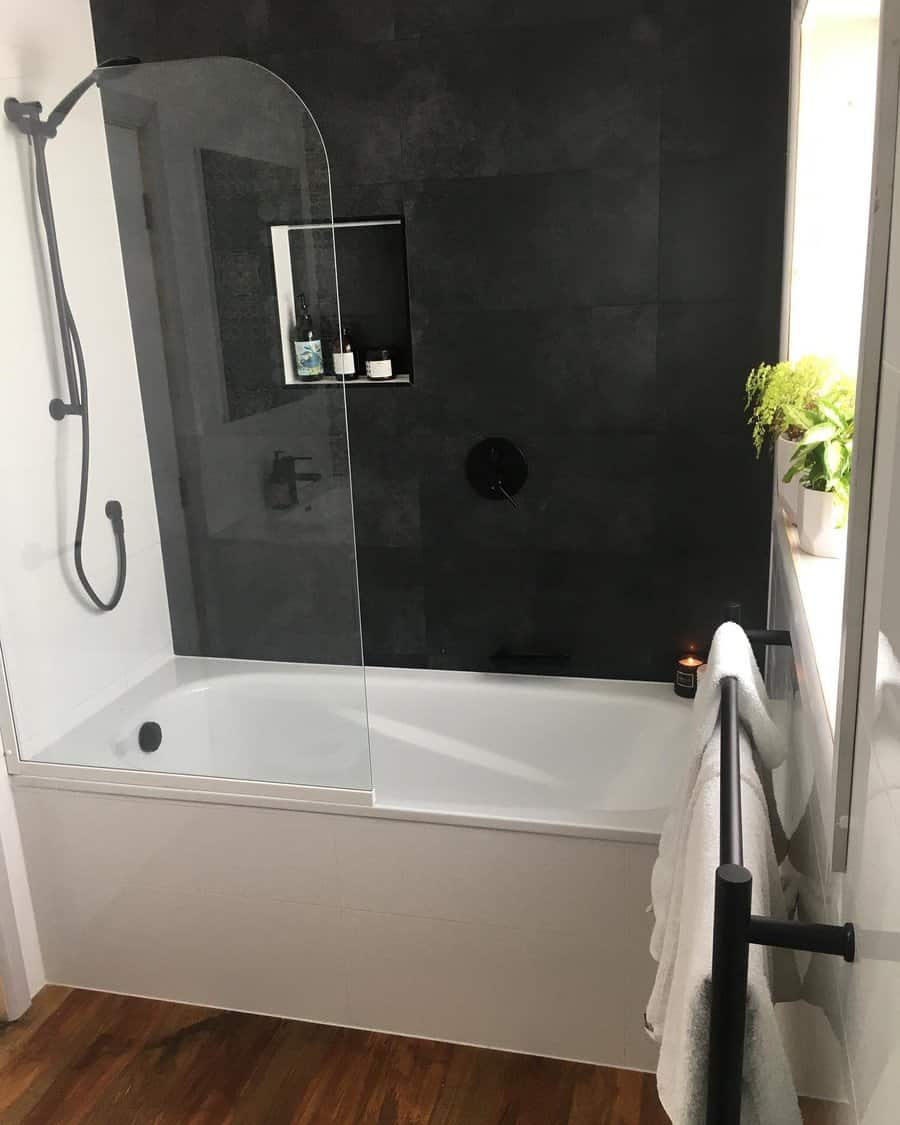 4. Neutral Grey Tones For A Zen Look
When it comes to selecting the perfect paint color for a small bathroom, light grey tones can create the perfect zen look. These light hues will help bring light, openness, and relaxation into a cramped and sometimes uncomfortable space.
Consider adding plants to your bathroom too, which will bring life to the soothing light grey tones while helping to provide a calming and tranquil atmosphere.
Dark colors can be too overwhelming and detract from other décors in the bathroom, but light grey offers just enough contrast while still maintaining a relaxed and calming feel.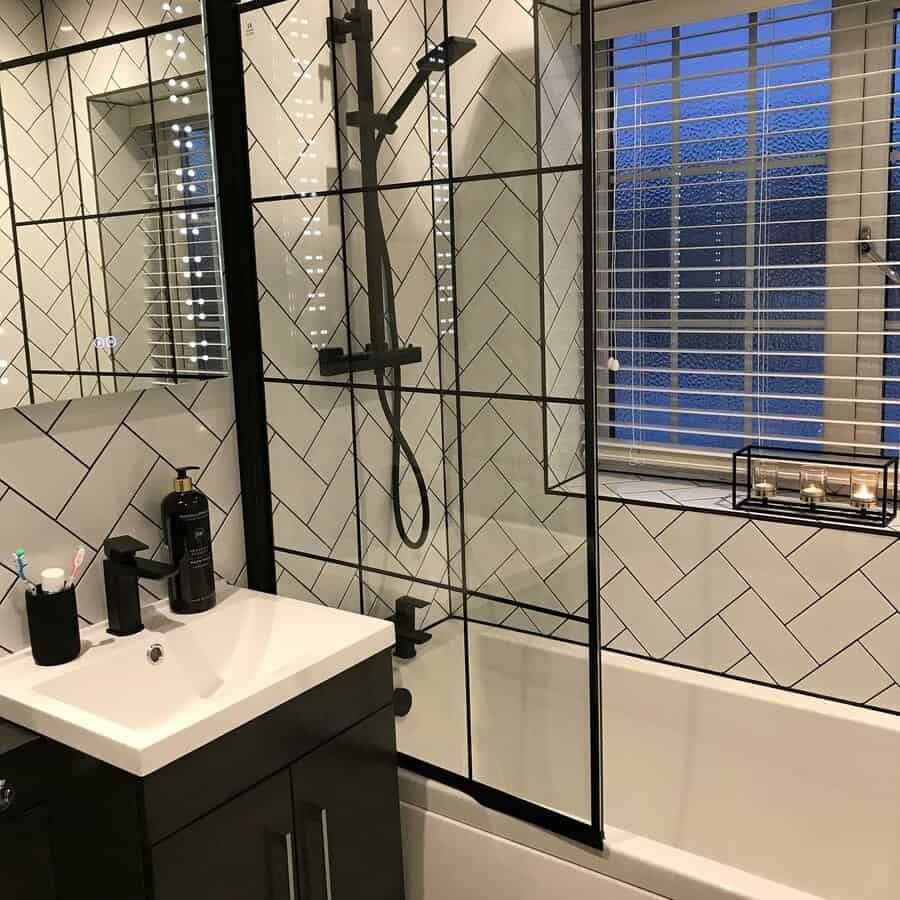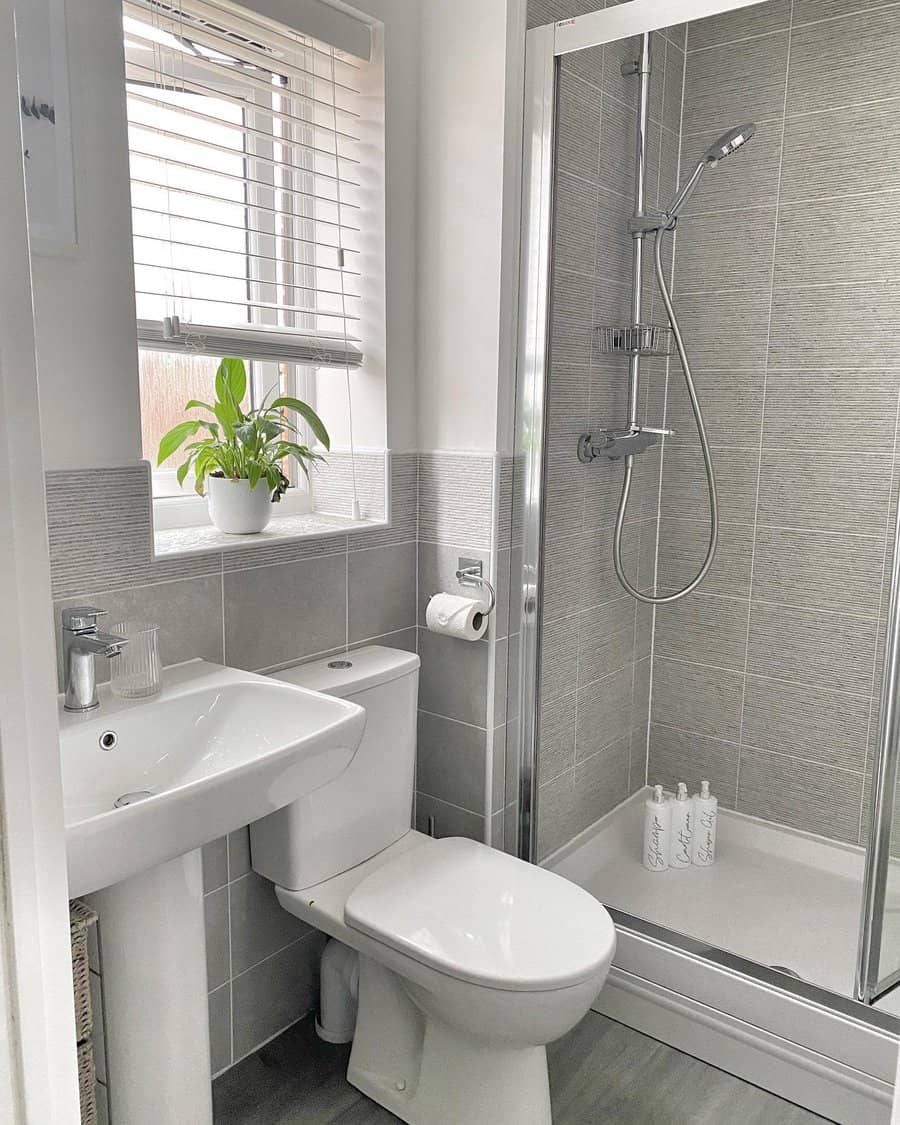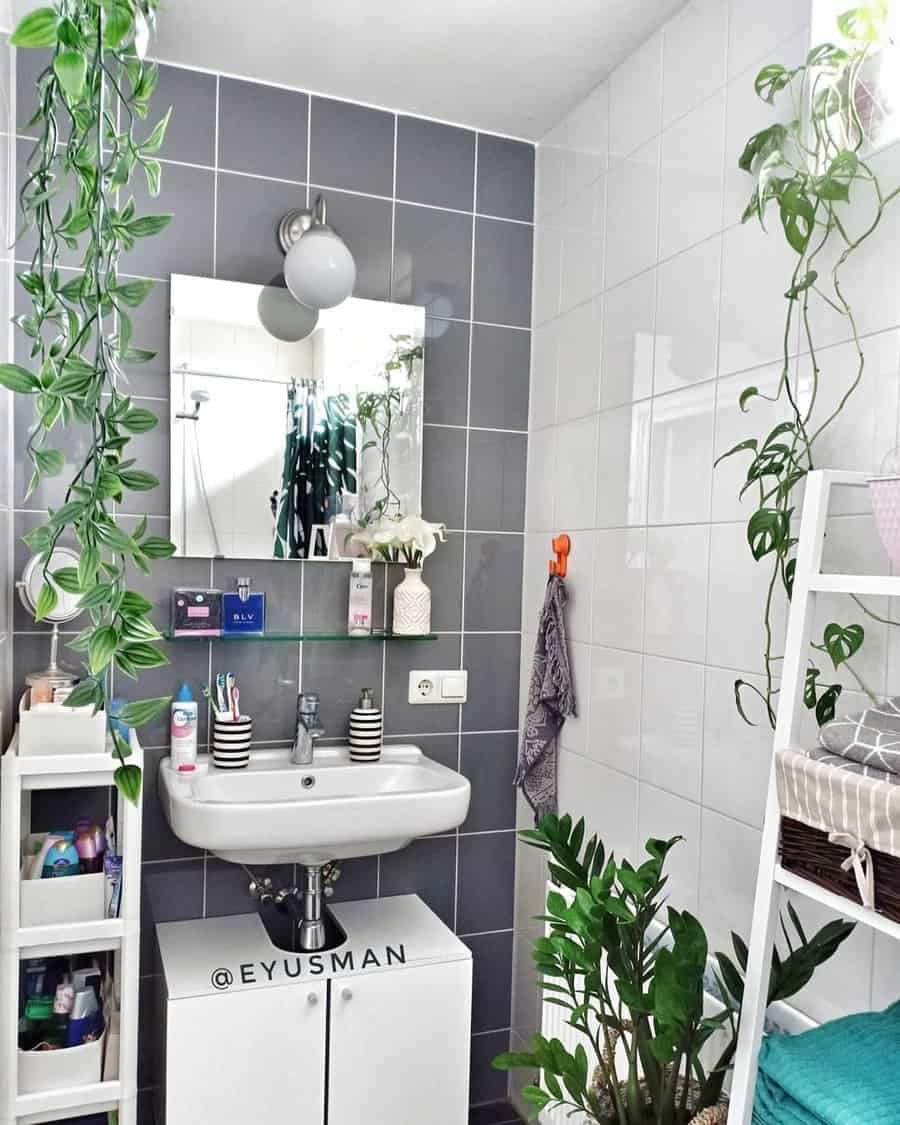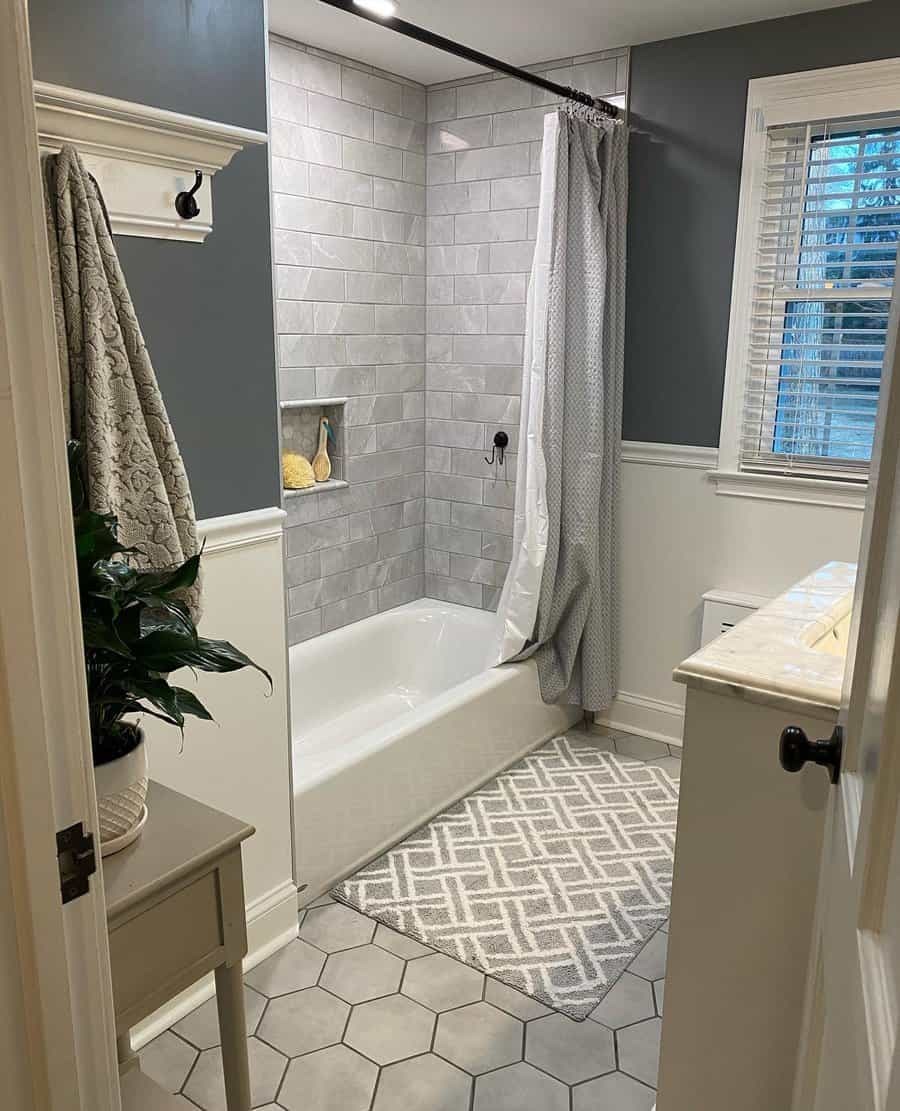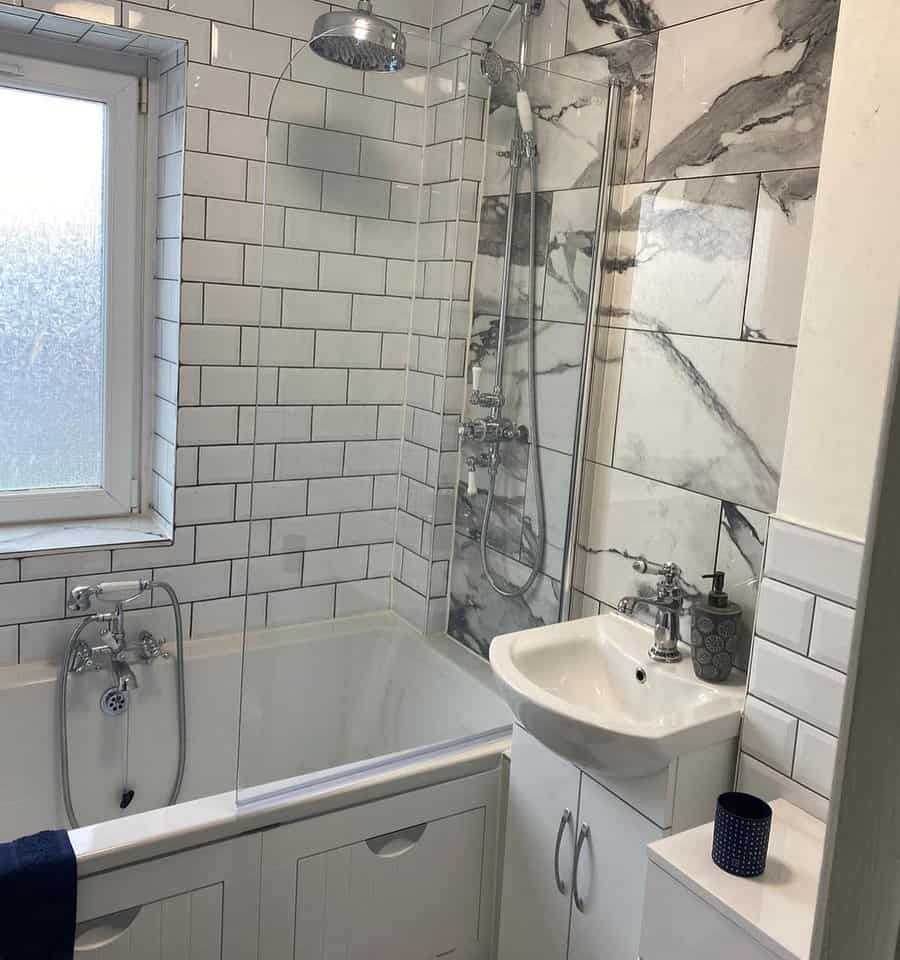 5. Wood Tones For A Rustic Look
When considering what paint color to choose for your small bathroom, try wood tones in order to bring a rustic and organic look and feel. You can take this look to a higher level by choosing wood tiles or brown flooring to accent the walls.
With minimalistic yet intriguing design elements, wood tones can immediately ground and define your bathroom in an eye-catching way.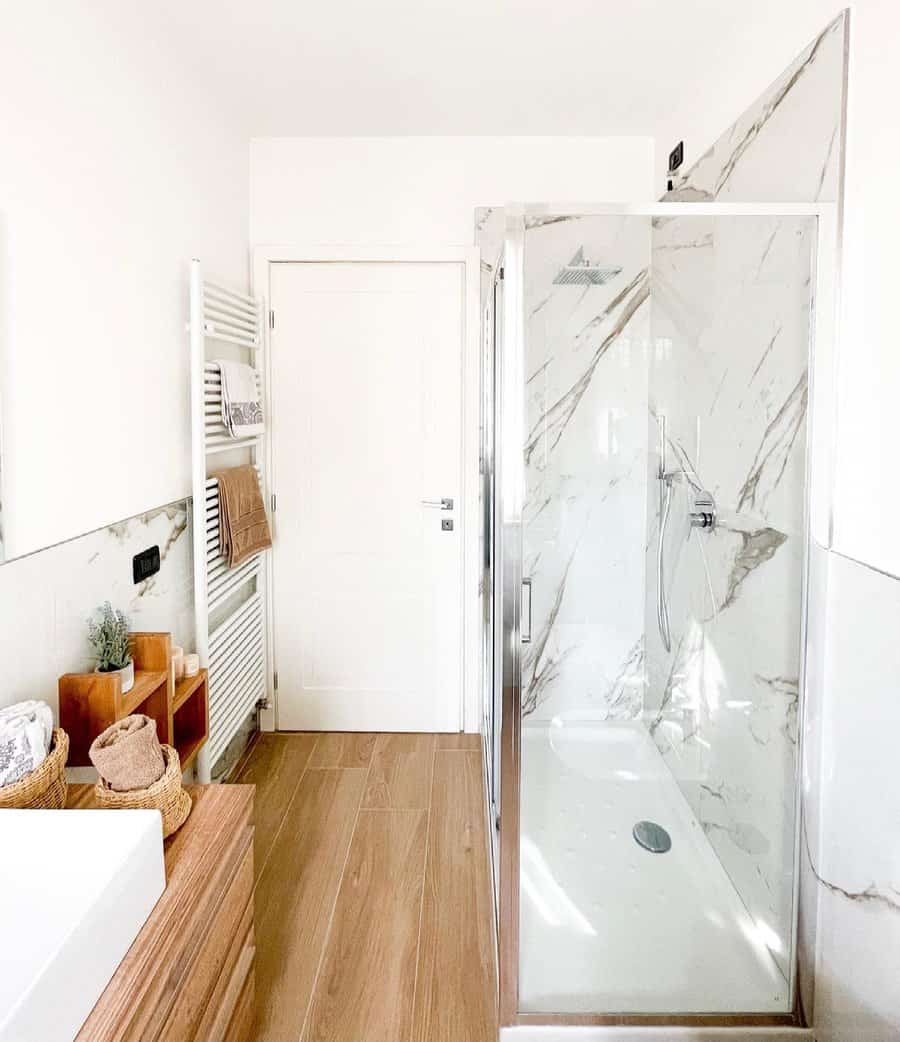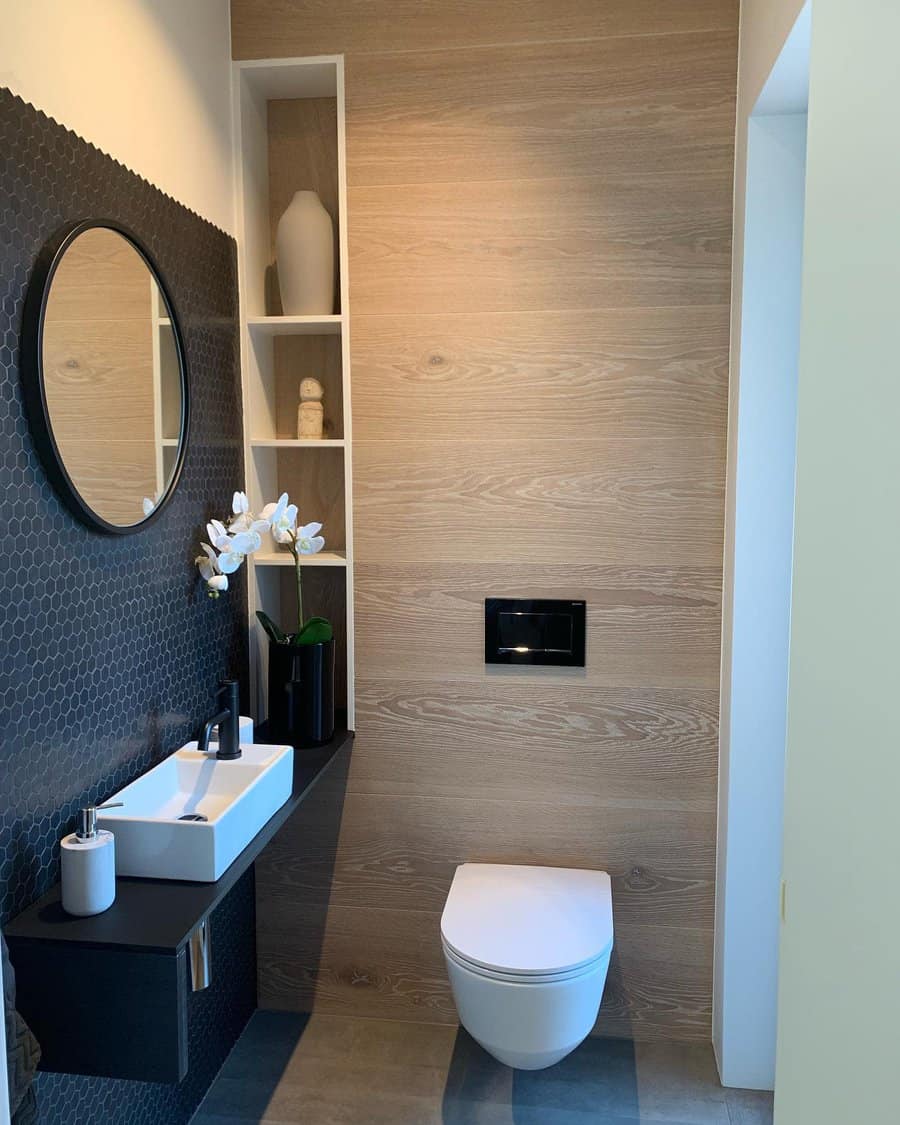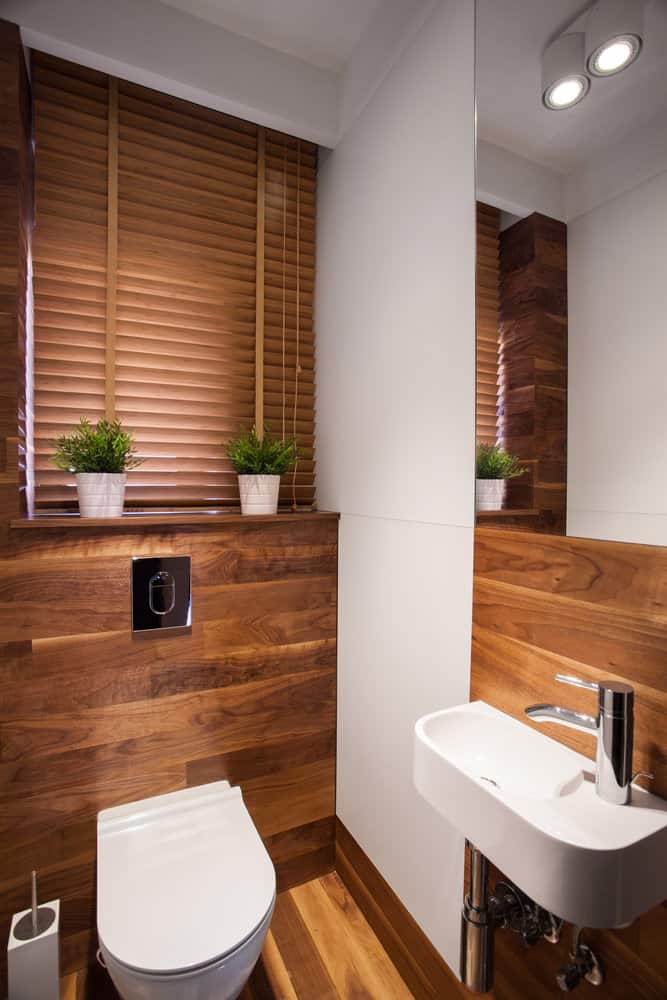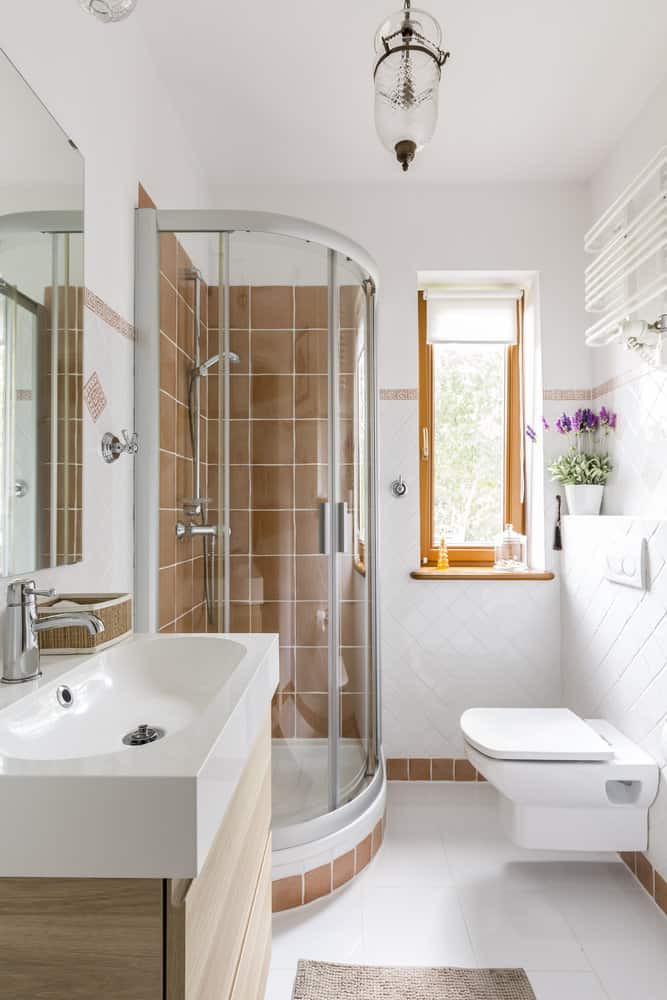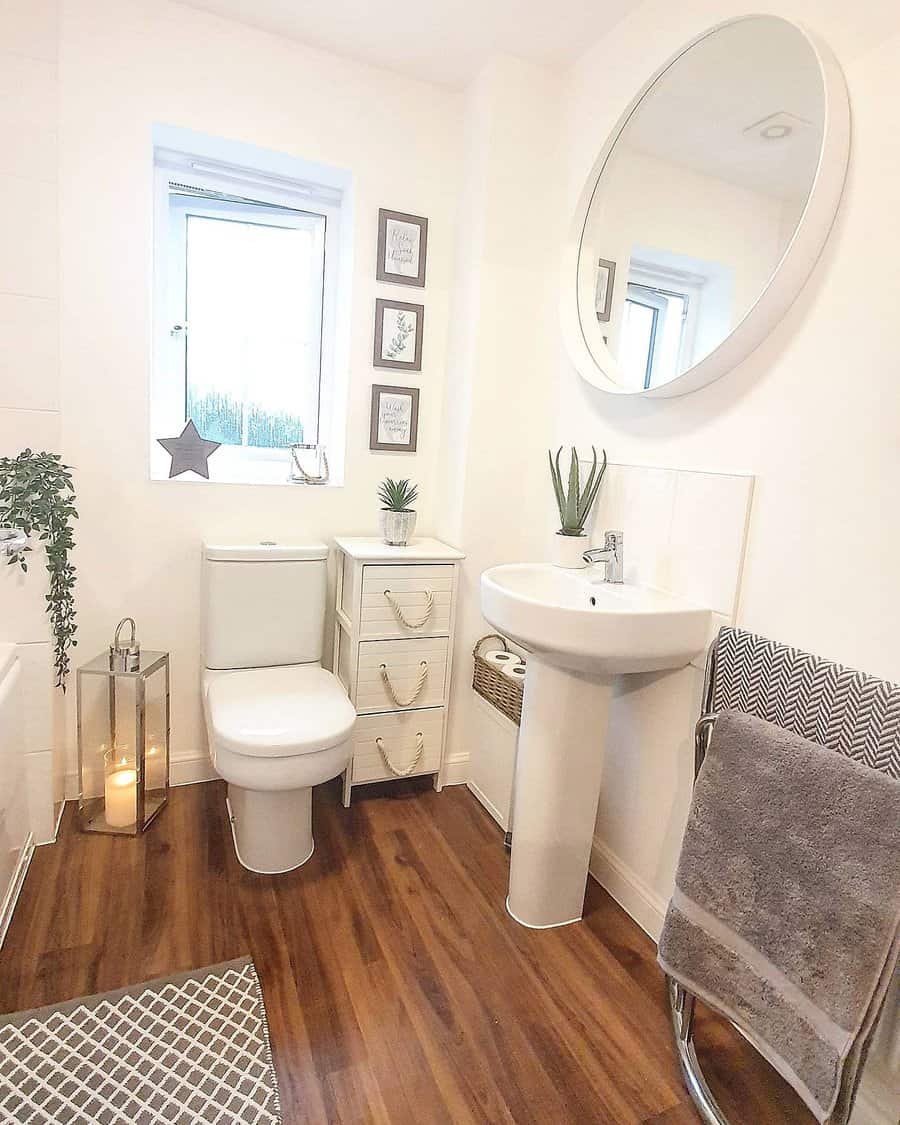 6. Terracotta To Red Tones For A Vibrant Look
A small bathroom paint color can add a much-needed pop of life to your home while bringing a vibrant and artistic twist. Choose terracotta to bold red tones to evoke an atmosphere with energy, ready for the morning rush or a peaceful atmosphere before bed.
Red tones are especially known for boosting energy and will instantly brighten any homey feeling—especially in such a contained space as the bathroom. Adding a few pops of color here and there will draw attention to the size of the room and create an uplifting and unique complete look.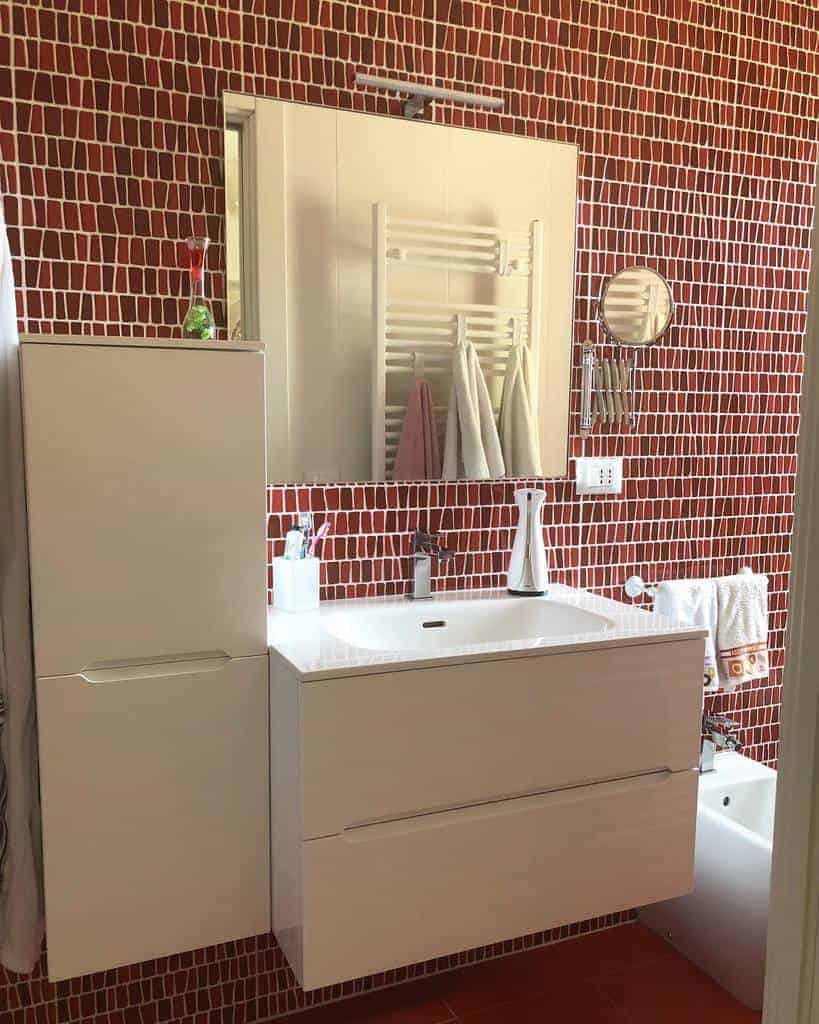 7. Teal To Green Tones For A Retro Look
Teal to green tones, like sea foam and teal quartz, are perfect for creating a lively atmosphere in your small bathroom. To bring a warm touch of the past, consider installing beveled tiles as an accent wall and countertop. The angles of the tiles will reflect light, brightening the room and creating a retro look that can't be beaten!
Additionally, teal to green tones is calming choices that will invigorate yet relax the senses with their seafaring hues. Transform your small bathroom into something beautiful by embracing teal to green tones with beveled tiles for a vintage twist.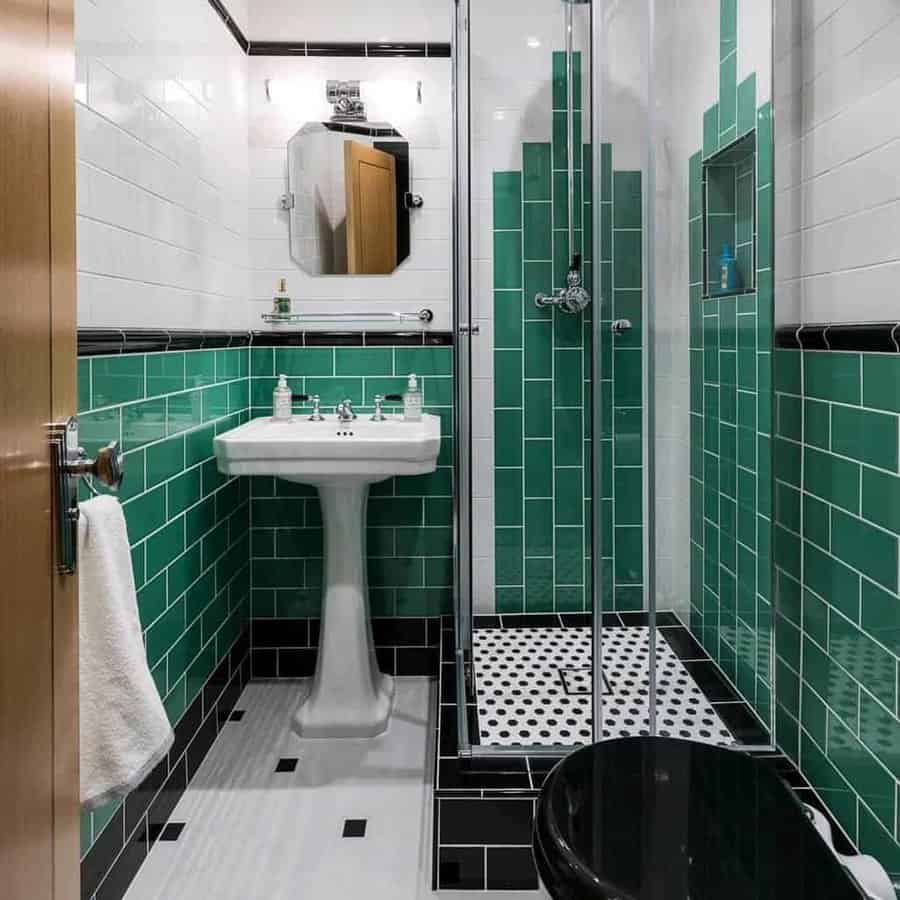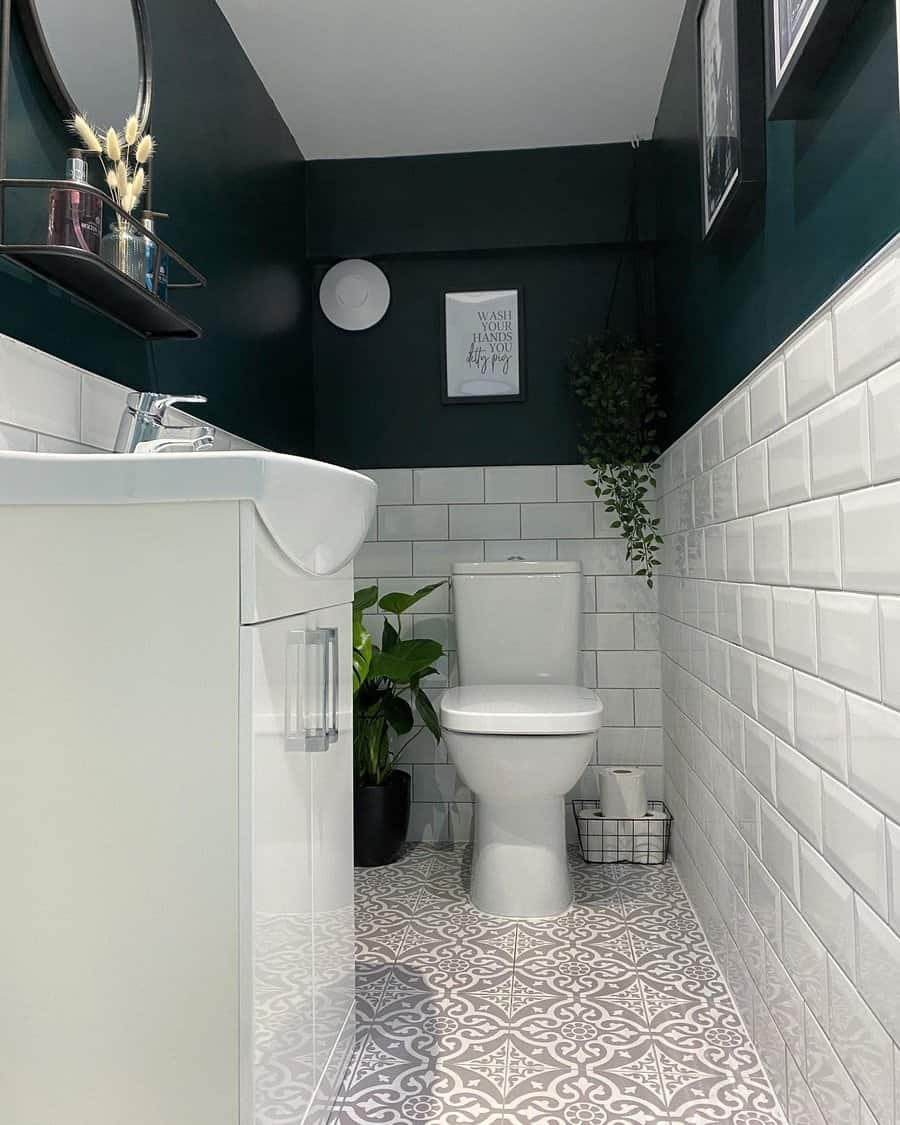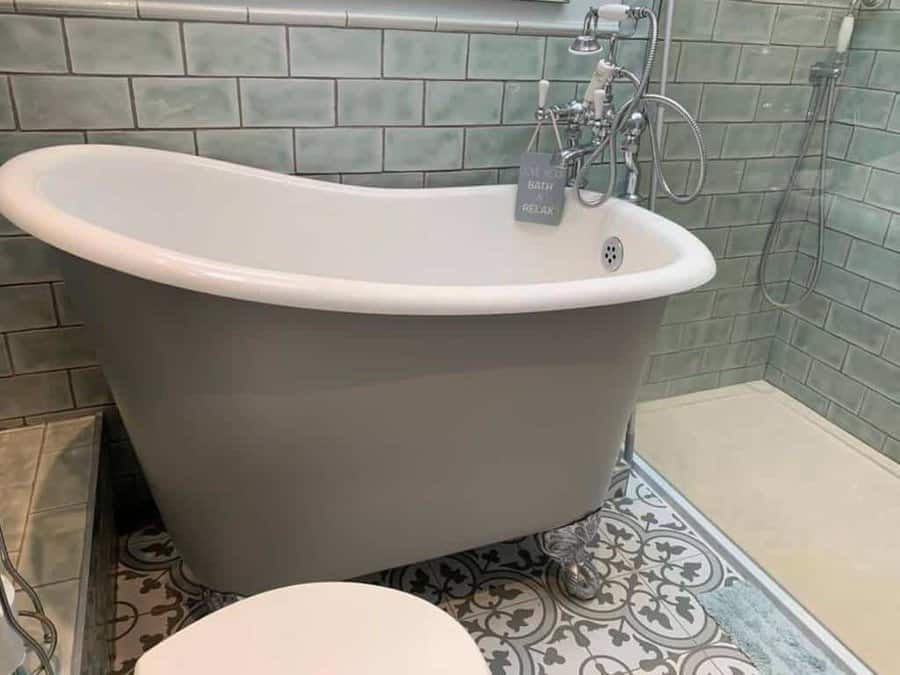 8. Printed Wallpaper For A Playful Look
For those looking to bring some pizazz to an otherwise plain or minimalist bathroom, printed wallpaper could be the answer. A printed wallpaper with a playful and creative pattern can instantly add color and character to the space.
Whether it's a tropical or mid-century modern style, printed wallpaper can be the perfect way to find just the right small bathroom paint color that blends both aesthetics and practicality into one beautiful decor piece.
Best of all, you don't have to worry about painting walls; printed wallpaper is effortless, easy to install and maintain, and even more stylish than a traditional paint job.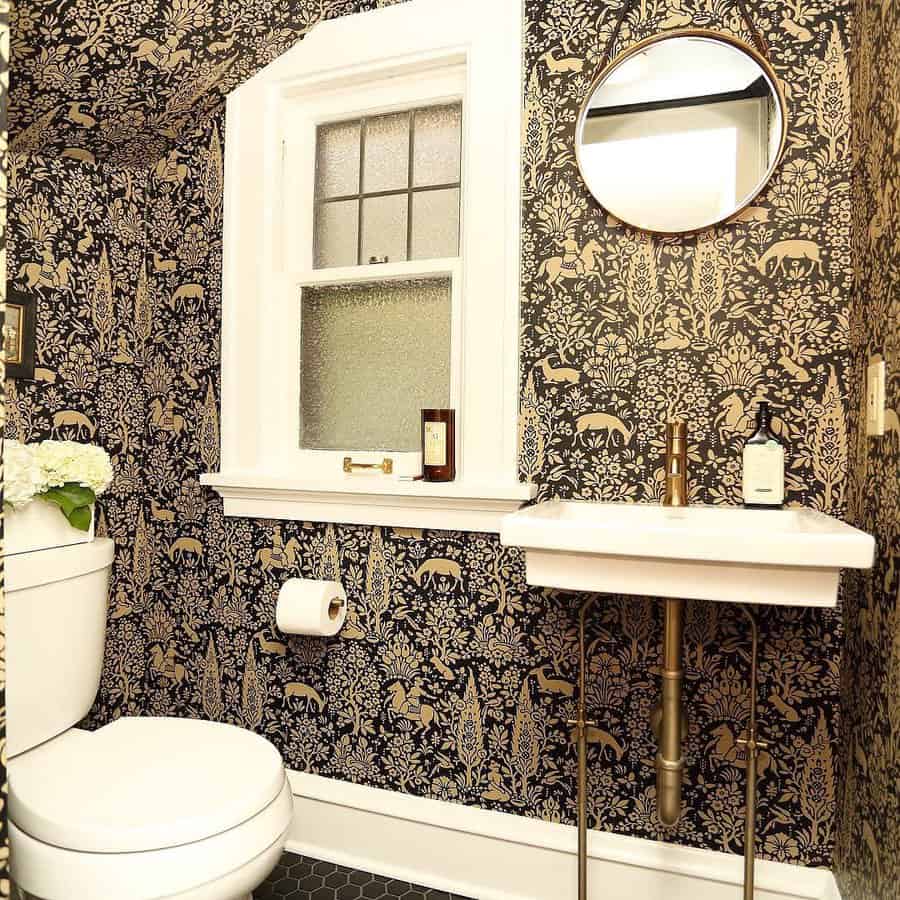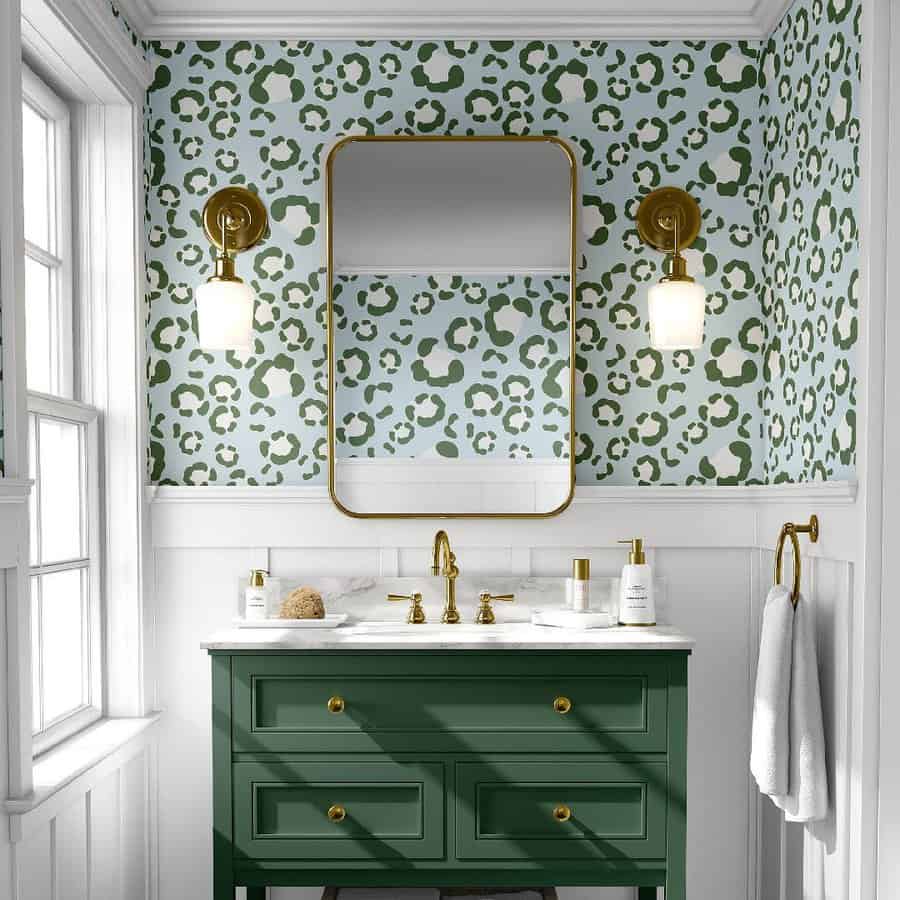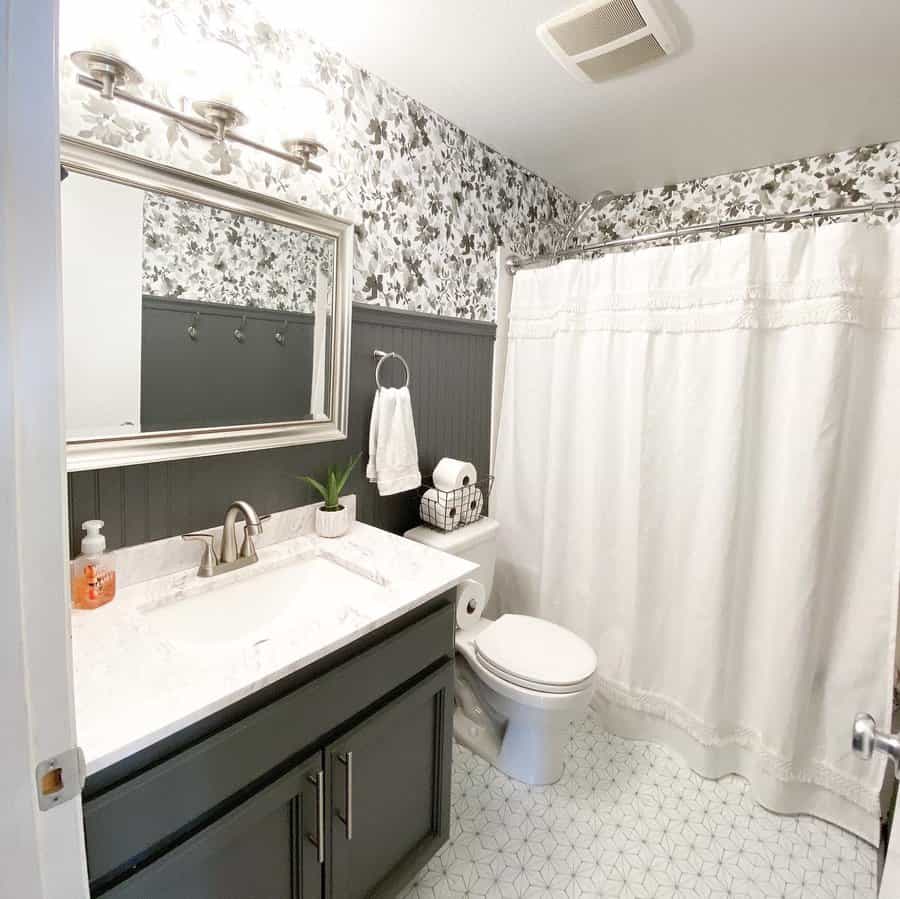 9. All-White For A Bright Look
Struggling to decide what color to paint your small bathroom? Transform this simple space into an all-white retreat, creating a bright and hygienic atmosphere with a fresh coat of white paint.
To soften the all-white look, add warm light by replacing your traditional lighting fixtures with antique lights, or mix in some DIY mason jar lamps.
This will make all the difference when it comes to giving your small bathroom an inviting atmosphere.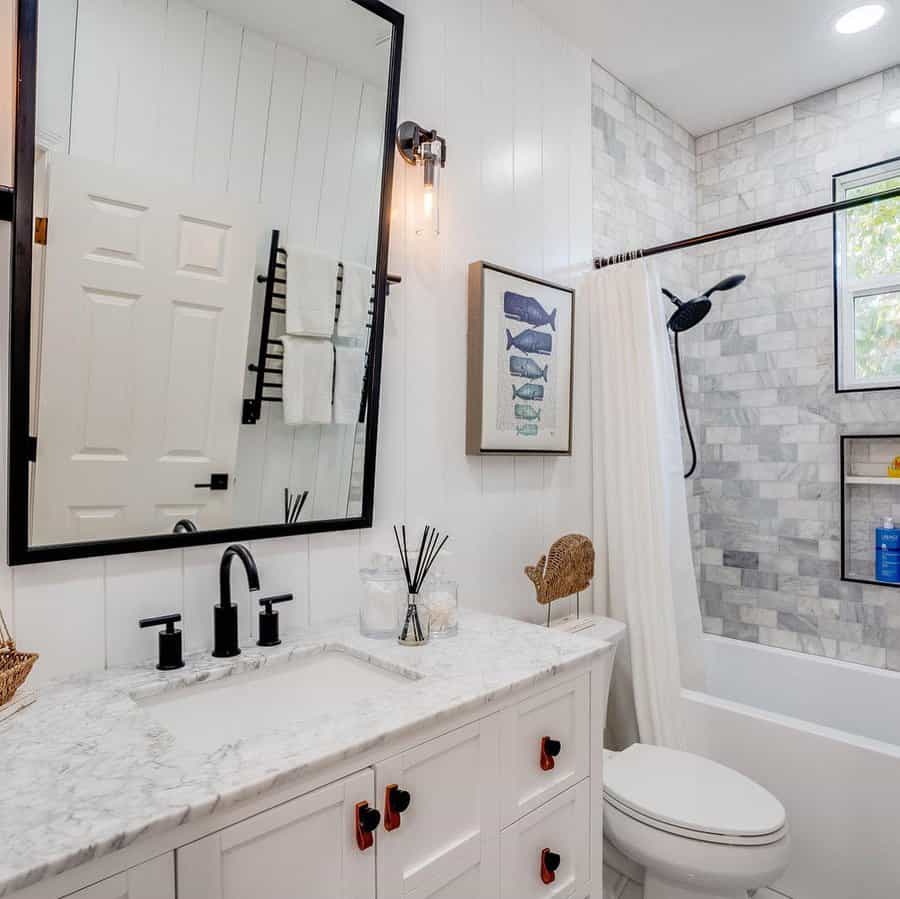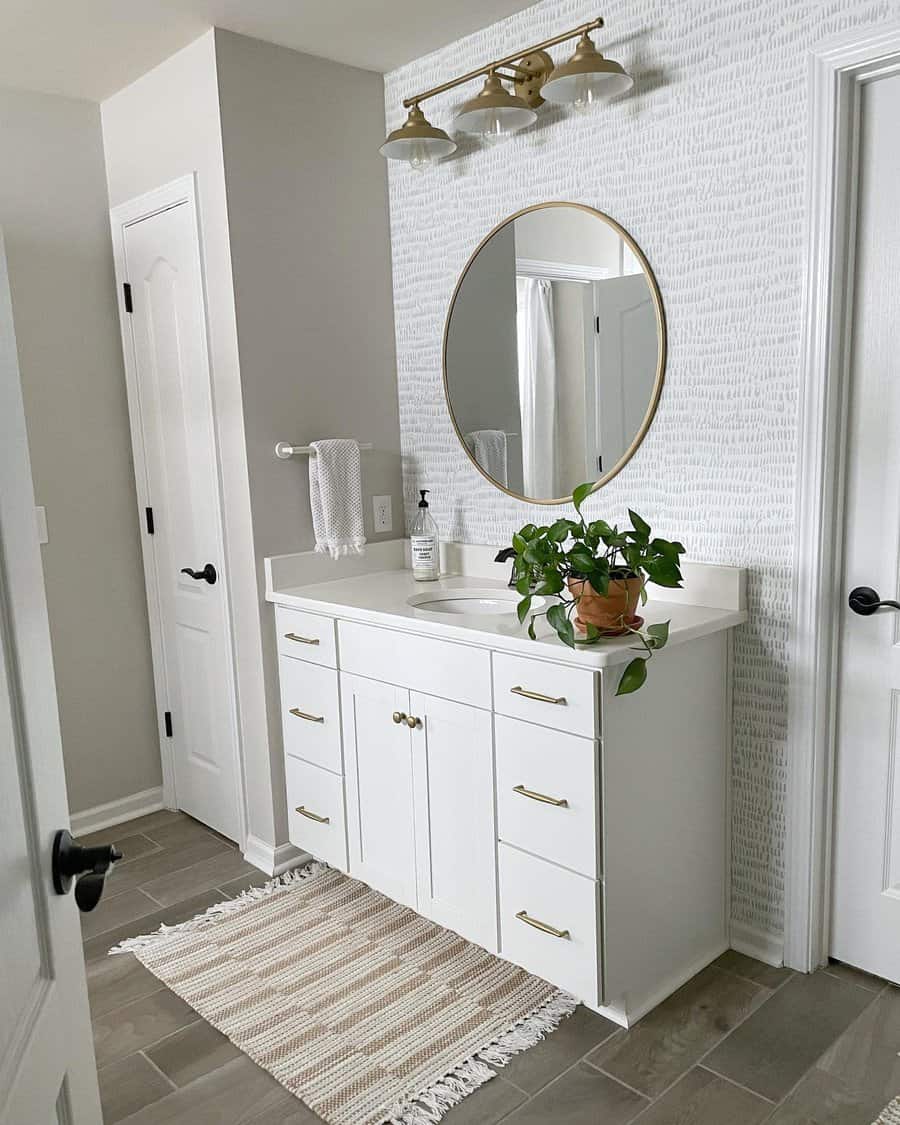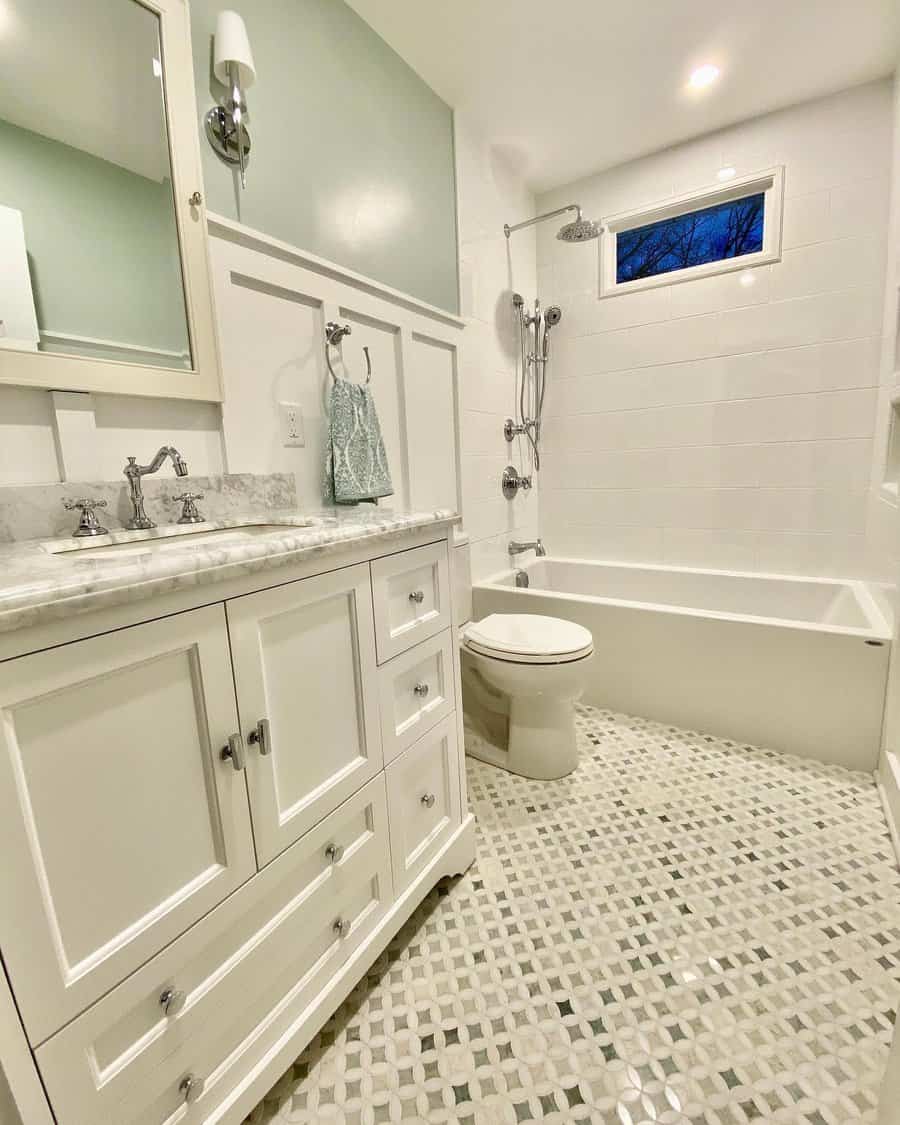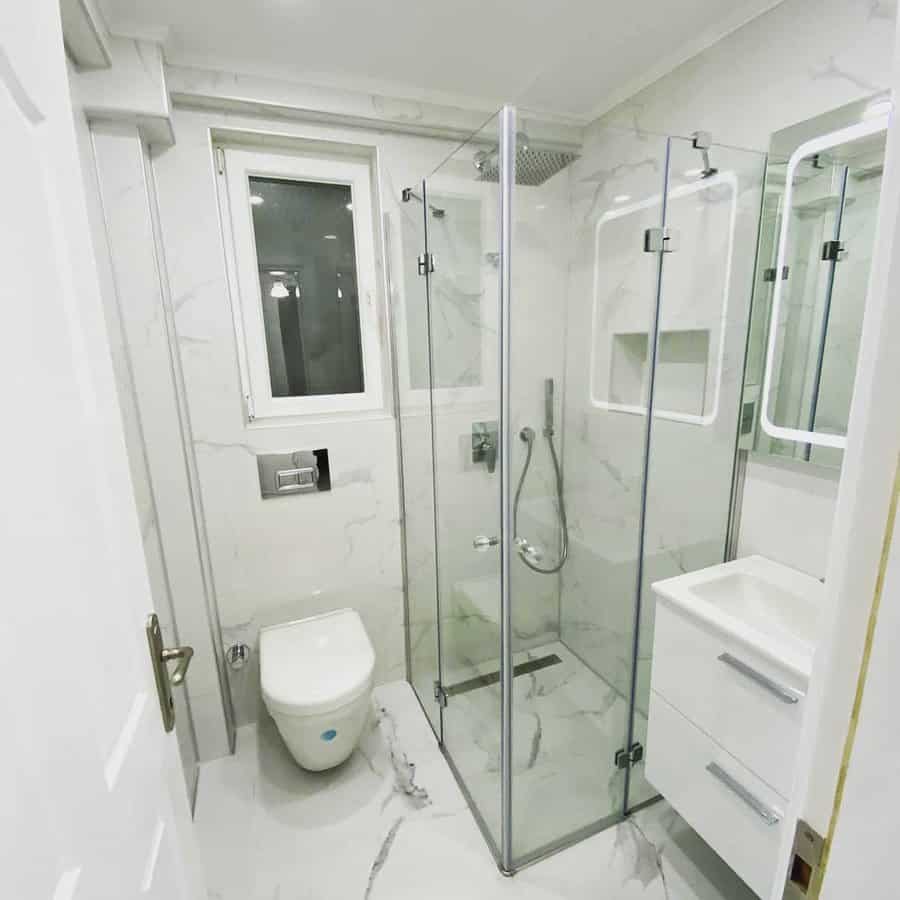 FAQs
How do you update a small bathroom?
One of the easiest methods for updating a tiny bathroom is to paint it. You can do this interior painting project yourself, and it won't cost a fortune. Choose a color that feels modern, like dark charcoal or a saturated blue. Instead of changing the wall color, you could paint the vanity.
How do you add color to a white bathroom?
You can add a lot of color by painting an accent wall. If you have a larger budget, you can add a colorful accent tile. Easy and more affordable methods for adding color include using decorative towels, a colorful shower curtain, or using floor rugs.
Should the master bedroom and bathroom be the same color?
While you can use the same colors in your bedroom and master bathroom, you don't have to. These are two separate rooms, so nothing is stopping you from choosing a different color school for each room. However, consider choosing two color sch3emes that complement or coordinate with each other. This will help the spaces flow from one room to the next.