46 Best Small Galley Kitchen Ideas and Designs
Love them or hate them, galley kitchens offer unmatched efficiency. So if you're short on space, a galley kitchen floor plan is likely the best option.
Unfortunately, despite their sheer functionality, galley kitchens are often maligned among the design-conscious.
While it's true that the unique size and shape require a different approach than your average open-concept kitchen, there's no reason for a galley kitchen to be a curse upon your home's aesthetic!
Keep reading for our top small galley kitchen ideas and how to implement them within your own culinary workspace.
1. Apartment
In the interest of freeing up square footage, galley-style kitchens are very common in apartment design.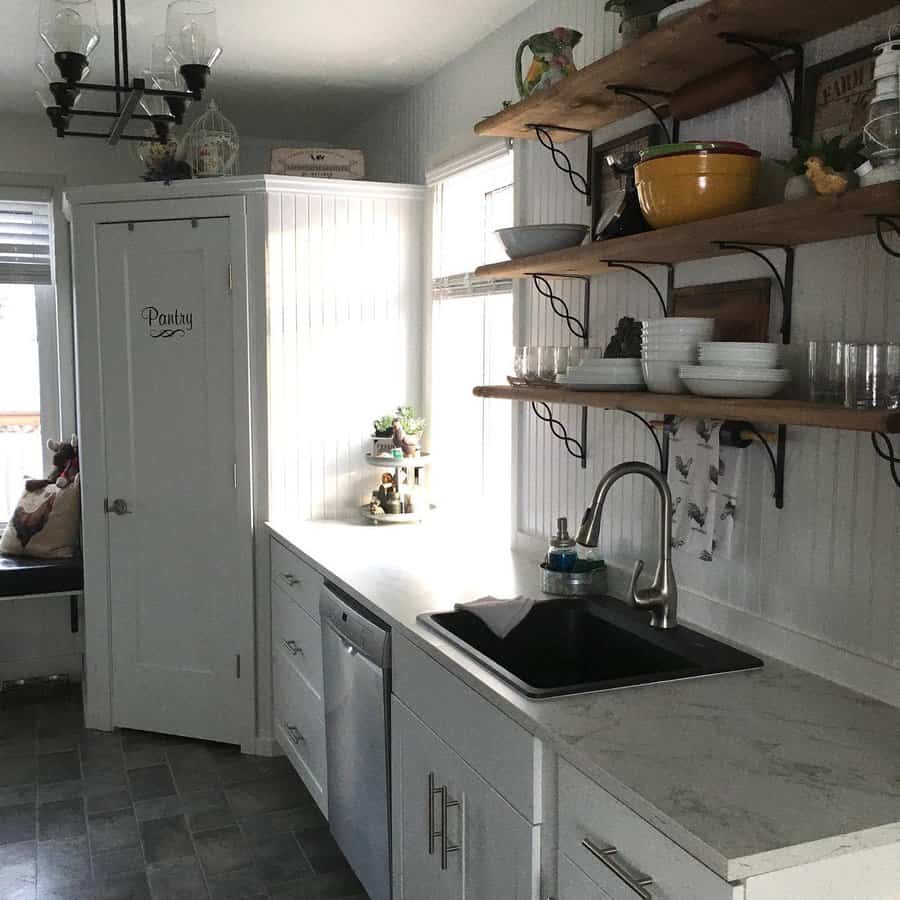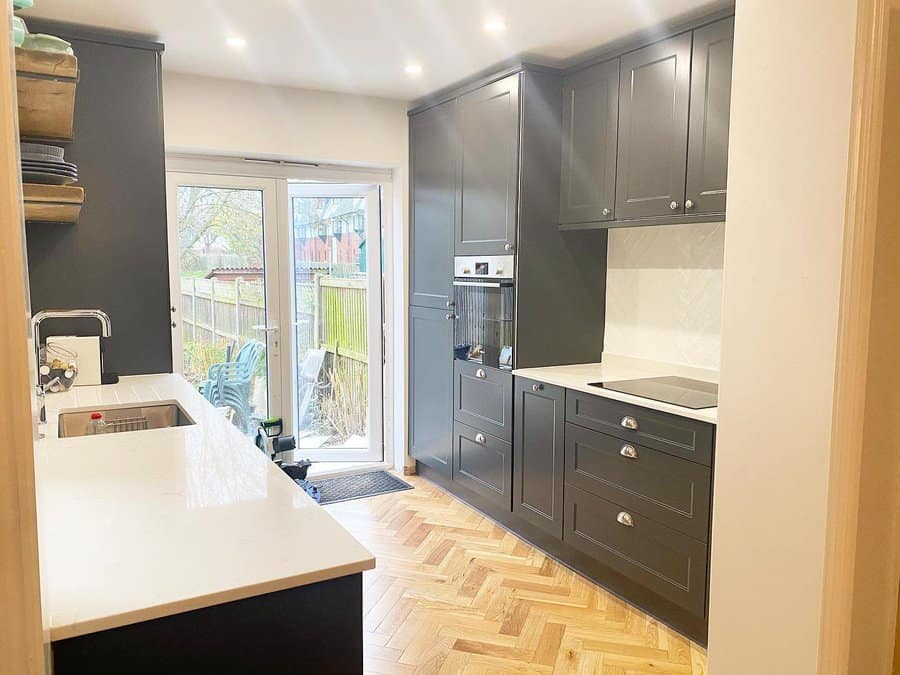 Rent or own, making big changes in an apartment is rarely cost-efficient (or even possible!). Changing the layout of your small galley kitchen may not be in the cards. But you can still give the space a fresh look by updating your kitchen finishes.
Aim to keep your kitchen counters clean and organized. Clutter will only cause the walls to close in even further. Use light colors whenever possible to make your galley kitchen feel bright and open.
2. Boho
Boho is one design trend that meshes seamlessly with the galley kitchen blueprint. Bohemian decor embraces the cozy atmosphere of galley kitchens rather than fighting against it.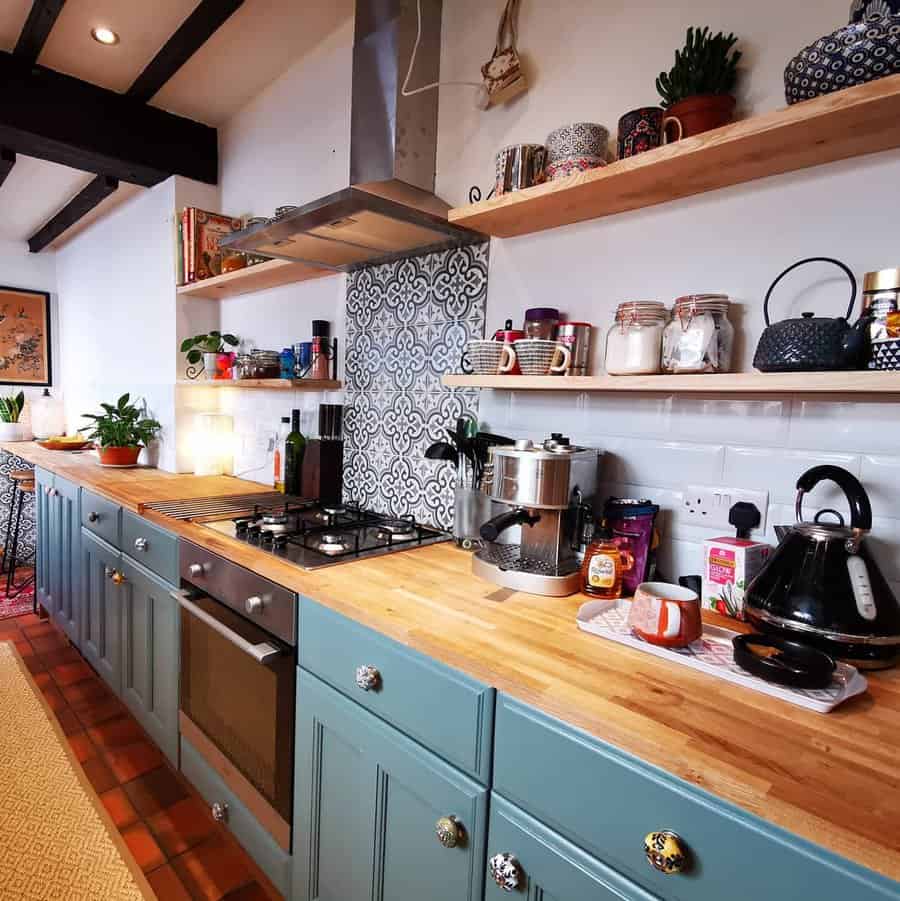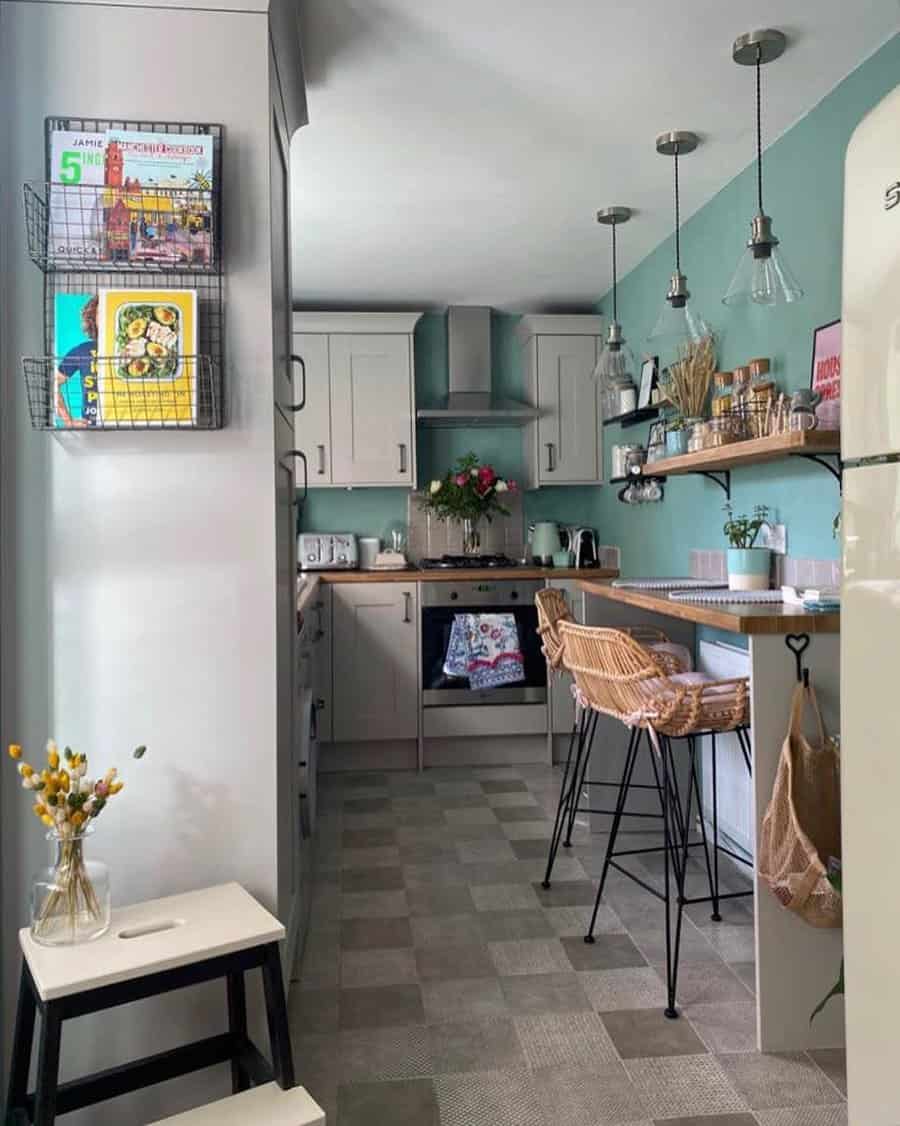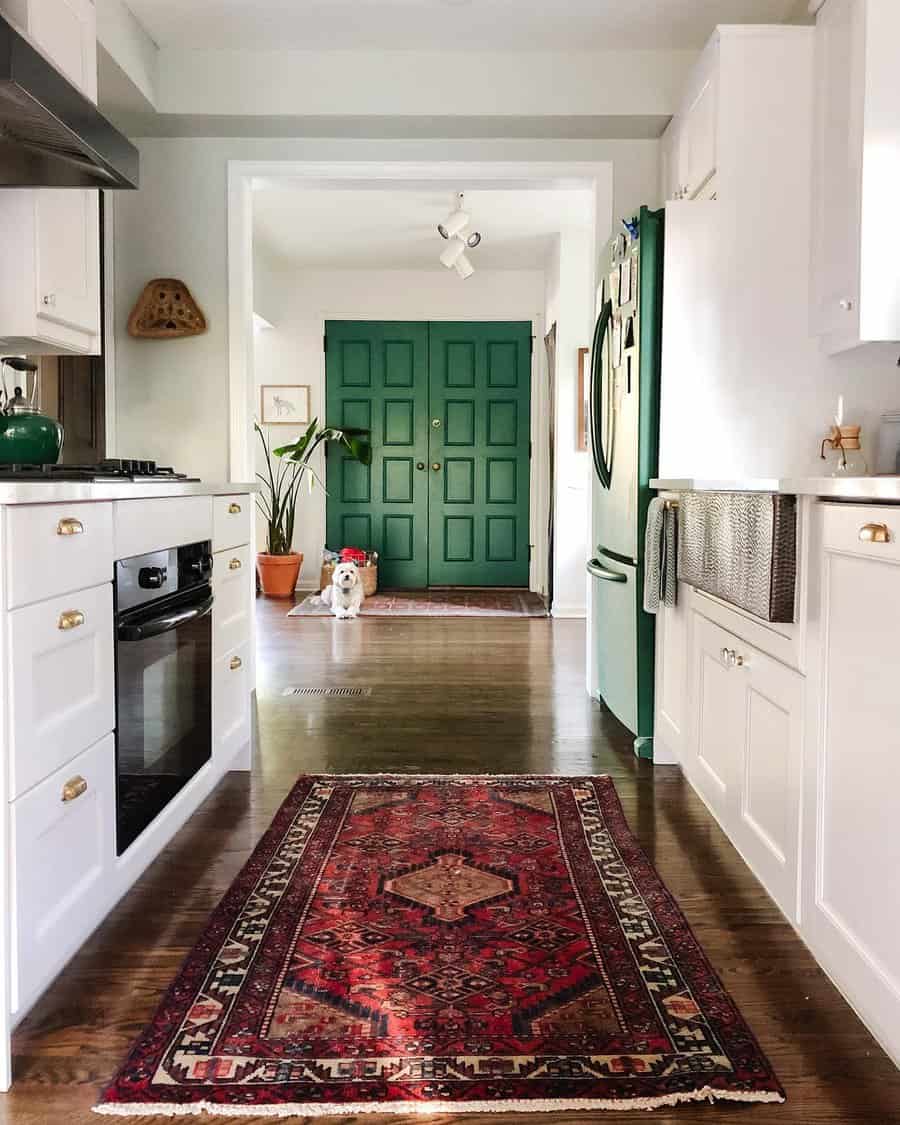 You can create a boho-inspired kitchen with a wide range of colors. Whether you go light or dark, select a color palette that could be found in nature. Incorporate organic elements like natural wood or potted plants throughout the space.
Don't be afraid of overpowering your small kitchen! Adding details like an area rug or hanging planters can help make the previously claustrophobic room feel like a warm embrace.
3. Contemporary
If you've always dreamed of a contemporary kitchen design, finding yourself in a home with a narrow galley kitchen can be a huge disappointment. But it doesn't need to be!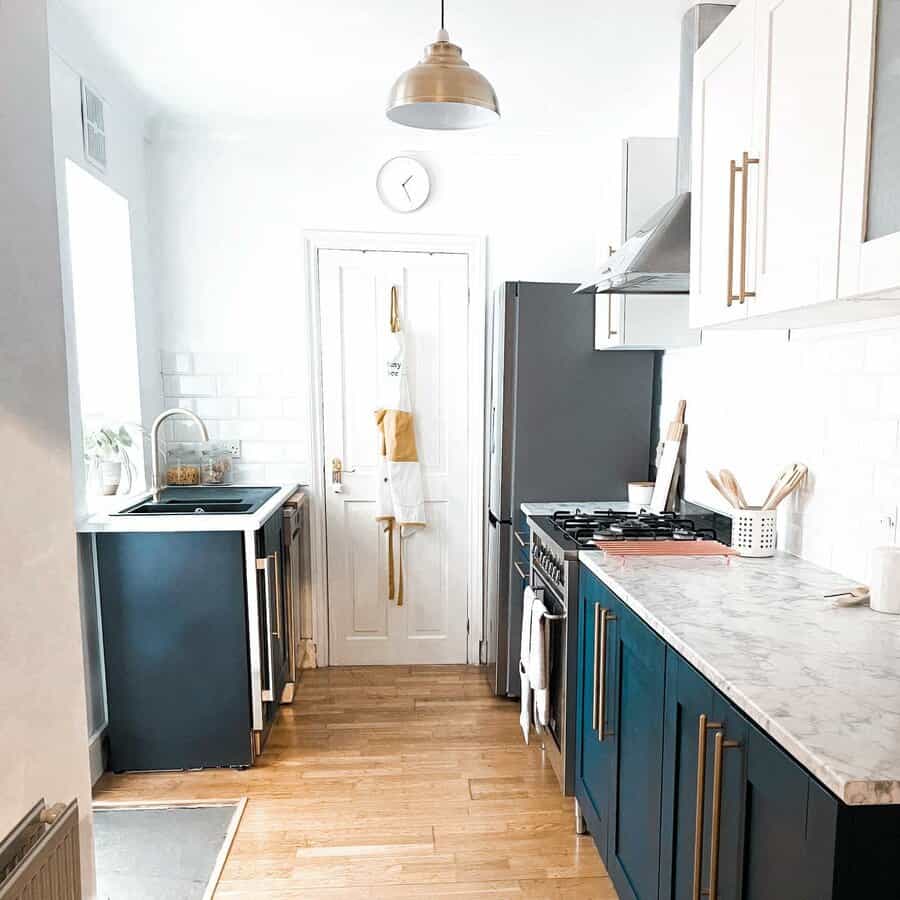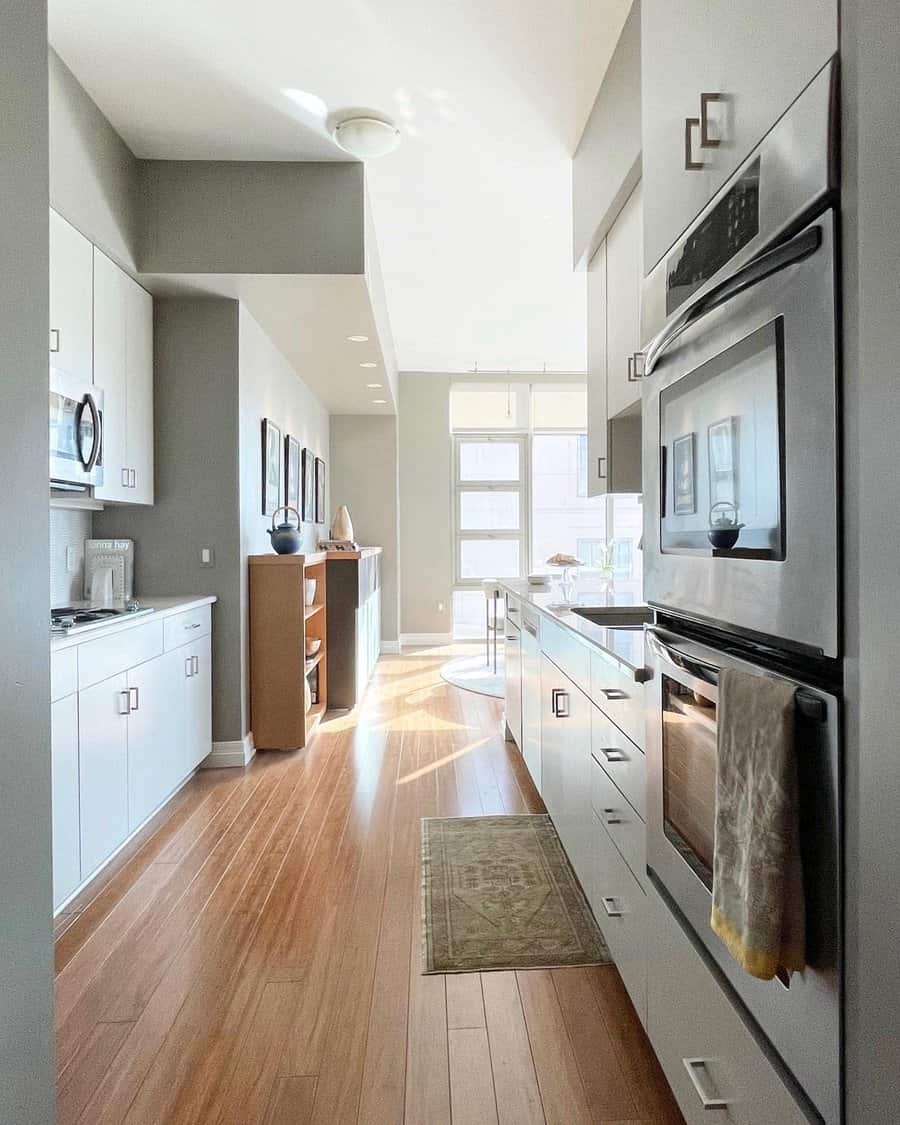 It's true that many examples of contemporary decor are found in open-concept homes. Yet a spacious floor plan is not a prerequisite to trying these trends out yourself.
Don't waste time fretting about the layout of your small galley kitchen. Upgraded cabinetry, flooring, and light fixtures will give your kitchen a fresh start.
4. Country
Unlike what is often seen on social media and platforms like HGTV, galley kitchens are the standard in many country homes.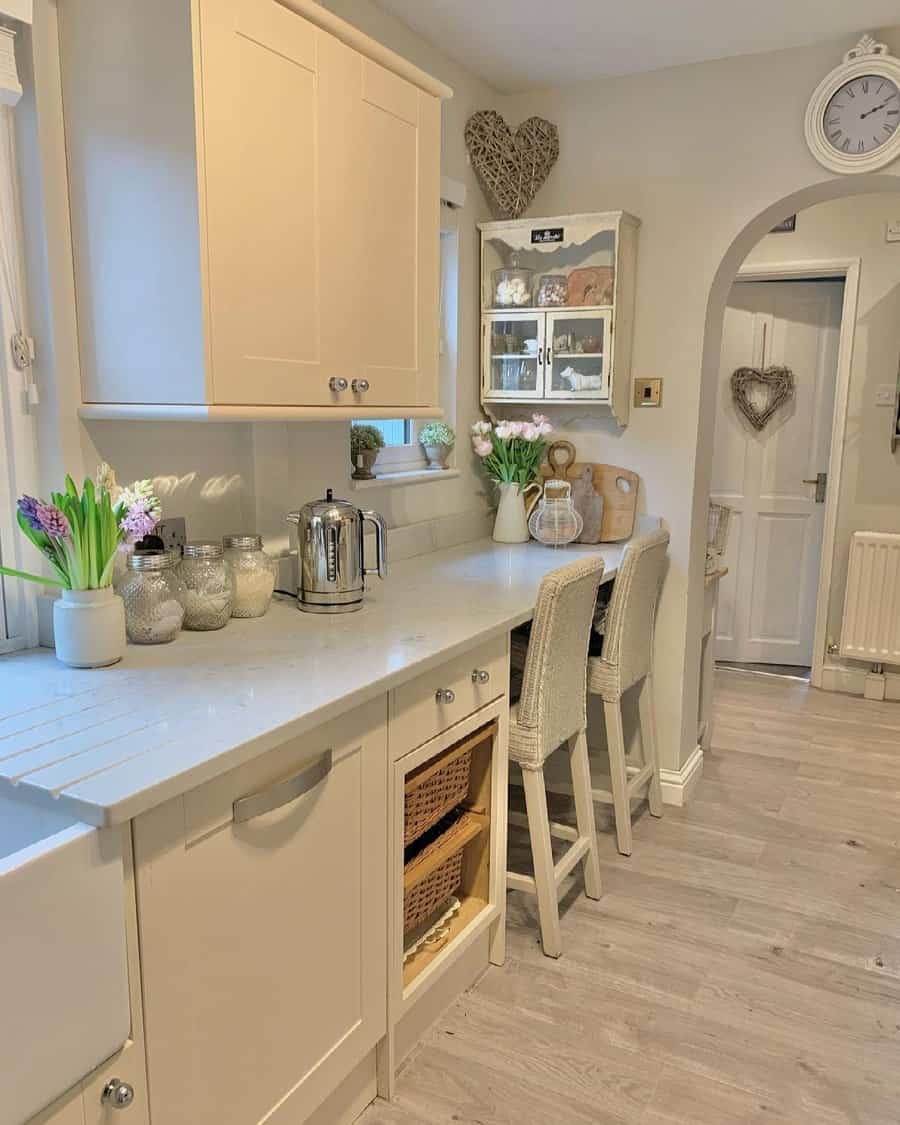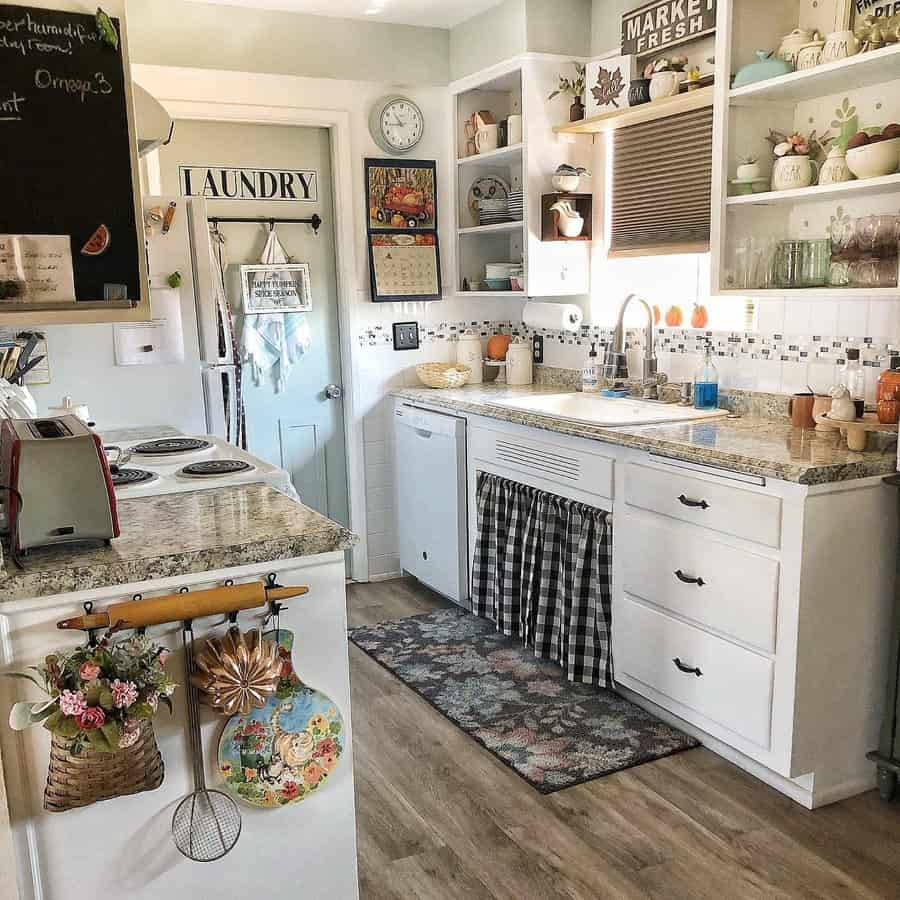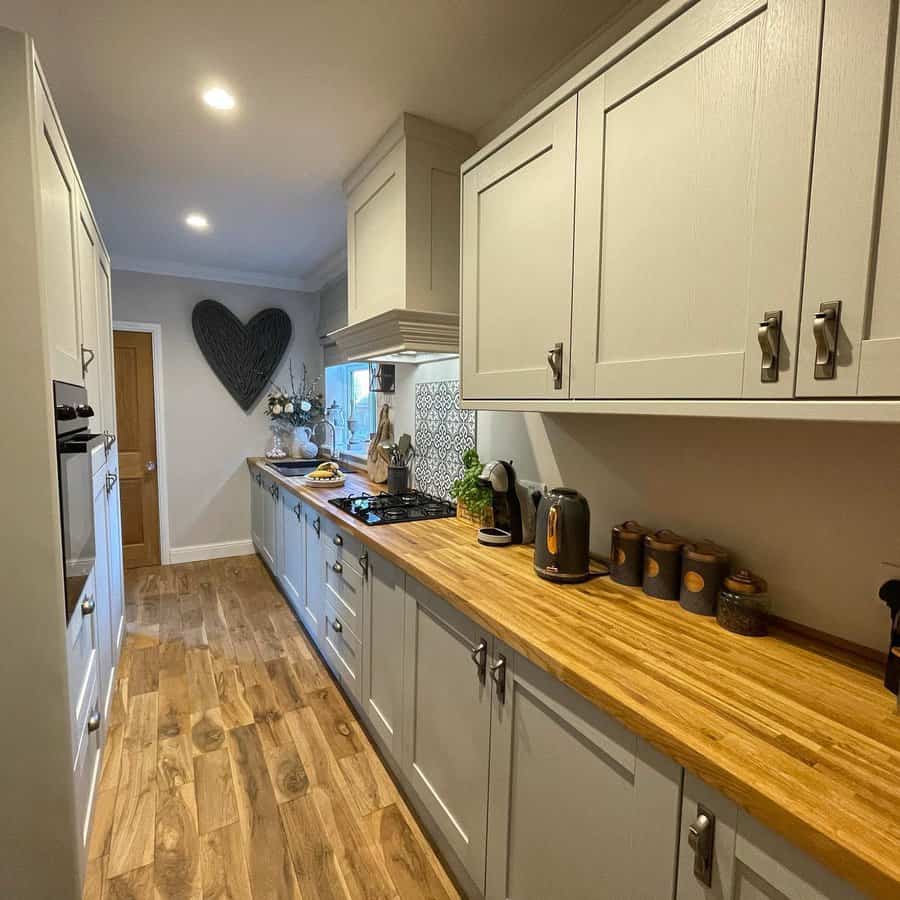 Regardless of layout, country kitchens are warm and cozy. The compact quality of a galley kitchen only adds to this atmosphere.
The typical country-style kitchen is inspired by a vintage aesthetic often rooted in the American or European countryside. And with so many different styles of country decor to choose from, it's rare to find two such galley kitchens that look exactly alike!
5. Dark
Using dark colors in a small space is often seen as a design no-no. With an eye for design and a little confidence in yourself, however, a dark palette could be the secret to creating a galley kitchen that turns heads.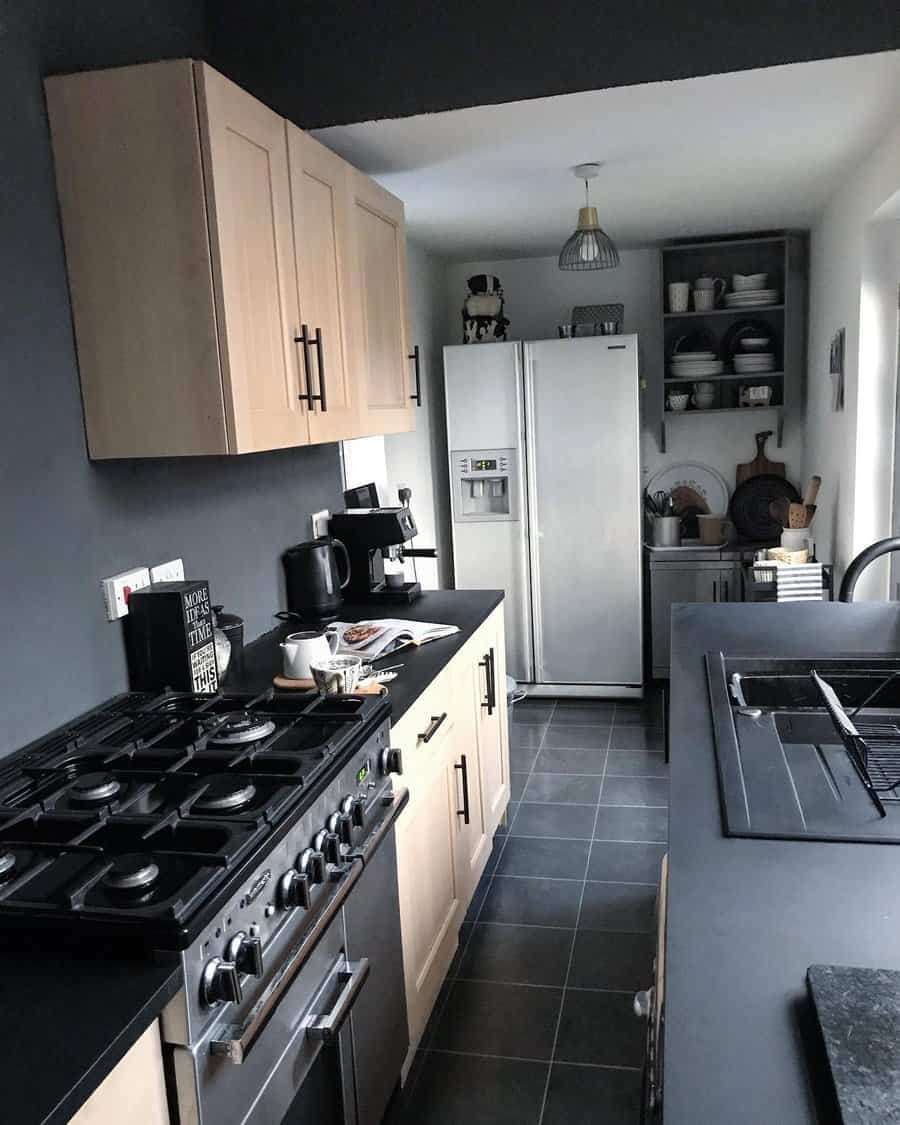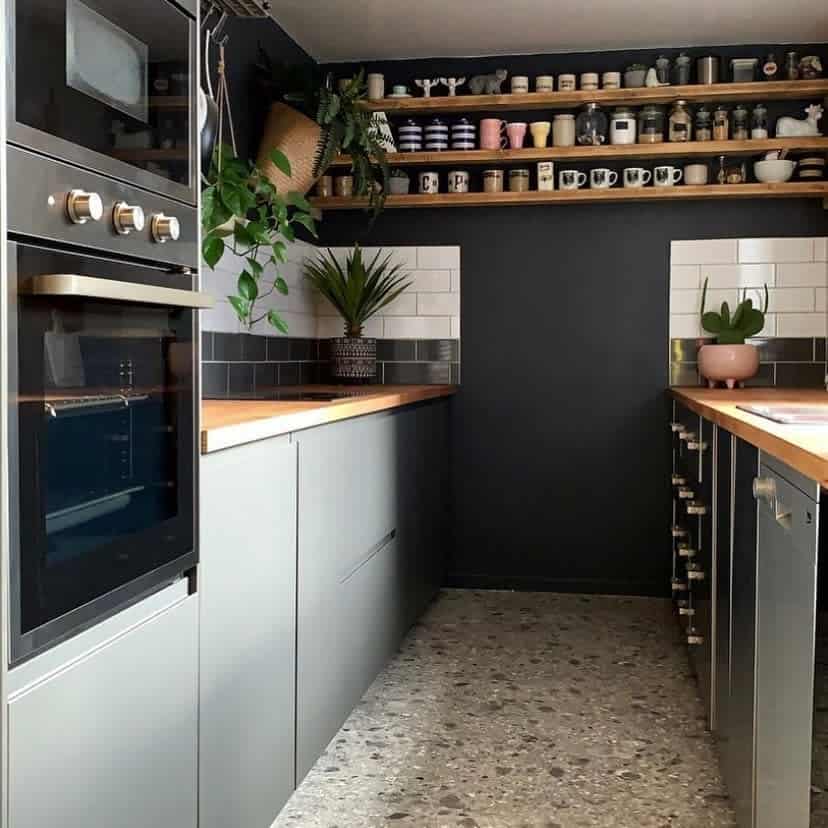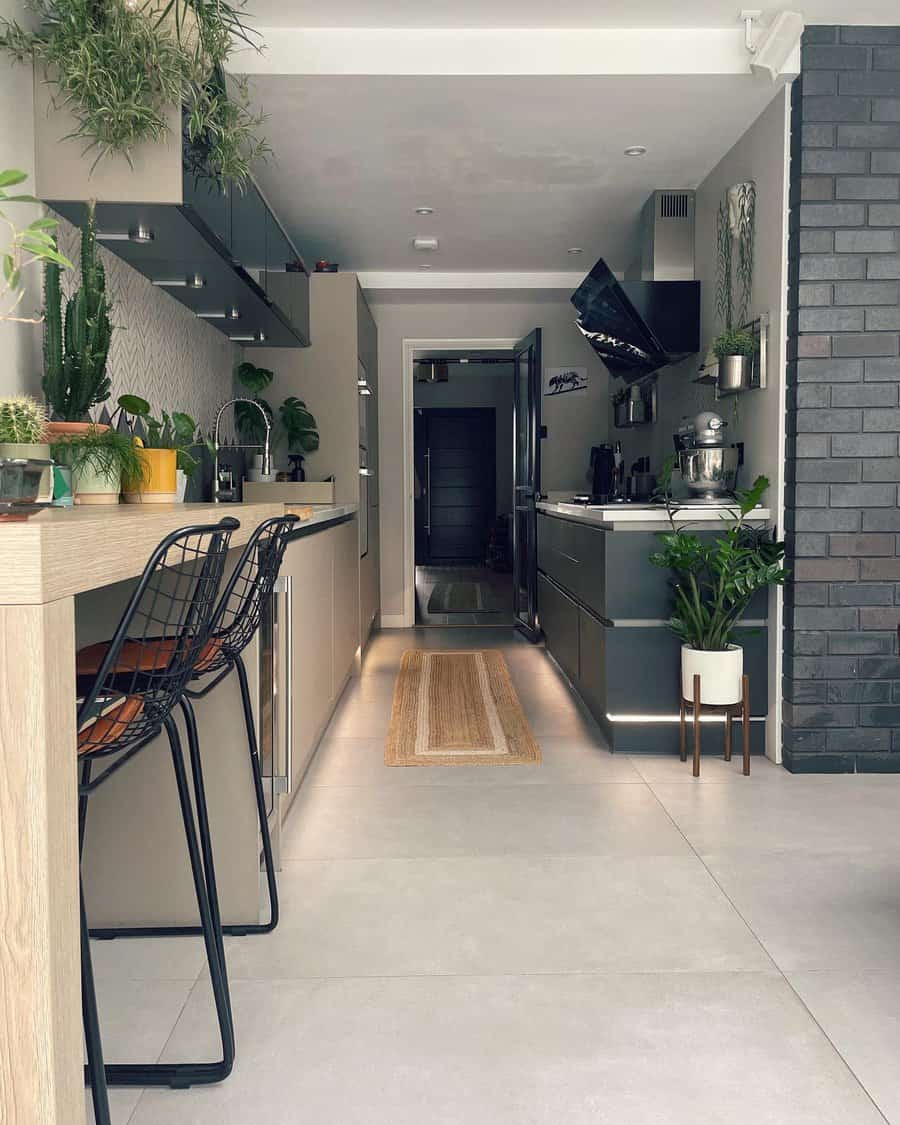 Dark cabinets are a wonderful way to add maturity and drama to a compact kitchen without overwhelming it. Use organic materials like brick, stone, and wood to bring some warmth to the space that won't clash against the darker theme.
Even if your galley kitchen is predominantly dark, contrast is key. The inclusion of light surfaces in the space will add dimension, visual intrigue, and elevate the finished design as a whole.
6. Farmhouse
Farmhouse-style kitchens have had a metaphorical chokehold on the home design world for well over a decade! But there are still countless ways to incorporate these trends into your own kitchen with a fresh twist.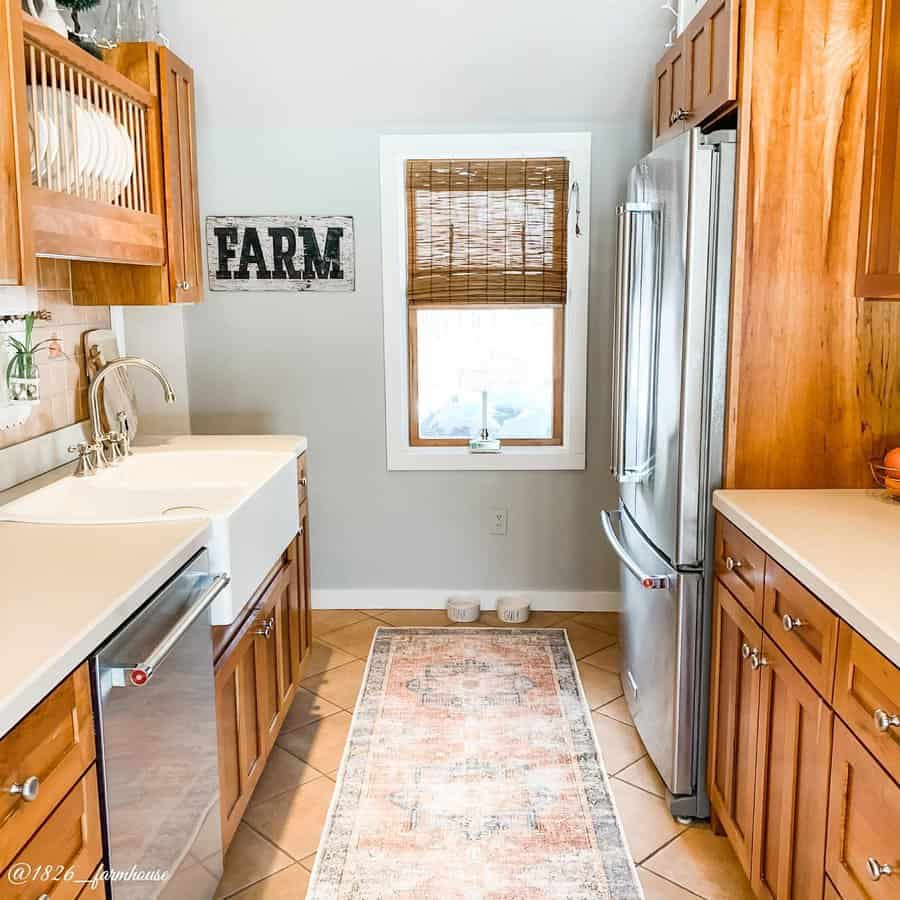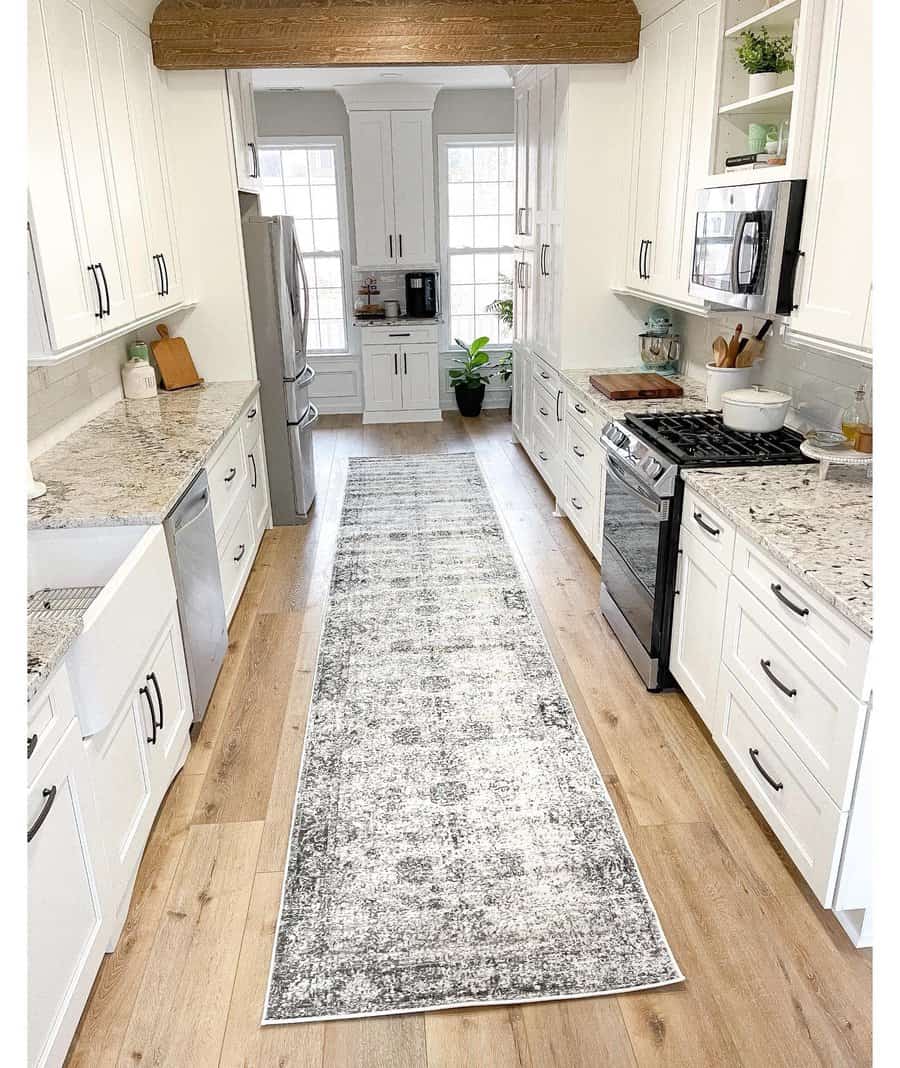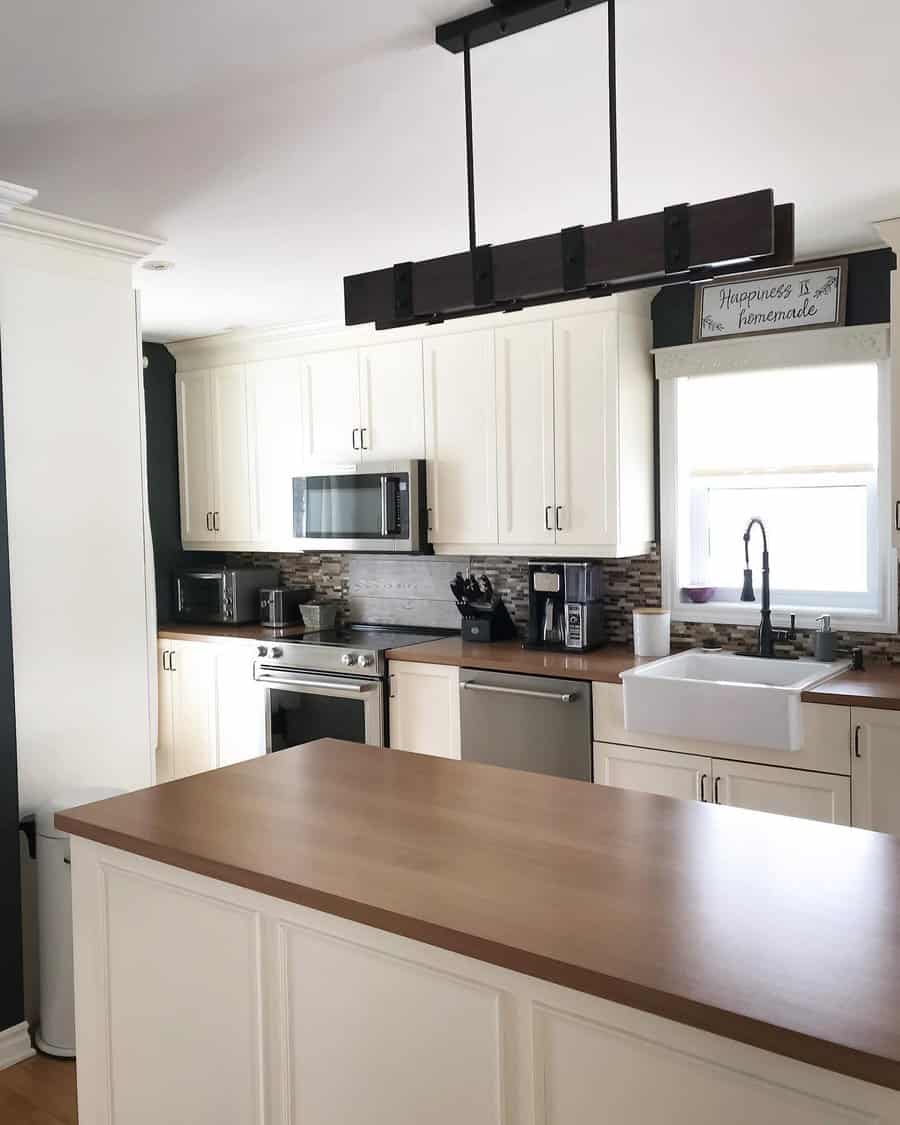 Farmhouse kitchens often feature very light color palettes with rustic accents. This is great news if you want your galley kitchen to look and feel brighter.
Classic subway tiles can be used to play with the size and shape of your galley kitchen. (For example, avoid using slender, horizontal backsplash tiles in a kitchen that is overly long.) Even with subway tiles, there are countless patterns to choose from!
7. Industrial
Industrial decor is a natural choice when updating a galley kitchen. After all, galley kitchens originated in ships!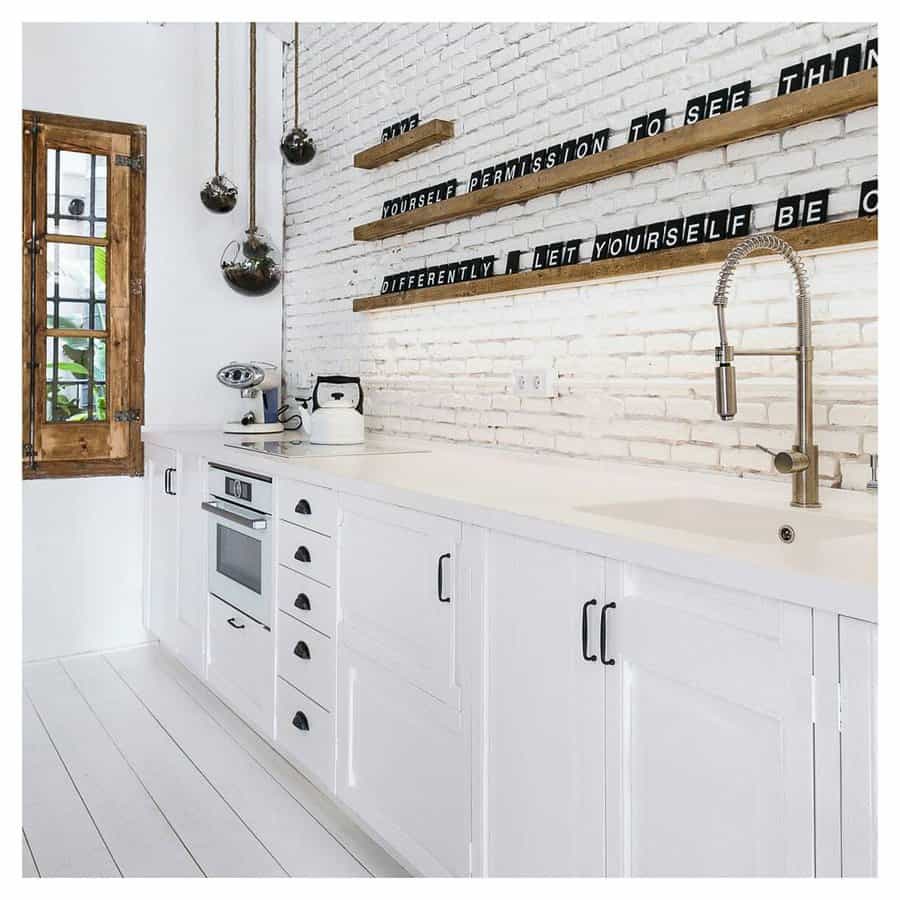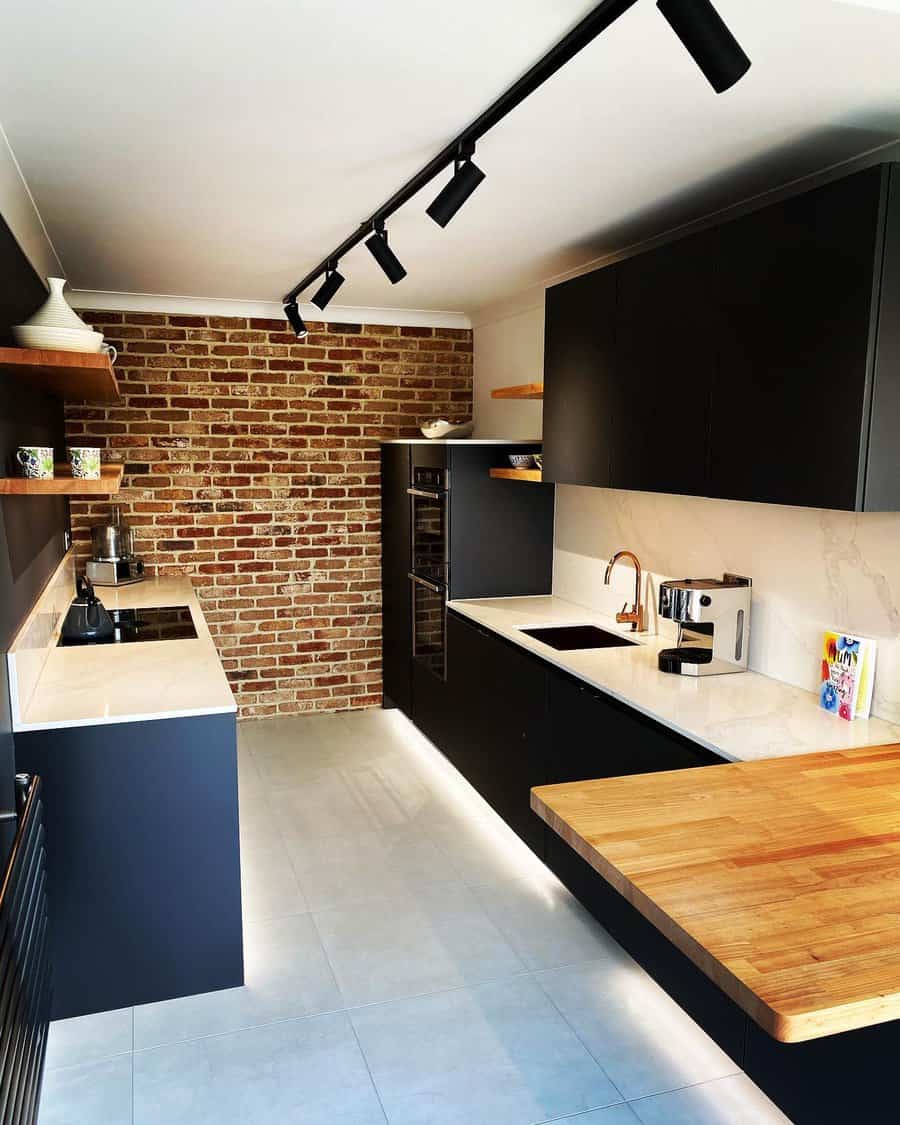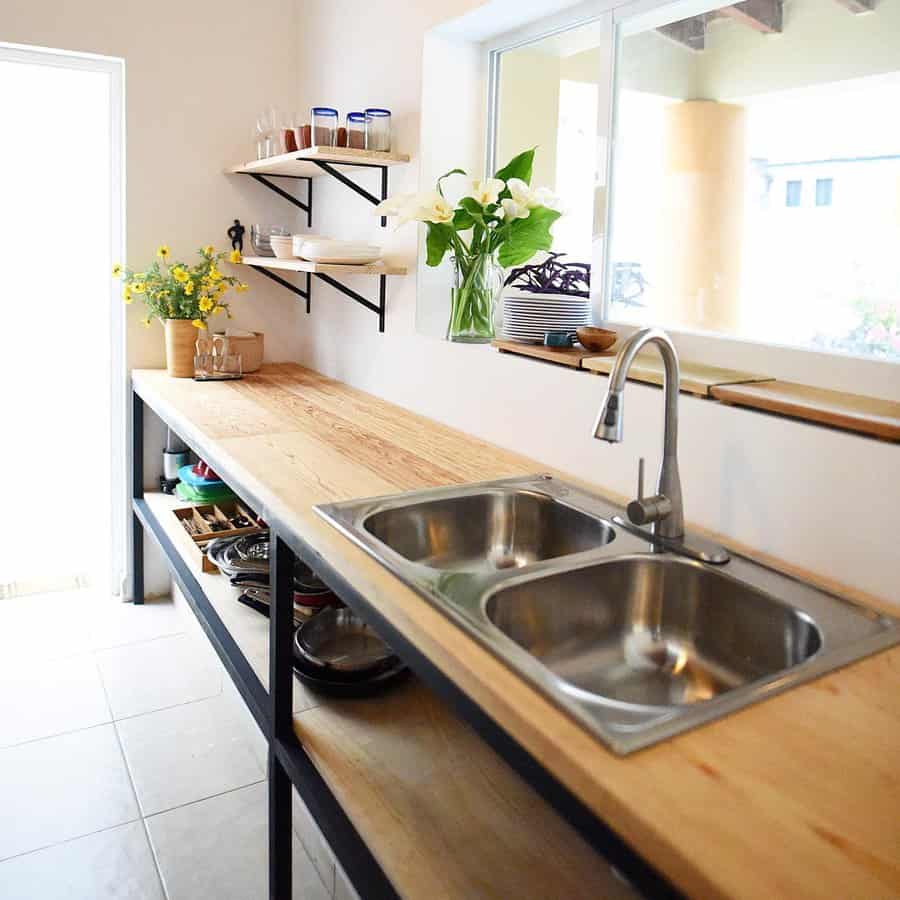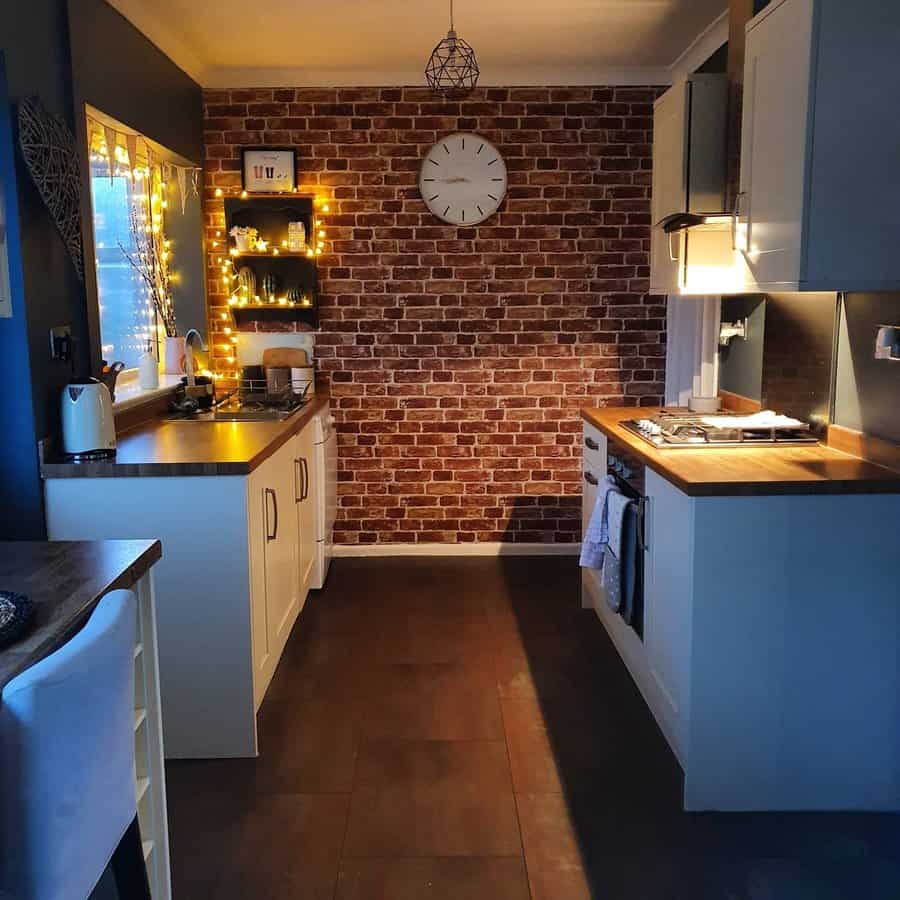 Whether you want to replicate the nautical origins of your kitchen layout or go for something a bit softer around the edges, simpler is always better. Opt for natural materials whenever possible and avoid items that are overly ornate.
One of the key elements of industrial design is lighting. Industrial-style light fixtures are deceptively minimalist — don't underestimate the impact they will have on your kitchen aesthetic.
8. Modern
The sleek efficiency of galley kitchens makes them prime candidates for modern makeovers.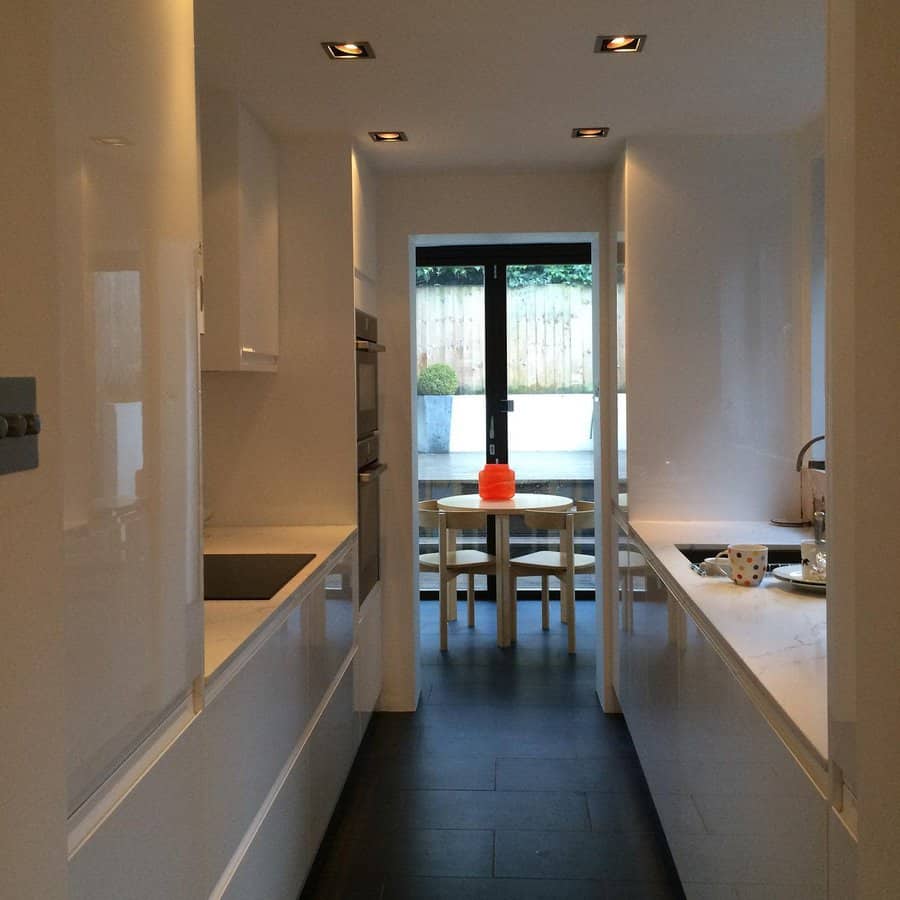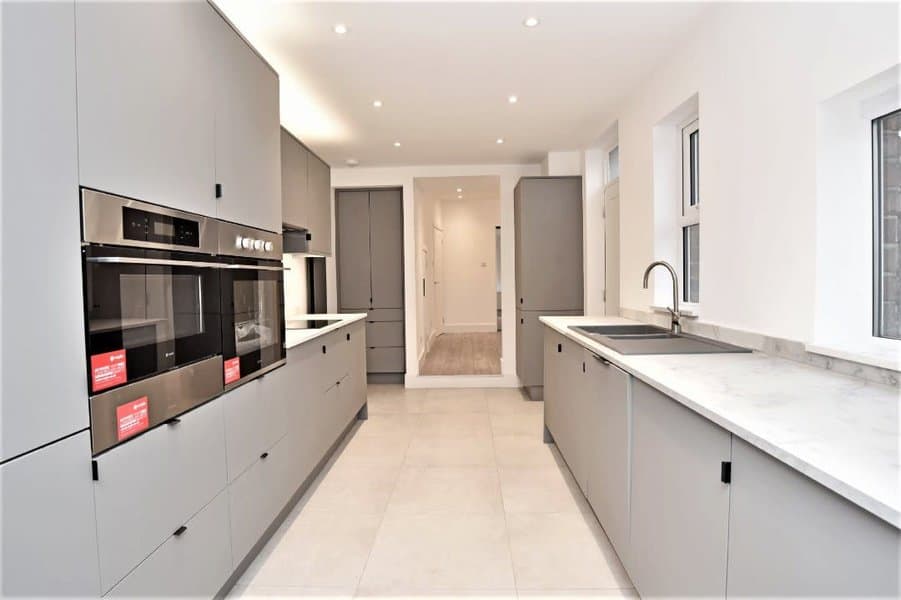 Nothing in modern interior design is an accident. The details are the most important part of creating a modern-inspired space. So if something doesn't look right, your kitchen is probably better off without it.
Keep in mind that modern decor encompasses an entire family of trends. Not only is modern design incredibly flexible but it can also be combined seamlessly with other aesthetics to create the kitchen of your wildest dreams.
9. Neutral
Committing to a bold kitchen design isn't always the right choice. The best strategy for your galley kitchen may be to just let the space breathe.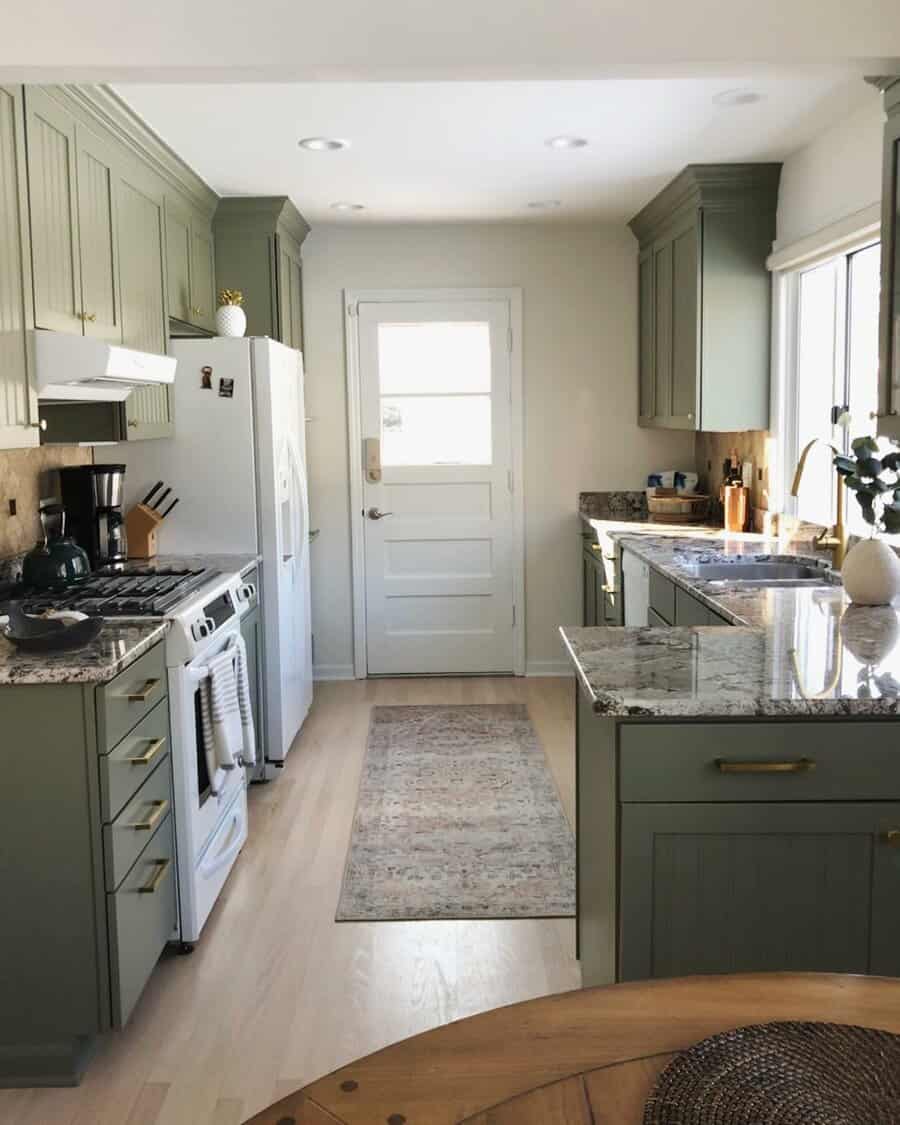 Neutral decor can be a welcome break to the senses. But it does not need to be boring. (If you think neutral decor is boring, you just haven't seen it done well!)
Even with an exclusively neutral palette at your disposal, contrast is essential to a good design. Experiment with including various textures and patterns throughout your small kitchen in place of vibrant colors.
10. Open
In some homes, it's possible to bridge the gap between a galley layout and an open-concept kitchen. While not truly the same as a galley kitchen, this floor plan meets the needs of many households better than any other.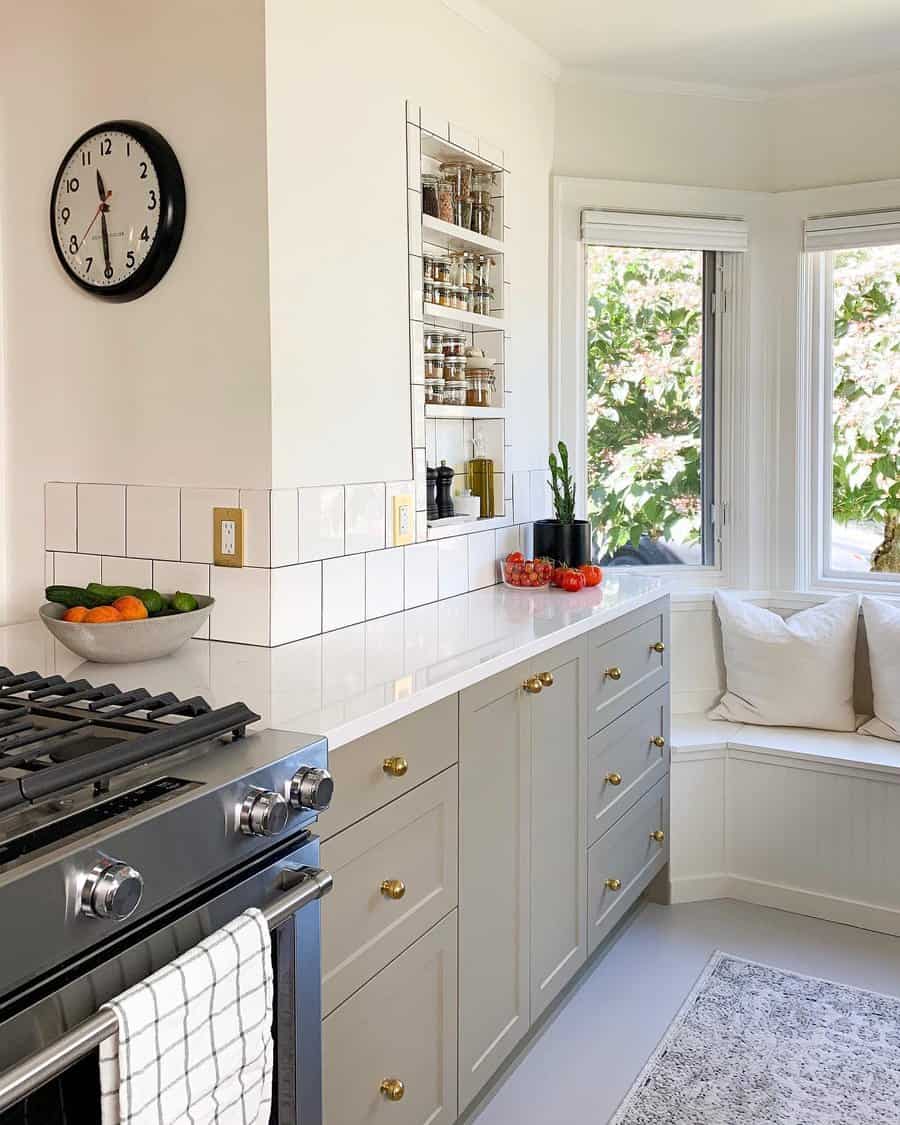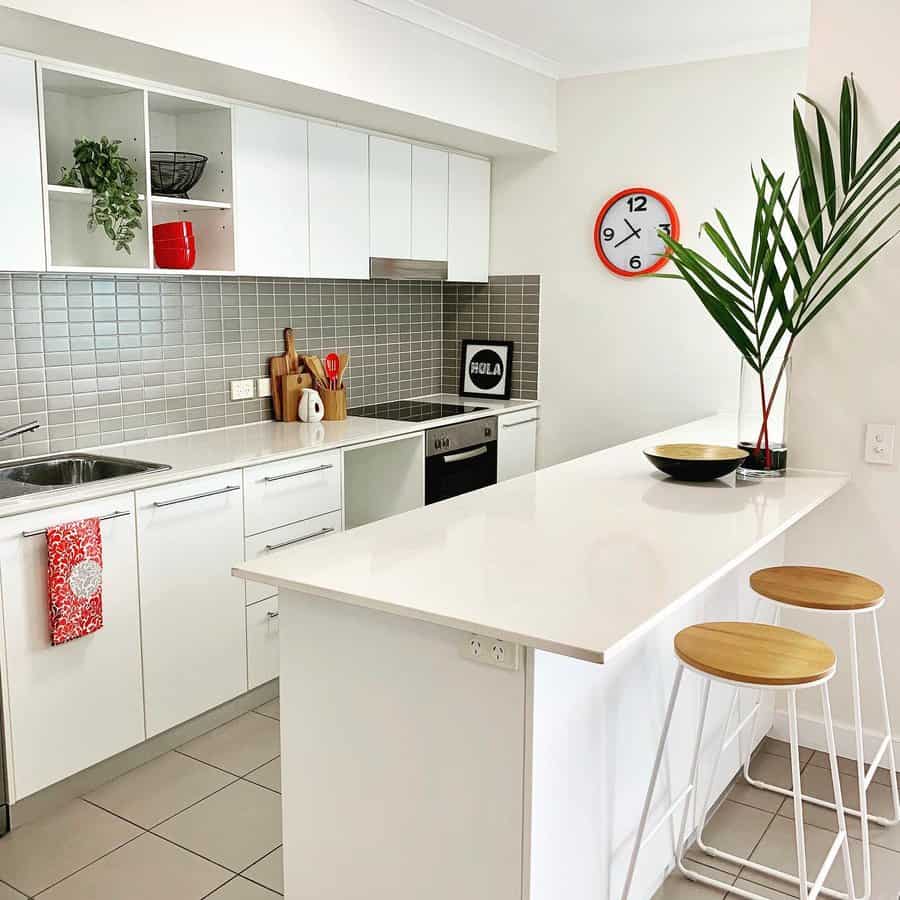 There are multiple ways to open up an existing galley kitchen. The most dramatic is to replace one of the walls with an elongated island. The other is to focus on the space at either end of the kitchen.
Opening up a space at one end of your small galley kitchen offers a chance to include a breakfast nook or similar area in the design. It can also provide access to valuable natural lighting not possible in a standard galley!
11. Rustic
It's impossible to draw a clear line between rustic decor and trends like the farmhouse or country aesthetic. Despite the overwhelming similarities, however, rustic decor is often defined by a more masculine edge.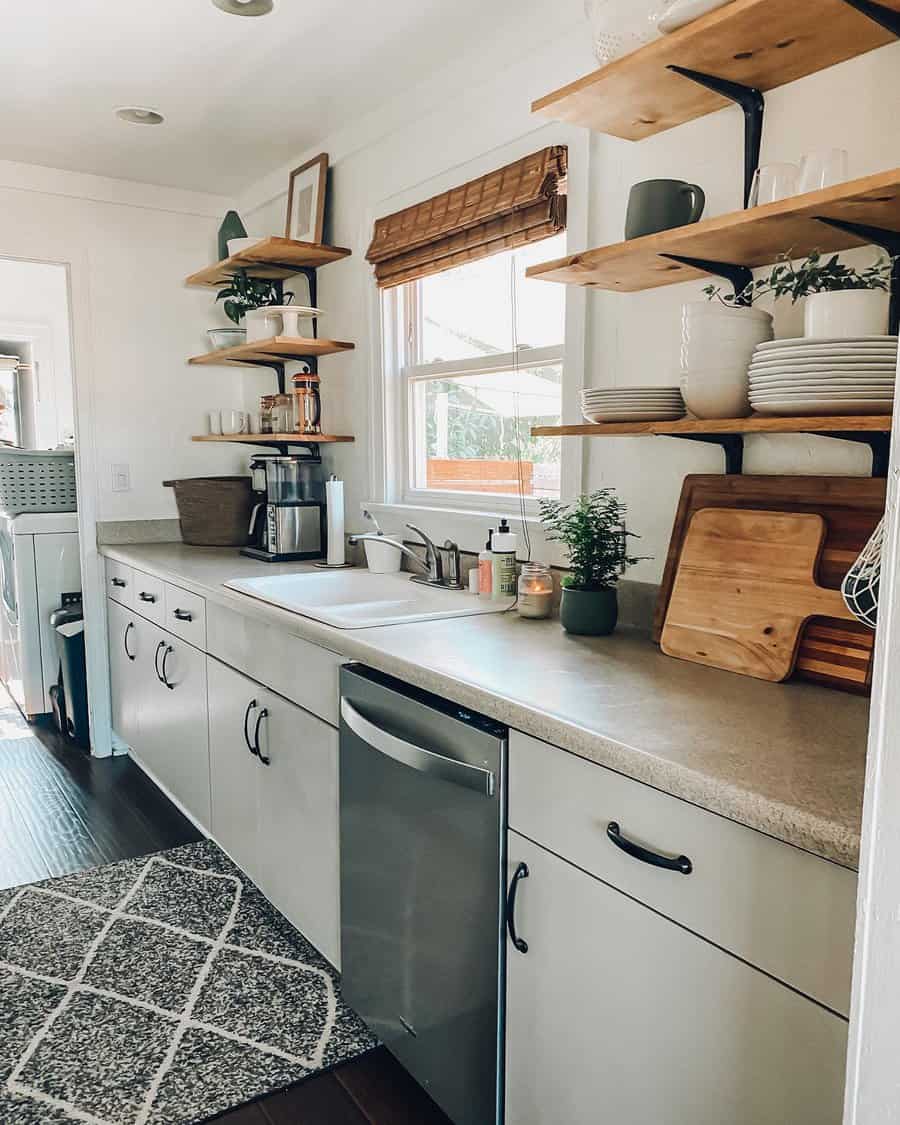 Compared to its counterparts, rustic design leans heavily on organic materials like stone and live-edge lumber. Color schemes are typically subdued and on the darker side.
The prevalence of natural textures in rustic design makes it a great option for a galley kitchen that currently feels one-dimensional. Installing a brick overlay or wooden ceiling beams will add instant intrigue to your small kitchen space!
12. Scandinavian
As a subtype of modern decor, Scandinavian interior design is unsurprisingly simple and practical. But there's still something about this aesthetic that appeals to those wanting a kitchen that feels lived in.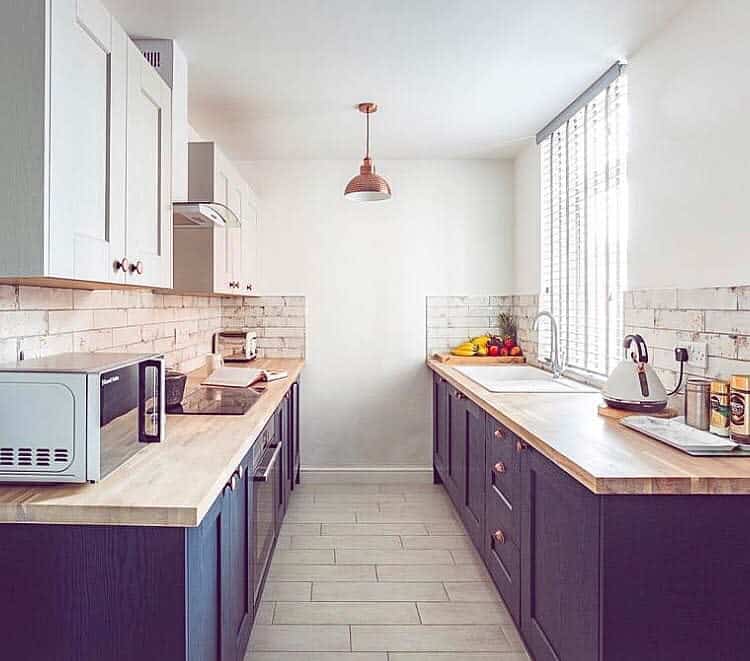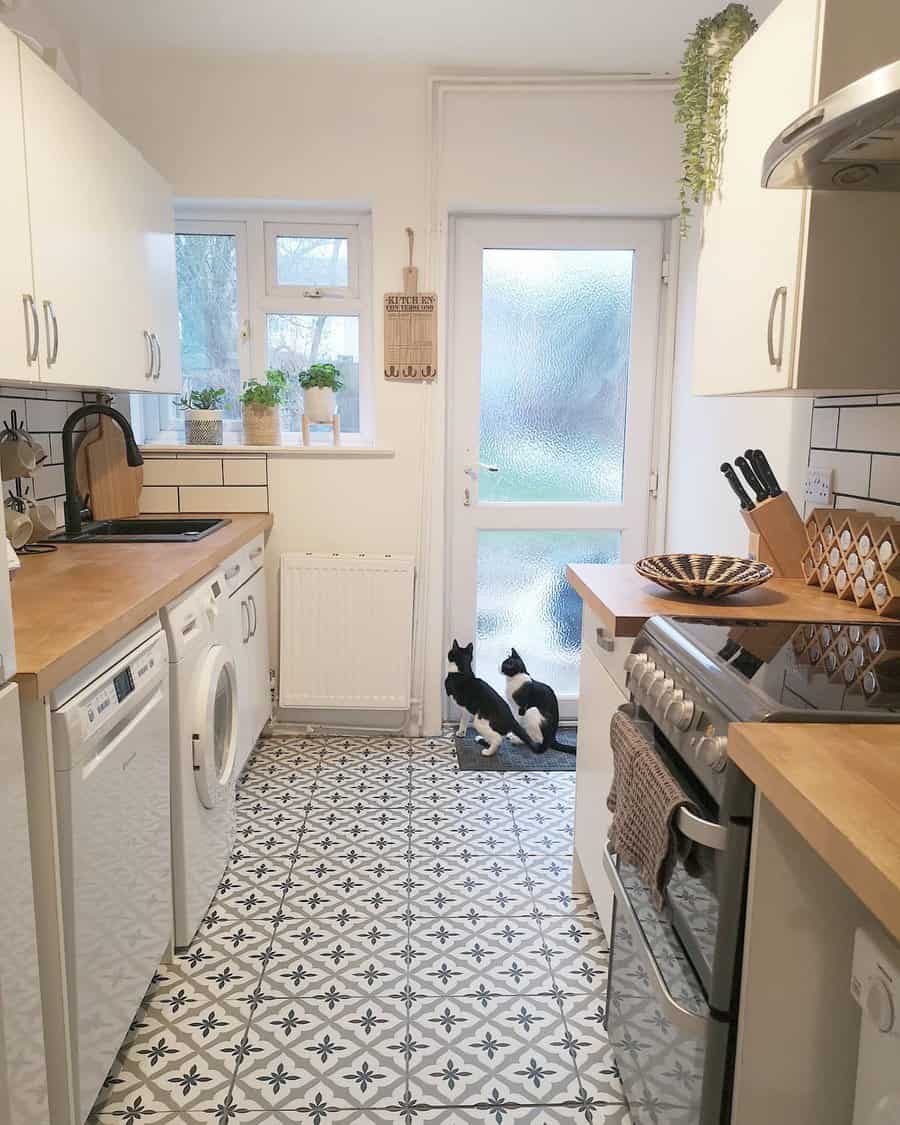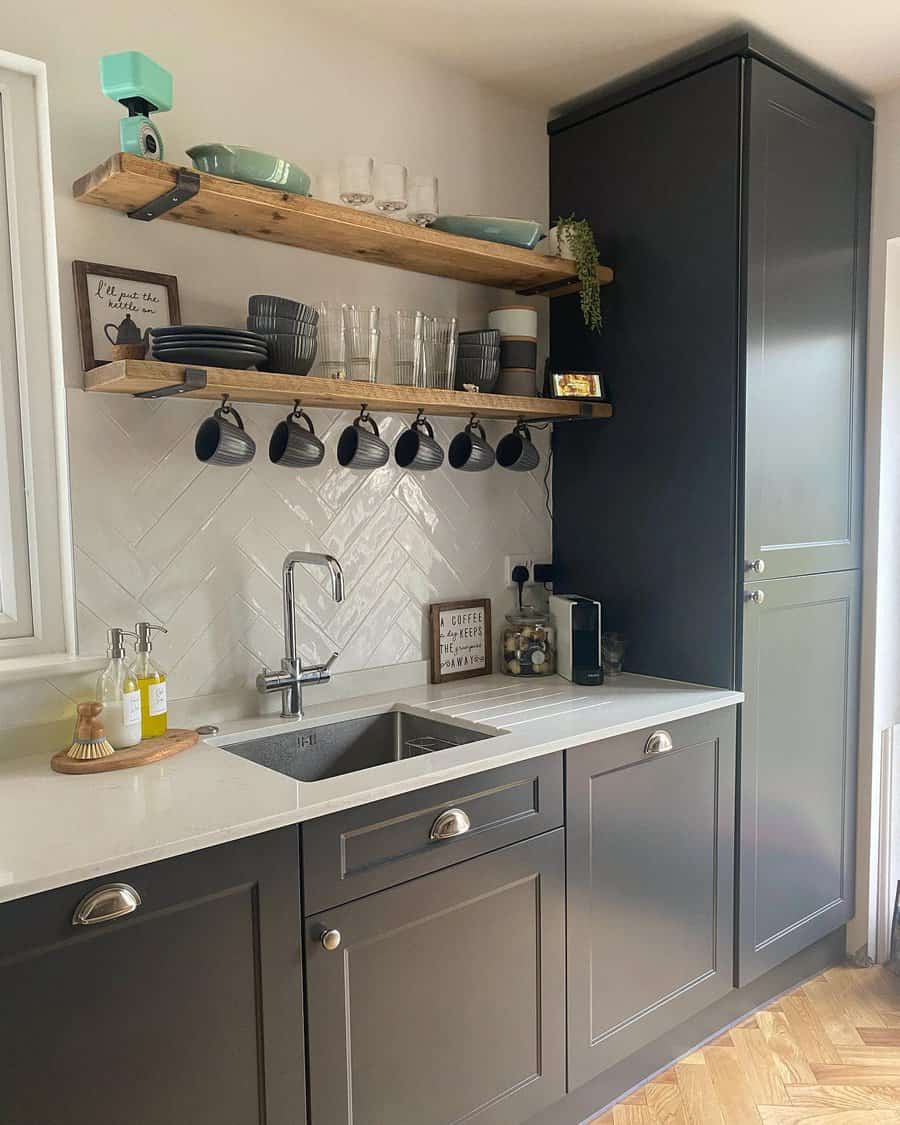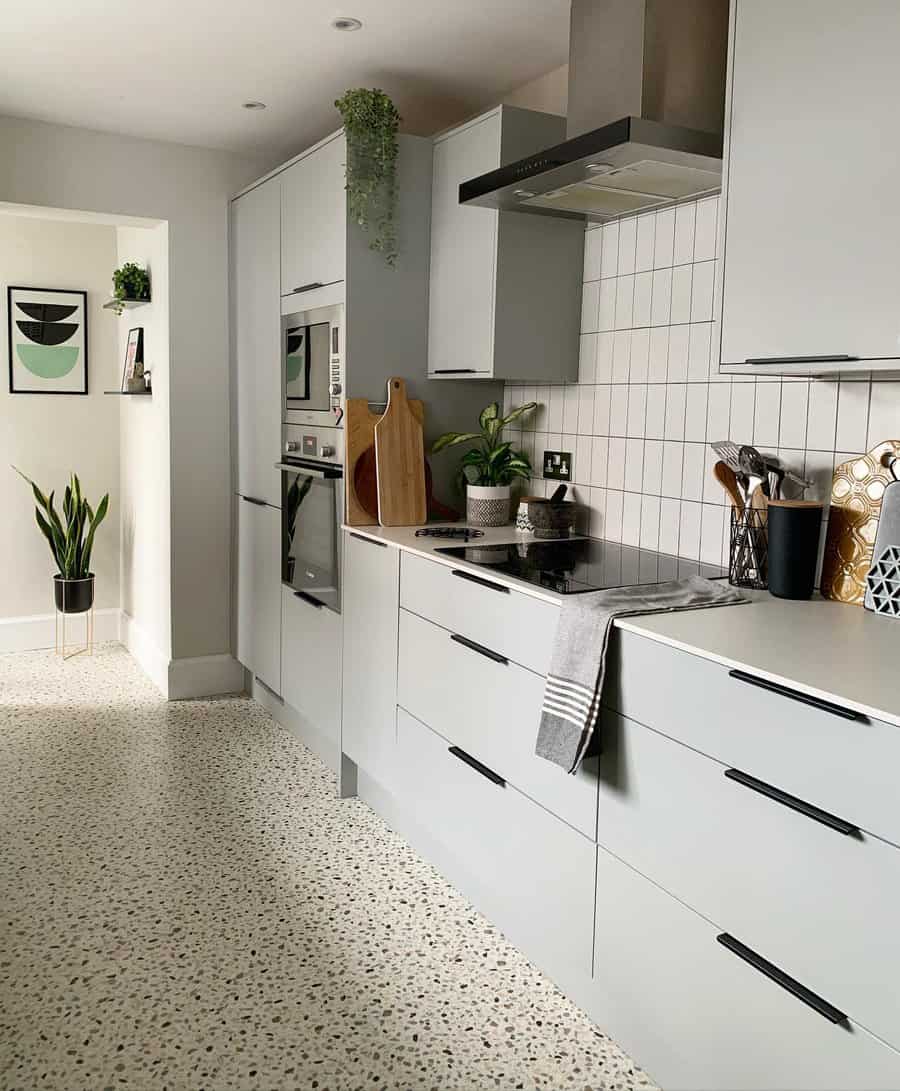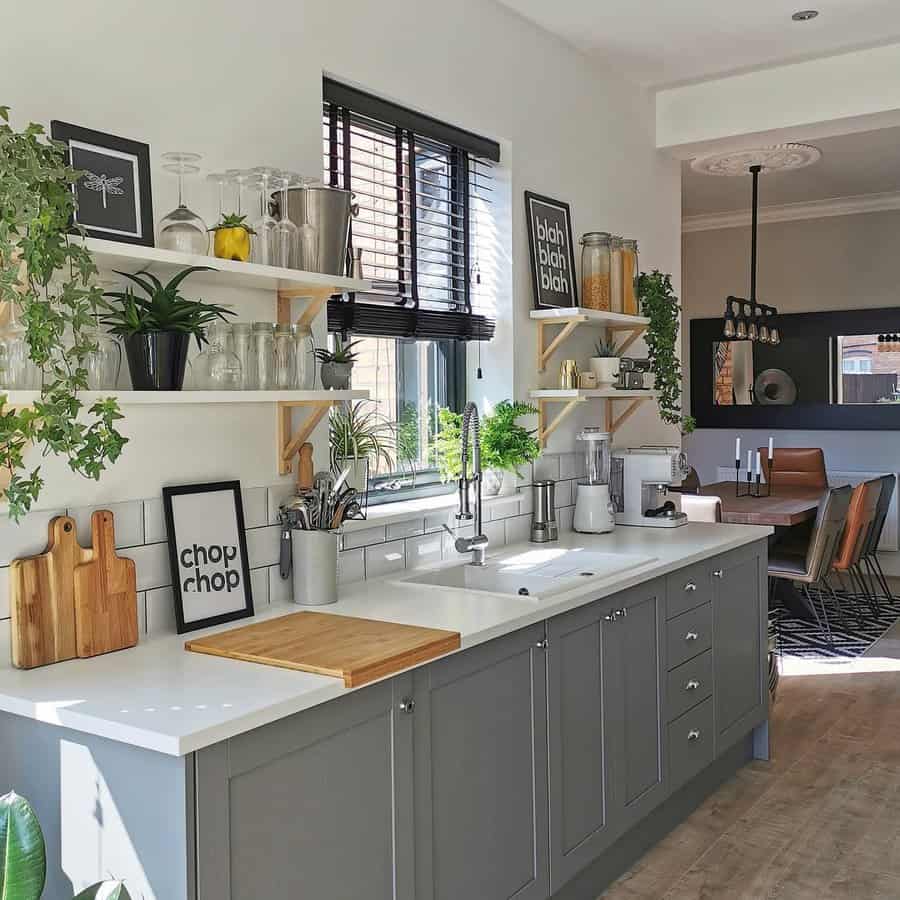 Scandinavian design prioritizes minimalism whenever possible. Your galley kitchen should be free of items that serve no purpose. Even must-have countertop gadgets and appliances should be stored out of sight when not in use.
The inherent warmth of Scandinavian decor comes from its heavy use of organic materials. From lush foliage to rough stone, these elements contrast beautifully with the style's more pragmatic side.
13. Shaker Kitchen
Cabinetry is a major fixture in any kitchen. But the compact design of most galley kitchens means that your choice of cabinetry will be — figuratively and physically — right in your face.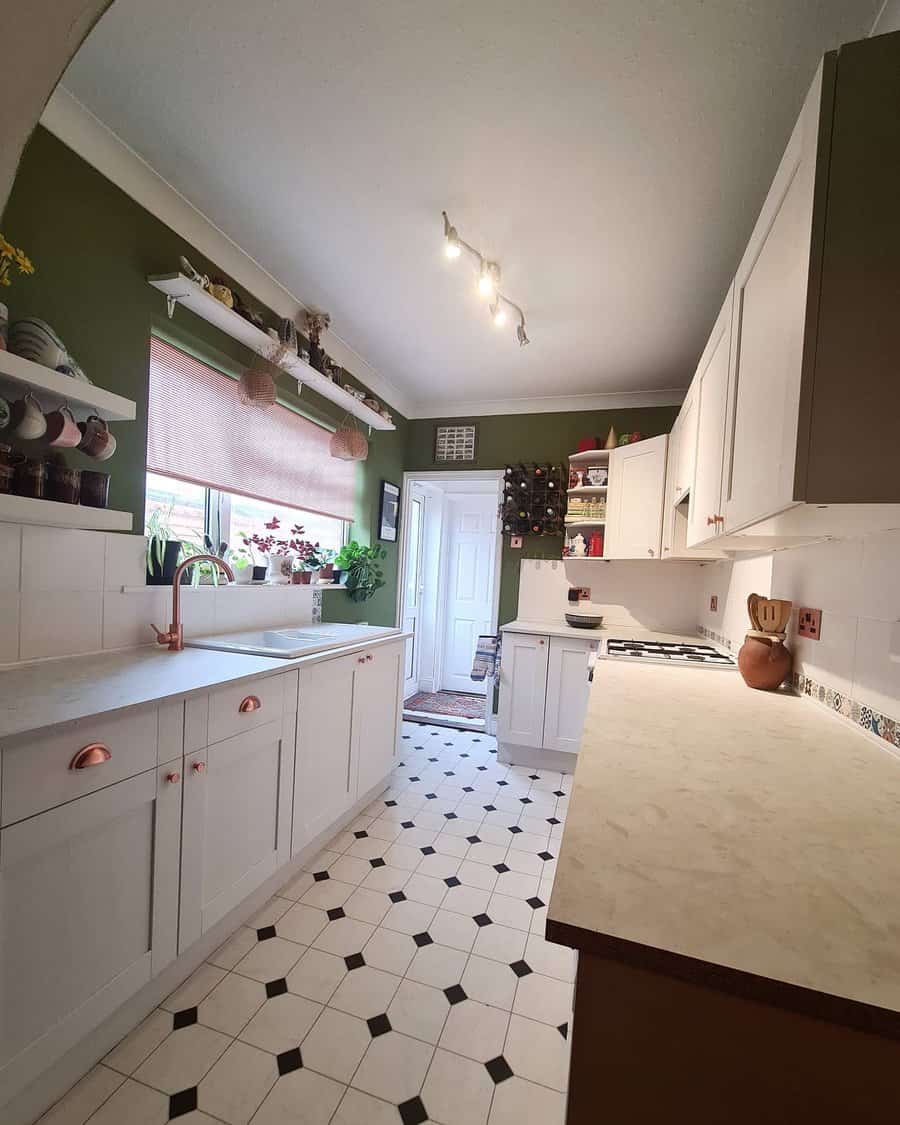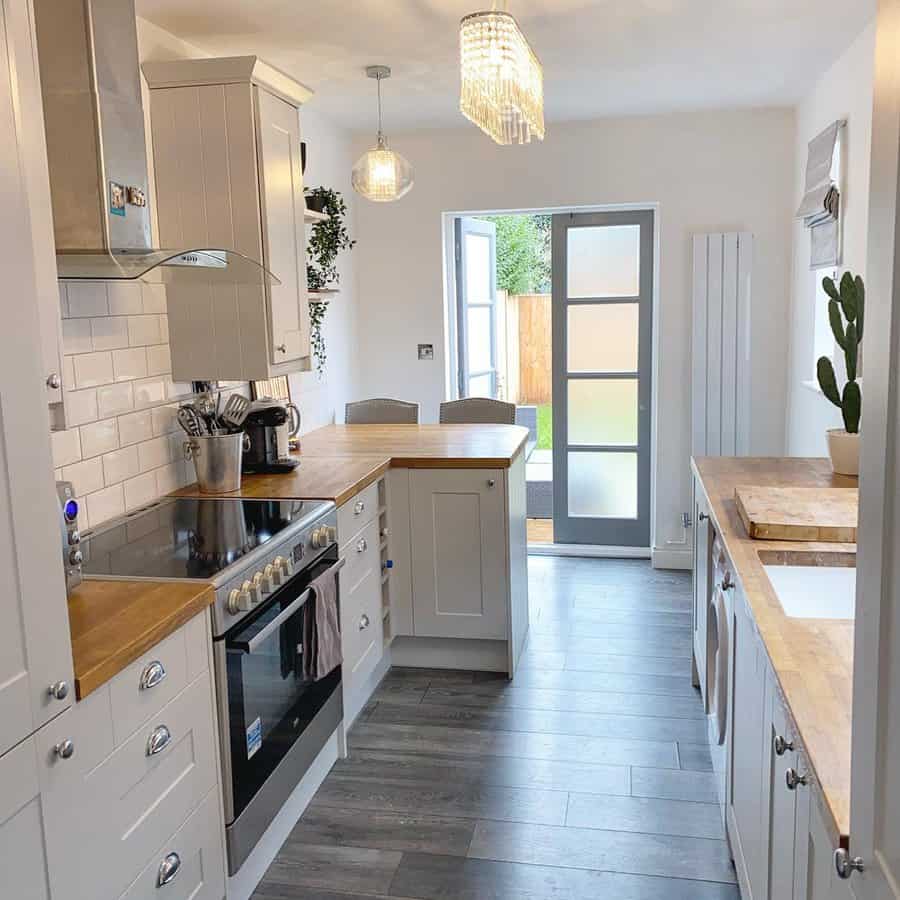 While flat cabinet doors are a great option in this scenario, many homeowners find them to be too plain. Shaker cabinets are a sleek alternative that offers a bit more dimension than their 100% flat counterparts.
High-quality cabinet hardware is a must for any quality kitchen design. Just be careful not to overpower your relatively simple shaker cabinets with overly ornate door pulls.
14. Single Wall
One of the greatest benefits of a galley kitchen layout is the amount of cabinet space. Yet not all galley kitchens feature cabinetry on both sides.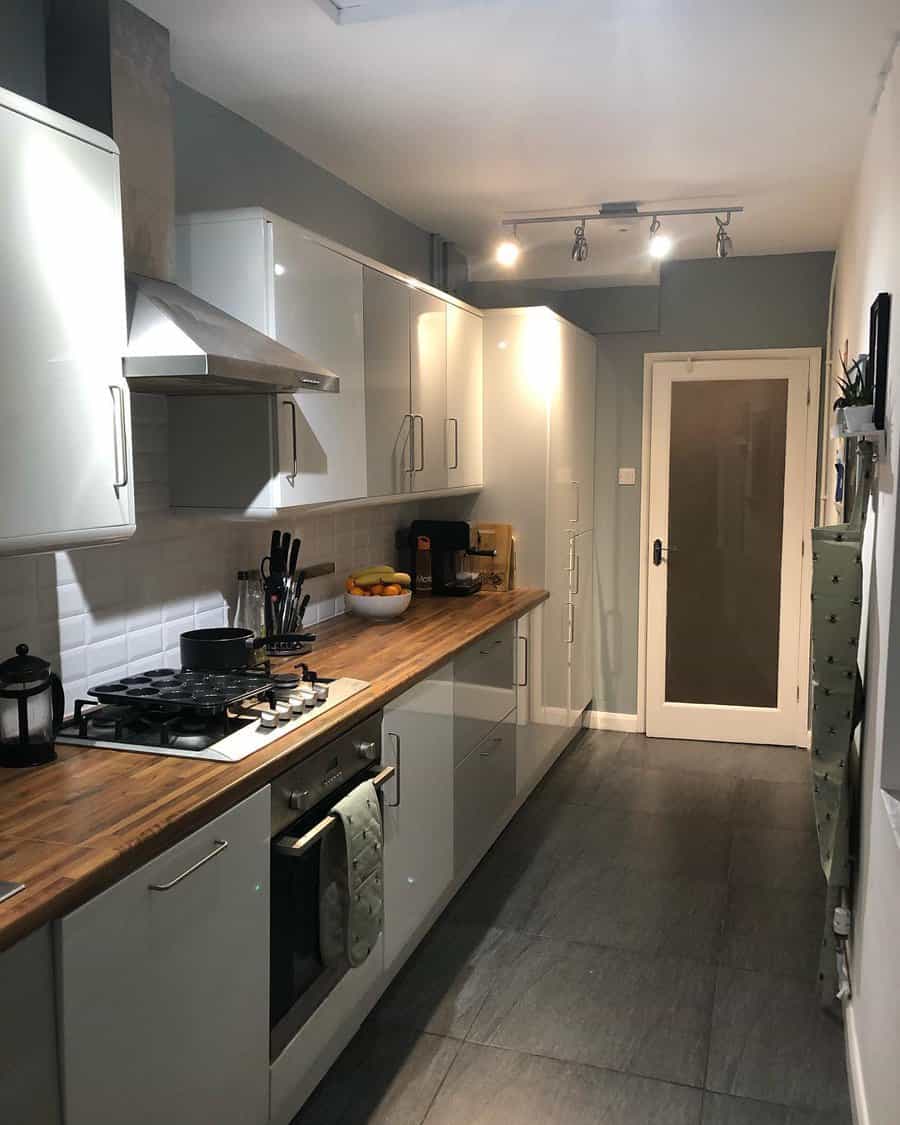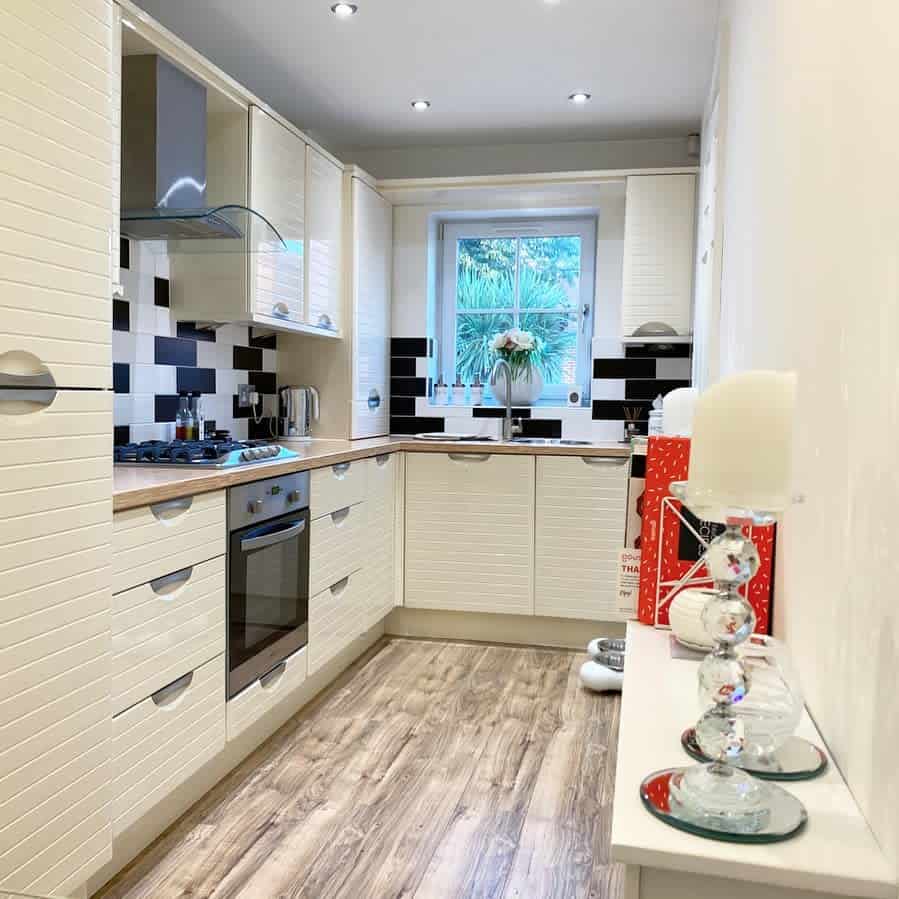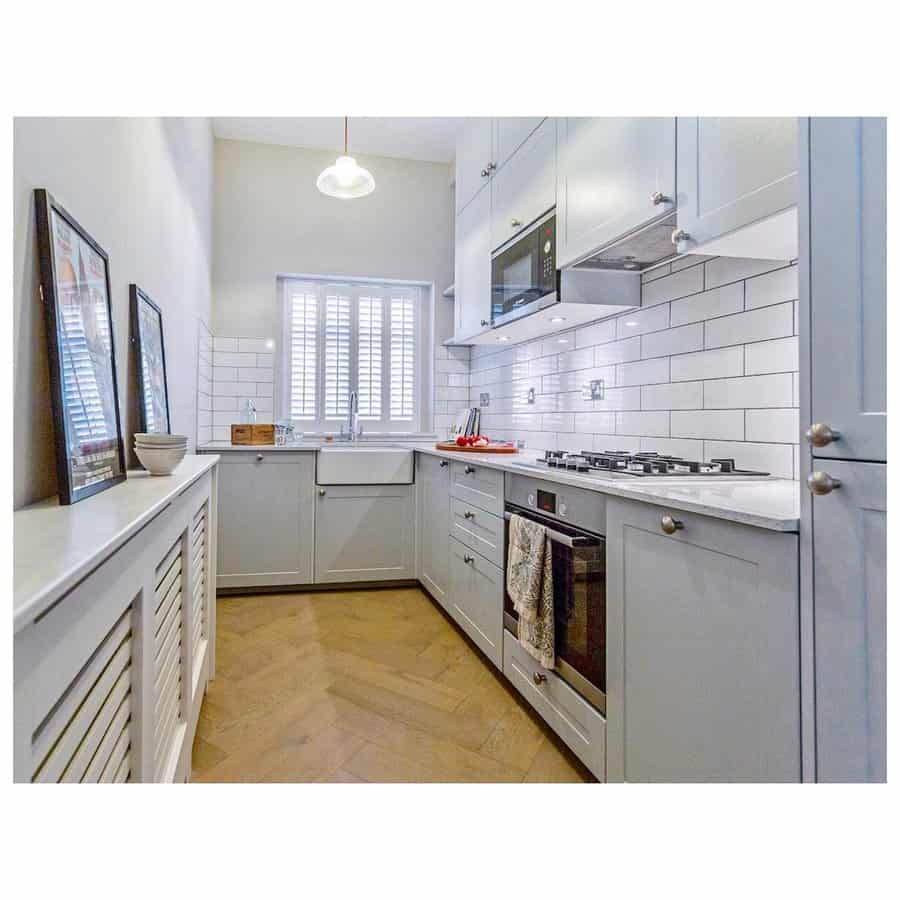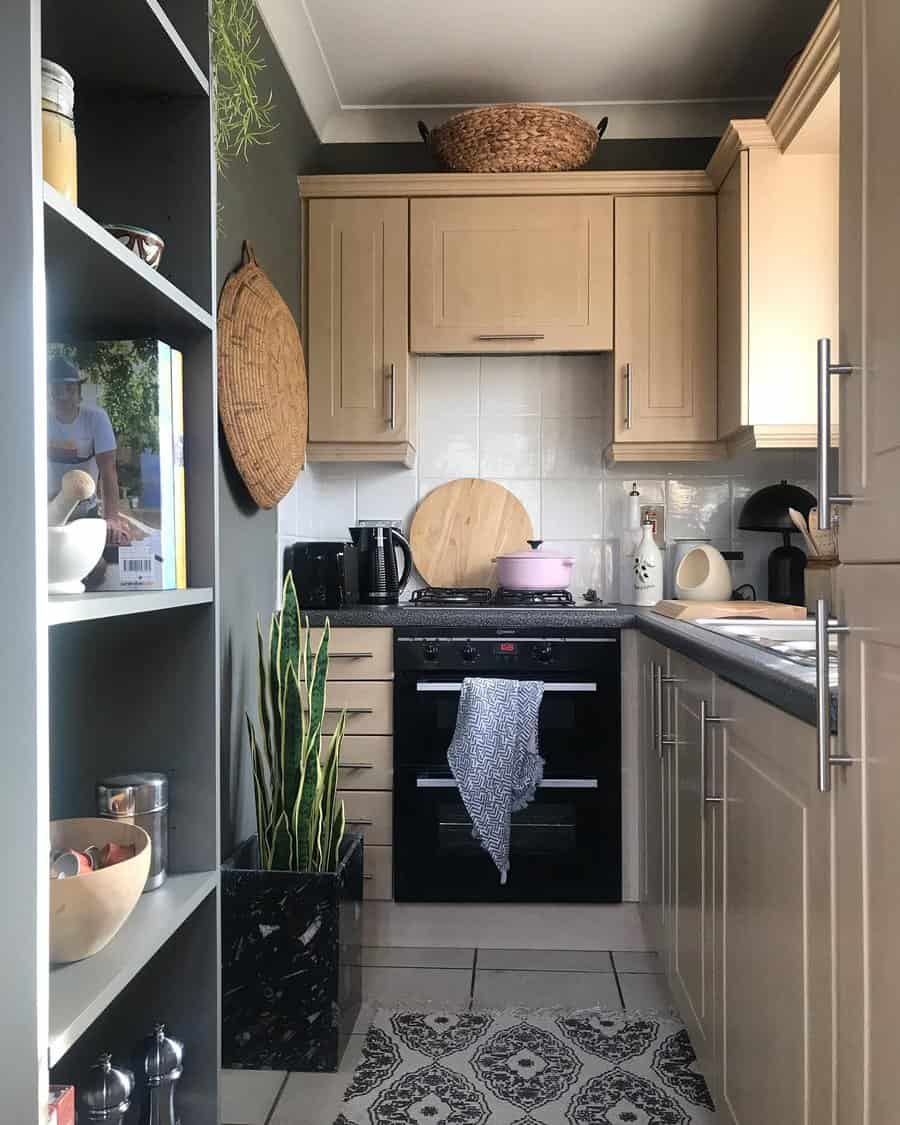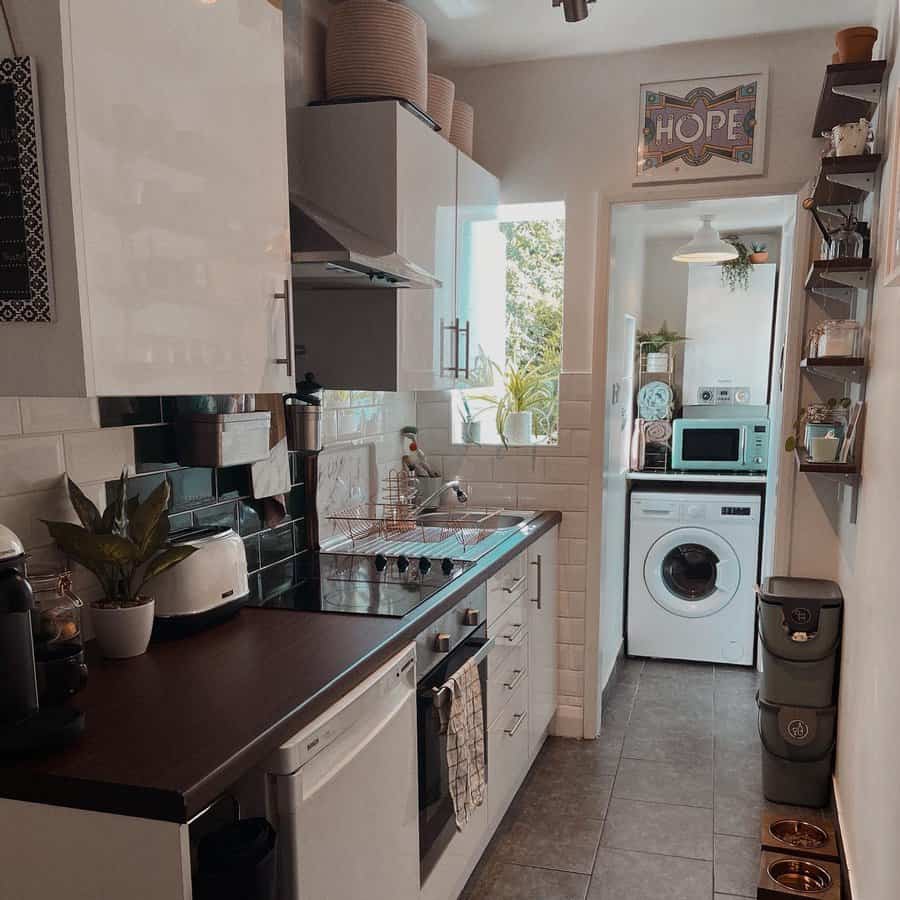 On the one hand, a single-wall galley kitchen often offers a little extra elbow room. This can make everyday cooking and cleaning a bit more comfortable, especially in multi-person households!
To make up for the lack of storage space, many homeowners adorn their empty kitchen walls with floating shelves or freestanding pantries. If storage is of little concern, however, consider spicing up your galley kitchen with a stylish accent wall instead.
15. Tiny
It's important to keep in mind that, at least in the world of interior design, everything is relative. In other words, a kitchen others consider "small" could be your dream culinary space!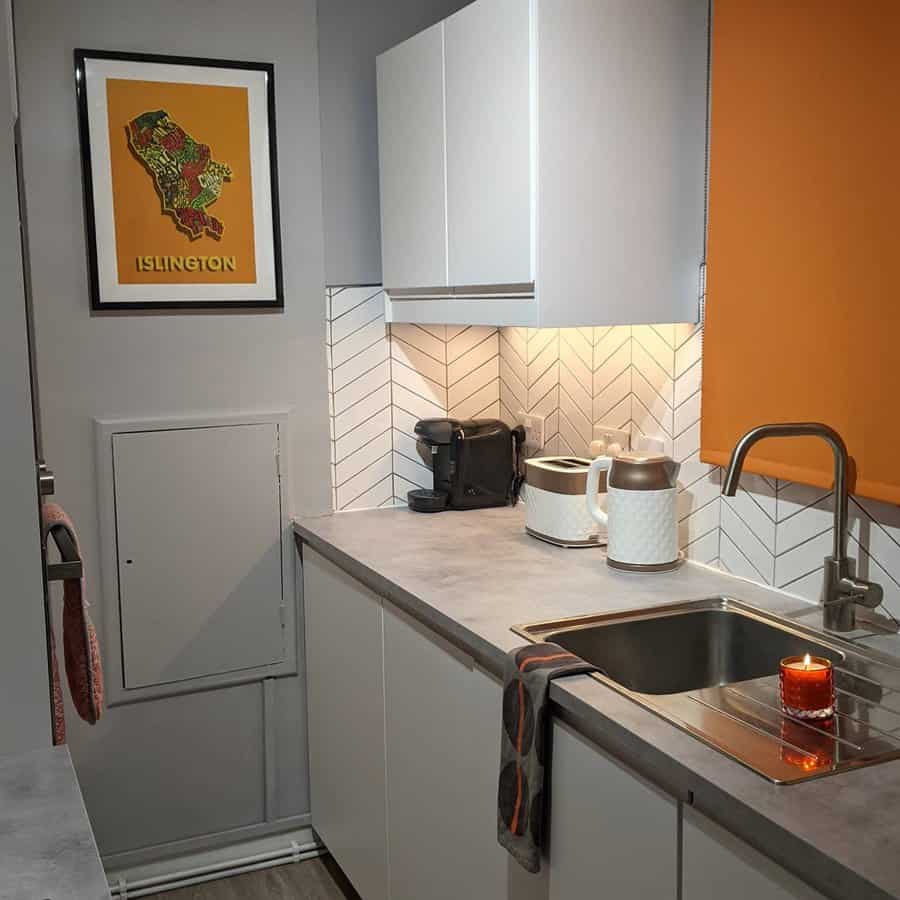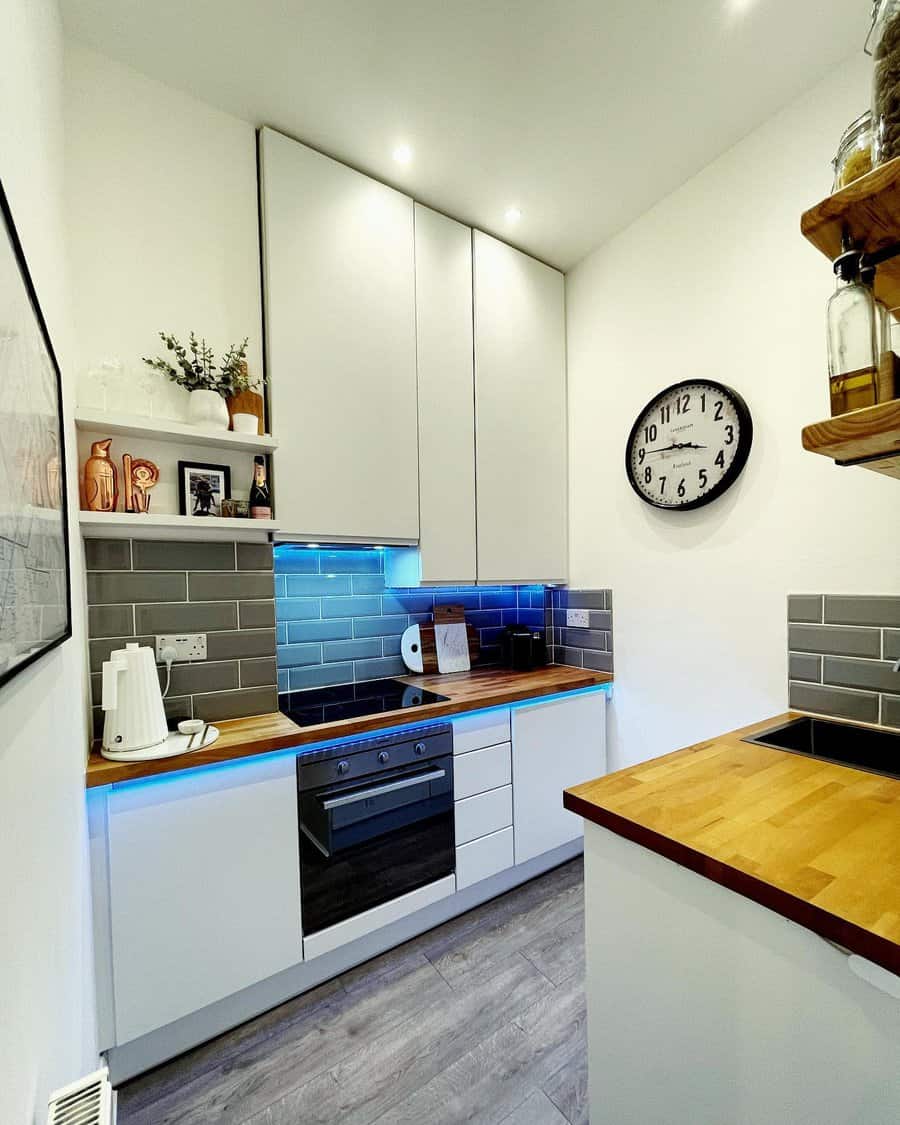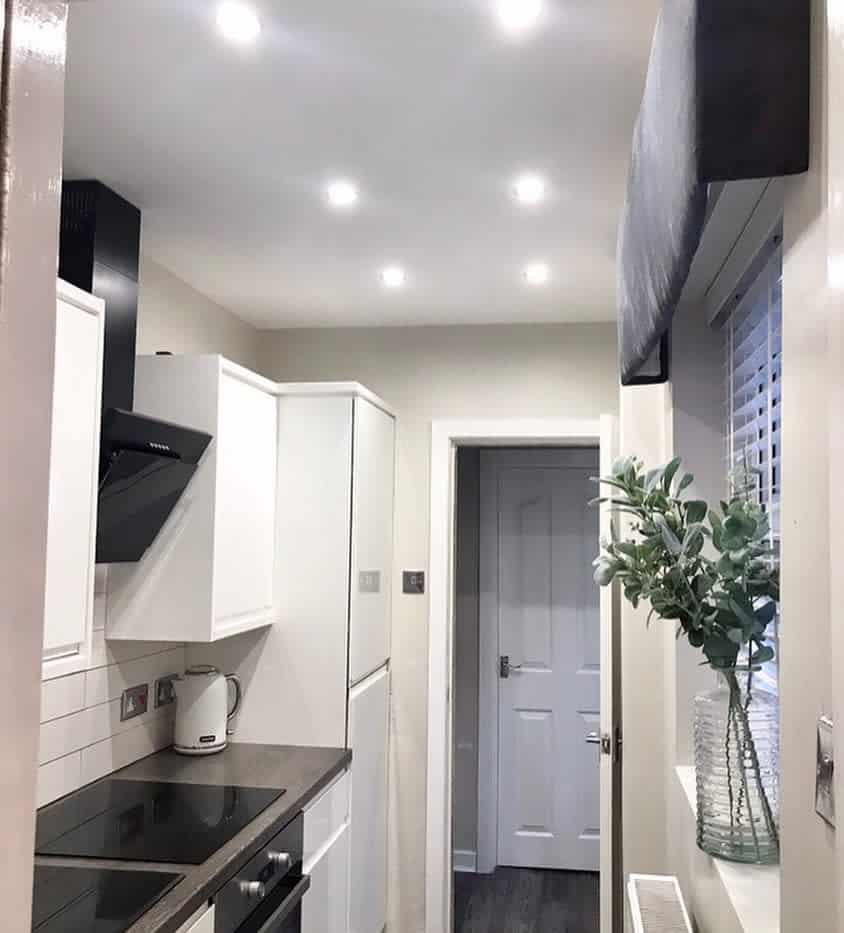 Decorating a tiny galley kitchen can be overwhelming at the outset. The good news is that you can adapt many popular small galley kitchen ideas to suit your more compact space.
Outside of just making your tiny kitchen look its best, the right design choices can also improve functionality. Consolidate appliances to maximize the available workspace. Accessories like wooden stove top covers and rolling kitchen islands can also be used to boost counter space.
16. White
Using white to decorate a small space is a no-brainer. And there's no need to sacrifice your creativity when utilizing this stripped-down color palette.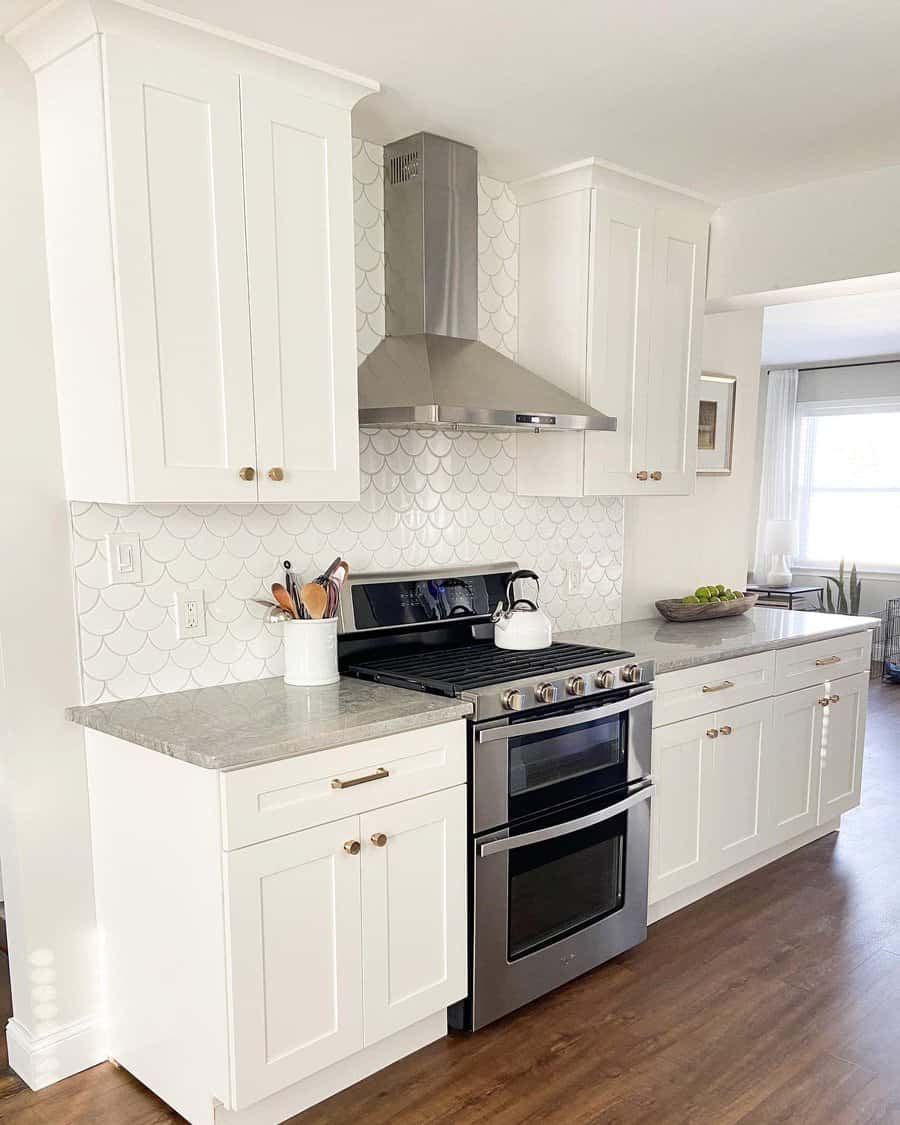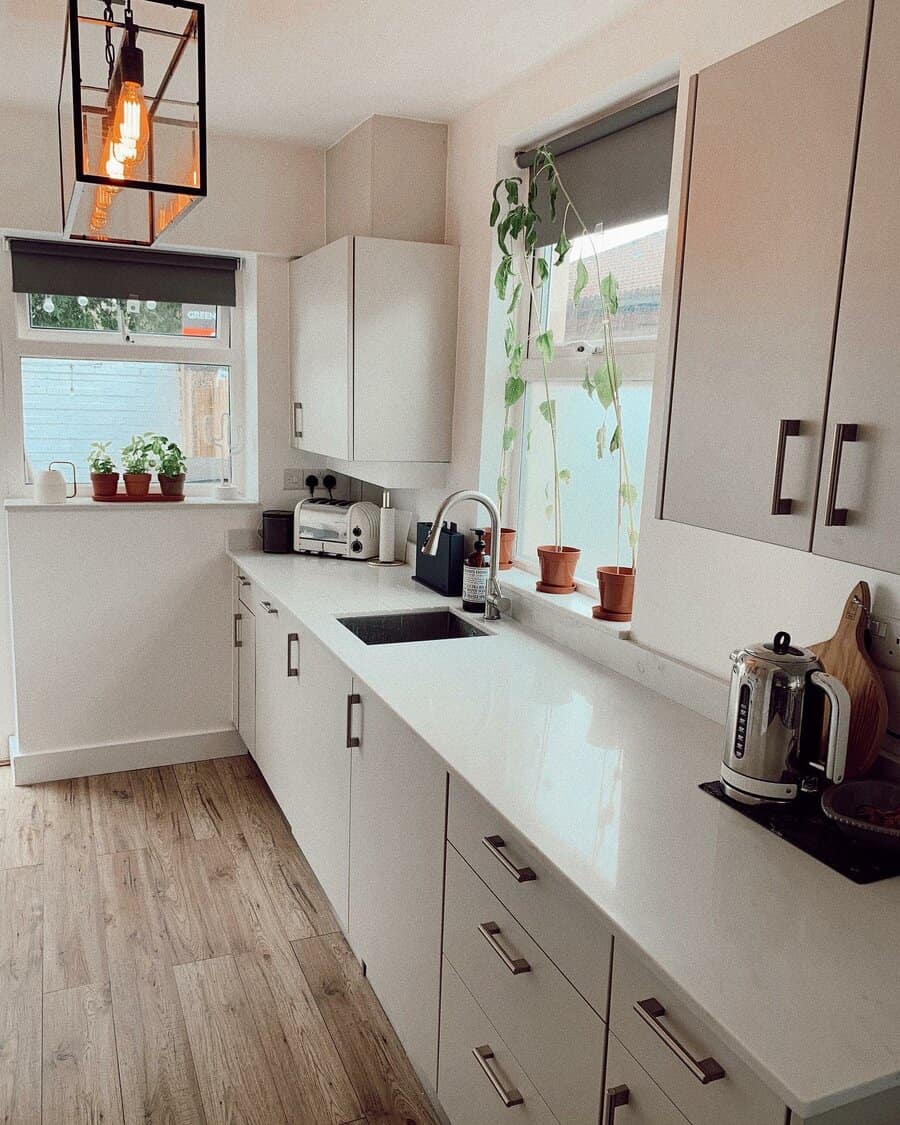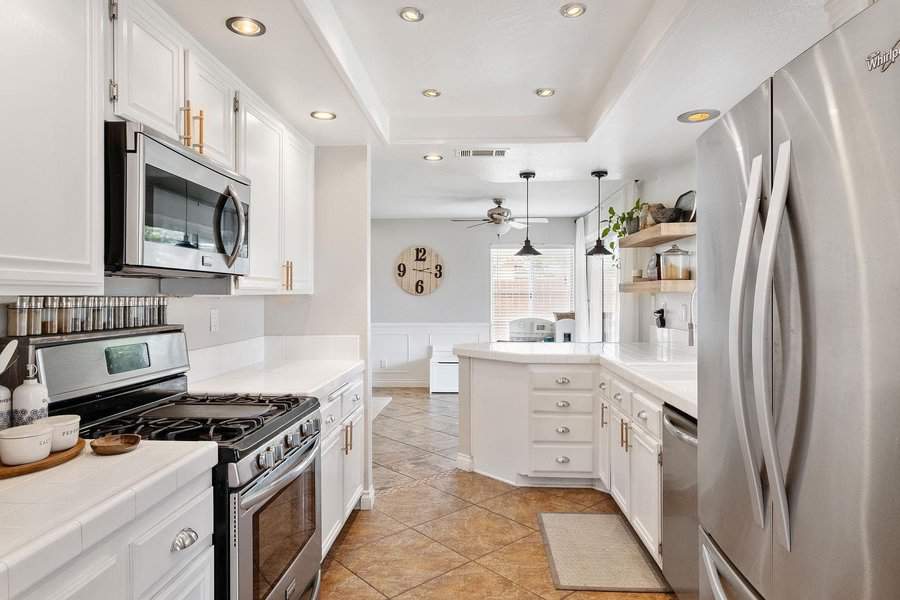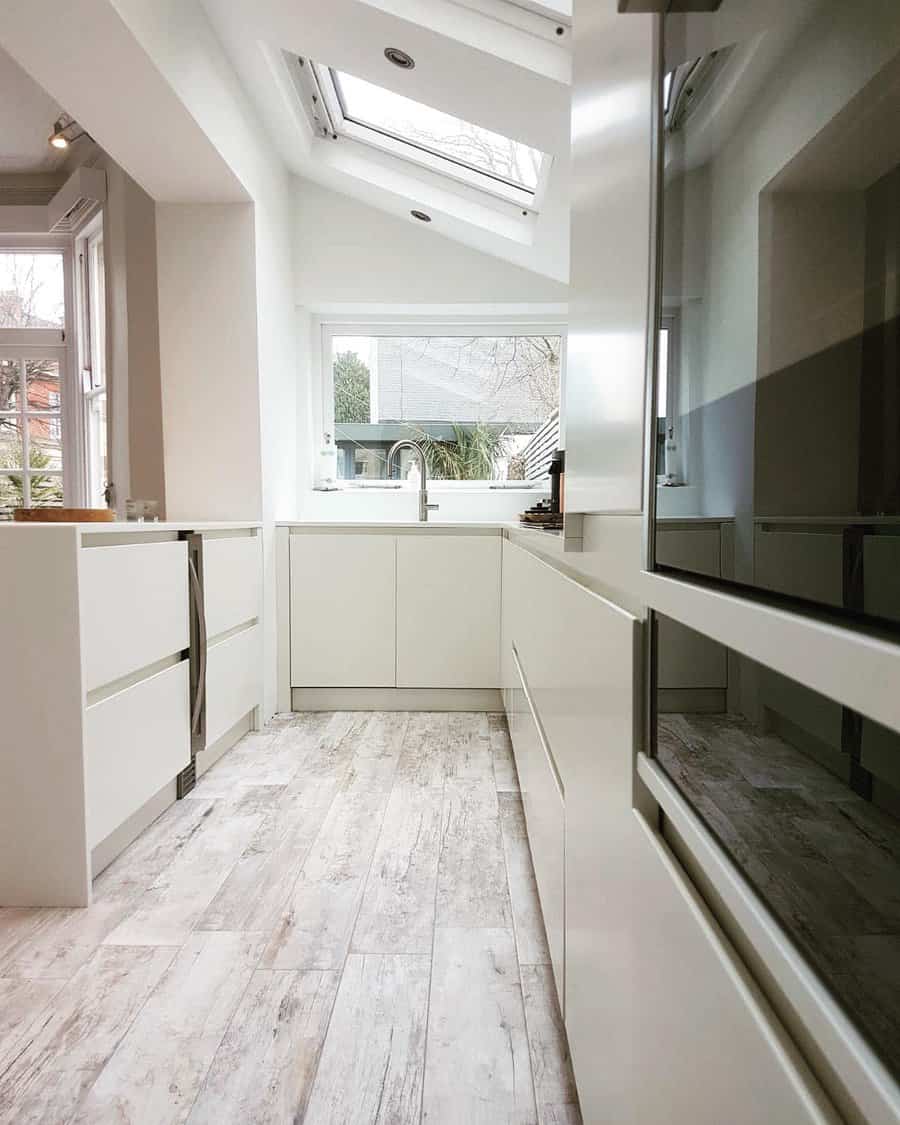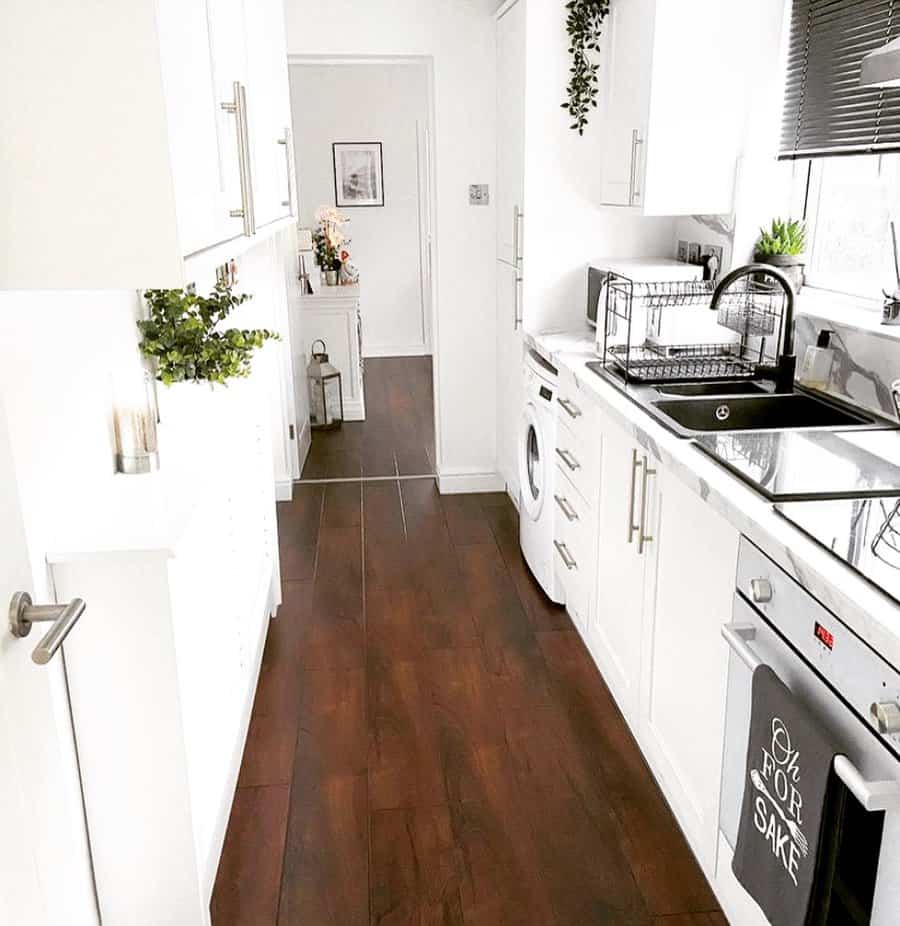 White is well-known for its ability to make nearly any room feel bigger and brighter. For the best results, however, adequate contrast is still a must. Opt for organic elements like hardwood floors or granite countertops.
You can also add dimension with monochromatic patterns. Uniquely shaped backsplash tiles are a wonderful addition to any galley kitchen design. For additional texture, consider using natural stone tile to create your backsplash.
Small Galley Kitchen FAQs
Where should the sink go in a galley kitchen?
It's easy to take the location of your kitchen appliances for granted. But you can't enjoy the efficiency of a compact galley kitchen if your sink and other amenities are in the least convenient spots possible!
Most people agree that the best location for a galley kitchen sink is opposite of the stove or oven. This offers practical access to a water source when cooking and can make cleaning up a bit easier.
In galley kitchens that are closed on one end, the sink is often placed at the far wall. This is the most central location within this particular layout, so it makes the most sense to install the sink here.
What is the minimum width of a galley kitchen?
For minimum functionality, there should be at least 3 feet of floor space between either countertop. This provides just enough space to walk back and forth and open cabinet/appliance doors.
Of course, the bare minimum is rarely ideal. And the wider you can make your galley kitchen, the better.