46 Best Small Galley Kitchen Ideas and Designs
Love them or hate them, galley kitchens offer unmatched efficiency. So if you're short on space, a galley kitchen floor plan is likely the best option.
Unfortunately, despite their sheer functionality, galley kitchens are often maligned among the design-conscious.
While it's true that the unique size and shape require a different approach than your average open-concept kitchen, there's no reason for a galley kitchen to be a curse upon your home's aesthetic!
Keep reading for our top small galley kitchen ideas and how to implement them within your own culinary workspace.
1. Free Up Storage With Wall Shelves & Cabinets
Even the most cramped galley kitchens can be transformed into beautiful, cozy spaces with thoughtful storage solutions. Installing floating wall shelves gives the illusion of more space while offering a spot to neatly organize cookware and dinnerware.
Mug racks and floating plant holders create additional room for decorations and essential pantry items with minimal space lost. With a few collection pieces, a small galley kitchen can become an inviting space to hang out, cook delicious meals, or grab breakfast on the go.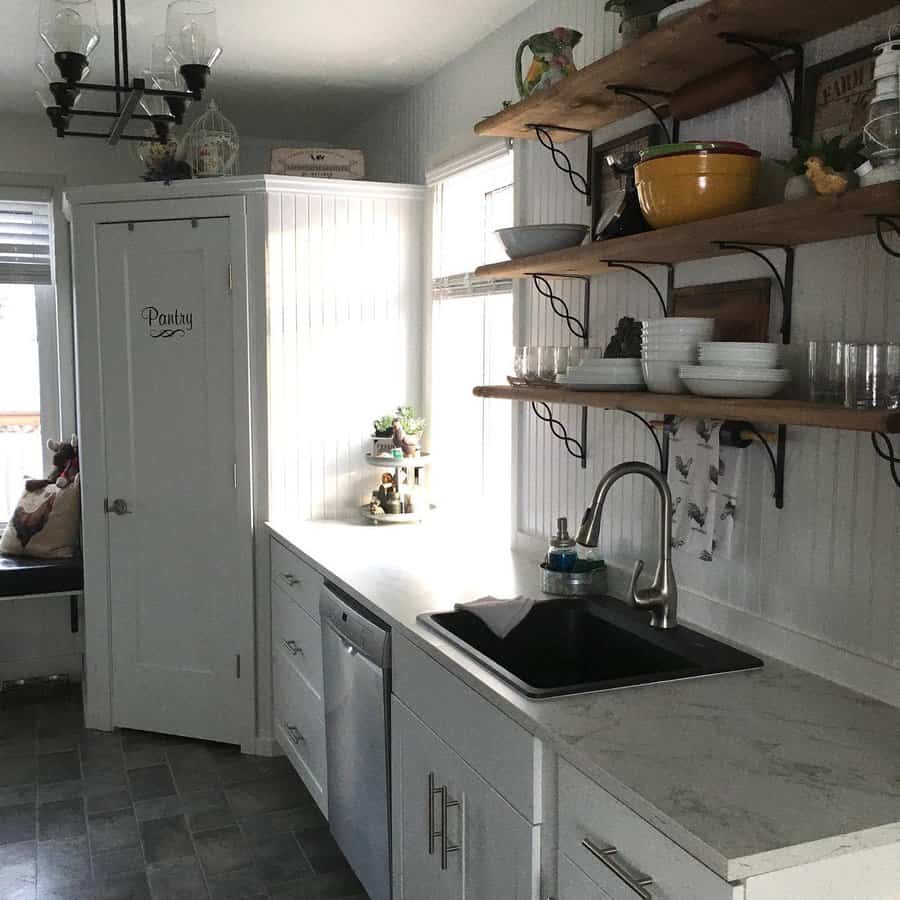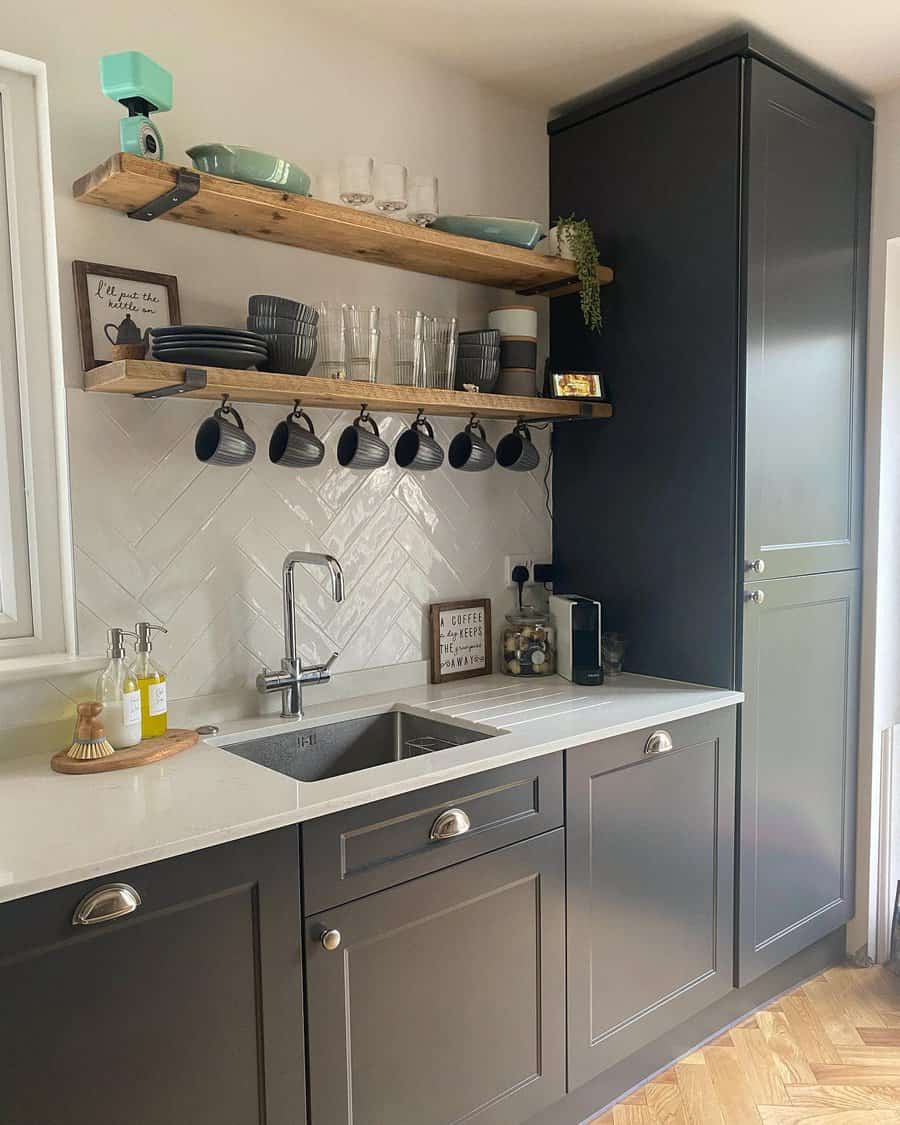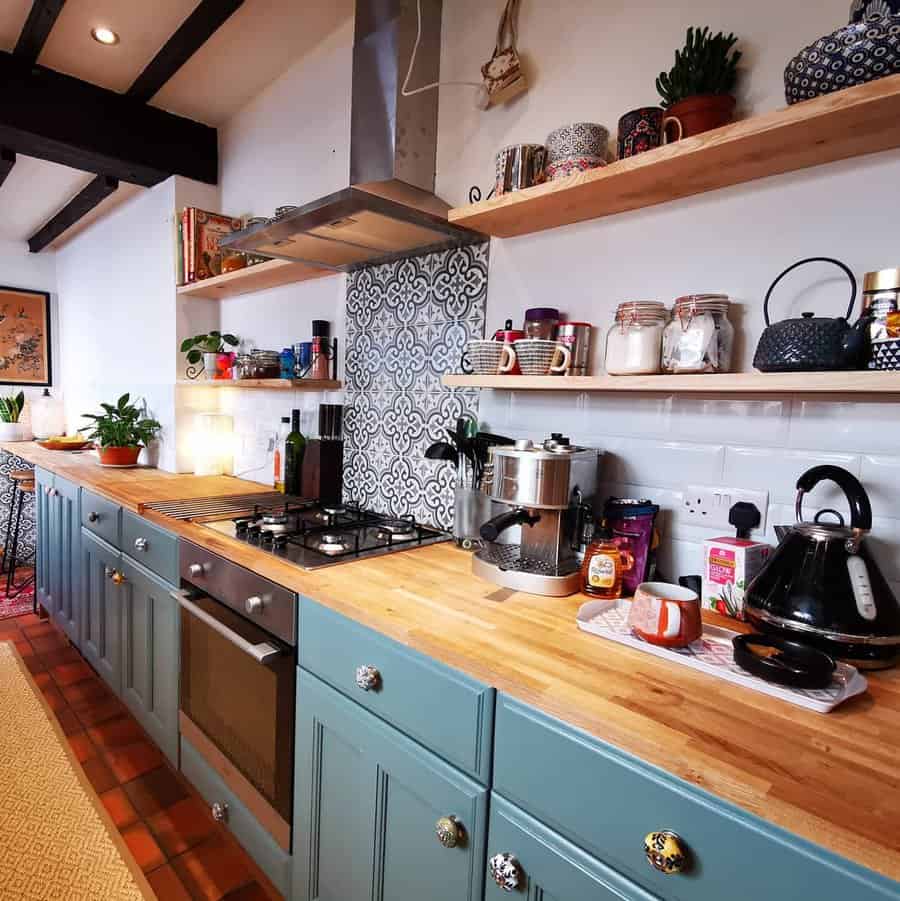 2. Create A Cozy Boho Kitchen
With its rattan furniture and Persian rug, a boho small galley kitchen creates a chic and cozy atmosphere. Fill the space with dried flowers to bring in color while giving off that subtle bohemian vibe. Keep the rattan furniture minimal to maintain a clutter-free look, but add bold style with vibrant wall hangings to make the room feel inviting.
Wooden cutting boards, open shelving and rattan woven baskets complete the look; achieve a soft and balanced contrast by combining light rattan against darker woods for an eclectic touch with a bold yet homey feel.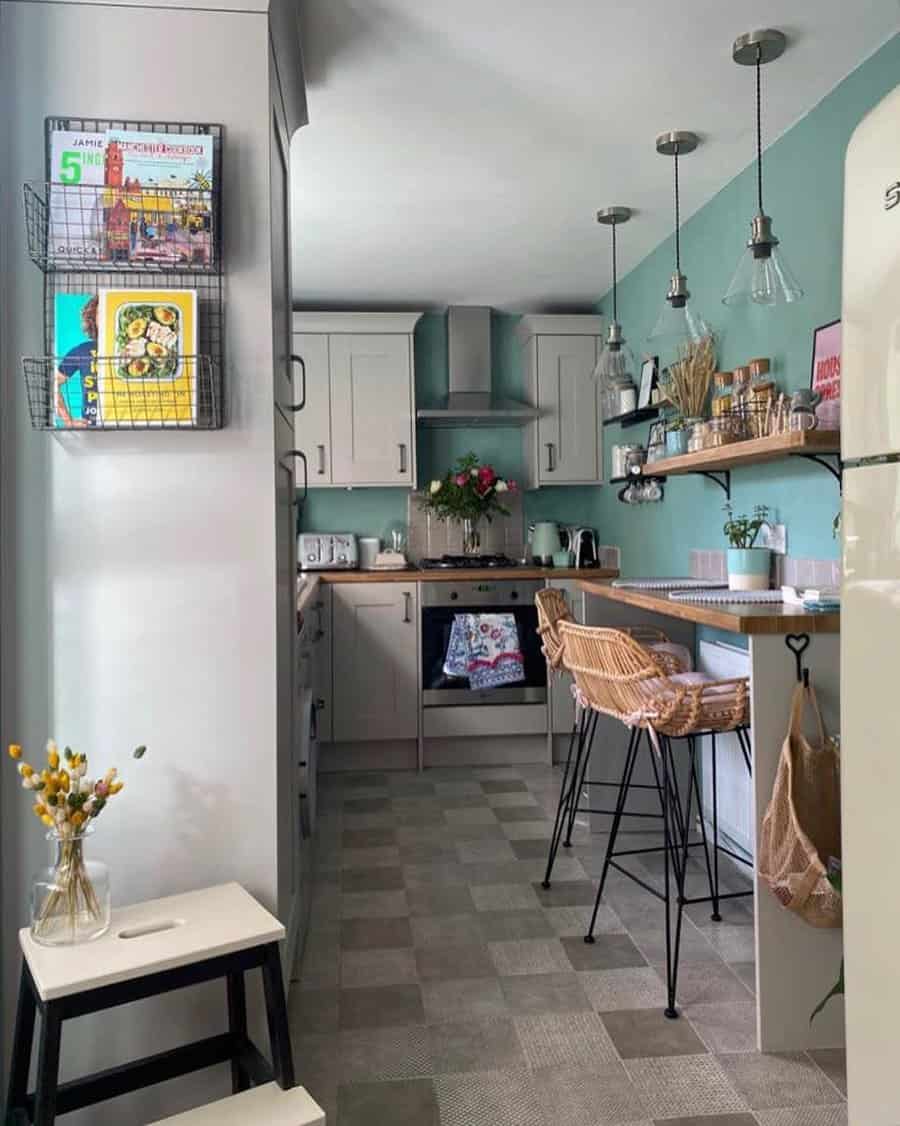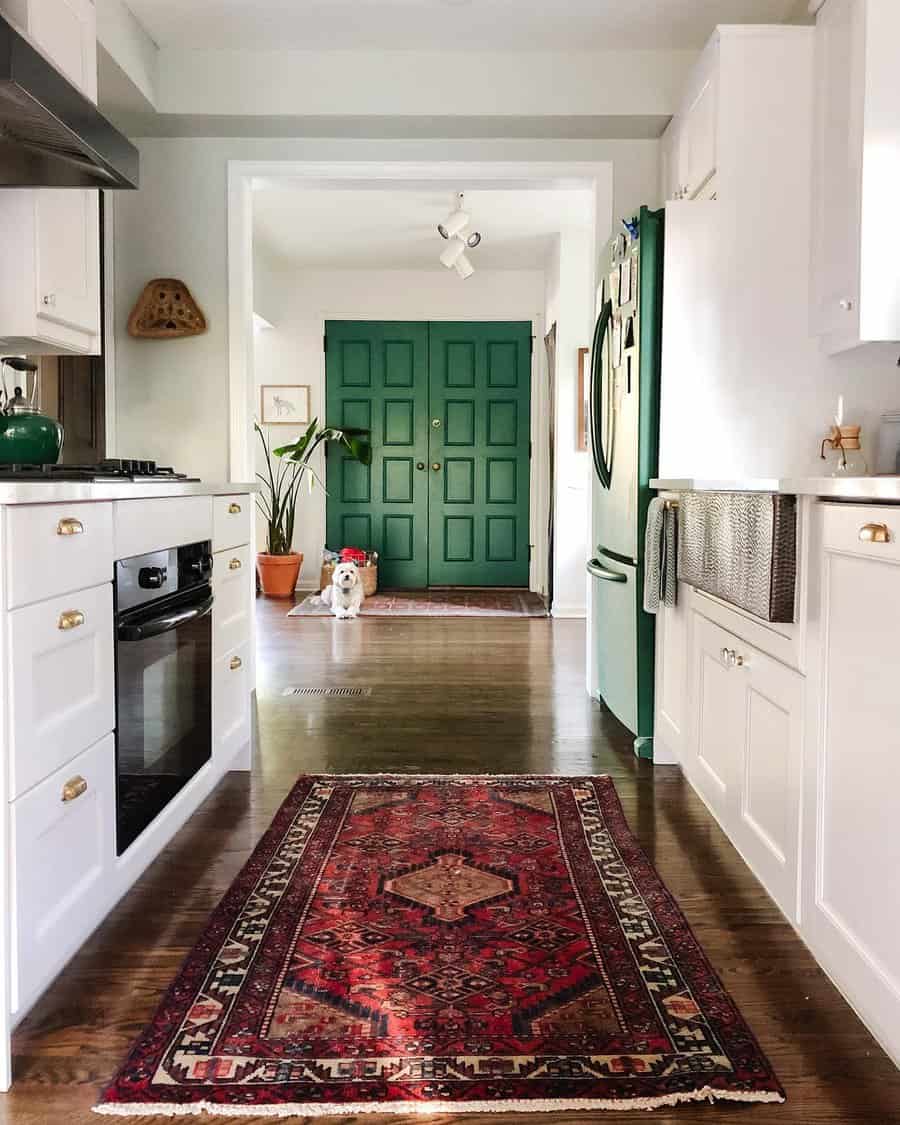 3. Keep It Minimal But Stylish
Go modern and minimalist with your small galley kitchen! Sleek minimalist cabinets keep everything tucked away, while a pristine white countertop allows any decor to pop.
Featuring efficient cabinets, sleek white countertops, and well-placed recessed lighting, this inviting kitchen area can transform even the most mundane dishes into something extraordinary. The perfect touch is recessed lighting which adds the right amount of glimmer to the room no matter whether you prefer the day or night look.
With space-saving storage solutions that streamline cooking and entertaining alike, it's no wonder why a modern small galley kitchen is an essential part of any home.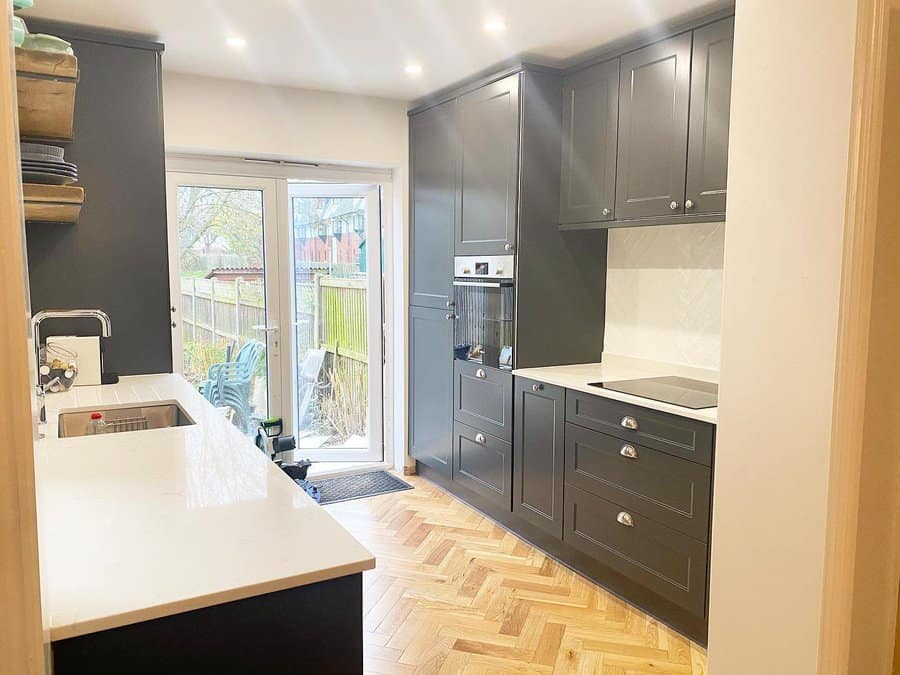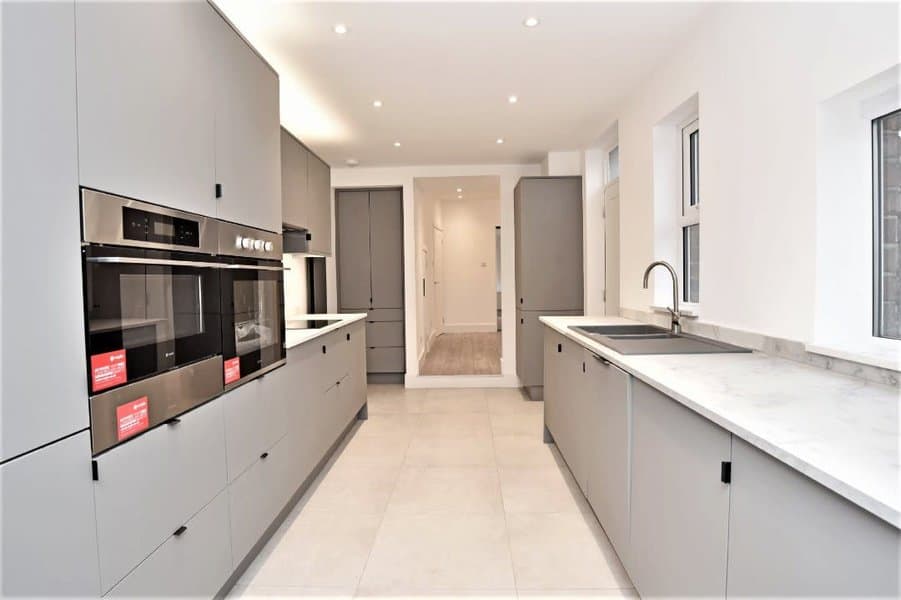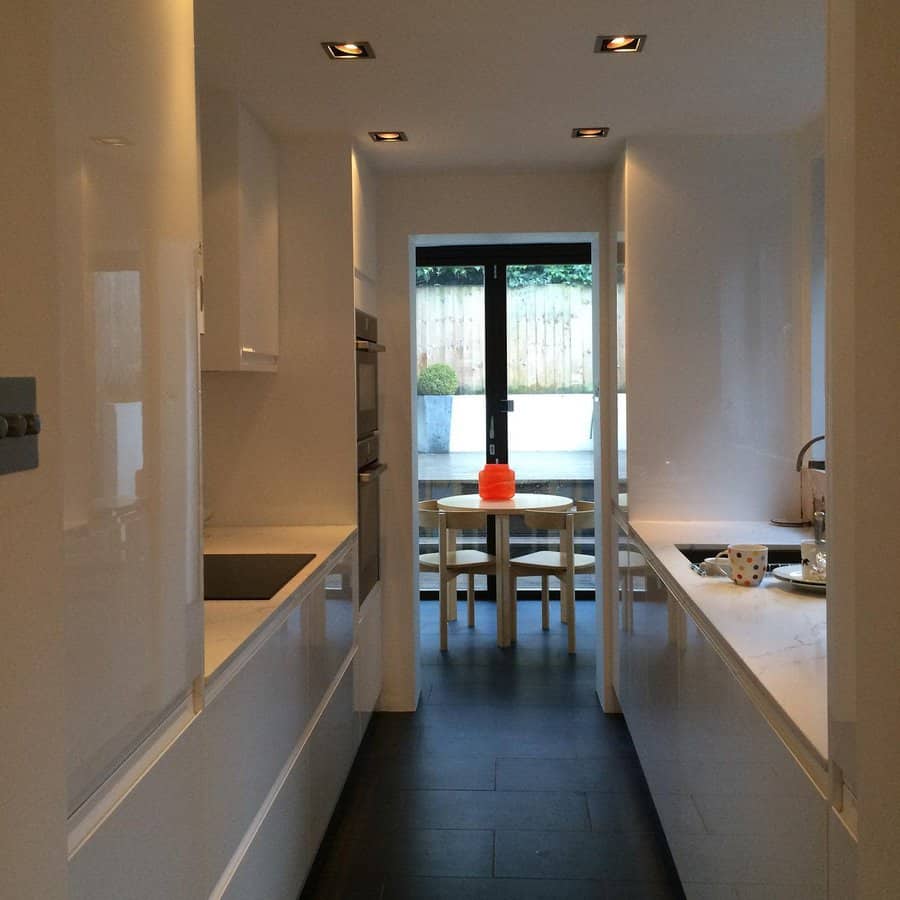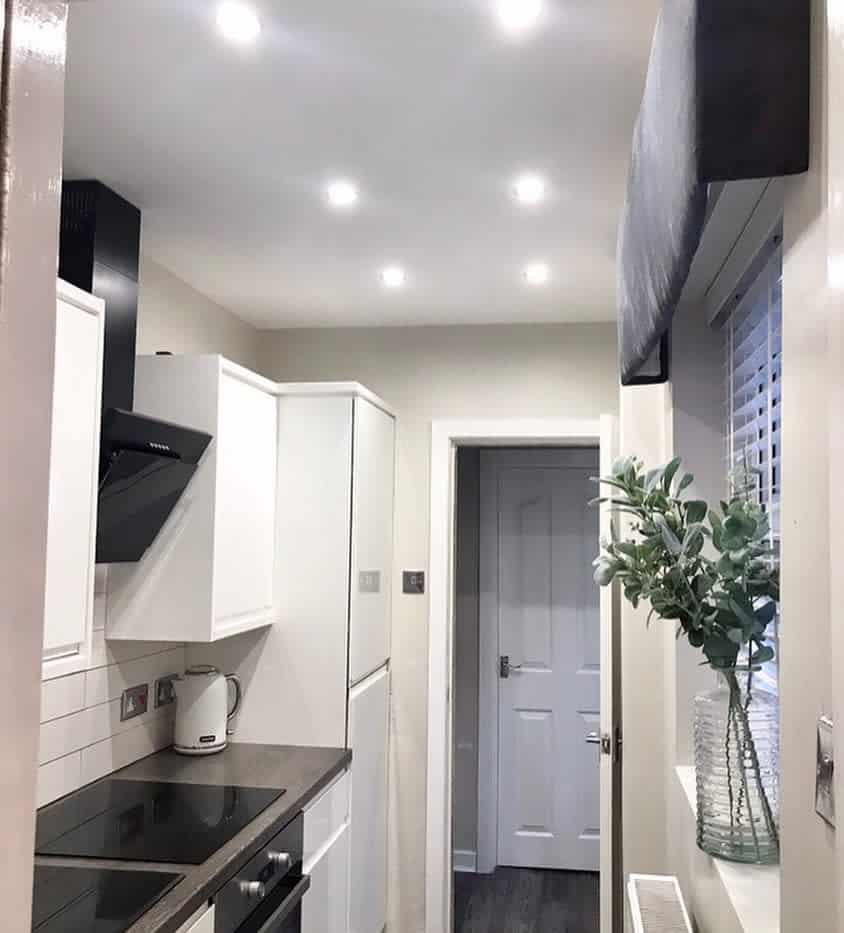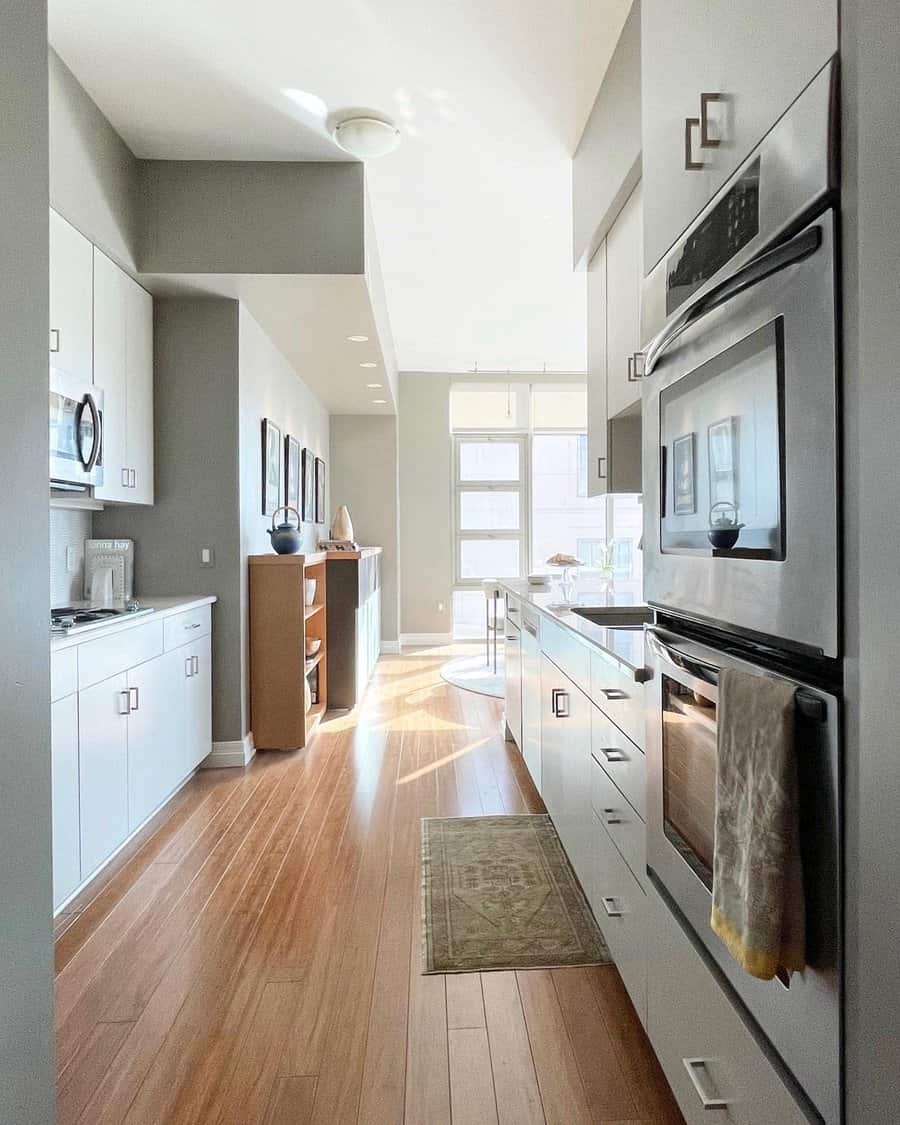 4. Install Gold Fixtures
A small galley kitchen can be a charming and inviting living space, no matter how limited the square footage is. Add gold fixtures to catch the light and create an air of sophistication, then contrast these with an earthy interior – be it white counters, mahogany cabinets, or perhaps even a tiled backsplash.
Install bright spotlights in strategic positions for a modern touch and top off the look by opting for unique hardware that stands out from the crowd. With a few unexpectedly luxurious touches here and there, you'll be left with your very own exquisite galley kitchen.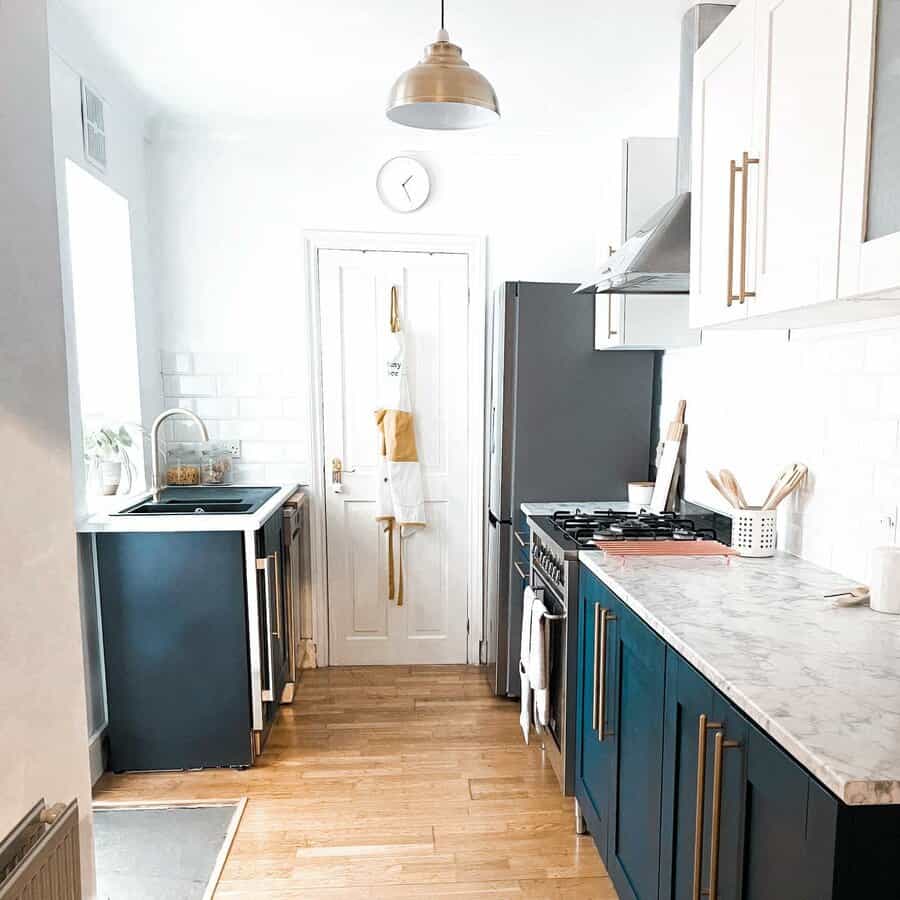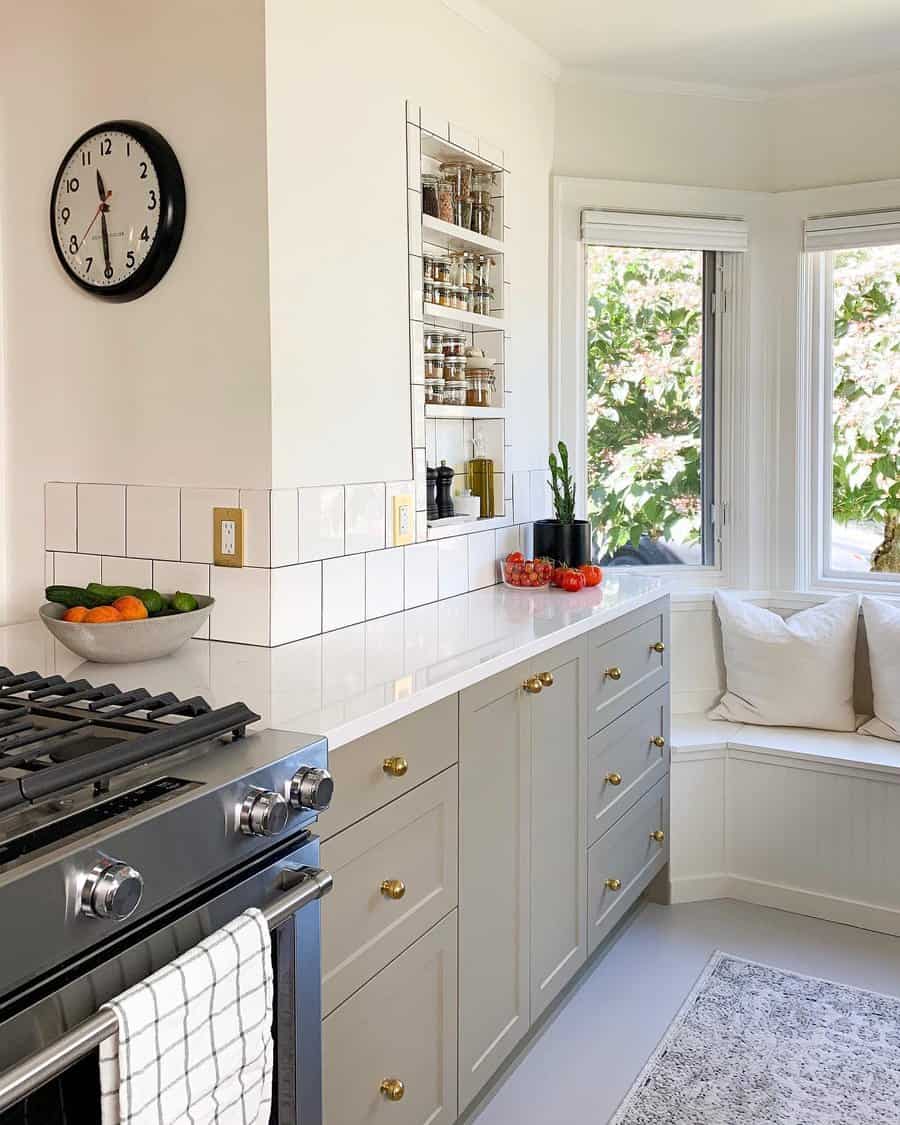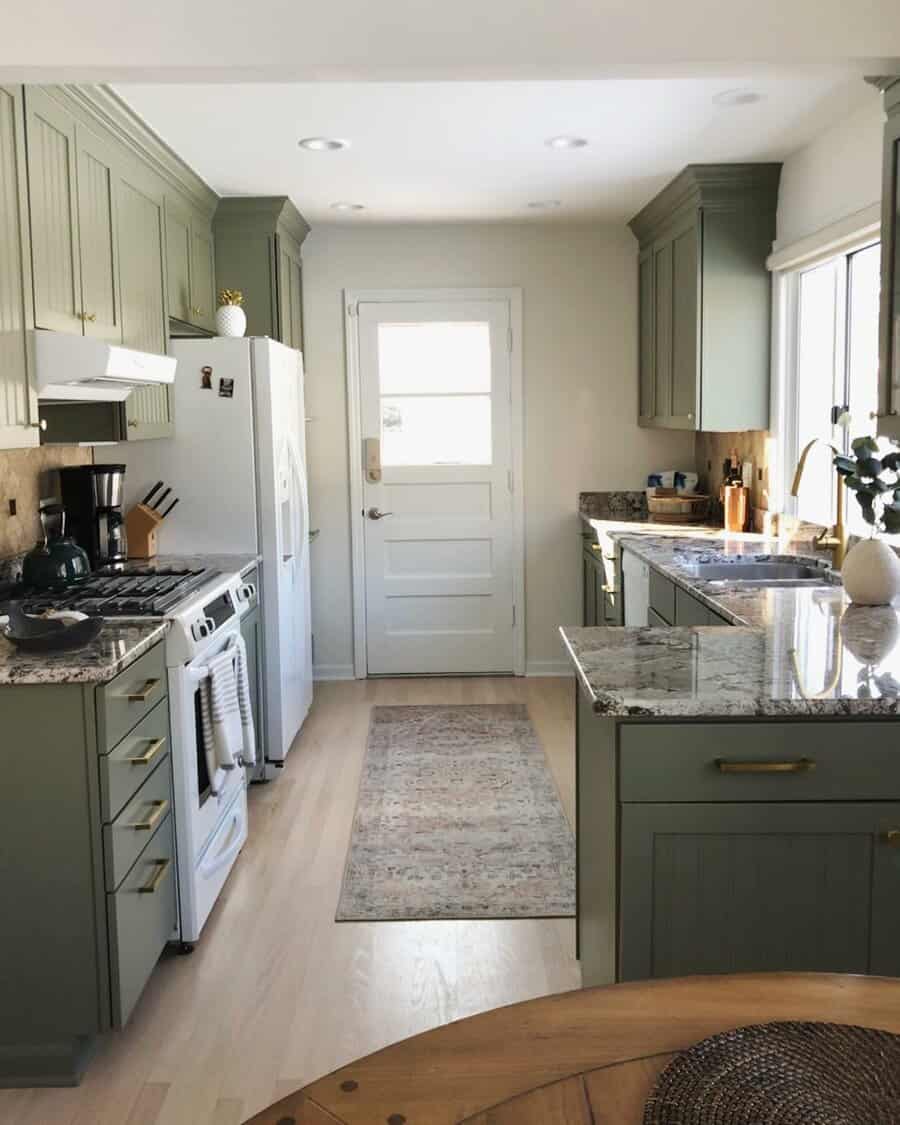 4. Make It French Countryhouse Style
Crafting the French country house interior of your dreams starts in the small galley kitchen! This quaint room can be transformed with white shiplap walls, shelves designed with storage in mind, and chic tile flooring. What could feel cramped and cluttered instead feels fresh and elegant when thoughtfully designed.
To complete the look, add a vase of fresh flowers to bring character and warmth to the room. With a little bit of creativity and ingenuity, you can create a French-inspired sanctuary within your small galley kitchen!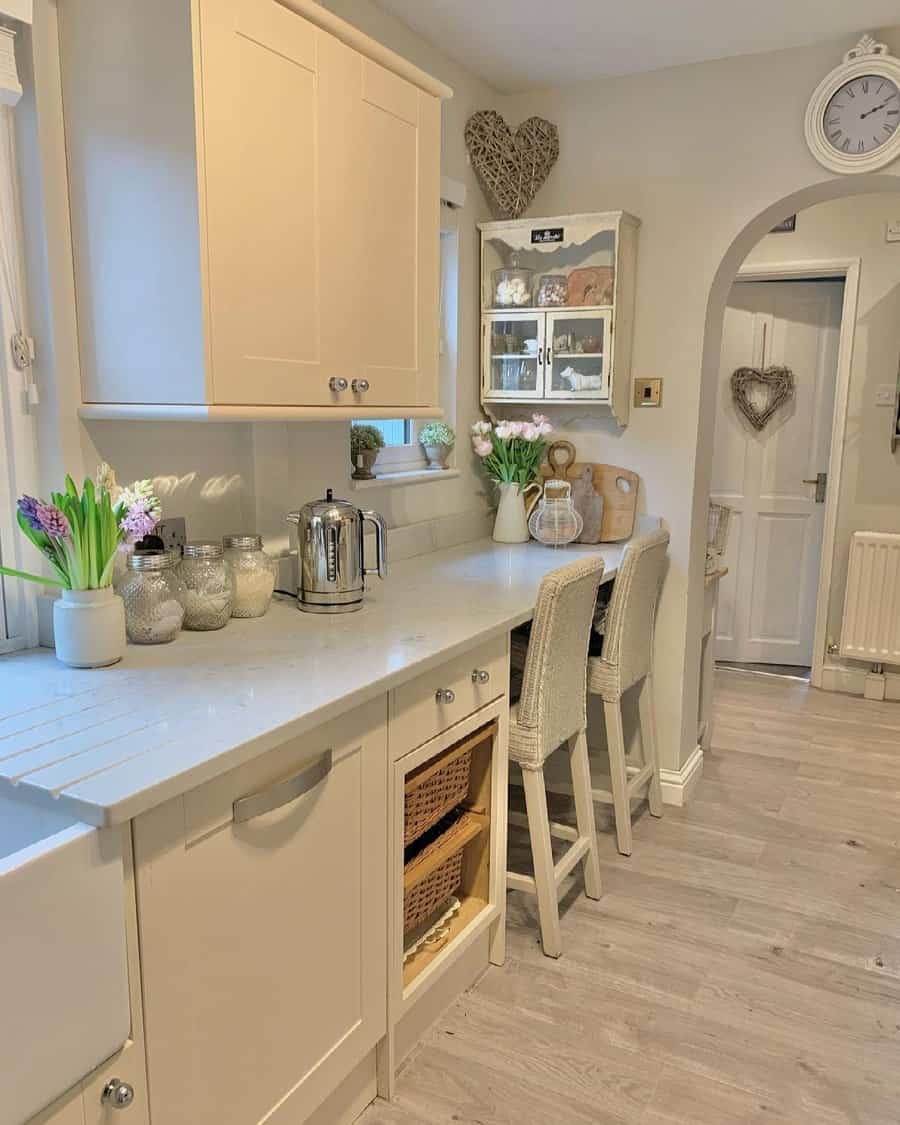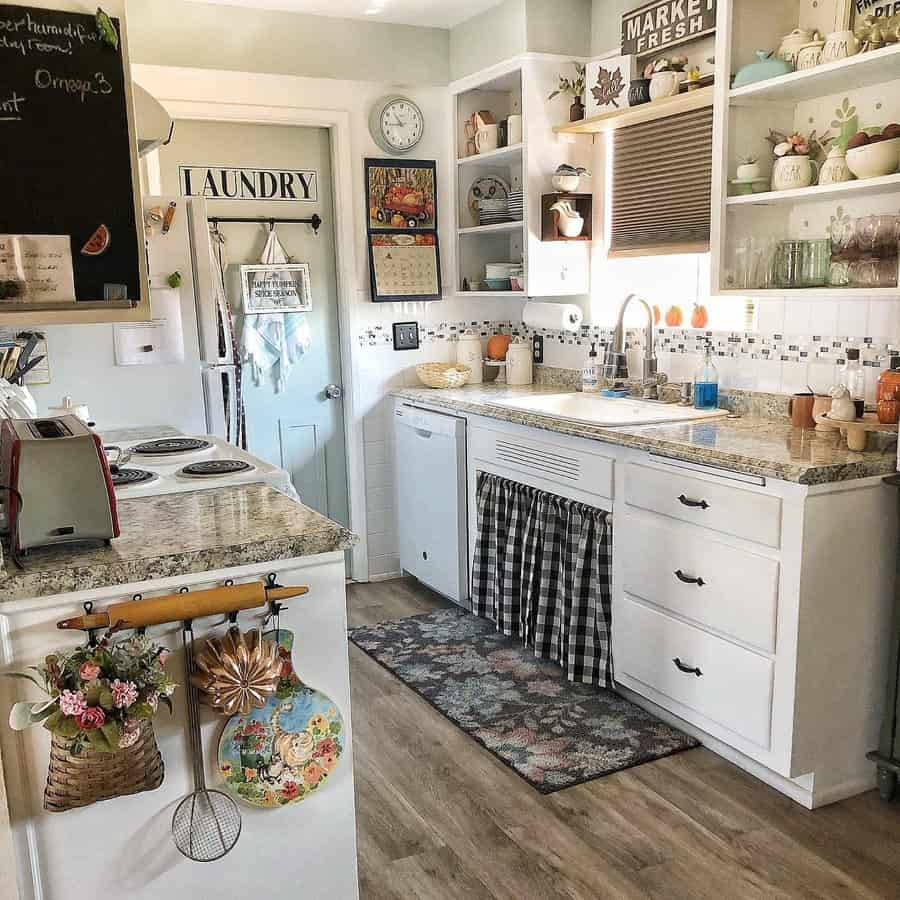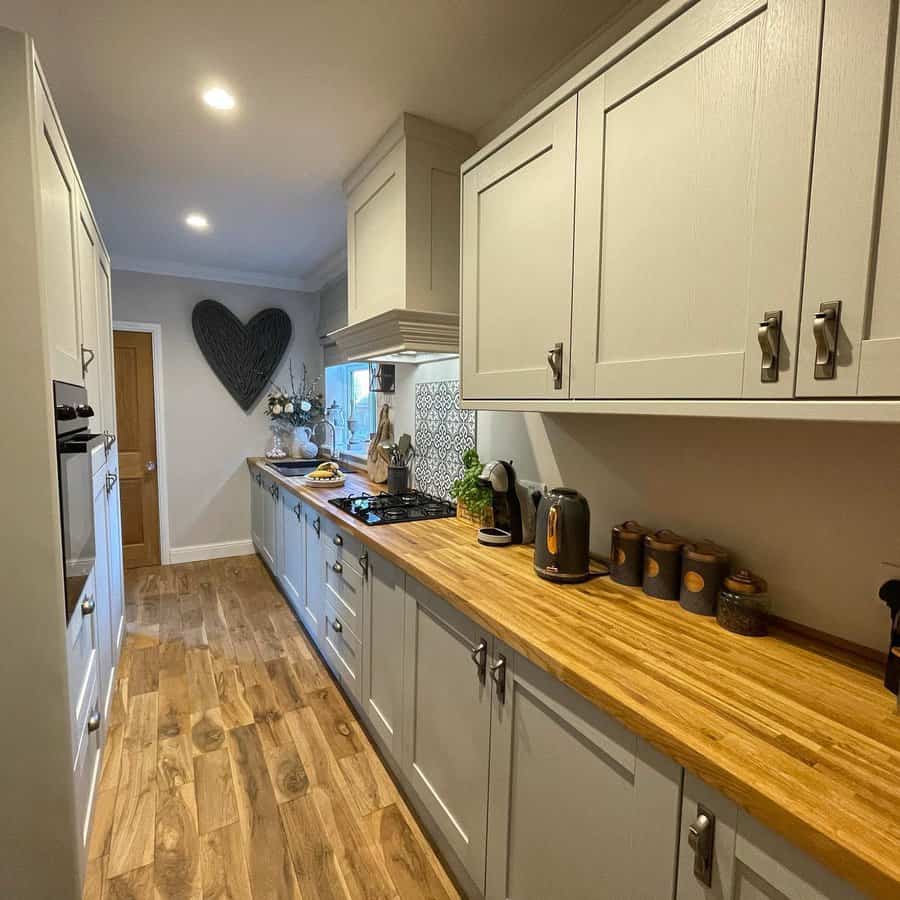 5. Opt For Sleek, Dark Walls
A small galley kitchen can be dreamy and creative, especially with dark walls and black fixtures that give the space a cozy and modern feel. The dark walls are perfectly complemented by wood countertops and cabinets, creating a natural contrast that invokes a sense of balance and unity in the kitchen.
With its contemporary style, a small galley kitchen is sure to leave you inspired for years to come.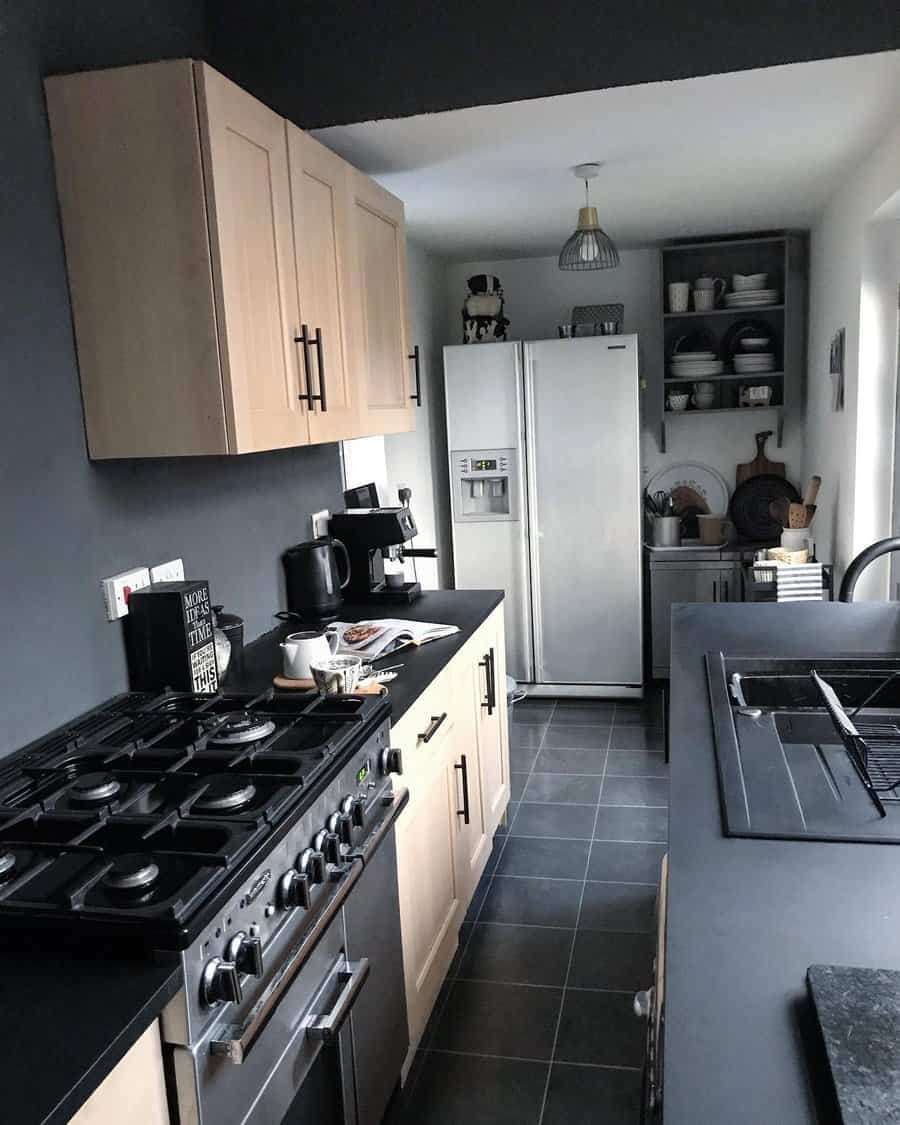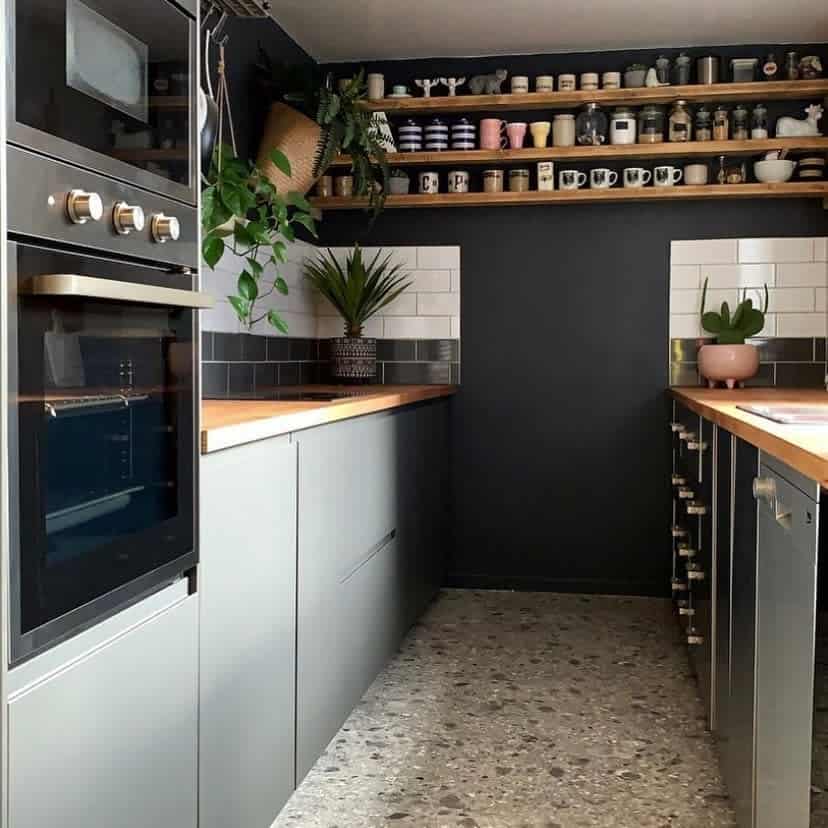 6. Introduce Plants Into Your Kitchen
A small galley kitchen doesn't need to be boring – potted plants are the perfect way to bring your space to life!
Hang macrame hangers from the ceiling and fill them with potted stock seedlings, ivy, or pothos for a boho look. Place smaller potted plants on windowsills, counters, or cupboards for a soft pop of color. Herbs can also be potted and placed around the kitchen – and you'll have ingredients always at hand!
Elevate your potted plant display by creating your own vertical herb wall – it looks simply gorgeous while taking up barely any room in the galley kitchen. Bring some green friends into your space today and enjoy watching your small galley kitchen come alive!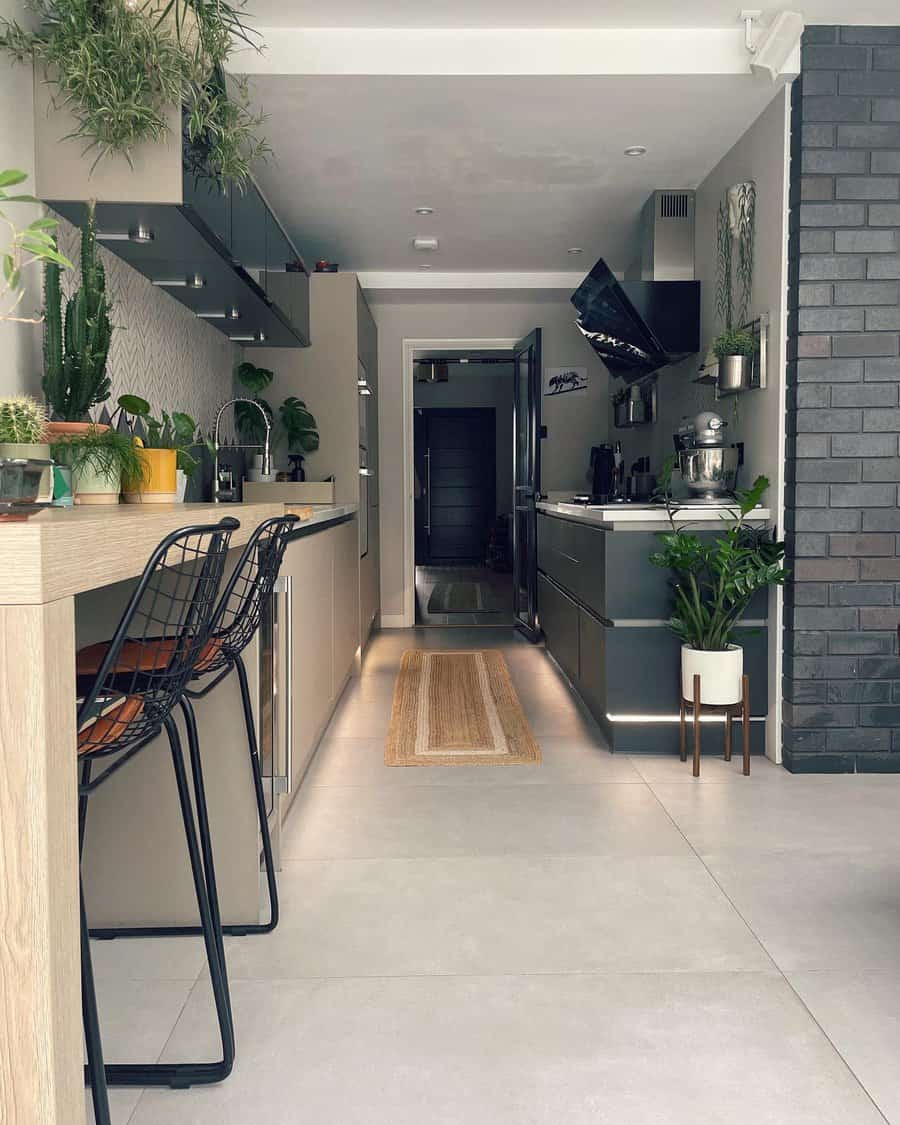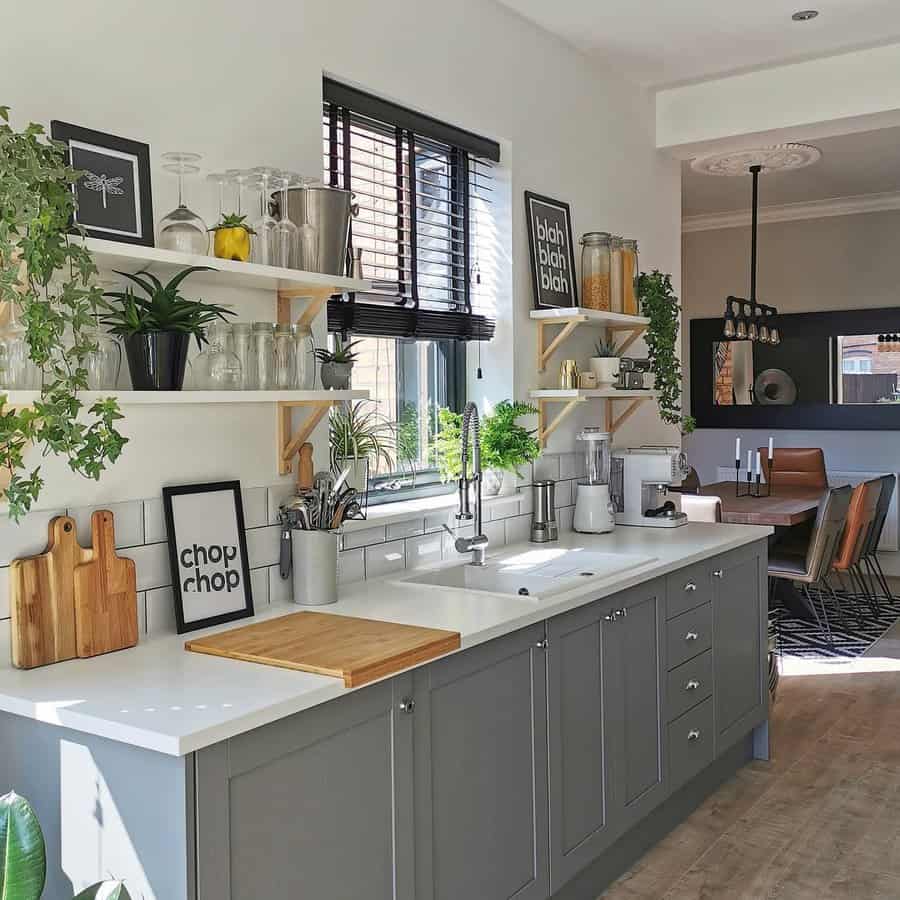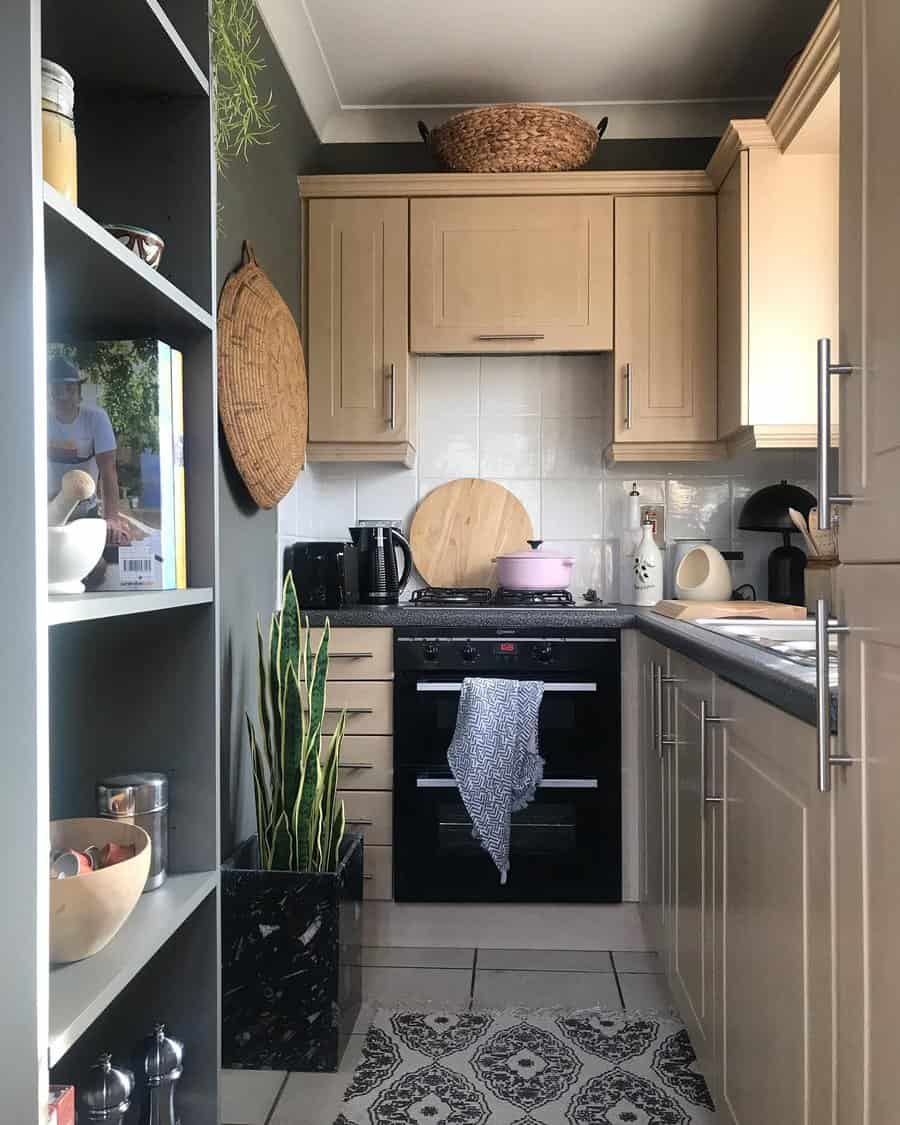 7. Keep It Warm With A Rustic Interior
A rustic small galley kitchen can be a welcoming space with the right touches. With white and wooden cabinets and shelves, you can bring some rustic charm while also providing plenty of storage space. Keeping the wood flooring light will also help to make the room a brighter place to hang out in.
Add some rustic accents, like antique utensils or galvanized pails as decor, and you'll have plenty to entertain guests in your rustic small galley kitchen.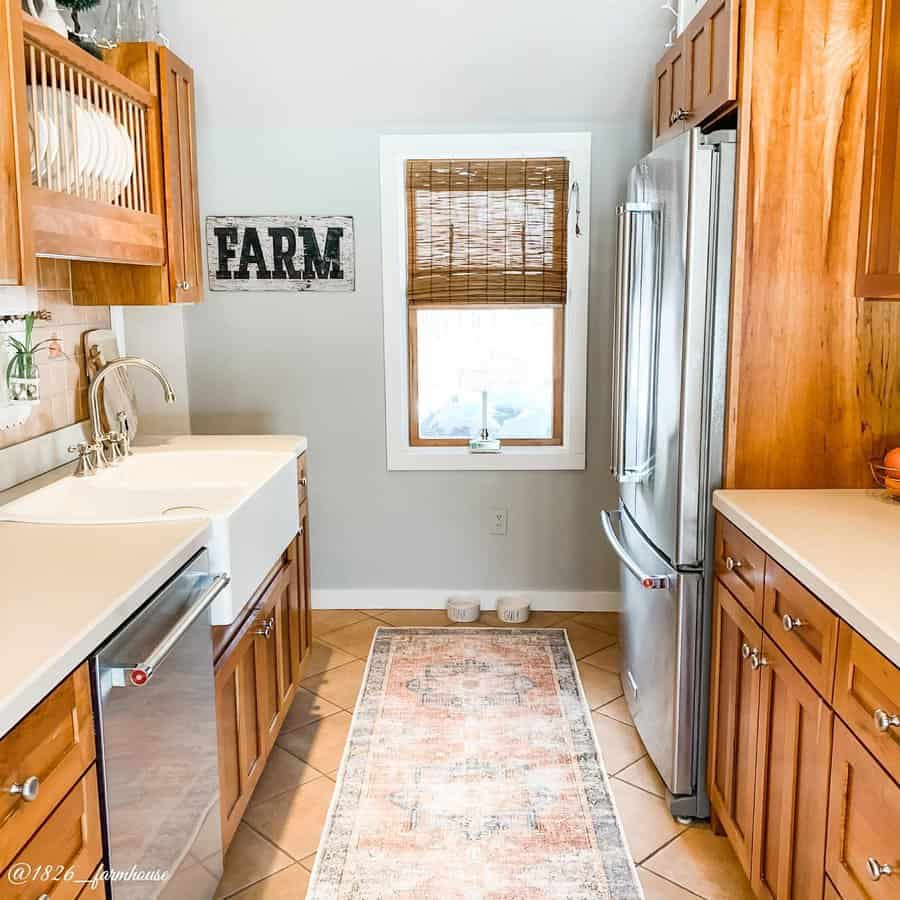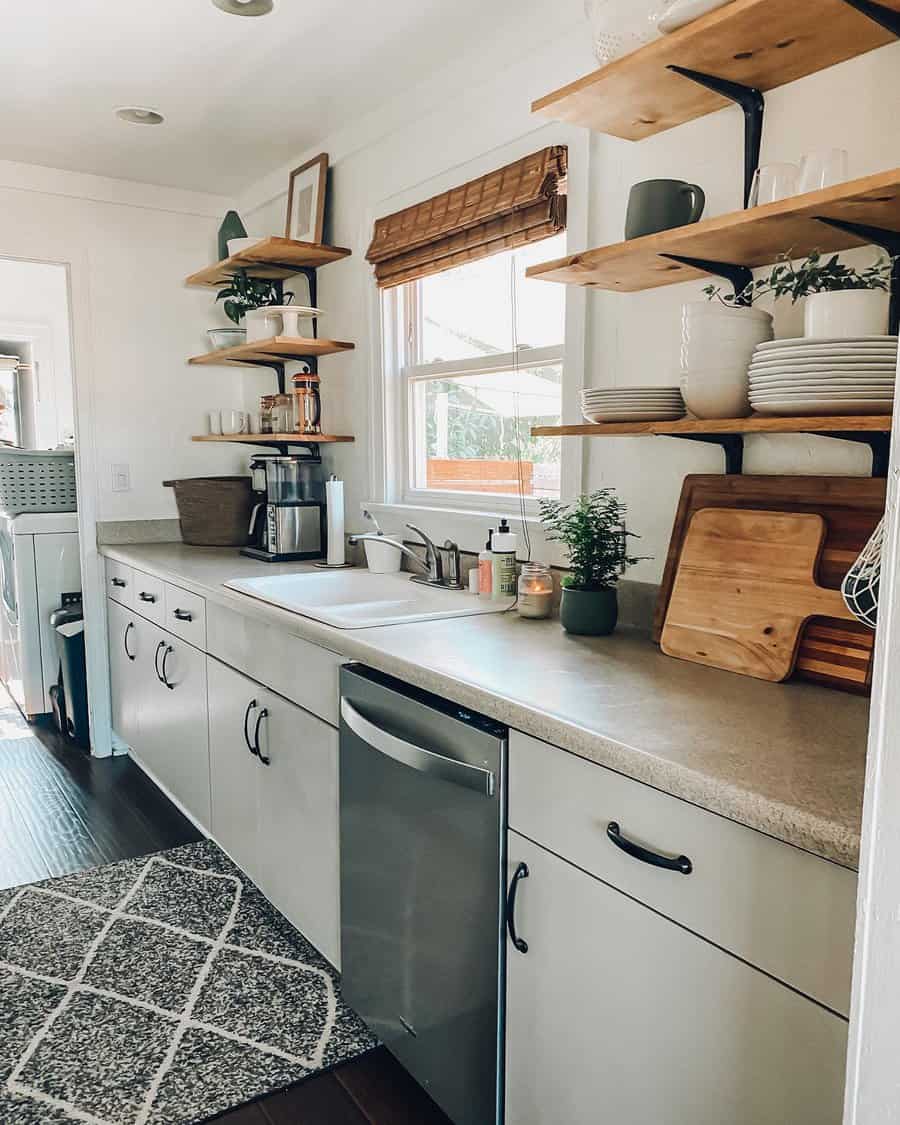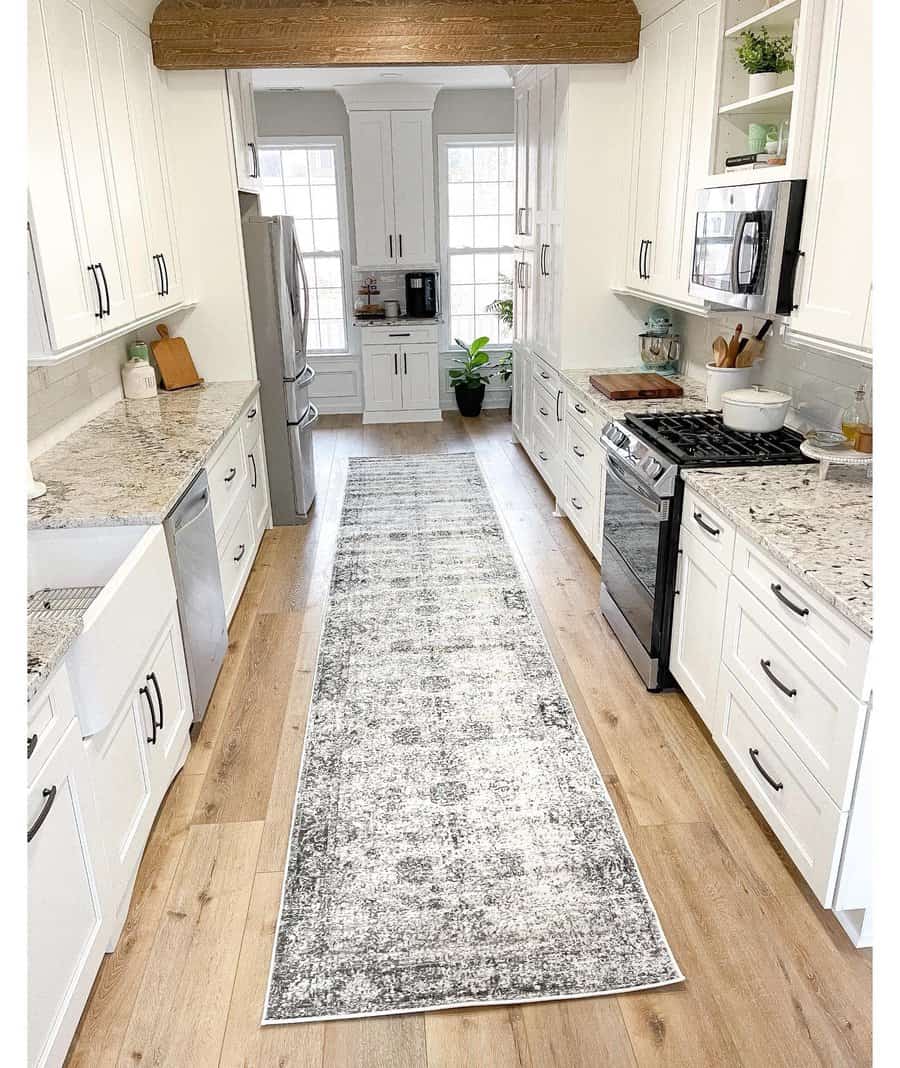 8. Install Black Fixtures
Bring a touch of modern nostalgia to your home with a small galley kitchen. Create an aesthetic that is at once classic and contemporary by combining sleek black fixtures with a traditional Belfast sink, set atop a dark wood countertop. This timeless combination will provide you with the perfect backdrop to create wonderful meals from the comfort of your own kitchen.
With these elements, your small galley kitchen can feel bold yet cozy at once—a unique space to manifest your creative dreams!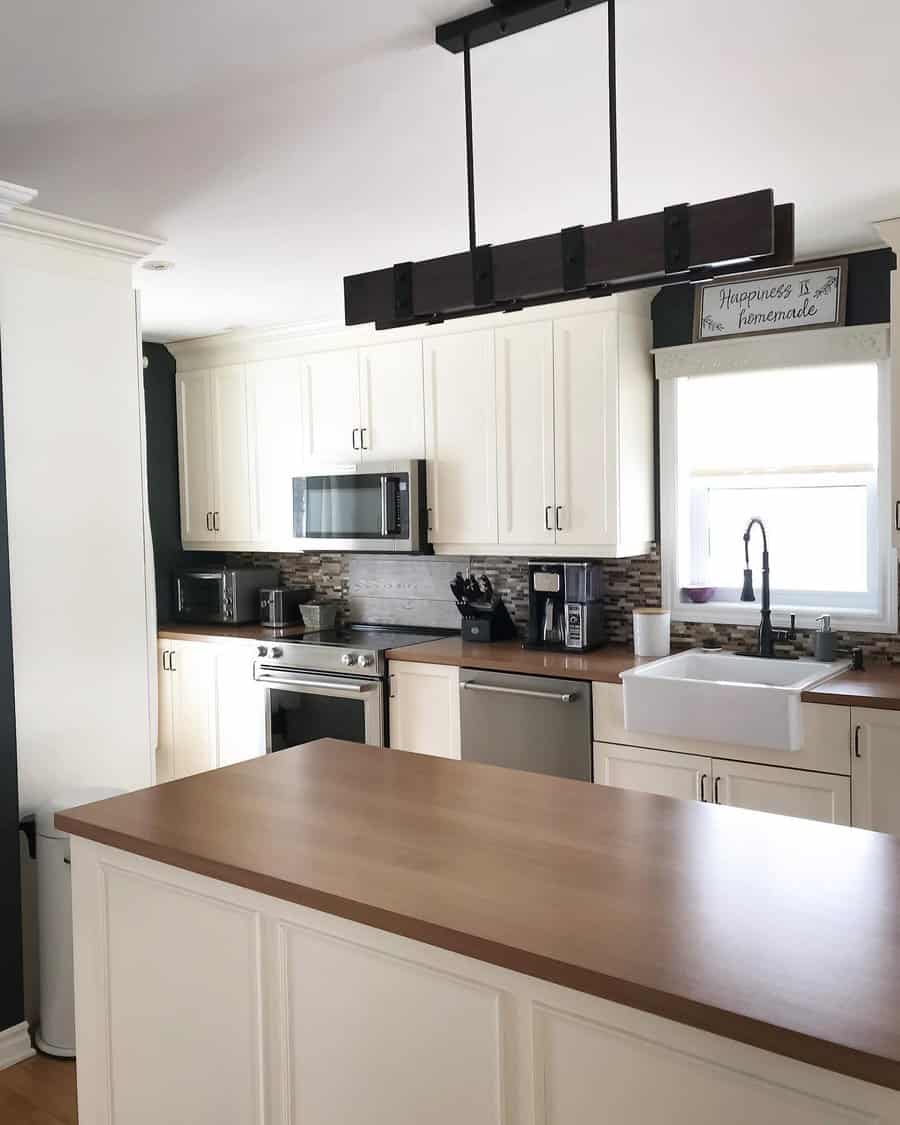 9. Make It Raw For An Industrial Look
Industrial small galley kitchens offer a unique blend of exposed brick walls and spot lights, making them perfect for tapping into a trendy loft apartment vibe. To add the finishing touches of ambiance, consider incorporating some copper fixtures.
A large industrial range is the perfect calling card to make this kitchen stand out from all the rest! Not only will it draw in the eye and make you feel like a top chef, but it will also leave your guests in awe of your creativity and style. Ready for an industrial kitchen adventure? Let this small galley be your gateway!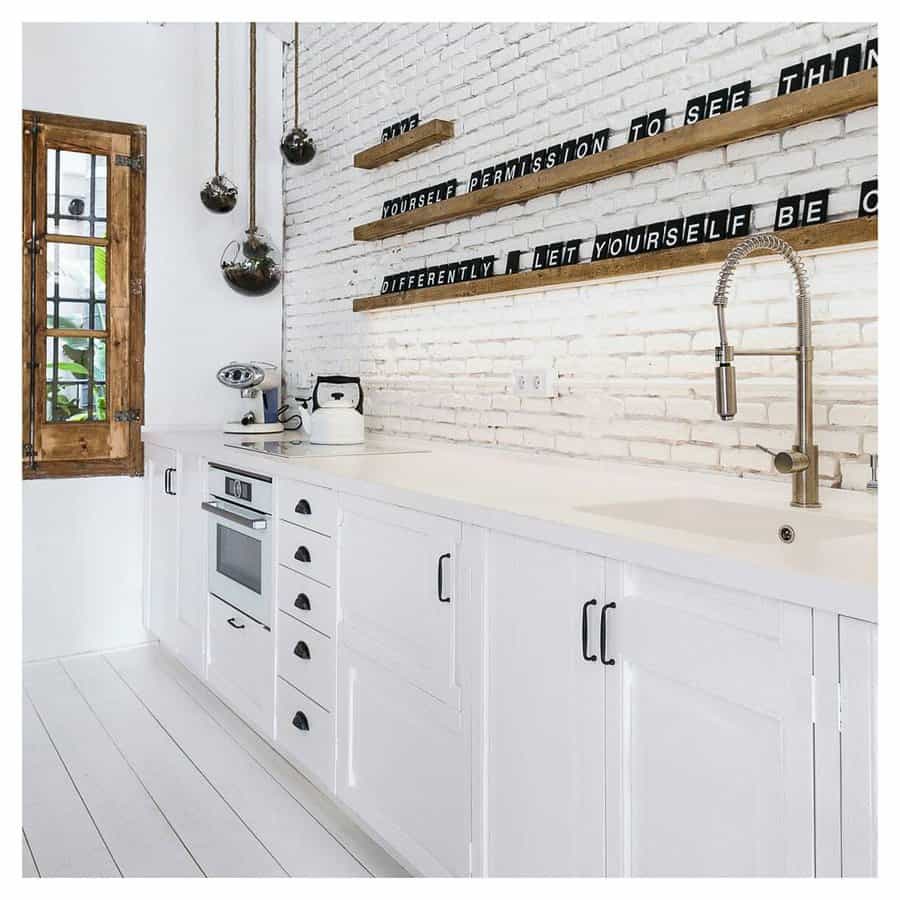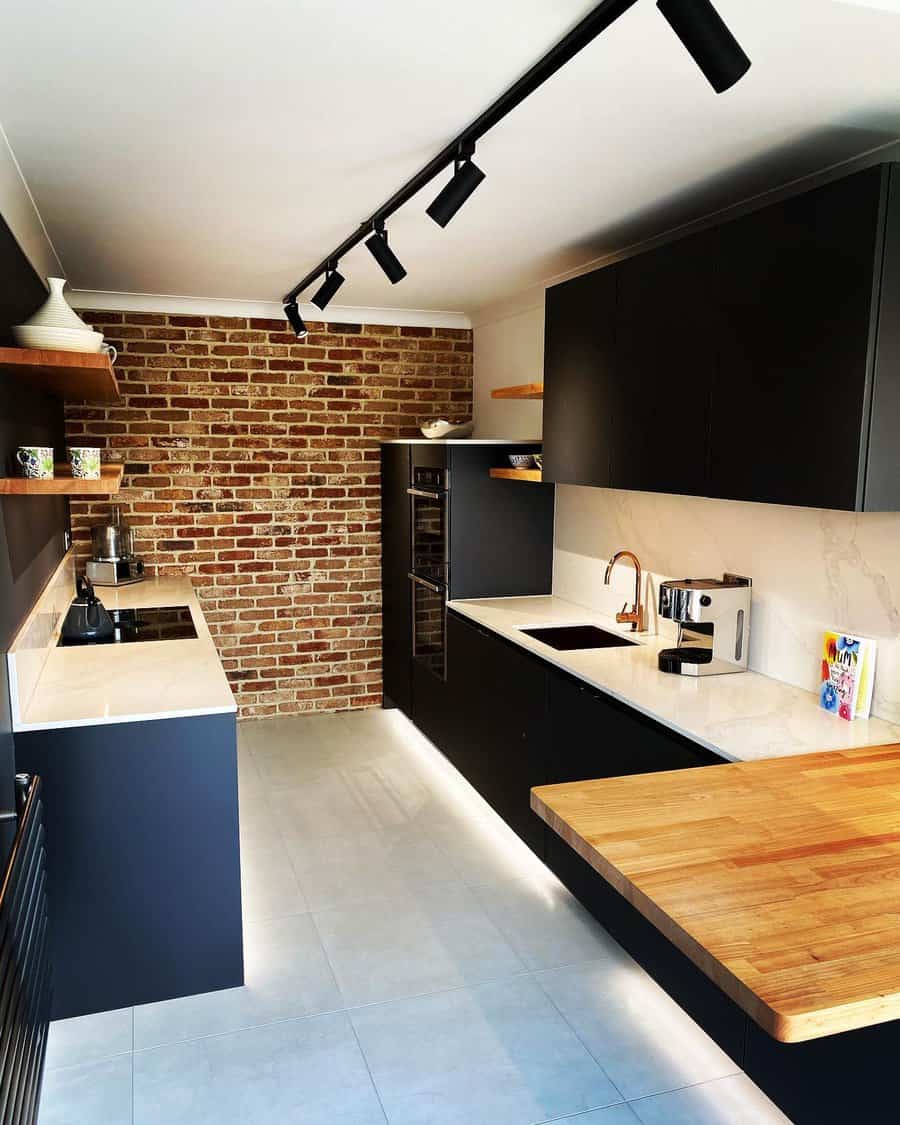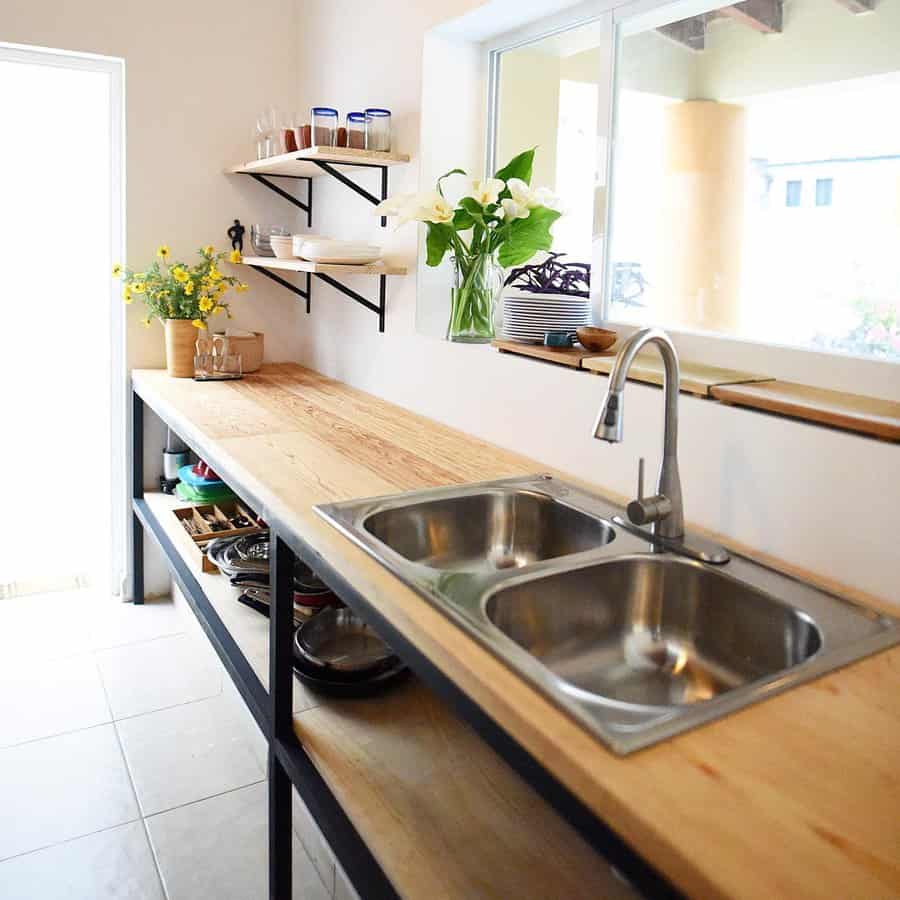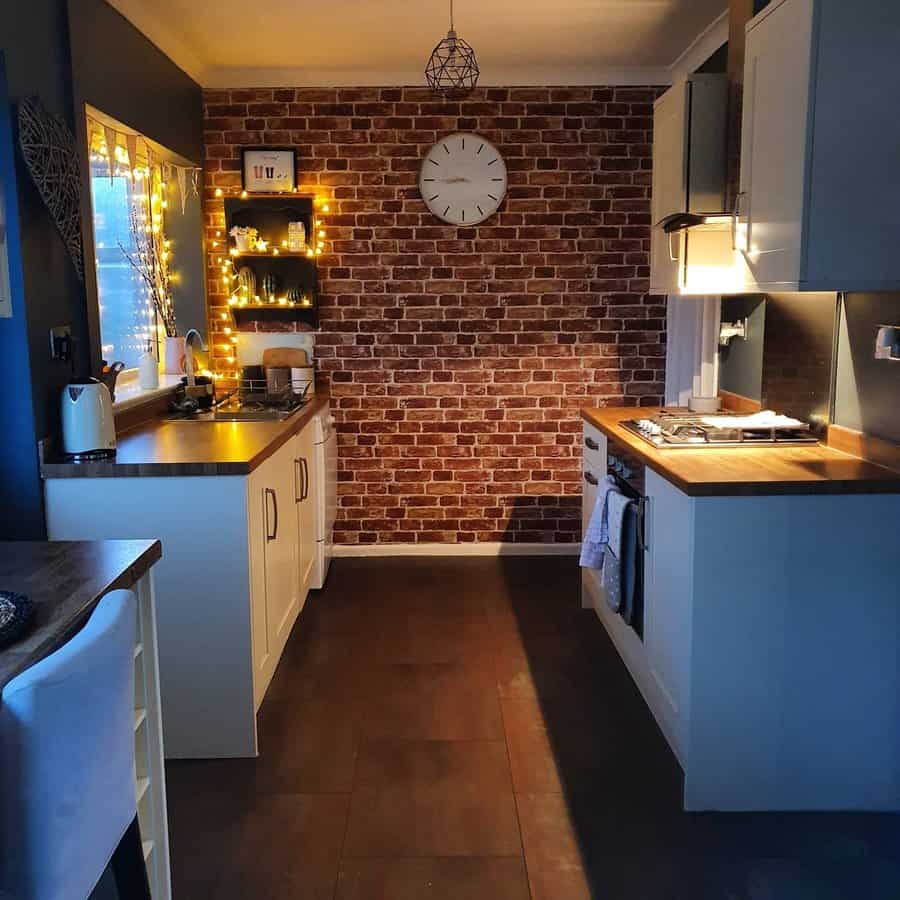 10. White With A Pop Of Color
A white small galley kitchen is the perfect spot to create culinary inspiration! With white walls, white cabinetry, and white appliances, this space exudes a light and airy atmosphere. A splash of color can be added to the room in interesting ways.
For example, hang a bold red clock on one of the white walls, or swap out an existing window treatment for solid orange window blinds. These subtle touches will bring life to the white kitchen without overwhelming it. Now you can start dreaming about all your future delicious meals!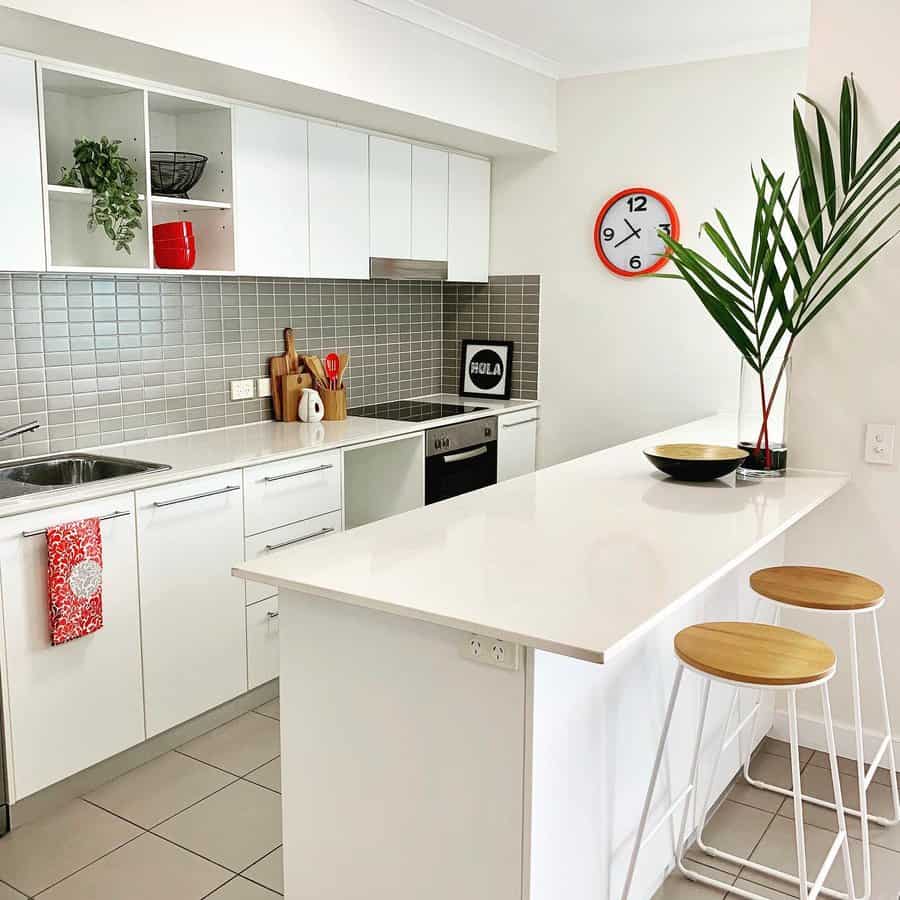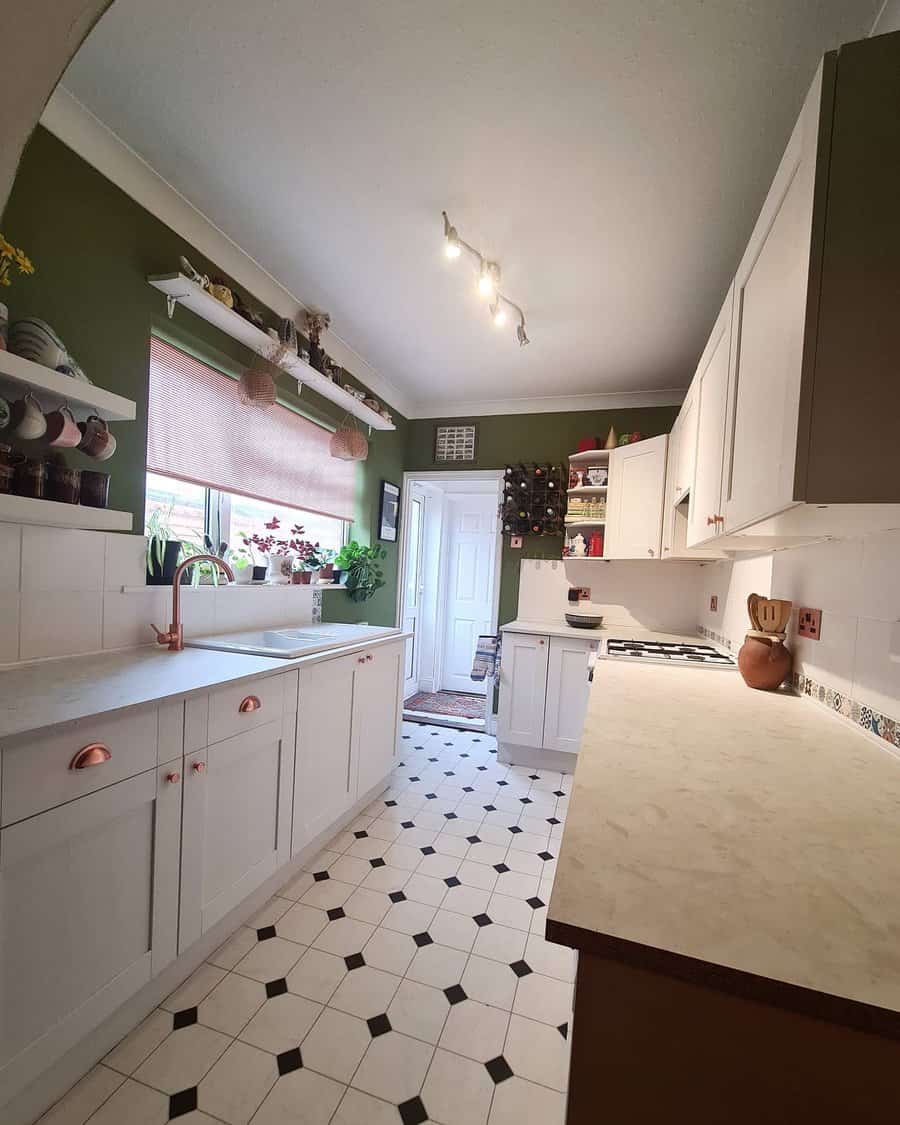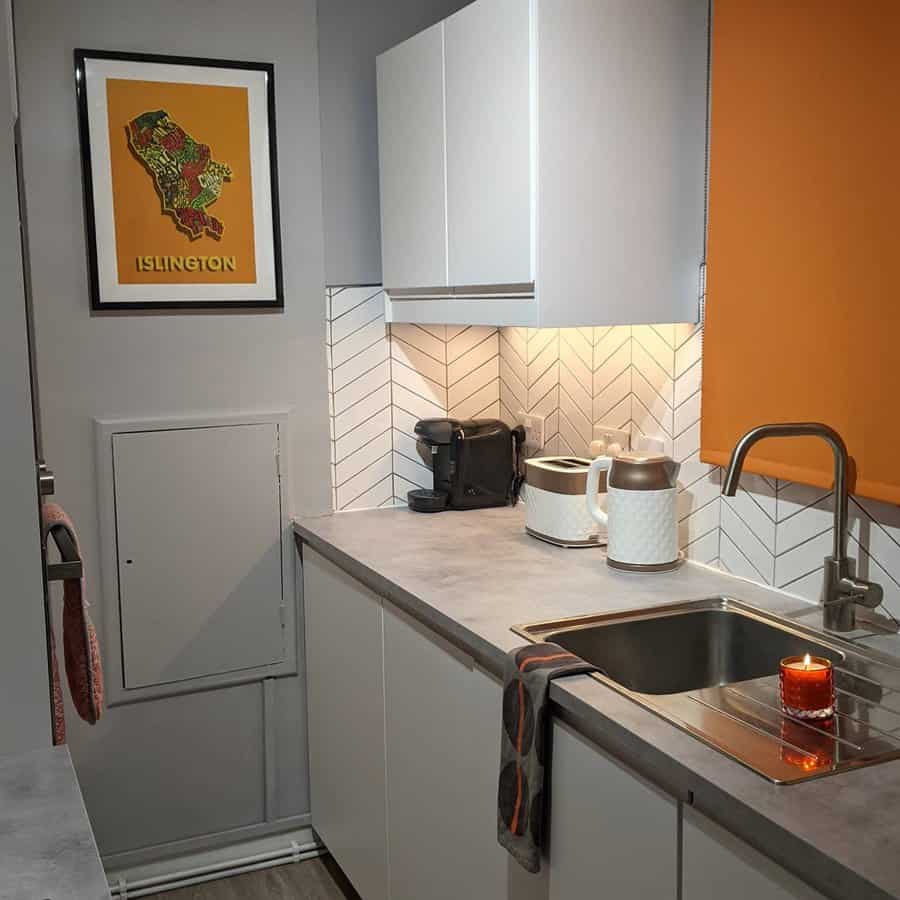 11. Go For Wooden Countertops
Making use of a small galley kitchen can be an enjoyable experience – if done correctly. To maximize space, wooden countertops are ideal for providing adequate work surfaces without feeling cramped. When it comes to cupboards and cabinets, black or white colors are both sleek and contemporary options for creating the illusion of extra room and preventing the area from looking too cluttered.
A few sprigs of plants or herbs add a touch of green that livens up the entire kitchen, while also being helpful in boosting air quality indoors. Starting out with these enchanting features will no doubt give your galley kitchen true personality!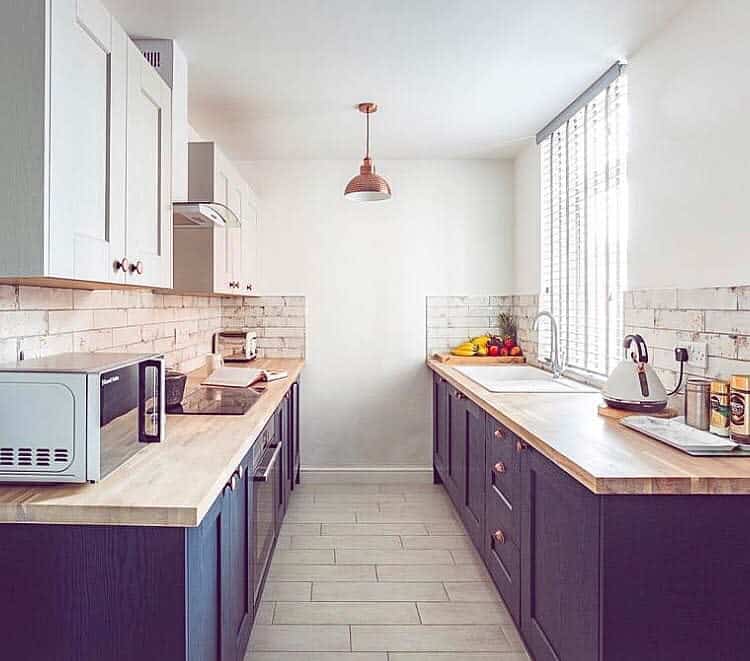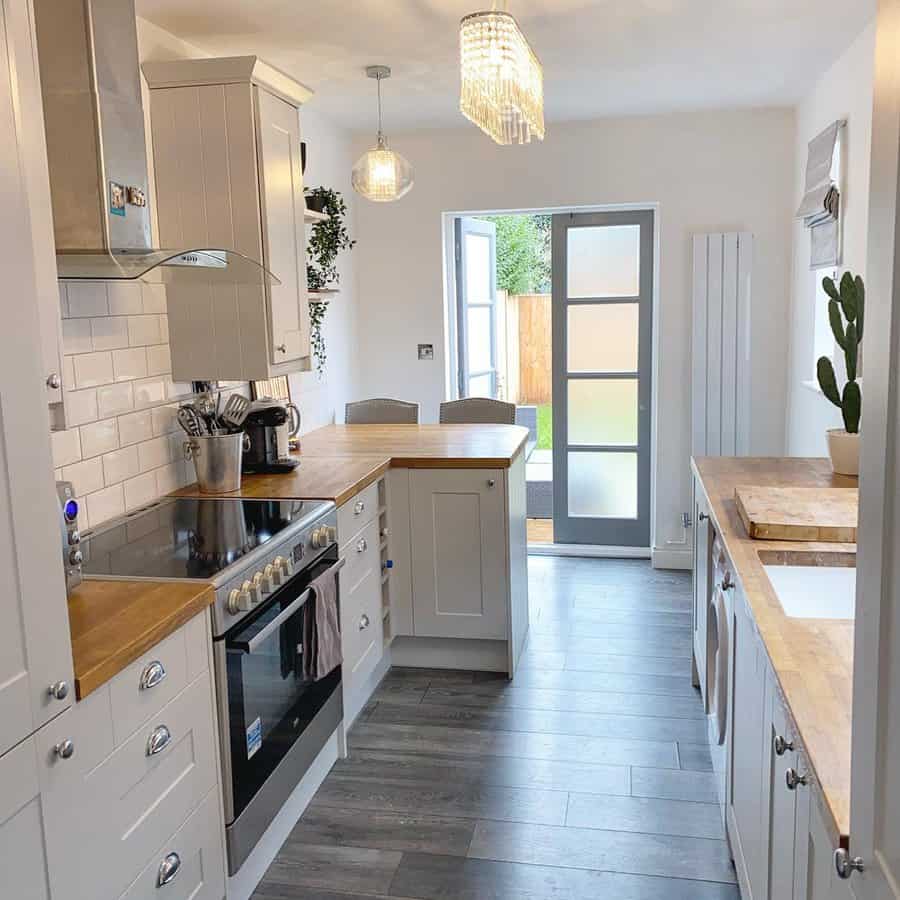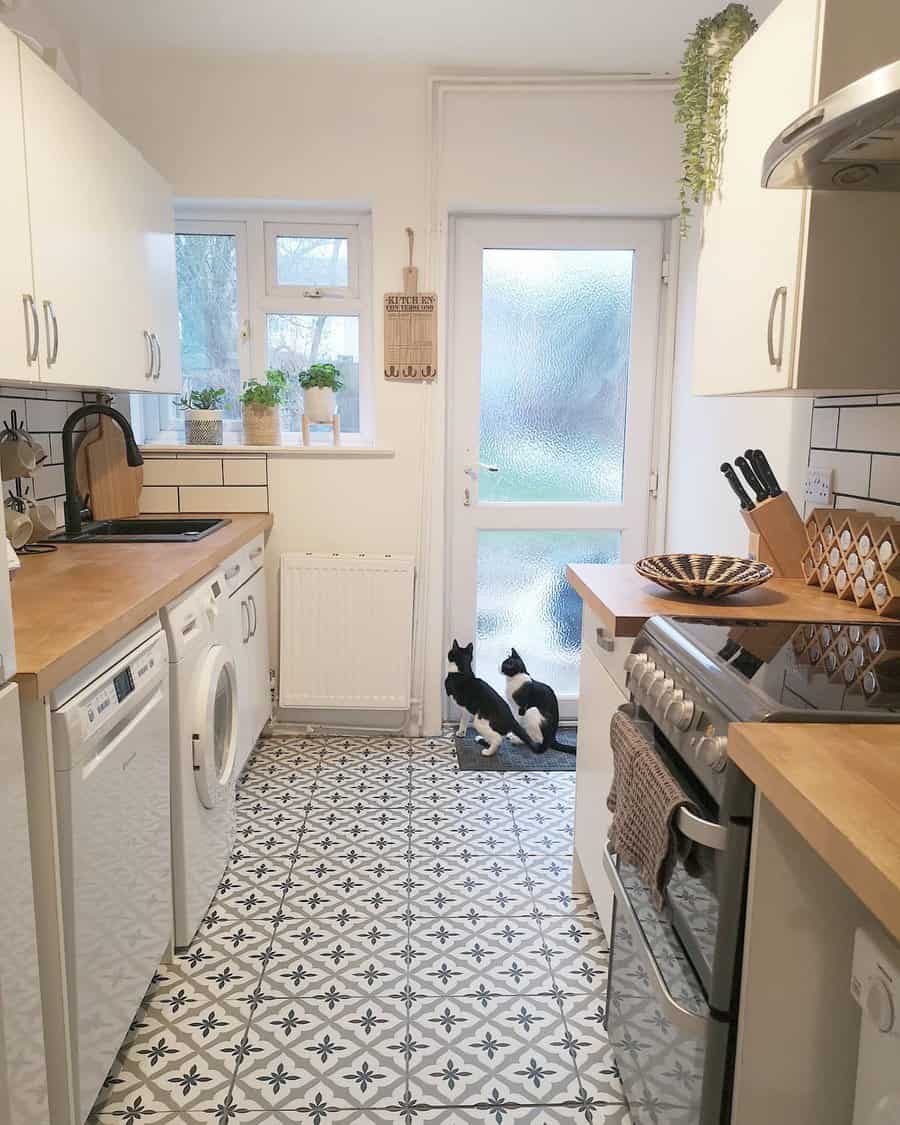 12. Feel Chic With Terrazzo Vinyl Flooring
A small galley kitchen is a charming space to work with. Even in limited square footage, there are plenty of ways to make the room feel bigger and brighter than it is. Terrazzo flooring could be used to give the room some life and additional character by reflecting light off its multifaceted surface.
To keep the overall aesthetic minimal, white cabinets help open up the space – and pairing it with terrazzo keeps it from feeling too sterile. To soften the look even further, consider adding some potted plants for greenery. A small galley kitchen can still have a big impact!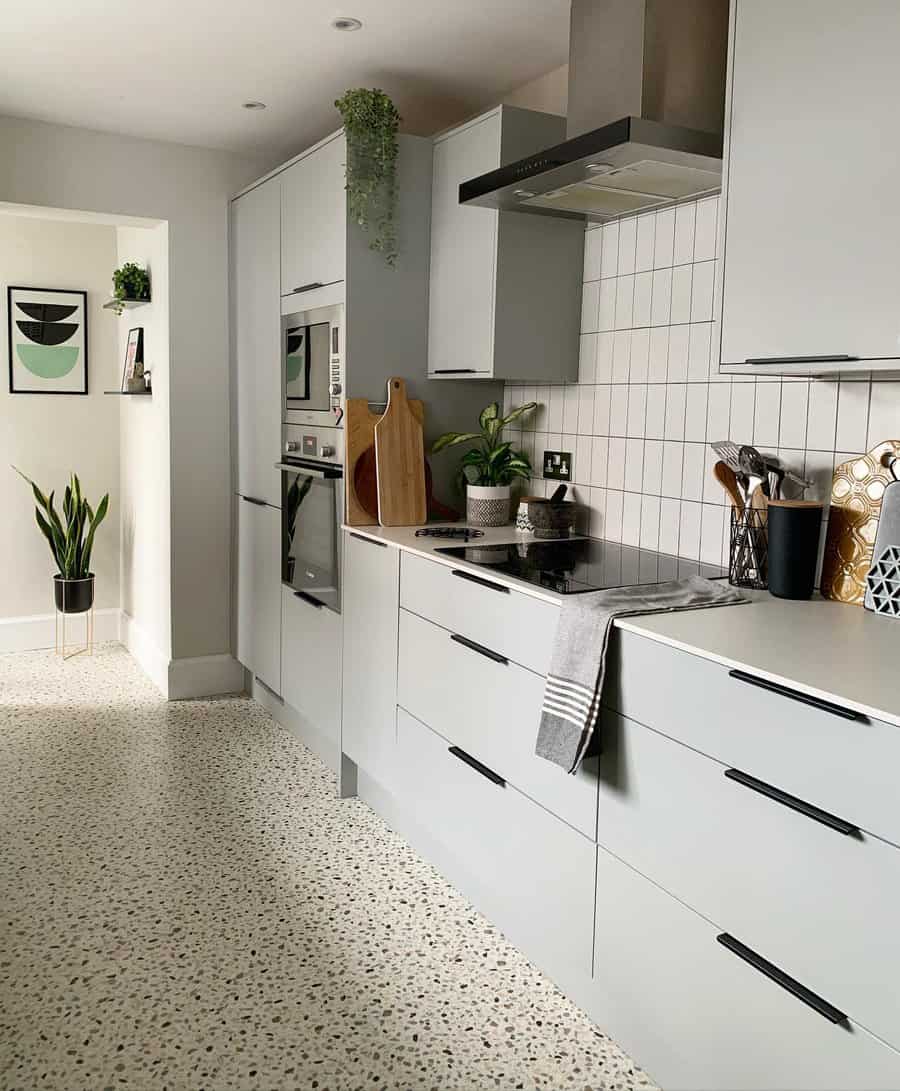 13. Add Dramatic Lighting
A small galley kitchen can be transformed into a showstopping space with some creative lighting! Drop lights at different heights give an interesting look and create unique shapes and shadows. For an even more dramatic effect, dark flooring should be used to really make the shadows stand out.
A small galley kitchen can still have all of the style and drama of any large kitchen simply through the use of drop lights and dark flooring, allowing you to get a truly breathtaking result in even the smallest of spaces.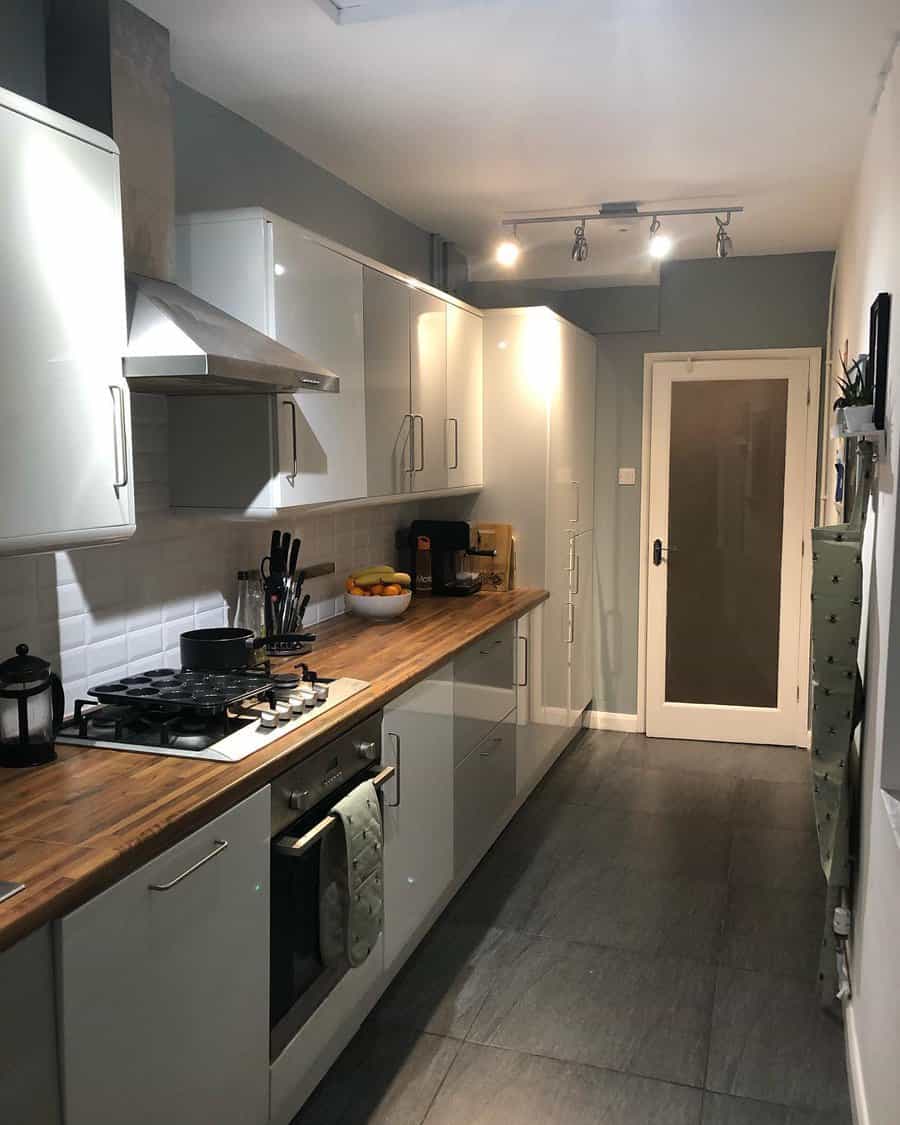 14. Create An Accent With Beveled Tiles
There's something about a small galley kitchen with countertop walls tiled in beveled tiles that is irrefutably charming. The interior usually painted white reflects the natural light pouring from the windows, adding a sparkle to the countertops as if they were little jewels scattered around.
The mixture of warm wood cabinets and countertops, with the cool glaze from the counter wall, is mesmerizing. Every inch of the kitchen oozes character and personality which adds to its charm and warmth.
Having beveled tile countertop walls create an eclectic aesthetic that can transform any small galley kitchen into a luxurious space.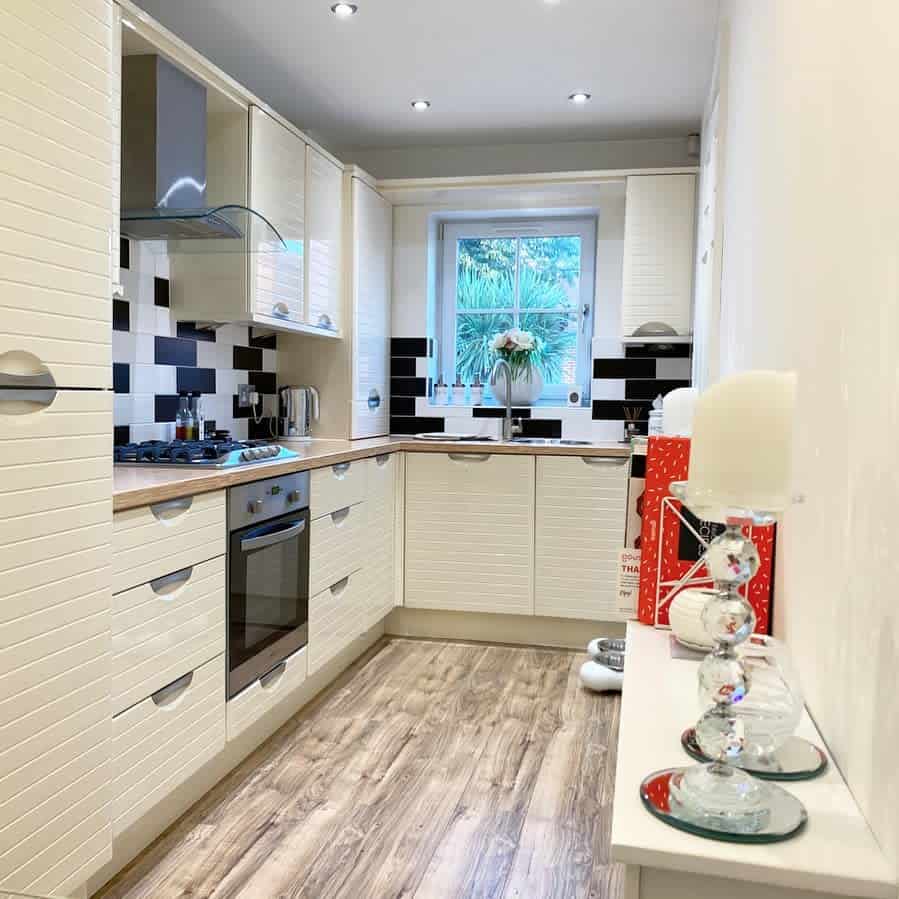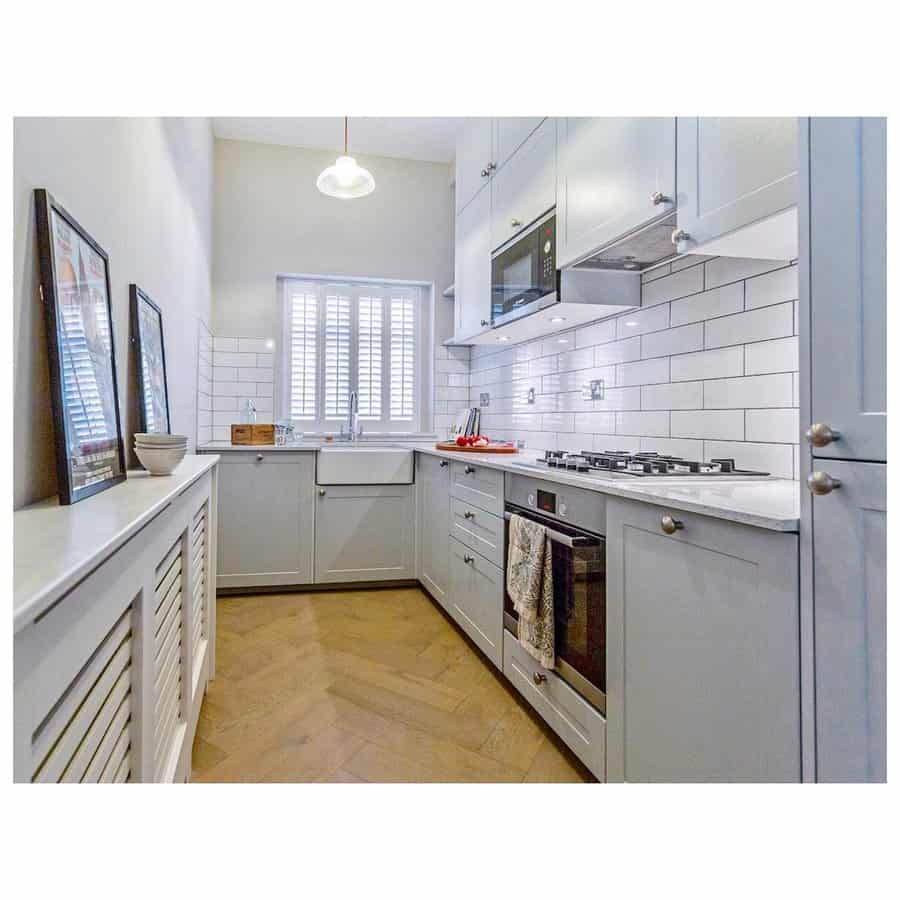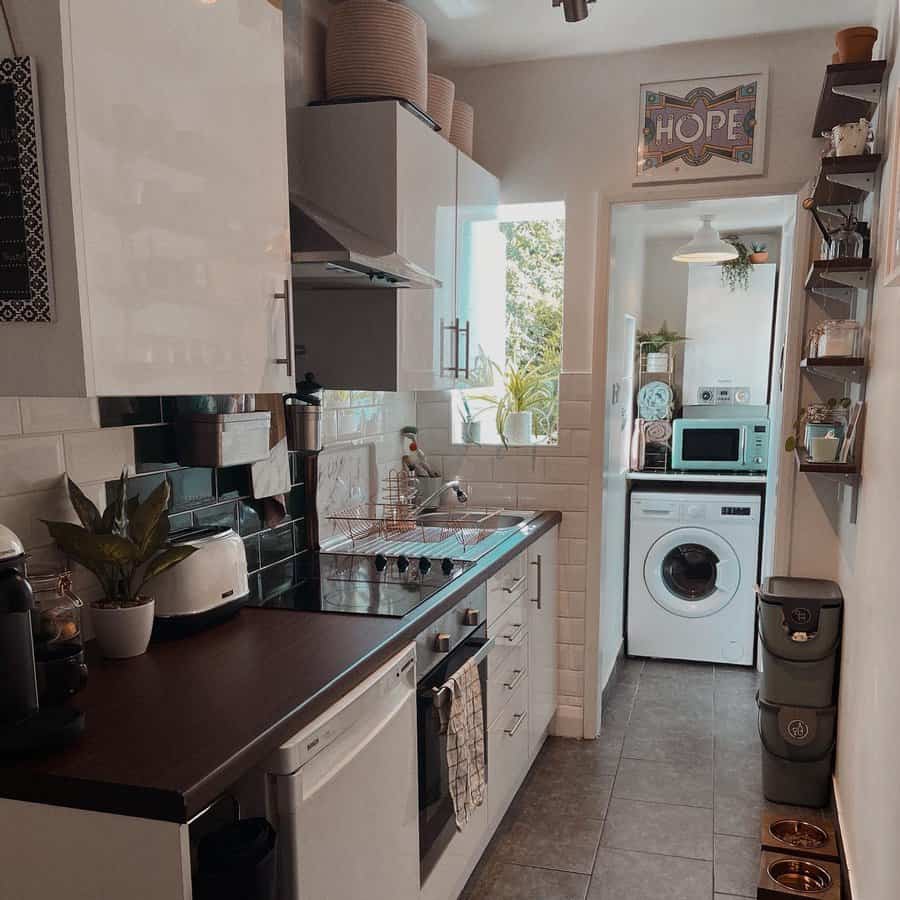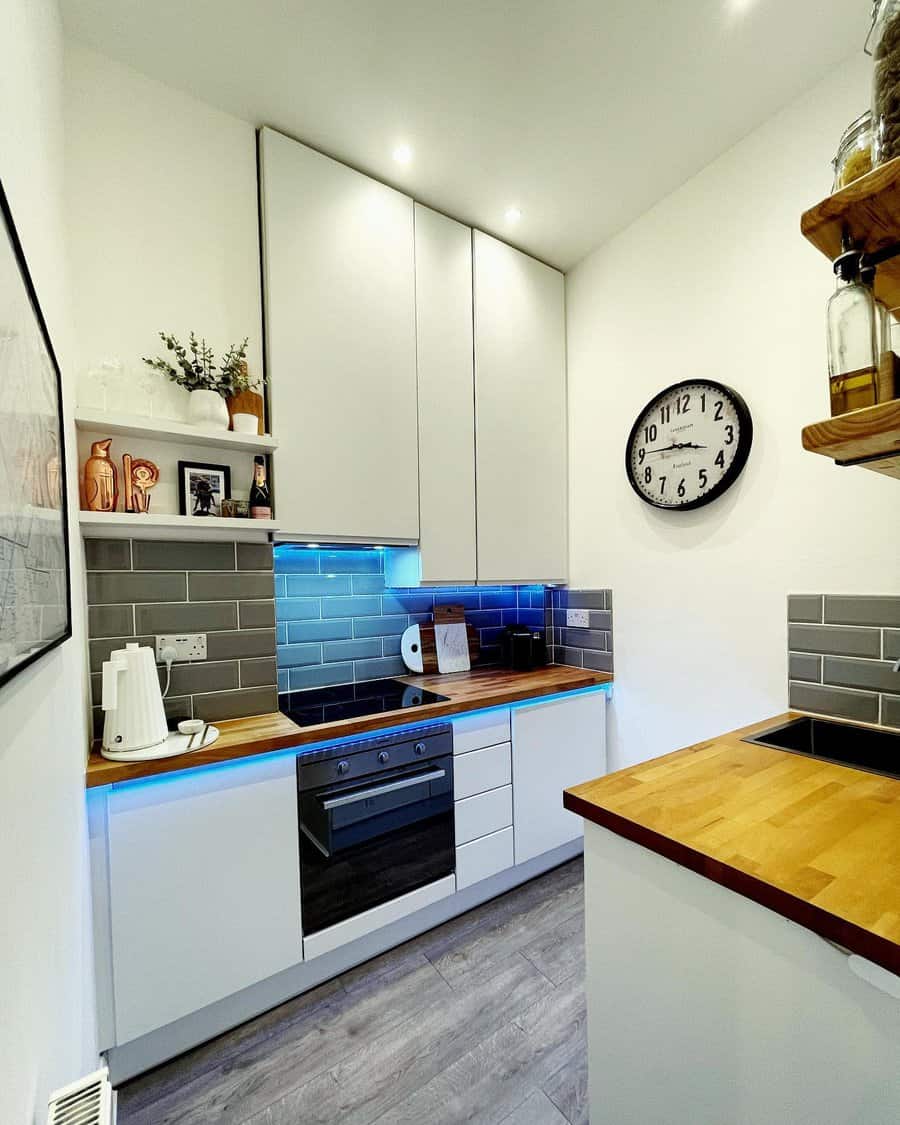 15. Keep It Bright & White
An all-white galley kitchen often appears crisper and brighter than most kitchens, making it ideal for those looking to recreate that bright atmosphere in their own home. But with a little bit of creative flair and well-thought-out design, this small cozy kitchen can become much more. Installing wooden flooring gives the all-white interior a hint of warmth and richness while plants scattered around can inject some life into this little area.
Not only do plants regulate air quality, but they also add captivating color to the all-white environment. With all these elements combined, you will be able to create a bright small galley kitchen that brings out your personality in all its glory!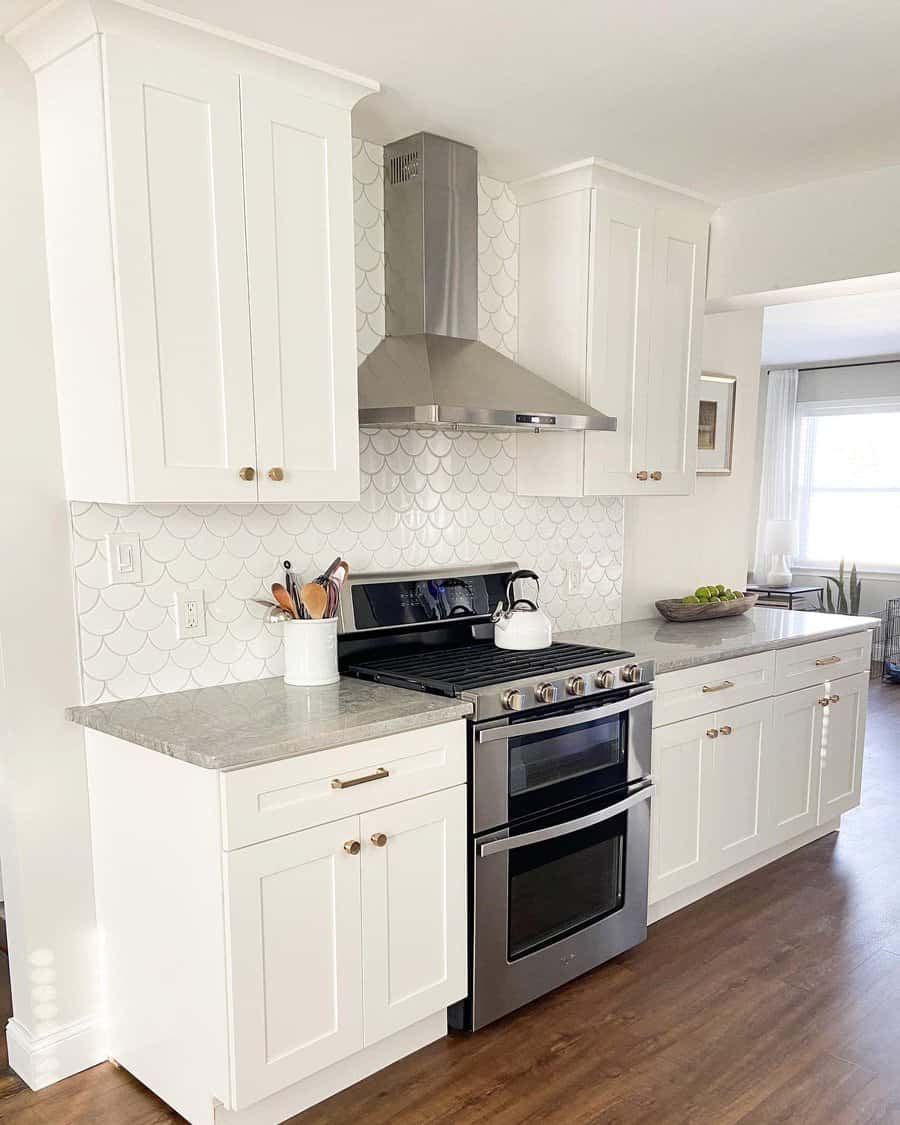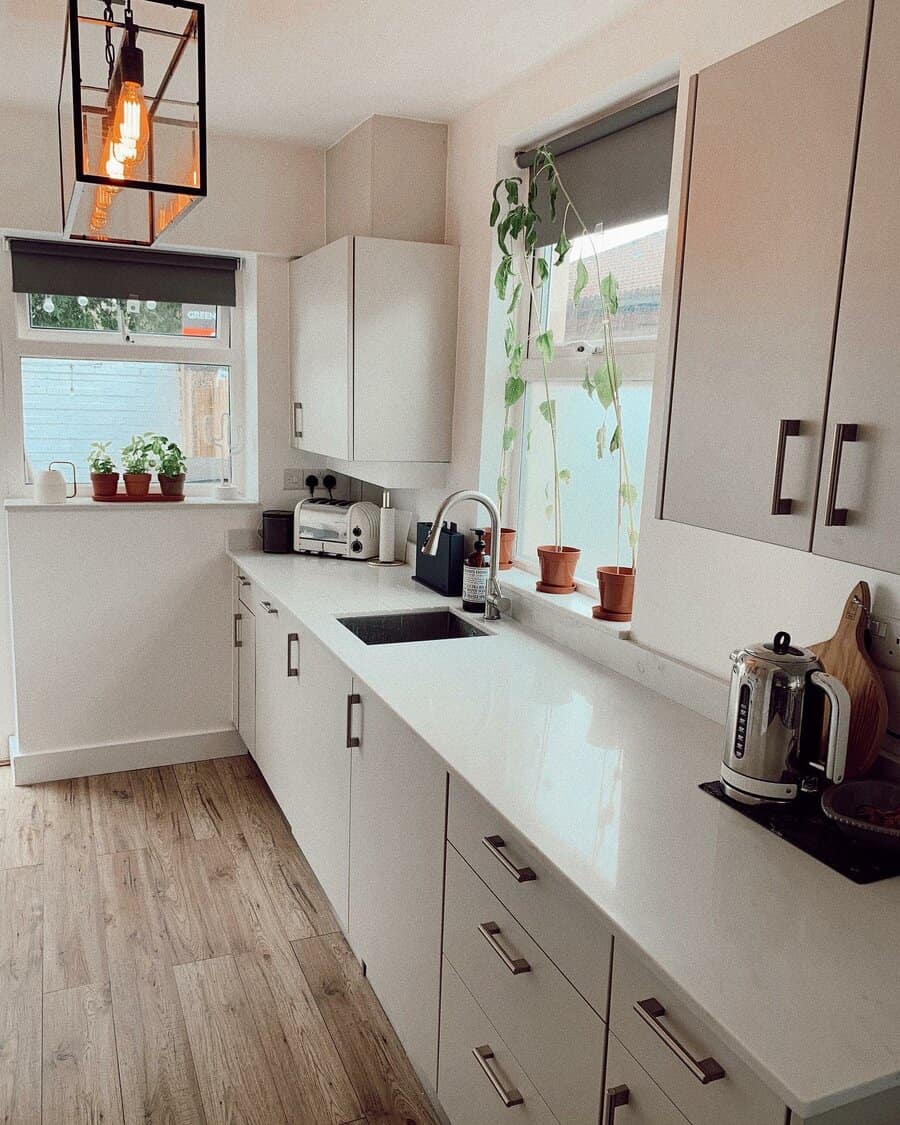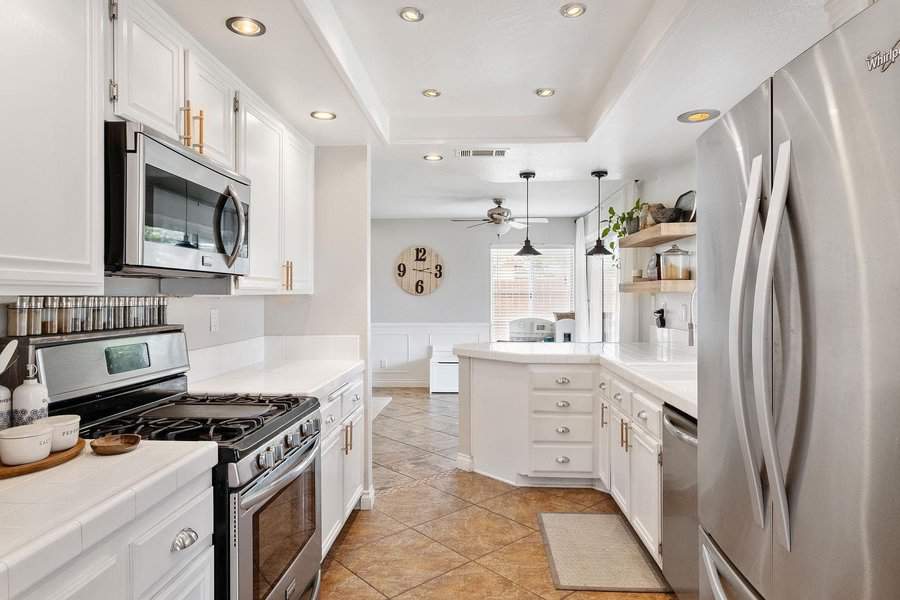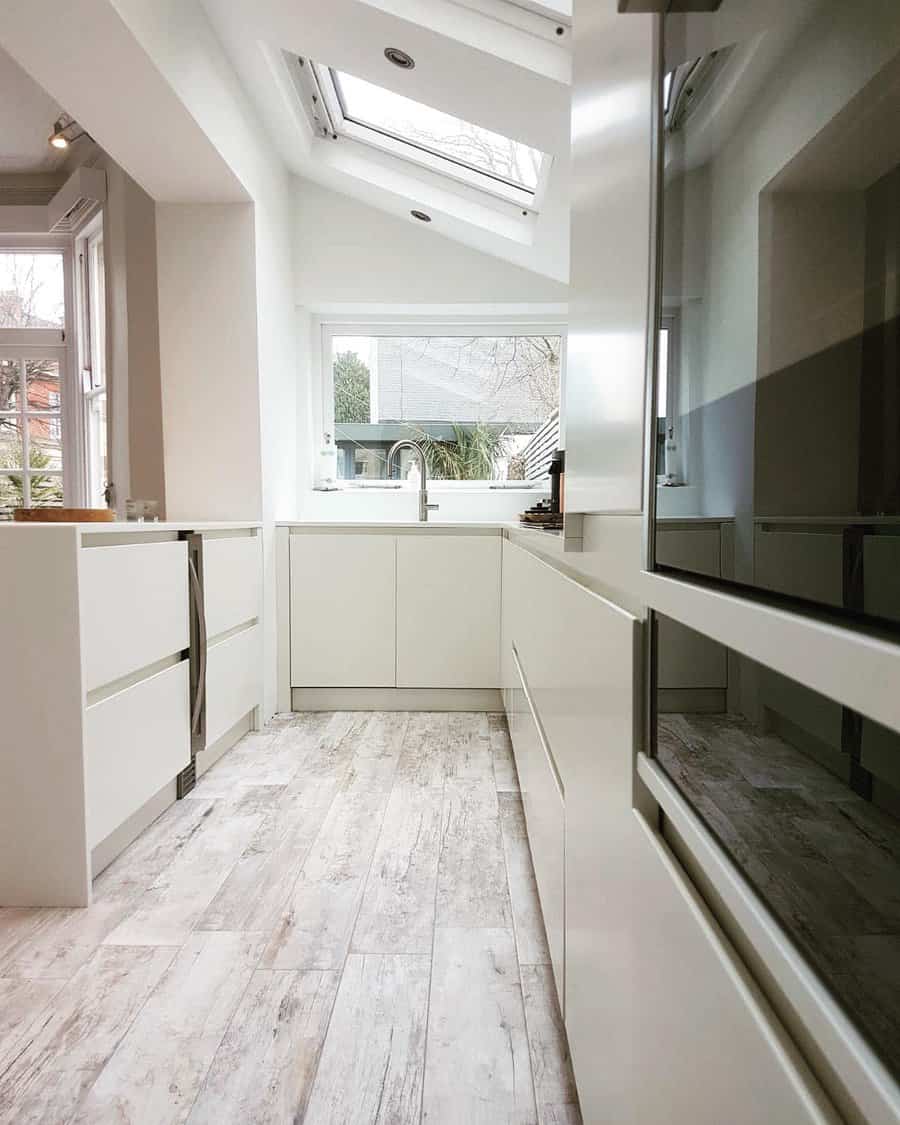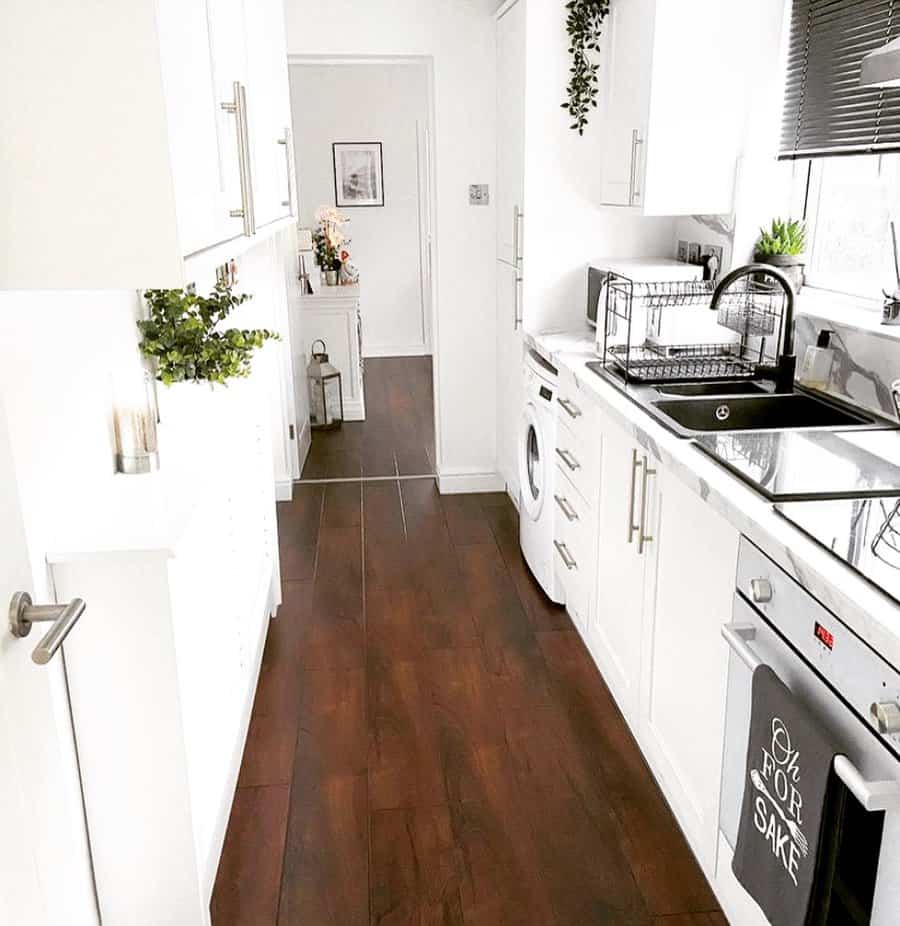 Small Galley Kitchen FAQs
Where should the sink go in a galley kitchen?
It's easy to take the location of your kitchen appliances for granted. But you can't enjoy the efficiency of a compact galley kitchen if your sink and other amenities are in the least convenient spots possible!
Most people agree that the best location for a galley kitchen sink is opposite of the stove or oven. This offers practical access to a water source when cooking and can make cleaning up a bit easier.
In galley kitchens that are closed on one end, the sink is often placed at the far wall. This is the most central location within this particular layout, so it makes the most sense to install the sink here.
What is the minimum width of a galley kitchen?
For minimum functionality, there should be at least 3 feet of floor space between either countertop. This provides just enough space to walk back and forth and open cabinet/appliance doors.
Of course, the bare minimum is rarely ideal. And the wider you can make your galley kitchen, the better.