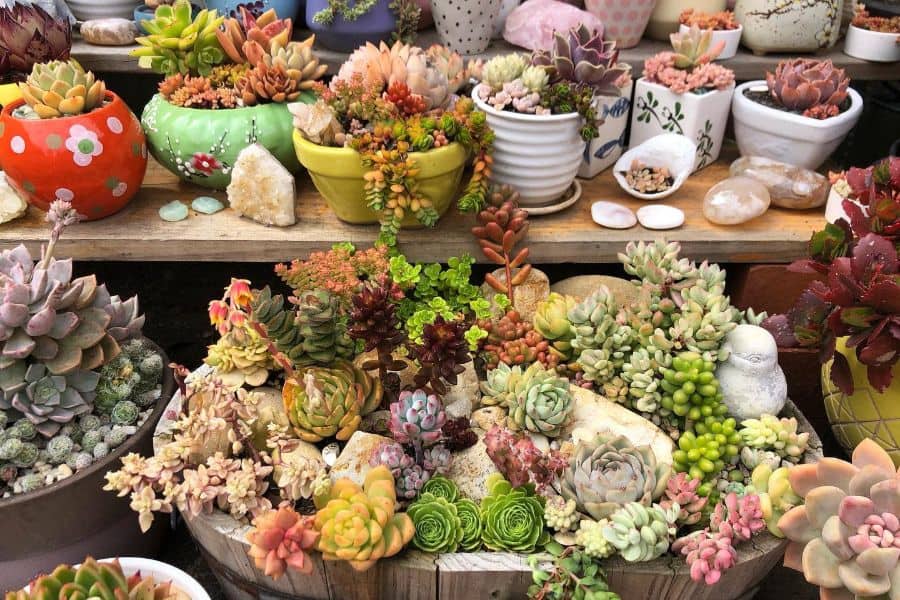 The Top 78 Succulent Garden Ideas
Trends are not limited to inanimate home decor. If you follow the plant world in any capacity, you already know how popular succulents have become in recent years!
It's easy to see why succulents are so enchanting. Not only do avid gardeners love these curious little plants. They've captured the hearts of interior decorators and crafters, as well.
Of course, using succulents in your home and garden decor isn't just about knowing what looks good. You also need to know how to care for these plants so they can truly flourish.
Keep reading for some of our favorite succulent garden ideas and tips for how you can incorporate these plants into your own decor.
1. Creative
Because of their unique structure and coloring, succulents are just as much decor as they are living things.
All you need to do is open social media to see how popular these plants are for things like centerpieces, bouquets or even creating a succulent wreath!
Don't be afraid to think outside of the box when coming up with succulent garden ideas. And if you love the look of succulents but lack a green thumb, there's no shame in using faux succulents in your garden design.
The fleshy leaves of living succulents are almost indistinguishable from plastic replicas. Faux plants are an excellent option for an indoor succulent garden that doesn't require any upkeep.
2. Cute Pots
Do you have a habit of buying cute pots that you don't have a plan for? Are you unsure what plant will look best in your favorite container? Succulents are the answer!
Succulents love being on their own, so there's no better option for a tiny pot that won't fit a standard houseplant. You can also plant several succulents in a single planter for a one-of-a-kind arrangement.
A draping succulent like strings of pearls (Senecio rowleyanus) or burro's tail is the perfect addition to a head-shaped pot. Over time, these plants will resemble leafy hair coming out of the planter.
3. Dish Garden
Dish gardens are a great way to add some color to your porch, patio, or backyard. If you have space, you can even install a dish garden full of succulents indoors.
Succulents have very short, delicate roots that hate excess moisture. So while many ornamental plants will outgrow a shallow dish planter, succulents thrive in these conditions. Be sure to use a dish with plenty of drainage holes.
You can fill your dish garden to the brim with a variety of succulents for a diverse arrangement. Or you can mix-and-match succulents with statuettes and other decor for a charming fairy garden.
4. Hanging
Succulents come in all different sizes, colors, and shapes. So why not combine these plants with macrame, chicken wire, or even a decorative birdcage to create a hanging mini succulent garden?
Some of the most unique succulents grow in trailing patterns, making them excellent filler for hanging planters.
If you want to try growing succulents in a hanging pot, popular varieties like strings of beads (Senecio herreianus) and strings of bananas (Senecio radicans) are excellent starter plants.
Planting succulents in hanging pots outside isn't an issue because you can let excess water drain right onto the ground. But if you plan to keep your hanging succulents indoors, be sure to keep an eye on the soil's moisture level!
5. Landscape
Many homeowners are surprised to learn that succulents make great landscaping plants. While succulents thrive in arid climates, you can grow outdoor succulents almost anywhere.
Varieties like agave, aloe vera, and cacti are foundational in desert landscaping. Small succulents like echeveria, haworthia, and aeonium make excellent filler.
If you live in a more temperate climate, you can still grow many succulents as annuals. However, there are multiple species that can survive winter temperatures below freezing. Look for hardy varieties of sempervivum and sedum for your outdoor succulent garden ideas.
6. Planter
As long as you can accommodate your succulents' needs, nearly any planter will do. Ensure your container garden design has plenty of drainage, sun exposure, and isn't too deep for your succulents' root systems.
Succulents, especially cascading varieties, look incredible in window boxes. You can also use tiered or wall-mounted containers to show off your succulents' unique growth patterns.
When planning out a succulent planter, you can use the same design principles as you would with any garden arrangement.
Place tall succulents in the middle or back of your planter. Frame the edge with cascading succulents and fill in the gaps with vibrant varieties of echeveria or haworthia.
7. Potted
Potted succulents make great decor for any indoor or outdoor space. Keeping your succulents in separate pots is also an excellent way to keep track of your collection and ensure every plant gets the proper care.
It's easy to get swept up in the excitement of a unique succulent pot or planter. But it's crucial that you only plant succulents in containers with adequate drainage. Succulents are very sensitive to root rot, and soggy soil will spell the end for your succulent garden.
Shallow pots are ideal for most succulents. If you fall in love with a planter that's too deep, add a thick layer of loose pebbles to the bottom to encourage efficient drainage.
8. Succulent Arrangement
As we've mentioned, you can use succulents just like you would any flowering plant. You can keep things simple with a potted arrangement, add your favorite succulents to a rock garden, or even design a magical fairy garden.
The great thing about using succulents over traditional annuals is that you don't need to wait around for them to bloom to enjoy some color! Plant a variety of species to maximize the vibrancy and diversity of your succulent garden design.
You can also use succulents to practice more avant-garde planting styles. Flex your green thumb by creating a living succulent ball or filling a one-of-a-kind reclaimed planter.
9. Terrarium
The compact growth habits of many succulent varieties are perfect for terrarium gardening. Before you jump into creating your own self-sufficient succulent planting, however, it's important to know exactly what these plants need.
While succulents can do quite well in terrariums, you can't treat them like just any old plant. The condensation found in most terrariums is a death sentence for succulents that prefer dry air.
Arrange succulents in a terrarium with an open top to prevent moisture build-up. Use a sandy potting mix and layer rocks underneath for drainage. Keep close tabs on how your succulents respond to their new home and don't hesitate to make adjustments as needed!
10. Vertical Garden
Gardening can take up a lot of space. If you've put off expanding your succulent plant collection because you're not sure where to keep them all, vertical gardening is the solution.
It can also be a great way to ensure every succulent in your care gets enough sunlight when space is tight.
You can install a vertical garden almost anywhere. Many home gardeners have success using an old bookshelf, wooden ladder, or set of tiered flower pots. Others opt to build a setup from scratch.
Building a vertical garden does not need to be a huge project (though it certainly can be if you're so inclined!). You can easily DIY your own setup using a reclaimed pallet or wall-mounted shelves.
11. Wall
It's possible that you've never thought of using living plants as wall decor. But we're here to tell you that potted plants (especially succulents) are an excellent way to breathe life into your home's interior or exterior walls.
Wall-mounted planters are a no-fuss way to add natural color to your home's vertical spaces. You can mix different planters or install a matching set for all of your succulents.
Succulents are also a popular choice for so-called "living walls." These installations can range in size from a few inches to several feet in either direction.
Large-scale living walls are normally created by landscaping professionals. You can construct your own version out of a shadow box or using a stacked rock wall.
Succulent Garden FAQs
What is the difference between a succulent and a cactus?
The term "cactus" refers to a taxonomic family of plants (other examples include the lily, rose, and aster families). "Succulent" is a broad term that refers to a variety of plants, many of which are in the cactus family.
In other words, every cactus is a succulent but not all succulents are cacti. Some popular succulents that are not cacti include echeveria, jade, and aloe vera.
What type of soil do succulents need?
Succulents prefer soil that drains extremely well. Sandy soil, like you'd find in the desert, is ideal for most species.
Cactus potting soil is a great choice for planting succulents. You can also mix sand, pumice, or perlite into regular potting soil for your succulent garden.
Do succulents flower?
Yes, succulents rely on flowers to reproduce. However, you shouldn't count on your succulent garden to flower regularly (or at all).
Many succulent species won't bloom unless the conditions are perfect. Others only flower once in their entire lifetimes.