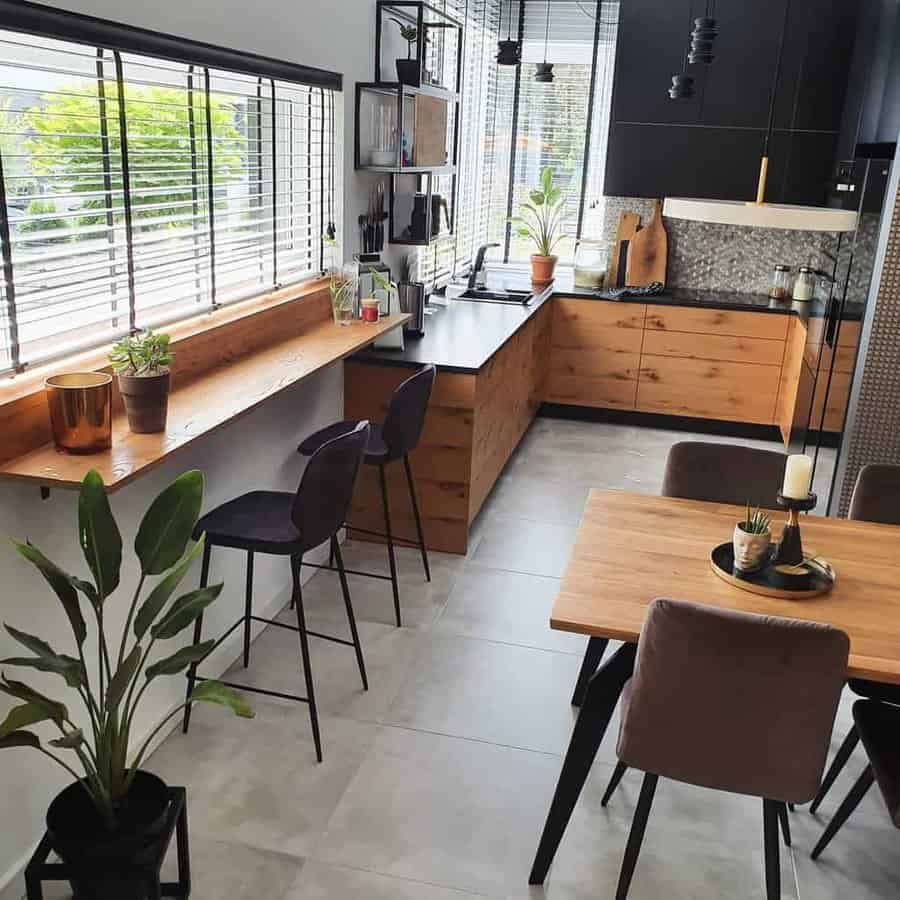 37 Inspiring Sunroom Designs and Ideas
"To love and be loved is to feel the sun from both sides." – David Viscott
Designing a sunroom is far from straightforward. Unlike bathrooms or bedrooms, no two sunrooms share the exact same purpose. Some homeowners use this space as a second living room. Others use it as a formal dining area. This flexibility allows for tons of creativity—if you can avoid feeling overwhelmed.
The sunroom likely isn't the most used room in your home. But it still deserves to have thought and care put into its decor. Something as simple as furniture could make the difference between your sunroom feeling like a total afterthought versus a luxury oasis.
If you're not sure where to start, check out these sunroom decorating ideas for a little inspiration. You'll learn how versatile your sunroom can be and how to pick out furniture, decor, and greenery that will bring your dream space to life.
1. Rustic Kitchen Sunroom
Get into a charming rustic kitchen sunroom, where warmth and nature seamlessly blend. This unique space brings the outdoors in, inviting you to indulge in the delights of a cozy cabin retreat while savoring the convenience of a functional kitchen.
Imagine basking in the soft glow of sunlight streaming through large windows, illuminating a farmhouse-style dining table adorned with fresh flowers and mason jar centerpieces. The aroma of freshly brewed coffee fills the air, emanating from a vintage espresso machine nestled on a weathered kitchen island. Open shelves showcase antique copper cookware and mugs, reflecting a nostalgic charm.
As you sip your morning tea, you can enjoy the tranquil views of a flourishing herb garden just outside the windows. With its fusion of rustic elements and culinary functionality, this rustic kitchen sunroom serves as an enchanting sanctuary, where the joys of nature and gastronomy intertwine to create an unforgettable experience.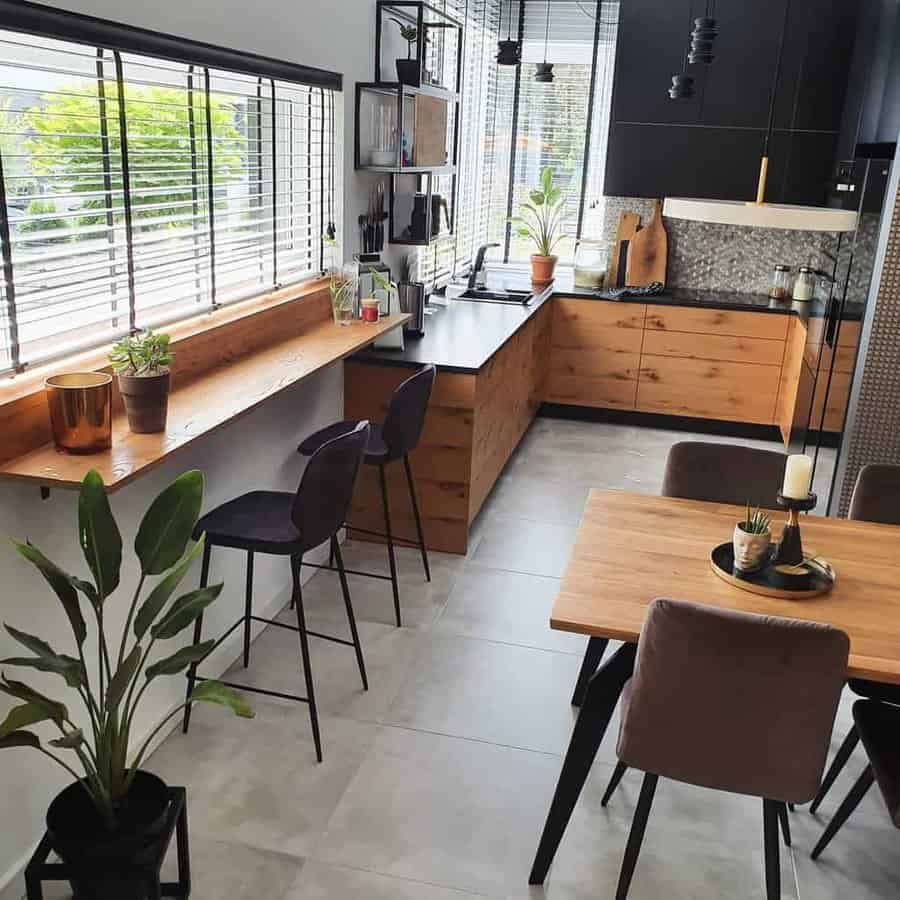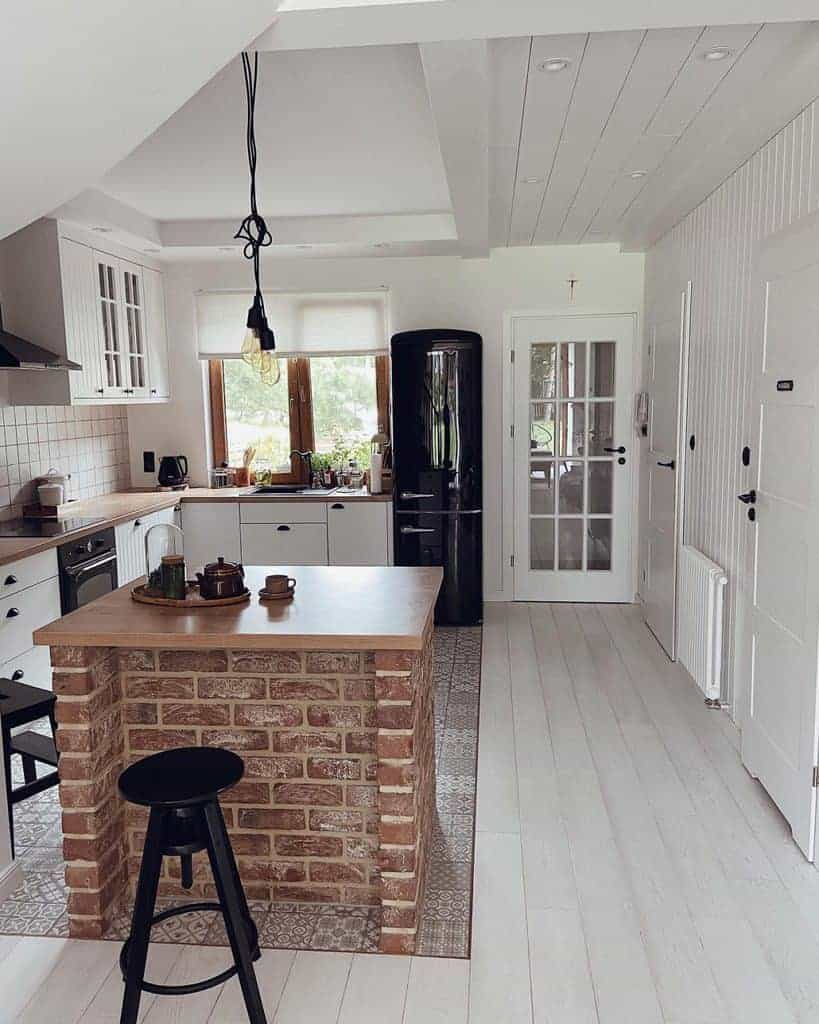 2. Plant Sunroom Livingroom
Create a captivating display of vibrant greenery, with cascading vines draping from shelves, elegant palms standing tall, and delicate succulents adorning the windowsills. Let the sunroom become a sanctuary of botanical wonder, where you can bask in the soothing presence of nature.
Combine different textures, shapes, and sizes of potted plants to add visual interest and create a dynamic atmosphere. From exotic tropical species to whimsical hanging baskets, the possibilities are endless. As sunlight pours through the windows, the plants come alive, casting playful shadows and infusing the space with vitality.
A sunroom with potted plants becomes a sanctuary where you can unwind, connect with nature, and indulge in the sheer joy of greenery surrounding you.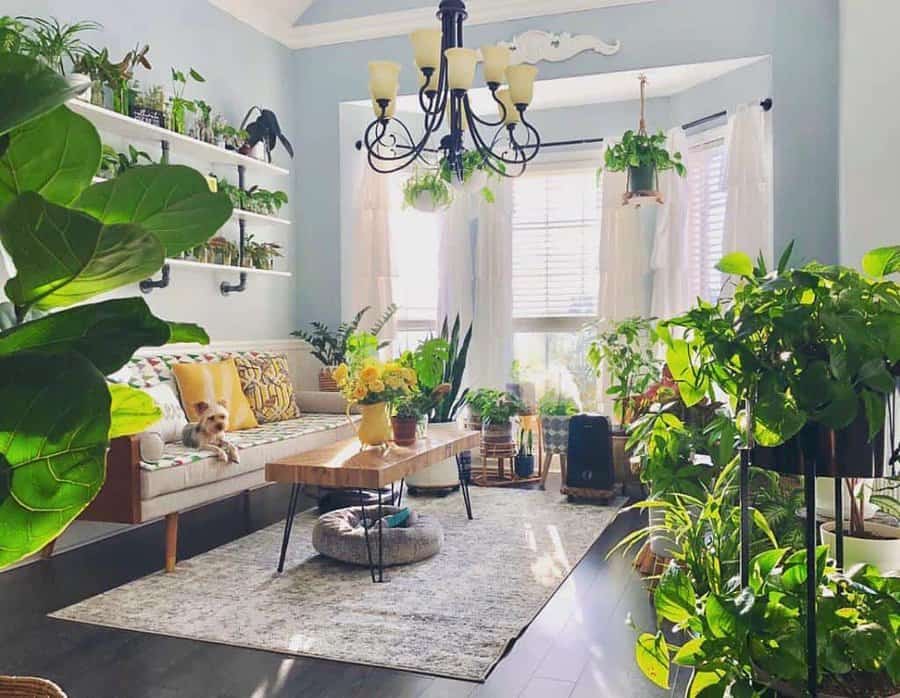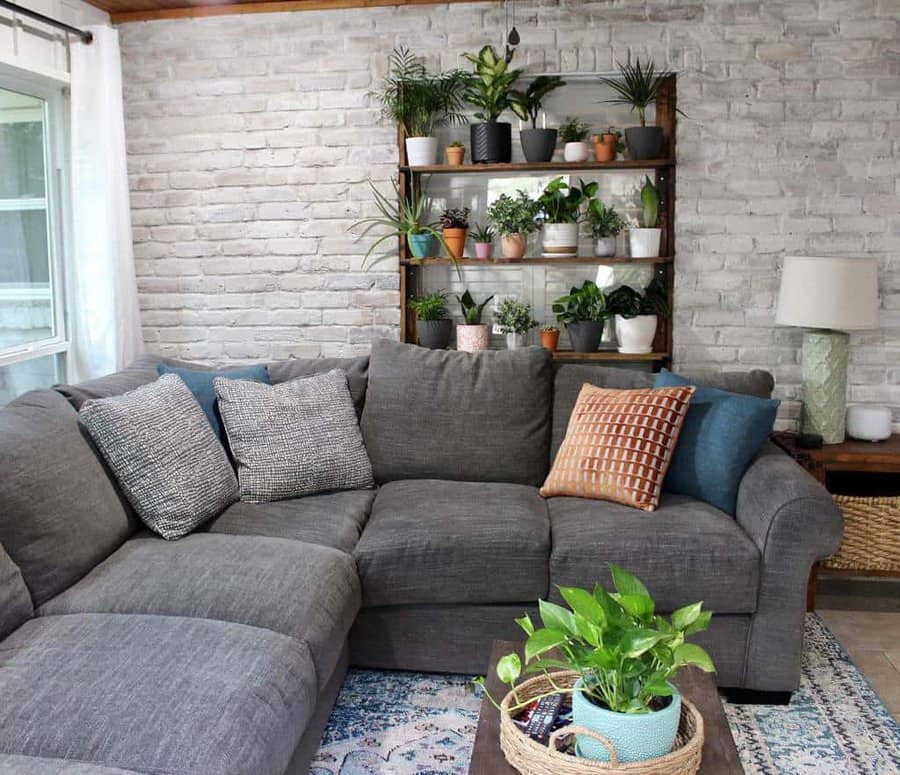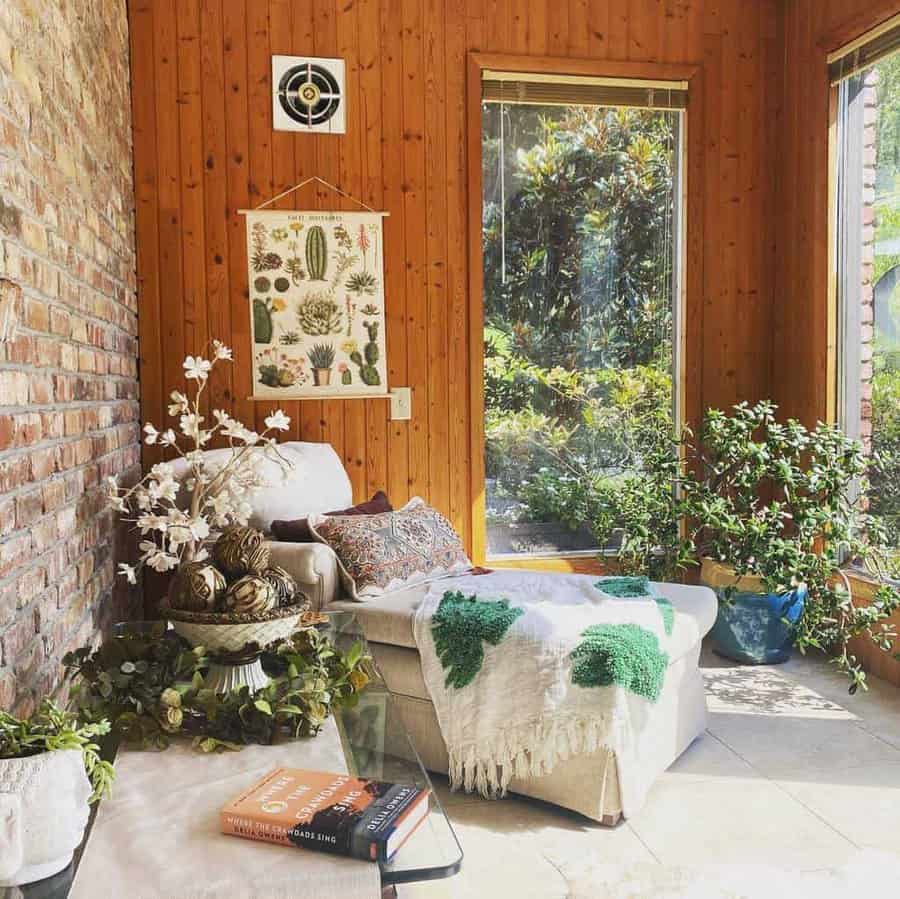 3. Contemporary Sunroom
Embrace the sleek lines and minimalist aesthetics as you curate a sunroom that exudes sophistication and creativity. Select furniture pieces with clean silhouettes and indulge in the beauty of bold patterns and vibrant prints for the upholstery.
Let your imagination run wild with abstract geometrics, floral motifs, or tropical-inspired designs that add a touch of whimsy to the room. The juxtaposition of modern furniture against the backdrop of nature's beauty creates a harmonious fusion of indoor and outdoor living.
Whether you're basking in the warm sunlight or enjoying the serene evening breeze, this contemporary sunroom is sure to ignite your senses and become a cherished oasis of style and comfort.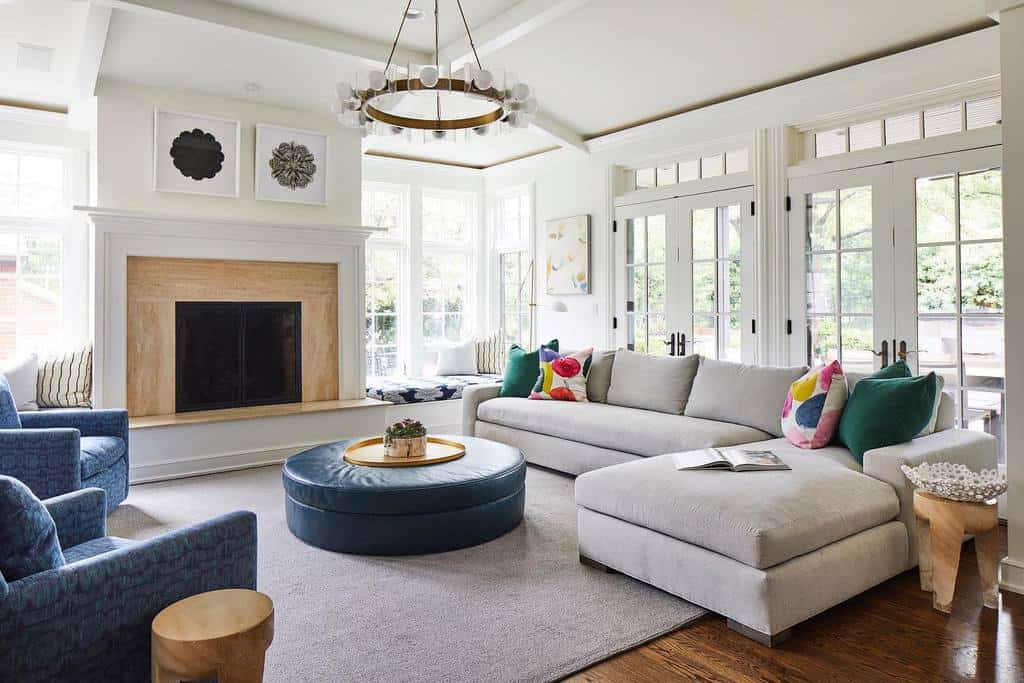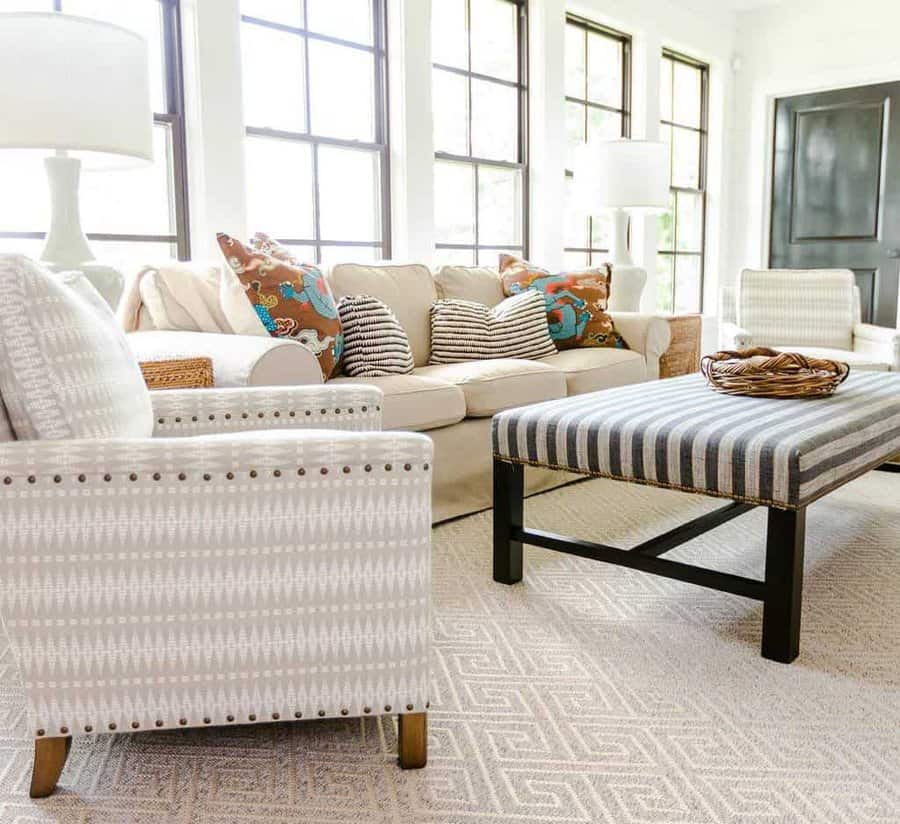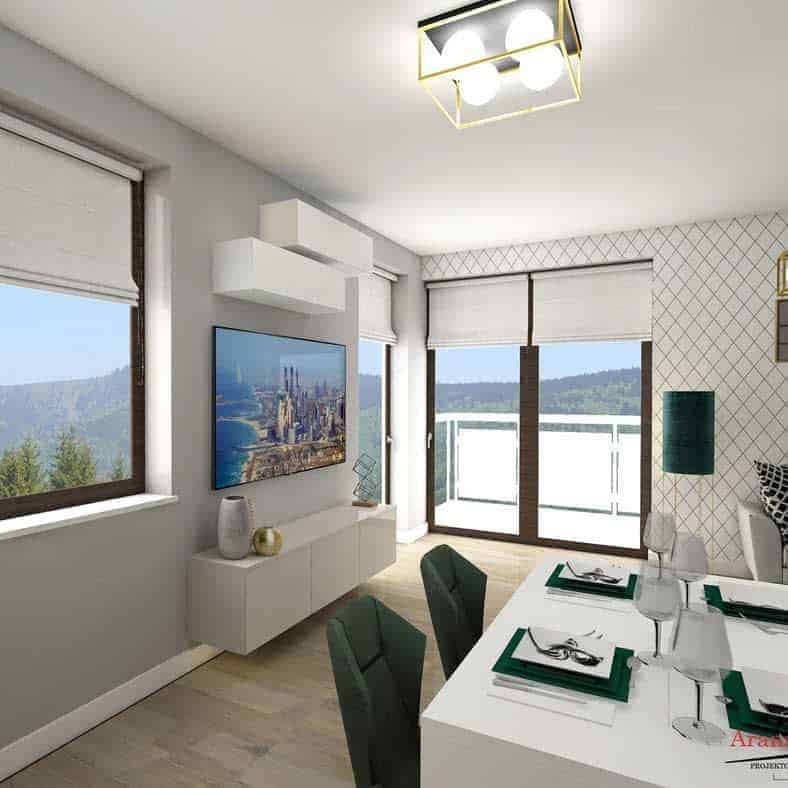 4. Floral Sunroom
Fill your sun-soaked space with an abundance of beautiful flowers, creating an enchanting botanical haven. Let the fragrance and colors of fresh blooms infuse every corner, bringing a sense of joy and serenity.
Adorn your windows with stunning floral printed curtains, allowing the sunlight to filter through and create a dreamy ambiance. Arrange cozy seating amidst this floral wonderland, providing a perfect spot to relax and immerse yourself in the beauty of nature.
With a floral sunroom, you can escape into a garden-inspired retreat, where each day feels like a delightful stroll through a blooming paradise. Let your creativity blossom in this captivating sanctuary of floral splendor.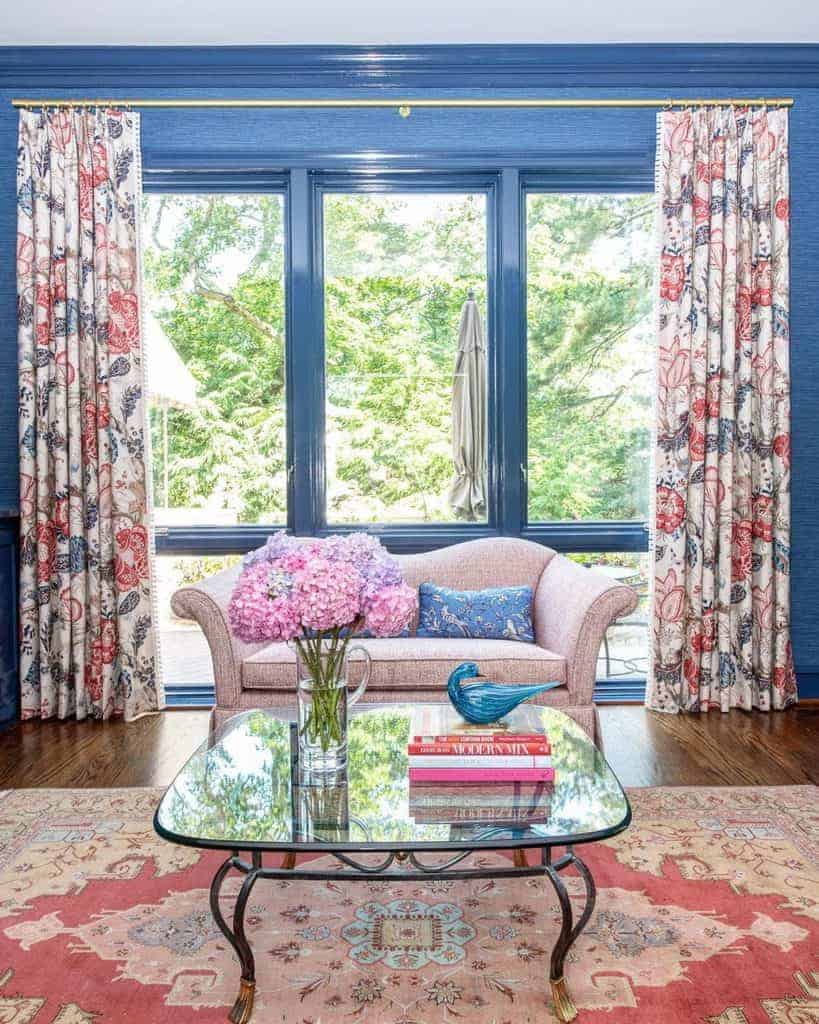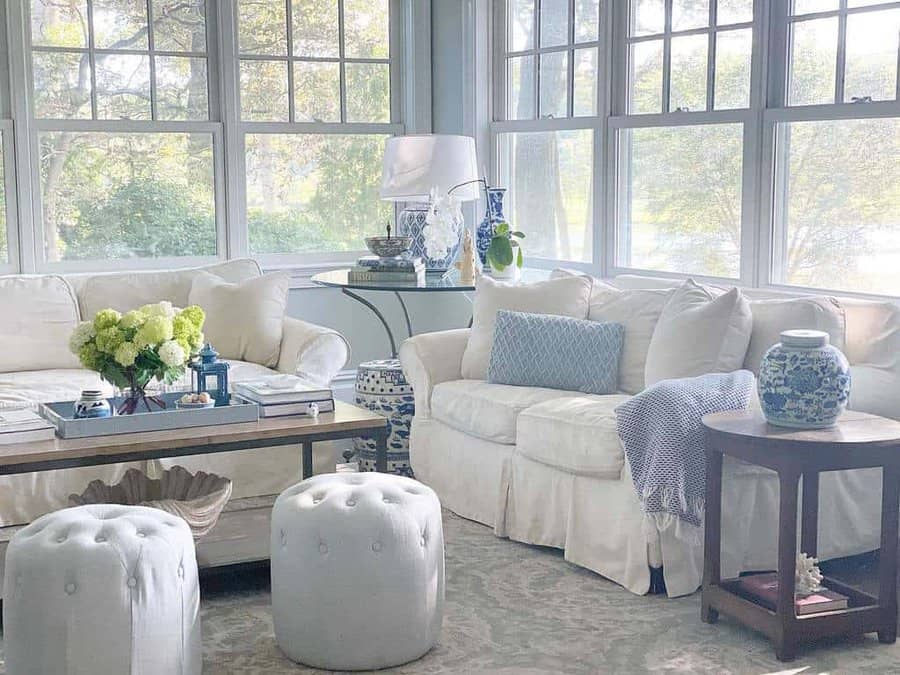 5. Balcony Sunroom Garden
Elevate your sunroom to new heights by transforming it into a vibrant balcony sunroom garden. Let the beauty of nature flourish as you infuse your space with the freshness of potted plants and the allure of a vertical garden. Immerse yourself in a creative haven where colors and scents intermingle, and your senses come alive.
Hang cascading ivy and trailing vines, intertwining with whimsical fairy lights, creating an enchanting atmosphere. Arrange a variety of potted plants, from succulents to blooming flowers, adorning every corner of your sunroom.
With each breath, you'll inhale the invigorating aroma of nature's wonders. Let this balcony sunroom garden become your sanctuary, a place where serenity and creativity intertwine, nurturing both your soul and imagination.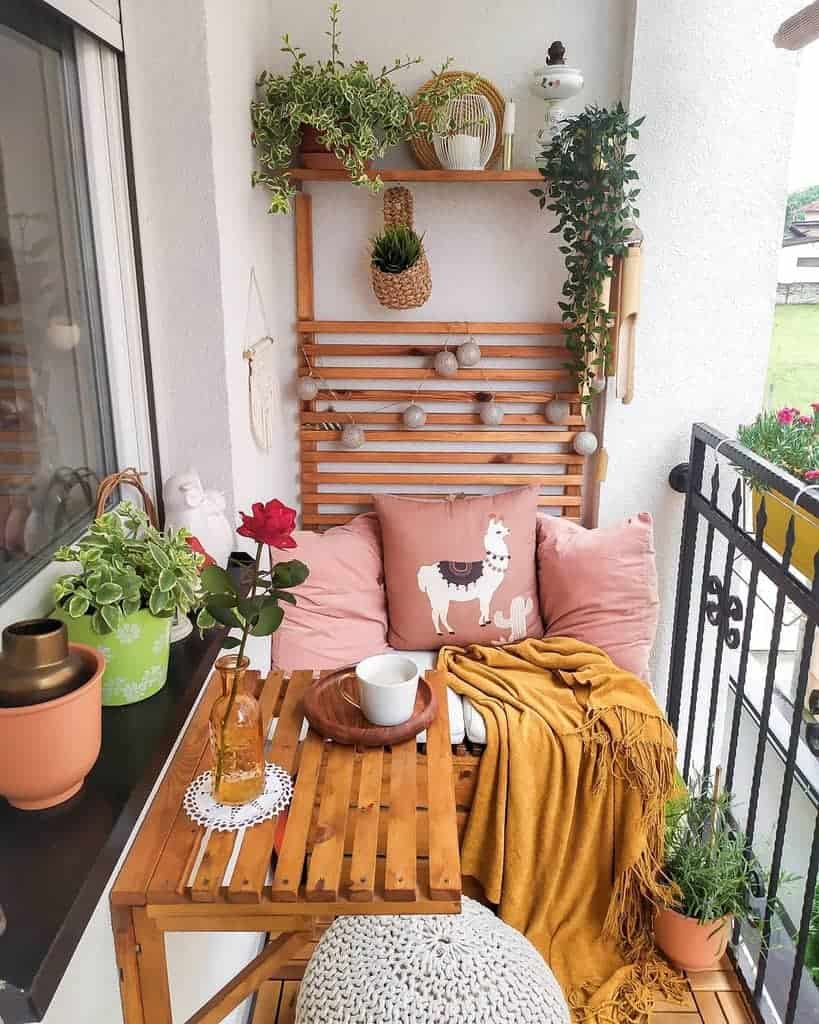 6. Coastal-Themed Sunroom
Transport yourself to a coastal paradise with a stunning coastal-themed sunroom that exudes a creative and serene ambiance. Embrace the soothing hues of blue and white, reminiscent of the ocean's tranquility, as the foundation of your design.
Fill the room with an abundance of natural light, courtesy of floor-to-ceiling windows, allowing the coastal beauty to flood your senses. Incorporate biophilic design elements, such as lush indoor plants and natural stone accents, to bring the outdoors inside. Create a cozy nook for relaxation with comfortable seating adorned in breezy fabrics.
Capture the essence of the beach with seashell decorations and artwork that whispers of seafaring adventures. Don't forget to add touches of driftwood, weathered textures, and rattan furniture to infuse the space with coastal charm.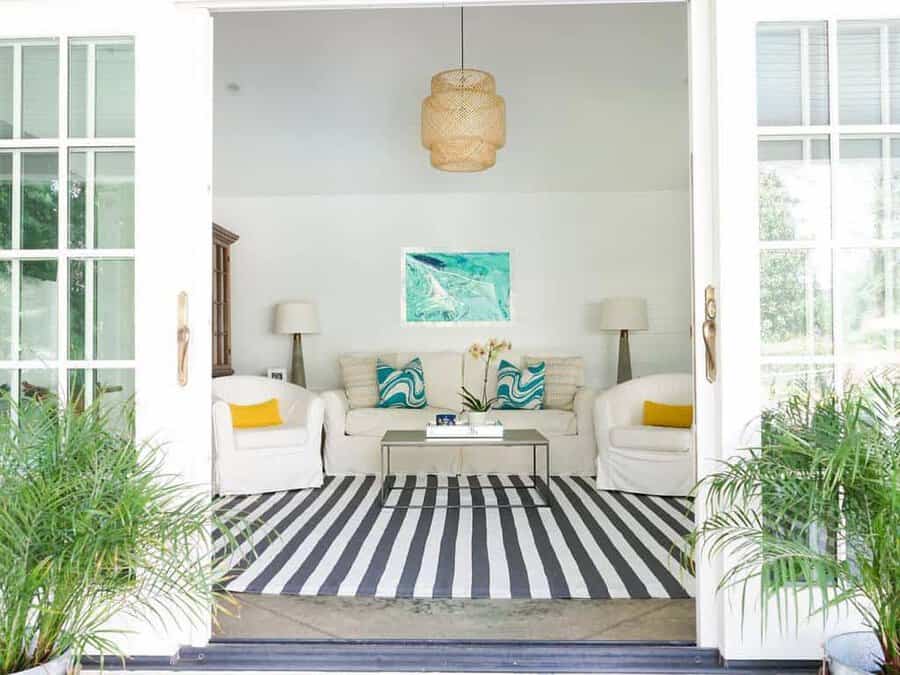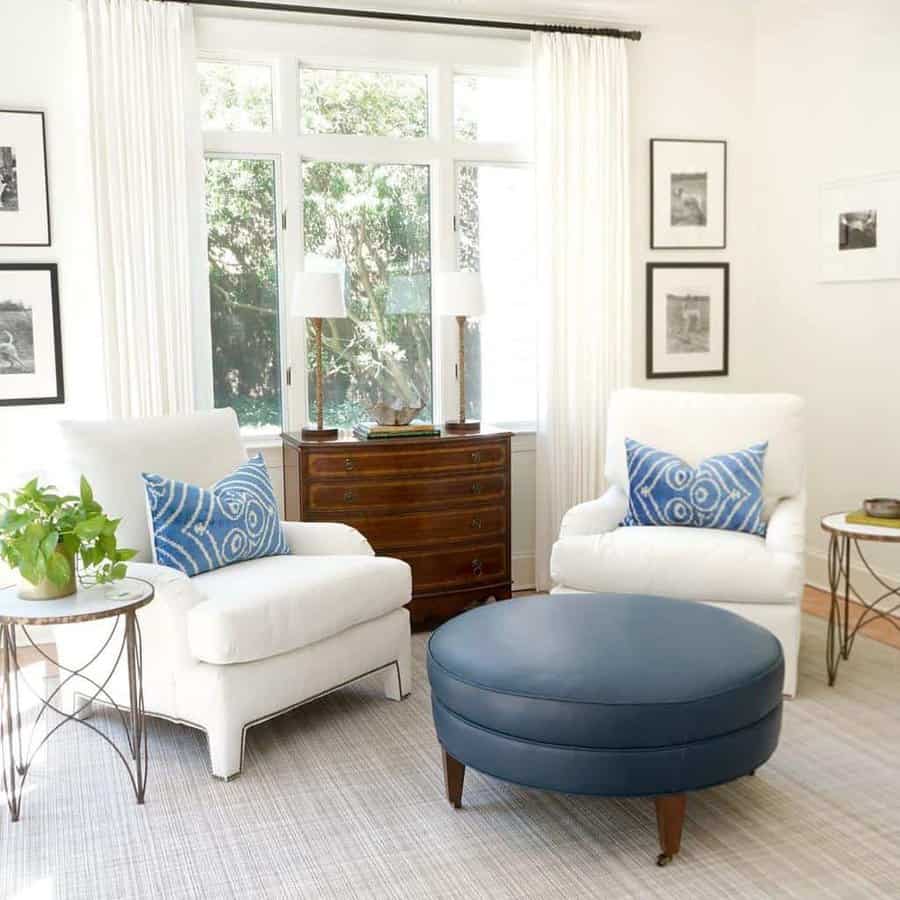 7. Farmhouse Chic Sunroom
Step into a sun-drenched sanctuary where rustic charm meets contemporary elegance in a farmhouse chic sunroom. The key to achieving this timeless aesthetic lies in the meticulous details, starting with the classic beauty of shiplap walls.
Adorned with white-washed wood, these walls create a backdrop that is both inviting and stylish. Embrace the natural light pouring in through large windows, accentuating the room's airy ambiance. Combine vintage-inspired furniture with plush cushions and throws, striking a perfect balance between comfort and sophistication.
Enhance the cozy atmosphere with woven baskets, potted plants, and antique accents, infusing the space with warmth and character. Whether you're sipping your morning coffee or enjoying a captivating book, this farmhouse chic sunroom effortlessly transports you to a haven of relaxation and charm.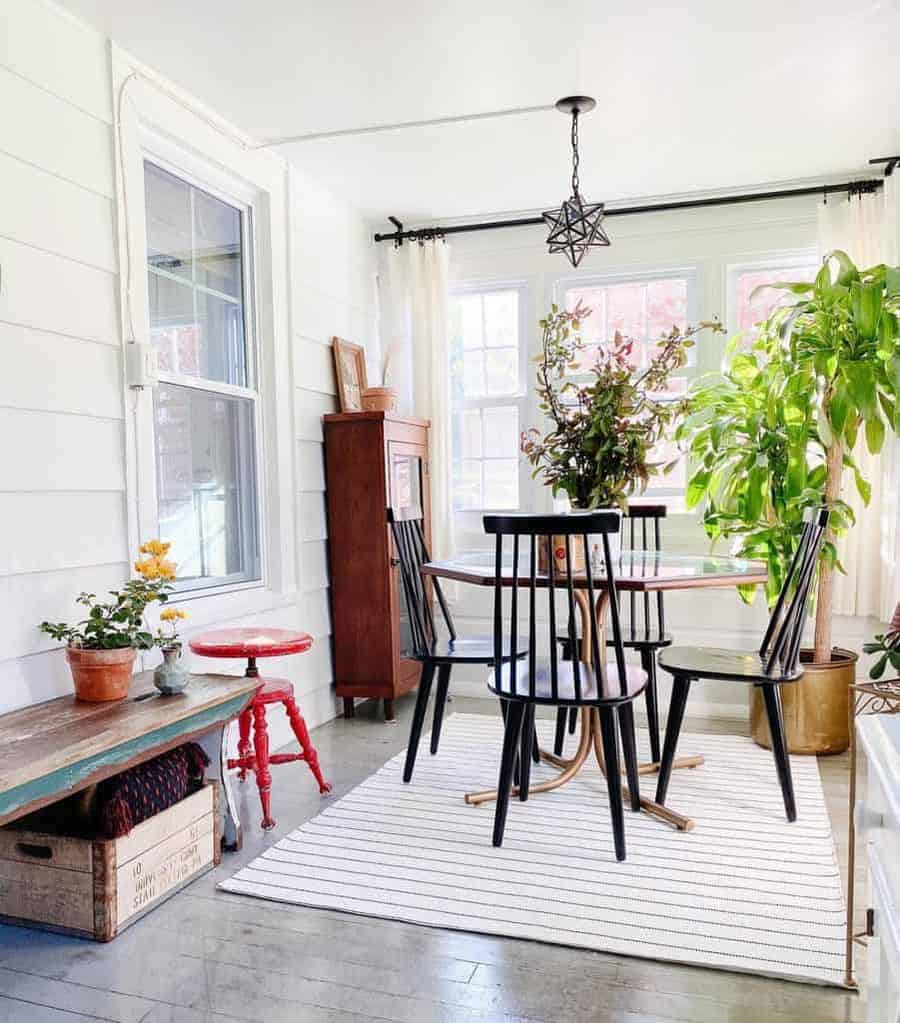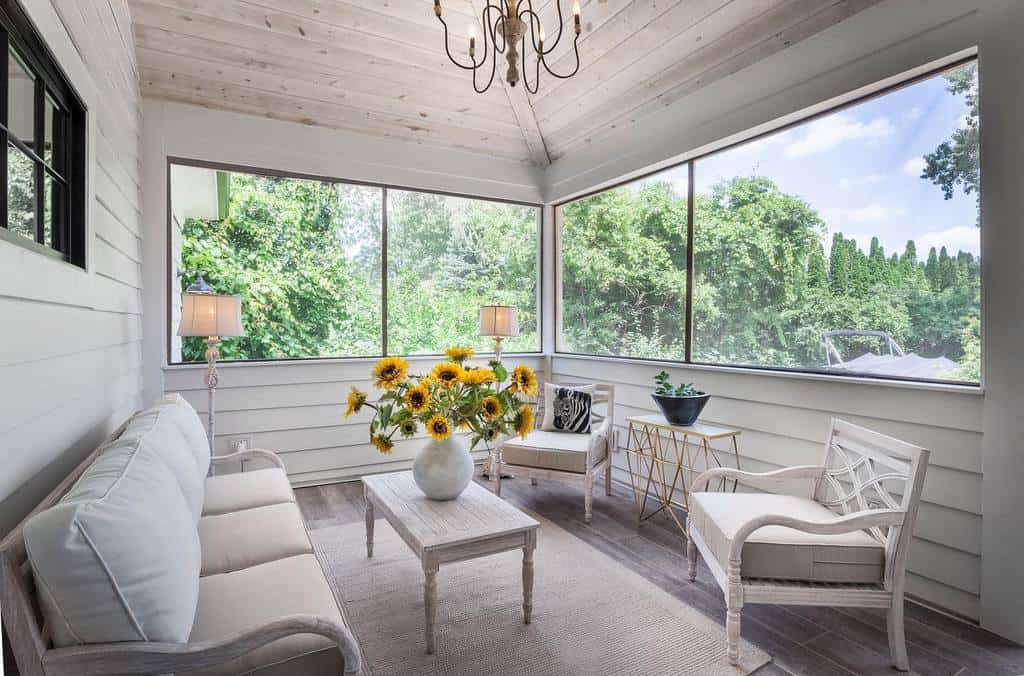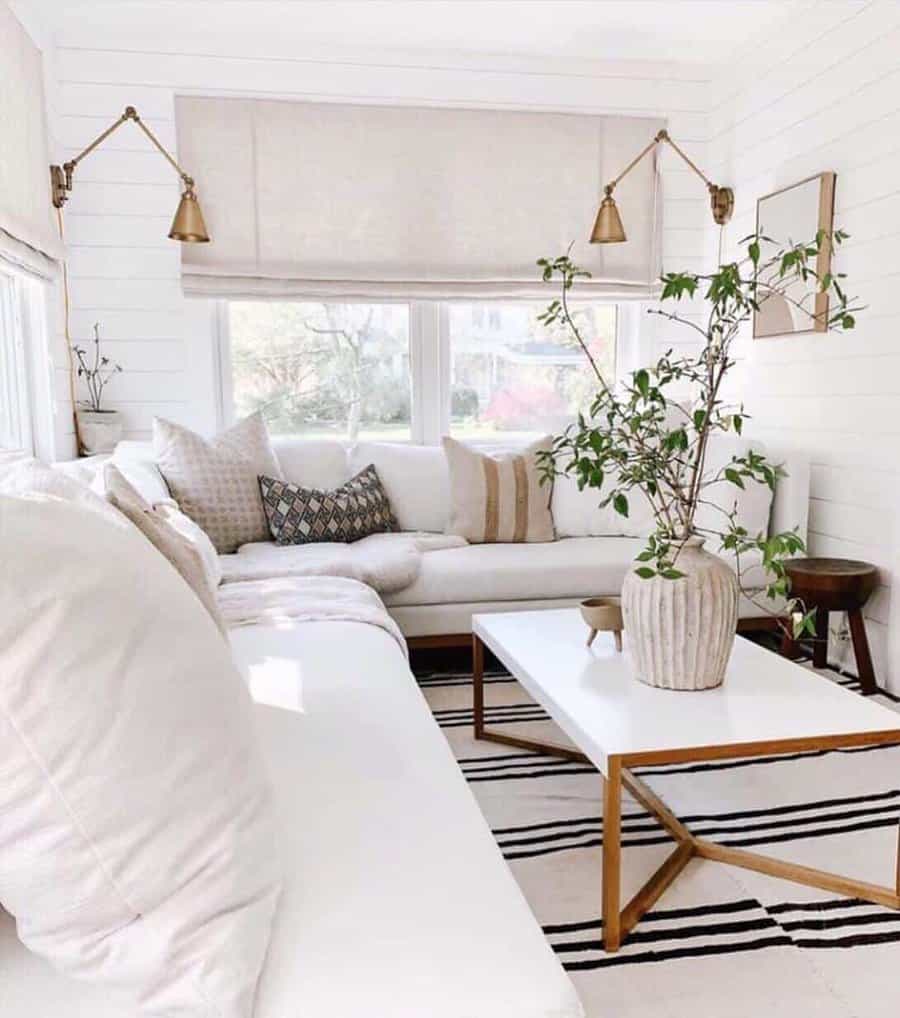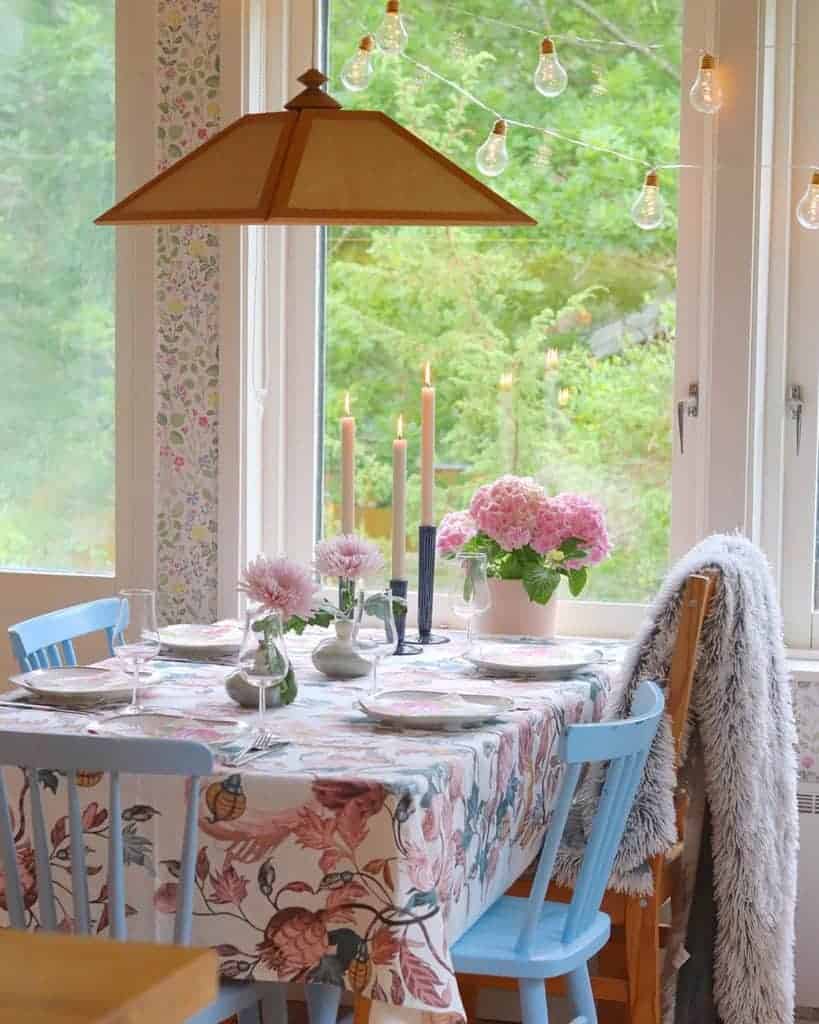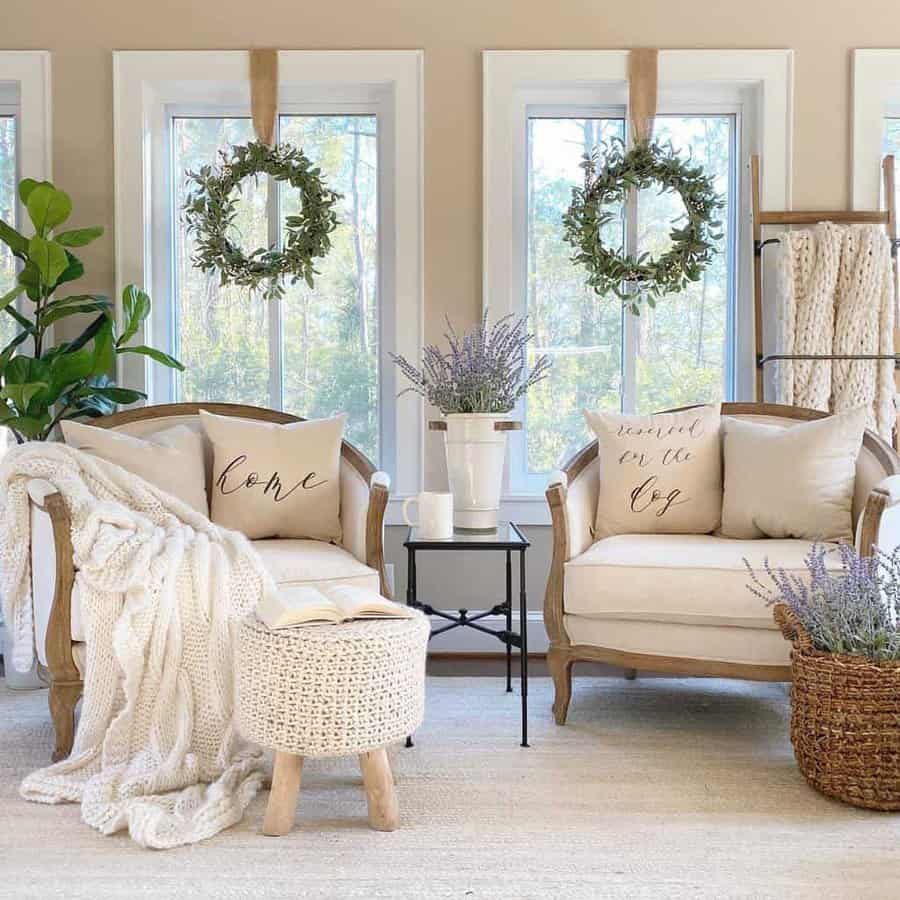 8. White Sunroom
A white sunroom acts as a canvas, allowing you to infuse your personal style and create a haven of tranquility. Fill the room with lush greenery, accentuating the brightness with vibrant pops of color. Adorn the windows with sheer white curtains, allowing the soft sunlight to dance gracefully within.
Furnish the space with comfortable seating and delicate white fabrics, invoking a sense of effortless elegance. Add whimsical touches like hanging lanterns or a sparkling chandelier to create a dreamlike atmosphere.
In this white sunroom, the possibilities are endless, and every moment spent within its walls becomes a blissful escape into a world of boundless inspiration.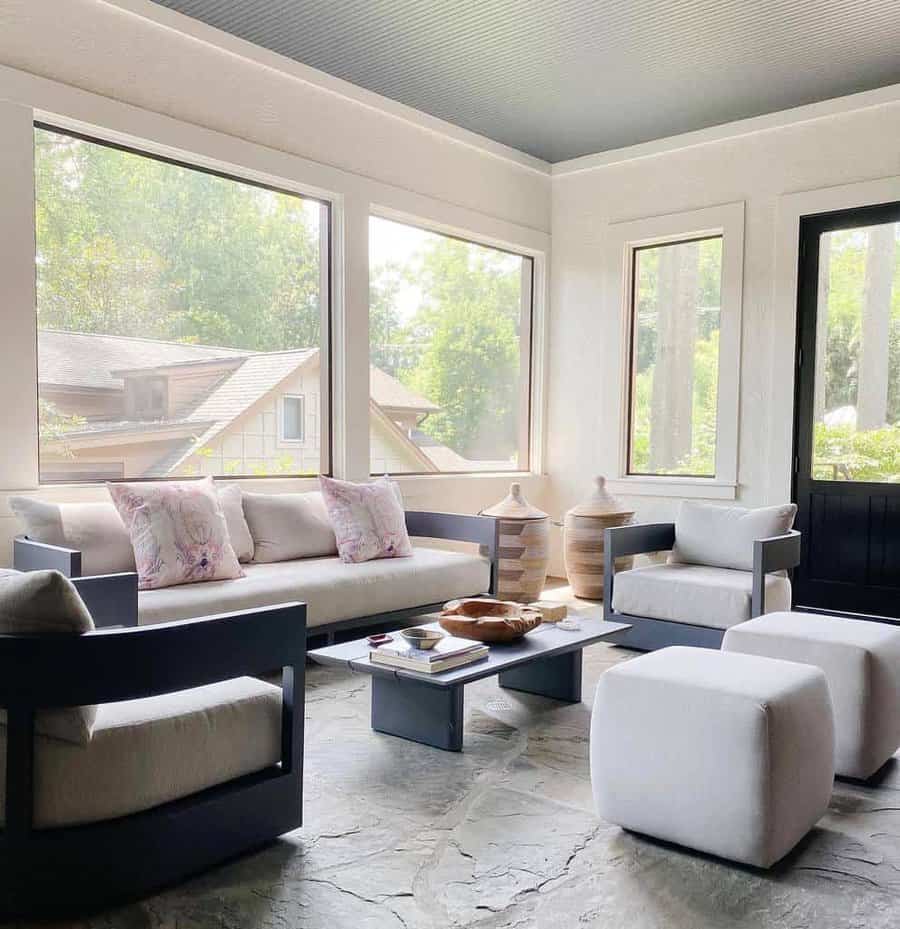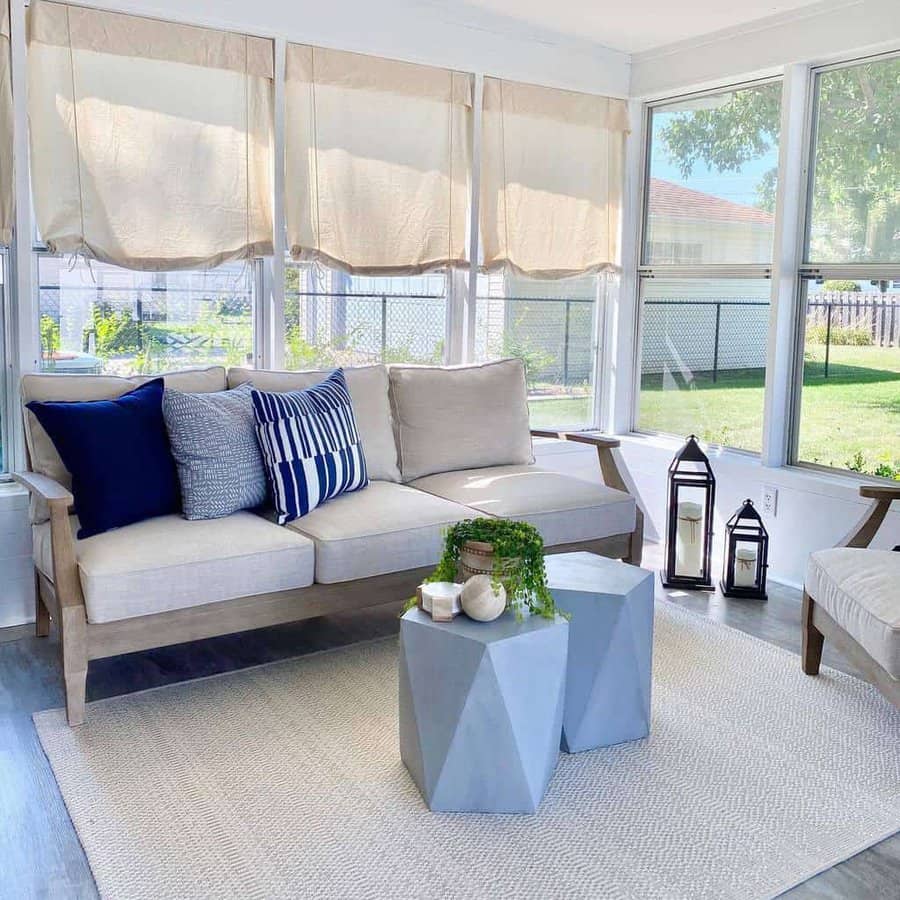 9. Full-Length Windows
Embrace the enchantment of sunshine cascading through every corner, casting a warm and inviting glow upon the carefully curated space. Let the rhythm of nature be your guide as you furnish the sunroom with cozy seating arrangements, vibrant plant life, and an array of captivating decor.
Transform the room into a sanctuary of relaxation and inspiration, where you can bask in the sun's embrace and immerse yourself in the beauty of the surrounding landscape.
Whether it's sipping your morning coffee amidst the gentle rustle of leaves or indulging in a captivating book bathed in golden rays, a sunroom with full-length windows is a haven that beckons you to unwind, dream, and delight in the endless possibilities that each day brings.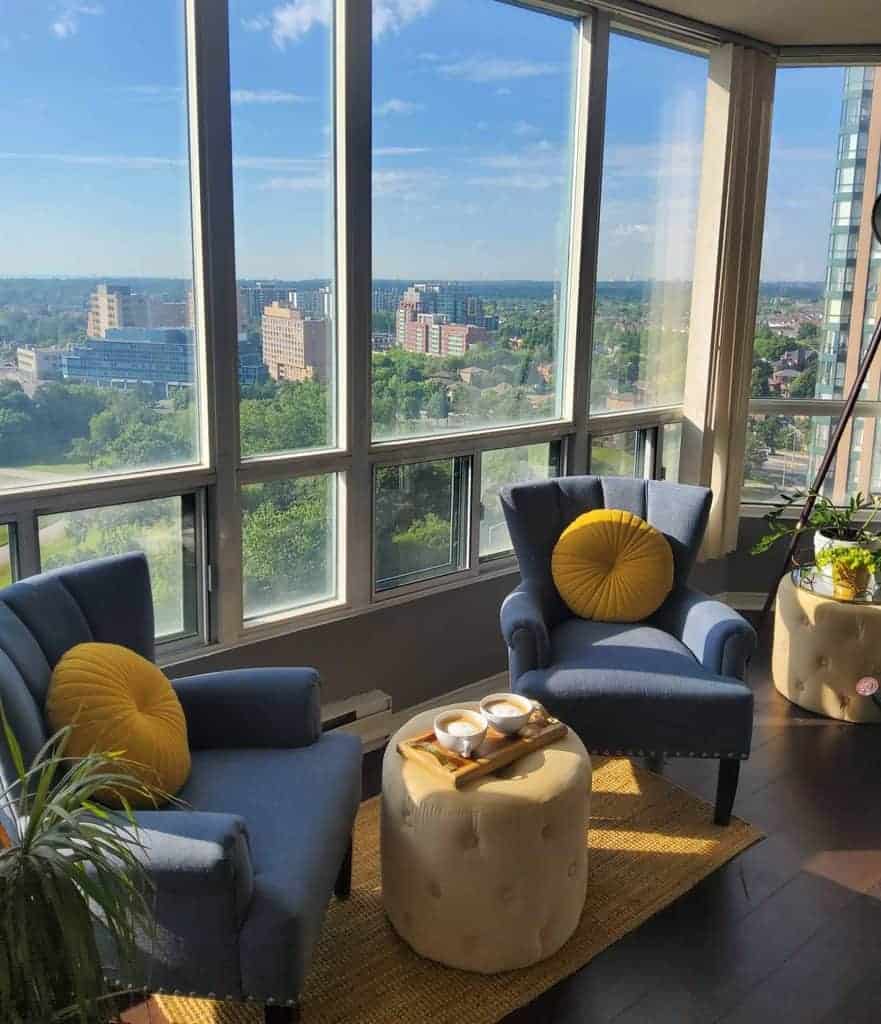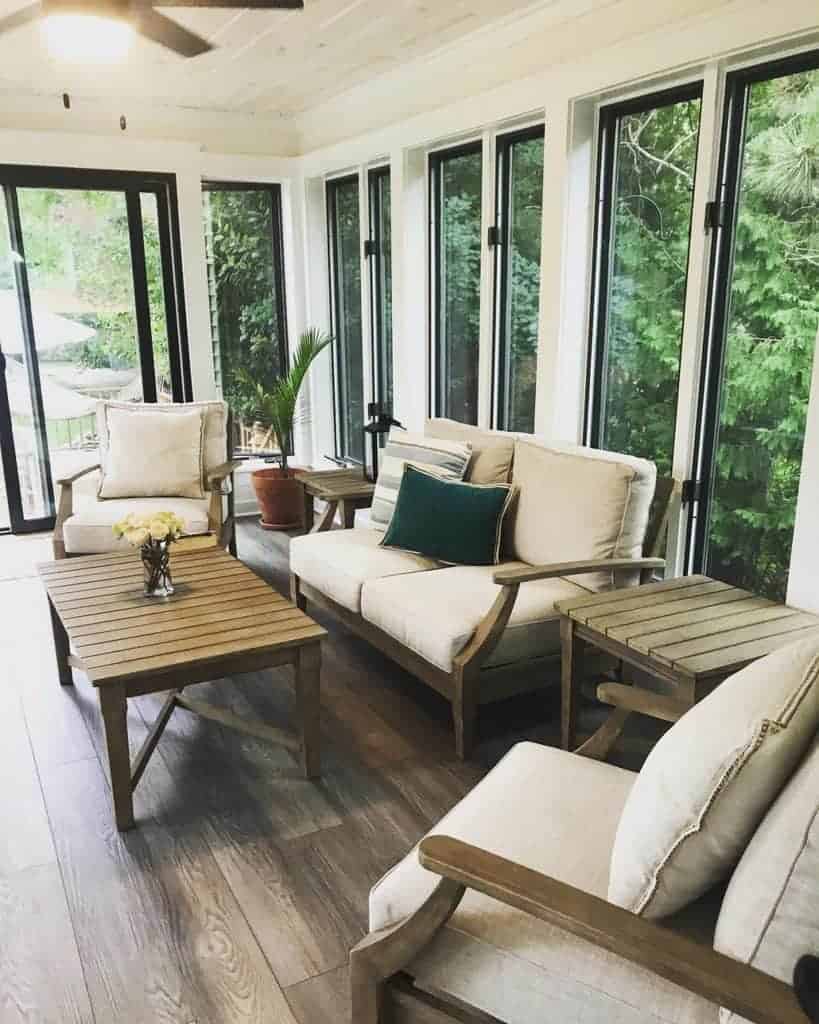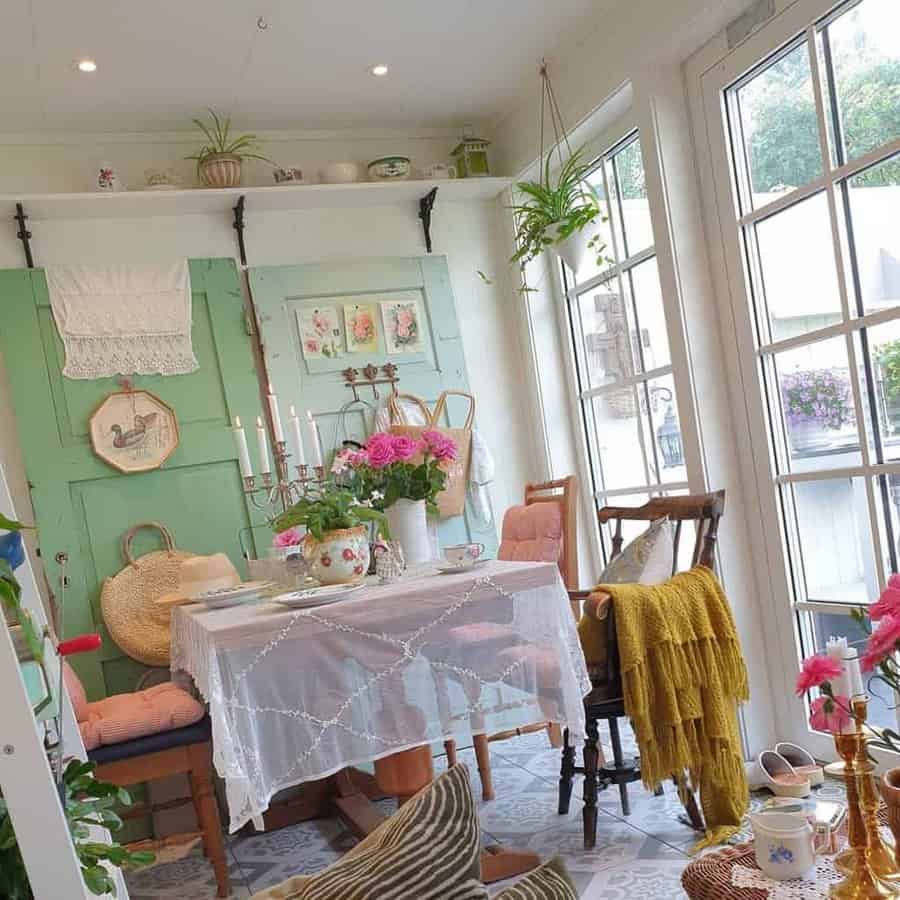 10. Sunroom Patio
Turn your sunroom patio into a captivating sanctuary with an infusion of trellis charm and lush greenery. Imagine a haven where the sun's rays dance through intricate trellis patterns, creating a whimsical play of light and shadow. Adorn the trellis with vibrant climbing plants, their leaves cascading and intertwining, forming a natural tapestry of beauty.
Let the sunroom become an enchanting botanical retreat, where you can immerse yourself in the serenity of nature. Surround yourself with a variety of potted plants, each adding its unique touch of color and texture. With every breath, you'll inhale the fresh scent of blooming flowers, while the soft rustle of leaves creates a soothing symphony.
Your sunroom patio will become a sanctuary, where you can bask in the sun's warm embrace and feel a connection to the natural world around you.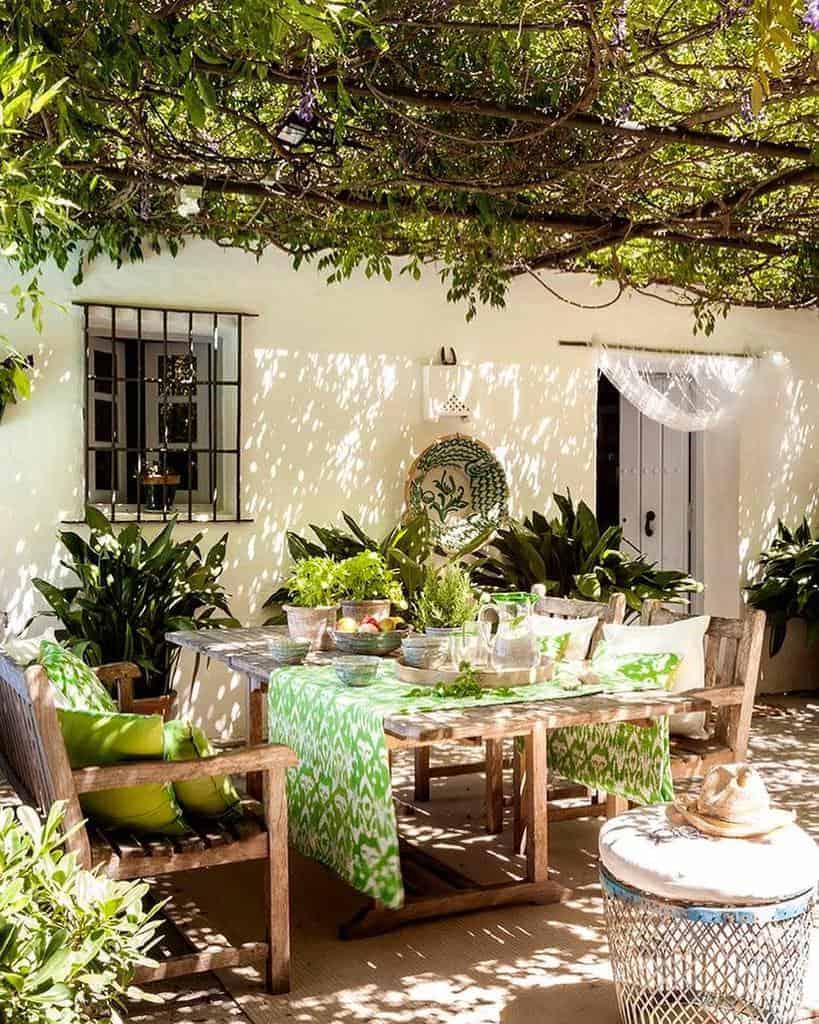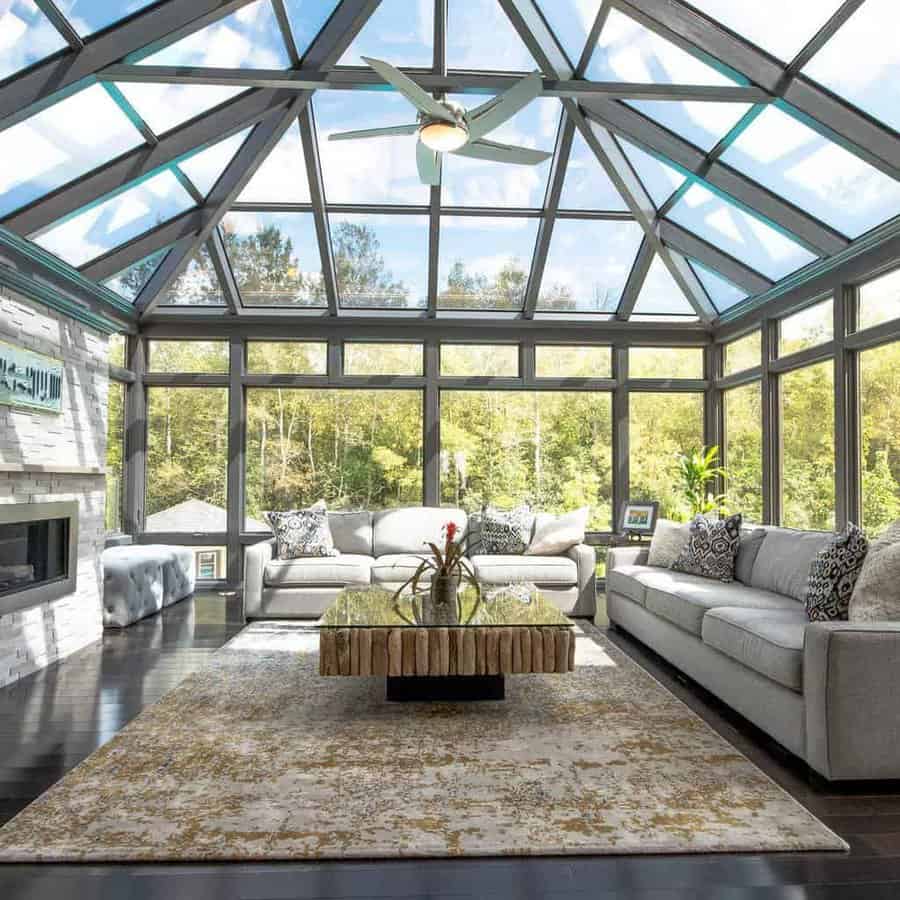 11. Farmhouse Cabin Sunroom
Get into a whimsical retreat with a farmhouse cabin-style sunroom that will transport you to a rustic haven. Embrace the charm of wooden walls that exude warmth and coziness, creating an inviting ambiance reminiscent of a quaint cabin in the countryside. Infuse the space with vintage elements like weathered furniture and distressed finishes, adding character and a touch of nostalgia.
Soft, earthy tones in the decor harmonize with the natural surroundings, while woven rugs and plush cushions create a cozy atmosphere. Adorn the sunlit space with potted plants and floral arrangements, bringing the beauty of nature indoors.
With this farmhouse cabin-style sunroom, you'll have a magical sanctuary where you can unwind, read a book by the window, or simply bask in the tranquility of the rustic charm.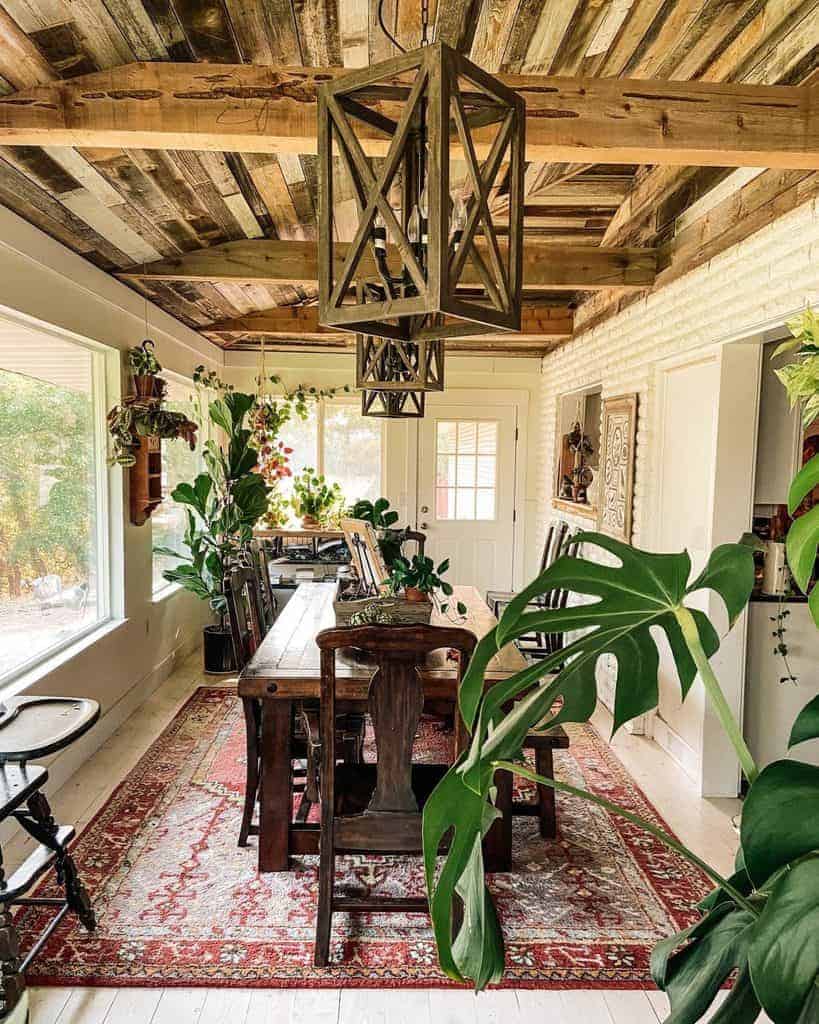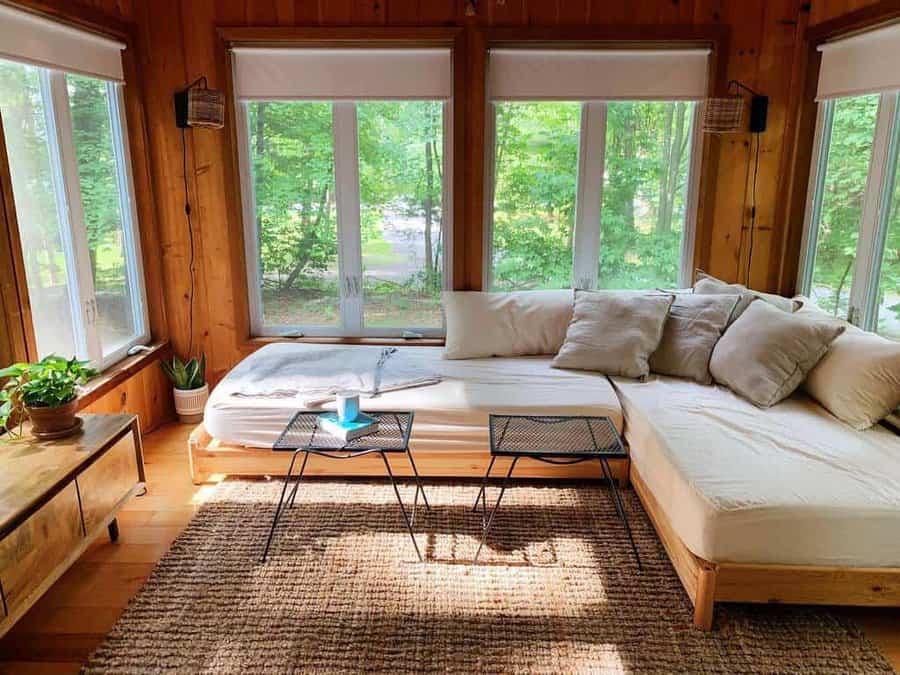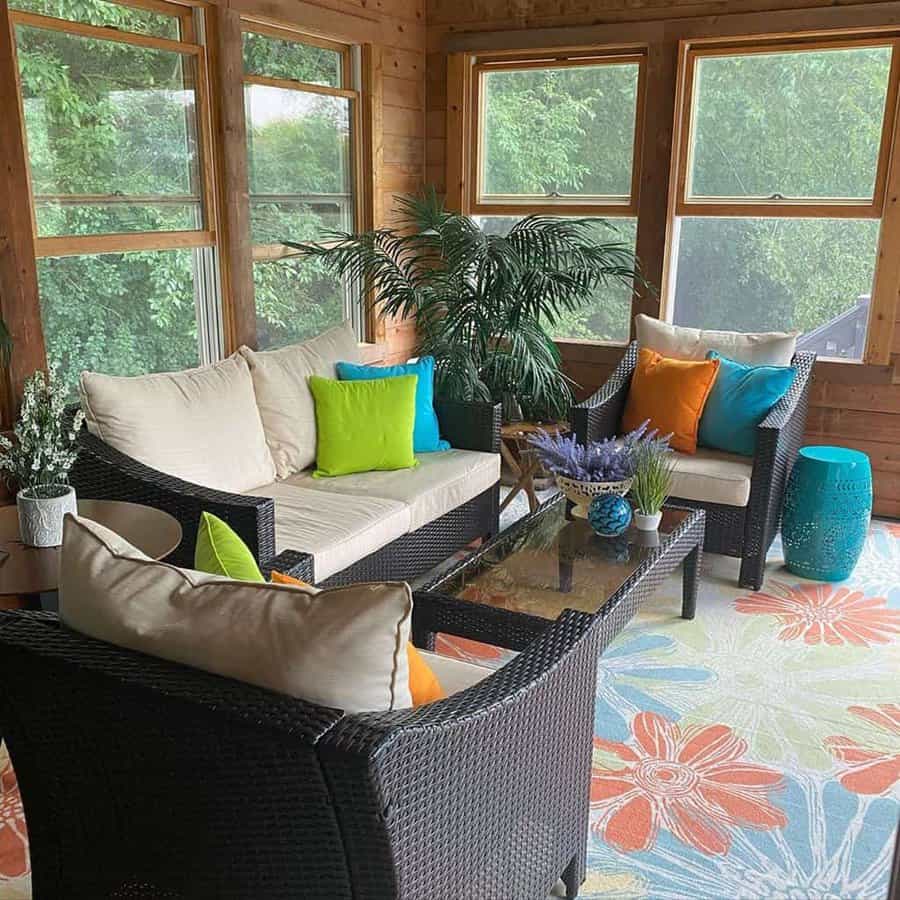 12. Bohemian Sunroom
Step into a bohemian sunroom sanctuary where creativity and free-spirited vibes reign supreme. Infuse the space with an enchanting mix of nature-inspired elements and eclectic charm. Adorn the walls with a tapestry of dried flowers, their delicate hues and textures adding a whimsical touch.
Embrace the boho aesthetic with a vibrant and cozy area rug, bringing warmth and comfort underfoot. Introduce the art of macrame, suspending intricate plant hangers and dreamcatchers from the ceiling, weaving an intricate web of serenity. Fill the sun-soaked room with an assortment of lush greenery and potted plants, creating a botanical haven.
Drape flowing curtains in sheer fabrics, allow soft light to filter through, casting a magical glow. Relax amidst a collection of plush floor cushions and low seating, encouraging intimate conversations and creative expression. In this bohemian sunroom, the possibilities for self-expression and tranquility are endless.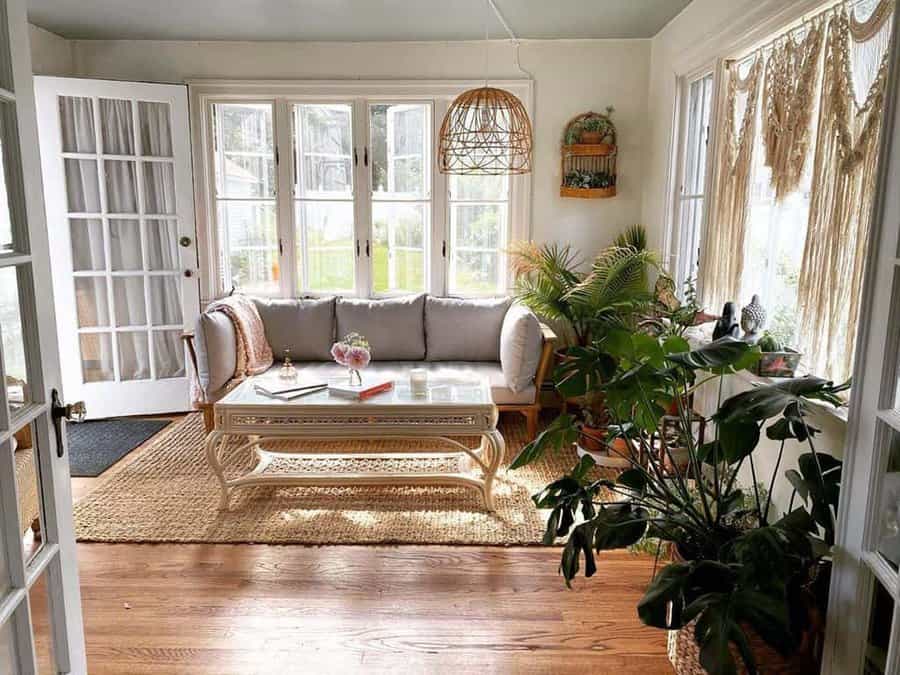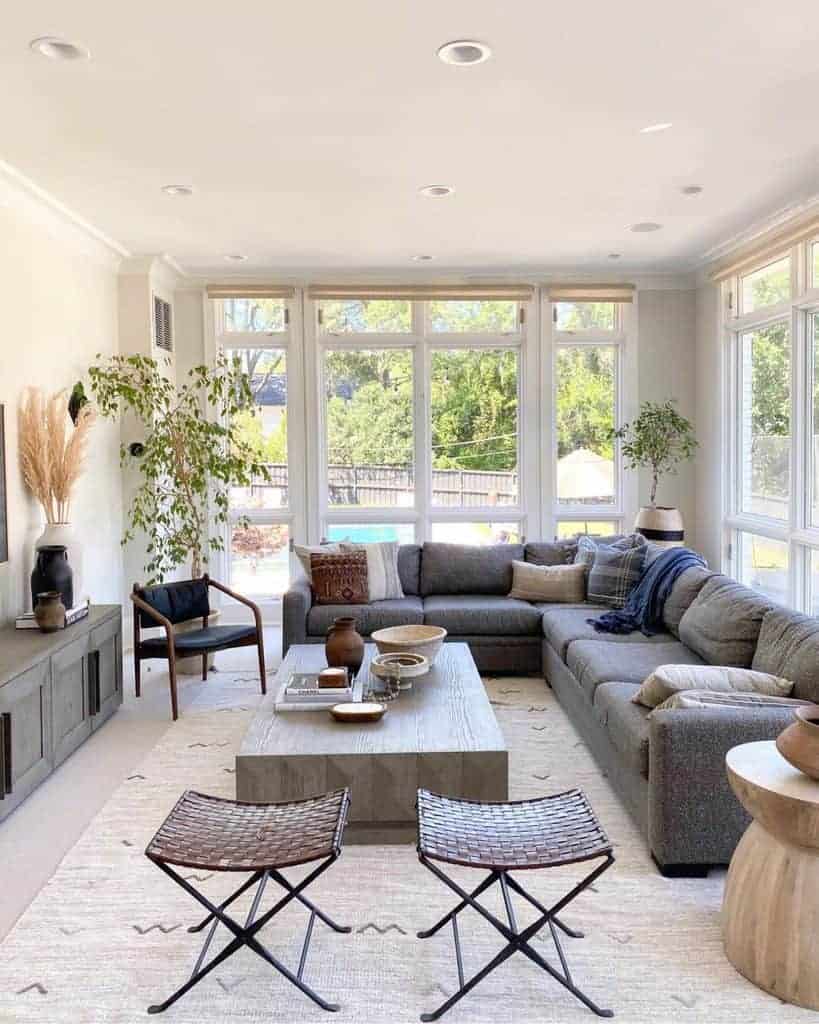 13. Sunroom With Wicker Furniture
Elevate your sunroom to new heights of elegance with the timeless charm of wicker furniture. Create a sun-kissed sanctuary that seamlessly combines the beauty of nature with a touch of traditional interior design.
Picture yourself basking in the warm sunlight as you sink into plush wicker chairs adorned with soft cushions, embracing the ultimate comfort and relaxation. Surround yourself with lush potted plants and vibrant flowers, bringing the outdoors in and enhancing the fresh and inviting atmosphere.
Accentuate the space with delicate rattan tables and woven accessories, adding texture and character to the room. The sunroom becomes a sanctuary where you can unwind, read a book, or simply enjoy the breathtaking views.
With wicker furniture as the centerpiece, your sunroom exudes a creative blend of classic elegance and natural beauty, creating an enchanting haven you'll never want to leave.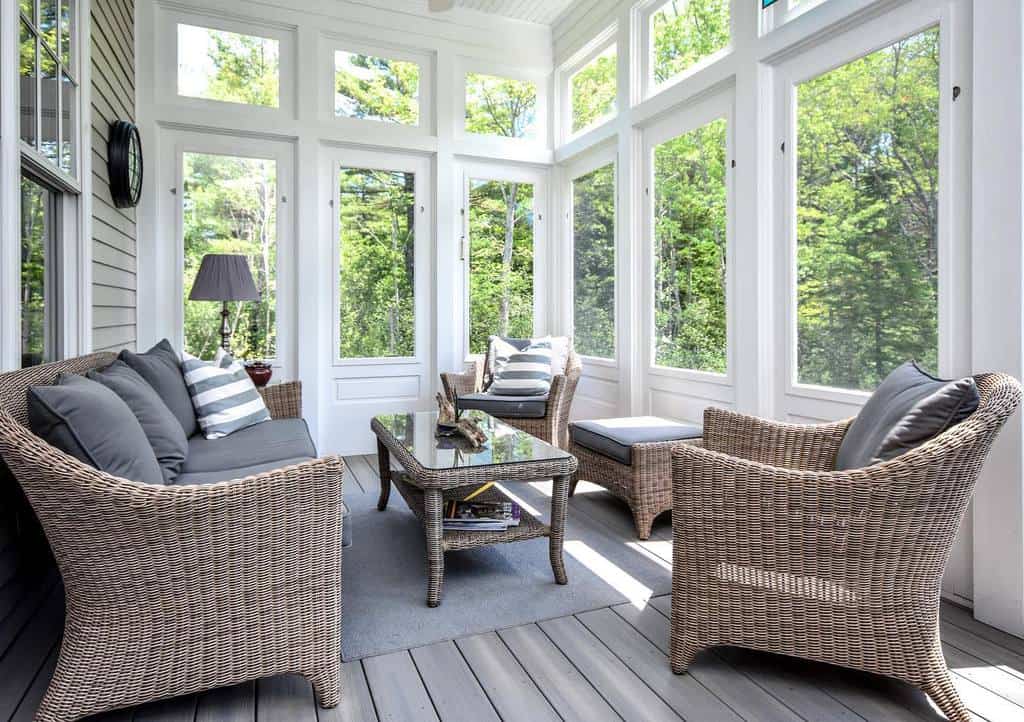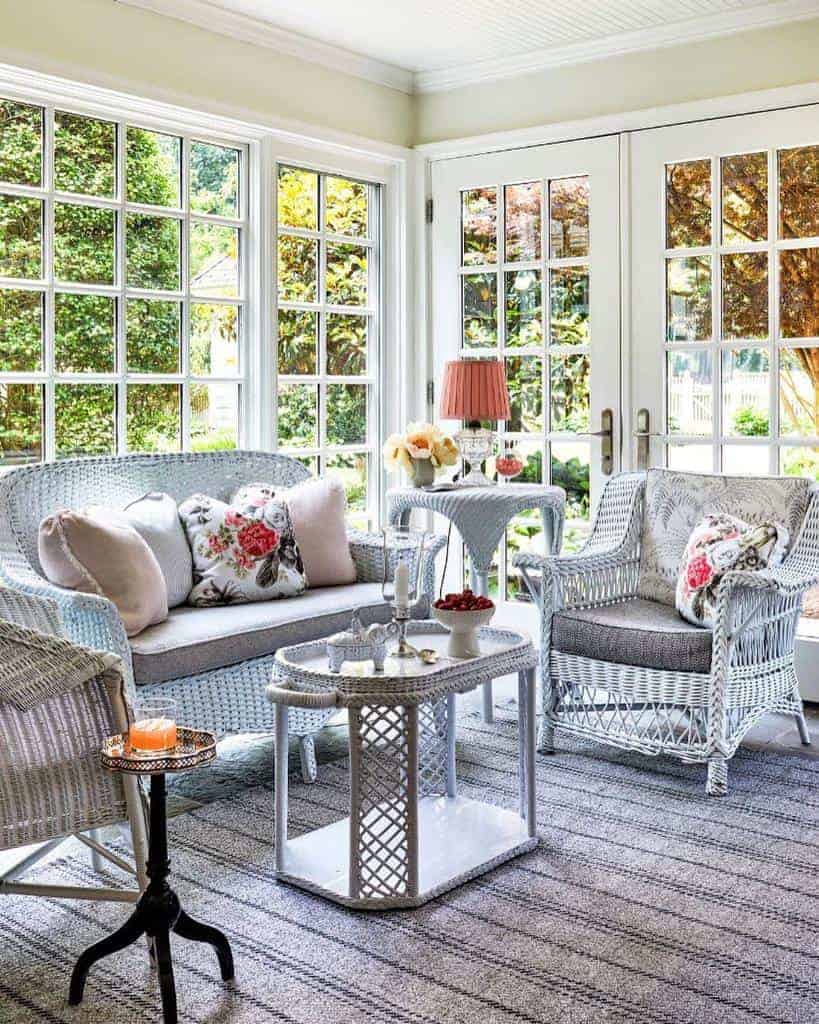 14. Neutral Palette Sunroom
Transform your sunroom into a serene oasis with a neutral palette that radiates tranquility. Embrace the beauty of a monochromatic scheme, where light grey upholstery takes center stage, creating a harmonious and versatile space.
The subtle hues of the neutral palette allow natural light to dance effortlessly, infusing the room with a bright and airy ambiance. Incorporate texture with plush rugs and cozy throws, adding depth and warmth to the serene atmosphere.
Introduce potted greenery to bring a touch of nature indoors, seamlessly blending the outdoors with the indoors. With this creative approach to a neutral palette sunroom, you'll have a soothing sanctuary that invites relaxation and rejuvenation.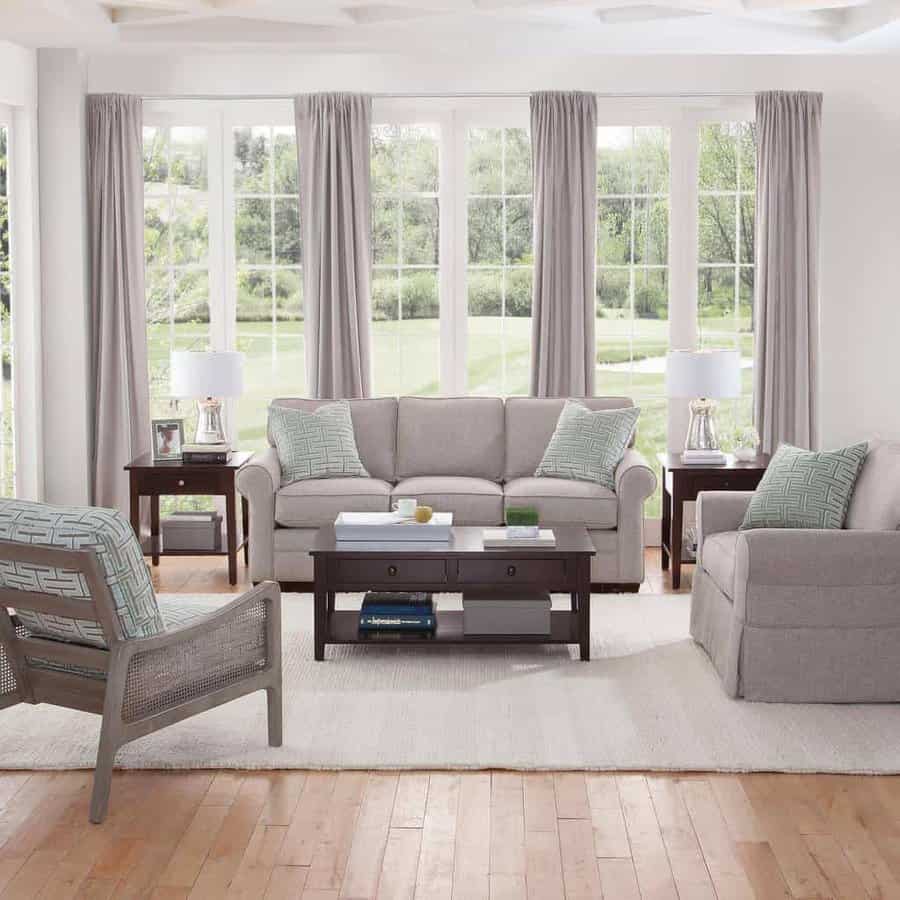 15. Maximalist Sunroom
Unleash your creativity and create a captivating maximalist sunroom that will ignite your senses. Transform your sunroom into a vibrant living room bursting with energy and personality. Embrace the boldness of print on print, layering patterns and textures in a harmonious cacophony of visual delight.
Explore a plethora of fabrics, from luxurious velvets to playful chintzes, adding depth and richness to every corner. Adorn your seating with an abundance of plush throw pillows, each boasting its own unique pattern and color scheme.
Let your imagination run wild as you curate a space that radiates joy and invites endless relaxation. In this maximalist sunroom, every day will be a celebration of bold design and unabashed self-expression.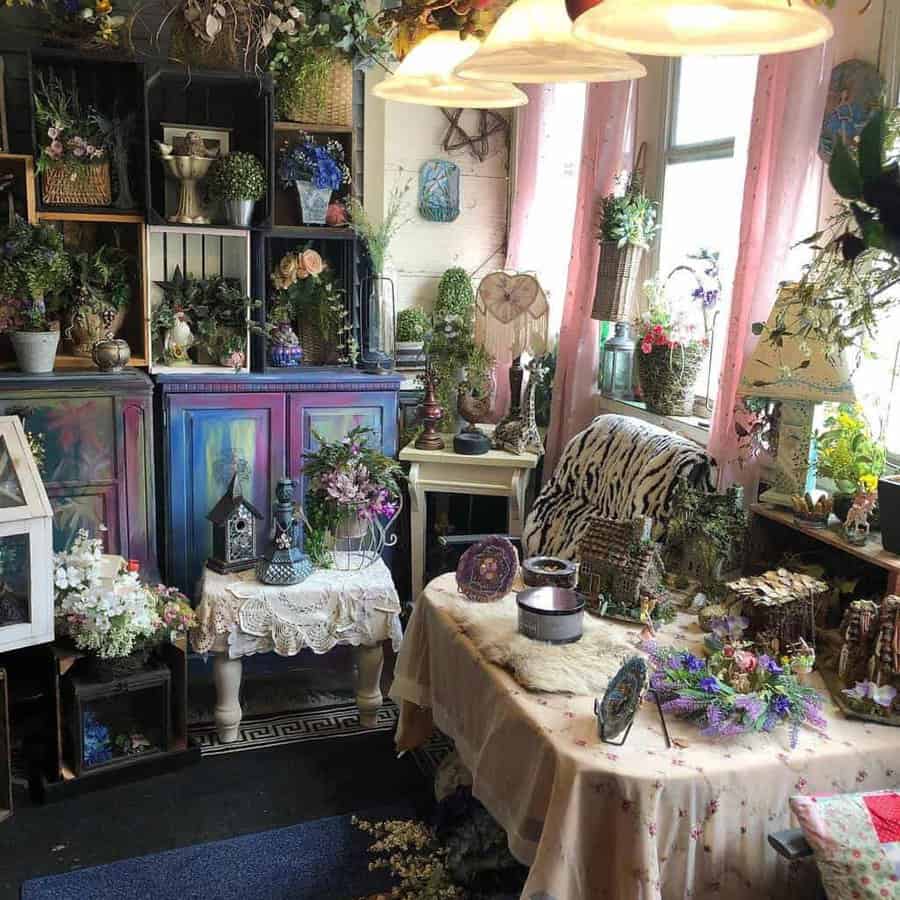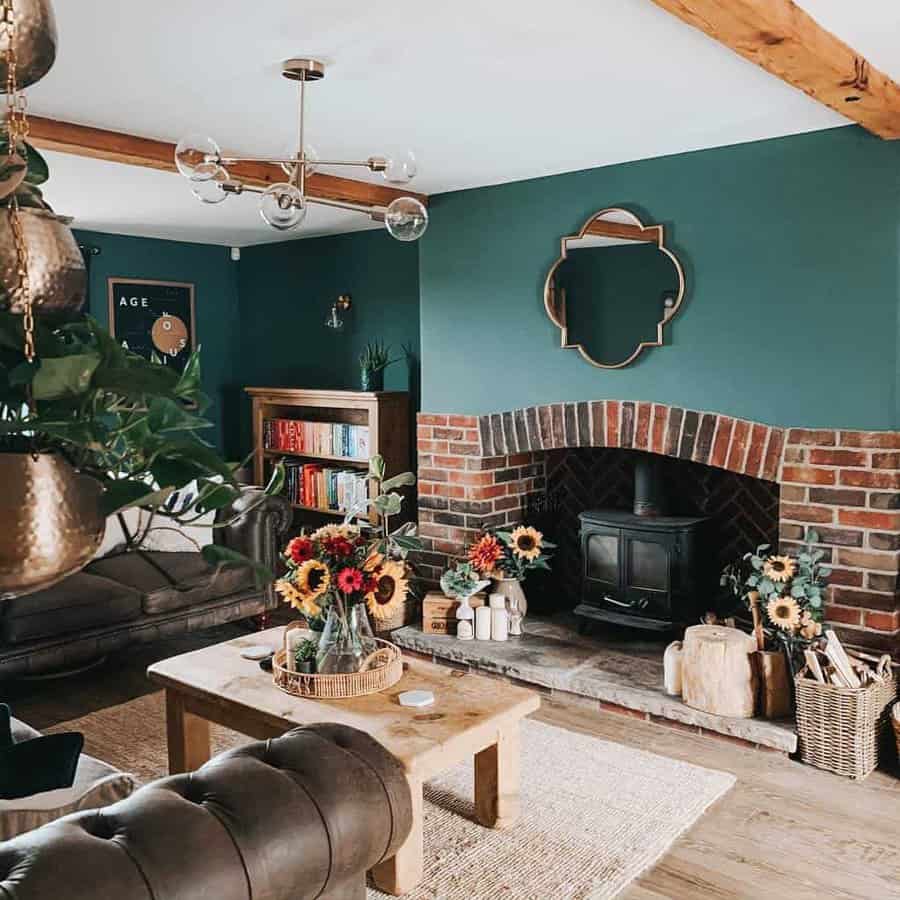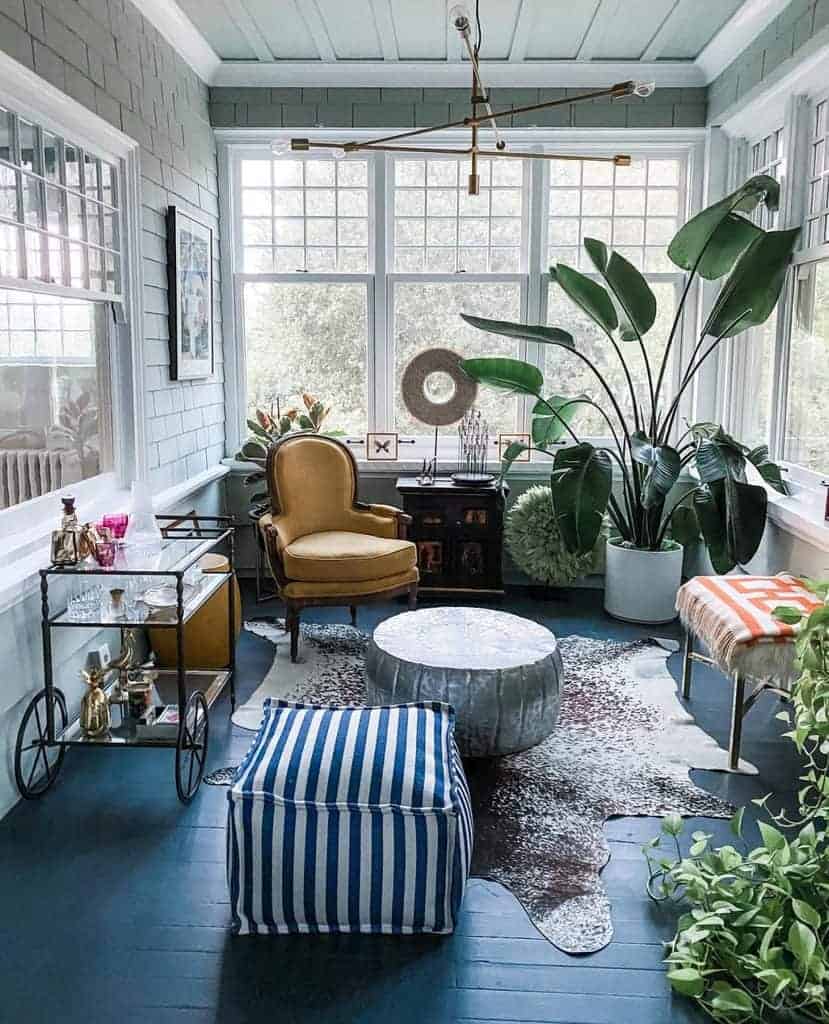 Sunroom Decorating FAQs
Is turning a patio or deck into a sunroom worth it?
If you're thinking of turning your current outdoor space into an enclosed sunroom, you've probably crunched a few numbers already. Many factors go into the cost of remodeling a home. Generally speaking, though, homeowners can expect to recover at least half of the cost of a new sunroom in their home's value almost immediately.
Depending on the local climate and how you insulate your new sunroom, there's a decent chance you'll be adding usable square feet to your home year-round. This is a big deal in a real estate market that values larger homes.
Of course, you shouldn't just think of a sunroom as a long-term investment. If owning a sunroom will improve your enjoyment of your current home for years to come, no amount of money will make a difference.
What is the best flooring for a sunroom?
As with any room in your house, choosing the right flooring is about more than appearances. Before you can make an informed decision, it's crucial to understand exactly how you'll use your sunroom.
If you plan to use your sunroom as a homemade conservatory, you'll want a floor that's durable, easy to clean, and (perhaps most importantly) water-resistant. In this case, concrete or tile flooring is likely best.
On the other hand, a sunroom that serves as day-to-day living space doesn't need special flooring. Hardwood and vinyl flooring are both great options, but many people opt to use carpet in their sunroom.
How do you winterize a sunroom?
If you live in a colder climate, your sunroom will probably always be the coldest room in your house during the winter months. But there's plenty you can do to combat the frigid cold.
Add cozy elements to your sunroom as soon as the temperatures drop. A large area rug can combat chilly hard floors. Place a space heater or electric fireplace in the center of the room for extra warmth. With the onset of shorter days, you may also need to supplement your sunroom's lighting.
Even if you plan to shutter your sunroom for the season, take the time to insulate the windows with plastic. This can be an intense process since most sunrooms feature wall-to-wall windows. However, it can also save on heating costs throughout the rest of your home.