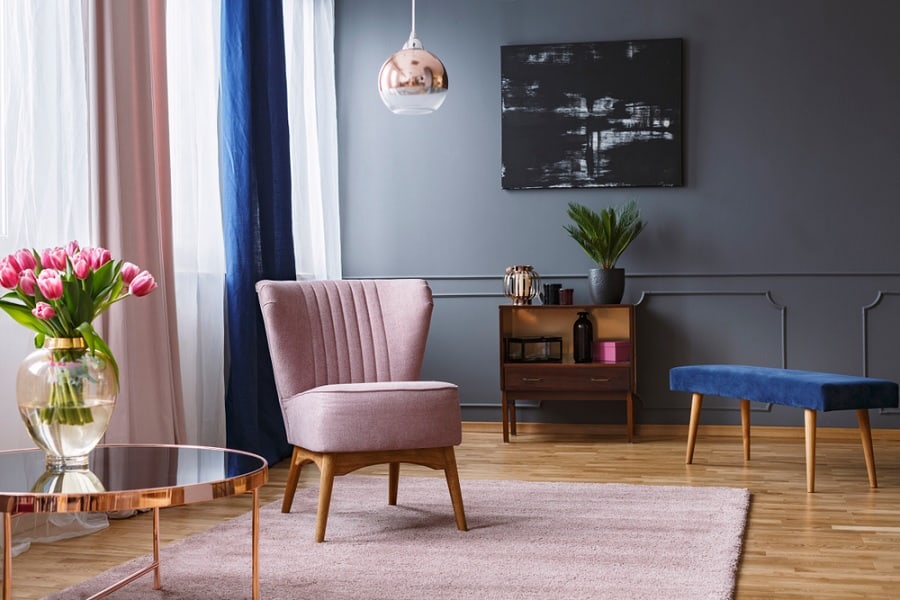 22 Best Types of Chairs for the Living Room
by — Andra DelMonico

Published on December 31, 2021

Updated on August 23, 2023
Everyone knows that you put a sofa in your living room. But did you know this should not be the only living room furniture that you have? Having additional seating means entertaining more guests and having a more welcoming living room.
There are several types of chairs for living rooms to choose from. The chair type you choose will depend on your available space, your budget, and the interior design theme you have.
Consider all of these different types of chairs and find the perfect chair for your living room.
1. Accent Chairs
This term is the most generic on the list because it covers the majority of chairs on this list. It is used as an umbrella term to cover chairs that you place in your living room to complement the sofa and the rest of your design.
Choose an accent chair for your living room that suits its size, style, color, design, and seating needs. For example, if you have a small living room, choose an either scaled down or visually lightweight chair.
A stately Chesterfield chair will easily overwhelm your living room. On the other hand, a ghost chair will blend into the room and help it to feel open.
2. Armchair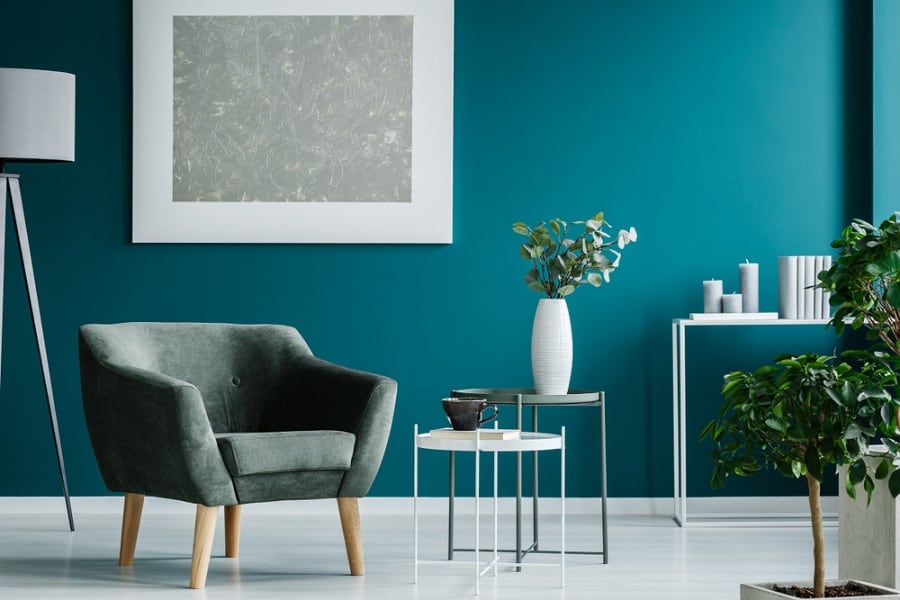 The armchair is the classic upholstered chair that most people think of when they decide to add a chair to their living room. They get their name from the prominent armrests. They give the illusion that you are sinking into the chair as they rise up on either side of you.
Because these chairs come in a range of sizes, from contemporary to traditional, you'll find that they also range in comfort.
Typically, you will see two armchairs placed on either side of a sofa with a coffee table placed in the center. This creates a U shape that is perfect for engaging with others while also not blocking the flow of foot traffic.
3. Barcelona Chair
This iconic chair is the result of a collaboration between famous furniture designers Mies Van Der Rohe and his partner Lilly Reich. Its simple and sleek design makes it a staple in modern interior design despite being a product of mid-century modern innovations.
This is the chair you see in trendy company lobbies or upscale loft downtown apartments. It features a stainless-steel frame and two rectangle cushions that are upholstered in black bovine leather.
4. Barrel Chair
Also known as tub chairs, barrel chairs like this one from Rosevera have a distinctly round chair back that creates a semicircle. The back also comes up quite high, giving you the feeling of sitting in a barrel or tub.
Some people liken sitting in a barrel chair to getting an all-encompassing hug because the seat is on the narrow side and closes in around you. These chairs are great if you have children because they are built solid and sturdy, making them capable of taking a beating and heavy use.
In addition, the balance of masculine and feminine design features makes them the perfect accent for a wide variety of design themes.
5. Bergère Chair
If you love traditional French style and design, then you will love these living room chairs. We have French King Louis XV to thank for this furniture staple. They look similar to a dining chair, but they are the perfect opulent accent to your living room.
Expect to pay more for this chair style. They have an ornately carved wood frame, legs, and armrests with plenty of intricate details. The back and seat are cushioned with expensive upholstery fabric that features an intricate design. There may even be small cushions on the armrests.
6. Chaise Lounge

Did you know that the name for this unique chair is the English mangling of a French phrase? It originally was called chaise longue, which is French for "long chair", a literal description of the chair. However, "chaise lounge" still works because you lounge out on the chair.
They first appeared in the 16th century for aristocrats to lay on during the day. Chairs like this chaise lounge from BELLEZE are perfect as an accent in a dead corner.
Their long length helps to fill the empty space while not allowing the chair to get lost or feel like it is floating on its own. Add a lamp and dress the chaise lounge with a throw pillow and blanket to create a cozy reading corner.
7. Chesterfield Chair
When you say Chesterfield, most people think of the sofa, but you can actually buy a Chesterfield chair too. These oversized chairs sport the same upholstery style as their larger counterparts.
The hallmark of these upholstered chairs is the tufted design. They tend to be large in size with cushioned, rolled armrests. When looking at these chairs, they look large, square, and solid.
There is plenty of cushioning to make them a comfortable chair to sit back and relax in. The Elina Wide Tufted Velvet Chesterfield Chair features this classic style in a neutral color. While the majority of Chesterfields are leather, this one is upholstered in fabric for a softer, less masculine look.
8. Club Chair
The club chair has a vintage feel that will add an art deco feel to your living room. They are known for their comfortable seating thanks to their deep, oversized seats and sloped lower back. The armrests also start low and extend out and upward.
They are traditionally leather chairs. Originating in France, their origins are not totally clear. There is some speculation that they get their name from old-school gentlemen's social clubs.
The unique shape and leather upholstery give these chairs a decidedly masculine feel, which adds a certain je ne sais quoi to your living room. They would look best in a vintage-inspired or industrial design.
9. Contemporary Round Chair
If you have a large living room with plenty of space, then you could add this modern chair to your living space. These chairs are not meant for just one person.
The extra-deep seating and extended width make them perfect for lounging with a partner. Or you could curl up with a throw blanket and a good book. You will find that they are most often upholstered in suede or leather, making them the perfect accent for a modern or contemporary home. Keep in mind that the round shape results in the chair taking up more square footage than a typical chair.
10. English Rolled Arm Chair
This simple and traditional soft chair is perfect for creating a cozy feel in your living room. It has nicely rounded and cushioned armrests with soft corners and deep seating. This is the chair that your guests sink into and never want to leave. This makes it a good reading chair.
The armrests are lower on this chair than other accent chairs, encouraging you to sit more leaned back and slouched. These chairs are typically upholstered in fabric, making it easy to find a chair that complements the rest of your living room design.
Choose a soft neutral for a contemporary take on this classic chair. Or go bold with a stripe or floral pattern.
11. Ghost Chair
No, these chairs do not look like ghosts or move around on their own. Ghost chairs get their name because they are completely clear. They are made from acrylic or polycarbonate plastic and have a distinctly modern feel.
They tend to lack any cushioning, have a perfectly flat seat and back, and no armrests, making them less comfortable than other chairs on this list. Their shape might look familiar to you; their design was inspired by King Louis XVI chairs with a square seat and round back.
These chairs are great for small living rooms because they help the space to feel open. Because you can see through them, it tricks the eye into thinking the space feels less crowded, and thusly, bigger.
Keep in mind that these chairs are not great if you have children or pets. They scratch easily, which will ruin the crystal-clear quality that makes them so appealing.
13. Hammock Chair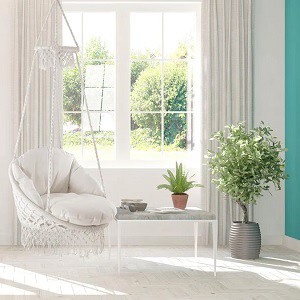 A hammock chair is a must for adding a whimsical or funky vibe to your living room. These one-of-a-kind chairs hang from the ceiling by a rope or chain. This lets the chair spin or swing around.
If you cannot mount the chair from the ceiling, there are some options that come with a stand. It will have a large base with an arm that arches overhead that the chair hangs from. They are typically made of wood or wicker and then have a plush cushion placed inside.
Once inside the chair, you will feel as though you are sitting in a cocoon. Because these chairs are so unique, they tend to only work in living rooms that are eclectic, artsy, or bohemian. The Vivere White Fabric Hammock Chair is beautiful in crisp white with macrame accenting.
14. Loveseat
These chairs look like mini sofas with enough seating for two. This ups the cuddle factor by creating a more intimate seating option. You could easily pair a matching or complementary love seat and sofa. Try placing them across from each other or in an L shape.
You will see loveseats come in a wide range of sizes and styles. Look for one that's scaled to the size of your living room. One on simple slim legs with firm cushions has a mid-century modern vibe. Or you could have an industrial-inspired one that has metal legs, a wood frame, and leather cushioning.
15. Lawson Chair
This chair looks a bit mid-century modern, giving it a timeless appeal with a clean design and comfortable shape. It looks like a cousin to the club chair but with more straight lines.
The back comes up to about mid-back with armrests that are ideally positioned for the majority of adults. These chairs have a formal business feeling, making them perfect for a library or formal living room.
While they are comfortable to sit in, they are not ideal for lounging back and watching a movie. The upholstery is typically leather with firm or stiff cushioning.
16. Ottoman / Lounge Chairs

All too often, someone comes over to your home, and they sit down and want to kick their feet up. Unfortunately, this results in them putting their feet on the coffee table. You can prevent this by using extra seating that has an ottoman.
The Eames chair is the most famous lounge chair and ottoman combination. It is a classic office chair but can look chic in your living room. Its gentle slopes follow the spine's natural curves with its tall back. Check out this Eames-style chair and Ottoman combo from TOOMOO.
While the position of the chair is already leaned back a bit, making it comfortable to sit back and stretch out as you kick your feet up. The Eames chair has a distinctly masculine feel, but there are other options that have soft lines and lighter fabric upholstery. Keep in mind that these chairs take up more space, so they are not great for small living rooms.
17. Papasan Chair
These large round chairs are right out of the 60s and 70s with a wicker or rattan frame that supports an oversized round pillow to match.
The most comfortable variety has a dip in the middle so that it cradles your body. These chairs are not the most comfortable for sitting in while having a conversation. However, they are great for curling up with a good book.
You typically see these chairs in college dorms and first apartments, which means you will need to be careful when choosing one for your living room. Focus on finding a Papasan chair that has a mature feel. This is best done with the fabric used for the upholstery.
18. Recliner Chair
These easy chairs are the hallmark of dads and grandpas across the globe. They feel like modern marvels, but in reality, have been around for centuries. They are the epitome of comfort with plush cushioning and the ability to literally lean back and kick your feet up.
You will even find some with vibration and heating ability. Whether you buy the manual or electronic version, these chairs are ideal for those who love to relax in their favorite chair and watch a good movie.
Choose from leather or fabric for the upholstery on your reclining chair. The Mervynn Wheat Polyester Club Chair Recliner is a perfect combination.
19. Rocking Chair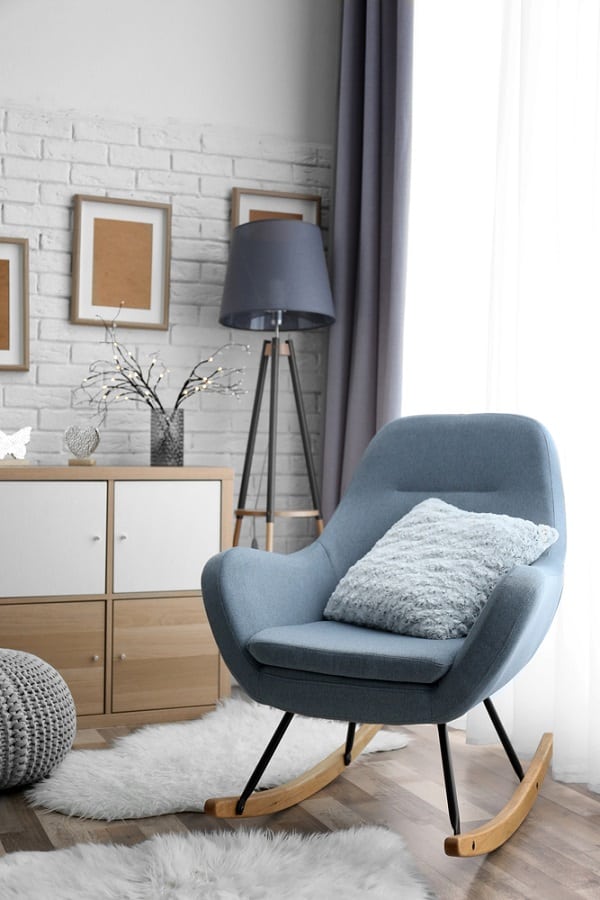 Rocking chairs get their name from the movement they make. The chair sits on curved rails that allow the chair to rock forward and back while sitting in it. They first started to appear in English homes in the 1700s.
The original chairs were made of wood, and then wicker became popular. It was initially considered outdoor furniture, but these days, it is common to see them indoors as additional seating.
The rhythmic motion is calming and can help you relax or ease a baby into sleep. You typically won't find cushioning on a rocking chair. However, some people do place a pillow on the seat to help make it more comfortable.
Finally, there are modern versions that do not rock but glide. These chairs are also on rails but have a forward and back motion that moves slightly differently from the curved original design.
20. Slipper Chair
These armless chairs are just a seat and back. The seat tends to be lower to the ground with a taller back. They were first used during the Victorian era when upper-class women would sit on them to put on their shoes or slippers.
The lack of arms in the chair's design makes it a great option as an accent chair. Especially for small living rooms because the lack of arms reduces the visual weight of the chair and makes it easier to navigate around them.
You will find these chairs are true accent and statement chairs with a plethora of options when it comes to color and pattern. If you want to keep the chair looking and feeling light, opt for one that has exposed legs.
If you are looking for a more formal feel, there are some that have upholstery that hides the legs for a continuous look that extends to the floor.
21. Wingback Chair
These elegant chairs make a bold statement with the large back and sides that extend up to the full height of the person in the chair. The "wings" are the sides that extend out and sort of wrap around the person in the chair.
These chairs have endured throughout the decades because they have a style that endures through the changing trends. Originally gaining popularity in England in the 1700s, the wing chairs were originally meant to block drafts and trap heat within the chair's space.
Today, these chairs are not needed so much for heat retention and are used mainly for decor, relaxing, socializing, and reading.  You can find authentic vintage, contemporary, traditional, and French country designs.
The Jacob Green Accent Arm Chair with Tufted Back is the perfect accent to your living room because it comes as a pair in bright, bold colors.
22. Wishbone Chair

Sometimes you need a few extra chairs because you are having company. You do not want to clutter your living room with large accent chairs, but you need more places for people to sit. The wishbone chair is a perfect alternative to folding chairs.
These chairs get their name from the unique wishbone shape of the chair back. Unlike other chairs, the chair's back arches around the body, making them more comfortable. They have a simple design with a wood frame, back, and legs with a woven uncushioned seat.
Chairs like this Tomile Wishbone Chair will blend perfectly into a farmhouse or Scandinavian living room. Because they are so lightweight, you can easily pick them up and move them around your house. So do not feel obligated to keep them in your living room permanently.