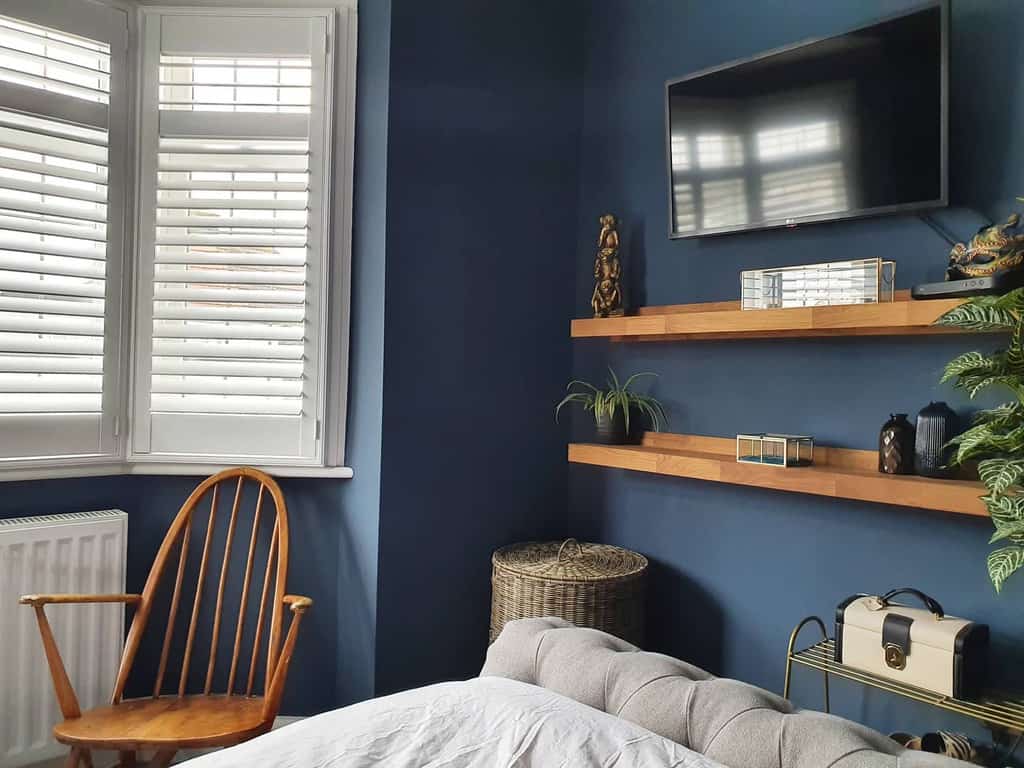 41 Creative Wall Shelf Ideas
Adding one or more wall shelves to the rooms of your homes can give you extra storage space and a convenient place to display wall decor. All you need is a shelf that fits your available wall space. You could have several short and shallow shelves for a wall arrangement or one deep shelf that extends the entire length of your kitchen.
These wall shelf ideas will help you choose the perfect wall shelving ideas for each room in your home.
1. Floating Bathroom Wall Shelves
Who knew a simple floating bathroom wall shelf could be such an easy way to dramatically upgrade your bathroom? Not only does it give easy access to toiletries, but it can also be a styling shelf for items such as candles, succulents, and other accessories.
This easy-to-install shelving option adds just the right accent to your space, making it modern and inviting. Plus, it offers storage in unexpected places, creating a pleasing aesthetic with zero effort.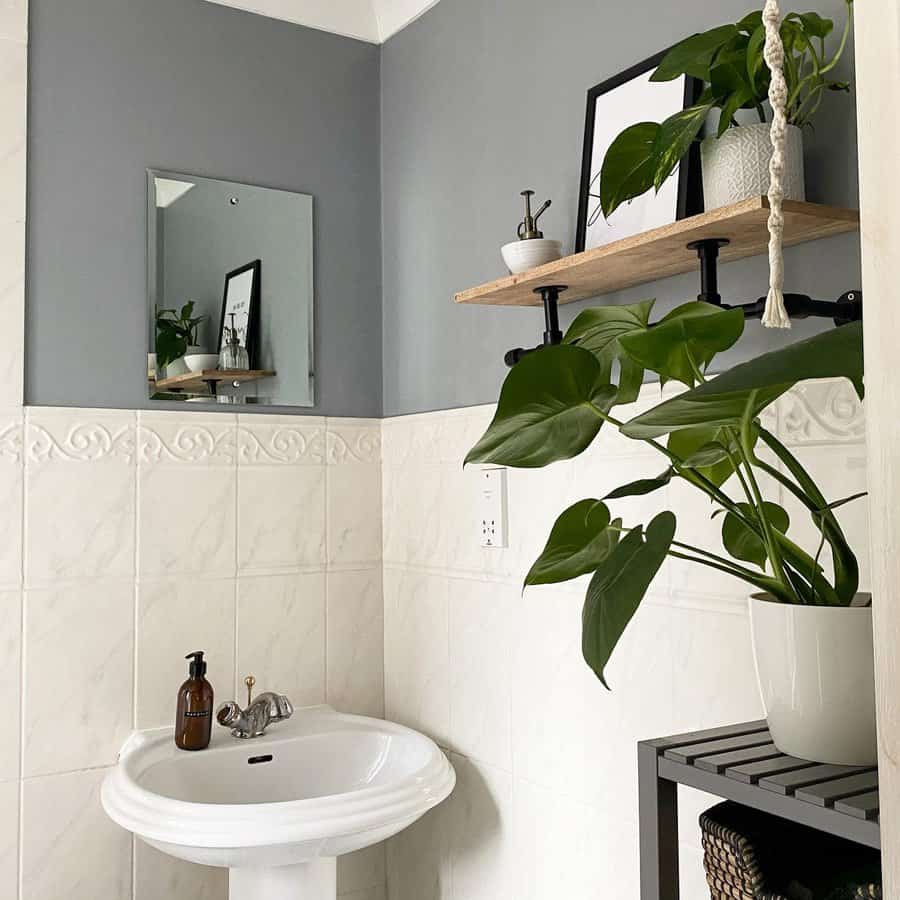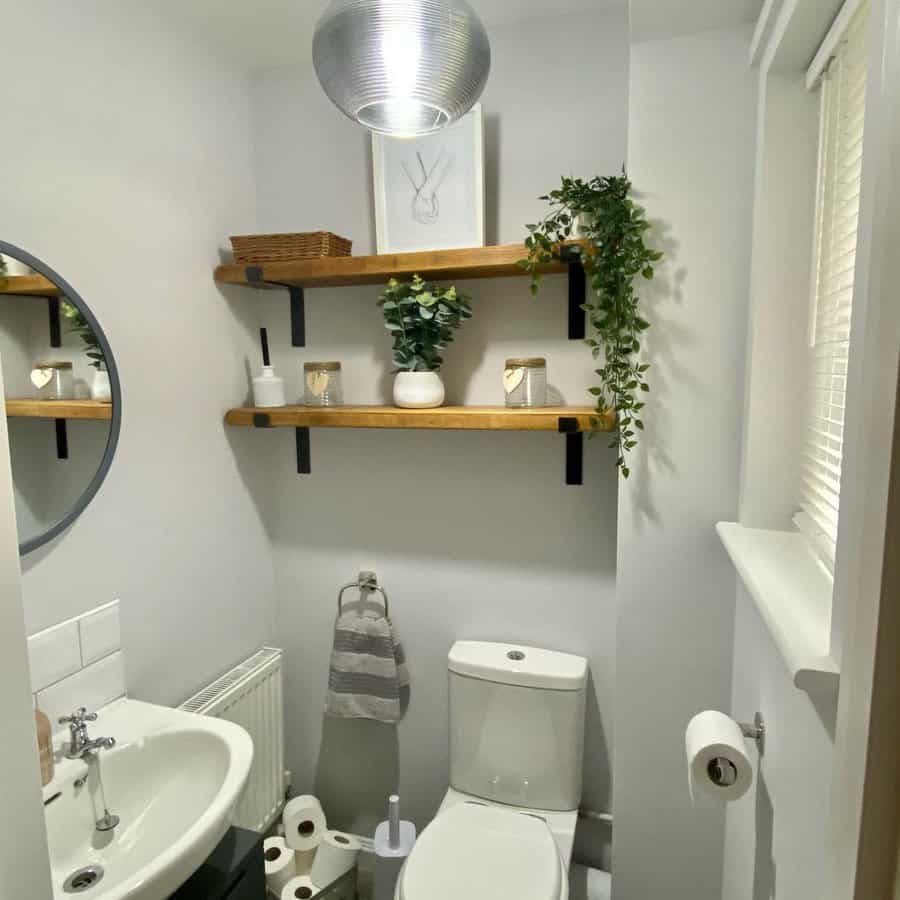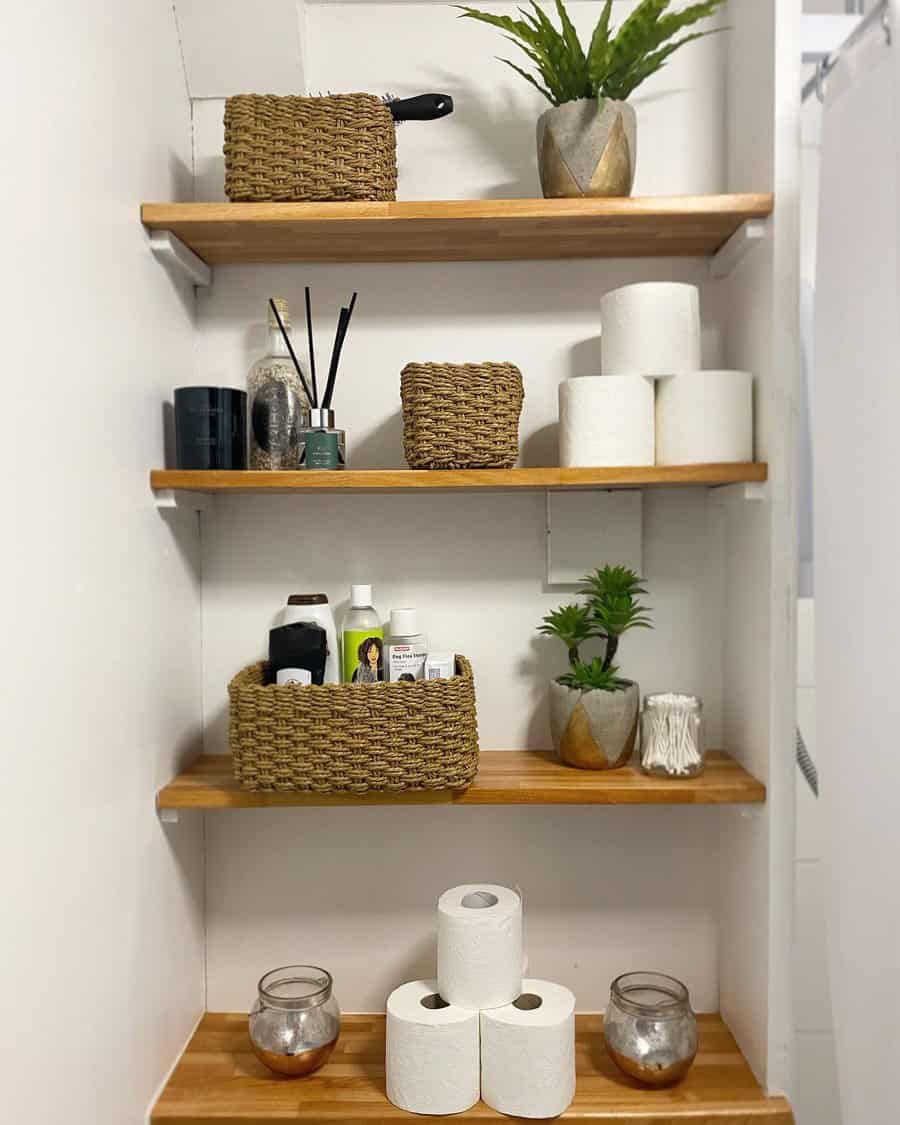 2. Overhead Bedroom Wall Decor Shelf
If you're looking for a new way to express your creativity, look no further than an overhead bedroom wall shelf! Not only is this solution functional and practical, but it also counts as wall art in its own right. With the range of available options nowadays, finding one that tickles your fancy should be a piece of cake.
Choose carefully to make sure it fits the overall aesthetic of your bed space; from styles made of tropical wood or bamboo to those with chic glass shelves, they all add much-needed visual interest to any room!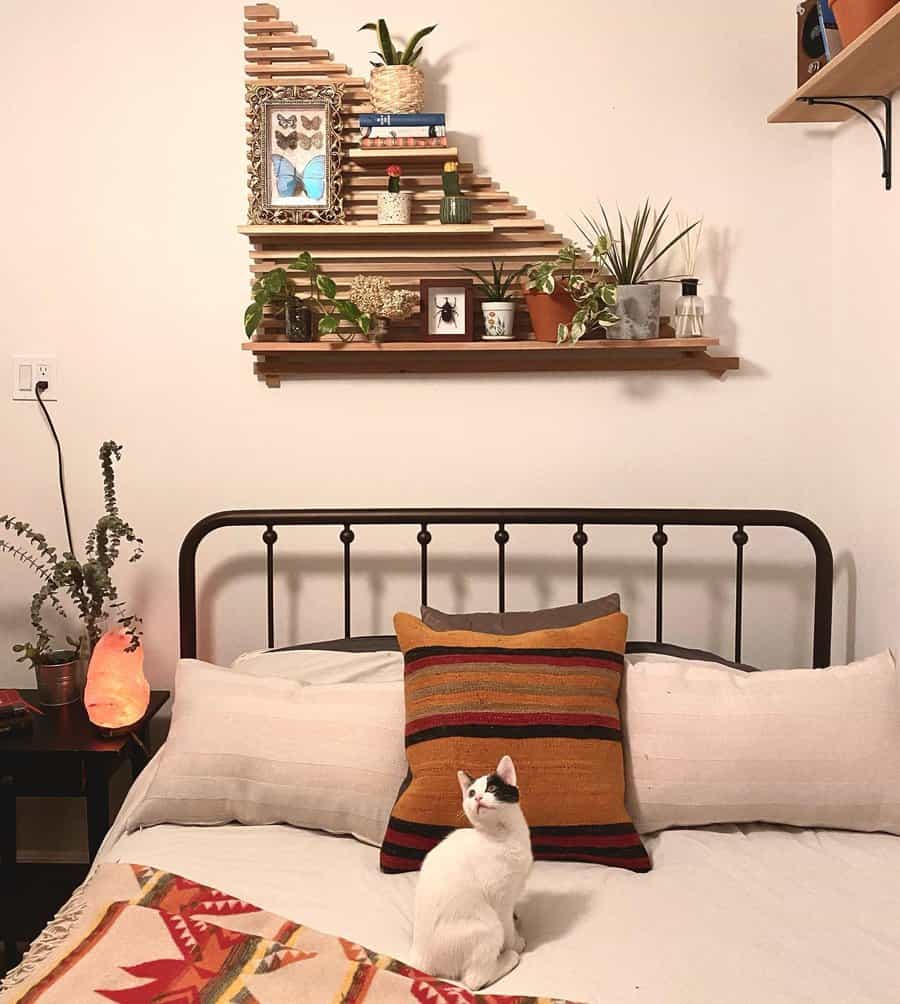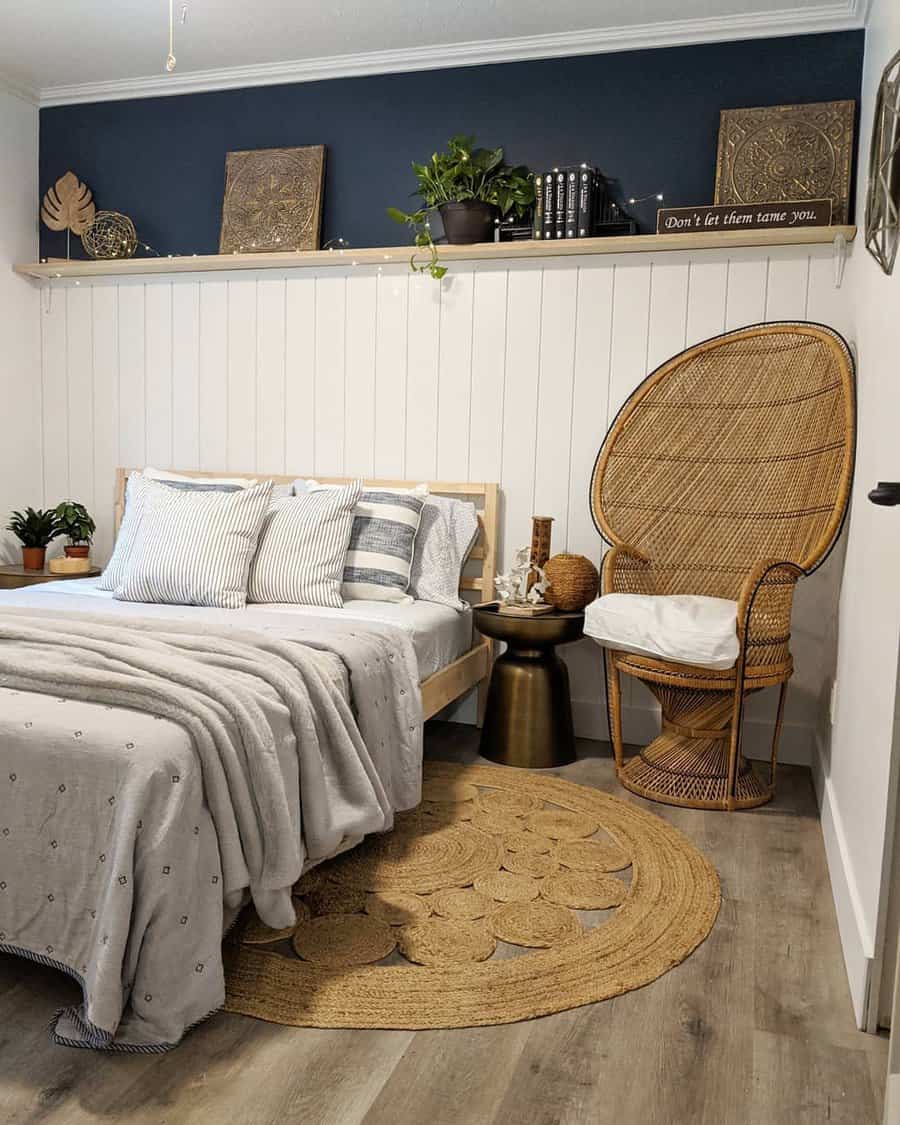 3. Recessed Wall Shelves
Ever get frustrated at the lack of storage space you have in your home and wish for more? Look no further than a recessed wall shelf, perfect for adding much-needed storage capacity while taking up absolutely no additional floor space.
This sleek shelf can be placed snugly inside a hollowed wall, letting you use the area of your walls that would otherwise be wasted. You can store linens, books, knick-knacks, and more with ease, all without sacrificing any of your living area's style or design aesthetic.
The recessed wall shelf saves space without looking like you've saved space – check it out today!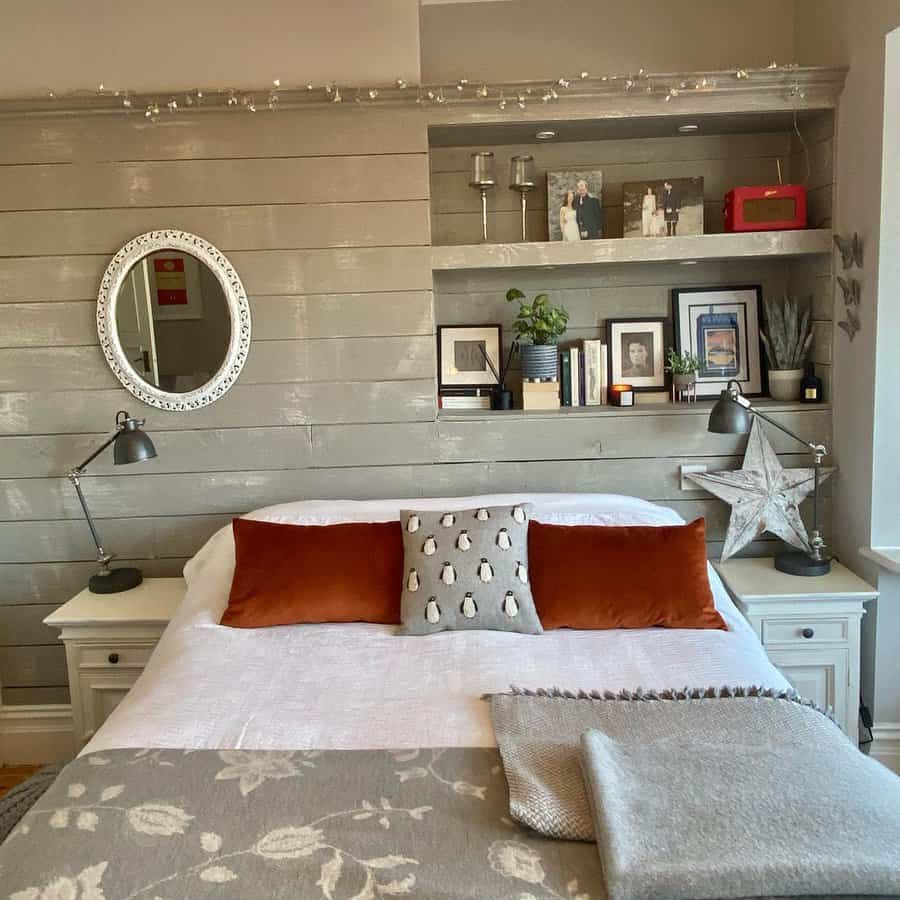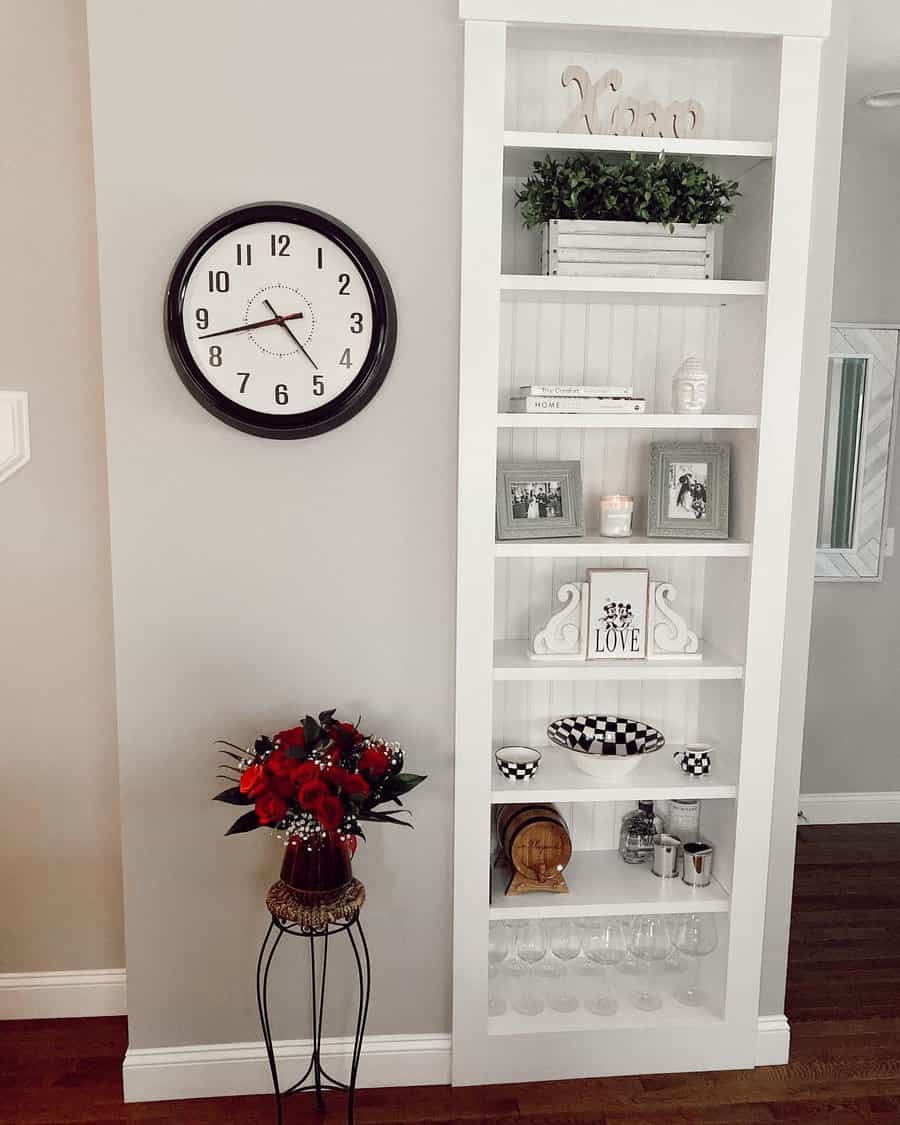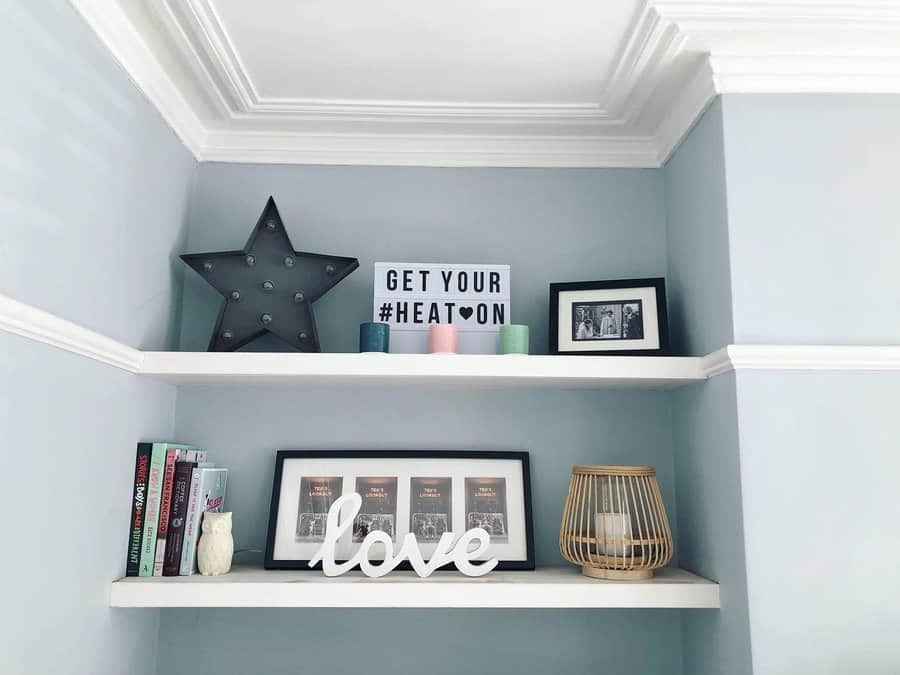 4. Height-play Shelves
Height-play wall shelves are the perfect way to bring dimension and visual interest to any space. Embrace the combination of taking a practical item and turning it into a statement piece – literally.
These unique shelves can be used to display books, photographs, planters, or anything else you'd like to make stand out. Experiment with combining different colors, textures, and heights, and watch as you create a dynamic look that adds unexpected flair to your home decor.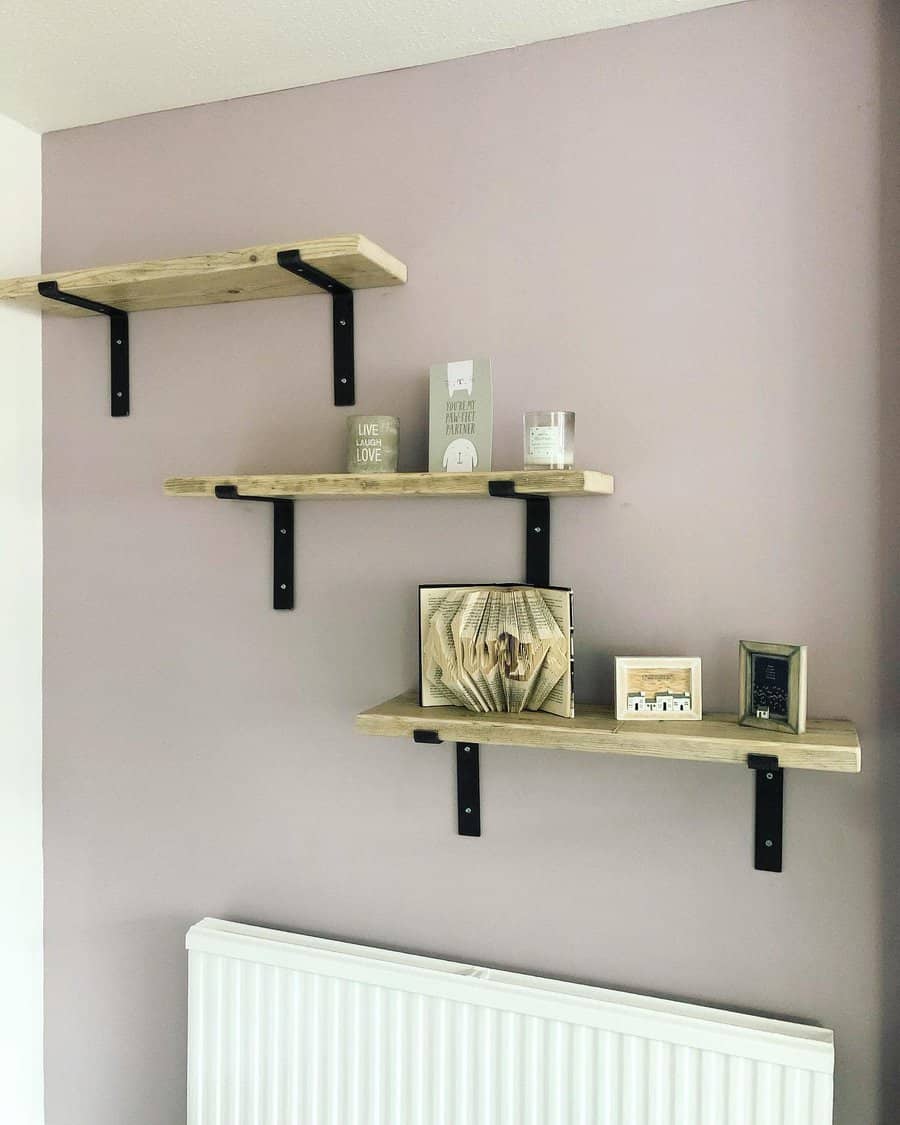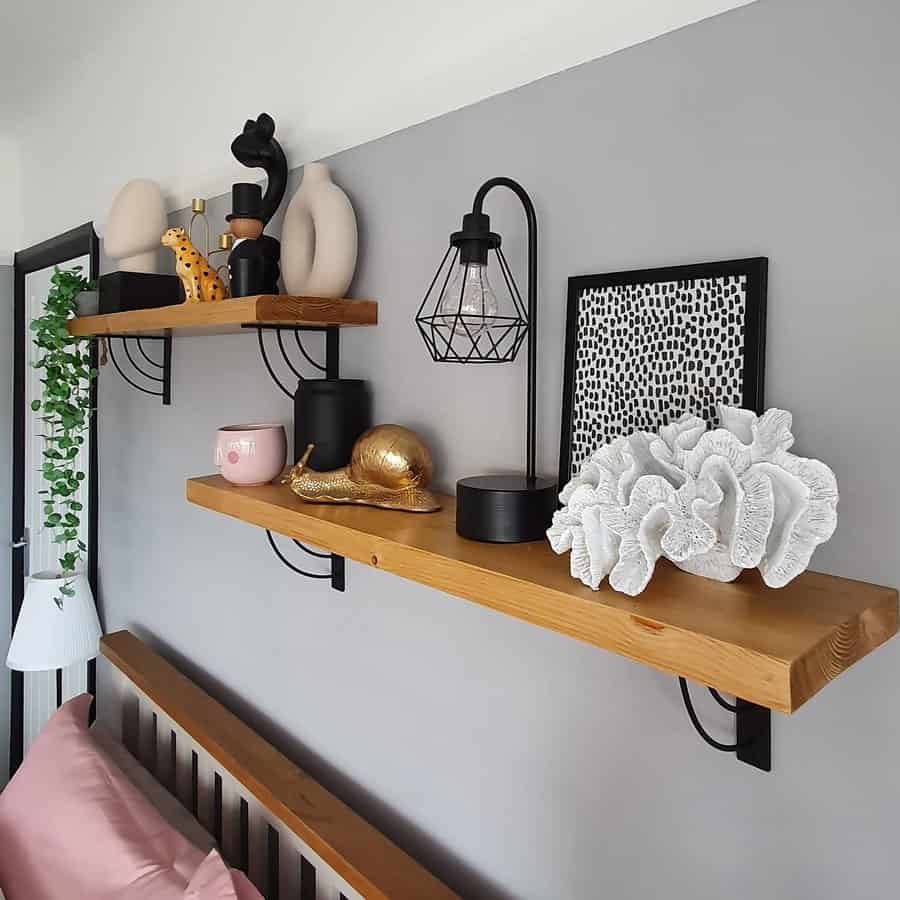 5. Metal-framed Wall Shelves
Metal-framed wall shelves provide a great way to showcase your small collections while adding a touch of modernity to any room. From rustic iron frames to sleek and contemporary designs, these shelves come in a variety of shapes and finishes, so there's sure to be one that fits your style.
They are easily installed and take up minimal space in your room, giving you the ultimate storage solution. With metal-framed wall shelves, it's never been easier to stylishly show off what matters most.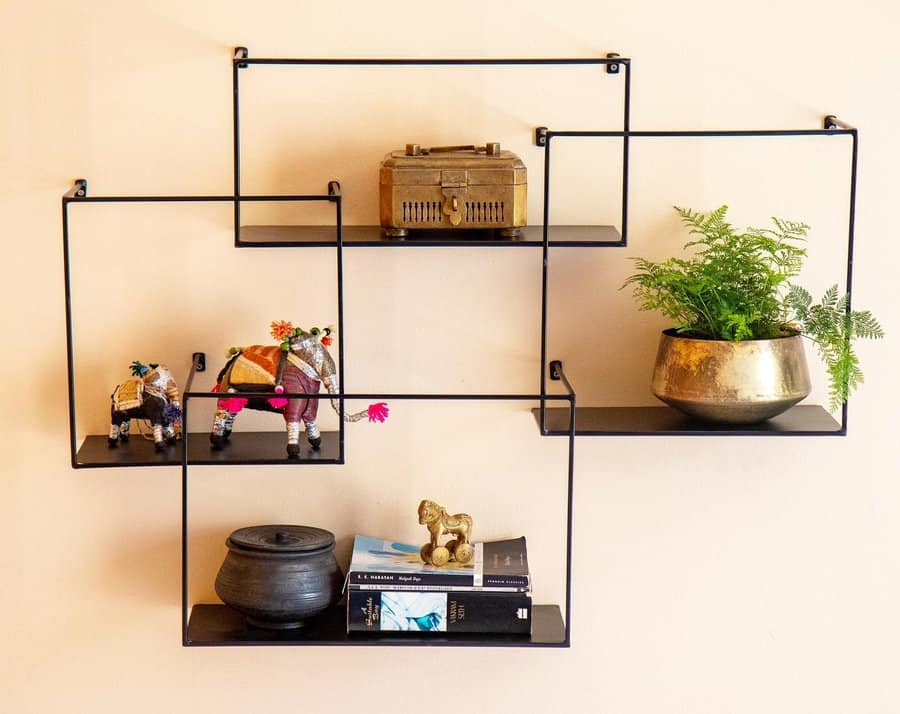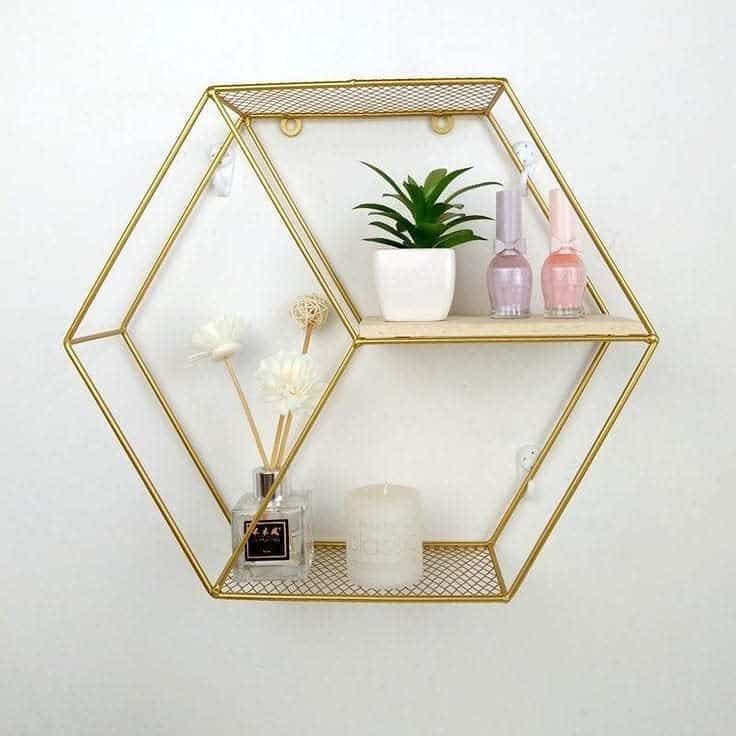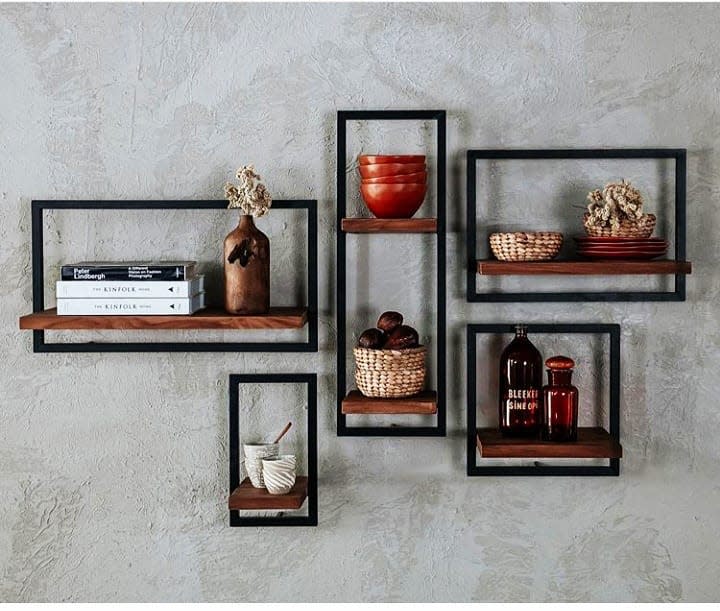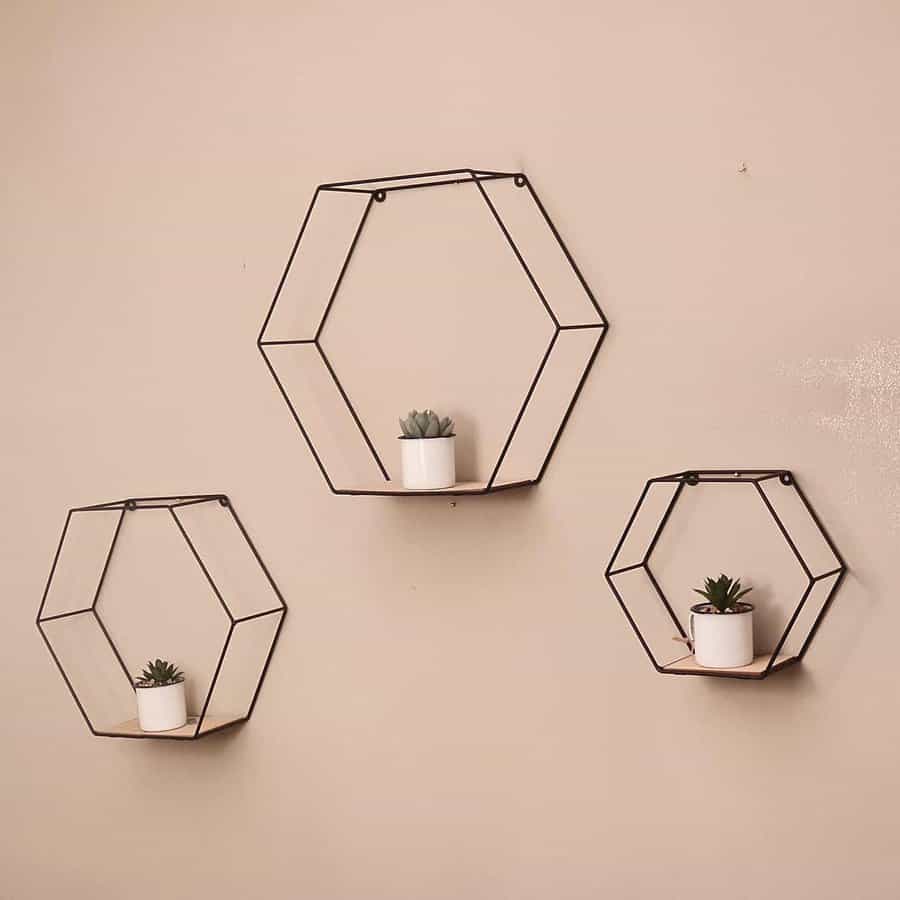 6. Styling Shelf
Wall shelves are an easy way to set the vibe for any room. Whether it's a living room, bedroom, or even an office, shelves can give your space a touch of style. For the most impactful result, try adding in vases, books, and other relevant decors to set off the shelf unit even further.
You may find that doing so, adds character to any area you choose to style. With wall shelves available in a variety of shapes, sizes, and colors there's a perfect fit for any pallet or interior needs.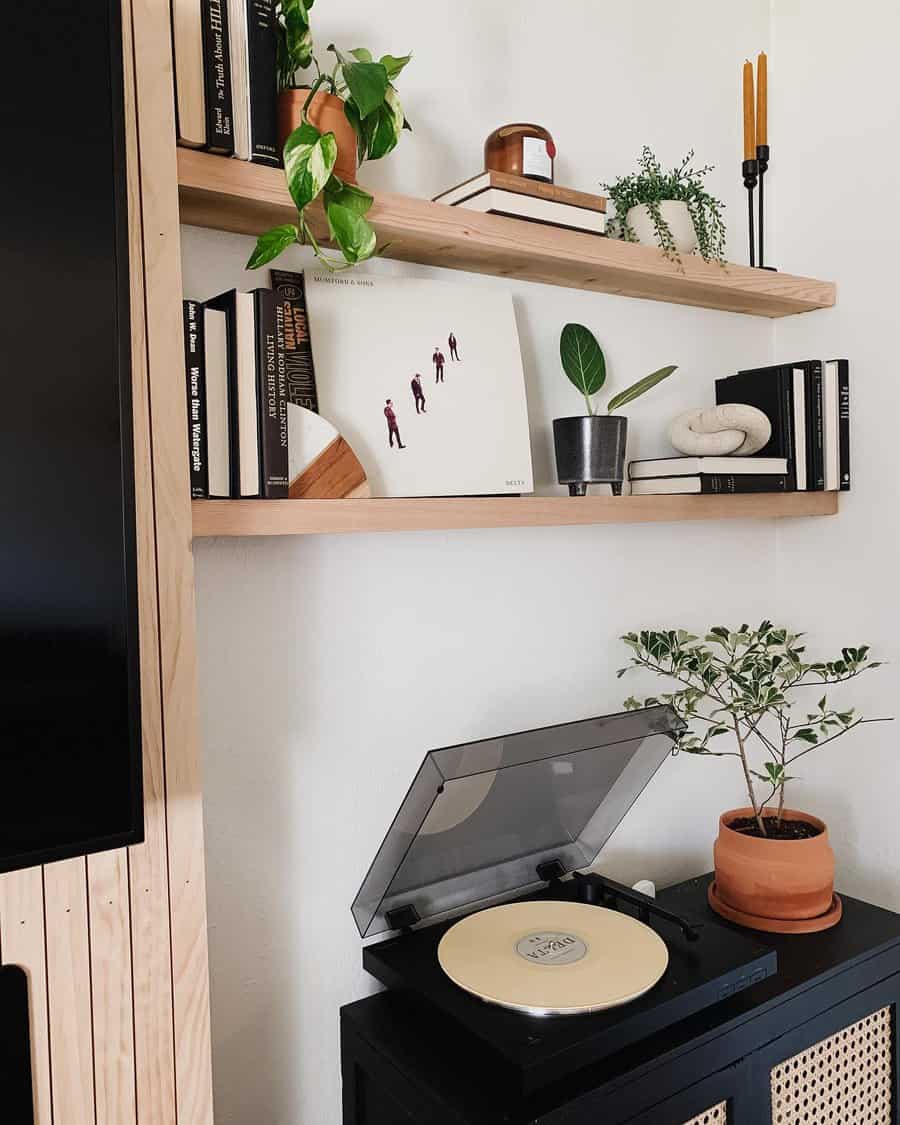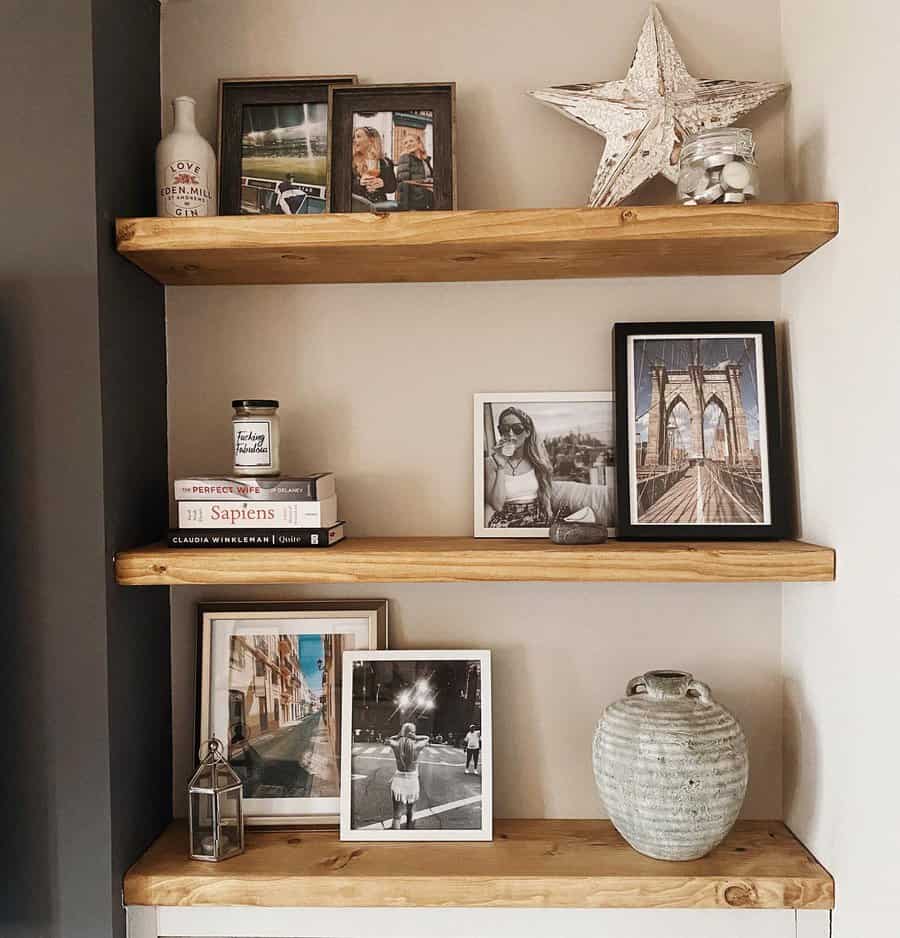 7. Corner Shelves
Corner wall shelves can be an incredibly useful and stylish way to utilize otherwise neglected space in your home. By adding corner wall shelves to a room, you can create the illusion of a larger, more open space by keeping items organized off the floor and out of the way.
The shelves can also be used for a variety of purposes such as displaying art, organizing books, or as an added catch-all for items like remotes and small collectibles.
With so many shapes, sizes, colors, and styles to choose from, there's sure to be something that will perfectly fit into your décor. With corner wall shelves you don't have to sacrifice style for storage!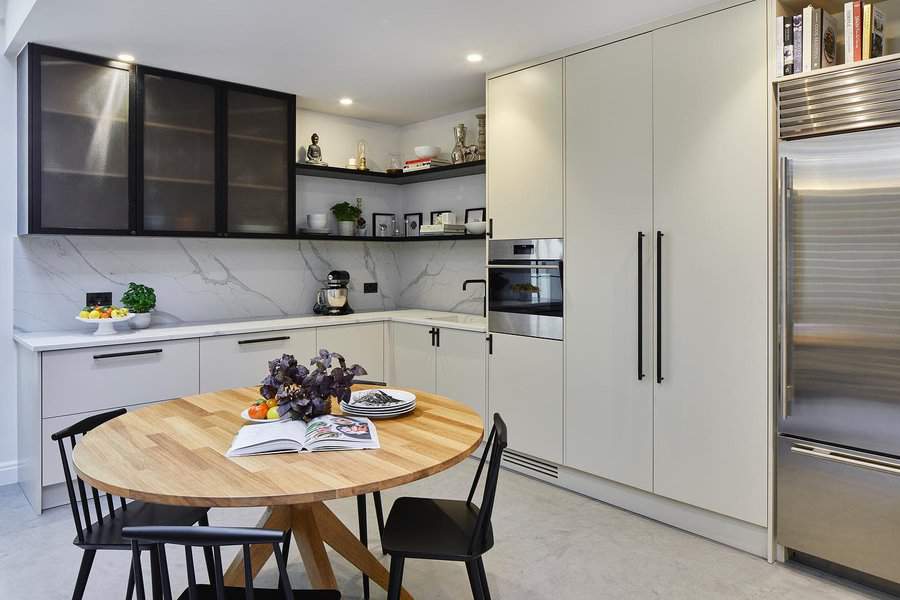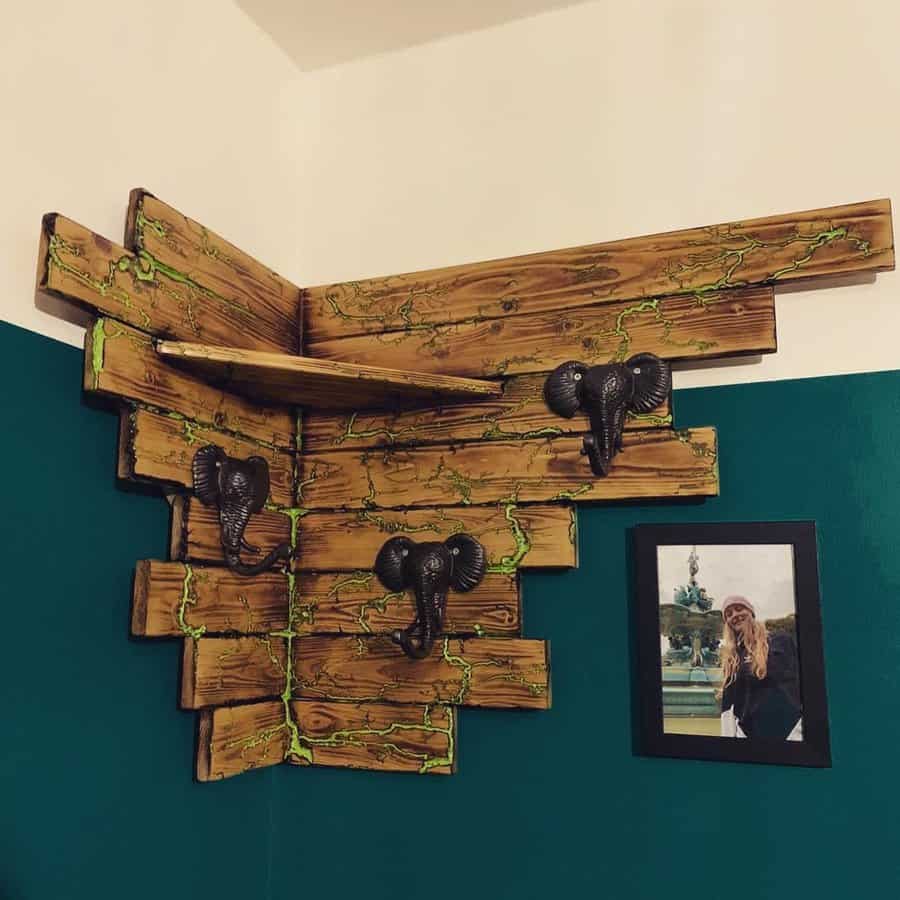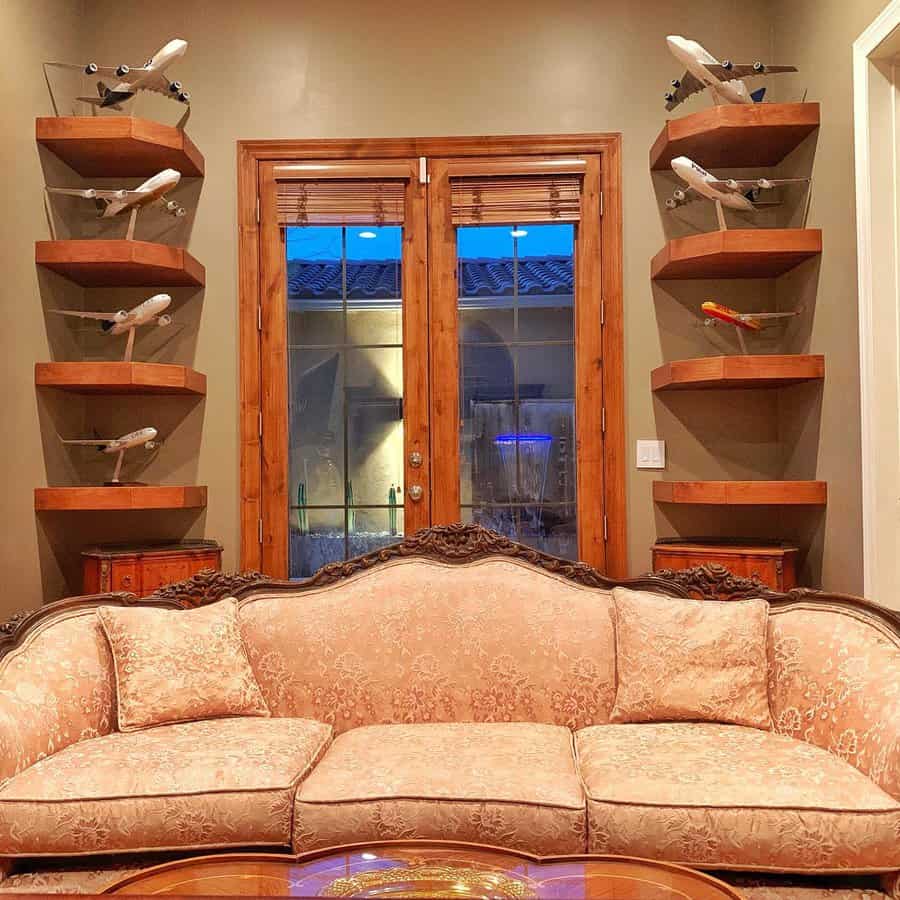 8. Wood-framed Shelves
Wood-framed wall shelves are the perfect way to instantly elevate any room with a rustic and bohemian interior. They can easily help to create an inviting and cozy home vibe, while also providing extra storage space.
Even better, you can really customize these shelves to your liking by decorating them with photographs, little decorations, or even adding a few plants – the options are almost endless! These rustic wall shelves are sure to draw all eyes in and transform any room, no matter the size.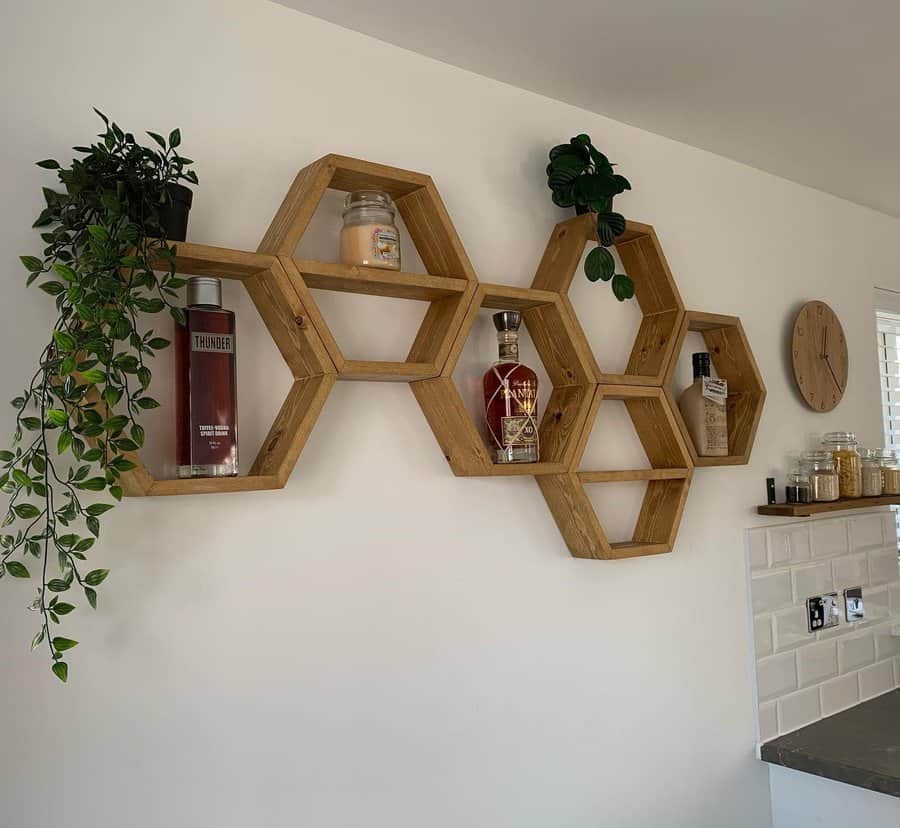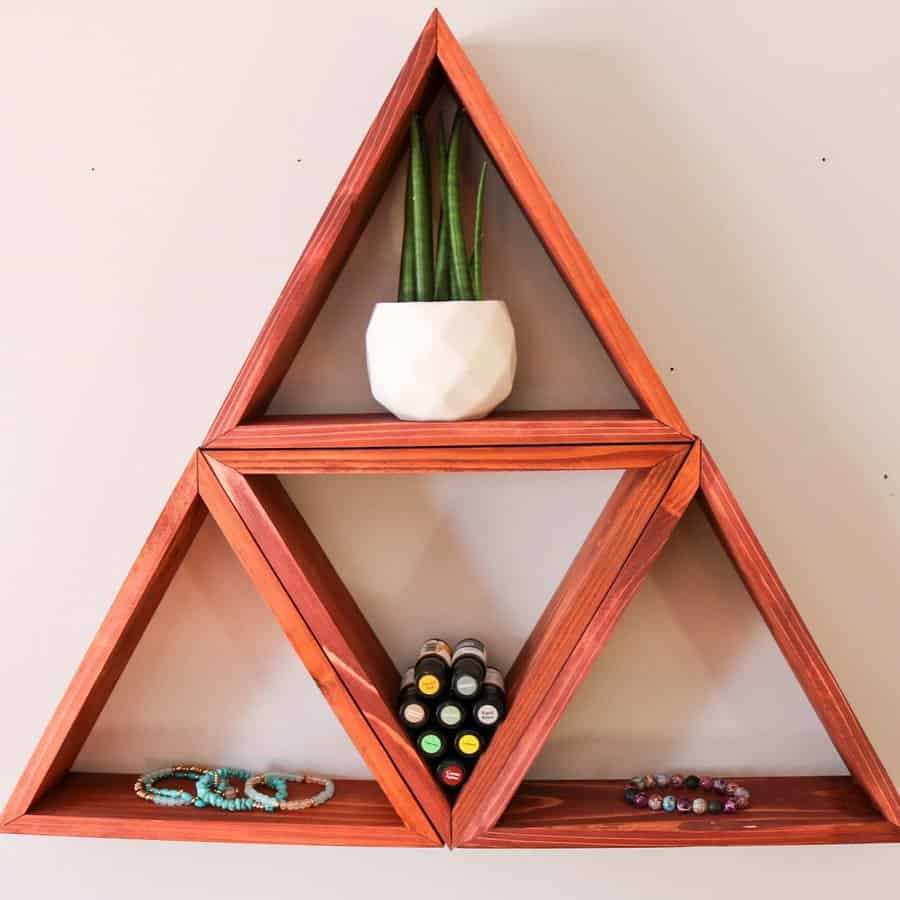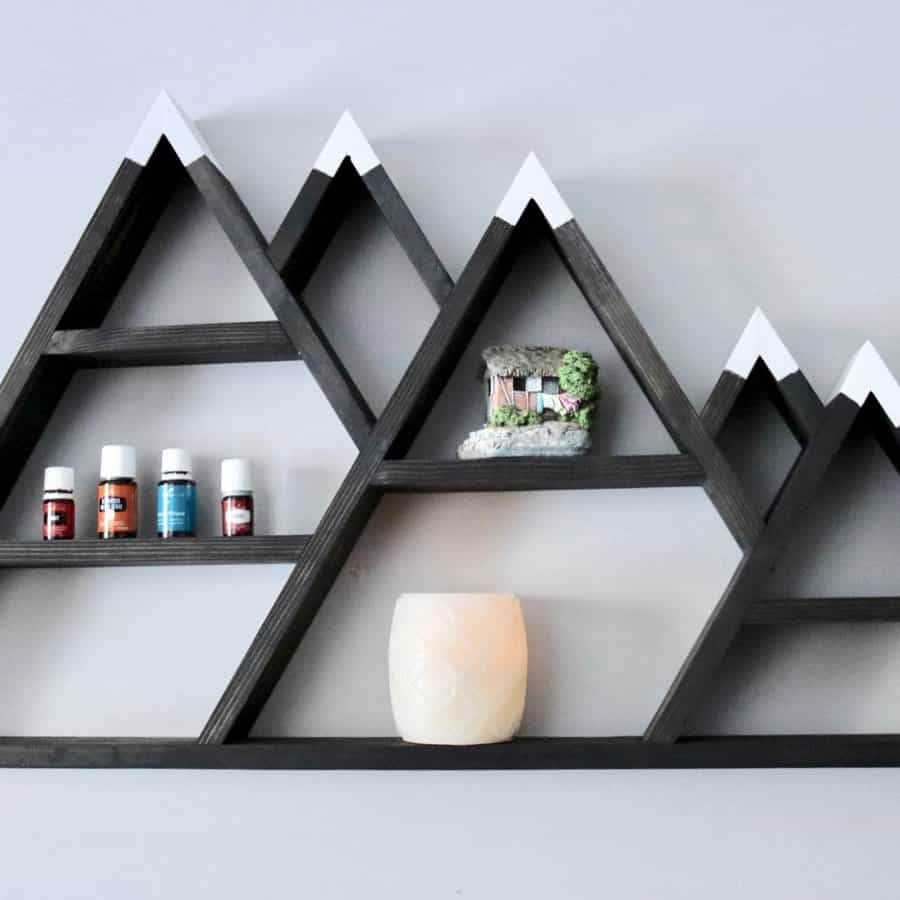 9. Macrame Wall Shelf
Macrame wall hanging shelves are an affordable, easy DIY solution for adding movable shelf space to any room. From a handful of simple materials, anyone can create their own unique wall-hanging shelf and enjoy the charm and coziness that macrame brings to a room.
The beauty of these movable shelves is that they can easily move up or down the wall as your display needs change throughout the year, giving you the versatility to brighten up any area year-round!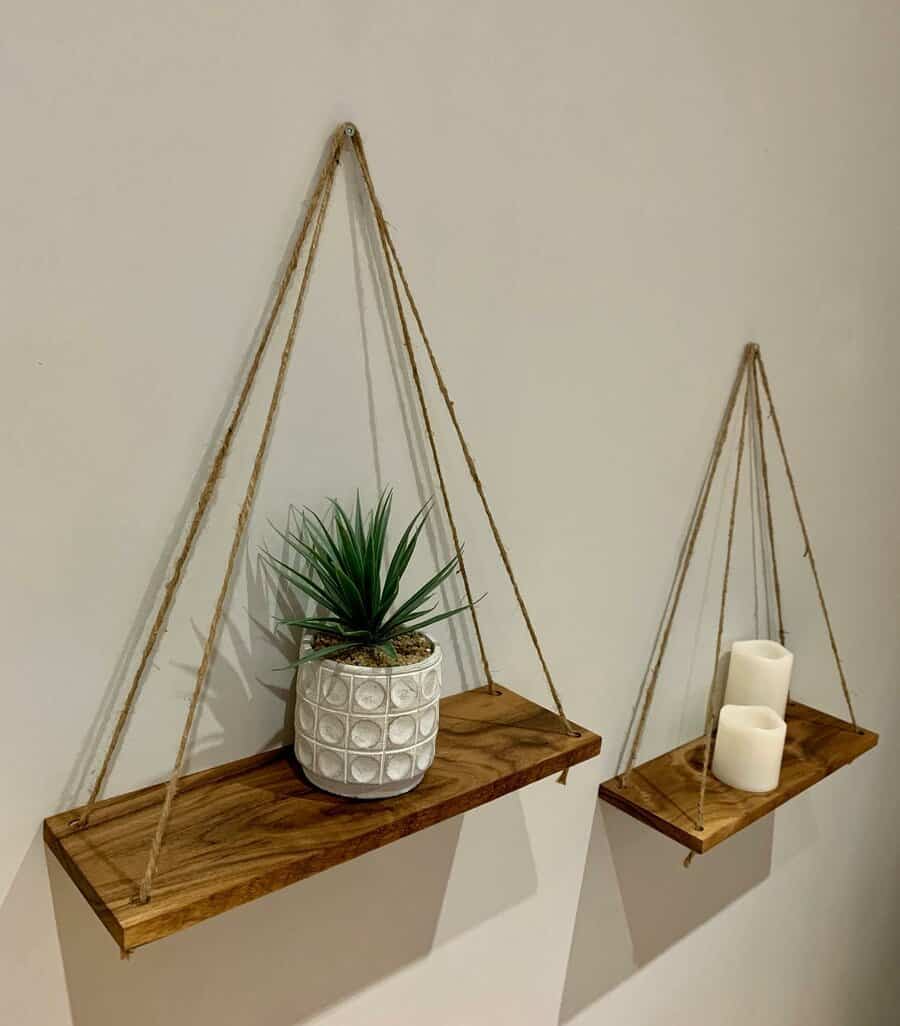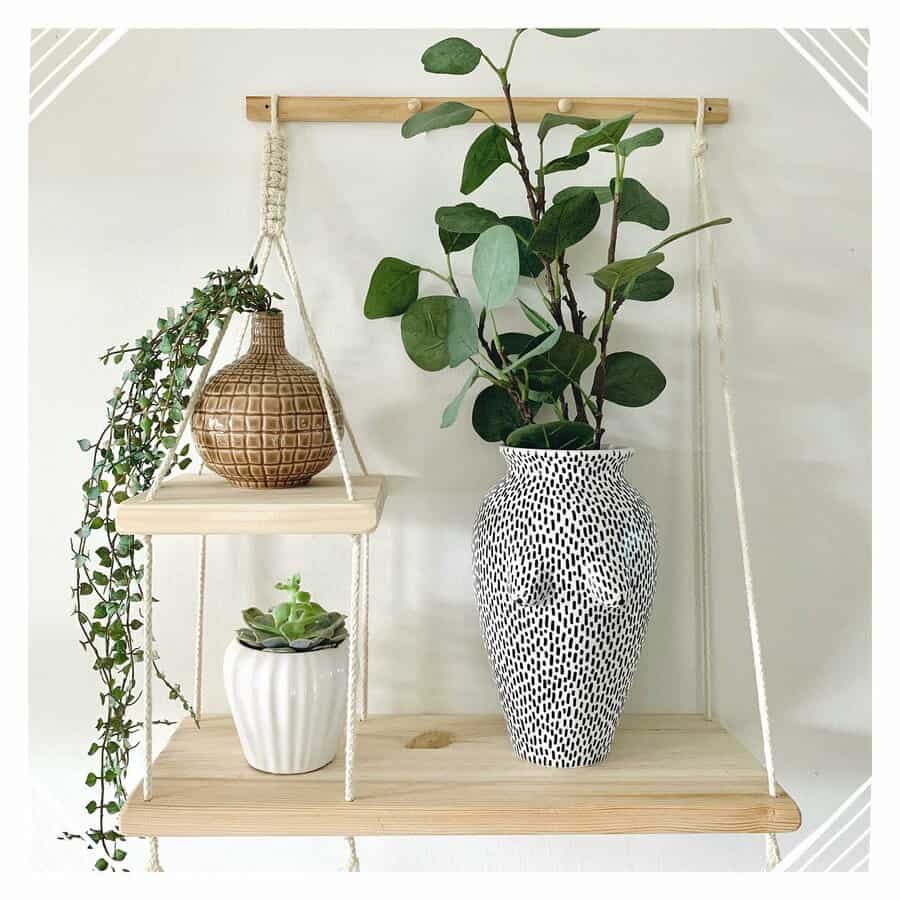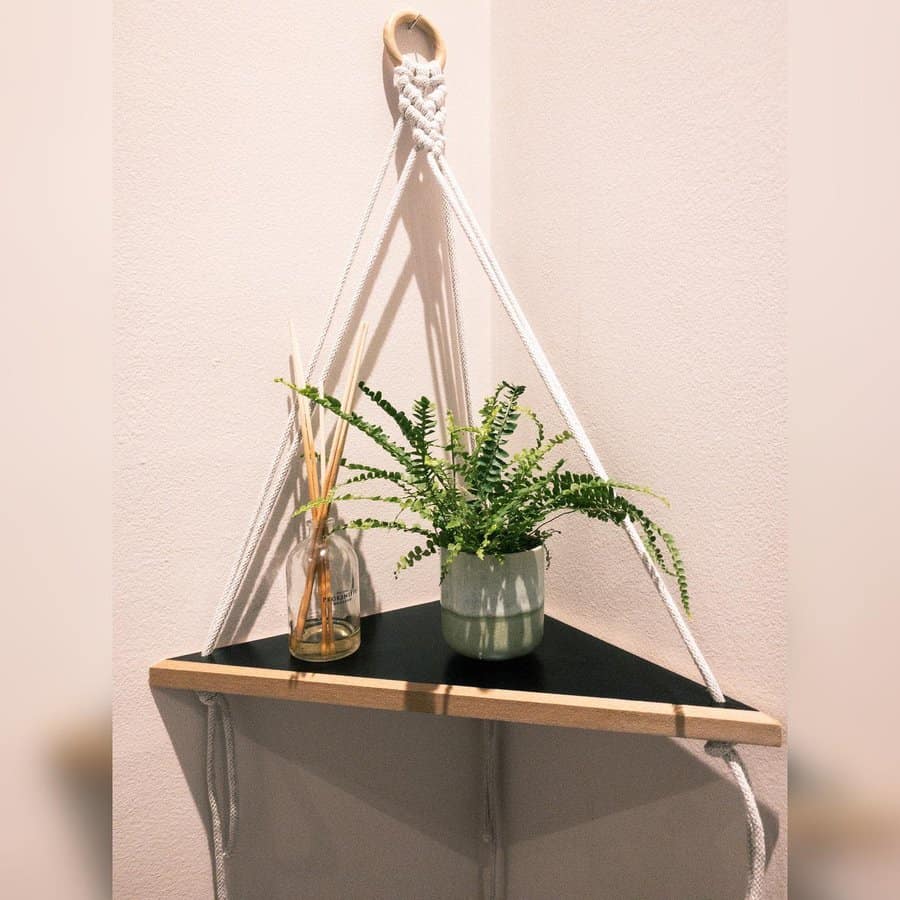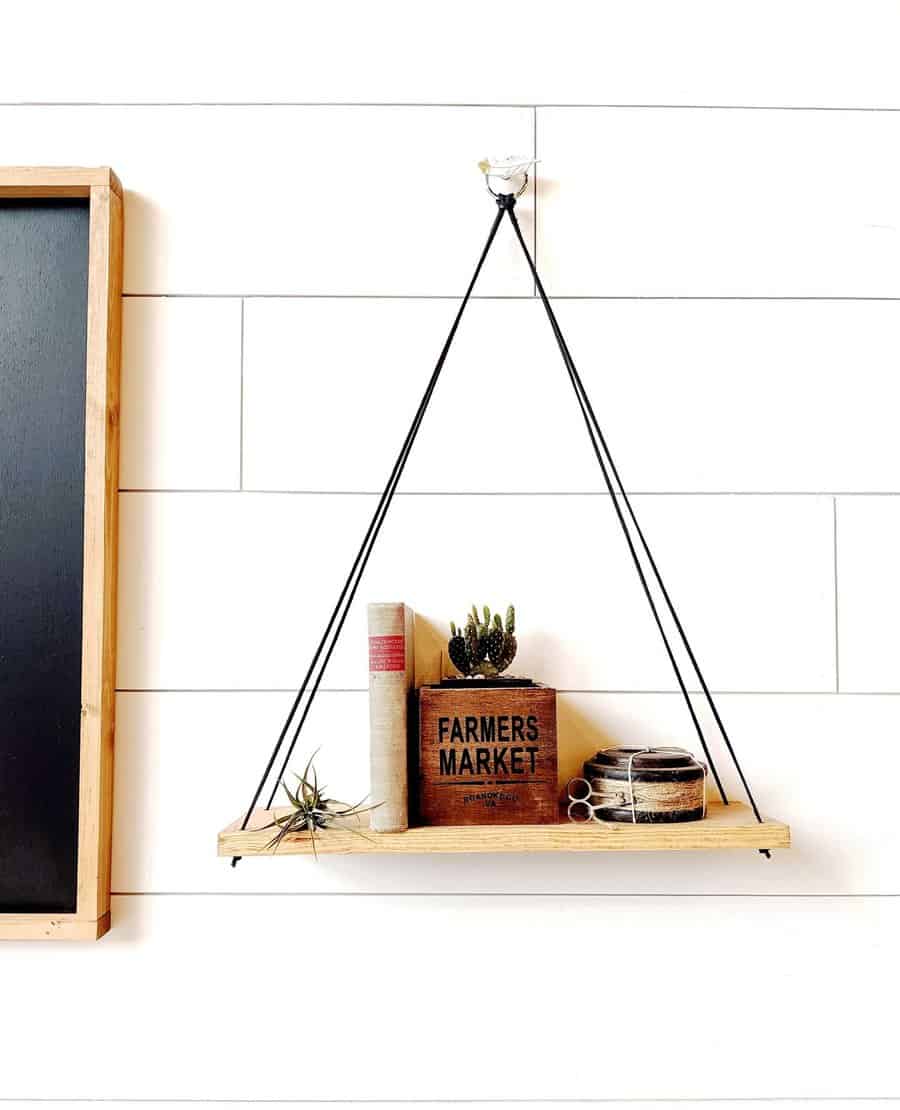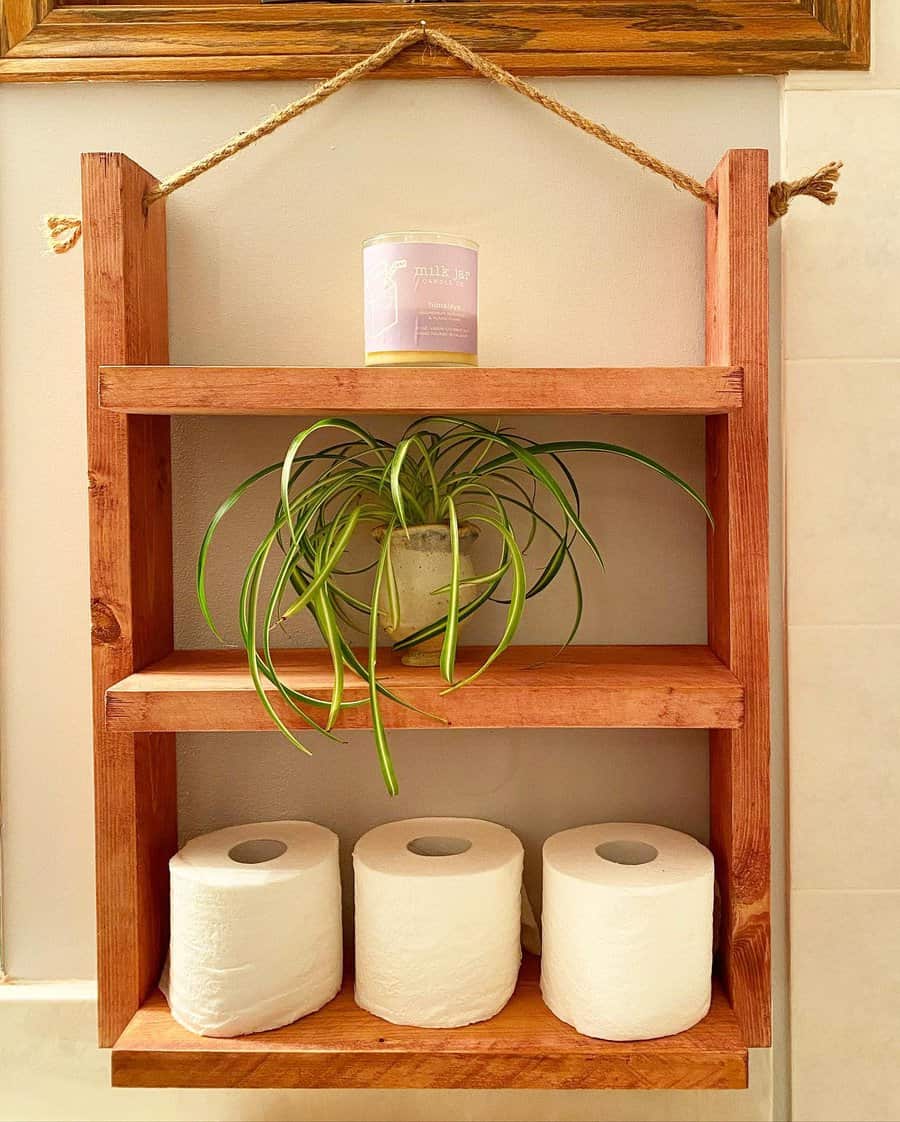 10. All-White Shelf
This all-white wall shelf goes perfectly with any room needing an extra storage option. It complements existing white walls creating an overall seamless look, and offering extra space for decor and items in a clean, minimalist way.
This versatile shelf can be used in multiple ways, from displaying books and trinkets to storing kitchenware that would otherwise take up more room. With its simple yet lasting design, this all-white wall shelf is the perfect affordable addition to any home.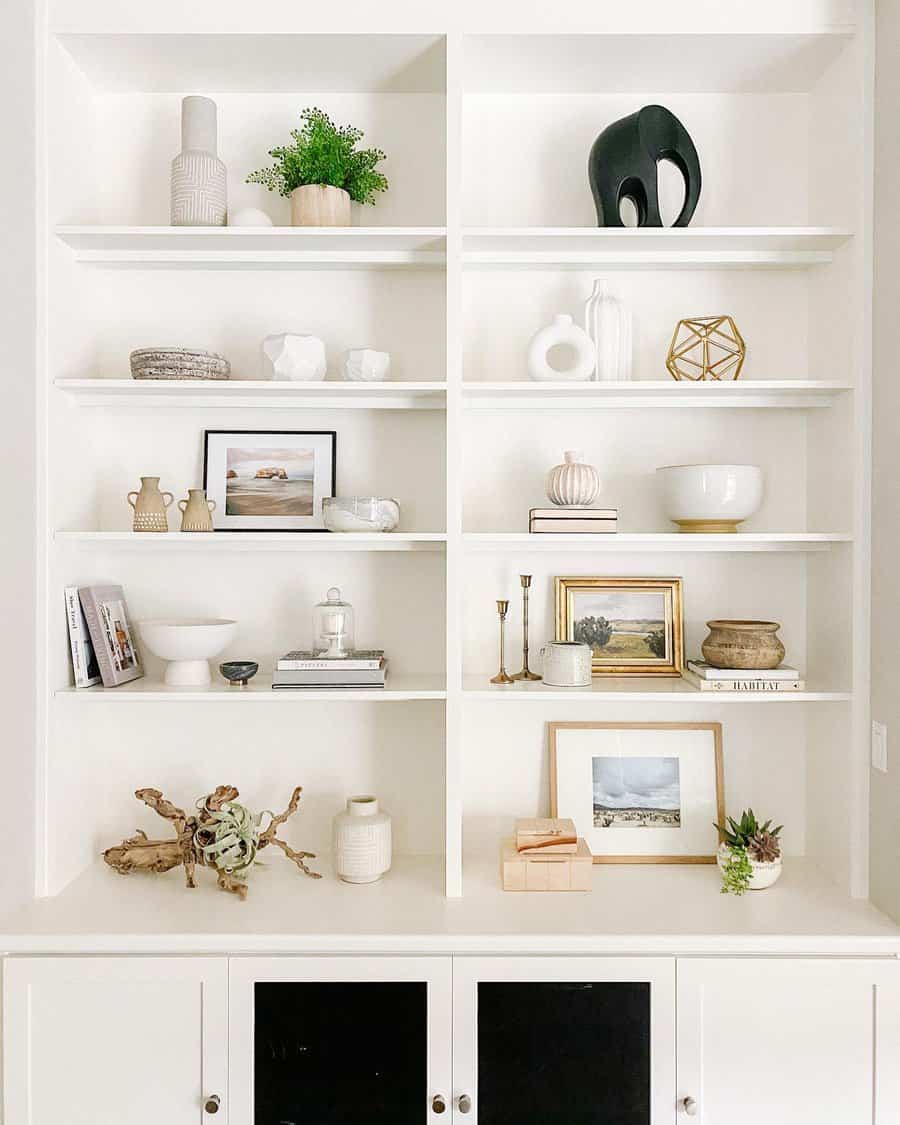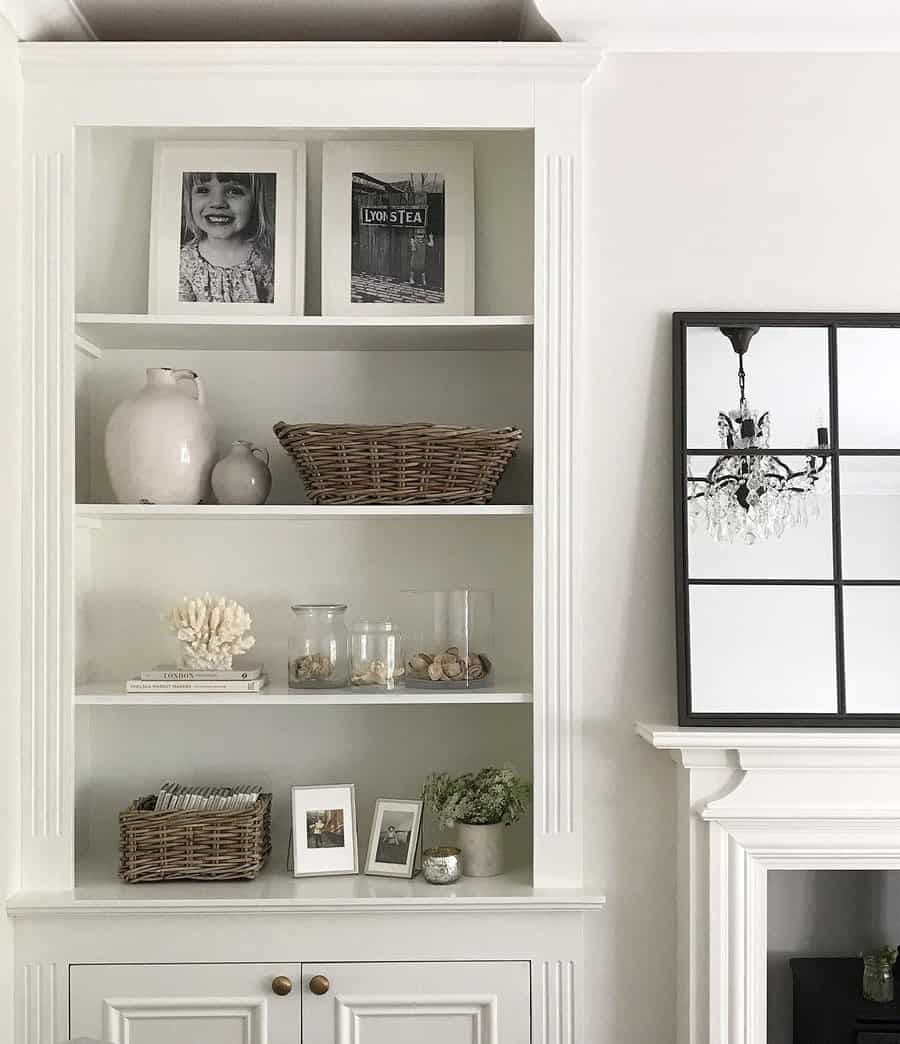 11. TV Wall Shelf
A TV wall shelf adds a unique touch to a living room with its stylish and contemporary design. Not only does it provide an accent to otherwise neutral-colored walls, but it also adds a new sense of character. It's the perfect way to draw attention away from electronics, thus further enhancing the atmosphere in any area of the home.
Moreover, installation is easy and straightforward, making this product ideal for those who want to spruce up their space quickly and conveniently.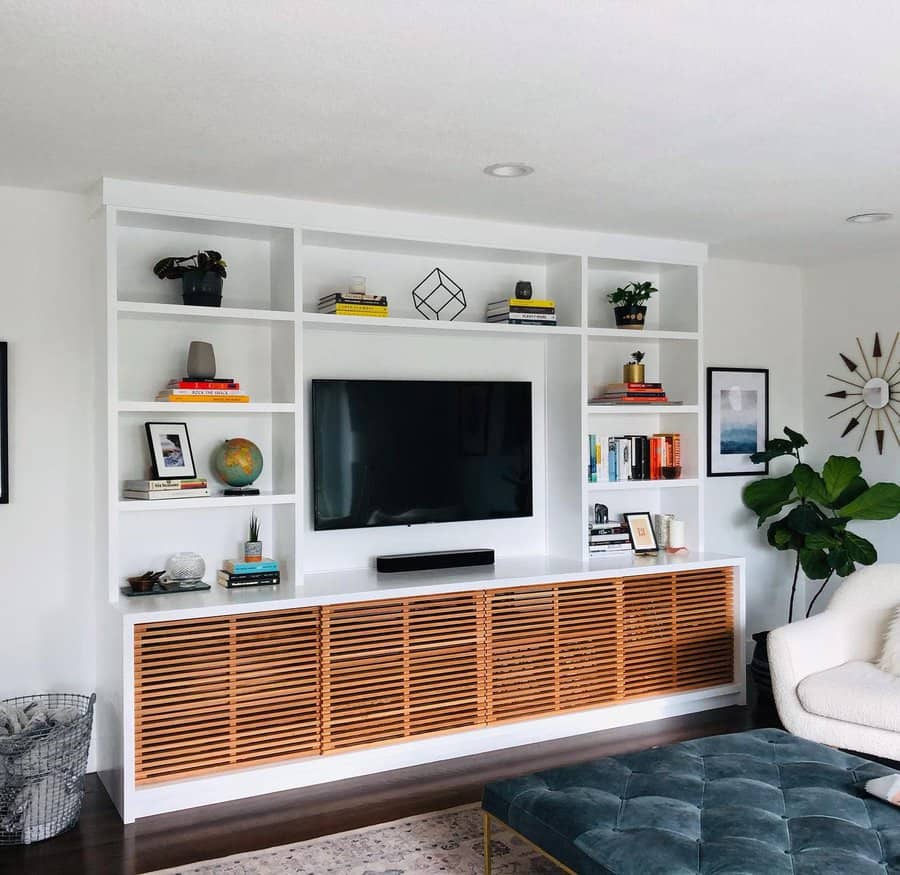 12. Layered Wall Shelves
Utilize your walls to their fullest potential with a stunning layered wall shelf! This height-play gives depth and dimension, transforming your room into a vibrant and lively atmosphere. Get creative by displaying statues, plants, vases, or books in adding the perfect decorative touch.
This trendy piece adds flair to any room while also utilizing the wall's height vertically. With a seamless installation process and a smart design, it's never been easier to improve your living space!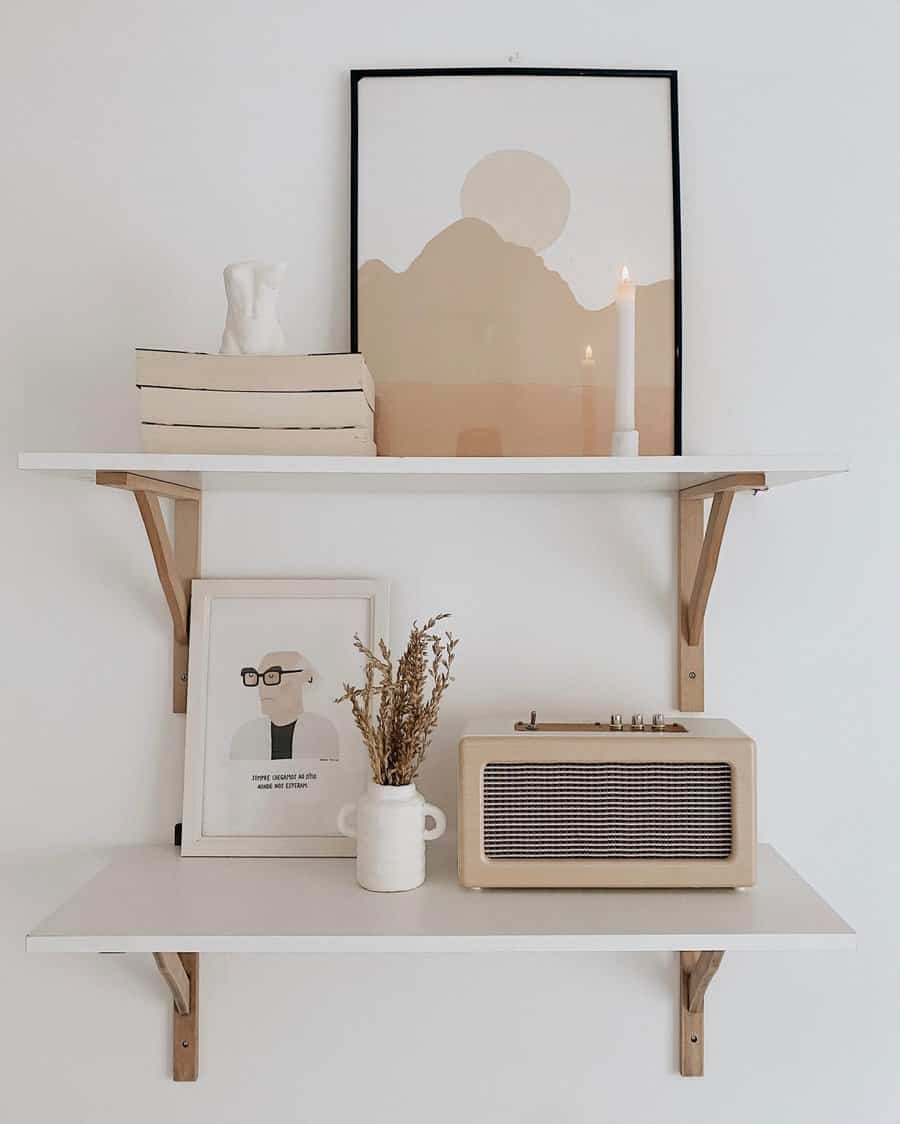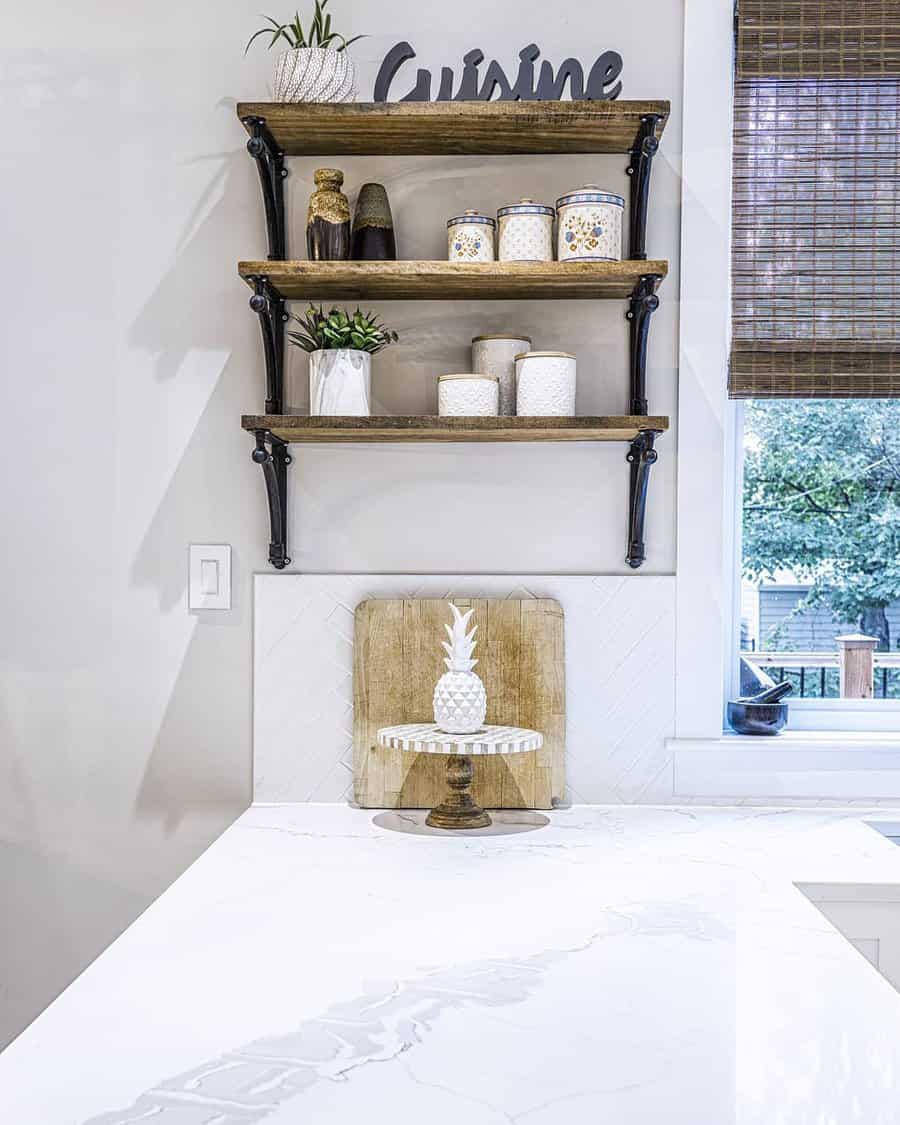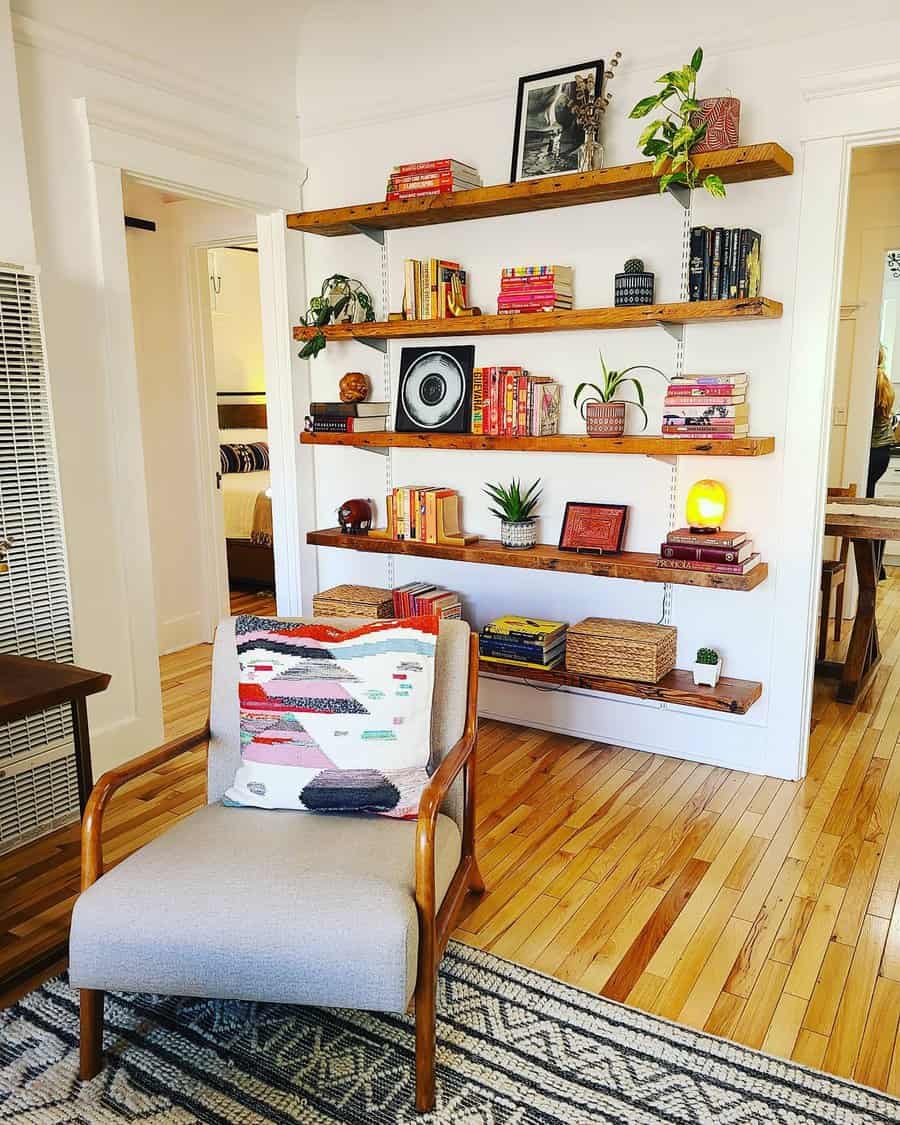 13. Mini Knicknack Shelf
If you're someone who loves to show off their collection and get creative with their décor, a mini wall shelf is for you! Perfect for displaying all your favorite knickknacks, this piece of shelving can be used for more than just decorative items.
Store craft materials for your next project, organize keepsakes for the family, or use them for everyday storage – the possibilities are endless!
With an eye for detail and the ability to showcase your collection of small decorative items, this mini wall shelf is sure to be a welcome addition to any room you choose.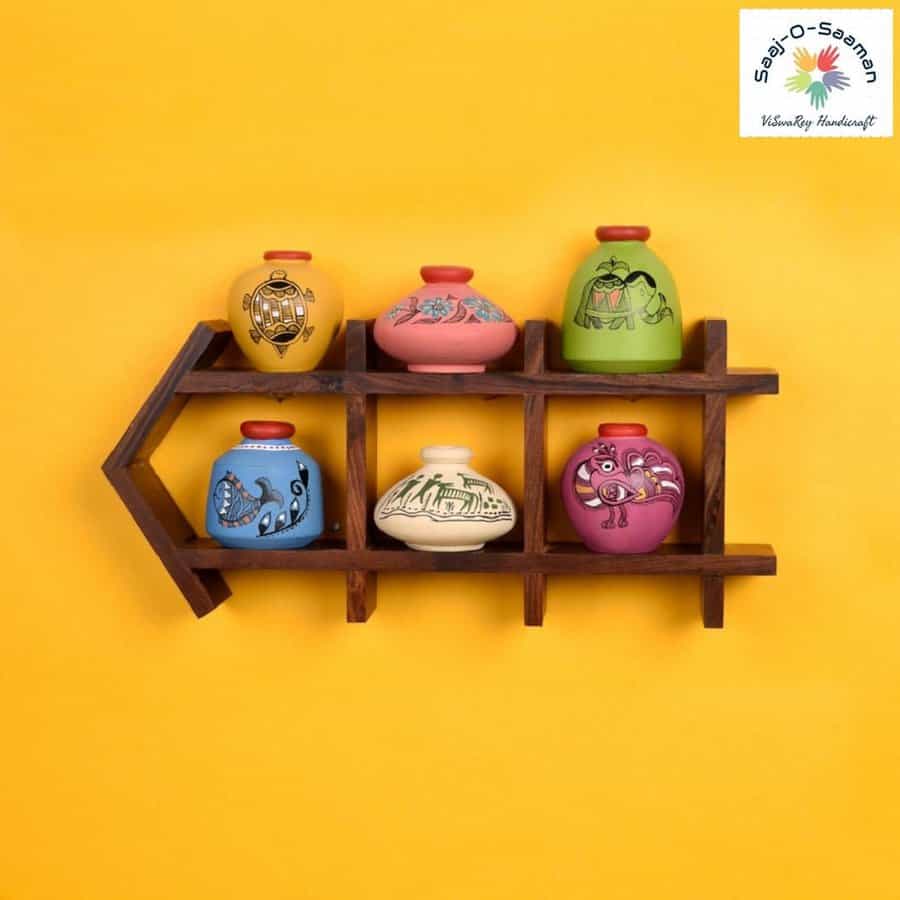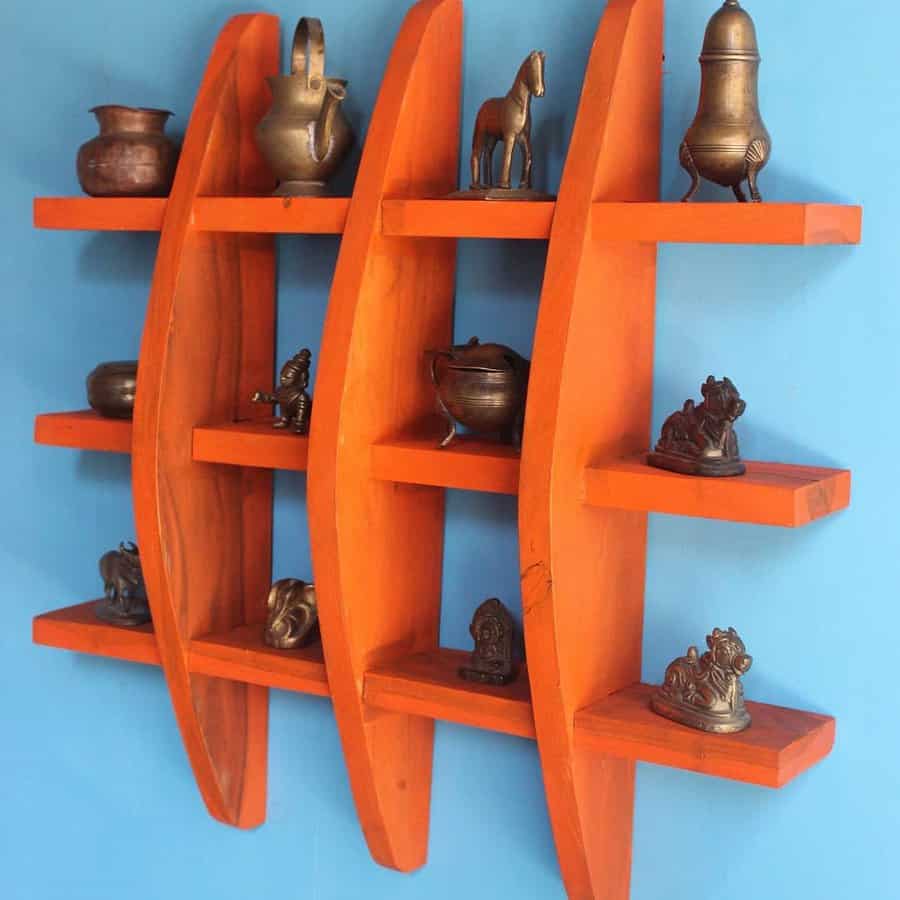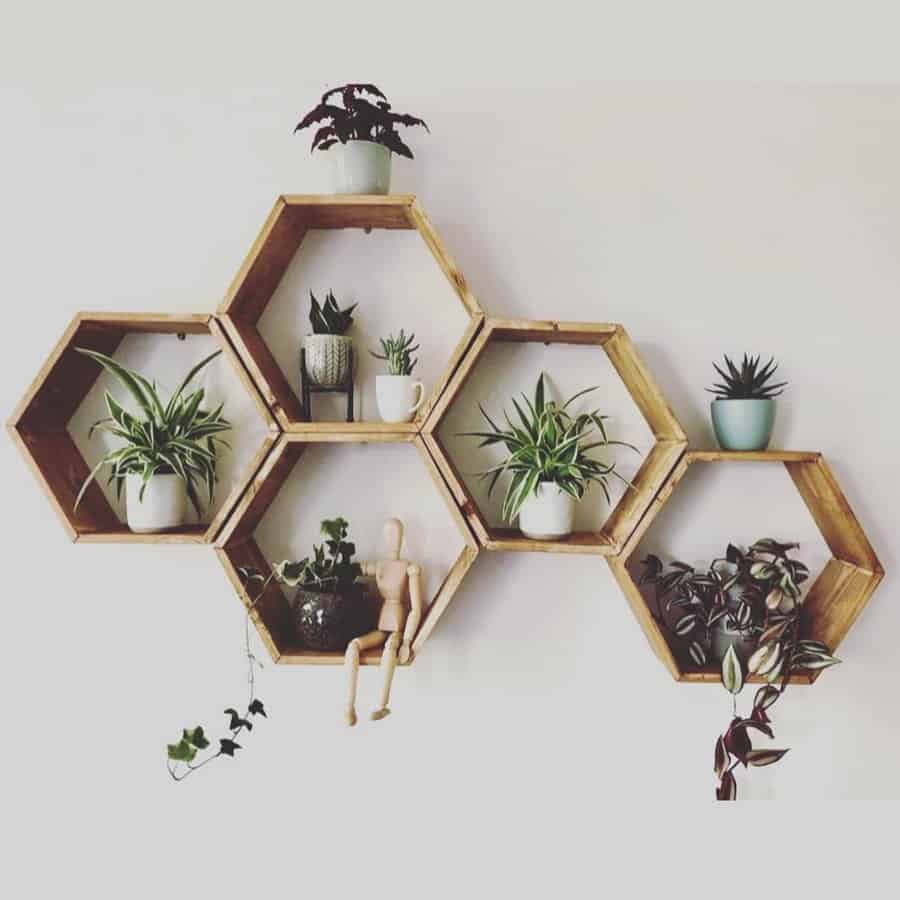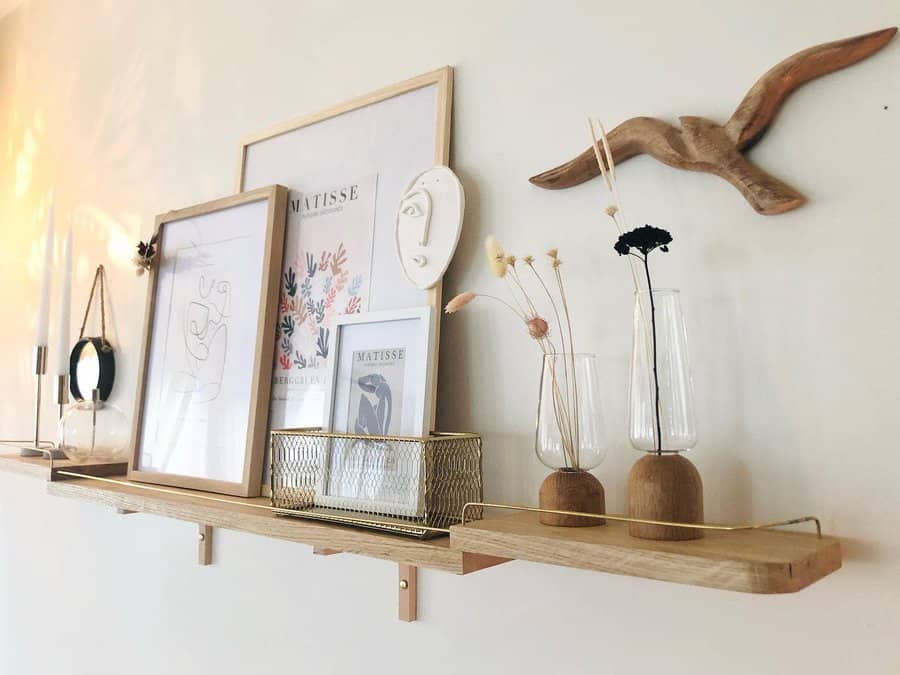 14. Wood Hanging Shelf
A wood hanging shelf is a unique and easy way to display your favorite items and accentuate your home décor. This eye-catching addition is easy to install, easy to clean, and light on the eyes. Whether you're looking for an unconventional storage solution or extra shelf space, a wood hanging shelf provides a modern twist that enhances any room.
Not only is it a great conversation piece, but it also serves as the perfect platform for showcasing collectibles or holding plants. Instantly transform the look of your room with this easy addition – you won't be disappointed!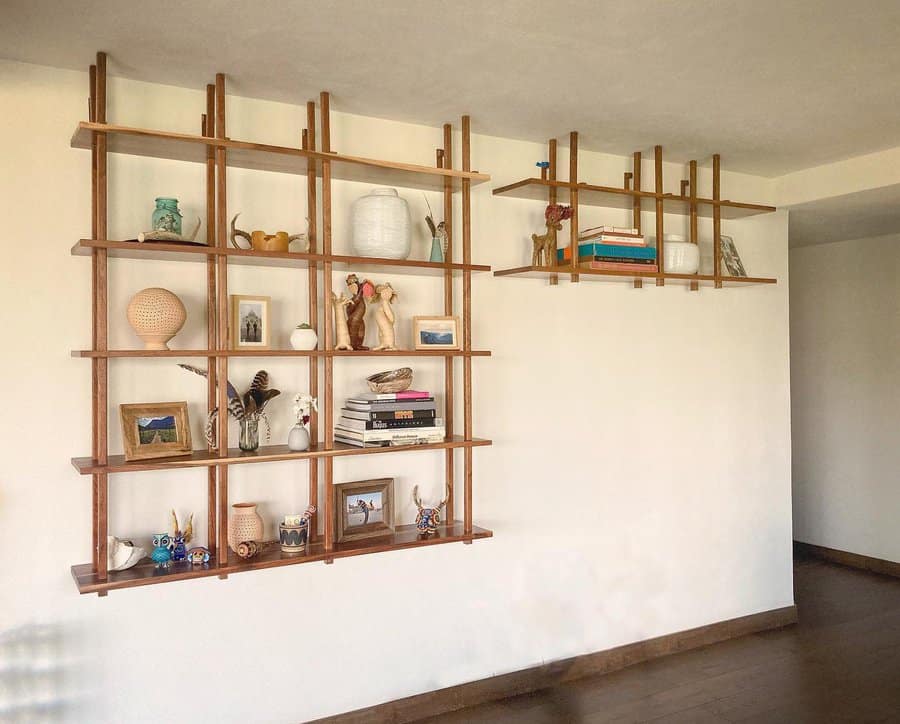 15. Circular Shelves
When you think of a shelf, soft elements are not usually the look you are trying to accomplish. Introducing the circular hanging shelf adds a stylish and modern aesthetic to any room; more of an accent than a functional shelf, it adds texture and tone in unexpected places.
This unique piece adds character while providing visual intrigue that adds unmistakable creativity to any space. Its unique shape brings an interesting and poetic vibe that adds exquisite charm and adds soft elements to the room in unexpected ways – making it unlike anything else you'll find for your decorating needs.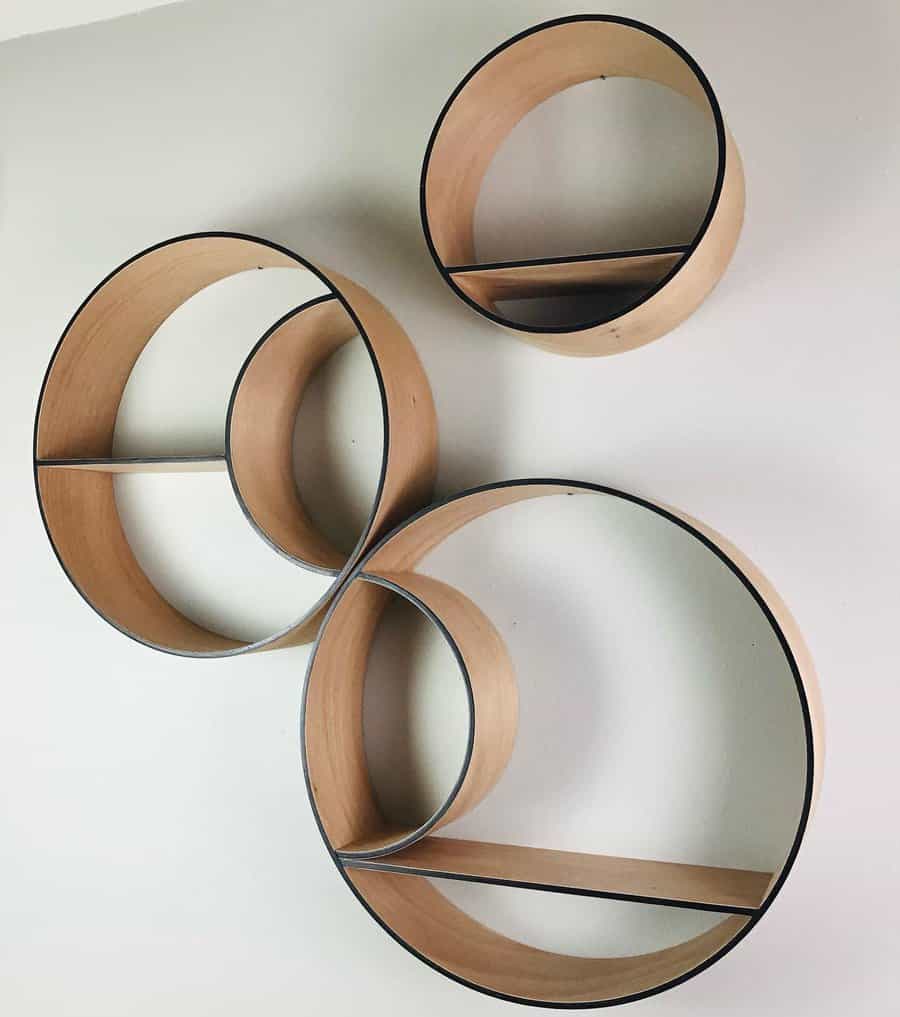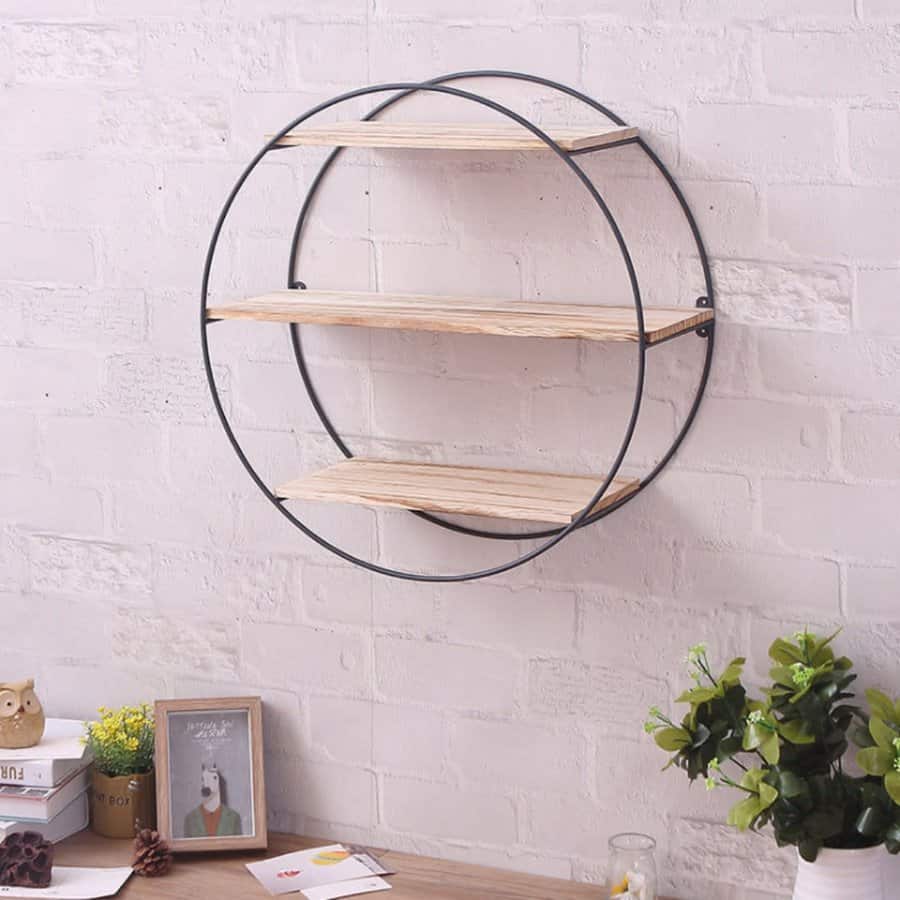 16. Distressed Shelf
Distressed wall shelves are the perfect rustic accent for any room. Whether placed in a formal or informal setting, these rustic shelving units add charm and an old-timey feel to your space.
Made of reclaimed wood, these rustic shelves can be stained or painted for an extra-special touch to match the overall decor. Not only is it eco-friendly, but it also helps save money.
With distressed wall shelves, you get the rustic design you love with the convenience of modernism.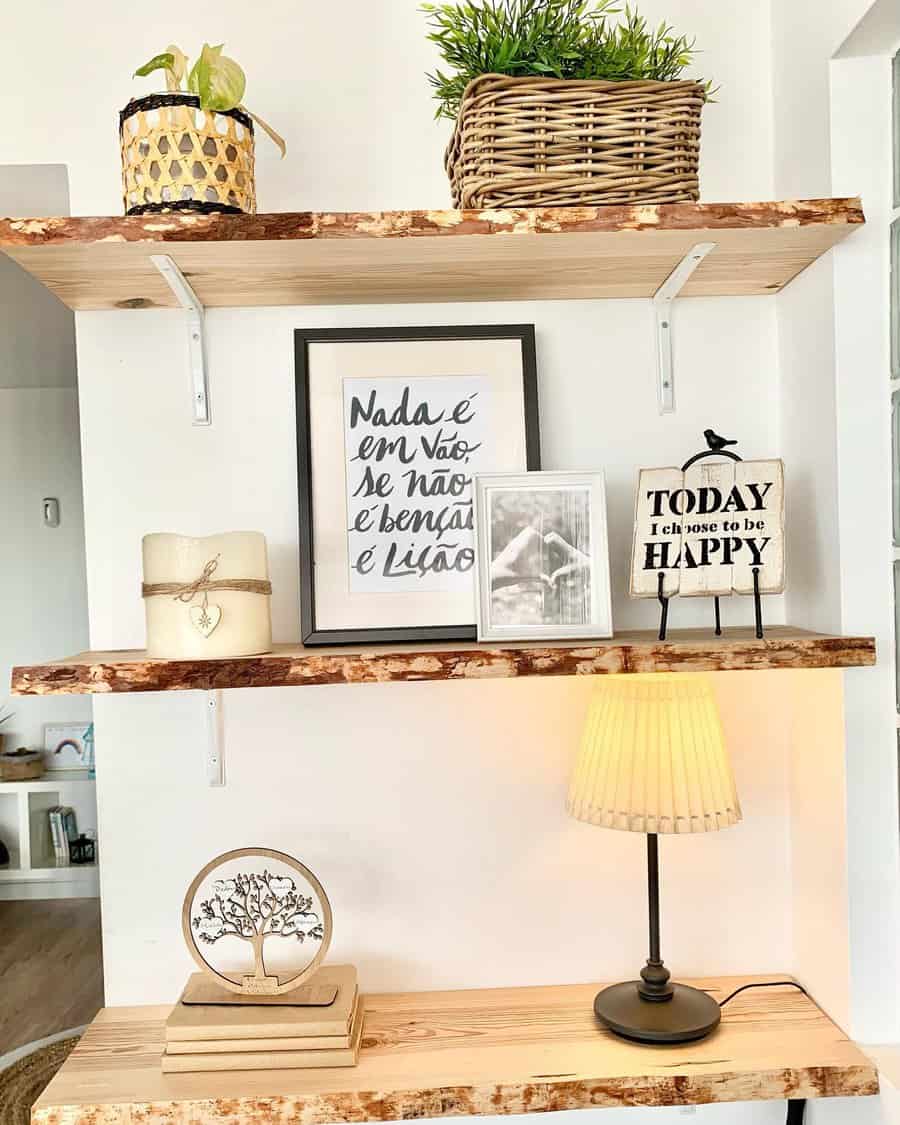 FAQs
Are floating shelves strong?
A floating shelf can be strong; it depends on the shelf materials and how you install it. Wood and metal are the strongest. The thicker the wood shelf, the stronger it will be. When installing your shelf, use hardware rated for the weight you want to put on the shelf. Then, install the mounting hardware into the studs of the wall. 
How far apart should you install floating shelves?
A good rule of thumb is to install the floating shelves 12 inches apart. However, spreading them out to 15 or 18 inches apart gives the shelves more breathing room and opens up the space more. Additionally, consider what you plan to put on the shelves. The shelves should be far enough apart to accommodate your intended use.
What height should floating shelves be?
Follow the rule of thumb you would use for hanging artwork. You should hang a floating shelf at eye level or between four and five feet from the floor. If you plan to hang your floating shelf over furniture, it should be at least ten to twelve inches from the top of the furniture. However, shelves above a toilet should be at least two feet above the back of the toilet to avoid hitting your head on it.