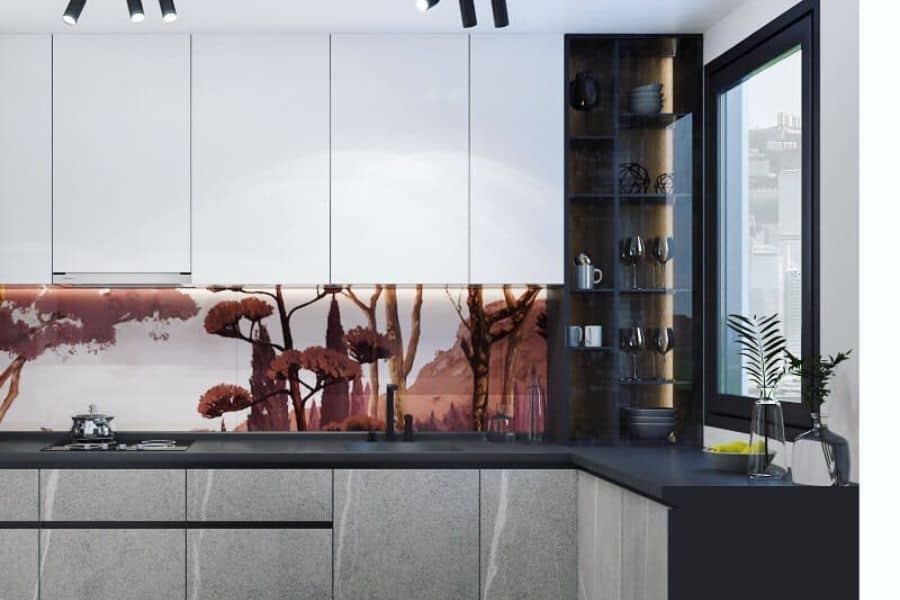 35 Wallpaper Design Ideas for Your House
"Family love is messy, clinging, and of an annoying and repetitive pattern, like bad wallpaper." – P. J. O'Rourke
Painting your walls makes them a color, which is nice, but also a bit plain. Take your room design up a notch by adding wallpaper to the walls. It's a much easier way of adding a design or pattern to the walls. Then the walls themselves become the decor.
Unfortunately, wallpaper tends to get a bad rep because people automatically think of the traditional style of wallpaper that's dated-looking and difficult to work with.
It's time to say goodbye to the outdated wallpaper you're familiar with and meet the next generation of wallpaper. These wallpaper ideas will show you that you can use them in your modern home and have it look fresh, bold, beautiful, and exciting.
1. French Elegance in Wallpaper Design
Immerse your space in the charm of Paris with exquisite wallpaper choices. Whether it's the iconic Eiffel Tower, the modern Arc de Triomphe, or the picturesque Parisian balconies, these wallpapers can turn any room into a work of art. To enhance the elegance, consider shabby chic designs with sketchy lines and soothing watercolor washes.
For a harmonious look, complement these wallpapers with vintage furniture pieces and soft, pastel-colored accents to create a cozy and inviting atmosphere in your home.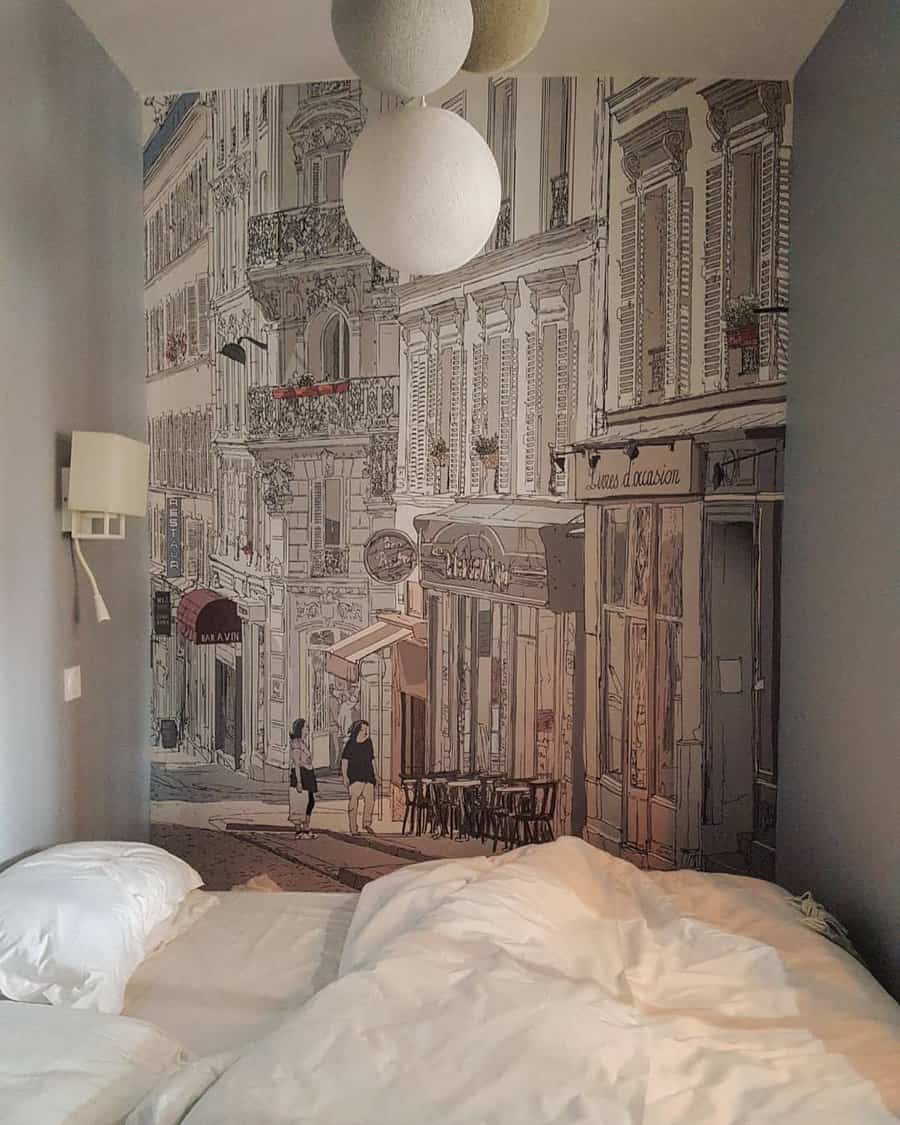 2. Eclectic Vibrance: Abstract Wallpaper Patterns
Ditch the mundane white walls and infuse your home with vibrant energy through abstract wallpaper patterns. Embrace the freedom to express your unique style by opting for colorful shapes and designs that bring an eclectic vibe to your space. Abstract wallpapers offer a quick and budget-friendly way to personalize your home.
Consider incorporating classic art deco motifs or explore contemporary abstract designs to make your space truly one-of-a-kind. To complement this style, balance bold patterns with neutral furniture and décor, allowing the wallpaper to serve as the captivating centerpiece of your room.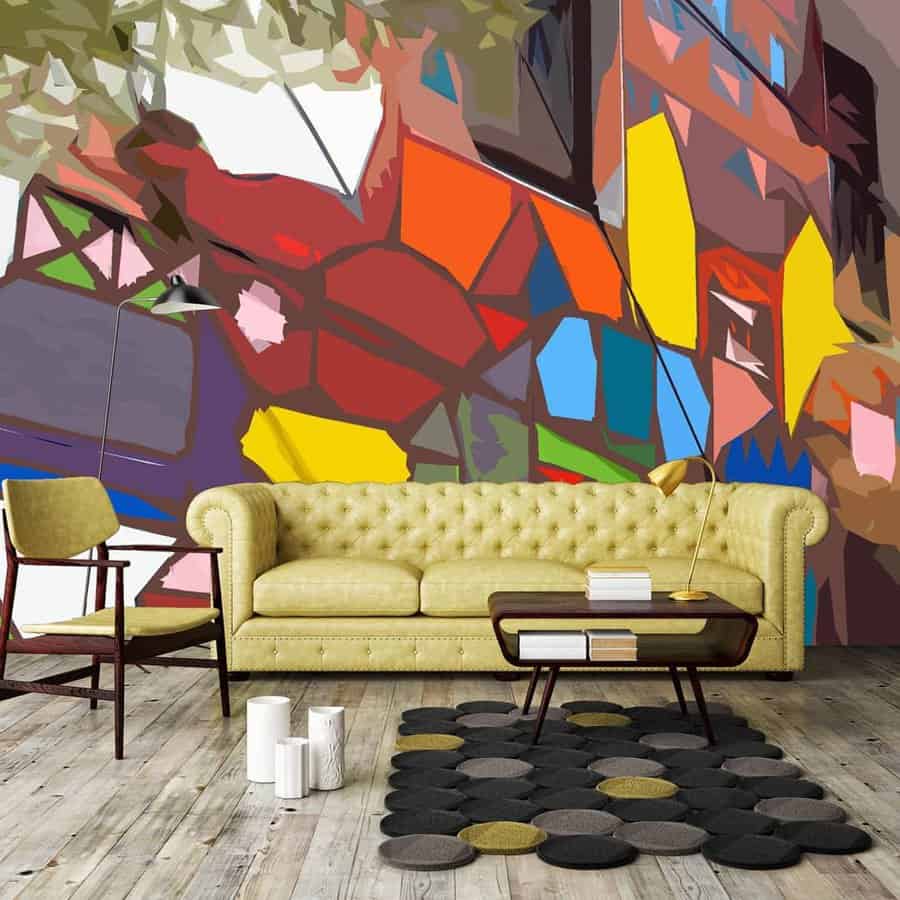 3. Monochrome Magic of Nature
When enhancing your home's ambiance, wallpaper offers endless possibilities. Monochrome enthusiasts can transform their living spaces with a captivating monochrome jungle theme. The interplay of black and white tones creates an opulent and exotic atmosphere.
Alternatively, for those favoring a rustic aesthetic, opt for wallpapers featuring bold details, capable of instantly infusing warmth into lackluster rooms. Wallpaper doesn't just add visual appeal; it introduces texture too. Seek out subtle patterns that play with light differently at various angles, and be sure to harmonize them with your furniture for a truly impactful design synergy.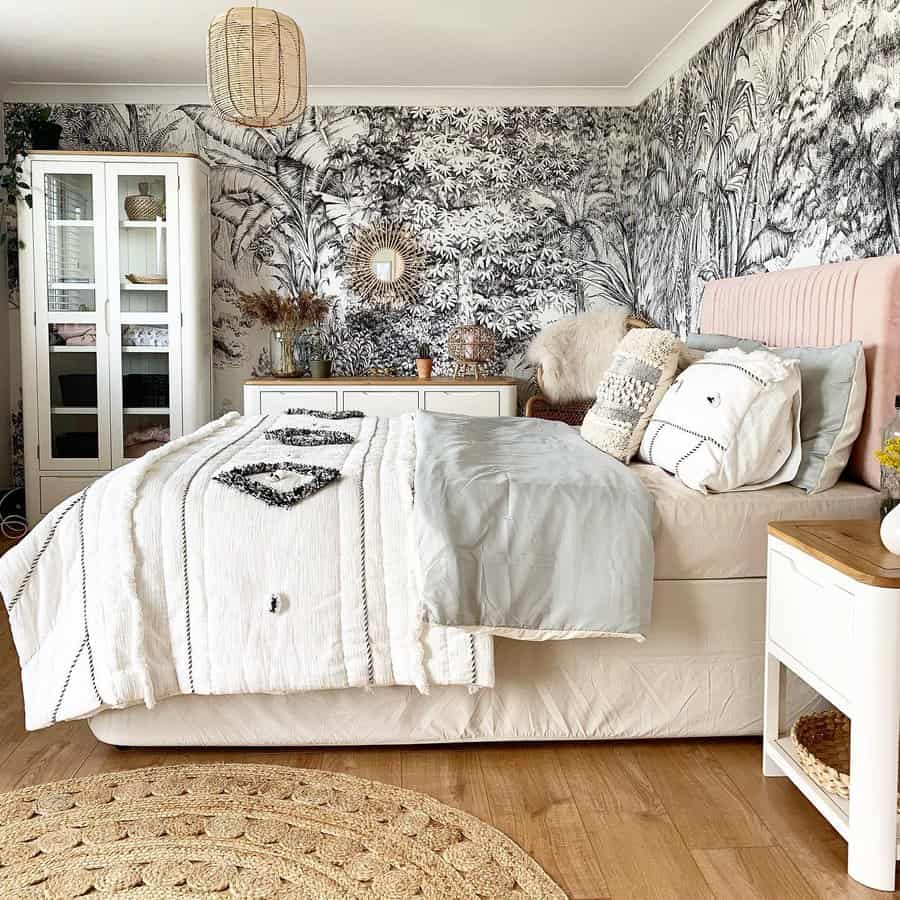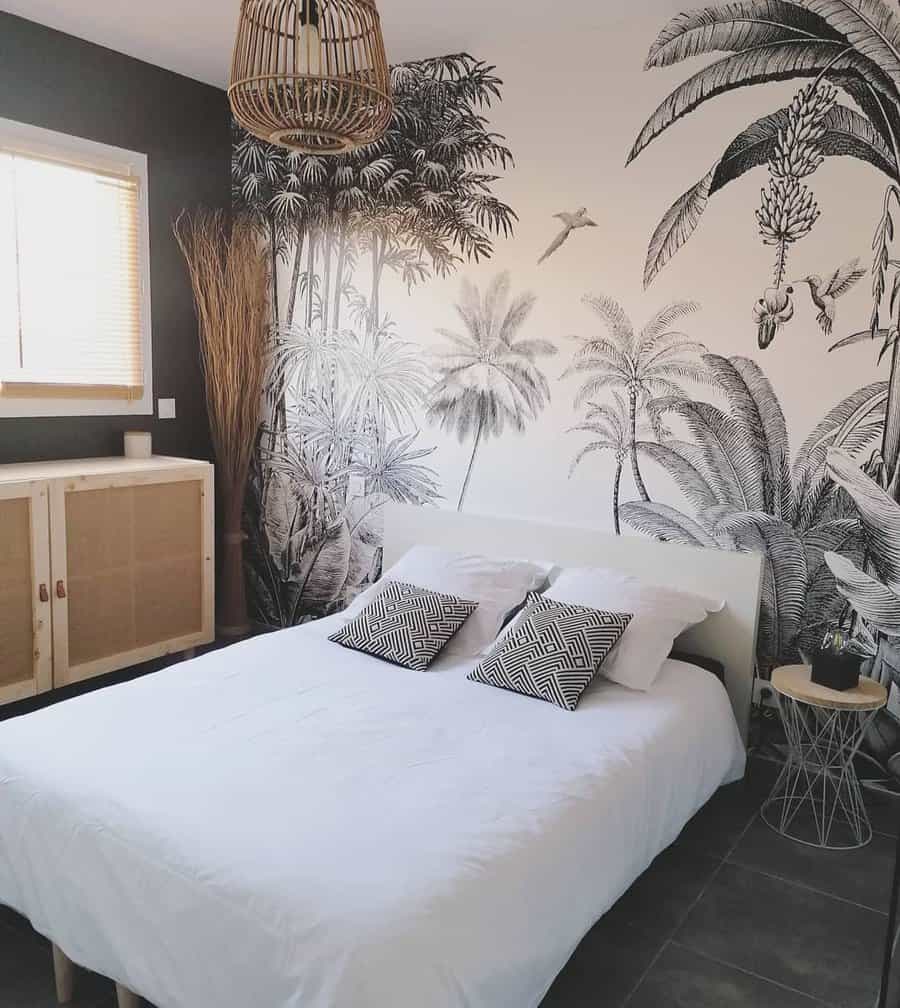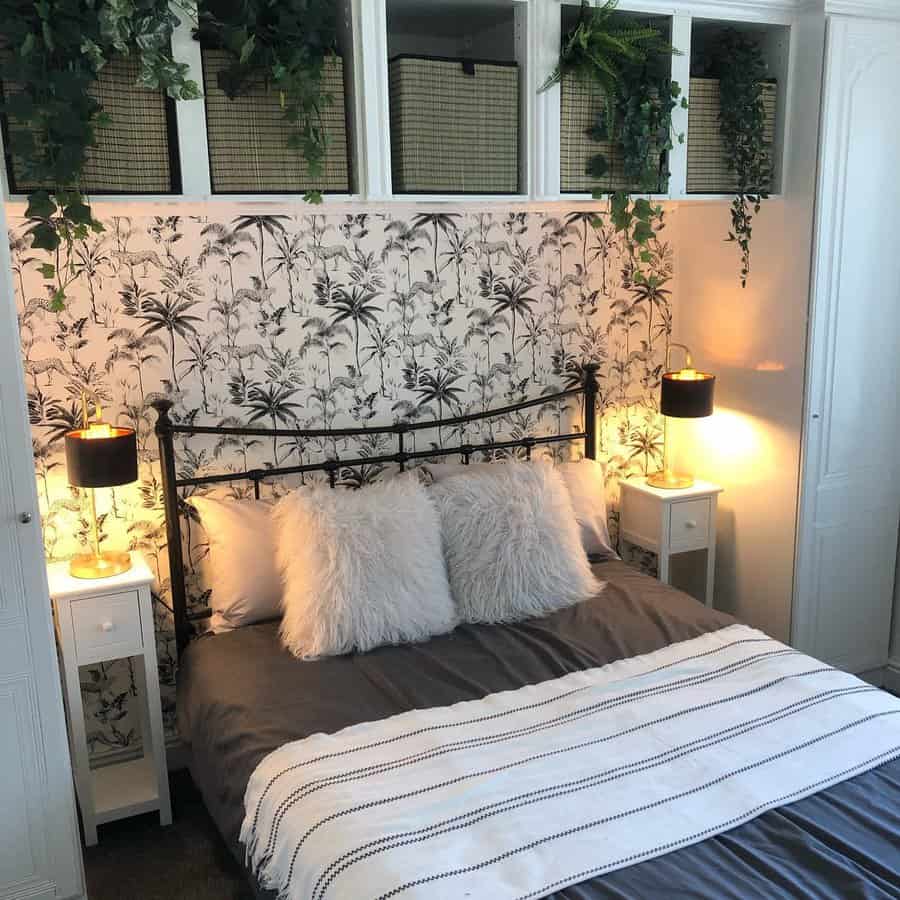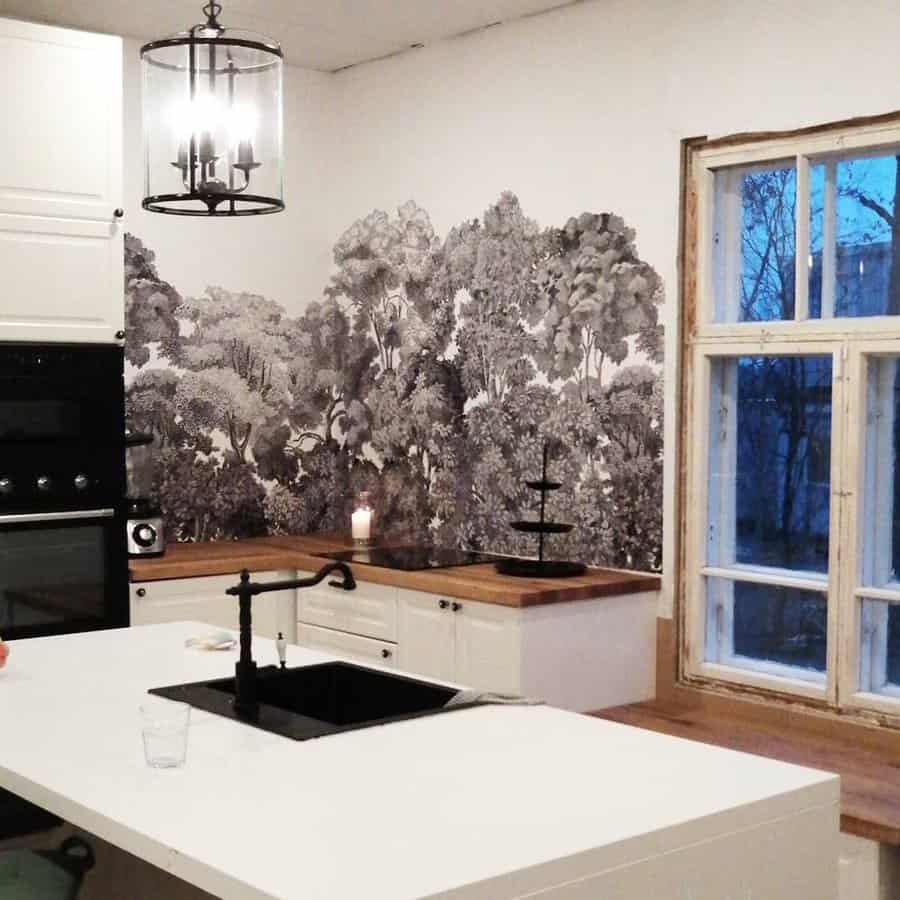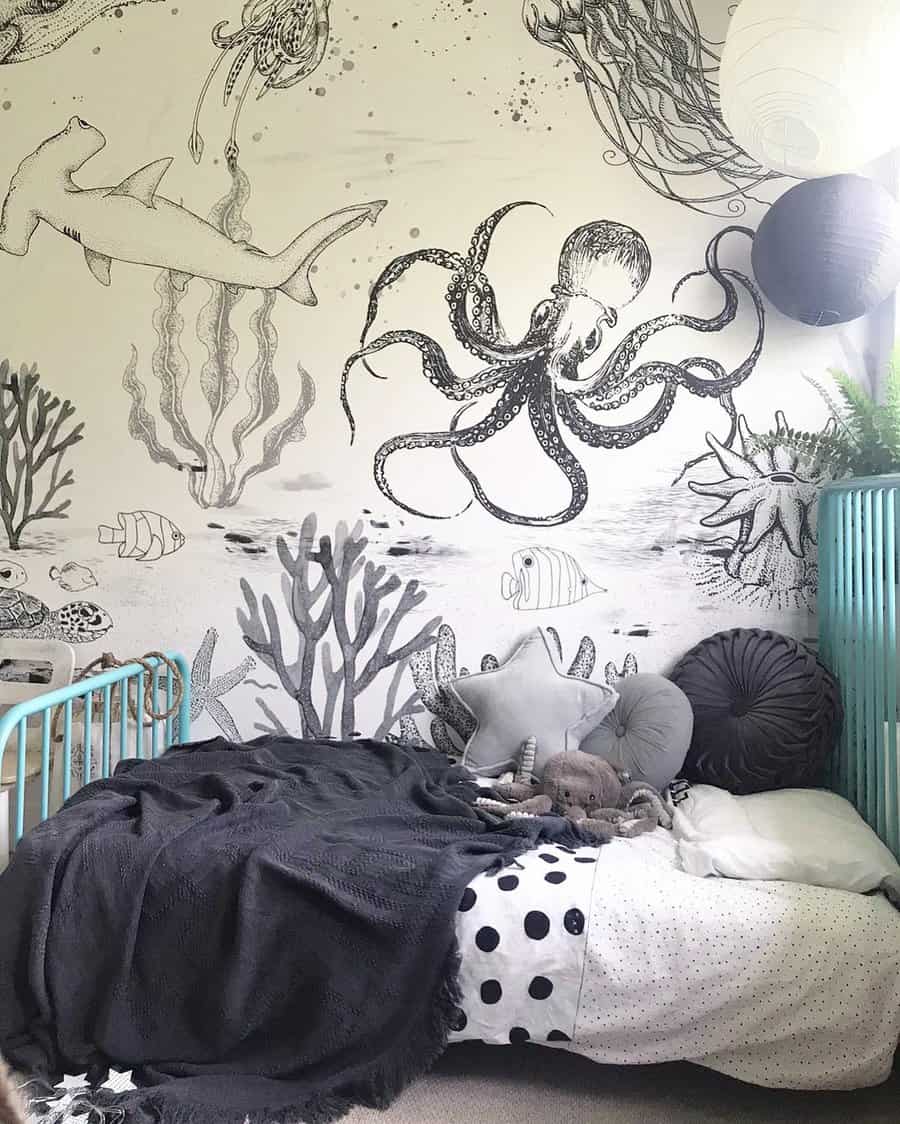 4. Soft Pastels: Delicate Wall Prints
Turn a girl's room into a serene haven with soft pastel prints in delicate shades like light pink, blue, green, and lilac. To add a feminine touch and promote tranquility, consider floral wallpaper designs. Whether you prefer striking focal points or seamless integration with your existing decor, there's a wallpaper solution for every part of your home.
Wallpapers provide a simple and creative means to instantly refresh any room. In a girl's bedroom, soft pastel prints bring a sense of calm, while floral wallpaper can infuse sophistication into dining areas or studies. With a wide range of options available, you can easily discover the perfect wallpaper to align with your style and create a cozier atmosphere in your home.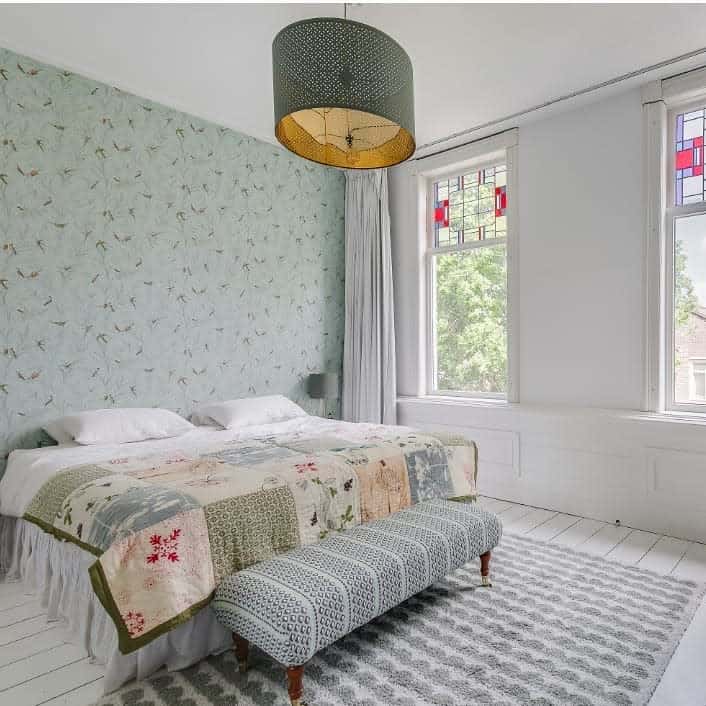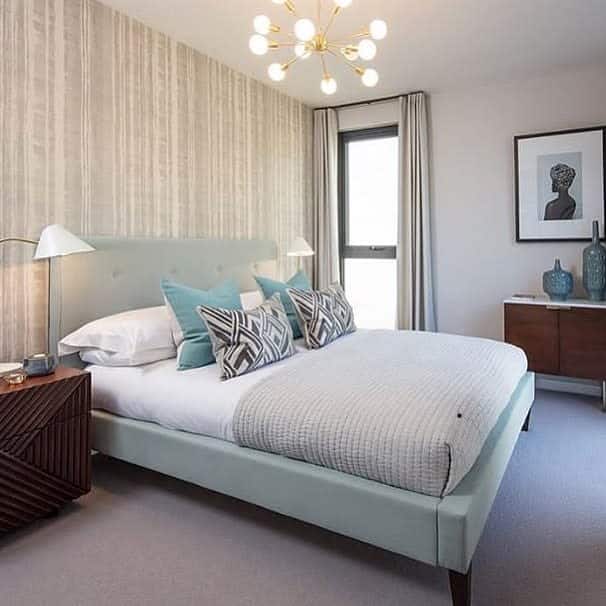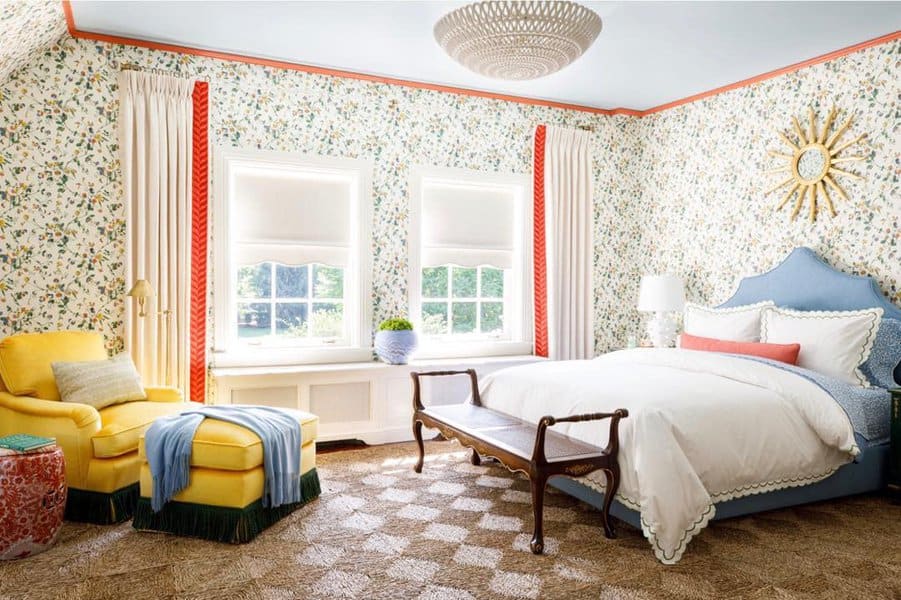 5. Cloud 9: Heavenly Wallpaper Bliss
Introducing cloud wallpaper can transform your home into a serene oasis. Picture a soft pastel interior, where cloud-themed wallpaper sets the stage for relaxation and tranquility. This versatile design choice works wonders in living areas and bedrooms, offering an exquisite ambiance. If you're yearning for a Zen-like escape within your own home, cloud wallpaper is your ticket to tranquility.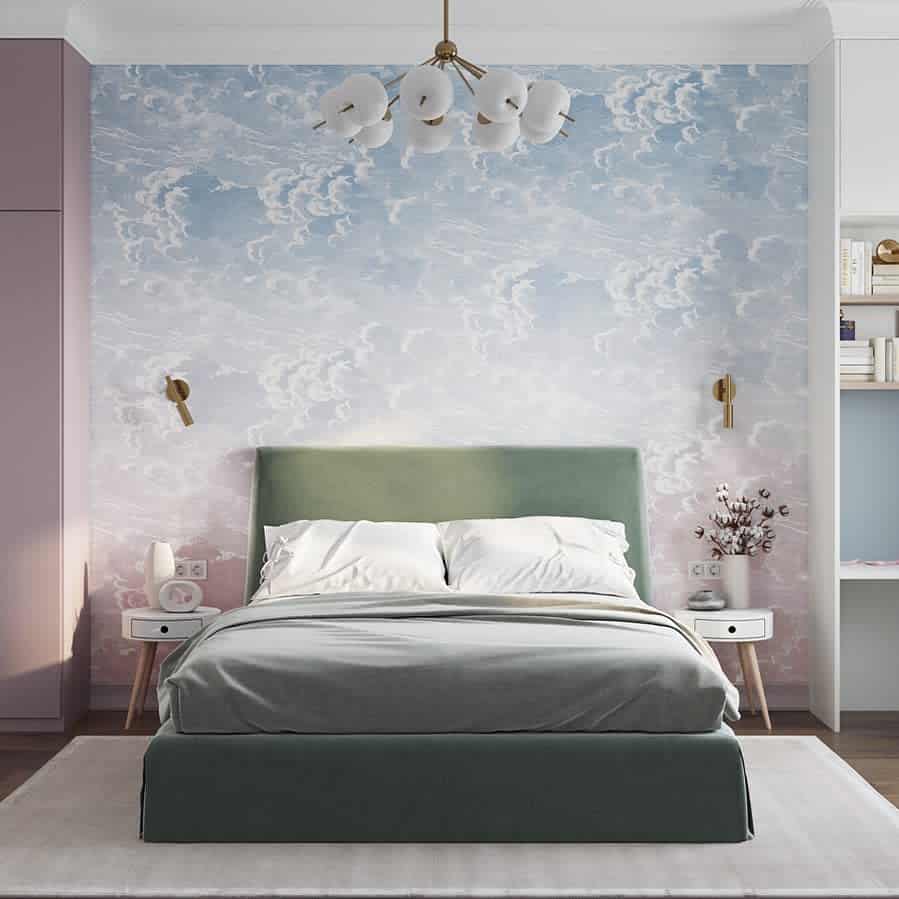 6. Coastal Playfulness on Your Walls
Embrace a playful coastal theme by incorporating vibrant teal coastal wallpaper into your home. Whether it's your bathroom, kitchen, or living room, this choice injects energy and life into your spaces. If you prefer a more abstract touch, consider blue abstract fish wallpaper on a warm white background to introduce a blend of calm and playfulness. These designs work wonders in brightening up any lackluster room.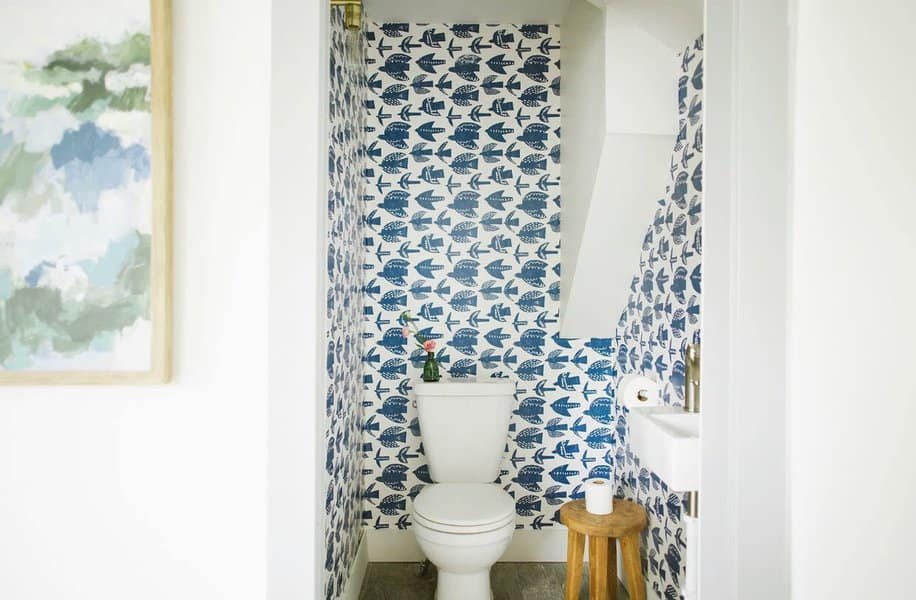 7. Mystical Fog Magic on Wallpaper
Create an enigmatic and serene atmosphere in your home with the allure of trees with fog wallpaper. This design choice is ideal for minimalist spaces, effortlessly infusing personality and intrigue. The natural tones and visuals of this wallpaper bring the beauty of the outdoors indoors.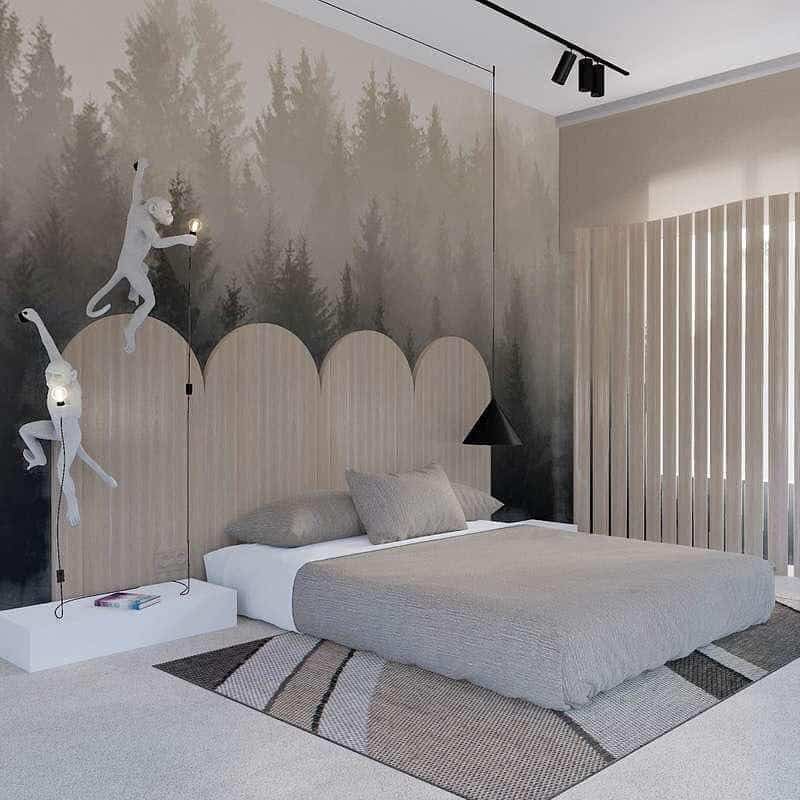 8. Artistry in Repetitive Patterns
Discover the artistry of repetitive patterns in wallpaper design to transform your home's ambiance. These wallpapers offer a versatile way to breathe life into plain walls, creating texture and a sense of elegance. Consider timeless floral designs paired with gold accents for a touch of luxury. Whether your style is understated or bold, wallpaper offers boundless possibilities to elevate your home's charm and aesthetic appeal. To complement your choice, explore coordinating decor elements for a cohesive look.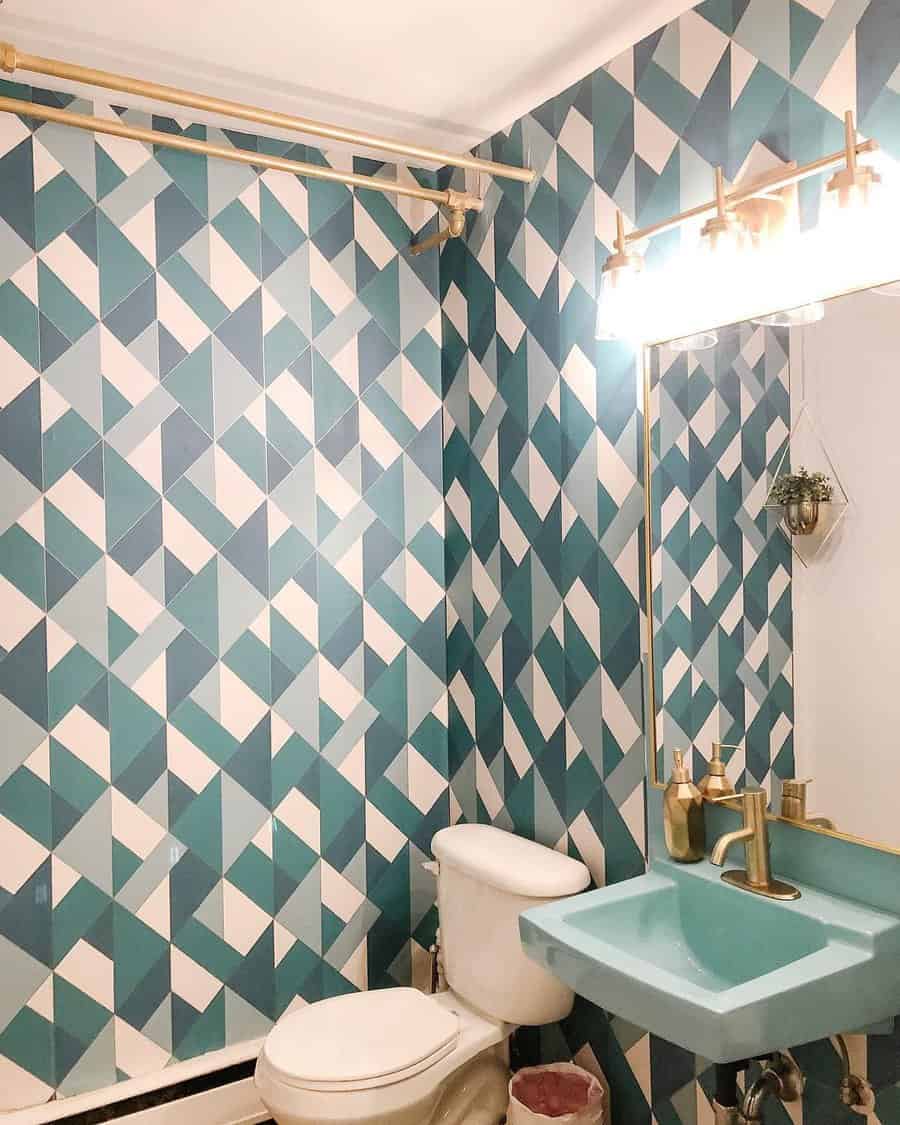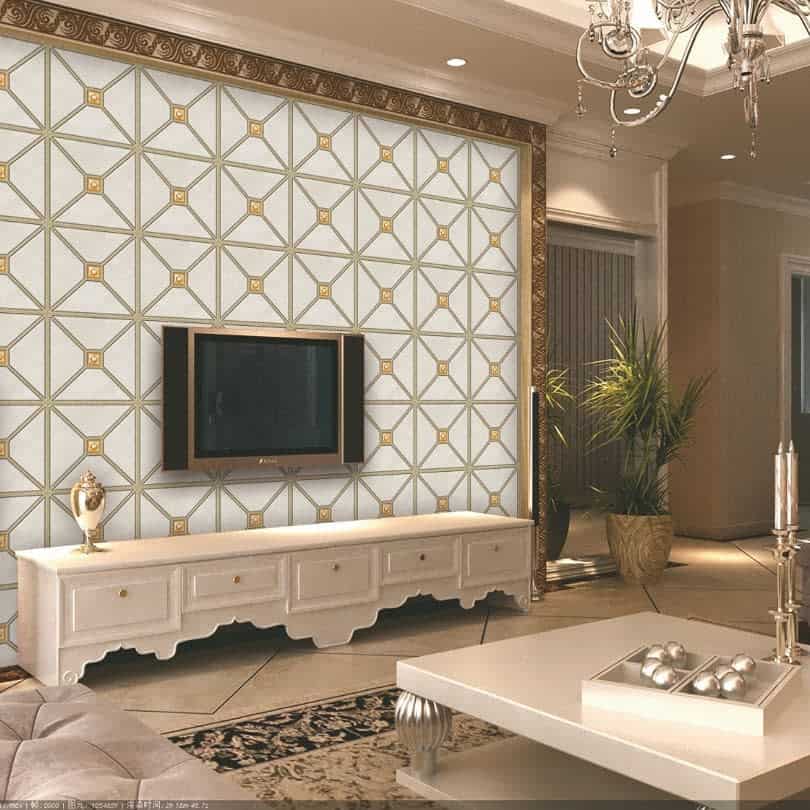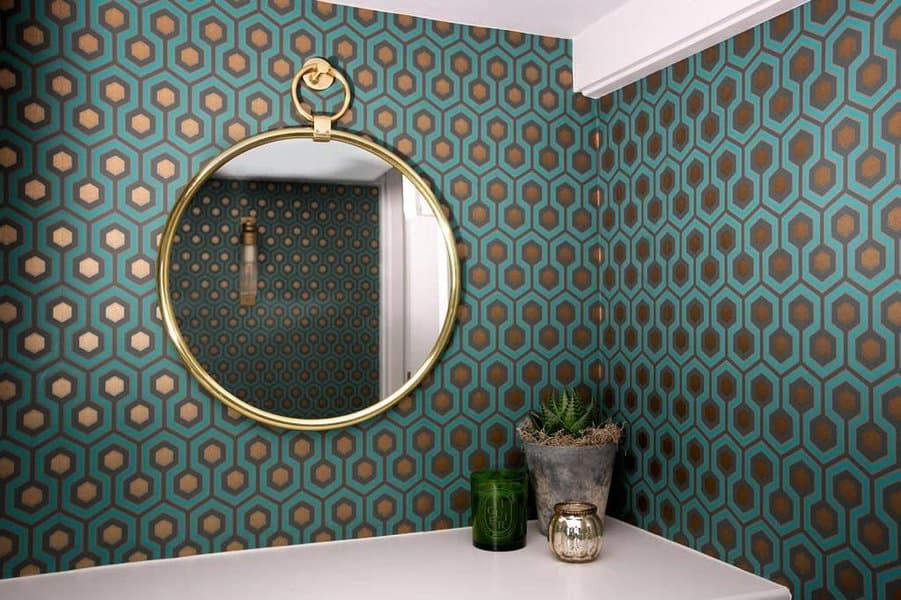 9. Mosaic Tiles for Wall Covering
Enhance your home's ambiance with the timeless beauty of mosaic tiles, arranged in captivating patterns. These tiles can be used to create a stunning feature wall in your living room or a striking entryway. To achieve a cohesive look, consider matching the colors in the mosaic with your existing decor or furniture. Mosaic tiles bring a touch of sophistication and uniqueness to your living spaces, making them feel more refined and welcoming.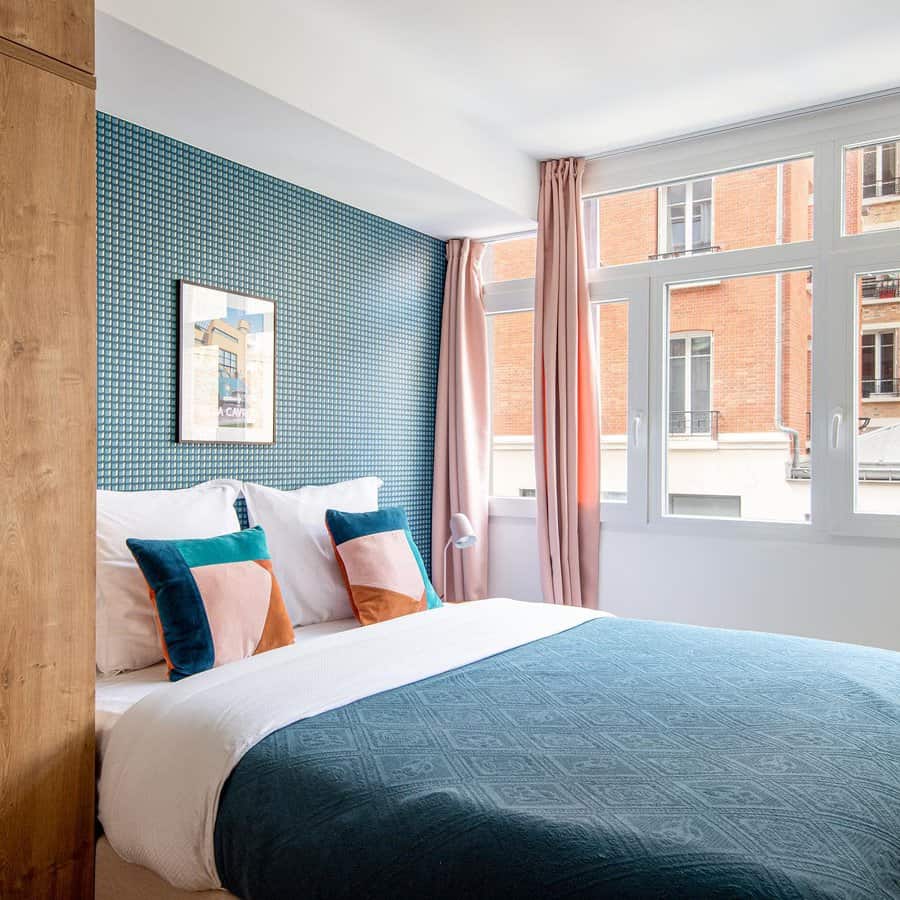 10. Black On Black: Stylish Design
Achieve a high level of sophistication and a touch of masculinity with black print wallpapers on matte black walls. To create this dramatic look, consider using geometric patterns or subtle designs. Incorporate this style in an office space or as a striking feature wall in your living room. To balance the boldness of black, complement it with accents of metallics, such as gold or silver, and use ample lighting to ensure the space doesn't feel too dark.
Black print wallpapers are a versatile choice that can enhance various interior design styles and create a captivating focal point in your home.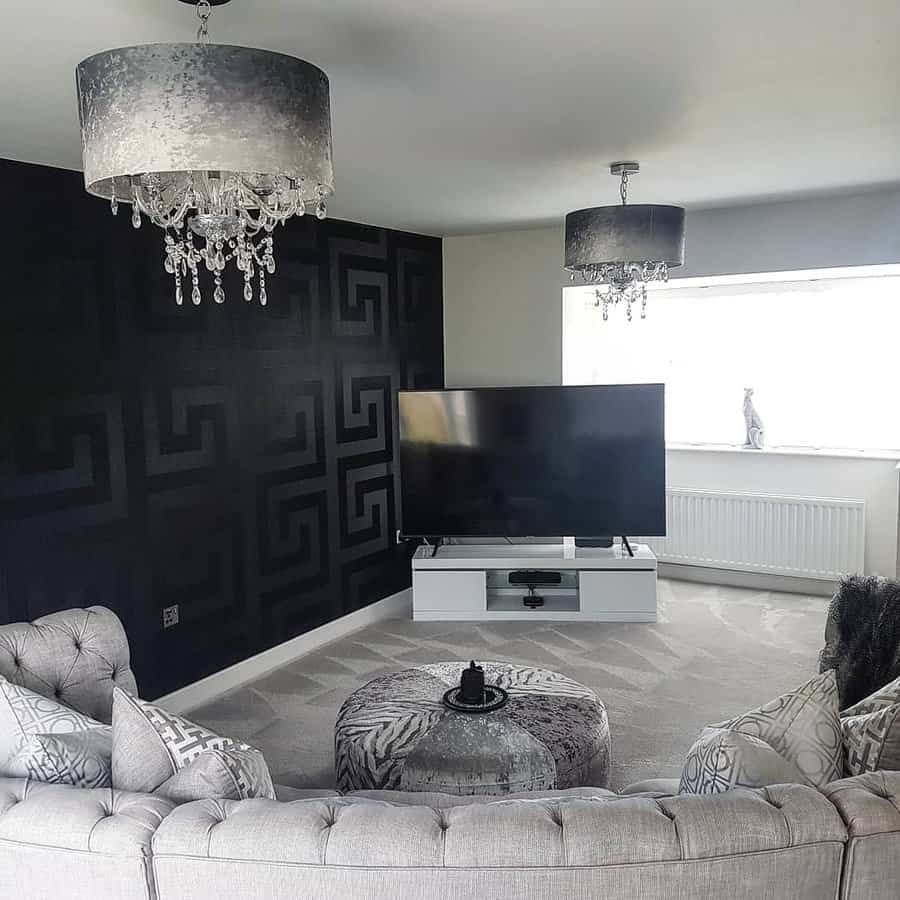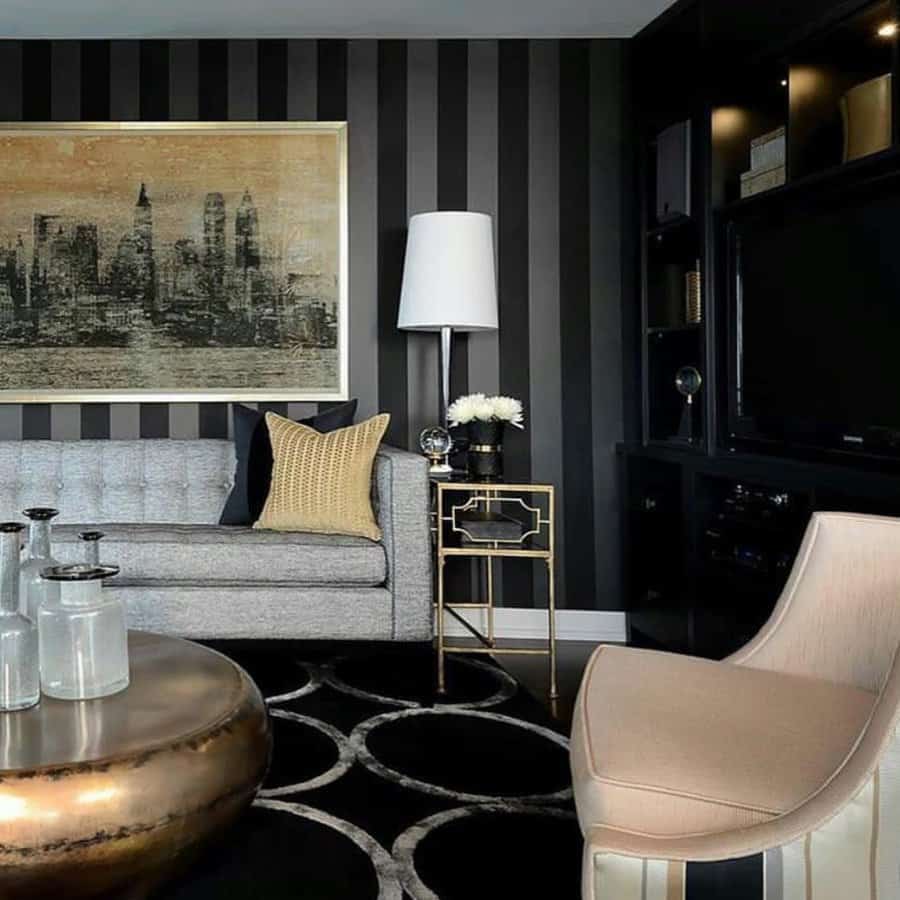 11. Stamp Overlay: Wallpaper Inspiration
Stamp overlay techniques offer a unique way to transform your plain grey walls into captivating focal points. Enhance your dining area's ambiance with textured designs, combining timeless elegance with a modern twist. Whether you prefer bold and striking patterns or subtle, neutral tones that seamlessly blend into your space, you'll find wallpapers that perfectly complement your home's style.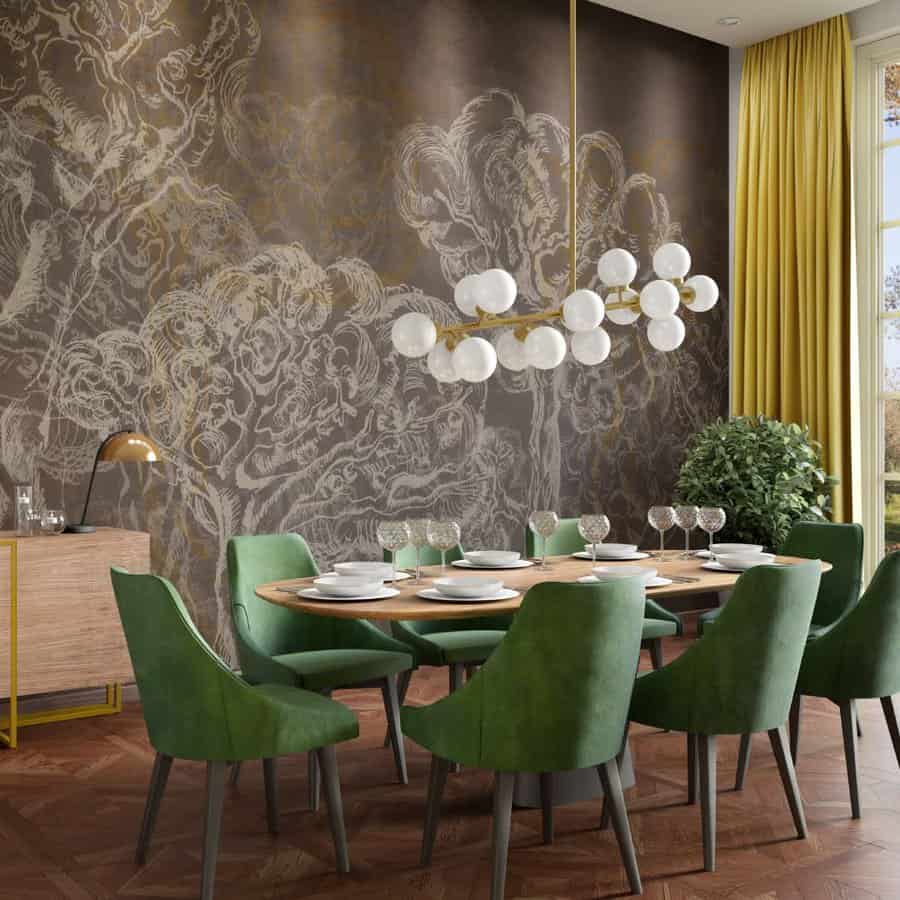 12. Venetian Accent for Ceilings
For a touch of drama and sophistication, consider adorning your ceiling with a Venetian mural, paired with a striking chandelier. To achieve this elegant look, complement it with limewash walls and tasteful furniture choices. This combination creates a captivating focal point that will impress your guests while enhancing the overall luxury and style of your living space.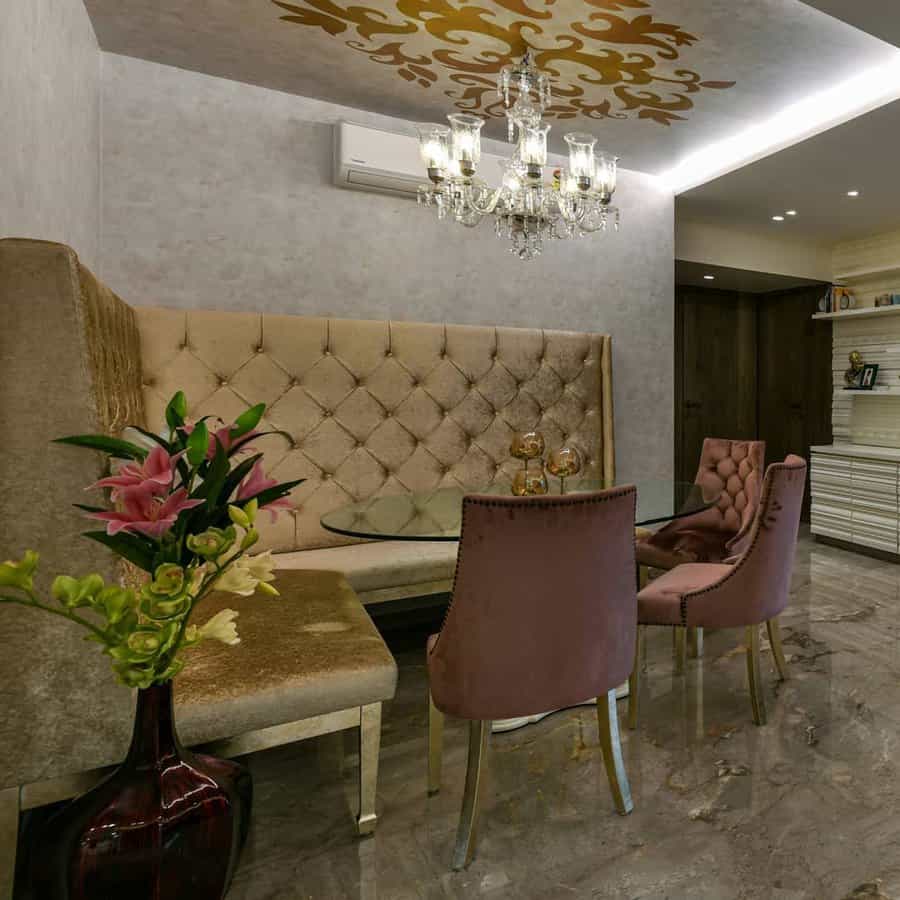 13. Natural Stone Elegance on Walls
Enhance your home's elegance by incorporating natural stone-effect wallpapers, seamlessly complemented by century-style furniture and decor. These wallpapers offer texture and dimension, creating a timeless and sophisticated ambiance that pairs harmoniously with vintage furnishings.
Choose from a variety of color options to customize your space, whether you prefer an earthy, natural feel or a vibrant, energetic atmosphere. To complete the look, add accent lighting that highlights the texture of the wallpaper and showcases the beauty of your antique-style furniture, elevating your interior design to a new level of class and sophistication.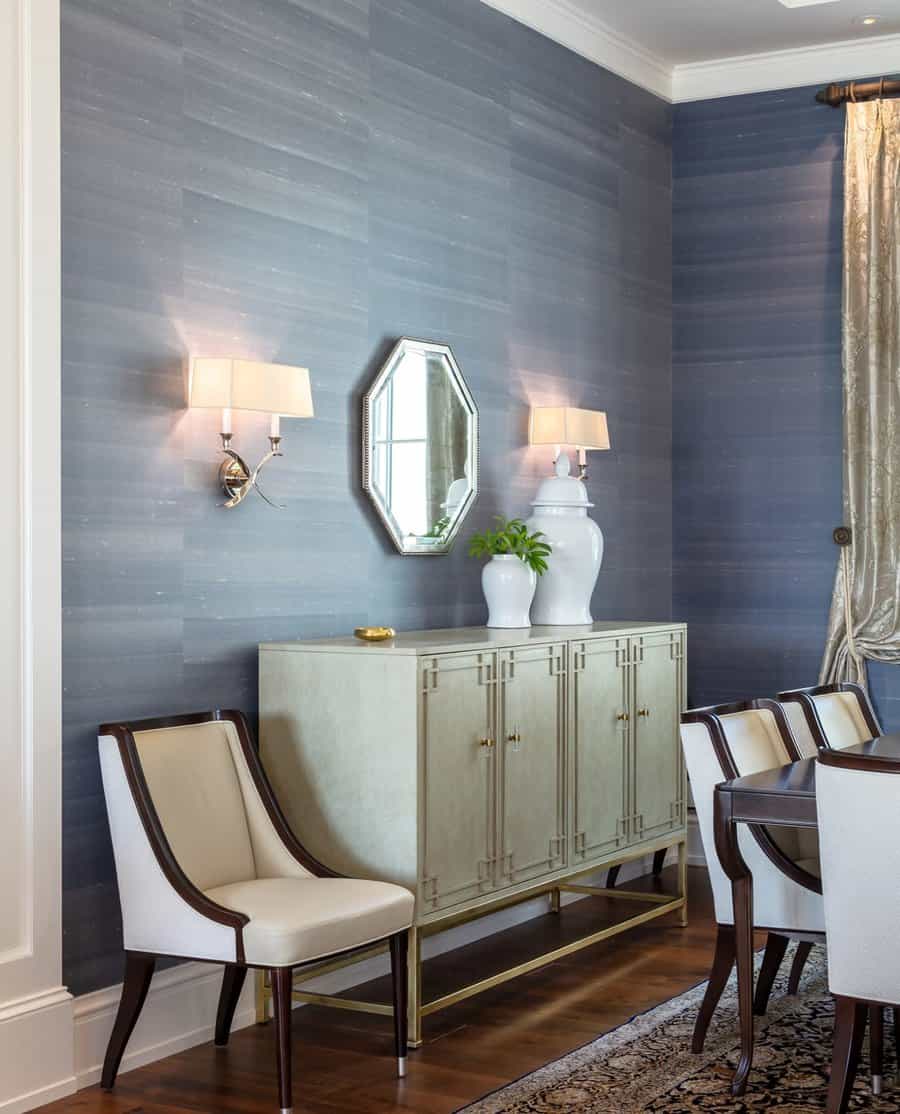 14. Vintage Floral Charm in Wallpaper
Infuse your home with vintage charm by adorning your walls with a captivating vintage floral mural. This subtle yet impactful choice adds texture and visual interest to your space. Opt for muted colors, with accents in olive green, to harmonize with velvet furniture and carefully styled decor for a cozy ambiance.
This timeless design adds a touch of vintage flair to any room and sets the mood beautifully. To complete the look, incorporate soft lighting that complements the mural's warmth and enhances the cozy atmosphere.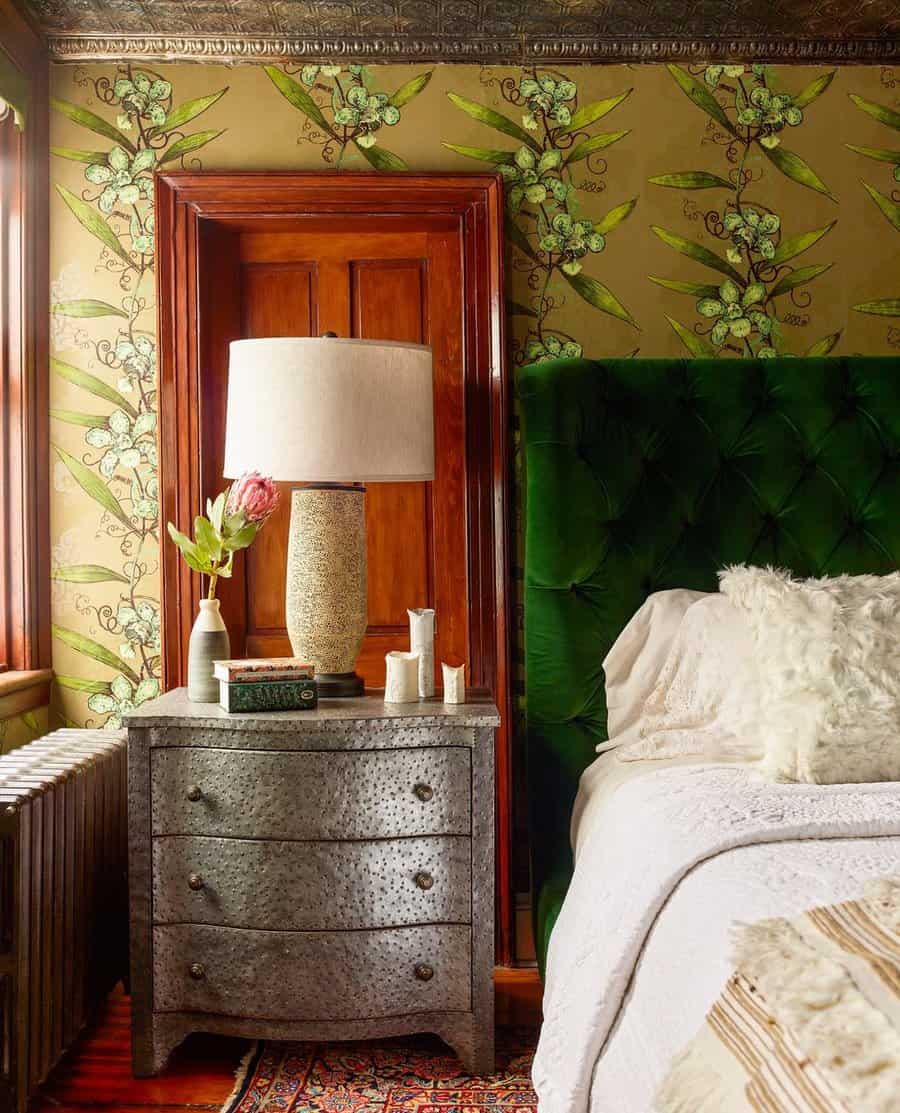 15. Asian Zen Art on Your Walls
Incorporating Asian modern-style wallpapers into your home decor can add a touch of elegance and uniqueness. These wallpapers seamlessly blend traditional Asian motifs with a contemporary flair. For a stunning living room transformation, contemplate using a deep red jungle design wallpaper. This bold choice will breathe life into your space and create an extraordinary ambiance. Moreover, Asian modern wallpapers offer intricate designs and a diverse color palette to effortlessly complement your room's existing color scheme.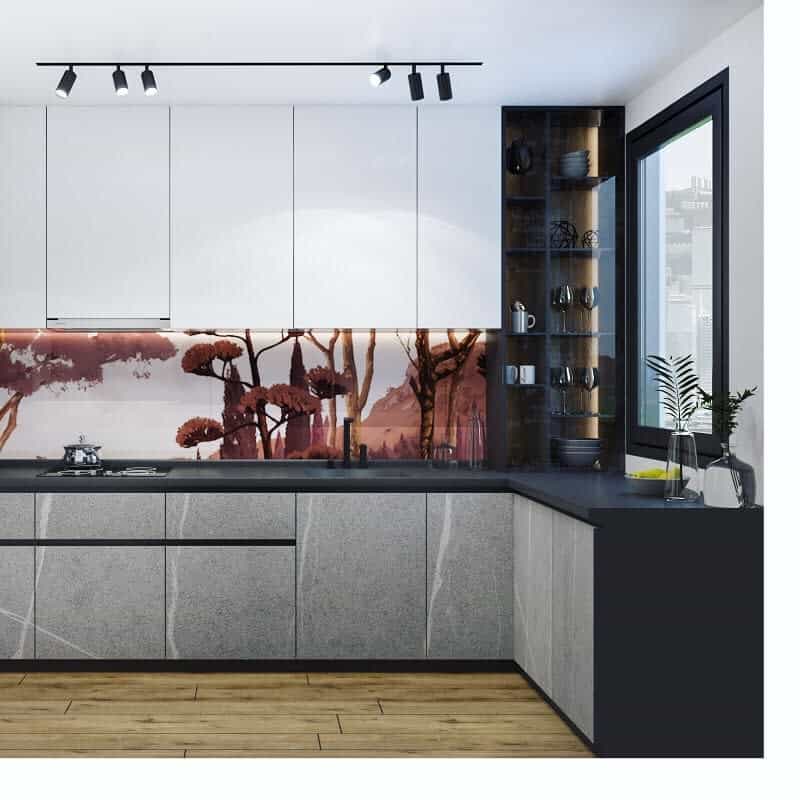 16. Elegance of Persian Tile Wallpaper
Revitalize your home decor with the timeless charm of Persian tile wallpaper. When adorning your walls with these exquisite designs, consider pairing them with crisp white walls to create a stunning contrast that elevates the room's aesthetic. To complement the look further, add a pop of vibrancy with red kitchen cabinets, instantly transforming your kitchen into a captivating focal point.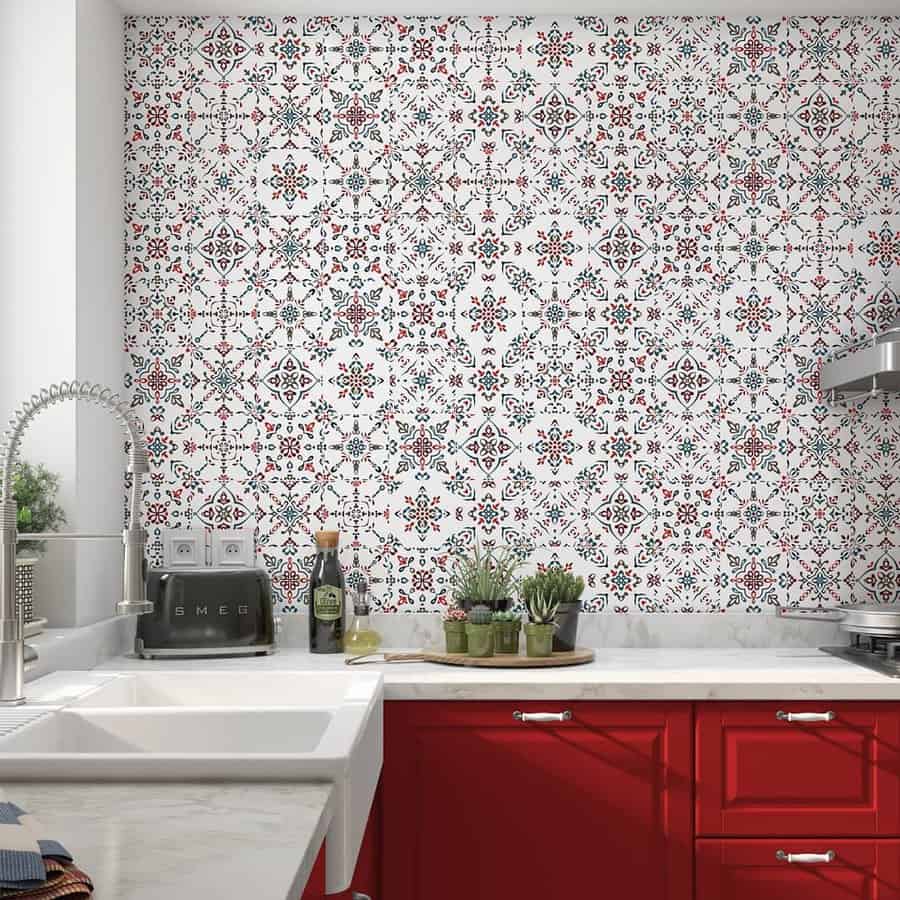 17. Bold Geometric Deco in Black & White
Revitalize any room in your home with the striking allure of black and white geometric deco wallpaper. This bold pattern injects a modern flair into your space, making it perfect for rooms in need of a stylish uplift. Whether you have a small, mundane gray kitchen or a spacious living area, incorporating this wallpaper will infuse character and make it the focal point.
Embrace the timeless elegance of black and white, ensuring seamless coordination with your existing furnishings. Don't hesitate to explore the world of black and white geometric deco wallpaper to transform your space today.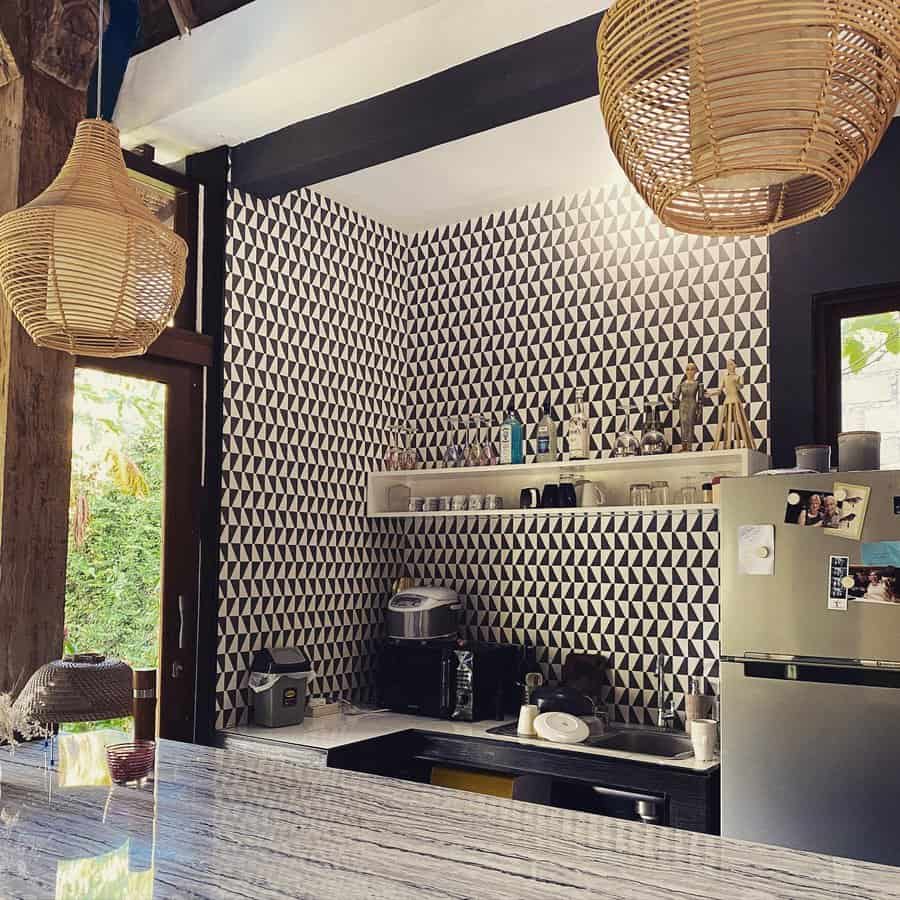 18. Cozy Vibrance: Floral Decor
Infuse warmth and vibrancy into your home interior effortlessly with floral wallpapers. Picture dark blue floral prints gracing your walls, creating a refreshing and captivating ambiance. These eye-catching wallpapers bring a touch of elegance and timeless charm to any room. Select a suitable floral wallpaper and pair it with a complementary color palette to achieve this look.
Redecorating your space doesn't have to break the bank; a creative touch and the perfect floral wallpaper can work wonders, offering a cost-effective way to revamp your home or office.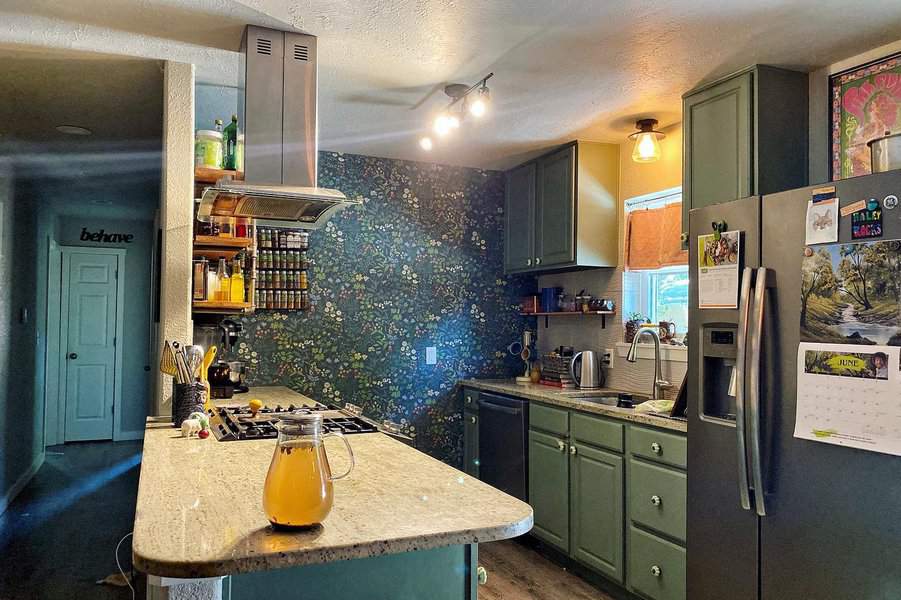 19. Tropical Paradise on Your Walls
Transport yourself to a tropical paradise by adorning your walls with captivating tropical wallpapers. Whether you prefer bold prints featuring exotic leaves and vibrant birds or the subtle charm of framed florals, there's a tropical style for every taste.
For a touch of glamour, consider metallic and sparkly wallpapers in silver, bronze, or gold tones. To achieve a chic and glamorous ambiance, pair your tropical wallpaper with elegant gold furniture pieces. Complement the look by incorporating matching textiles such as rugs, cushions, and curtains, ensuring a cohesive and stunning tropical-meets-glam chic interior.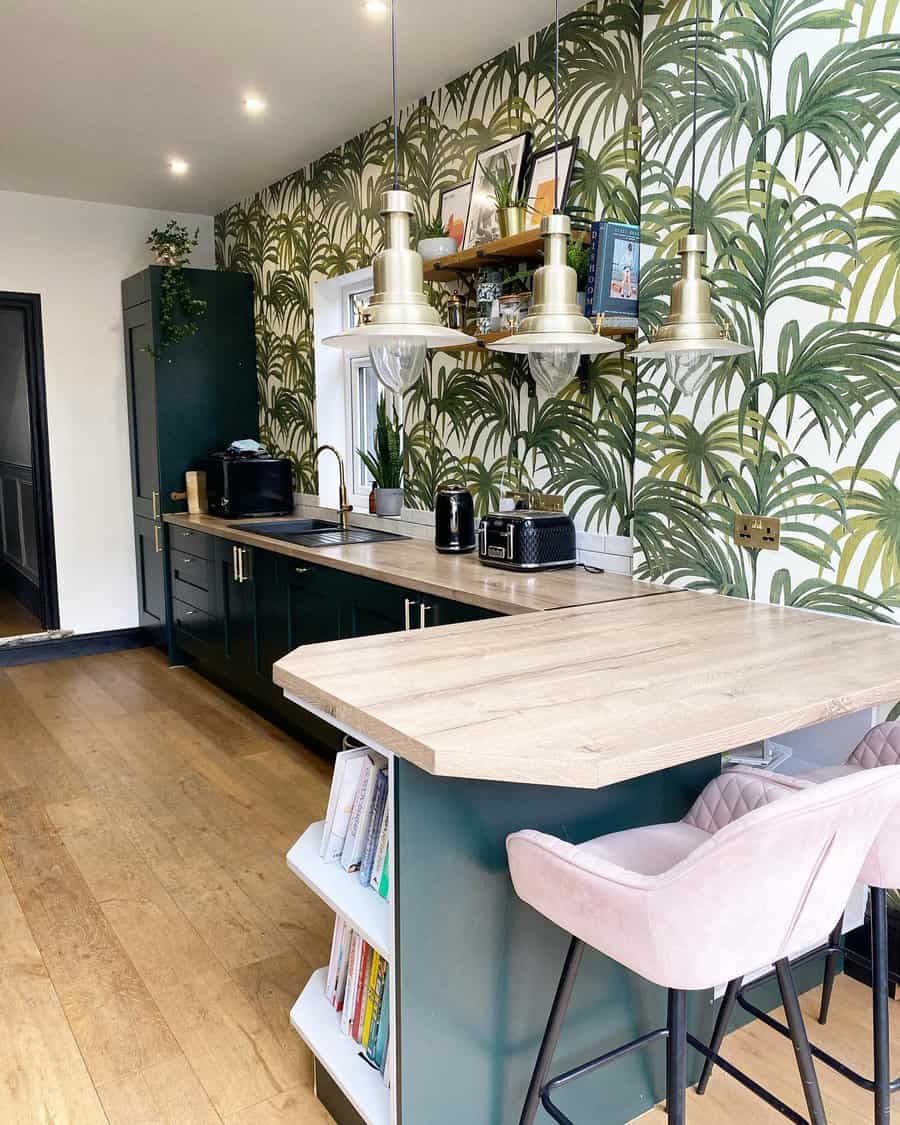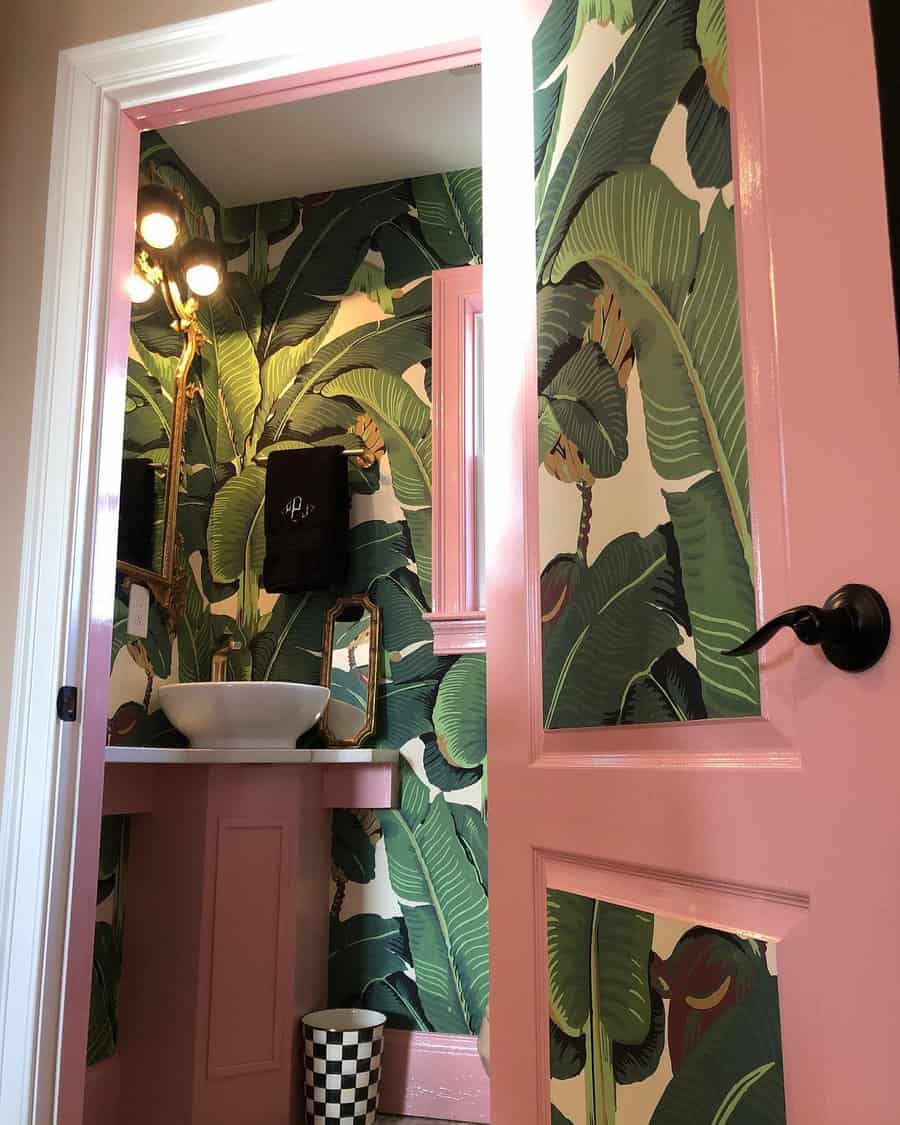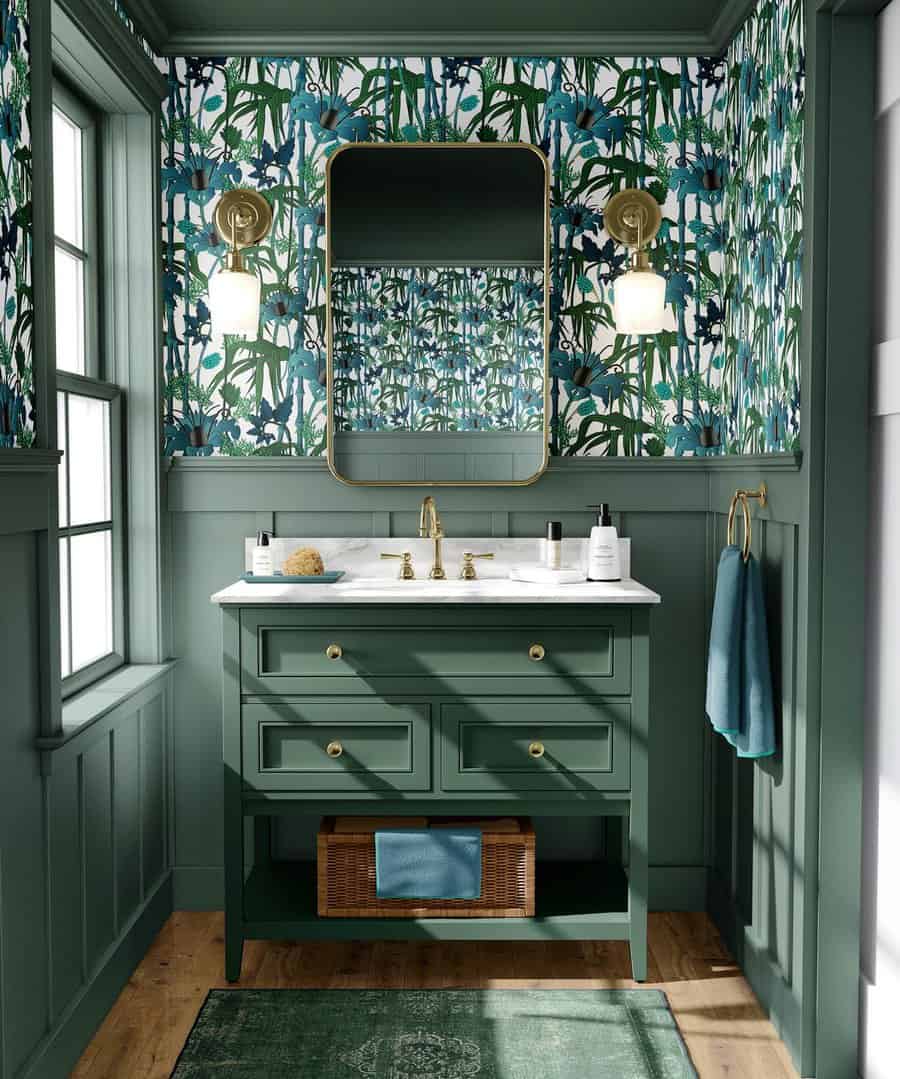 20. Brick Look Wallpaper Inspiration
Achieve an urban and cozy atmosphere with faux brick wallpaper, perfect for transforming your space. In an all-white kitchen, consider creating an inviting focal point with a faux brick wallpaper accent wall, adding warmth and texture to your environment.
If faux brick doesn't suit your style, explore numerous alternatives, from bold geometric prints to timeless florals, ensuring endless design possibilities. To complete the look, harmonize your faux brick wallpaper with complementary furnishings and decor elements, allowing you to craft a space that resonates with your unique taste and preferences.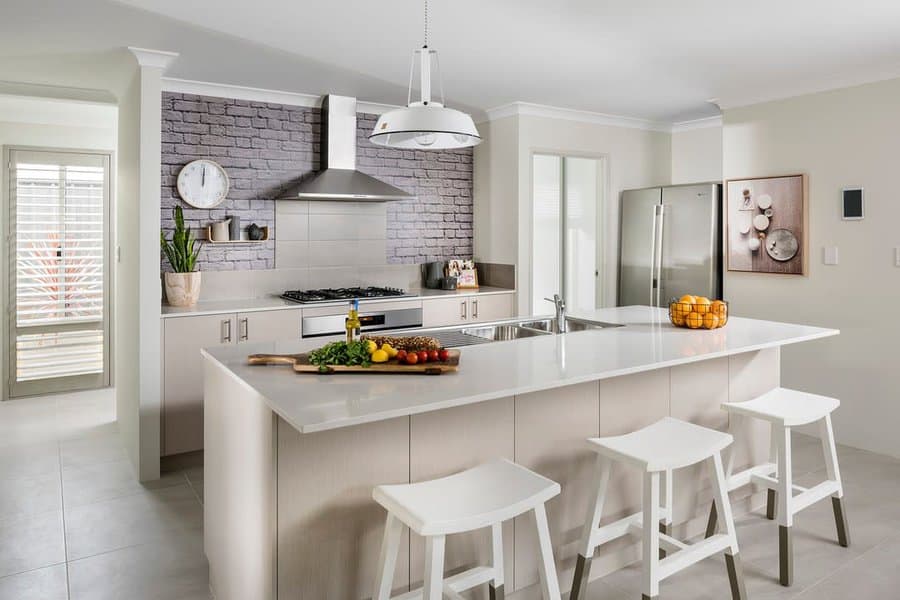 21. 3D Design with Leading Lines
Turn your ordinary living space into something extraordinary with the captivating world of 3D wallpaper. Leading lines in 3D designs create a multi-dimensional "pop," breathing life into any room. For a cinematic experience, explore a variety of 3D wallpaper patterns that transport you to your personal film theatre. Embrace the sophistication of 3D color gradients and light-dark contrasts to add style to your walls.
Unleash your creativity in selecting wallpapers by breaking away from traditional paint, and delving into the unique 3D effects that wallpaper can offer to transform your space.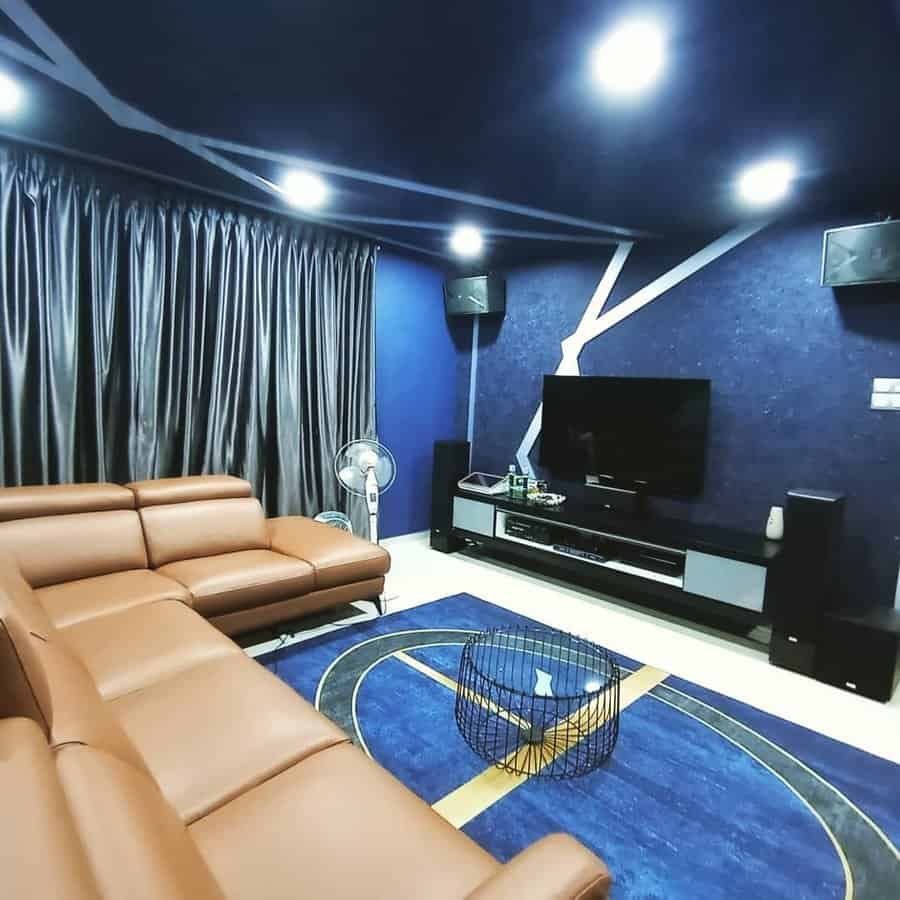 22. Dual-Toned Stripes to Inspire
Dual-toned stripes offer versatile and appealing design possibilities for any room in your home. Consider combining a rich midnight blue with a soothing pastel shade on the walls of a teenage boy's bedroom to create an inviting, balanced interior. This allows you to make a statement without overwhelming the space.
Discover how these dual-toned stripes can instantly infuse energy and relaxation into your home. When selecting your wallpaper, ensure it complements your existing decor and furniture, allowing for a harmonious and stylish overall look.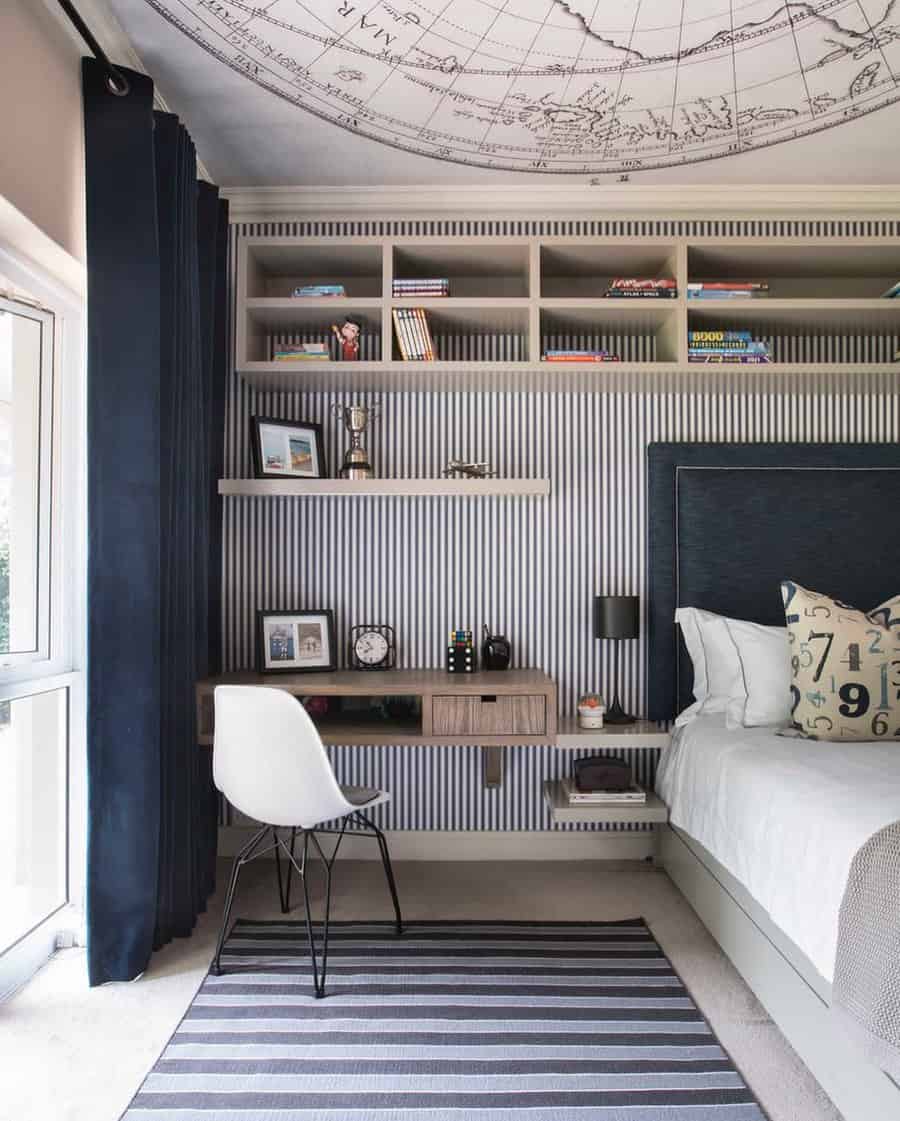 23. Stereoscopic Geometry in Wallpaper
When it comes to enhancing your home's lounging area, consider the captivating impact of stereoscopic wallpaper. Its bold shades of blue with touches of gold can instantly breathe life into any room. To add a touch of magic, complement the stereoscopic pattern with tiny constellation lights, perfect for brightening up dark corners or creating a cozy reading nook.
Whether you choose it for a single room or opt for a house-wide transformation, stereoscopic wallpaper is guaranteed to make a lasting impression. When selecting this wallpaper, ensure it complements your existing decor and lighting to achieve a harmonious and visually stunning space.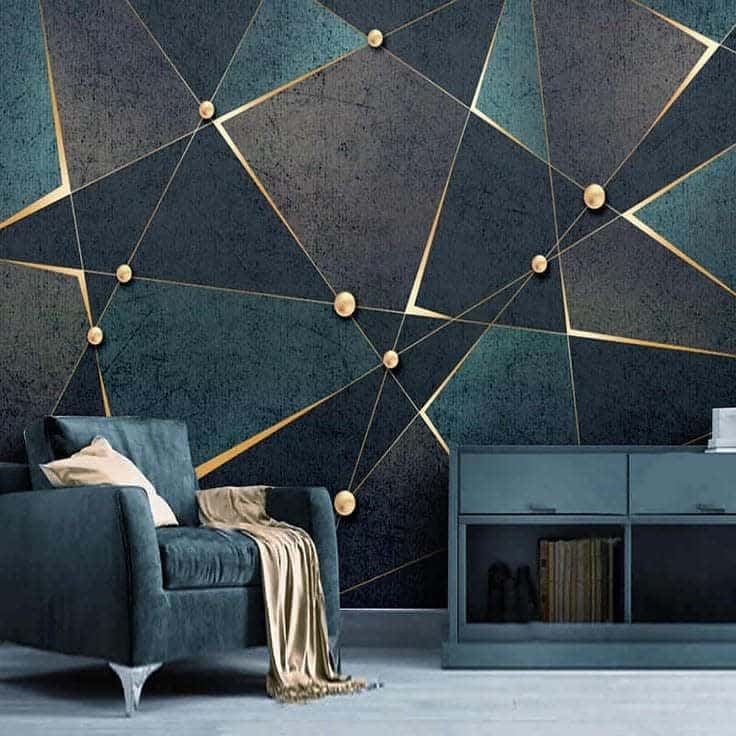 Wallpaper FAQs
Can wallpaper be modern?
Yes! Wallpaper can be modern in both how it's applied to the wall and the design that's created on it. Modern wallpaper doesn't use the traditional paste method. Instead, it's a peel and stick application, making it easy to remove when you move. Modern designs embrace large-scale or mural designs. It could also have a realistic texture or a 3D design.
Is wallpaper cheaper than paint?
Wallpaper can be cheaper than paint, but it depends on the type of wallpaper and paint that you are comparing. You also need to consider the tools needed to apply them both. You'll need to buy more tools to paint than you will need for wallpaper.
Does wallpaper damage the wall?
Wallpaper can damage your walls. When wallpaper wall coverings get applied directly to the drywall, you risk damaging the drywall when you remove it. Peel and stick wallpaper tends to be less damaging, but it can also cause damage if it isn't applied or cared for correctly.