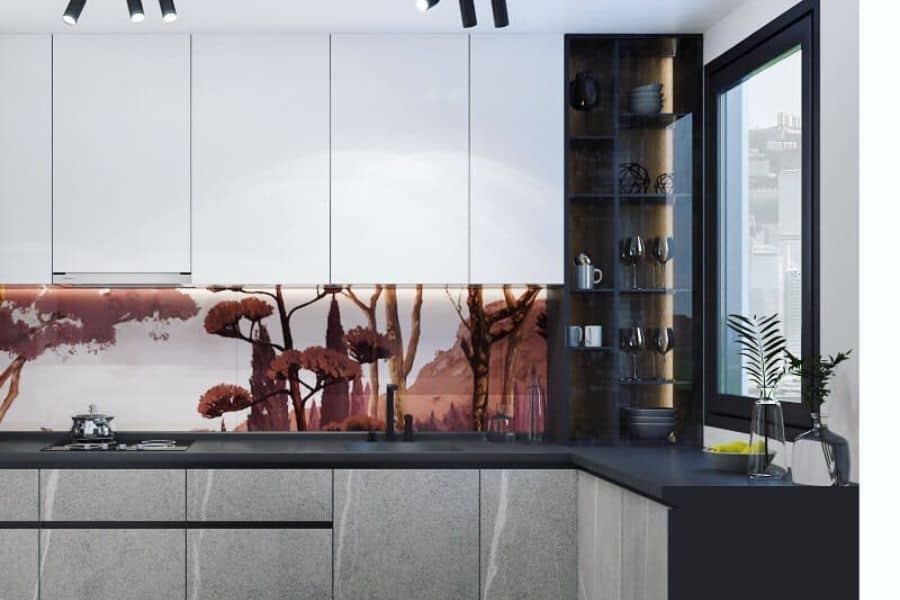 35 Wallpaper Design Ideas for Your House
"Family love is messy, clinging, and of an annoying and repetitive pattern, like bad wallpaper." – P. J. O'Rourke
Painting your walls makes them a color, which is nice, but also a bit plain. Take your room design up a notch by adding wallpaper to the walls. It's a much easier way of adding a design or pattern to the walls. Then the walls themselves become the decor.
Unfortunately, wallpaper tends to get a bad rep because people automatically think of the traditional style of wallpaper that's dated looking and difficult to work with.
It's time to say goodbye to the outdated wallpaper you're familiar with and meet the next generation of wallpaper. These wallpaper ideas will show you that you can use them in your modern home and have it look fresh, bold, beautiful, and exciting.
1. French Chic
Let your home tell a story with a sketch of Paris wallpaper. Whether you prefer the classic scenery of the Eiffel Tower, modern renderings of the Arc de Triomphe, or an array of intricately decorated balconies from the many neighborhoods across Paris, wallpapers provide creative ways to bring the postcard-ready city to occupy one whole wall in any room of your house.
For those looking to add an extra bit of character, opt for a shabby chic design featuring sketchy lines and watercolor washes that are sure to look cozy and comforting at any time of day.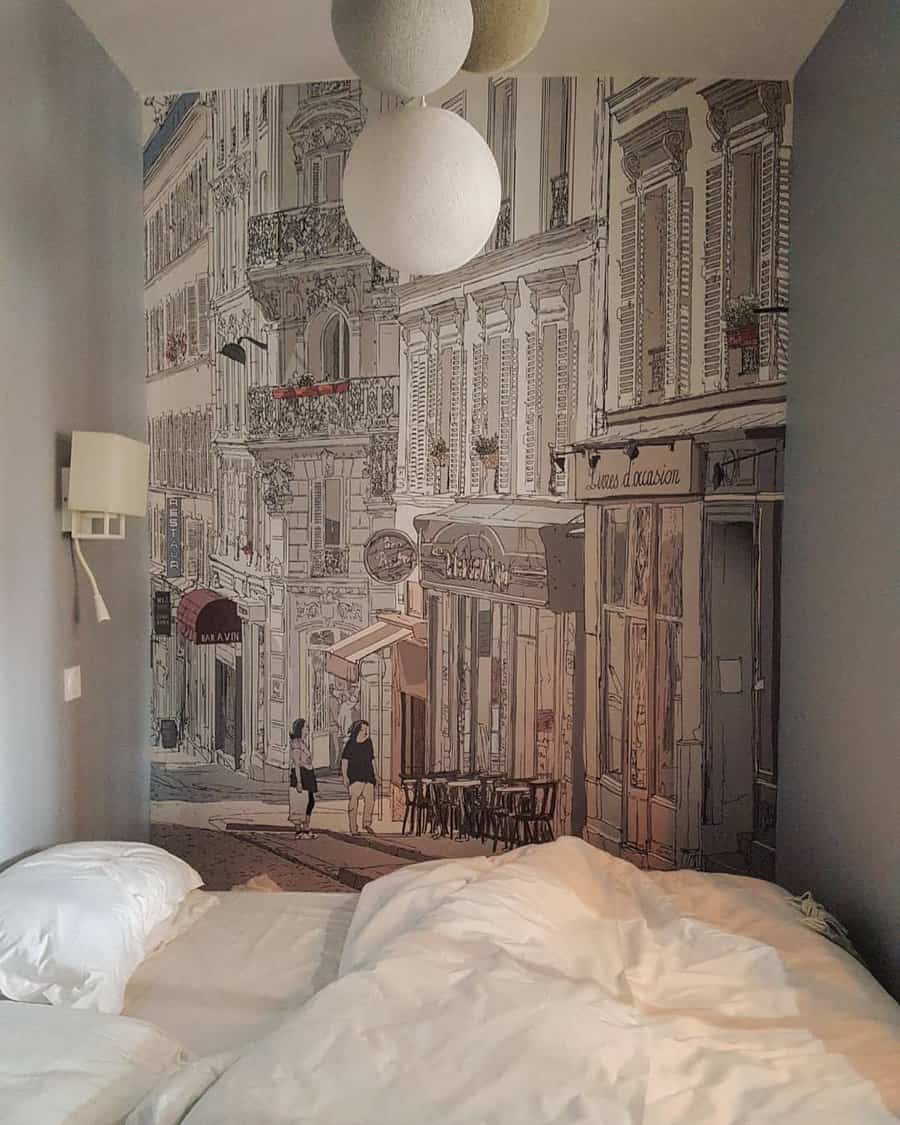 2. Eclectic Abstract
Instead of the traditional white walls in your home, why not transform it into an abstract and colorful art deco room with colorful shapes and designs to create an eclectic vibe? Wallpapers are a great way to customize the look of your home without needing a lot of time or money.
Whether you're looking for colorful motifs inspired by classic art deco elements or something more abstract and modern, having this wallpaper style can give any space a unique touch that is sure to be a conversation starter.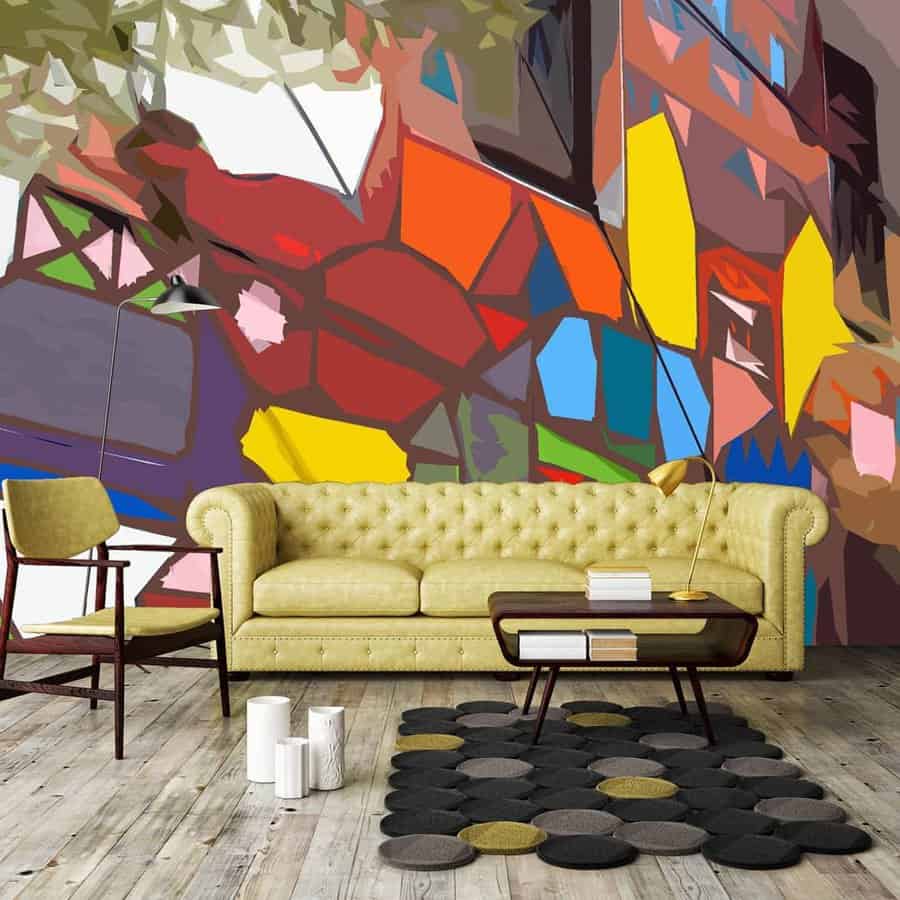 3. Monochrome Jungle/Nature
When you want to add a spark of personality to your home décor, wallpaper is the perfect option. For monochrome lovers, try a monochrome jungle theme – the shades of black and white will create a luxurious and exotic effect.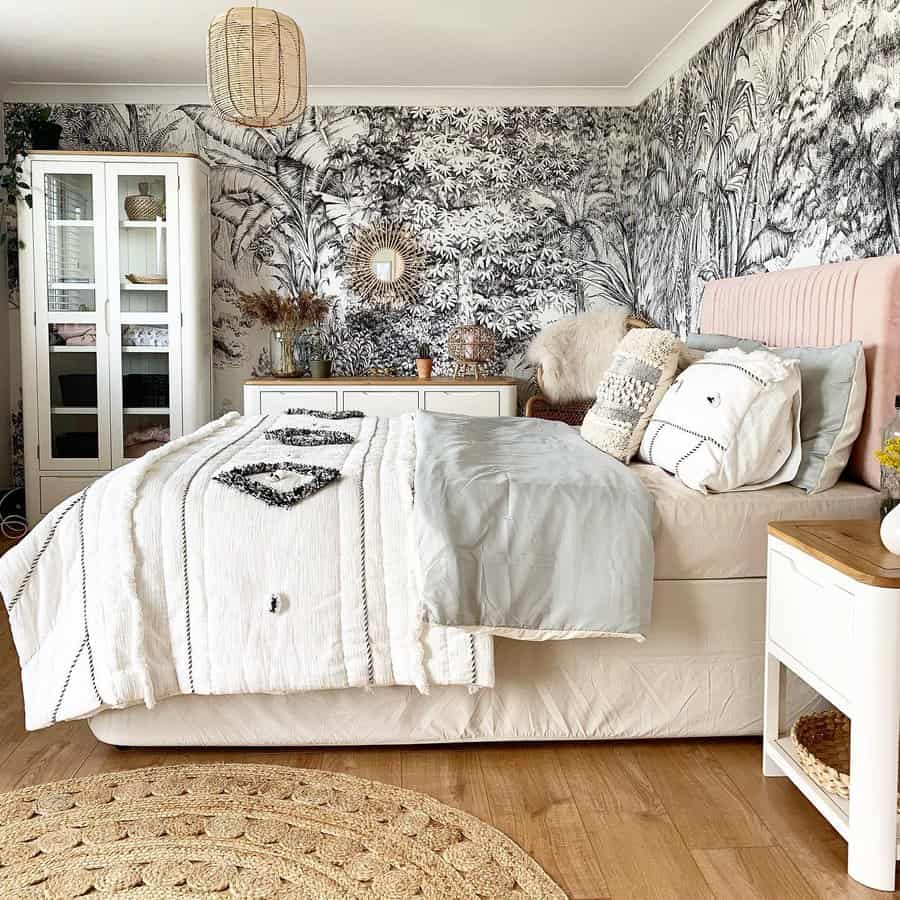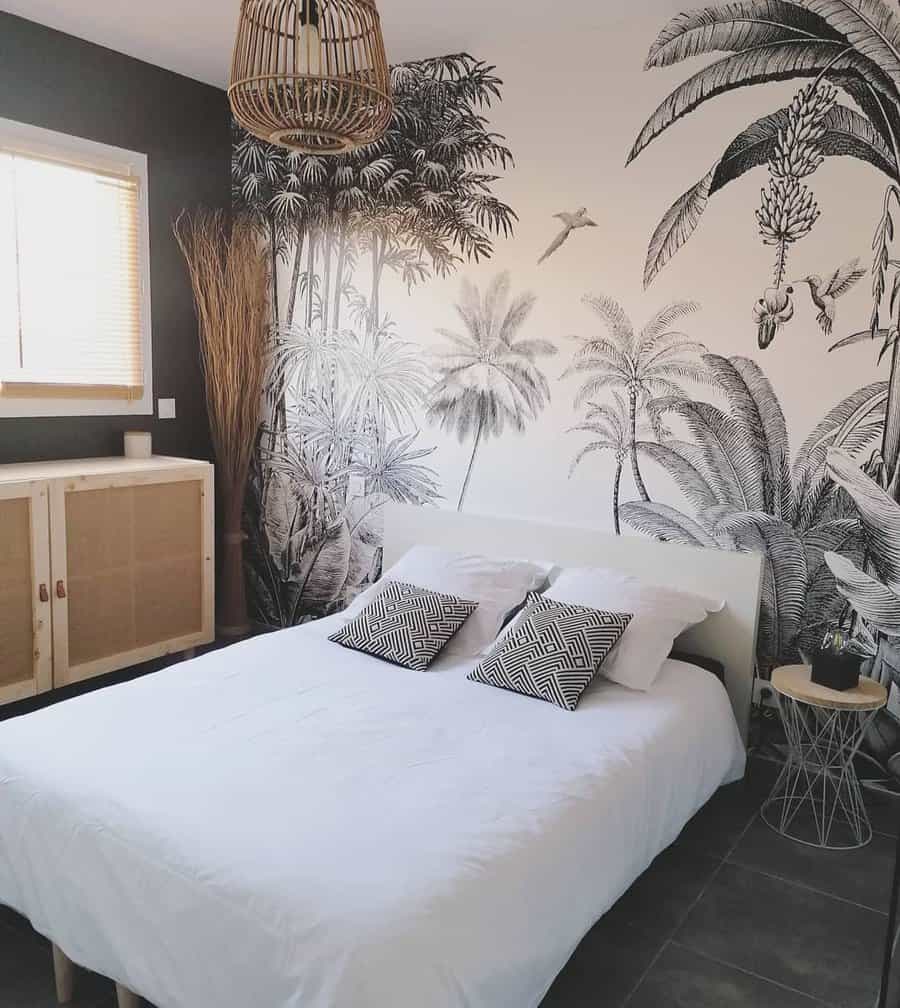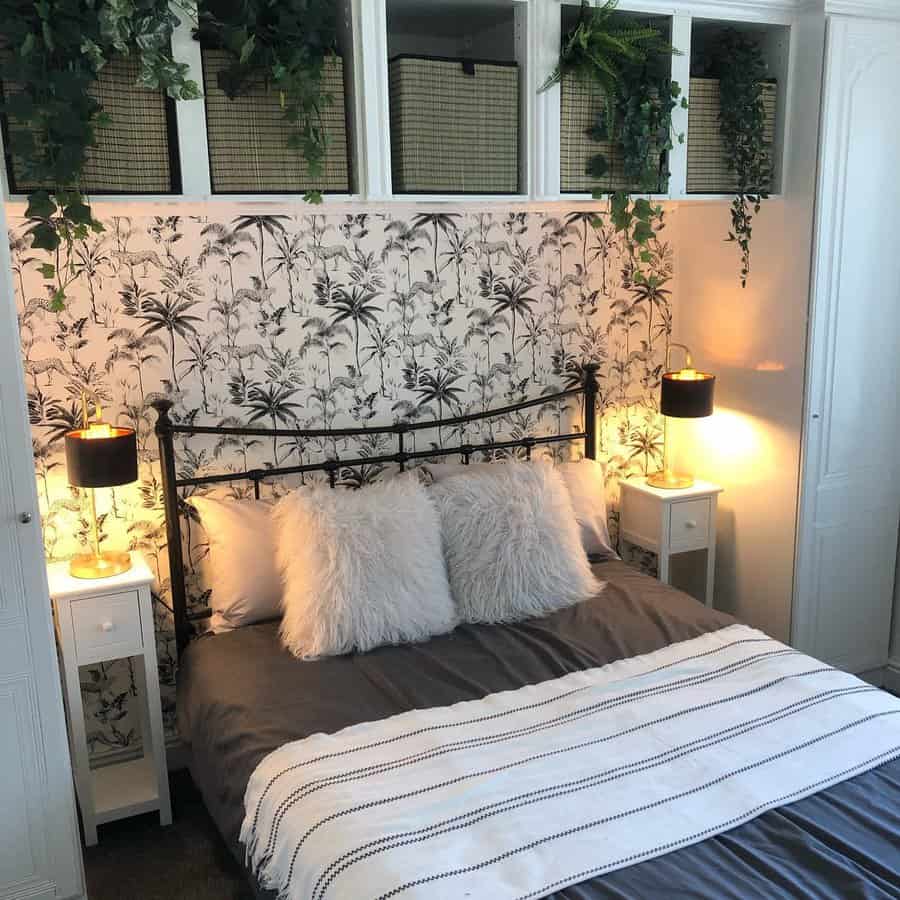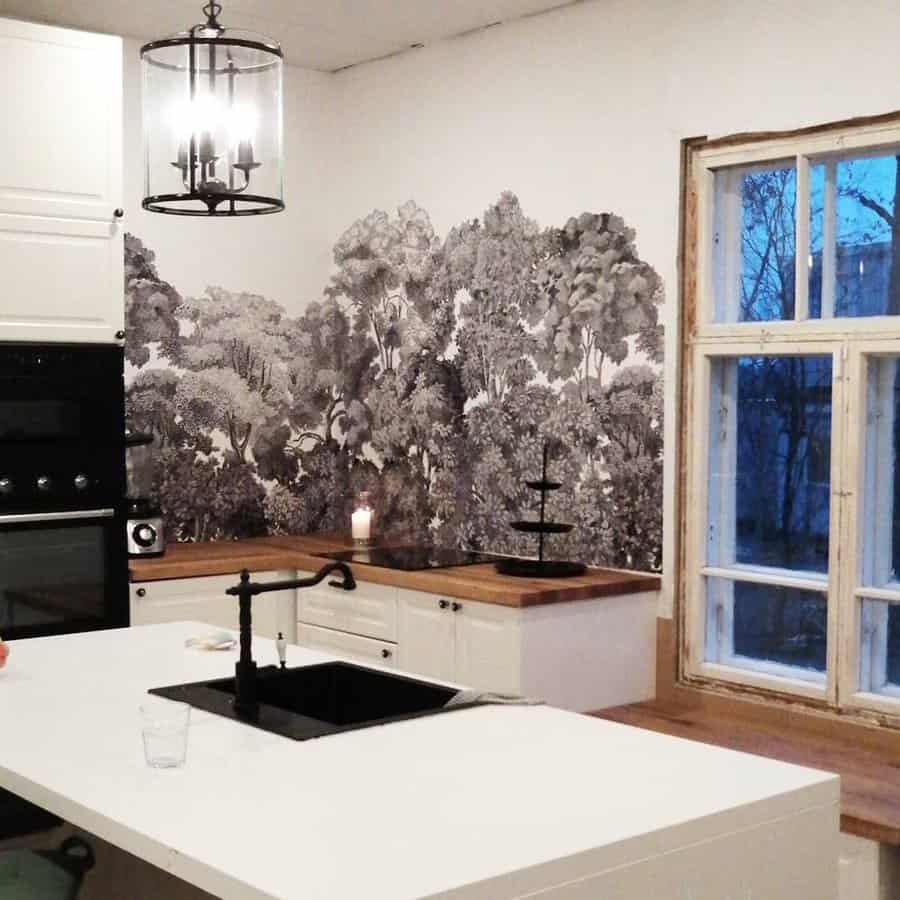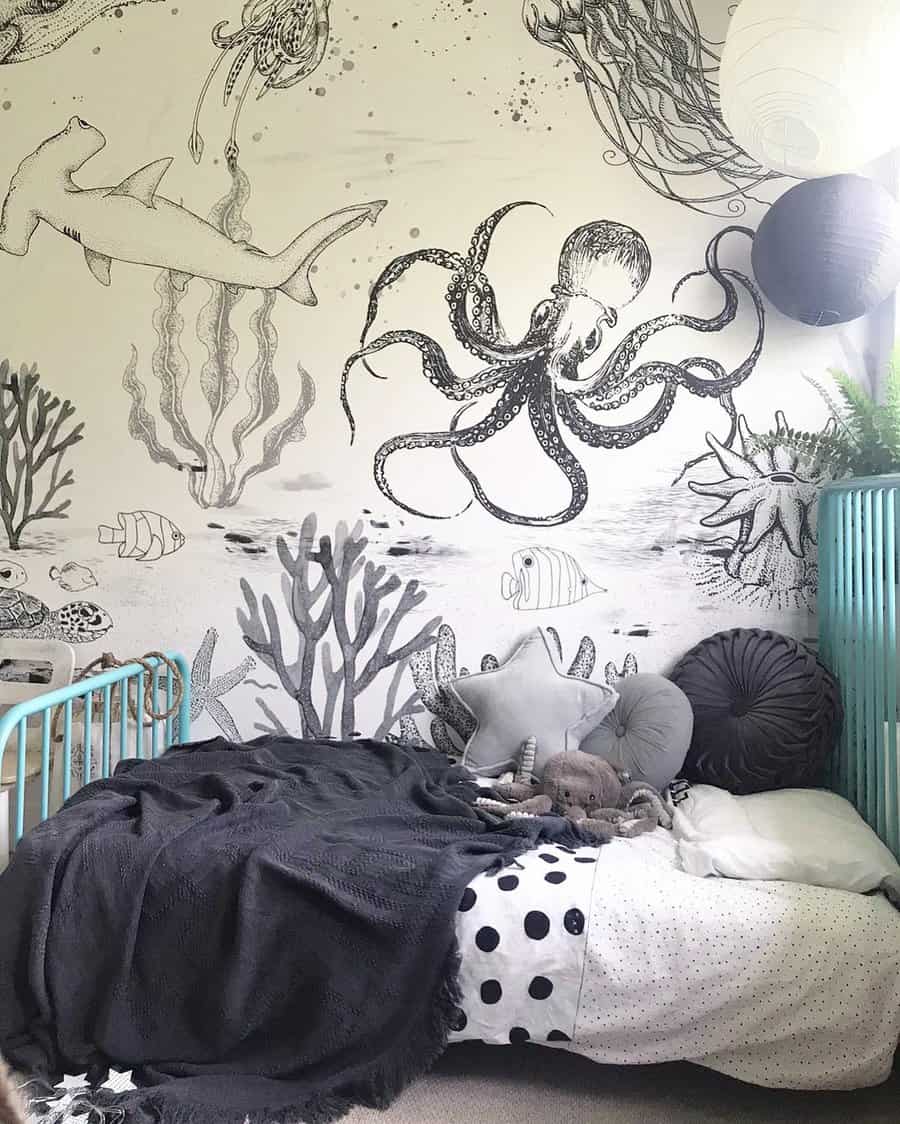 If a more rustic interior is more your style, choose wallpapers with bold details – you'll be surprised at how they can instantly bring out the coziness in an otherwise dull room. Wallpaper also adds texture to a room – look for subtle patterns that catch the light differently at different angles and make sure you coordinate them with other furniture in the room to give it maximum effect!
4. Soft Pastel Prints
Transform a girl's room into a soft and inviting sanctuary with soft pastel prints in gentle shades of light pink, blue, green, and lilac.
For an added feminine touch, use floral wallpaper to create a sense of serenity. From bold and beautiful feature walls to subtle pieces that perfectly blend in with existing décor, you'll be sure to find wallpapers for every space in your abode!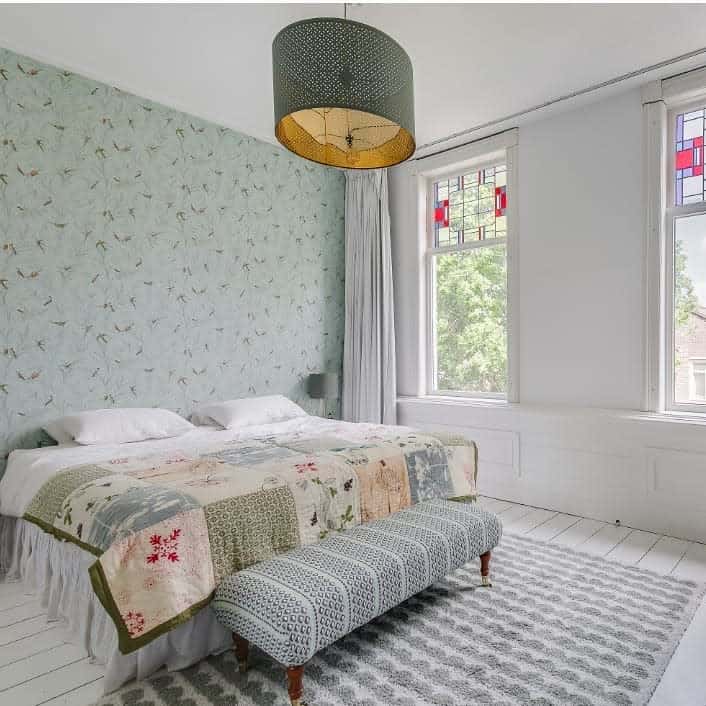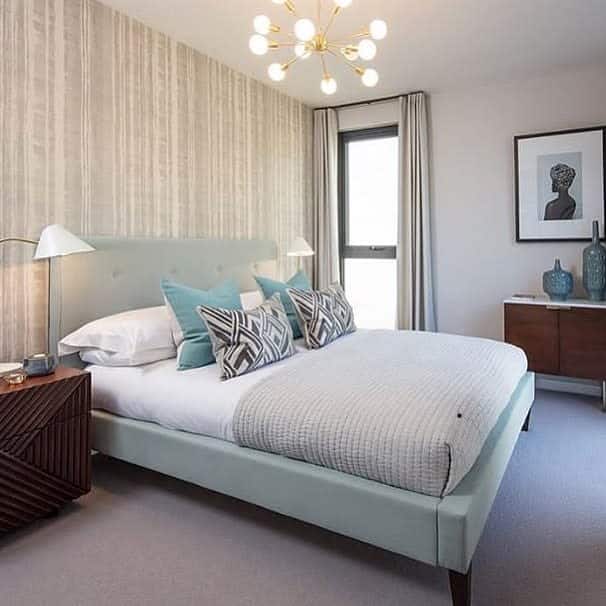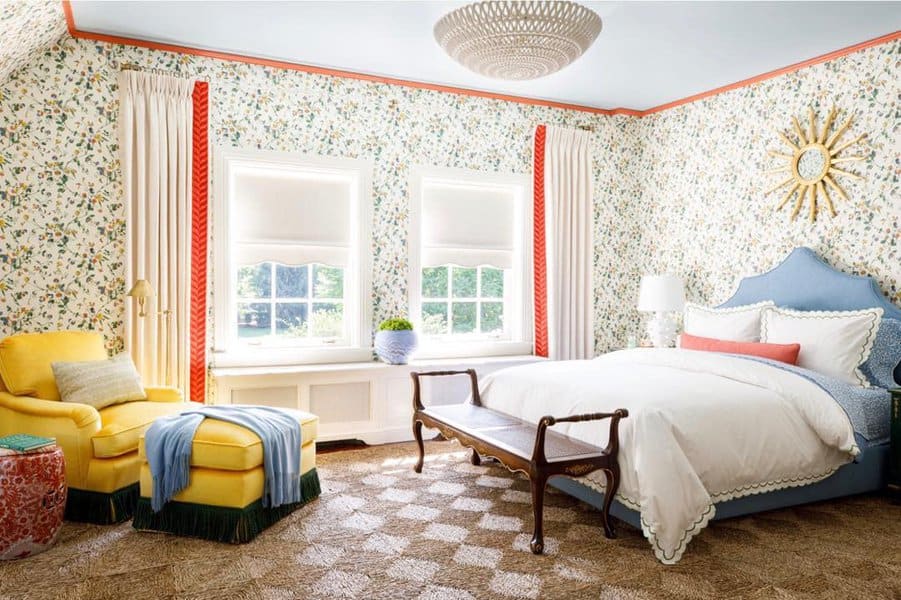 Wallpapers are an easy and creative way to give any room an instant makeover. Soft pastel prints in a girl's bedroom will bring calm and peace, while floral wallpaper can add a touch of real sophistication to any dining room or study.
With so many options available, you can be sure to find the perfect wallpaper to fit your style and help make your house feel even more like home.
5. On Cloud 9
Bringing cloud wallpaper into your home can create an ethereal and dreamy feeling like no other! Imagine a soft pastel interior with cloud wallpaper, greeting you with a calming, tranquil atmosphere – the perfect backdrop to relax and unwind.
Whether it's in living areas or bedrooms, cloud wallpaper will provide an exquisite feel to any space. Craving a zen escape to take you far away? Look no further than cloud wallpaper right here in your own home. Let's reach for those fluffy clouds today!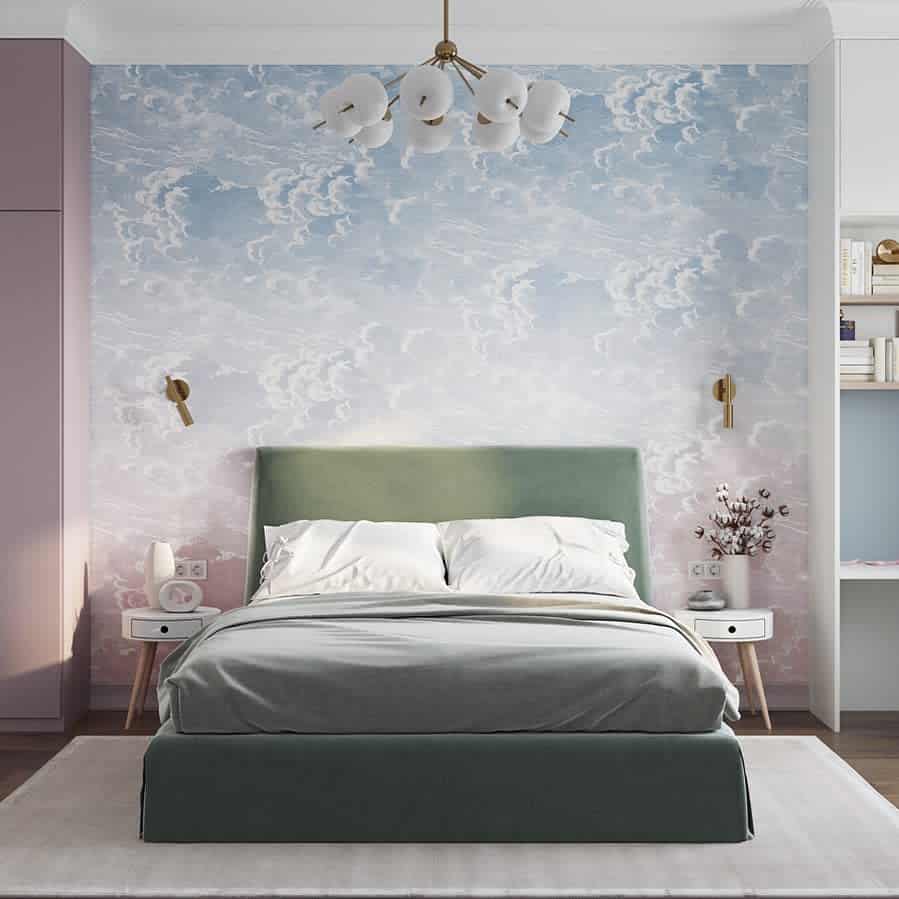 6. Playful Coastal
If you're looking for fun and playful wallpapers to dress up your home, why not try out a playful coastal wallpaper in a vibrant teal? Whether you want it for the bathroom, kitchen, or living room, it's sure to bring lots of life and energy.
For something a little more abstract, why not try out blue abstract fish wallpaper set against a warm white background – perfect for adding some calming yet playful vibes to any room? Both these designs are perfect for bringing in some much-needed color into dreary and dull rooms!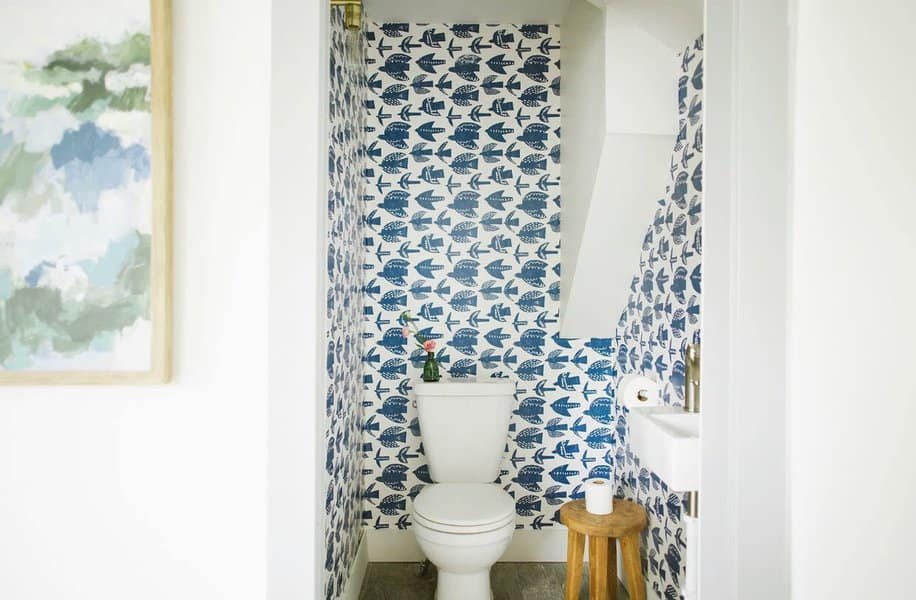 7. Mystical Fog
Trees with fog wallpaper give any room an intriguing, mystical vibe. This is perfect for minimalist rooms that don't need too many extra elements to add personality.
Plus, this type of wallpaper brings in elements of nature with its natural tones and visuals!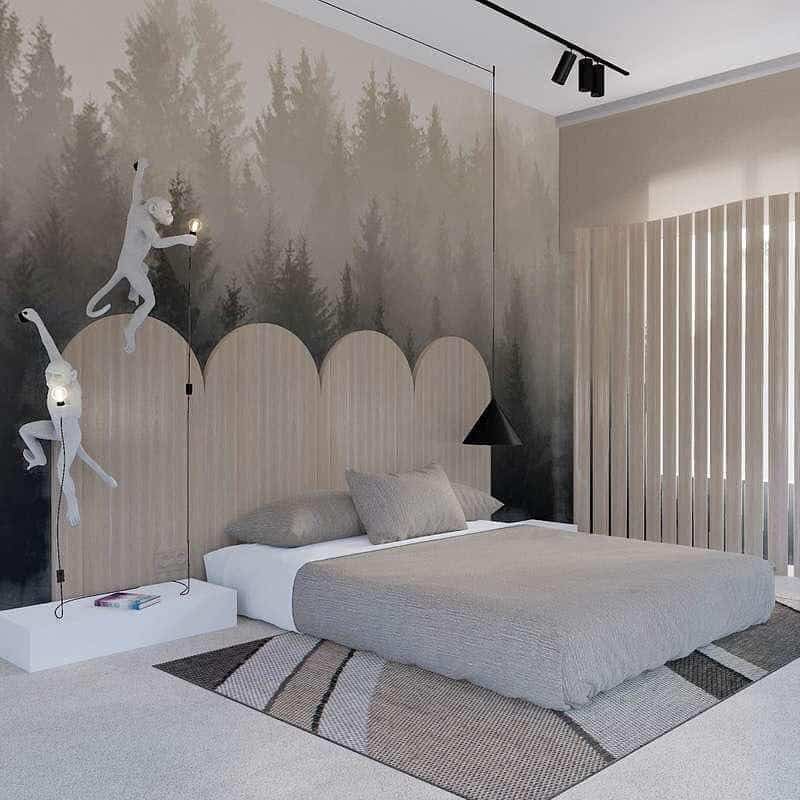 8. Repetitive Patterns
Give your home a makeover with vibrant wallpapers that combine repetitive geometric patterns and bold color choices! The possibilities are endless as wallpapers can be used to revive dull walls, introduce texture, and add some degree of visual sophistication.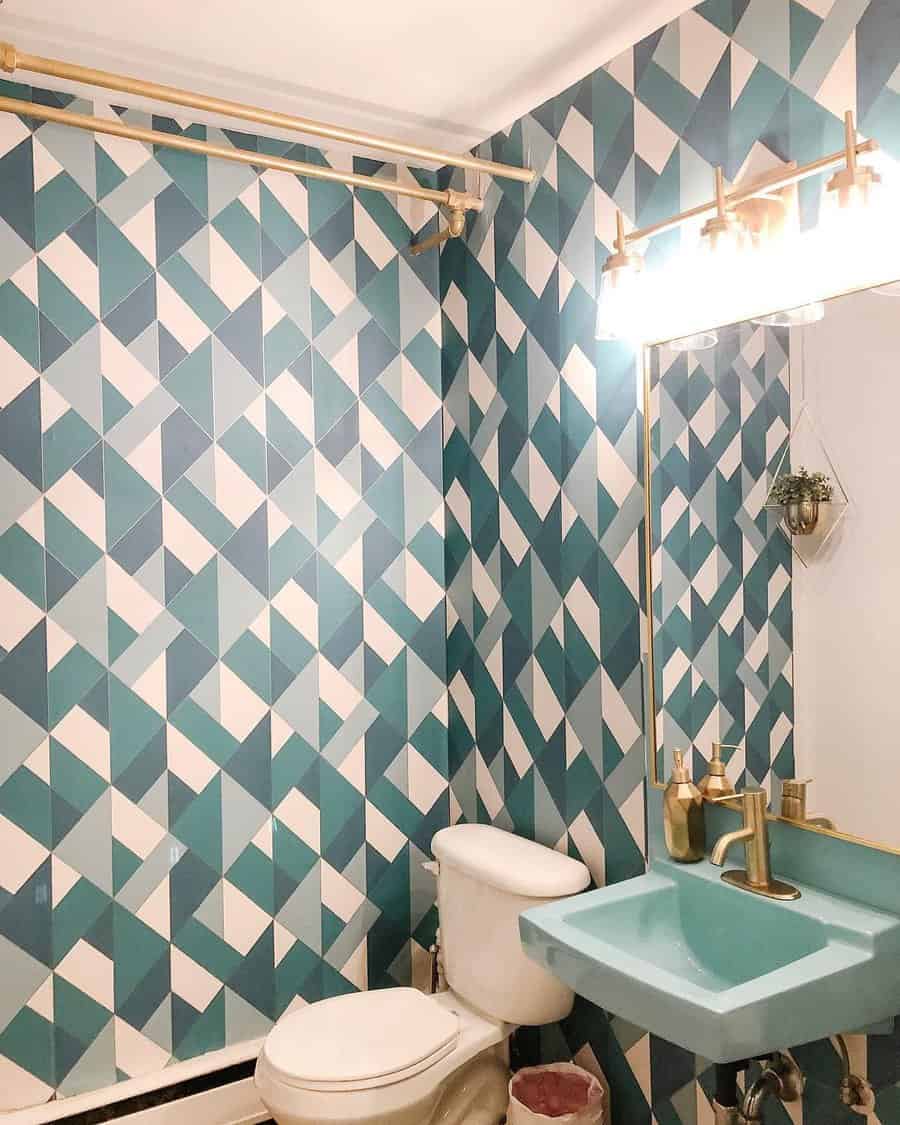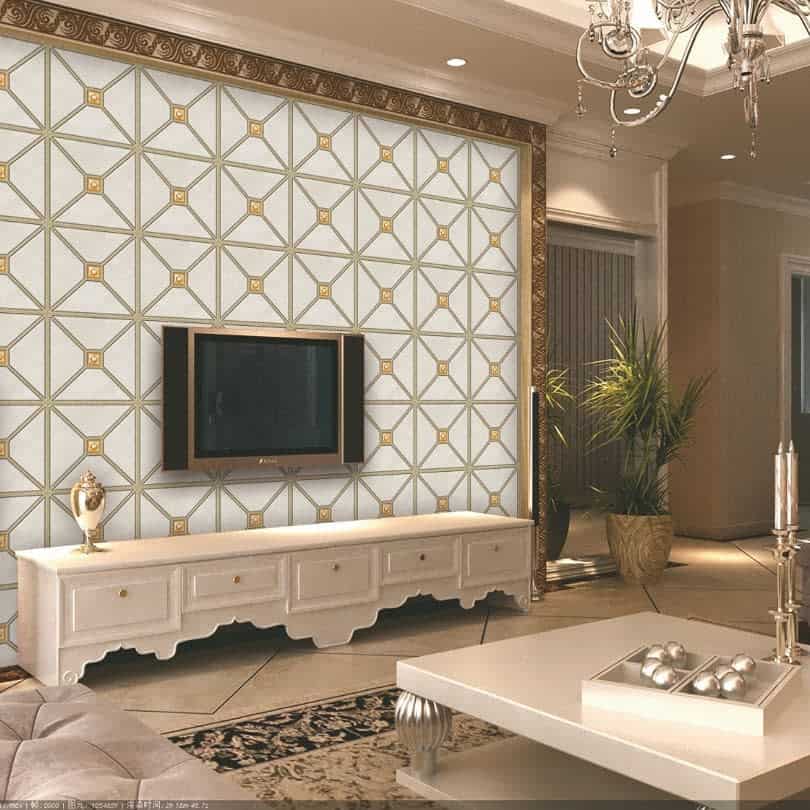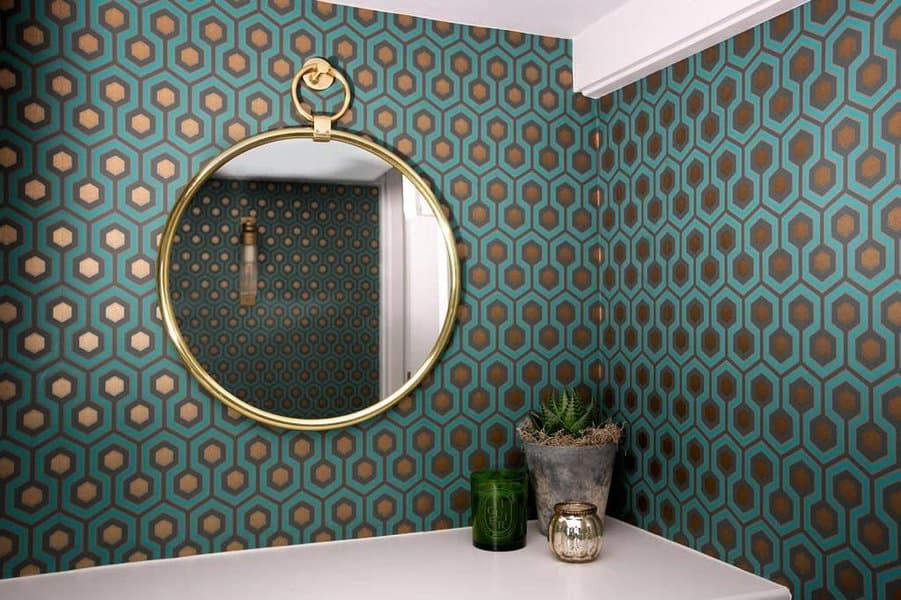 For a classic and timeless look, opt for visuals of floral designs combined with gold fixtures to bring a touch of luxury into any space. Whether you're looking for something subtle or loud, the choices are limitless with wallpaper; it's sure to add charm and style to any home!
9. Mosaic Tiles
Give your interior décor a unique and standout look with mosaic tiles arranged in intricate patterns. Whether they stylishly flank the walls of a spacious bay window, or boldly line the entrance hall, mosaic tiling is an elegant and edgy finishing touch that helps transform living spaces into a sophisticated habitat.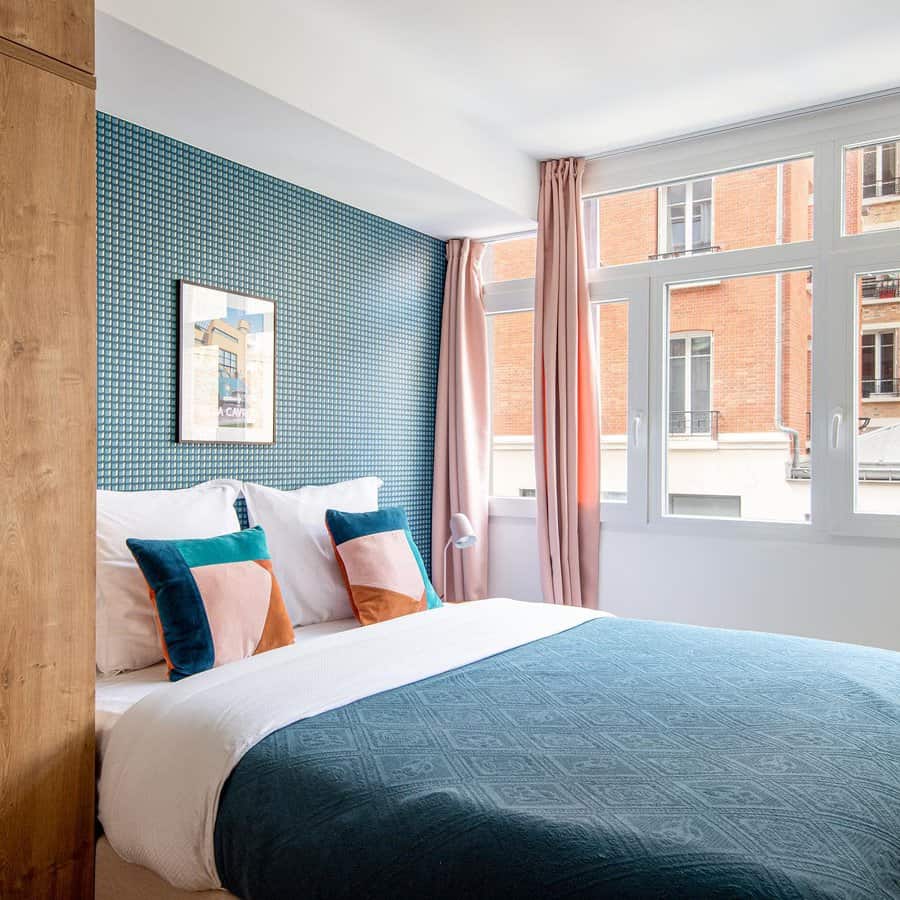 10. Black On Black
Nothing says sophistication and masculinity like black print wallpapers on matte black walls. Wallpapers can be used to add a touch of class to any home. Using black prints, either in the form of geometric shapes or an understated pattern, adds character and a dramatic flair.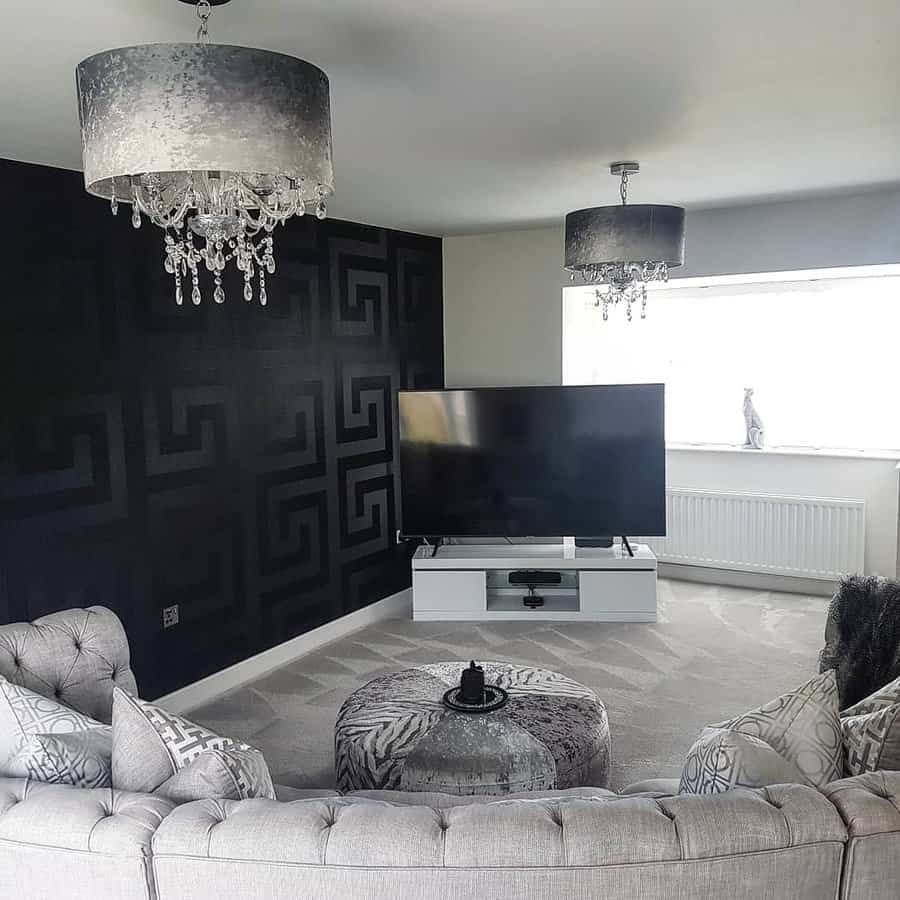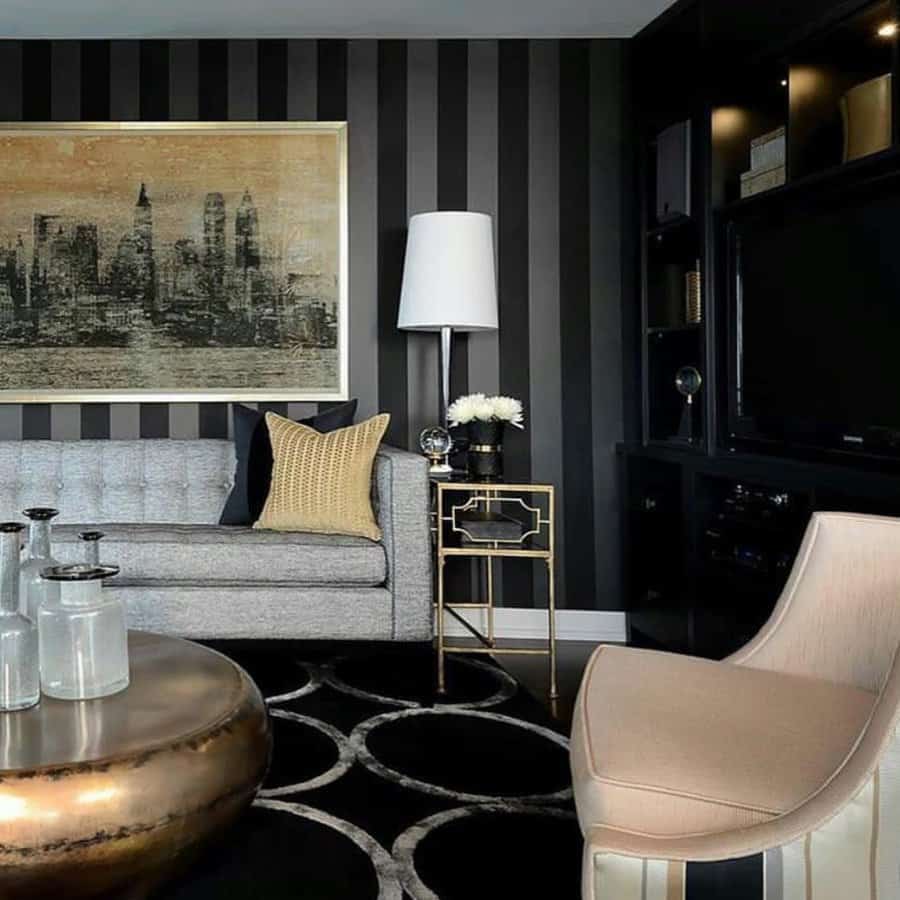 When combined with the already powerful black walls, the resulting look is sure to turn heads. Whether used for an office space or just a single feature wall in the living room, black print wallpapers have the capacity to elevate any interior design style.
11. Stamp Overlay
Get creative with stamped mural art or an overlay technique to make your grey walls stand out in any room. Add an elegant touch to your dining area with texture and design, while still keeping it classically modern.
Whether you want something vibrant and eye-catching or a neutral palette that doesn't take away from the atmosphere, there are wallpapers available to suit every home's look.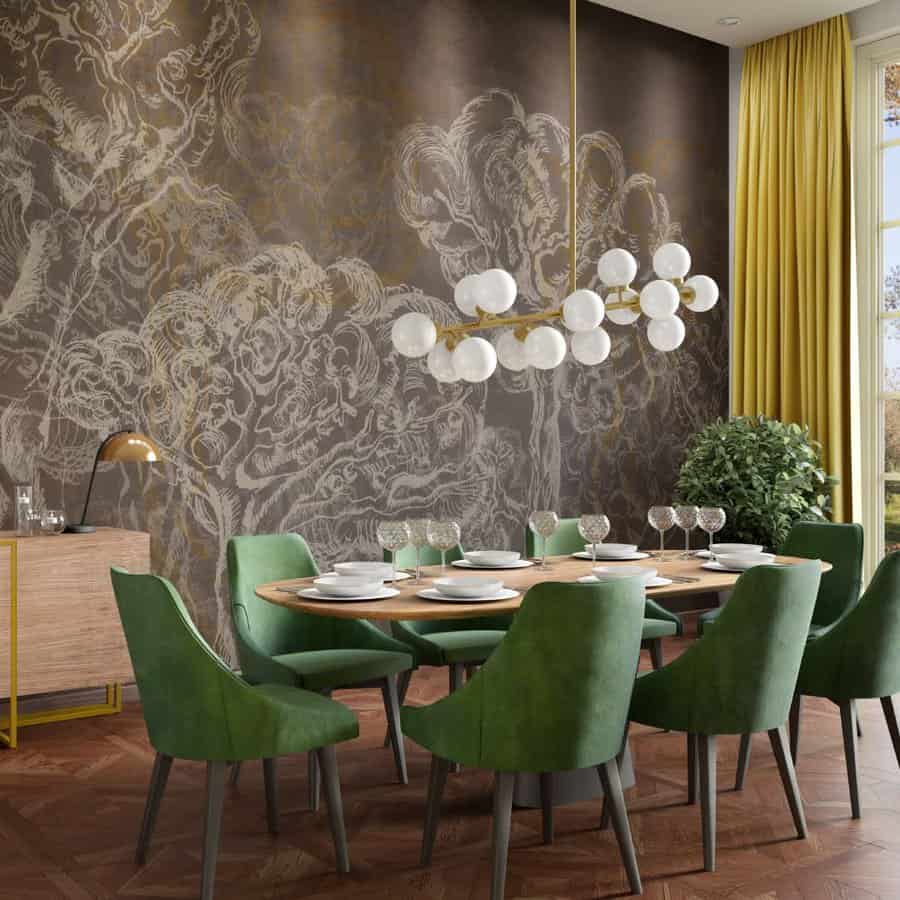 12. Venetian Ceiling Accent
For those who want to add drama and character to their living space, why not consider a Venetian ceiling mural with a chandelier? Pair it with limewash walls and elegant furniture for a truly eye-catching display that will wow your guests every time.
For those of us who appreciate style too, wallpapers can be used to enhance elegant furniture and even bring out the luxuriousness of existing pieces.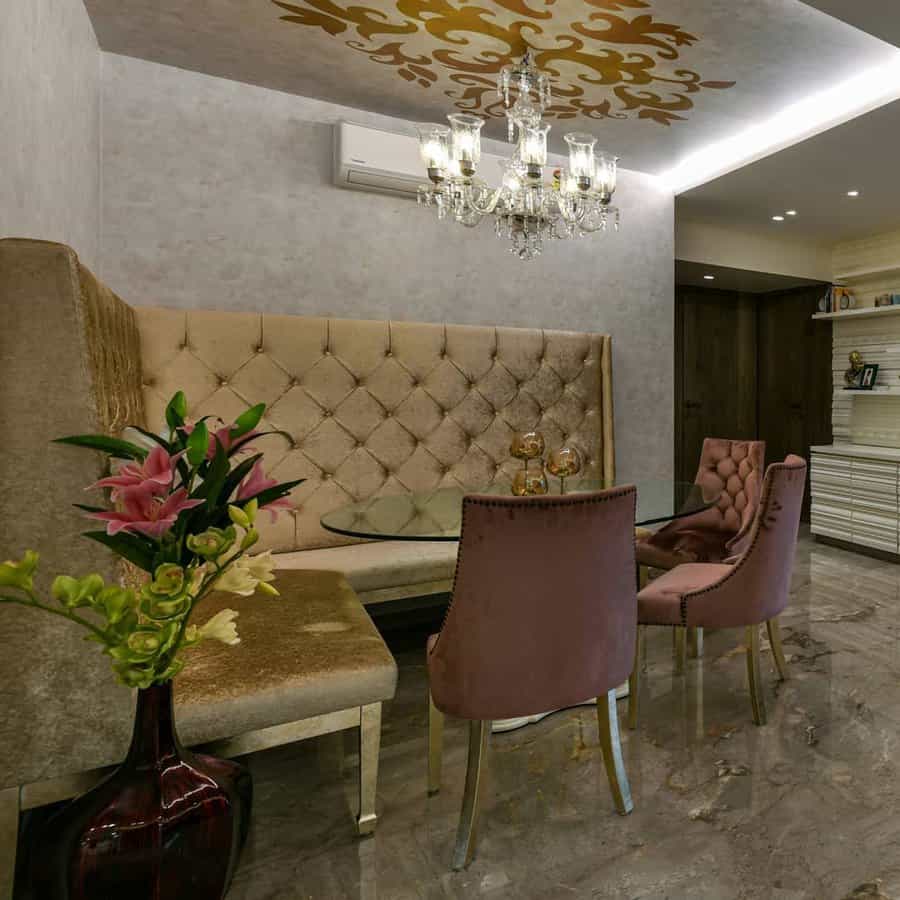 13. Natural Stone Effect Tiling
Coordinating natural stone effect tiles with century-style furniture and decor can turn any home into something truly elegant.
Wallpapers designed to look just like natural stones provide texture, dimension, and a timelessly chic vibe that works together beautifully with the craftsmanship of older-style furniture to take your home's interior design to the next level of class and sophistication.
An array of color choices also let you customize your own unique look, whether you want an earthy natural feel or a more vibrant energy in the room – perfect for any modern home.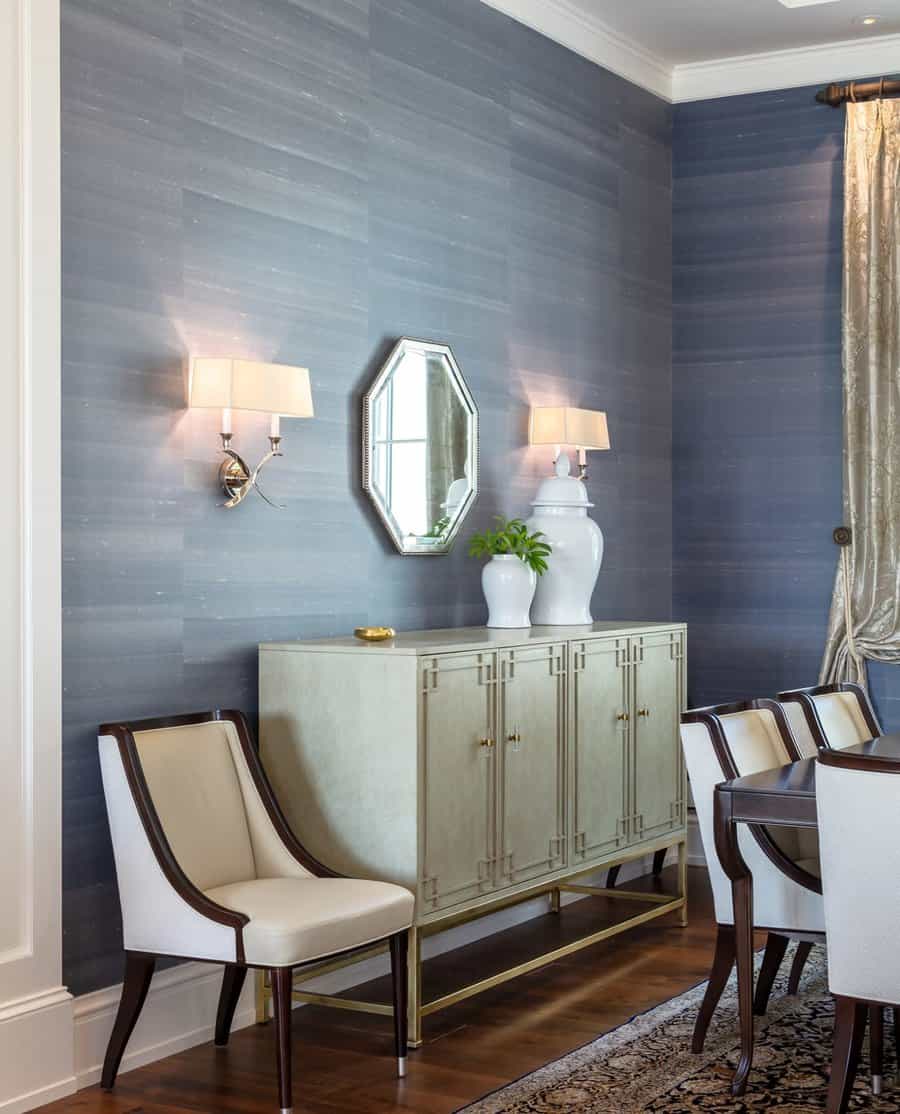 14. Vintage Floral
To create a vintage-inspired atmosphere in the home, consider jazzing up the walls with a vintage floral mural. It's a subtle but powerful way to add visual interest and texture to the room.
Choose muted colors with olive green as an accent to match velvet furniture and styled decor for maximum coziness. This look is timeless and enhances any mood with just the right amount of vintage flair.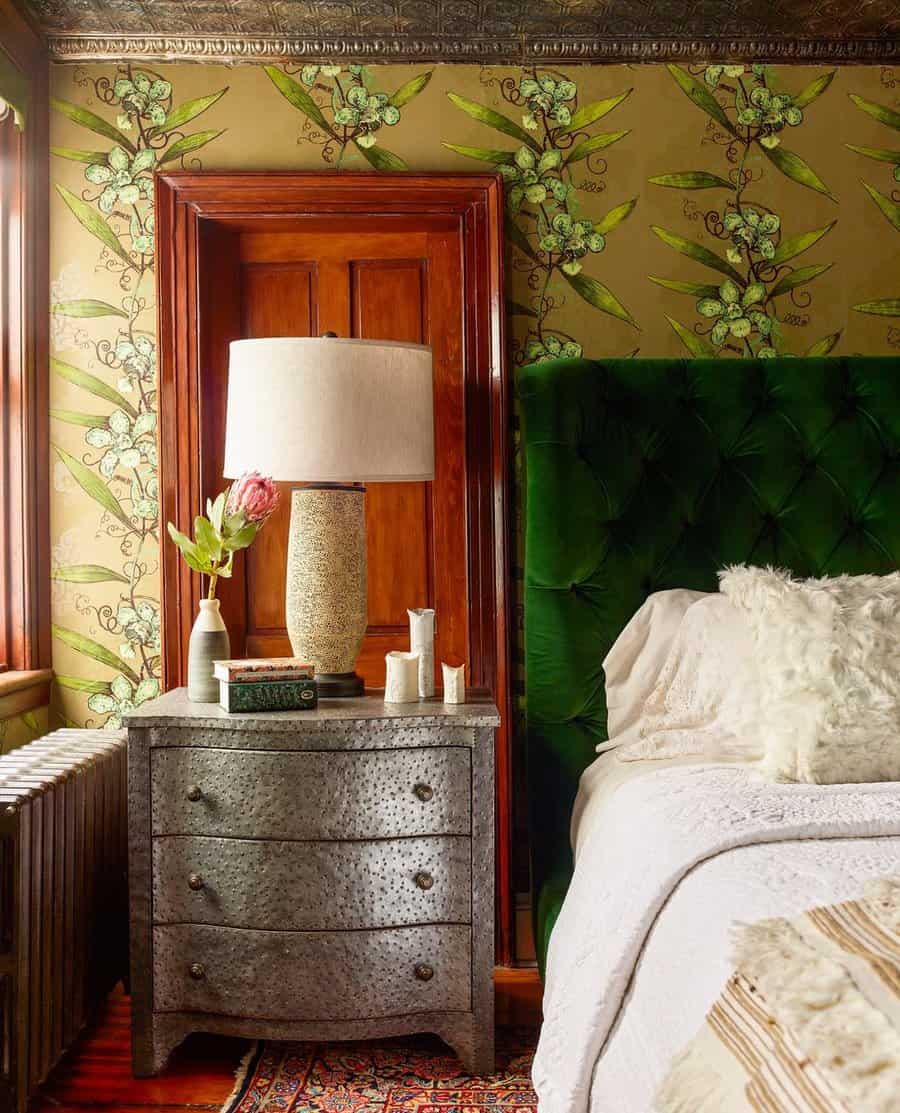 15. Asian Modern Zen
Asian modern-style wallpapers are a unique and creative way to decorate your home. They have become popular over the last few years, offering an eye-catching blend of Asian traditional motifs with a modern twist. For example, consider bringing life into your living room with a jungle design wallpaper in a deep red hue.
This bold design will transform your space into something extraordinary and unique that you can be proud of. Not to mention, Asian modern wallpapers are intricately designed and come in a range of colors to best suit any color palette you might have in mind for the room.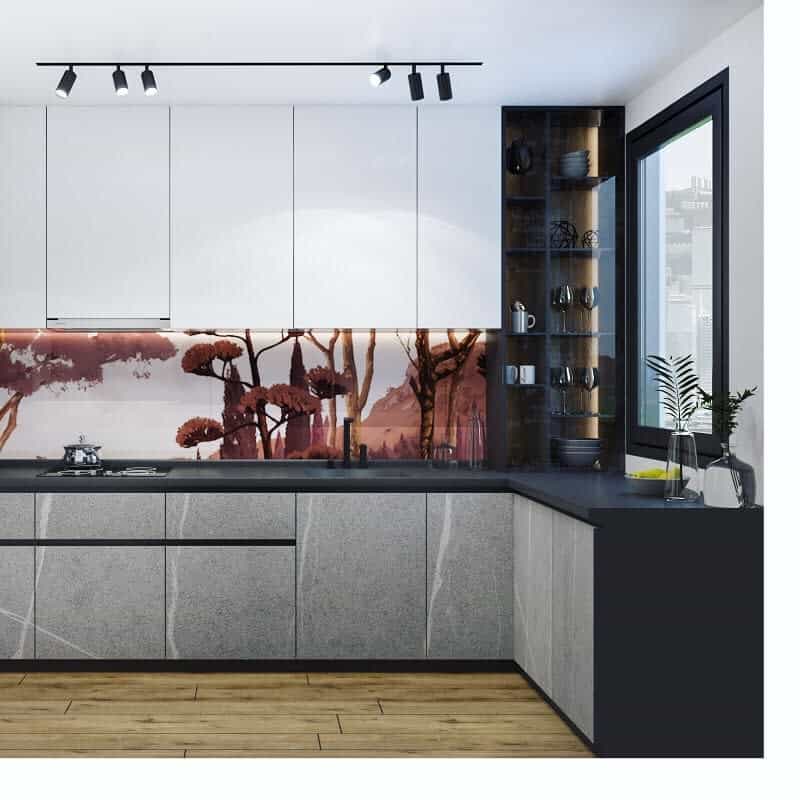 16. Persian Tiles
Home decor has evolved greatly over the years, and an easy way to spruce up any room is with the perfect wallpaper. Persian decorative tiles can provide a unique look paired with white walls while adding bright red kitchen cabinets could be just the touch you need to make your kitchen truly stand out.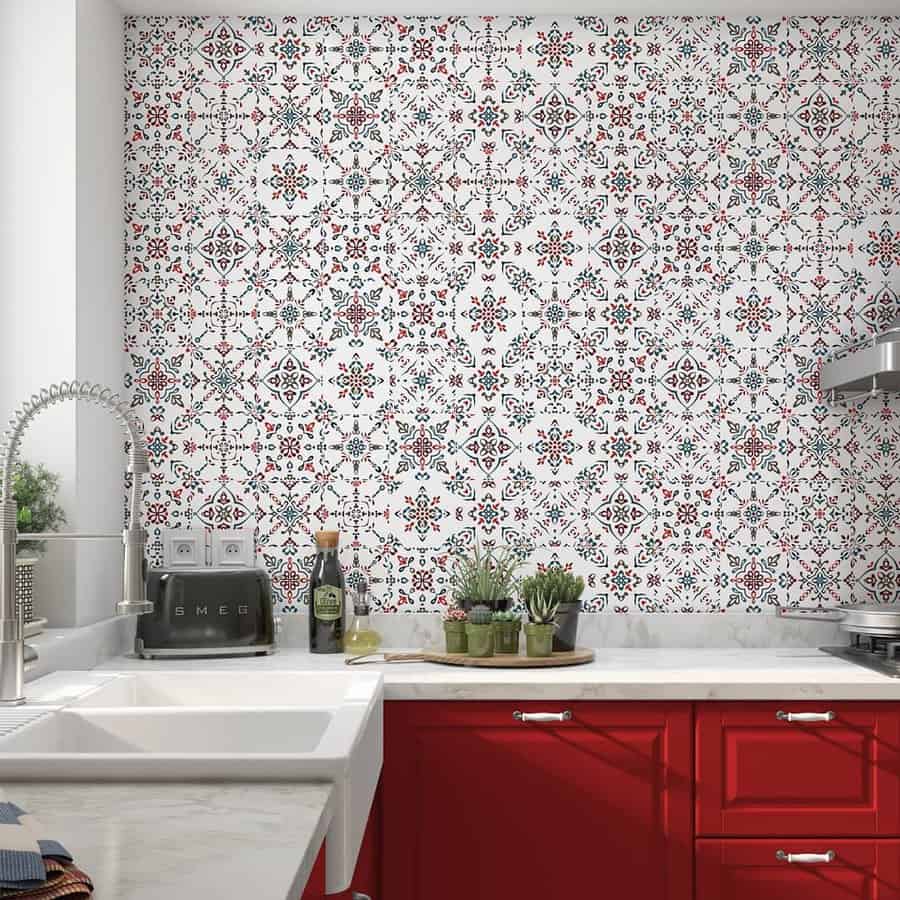 17. Black & White Geometric Deco
Transform any room in your home with black and white geometric deco wallpaper. Its bold pattern adds an eye-catching modern touch to a space that needs an extra spark, and its black and white coloring ensures it will gell regardless of the other furnishings in the room. If you have a mundane grey small kitchen, why not spice things up with black and white geometric wallpaper?
It will give your kitchen character and will surely become the centerpiece. And if you can't decide what pattern to choose, black and white is always a safe bet. So why not try black and white geometric deco wallpaper today?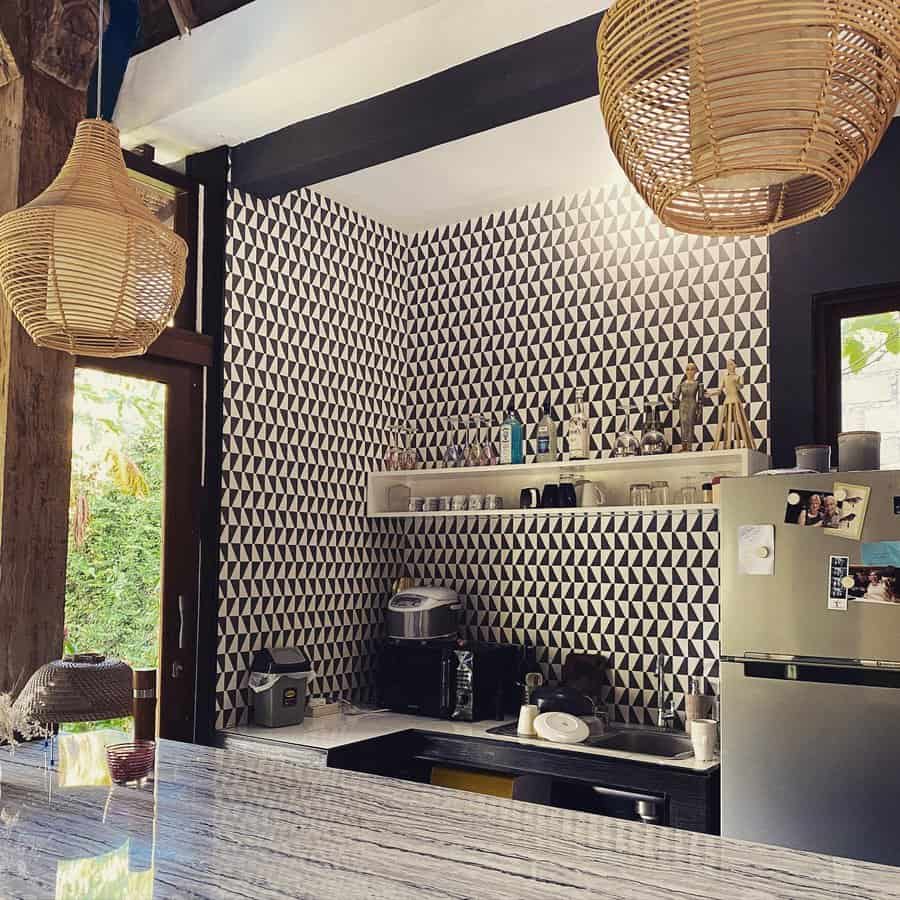 18. Cozy & Vibrant Floral
Wallpapers are the perfect way to spice up your home interior and create a cozy, vibrant atmosphere. Imagine floral prints with dark blue backgrounds suspended on every wall – refreshingly beautiful! Such eye-catching wallpapers provide that extra 'oomph' to any home. Not only does it bring a new life to the room, but also provides a timeless appeal.
You don't have to spend much to redecorate your home or office; just some creative strokes and a floral wallpaper combined with the right color palette will do wonders!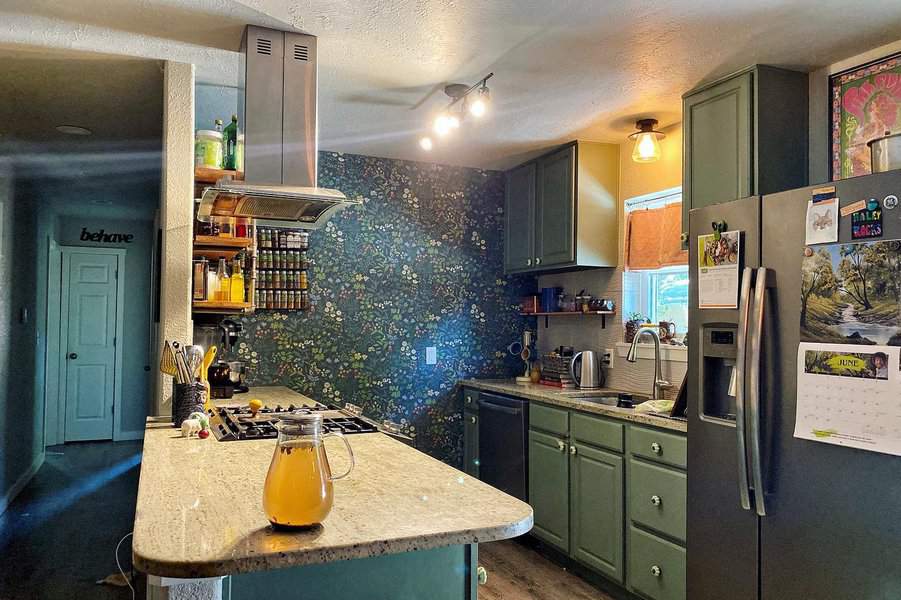 19. Tropical
Transform any room into a tropical paradise with tropical wallpapers. Go for bold prints of tropical leaves and birds or subtle, framed florals that provide a more subtle tropical look. Alternatively, add a touch of glam to your interior with metallic and sparkly wallpaper in silver, bronze, or gold tones. The combination of tropical wallpaper and gold furniture gives any space a chic, glamorous feel.
In addition to tropical wallpapers and gold furniture, you can enhance the look with matching textiles like rugs, cushions, and curtains; this will help complete your stunning tropical-meets-glam chic interior.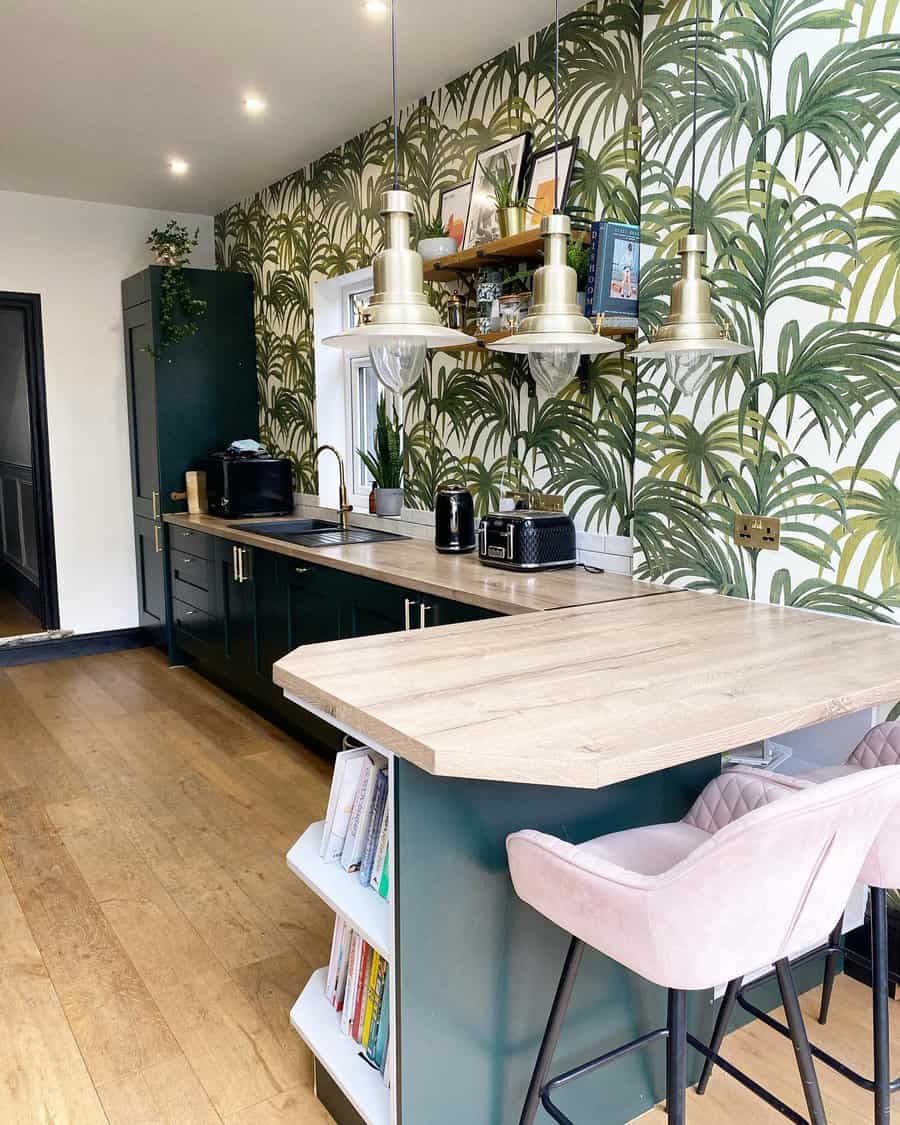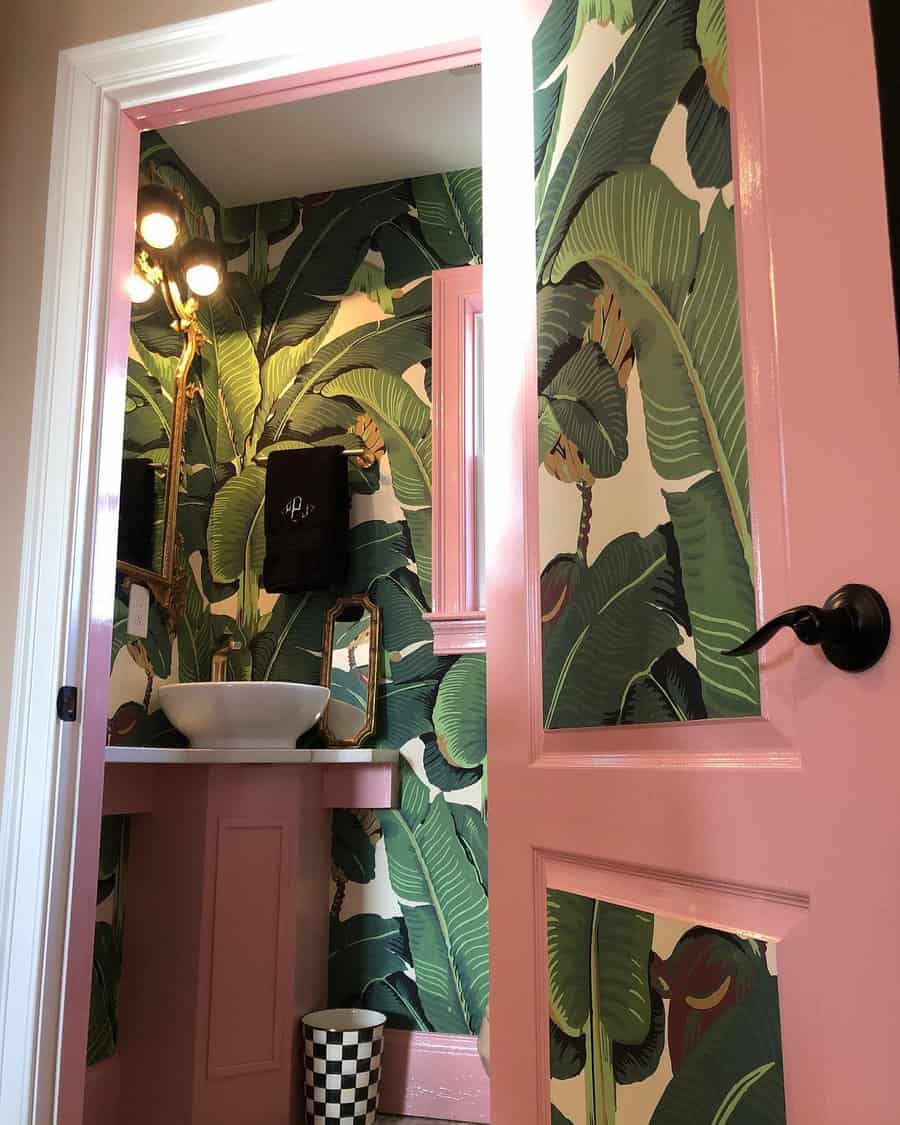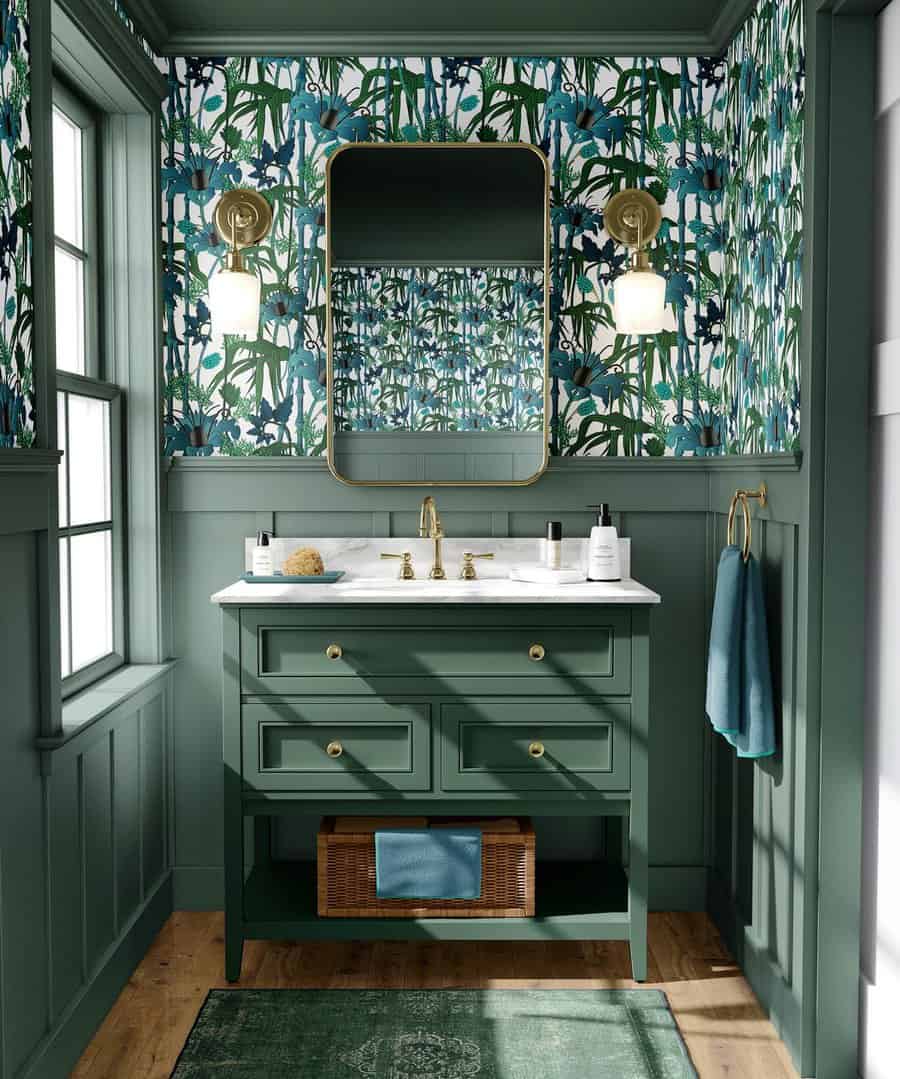 20. Brick Look
Faux brick wallpaper is a great option for those who want an urban feel in their environment. For anyone with an all-white kitchen, a faux brick wallpaper accent wall can bring some warmth and texture that your space is begging for.
And if the faux brick isn't your thing, there are plenty of options from bold geometric prints to traditional florals; the possibilities are endless!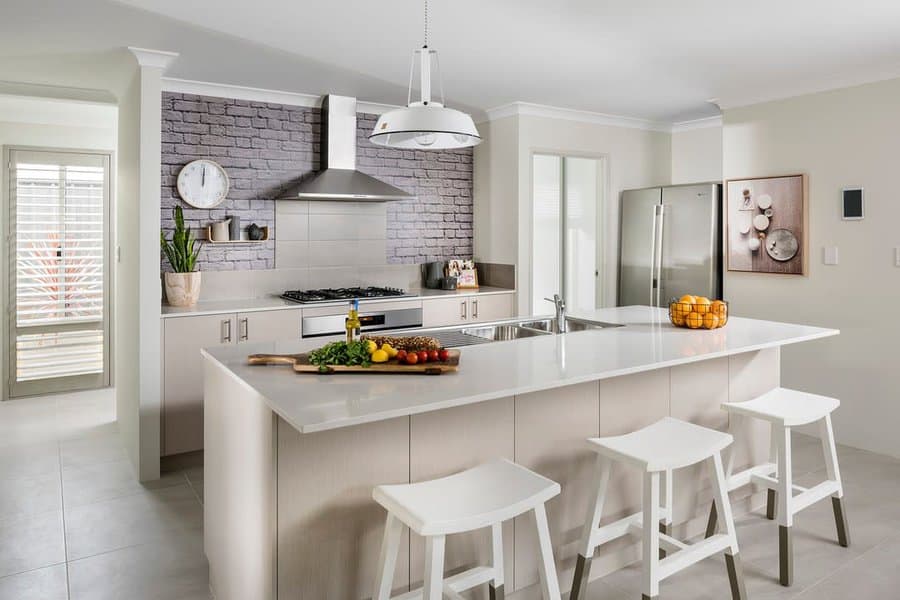 21. 3D Leading Lines
Wallpapers for the home can transform an ordinary living space into something extraordinary! 3D leading lines help to create a multi-dimensional "pop", taking any room to life. If a movie room is what you're after, there is a range of 3D wallpaper patterns that will make you feel like you're in your very own film theatre.
The 3D color gradients, along with light and dark contrasts will give your walls an air of sophistication and style. Bring out the creativity when selecting wallpapers for your home – break away from boring paint and explore the special 3D effects wallpaper can offer.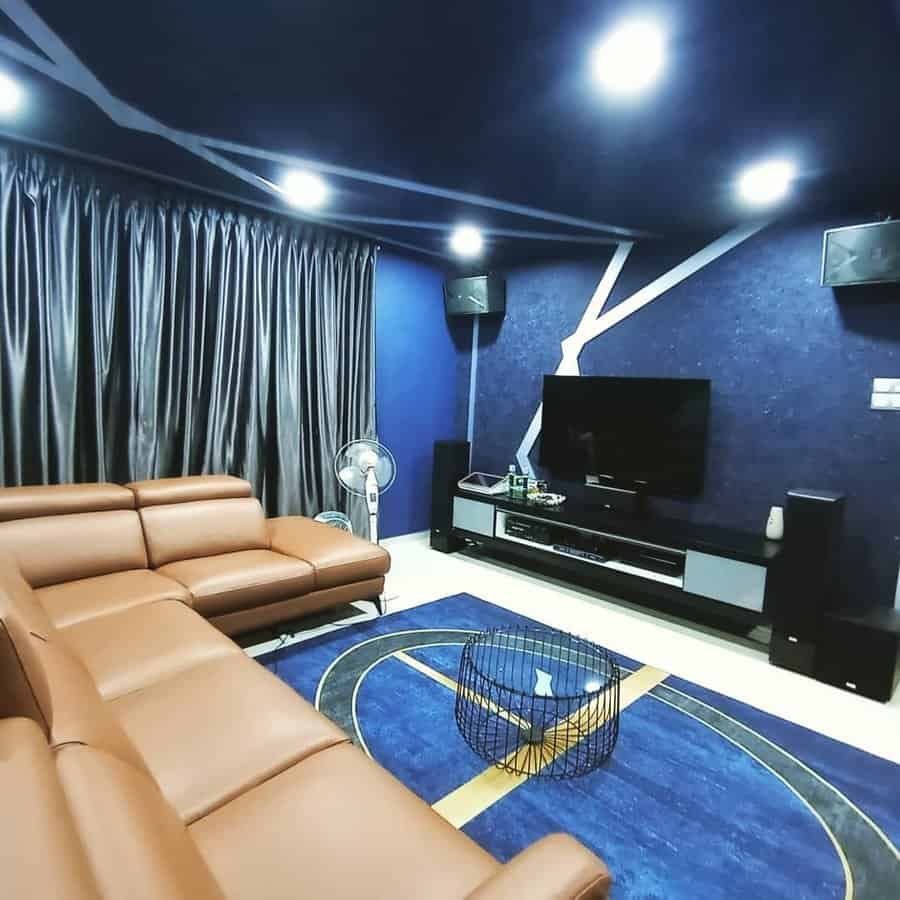 22. Dual-toned Stripes
Dual-toned stripes can work wonders in any room. Try pairing a deep midnight blue with a bright pastel color on the walls of a teenage boy's bedroom, to create an inviting dark blue interior that stands out without being too distracting.
Instantly energize your home and soothe away tension with our selection of wallpapers designed specifically for the home.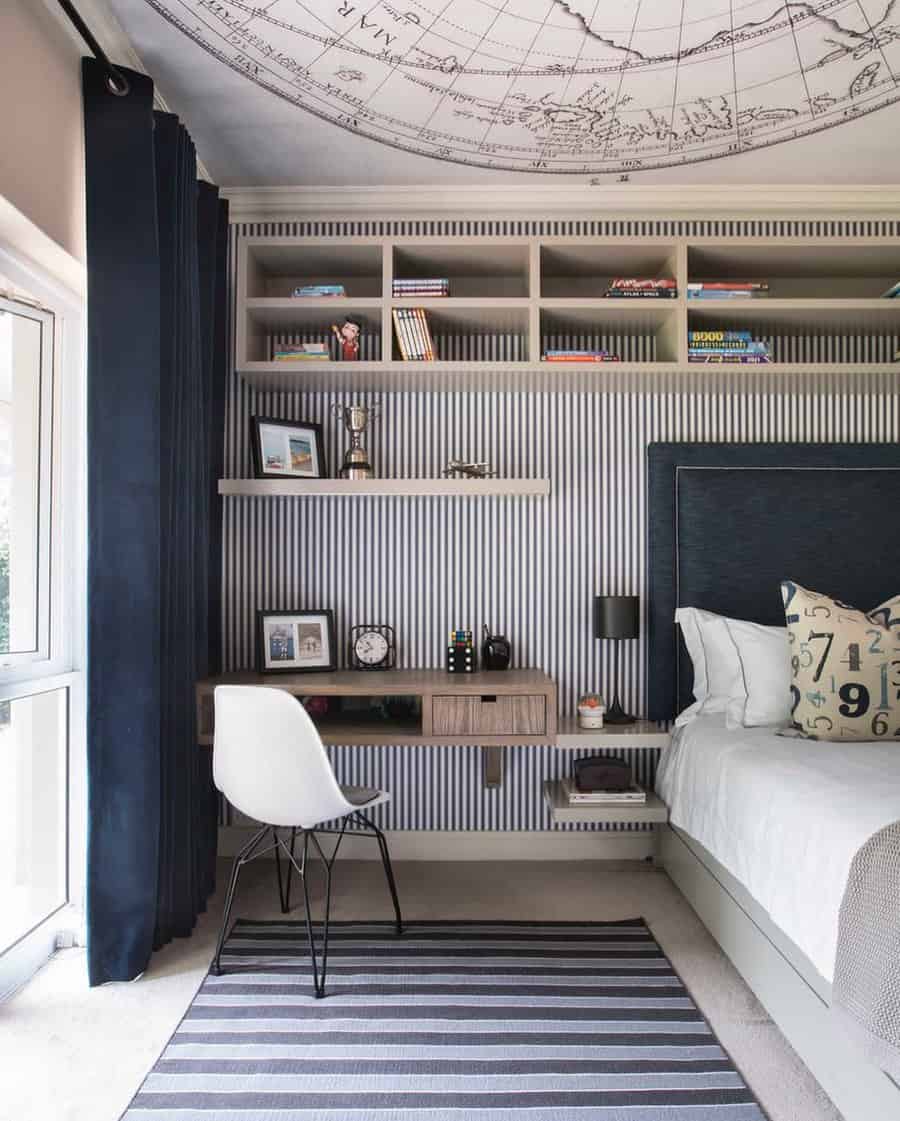 23. Stereoscopic Geometry
If you're looking to add some flair to your lounging area at home, stereoscopic wallpaper is an excellent choice. With its bold shades of blue and hints of gold, this striking geometric paper can instantly enliven any room. T
ake things one step further by installing constellations made from tiny lights that pop against the stereoscopic pattern – especially in dark corners or near a favorite reading chair.
Whether it's just for one room or throughout the entire house, stereoscopic wallpaper is sure to leave a lasting impression.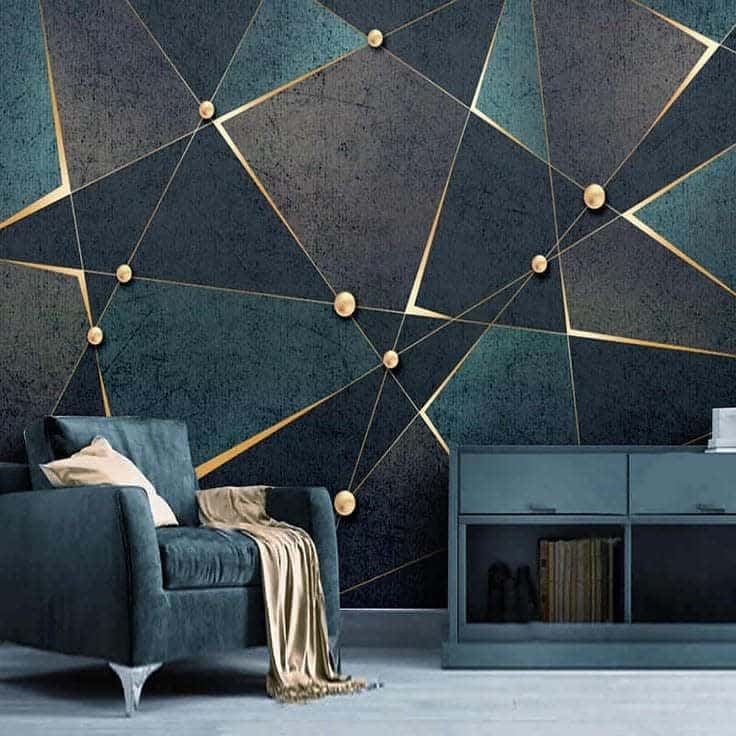 Wallpaper FAQs
Can wallpaper be modern?
Yes! Wallpaper can be modern in both how it's applied to the wall and the design that's created on it. Modern wallpaper doesn't use the traditional paste method. Instead, it's a peel and stick application, making it easy to remove when you move. Modern designs embrace large-scale or mural designs. It could also have a realistic texture or a 3D design.
Is wallpaper cheaper than paint?
Wallpaper can be cheaper than paint, but it depends on the type of wallpaper and paint that you are comparing. You also need to consider the tools needed to apply them both. You'll need to buy more tools to paint than you will need for wallpaper.
Does wallpaper damage the wall?
Wallpaper can damage your walls. When wallpaper wall coverings get applied directly to the drywall, you risk damaging the drywall when you remove it. Peel and stick wallpaper tends to be less damaging, but it can also cause damage if it isn't applied or cared for correctly.