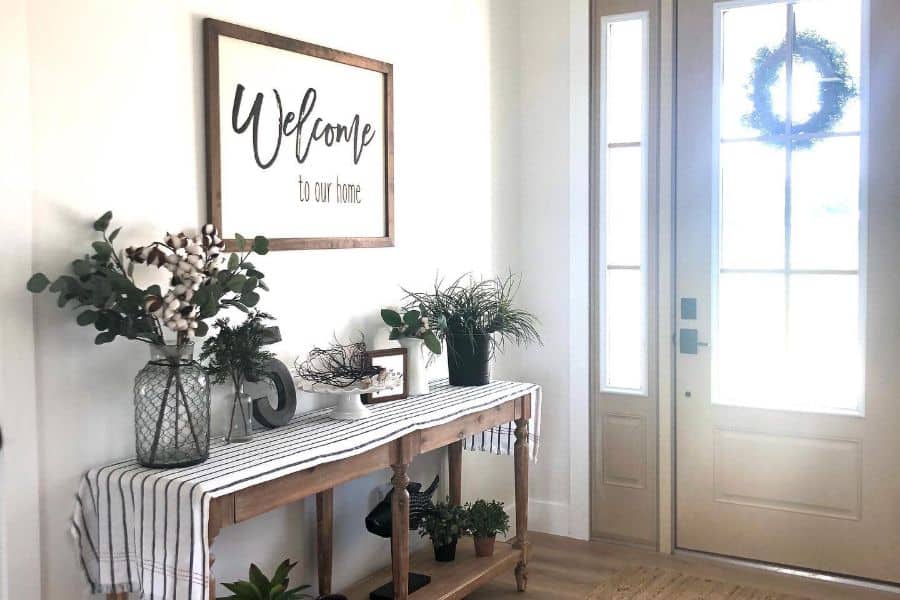 55 Welcome Sign Ideas for Your Home
"A smile is the universal welcome." – Max Eastman
Add a welcome sign to your front porch and create a warm and welcoming front entrance. This increases the curb appeal of your home and gives your home some personality. You can also use a welcome sign to set the tone for an event you're hosting. They are commonly used when hosting birthday parties, engagement parties, weddings, and baby showers.
The type of welcome sign you choose will let people know about your personal style. You could have a sign that's rustic, modern, mid-century, or Victorian. These welcome sign ideas will inspire you to add your own welcome sign to your home's entrance.
1. Wooden Typography Welcome Signs
Wooden typography welcome signs exude a timeless charm that seamlessly fits various home decors, from farmhouse aesthetics to contemporary settings. Opt for custom typography to reflect your style and personality. To elevate the design, consider pairing with seasonal wreaths or hanging planters. Ensure you treat or select wood apt for outdoor use if you plan to display it externally, safeguarding its longevity and appeal. Displaying it by the entrance ensures guests feel welcomed right from the outset.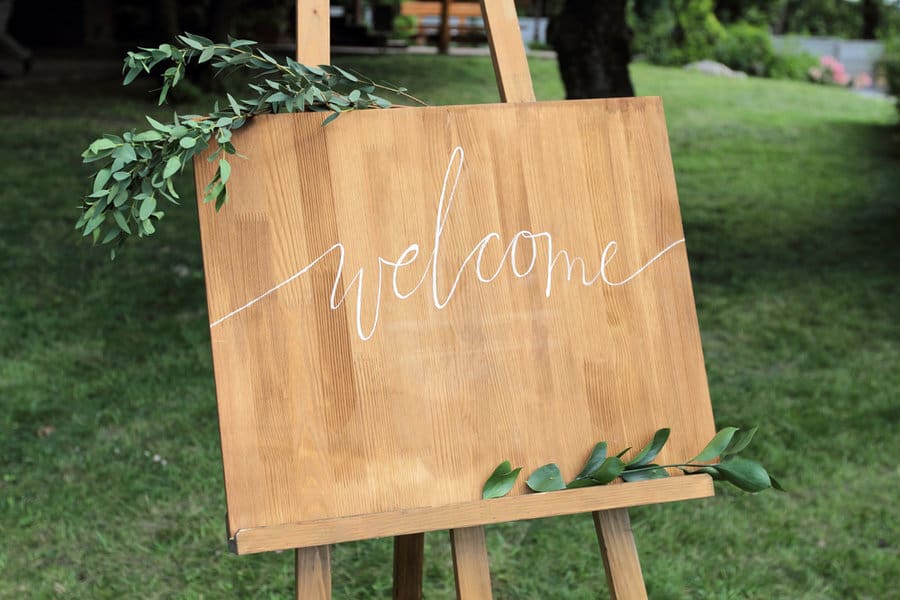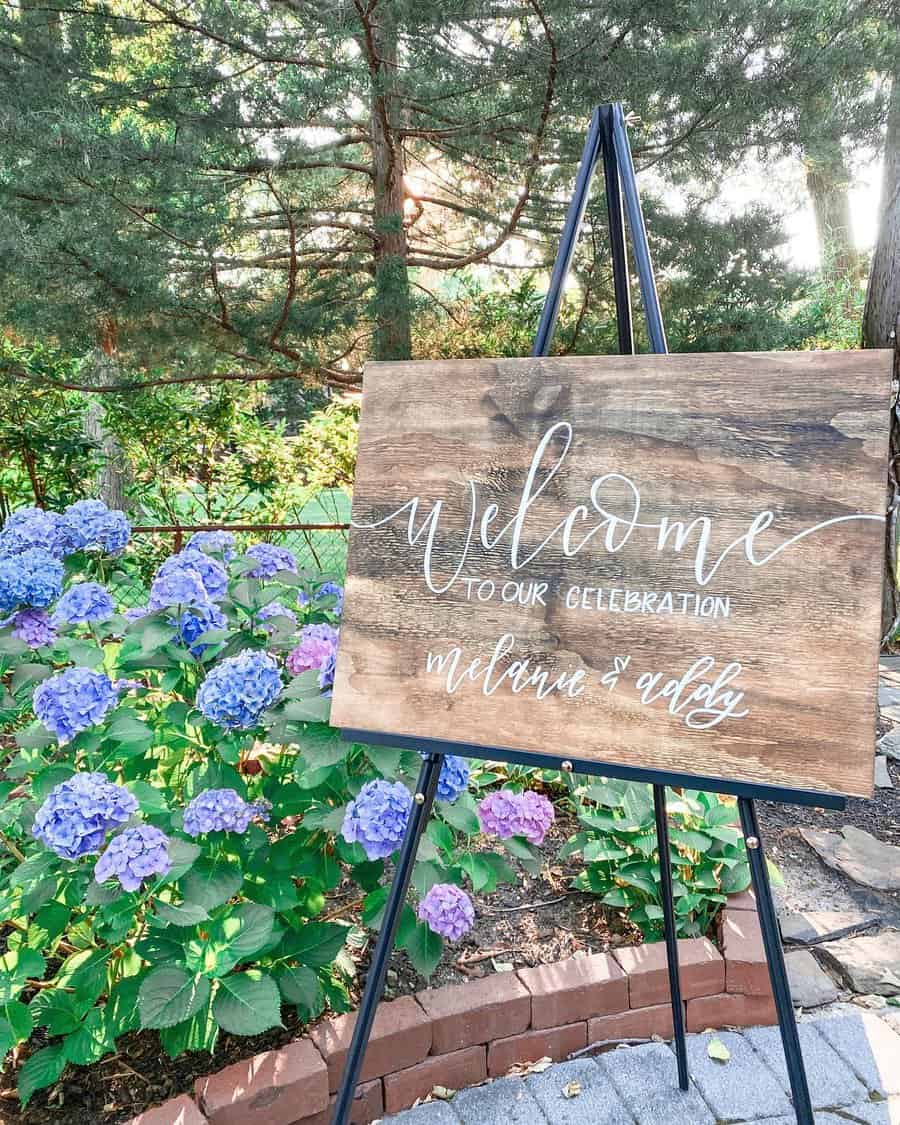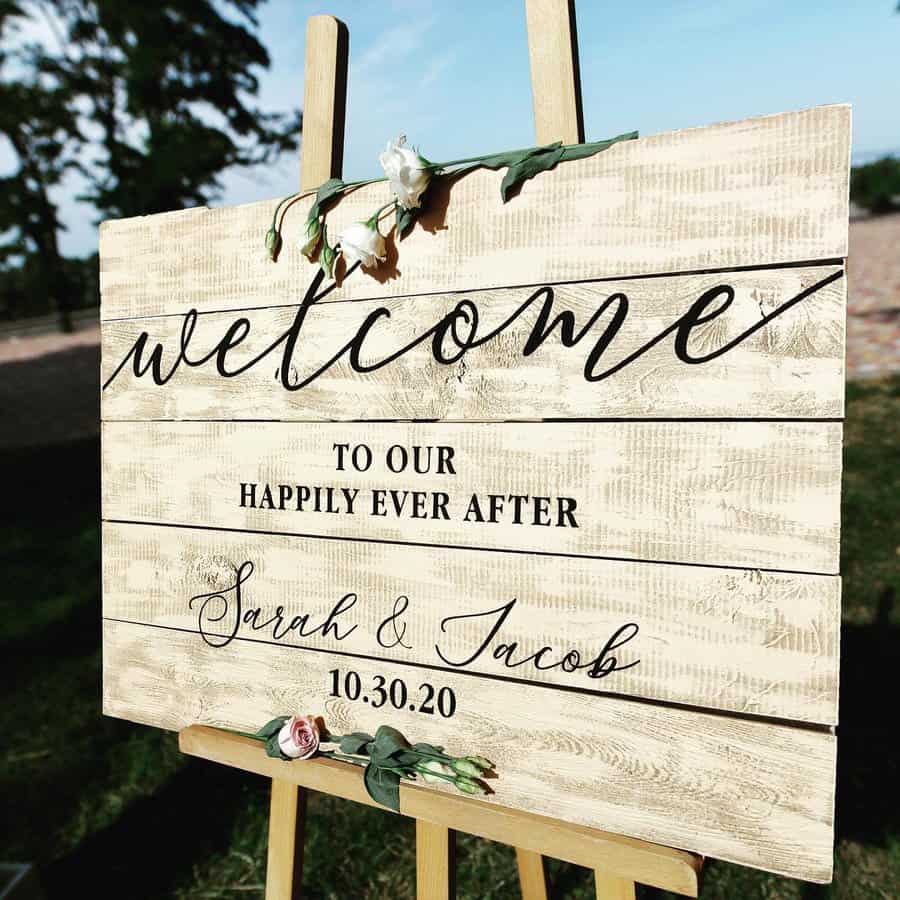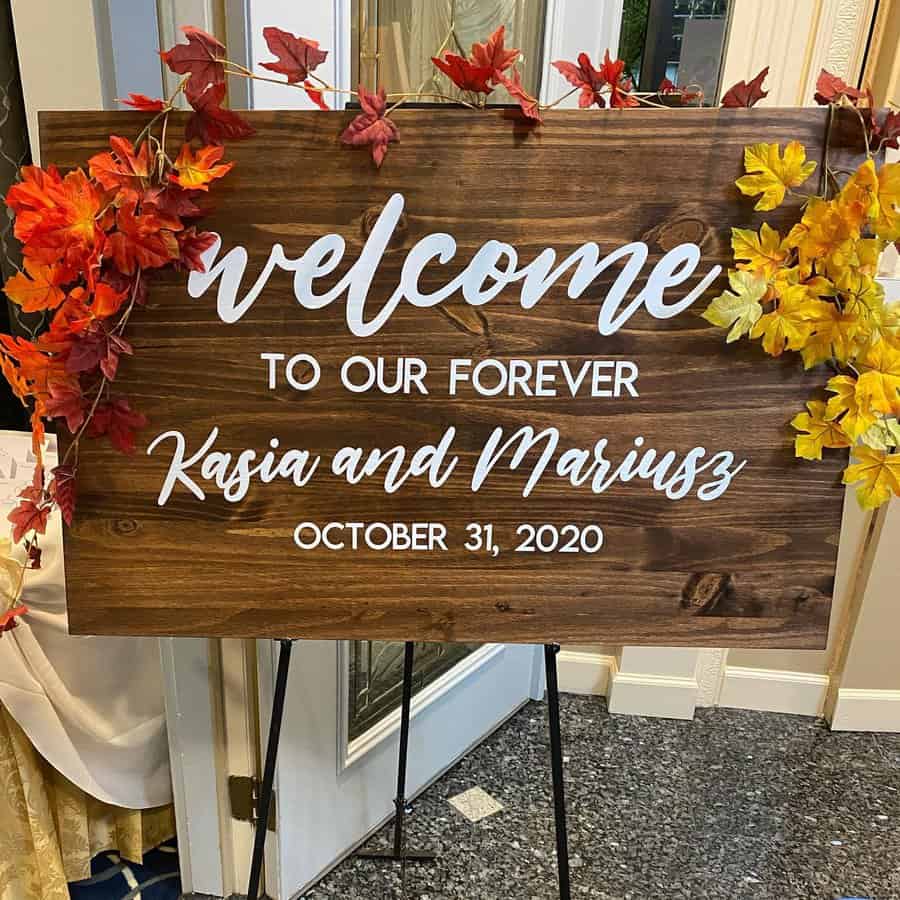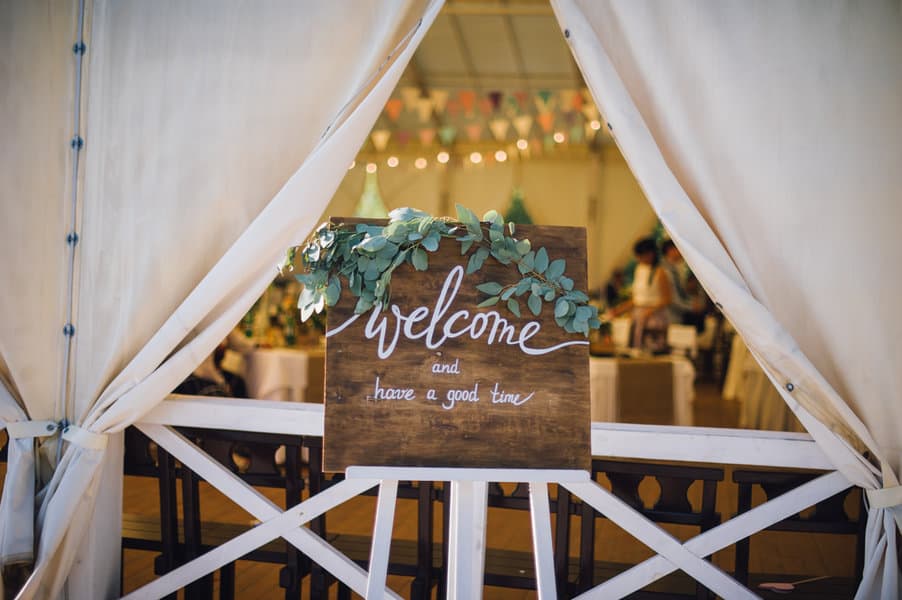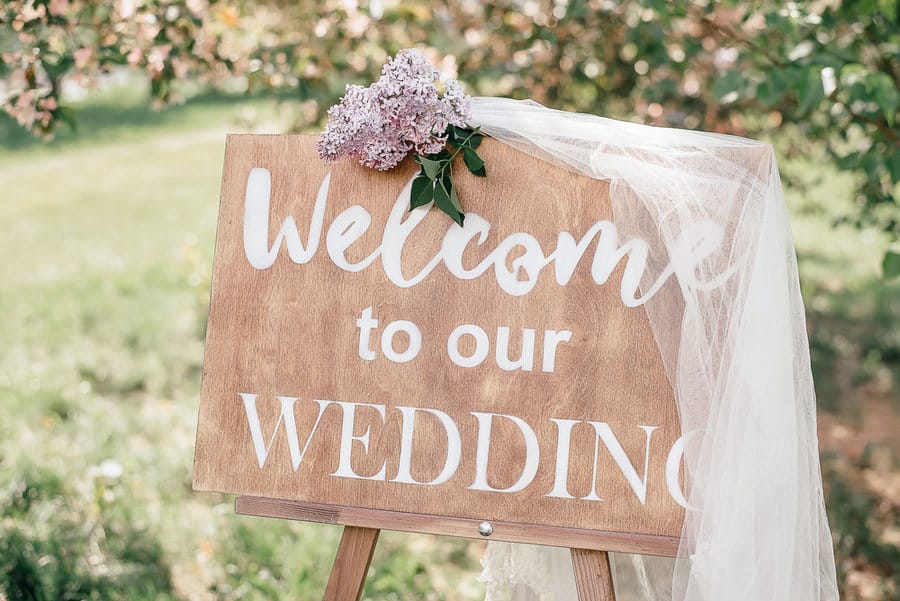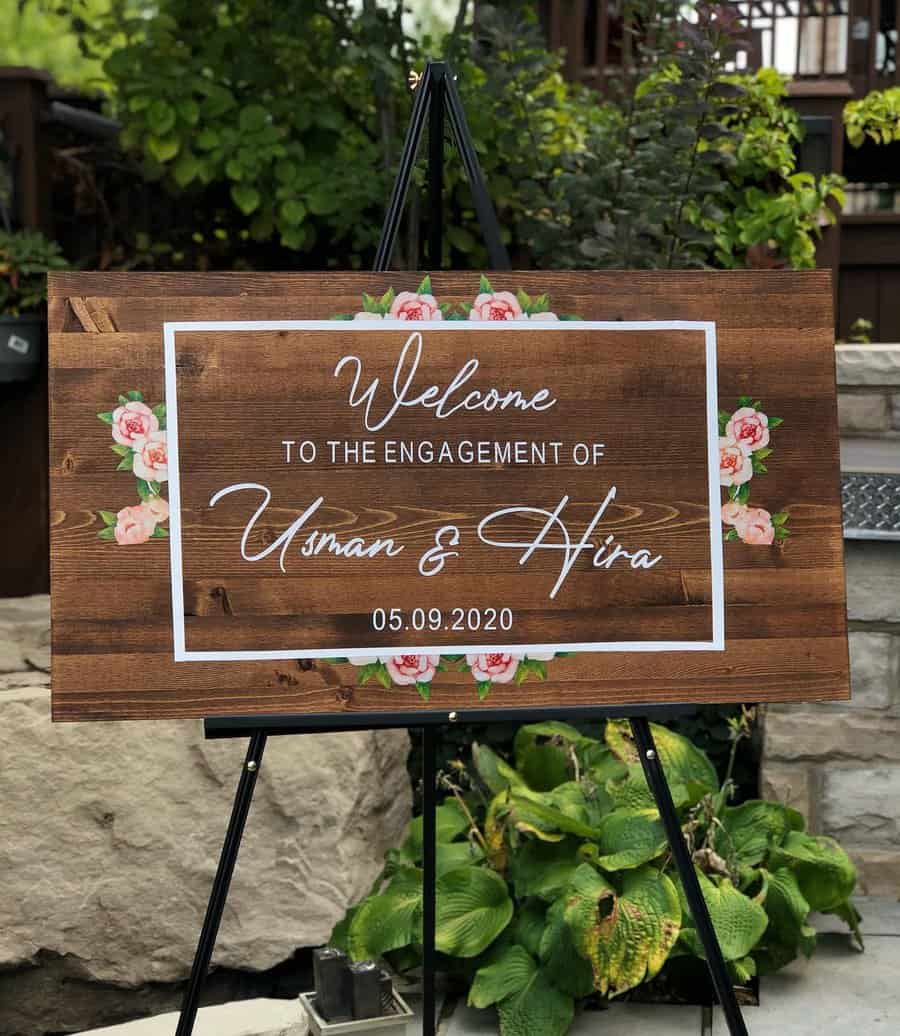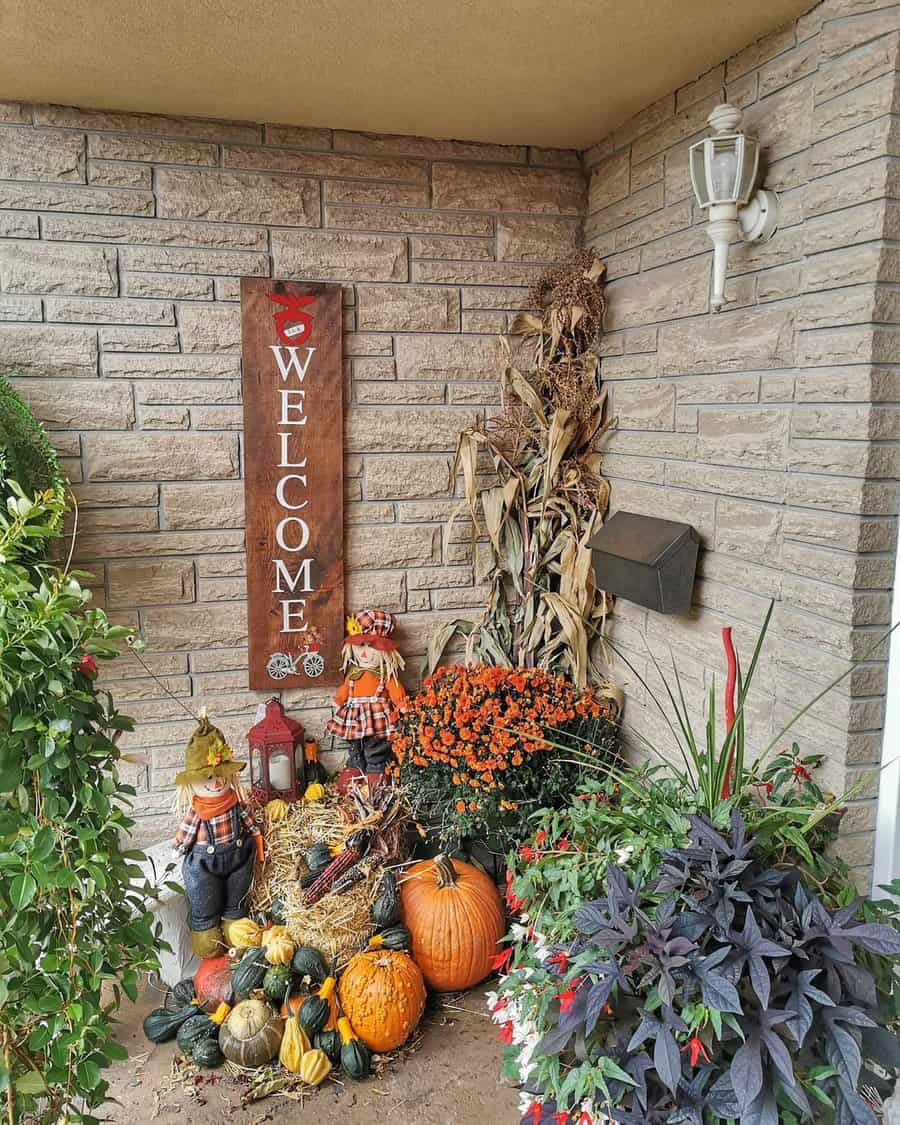 2. Metallic Home Welcome Displays
Metallic welcome signs effortlessly merge durability with design, promising longevity even in varying weather conditions. For those leaning towards an industrial or rustic appeal, these signs are ideal. To enhance their aesthetic, consider pairing with wooden or glass elements. Whether you're inclined towards minimalist designs or intricate patterns, integrating a metallic sign uplifts your home's exterior with character and sophistication.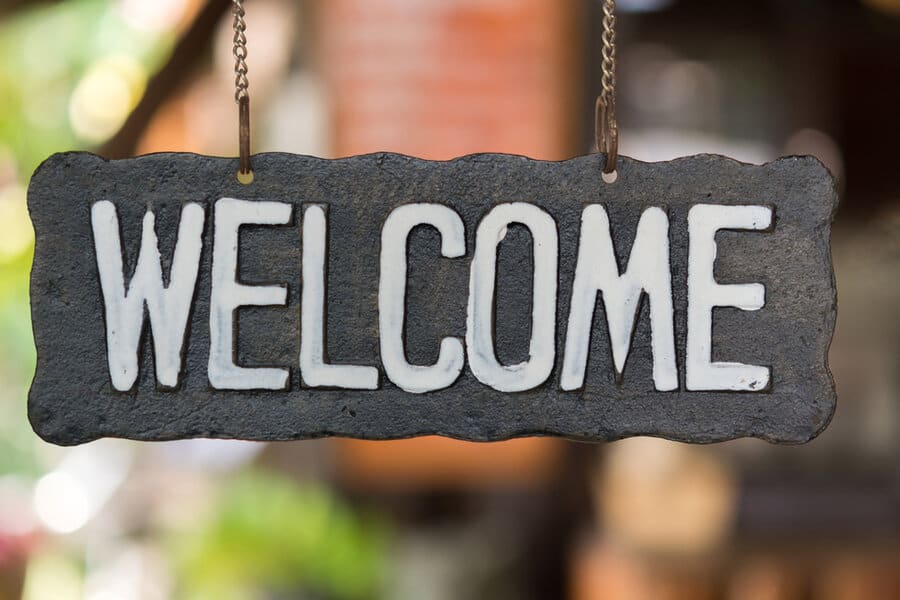 3. Greeting Guests with Welcome Pots
Welcome pots ingeniously blend nature's beauty with personalized messages, giving a dual delight of vibrant flora and warm greetings. Diversify by using pots of varying sizes and styles, and play with paint shades and designs to mirror your distinct flair. To maintain a continually fresh appeal, rotate plants according to the seasons, ensuring your entrance always exudes an inviting ambiance.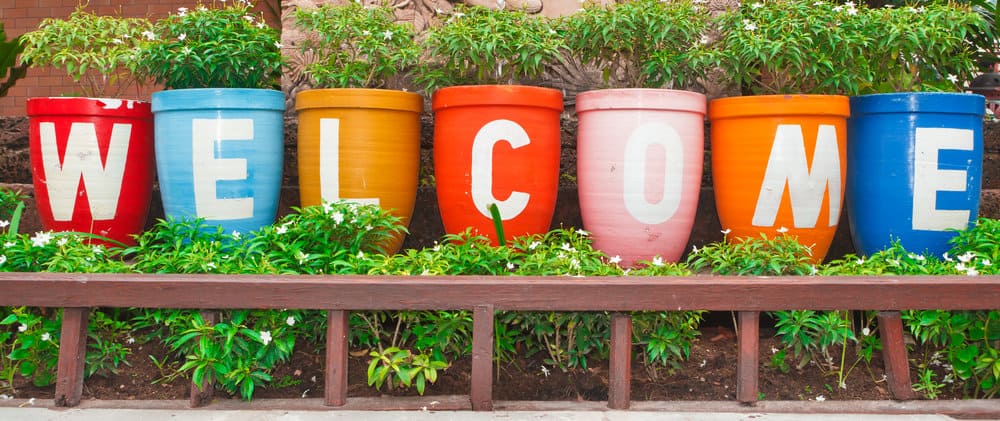 4. Artistic Chalkboard Entrance Signs
Chalkboard signs provide a canvas for creativity, with the frame setting its tone. For a modern touch, a sleek black frame exudes sophistication, while a distressed wood frame enhances a rustic feel. Painting the frame in a shade complementing your home's palette can further elevate its appeal. This versatility ensures your welcome sign resonates with your design sensibilities, offering guests an immediate taste of your home's character.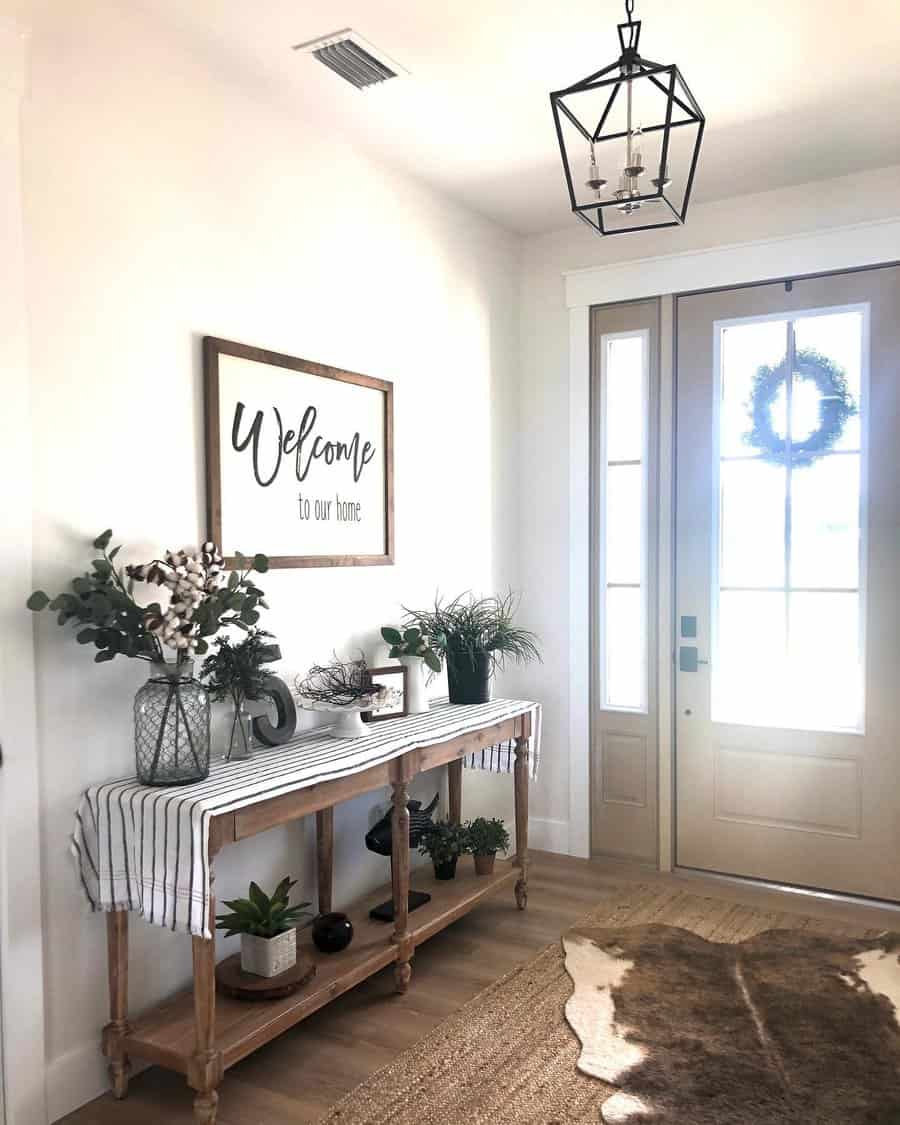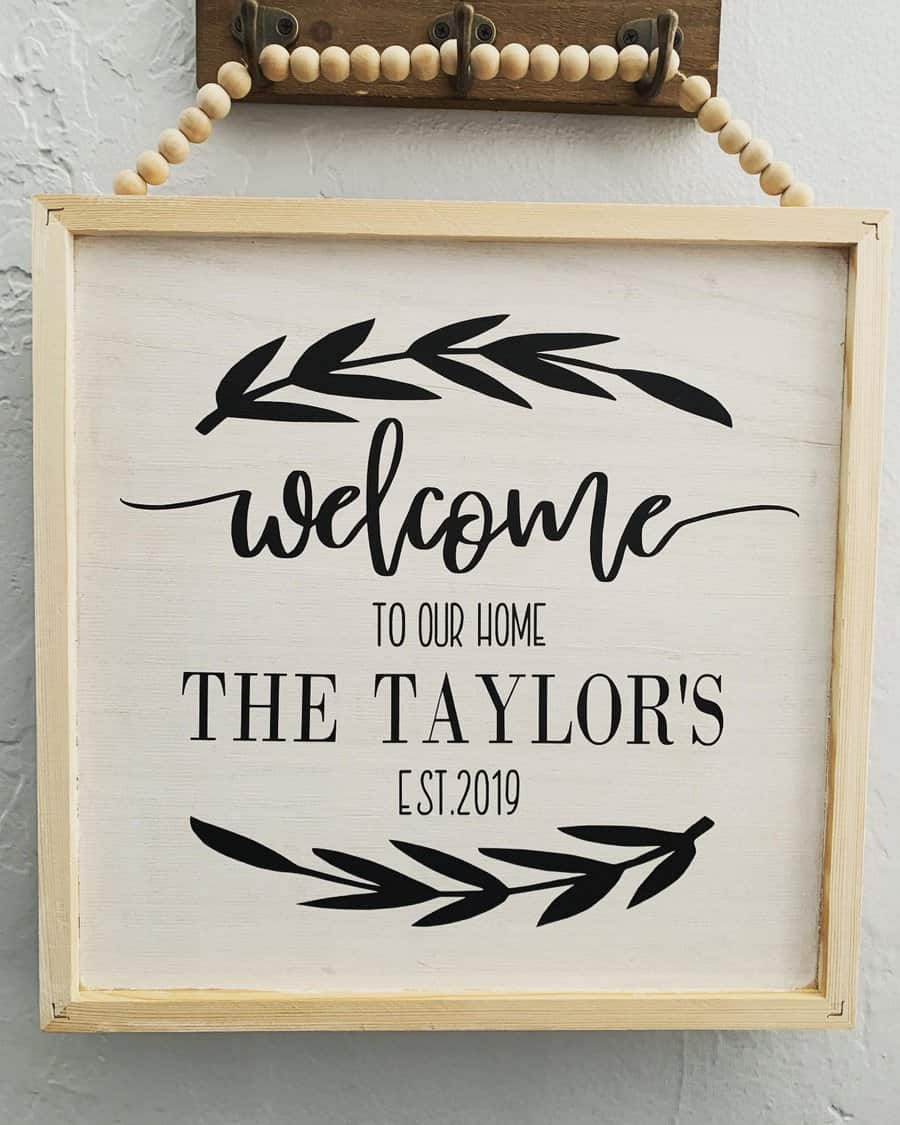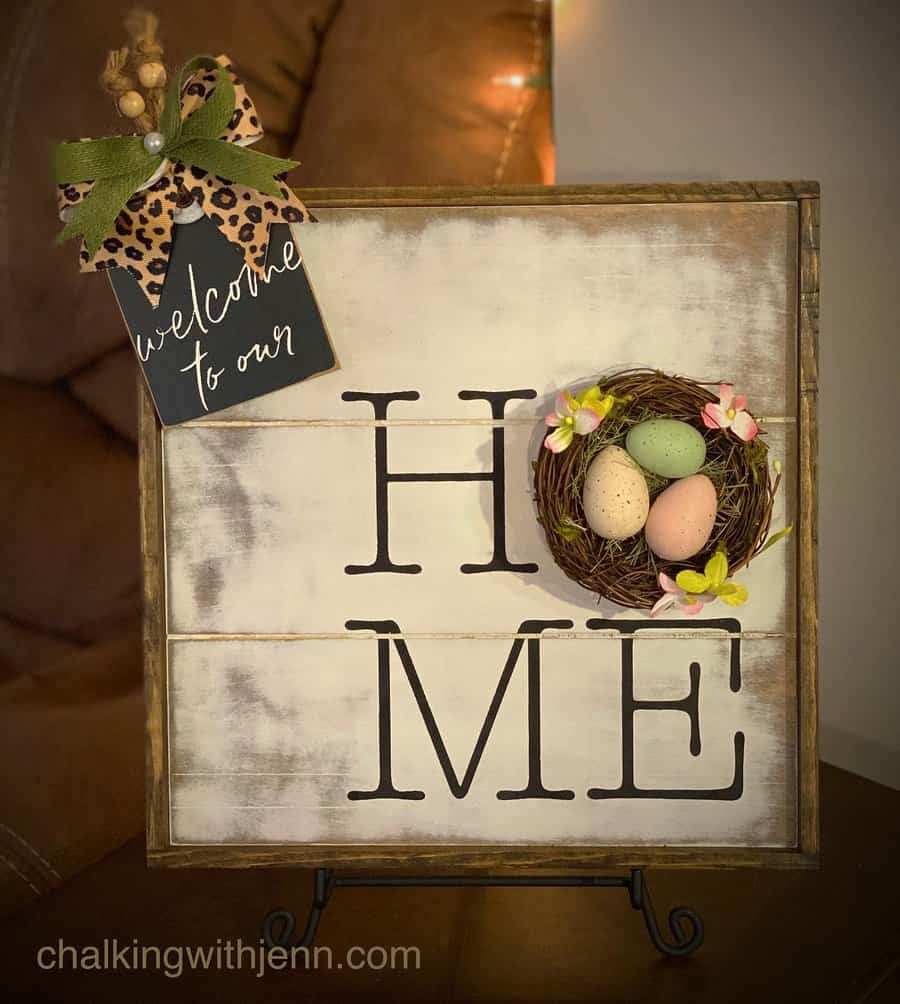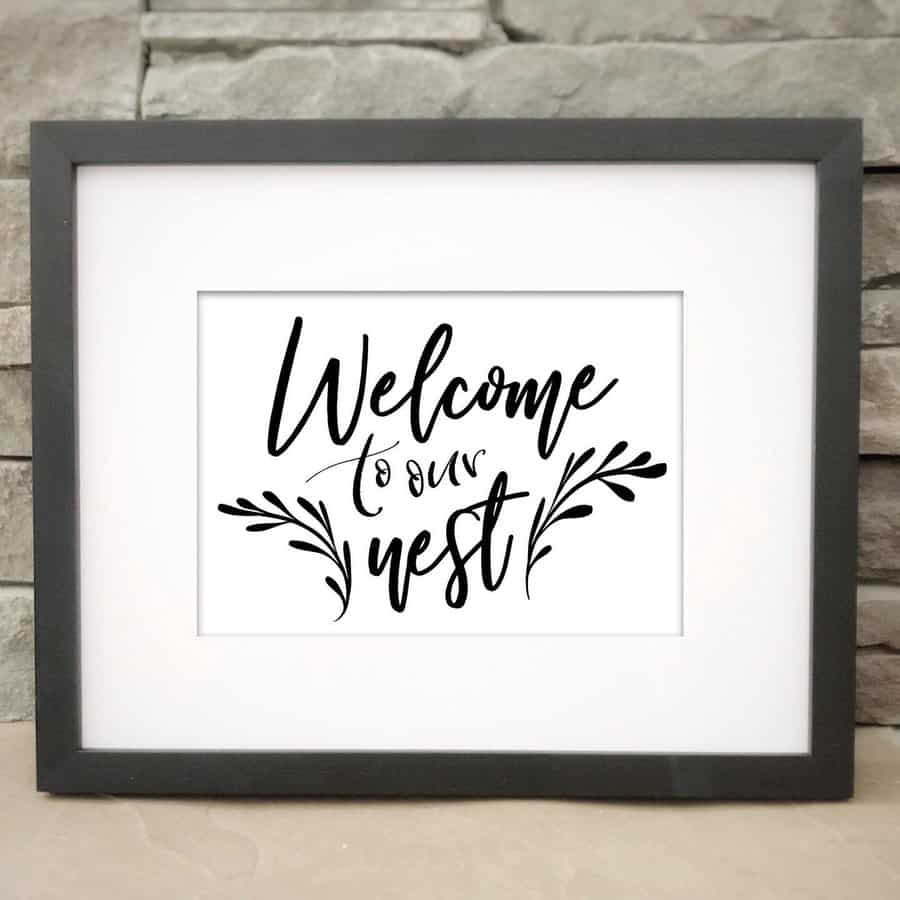 5. Dynamic Letterboard Greetings
Letterboard signs offer a versatile canvas, allowing frequent updates to messages, quotes, or seasonal wishes. For a DIY touch, chalkboard paint empowers you to craft signs tailored to your preferred dimensions and shapes. However, various pre-designed options are available for those seeking immediate decor solutions. With just chalk and imagination, this adaptable piece can transform your space, reflecting both the season and your persona.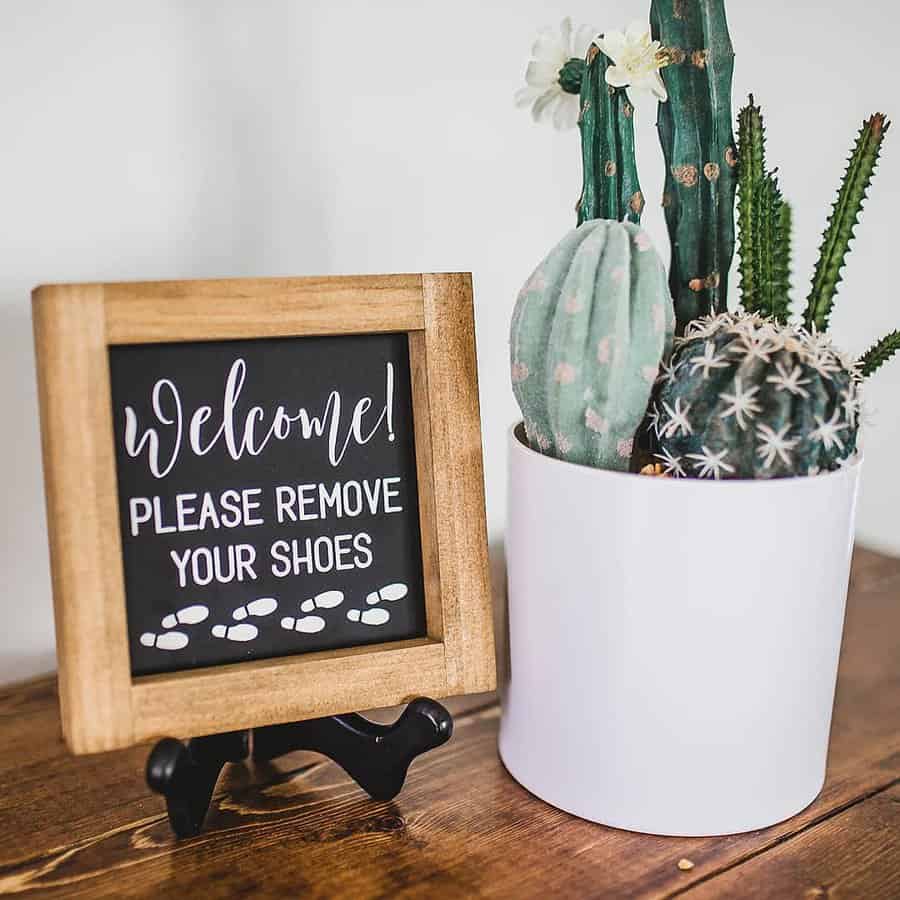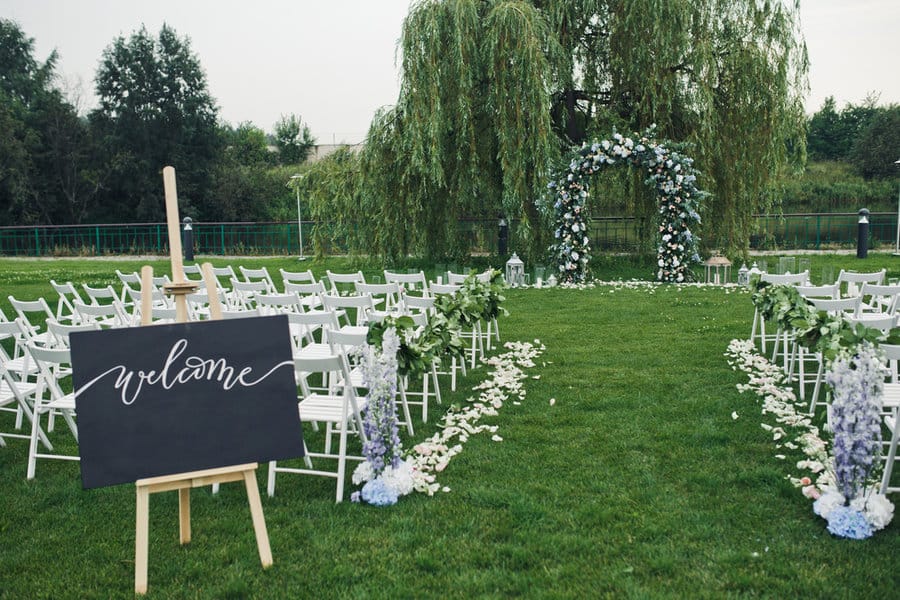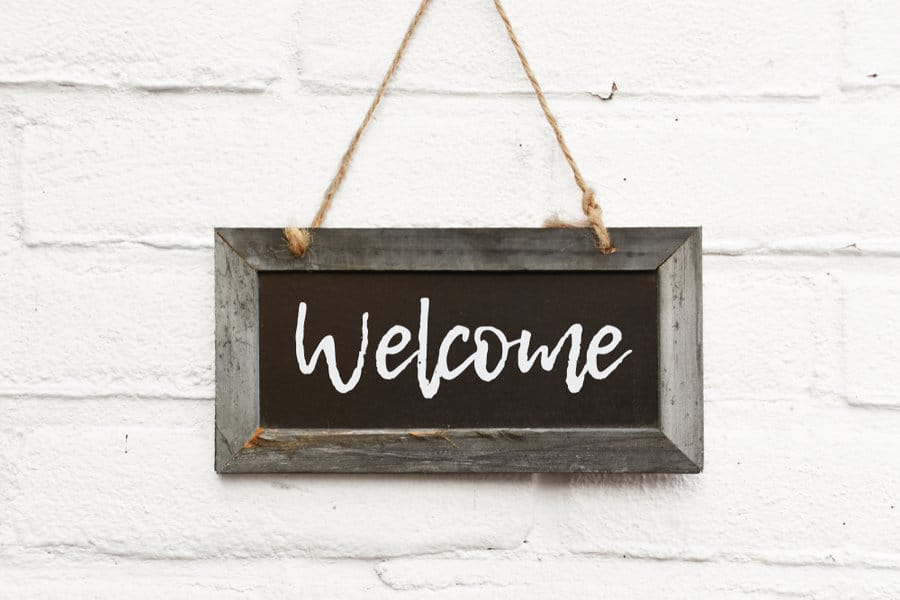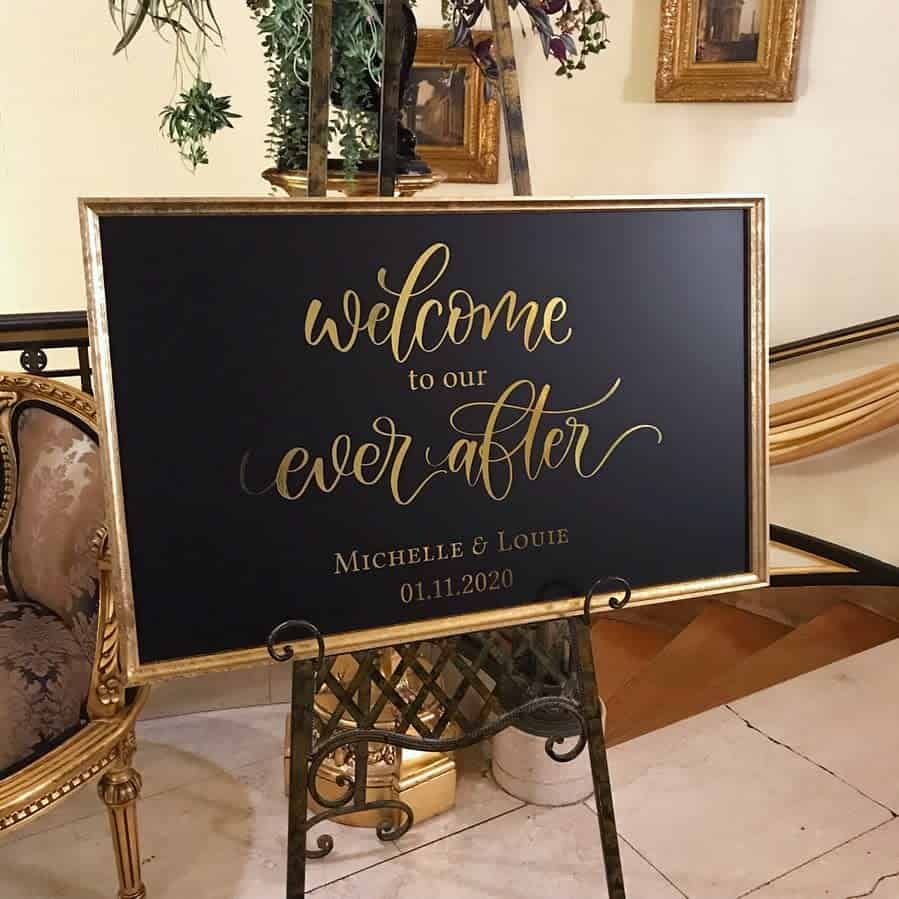 6. Standing Signs Welcoming Visitors
Letterboard welcome signs provide an ever-evolving canvas for your sentiments. Featuring backgrounds typically in classic hues, they come with changeable letters, enabling frequent personalization. Whether conveying heartwarming welcomes or sharing humorous quips, they reflect your current mood or theme. Given their varied sizes and styles, it's effortless to find one complementing your decor, ensuring a dynamic greeting for every visitor.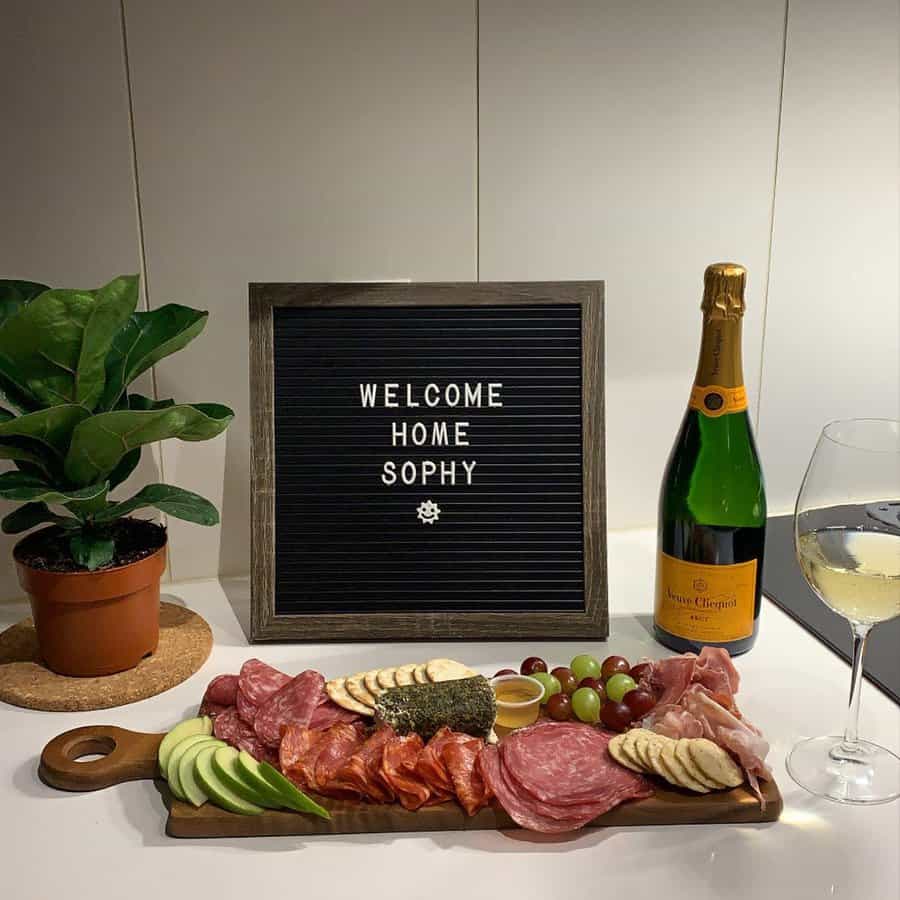 7. Embrace Simplicity with Rustic Wood
Rustic wooden welcome sign stands offer a timeless charm, merging effortlessly with varied home styles. Particularly fitting for limited spaces, vertical signs draw the eye upward, enhancing your entryway's dimensions. Whether you gravitate towards vibrant designs or subtle elegance, the versatility of wood ensures your chosen aesthetic is captured. Remember, sometimes, the simplest of materials can make the grandest statements.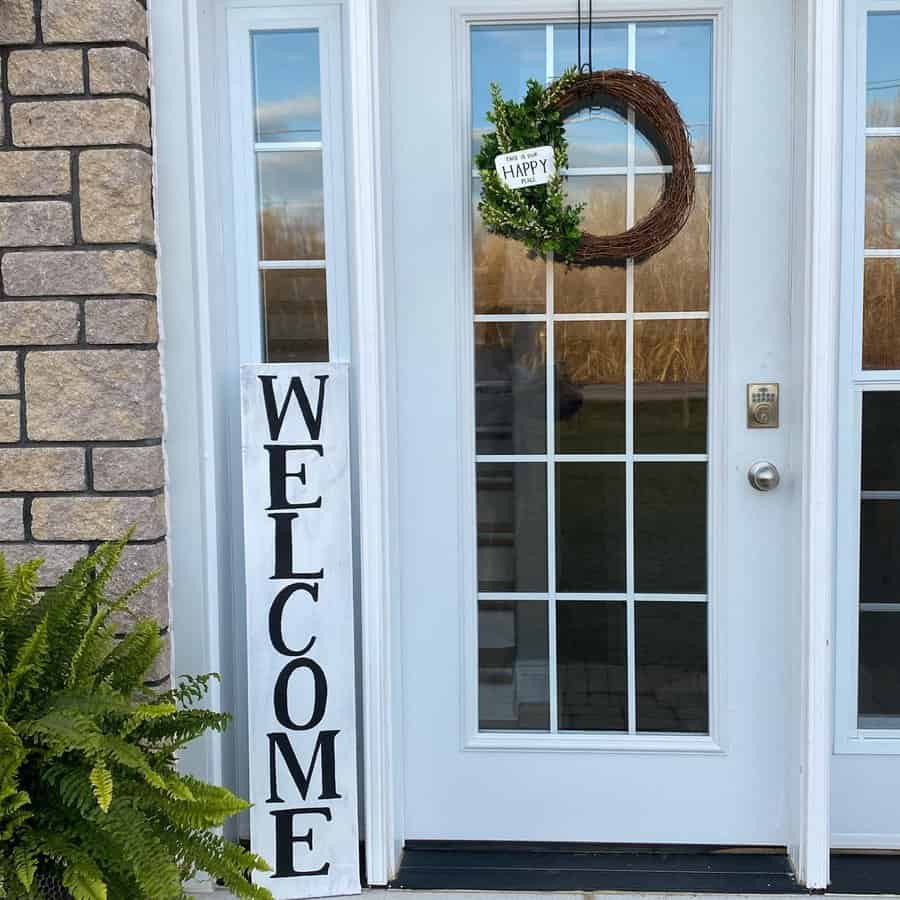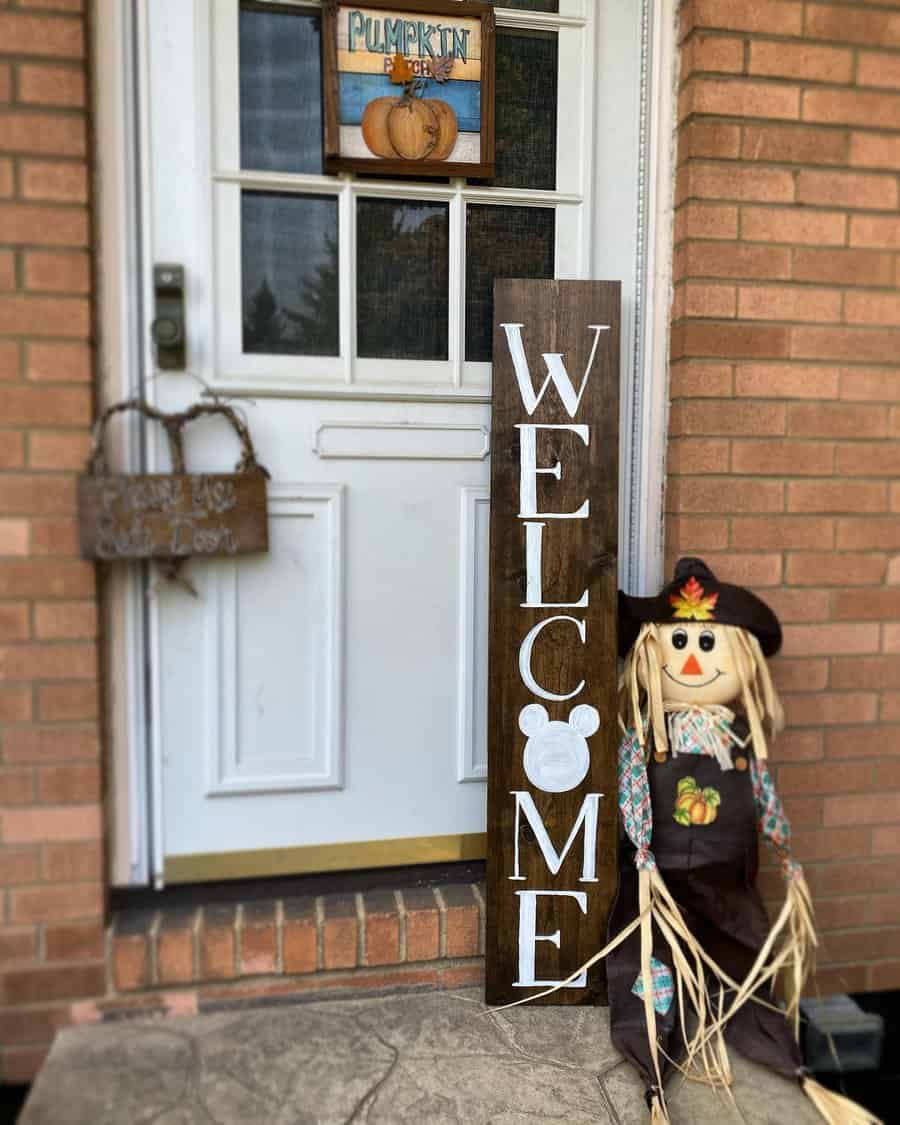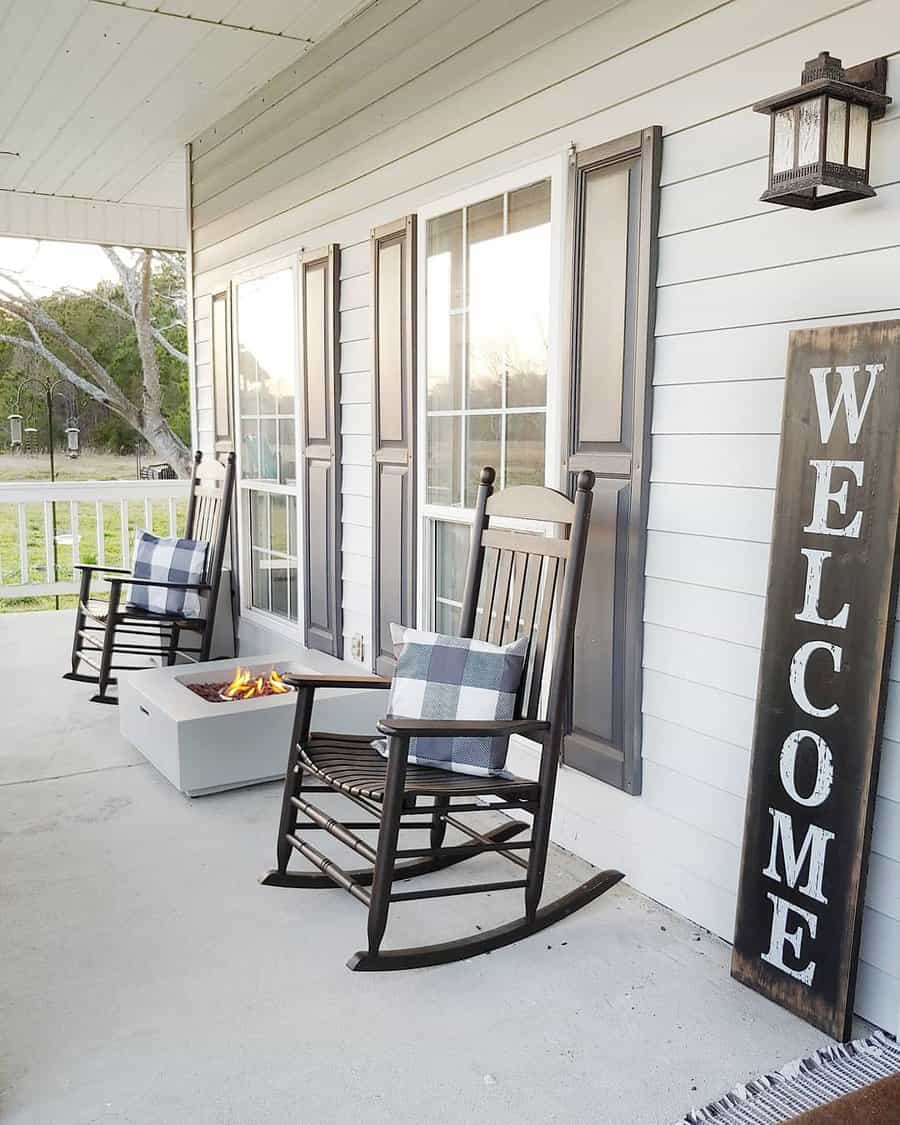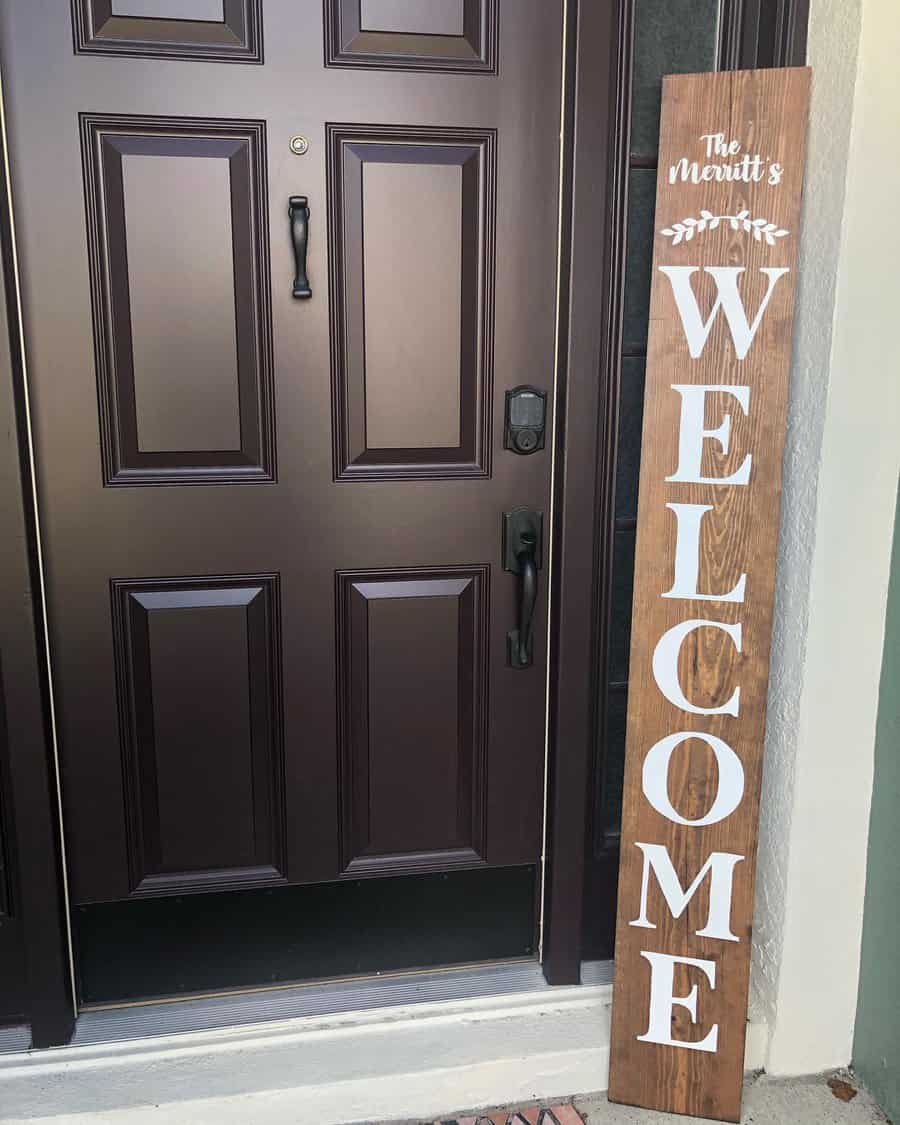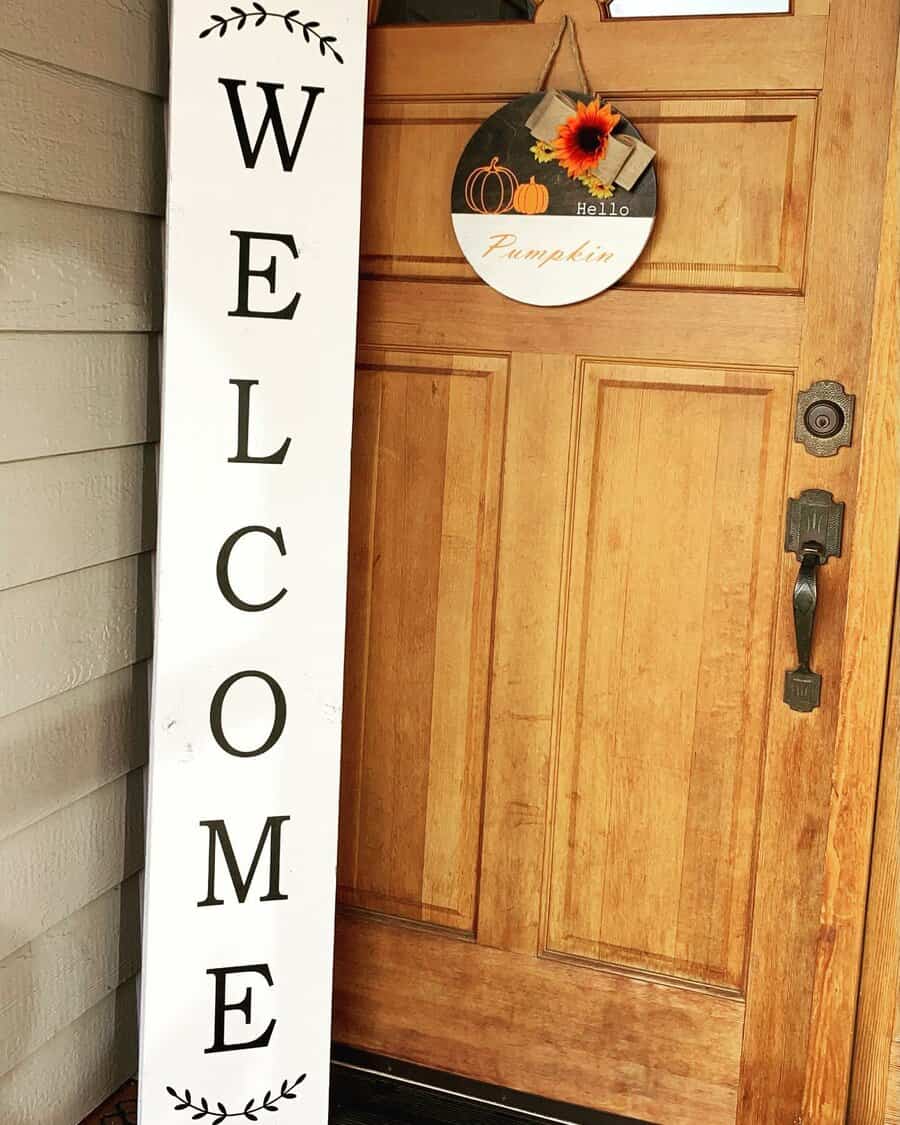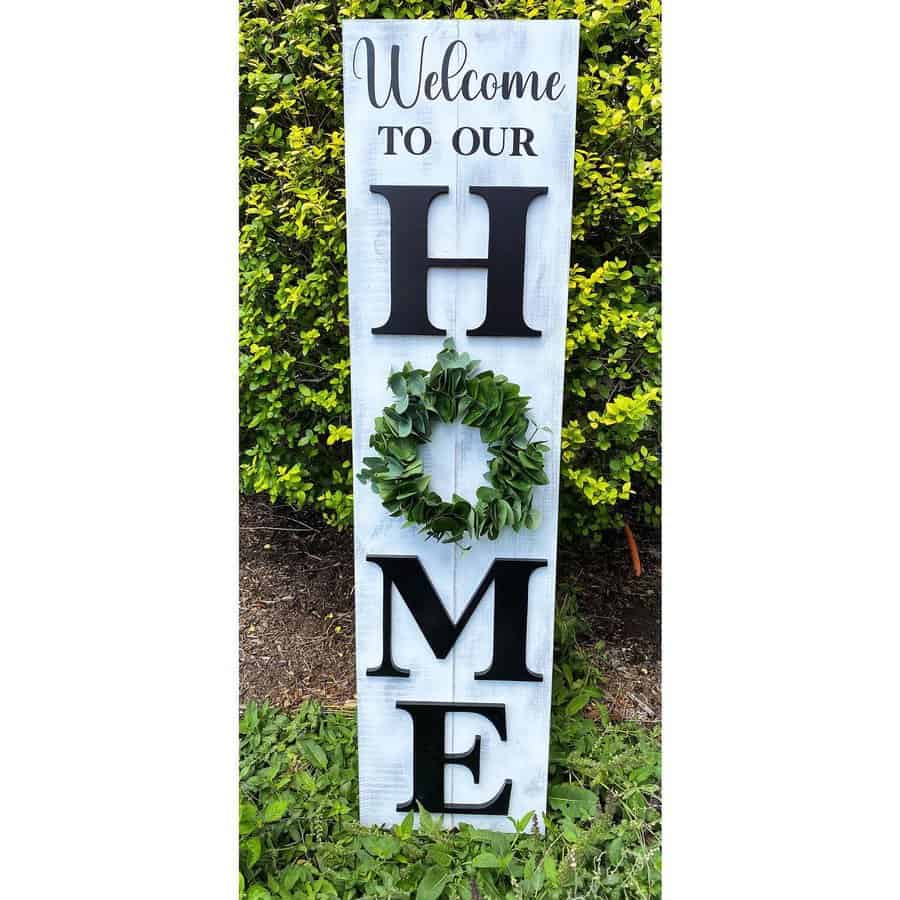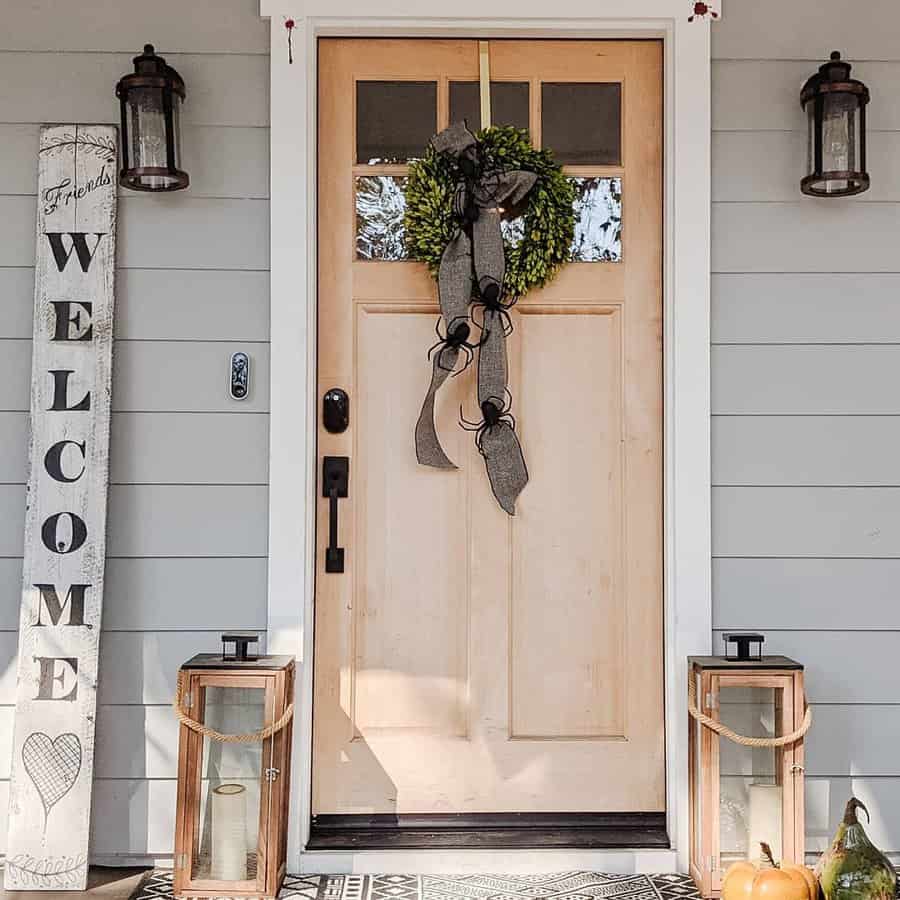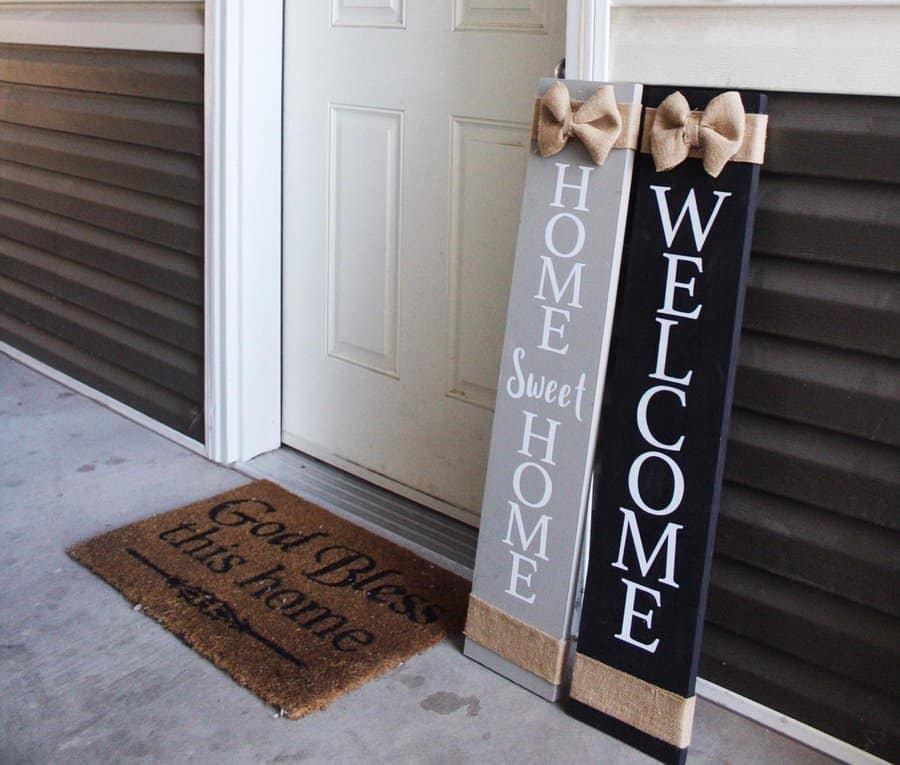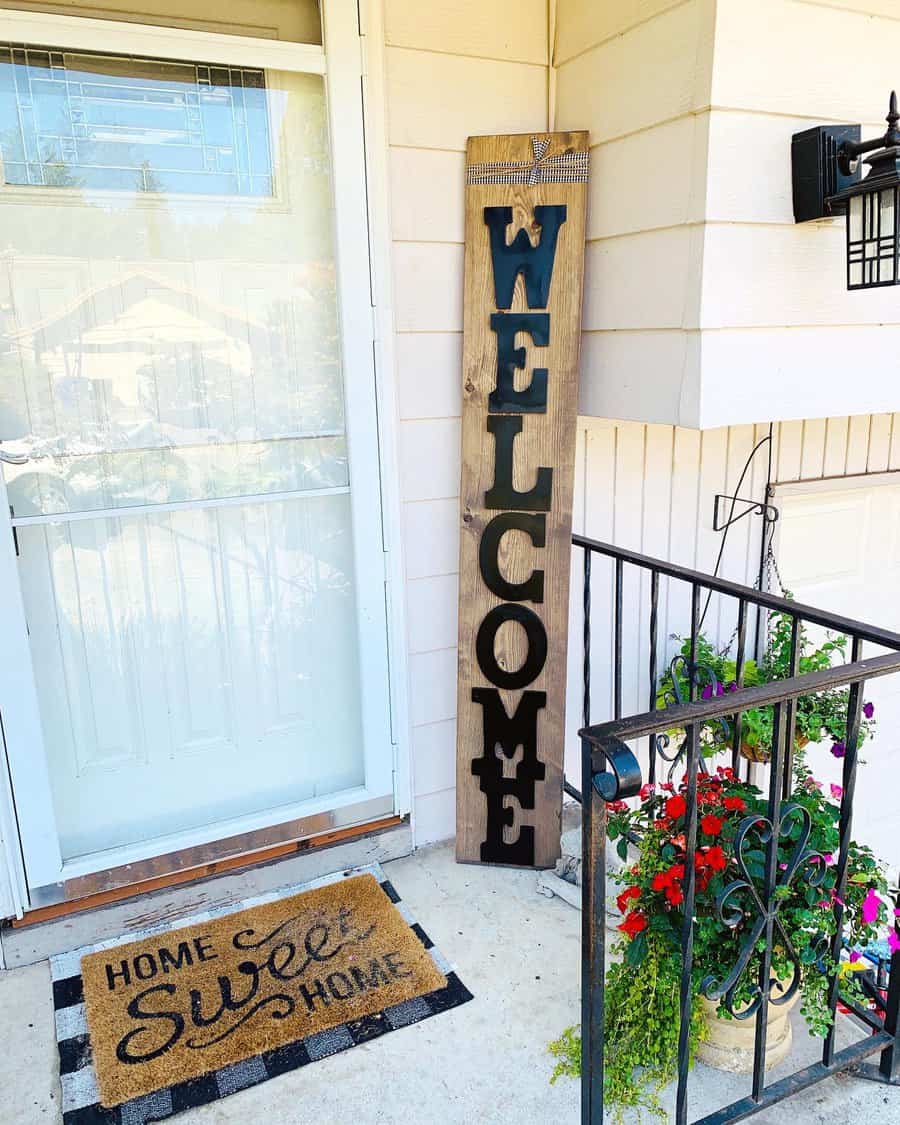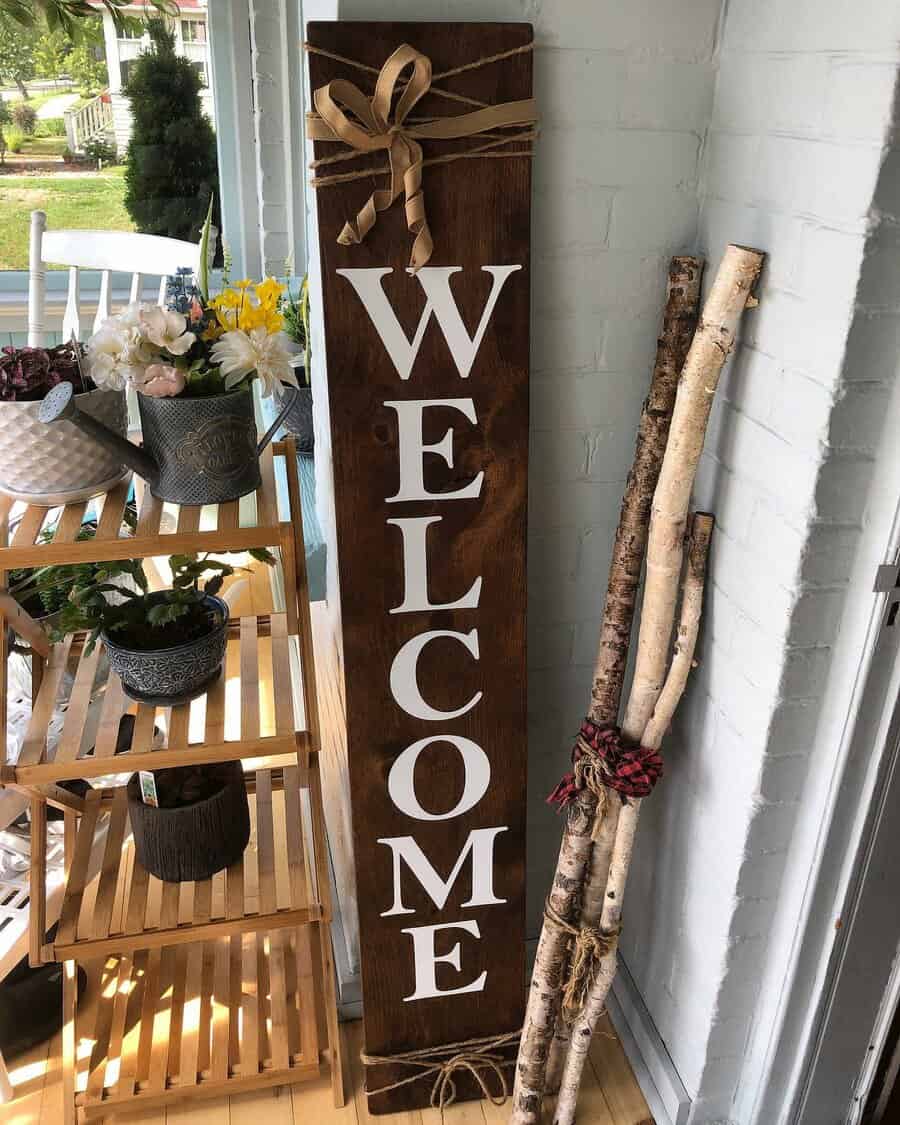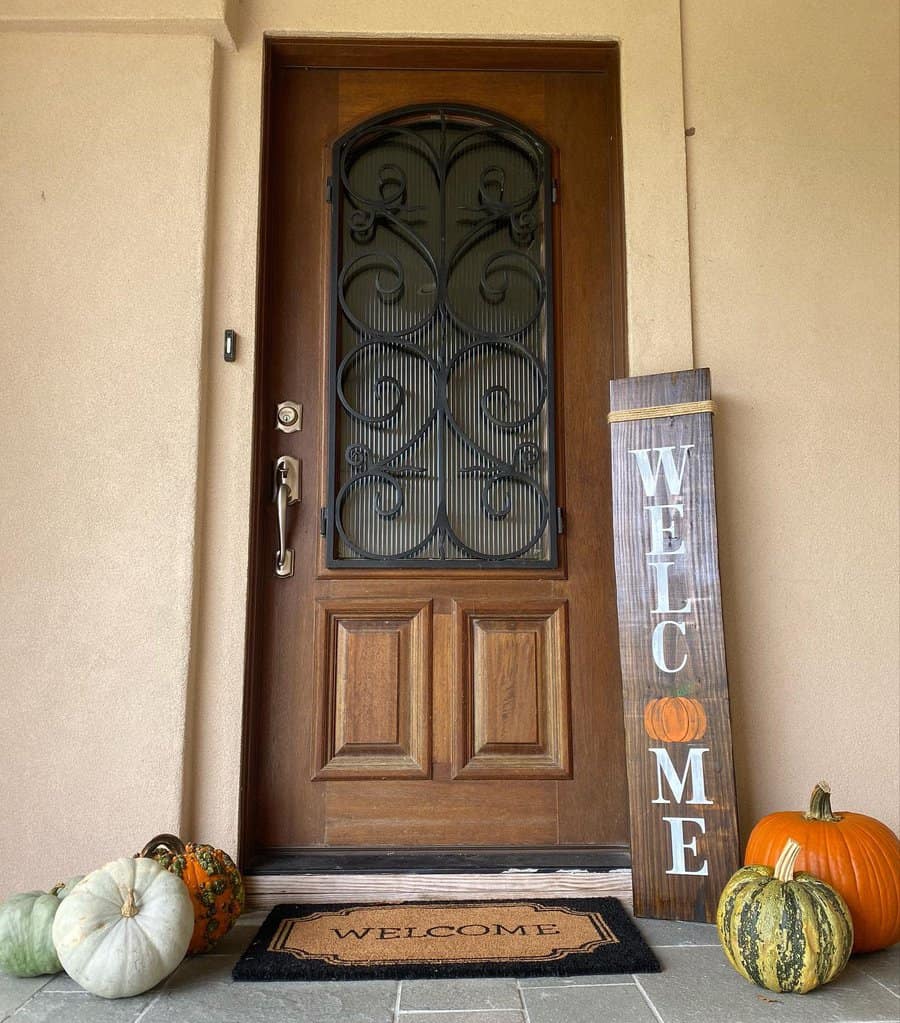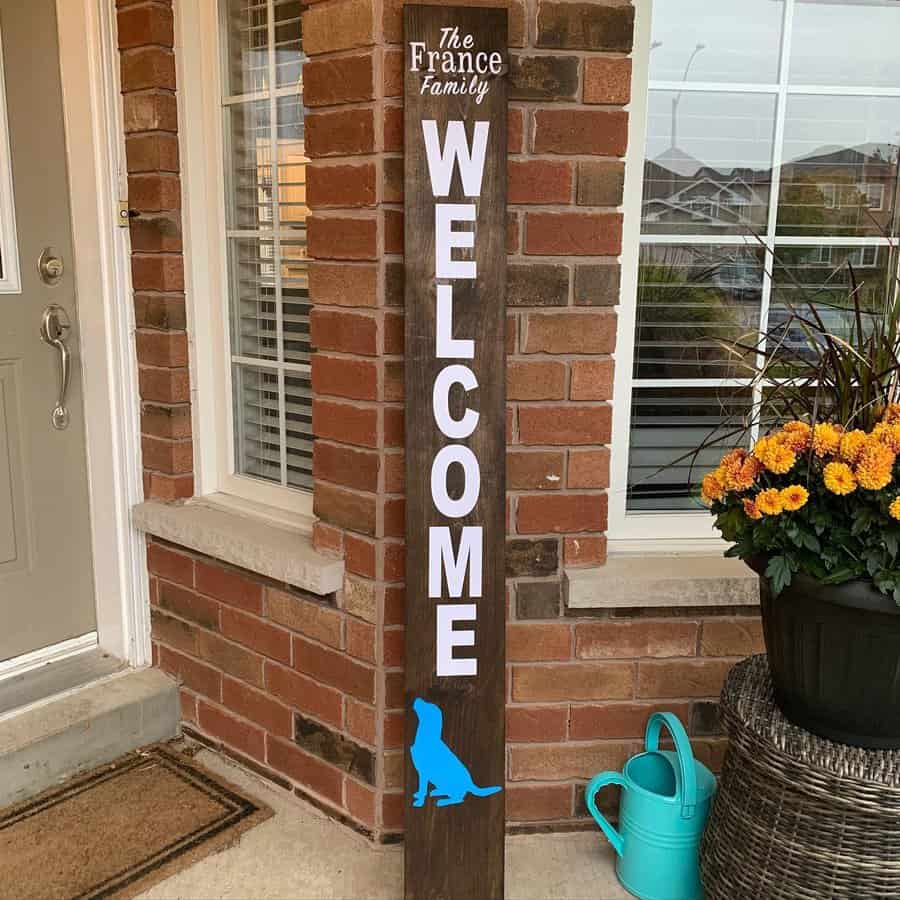 8. Wreaths with Welcome Messages
Integrating wreaths with wooden welcome signs elevates your entrance's appeal. While a simple design exudes timeless charm, a customized wooden slab, highlighting your family name or unique message, offers a personal touch. Whether you're inclined towards a farmhouse feel or a modern vibe, these signs blend effortlessly. Over time, nature's influence imparts an authentic distressed look, enhancing its rustic allure.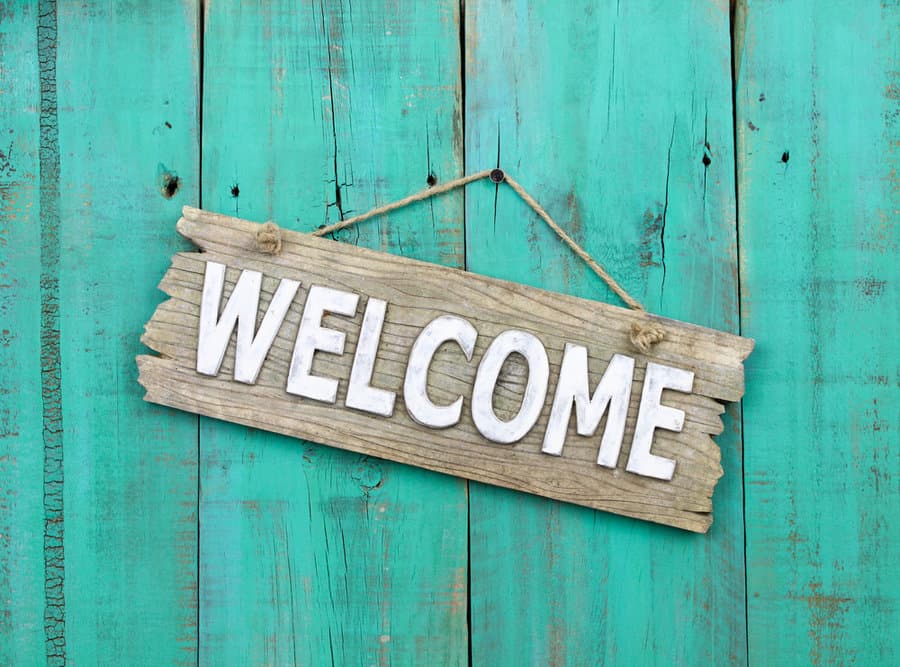 9. Graphic Art Enhancing Welcome
Welcome signs fused with graphic art capture attention effortlessly. Pairing a traditional sign with a wreath offers an enriched visual, with options ranging from floral motifs to seasonal themes. For a vibrant touch, round-cut signs adorned with lively flower arrangements introduce color and dimension. Regardless of your choice – a wreath or blossoming flowers – such artistic enhancements ensure guests feel the warmth of your hospitality.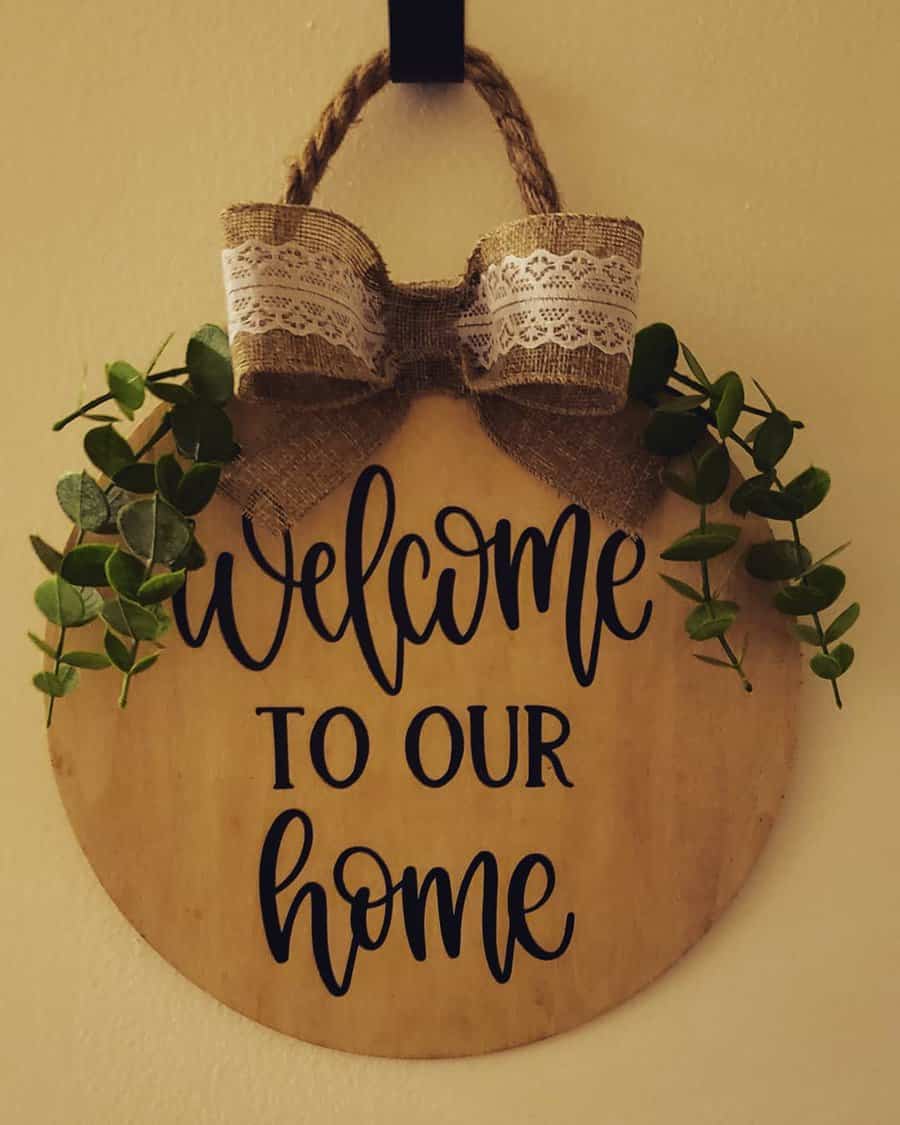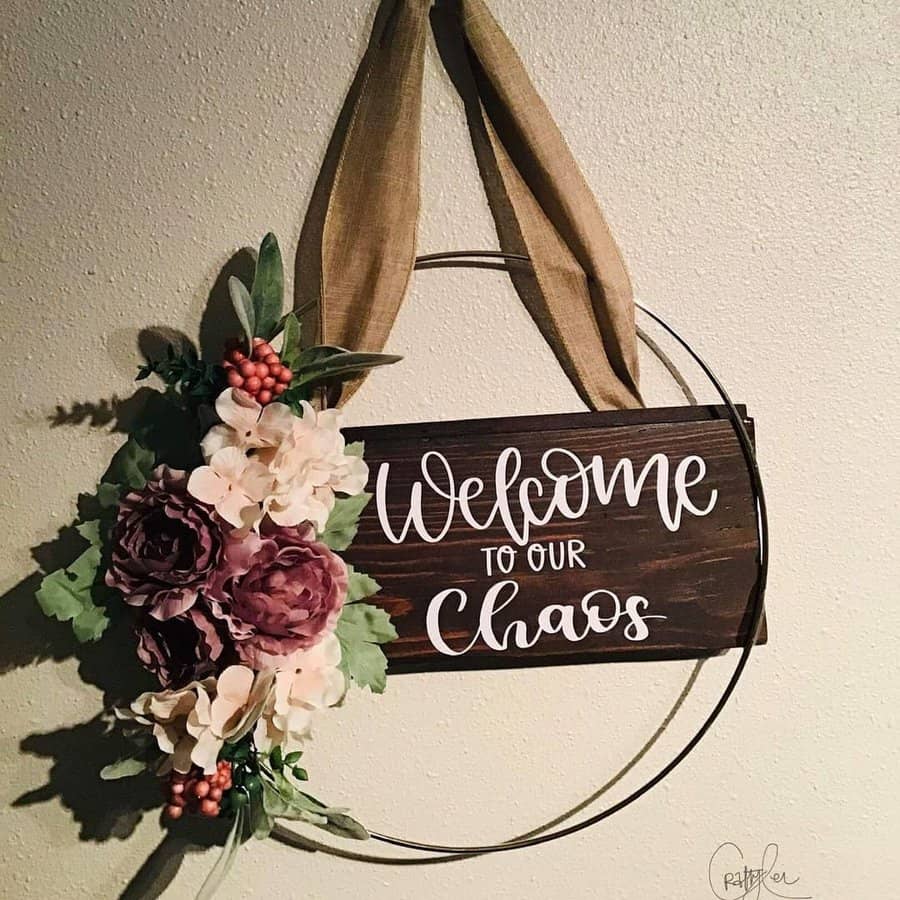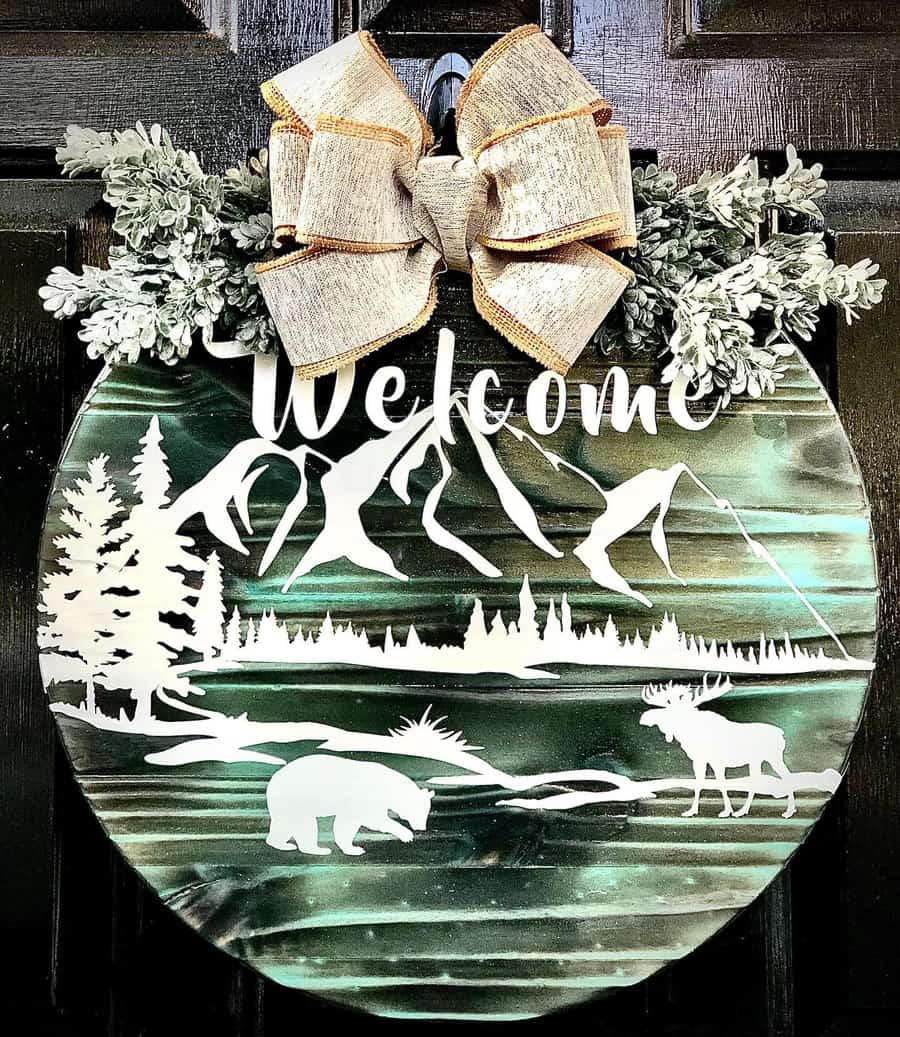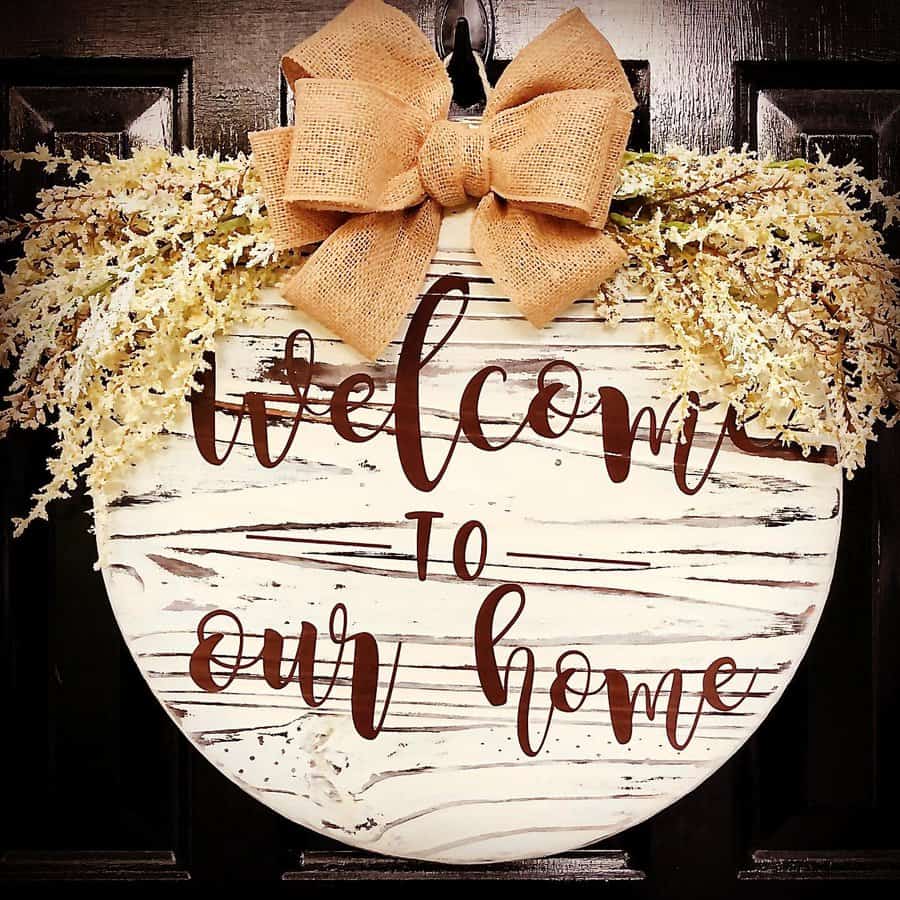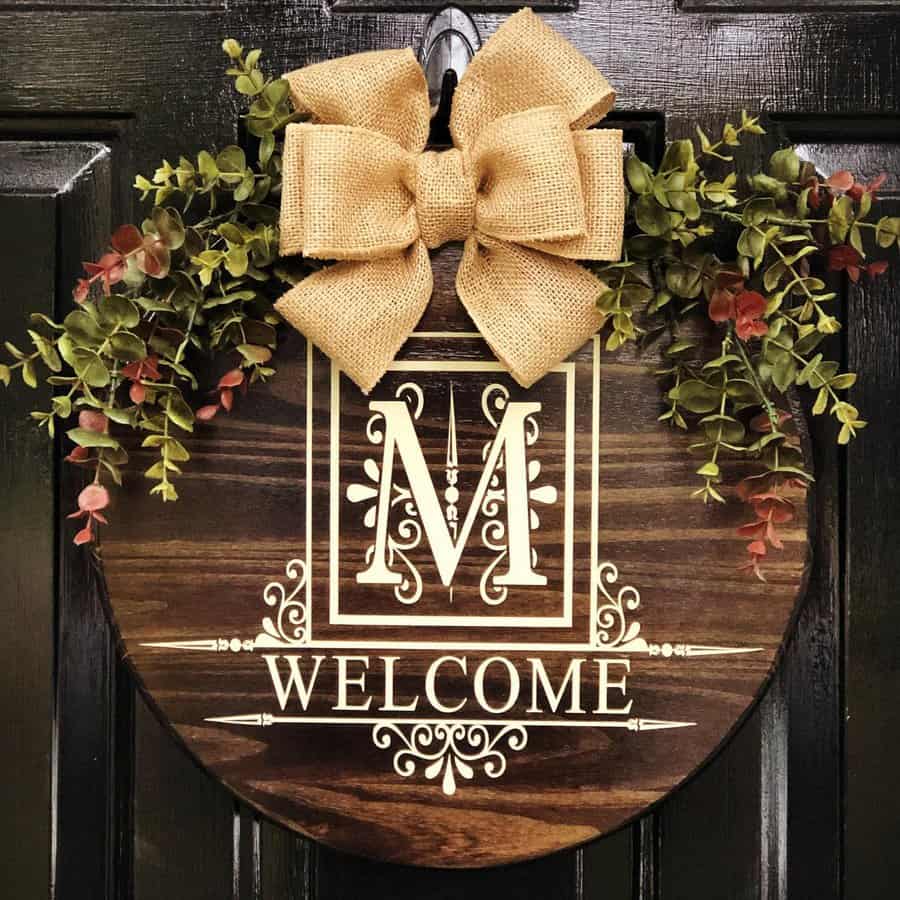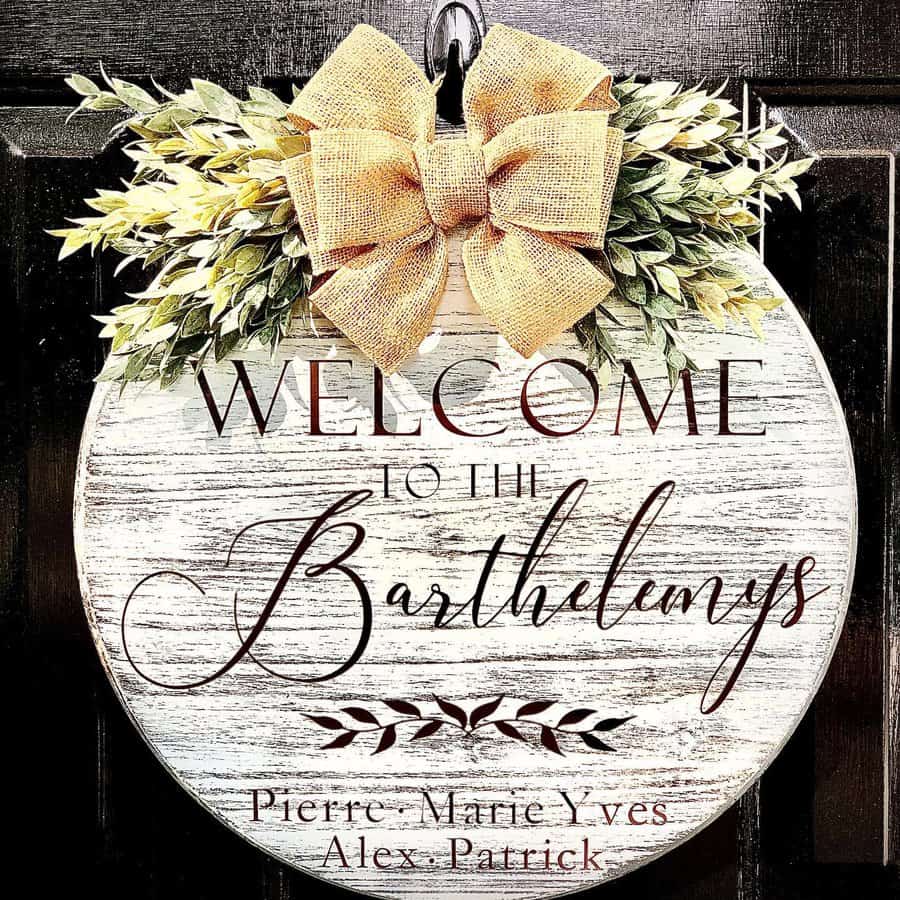 10. Acrylic Prints for Modern Welcome
Infuse contemporary flair into your space with acrylic welcome signs adorned with graphic art. Tailor-make your design, from whimsical illustrations to sophisticated patterns, capturing the essence of your style. Delve into DIY by drawing something personal, or easily print a design from digital platforms. With their vivid colors and sleek finish, acrylic signs seamlessly blend modern design with individual expression, making your entrance both stylish and uniquely yours.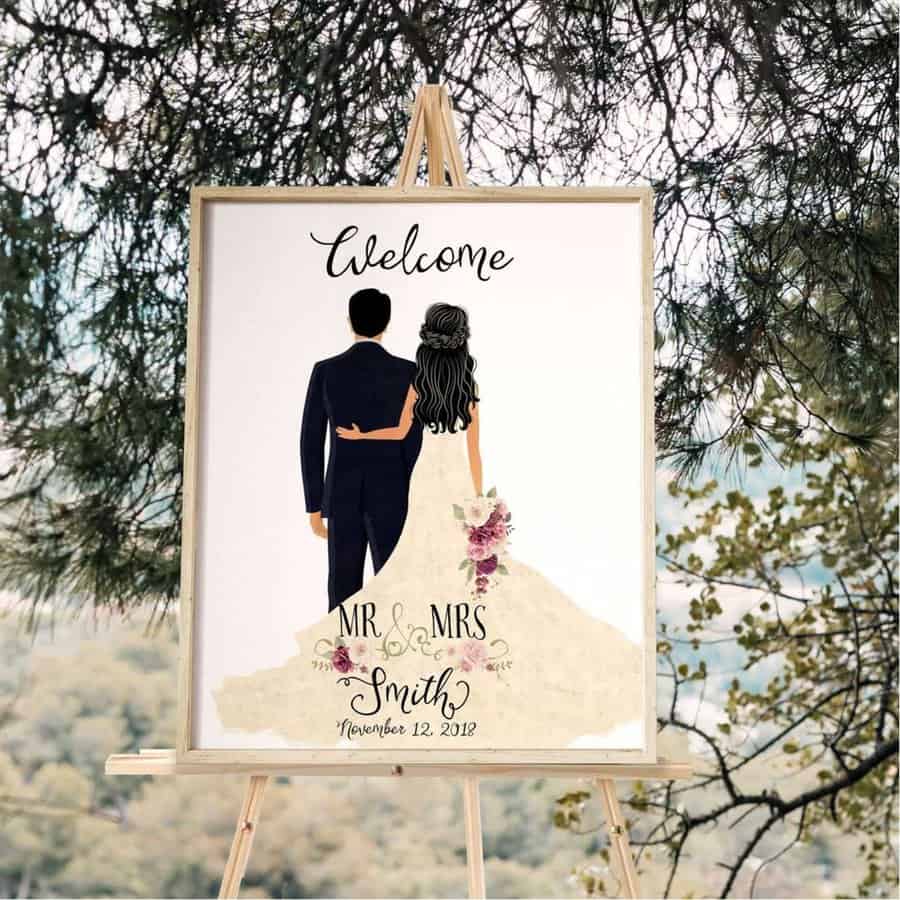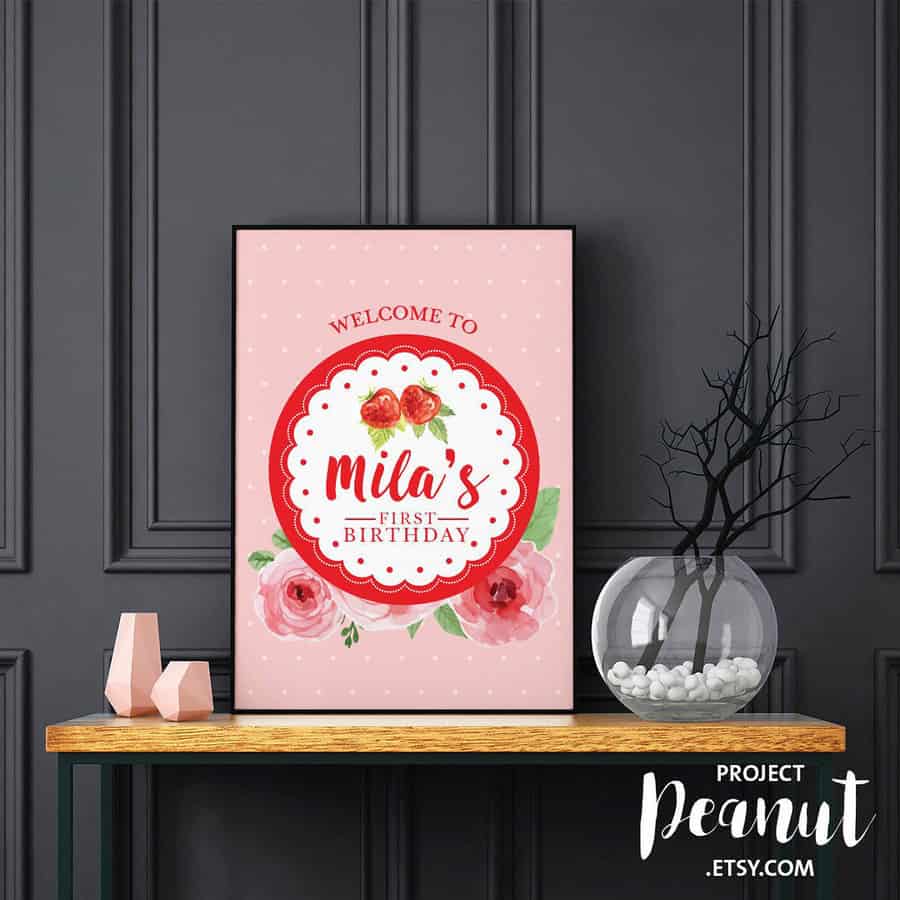 11. Unique Custom-Cut Entrance Signs
Printed acrylic welcome signs offer a blend of modern aesthetics and personal touch. Their design spectrum, from minimalist to elaborate, ensures adaptability to varied tastes. Font selection, whether a timeless serif or whimsical script, can drastically influence its aura. Personalize further by incorporating your family name or a cherished quote. This combination of sleek design and personal customization ensures guests are greeted with warmth and style.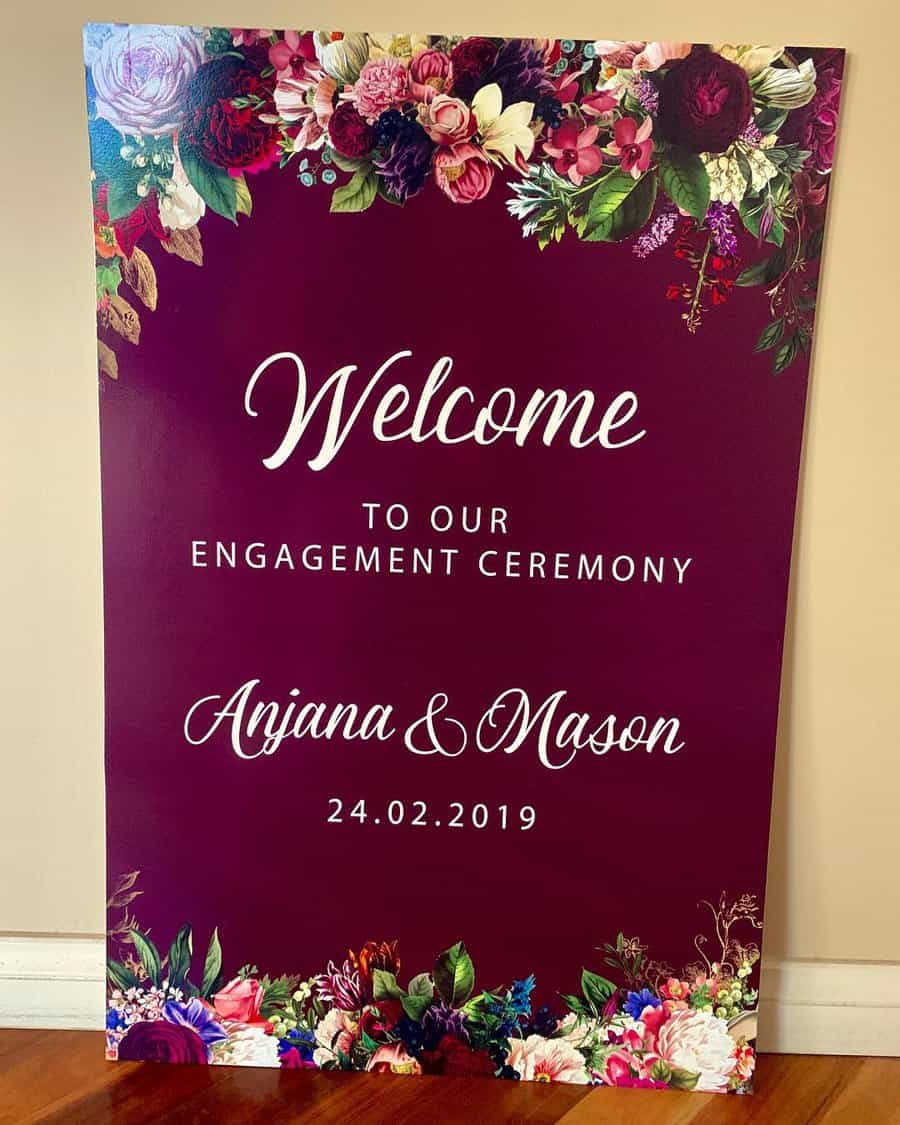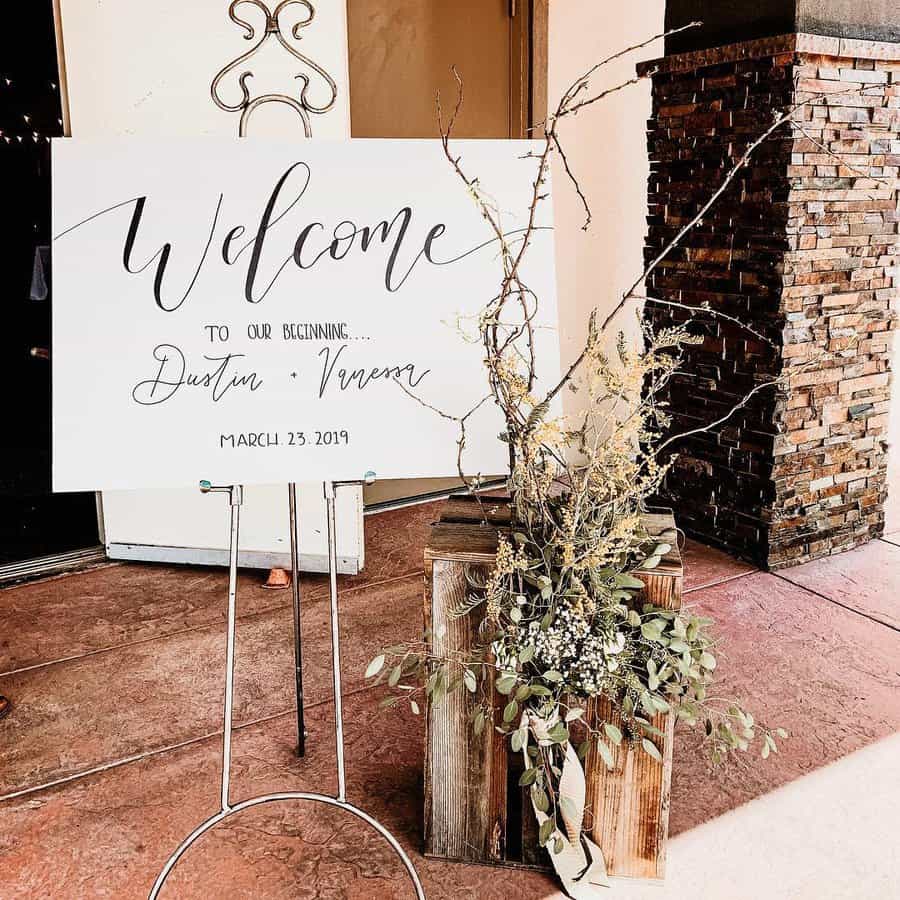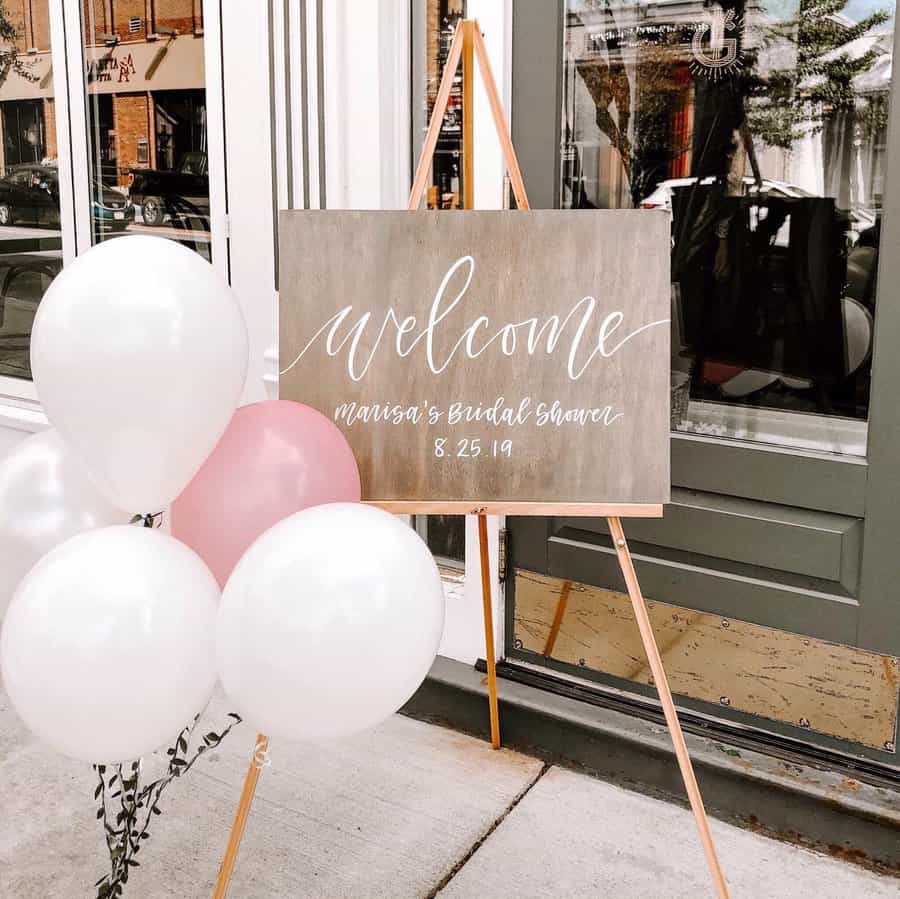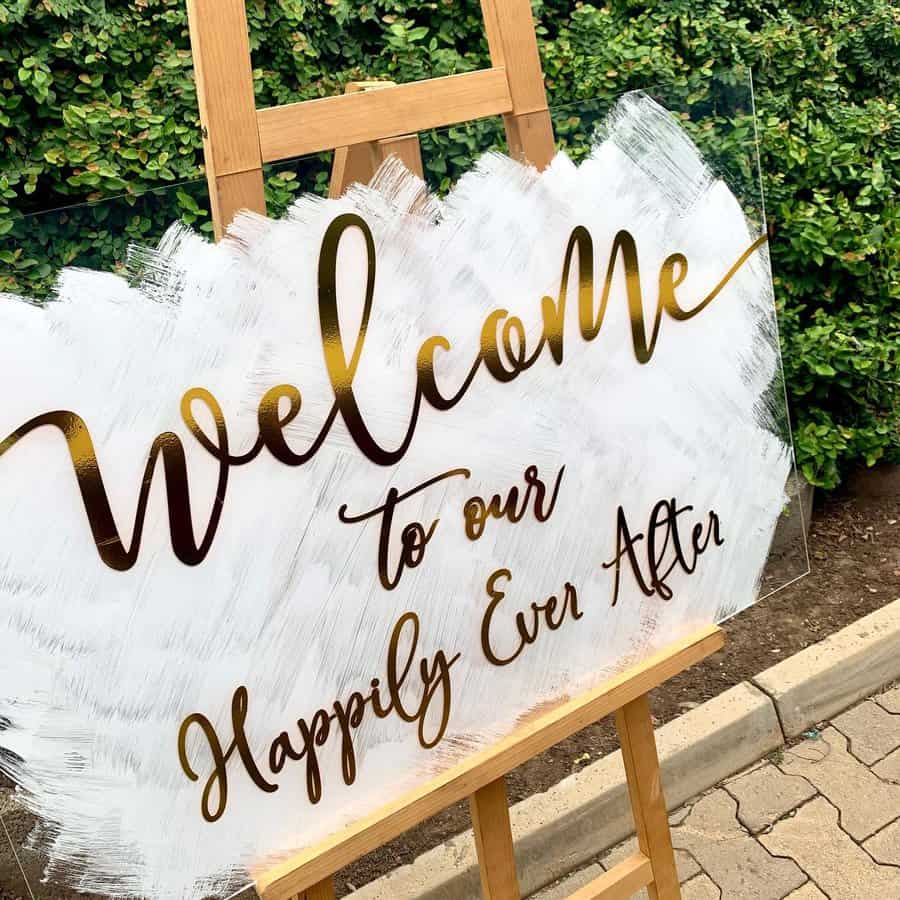 12. Classic Framed Whiteboard Welcome
Framed whiteboard signs offer a timeless way to welcome guests. They act as a canvas that can be frequently updated with messages, making every welcome unique. Pairing this classic frame with materials like wood brings out natural warmth, while metal offers durability, especially for outdoors. Customize by adding intricate designs or personal messages, showcasing your distinct style. Play with fonts and hues to give this classic piece a contemporary touch, ensuring guests always receive a warm, tailored greeting.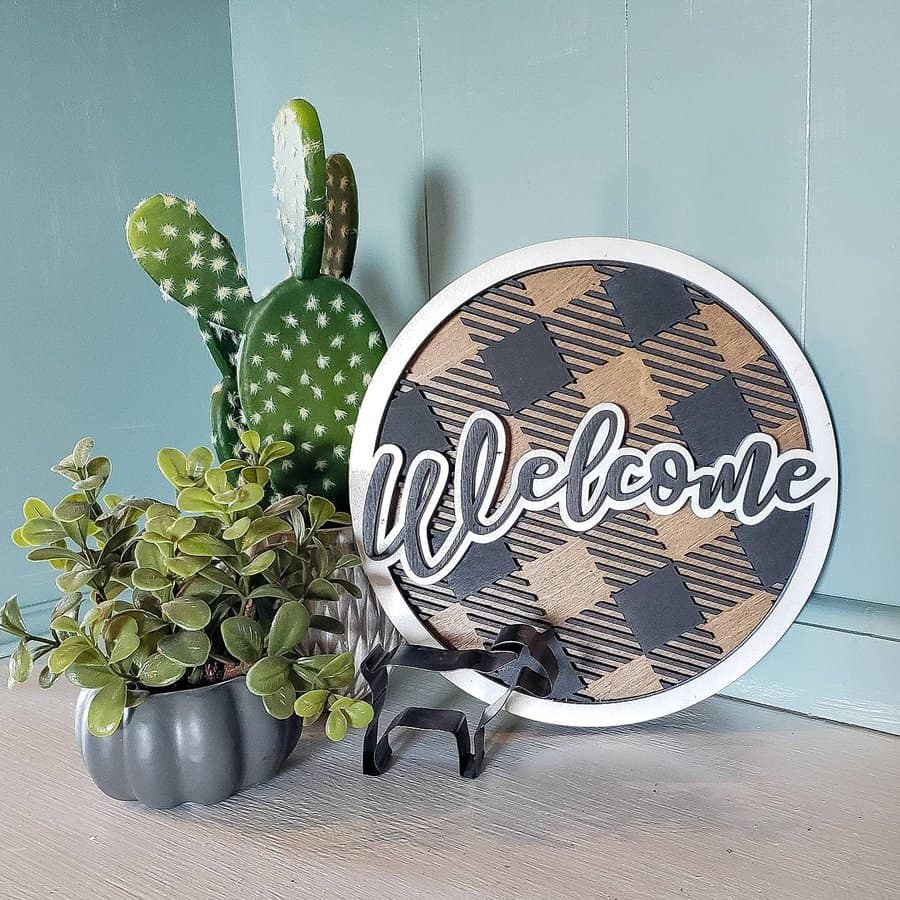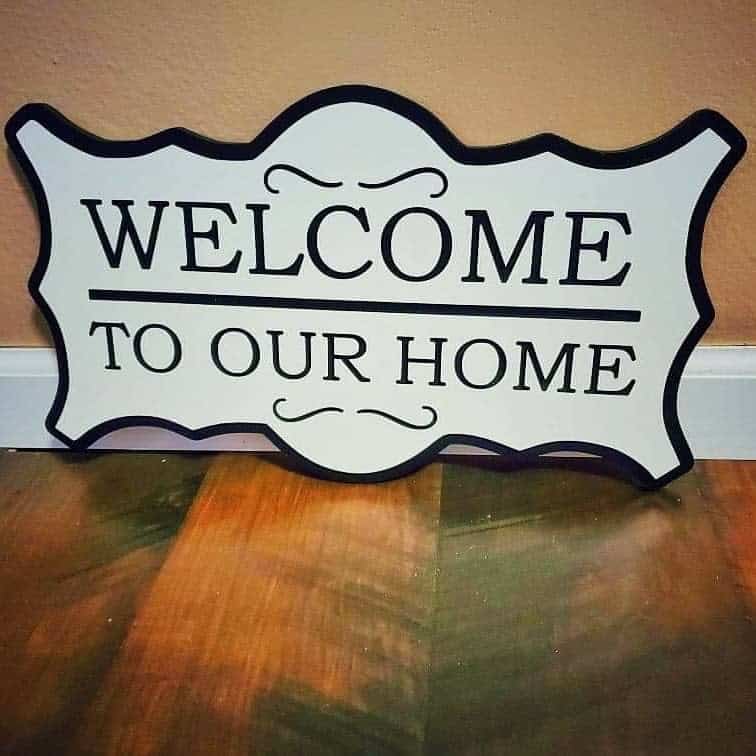 13. Floral Touch on Wedding Signs
For a versatile and personalized touch, a framed whiteboard adorned with calligraphy serves as an elegant welcome sign. Its flexibility allows easy message alterations, catering to various seasons or events. Enhancing it with floral accents, especially for weddings, infuses an additional layer of romance and sophistication, ensuring guests are greeted with both style and sentiment.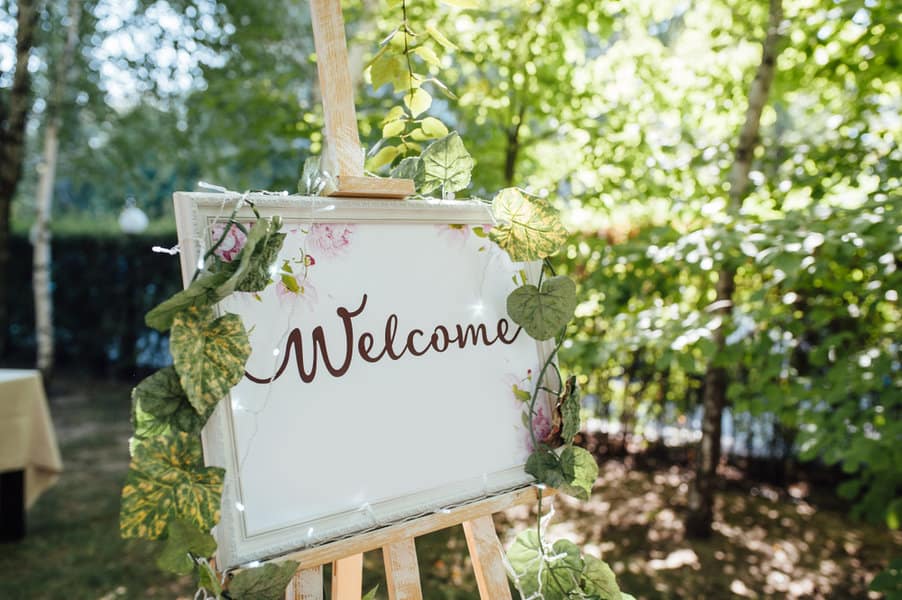 14. Rotate with Seasonal Greetings
Embrace the changing seasons with a floral canvas welcome sign for home-based weddings. Such signs not only immortalize your special day but can also evolve with seasonal decor shifts. Personalize by blending favorite blossoms, adding your wedding date, or inscribing heartfelt notes. Dive into font and color experimentation to mirror your personal flair. Whether positioned outdoors or indoors, this floral touch ensures guests sense the warmth and significance of the occasion upon arrival.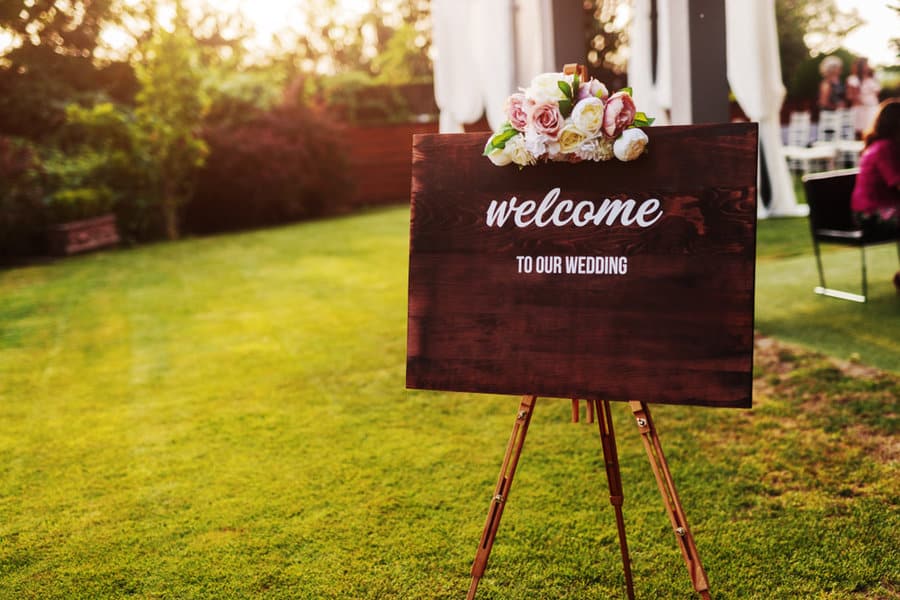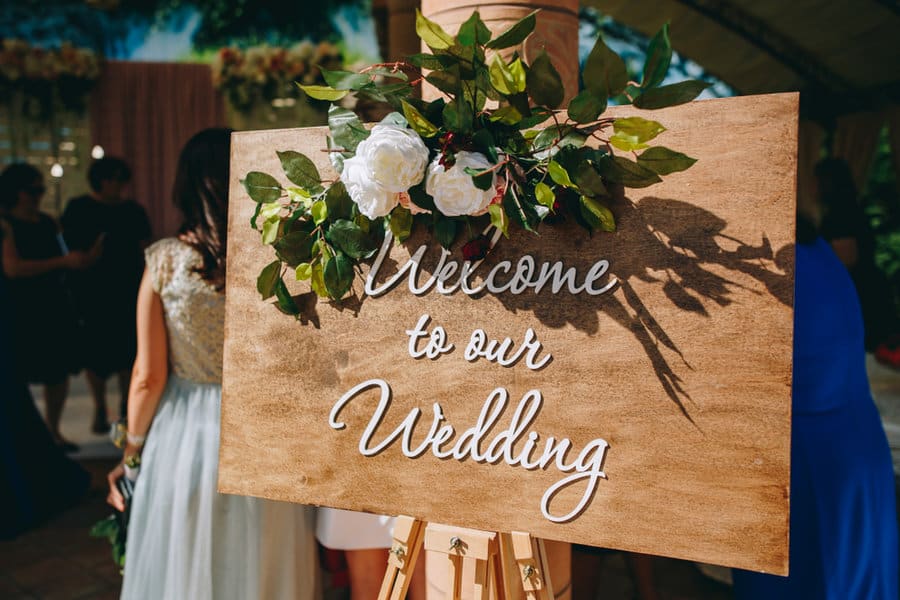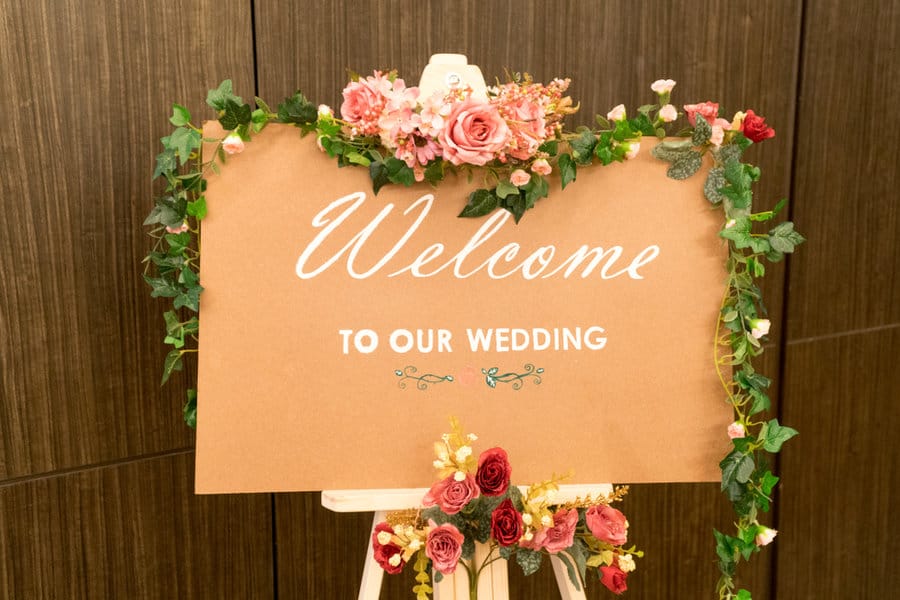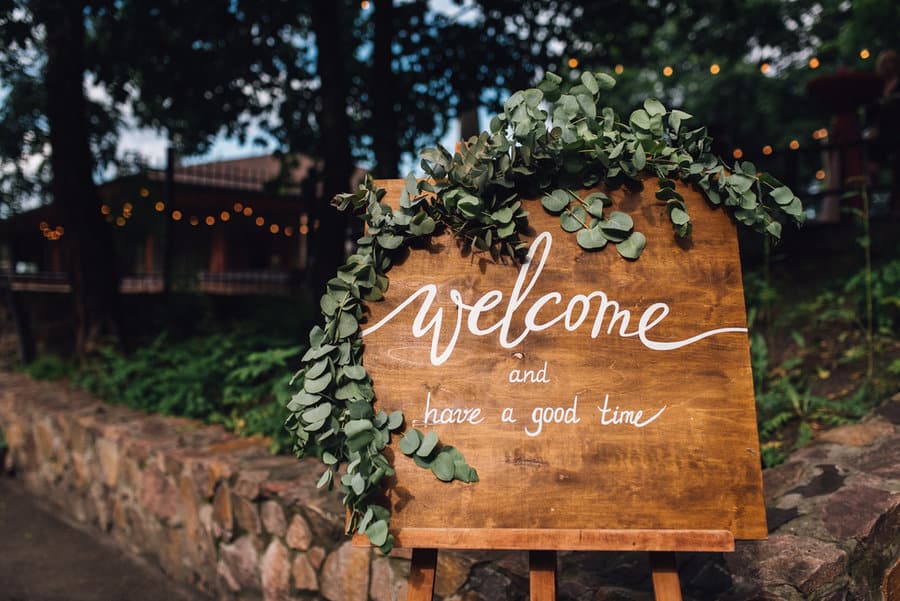 15. Celebrate Times with Seasonal Signs
Seasonal welcome signs effortlessly rejuvenate your porch with the festive spirit of each time of the year. Embrace autumn's essence with rustic wooden signs bearing "Welcome Fall" or playful pumpkin motifs. Transition to winter with "Merry Christmas" signs adorned with snowflakes or holly. For Halloween, evoke mystery with "Trick or Treat" messages or choose cheerful signs showcasing friendly ghosts. Swapping signs according to the season ensures your home's entrance always feels vibrant and timely.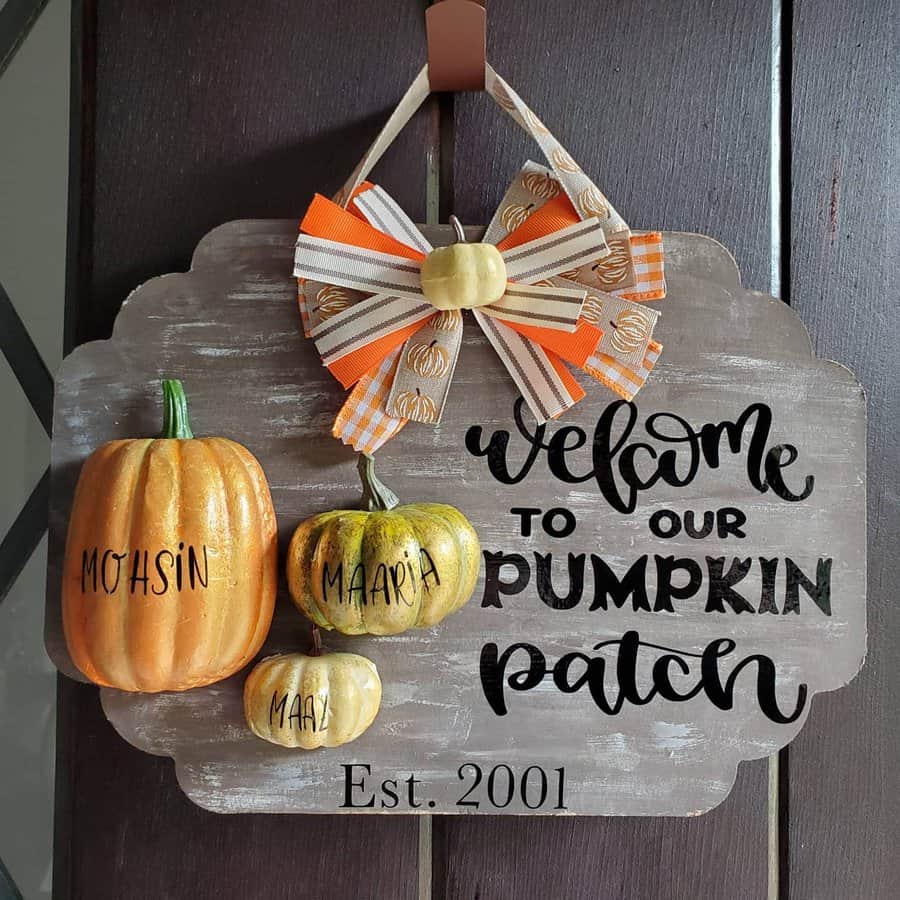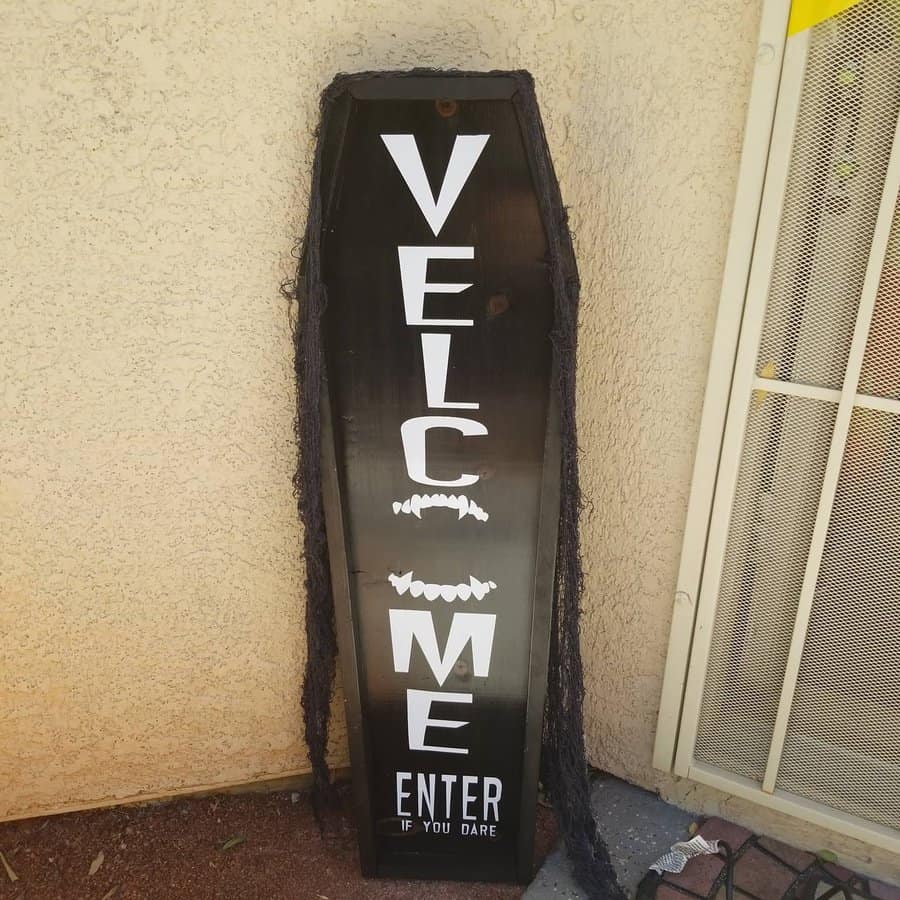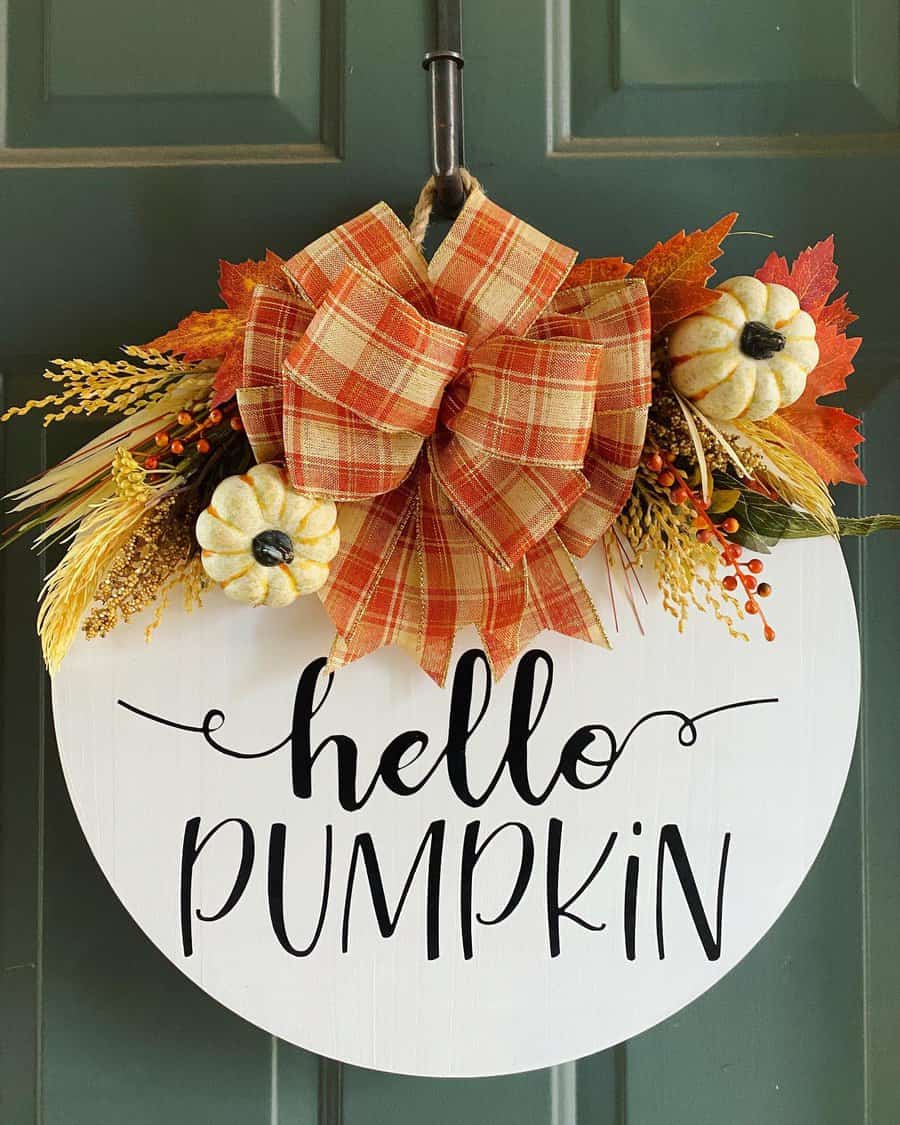 Welcome Sign FAQs
How do you make a welcome sign?
The first step to making your welcome sign is to choose a piece of wood, acrylic, metal for the sign's body. Then you'll choose your material for making the welcome. You could use paint, vinyl stickers, or anything else for the letters. The material you use should be durable enough to last a long time when left outside.
How tall are welcome signs for the porch?
Your welcome sign can be as tall as you want. If you want to make a big statement, then try making your sign ten inches wide and five feet tall. You'll then arrange the welcome letters vertically. Consider the size of your front porch, the size of your front door, and the space you have available.
How do you make a welcome sign with stencils?
Tape your stencil to the wood plank you want to turn into a welcome sign. Then use a stippling or foam brush to paint in the stencil. Use a minimal amount of paint and a tapping motion to paint the exposed wood. This will keep your paint where you want it. Then carefully remove the stencil and allow it to dry.