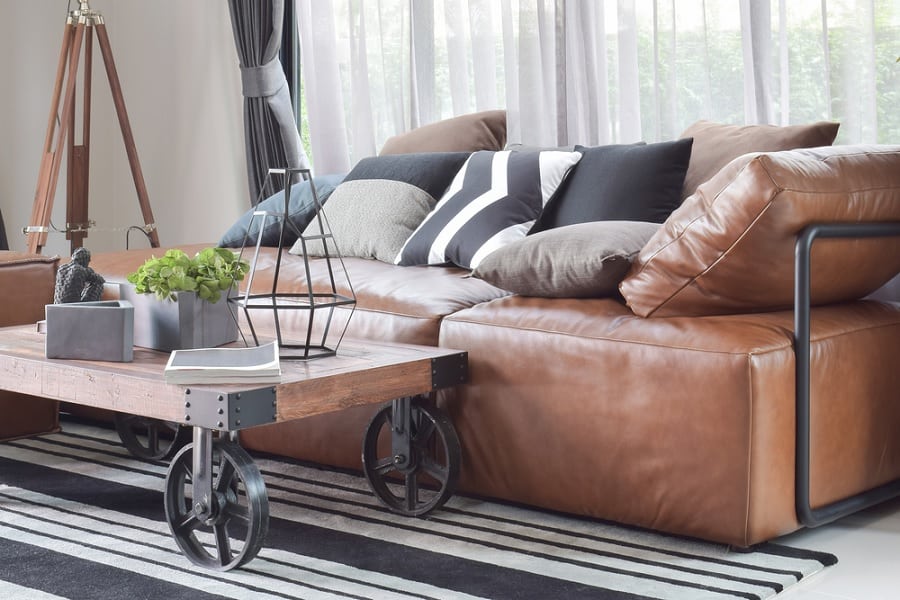 What Color Goes With a Brown Leather Sofa?
A brown leather sofa is a classic piece of furniture that looks beautiful in any home. The luxurious leather adds a sense of elegance and class that a fabric sofa simply can't achieve. This is especially the case when you choose a classic upholstery design, like a Chesterfield sofa or a mid-century modern sofa.
Once you have your beautiful leather sofa, you now have to design the rest of your living room around it. So, what colors go with a brown leather sofa? This guide will help you find the perfect color scheme for your leather sofa.
1. Earth Tones

Pair your brown couch with a color scheme that features earth tones. These are colors that you would find existing in nature. Think rusty reds, burnt oranges, mustard yellow, sage, moss grey, and sandy beige. These colors pair well with your brown leather sofa because the sofa is also an earth tone shade naturally occurring in nature.
This KILZ TRIBUTE Interior Matte Paint comes in a range of earth tones including "Baked terra cotta", "Haute red" and "Pottery beige".
Choose a paint color that balances the shade of your sofa. For example, if your sofa is dark brown, choose a lighter earth tone for the walls. If your sofa is a lighter color, then skip the light beige for the walls and choose another color. This will create dimensions and depth in the room.
Classic earth tone color combinations are found in Southwestern design, the country cabin aesthetic, or even some mid-century modern designs. Do not try to use all of these earth tones in a single room as this is too much color. Stick with the 60/30/10 rule of three. You'll choose three colors and use them 60%, 30%, and 10% in the room.
2. Warm Colors
Pair your dark brown sofa with warm colors like red, orange, and yellow. These warm-hued colors bring out the warm undertones in the leather. These colors can be overwhelming when painted on the wall, so be sure you are ready to make a bold statement before painting the walls red in your living room.
Instead, try using these warm colors in the accents and textiles. For example, keep the walls a soft neutral and hang red curtains, use a patterned area rug with red in it, and have red throw pillow combinations.
Also, try using different shades of red, orange, and yellow.  Bright yellow can provide light and dark balance to a dark brown leather sofa. A soft mauve can add a delicate feminine touch to your brown leather sofa that has a masculine feel.
3. Cool Colors
Cool colors are greens, blues, purples, and greys. Certain shades of these colors compliment brown leather sofas beautifully by balancing the warmth of the leather. For example, deep navy blue or forest green color walls will look sophisticated and elegant when paired with crisp white trim and a dark brown leather sofa.
In contrast, a bright coastal shade of blue with a light brown leather sofa will look fresh and inviting. Be careful when using purple, though. Purples can be hit or miss with brown. Stick with purples that are pale or have grey undertones for a more sophisticated look.
Blues and greens look good together, so you can have a color palette that features blue, green, and brown. Or you can balance blue and brown with a soft cream color for accents. Finally, tie the room together with an area rug that uses all three colors.
4. Grey
Grey is the modern neutral, and you will see it in various interior design themes. This makes it perfect for pairing with your brown leather furniture. Dark charcoal or pepper grey will look slightly moody and sophisticated, making it perfect for a distinguished Chesterfield sofa.
In contrast, a soft pale or pearl grey will look right at home with a modern brown leather sofa. Choose honey or chestnut leather for this look. To keep the room from falling flat, use more than one shade of grey.
Balancing light and dark grey shades creates depth and definition in the space. You also need other brown accents in the room to ground the sofa in the space. This approach would look good in a farmhouse or rustic sofa.
Then you could have brown cowhides on the floor instead of a traditional area rug. Or you could bring out the brown hues of the leather with wooden furniture. Add matching brown leather hardware for the drawer pulls.
5. White
White is the ultimate neutral and the go-to wall color. It will act as a blank slate for your brown leather couch. You can then choose bold colors for the accents. This could be with throw pillows, a blanket, area rug, window treatments, or artwork on the walls.
White is bright and reflects light well, balancing darker brown leather shades. You are also free to choose brown leather sofas with more unique undertones, like reds and oranges.
Next, accent your white room and brown leather sofa with black hardware and fixtures. Finally, place wood furniture with your sofa, and you will have a rustic farmhouse feel that won't feel old or outdated.
6. Cream
White can look crisp, but it can also look stark and cold. It can also reflect a high amount of light, which isn't necessary for rooms with a lot of natural light.
A perfect alternative is to use a soft cream color instead. This lighter shade is perfect to pair with a dark brown couch because there are warm undertones in the white shade.
Pay attention to the undertones in your chosen shade, as some are pink and others are more yellow.
Don't pick a shade where the undertones are too strong, or you will lose the cream look and instead have pale pink or yellow walls. It's also best to pair your brown leather sofa and chosen shades of cream with a third color that matches the undertones of the cream.
7. Black
An outdated fashion rule states black and brown should never go together. This rule is out and one that you can ignore. A black wall and chocolate brown leather sofa can look beautiful together.
Keep the decor to a minimum for a clean design and pair your black and brown with white and light woods. Accent the sofa with a soft cream-colored blanket like this one to soften the look. This is a minimalist approach to Scandinavian design.
Your living room will have an understated feel that is spacious and cozy. This design works best when your leather sofa looks slightly worn in and has an overstuffed feel to the cushions.
8. Jewel Tones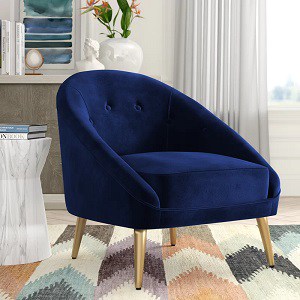 Jewel tones are colors that are derived from gemstones, hence the name. These are stones like sapphire, ruby, and emerald. The colors are highly saturated and eye-catching – check out this gorgeous velvet barrel chair.
Historically, these gemstones were associated with the ultra-rich nobility and royalty. This association has carried over today, and when used in interior design, they give a sense of regal-ness and distinction. This makes them perfect for use with leather furniture, which is also associated with someone who is upscale and has wealth.
The richness of the brown leather provides a complementary color that won't compete with the bold jewel-tone colors. This color combination looks complete when you accent it with metal fixtures.
While painting your walls, a jewel tone makes a bold statement; not everyone is ready to commit to this. Instead, you could choose a jewel tone rug color. It will pop even more with brown furniture placed on it.
9. Metallics
Brown colors can look a bit dull, even if they are in the form of a luxurious leather sofa. You can play up the elegant feel of your leather by pairing it with other high-end materials.
Try adding metallic accents to the room that will elevate the interior design. Change out the legs on the sofa for copper, gold, or brass, or rose gold legs. Then carry your chosen metal hue throughout the rest of the room.
You could hang wall decor, add metallic picture frames, use table lamps with metal accents, or side tables that have metal frames. Don't forget about the curtain rod over the window. Avoid cool metals like silver and nickel; they make brown leather sofas look cheaper.
Black metals have their place, such as in a vintage-inspired, farmhouse-themed, or industrial design. Look for black metal accents and fixtures that match your chosen aesthetic.
10. Neutral Colors
You can't go wrong with a neutral palette when decorating with a brown leather sofa. Whether you have a honey, caramel, saddle, chocolate, or darker shade, all of these are considered neutrals.
Take the color of your leather sofa and build the rest of your neutral palette around it. If your sofa is dark, add medium and light shades. If your sofa is a medium shade, add dark and light shades. If your sofa is light, add medium and dark shades.
You want a good balance of light and dark because it will add depth and dimension to your room. Everything will blend and look incredibly bland if you have beige walls, textiles, furniture, and flooring. Don't be afraid to add white, cream, or even black to your neutrals.
11. Vibrant and Bright Colors

No, we are not talking about neon colors. Brown couches and neon colors do not mix. However, a dark brown shade is a perfect color to ground more conventional bright colors, like a bright sunny yellow, southwest turquoise, or vibrant magenta. These colors are highly saturated and need a dark color to balance them out.
Dark brown furniture is perfect because it has a softness that pure white or black lacks. If you have a light brown leather sofa, pair it with bright kelly green elements like these throw pillows. Try using bright colors in a maximalist design that embraces vibrant colors, shiny metals, and bold patterns.