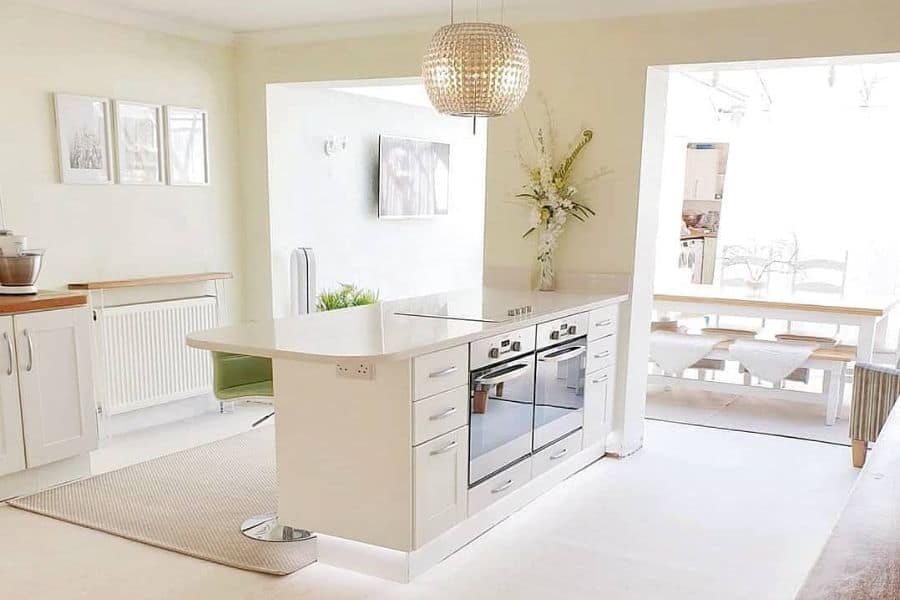 The Top 49 White Kitchen Ideas
The ideal kitchen must be as functional as it is aesthetically pleasing. So the last thing you want is to lose sight of culinary practicality for the sake of trendy decor.
A kitchen designed with a white color palette can easily bridge the gap between form and function. And, thanks to the simple color scheme, it's unlikely to go out of style anytime soon.
Contrary to what you might believe, white kitchen decor is not inherently boring or unoriginal. Keep reading for our favorite white kitchen ideas and how to implement them yourself!
1. Backsplash
In many kitchens, the backsplash is the brightest and most interesting surface in the entire room. While few would describe an all-white backsplash as "vibrant," you can still get creative!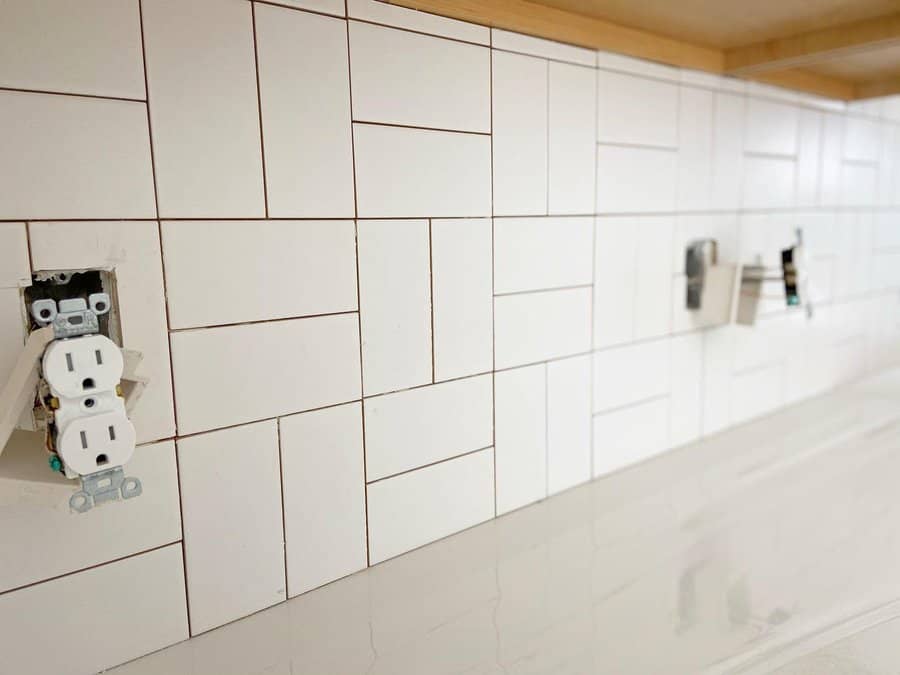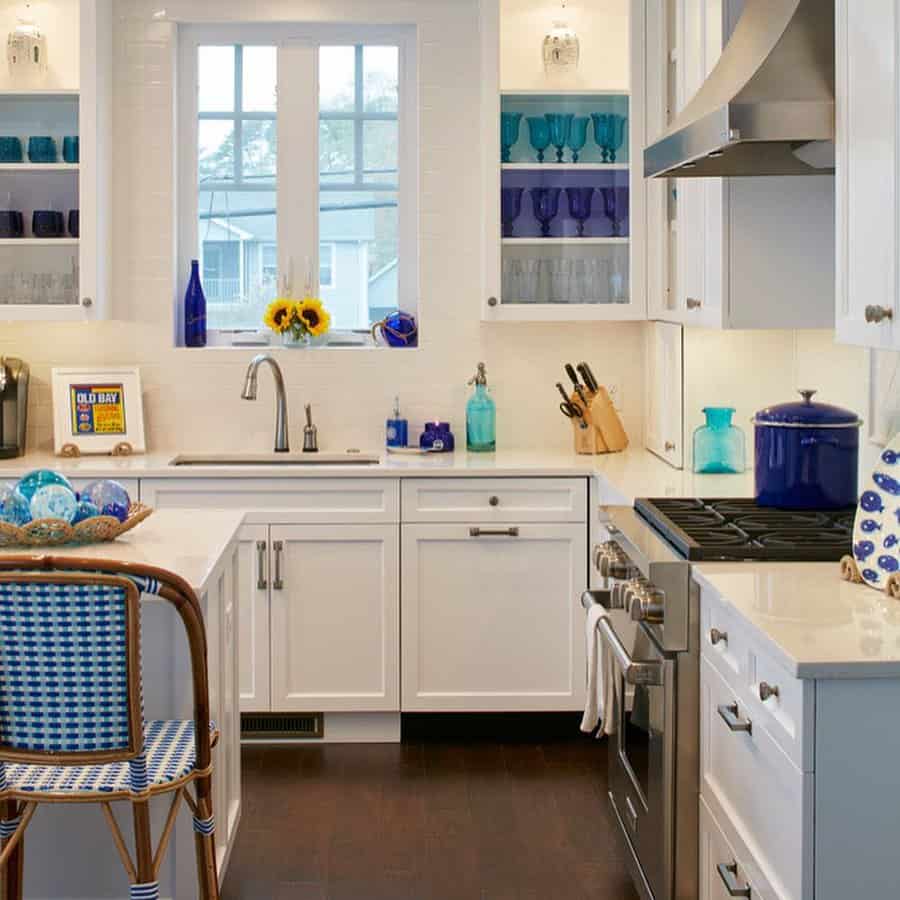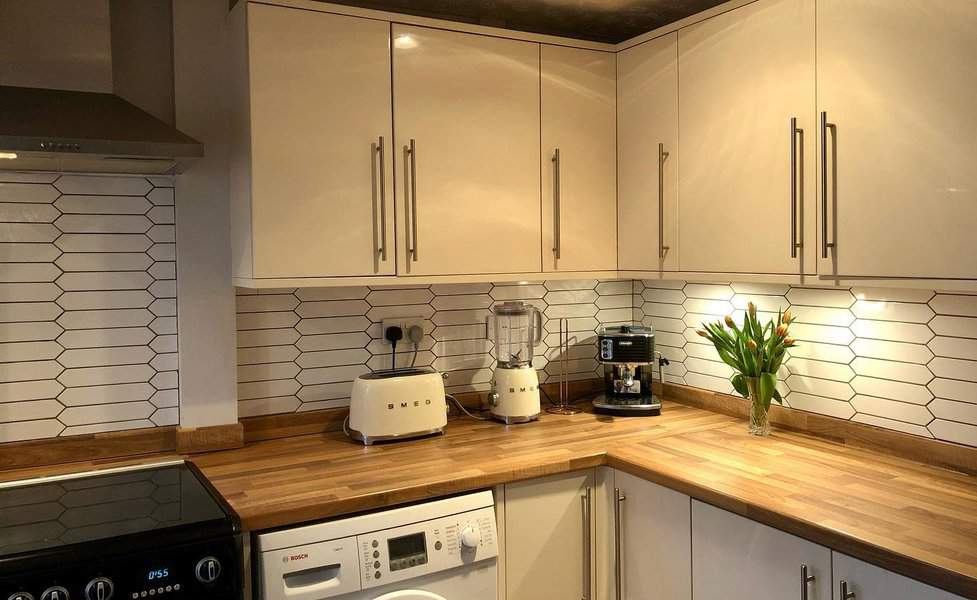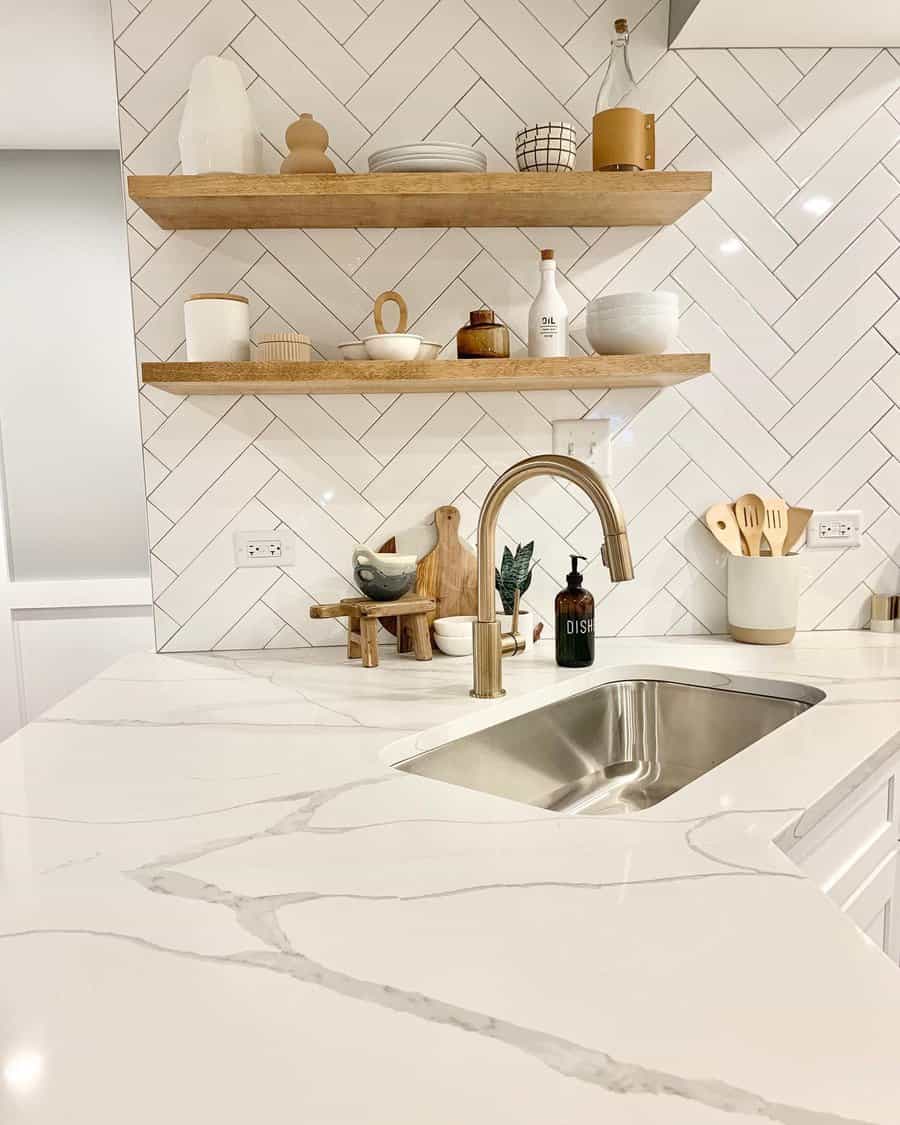 Backsplash tiles come in a wide variety of shapes and styles. Take full advantage of these options when designing your own kitchen backsplash. Apply contrasting grout to really make your backsplash tiles pop.
The purpose of a tile backsplash is to keep the wall behind it clean and free of damage. So selecting backsplash tiles that are easy to clean and won't stain easily is crucial to a high-quality kitchen workspace.
2. Blinds
The right window treatment can really pull a room together. While kitchen blinds might not be as important as the ones in your bedroom or bathroom, you shouldn't overlook this crucial design element.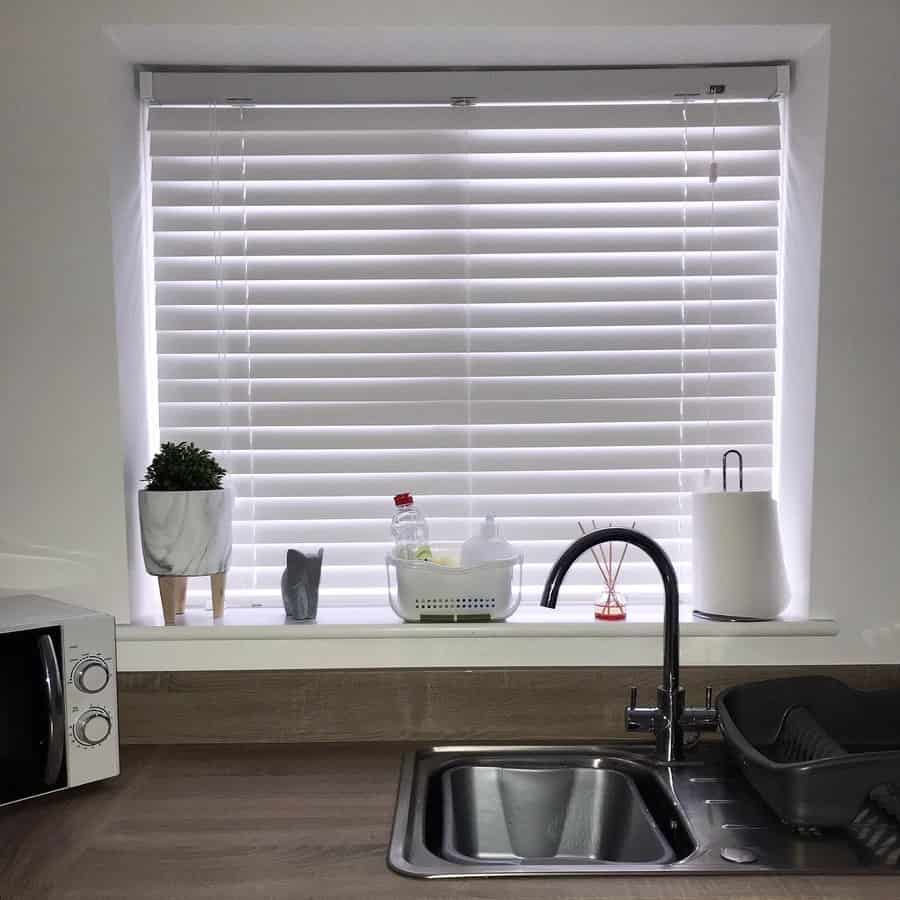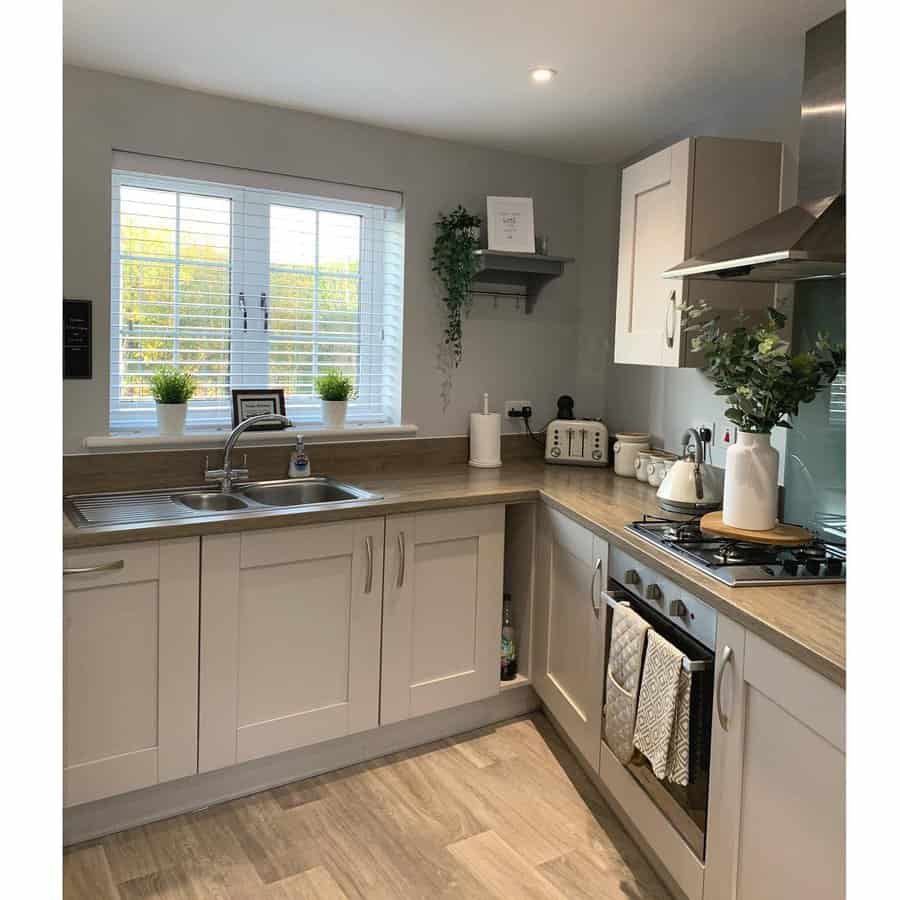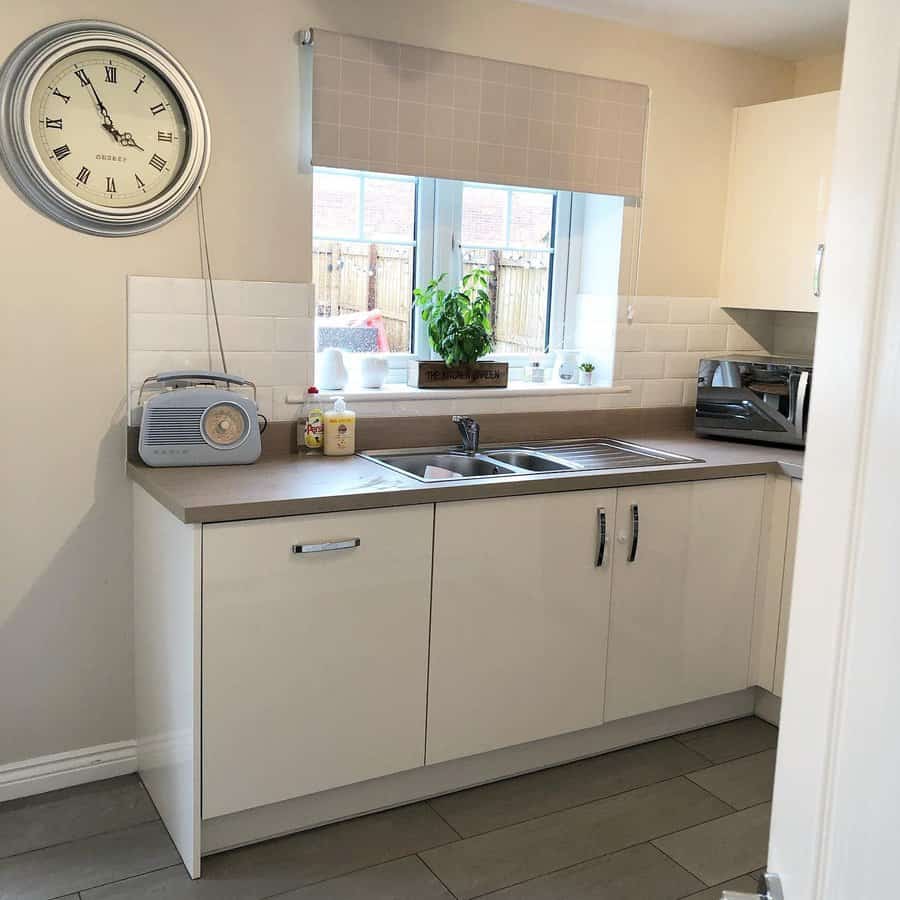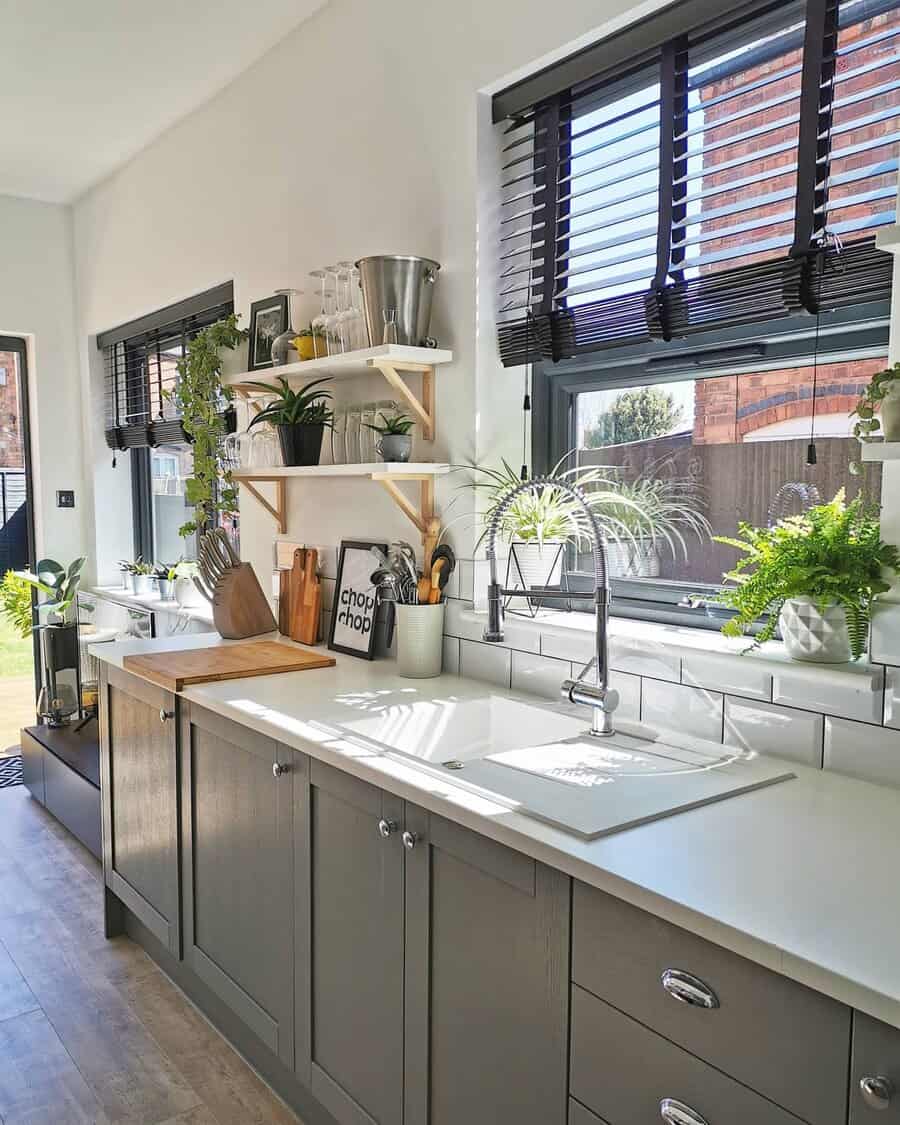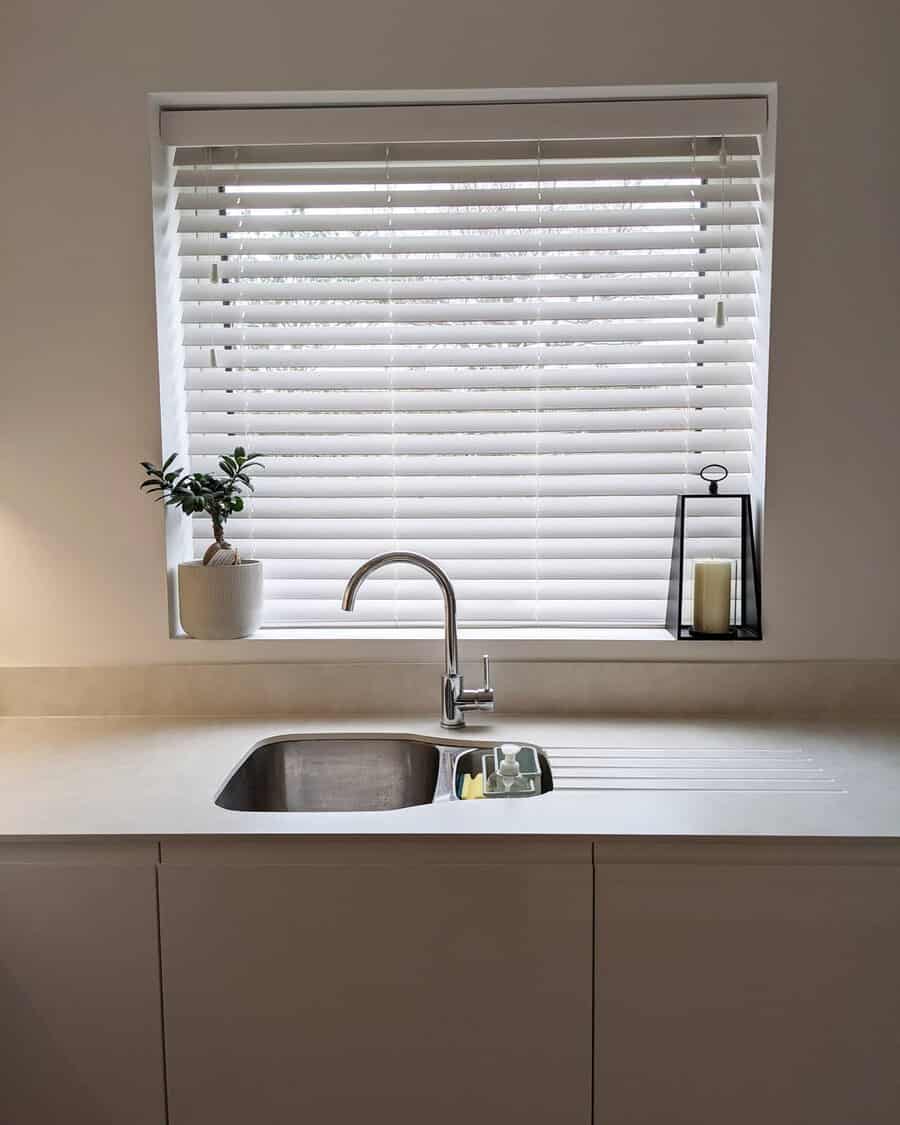 White blinds are an obvious choice for an all-white kitchen. Experiment with patterned or textured curtains to add a little bit of intrigue to your window treatments without deviating from your chosen color scheme.
Natural wood blinds are another great option that will bring warmth to the space.
3. Cabinet
The color of your kitchen cabinets is equally as important as the color of the surrounding walls. White cabinets are an excellent way to make even the most compact kitchen feel bright and airy.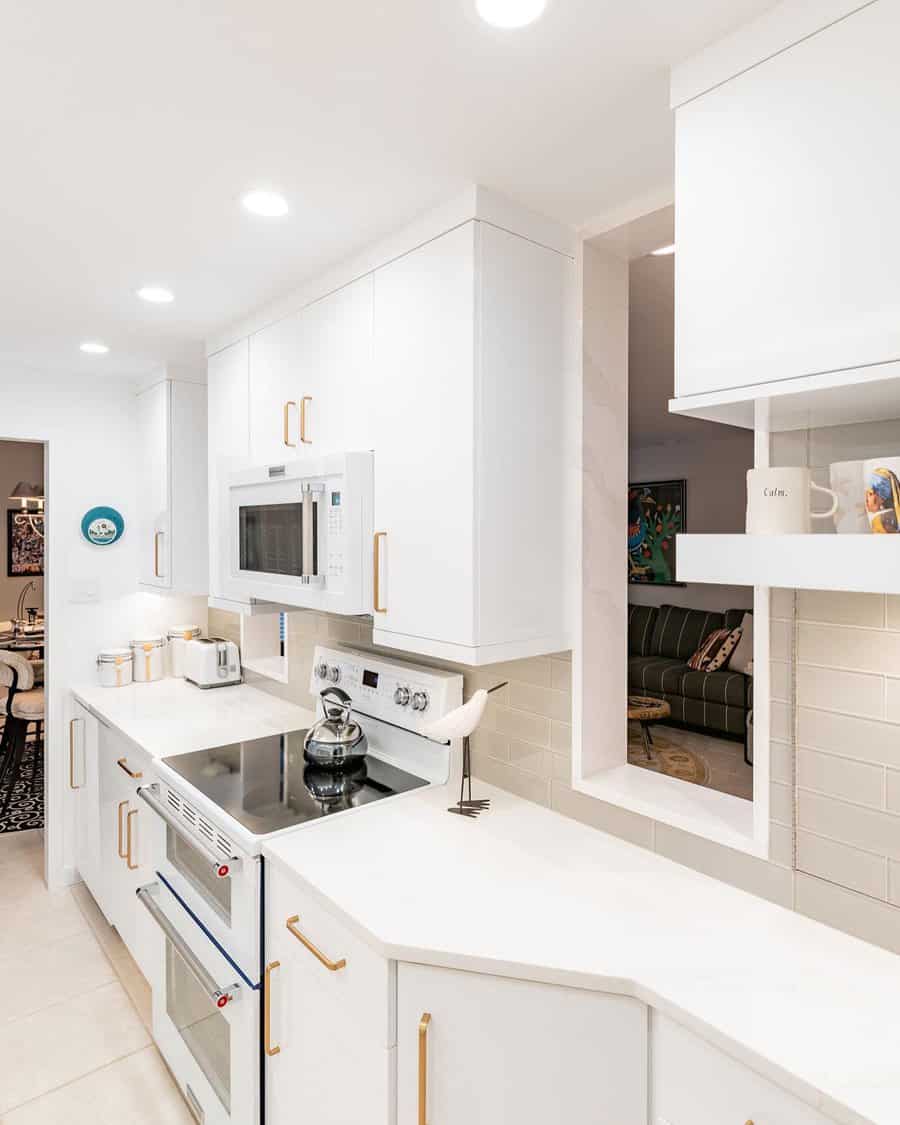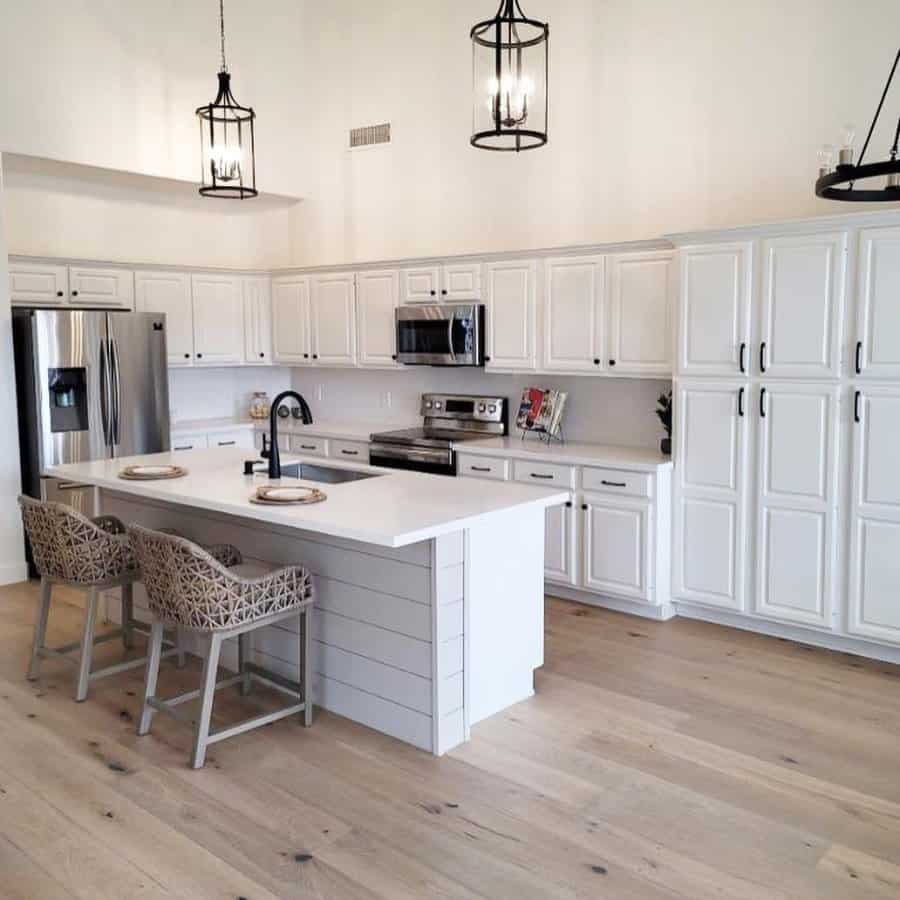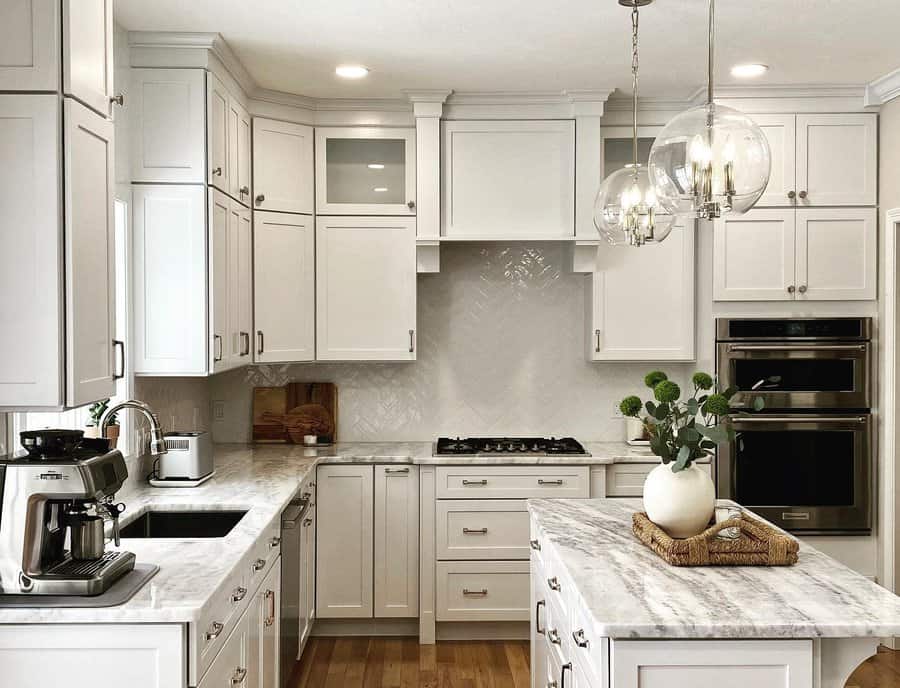 Not all white cabinets are the same. Some offer a sleek, clean aesthetic. Others are rustic and vintage-inspired. Even the exact shade of white you choose can make a big impact on the final product.
Pair white cabinetry with hardware that brings out your favorite accents within your kitchen. If an ultra-modern design is what you're after, invest in doors with built-in handles instead.
4. Countertop
The countertop is one of the most important elements in any kitchen. Not only does it need to be durable and practical for your lifestyle. It must also coordinate with the space as a whole.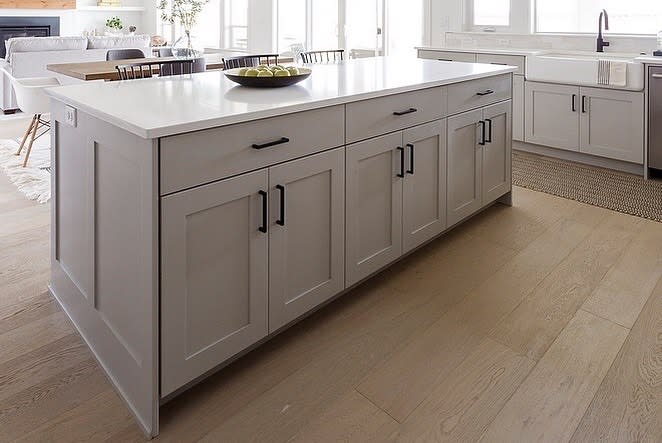 A pure white kitchen countertop is rarely the ideal choice — even in an all-white design. Natural stone counters with subtle variations can be a great way to stick to your color scheme without making the space feel stale and flat.
For greater contrast, consider installing a counter made of grey or even black stone. Wooden countertops are a nice option for a traditional rustic kitchen.
5. Country
You may have an image in your head of a white kitchen that is sleek, minimalist, and undeniably modern. Yet white is also one of the most common colors in rustic kitchen design.
A white kitchen can draw inspiration from many different places, from the French countryside to the American South.
While you can use a ton of white in a country-inspired kitchen without issue, you should also consider including some organic materials. Wood, stone, and even aged metal are just a few finishes that pair beautifully with all rustic-style decor.
6. Decor
One of the beauties of a predominantly white kitchen is that you can completely transform the aesthetic with a few pieces of decor.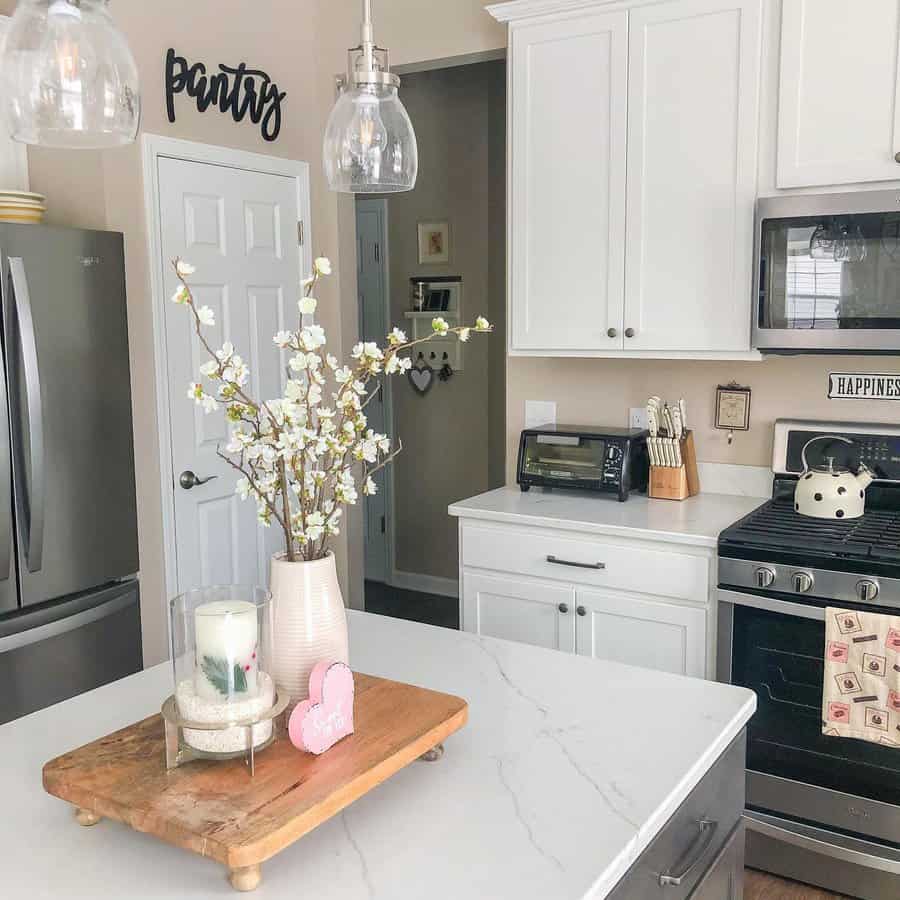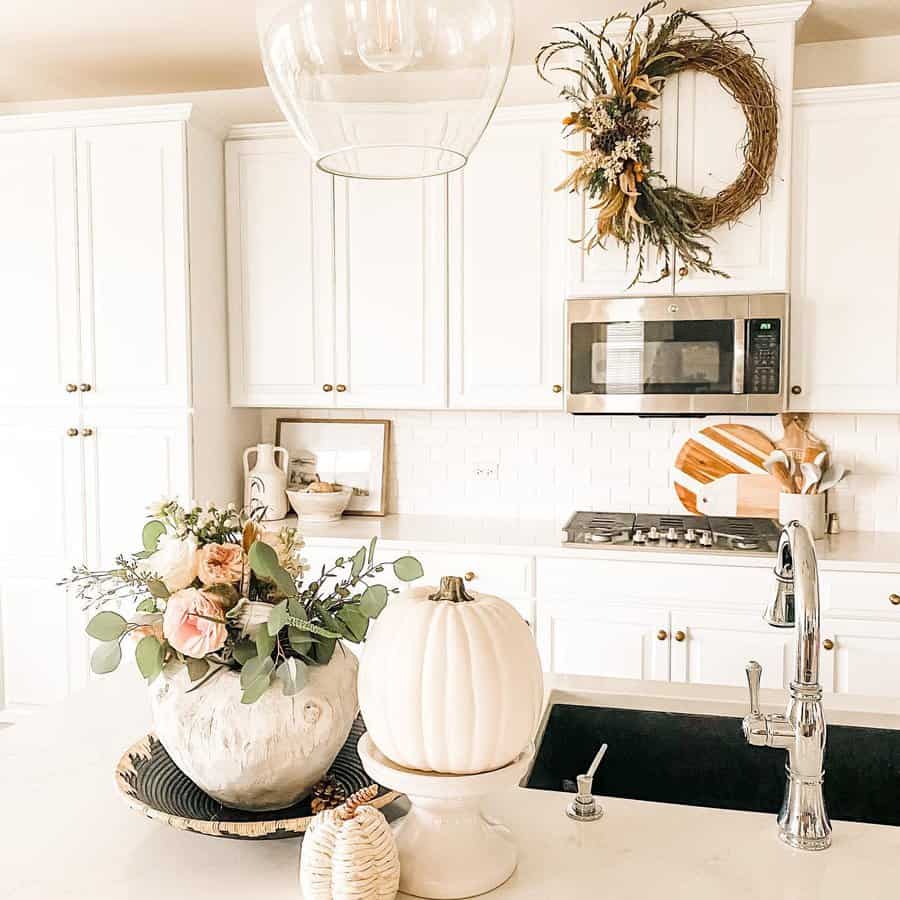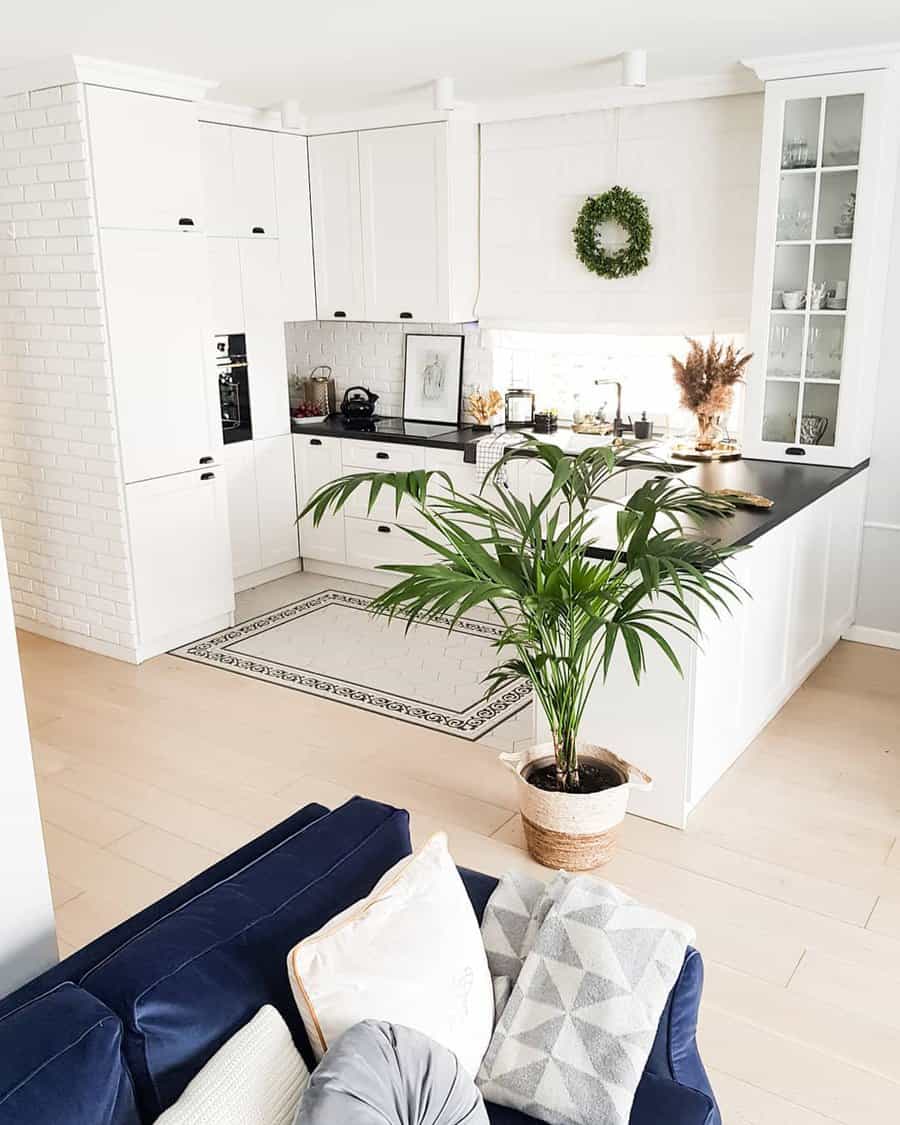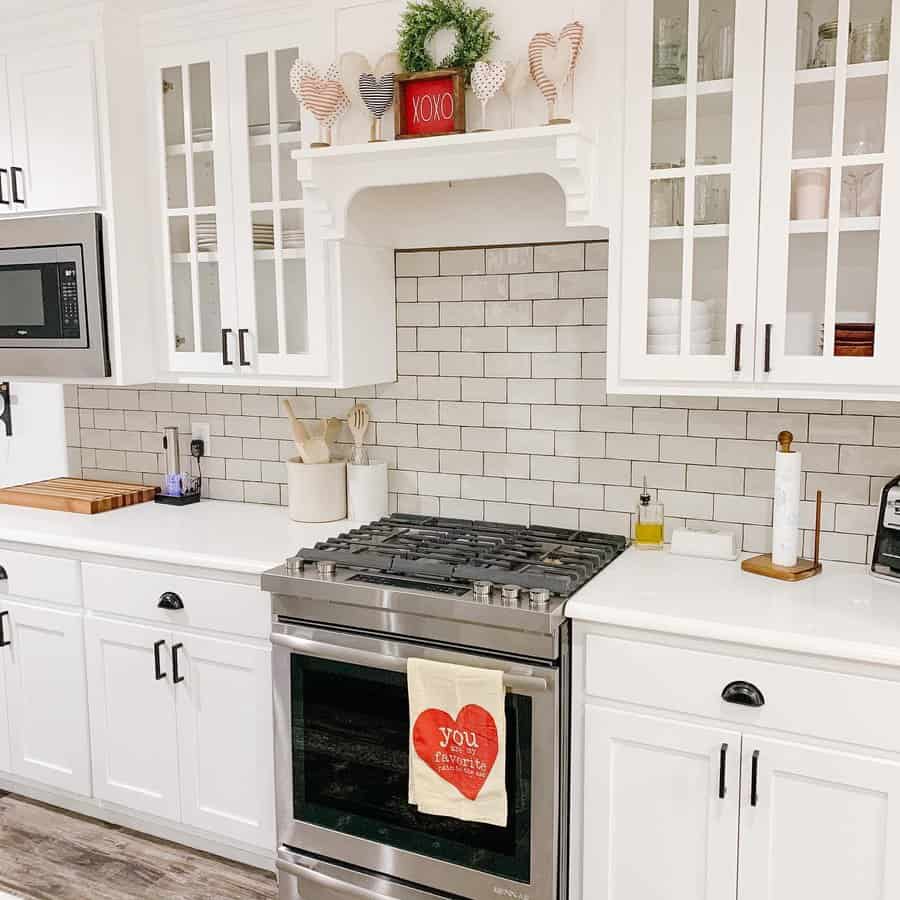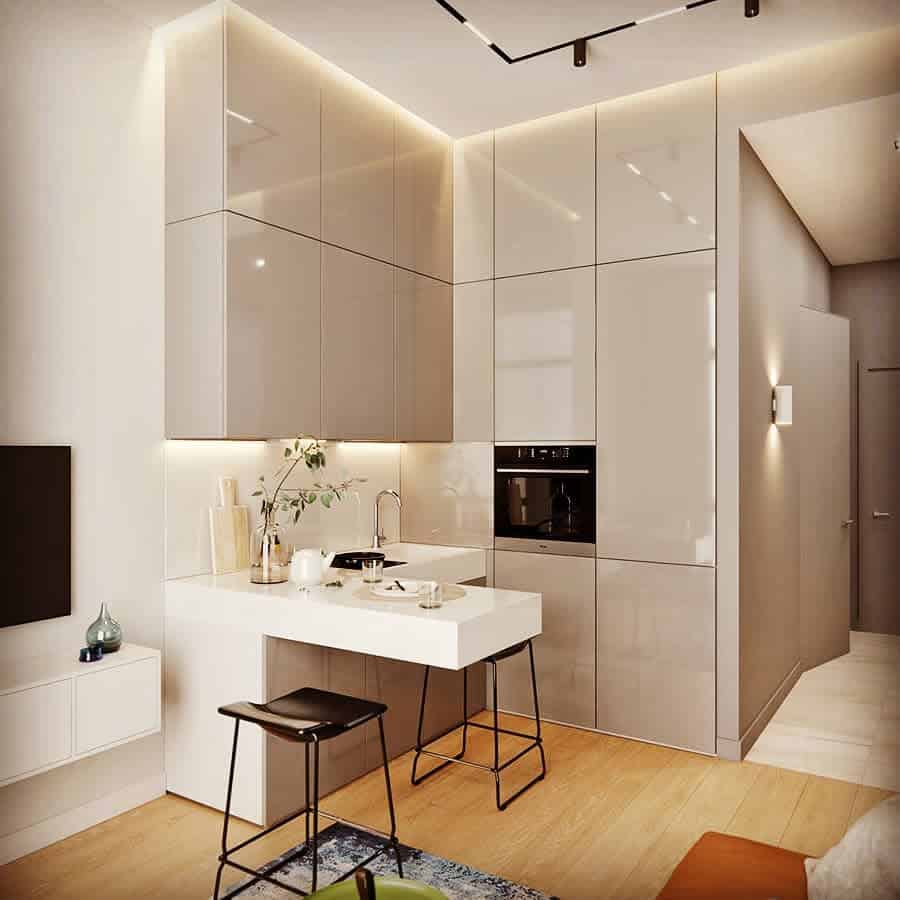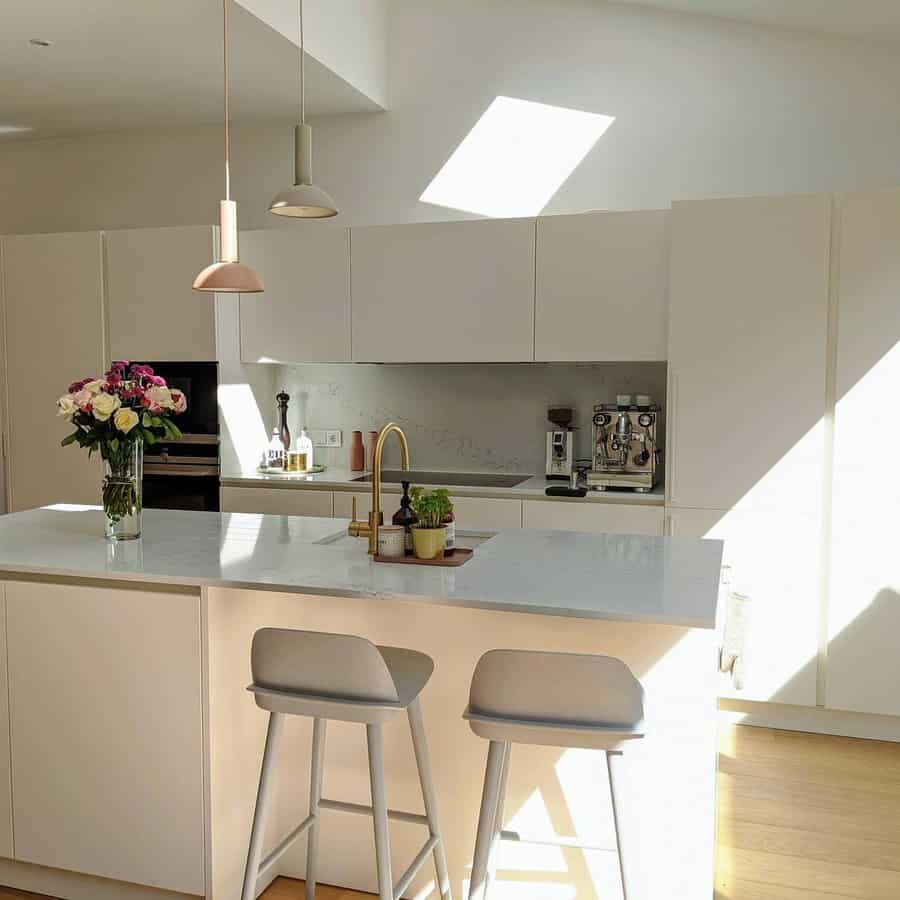 Seasonal items will look right at home in an all-white kitchen — you can go as subtle or as over the top as you like! There's no need to worry about hanging or countertop decor clashing with the existing finishes in your kitchen.
Greenery, both living and dried, is a nice addition to any white kitchen. Potted plants, wreaths, and similar decor will add warmth without distracting from the rest of the space.
7. Farmhouse
Despite over a decade of being one of the most popular decor aesthetics, farmhouse kitchens aren't going anywhere.
Creating a farmhouse kitchen requires striking a balance between modern and antiquated designs. Combine white cabinetry with a distressed finish that will make your kitchen look like it's been well-loved for years (even if it's brand new!).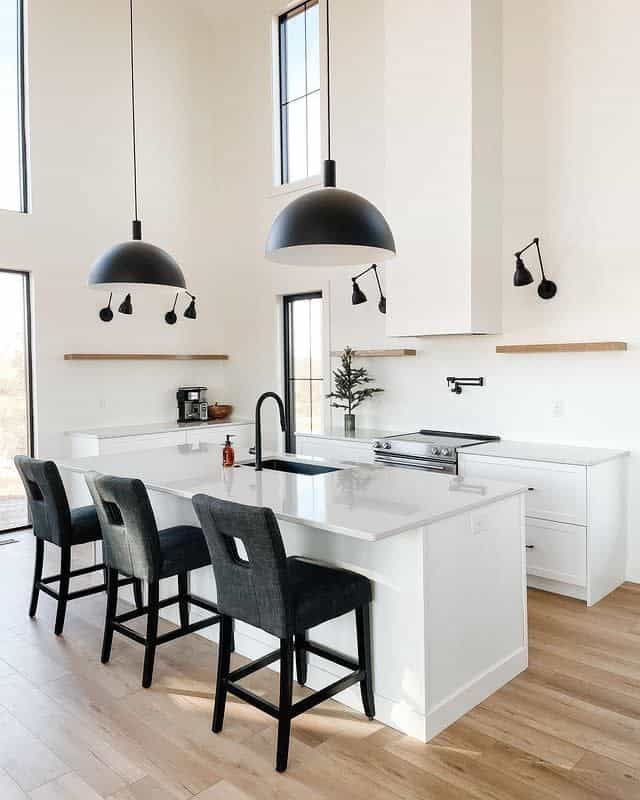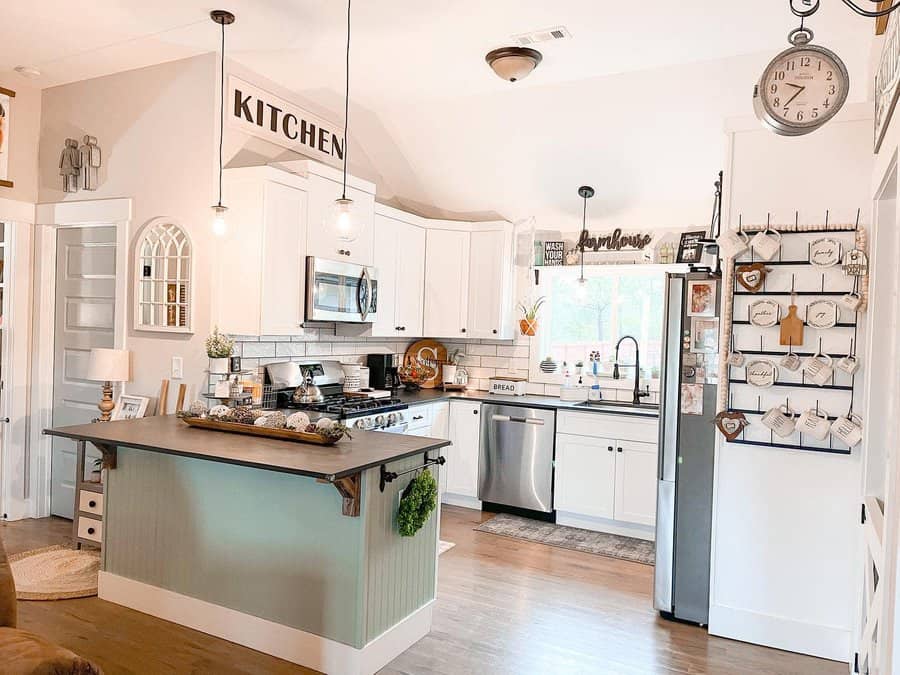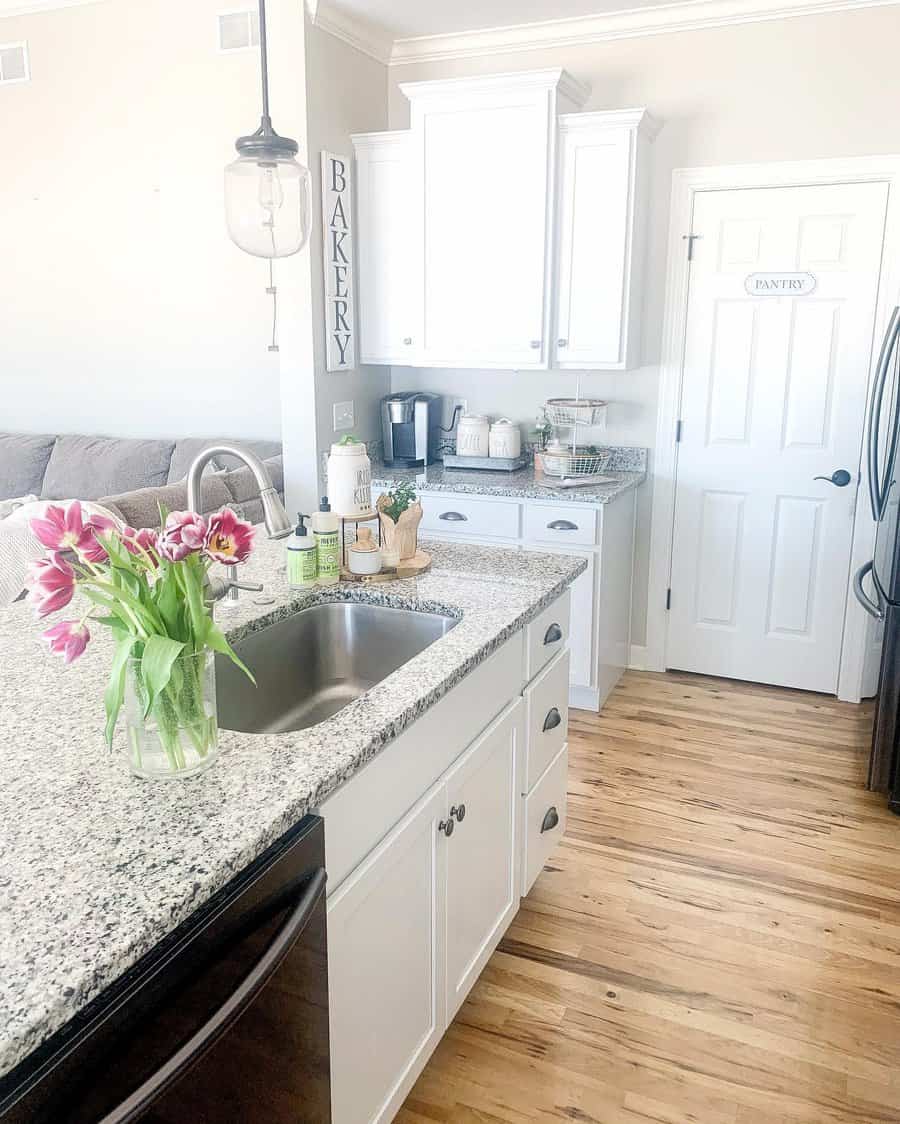 Details like a farmhouse sink and natural wood accents will ensure your kitchen's final appearance is approachable and welcoming. If you're craving a pop of color, try robin's egg blue or a similar shade.
8. Galley
With narrow floor plans and cabinetry looming on either side, galley kitchens present a unique spatial challenge. A predominantly white color palette will maximize the brightness and openness of this tight space.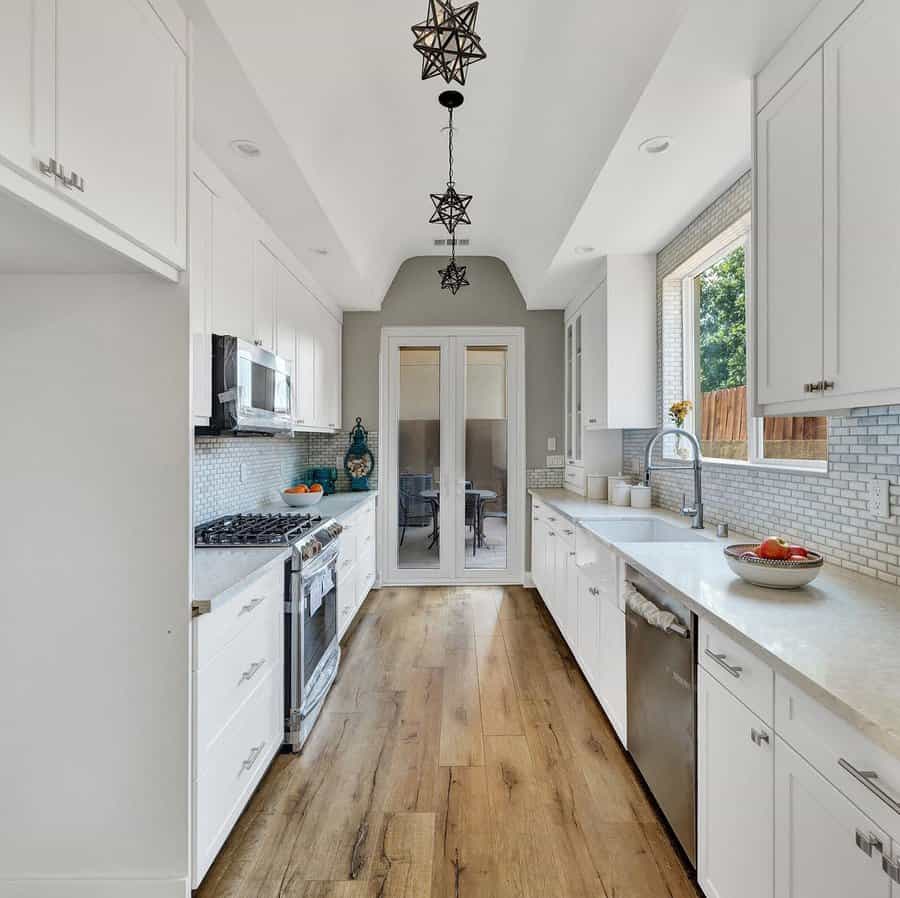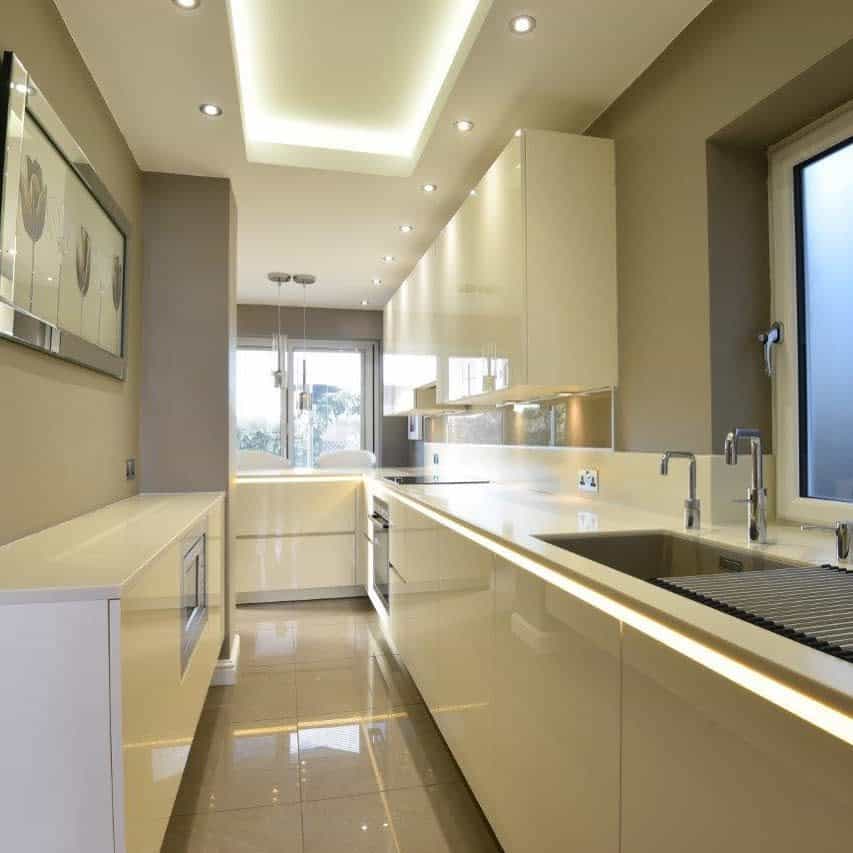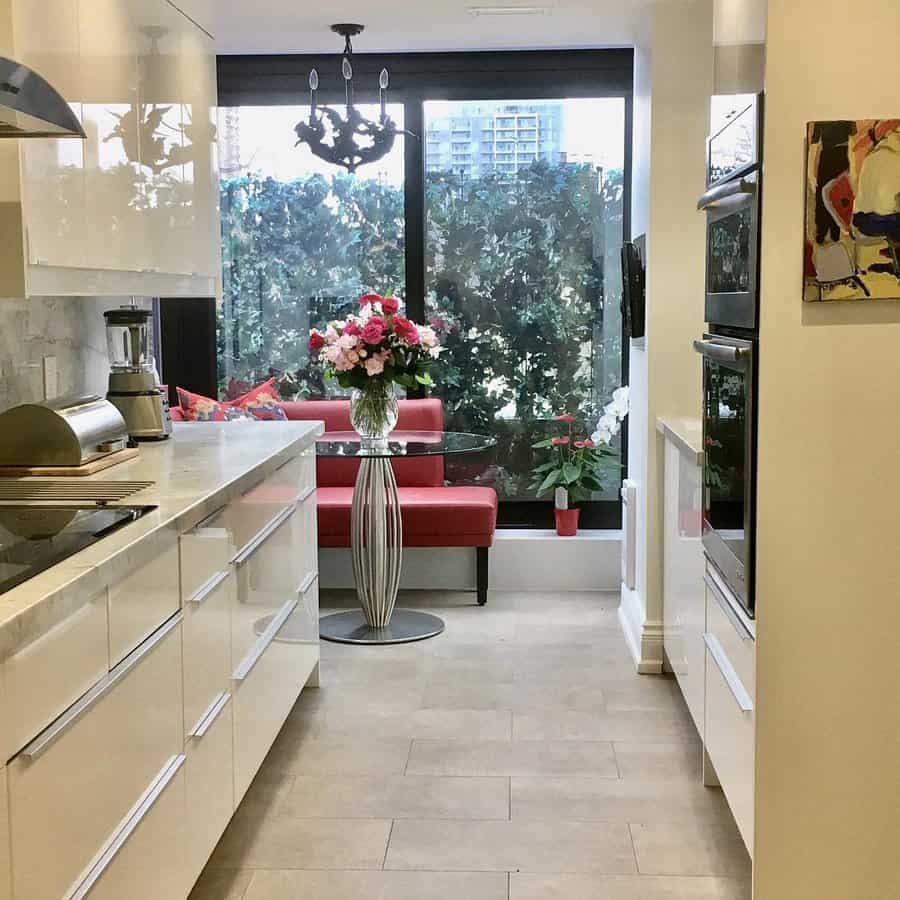 Pairing white cabinets with a matching backsplash can create the illusion of flatter walls. While removing dimension is rarely the goal of effective design, it's a great strategy in this case!
Break up your galley kitchen design by incorporating contrasting finishes near the floor and ceiling. Dark wood floors or statement light fixtures will draw the eye and visually expand the space even further.
9. Island
What do the color white and kitchen islands have in common? They're both mainstays of contemporary home design.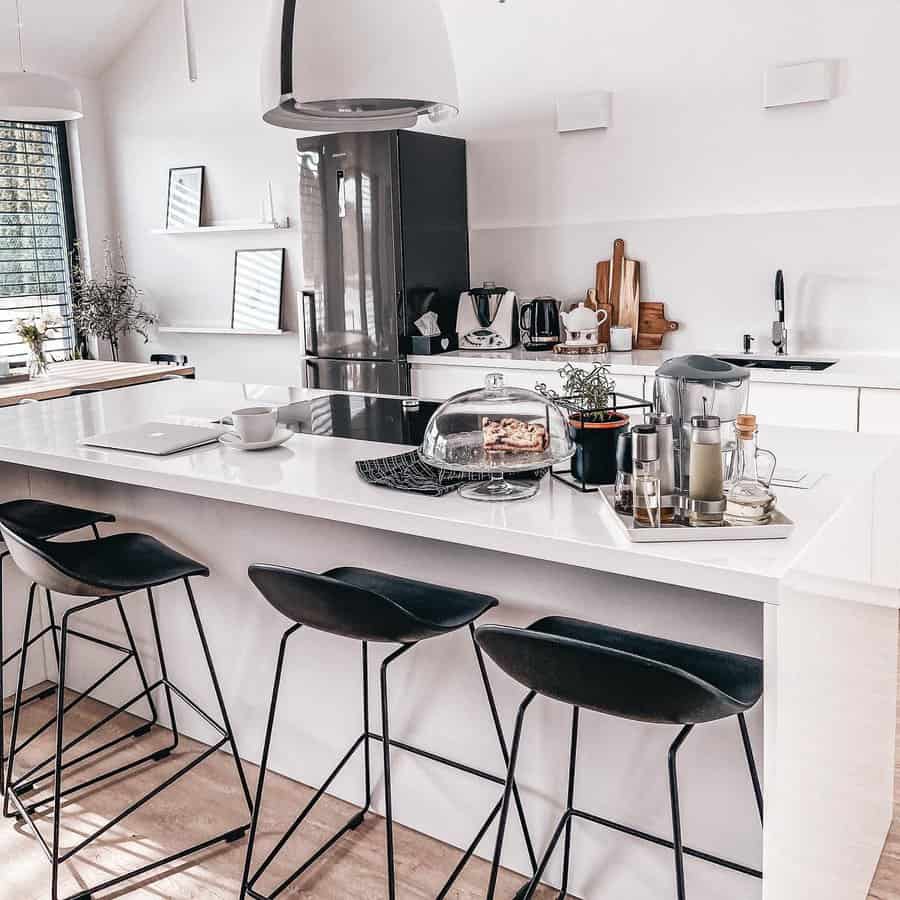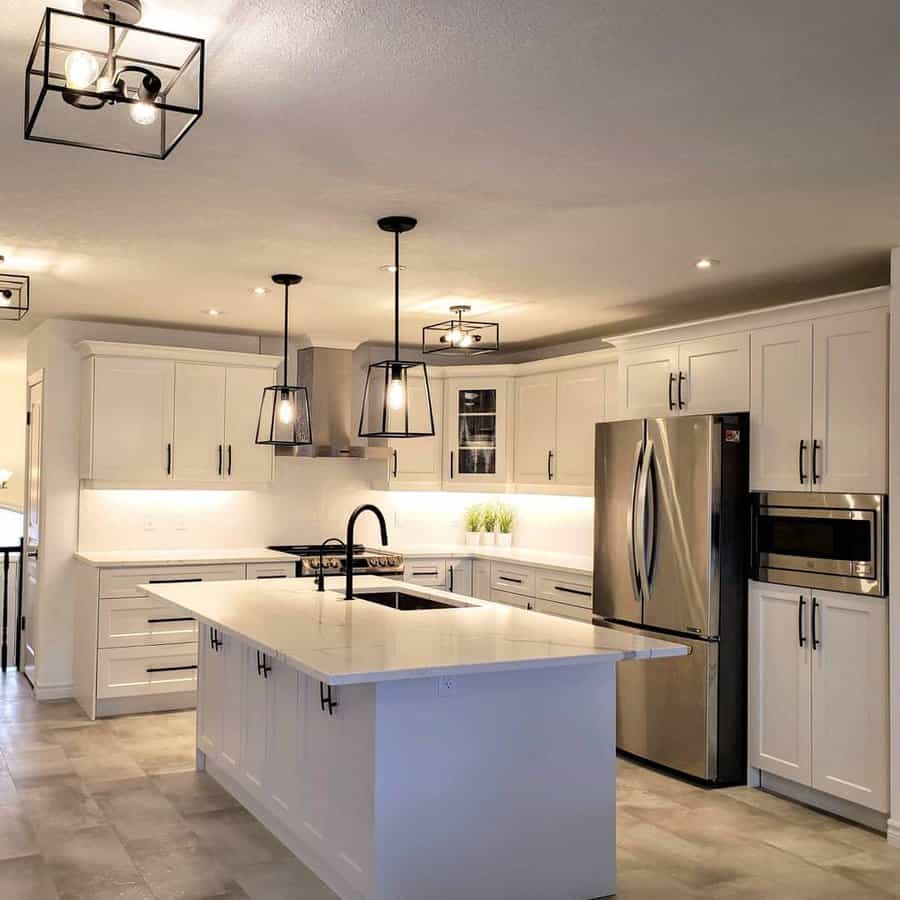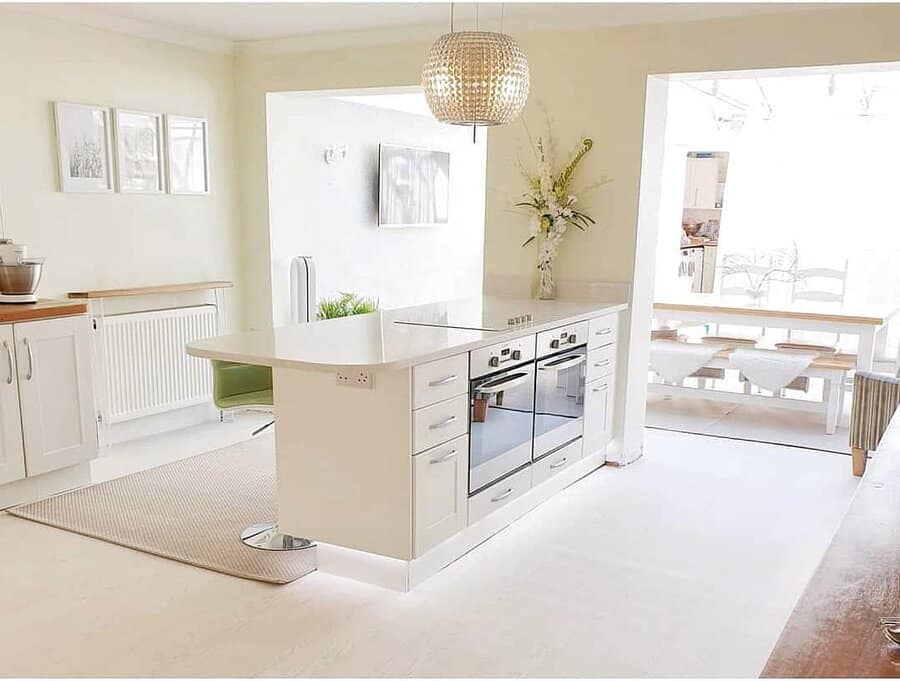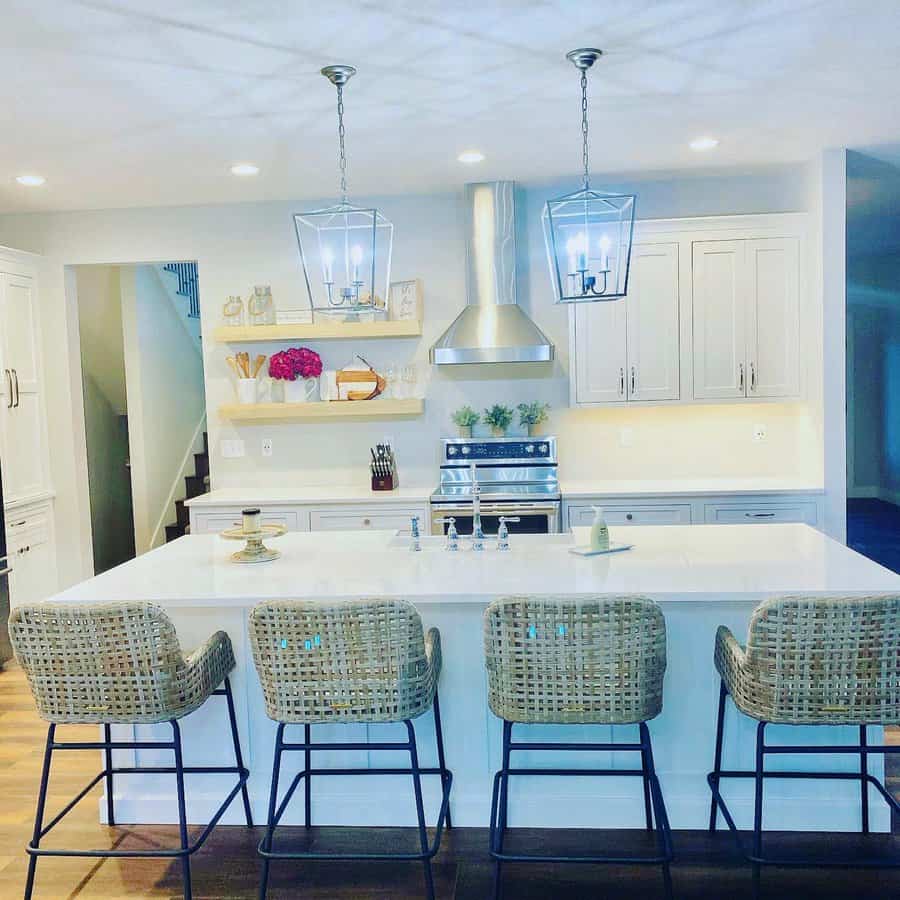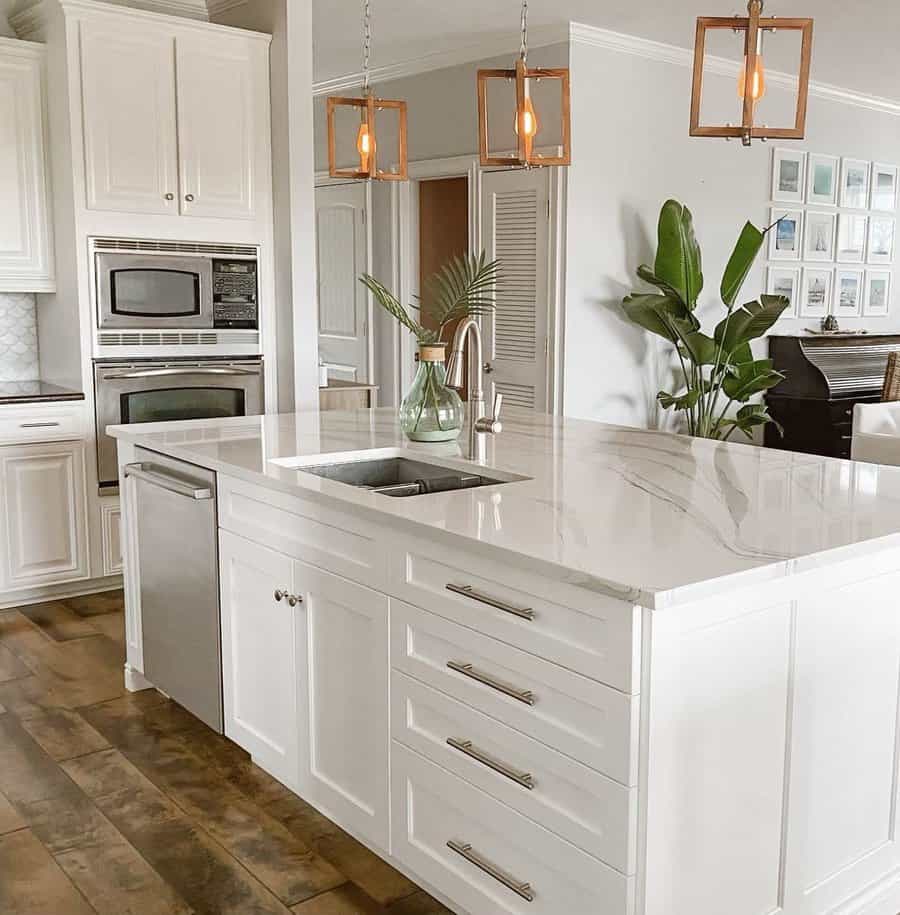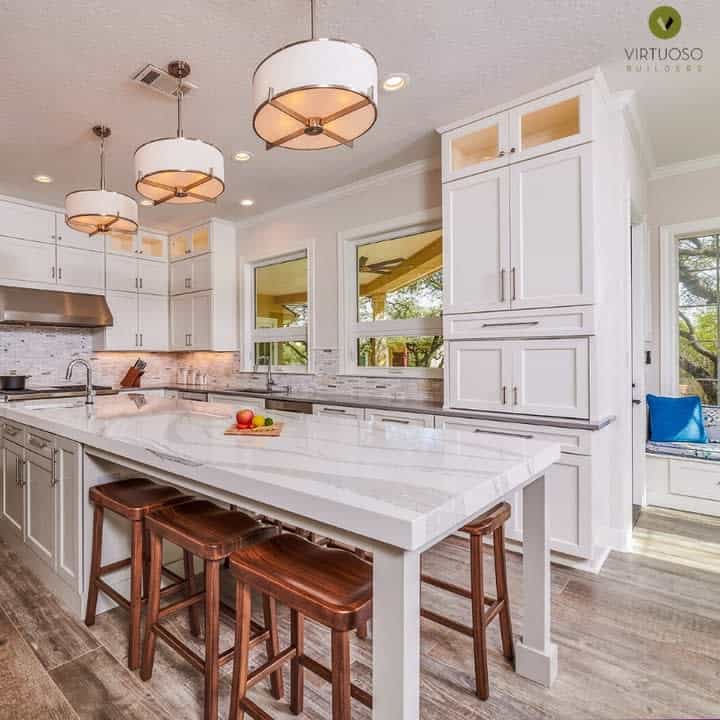 A white island adds valuable working and storage space without weighing down the room as a whole. Choose an island with built-in LEDs to maximize that bright and airy aesthetic.
If your kitchen island includes casual seating, use the opportunity to add variety with contrasting stools or chairs.
10. Modern
Modern design encompasses a diverse family of aesthetics that combine the best of form, function, and minimalism.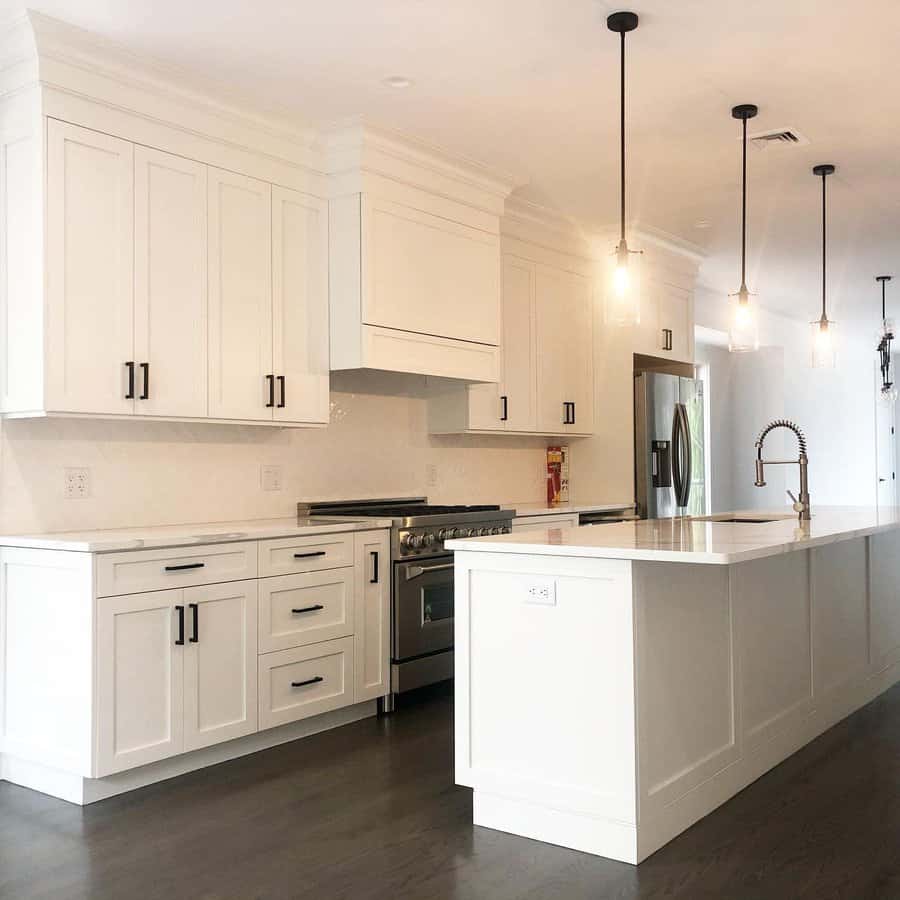 Despite its simplicity, modern design is big on contrast. Accenting your white kitchen with pops of black or a similarly dark color is a great way to bring dimension to the space. Natural finishes work well, too.
Pay close attention to your kitchen's lighting as well. While white decor will make a room feel bright and open, you can never have too many light fixtures when the sun goes down.
11. Shaker Cabinets
Elaborate cabinetry is far from everyone's cup of tea. If completely smooth cabinet doors are a bit too plain for your home, consider installing a set of shaker cabinets instead.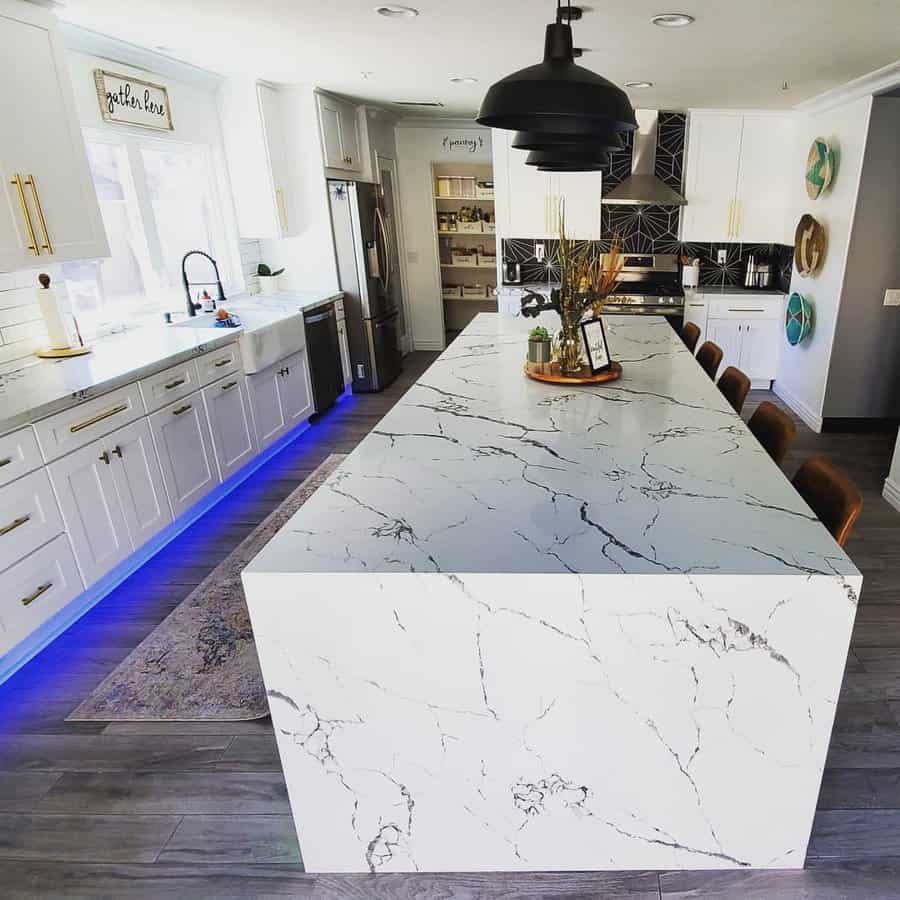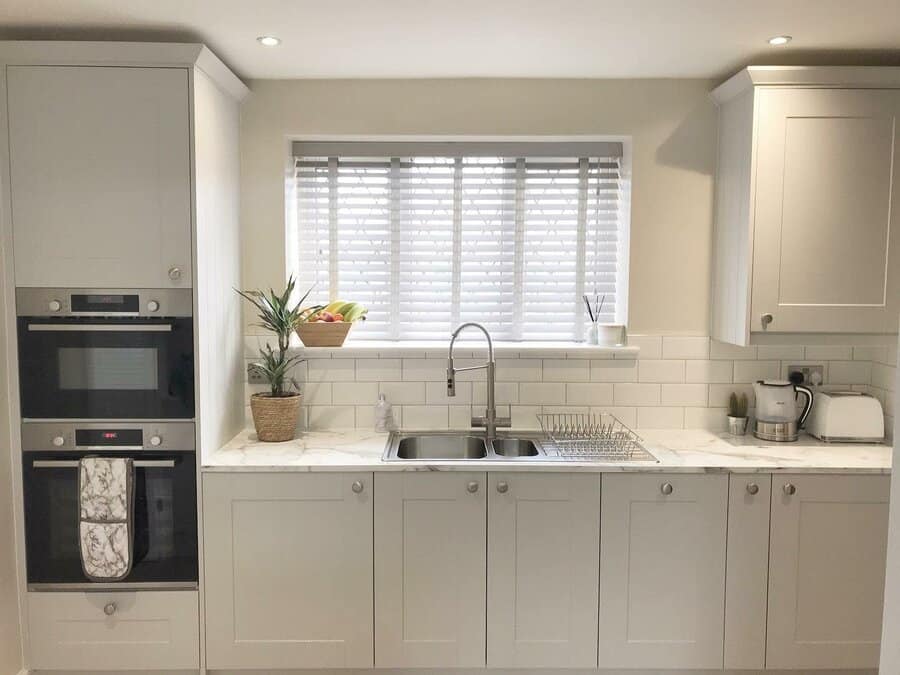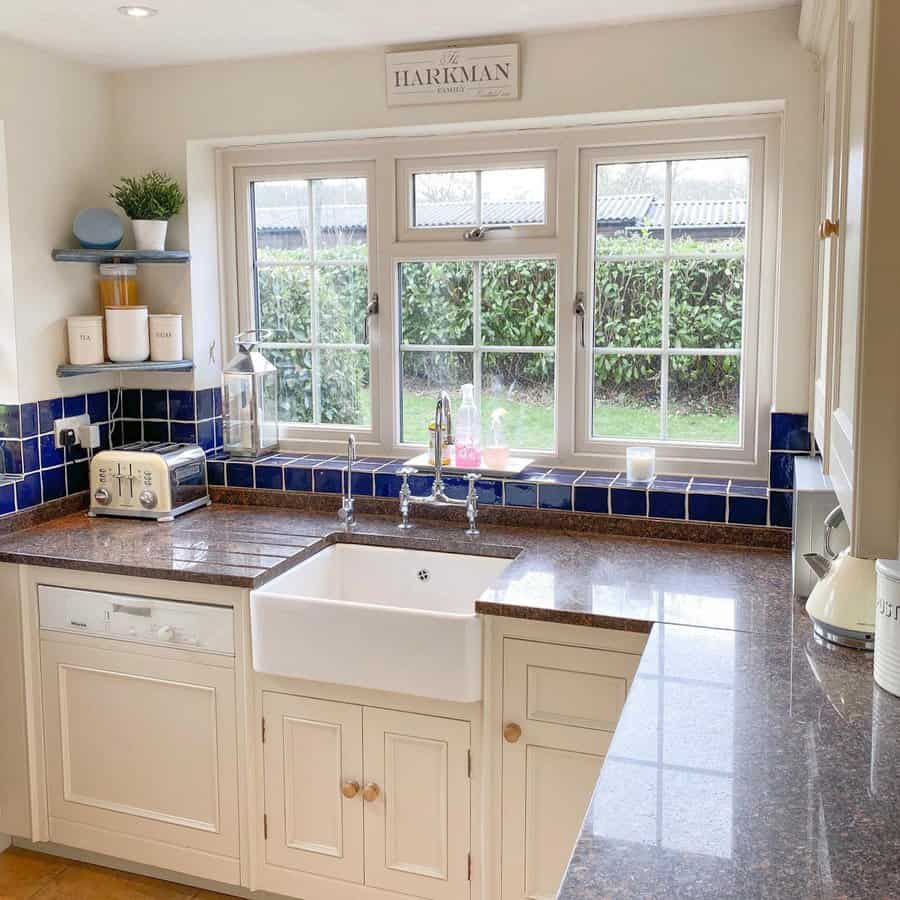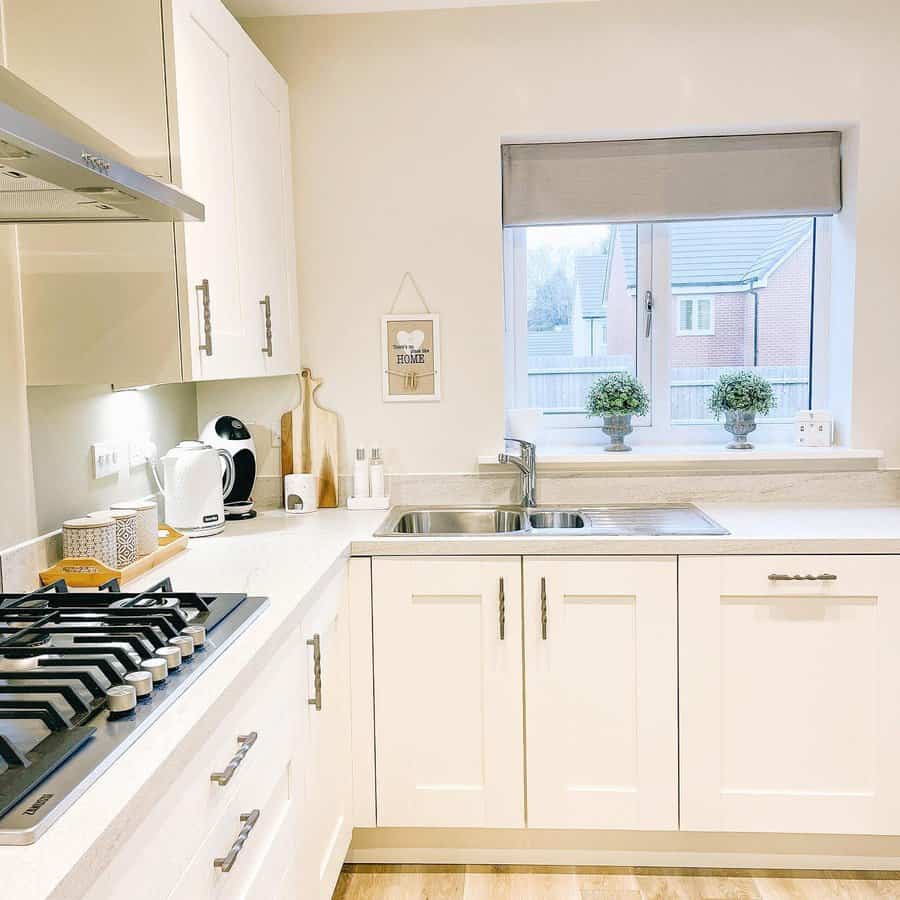 Texture is particularly important when using a minimal color palette. It's easy for surfaces to blend into one another — for better or for worse. Shaker-style cabinets let you preserve the simplicity of your all-white kitchen without risking this side effect.
Keep in mind that shaker cabinets are design chameleons. They pair well with all styles of decor, including most types of hardware.
12. Small
It doesn't take a design pro to understand that white is often the best choice for a small space. While light colors can make rooms of any size appear larger, they're especially powerful tools for those living in tiny apartments or condos!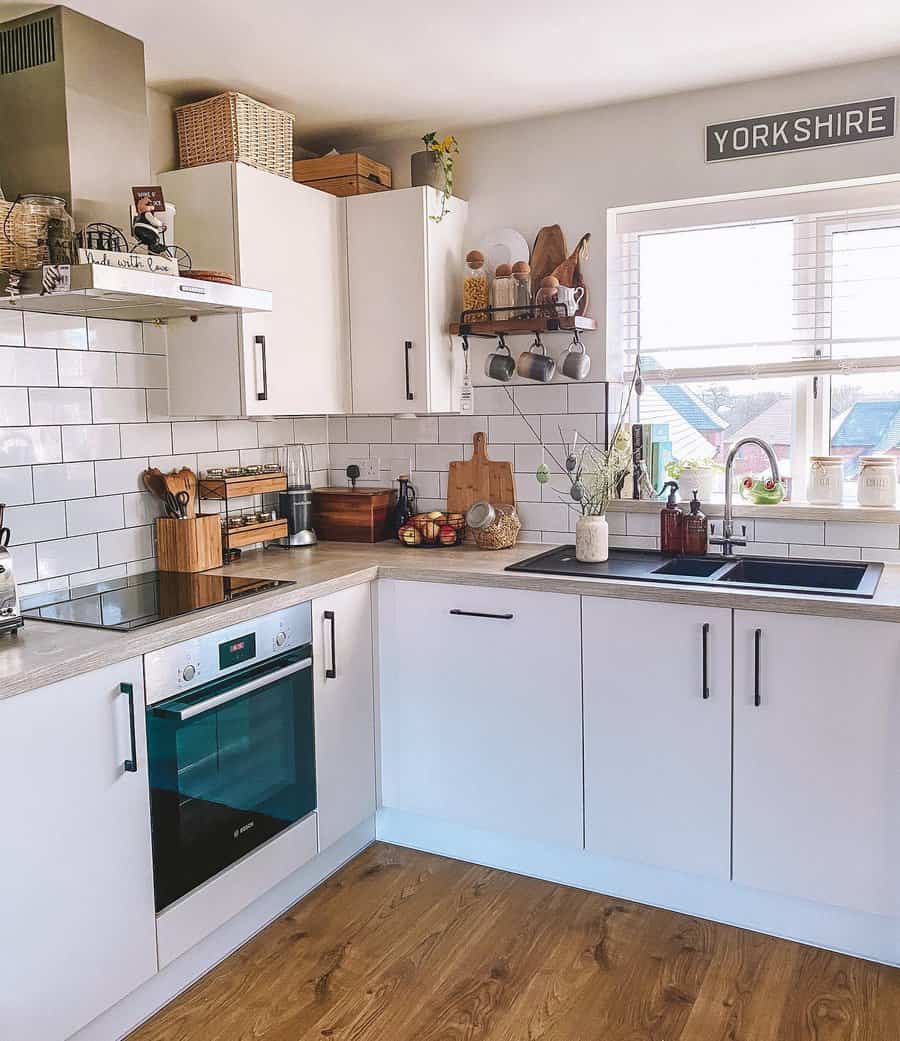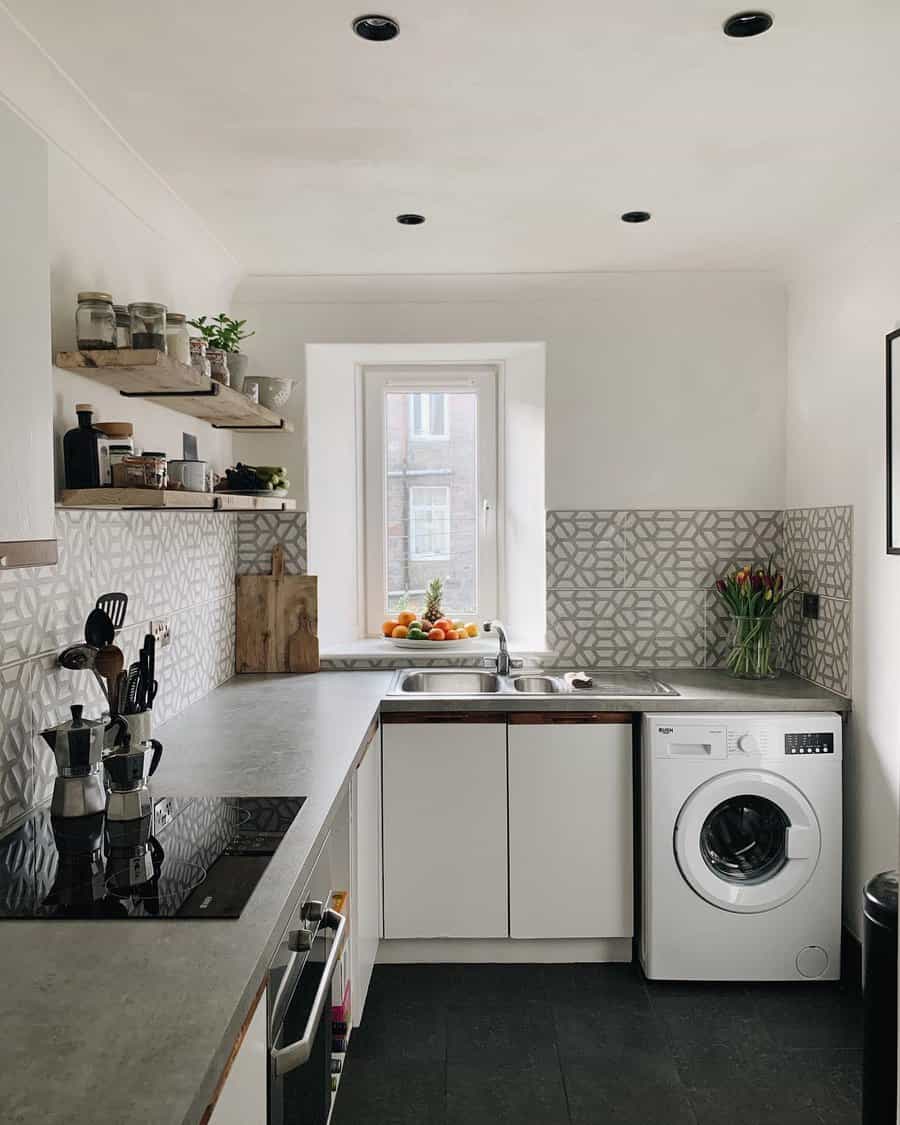 For the greatest effect, pair white surfaces with plenty of light from both natural and artificial sources.
In your quest to make your kitchen feel as spacious as possible, be careful not to forego contrast altogether. An accent color applied to the backsplash, the floor, or even the ceiling could have a surprising impact on your final design.
13. Tiles
Finding the right flooring for a kitchen remodel can be an arduous process. But there's a reason tile has been the go-to for so many home design projects in the past.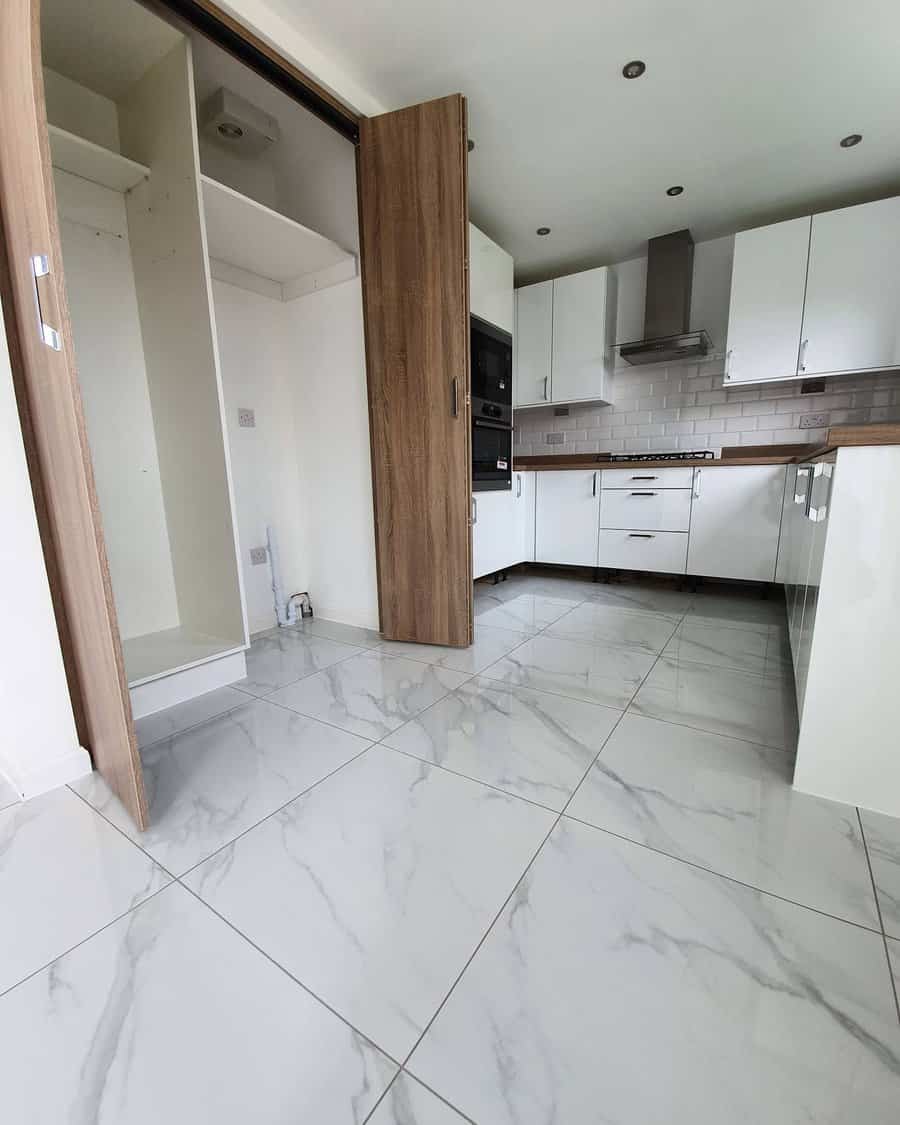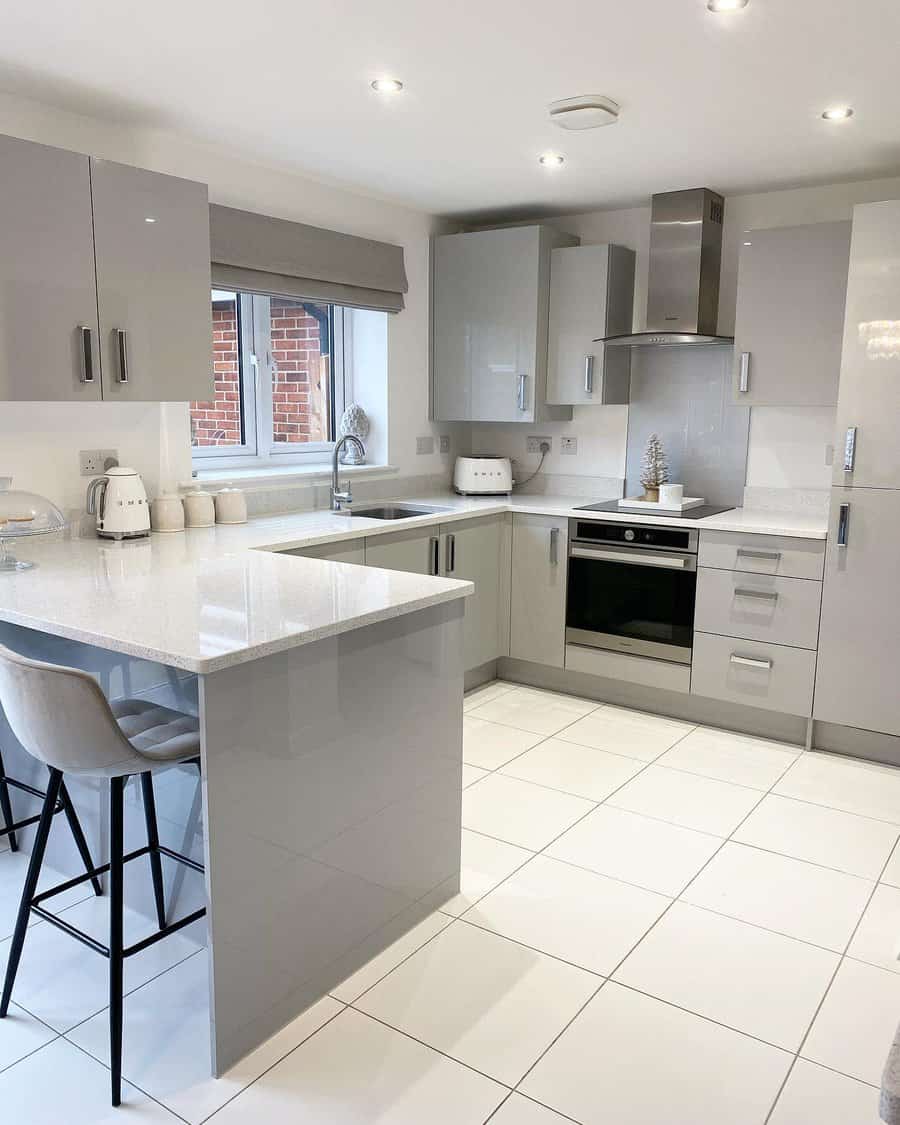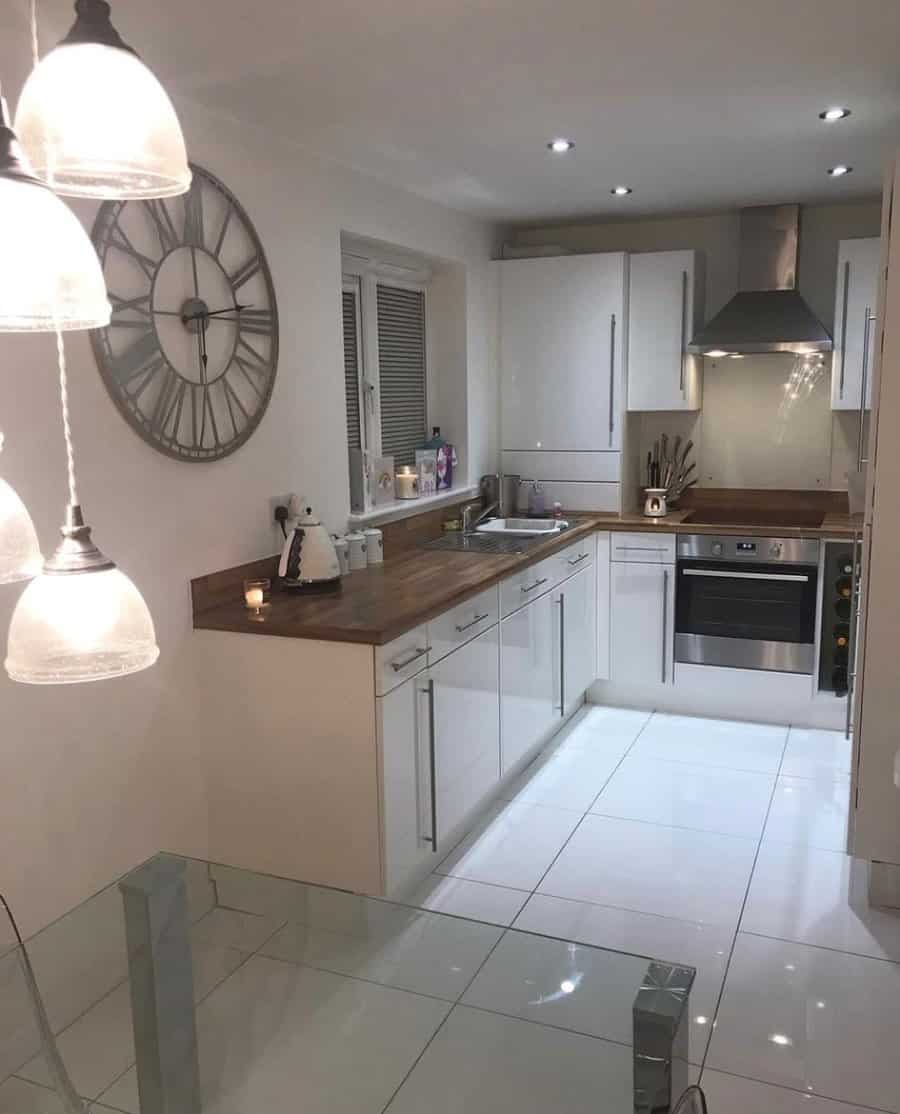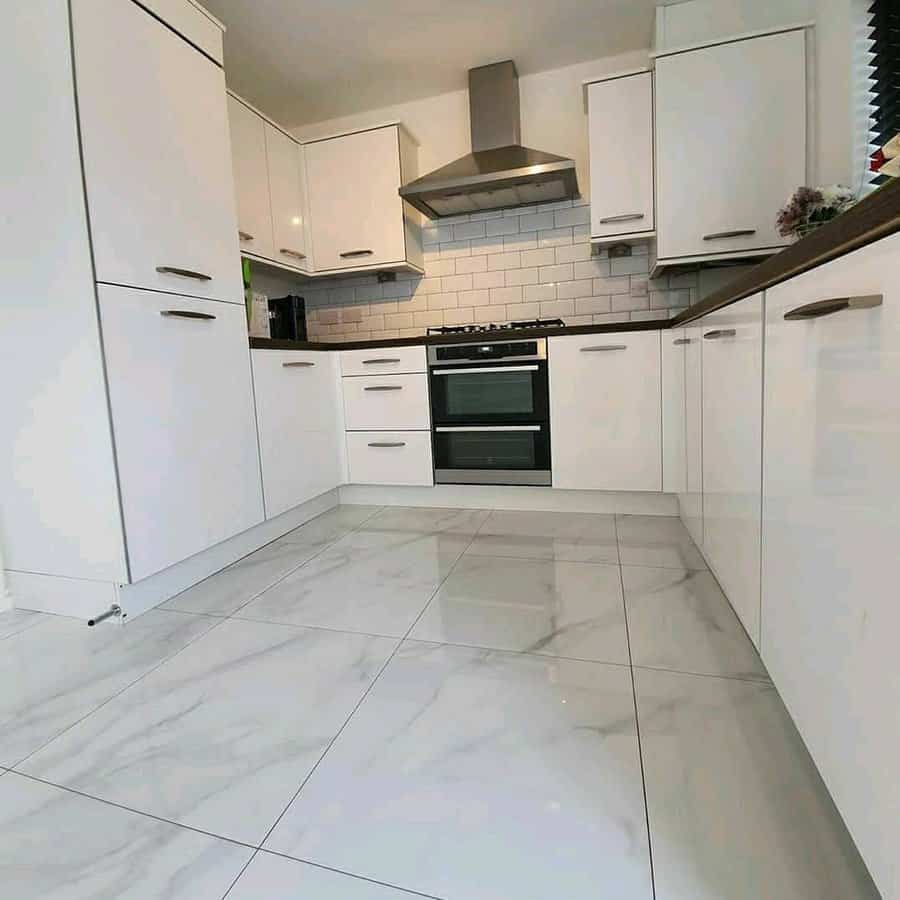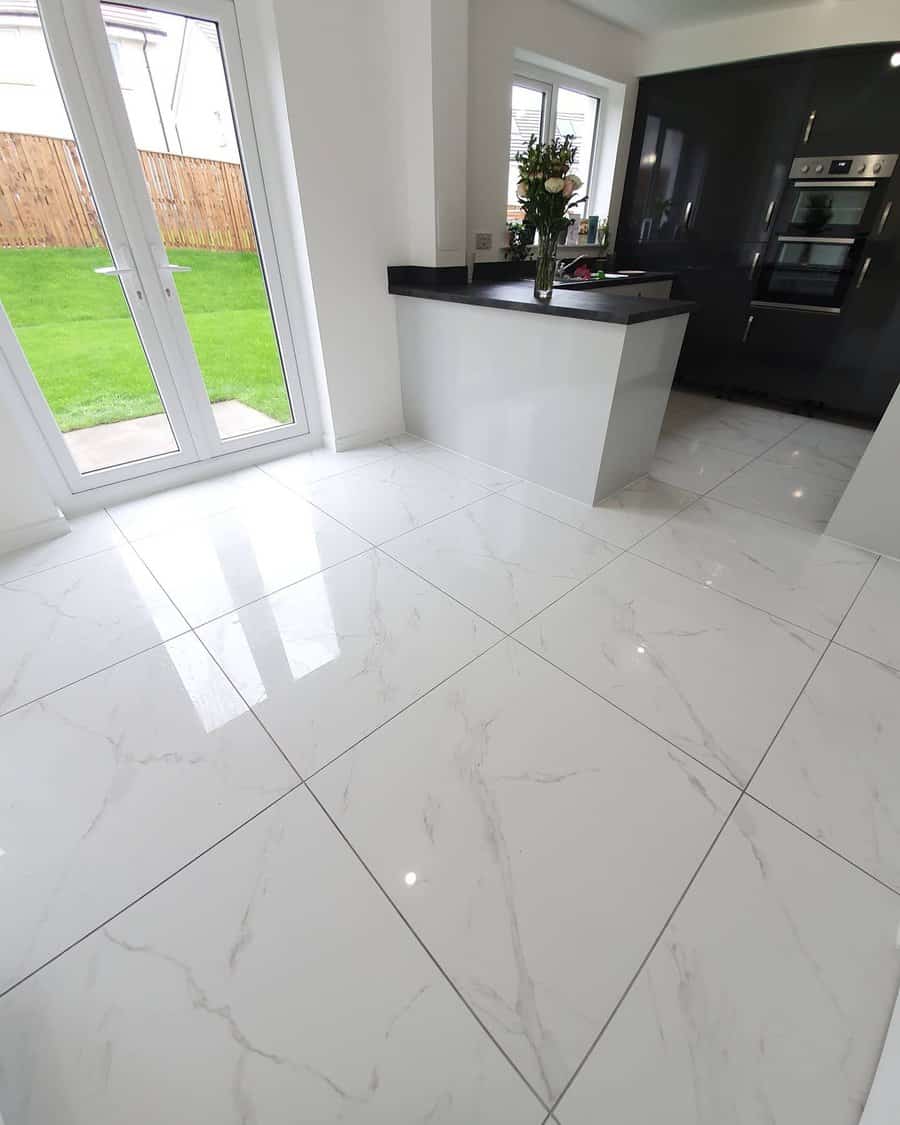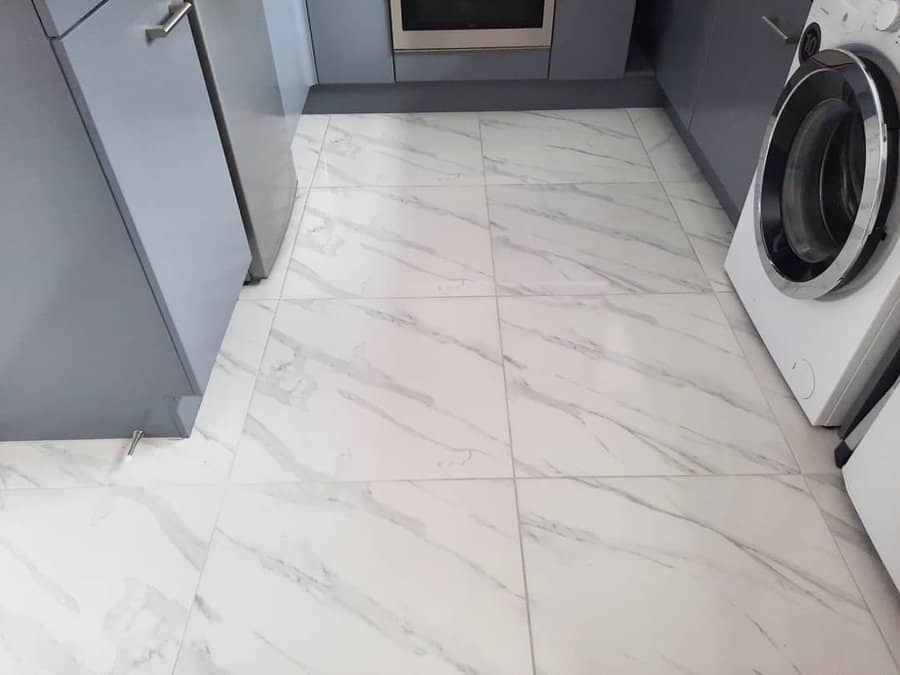 Tile flooring offers the best of both worlds in terms of durability and style. It's easy to clean, water-resistant, and all-around a classic choice for any space.
If plain white tile is too boring for your kitchen, experiment with natural stone or other subtle textures.
14. Windows
A kitchen with windows should not be taken for granted! Be sure to pay attention to your kitchen windows when decorating the space as a whole.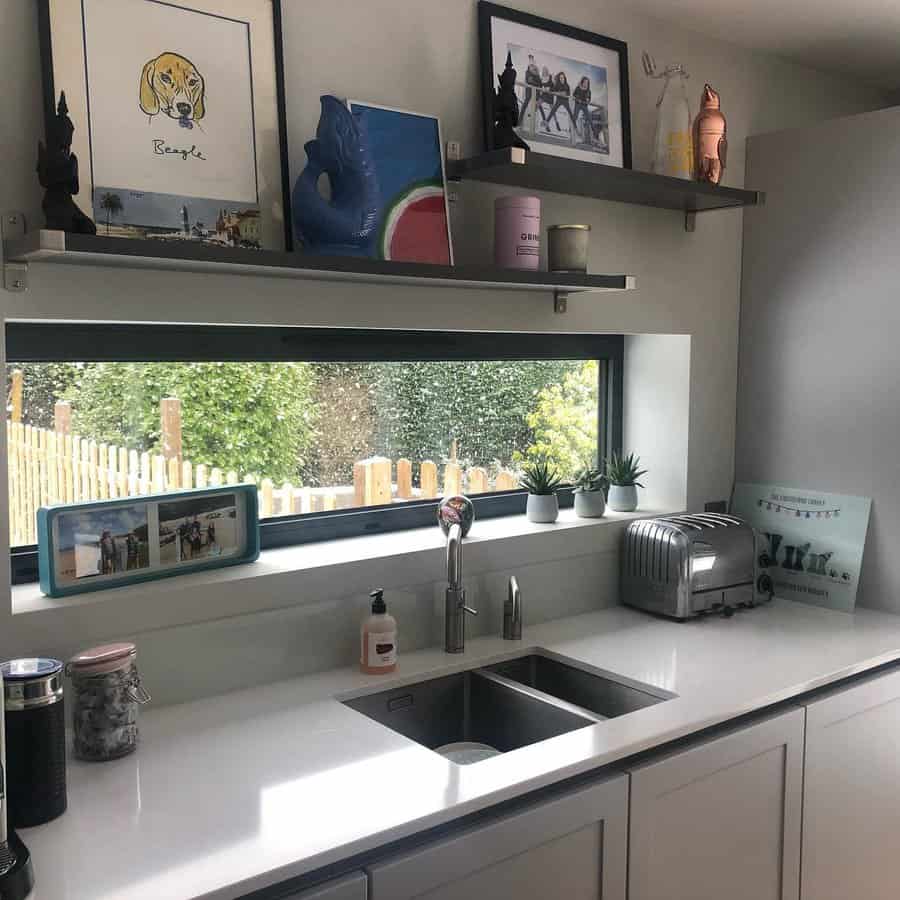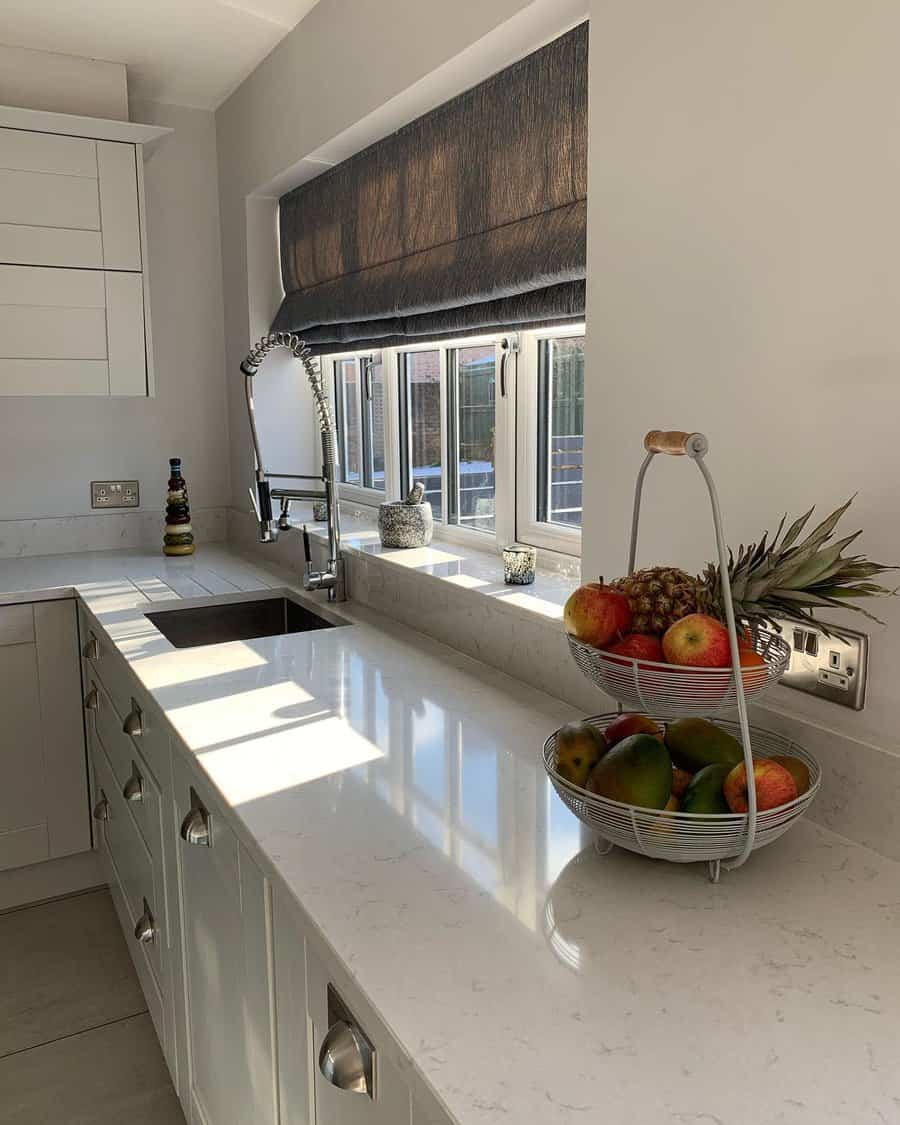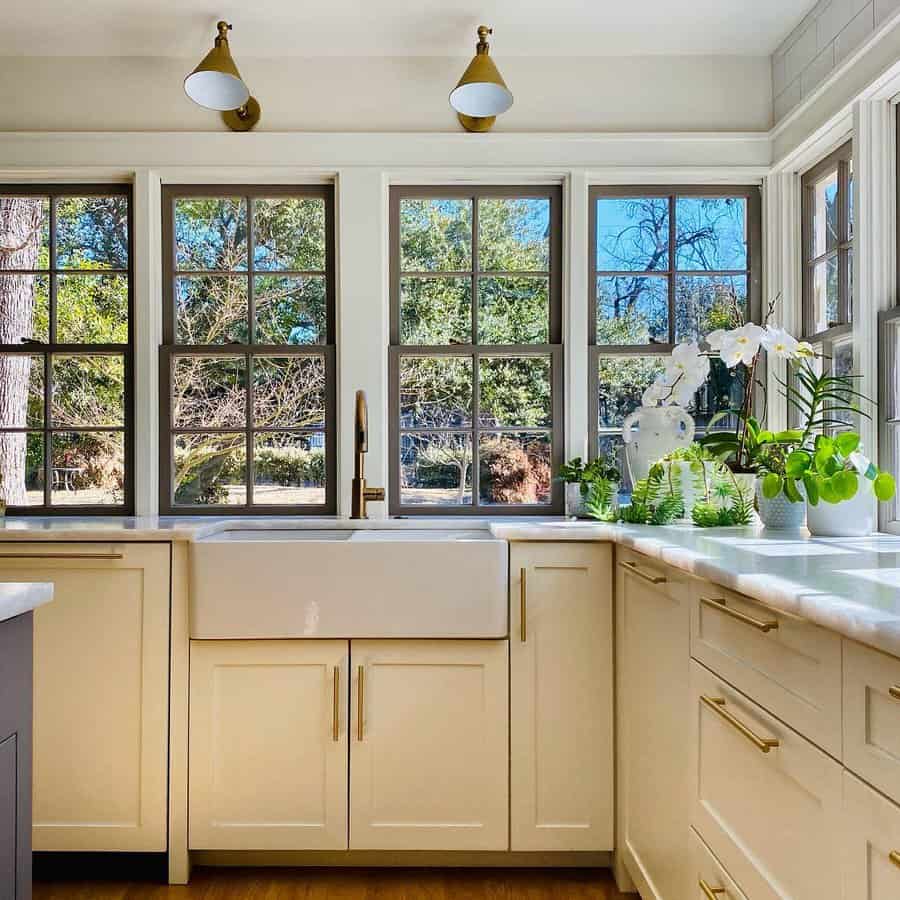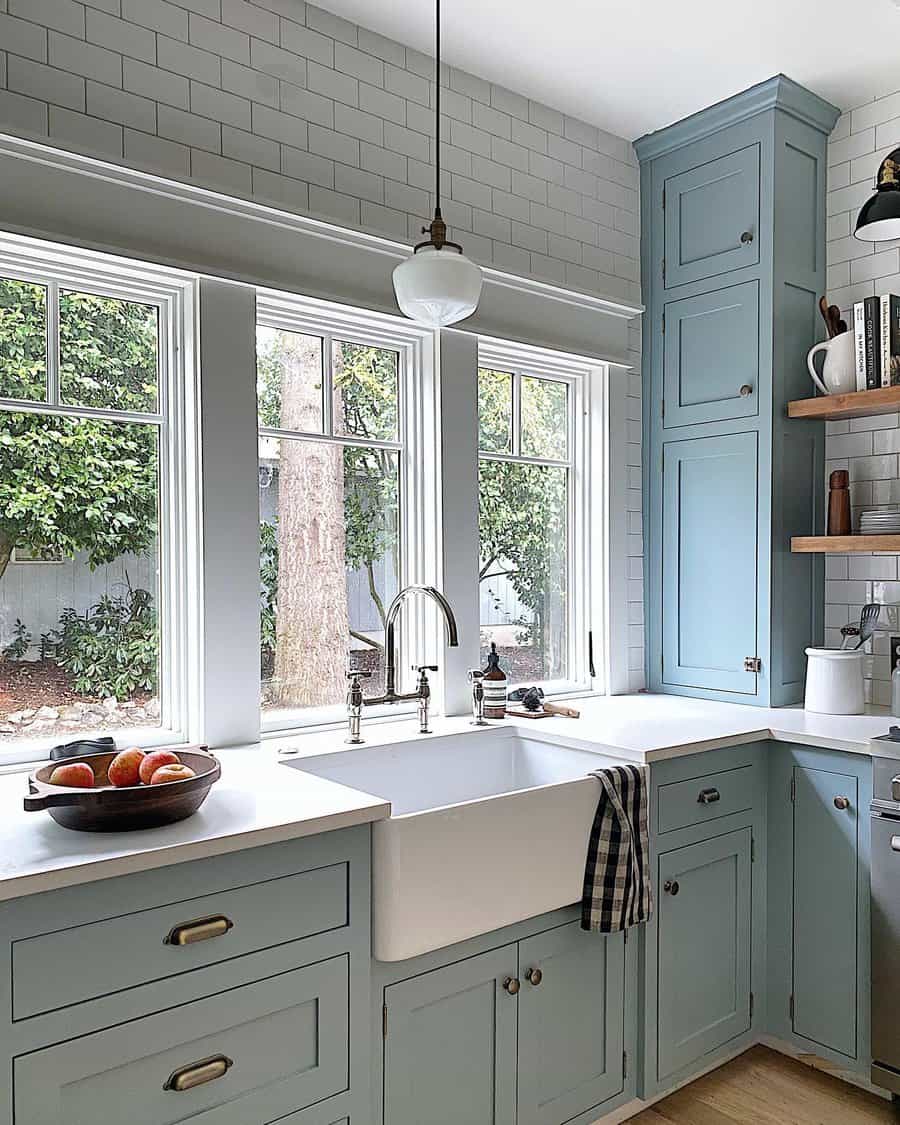 Kitchen window treatments can range from Roman shades to ornate valances. White or wooden blinds look great. You can even leave your windows completely bare (this look works best for windows with mullions).
However you choose to adorn your kitchen windows, be careful not to overpower them.
White Kitchen FAQs
What style of floor looks best in a white kitchen?
The color white hypothetically goes with everything. This can make it hard to narrow down the right flooring for your kitchen remodel.
For a clean, minimalist kitchen, white flooring is a natural choice. White tile can take on many forms, including natural stone textures like quartz and marble.
If your kitchen lacks warmth, hardwood (or something that looks like hardwood) is a great option. Light-colored wood is the best shade for most predominantly white spaces.
Are white kitchens hard to keep clean?
Some homeowners worry that a predominantly white kitchen will be impossible to keep clean. While this is a valid concern, there are plenty of ways to avoid it.
Invest in quality materials that resist staining and other surface damage. Don't be afraid to deviate from your white color scheme for surfaces you're particularly concerned about — e.g., countertops, backsplash tiles, or appliances.
Utilize subtle patterns where crumbs and other debris are likely to accumulate. This will keep small messes out of sight until you have a chance to wipe them clean!