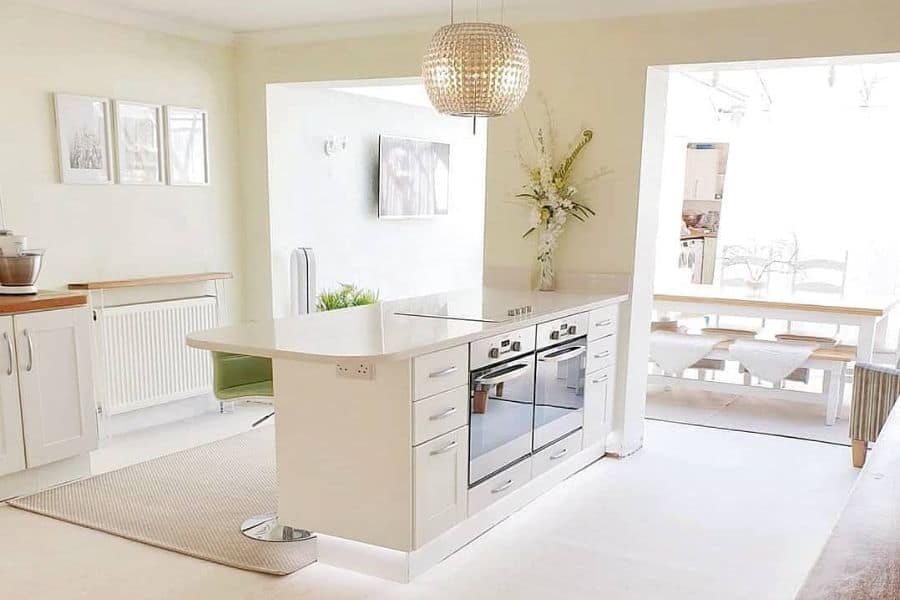 The Top 49 White Kitchen Ideas
The ideal kitchen must be as functional as it is aesthetically pleasing. So the last thing you want is to lose sight of culinary practicality for the sake of trendy decor.
A kitchen designed with a white color palette can easily bridge the gap between form and function. And, thanks to the simple color scheme, it's unlikely to go out of style anytime soon.
Contrary to what you might believe, white kitchen decor is not inherently boring or unoriginal. Keep reading for our favorite white kitchen ideas and how to implement them yourself!
1. Install White Beveled Tiles
Looking to create a white kitchen that oozes sophistication and elegance? Consider installing white beveled tiles! These tiles are the perfect way to give your kitchen a classic and timeless look. They have a subtle texture that adds depth to the space while still maintaining a clean and crisp appearance.
Plus, white beveled tiles are incredibly versatile, which means they can work with a variety of design styles. Whether your kitchen is modern or traditional, these tiles will give your space the upgrade it deserves.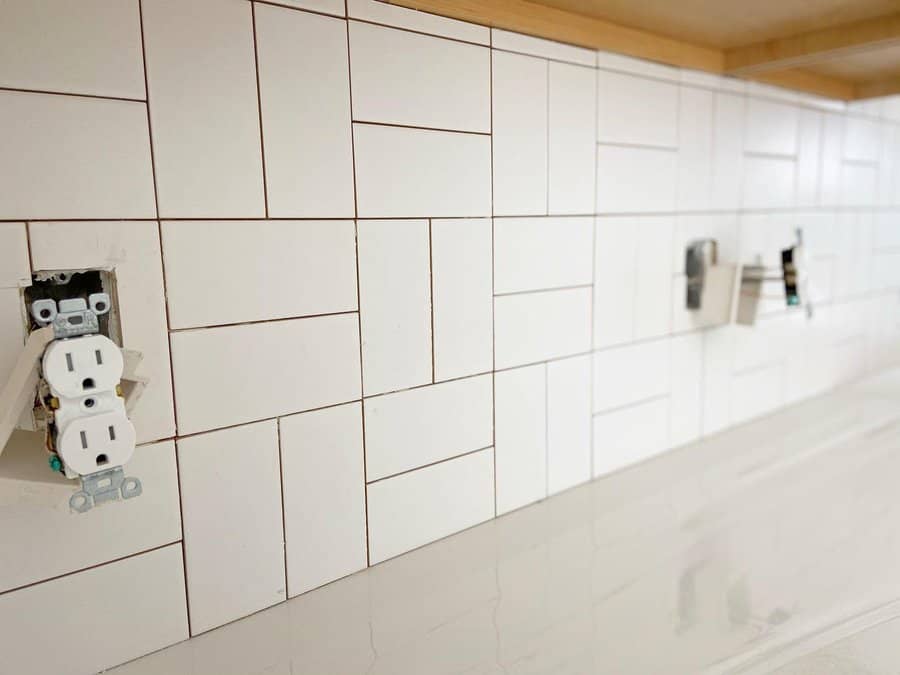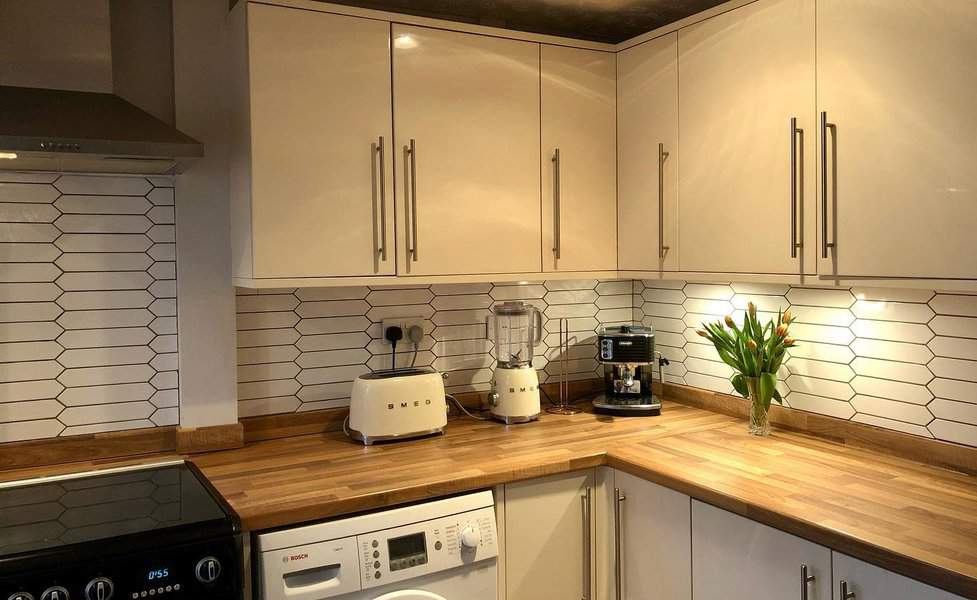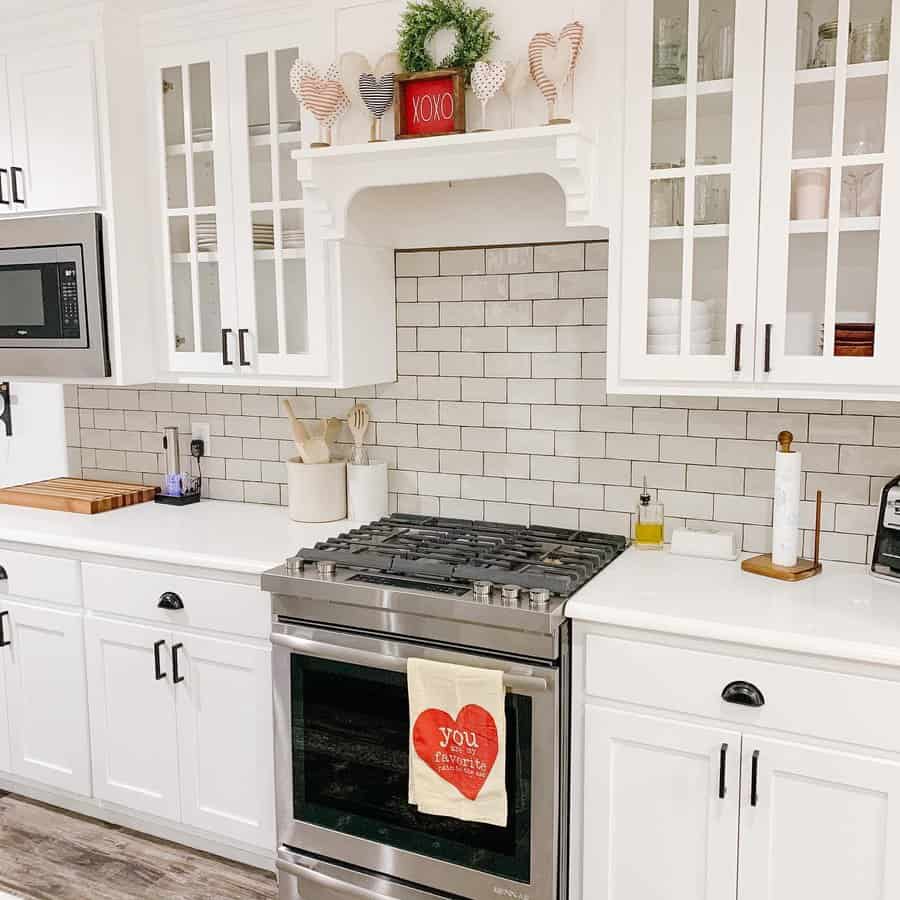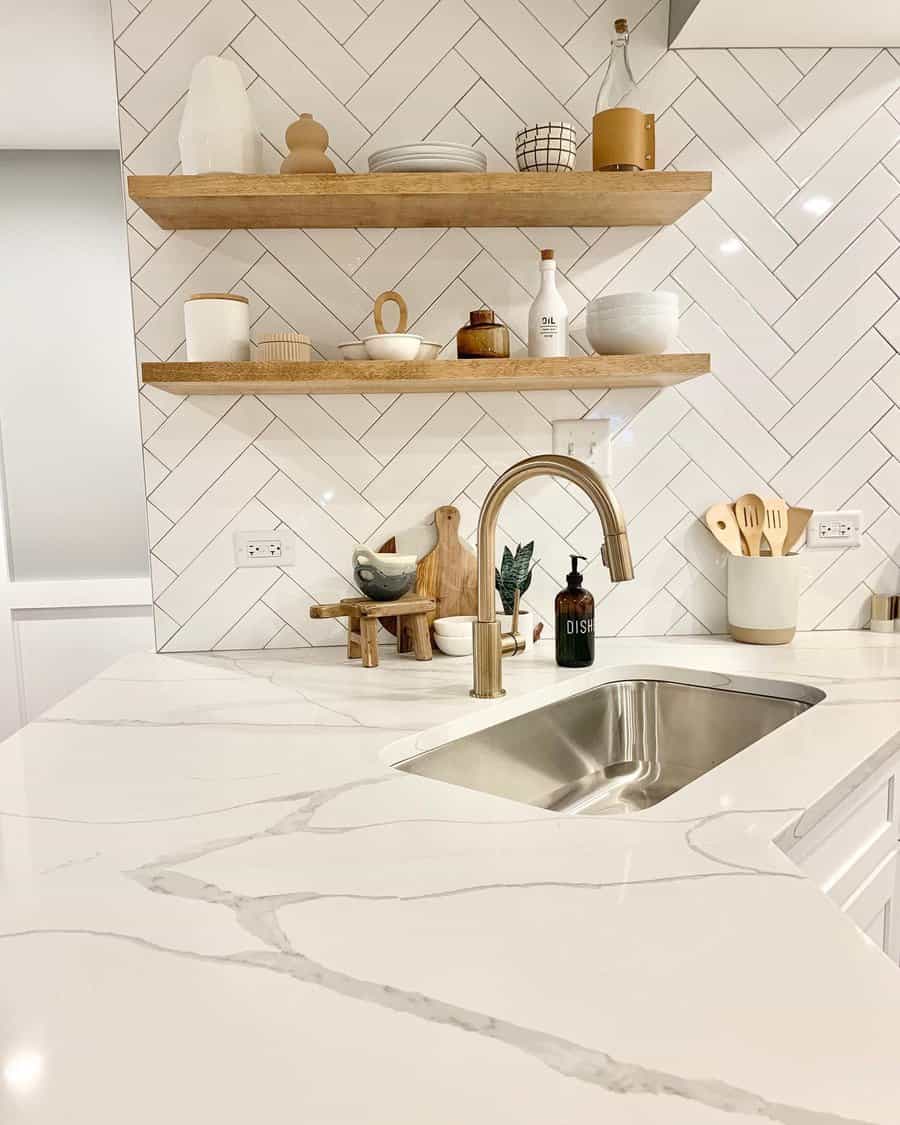 2. Use One Shade Of Color For Accent
A white kitchen is a timeless and elegant choice, but adding a pop of color can really make it shine. One way to do this is by using one shade of color for an accent, like the beautiful blue decor in this photo. The blue accents create a stunning contrast against the white backdrop, making the space feel both fresh and welcoming.
By keeping the color scheme simple and cohesive, the overall look is clean and crisp. It's the perfect example of how a subtle pop of color can completely transform a white kitchen into a personalized and inviting space.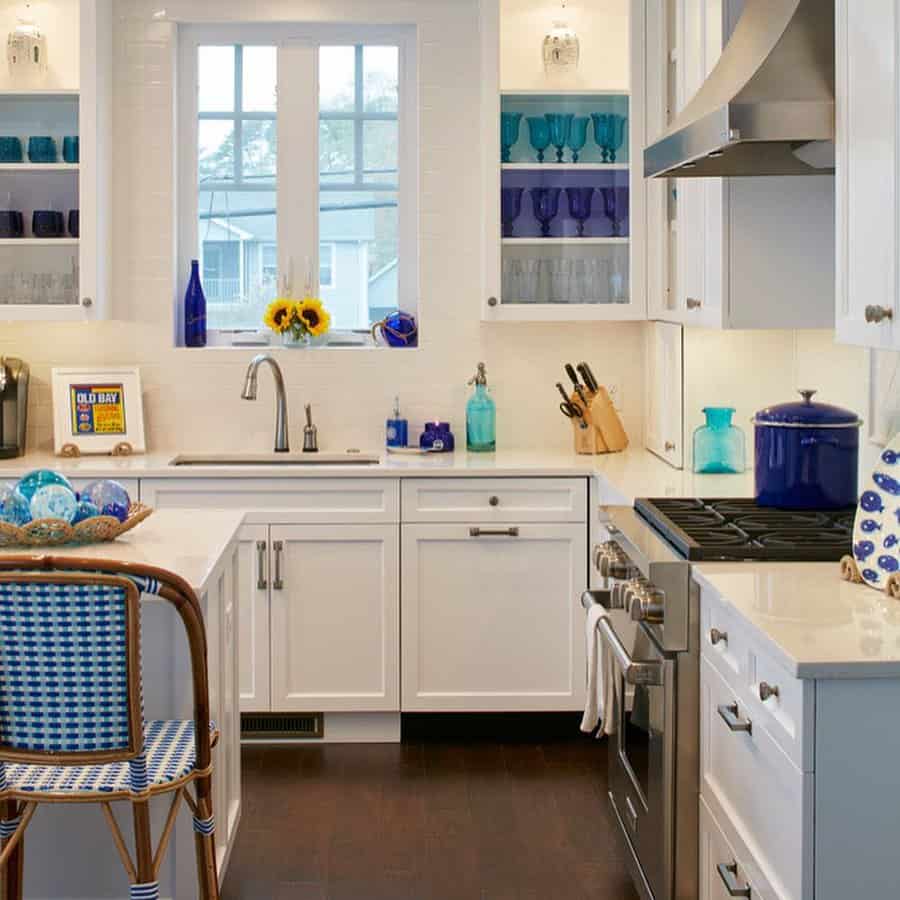 3. Add Monochromatic Window Blinds
A white kitchen with monochromatic window blinds can provide a sleek and modern look to your space. The use of white cabinetry, countertops, and backsplash paired with matching monochromatic window blinds can create a cohesive and polished aesthetic. If you want to add a bit of texture and interest, consider using a Roman shade as an alternative.
This can add a touch of softness to the space while still maintaining the monochromatic color scheme. Roman shades can also be practical, providing privacy and light control for your kitchen. Overall, incorporating monochromatic window blinds and a Roman shade in your white kitchen can create a timeless and stylish look that is both functional and beautiful.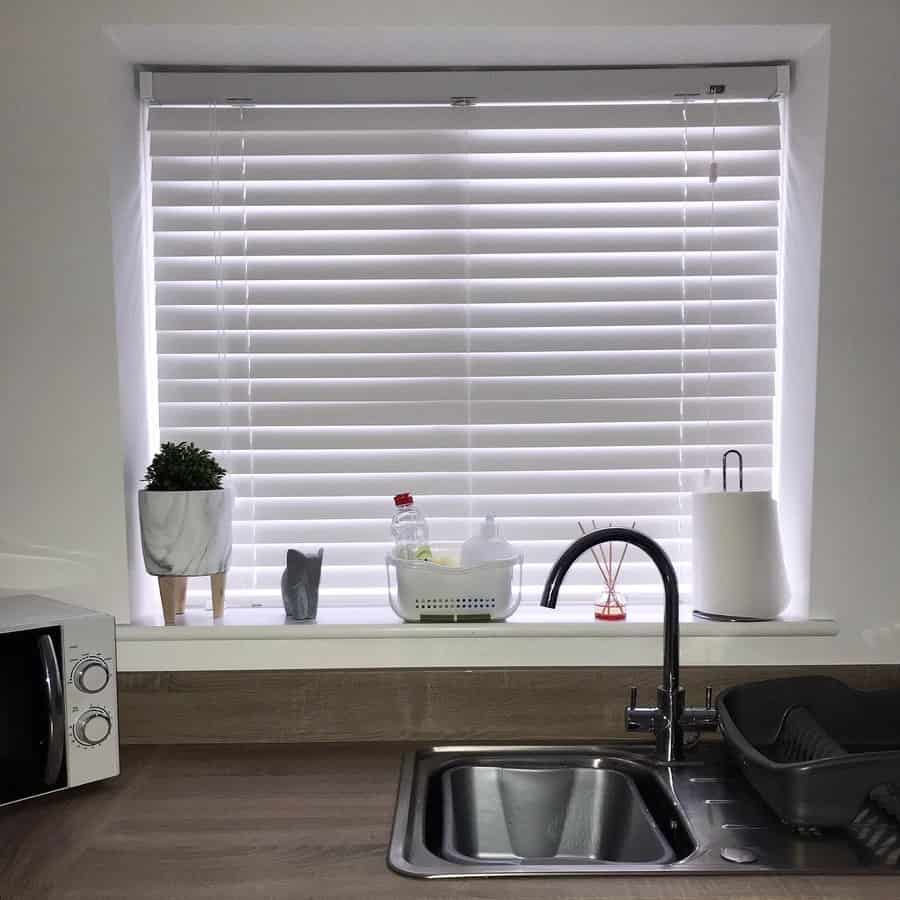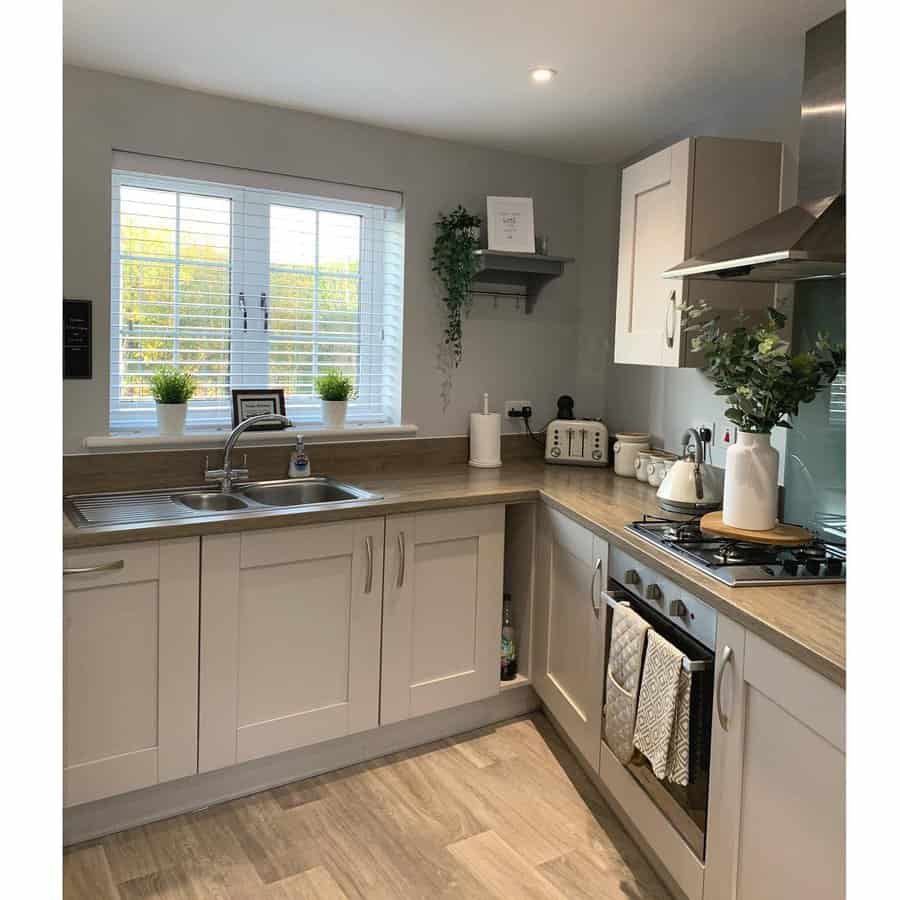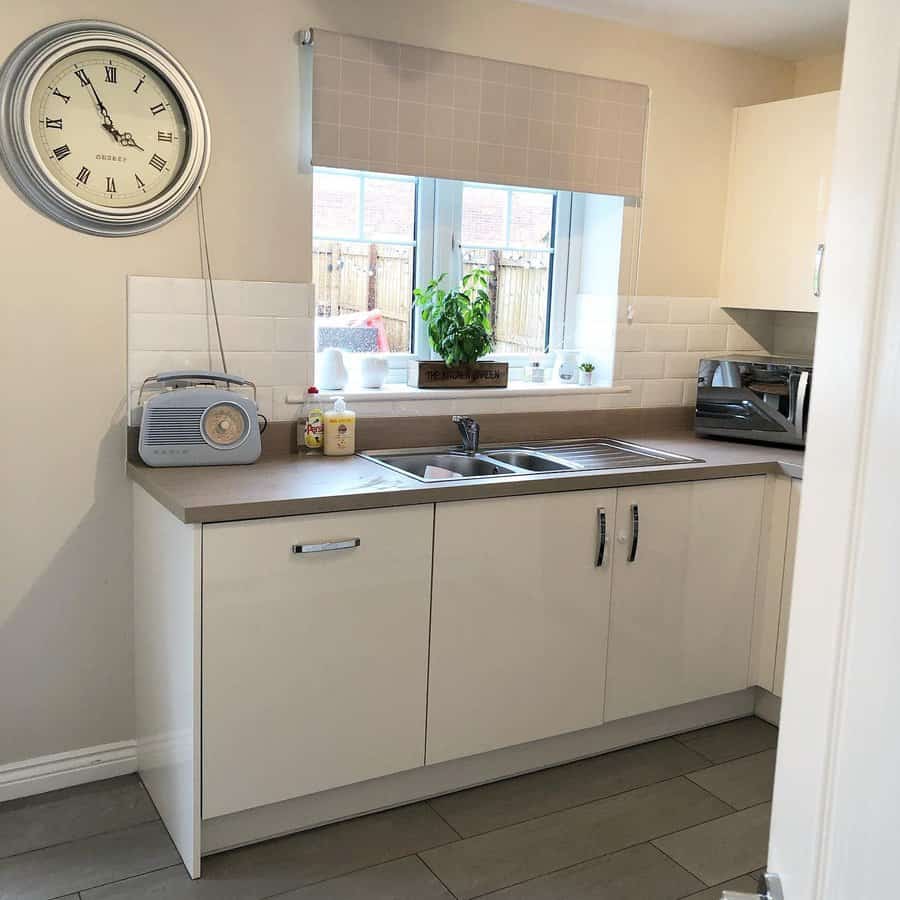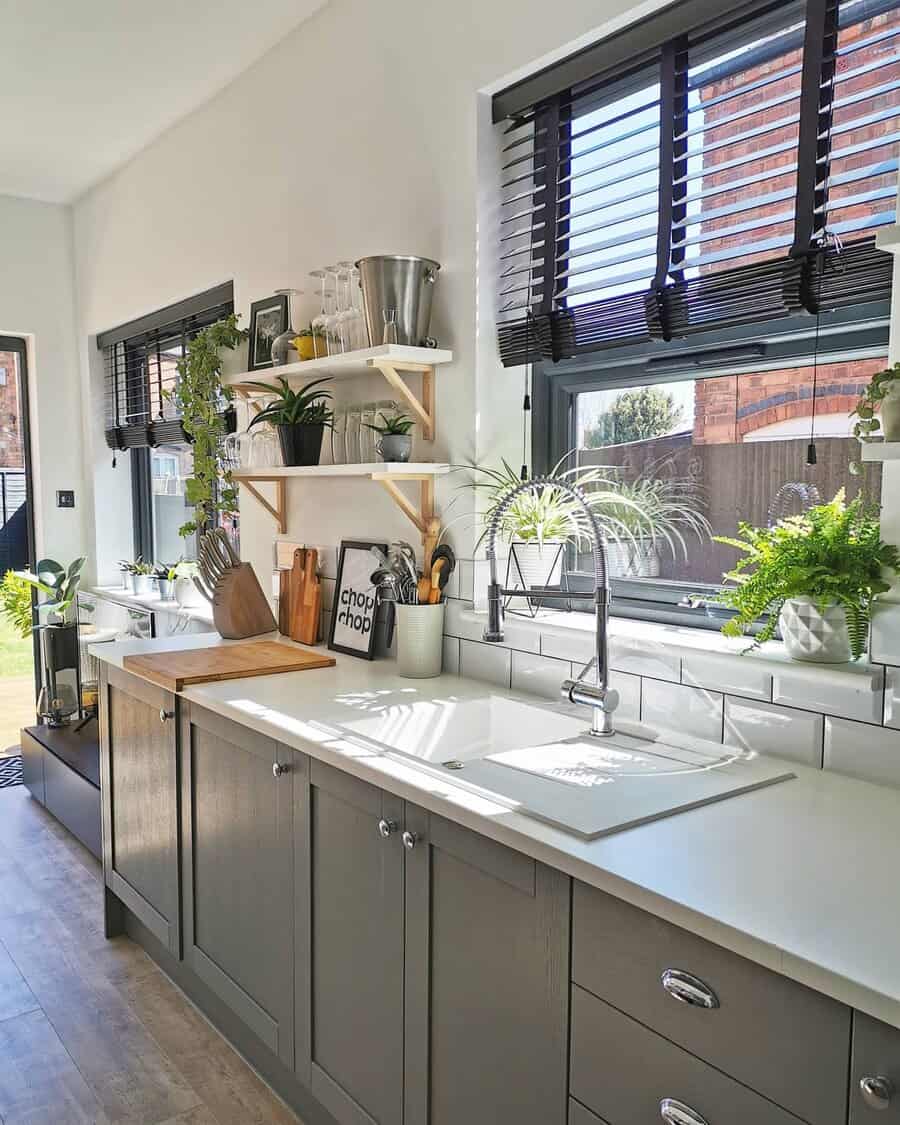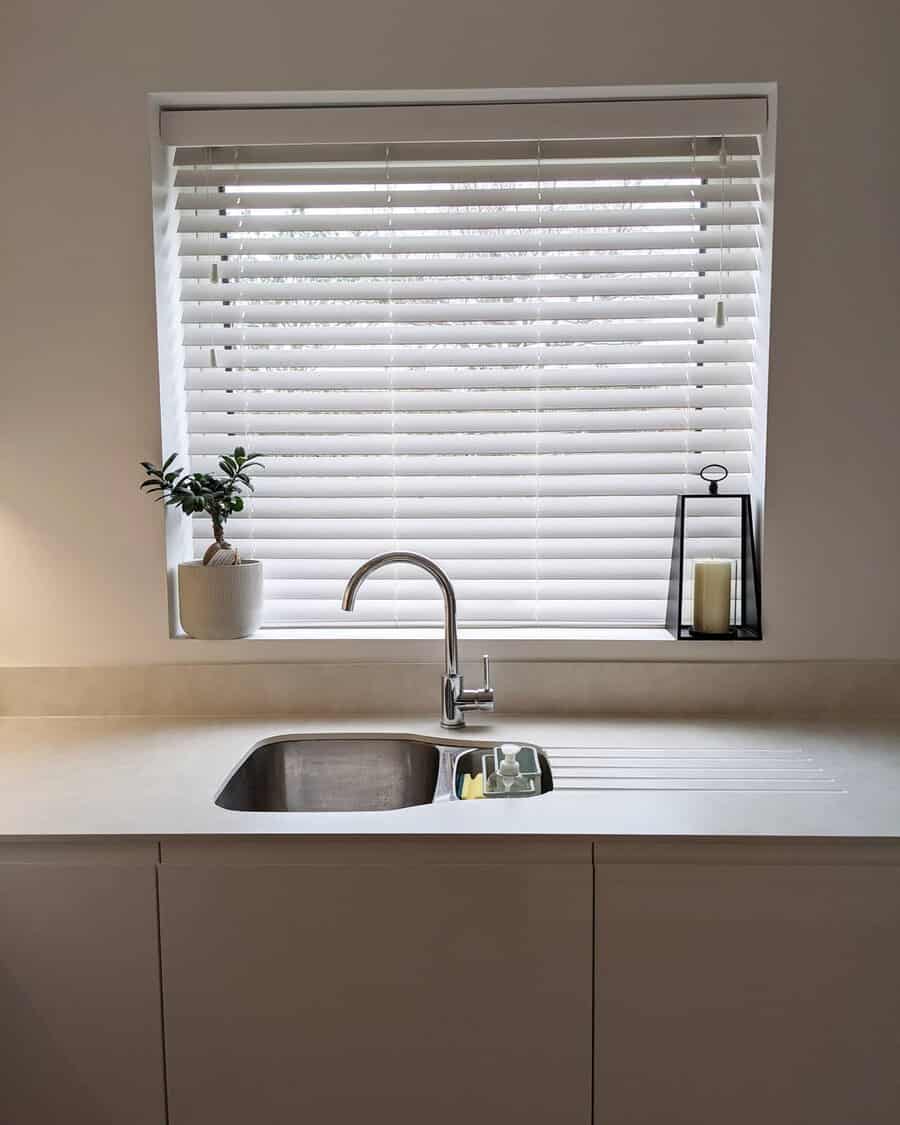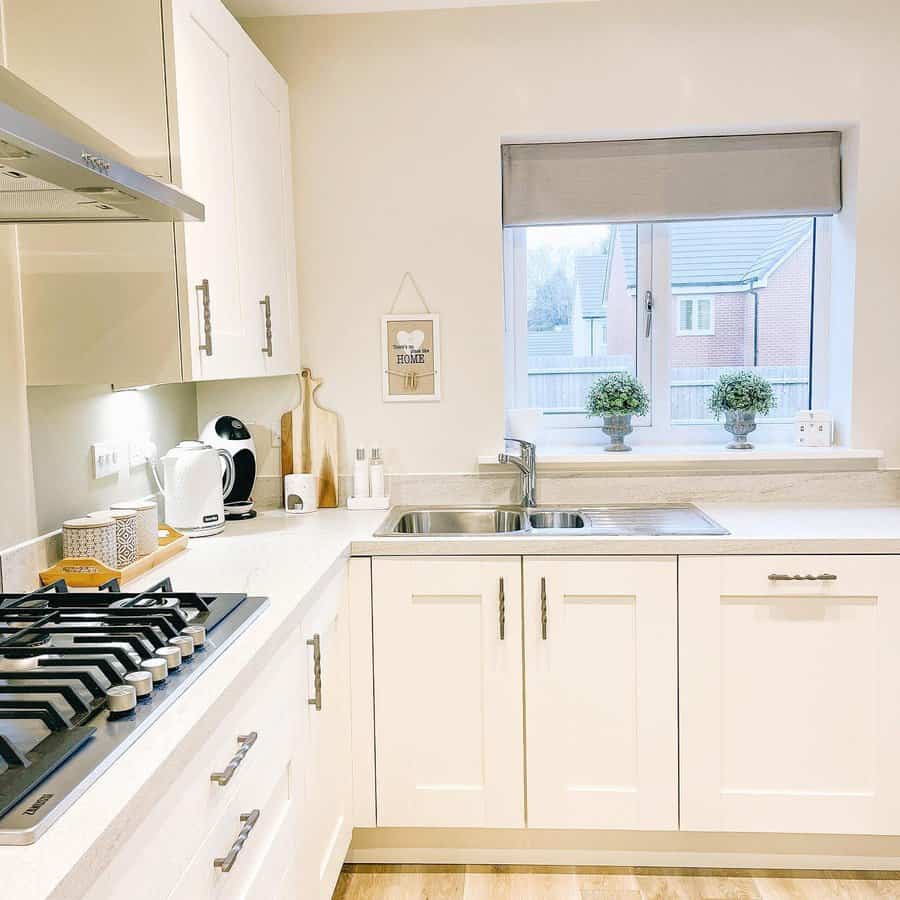 4. Contrast With Gold Fixtures
A white kitchen with gold fixtures creates a warm and elegant contrast that can transform any kitchen into a luxurious space. The white cabinetry and walls create a bright and airy atmosphere, while the gold fixtures add a touch of sophistication and glamour. The gold accents can come in various forms, such as cabinet handles, faucets, light fixtures, or even appliances.
The combination of white and gold can also be complemented by natural wood textures, such as a wooden kitchen island or bar stools, to add warmth and balance to the overall design. A white kitchen with gold fixtures is a timeless and versatile choice that can work with any design style, from modern to traditional.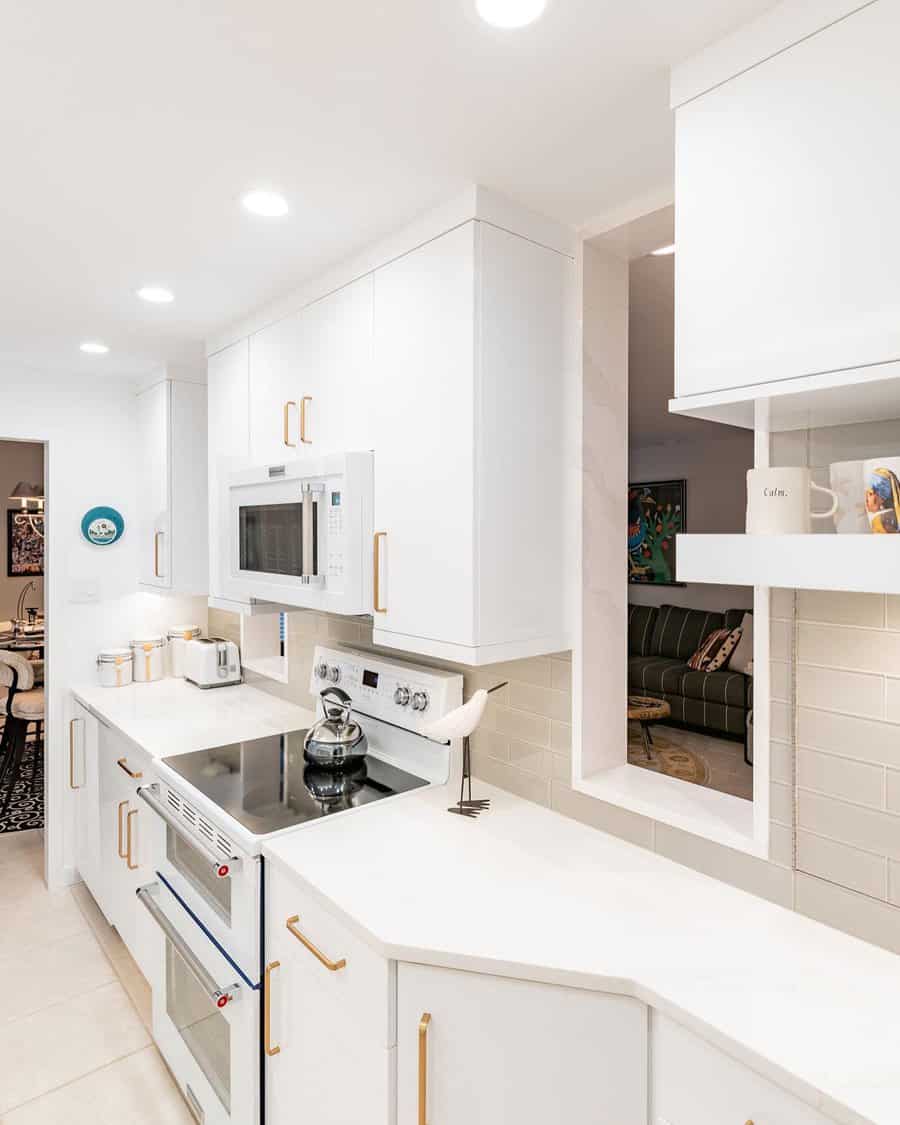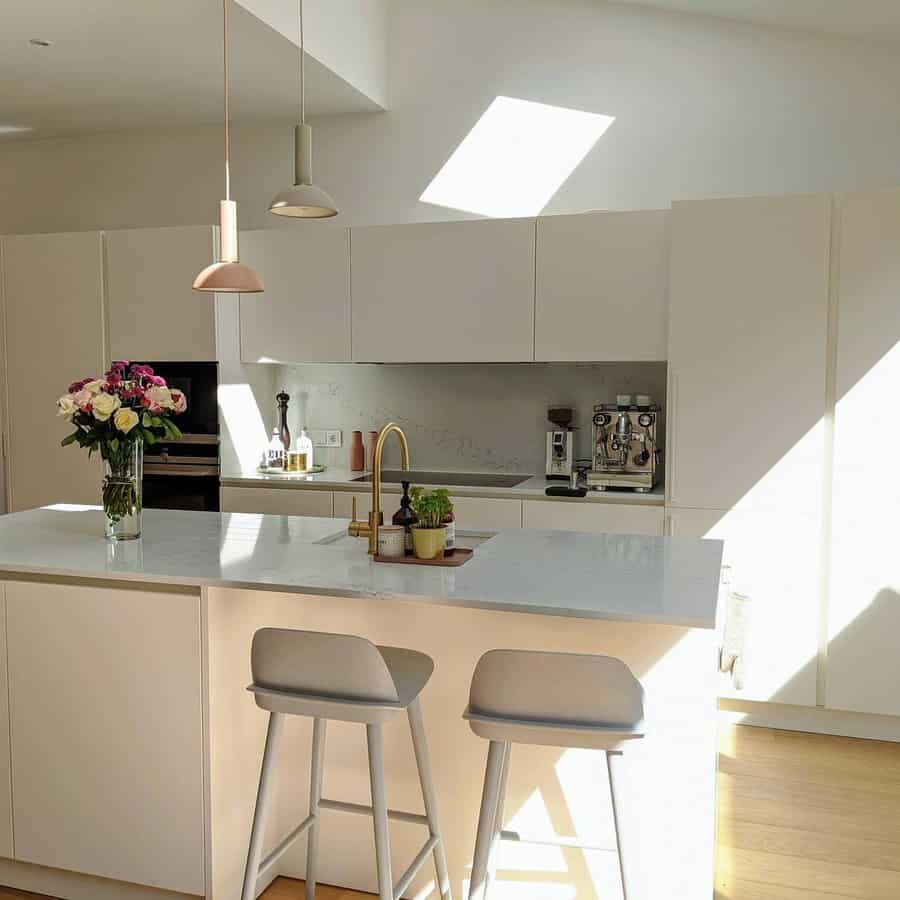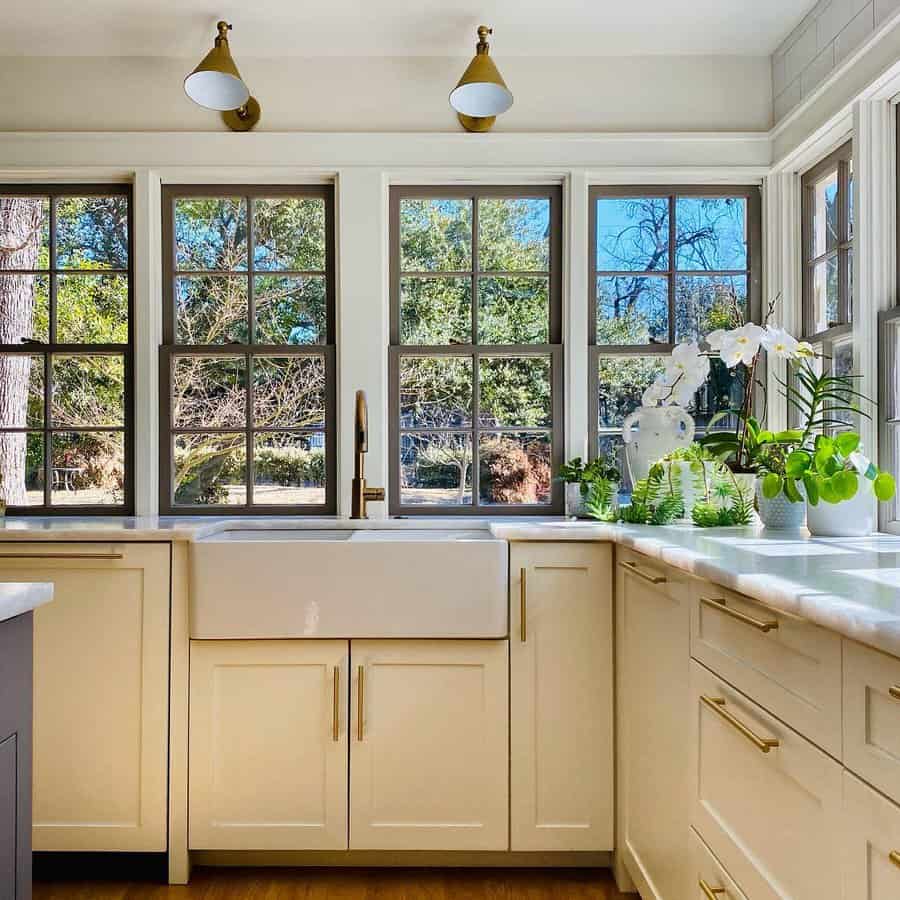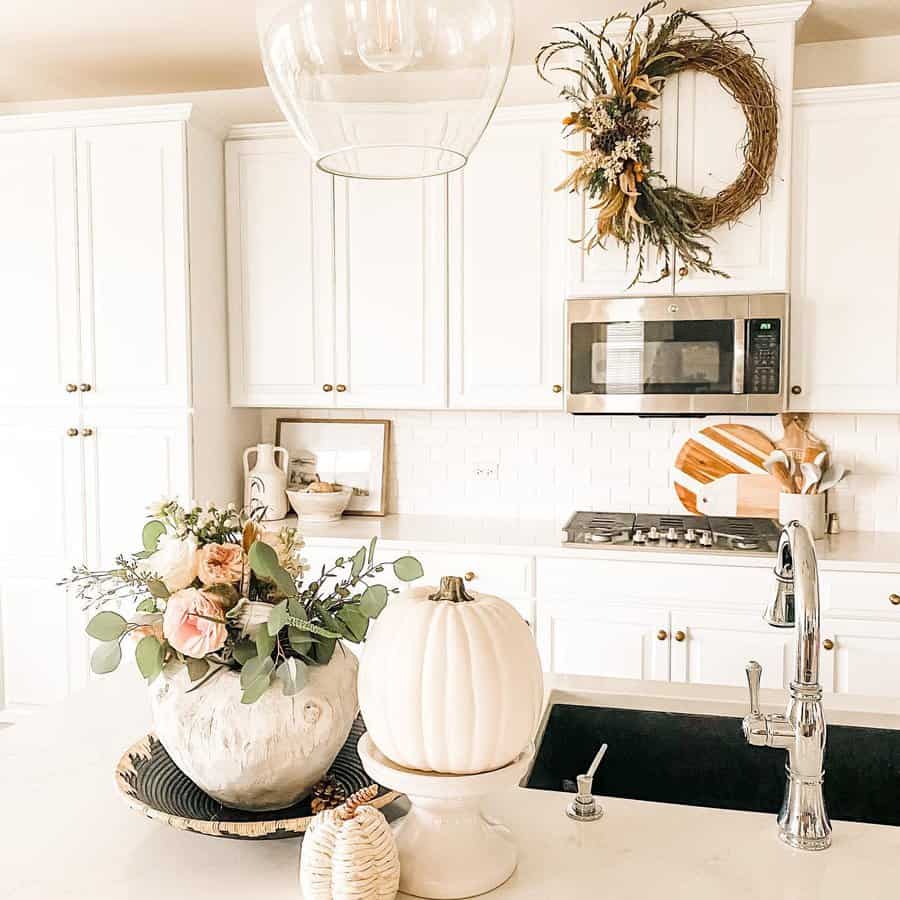 5. Choose Black Fixtures
The contrast between the light and dark colors creates a stunning visual impact that adds depth and sophistication to any kitchen design. Black metalware handles and a black faucet are the perfect accents to complement the clean and pristine white cabinetry, creating a striking contrast that enhances the overall aesthetic of the kitchen.
The black fixtures not only add a touch of modernity but also provide a functional purpose by making it easier to coordinate with other black appliances or accessories. Overall, a white kitchen with black fixtures is a chic and versatile option that can suit any style preference and elevate the look of any home.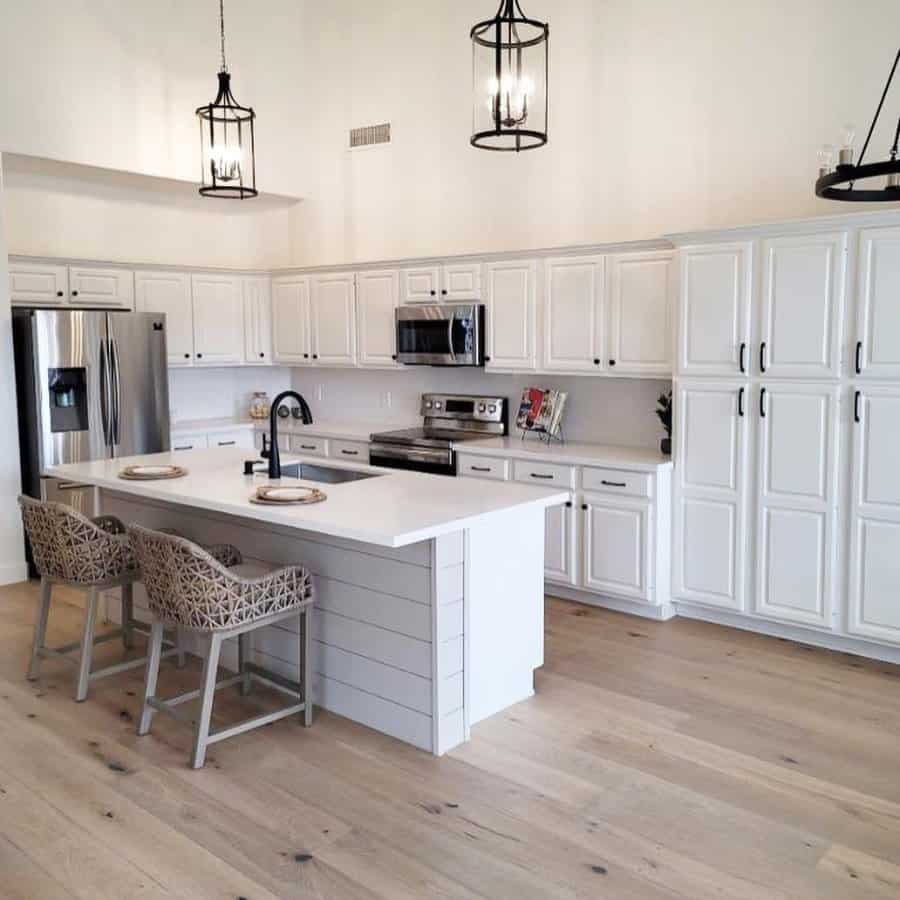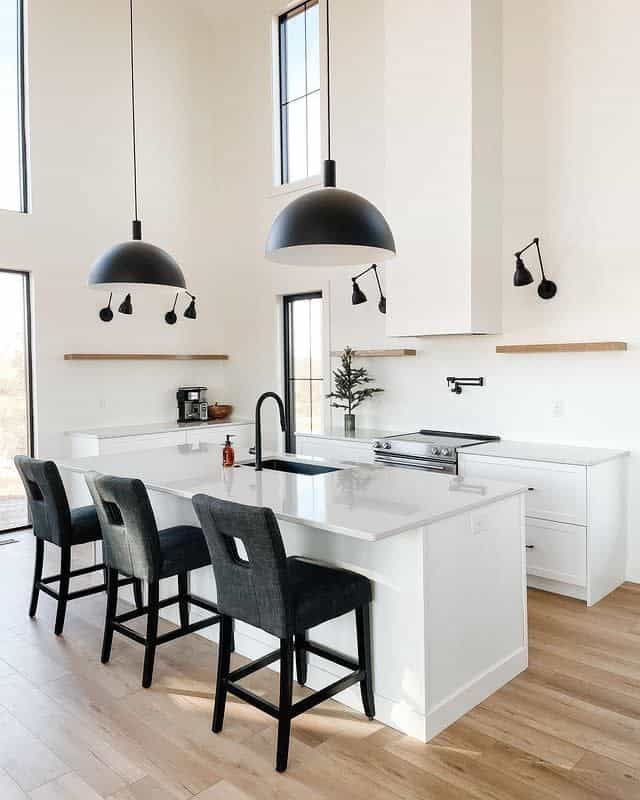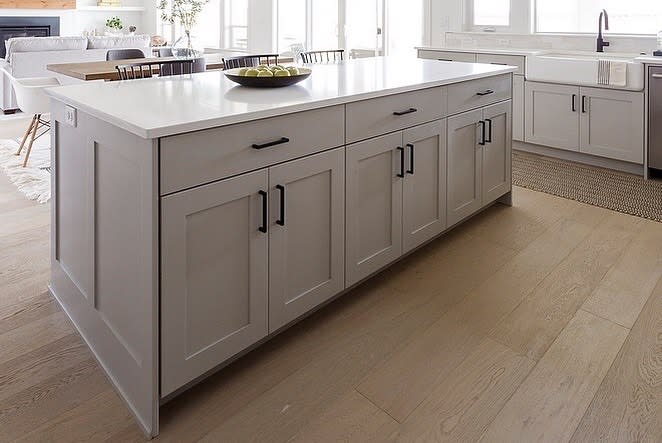 6. Marble Countertop For An Elegant Look
A white kitchen with a marble countertop exudes elegance and sophistication. The timeless combination of white and marble adds a touch of luxury to any kitchen space, whether it's modern or traditional. The white cabinetry provides a crisp and clean backdrop for the intricate veining of the marble countertop to shine through.
The marble's natural beauty and durability make it an excellent choice for a kitchen workspace, and it's easy to maintain with regular cleaning. The white and marble combo also creates an illusion of a larger and brighter space, perfect for entertaining guests or whipping up a meal for the family. Overall, a white kitchen with a marble countertop is a classic choice that will never go out of style.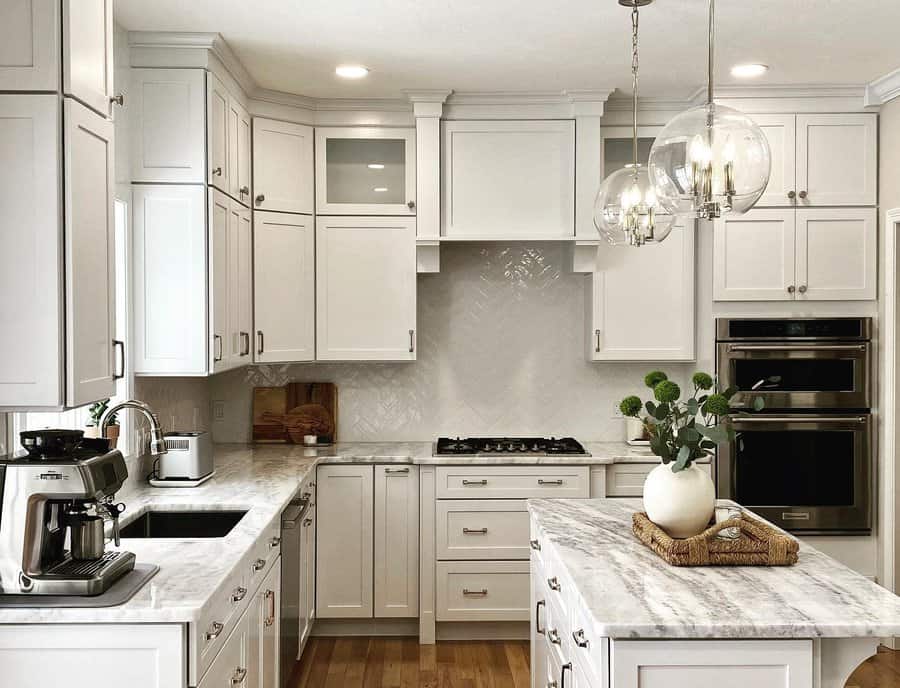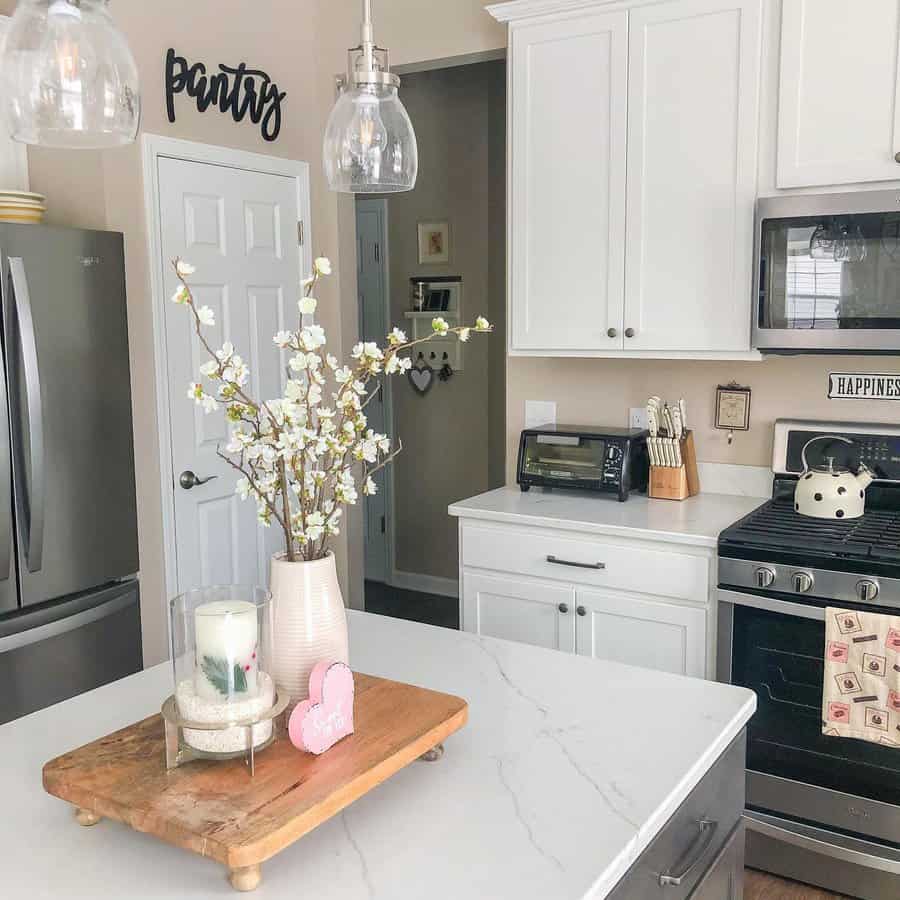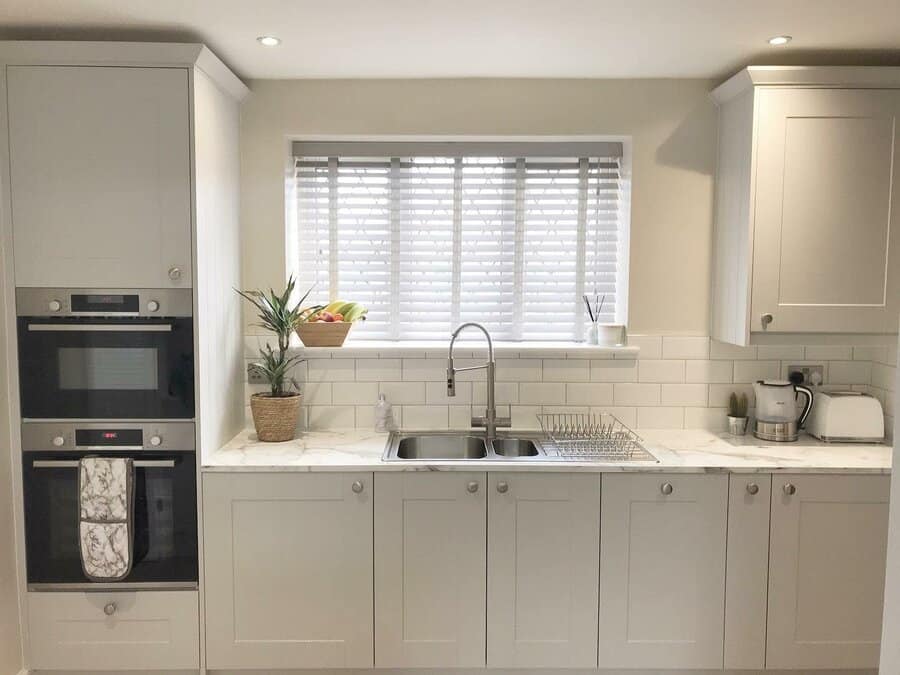 7. Use An Area Rug
A white kitchen with an area rug is a beautiful addition to any home, especially for those with open-floor-plan white kitchens that feature a dining area. The combination of the white cabinetry and countertops with a colorful and patterned area rug is a striking contrast that brings a unique touch to the room.
The area rug can also provide a sense of warmth and comfort to the kitchen, making it a more inviting space for family and guests to gather. Whether you prefer a traditional, modern, or eclectic style, there is an area rug that can perfectly complement your white kitchen design.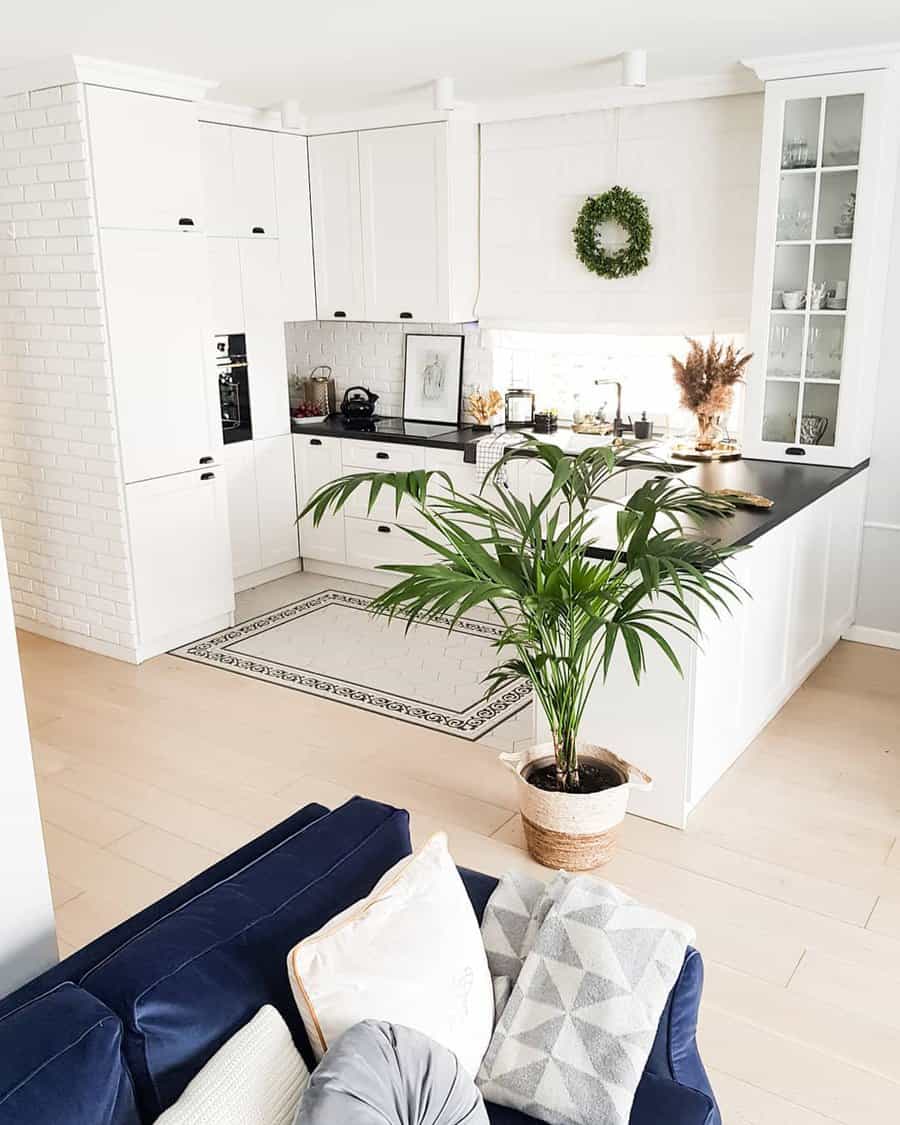 8. LED Strip Lighting
A white kitchen is timeless, but adding LED strip lighting can take it to the next level. The sleek and modern lighting fixtures offer a stylish touch, while also providing practical illumination for cooking and preparing meals. The crisp white cabinets and countertops serve as the perfect backdrop to showcase the warm and inviting ambiance created by the LED lights.
Whether you're entertaining guests or cooking a romantic dinner for two, the combination of white decor and LED lighting can make your kitchen feel open, airy, and effortlessly chic. So, let the LED strip lighting add a touch of glamour to your kitchen and elevate your cooking experience.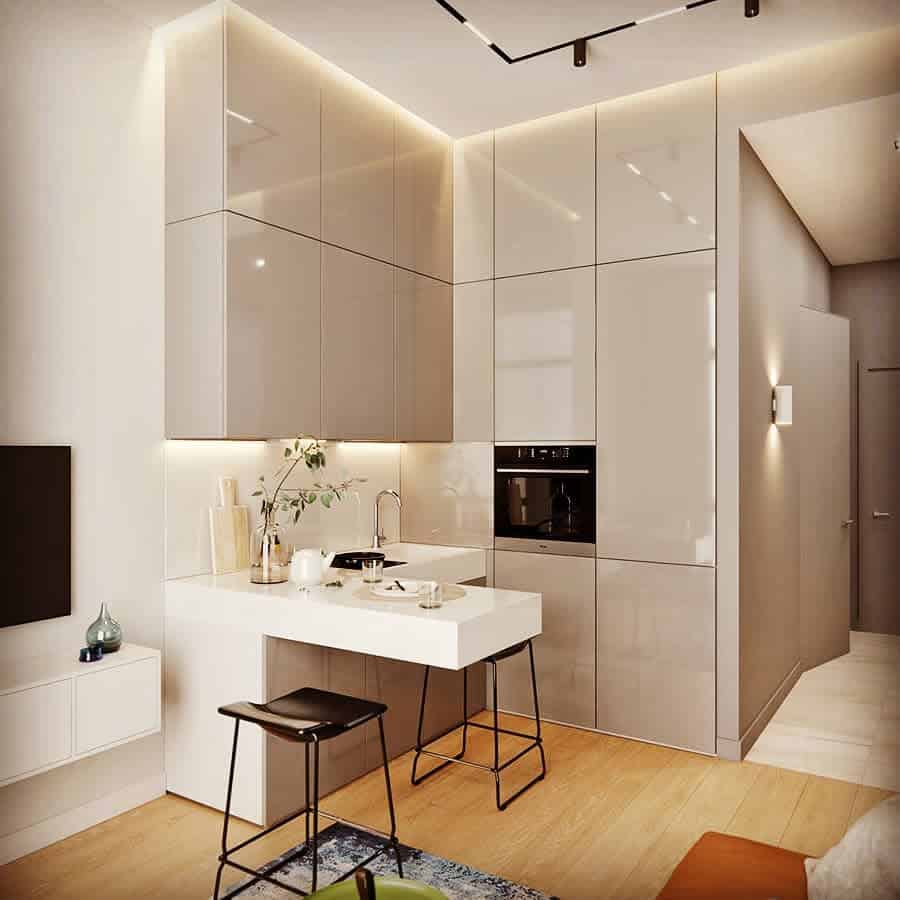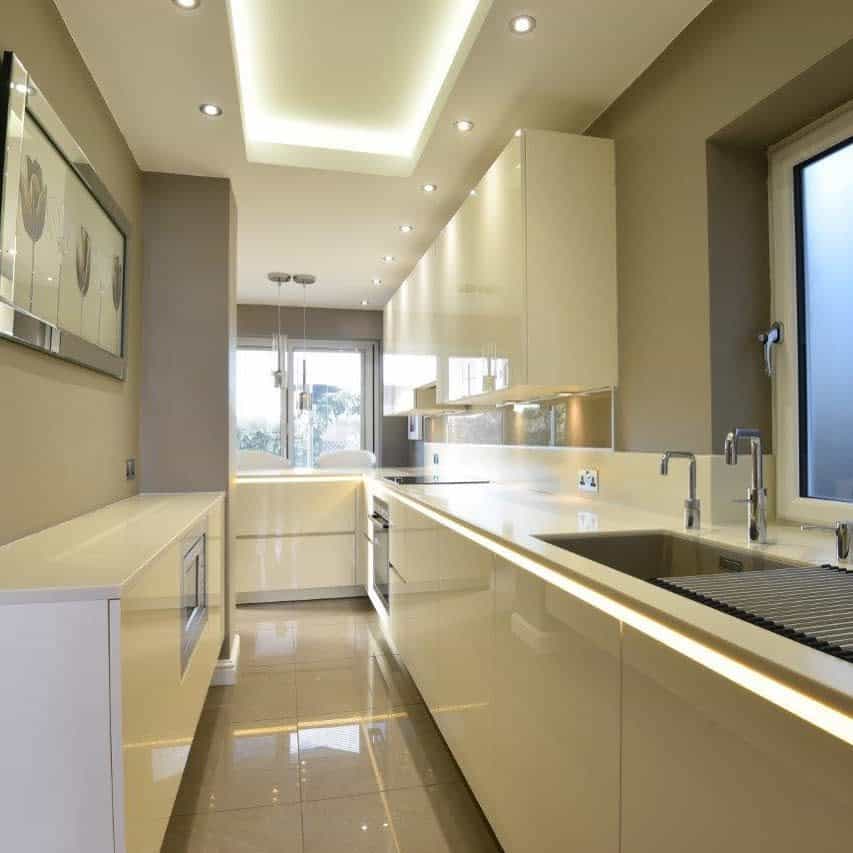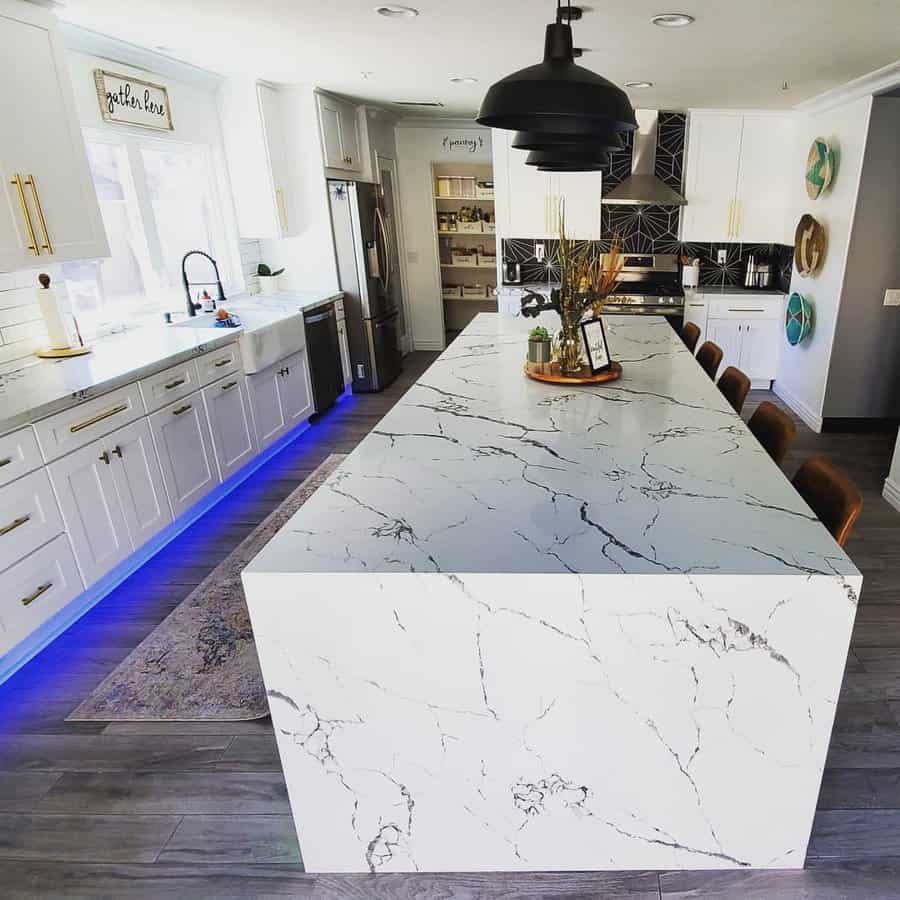 9. Install Wood Tile Flooring
A white kitchen with wooden flooring is the perfect blend of contemporary and rustic style. The clean and bright white walls and cabinets give a refreshing and airy feel to the space, while the wooden flooring adds warmth and texture. The contrast of the white and wood elements creates a beautiful balance that is both elegant and welcoming.
The wooden flooring can be further enhanced with light sanding to give it a natural and earthy feel. To complement this design, some chic wooden bar stools can be added to the kitchen island. This will not only provide additional seating but also enhance the overall aesthetic of the kitchen.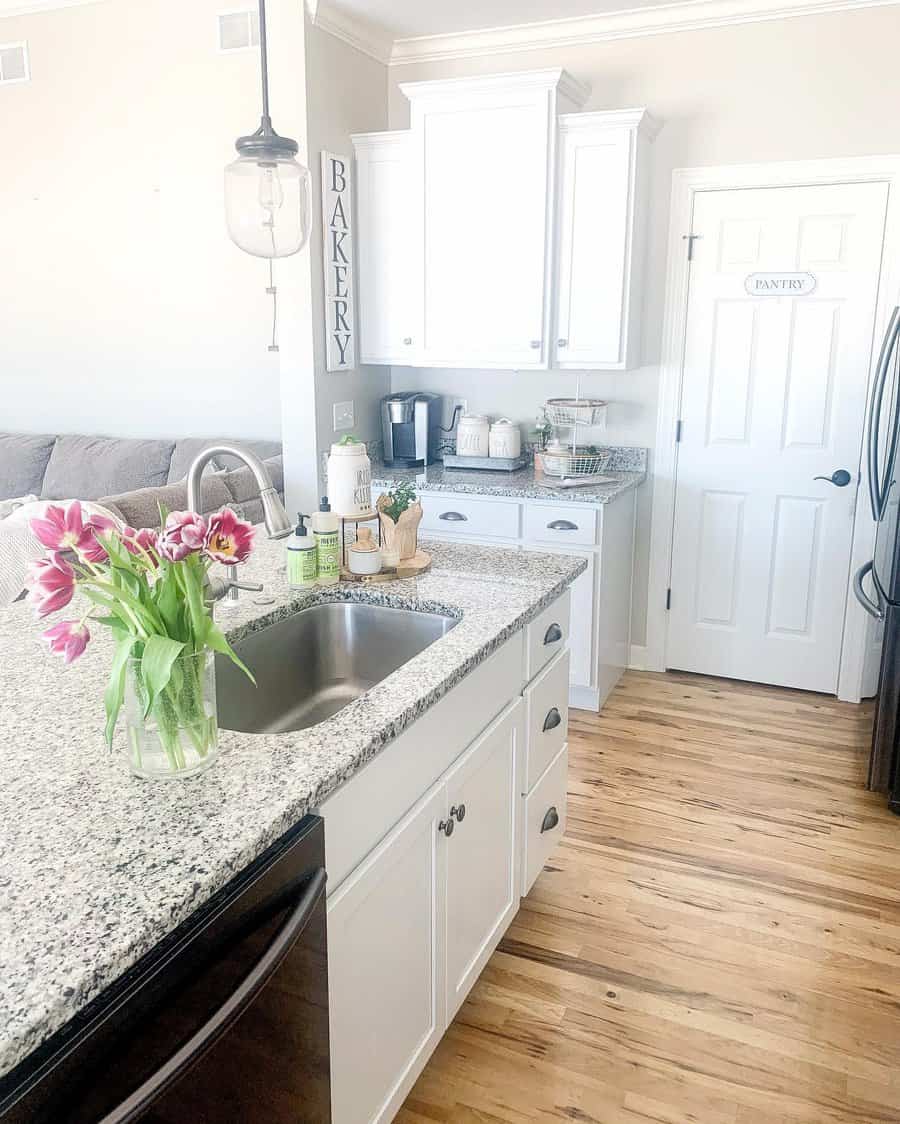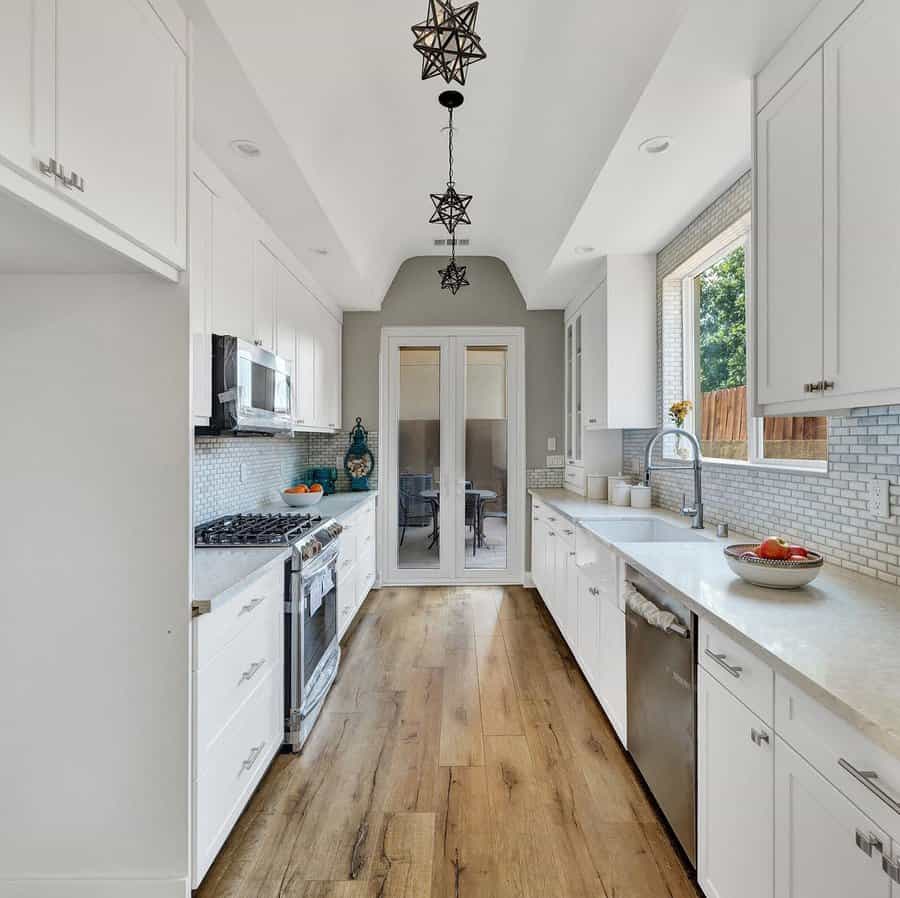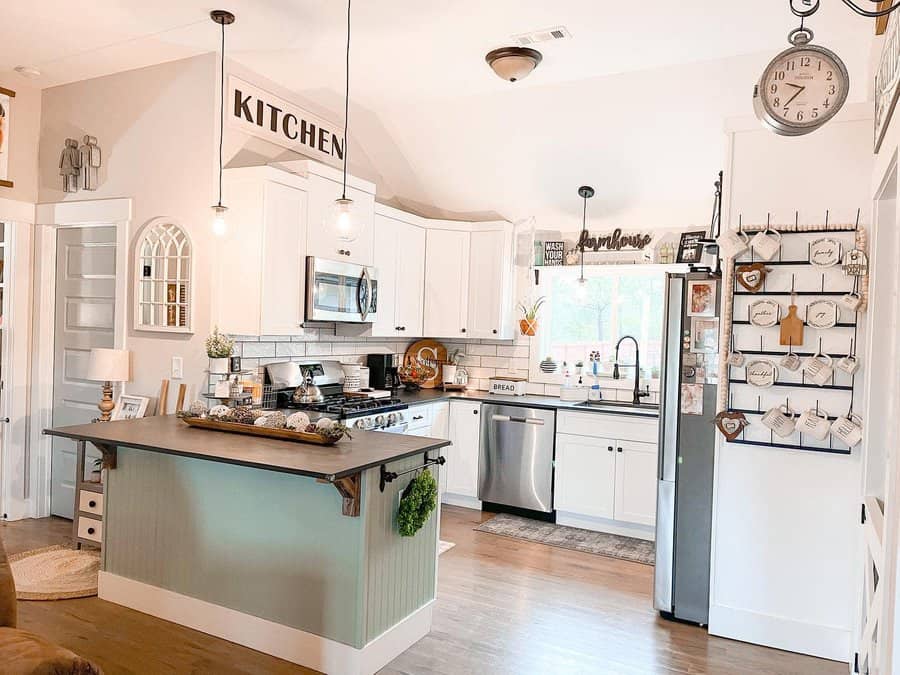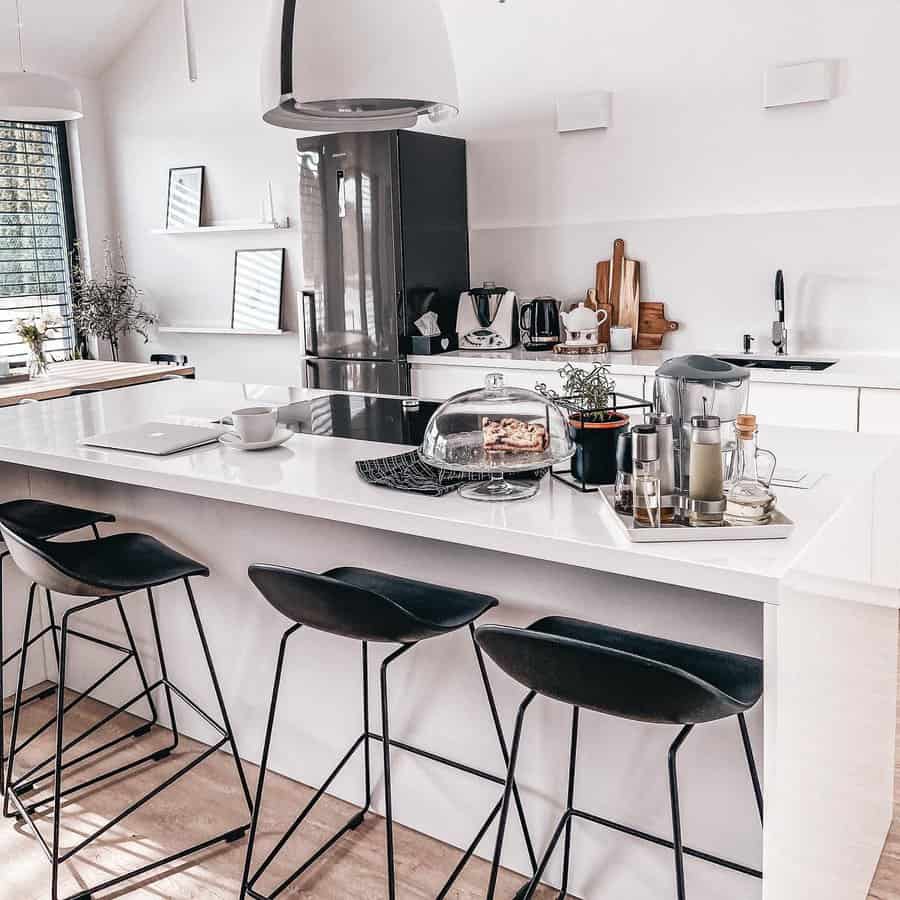 10. Go For Polished Marble Flooring
A white kitchen with polished marble flooring creates a sleek and sophisticated look that is both timeless and elegant. The white cabinetry and marble countertops reflect light and create an open and airy atmosphere. The polished marble flooring adds an extra touch of luxury and makes the space appear even brighter.
With its clean lines and bright palette, this kitchen is the perfect canvas for adding pops of color through accessories or even artwork on the walls. Whether you're cooking a gourmet meal or simply sipping a cup of coffee, this white kitchen with polished marble flooring will make you feel like you're living in a high-end hotel.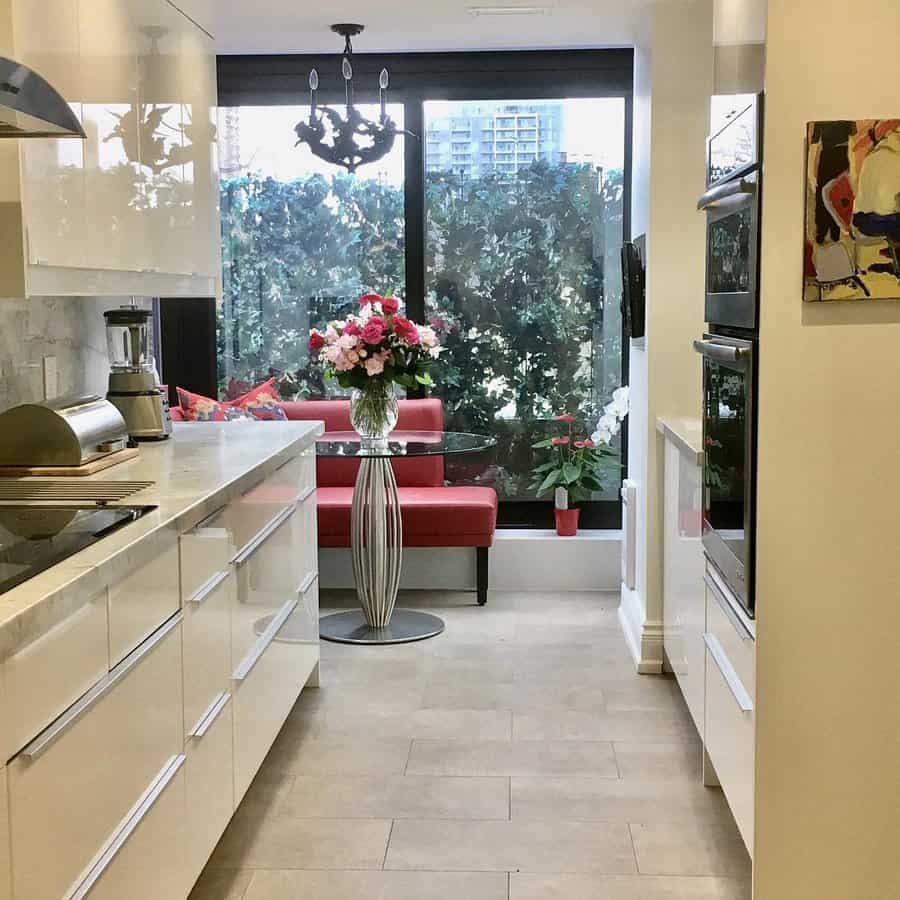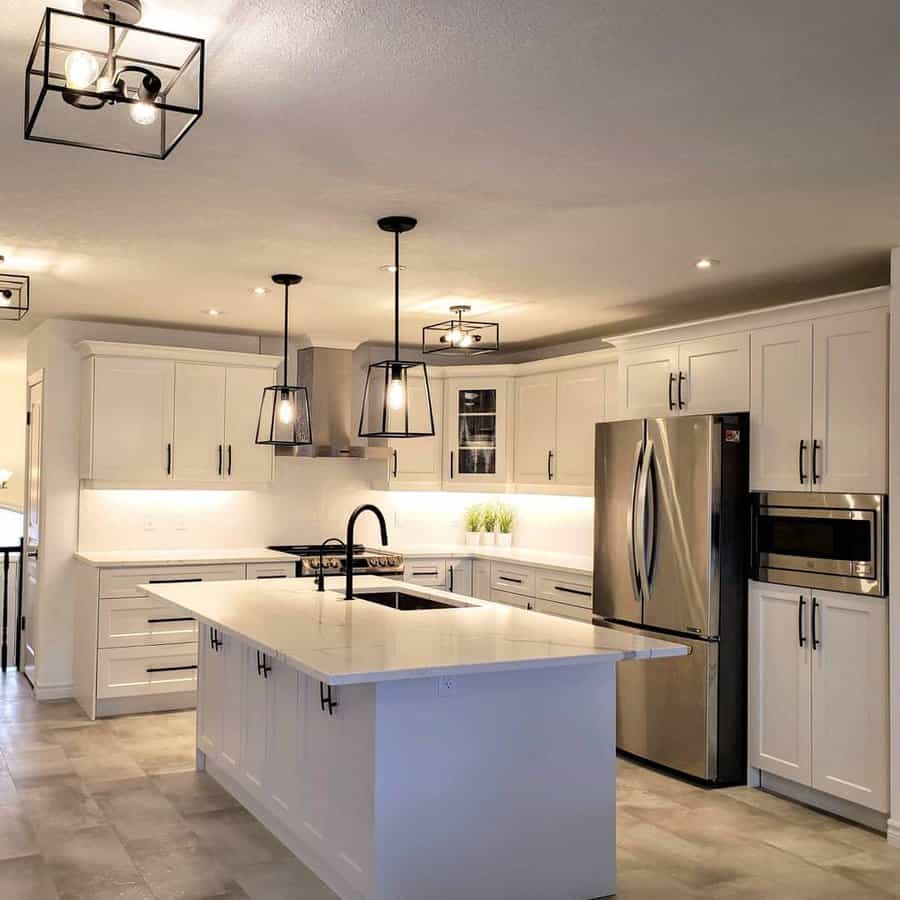 11. Install Statement Pendant Lighting
A white kitchen with pendant lighting is a classic and elegant choice for any home. Pendant lights are perfect for providing both task and ambient lighting, making them a popular choice for kitchen islands. A pendant light over a kitchen island can serve as a focal point and add a touch of style to the space.
When paired with a white kitchen, the result is a bright and welcoming atmosphere. Pendant lights come in a variety of styles, from sleek and modern to more traditional and ornate designs. With so many options available, it's easy to find the perfect pendant light to suit any taste and complement any white kitchen.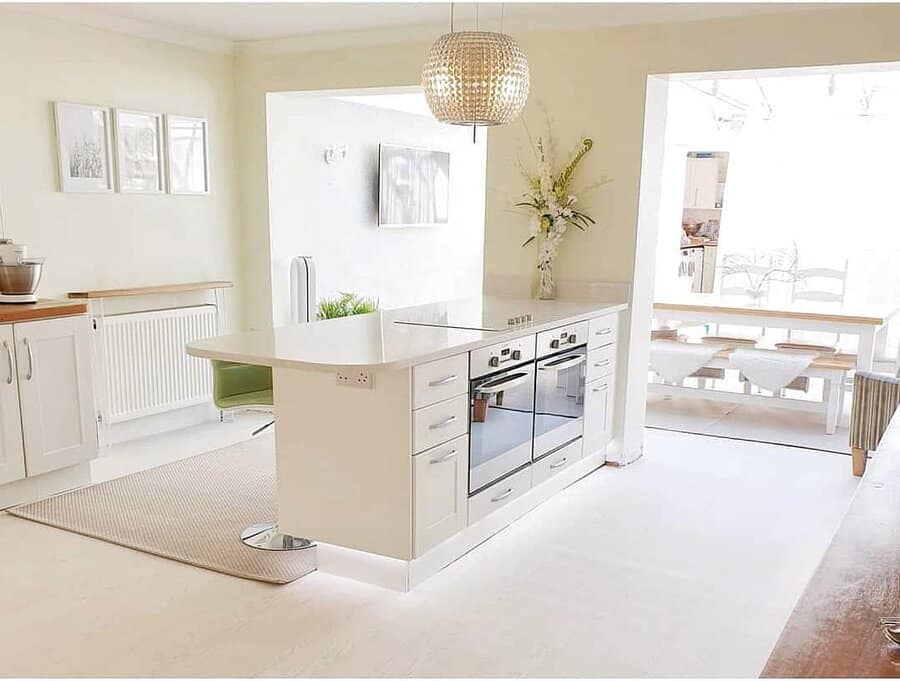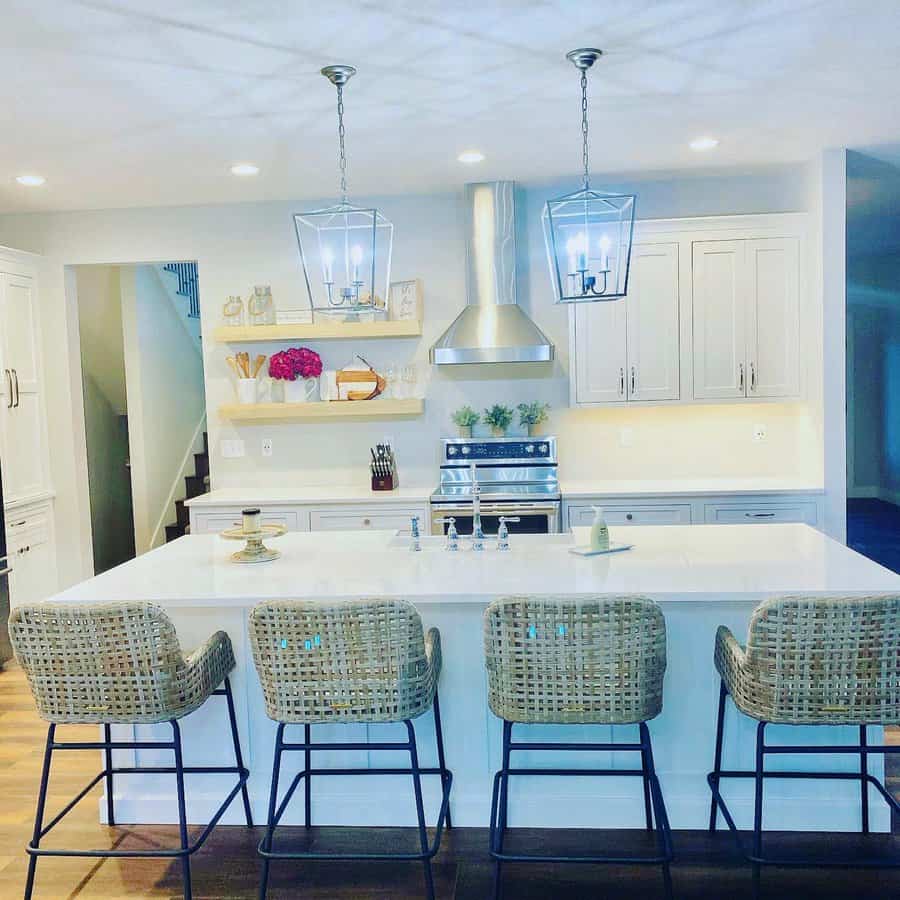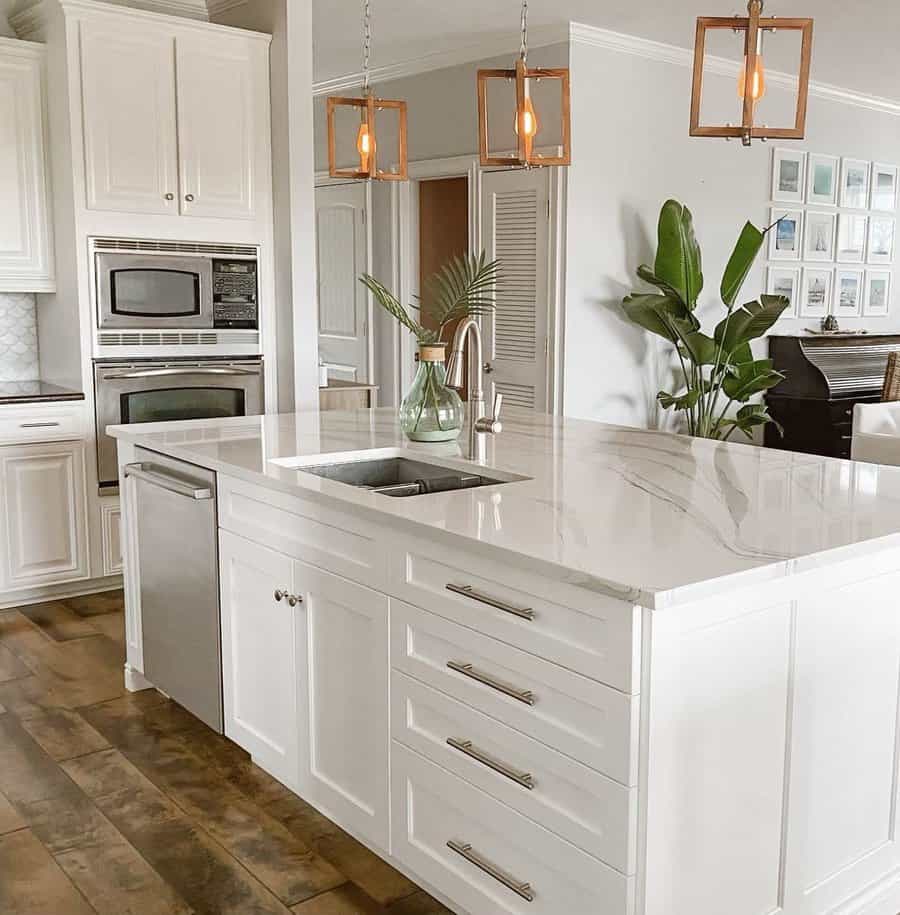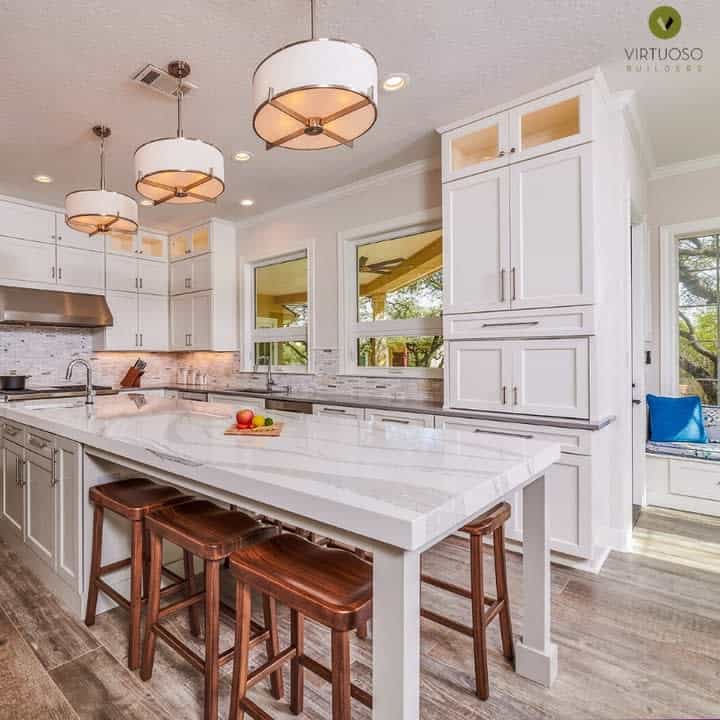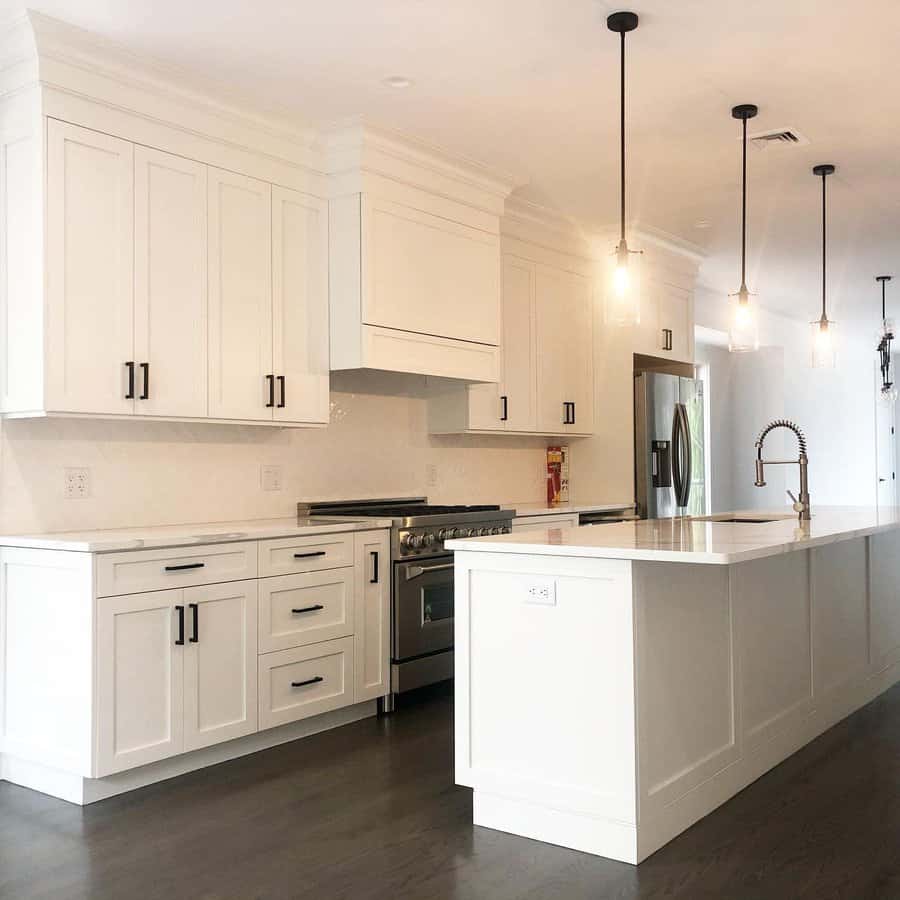 12. Apron Sink For Farmhouse Kitchens
The addition of a deep sink, also known as an apron sink, adds functionality to the kitchen while also creating a beautiful focal point. The deep basin allows for easier cleaning of larger pots and pans, making it a practical choice for any home chef.
Whether you prefer a sleek and modern look or a more traditional feel, a white kitchen with an apron sink is sure to impress. Not only does it offer plenty of counter space, but it also gives the kitchen a bright and airy feel, making it the perfect space for cooking and entertaining.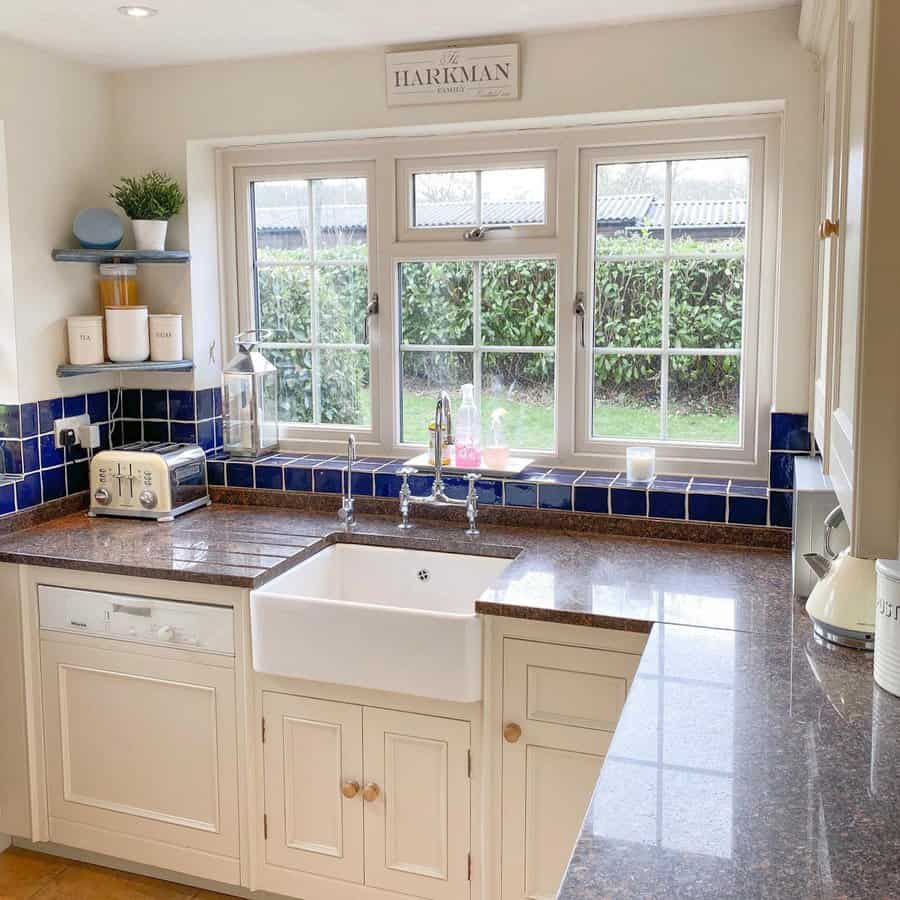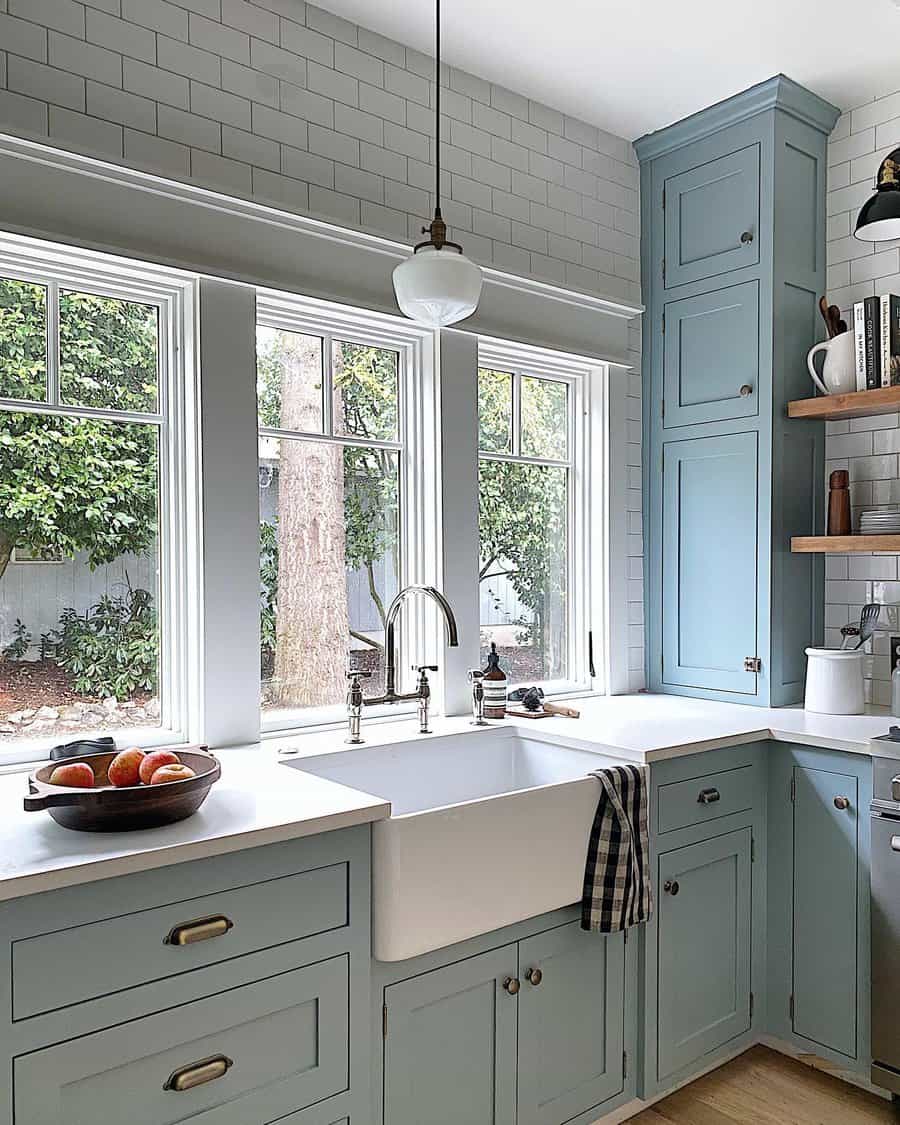 13. Complement With Rustic Wood Elements
A white kitchen with wooden decor is a great way to add a touch of rustic charm to your home. The combination of white and wood creates a warm and welcoming atmosphere, perfect for both cooking and entertaining. Wooden cabinets and shelves can be used to store kitchen essentials, while a wooden island or countertop can serve as a prep area or a space for casual dining.
You can also add wooden accents to the kitchen through decorative pieces such as cutting boards, utensils, and even a wooden clock. The possibilities are endless when it comes to incorporating wooden decor into a white kitchen, and the end result is sure to be both stylish and inviting.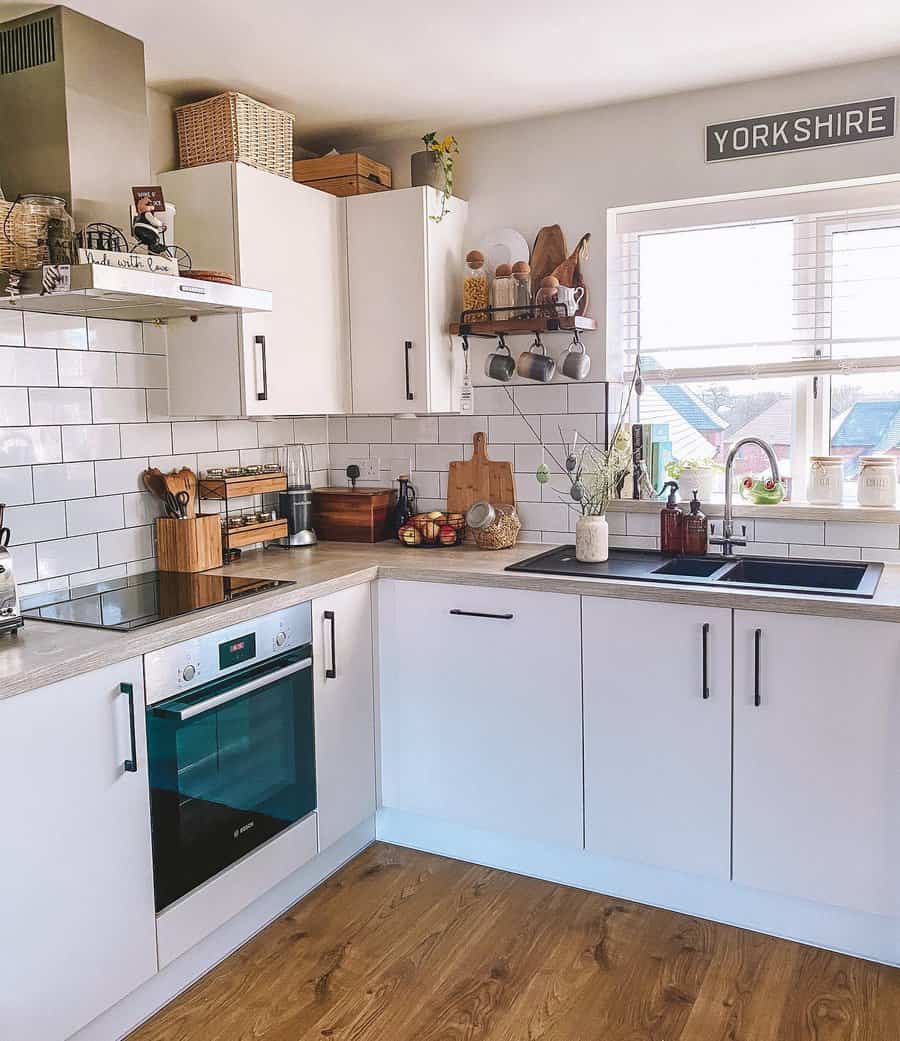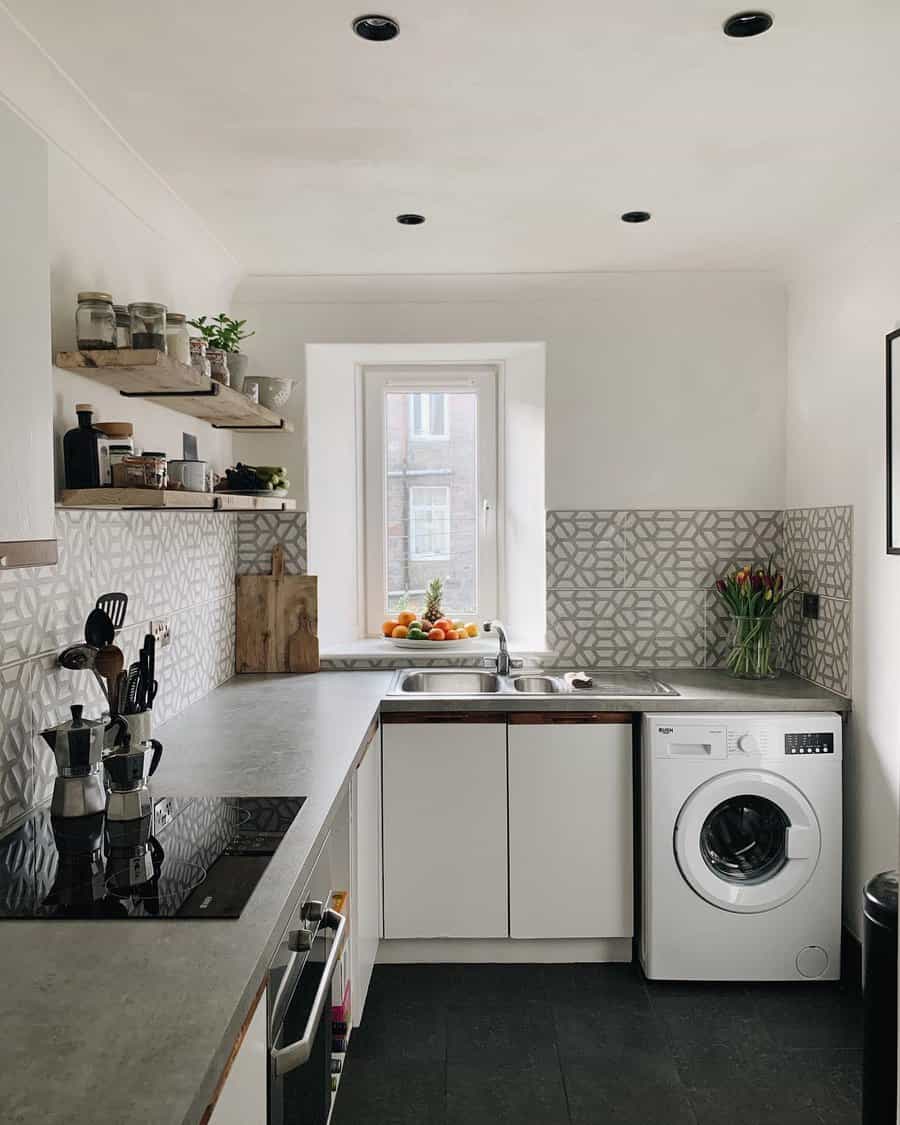 14. White Marble Flooring
A white kitchen with marble flooring is an elegant and classic choice that will never go out of style. The crisp white cabinetry paired with the natural veining of the marble creates a timeless look that exudes sophistication and luxury. The marble flooring adds a touch of glamour while also being practical and durable for a high-traffic area such as the kitchen.
Whether you prefer a traditional or modern style, a white kitchen with marble flooring can be adapted to fit any aesthetic. With proper care and maintenance, this stunning combination will continue to impress for years to come.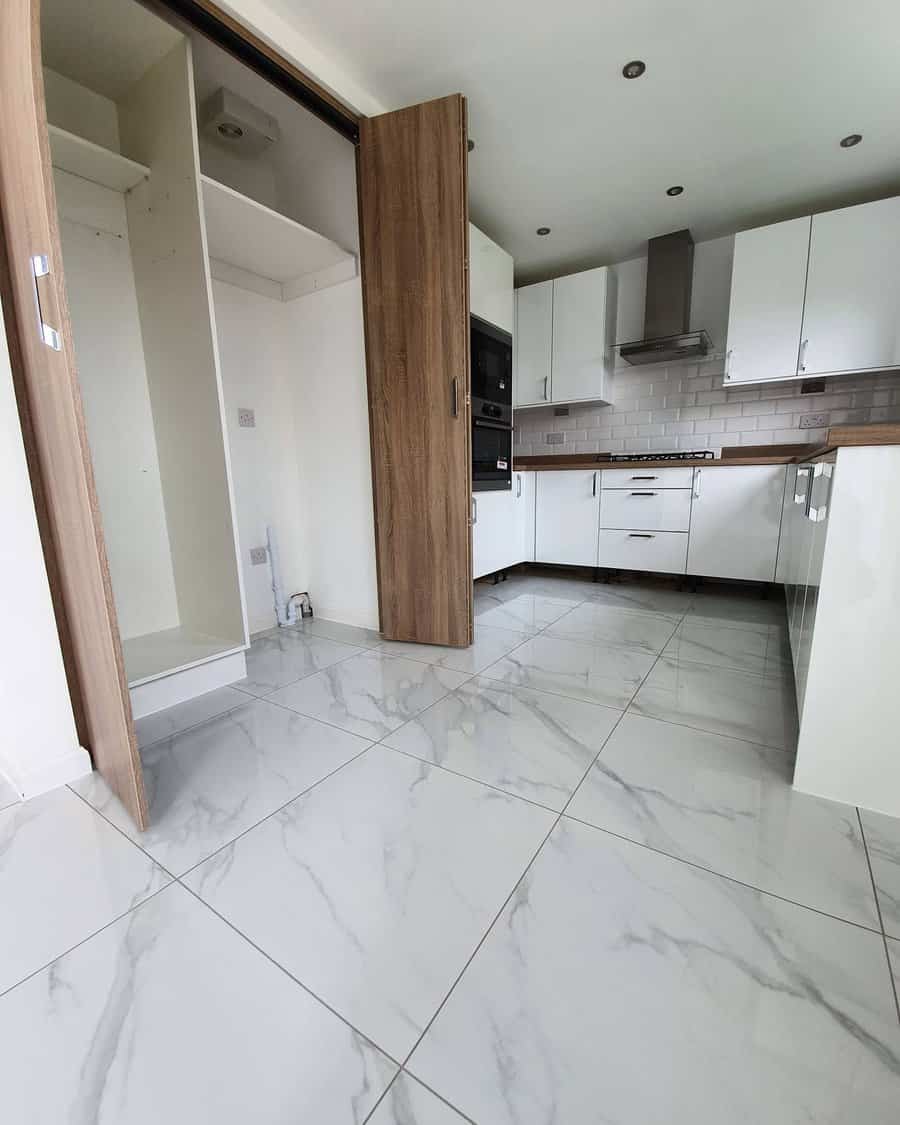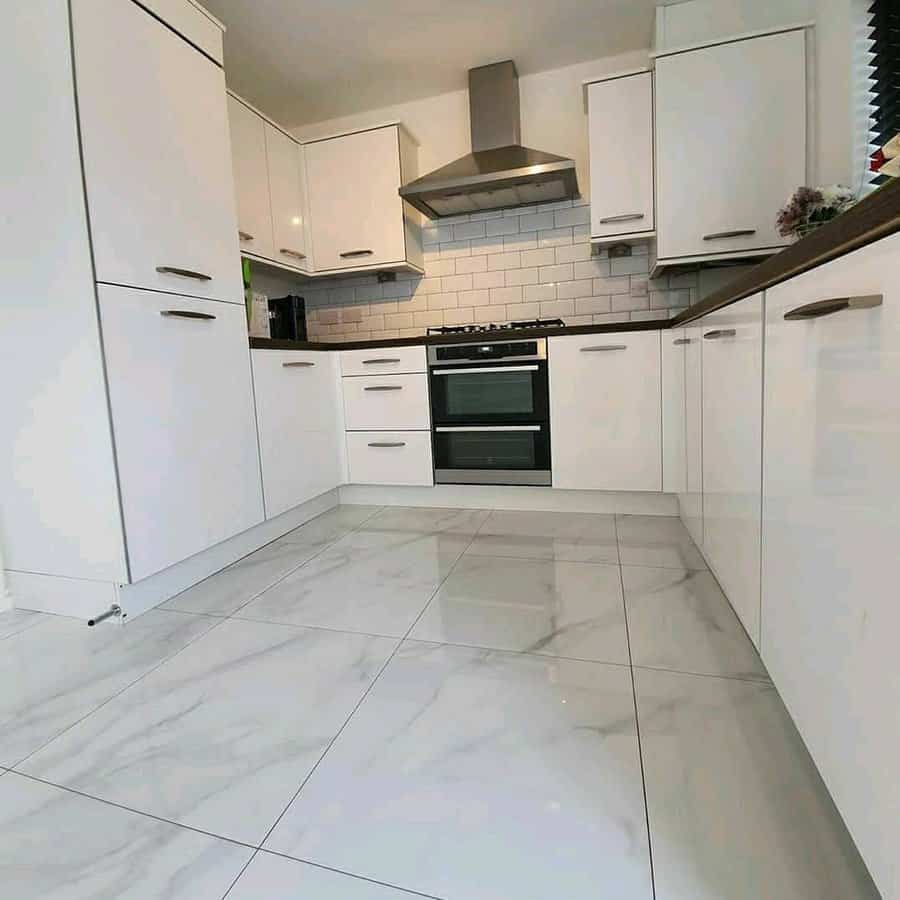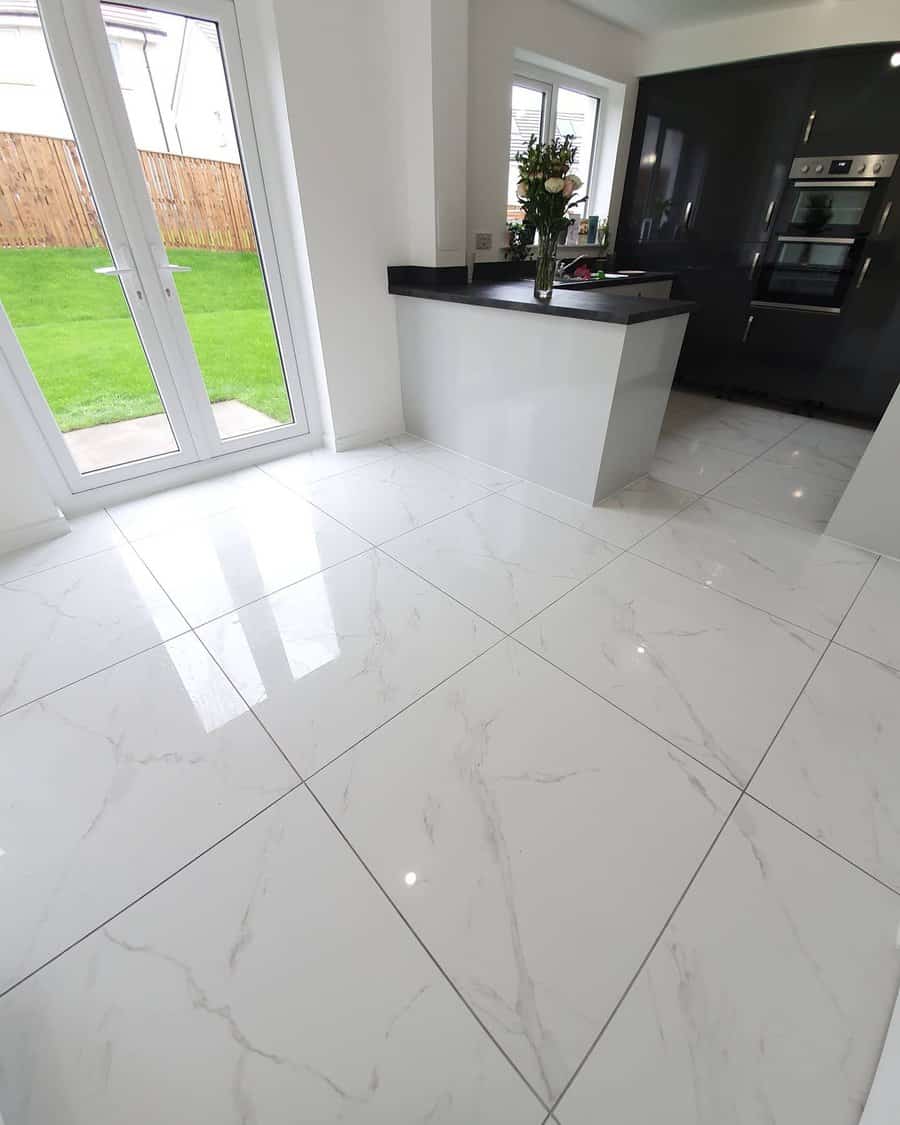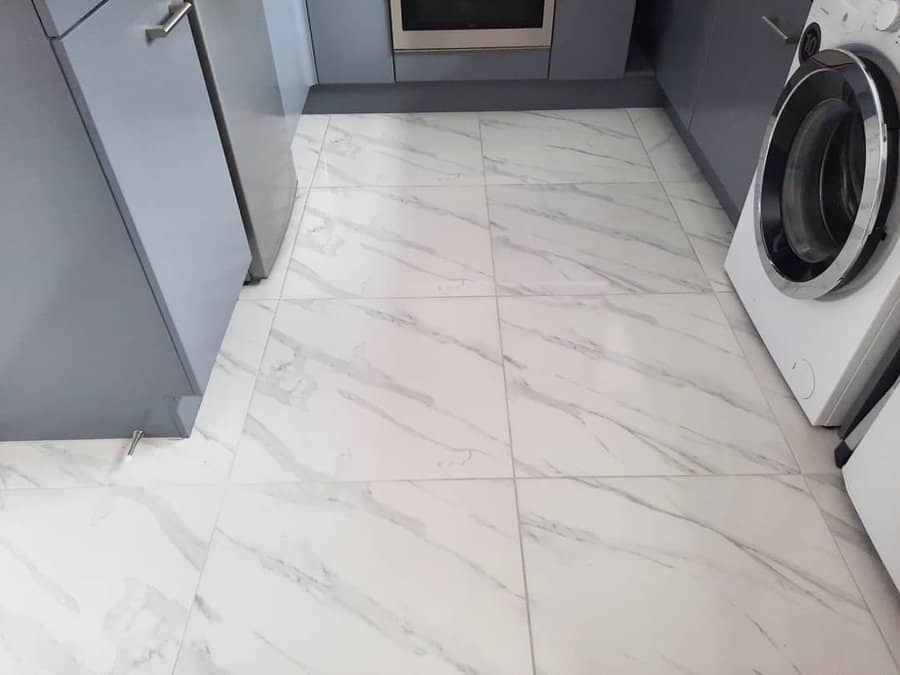 15. Grey & White Kitchen
A grey and white kitchen is a stylish and timeless choice for any home. White is often used as the base color, creating a bright and clean atmosphere. Adding elements of grey, such as grey cabinets or a grey backsplash, can add depth and sophistication to the space.
Grey and white color schemes allow for versatility in decor, with the option to add pops of color or keep a neutral palette. This color scheme can also create a sense of calm and relaxation in the kitchen, making it a comfortable space to cook and entertain.
Whether you prefer a modern or traditional style, a grey and white kitchen can provide a classic look that will never go out of fashion.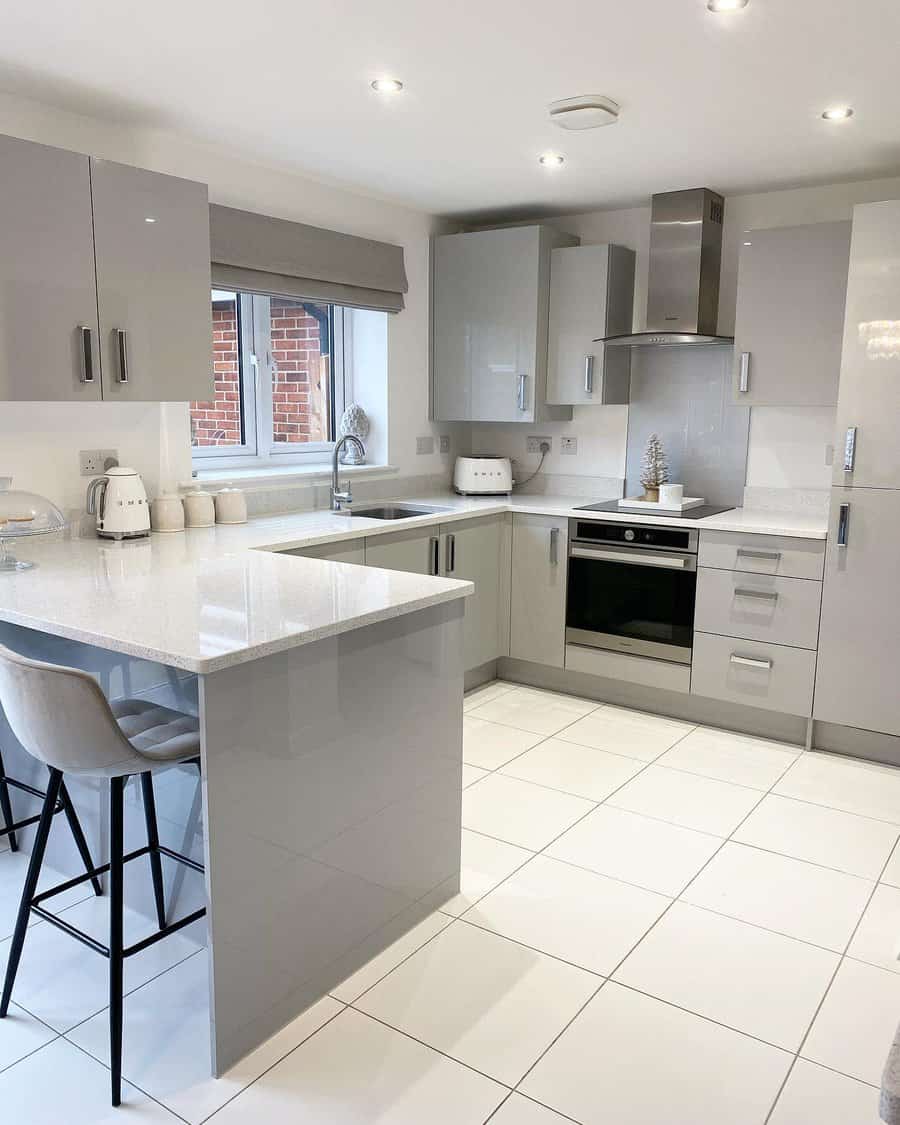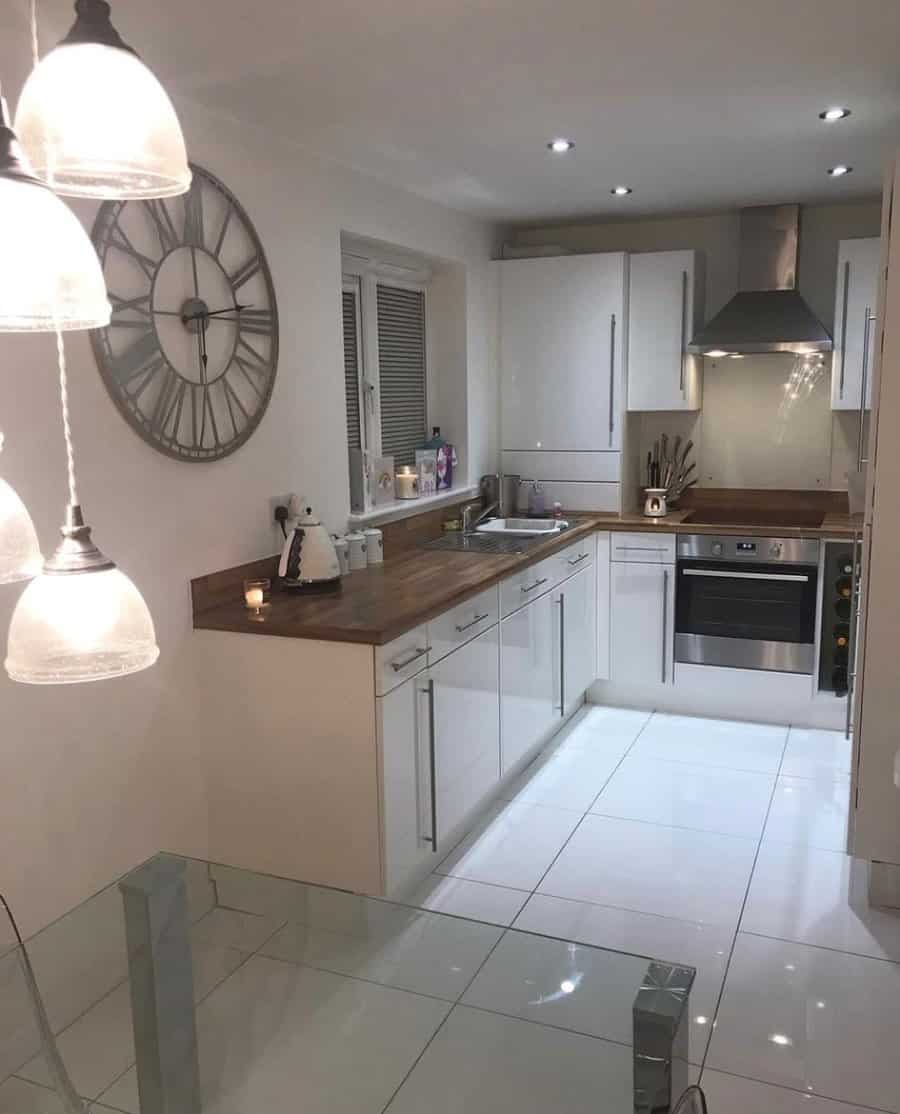 16. Letterbox Window For Well-Distributed Lighting
A white kitchen with a letterbox window is a design choice that brings in natural light and a unique touch to the space. The letterbox window is typically a narrow, horizontal window that runs along the length of a wall, adding a contemporary and modern element to the kitchen.
White cabinetry and walls allow the natural light to bounce around the room, making it feel brighter and more spacious. This style works well in both traditional and modern homes, as it adds character and interest to the kitchen. Adding a pop of color through accessories or a statement backsplash can also enhance the overall look of the space.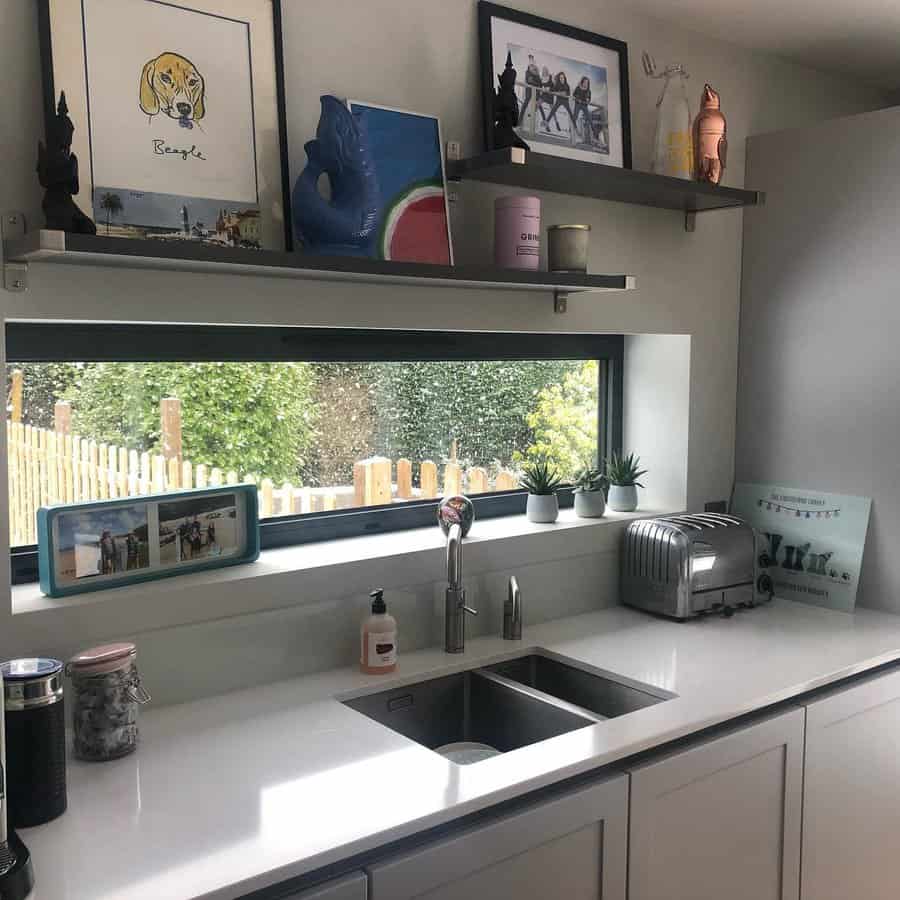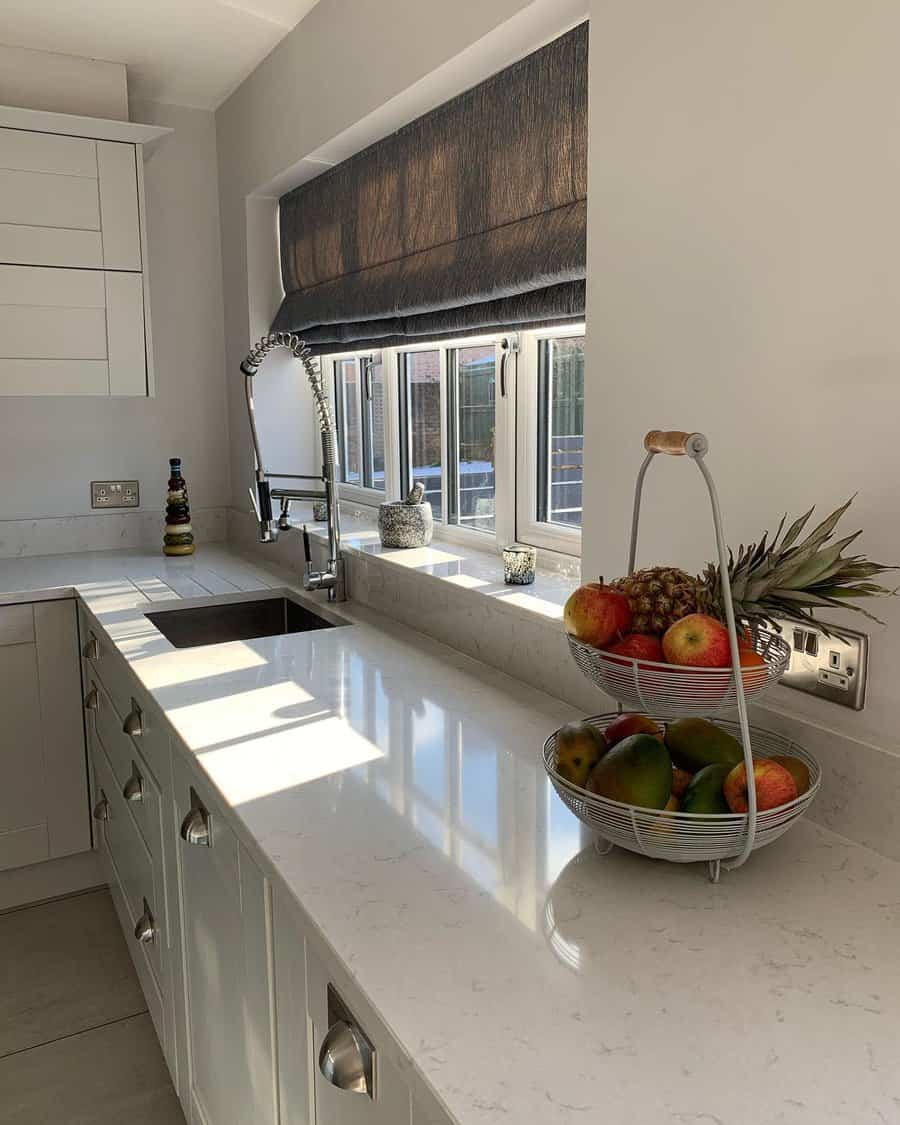 White Kitchen FAQs
What style of floor looks best in a white kitchen?
The color white hypothetically goes with everything. This can make it hard to narrow down the right flooring for your kitchen remodel.
For a clean, minimalist kitchen, white flooring is a natural choice. White tile can take on many forms, including natural stone textures like quartz and marble.
If your kitchen lacks warmth, hardwood (or something that looks like hardwood) is a great option. Light-colored wood is the best shade for most predominantly white spaces.
Are white kitchens hard to keep clean?
Some homeowners worry that a predominantly white kitchen will be impossible to keep clean. While this is a valid concern, there are plenty of ways to avoid it.
Invest in quality materials that resist staining and other surface damage. Don't be afraid to deviate from your white color scheme for surfaces you're particularly concerned about — e.g., countertops, backsplash tiles, or appliances.
Utilize subtle patterns where crumbs and other debris are likely to accumulate. This will keep small messes out of sight until you have a chance to wipe them clean!