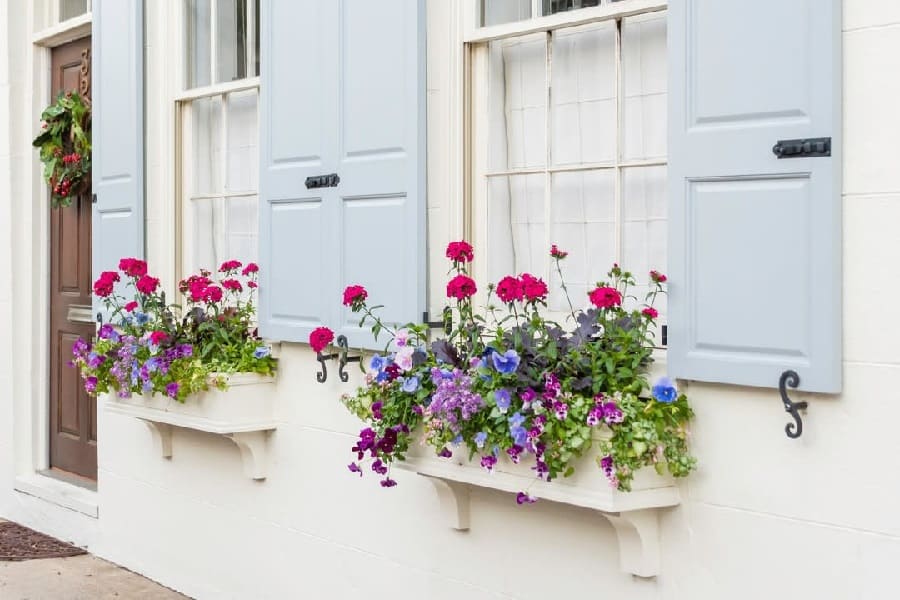 The Top 53 Window Box Ideas
Searching for new ways to flex your green thumb? Or looking to give your home's exterior a miniature facelift? Window boxes could be the answer!
Window boxes offer the perfect place to grow your favorite plants without taking up valuable lawn space or digging into the ground. There's no easier way to bring a hint of life and color to your home with minimal time, money, and labor.
Keep reading for some of the best window box ideas and how to recreate them to suit your own home!
1. Black
By its very nature, a window box planter will bring a heavy dose of color to your home's exterior. If you want to let your potted plants steal the show, then painting your window boxes a neutral shade like black is a great idea.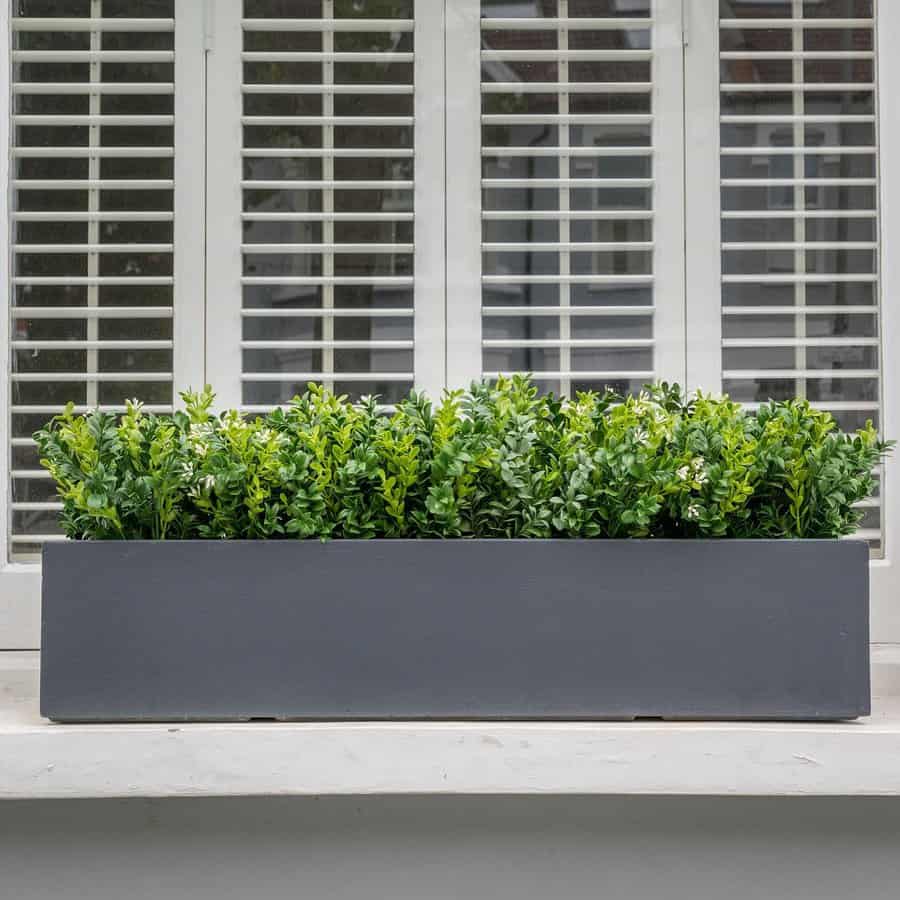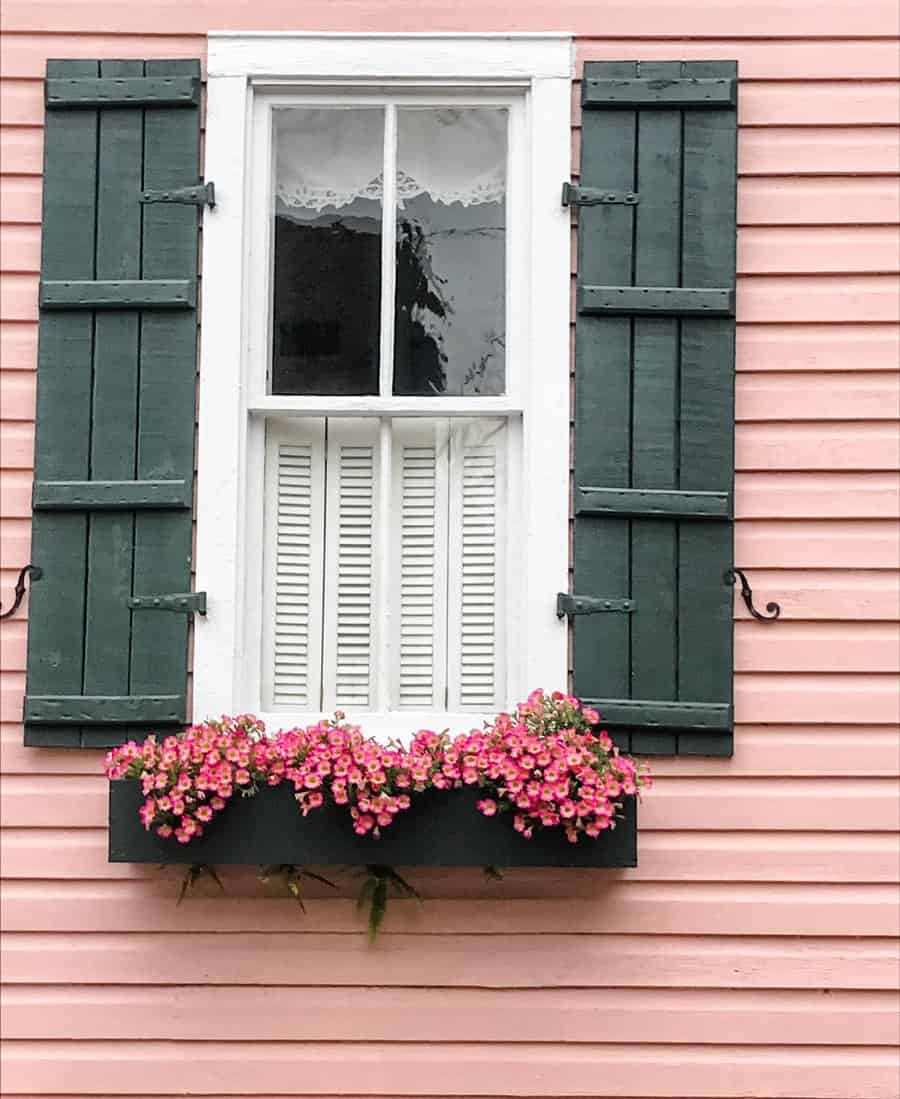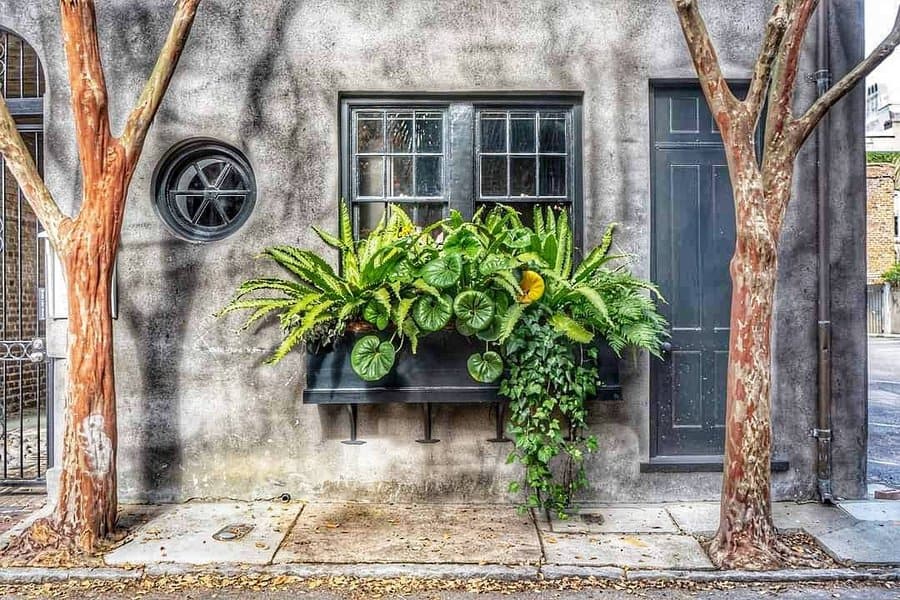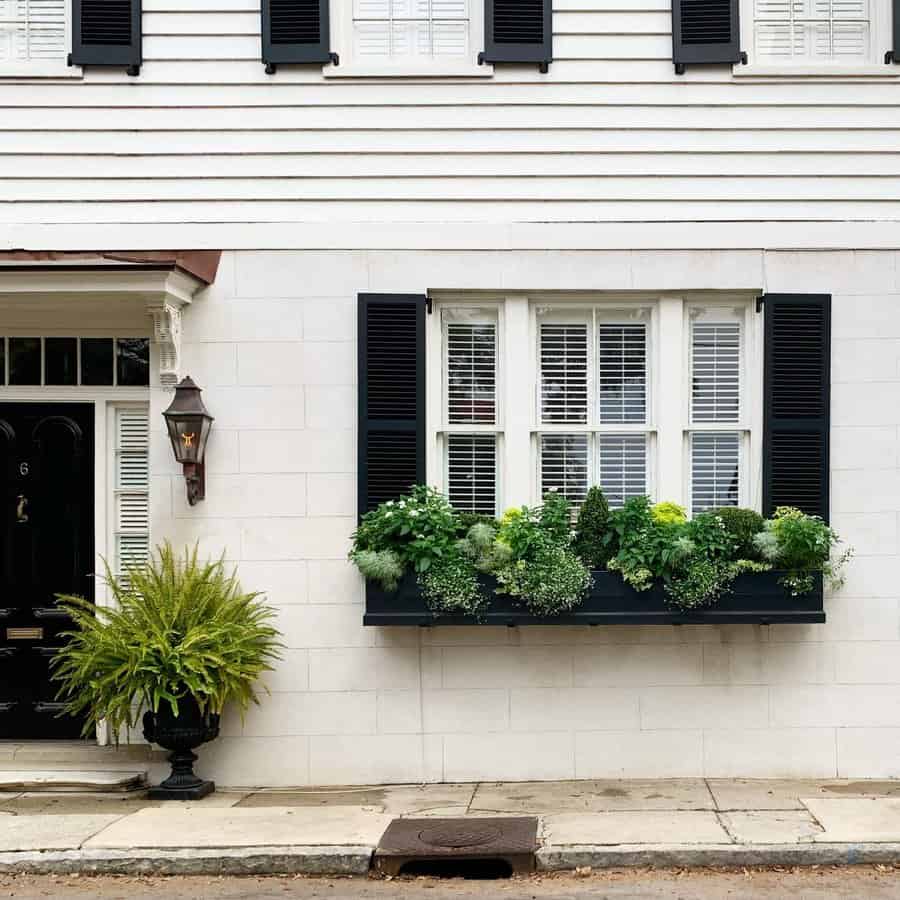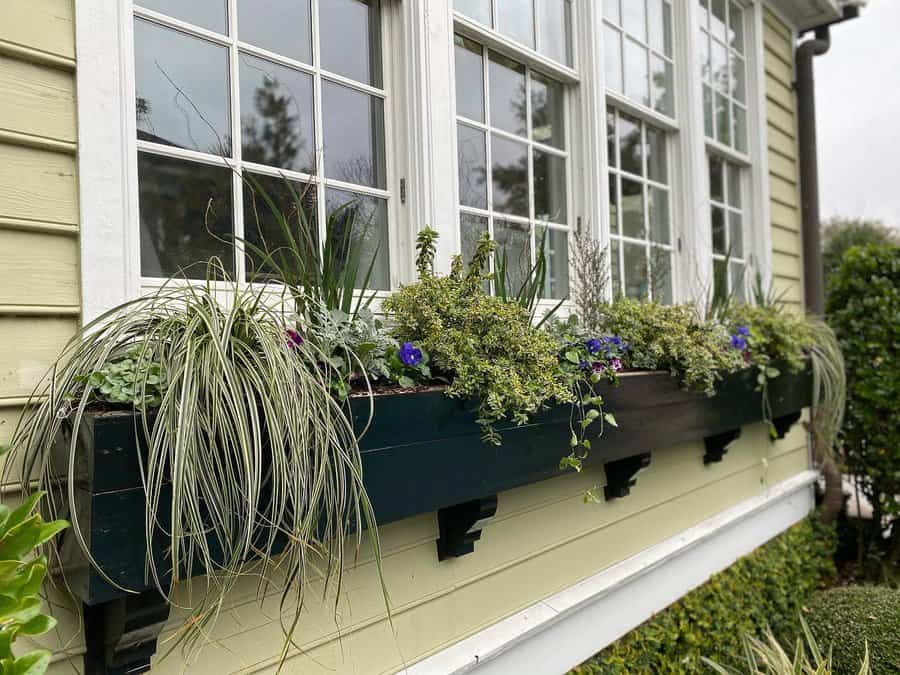 A black window box pairs perfectly with both green foliage and bold flowers. There's no need to worry about your window box finish not matching your ever-changing garden arrangements!
You can easily create a DIY window box using a can of black spray paint and weatherproof coating. Black window boxes contrast beautifully against white or light-colored siding. If your home features black window sills or shutters, even better!
2. Colorful
If boosting your home's curb appeal is your top priority, color is one of the most effective tools in your arsenal. Whether you opt for a monochromatic palette or every shade in the rainbow, a colorful window box will bring a little extra cheer to your property.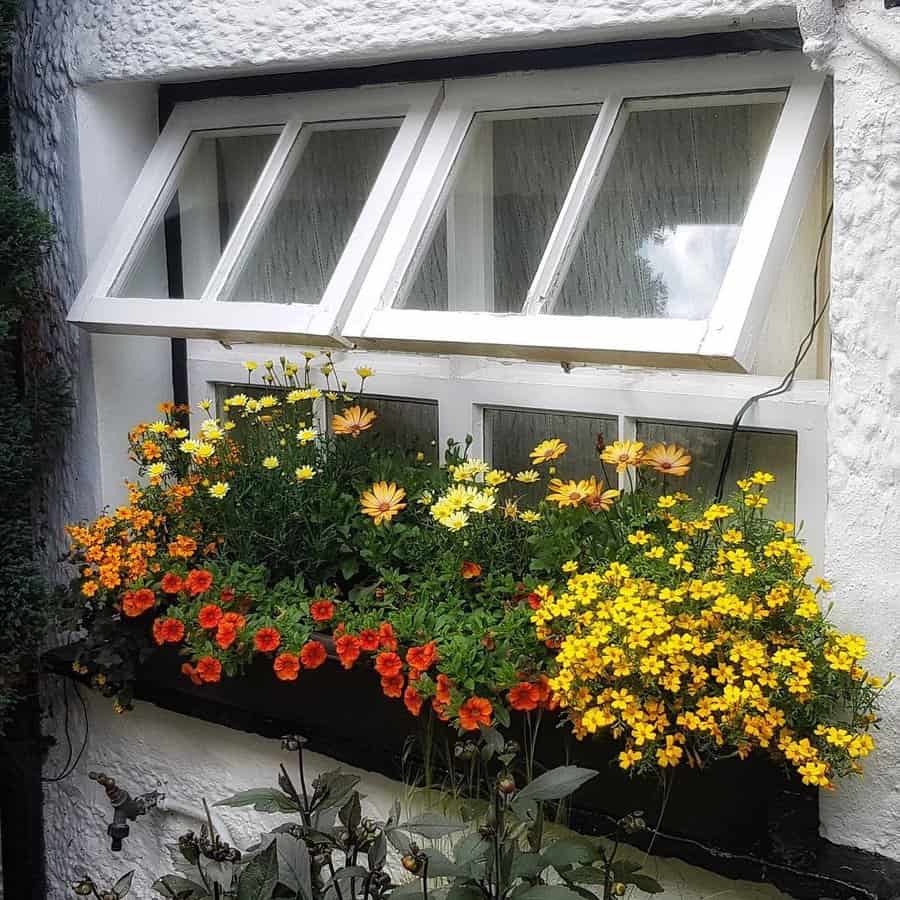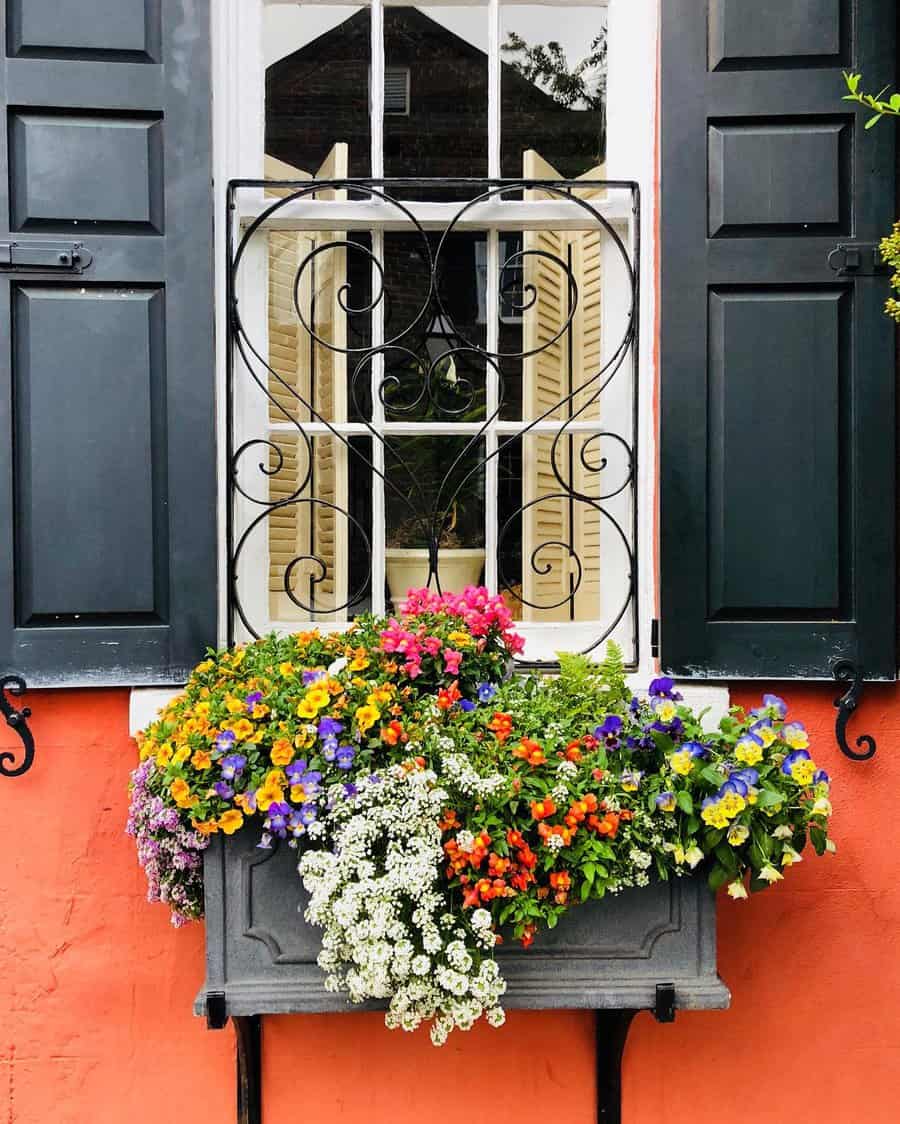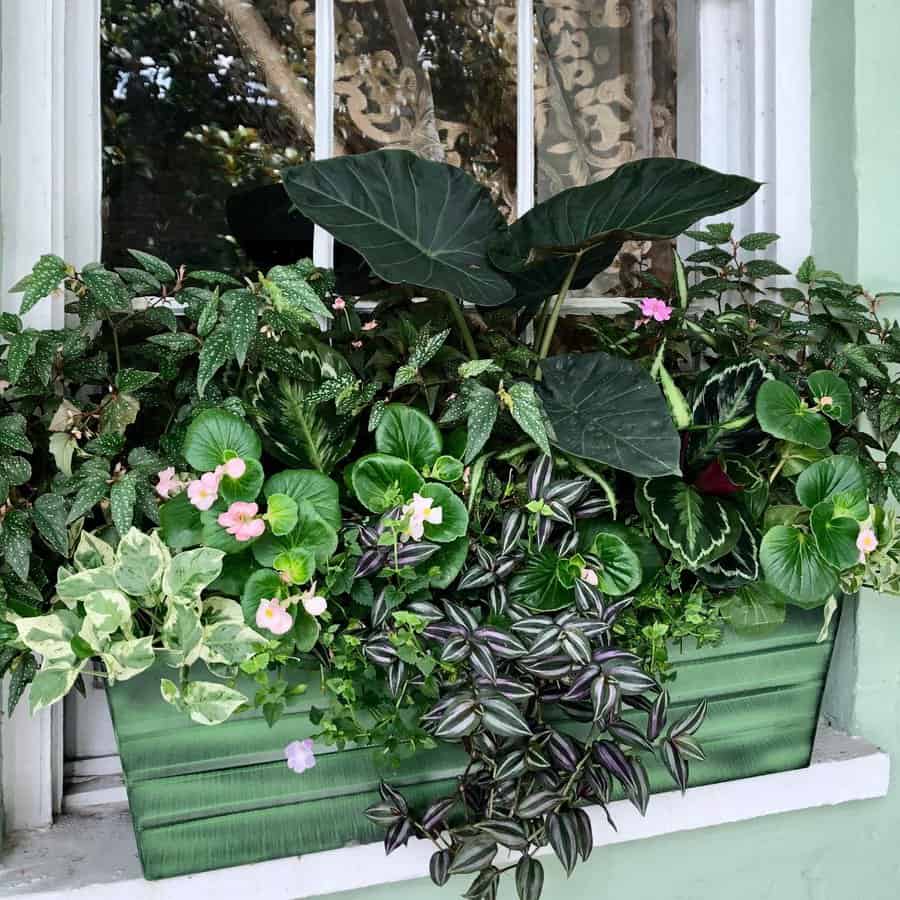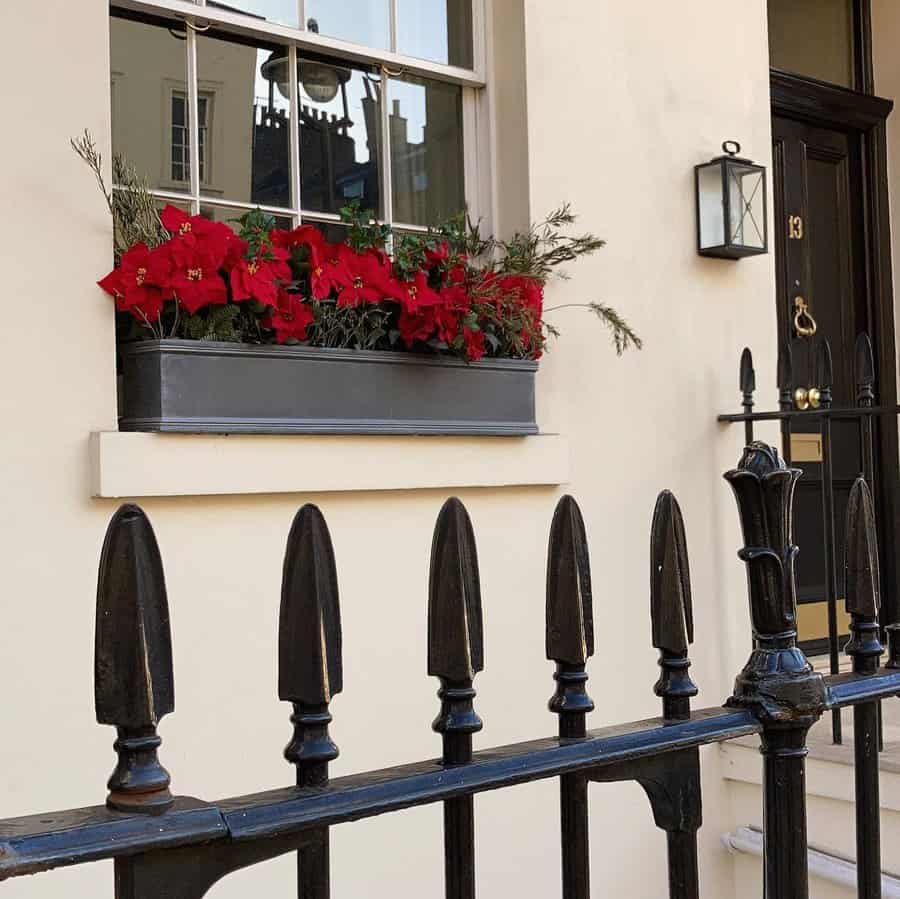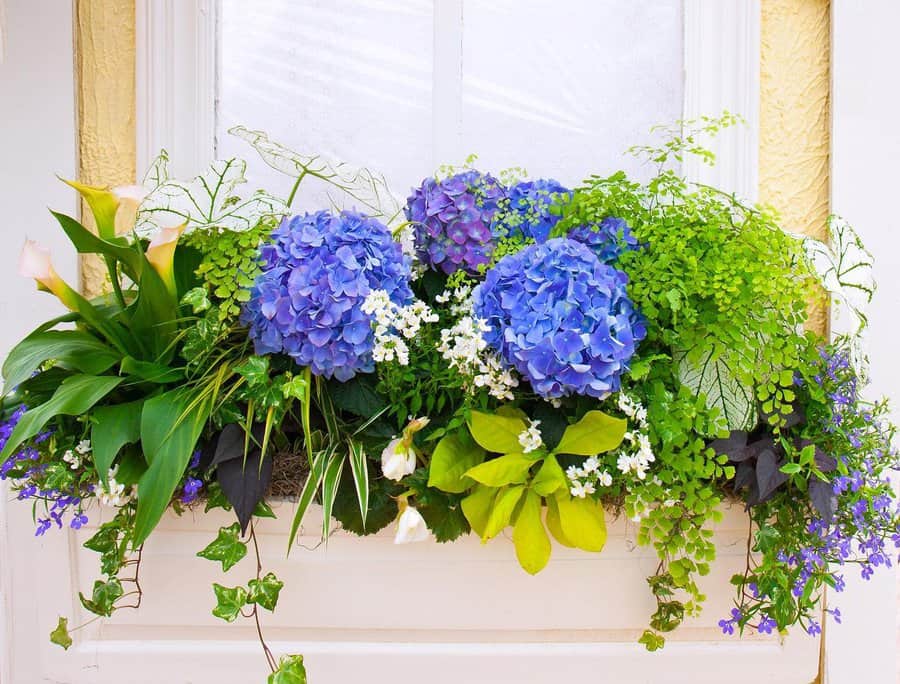 Keep in mind that color doesn't just come from flowers. Many cultivars of coleus offer colorful foliage that is just as beautiful as any bloom. The same is true of elephant's ear.
Color is possible in any season! Fill your fall window box with varieties of chrysanthemum and ornamental kale. Decorating a vibrant winter window box is a little trickier. Try using red berries or Poinsettia within your floral design.
3. Greenery
Not everyone loves the look of flowers. But that doesn't mean you can't outfit your home's exterior with beautiful window boxes filled with lush greenery!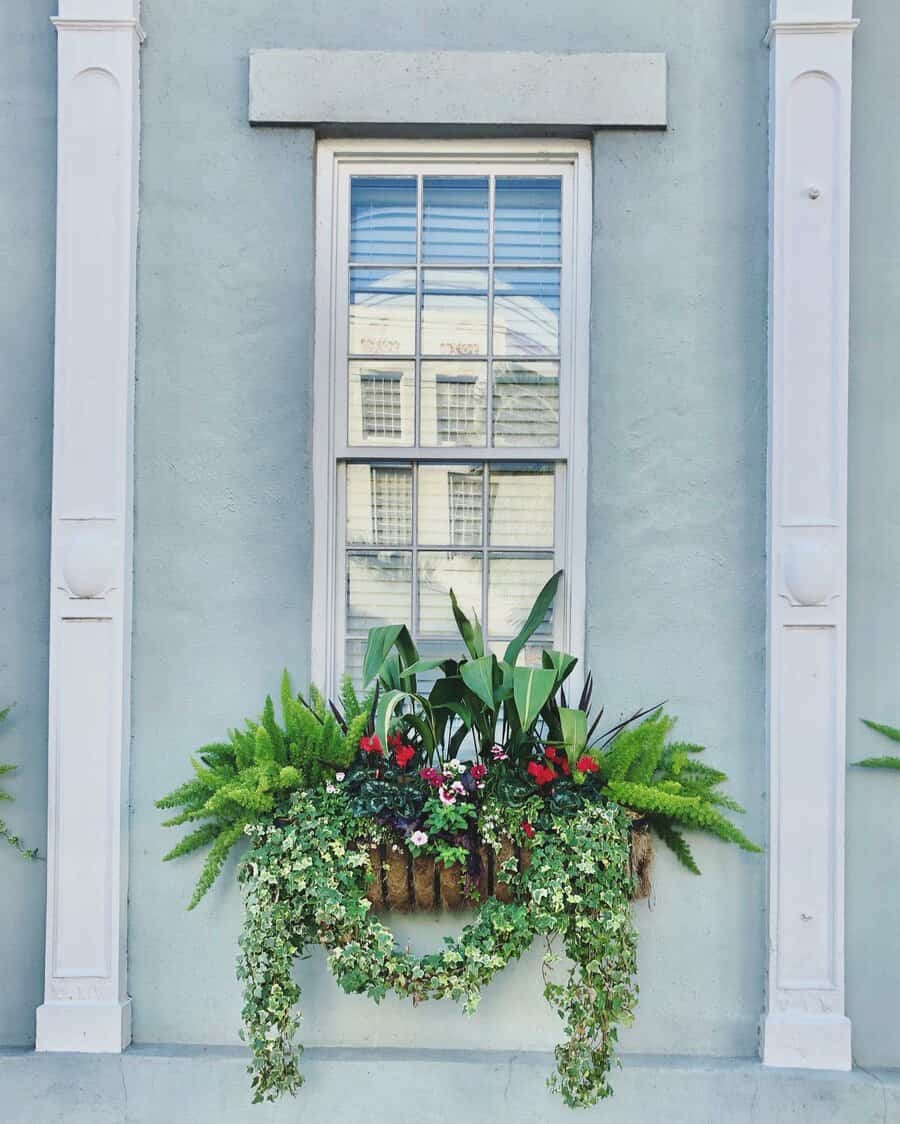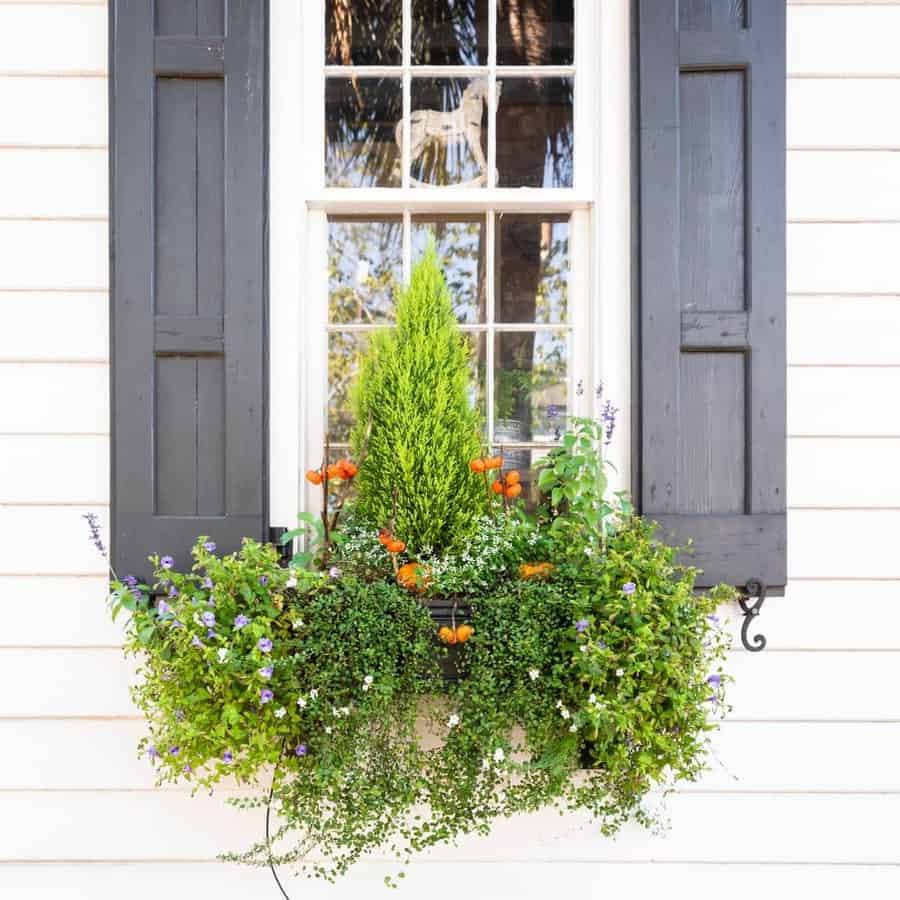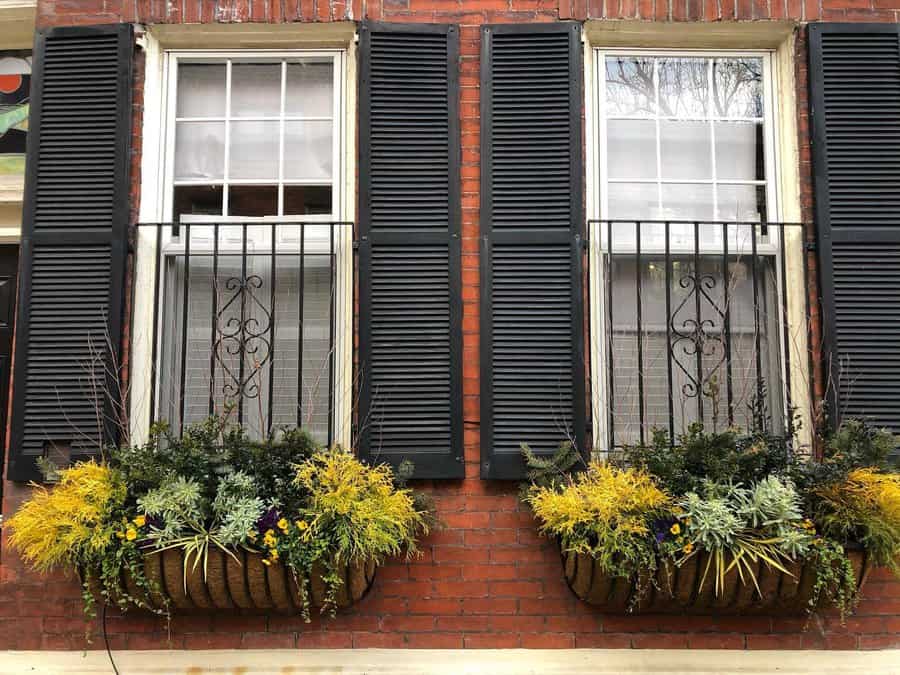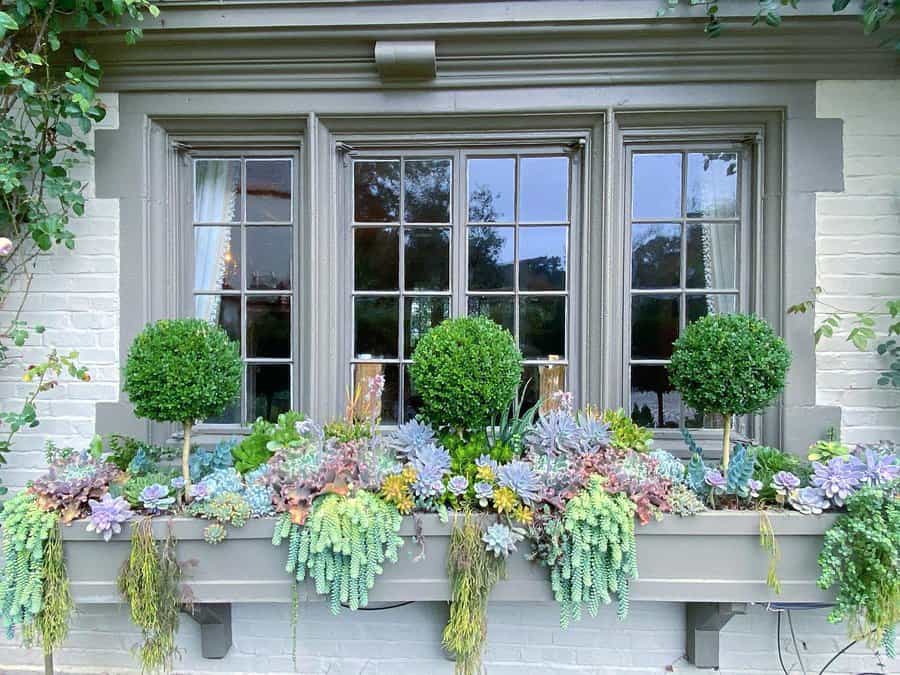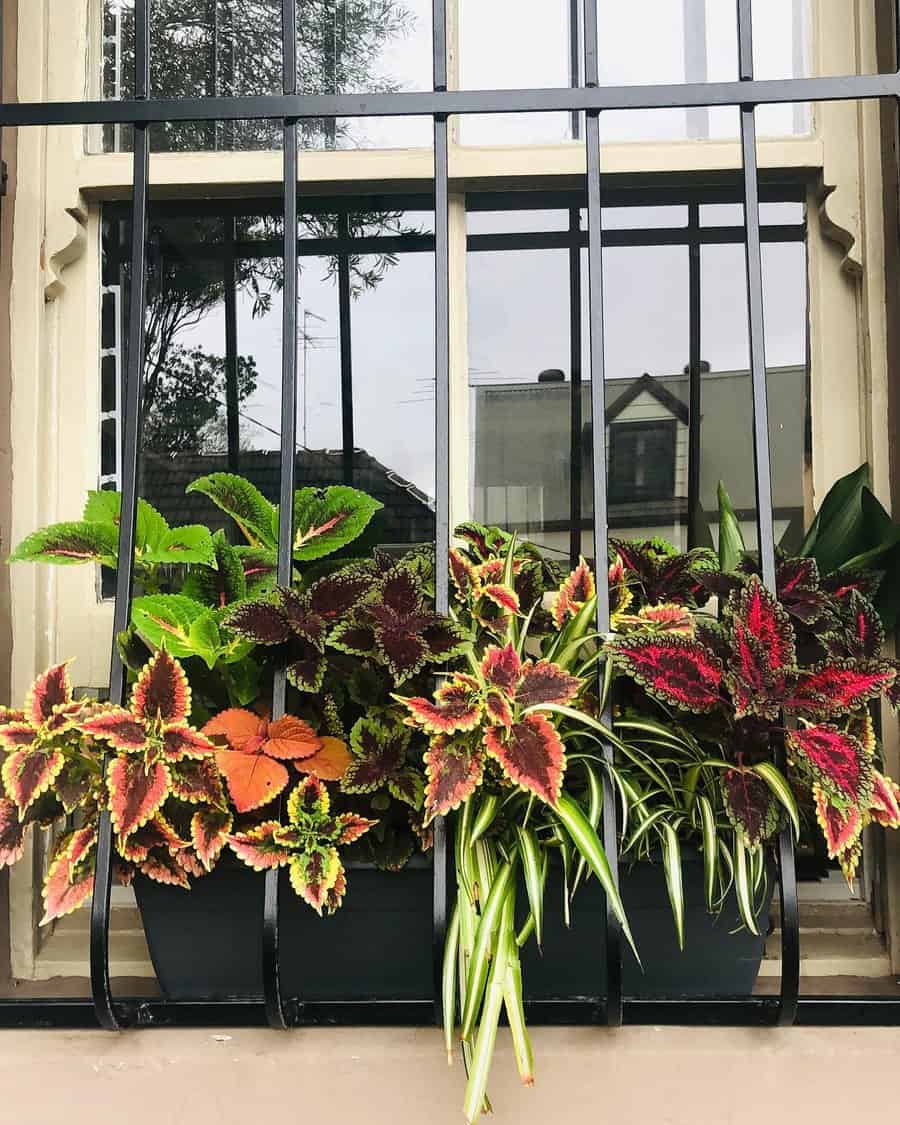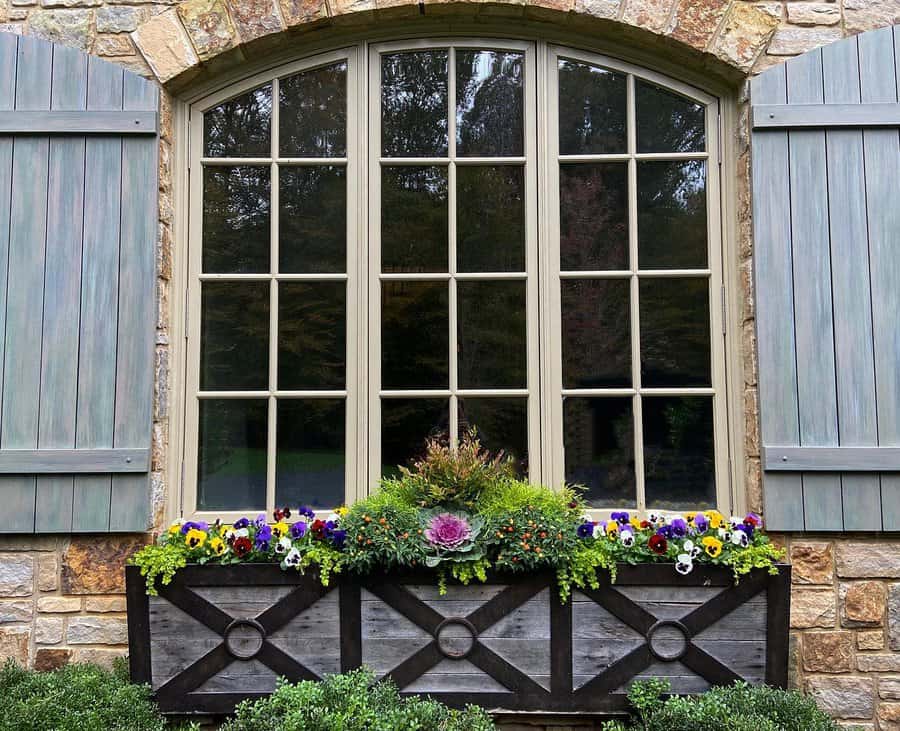 There are many great plants to include in your window boxes that don't flower (or whose flowers are not the main attraction). Use these foliage species alone or in combination with varieties that do flower.
Trailers like English ivy and sweet potato vine will add texture to your planter edges. Fill the center of your arrangement with varieties of coleus, ornamental grass, or fern. If you live in an arid climate, consider creating a window box full of cacti and succulent species.
4. Low Maintenance
Good intentions won't keep a garden container alive. If you've put off mounting window boxes to your home until now, a little preparation could save you from accidentally killing off your hard work.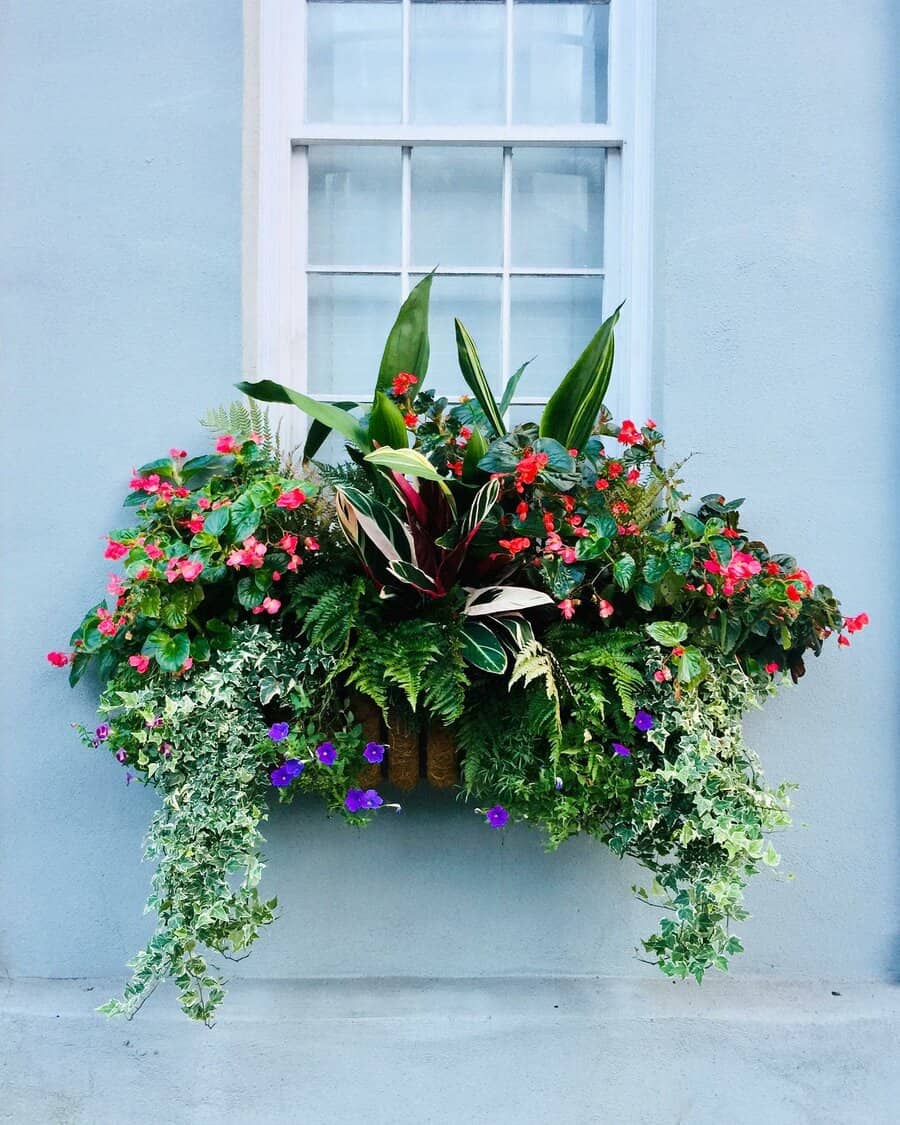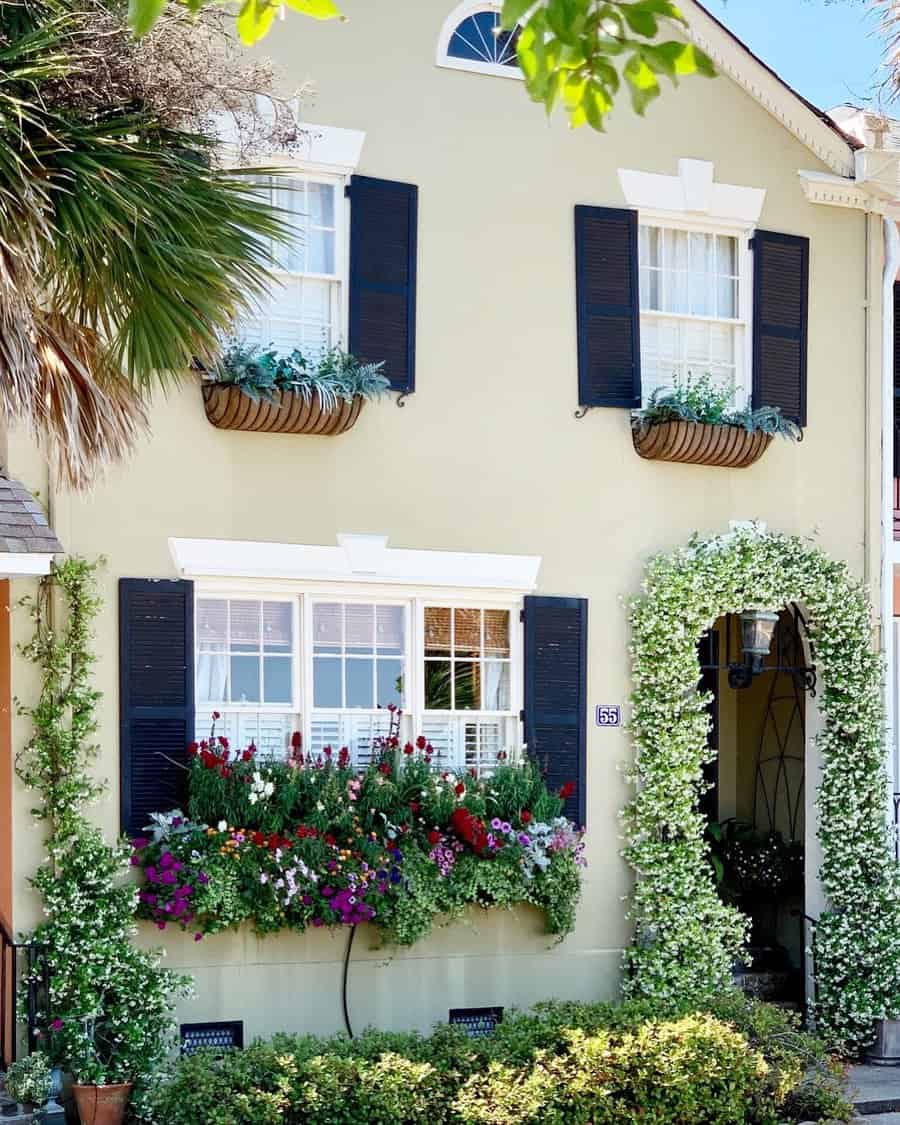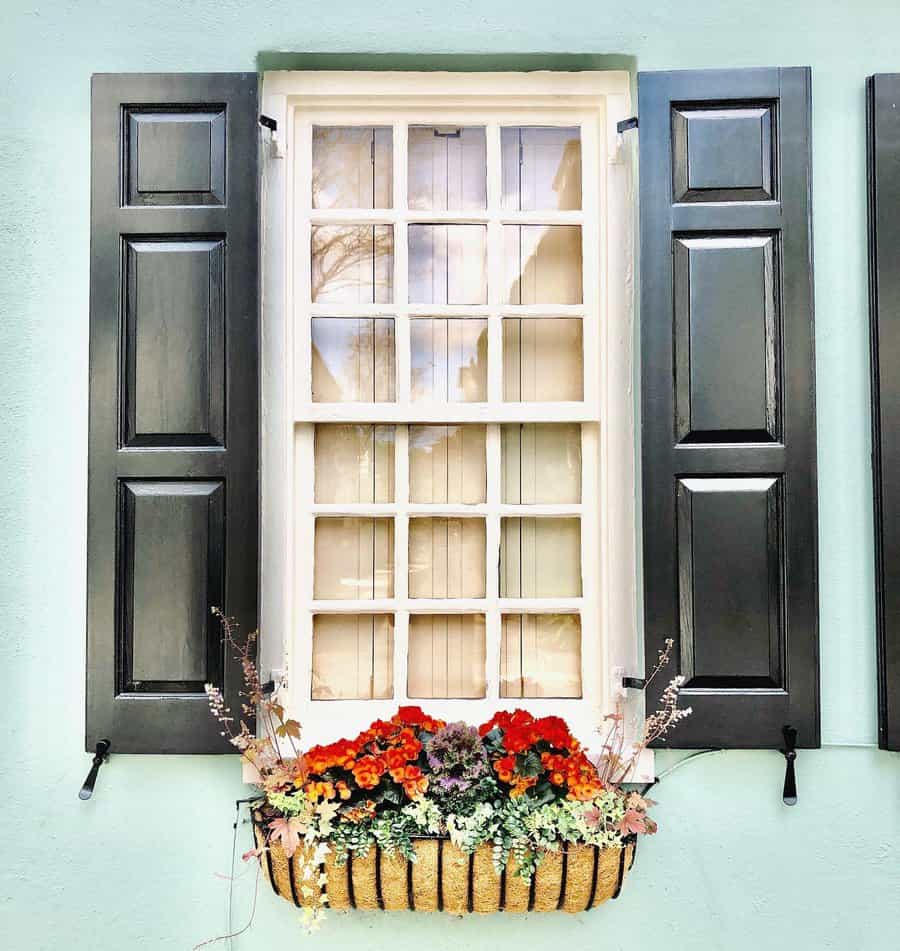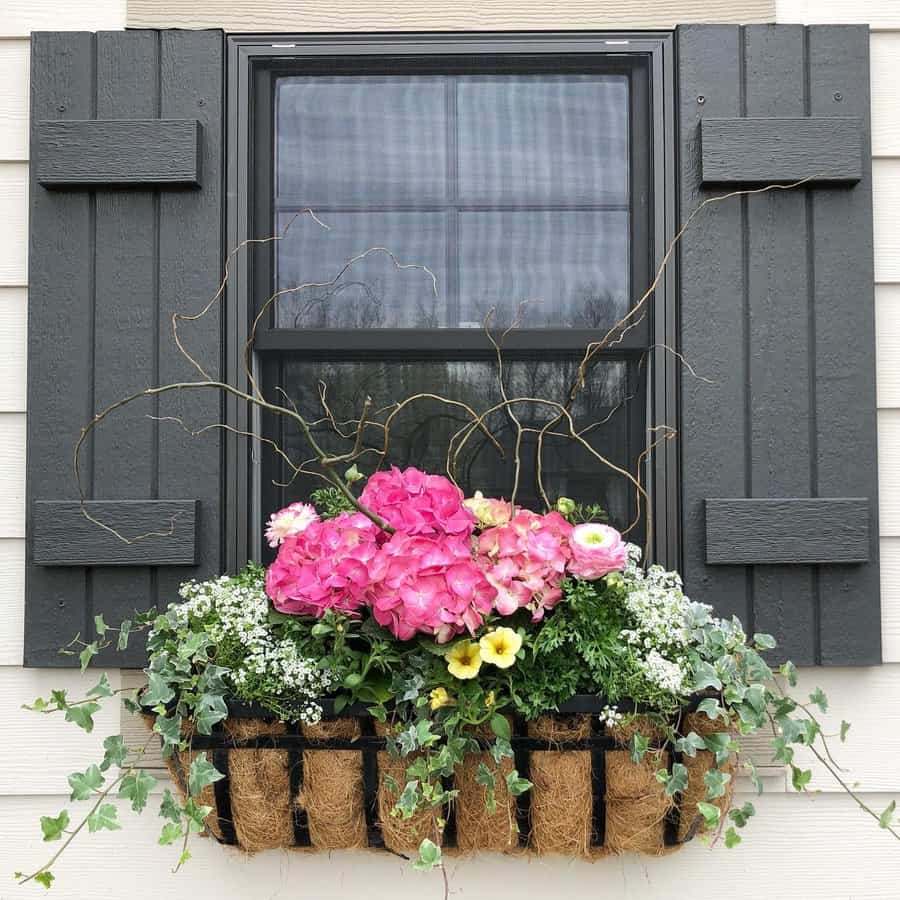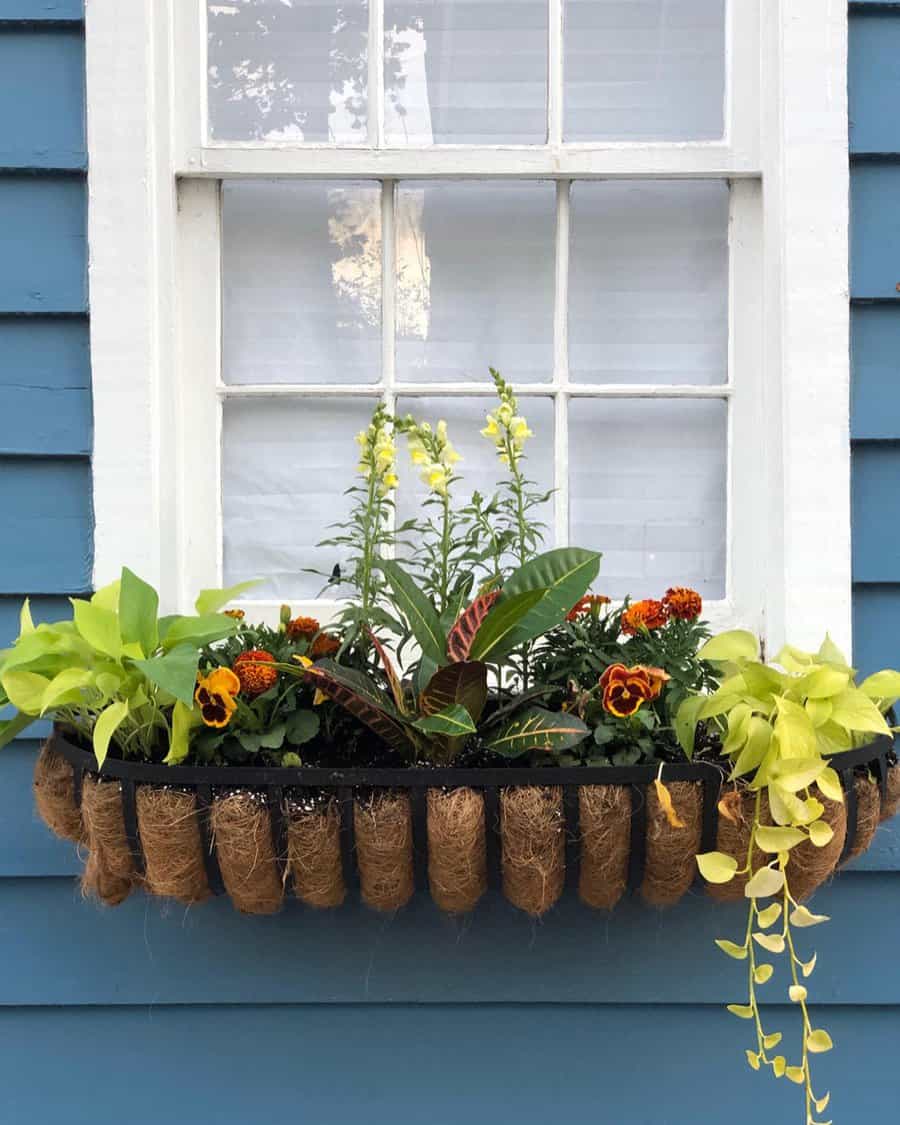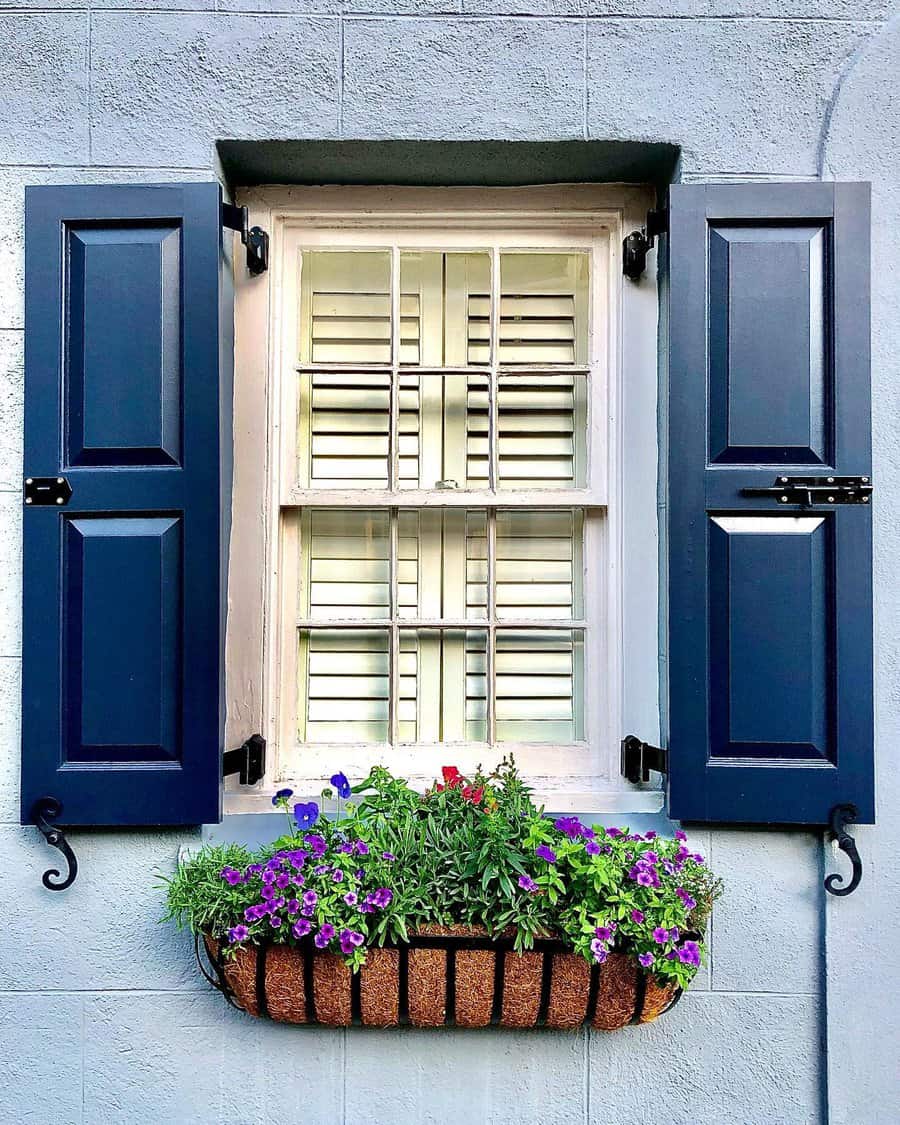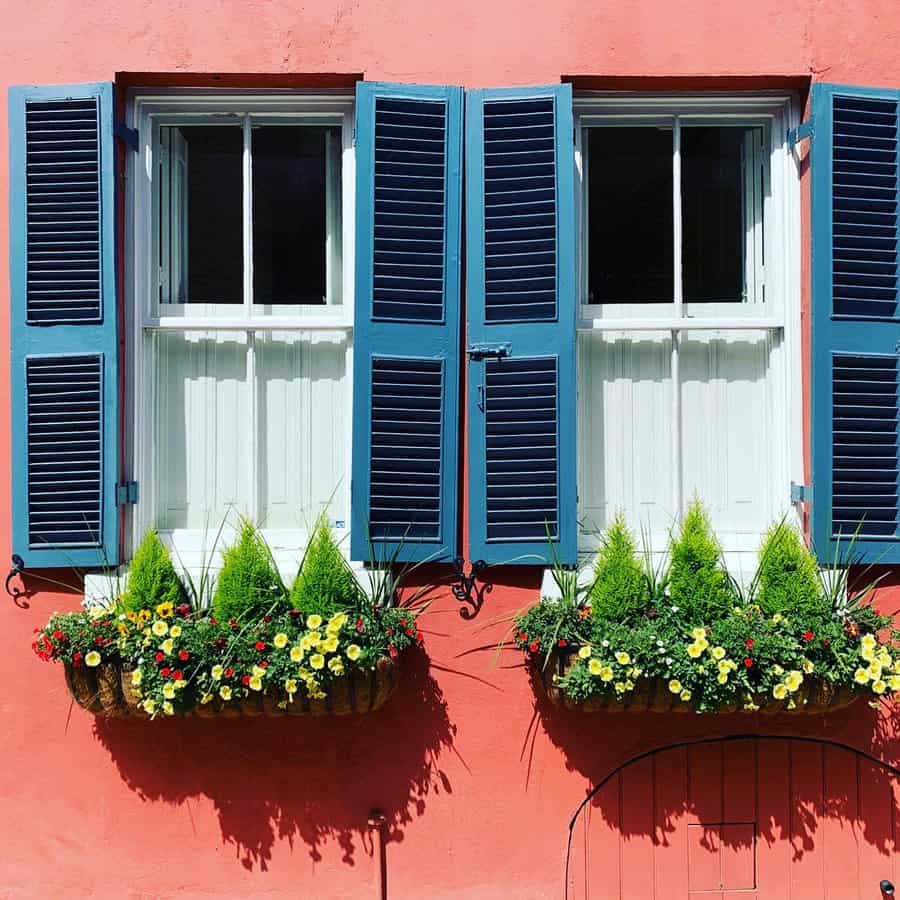 The best thing you can do to reduce the amount of maintenance your window boxes need is to select plant species that thrive in your local climate! Pay attention to the amount of sunlight your home's exterior receives and choose full sun or shade plants accordingly.
Of course, a little ingenuity never hurt anyone. There are many integrated watering systems to choose from, most of which are practically invisible once installed. With one of these in each window box, you'll never need to worry about watering again.
5. Modern
Many homeowners associate window boxes with traditional or vintage design. With the right planter box and arrangement, however, this outdoor decor can be just as suited to a modern home.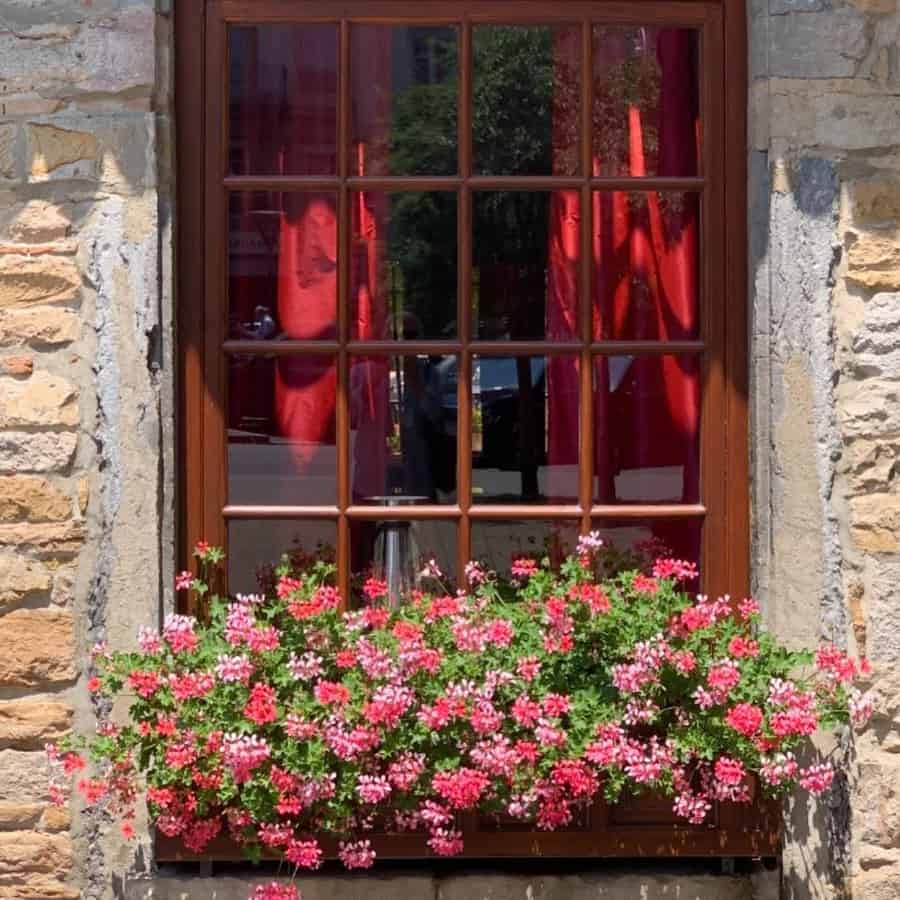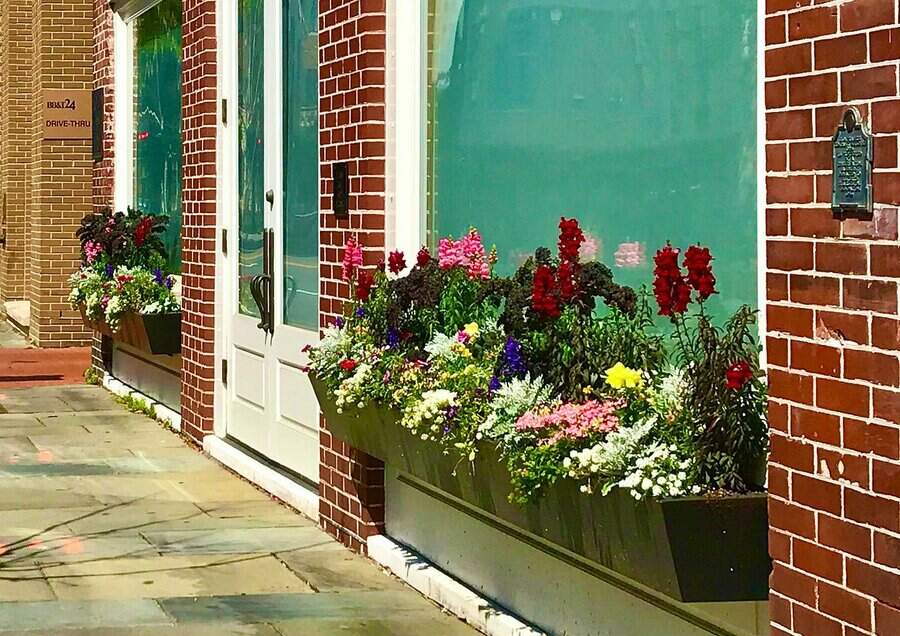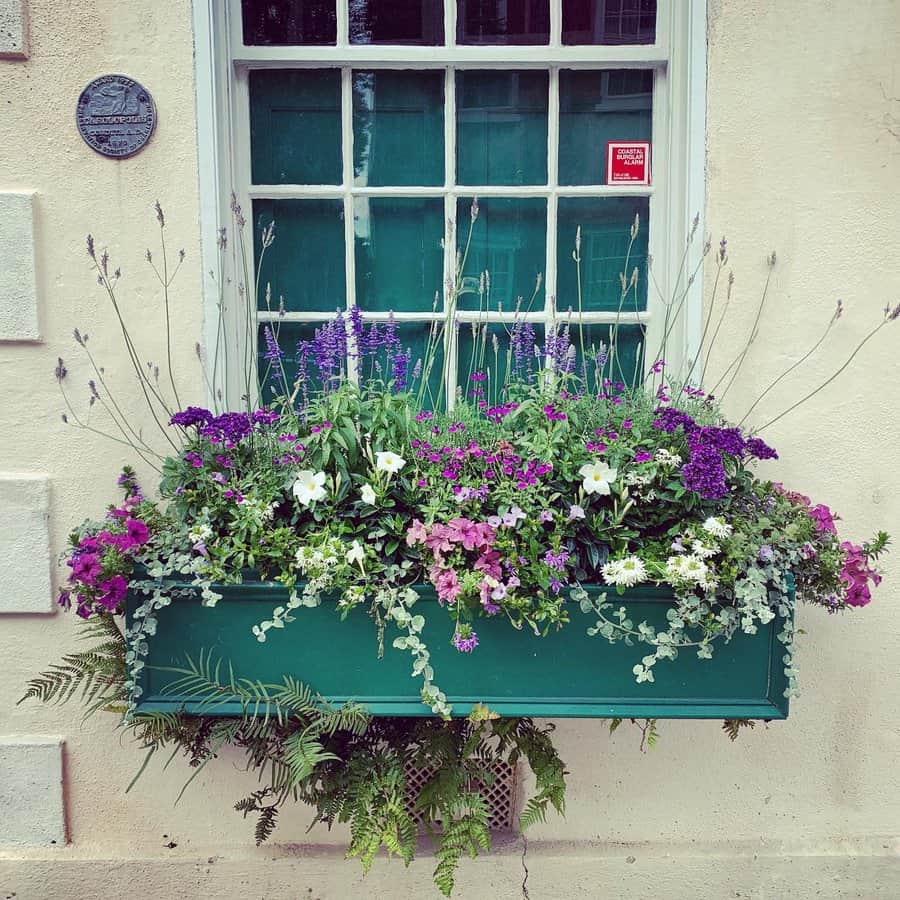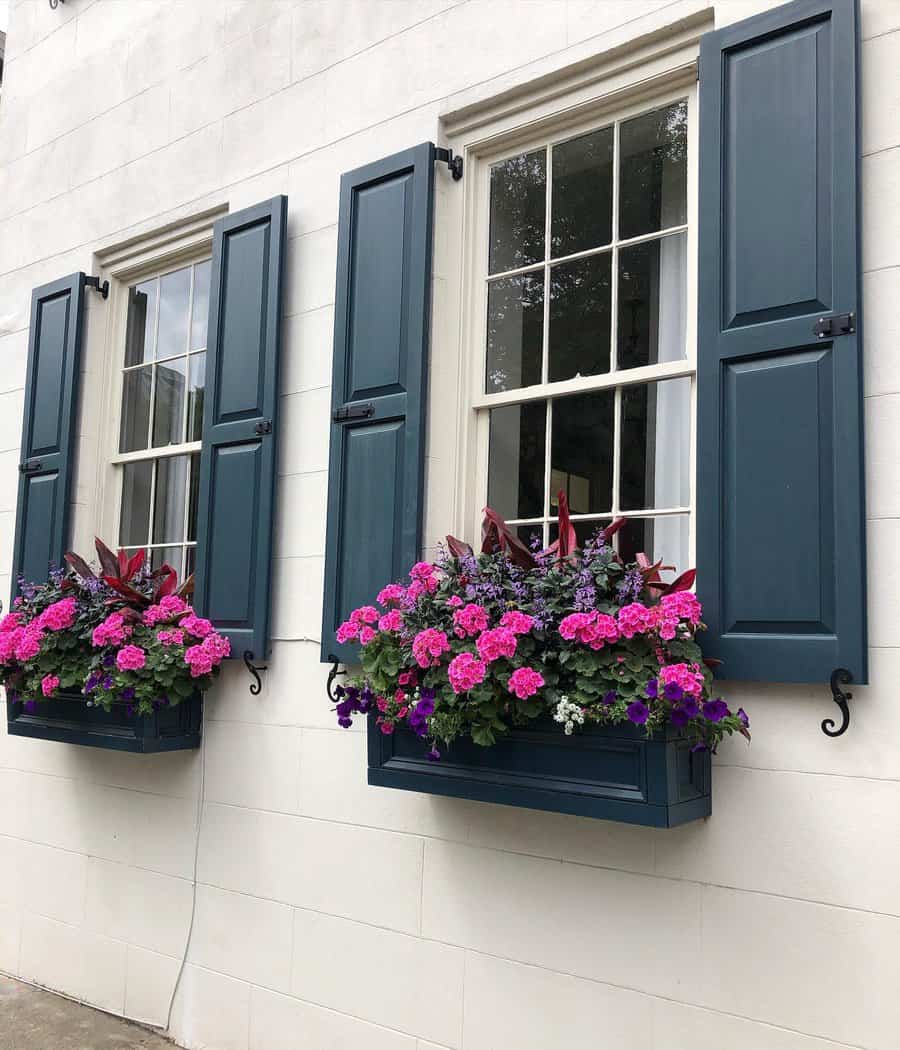 Modern window box ideas tend to feature heavily structured plant species. These can range from ornamental grasses to tropical flowers. Even evergreens can be shrunk down to fit in a window-mounted container!
Include a wide variety of shapes and textures in your window arrangement. You can easily layout your planter by placing the tallest plants in the center and framing the edges with trailing vines or foliage.
6. Rustic
It's hard to imagine a cottage or farmhouse without a lush garden surrounding it. So why not bring some color to your home's facade with a few window boxes as well?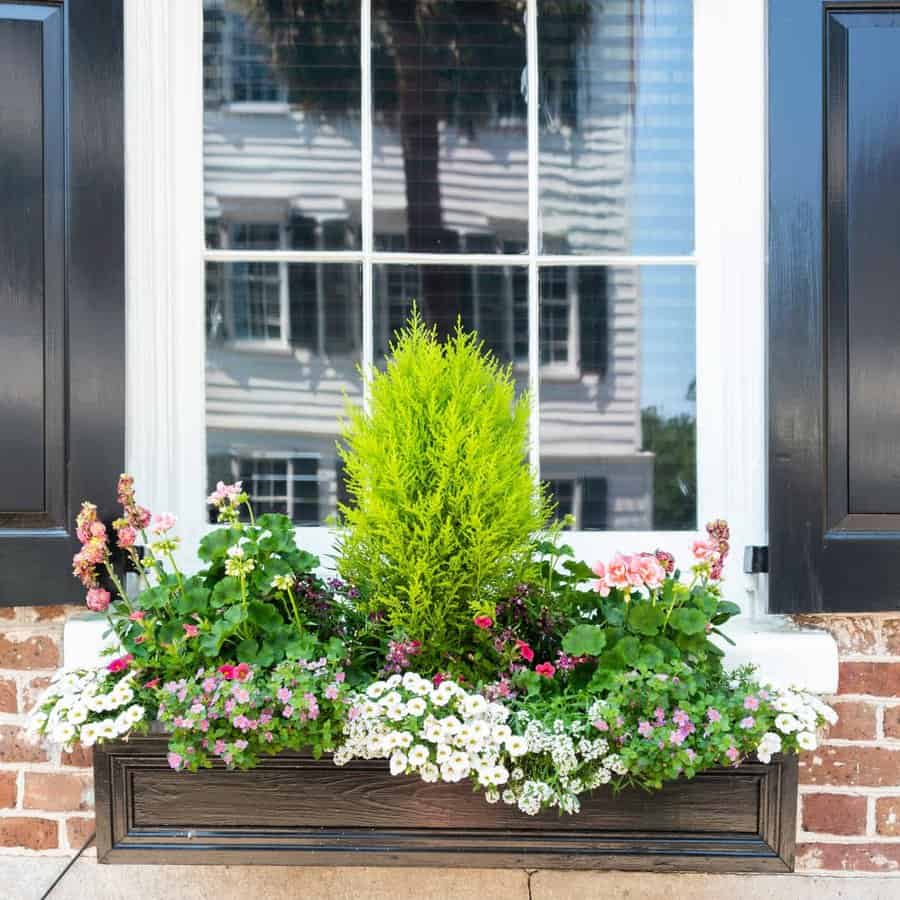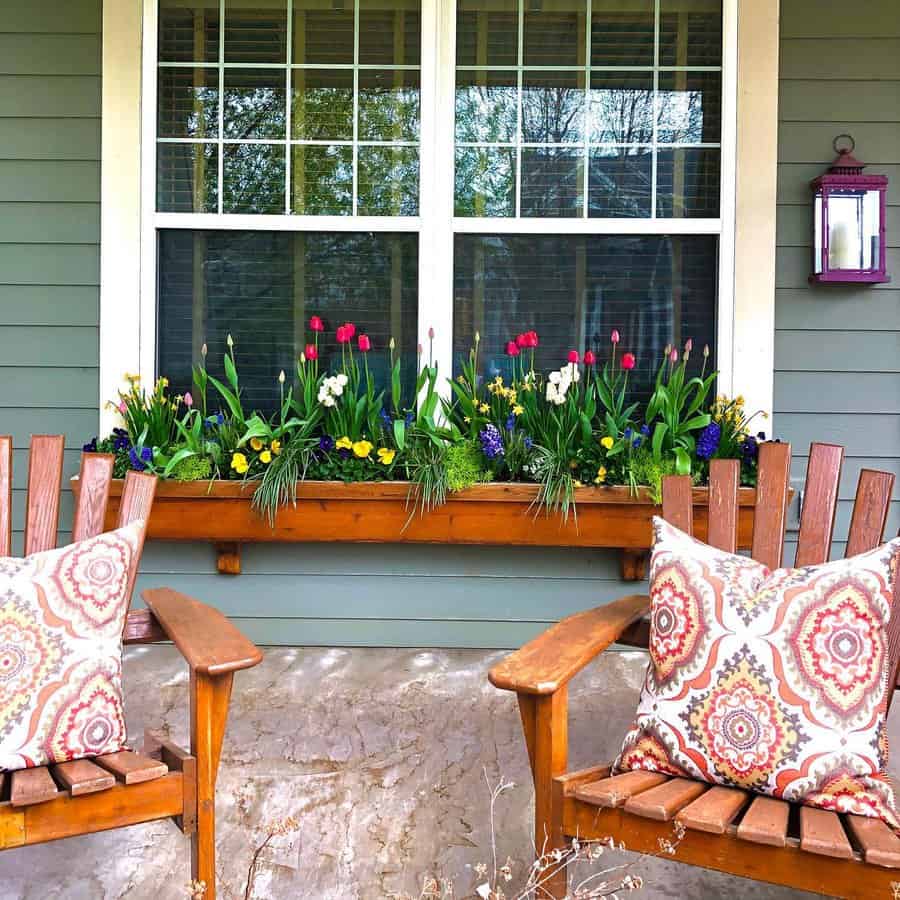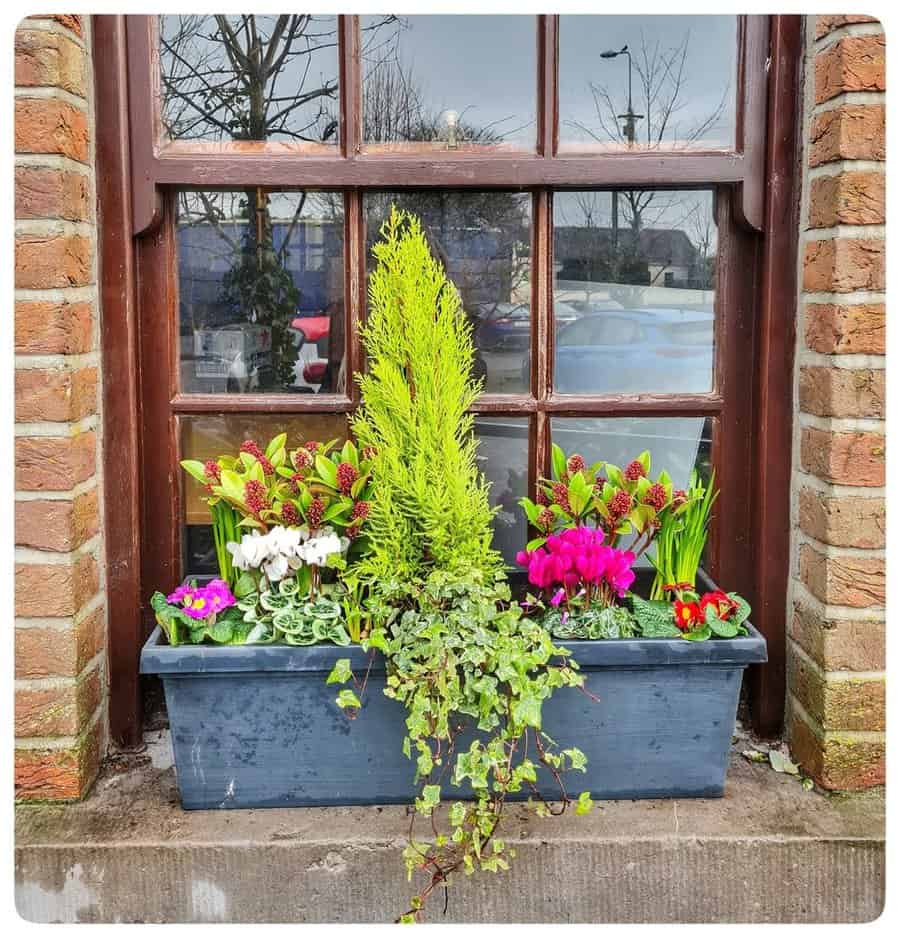 Rustic window boxes can include whatever plant species you like. Consider adding herbs and pollinator-friendly wildflowers to your arrangement. Tulips are a beautiful option for a spring window box!
When designing a rustic window planter, the box material is just as important as what is inside. Mounting a metal or wooden window box will give your home's exterior an instant dose of rustic charm.
7. Shade
The idea that you can't grow flowers in partial or full shade is a pervasive myth. In fact, just as any plant species thrive in the shade as do in the sun!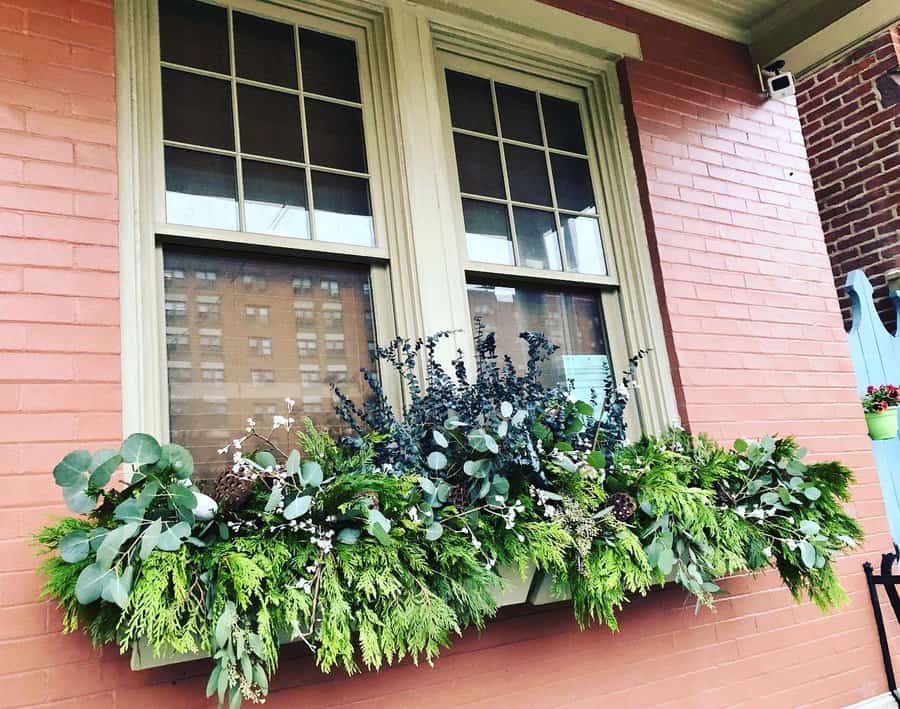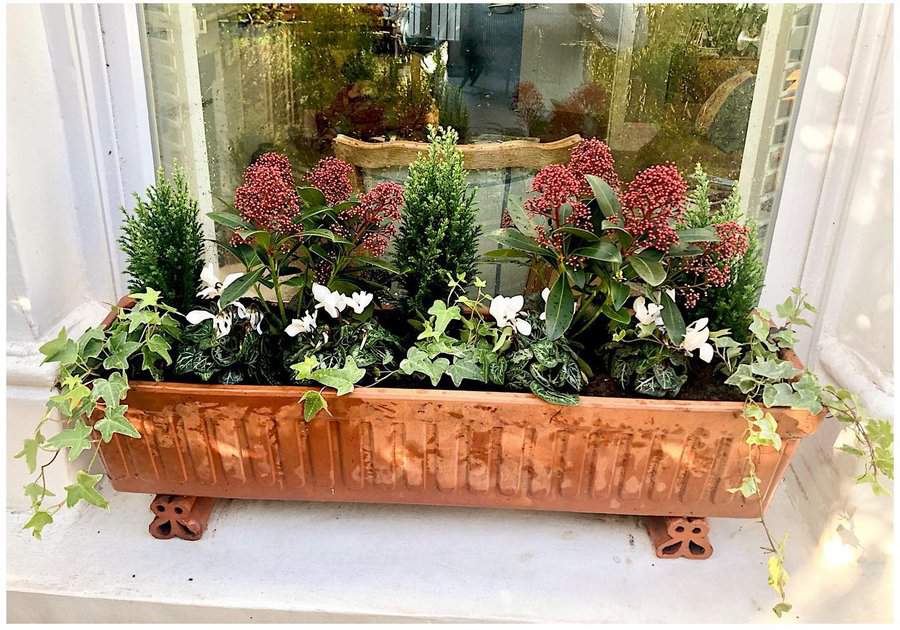 With that said, you can't force sun-loving foliage and flowers to live in the dark. Be sure to research your chosen plant species carefully to avoid heartbreak in the future. It's also a good idea to track the exact amount of sunlight your window boxes receive during the day.
If your home sits part way between shade and sun, don't be afraid to mix and match your window boxes to suit the conditions. Keep in mind that shady window boxes need less watering than those in the sun.
8. Simple
These gorgeous window box ideas offer tons of great inspiration. But you don't need to go all-in to enjoy a sweet addition to your home's curb appeal.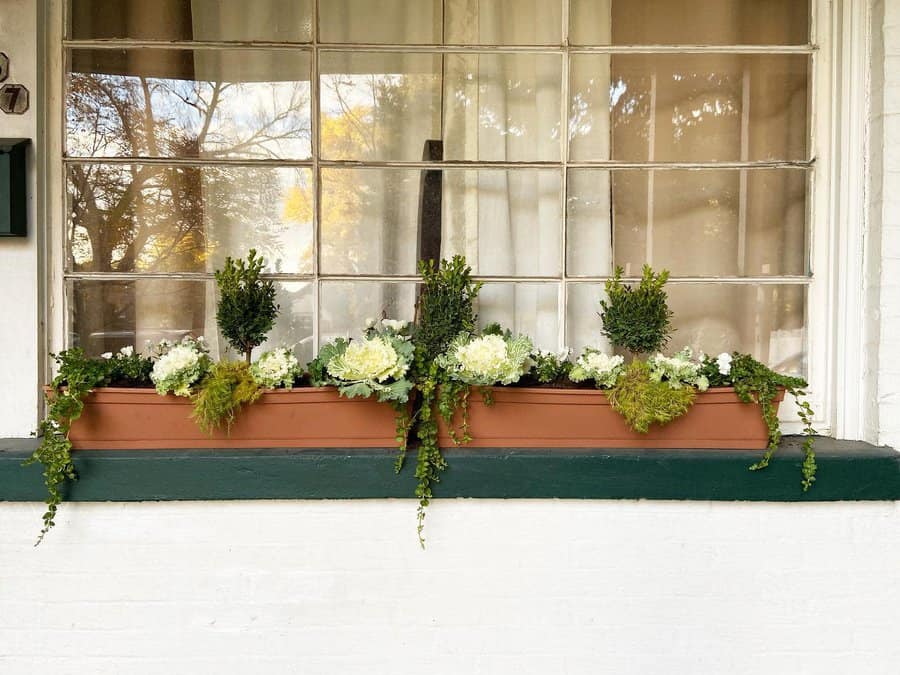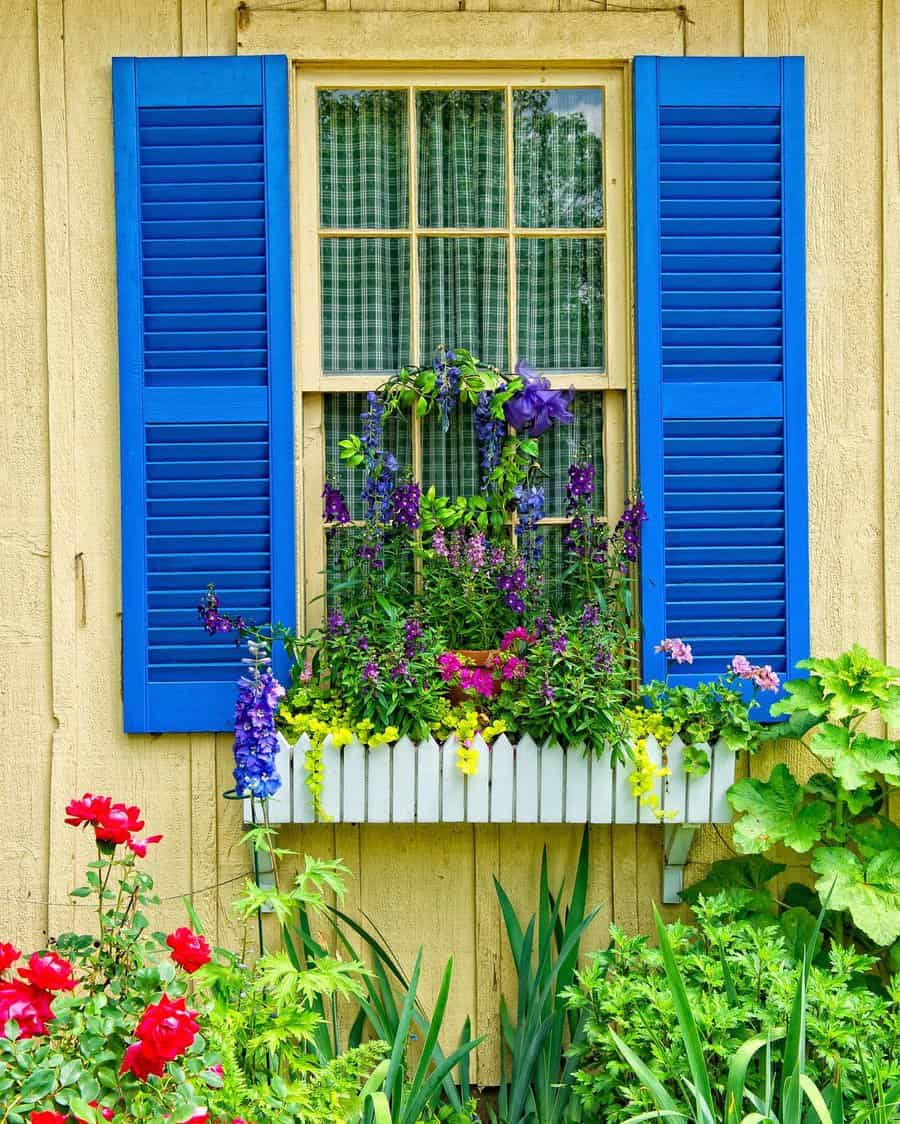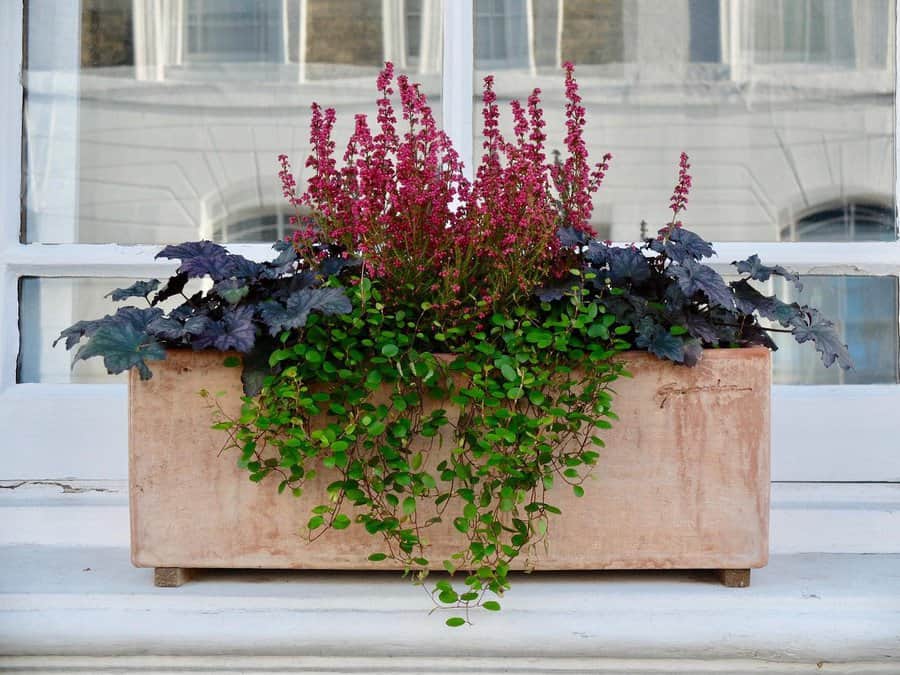 Remember: There's nothing wrong with filling your window planter box with just one or two species. While a wide variety of plants adds color and texture, it's easy for the average homeowner to feel overwhelmed.
For a quick and simple window box that changes with the seasons, leave room between your plantings for additional decor. You can add ornaments in winter, pumpkins in the fall, and any other seasonal items your heart desires!
9. White
Want to jump straight to filling your outdoor window boxes with bright and beautiful plants? Well, you can't go wrong with a set of plain white containers.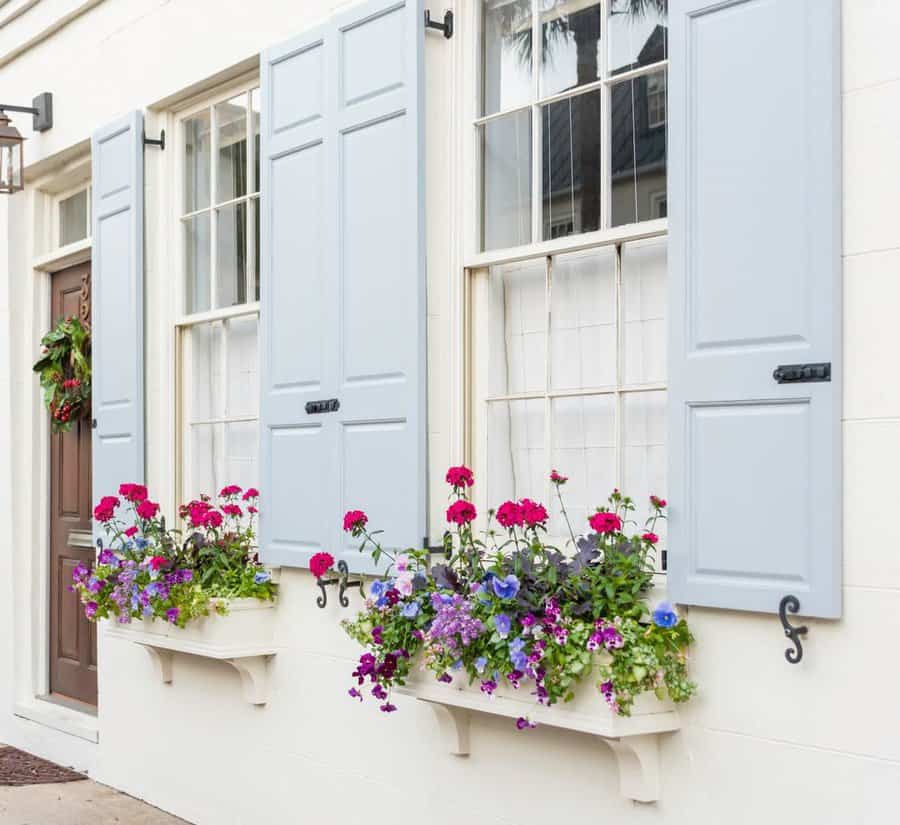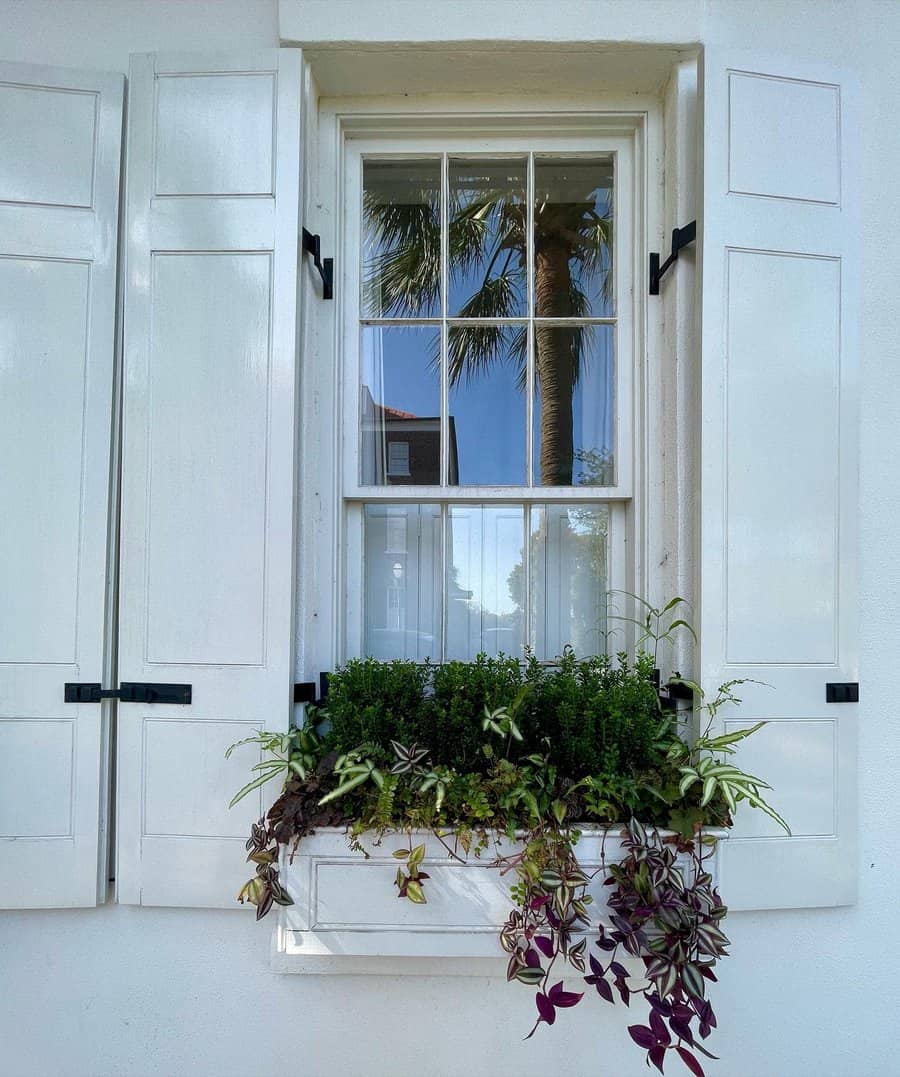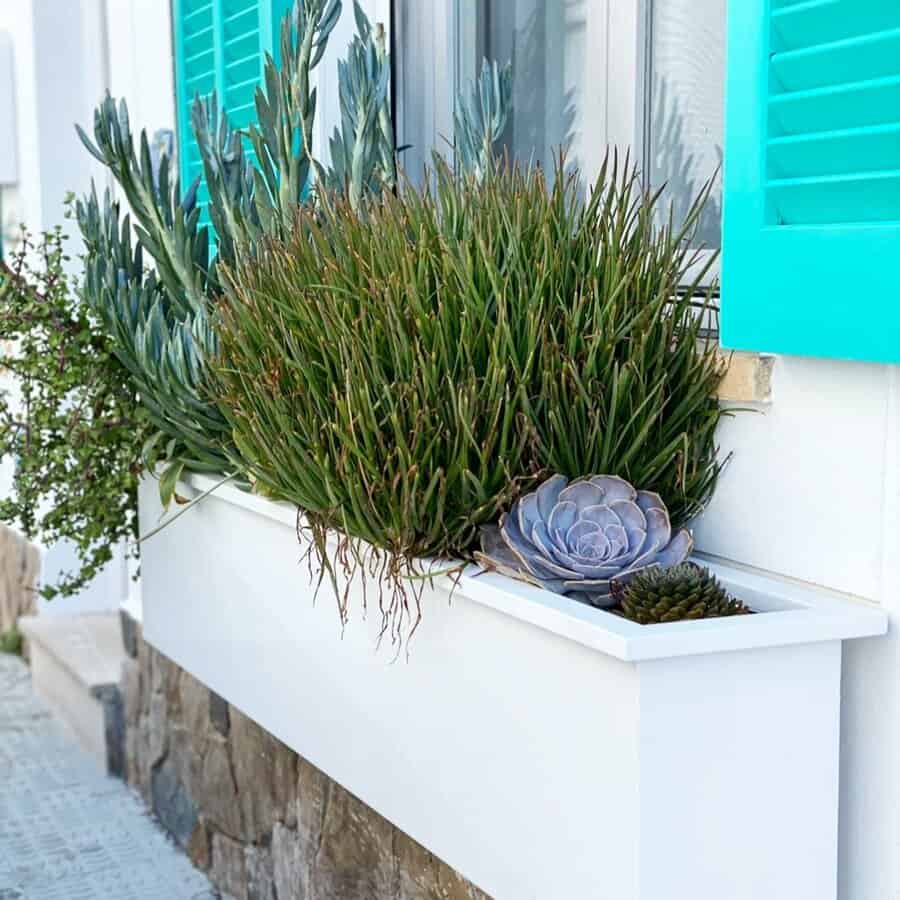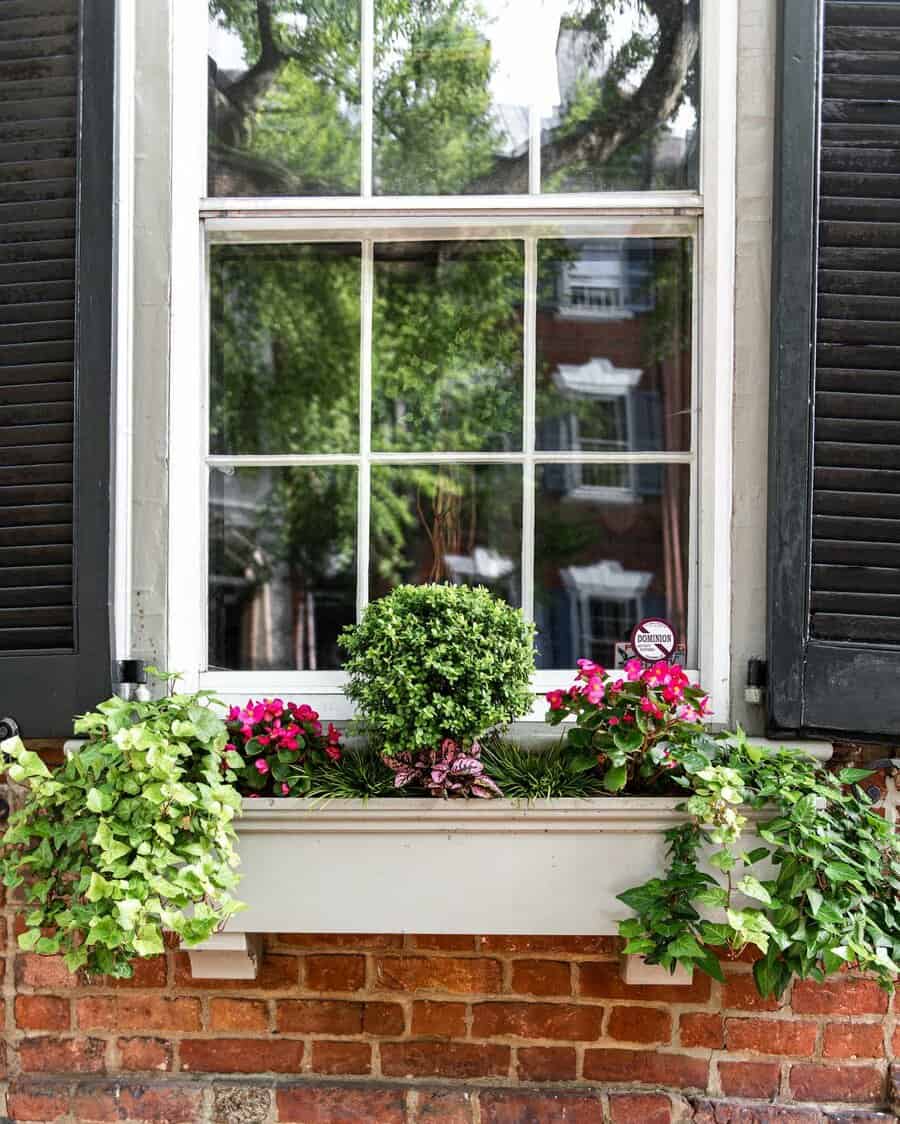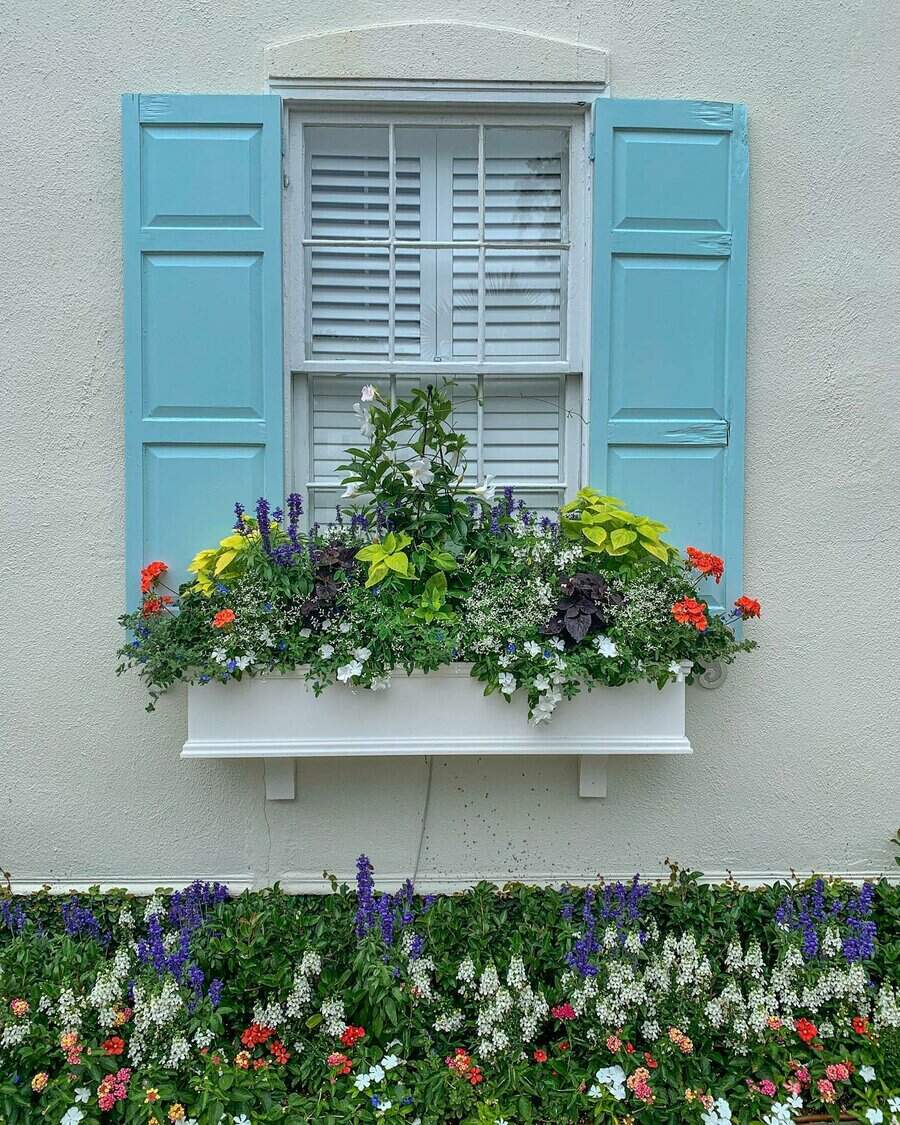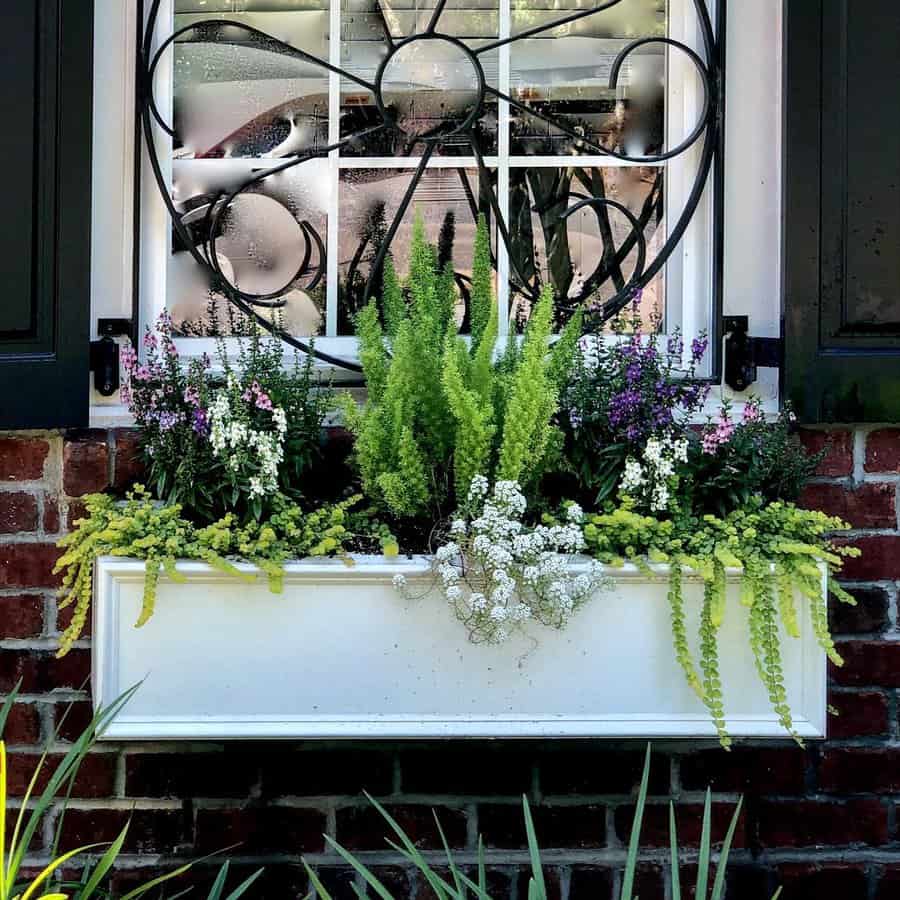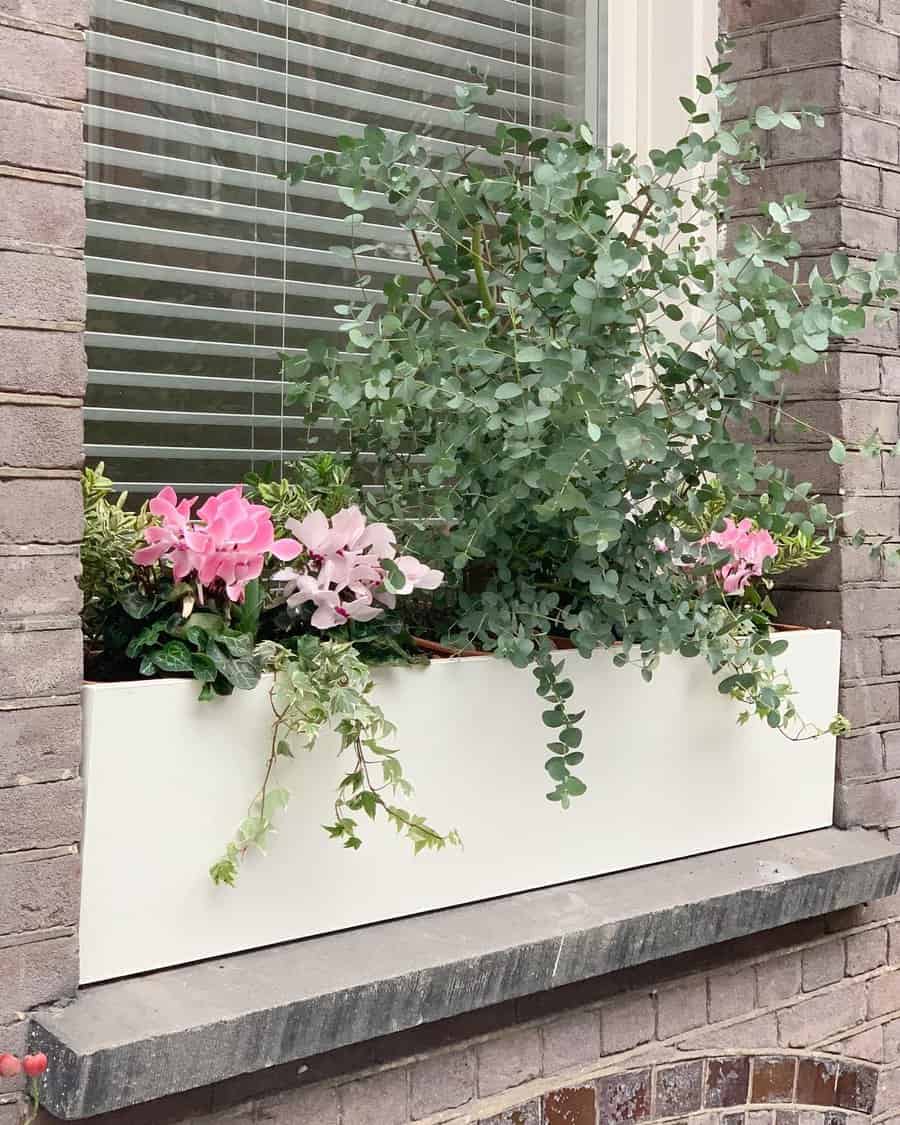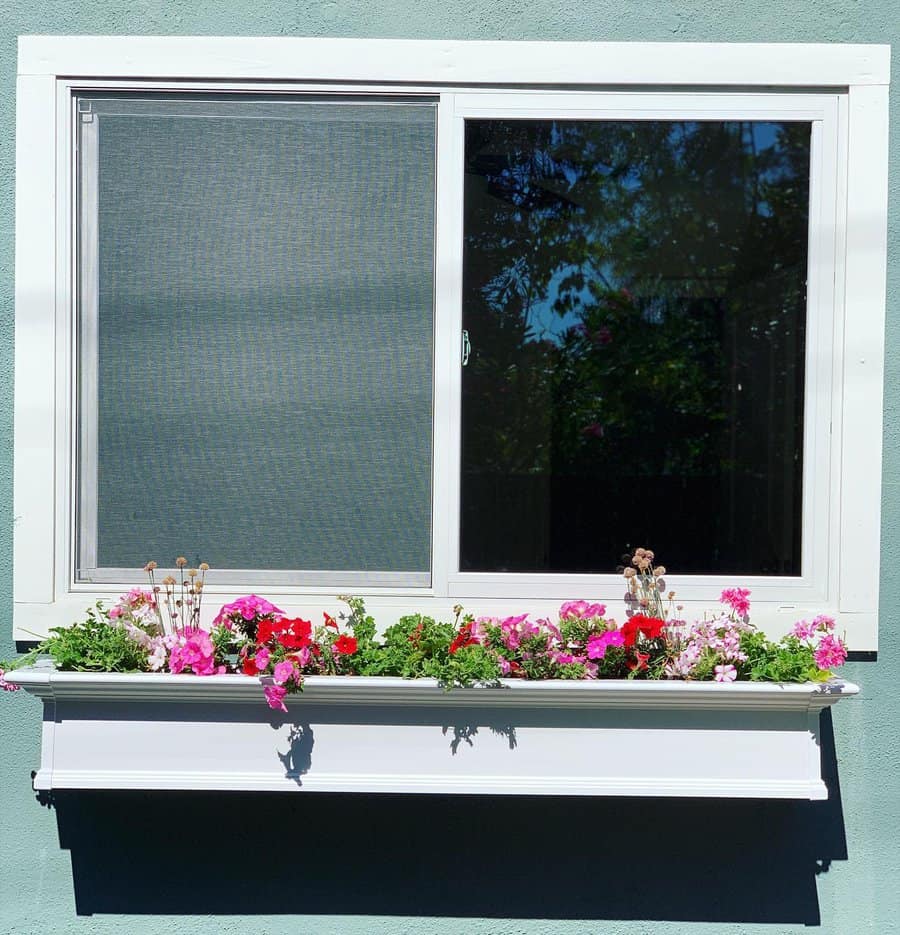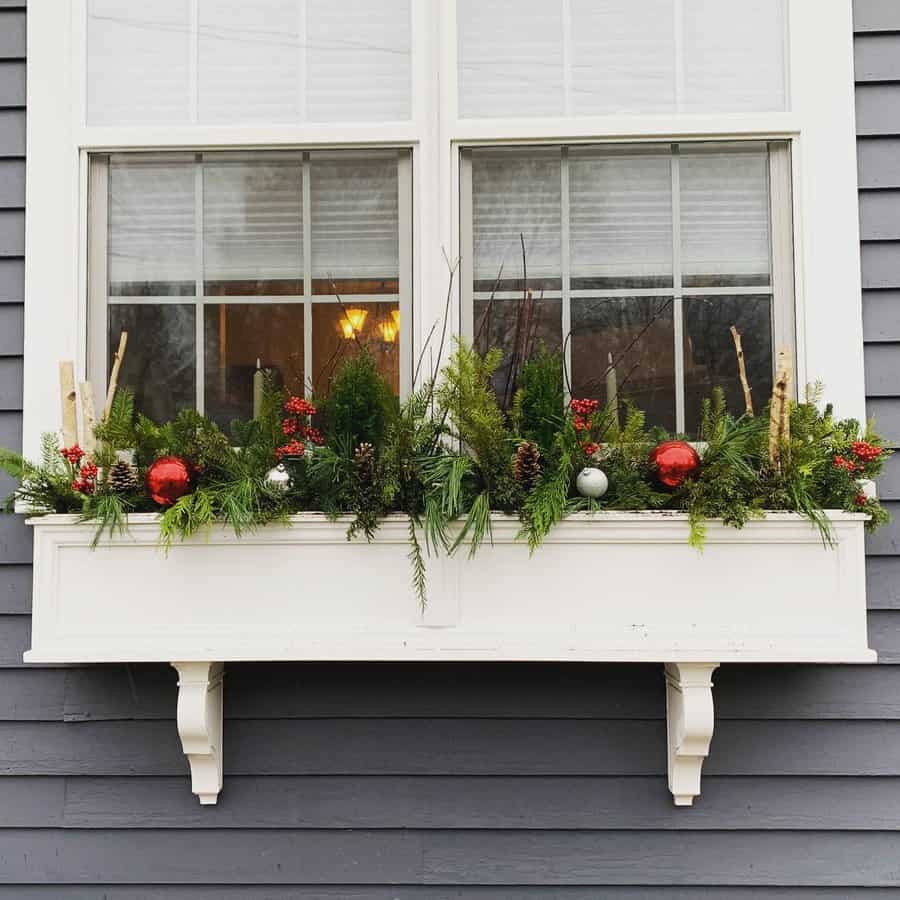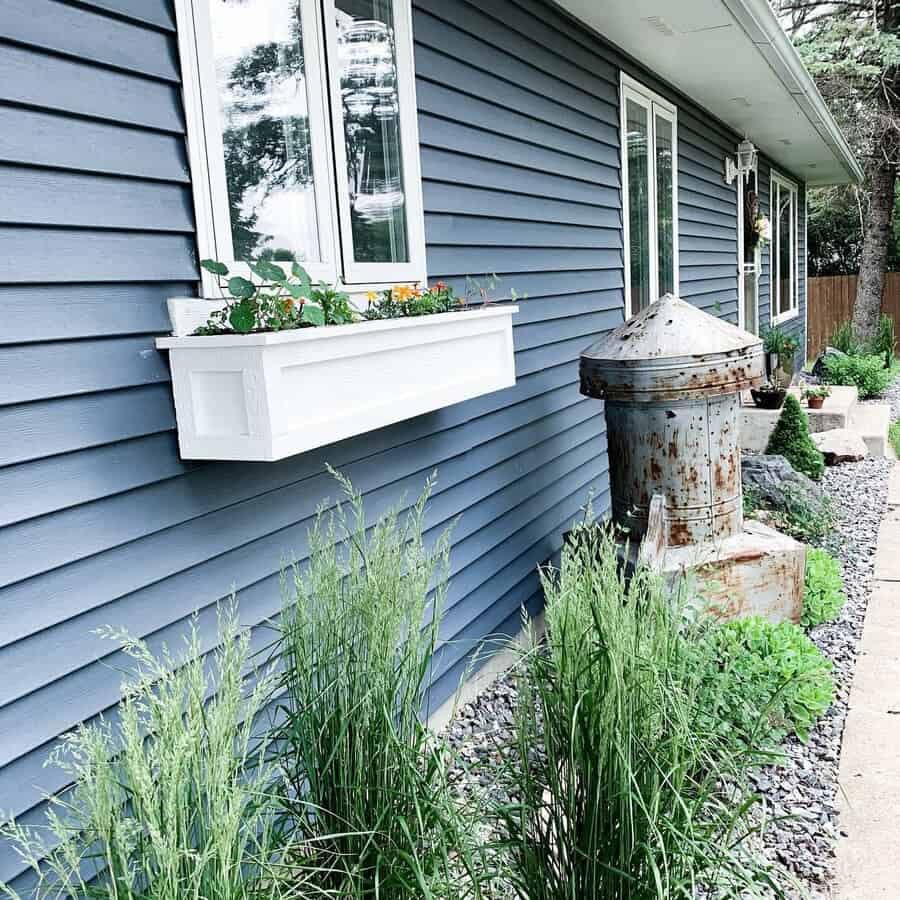 White window boxes pair wonderfully with all different siding colors. And if your home itself is white, your new planters will blend right into the backdrop.
The one drawback to white window boxes is that they can show dirt and grime more than other finishes. Be sure to invest in planters that are easy to clean and stain-resistant to keep your windows looking great for years to come.
10. Wooden
When it comes to your home's exterior, every detail matters. So if you're struggling to choose a color for your new window boxes, consider opting for a natural wood finish.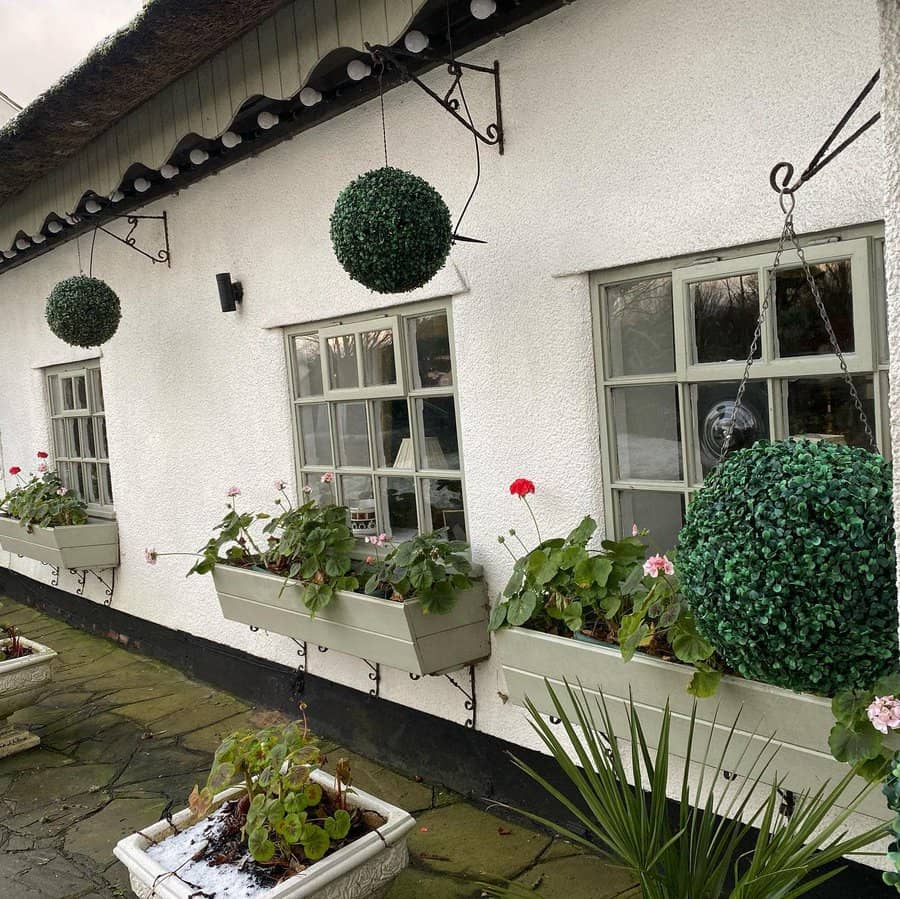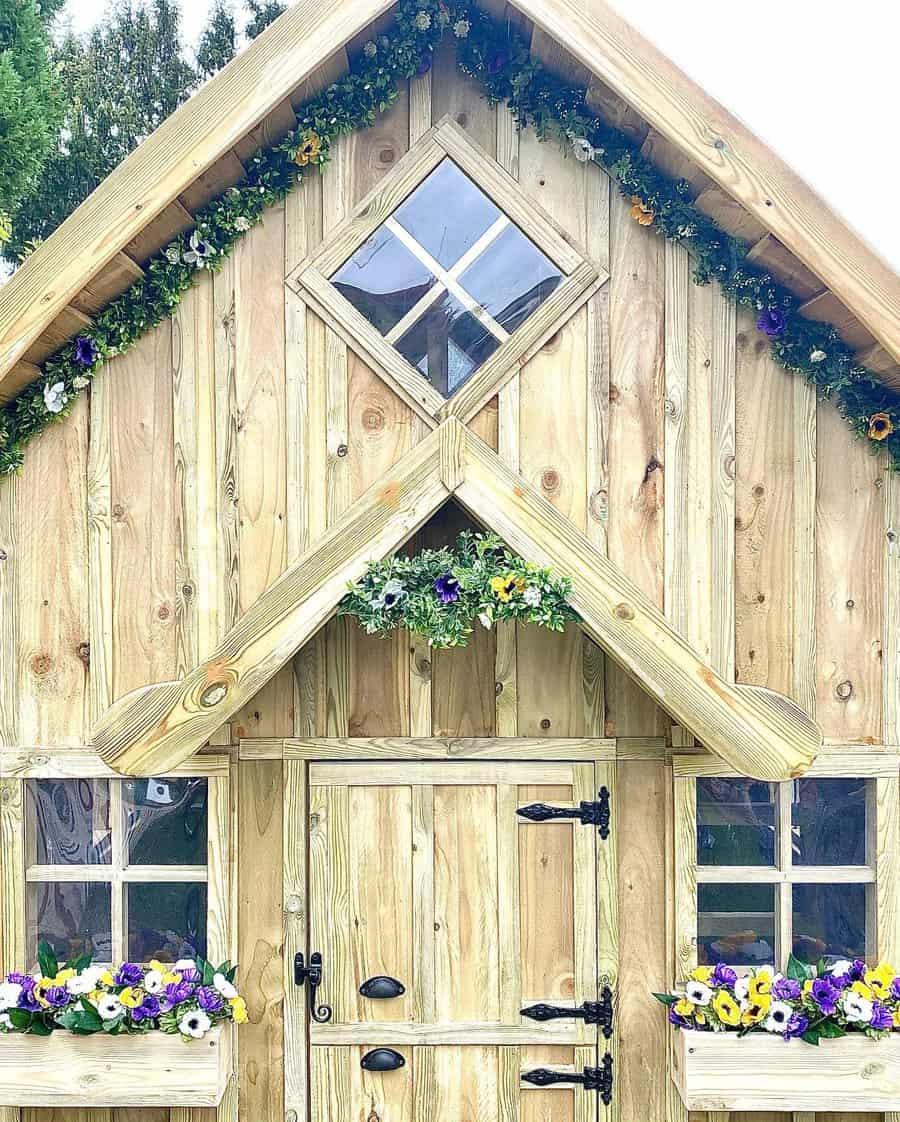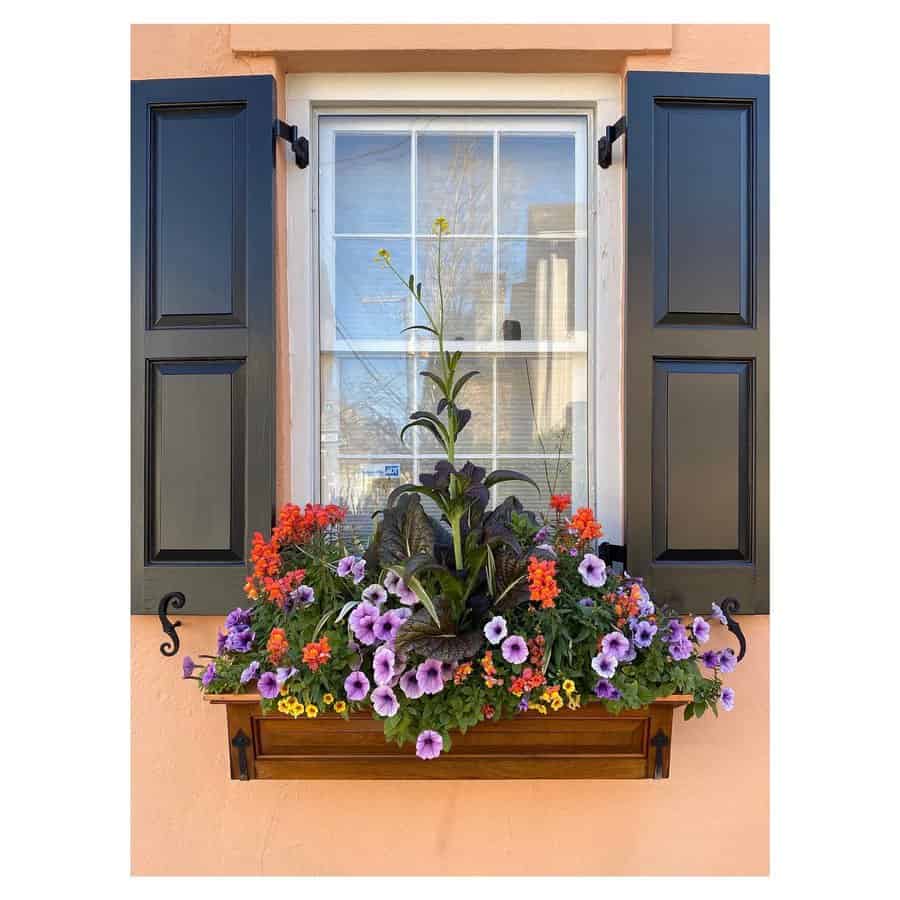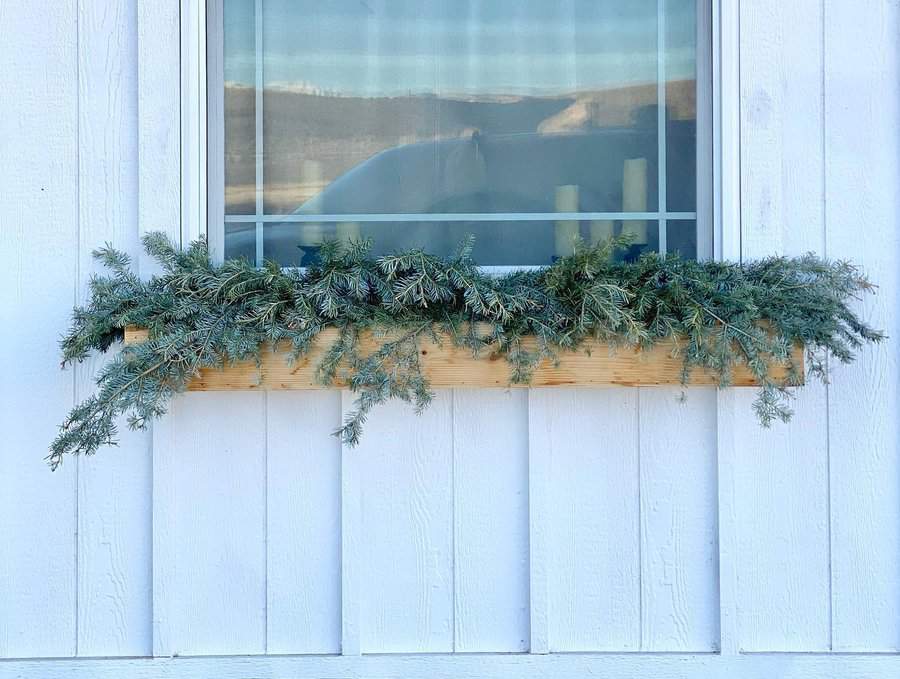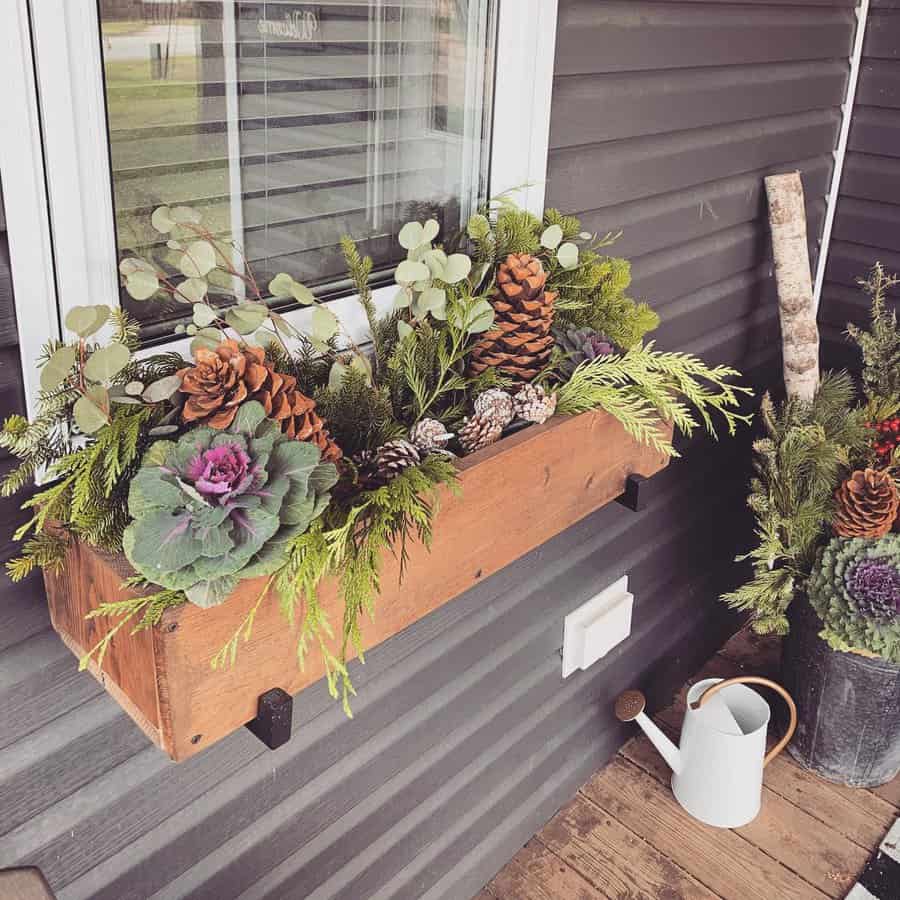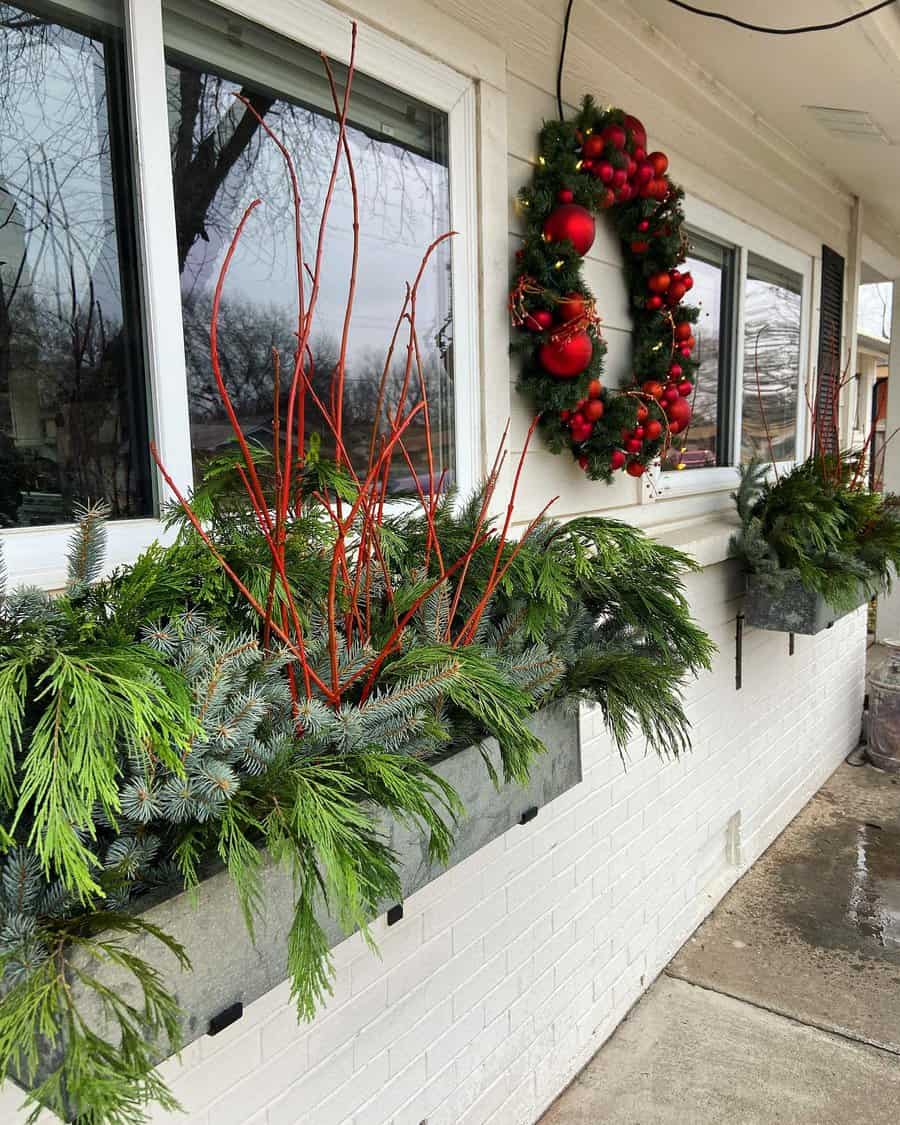 If you want to bring a DIY window box idea to life, wood is the most versatile material at your disposal. Use lumber or reclaimed wood from an old pallet or construction project for a touch of sustainability.
Wooden window boxes don't just look great. This material can actually improve the drainage and aeration of the soil inside. Of course, this isn't true of wood containers that are sealed or lined with a non-breathable material.
Window Box FAQs
Do window boxes need drainage holes?
If you want your planted flowers to survive the entire season, yes! Most window boxes include a drainage system but it's always a good idea to check before installing new planters to your home's exterior.
If you find that your chosen window box lacks drainage, don't be afraid to add your own. Use a power drill and bit appropriate for the material to create drainage and keep your plants happy and healthy!
How long should window boxes be?
Ideally, a window box should be the same length as the window frame it sits under. While a difference of an inch or two won't make a big difference, the closer the sizing the cleaner the final look will be.
If matching your window boxes to the exact window size isn't possible, try to opt for a planter that is longer rather than shorter. A shorter window box will cut off the window frame and make it look smaller. Meanwhile, a longer window box will frame the window and draw attention to it.