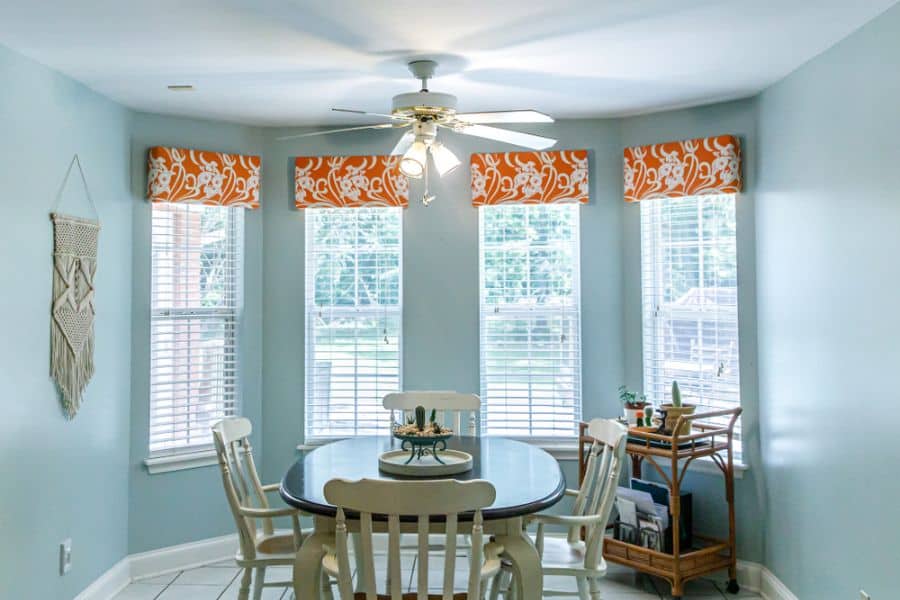 44 Unique Window Valance Ideas
Take a look around your home. What is on your windows? It's probably a set of curtains, right? But have you thought about adding a valance? This is the piece of fabric that goes across the top of the window to frame the window and complete the look of the curtains. Before you do a hard pass, there are plenty of options that don't look like the dust-covered lace valances in your grandma's house.
Give the windows in your home a fresh look by adding one of these window valance ideas.
1. Bathroom
Your bathroom window needs a fabric treatment, but full curtains are unnecessary. You don't want long curtains that can absorb moisture and create the perfect environment for mold or bacteria to thrive.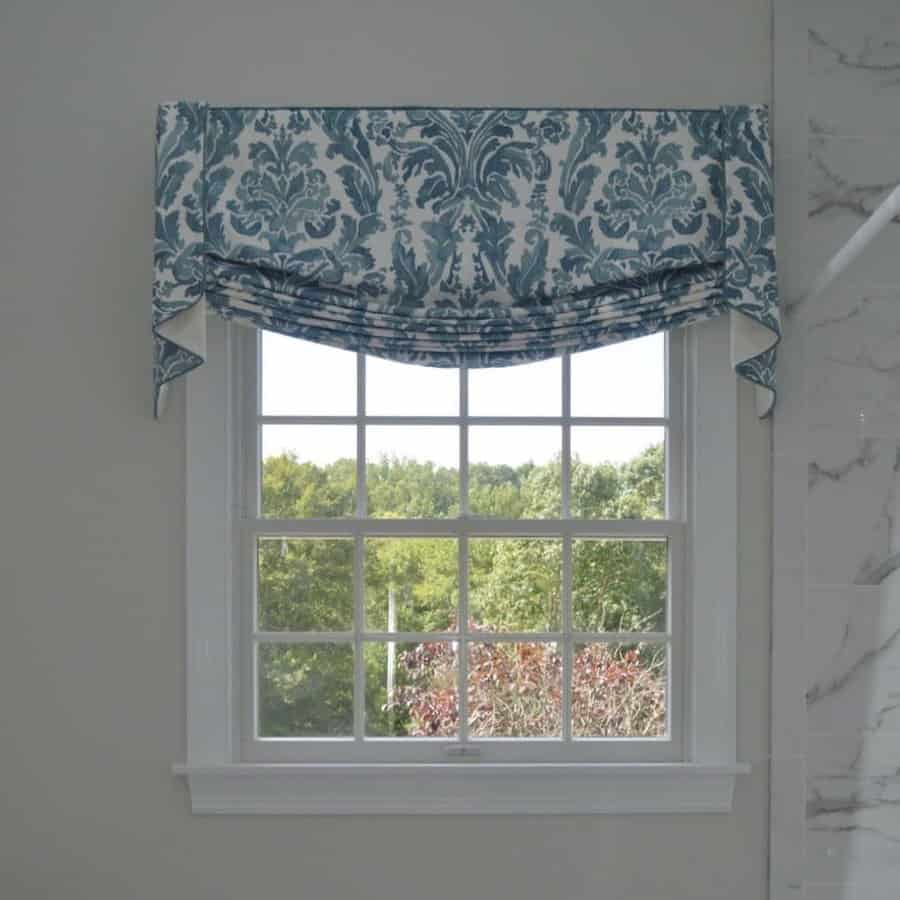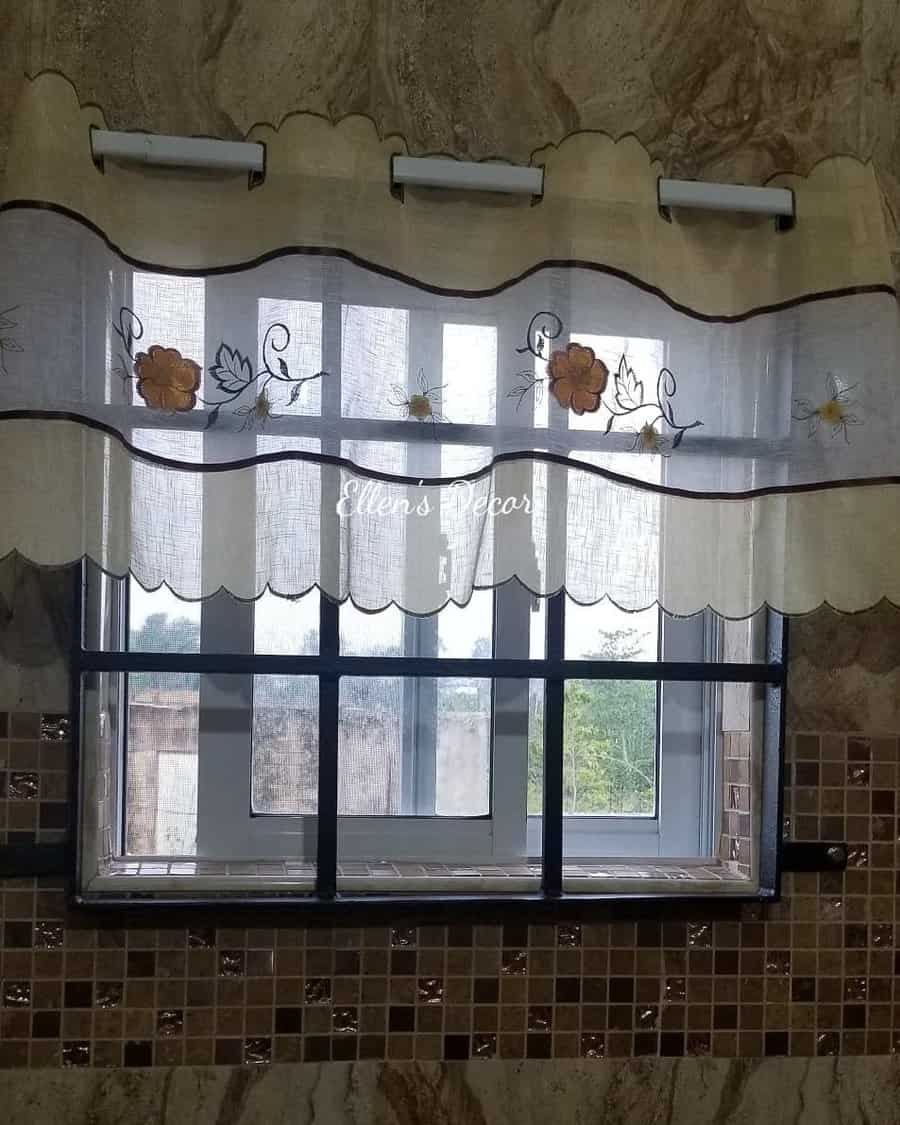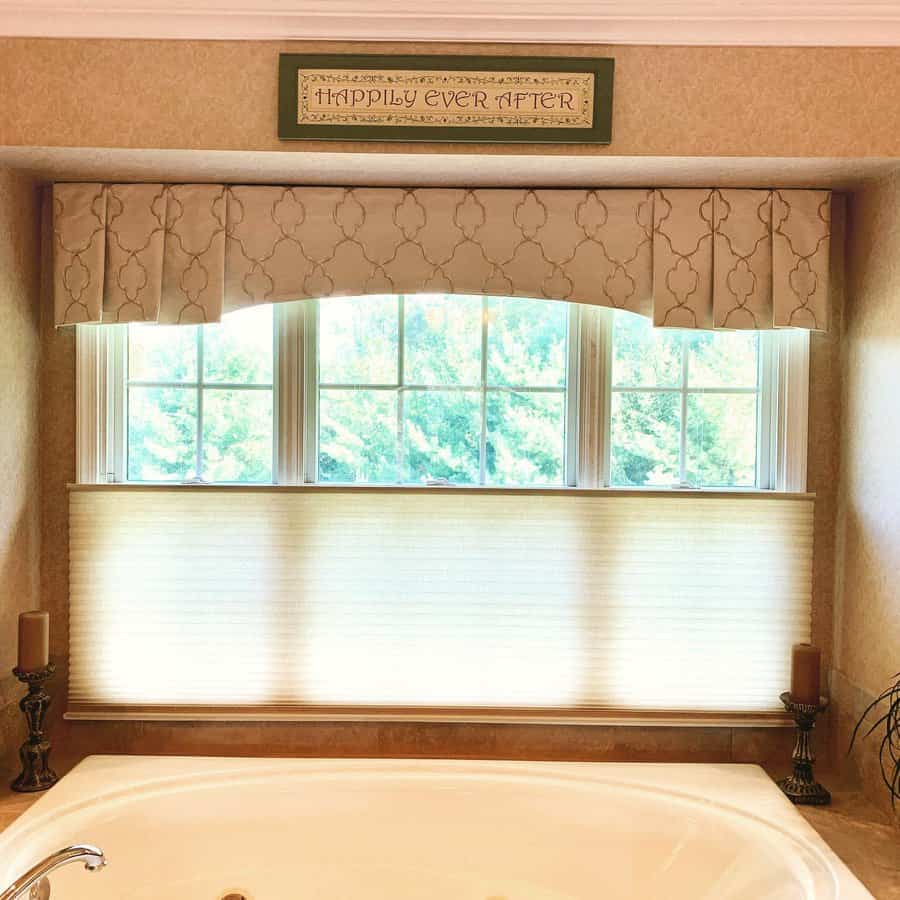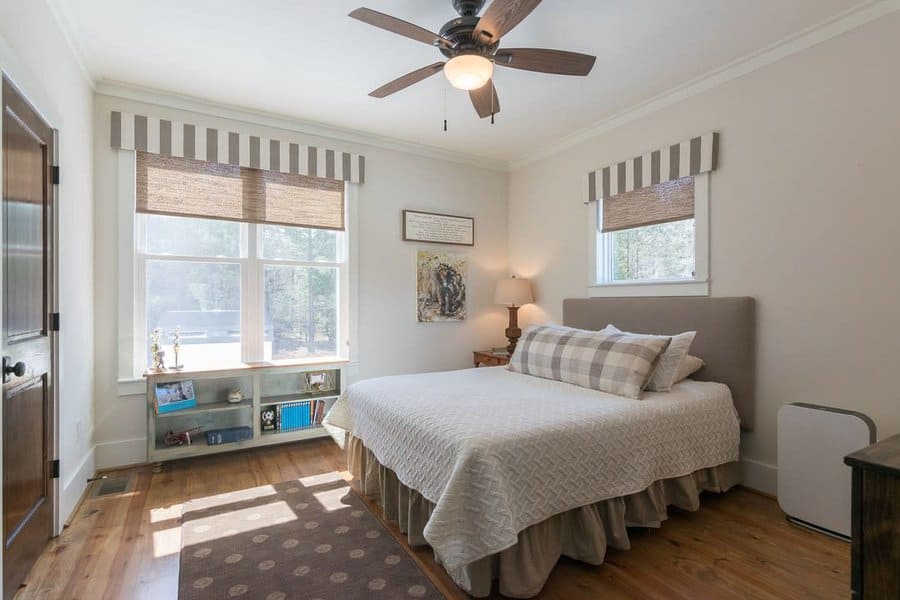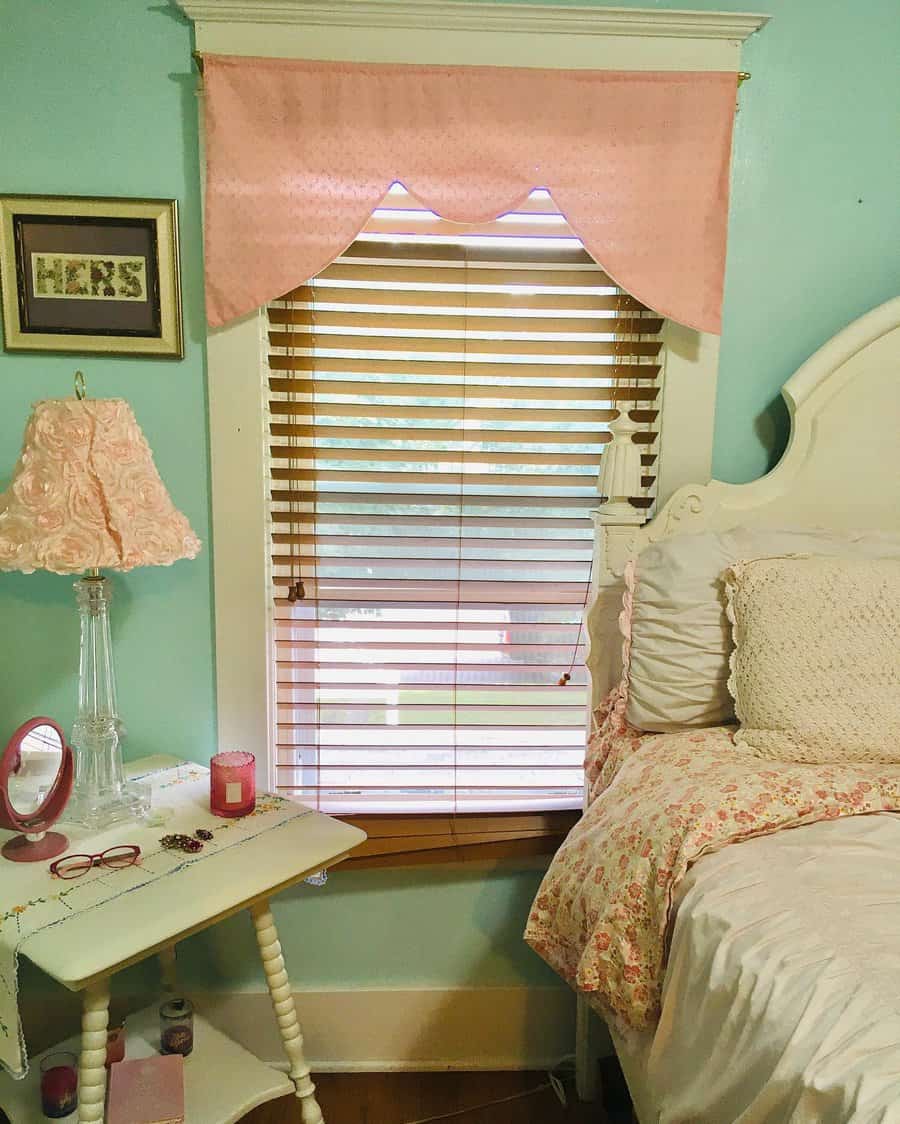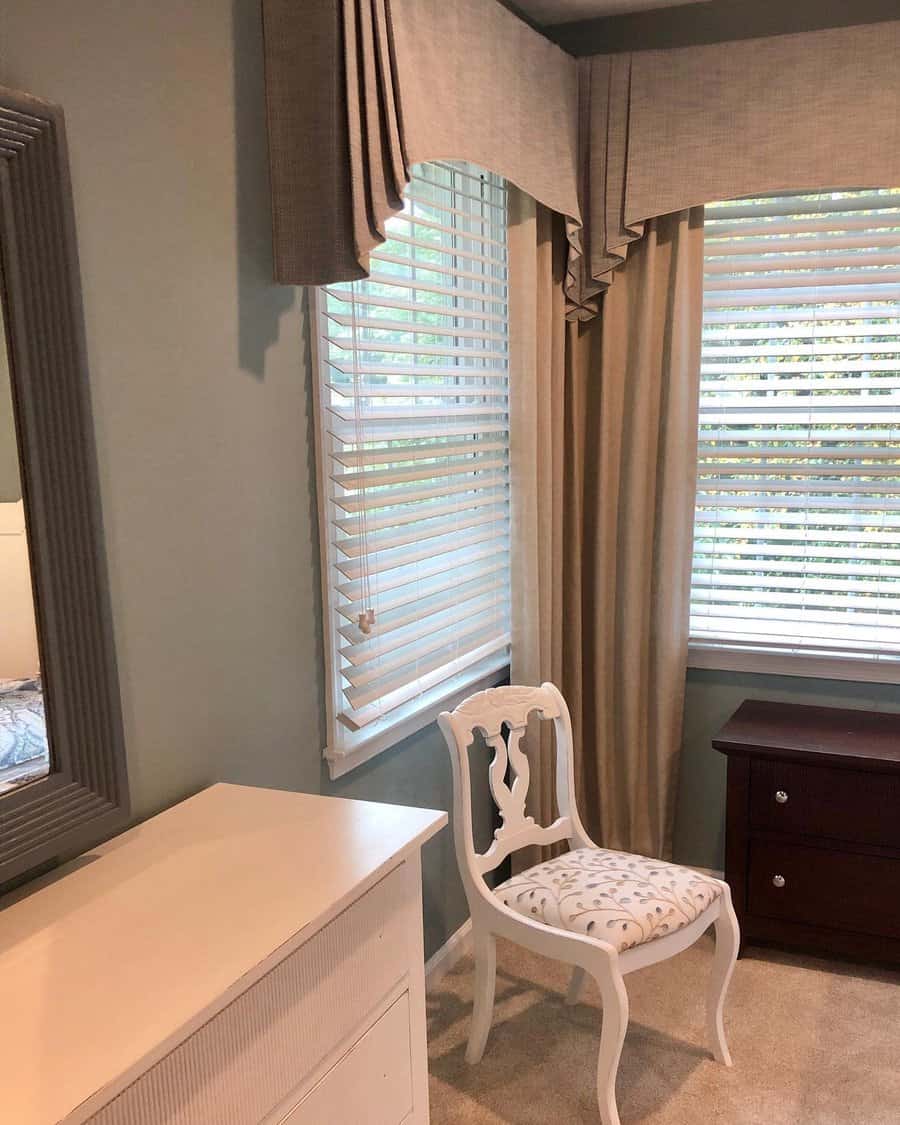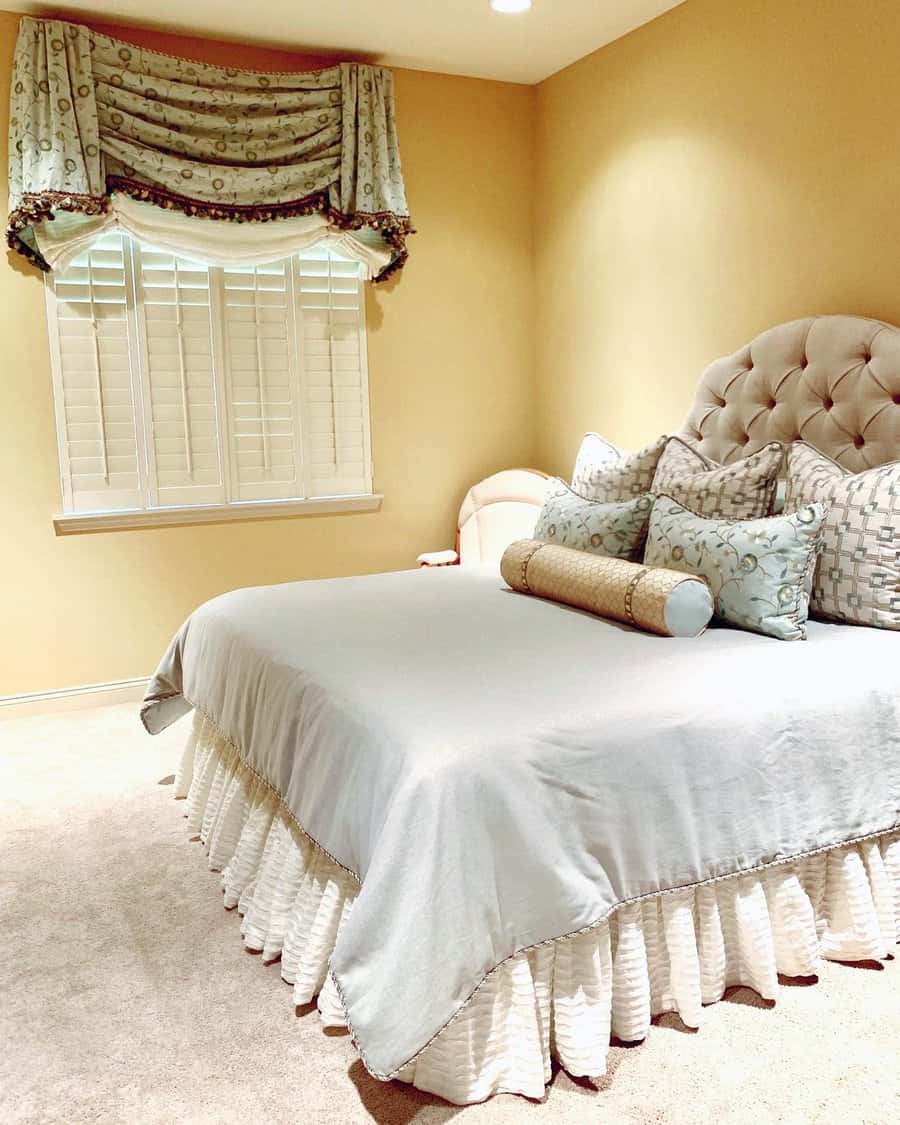 A valance is an ideal solution because it frames the window, doesn't block too much light, and stays away from the water. It's also a nice touch to a decorative window, like one that's made of stained glass. Then you can dress the window without blocking the beautiful glass design. Choose a lightweight fabric that dries quickly. This is not the place for heavy velvet, silk, or wool. For a coordinated look, choose a color palette that is used in the shower curtain, towels, and valance. They don't need to match perfectly but should use a similar motif.
2. Country
For a country feel to your valance, stick with a simple design. Linen, burlap, or gingham are all popular choices. Keep the color light to keep the design feeling fresh. Add decorative detailing such as woven straps that create a gathered look.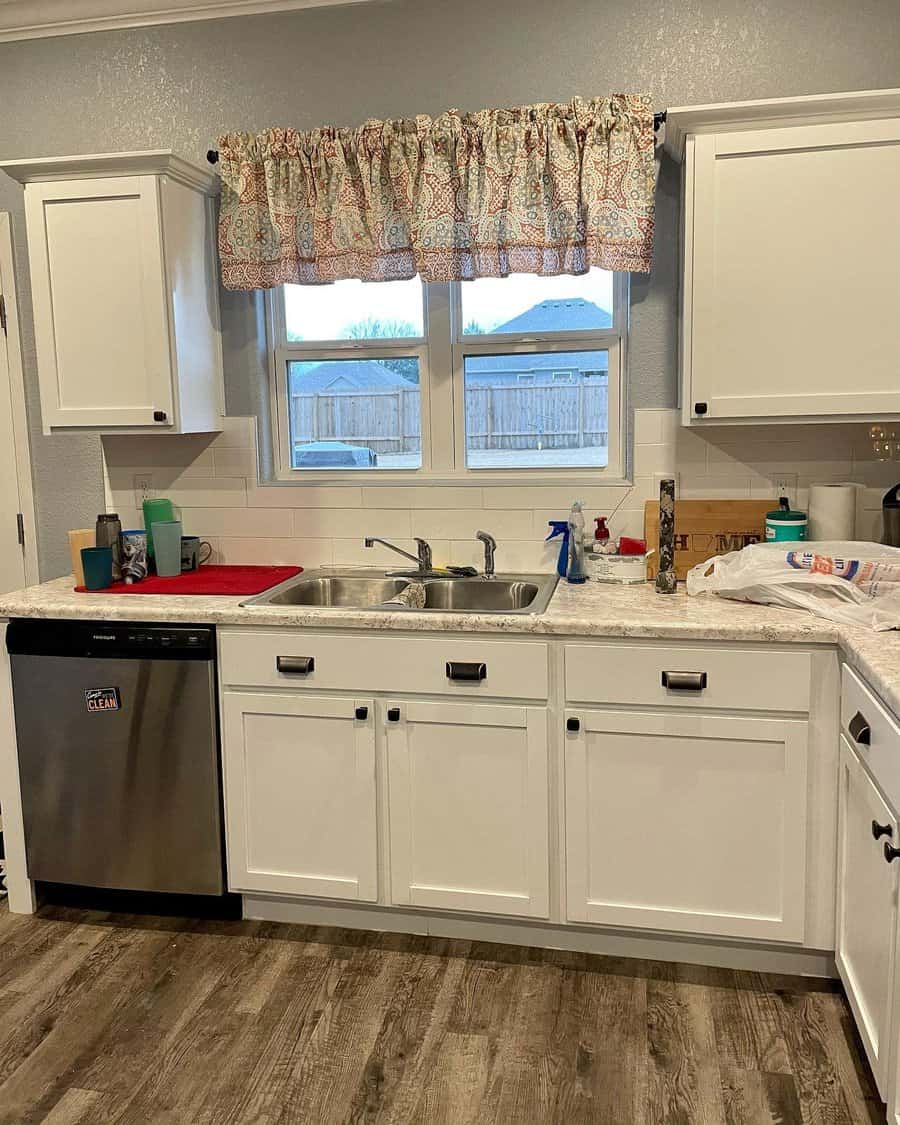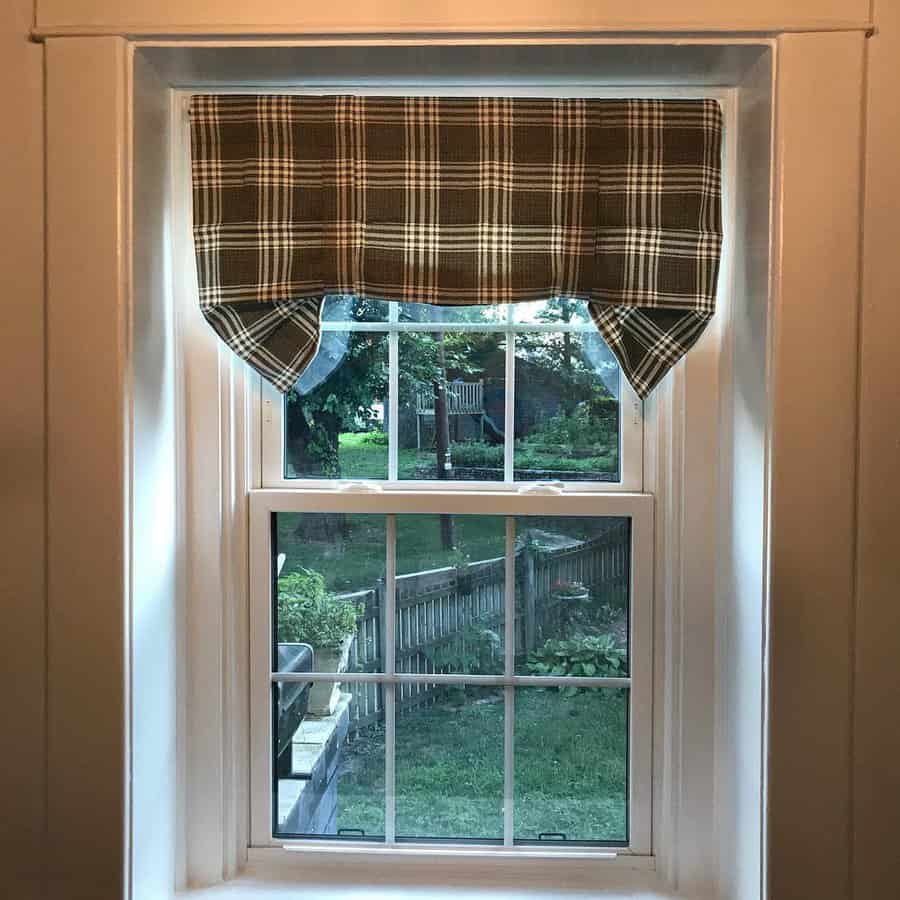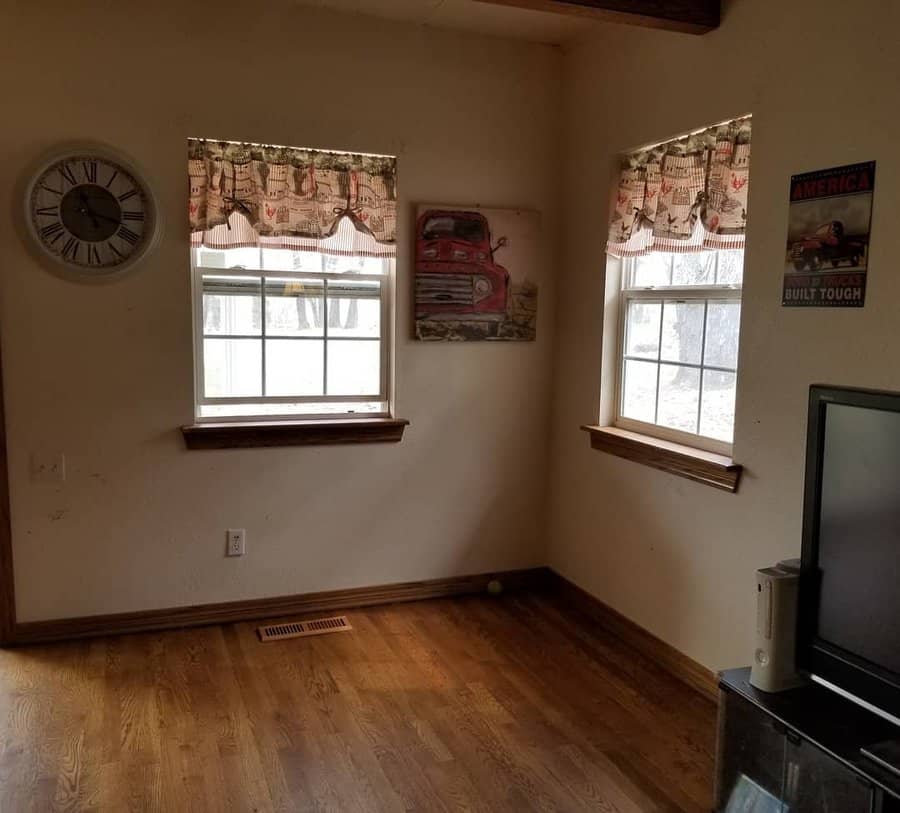 Weave ribbon through the valance fabric and gather the valance fabric up, tying the ribbon in a bow. This creates a soft and slightly feminine look. Use leather straps with metal hardware for the valance for a more rustic look. If you prefer a traditional look, create a straight gathered valance. This creates a ruffled effect.
3. Custom
If you like the idea of adding a valance to your windows but don't want to add more fabric to your windows, then consider a window cornice instead. These are solid decorative boxes that frame and cover the top of your window.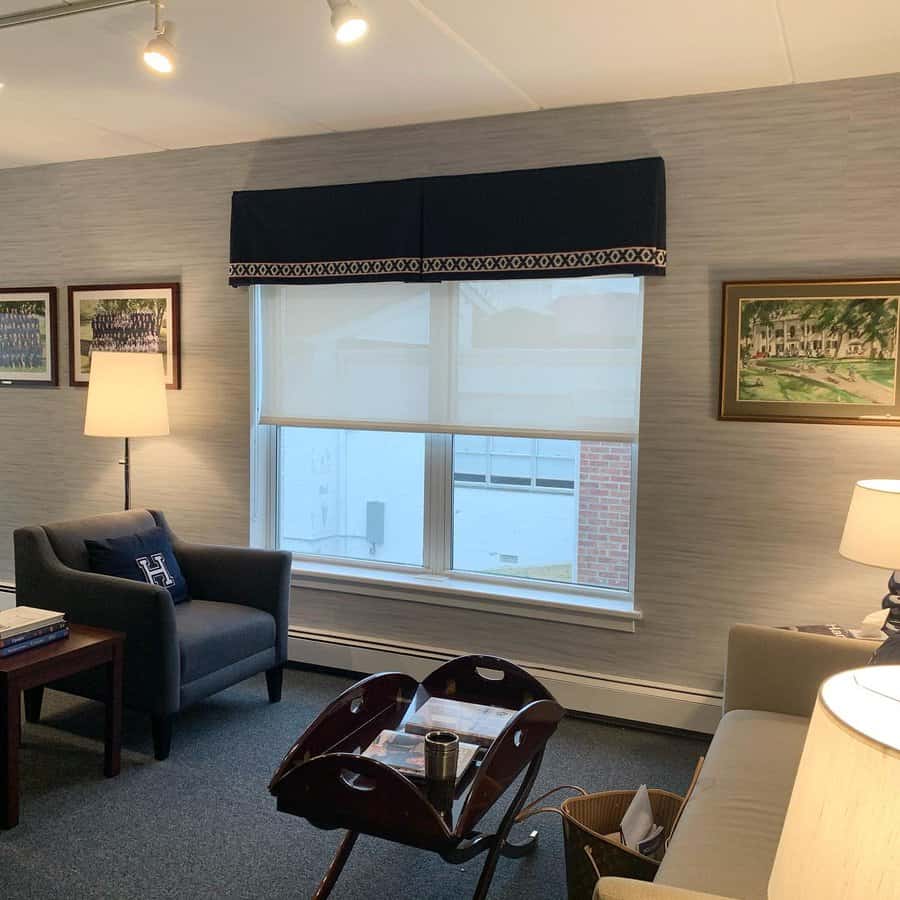 They perform the same function as a valance but look similar to crown molding with decorative details. Because the cornice only covers the top edge of the window, you can still hang sheer curtains and have plenty of natural light coming in through the window.
5. Design
Picking the design of your window valance can be a bit overwhelming with how many options are out there. Start by looking at the size and shape of your window. The valance that you would put on a bay window isn't the same valance that you would put on an arched, bay, or garden window. Your next step is to consider your home decor.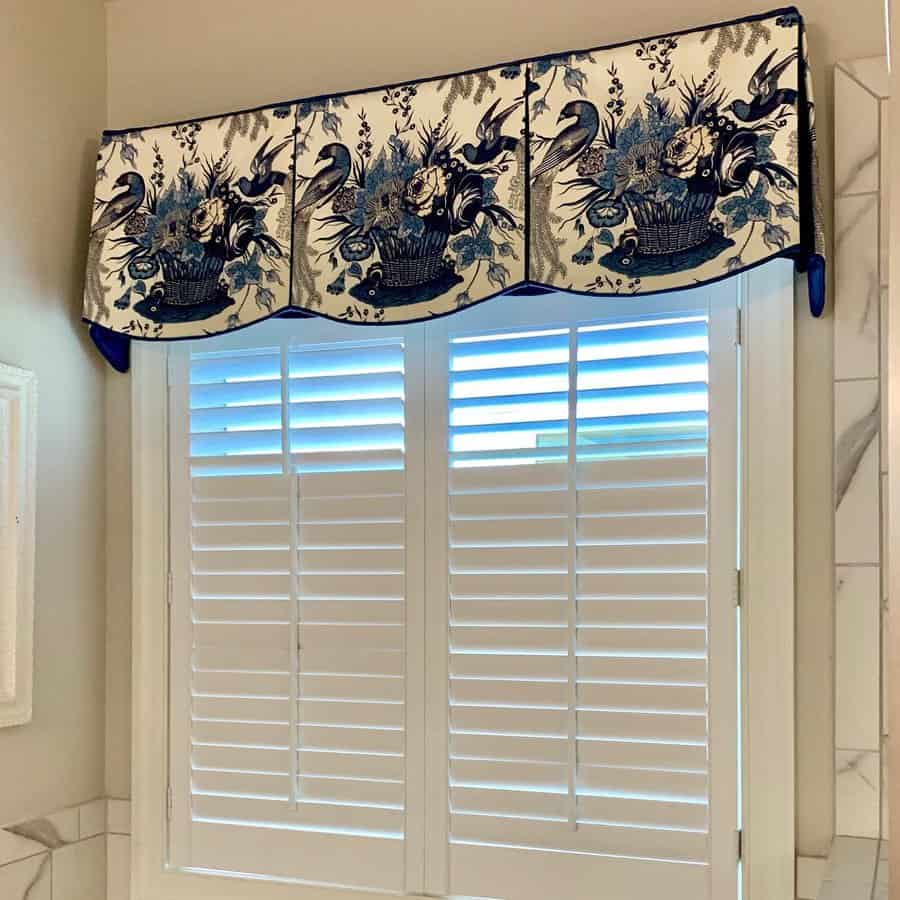 Certain window treatment ideas work better with certain types of interior design styles. Once you know these things, you can choose the valance style and fabric that would look best on your home's windows.
6. Dining Room
Dining rooms are traditionally the more formal dining space in a home. Your valance can reflect that by choosing more expensive fabric and a more elegant valance design. Swag valances elegantly drape the fabric in evenly sized loops with multiple folds to create an arched effect. This is different from a scalloped valance which is a single piece of fabric that has a scalloped edge.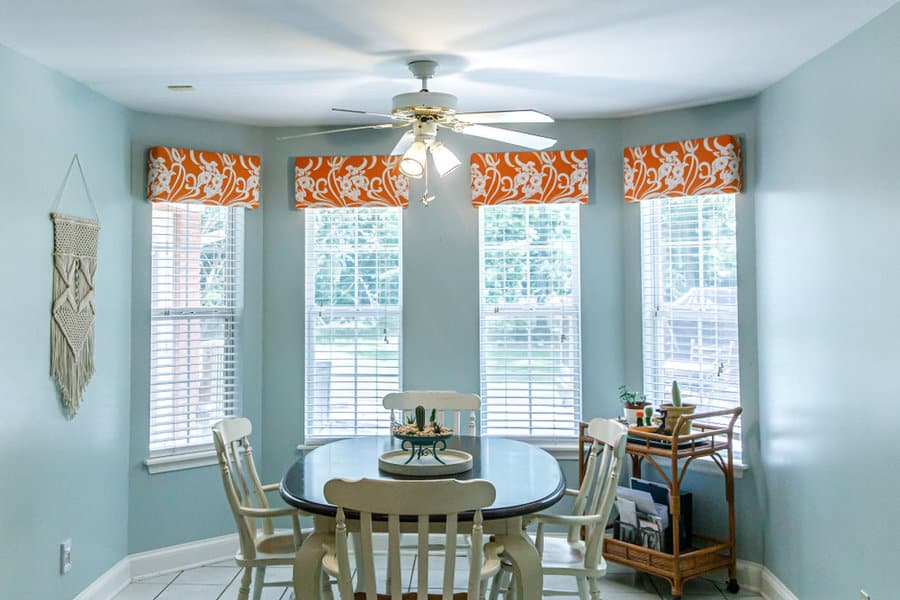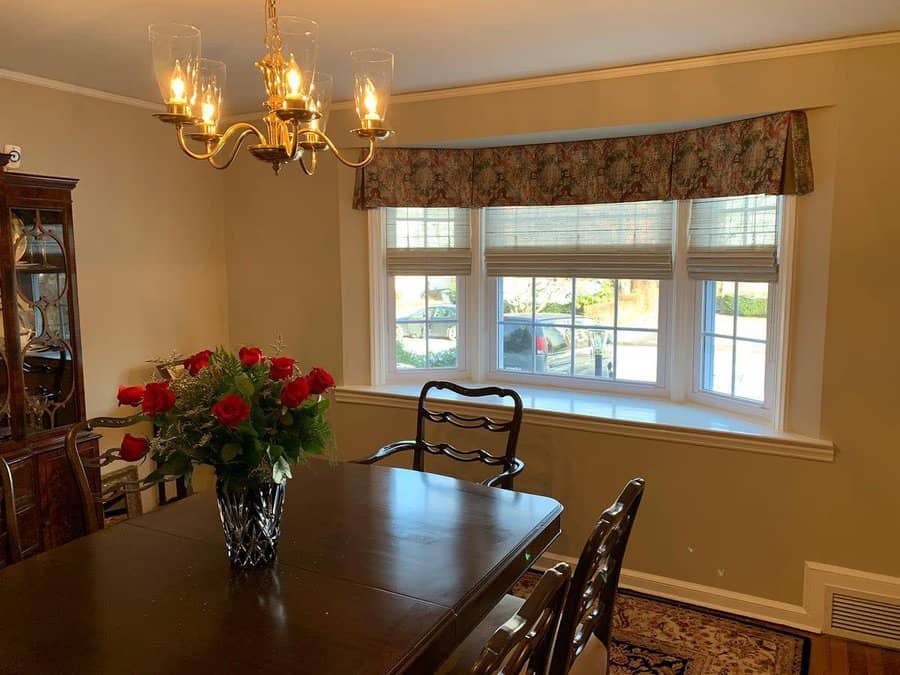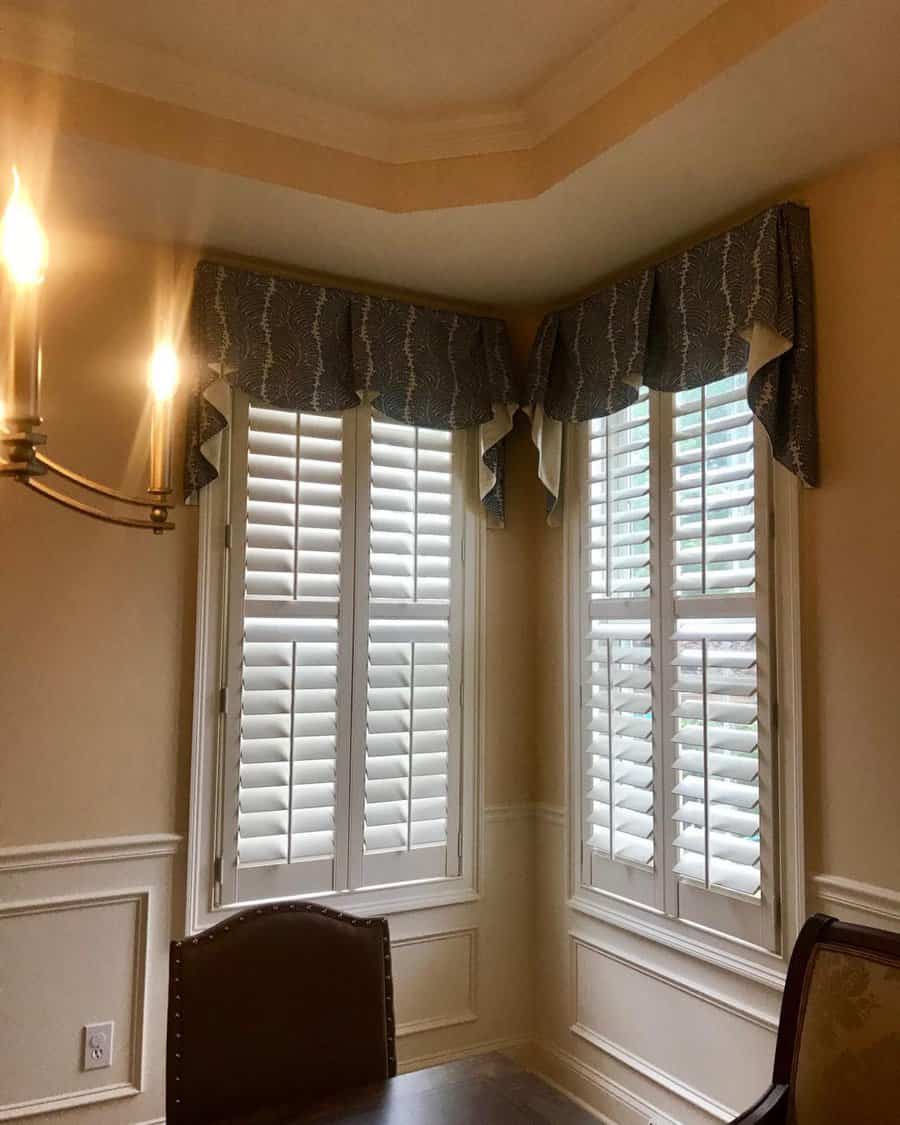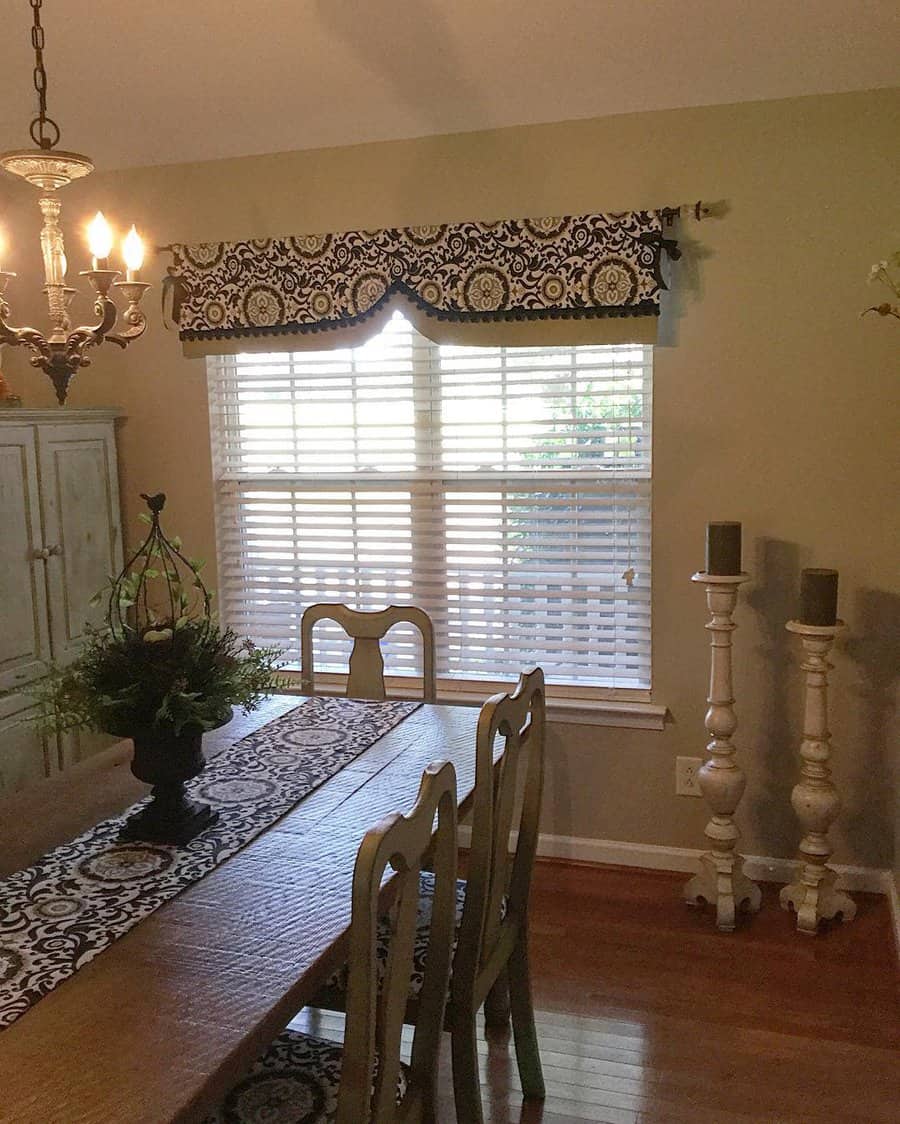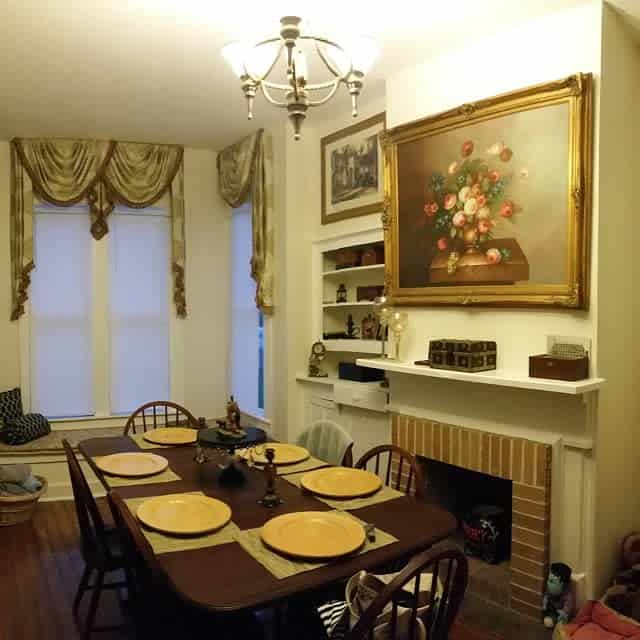 An ascot valance creates an elegant and unique look for a formal look. Unlike other valances that are long on the outside and narrow in the middle, this one is short on the sides and long in the middle. This creates a point in the center of the valance. If you want to create a modern feel in your dining room, then a cornice box is a better option.
4. DIY
You can make your own window valence if you know how to sew. Even if your sewing skills are limited, you could buy an extra-long table runner and drape it over a curtain rod to create a window scarf valance. Drap the fabric to create a scalloped effect, and then let the extra fabric hang straight to the floor on one or both sides of the window. This gives you a custom valance.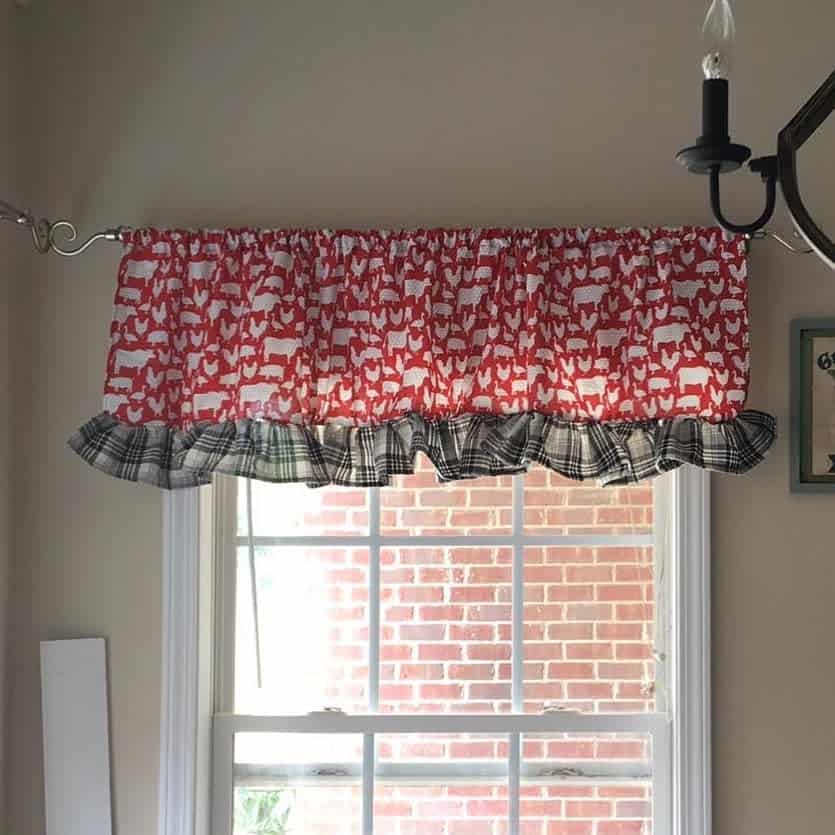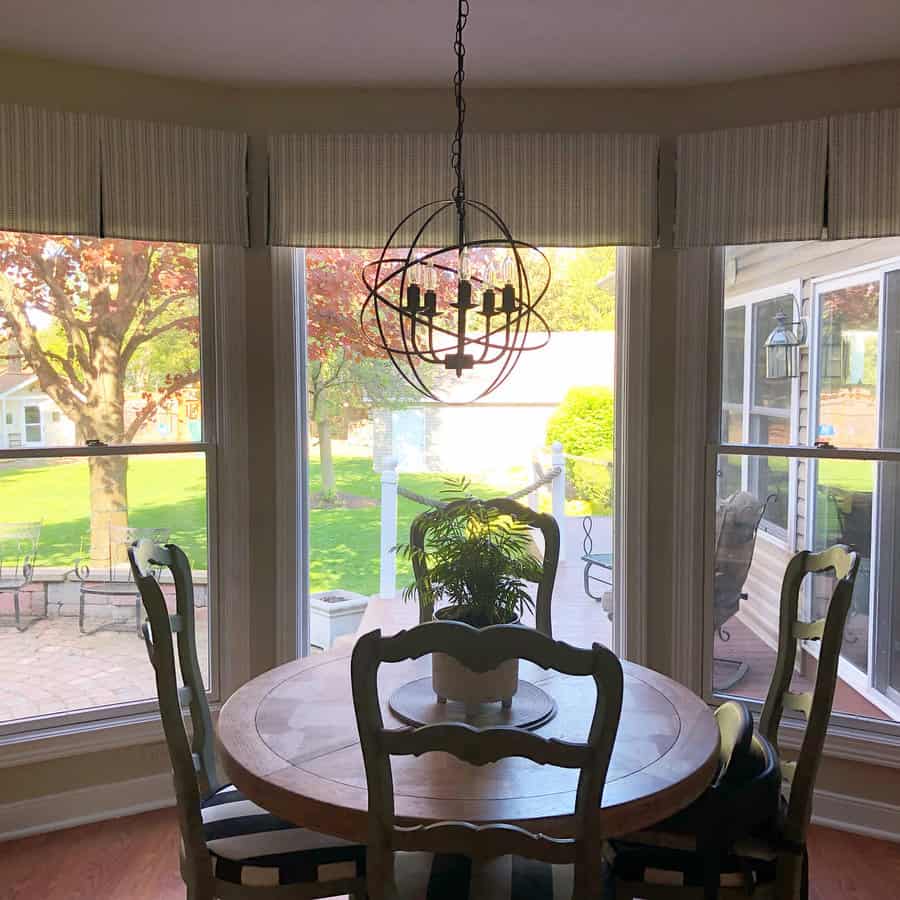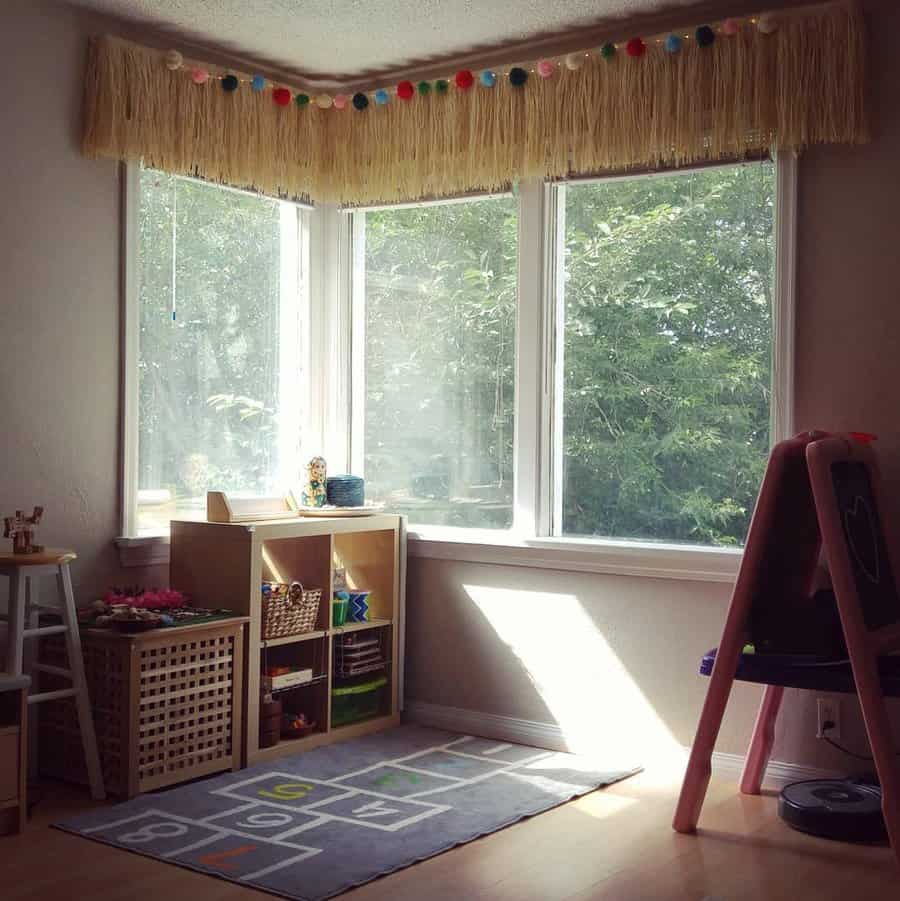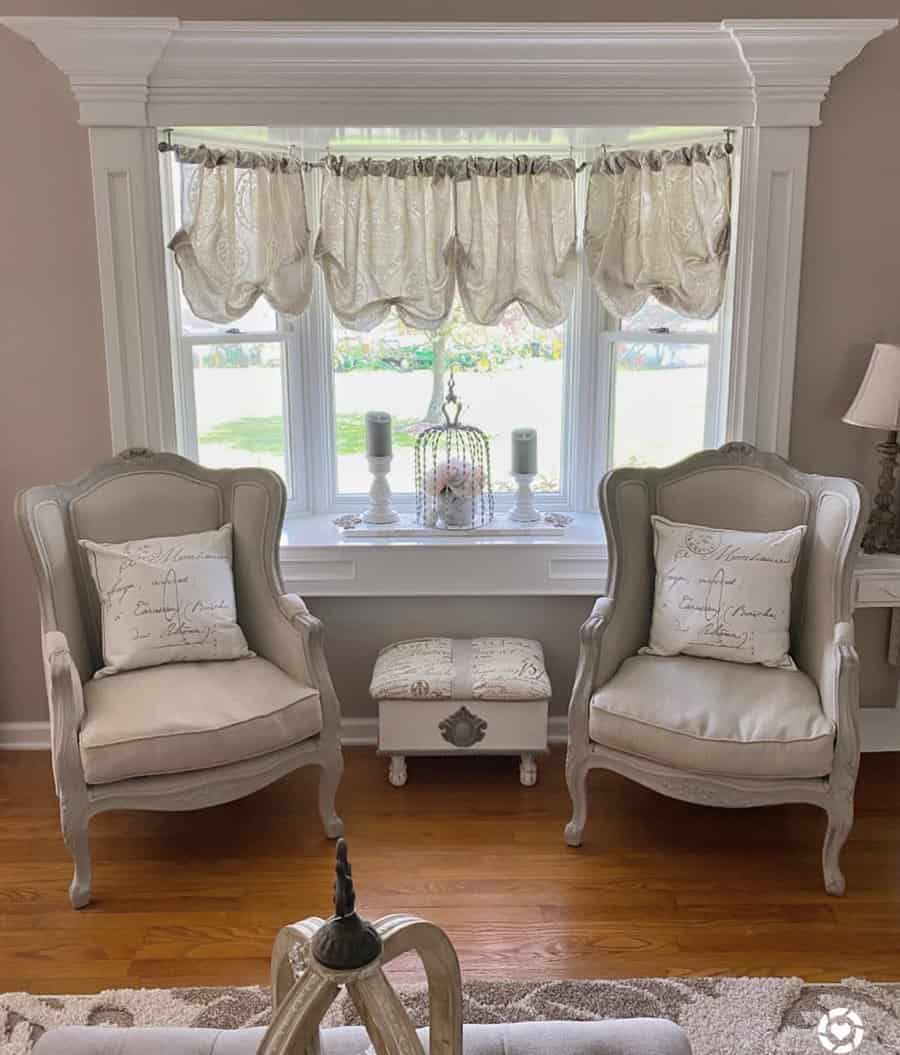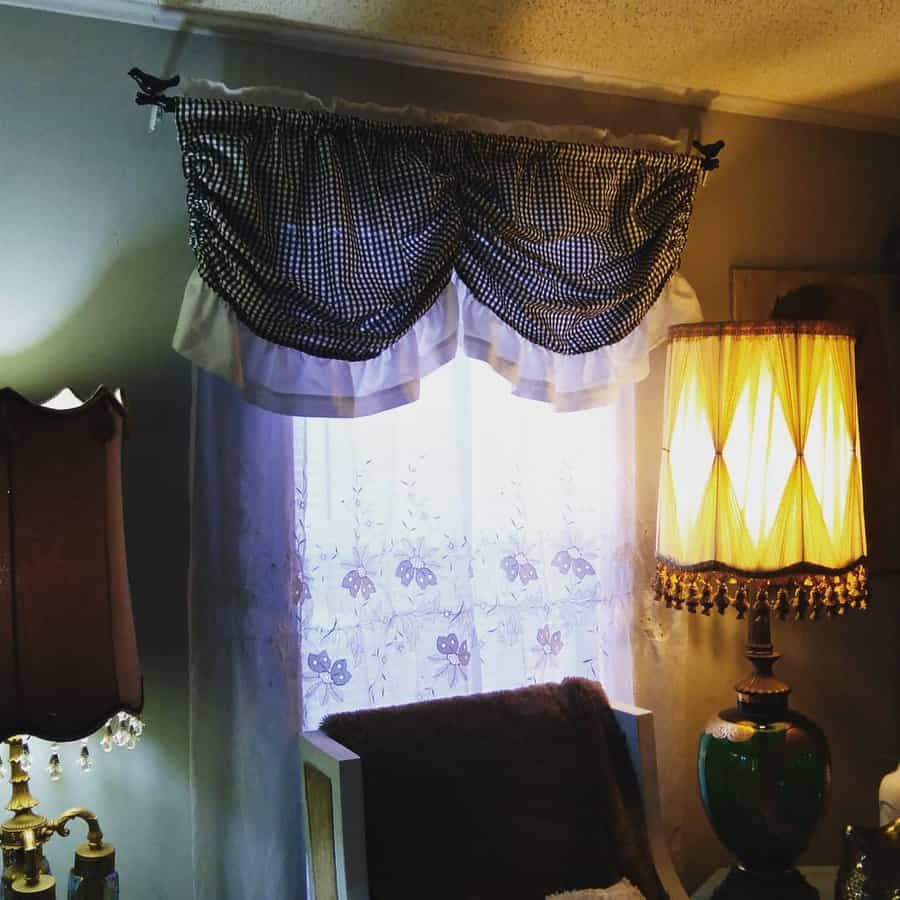 You can build a box valance out of wood or foam board if you prefer a more structured look. You'll need three pieces, two for the sides and one for the front. To give the box a softer look, you need to add a layer of batting to the wood before mounting the fabric.
7. Fabric
Fabric is the traditional and most common choice when adding a valance. This is because there are endless fabric types, colors, patterns, and design options. This lets you create the perfect look to complement the rest of your room's design. For example, a balloon valance adds a voluminous look to your valance that can add layers and depth to your room's design.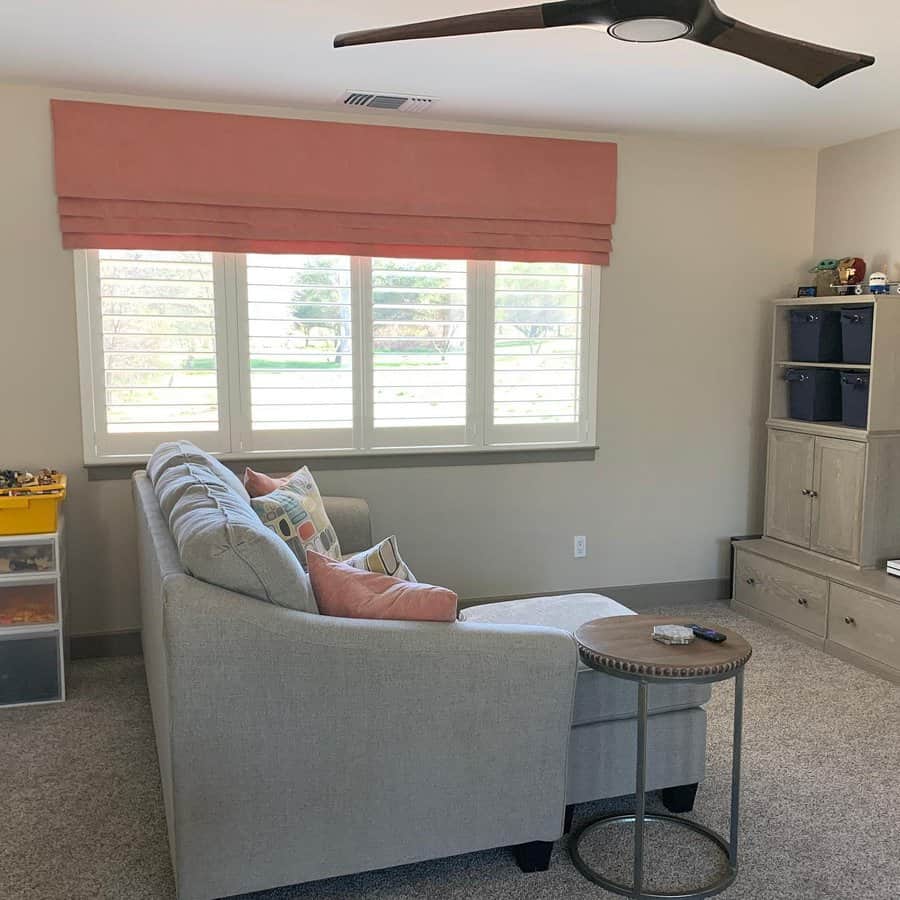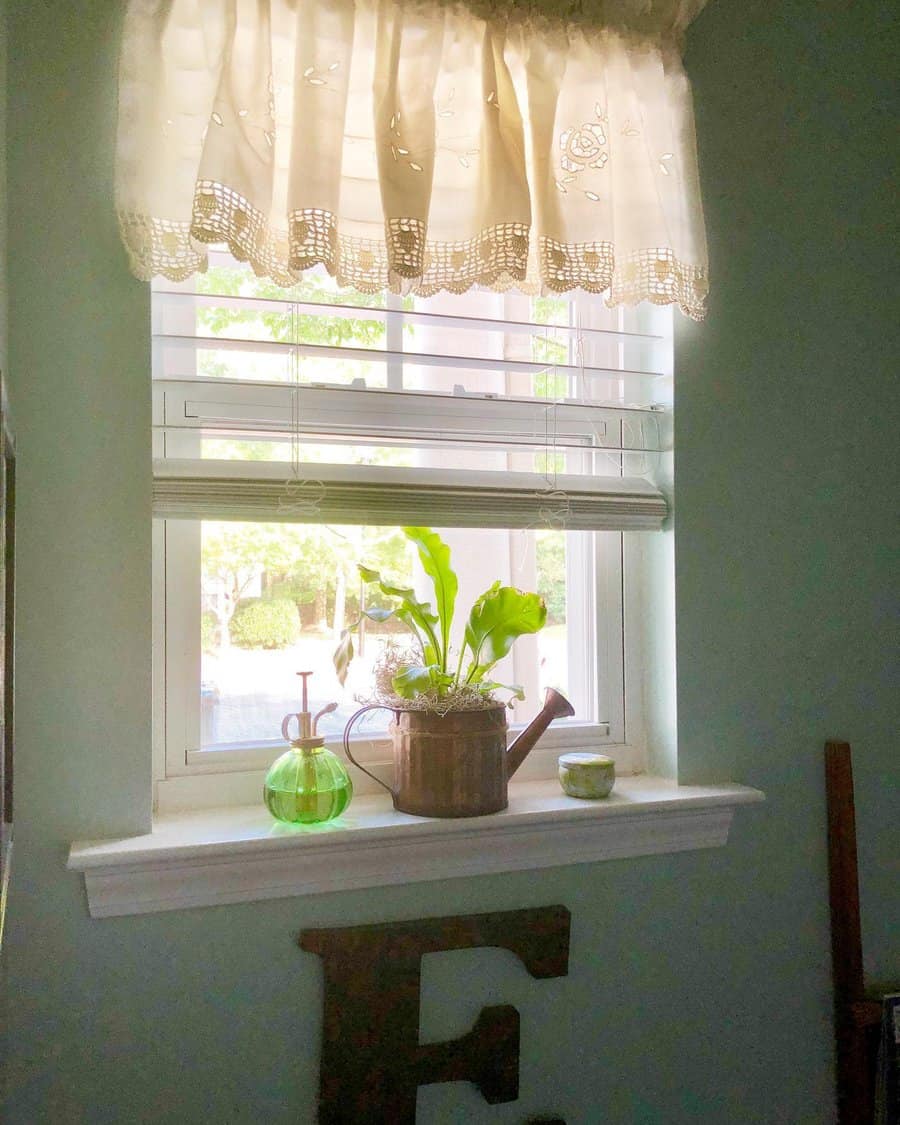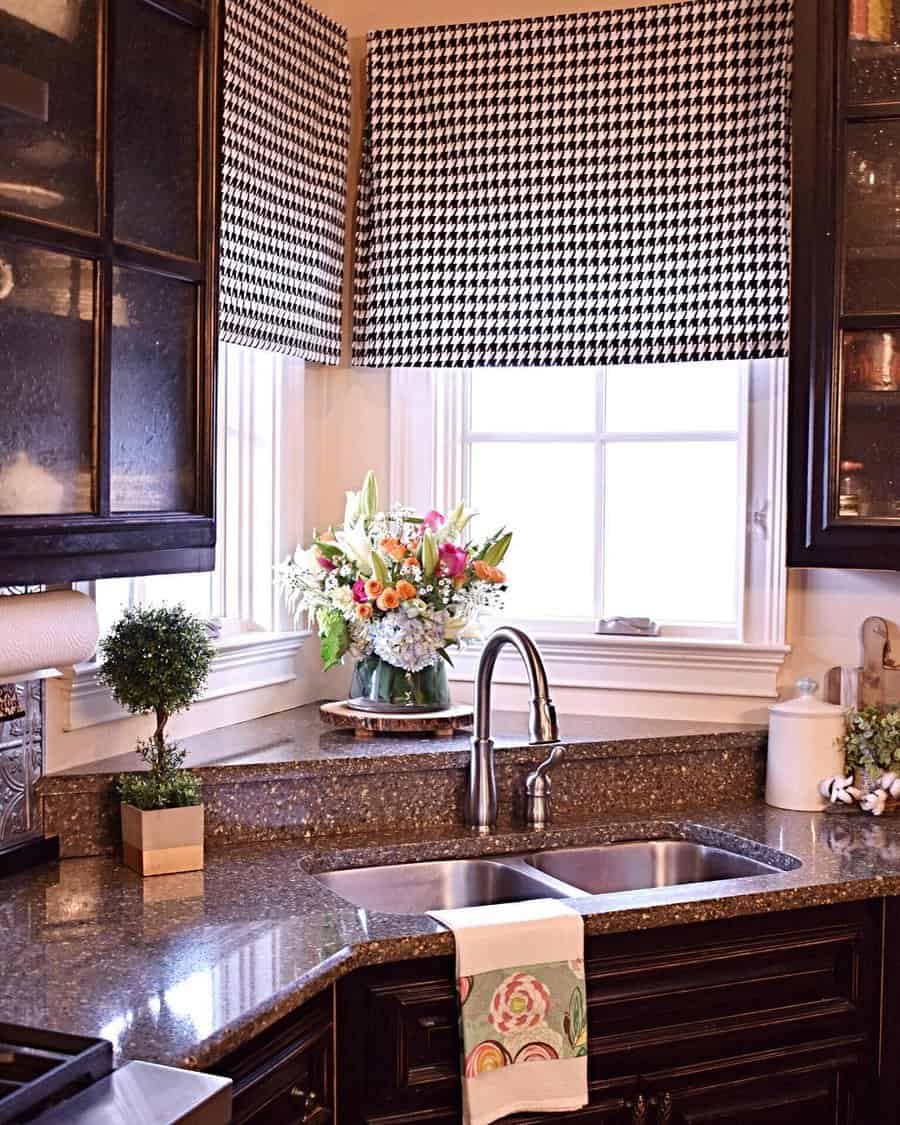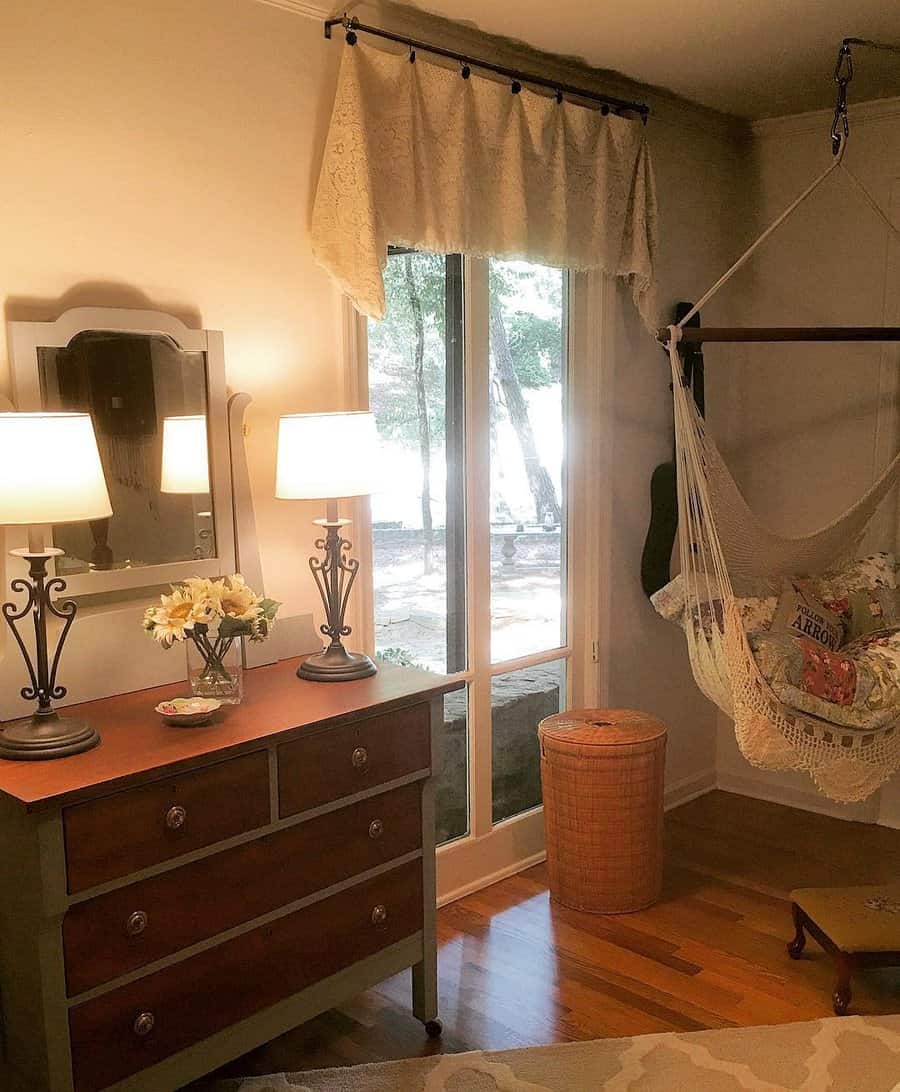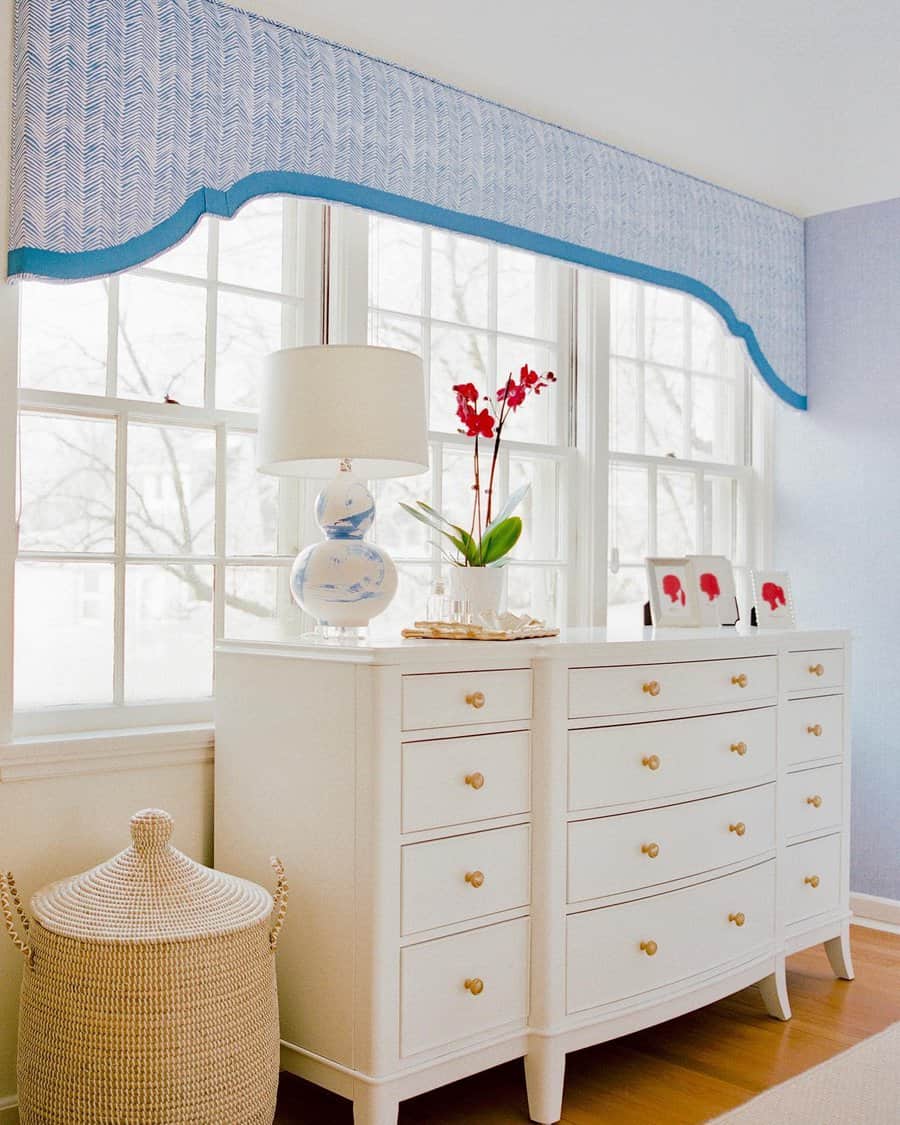 On the opposite end of the spectrum, a valance box is crisp and clean for a minimalist design. You could leave your valance simple and made from burlap, or you could have an ornate valance made of embroidered silk with tassel trim.
8. Farmhouse
Rolled valances are popular in farmhouse designs. They are typically made from lightweight fabric like loose weave linen or cotton. These are commonly used fabrics so that they will blend beautifully with the other textiles in your farmhouse-styled room.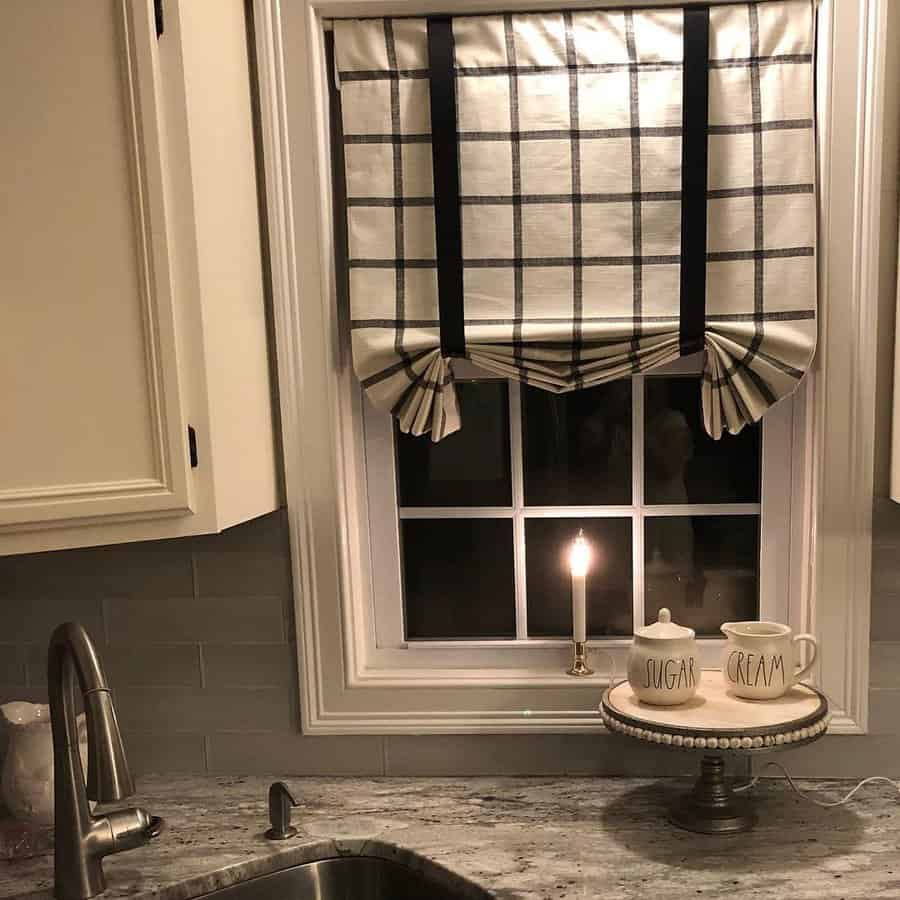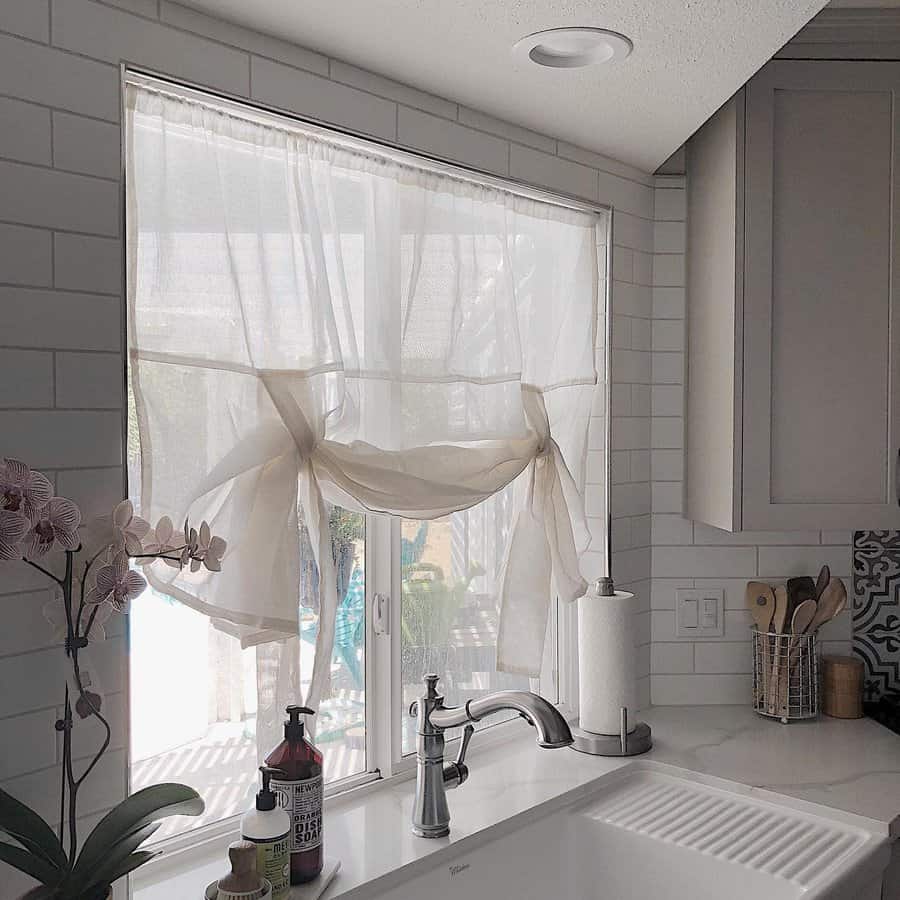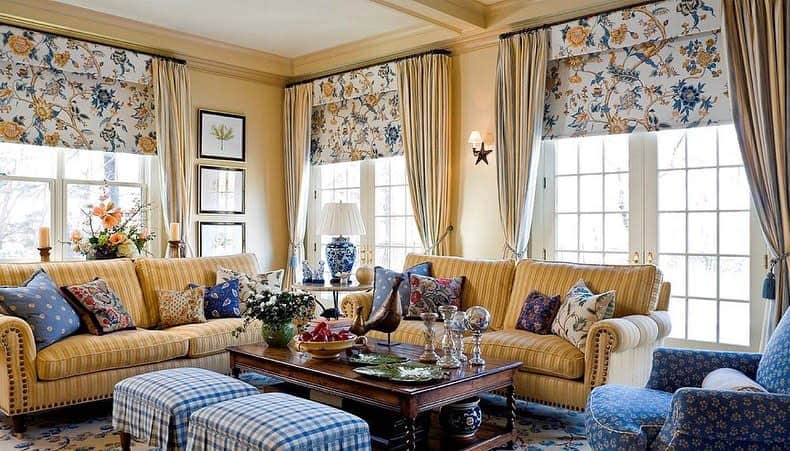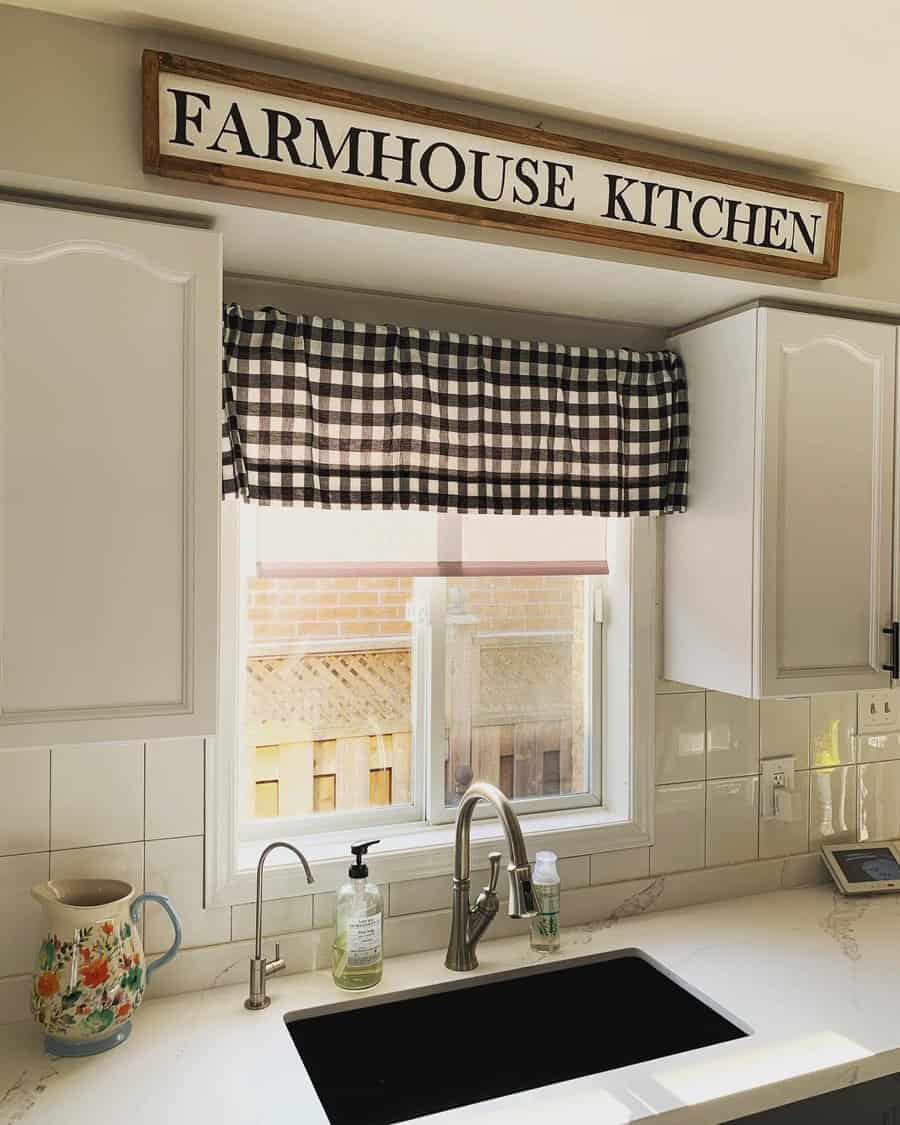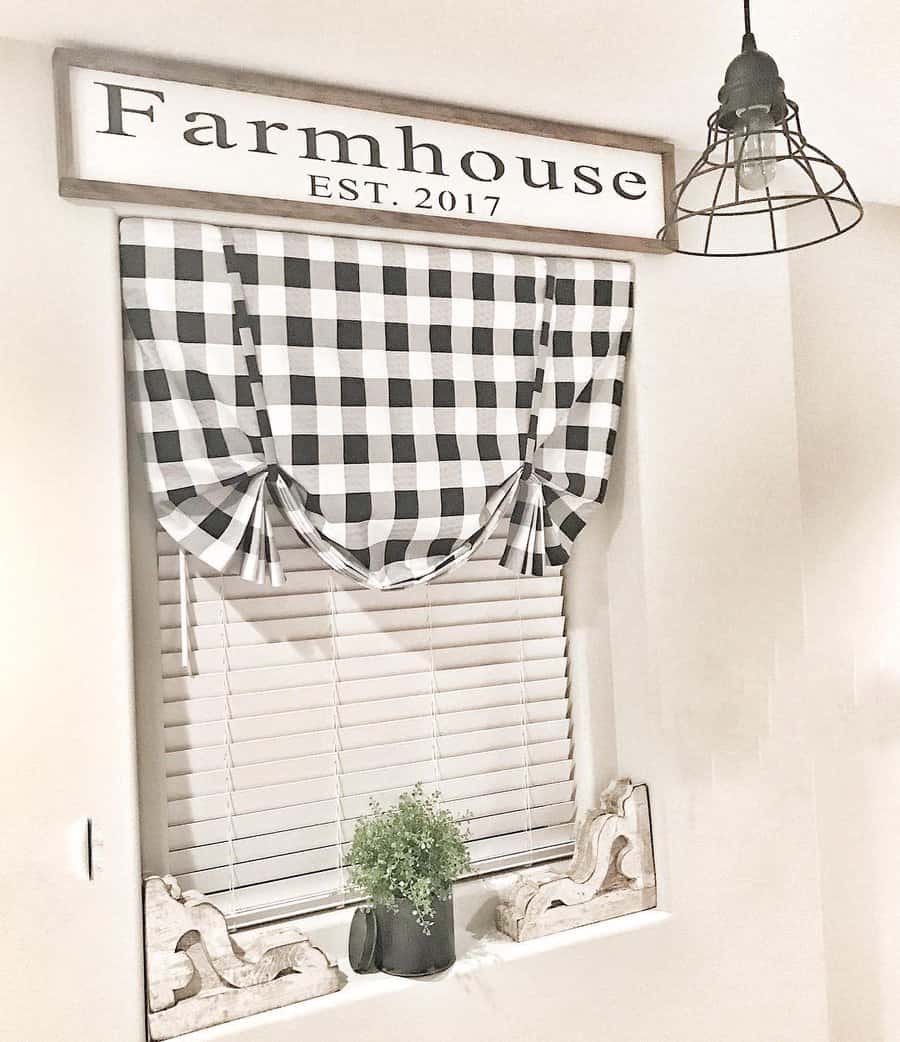 The not-quite sheer valance will let plenty of soft, diffused light in. Depending on how wide the window is, there are two to three straps that are sewn to the front and back of the valance. The two ends are tied together in a bow to gather and hold the valance.
9. Floral
A floral valance is perfect for adding a touch of color and pattern to your room. Affix the floral fabric to a window valance box to really showcase the floral pattern. You can buy a ready-made box valance, or you can make one yourself.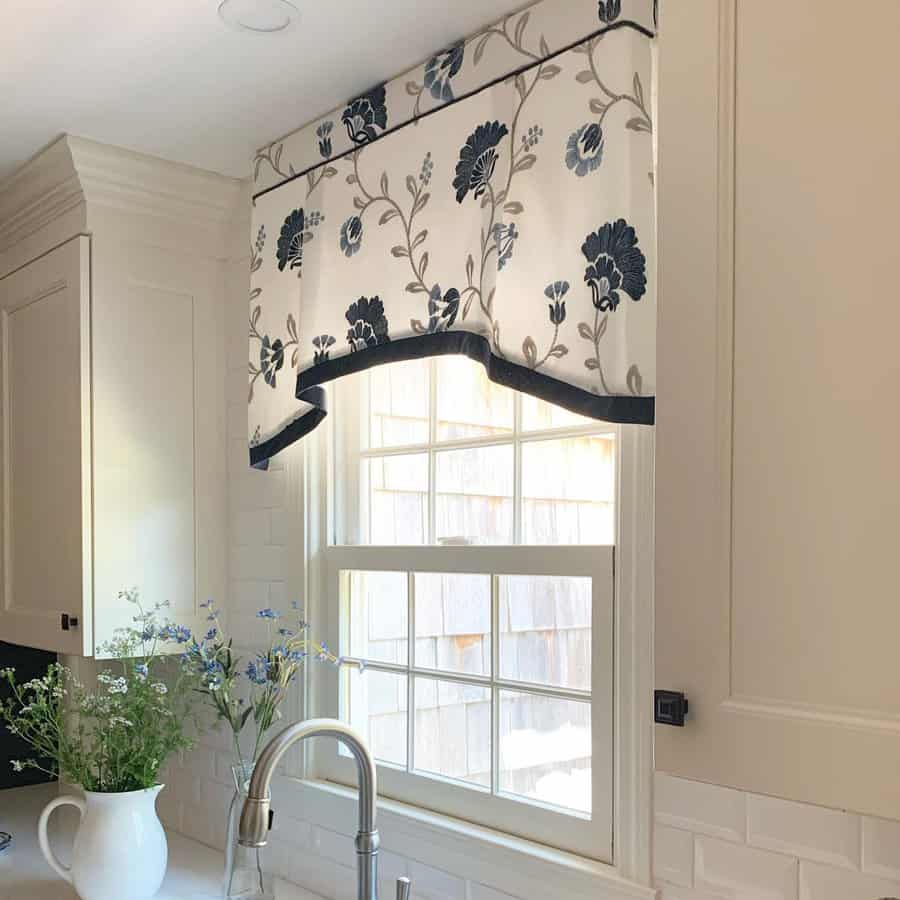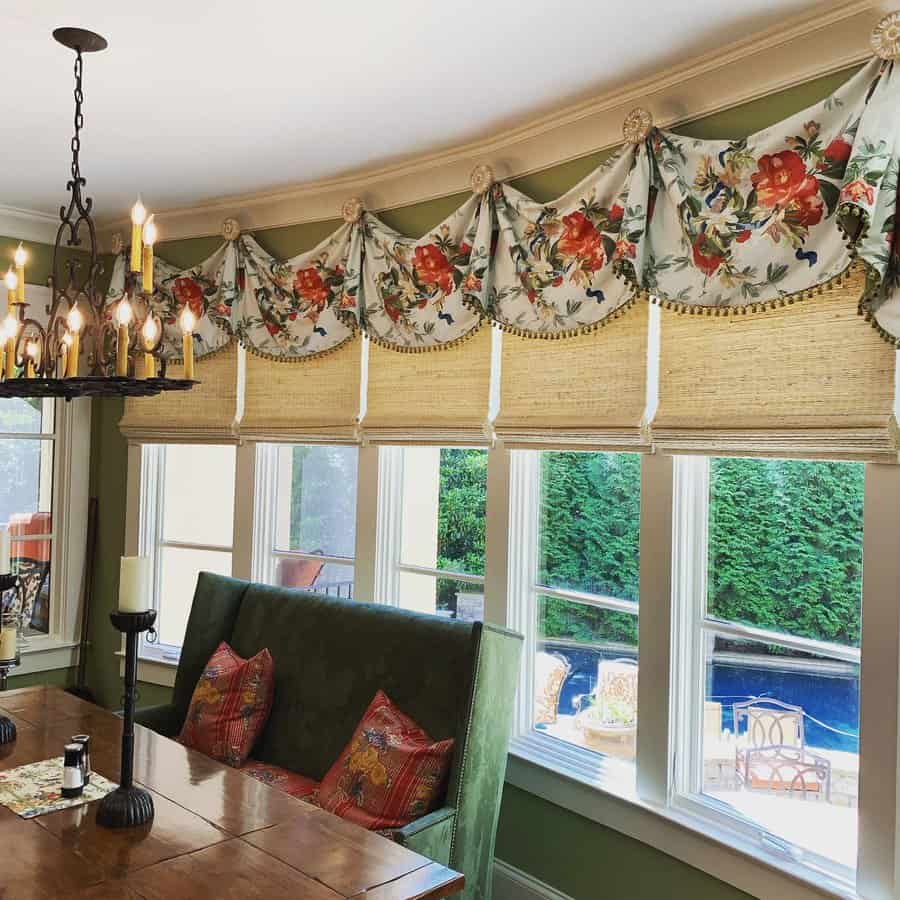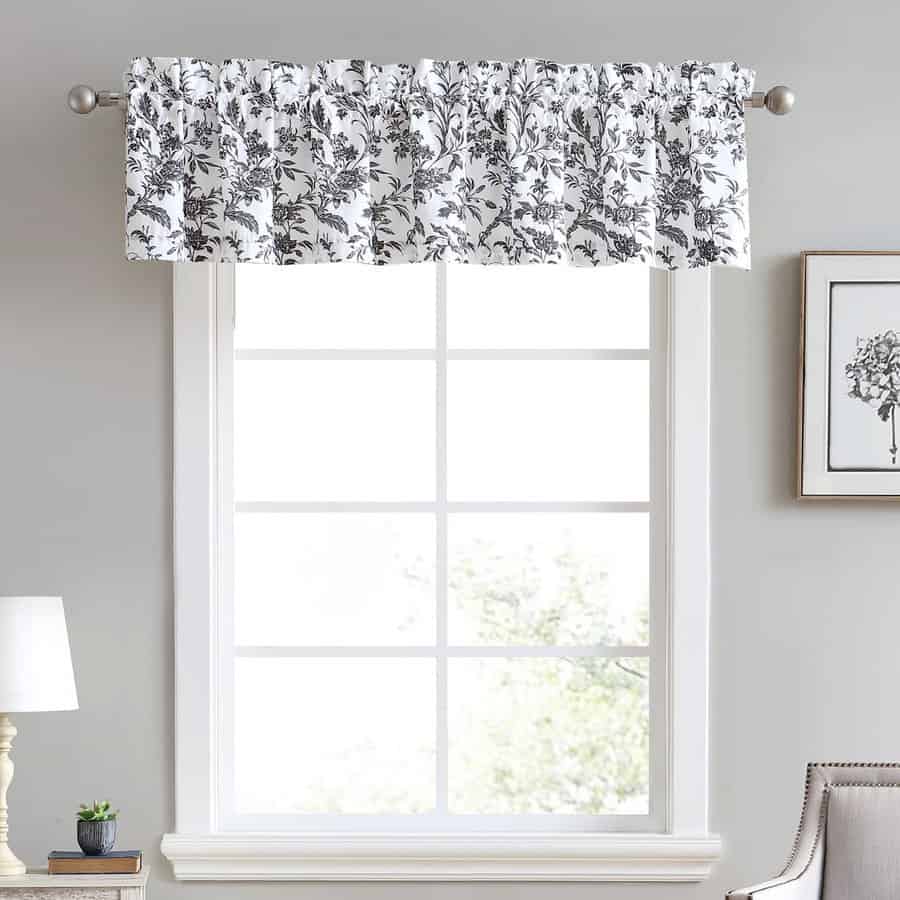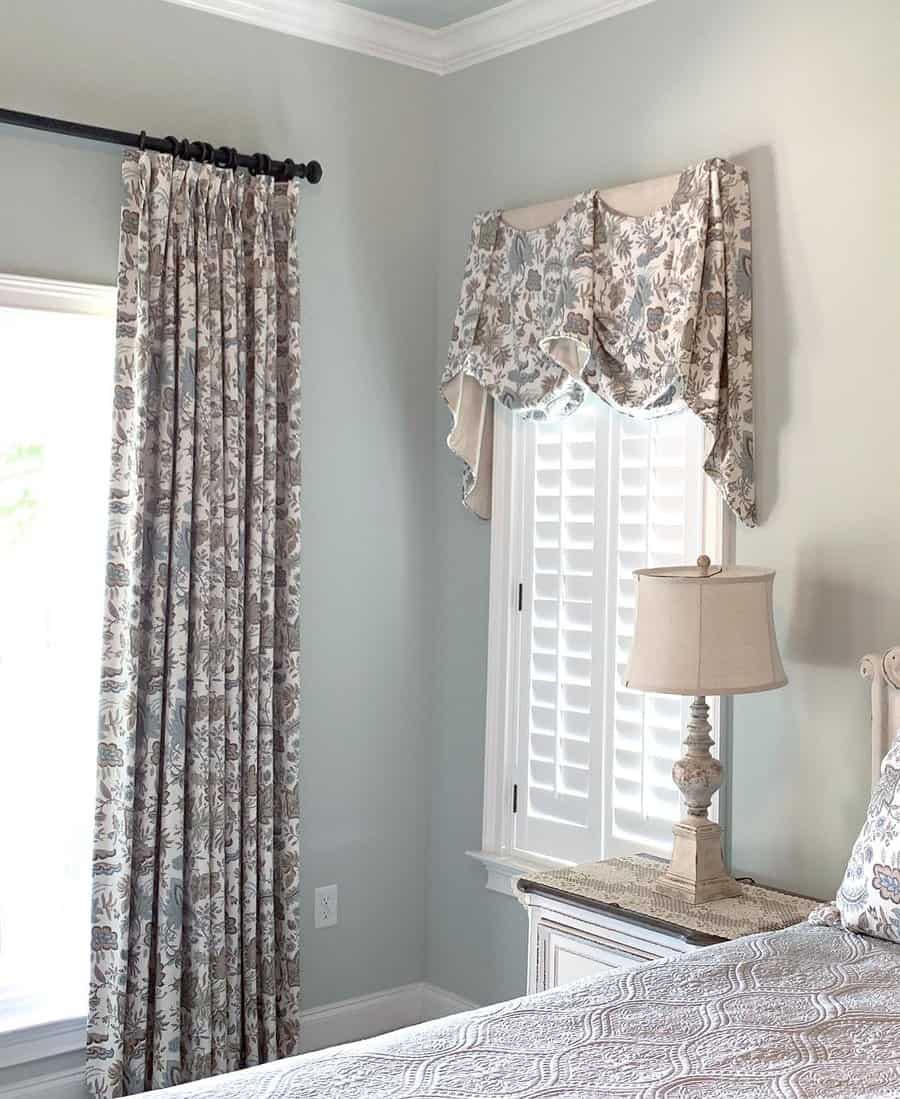 Use adhesive to affix your chosen fabric to foam board. Then build the box out of the boards. This gives you a custom window treatment that can perfectly match the other textiles in the room. Try using a floral pattern that uses the same colors that are also used in a bold stripe pattern for a coordinated look that isn't overly matchy.
10. Kitchen
Adding a valance to your kitchen window gives your kitchen a touch of style without having to deal with full curtains. The last thing you want is long drapery panels getting soaked in water, food, or grease. If your window is directly over your kitchen sink, this will likely happen if you try to have full-length curtains on your window.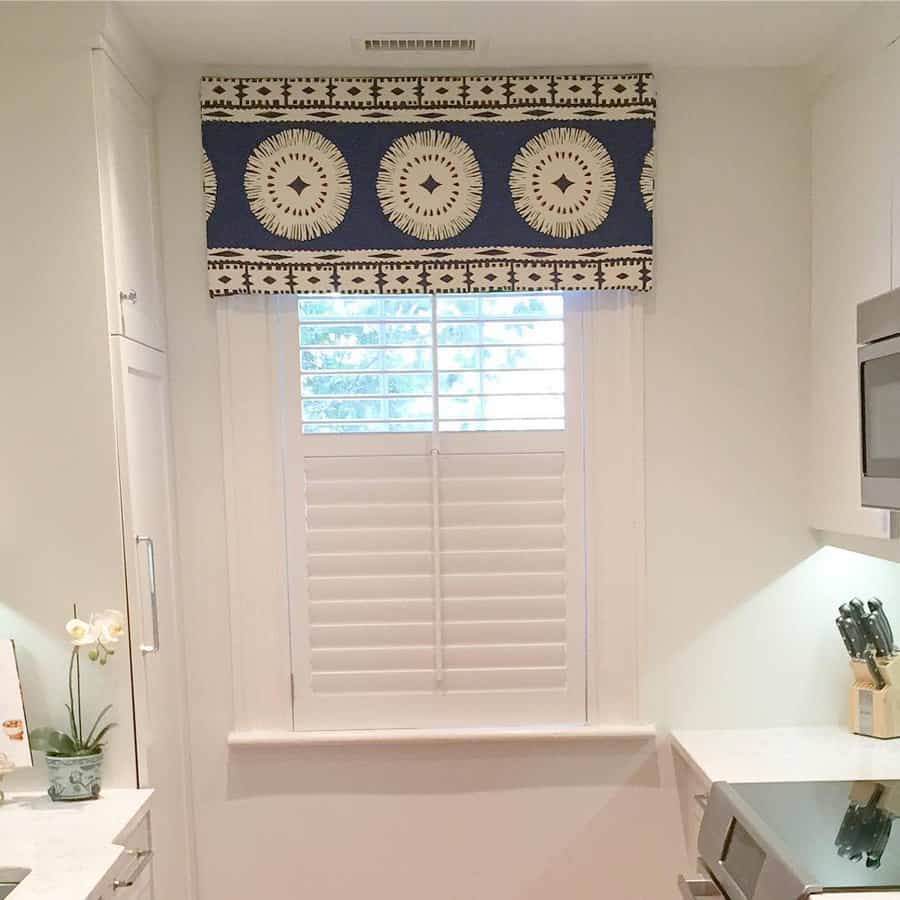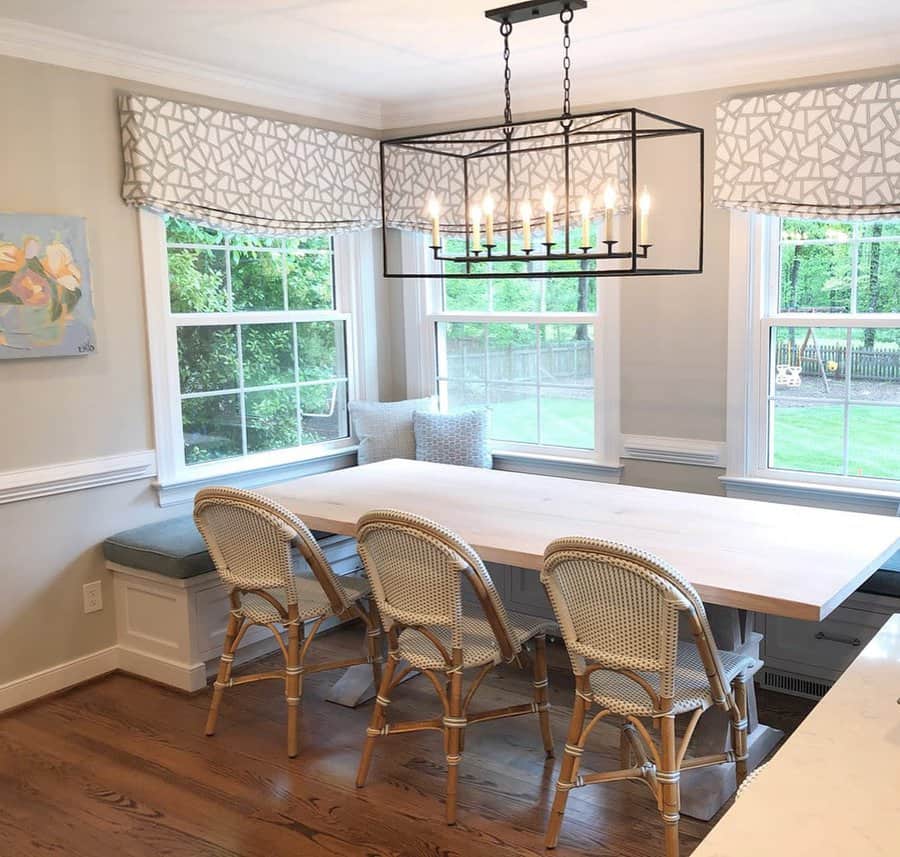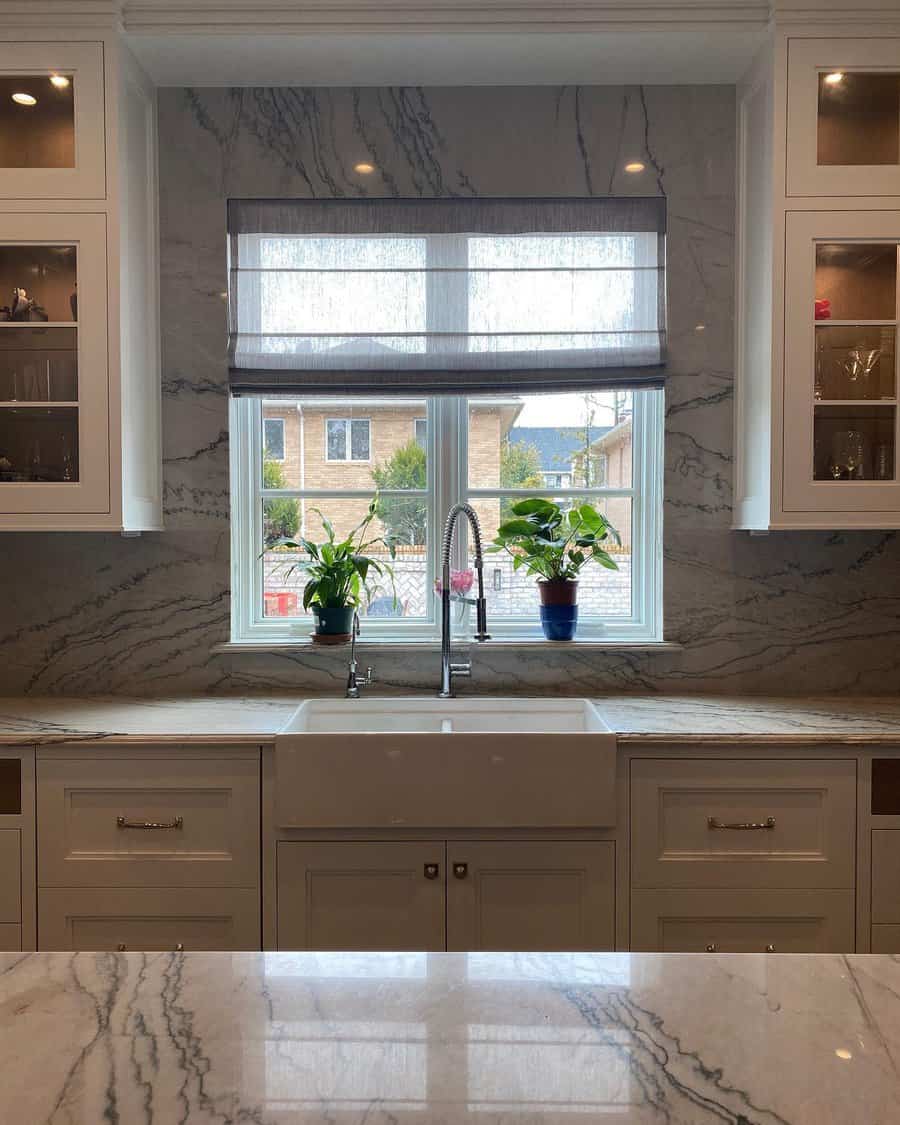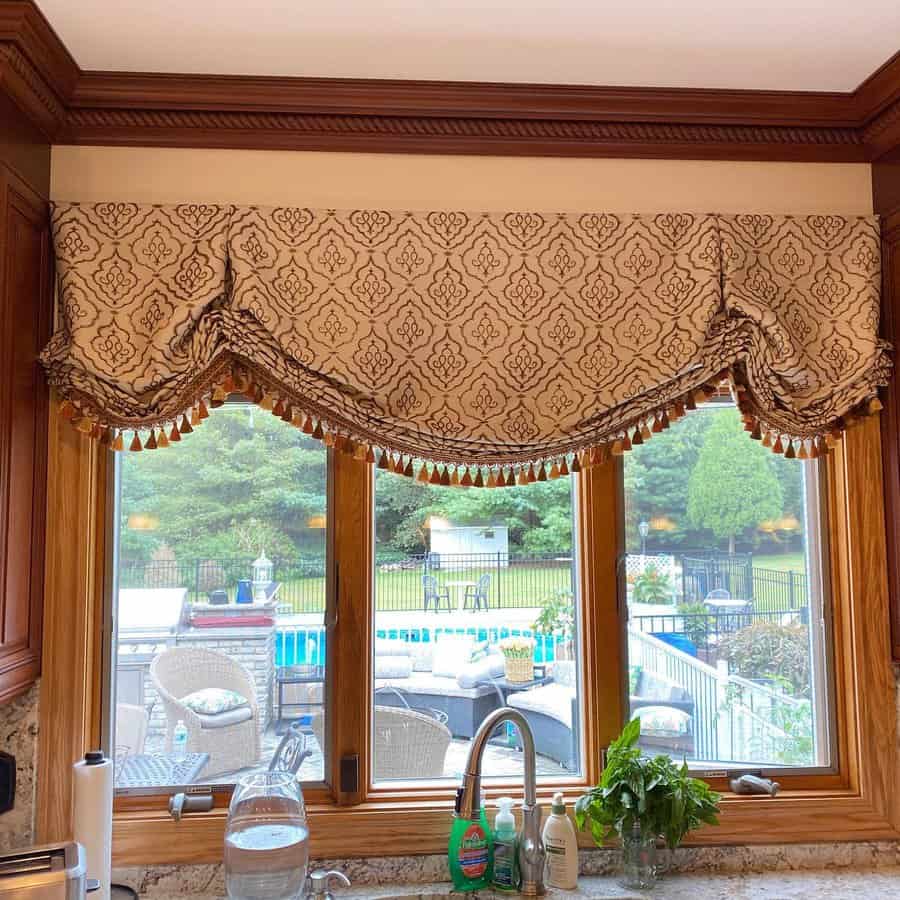 A kitchen valance adds decorative trim without blocking the natural light. Choose a fabric that's lightweight to allow for light to filter through and maximize the natural light in your kitchen. Loose weave linen or cotton is perfect because it won't block the light and is also easy to throw in the wash and keep it clean.
See more kitchen valance ideas here.
11. Modern
While a valance is a traditional window treatment option, that doesn't mean it can't have a modern design. To create a modern valance design, stick with neutral colors like white, beige, grey, cream, or black. The pattern should be non-existent or have a geometric design.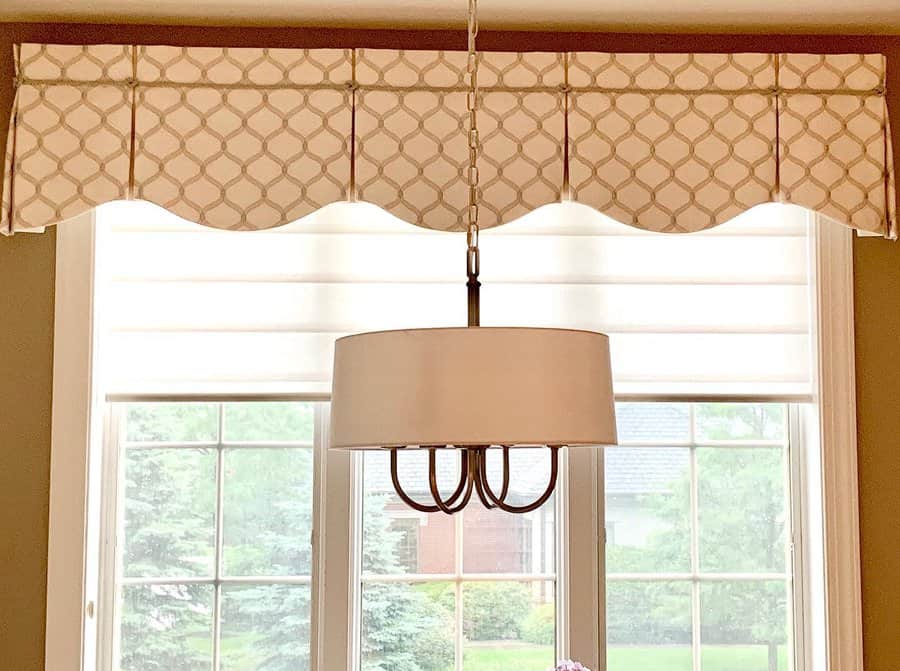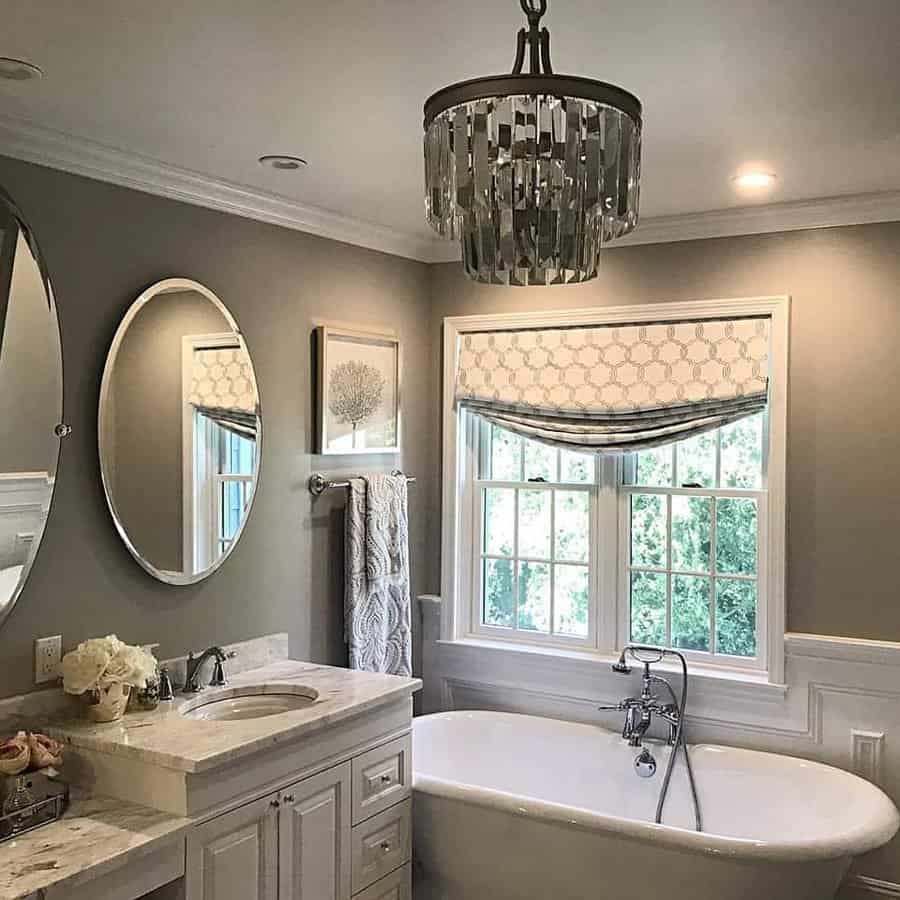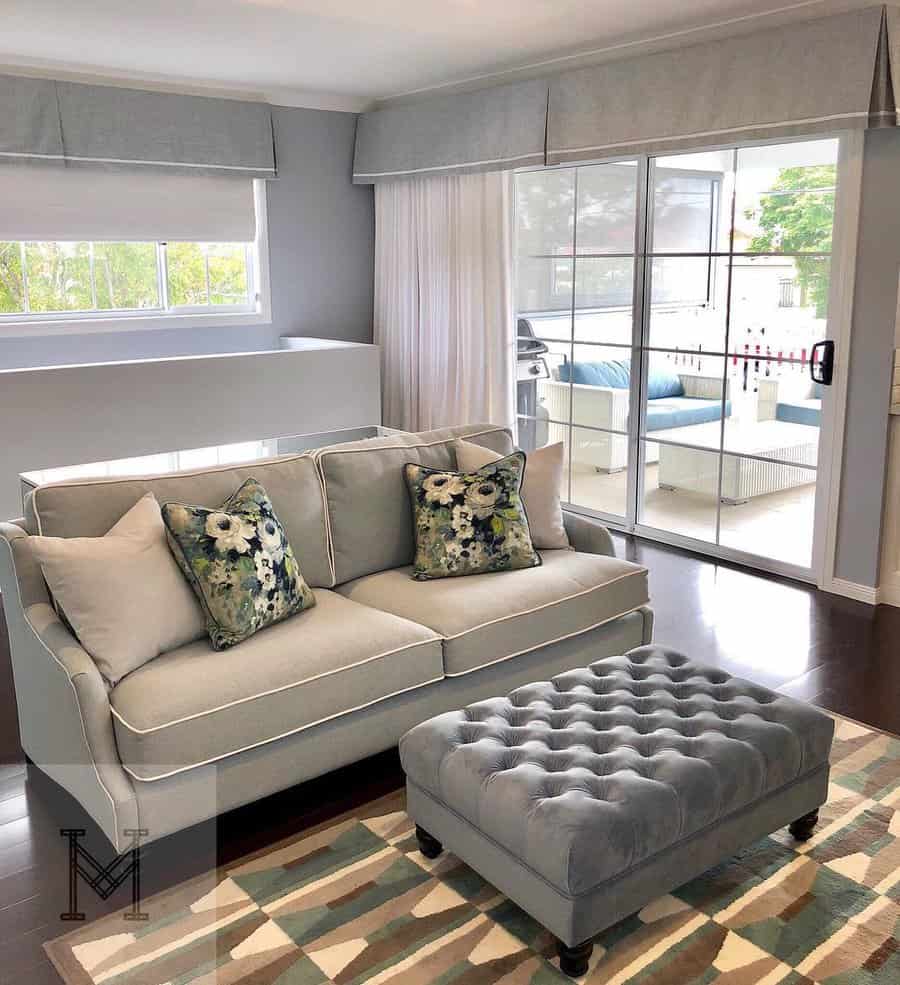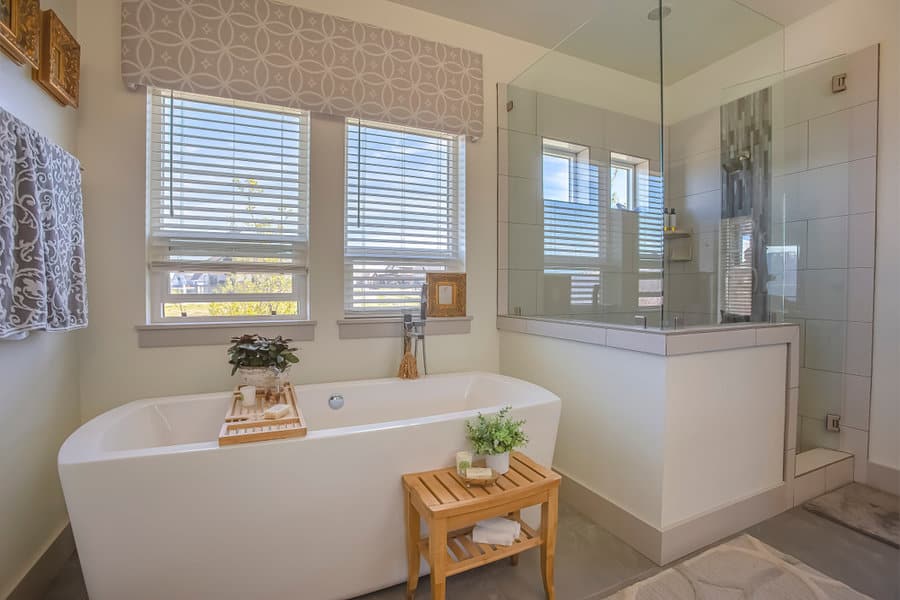 Try skipping the bold pattern completely and choosing a fabric that has a textured weave. This creates visual interest and a layering effect in the room without the valance drawing too much attention. For a bold look, add metal valances, such as metal hardware on the bands that tie up the valance, metal trim on the edge of the valance, or a pelmet that looks like it's made from metal.
FAQs
What is the point of a window valance?
The main purpose of a valance is to add a decorative element to the window that hides the mechanical parts of your window cover. This could be the curtain rod, rod pocket, or the blinds mechanism. It also ties the entire window design together by creating a visual connection between the blinds on either side of the window.
How far should a valance hang?
Standard-sized valances have a drop length between 18 and 24 inches. This is the average length of the valance at the center of the window. About three to six inches of this length should overlap the top of the window frame. The outer sides of your valance can have a longer length to help frame the window. These outside pieces are called side tails or jabots and can be 36 to 48 inches in length. When planning your valance, it should overlap the top of the window, but not hang down too far. You want to create the illusion of height and not block too much of the actual window.
Can you put valance over blinds?
A valance is a great method for hiding the mechanism that controls your blinds. It adds a bit of a personal touch to standardized blinds that can look generic. Add a valance over your windows, sliding glass doors, roman shades, roller shades, or patio doors.