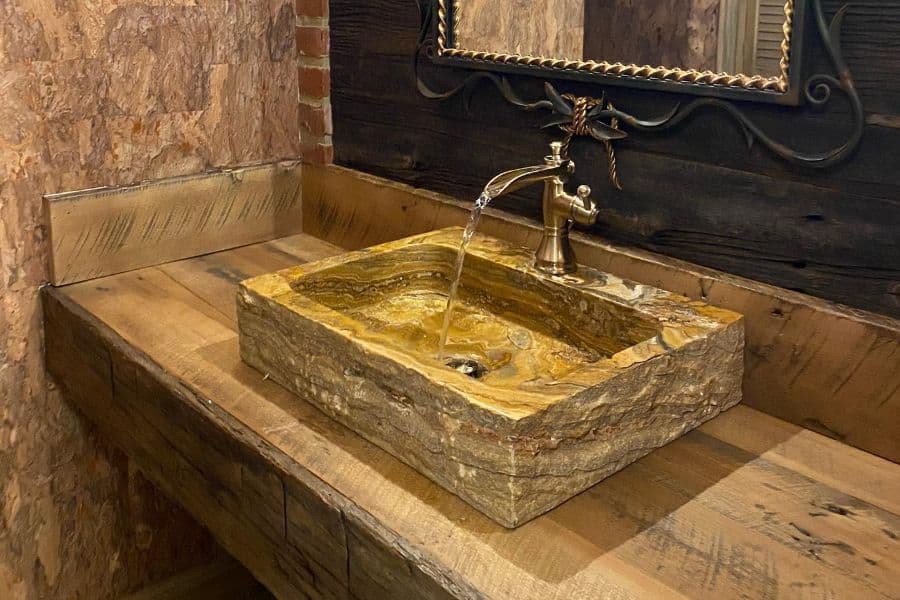 44 Wood Countertop Ideas for Your Kitchen
Wood countertops might feel like a new trend. Yet this material was one of the first used for in-home work surfaces.
Wood is far more durable than many people believe, even if it does require special maintenance from time to time. And it complements a wide variety of interior decor trends.
So if you're dreaming of a kitchen counter that's both classic and contemporary, you should definitely give natural wood a chance.
Check out some of our favorite wood countertop ideas below before you decide on your next kitchen counters!
1. Natural Oil Finish Wood Countertops For A Glossy Finish
The beauty of a natural oil wood countertop is beyond words. The captivating rich texture and color that comes from the organic character of the wood is the perfect element to add to any kitchen.
The natural oils penetrate deep into the wood, forming a durable surface, that can take the heat of hot pots or exposure to water without any damage.
The rustic charm of this piece will never go out of style because it will only get better with time. It's the perfect reminder to slow down and appreciate the little things in life, a loyal work of art that you will get to admire every day.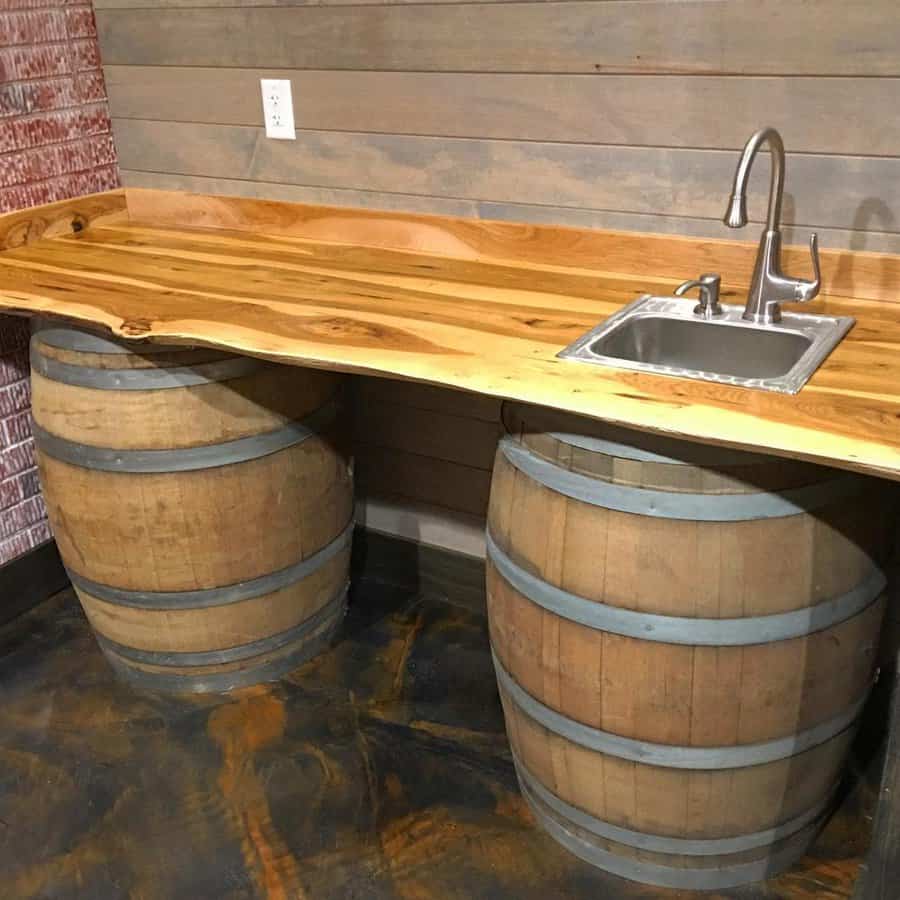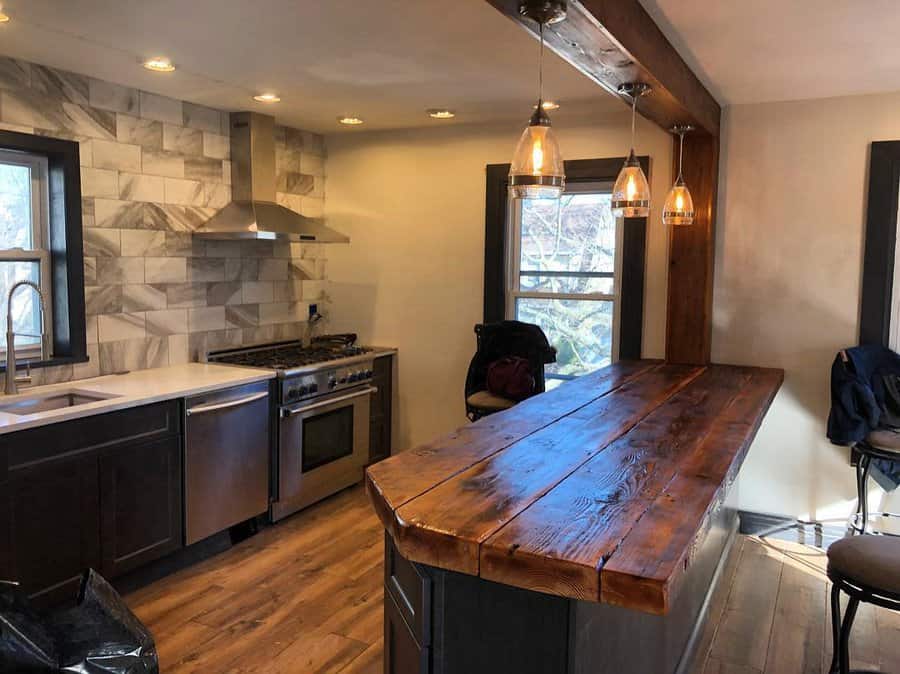 2. Dark Stained Wood Countertops for a Bold Statement
As soon as you enter the kitchen, the dark-stained wood countertop immediately draws your attention. Its rich, deep tone exudes a sense of warmth and comfort that's hard to resist. The way the wood has been crafted conjures up images of skilled artisans working meticulously to create a masterpiece.
The smooth surface invites you to run your fingers across it, feeling the natural grains and textures of the wood beneath your skin. You can't help but feel a sense of satisfaction knowing that this countertop will endure the test of time and will continue to add a touch of elegance to the space for years to come. It's not just a piece of wood, it's a work of art.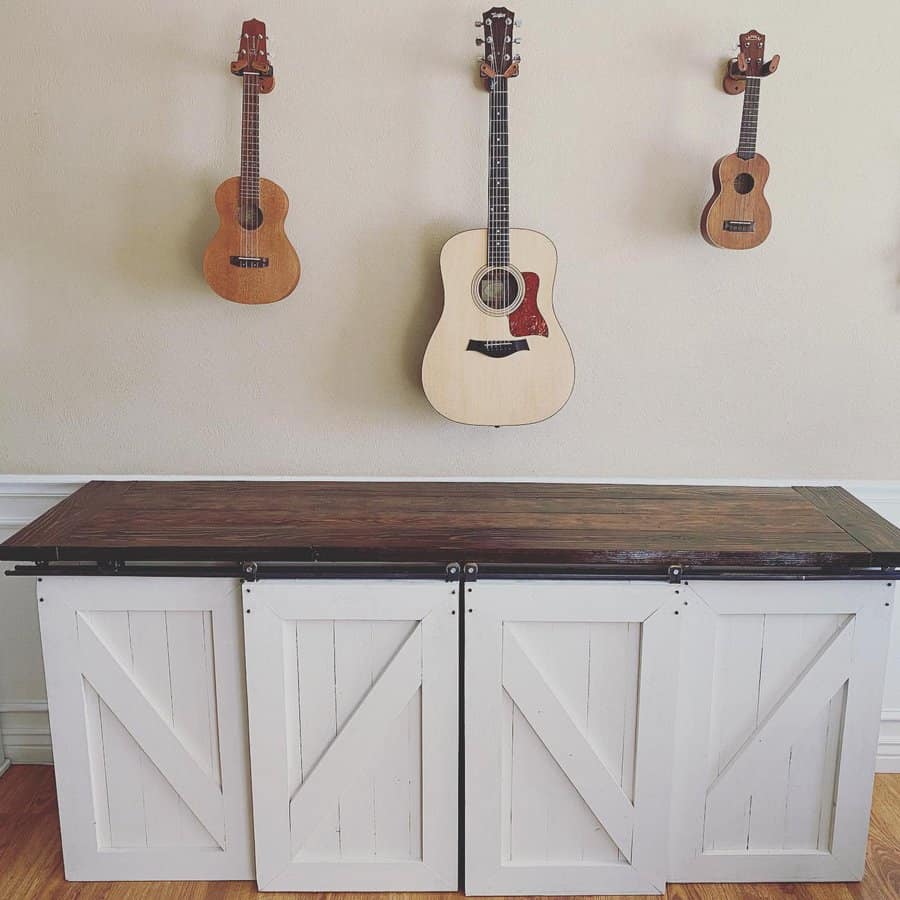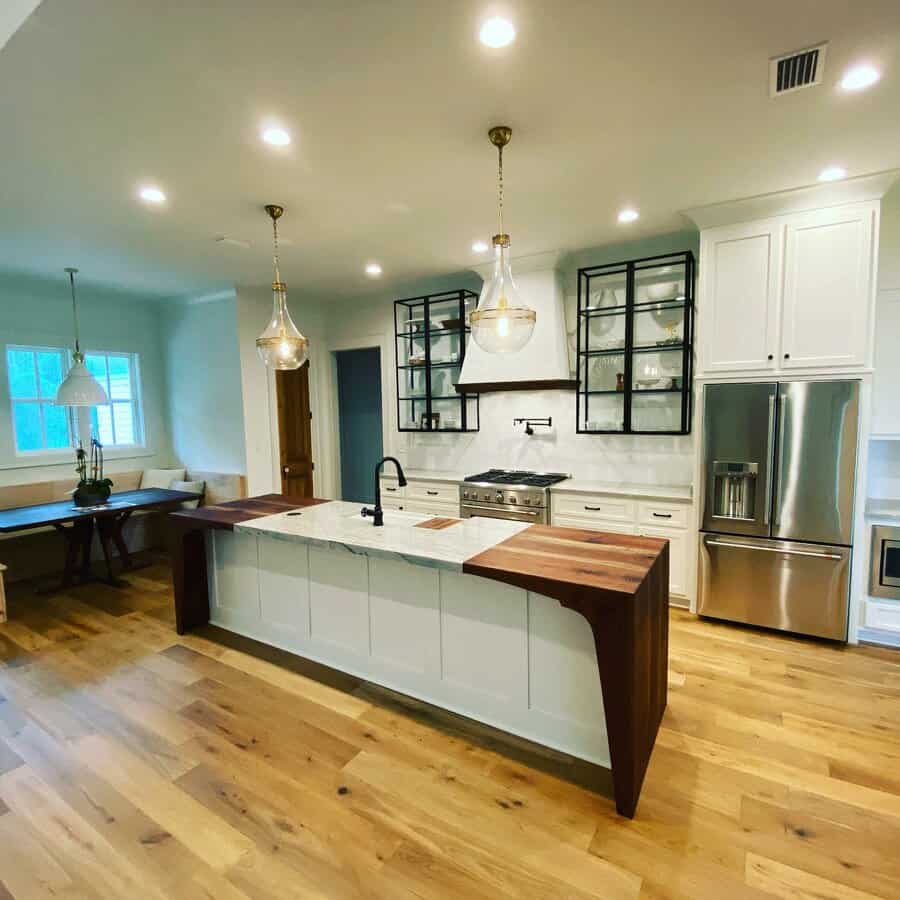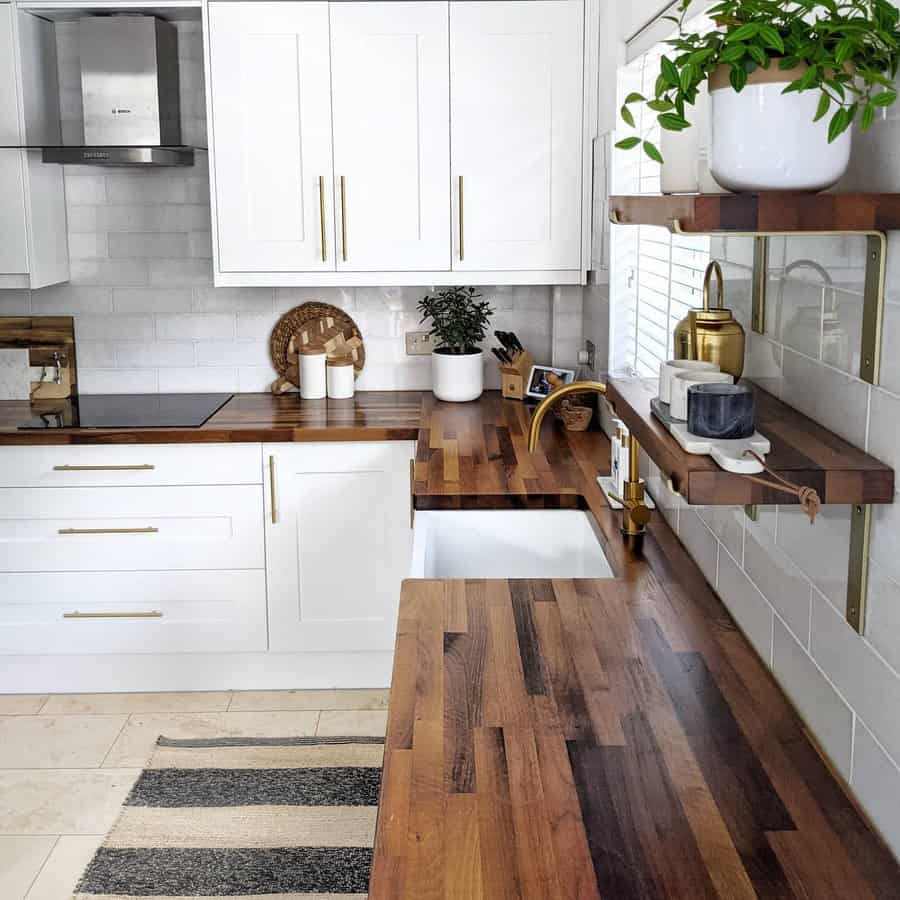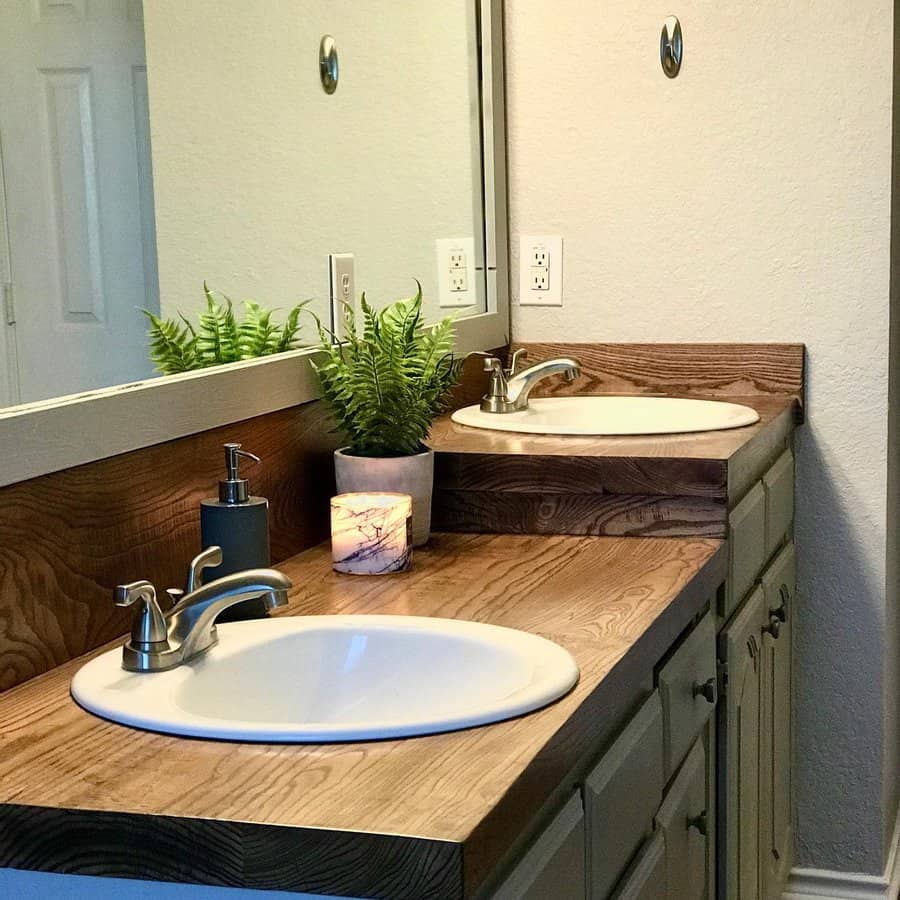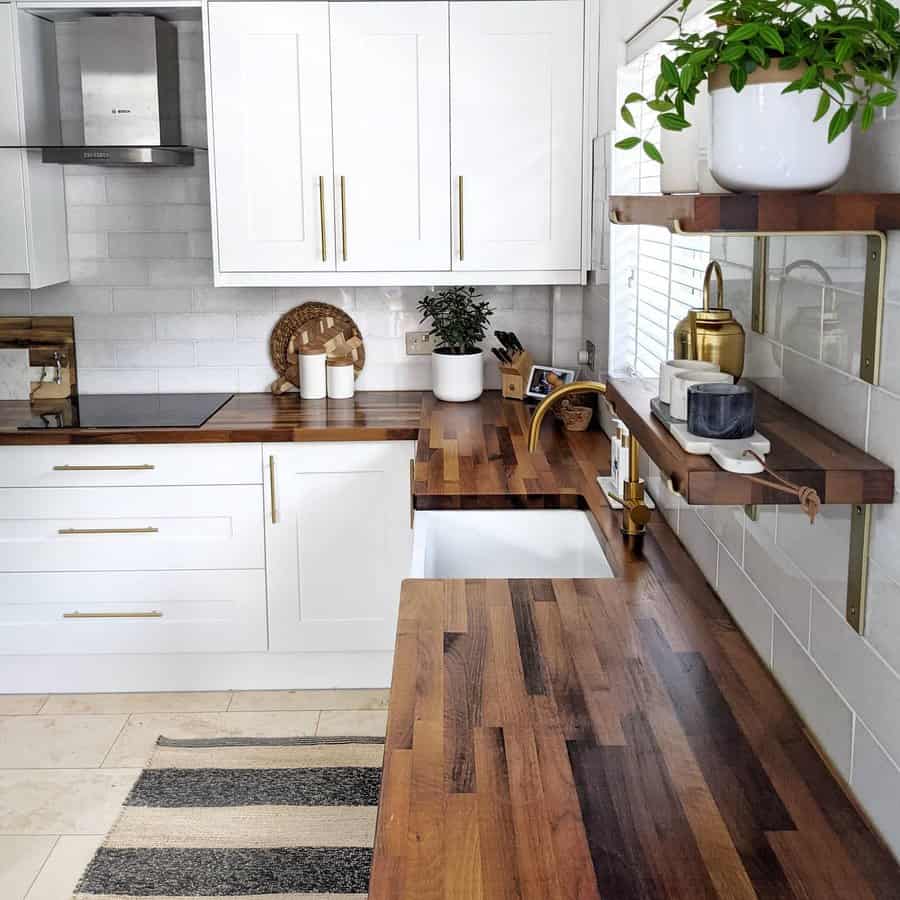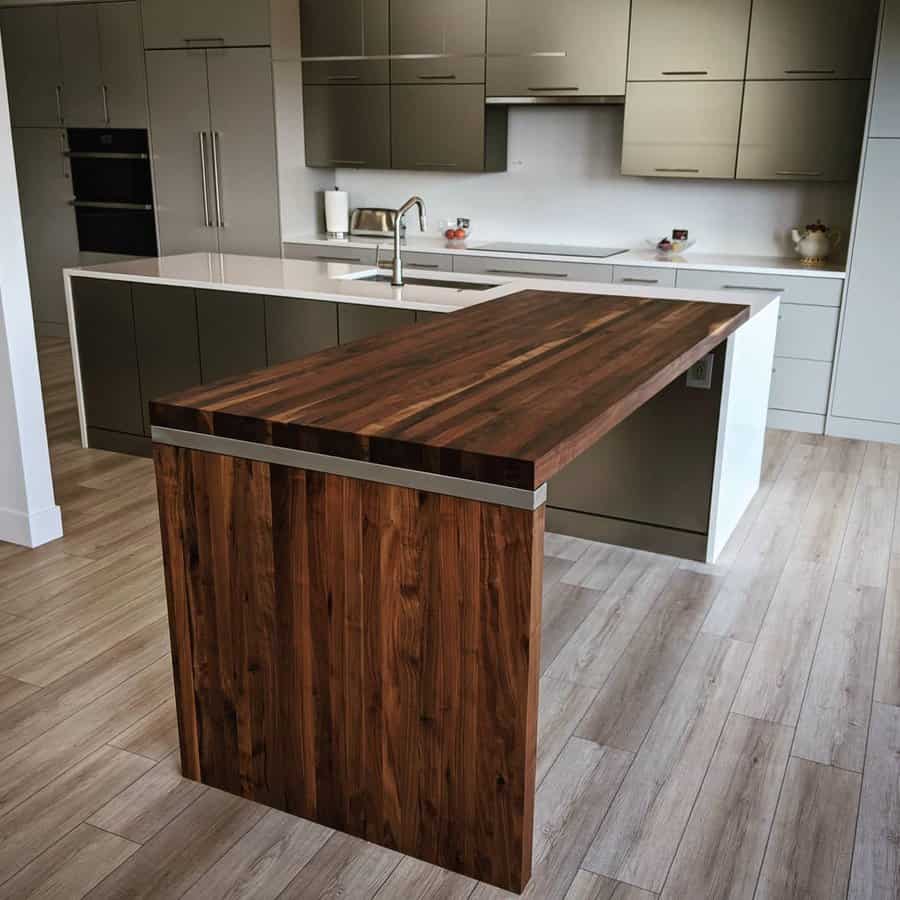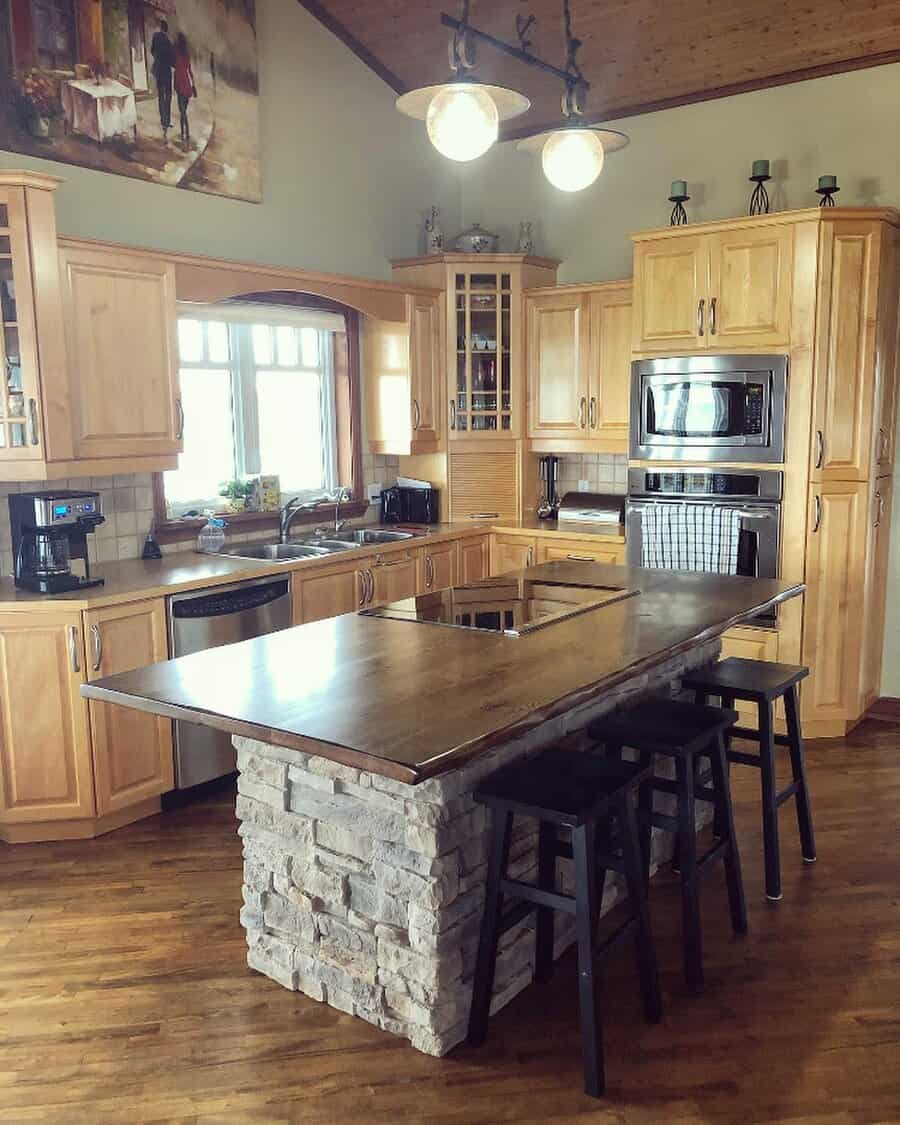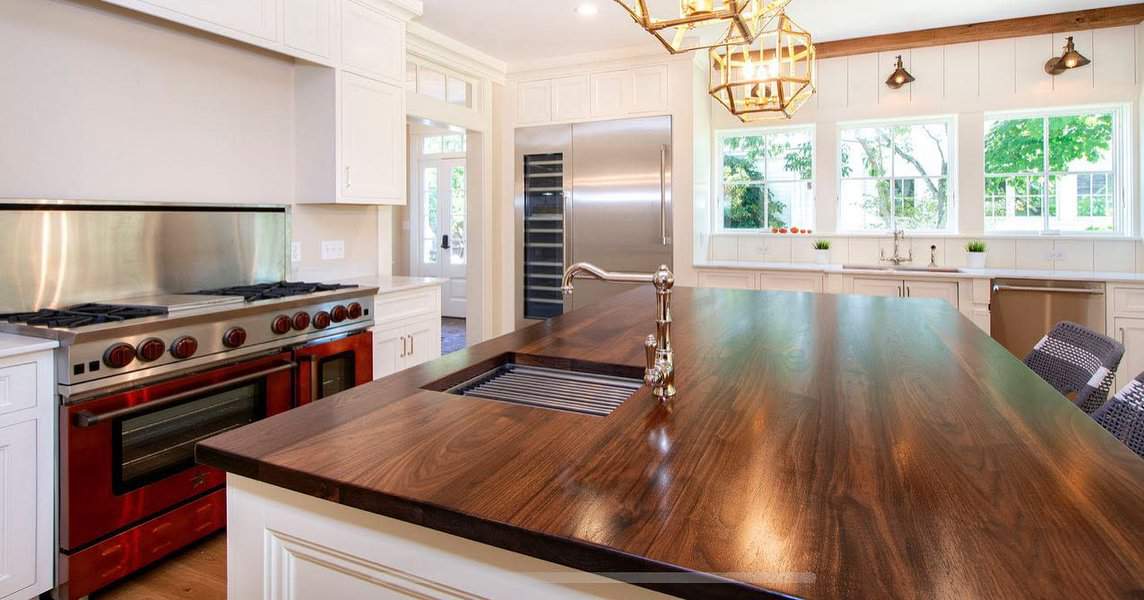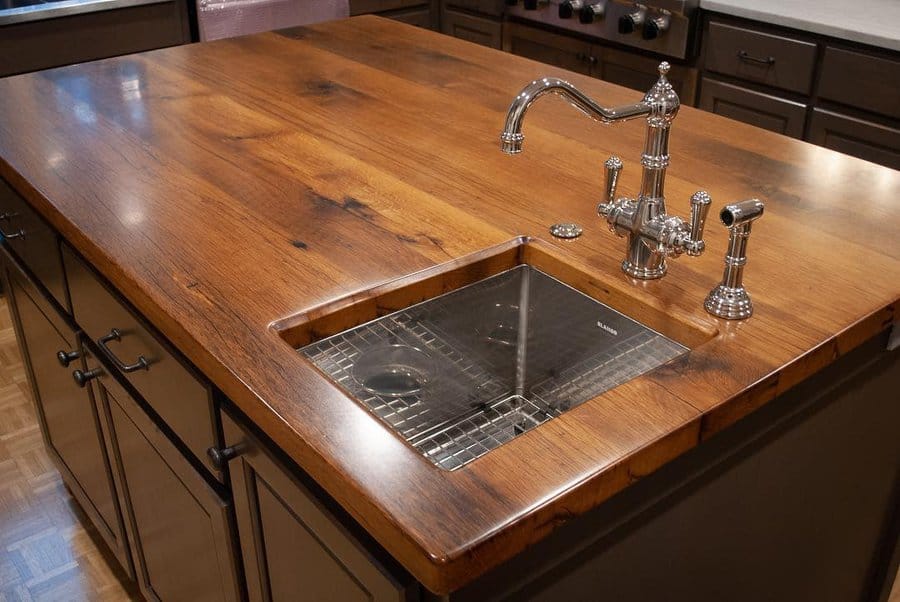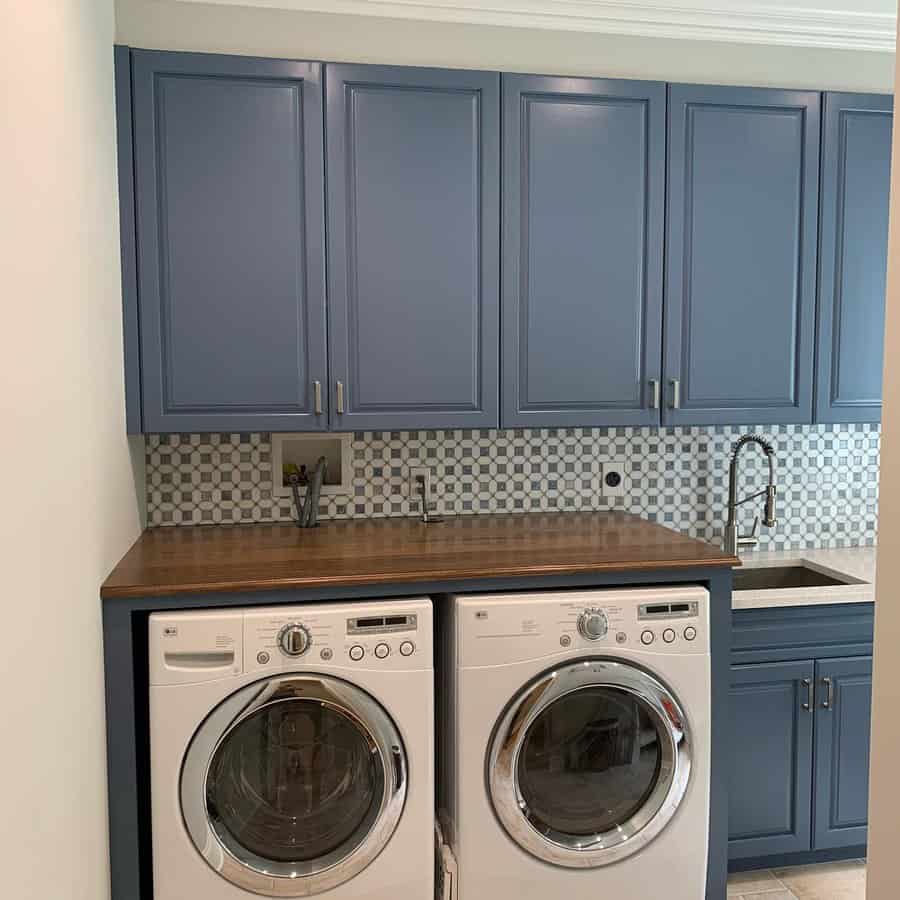 3. Maple Stained Wood Countertops for a Warm Glow
When it comes to adding warmth and charm to your kitchen, there's nothing quite like a maple-stained wood countertop. With its rich colors ranging from honey-toned to deep caramel, this classic design element adds a rustic elegance to any space.
Each unique slab of wood has its own character, making every countertop a work of art. Not only is it visually appealing, but it's also functional, as wood is naturally resistant to bacteria and germs. The smooth surface of the wood adds an organic feel to the kitchen, perfect for food prep or enjoying your morning coffee.
Whether your kitchen has a modern or traditional aesthetic, a maple-stained wood countertop is sure to steal the show.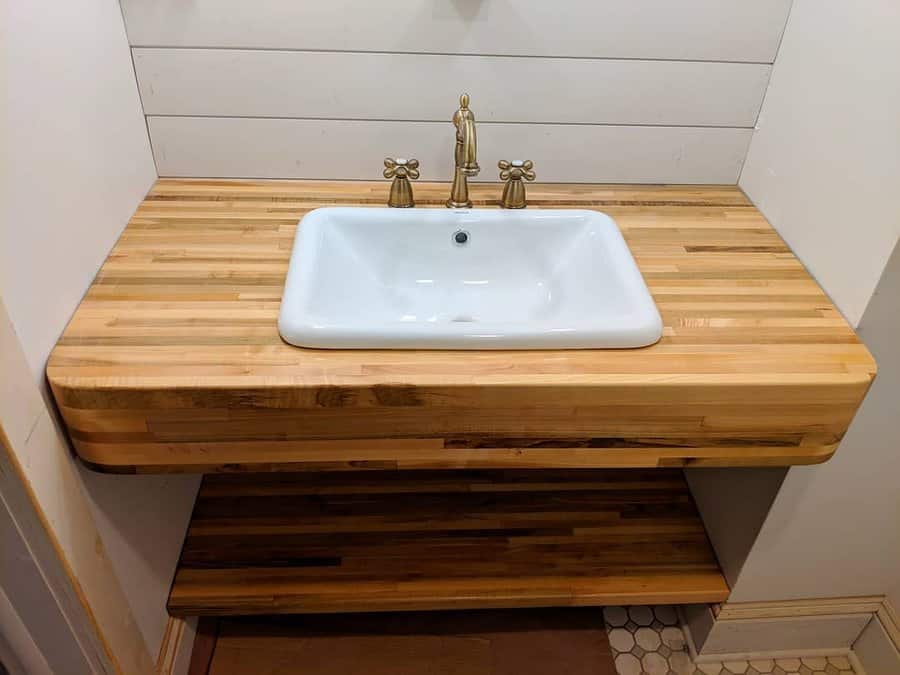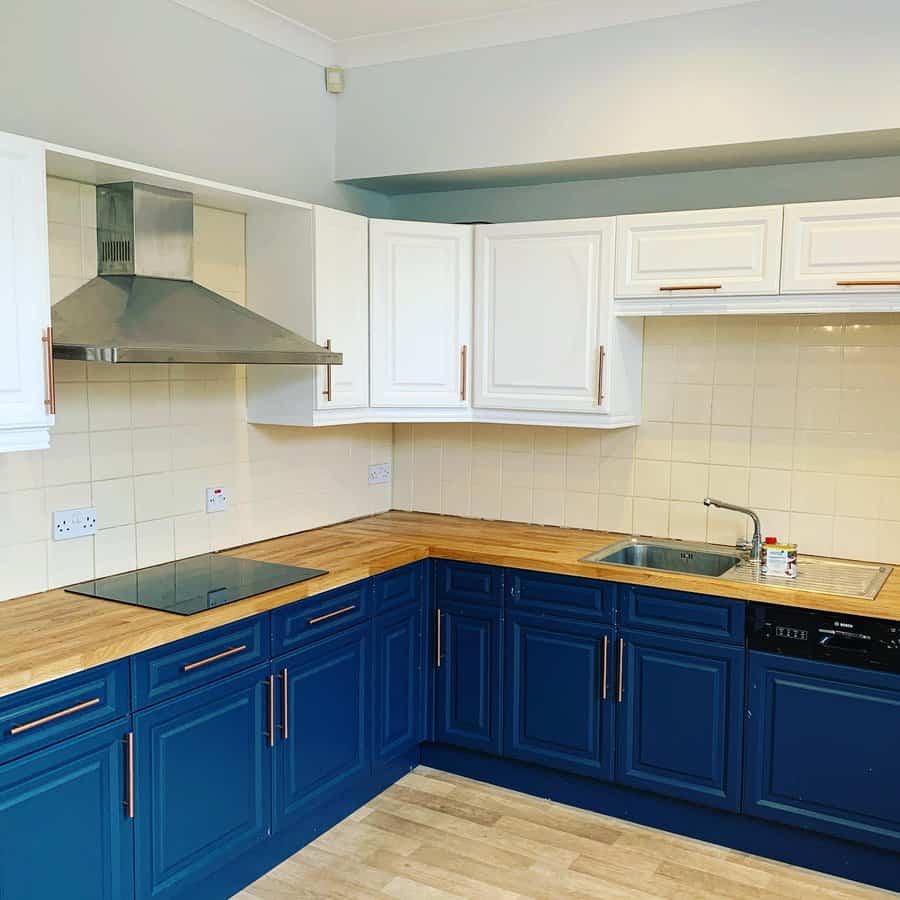 4. Distressed Wood Countertops for a Timeless Appeal
The distressed wood countertop is a statement piece that adds character and warmth to any kitchen. With its rustic charm, it creates a natural focal point that draws the eye of any visitor. It's not just a countertop, but a work of art that tells a story of years gone by.
Weathered by time and use, the distressed wood brings a touch of nostalgia to your modern home. Each scratch and imperfection adds to its allure, making it a one-of-a-kind masterpiece that you can proudly display.
It's not just a functional surface, but a reflection of your love for unique design and a nod to the beauty of imperfection. If you want to add depth and texture to your kitchen, a distressed wood countertop is a way to go.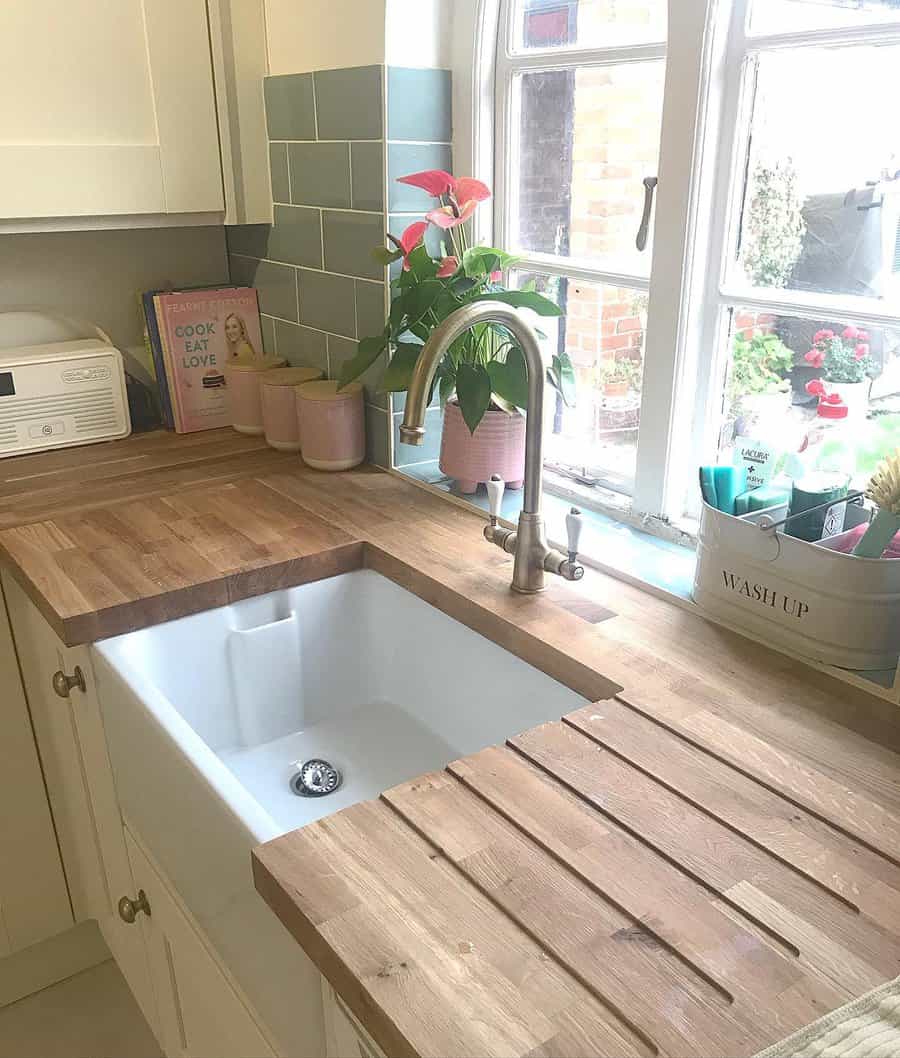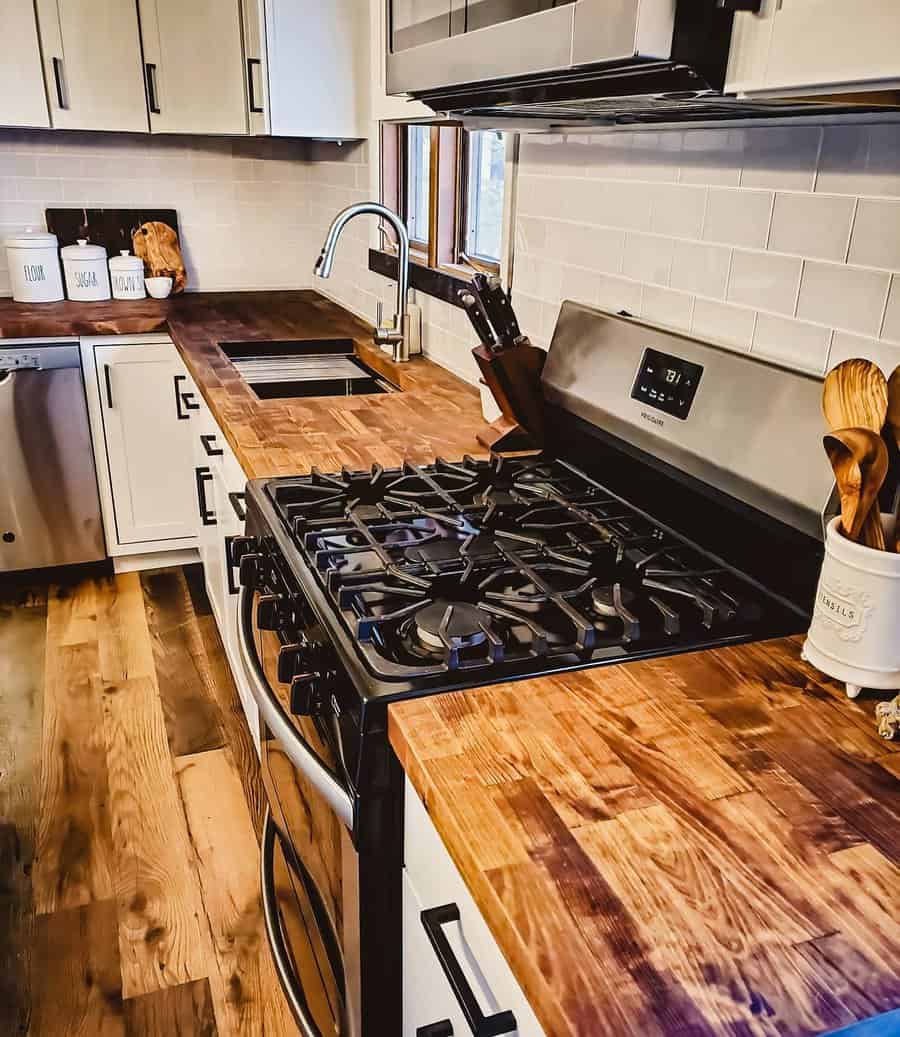 5. Butcher Block Wood Countertops For A Classic Look
A butcher block wood countertop can add character and warmth to any kitchen. Its durability and versatility make it an excellent choice for those who love to cook and entertain.
Imagine chopping up your favorite fruits and vegetables on this beautiful surface, feeling the weight of the knife hit the solid wood. Or, picture rolling out the dough for homemade bread on this countertop, feeling the smoothness of the wood under your palms. The possibilities are endless with a butcher block wood countertop.
It can transform your kitchen into a space that is both elegant and functional, all while bringing a touch of the outdoors inside. So, if you want to bring a rustic and charming feel to your home, consider investing in a butcher block wood countertop for your kitchen.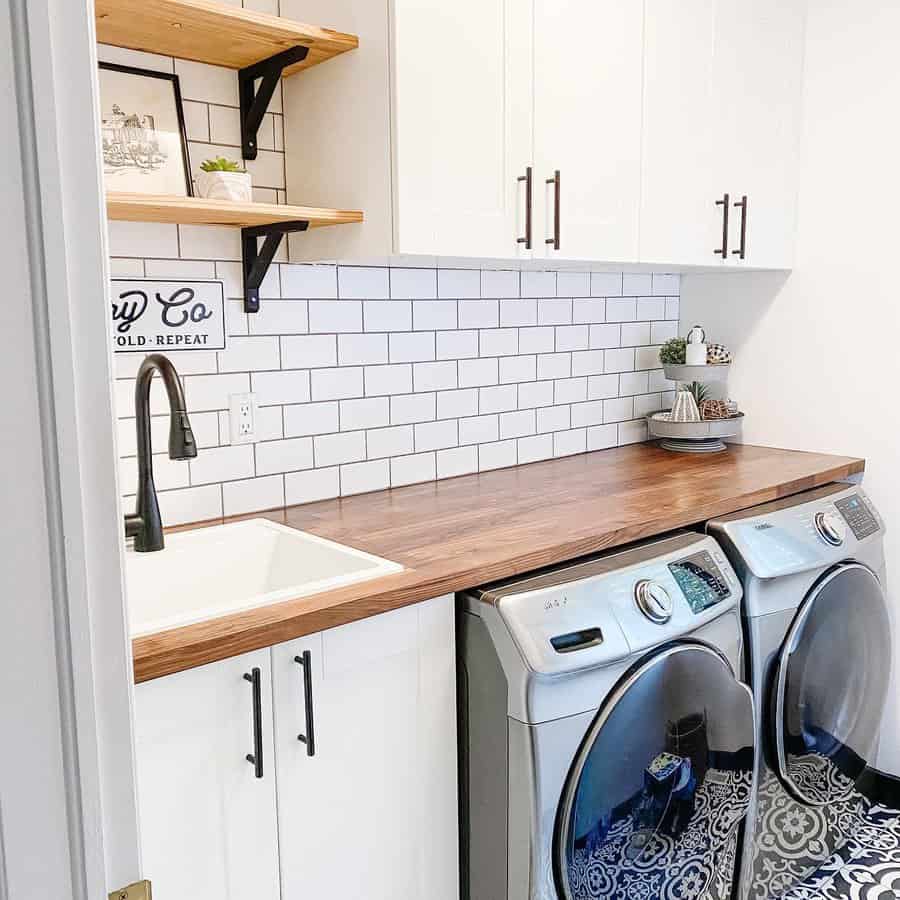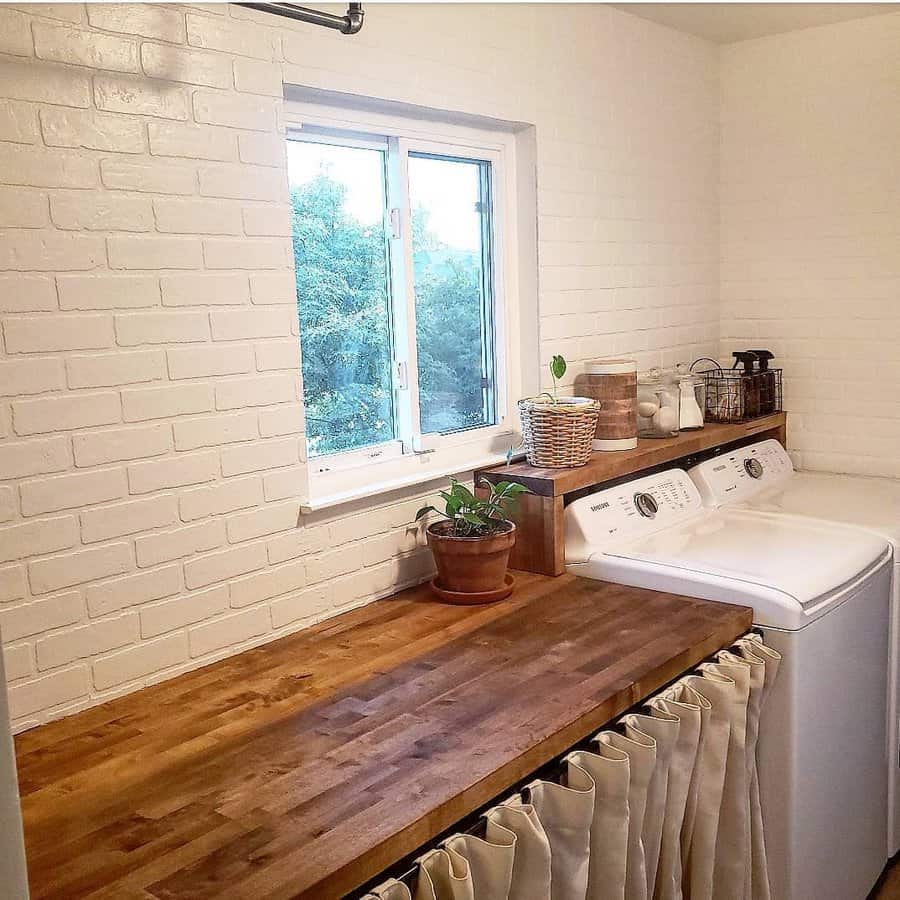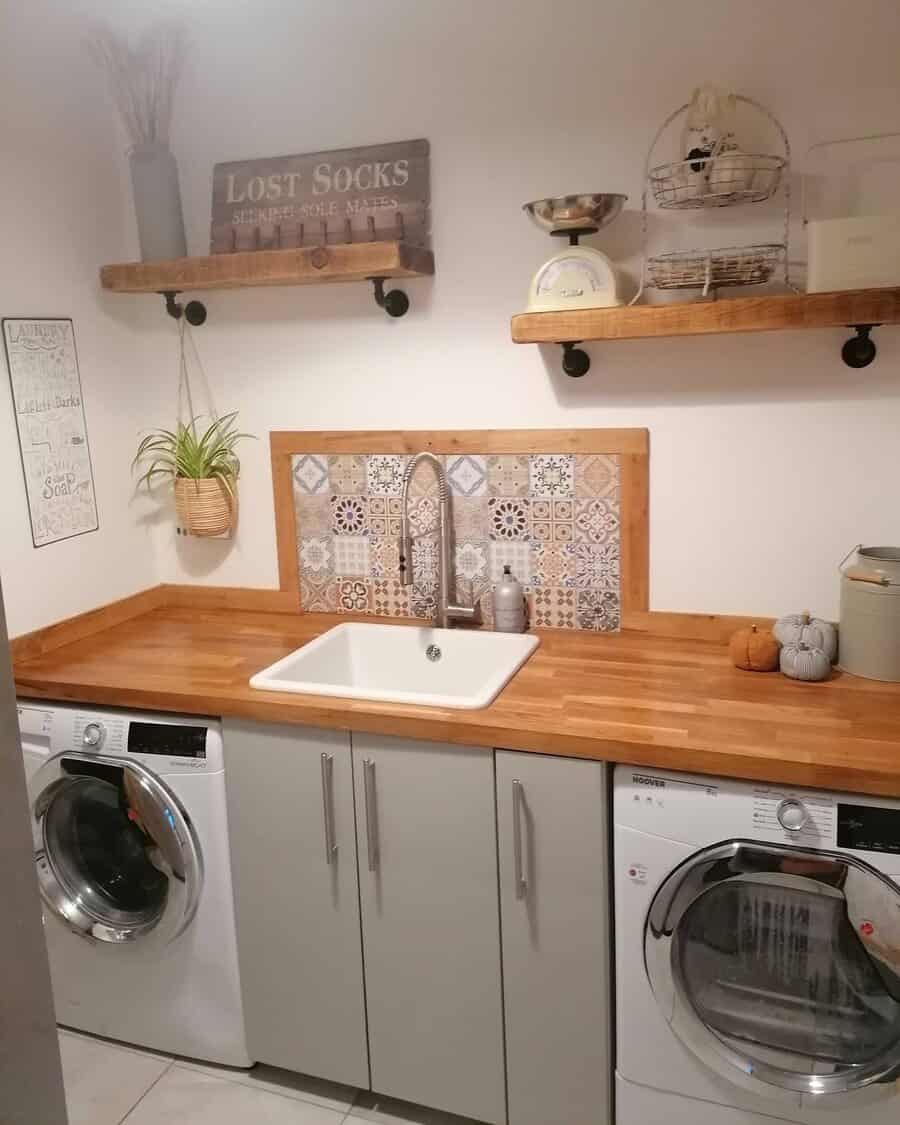 6. Live Edge Wood Countertops for Natural Appeal
The beauty of nature meets functional design with a live-edge wood countertop. This stunning piece of craftsmanship brings the warmth and character of the forest right into your home. Each unique edge showcases the natural contours of the tree, giving your kitchen or bar area an organic and earthy feel.
Not only is a live edge countertop a work of art, but it is also durable and versatile, able to withstand the daily wear and tear of a busy household. Whether you are preparing a family meal, hosting a party, or simply admiring the natural beauty of your countertop, a live-edge wood countertop is sure to impress.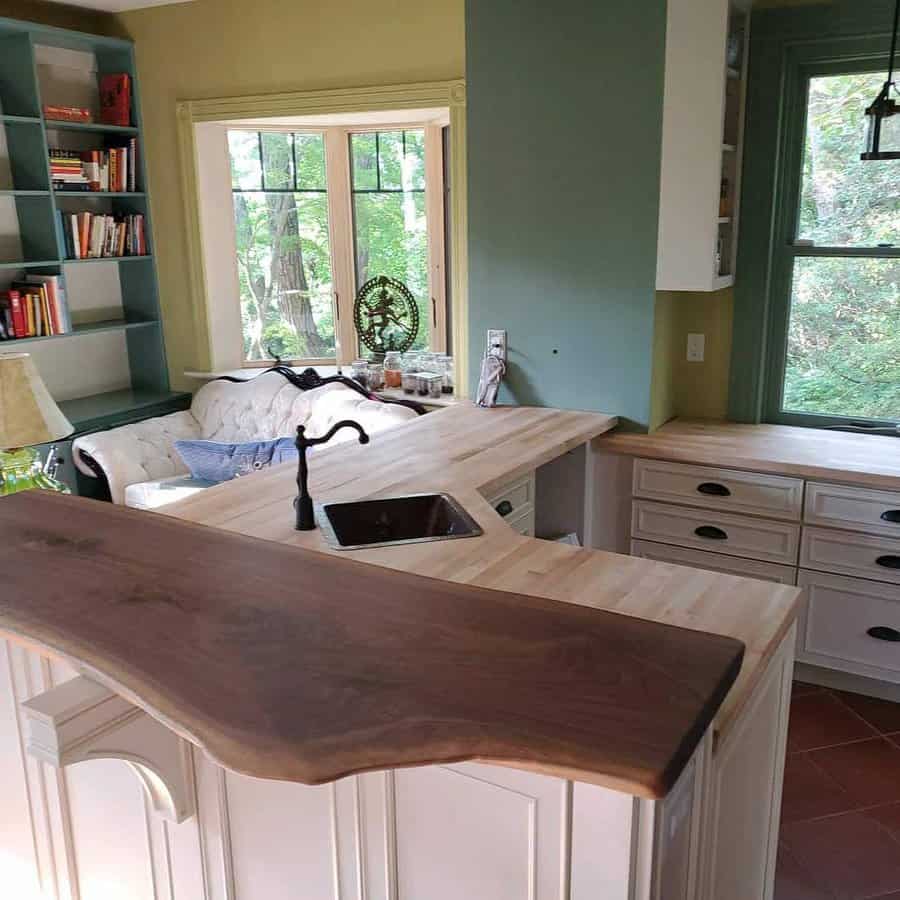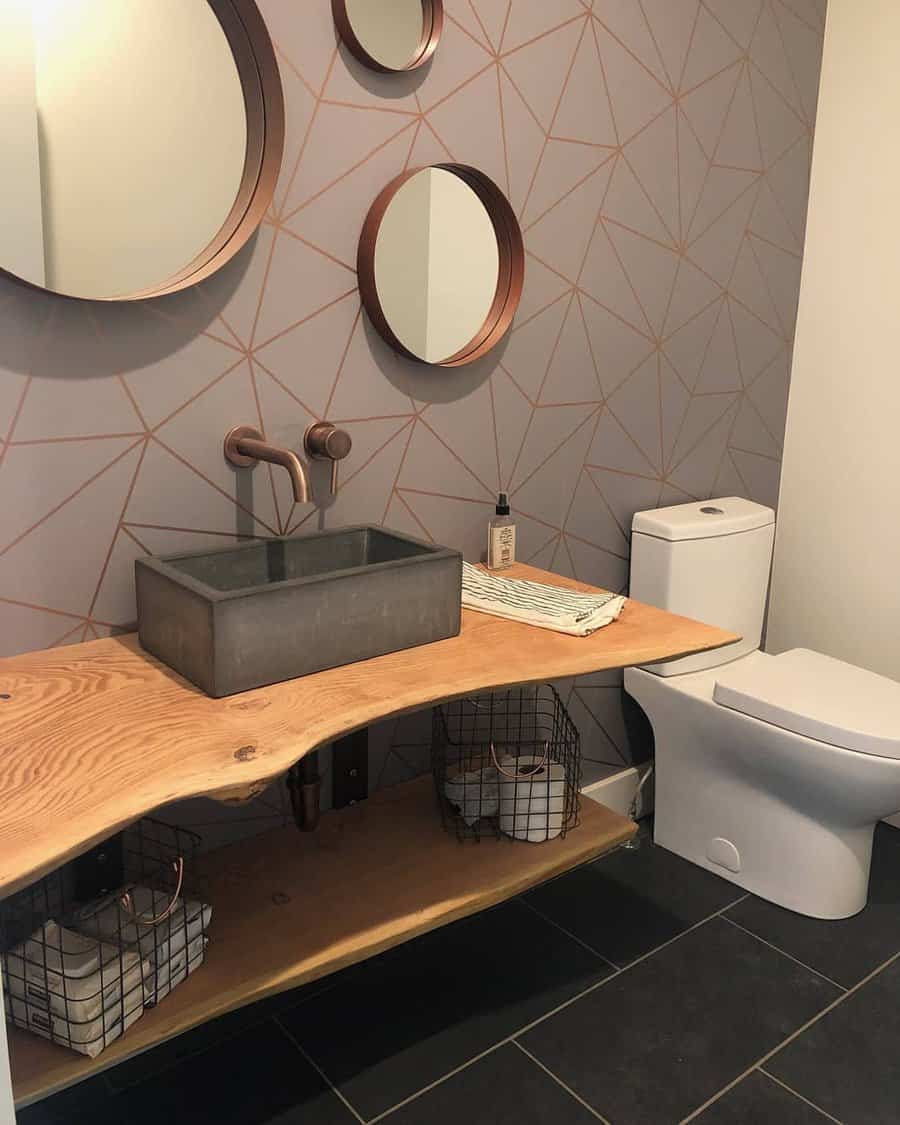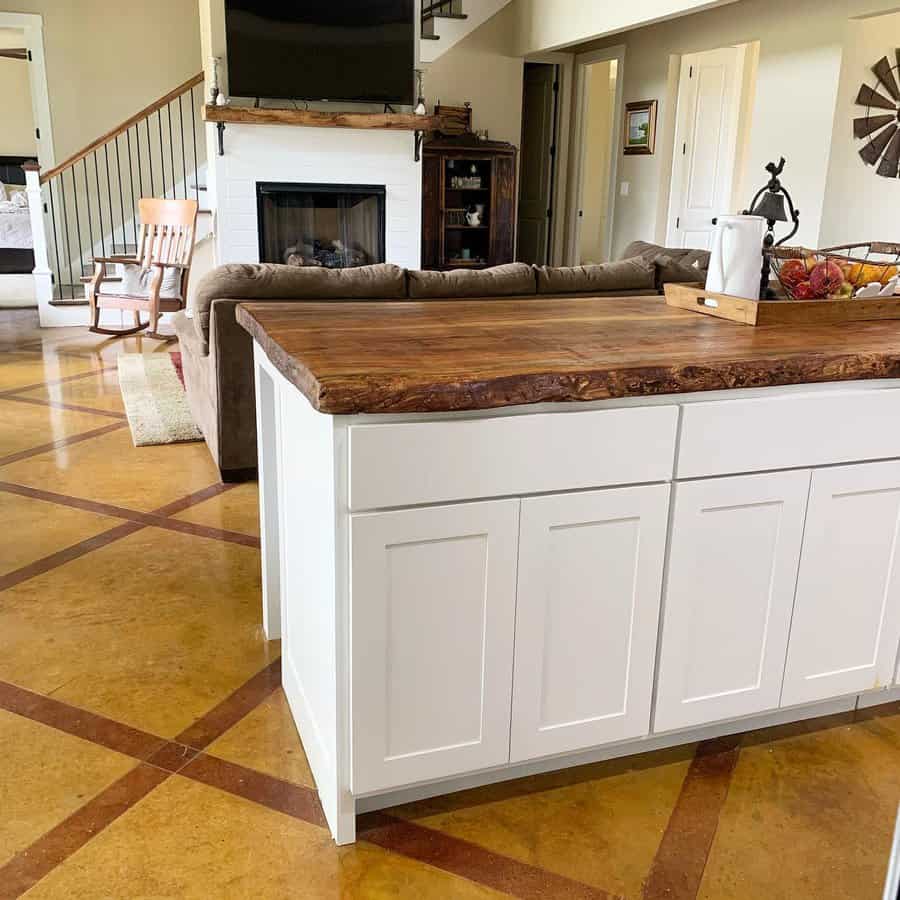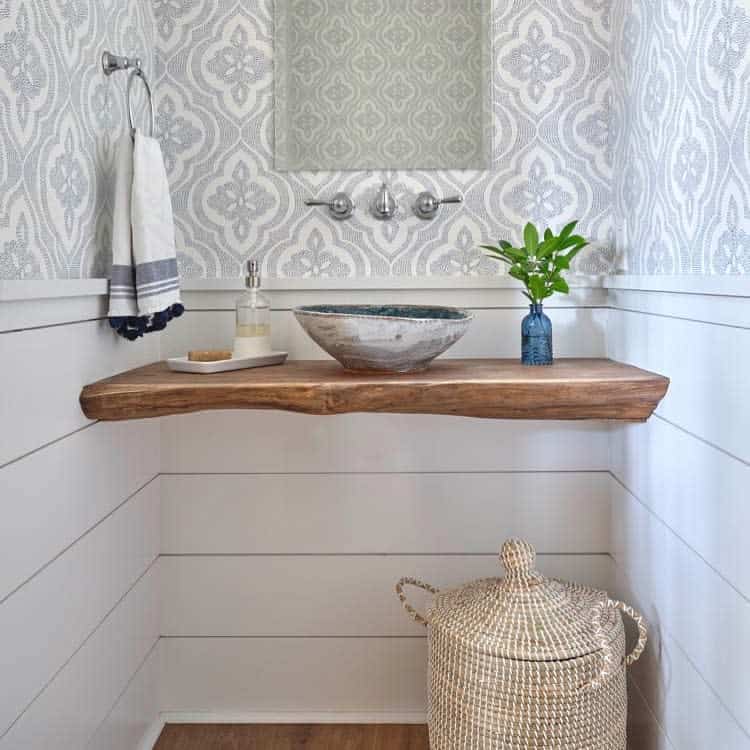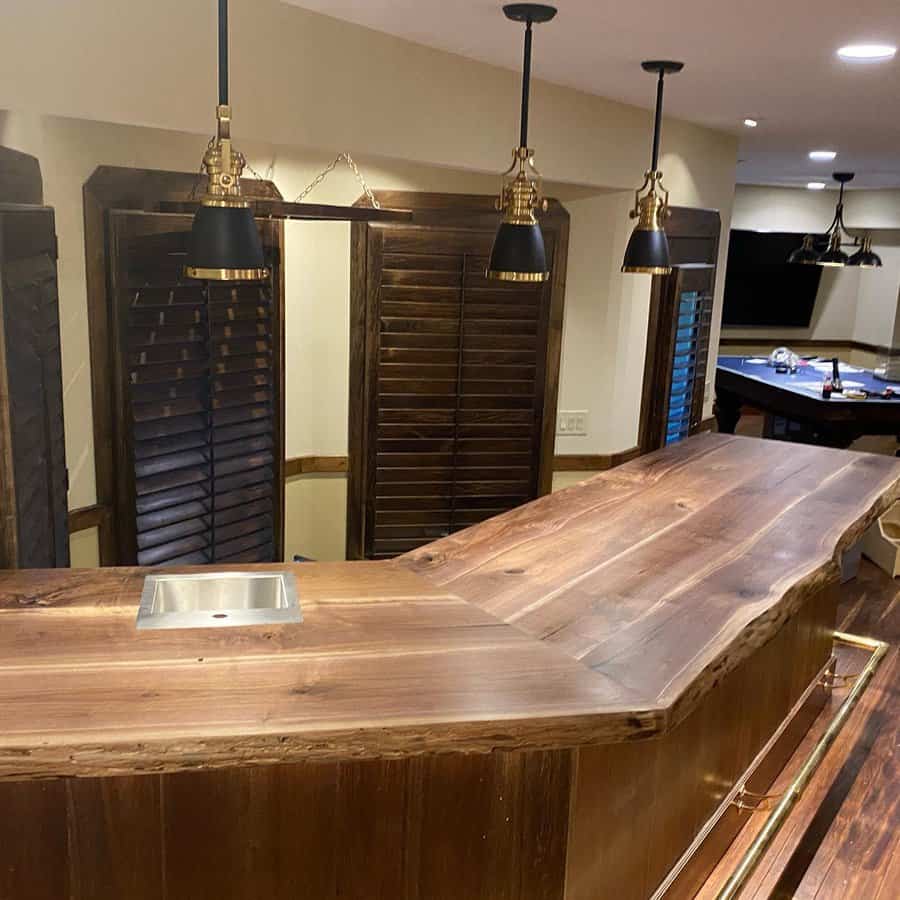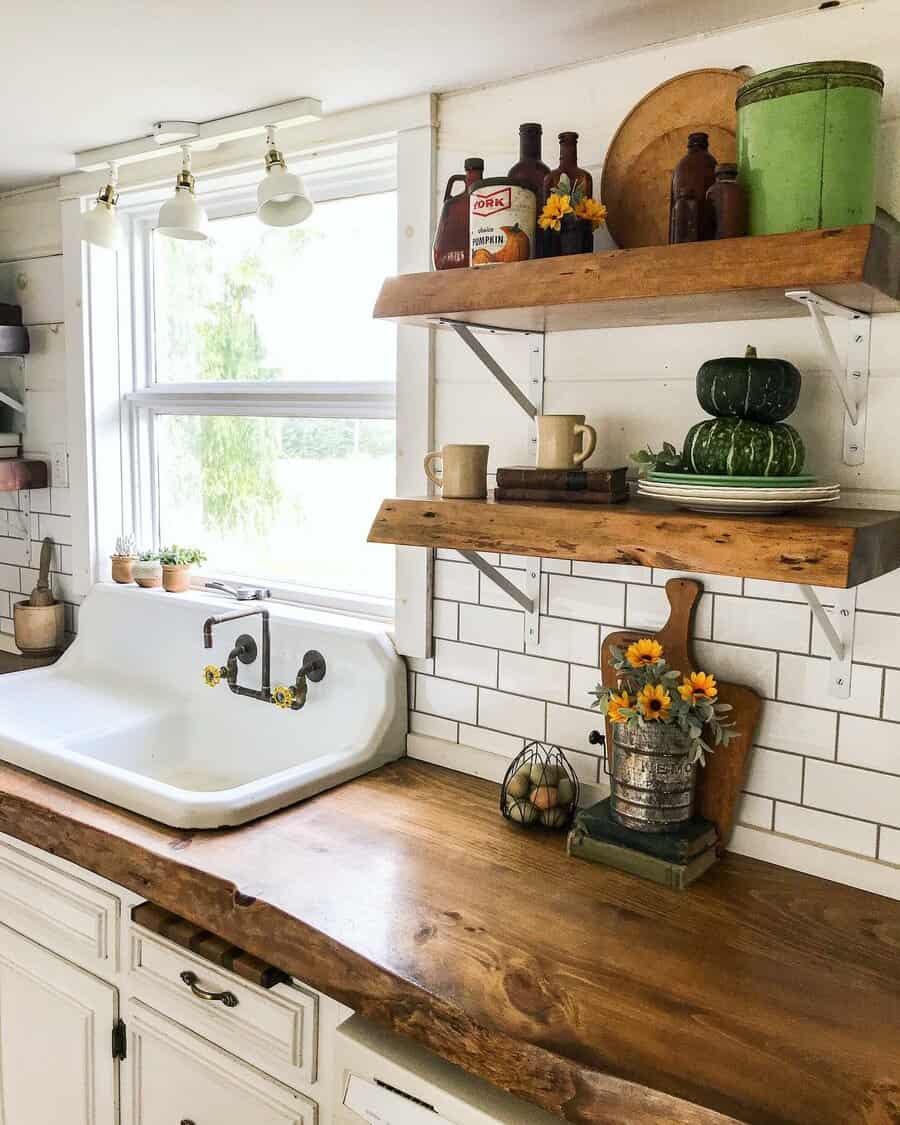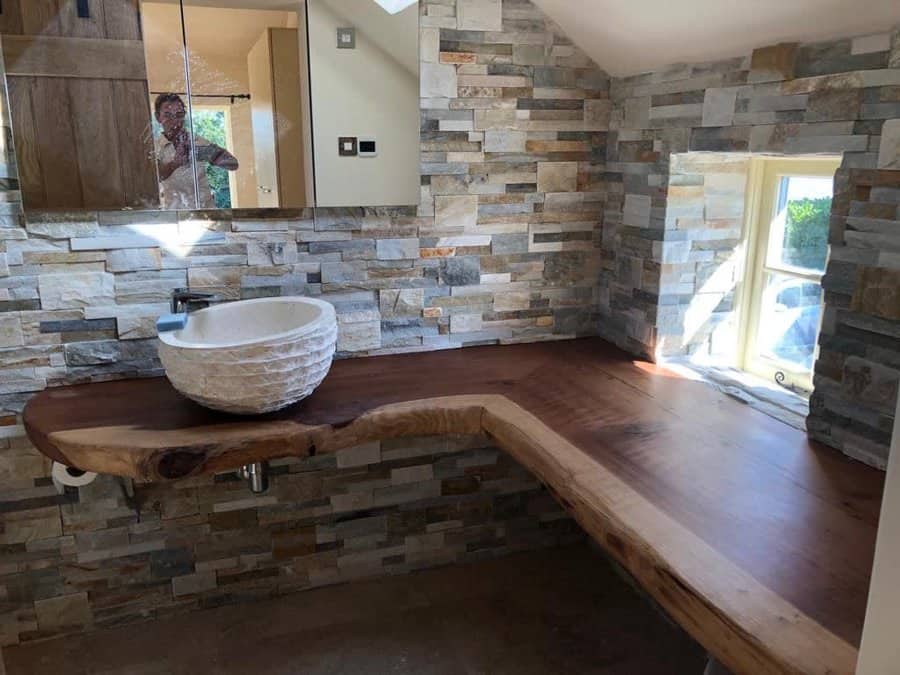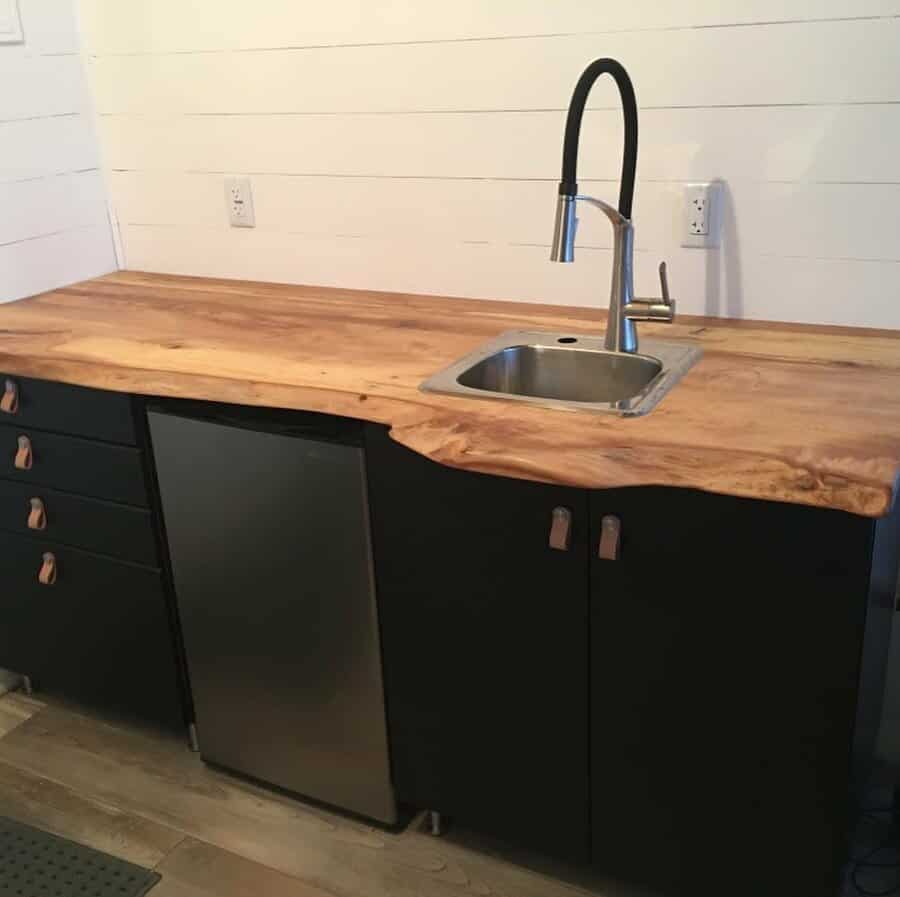 7. Matte-Finish Wood Countertops To Mask Spills
Picture this: you walk into your kitchen and your eyes are drawn to the stunning matte-finish countertop that takes center stage. It's smooth to the touch and the light doesn't reflect off of it in a harsh glare like with traditional glossy finishes.
The subdued texture provides a sense of sophistication that's unmatched. Whether you're preparing a meal or simply standing in admiration, this countertop elevates the entire space by masking potential spills. With its unique texture, the matte-finish countertop is anything but ordinary, making it the perfect choice for those seeking a creative touch in their home.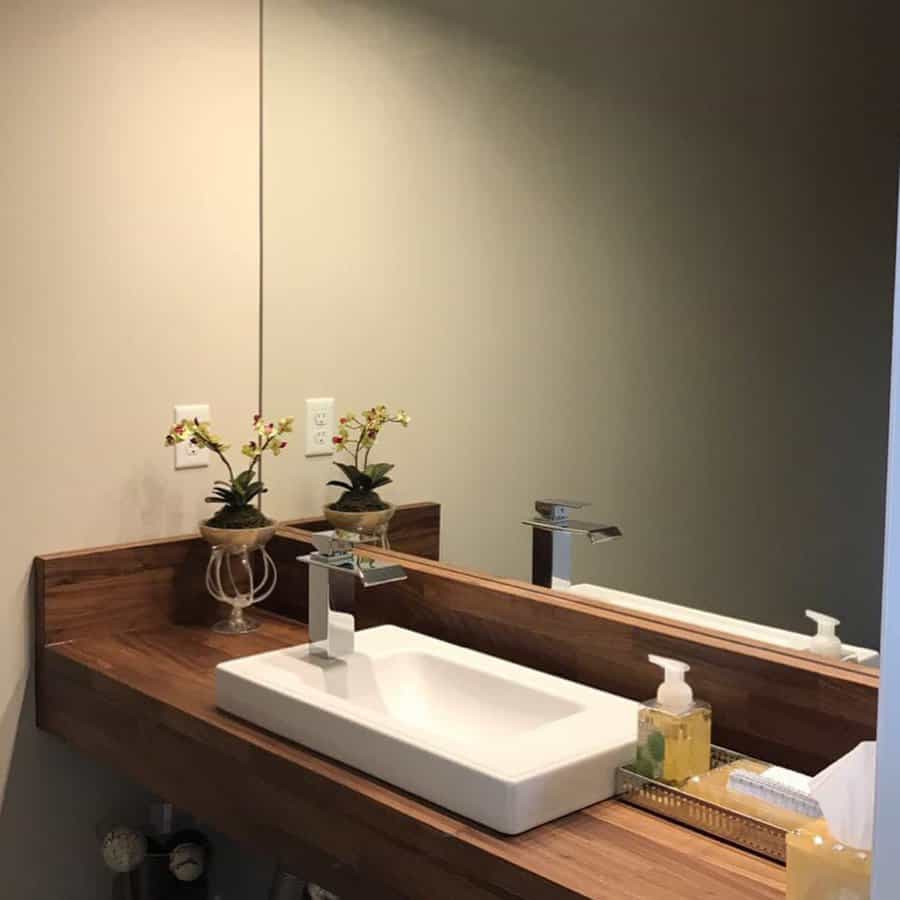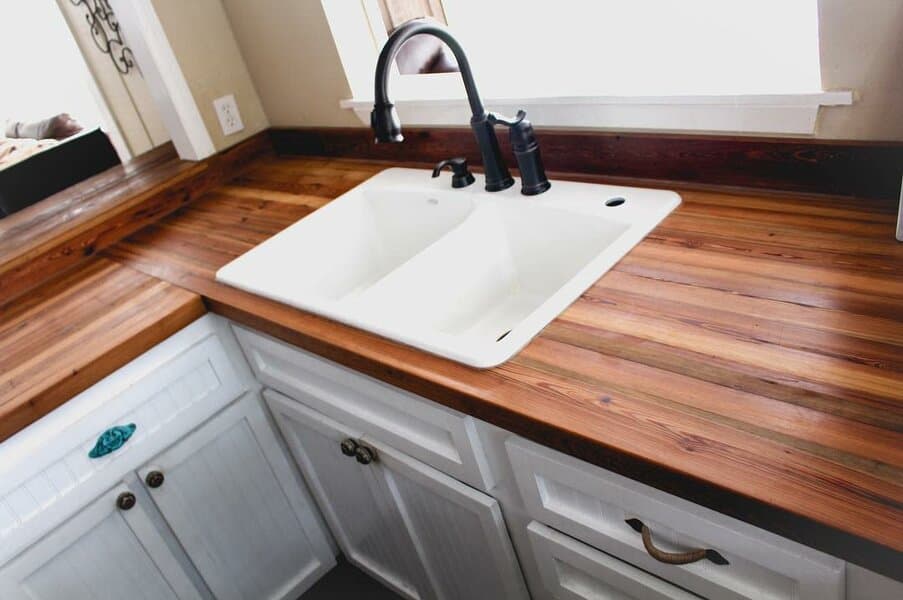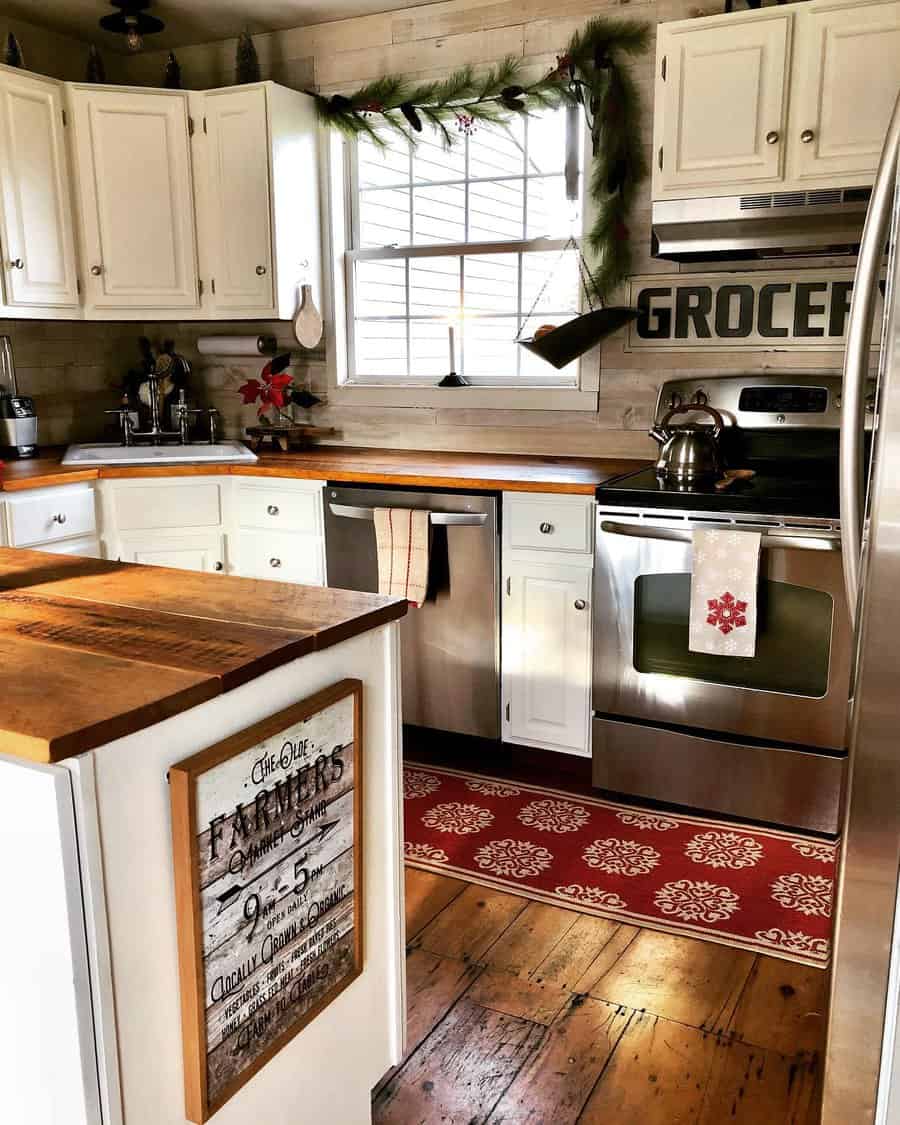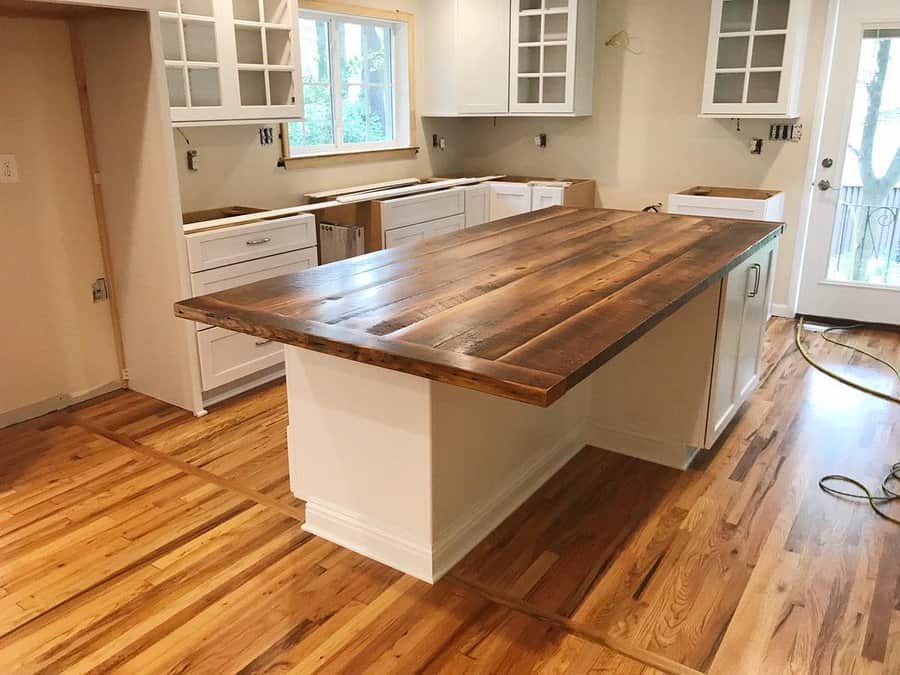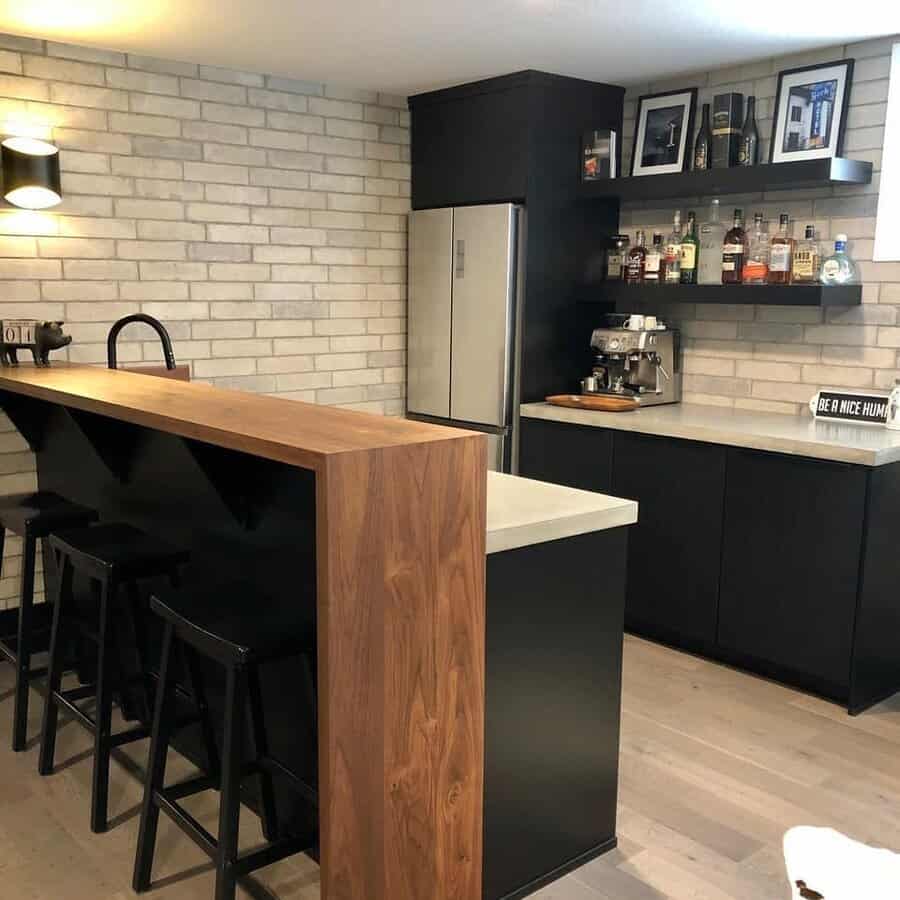 8. Two-Toned Wood Countertops for Visual Interest
The beauty of a dual-toned wood countertop is nothing short of creativity in action. The harmonious blend of two contrasting wood tones brings character and elegance to your kitchen space. It's like having your own piece of art on display, inviting you to marvel at its smooth finish and unique pattern.
You can match it with any cabinetry or kitchen accessories, knowing that it will always manage to stand out in its own way. There's no shortage of creativity when it comes to designing your kitchen and a dual-toned wood countertop is an excellent way to elevate its aesthetic appeal.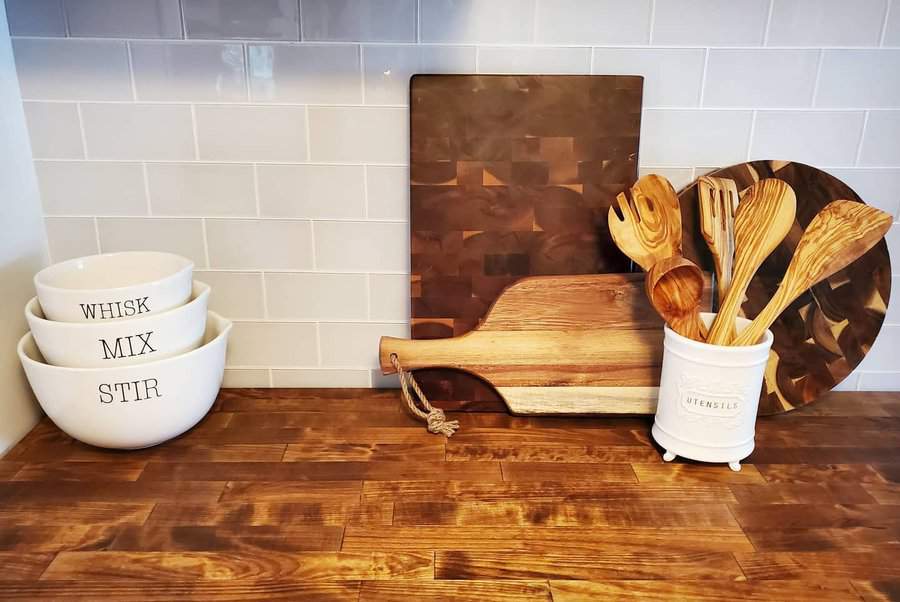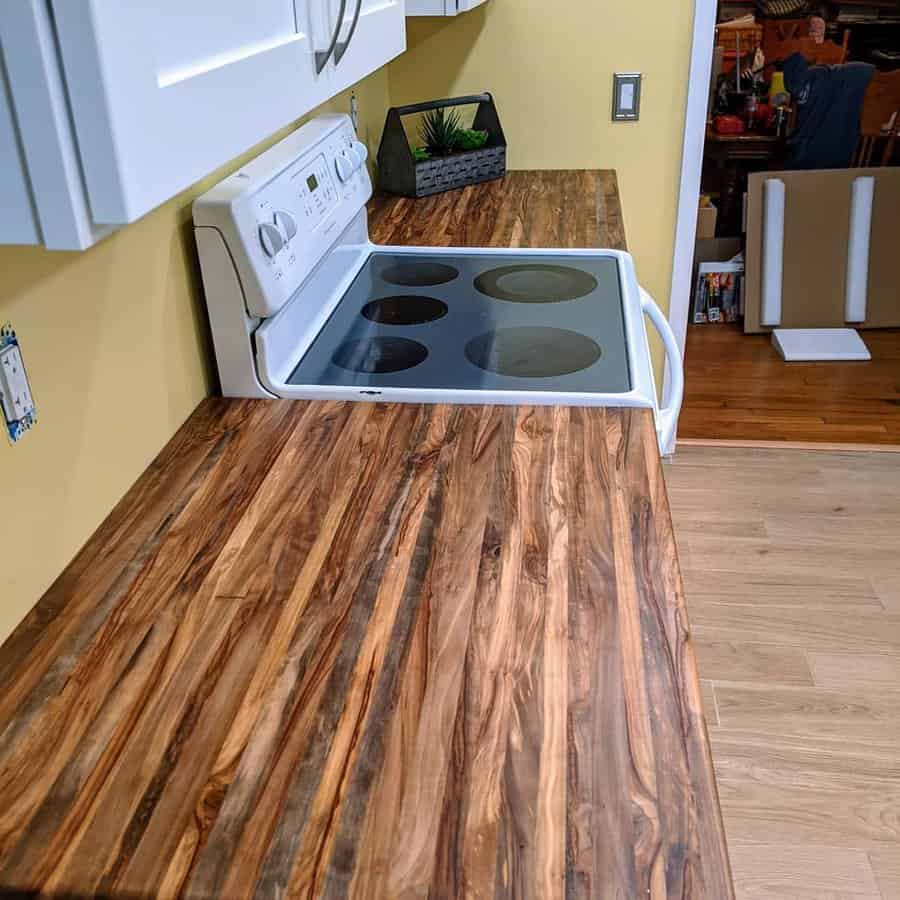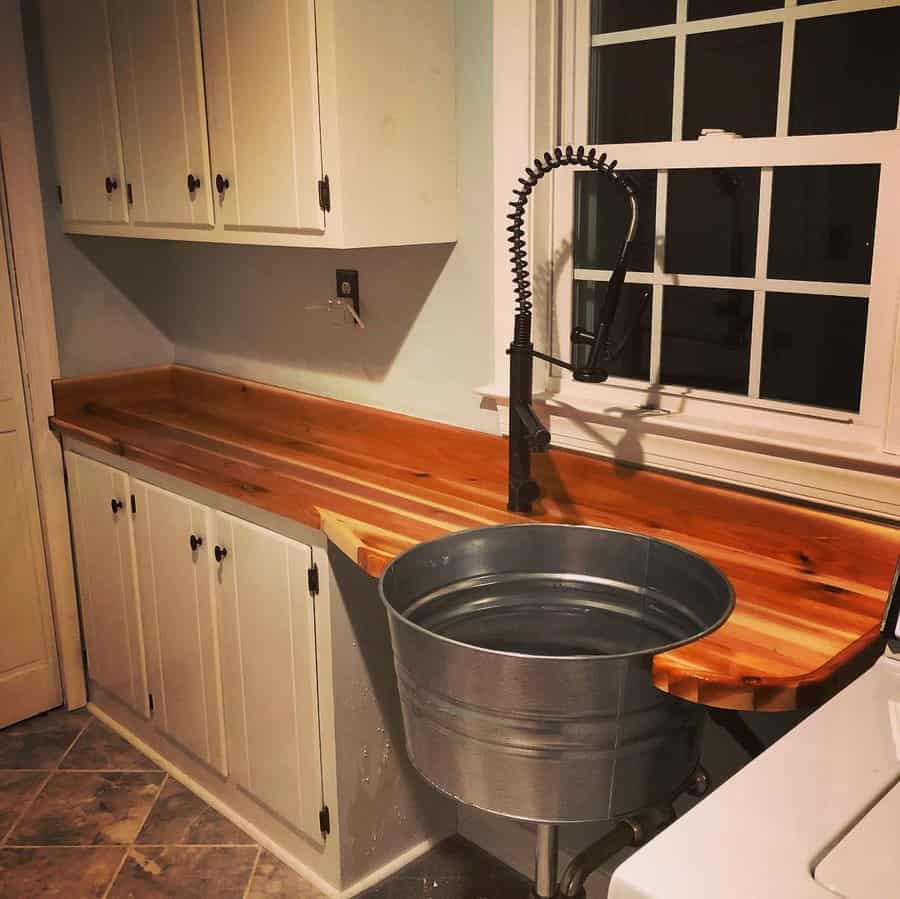 9. Reclaimed Wood Countertops for Eco-Friendly Kitchens
There's something undeniably charming about a weathered wood surface; maybe it's the way it tells a story of a past life or the way it adds a rustic touch to a modern space. Whatever the reason, reclaimed wood countertops have become a hot item in the world of interior design.
Not only are they eco-friendly (recycling at its finest!), but they add a unique character to any kitchen or bar area. Each knot, nail hole, and crack has a story to tell, making every countertop truly one-of-a-kind.
Whether you choose a rough-hewn look or a smooth finish, a reclaimed wood countertop is sure to be a conversation starter and a focal point in your home. So why not add a touch of history to your kitchen?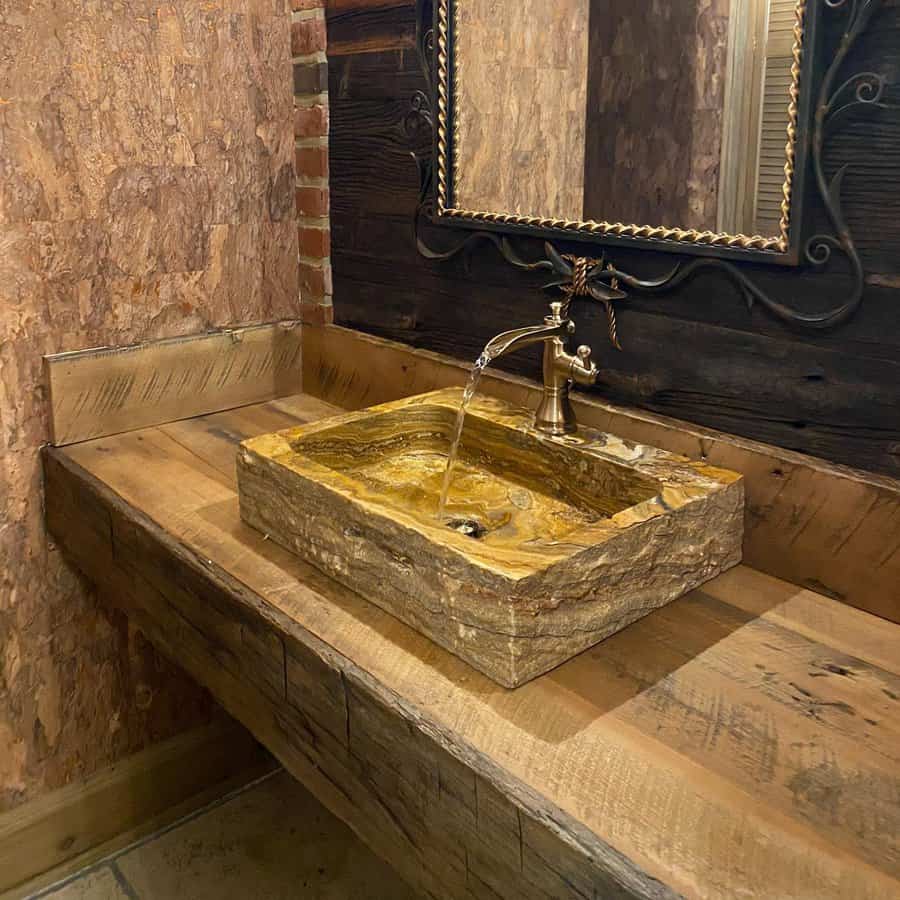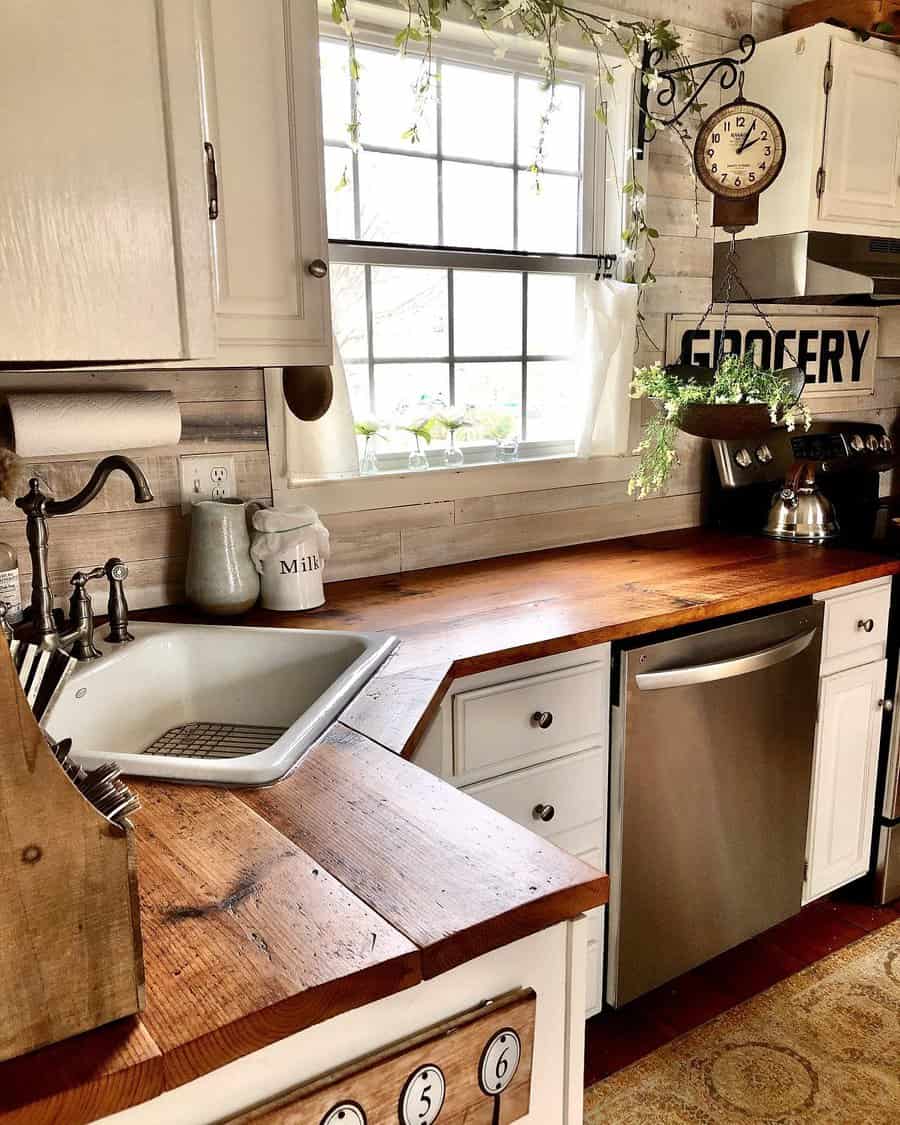 10. Light Stained Wood Countertops for a Soft Touch
If you're looking for a unique twist to elevate your kitchen décor, consider installing a light-stained wood countertop. The light, natural tones and textures of wood bring a cozy and inviting atmosphere to any kitchen.
Not only do these countertops add visual interest, but they are also a sustainable option for those looking to reduce their environmental footprint.
This countertop is a work of art that not only adds functionality but also elevates the aesthetic appeal of your space. It's a piece that signifies nature's beauty and brings a touch of rustic elegance into your home.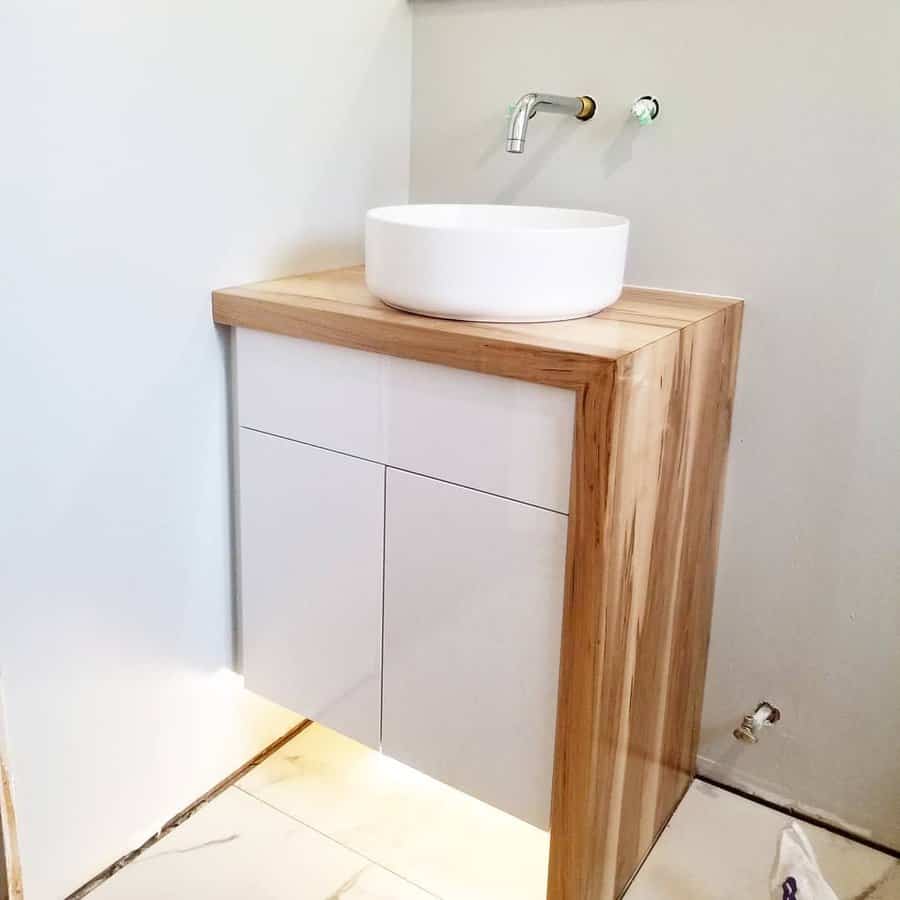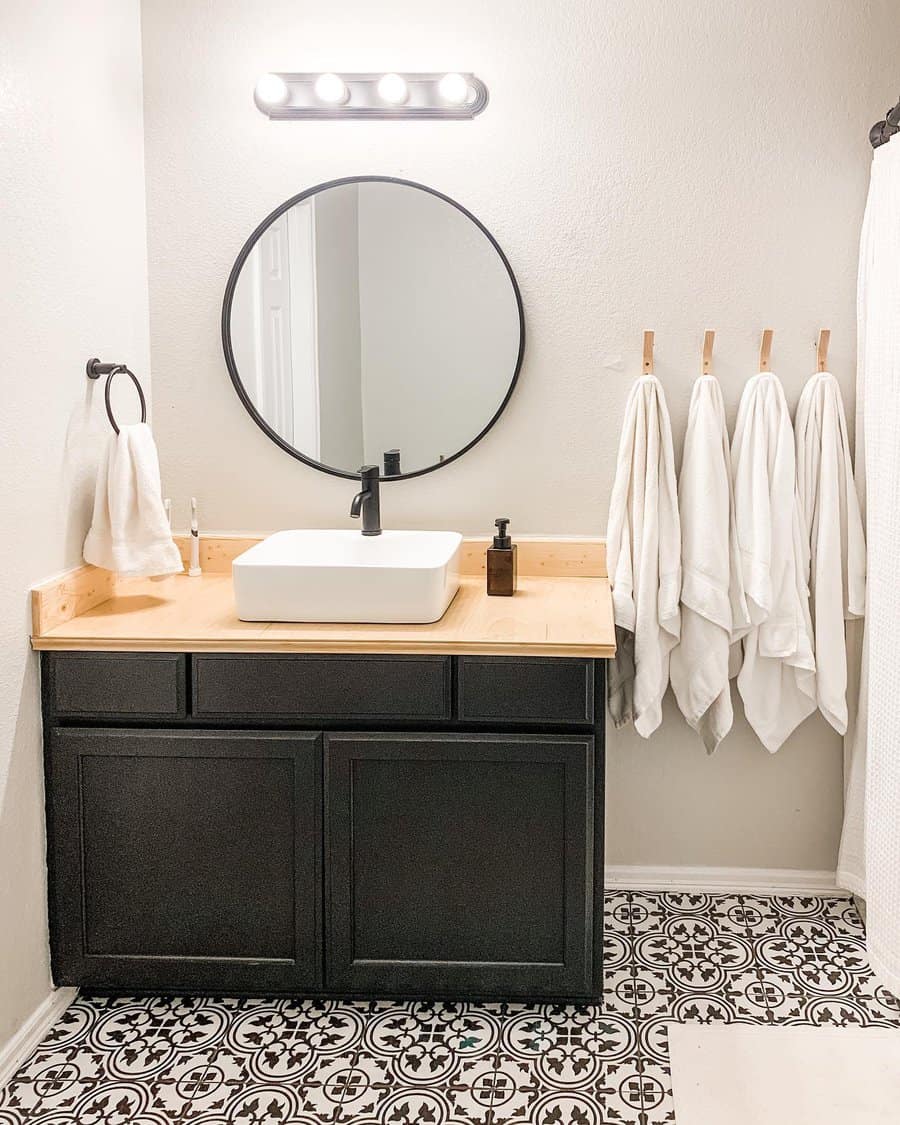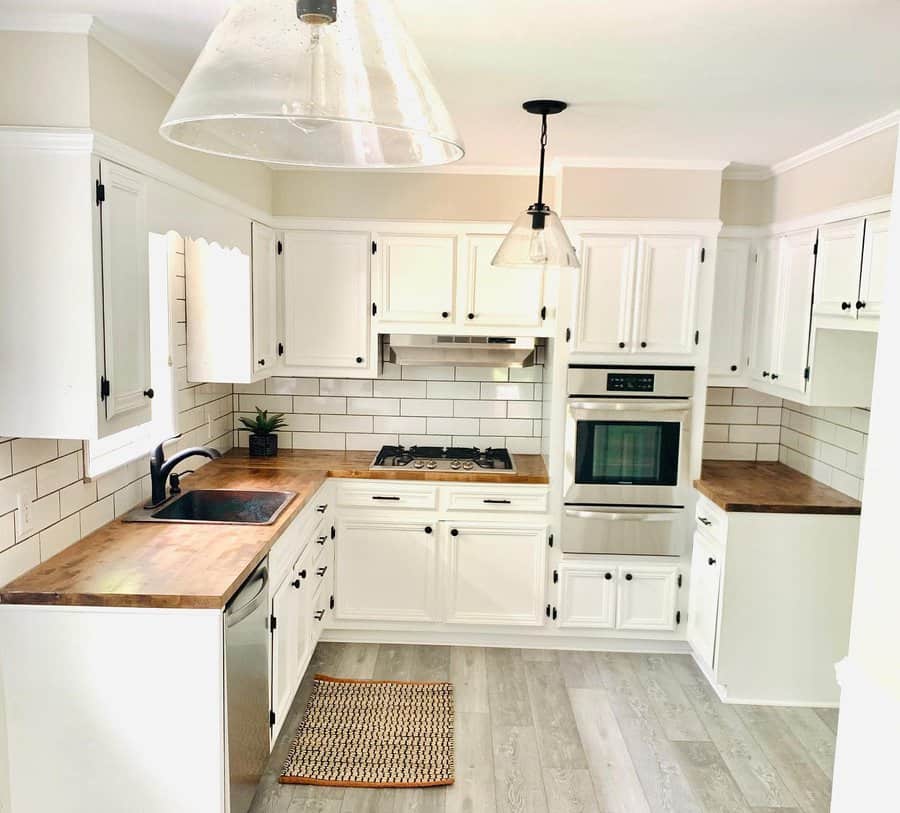 11. Thick Wood Countertops for Durability and Substance
When it comes to home design, a thick wood countertop can make a bold statement. It's not just a practical addition to your kitchen; it's a work of art. Picture running your hand over its smooth surface, feeling the natural grain and texture of the wood.
Imagine entertaining guests and having them compliment the unique and rustic vibe it brings to your space. The possibilities are endless with a thick wood countertop – it can add warmth to a modern kitchen, bring a touch of nature to an industrial space, or simply provide a timeless and classic look.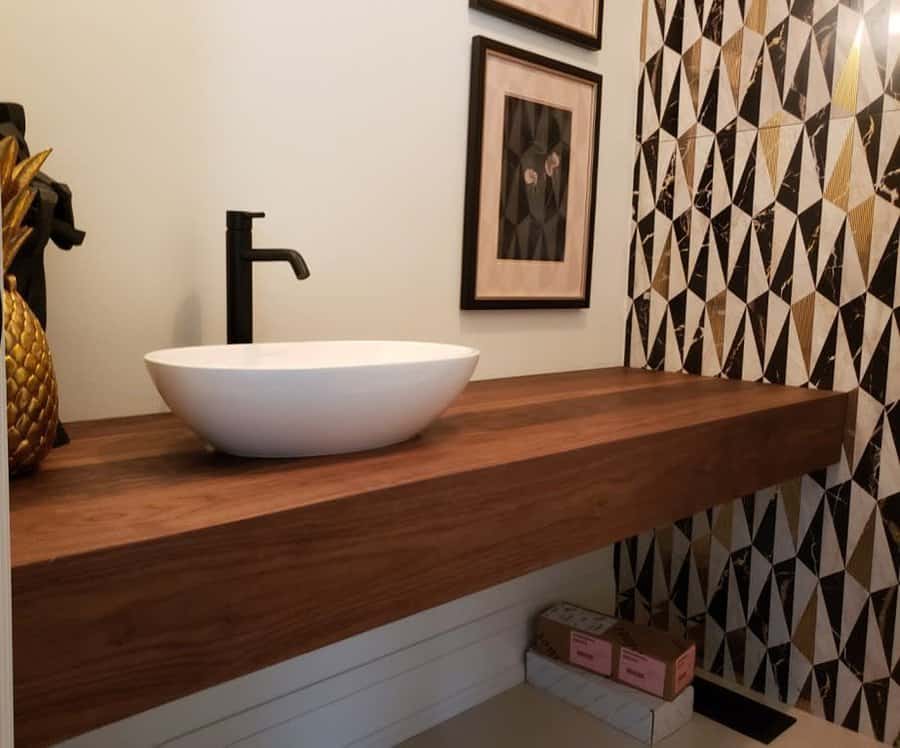 12. Resin & Wood Countertops For A Unique Look
The combination of resin and wood is like a dance between organic and modern elements. The depth and clarity of the resin bring forth a mesmerizing vibrancy, while the natural beauty of the wood adds an undeniable texture and warmth.
Together, they create a striking and functional countertop that begs to be touched and admired. Each piece is a unique work of art, crafted by a skilled artisan who understands the delicate balance of aesthetics and functionality.
A resin and wood countertop isn't just another surface, it's a tactile experience that enhances any space – a true statement piece that will stand the test of time.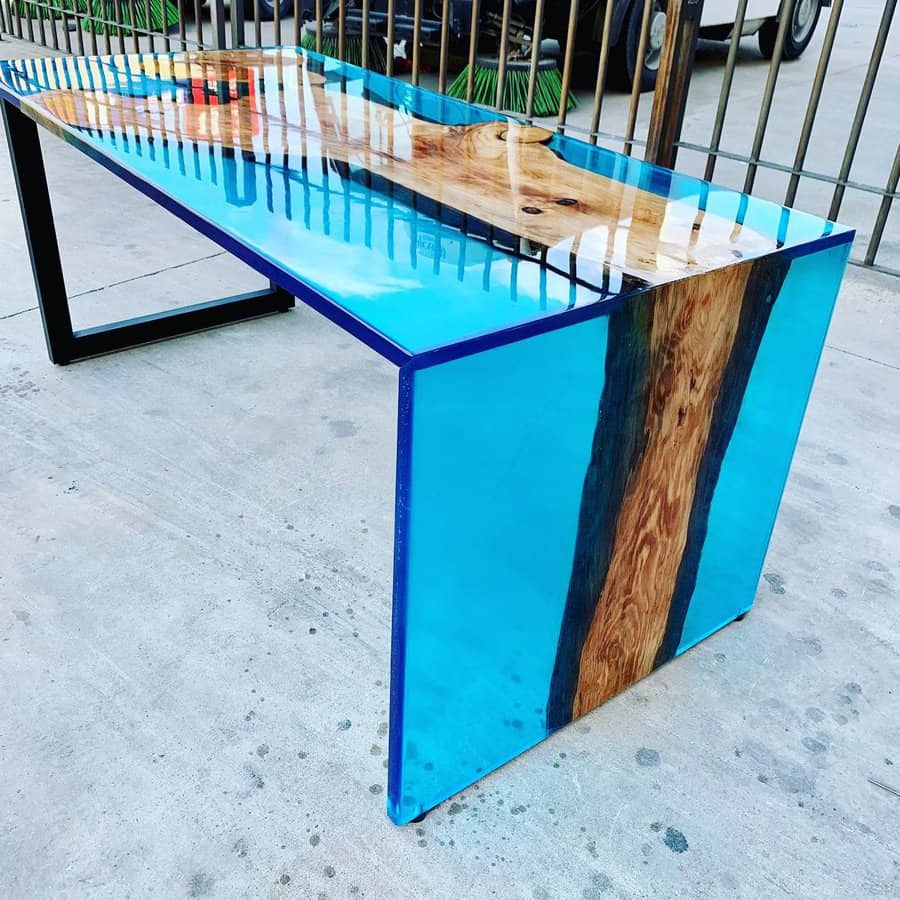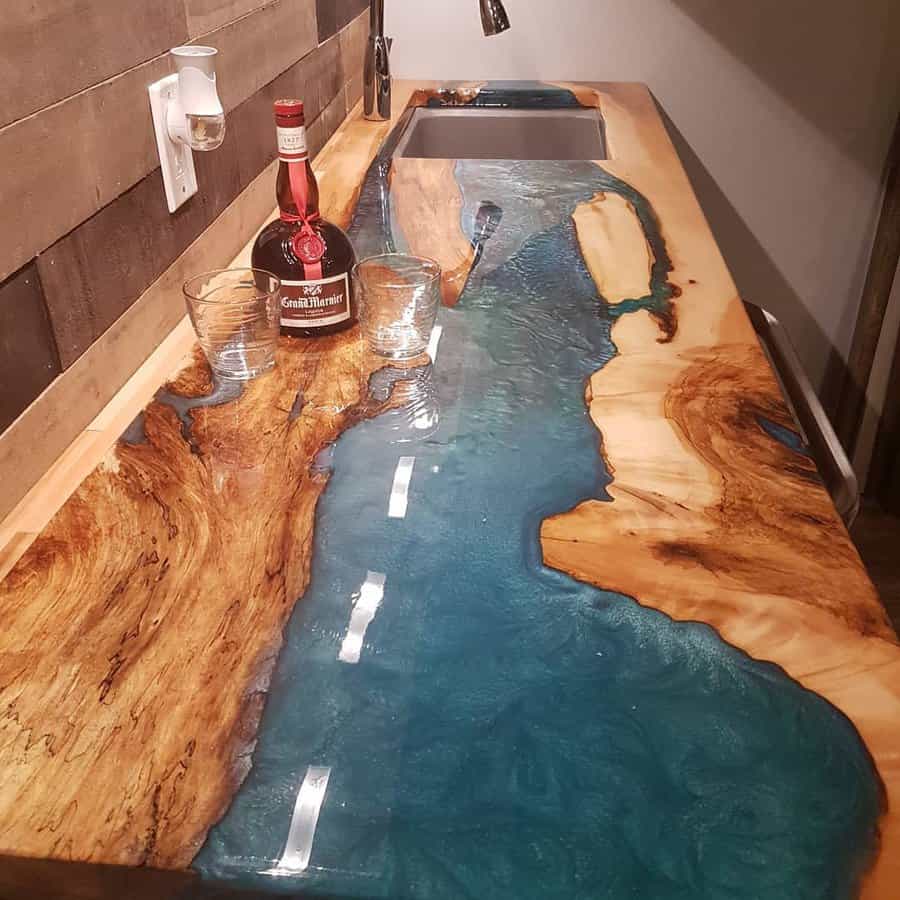 Wood Countertop FAQs
Are wood countertops durable?
Natural wood countertops are much more durable than many homeowners believe. However, they are not as tough as alternatives like stainless steel or concrete countertops.
Wood counters are more prone to damage from knives and other tools. But they do offer the advantage of being able to resurface the counters to remove knicks and stains.
You can prolong the life of your wood countertops by using a cutting board whenever possible.
Can you sanitize a wooden countertop?
Untreated wood is quite absorbent. Applying a high-quality sealant ensures that liquids do not seep into the material underneath.
Once sealed, you can sanitize the wood surface as you would any laminate countertop or granite countertop. Sealants can also be used to make a wood counter heat-resistant.
Which wood species make the best countertop material?
Many different types of wood make great countertops. For the best results, you want to choose a wood species that is durable and fits your decor.
Talk with a local contractor about which wood will work best for your kitchen remodel. Hardwood varieties like maple, cherry, oak, and walnut are all great choices.