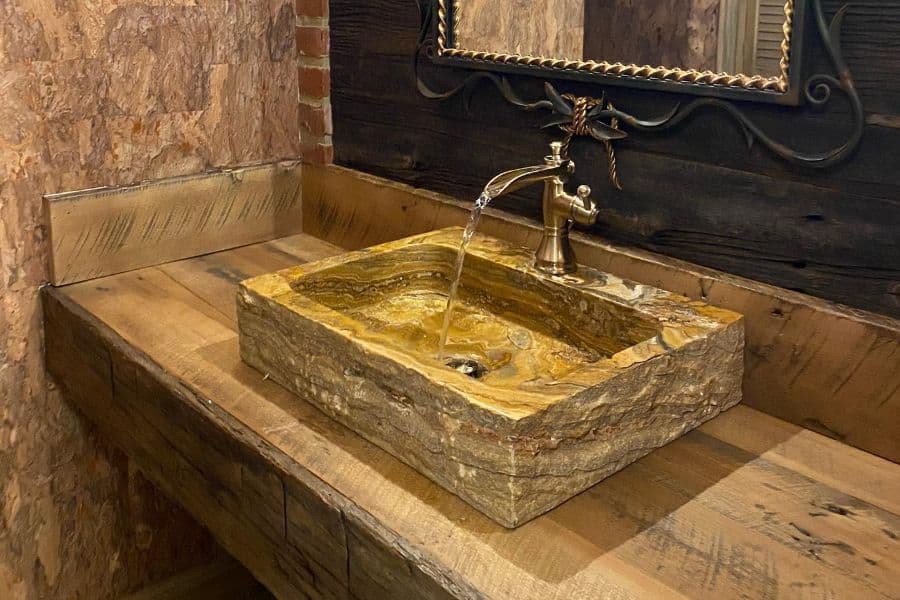 The Top 44 Wood Countertop Ideas
Wood countertops might feel like a new trend. Yet this material was one of the first used for in-home work surfaces.
Wood is far more durable than many people believe, even if it does require special maintenance from time to time. And it complements a wide variety of interior decor trends.
So if you're dreaming of a kitchen counter that's both classic and contemporary, you should definitely give natural wood a chance.
Check out some of our favorite wood countertop ideas below before you decide on your next kitchen counters!
1. Bar or Pantry
Looks aside, many homeowners are hesitant to install a wood kitchen countertop because of the necessary upkeep. If you're worried wood counters won't stand up to your family's wear and tear, consider installing a wood countertop in your home bar or pantry.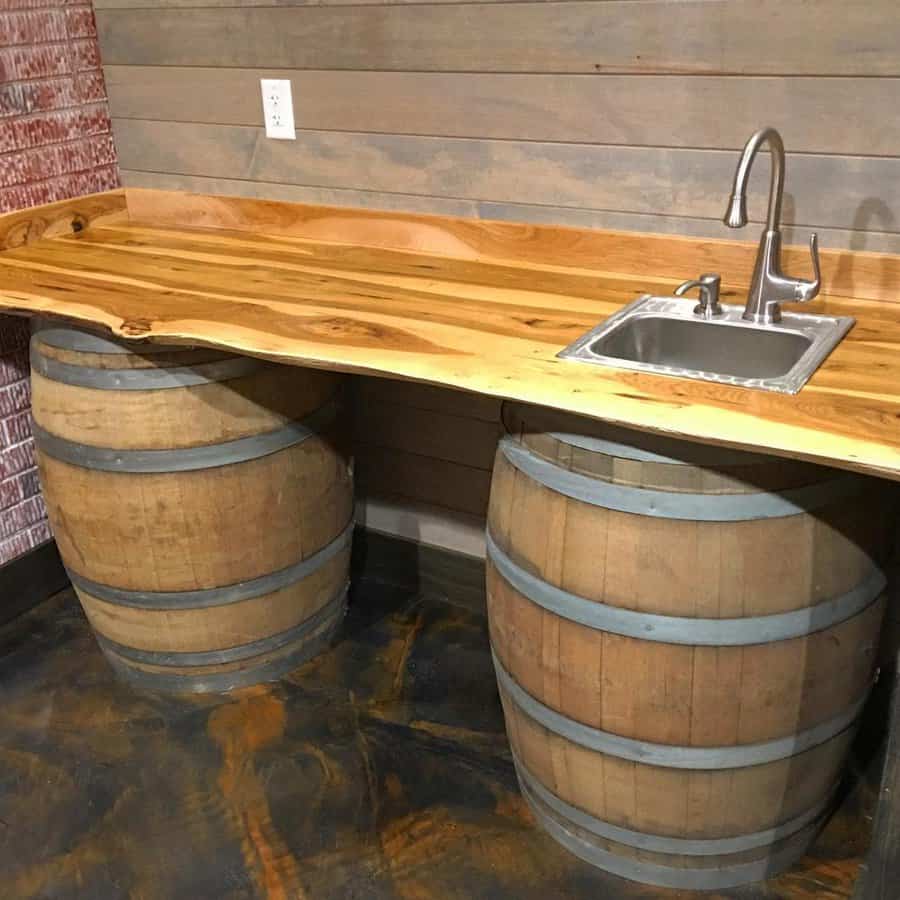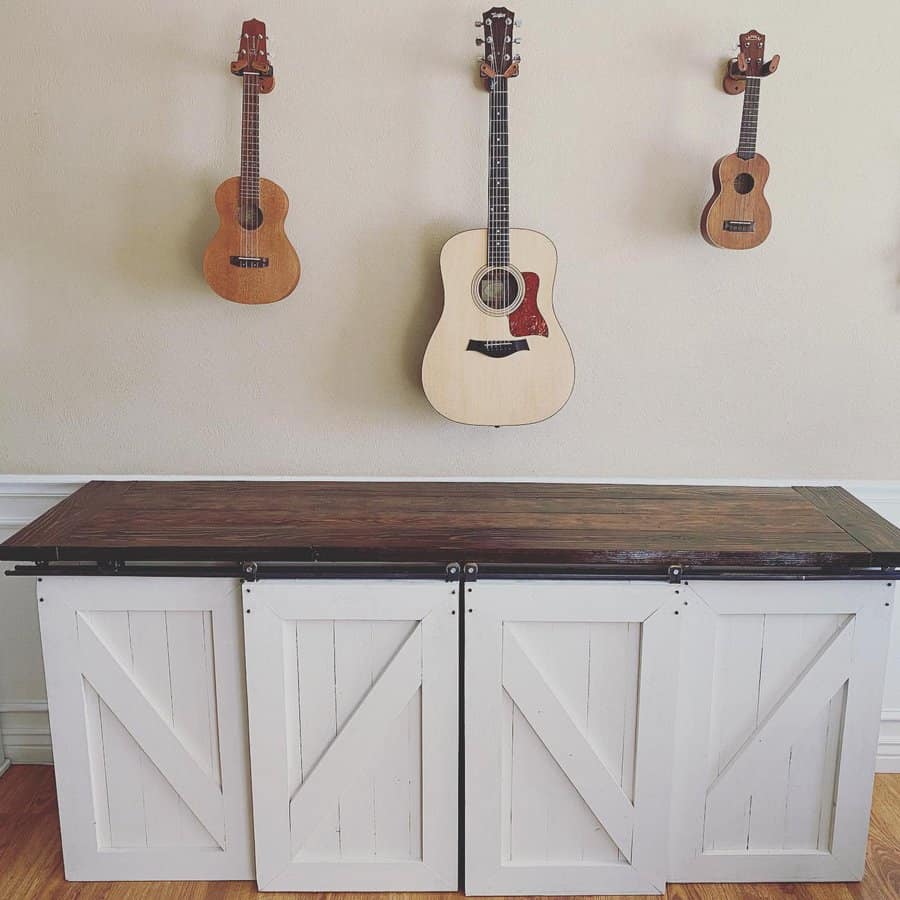 By installing these countertops outside of your main kitchen work area, you can enjoy the beauty of natural wood without fretting about knicks and scuffs.
Another excellent reason to choose wooden countertops for your bar or pantry is because of the material's flexibility. In many cases, it's easier and more affordable to cut wood material down to size (compared to stone or synthetic countertops).
2. Bathroom
Wooden countertops aren't just popular in modern kitchen design. This cabinet material also makes an excellent addition to any bathroom or powder room that needs a bit of warmth.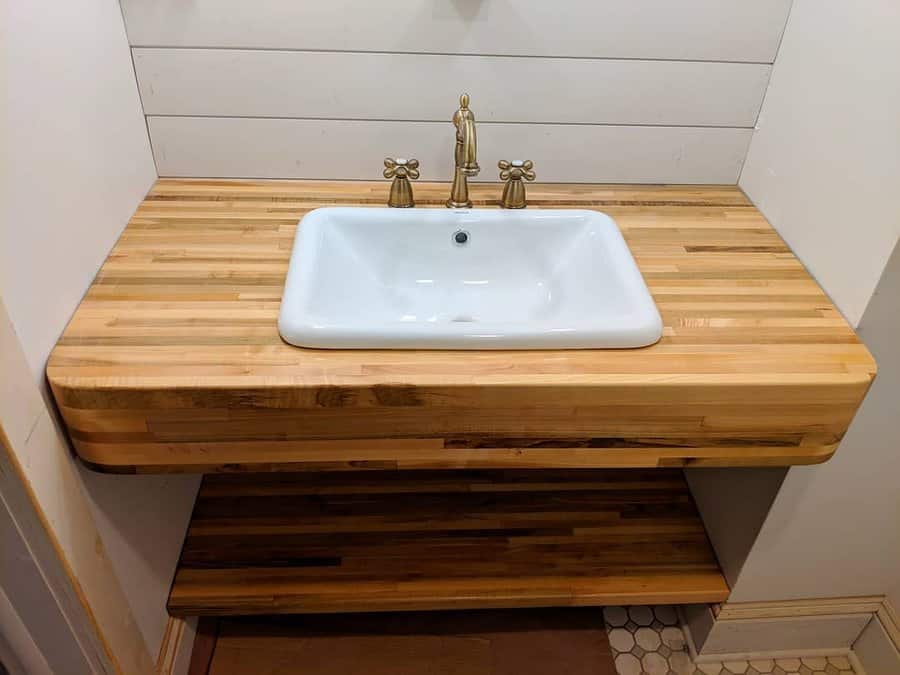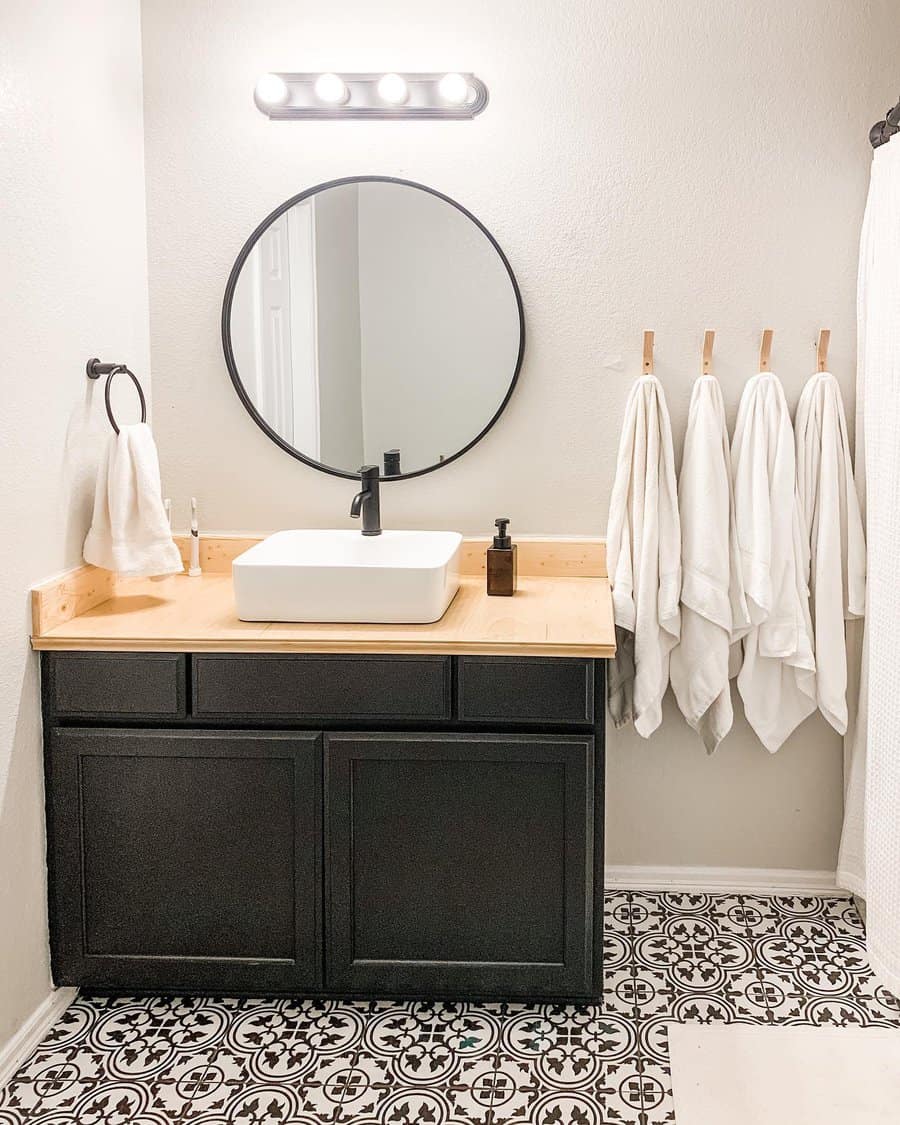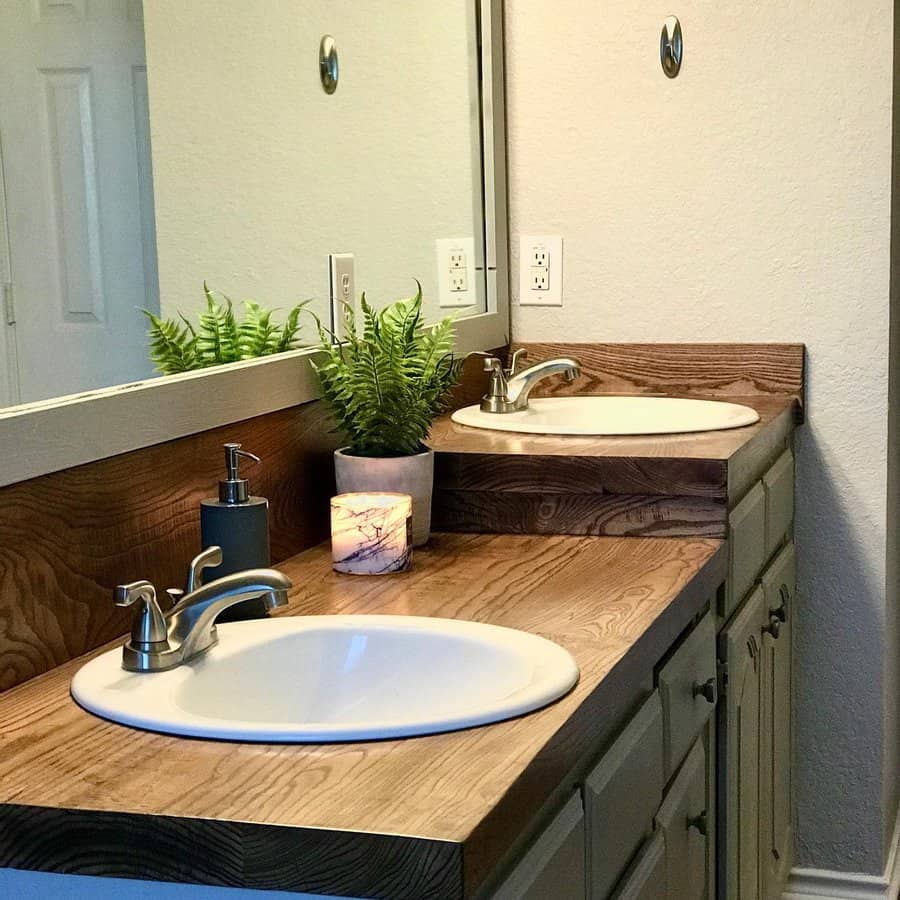 Wooden countertops can fit into nearly any bathroom aesthetic. Use reclaimed pallets for a rustic DIY wood bathroom countertop. If you're someone who prefers more contemporary decor, opt for a light wood species with a sleek finish.
Solid wood is susceptible to water damage — much more so than, say, a quartz countertop. Be sure to invest in a water-resistant sealant and stay on top of routine maintenance to keep your counters looking their best. (This will also ensure you get many years out of your new countertops.)
3. Butcher Block
You've probably heard the term "butcher block" in reference to wood countertops. Many wood counters are made in the butcher block style. Yet the two terms aren't entirely synonymous.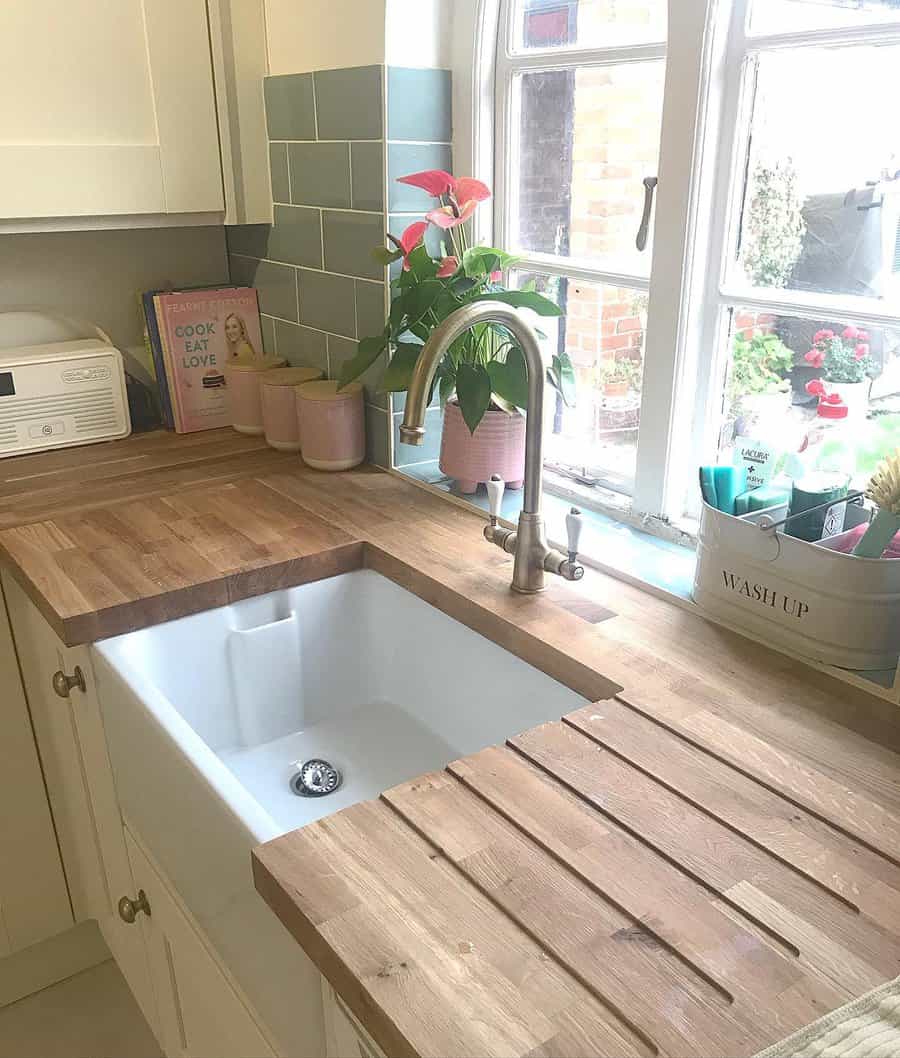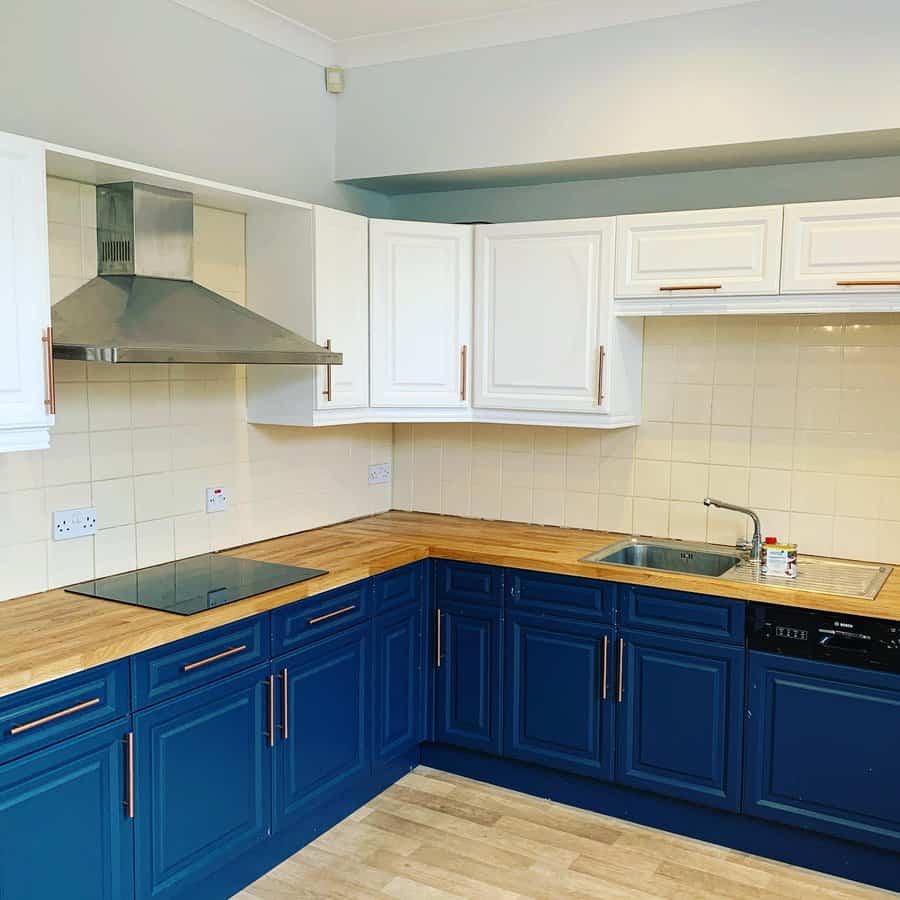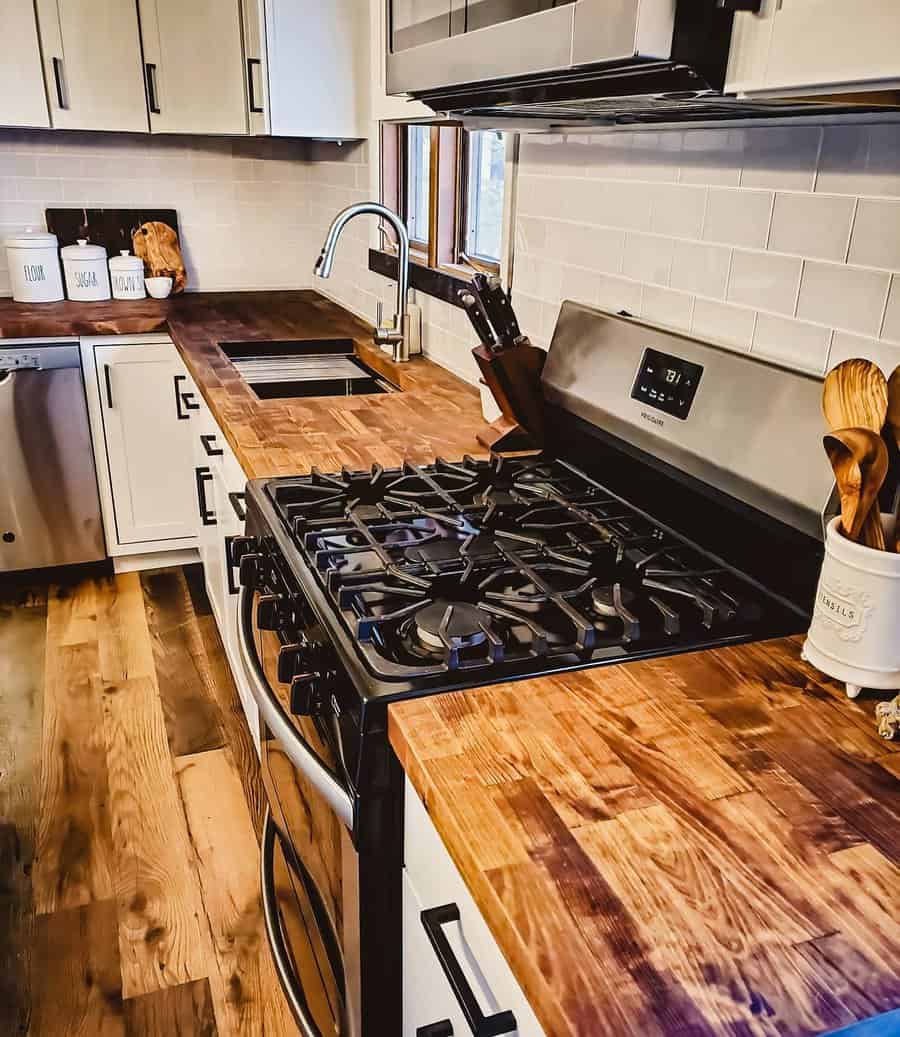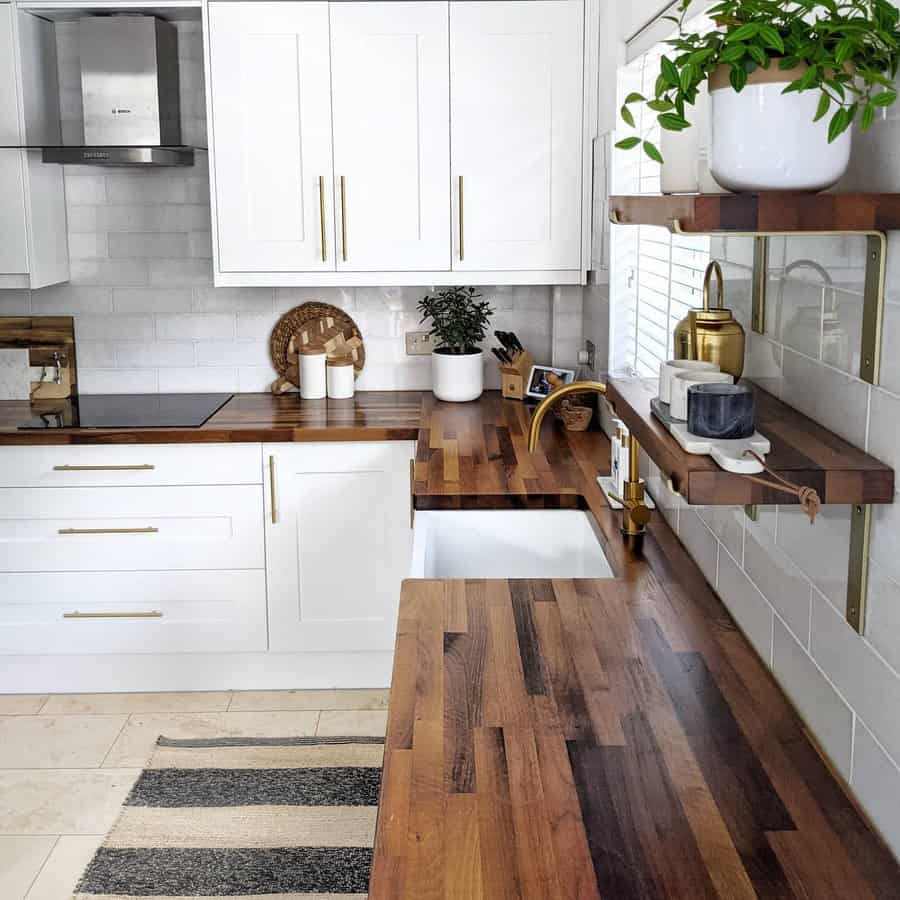 As the name implies, the modern butcher block countertop is inspired by a style of cutting board used in old butcher shops. Butcher blocks typically feature uniform strips of wood glued together to make one smooth surface.
Despite being made of many strips of wood, a well-made butcher block countertop is no less durable than solid wood. You can use this material for a full-size countertop or as a smaller work surface atop a kitchen island or table.
4. Dark
Contemporary wood countertops trend very light and warm. But this color scheme definitely isn't your only option! Dark wood countertops can be a dramatic addition to any kitchen or bathroom design.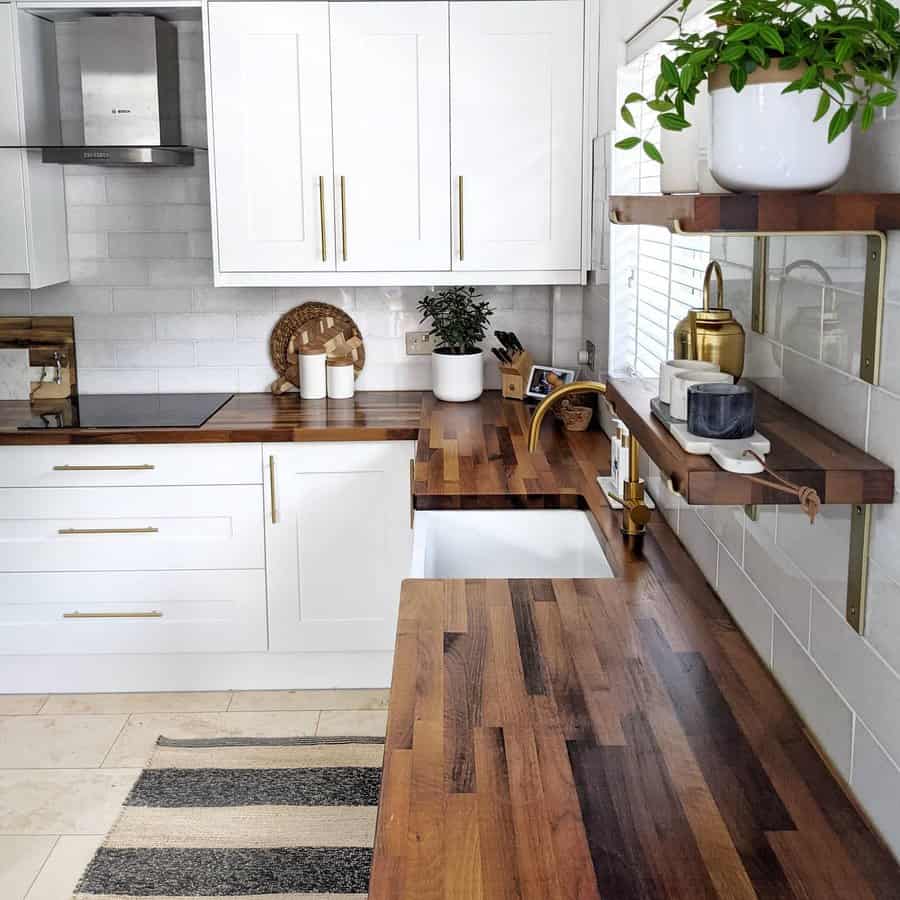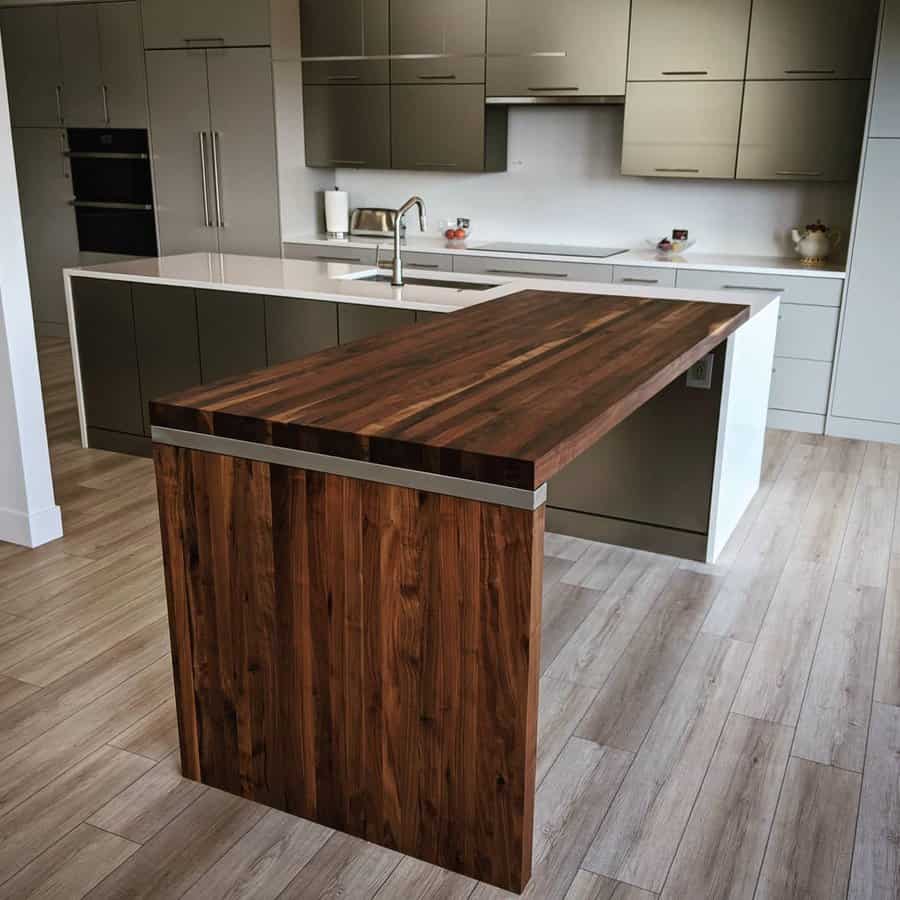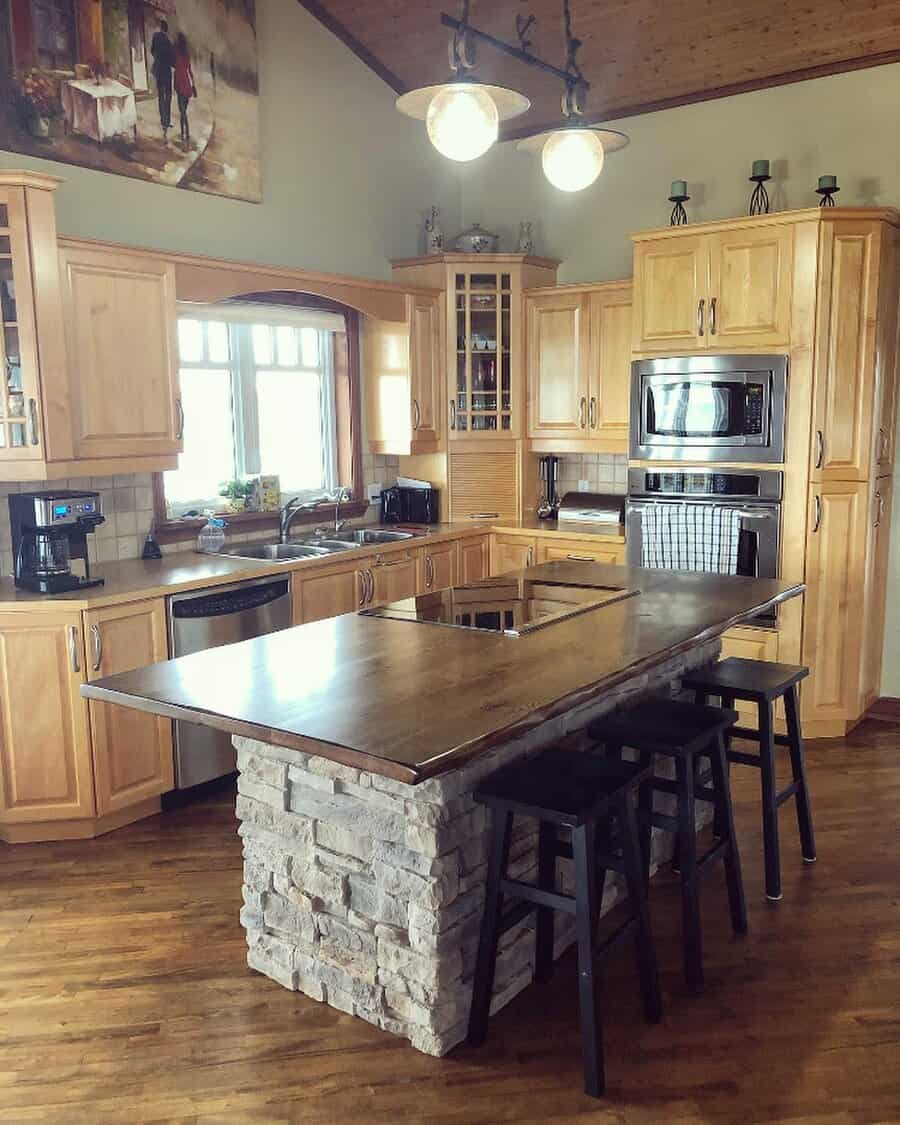 Dark wood contrasts beautifully against white walls and cabinetry. You can also pair dark hardwood counters with rustic elements for a more masculine aesthetic.
You can even replicate this trend with an existing light-wood kitchen countertop. As long as you apply a high-quality sealant over the top, you can stain a wood counter just as you want a piece of furniture.
5. Kitchen Island
Do you love the appearance of wood countertops but aren't quite ready to spring for a full kitchen remodel? Installing a wood counter on your kitchen island is a great way to add a touch of warmth to your home.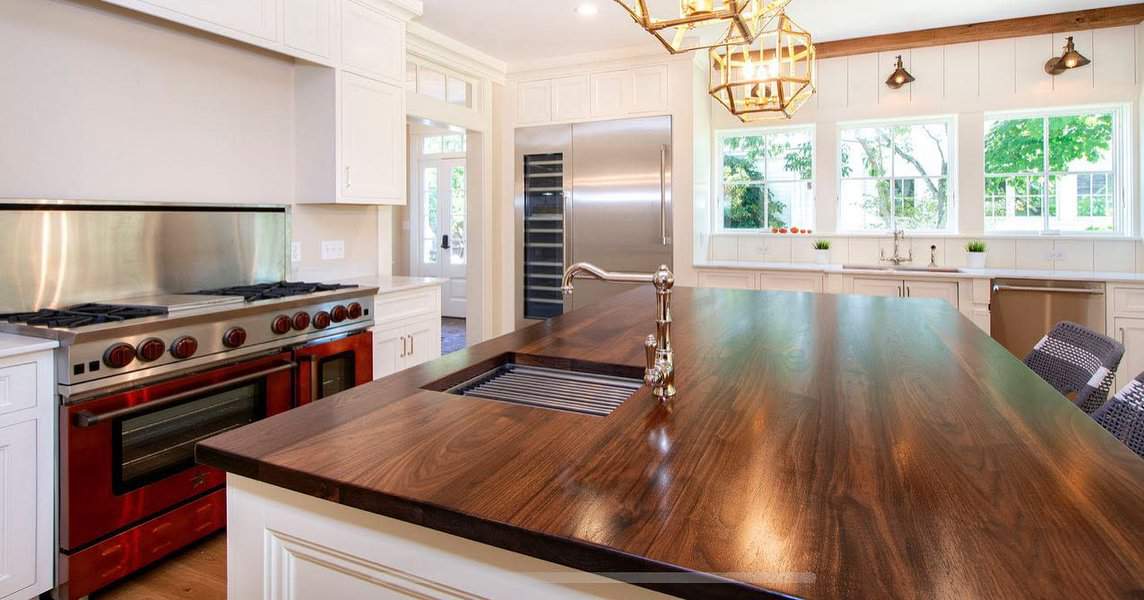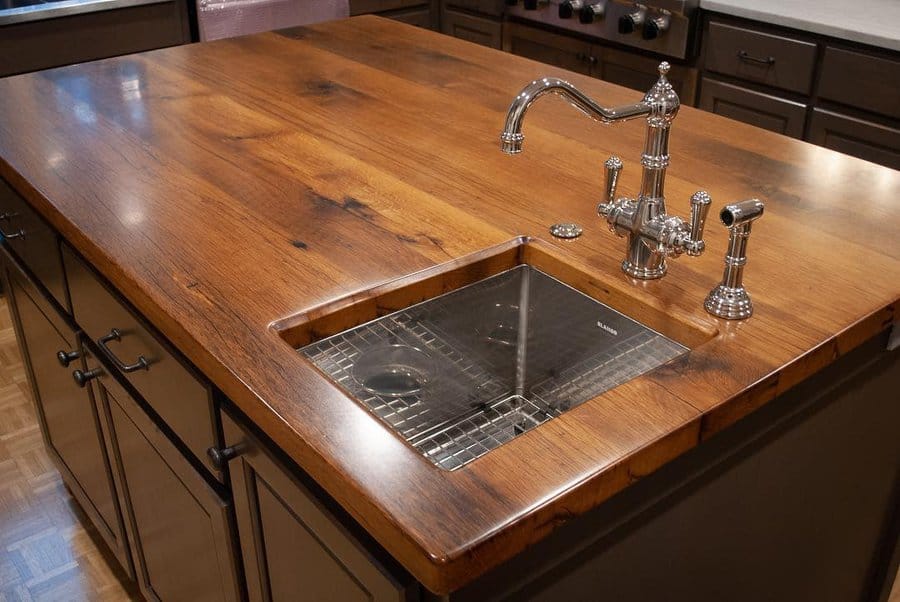 Polished wood can make a gorgeous accent piece to stone countertops. You can choose anything from a butcher block countertop to one made from a single piece of live-edge lumber.
Kitchen islands are also an excellent project for anyone who wants to try installing a DIY wood countertop. If your kitchen also features some wood finishes, be sure to choose a countertop that complements them. However, there's no need to match wood grains perfectly!
6. Laundry Room
Contemporary laundry rooms are full of great amenities like cabinetry, drawers, and a solid surface for folding. So if you're in the middle of installing a new wood kitchen countertop, go ahead and install a matching laundry counter, as well.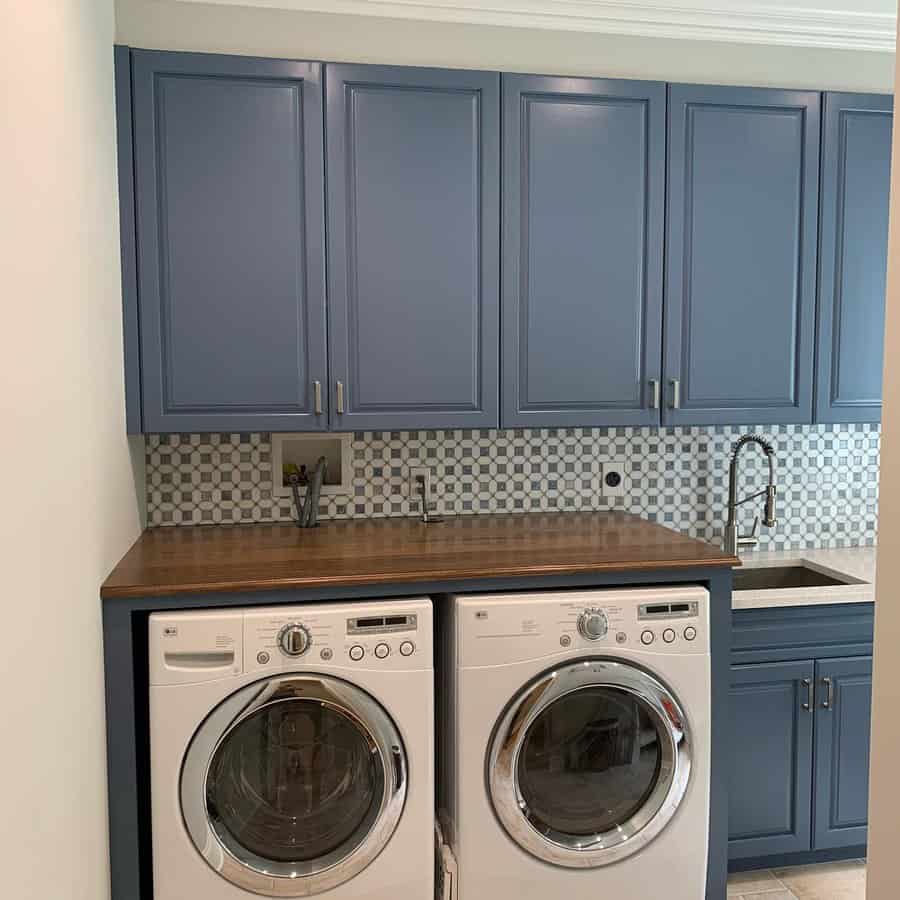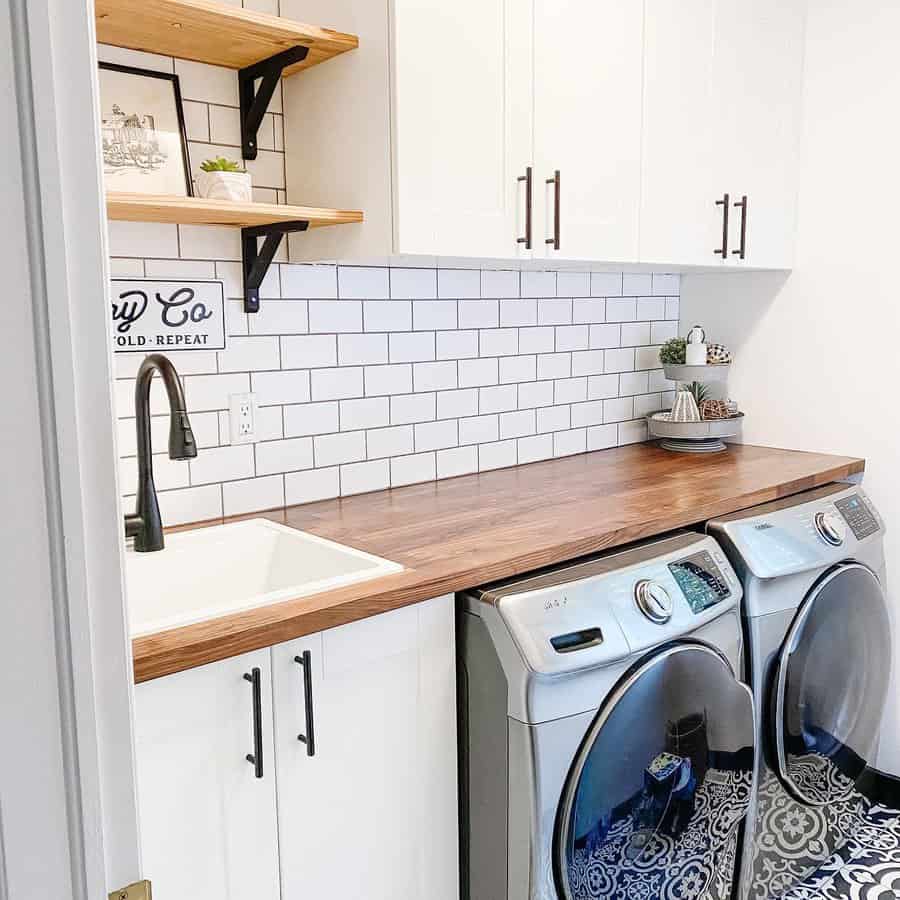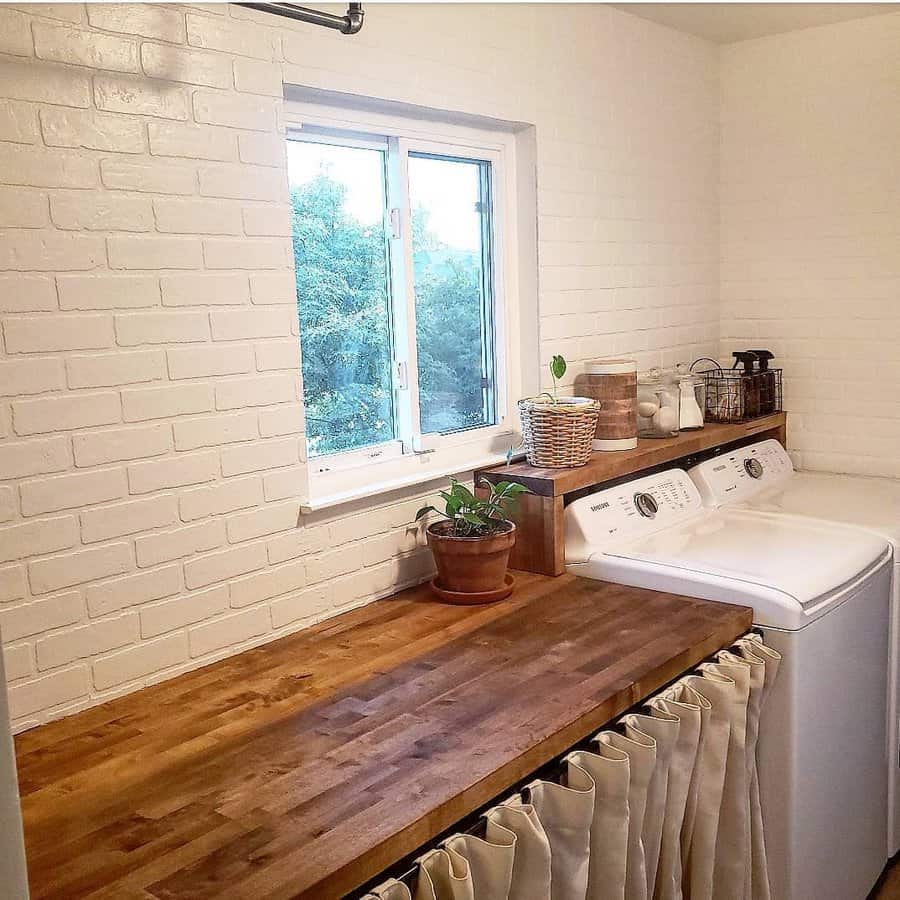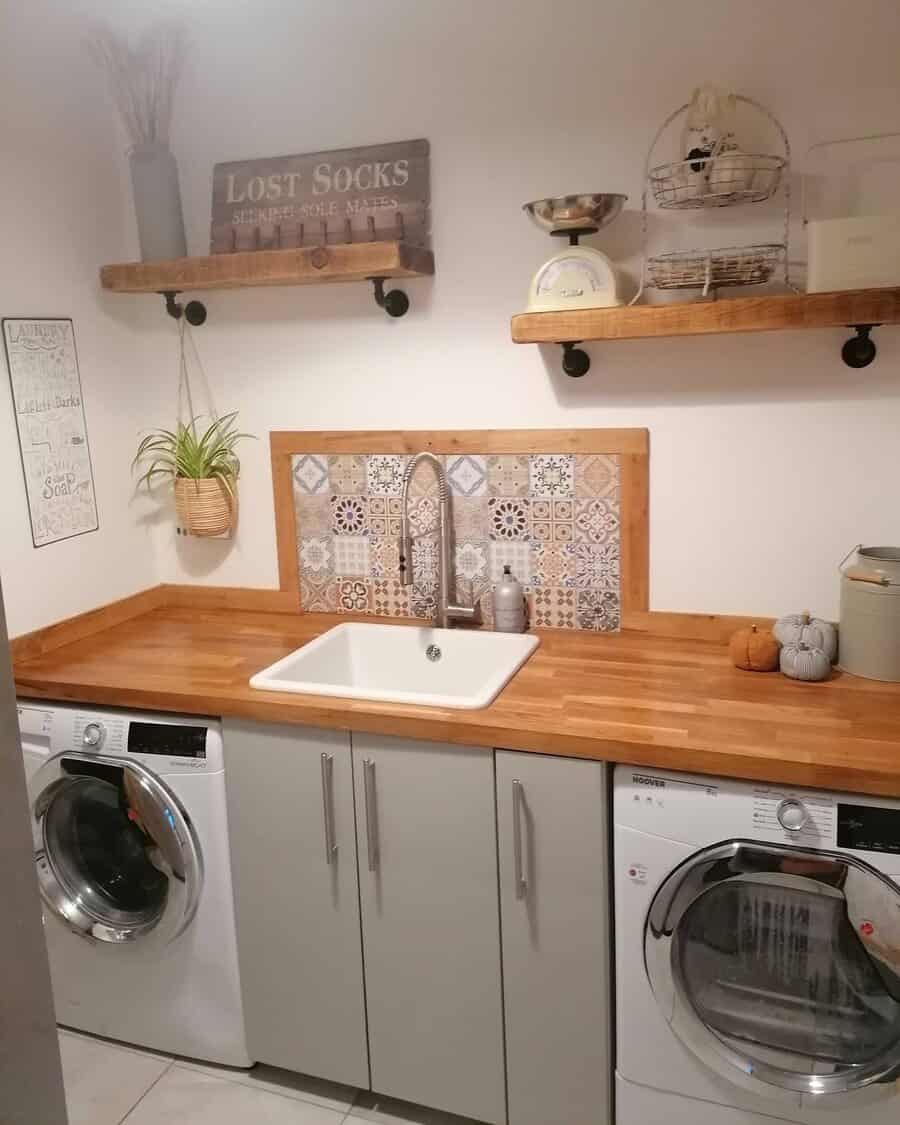 Wood is a super flexible option for your laundry room, especially if you're in the market for DIY countertops. A butcher block or solid wood slab can be cut down to size with basic power tools.
Care for your laundry room counter as you would a wooden countertop in your kitchen or bathroom. While your laundry room isn't home to knives or hot pans (at least, we hope!) you'll want to protect the surface against water stains and cleaning chemicals.
7. Live Edge
Live-edge wood bears the tree's original bark on one side. This material is frequently used to make rustic-style furniture like coffee tables and desks. However, it can also make a gorgeous countertop.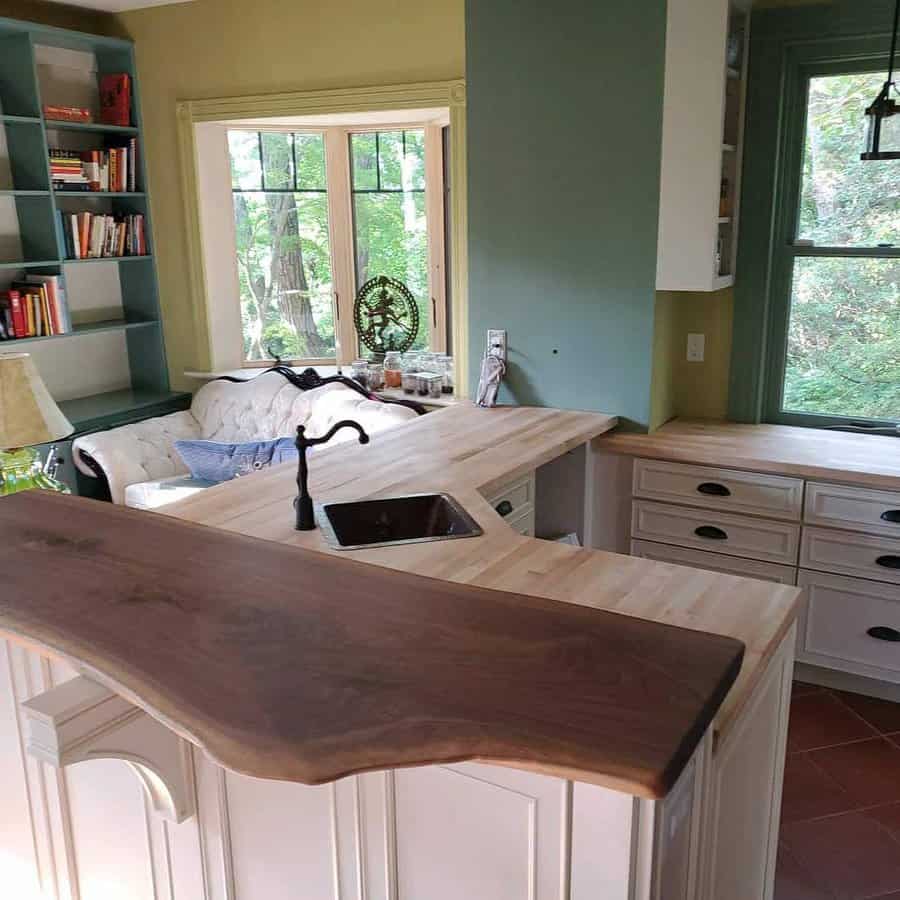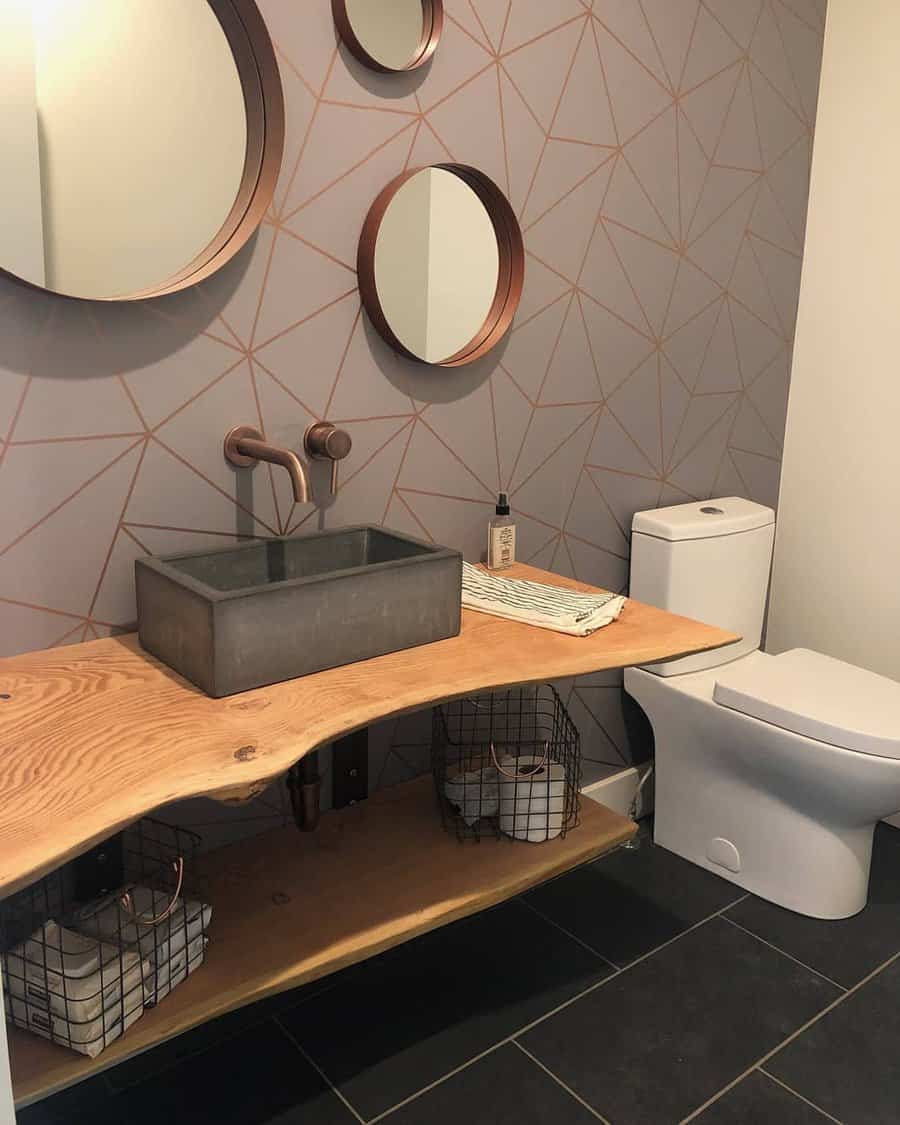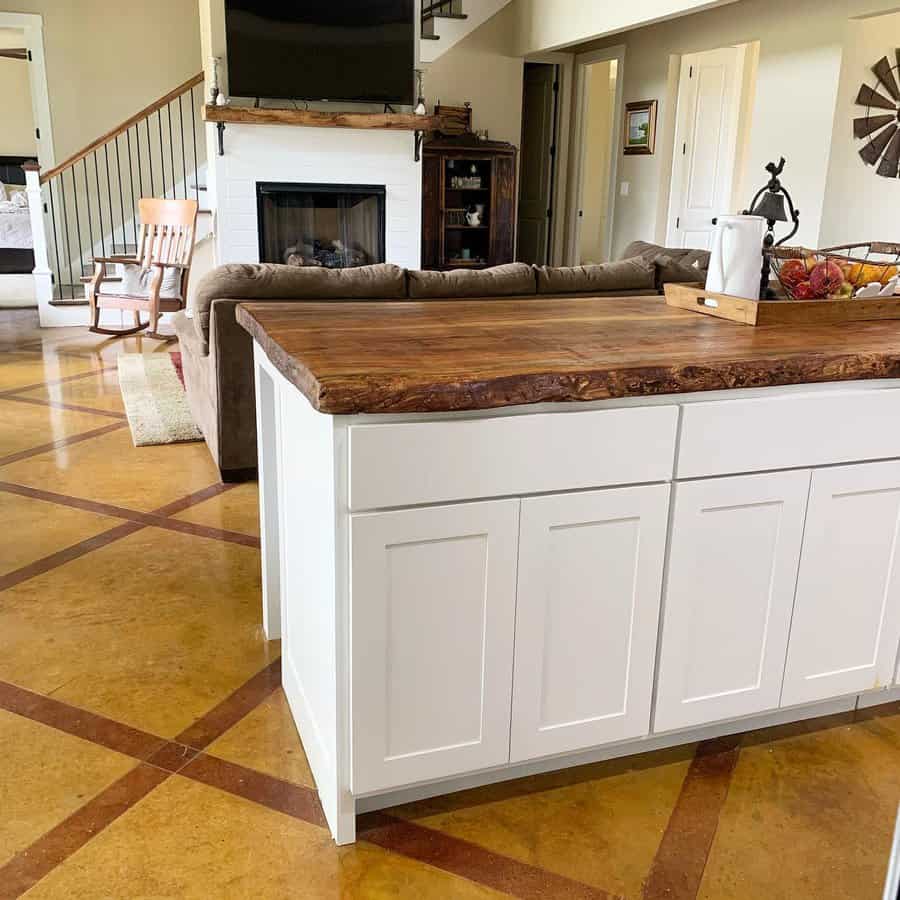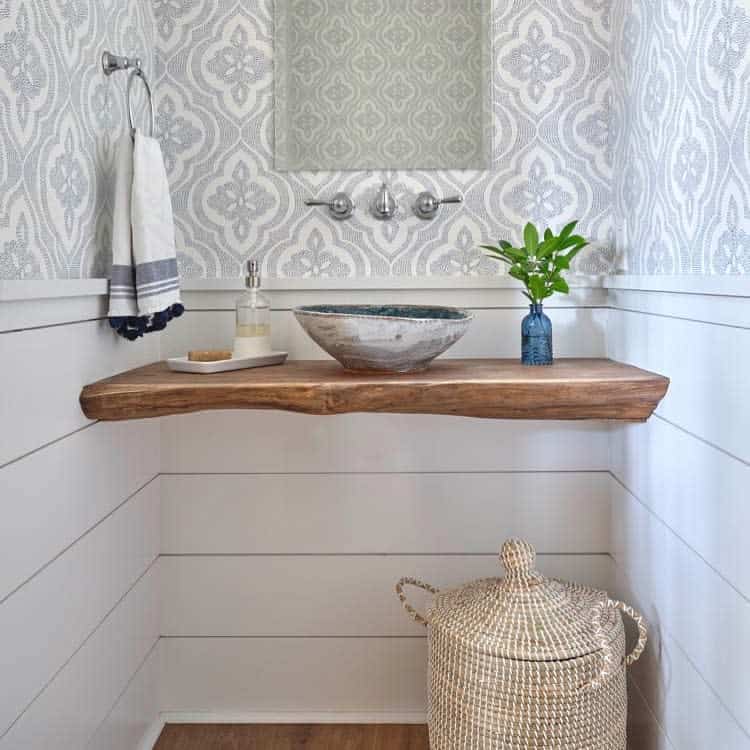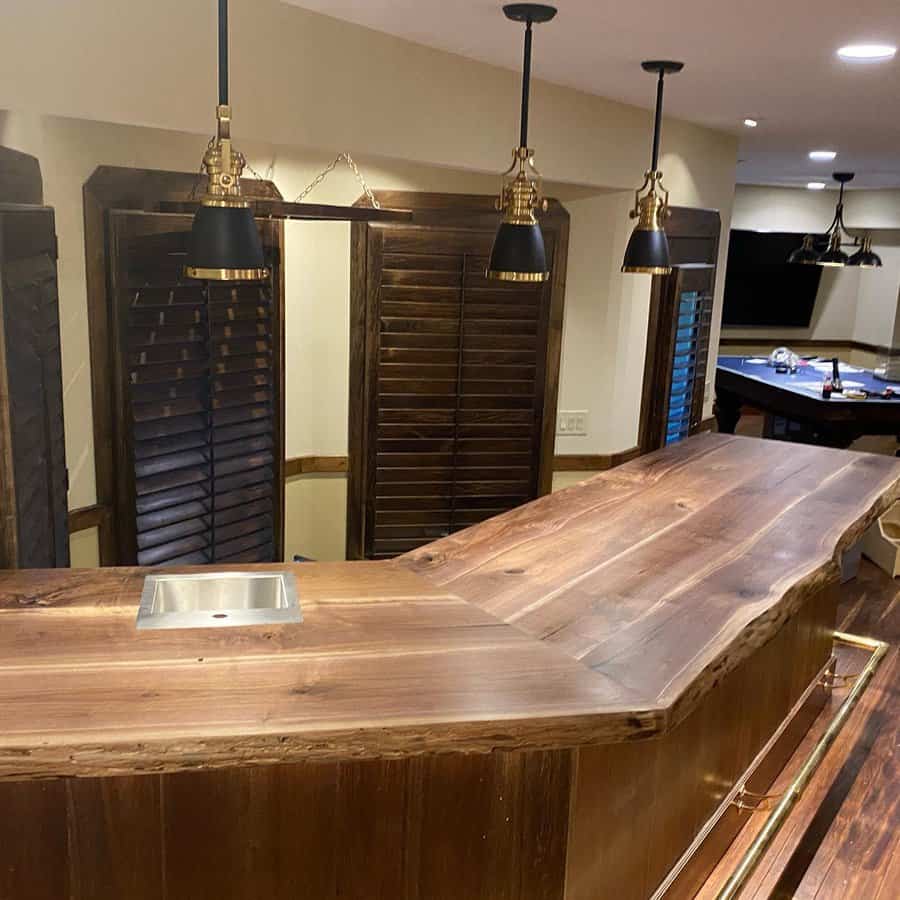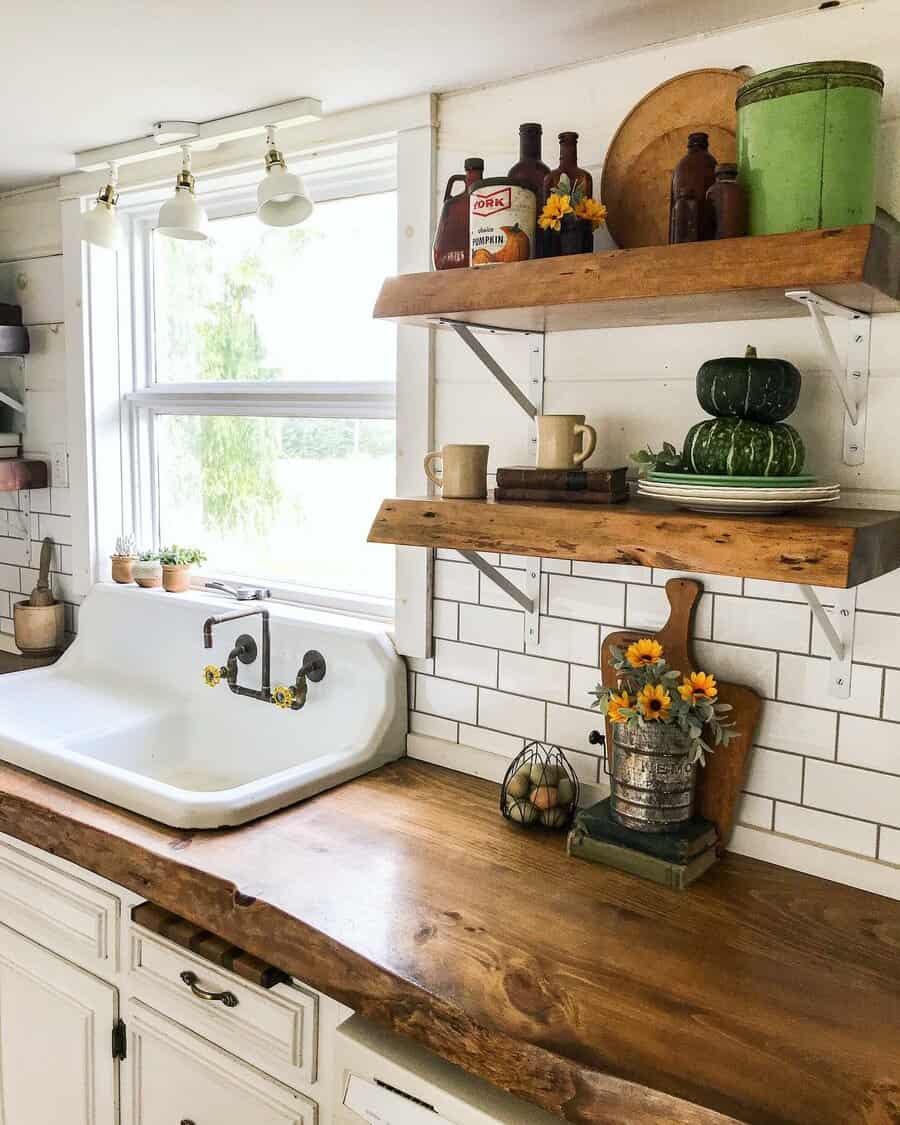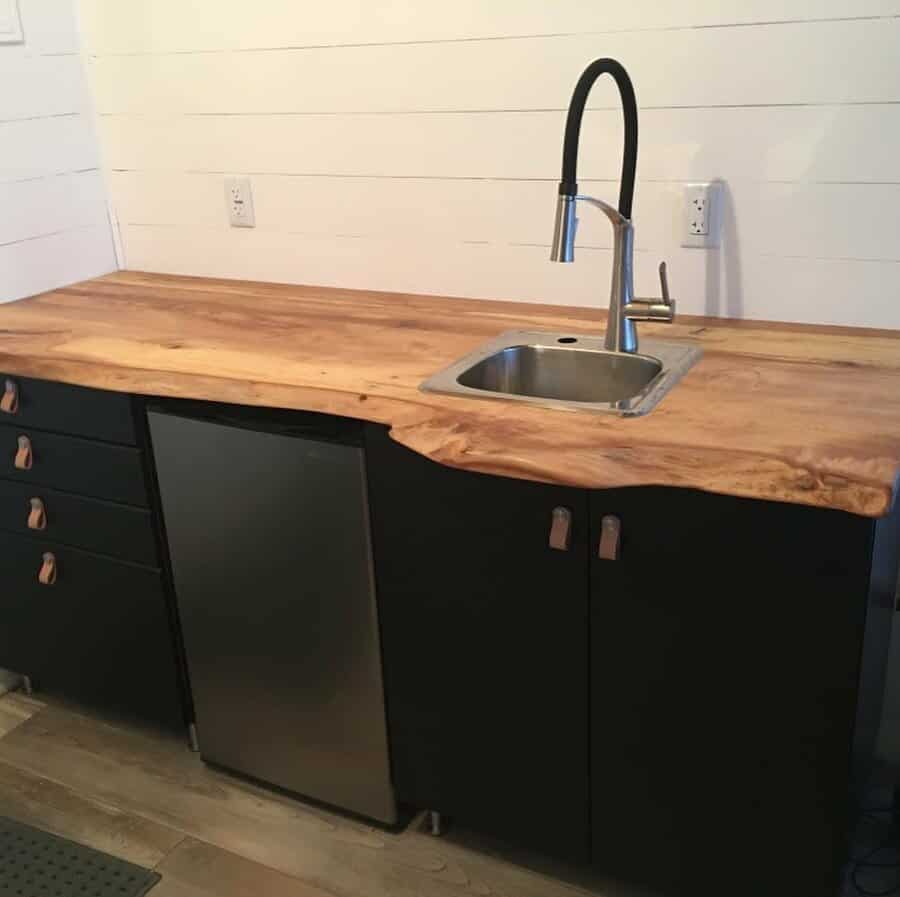 When used to make wooden countertops, the live edge is typically faced outward for maximum visual appeal. Depending on the species and piece of wood used, these counters may have vastly irregular edges.
While the front edge is rough, live-edge wood counters are typically sanded and finished to have a smooth upper surface. Some wood species will even appear multi-dimensional, thanks to the presence of knots and superficial cracks.
8. Modern
Modern kitchen design often brings to mind industrial materials like stainless steel or poured concrete. Yet natural wood is a classic element of nearly all modern decor trends.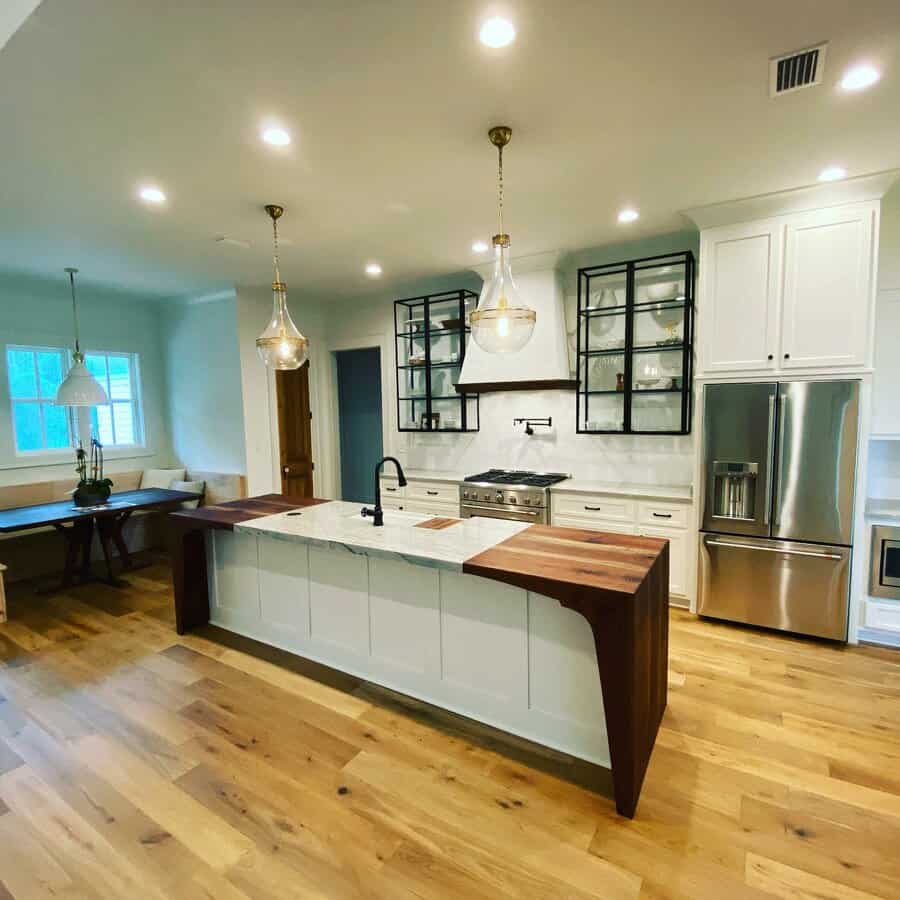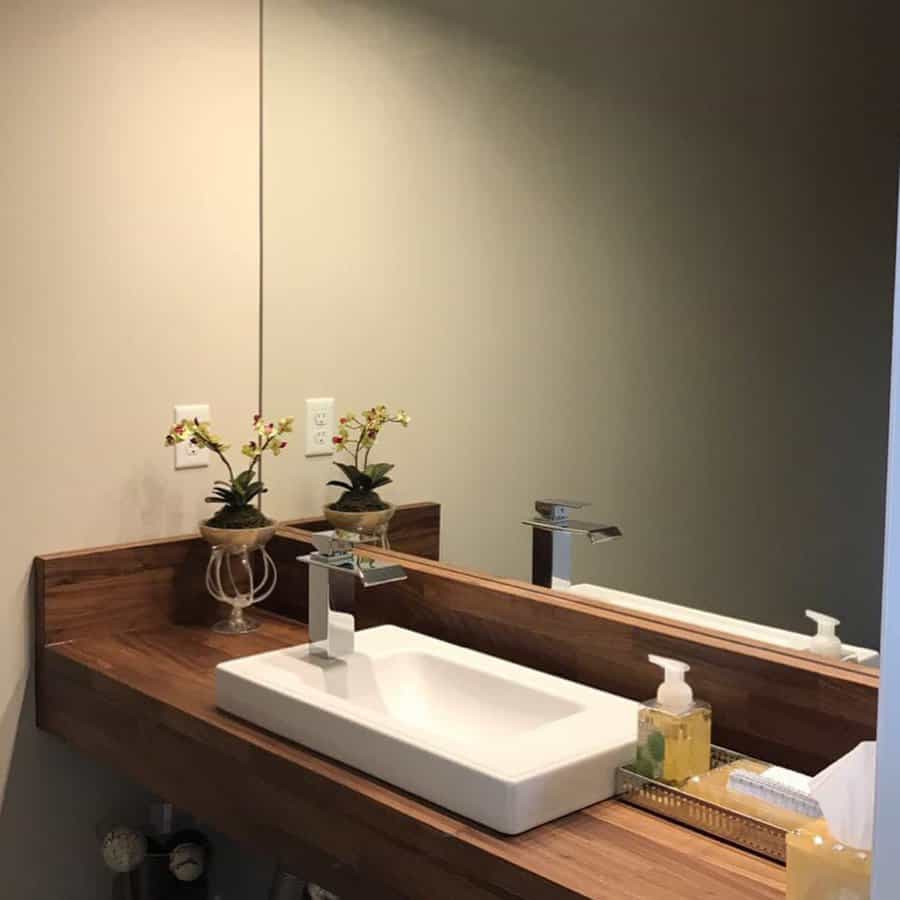 You can use a segment of wood to emphasize the modern inspiration behind your kitchen design. Replacing part of your existing granite or Corian countertop with a piece of butcher block will add texture and dimension to the work surface.
The secret to a modern-style countertop is not the material itself but the overall finish. As long as your wood countertop is smooth and polished, it will look right at home in even the most modern kitchen.
9. Reclaimed Wood
Reclaimed wood is lumber with a so-called "past life," often salvaged from old buildings, pallets, fences, or furniture. Along with being trendy, a reclaimed wood countertop will nearly always be more sustainable than one made of new lumber.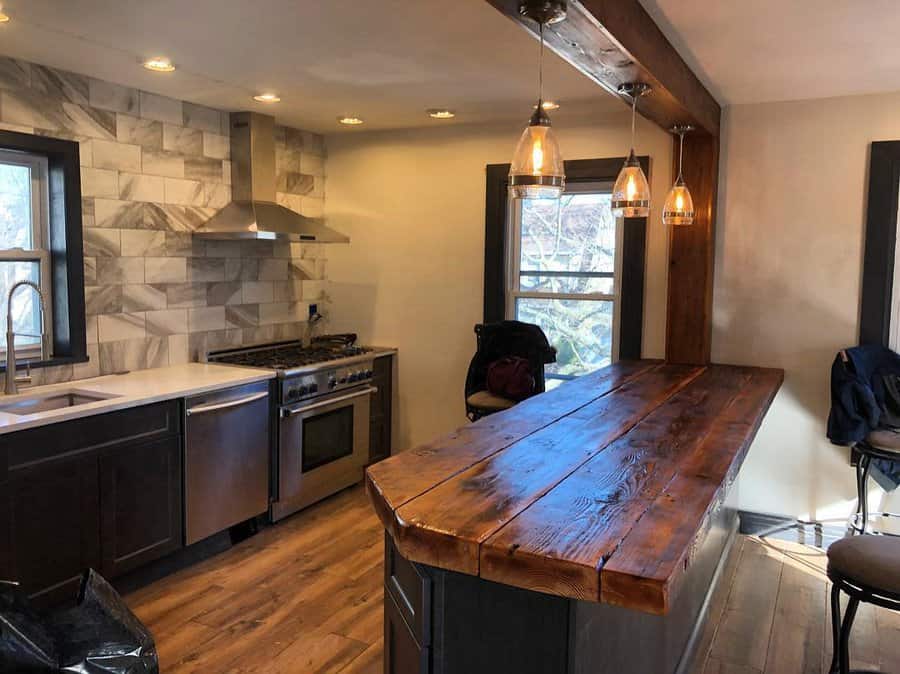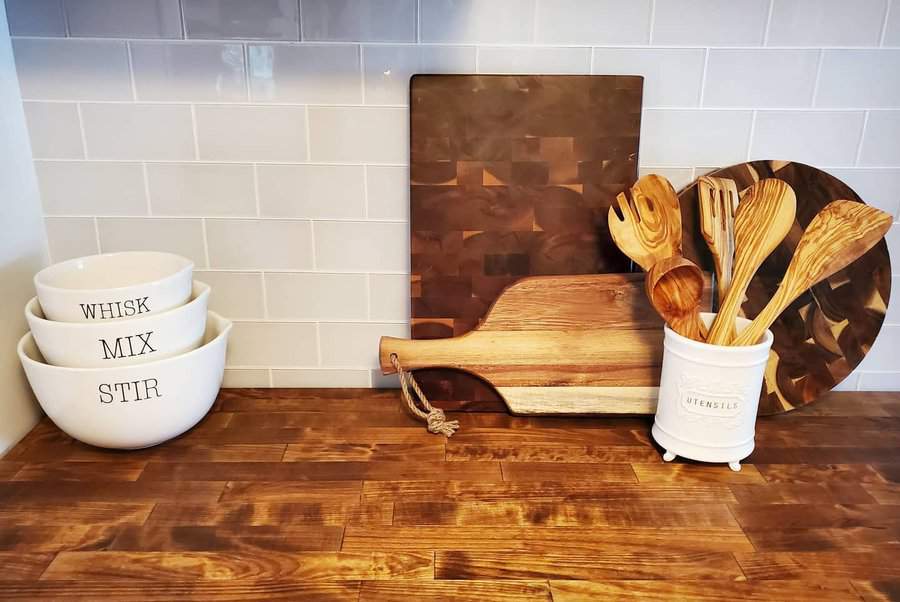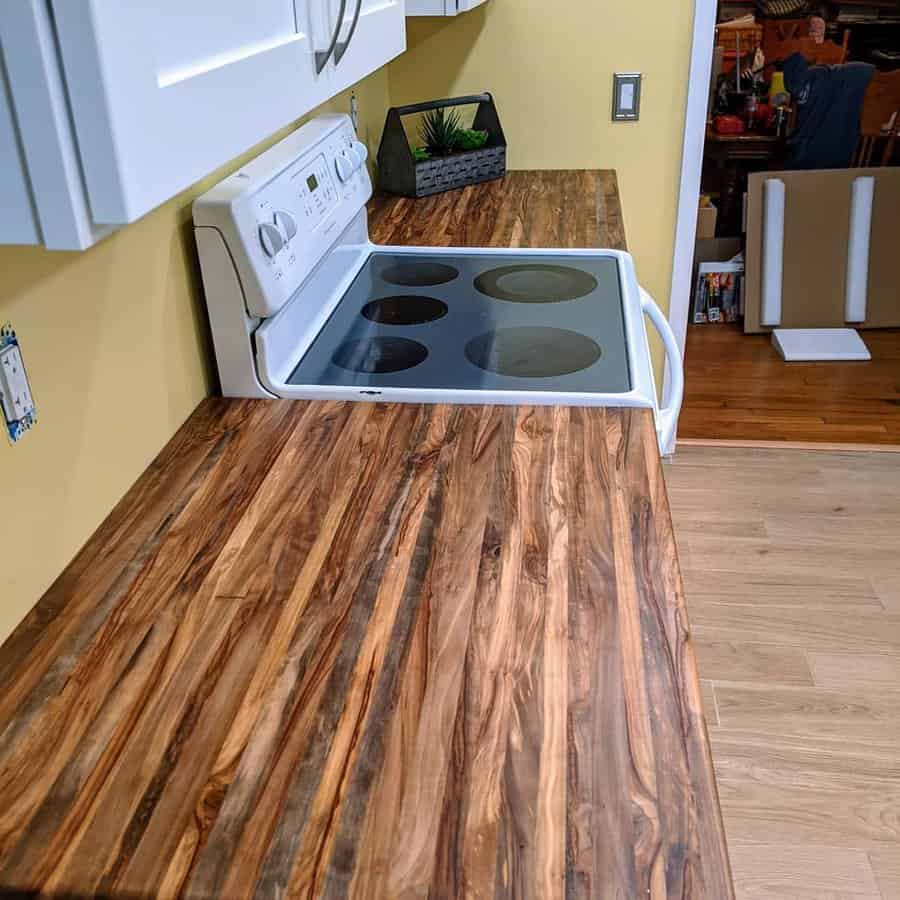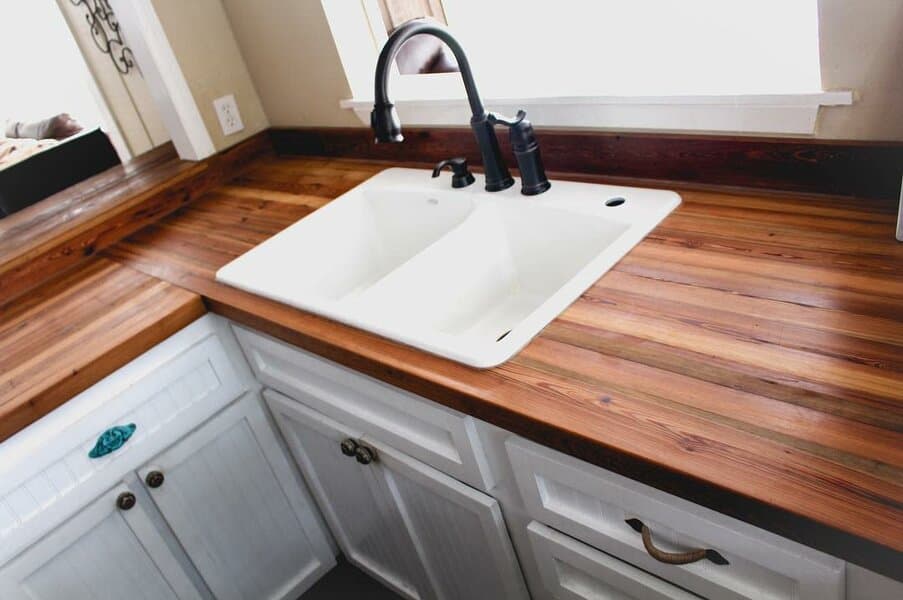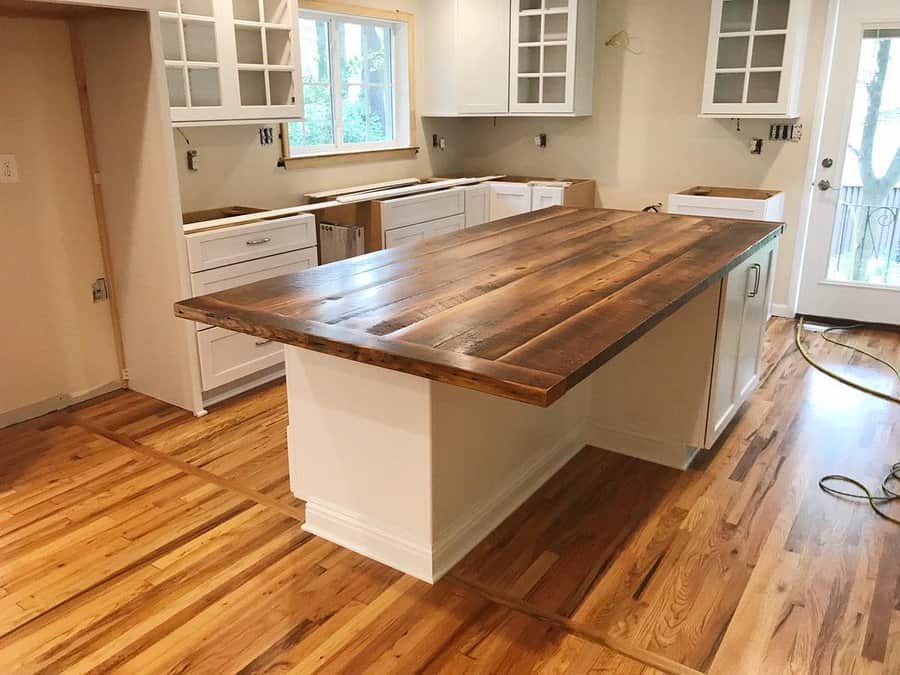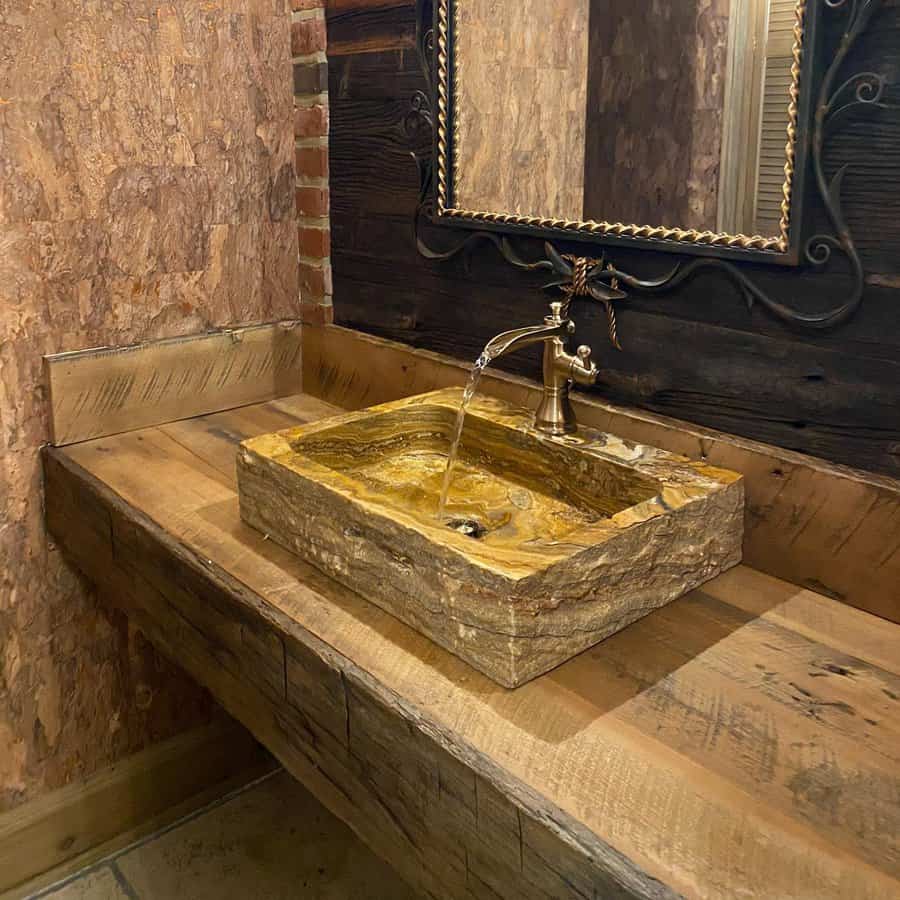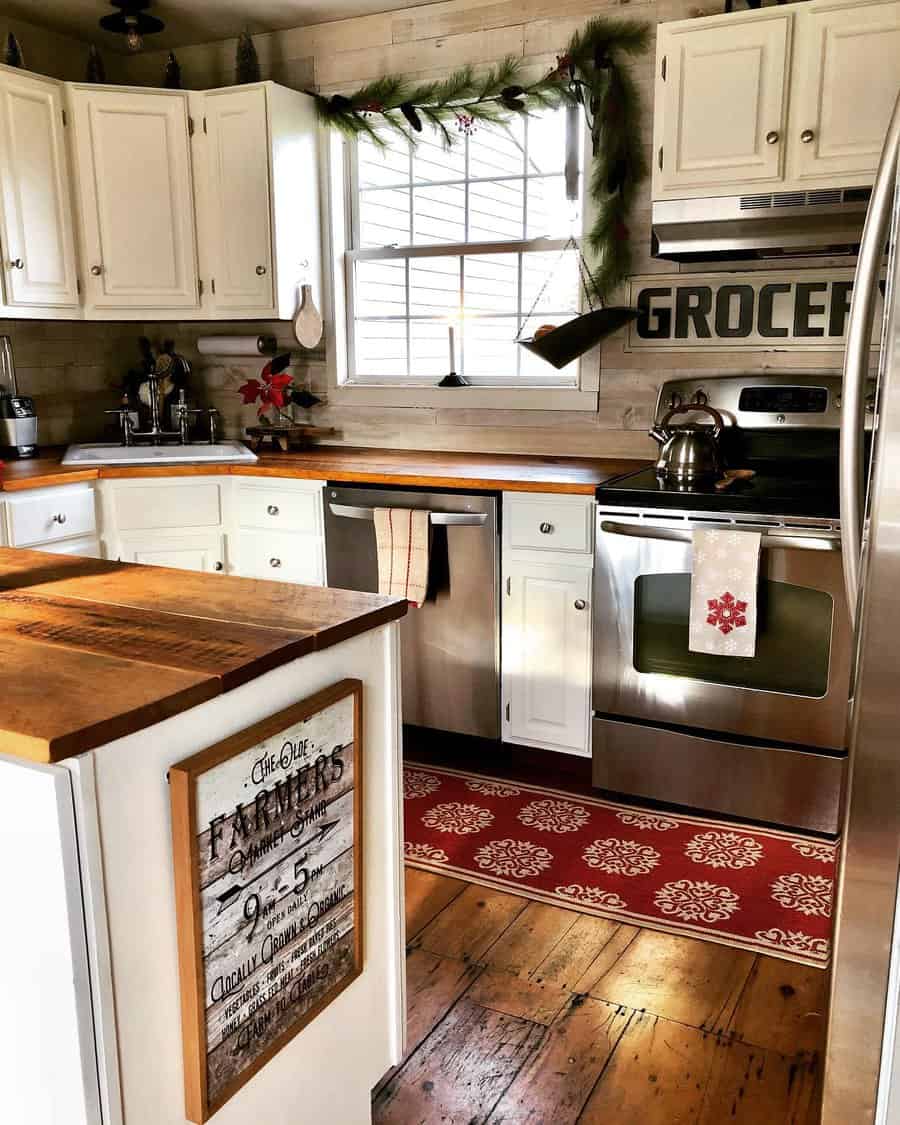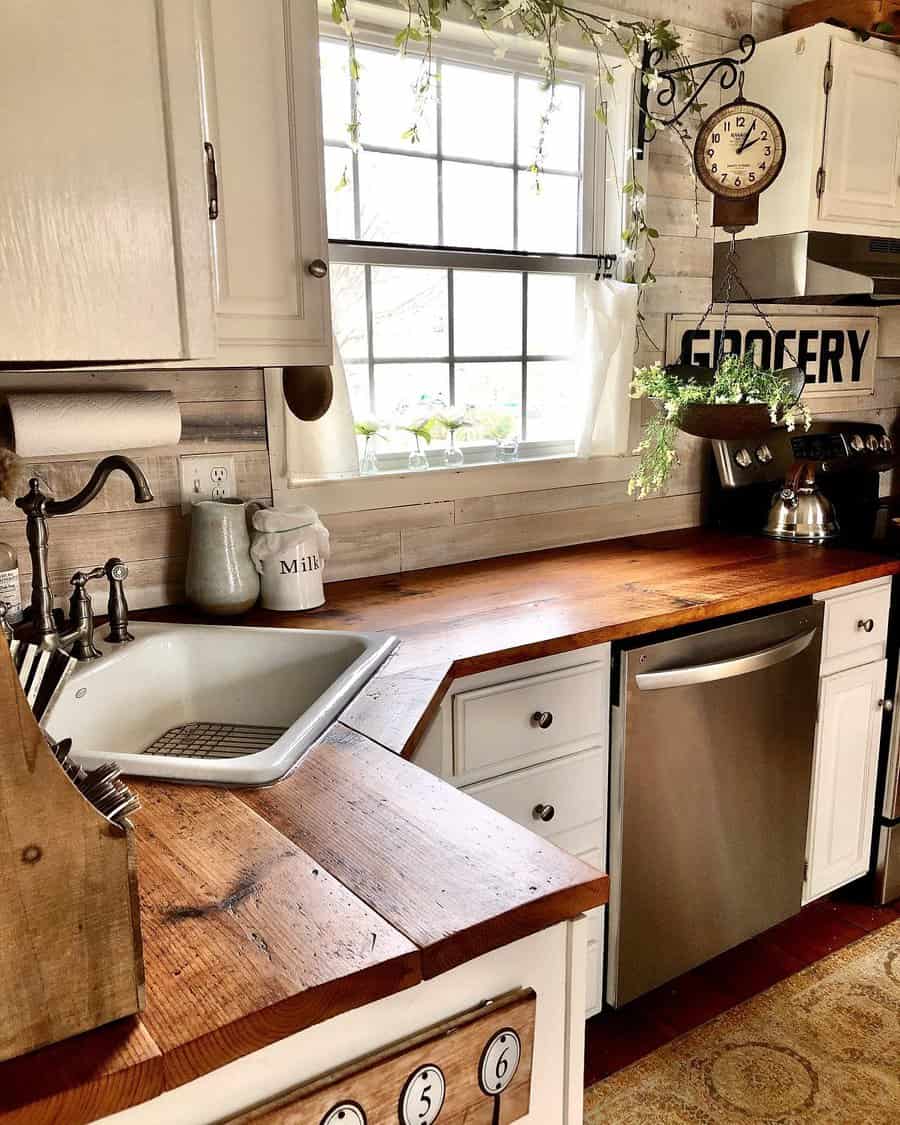 Reclaimed wood is often used for farmhouse-inspired or rustic wood countertop designs. Some even feature dramatically weathered or discolored wood. While there's nothing wrong with enjoying a rough-hewn aesthetic, it's not the only way to use this recycled material.
It's 100% possible to create a DIY wood countertop with reclaimed materials that looks brand new. All you need is a little elbow grease (and some tung oil) to give new life to old lumber.
10. Waterfall Countertop
Waterfall countertops offer a modern twist on the traditional kitchen countertop. Rather than coming to an abrupt stop, this style of countertop ends in a right-angle reaching down to the floor.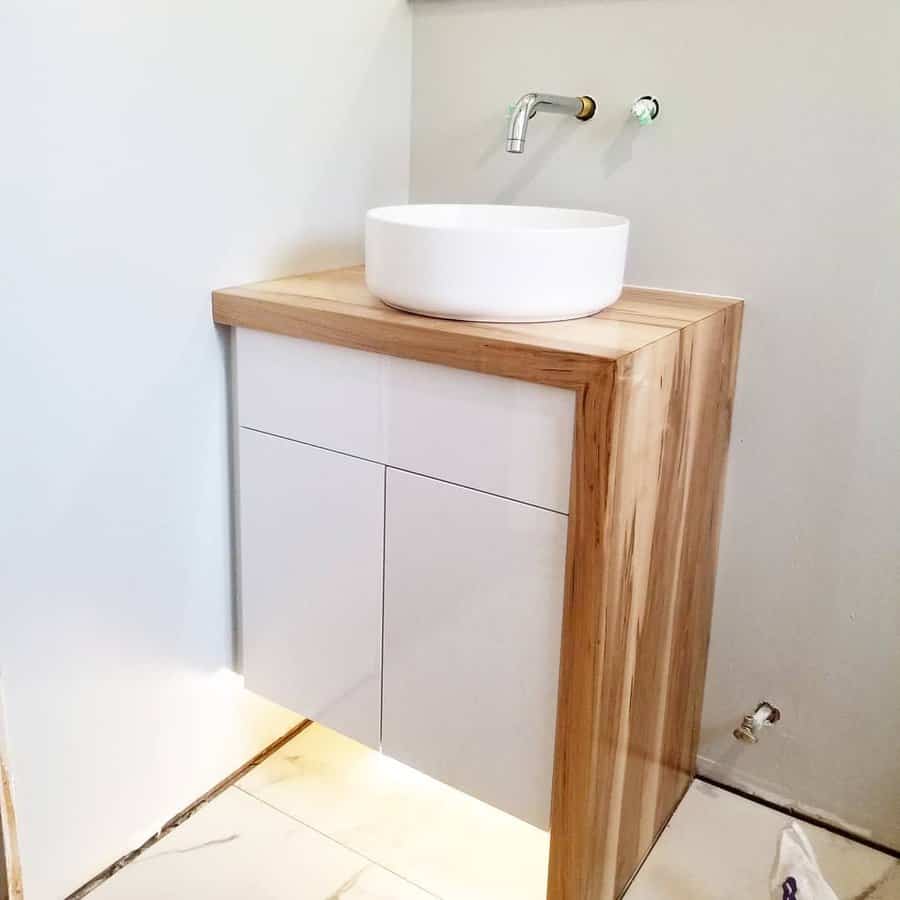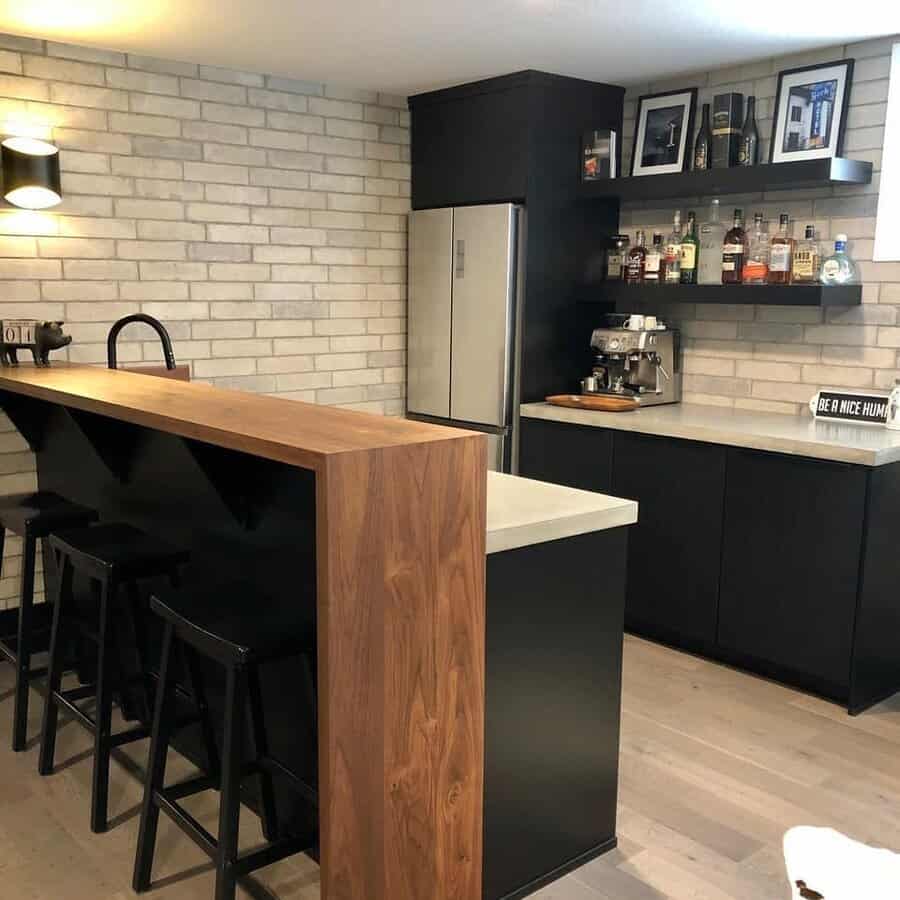 While technically you can install a waterfall countertop anywhere, they're most commonly used for finishing off a kitchen island or breakfast bar.
As far as design is concerned, a waterfall-style counter is a great way to show off a unique countertop material (in this case, wood). If you're worried about covering up your new counter with small appliances and clutter, this might be the perfect solution.
11. White Interior
Few home decor trends are as versatile as the white kitchen. After all, there's no better way to ensure your cooking space feels bright, open, and aesthetically clean. But many homeowners find that an all-white color scheme saps the warmth from their kitchen interior.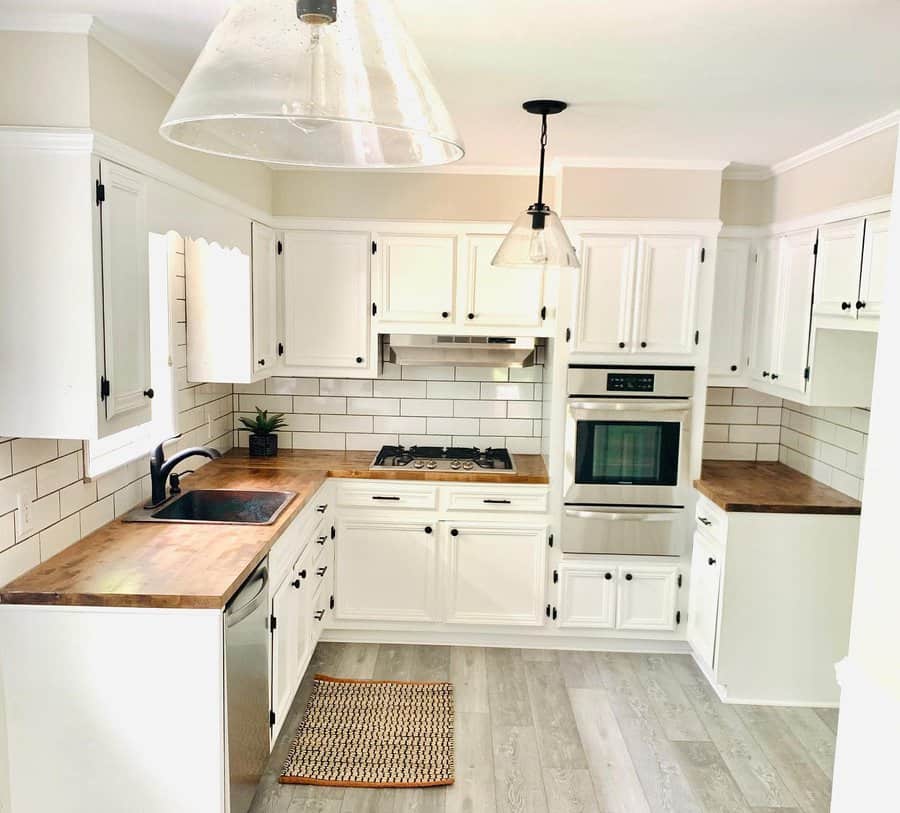 Wood countertops are the ideal neutral complement to an all-white kitchen. Even if wood grain is the only color in the entire space, you'll be amazed by how much more vibrant and inviting your kitchen feels.
And, like white, natural wood goes with everything. You can keep things modern with stainless steel appliances and sleek overhead lighting. Or add your favorite potted plants for a Bohemian atmosphere.
12. Wood Slab
Butcher block countertops are both affordable and easy to come by. Yet many homeowners prefer the look of a solid wood slab.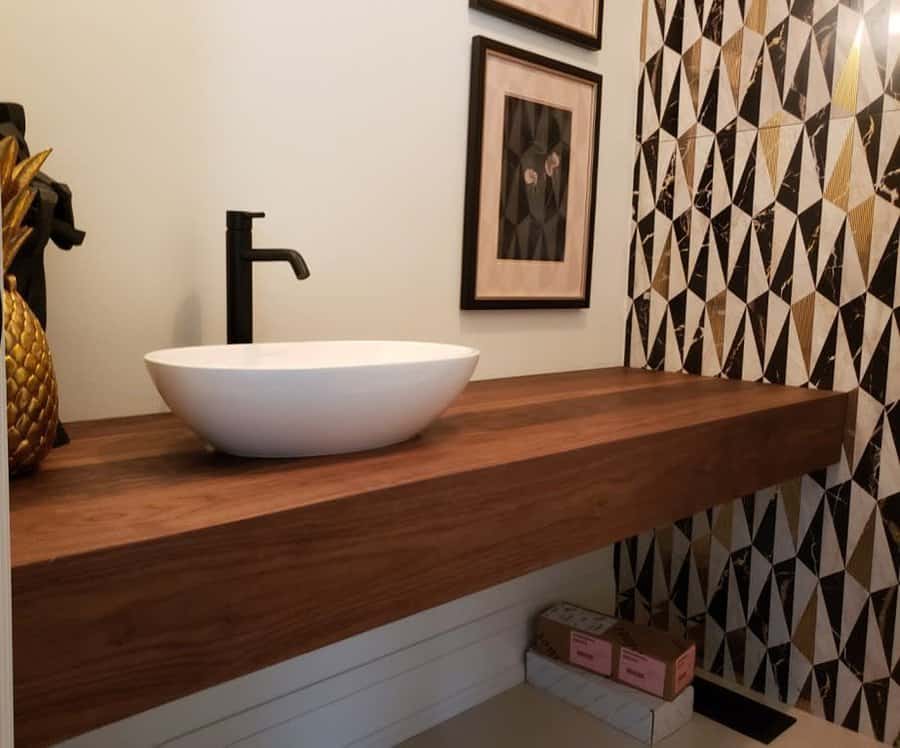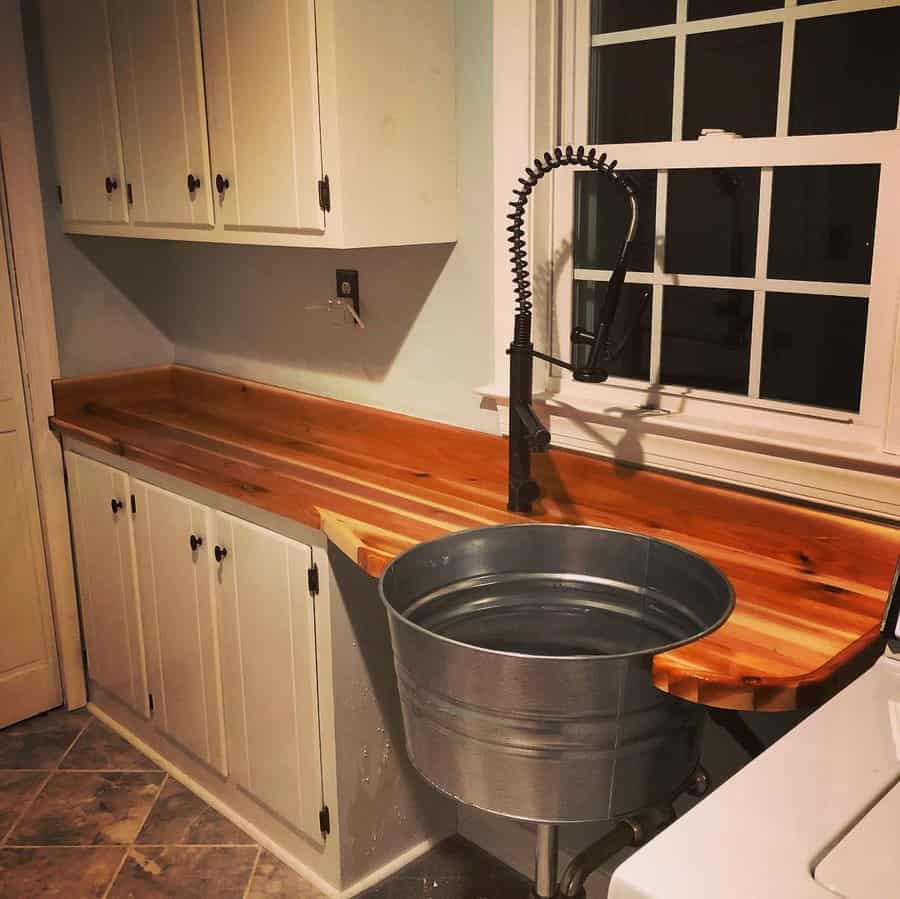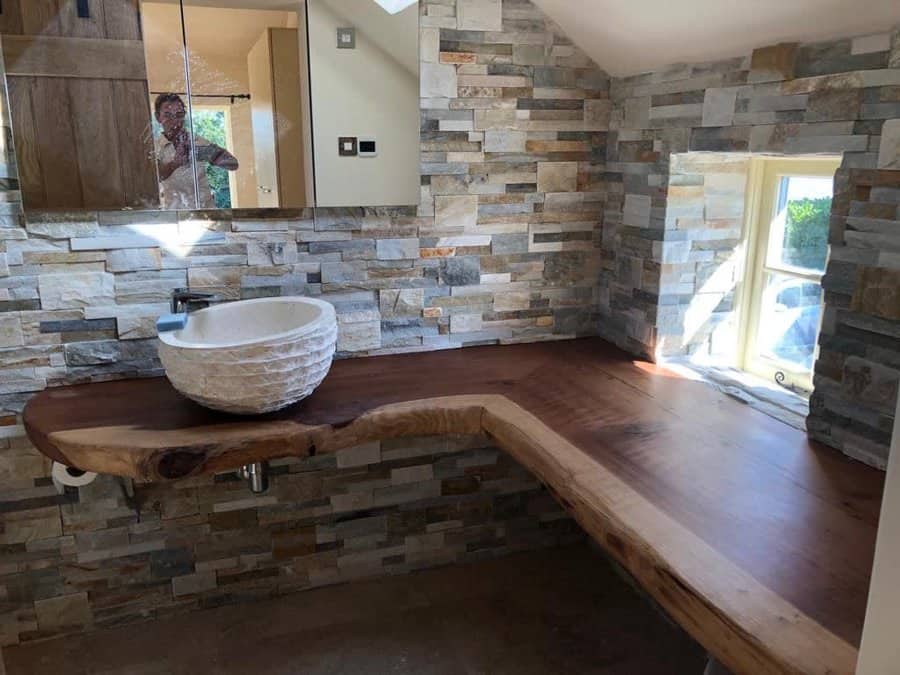 Wood slab counters are commonly constructed using a piece of live-edge wood. However, this material can also be used to make a sleek, uniform countertop. Keep in mind that you may need to use several wood slabs to outfit an entire kitchen or bathroom.
Nearly any wood species can be used to create a wood slab countertop. If you like the aesthetic of knotty wood, go with a variety like hickory or hard maple. For a smoother appearance, opt for a species like white oak.
13. Wood and Epoxy Resin
Epoxy can serve two purposes in wooden countertop design. First, it can be used as a durable, high-gloss sealant that protects the wood beneath. Second, it can be used to create beautiful resin accents that contrast with the natural wood grain.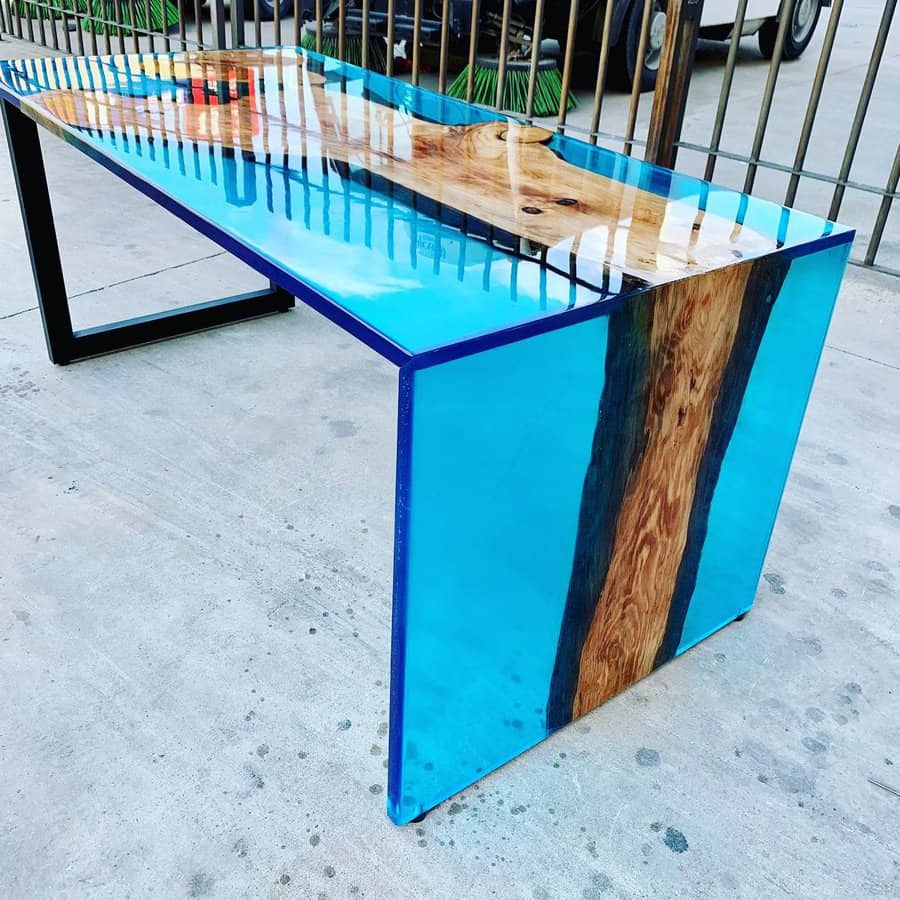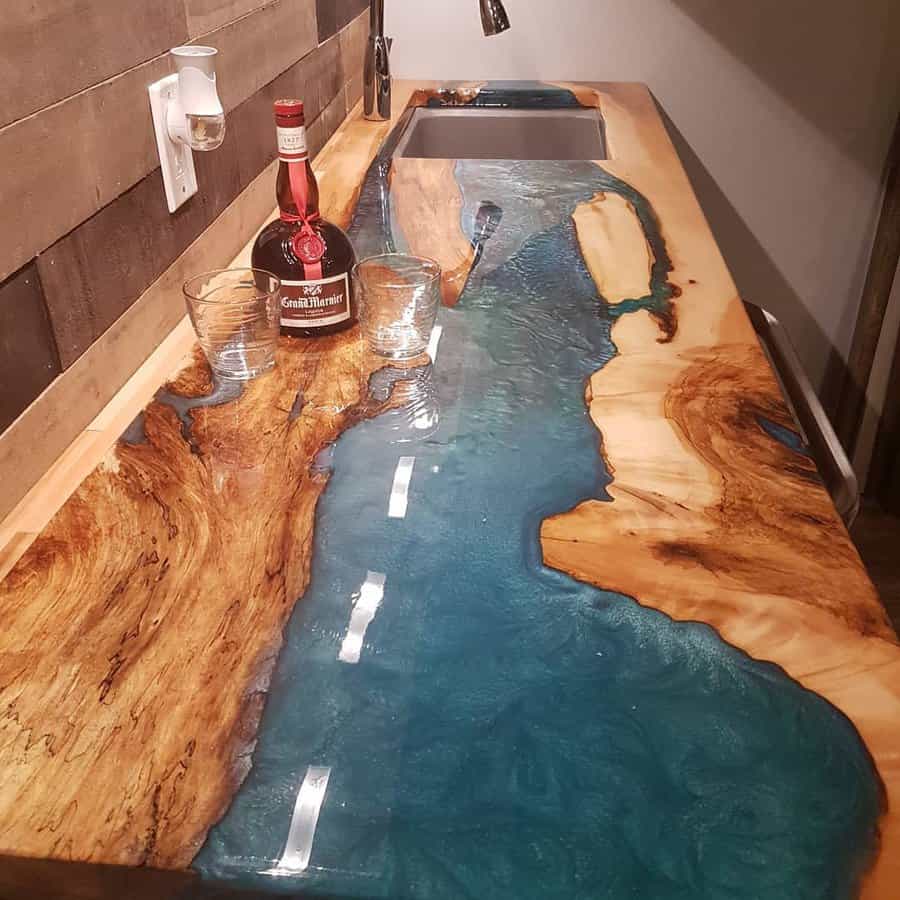 One of the most popular wood and epoxy designs replicates the appearance of a river cutting through the wood. If you want to give your wooden countertop a contemporary edge, consider installing LED lights underneath the poured resin design.
Resin can even be used to turn a piece of live-edge wood into a smooth slab. It's an aesthetically pleasing way to fill the cracks in a piece of lumber and create a gorgeous DIY wood countertop.
Wood Countertop FAQs
Are wood countertops durable?
Natural wood countertops are much more durable than many homeowners believe. However, they are not as tough as alternatives like stainless steel or concrete countertops.
Wood counters are more prone to damage from knives and other tools. But they do offer the advantage of being able to resurface the counters to remove knicks and stains.
You can prolong the life of your wood countertops by using a cutting board whenever possible.
Can you sanitize a wooden countertop?
Untreated wood is quite absorbent. Applying a high-quality sealant ensures that liquids do not seep into the material underneath.
Once sealed, you can sanitize the wood surface as you would any laminate countertop or granite countertop. Sealants can also be used to make a wood counter heat-resistant.
Which wood species make the best countertop material?
Many different types of wood make great countertops. For the best results, you want to choose a wood species that is durable and fits your decor.
Talk with a local contractor about which wood will work best for your kitchen remodel. Hardwood varieties like maple, cherry, oak, and walnut are all great choices.