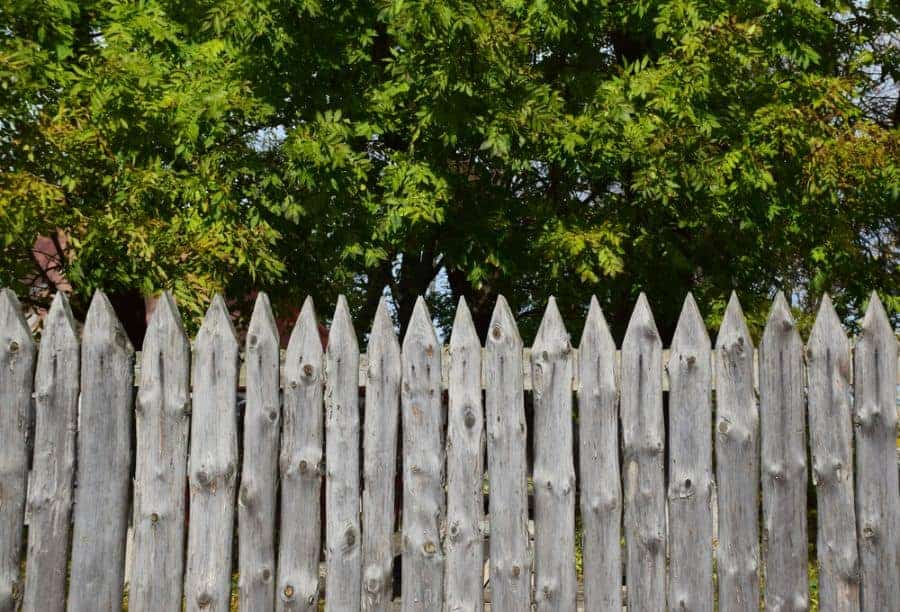 82 Wood Fence Ideas for Your Home
There's truth in the saying, "Good fences make good neighbors."
So why not build a wooden fence around your yard and give your home and property privacy? The right wood fence will do more than just create a physical barrier. It can also improve the look and value of your property.
When it comes to building a fence, you could choose a chain link or a vinyl fence, but these lack the natural beauty of wood. With wood, you have plenty of options for the construction and style of your fence. Get inspired by these wood fence ideas and find the perfect fence that will complement your property and be functional for your needs.
1. Rustic
Properties outside of the city limits and in a more rural area can benefit from a rustic wood fence. The main characteristic of a rustic fence is that it embraces the natural characteristics of the wood. The planks aren't perfectly smooth and straight. The beams could be rough-hewn and not completely uniform in size. It's also common to see the bark left on the wood.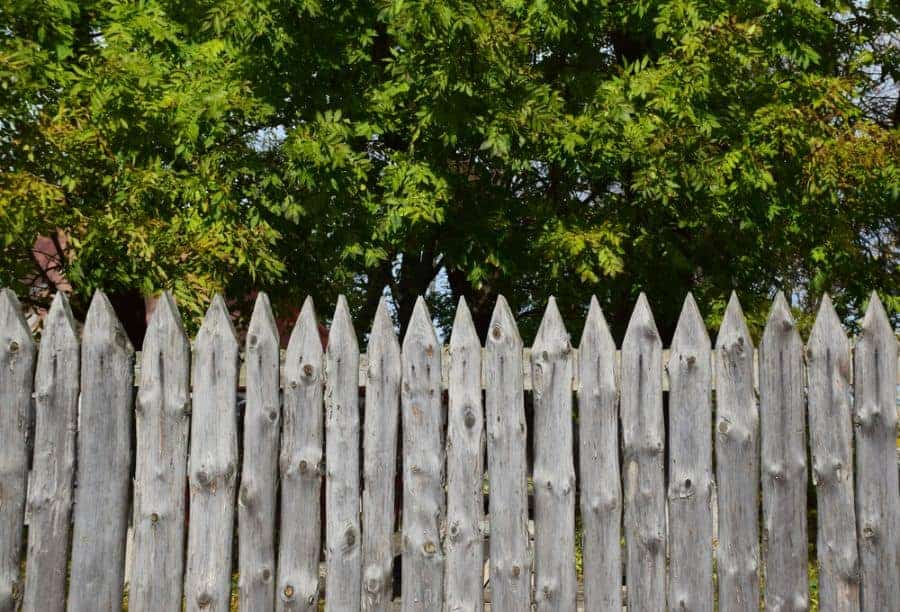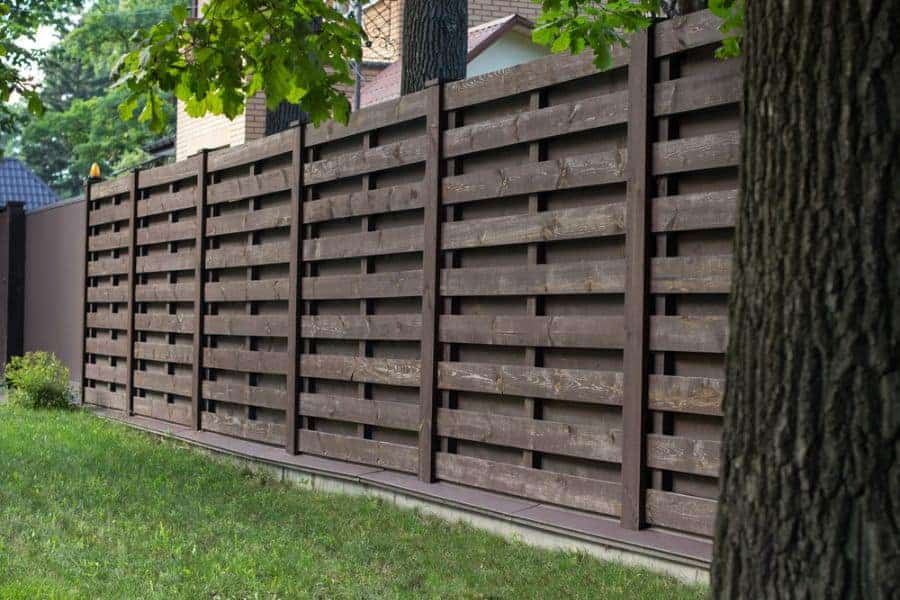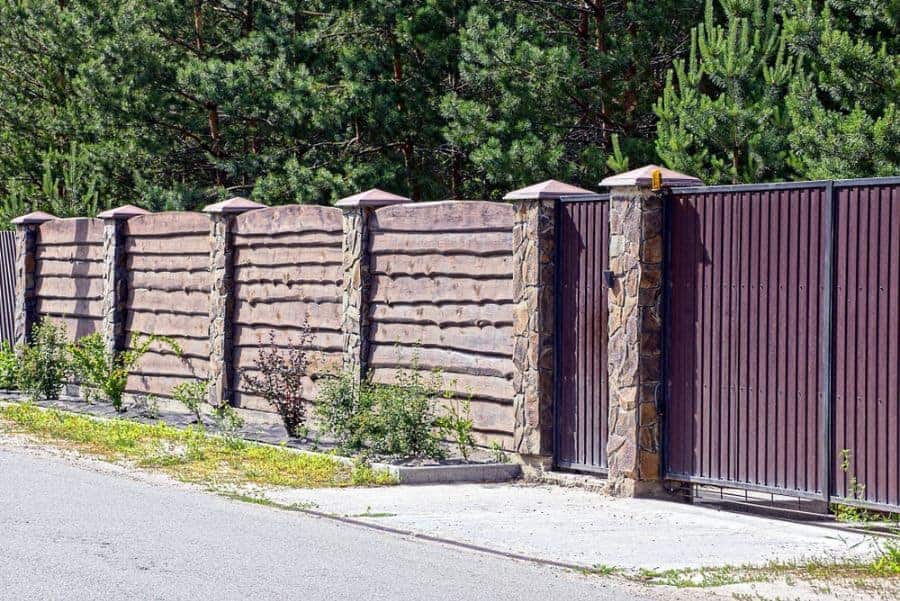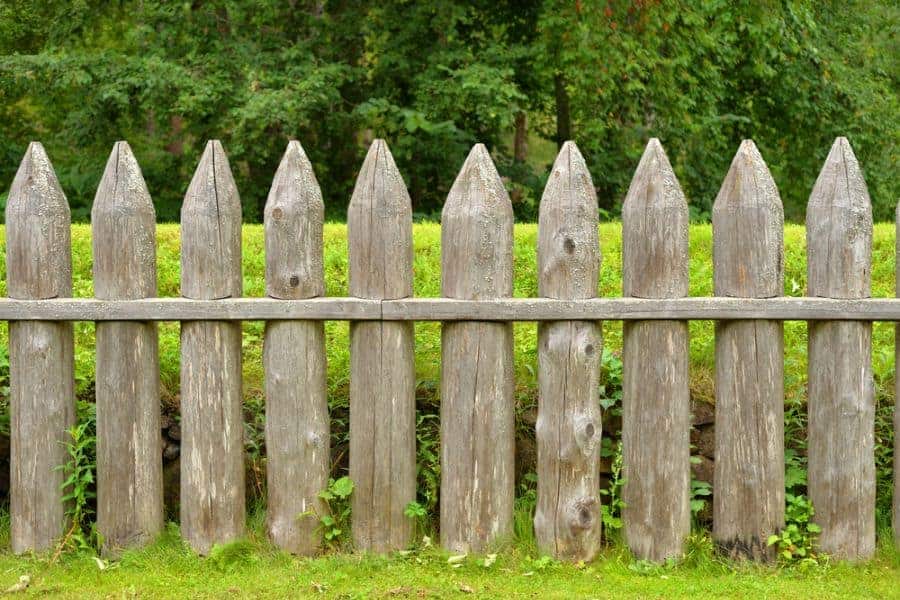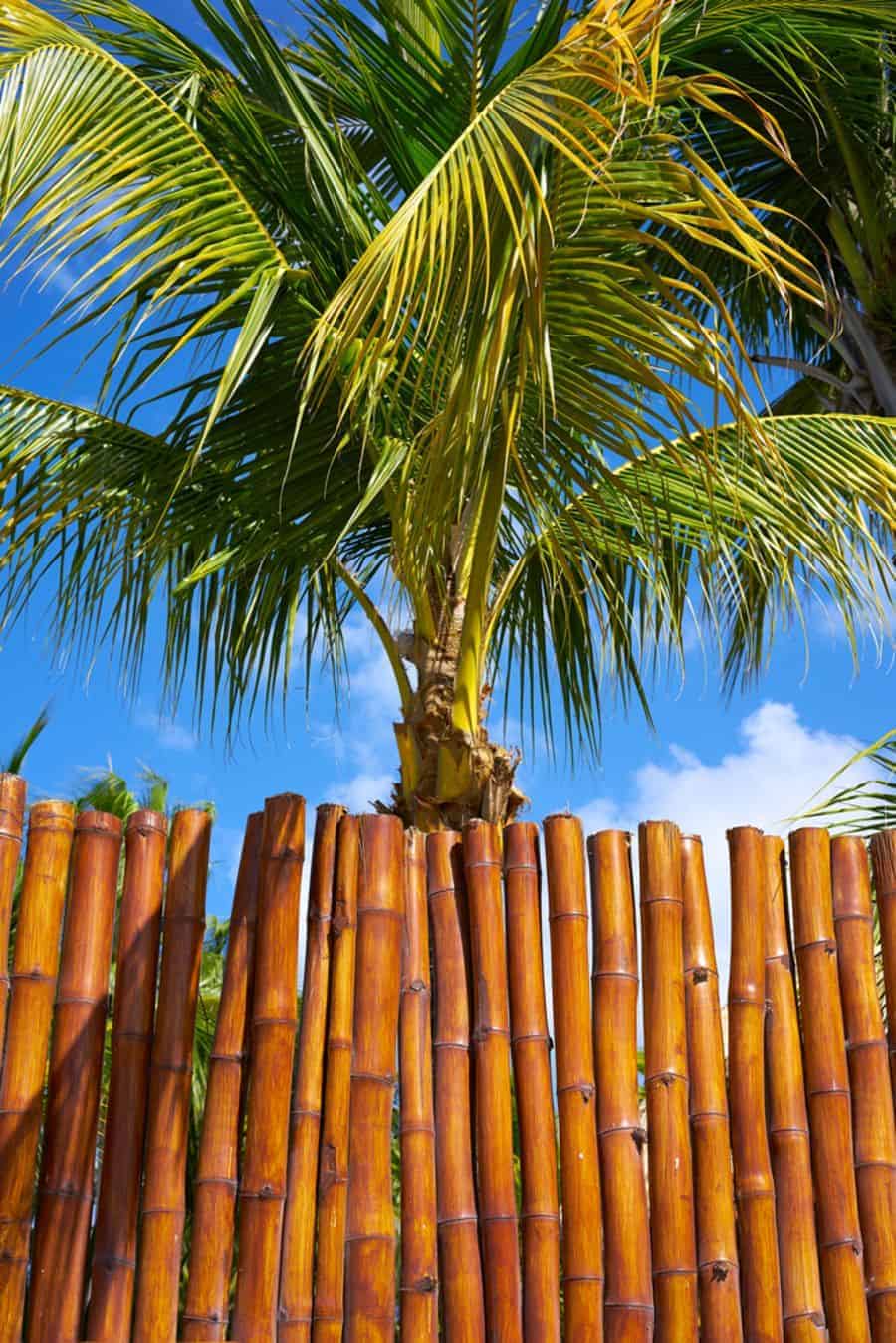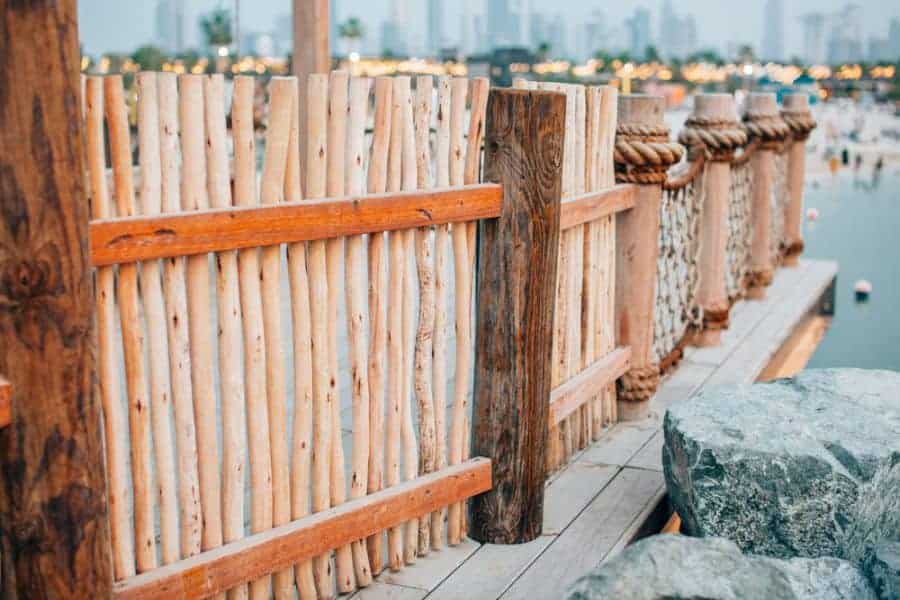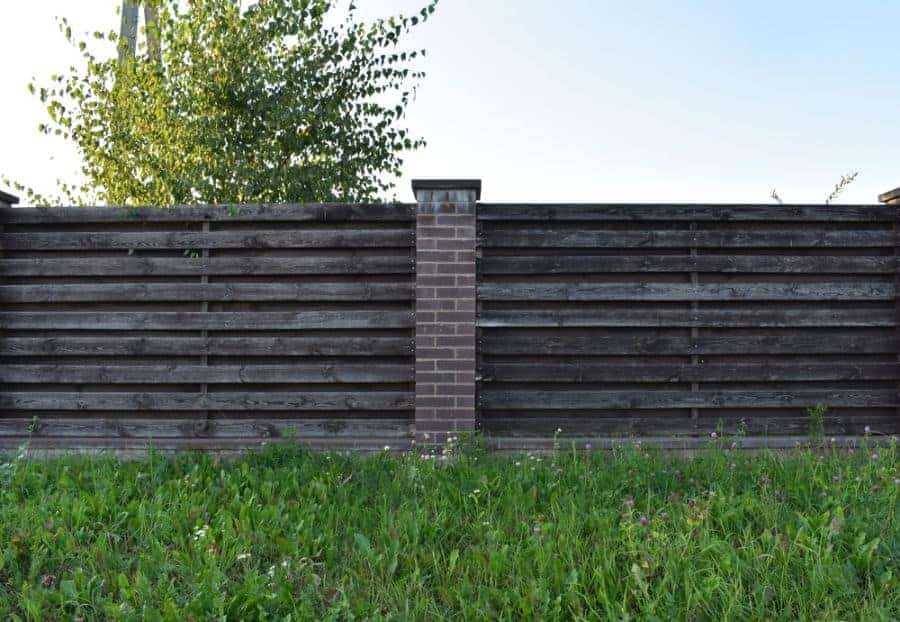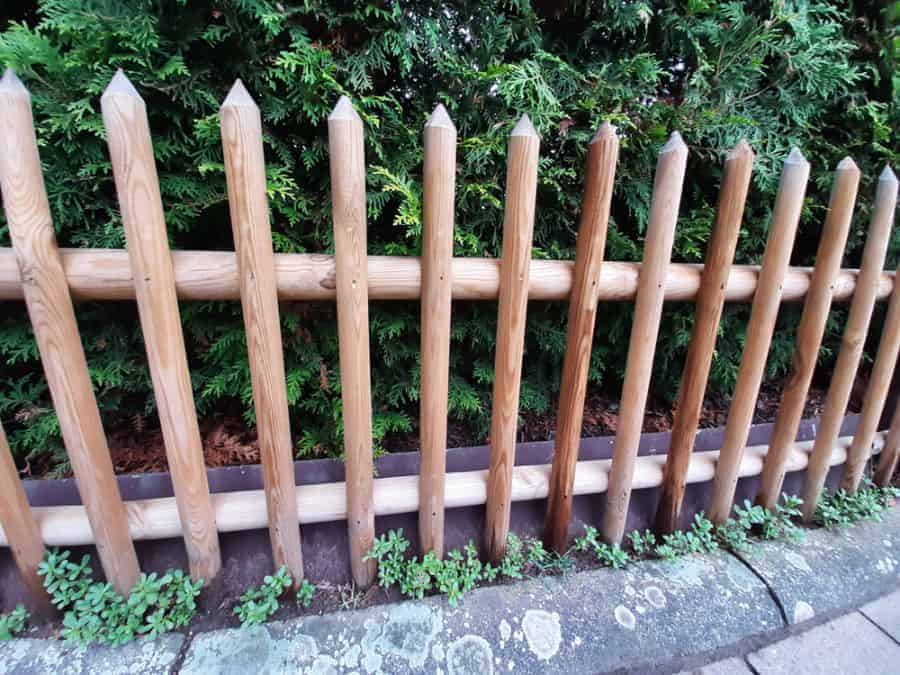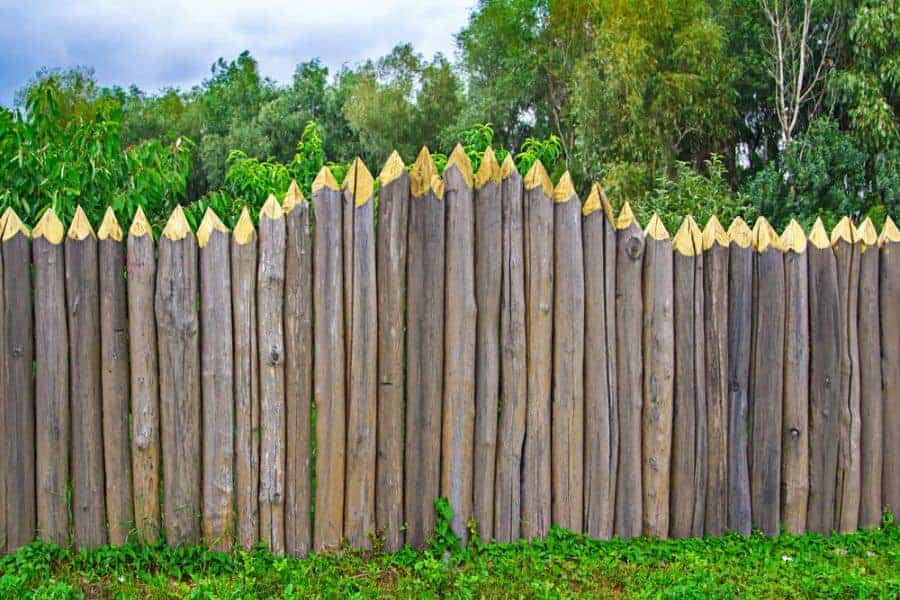 A common style of rustic fence is a zig-zag split rail fence. To build this DIY fence, you'll take rails and create a zig-zag patterned fenceline. Then alternate the rails as you stack them to create the desired height of your fence.
Another standard rustic fence is a stacked horizontal wood fence built from split rails. Create pairs of fence posts from straight branches or small tree trunks. Leave enough space between the pairs that you can slide horizontal rails down between them. You'll alternate the rails to gradually build the fence panels to your desired height of the fence.
You can create an entirely vertical rustic fence by placing several posts in a line next to each other. This is a widespread technique when building a bamboo fence.
A third rustic fence idea is to build your fence out of brambles or branches. Building this style of fence embraces the natural curves and shapes of the branches to weave a fence. It will take equal parts construction and design skills to weave the branches together artfully to build a functional fence.
2. Ranch/Country
A country or ranch style fence is a great option when you want something simple but also refined. A rustic fence isn't clean looking, and this is where a ranch style fence steps in. You could build a rail fence or a picket fence for the perfect country look.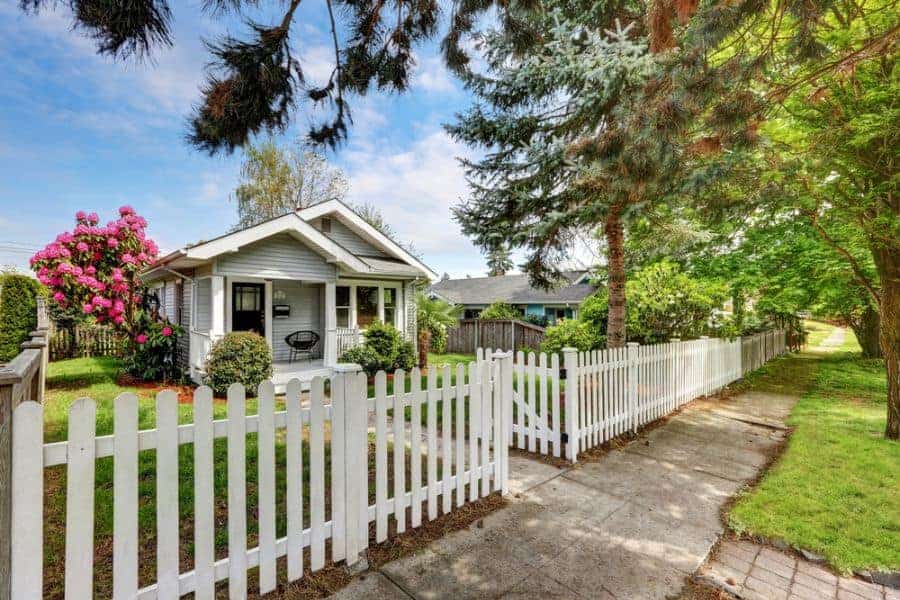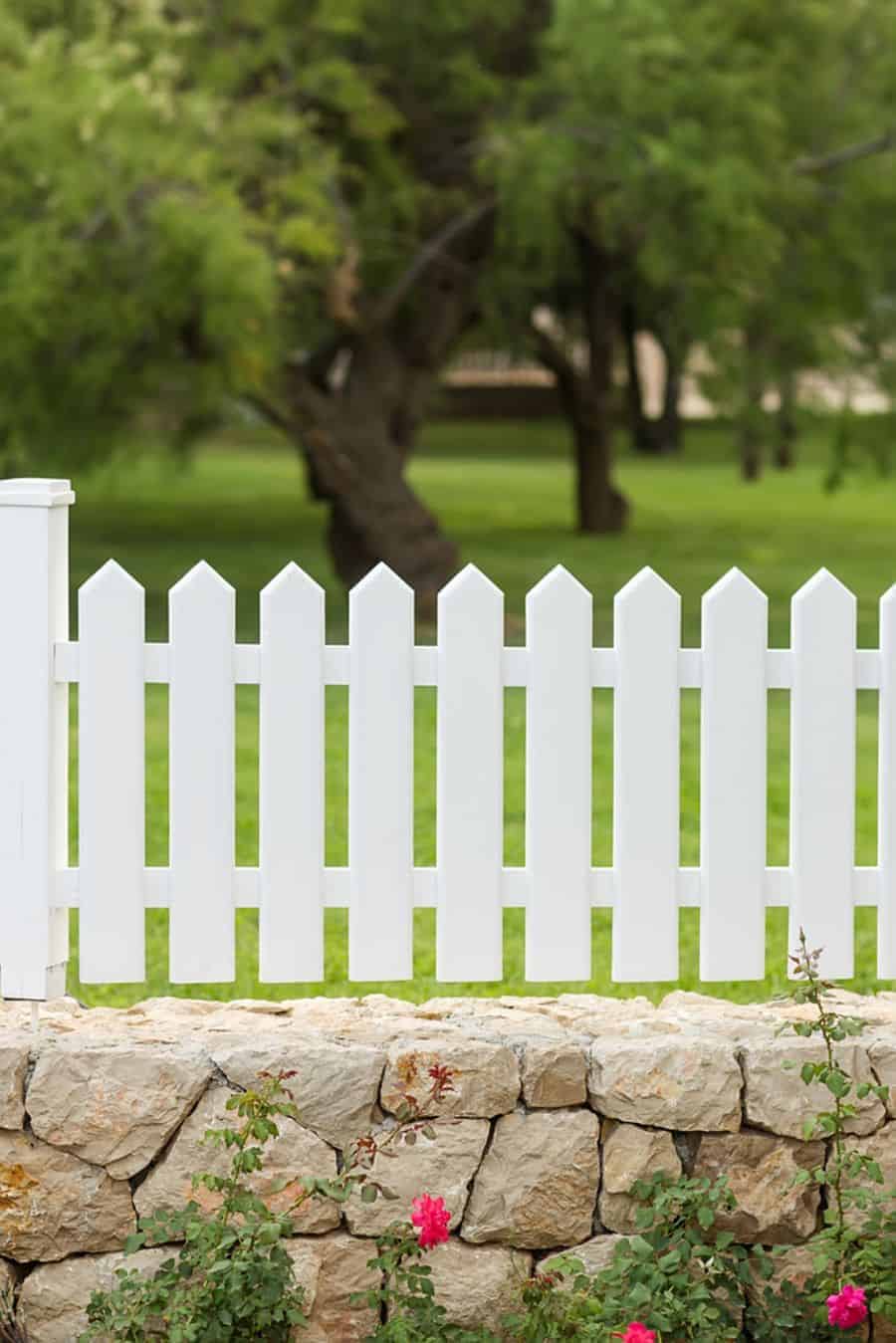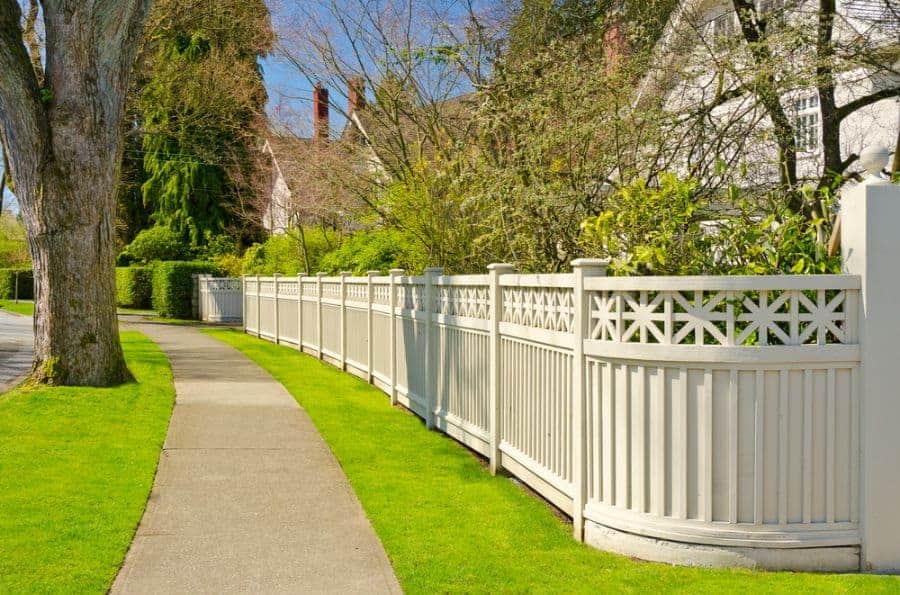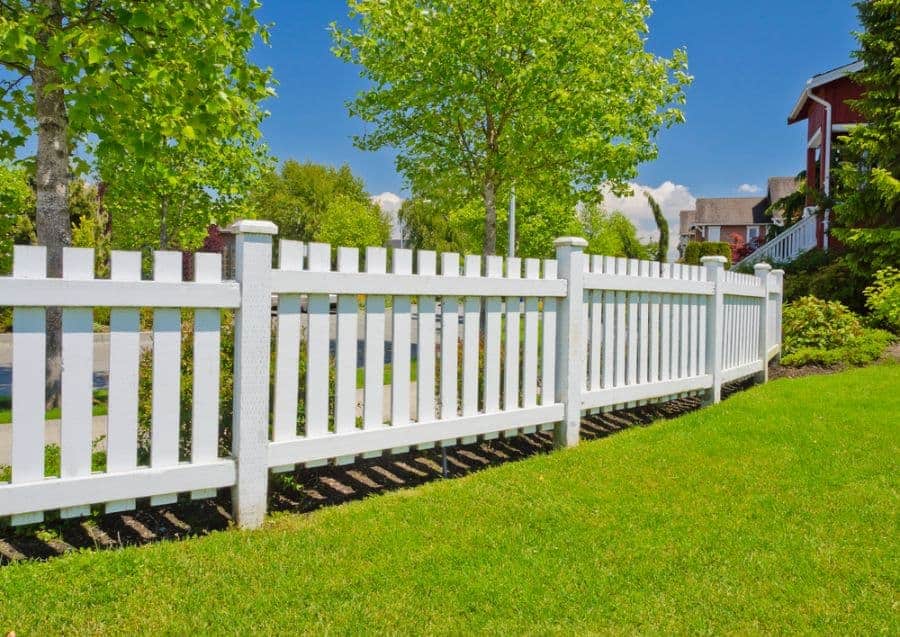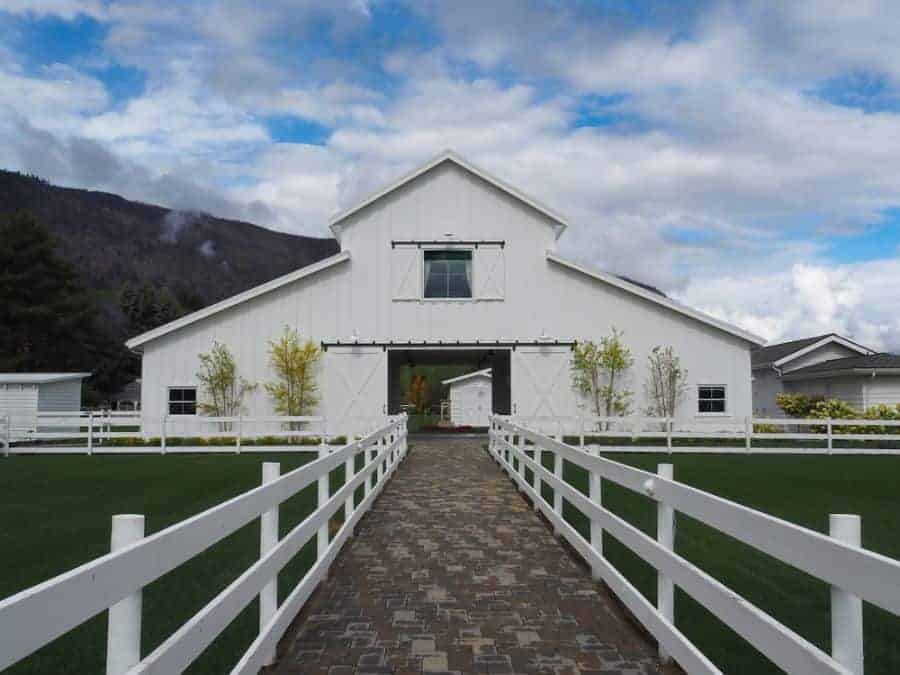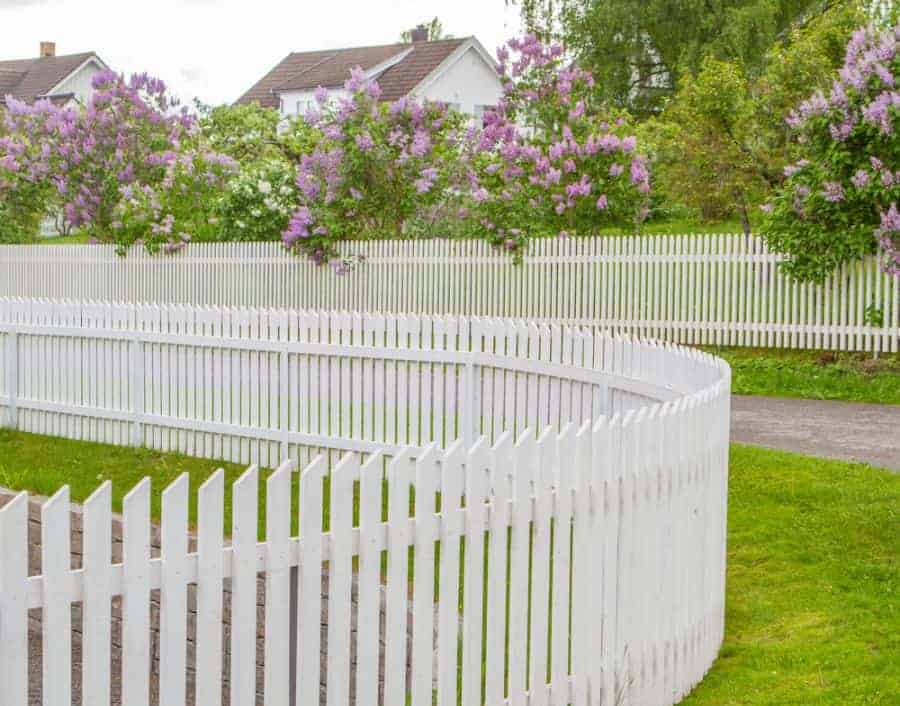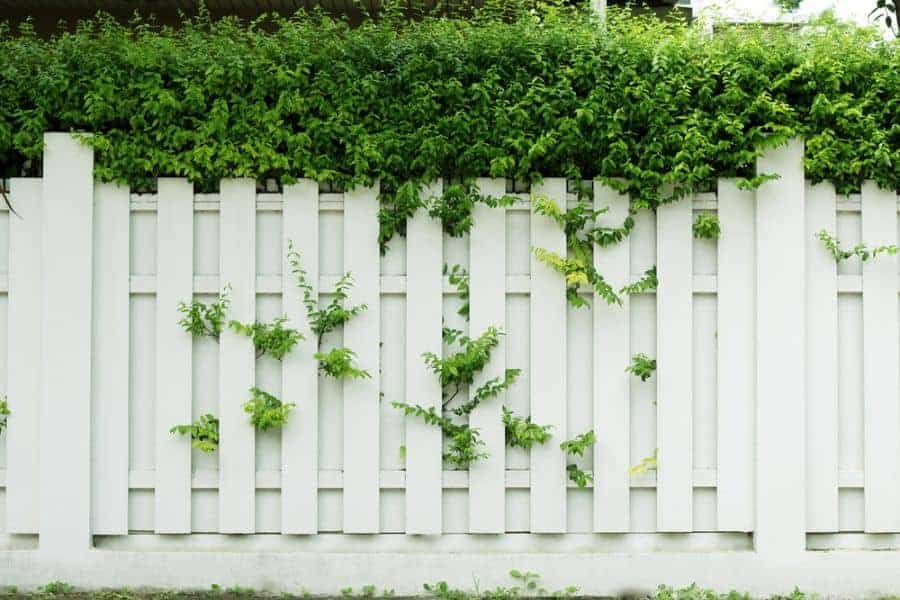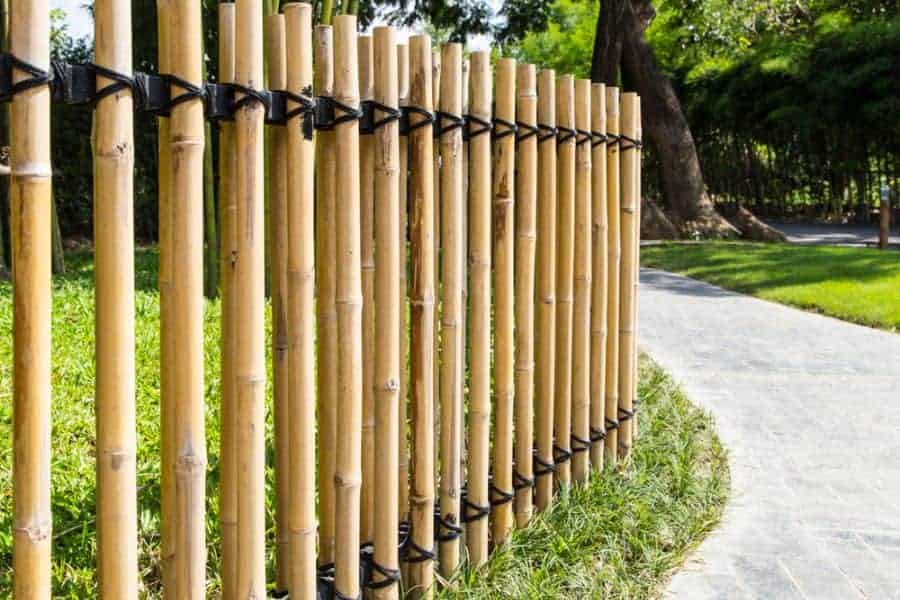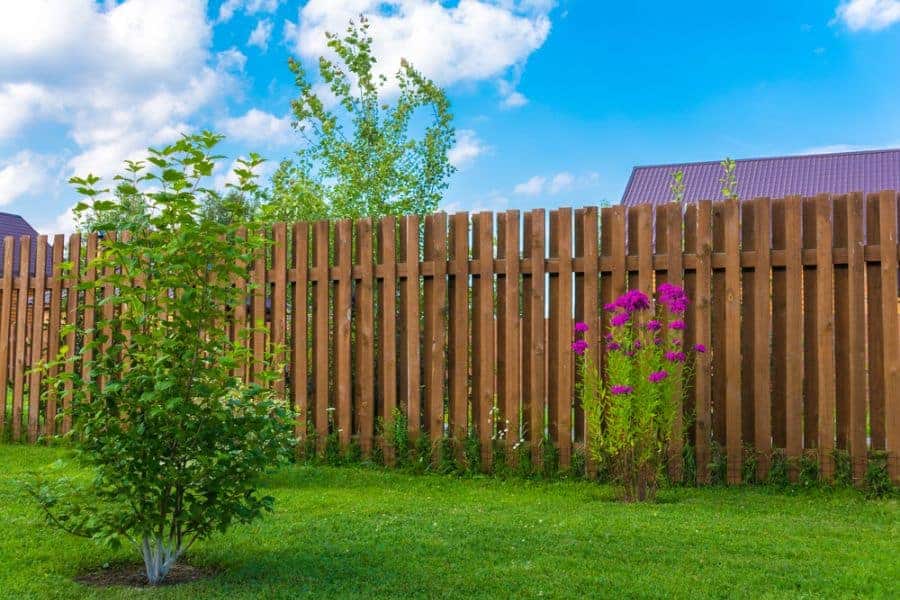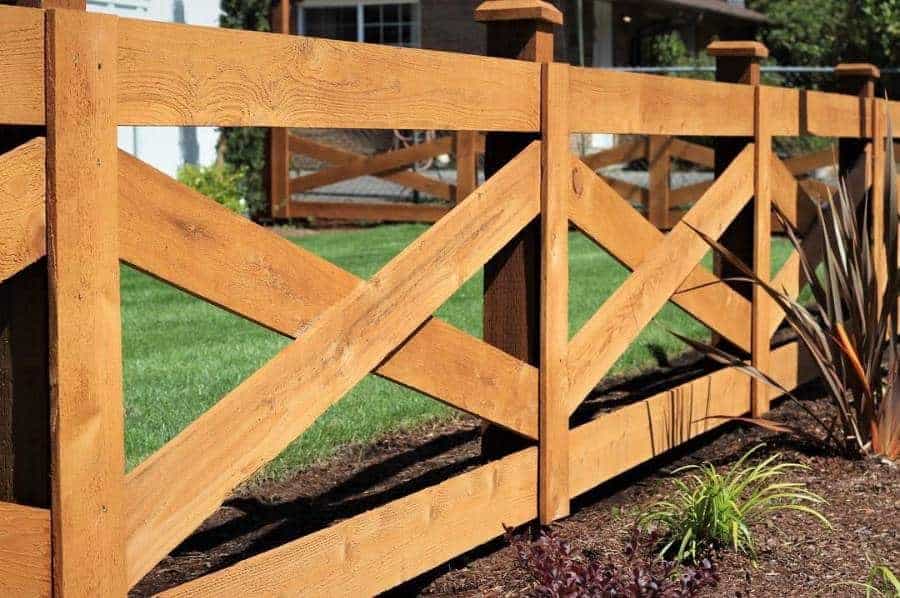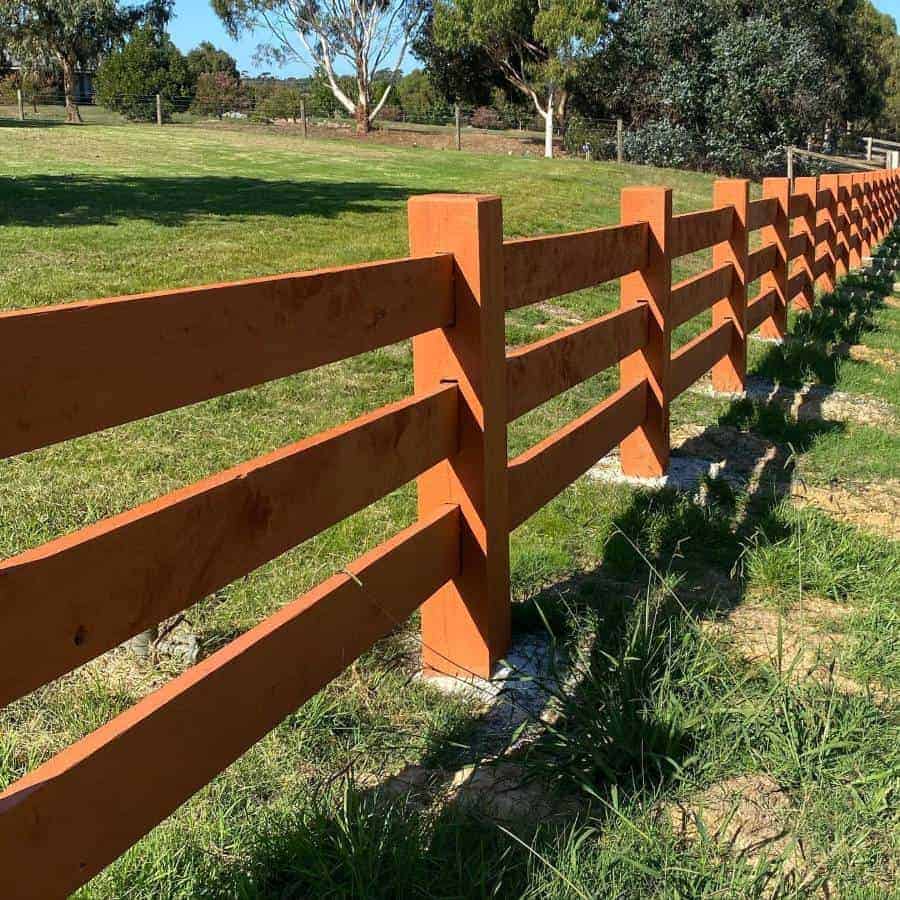 Both fences feature vertical slats an equal distance apart. For a rail fence, there are flat horizontal wood planks with each end of the plank attached to two upright posts. This fence design will typically have three or four horizontal planks. If you want to use this style for your backyard or dog fence, but are afraid it's not secure enough, consider adding metal. You could use a chain-link fence or chicken wire fence material in addition to the planks. What's nice about this is that from afar, you still have a wood-look, country fence because the metal isn't as noticeable.
The other popular country fence choice is a white picket fence. These fences will have two horizontal rails at the top and bottom. Then a series of vertical planks will get mounted on them with gaps in between each plank. You can scale your picket fence for the size of the land you're fencing in. A low fence will make the perfect garden fence.
3. Modern
Modern fencing looks clean and streamlined. The most common modern fence you'll see are ones that combine wood with a metal fence frame. The main support posts will be black with thin vertical or horizontal planks to create the fence. You may see black metal trim along the top of the fence to complete the frame around the wood planks.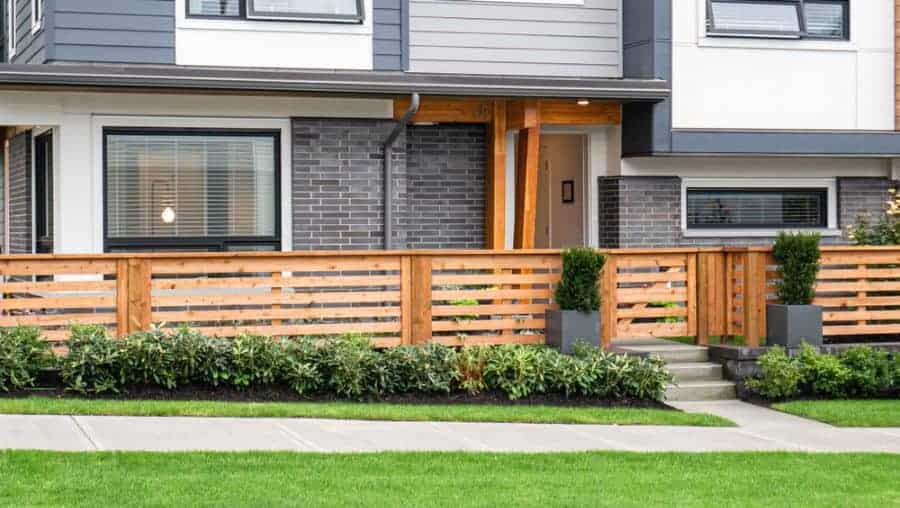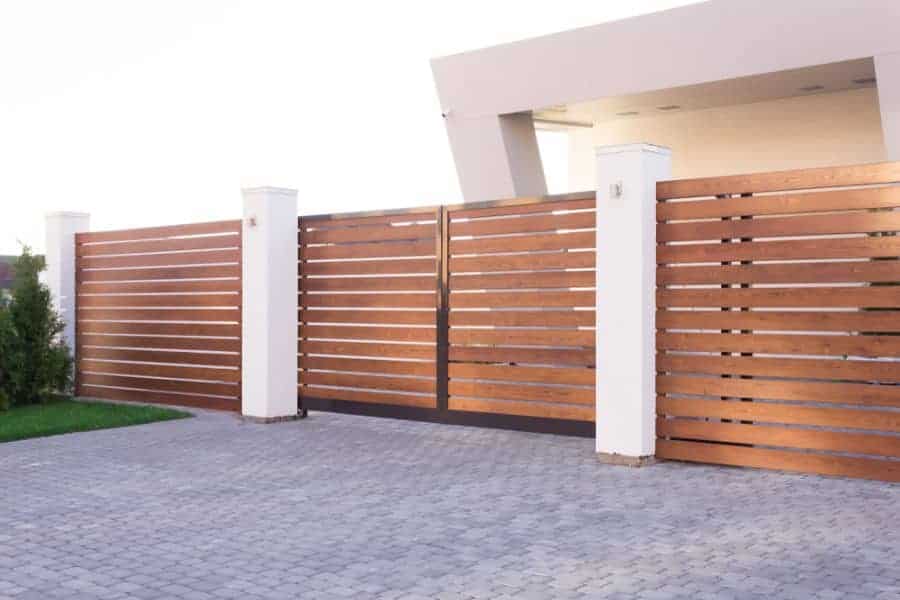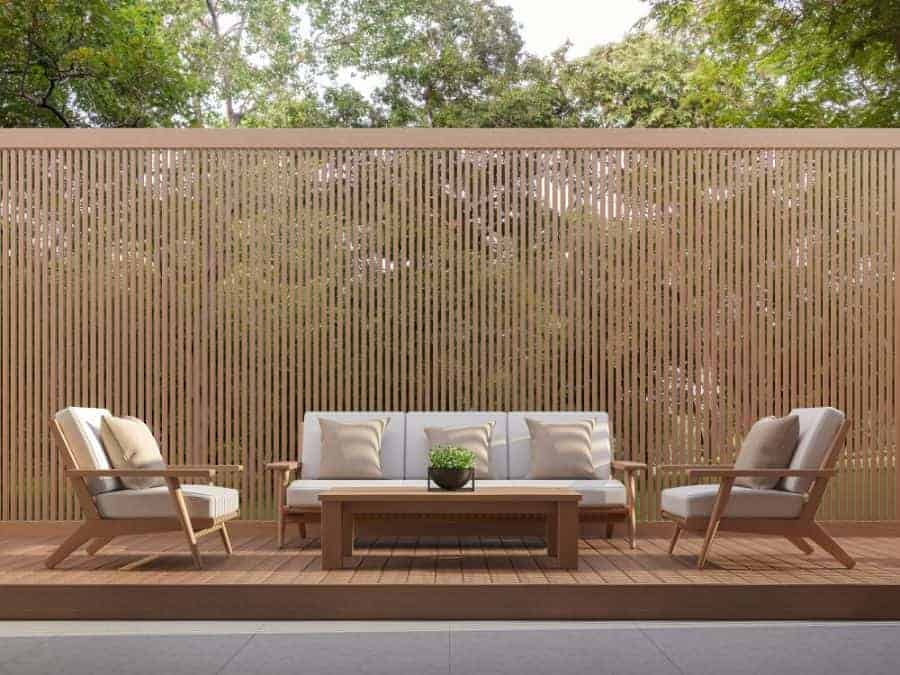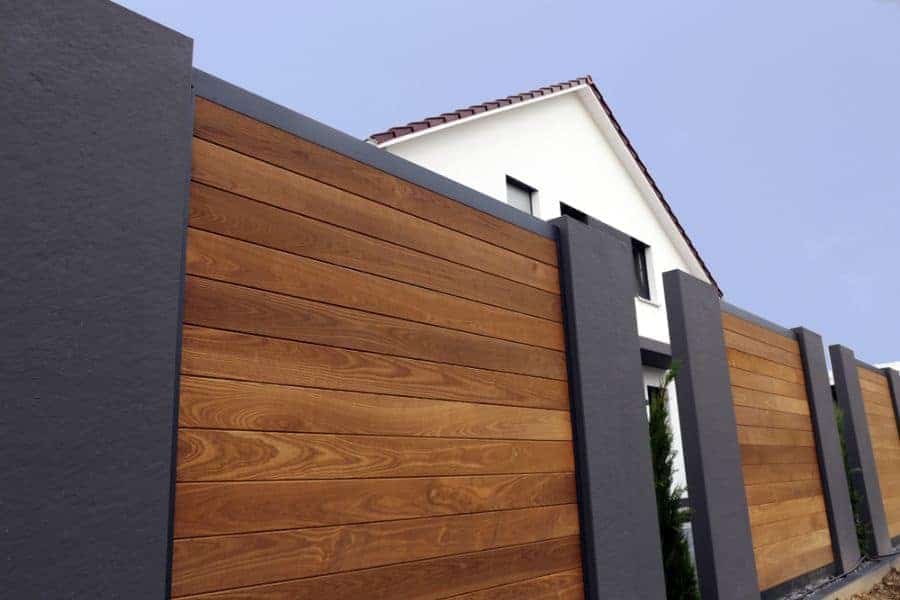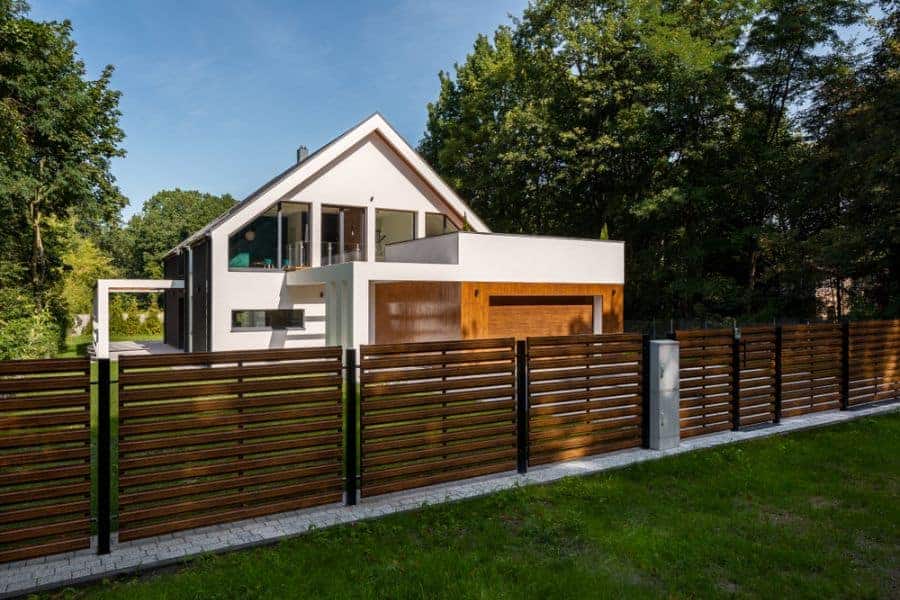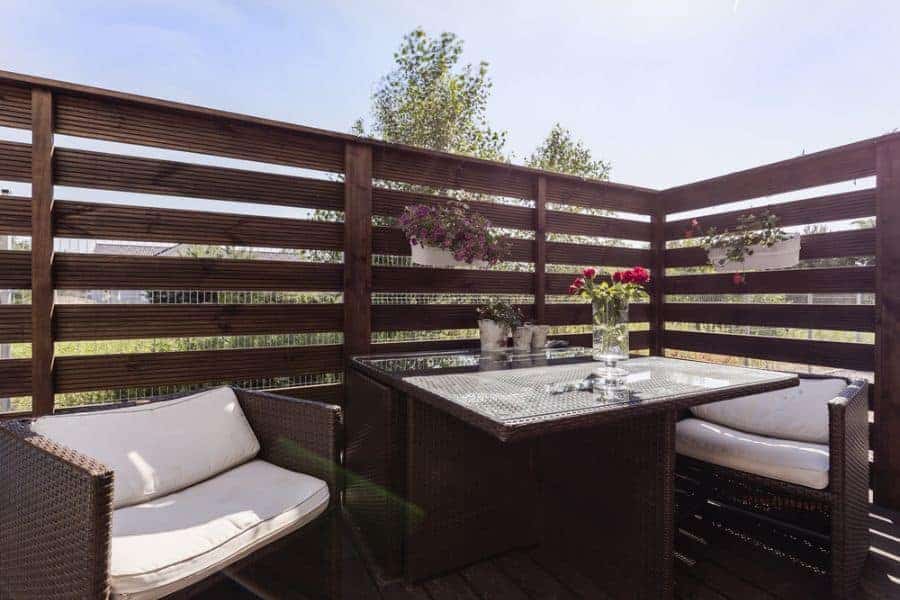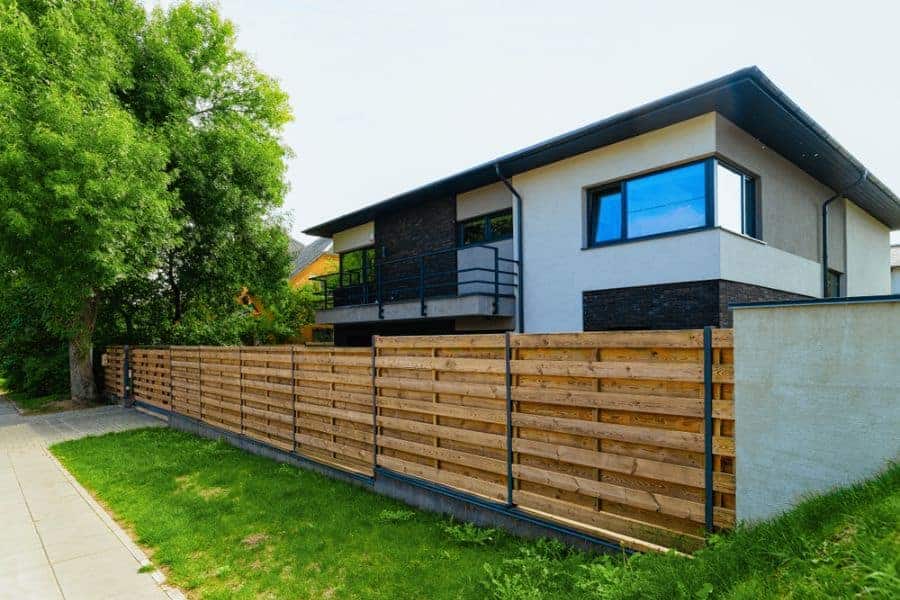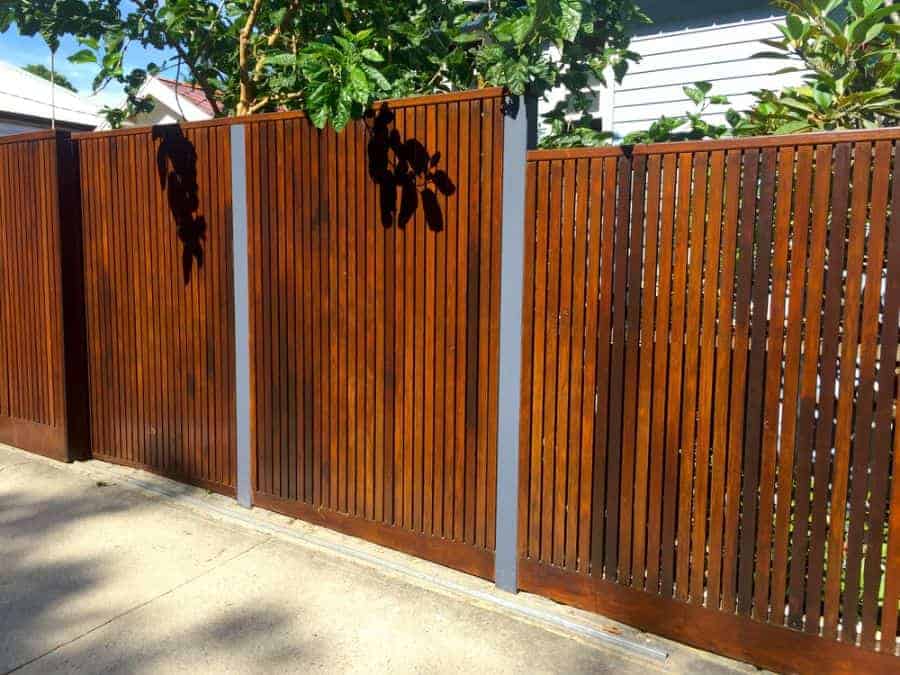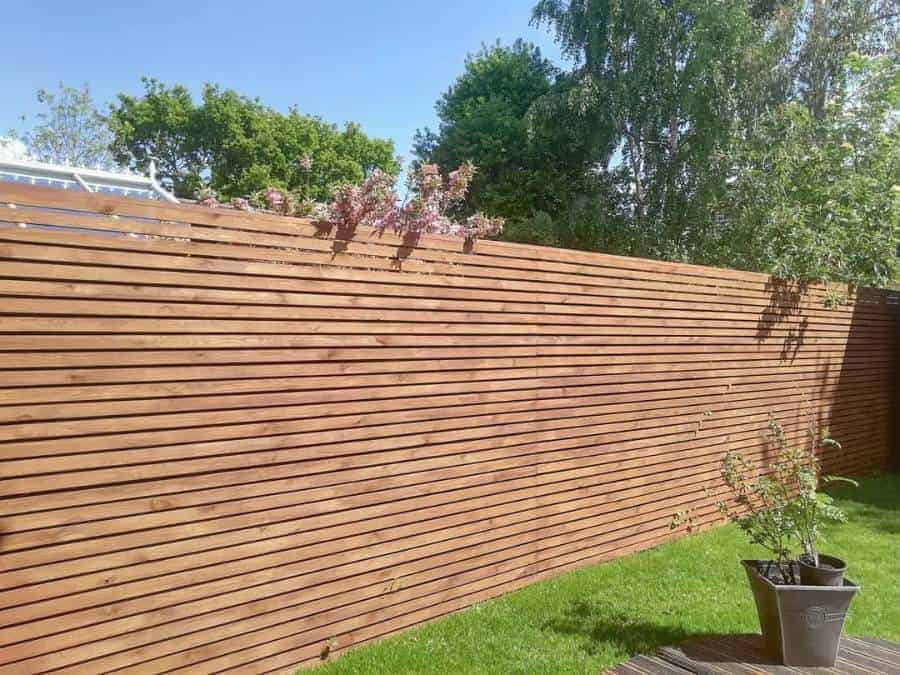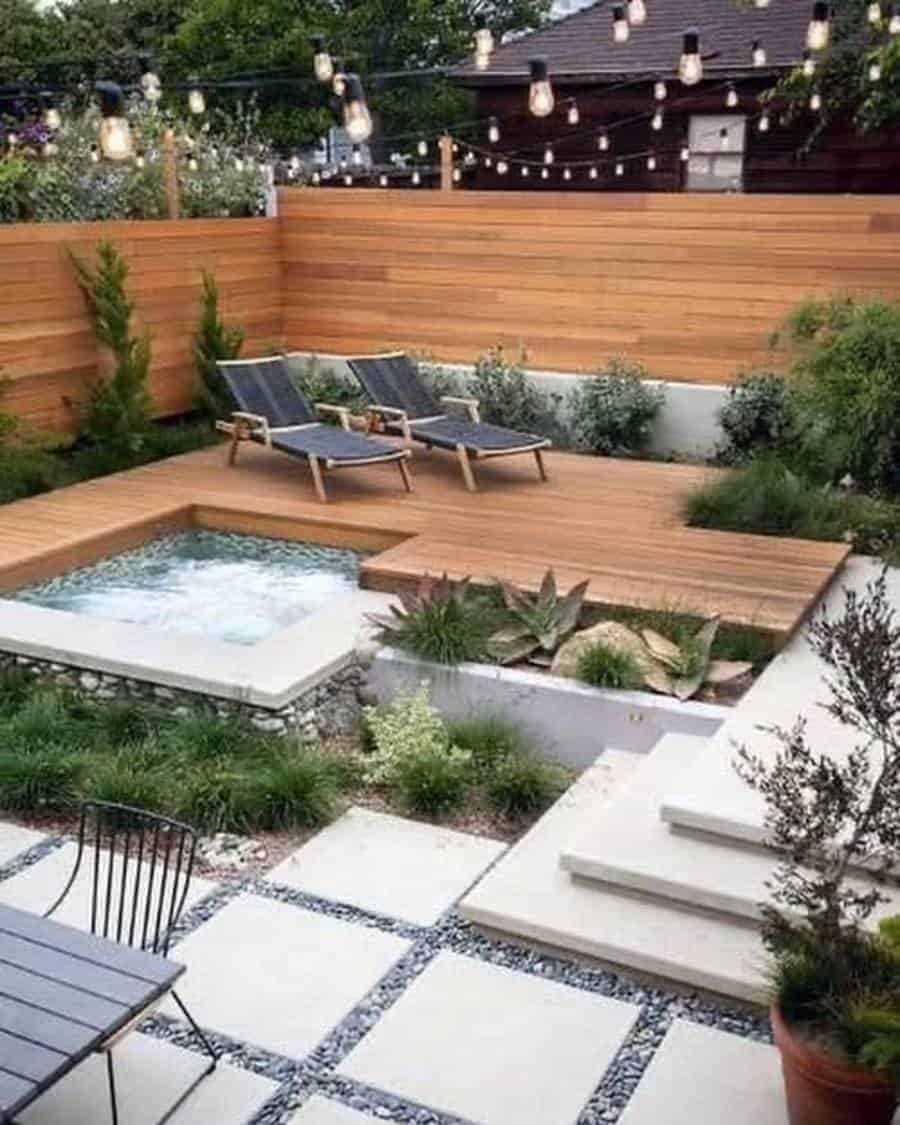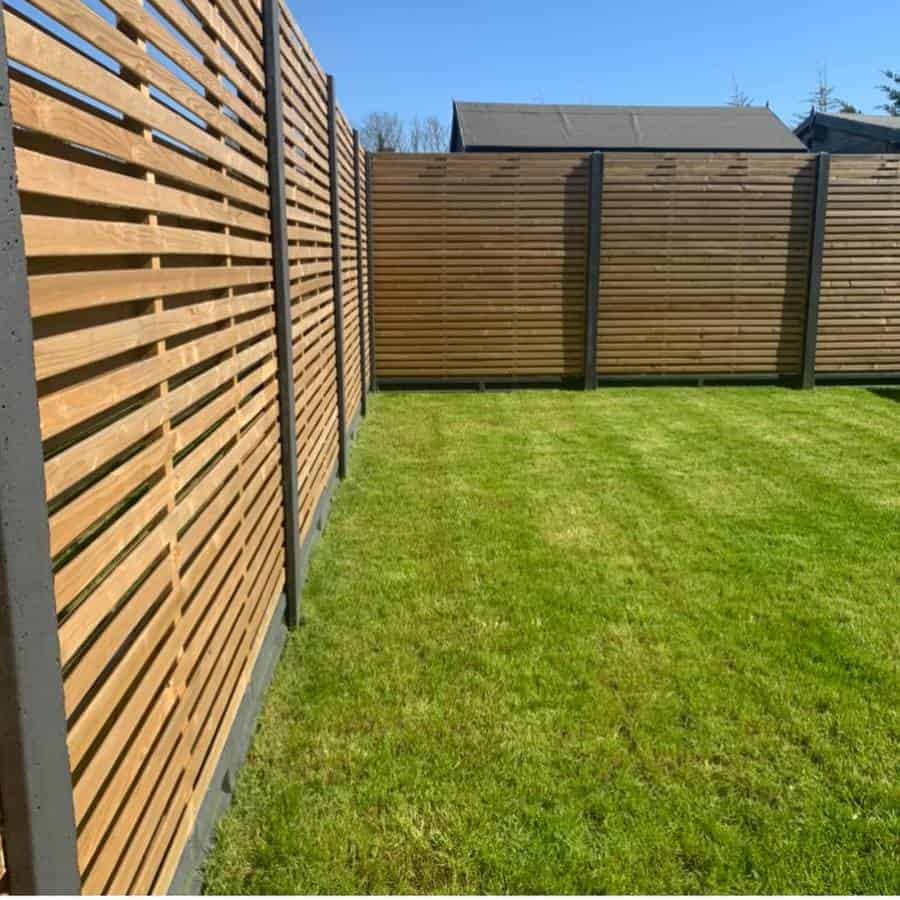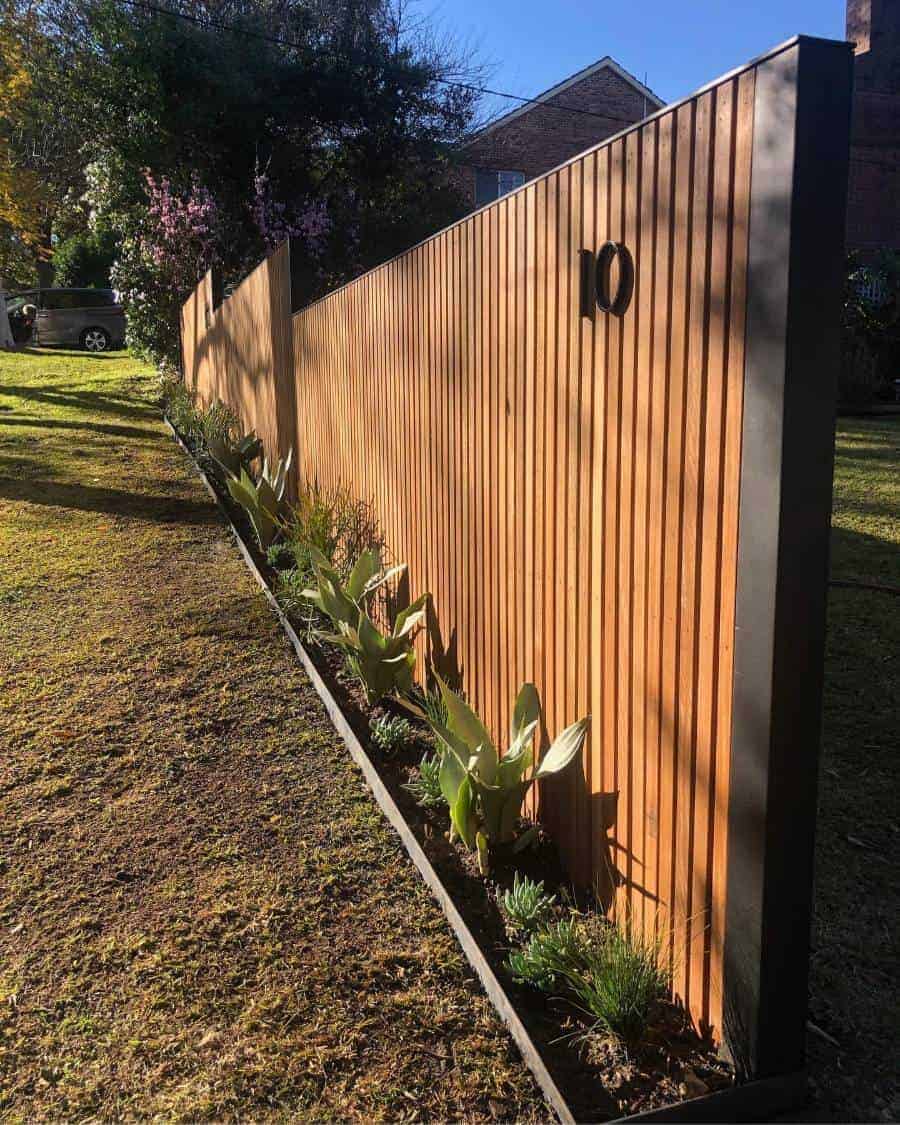 Take note that the planks on modern fences tend to be thinner than the standard plank fence that uses 2×4 beams. You could get creative and use wood of different widths to create a pattern.
Another big difference you'll see in modern fencing is the color of the wood. It's typically richly colored and made of cherry or red cedar. You can buy pre-made panels that already have the planks mounted, and all you have to do is install them on your posts.
4. Brick and Wood
When it comes to building a large perimeter fence, it can be smart to combine wood with a stone fence. This will elevate the look and feel of the fence. It's a logical choice for more upscale areas and homes. Combining brick or stone with wood is also a good option when building a fence on uneven ground.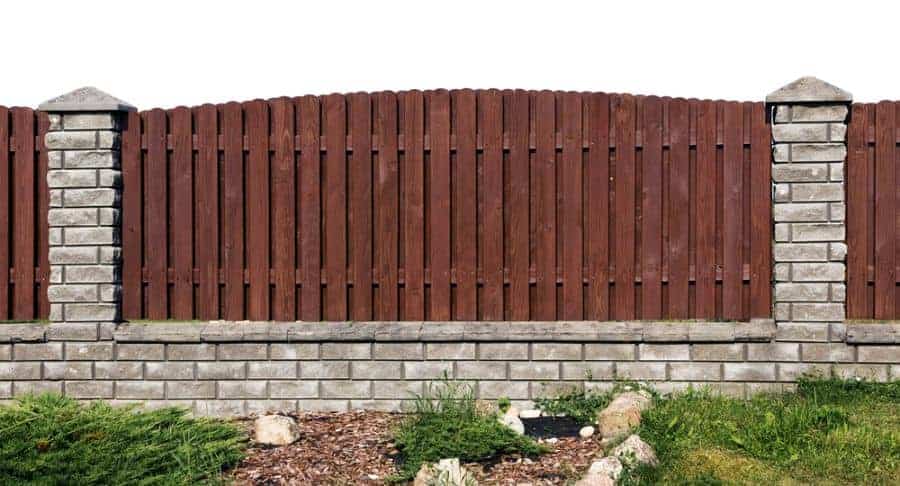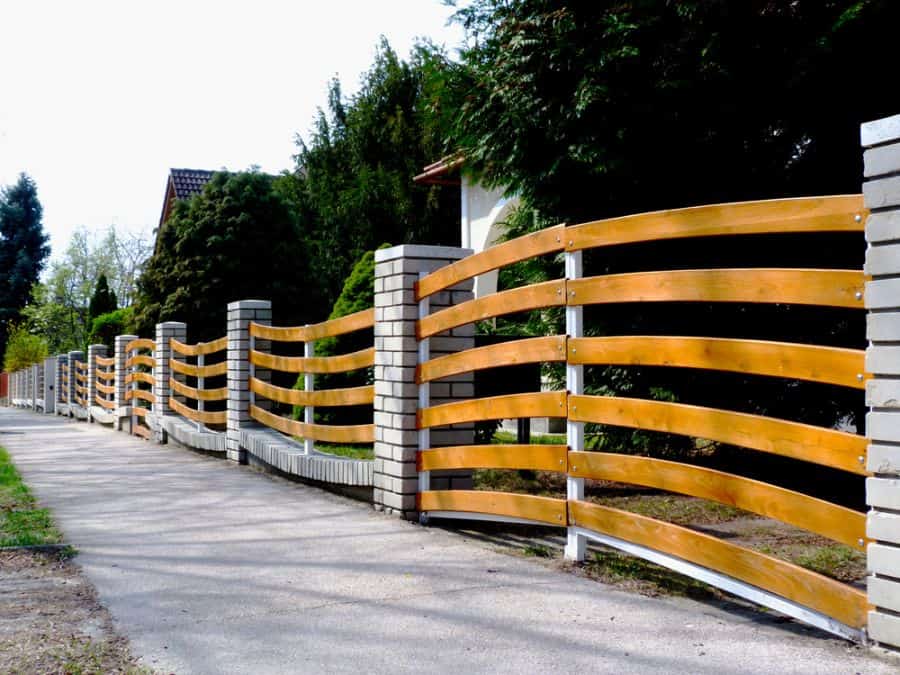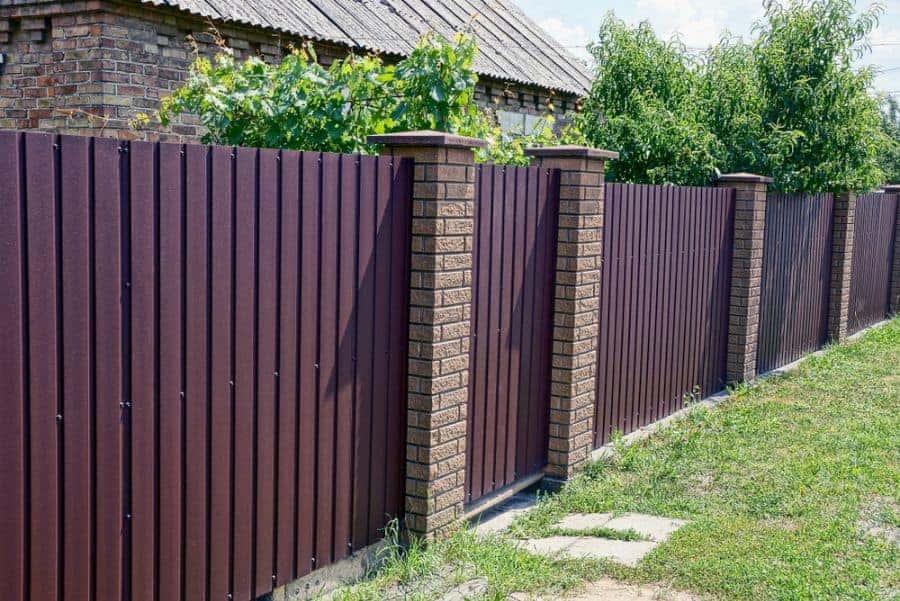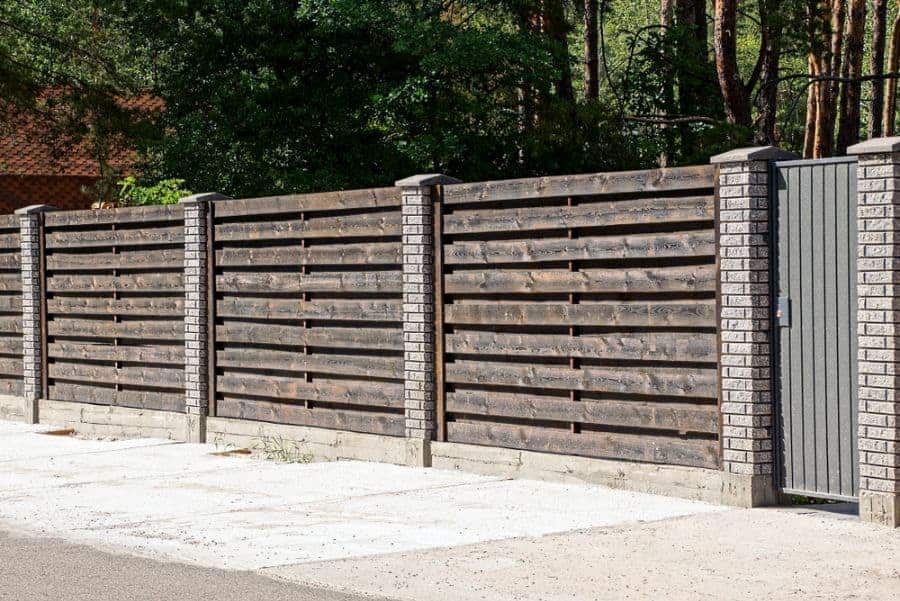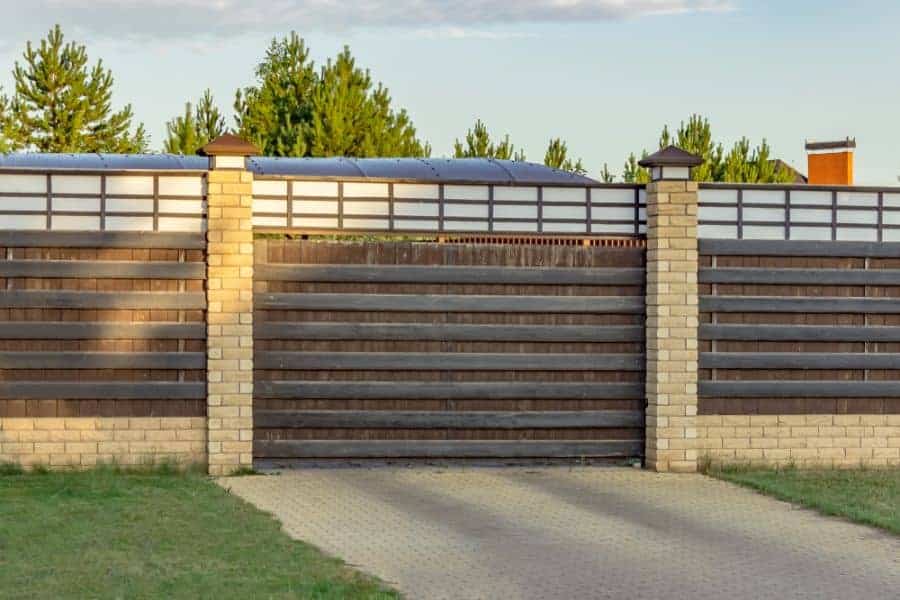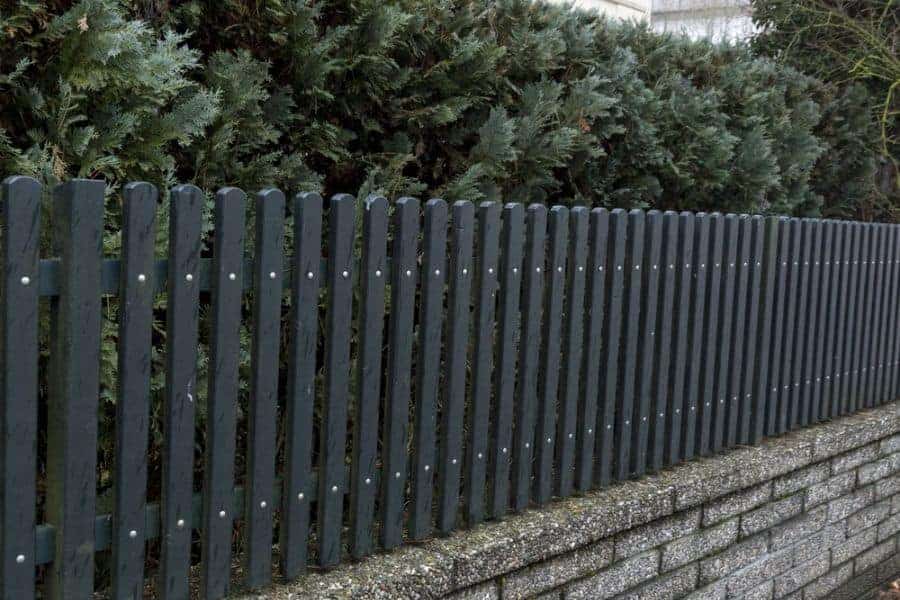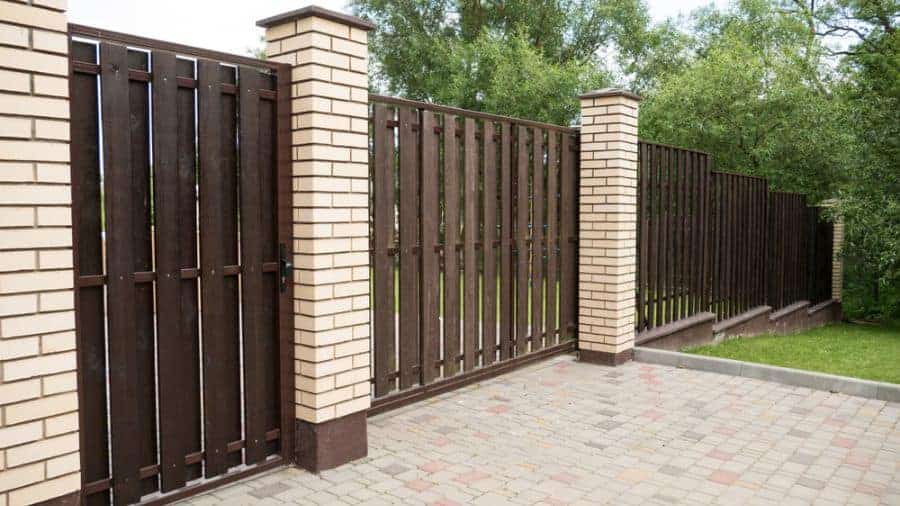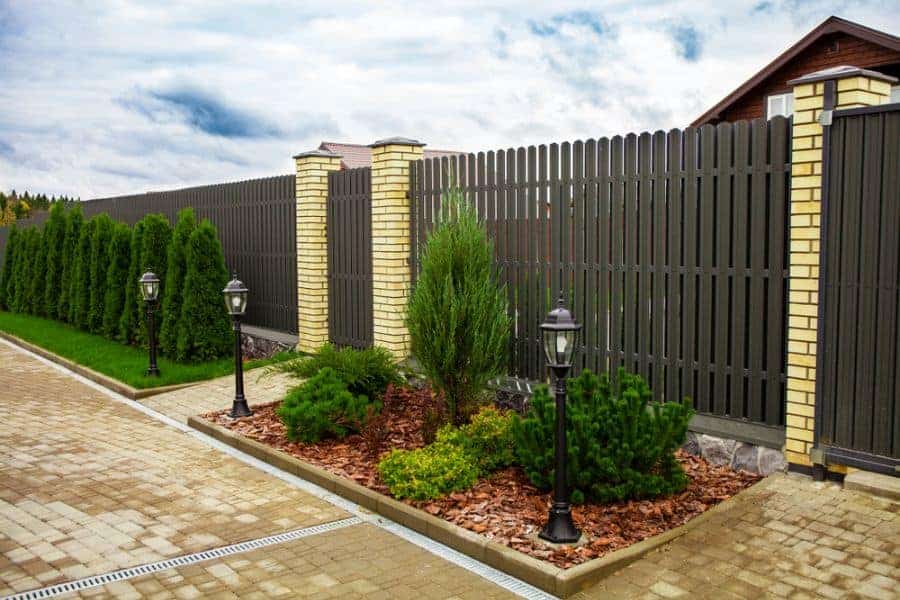 A common way of combining these two building materials is to use the stone for the support posts. This will create an alternating look of stone and wood throughout the length of the fence. Another option is to create a brick or stone base for the fence and then use wood on top.
When building your fence on a slope, the brick and stone allow you to build up the ground to create a flat step down base for the wood fence. This makes building the fence significantly easier.
5. Picket Fence
Don't you just love the classic look of a white picket fence lining the front yard garden of a home? There's a gate to walk through to go up the front walk to the door of the home. Picket fences add a bit of style and design to your fence. This makes it both functional and beautiful.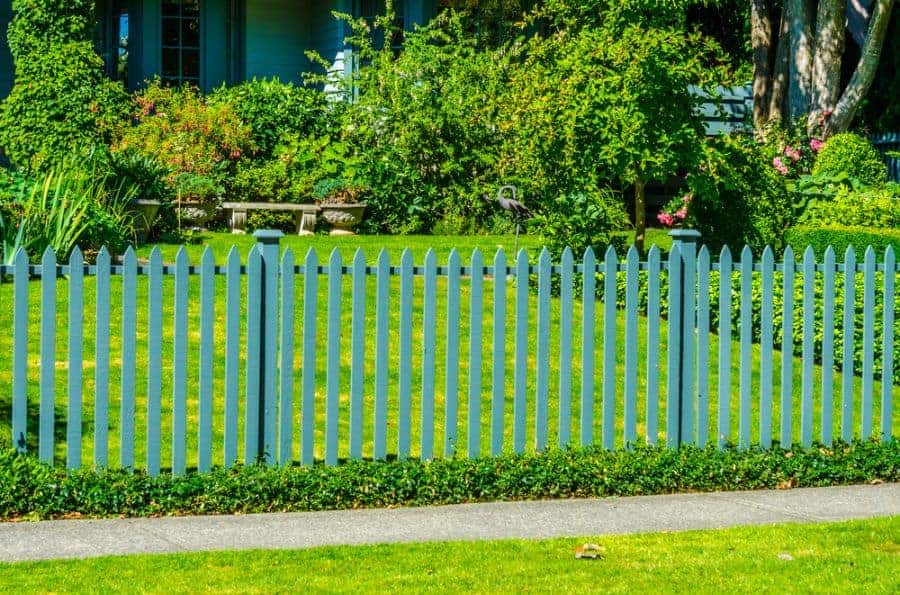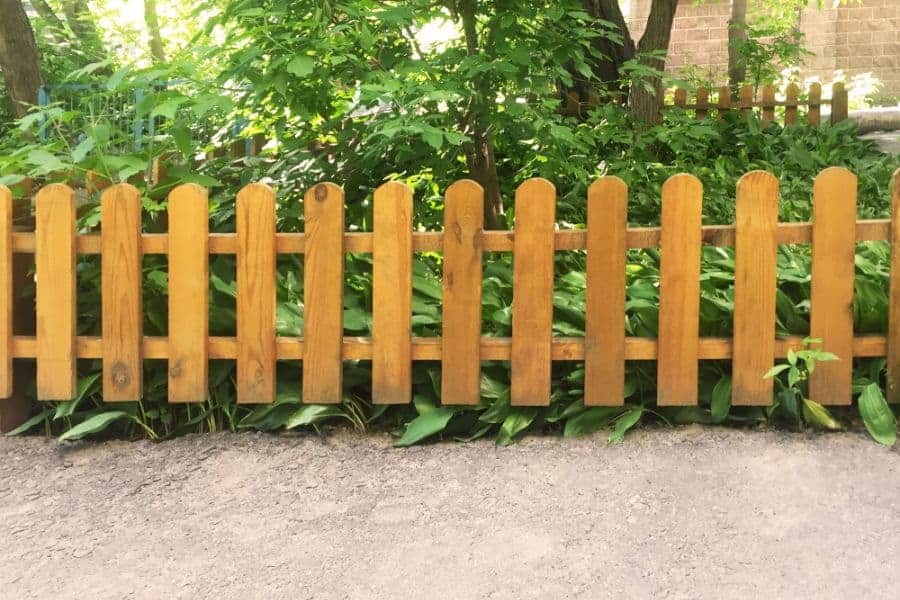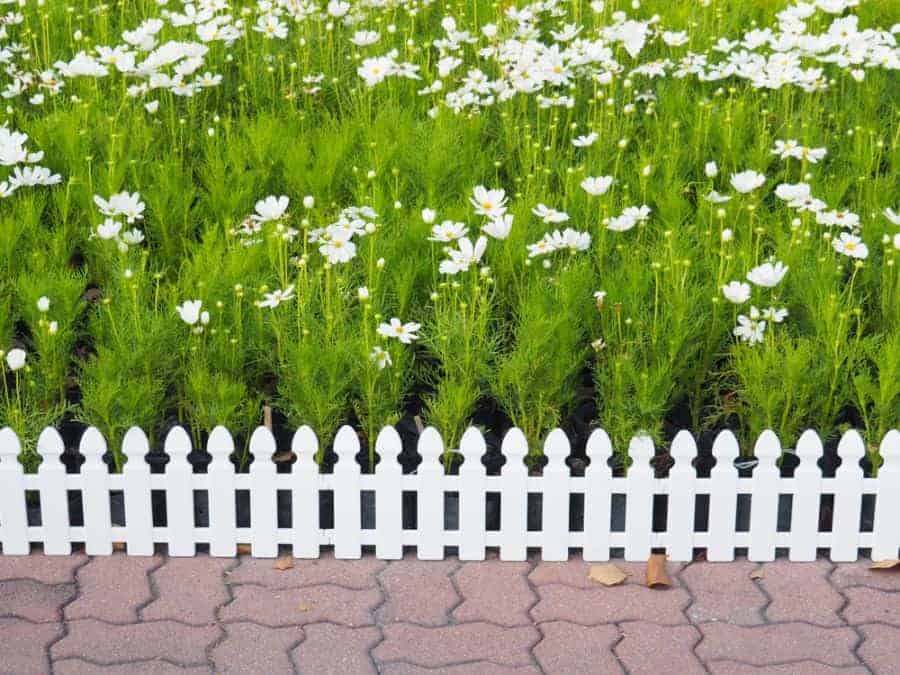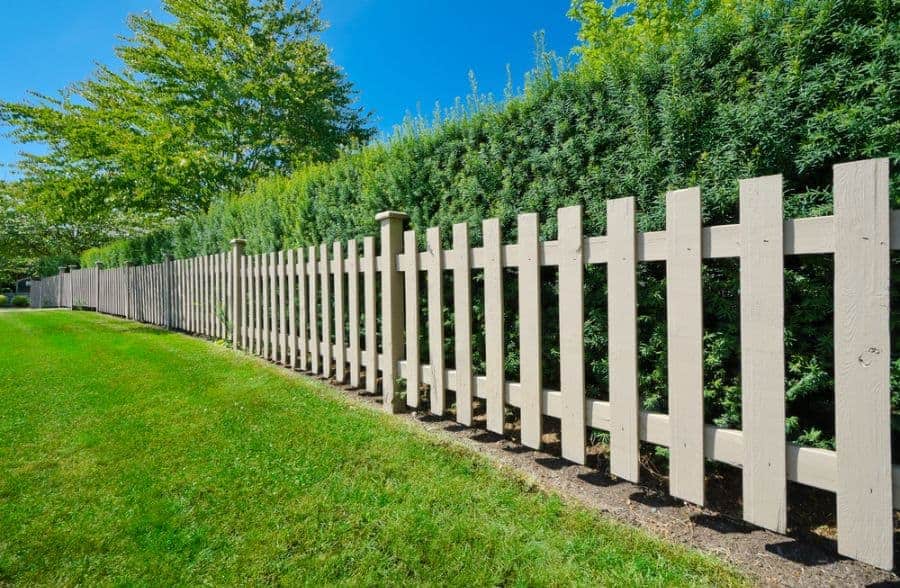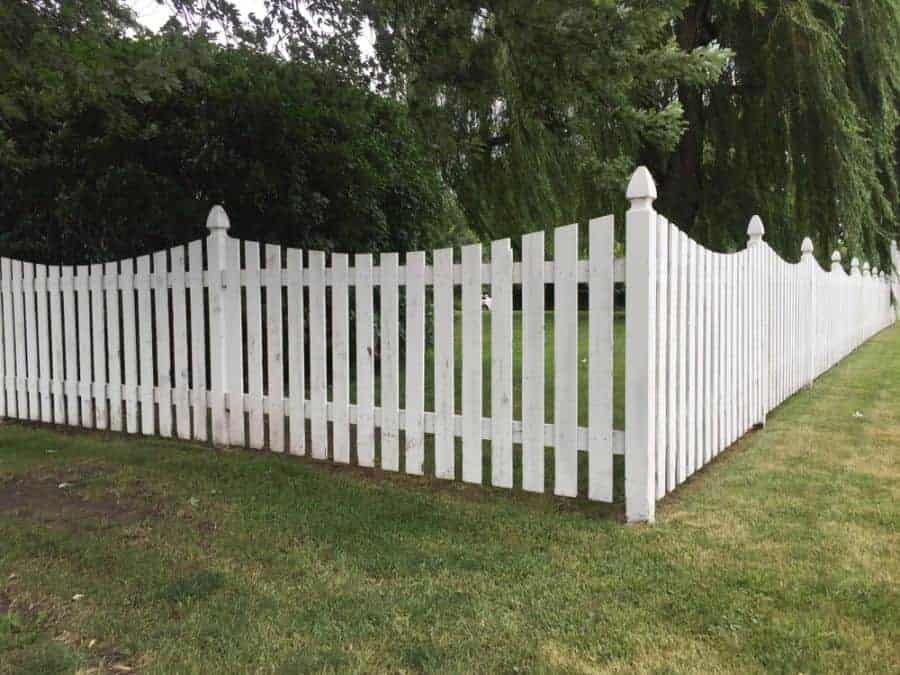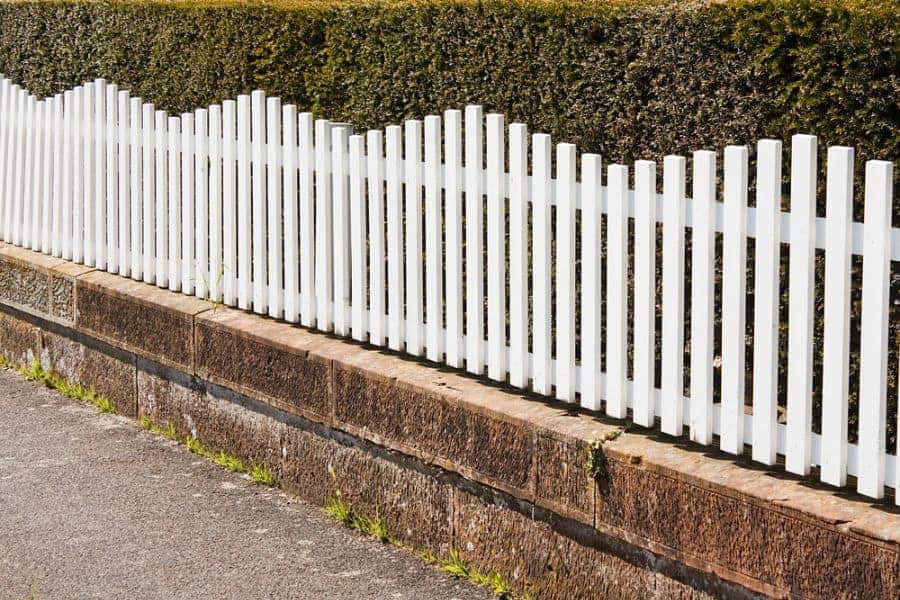 If you want to define your property line and keep your home friendly and welcoming, then a picket fence is a great choice. This style of fence keeps the planks far enough apart that you can easily see between them. The fence is also lower so that you can easily see over the fence.
If you don't like the look of white, or don't want to deal with the cleaning and upkeep, you could leave your picket fence unfinished.
You could build your picket fence over a cement curb or block wall. This will soften the look of the wall and create a more welcoming look to your property.
One signature characteristic of picket fences is their style and design. You'll find some with a scallop design on the top of the fence. Others will have fancy finials on the top of the posts. It's also common to see decorative cutouts on the planks.
6. Privacy Fence
Sometimes you want your fence to do more than provide a barrier; you want it to provide complete privacy. This means you'll want a solid wood fence without any gaps in the fence board. When it comes to privacy fence ideas, they all have two things in common; they're tall and you can't see through them.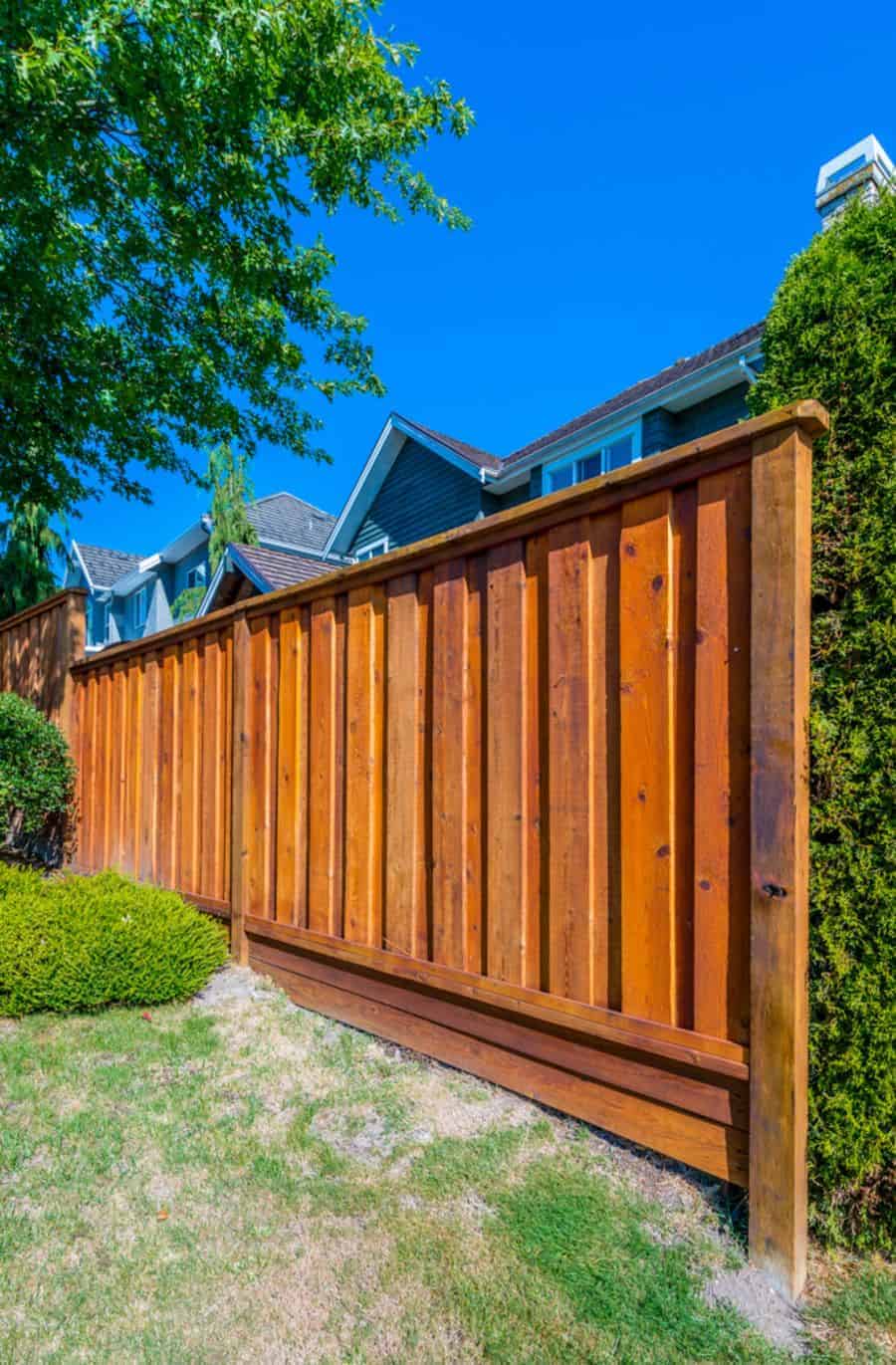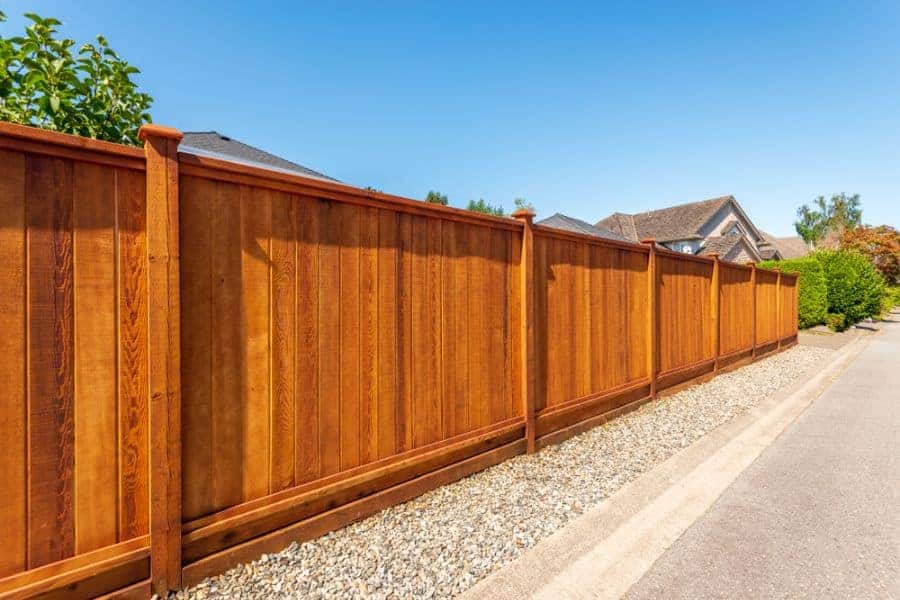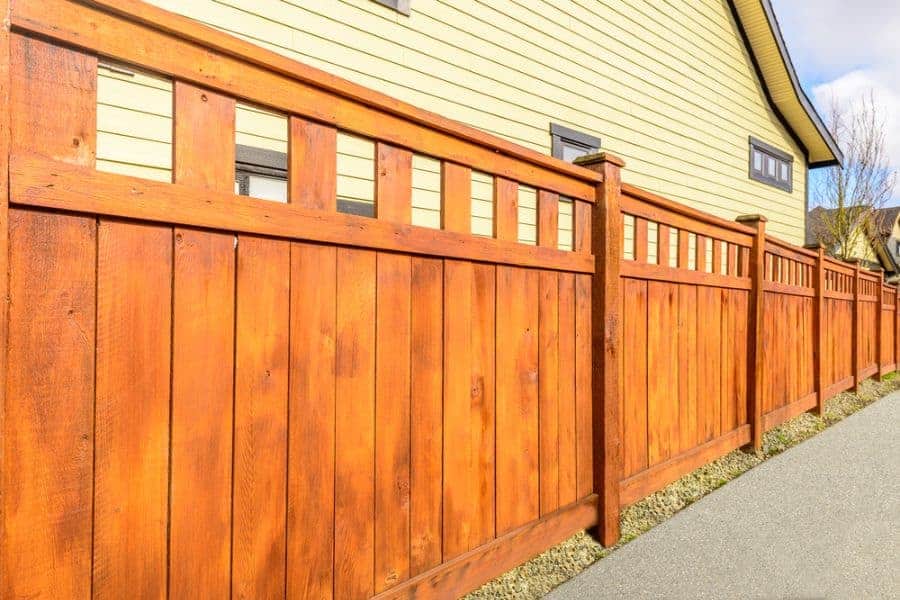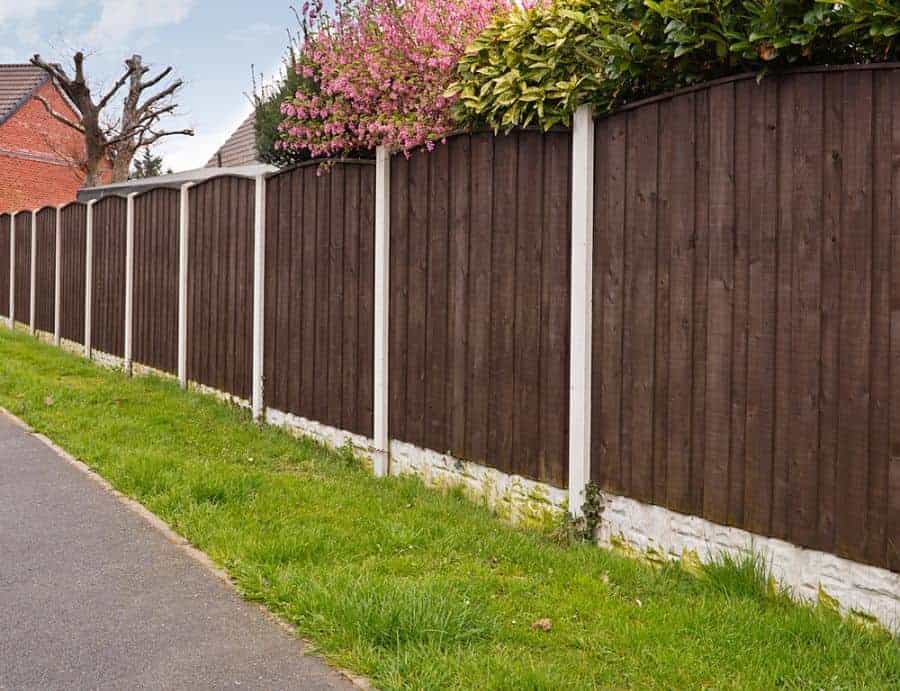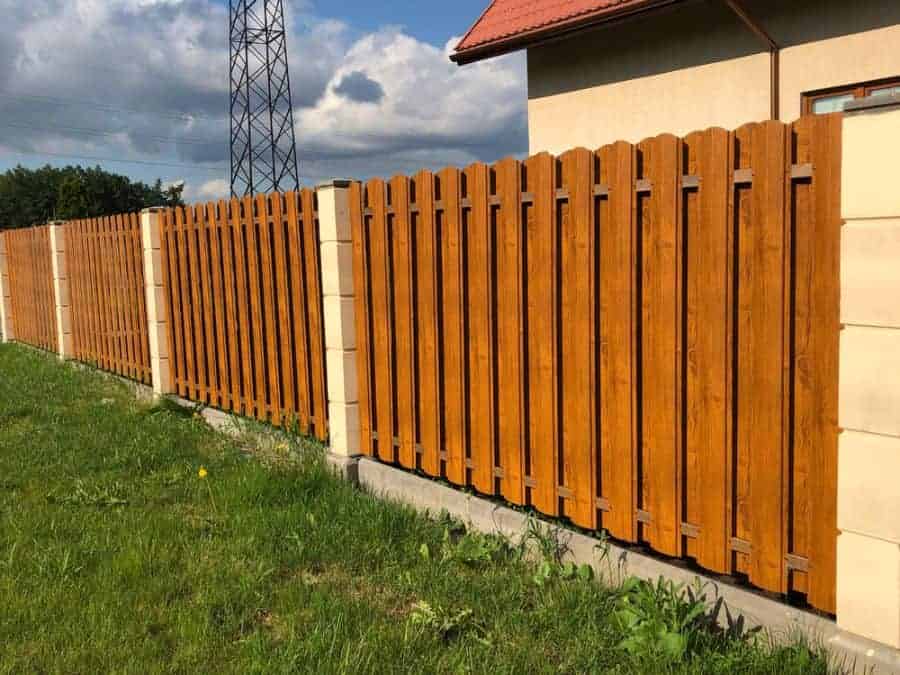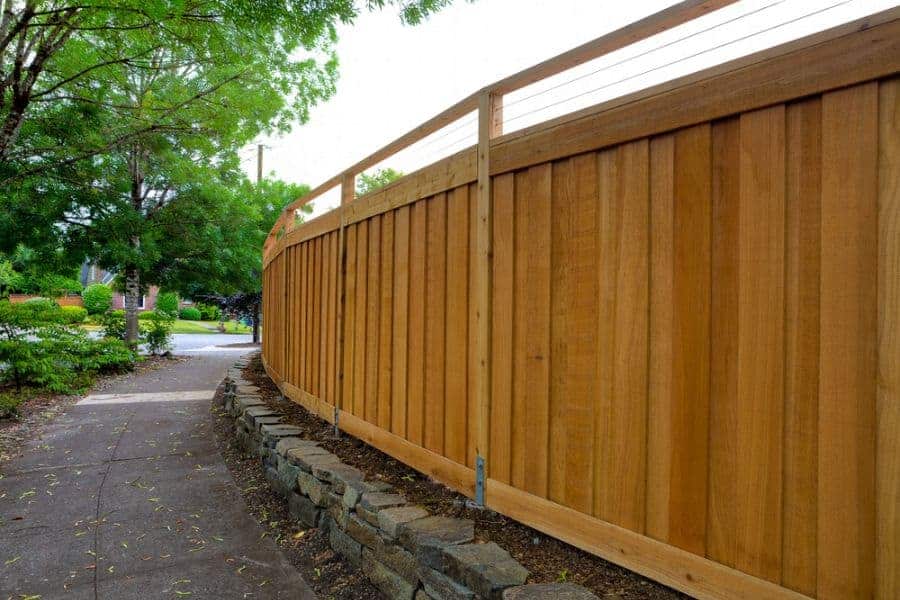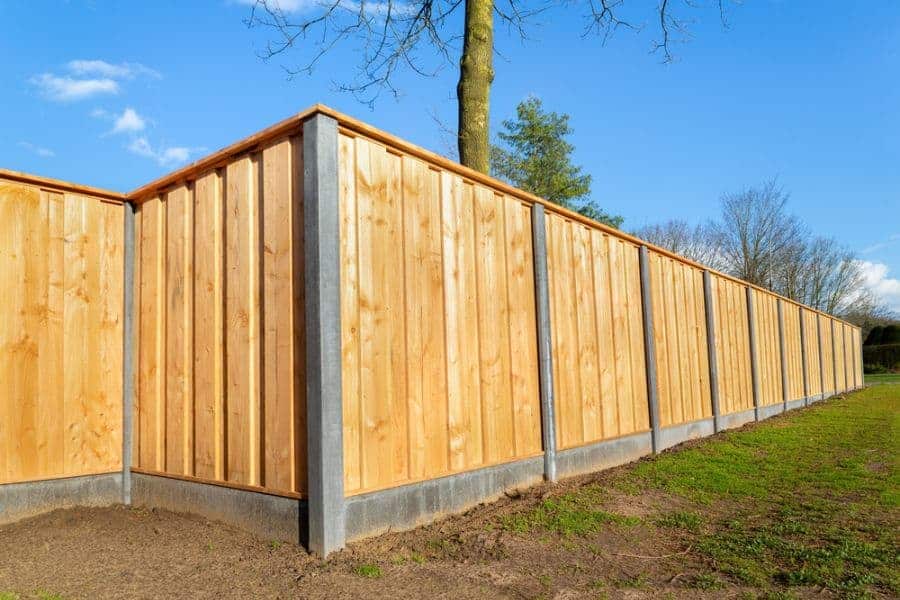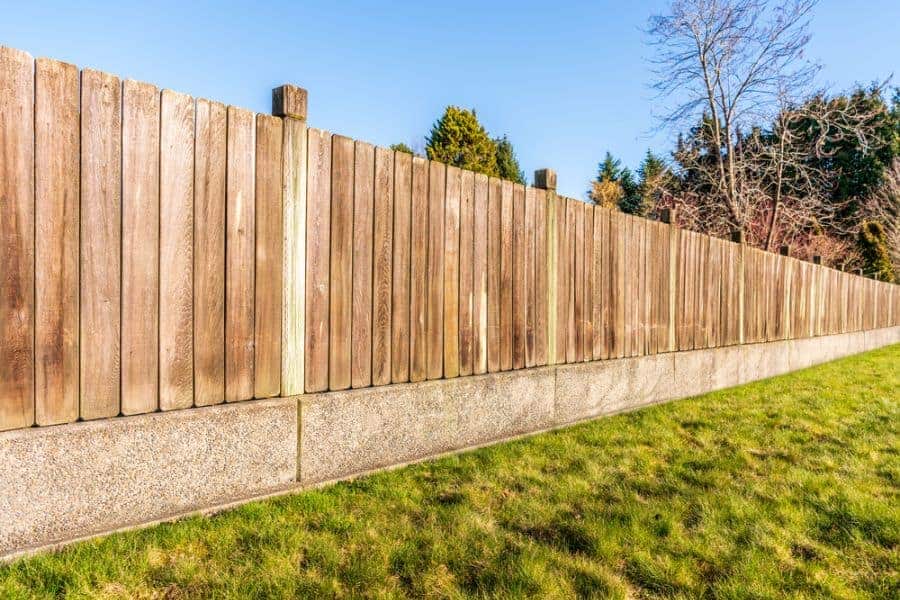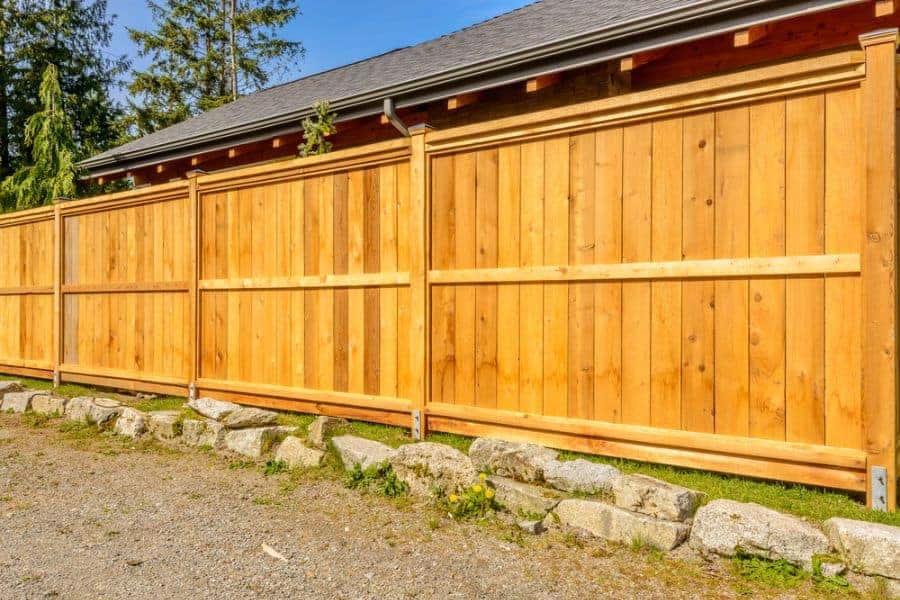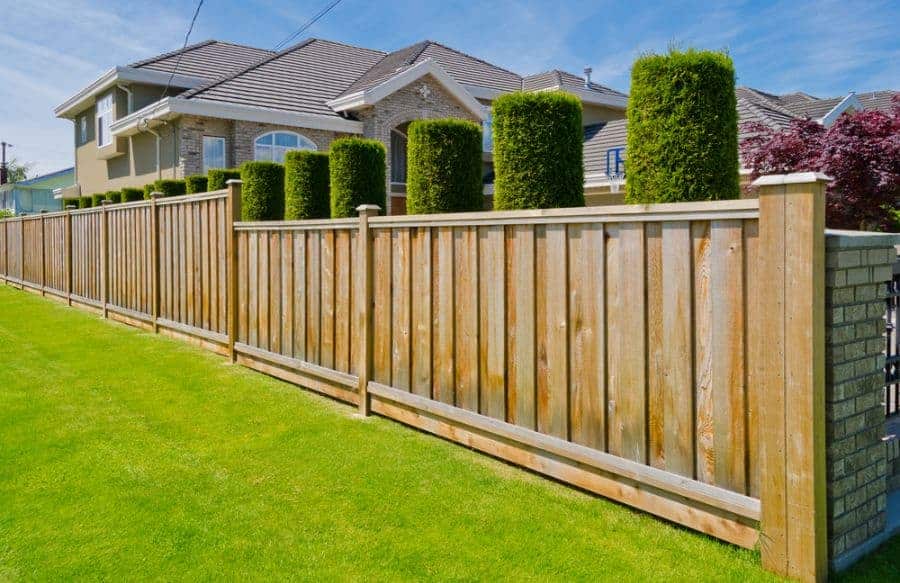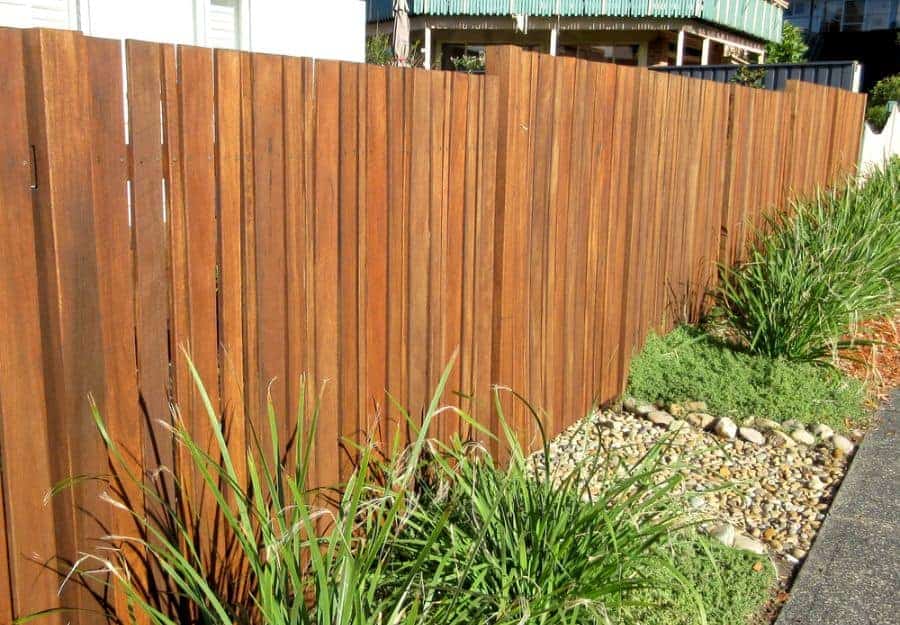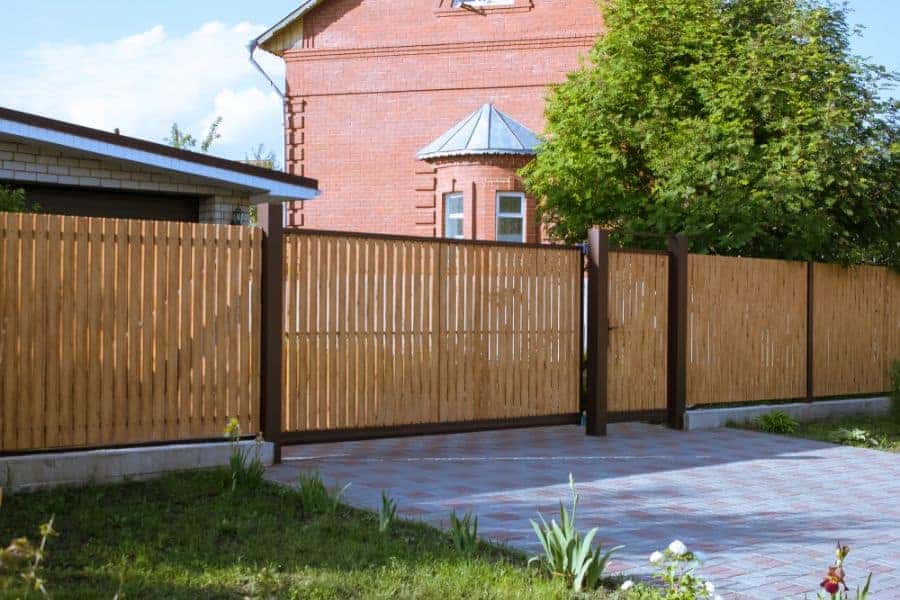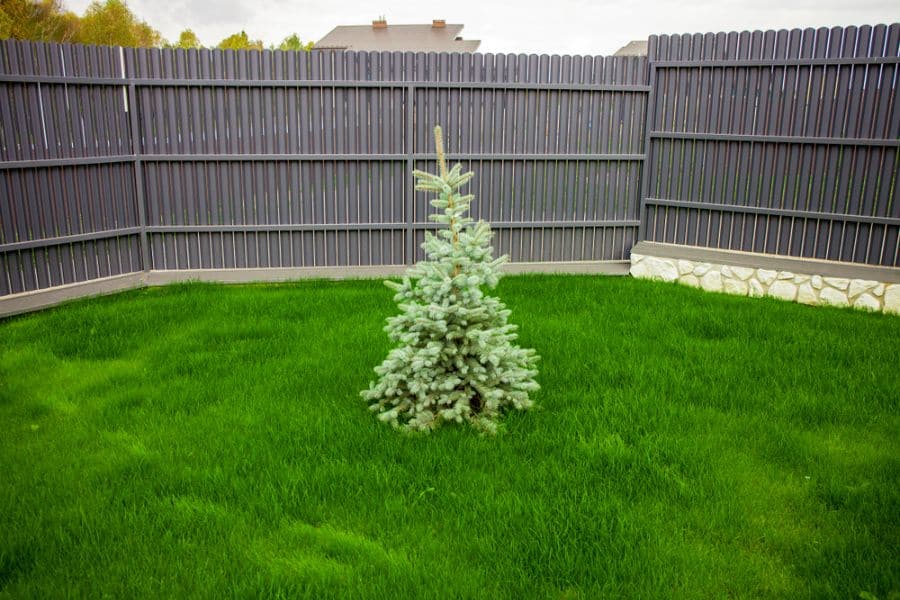 You can turn an existing fence into a privacy fence by increasing the number of planks to close the gaps in the fence. If you have a pool in your backyard, you can create a tropical getaway inspired fence by using bamboo. Bamboo fencing is tall, durable, and tightly woven together. You can purchase bamboo fencing in a roll, making installation relatively easy as it just installs on your posts.
7. Decorative Fence Ideas
When building your fence, don't let yourself get so focused on its placement and function that you forget to think about what it looks like. Wood gives you the ability to create a fence that's beautiful to look at. This will enhance the look of your property and increase your property value.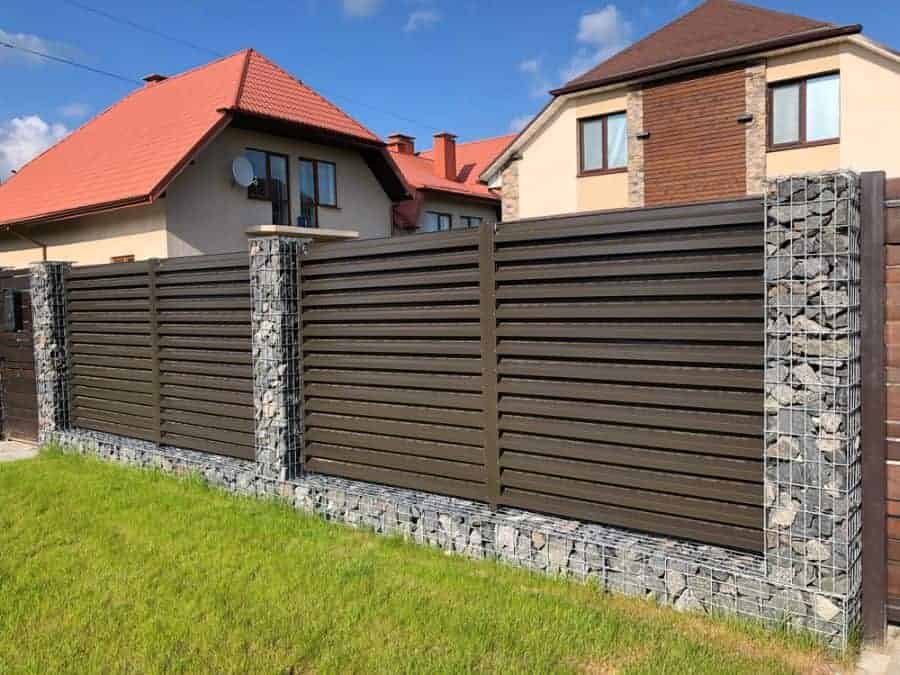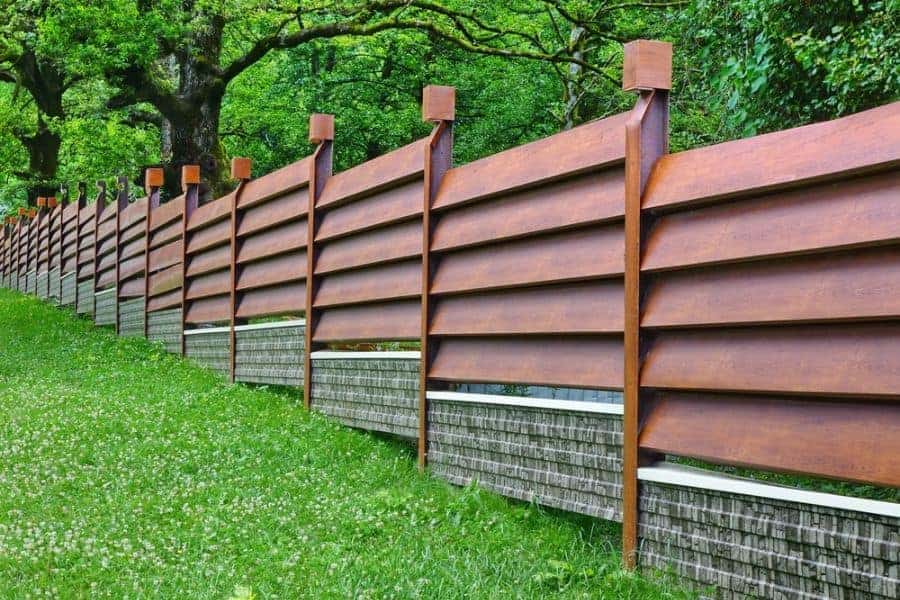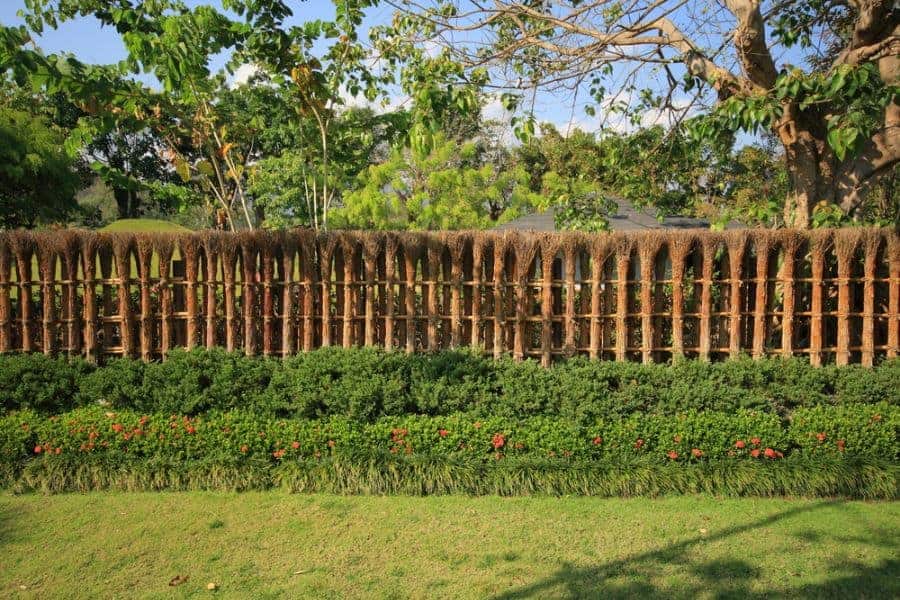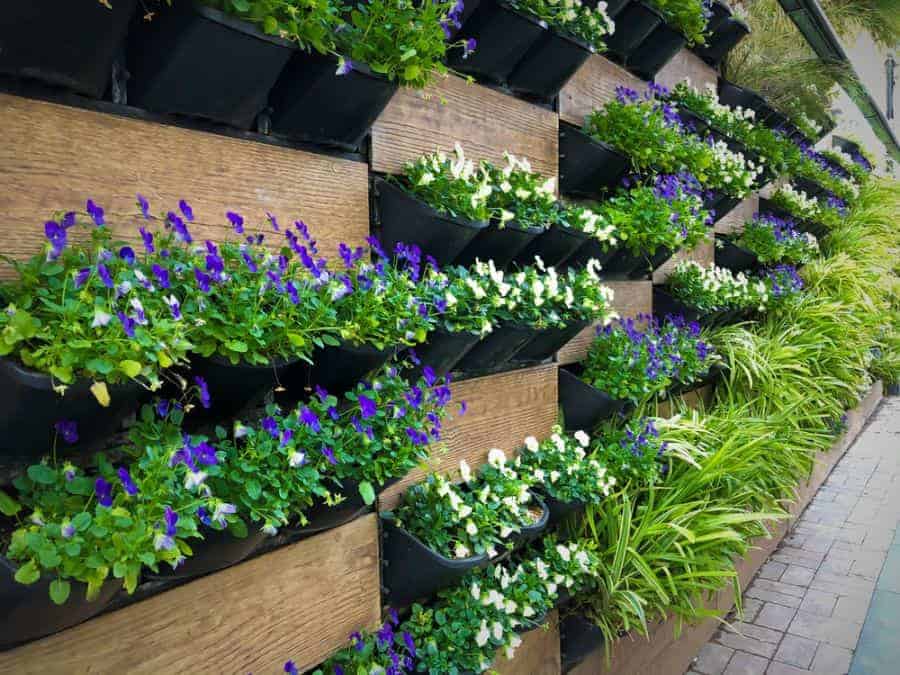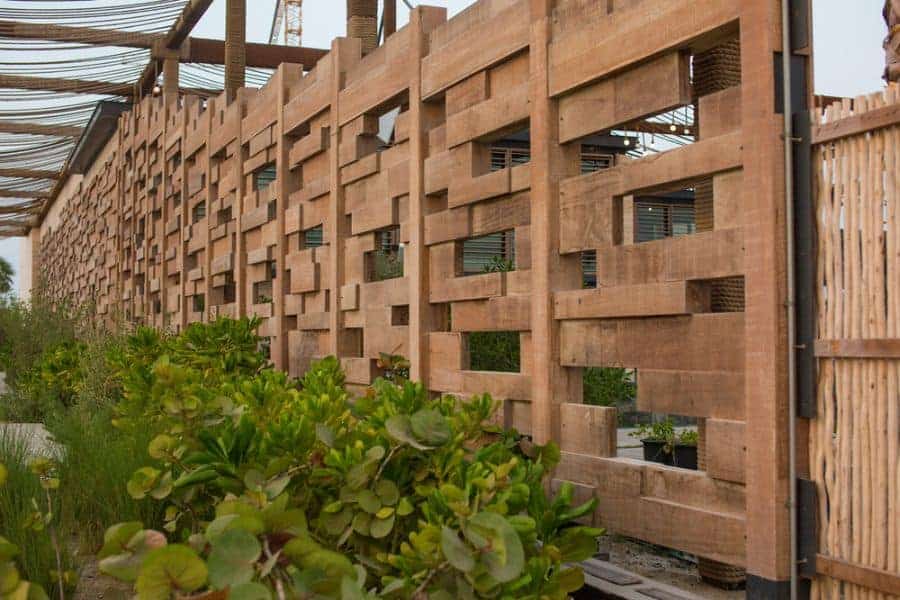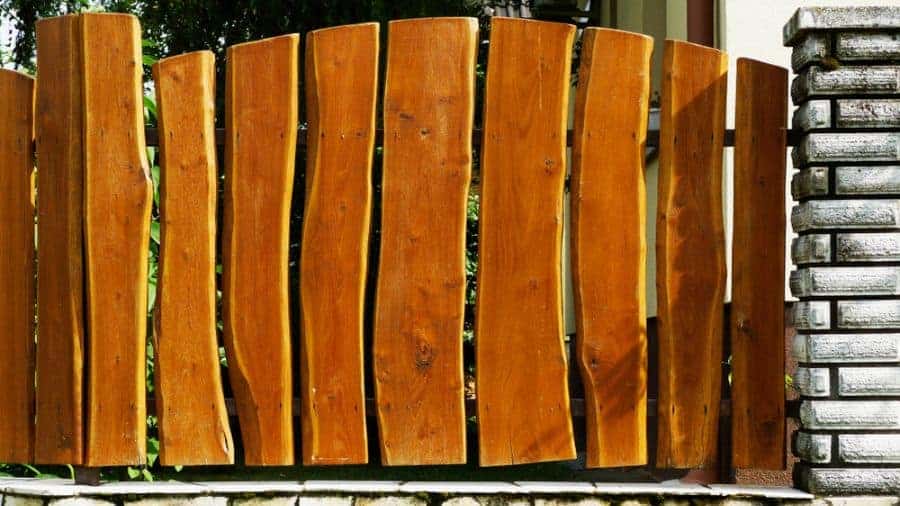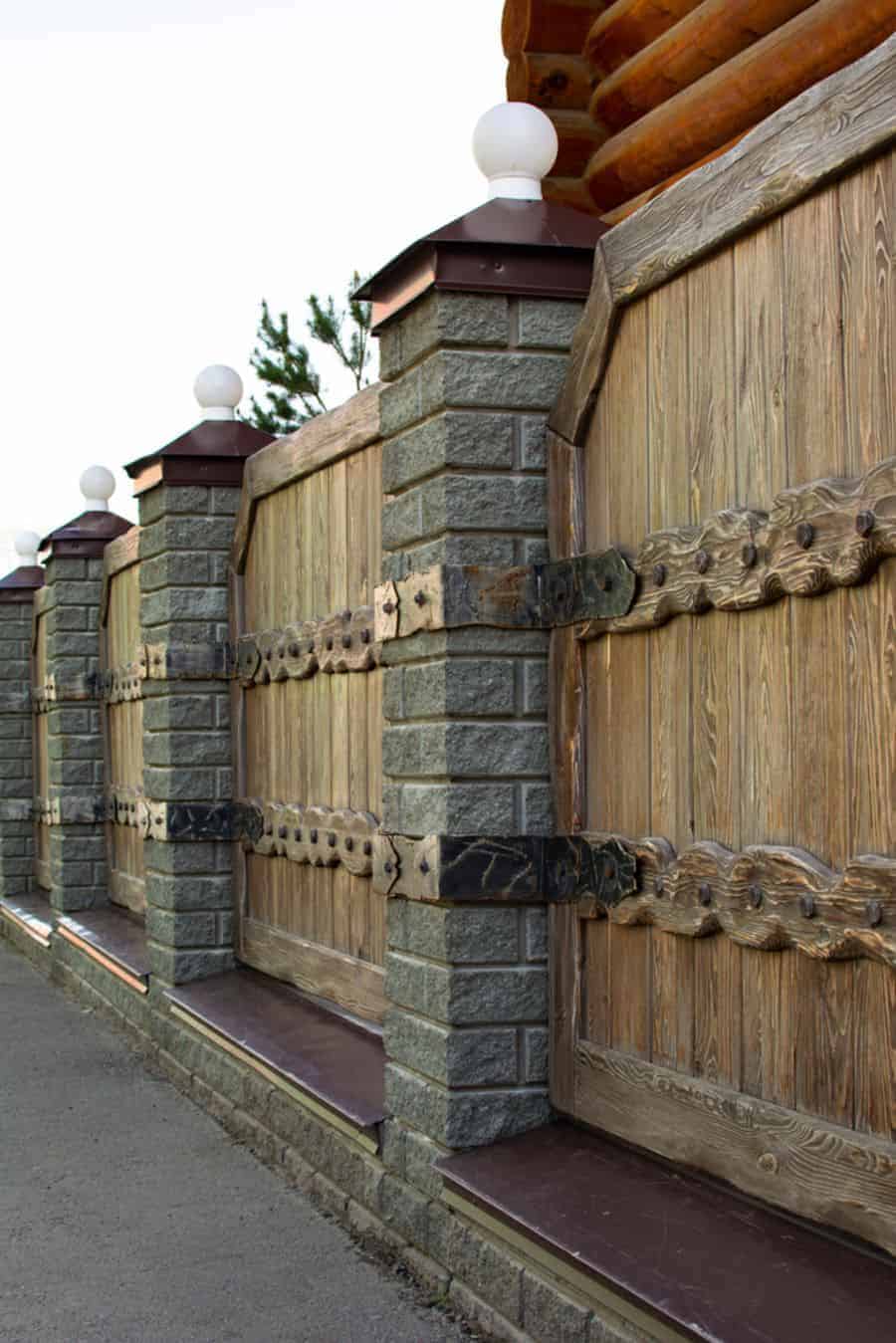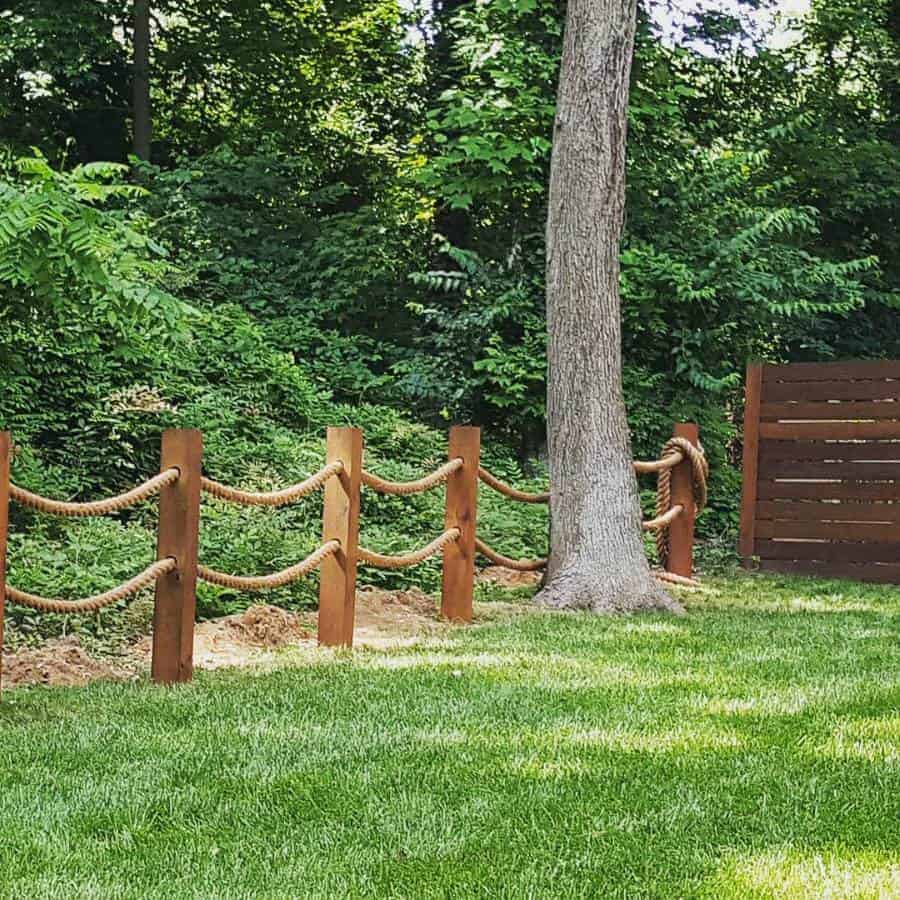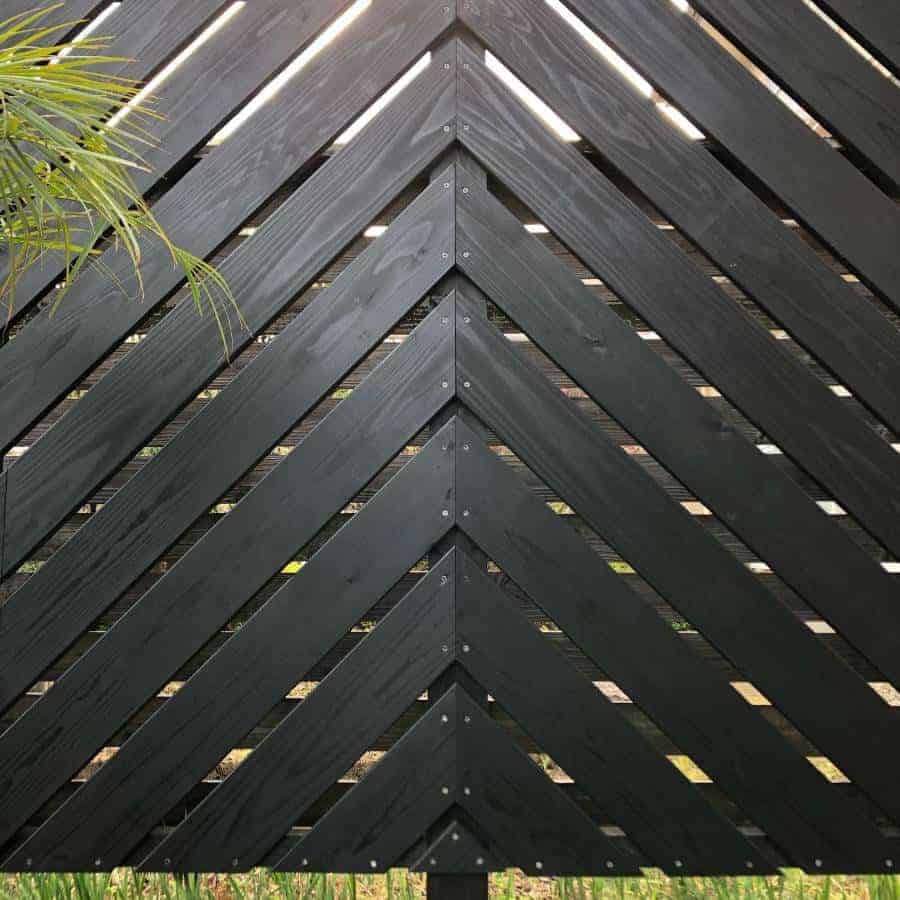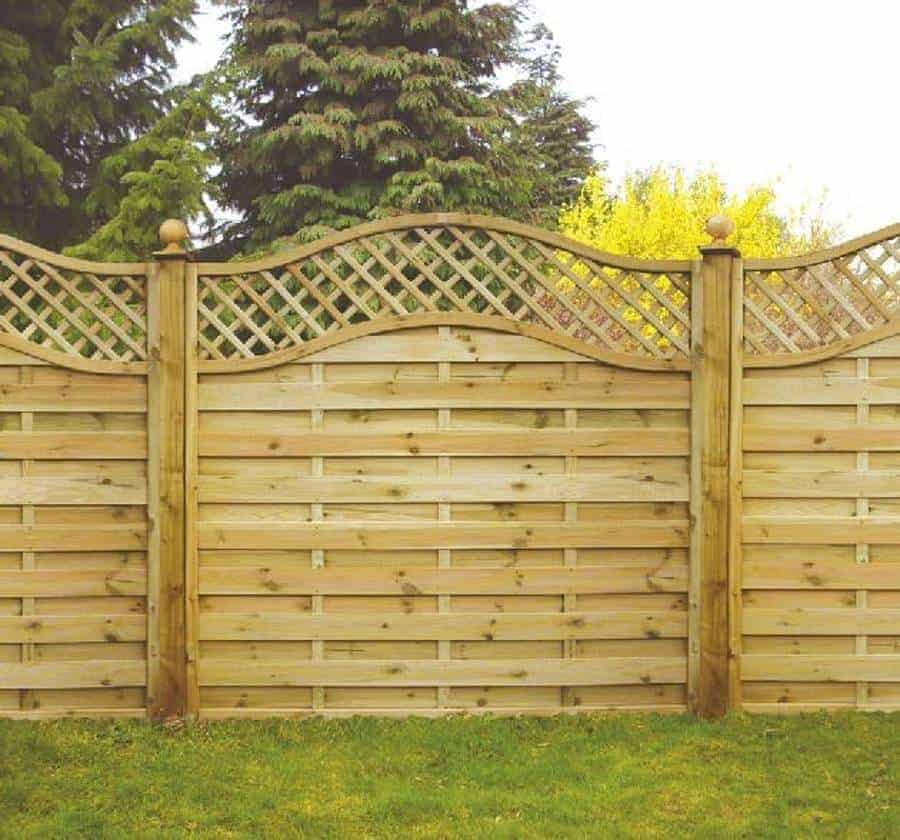 Consider replacing one of your modern fence panels with a decorative panel. Or you could top your fence with a decorative line of lattice.
Consider choosing a wood that is both durable and beautiful. Red cedar has a rich color that, when treated, looks beautiful and will last for years to come.
Don't be afraid to get creative with your fence. You could alternate the wood fence panels you use to create a design or pattern other than straight vertical or horizontal.
Use alternative materials with the wood when building your fence. Hang planters on your wall to turn your fence into a garden full of flowers and greenery. Place the metal cutout on top of your wood privacy fence to create dimension and design. Instead of bricks or stone, you could use tile that matches your patio as the base of your fence.
8. DIY Fence Ideas
There are plenty of kits available to make the job easier if you would rather do the fence installation yourself. You'll need posts. These are the main vertical supports. Then you'll need to decide what type of wood fencing you'll use between those posts.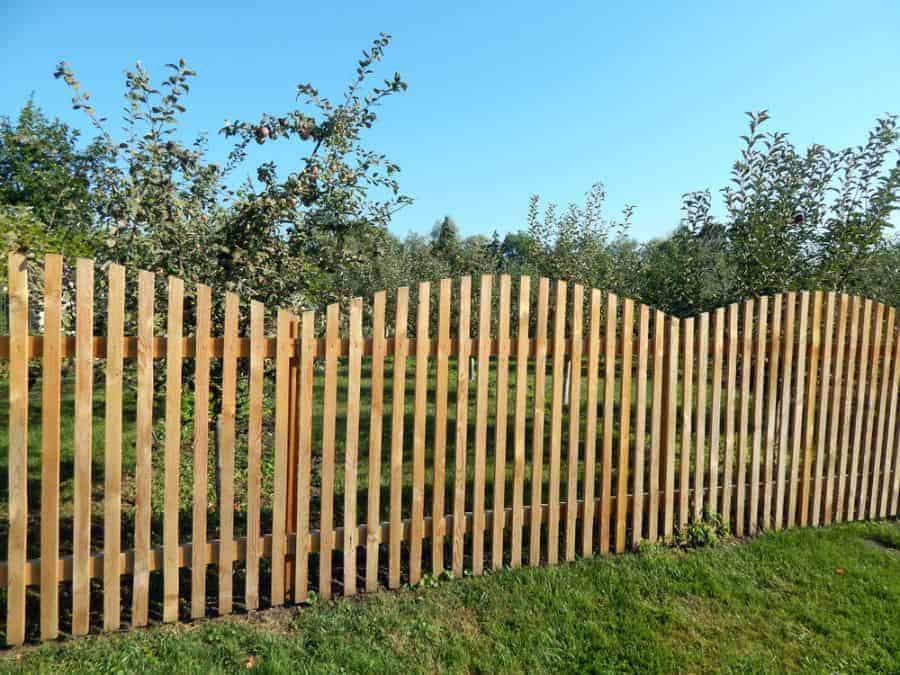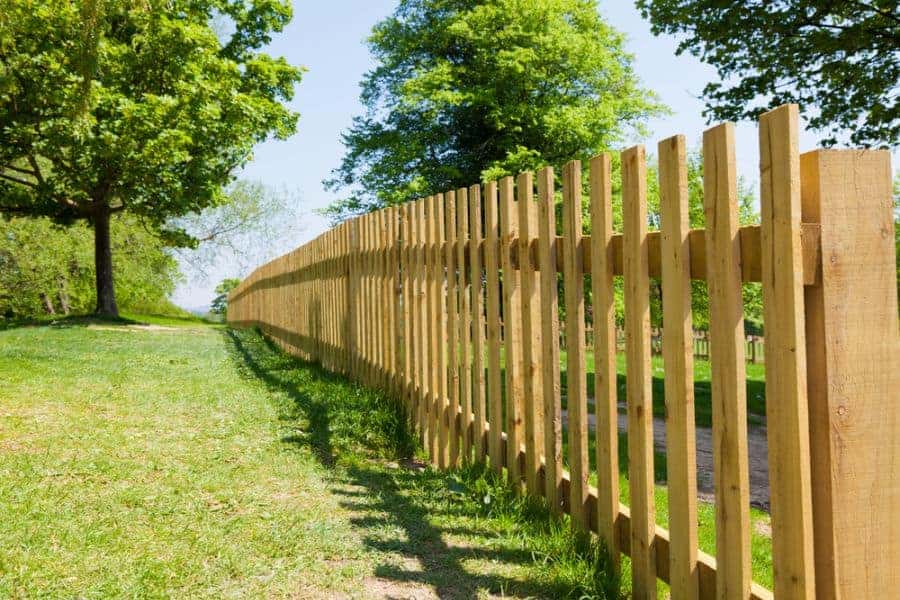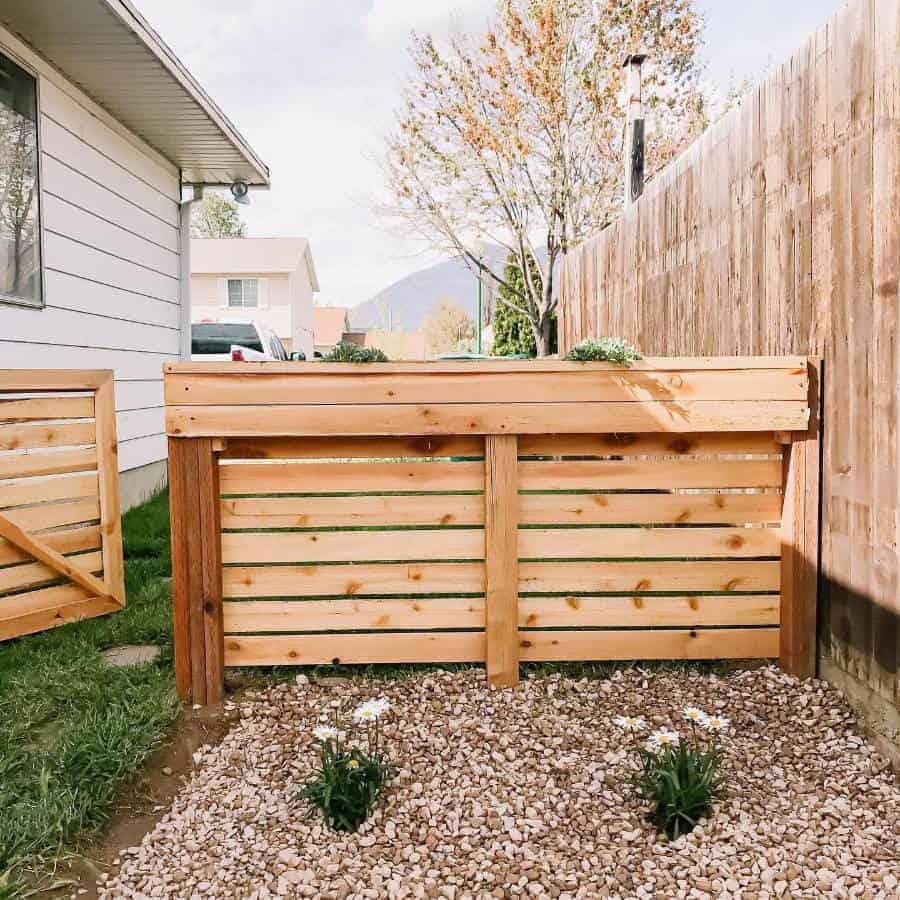 One solution is to buy a pre-made fence panel. Then you can quickly build a fence by installing the panels between the posts. This works well when building a wood privacy fence. You can buy a tall fence panel that has alternating vertical planks to block people from being able to see through the fence.
You can also look for pre-made panels that have a decorative top. This could be a scalloped shape to the vertical planks, lattice trim, or wrought iron trim.
9. Lattice Fence Ideas
A lattice fence style uses several thin wood strips that are in a crossed pattern. They could be vertically and horizontally oriented, or they could be diagonal at 45-degree angles.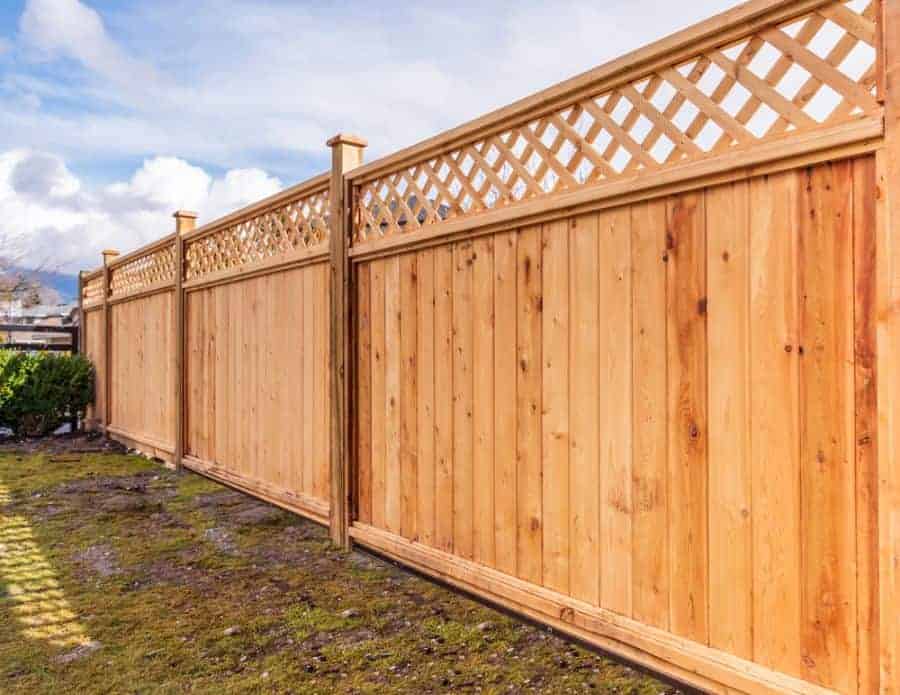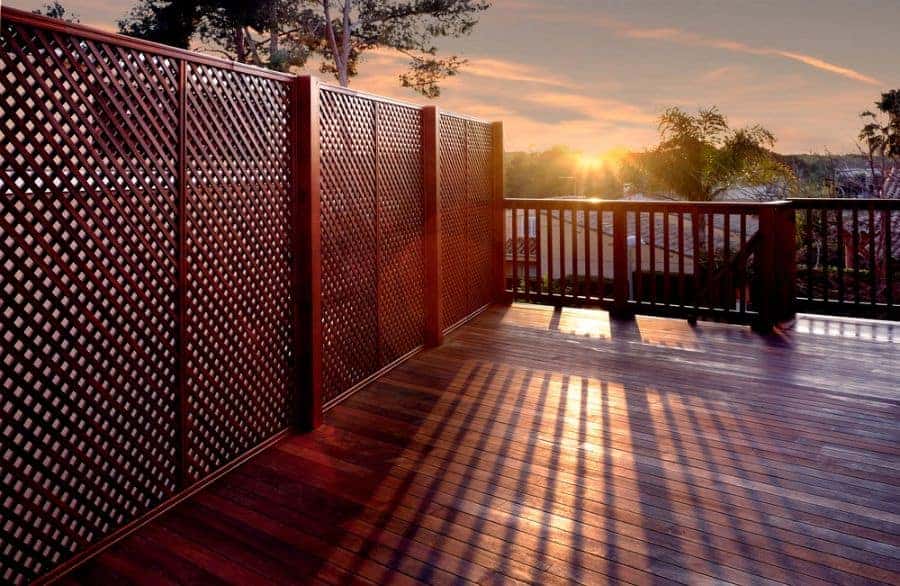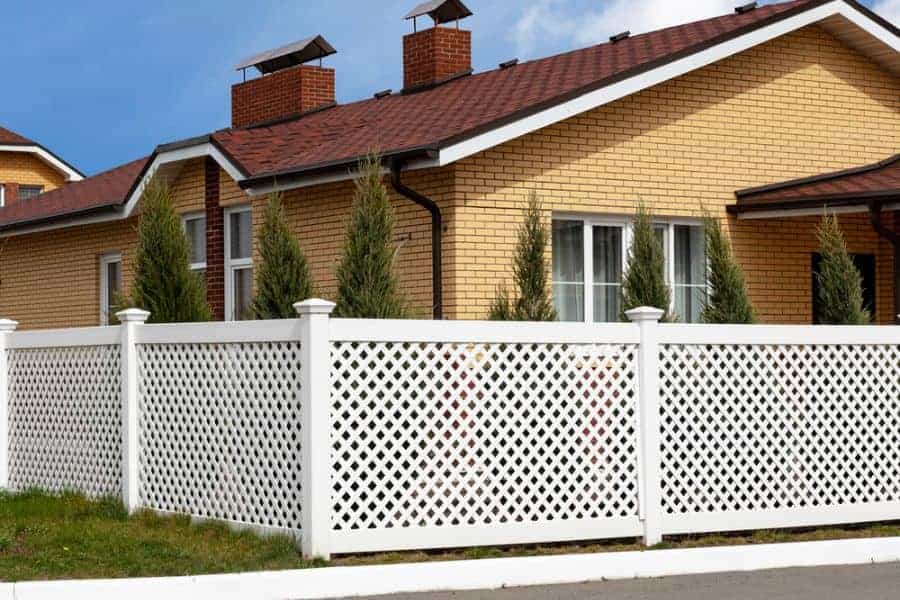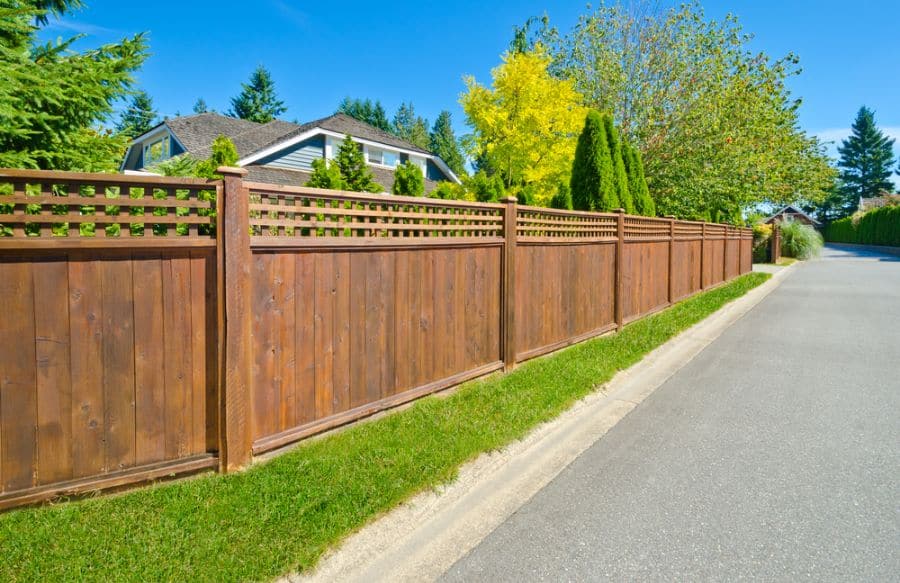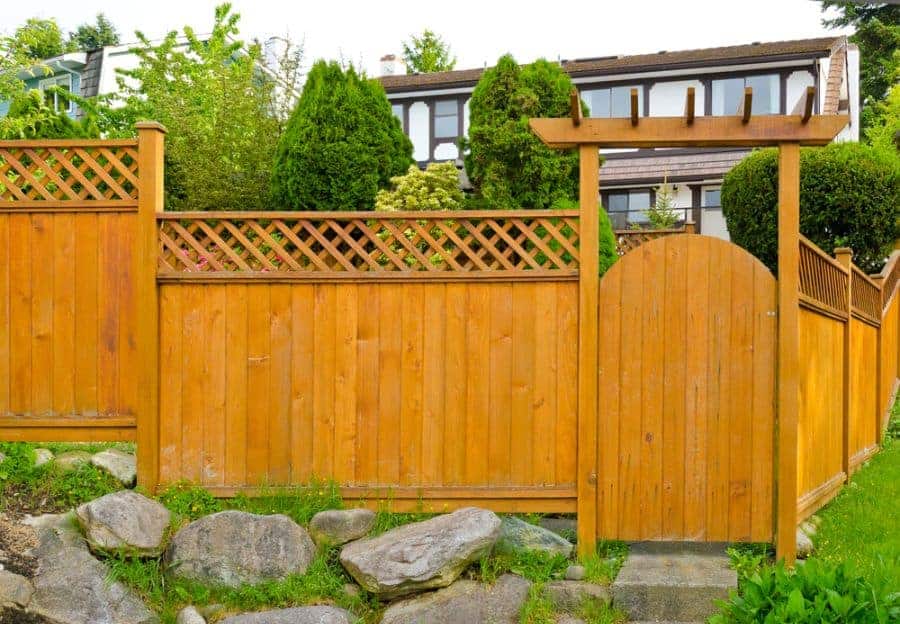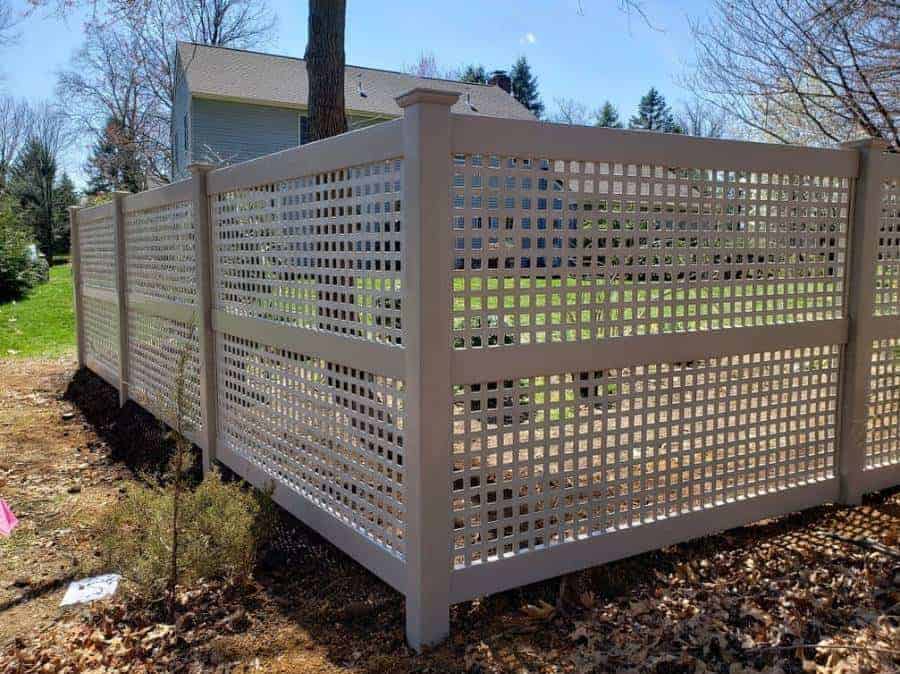 When it comes to garden fence ideas, you can't beat the lattice. This is because not only does it provide protection and privacy, but it also gives you the perfect platform for plants that vine or like to climb. Now you have an elegant plant wall with a sturdy wood base.
If you don't want to build an entire wall out of lattice, consider using it as the decoration. You can have a thin strip of lattice that extends the length of your fence along the top. This is a good solution for privacy fences where you'd like the height, but you still want to be able to see beyond your fence.
Wood Fence FAQs
Can I build my own fence?
Yes, you can! A wooden fence is a doable DIY project. You'll need some carpentry tools and a basic understanding of proper fence building techniques. It's also smart to check with your local HOA and building codes to ensure you can build the fence you want. If you aren't experienced but still want to DIY, look for a fencing kit that does the bulk of the fence construction for you.
How long will a wood fence last?
If built properly with treated wood and regularly maintained, you can expect your fence to last twenty years. Spruce and pine fences can easily last this long. If you choose a cedar fence, then the lifespan of your fence will be quite a bit longer. You could easily get forty years out of your fence with regular treatment and maintenance.
Where can I build a wood fence?
The most obvious answer is to build a wood fence around the outside of your property. This will mark your property line and give you security and privacy. But you can also use wood fencing to mark off specific areas of your property. You could have a low wood fence around your garden to protect your plants. Or you could use these wooden fence ideas to build a dog exercise pen. A wood pool fence will increase your pool's safety by preventing someone from accidentally falling in.