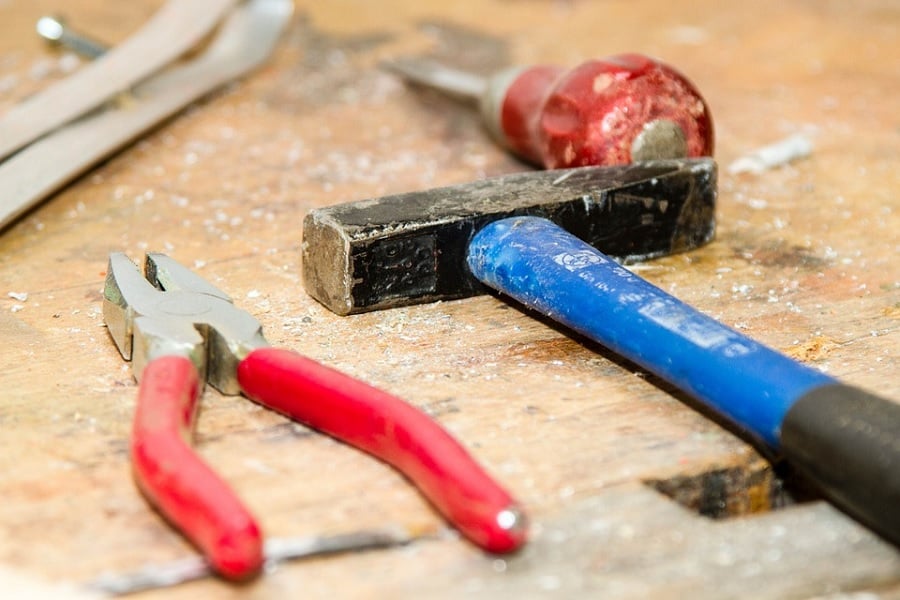 47 Workbench Ideas for Your Workspace
Civilization wouldn't exist in its current state without skilled craftsmen. Even today — when we can go out and buy nearly anything imaginable — countless people continue to learn and practice skills like carpentry, painting, sculpting, and electrical work.
Homeowners understand the value of good handiwork, especially when it can be completed without hiring a professional. But it can be hard to find the space to complete projects and store your most important tools.
Keep reading for some of the top workbench ideas for updating your shed, garage, or workshop.
1. DIY
Why buy a workbench when you can build your own? Many people design and build their own workbench as their first woodworking project. This is also a great way to ensure your new workbench meets your exact needs.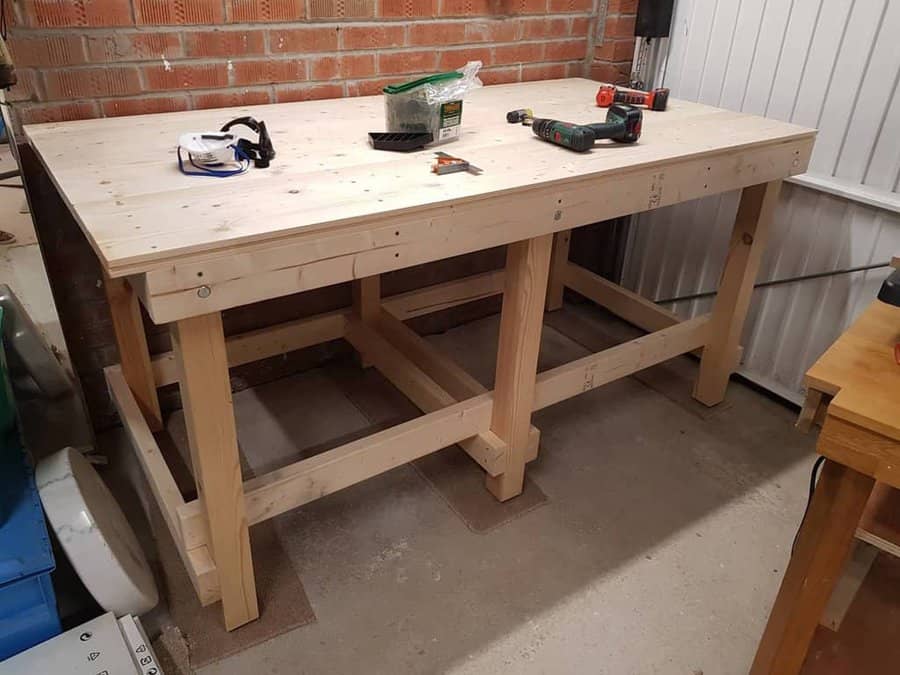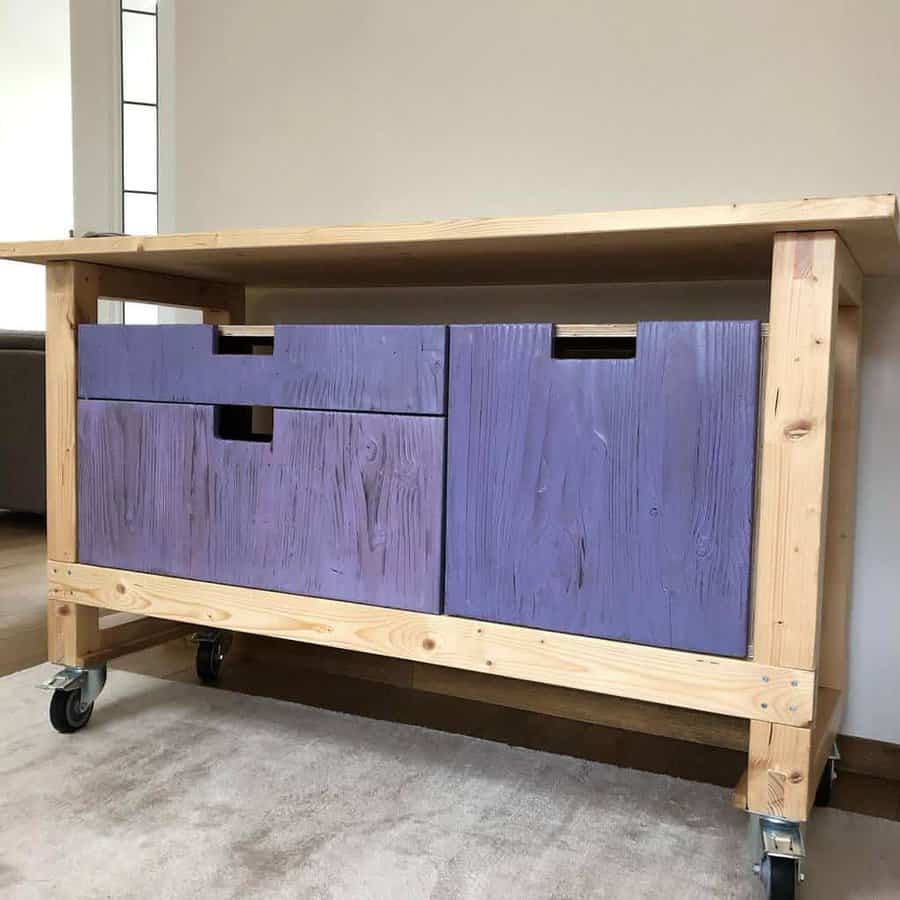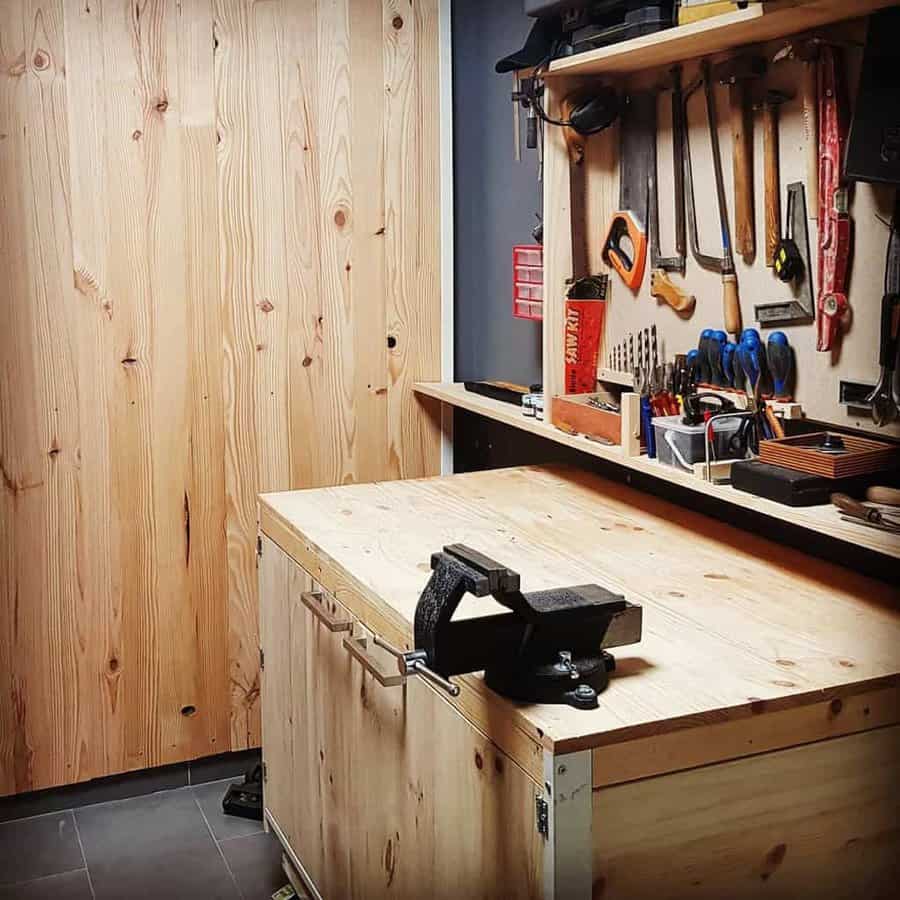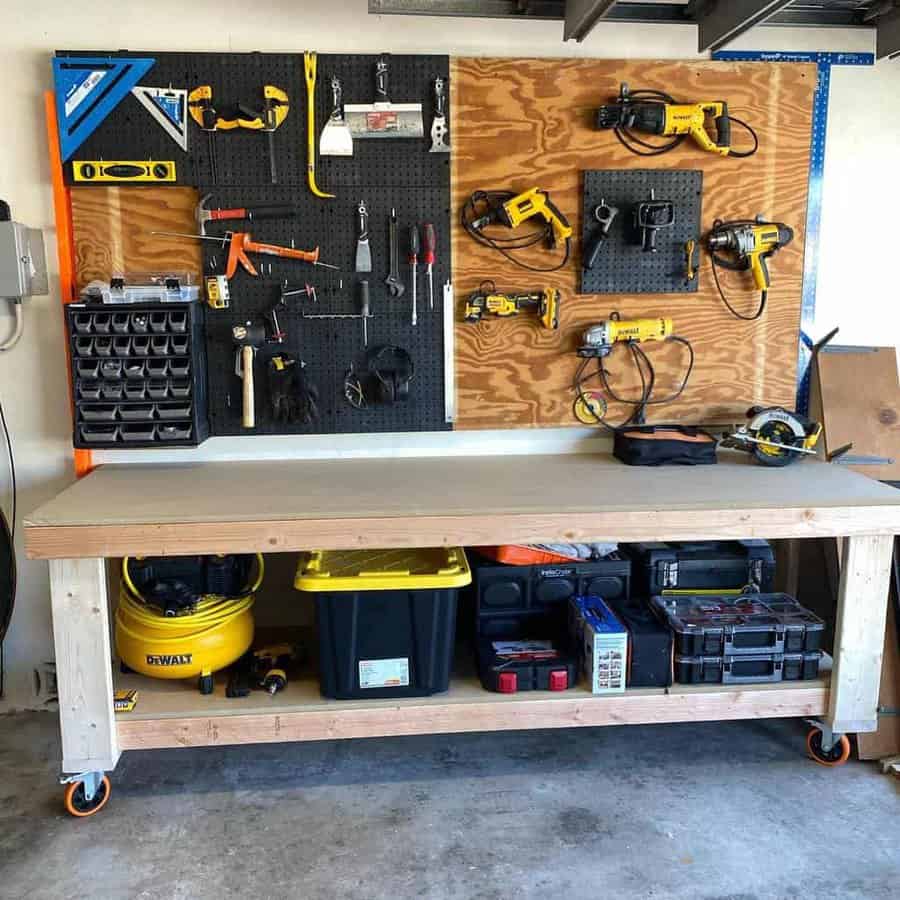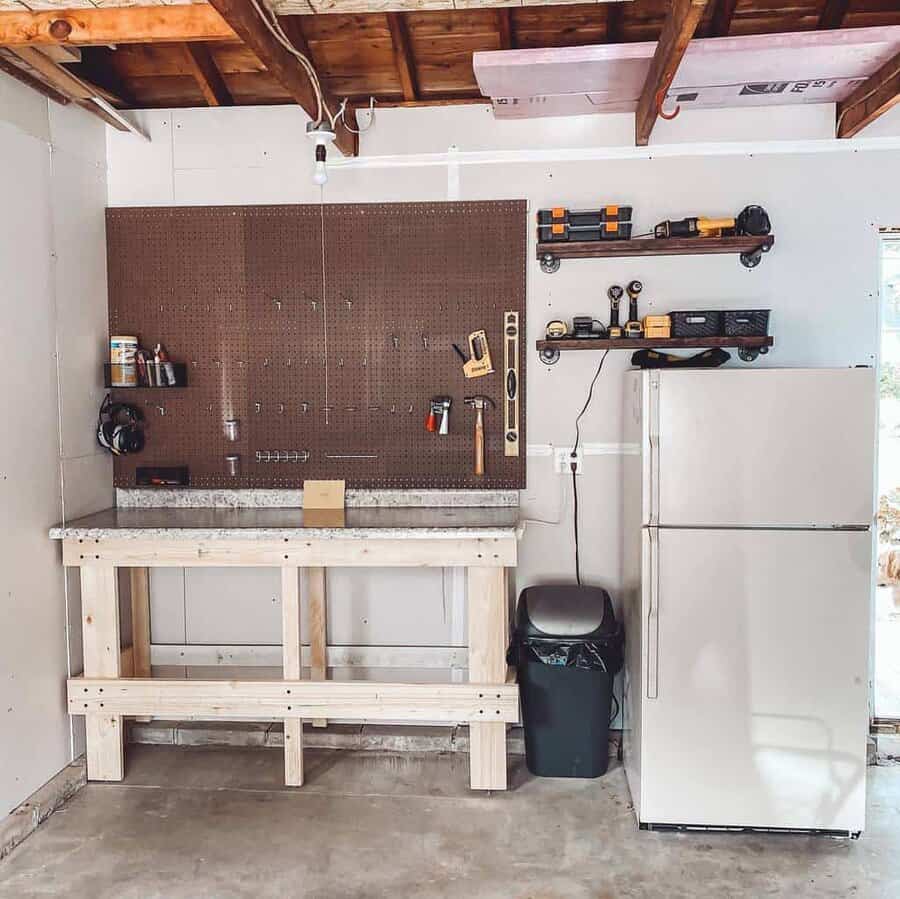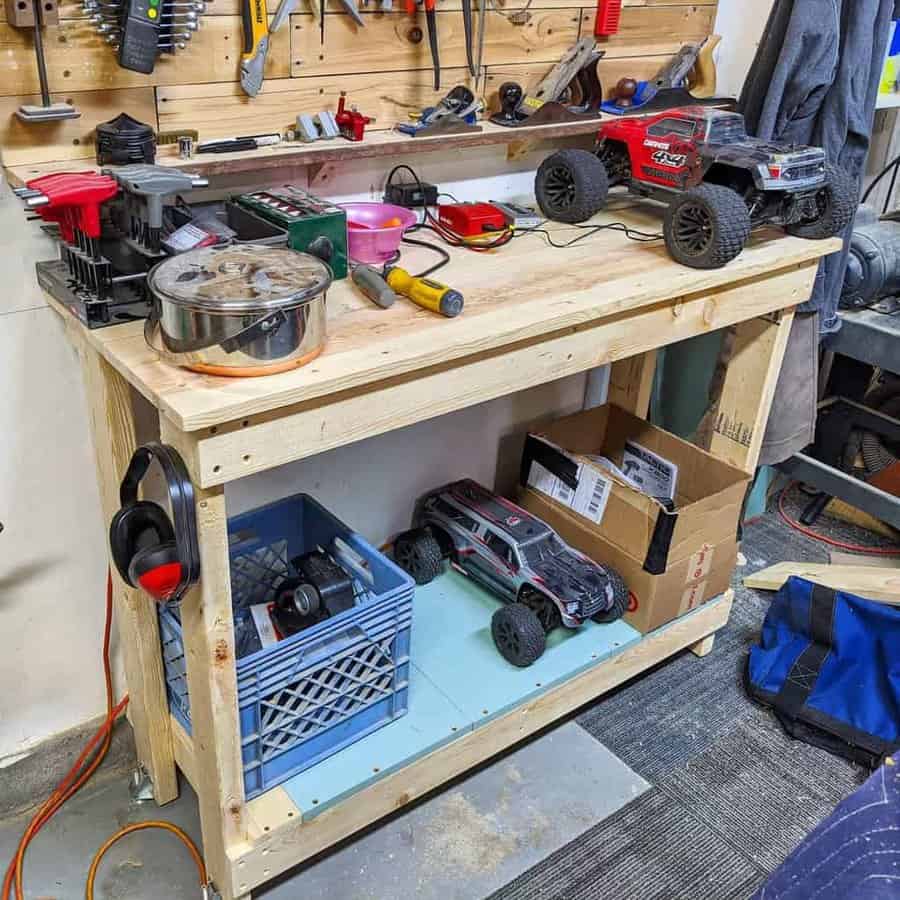 You don't need to shell out for expensive materials, particularly if this is your first big project. Scrap plywood or fiberboard are two great options for constructing your DIY workbench.
If designing a workbench entirely from scratch is outside of your wheelhouse, there are tons of detailed instructions available online. You can follow these build plans to the inch or modify the final product to suit your workspace.
2. Freestanding Table
At its core, a workbench is little more than a tabletop. If all you need is a simple workbench to get the job done, then a freestanding table might be the most practical and versatile setup.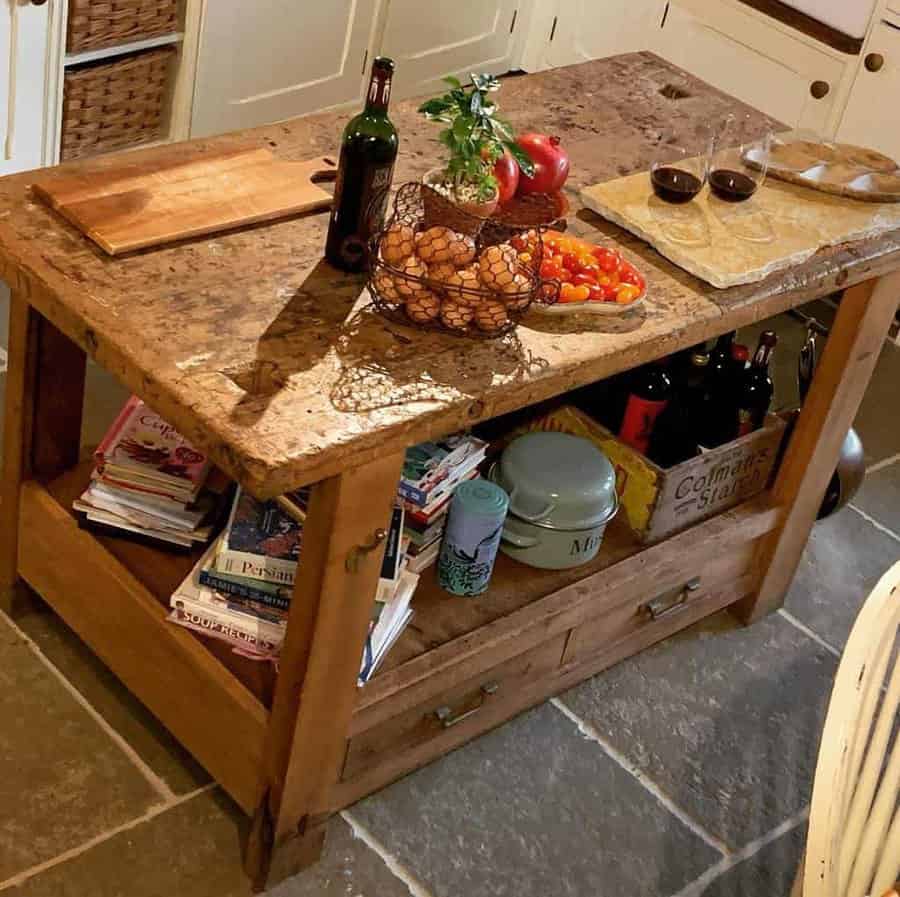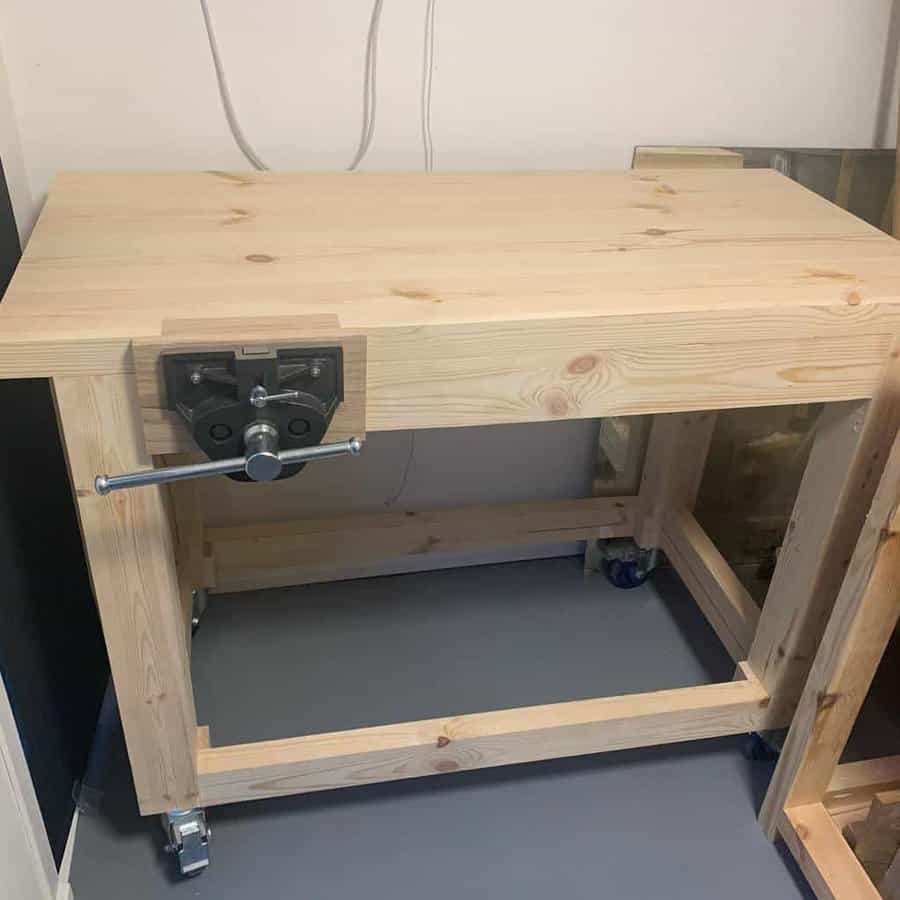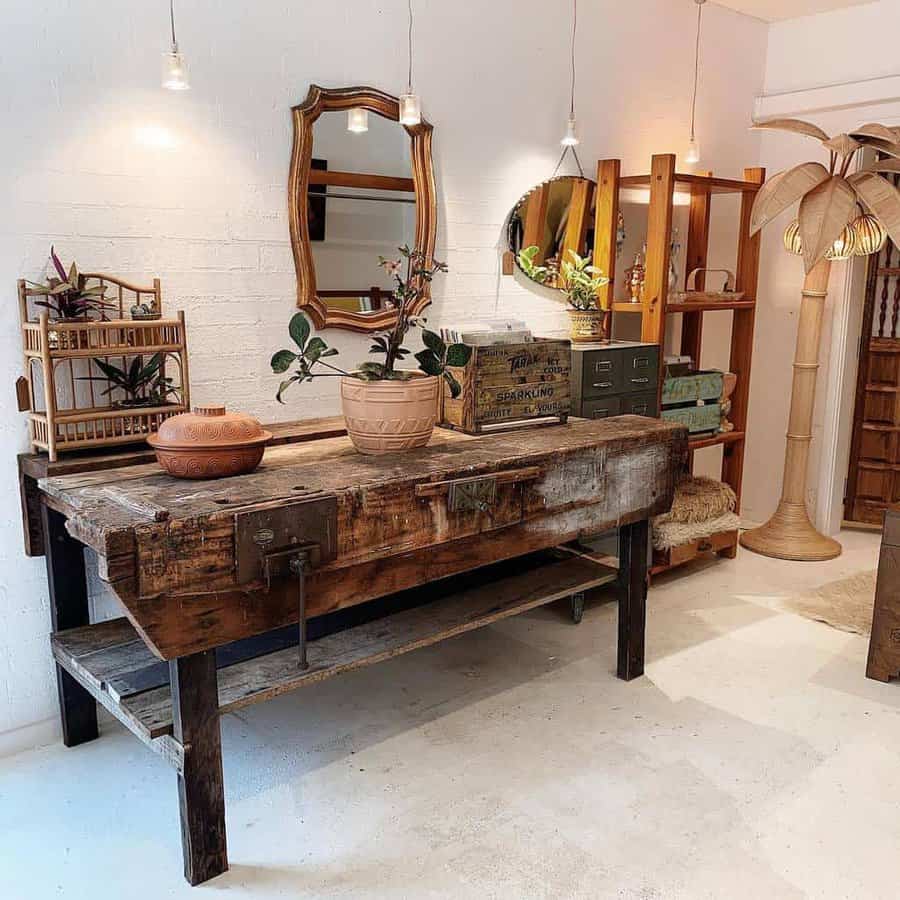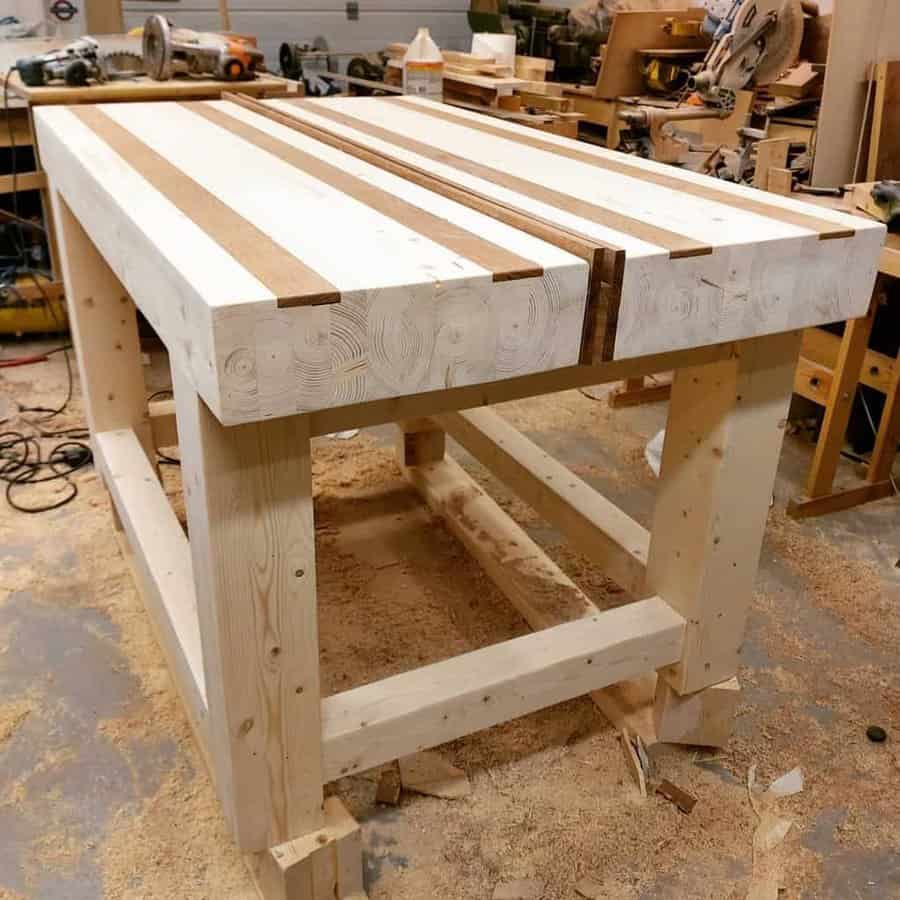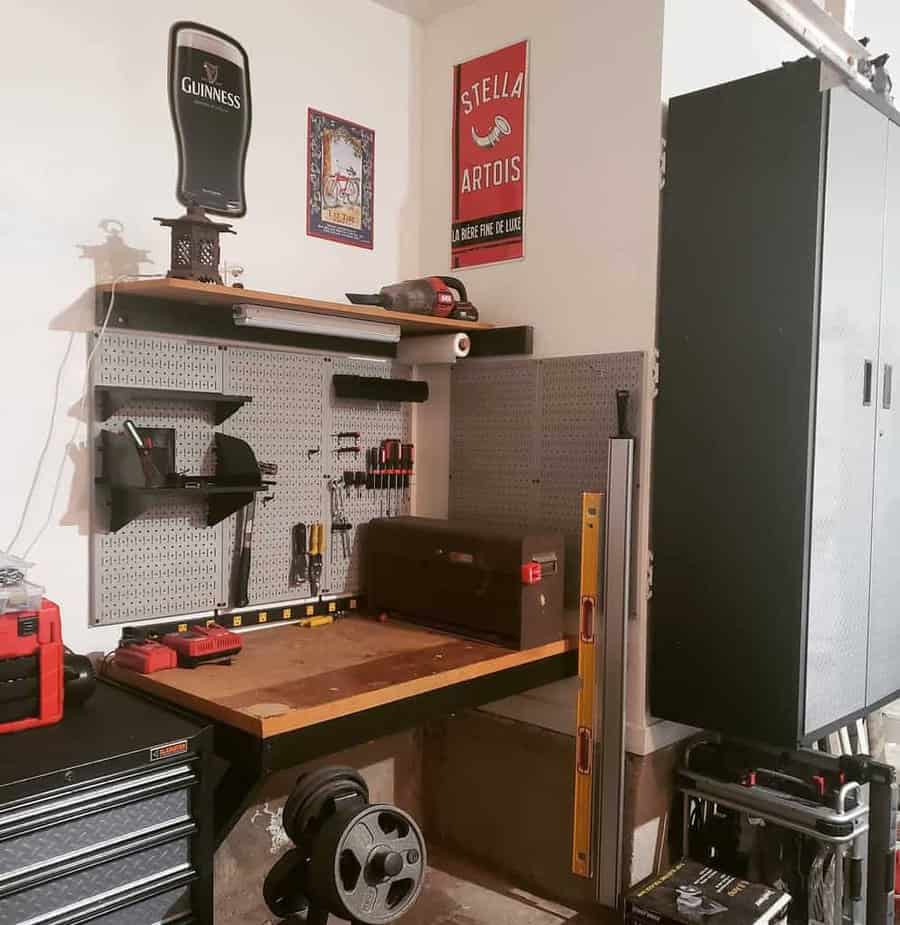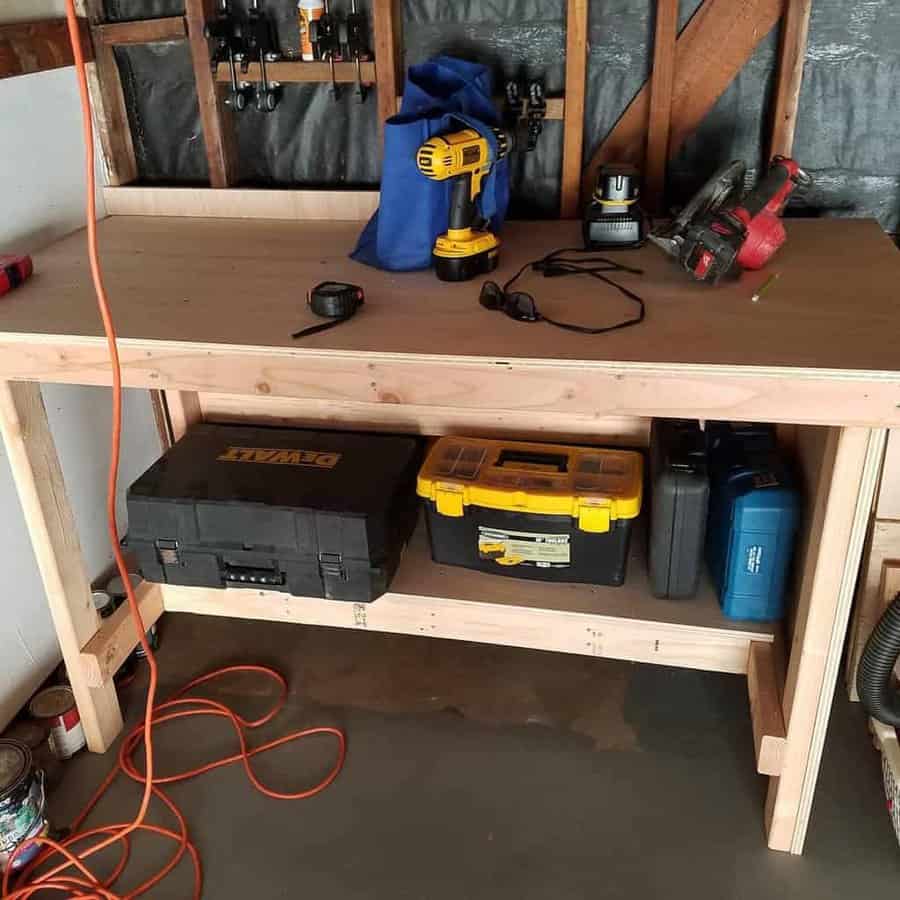 Many people are hesitant to switch to a freestanding table for woodworking and other heavy-duty projects because of the lack of stability. But well-built tables can be just as sturdy as your average wall-mounted workbench.
You can still attach a vise or even a small miter saw to a freestanding bench. If you're worried about damaging the top of your worktable, secure a piece of plywood to protect the original surface.
3. Garage Workshop
Your garage may be the only place that can accommodate a workbench. Of course, converting your entire garage into a workshop isn't always an option.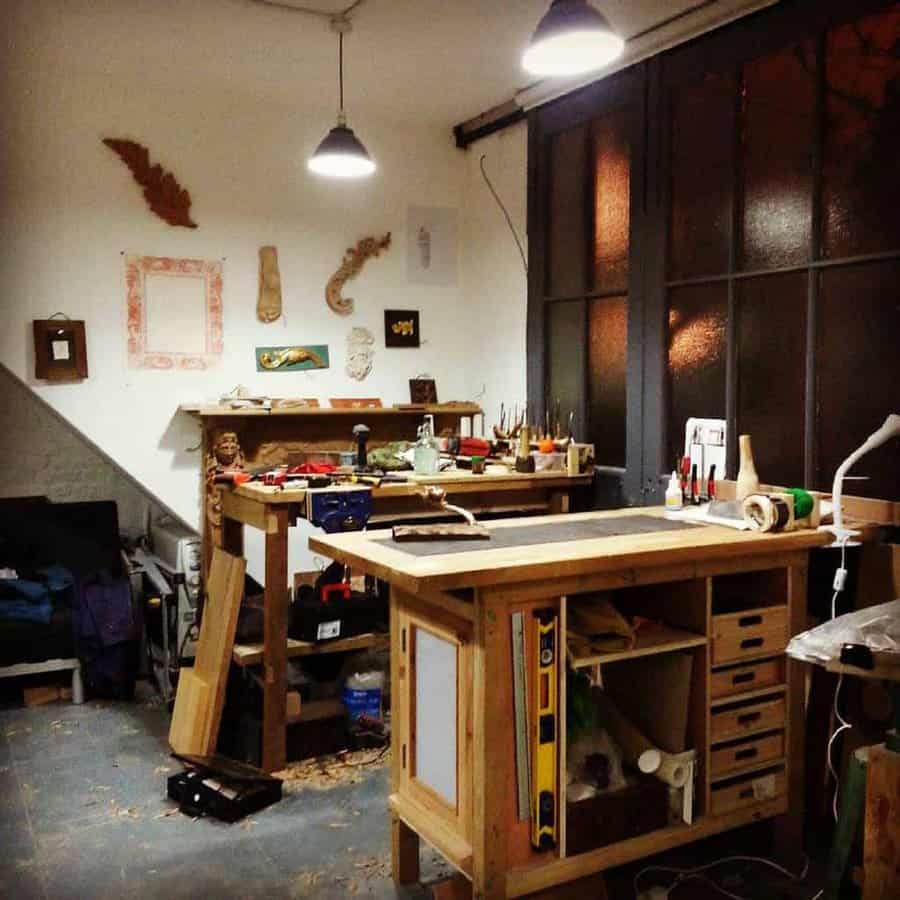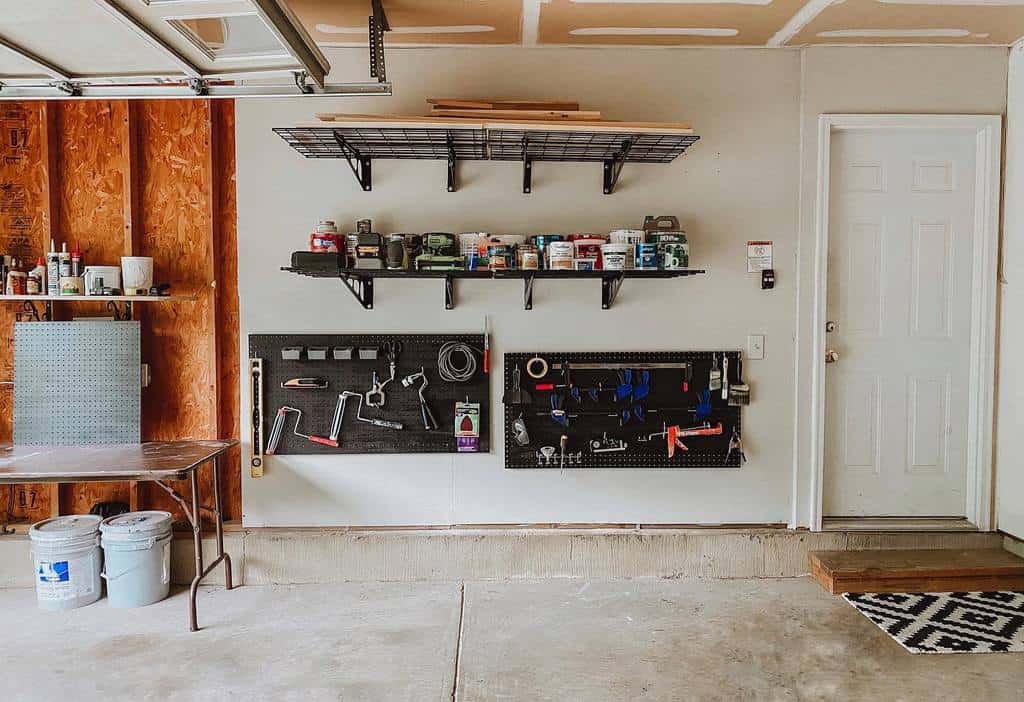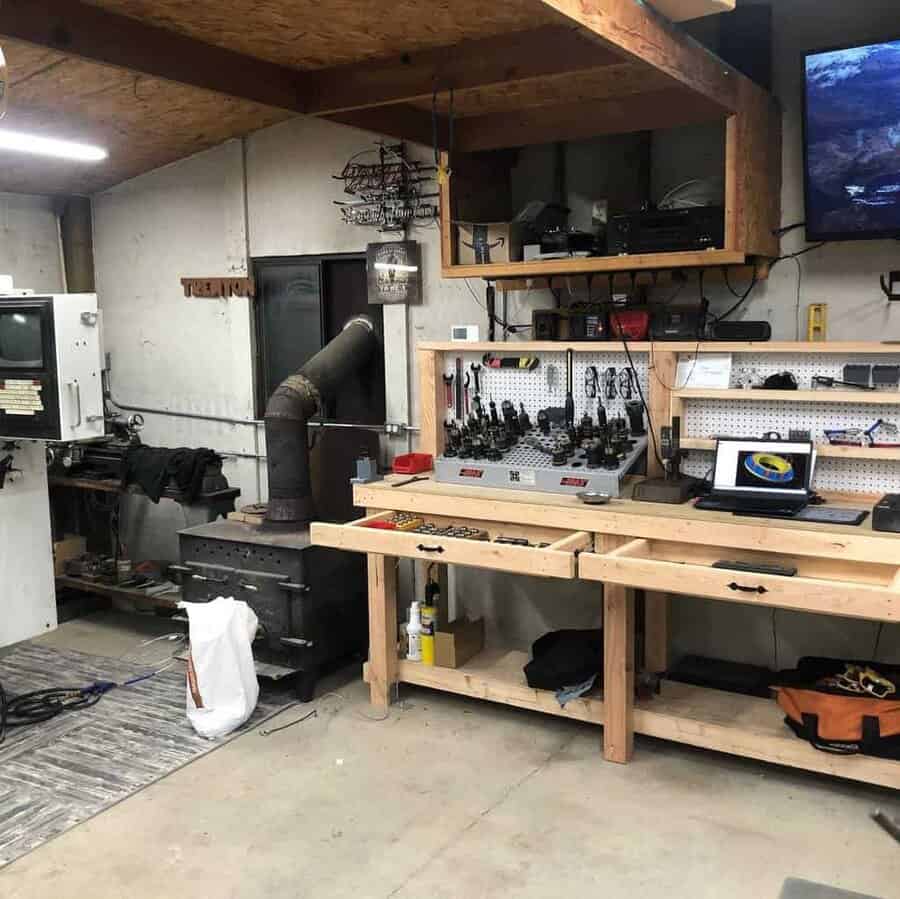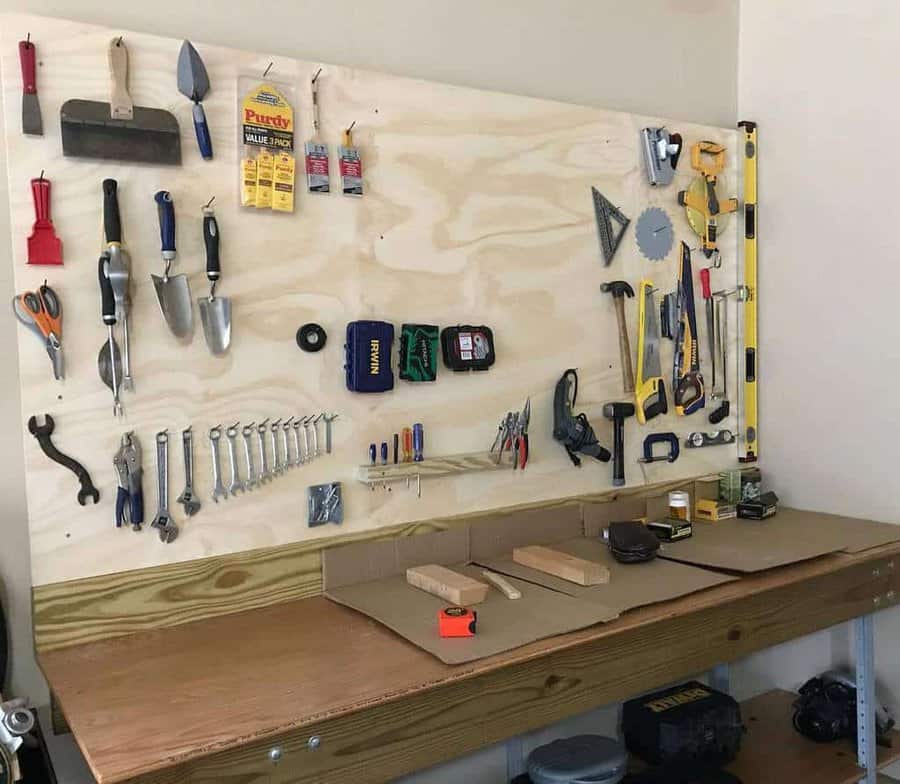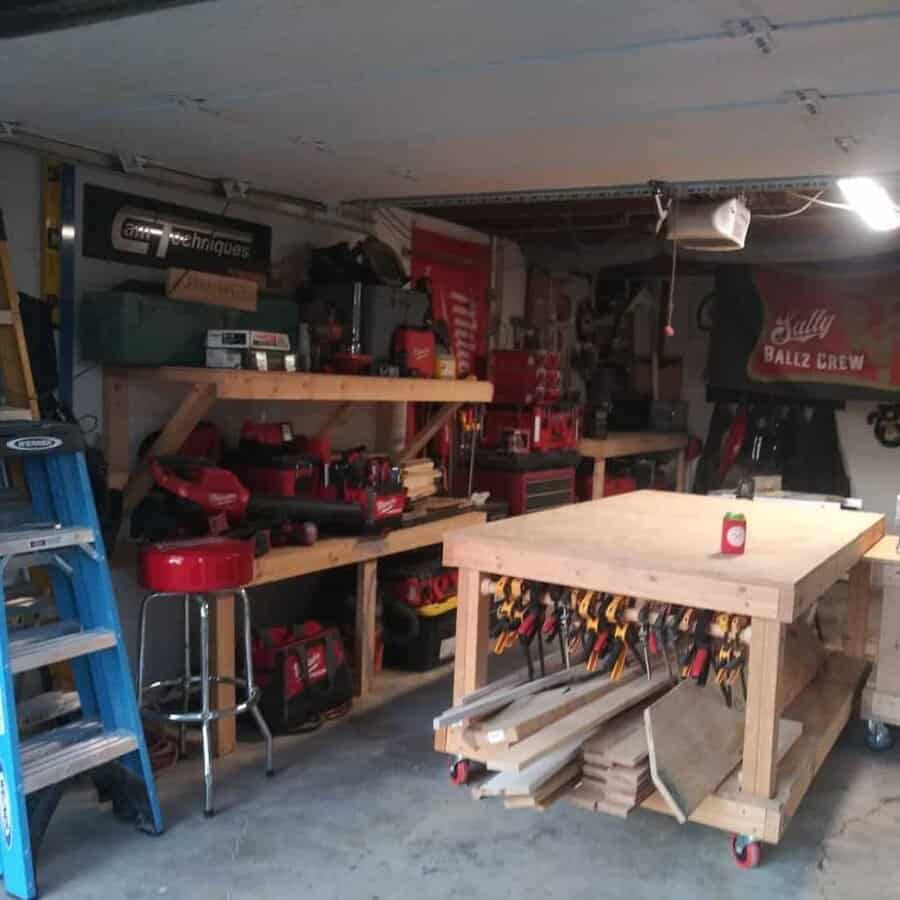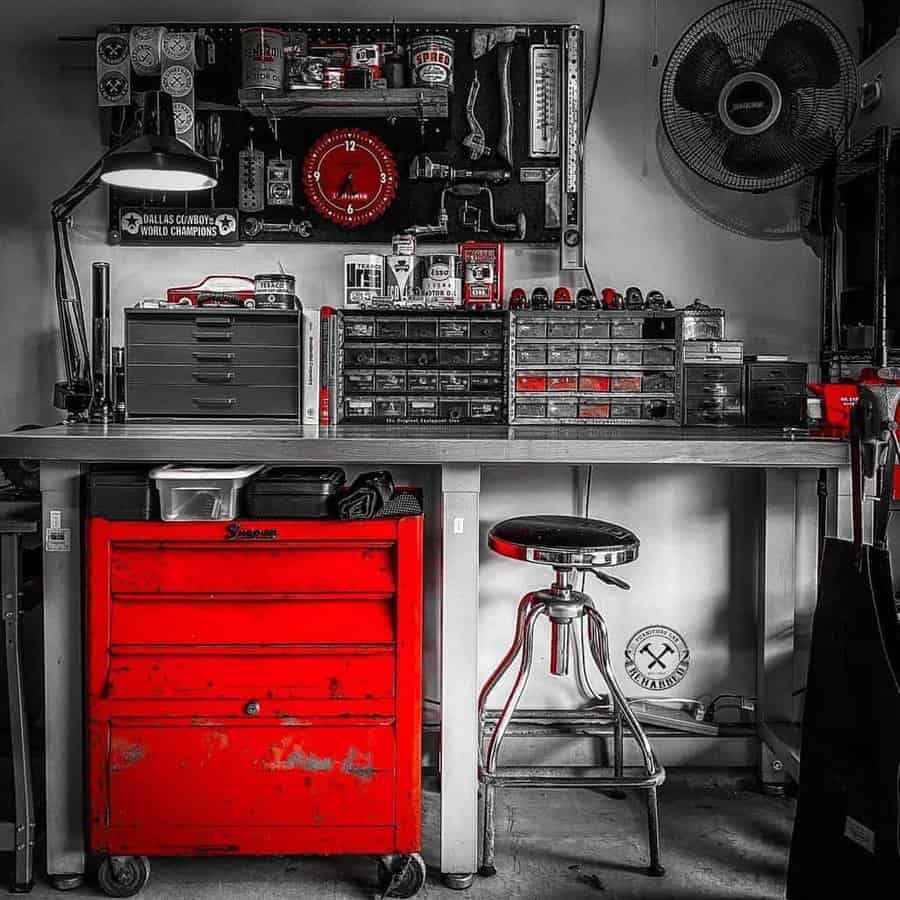 Take advantage of the available wall space by hanging upper cabinets over your garage workbench. Wall-mounted shelves can add a ton of storage without cutting into the usable garage floor space.
For maximum space, opt for a folding workbench design that allows you to complete DIY projects on the weekends while still parking your vehicles at night. Or invest in a mobile workbench on castor wheels that can be rolled away when not in use.
4. Modern
The average garage workshop is nothing fancy — as long as it does the job, what more could you need? But for those looking to invest in the best possible setup for their handiwork, modern workbenches are changing the game.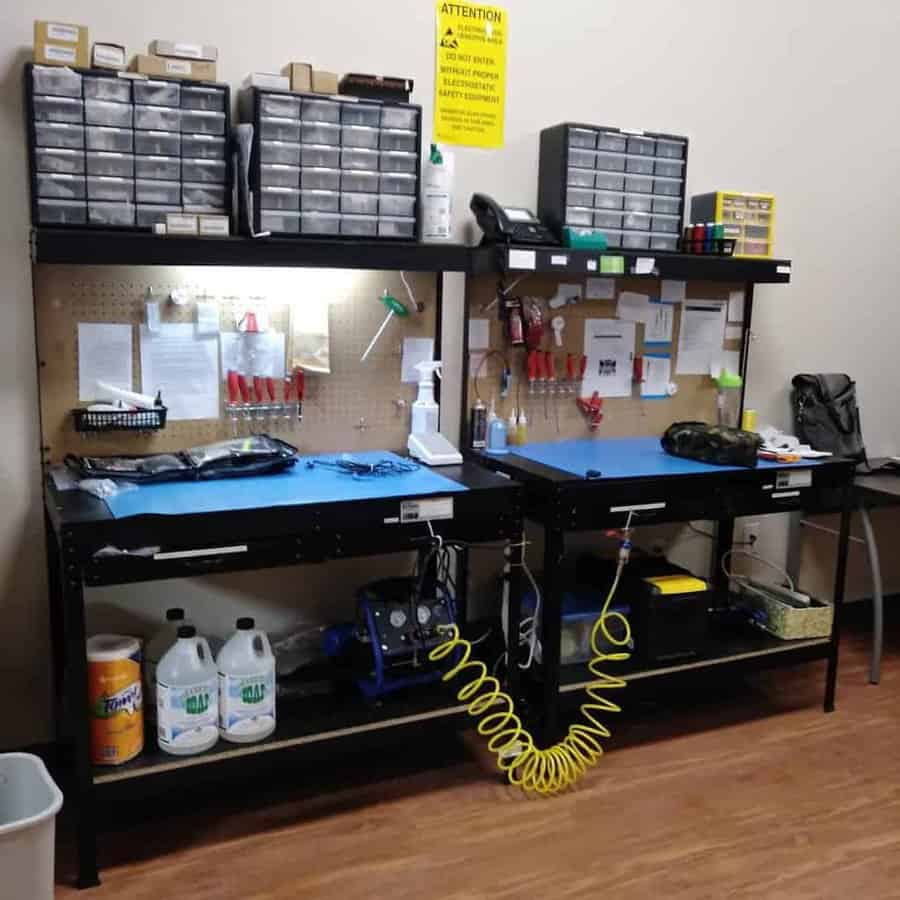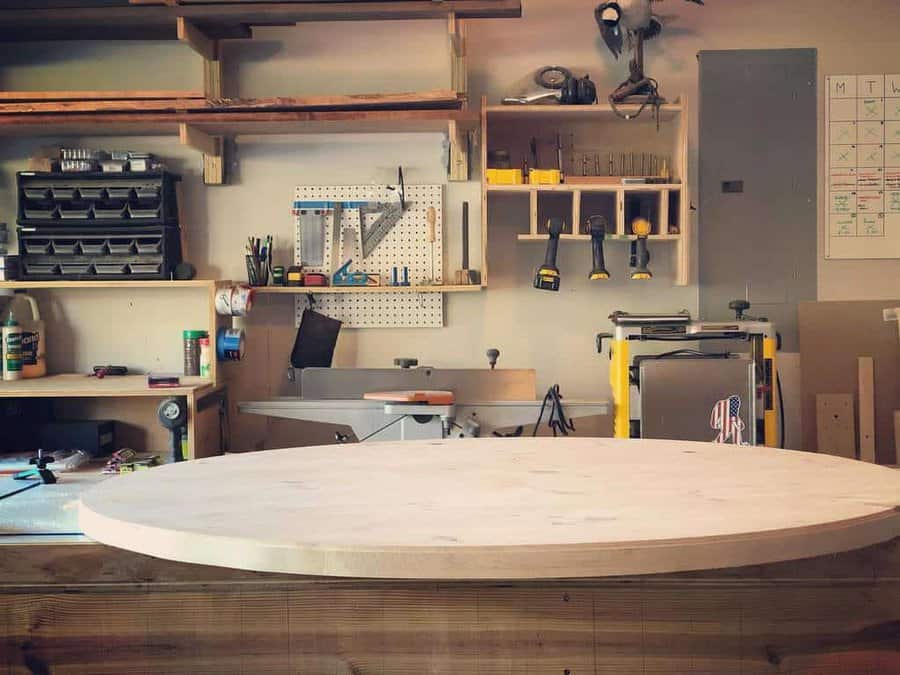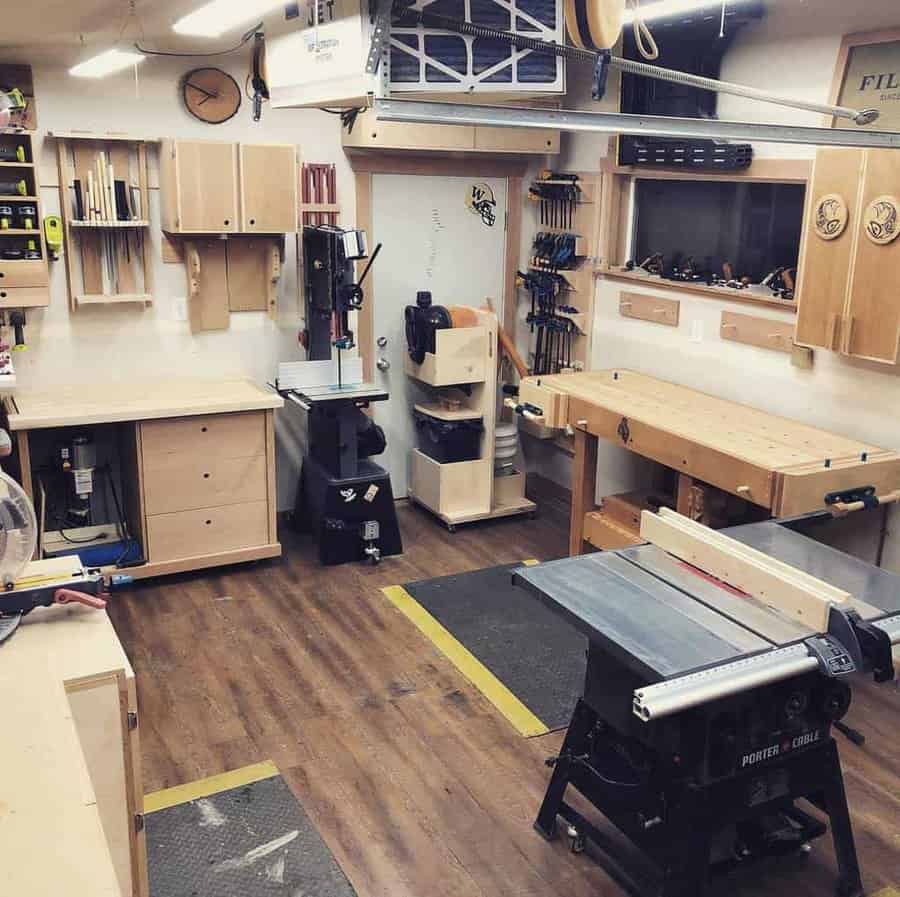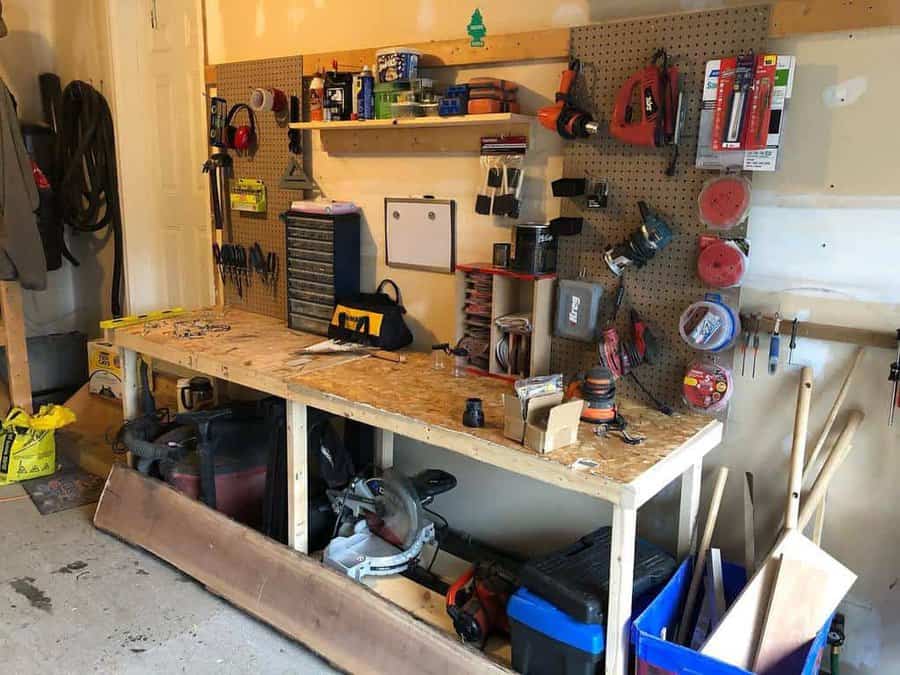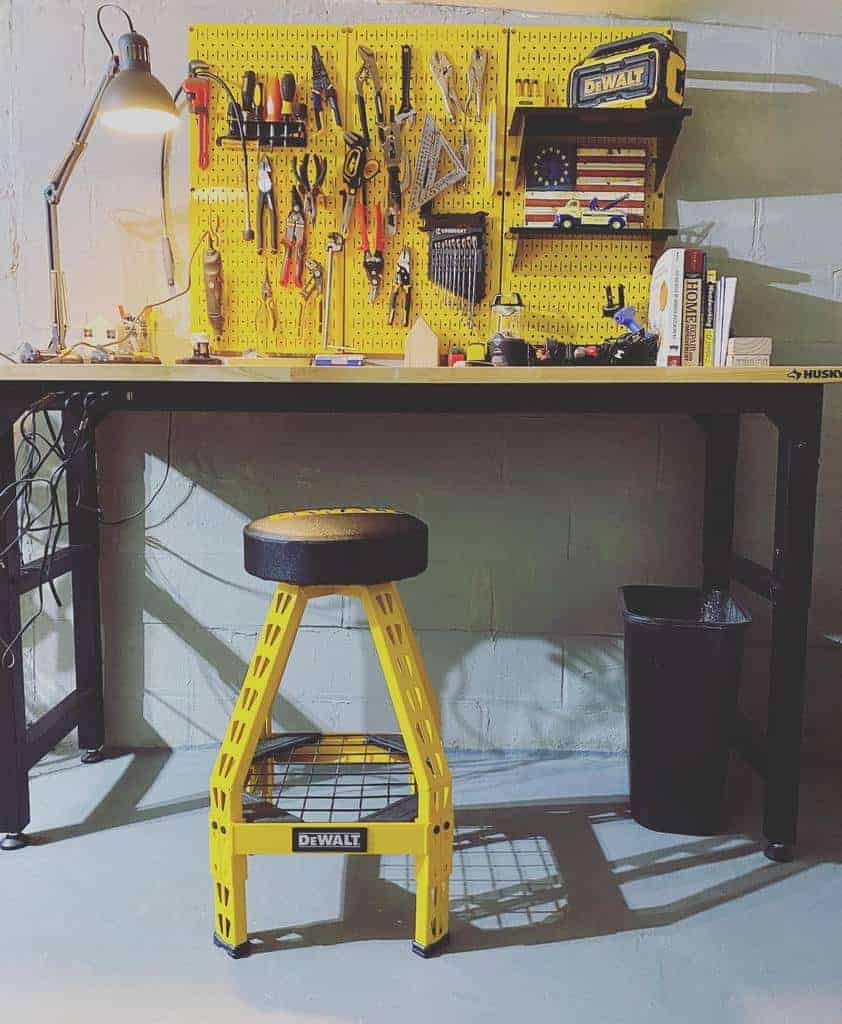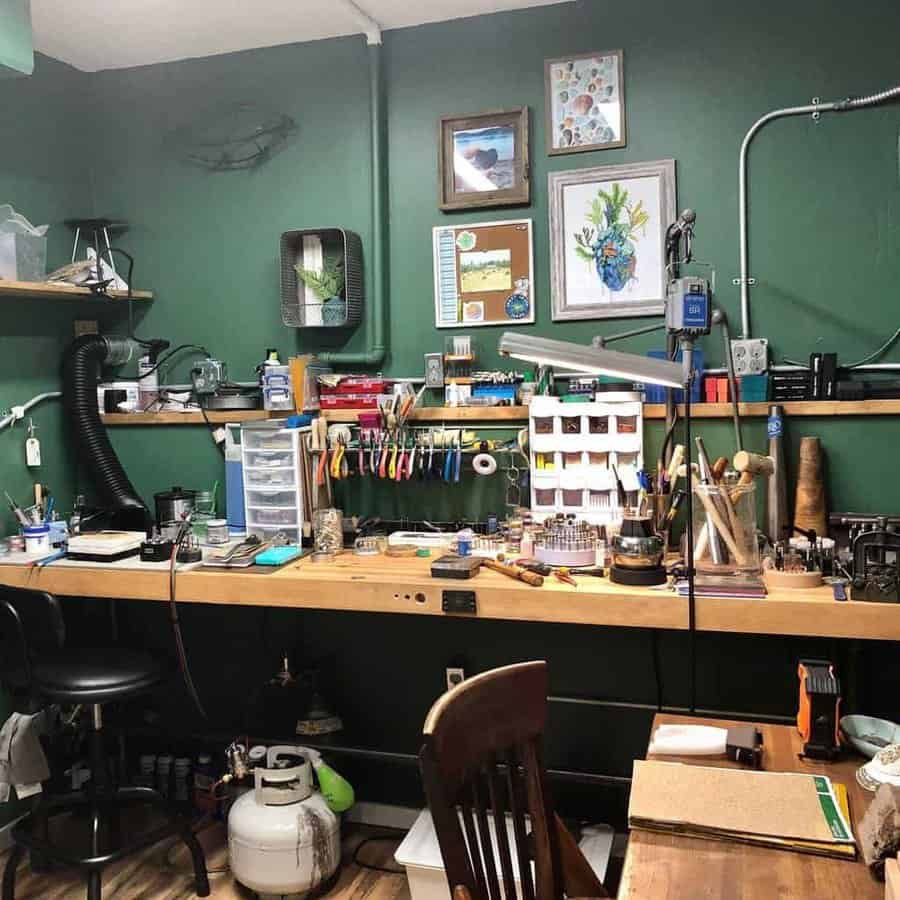 It's easy to get swept up in the sleek appearance of newer workbenches. Modern workbenches are also remarkably space-efficient and functional. Many even feature modular designs that allow for customizable storage or useful add-ons like a vise or miter saw.
You don't need to spend a small fortune to update your garage or woodworking studio. Feel free to draw inspiration from these modern workbench designs when building your own bench.
5. Pegboard
Do you feel like your workstation is constantly short one cabinet or drawer? When it comes to lightweight power tools and supplies, more and more craftsmen are opting for pegboard systems.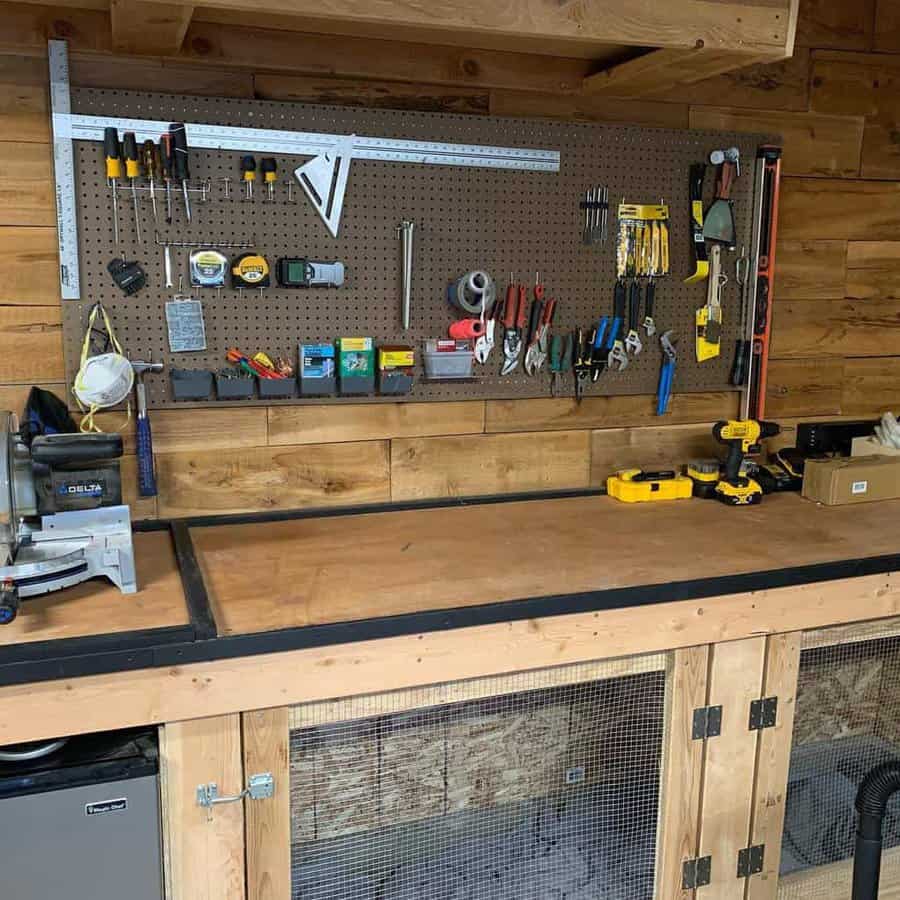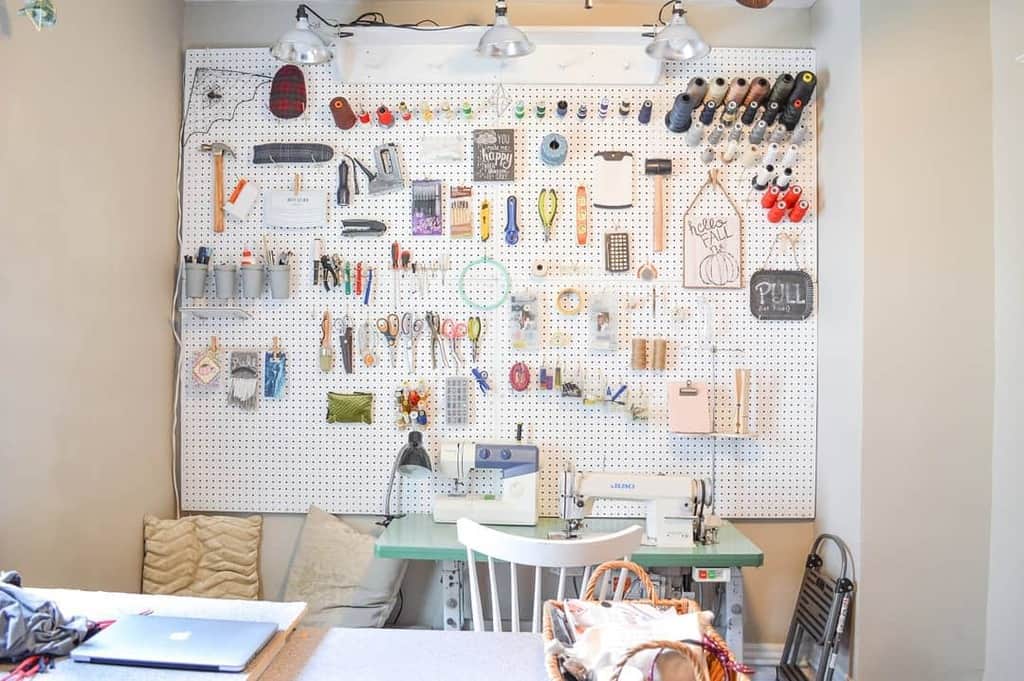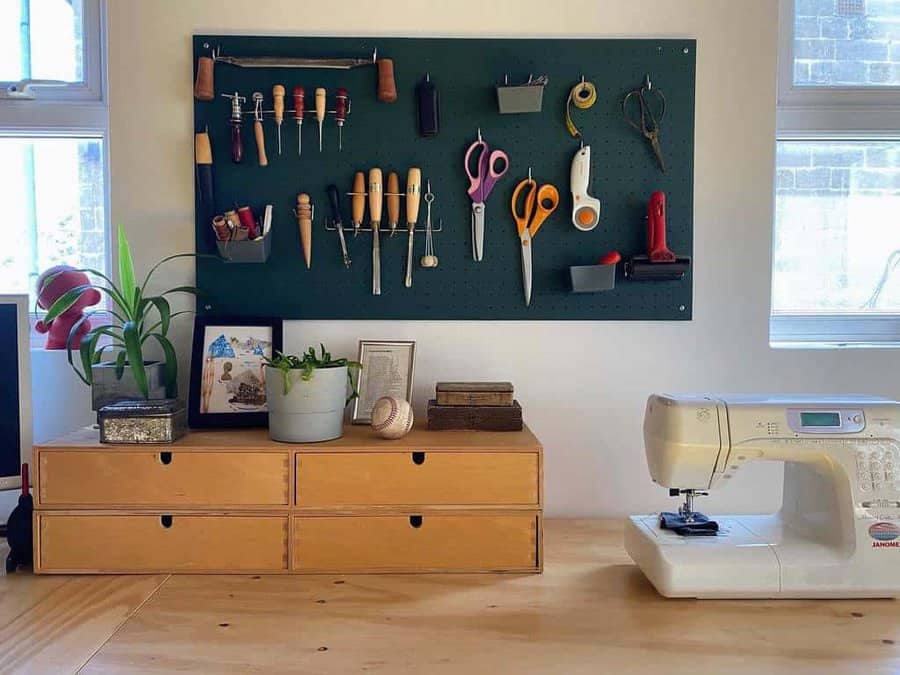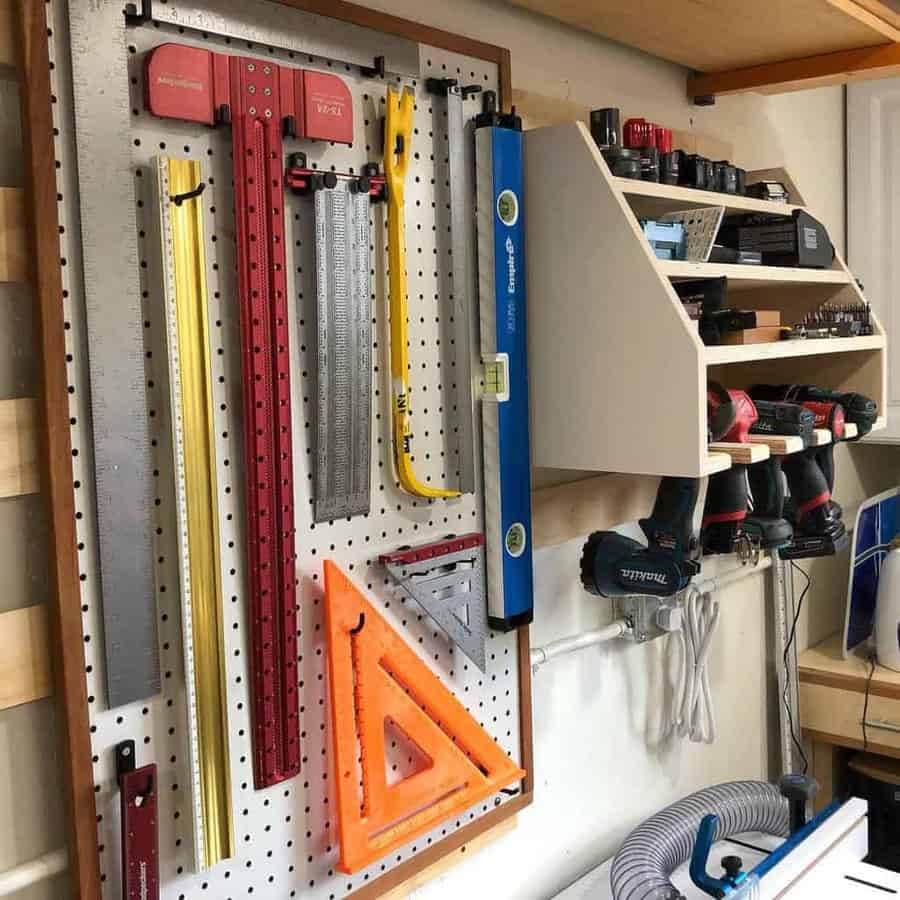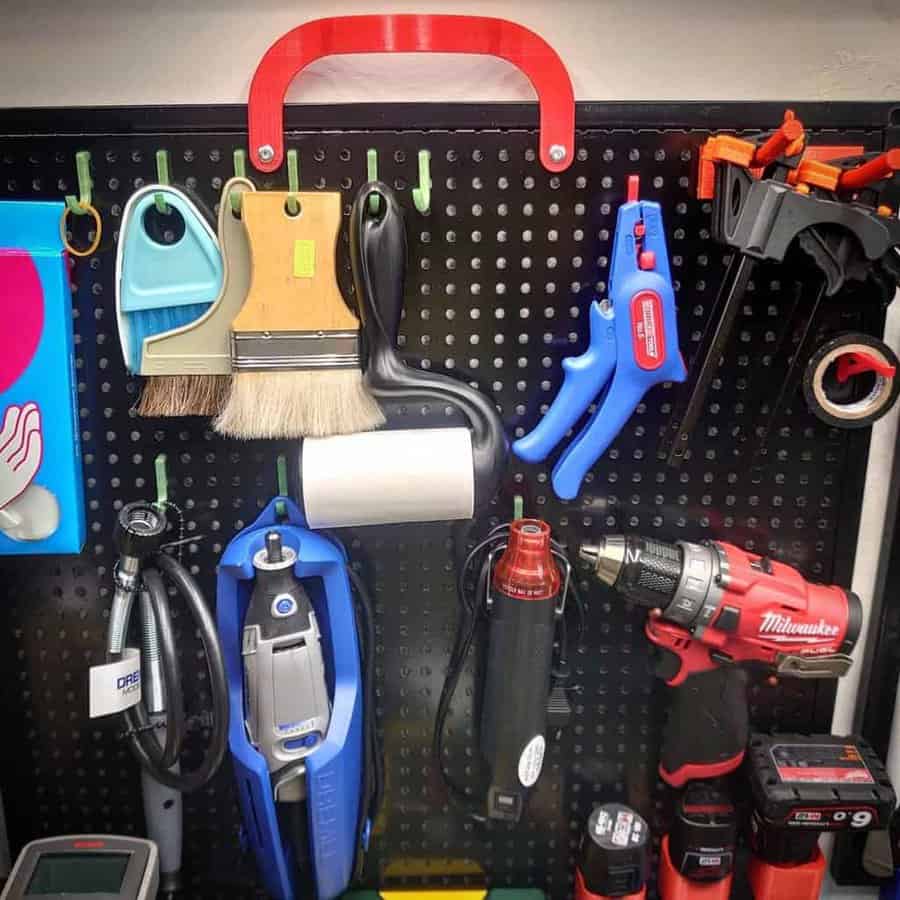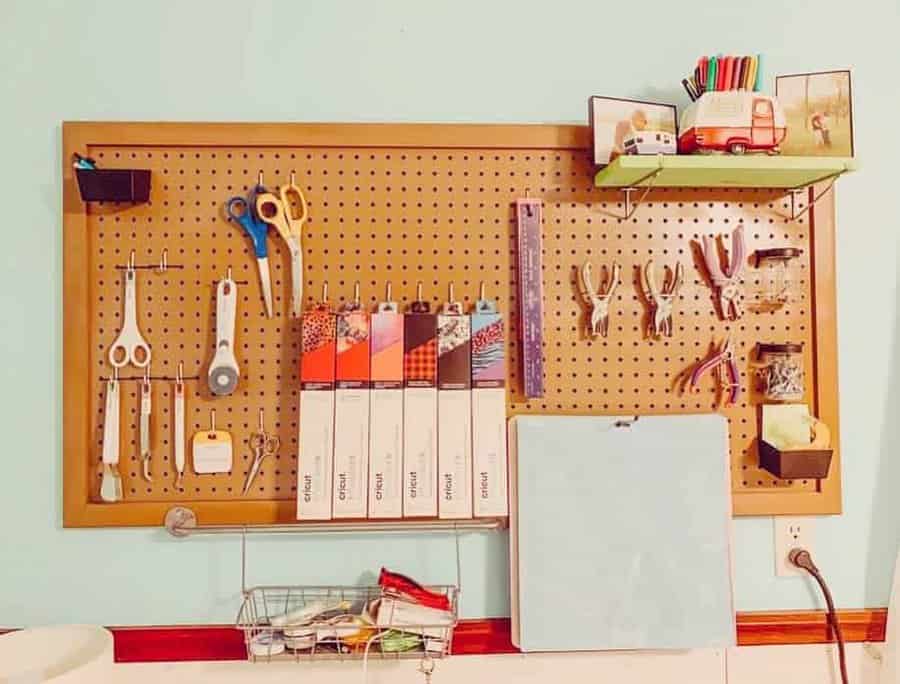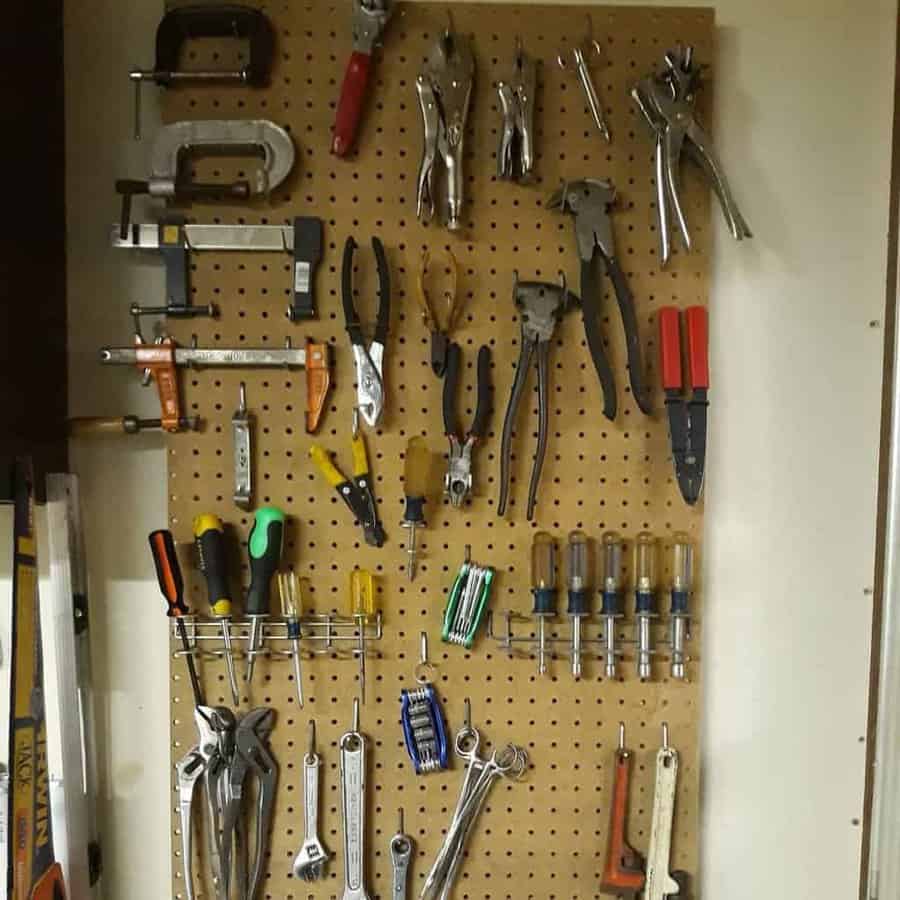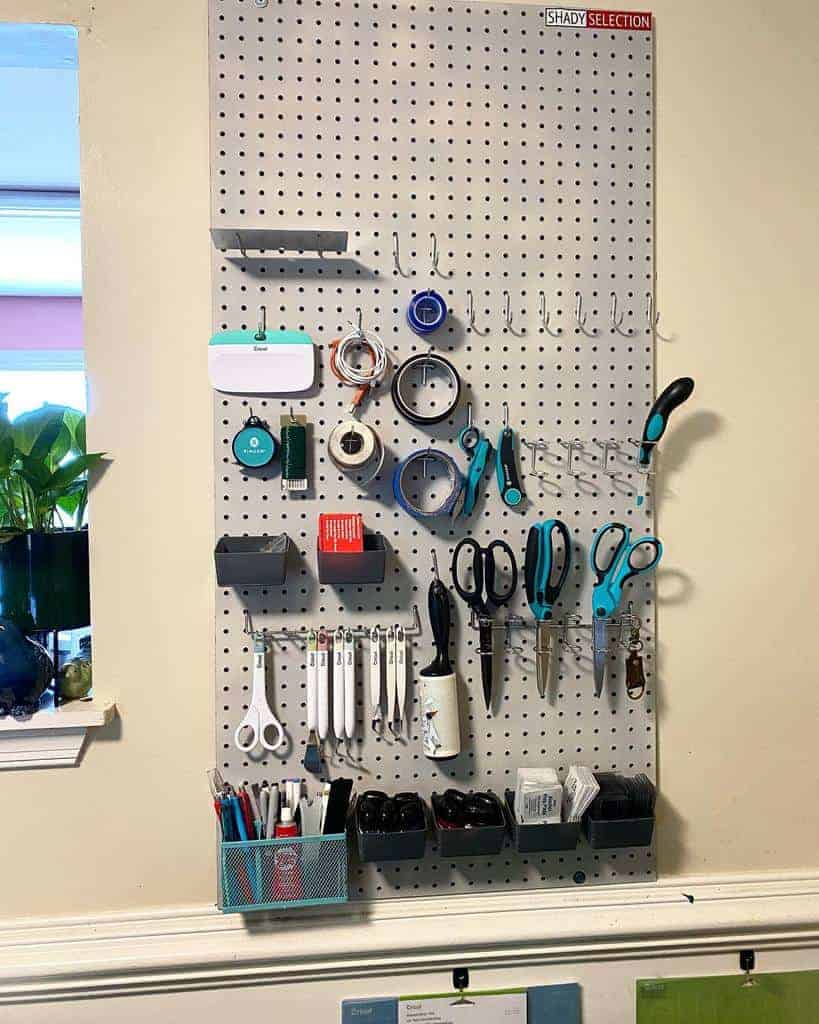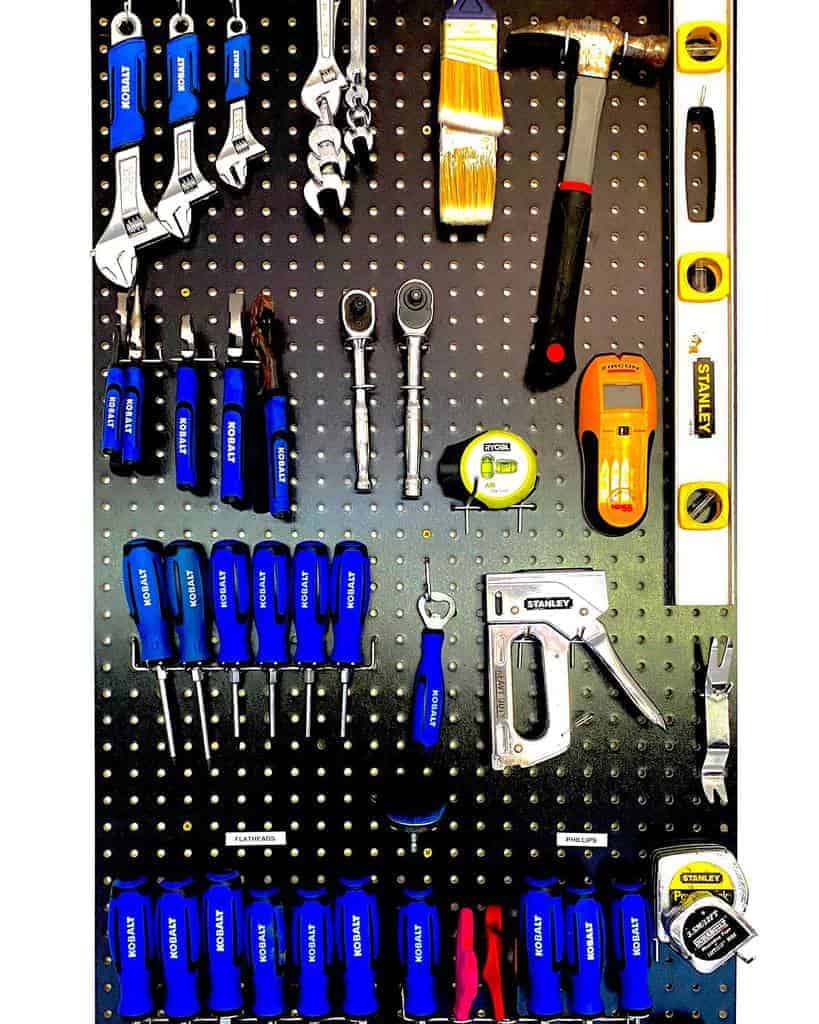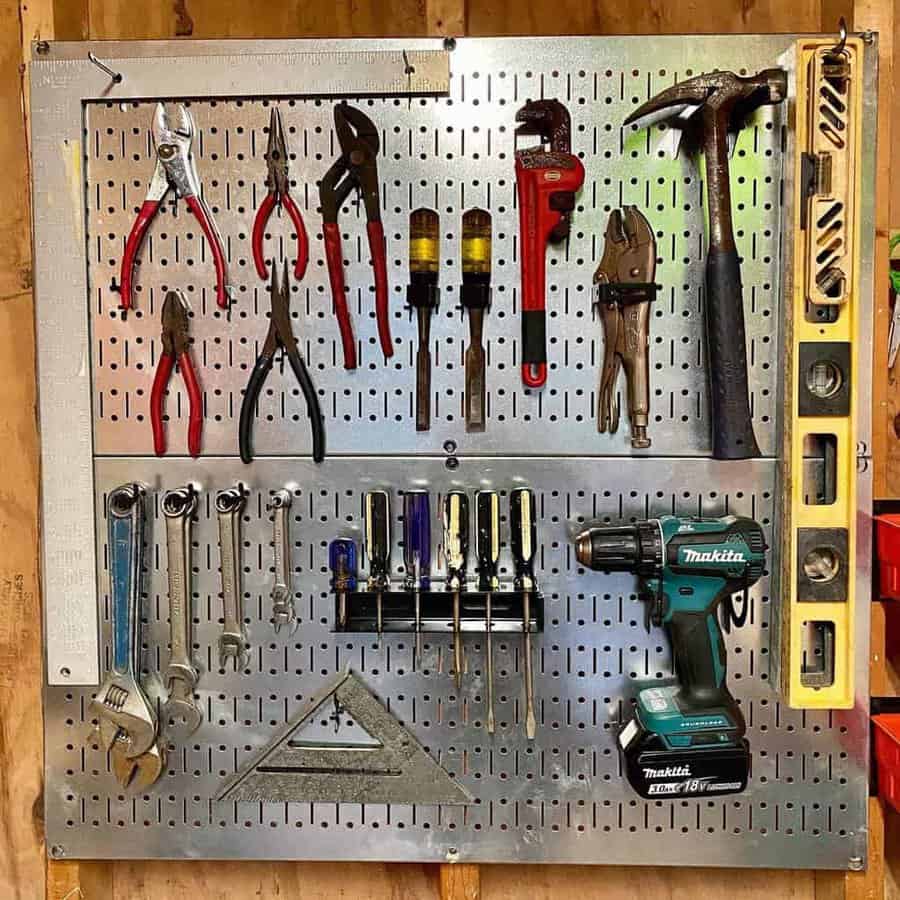 Installing a pegboard is the best way to supplement your workbench storage and keep your most-used items within reach. You can hang supplies directly from the board or customize your storage space with baskets and hooks.
Pegboards come in all different sizes to fit your storage needs. Wooden pegboards are affordable and easy to hang. Metal pegboards are more durable and heavy-duty. Choose the material that will best suit your needs.
6. Rolling
If you typically work on small projects, then a stationary workbench is all you need. When it comes to tackling a big DIY project, though, nothing can replace a portable workbench.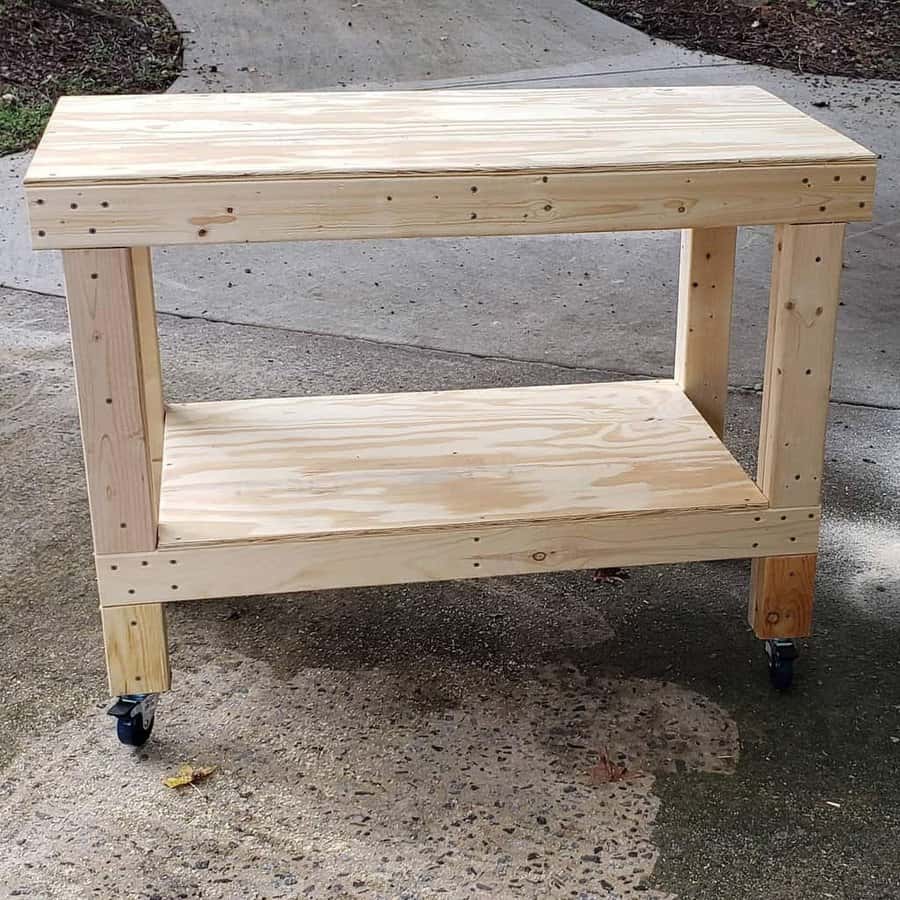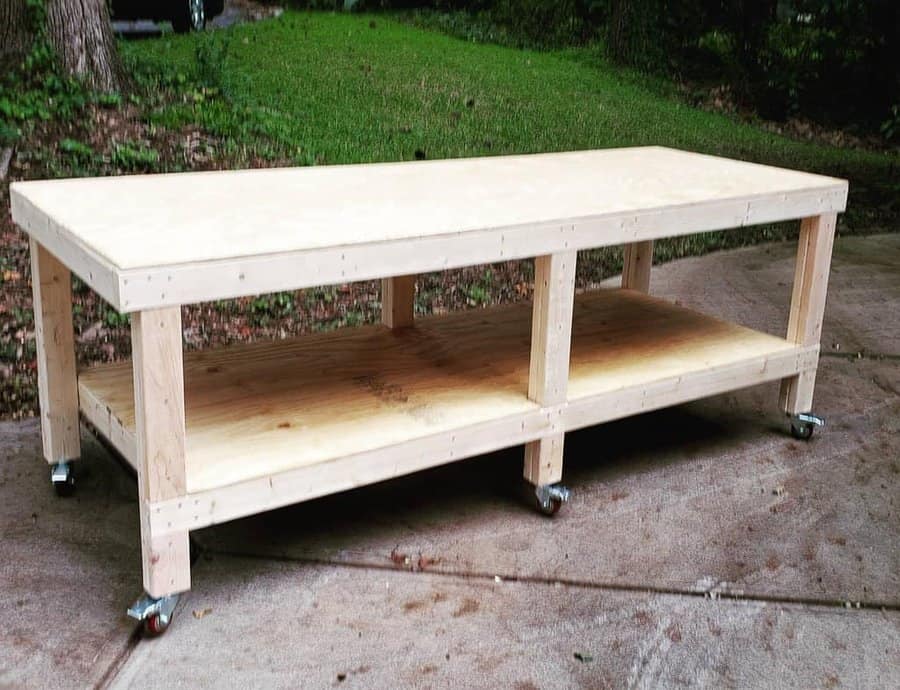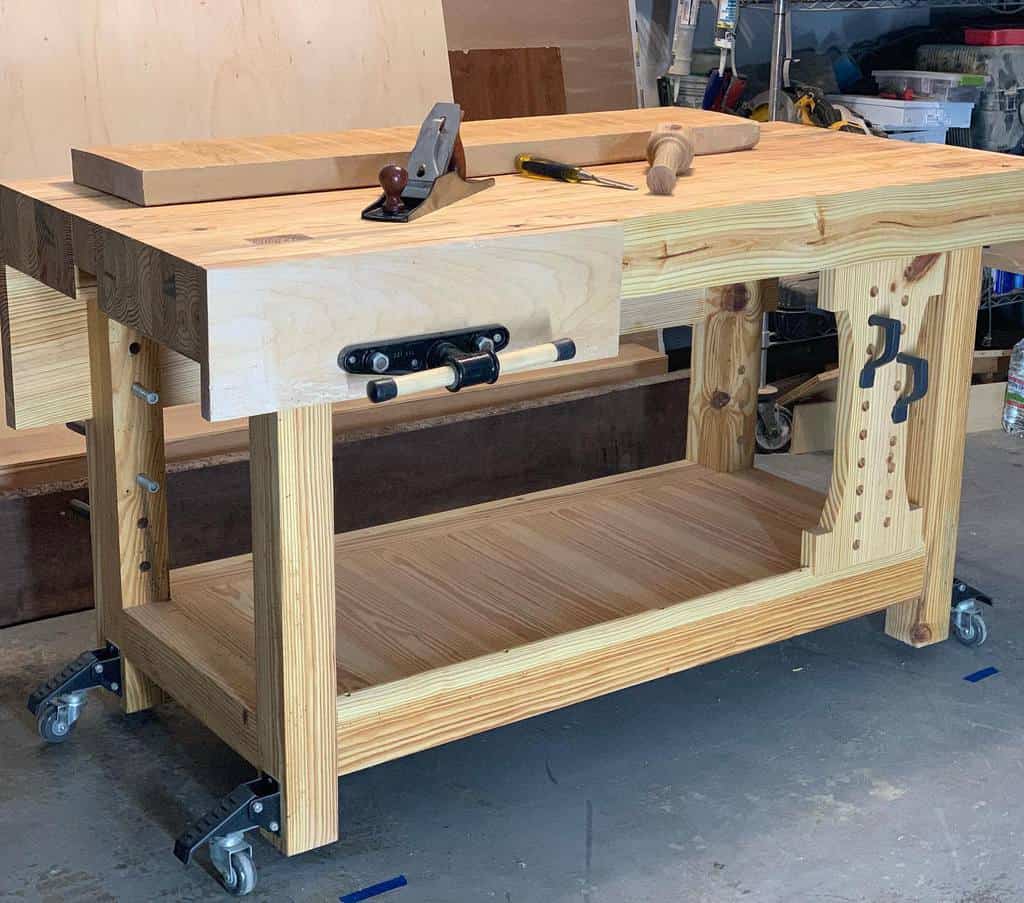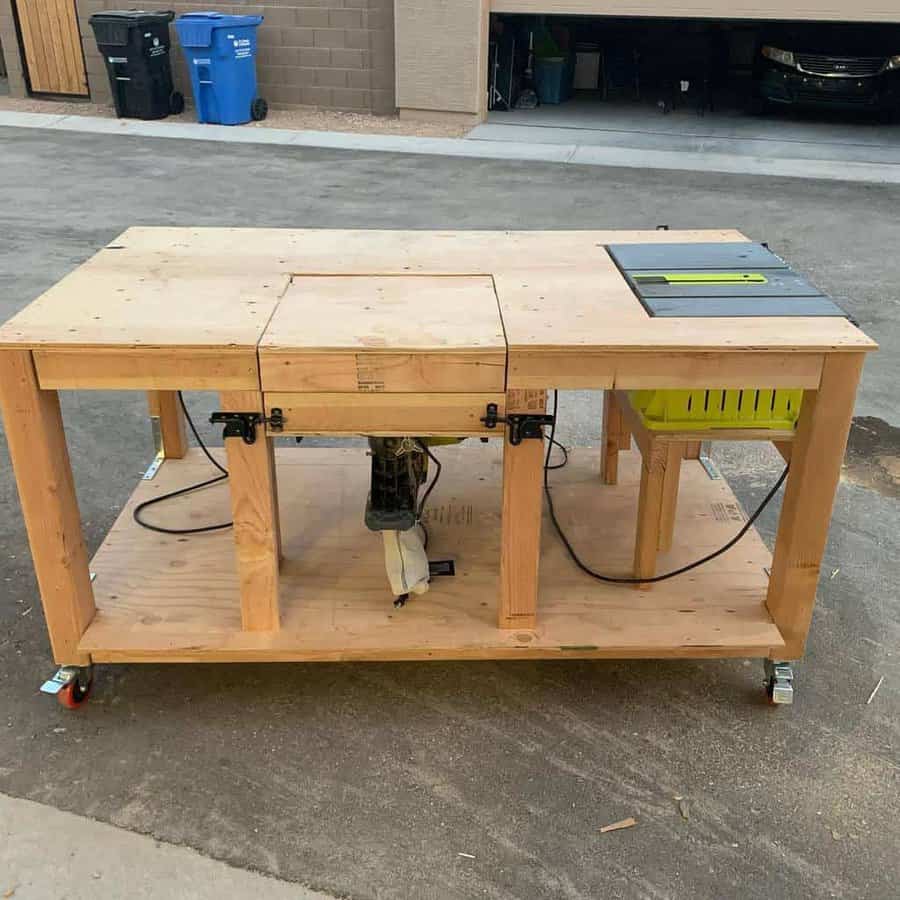 Whether you're working with wood, metal, or another material entirely, a mobile workbench makes it easy to transport your tools and workspace wherever you need them. There's no need to worry about finding a clean surface in your shed, garage, or backyard.
While you can add wheels to almost any bench design, you don't want your mobile workbench to weigh too much. Go with a simple workbench idea made of lightweight wood or plastic. Store tools elsewhere to cut down on weight.
7. Small
From woodworking to general crafting, a small workbench can be just as versatile as a large one. And if you already have a full-size garage workbench, then a small ancillary bench may be all you need to up your workshop efficiency.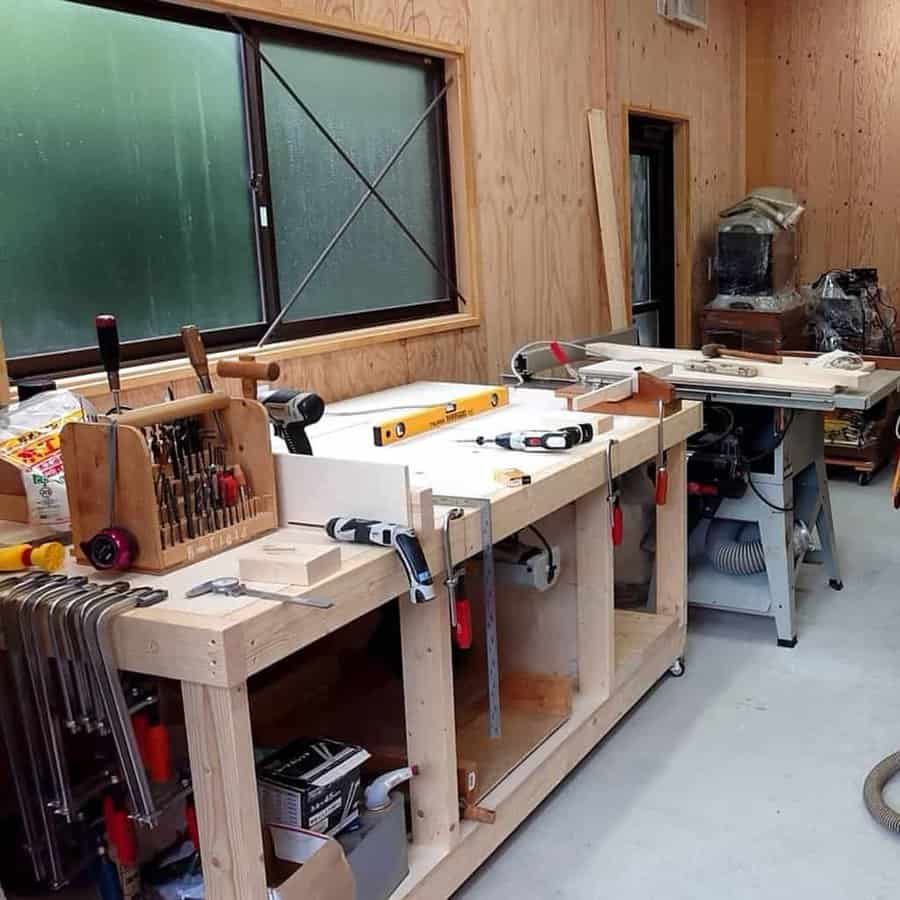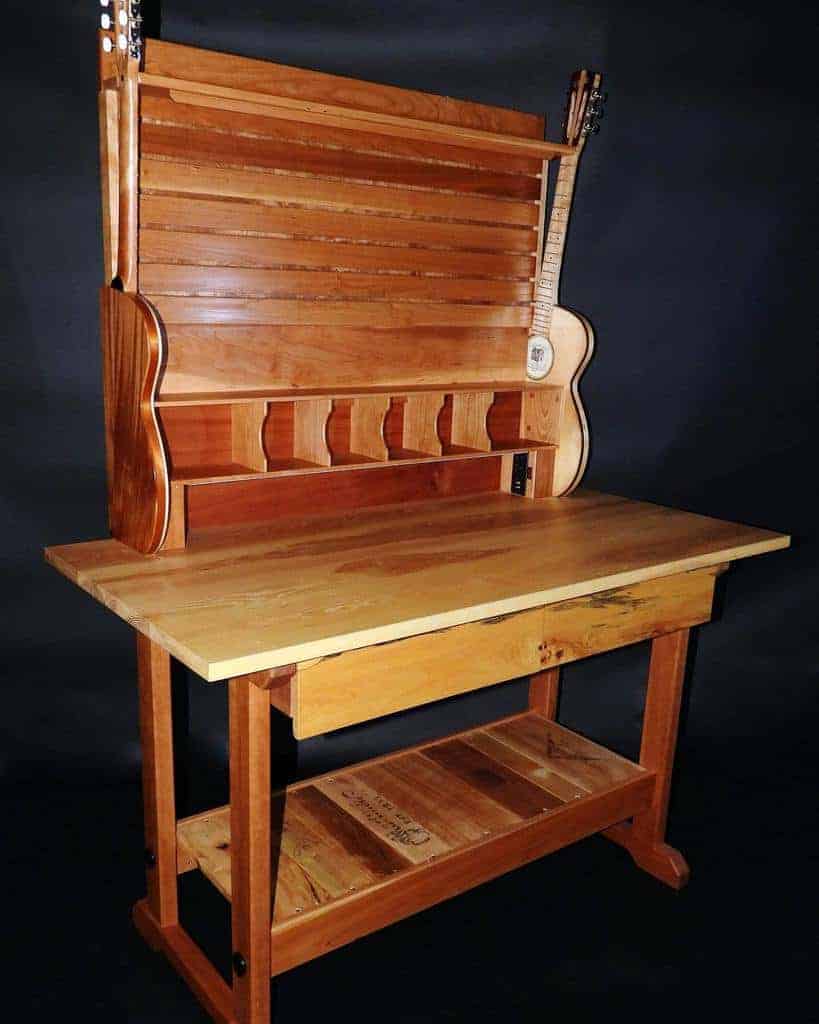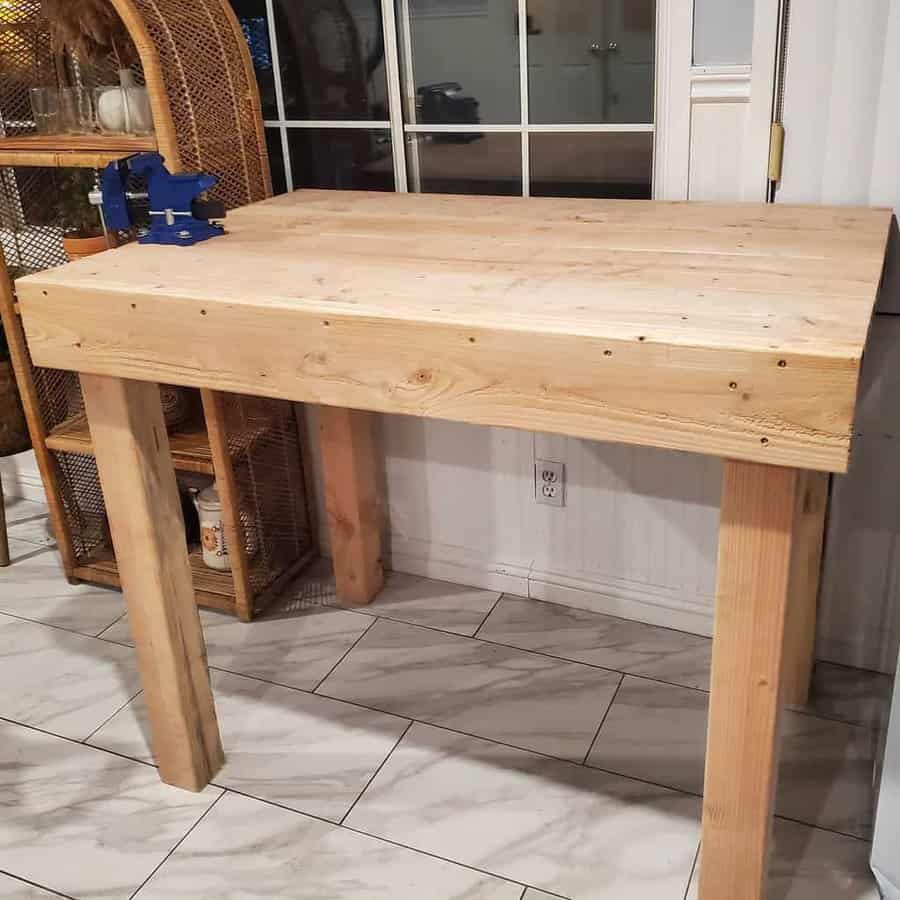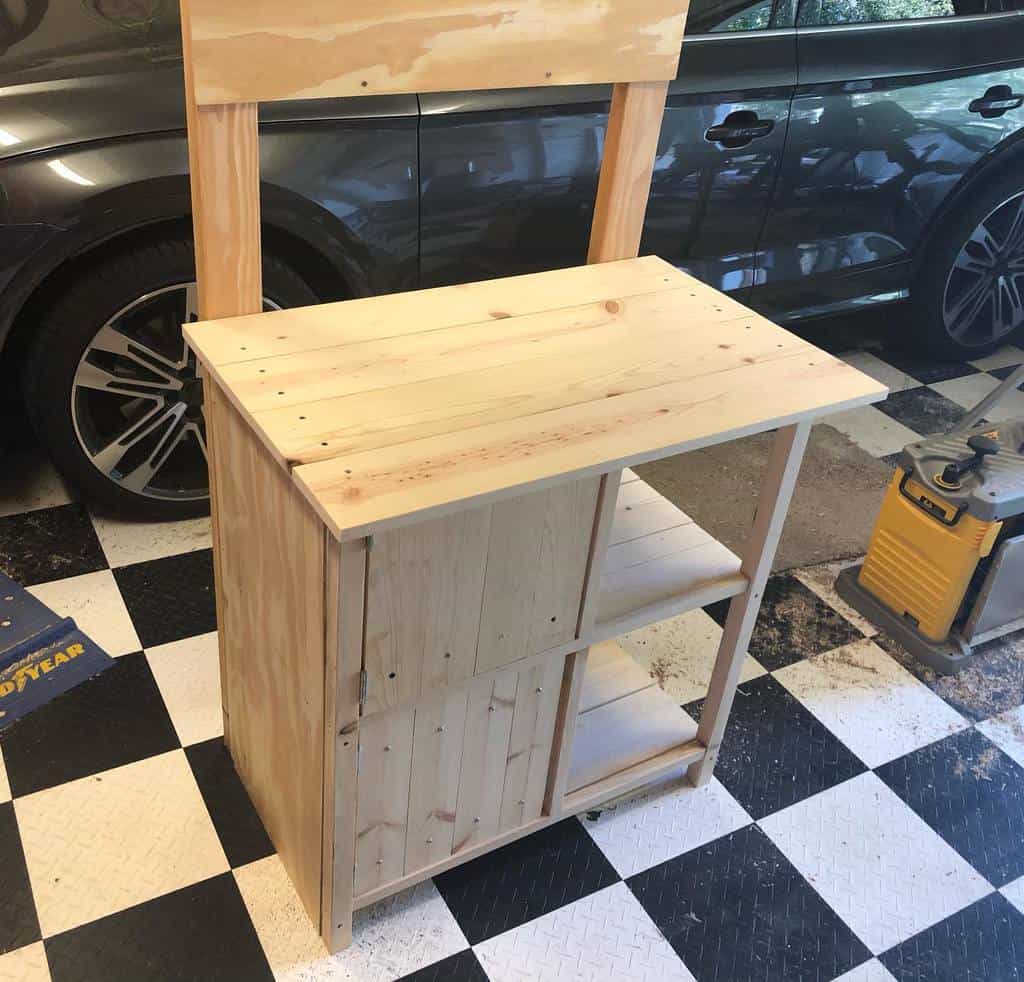 Avoid cluttering up your workbench with random tools and scrap wood. Every inch counts when you're working with a small or compact bench design!
Don't forget to include some storage in your DIY workbench setup. Some great storage options include a pegboard, drawers, or a shelf mounted underneath your work surface. Mounting a vise or table saw extension to your workbench can be an excellent way to conserve space.
8. Wall-Mounted
Mounting your workbench to a wall doesn't just offer greater stability. It's also one of the best ways to conserve floor space in your garage or workshop.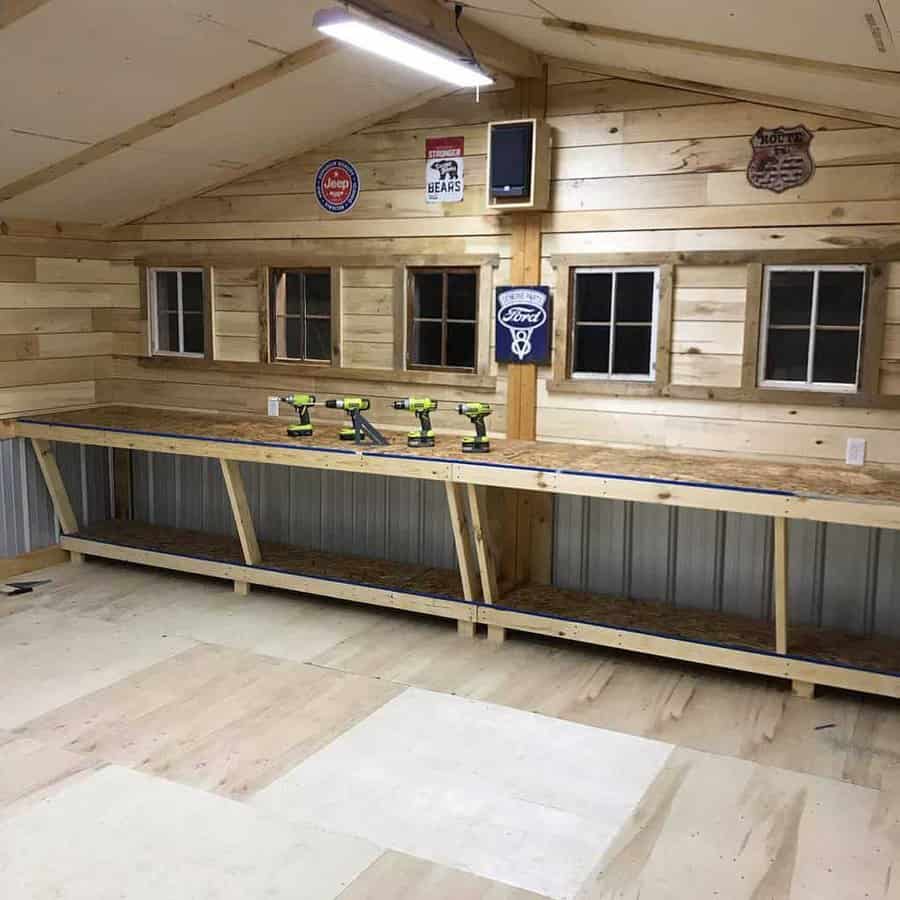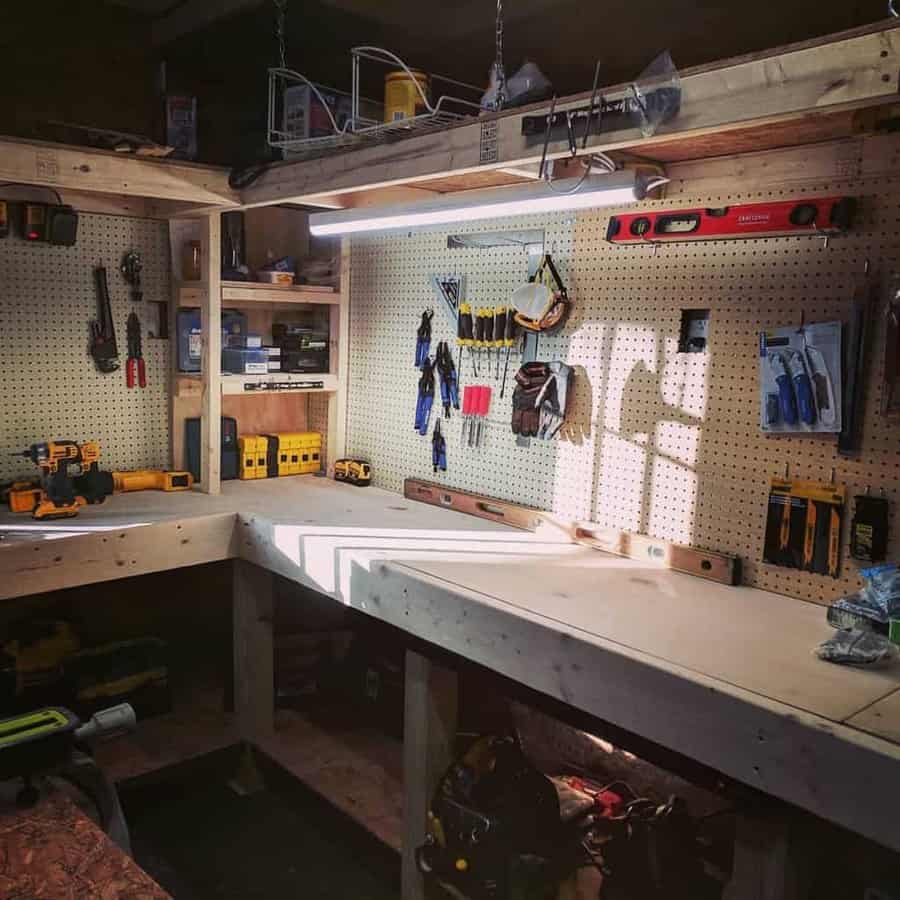 Wall-mounted workbenches come in several styles. If maximizing functional space is your top priority, consider a sturdy workbench that folds up for storage. This leaves plenty of free room to park vehicles, store lawn equipment, or work on even bigger projects in your spare time.
A wall-mounted workbench also offers unique opportunities for built-in storage. Cabinets can easily be installed underneath the bench surface. Or you can build a large shelf into your new workbench setup for storing bulky tools and supplies.
Workbench FAQs
What is the best height for a workbench?
In woodworking, the standard workbench height is 34 inches. This is also the standard height of a table saw, making it easy to switch between the two work surfaces.
With that said, the best height for a workbench is whatever best meets your needs. Some DIYers even opt for an adjustable top that can be raised or lowered as needed.
Where can I find DIY workbench build plans?
The woodworking community is full of people eager to share their knowledge and creativity with newcomers. This includes build plans for projects like dog houses, fencing, and even workbenches.
Many beginner woodworkers opt for a free workbench plan for their first project. However, there are tons of paid build plans out there that are 100% worth the cost.
These plans can be a valuable resource even if you plan to design your workbench from scratch. Finding a simple workbench plan you like can give you a starting point for your own project, including what materials and tools you will need.