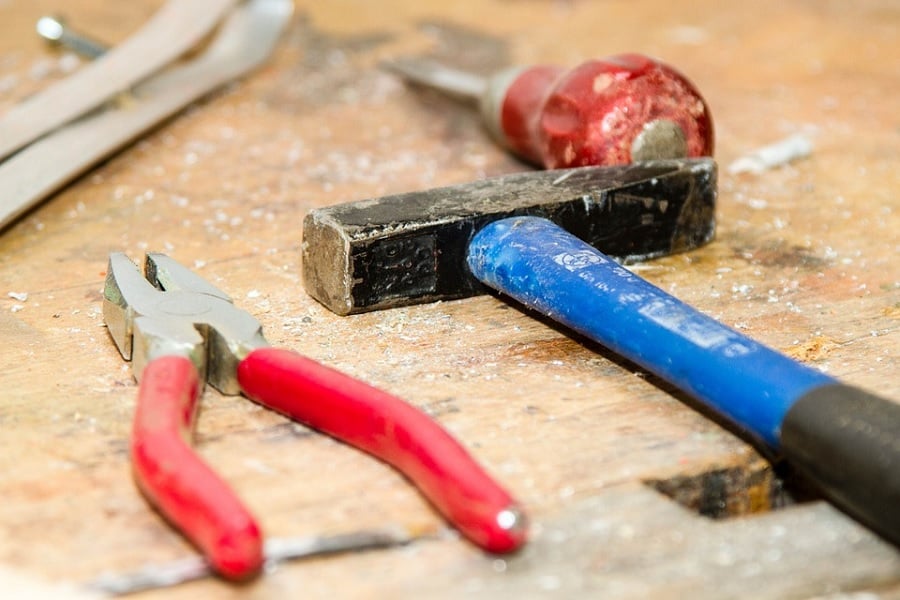 47 Workbench Ideas for Your Workspace
Civilization wouldn't exist in its current state without skilled craftsmen. Even today — when we can go out and buy nearly anything imaginable — countless people continue to learn and practice skills like carpentry, painting, sculpting, and electrical work.
Homeowners understand the value of good handiwork, especially when it can be completed without hiring a professional. But it can be hard to find the space to complete projects and store your most important tools.
Keep reading for some of the top workbench ideas for updating your shed, garage, or workshop.
1. DIY Pallet Workbench
DIY is so in vogue these days and nothing beats DIYing your own workbench out of an old pallet. Creating a simple workbench from upcycling an old pallet offers a unique charm and character to the garage or workshop.
It takes only basic hand tools and minimal woodworking skills to create the perfect DIY pallet workbench for any number of projects and weekend tinkering. Dare to DIY today and create your own DIY pallet workbench!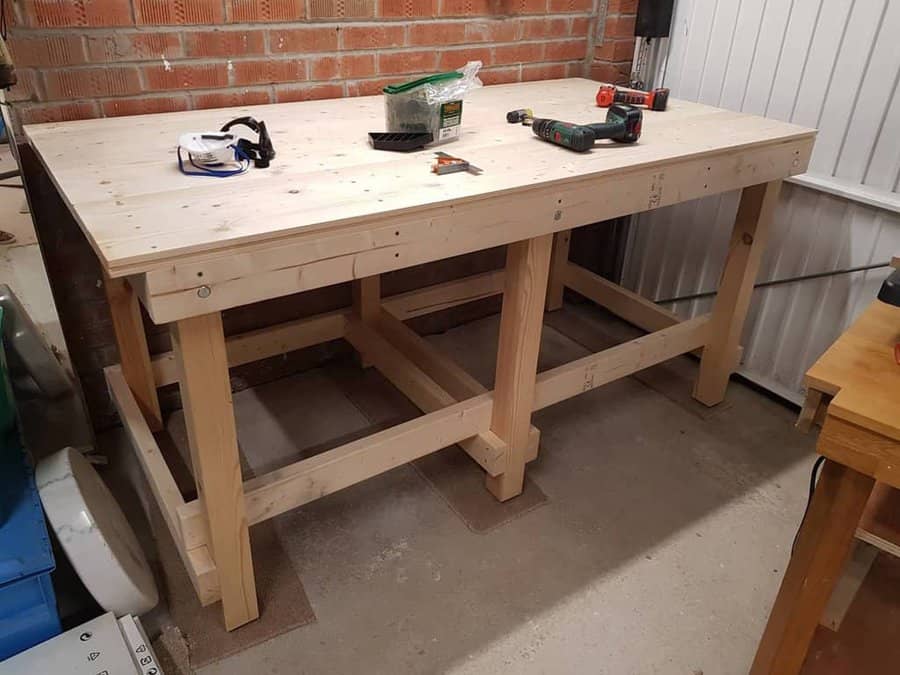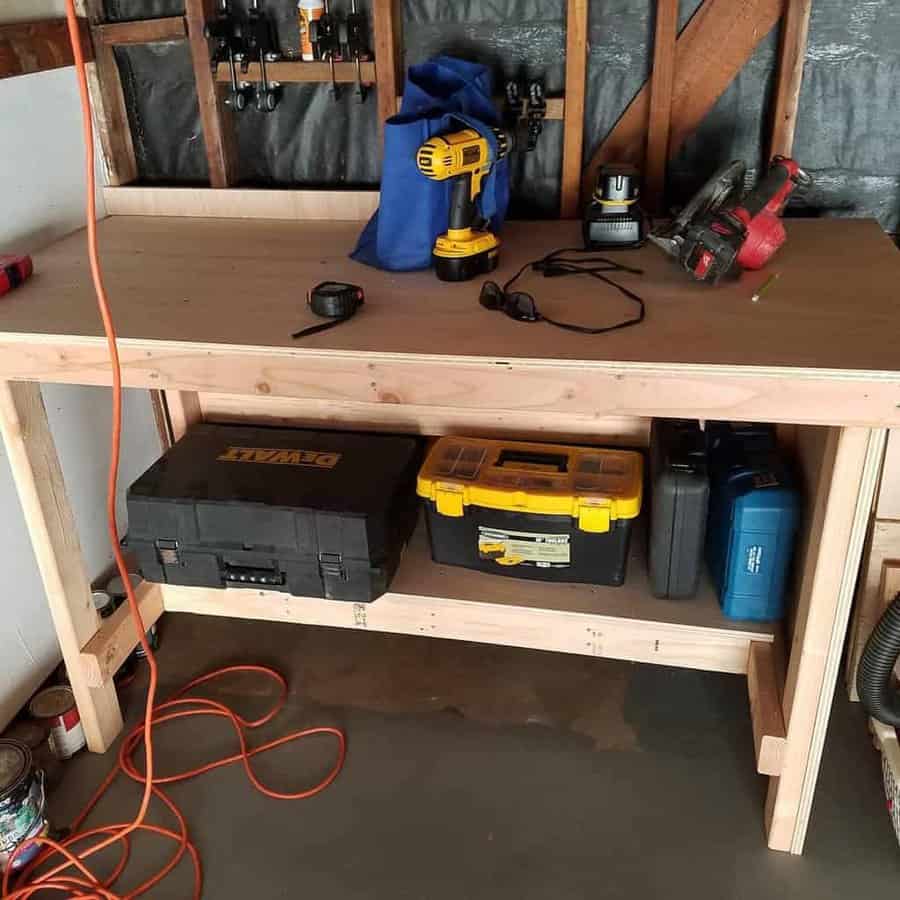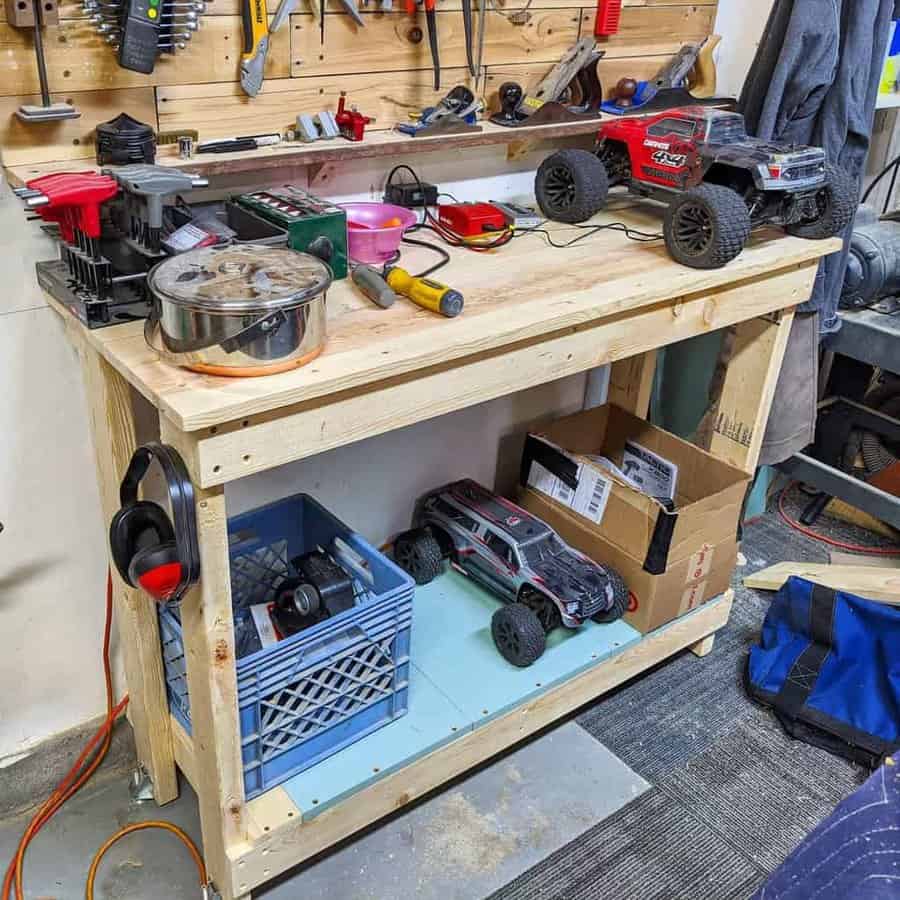 2. Pallet Work Bench With Crate Storage
For the ambitious and crafty DIYer, a pallet work bench with enclosed storage is essential. This handy item can provide additional workspace along with organization for tools, supplies, and works in progress.
With enclosed storage, you'll have plenty of space for tools, paint cans, and other supplies. Plus, the pallet construction is strong and durable enough to withstand frequent use in any workspace or garage. Get your projects done faster, easier – and with a lot less mess – when you have this pallet workbench with enclosed storage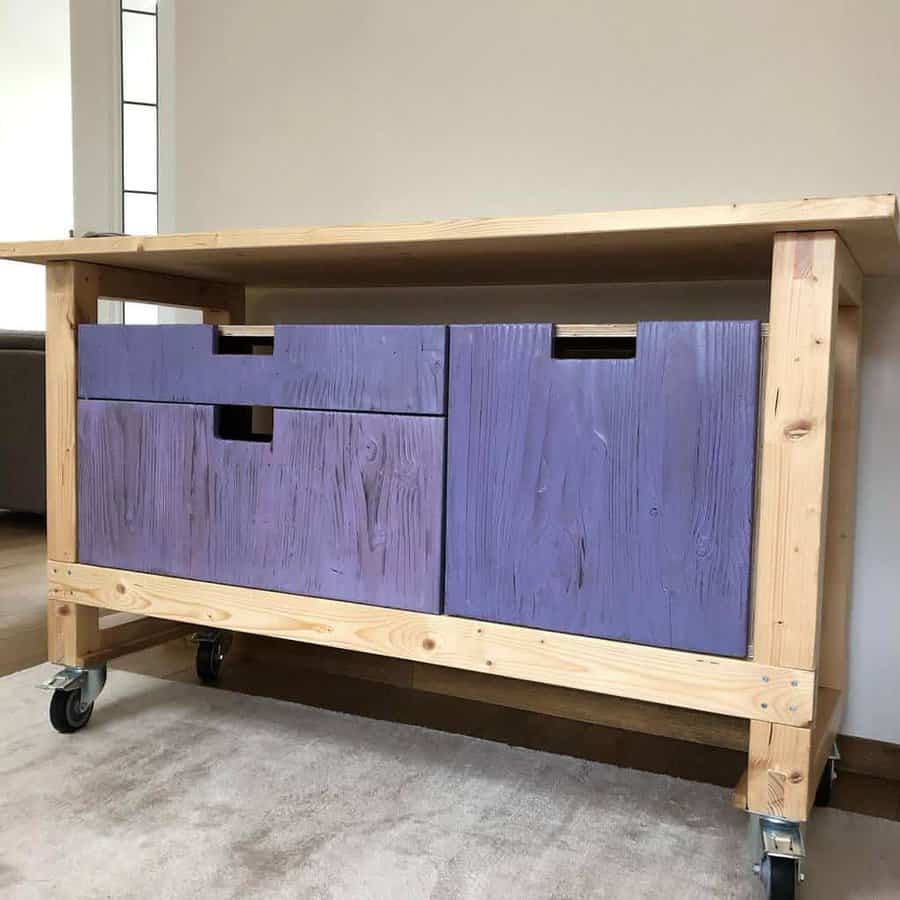 3. Wood Work Bench With Cabinet Storage
From pallet workbenches to sleek built-in cabinets, there is a workbench solution that can help you get the job done. Whether you are looking for a pallet-style workbench with storage incorporated into the design or a large, stylish cabinet with handles and shelves to give you maximum workspace flexibility, there is a perfect option available for any budget or home style.
With so many options available, it's easy to find the perfect workbench for your needs – giving you the ability to perform any task in style.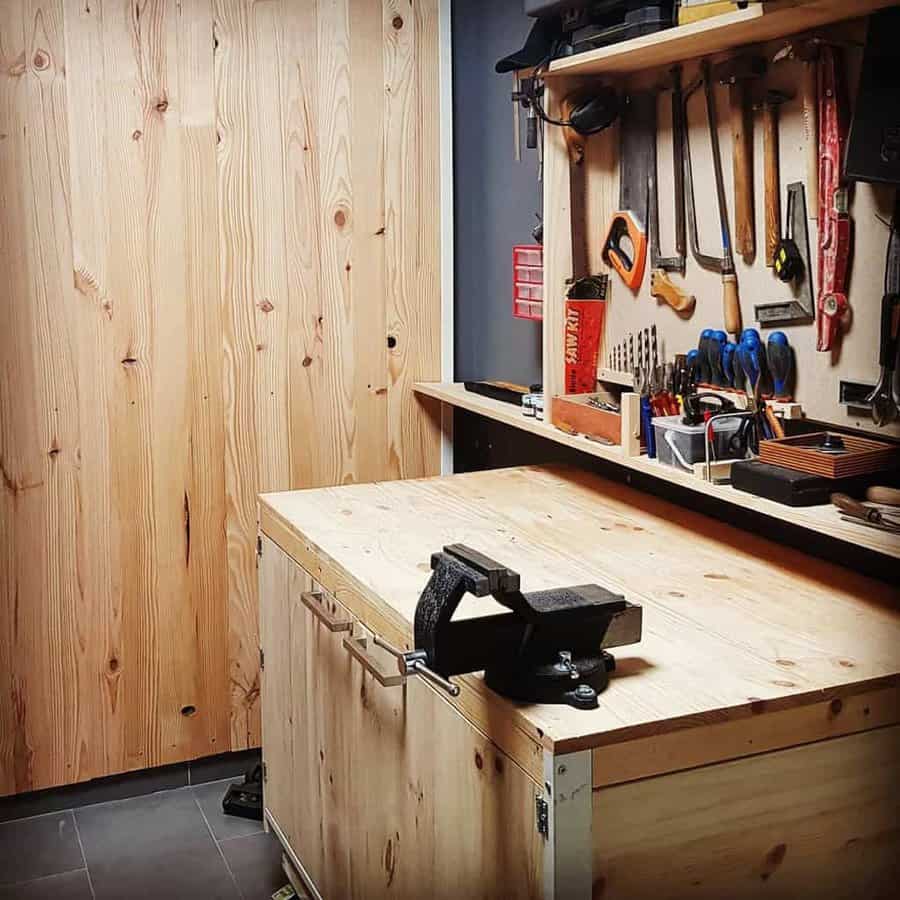 4. Composite Workbench
A composite workbench can be an incredibly useful multitool for both the workshop and the home office. Crafted from a combination of strong materials, composite workbenches are designed to handle almost any job that presents itself.
Alternatively, for those who value aesthetics as well as functionality in their workspace, a wood workbench with a marble countertop is sure to bring an unparalleled level of professionalism and beauty to any room. No matter the style you choose, a quality workbench is sure to serve you well.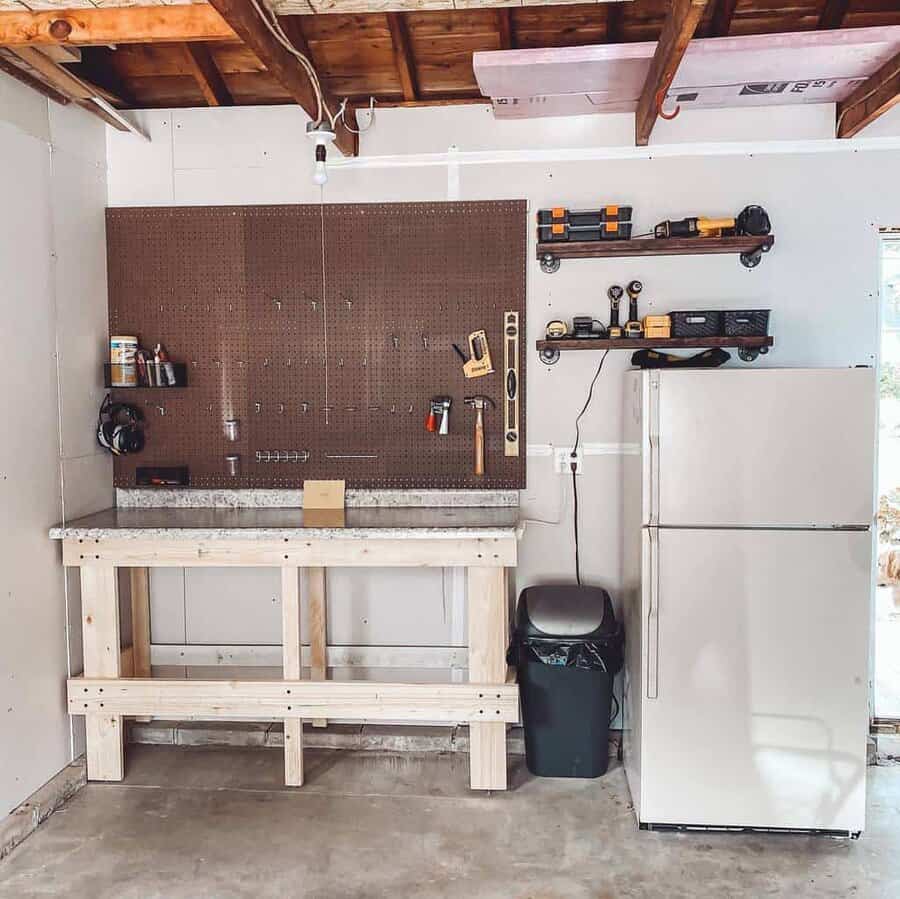 5. Rolling Workbench
Every rolling workbench is like a rolling stone, ready to conquer every home improvement project in its path! A rolling workbench is a perfect balance between craftsmanship and convenience: it's much easier to move around than a stationary one and it also provides you with ample storage, organization, and workspace. Tailor-made for all kinds of projects, a rolling workbench can easily assist with everything from small quick fix-its to detailed woodworking designs.
Whether they're rolling through the garage or strutting fancy in the workshop, rolling workbenches are sure to make home improvements delightful!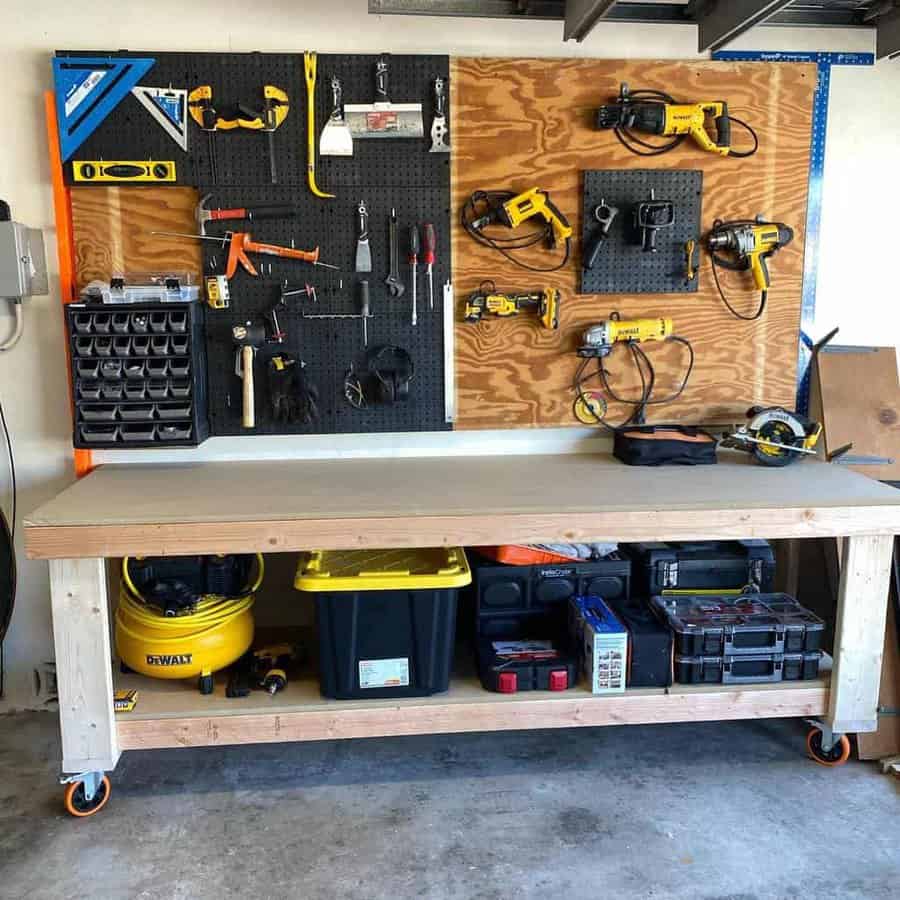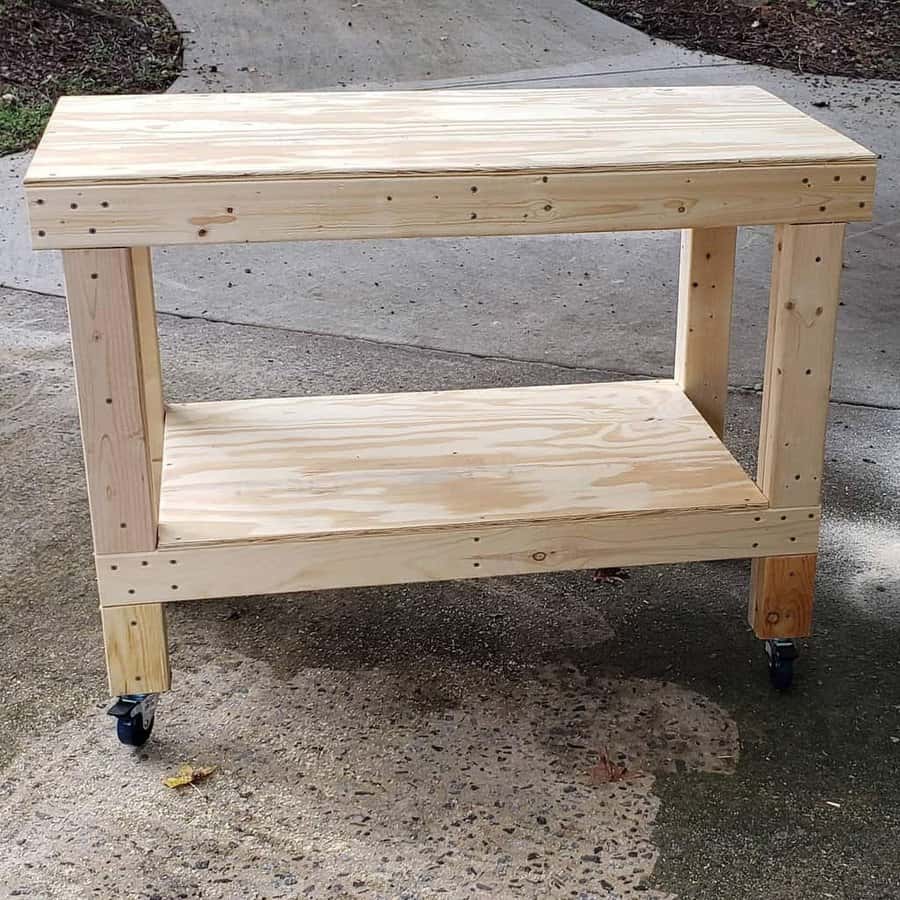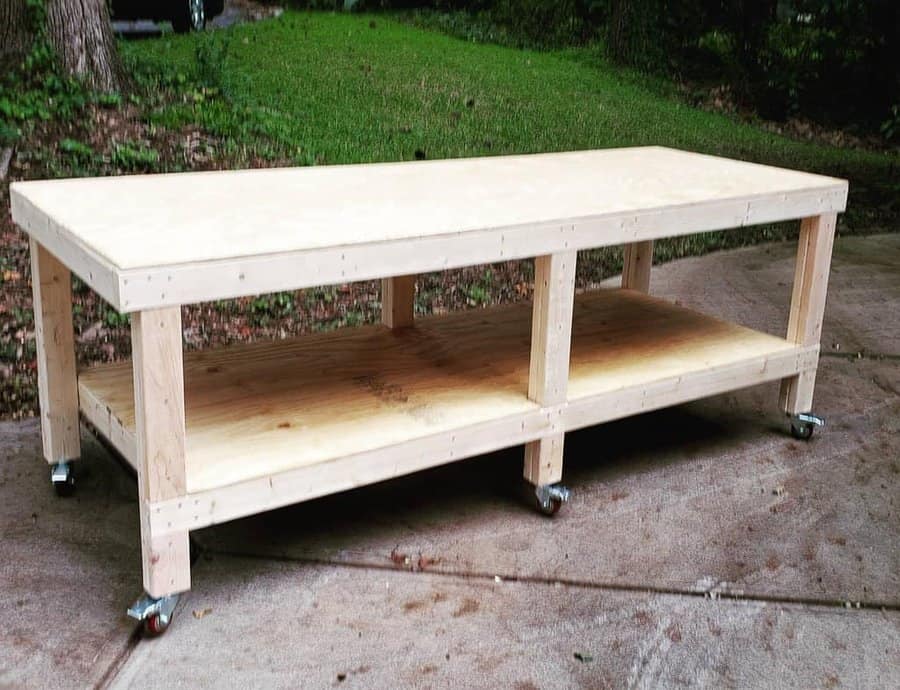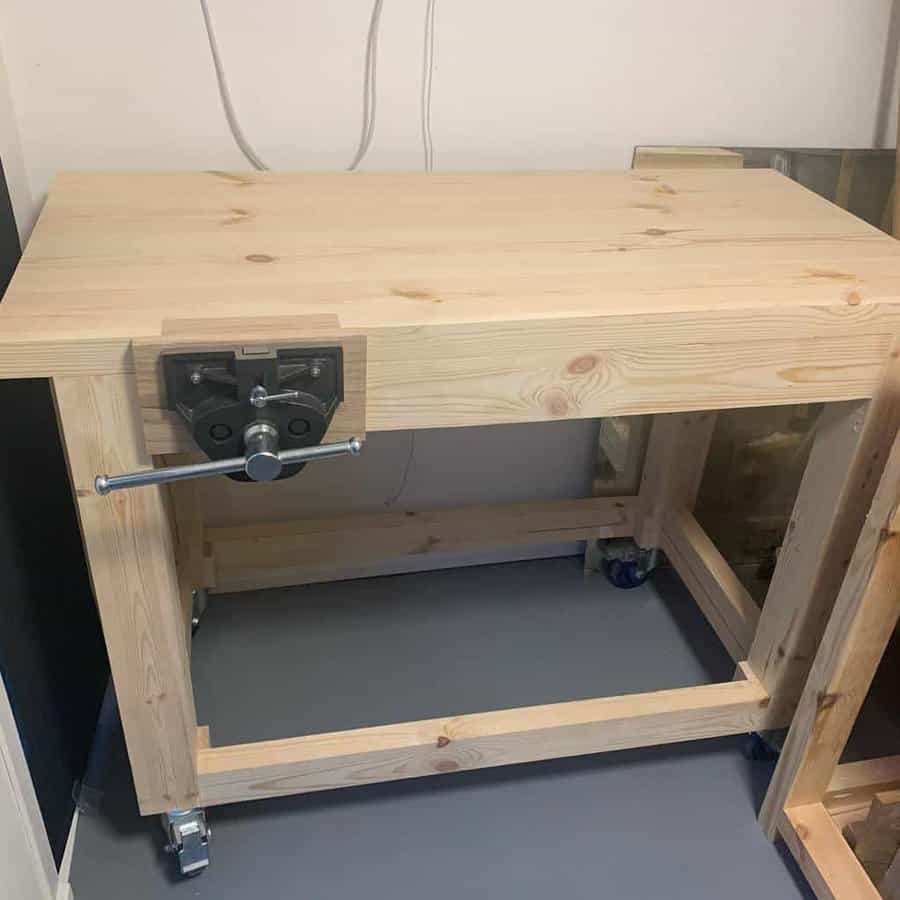 6. Workbench Made With Reclaimed Wood
Perfect for a vintage or rustic-inspired space, a workbench made with scrap wood or reclaimed wood can say just as much about the person using it as their work does. If you're looking for something more distressed and faded with age, an antique workbench can give the impression that it has been used and loved many times – adding a sense of character to your work area.
Whether searching for an old workbench in grandma's shed or building your own from scraps around the house, adding any kind of workbench to your space will make it just that little bit more unique.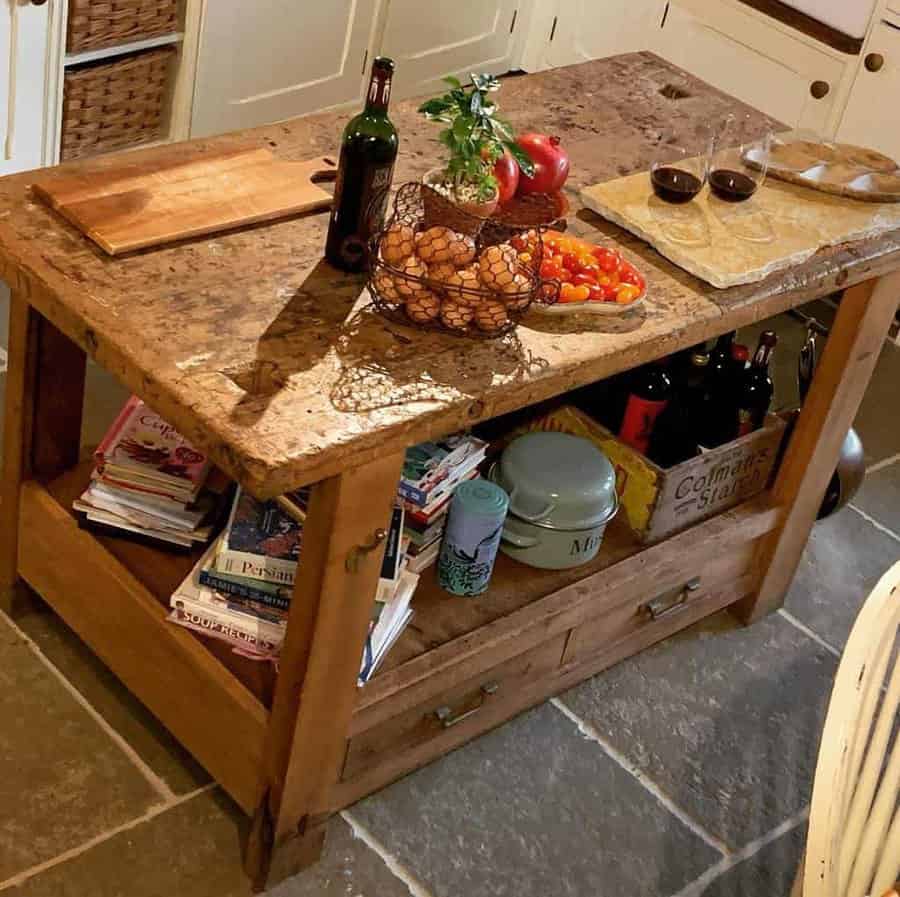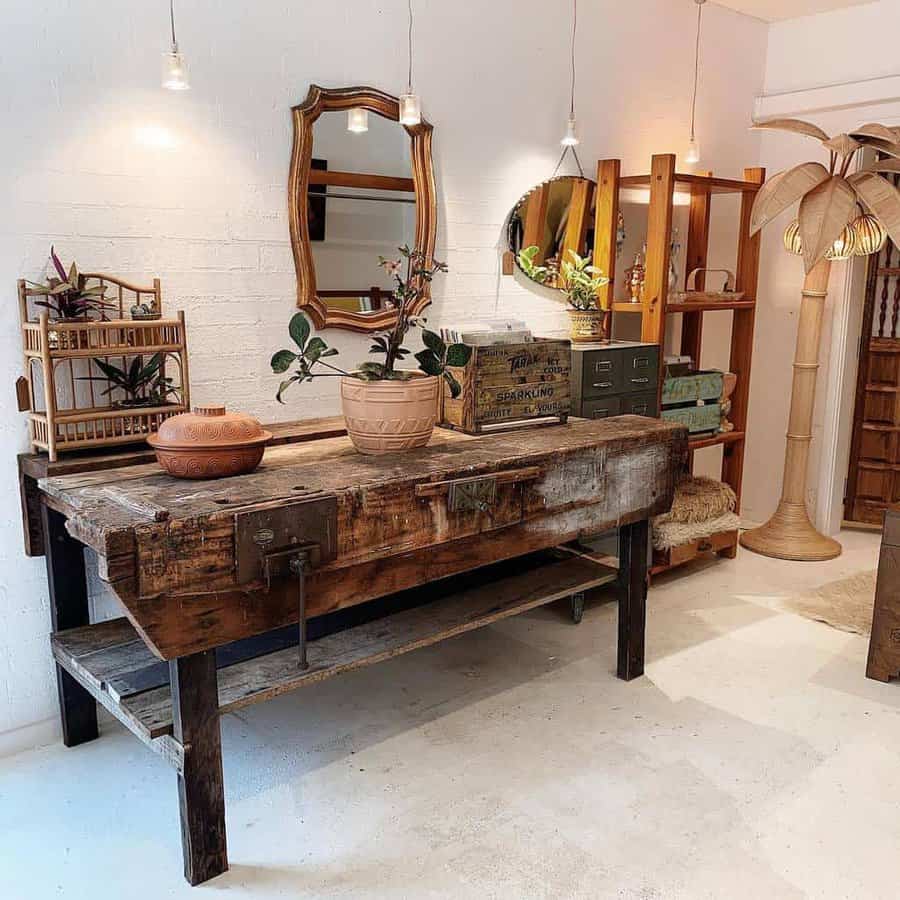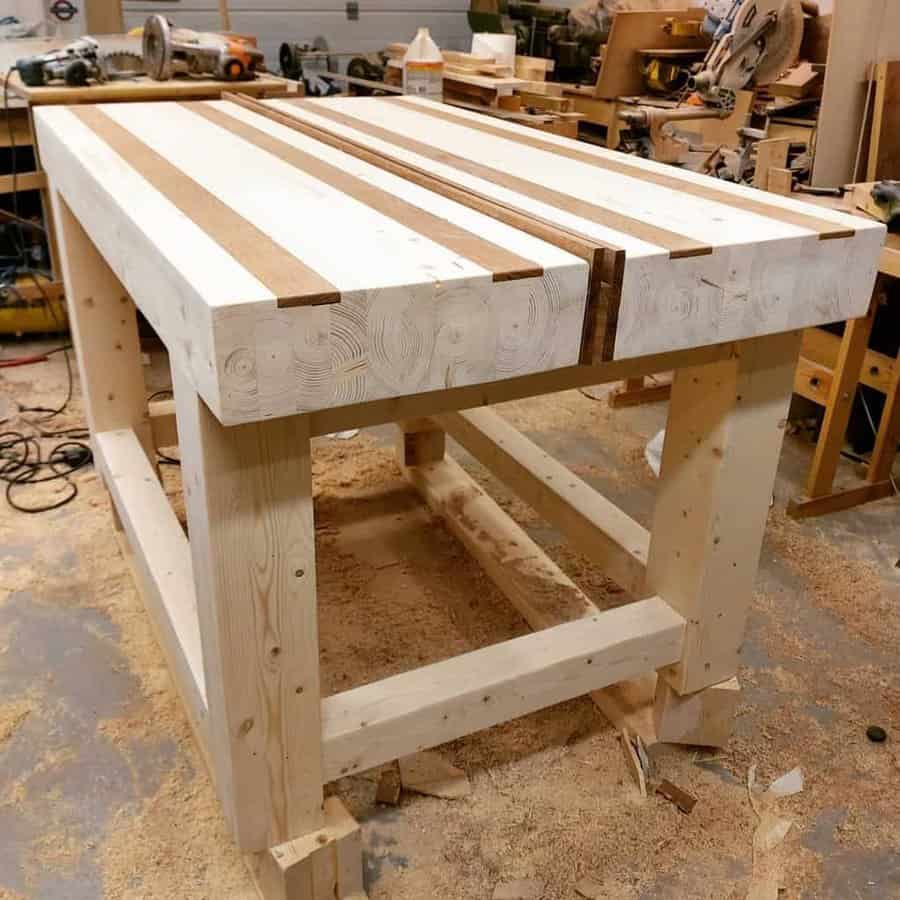 7. Workshop Table With Multi-storage
A workshop bench with multi-storage is essential in any workshop. It can provide an organized space to store tools, materials, and supplies while also providing a surface to work on delicate tasks. With well-crafted windows, drawers, and shelves, this workbench can keep your workshop clutter free and help you become more efficient.
Having an organized workspace promotes creativity and reduces stress, making it easier to focus on intricate projects. Having the right workshop bench with multi-storage will give you the edge when completing tasks faster and with superior results.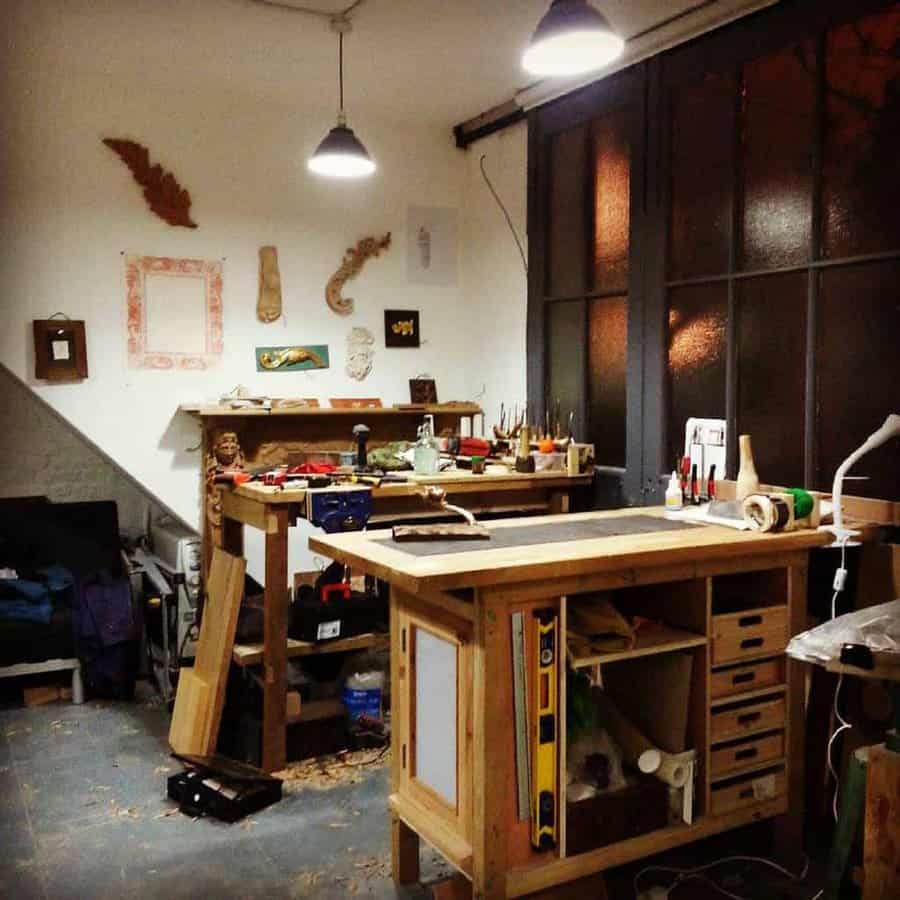 8. Workbench With Tool Peg Board
Setting up a workbench with a pegboard can help any project become more efficient. Add some colorful tools, and an organized workstation, and your workbench is ready to go! Having a workbench will make DIY work easier by providing a sturdy base to work from and a surface that encourages efficient organization.
Tools in easy sight on the pegboard make it simple to put together projects right away. Its stability gives you the confidence to hammer nails into the wood without worrying about it rocking while doing so. On top of that, its great design adds character and brightens up any workspace.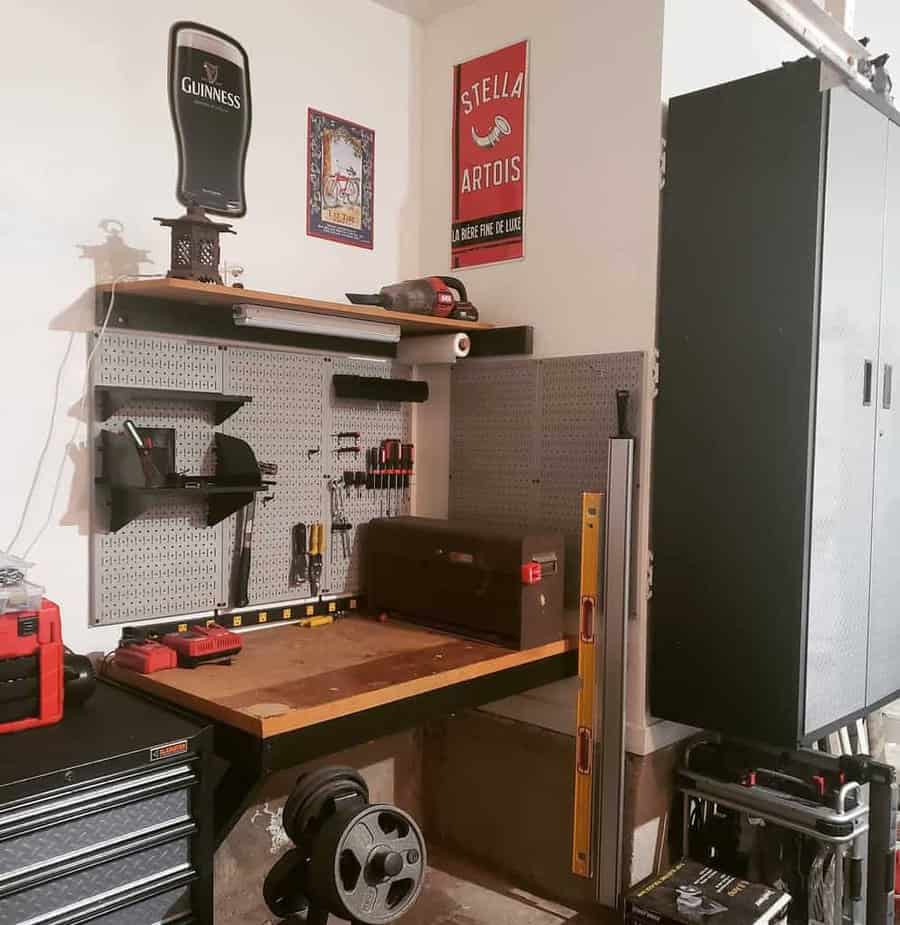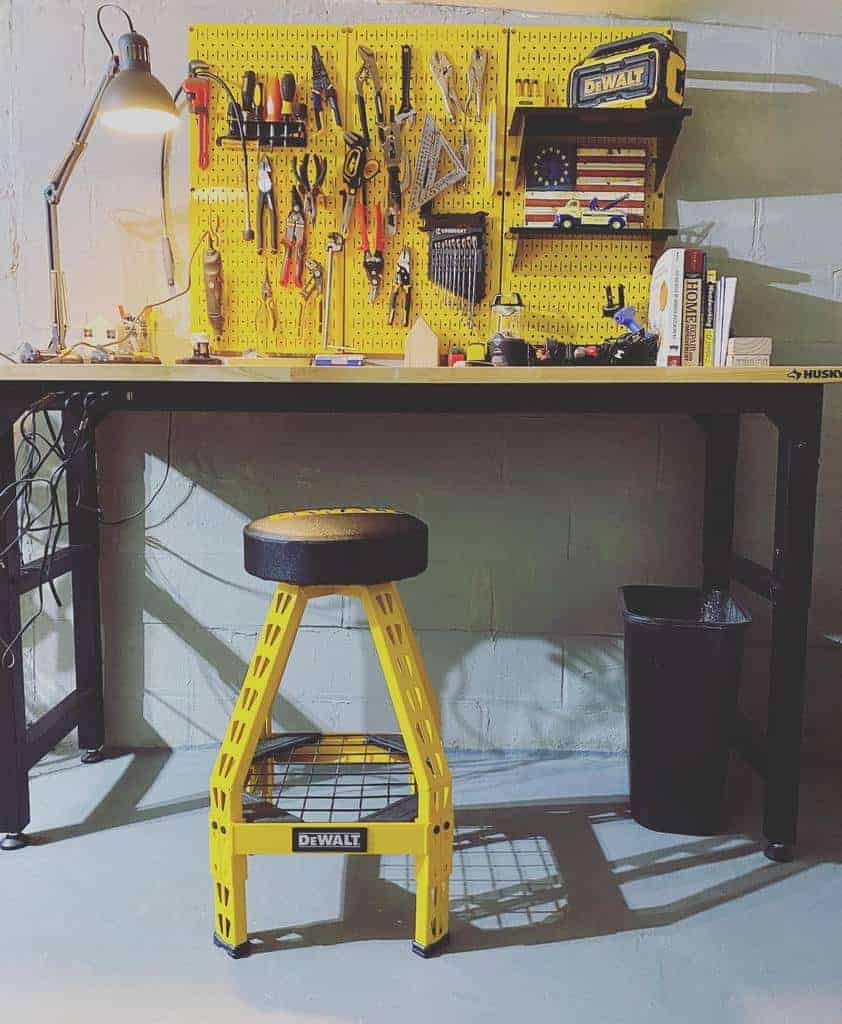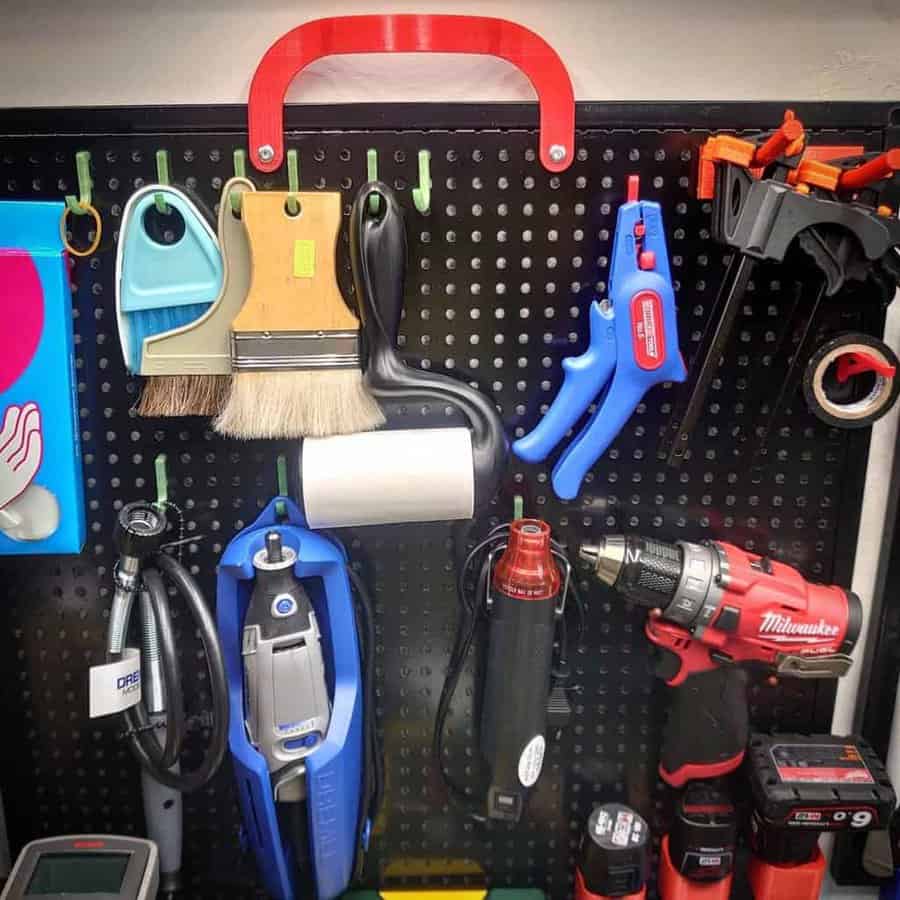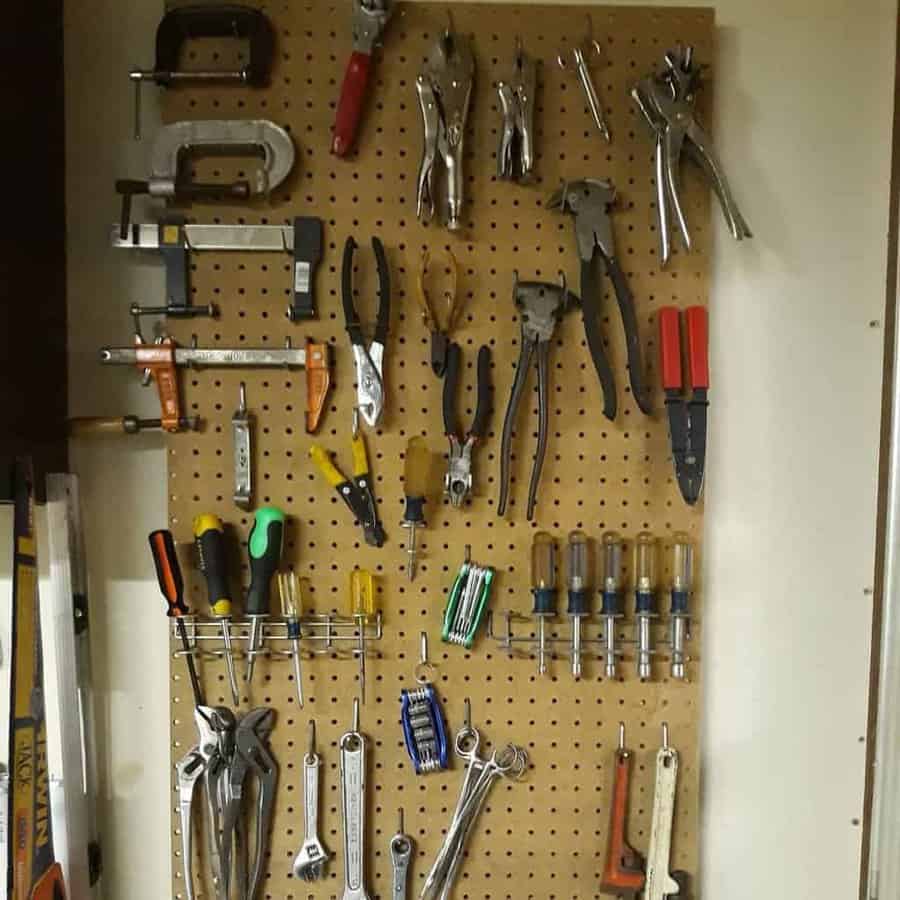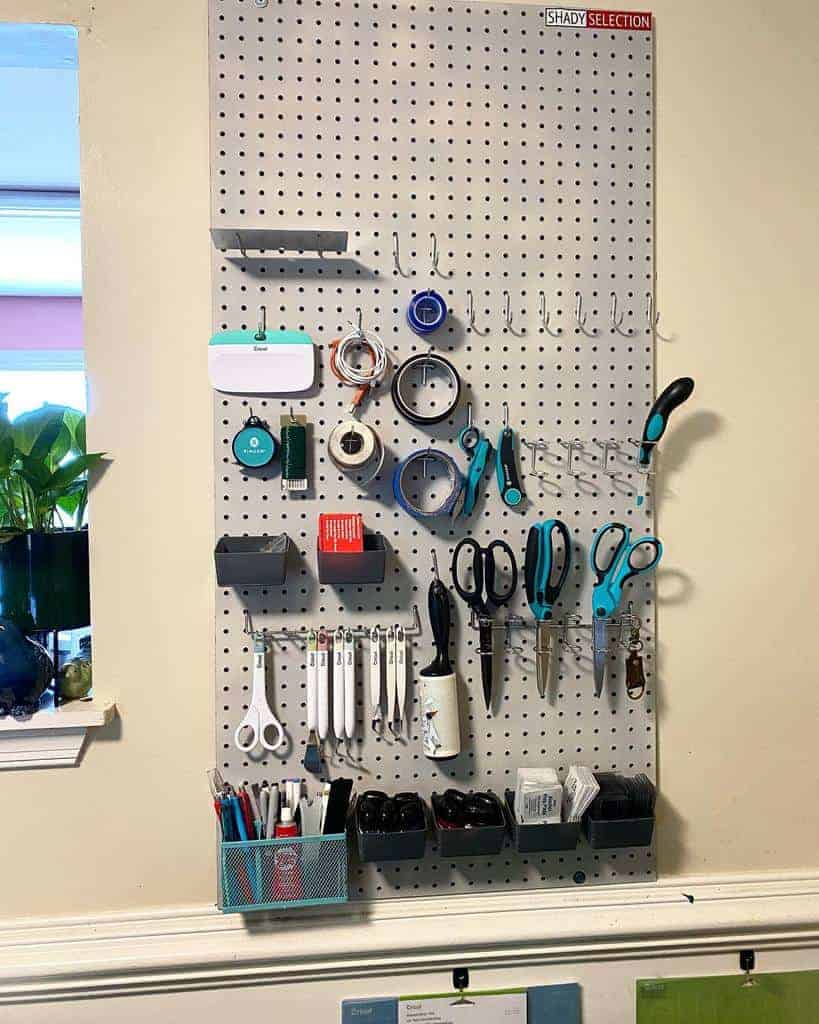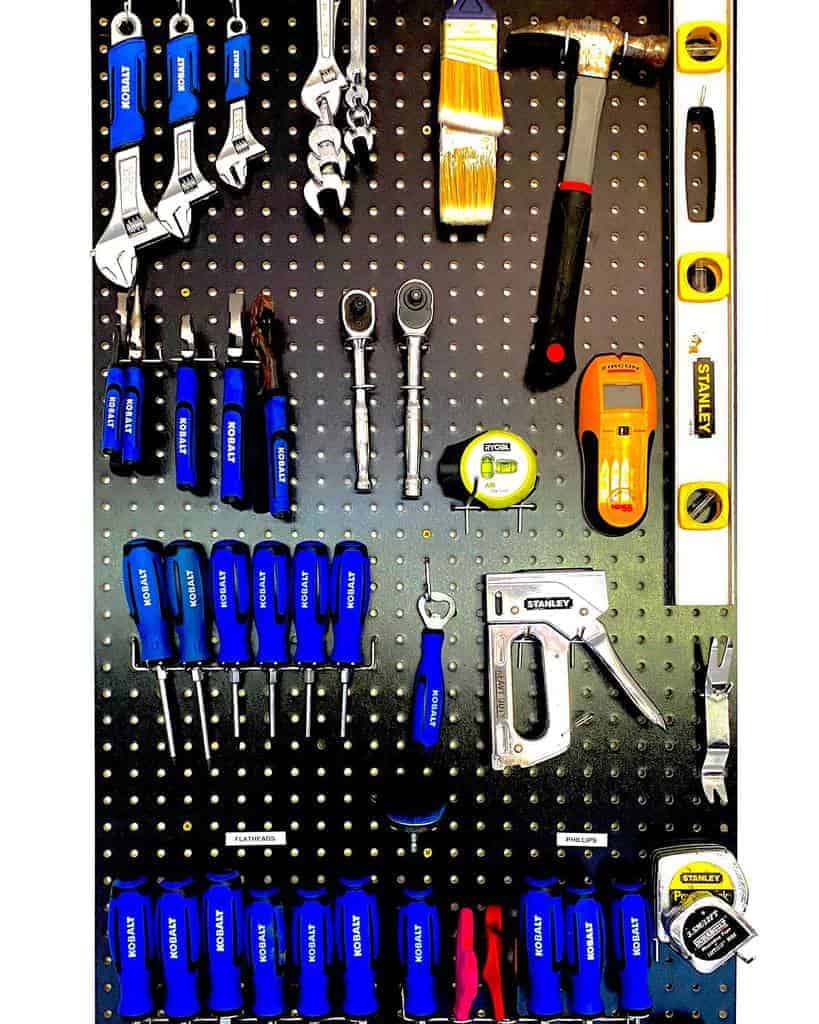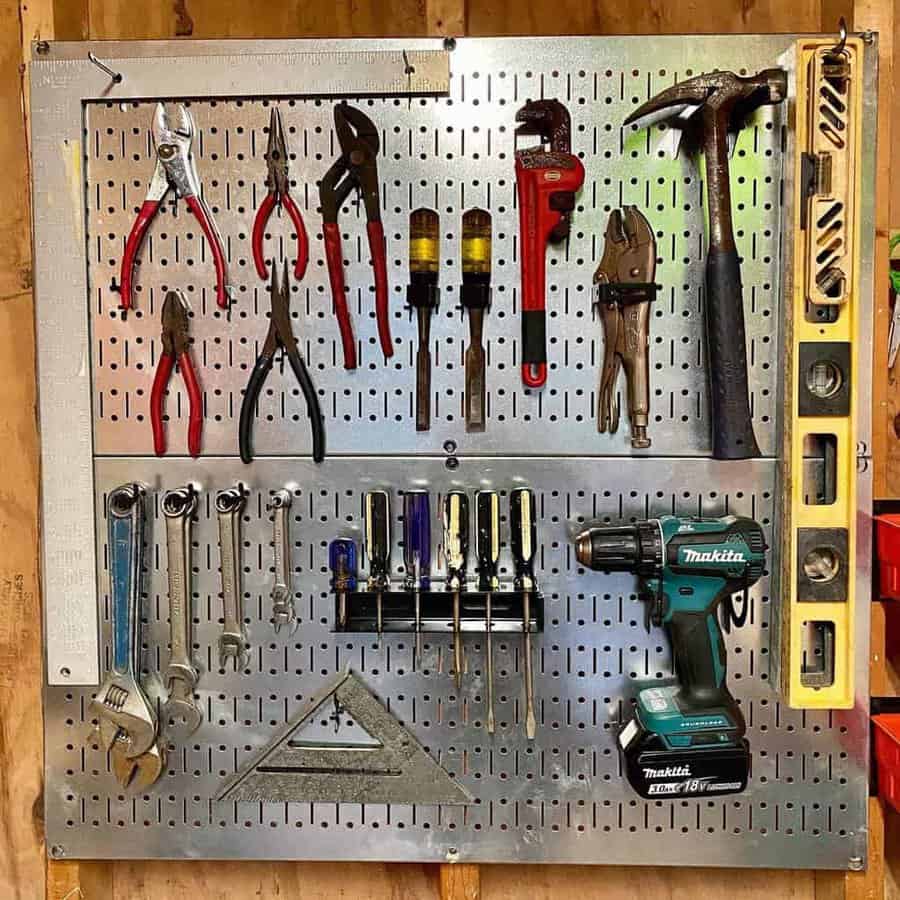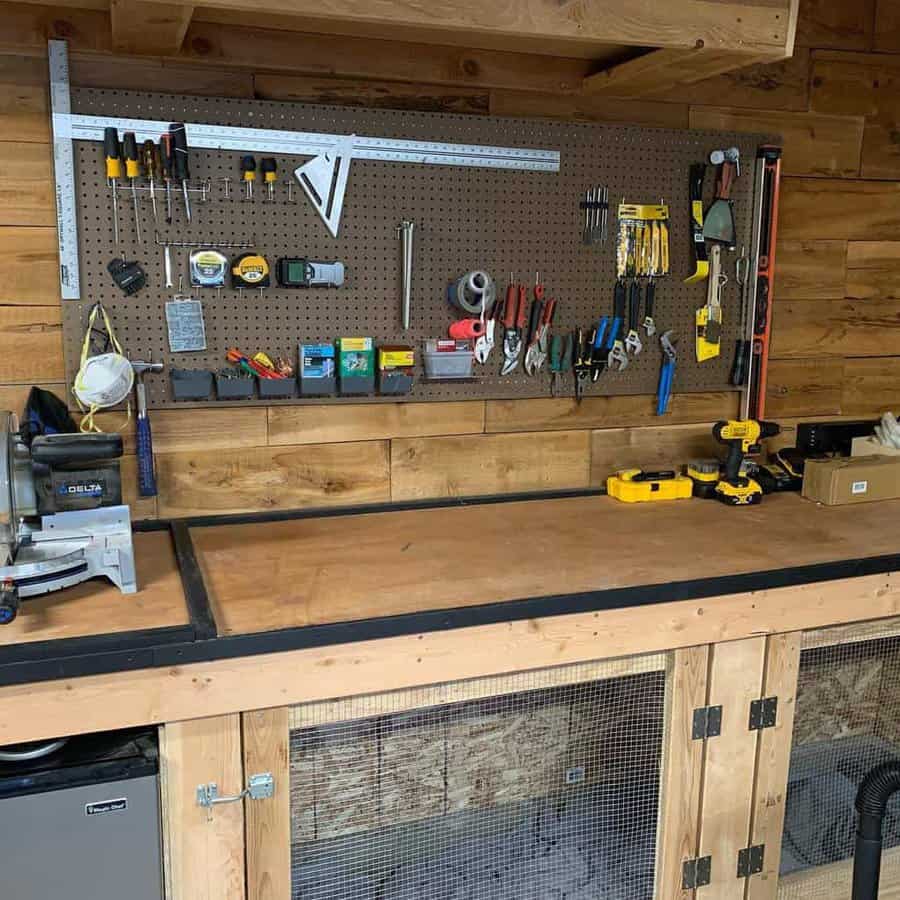 9. Rolling Workbench Island
Finding the perfect workbench to fit your needs can be challenging, and it's even more difficult when you're limited in space. A rolling workbench island is an ideal solution! This multi-functional tool makes use of small spaces while providing ample workspace and storage, all on conveniently rolling wheels.
It's a great way to maximize productivity while optimizing space in any garage or shop. With a rolling workbench island, you can do everything you need without ever sacrificing function for cramped spaces.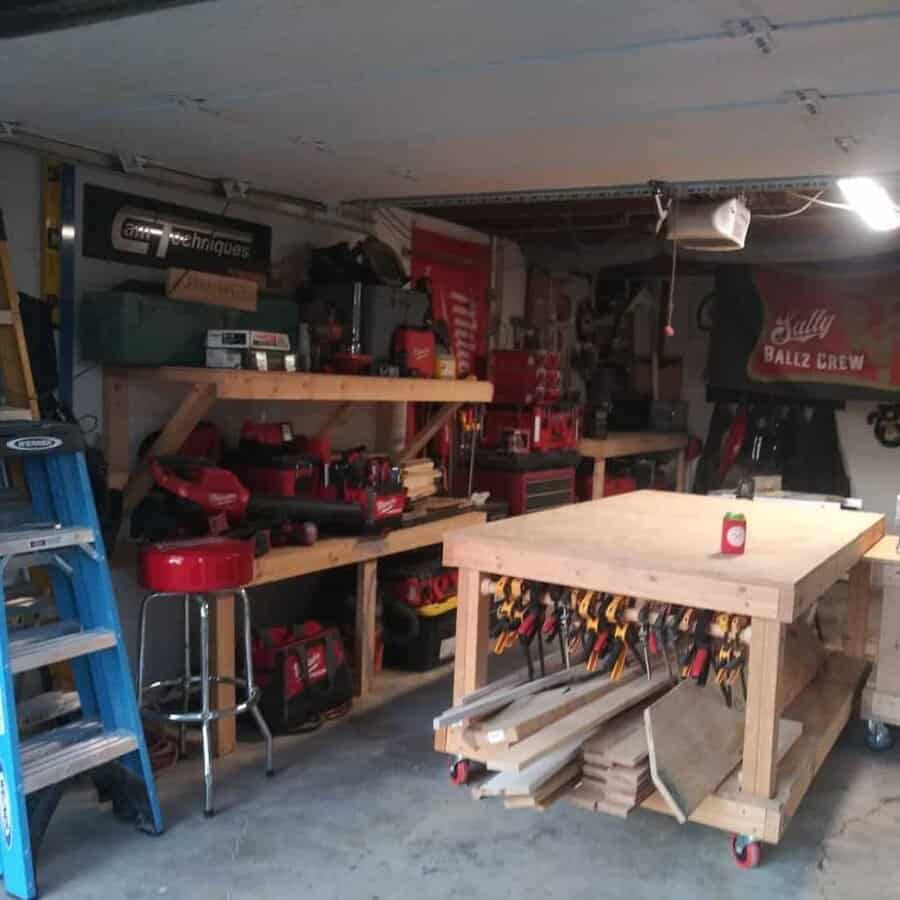 10. Steel Work Desk
There's something special about a steel work desk. Whether you need it for the workshop, the kitchen, or even the living room, these steel workbenches are not only hardy but also highly versatile and resilient. A steel workbench is not only durable enough to withstand tough tasks, but it can last through generations if given enough care.
With a steel workbench in your home, you've got a timeless piece of furniture that'll serve a variety of purposes and last for years to come.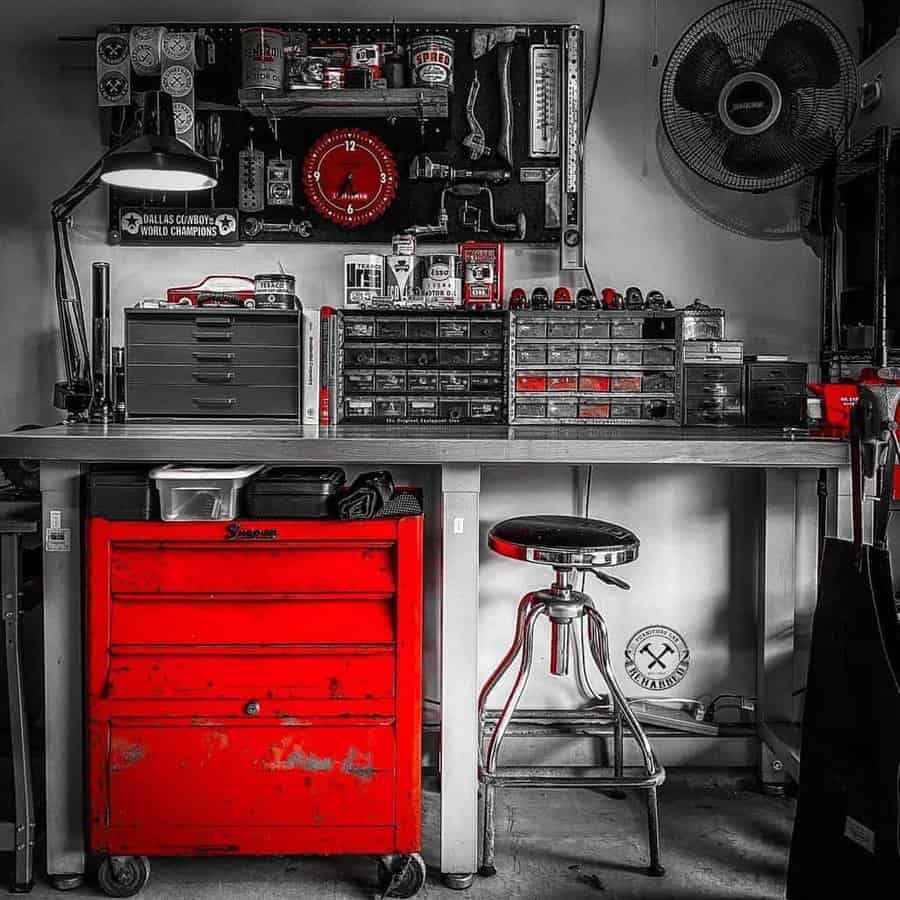 11. Workbench With Built In Peg Board
A workbench is more than just any old work desk; it's a place of organization with the potential to bring together all the right tools. By investing in a workbench with built-in peg board, crafters, makers and professionals alike can save valuable time by having their most-used items on display and easily accessible.
No more searching through drawers for hours trying to find what you need! With an organized workbench that includes many different compartments and storage options, you'll be able to get the job done more quickly and efficiently.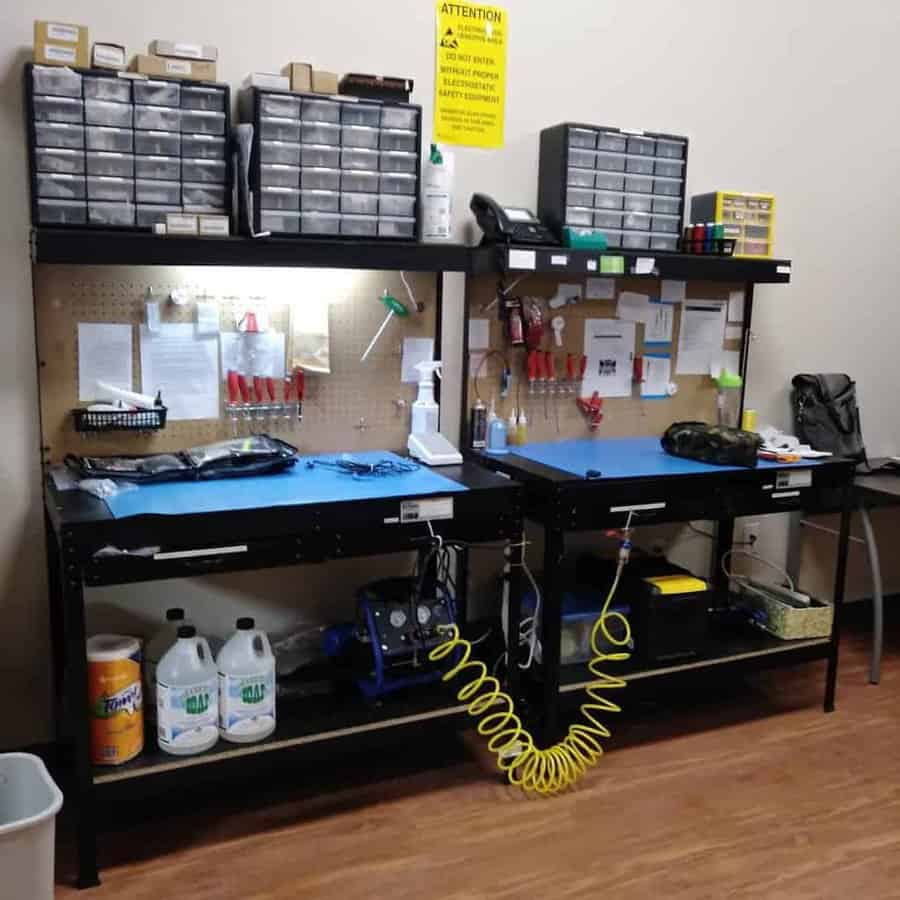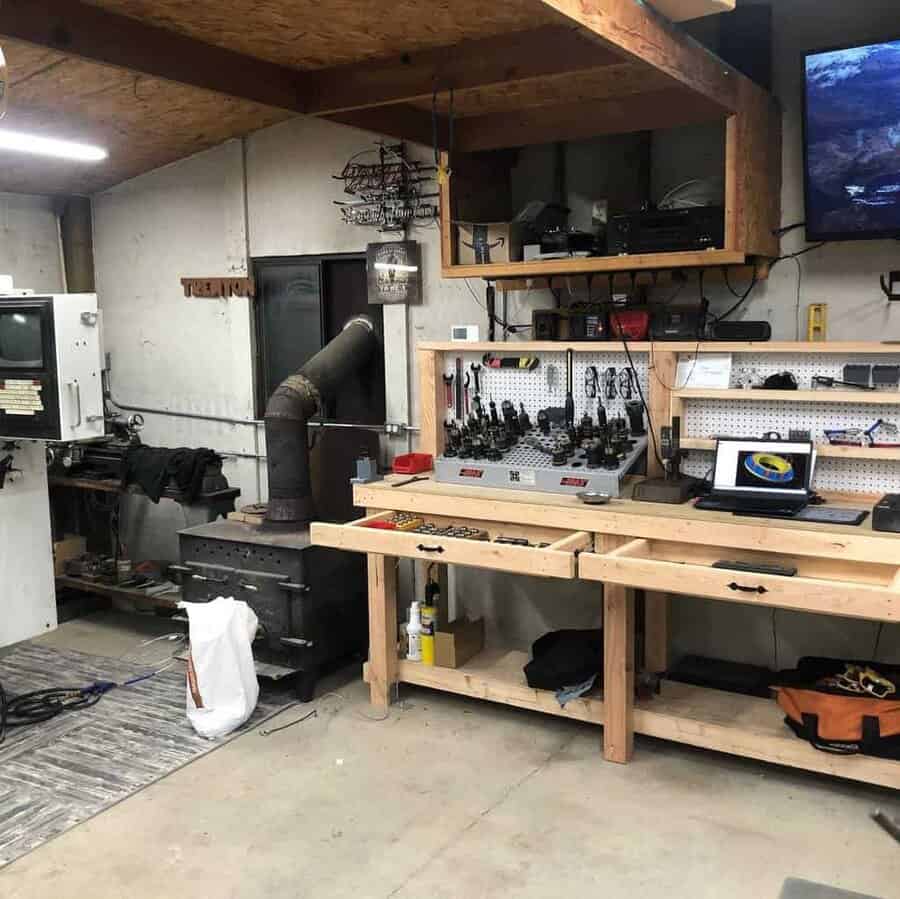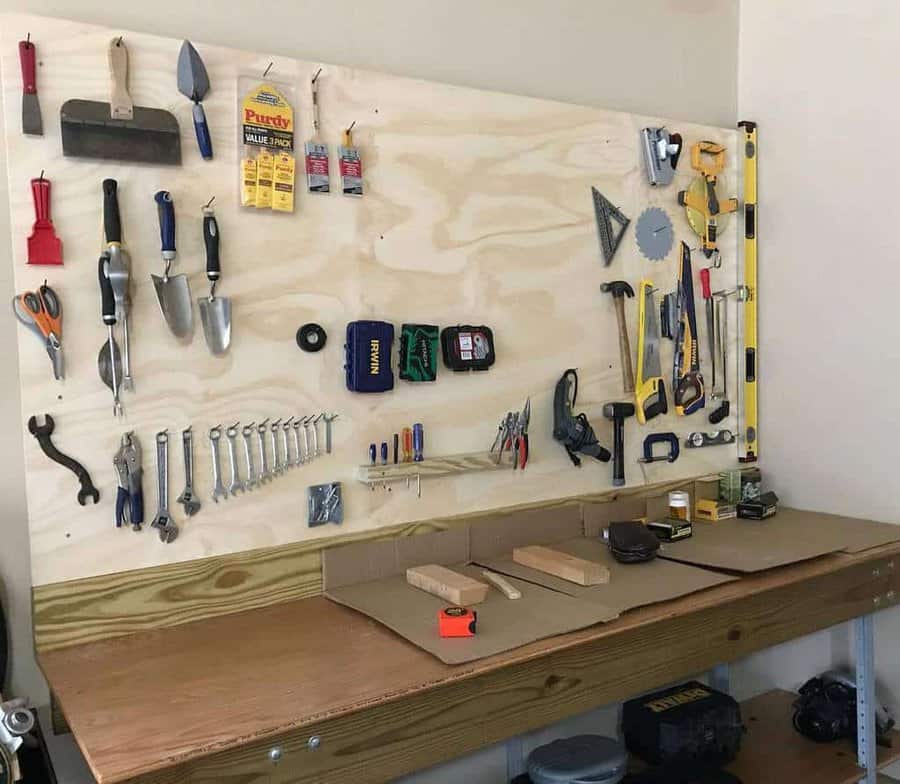 12. Circular Work Desk
Looking for a multi-functional work space that is both stylish and functional? A workbench is a perfect solution. It provides an ideal multi-purpose circular work desk, giving you more space for seating, and many can be placed at just about any angle to best fit your needs.
With its unique design, it can transform any room and bring a touch of class that will make all your work more enjoyable. Whether you need it for crafting, planning, or taking care of business, a workbench is a perfect tool to help you accomplish all tasks with ease.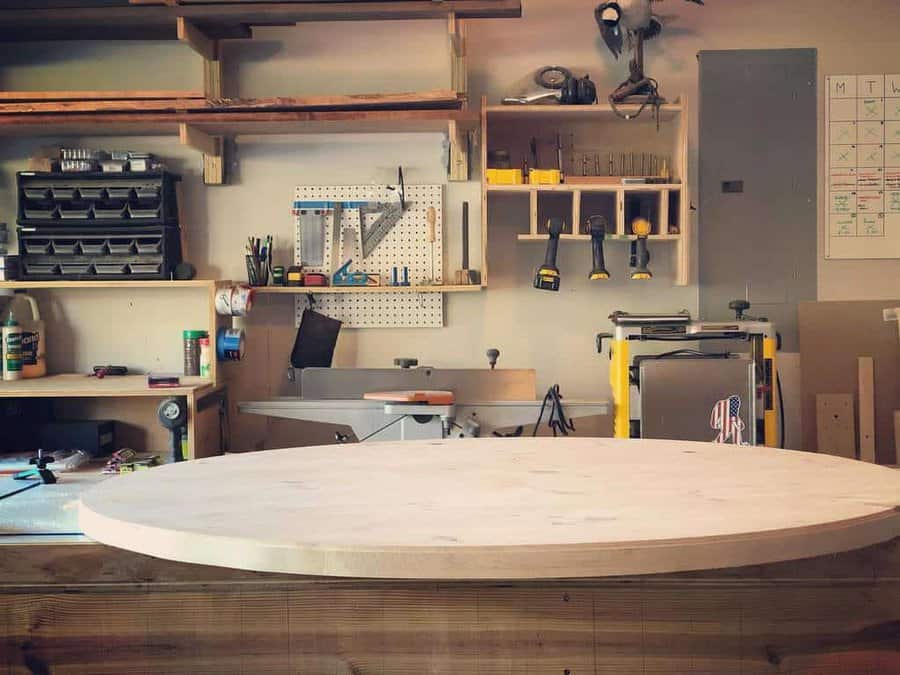 13. Workbench With Custom Storage
Transform your workspace with a workbench that features custom storage that is tailored to fit your specific needs. Whether you're looking for the perfect spot to work on a special project, or need an area to organize equipment and tools, this workbench with custom storage has you covered.
Constructed from top-of-the-line materials and put together with expert craftsmanship, your new workbench will look great, hold up against everyday wear and tear, and provide the convenience of having exactly what you need just an arm's reach away at any time.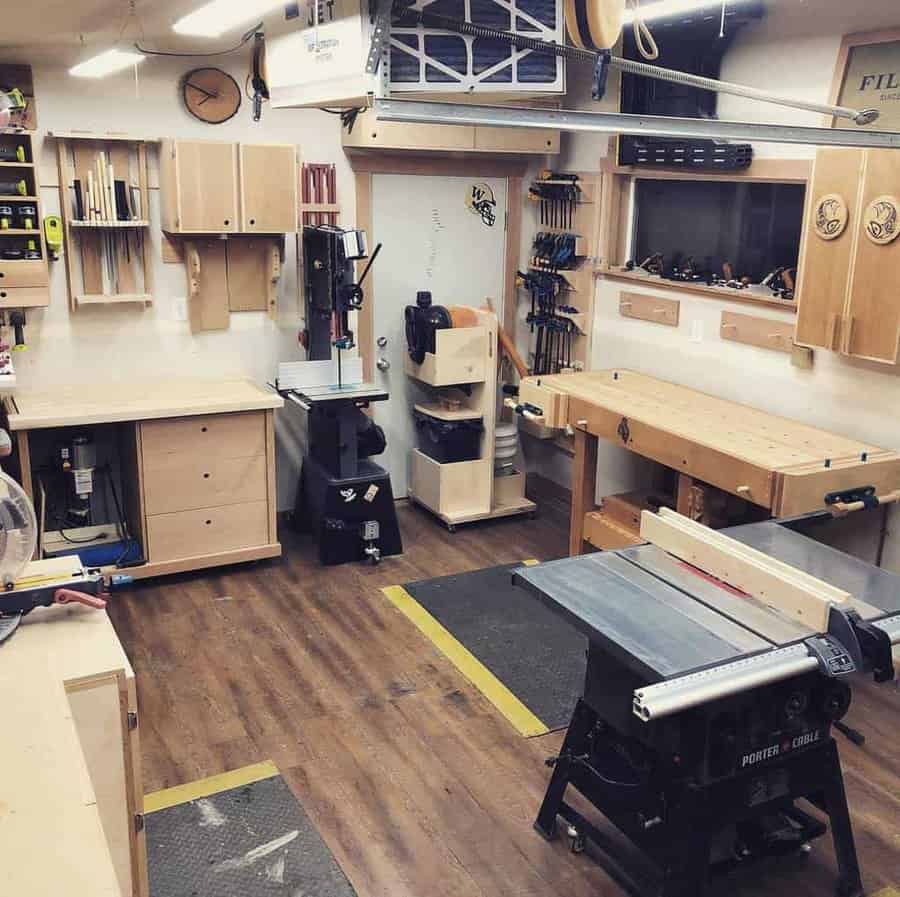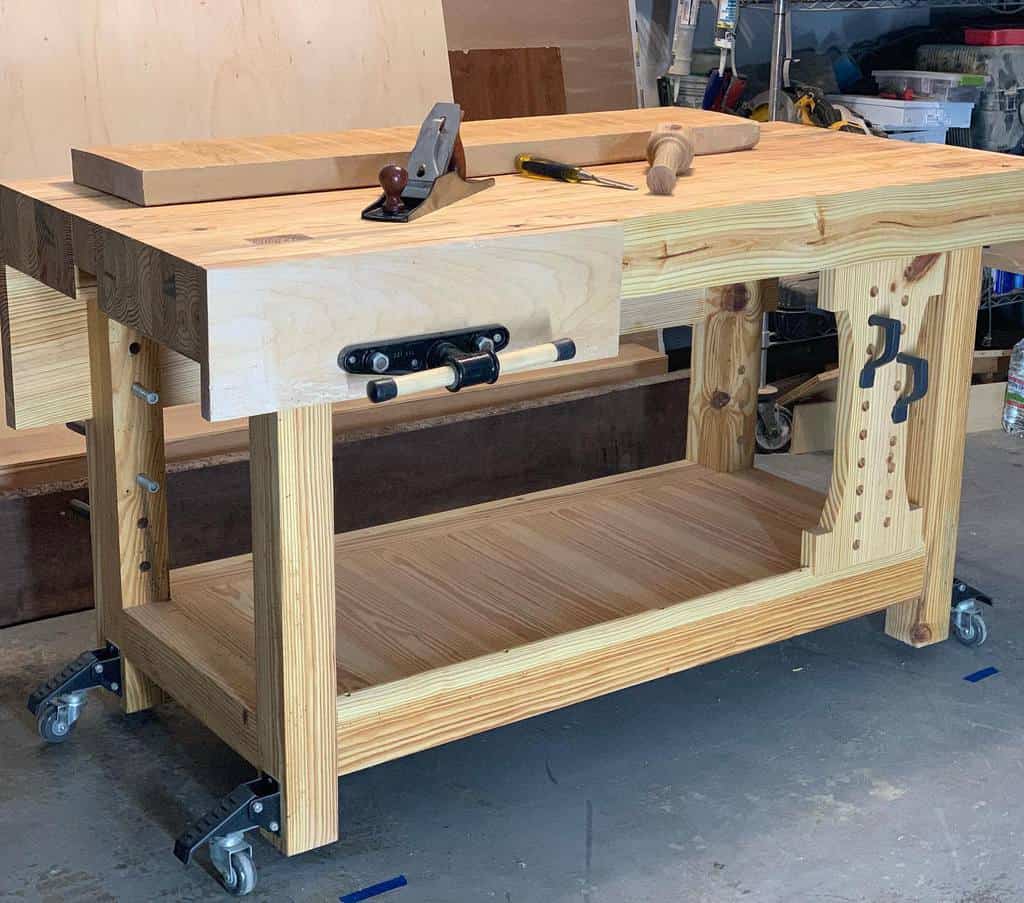 14. Wall-mounted Shelves
Crafting the workspace of your dreams starts with the right workbench. A wall-mounted shelf system adds extra workspace to any hobby or shop space, allowing you to store and organize materials without compromising valuable floor space. And when it comes to customizing your wall-mounted shelves for a bench that's made just for you, there's no limit!
Whether you want an open-air shelf tailor-made to perfectly fit paints and brushes, or if you need enclosed cabinets for housing delicate tools and parts, creating custom storage solutions has never been easier – or so convenient! Add wall-mounted shelves today and create your ultimate workbench tomorrow.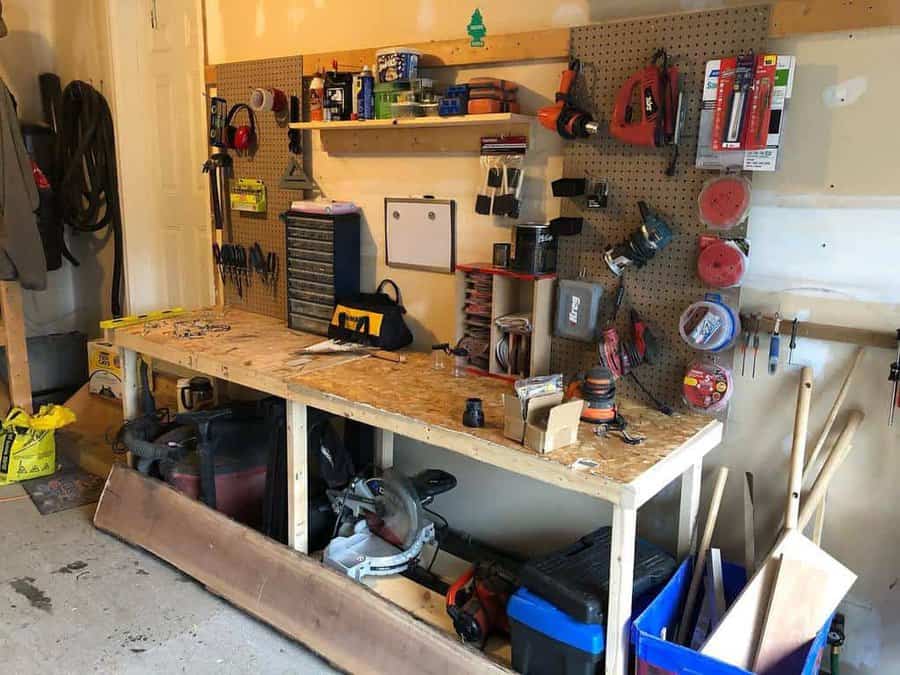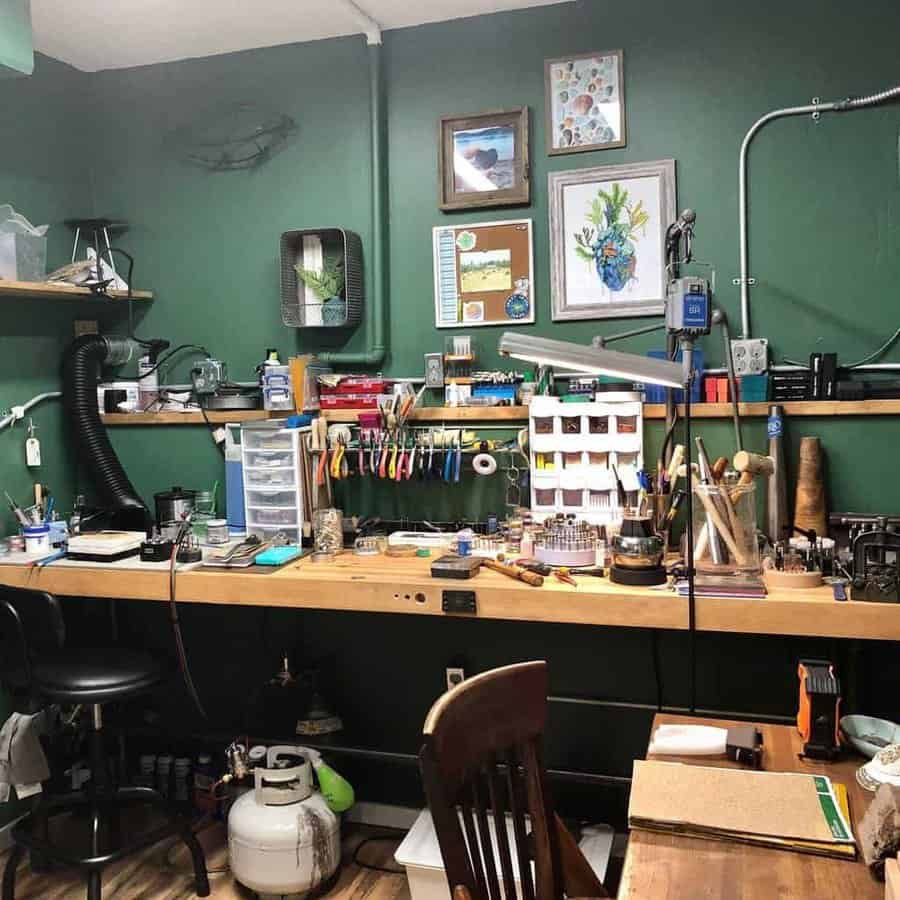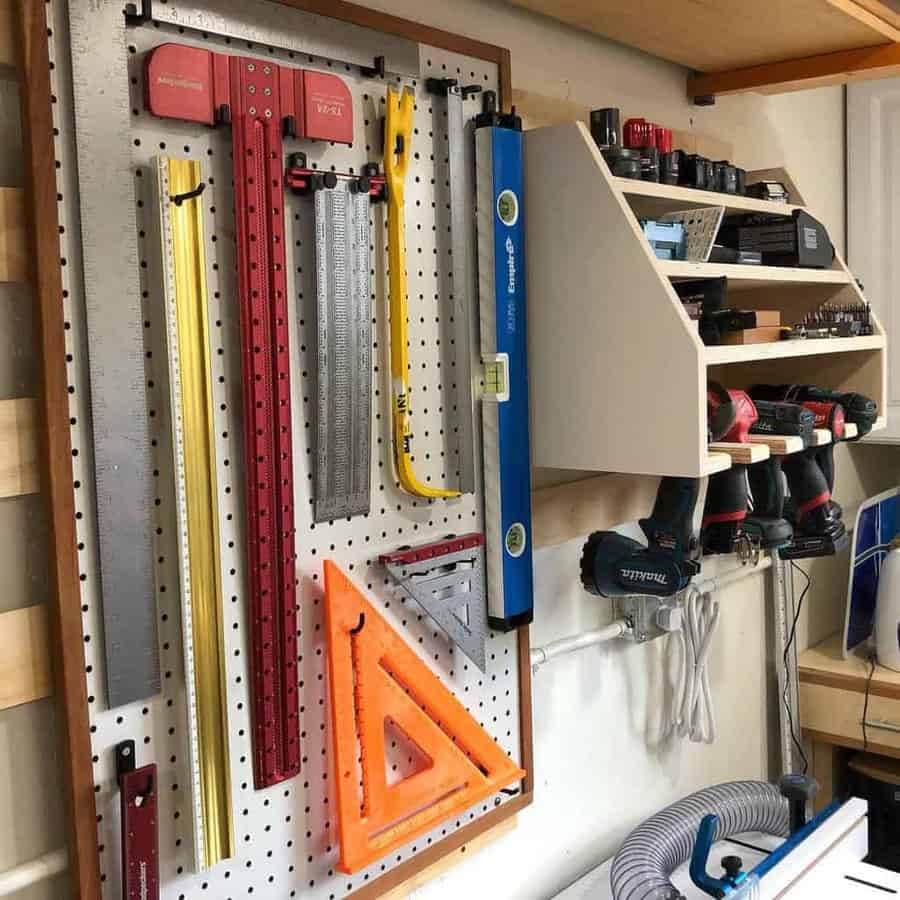 15. Workbench With Lighting
Investing in a workbench with custom storage featuring drop lights can make all the difference. No matter what task you're tackling, having easy access to the supplies you need—and bright lighting to work by—can help banish work-related stress.
You won't have to worry about obscure shadows or weak light – the workbench and lights will provide plenty of coverage. Plus, the workbench will help maintain order within your workspace so that you can focus on maximizing productivity, allowing for more efficient work!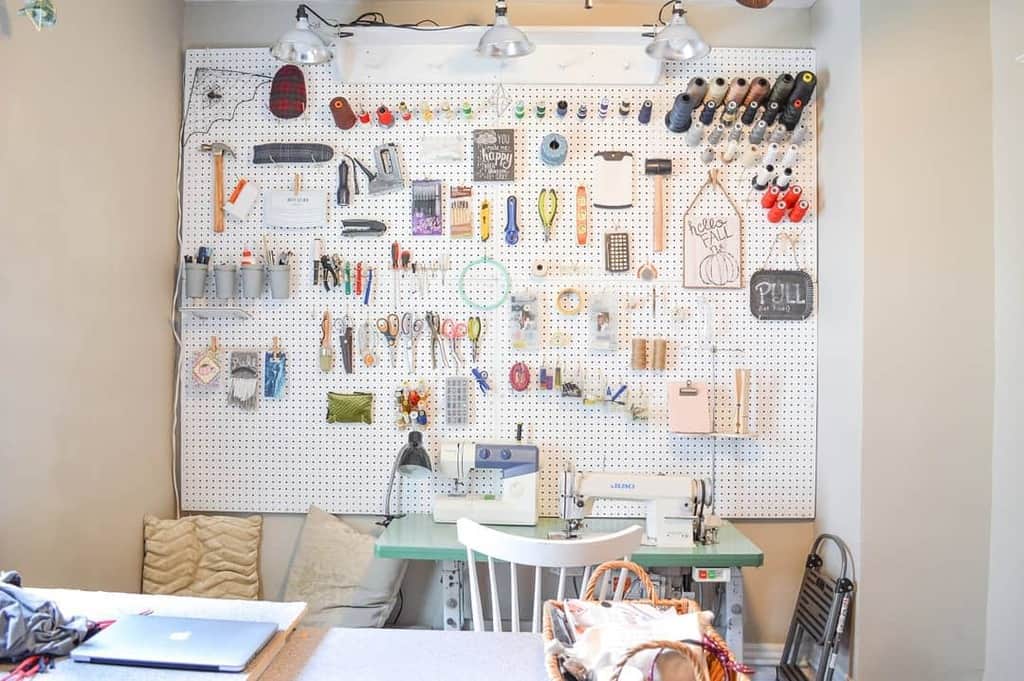 16. Small Desk Organizer
Are you looking for the perfect wood desk organizer that is great for holding your drawing supplies or small tools? Look no further than this amazing workbench with a desk organizer.
With plenty of slots and compartments for all of your items, this wood desk organizer guarantees everything will be in its place so you can focus on the task at hand with no distractions.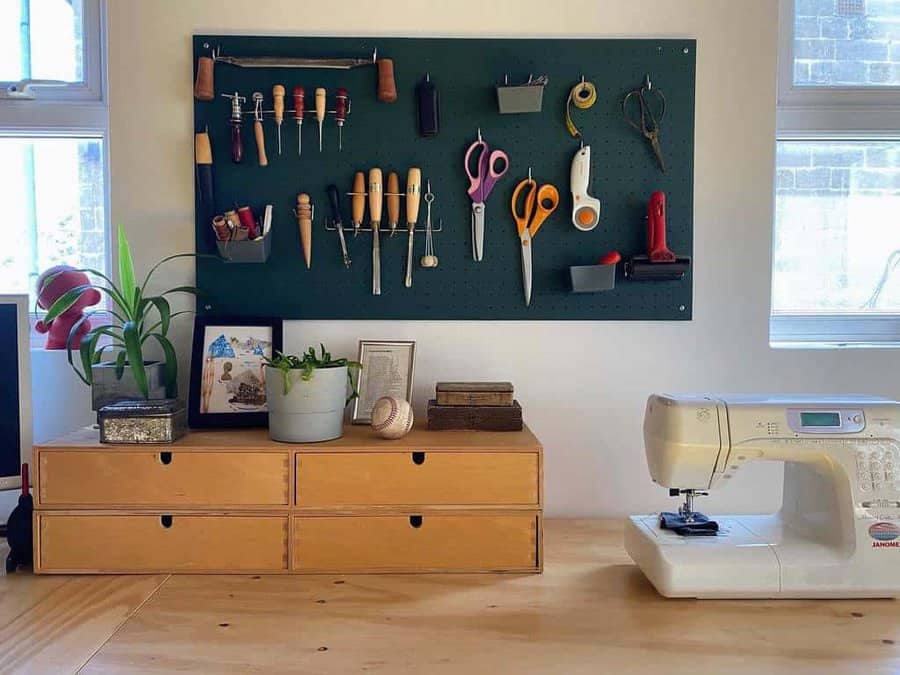 17. Framed Peg Board
The stylish construction of a framed peg board combines functionality with a modern design that makes it ideal for organizing tools and supplies.
Invest in a framed peg board workbench and make quick work of your DIY tasks. Enjoy the convenience that comes with having every tool within reach—it's the perfect way to get projects done quickly and professionally.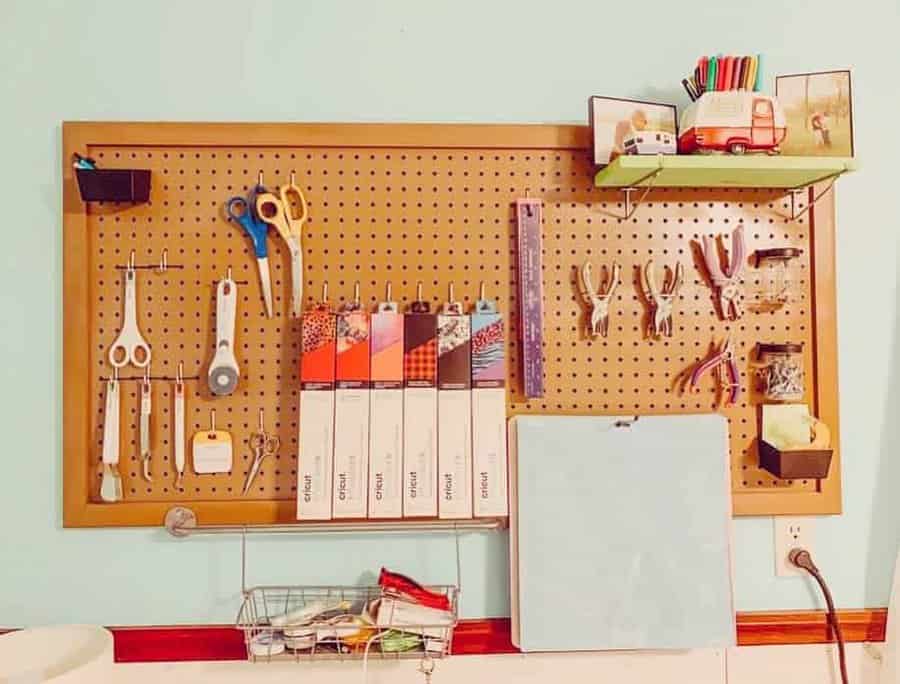 6. Rolling
18. Workbench With Pull-out Furniture
If you're looking for a workbench to make the most of your small space, consider a workbench with pull-out furniture. This workbench not only serves as a work surface but also includes a cleverly hidden drawer that pulls out and can be used for storage or organization.
It's the perfect solution for both novice and expert DIYers who need to maximize their workspace, no matter how limited their square footage is. No more cramming tools and materials into tight spaces. And when you're done working, simply push in the drawers and close your workbench, reclaiming all of your hard-won space!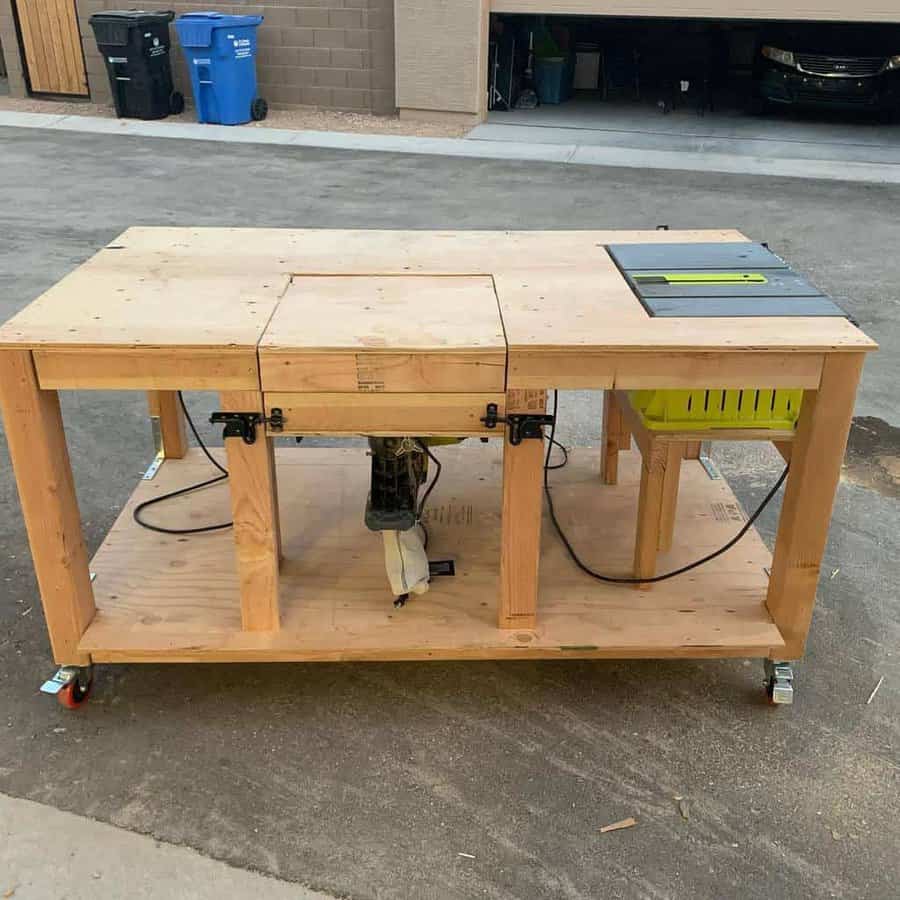 19. Workbench With Dividers
Nothing simplifies your work life like a workbench with space dividers. This practical, efficient setup allows you to work smarter, not harder – everything from tools and supplies to projects in progress has their own dedicated space, allowing for an orderly workflow.
Get the workbench that fits your specific needs and tasks so that work is pleasantly organized, leading to higher satisfaction and improved productivity.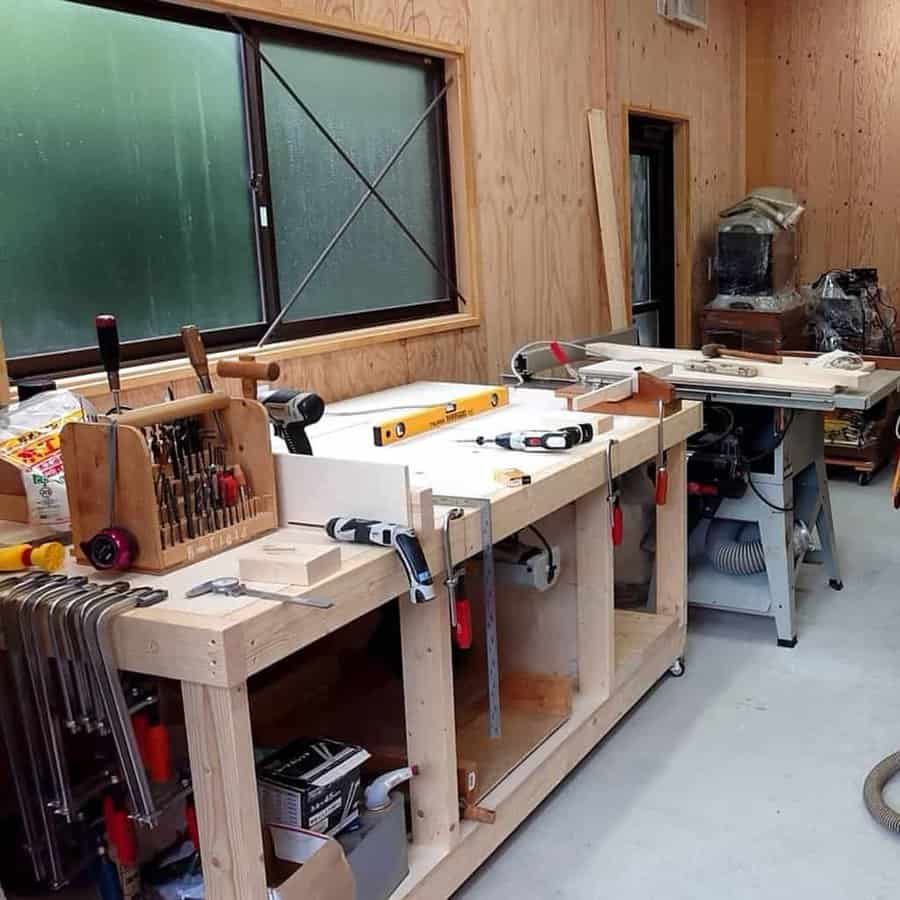 20. Themed Workbench
Crafting a themed workbench out of repurposed materials is not only an ideal way to brighten up a workspace but also can be an incredibly fulfilling project. From constructing a one-of-a-kind tool storage center to complimenting the décor of a themed office, the possibilities are endless.
A themed workbench is also perfect for those who take pride in their accomplishments, as it can be fantasized, tailored, and personalized – making it truly unique.
Whether made for practicality or aesthetics (or both!), themed workbenches provide designers with an excellent opportunity to craft something that is entirely their own.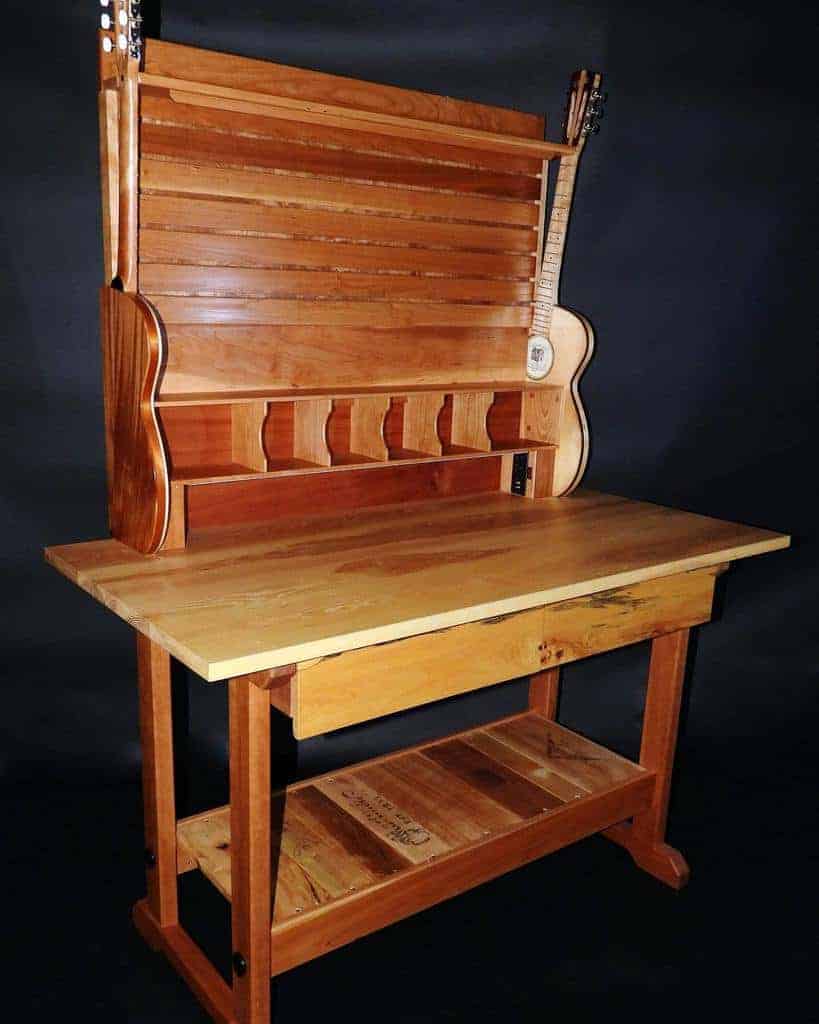 21. High Workbench
A high workbench—such as a stand-up desk on wheels—can be the key to limitless productivity, creativity, and improved ergonomics. It has the look of a high-end modern office, with adjustable heights to suit users of all sizes. Plus, it adds an extra level of comfort and convenience to any workspace.
Not only does it eliminate inefficient movement between sitting and standing positions, but it also helps prevent fatigue and increases focus when working with interactive applications like those related to graphic design, coding, or programming. Say goodbye to back pain and muscle tension while you stay productive all day long!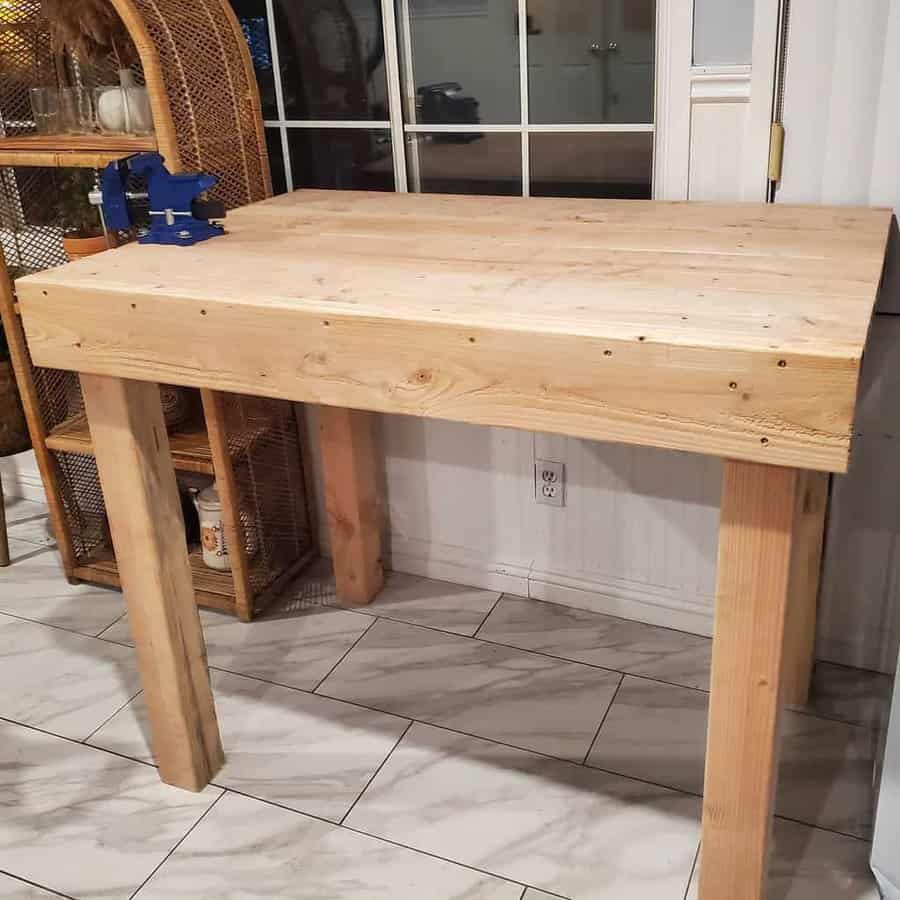 22. Workbench With A Pop Of Color
A workbench with painted legs is an excellent way to add a unique touch to any workshop. The combination of wood and paint can be used to create a tool space that is both professional and creative.
Adding a pop of color brings vibrant energy to the workbench, inviting you to take on impossible tasks and look for innovative solutions. With a workbench this stylish, it's impossible to not get inspired!
23. Kids' Workbench
Every kids' workbench is like a dream come true – the perfect place to let their inner handyman shine! Not only are kids' workbenches fun and useful, they also provide parents with peace of mind knowing that kids are safely tinkering away in their own personalized space.
Smaller-sized workbenches can make a great addition to any home, as they're perfect for kids who may not have the space to spare. Whether your kids want to make a robot or tinker on some rustic woodcraft, a workbench will become their go-to spot for creative play.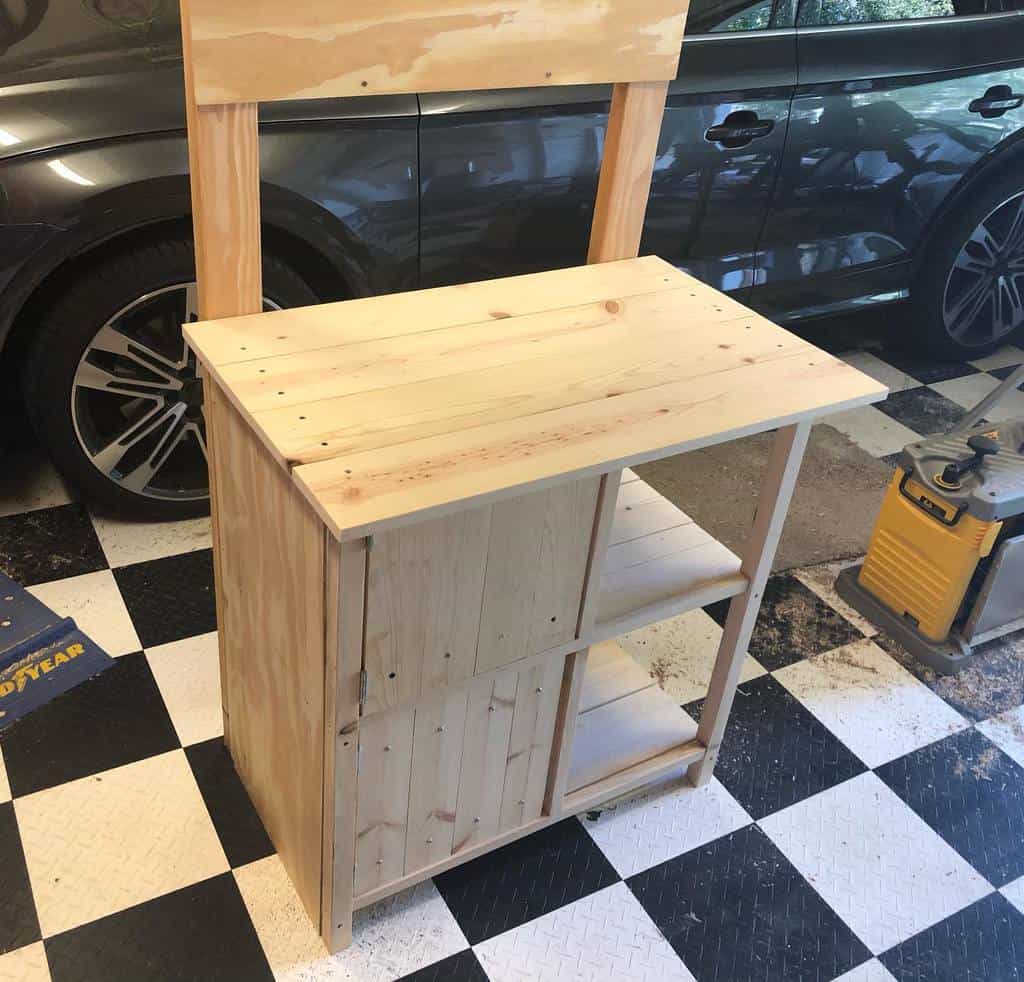 24. Wall-Mounted Workbench
Create any type of DIY project quickly and efficiently with the wall-mounted workbench! This all-in-one workspace, designed to be wall mounted, offers a spacious amount of storage, space to craft and assemble projects, as well as all necessary power tools you'll need. The wall-mounted workbench was crafted with the organization in mind; providing quick access to your everyday work essentials, allowing you to maximize production time and quality outcomes.
Your home projects will become a breeze with this wall-mounted workspace taking center stage in your home or garage – bringing order, creativity, and productivity all into one.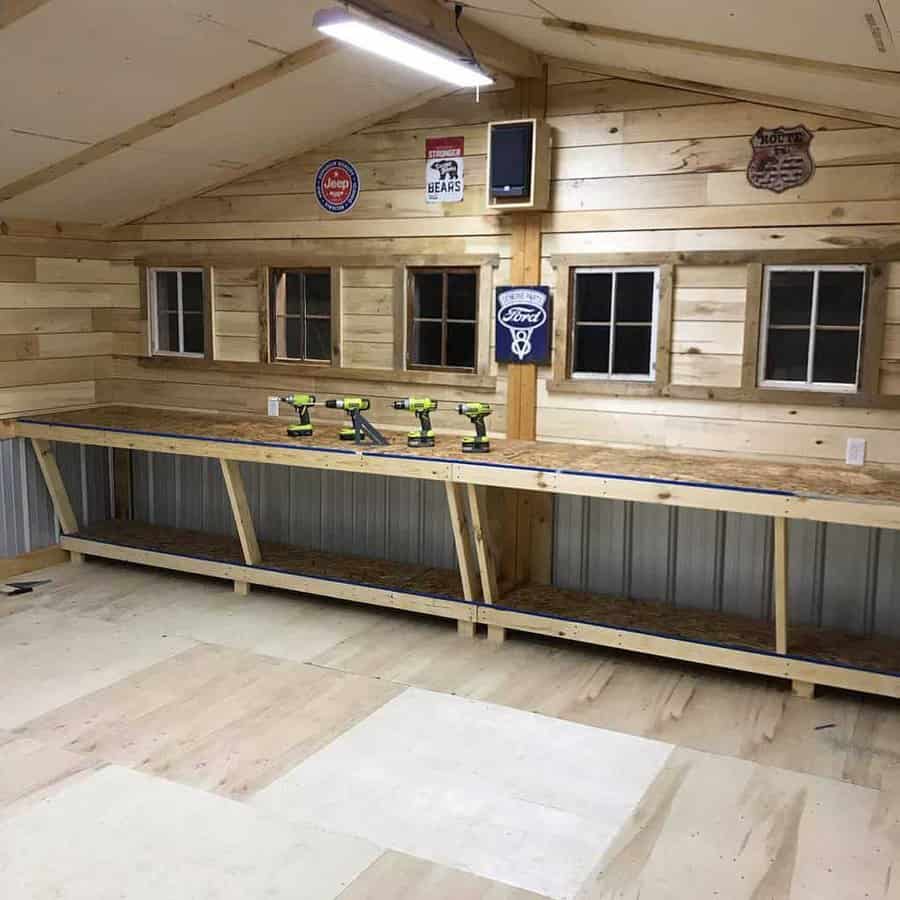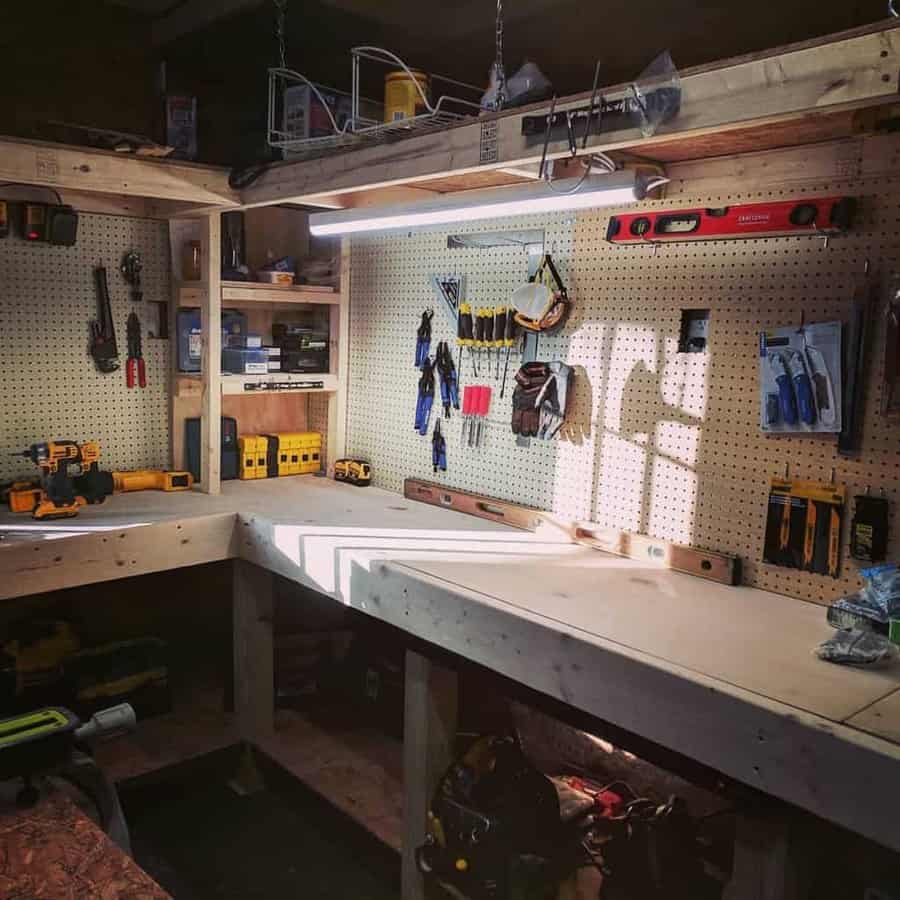 Workbench FAQs
What is the best height for a workbench?
In woodworking, the standard workbench height is 34 inches. This is also the standard height of a table saw, making it easy to switch between the two work surfaces.
With that said, the best height for a workbench is whatever best meets your needs. Some DIYers even opt for an adjustable top that can be raised or lowered as needed.
Where can I find DIY workbench build plans?
The woodworking community is full of people eager to share their knowledge and creativity with newcomers. This includes build plans for projects like dog houses, fencing, and even workbenches.
Many beginner woodworkers opt for a free workbench plan for their first project. However, there are tons of paid build plans out there that are 100% worth the cost.
These plans can be a valuable resource even if you plan to design your workbench from scratch. Finding a simple workbench plan you like can give you a starting point for your own project, including what materials and tools you will need.