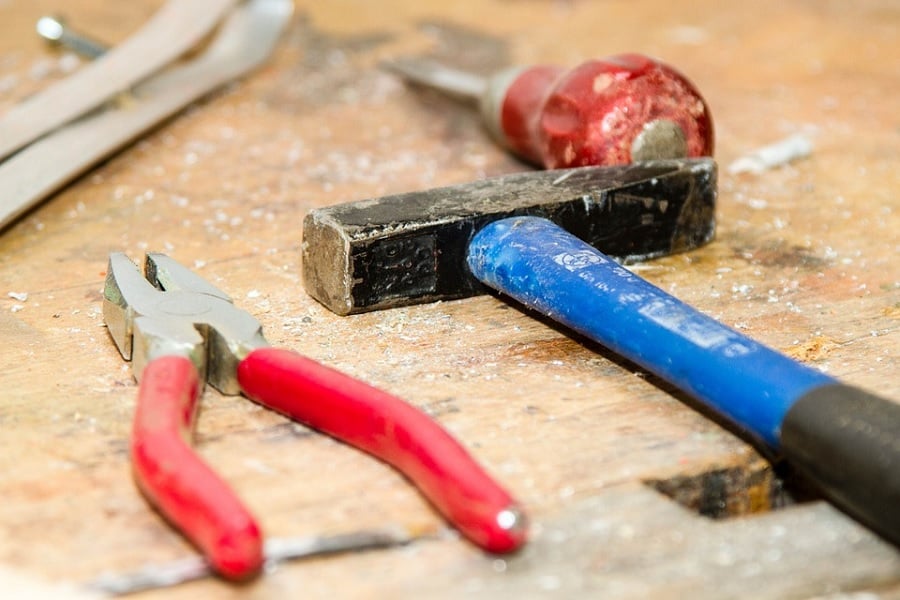 47 Workbench Ideas for Your Workspace
by — Kendrick Hulse

Published on June 7, 2021

Updated on October 15, 2023
Civilization wouldn't exist in its current state without skilled craftsmen. Even today — when we can go out and buy nearly anything imaginable — countless people continue to learn and practice skills like carpentry, painting, sculpting, and electrical work.
Homeowners understand the value of good handiwork, especially when it can be completed without hiring a professional. But it can be hard to find the space to complete projects and store your most important tools.
Keep reading for some of the top workbench ideas for updating your shed, garage, or workshop.
1. Build Your Own Pallet Workbench
Incorporate a touch of uniqueness and character into your workspace by crafting your own pallet workbench. This DIY project adds a distinct charm to your garage or workshop. Utilizing basic hand tools and minimal woodworking skills, you can create a versatile workbench tailored to your needs. Dive into the world of DIY and embark on the journey to fashion your very own pallet workbench.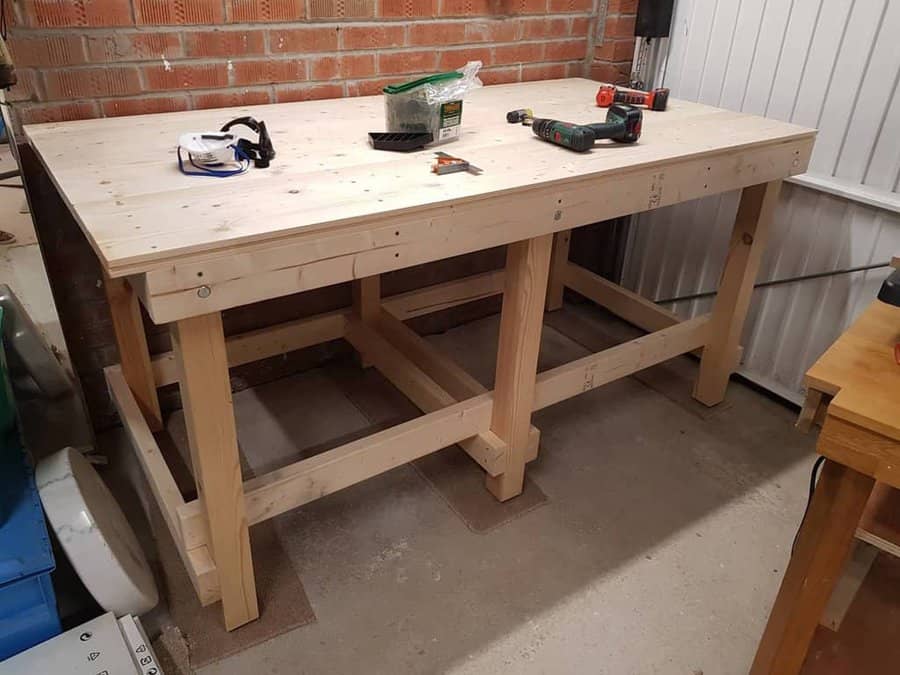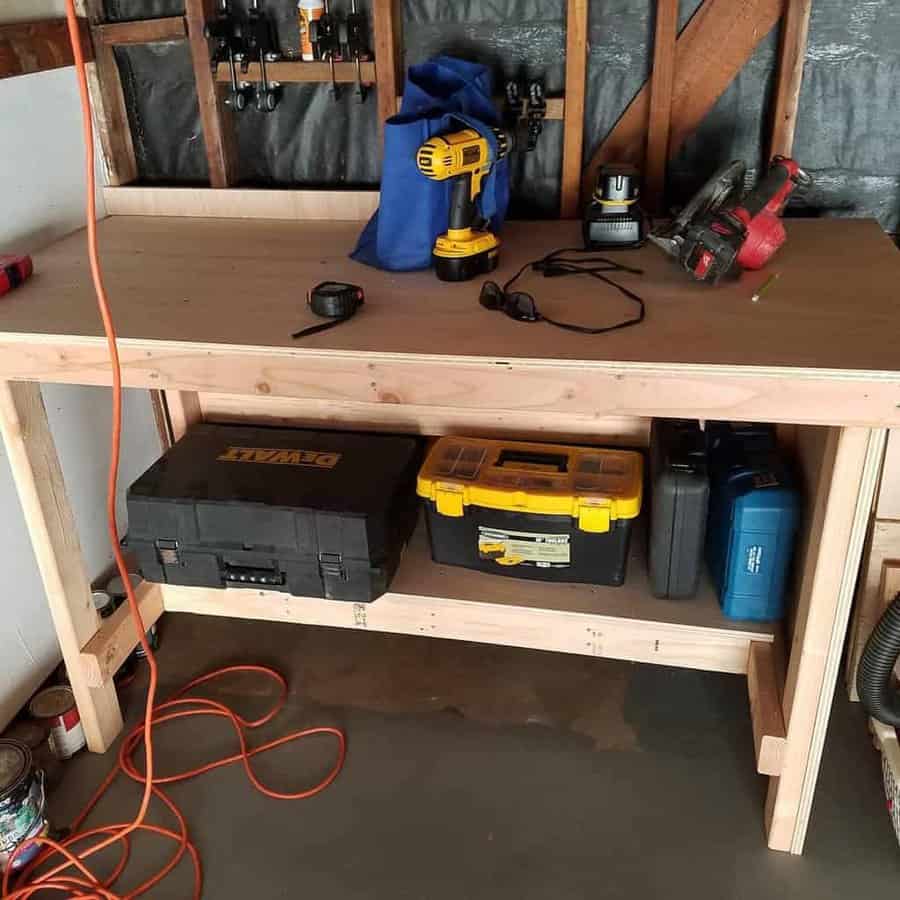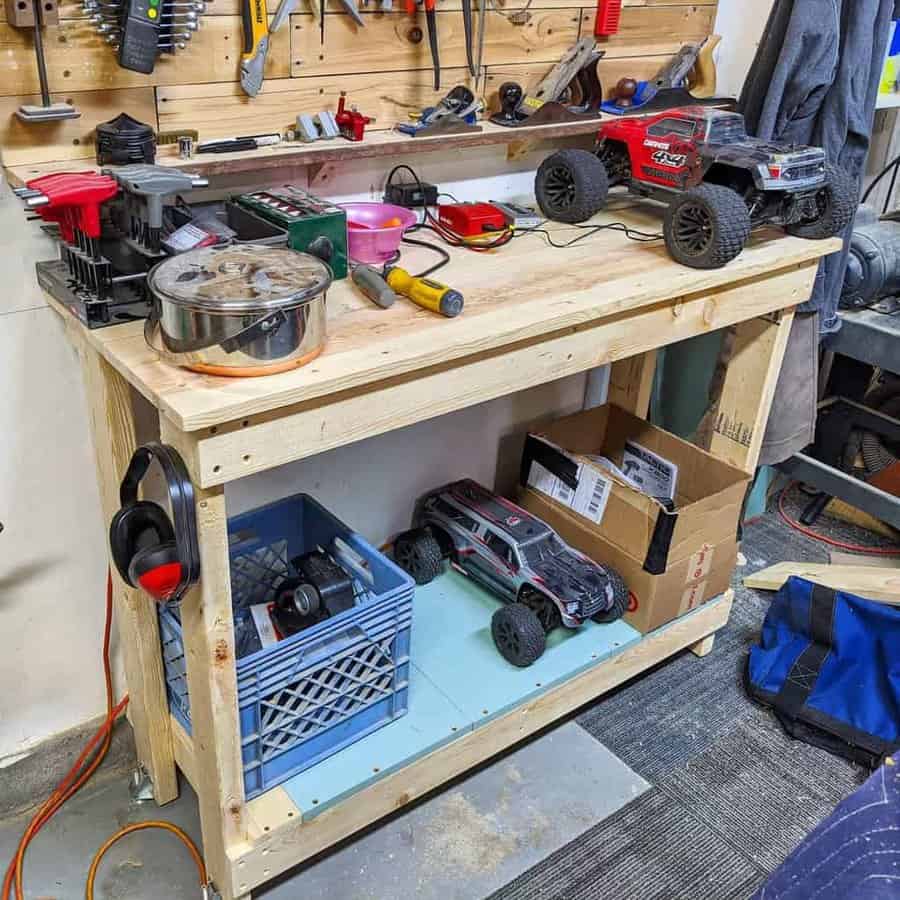 2. Space-Saving Pallet Work Bench
For those looking to optimize their workspace, a pallet workbench with enclosed storage is a game-changer. It not only provides extra workspace but also keeps your tools, supplies, and ongoing projects neatly organized. With the enclosed storage, you'll have ample room for everything from tools to paint cans.
The sturdy pallet construction ensures durability and can withstand the demands of any garage or workspace. Boost your efficiency and reduce clutter by incorporating this space-saving pallet workbench into your setup.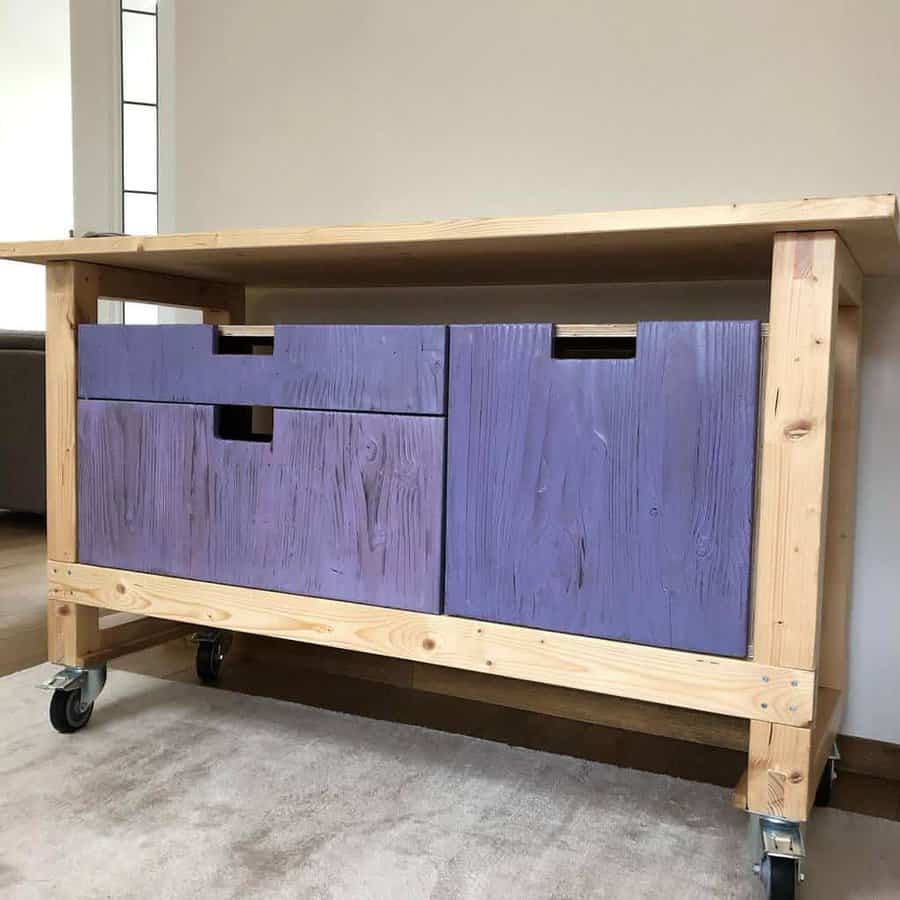 3. Organized Wood Work Bench Storage
When it comes to optimizing your workspace, there's a wealth of workbench solutions to choose from, catering to various preferences and budgets. From pallet-style workbenches with integrated storage to elegant built-in cabinets with ample shelving, you can find an ideal solution to suit your needs. These options not only enhance functionality but also add a touch of style to your workspace. Explore the range of workbench designs available and discover how you can transform your workspace for efficient and stylish task performance.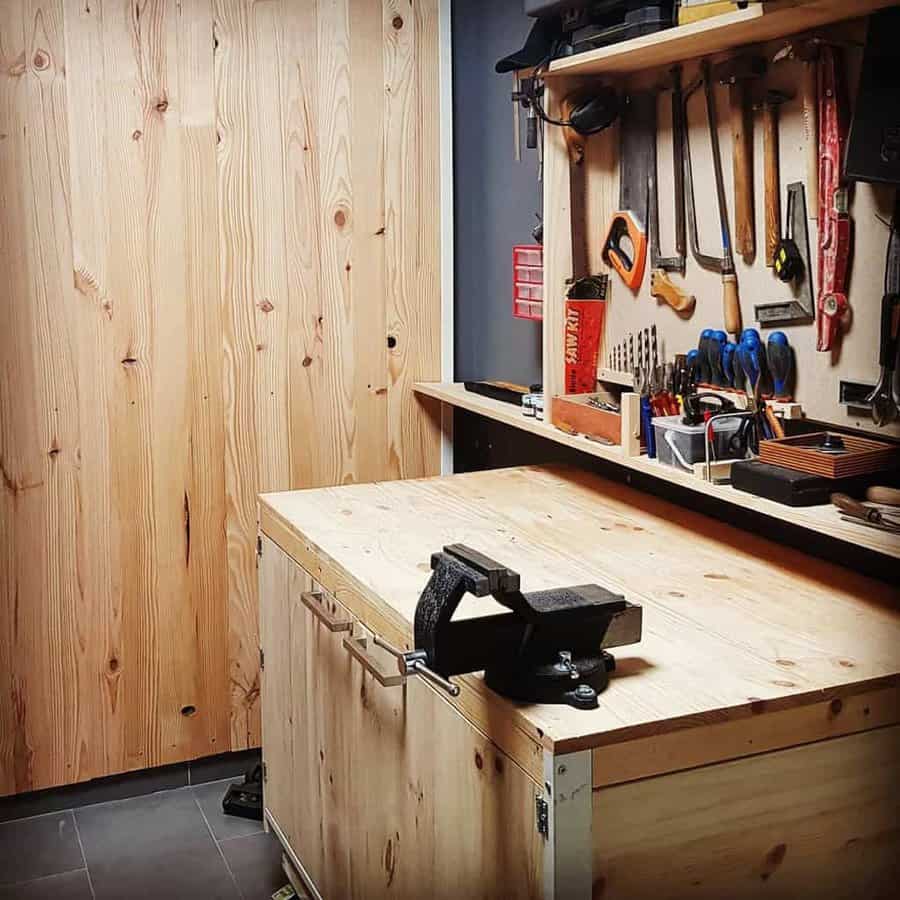 4. Innovative Composite Workbench Ideas
Discover the versatility of composite workbenches that excel in both workshop and home office settings. These sturdy, multi-purpose workbenches are designed to tackle a wide range of tasks. If aesthetics are a priority, consider a wood workbench featuring a sleek marble countertop, elevating your workspace with a blend of professionalism and beauty. Whether you opt for composite or wood with marble, your choice of workbench can significantly enhance functionality and style in your workspace.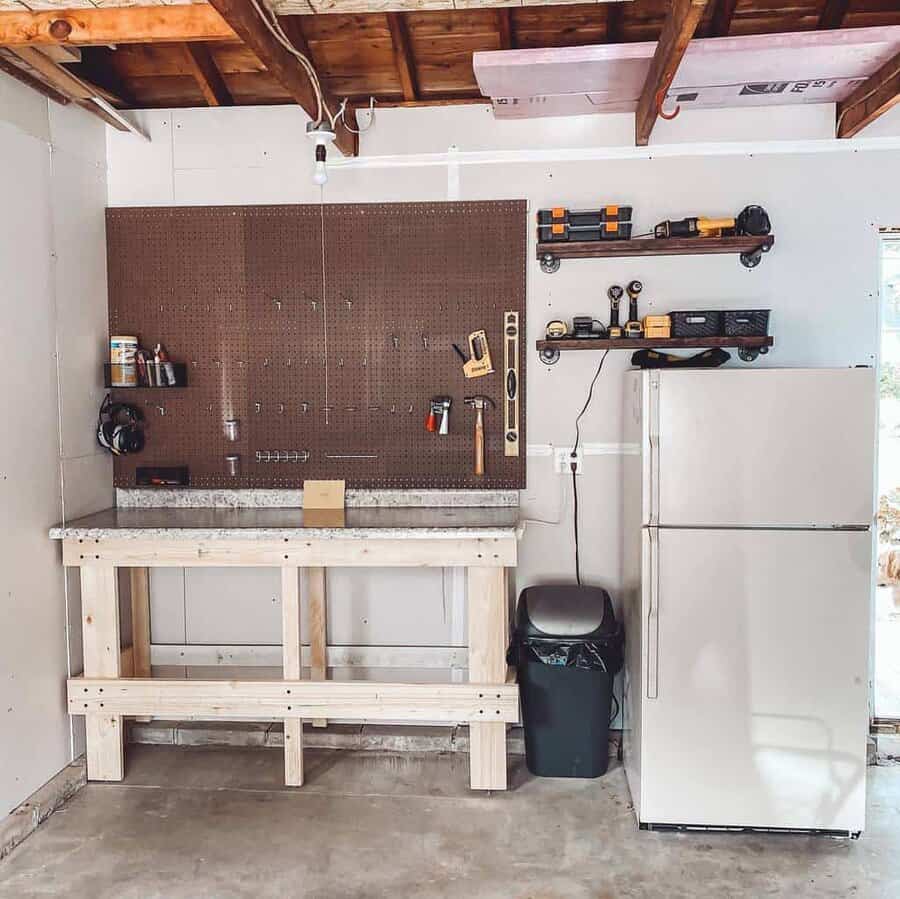 5. Portable Rolling Workbenches
Portable rolling workbenches are dynamic tools that add a new dimension to your home improvement projects. They offer mobility, ample storage, organization, and a versatile workspace. These workbenches are ideal for a wide range of tasks, from quick fixes to intricate woodworking projects. Learn how to make the most of these versatile workbenches and elevate your home improvement experience.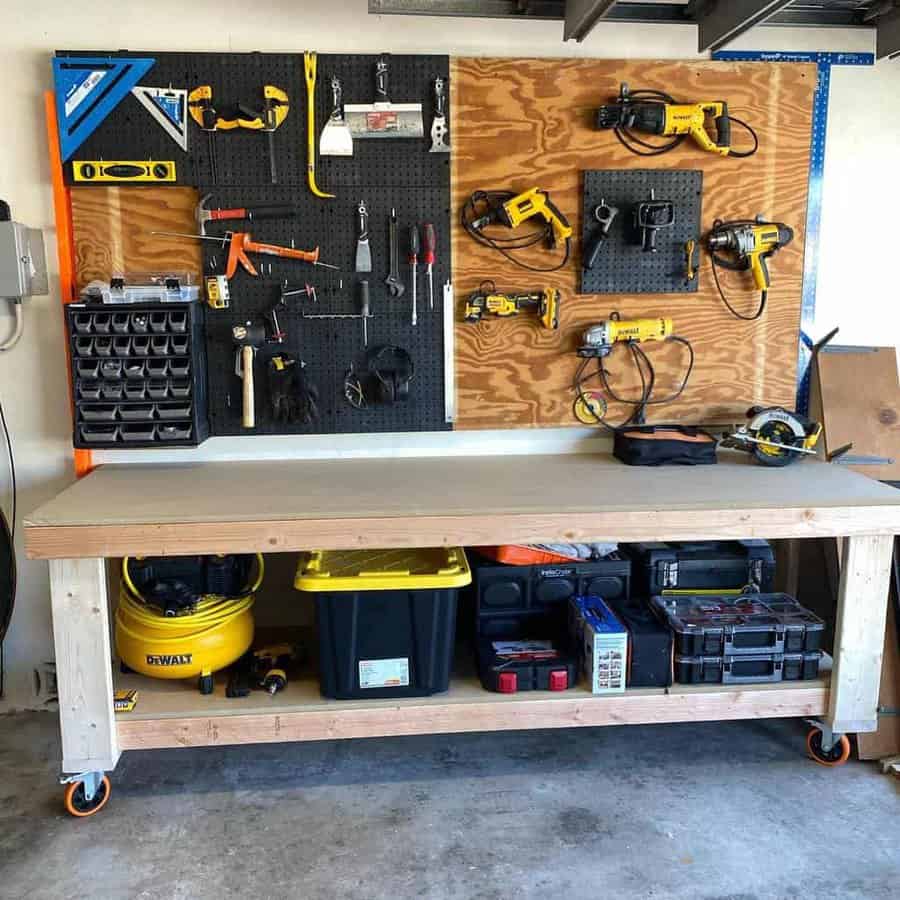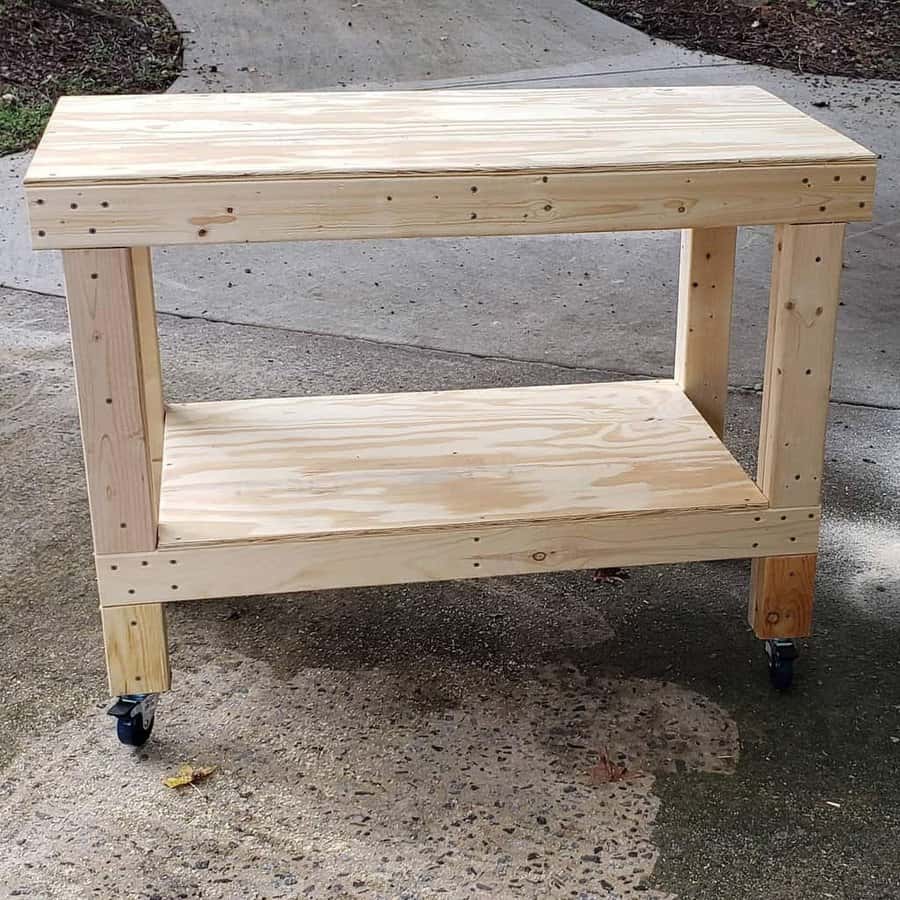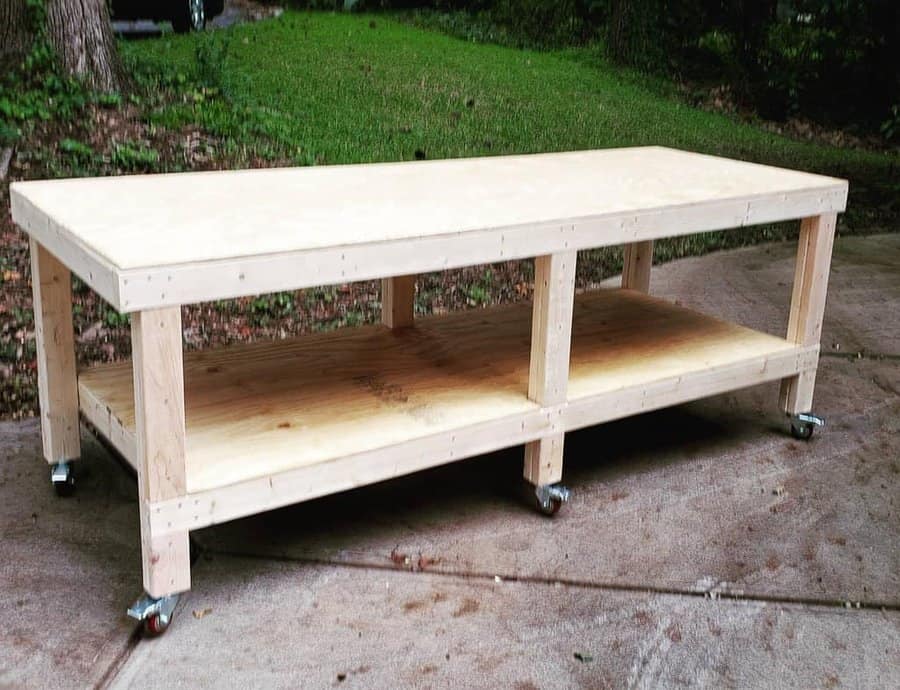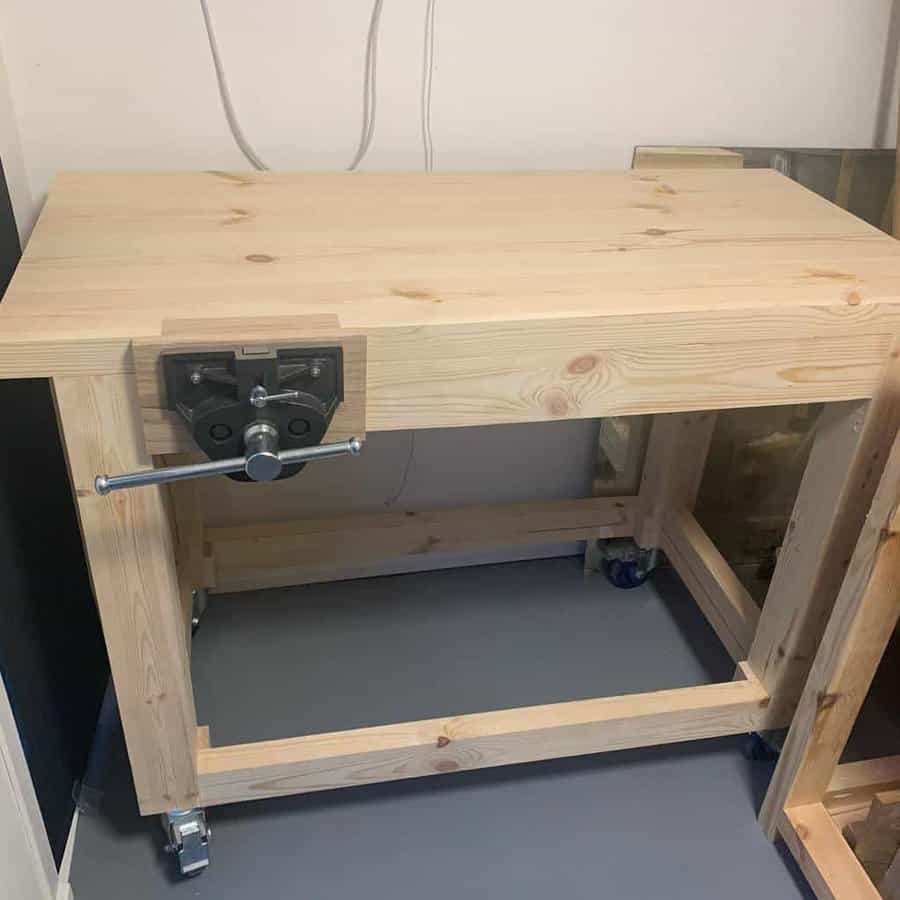 6. Eco-friendly Reclaimed Wood Workbench
Incorporating a reclaimed wood workbench into your workspace not only adds eco-friendliness but also a touch of vintage charm. If you're aiming for a weathered, aged look, consider repurposing an antique workbench, which can infuse character into your workspace.
To embrace this eco-friendly design, either search for old workbenches or embark on a DIY project using reclaimed wood from various sources. Enhance the uniqueness of your space by implementing a reclaimed wood workbench and aligning it with your vintage or rustic-inspired aesthetic.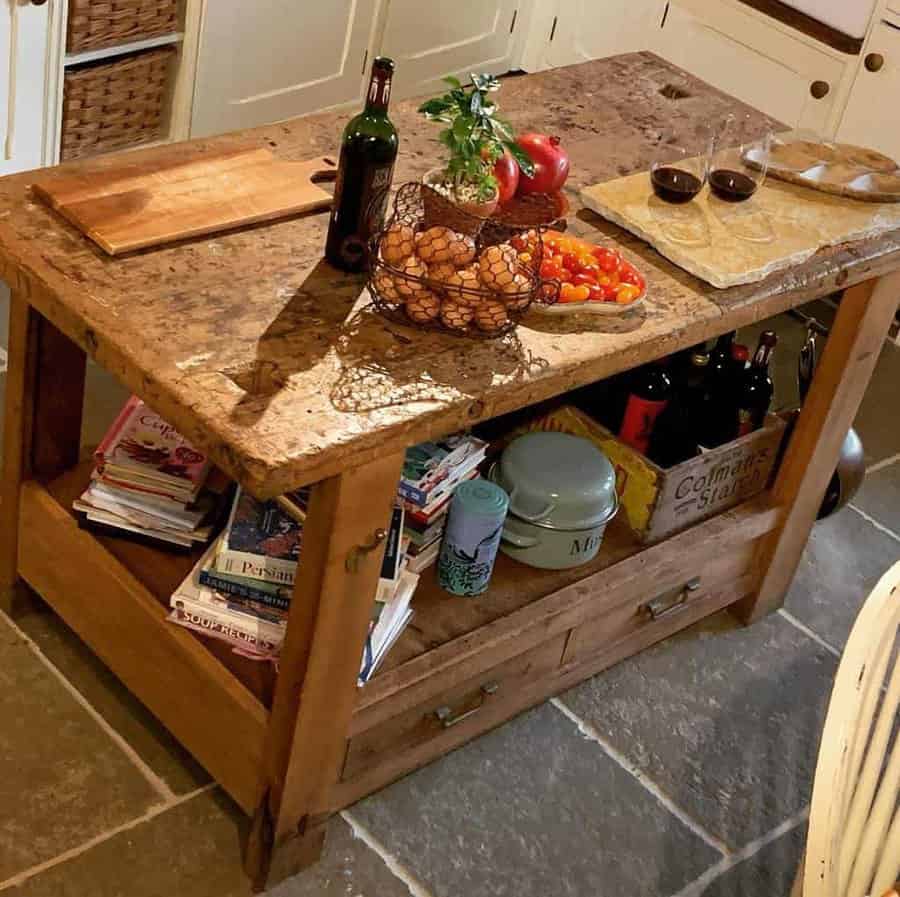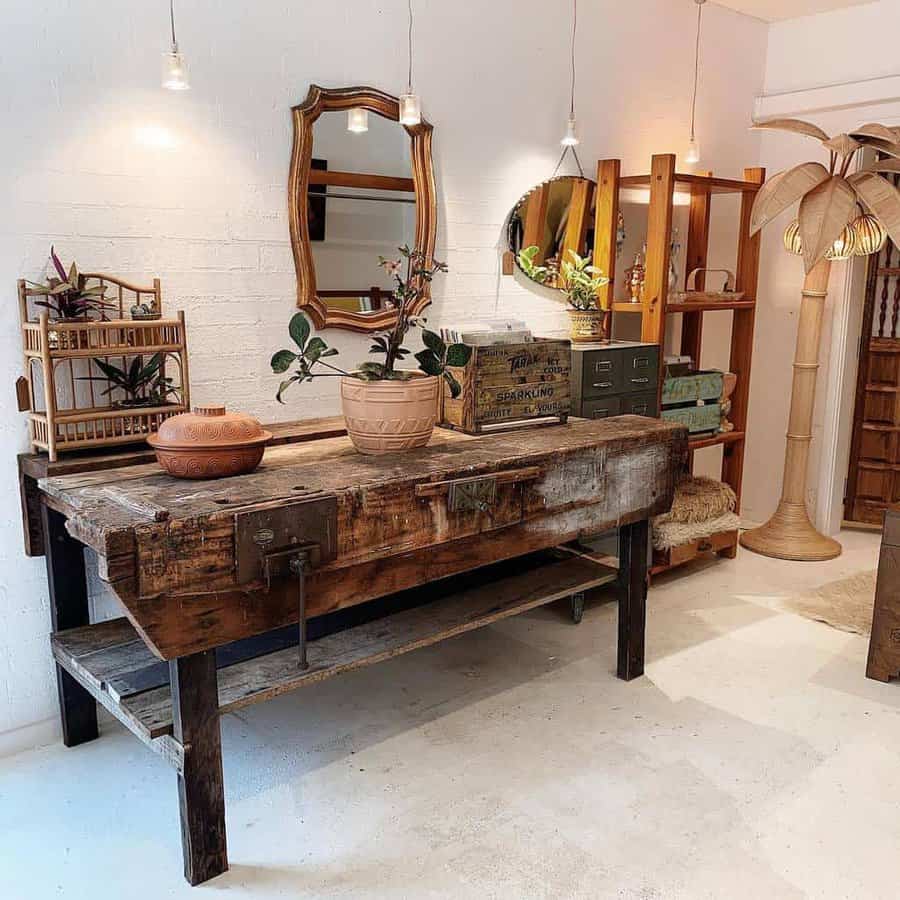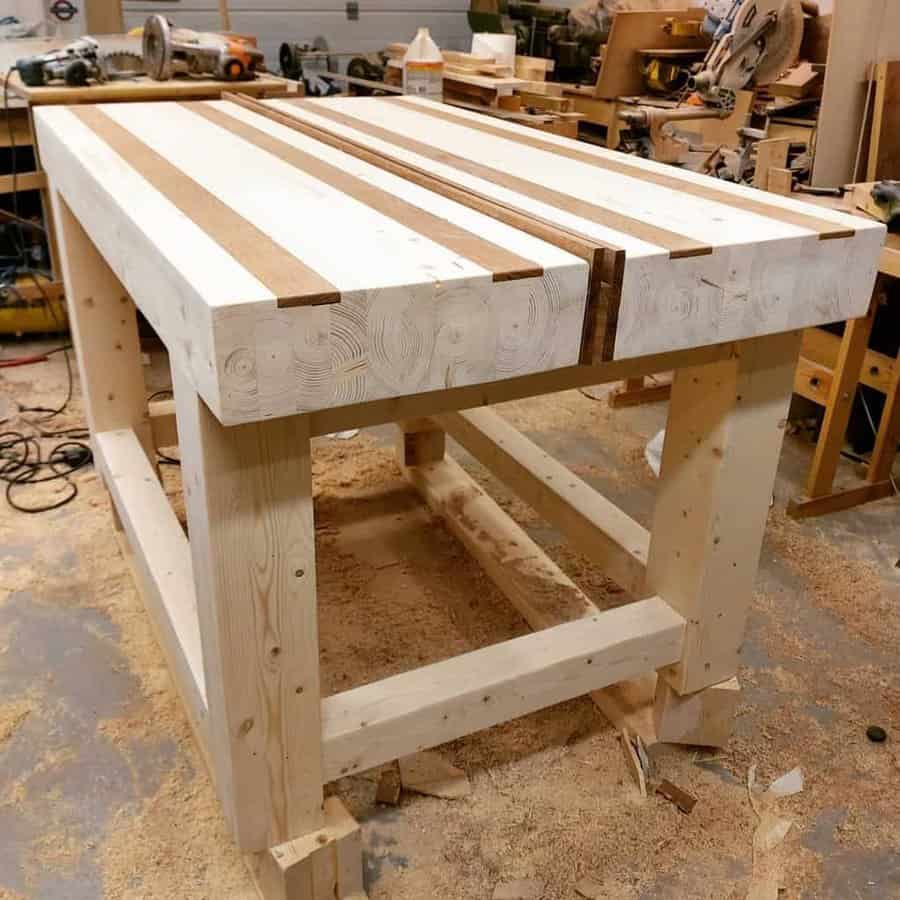 7. Efficient Workshop Table with Storage
Integrating a workshop table with versatile storage is a must for any workshop. It offers a structured space for the seamless organization of tools, materials, and supplies while providing a reliable surface for intricate tasks. Opt for designs featuring well-crafted drawers, shelves, and compartments to declutter your workspace effectively.
A well-organized workshop promotes creativity, reduces stress, and ensures you can focus on intricate projects with ease. By choosing the right workshop table with ample storage, you gain a competitive advantage in completing tasks faster and achieving superior results.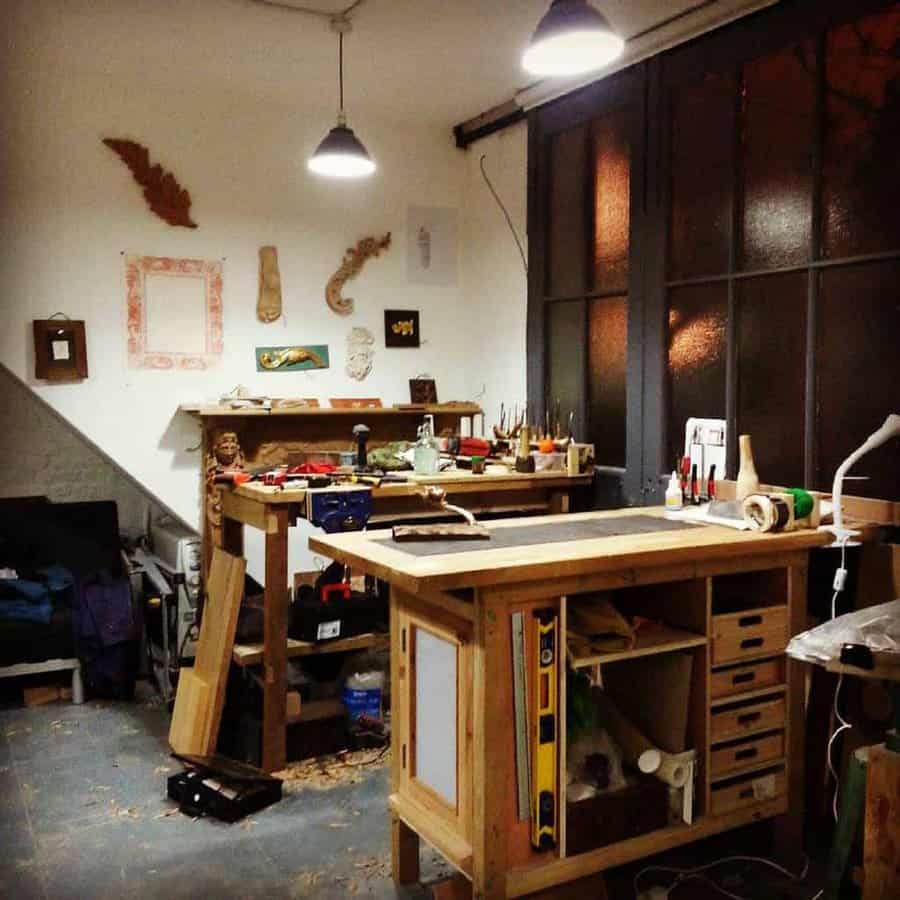 8. Tool-Ready Workbench Peg Board
A workbench equipped with a pegboard is a game-changer for enhancing project efficiency. It offers a systematically organized workstation with tools at your fingertips, creating a productive space. Opt for colorful tools to add vibrancy to your workspace while promoting efficient organization.
The pegboard's stability ensures you can tackle tasks with confidence, without concerns about stability. By integrating this thoughtful design into your workspace, you not only improve efficiency but also add character and vibrancy to your projects.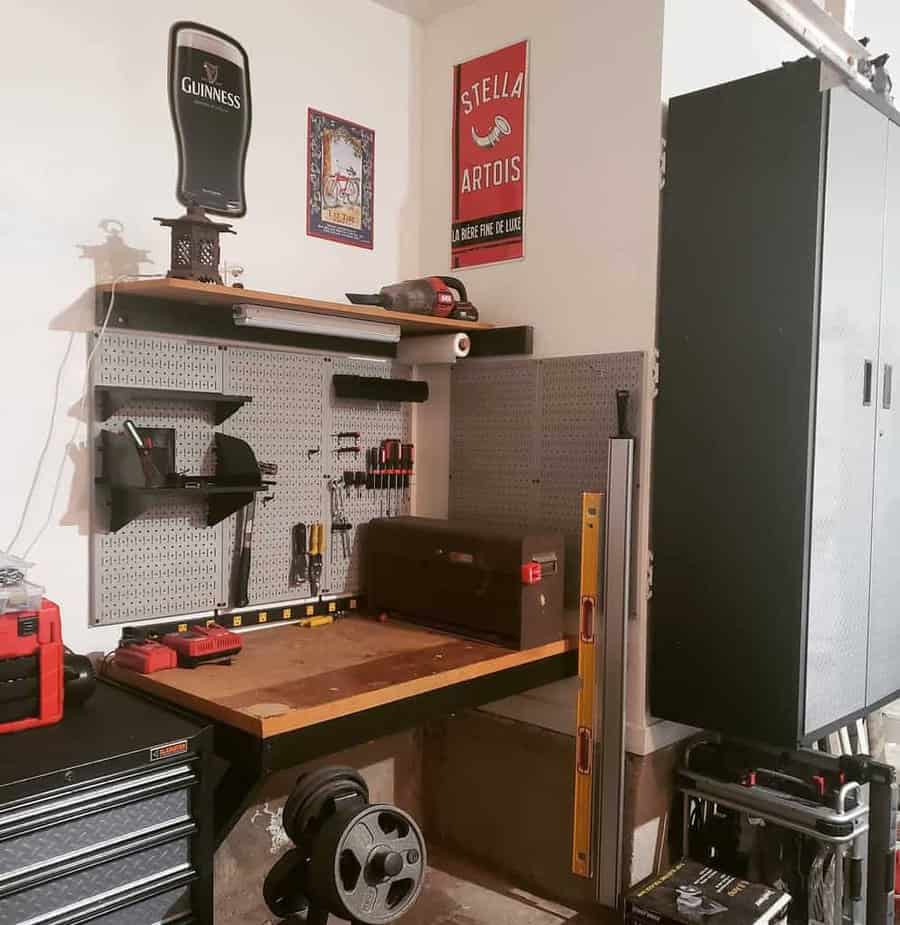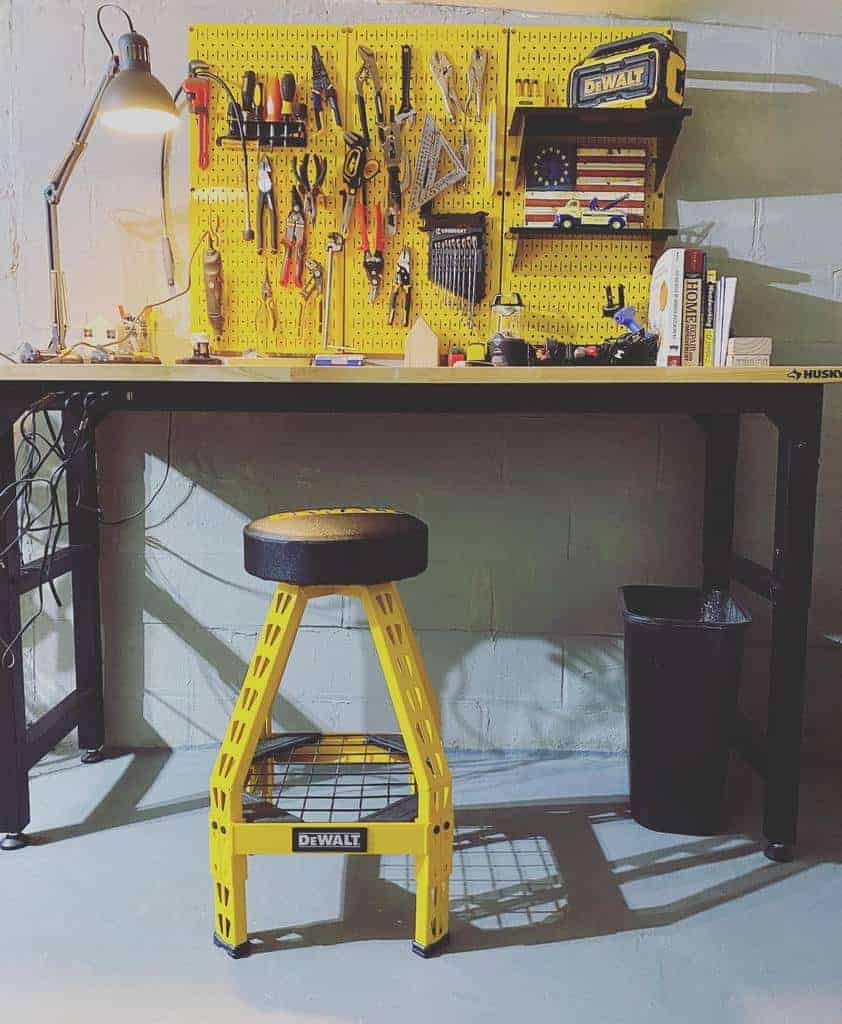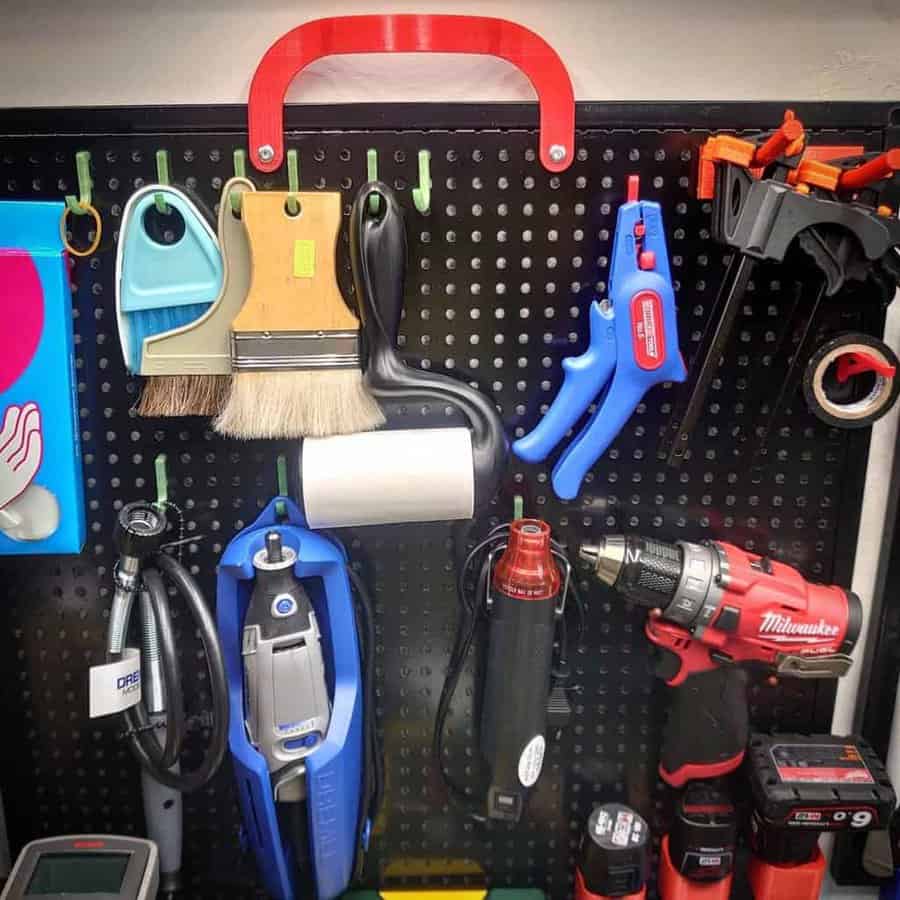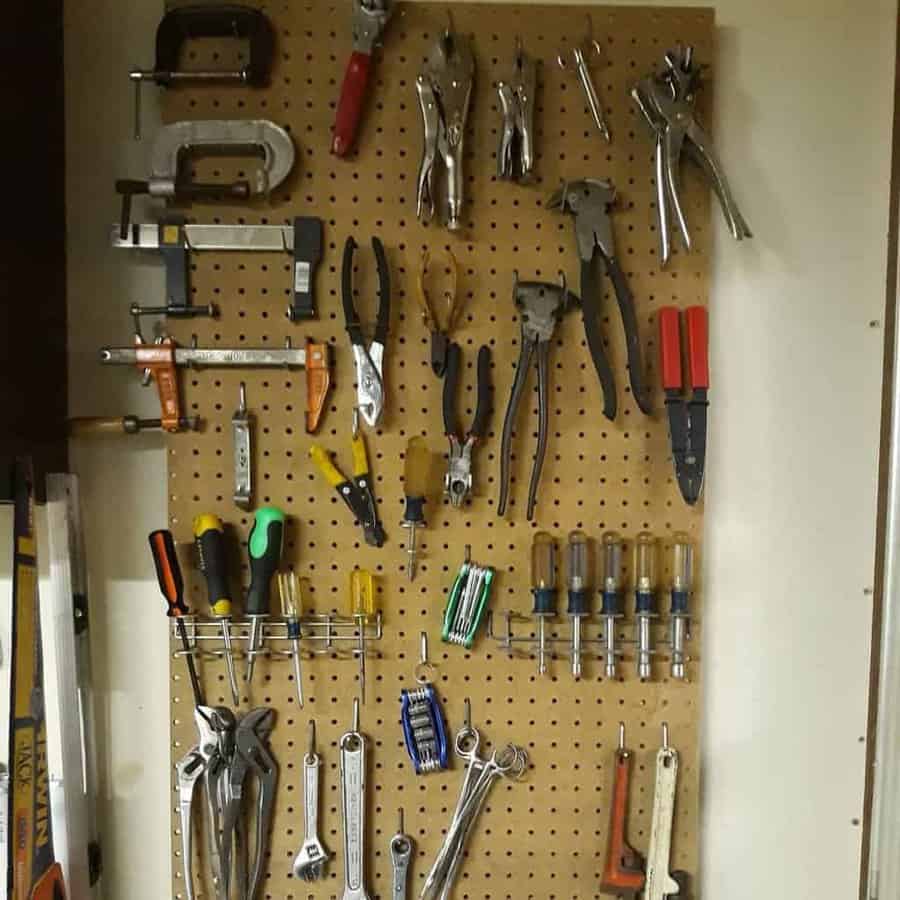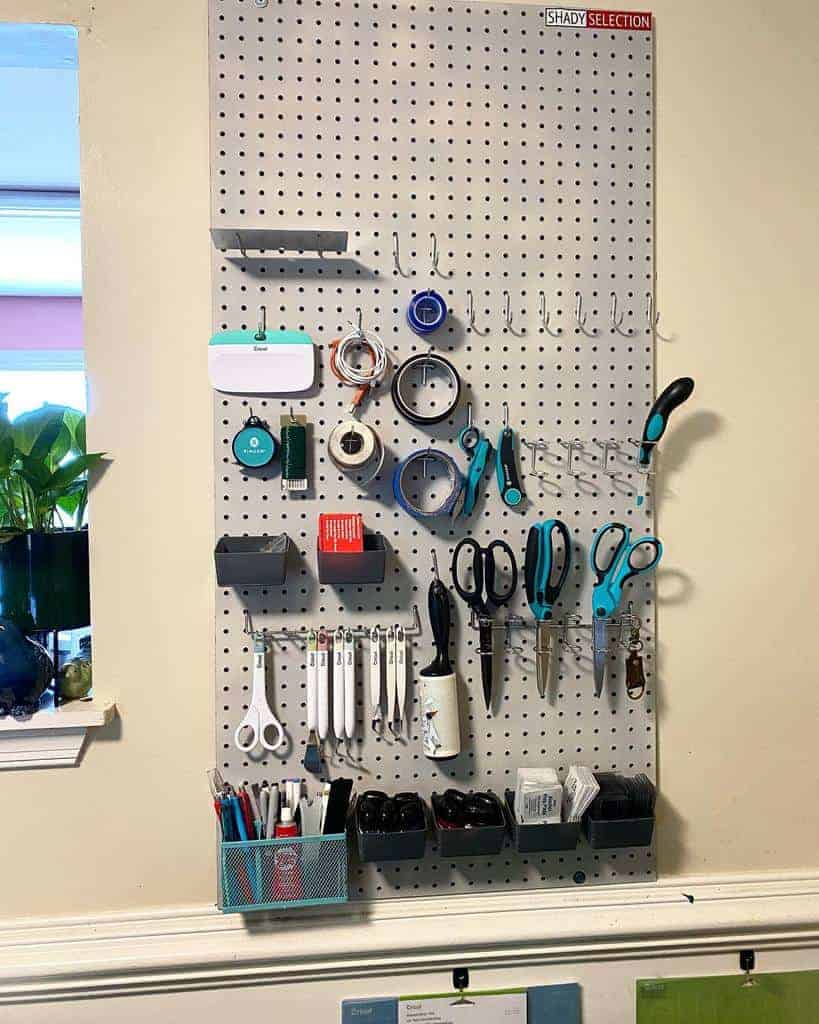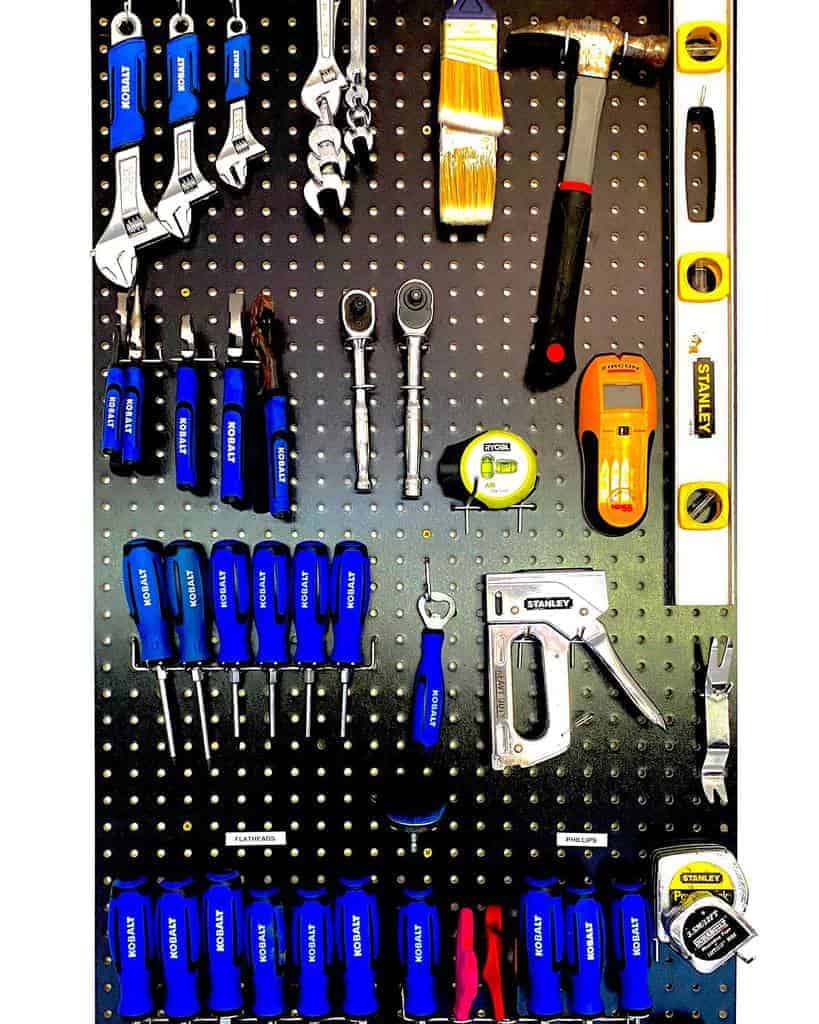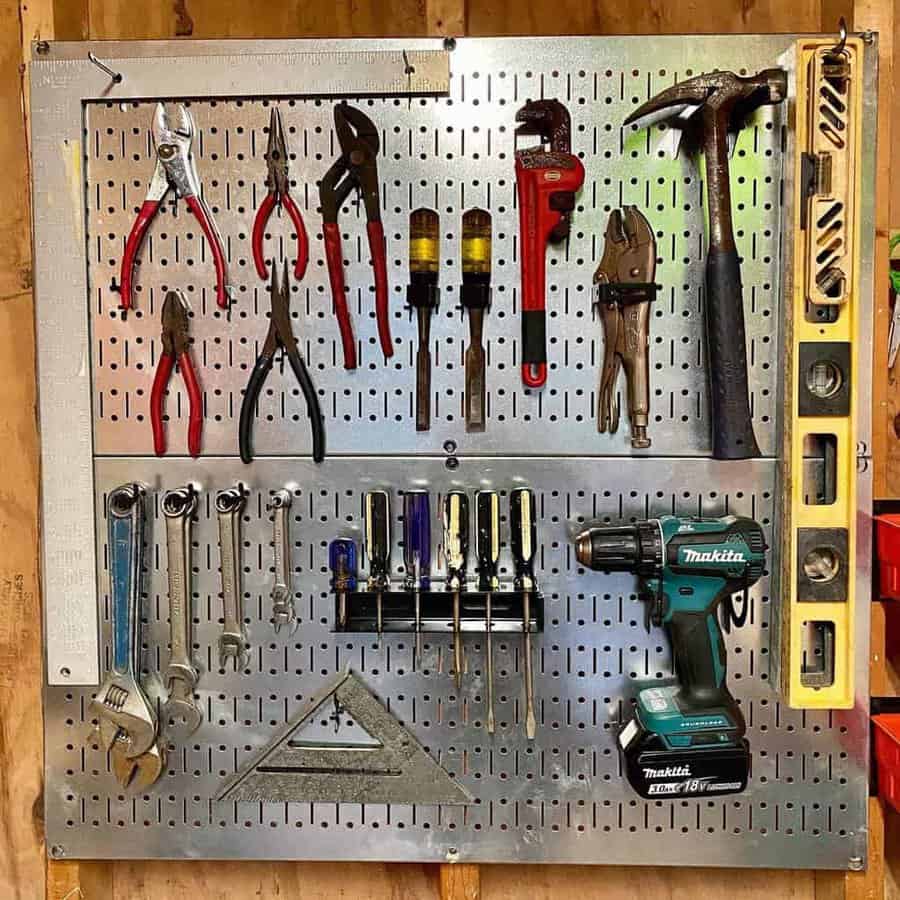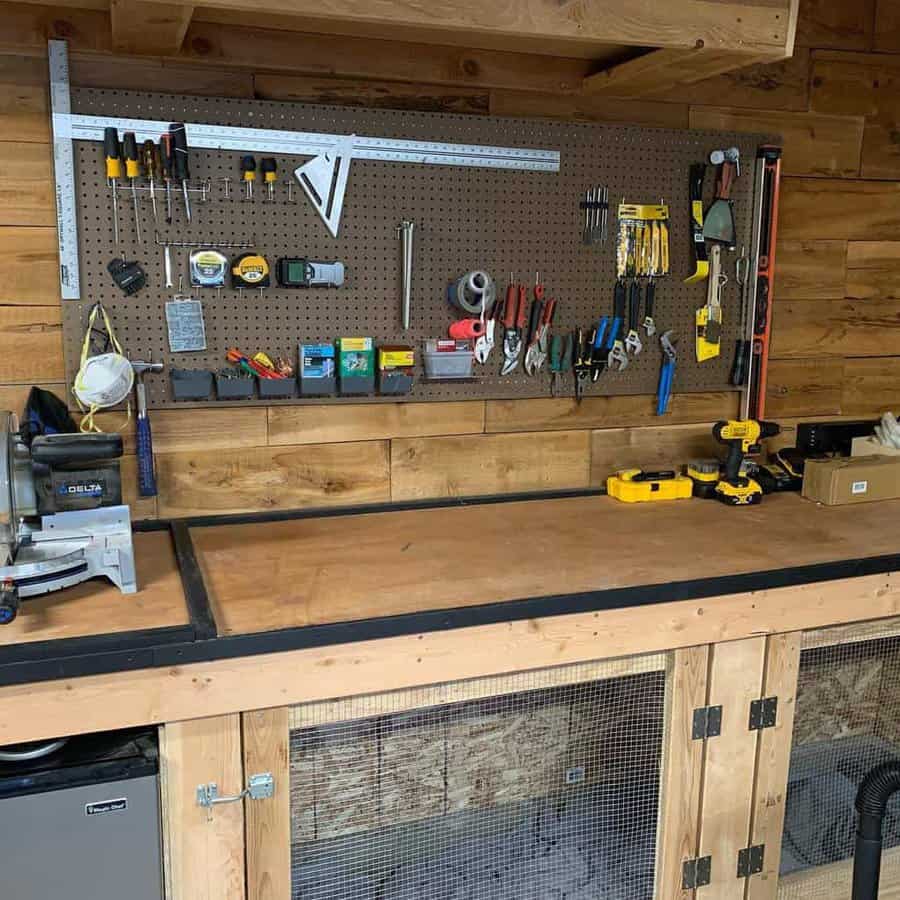 9. Mobile Rolling Workbench Island
When space is limited, finding the ideal workbench can be a challenge, but a mobile rolling workbench island offers a smart solution. This versatile tool optimizes small spaces by providing generous workspace and storage, all on convenient rolling wheels. Whether in a garage or shop, it's a game-changer for maximizing productivity without compromising functionality in confined areas.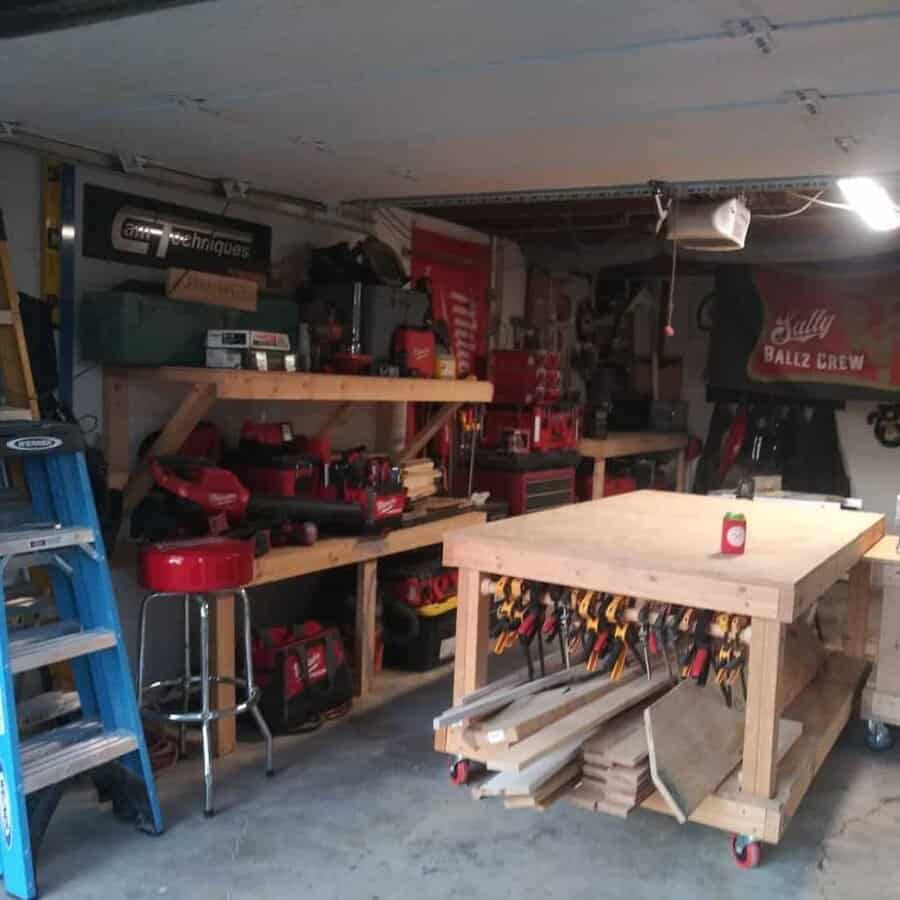 10. Industrial Steel Work Desks
Industrial steel work desks bring a unique blend of hardiness and versatility to any space, whether it's a workshop, kitchen, or even the living room. Their durability makes them ideal for handling tough tasks, and with proper care, they can last for generations. By incorporating a steel workbench into your home, you acquire a timeless piece of furniture that can serve various purposes and stand the test of time.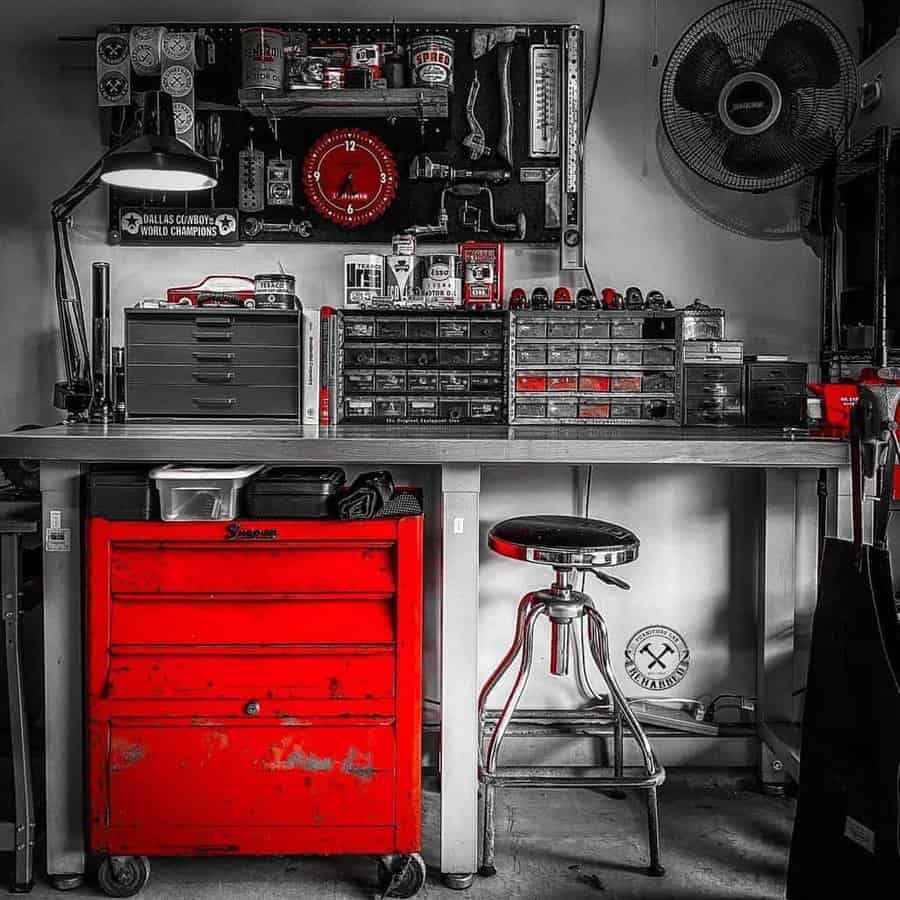 11. Smart Peg Board Workbench
A workbench goes beyond being a mere desk; it's an organization hub that streamlines your tasks. Opting for a workbench equipped with a built-in pegboard offers significant advantages for crafters, makers, and professionals.
This design allows you to have your most-used tools within easy reach, saving valuable time otherwise spent searching in drawers. A well-organized workbench with versatile compartments and storage options not only speeds up your work but also enhances overall efficiency.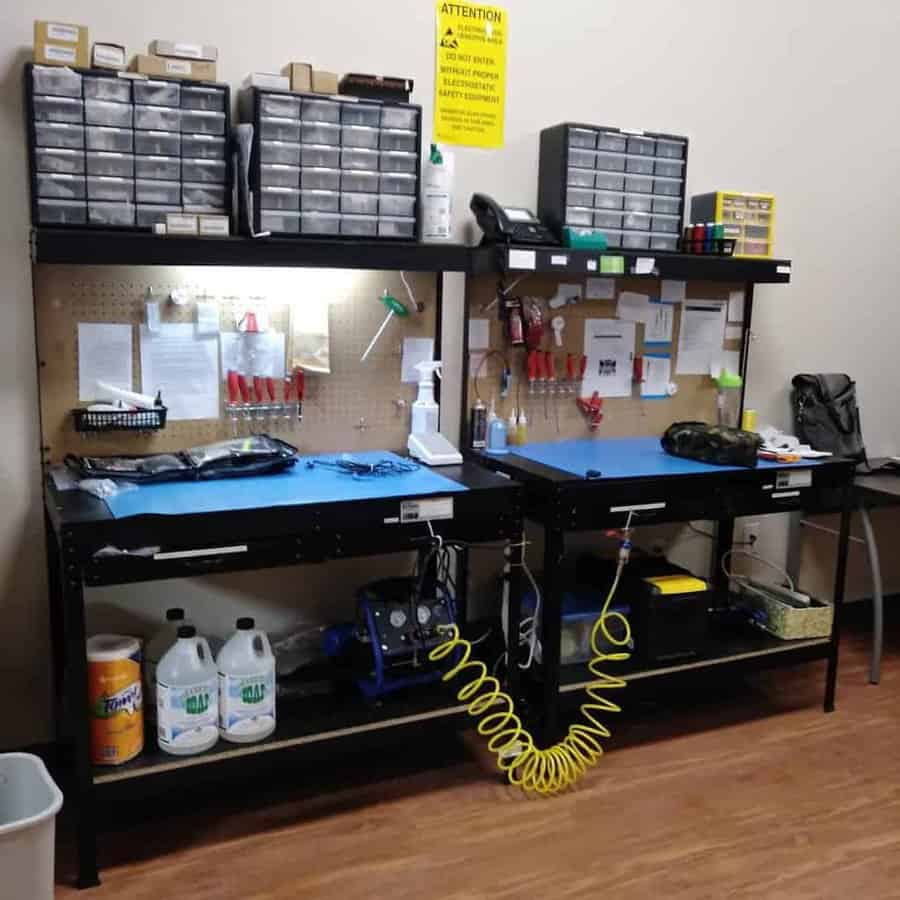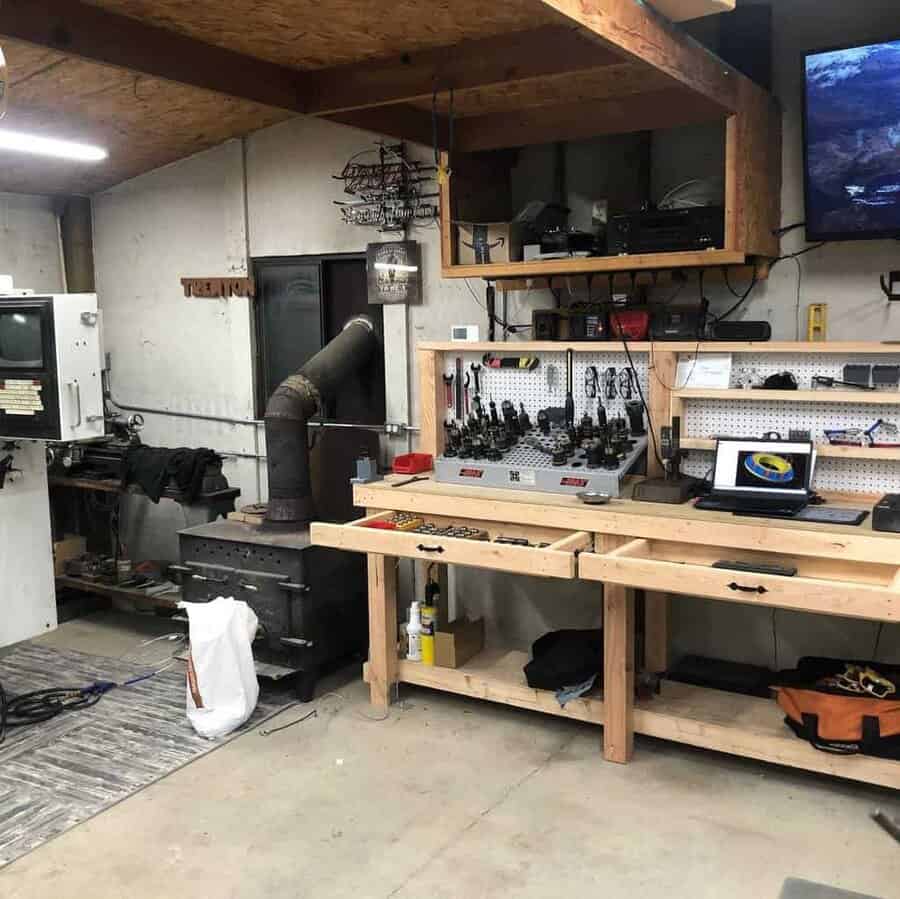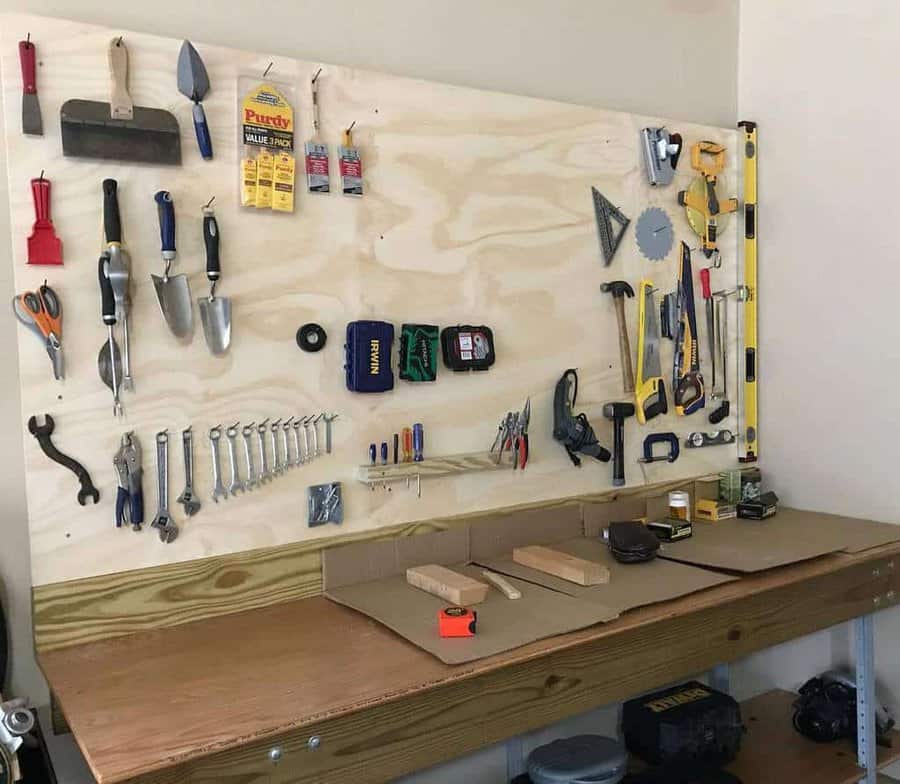 12. Circular Workspace Solutions
For those seeking a stylish and functional circular workspace, a workbench offers a versatile solution. These multi-purpose work desks provide ample room for seating and can be arranged at various angles to suit your needs. Their unique design not only maximizes your workspace but also adds a touch of elegance, enhancing your overall environment. Whether you're into crafting, planning, or business tasks, a workbench is a versatile tool that makes every task more enjoyable.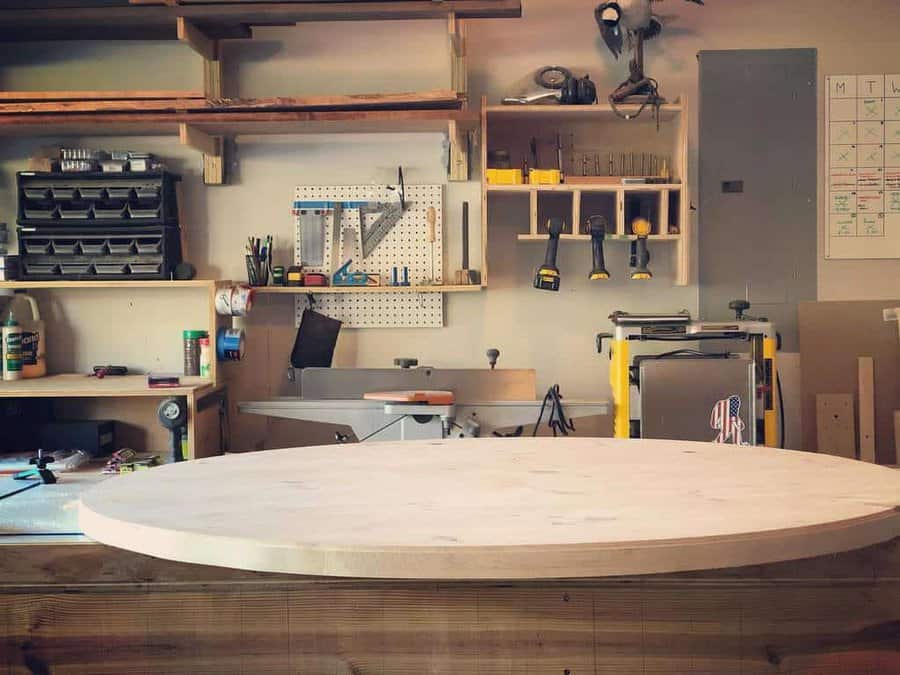 13. Custom Storage Workbench Setup
Elevate your workspace by investing in a custom storage workbench that's designed to meet your unique requirements. Whether you need a dedicated space for special projects or a well-organized area for equipment and tools, this workbench offers a solution tailored to your needs. Crafted with premium materials and expert craftsmanship, your custom storage workbench not only looks great but also stands up to everyday wear and tear, ensuring that everything you require is within arm's reach at all times.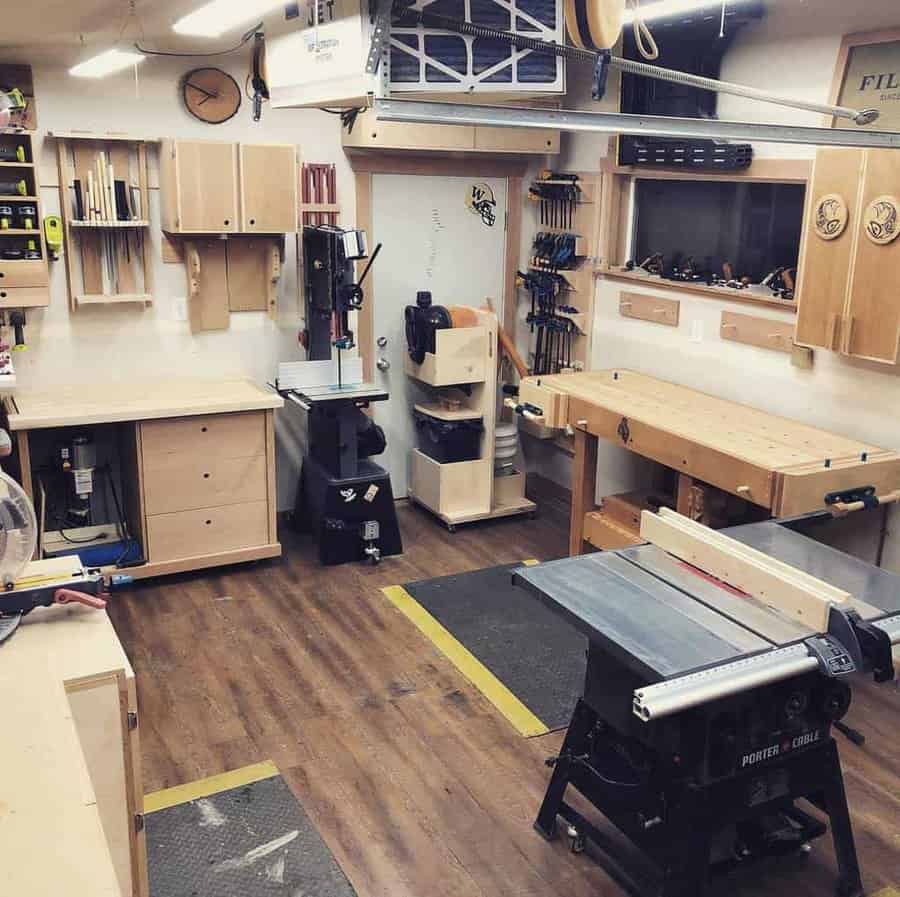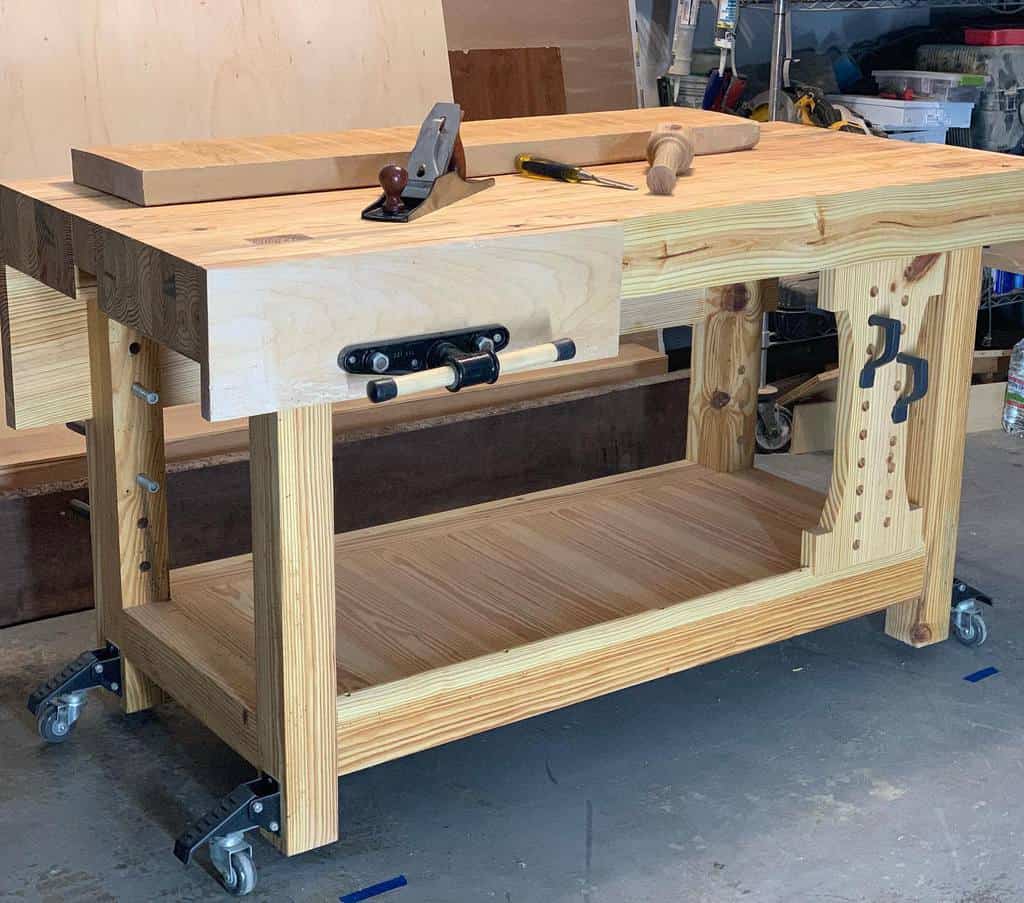 14. Neat Wall-Mounted Shelving
Crafting your dream workspace begins with selecting the right workbench. A wall-mounted shelving system extends your workspace without encroaching on precious floor area, making it ideal for hobbyists and professionals alike.
The customization options are limitless, allowing you to create a tailored workbench that suits your exact needs. Whether you require open-air shelves for paints and brushes or enclosed cabinets for delicate tools, customizing your storage solutions has never been more accessible or convenient. Integrate wall-mounted shelving into your workspace today and embark on the journey to create your ultimate workbench.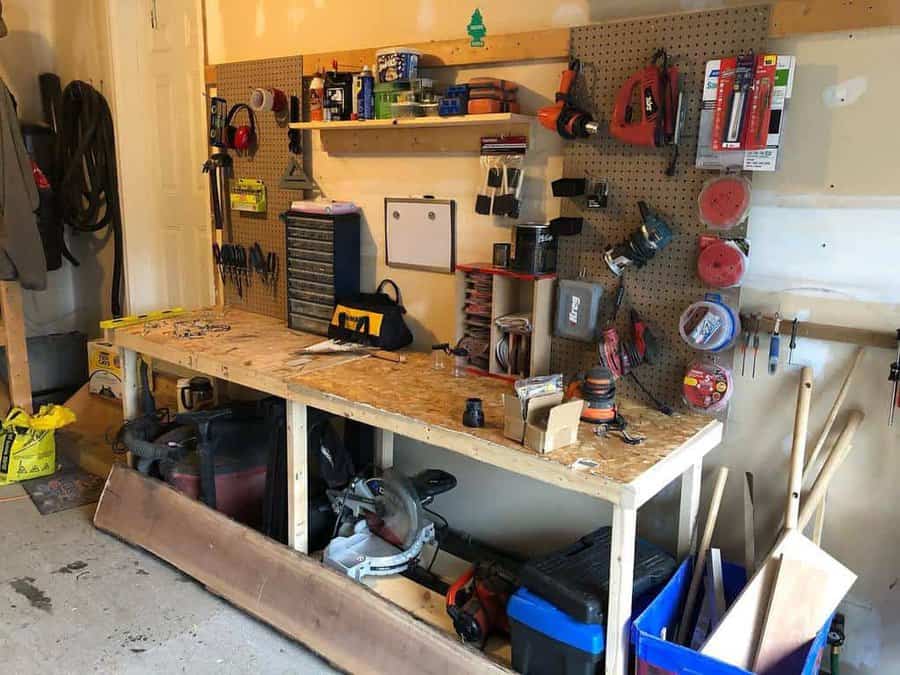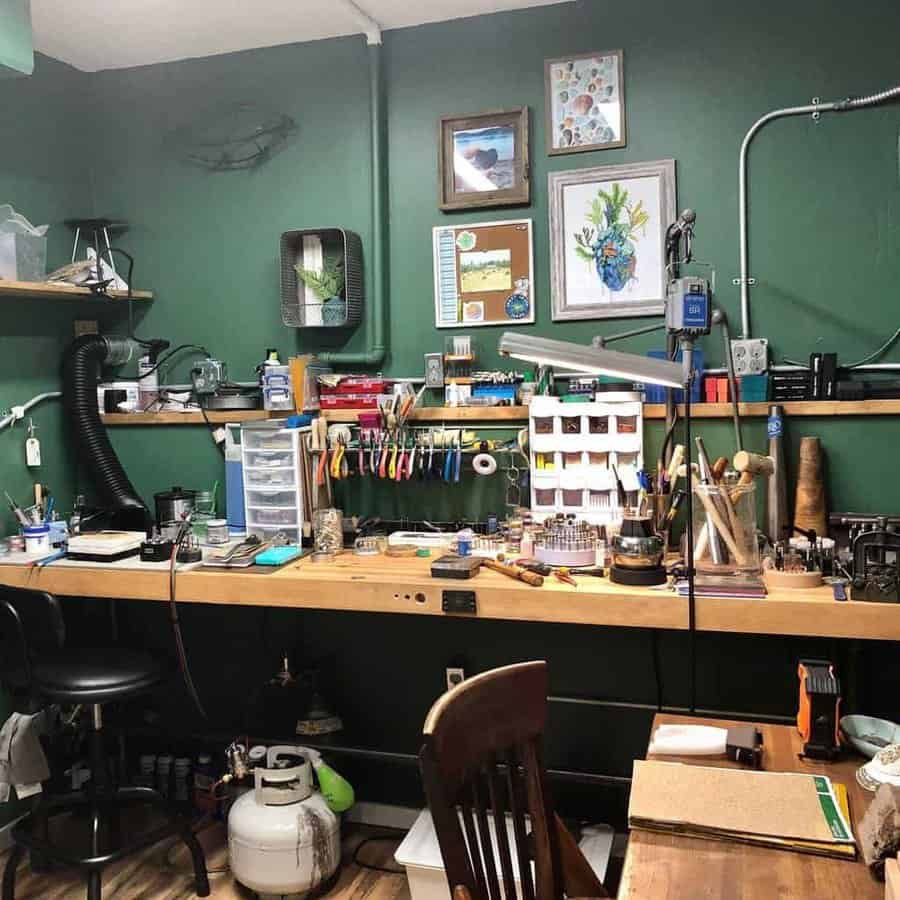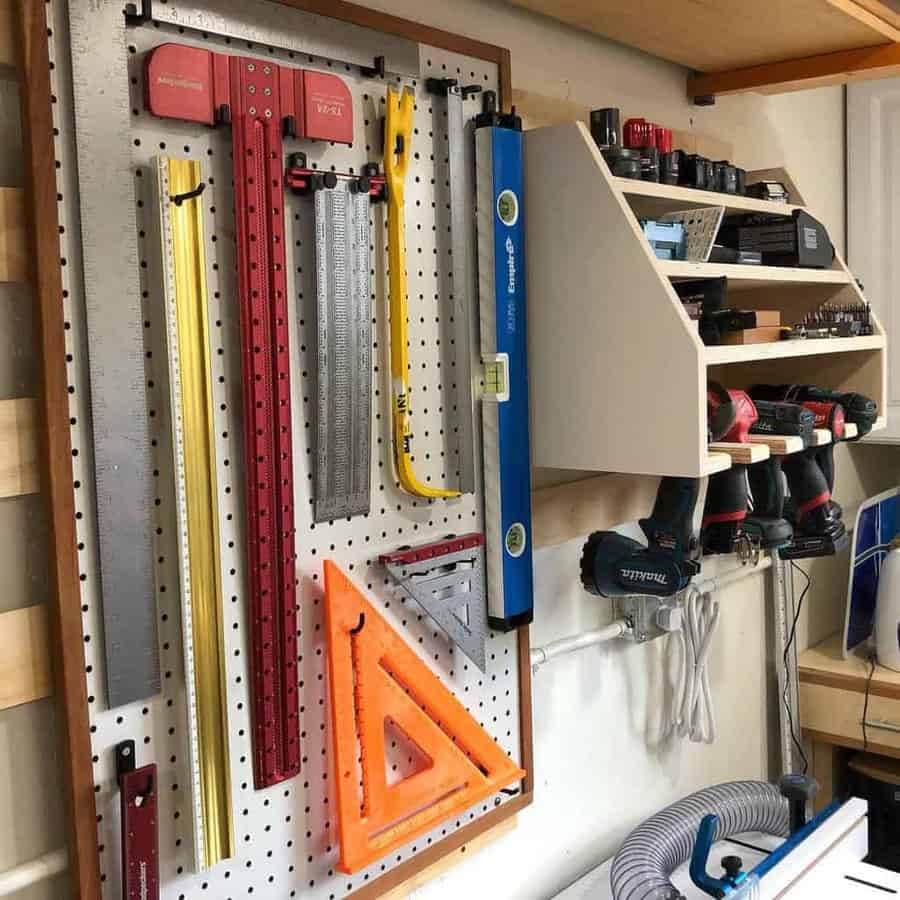 15. Illuminated Workbench Ideas
Selecting a workbench with custom storage and integrated drop lights can transform your workspace. Easy access to supplies and ample bright lighting can make a significant difference in the tasks you tackle, reducing work-related stress.
No more dealing with obscure shadows or inadequate illumination; the workbench and lights provide ample coverage. This organized workspace not only promotes efficiency but also enhances productivity, allowing you to focus on your work more effectively.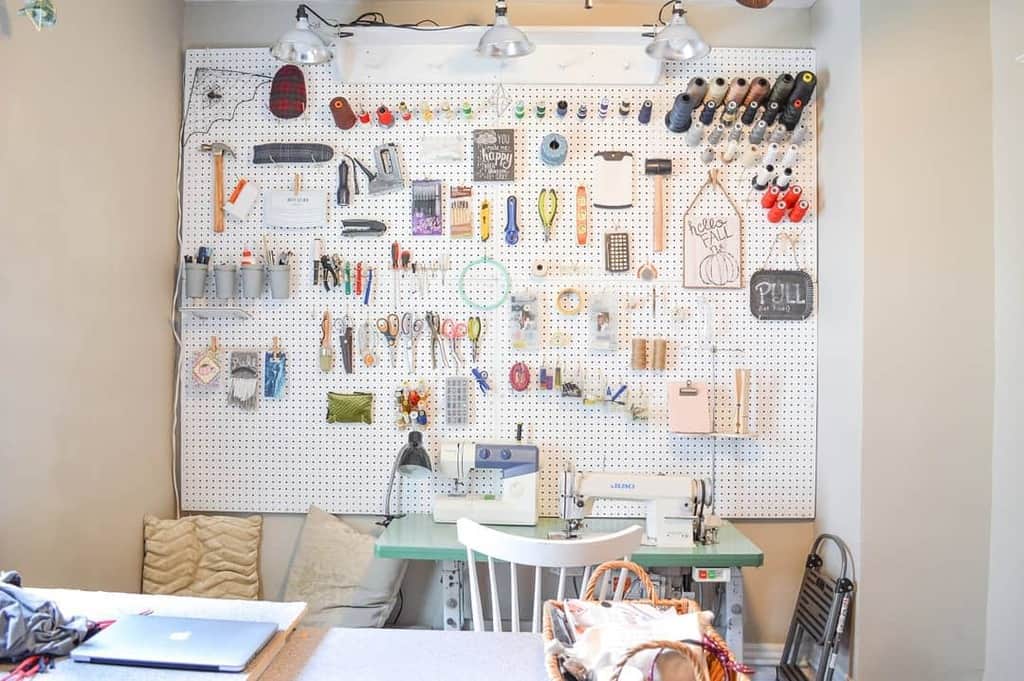 16. Compact Desk Organizers
Achieving an organized and clutter-free workspace becomes a breeze with a well-designed wood desk organizer. Whether you're holding drawing supplies or small tools, this versatile workbench with a desk organizer offers the ideal solution. Abundant slots and compartments ensure every item has a designated spot, allowing you to maintain focus on your tasks without distractions.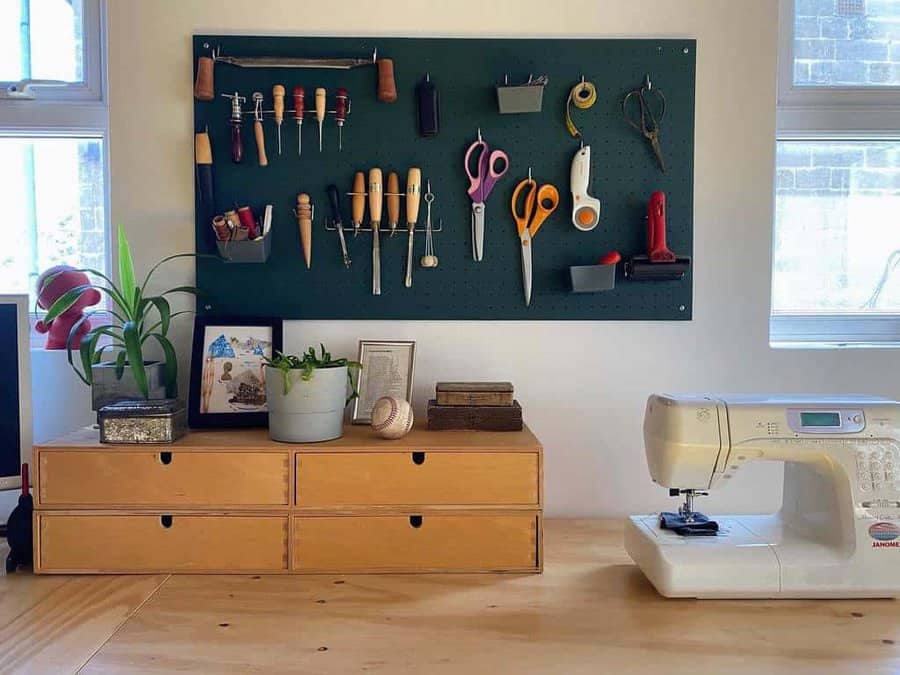 17. Stylish Framed Peg Boards
A framed peg board brings together practicality and modern design, making it an ideal choice for organizing tools and supplies. Invest in a framed peg board workbench to streamline your DIY tasks. The convenience of having every tool within arm's reach significantly enhances project efficiency and professionalism.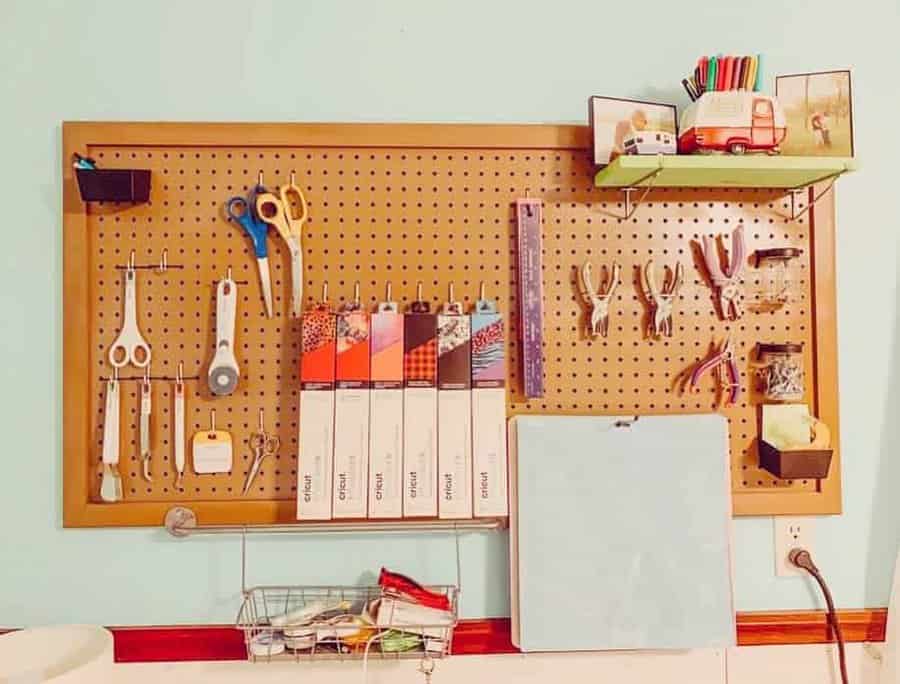 18. Flexible Pull-Out Workbench Furniture
For those seeking to optimize limited space, a workbench with pull-out furniture is an ingenious solution. It not only provides a functional work surface but also features cleverly hidden drawers for storage and organization.
This design is perfect for DIY enthusiasts, whether beginners or experts, who need to make the most of their workspace in small areas. Say goodbye to cramped storage spaces for tools and materials; simply push in the drawers and close the workbench when your task is complete, reclaiming your valuable space.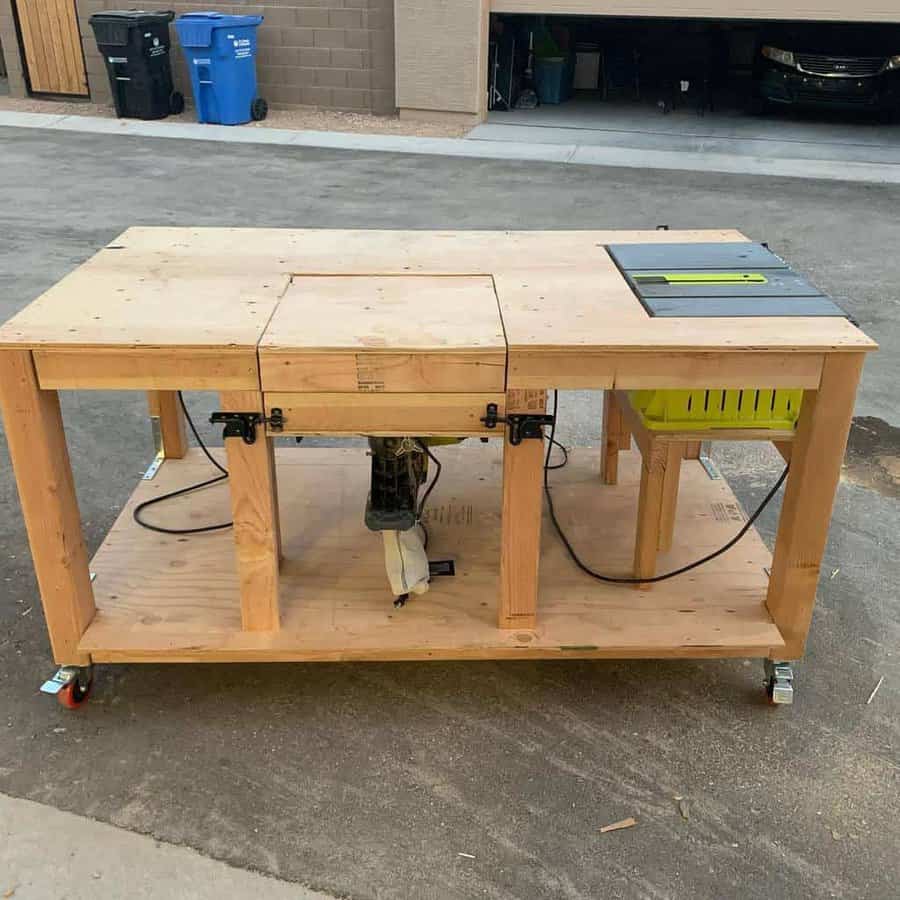 19. Divider-Equipped Workstations
A workbench with integrated space dividers is a game-changer for streamlining your work environment. This practical setup enables you to work smarter by providing dedicated spaces for tools, supplies, and ongoing projects, resulting in an organized workflow. Select a workbench that aligns with your specific needs and tasks to enjoy the benefits of a well-organized workspace, ultimately leading to higher satisfaction and enhanced productivity.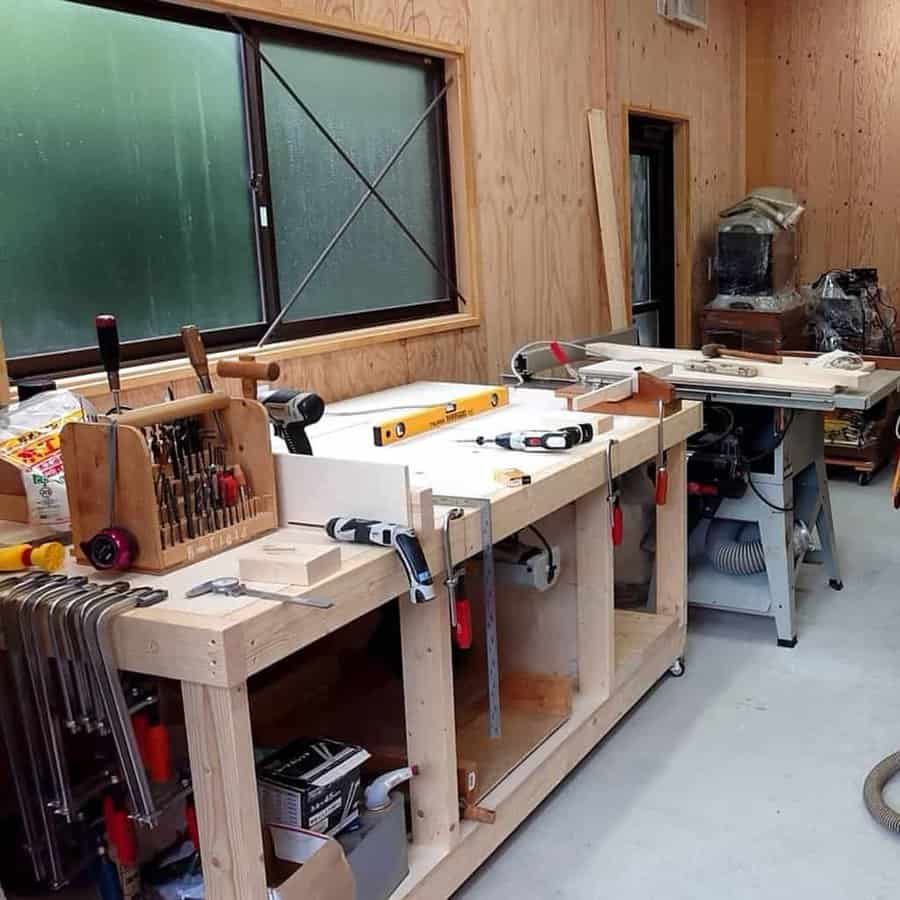 20. Theme-Inspired Workbench Concepts
Creating a themed workbench from repurposed materials is an exceptional way to infuse life and personality into your workspace while embarking on a fulfilling project. From crafting a distinctive tool storage center to harmonizing the themed decor of your office, the creative possibilities are boundless.
A themed workbench is a canvas for your imagination, allowing for personalization and uniqueness. Whether driven by practicality, aesthetics, or both, themed workbenches offer a remarkable opportunity to design a workspace that reflects your individuality.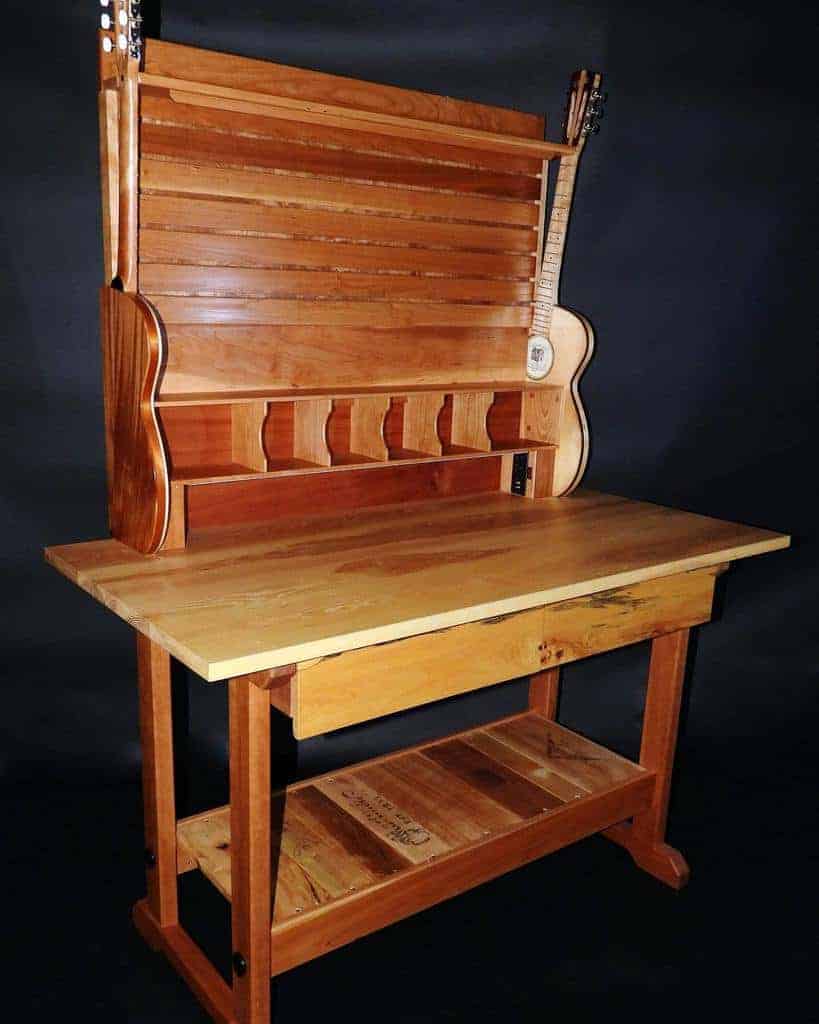 21. Elevated High Workstations
Investing in a high workbench, such as a mobile stand-up desk, can revolutionize your workspace, enhancing productivity, creativity, and ergonomics. These workstations offer a sleek, modern office appearance with adjustable heights to accommodate users of all sizes. They not only provide additional comfort but also eliminate the need for constant shifting between sitting and standing positions. This not only reduces fatigue but also improves focus, particularly when working with interactive applications such as graphic design, coding, or programming. Enjoy a pain-free, productive workday by incorporating a high workstation into your workspace.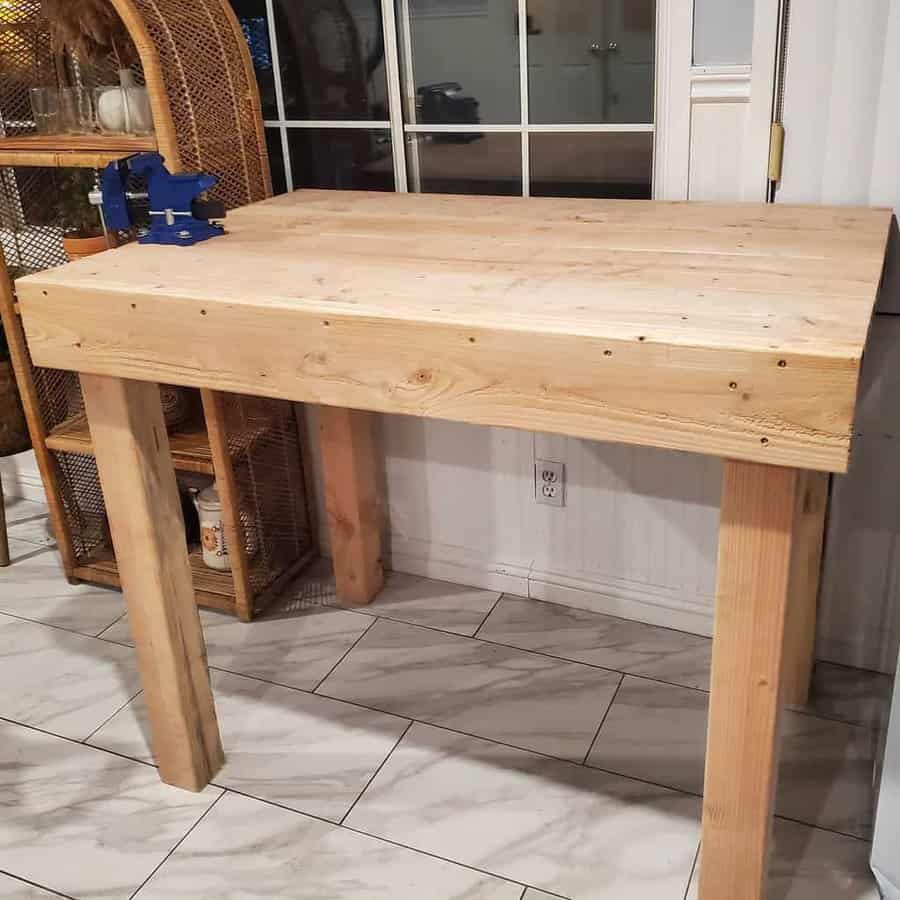 22. Vibrant Workbenches with Color Accents
Enhance the character of your workshop by introducing color accents to your workbench's legs. The fusion of wood and paint allows you to craft a tool space that blends professionalism with creativity. Embracing vibrant colors infuses an infectious energy into your workbench, inspiring you to tackle challenges and explore inventive solutions. With such a stylish workbench, your workspace will become a hub of inspiration.
23. Creative Kids' Workbenches
Kids' workbenches are an enchanting space where children's creativity and ingenuity can flourish. They offer a secure and engaging environment for kids to explore their budding handyman skills while providing parents with peace of mind.
Smaller-sized workbenches are a fantastic addition to any home, especially for families with limited space. Whether your children aspire to build robots or embark on rustic woodcraft projects, a dedicated workbench becomes their haven for imaginative play.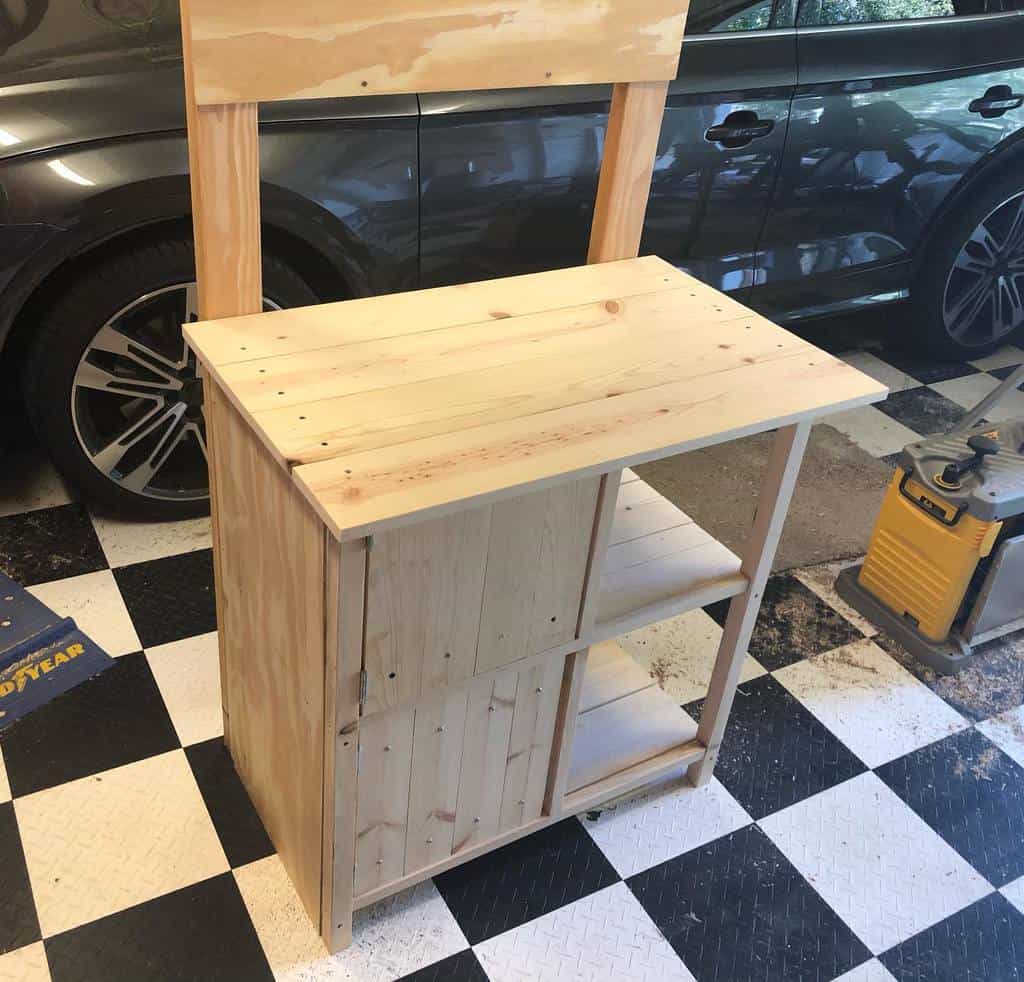 24. Wall-Mounted Workspace Solutions
Efficiency and productivity come together with a wall-mounted workbench for your DIY projects. This space-saving solution offers a well-organized workspace with ample storage, a crafting area, and readily accessible power tools.
The design prioritizes organization, ensuring that your essential tools and materials are at your fingertips, leading to higher productivity and better project outcomes. Integrate this wall-mounted workspace into your home or garage to streamline your DIY endeavors, bringing order, creativity, and efficiency under one roof.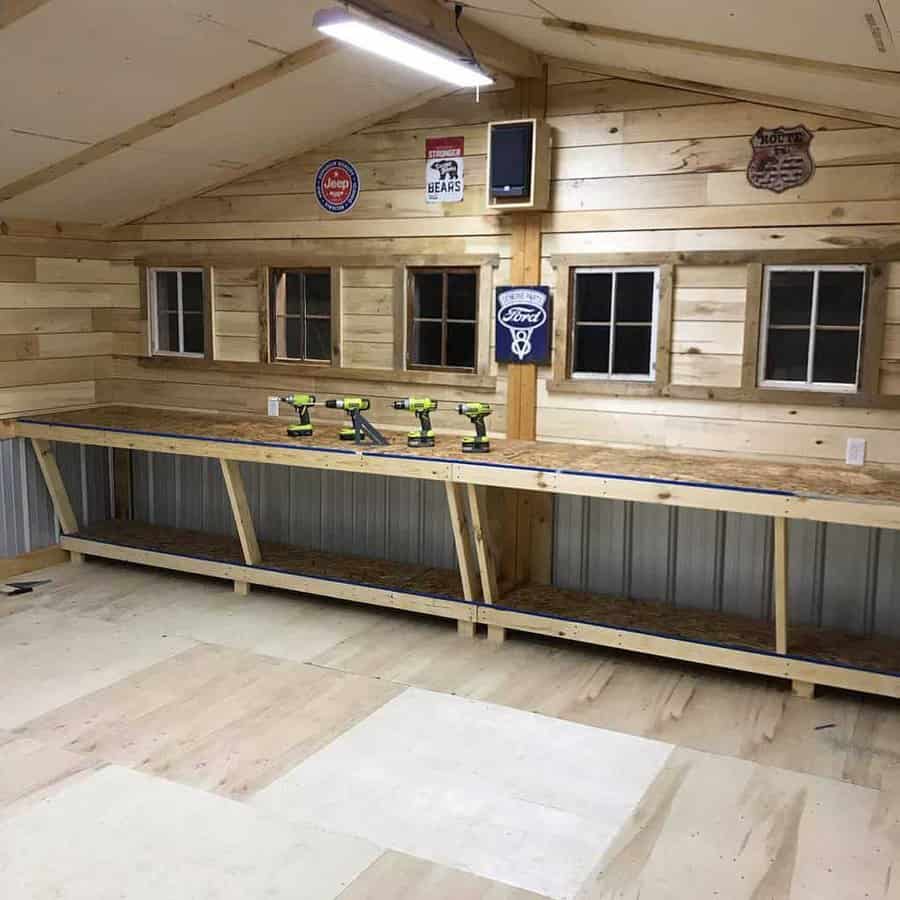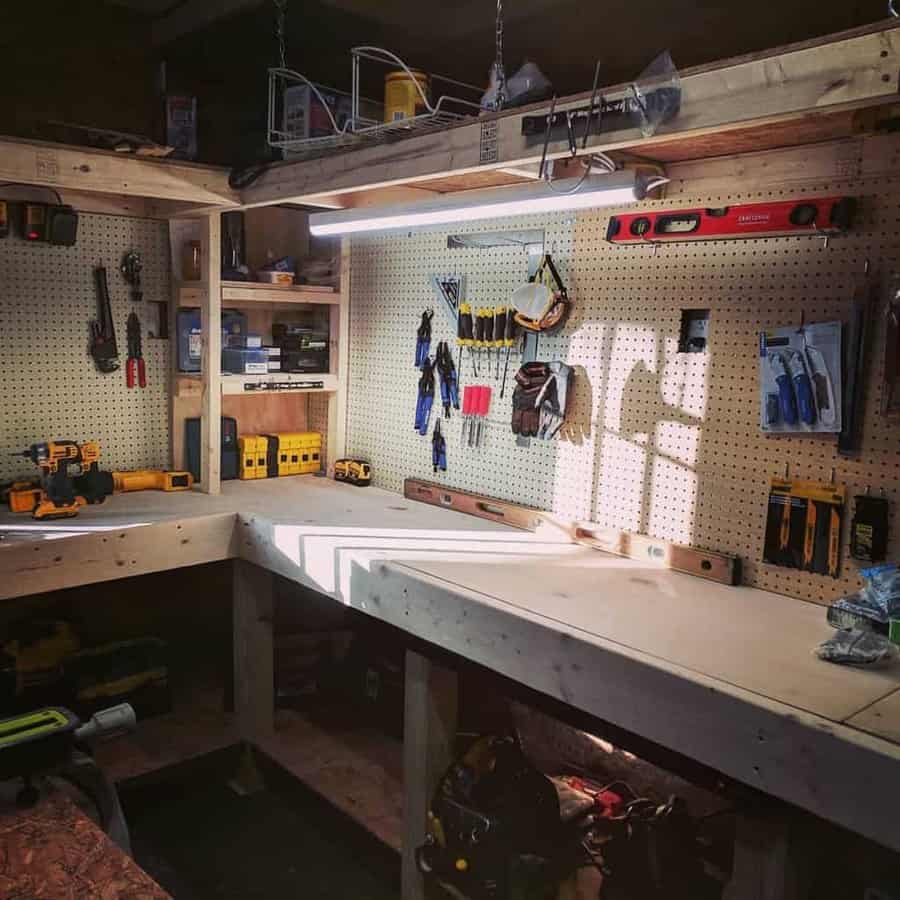 Workbench FAQs
What is the best height for a workbench?
In woodworking, the standard workbench height is 34 inches. This is also the standard height of a table saw, making it easy to switch between the two work surfaces.
With that said, the best height for a workbench is whatever best meets your needs. Some DIYers even opt for an adjustable top that can be raised or lowered as needed.
Where can I find DIY workbench build plans?
The woodworking community is full of people eager to share their knowledge and creativity with newcomers. This includes build plans for projects like dog houses, fencing, and even workbenches.
Many beginner woodworkers opt for a free workbench plan for their first project. However, there are tons of paid build plans out there that are 100% worth the cost.
These plans can be a valuable resource even if you plan to design your workbench from scratch. Finding a simple workbench plan you like can give you a starting point for your own project, including what materials and tools you will need.