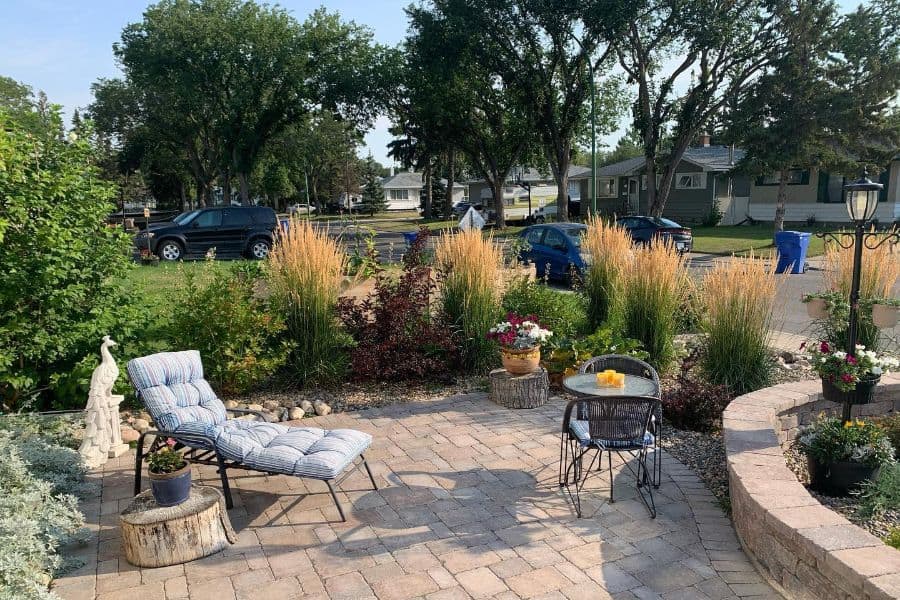 The Top 62 Xeriscape Ideas
Do you want to lead a more sustainable lifestyle? There's no better place to start than xeriscaping.
The most common examples of xeriscaping feature native desert plants like cacti and succulents.
It's also true that the word xeriscape is derived from "xeric," which means dry. But you can use xeriscaping principles in any climate by choosing native, drought-tolerant plants that don't need an irrigation system to survive.
Check out our favorite xeriscape ideas and how you can reduce your water consumption just by reinventing your home's landscaping.
1. Backyard
The perfect backyard should look great and be functional. While that can mean something different for every household, we can all agree that a more sustainable backyard is good for both us and the planet.
Many homeowners feel conflicted about giving up a green lawn in favor of less water usage. If that sounds like you, consider planting a low-maintenance species like buffalo grass.
One of the most important things to remember is that xeriscaping doesn't need to be all or nothing. Even converting a small section of lawn can make a huge difference in the amount of water consumed for irrigation
2. Desert
We can't stress enough that xeriscaping isn't just for those living in the desert. But we'd be remiss to ignore how xeriscaping has shaped landscape trends across the southwestern United States and abroad.
Maintaining turf grass or deciduous trees in arid climates isn't easy. Some homeowners invest tons of time and money into watering their landscaping. Others opt for a drought-tolerant design from the get-go.
Cacti and succulents are some of the only plants that can survive the harsh conditions of the desert. Rather than being a hindrance to great landscape design, this often results in some of the most unique gardens you'll ever come across!
3. Design
Xeriscaping often borrows inspiration from zen gardens, modernism, and American Southwest landscaping. However, because xeriscaping is about function rather than form, you can pull ideas from anywhere you like.
Explore ways to add intrigue to your landscaping before you even add plants. Hardscaping elements like tiered garden beds and pathways are excellent ways to bring shape and dimension to the space.
The most popular xeric plants are usually quite structured. You can easily take advantage of this by creating geometric shapes and symmetry in your garden layout.
4. Flowers
Are you hesitant to turn your own yard into a xeriscape? There's a good chance it's because you think water conservation needs to be drab and colorless. But there's a surprising number of flower cultivars that align with xeriscape principles!
Popular species include yarrow, evening primrose, butterfly bush, coneflowers, and poppies. These flowering plants are a great way to add color to your water-conscious landscape.
Remember that the ideal plant selection will vary by region. Fill your flower bed with native species for the most sustainable garden possible.
5. Front Yard
The first step to a drought-tolerant lawn is to eliminate as much turf grass as possible. Whether you live in a desert or not, grass is one of the most high-maintenance plants you can put in your front yard.
In more temperate climates, you can mimic the appearance of a lush grass lawn with native ground cover species. Popular examples include prairie clover, pachysandra, and even moss. These plants make great filler around hardscape elements like paving stones.
If you'd rather skip the ground cover entirely, use organic mulch or gravel to protect your yard's topsoil. Add xeric plants like ornamental grass and shrubs that are appropriate for your climate.
6. Garden
Yes, growing a garden that doesn't rely on irrigation can be frustrating. But it's not impossible. Remember that the plants you choose to grow will make or break your xeriscape garden.
If you're unfamiliar with the cottage garden trend, now is the perfect time to start learning! Cottage gardens feature a blend of native plants and hardy herbs. This is the perfect solution for anyone wanting to grow a sustainable garden in a more temperate climate.
In some cases, it's nearly impossible to maintain a garden without additional watering. Invest in a rain barrel for times when the weather is especially dry.
7. Landscape
Creating an aesthetically pleasing xeriscape design can be extremely daunting.
In reality, effective landscaping comes down to a handful of factors. The factors you have the most control over include things like color, shape, height, and texture.
Traditional landscaping relies heavily on different plant types for visual intrigue. Take advantage of hardscaping to supplement your landscape design. Colored gravel will bring incredible vibrancy to a desert garden. Tiered planters will make the space feel multidimensional.
With that said, you can achieve amazing results with xeriscape plants. Choose plant species with varying growth patterns, foliage textures, and colors. With a little creativity, your design will outshine even the most water-hungry landscaping.
8. Low Maintenance
The beauty of xeriscaping is that it is low-maintenance by default. But there are always ways to make your weekend to-do list a little shorter.
Avoid planting annuals (or keep their use to a minimum). While these plants offer a fresh look each season, they must be replanted every year. Instead, choose a range of perennial species that bloom throughout the year.
Unless your xeriscape is completely irrigation-free, it's worth the effort to invest in an efficient watering system. Drip irrigation is a great solution for vegetable gardening or mainstay landscape plants.
Build a sloped rain garden into your property to reap the full benefit of Mother Nature's irrigation.
9. Plants
Of course, succulents and cacti are the perfect addition to any arid landscape. But you might be surprised to learn just how diverse these plant families really are. For example, you can use jade to mimic the look of deciduous trees.
And succulents aren't just something you can grow in the desert. Hardy varieties like sempervivum and stonecrop sedum survive freezing temperatures with ease. Other species can be grown in colder areas but must be brought inside during the winter months.
While you can't go wrong with these classics, not everyone enjoys the super-structured look of cacti and succulents. Use native grass and shrub species to fill in the gaps for a more organic appearance.
10. Rocks
A rock garden is the perfect complement to xeriscaping as a whole. Gravel also makes a great alternative to wood mulch, especially when it comes to filtering rainwater down into the soil underneath.
You'll often see gravel used as ground cover in xeriscape landscaping. Not only does gravel prevent erosion in the absence of a grass lawn but it also chokes out weeds at the source. Use fine gravel around your landscape plants for a polished look.
If you feel like your landscape design is missing something, try adding a few large ornamental rocks. You can also utilize natural stone for seating, pathways, retaining walls, and garden borders.
11. Walkway
Designing a xeriscape-friendly walkway should be a no-brainer, right? Actually, walkways and other hard surfaces can prevent water from entering the soil. This can deprive your garden of natural irrigation and increase erosion.
The more permeable your walkway the better. Spaced pavers are the easiest way to achieve this. If you have your heart set on a solid path or patio slab, you'll be happy to know that permeable concrete is an option.
While it should go without saying, use common sense when landscaping around pathways and other usable spaces. That cactus might be small now. But you don't want a spiny branch protruding over your garden walkway in a year's time!
Xeriscape FAQs
What are the benefits of xeriscaping?
The biggest benefit of xeriscaping is that it requires very few resources. Planting native species can eliminate the need for chemical fertilizers and pesticides.
Many homeowners even save money by switching to a xeriscape landscape design. This is because native plants need minimal upkeep.
Can you use fertilizer in xeriscaping?
Yes, you can use fertilizer in xeriscaping. But since xeriscaping is all about reducing the number of resources used for landscaping, you want to keep your fertilizer use to a minimum.
The best way to limit how much fertilizer your garden needs is by choosing native plants. It's also good practice to perform a soil test before fertilizing to determine exactly which nutrients are missing.
Should you use mulch in your xeriscape?
Mulch is extremely important to successful xeriscaping for a variety of reasons. Whether you use wood chips, gravel, rocks, or compost, mulch slows the evaporation of moisture from the soil. A layer of mulch can also help prevent erosion caused by wind, rain, and foot traffic.