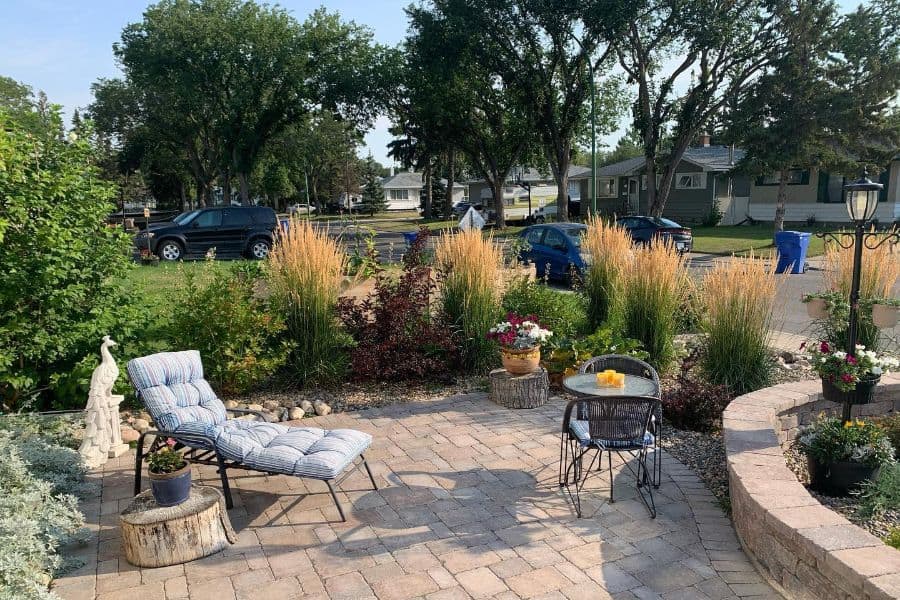 The Top 62 Xeriscape Ideas
Do you want to lead a more sustainable lifestyle? There's no better place to start than xeriscaping.
The most common examples of xeriscaping feature native desert plants like cacti and succulents.
It's also true that the word xeriscape is derived from "xeric," which means dry. But you can use xeriscaping principles in any climate by choosing native, drought-tolerant plants that don't need an irrigation system to survive.
Check out our favorite xeriscape ideas and how you can reduce your water consumption just by reinventing your home's landscaping.
1. Gravel Xeriscape
With its natural charm and rugged appeal, a gravel xeriscape creates a striking landscape that requires minimal watering and upkeep. The use of gravel not only conserves water but also provides excellent drainage, preventing soil erosion and creating a durable surface that withstands the test of time.
Imagine a landscape adorned with an assortment of drought-tolerant plants, nestled among a bed of decorative gravel. The contrasting textures and colors of the gravel add depth and visual interest to your outdoor oasis. Create winding paths and add strategically placed boulders for an organic and visually appealing layout.
The beauty of gravel xeriscaping lies in its versatility – you can tailor the design to fit your personal style, whether it's a contemporary Zen garden or a rustic desert-inspired retreat.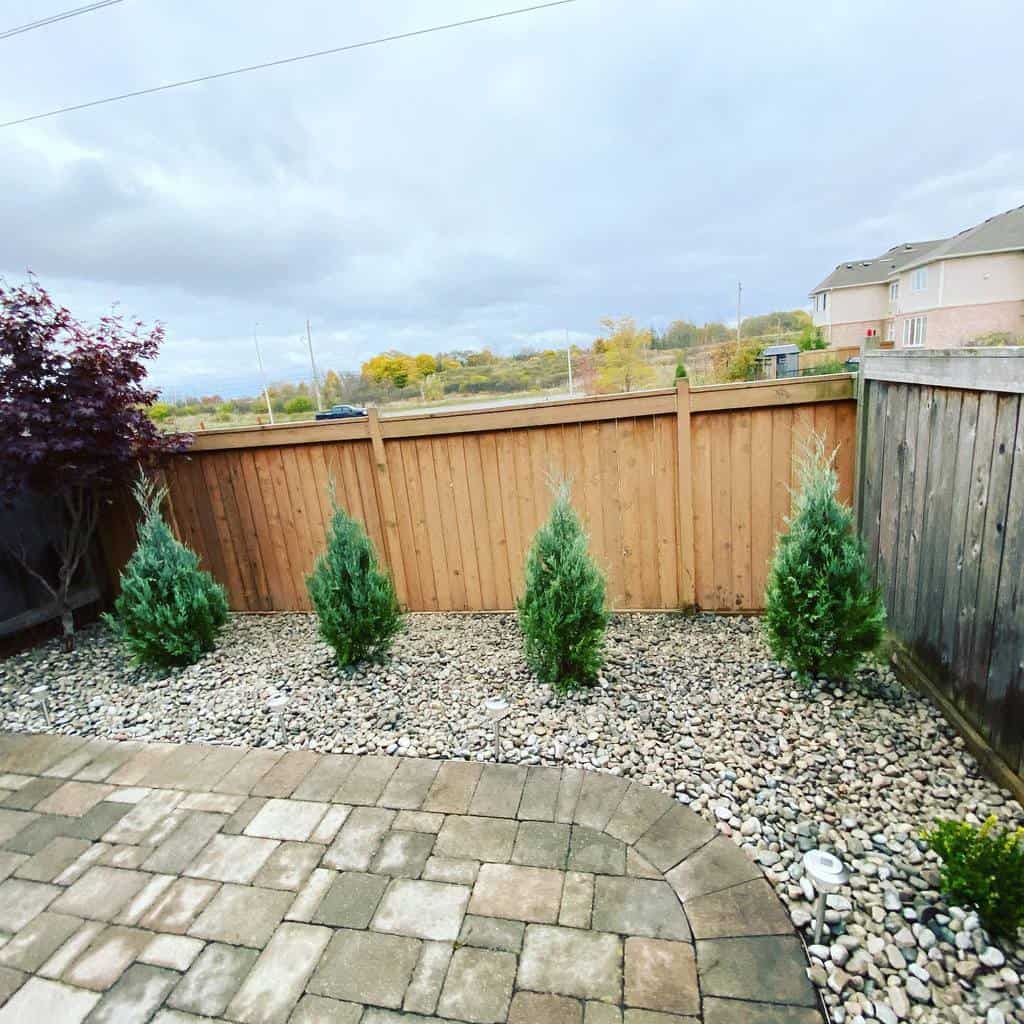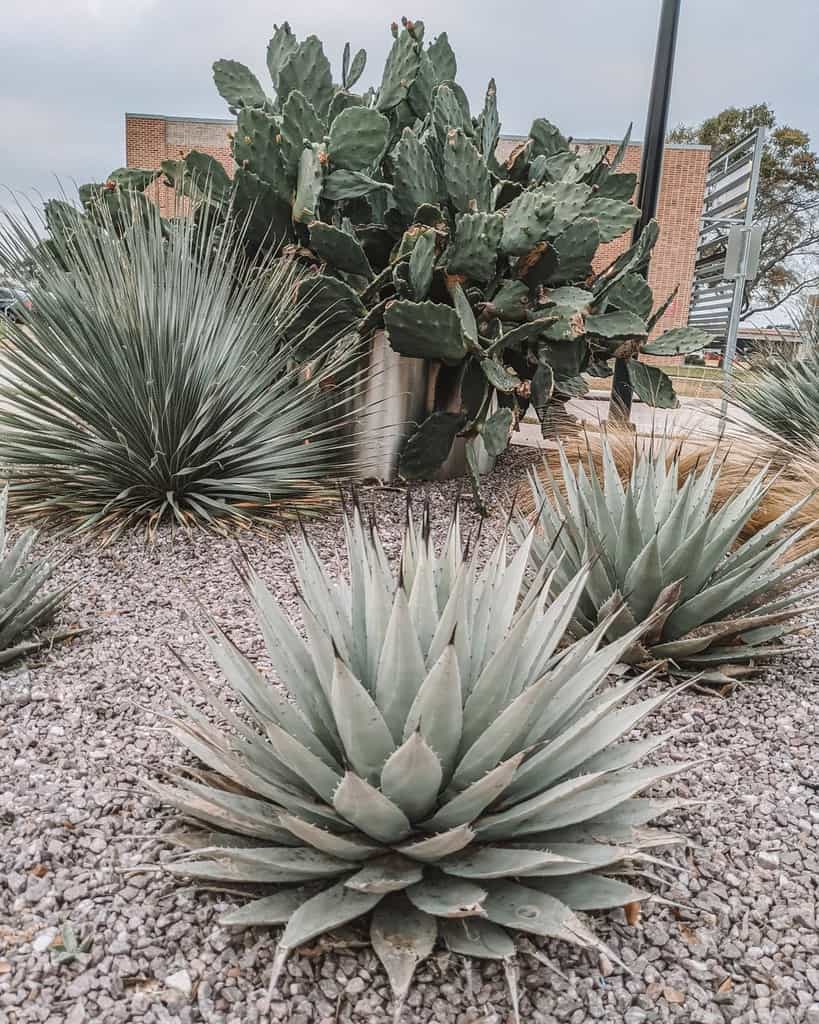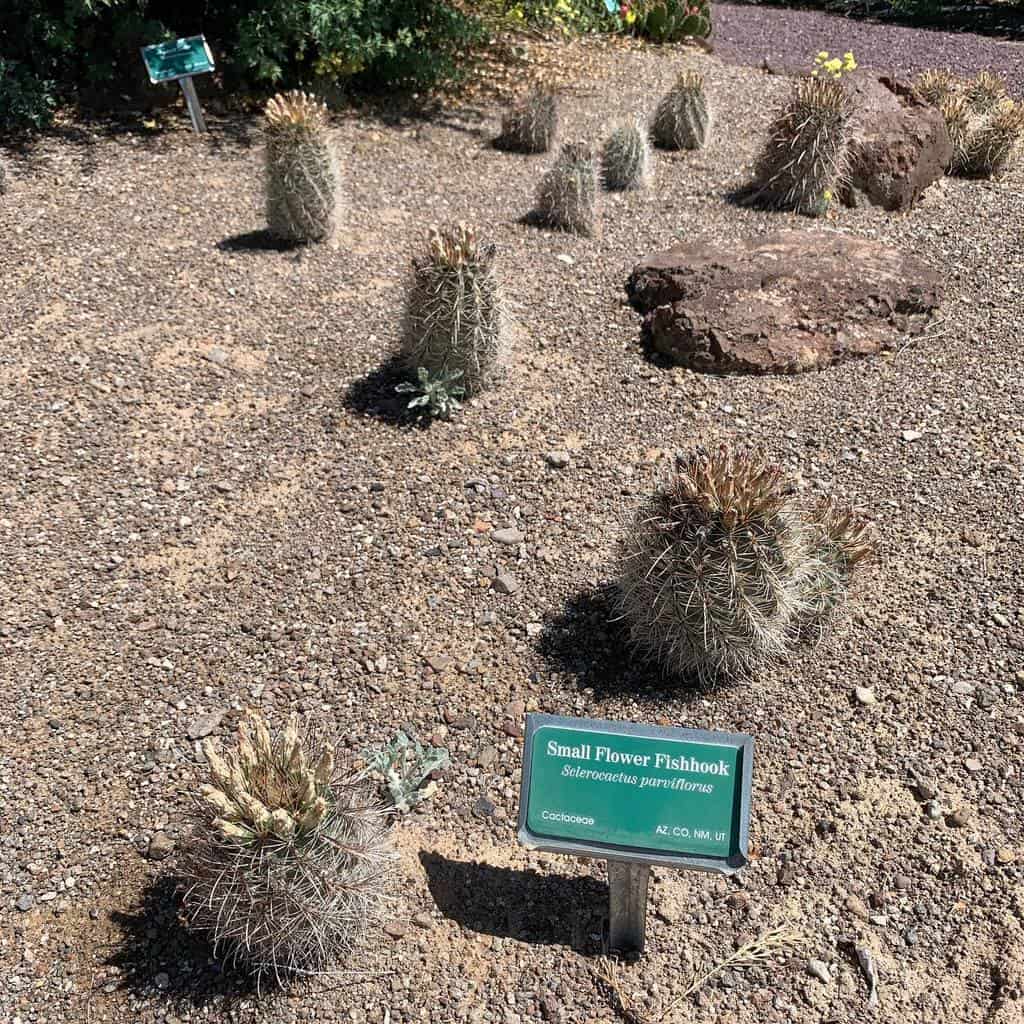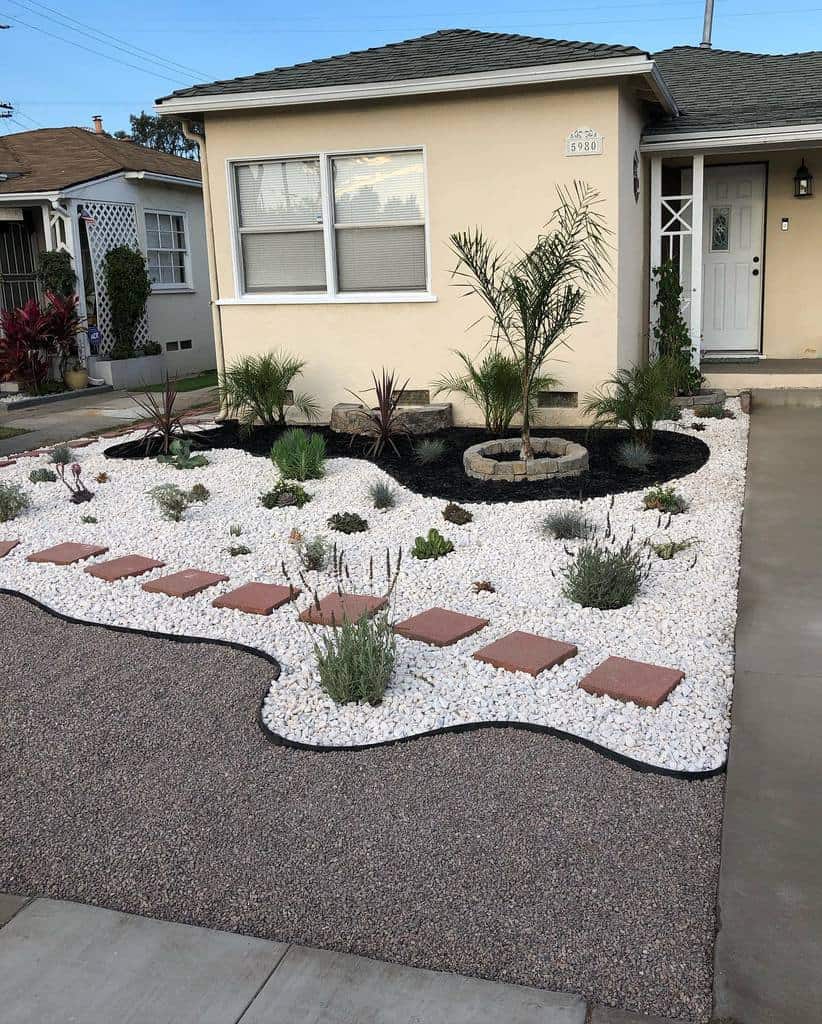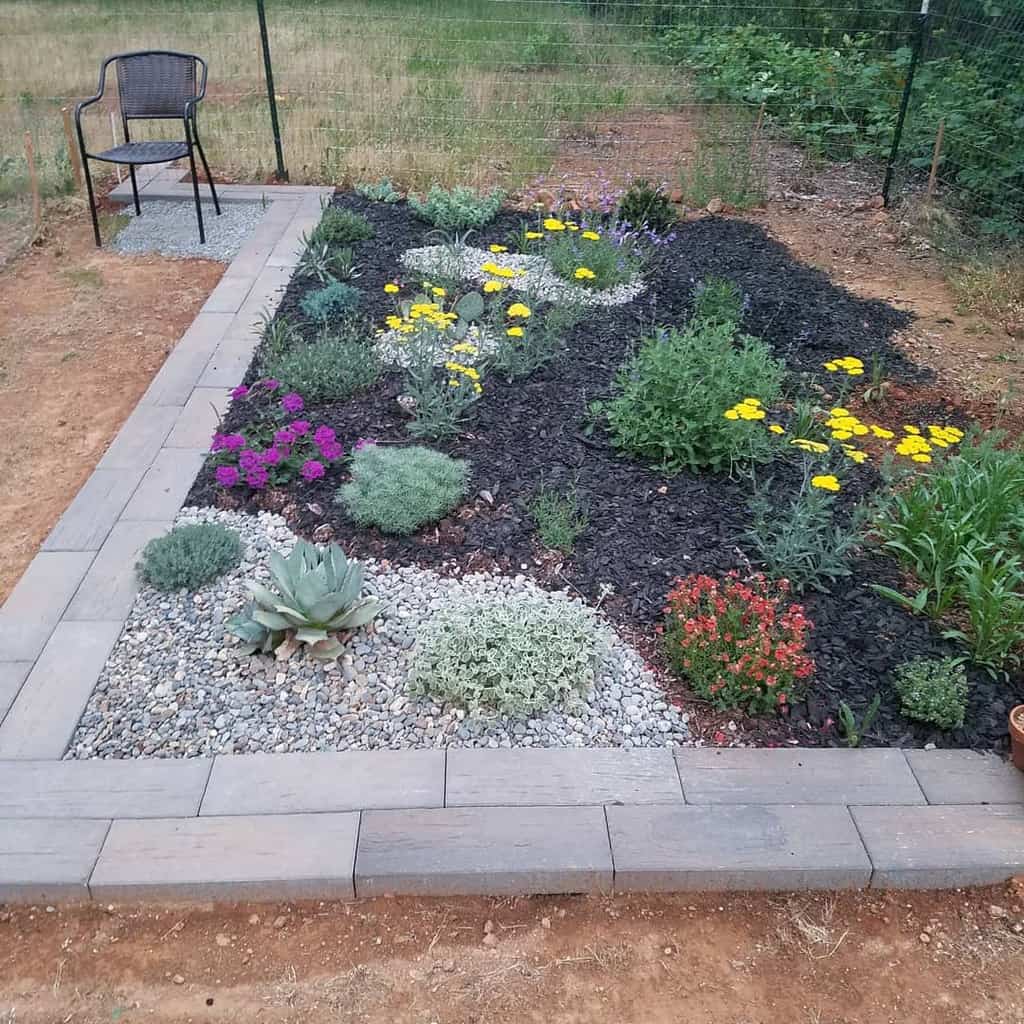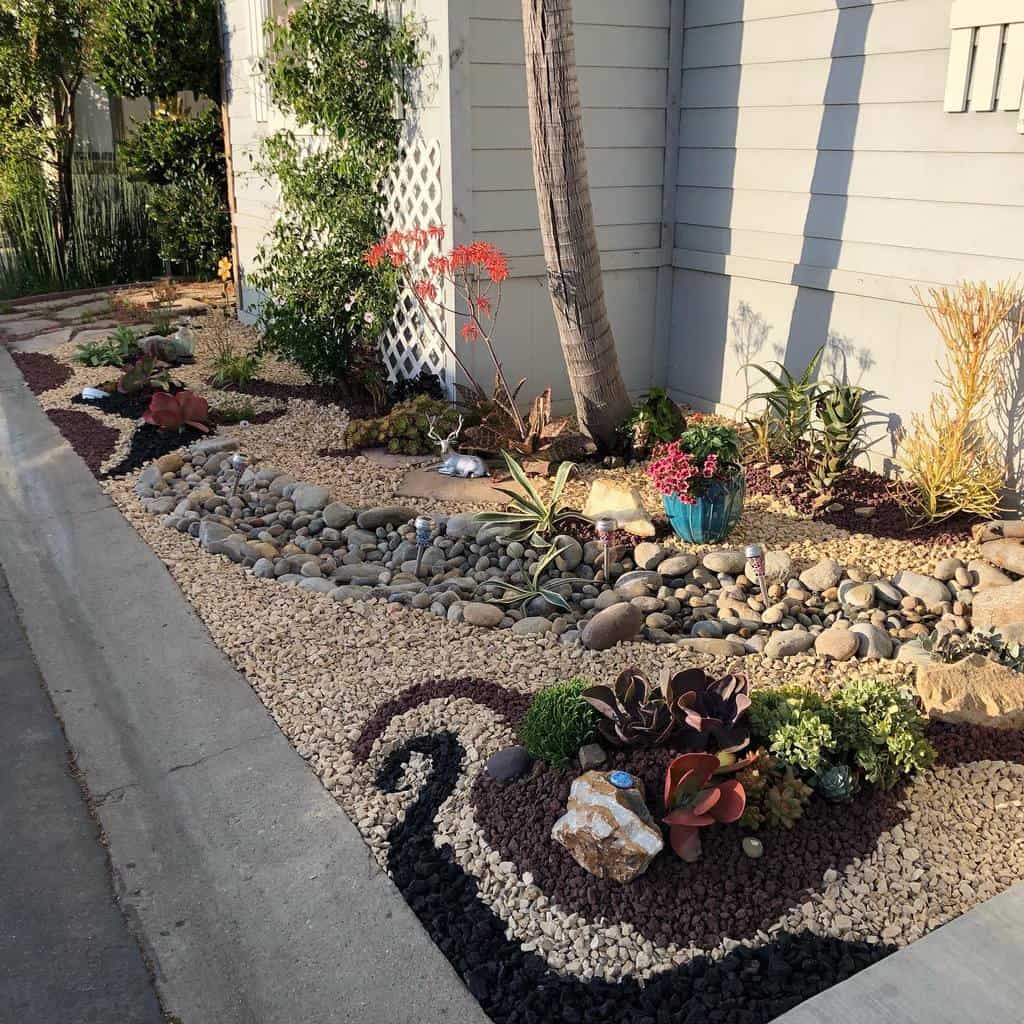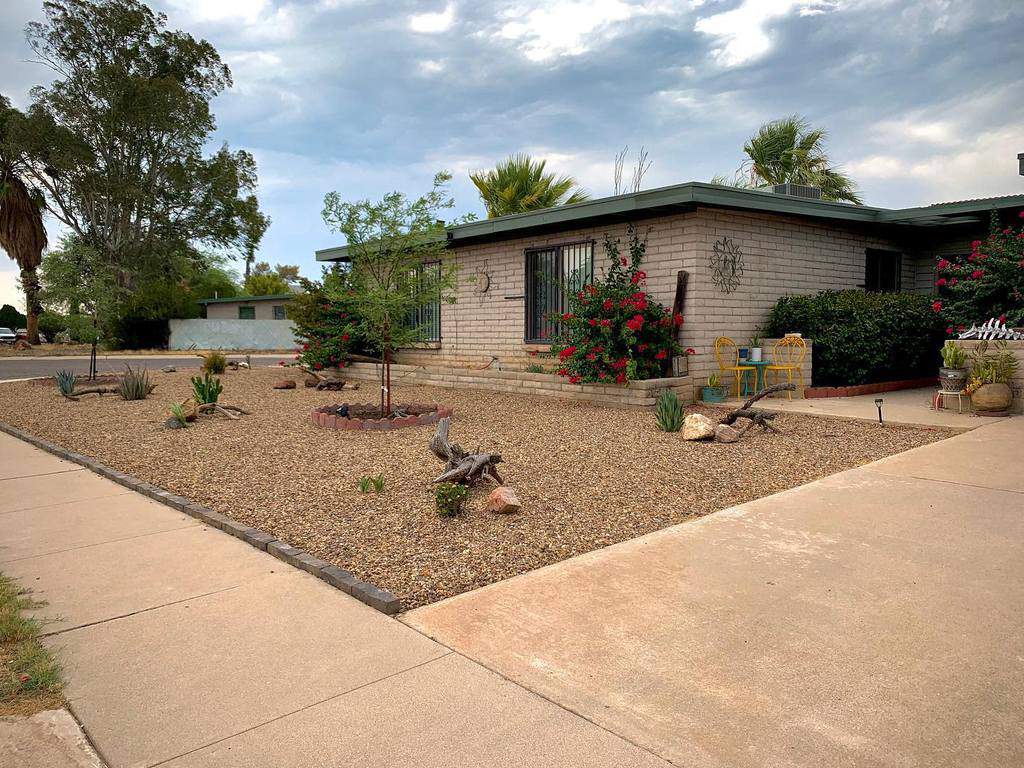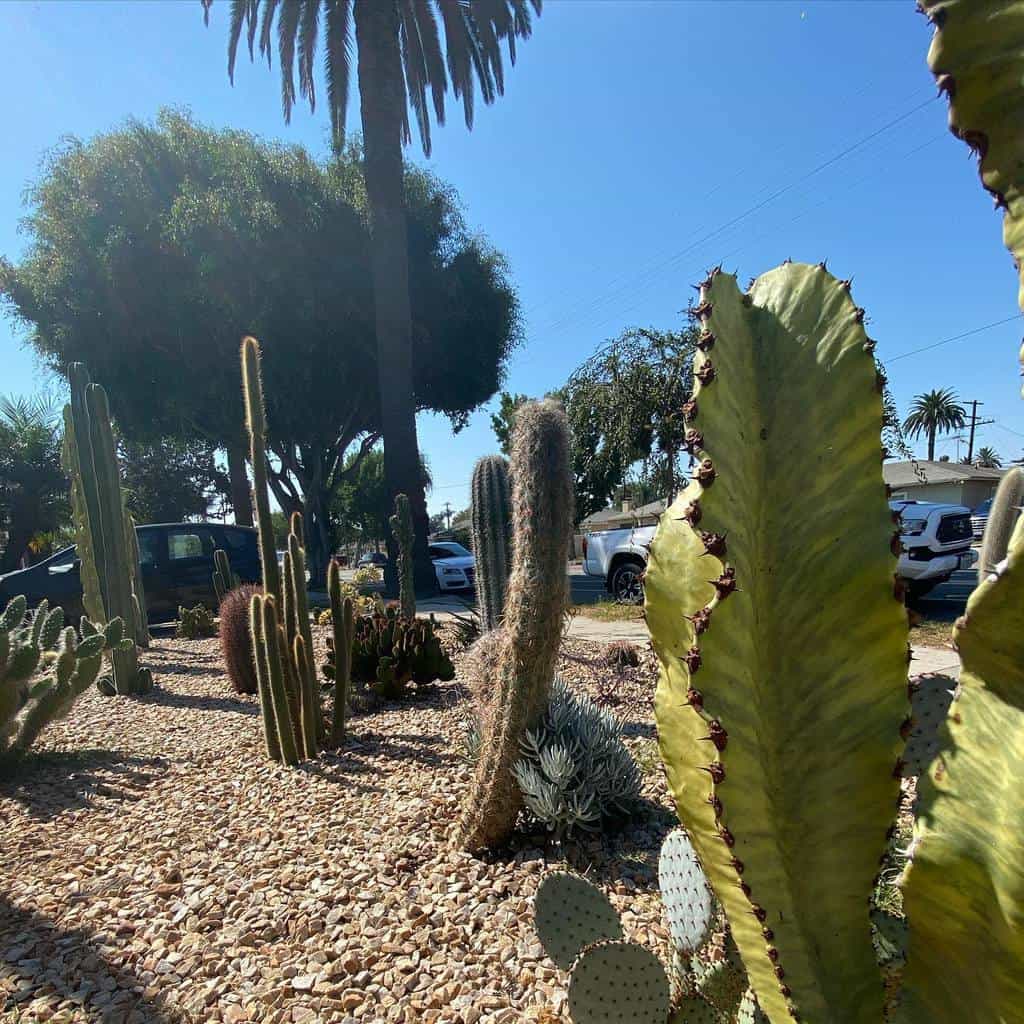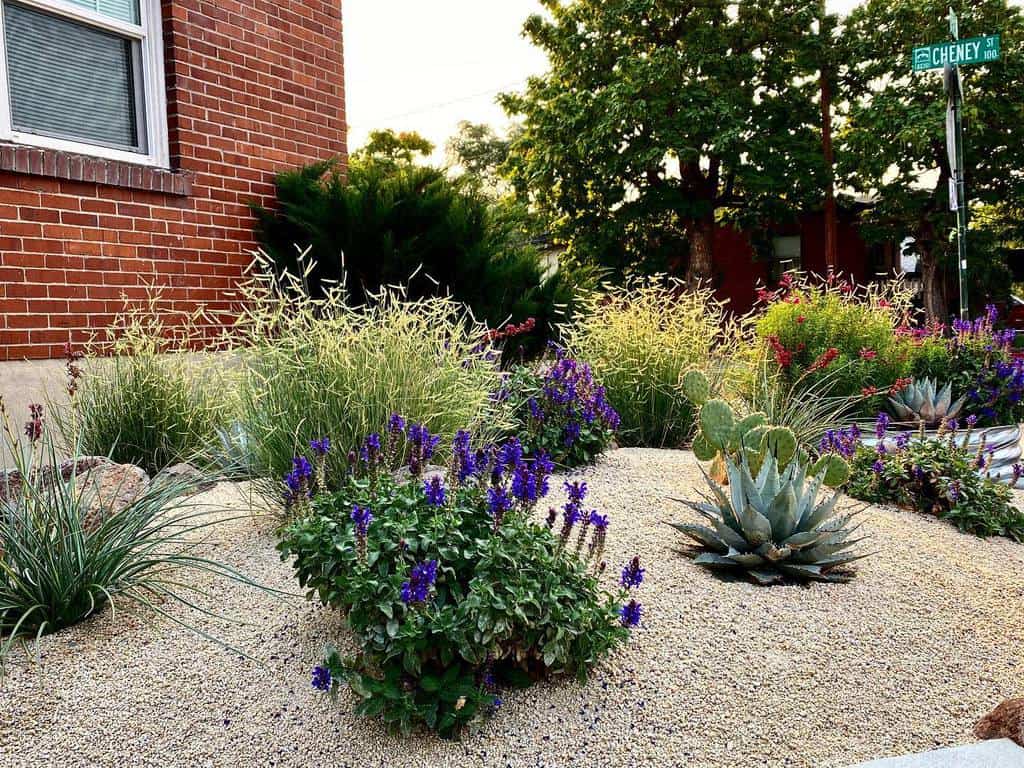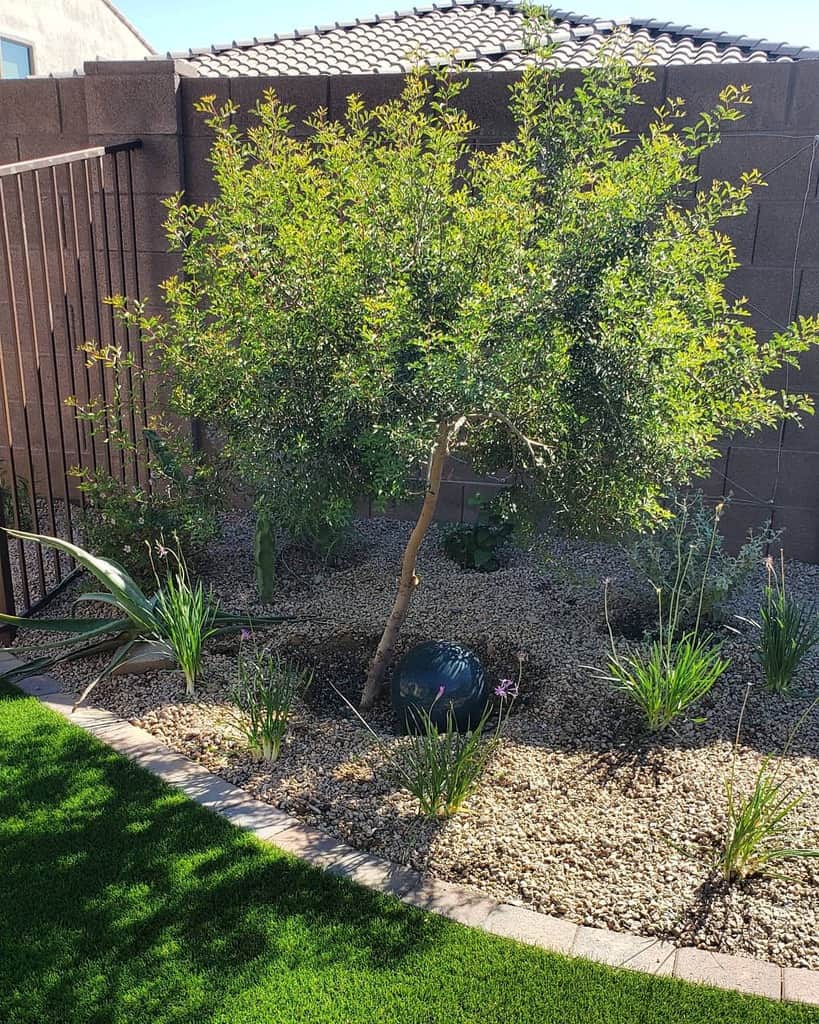 2. Succulent Gardens
These resilient and low-maintenance plants not only thrive in arid conditions but also bring a unique charm to your outdoor space. Picture a garden adorned with an array of succulents, from the iconic rosette-shaped echeverias to the spiky aloes and the trailing tendrils of sedums.
Their vibrant hues and fascinating textures create a visual feast for the eyes. With their ability to store water in their leaves and stems, succulents require minimal irrigation, making them perfect for xeriscaping. The best part? You can get creative with the arrangement, combining different sizes, shapes, and colors to craft a captivating succulent tapestry.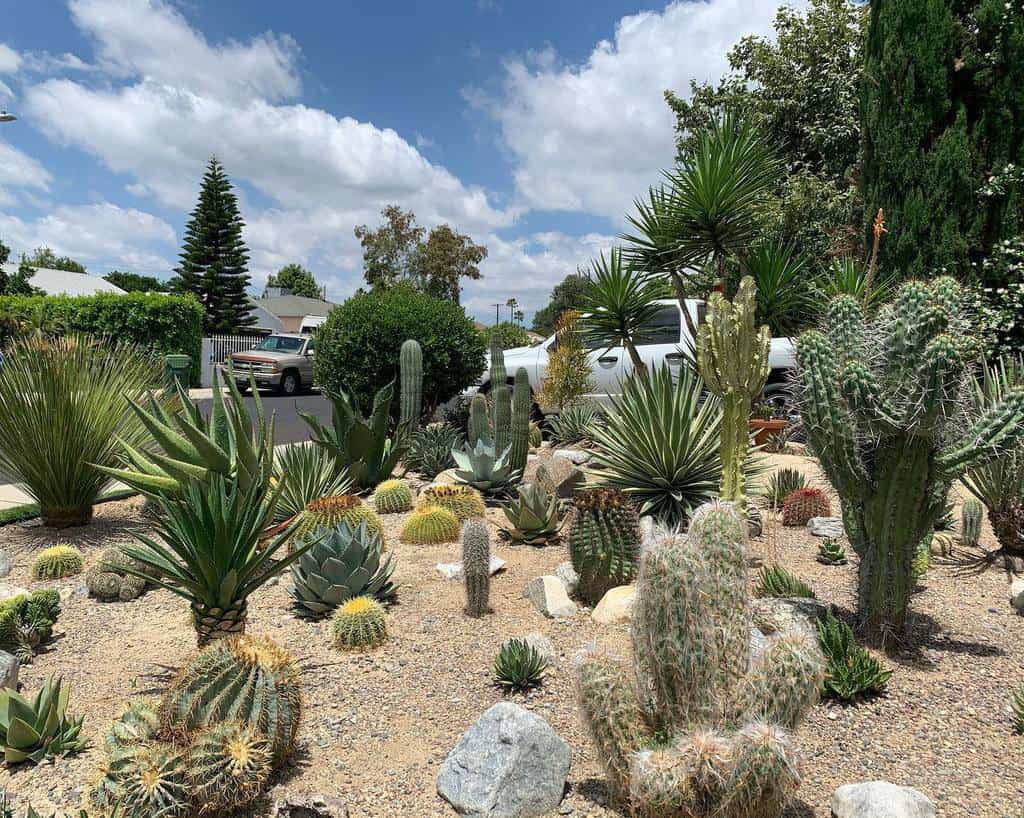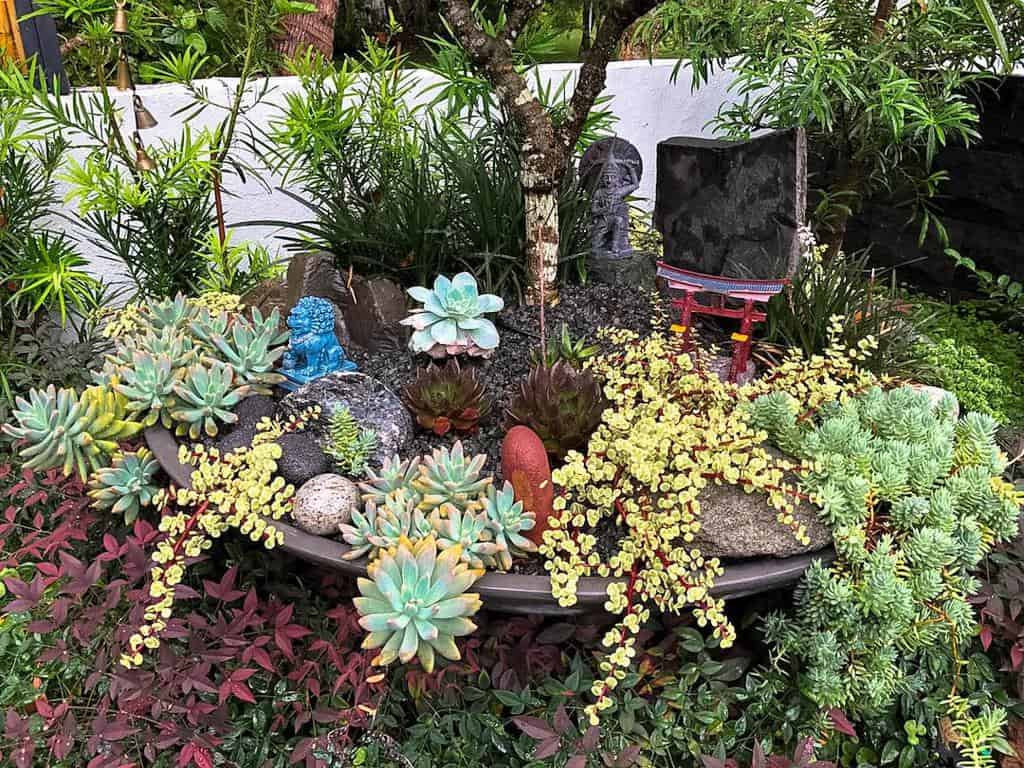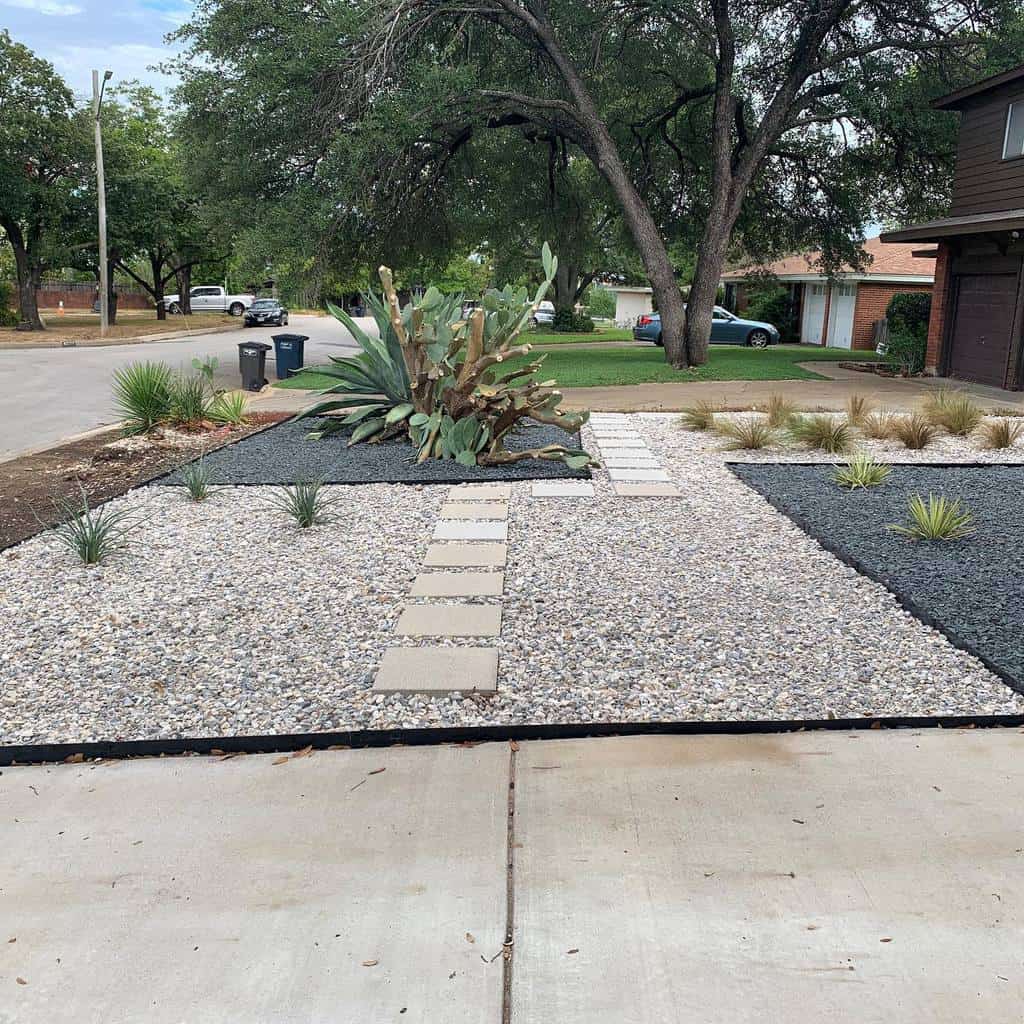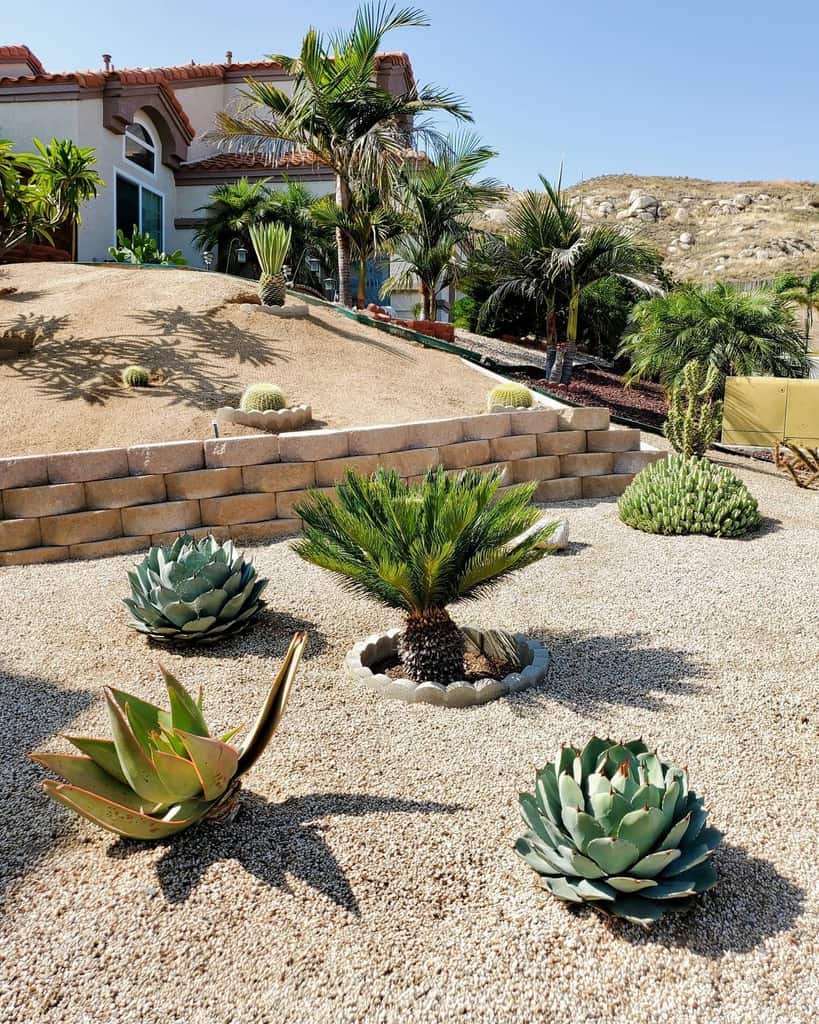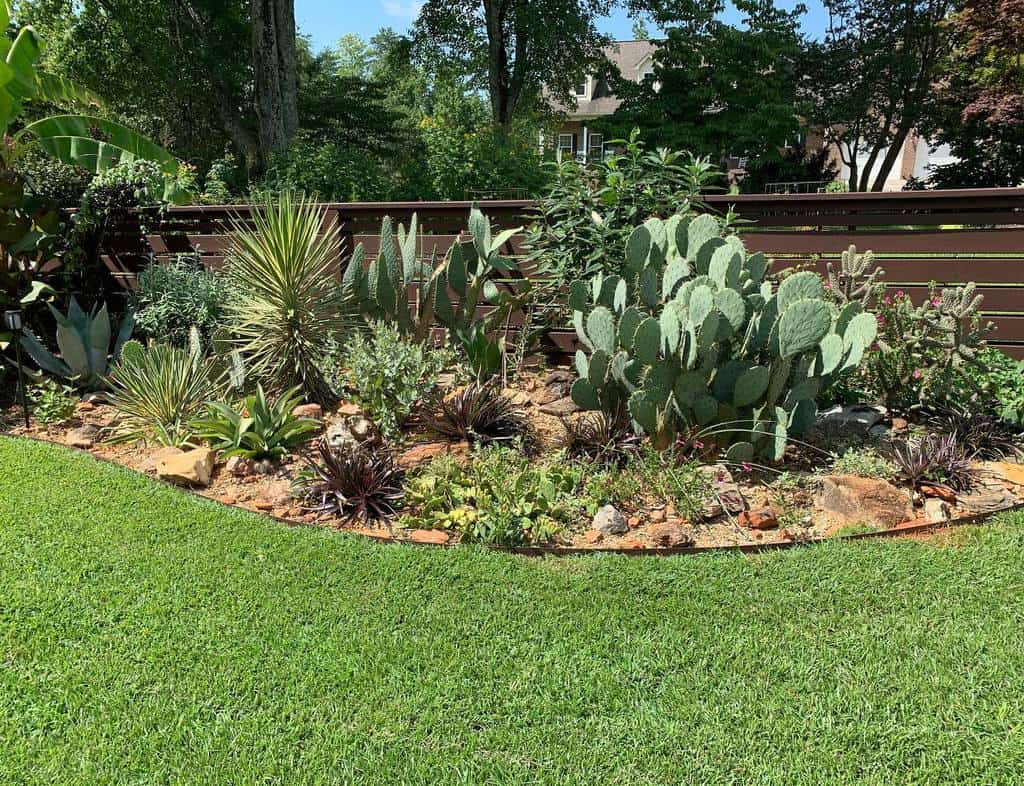 3. Palm Landscape
These majestic beauties instantly transport you to sun-soaked destinations and evoke a sense of tranquility and serenity. Picture a landscape adorned with various species of palm trees, their elegant fronds swaying in the gentle breeze.
From the iconic date palm to the slender and statuesque Mediterranean fan palm, these desert plants bring a touch of exotic allure to your xeriscape. With their remarkable adaptability to arid conditions, palm plants thrive in the desert environment, requiring minimal water and maintenance.
They create a sense of verticality and add structure to your outdoor space, enhancing the overall aesthetic appeal. The contrast of their lush green foliage against the sandy backdrop creates a harmonious blend that is both soothing and captivating.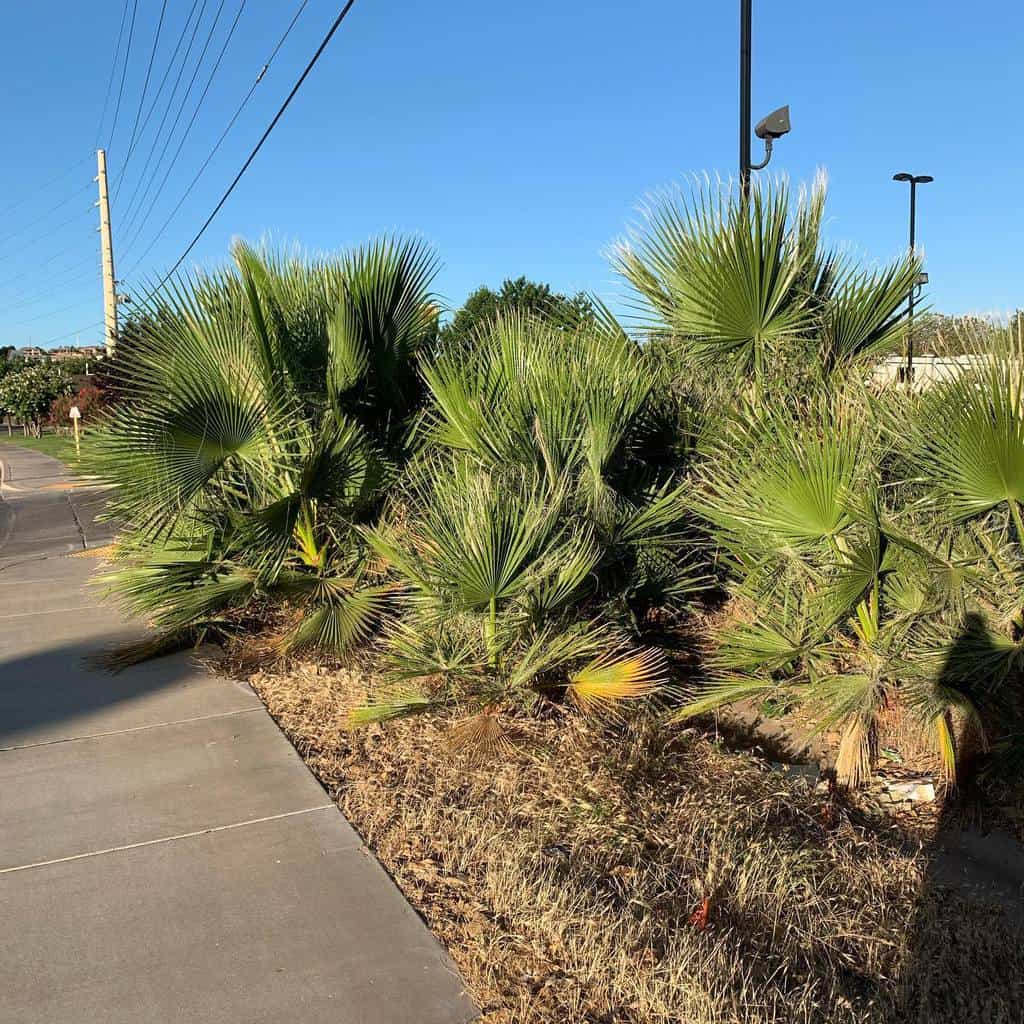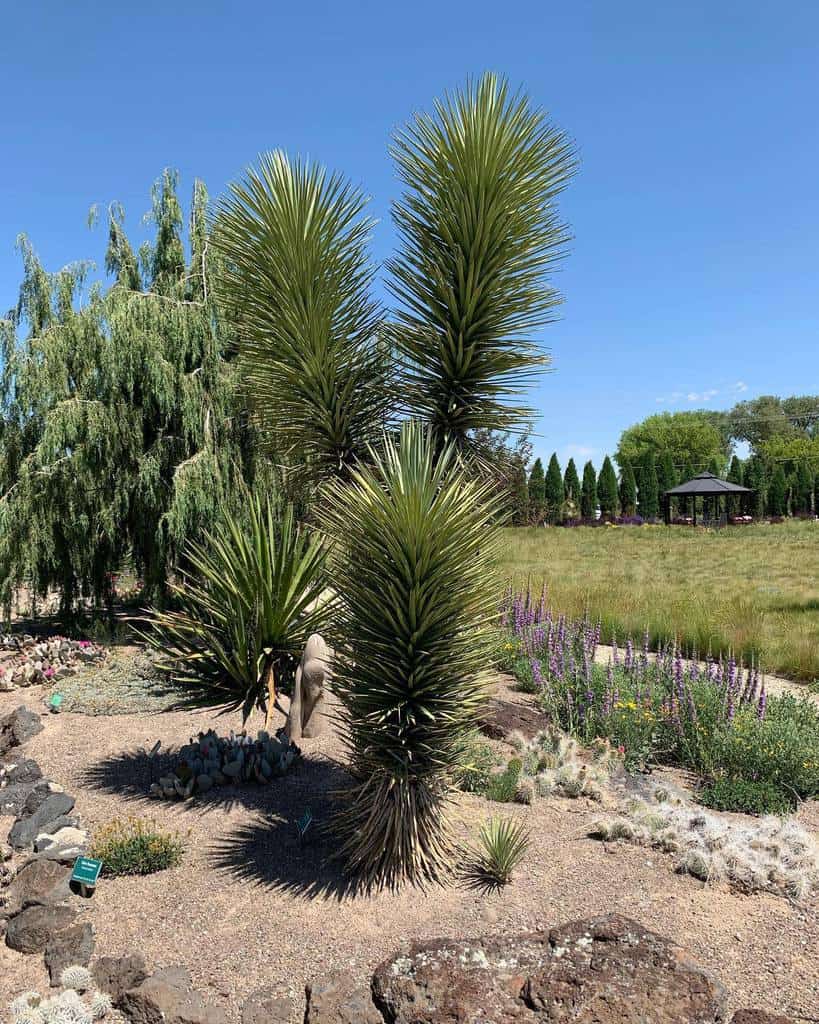 4. Stepping Stones
Imagine a meandering pathway adorned with carefully arranged paver stepping stones, guiding you through a garden oasis that is both water-efficient and visually captivating. Choose from a variety of materials, such as natural stone, concrete, or even recycled materials, to suit your style and preference. The carefully placed stepping stones not only create a sense of rhythm and flow but also serve as focal points in your xeriscape design.
Let your creativity flourish as you play with different shapes, sizes, and patterns, adding an element of surprise and interest to your outdoor haven. With paver stepping stones, you can navigate your xeriscape paradise with ease while delighting in the beauty of nature all around you.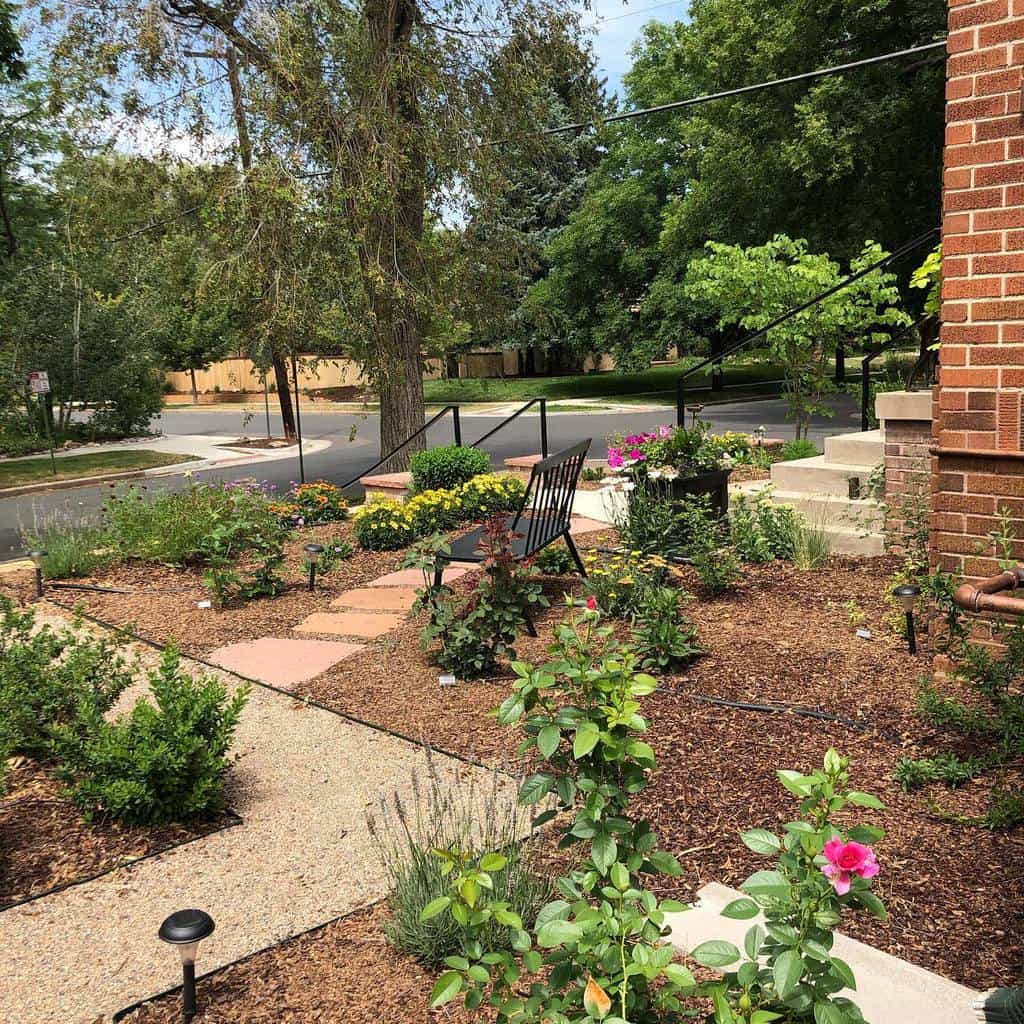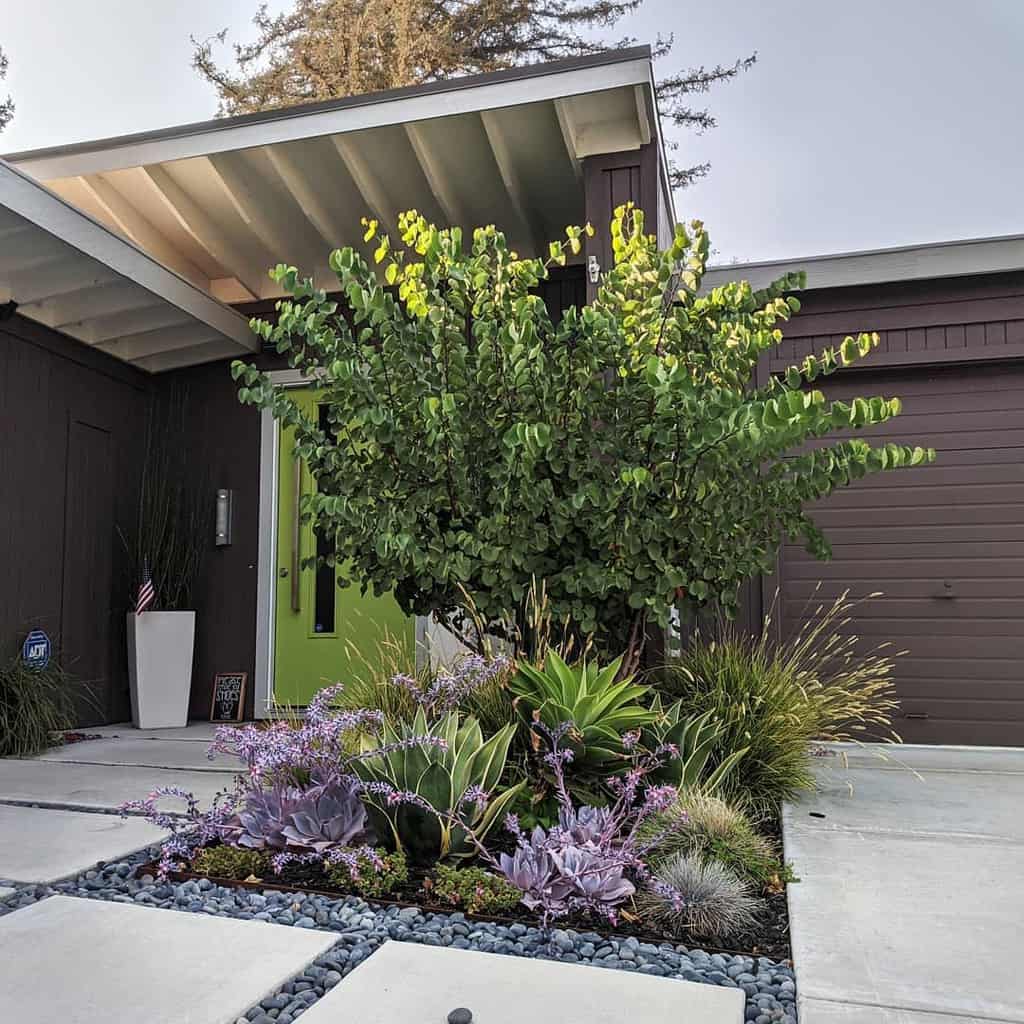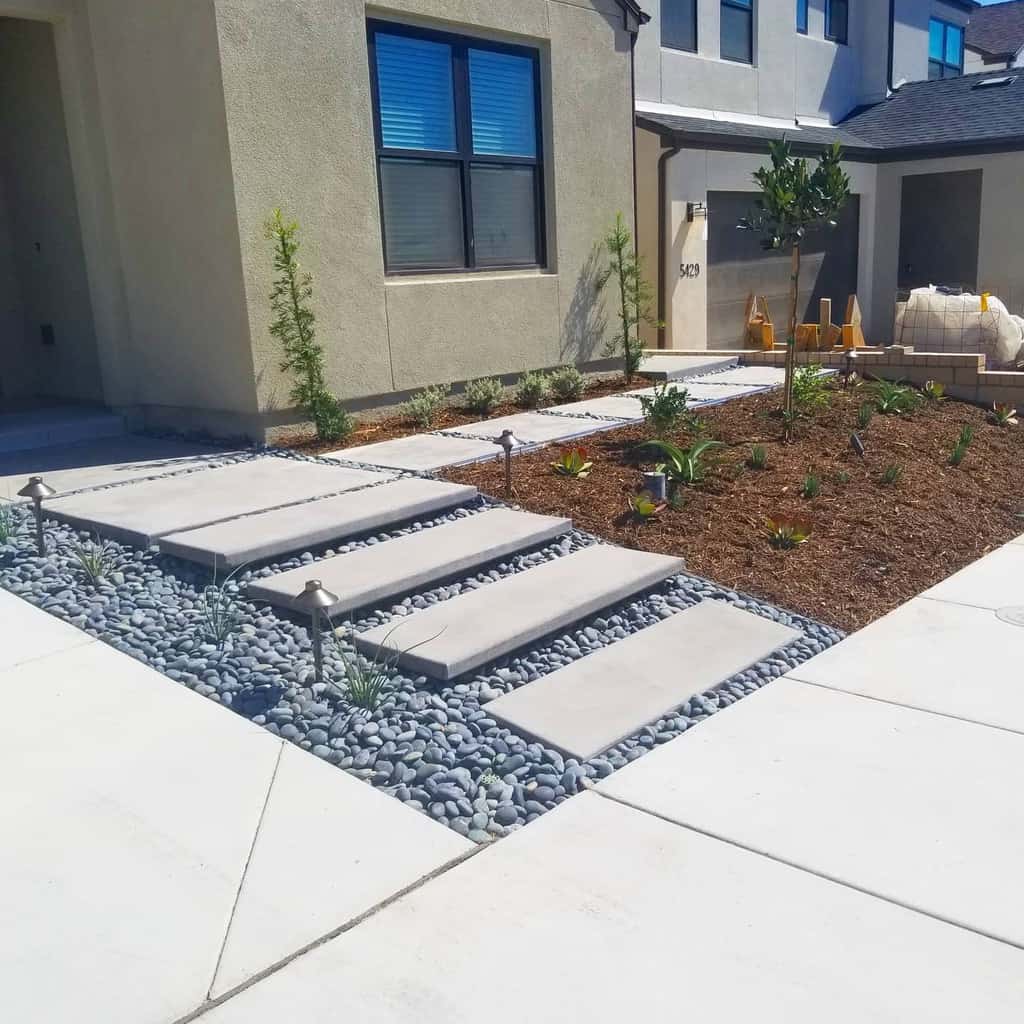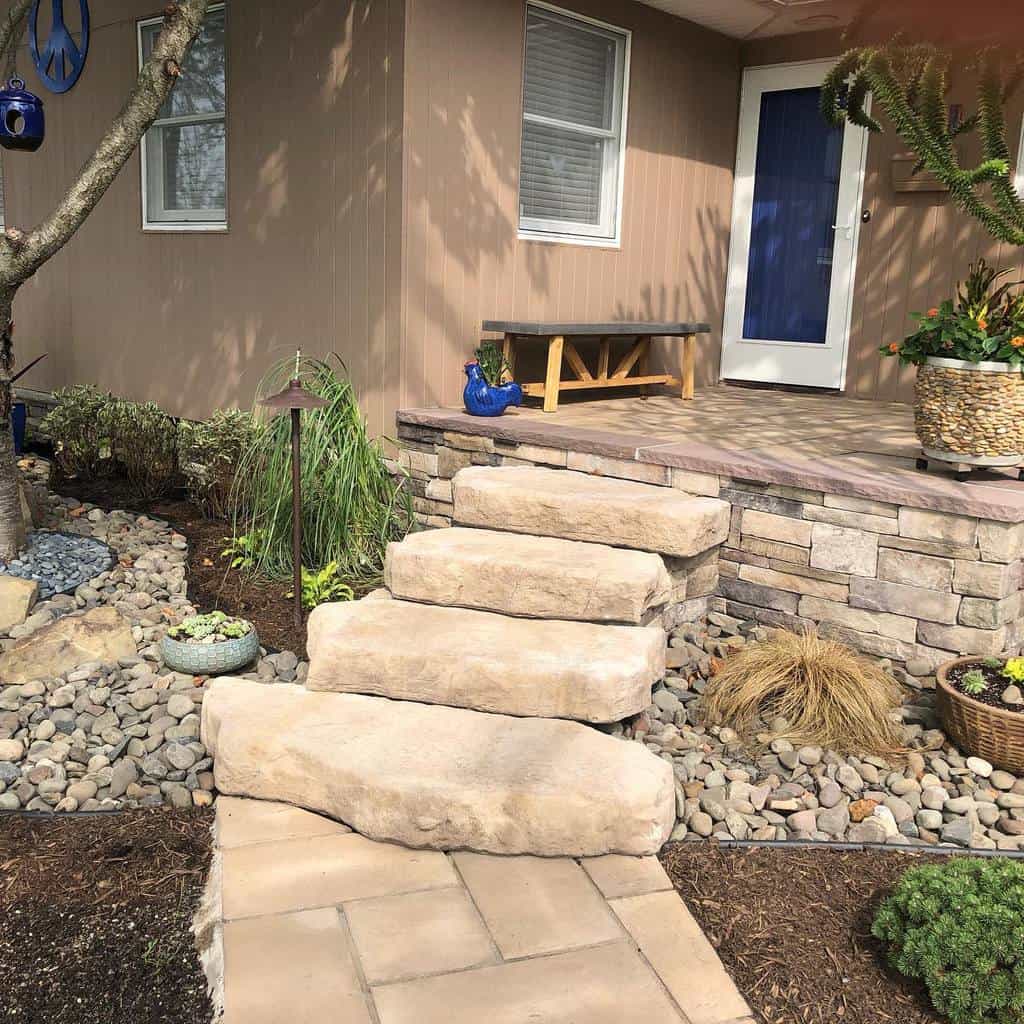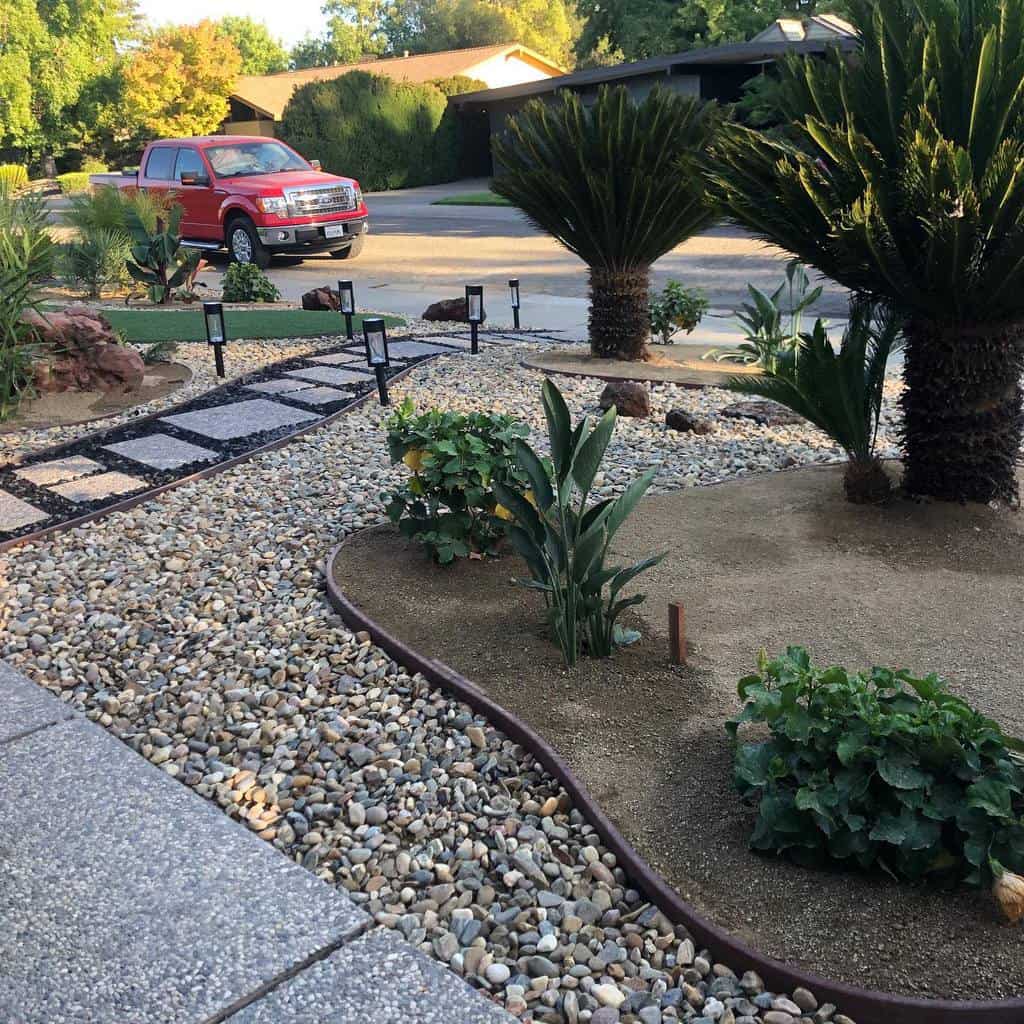 5. Cottage Gardens
Imagine a tapestry of blooming flowers, swaying in the breeze, as you relax in your outdoor sanctuary. The beauty of a cottage garden xeriscape lies in its whimsical and natural appeal, blending together a variety of plant species to create a harmonious and inviting landscape.
From vibrant sunflowers and cheerful marigolds to delicate zinnias and dainty cosmos, the possibilities are endless. Not only will your xeriscape garden be a feast for the eyes, but it will also require less water and maintenance compared to traditional gardens.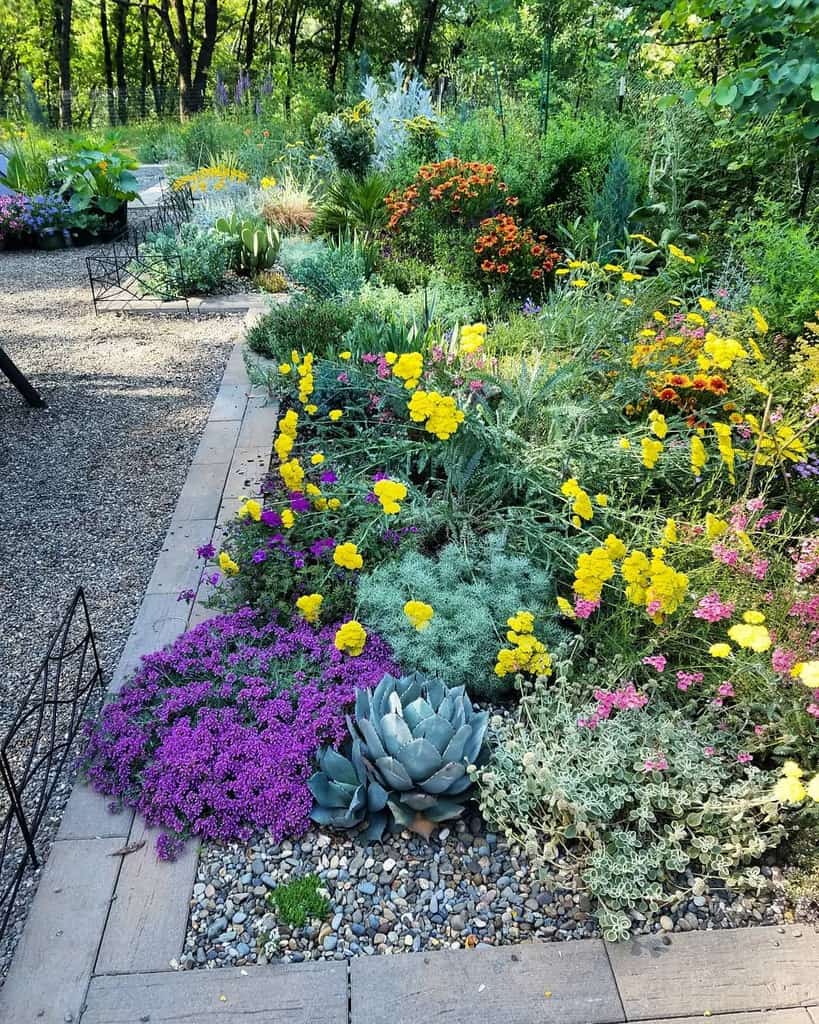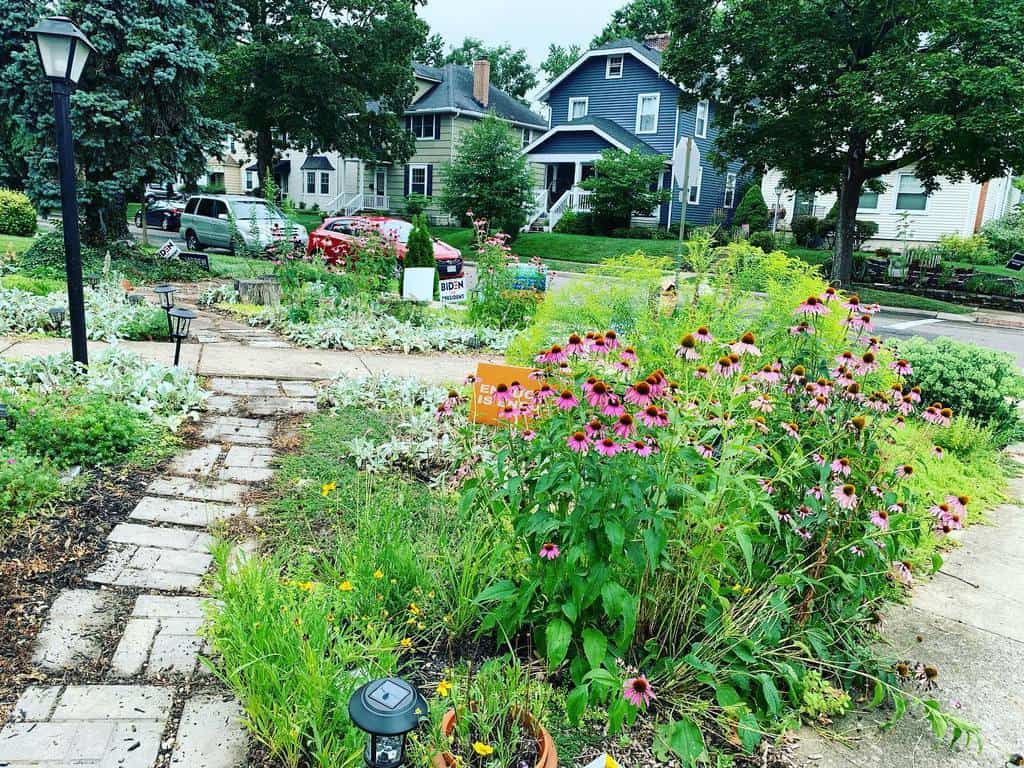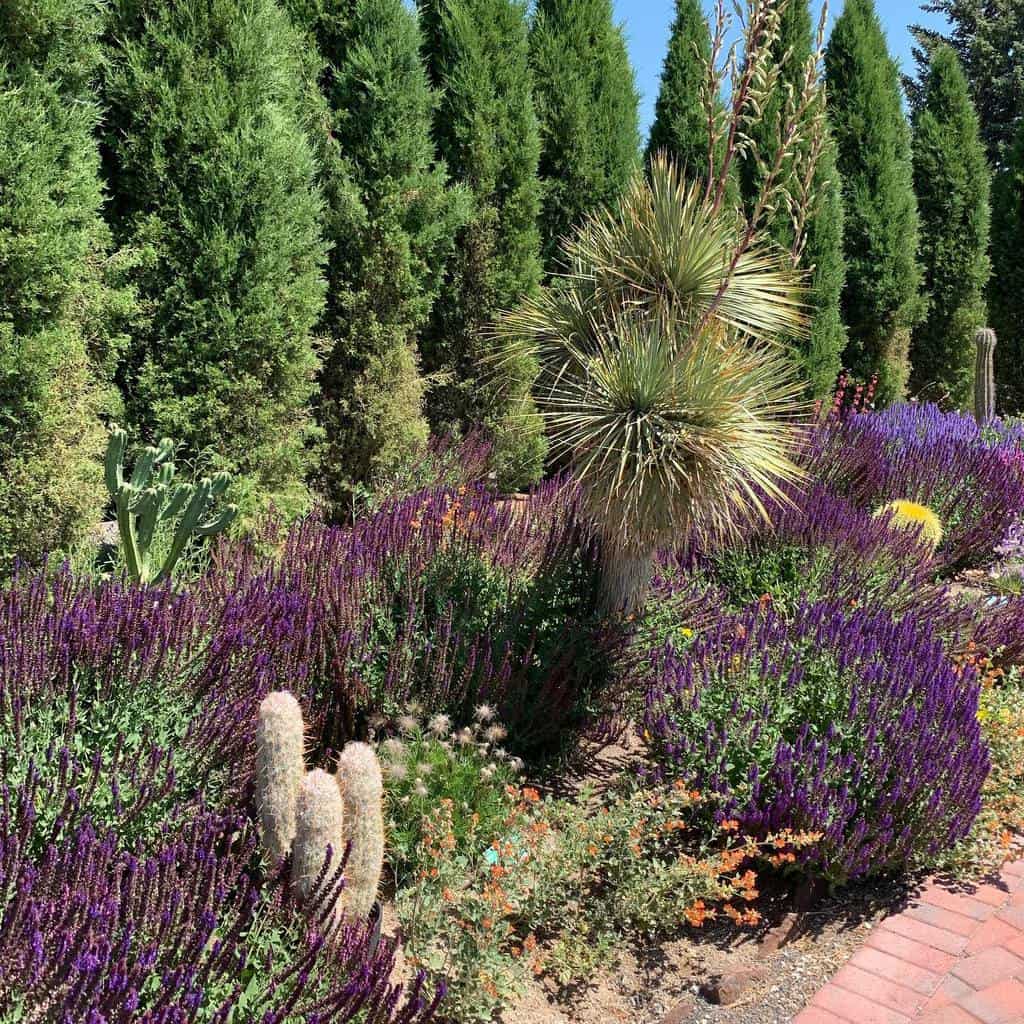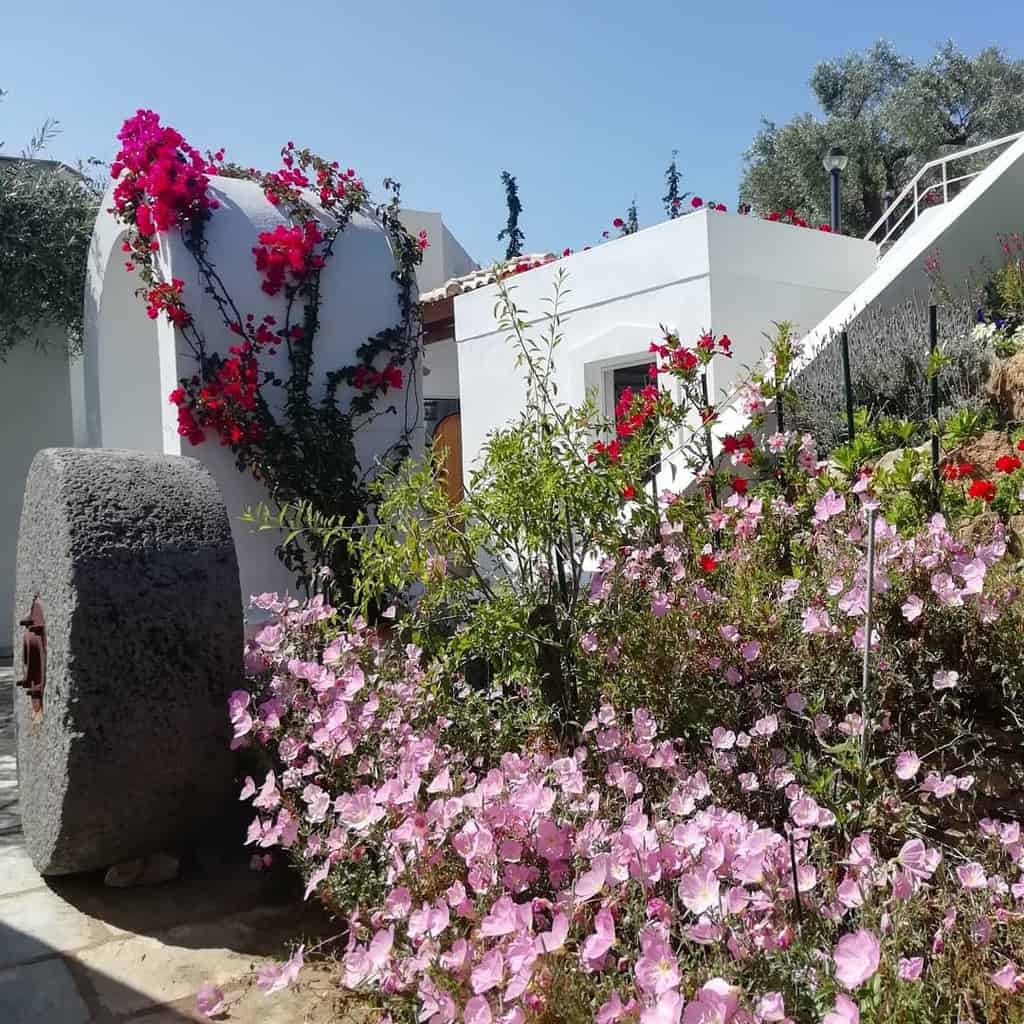 6. Rock Garden
Picture a landscape adorned with big, bold rocks that anchor the space and create a sense of natural grandeur. Interspersed among these majestic rocks are patches of vibrant succulents, their unique shapes, and colors adding a touch of intrigue and playfulness to the scene.
To enhance the visual appeal, incorporate a variety of rocks and pebbles, each with its own texture and hue, creating a tapestry of earthy tones. The result? A captivating oasis that requires minimal water and maintenance while exuding an undeniable charm. With a rock garden as your centerpiece, you'll not only conserve water but also create a landscape that's both visually striking and environmentally conscious.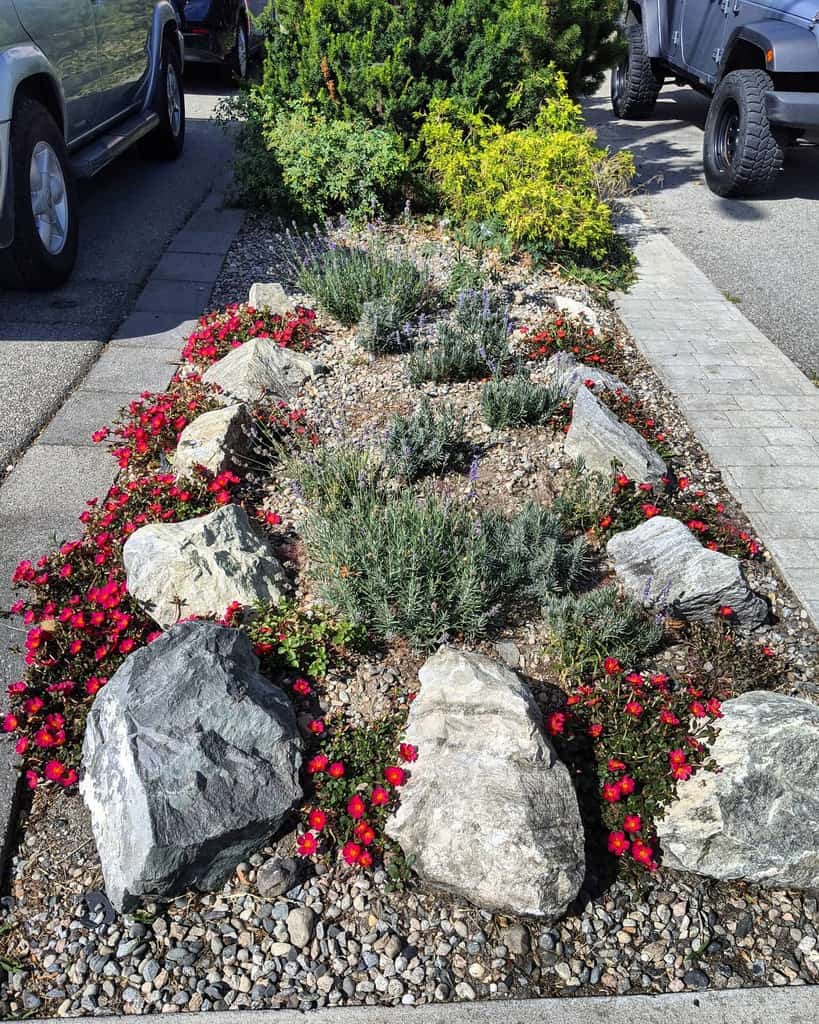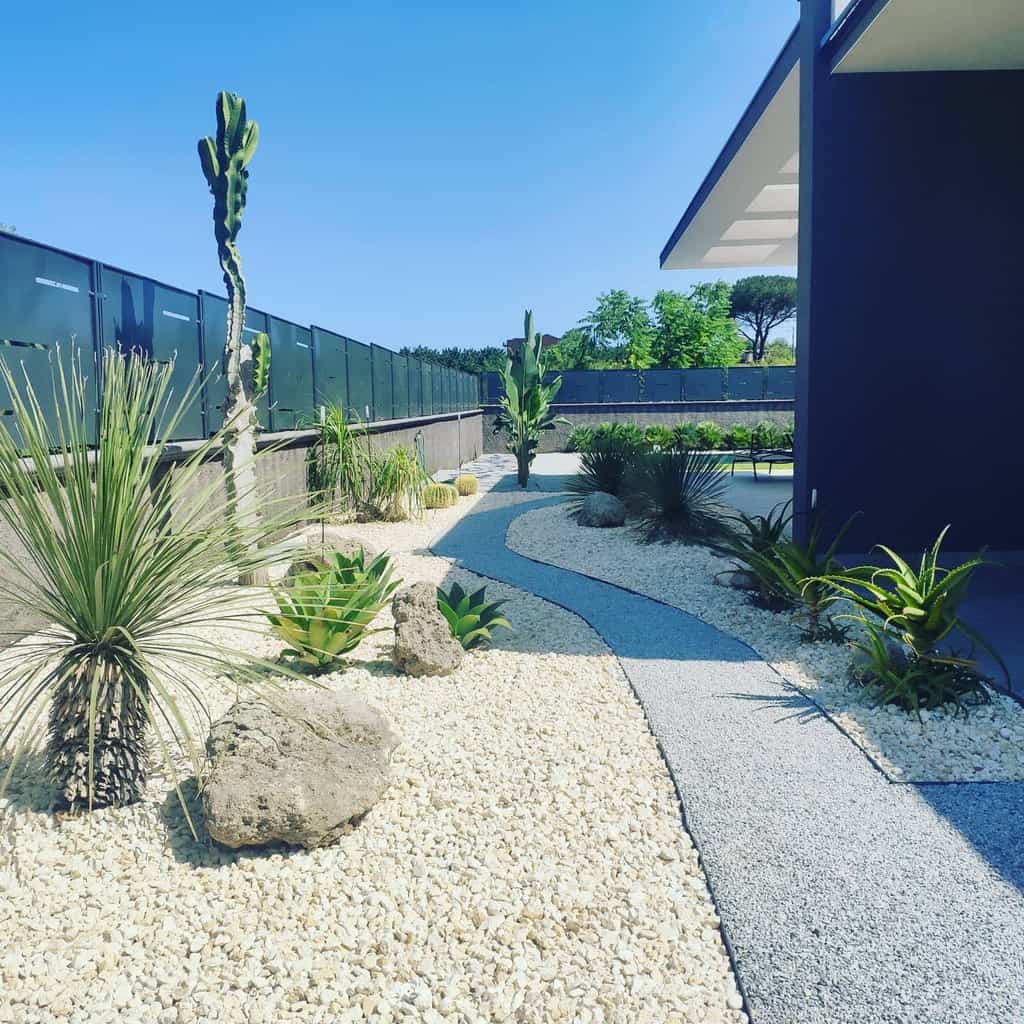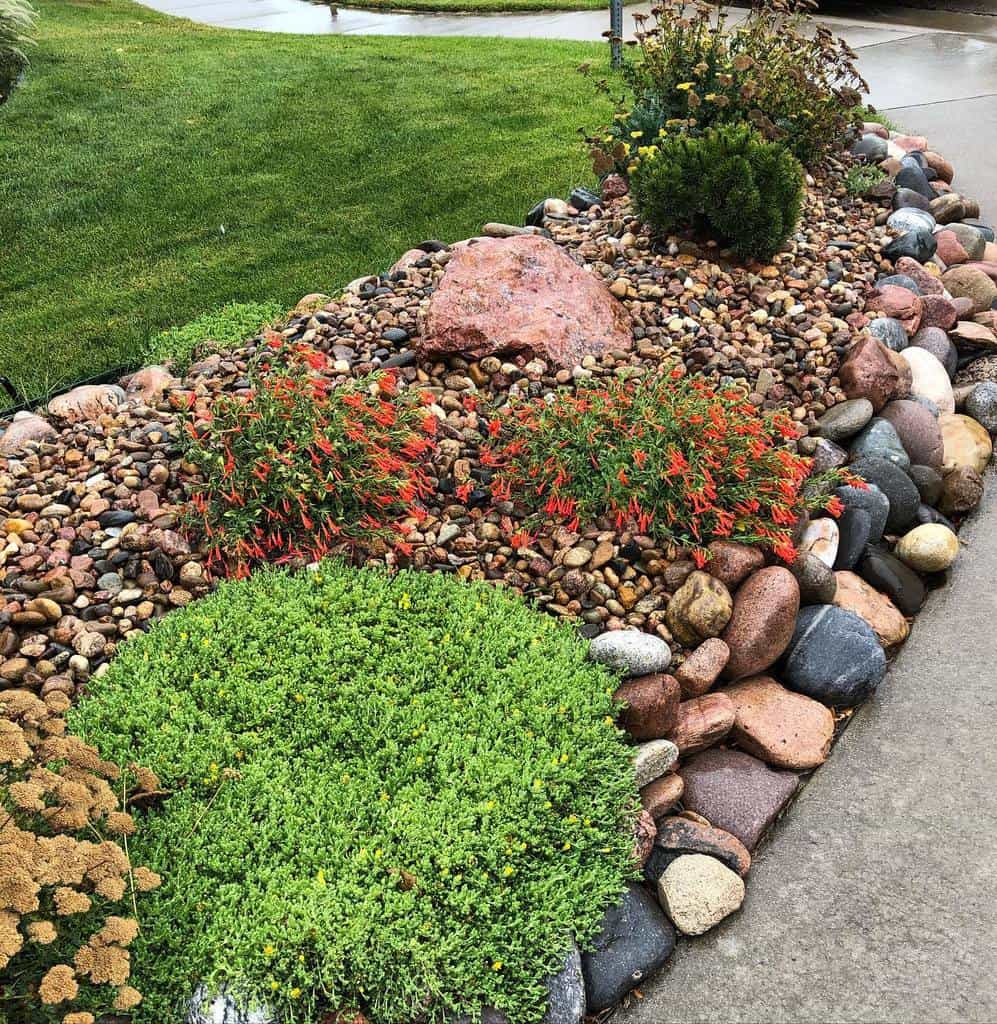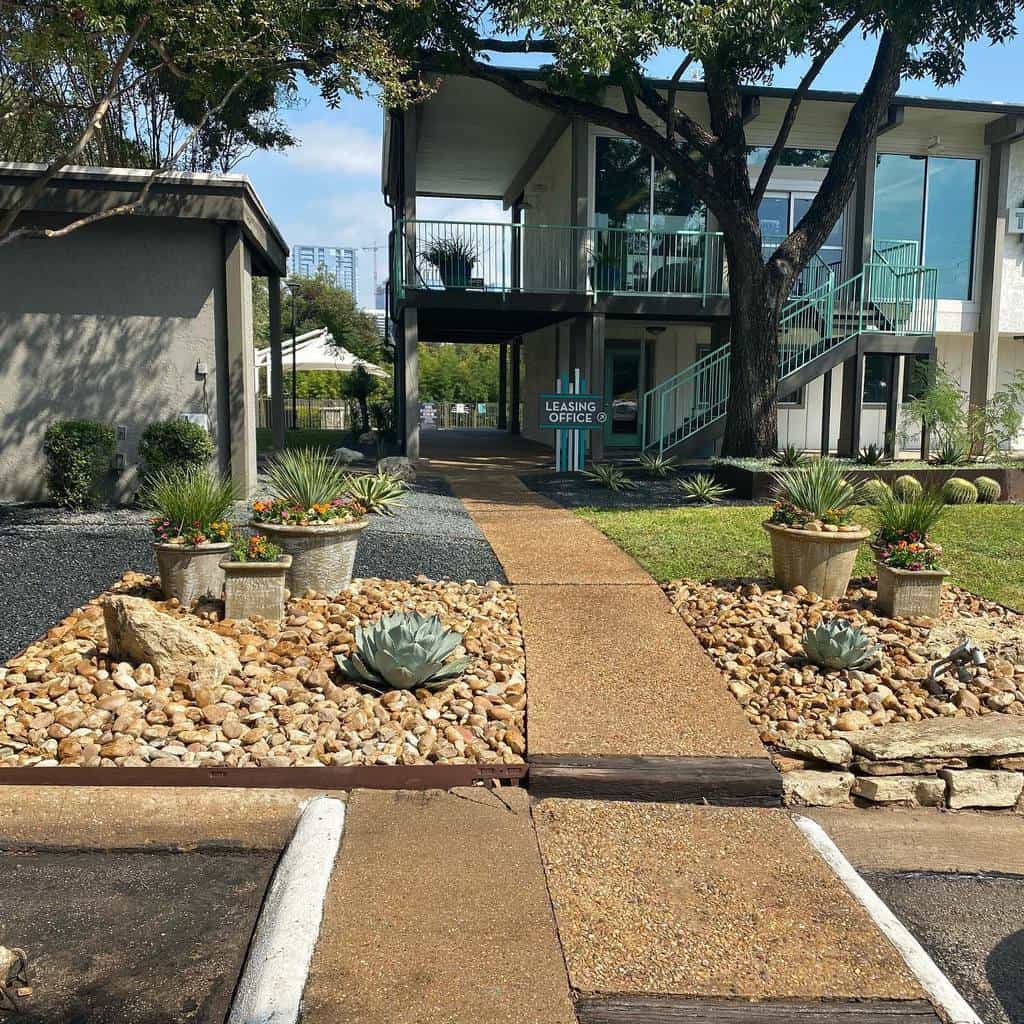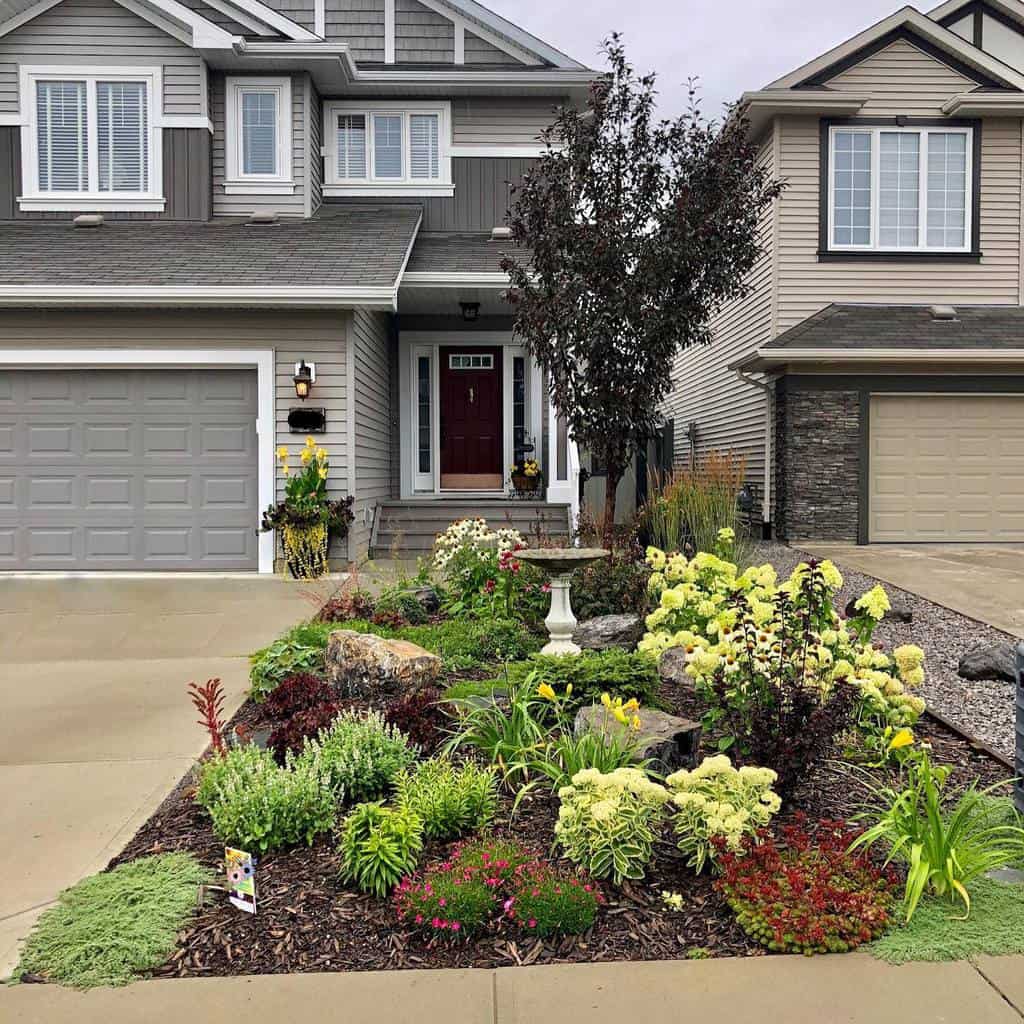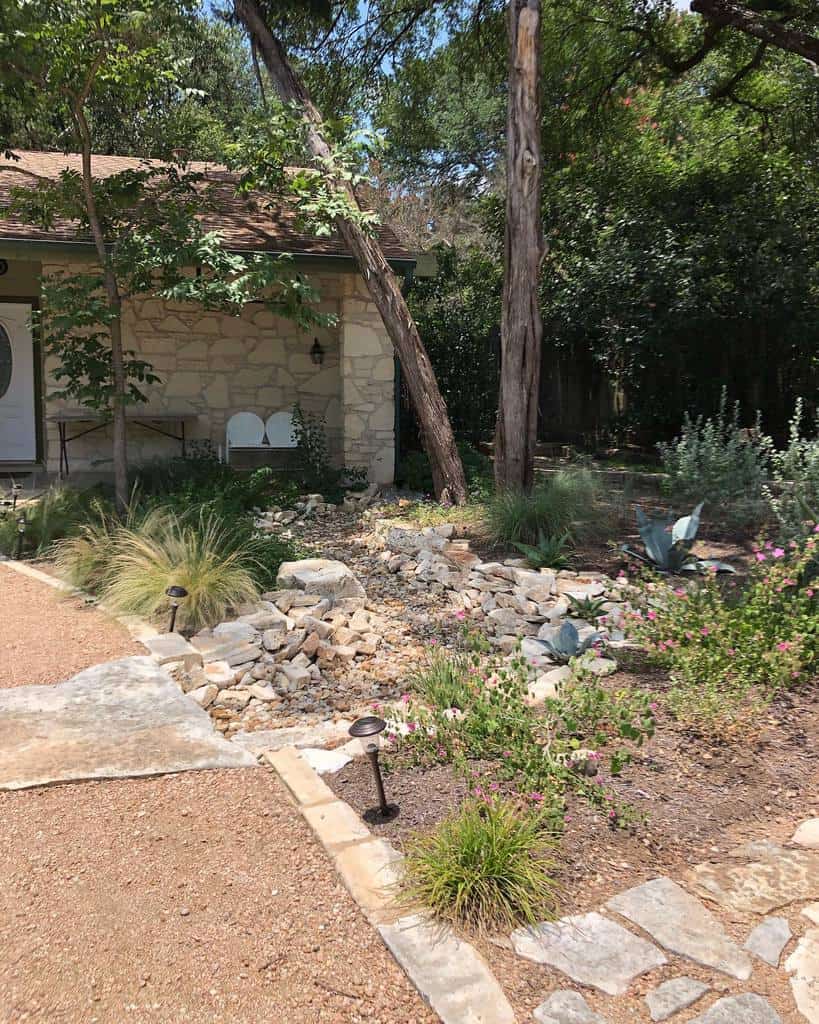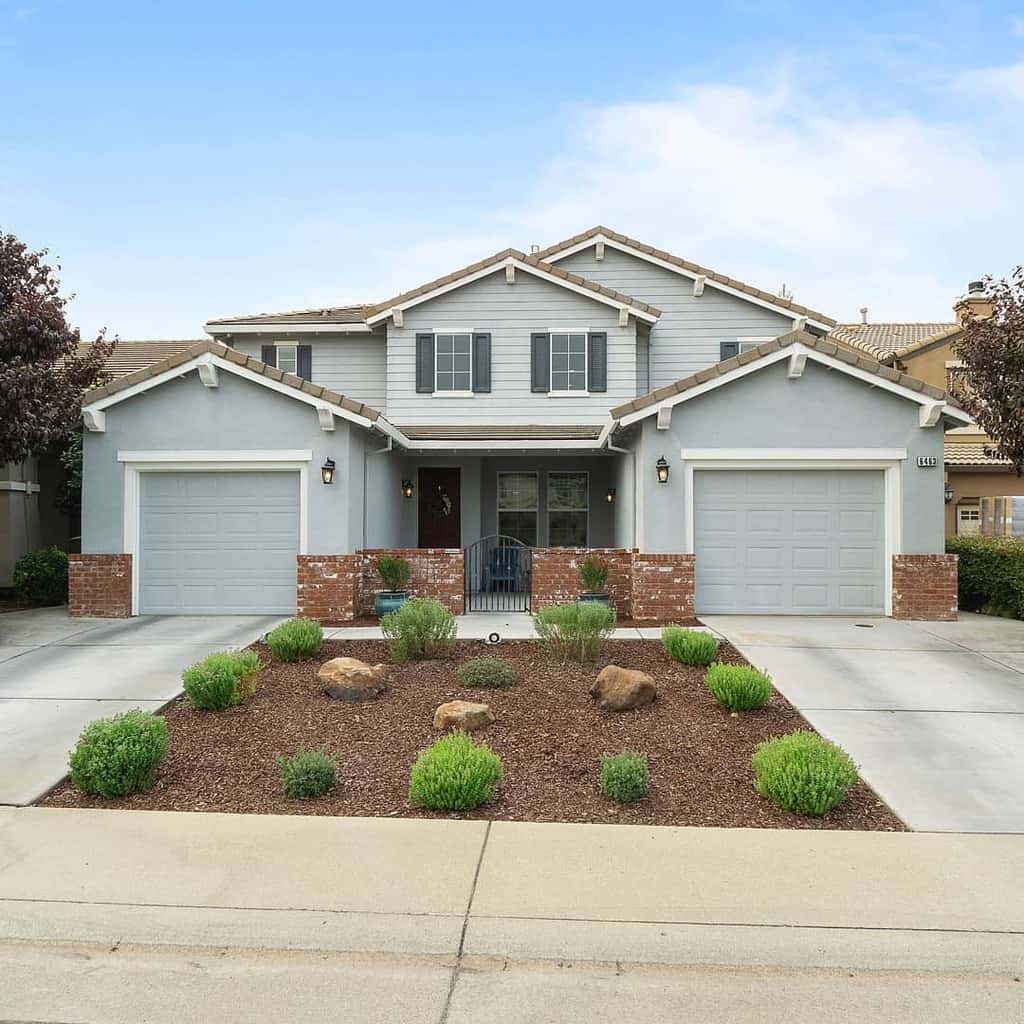 7. Ornamental Grass
When it comes to creating a stunning and sustainable outdoor space, xeriscaping is the way to go. And one plant that effortlessly steals the show in a xeriscape design is none other than ornamental grass. These graceful and versatile beauties add a touch of drama and movement to your landscape, making it come alive with their swaying blades.
From the delicate feather-like plumes of Pampas grass to the bold and spiky forms of Miscanthus, there is an ornamental grass to suit every aesthetic preference. Not only do they bring visual interest, but they also require minimal water and maintenance, making them perfect for dry and arid climates.
Whether you use them as borders, focal points, or mass plantings, ornamental grasses create a sense of texture, depth, and rhythm in your xeriscape.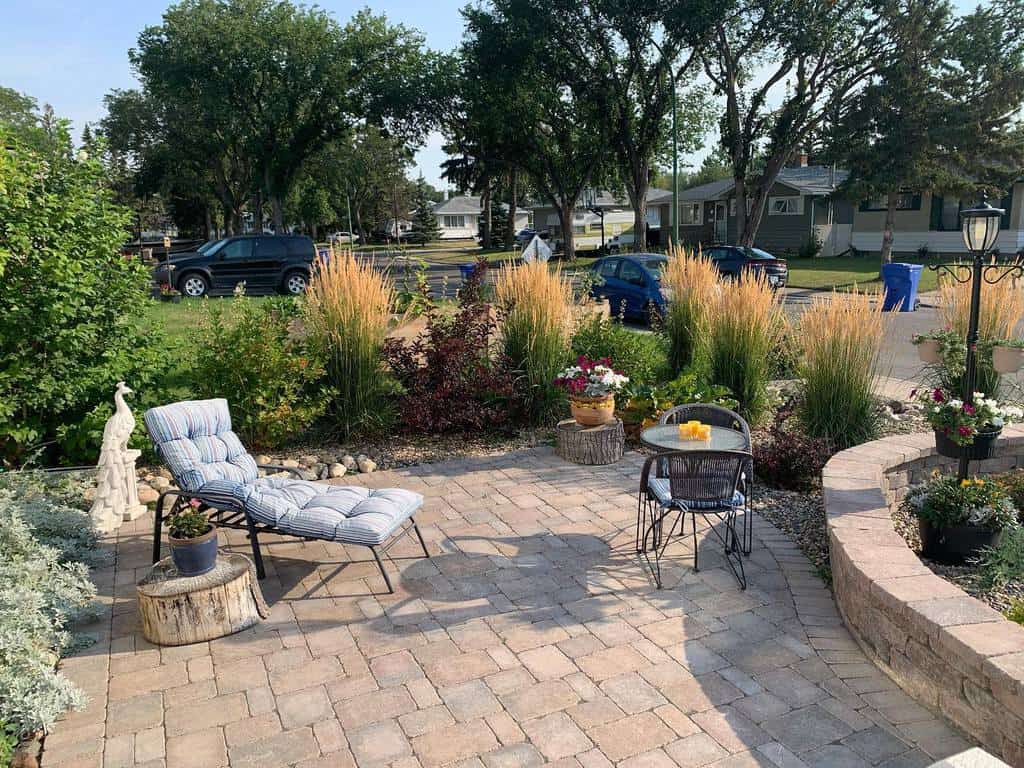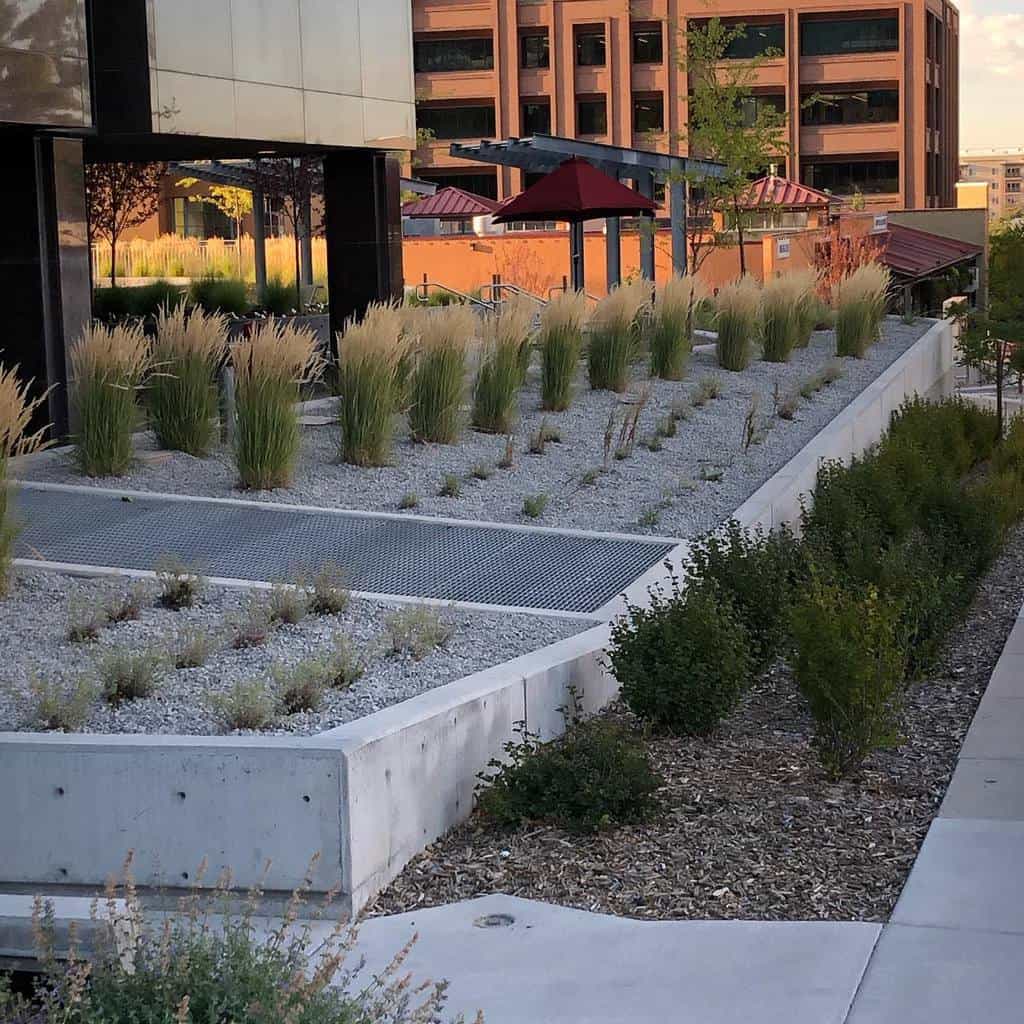 8. Cacti and Agave Plants
These desert darlings bring a touch of exotic allure to your landscape while thriving in low-water conditions. Imagine a tapestry of vibrant succulents, with their unique shapes and textures, transforming your yard into a desert paradise.
From the spiky arms of a towering saguaro cactus to the architectural elegance of agave plants, these drought-tolerant beauties not only require minimal watering but also add an element of drama and intrigue to your outdoor space. They thrive in sunny areas and require little maintenance, making them perfect for busy homeowners or those with a penchant for low-maintenance gardening.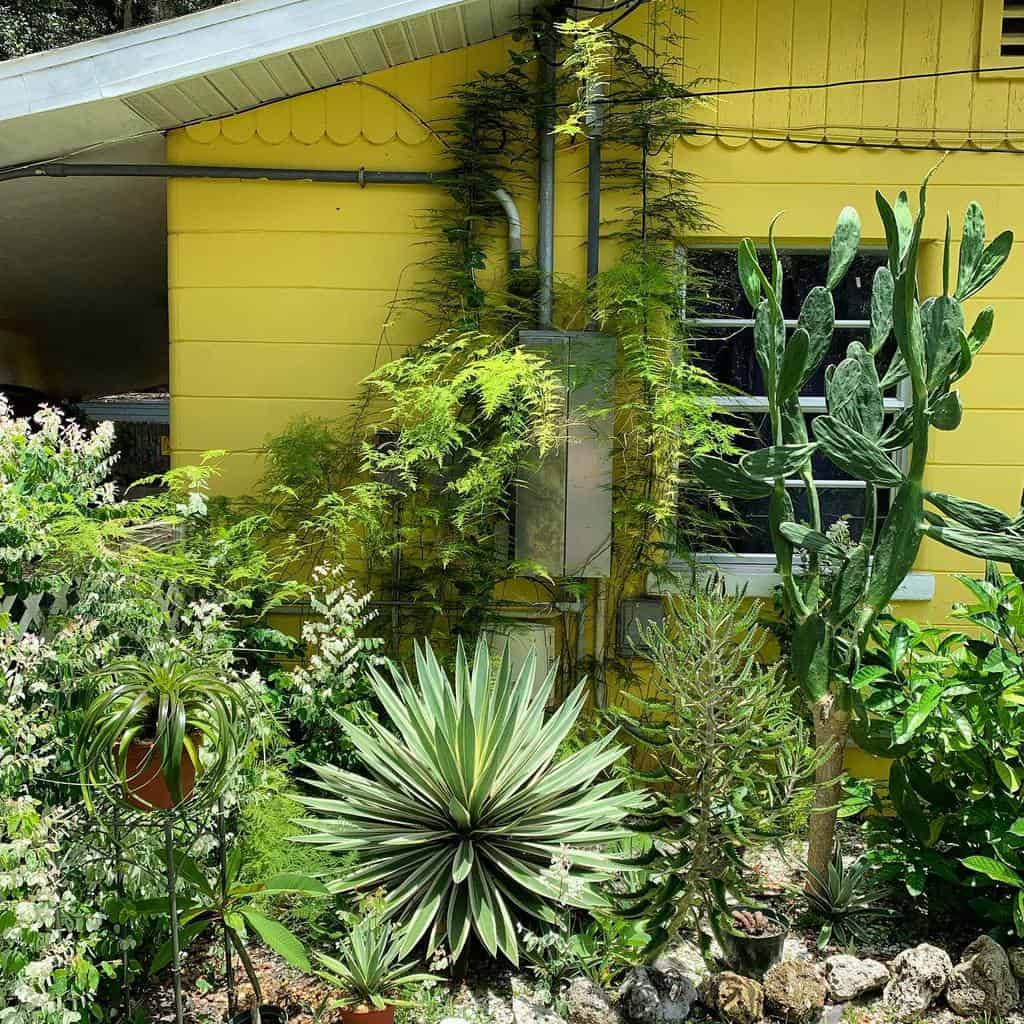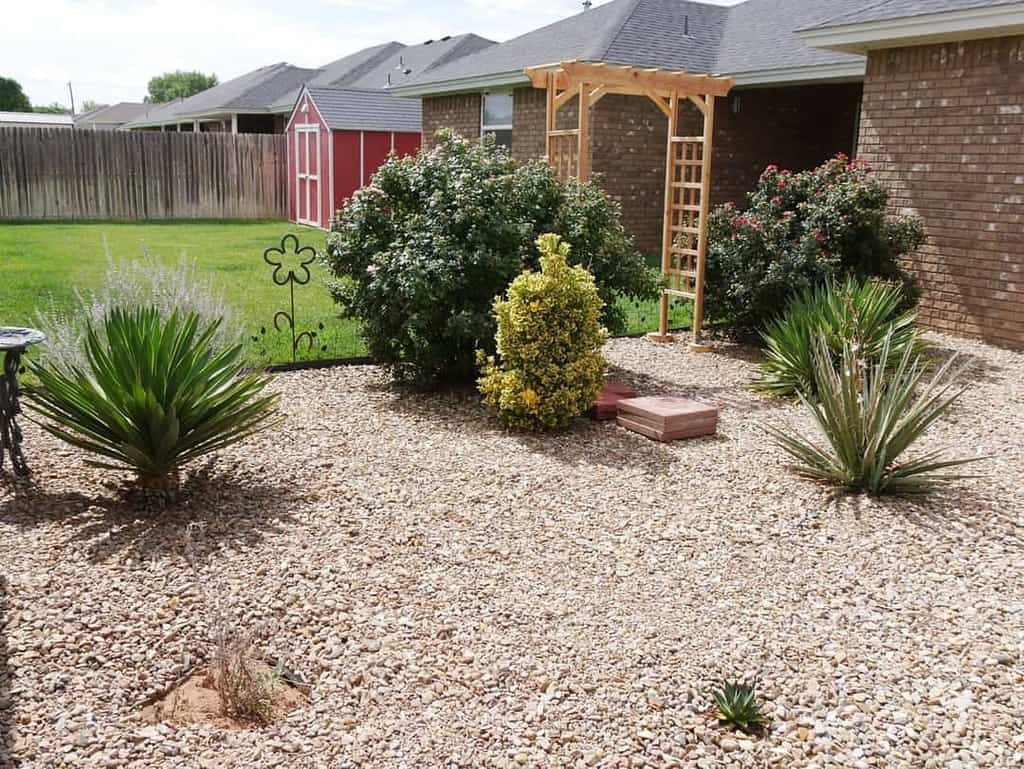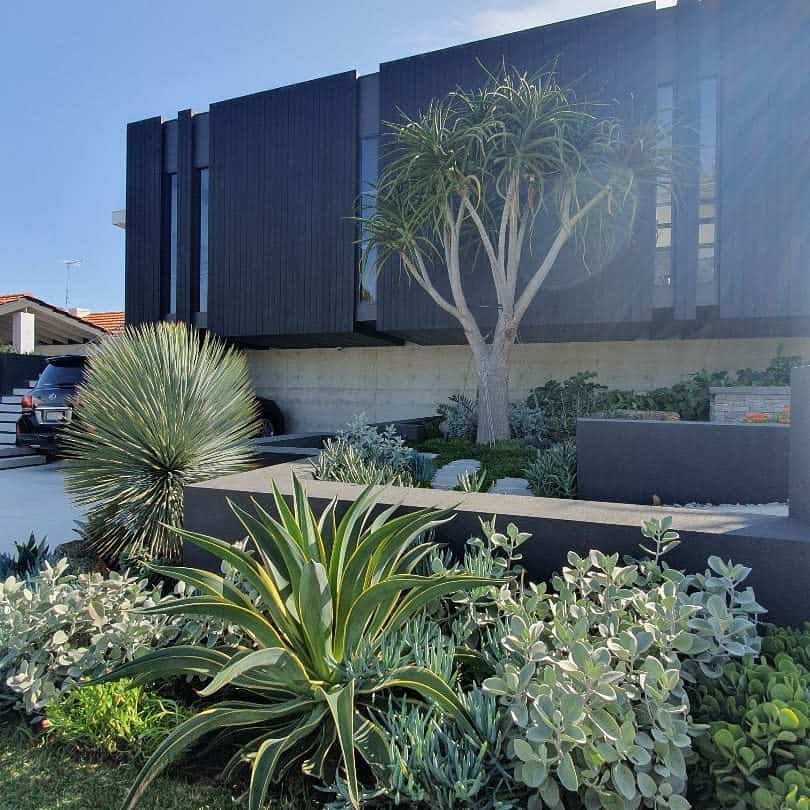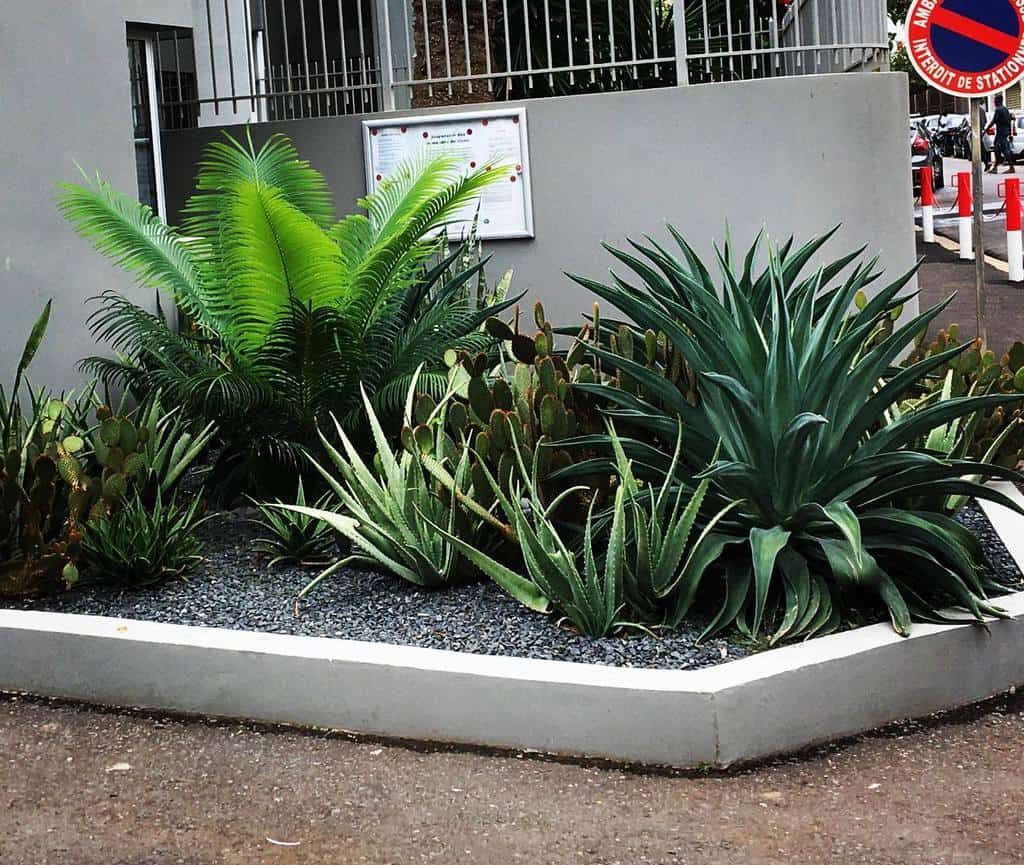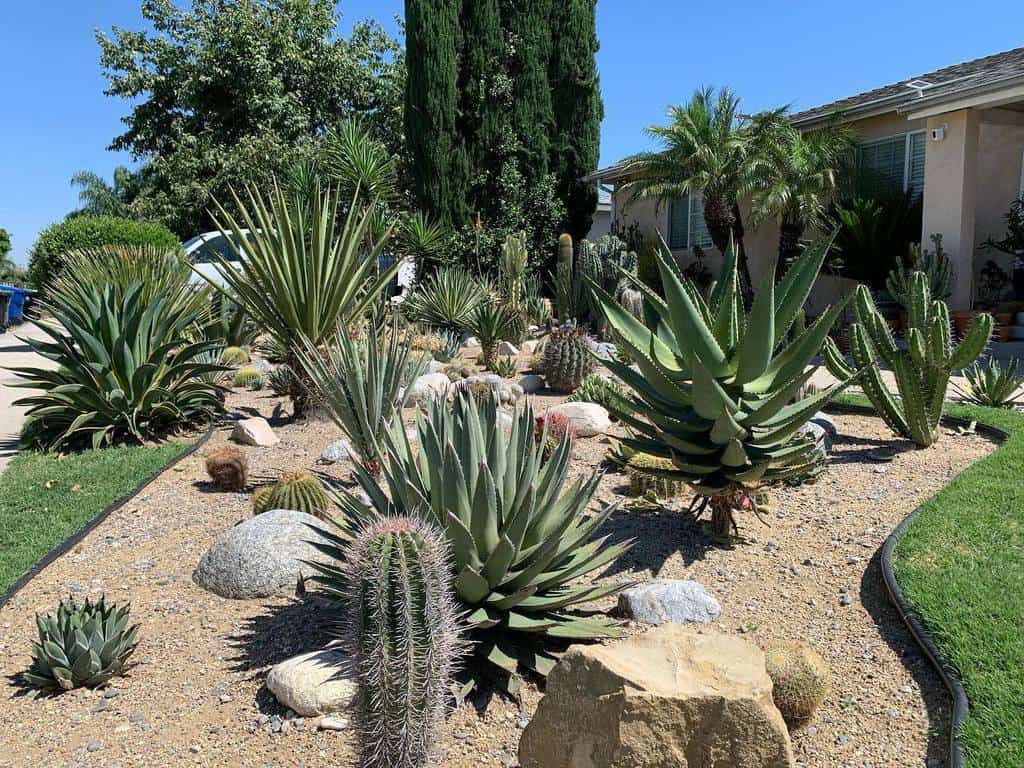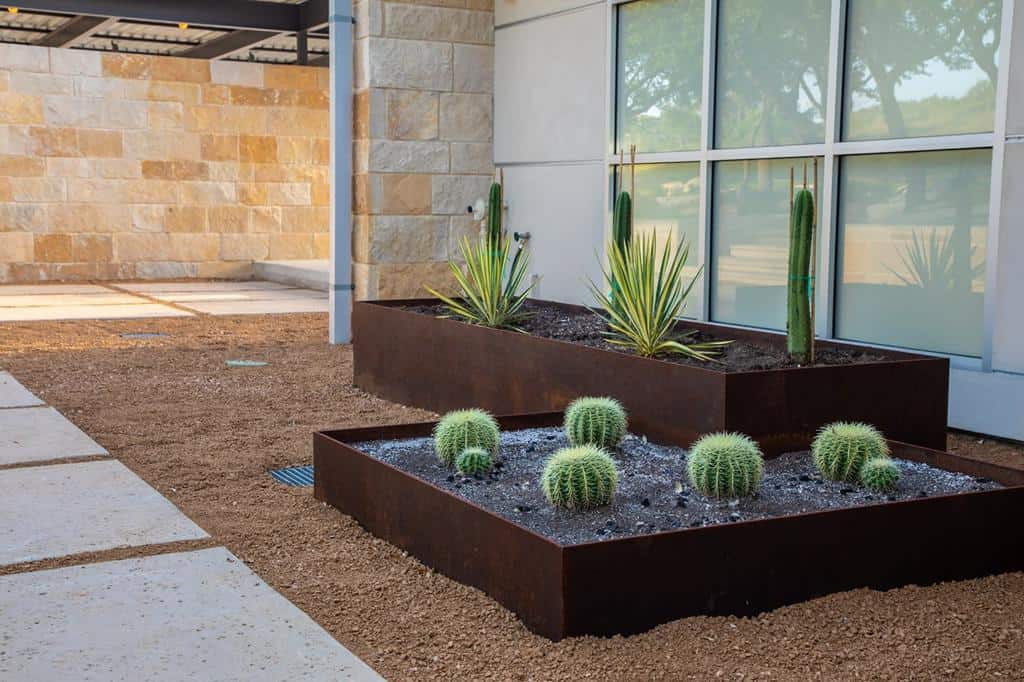 9. Gravel & Grass Landscape
The combination of gravel and grass creates a striking visual contrast that adds depth and interest to your outdoor space. The gravel serves as a practical ground cover, preventing soil erosion and reducing water usage, while the pops of vibrant green grass provide a refreshing and natural touch.
This design choice not only reduces the need for excessive watering but also minimizes the time and effort spent on mowing and maintenance. Embrace the beauty of texture and diversity by incorporating strategically placed plants, succulents, or cacti into the gravel and grass landscape. This adds a touch of color, life, and personality to your xeriscape, transforming it into a captivating and inviting outdoor sanctuary.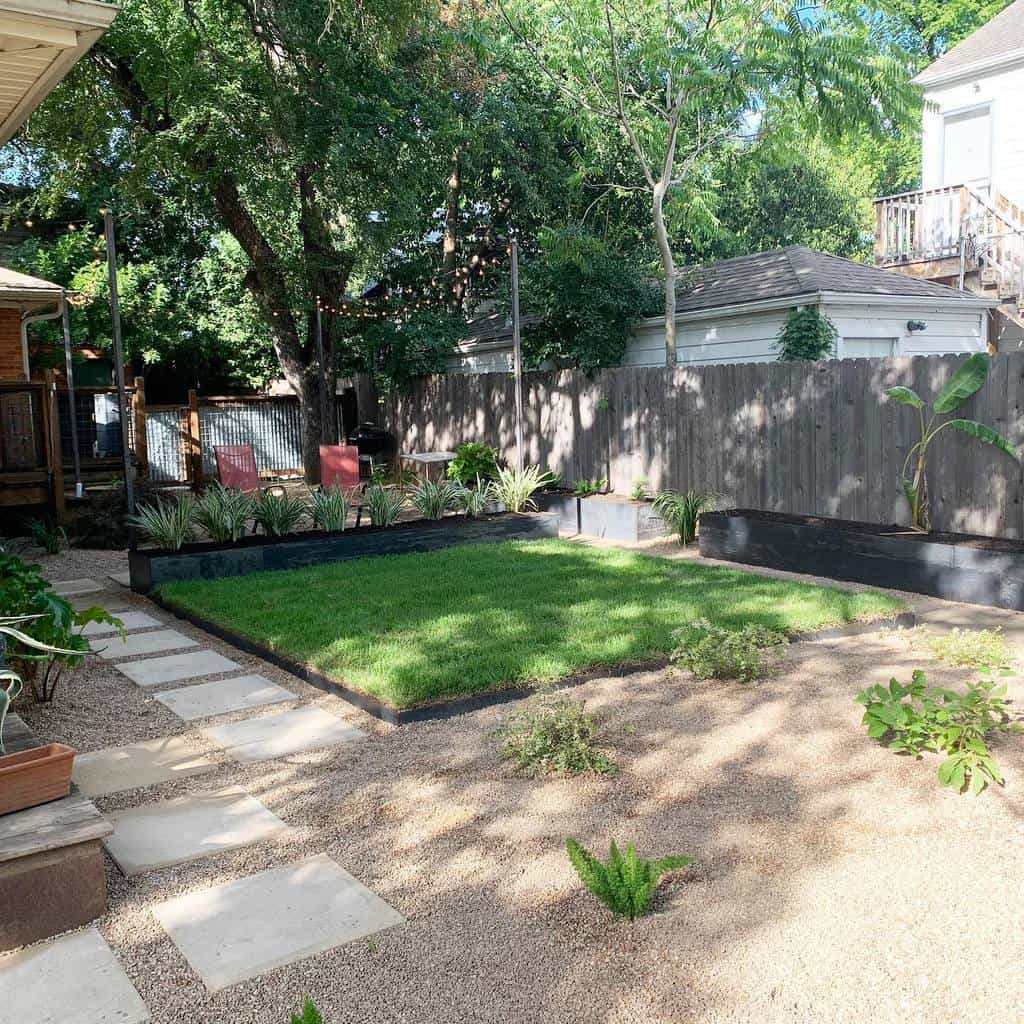 10. Retaining Walls
One of the key elements of xeriscaping is the use of retaining walls to maximize the potential of your landscape. These walls not only add depth and dimension to your outdoor oasis but also serve as a practical solution for terracing slopes and preventing soil erosion.
Opt for natural stone or concrete retaining walls to complement the rugged beauty of xeriscaping. Combine different heights and textures to create an eye-catching focal point that showcases your unique style. As you design your xeriscape, carefully select drought-tolerant plants that thrive in your local climate.
Group them strategically around the retaining walls, creating pockets of color and texture that will delight the senses. Embrace the beauty of succulents, ornamental grasses, and native shrubs, and let them transform your landscape into a low-maintenance haven.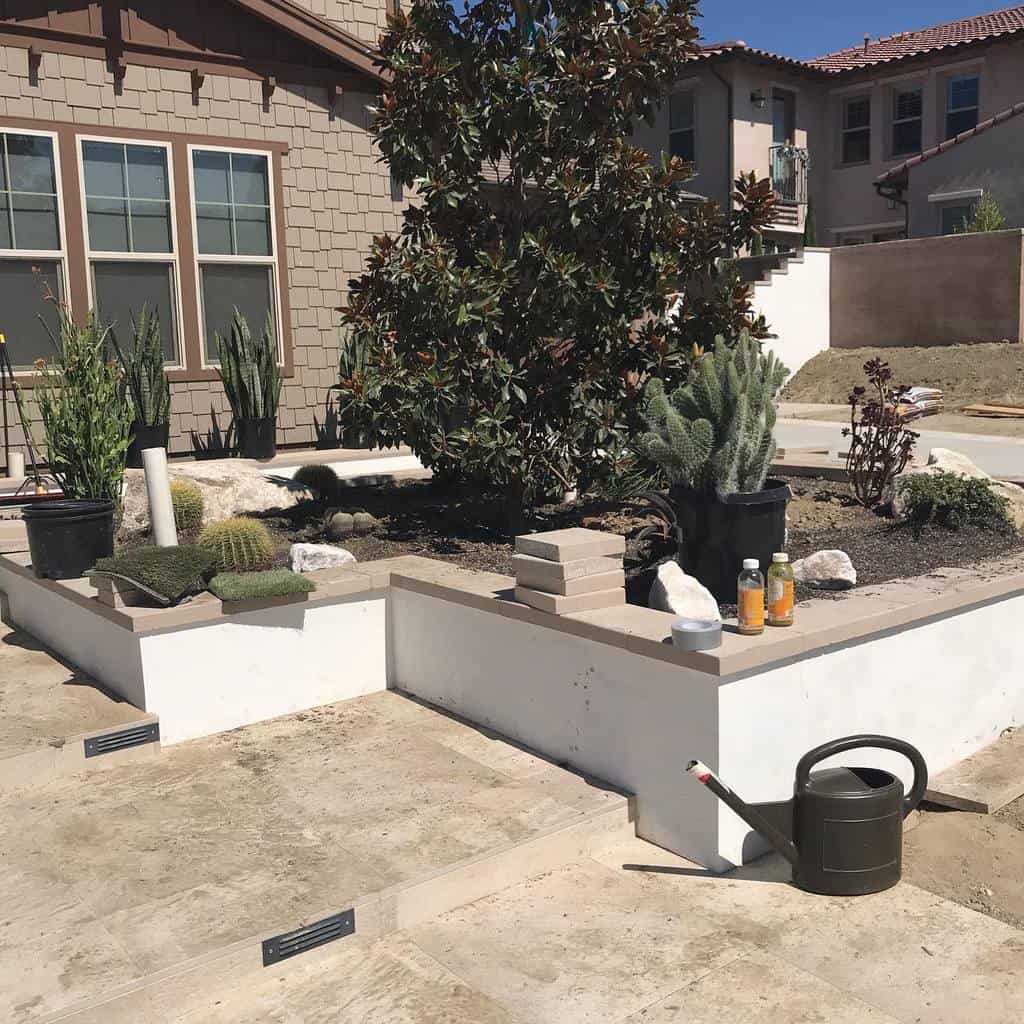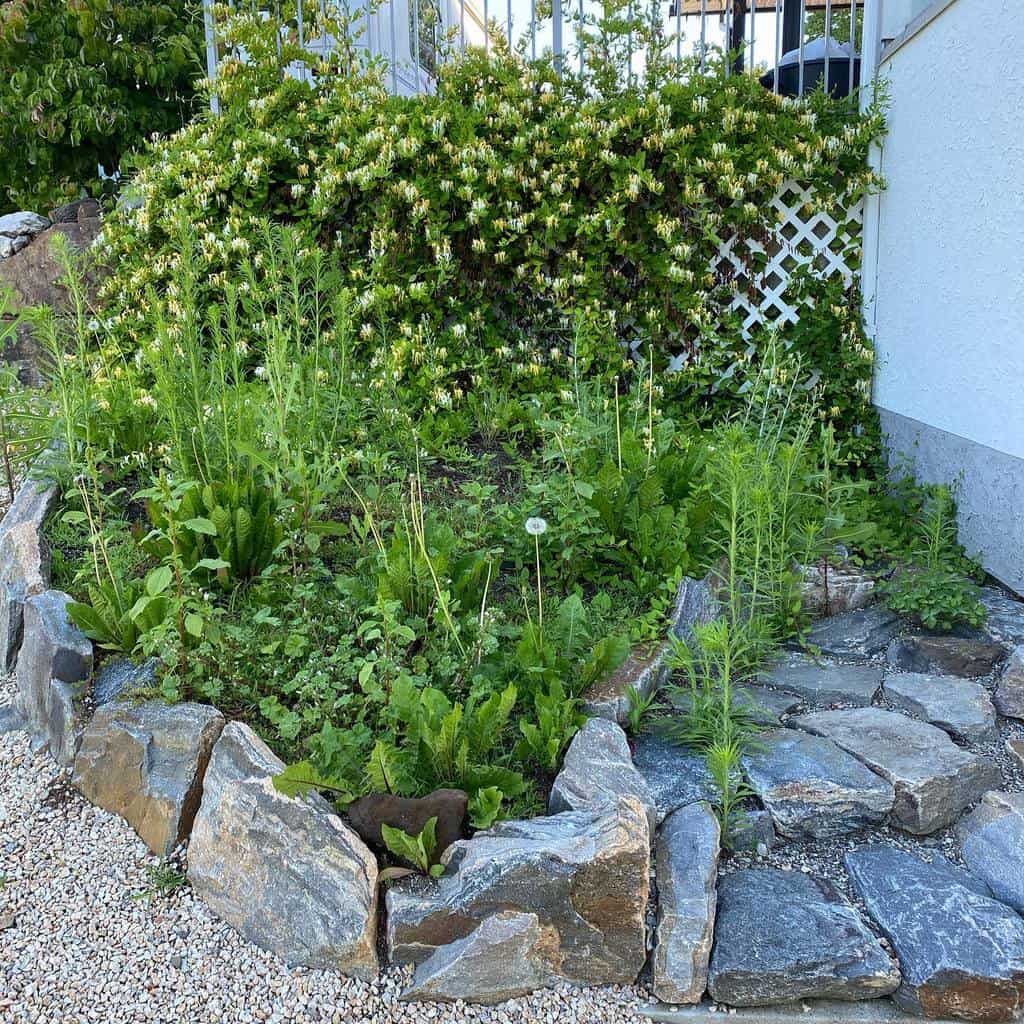 11. Giant Cacti
Picture this: a breathtaking xeriscape design incorporating the majestic presence of giant cacti. These towering beauties not only add a touch of drama to your outdoor space but also serve as a focal point, drawing admiration from all who encounter them.
With their unique shapes and textures, these cacti create an added layer of interest to your xeriscape, turning it into a desert oasis right in your backyard with just a few pieces. The beauty of xeriscaping lies in its ability to harmonize low-water plants and natural elements while reducing water consumption.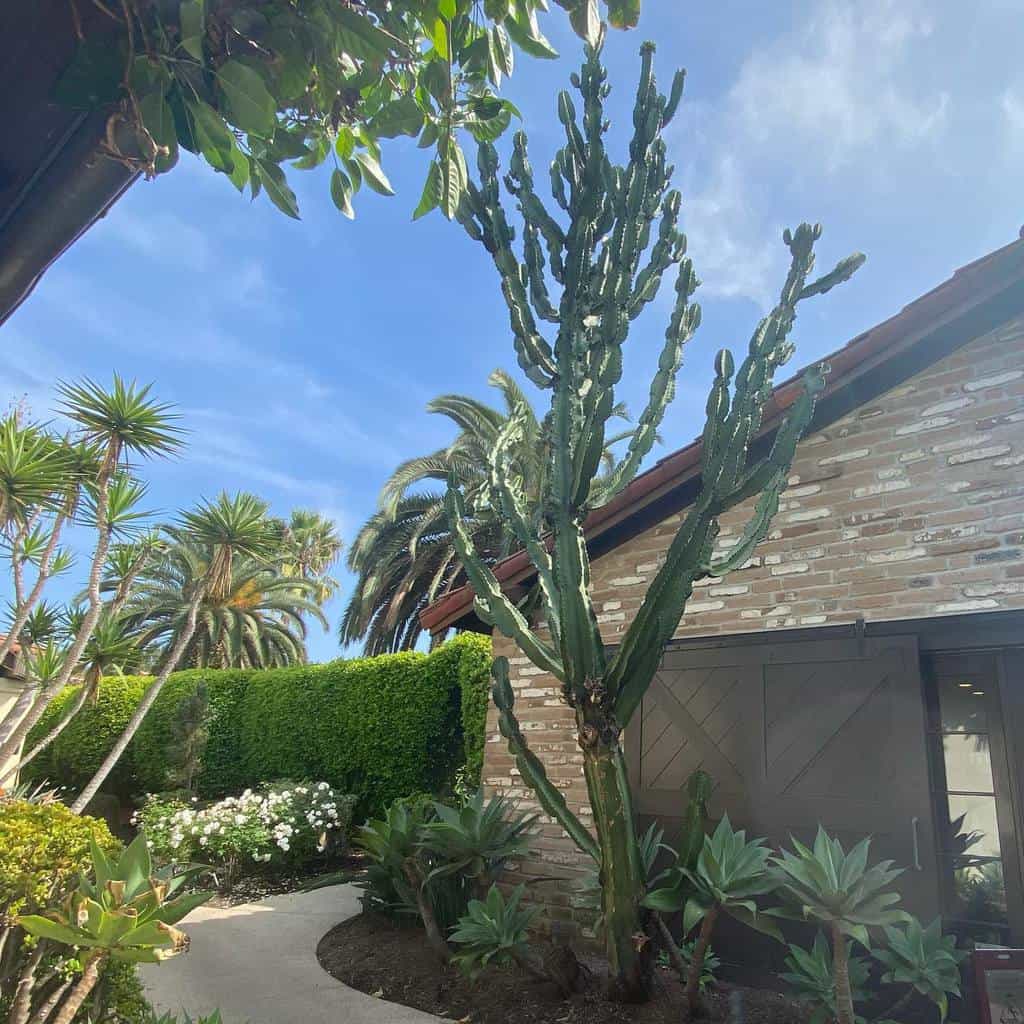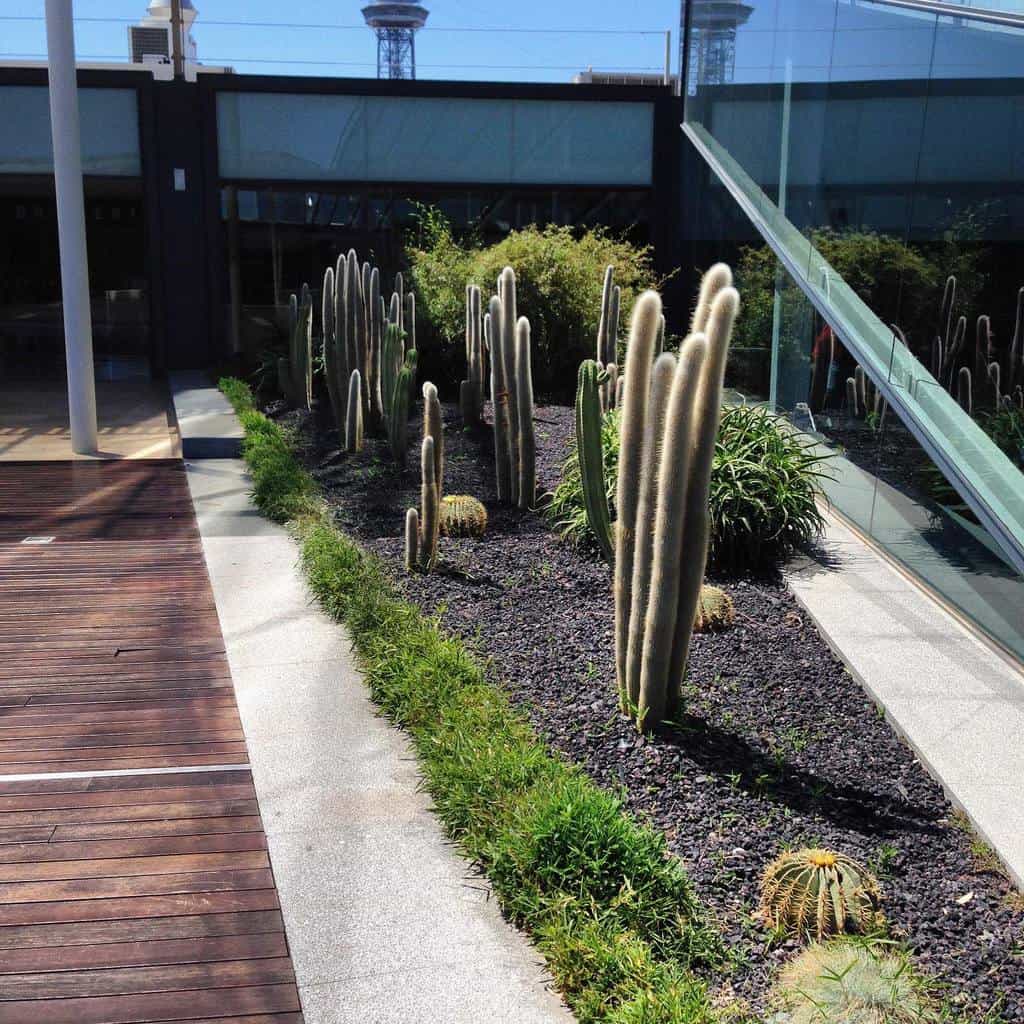 12. Tree Seedlings
These hardy beauties not only require minimal watering but also provide a touch of serene shade, creating a tranquil oasis in your outdoor space. With their graceful canopies and gentle rustling leaves, bamboo and tree seedlings not only offer respite from the sun but also add a touch of vertical interest to your xeriscape design.
Whether you choose to line your pathways with bamboo or strategically place tree seedlings to create shaded seating areas, the addition of shade becomes a vital element in crafting an inviting and sustainable outdoor environment.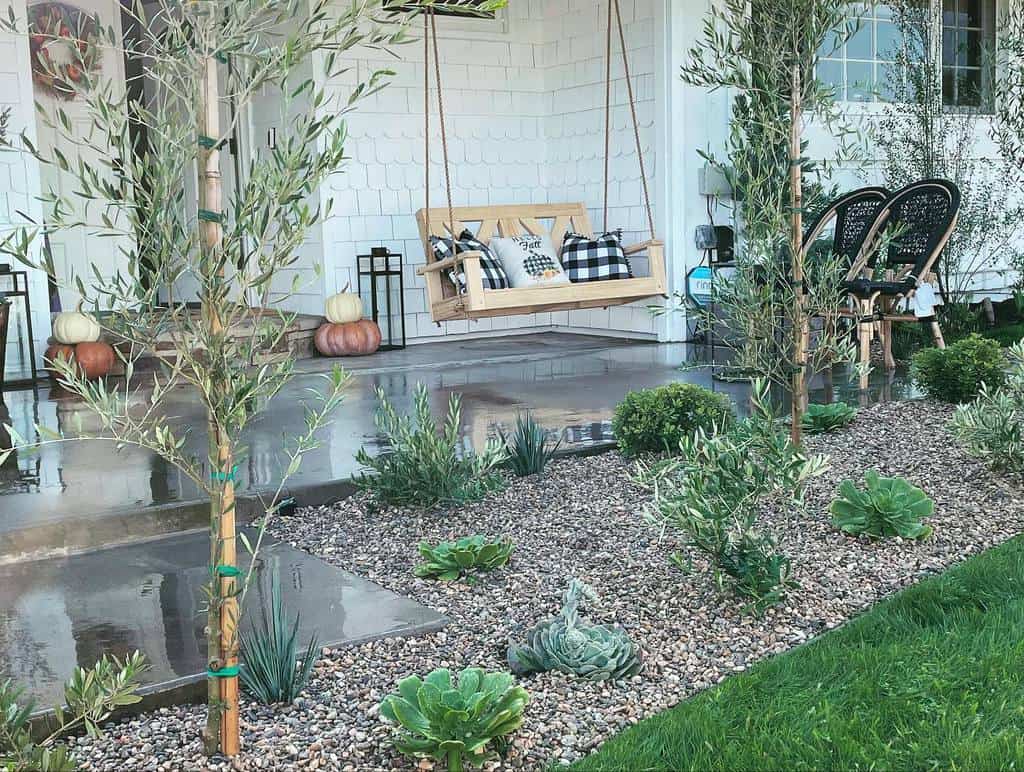 13. Mulch Beds
What better way to enhance your xeriscape than with the addition of mulch beds? Not only do mulch beds provide an appealing visual contrast, but they also offer a multitude of benefits. The rich, earthy tones of the mulch create a warm and inviting atmosphere, while effectively retaining moisture and preventing weed growth.
With carefully chosen plants and shrubs that thrive in arid conditions, your xeriscape with mulch beds becomes a vibrant oasis that requires minimal watering and upkeep. The mulch also acts as a protective barrier, insulating the soil from extreme temperatures and conserving water by reducing evaporation.
As a bonus, mulch beds offer a low-maintenance alternative to traditional lawns, freeing up your time to relax and enjoy the beauty of your xeriscape.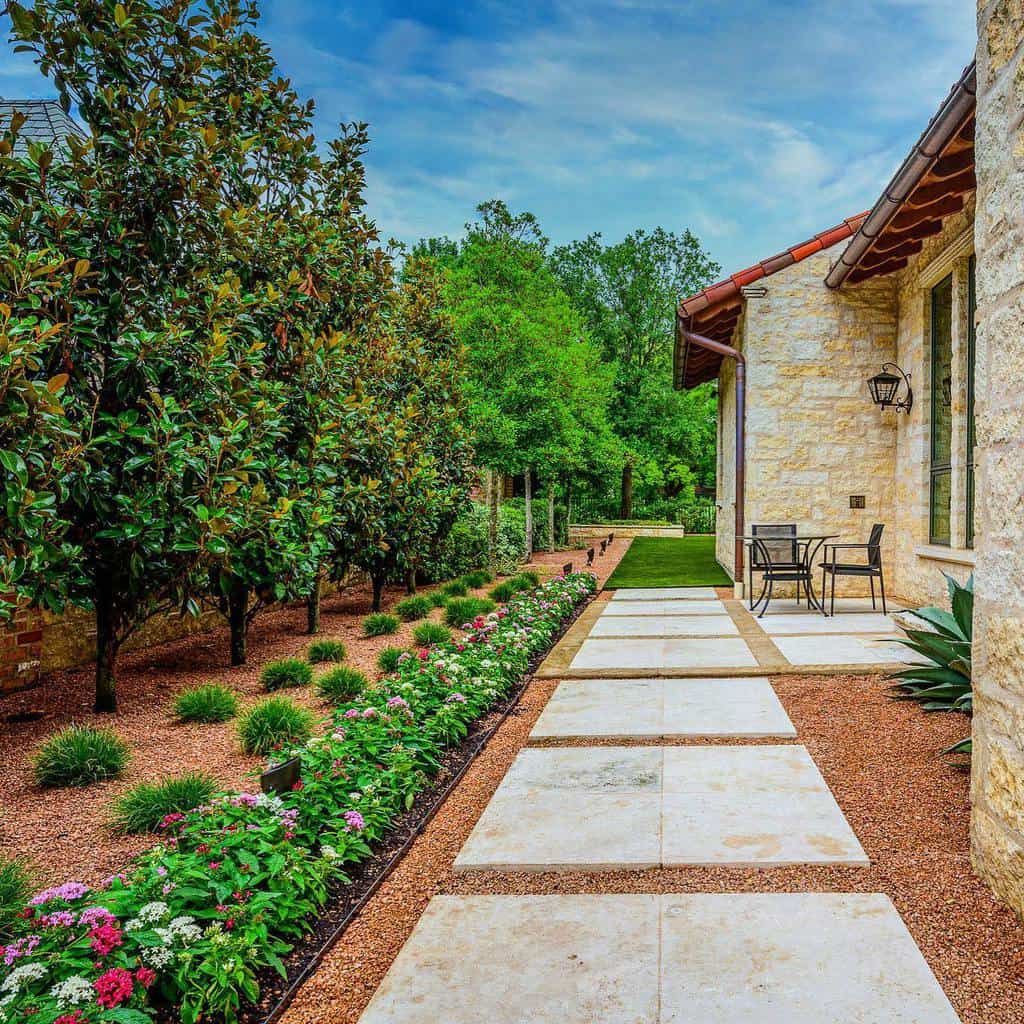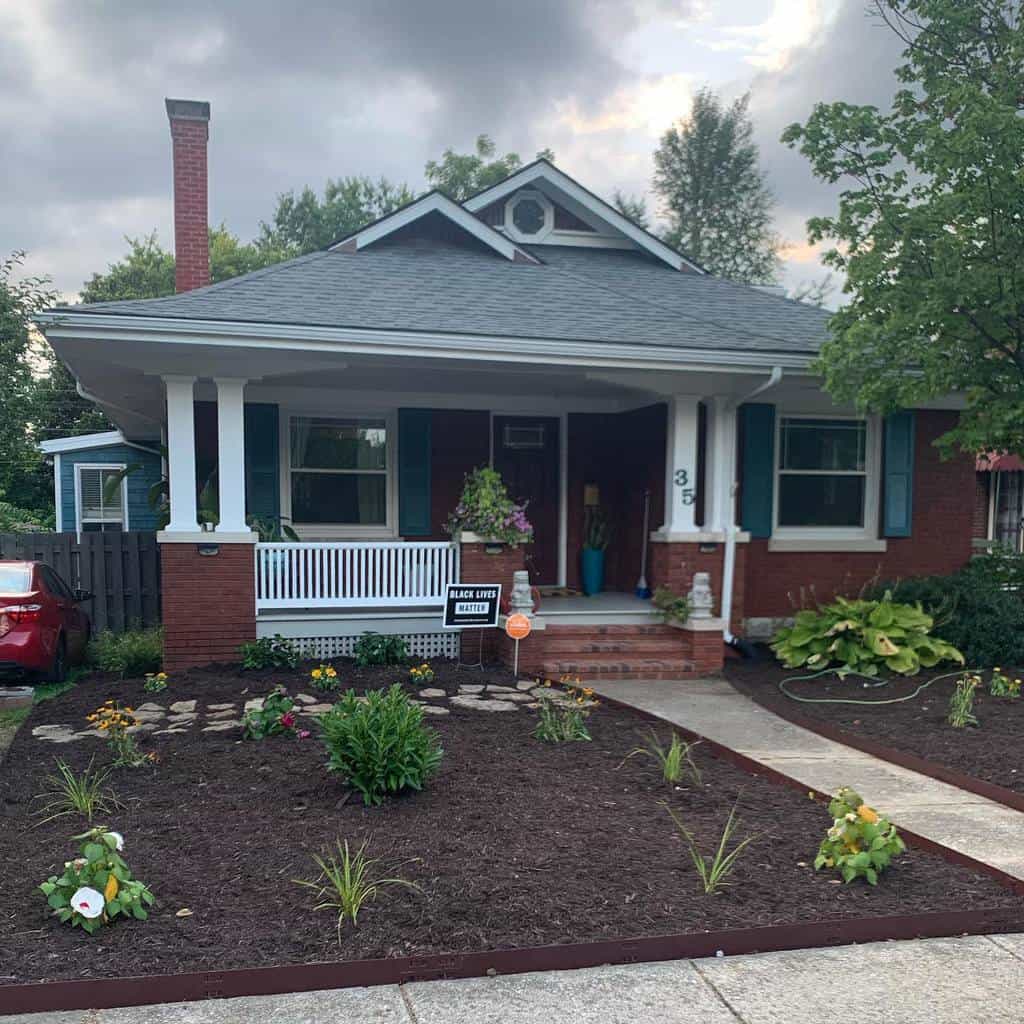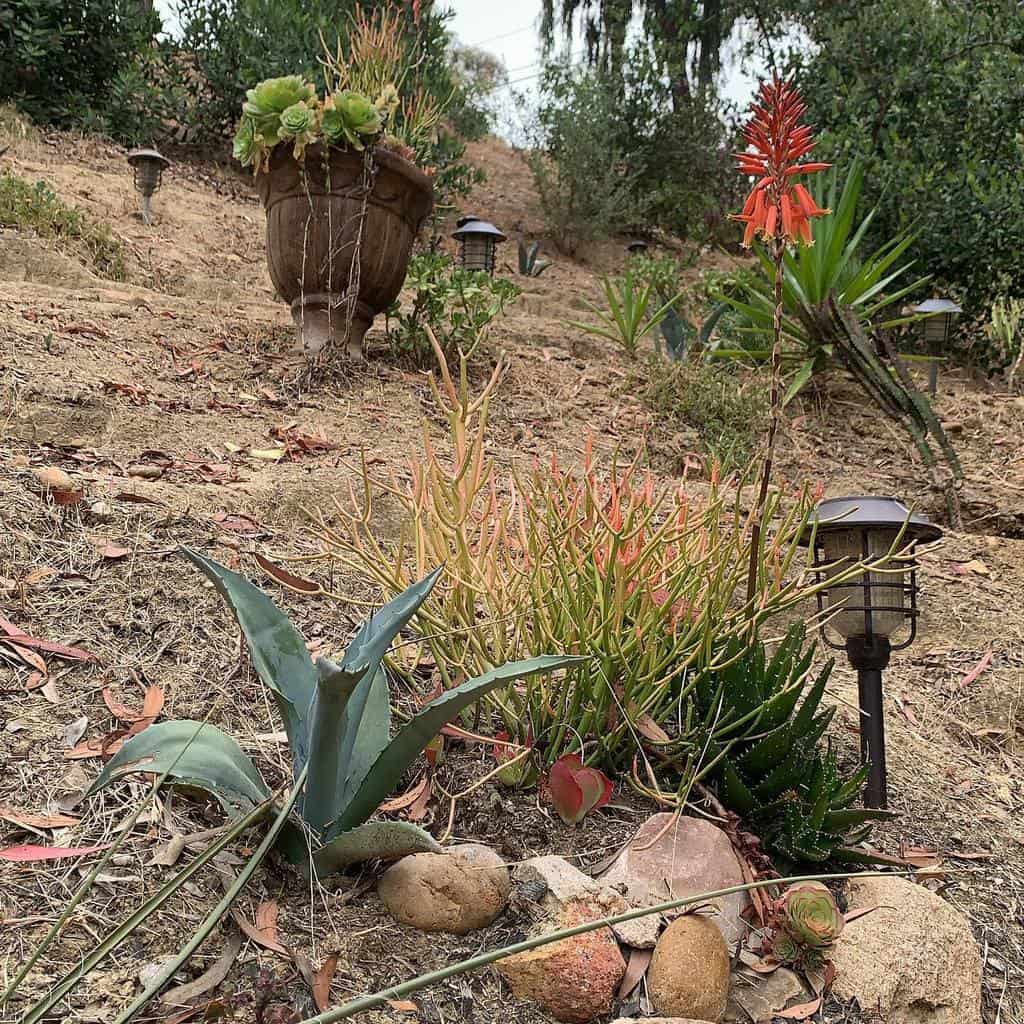 14. Xeriscape Edging
With xeriscape edging, you can define your garden beds and pathways with the rugged beauty of cacti, their unique shapes and textures creating a striking contrast against the vibrant pebbles. This combination not only adds structure to your xeriscape design but also enhances its natural appeal.
As the sun casts its warm glow on your xeriscape edging, you'll feel transported to a desert paradise right in your own backyard. It's an enchanting sight that invites you to unwind, relax, and connect with nature in a sustainable and visually captivating way.
So, why not embrace the allure of xeriscape edging and create a desert-inspired haven that celebrates both style and resourcefulness? It's time to reimagine your outdoor space and let the beauty of xeriscaping take center stage.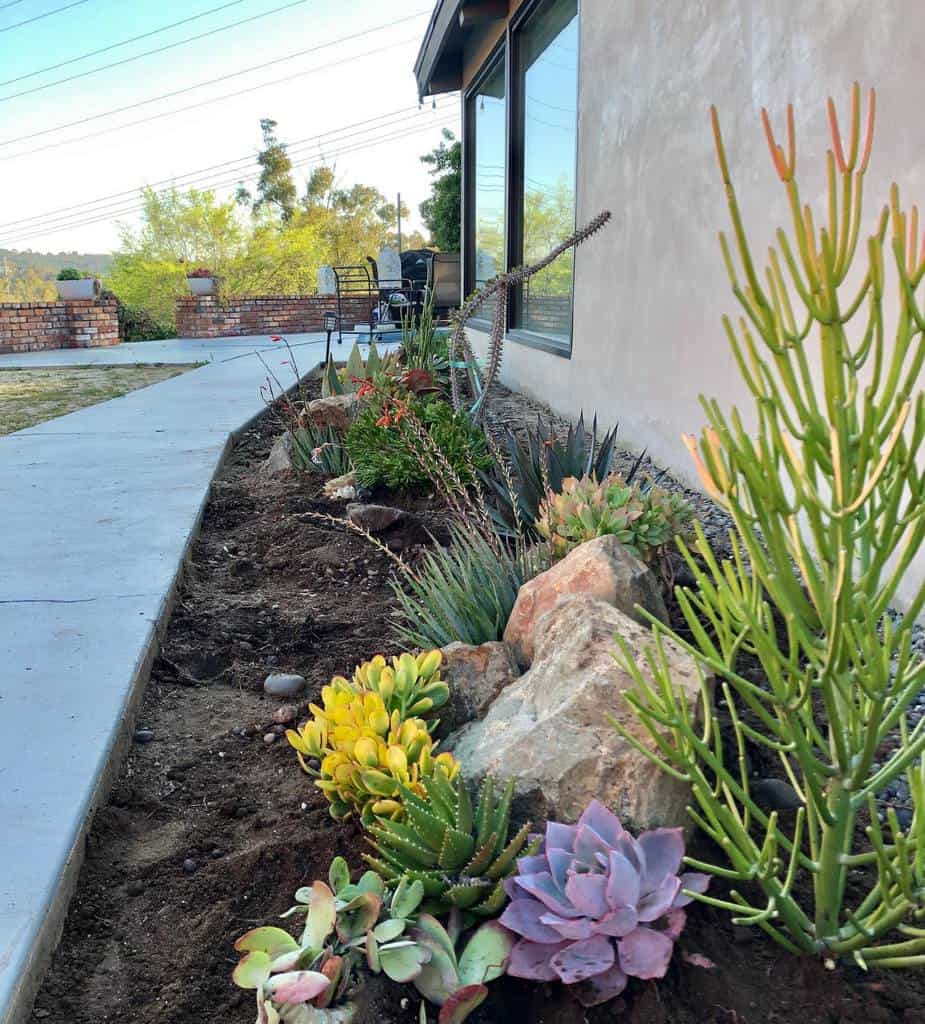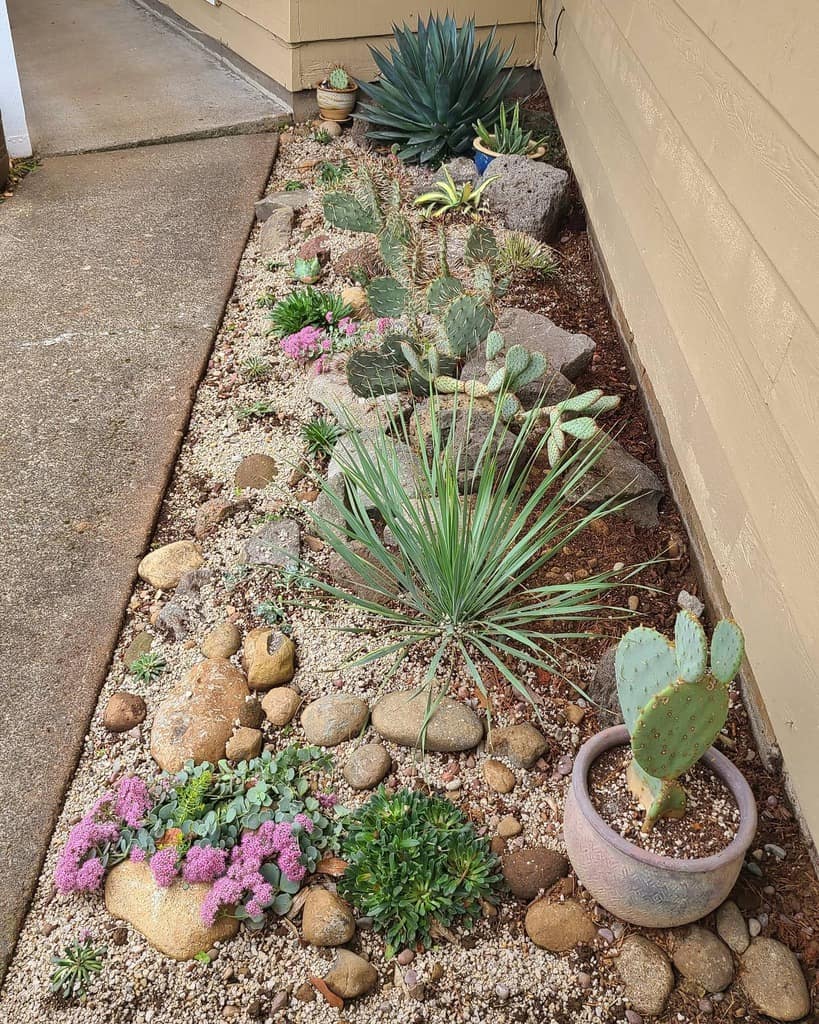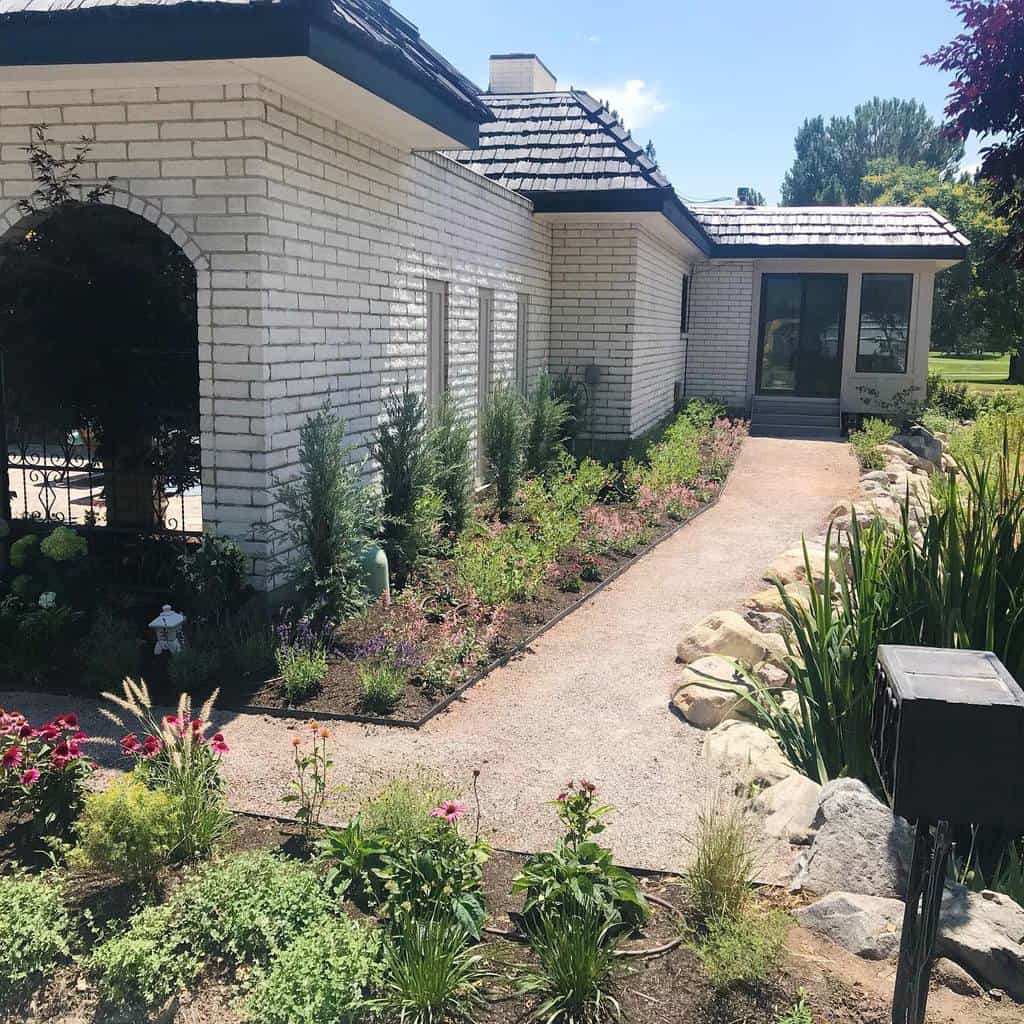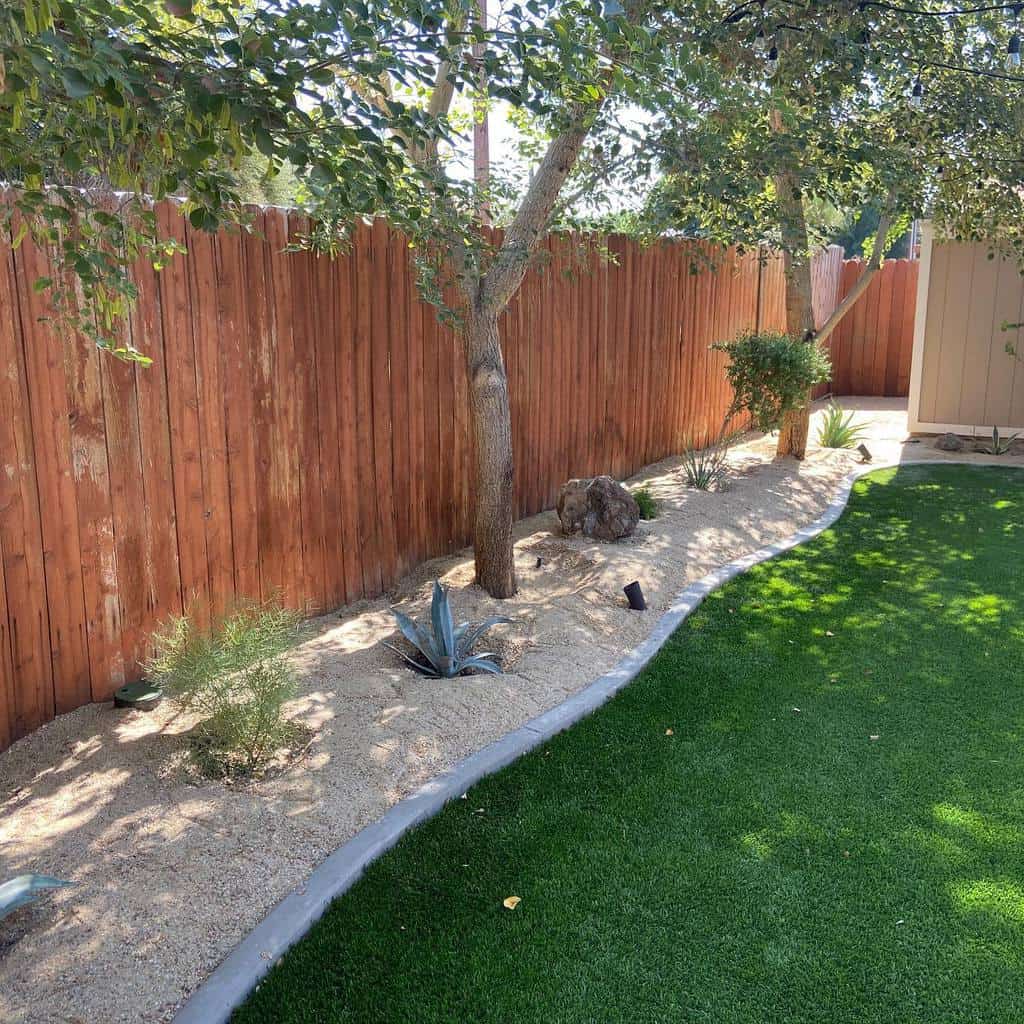 15. Drought-Tolerant Plants
Picture vibrant succulents, resilient cacti, and hardy grasses adorning your outdoor space, transforming it into a sanctuary of texture and color. With their unique shapes and textures, these plants bring a sense of intrigue and character to your landscape. Not only do they conserve water, but they also provide habitat for local wildlife, enhancing the biodiversity of your surroundings.
To complement the plants, incorporate elements such as decorative rocks, gravel pathways, and low-maintenance hardscaping features. The result? A captivating outdoor space that requires less water and upkeep, giving you more time to relax and enjoy the beauty of nature.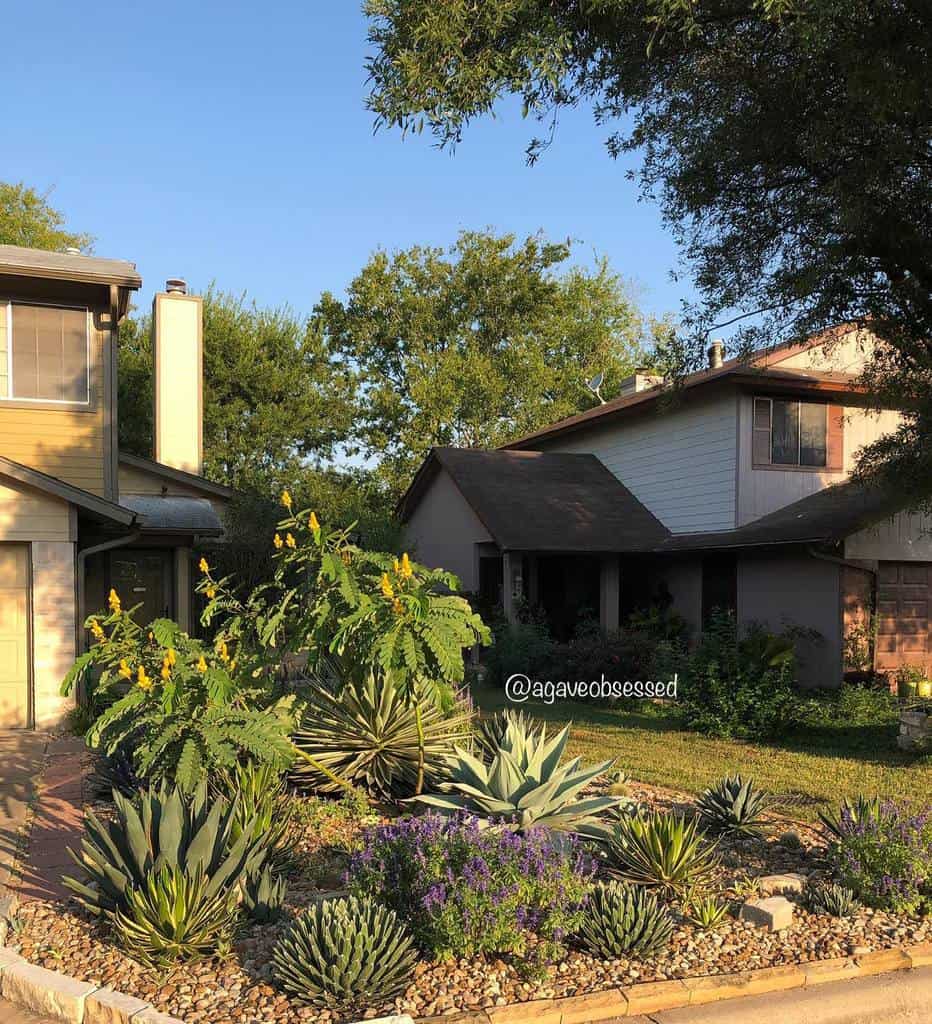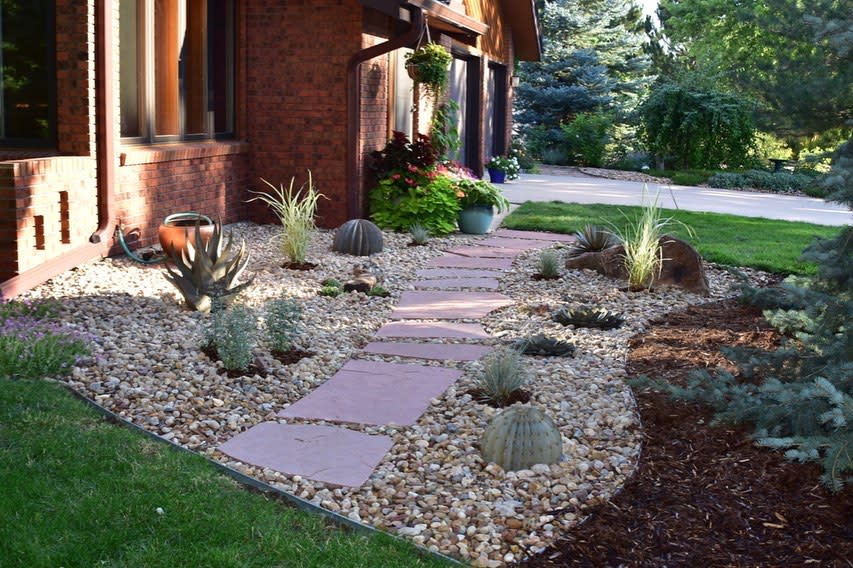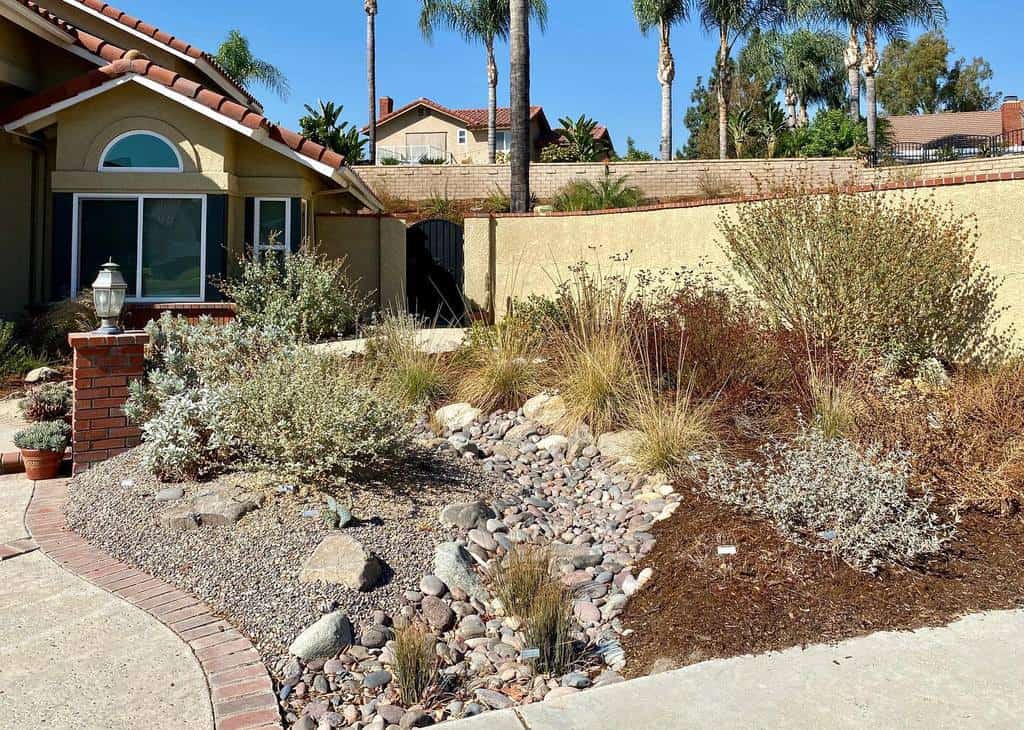 16. Potted Succulents
One creative way to incorporate xeriscaping into your landscape is by using potted plants. Imagine a scene of potted cacti elegantly placed on a bed of pristine white pebbles, their vibrant colors and unique shapes adding a touch of desert allure to your outdoor paradise. Not only do potted plants conserve water, but they also offer the flexibility to rearrange and experiment with different compositions.
Create eye-catching focal points by arranging various sizes and species of cacti, succulents, and drought-tolerant plants in stunning terracotta pots or modern planters. To further enhance the visual appeal, consider edging the area with natural stones or decorative borders that define the space and provide a polished finish.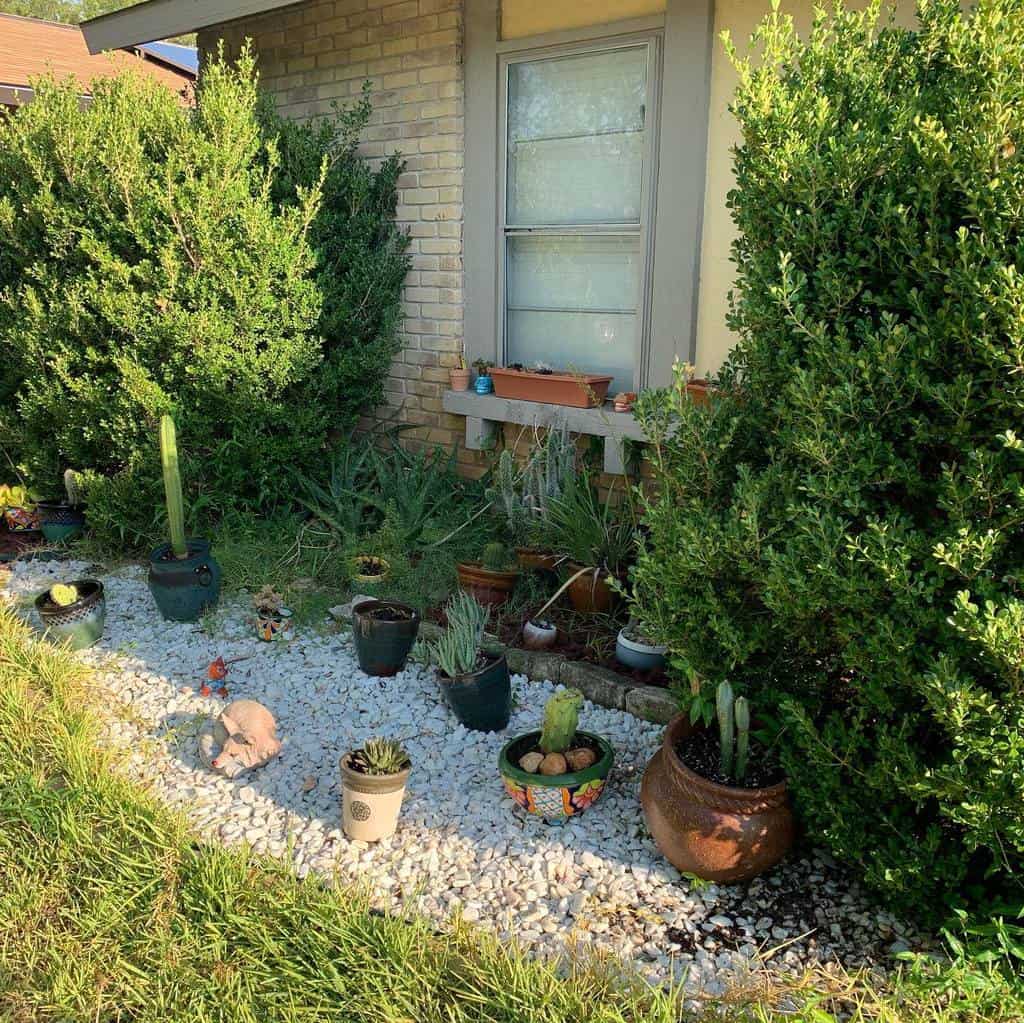 17. Pebbled Walkway
One idea that adds both functionality and charm to your xeriscape design is a pebbled walkway. Picture a meandering path lined with smooth, natural pebbles that guide you through your garden, inviting you to explore and appreciate the natural beauty around you.
This low-maintenance walkway not only complements the surrounding desert landscape but also conserves water and reduces the need for regular upkeep. The soothing crunch under your feet as you stroll along the pebbled path creates a sense of tranquility and serenity.
Pair it with carefully selected drought-tolerant plants, succulents, and native grasses to complete the xeriscape look. The pebbled walkway adds texture and visual interest to your outdoor space while minimizing water usage and maximizing the overall aesthetic appeal.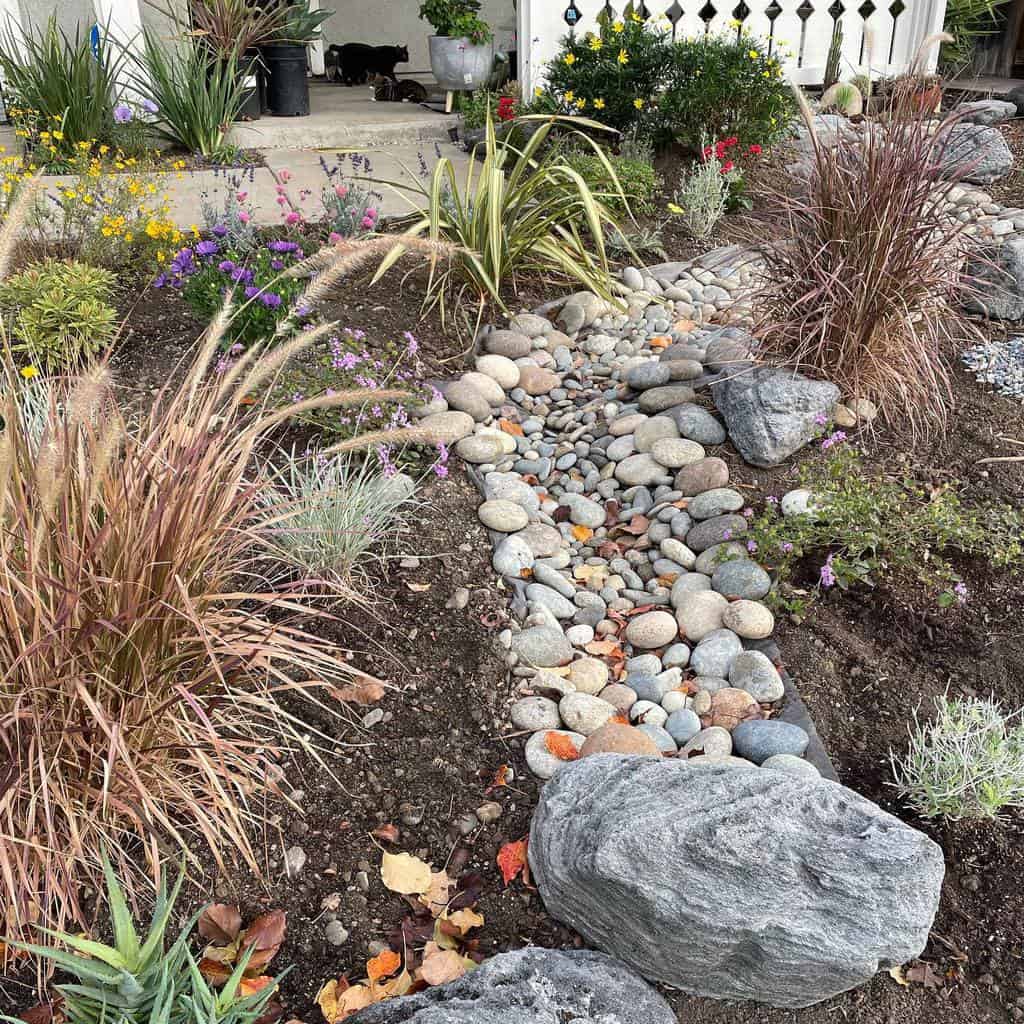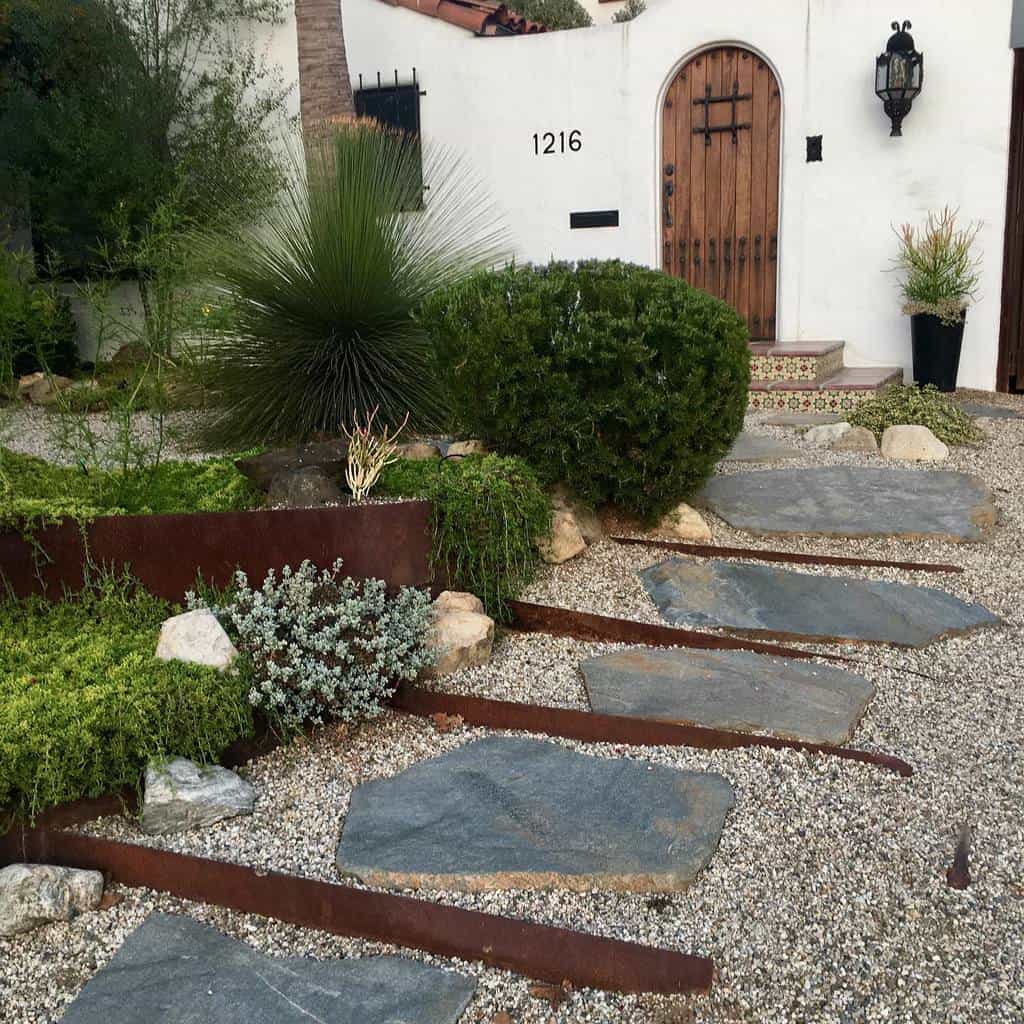 18. Plant Boxes
Step into the world of xeriscaping, where beauty and sustainability collide in perfect harmony. One of the most creative and versatile ways to embrace xeriscaping is by incorporating plant boxes into your outdoor oasis. These plant boxes not only add a touch of visual interest but also serve as practical solutions for water-efficient gardening.
Imagine an array of vibrant succulents, hardy cacti, and colorful native plants nestled in these stylish containers, creating a striking focal point in your landscape. The plant boxes allow you to bring life to even the smallest of spaces, whether it's a cozy balcony, a compact patio, or a sun-drenched deck.
You have the freedom to play with different heights, textures, and colors, creating a tapestry of drought-tolerant plants that require minimal water and maintenance.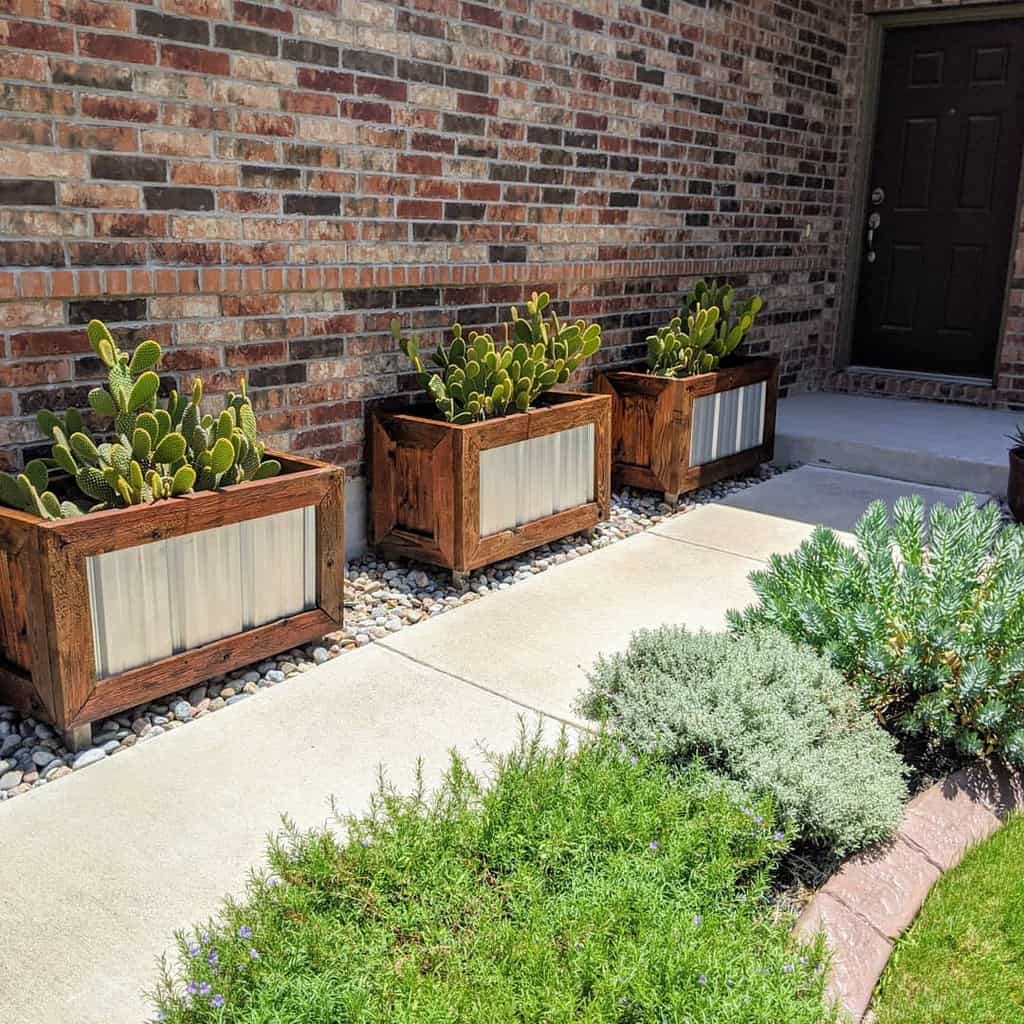 Xeriscape FAQs
What are the benefits of xeriscaping?
The biggest benefit of xeriscaping is that it requires very few resources. Planting native species can eliminate the need for chemical fertilizers and pesticides.
Many homeowners even save money by switching to a xeriscape landscape design. This is because native plants need minimal upkeep.
Can you use fertilizer in xeriscaping?
Yes, you can use fertilizer in xeriscaping. But since xeriscaping is all about reducing the number of resources used for landscaping, you want to keep your fertilizer use to a minimum.
The best way to limit how much fertilizer your garden needs is by choosing native plants. It's also good practice to perform a soil test before fertilizing to determine exactly which nutrients are missing.
Should you use mulch in your xeriscape?
Mulch is extremely important to successful xeriscaping for a variety of reasons. Whether you use wood chips, gravel, rocks, or compost, mulch slows the evaporation of moisture from the soil. A layer of mulch can also help prevent erosion caused by wind, rain, and foot traffic.