53 Apartment Living Room Ideas
In the heart of our homes, the living room is a place where life truly happens. From tranquil moments of solitude with a book to vibrant social gatherings with friends, it's a space that flexibly adapts to our ever-evolving needs. But when that living room is located in an apartment, the challenge of crafting the perfect space becomes slightly more complex. Size constraints, rental rules, and shared walls can make it feel like your dream living room is merely that – a dream.
But fear not, dear reader. In this article, we will be exploring a multitude of apartment living room ideas that go beyond the boundaries of size and other potential limitations. Whether you're a fan of minimalist aesthetics, craving for a bohemian touch, or aspiring for a modern-chic vibe, we will share inventive, practical, and stylish suggestions to transform your apartment living room into a personal sanctuary. Be prepared to spark your creativity, make the most out of your space, and fall in love with your living room all over again.
1. Modern-Minimalist Living Room
Embrace the beauty of simplicity by incorporating sleek and clean-lined furniture pieces that will anchor the room. Consider using wood pallet furniture, which adds a rustic yet contemporary charm. Opt for a minimalist sofa with clean shapes and neutral tones, complemented by a coffee table and side tables that exhibit minimalist design principles.
Introduce geometric patterns and textures through throw pillows and rugs to add visual interest and depth to the space. Keep the color palette neutral with shades of white, gray, and beige, allowing the natural light to bounce off the walls and create an airy and open atmosphere. Maximize the use of space by incorporating smart storage solutions such as wall-mounted shelves or hidden storage ottomans.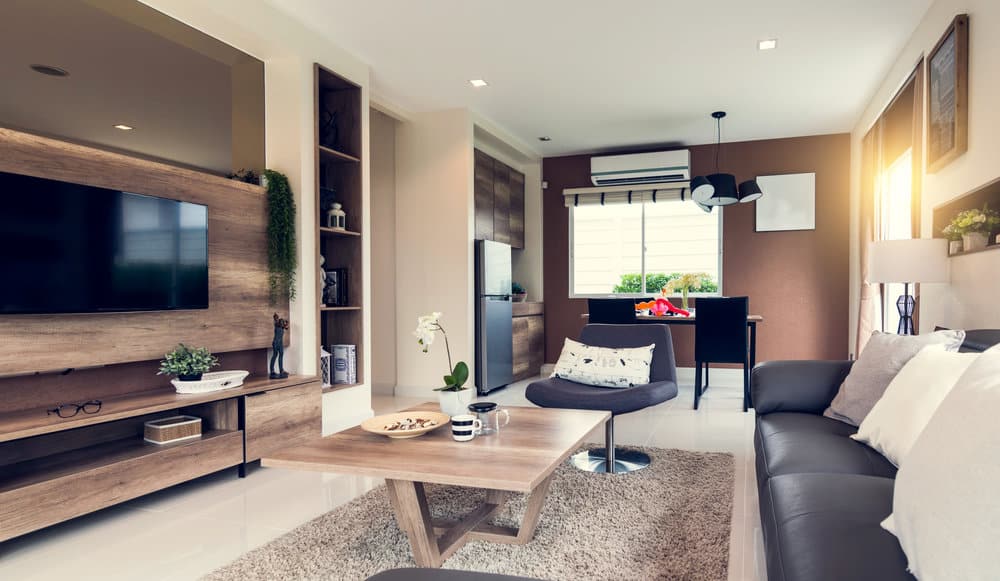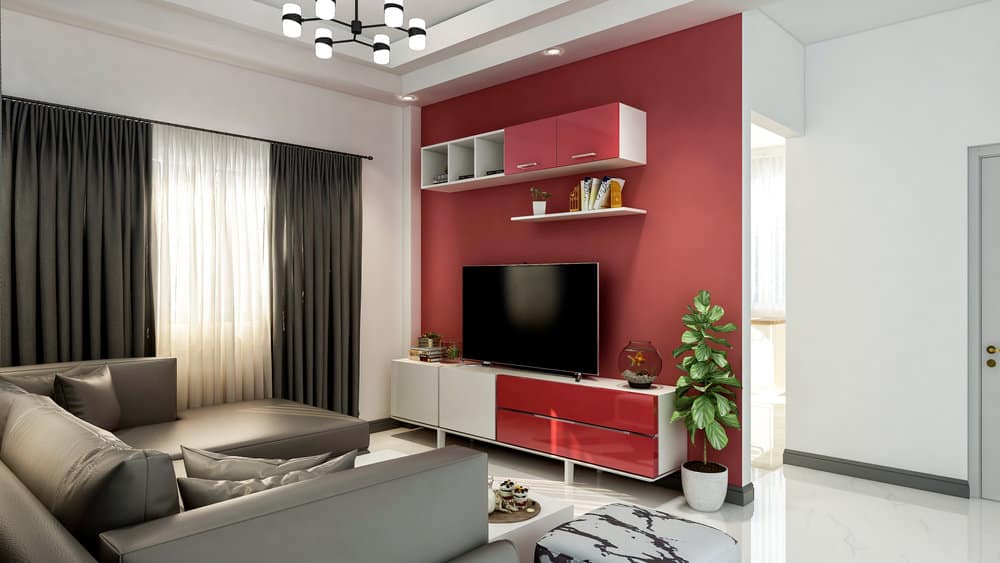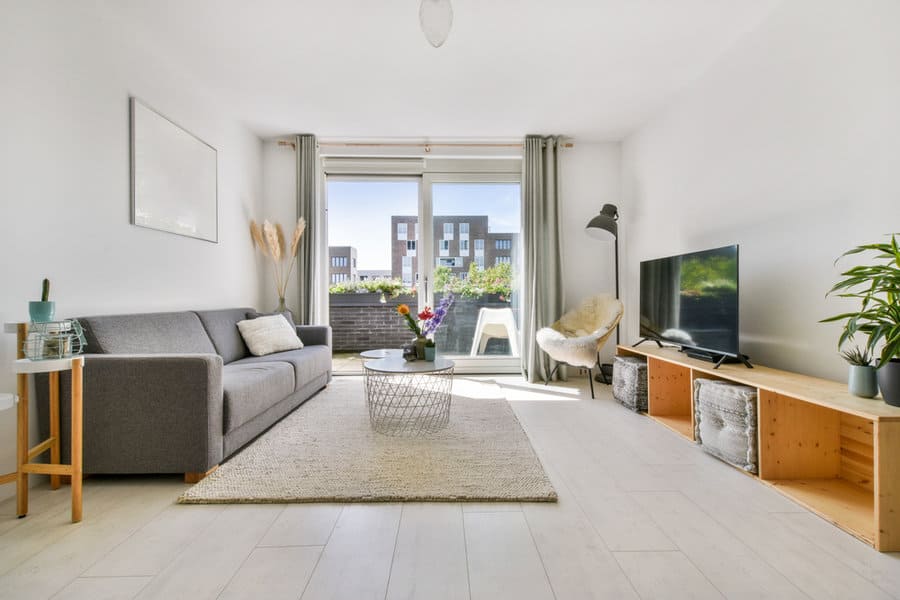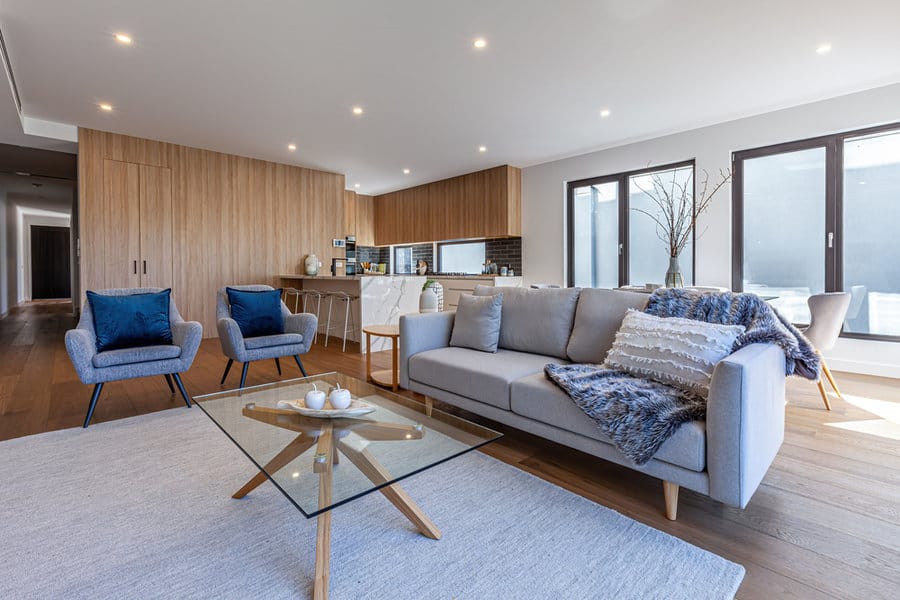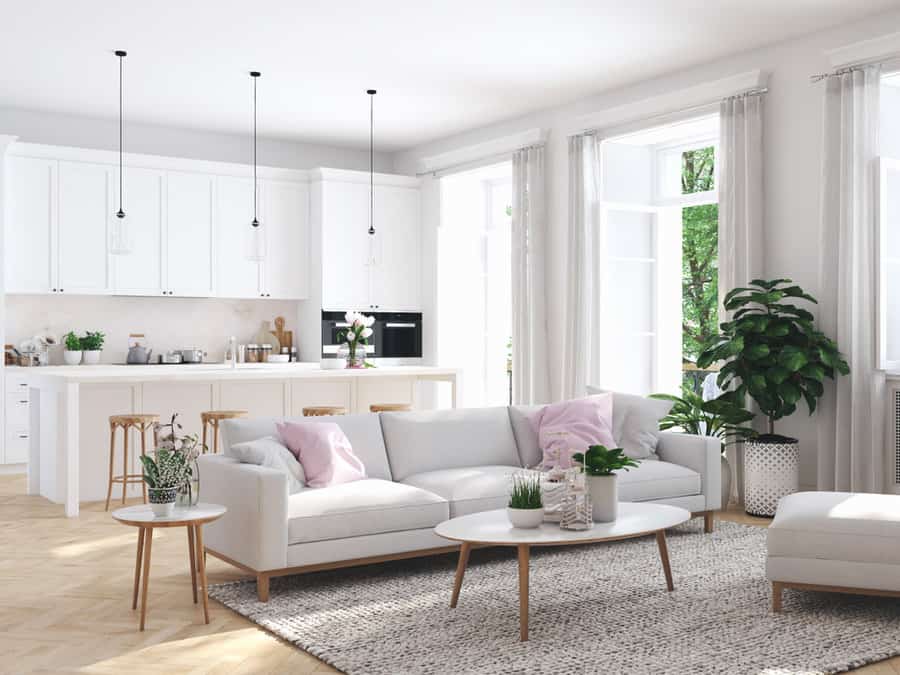 2. Boho Living Room
Create a captivating and stylish oasis in your apartment living room with a boho-inspired design that exudes warmth and comfort. Embrace the essence of bohemian chic by incorporating woven decors, such as rattan furniture, jute rugs, and textured wall hangings. Add a touch of boho flair with macrame plant hangers, showcasing your favorite greenery and infusing the space with a natural vibe.
Layer the seating area with plush cushions and fringe blankets, inviting you to sink in and relax. Mix and match patterns and colors for an eclectic feel, combining vibrant hues with earthy tones to create a harmonious balance. Don't be afraid to bring in vintage pieces and treasures from your travels, as they add character and authenticity to your boho haven. The key is to curate a space that reflects your free-spirited personality and embraces the beauty of imperfections.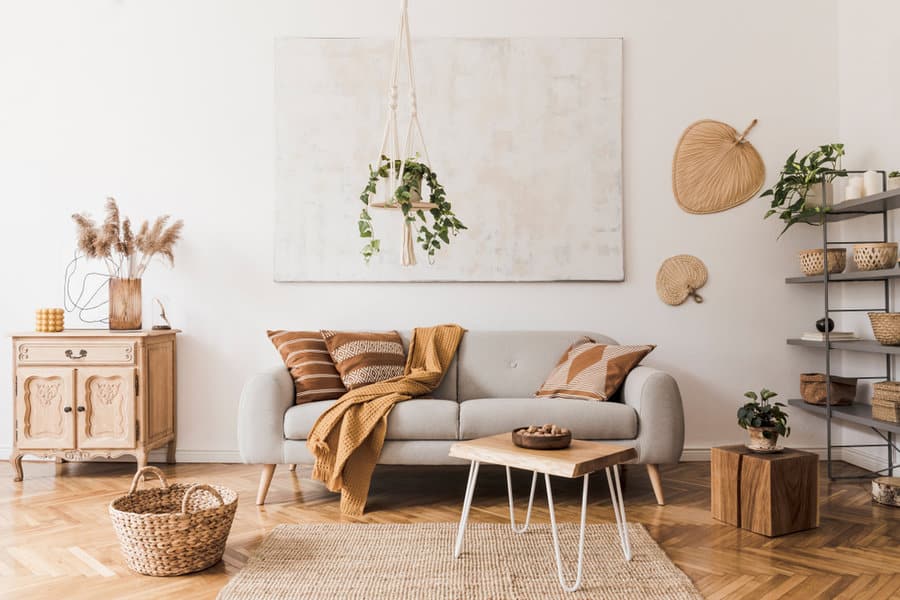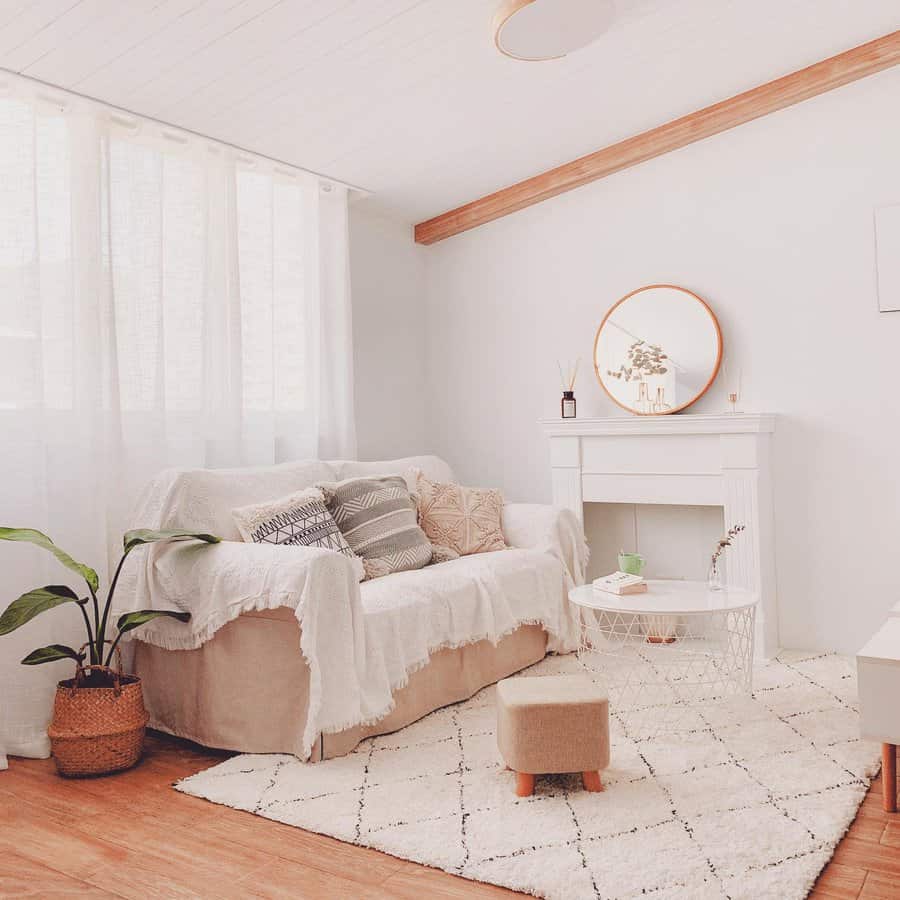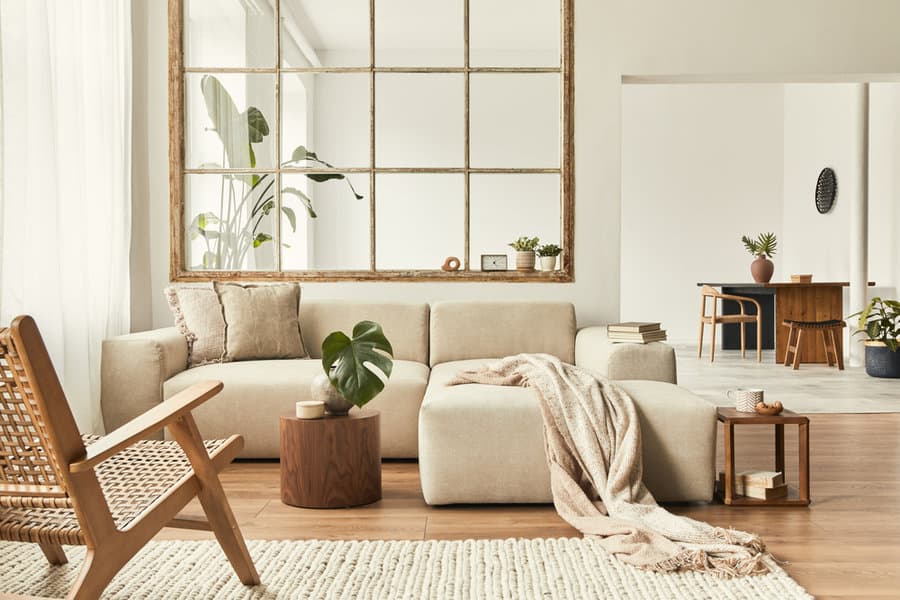 3. Contemporary Living Room
Elevate the style of your apartment living room with a contemporary design that exudes sophistication and elegance. Incorporate sleek lines, minimalist aesthetics, and a touch of metallic details to create a space that is both chic and modern. Choose furniture pieces that showcase clean and crisp designs, such as a low-profile sofa with a metallic base or a coffee table with a polished metal frame.
Opt for a neutral color palette as the foundation, and then introduce pops of color through accessories like vibrant throw pillows or abstract art pieces. To enhance the contemporary feel, consider adding a statement lighting fixture with metallic accents, such as a sleek pendant or a sculptural floor lamp. Don't forget to add functional storage solutions that blend seamlessly with the overall design, like a media console with a metallic finish or floating shelves with metallic brackets.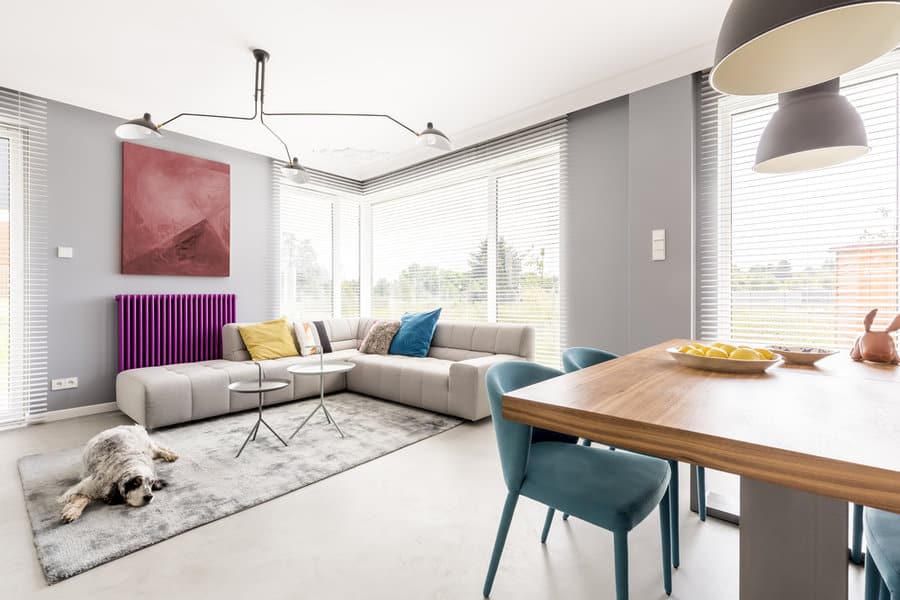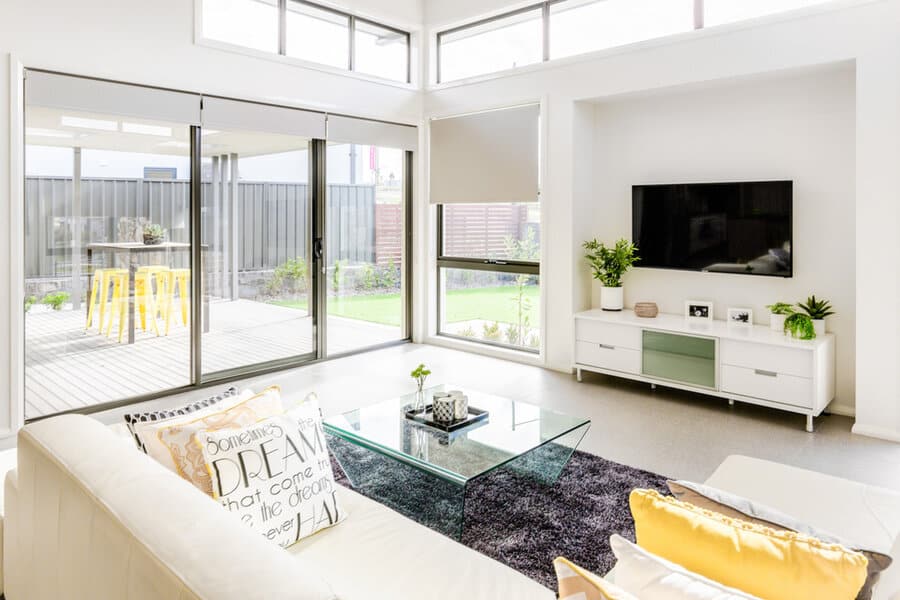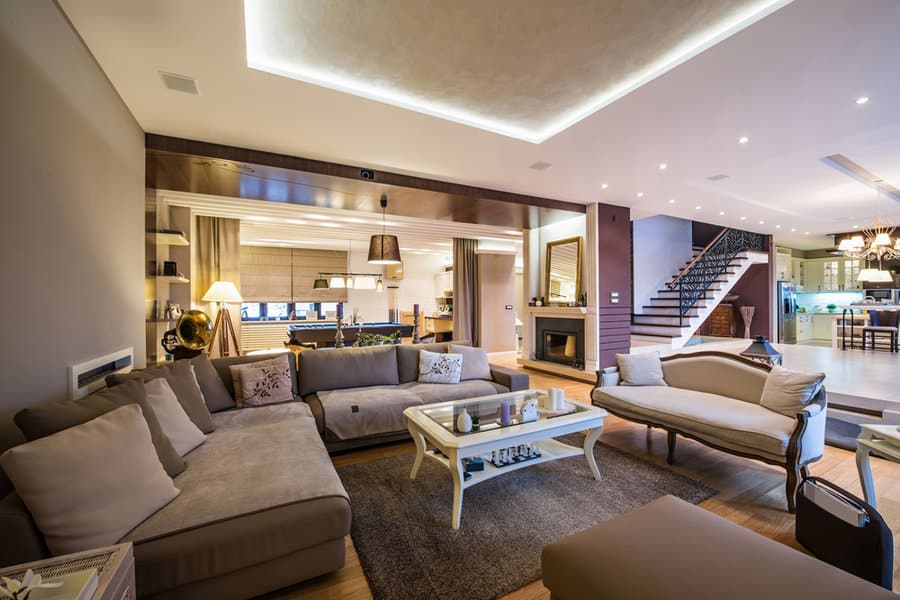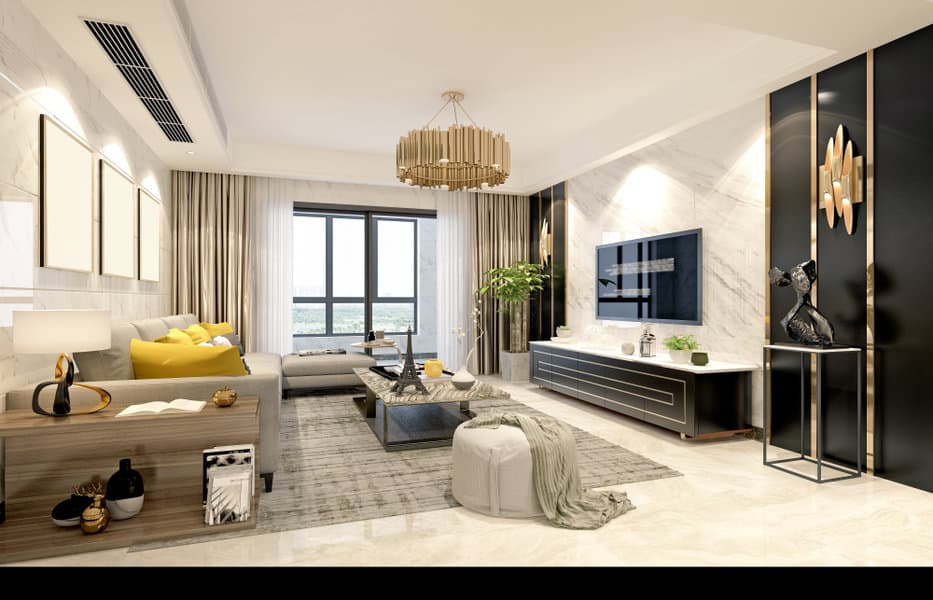 4. Industrial Living Room
Create an effortlessly cool and stylish living room in your apartment with an industrial-inspired design that exudes urban sophistication. Embrace the raw and edgy elements of industrial style by showcasing the beauty of exposed brick walls and concrete surfaces.
Let these architectural features become the backdrop for your carefully curated space. To enhance the ambiance, wrap lights around beams or suspend them from the ceiling for a touch of industrial charm. When it comes to furniture, opt for pieces that embody the industrial aesthetic, such as a weathered leather sofa, metal-framed coffee table, or reclaimed wood shelving unit.
Incorporate industrial accents like metal pendant lights, vintage signage, and factory-inspired decor to complete the look. This style celebrates the fusion of functionality and aesthetics, so look for furniture that balances form and purpose.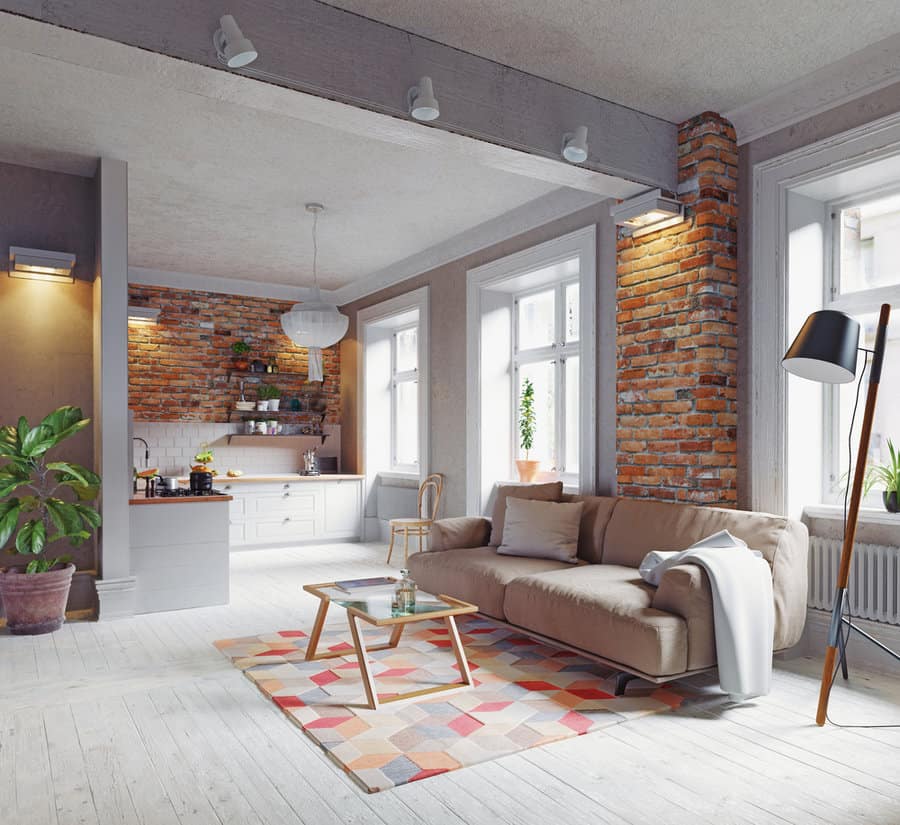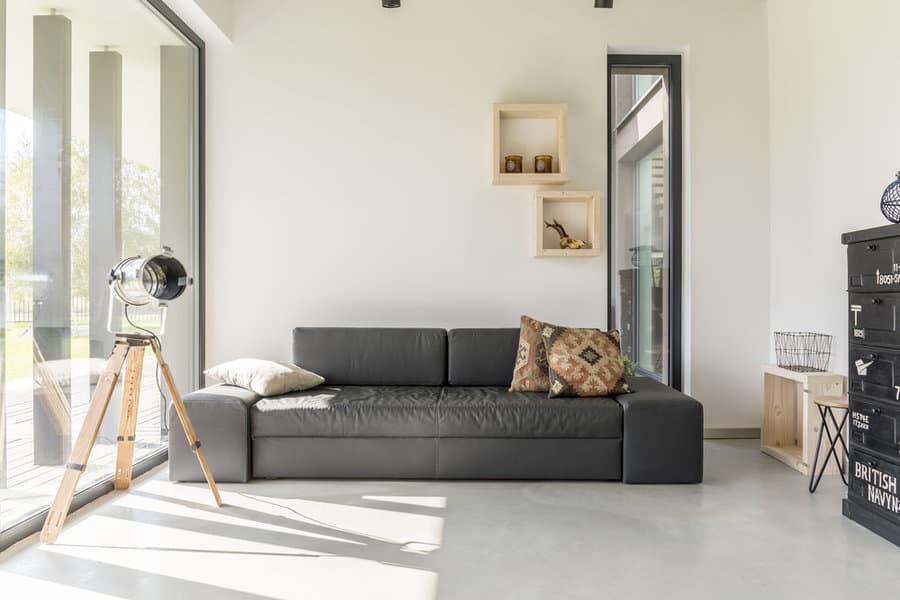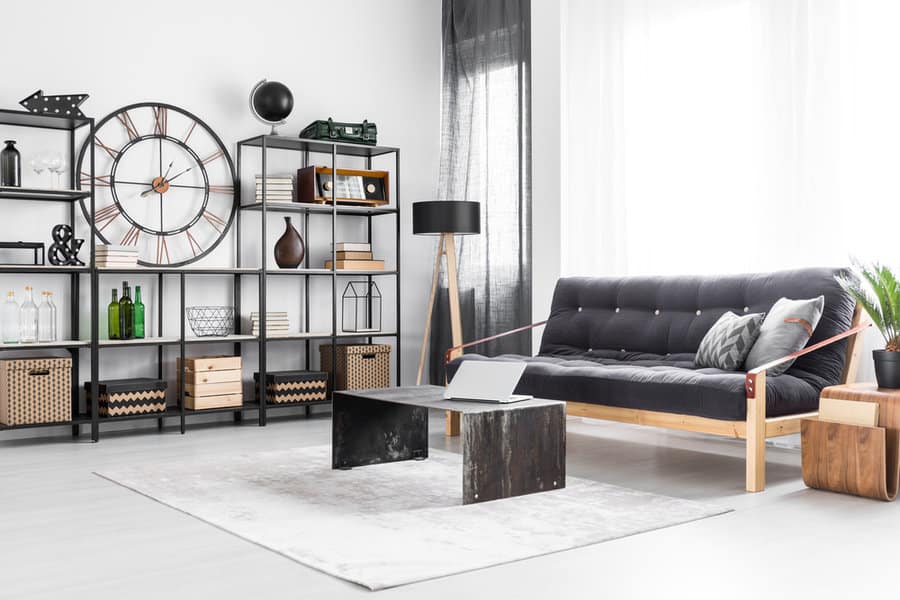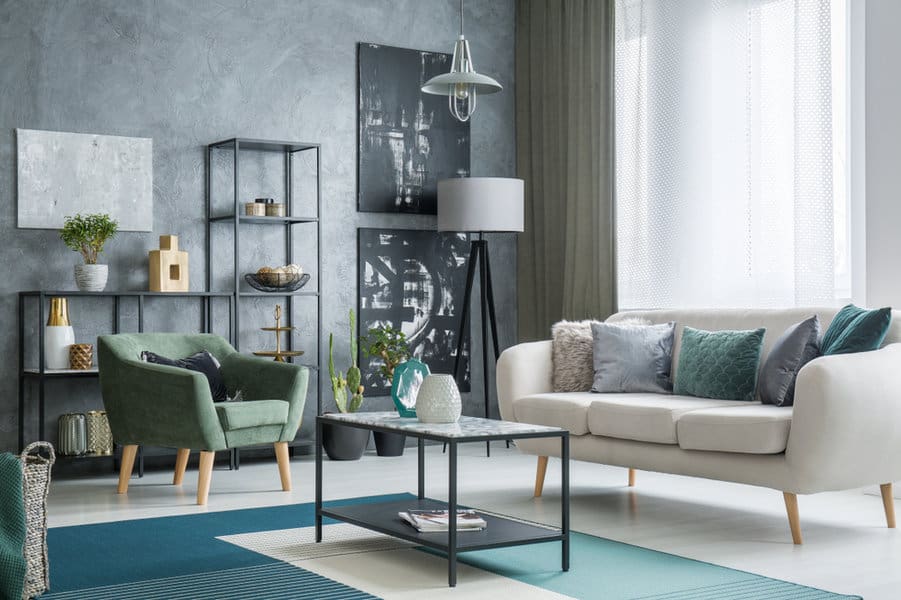 5. Transitional Living Room
Create a harmonious space by combining clean lines and sleek finishes with timeless furniture pieces. Opt for a plush sofa with classic tufted detailing and pair it with a sleek coffee table featuring a mix of metal and glass. Add a touch of elegance with a set of accent chairs upholstered in luxurious fabrics, like velvet or linen.
Incorporate transitional furniture examples, such as a console table with a mix of wood and metal, or a stylish bookshelf with a blend of open and closed storage. Choose a neutral color palette as your base and introduce pops of color through accessories like vibrant throw pillows or a statement area rug. With a transitional living room design, your apartment will exude a sense of timeless elegance and contemporary charm.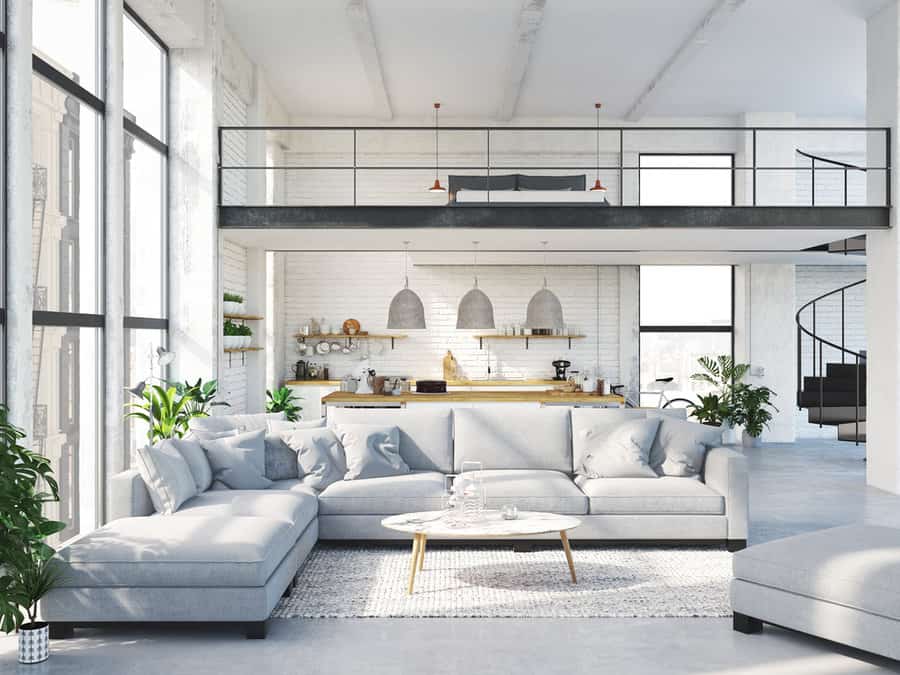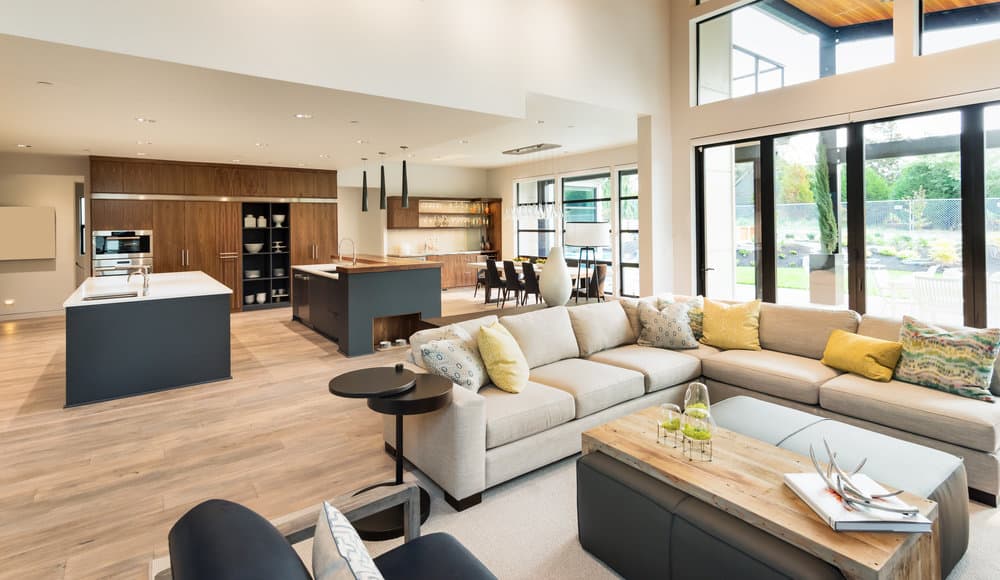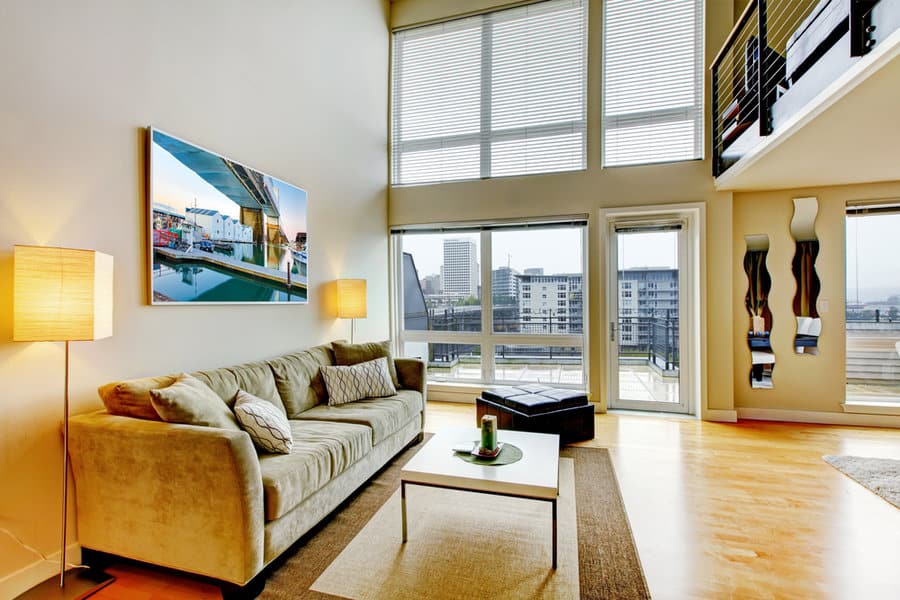 6. Scandinavian Living Room
Incorporate natural materials like rattan or wicker in your decor, whether it's a woven pendant light or a stylish storage basket. Enhance the ambiance with a light color palette, including shades of white, gray, and muted pastels, which will create an airy and tranquil atmosphere.
Don't forget to introduce cozy textiles like plush rugs and textured cushions to add warmth and comfort. By embracing the principles of Scandinavian design, your apartment living room will become a chic haven that combines functionality, simplicity, and effortless style.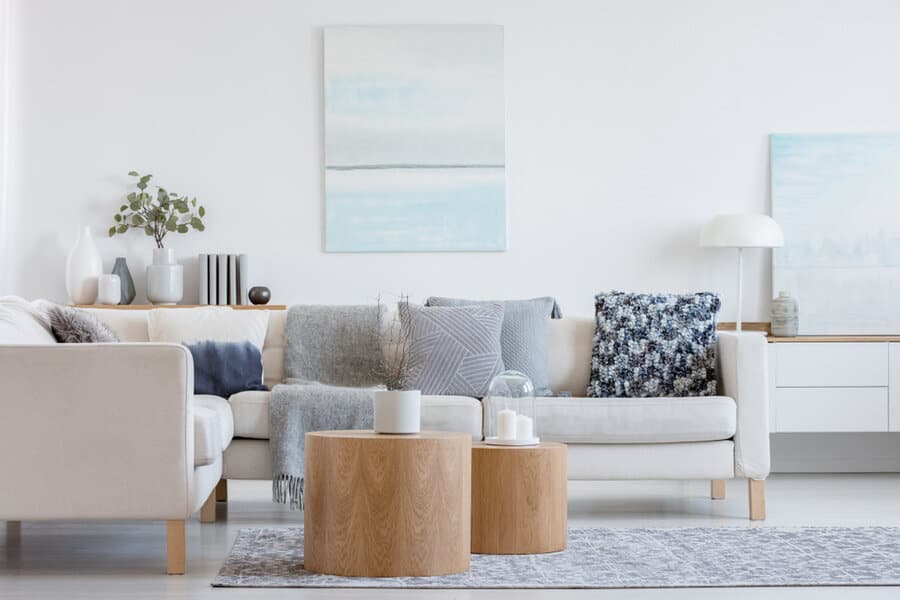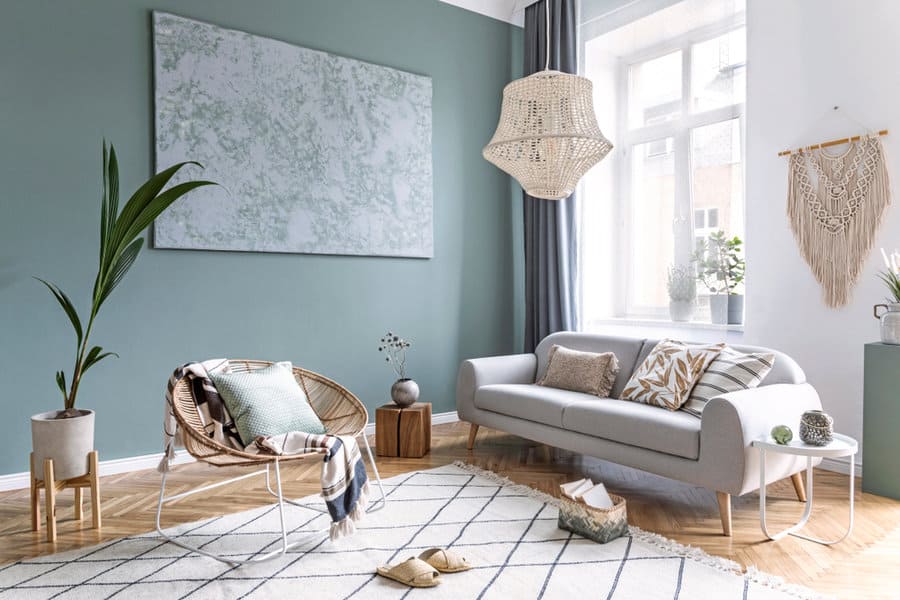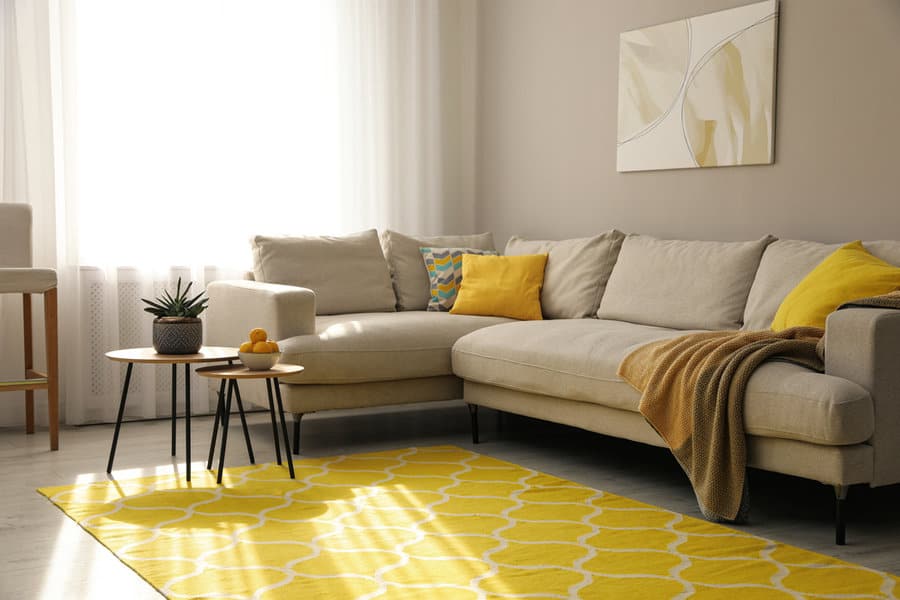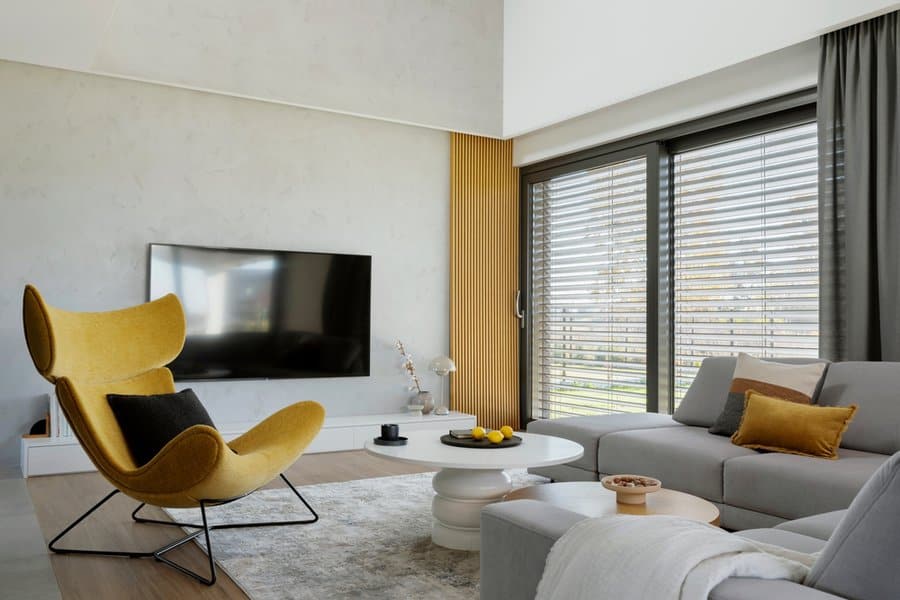 7. Farmhouse Chic Living Room
Create a welcoming and charming retreat right in the heart of your apartment with a farmhouse-chic living room. Embrace the timeless appeal of white-washed furniture and weathered wood to bring a rustic yet refined touch to your space. Start by selecting a comfortable and plush sofa in a neutral tone, and pair it with distressed wooden coffee and side tables for that perfect balance of elegance and rustic charm.
Layer soft, textured throw blankets and pillows in soothing earth tones to add coziness and warmth to the room. Incorporate natural elements like potted plants and woven baskets to infuse a sense of organic beauty.
Opt for light-colored curtains to let ample natural light fill the space, creating an airy and open atmosphere. Complete the farmhouse-chic look with vintage-inspired accessories like antique picture frames or decorative metal accents.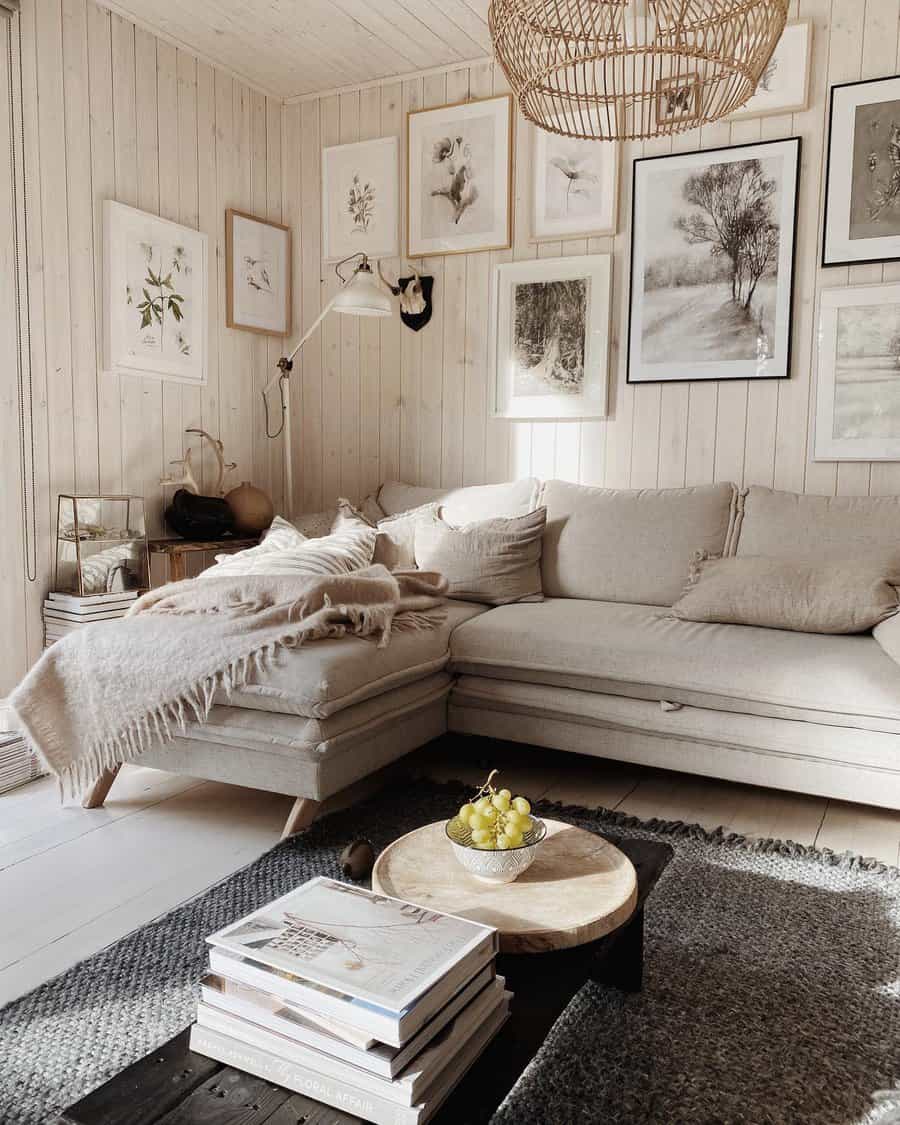 8. Dark Living Room
Step into a realm of sophistication and allure with a dark and moody living room that exudes chic and masculine vibes. Embrace the drama by adorning your walls with deep, rich hues like charcoal gray, navy blue, or even a luxurious black. These daring colors will create a captivating backdrop that instantly elevates the ambiance of the space.
To balance the darkness, incorporate a mix of textures and materials, such as plush velvet sofas in jewel tones, sleek leather armchairs, and metallic accents that add a touch of glamour. Illuminate the room with warm, ambient lighting through strategically placed floor lamps or stylish pendant lights that cast a soft glow. Layer the space with plush rugs and cozy throws, inviting you to sink into comfort and relaxation.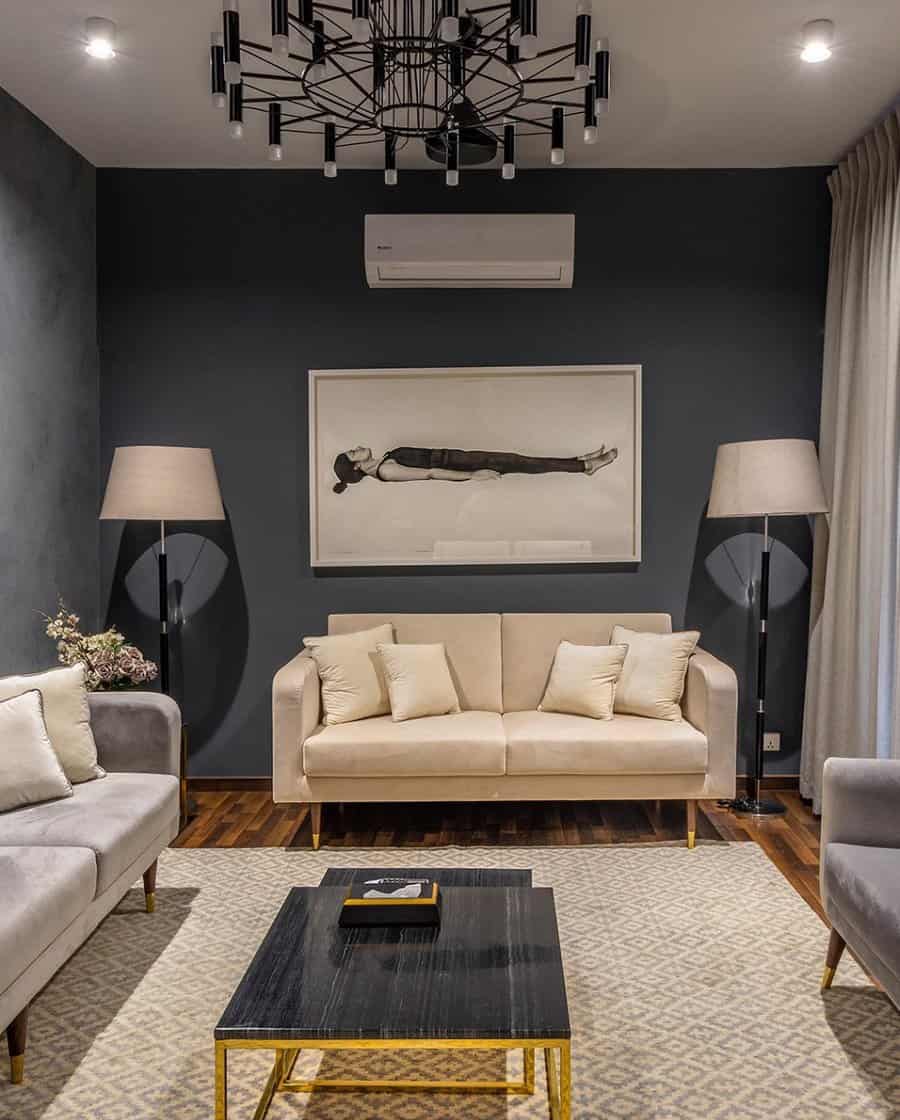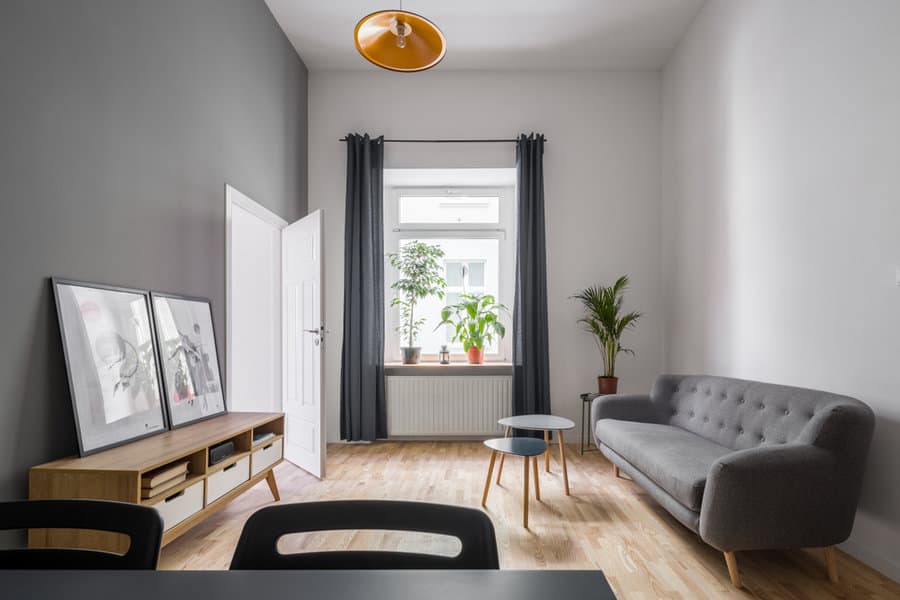 9. Rustic Living Room
Step into your cozy urban oasis with a chic and rustic living room that embraces the charm of vintage and thrifted finds. Create a space that tells a story, where each piece of distressed furniture carries its own history and adds character to the room.
Blend old and new elements seamlessly to achieve that perfect balance of warmth and sophistication. Look for unique treasures at flea markets or secondhand stores that showcase the beauty of aged wood and worn textures. Opt for a weathered leather sofa that invites you to sink in and unwind.
Adorn the walls with vintage artwork or repurposed wooden frames to add an extra layer of nostalgia. Complete the look with a curated selection of throw pillows and blankets in earthy tones and natural fabrics, like linen and wool, for an added touch of comfort.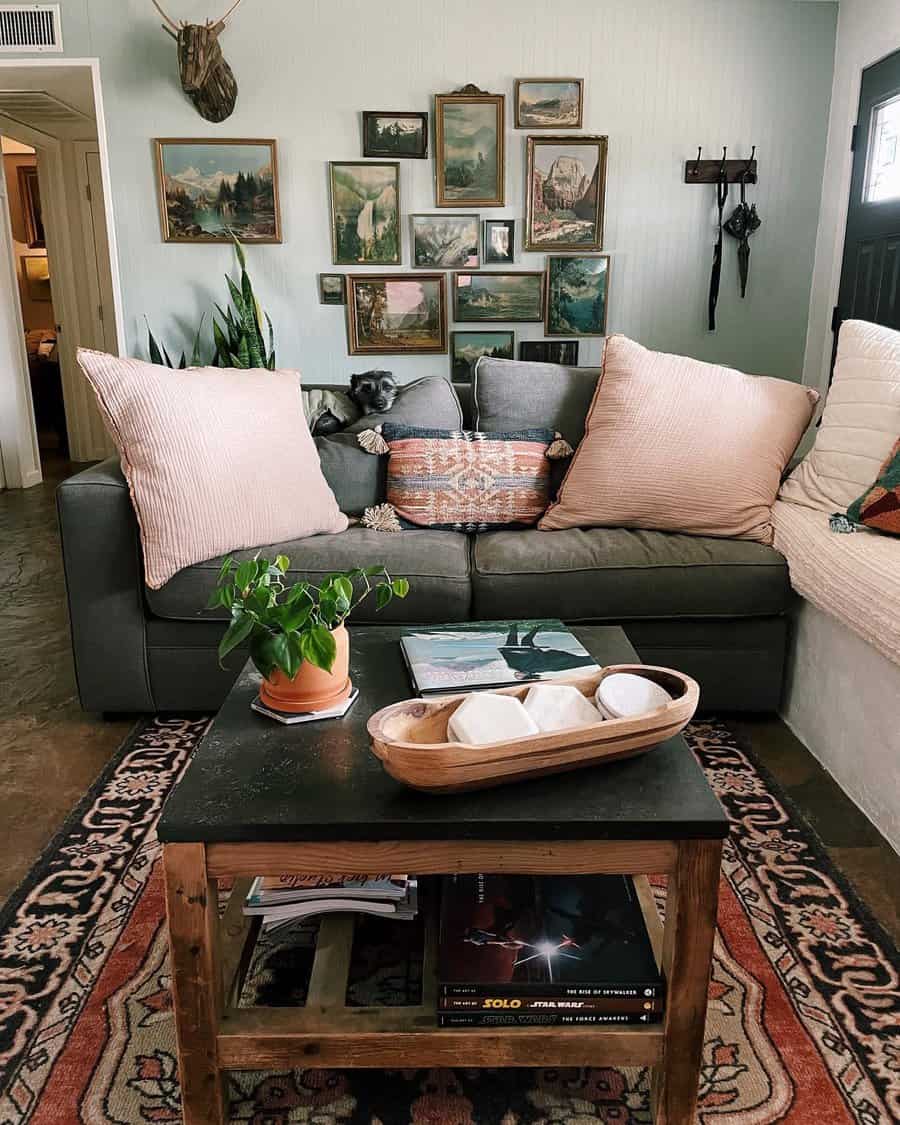 10. Green Living Room
Bring the refreshing beauty of nature indoors by incorporating an abundance of potted plants and hanging planters. Choose a variety of plant species to create visual interest and a vibrant atmosphere. Position them strategically around the room, placing taller plants in corners and smaller ones on shelves or side tables.
Opt for stylish and modern planters that complement your overall aesthetic. Play with different heights and textures to add depth and dimension to the space. The lush greenery will not only infuse your living room with a calming and serene ambiance but also purify the air and improve the overall indoor environment.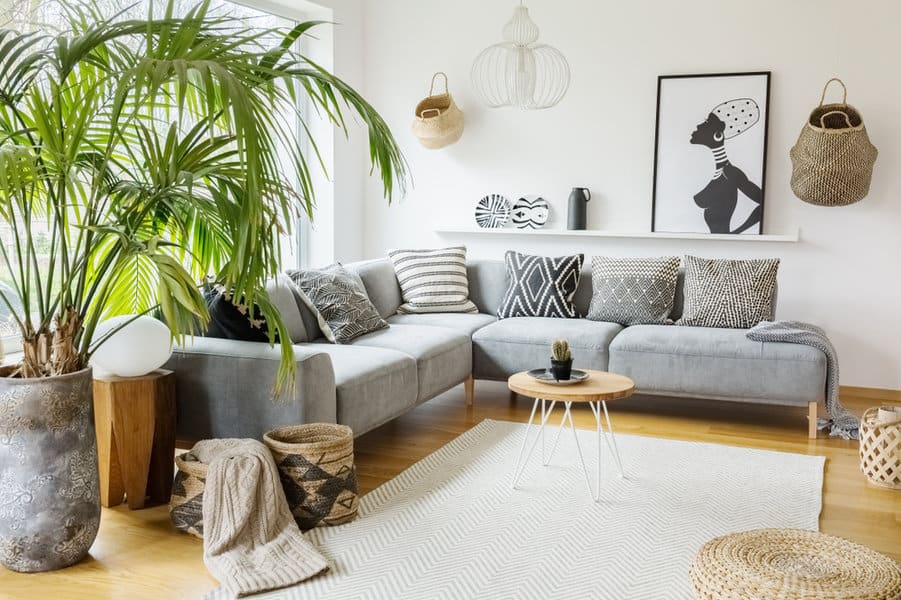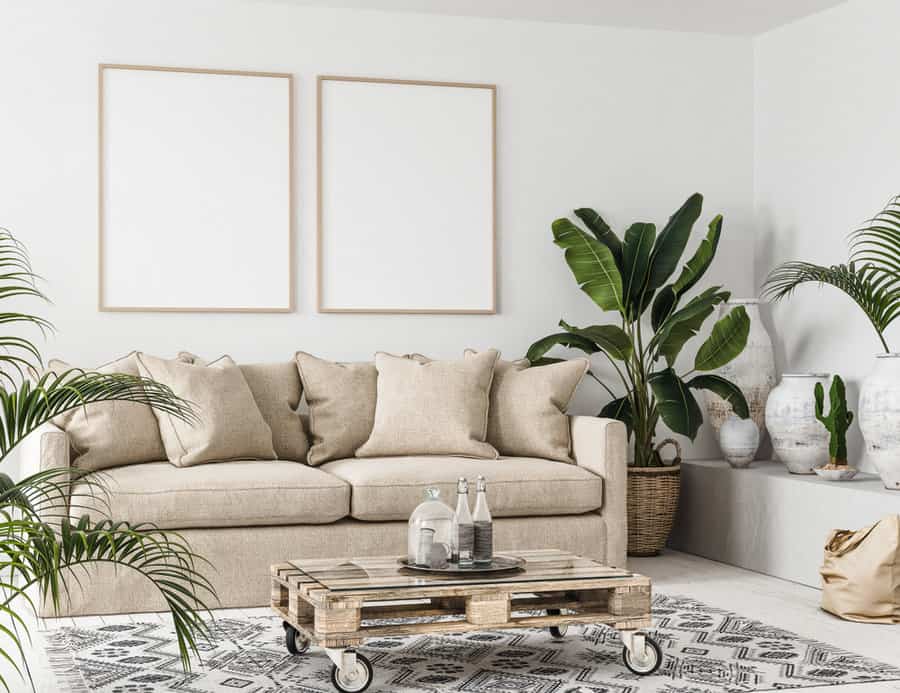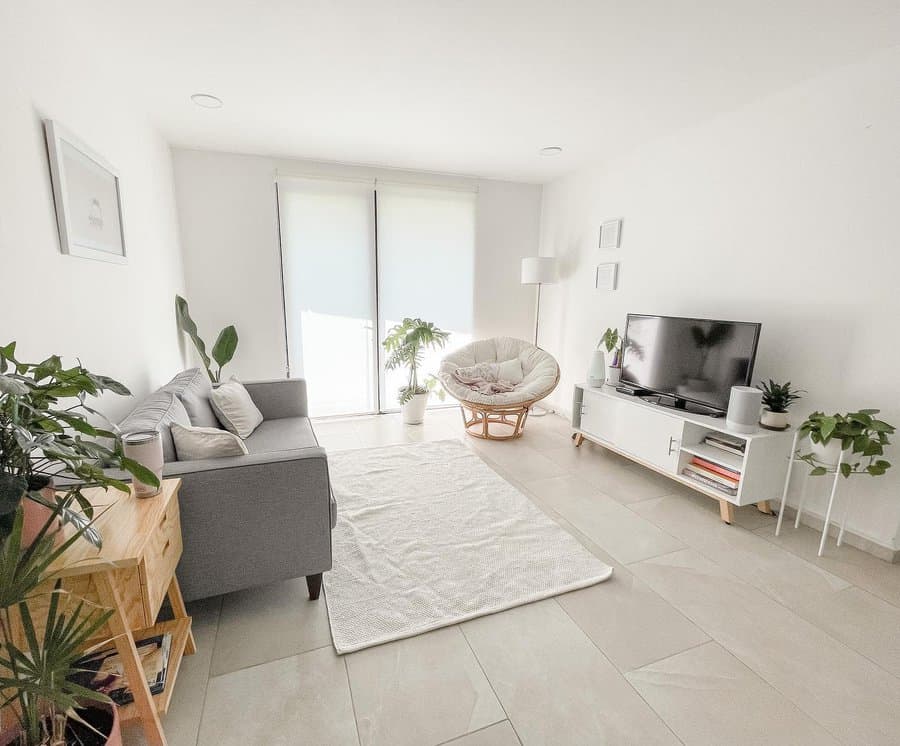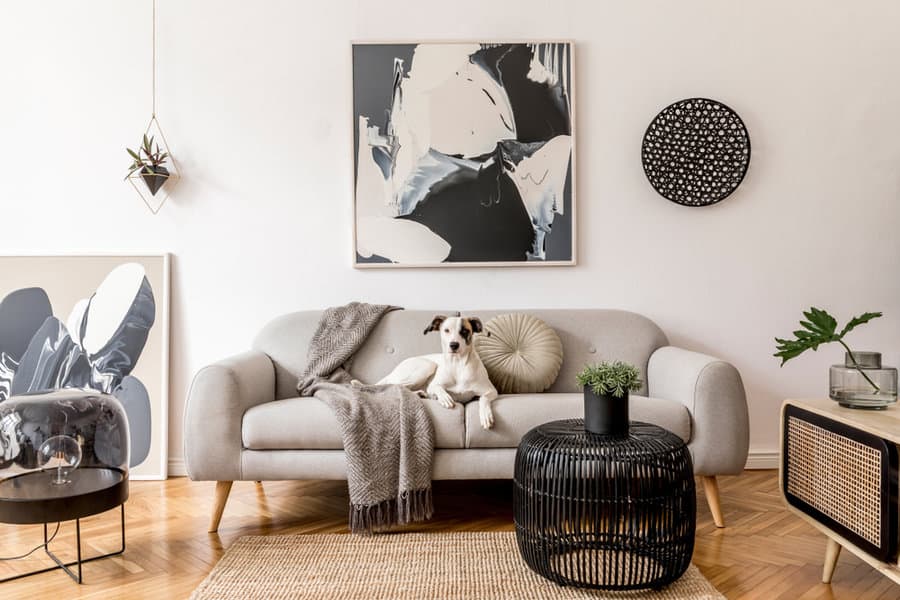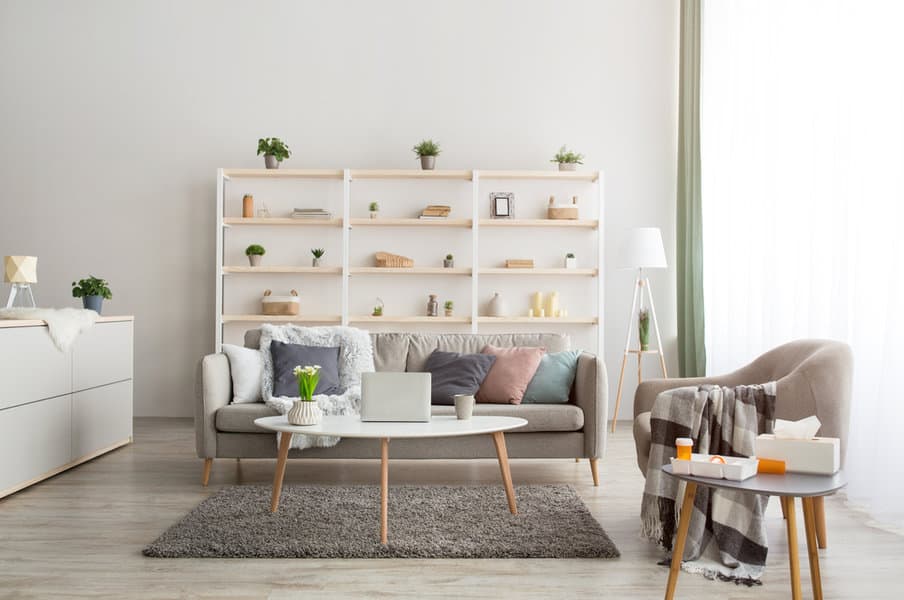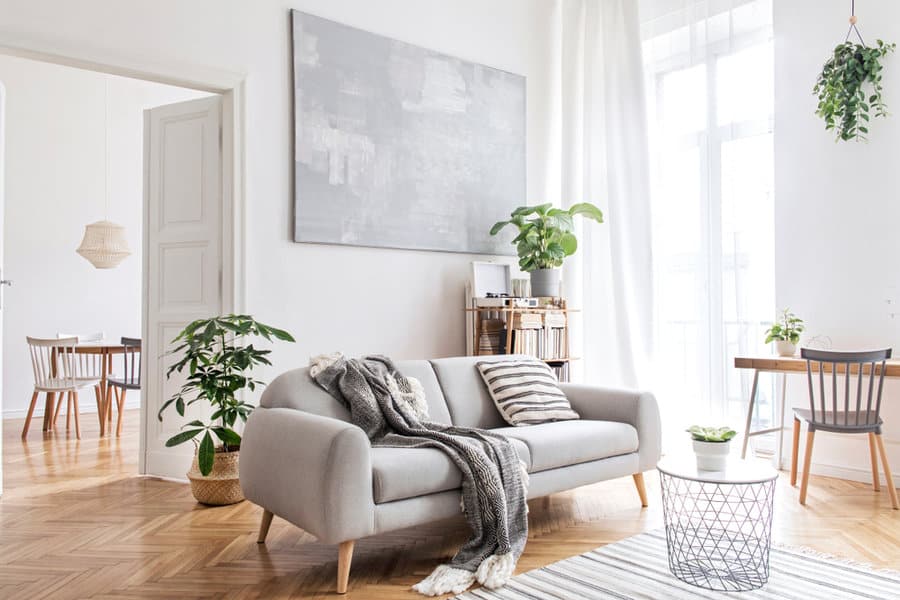 11. Floating Shelves
These sleek and minimalist shelves not only add functionality but also create a stunning focal point in your space. Arrange them in a unique and eye-catching pattern to showcase your favorite decor pieces, such as beautiful ceramics, potted plants, and artful frames. Play with different heights and sizes to create visual interest and depth.
The open design of floating shelves also allows you to display your cherished books, curated collections, and personal mementos, adding a personal touch to your living room. Don't be afraid to mix and match materials like rustic wood or modern metal to suit your aesthetic.
Whether you're a minimalist enthusiast or a maximalist at heart, floating shelves offer endless possibilities for showcasing your style and creating a sophisticated and organized space in your apartment living room.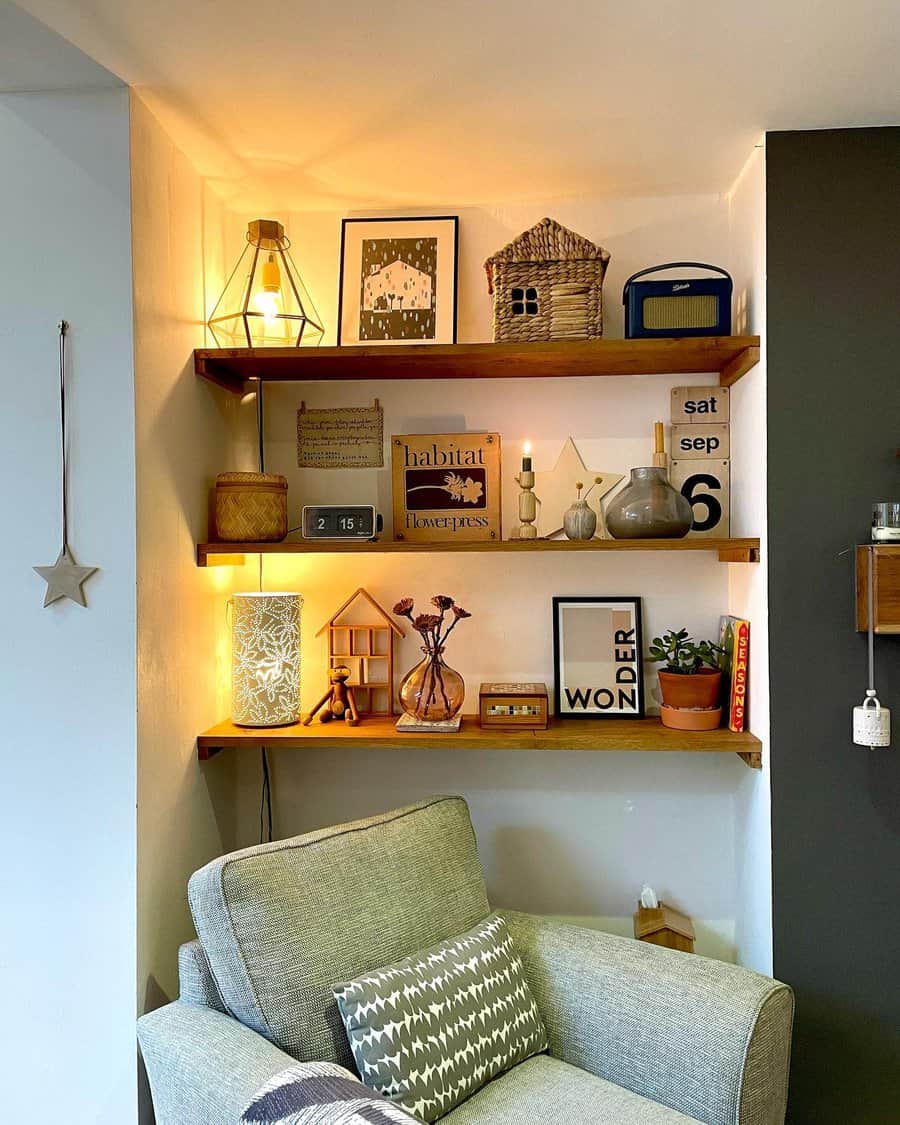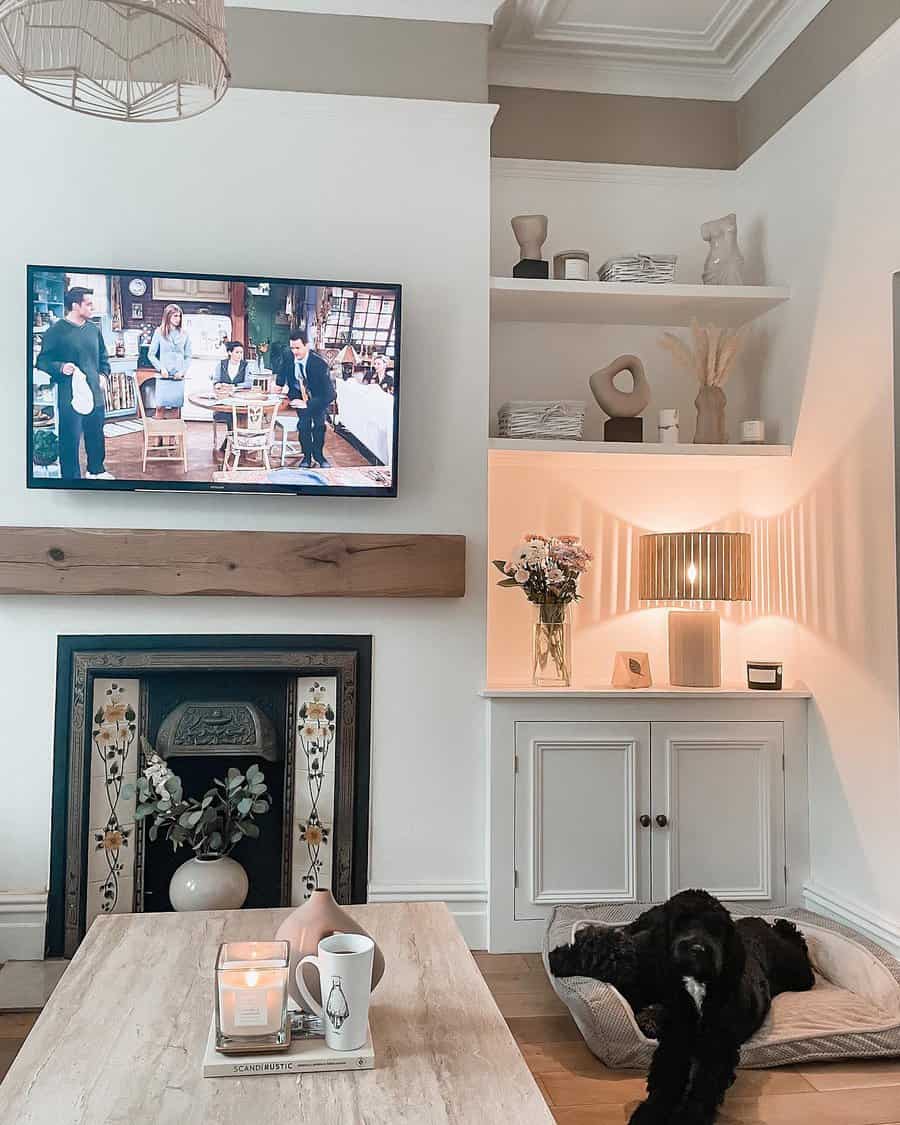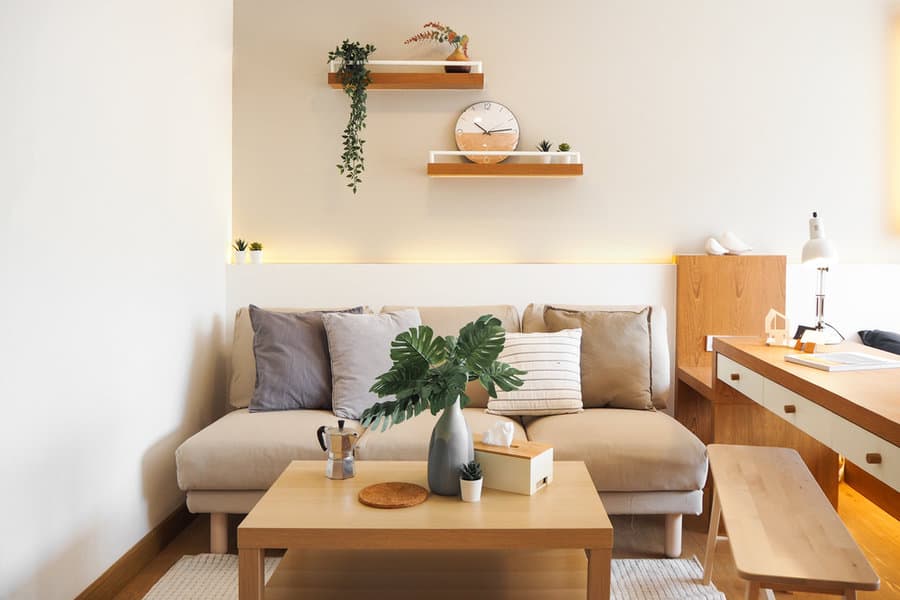 12. Open Plan Living Room
Create a chic and stylish living space in your apartment with the timeless charm of an open-plan layout. Choose sleek and streamlined furniture pieces that are both functional and aesthetically pleasing, making the most of the limited space. Incorporate clever storage solutions like built-in shelves or wall-mounted cabinets to keep clutter at bay and showcase your curated collection of decor and books.
Enhance the ambiance with layered lighting, from elegant pendant lights to warm table lamps, creating a cozy and inviting atmosphere. Add your personal touch with statement artwork, plush throw pillows, and luxurious rugs to elevate the overall design.
With an open-plan living room, you can create a chic and versatile space that effortlessly adapts to your lifestyle, making every moment spent in your apartment a stylish and comfortable experience.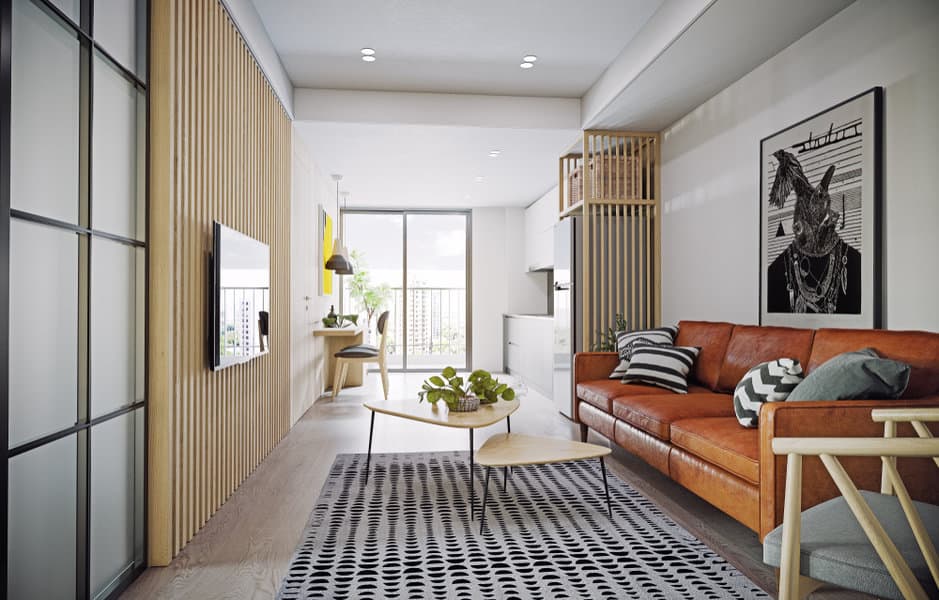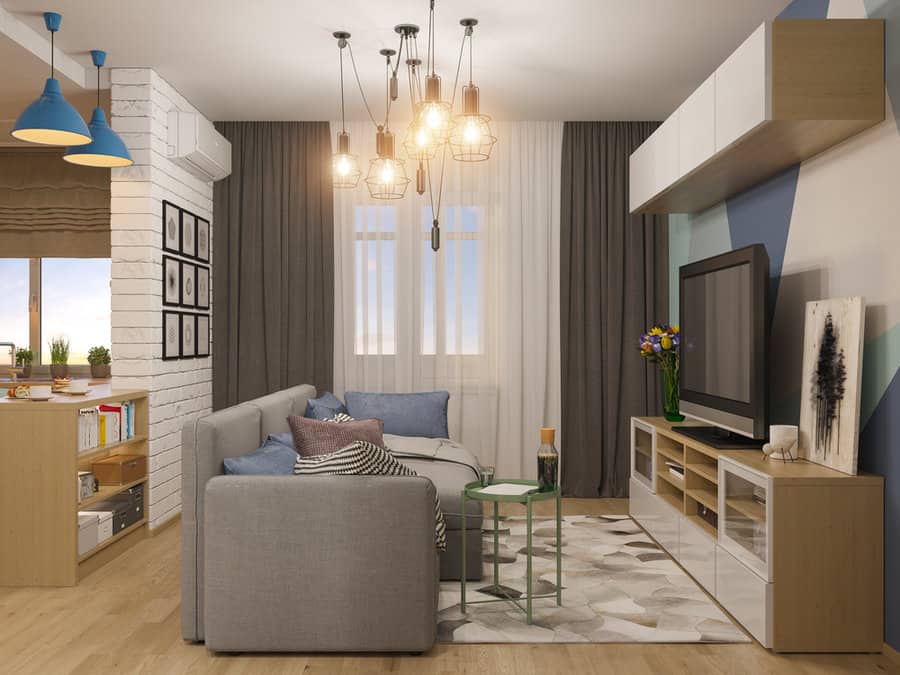 13. Living Room Gallery Wall
Embrace your creative side and curate a collection of art pieces, photographs, and prints that speak to your personal taste and reflect your unique personality. Mix and match different sizes, shapes, and frames to create a visually dynamic composition that catches the eye.
Arrange them in a thoughtfully curated layout, experimenting with different arrangements until you find the perfect balance. Add a touch of whimsy by incorporating unexpected elements like decorative mirrors, wall sculptures, or even floating shelves to display small plants or cherished mementos. The gallery wall will not only add a stylish and personal touch to your apartment living room but also serve as a conversation starter for your guests.