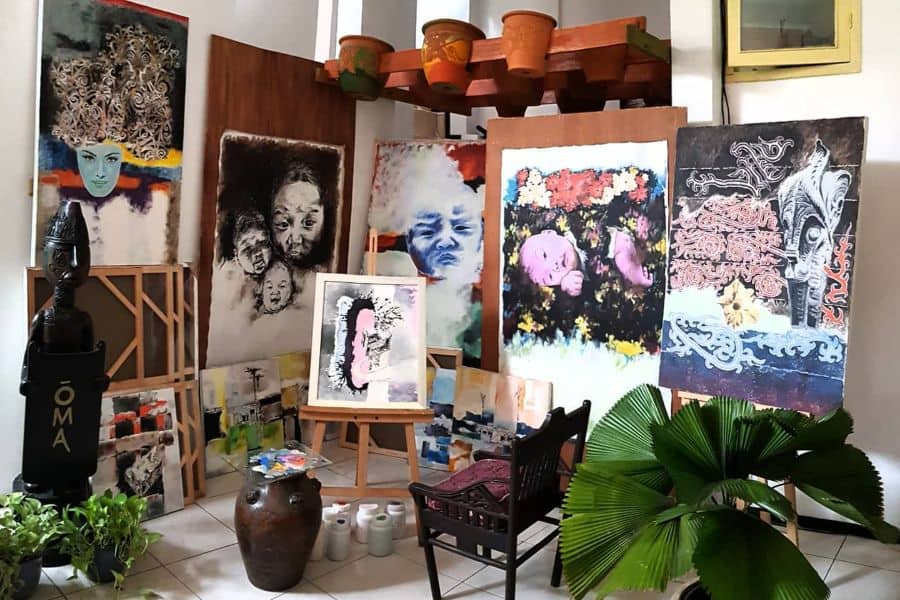 The Top 66 Art Studio Ideas
"Art enables us to find ourselves and lose ourselves at the same time." – Thomas Merton
Every artist dreams of having a studio all their own, a place that brightly inspires the creative process. In addition to being beautiful, an art studio must be functional. As any artist can attest, one of the best things about a studio is that you can leave projects and materials out until your work is complete.
Excellent storage is also a must, as art supplies multiply quickly. Great lighting, easy-to-clean surfaces, and a sense of privacy are other necessary elements for creating a welcoming space to create art. Scroll through our best art studio ideas and learn how you can bring your own creative oasis to life.
1. Ergonomic Workstation
In your art studio, it's essential to create a space that not only nurtures your artistic talents but also promotes comfort and productivity. One brilliant idea to achieve this is by incorporating an ergonomic workstation. Picture a workspace that supports your body and makes your creative process a breeze. Begin by setting up your main workstation with an adjustable desk, allowing you to alternate between sitting and standing positions.
Surround your workstation with shelves and additional tables to keep your art supplies within easy reach. Having everything conveniently nearby saves you valuable time and energy, ensuring that you stay in the creative flow. Organize your materials on labeled shelves, making it a breeze to locate and access what you need for each project.
Invest in a comfortable and supportive chair that encourages proper posture, preventing any discomfort or strain during long hours of artistic exploration. Remember, an art studio should be a sanctuary of inspiration and functionality. By incorporating an ergonomic workstation and strategically placing shelves and tables near your workstation, you're setting the stage for a harmonious and productive artistic journey.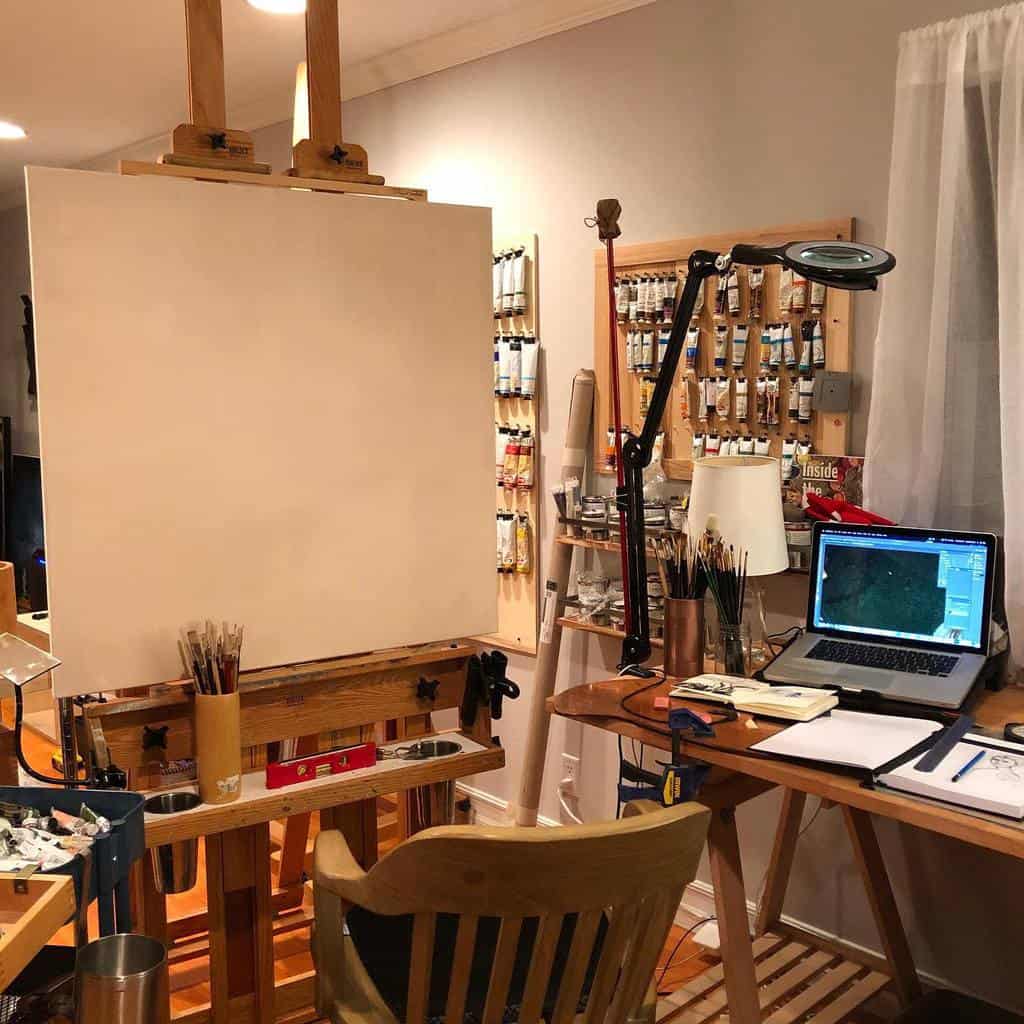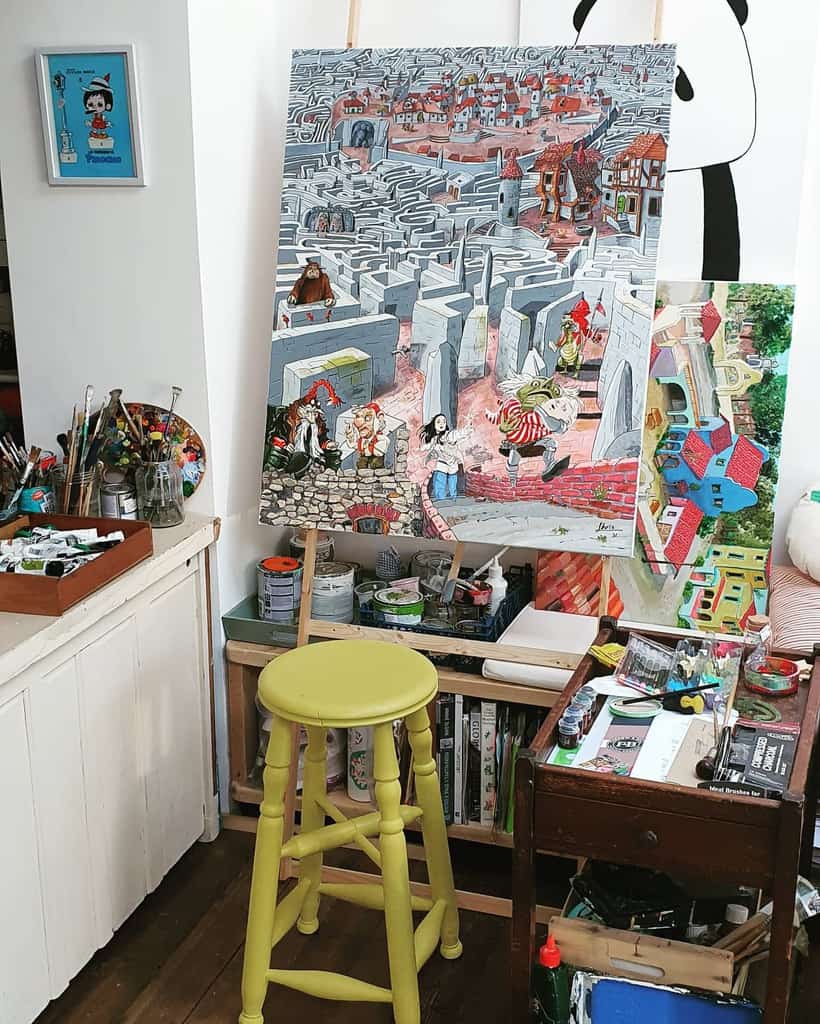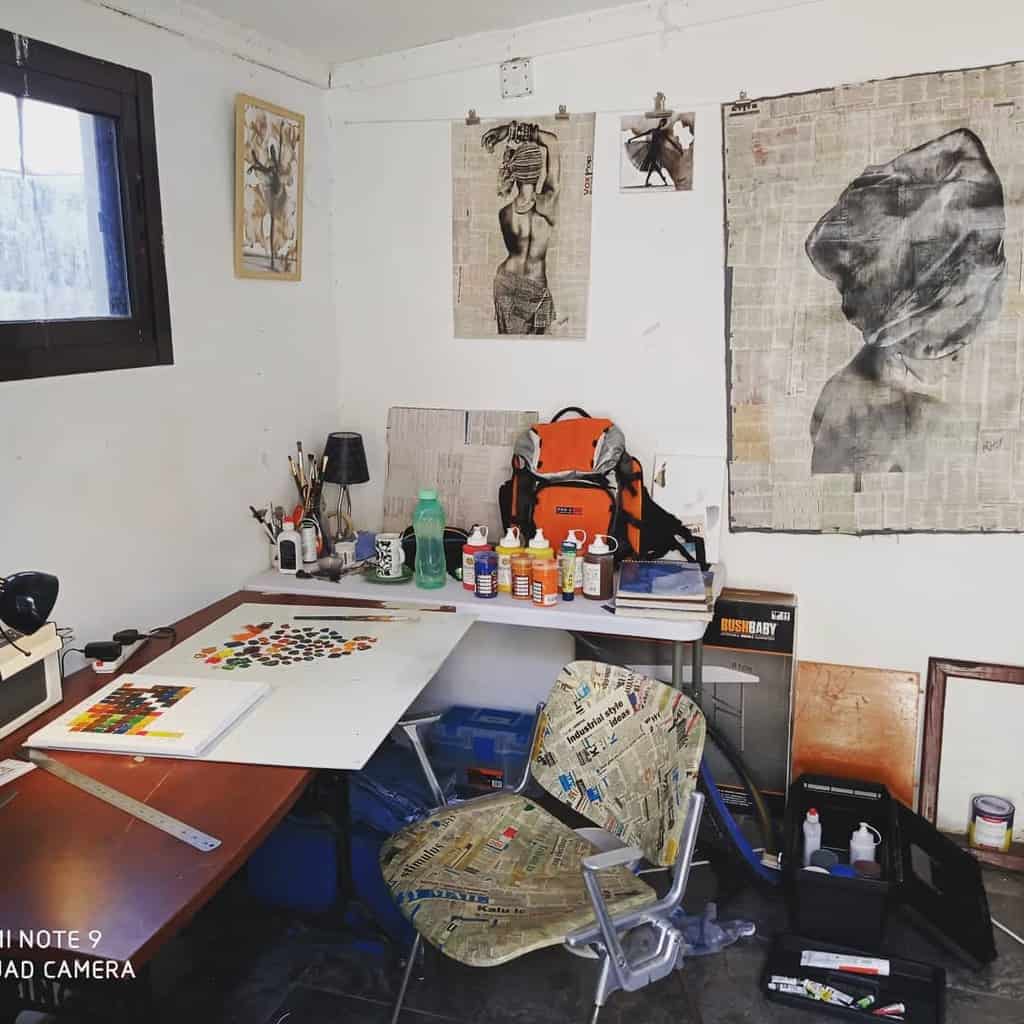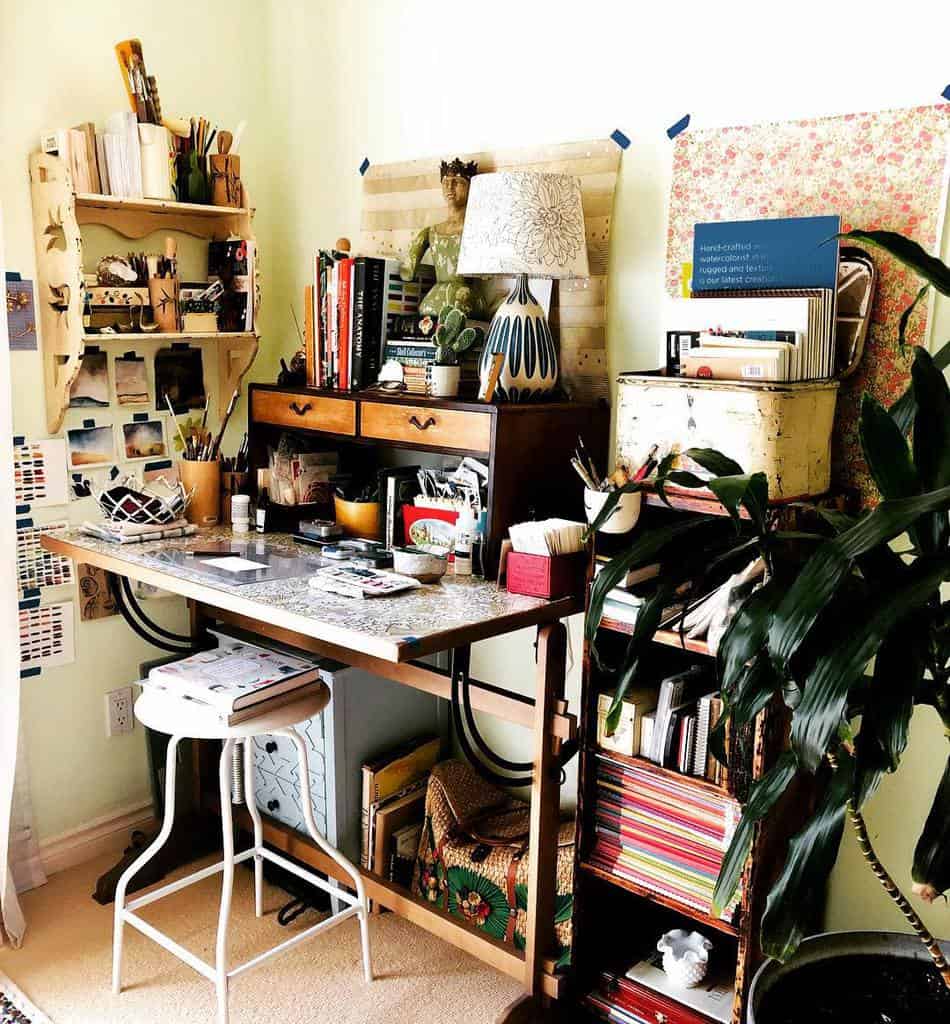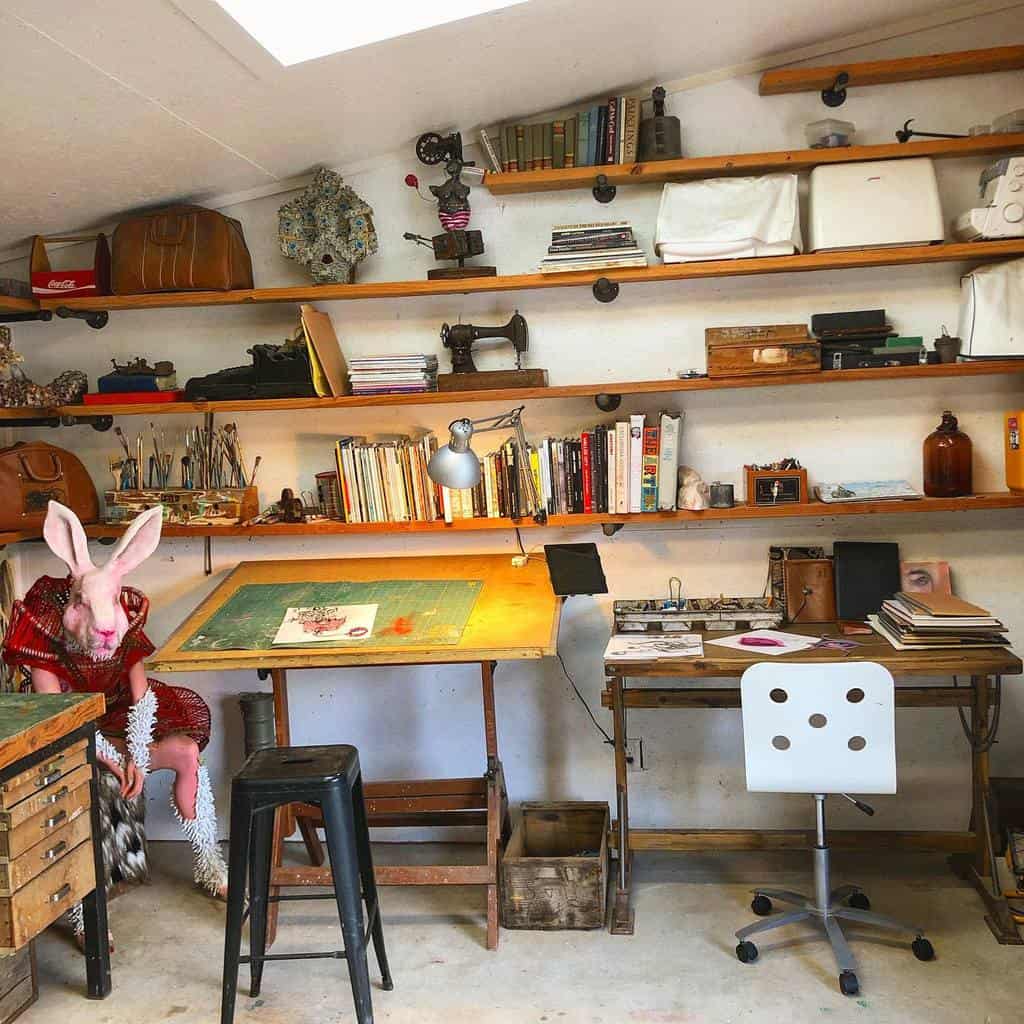 2. Supply Storage Caddy
Get ready to elevate your art studio to the next level with a game-changing addition: the supply caddy, a sleek and practical organizer designed specifically for your art supplies, offering easy access and effortless mobility. No more searching through cluttered drawers or rummaging through shelves to find that one brush or tube of paint you need.
With a supply caddy by your side, everything is neatly organized and within arm's reach. Imagine the convenience of having your favorite brushes, markers, and pencils all in one place, ready to unleash your creativity at a moment's notice.
The supply caddy becomes your trusty companion as you navigate your artistic journey, effortlessly gliding across your studio space, accompanying you wherever inspiration strikes.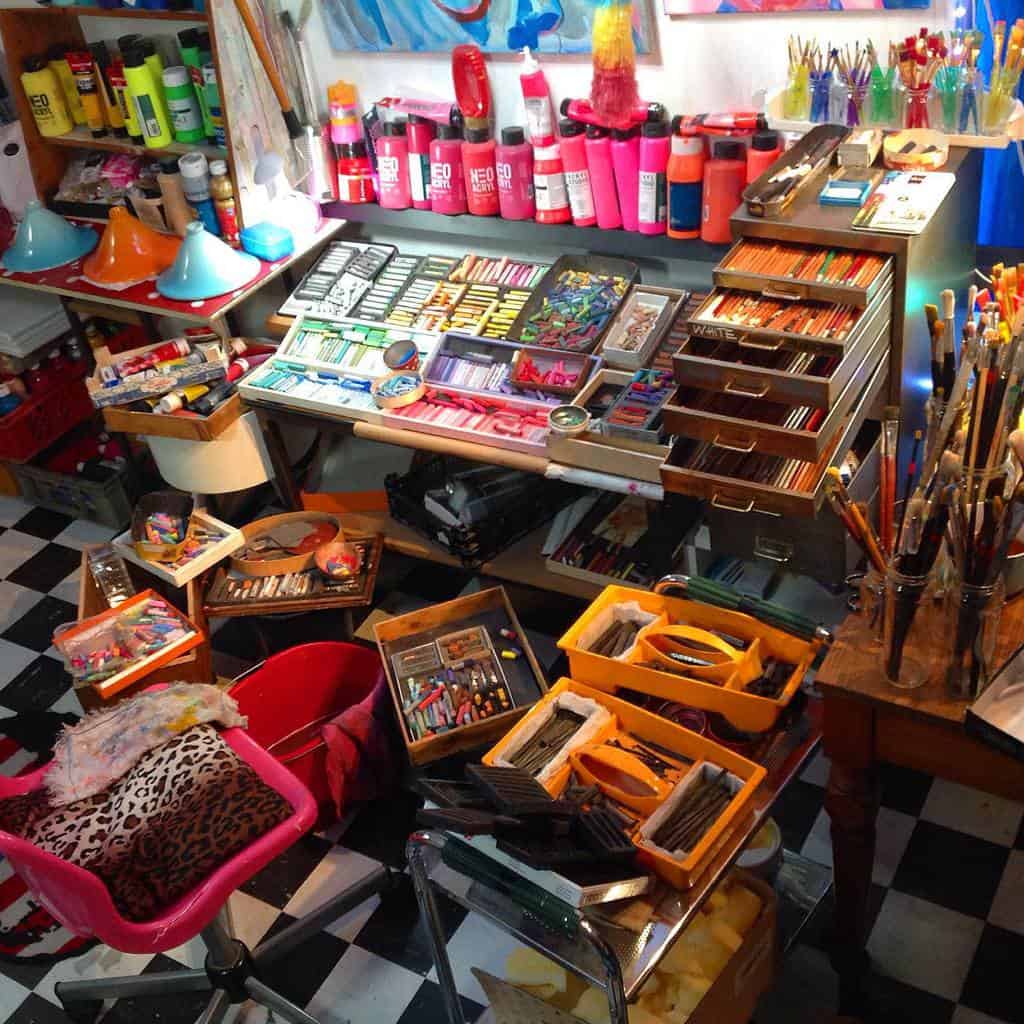 3. Potted Plants
Transform your art studio into a vibrant and inspiring oasis by incorporating the beauty of potted plants. Adding greenery to your creative space not only brings a touch of nature indoors but also promotes a sense of calm and tranquility, allowing your creativity to flourish.
Imagine vibrant succulents lining your windowsills, trailing vines cascading down shelves, and leafy palms standing tall in the corners. These living masterpieces not only beautify your studio but also purify the air, creating a healthier and more invigorating environment for your artistic endeavors. Choose plants of various sizes, shapes, and textures to create visual interest and complement your artistic style.
Hanging planters can add a whimsical touch, while larger floor plants can act as focal points. You can even create a dedicated plant display area, complete with shelves and stands, to showcase your green companions. Embrace the power of nature and let the plants inspire your creativity as they grow and thrive alongside your artistic masterpieces.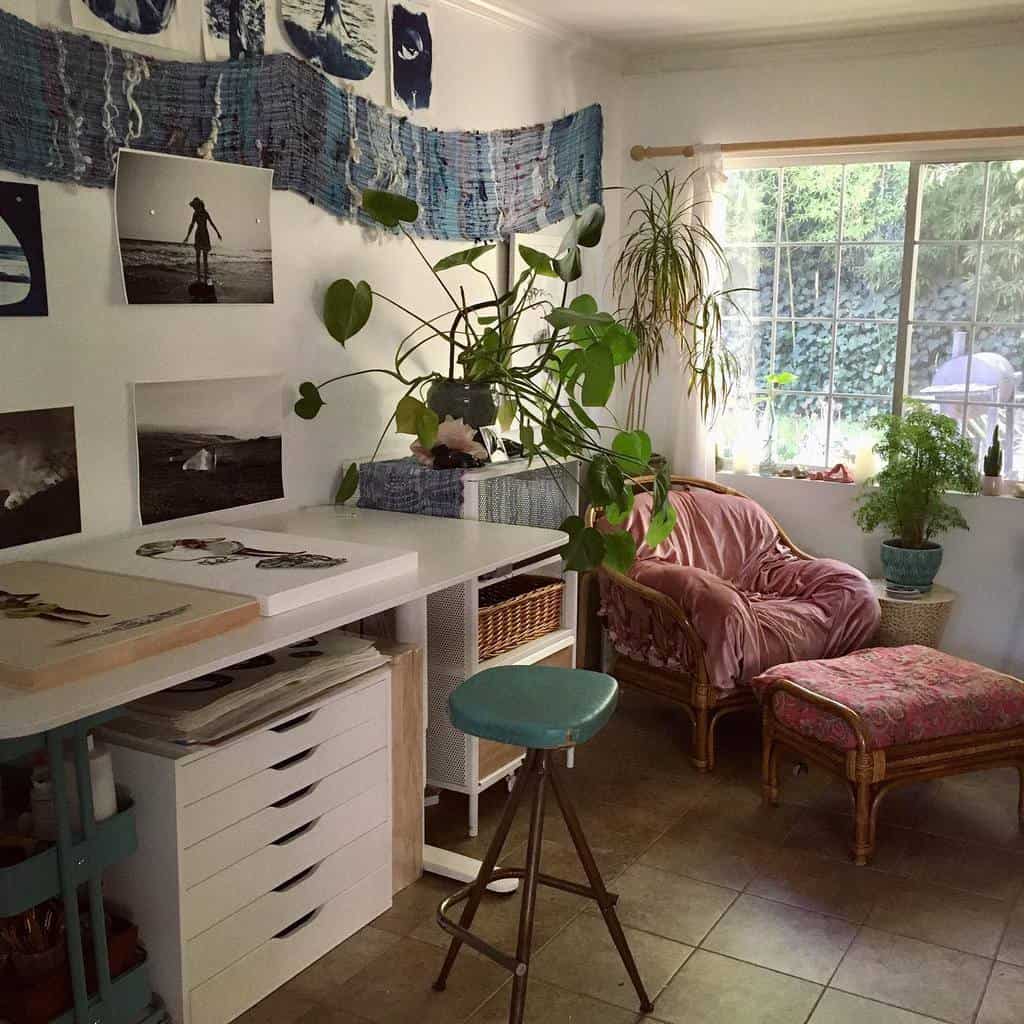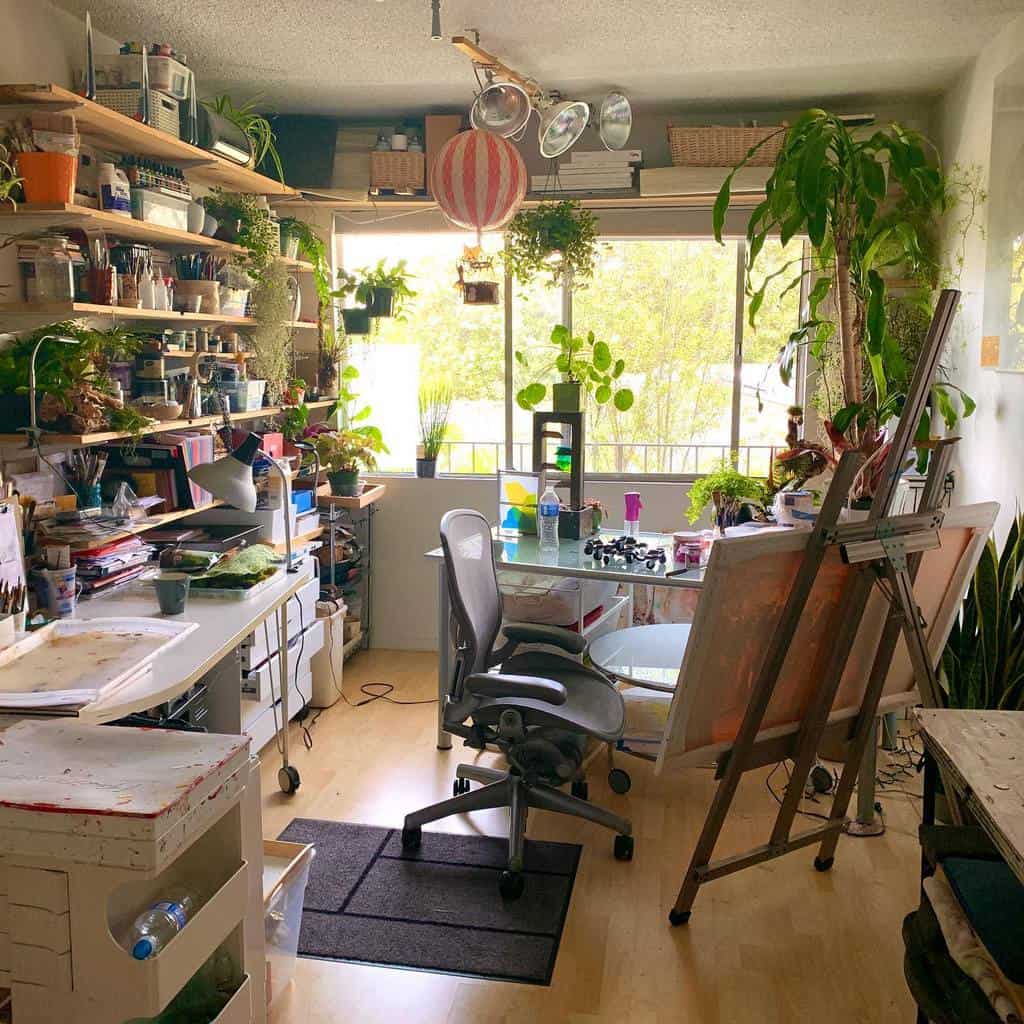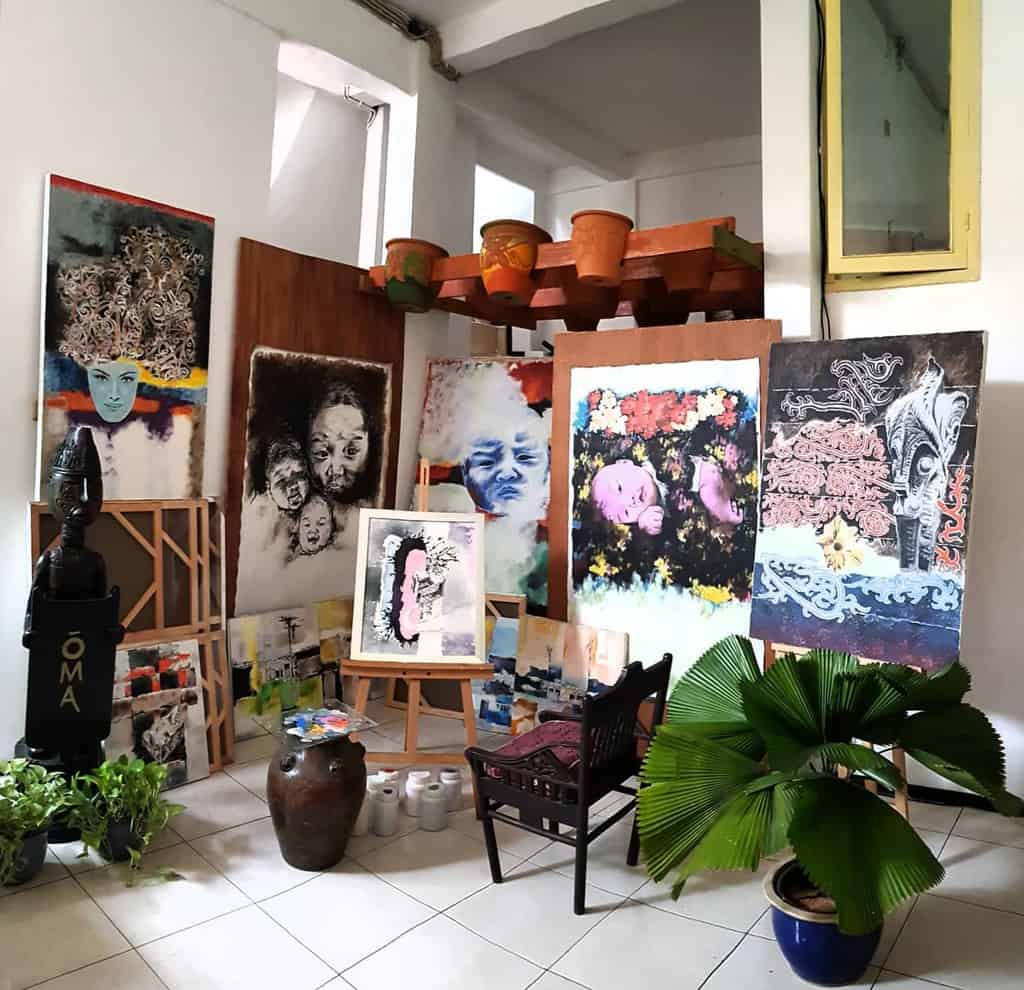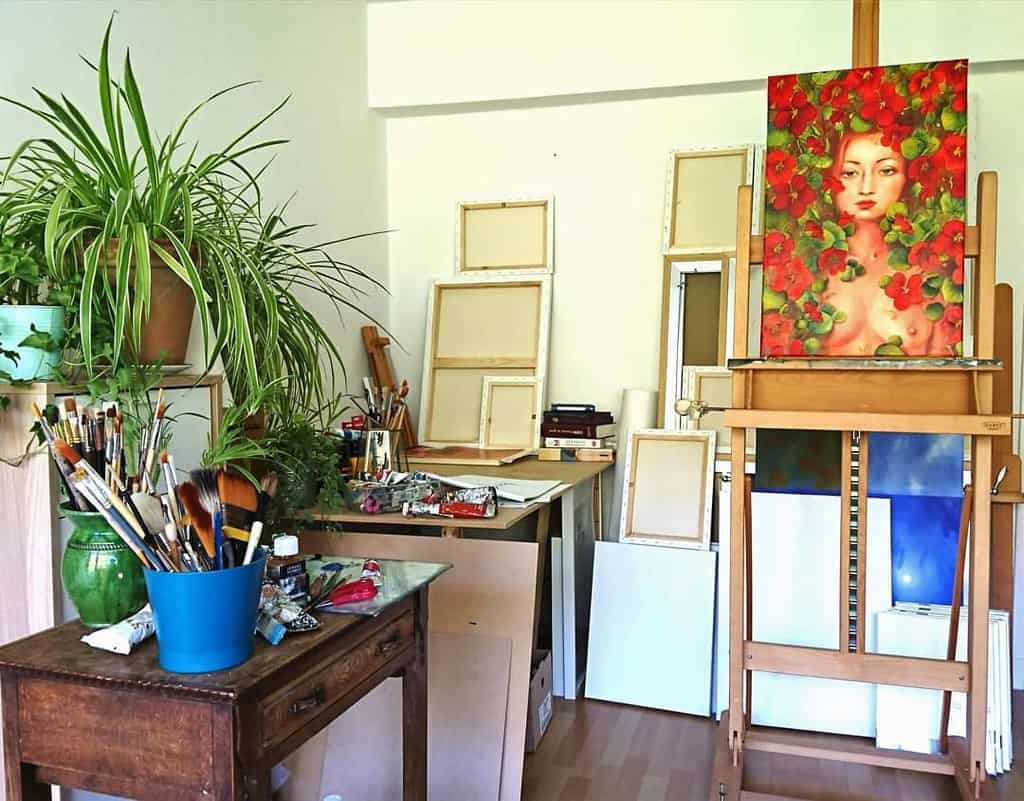 4. Floating Shelves
One brilliant idea to enhance both the functionality and aesthetics of your art studio is the use of floating shelves. These versatile shelves are not only practical for displaying your magnificent artwork but also serve as extra storage space for all your art supplies. Imagine a wall adorned with a carefully curated collection of your masterpieces, showcased on elegant floating shelves.
The beauty of floating shelves lies in their ability to provide a clean and minimalist look, allowing your artwork to take center stage. You can arrange them in a strategic layout, creating a visually captivating gallery-like atmosphere. Additionally, the open design of floating shelves makes it easy to access and organize your art supplies, ensuring that everything you need is within arm's reach.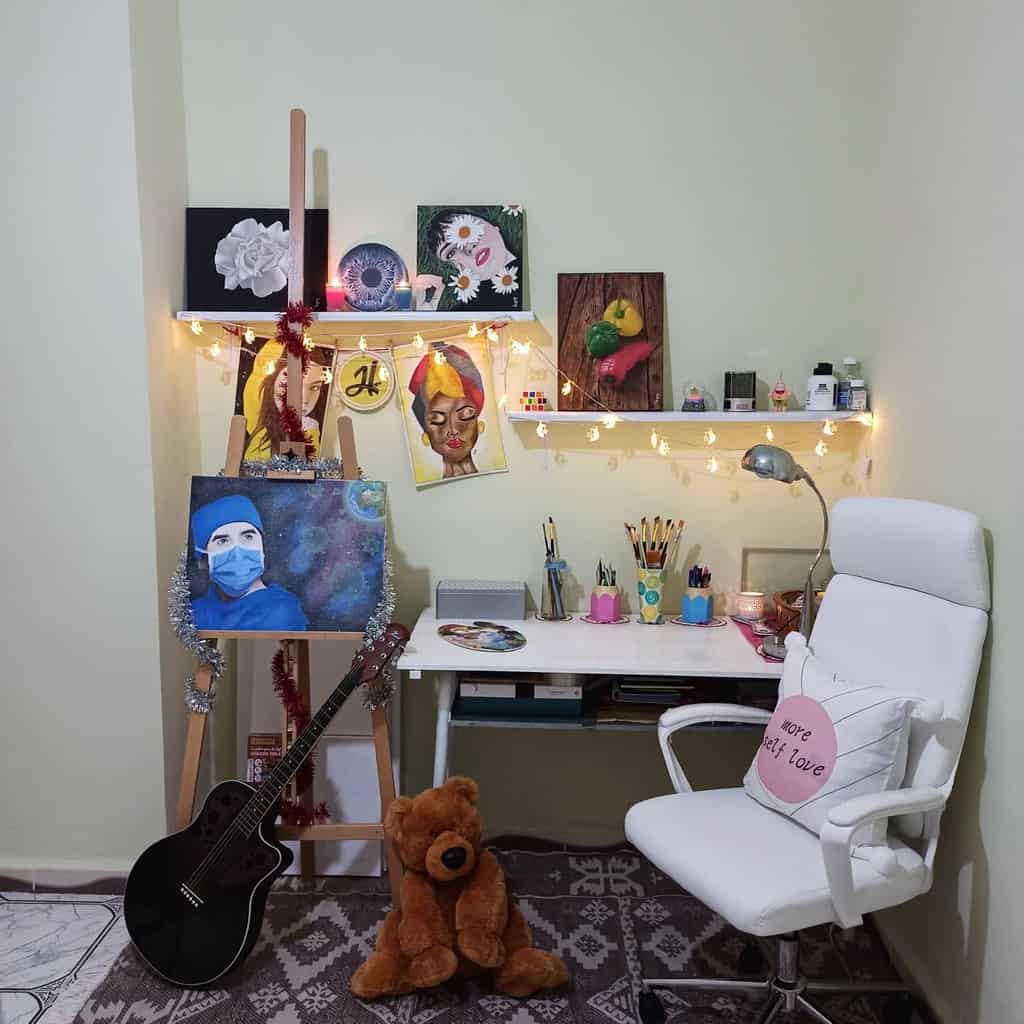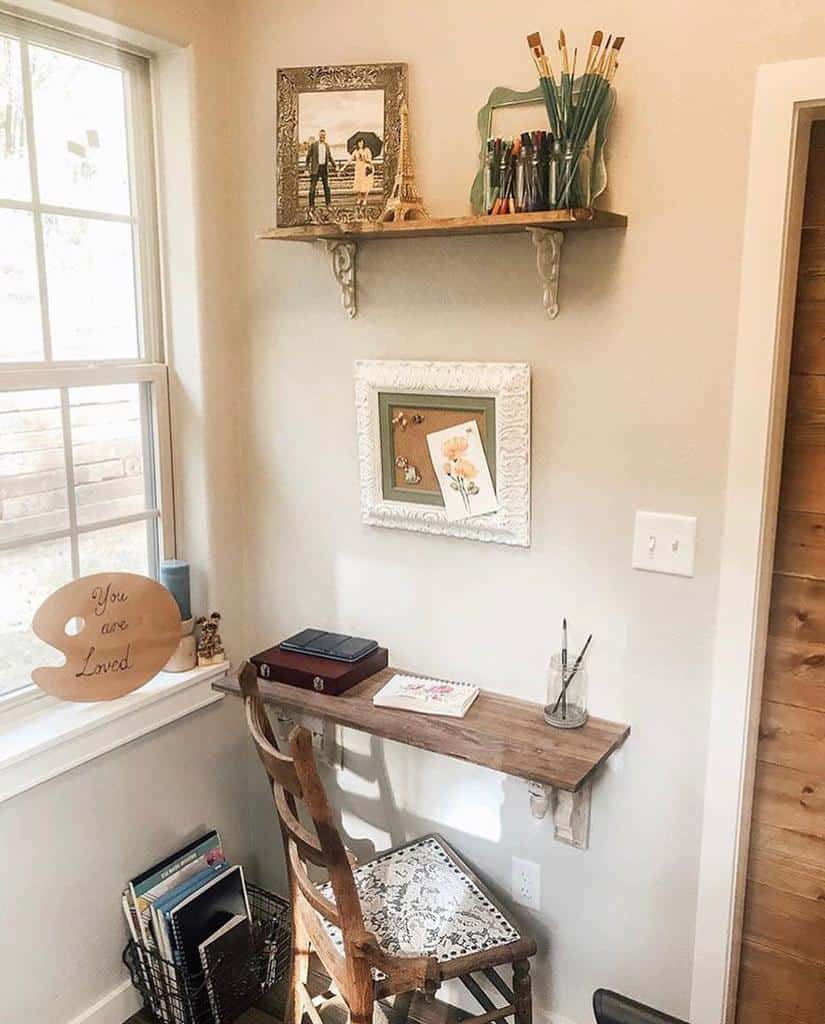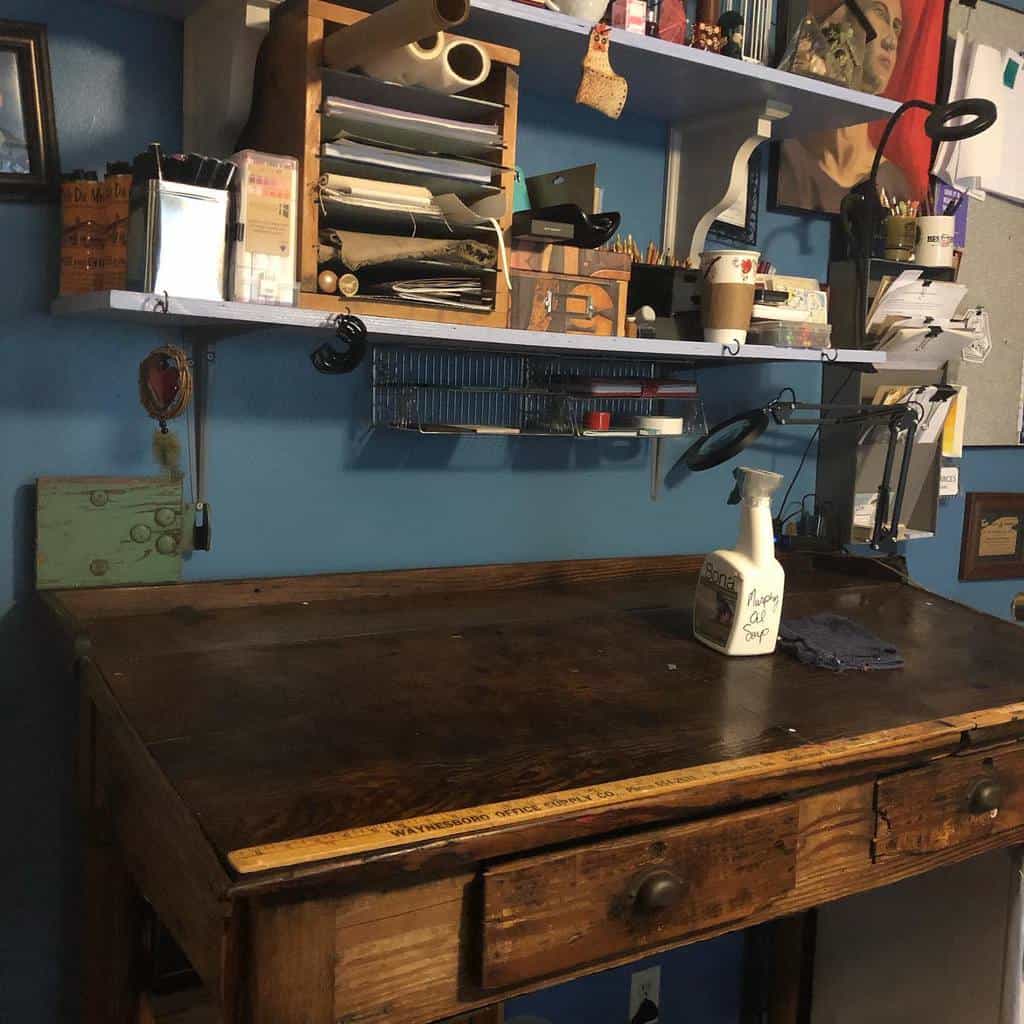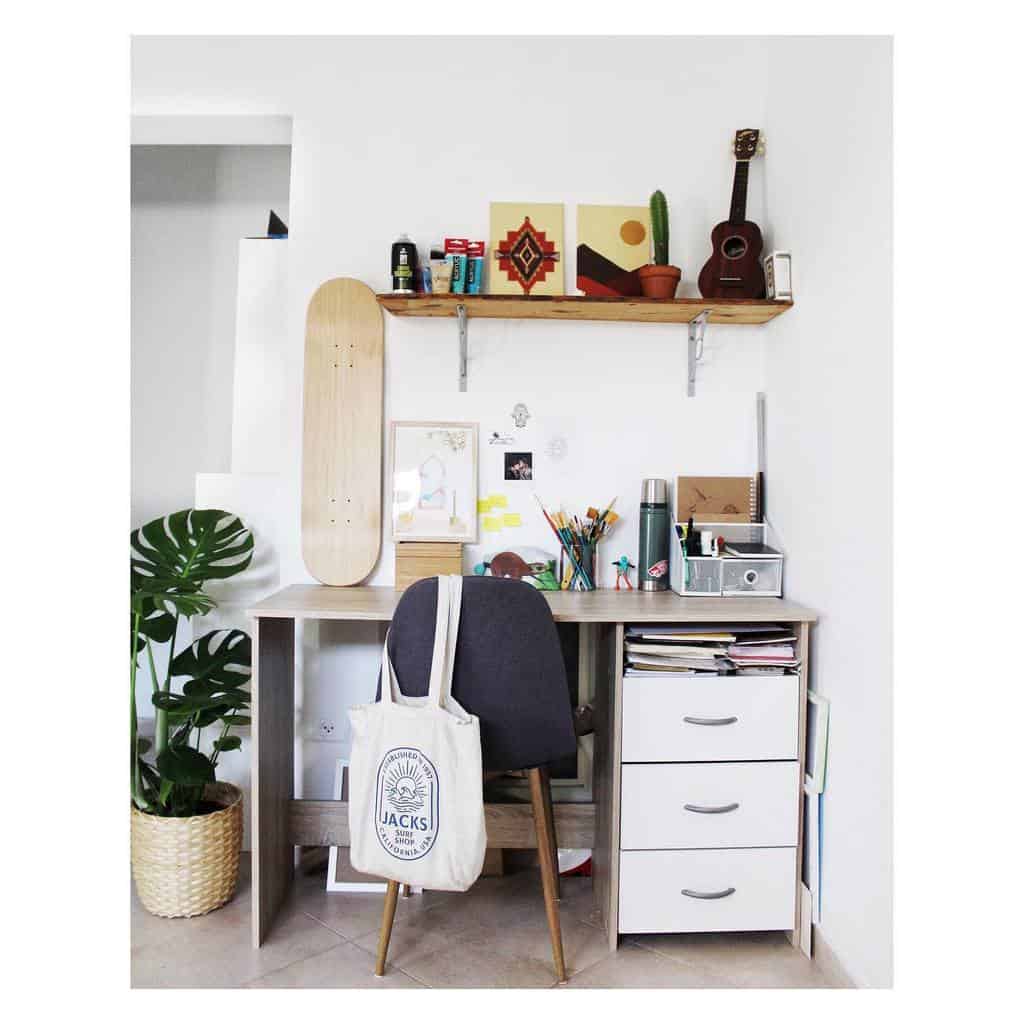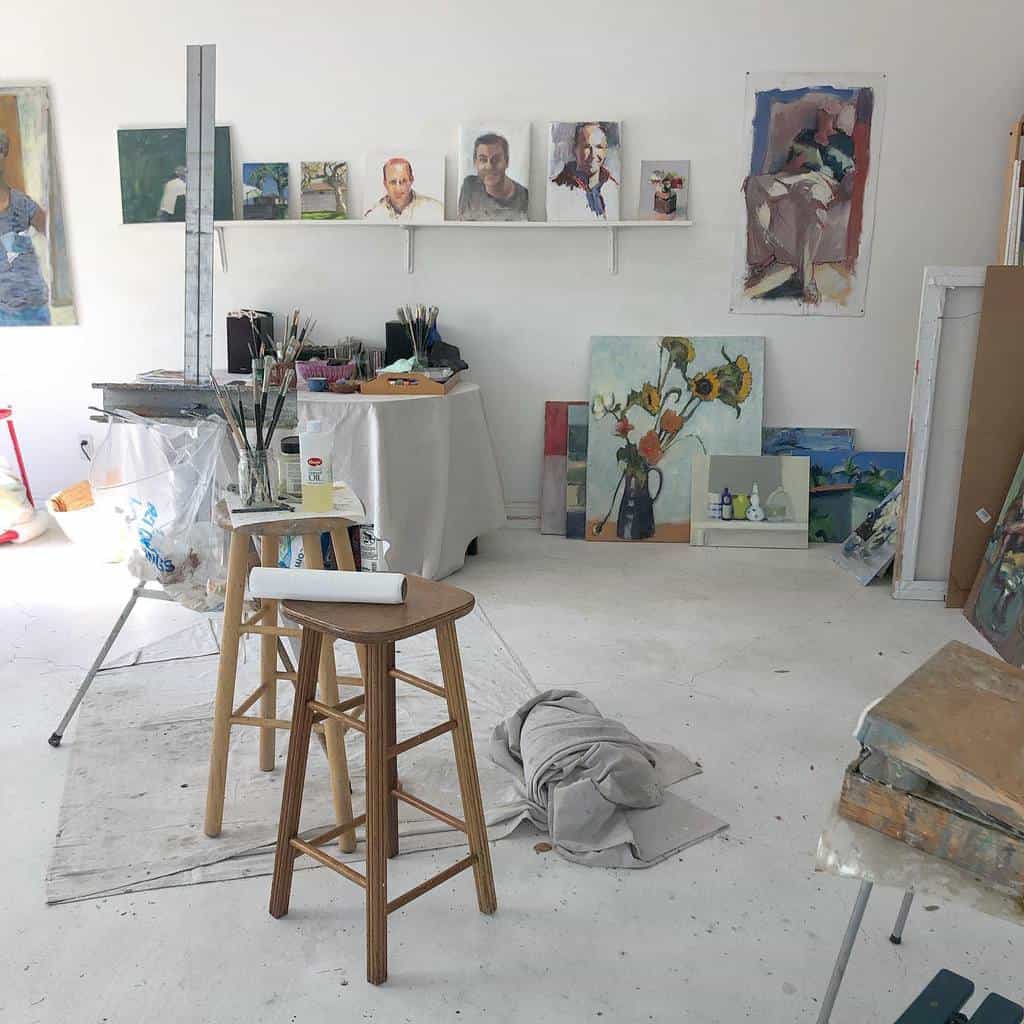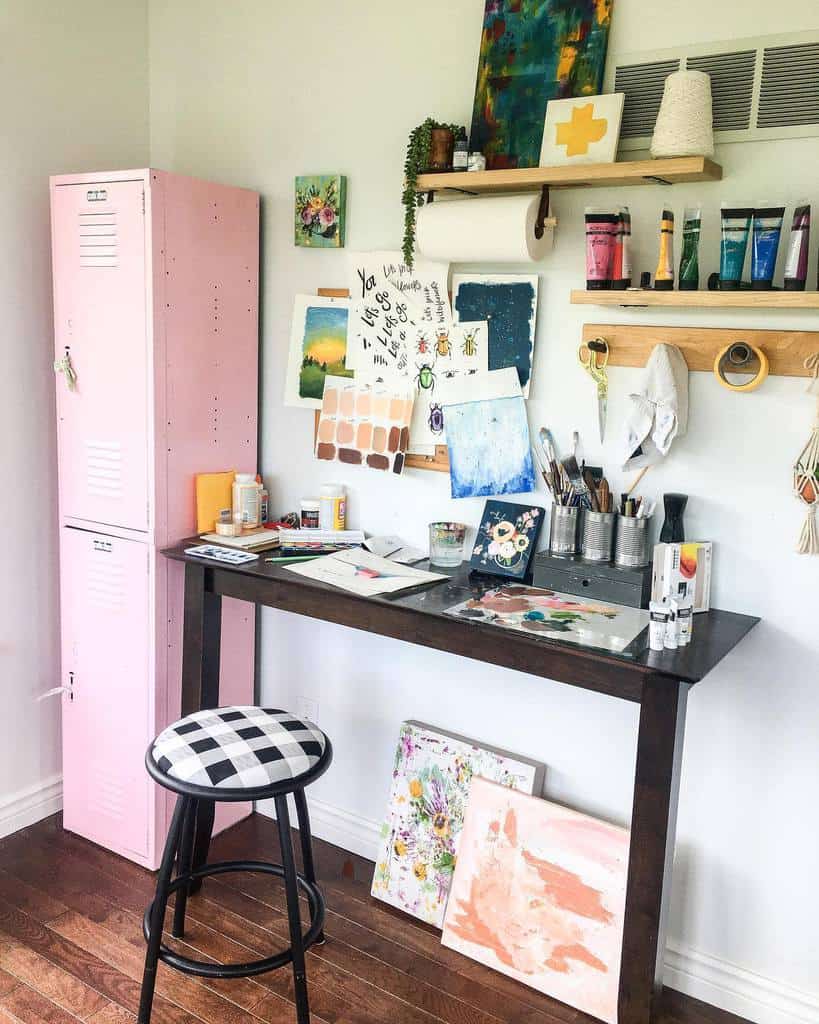 5. Designated Workdesk
In art studios, the work desk takes center stage as the main character. It's not just any desk—it's a designated space where magic happens, ideas flourish, and masterpieces are born. Picture a spacious work desk, thoughtfully designed to accommodate all your artistic needs. With ample surface area and smart storage solutions, your work desk becomes a hub of creativity, providing room for your tools, supplies, and ongoing projects.
Surround yourself with the colors, brushes, and materials that ignite your artistic spirit, and let your imagination run wild. From the delicate strokes of a paintbrush to the precise lines of a pencil, your work desk becomes the sacred space where your art comes to life.
So, whether you're a painter, sculptor, or mixed media artist, embrace the power of a well-equipped and spacious work desk. Let it be a reflection of your passion, allowing you to create, explore, and immerse yourself in the artistic process.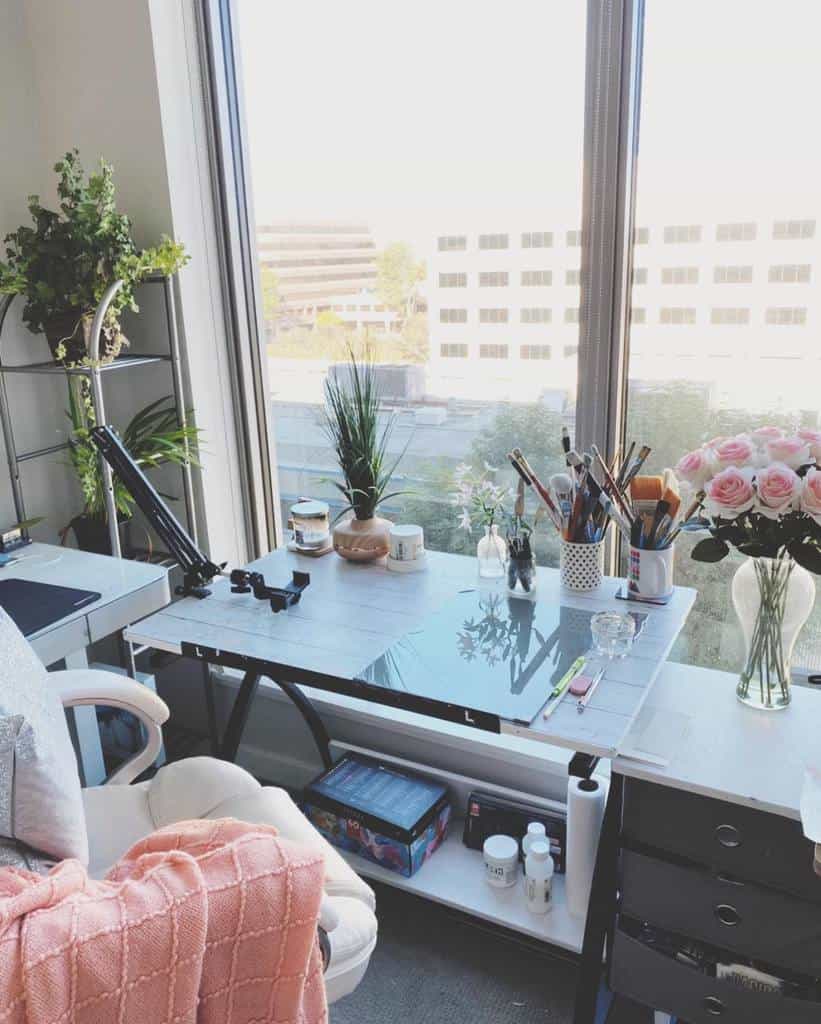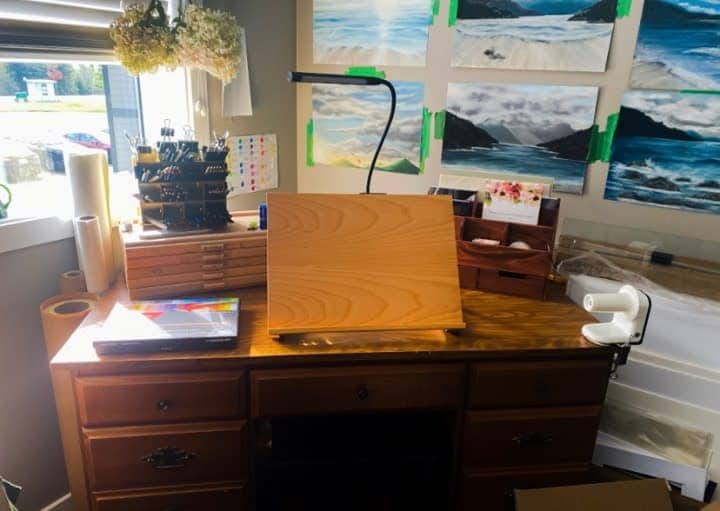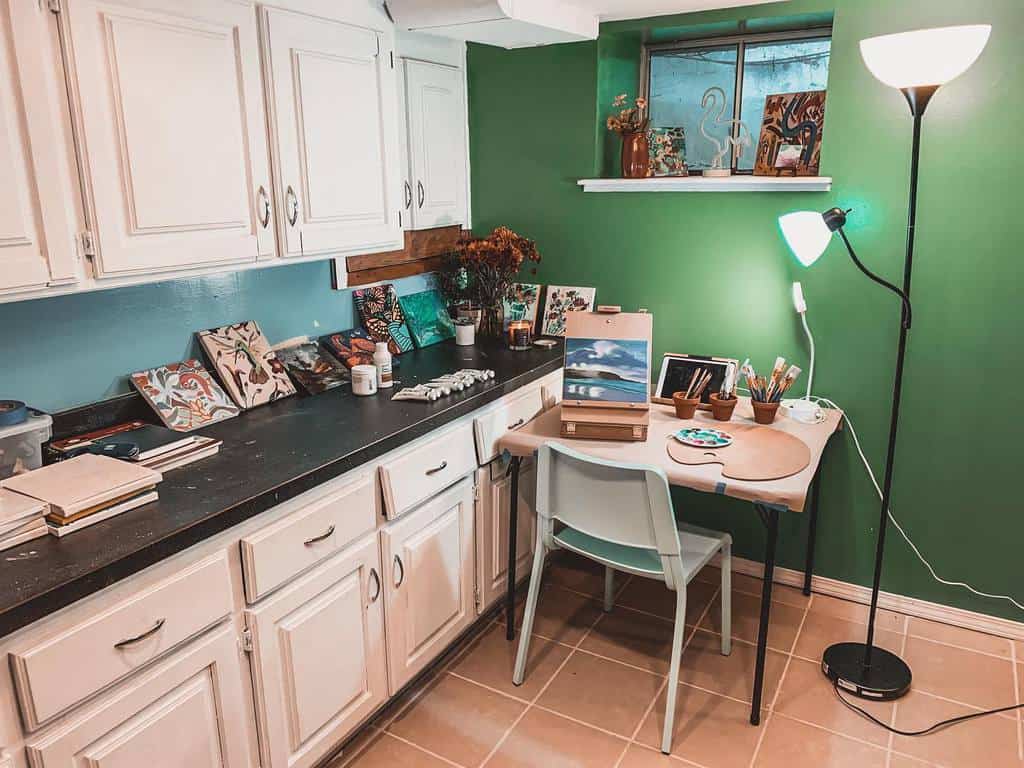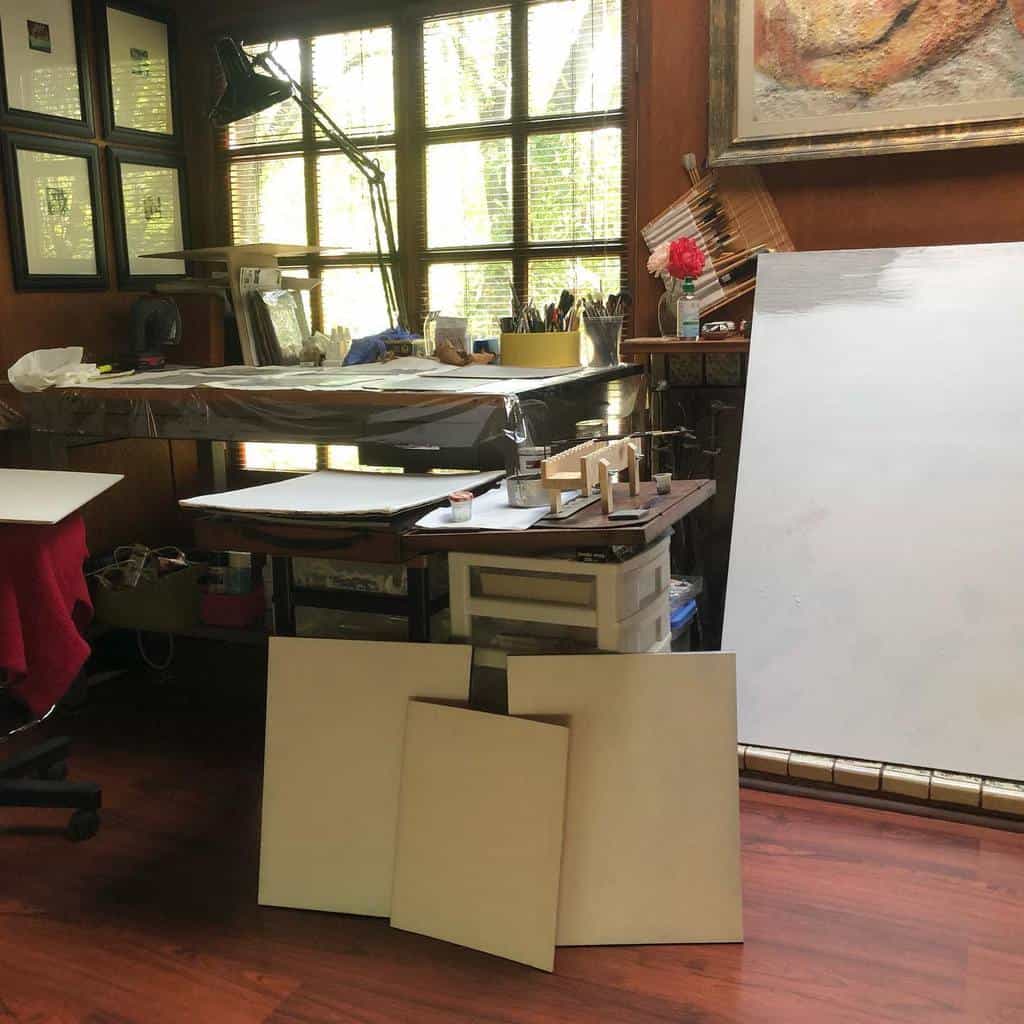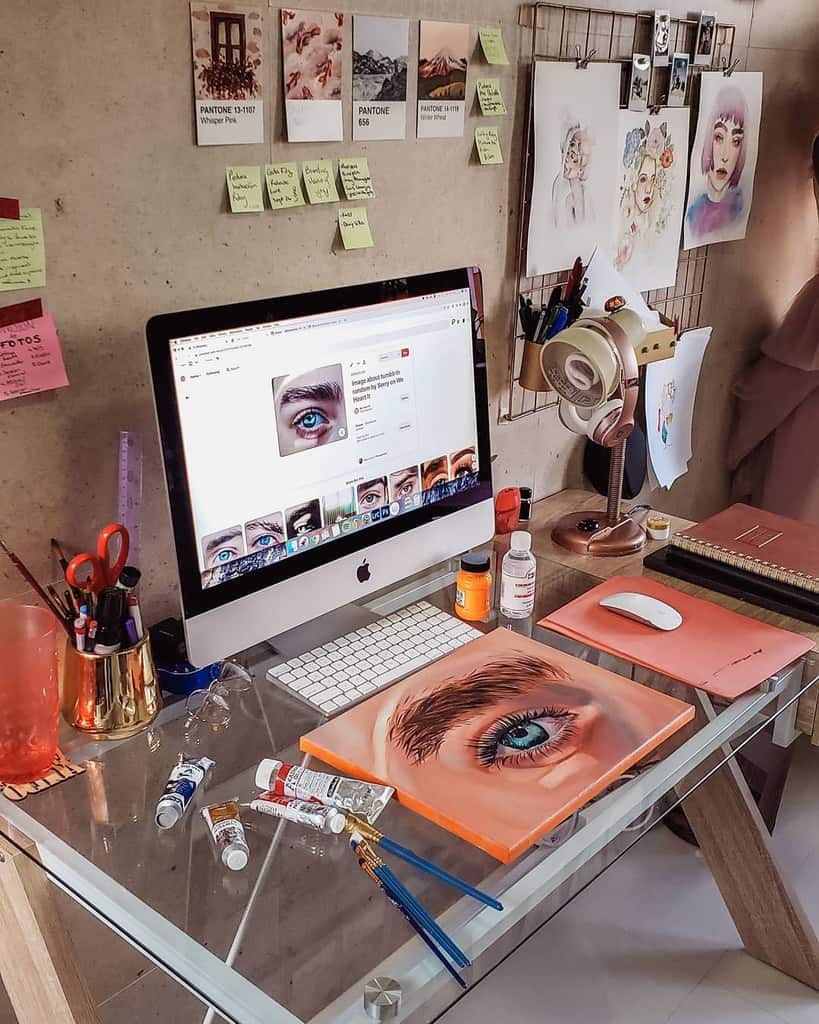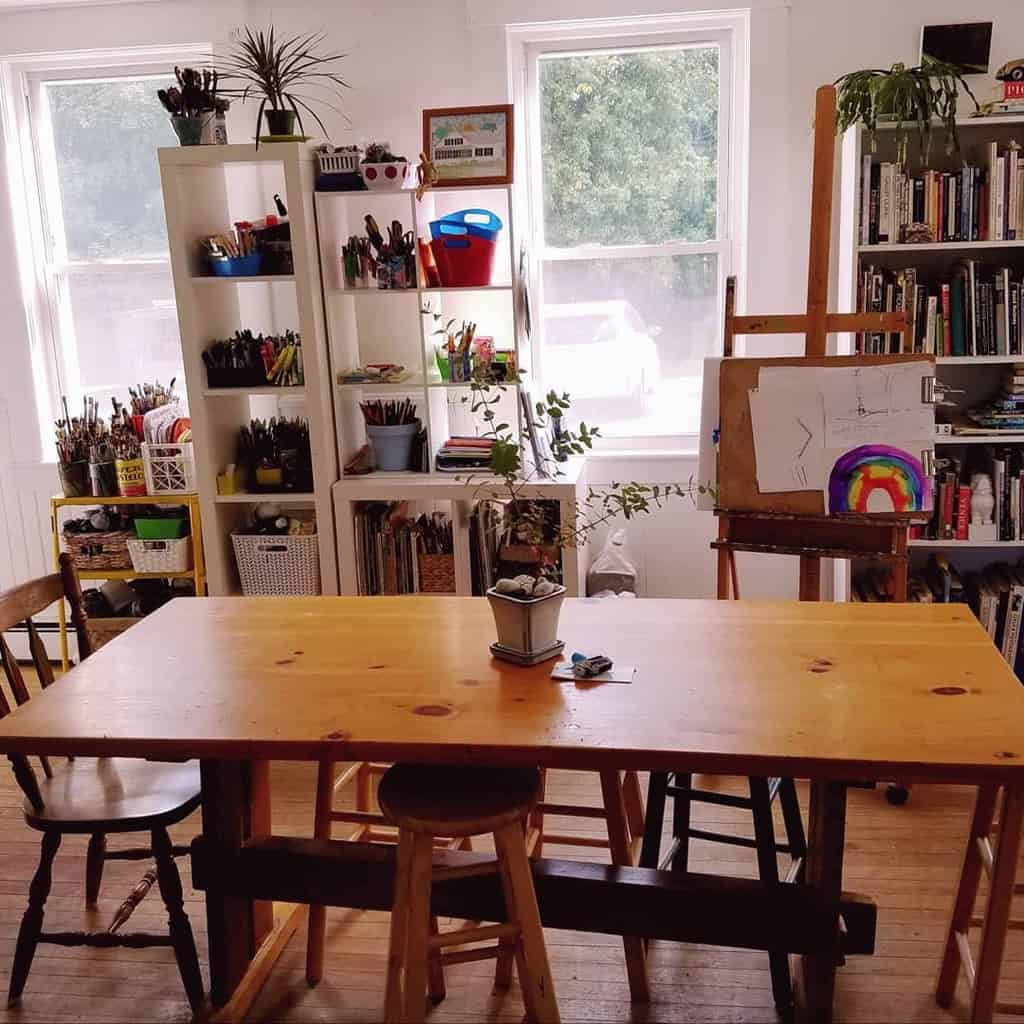 6. Versatile Easels and Artwork Display Stands
These versatile and functional pieces are not only essential for working on your masterpieces but also serve as stunning displays for showcasing your artwork. Imagine walking into your art studio and being greeted by a collection of easels, each holding a work-in-progress or a finished piece ready to be admired.
Whether you prefer traditional wooden easels or sleek and modern metal designs, the options are endless. Arrange your easels strategically around the studio, creating different focal points and allowing each artwork to shine. With adjustable heights and angles, easel stands to provide you with the perfect ergonomic setup, ensuring comfortable and productive hours of creativity.
And when you're not actively painting or drawing, simply adjust the easel to display your artwork, transforming your studio into a mini gallery.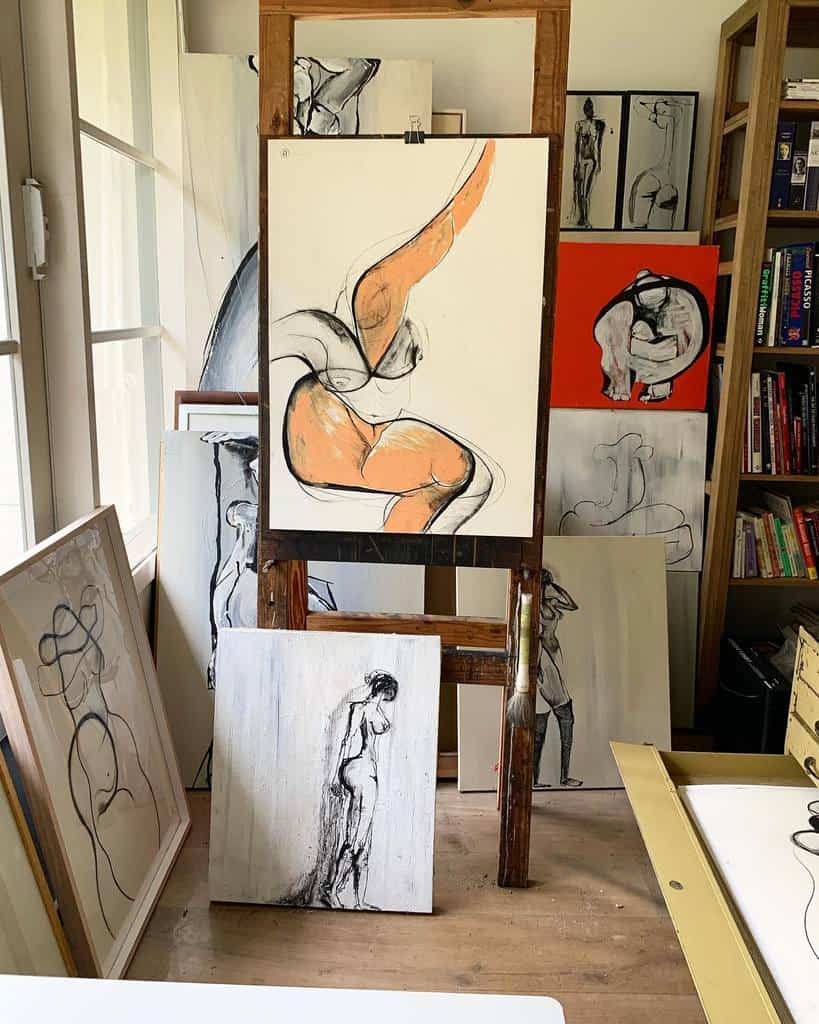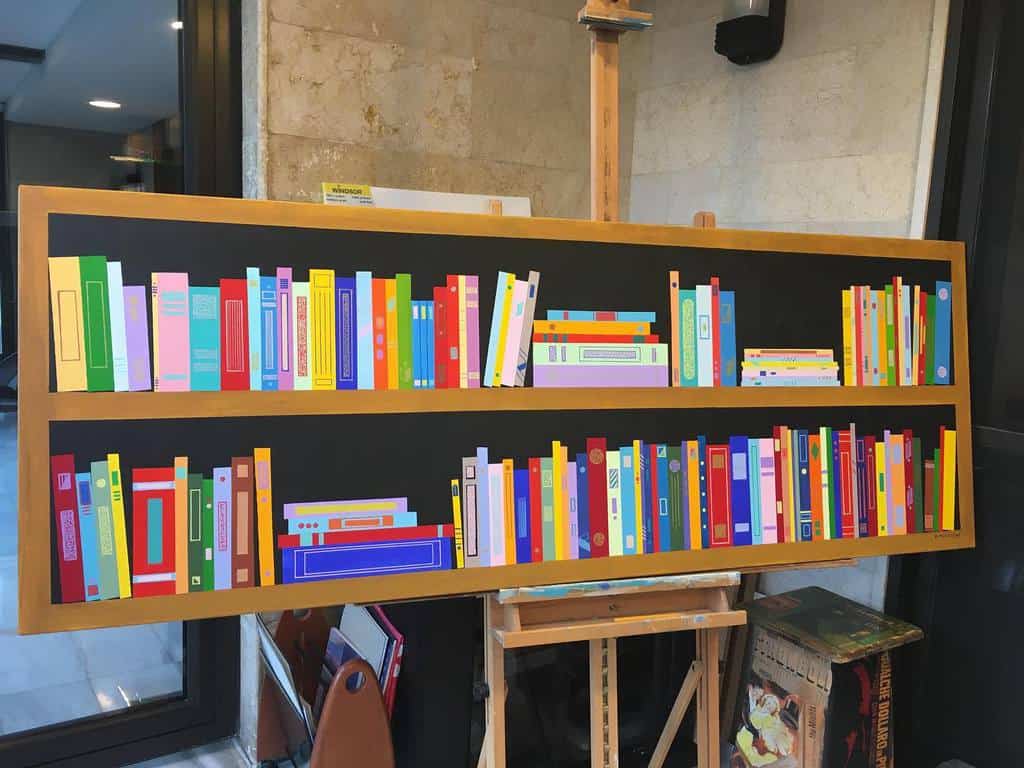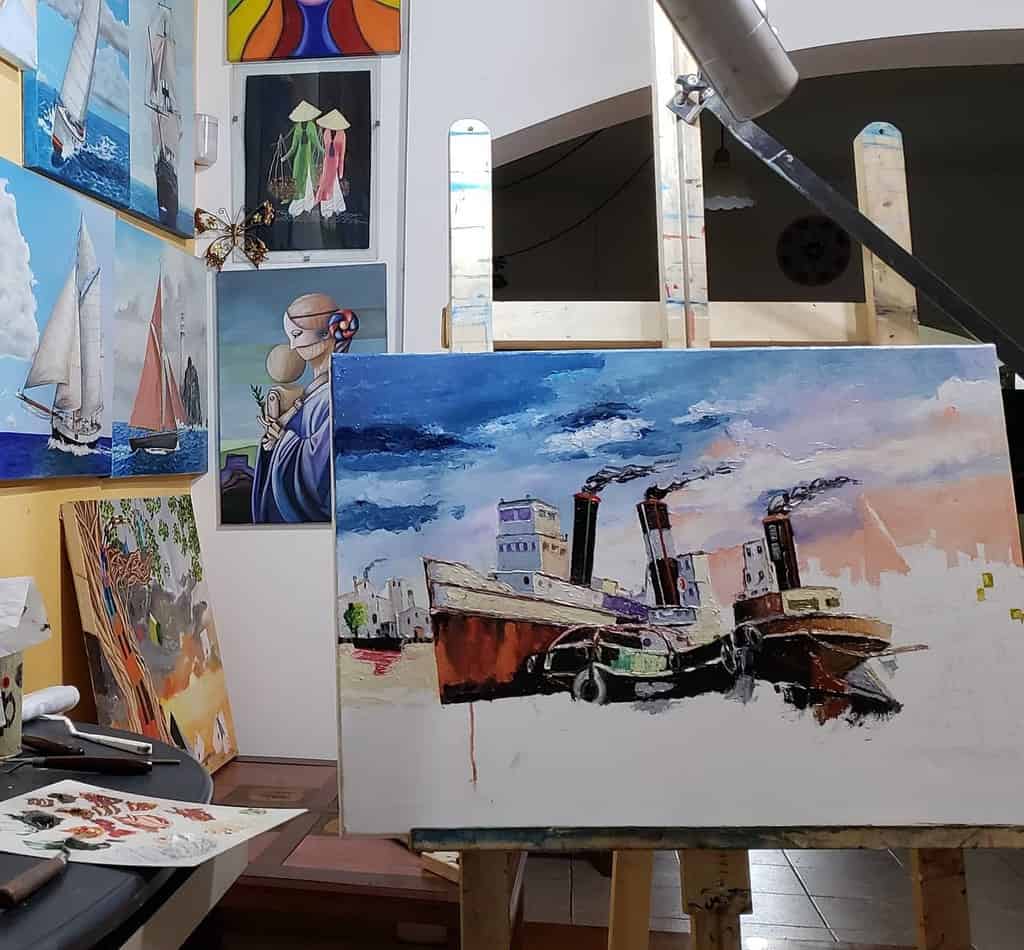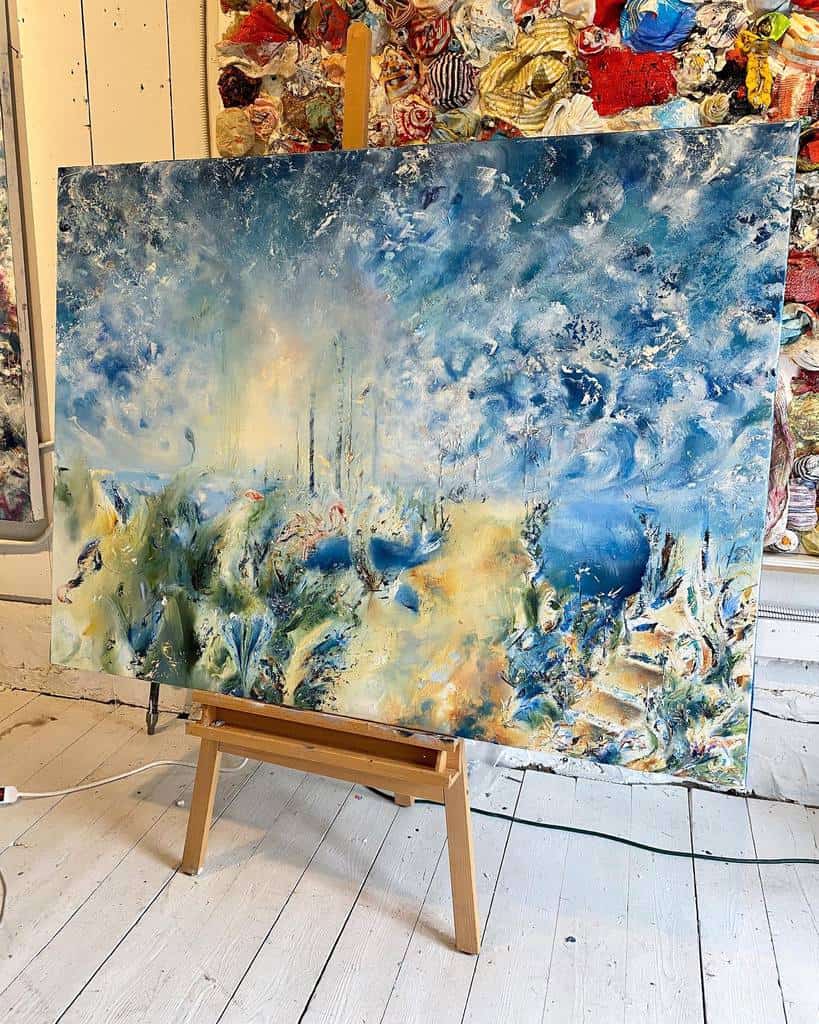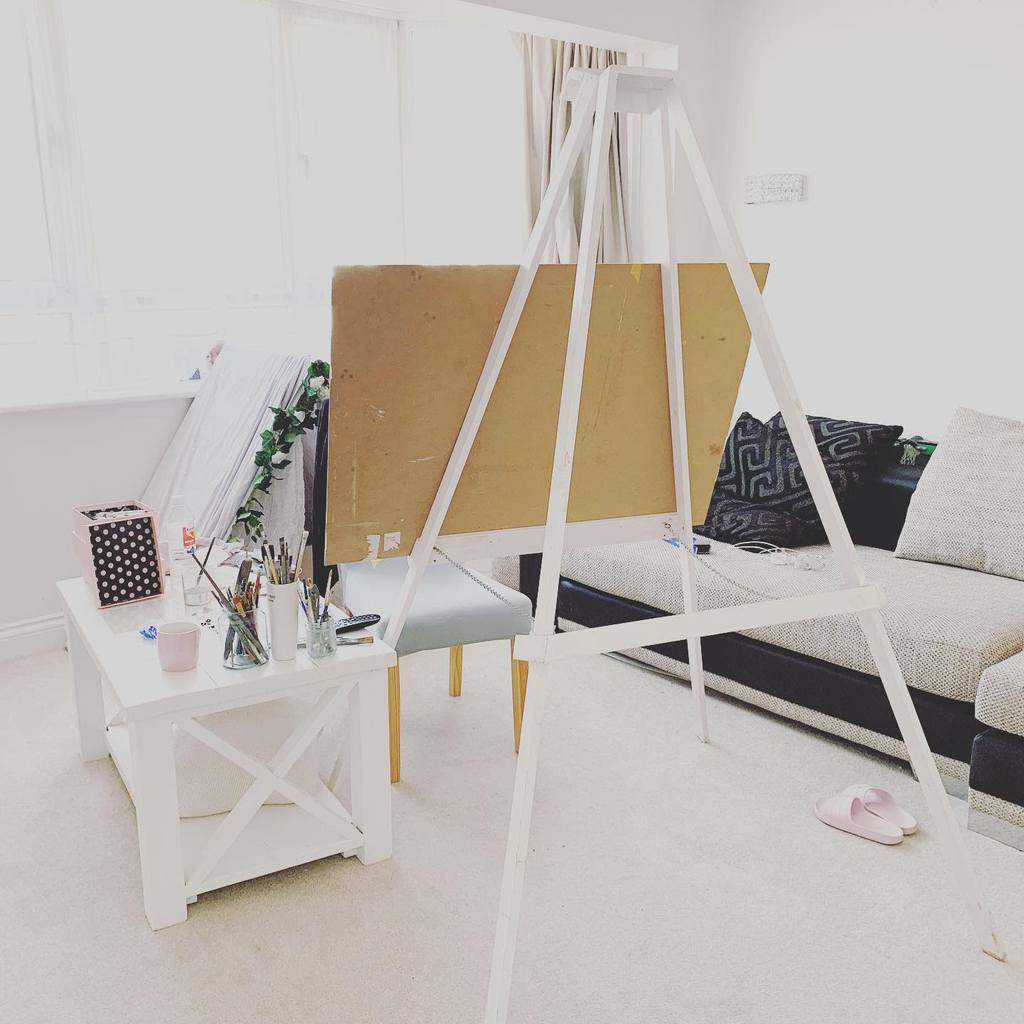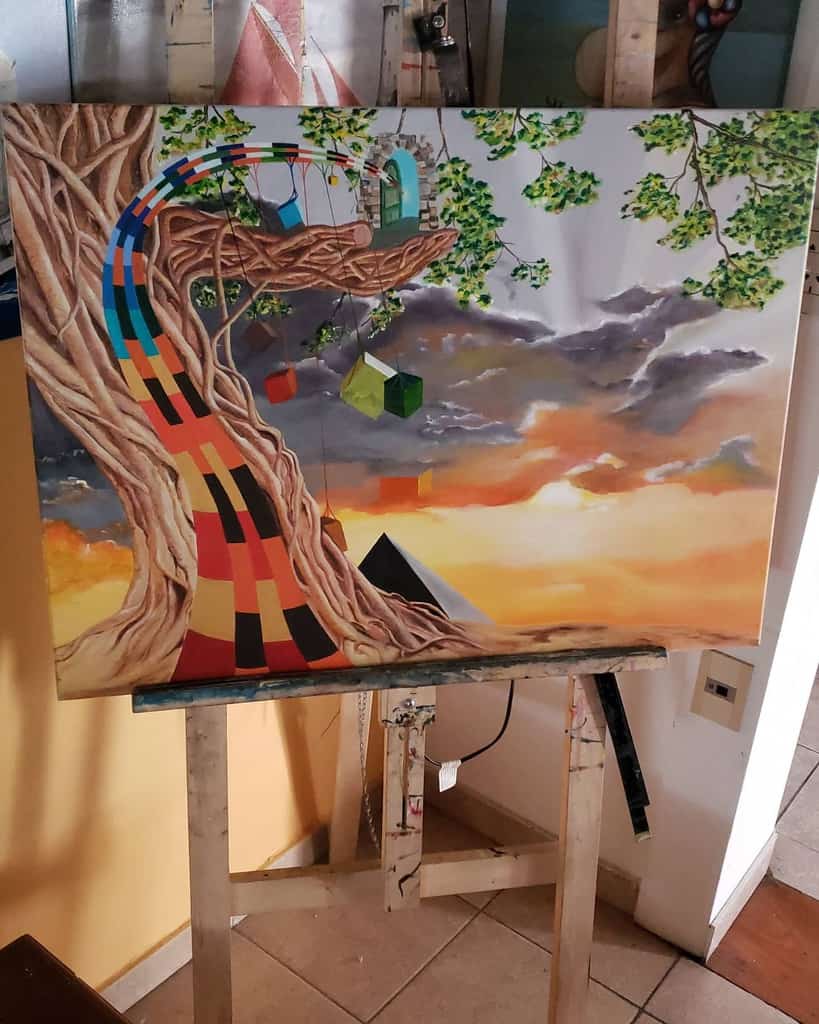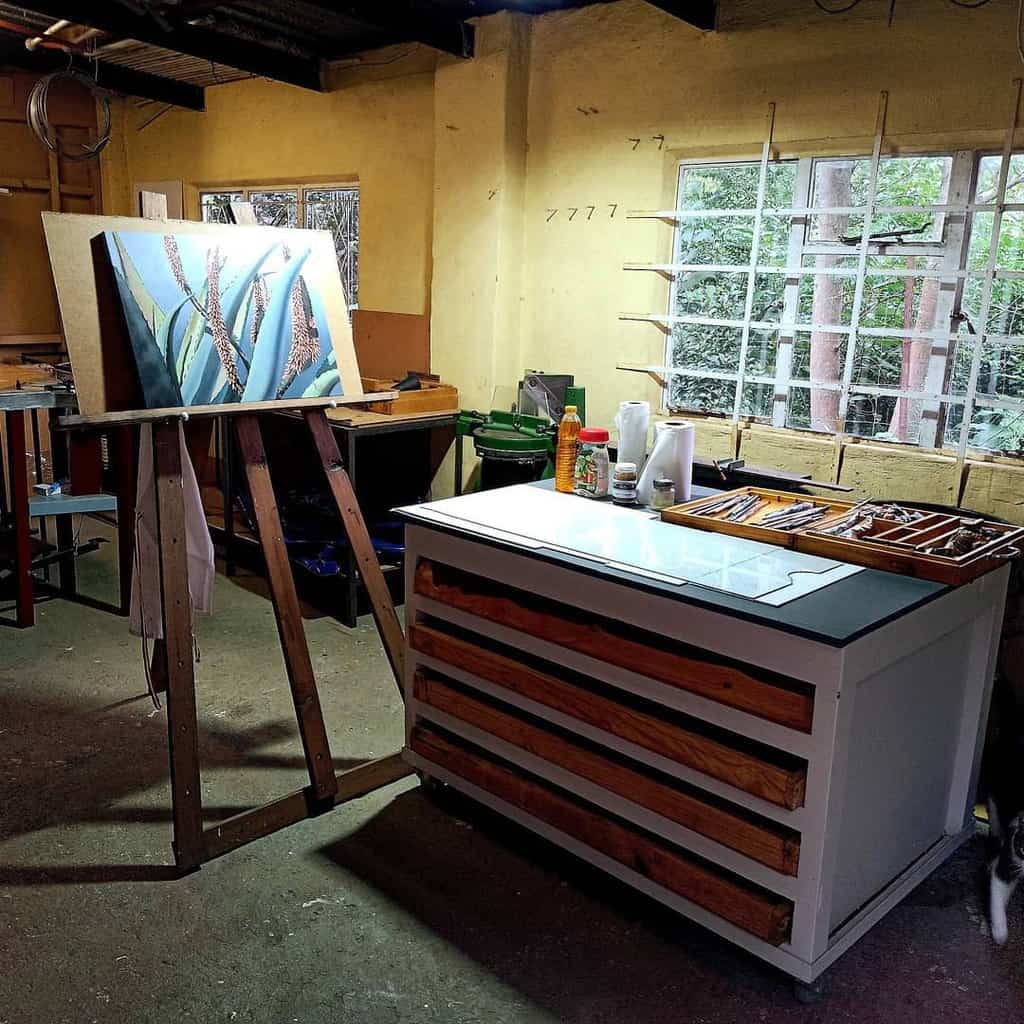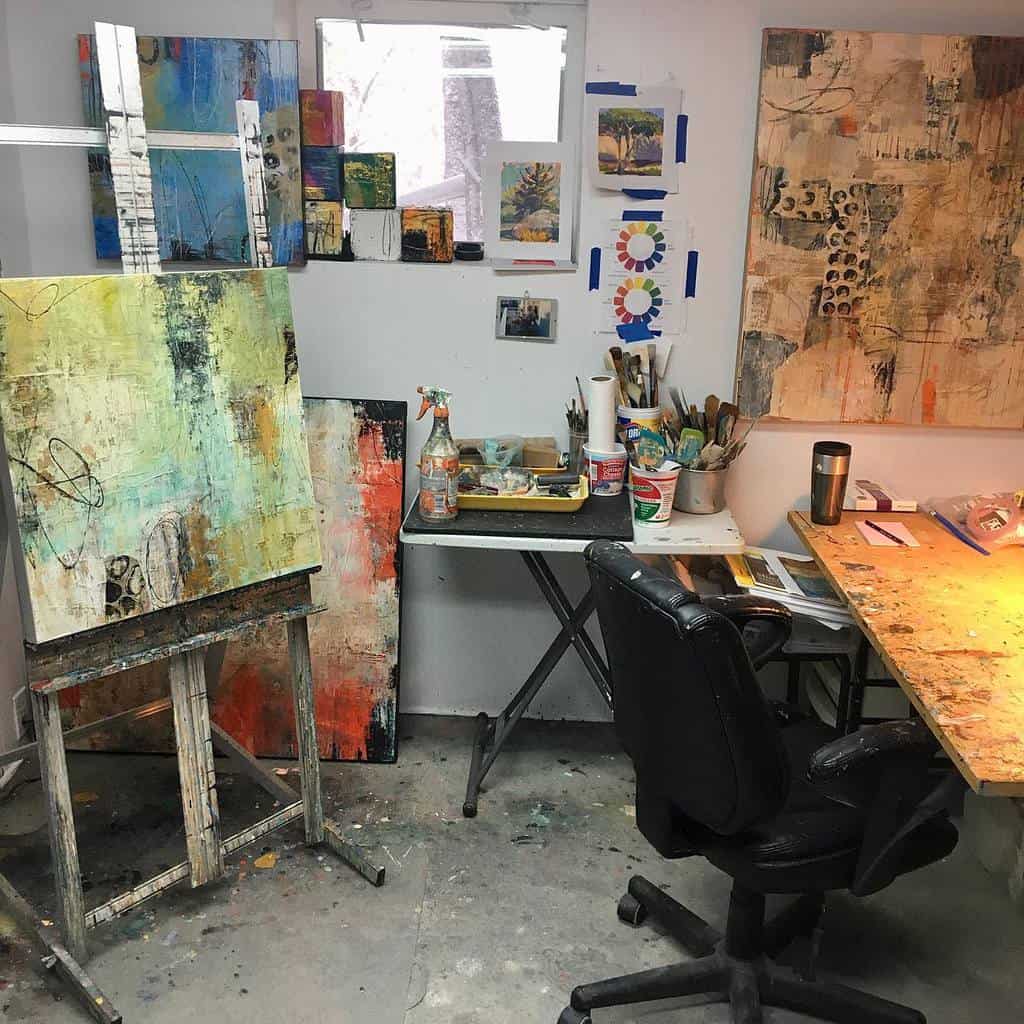 7. Art Video & Photography Set-Up
If you're an artist looking to elevate your work and showcase it in all its glory, it's time to set up an art video and photography studio in your creative sanctuary. Imagine having a dedicated space to capture the intricate details, vibrant colors, and captivating textures of your artwork. With proper lighting, a backdrop, and a tripod, you can bring your creations to life through high-quality videos and stunning photographs.
Whether you're a painter, sculptor, or mixed-media artist, having a professional set-up will allow you to share your artistic process and connect with a wider audience. Consider setting up a table or easel as your primary work area, ensuring it's well-lit to capture every brushstroke or delicate touch. Use a neutral backdrop to let your artwork take center stage, or experiment with different textured backgrounds to add depth and visual interest. Invest in a tripod to steady your camera or smartphone, ensuring steady shots and smooth videos.
Don't forget to play around with angles, close-ups, and time-lapse techniques to showcase the evolution of your art. With an art video and photography set-up in your studio, you'll have the power to document, share, and promote your work like never before.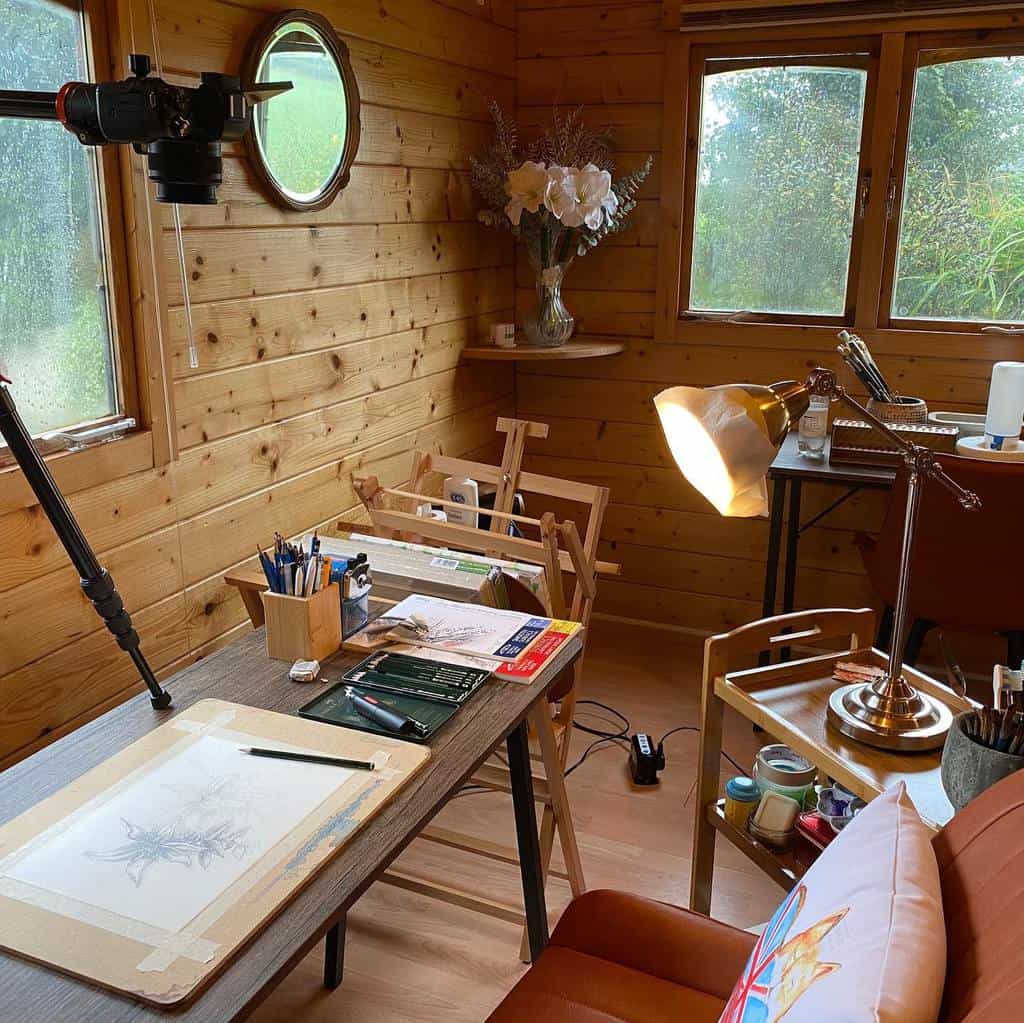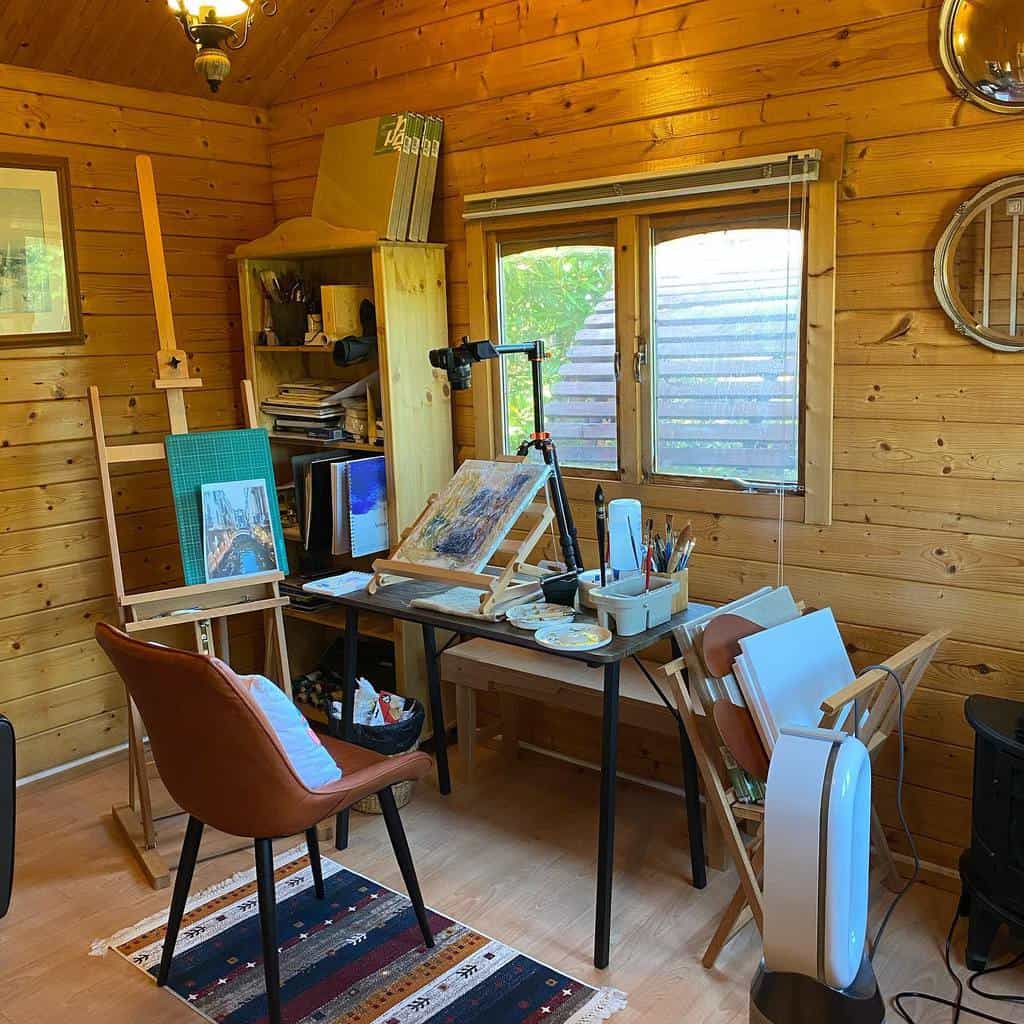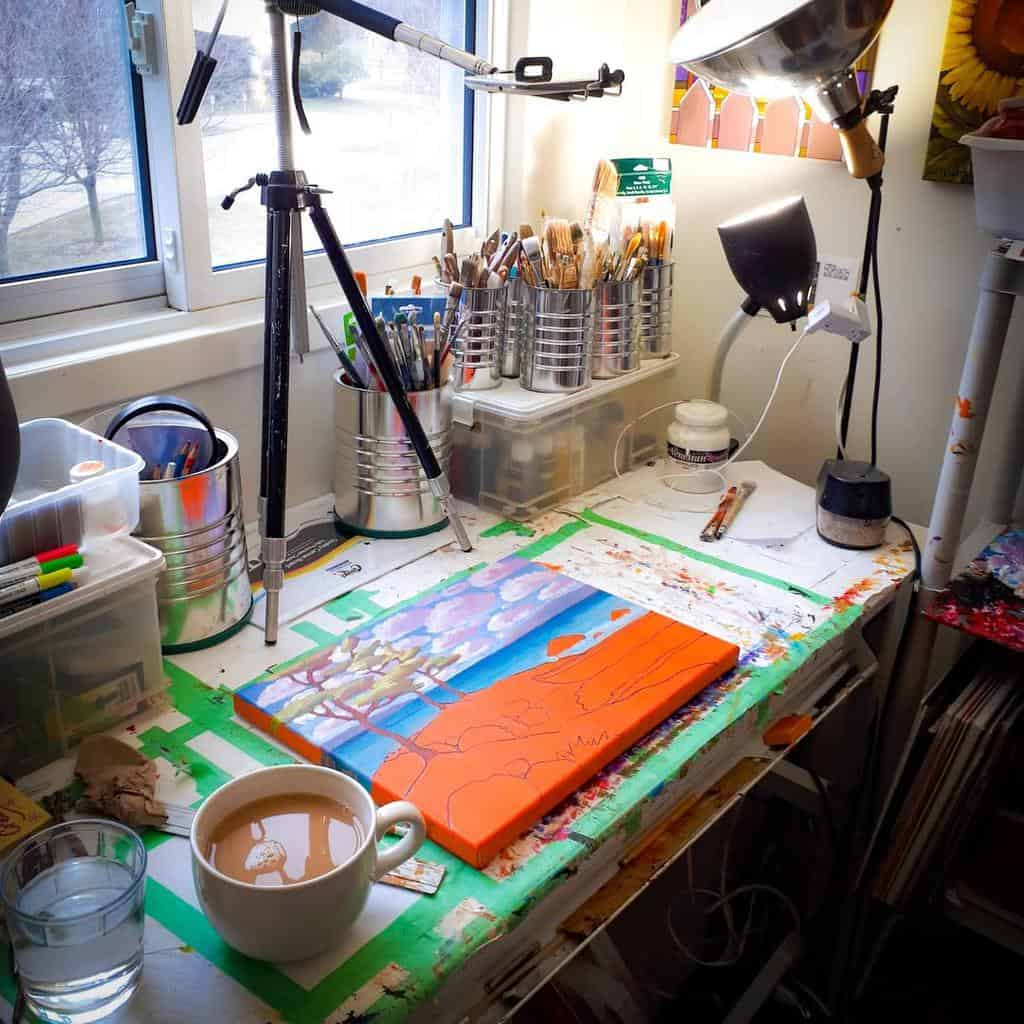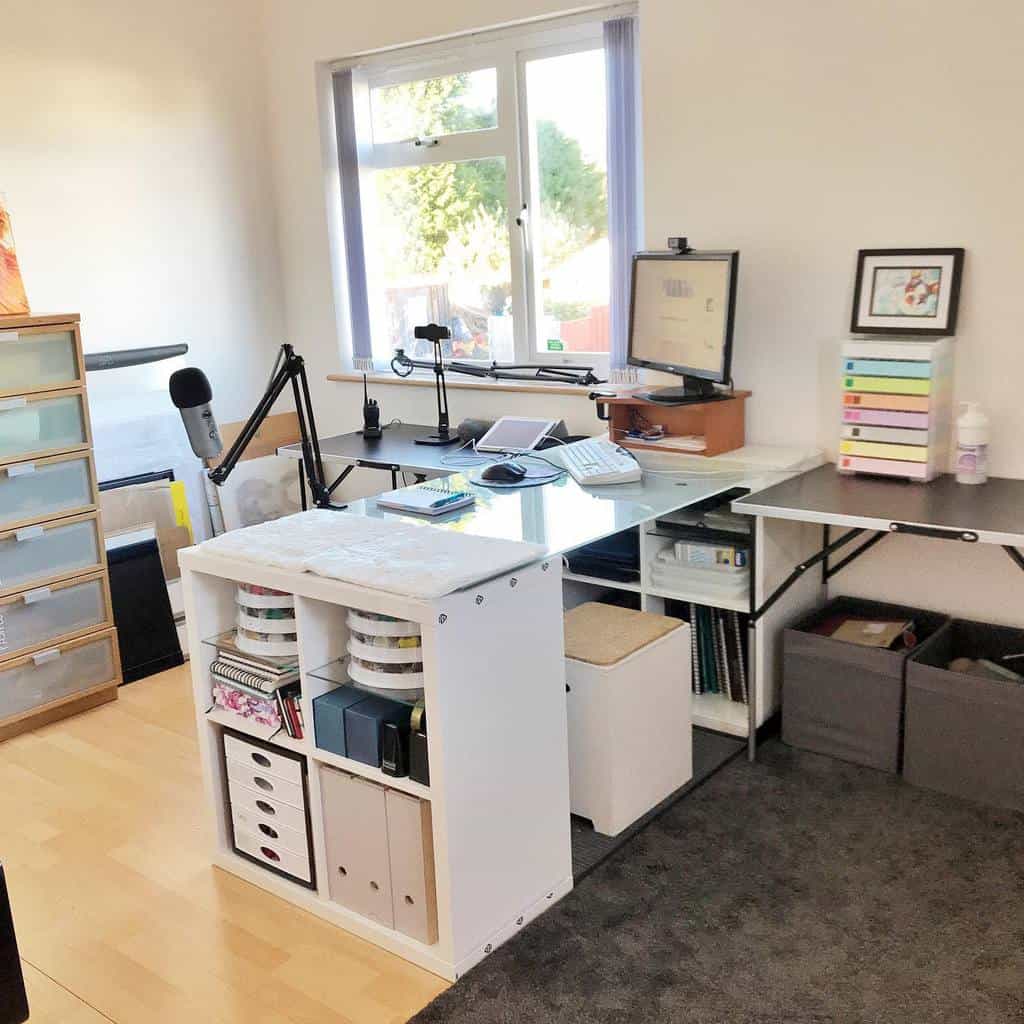 8. Mesh Grid Panel
This functional solution is the ultimate game-changer for organizing and displaying your artistic tools and works of art. With a mesh grid panel, you have endless possibilities for customization and organization. Attach hooks, clips, and baskets to hang and store your paintbrushes, scissors, and other art supplies, keeping them within easy reach and neatly organized.
Showcase your artwork by using clips or magnets to secure your masterpieces to the grid, turning your studio into a captivating gallery. The beauty of a mesh grid panel lies in its adaptability – you can easily rearrange and reconfigure it to suit your changing needs and artistic inspirations.
Whether you prefer a minimalist and clean aesthetic or a vibrant and eclectic display, the mesh grid panel allows you to curate your own artistic sanctuary.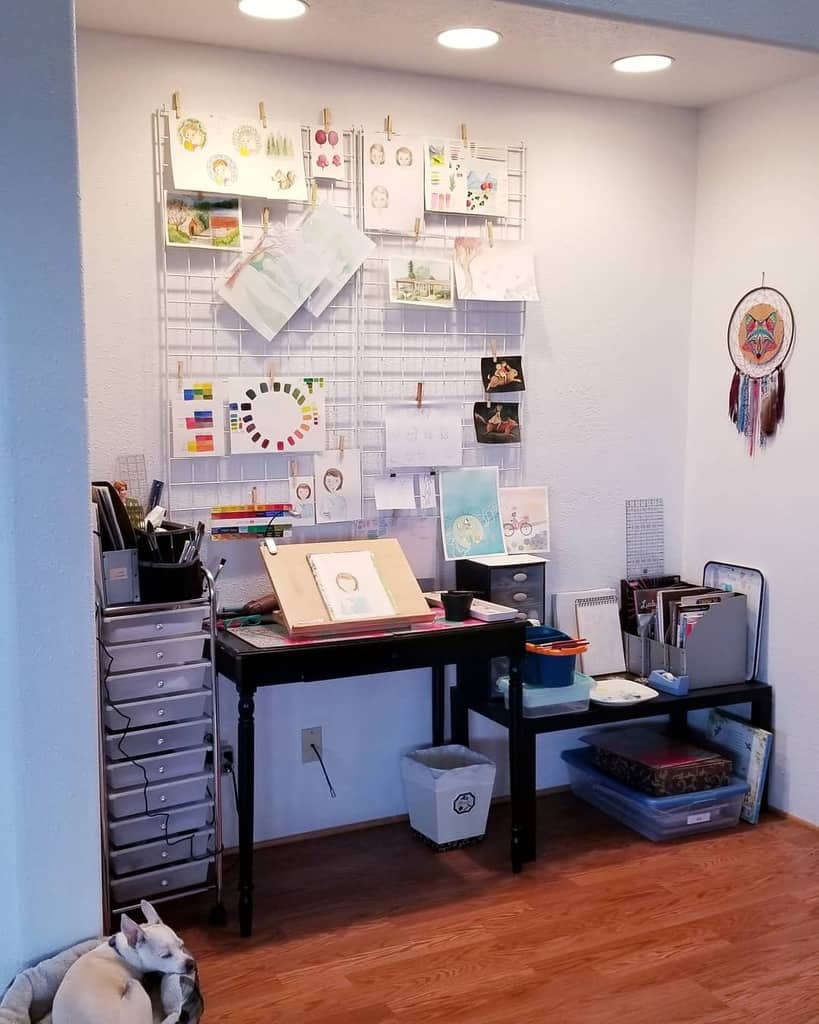 9. Peg Board Organizer
Say goodbye to the days of frantically searching for your brushes or rummaging through drawers for that elusive tube of paint. With a pegboard organizer, you can have all your art supplies within arm's reach, neatly organized, and beautifully displayed. Hang your brushes, scissors, and other tools on hooks, keeping them easily accessible and ready to use.
Arrange your paint tubes, markers, and pencils in small baskets or containers that can be attached to the pegboard. The versatility of the pegboard allows you to customize the layout based on your specific needs. You can even add shelves or hanging baskets to hold canvases, sketchbooks, or reference materials.
Not only does the pegboard organizer keep your space tidy and efficient, but it also doubles as a visually captivating backdrop for your artistic endeavors. Choose a pegboard in a color that complements your studio's aesthetic or paint it yourself to add a personal touch.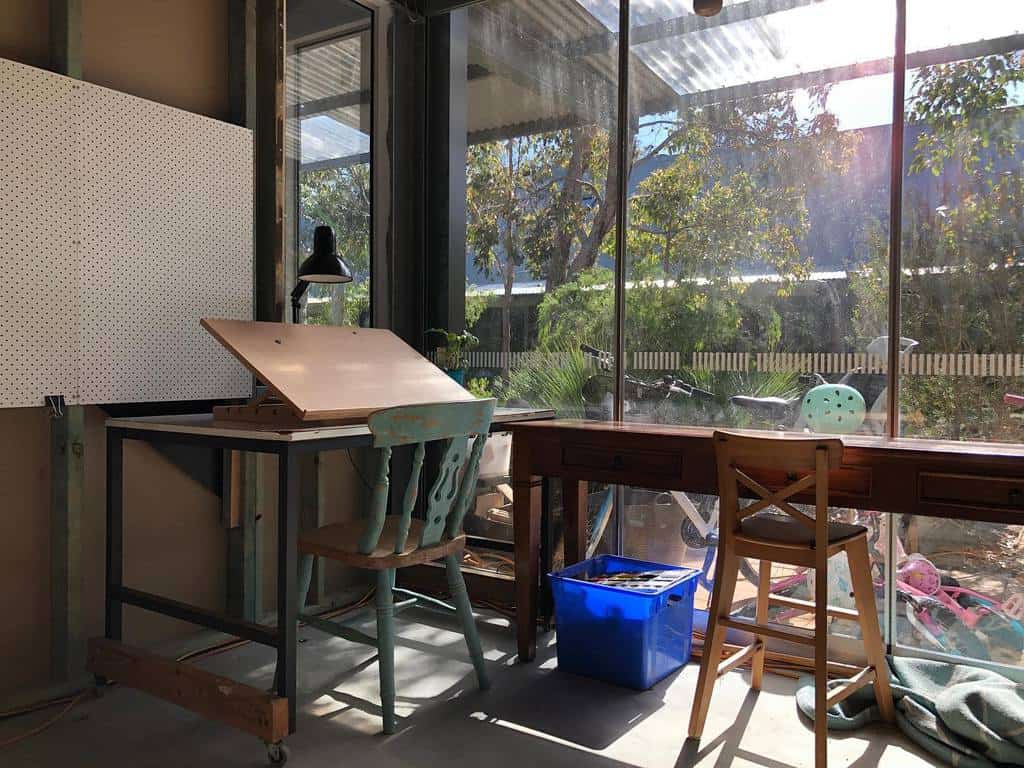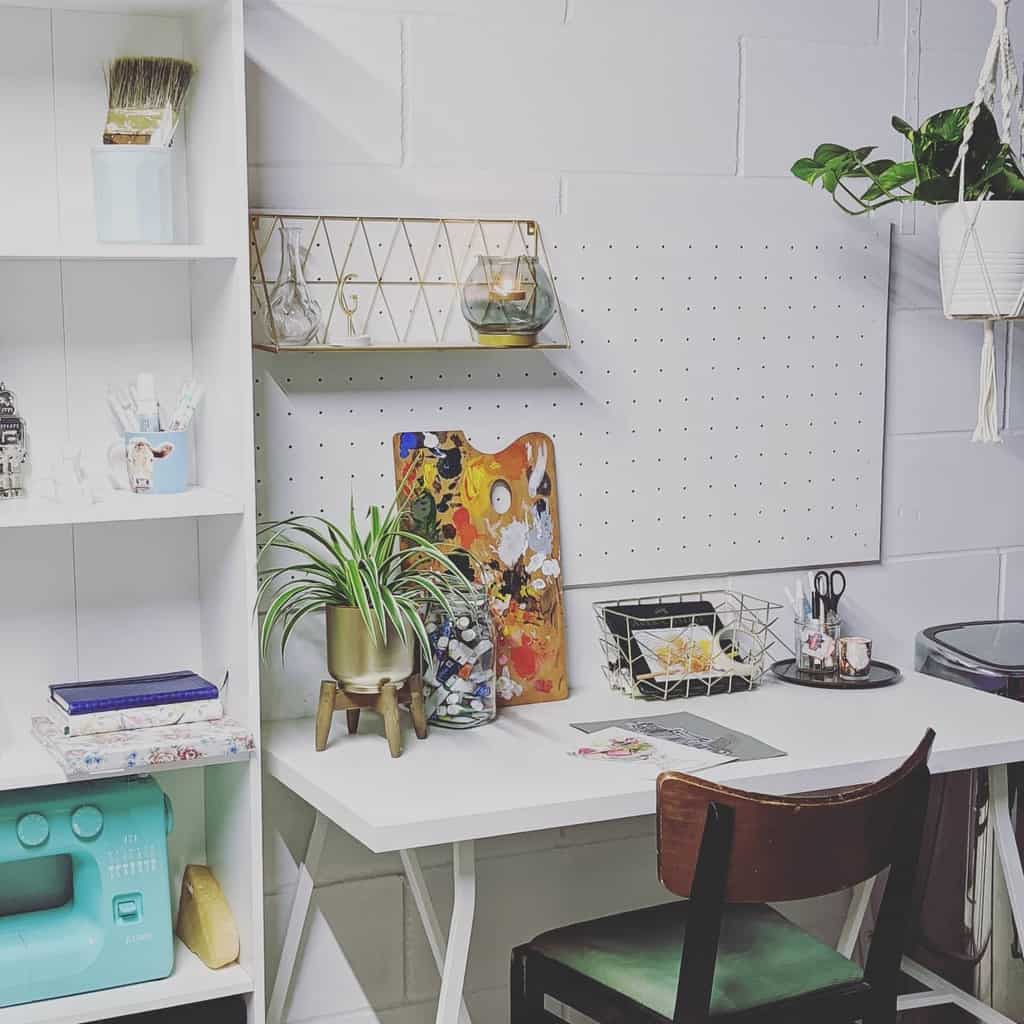 10. Decorative Walls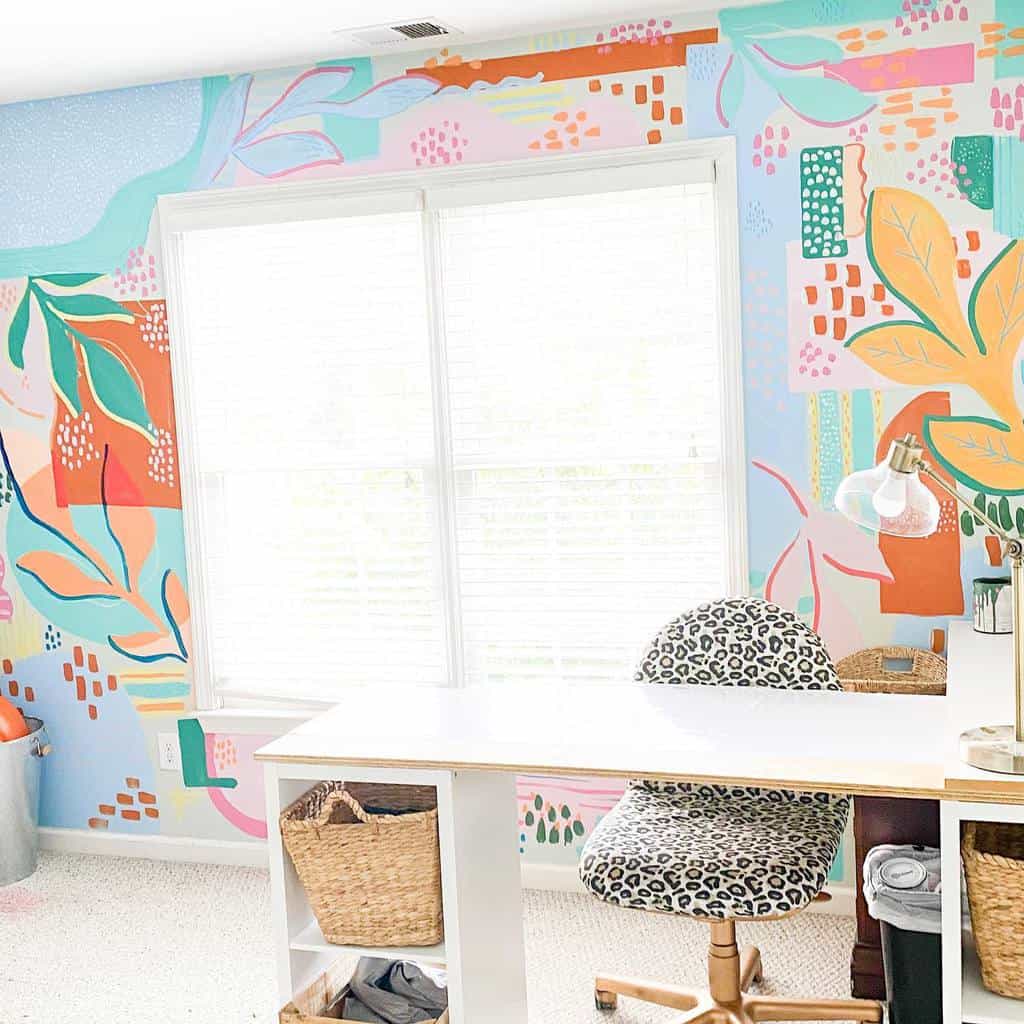 11. Garage Art Studio
Unleash your creativity and turn your garage into an inspiring art studio! With some clever design and organization, you can transform this space into a haven for artistic exploration. Start by utilizing shelves to display your favorite art supplies, brushes, and paint tubes, creating a colorful and accessible visual feast. Rolling storage carts become your trusty companions, holding additional materials and tools, ready to roll wherever inspiration strikes.
A spacious work desk becomes the centerpiece of your studio, providing ample room for sketching, painting, or sculpting. Make sure to have proper lighting installed, allowing natural light to flood in during the day, and adjustable lamps for those late-night creative sessions. Don't forget to infuse the space with personal touches, like inspirational quotes or artwork that fuels your imagination.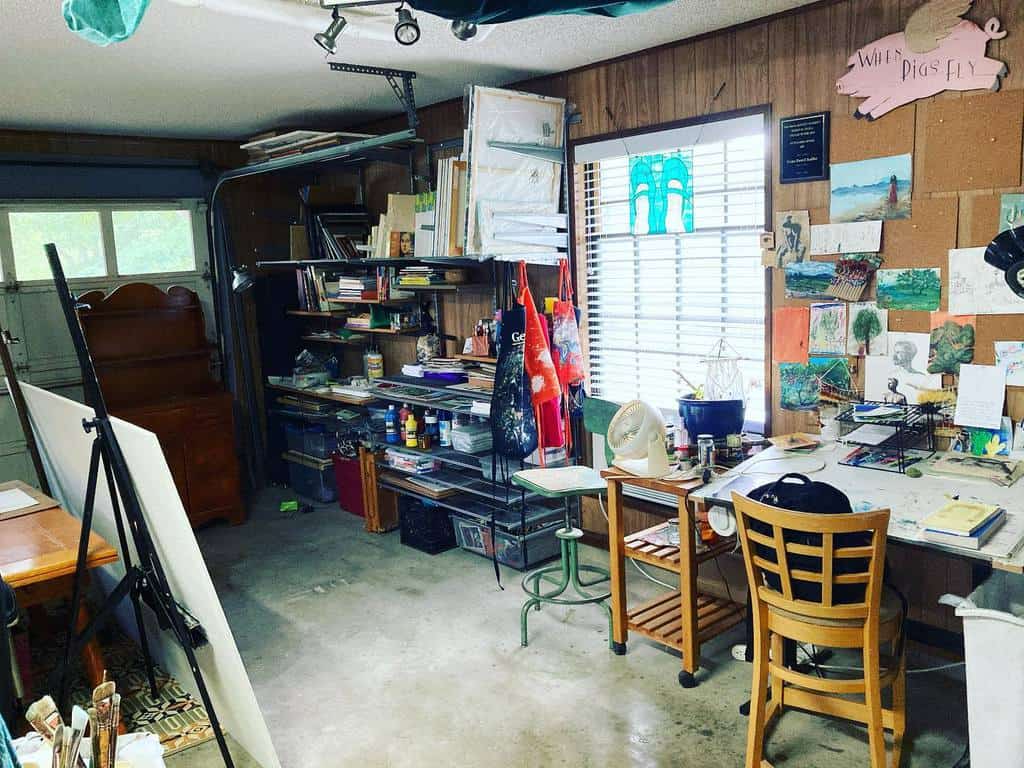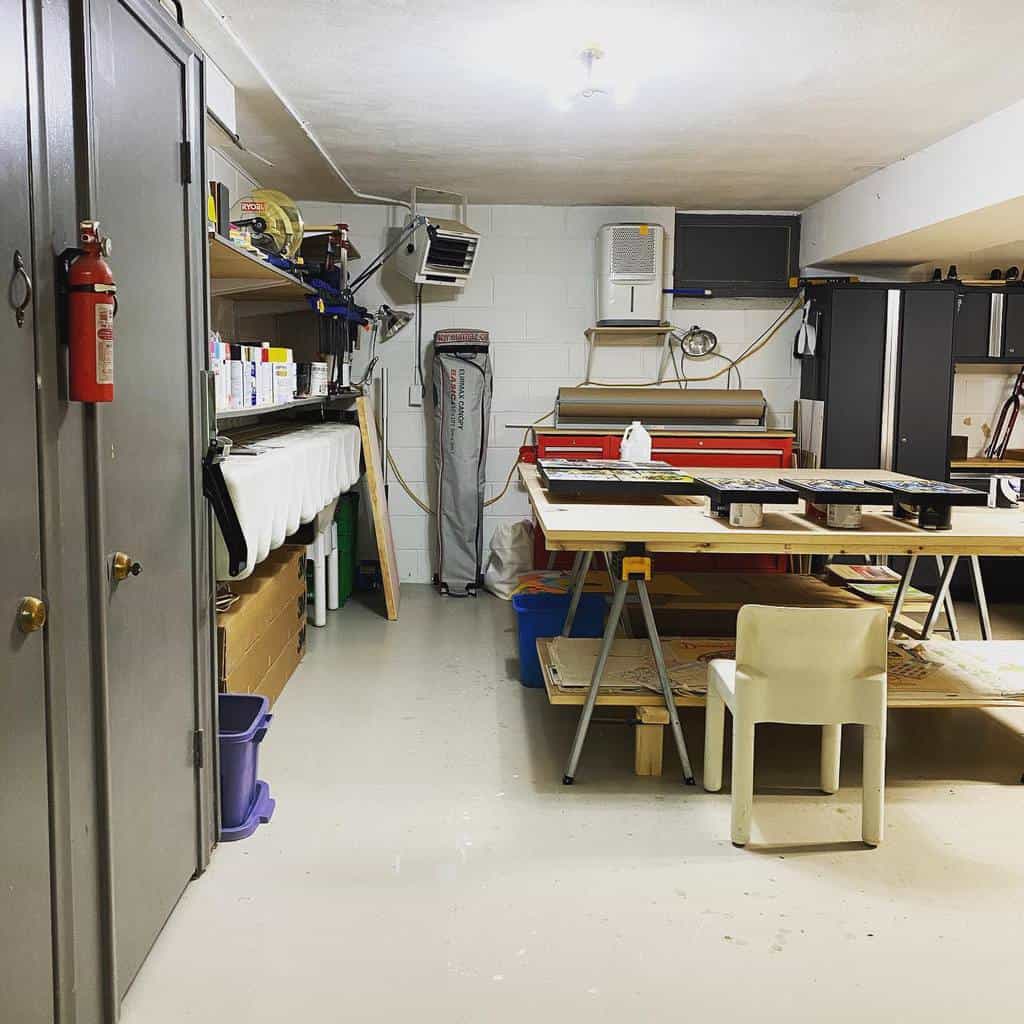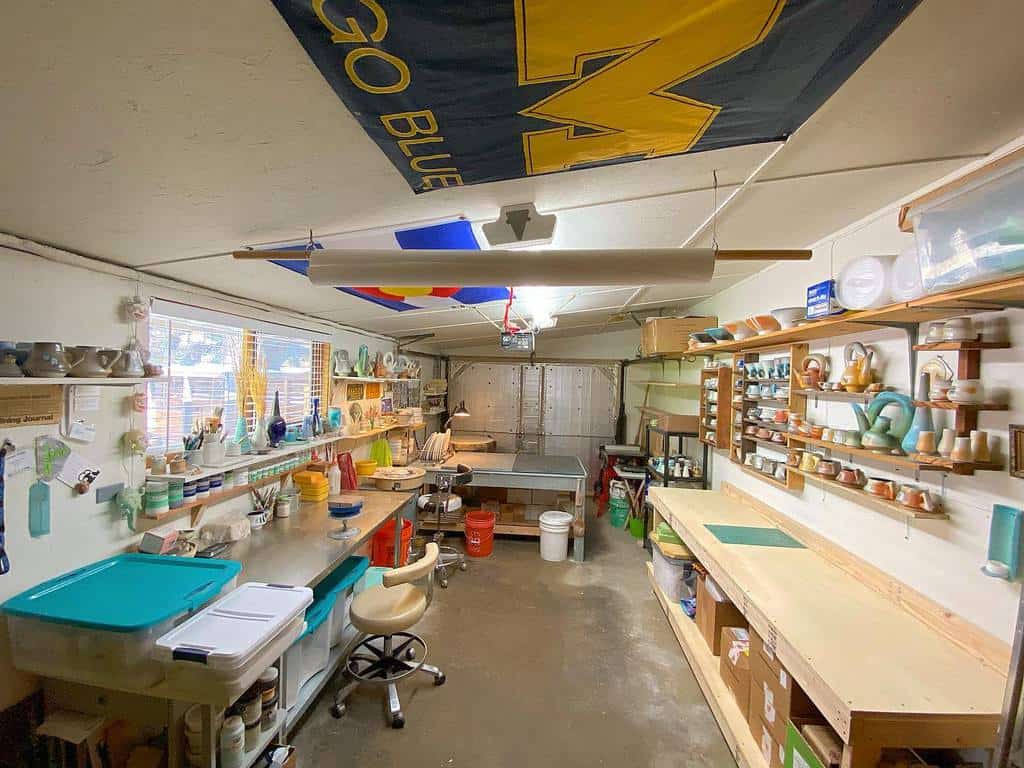 12. Rolling Carts for Mobility
To bring organization and convenience to your artistic haven, consider incorporating rolling carts for your art supplies. These mobile marvels will become your trusty sidekicks, providing easy access to all your materials while keeping your studio tidy and functional.
With their wheels and compact design, these carts offer the ultimate mobility, allowing you to effortlessly move them around as needed. Imagine the convenience of having your paints, brushes, and other essentials right at your fingertips wherever you go.
No more searching through drawers or rummaging through shelves—everything is neatly organized and readily available. The beauty of these rolling carts lies not only in their functionality but also in their aesthetic appeal.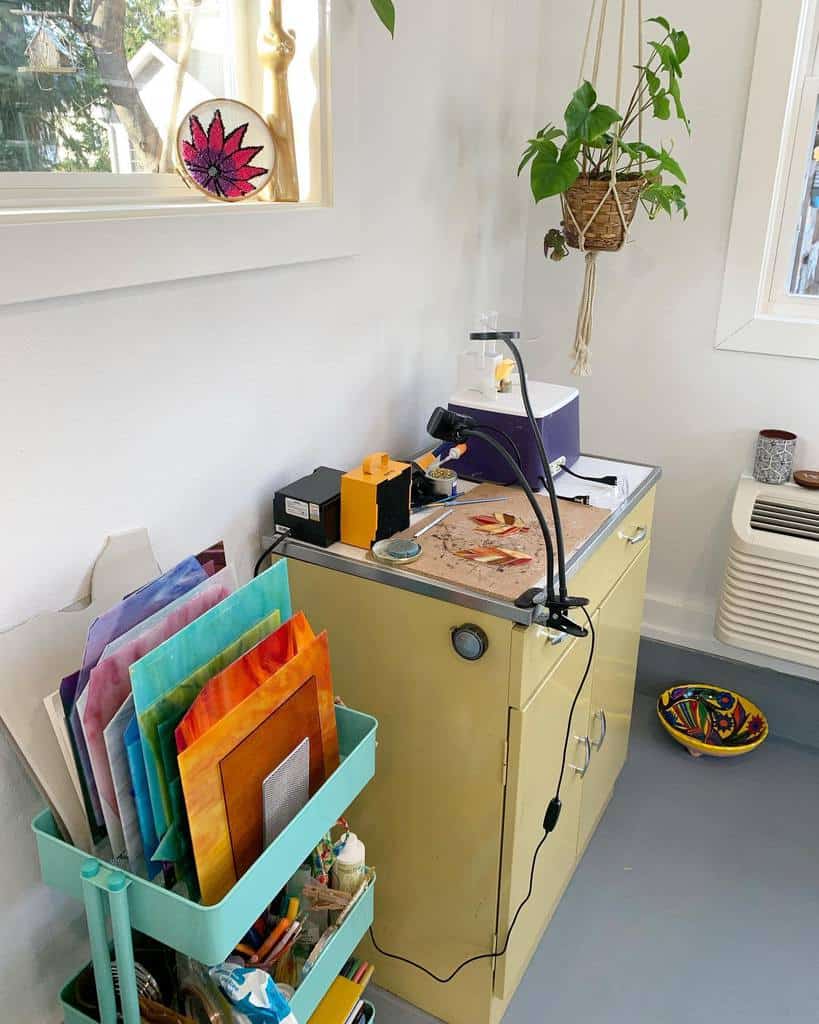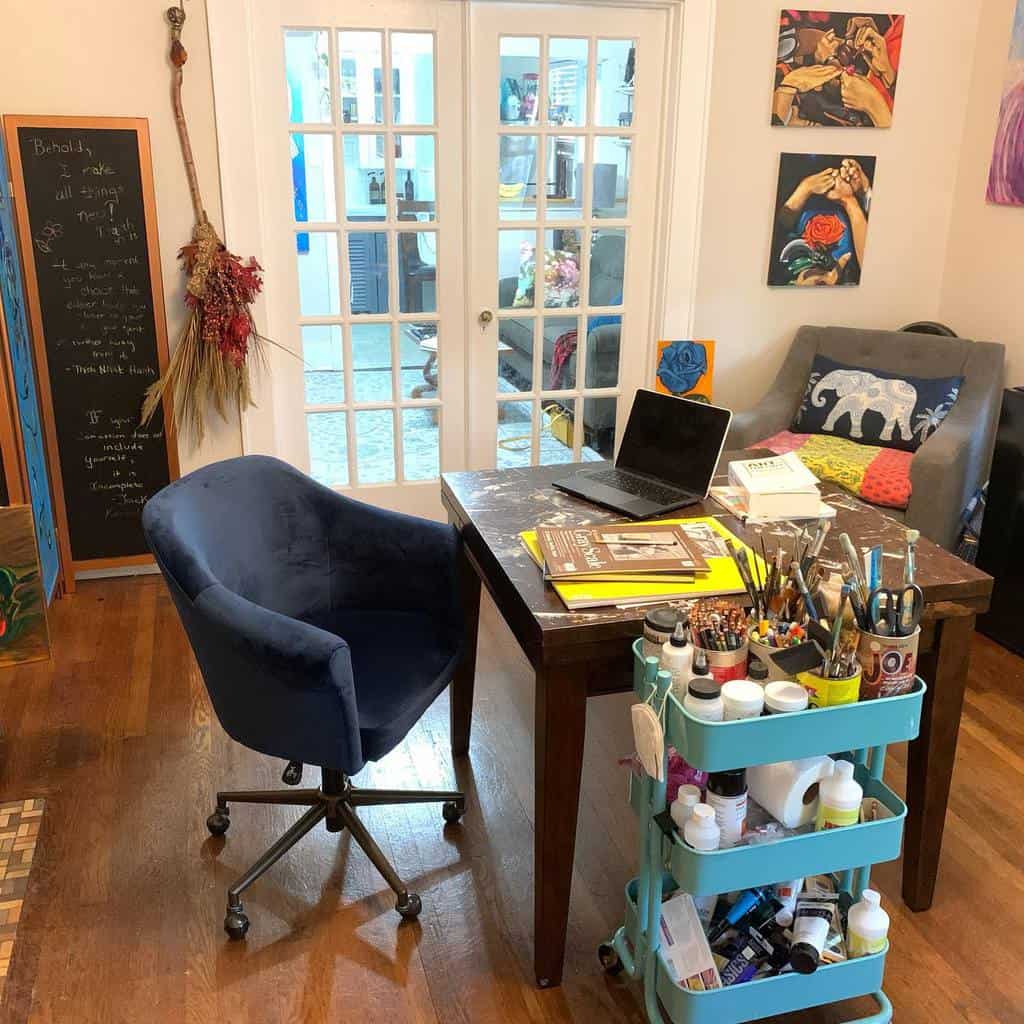 14. Ladder Storage Organizer
Introducing the ladder storage organizer—an artistic and functional solution that will revolutionize your creative space. Picture a sturdy wooden ladder propped against the wall, transformed into a work of art itself. But it doesn't stop there!
Add hooks and hanging caddies to the rungs of the ladder, turning it into a multi-purpose storage system that will keep your brushes, paints, and tools within arm's reach. Hang your aprons, smocks, and other essentials on the hooks, while the hanging caddies can hold smaller items like pencils, markers, and scissors.
Not only does the ladder storage organizer maximize vertical space, but it also adds a charming and rustic element to your studio's aesthetic. Every artist knows that staying organized is the key to a smooth creative process, and this innovative solution brings both style and practicality to the table.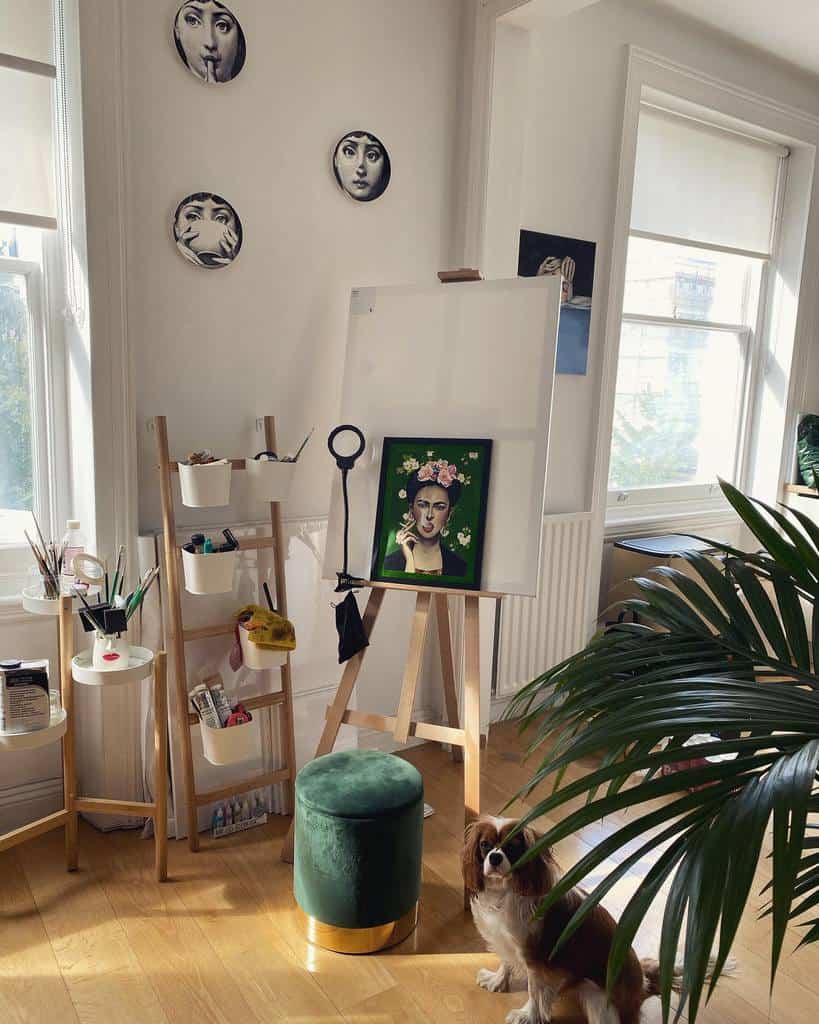 15. Wall-Mounted Workdesk
. The wall-mounted design not only saves valuable floor space but also creates a sleek and streamlined look. Imagine a sturdy and spacious desk, expertly mounted at the perfect height, providing you with an ergonomic and comfortable workspace.
As you sit by the window, you'll be inspired by the changing colors of the sky and the gentle breeze that flows through. The natural light will enhance your ability to see details and work with precision, making it the ideal spot for painting, drawing, or any other creative pursuit.
Customize your wall-mounted work desk with storage compartments and shelves to keep your art supplies within reach and your space organized.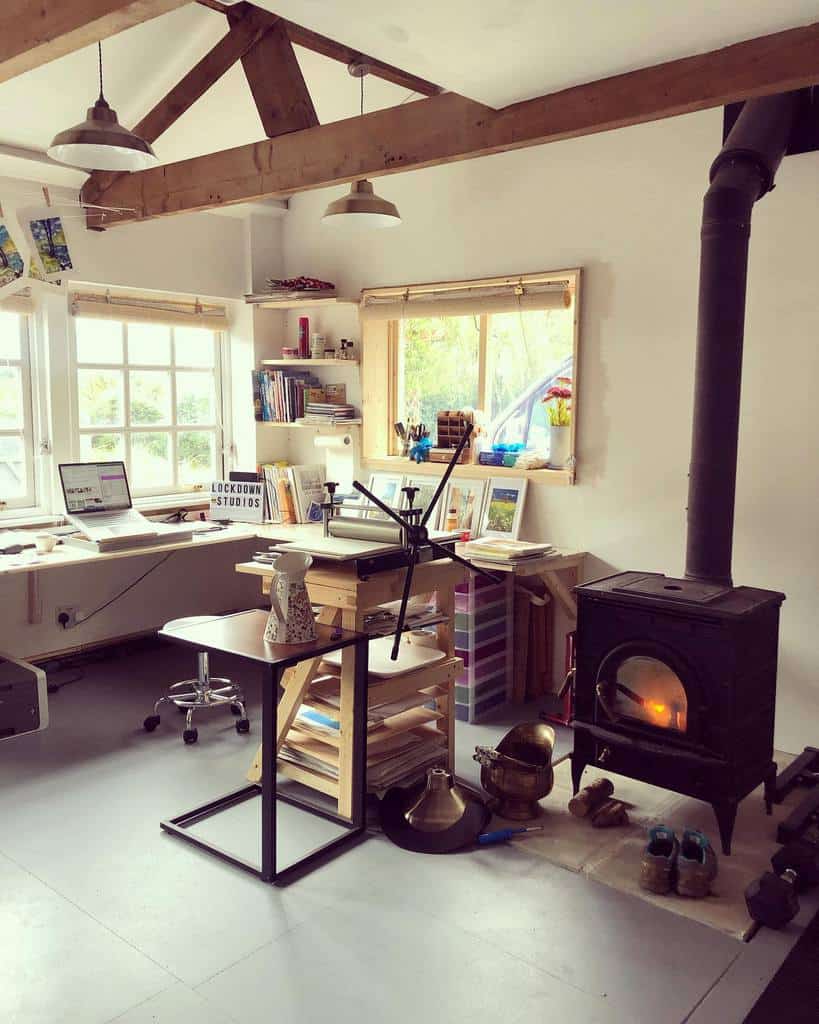 16. Bay Window Workdesk
Picture this: a picturesque bay window bathed in natural light, serving as the perfect backdrop for your artistic endeavors. Set up a standalone desk right by the bay window, creating a dedicated space where your creative energy can flourish. As the sun's rays stream in, you'll find yourself immersed in a world of endless possibilities.
This unique setup not only provides an unobstructed view of the outside world but also invites a sense of serenity and tranquility into your creative process. Imagine gazing out at nature's beauty while your imagination runs wild on your canvas or sketchbook. The bay window desk becomes your artistic haven, where your brushes and pens come alive, and your ideas take shape.
Customize the desk with storage compartments and organizers to keep your art supplies within arm's reach, ensuring a seamless and uninterrupted workflow.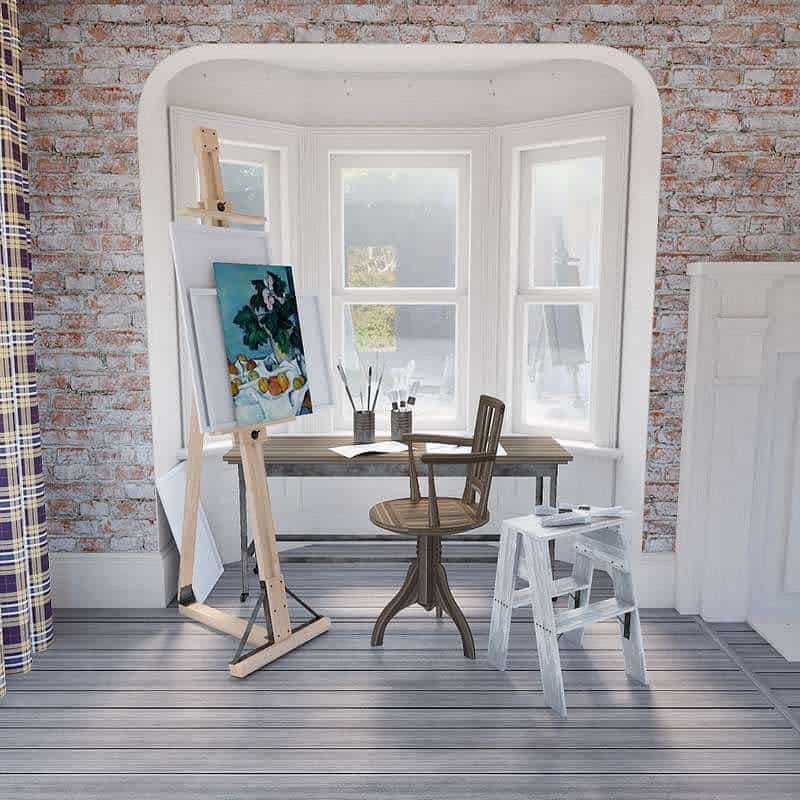 17. Ample Floor Space
With generous floor space, you have the freedom to spread out your artistic tools, easels, and workstations, allowing your creativity to flow without limitations. This spacious studio becomes a haven where inspiration thrives, allowing you to explore your artistic vision from every angle. Let your imagination soar as you move freely around the room, experimenting with different techniques and mediums.
Whether you're a painter, sculptor, or mixed media artist, the open floor space becomes your blank canvas, ready to be filled with your artistic creations. Embrace the freedom that comes with a spacious art studio, where you can let your creativity run wild and create masterpieces that reflect your unique style. With ample floor space, there are no boundaries to your artistic expression.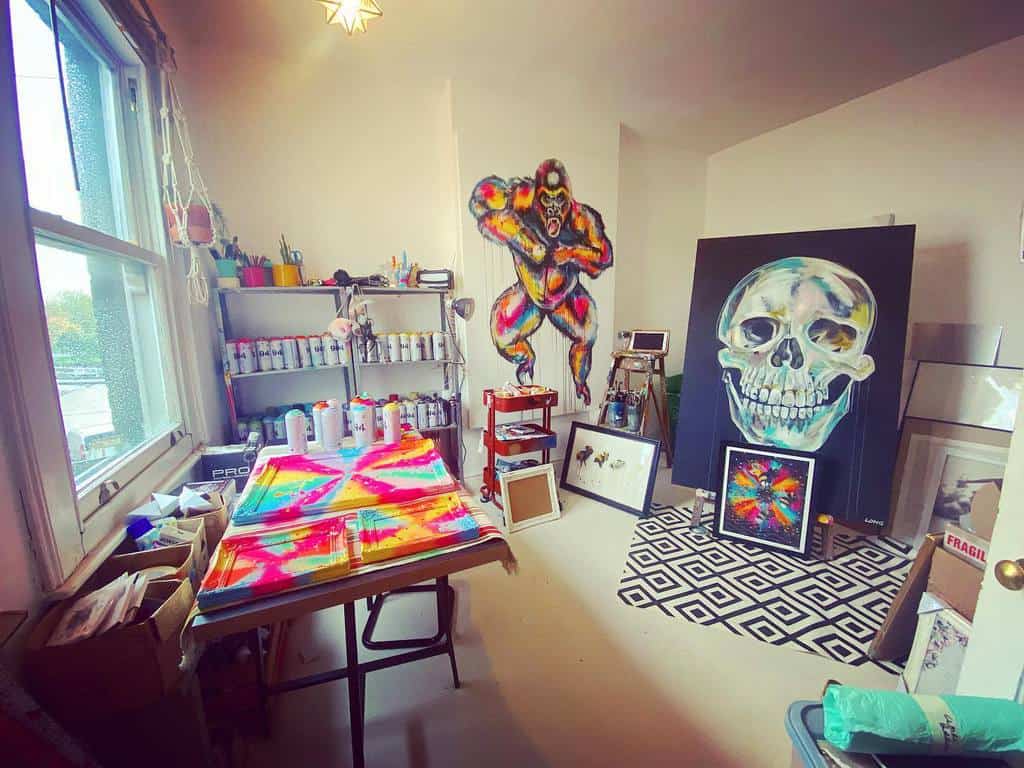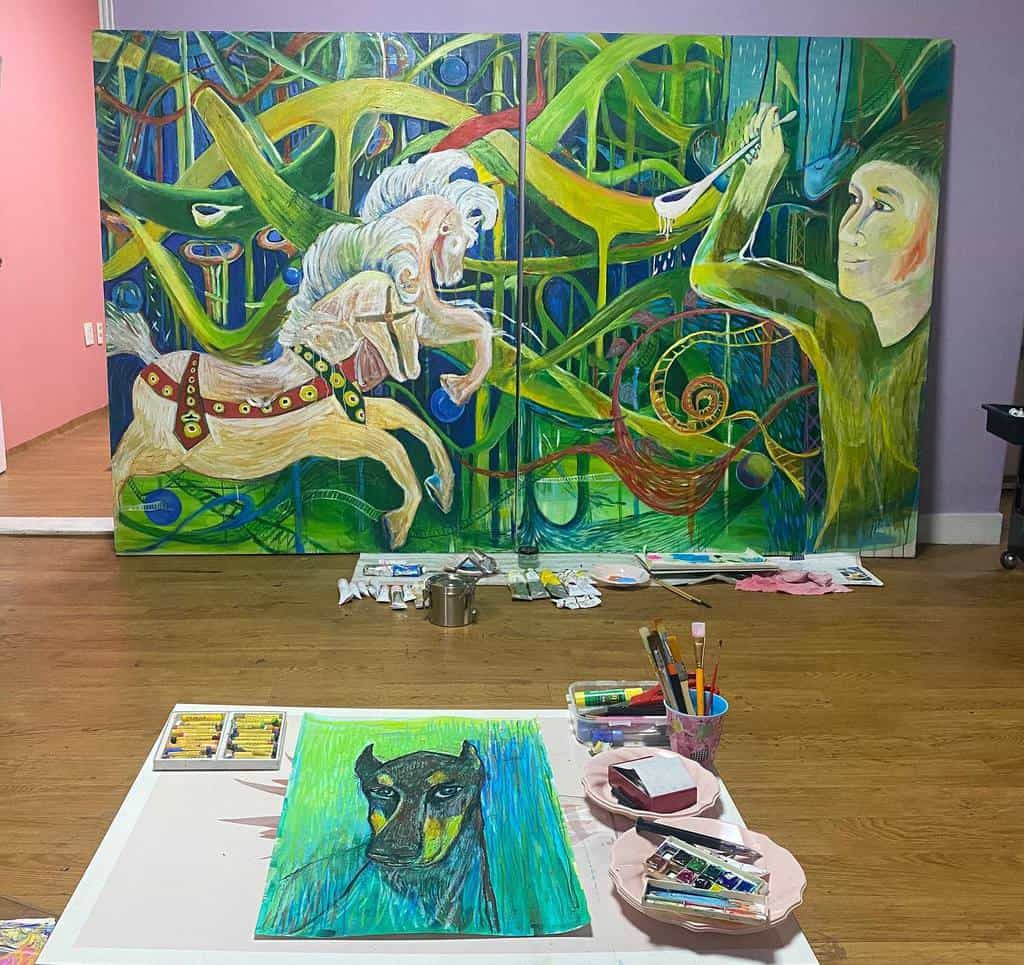 18. Workshop Studio
These work desks aren't just for your personal projects; they're also ideal for hosting art classes and workshops. Imagine the joy of inspiring others and guiding them on their artistic journey. With ample workspace, your studio can accommodate students eager to learn and create alongside you.
Organize your art supplies neatly in cabinets and drawers, ensuring easy access to brushes, paints, and other materials. Hang colorful artwork on the walls to stimulate creativity and add a vibrant touch to the space. Create a cozy seating area for moments of reflection and inspiration. A workshop studio is more than just a room; it's a sanctuary where creativity flourishes, ideas flow, and artistic souls unite.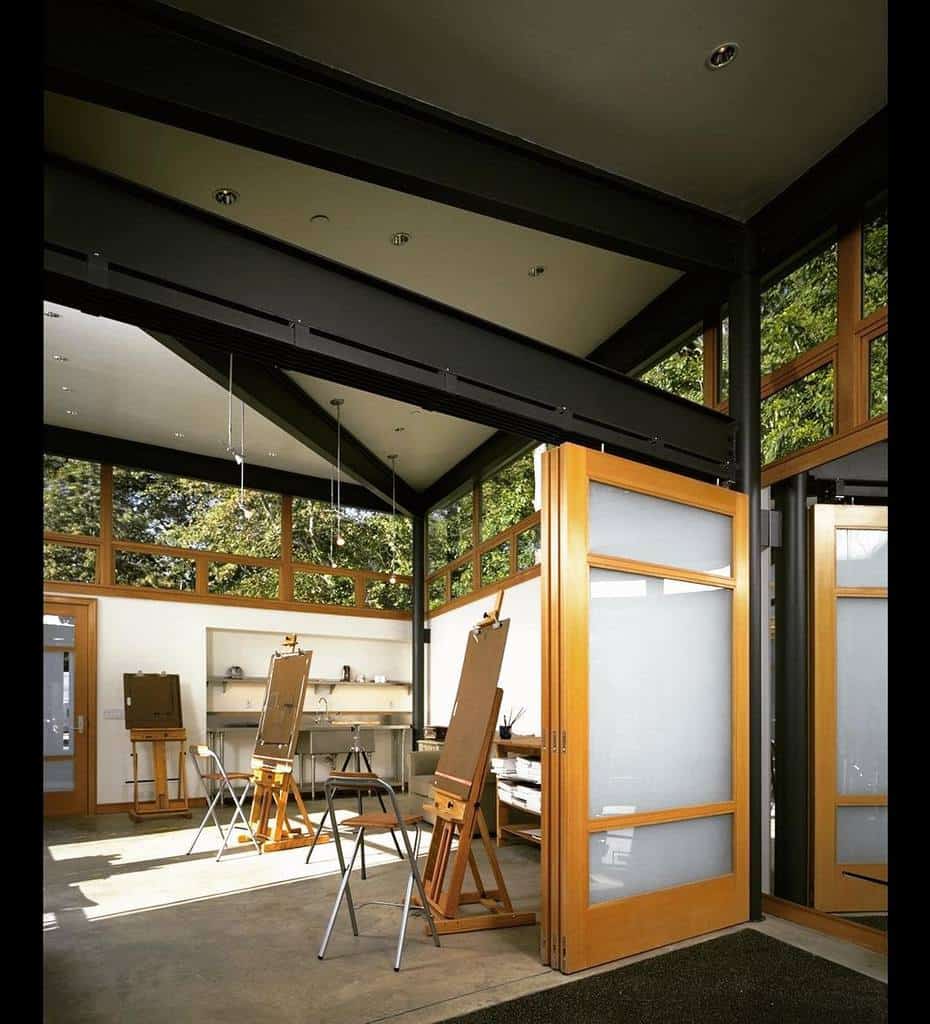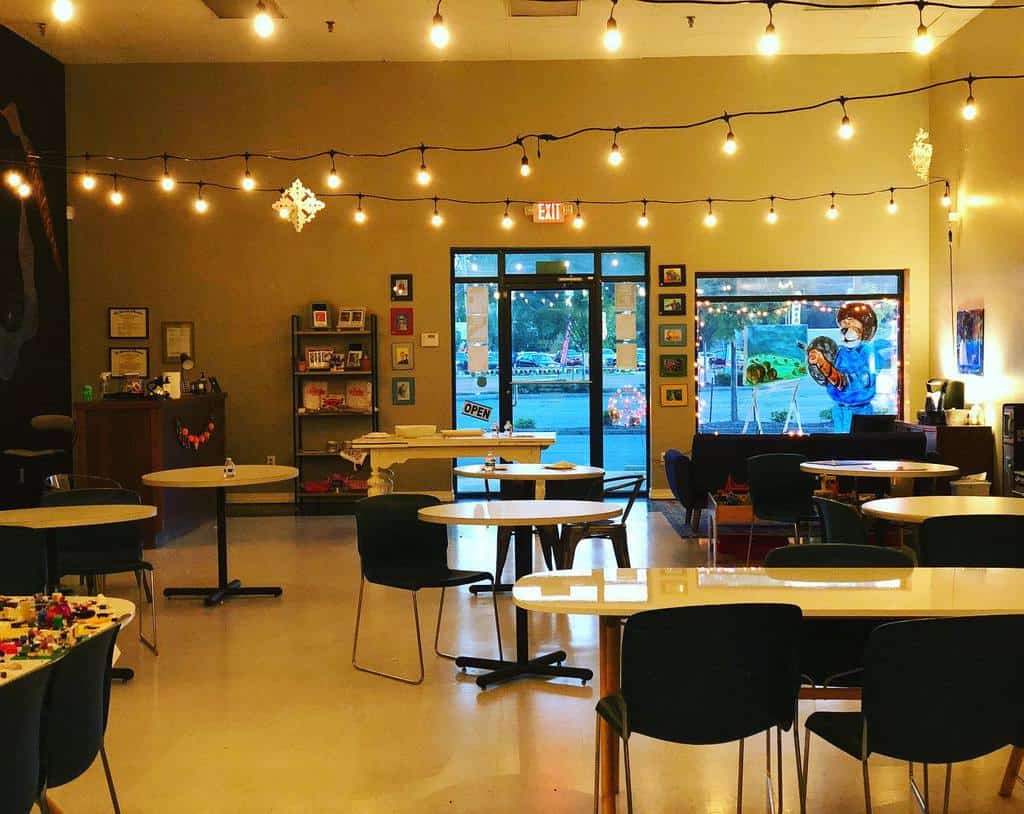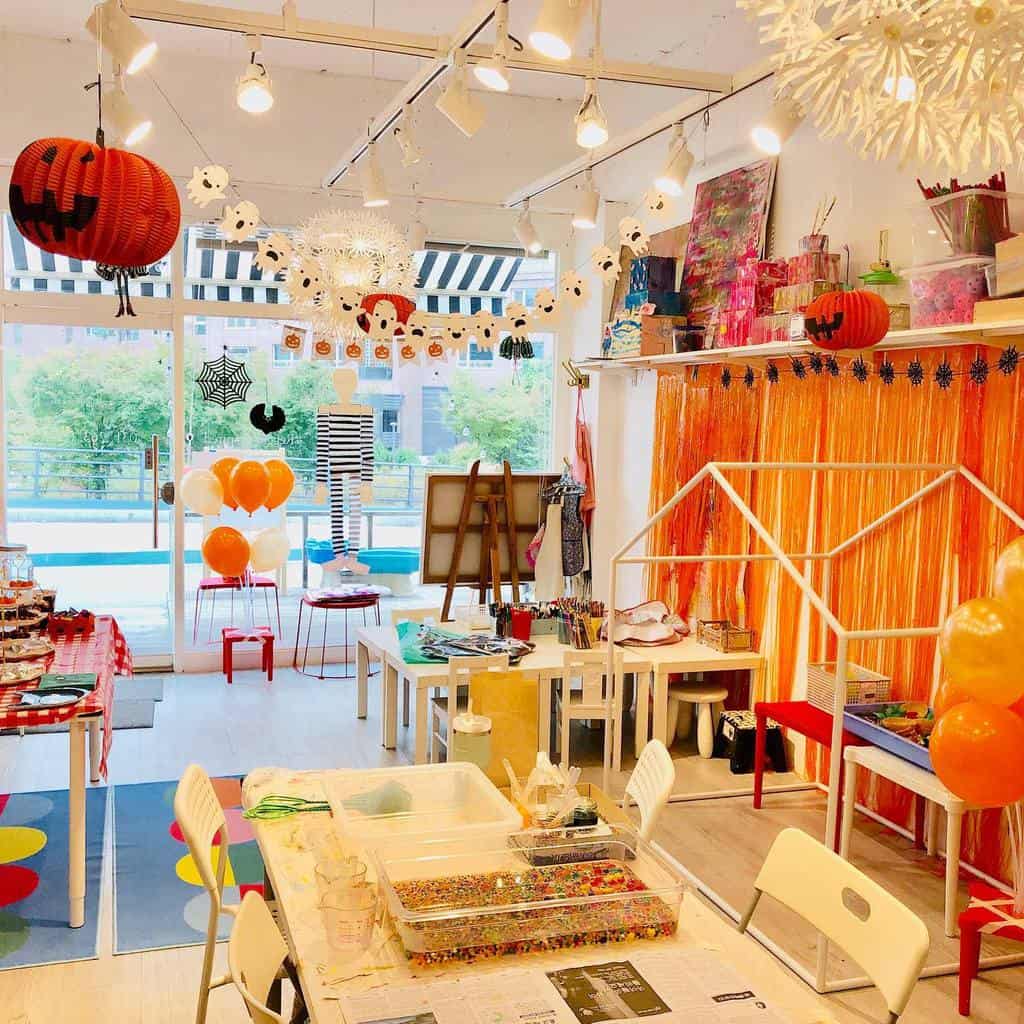 19. Outdoor Backyard Studio
Picture a charming and picturesque backyard setting transformed into a temporary art sanctuary, ready to ignite your imagination. Set up a pop-up art studio that embraces the beauty of nature while providing the privacy and tranquility you need to unleash your artistic prowess. With the gentle breeze brushing against your skin and the sunlight casting a warm glow on your canvas, you'll find yourself in the perfect environment to create masterpieces.
Embrace the versatility of this outdoor oasis by using portable easels, collapsible tables, and adjustable storage solutions. Let the lush greenery and blooming flowers serve as your muse, as you immerse yourself in the wonders of nature while giving life to your artistic vision.
Whether you're working with oils, and acrylics, or experimenting with different mediums, this backyard studio will be your haven of creativity and inspiration.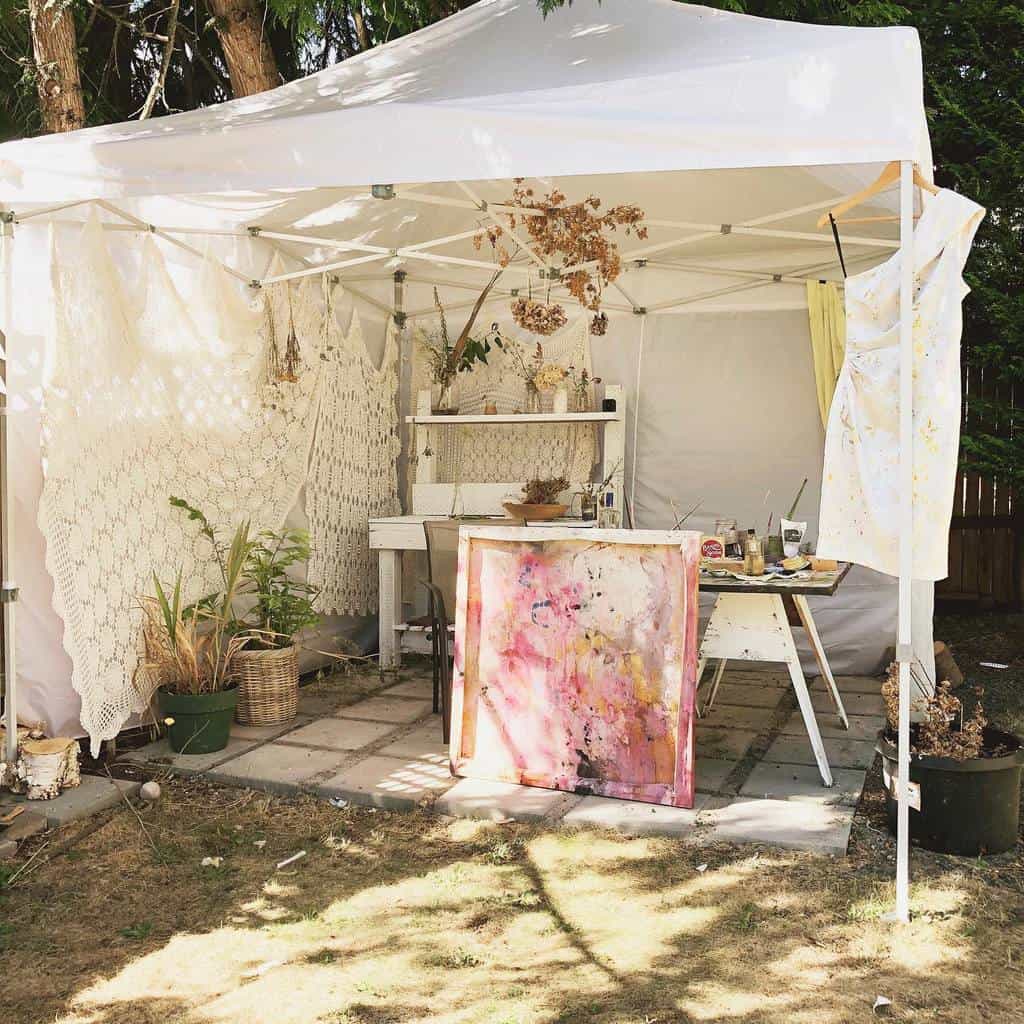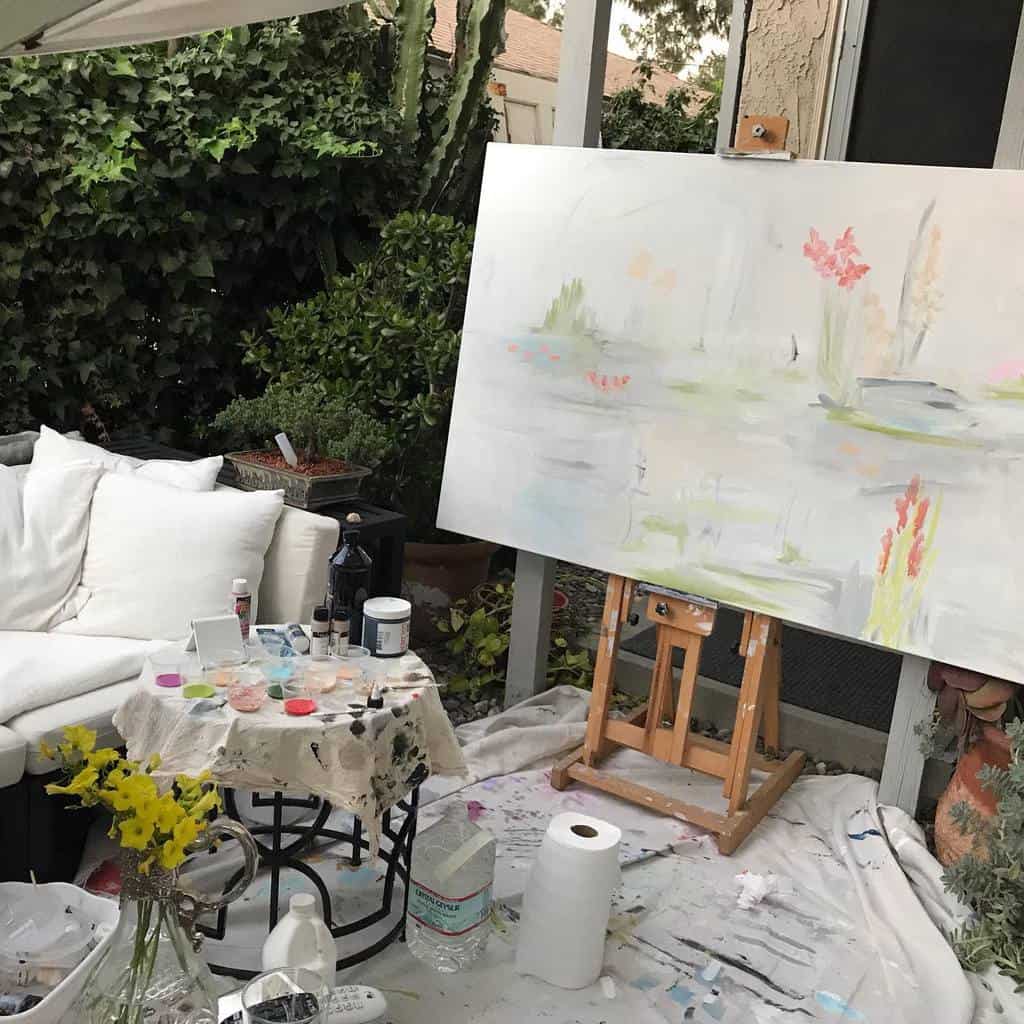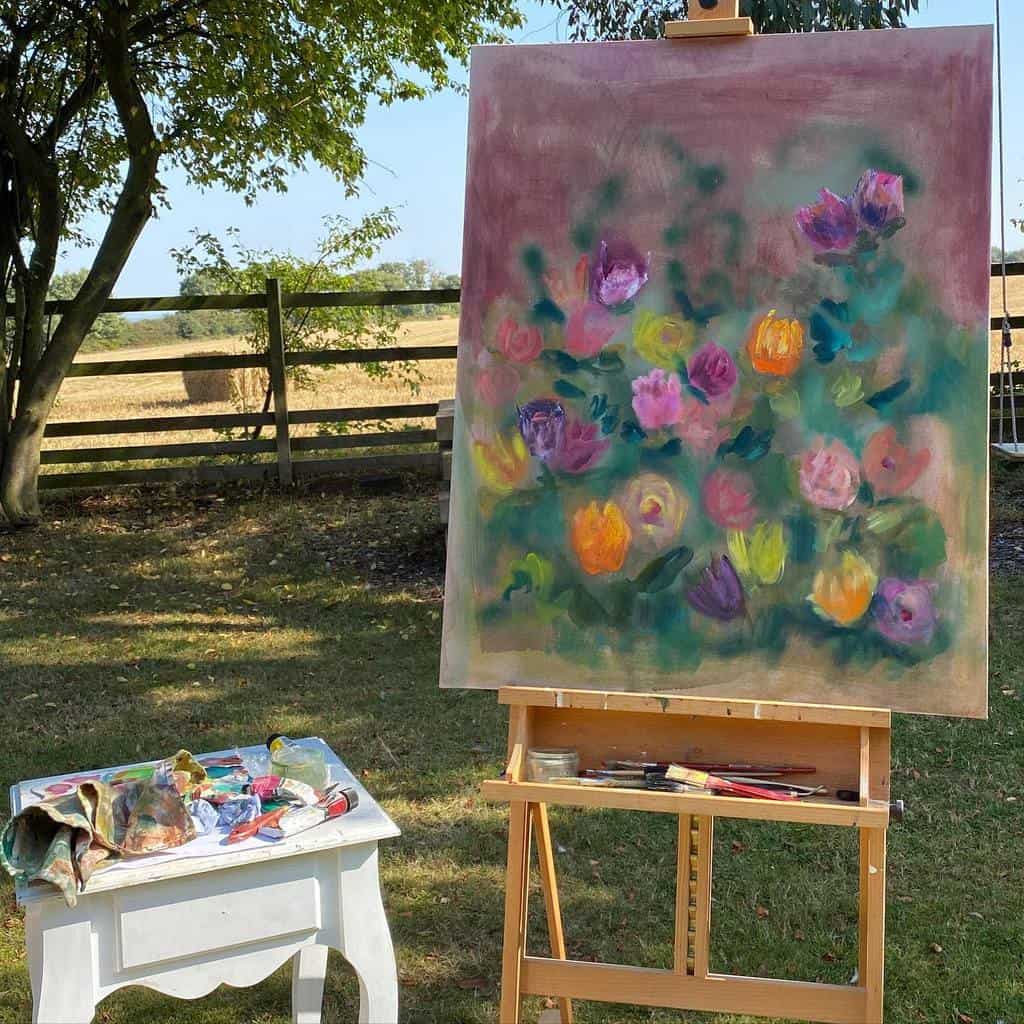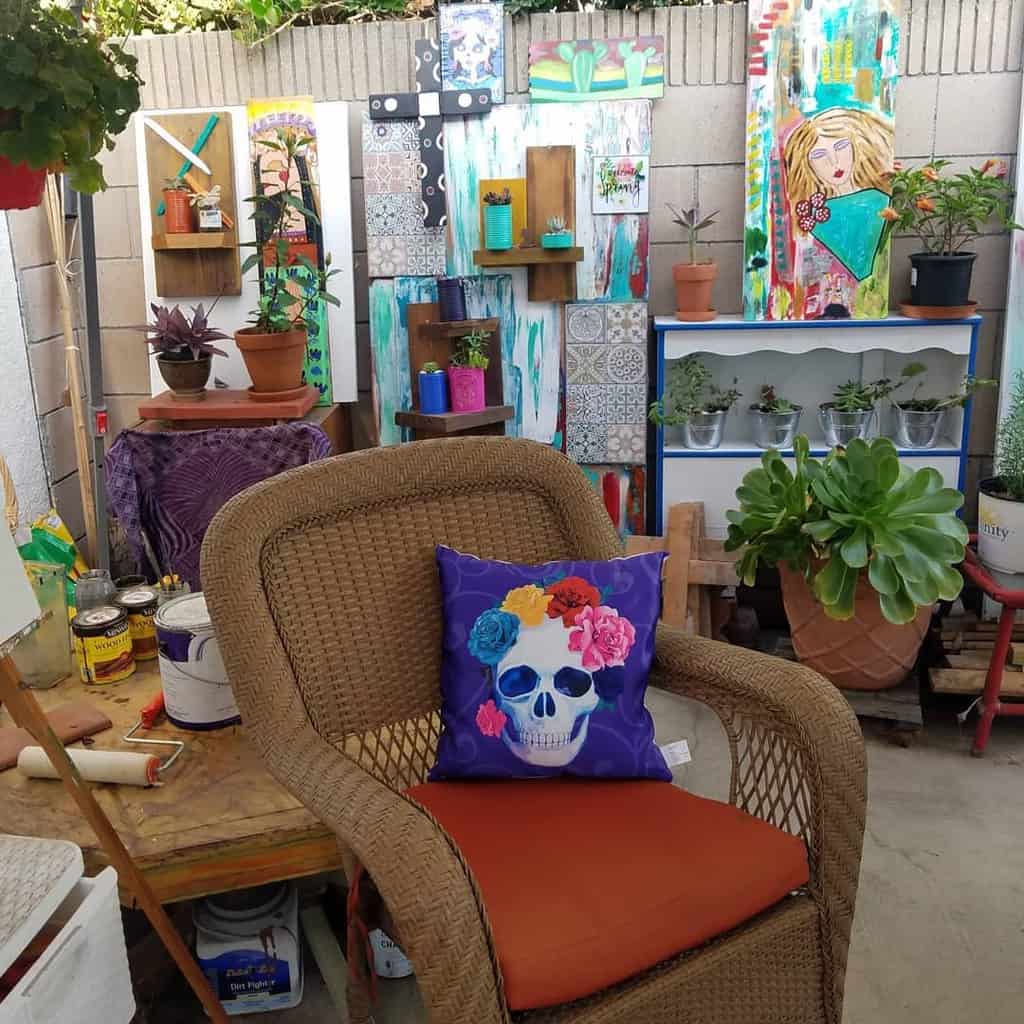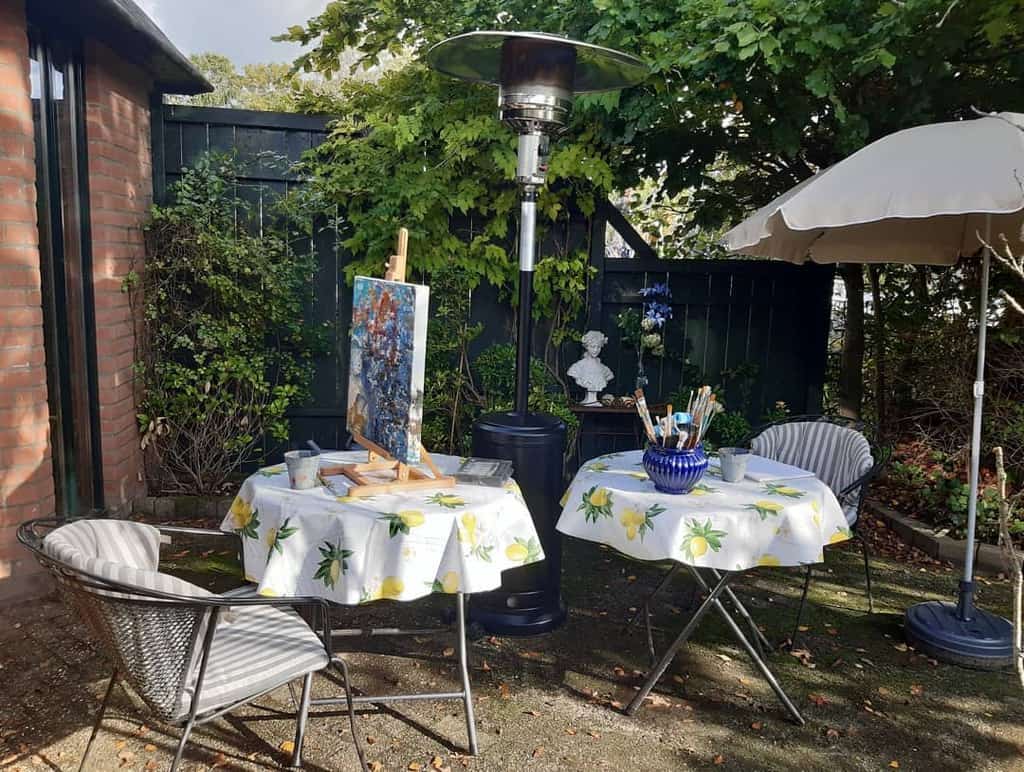 20. Studio Gallery
Transform a dedicated space in your home into a sanctuary for creativity, where your imagination can soar. Start by painting the walls in a crisp, clean white to provide a blank canvas for your artwork to shine. The simplicity of white walls creates a gallery-like atmosphere that allows your masterpieces to take center stage. Showcase your art collection with an array of framed pieces, carefully curated and thoughtfully displayed.
Mix and match different sizes and styles of frames to create an eclectic and visually captivating gallery wall. Experiment with different arrangements and compositions, allowing your artistic vision to come to life. Don't be afraid to incorporate other elements such as mirrors or shelves to add depth and dimension to your gallery space.
Create an inviting and inspiring atmosphere with comfortable seating, ample natural light, and well-placed spotlights to highlight your artwork.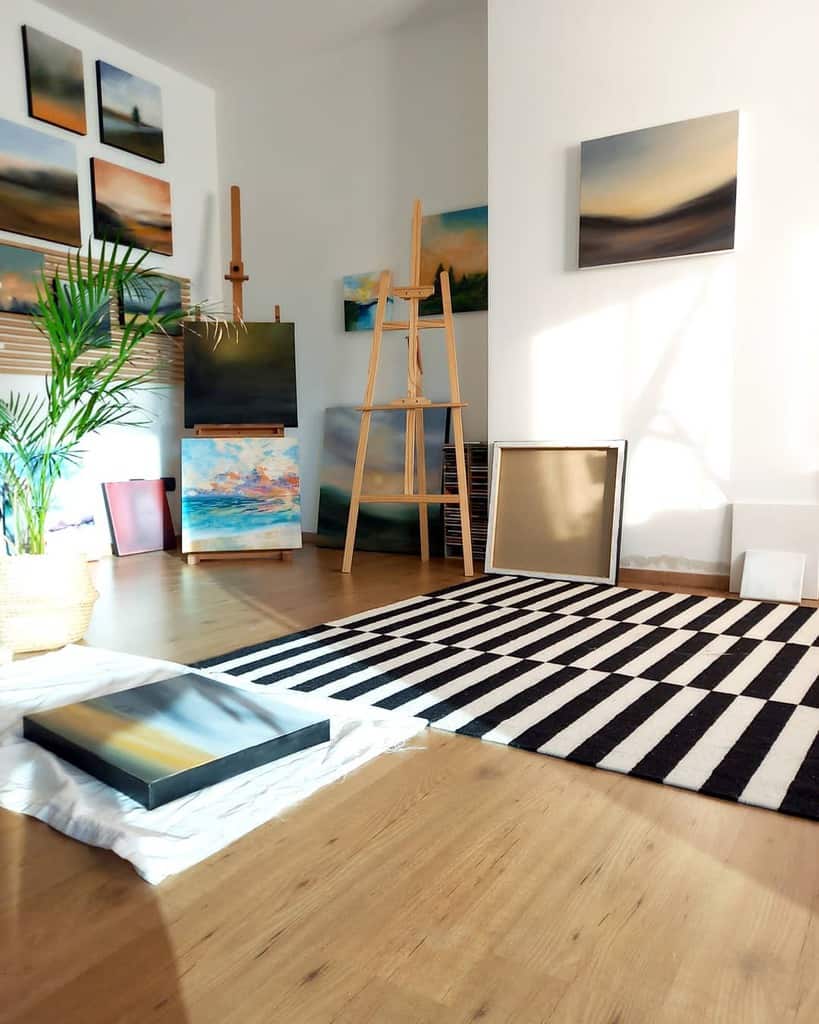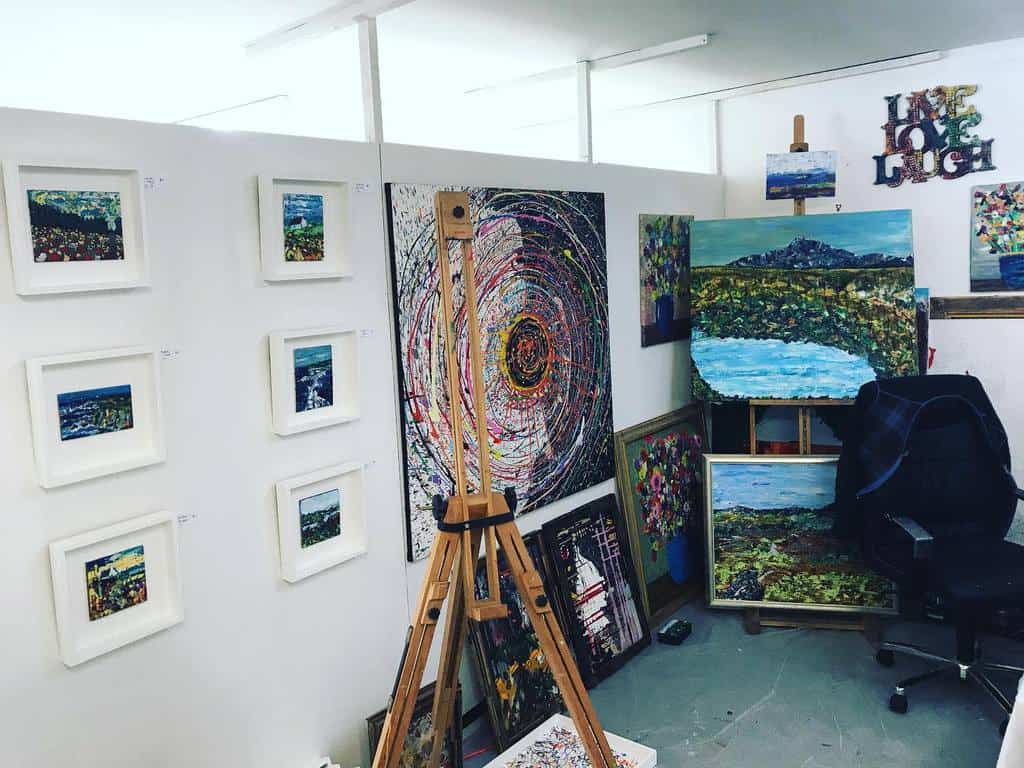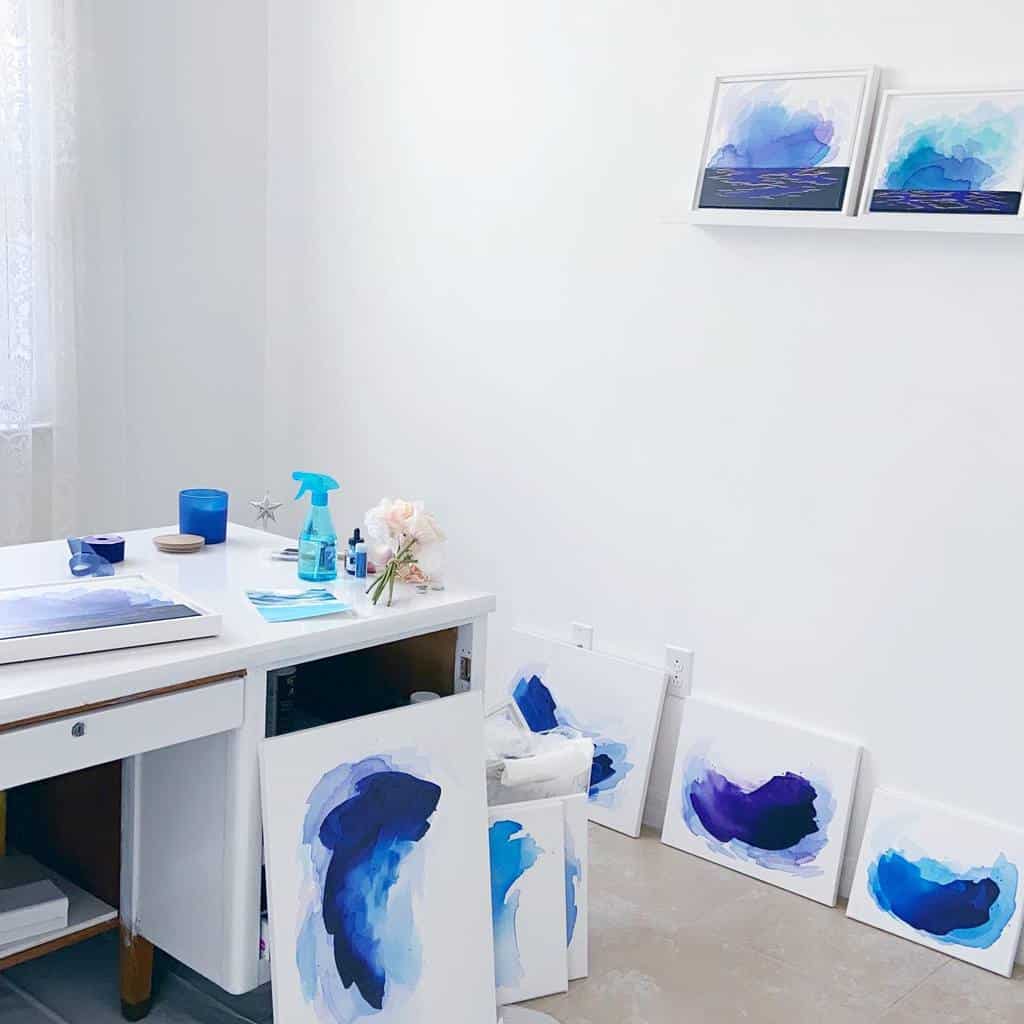 21. Swivel Chair
Picture this: a spacious and well-lit room filled with the tools of your trade, where you can unleash your creativity and let your imagination run wild. And at the center of it all, a swivel chair that becomes your artistic throne. This versatile piece of furniture allows you to effortlessly glide from one canvas to another, granting you the freedom to explore different angles and perspectives.
With its smooth swiveling motion, it's like dancing with your art. Let your ideas flow as you spin and pivot, embracing the fluidity of your artistic process. Surround yourself with shelves and cabinets, meticulously organized to hold your brushes, paints, and other supplies to improve workflow. Hang your works-in-progress on the walls, turning your art studio into a living gallery. Create a space that reflects your unique style and fuels your creative spirit.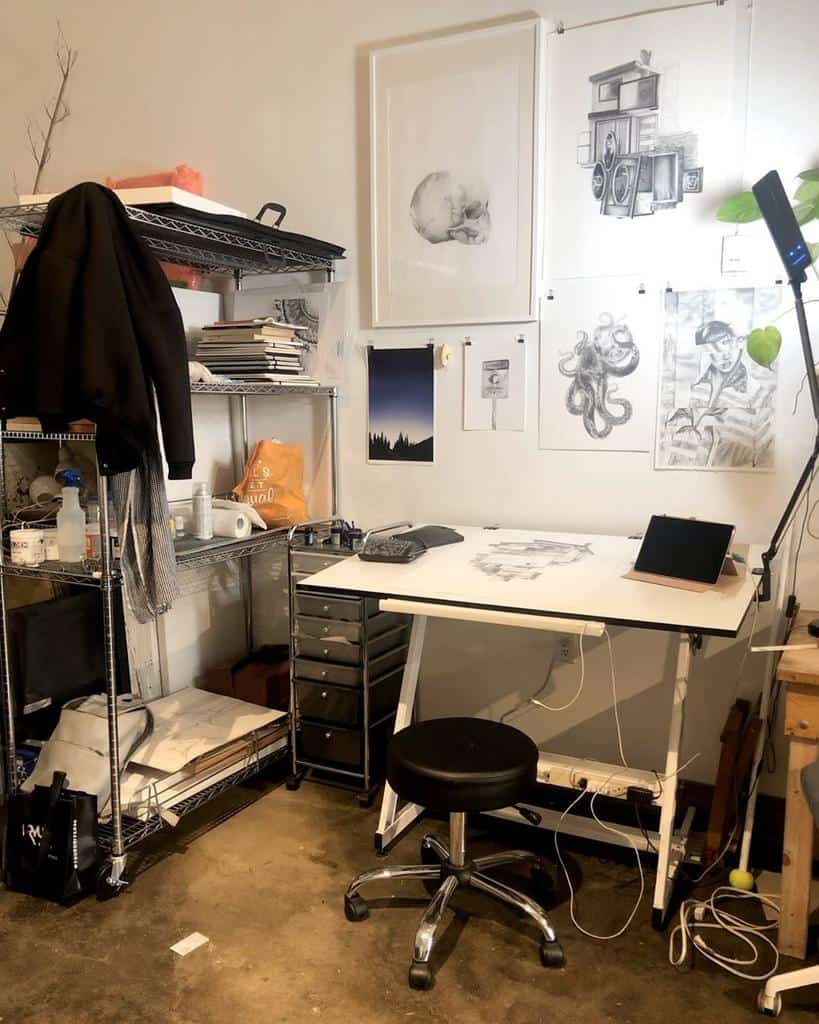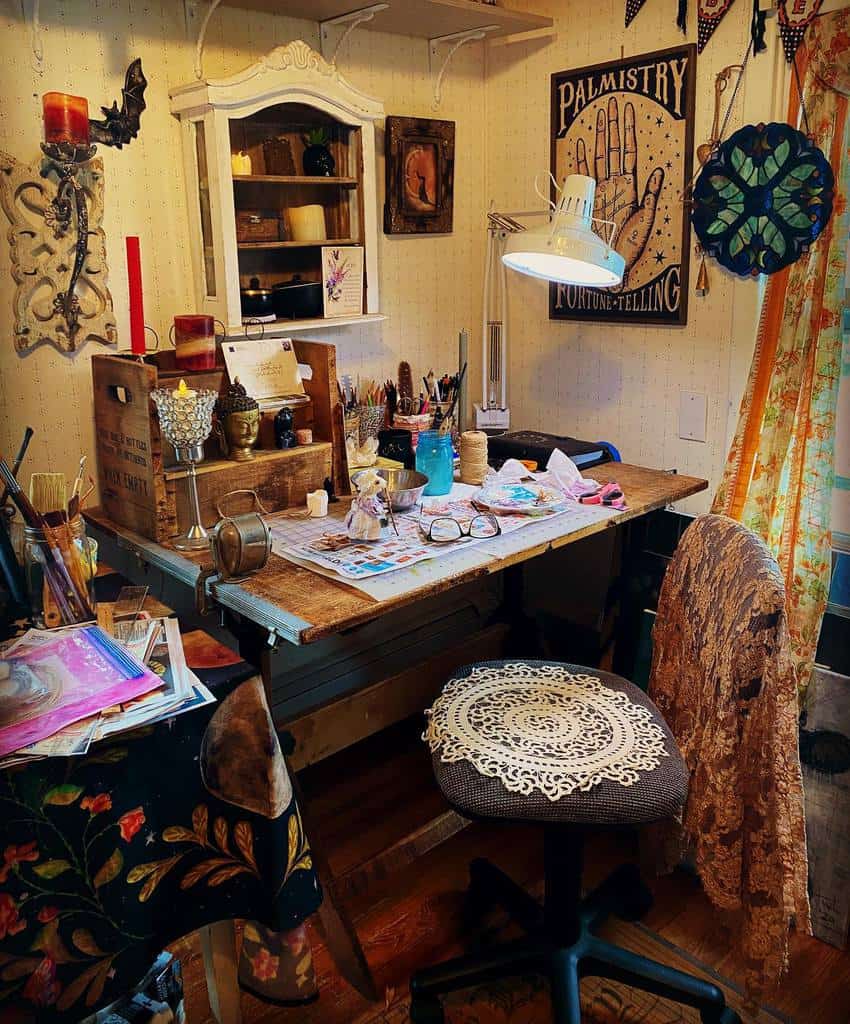 22. Attic Art Studio
Unleash your creativity and find inspiration in the cozy corners of your own attic-turned-art studio. And by adding a skylight to your attic, you invite natural light to dance upon your canvas and illuminate your artistic endeavors. The soft glow of sunlight streaming through the skylight creates a serene and uplifting atmosphere, perfect for sparking your imagination.
Imagine sitting at your easel, basking in the warm glow of sunlight as you create your next masterpiece. The skylight not only enhances the ambiance but also provides a practical solution for proper lighting in your art studio. Say goodbye to the hassle of artificial lighting and hello to the brilliance of natural daylight. Let the colors come alive under the sun's gentle touch as you explore your artistic visions.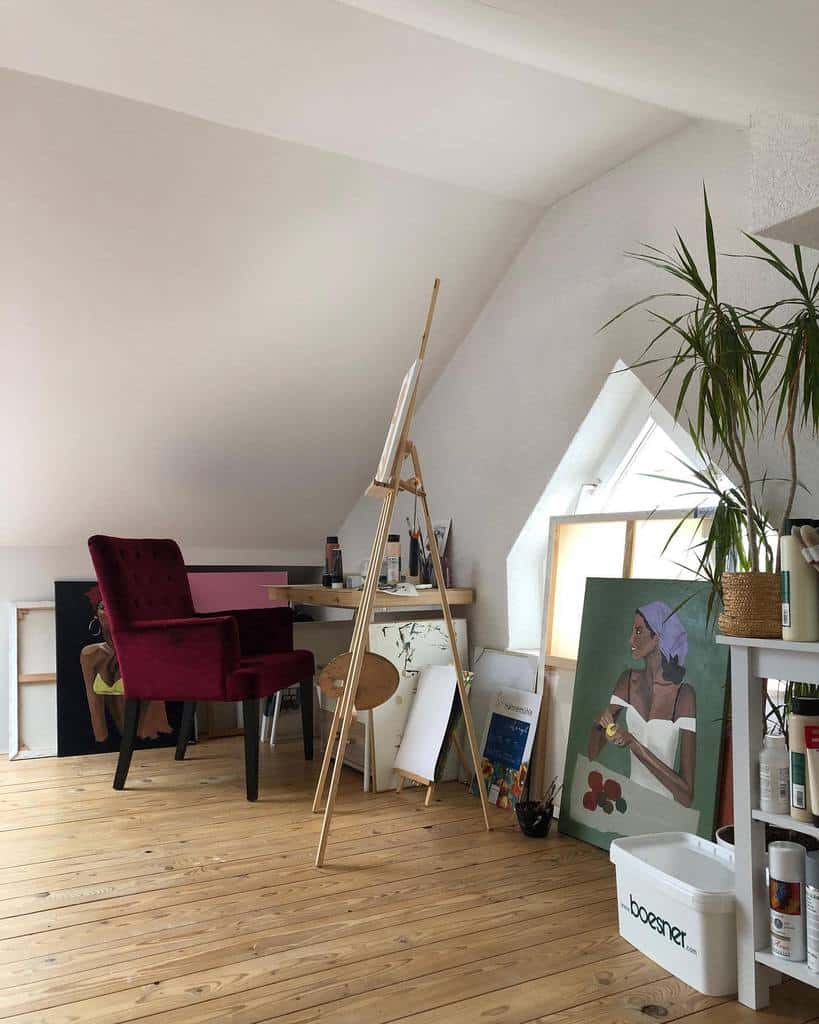 Art Studio FAQs
What should be included in an art studio?
An art studio is a very personalized space. Your list of necessary art materials will vary according to the type of work you do. However, the following elements are a must in most creative spaces:
Excellent lighting via windows and lamps.

An easel and/or worktop

Storage space

Drying rack

Comfortable chair or stool
What is an artist table?
An artist's table is similar to a drafting table. It has an adjustable tilting mechanism that can often tilt to 90 degrees. Fully tilted, they serve as a larger artist's easel. They can be left flat when you need a horizontal workspace.
What's the best lamp for an art studio?
Although many creatives prefer to work by natural daytime lighting, its strength and temperature shift, making colors look quite different as the day progresses. Full spectrum fluorescent light bulbs or tubes are an affordable light source for your studio space. They provide a consistent color index comparable to museum light fixtures.