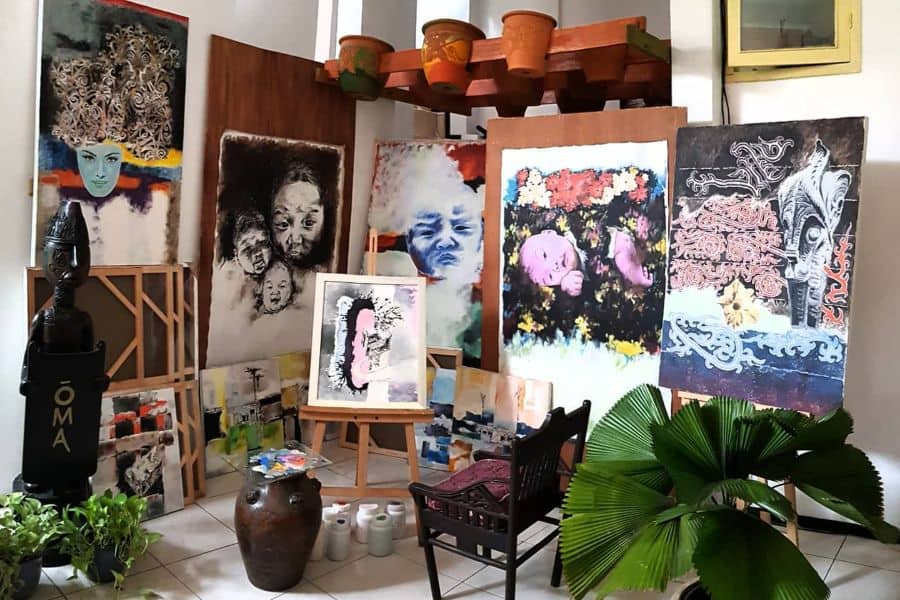 The Top 66 Art Studio Ideas
"Art enables us to find ourselves and lose ourselves at the same time."  –  Thomas Merton
Every artist dreams of having a studio all their own, a place that brightly inspires the creative process. In addition to being beautiful, an art studio must be functional. As any artist can attest, one of the best things about a studio is that you can leave projects and materials out until your work is complete.
Excellent storage is also a must, as art supplies multiply quickly. Great lighting, easy-to-clean surfaces, and a sense of privacy are other necessary elements for creating a welcoming space to create art. Scroll through our best art studio ideas and learn how you can bring your own creative oasis to life.
1. Décor
Art studio décor ideas are as varied as art itself. Some creatives need the peaceful Zen of white walls surrounding them like a proverbial blank canvas, while others thrive in a colorfully eclectic space. Whatever your preference, make sure your studio space reflects your unique personality.
Mirrored wall tiles or framed mirrors can help increase the light level in your studio and also make a small art space appear bigger.
Hang light strings or fabric banners from the ceiling to spice up your creative studio. Be sure to display your own work and that of your favorite artists. Seeing completed projects provides inspiration for new creations.
2. Desk
You may or may not need a desk in your art studio. If you like to work on a level surface, a large desk can be a great horizontal work space in addition to an easel.
In many homes, an art studio will double as office space, particularly when the art studio is an actual business. If this is your scenario, a desk is a must-have for doing paperwork, computer work, and other required tasks.
Get creative when shopping for a studio desk. An artist table may suffice as a dual purpose element, as it will tilt to various angles. If your budget is limited, a used kitchen table can make a great studio desk. Be sure to shop for a comfortable office chair, too.
3. DIY
A studio is the perfect space to upcycle old furniture. Whether this involves refinishing a table or simply pulling an old sofa out of storage, DIY studio décor can be quite economical.
In fact, repurposing furniture can be ideal in a home art studio, as you're not as likely to worry about messy projects as you would with brand new furnishings.
Hanging a pegboard is a great DIY storage solution for your art supplies. Attach binder clips to the flat end of your paint tubes and hang them from pegboard hooks.
Group similar colors together to make them easier to find at a glance. Screw small metal rings into the ends of your paintbrushes and hang them in order by size and bristle shape.
Watch this video to learn several great paint brush storage hacks, as well as tips for organizing all your painting supplies:
4. Garage
Sometimes a garage offers the most room for a home art studio. Transforming an unused garage into a functional artist's studio may not require a full remodel.
However certain elements must be included to create a comfortable workspace. Take care of heating and cooling, ventilation, and light sources before concerning yourself with other art studio design elements.
If possible, replace the metal garage door with a large window or glass doors. French doors can provide easy access to your backyard or driveway—essential if you often enjoy painting in an outdoor space.
A skylight can help illuminate a particularly dark garage art room. If you're lucky, there will be plenty of shelves and pegboard already installed to provide art supply storage.
5. Home
Home is where you hang your hat—or artist's beret. While many artists find their greatest inspiration outdoors, most also require an indoor workspace to complete their art project ideas. Having an artist studio at home makes it easy to work whenever your inspiration is flowing.
Virtually any house or apartment has enough room for a home studio—though you may need to amp up your creative juices to locate the best creative space.
A loft, basement, spare bedroom, or garage may be an ideal place for a home studio. If you cannot devote a full room to art, a corner of your existing office, living room, kitchen, or bedroom may suffice.
6. Interior
Interior design doesn't fly out the window when you dedicate a room to art work. If you expect to invite clients or guests into your art room, make it a space for visual art displays. Choose wall paint, furniture, window treatments, and other design elements that coordinate with your paintings on display.
Painting the walls is the first step in creating a beautifully designed art room. Generally speaking, the more windows the better, especially in a small studio.
Tile, laminate, or concrete are more practical art studio flooring materials than carpet or hardwood. Incorporate plenty of work and storage room, built-in if space is tight.
7. Kids
Having a dedicated craft room for kids is the dream of many parents.
Even a small space provides the chance to corral messy art projects into one area of the house. Knowing that they have a "safe zone" inspires children's creativity, which is a must for budding young artists.
Whimsical décor is perfect in a kids art studio. Create a colorful accent wall with large-scale wallpaper or a hand painted mural. A blackboard wall is a great addition for creative kids who enjoy sketching.
Be sure to include lots of storage shelves, drawers and bins—and string clotheslines along the walls to clip up your kids' paintings and projects.
8. Outdoor
An outdoor art studio may be ideal if you frequently work on large or messy art projects. It's also a great option if you live in a moderate climate and find fresh air and sunlight inspiring.
A planting cart or bakers rack can be repurposed into outdoor art supply storage zones. Mount a fold-down table on an exterior wall if you plan to use your outdoor studio frequently.
A mobile art caddy or rolling art cart makes it easy to transfer supplies in and out of the house. If you frequently paint away from home, purchase a lightweight aluminum folding easel and a large tote bag for transporting canvas or paper. Repurpose an old fishing tackle box into a great carrier for small paint tubes and brushes.
9. Painting
Painting is perhaps the most common type of artwork created in a home studio. Whether you dabble in watercolor, acrylic, or oil, painting is good for the soul. Practice makes perfect with painting, so arrange your art studio in a way that makes it easy to paint as often as possible.
One essential element in a painting studio is paint drying racks. These large horizontal shelves are perfect for protecting paintings as they dry. If you paint a lot, look for large drying racks that stack from floor to ceiling. If you paint less frequently, a wall-mounted drying rack may suffice.
10. Small
An art studio doesn't have to be spacious or elaborate to be functional. If you cannot designate a full room for art, take over an unused closet or open corner. An easel and a rolling cart parked along a wall takes up very little space but offers everything you need to paint or draw.
Transform unused space under a staircase into an efficient home art studio. Install shelves and mount an easel to the wall to save floor space. A fold down table is also a great option for the small studio. Folding chairs can be tucked in a closet when your small art studio or art corner isn't being used.
11. White
White rooms feel open and airy. Their clean, crisp elements beg for splashes of color—preferably landing on a canvas. When artwork isn't competing with furniture, floors, and walls for color, the projects become the room's focal points. A white fabric screen is an ideal way to section off an art area in a modern white bedroom or living room.
The biggest issue with a white studio is quite obvious—art can be messy, and white can be tough to clean. Stick with tile, eggshell textured paint, and glass or laminate furniture for easy cleaning. Unless there's no other option, don't locate your studio in a room with white carpet or rugs.
Art Studio FAQs
What should be included in an art studio?
An art studio is a very personalized space. Your list of necessary art materials will vary according to the type of work you do. However, the following elements are a must in most creative spaces:
Excellent lighting via windows and lamps.

An easel and/or worktop

Storage space

Drying rack

Comfortable chair or stool
What is an artist table?
An artist's table is similar to a drafting table. It has an adjustable tilting mechanism that can often tilt to 90 degrees. Fully tilted, they serve as a larger artist's easel. They can be left flat when you need a horizontal workspace.
What's the best lamp for an art studio?
Although many creatives prefer to work by natural daytime lighting, its strength and temperature shift, making colors look quite different as the day progresses. Full spectrum fluorescent light bulbs or tubes are an affordable light source for your studio space. They provide a consistent color index comparable to museum light fixtures.