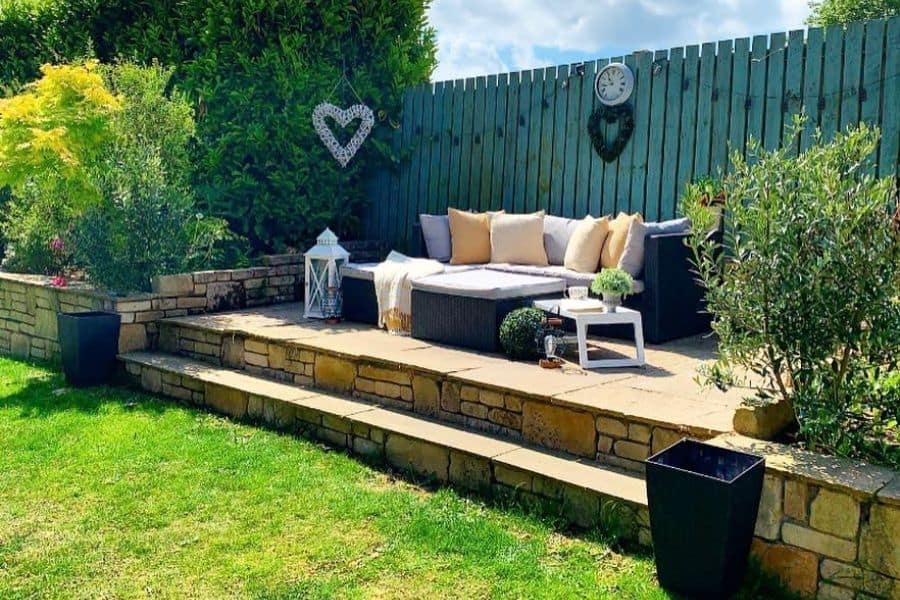 The Top 46 Backyard Paver Ideas
How do you convert your backyard into a stylish outdoor living area without losing its natural charm? Stone pavers can be wonderful alternatives to plain concrete slabs or messy rock mulch.
Backyard patio pavers are far from one size fits all. From flagstone to brick and everything in between, there are countless varieties of natural rock available to choose from for your own backyard projects. And that's not to mention the many great manmade paver materials on the market!
Keep reading for the top backyard paver ideas to inspire your future patio design or garden walkway.
1. Blue Stone
Bluestone pavers are not actually made of one singular type of stone. Instead, "bluestone" is a name given to many different compounds that are blue or grey in color.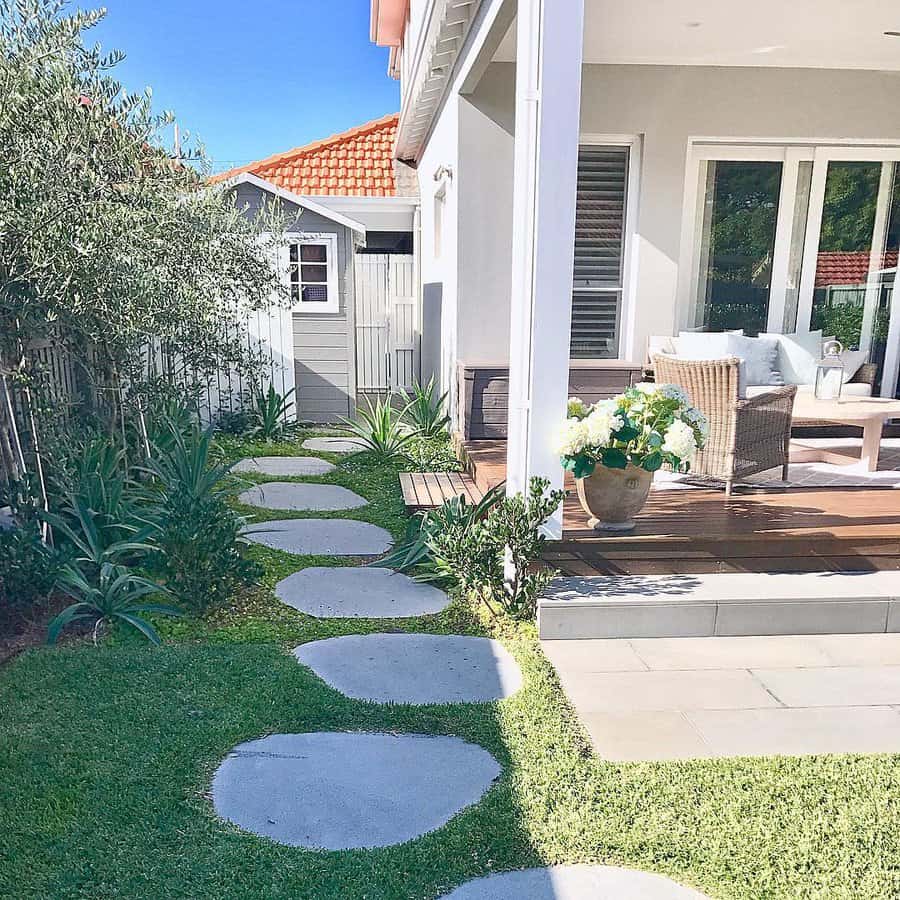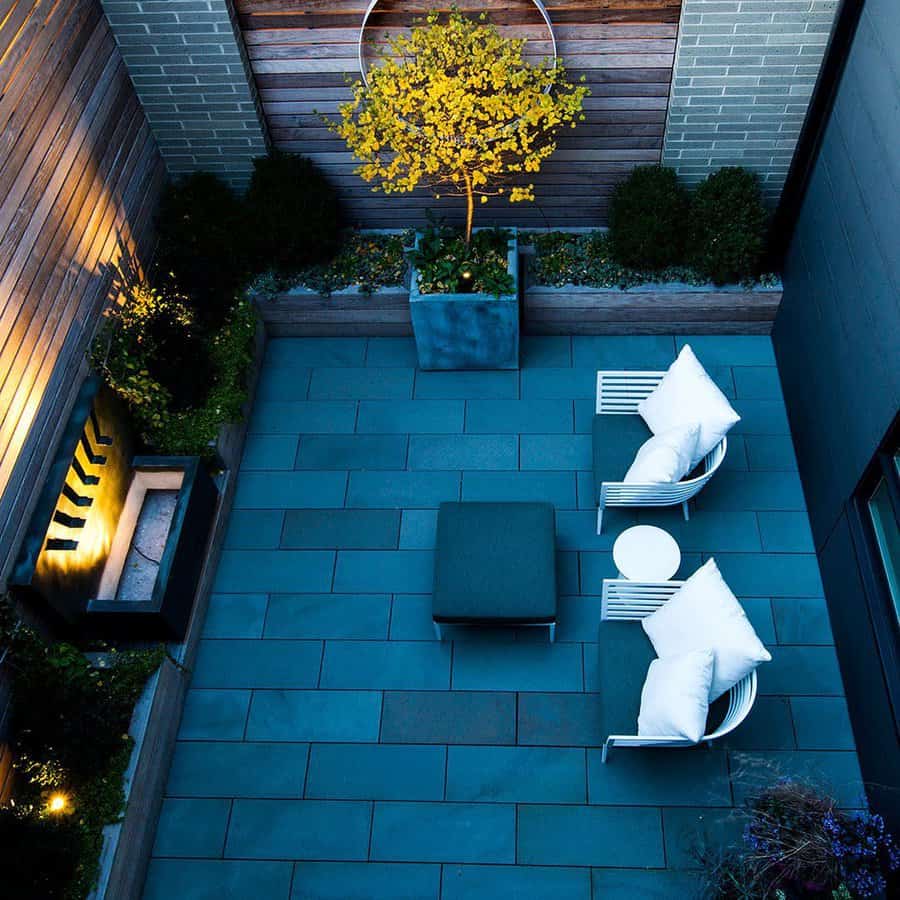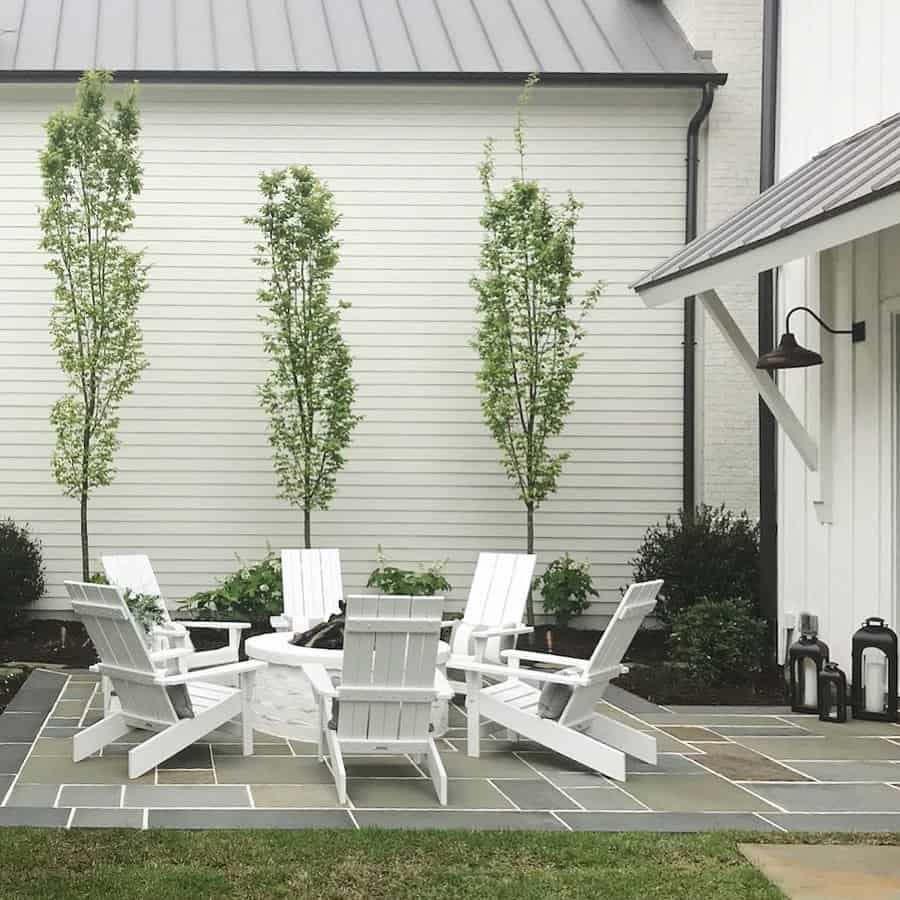 Despite its varying origin stories, bluestone is a popular choice for garden and patio projects. This is because of its unique color that stands out against other varieties of limestone, sandstone, and more.
Cool-toned bluestone contrasts beautifully against wood grain and greenery. You can emphasize the natural variations in bluestone by using large pavers.
2. Brick
Brick pavers aren't just extremely affordable. They can also be used for a wide variety of backyard projects, from laying down a brick paver patio to constructing a DIY fire pit.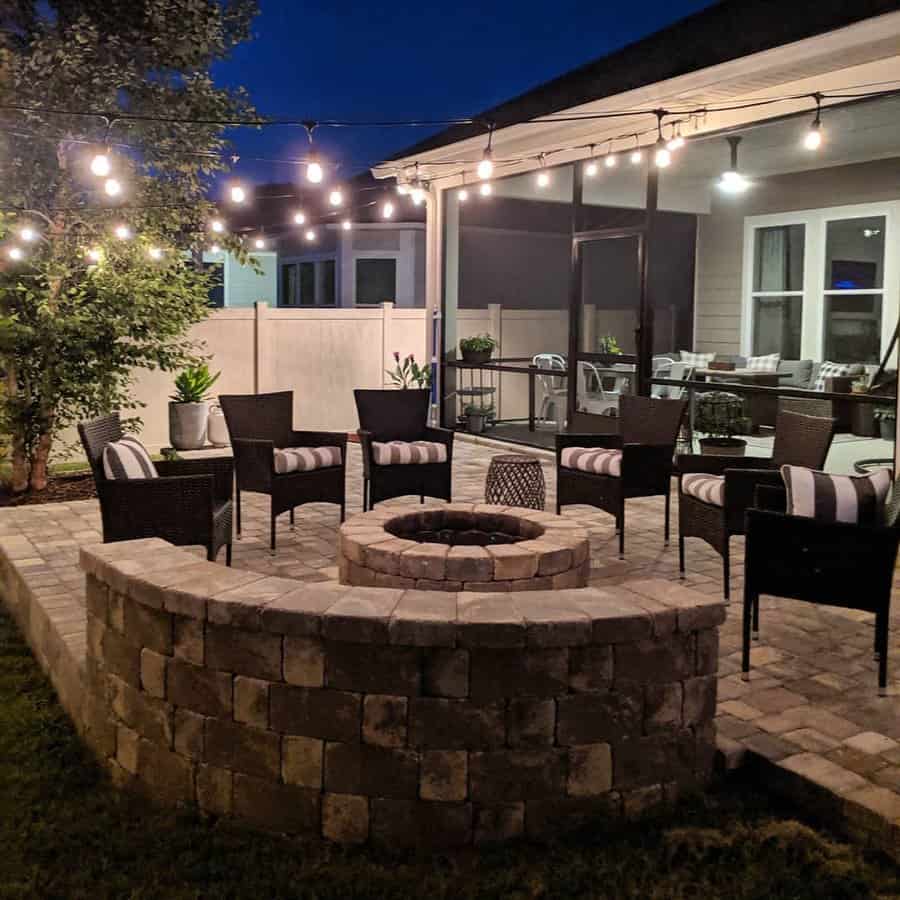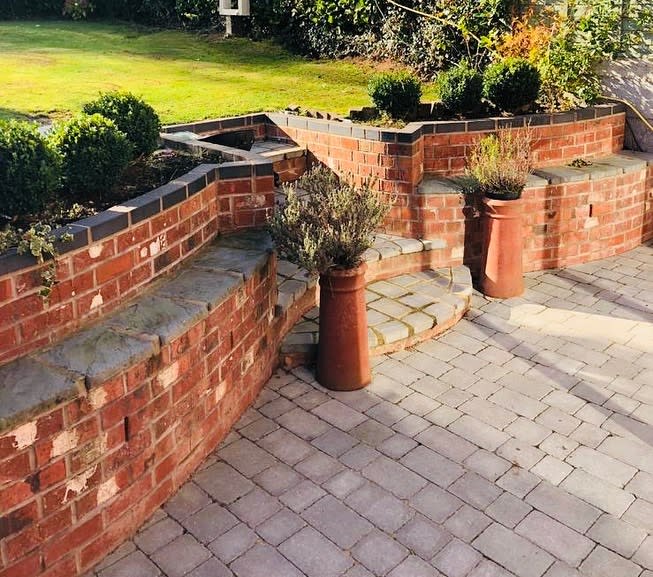 A brick patio offers a classic aesthetic that complements both contemporary landscaping as well as cottage-inspired decor. No matter your backyard's style, brick pavers will blend in perfectly.
Another great thing about creating a brick patio is that you can use the same material for every element. Bricks can be used to construct walkways, retaining walls, benches, raised garden beds, and much more.
3. Concrete
Concrete pavers are the perfect choice for a modern patio or garden walkway. Poured concrete can also be used in creative ways.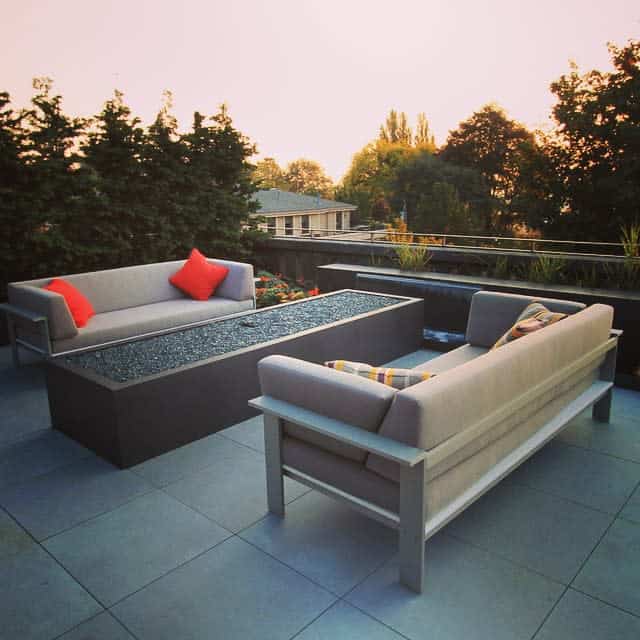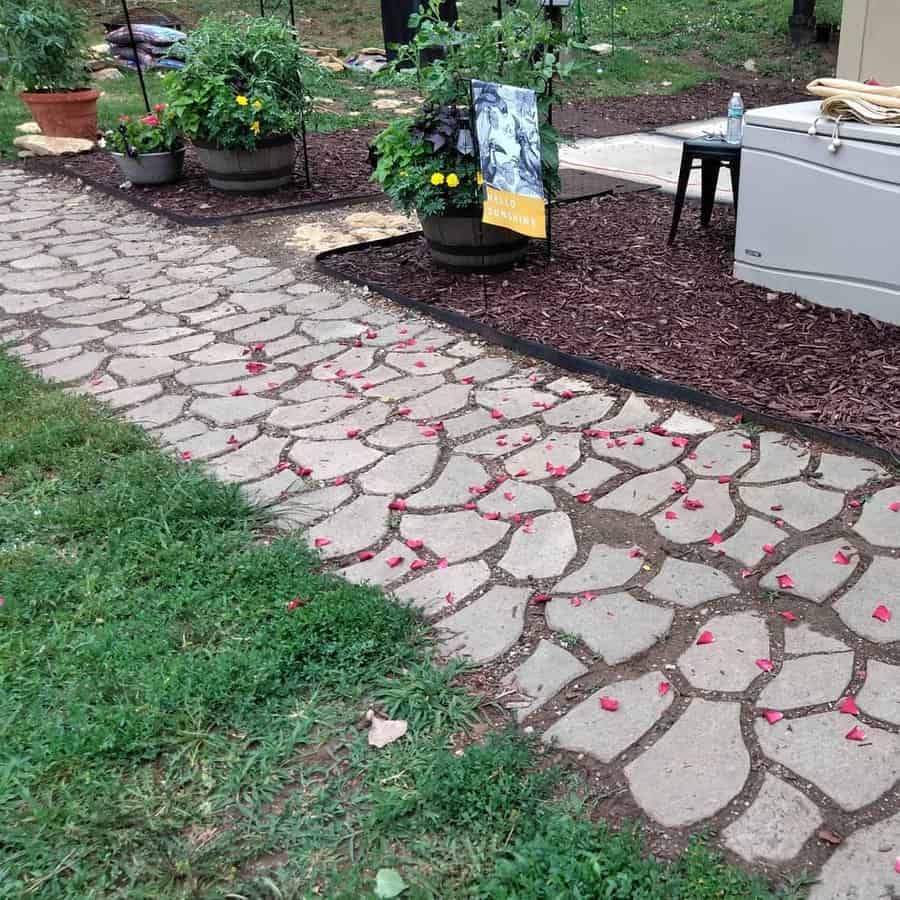 Compared to natural stone pavers, concrete offers tons of flexibility in terms of shape, color, thickness, and finish. Plus, it's easy to replicate the aesthetic of natural stone with molded concrete pavers.
Patterns can be etched into freshly poured concrete to mimic the look of individual pavers or other unique designs. This is a great option if you want the stability of a solid patio slab with the appearance of real stones!
4. Fireplace
An outdoor fireplace or fire pit is a wonderful addition to any backyard. And including them in your patio design can give your outdoor living space a touch of luxury.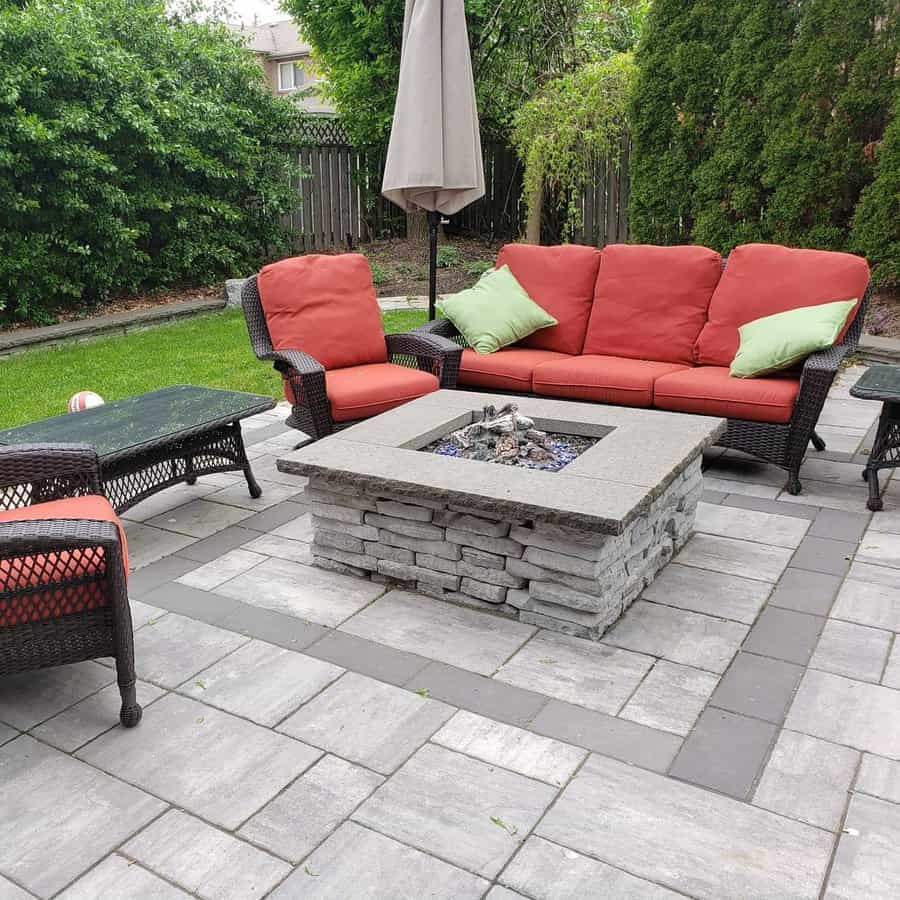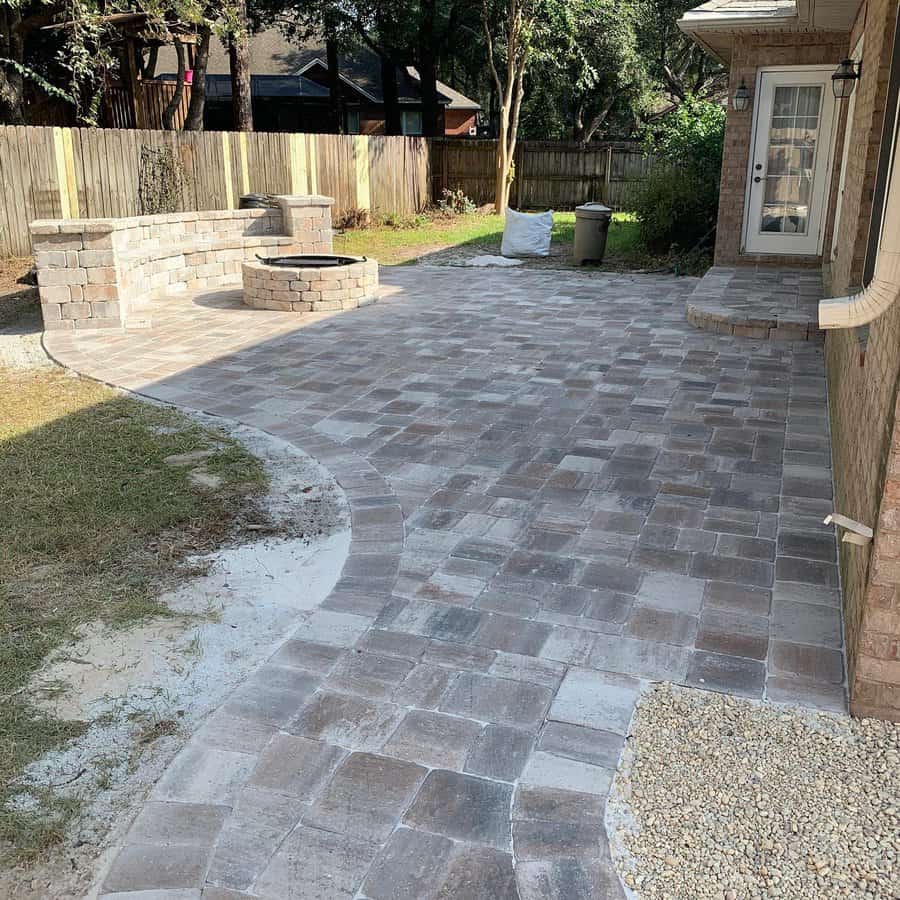 Not all paver stone will work for constructing a standalone fireplace or fire pit. Instead, select a type of stone that matches or contrasts with your existing patio pavers.
Think about how to incorporate functional seating into your fire pit area. To avoid cluttering up the space with patio furniture, consider constructing a bench into a nearby retaining wall.
5. Landscape
How you arrange your patio pavers ultimately determines the flow and function of your outdoor living space. Even without physical walls or fences, pavers will visually divide your backyard into separate areas.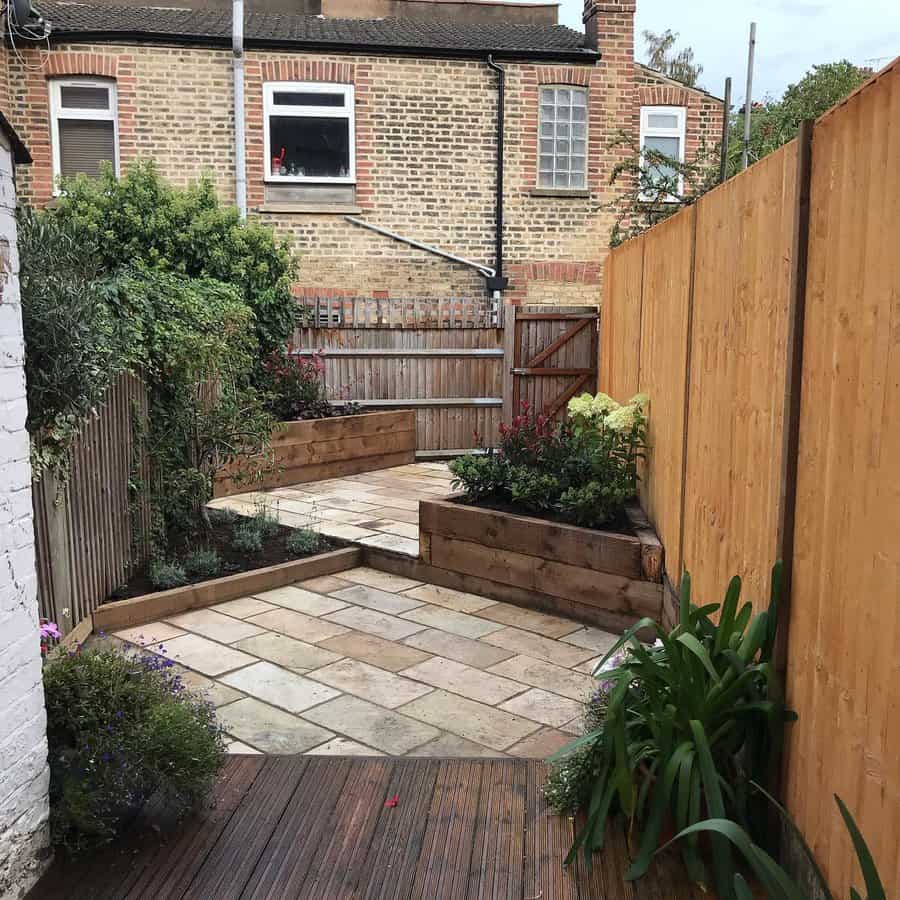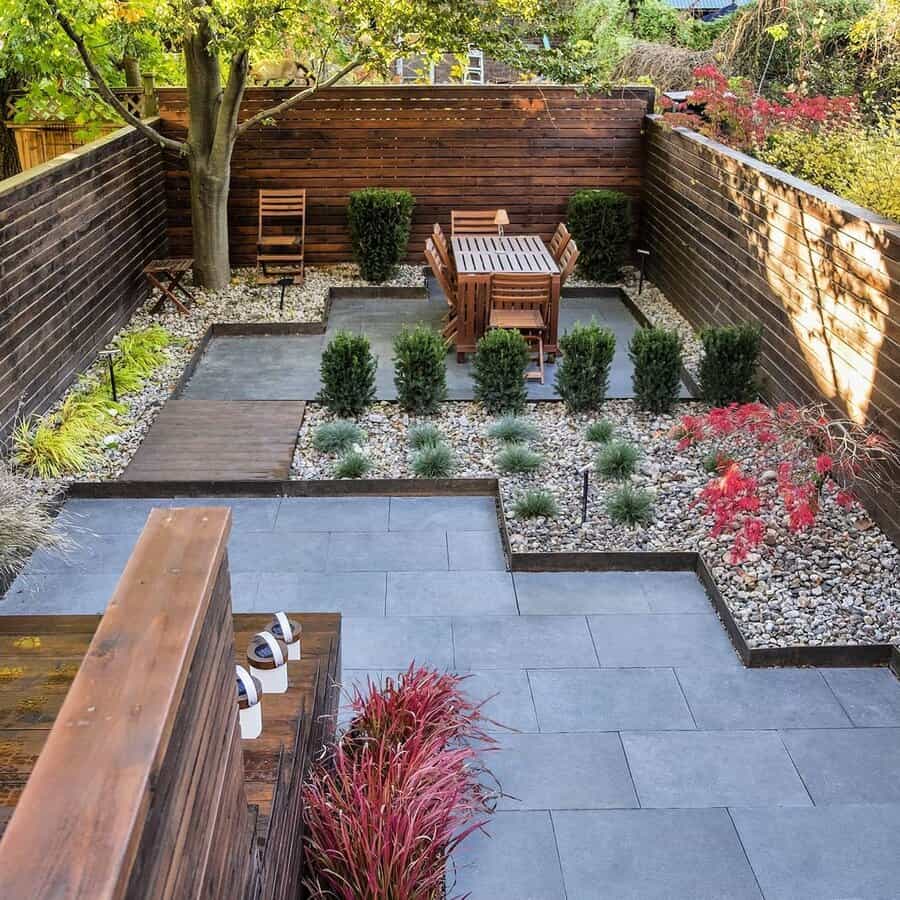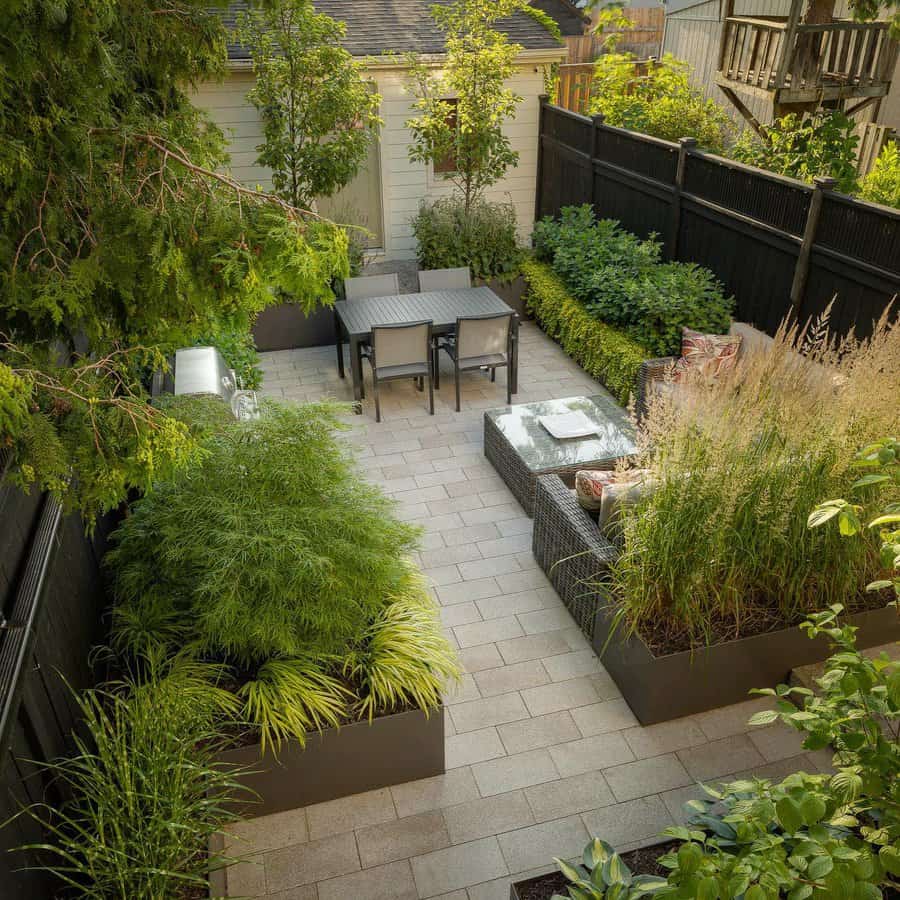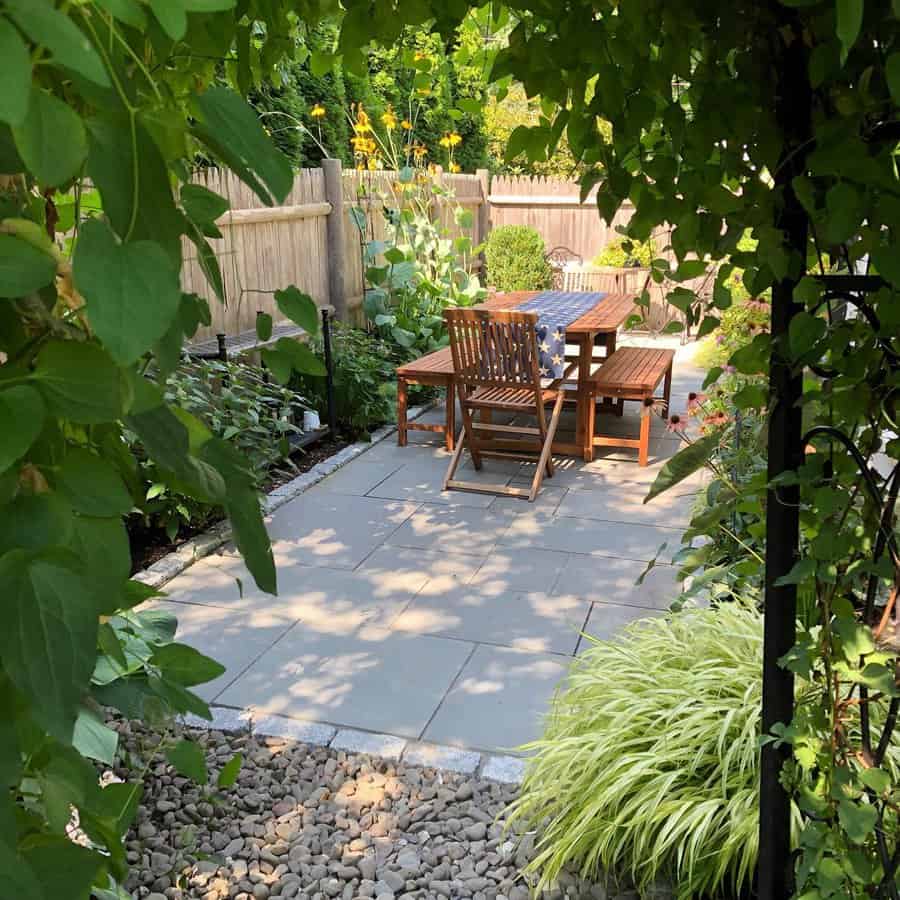 The best paver patio and walkway designs work with existing structures in your yard rather than against them. Don't let the prospect of interesting patterns and shapes blind you to creating a design that is also functional.
The final paver layout may not be entirely in your control. It's rarely worth cutting down a mature tree to make way for a patio area or walking path. Explore ways to harmoniously incorporate these landscaping elements into your new paver design.
6. Modern
Modern paver designs can be made out of nearly any material. The overall finish and shape are far more important. Opt for smooth pavers in standard geometric shapes.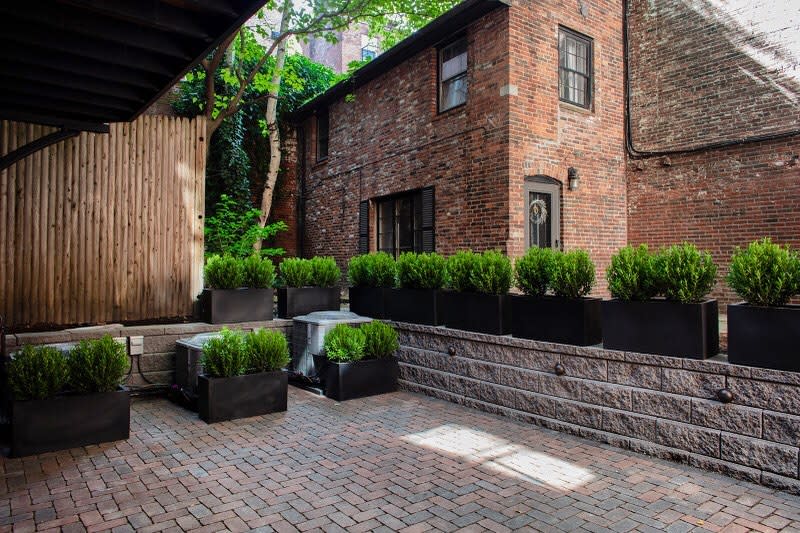 The final shape of your paver patio can also make or break your modern backyard. Avoid rounded edges — with the exception of perfect circles — in favor of angular, well-defined hardscaping.
Rustic brick and natural stone are not entirely forbidden in modern design. Just be sure to contrast these rougher accents with sleek, polished patio pavers to preserve your goal aesthetic.
7. Outdoor Furniture
The relationship between your patio design and outdoor furniture is key to an attractive backyard. The same principles you use when coordinating indoor furniture to your home's flooring can be used to outfit your paver patio.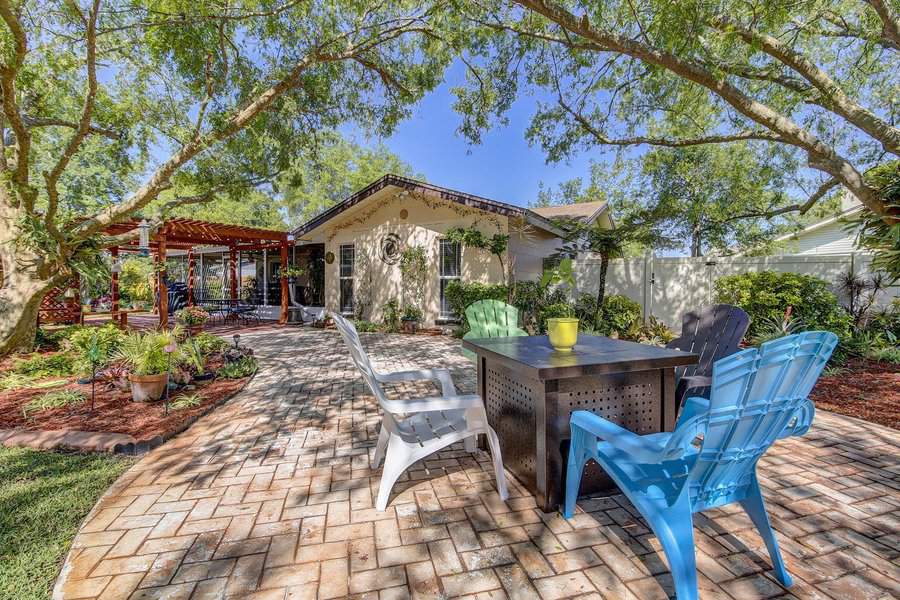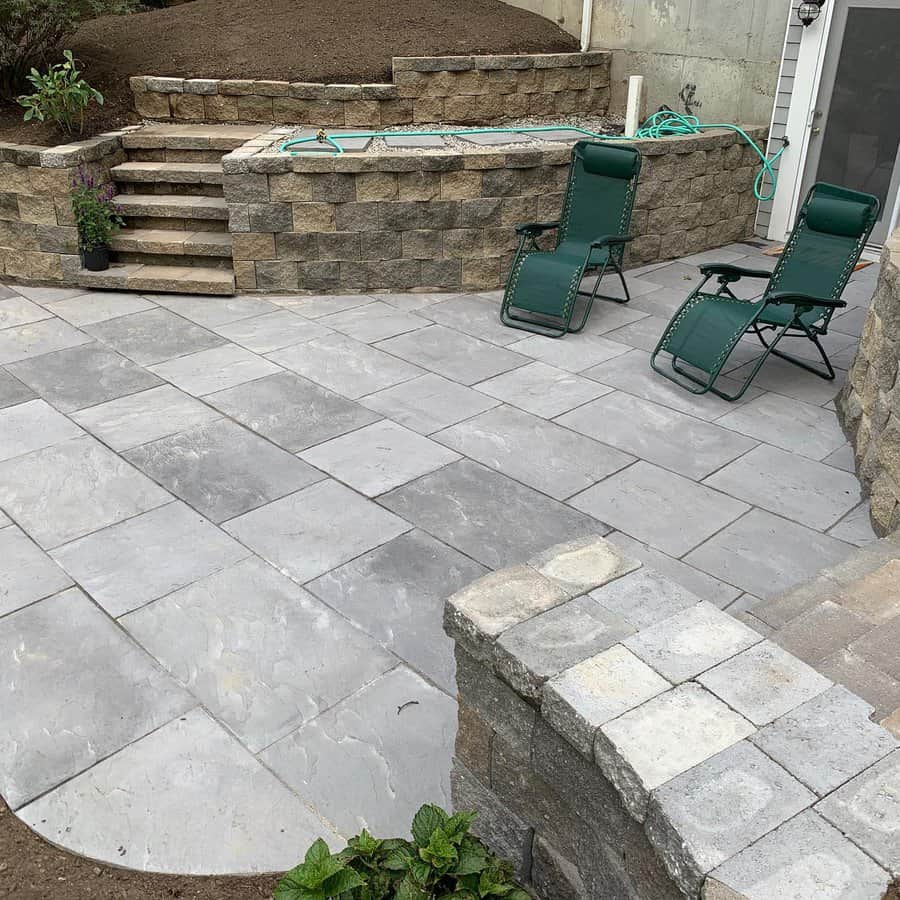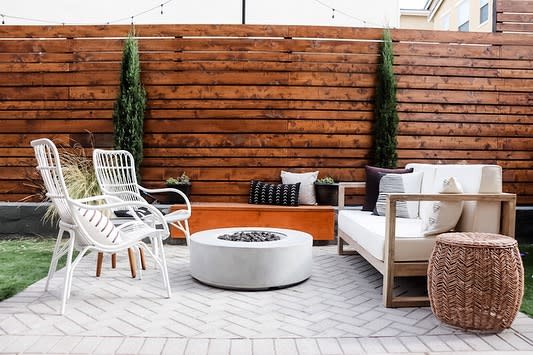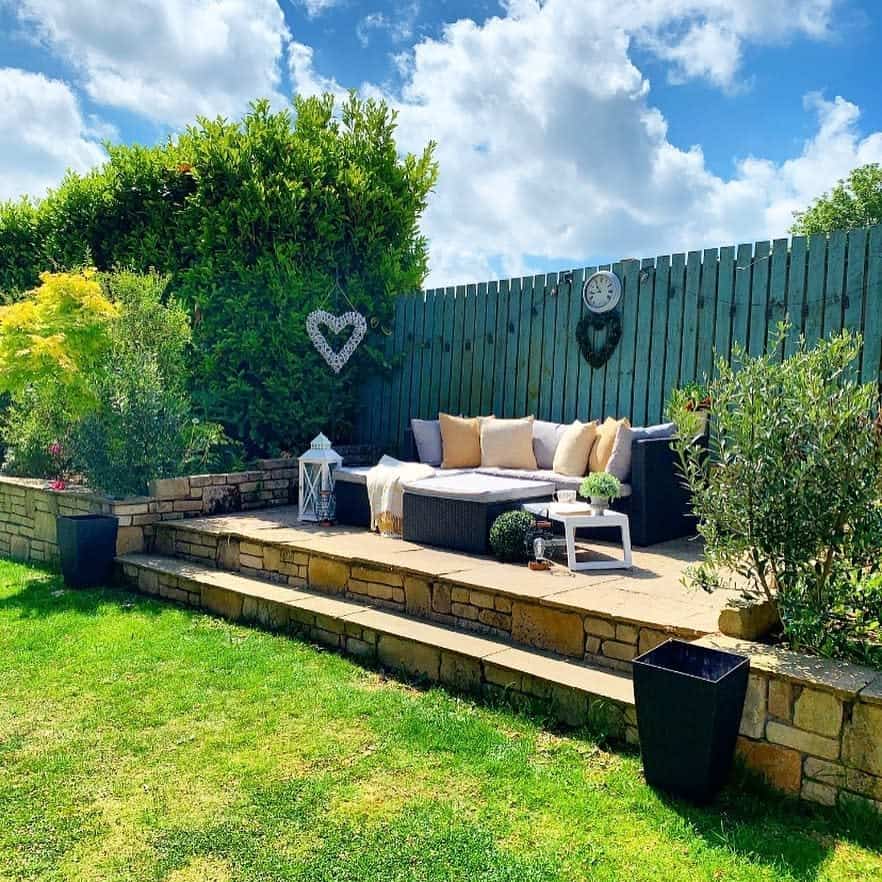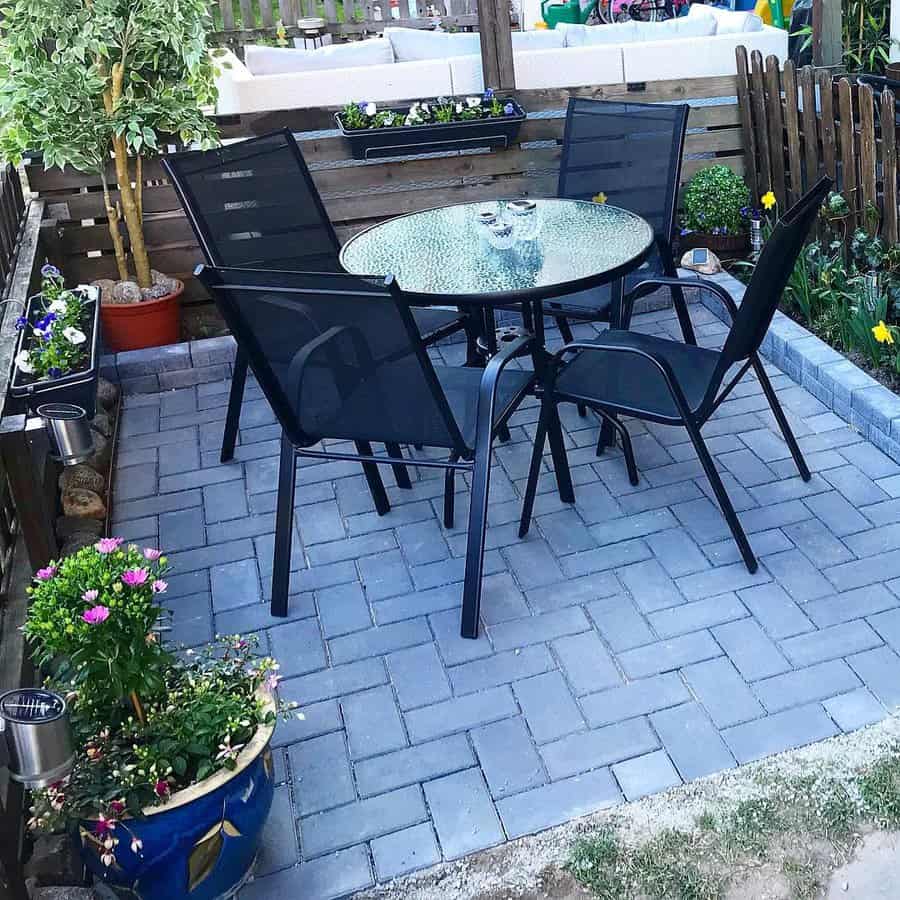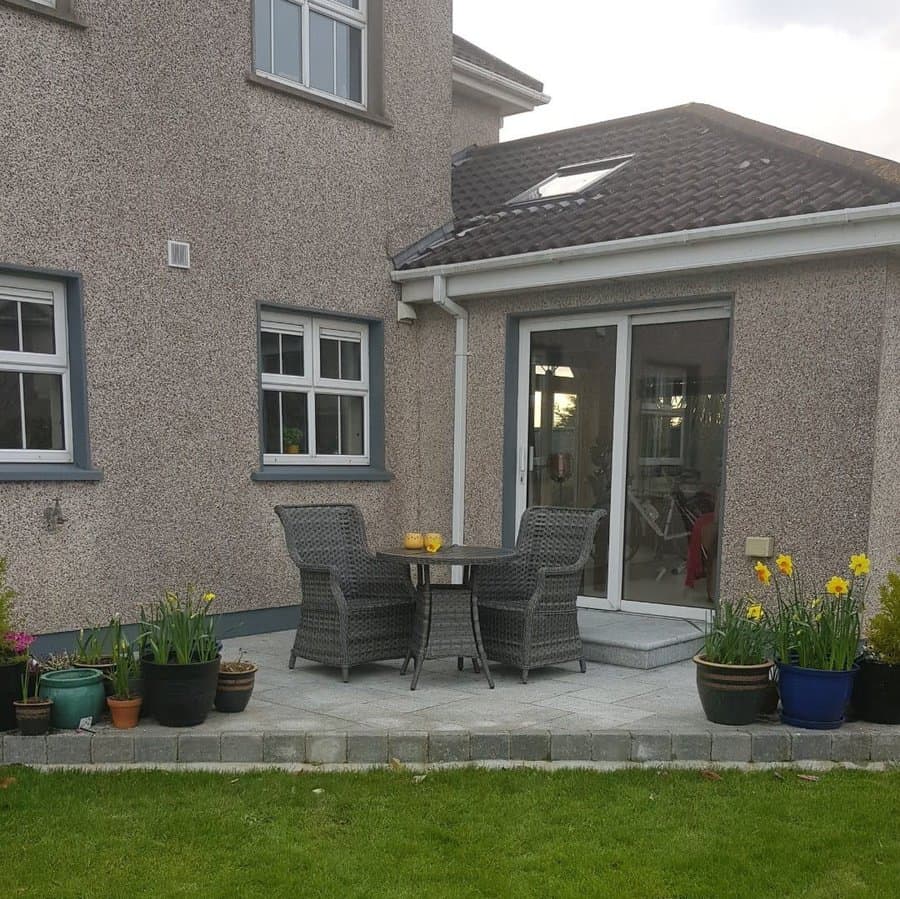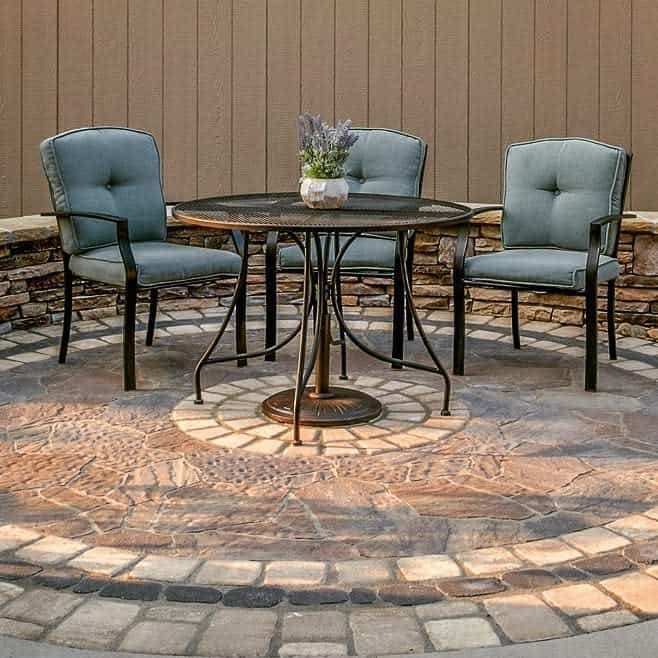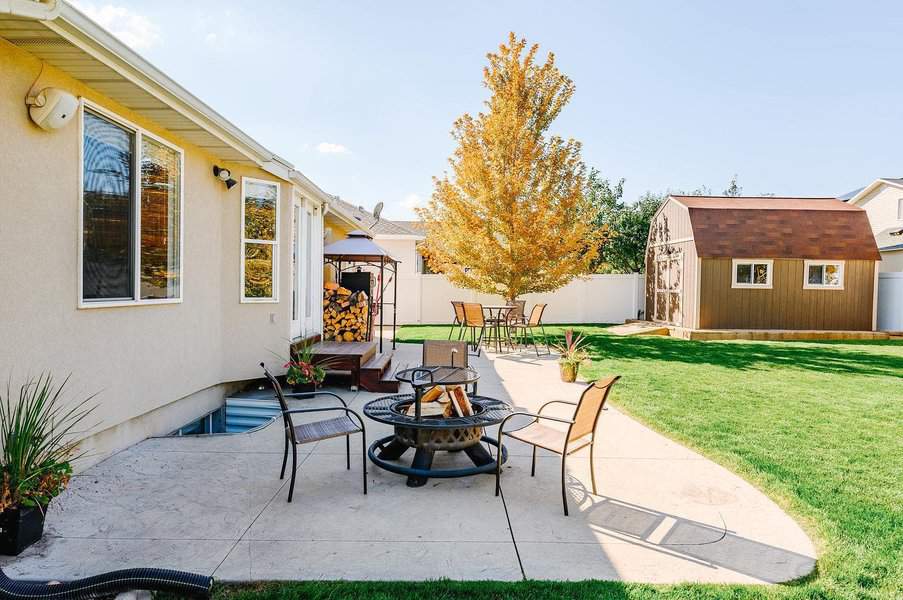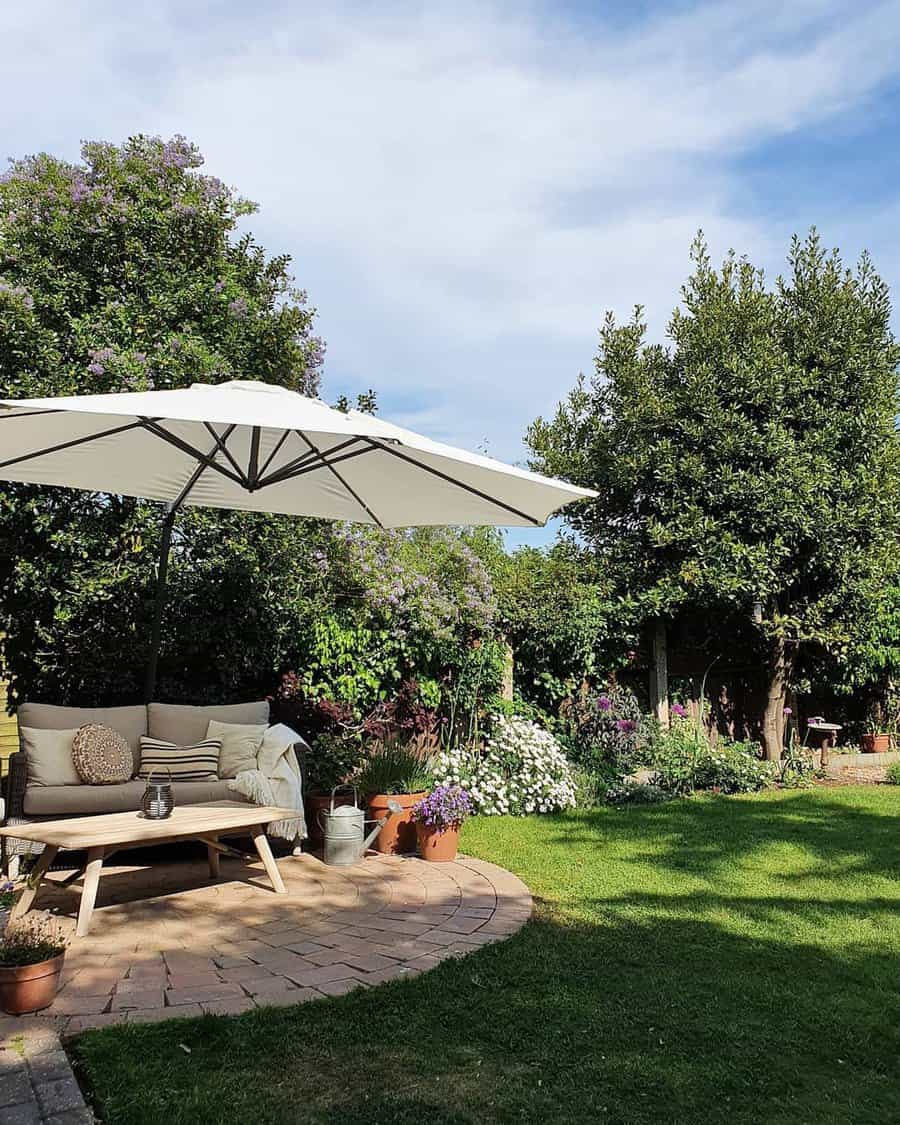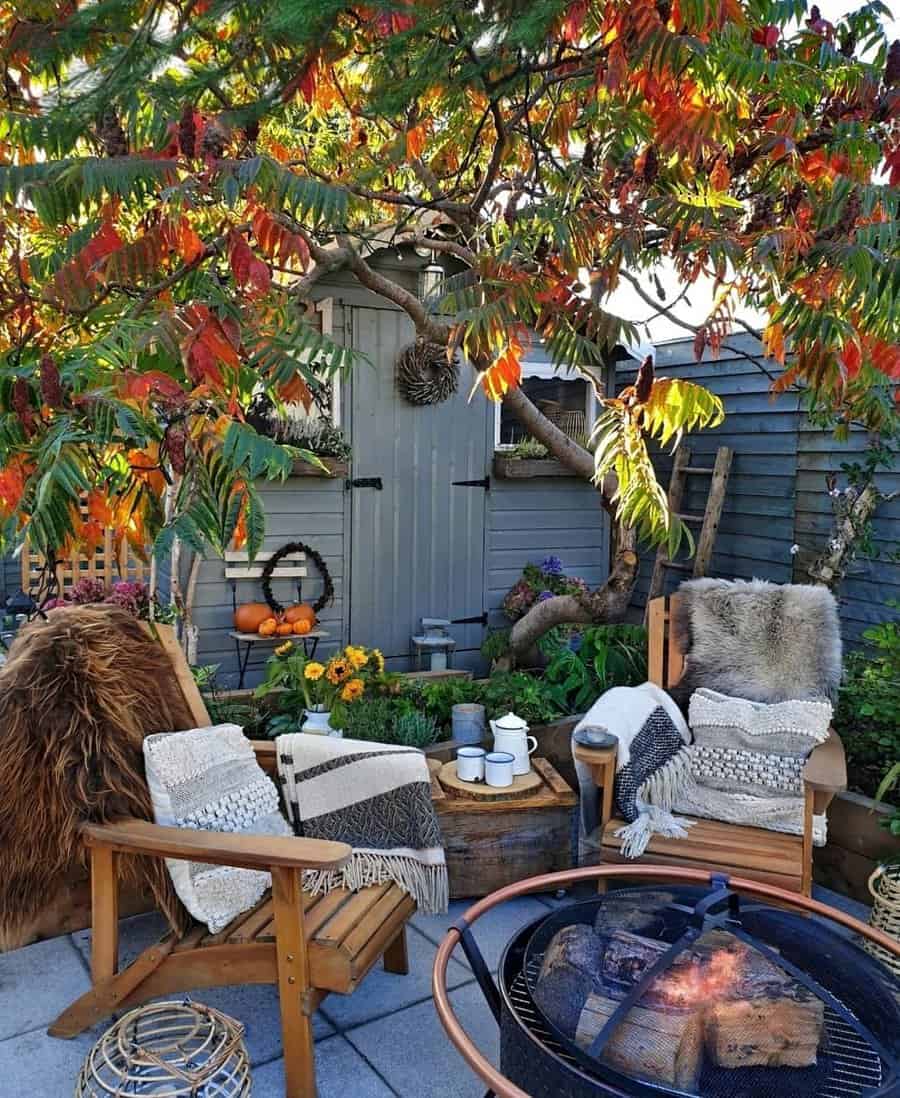 Beware of furniture that is the exact same color as your patio material. Some contrast is always necessary.
Ensure that your selected patio furniture fits within your patio space. You should be able to comfortably pull out chairs, walk between pieces, and otherwise use your patio without stepping into the surrounding grass or garden beds.
8. Patio Paver
Designing a stylish paver patio is not just about the tiles or stones you choose. How the pavers are laid out can have a major impact in the final look.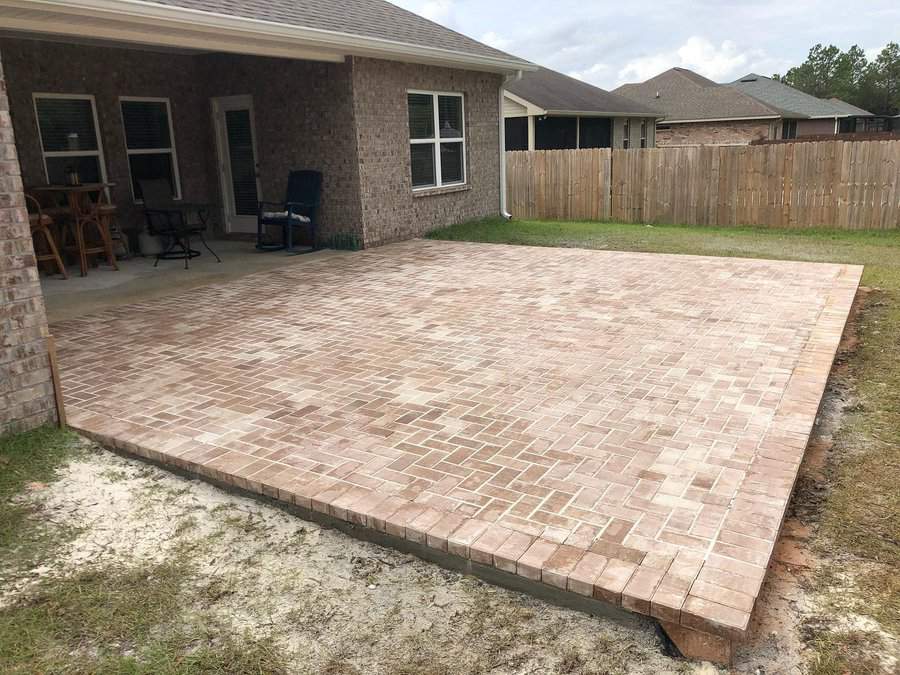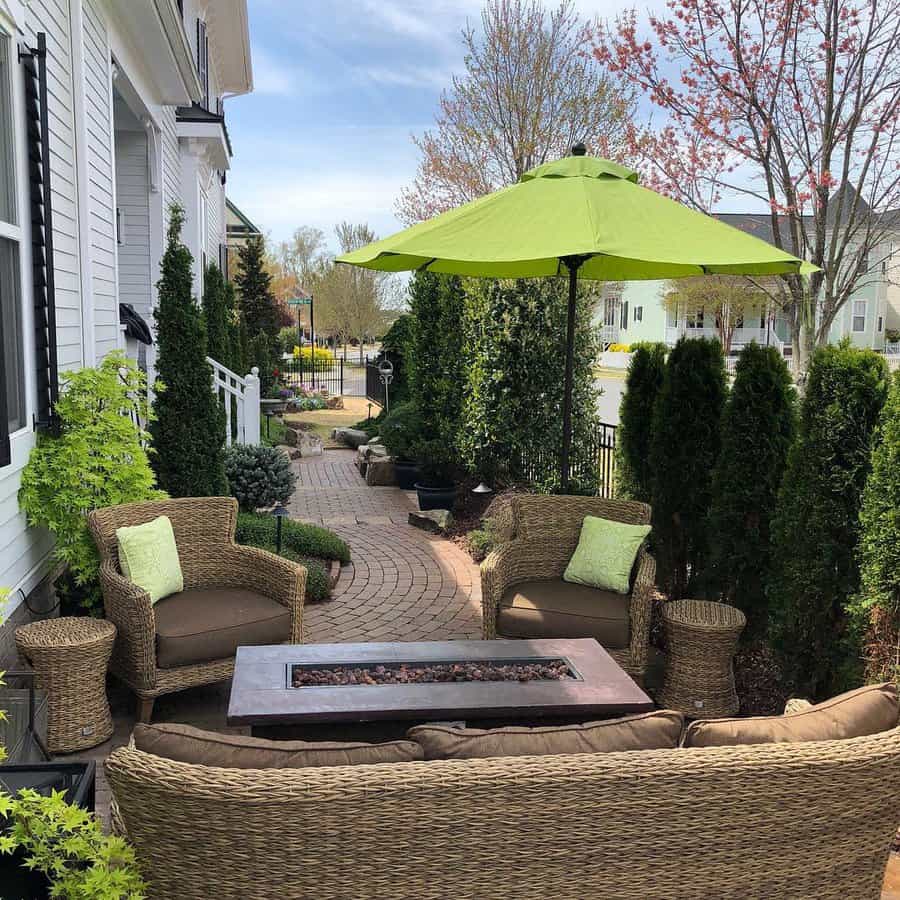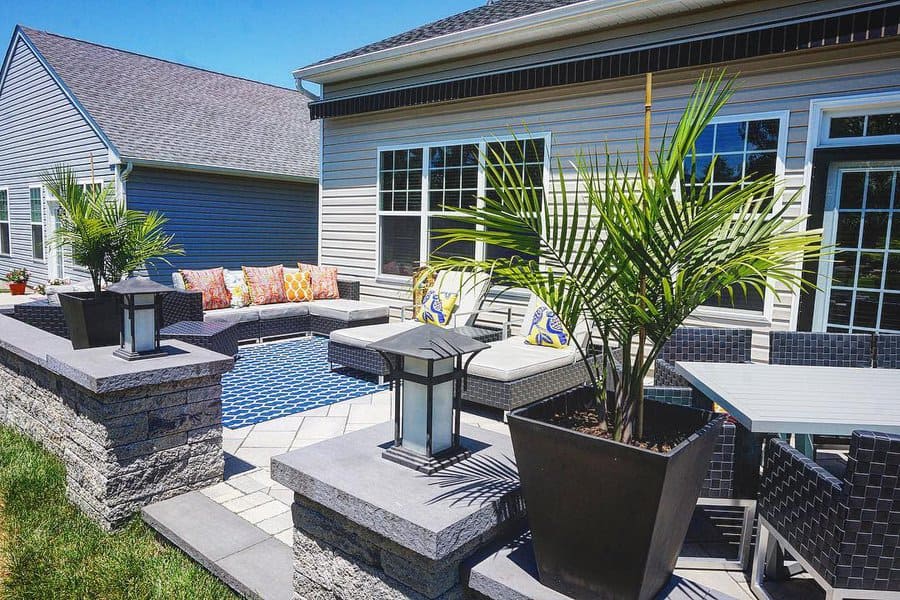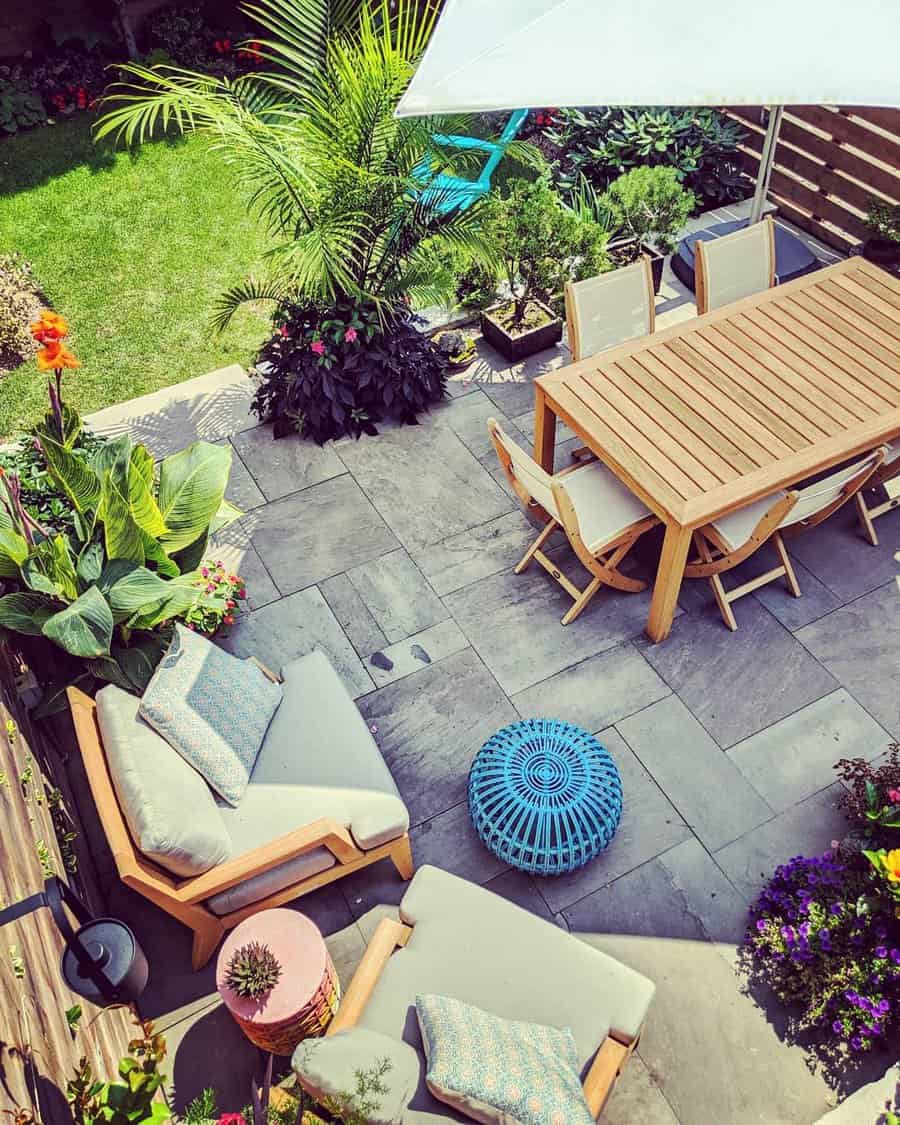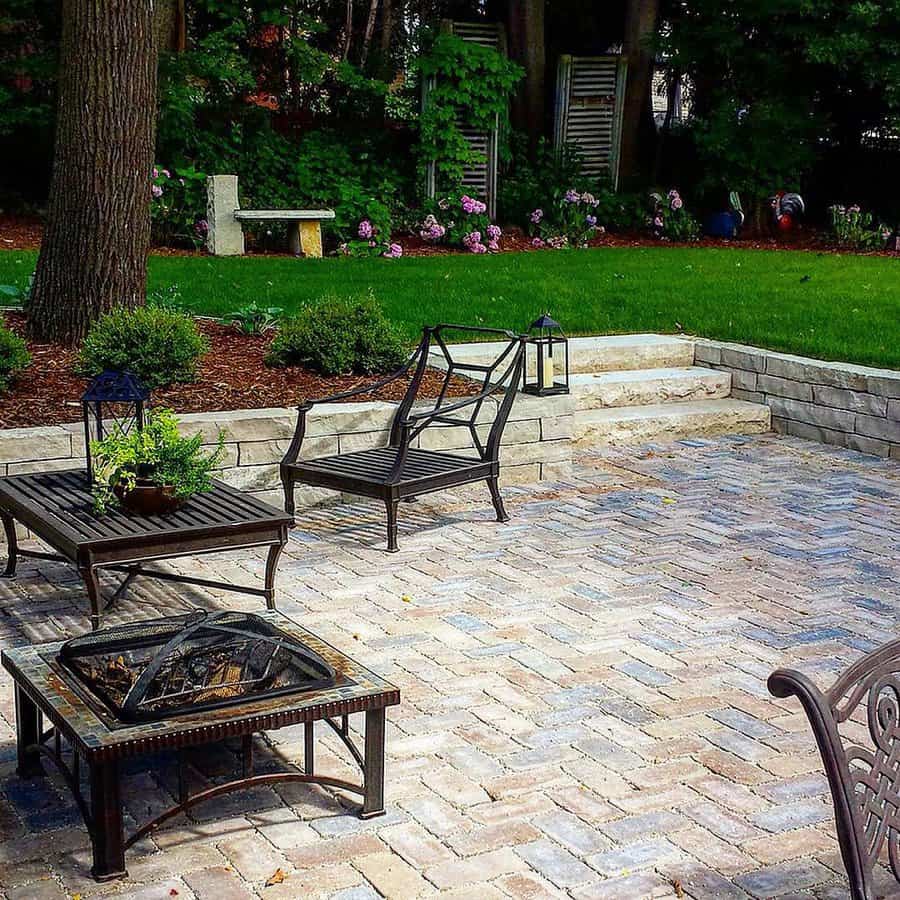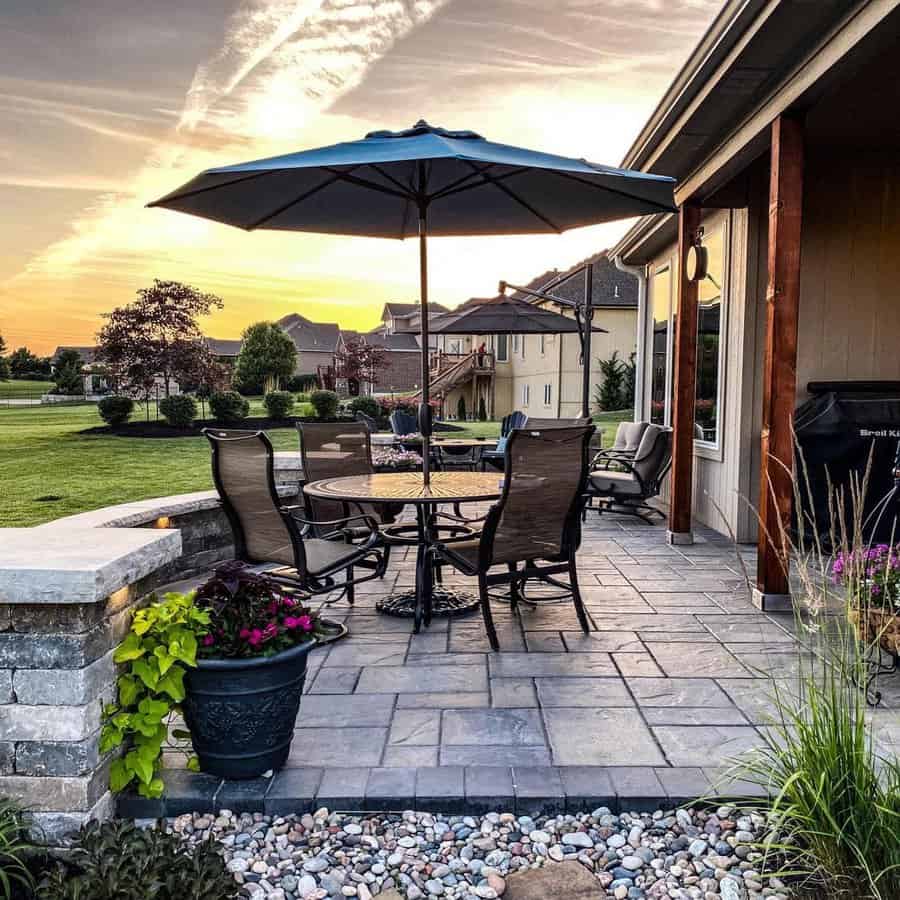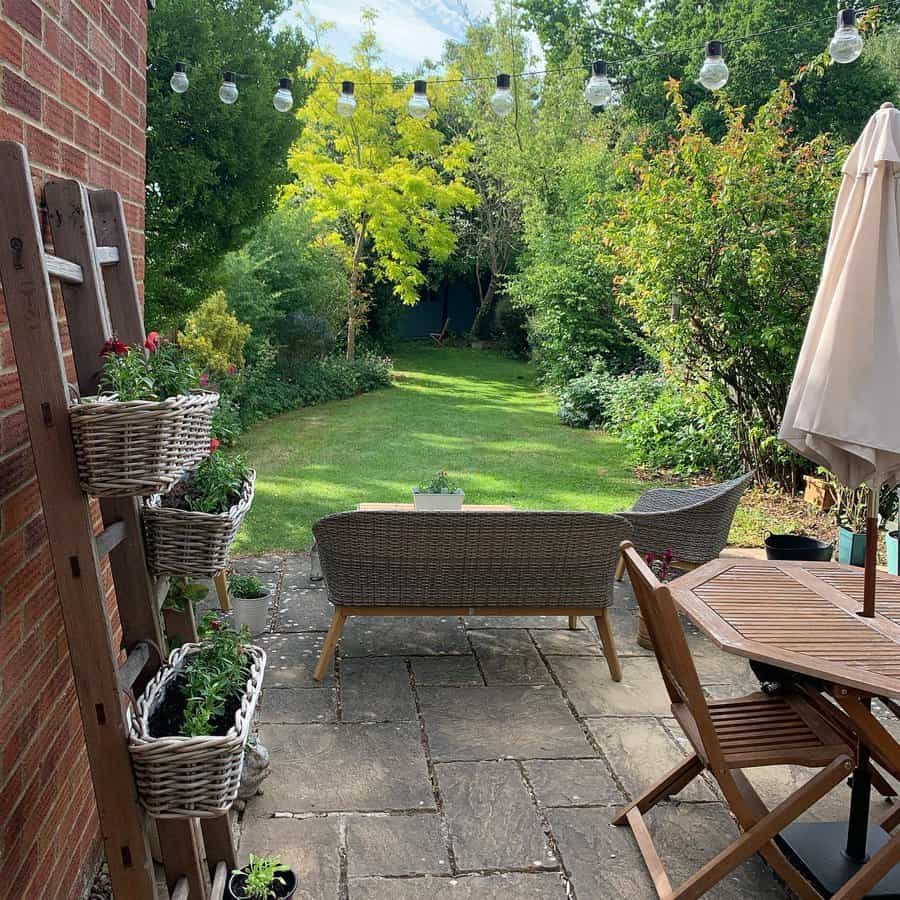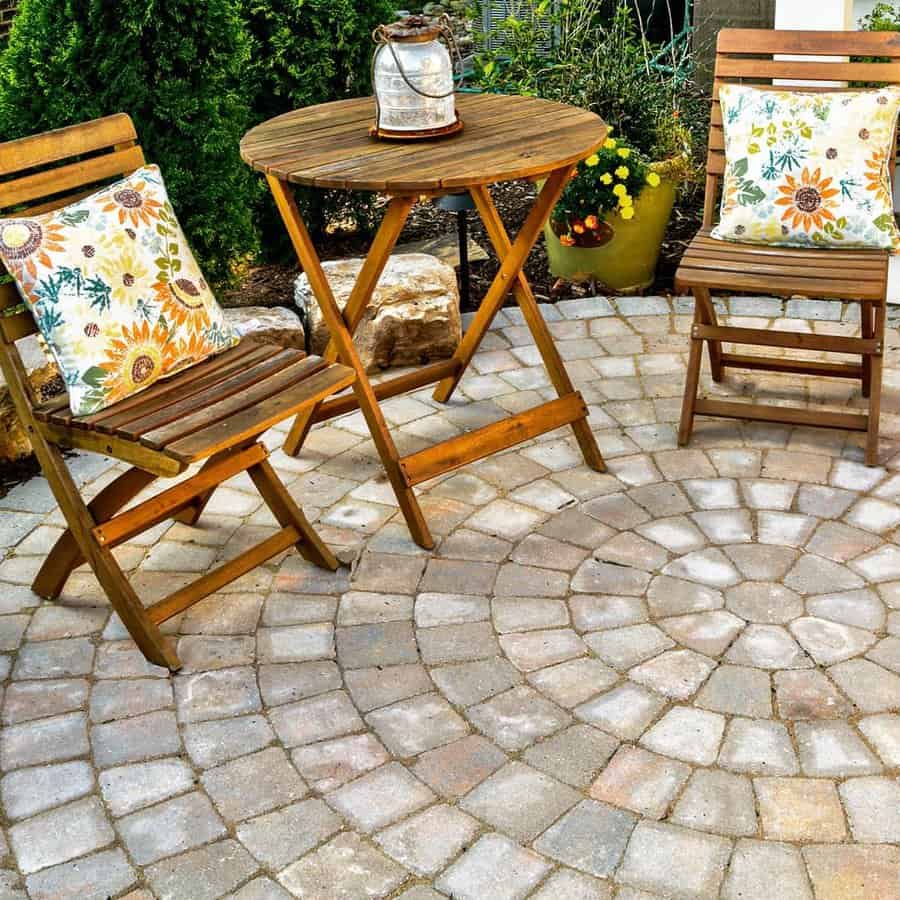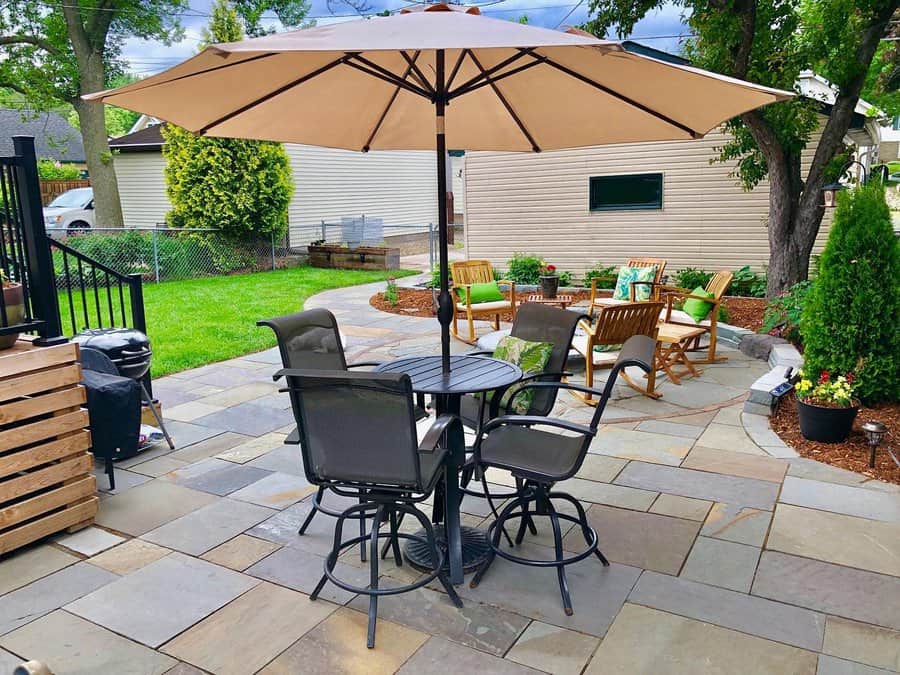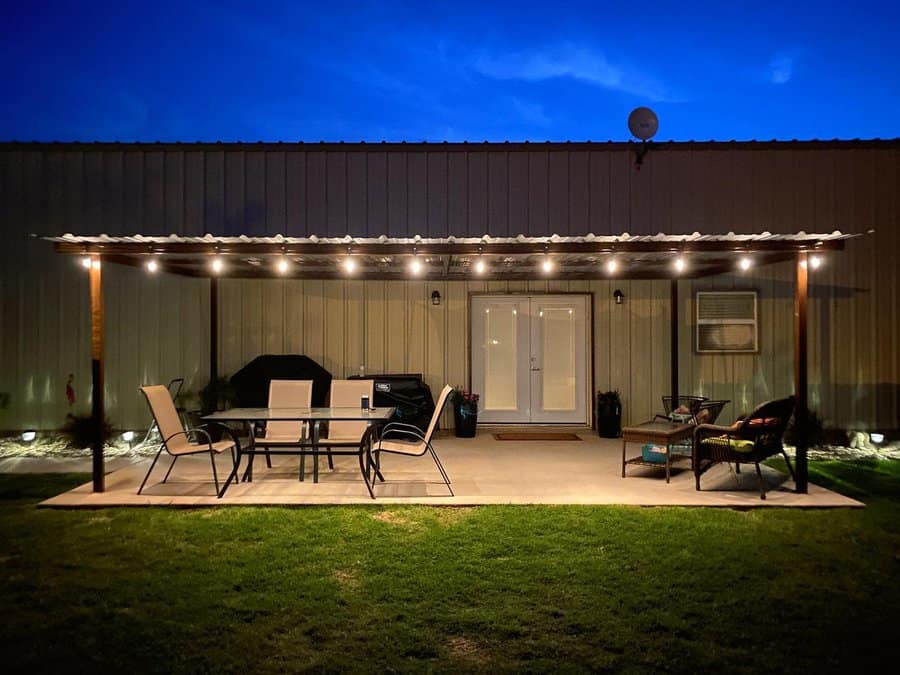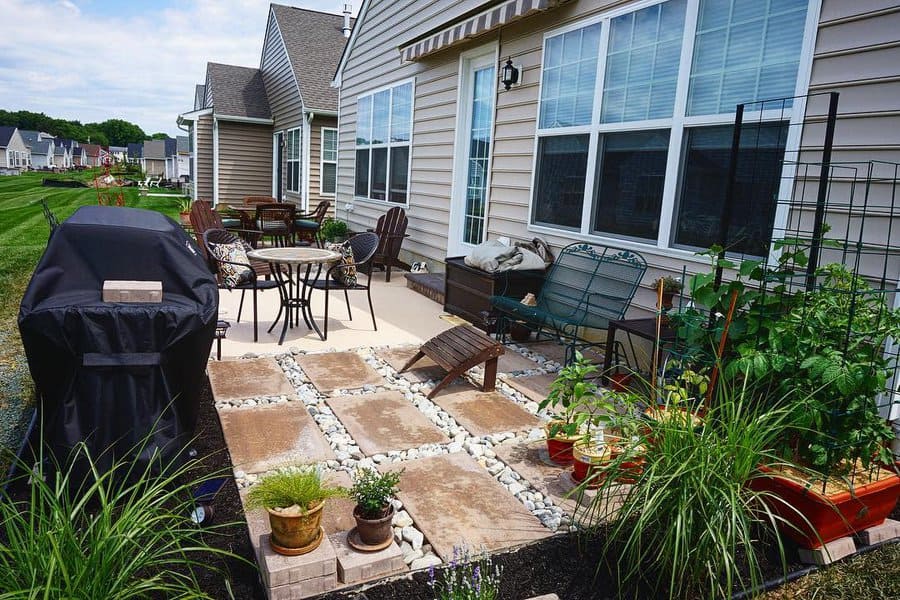 Offset pavers can give your patio a simple yet aesthetically pleasing appearance. These patterns can also create a more stable backyard patio or walkway by holding each paver in place.
Other ideas include curved or circular brick paver layouts. You can also space out your paver design for a unique, permeable finished product.
9. Pool
A stone patio is the natural solution to finish your backyard pool area. Not only will this hardscaping give your swimming pool a high-end look. It can also help keep dirt and plant debris out of the water.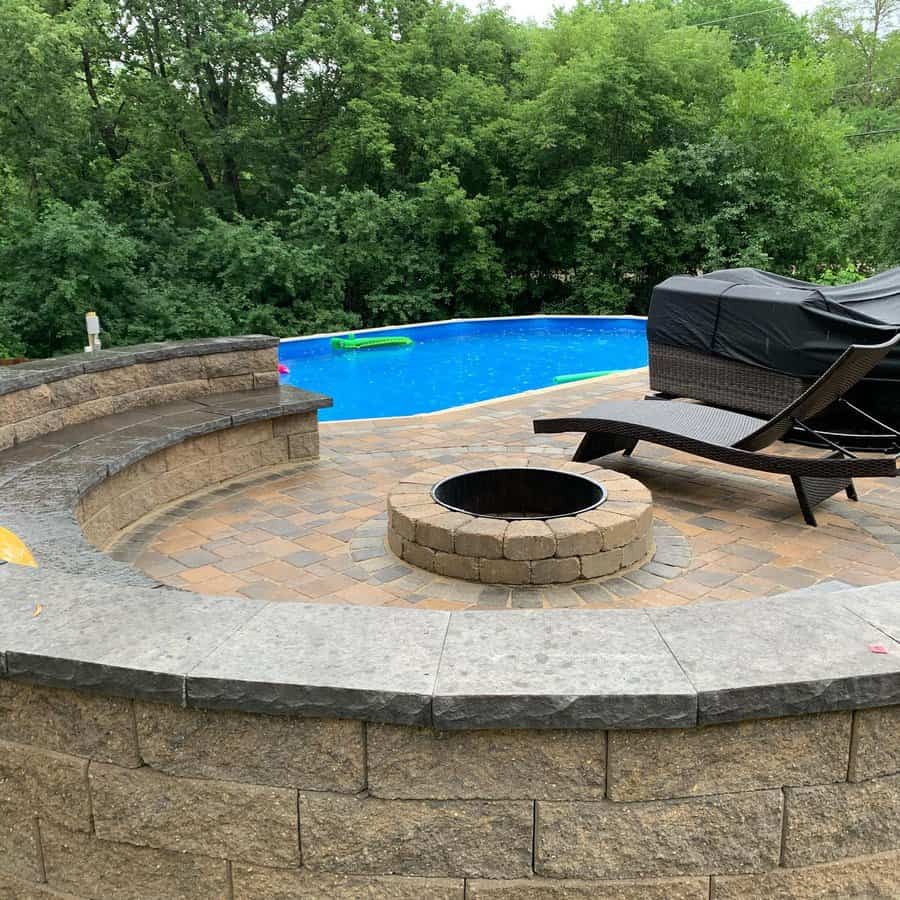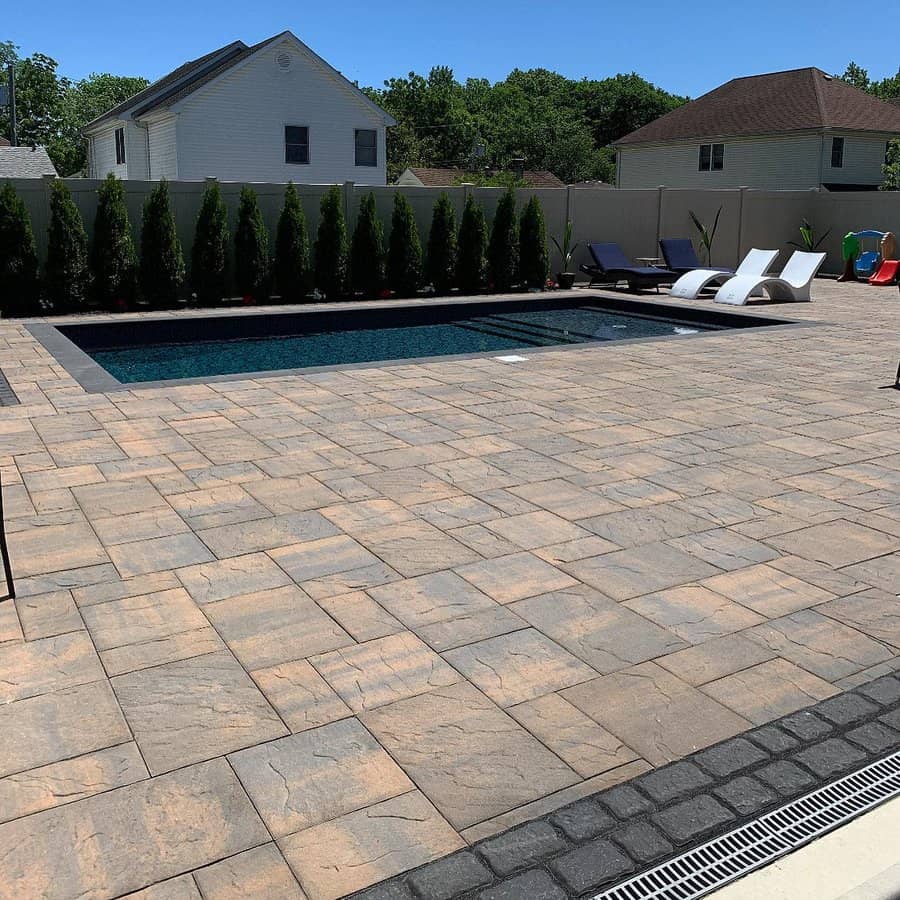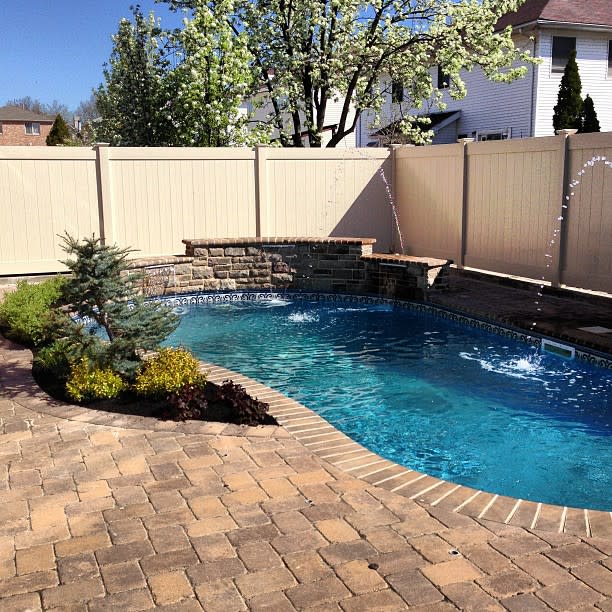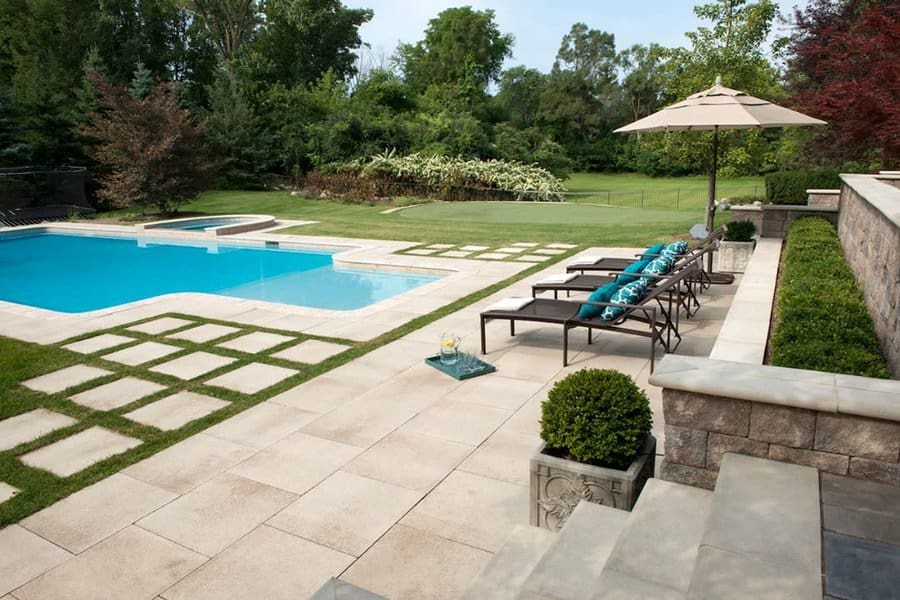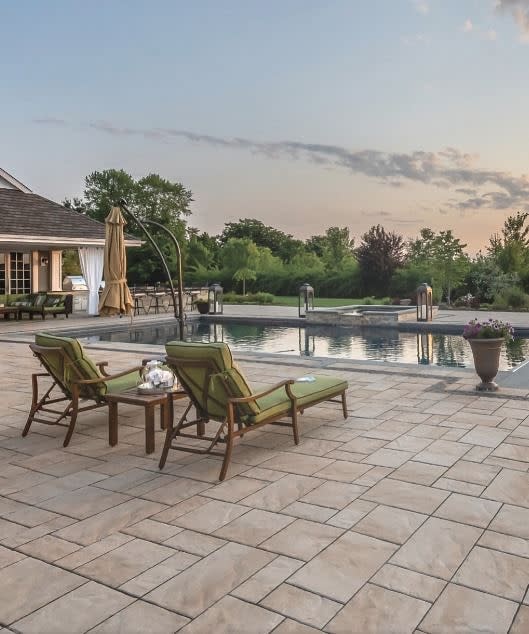 You can use any paver material to frame your inground pool. Before making a decision, though, consider installing slip-resistant pavers around your pool for extra safety!
Another thing to consider is the moisture-resistance of your paver patio. Some types of rock — flagstone is one popular example — hold up much better to constant water exposure than others. This is a key factor in designing a pool patio area.
10. Square
Many homeowners want to preserve the organic atmosphere of their backyard. But using clean, geometric shapes in your patio design can contrast beautifully against the rest of the space.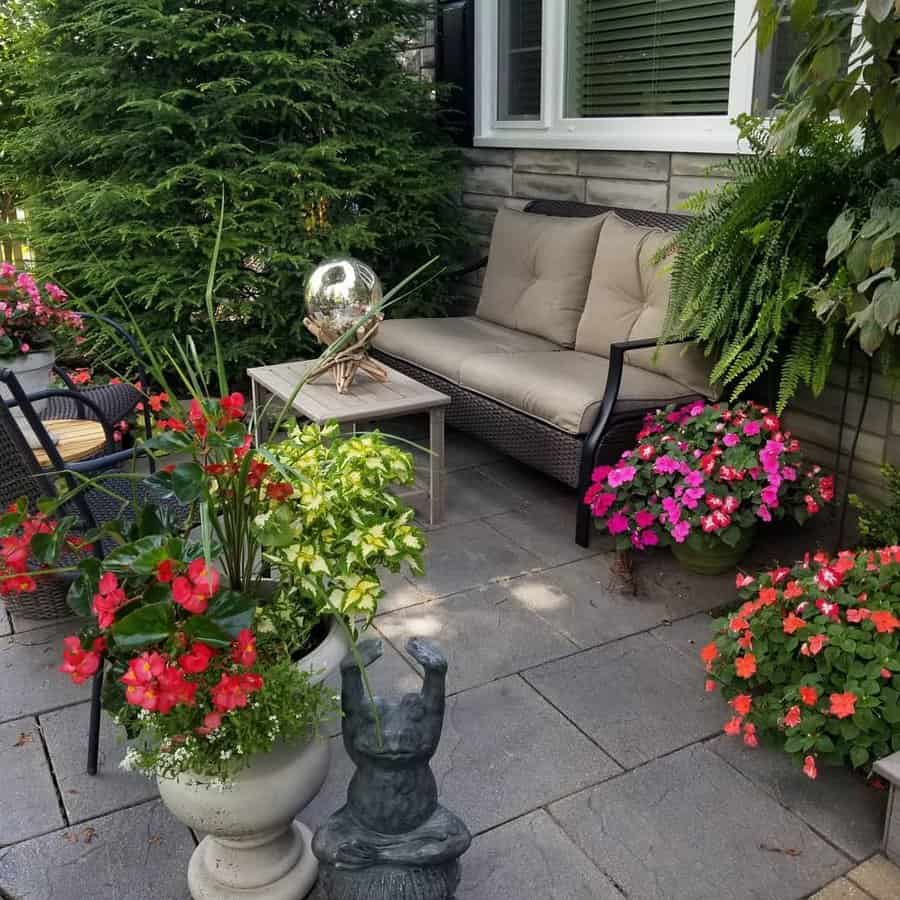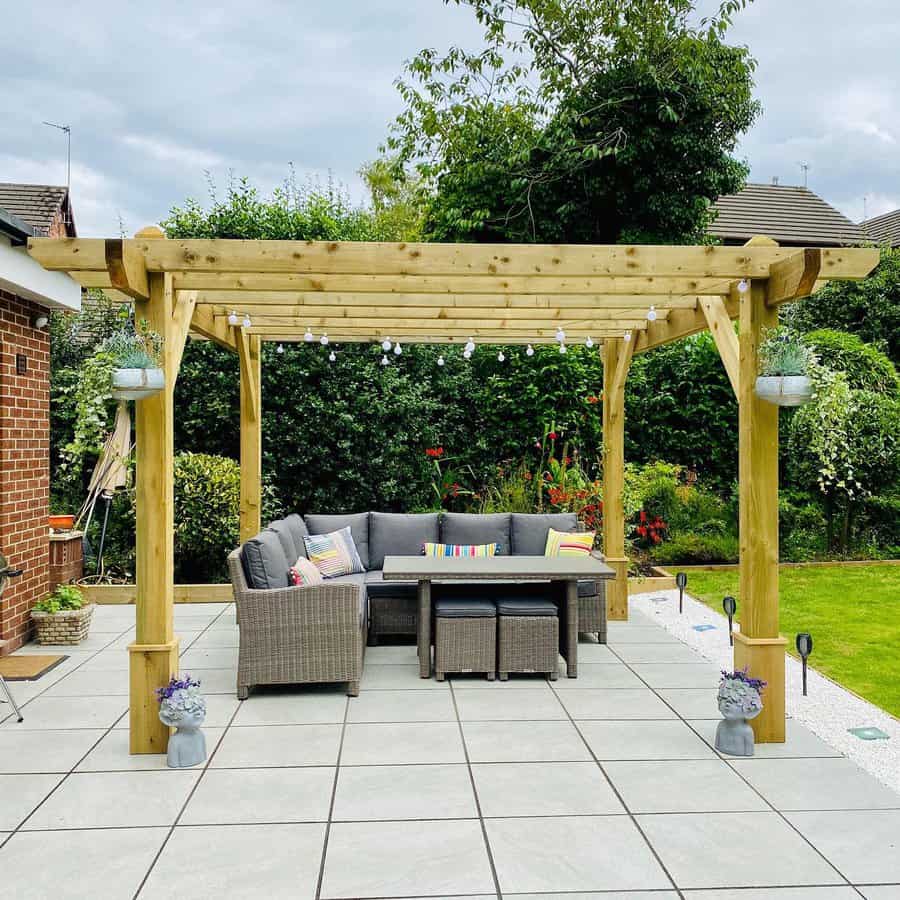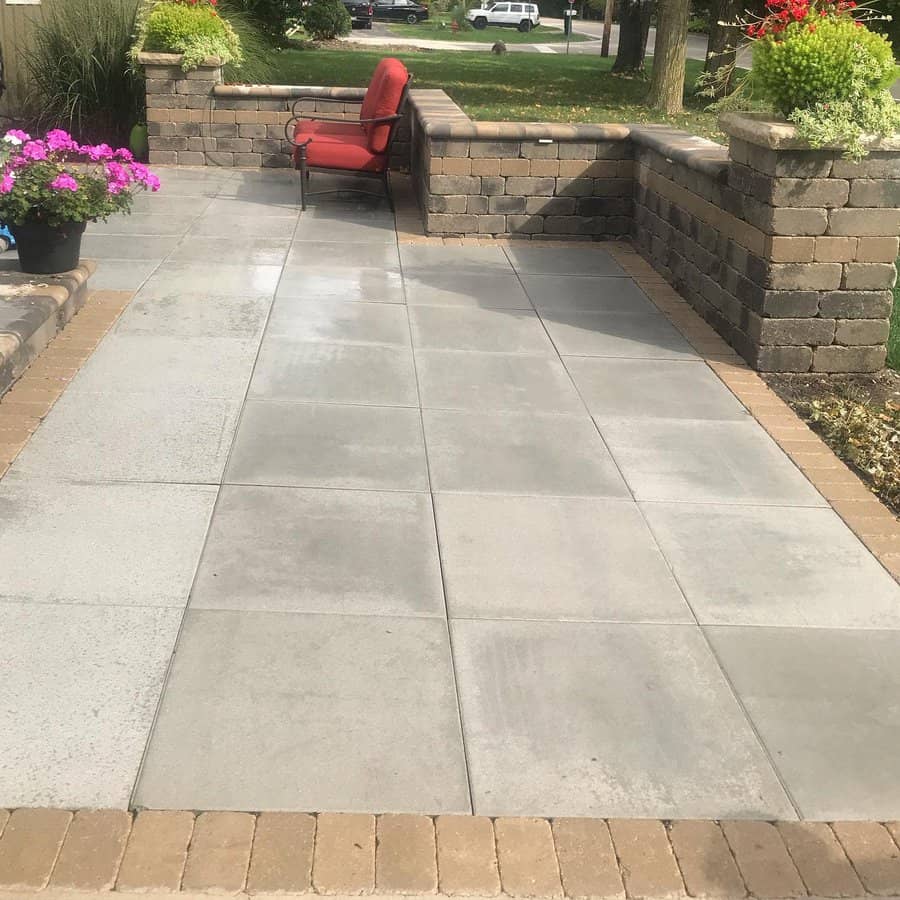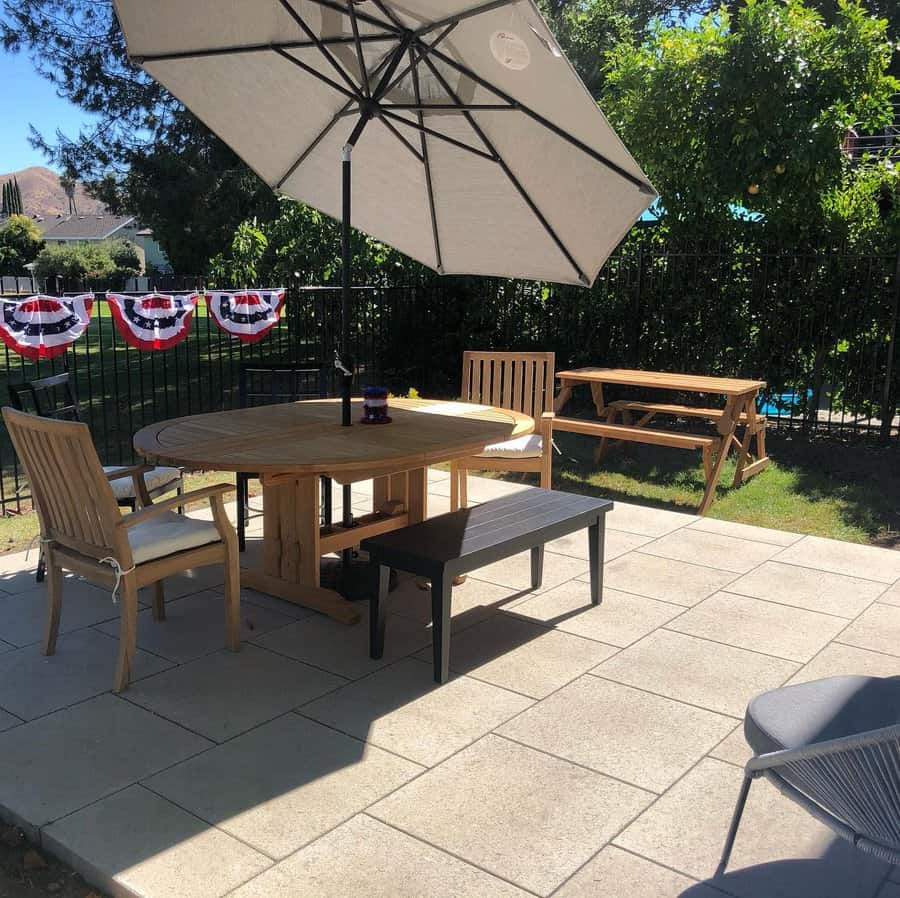 You can add variety to your square paver patio with different colors or even stone types. A simple checkerboard pattern will give your outdoor space a sleek, modern aesthetic. You can even fill the diagonal spaces with grass or pea gravel for a permeable surface.
Large square tiles will make quick work of installing a patio area of walkway. However, keep in mind that larger pavers will be more expensive to replace if damaged!
11. Stone
There are several ways to include natural stone in your patio design. The most popular is to fit together rough-cut flagstone to create a flat, even surface.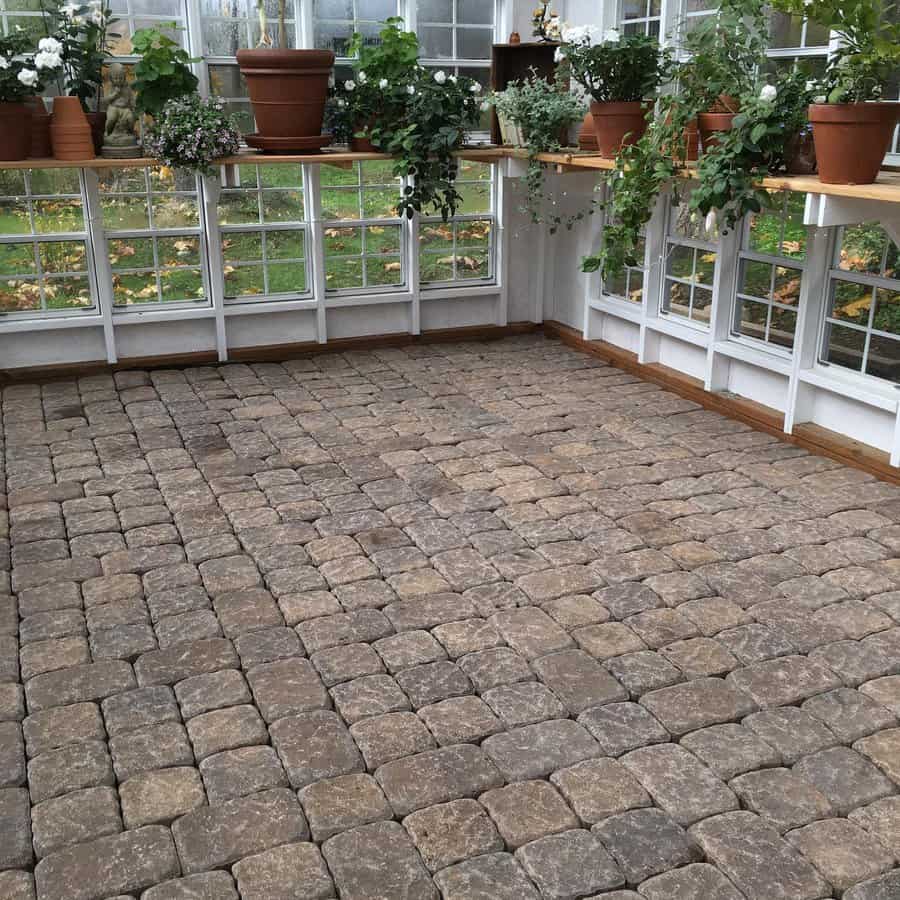 Keep an open mind when laying out your new paver patio. Look for opportunities to include materials like pea gravel or river rock as walkable surfaces or aesthetic accents.
Irregular stone pavers might not be ideal for the bulk of your backyard patio. But you can still soften the overall look of your outdoor space by installing a thin border of more naturally shaped stones.
Backyard Paver FAQs
Can you grout patio paver joints?
While it's possible to grout pavers like you would bathroom tiles or a backsplash, most homeowners fill the gaps in their patio with sand. Coarse sand locks the pavers in place and creates a finished look that lasts for years.
Polymeric sand is a more permanent solution. It is made of regular sand and a water-activated bonding agent. Once activated, the polymeric sand hardens for a stronger, erosion-resistant bond.
Do you need to install landscape fabric under pavers?
Landscape fabric is effective underneath large areas of exposed pea gravel or rock mulch. When it comes to installing paver stones, however, landscaping fabric is often more trouble than it's worth. It can interfere with proper drainage and is hard to remove once it starts to break down.
What are permeable pavers?
Permeable pavers allow water to seep through to the soil below. This is a crucial part of any healthy ecosystem.
Some pavers are made from porous materials that allow water to pass through the pavers themselves. But most permeable paver patio designs incorporate gaps between the stones that let rainwater flow through and prevent damaging washouts.