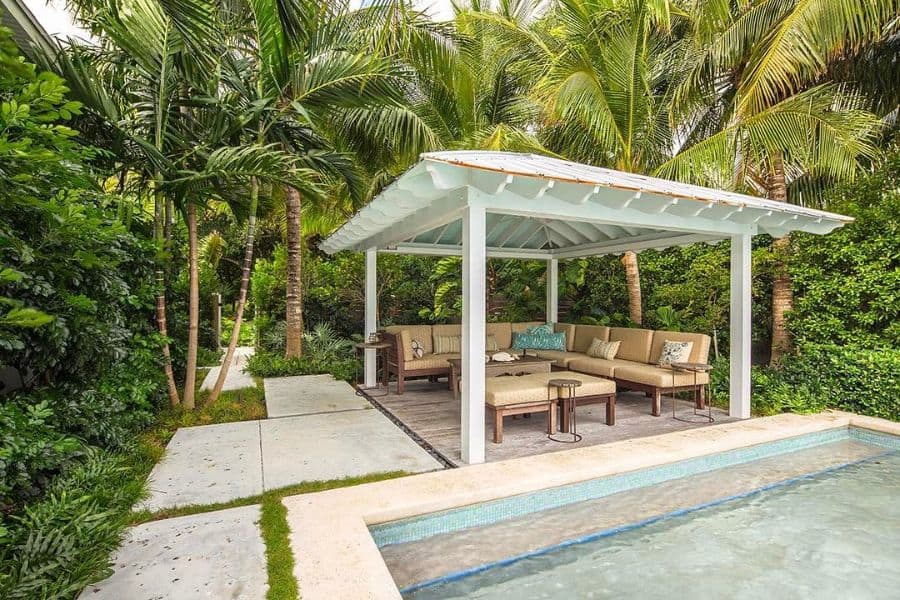 The Top 45 Backyard Pavilions Ideas
Wouldn't it be nice if you had a shady spot to relax in your backyard? A pavilion will give you a covered and protected place that you can turn into a backyard retreat. It will give you more shade and protection than a pergola or gazebo. This protected space will become your favorite place for lounging, relaxing, entertaining, eating, or just hanging out.
These backyard pavilion ideas will help you get started building a pavilion in your backyard.
1. Pavilion With Privacy Wall
By adding a privacy wall, you can enjoy even more seclusion and intimacy in your outdoor space. The addition of a privacy wall allows you to escape the hustle and bustle of the outside world without having to leave the comfort of your own backyard.
Whether you're looking for a peaceful place to read a book on a sunny afternoon, an intimate spot for a romantic dinner, or a sheltered area for your next big family gathering, a backyard pavilion with a privacy wall is the perfect solution.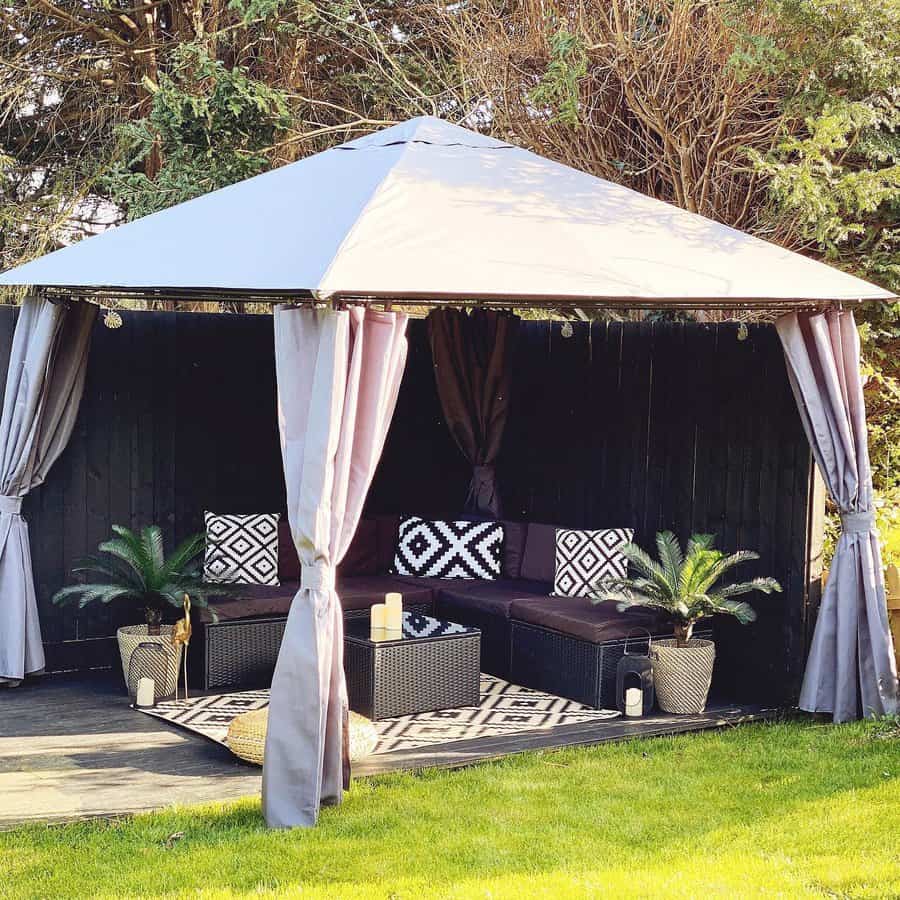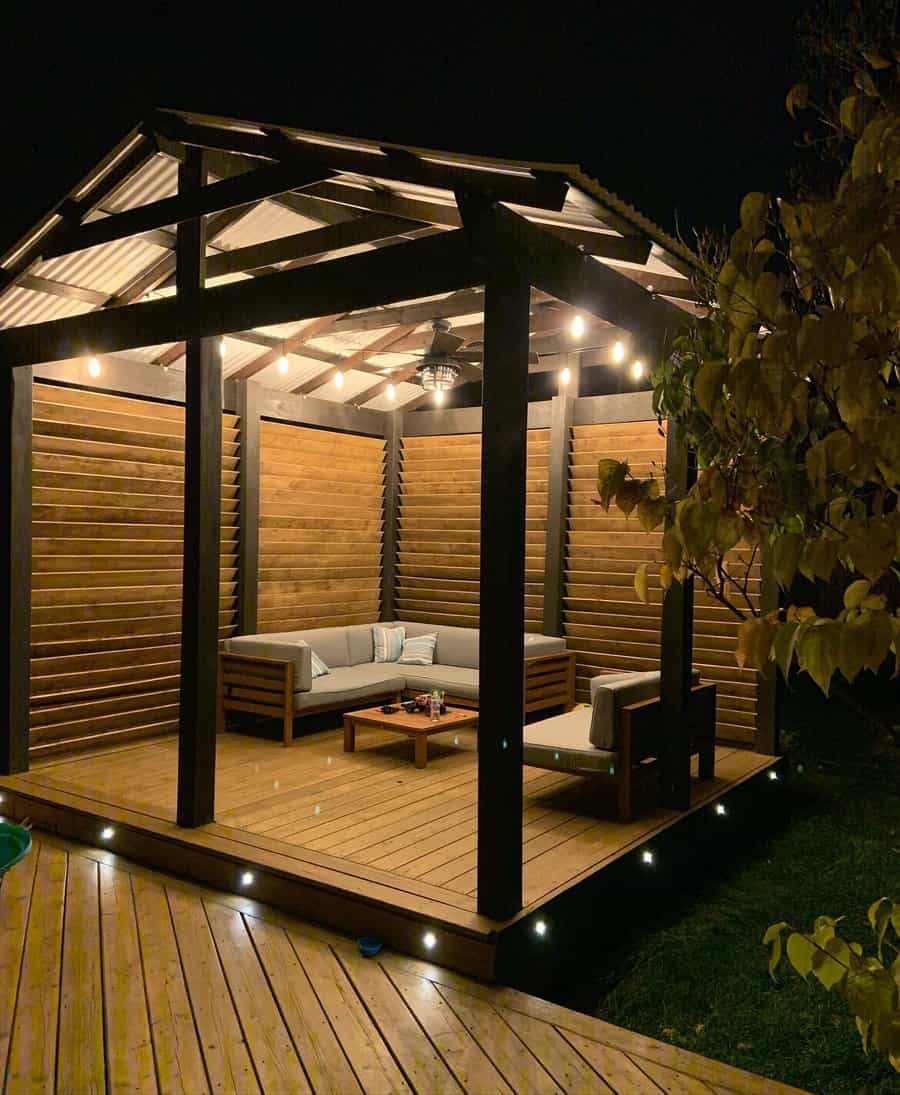 2. Pergola Pavilion
A backyard pergola pavilion adds both style and shade to any outdoor living space. It's a multi-functional structure that can be used for entertaining guests, dining, or simply relaxing in the shade on a hot day. Pergolas and pavilions come in a variety of styles, from rustic wood to sleek metal designs, so there's something for everyone.
Imagine spending lazy summer afternoons lounging under a canopy of vines or enjoying a bottle of wine with friends in the evening, surrounded by twinkling lights. A backyard pergola pavilion is a charming addition that can transform your backyard into an enchanting oasis.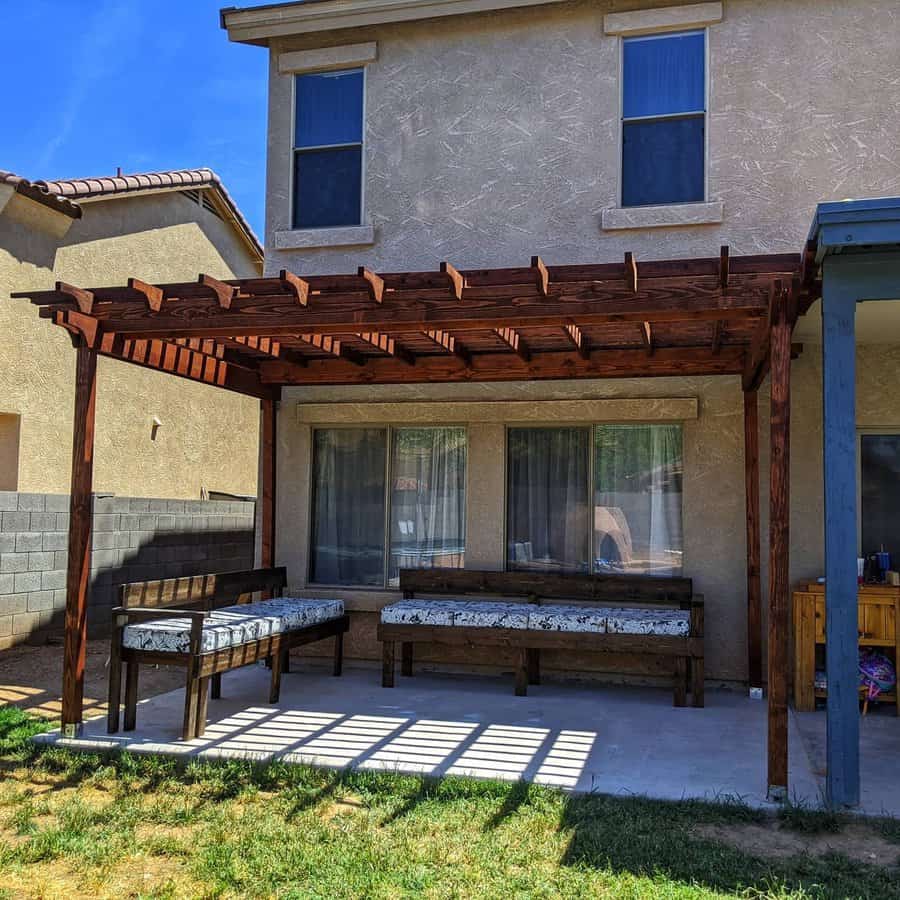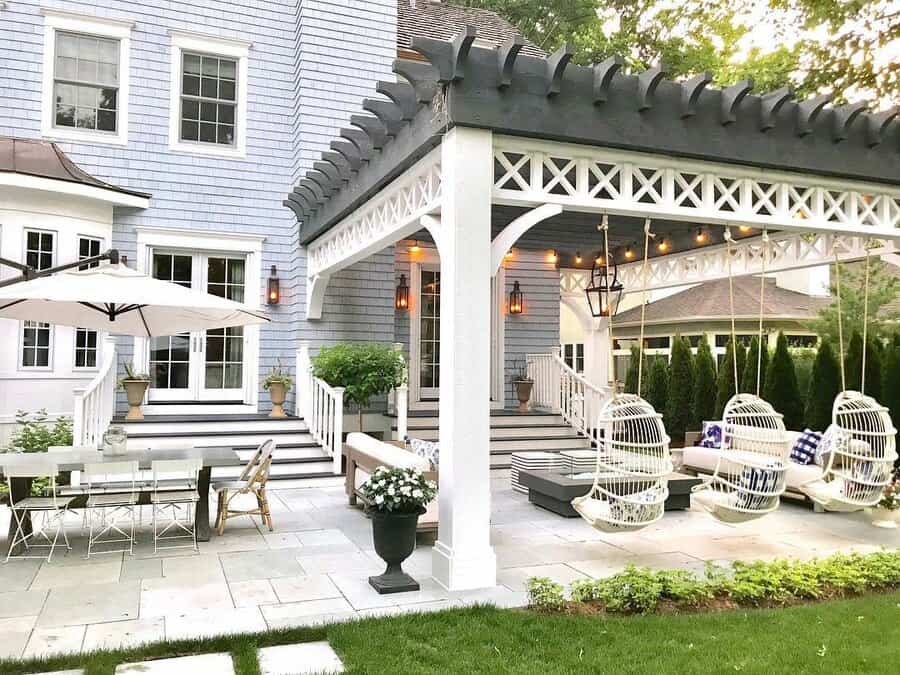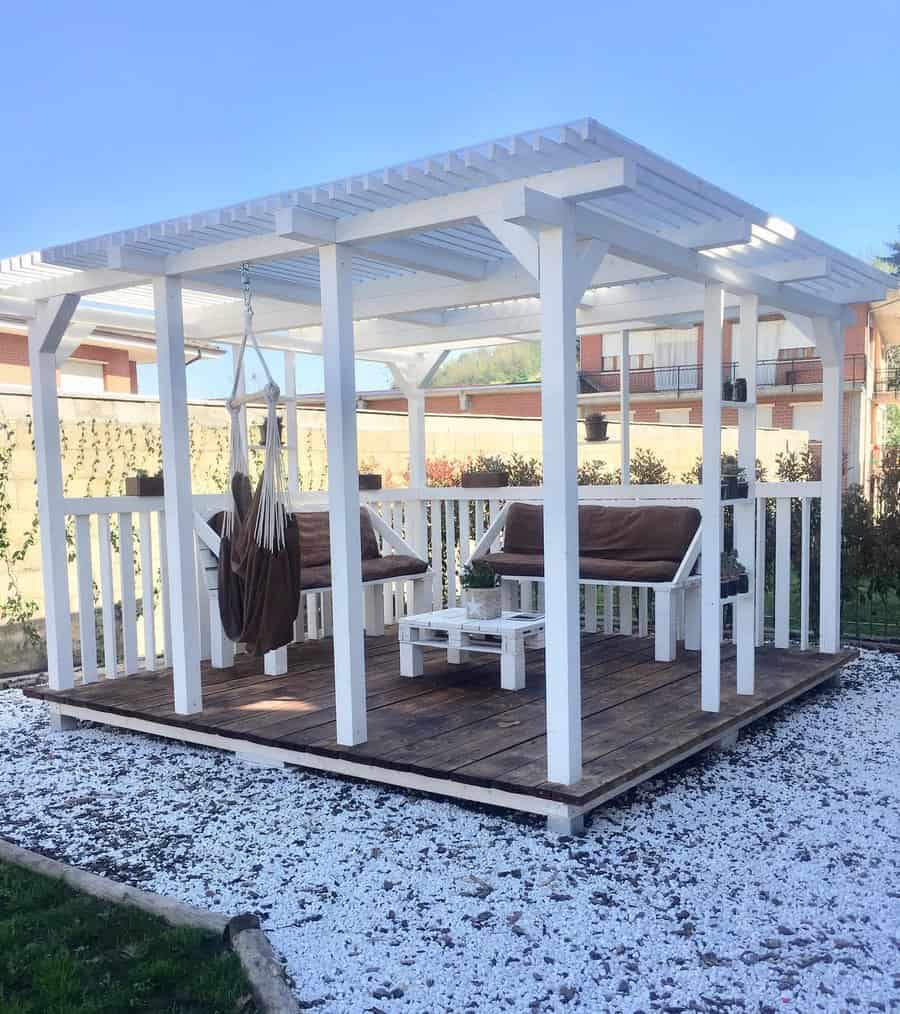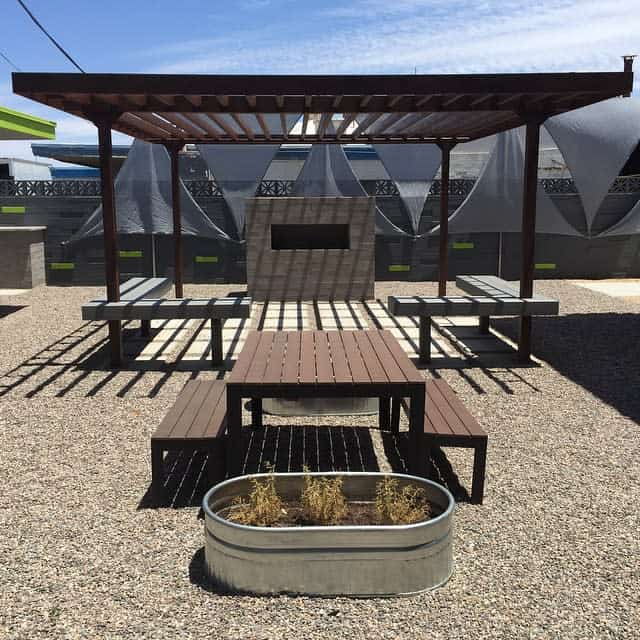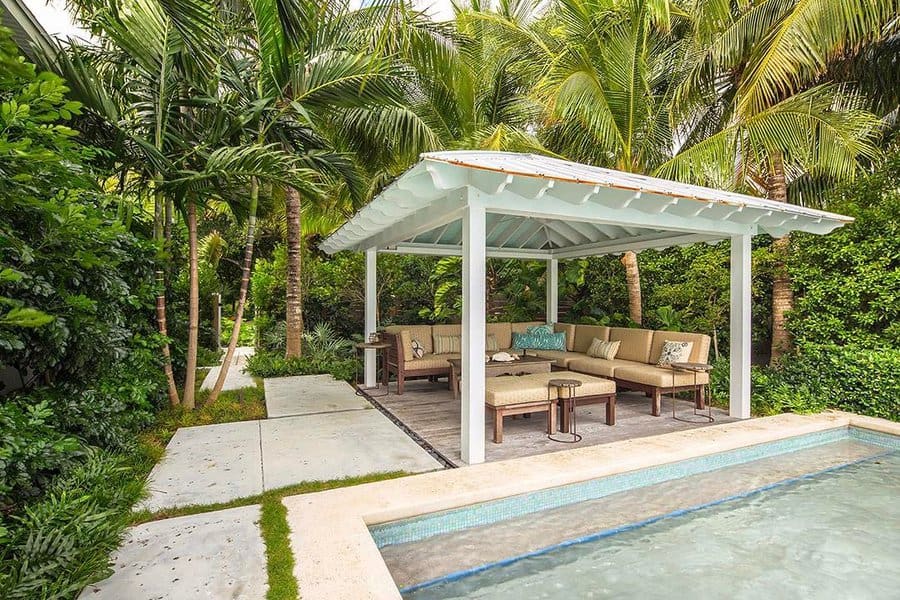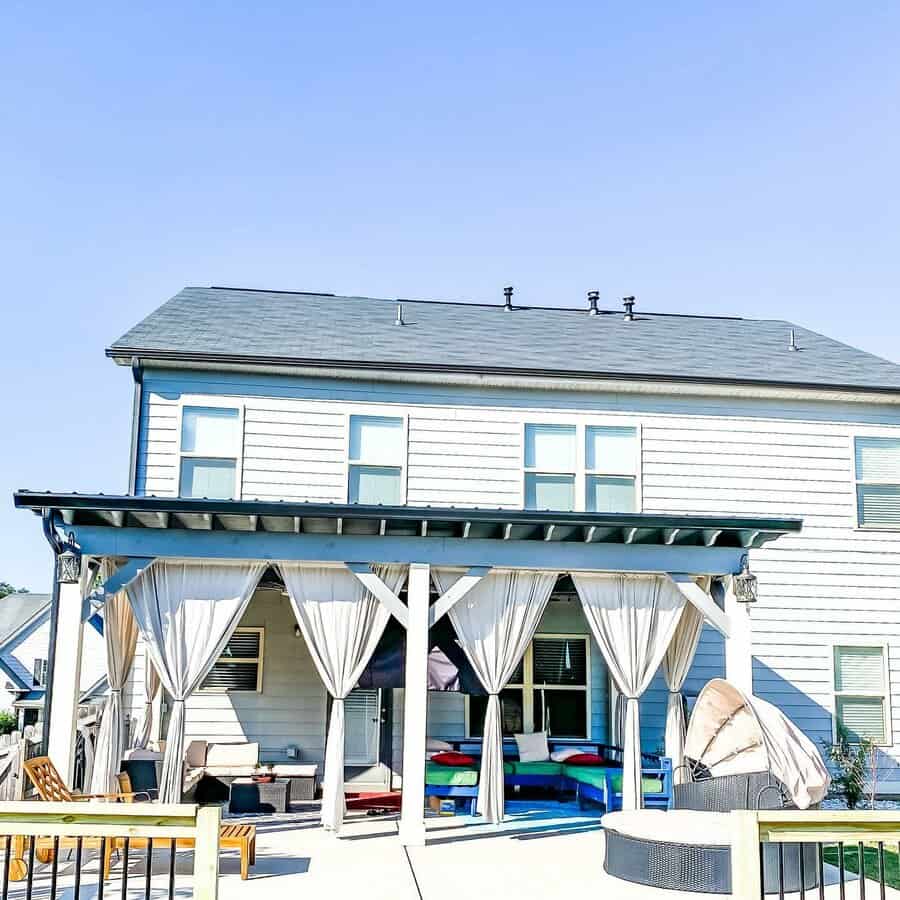 3. Cottage Pavilion
Step into a world of endless possibilities with a backyard cottage pavilion. This enchanting addition to your outdoor space is more than just a structure – it's a portal into a world of leisure and relaxation. Picture yourself lounging in the shade as the warm sun caresses your skin, or hosting a cozy evening with friends under the stars.
The possibilities are truly endless with a backyard cottage pavilion. Whether you're looking for a private retreat or a place to entertain, this versatile structure surrounded by curtains is sure to make your day feel relaxed.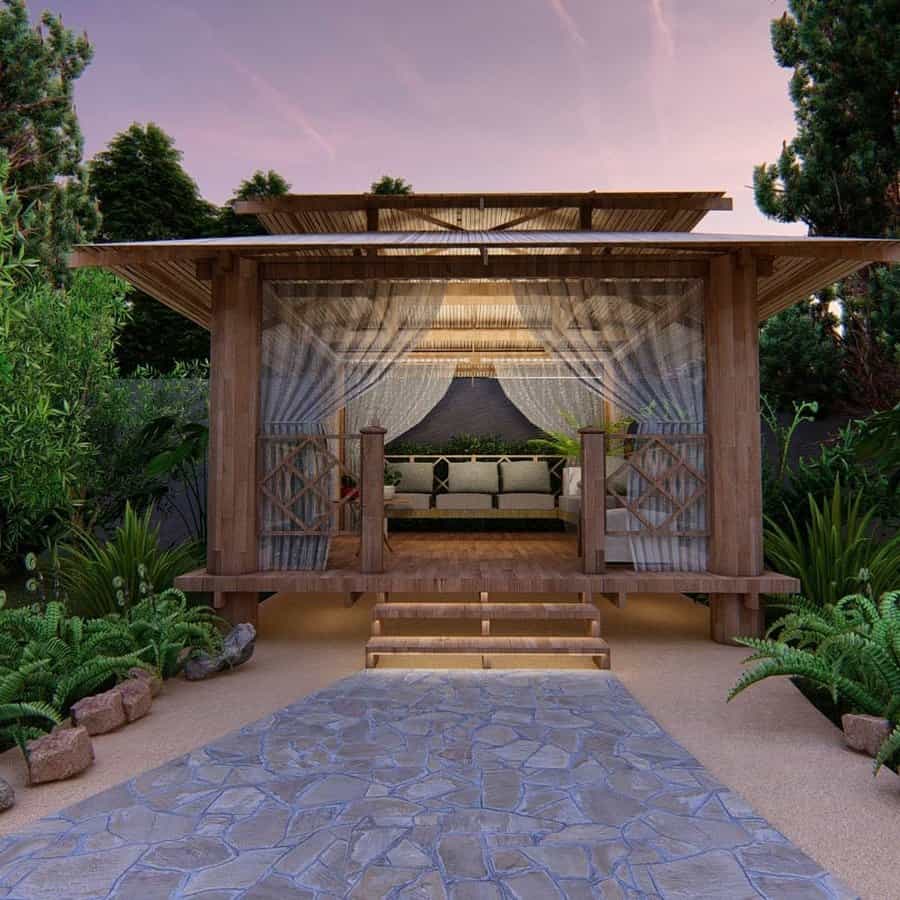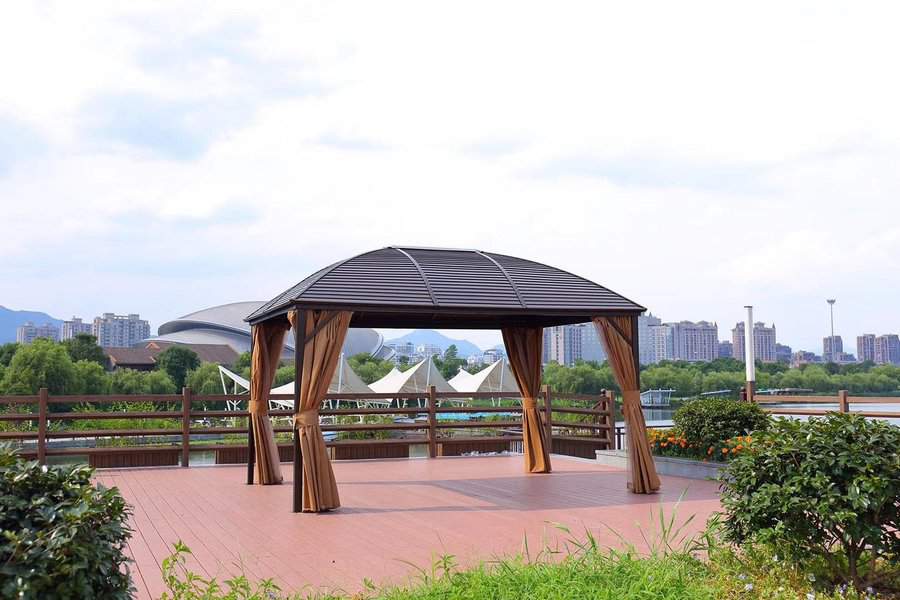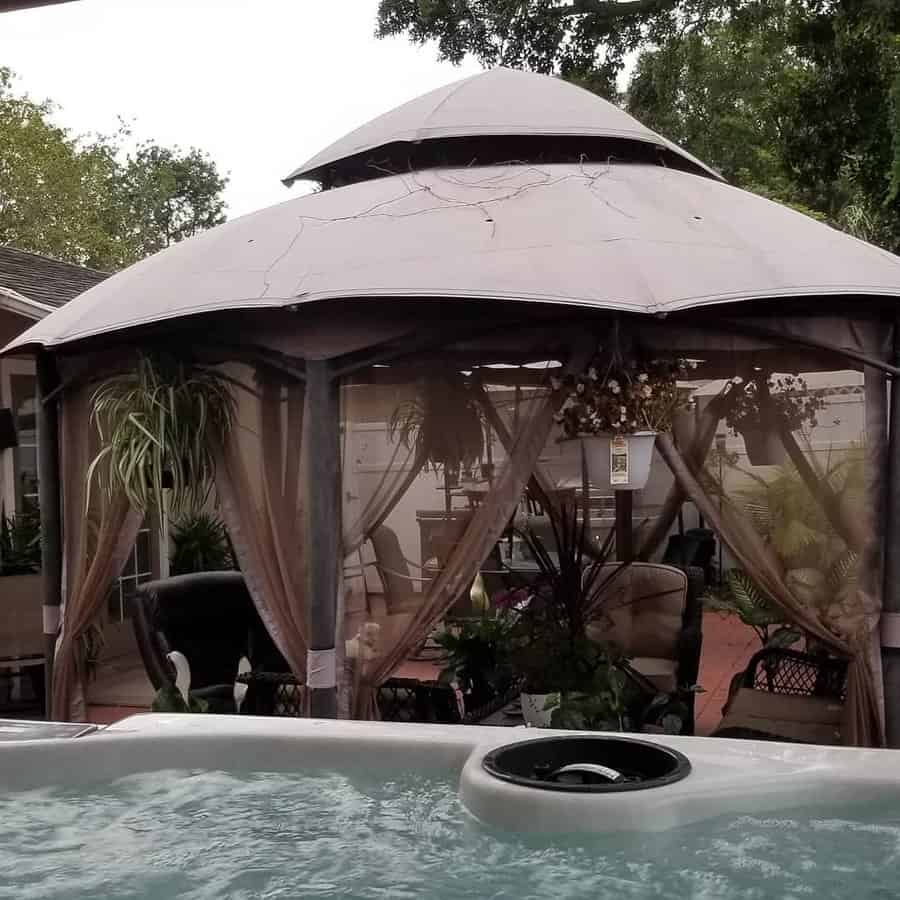 4. Small Steel Pavilion
This stunning addition to your outdoor space not only adds a touch of elegance but also provides a functional space for entertaining guests and enjoying the great outdoors. The steel construction ensures durability and longevity while the unique design allows for customization to fit your personal style.
Whether it's a cozy night in or a lively party under the stars, your backyard steel pavilion is the perfect backdrop for any occasion. So why settle for a plain backyard when you can transform it into a luxurious oasis with the addition of a steel pavilion?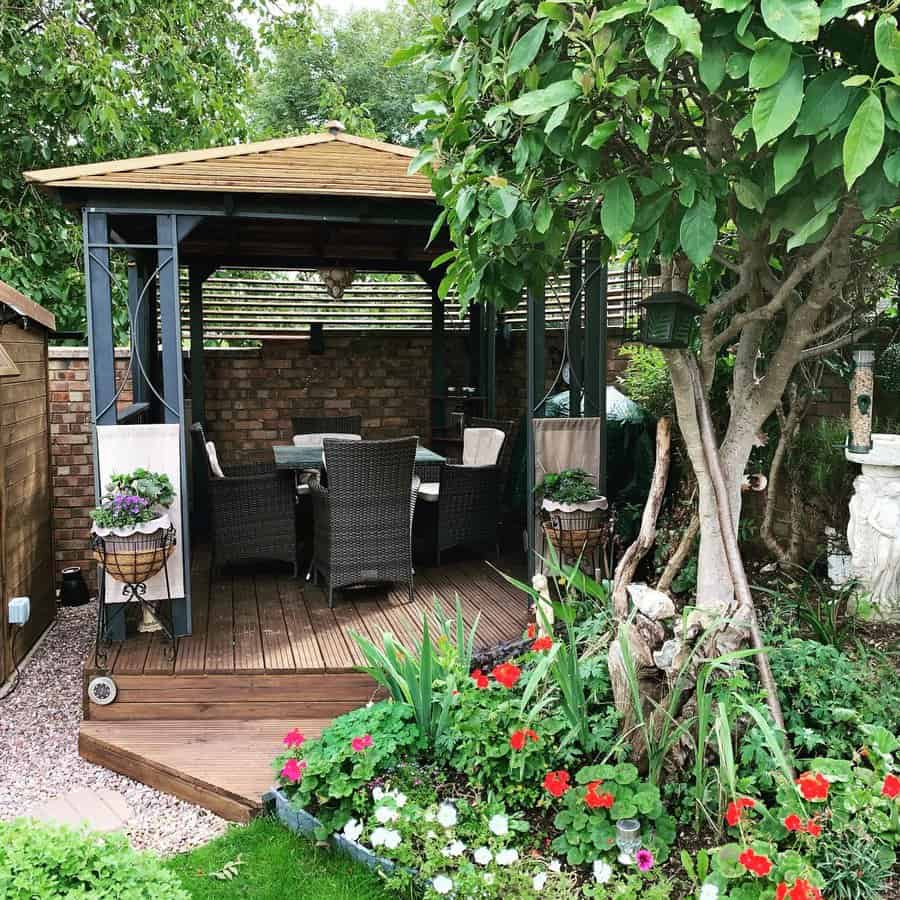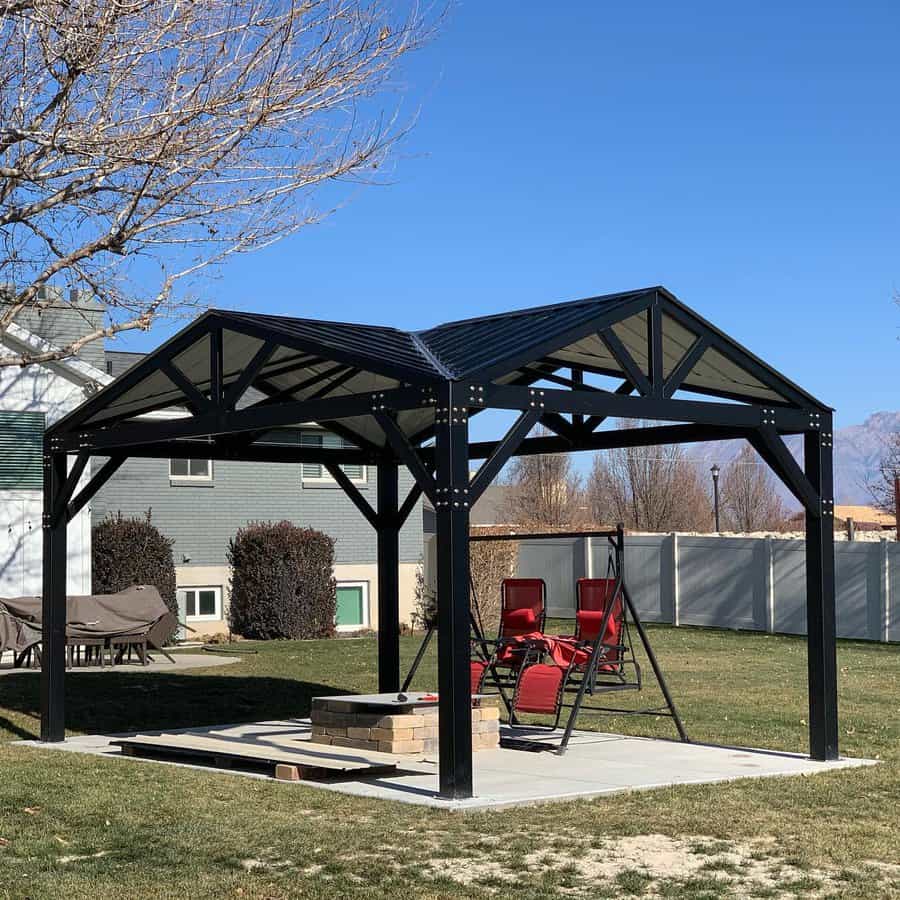 5. Frosted Glass Pavilion
As the sun beats down mercilessly, there's nothing more appealing than stepping into the shade of a frosted glass roof pavilion. With its translucent quality, it provides just the right amount of diffused light that adds a touch of ethereal beauty to any outdoor landscape.
Even on a rainy day, the way the droplets slide down the glass panes and cozy up against the metal frame can create a stunning visual display. This architectural marvel not only adds an elegant touch to your garden, but also provides a sheltered space for you to relax, unwind or entertain guests.
The frosted glass roof pavilion is the perfect combination of art and function – a stunning beauty that blends harmoniously with its surroundings.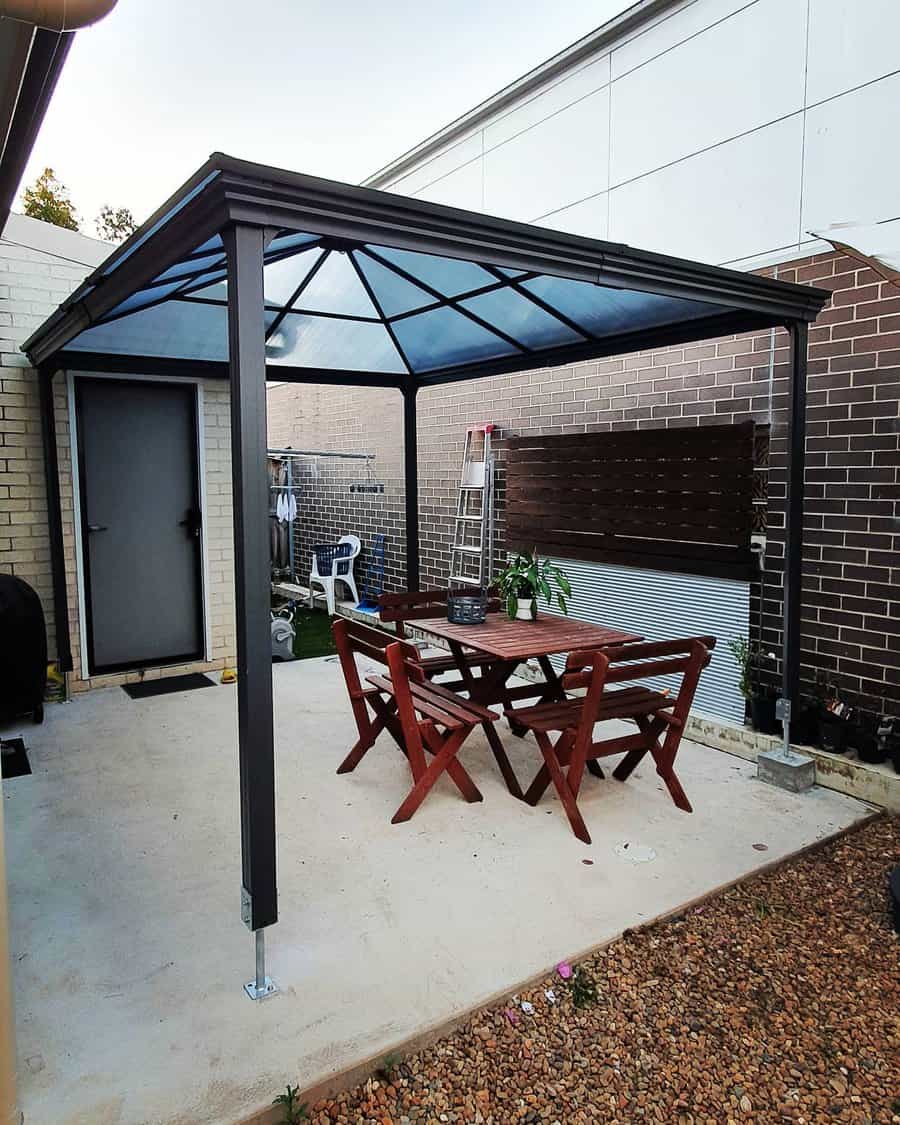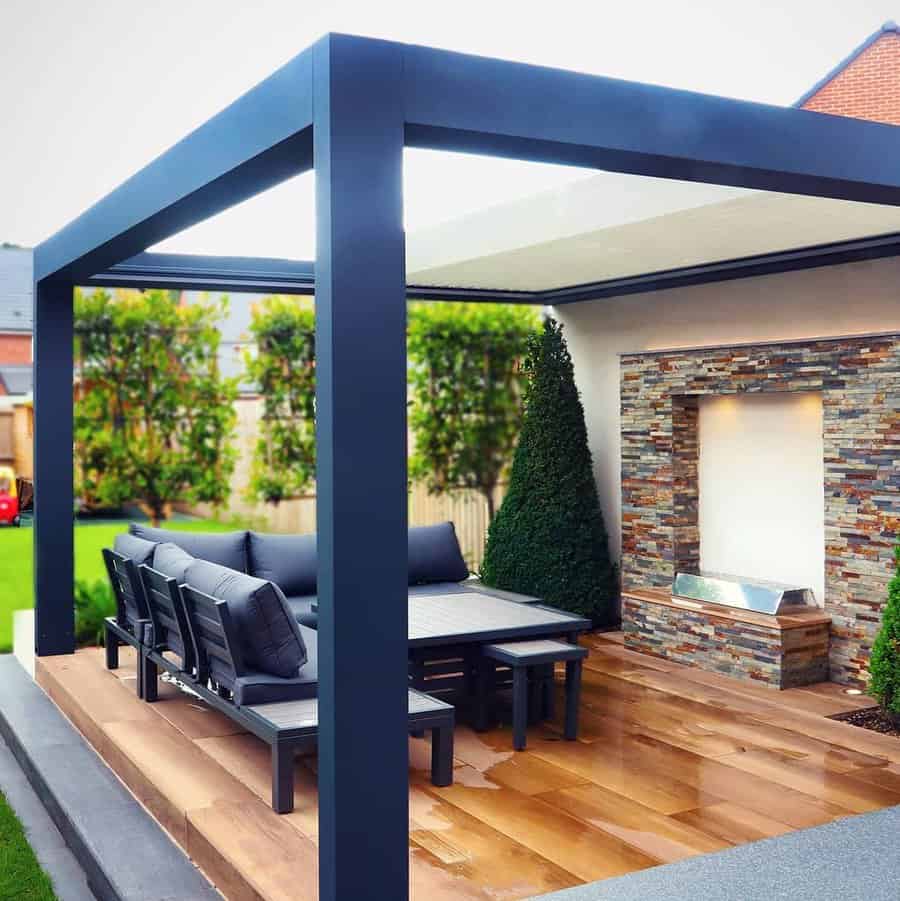 6. Contemporary Flat Top Pavilion
The modern flat-top pavilion is a true work of art that blends function and style seamlessly. With its clean lines and contemporary design, this architectural masterpiece is the perfect addition to any outdoor space.
Whether you want to use it as a shaded seating area, a place to relax and unwind, or even as an outdoor kitchen, the possibilities are endless. And with its sleek, minimalist look, it's sure to be a conversation starter at your next backyard barbecue or cocktail party.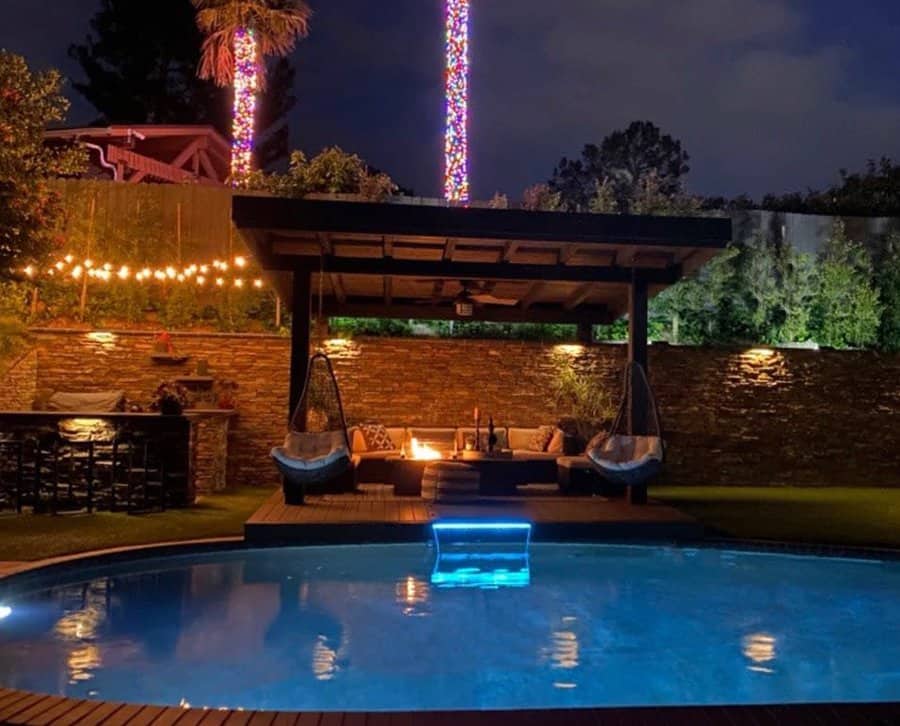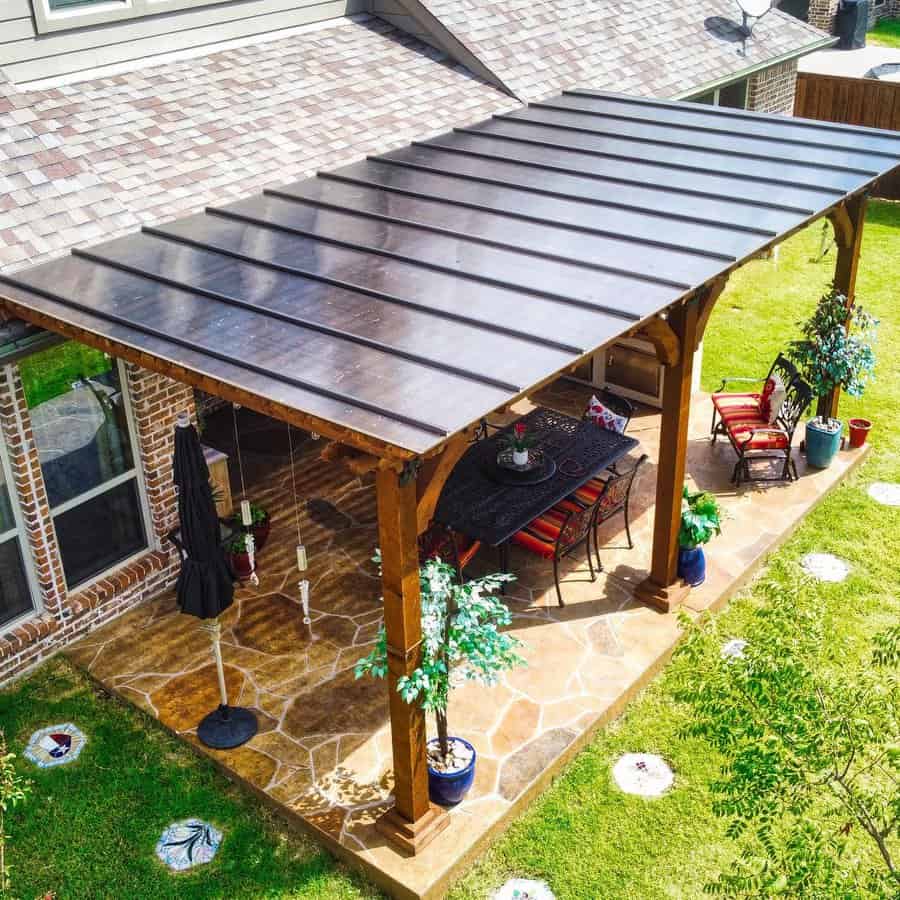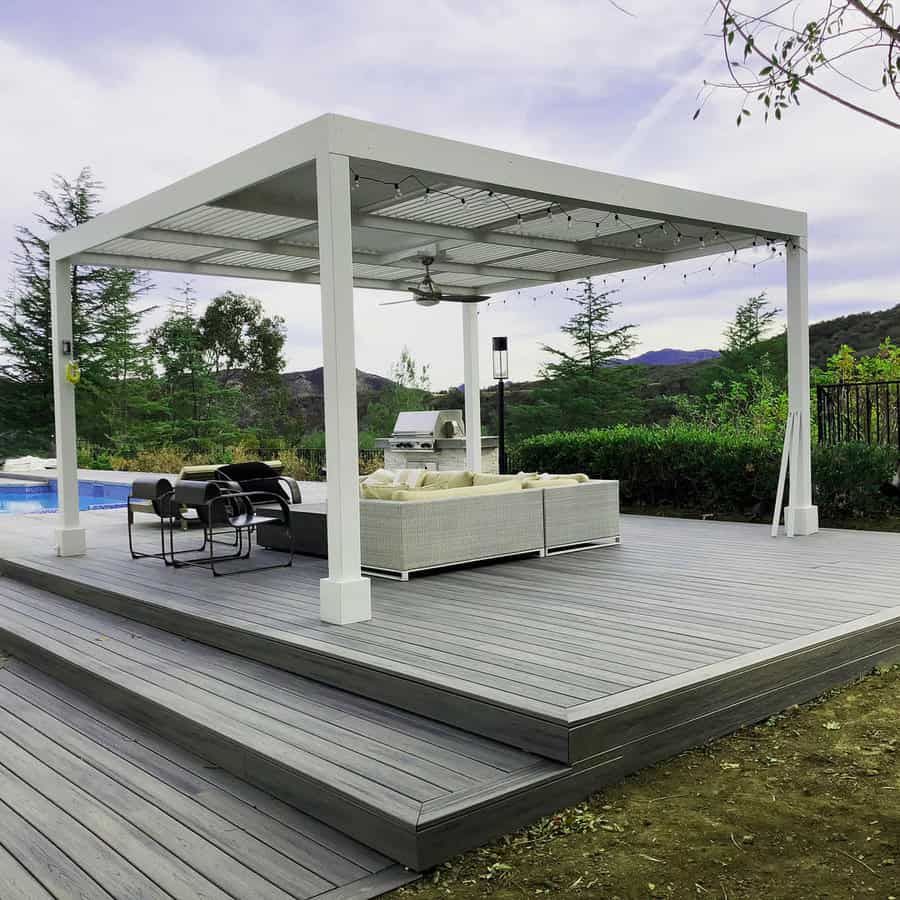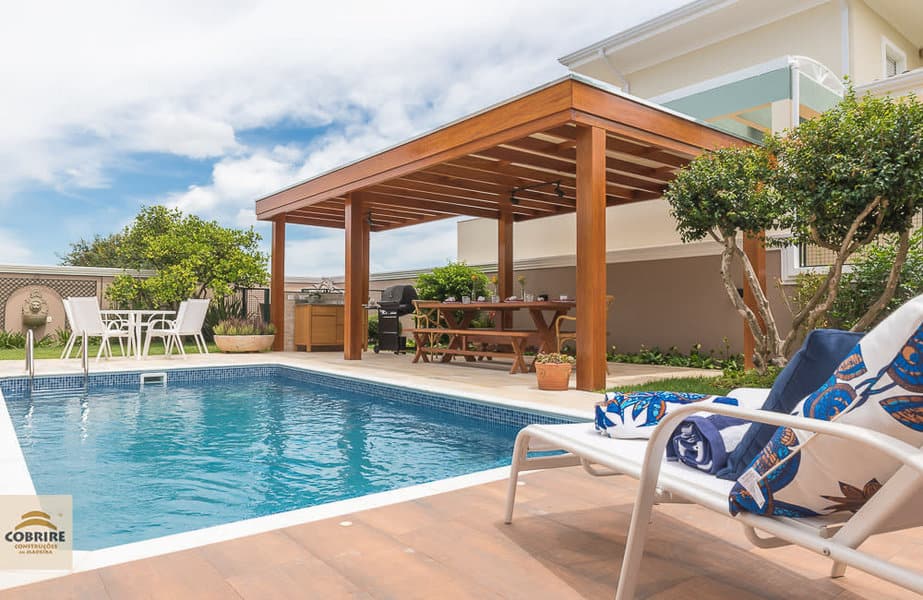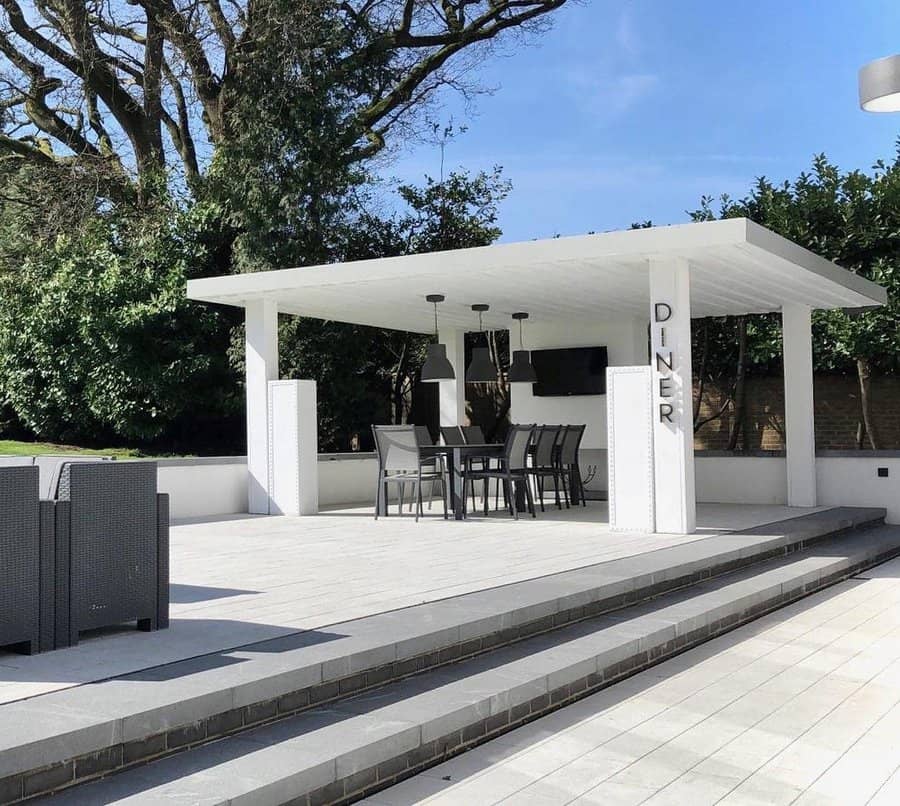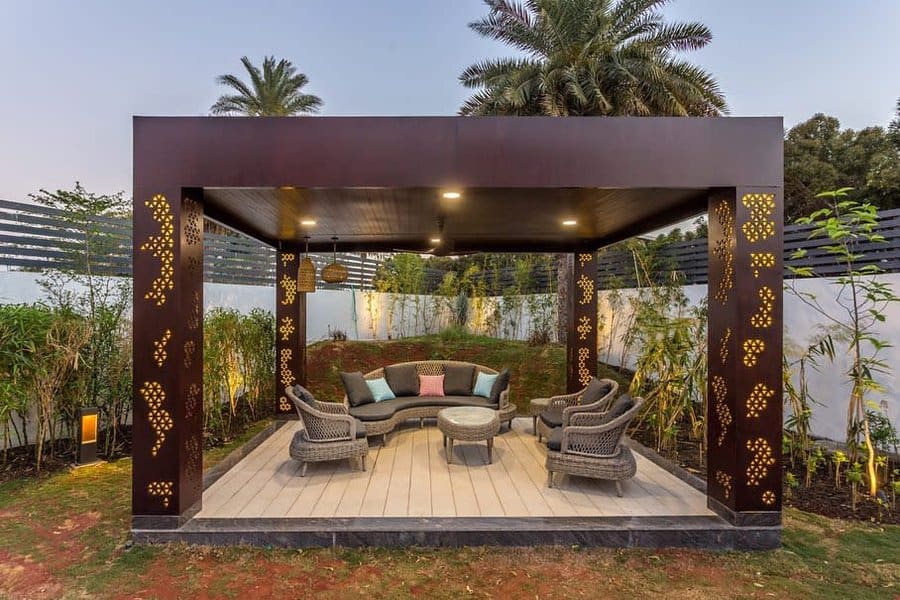 7. Barn-Style Wooden Pavilion
The barn-style pavilion is a rustic and charming addition to any outdoor space. With its peaked roof and open sides, this pavilion embodies a sense of freedom and possibility. Imagine gathering under its shelter with loved ones, surrounded by nature and comforted by the warmth of the sun.
The wood and metal construction of this pavilion gives it a timeless quality, while the bold lines and simple design speak to a modern sensibility.
Whether you're hosting a wedding, a family reunion, or a simple afternoon cookout, the barn-style pavilion is the perfect setting to make memories that will last a lifetime.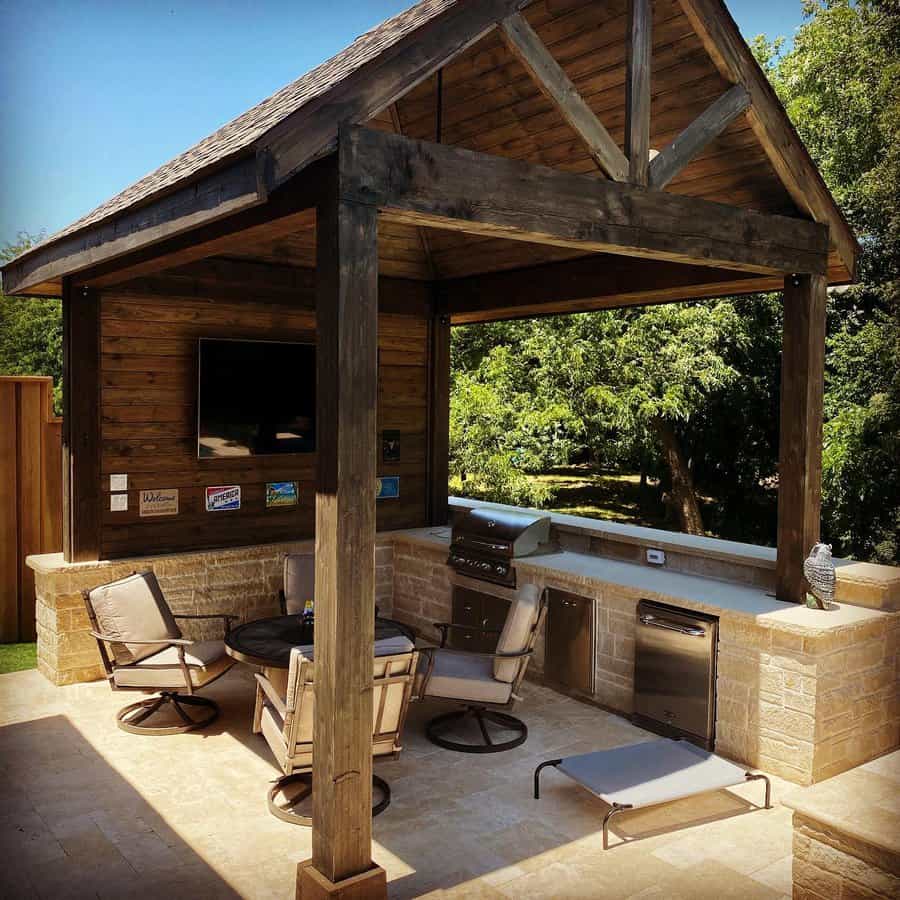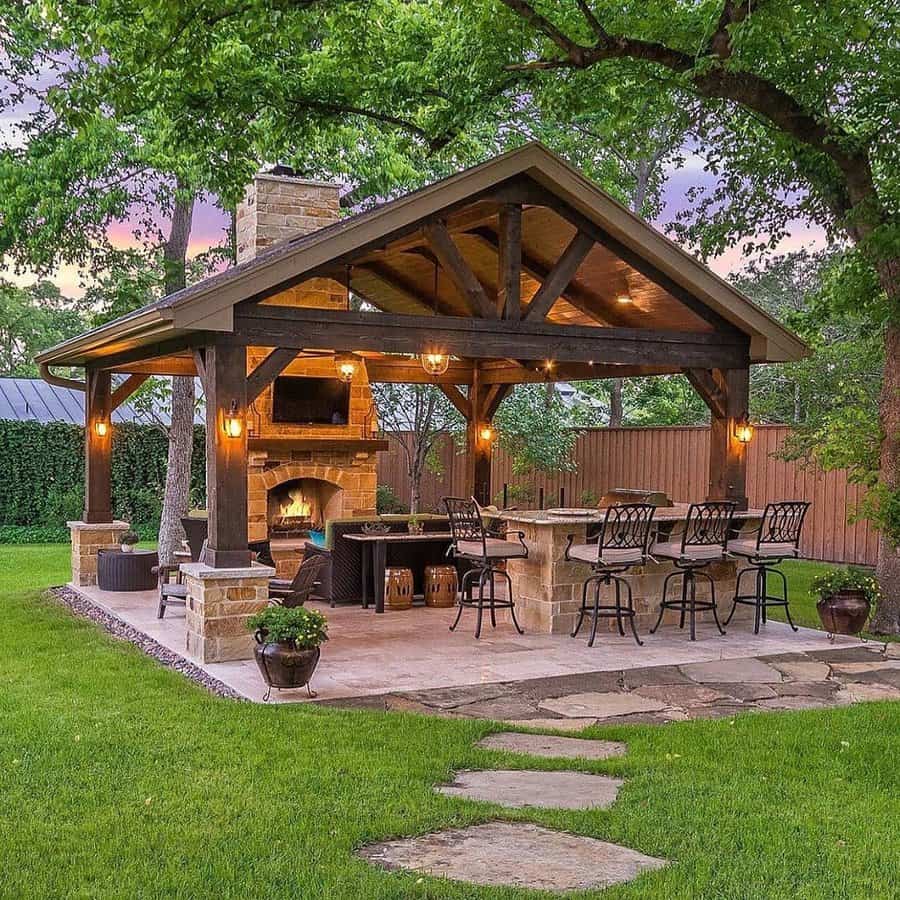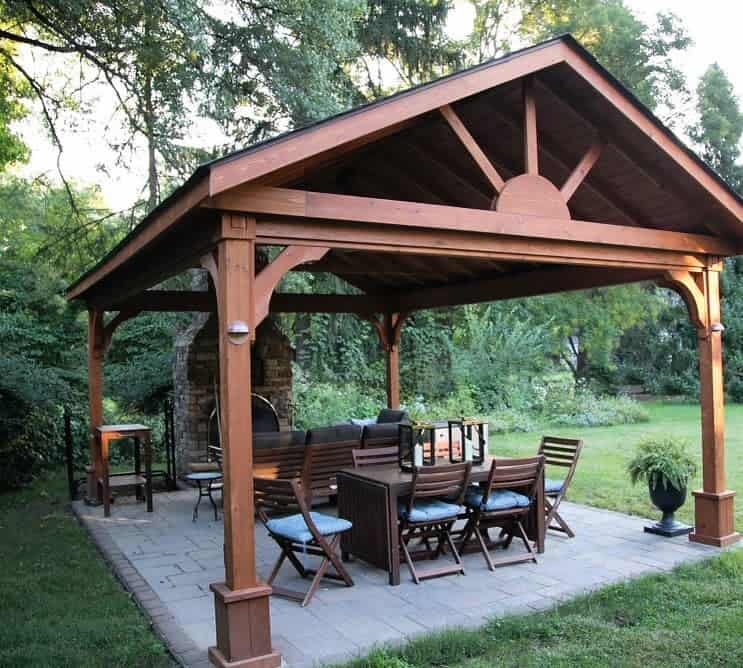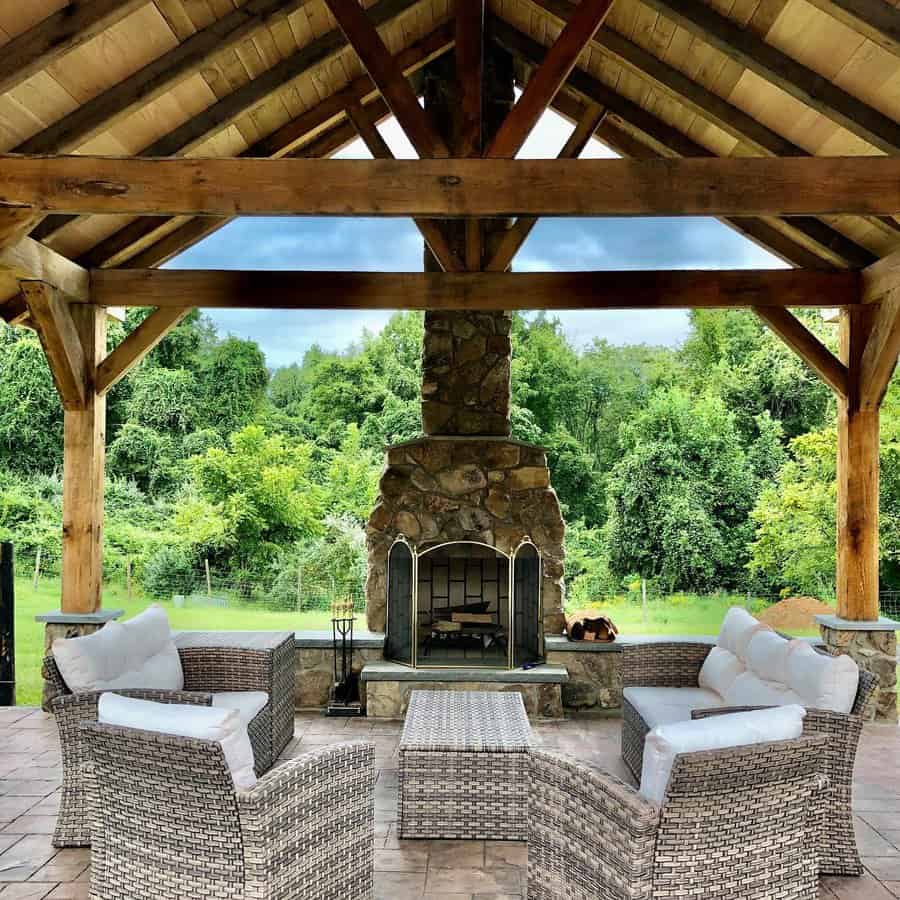 8. Traditional Bungalow Pavilion
The traditional design of the pavilion seems to take on a character of its own, transporting you to a time when life was simpler and nature was celebrated.
You can almost feel the cool breeze as it rustles through the leaves of nearby trees, lending the perfect background music to your quiet contemplation in the pavilion. The rusted iron detailing on the wooden pillars adds a touch of rawness to the pavilion, making it all the more intriguing. To make it feel more like home, you can match its design with the exterior of your home.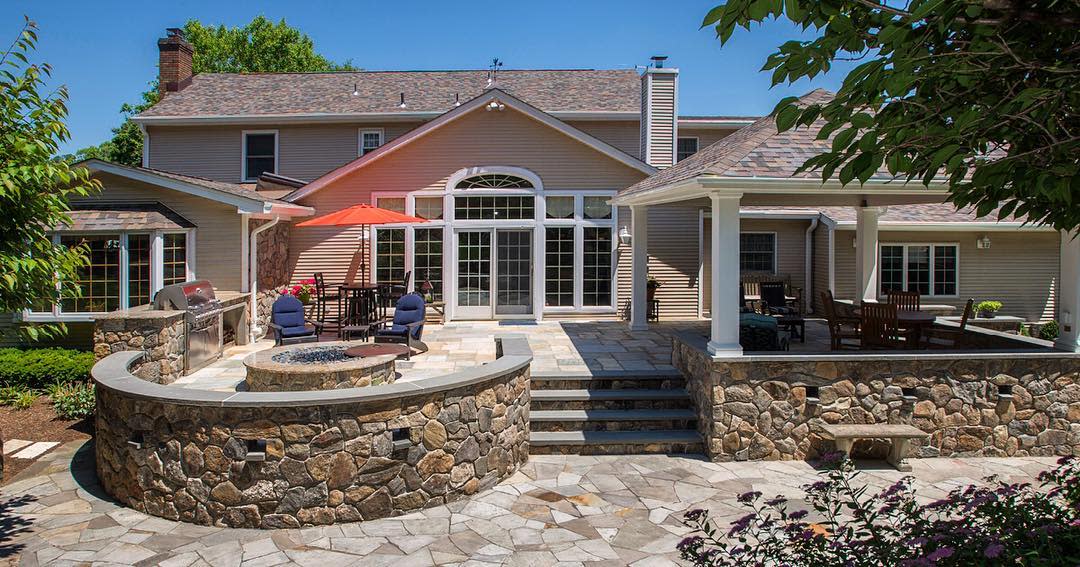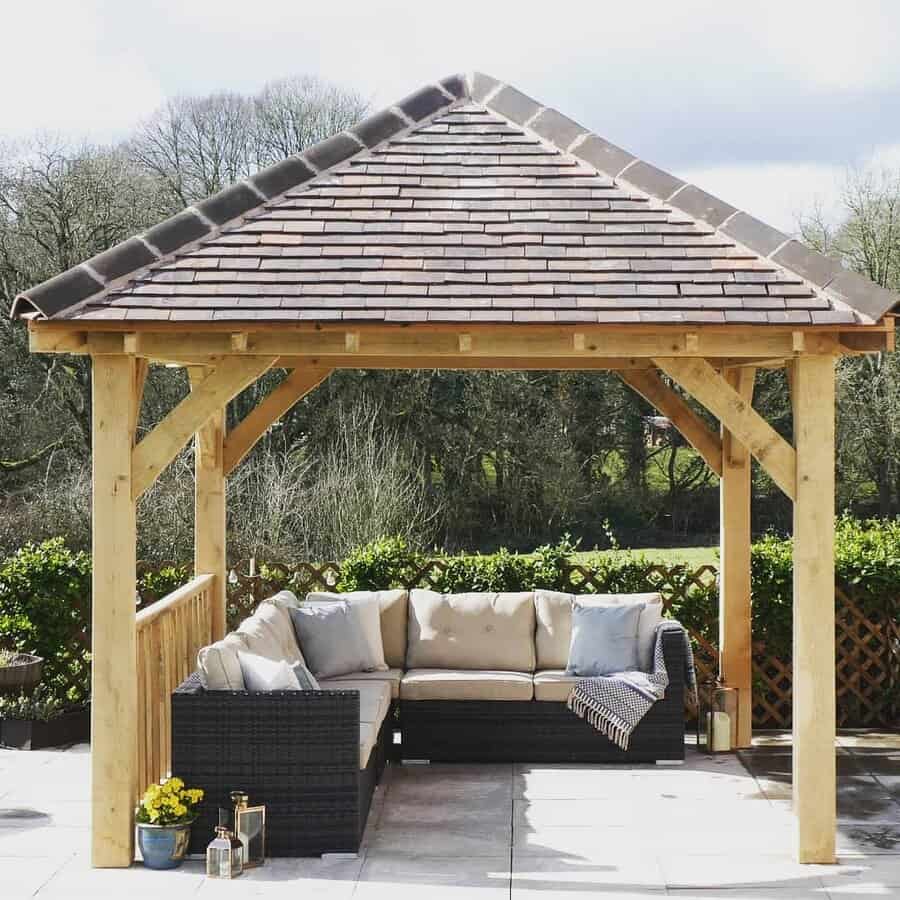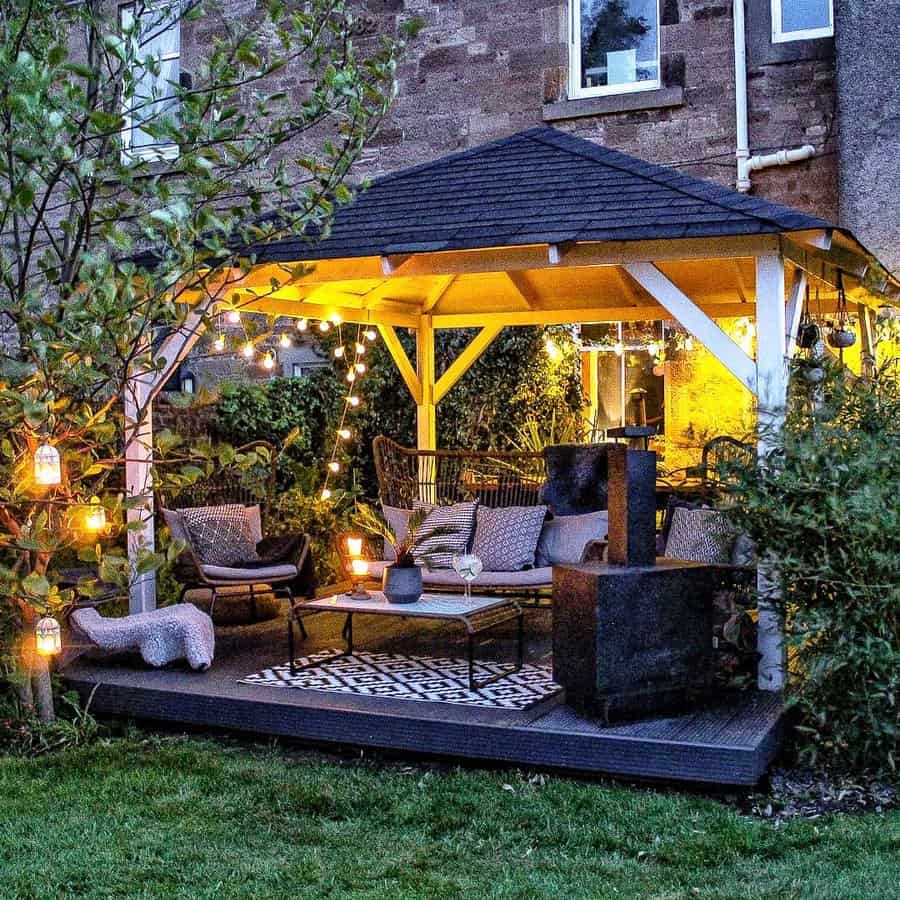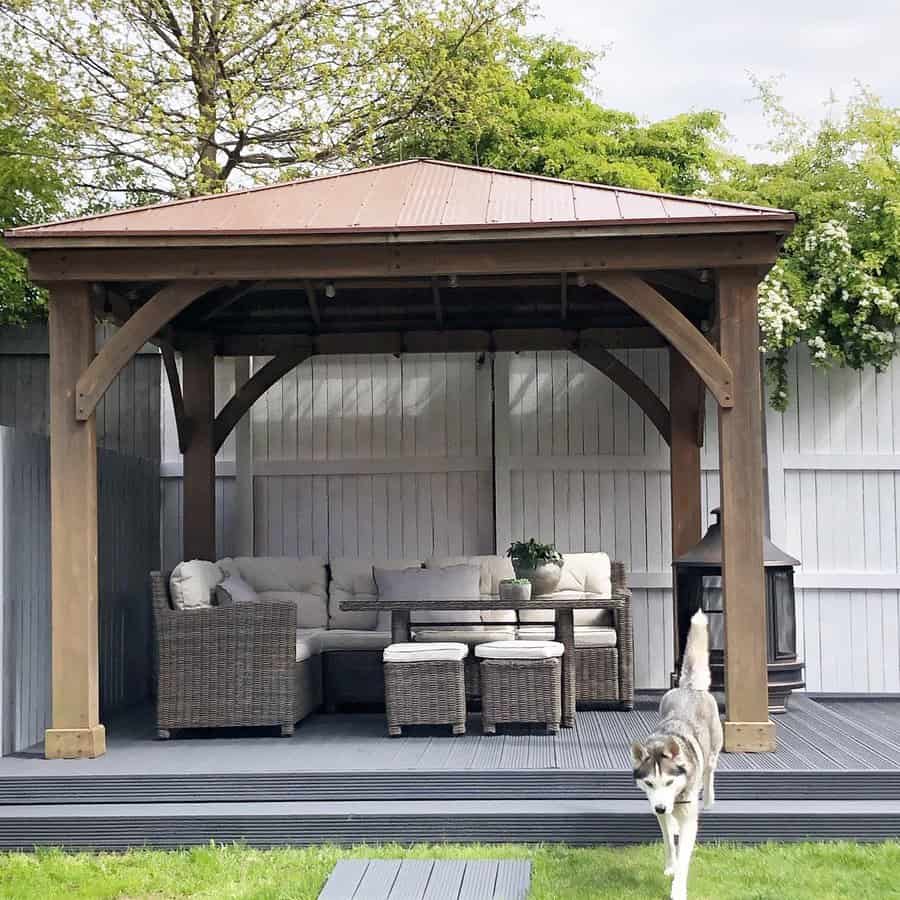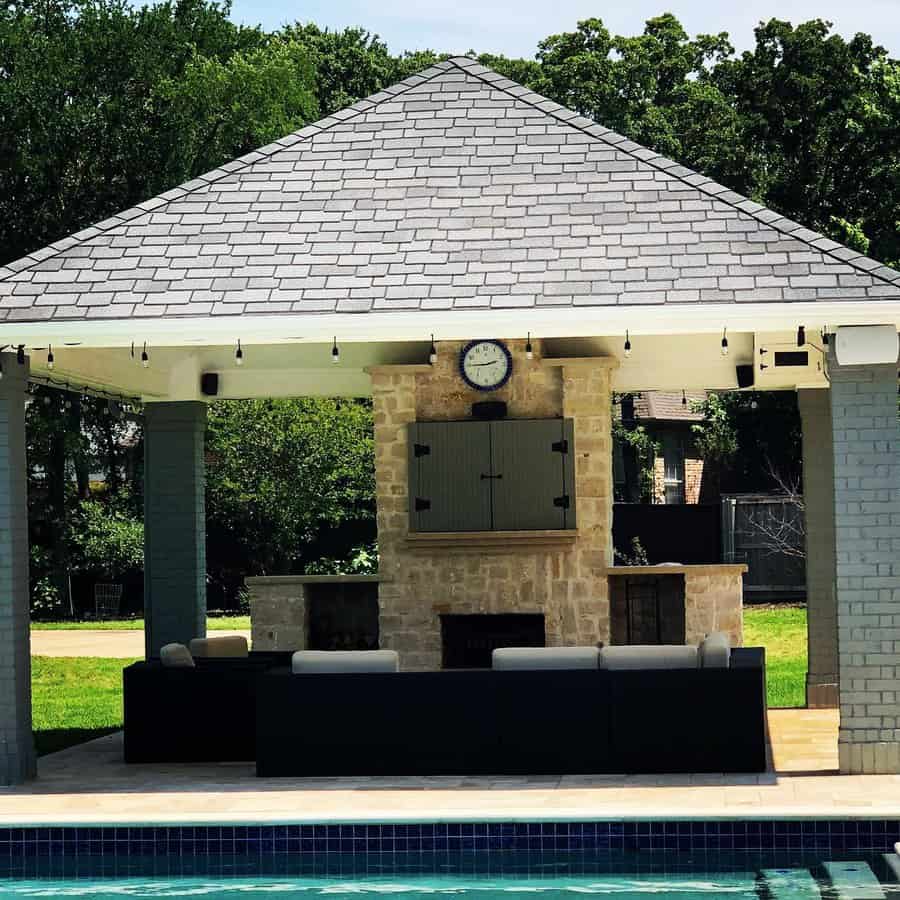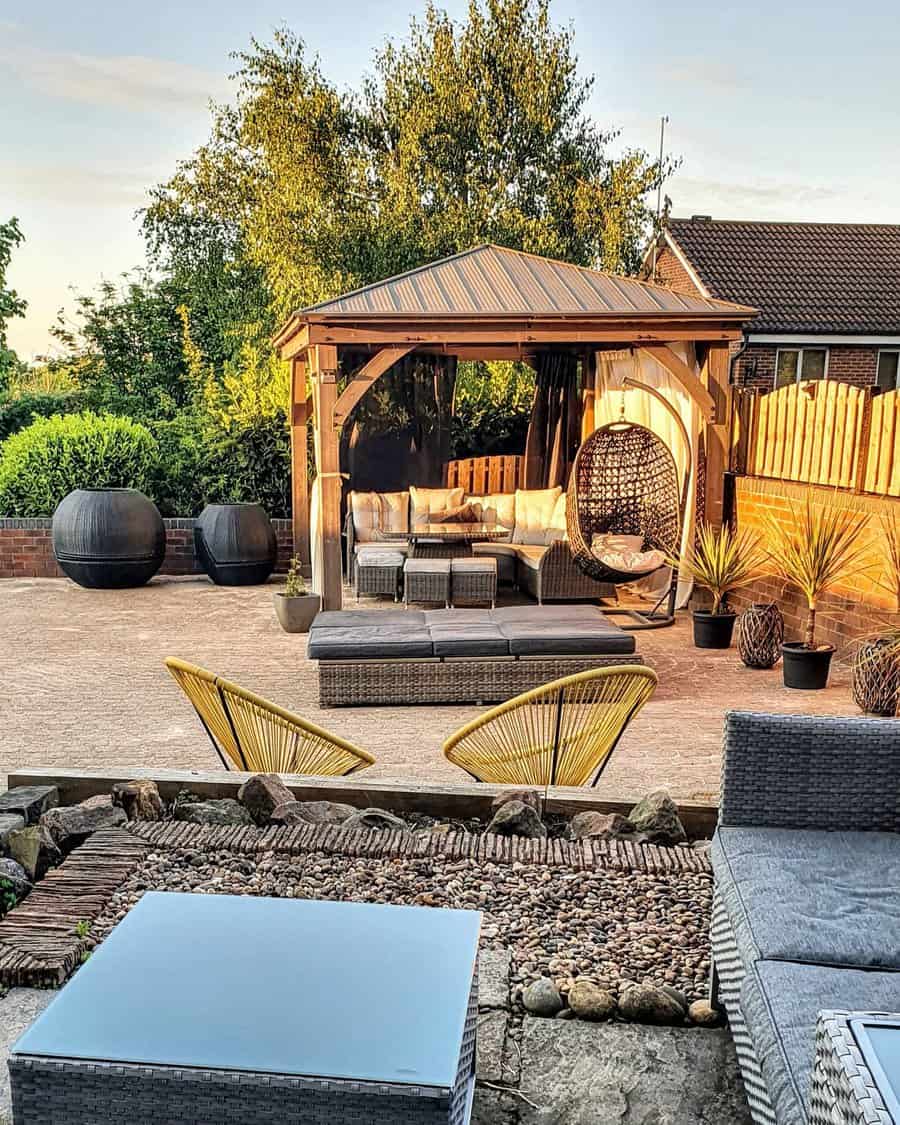 9. Backyard Bungalow With String Lights
As the sun sets and the stars begin to twinkle in the night sky, there's nothing quite like spending time in a backyard pavilion with enchanting string lights overhead. The soft glow of the lights adds a touch of magic to the atmosphere, creating a cozy and inviting outdoor sanctuary.
With a backyard pavilion, you can gather with loved ones for intimate gatherings, sip on a glass of wine, and relax in the serenity of your own backyard.
Whether you choose to have a quiet evening or entertain guests, a backyard pavilion with string lights is sure to create a delightful ambiance that will keep you coming back night after night.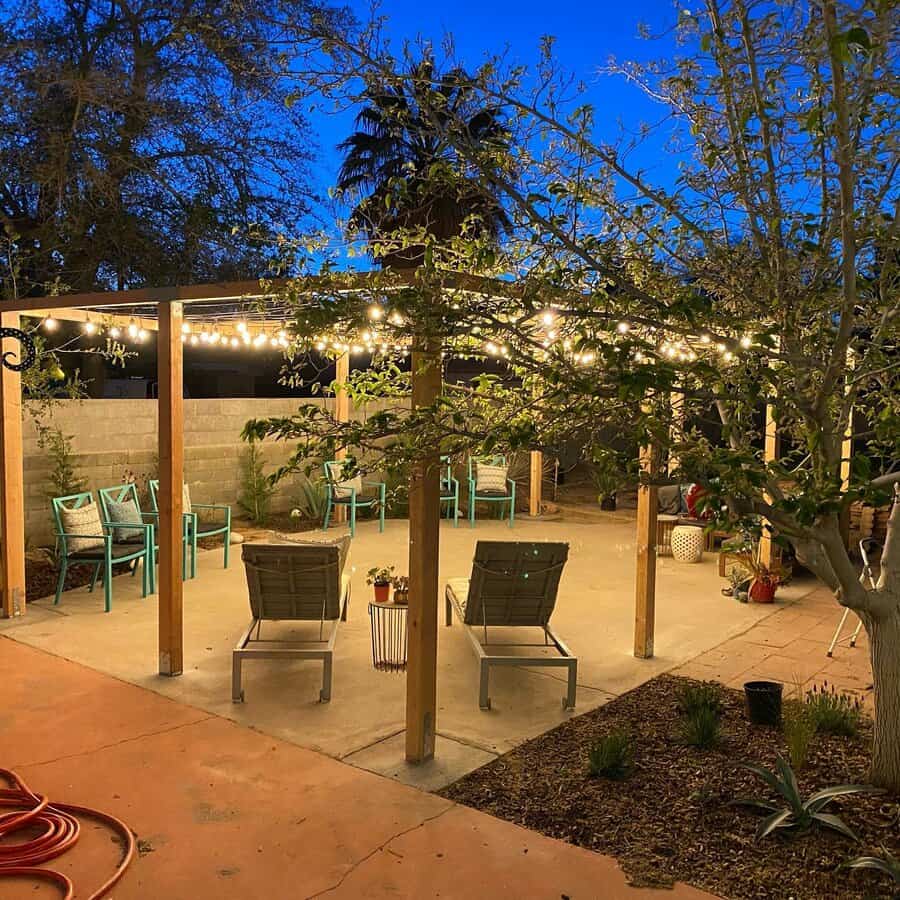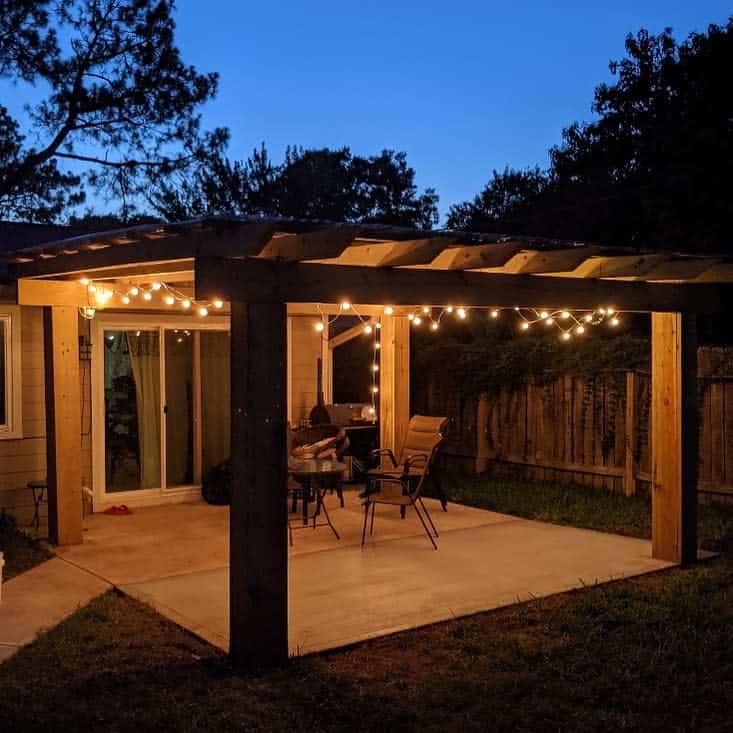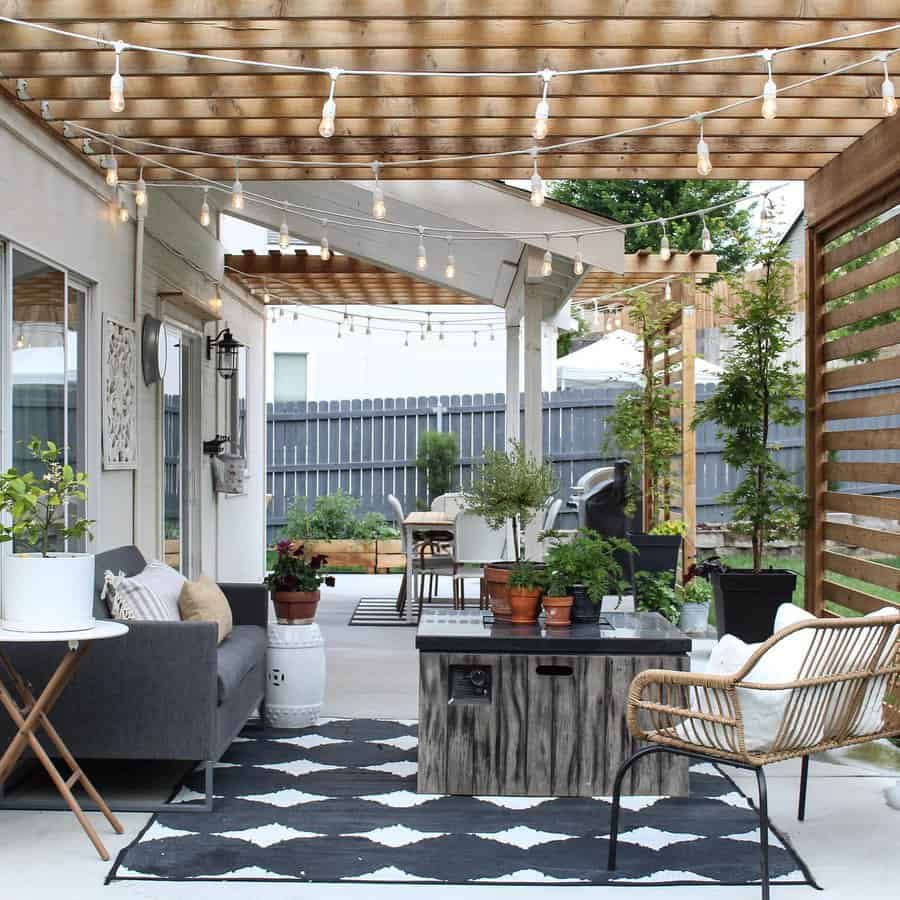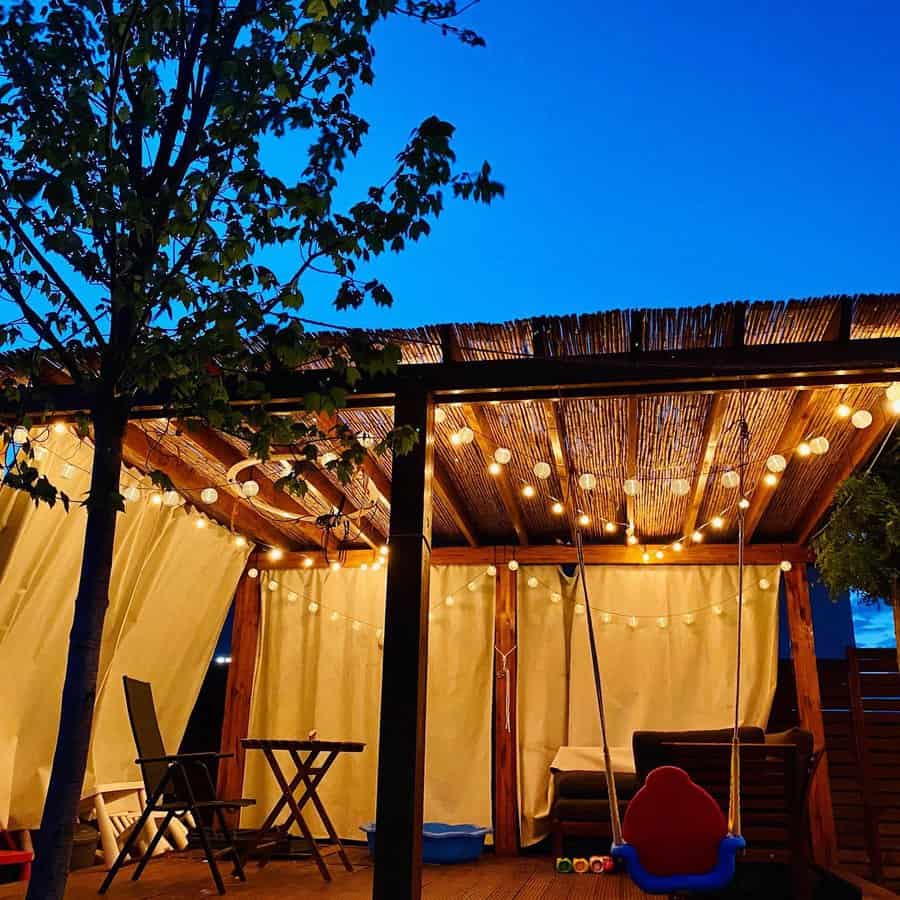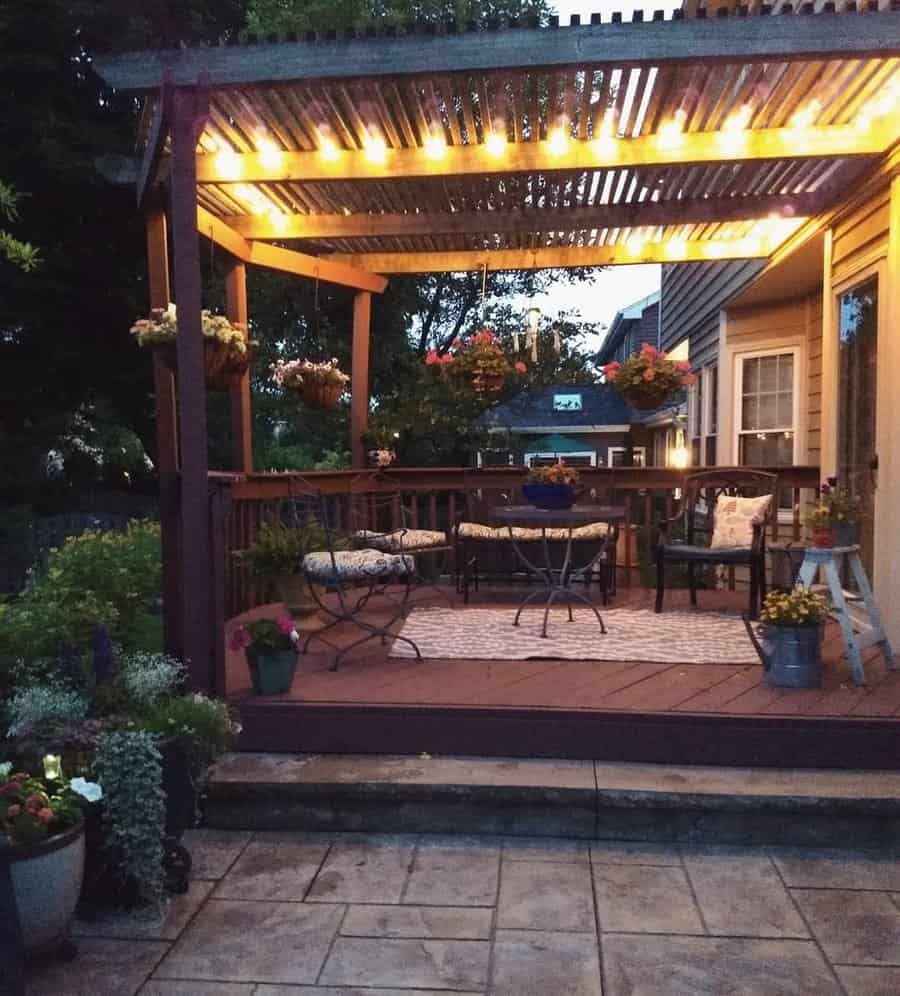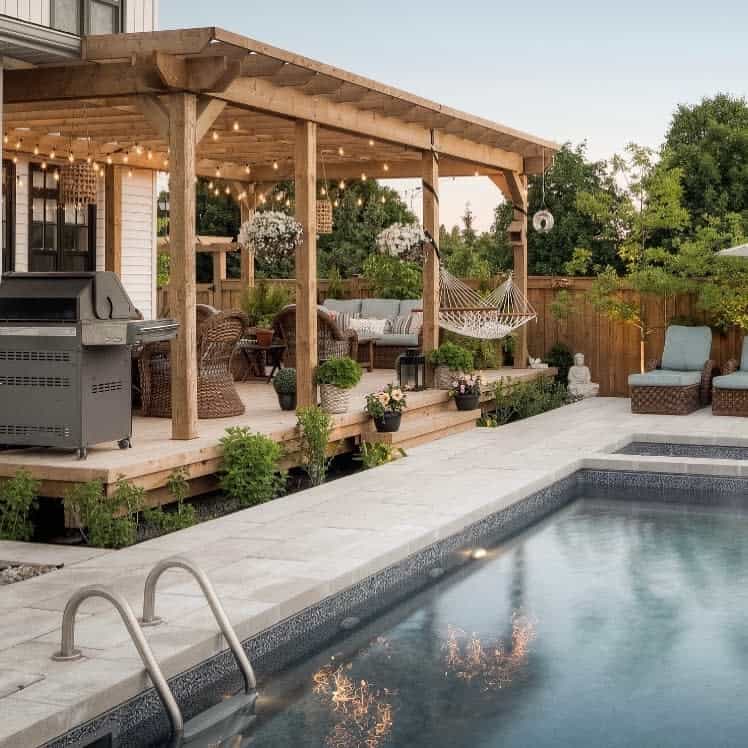 10. Cantilever Pavilion
As the sun sets and the stars start to twinkle, imagine yourself sitting outside in your backyard, surrounded by the calming sound of nature. In the center of it, all stands an architectural masterpiece, a cantilever pavilion, seamlessly blending nature's beauty with modern elegance.
With its sturdy and unique design, the pavilion provides an uninterrupted panoramic view of your garden, allowing you to relax and recharge in your own private oasis. Whether you want to enjoy a morning yoga session or host an intimate dinner party, the pavilion is the perfect addition to enhance your outdoor experience.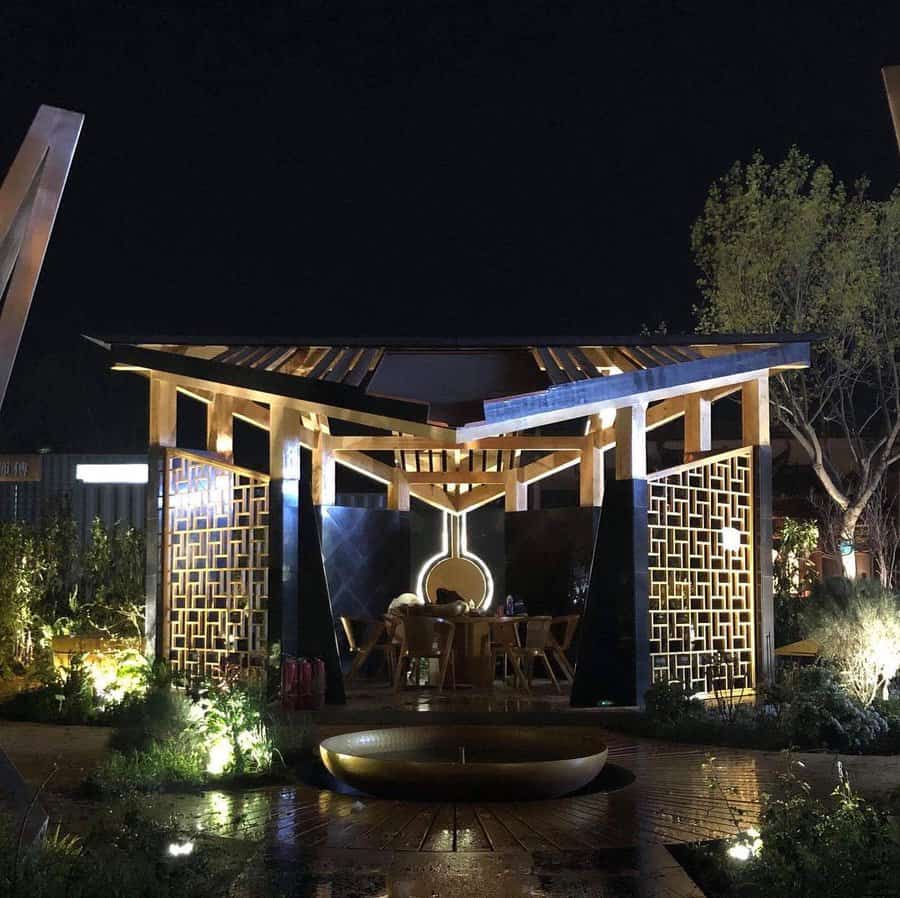 11. Pop-Up Pavilion
Step into your own private oasis with the backyard pop-up tent – an innovative and convenient solution to all your outdoor needs. With its simple and effortless setup, you'll be lounging in style in no time.
Whether you're looking for a shady spot to enjoy a laid-back picnic, or a cozy nook for some quiet meditation, the pop-up tent provides the perfect setting for all your backyard adventures. Plus, it's easy to assemble!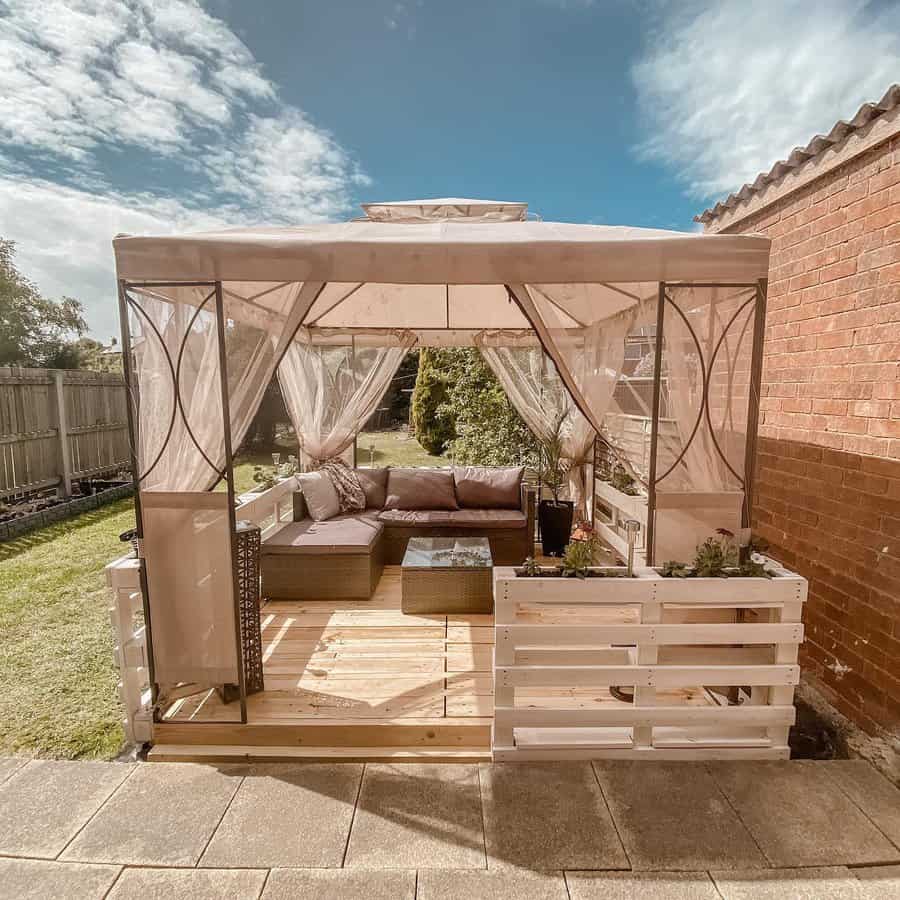 12. Pavilion With Cupola
Step into your own personal paradise with a backyard pavilion adorned with a stunning cupola. It's the perfect place to entertain friends and family or simply relax in the tranquility of your outdoor oasis. As you sip on a cool drink and bask in the warm sunshine, you can feel the gentle breeze flowing through the open-air structure, providing just the right amount of shade and ventilation.
The cupola adds a touch of charm and elegance to the overall design, making it not just a functional space, but a work of art. Whether you're enjoying a summer barbecue or curling up with a good book on a lazy afternoon, your backyard pavilion with cupola is sure to be a cherished retreat for years to come.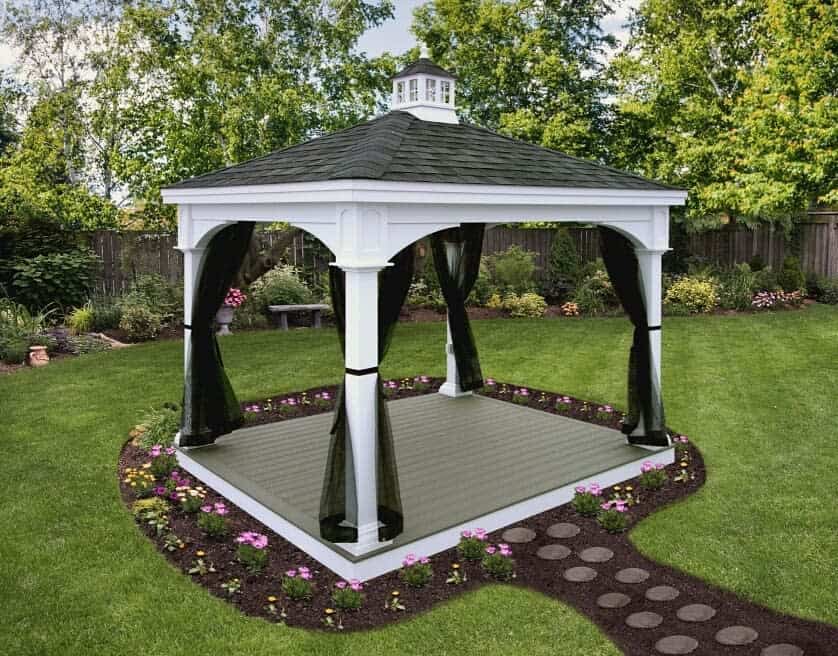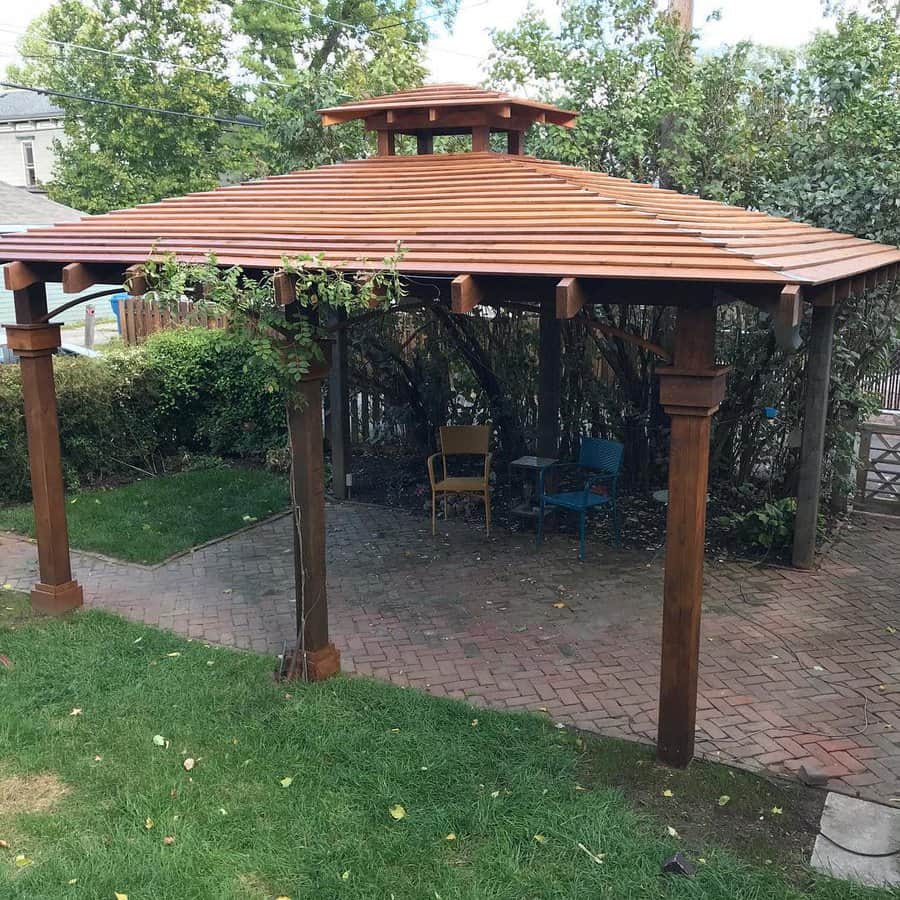 Backyard Pavilion FAQs
What is a good size pavilion?
A good size for your pavilion is 10×14 feet. It's a small enough size for the majority of backyards. It can also be built off of an existing deck or patio. If you have a larger backyard, then you can increase the size to suit the available space.
What can you do in a pavilion?
You can do almost anything in a pavilion. Turn yours into an outdoor living room, meeting area, theater, seating area, outdoor bar, or sports area. The covered roof gives the area underneath plenty of protection, so you can do more in the pavilion than what you would be able to do in other outdoor structures.
What is the difference between pergola and pavilion?
A pergola has an open roof, with only beams overhead. A pavilion has a solid roof. Neither has walls, allowing for open airflow through the structure. The covered aspect of a pavilion will give you more protection from the sun and rain.