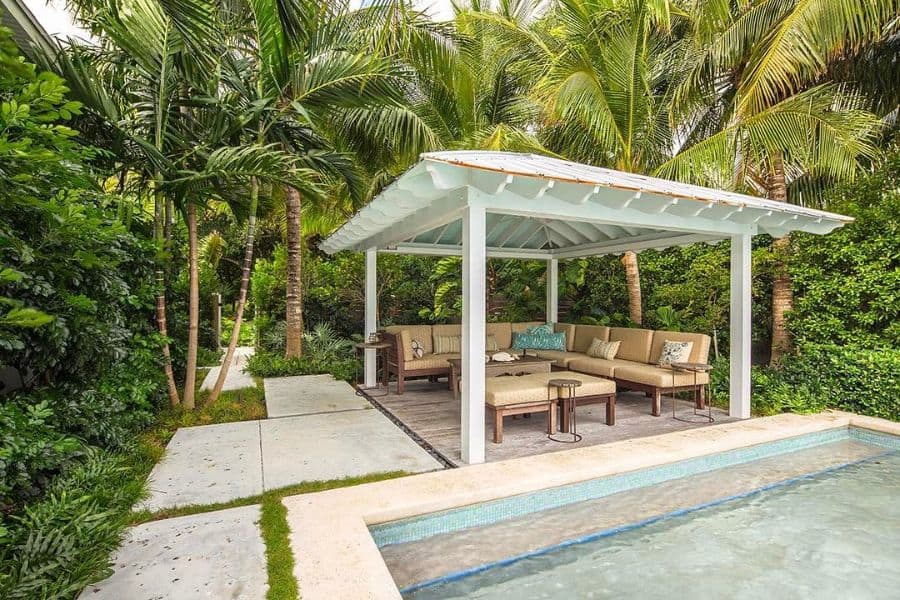 The Top 45 Backyard Pavilions Ideas
Wouldn't it be nice if you had a shady spot to relax in your backyard? A pavilion will give you a covered and protected place that you can turn into a backyard retreat. It will give you more shade and protection than a pergola or gazebo. This protected space will become your favorite place for lounging, relaxing, entertaining, eating, or just hanging out.
These backyard pavilion ideas will help you get started building a pavilion in your backyard.
1. Covered
Unlike a garden gazebo or other outdoor structure, a garden pavilion will give you more protection from the elements. This makes it more enjoyable to be outside and enjoy your garden. While other structures may filter the light, a pavilion has a solid roof that will totally block it.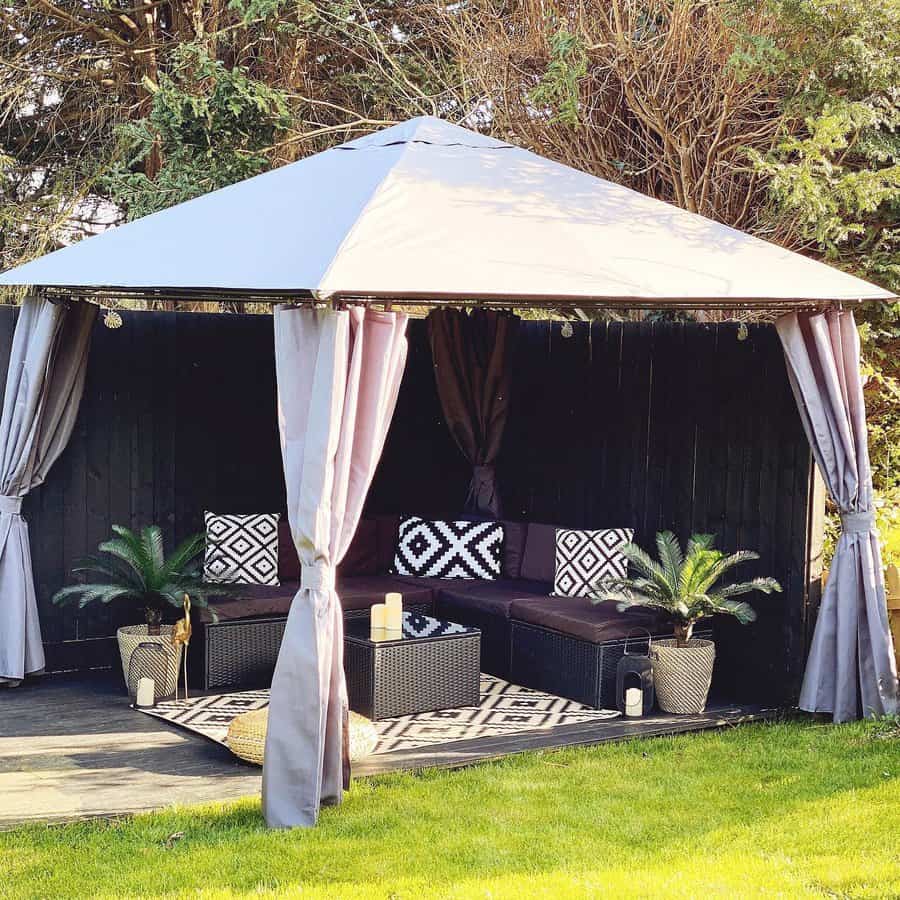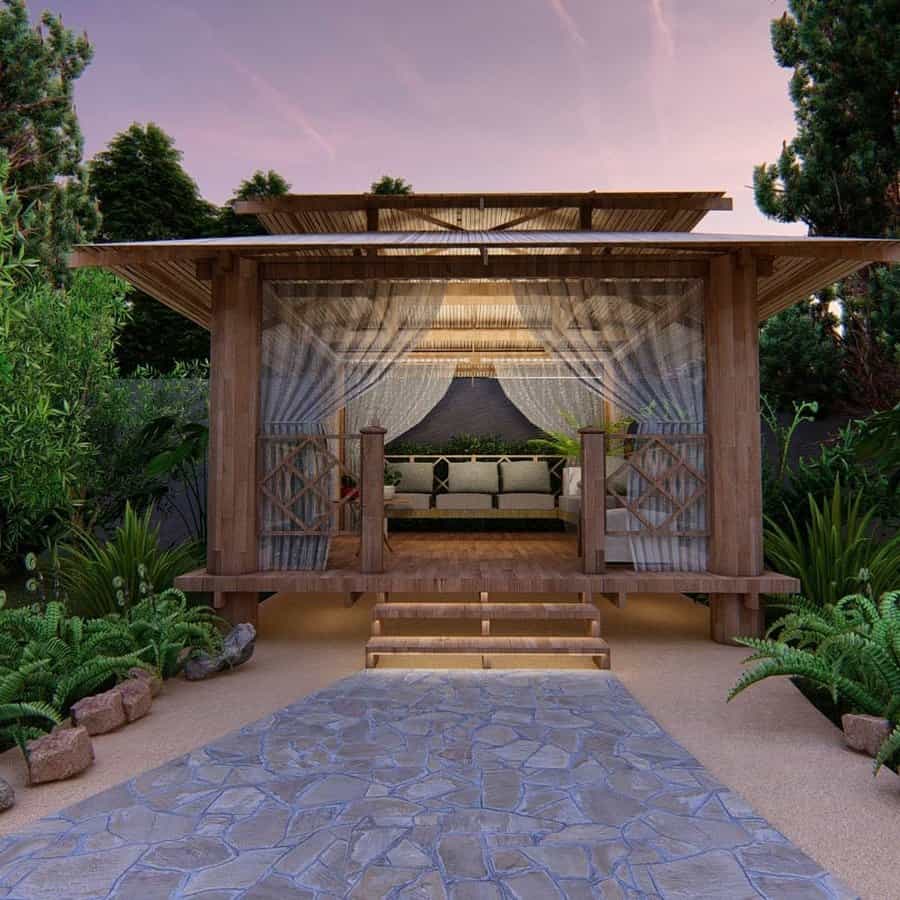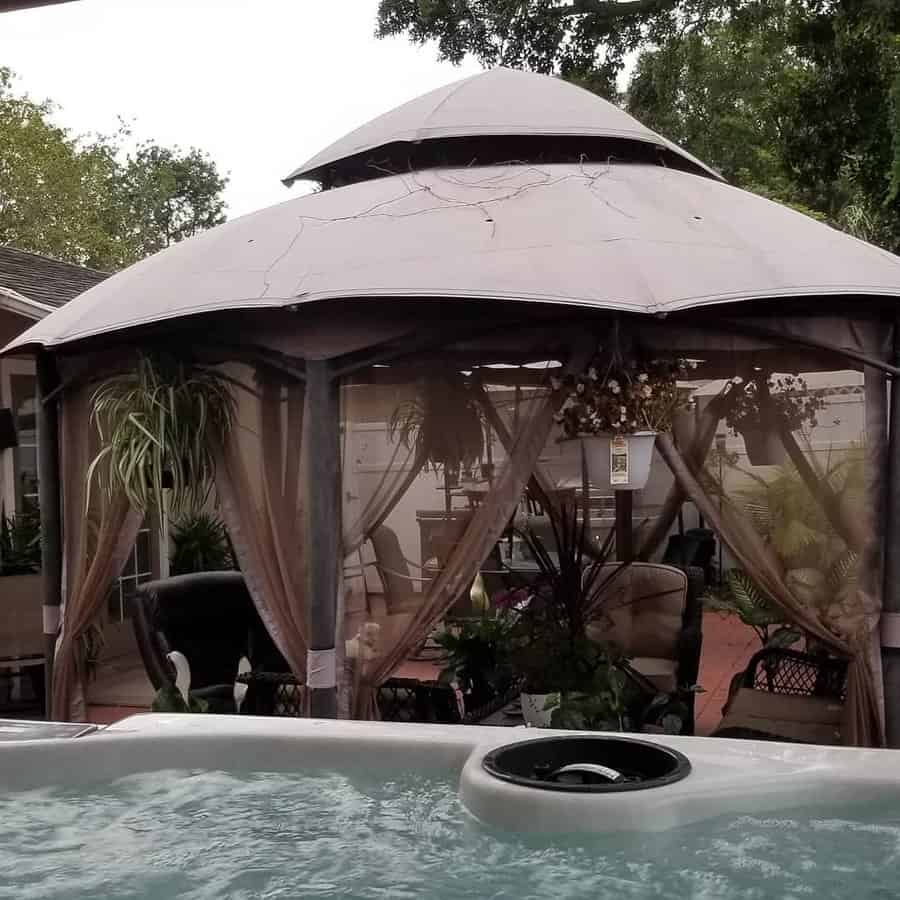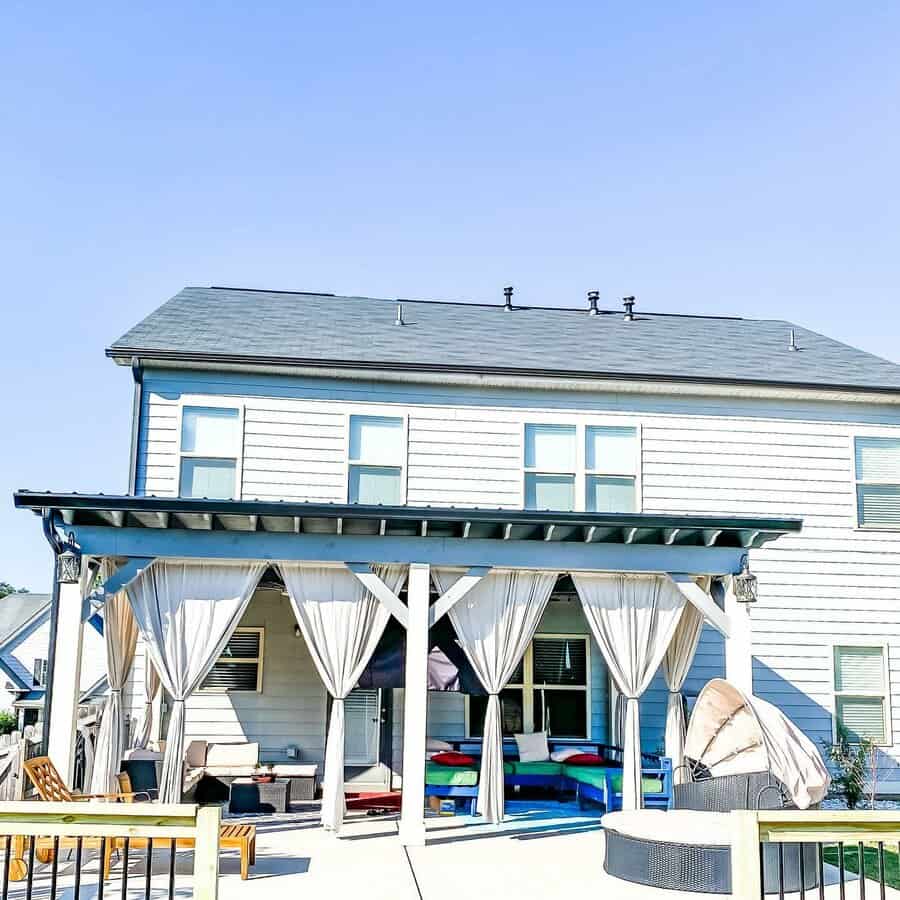 The covering of your pergola should be UV resistant. Otherwise, it's just fabric and the sun's harmful rays can still come through the fabric and harm you. The covering should also be water-resistant. Without this ability, water will pour through and onto you underneath.
2. DIY
Building your own pavilion lets you choose a custom size and style. It's also a great option if you have a tight budget. There are pergola kits, gazebo kits, and backyard pavilion kits.
These all may sound like the same thing, but they are slightly different. They also come in a range of qualities and styles, making it easy to find the perfect setup for your budget and backyard.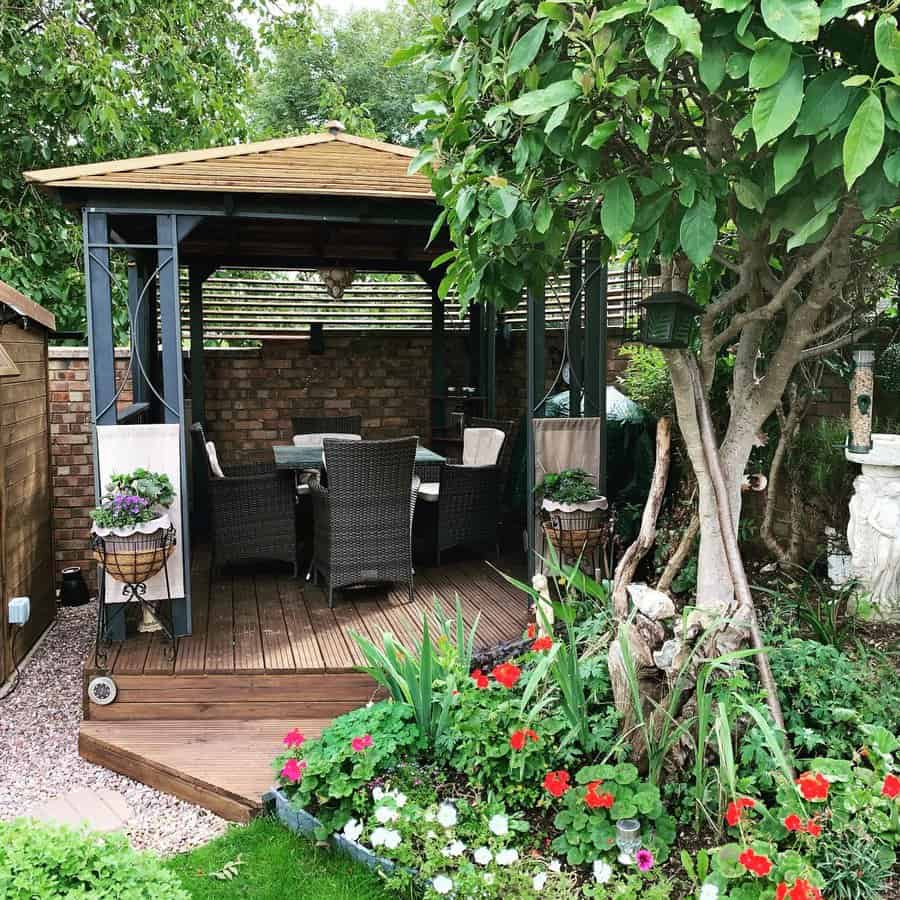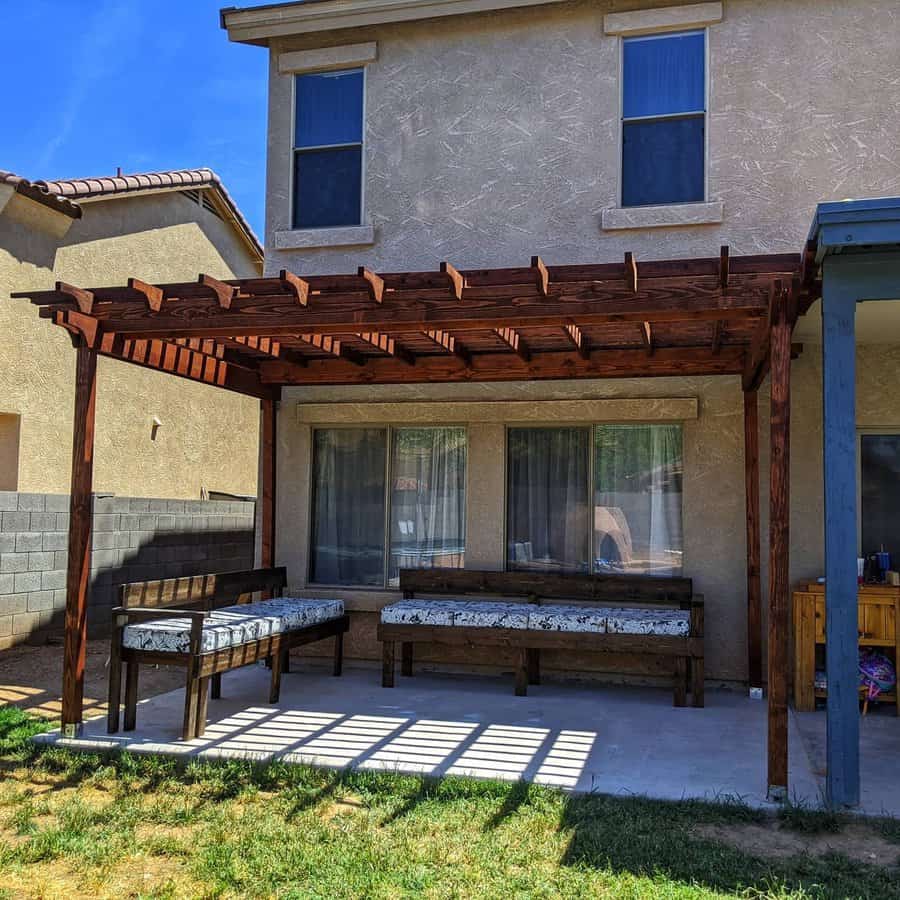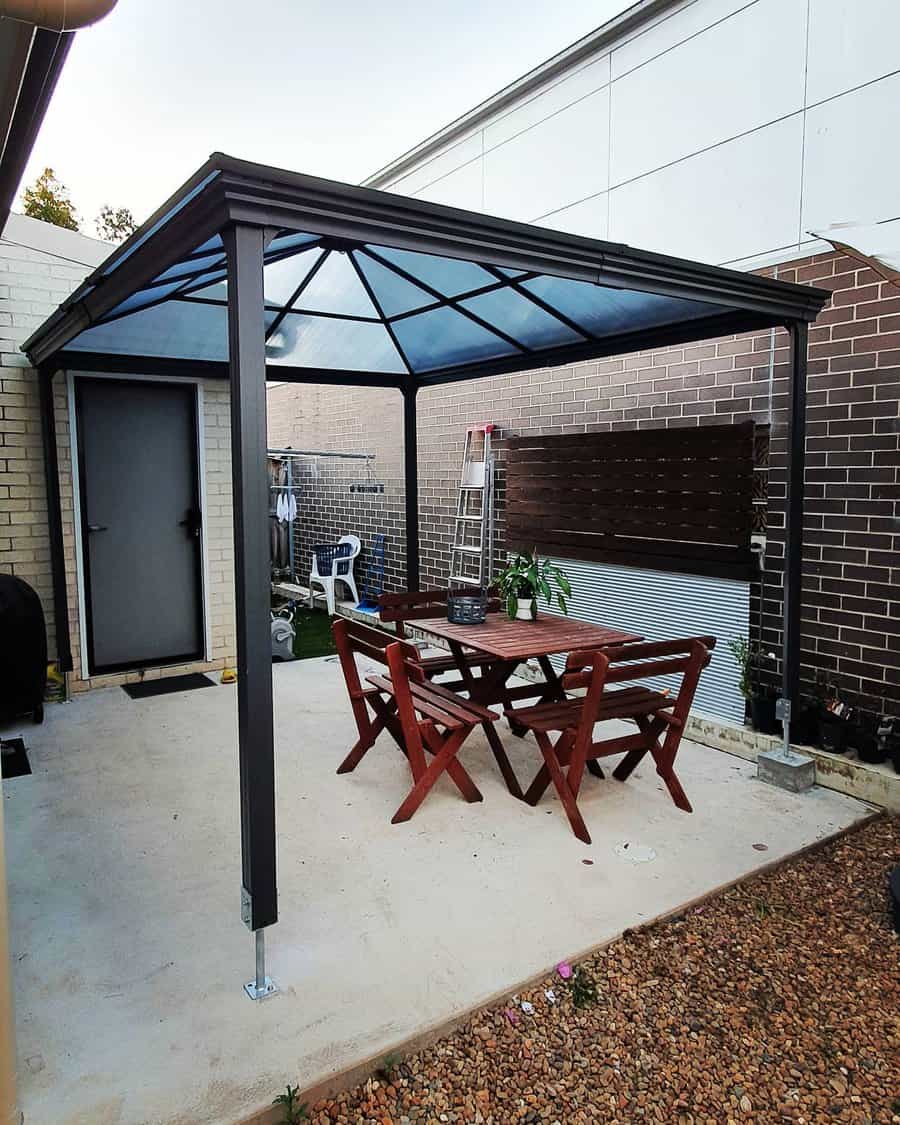 Your other option for a DIY pavilion is to build one from scratch from the ground up. This approach is best for those who want a custom design and have experience with building or home construction.
The pavilion needs to have adequate support and stability to ensure it stays standing.
3. Fireplace
Create a cozy atmosphere for your outdoor living area by adding an outdoor fireplace or fire pit to your pavilion. This creates both atmosphere and warmth, so you can use your pavilion throughout the year.
If you already have the pavilion plans or a built pavilion, you can add a fire pit. Then arrange the furniture around it.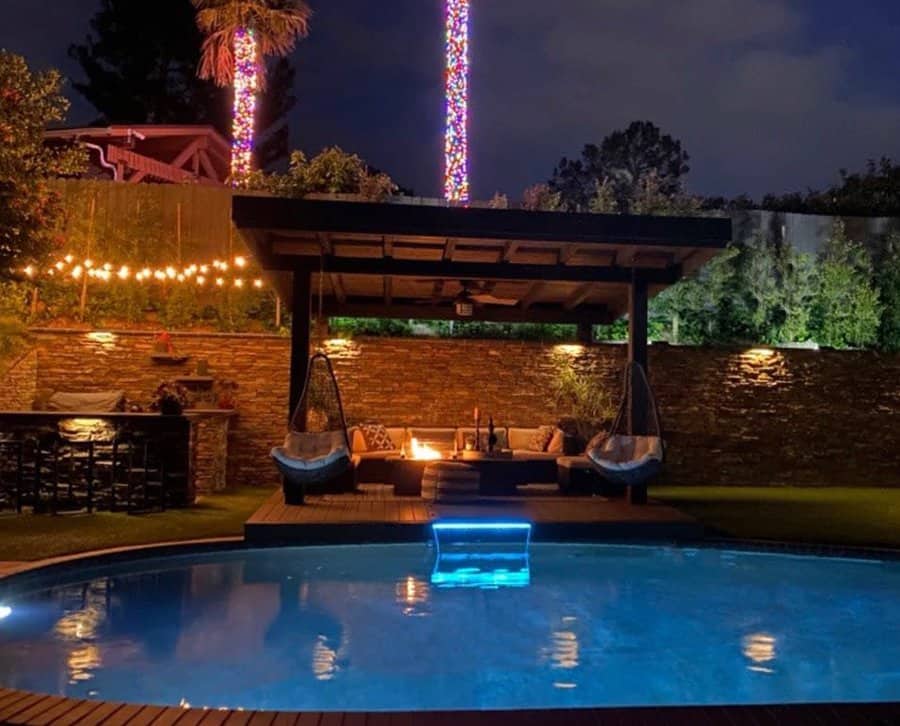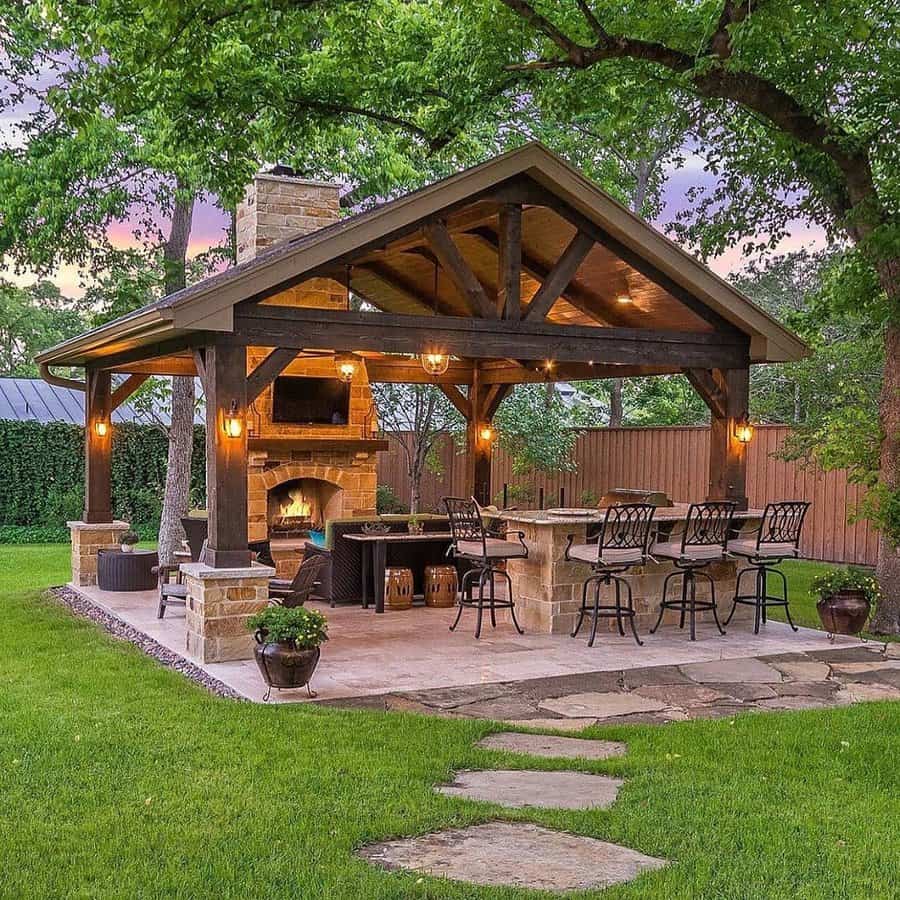 If you're building a pavilion, then this is your chance to build a custom design fireplace. Use bricks or stone to create a traditional feel. For an upscale look, try using marble, slate, or granite.
The more expensive stone will elevate the look of the fireplace and the entire pavilion. Consider using pavers instead of poured concrete for the flooring if you decide to go this route.
4. Large
If you have a large backyard, then you can build a pavilion that matches. A larger pavilion lets you do more with your outdoor living space. Create a seating area at one end and use the other for games. Or you could have a large dining table on one side and an outdoor kitchen on the other.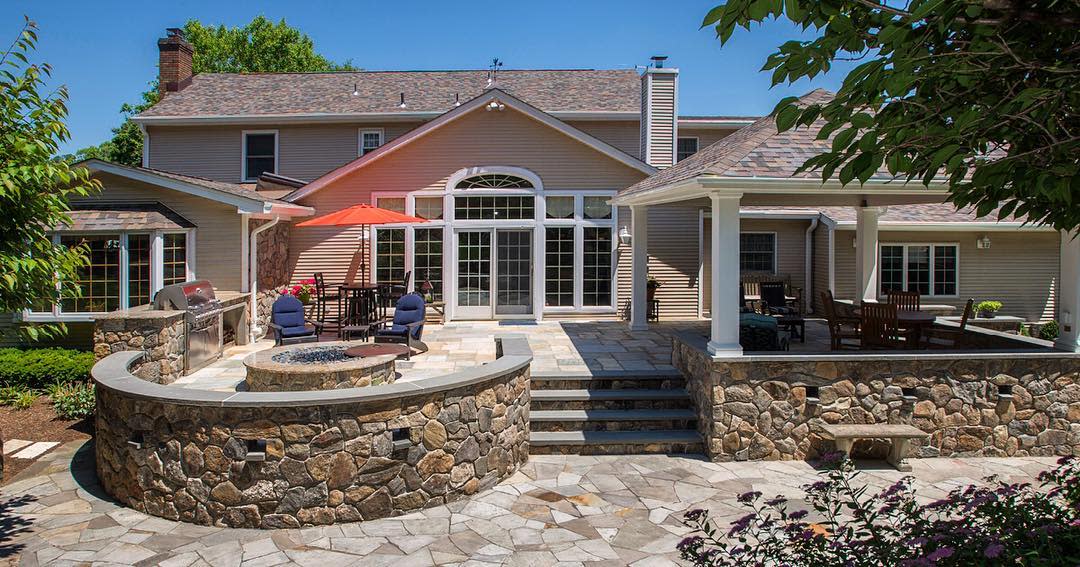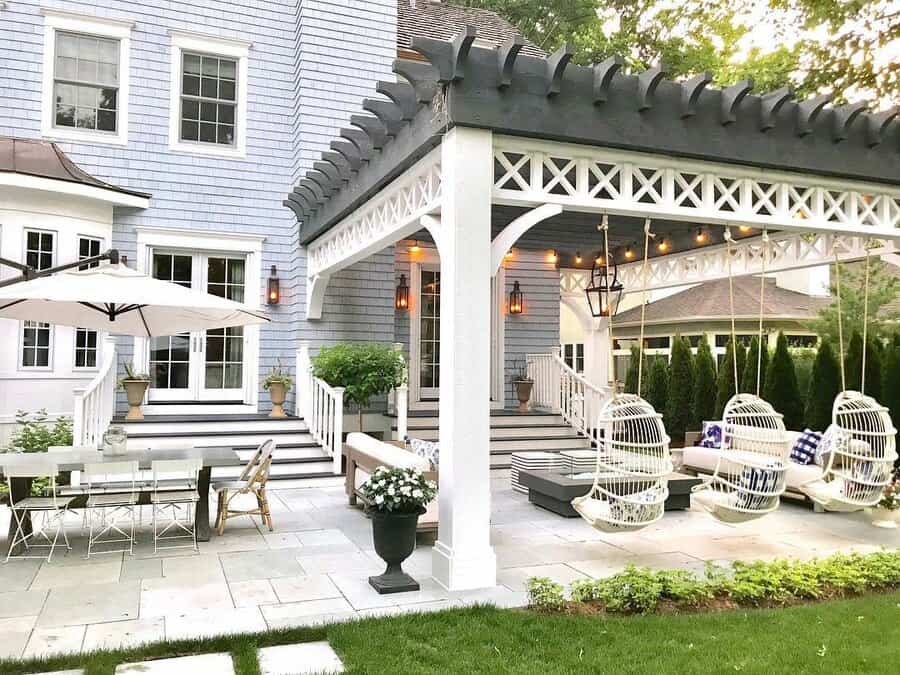 Check your local building codes, as a larger structure may come with more requirements. The larger the pavilion is, the more structural support it will need. You will also have to add plumbing and electrical if you plan to use it for more than just outdoor seating.
5. Lighting
Adding lighting to your pavilion plans gives you more usability out of your pavilion. Lighting allows you to continue using the space after the sun has set. It also makes using it for specific purposes safer.
If you plan to use it as a kitchen, or BBQ, you'll need task lighting for the food prep areas on the countertop. Even an outdoor bar needs some lighting so the bartender can see what they are doing.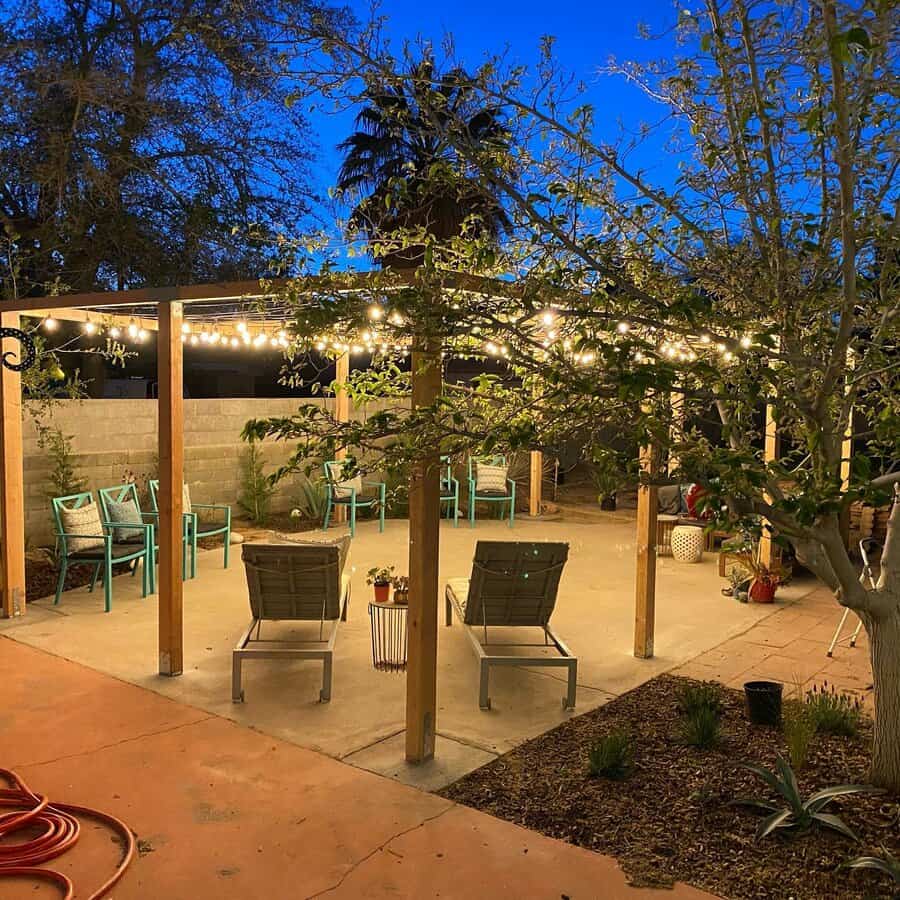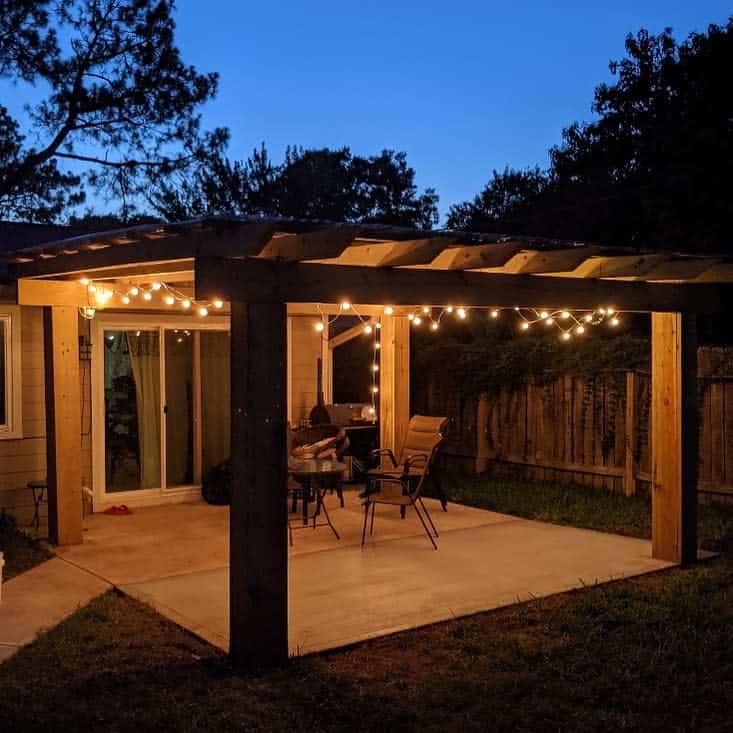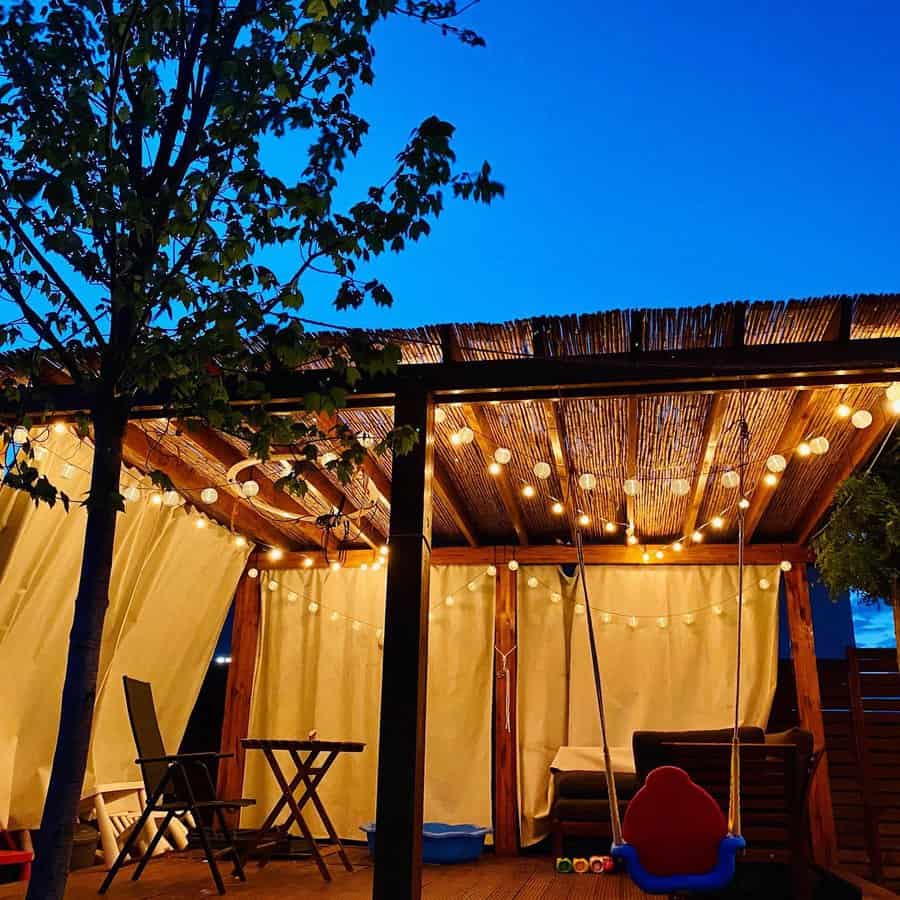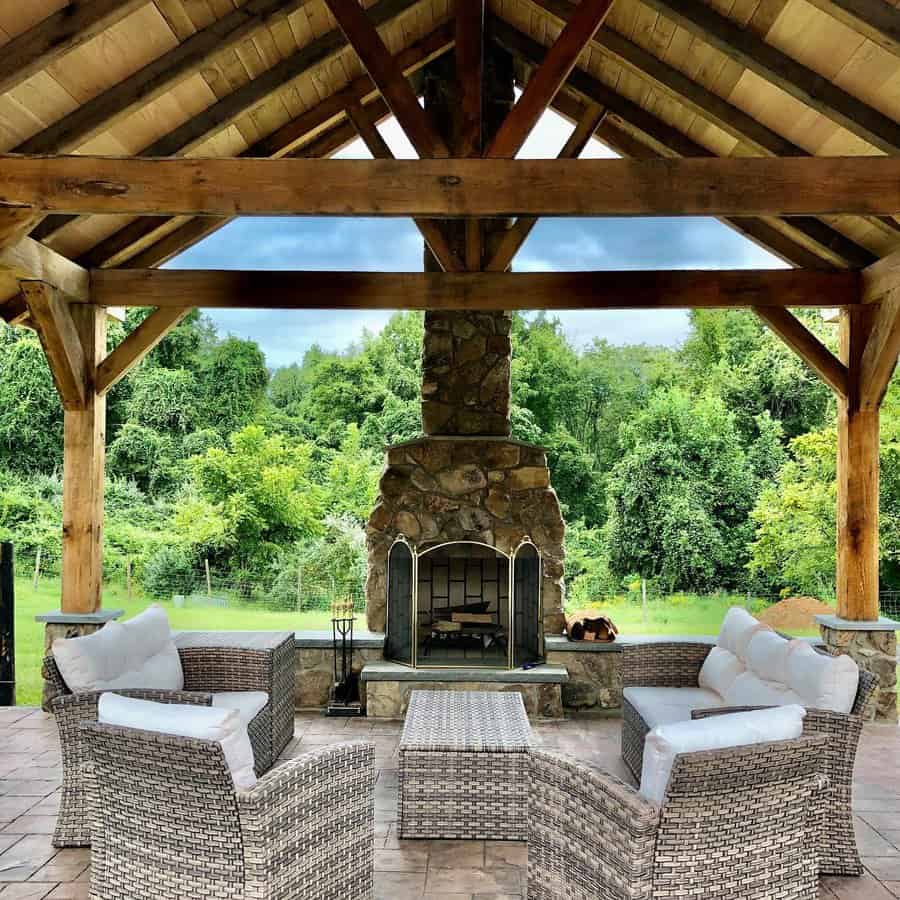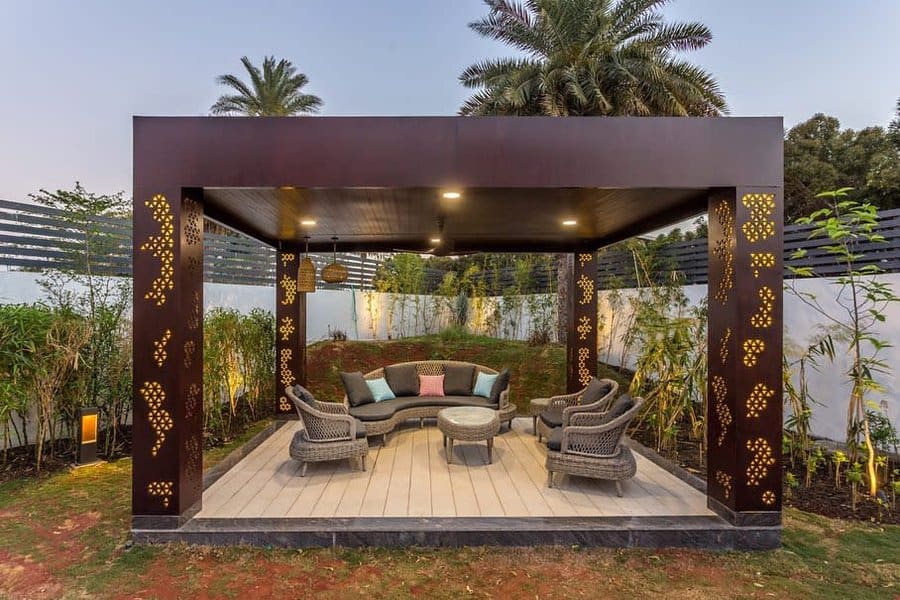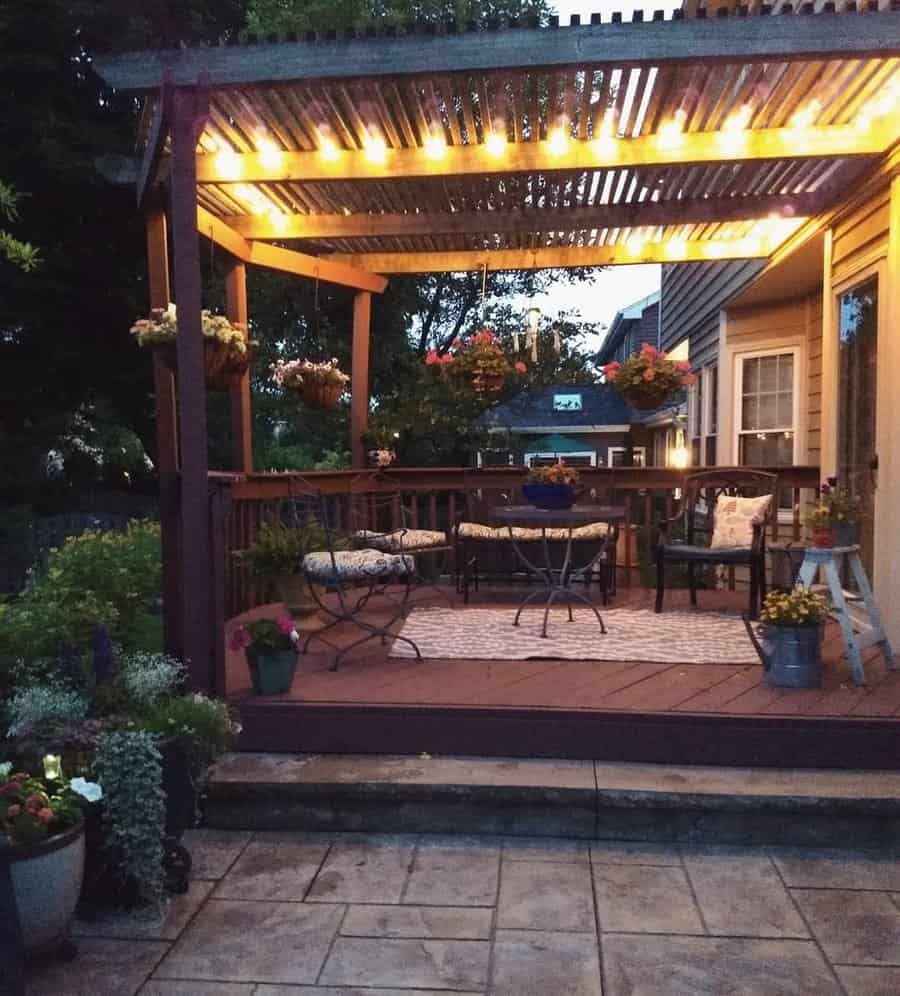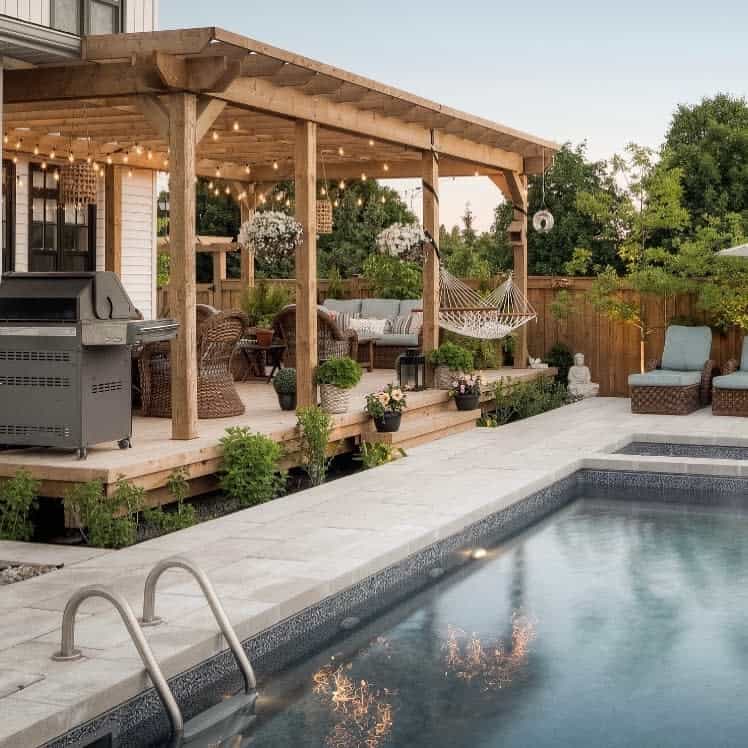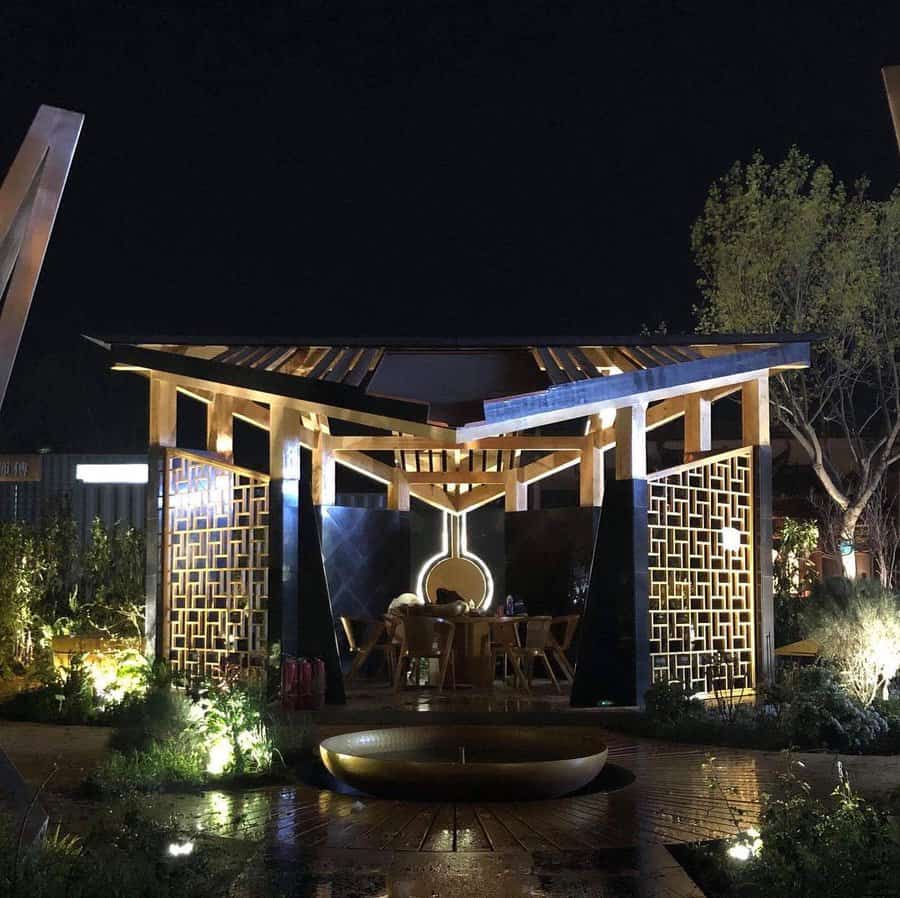 Lighting isn't just about function, though. You can also add decorative accent lighting. This could be LED strip lighting around the roof, along stairs, or in the railing.
This gentle and soft light won't illuminate the space completely but will add just enough light to make it easier to move about. Go bold with your accent lighting and choose LEDs that let you change their color or program them.
6. Metal
There are two types of metal pavilions, permanent and temporary. Temporary ones are good for use during an occasional event. Permanent metal pavilions are a better solution when you plan to use your backyard consistently.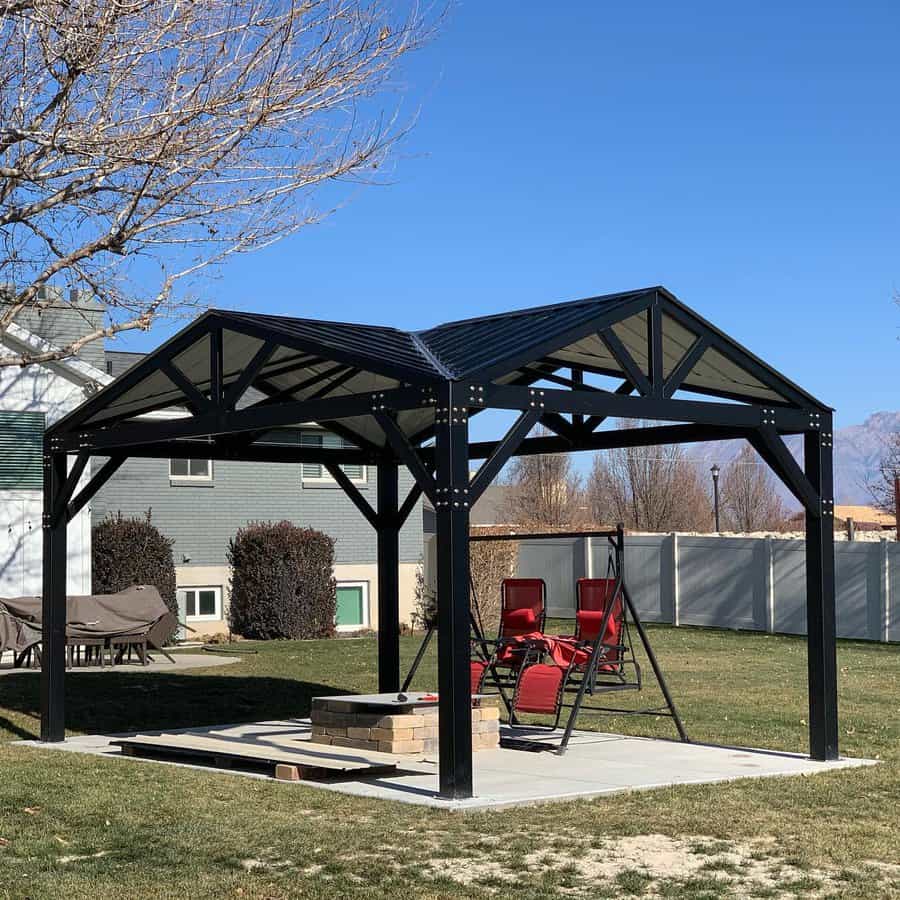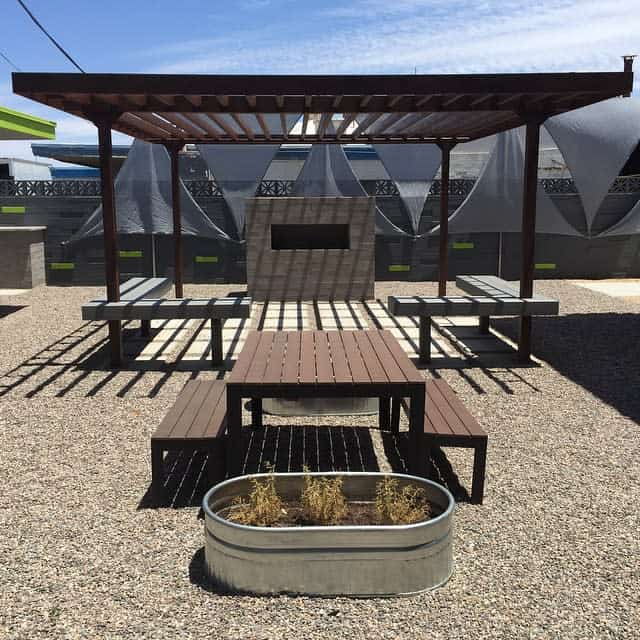 Consider the style of the pavilion you want. Traditional metal pavilions have a lot of details and scrollwork. They are typically made from iron and are heavy, durable structures.
Modern metal pavilions are the exact opposite, with long straight lines and a sleek appearance. Aluminum is a lightweight material that is best for portable pavilions, while stainless steel and iron are smart choices for permanent structures.
7. Modern
Modern designs come in both large and small pavilions. The nicest feature is the slim line support legs. They have long and slender legs at each corner and then along the longer lengths are larger pavilions.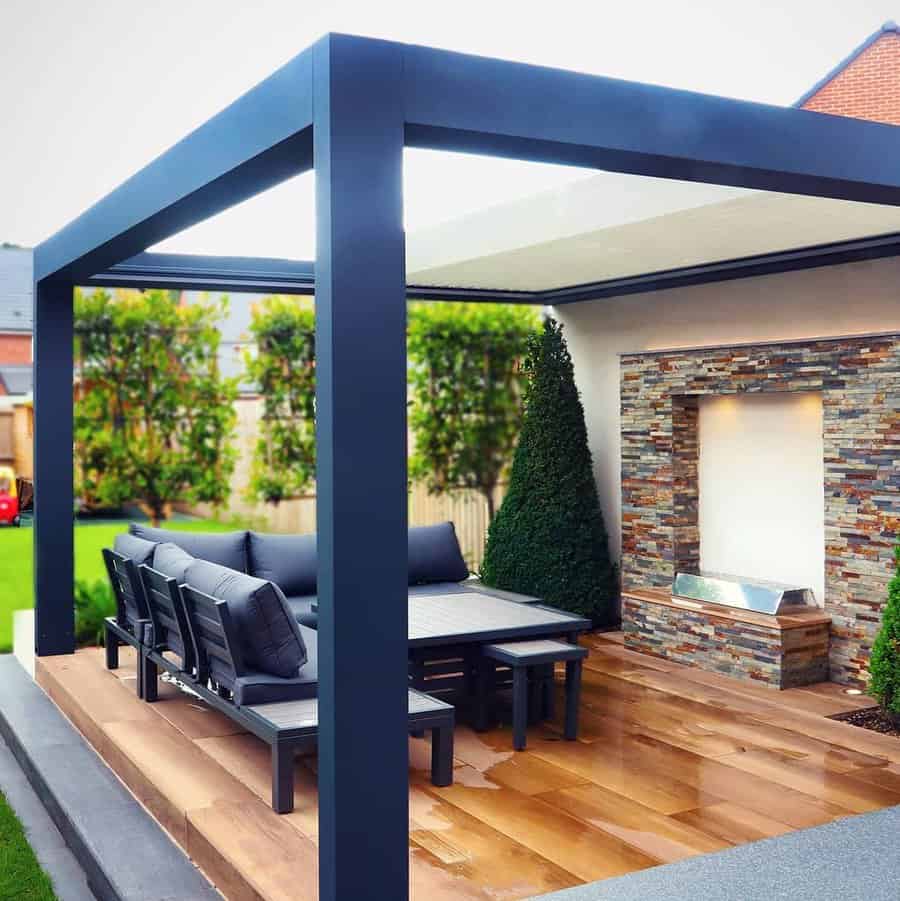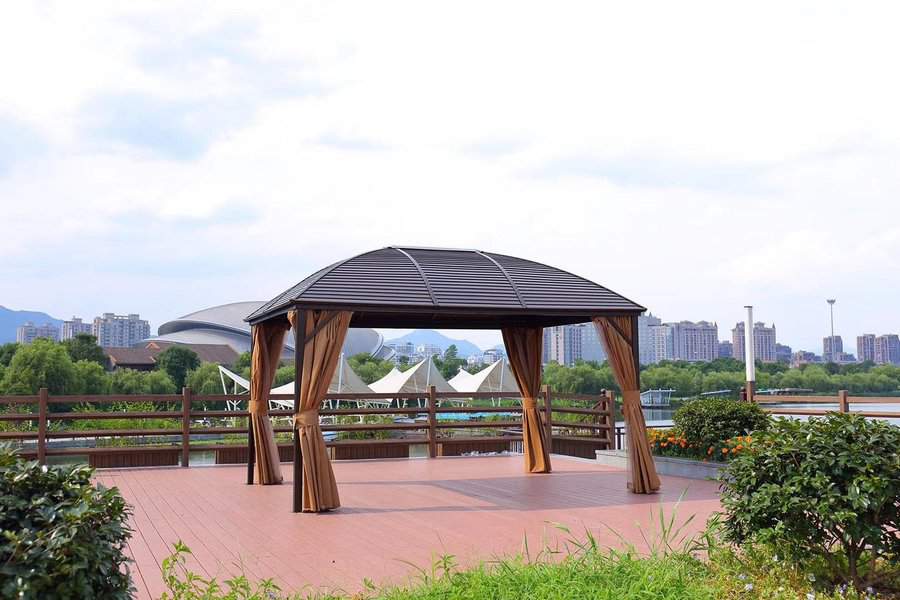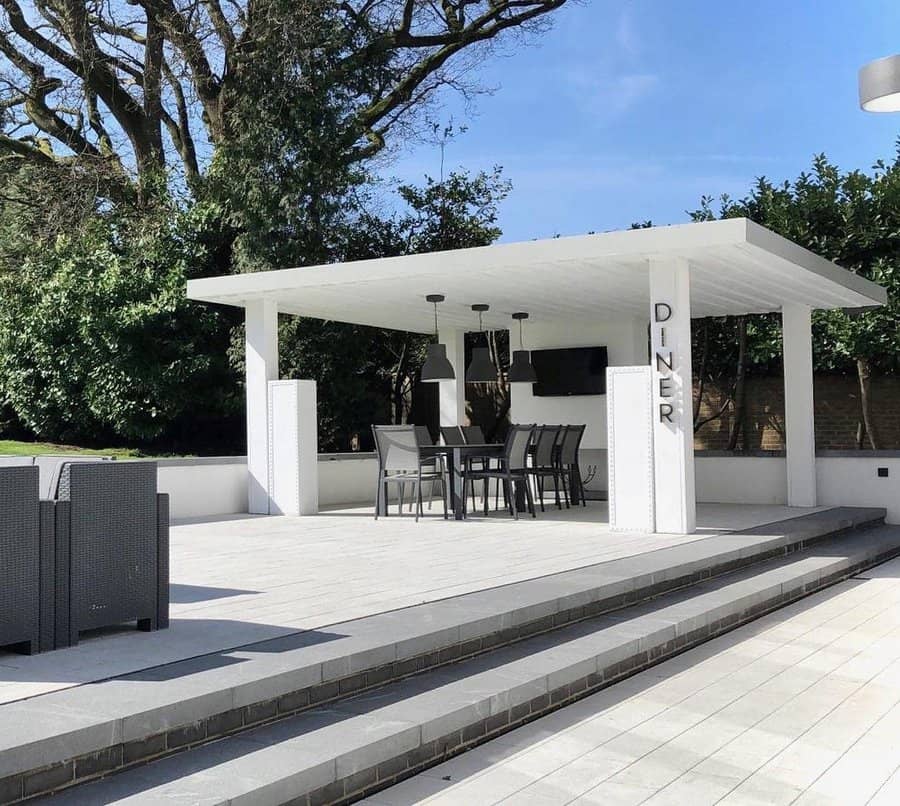 The top of your pavilion could be made of metal, wood, or even fabric. A multi-functional pavilion will give you more usability. Look for a pavilion that has a basic frame with pergola-style beams overhead. Then a retractable canvas will cover you overhead. Stretch it out when you need extra shade and coverage. Retract it when you don't need it.
8. Outdoor
As more people look for ways to spend more time outdoors, they are also realizing that it takes more than a sofa to create an outdoor room. Whether you're arranging outdoor furniture or outfitting an outdoor kitchen, you need a protective covering over your outdoor space.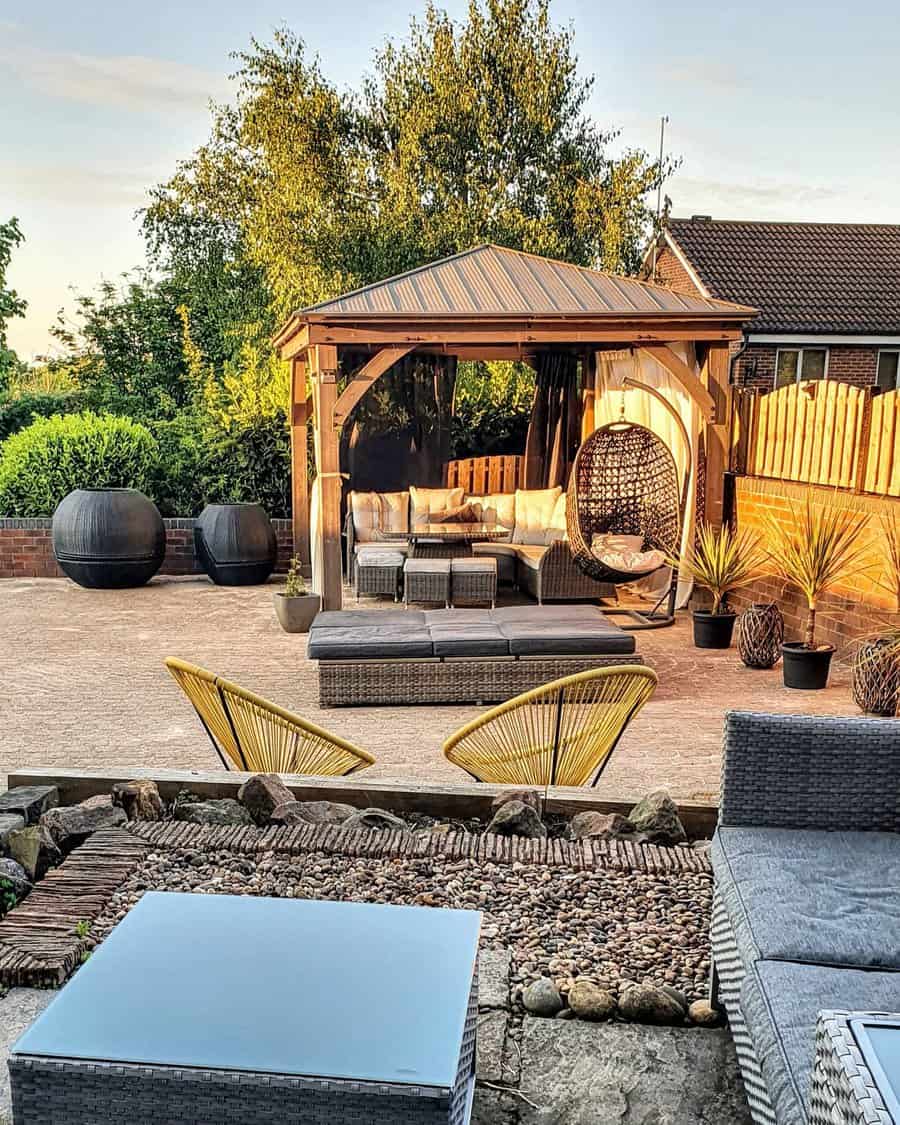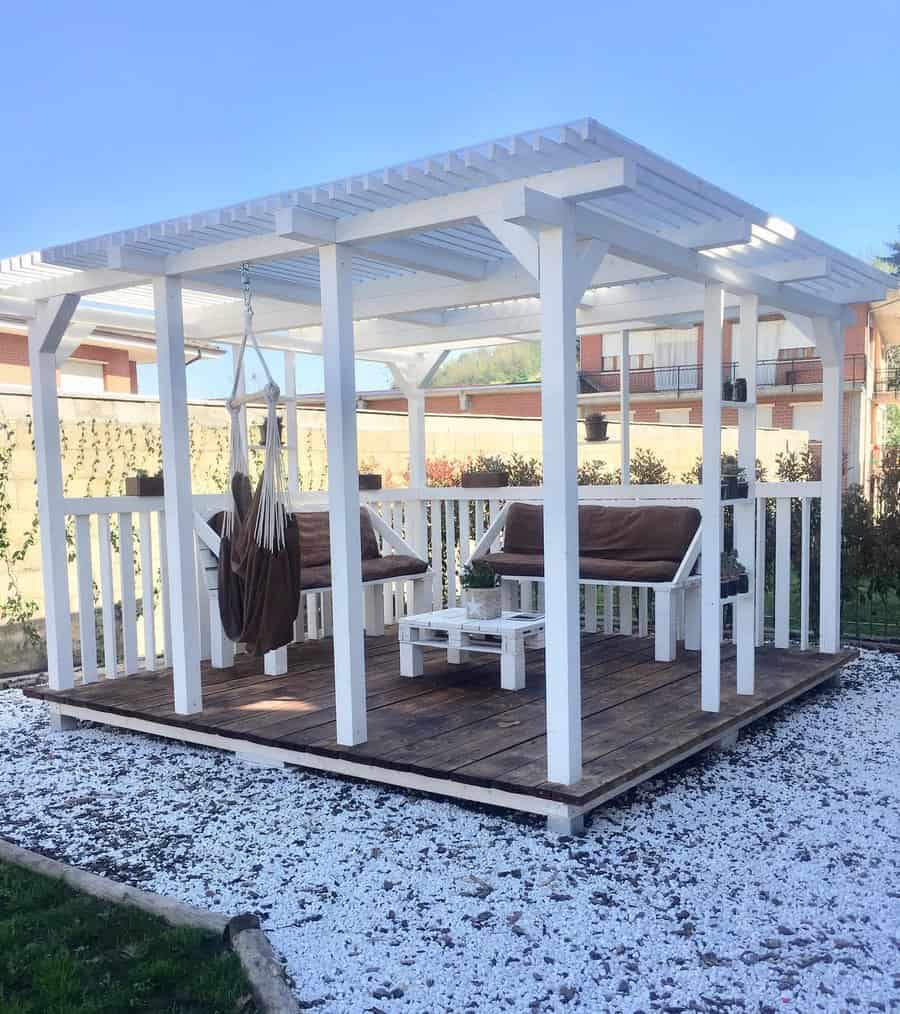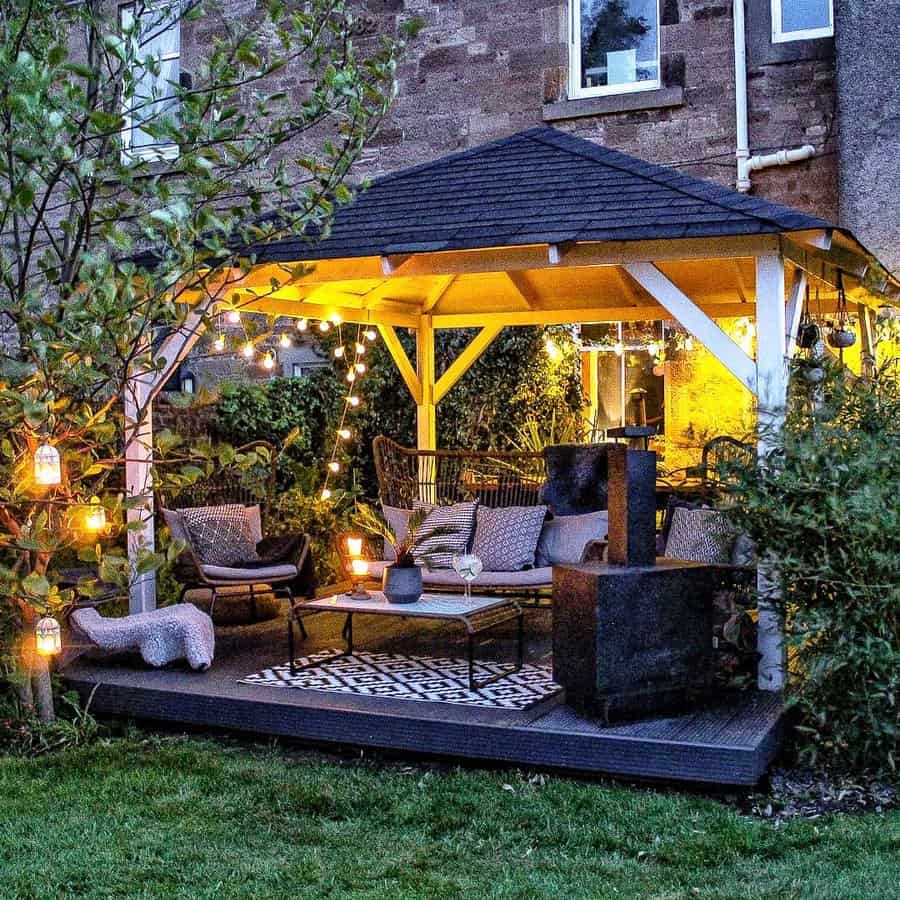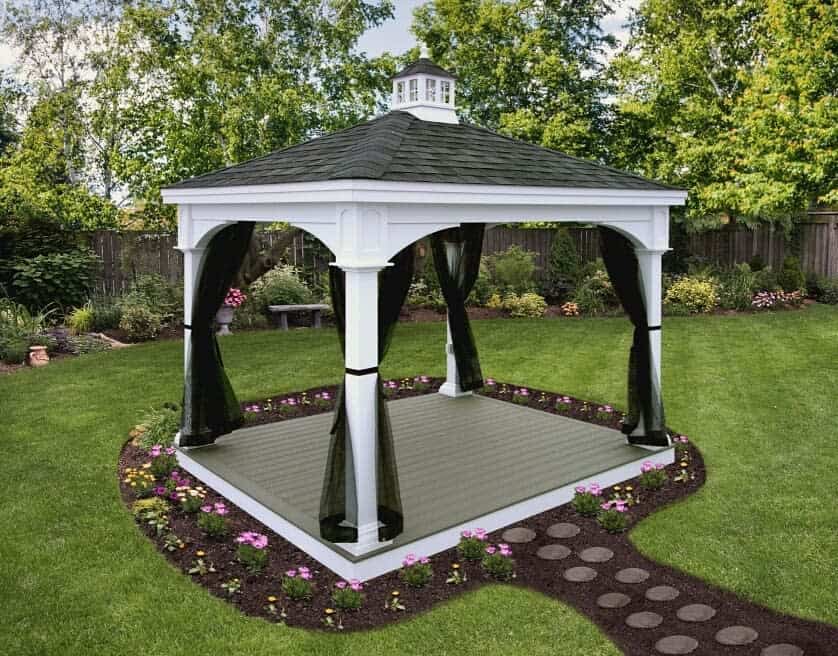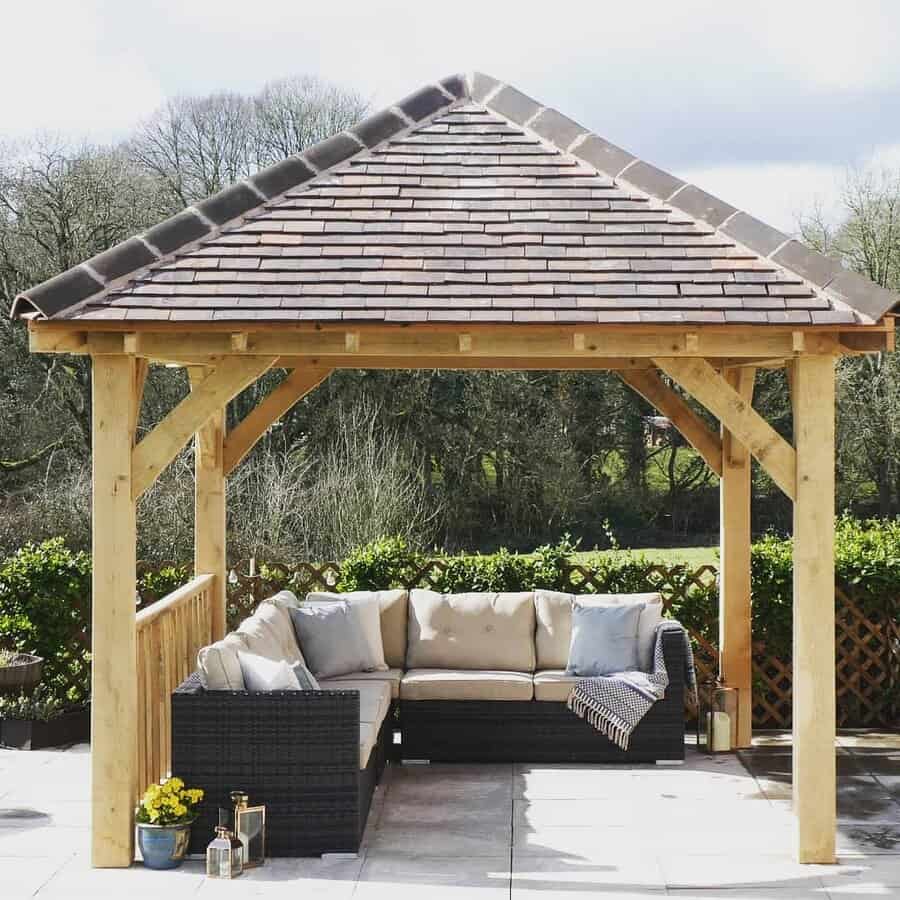 When choosing an outdoor cover for your space, think about how large the pavilion needs to be. It's smart to build an overhang clearance into the design. This provides you with a bit of extra protection from the sun and rain.
9. Patio
If you already have a patio, then adding a pavilion over it can give the outdoor space shade and make it feel more like an outdoor living area. A patio pavilion has a solid roof, so you can enjoy the outdoors even when it's raining or when there is the harsh sun.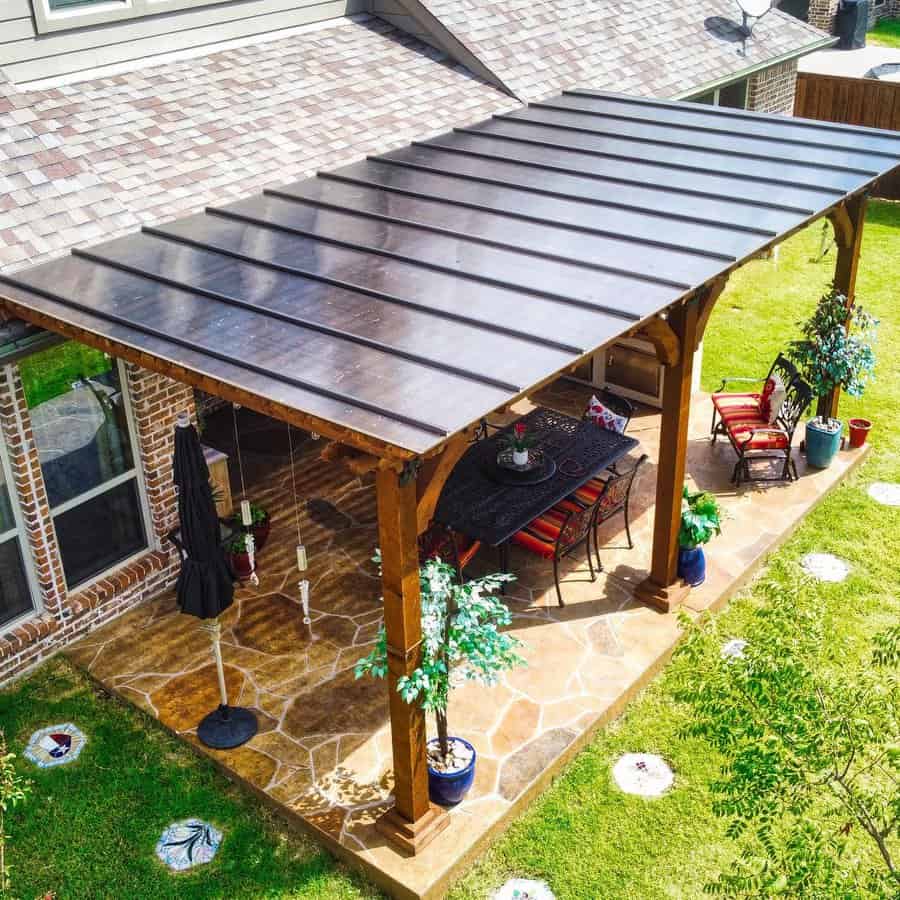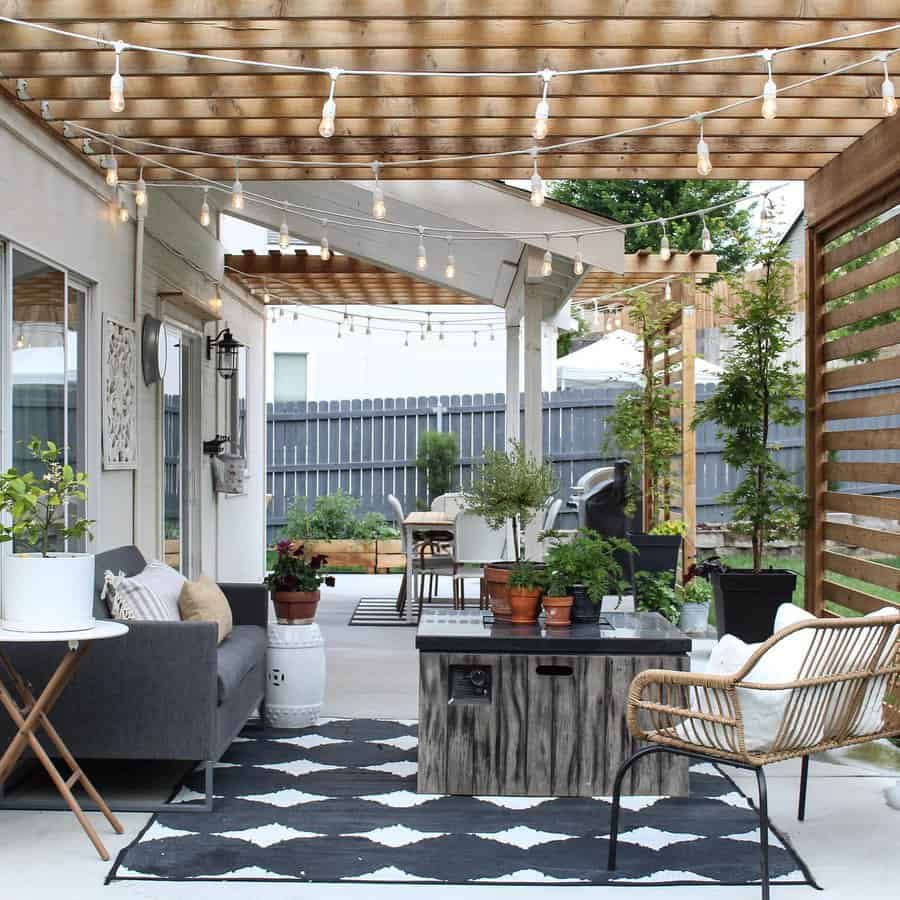 While you could set up a temporary pavilion, they tend to be smaller. This may not work to cover your entire patio. A permanent structure can cover the entire patio, giving you more protected space and eliminating the awkward support legs you would have to maneuver around.
10. Pool
Adding a poolside pavilion gives you a shady backyard escape. Look for gazebo plans that give you enough space for a hot tub or can get installed near a swimming pool. This gives you a custom design that makes your backyard more enjoyable.
Having the pavilion right next to the pool deck or even over the pool beck makes it convenient to get in and out of the pool while also enjoying the shade.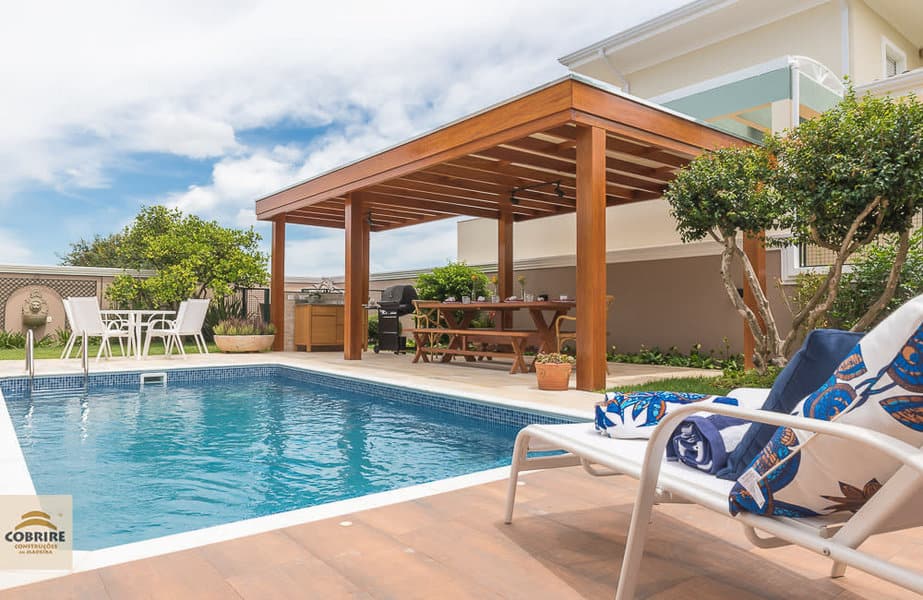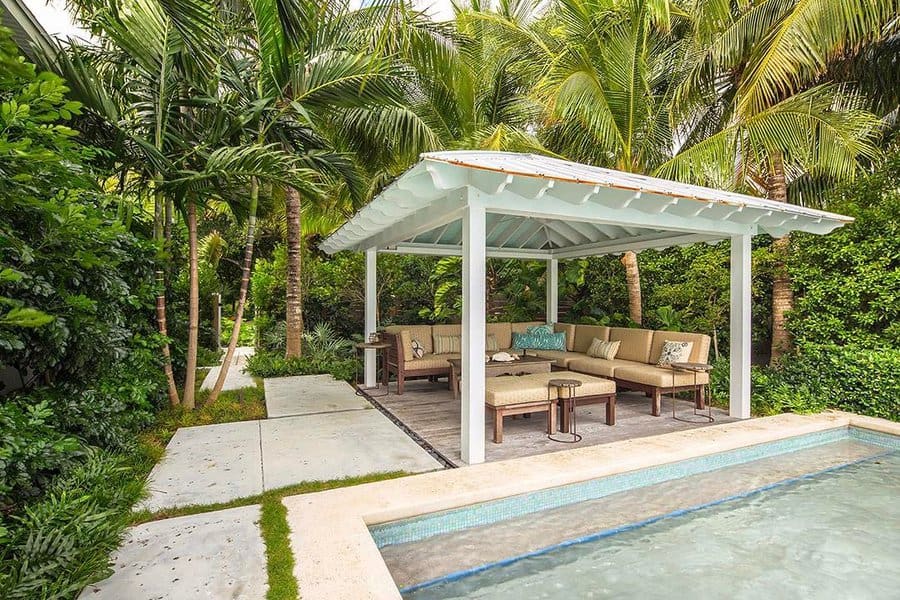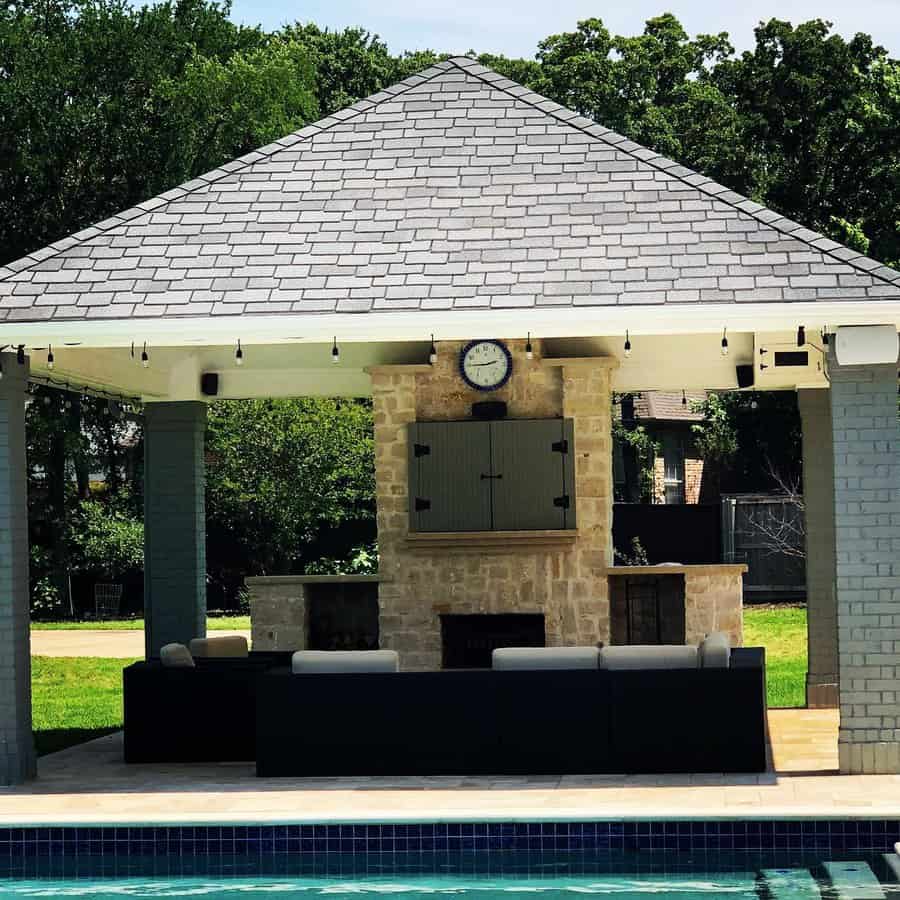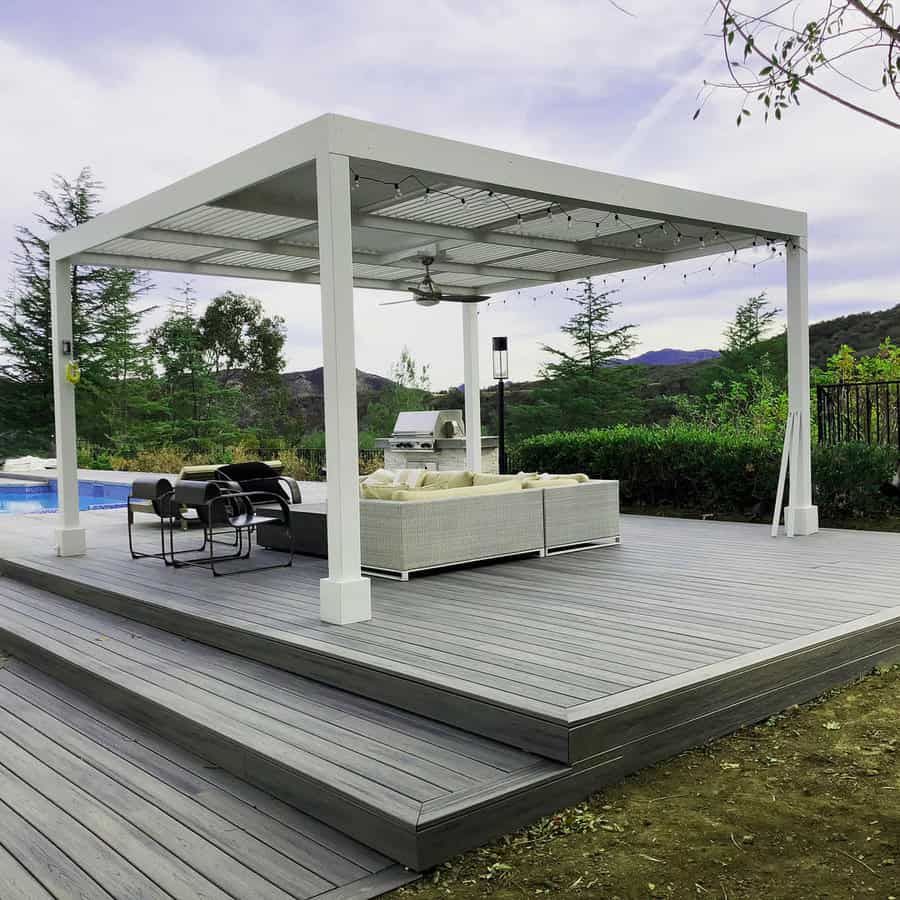 Chose a pavilion that's made from durable materials that are impervious to water. This will prevent your pavilion from rotting prematurely. I want a wood or metal pavilion, then treat it to make it more durable.
11. Rustic
Choose a pavilion design that matches the design of your backyard and home. If your home has a more rustic aesthetic, then your pavilion should match. A timber frame pavilion is a great option because it embodies the rustic aesthetic. The large timbers look rough-hewn, giving them a rustic and worn look.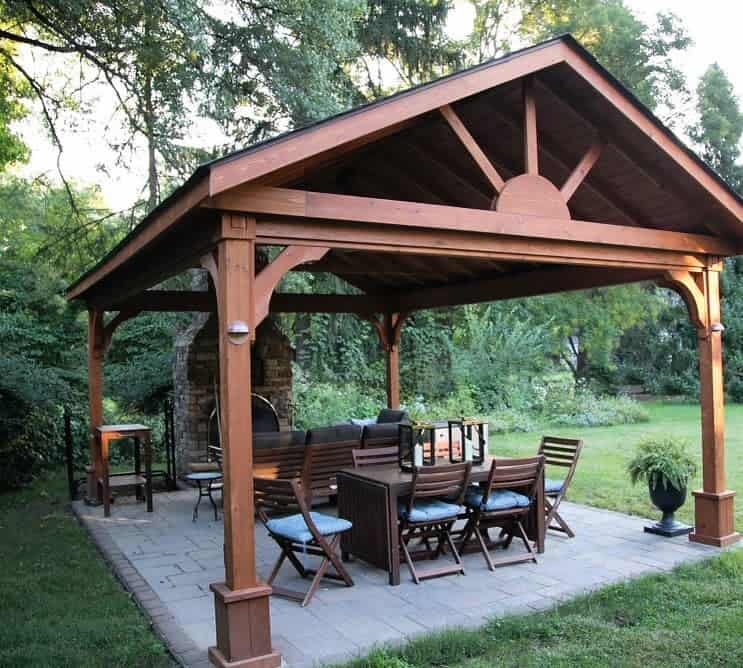 Another great option is a stone pavilion. Use large and irregularly shaped stones. You want the stone to lack uniformity. This creates a custom-designed look that's slightly rustic as if the pavilion was built from stones found on your property.
12. Wood
Add a wooden pavilion to your backyard for an affordable pavilion that will last for years to come. The best part of the wood is that it can be adapted to the size and style that will work best in your home.
You can build the entire pavilion out of wood or combine it with stone, concrete, glass, or metal materials.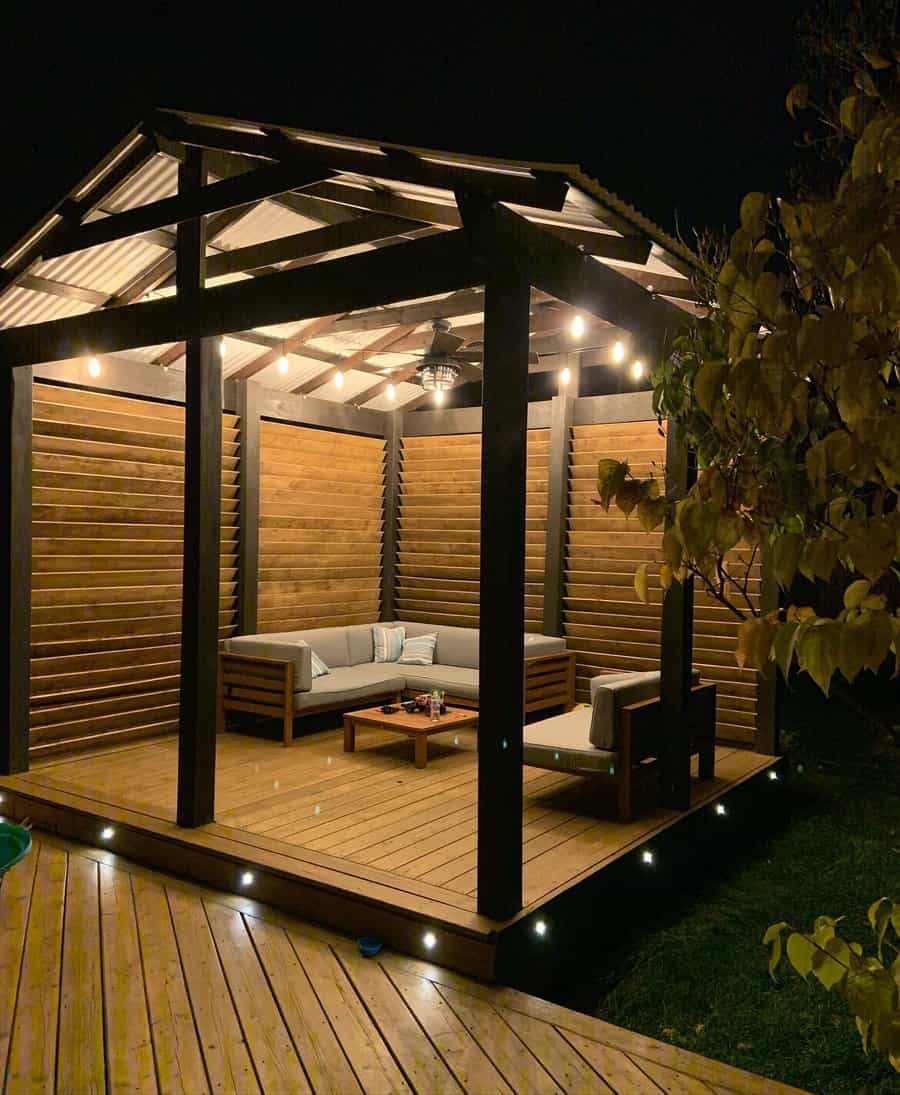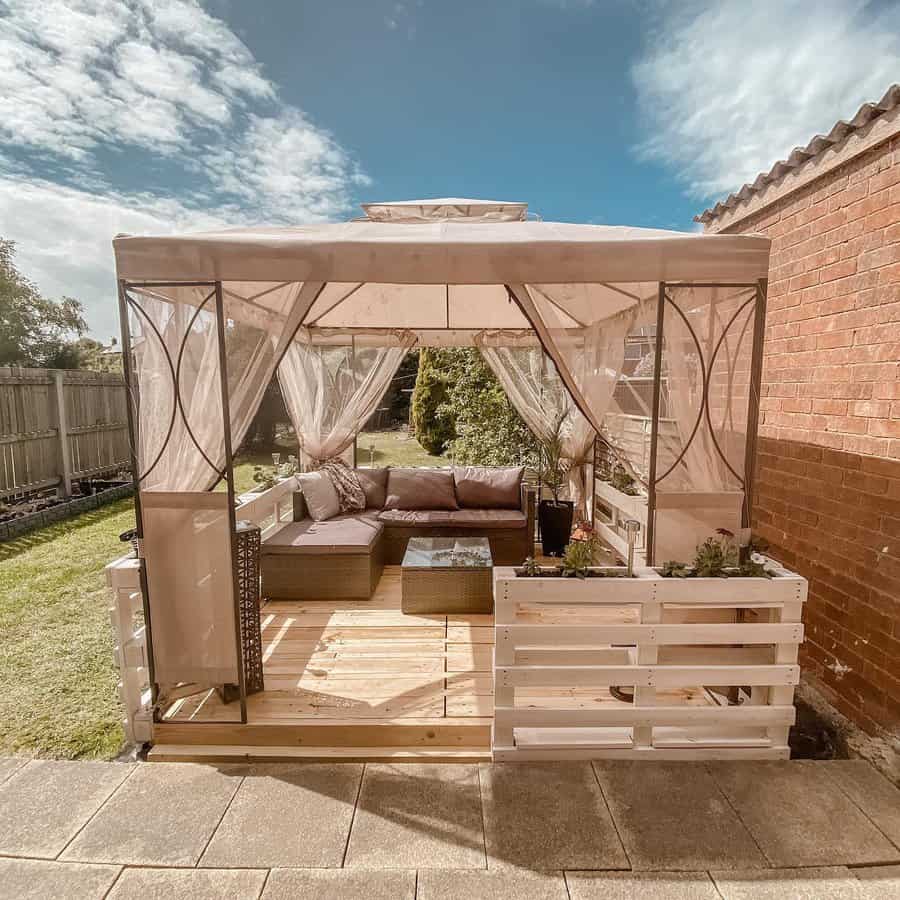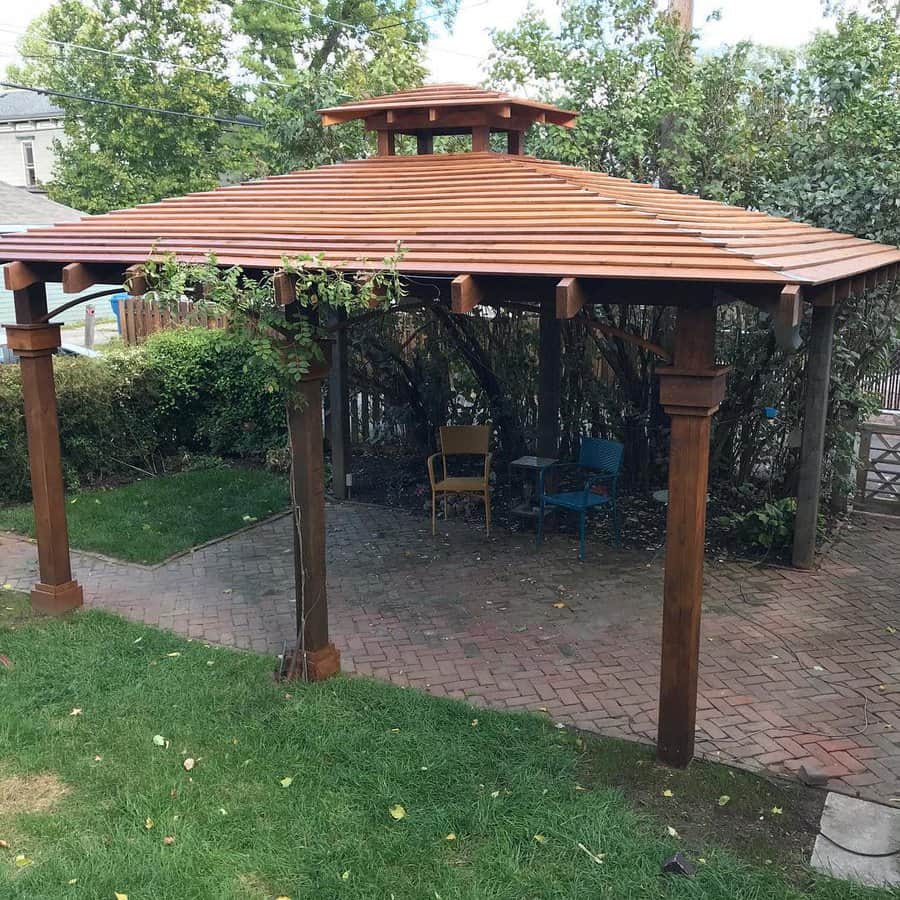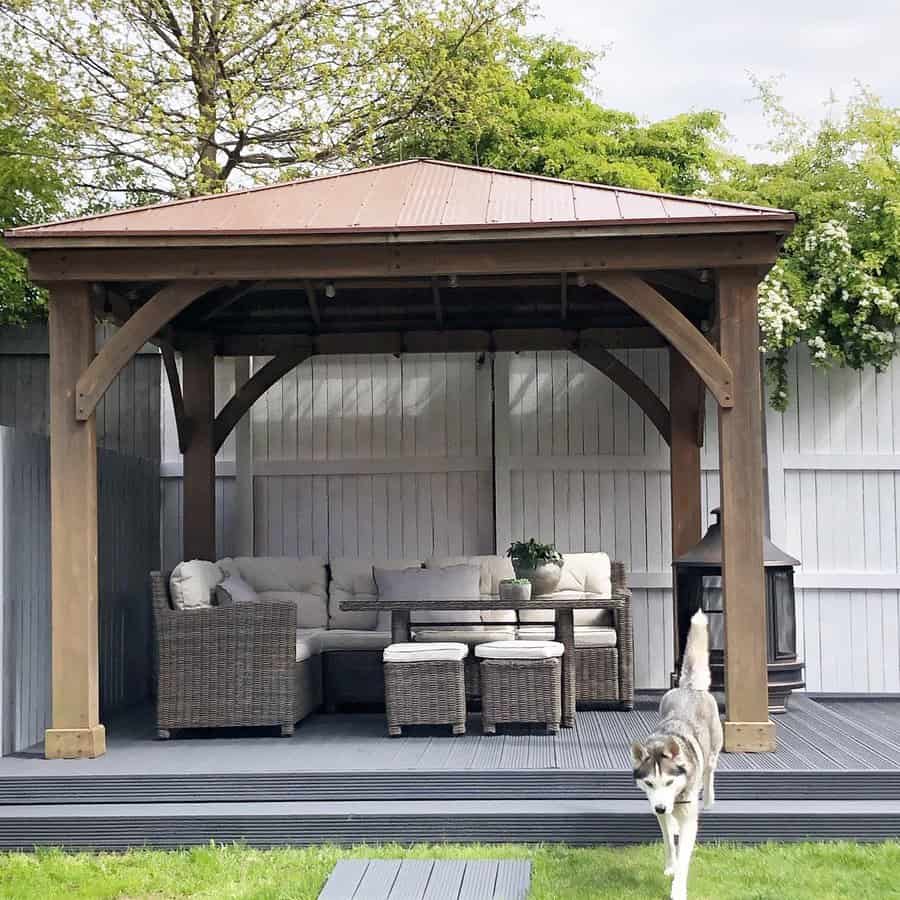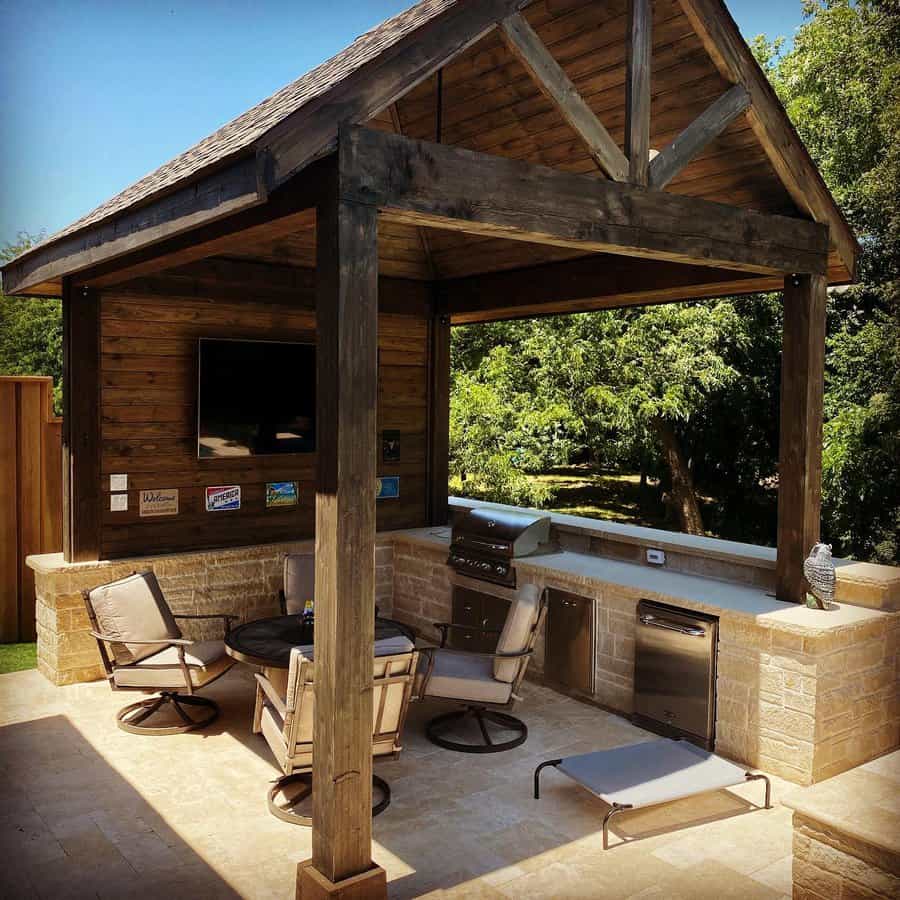 When designing your wood pavilion, use hardwood for the greatest durability. This type of wood is the strongest and most impervious to moisture. This helps it to have a long useful life.
No matter what type of wood is used in your pavilion, it will require maintenance. The more wood your pavilion has, the more maintenance it will require.
Backyard Pavilion FAQs
What is a good size pavilion?
A good size for your pavilion is 10×14 feet. It's a small enough size for the majority of backyards. It can also be built off of an existing deck or patio. If you have a larger backyard, then you can increase the size to suit the available space.
What can you do in a pavilion?
You can do almost anything in a pavilion. Turn yours into an outdoor living room, meeting area, theater, seating area, outdoor bar, or sports area. The covered roof gives the area underneath plenty of protection, so you can do more in the pavilion than what you would be able to do in other outdoor structures.
What is the difference between pergola and pavilion?
A pergola has an open roof, with only beams overhead. A pavilion has a solid roof. Neither has walls, allowing for open airflow through the structure. The covered aspect of a pavilion will give you more protection from the sun and rain.