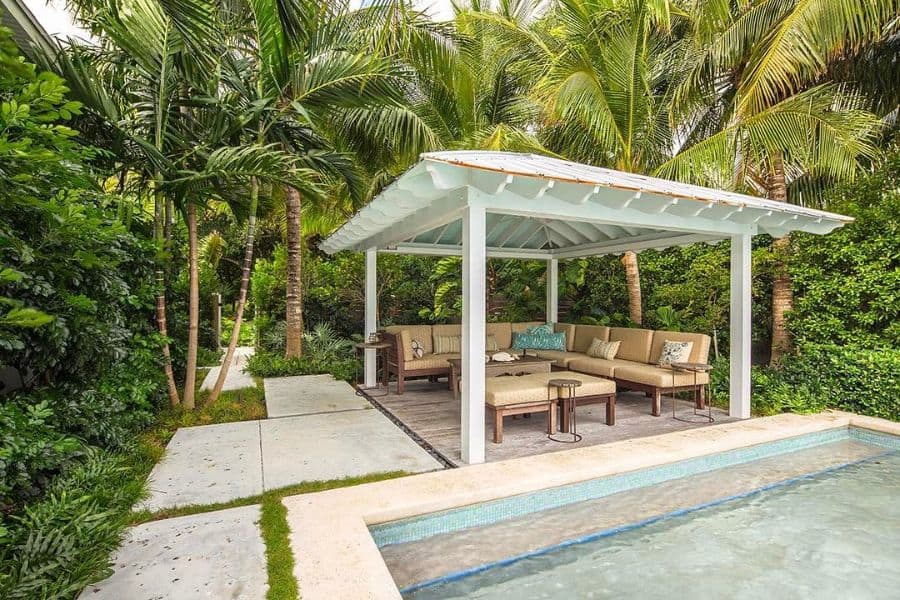 The Top 45 Backyard Pavilions Ideas
by — Andra DelMonico

Published on August 10, 2021

Updated on October 10, 2023
Wouldn't it be nice if you had a shady spot to relax in your backyard? A pavilion will give you a covered and protected place that you can turn into a backyard retreat. It will give you more shade and protection than a pergola or gazebo. This protected space will become your favorite place for lounging, relaxing, entertaining, eating, or just hanging out.
These backyard pavilion ideas will help you get started building a pavilion in your backyard.
1. Enhance Seclusion with a Privacy Wall Pavilion
A privacy wall pavilion not only amplifies backyard seclusion but also crafts a sanctuary from external distractions. This design is perfect for those seeking solitude for activities like reading or wanting an intimate space for dinners. When selecting materials, choose ones that harmonize with your garden's aesthetics to create a seamless blend between the pavilion and its surroundings.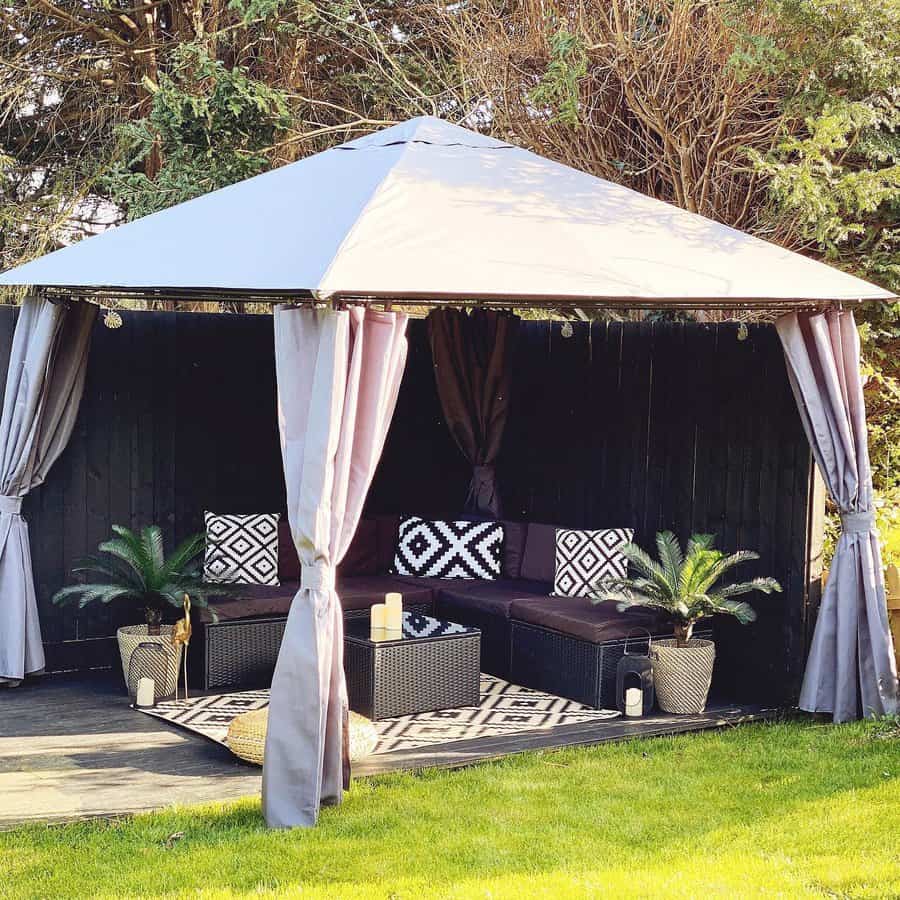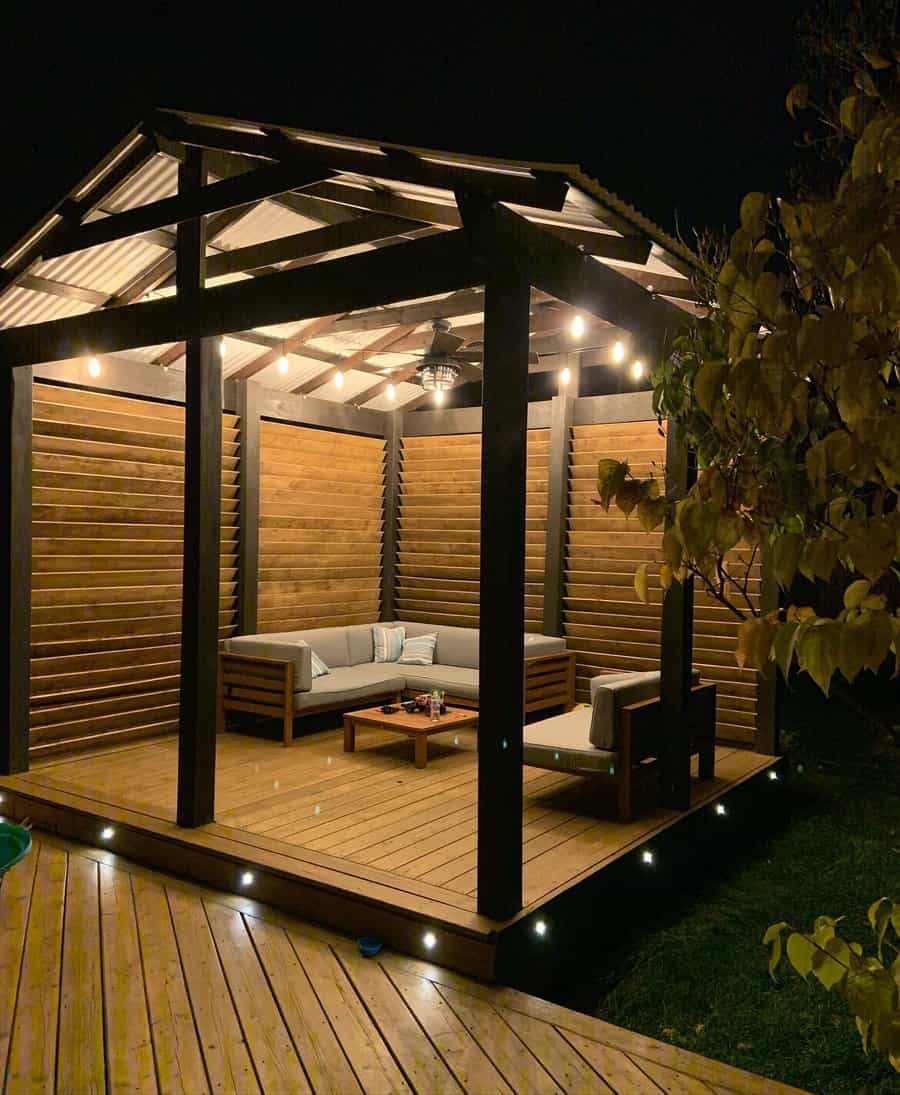 2. Experience Elegance with a Pergola Pavilion
A pergola pavilion effortlessly marries style with functionality in outdoor spaces. When deciding on materials, consider matching them to your home's exterior or garden style, whether that's rustic wood or modern metal. To enhance its allure, drape the structure with flowering vines or add string lights, creating a magical atmosphere for evening gatherings or relaxed summer afternoons.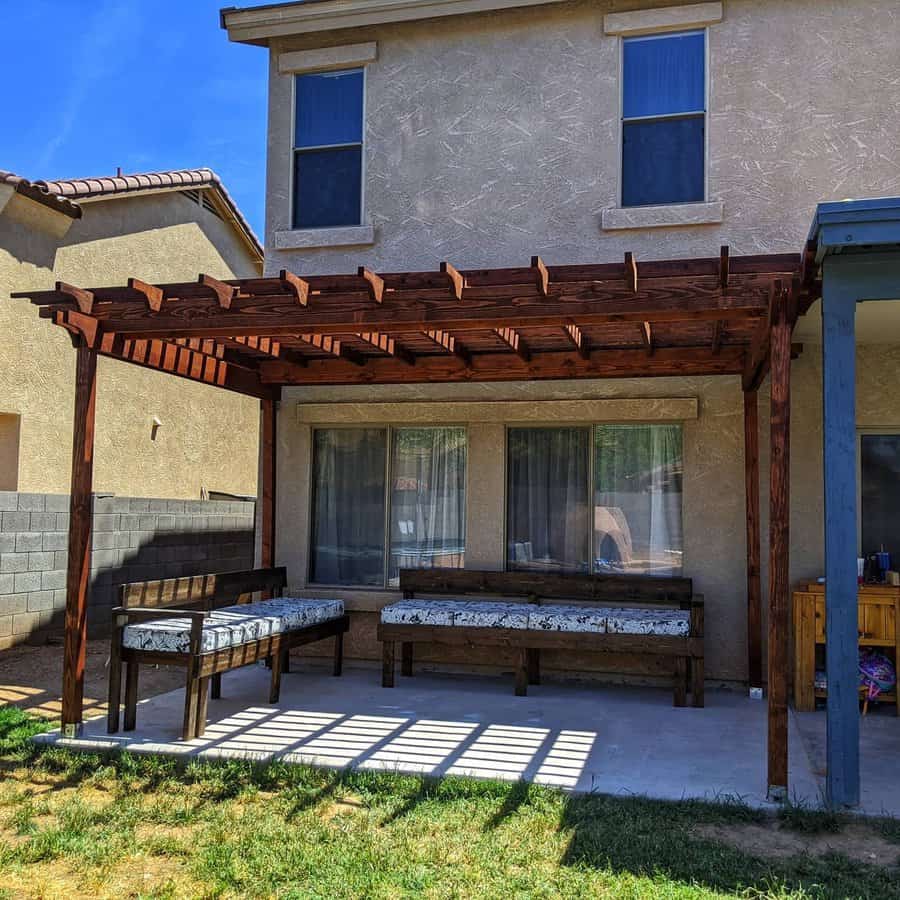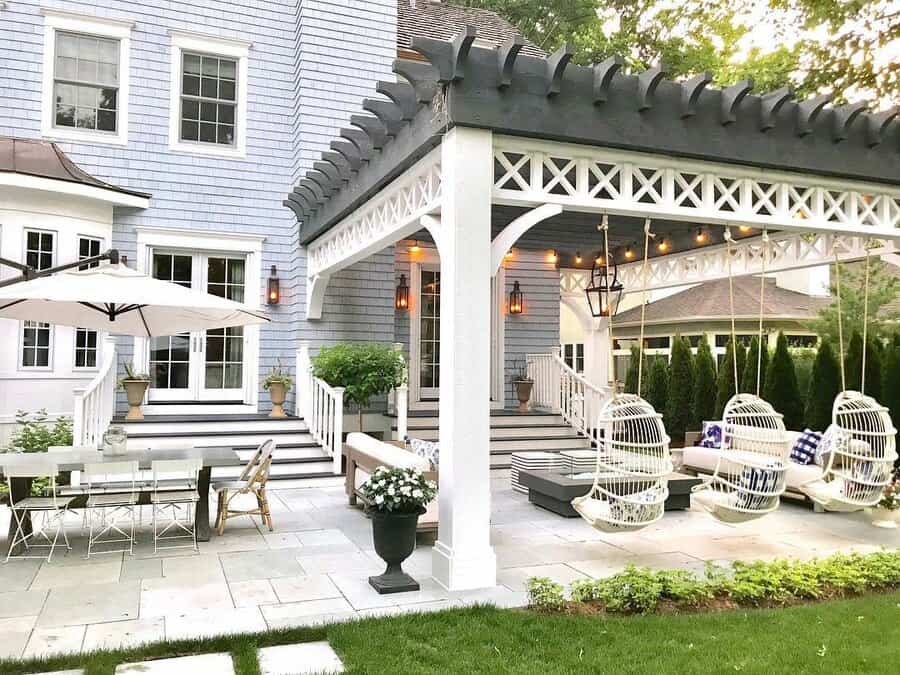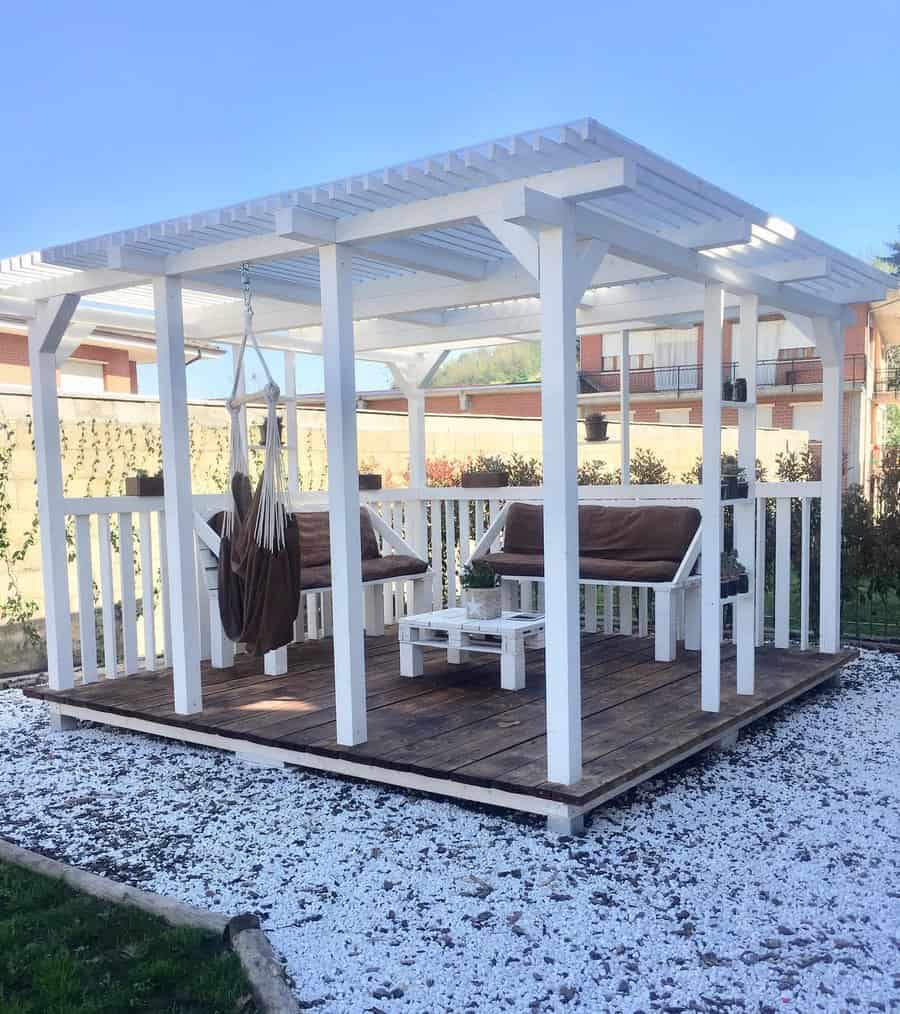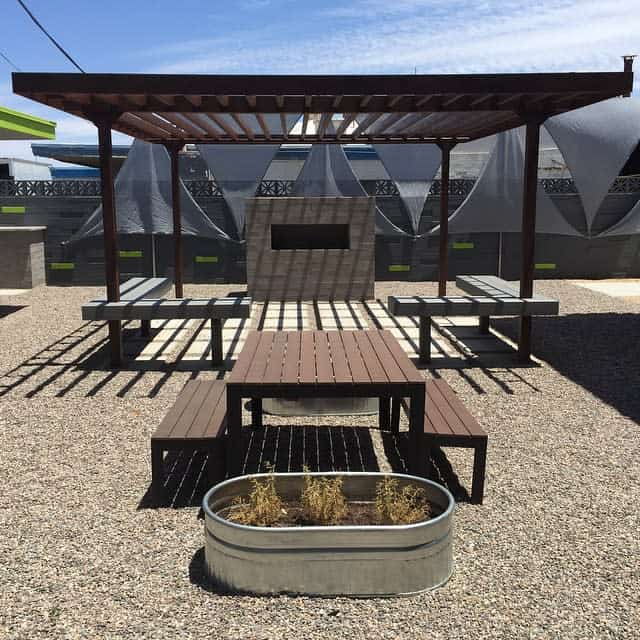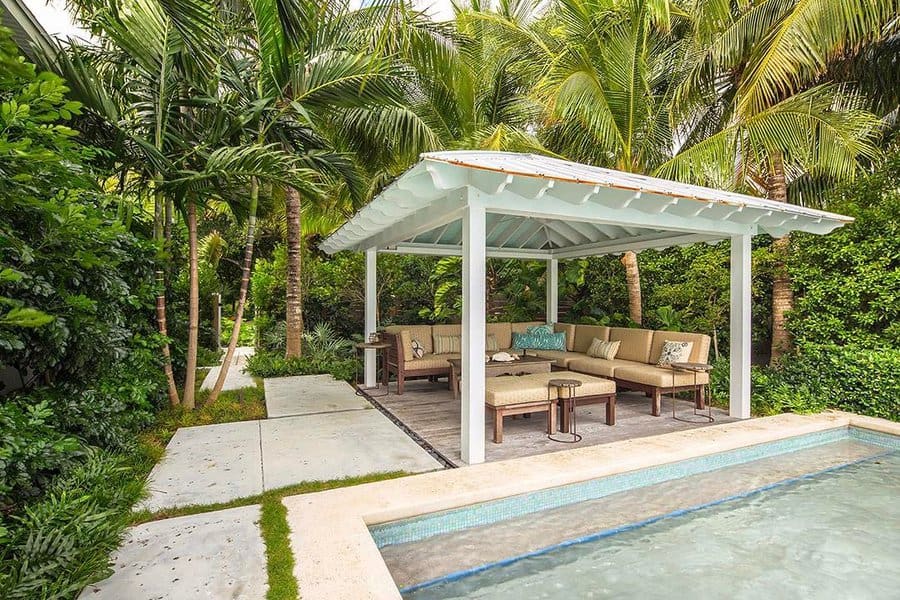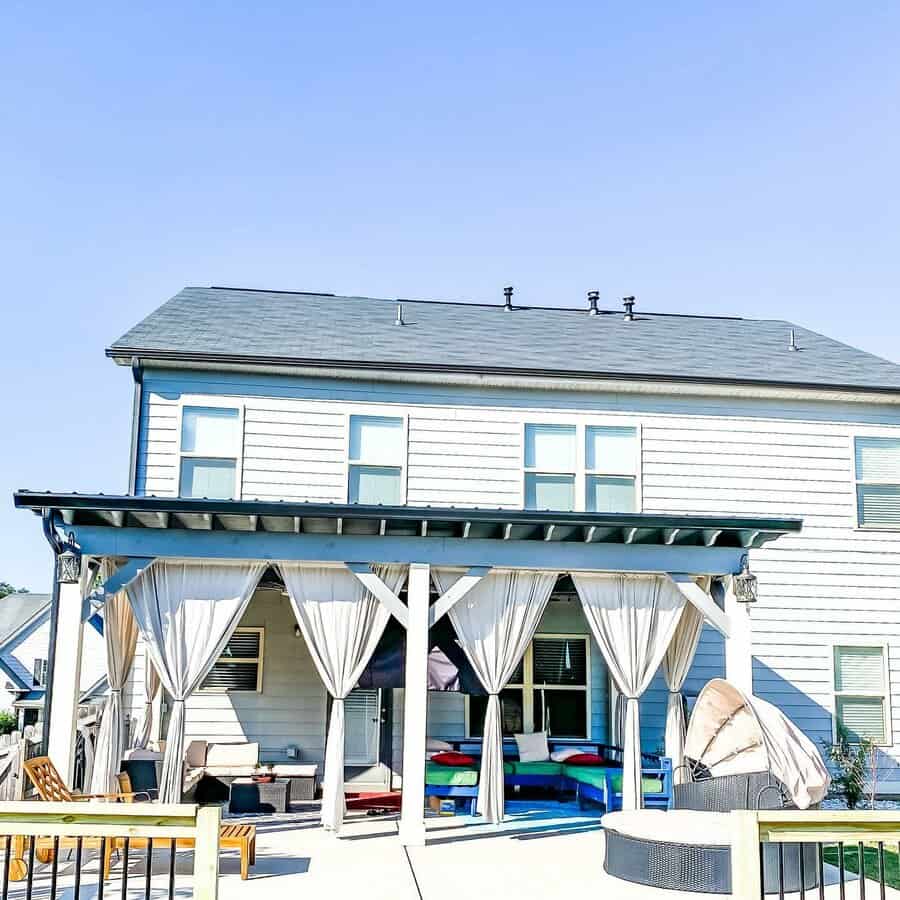 3. Embrace Rustic Charm with a Cottage Pavilion
A cottage pavilion introduces an essence of rustic charm to your backyard, doubling as a personal retreat or an entertainment hub. Envision lazy days basking in dappled sunlight or starry nights spent with close friends. To elevate its coziness, consider adding curtains or soft lighting, ensuring a harmonious blend with your garden and creating a tranquil ambiance.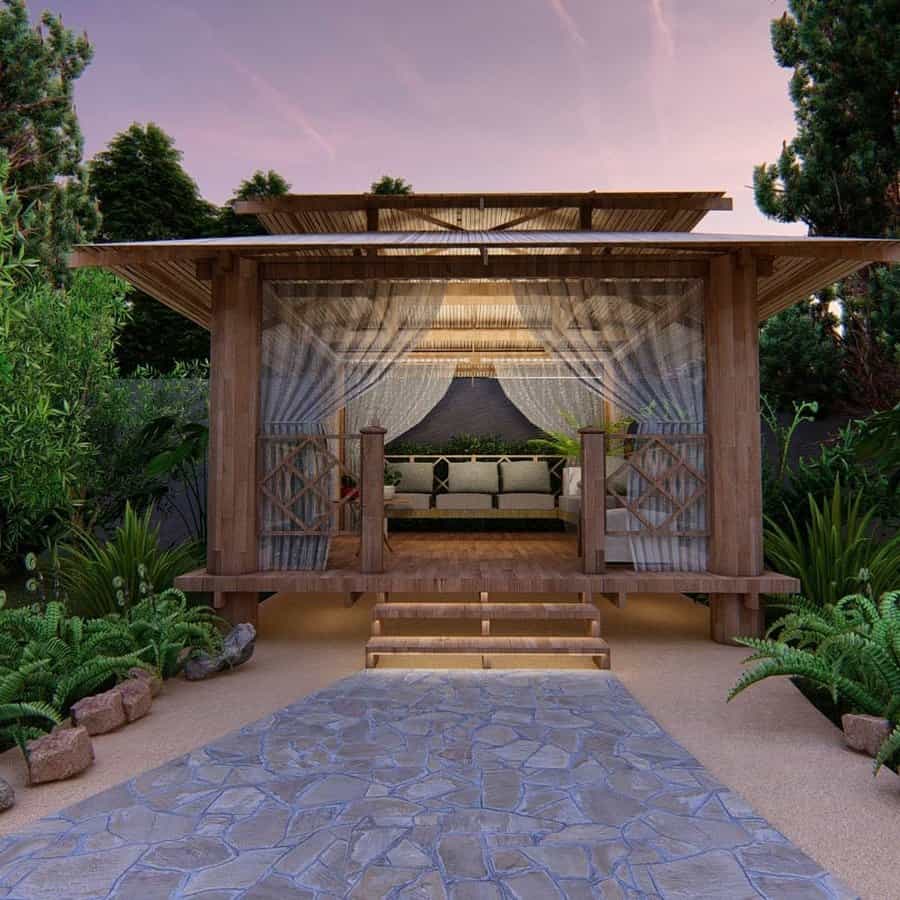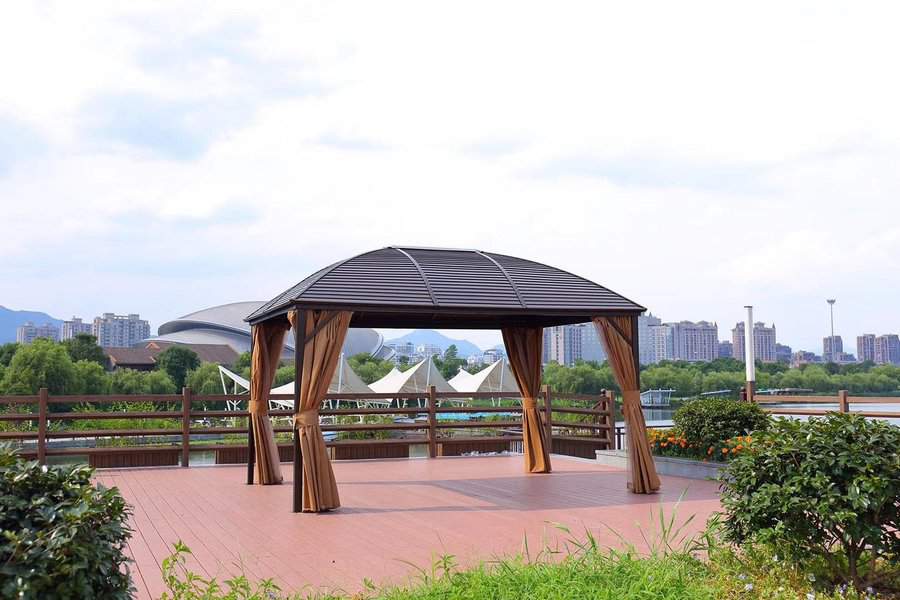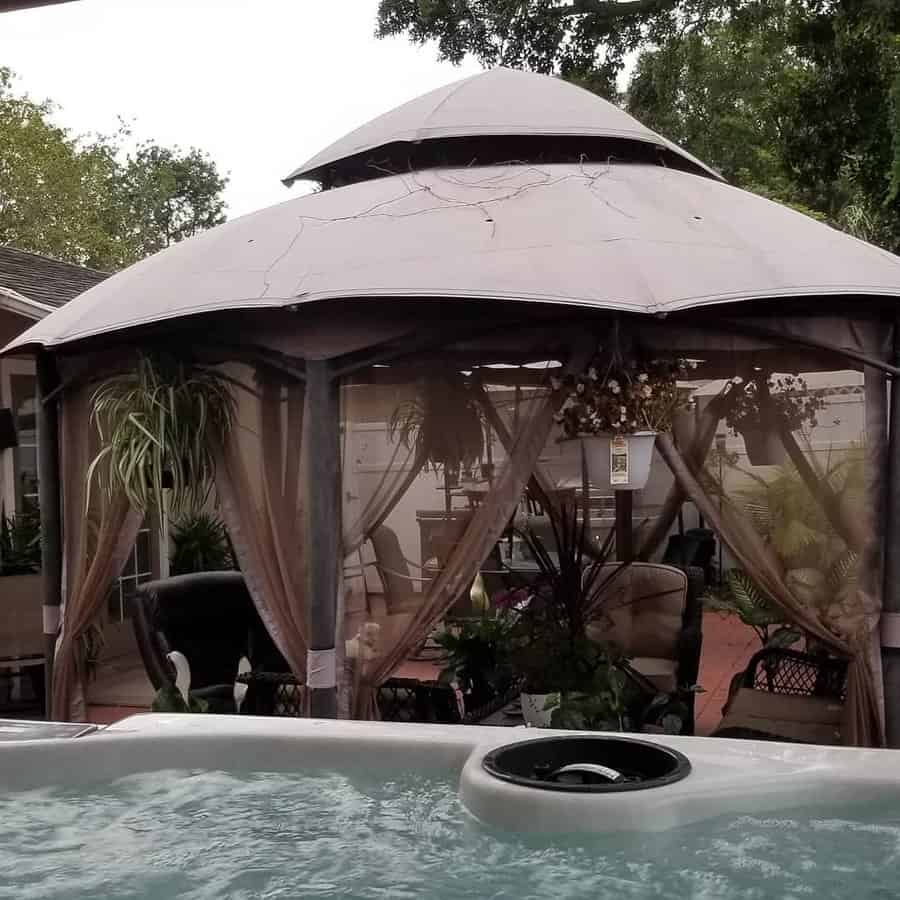 4. Compact Yet Strong in a Small Steel Pavilion
A small steel pavilion introduces elegance without compromising strength, making it a reliable and stylish addition to any backyard. Its durable steel construction promises longevity, while its customizable design caters to individual tastes. For a luxurious touch, accessorize with ambient lighting or plush outdoor furniture, turning your space into the ultimate gathering or relaxation spot.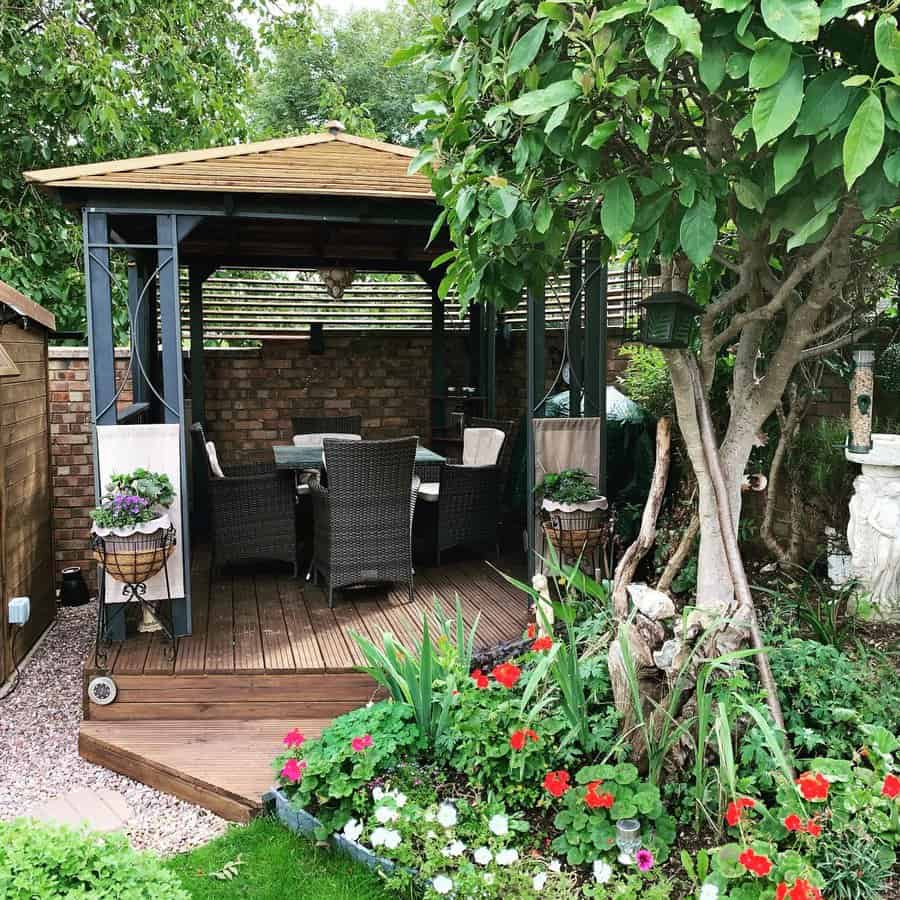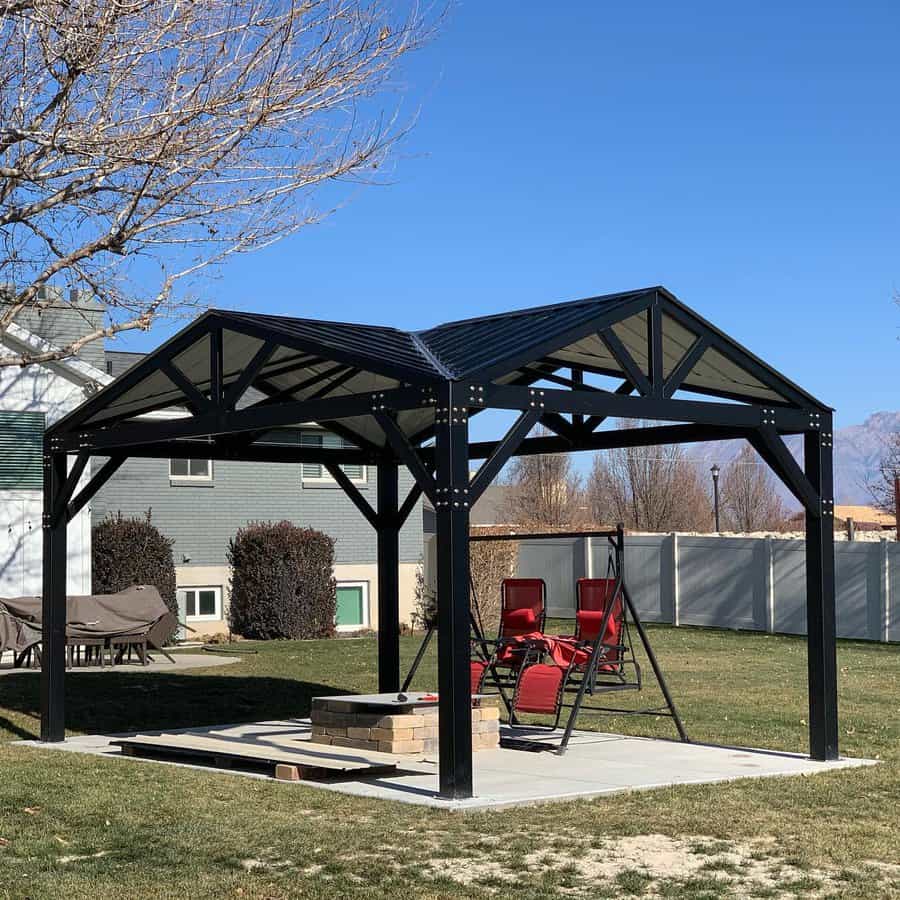 5. Achieve Modern Elegance with a Frosted Glass Pavilion
A frosted glass pavilion offers a sublime blend of style and function, diffusing sunlight for an ethereal glow in your backyard. Raindrops create captivating visuals as they glide down its panes, enhancing the ambiance. To complement its modern elegance, incorporate minimalist furniture or green potted plants, ensuring your pavilion seamlessly integrates with your outdoor setting while providing a serene spot for relaxation or entertainment.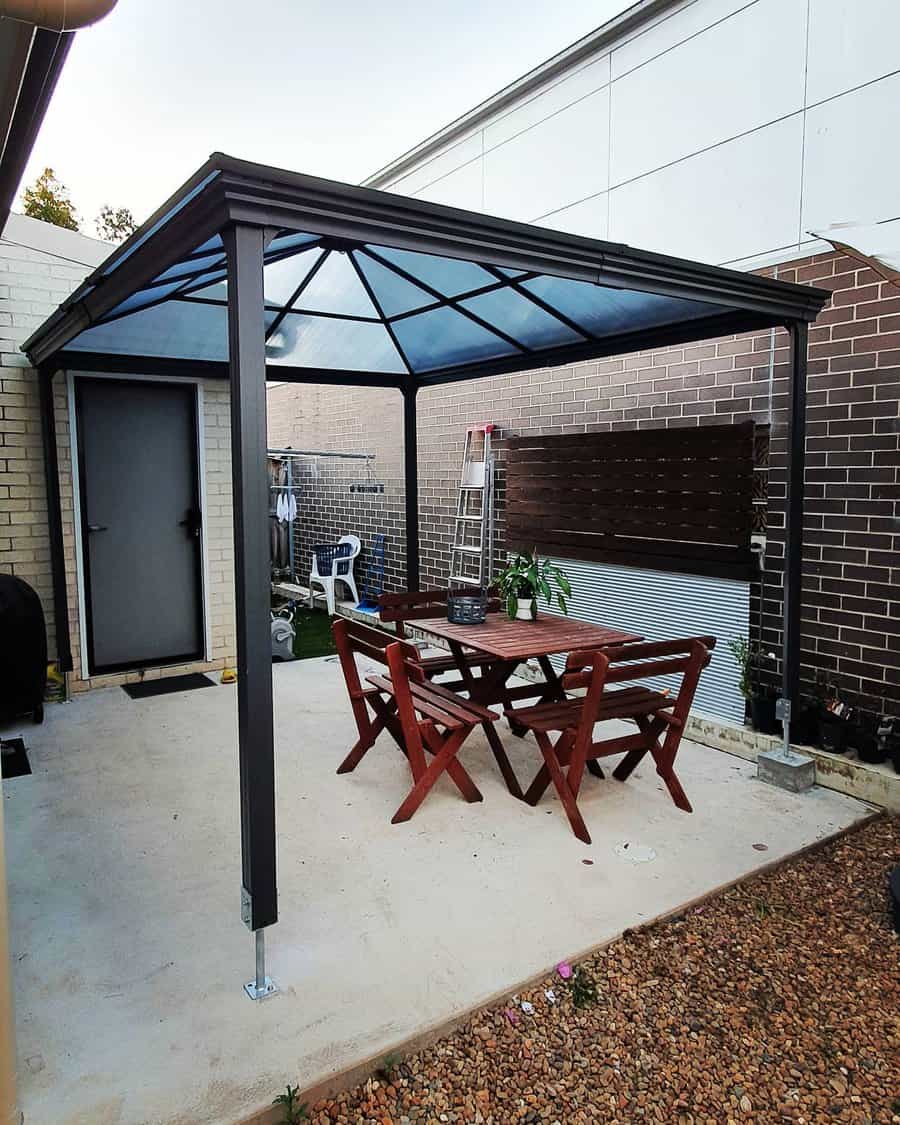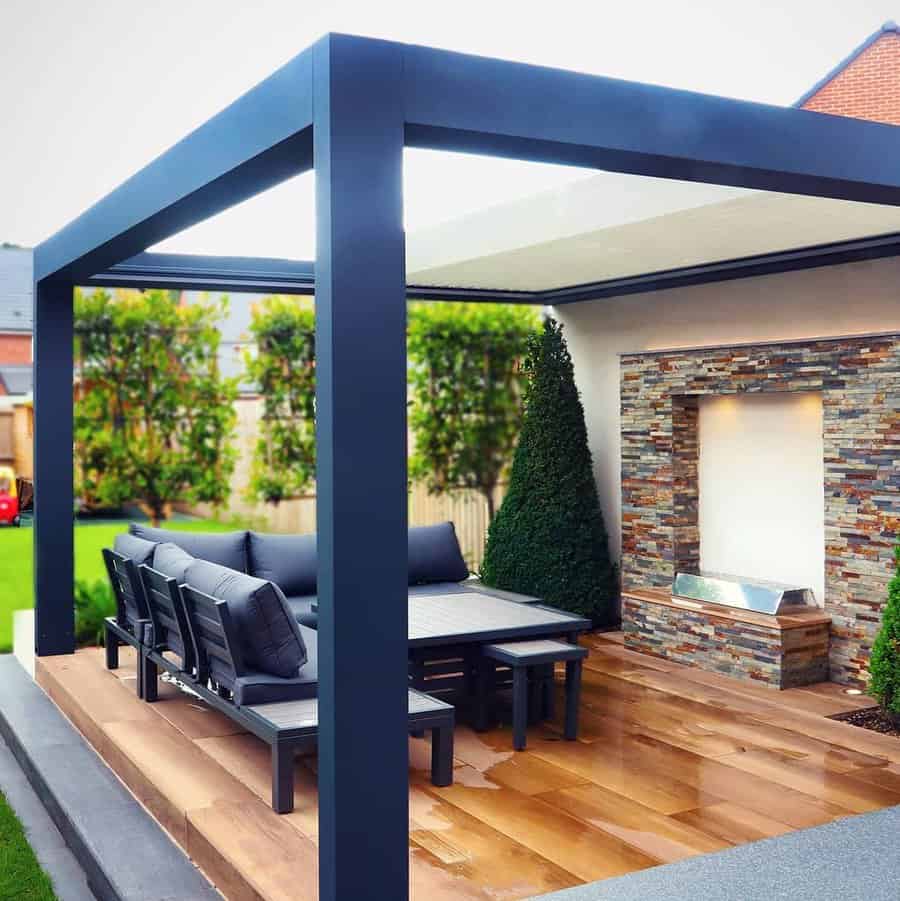 6. Sleek Design Meets Function in a Flat Top Pavilion
The flat-top pavilion combines contemporary aesthetics with versatile functionality. Its minimalist design, characterized by clean lines, becomes an instant focal point in any outdoor setting. Beyond its visual appeal, it can serve as a sheltered seating area, relaxation nook, or even an outdoor kitchen. Pair it with modern furniture or ambient lighting to elevate your next gathering and captivate your guests.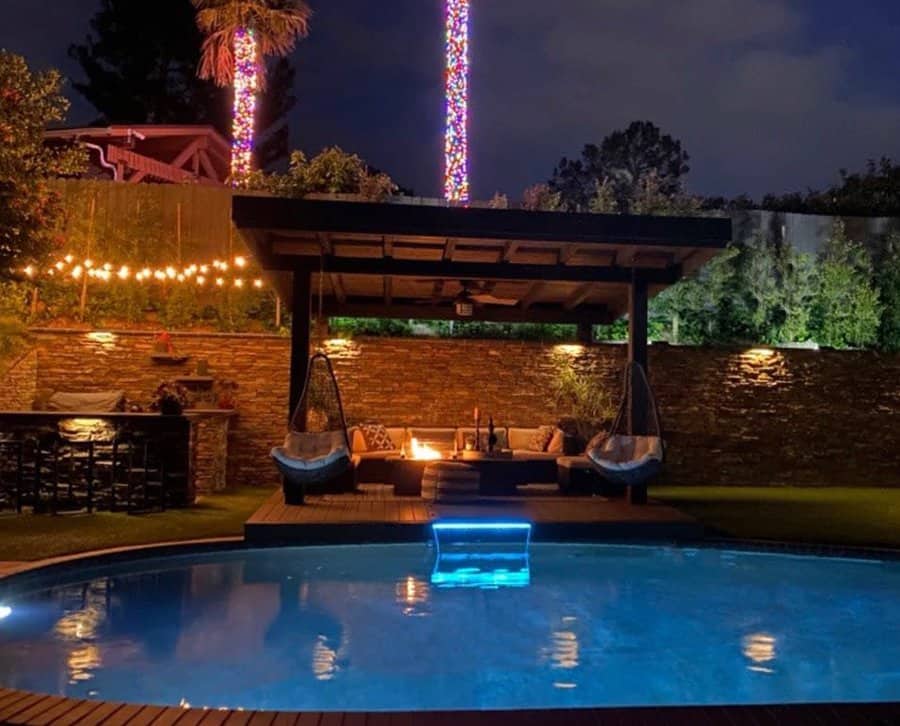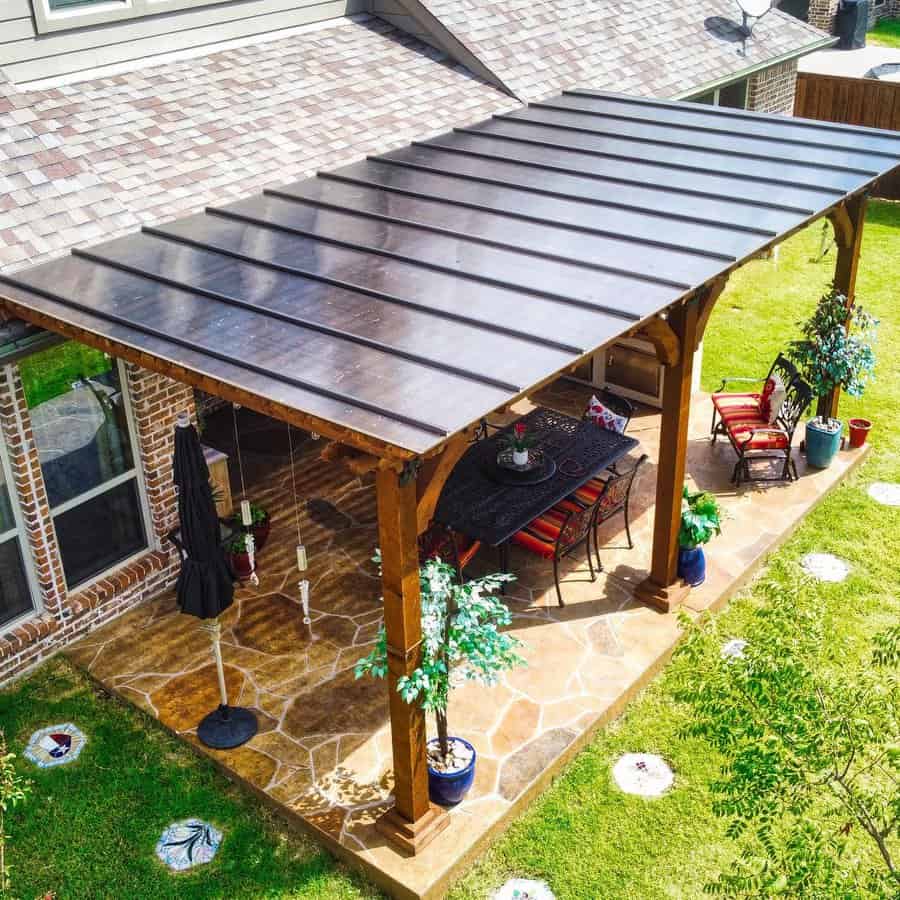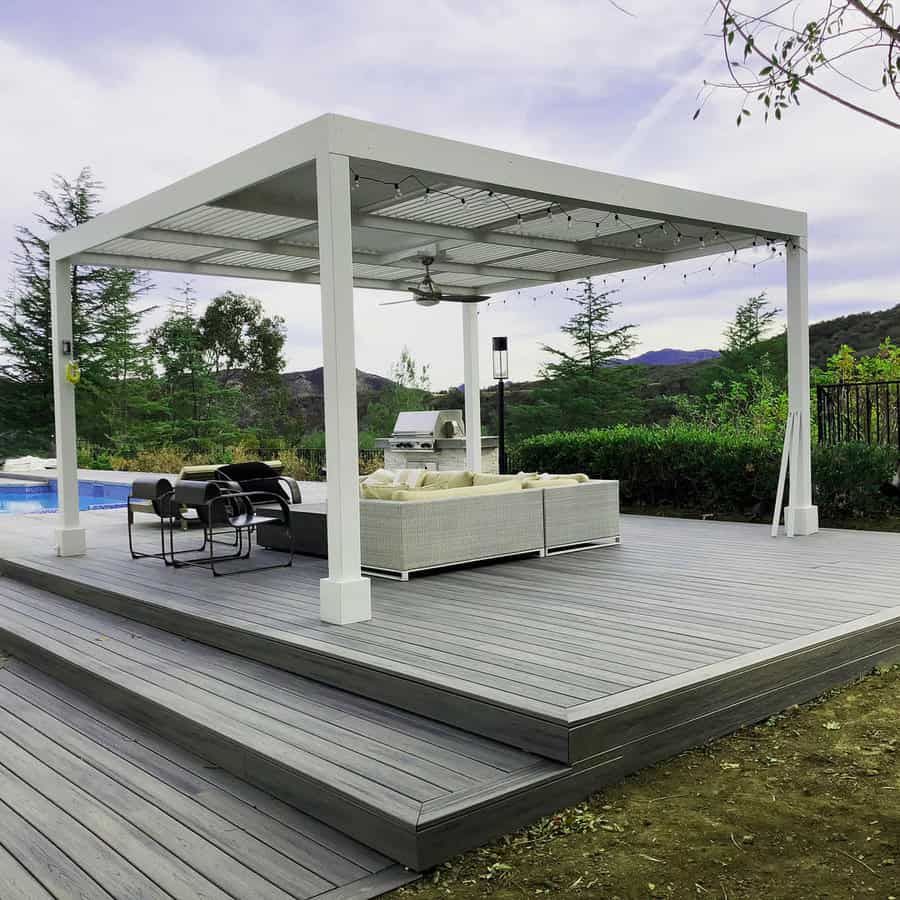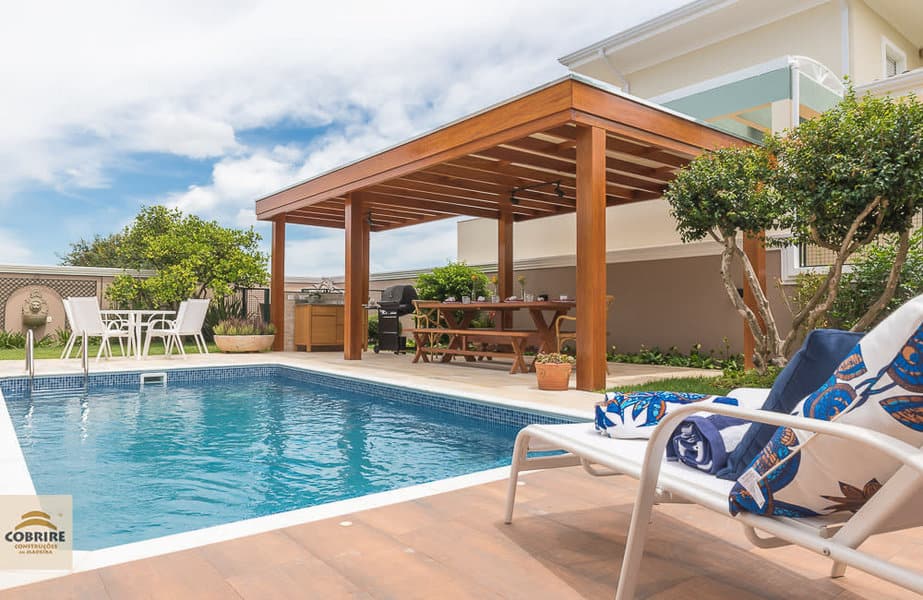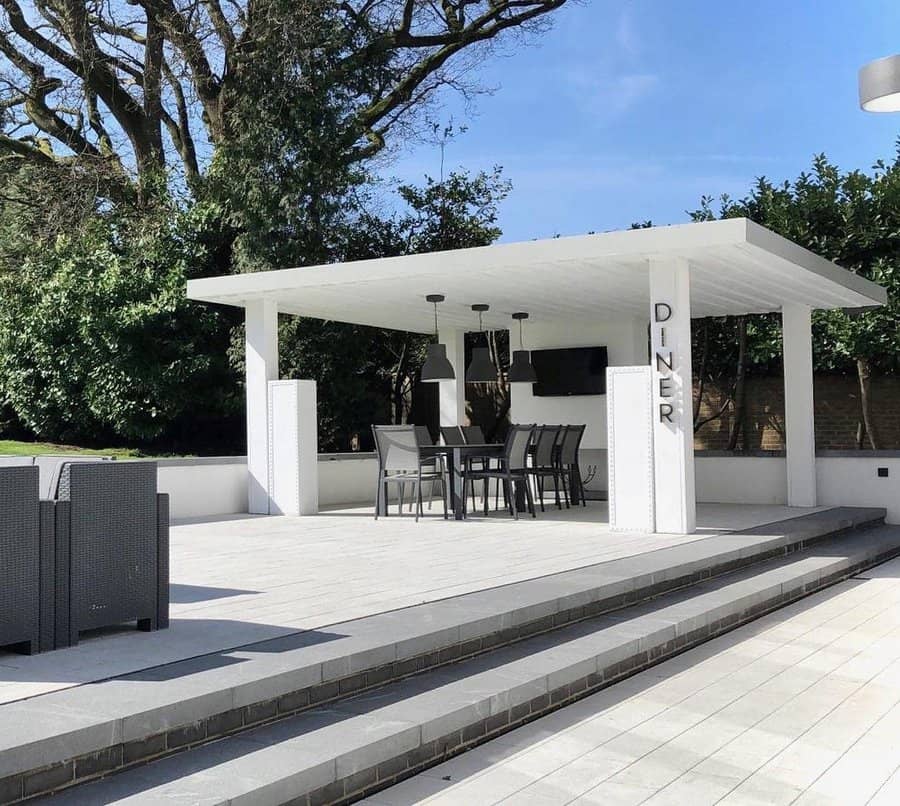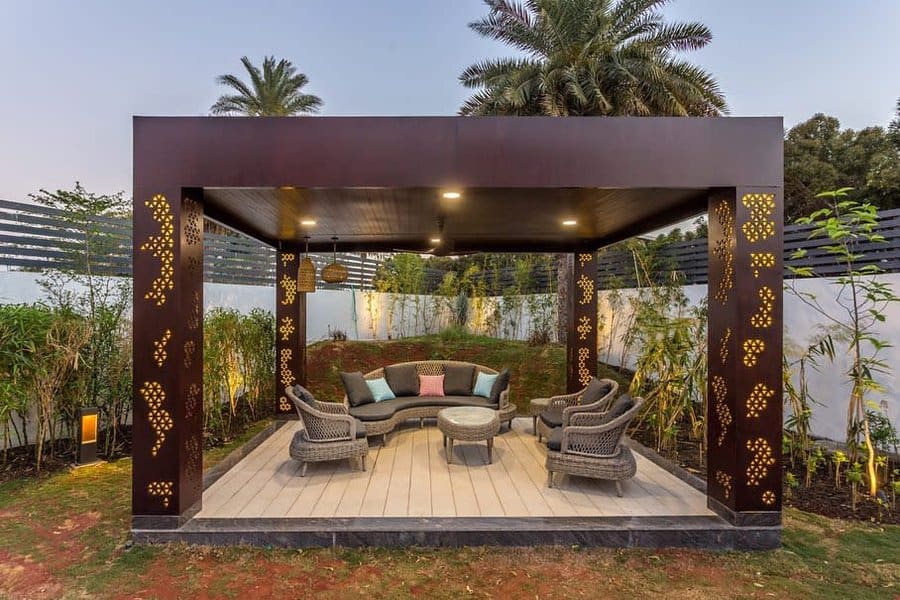 7. Relish Farmhouse Vibes with a Barn-Style Pavilion
Infuse rustic allure into your outdoor setting with a barn-style pavilion, blending timeless wooden and metal elements with modern design. Its peaked roof and open sides invite natural light, creating an idyllic backdrop for various events, from weddings to simple cookouts. To enhance its farmhouse charm, consider adding vintage-style lanterns or draping fairy lights, creating a space that's both nostalgic and contemporary.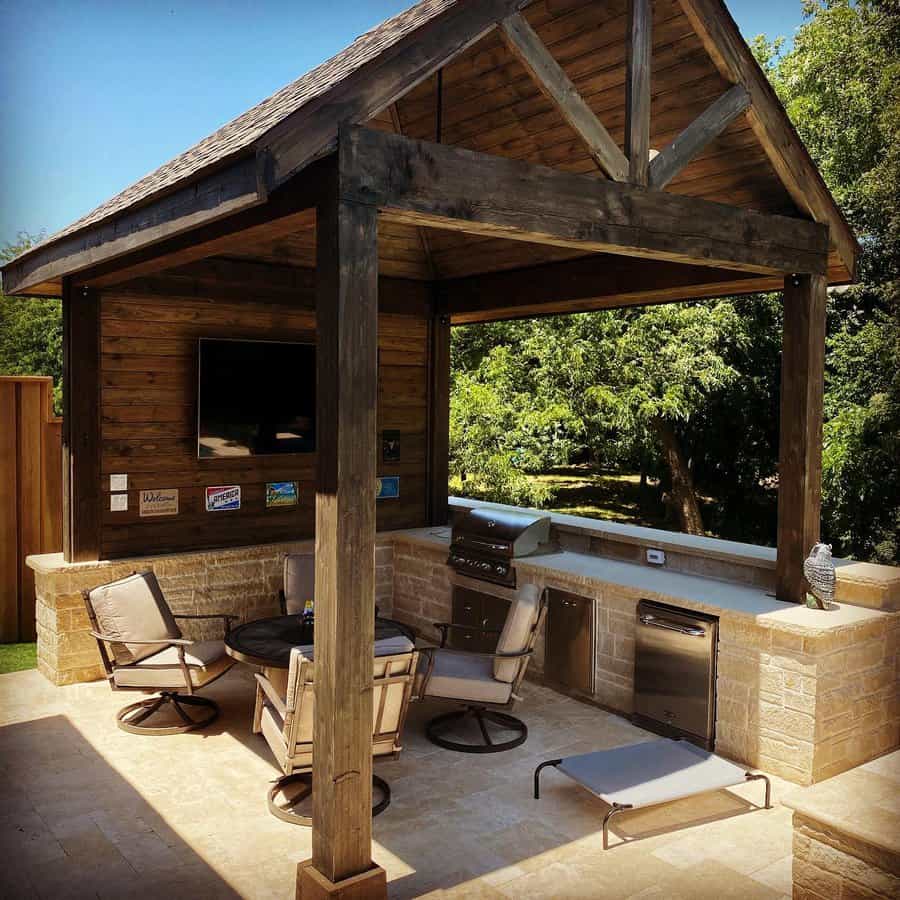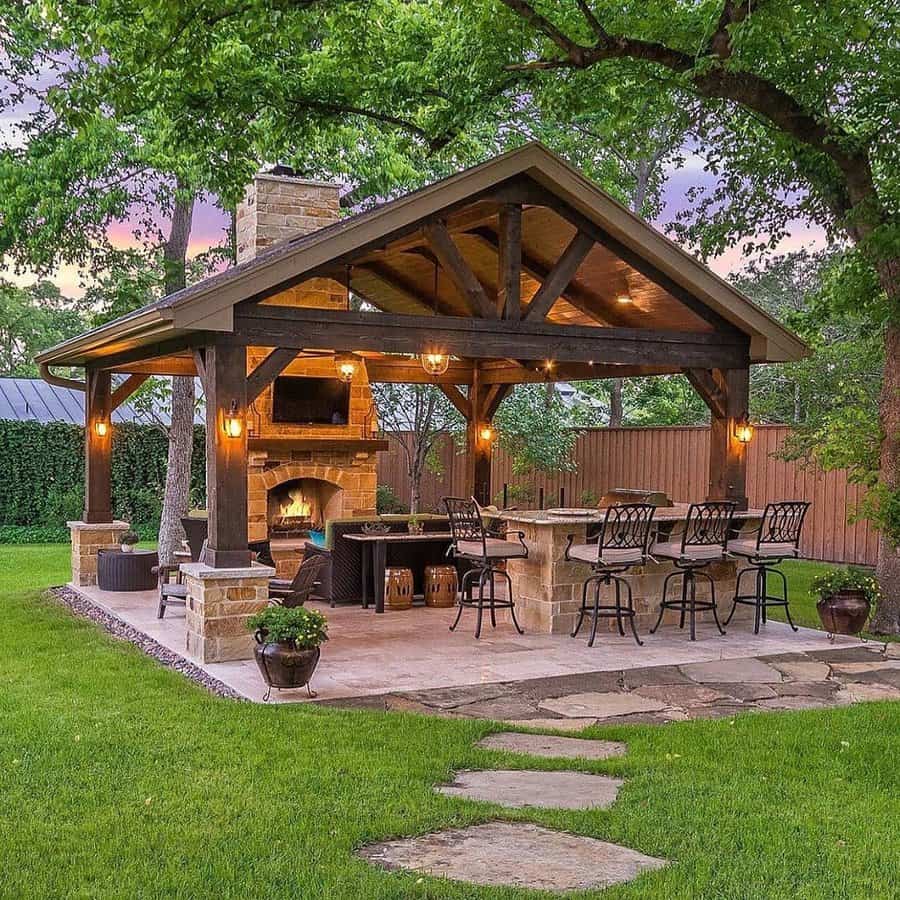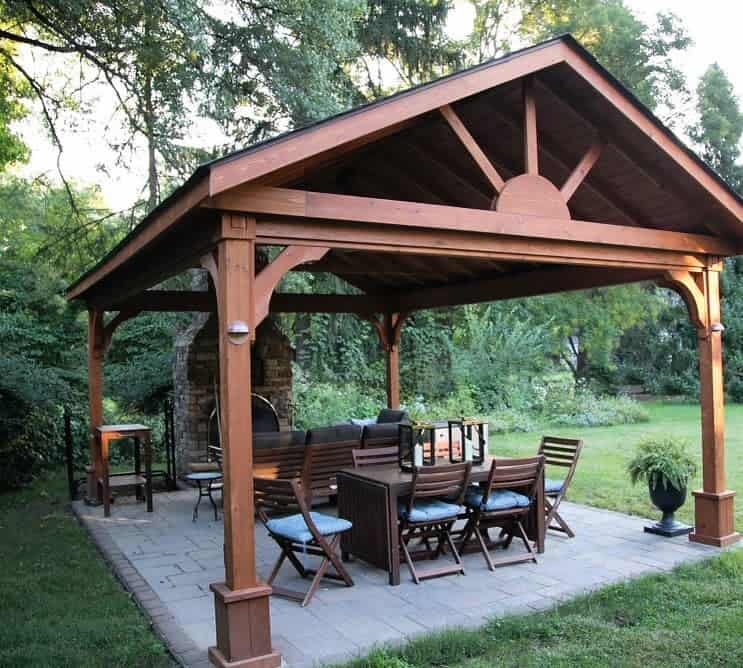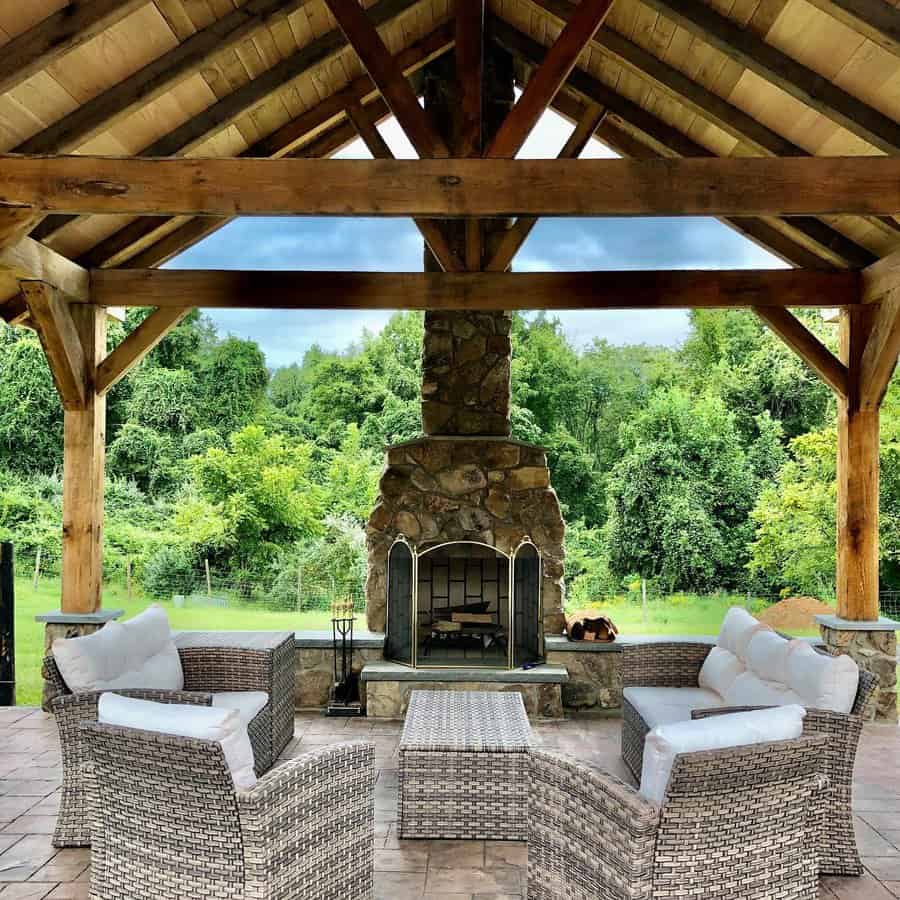 8. Bask in Classic Comfort with a Bungalow Pavilion
A bungalow pavilion exudes traditional charm, offering an oasis reminiscent of simpler times. Its design, accentuated by rusted iron detailing on wooden pillars, seamlessly merges with nature's serenade. To further anchor its classic appeal, coordinate its style with your home's exterior, perhaps introducing cozy furnishings or vintage lanterns to create a harmonious backyard retreat.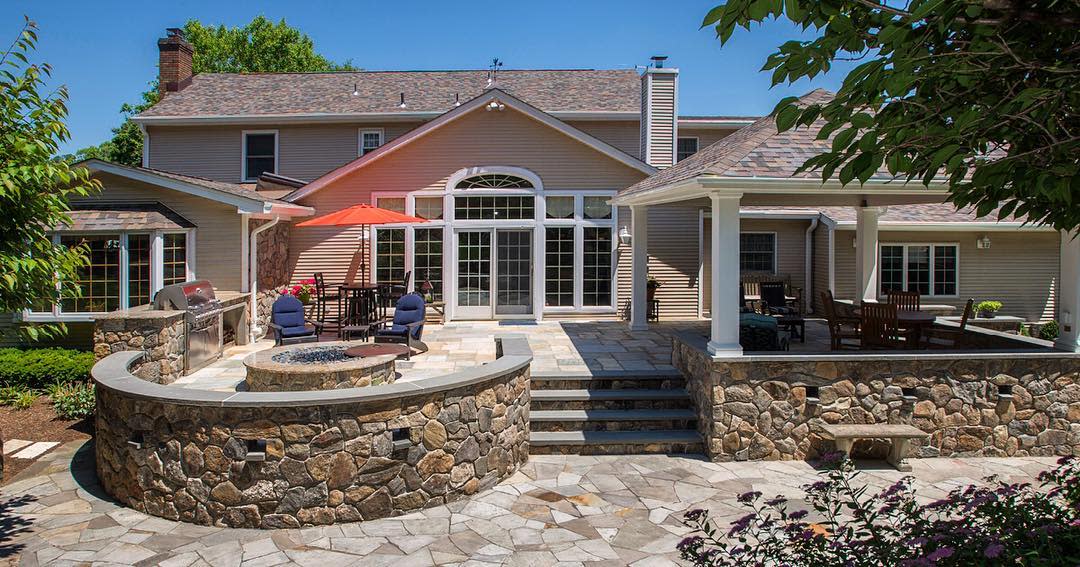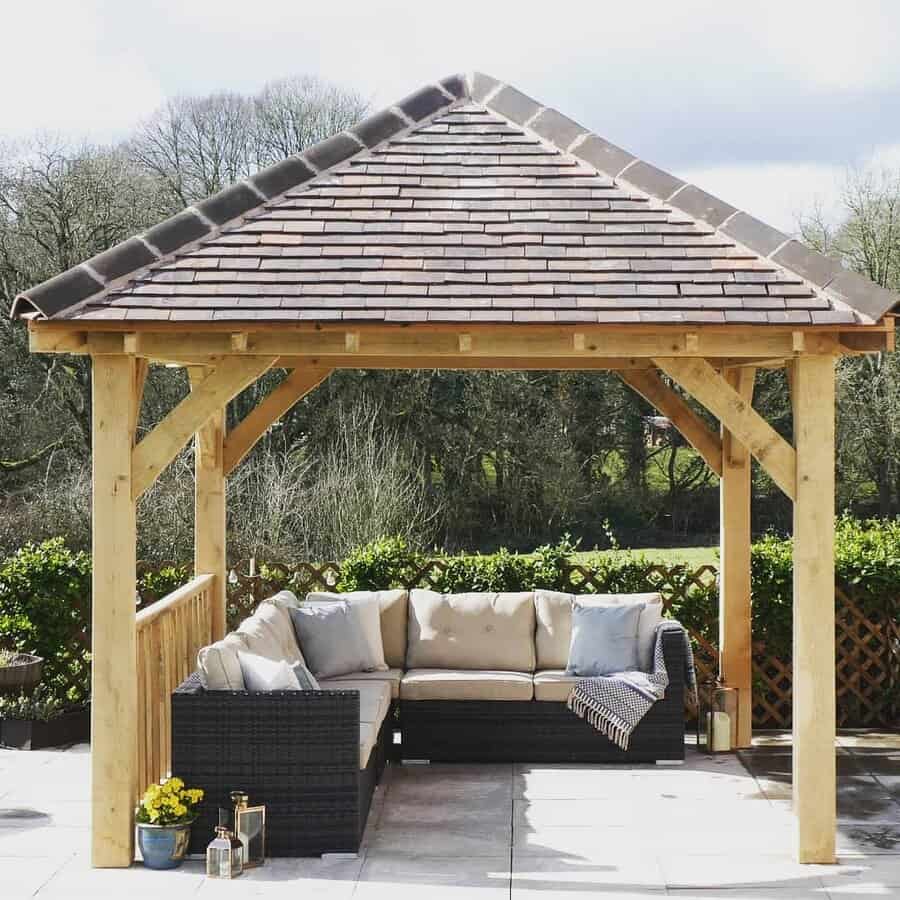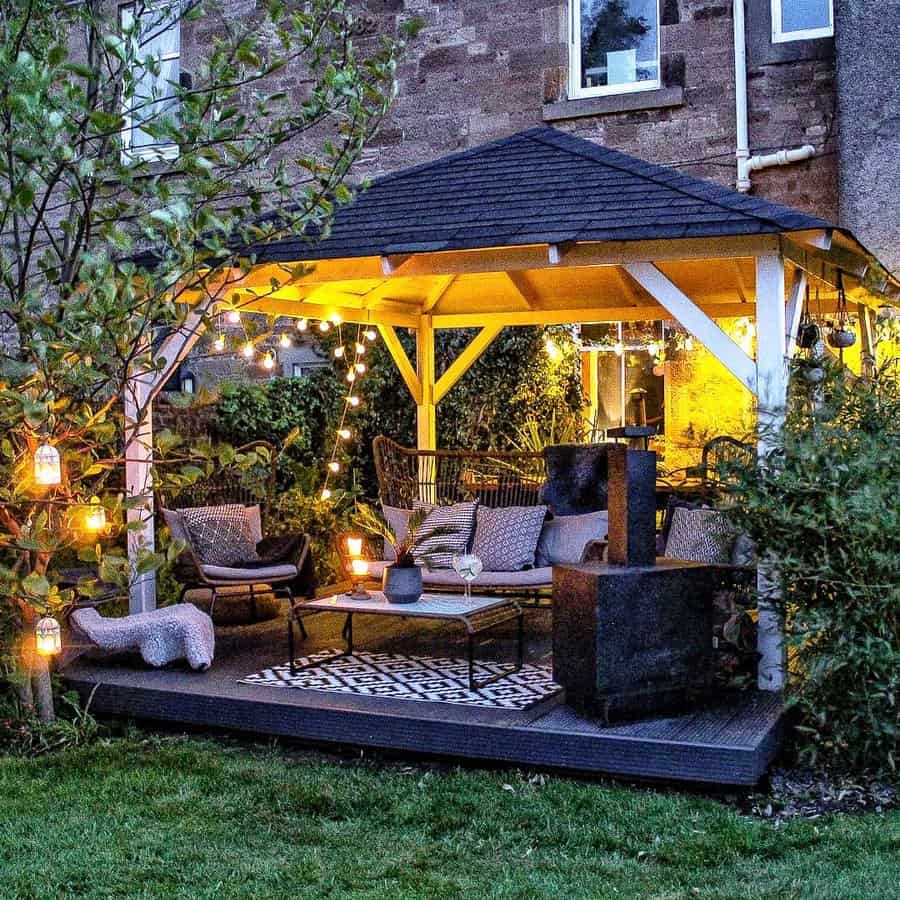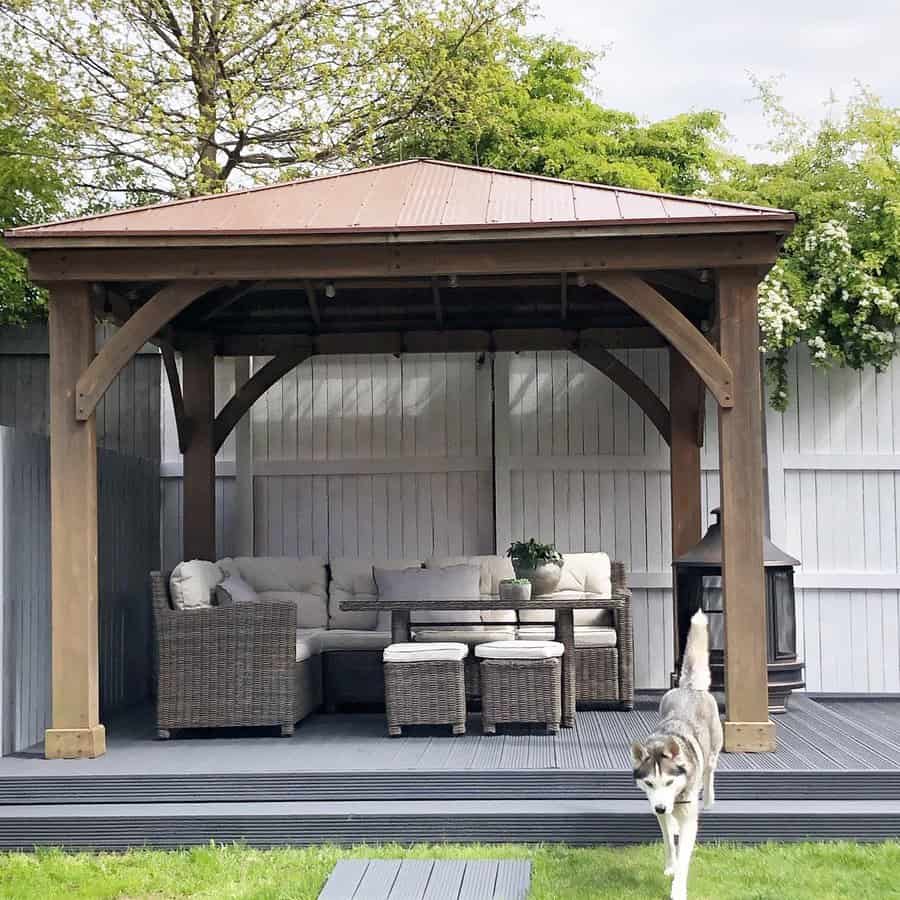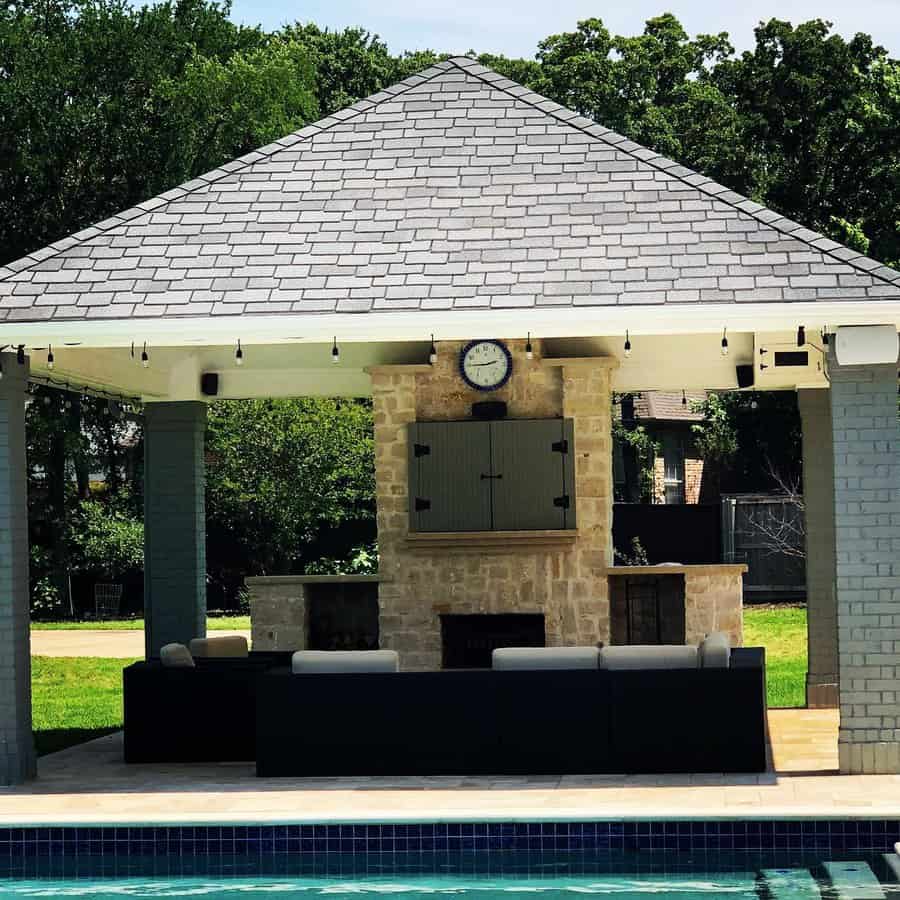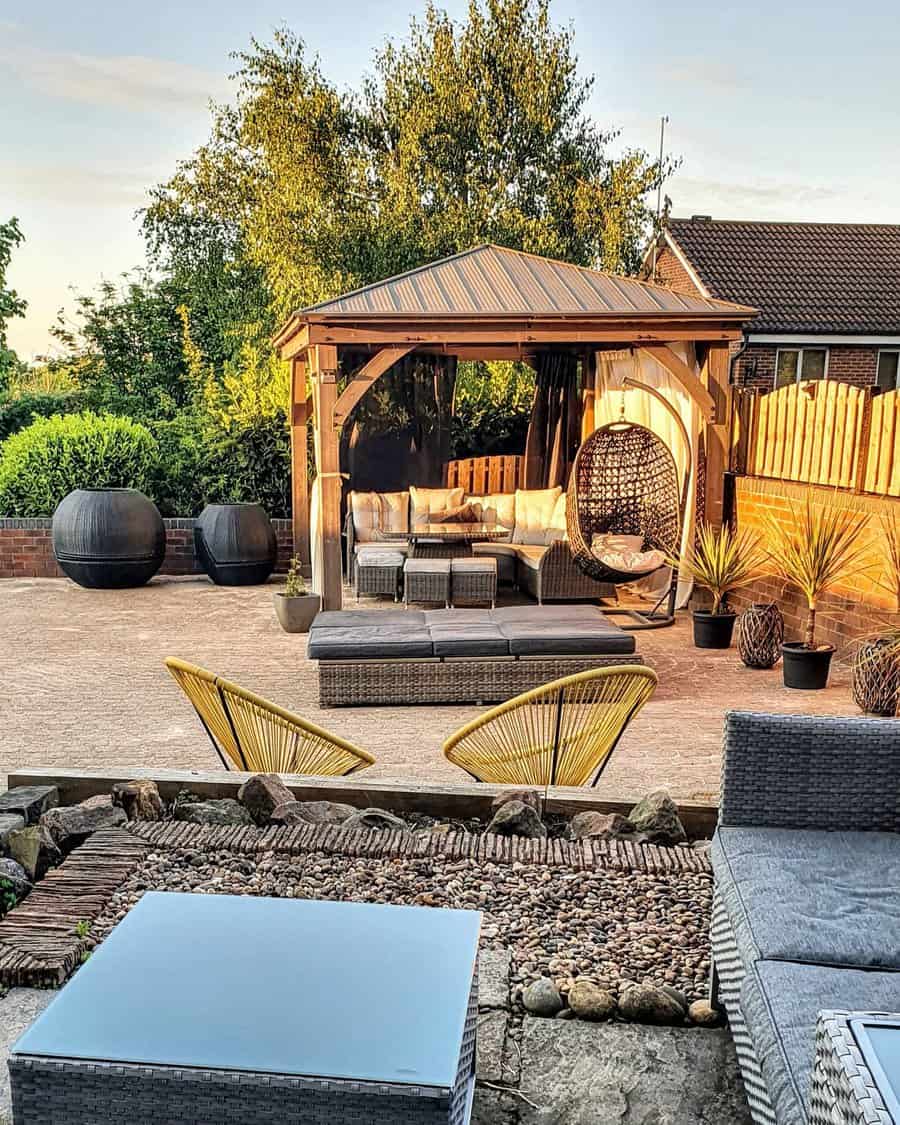 9. Illuminate Nights with a Light-String Bungalow
A backyard pavilion adorned with string lights transforms evenings into magical moments. The gentle luminescence offers both coziness and charm, setting the stage for intimate gatherings or solitary relaxation. For an added touch, intertwine the lights with hanging greenery or complement with soft outdoor cushions, ensuring every evening feels both enchanting and comfortable.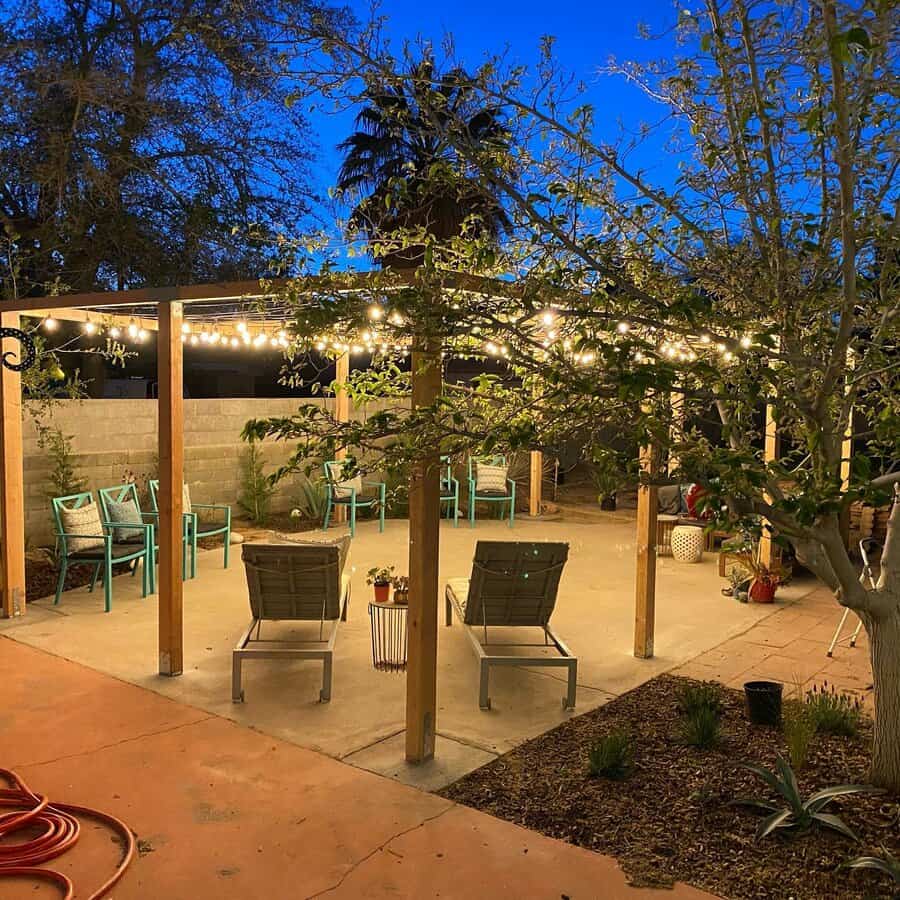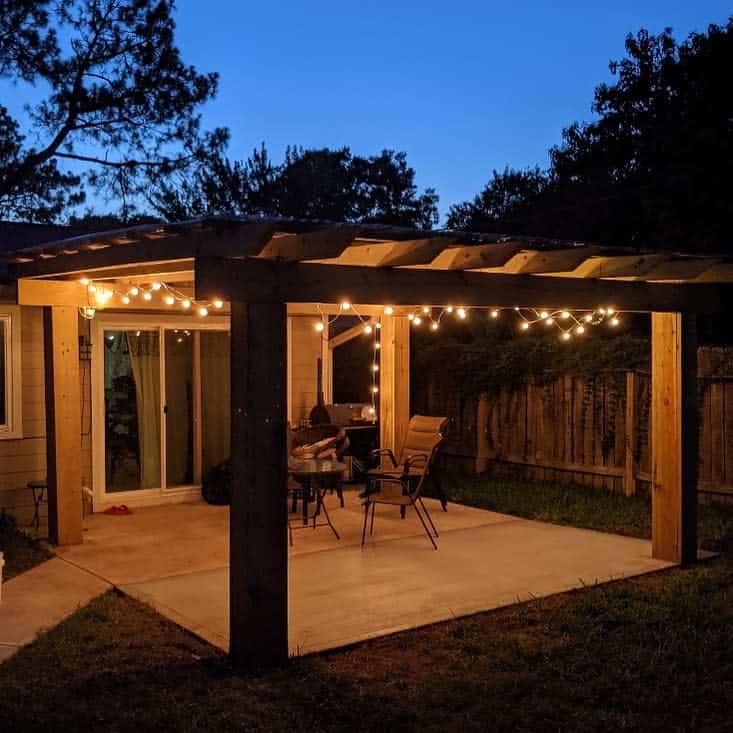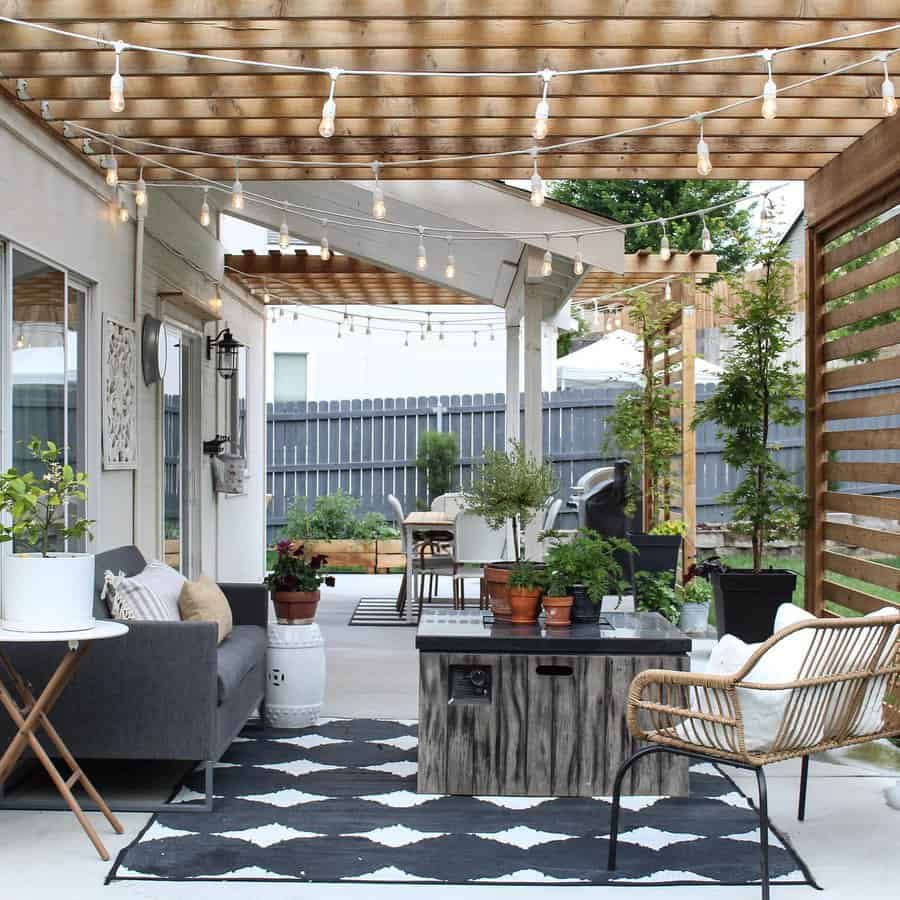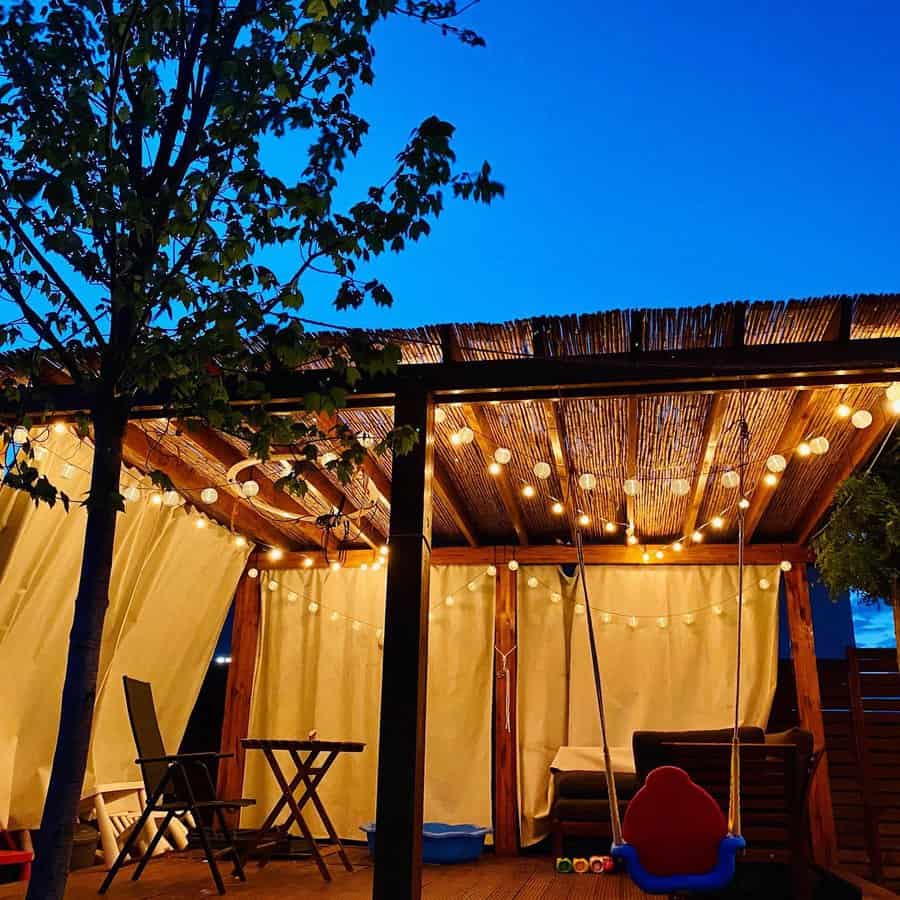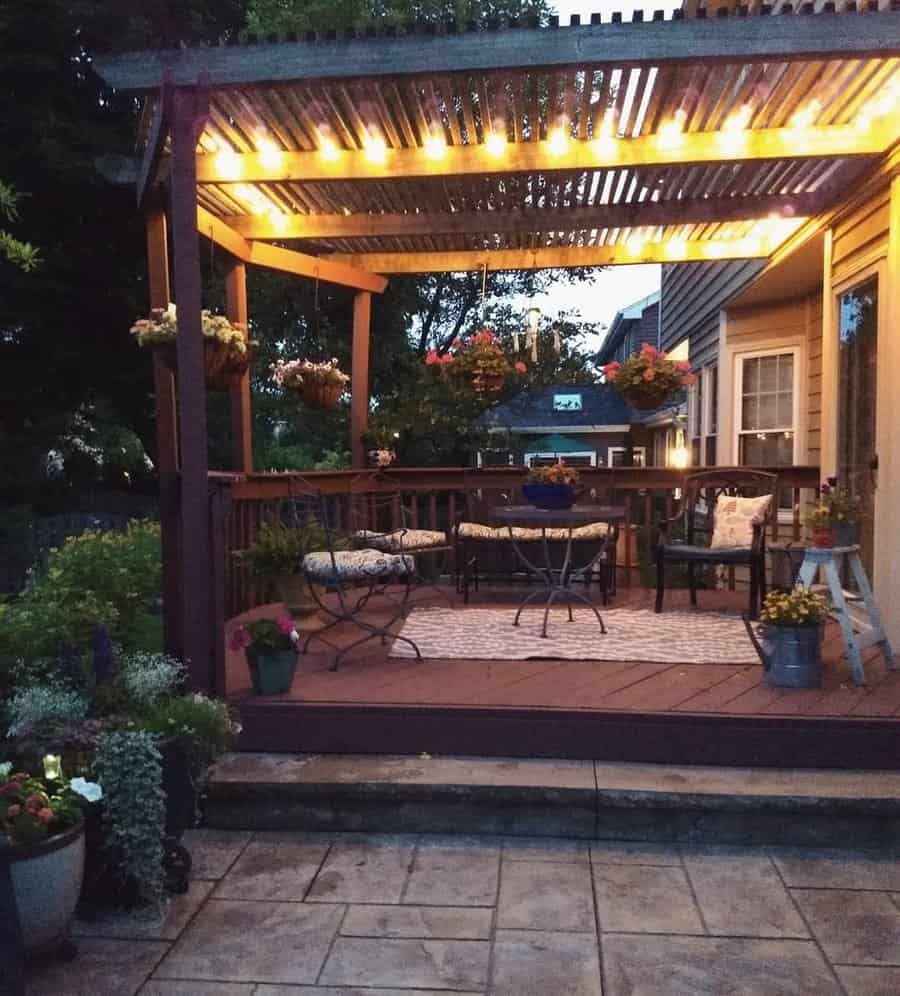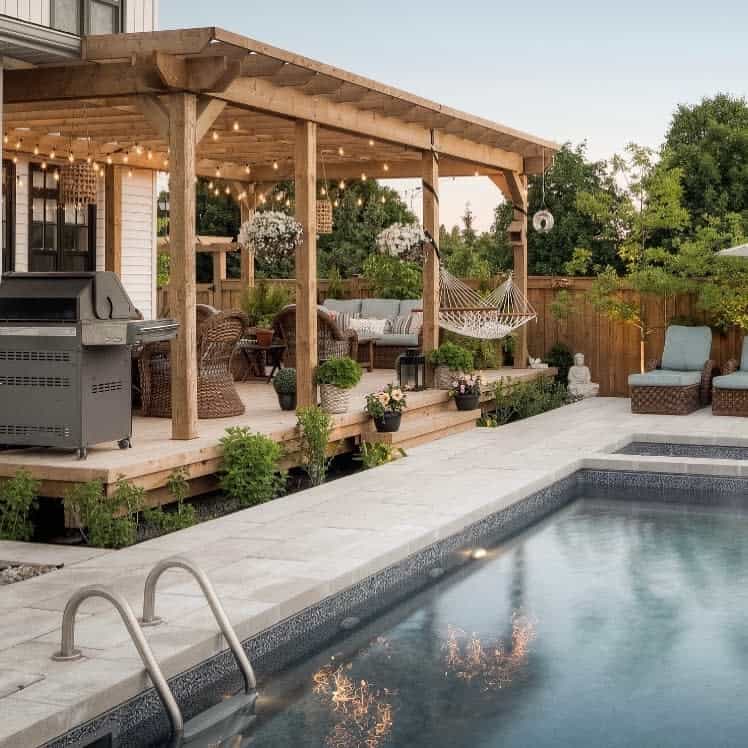 10. Modern Edges Shine in a Cantilever Pavilion
A cantilever pavilion stands as an emblem of modern elegance amidst nature's backdrop. Its architectural design offers uninterrupted panoramic garden views, turning your backyard into a serene oasis. This structure is ideal for a rejuvenating morning yoga routine or intimate evening gatherings. To elevate its contemporary vibe, consider adding sleek outdoor furniture or incorporating minimalist landscape elements.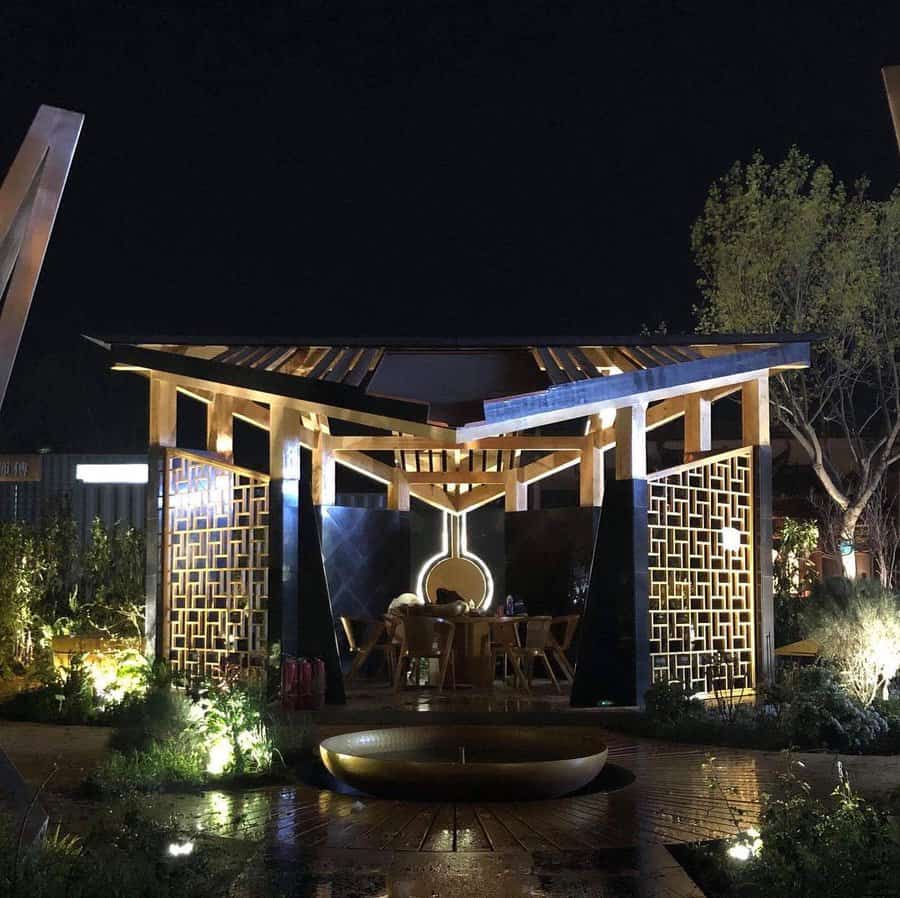 11. Versatile Shelter with a Pop-Up Pavilion
The pop-up pavilion offers a swift and stylish solution for diverse outdoor occasions. Its ease of setup ensures immediate shade for picnics or a tranquil space for meditation. To optimize its function, select a location that complements other garden elements and consider adding ground cushions or portable seating for enhanced comfort.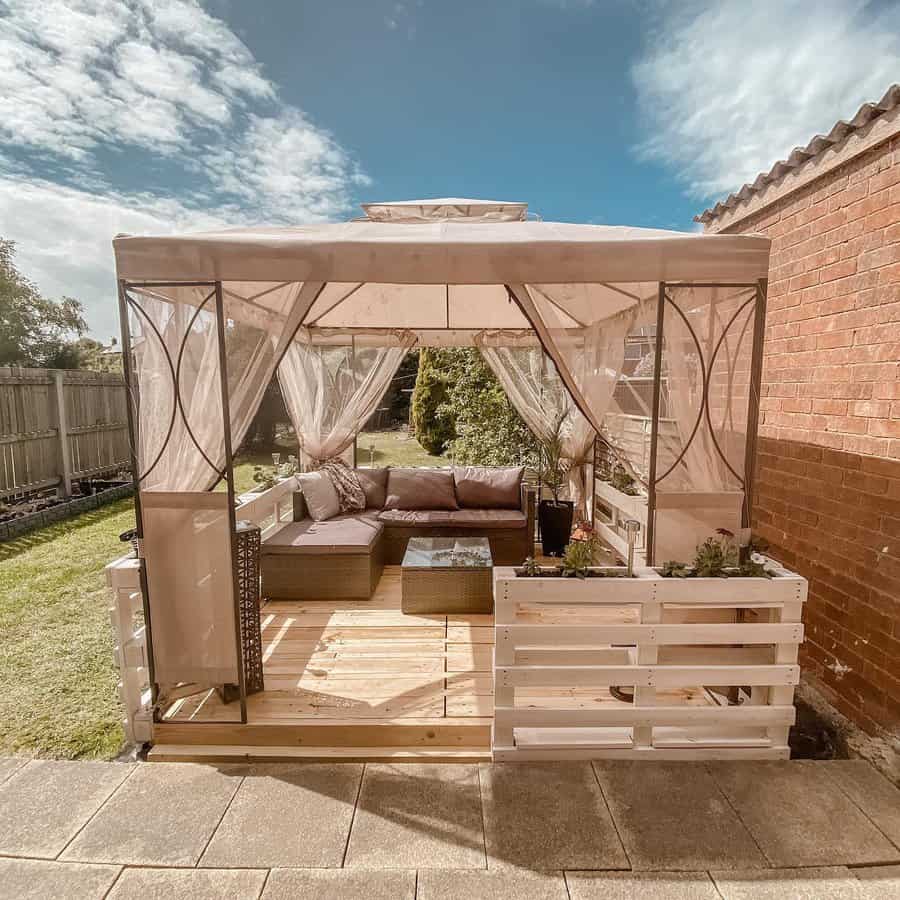 12. Add Classic Touch with a Pavilion Cupola
A backyard pavilion crowned with a cupola merges functionality with timeless charm. The cupola not only enhances aesthetics but also allows for improved ventilation, creating an inviting space to relish warm sunlit days. To further elevate its classic appeal, complement the pavilion with traditional garden furniture and plantings, crafting a space that resonates both comfort and elegance.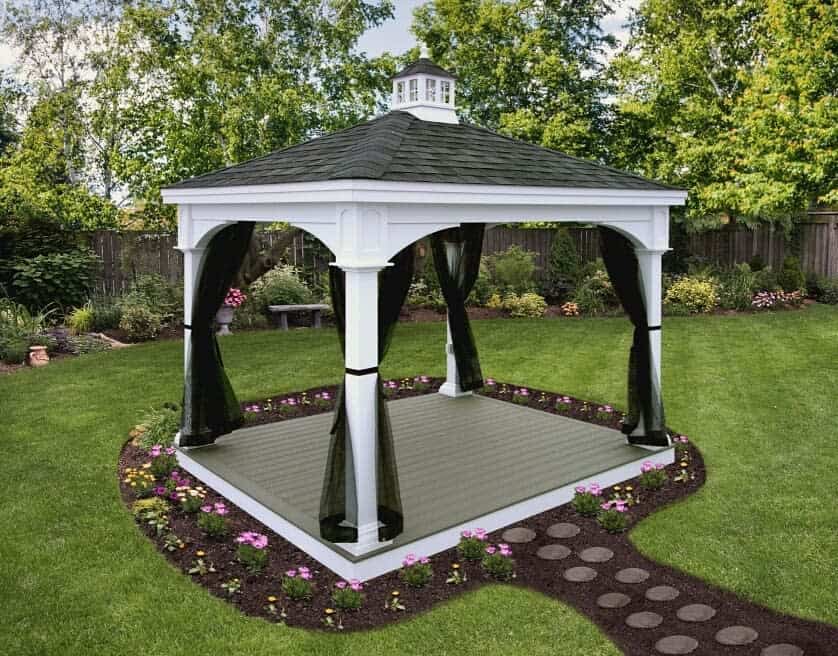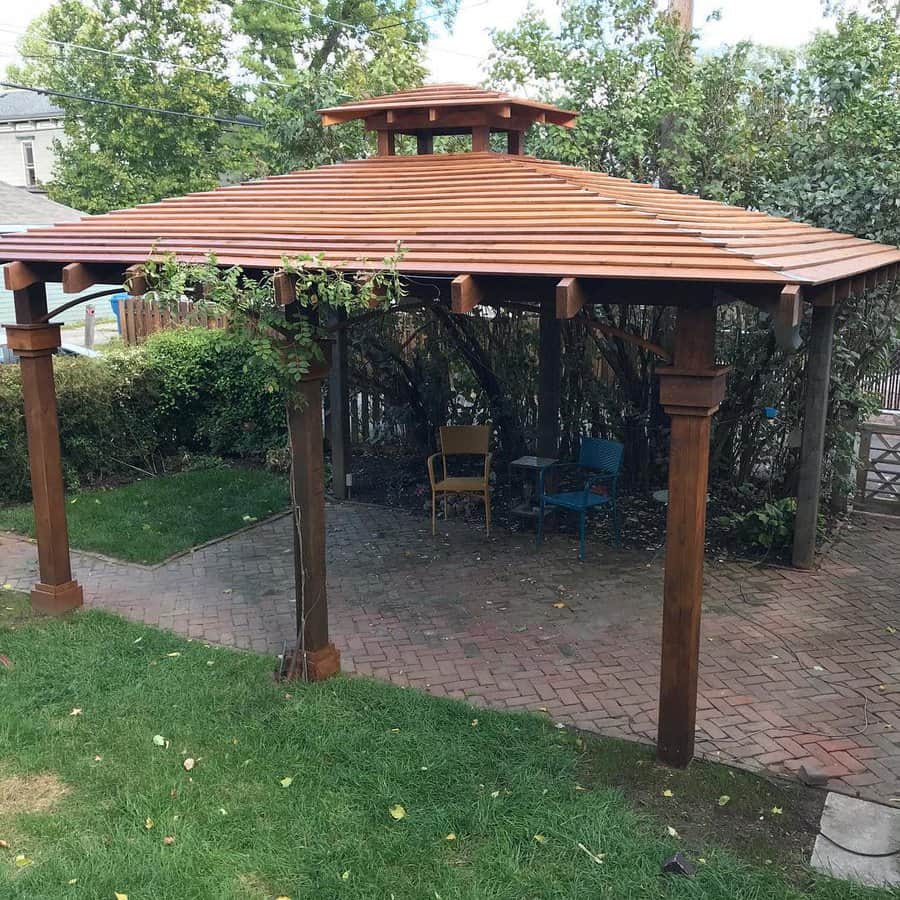 Backyard Pavilion FAQs
What is a good size pavilion?
A good size for your pavilion is 10×14 feet. It's a small enough size for the majority of backyards. It can also be built off of an existing deck or patio. If you have a larger backyard, then you can increase the size to suit the available space.
What can you do in a pavilion?
You can do almost anything in a pavilion. Turn yours into an outdoor living room, meeting area, theater, seating area, outdoor bar, or sports area. The covered roof gives the area underneath plenty of protection, so you can do more in the pavilion than what you would be able to do in other outdoor structures.
What is the difference between pergola and pavilion?
A pergola has an open roof, with only beams overhead. A pavilion has a solid roof. Neither has walls, allowing for open airflow through the structure. The covered aspect of a pavilion will give you more protection from the sun and rain.