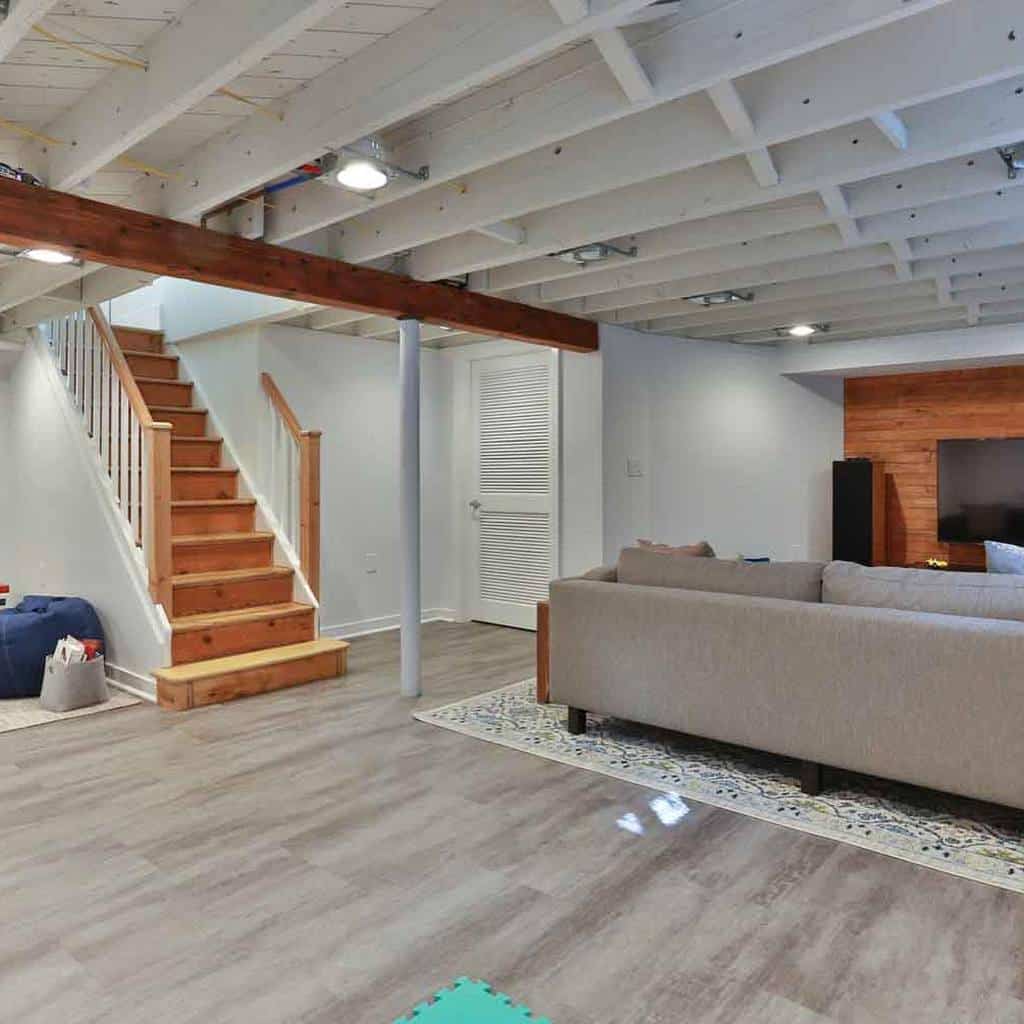 The Top 46 Basement Ceiling Ideas
by — Kari Apted

Published on November 16, 2021

Updated on October 12, 2023
"Ceilings must always be considered. They are the most neglected surface in a room." – Albert Hadley
It's true—the ceiling is one of the most neglected surfaces in home design. But have you noticed that when you enter a room with a particularly unattractive ceiling, it really stands out?
Spending some time on your basement ceiling ideas is important if you want to create a cohesive, welcoming bottom floor. Ceiling manufacturers have gone far beyond basic industrial drop ceiling tiles, as you can see from our extensive gallery of best basement ceiling ideas.
1. Explore Arched Basement Ceiling Styles
Arched basement ceilings bring character and a sense of spaciousness to what might otherwise be a confined area. To maximize this design, consider using soft, ambient lighting that accentuates the ceiling's curves. Pair with minimalist decor to prevent the space from feeling cluttered and to allow the arch's elegance to shine through. Choose this style for a sophisticated yet cozy ambiance.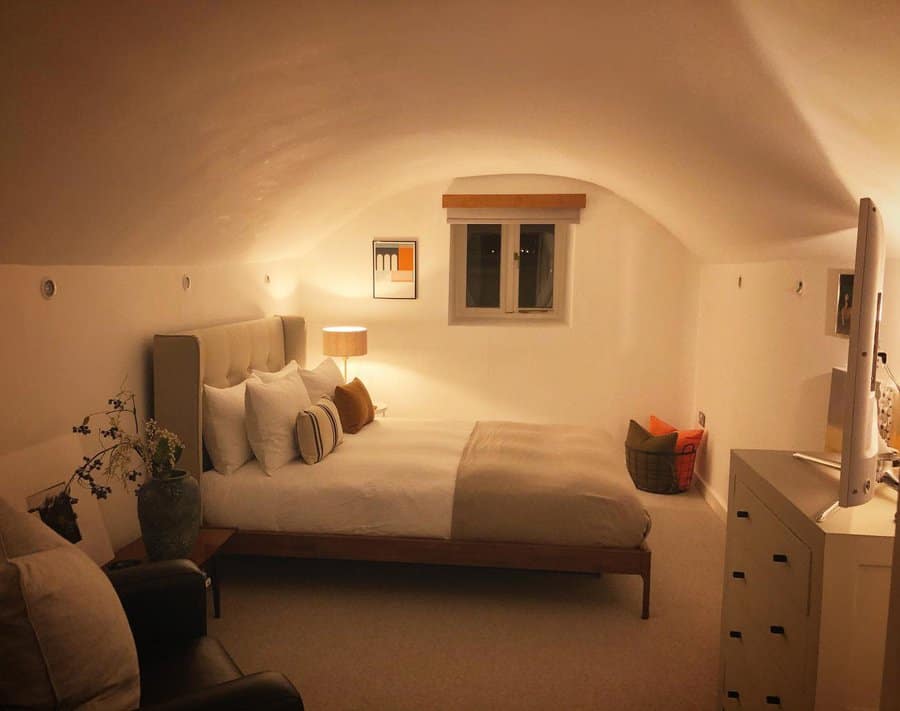 2. Discover Smooth Drywall Ceiling Designs
A smooth drywall ceiling offers a polished and insulated finish to basements, making the space feel more integrated with the rest of the home. Before diving in, ensure your basement is moisture-free, as dampness can compromise the drywall's integrity. For optimal results, seek professional installation or educate yourself on best practices. Complement the sleek surface with recessed lighting or simple pendant lights to elevate the room's aesthetics.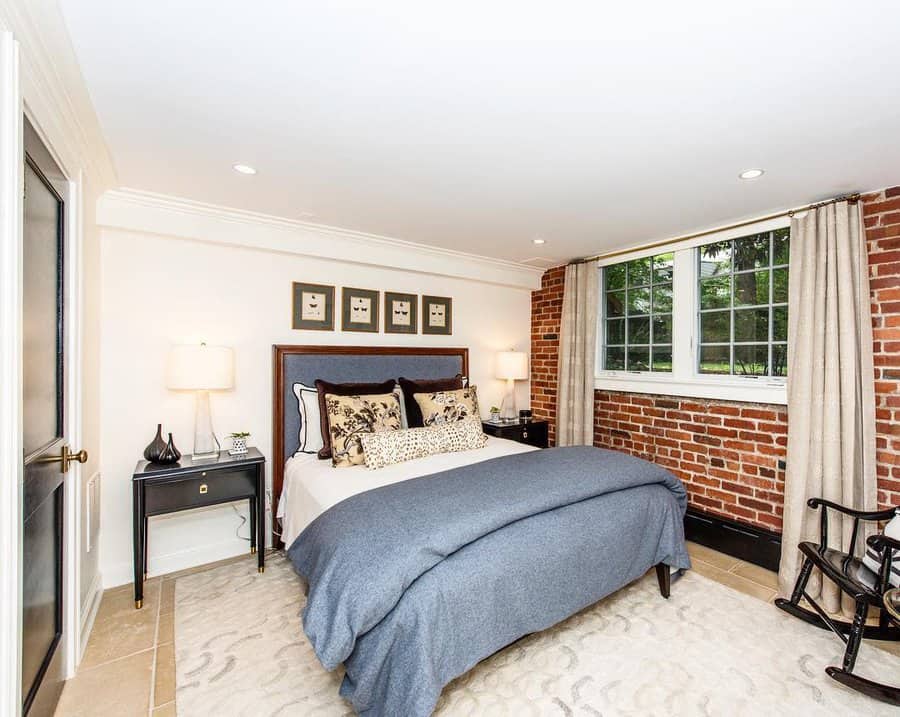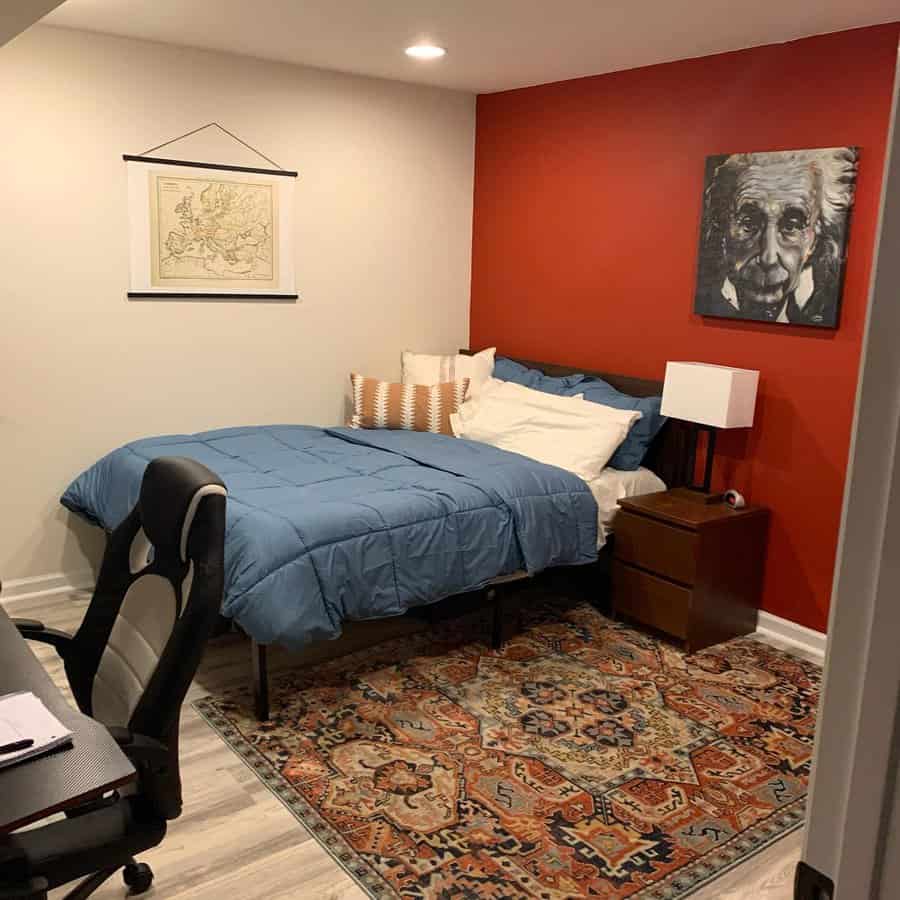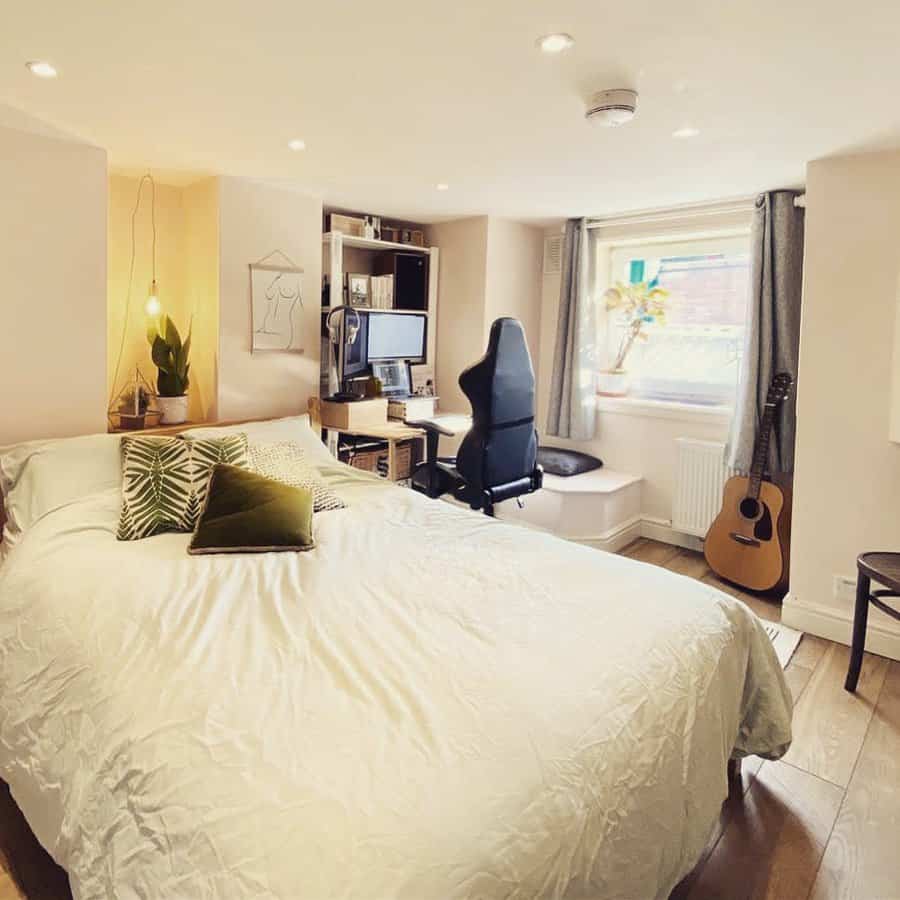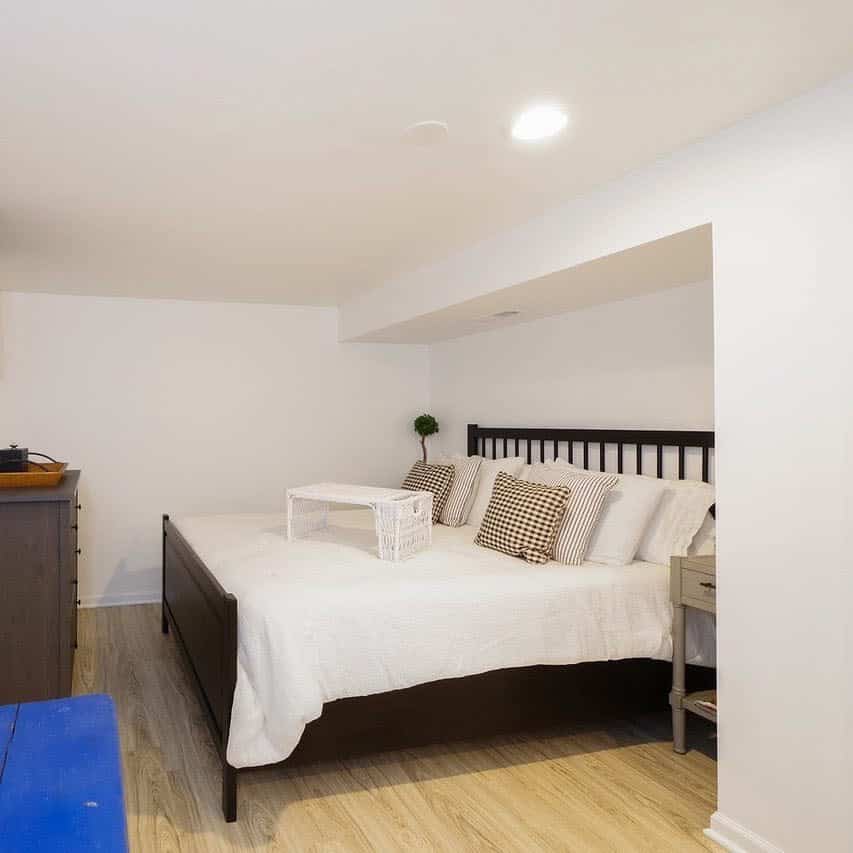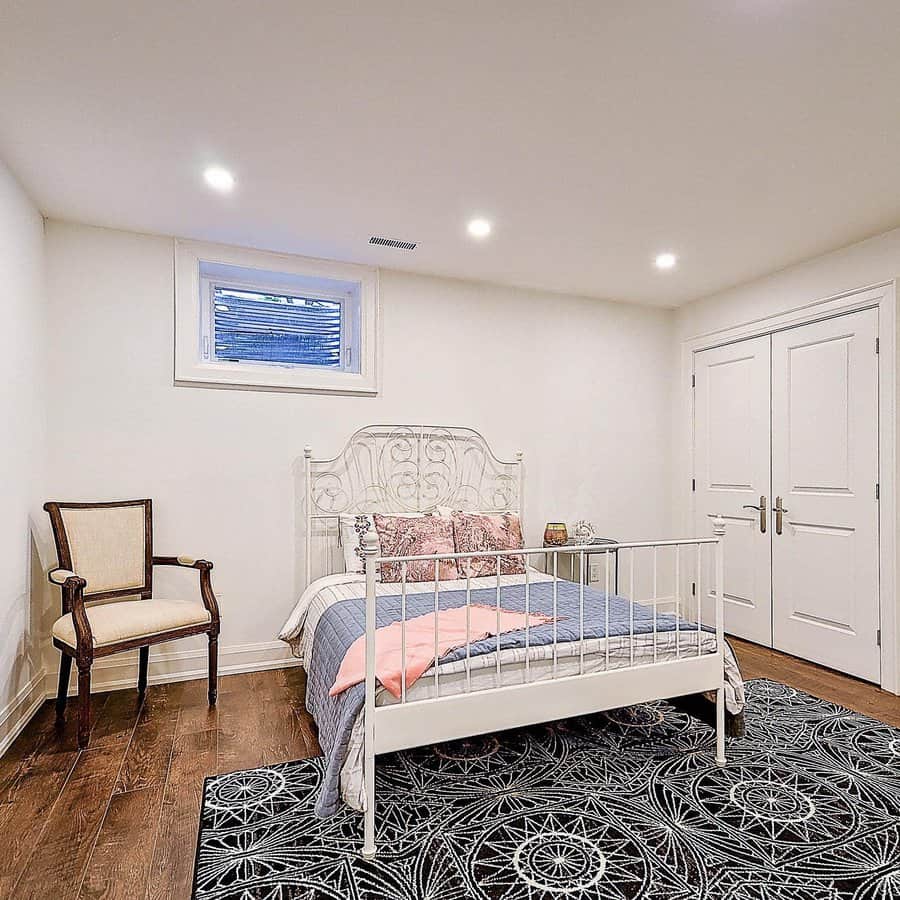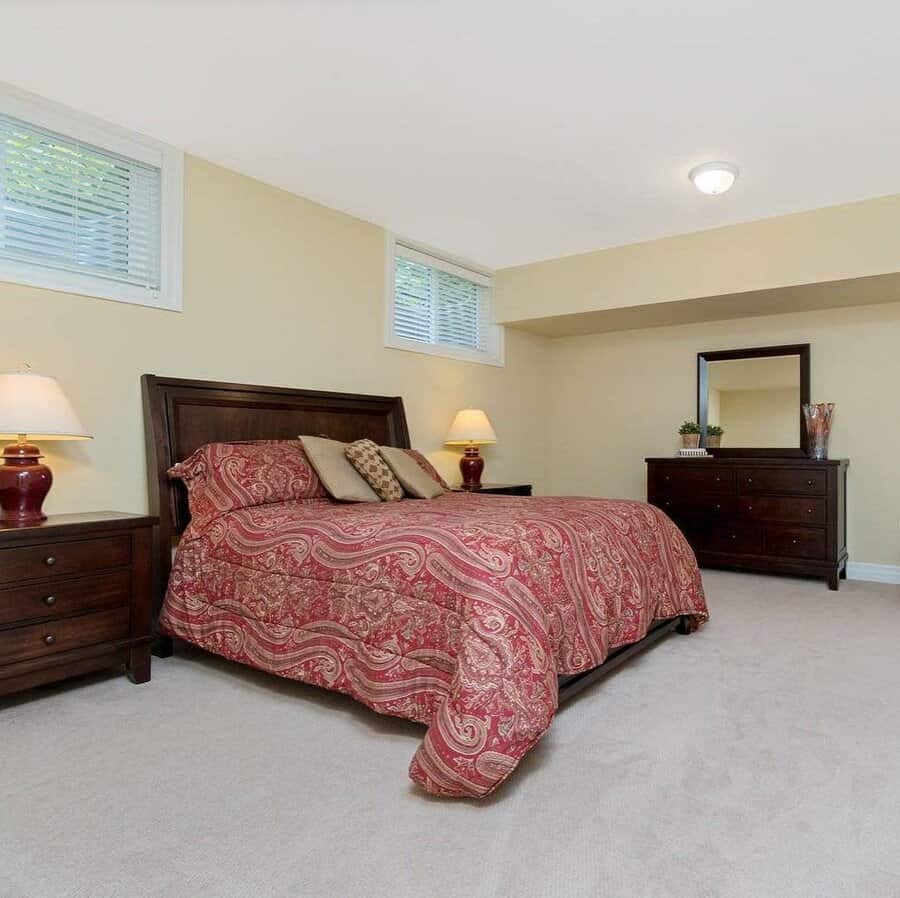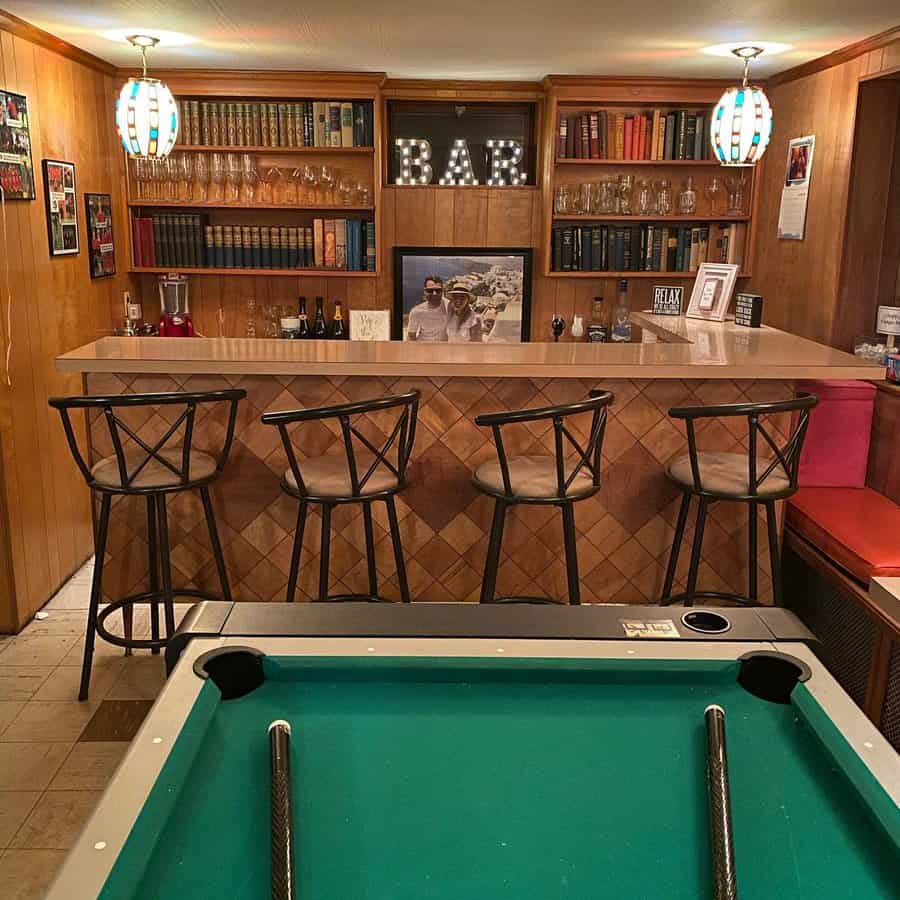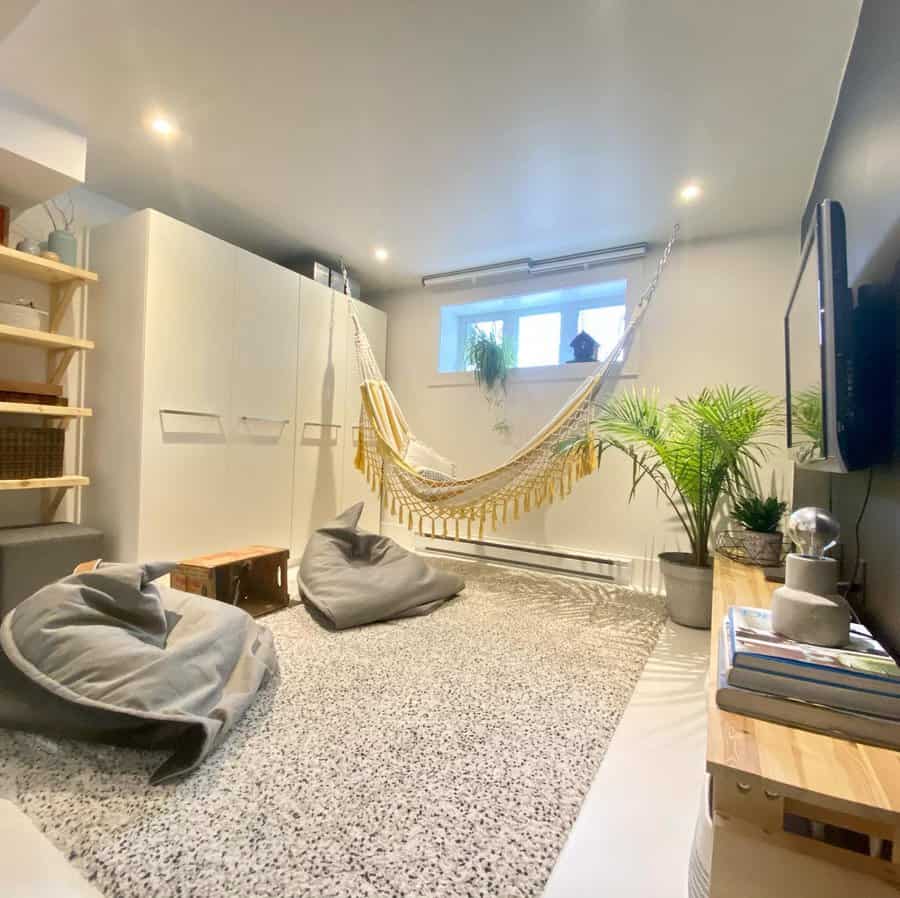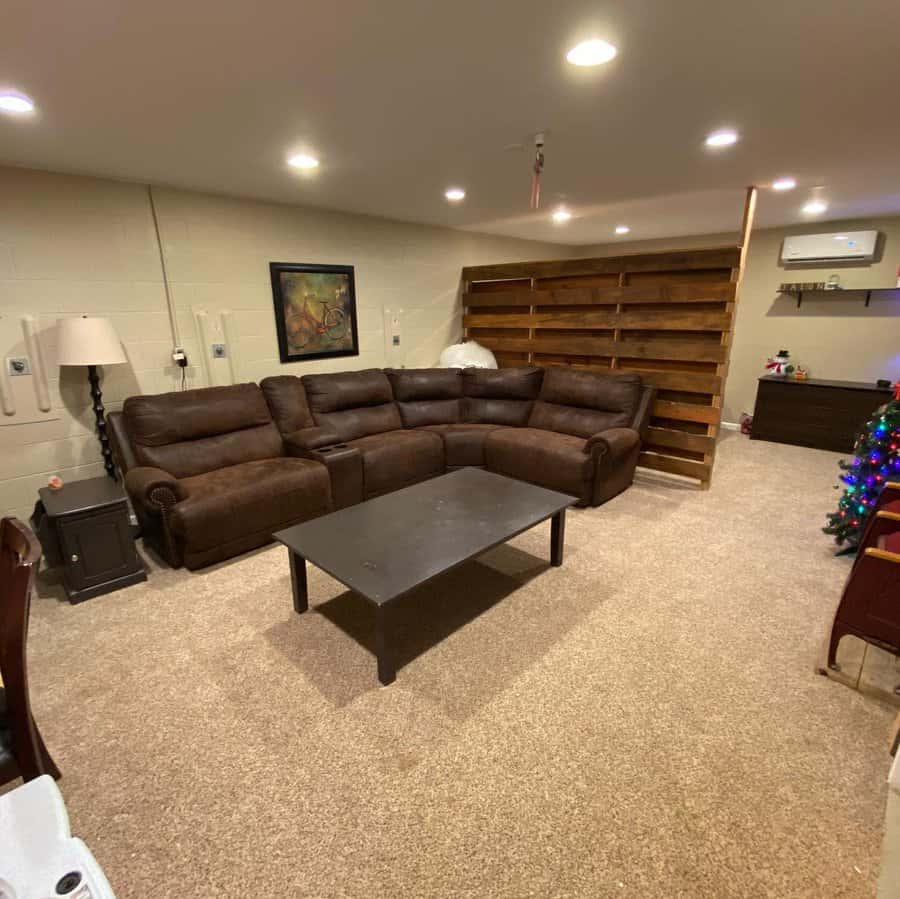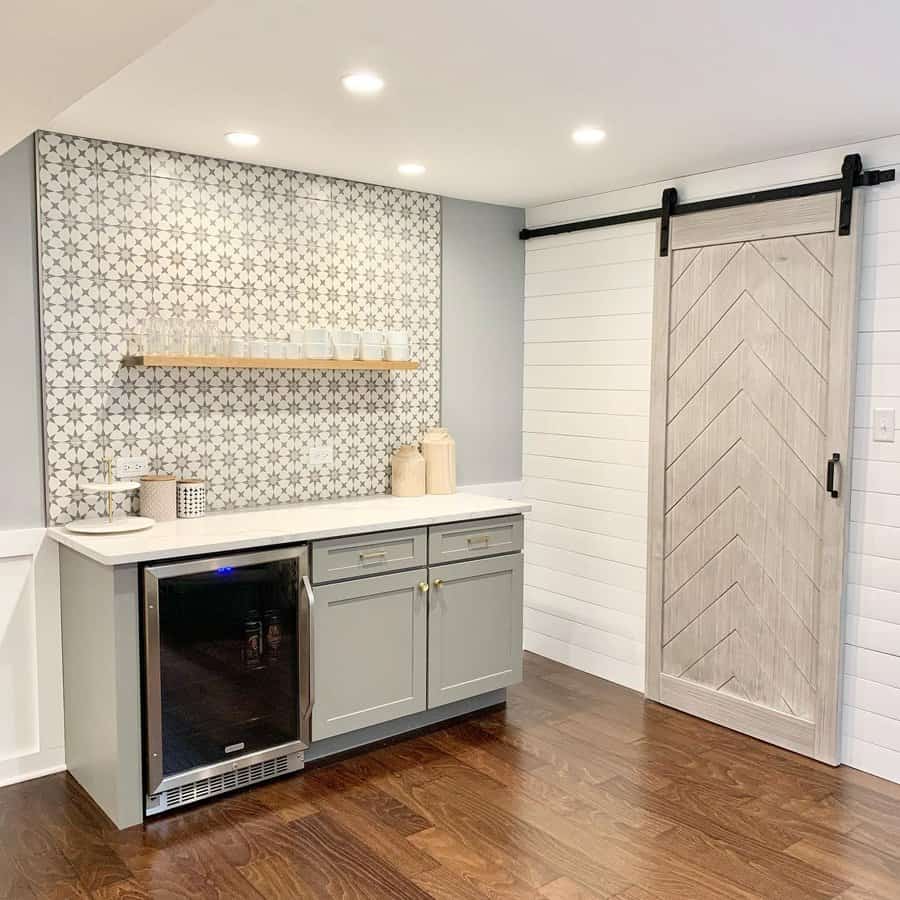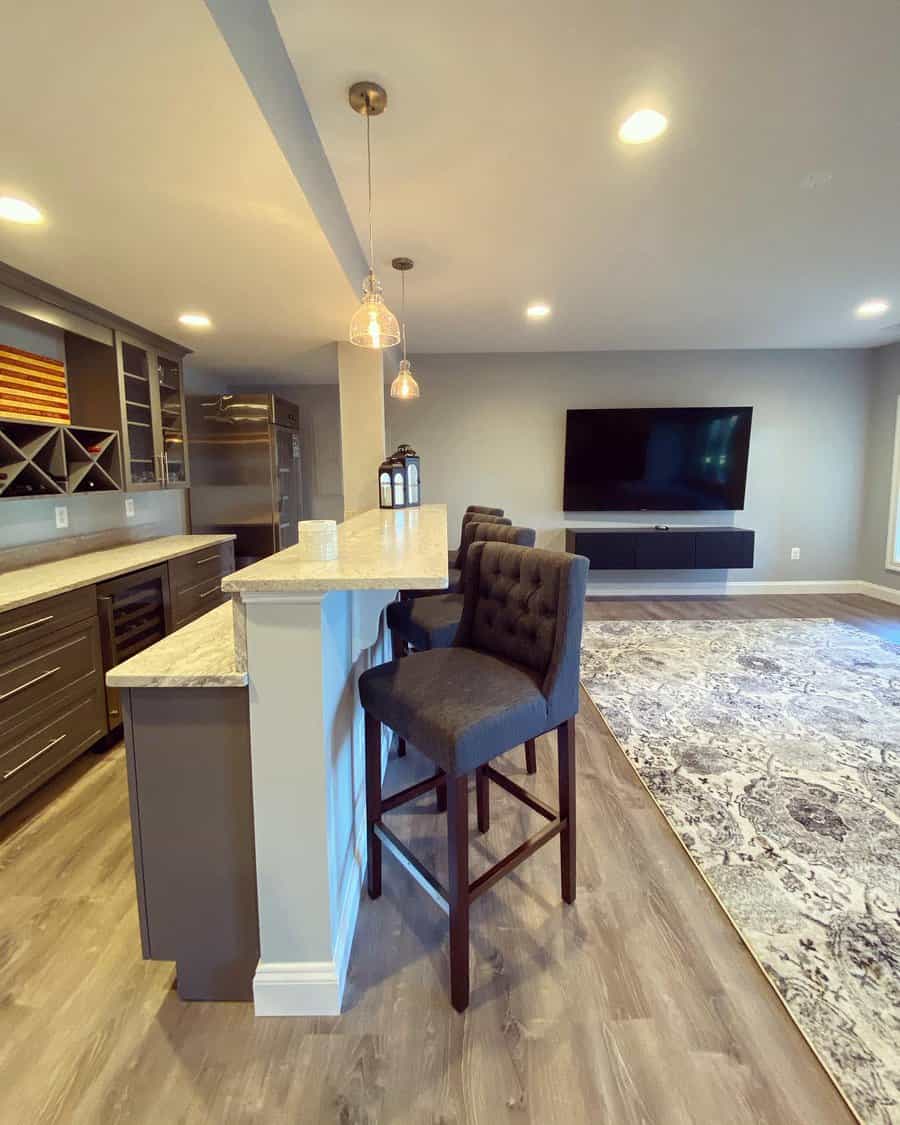 3. Embrace Rustic Exposed Ceiling Beams
Exposed ceiling beams, whether in older homes or contemporary spaces, instantly infuse charm and character into a basement. Consider staining or painting them to align with your chosen decor palette. To accentuate this rustic feature, pair with elements like brick walls, vintage fixtures, or wooden furnishings. No matter your basement's purpose, these beams will always draw admiring glances.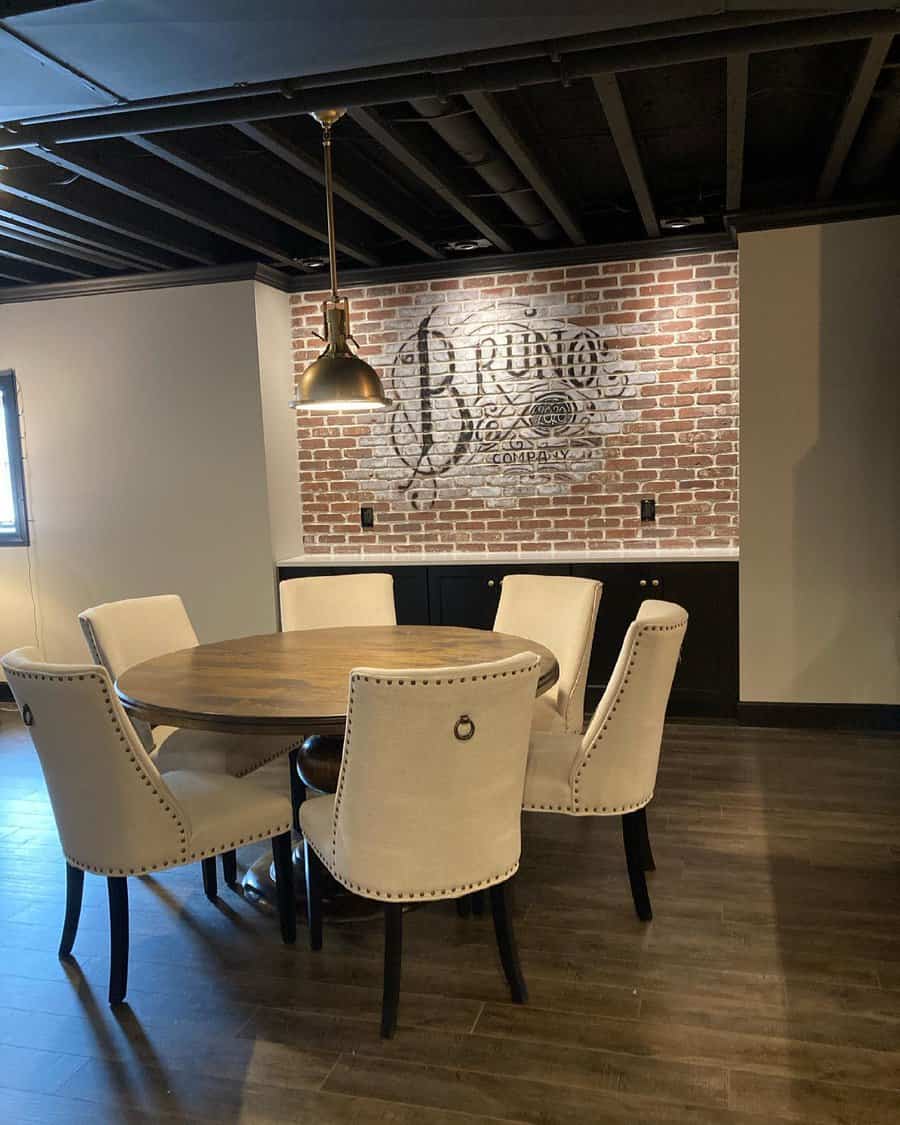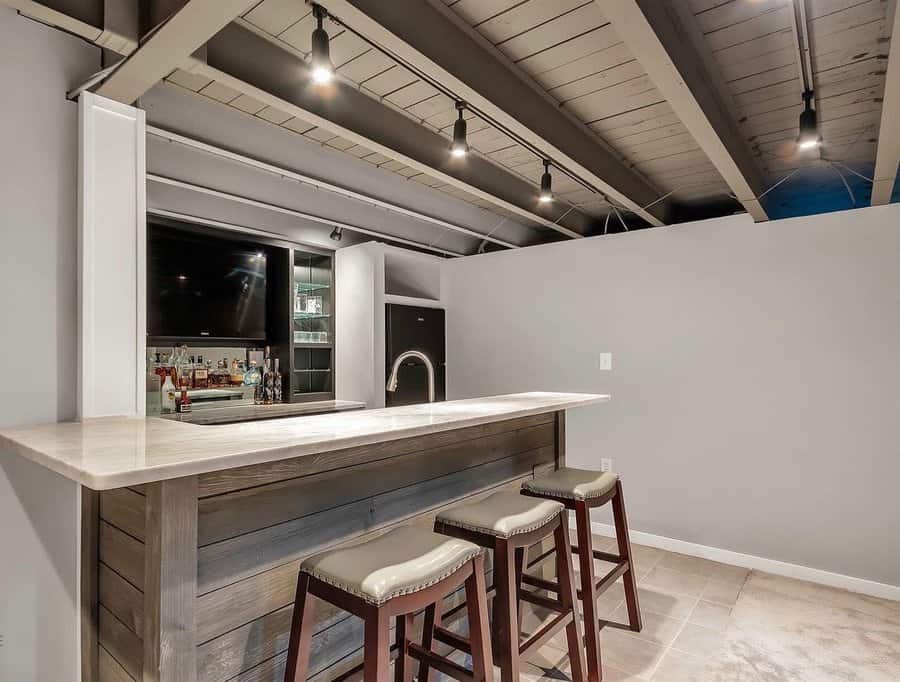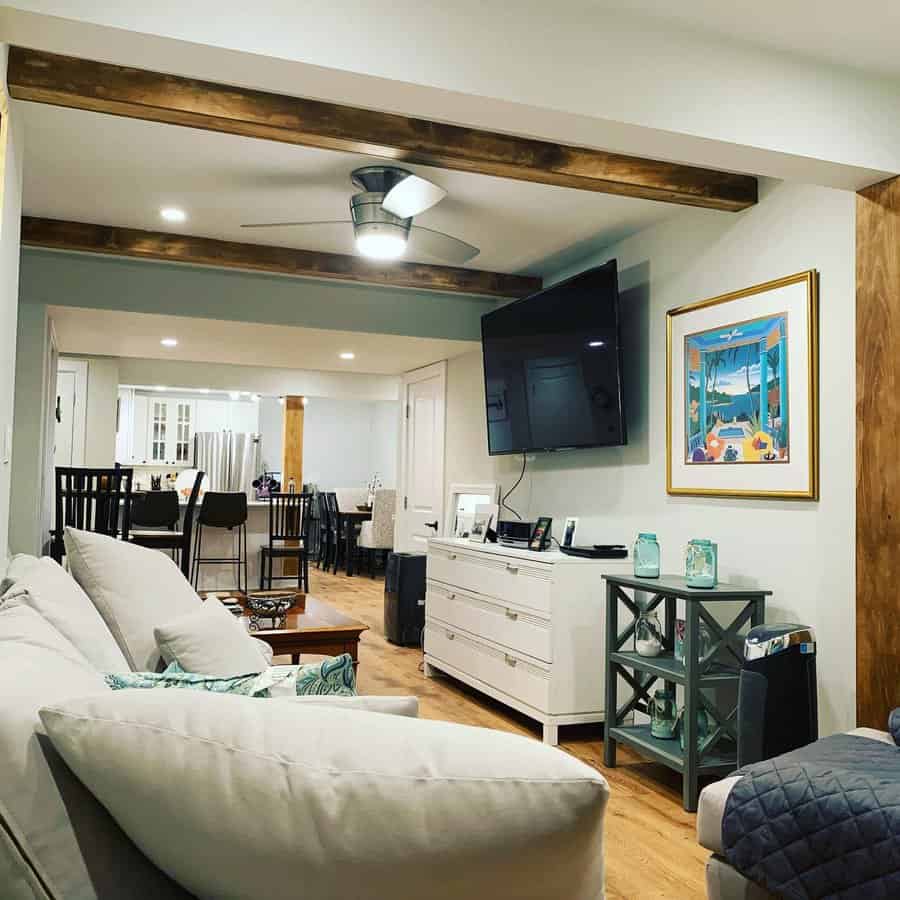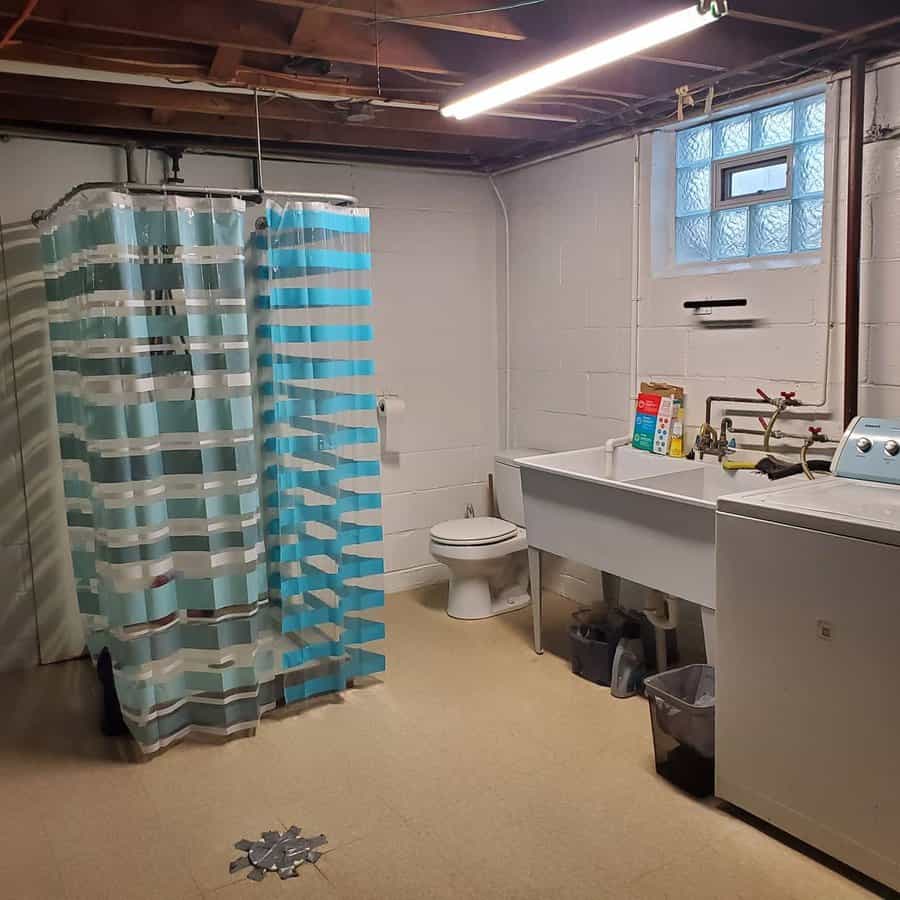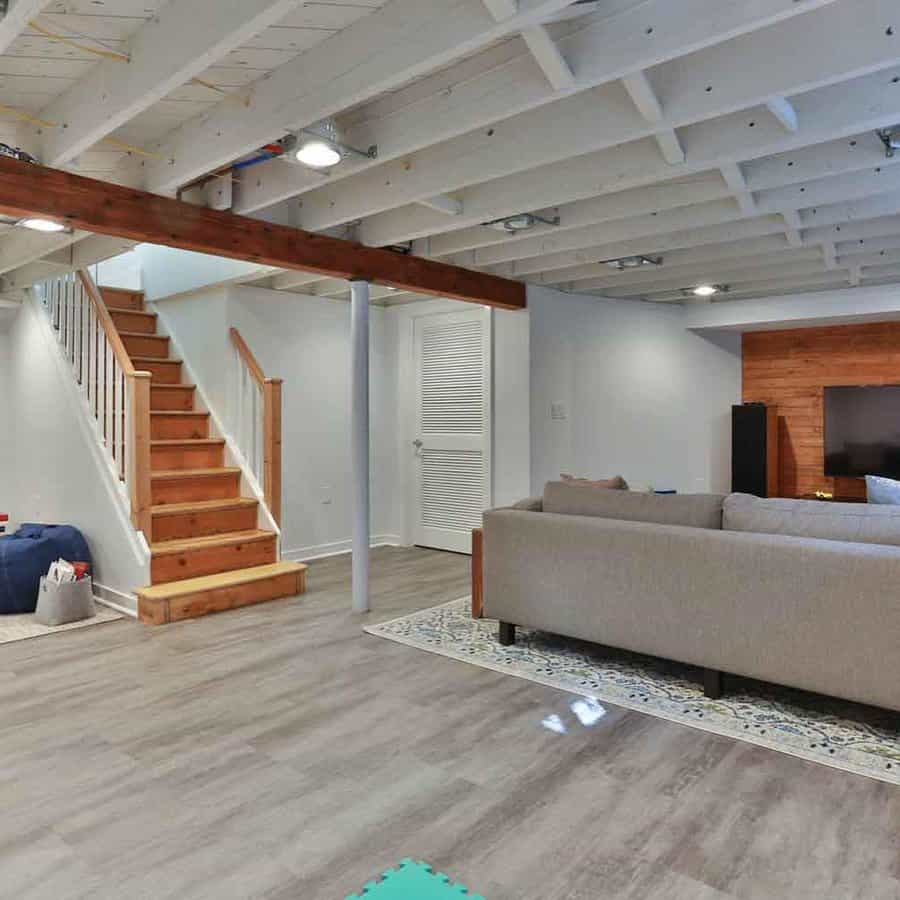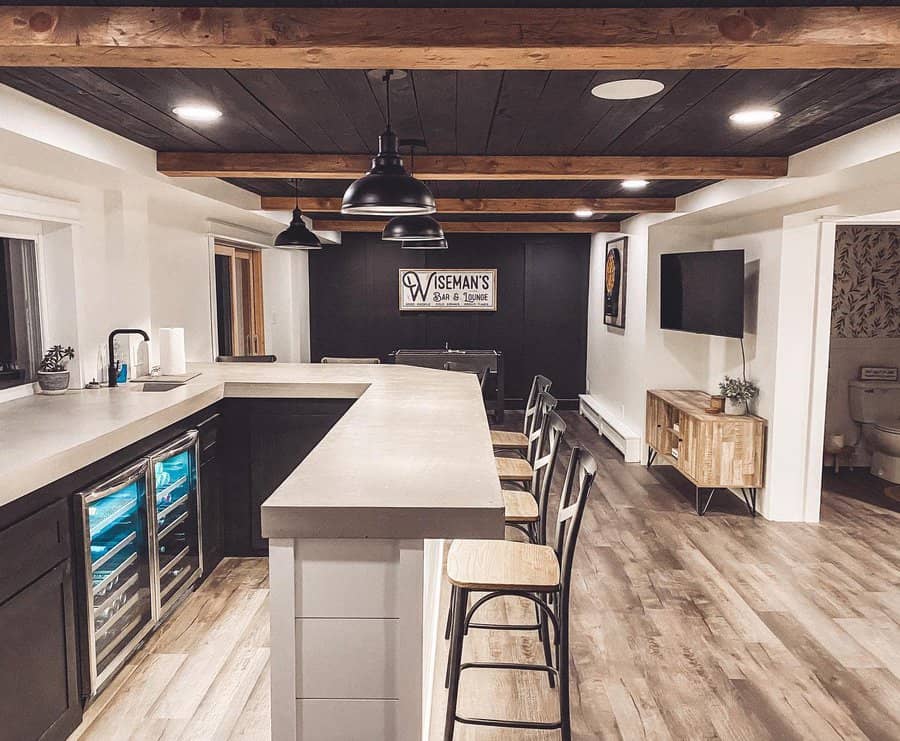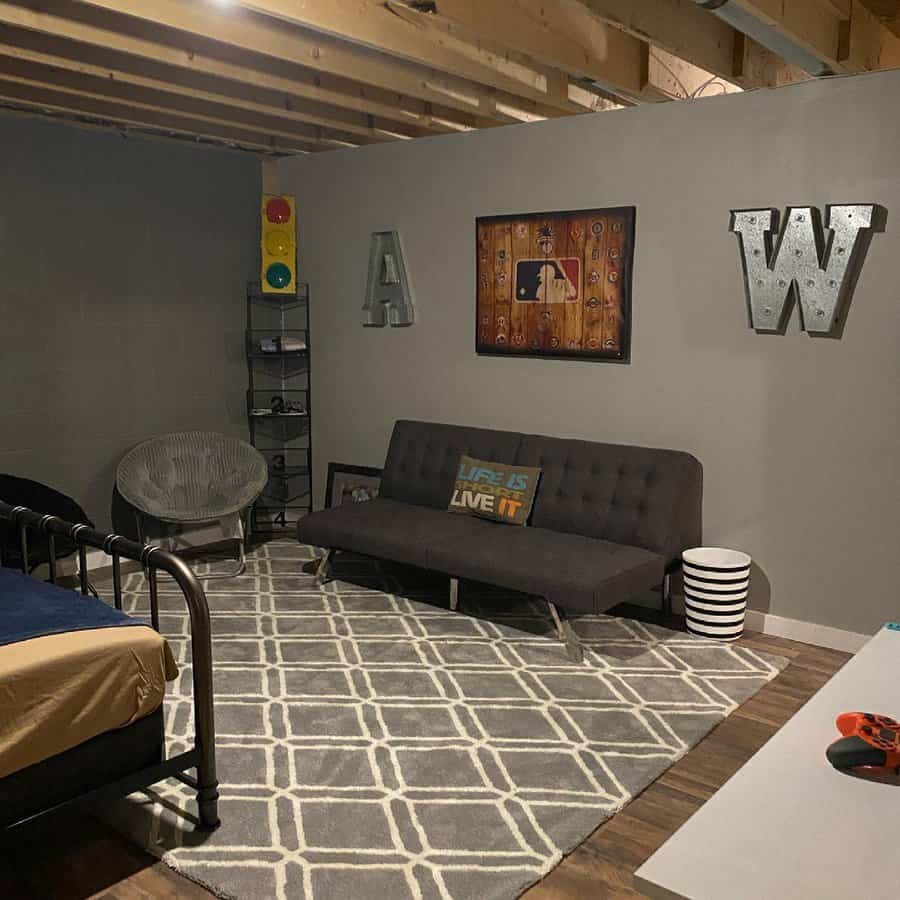 4. Enhance Beauty with Ceiling Trimming
Ceiling trimming elevates the ambiance of a basement, introducing sophistication and warmth. With a myriad of trim types and finishes, it's easy to tailor this detail to your personal style and existing decor. For a cohesive look, ensure the trim color harmonizes with wall shades or other design elements. Dive into this decorative touch and watch your basement radiate style.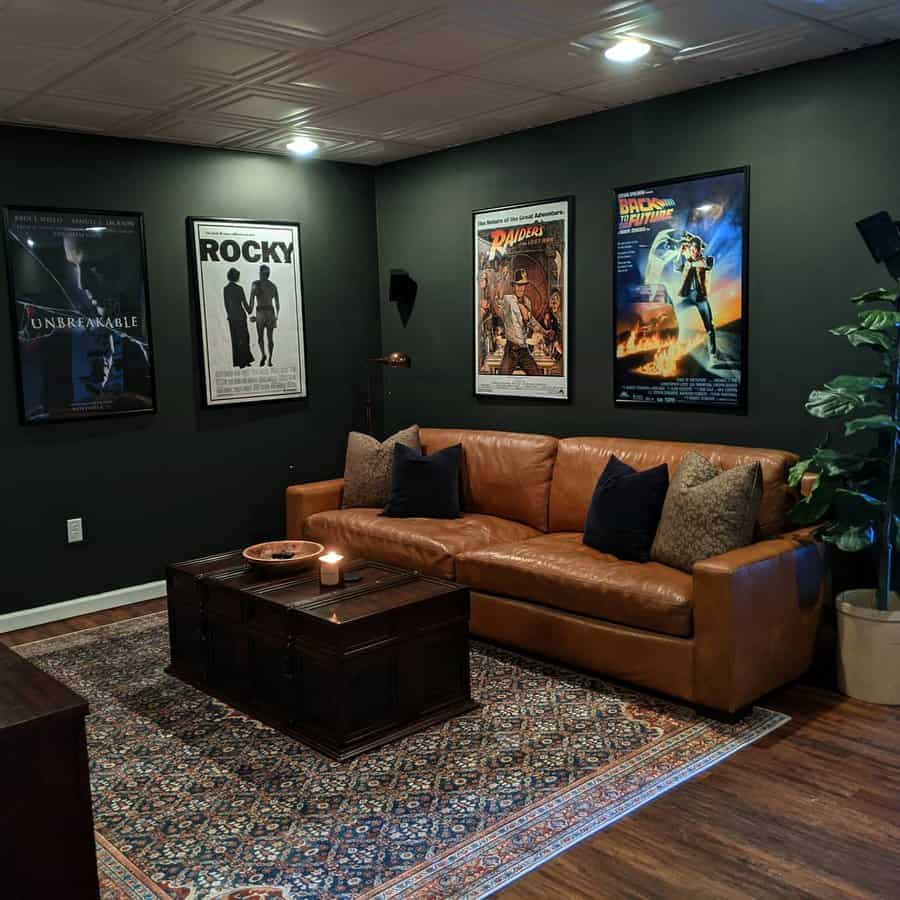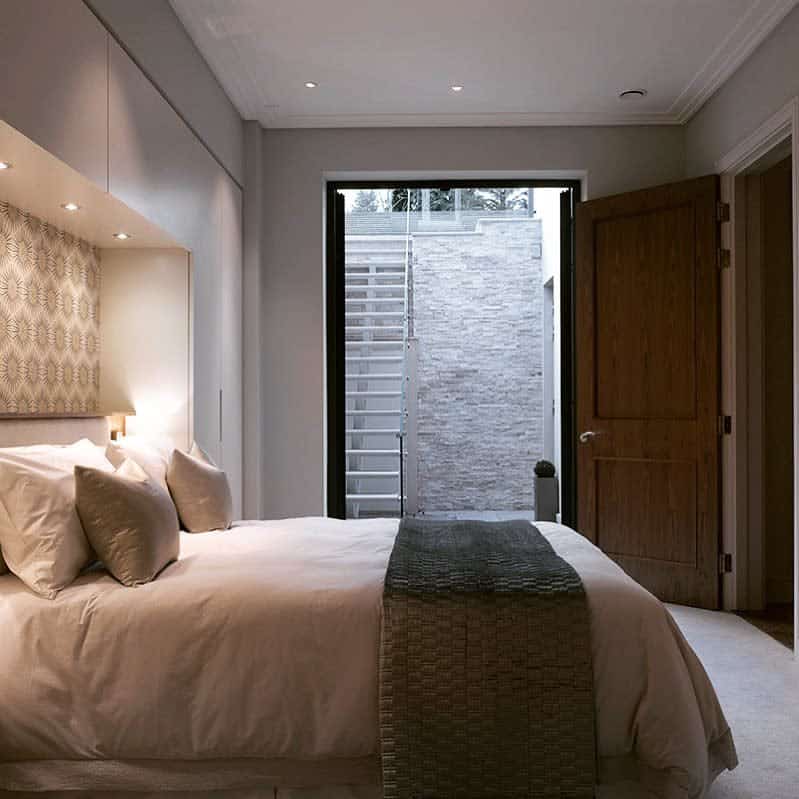 5. Choose Functional Drop Ceiling Options
Drop ceilings offer a modern solution for basements, concealing ductwork and wires while enhancing room acoustics. Beyond aesthetics, they are user-friendly in installation and maintenance. When selecting tiles, consider moisture-resistant options for longevity. Elevate your basement's appeal with this functional yet stylish choice.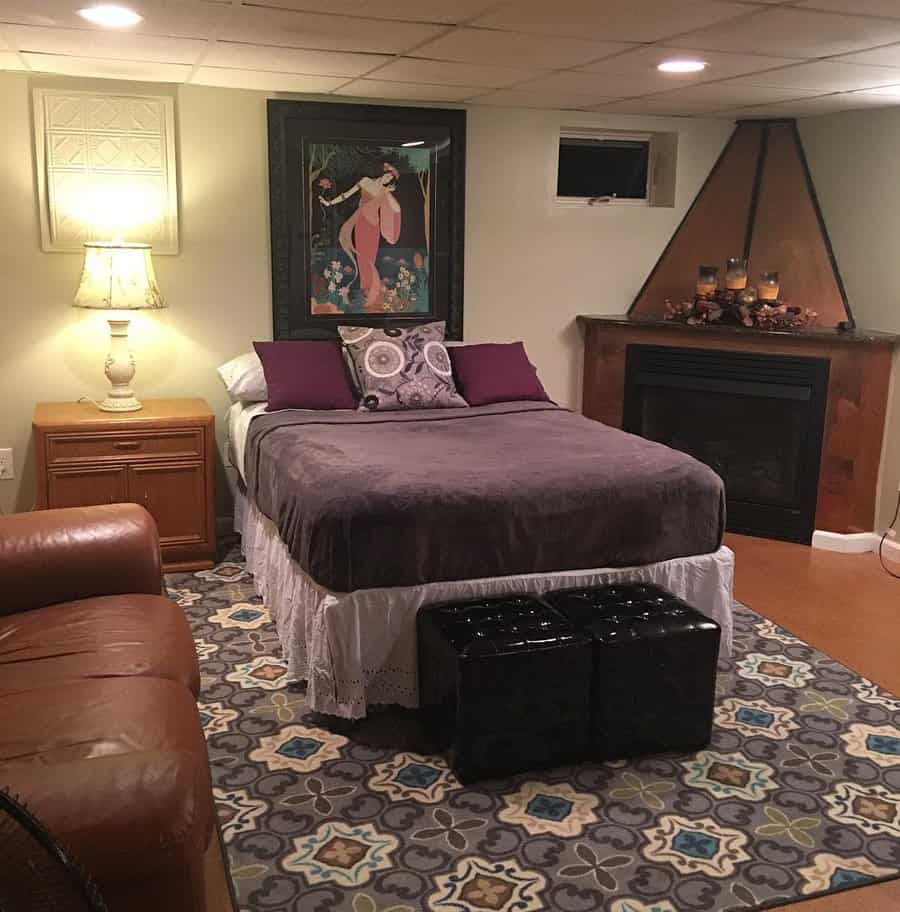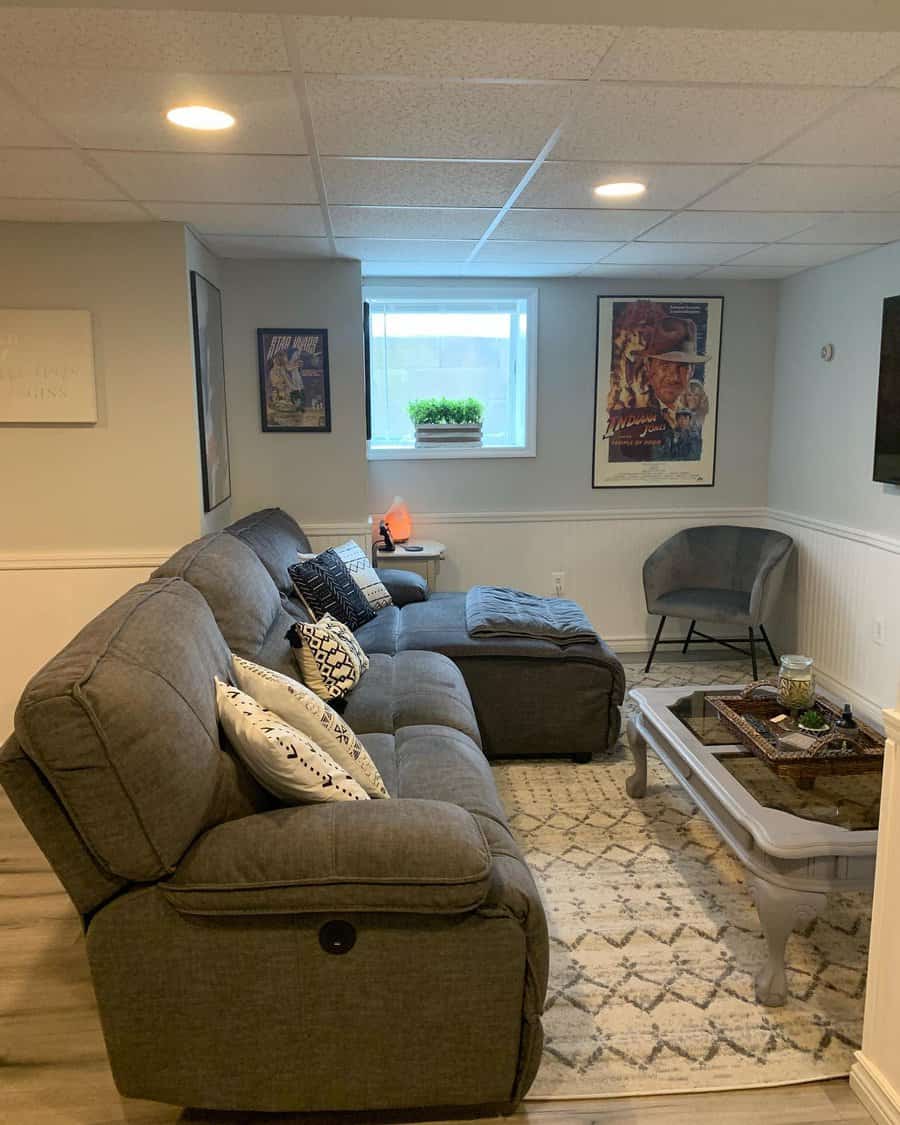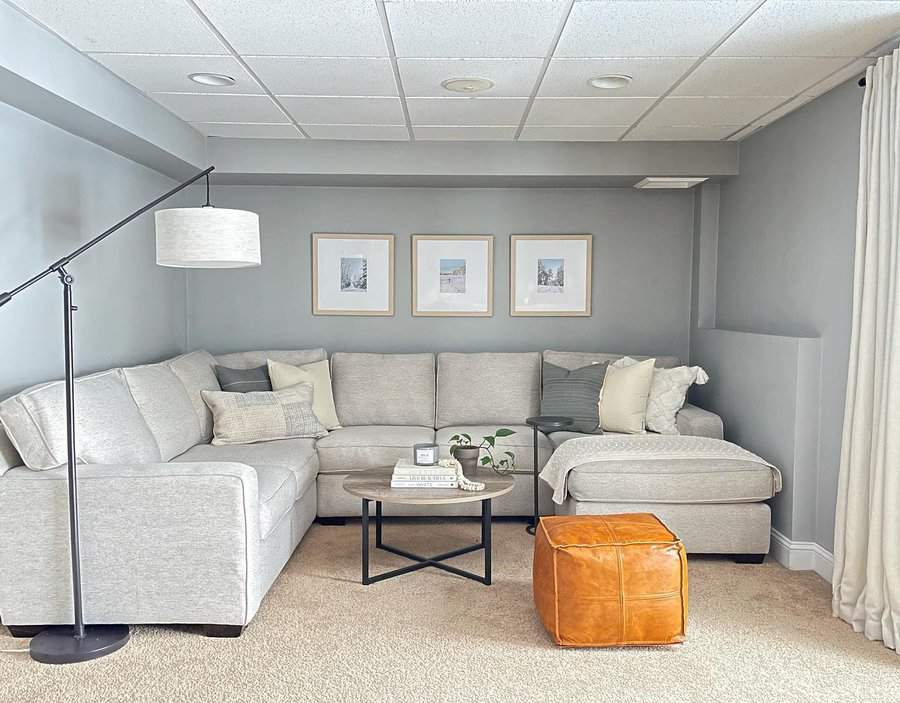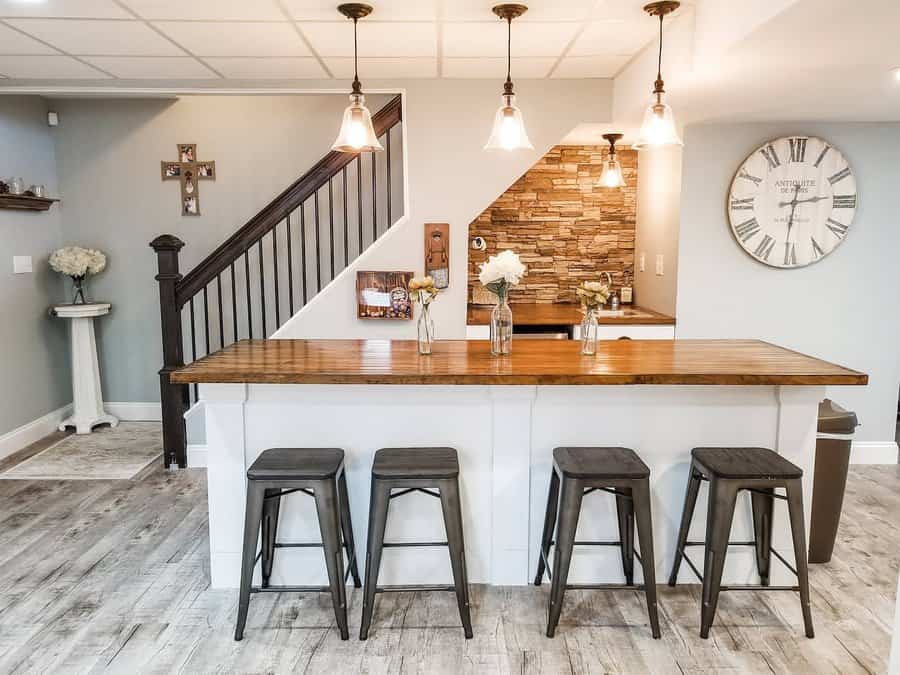 6. Experience Warm Plywood Ceiling Ideas
Plywood ceilings infuse a rustic warmth into basements, pairing affordability with added insulation benefits. Tailor its finish to resonate with your personal aesthetic, from stains to paints, ensuring it complements other room elements. Whether crafting a leisure space or a cozy lounge, plywood offers both style and practicality for basement ceilings.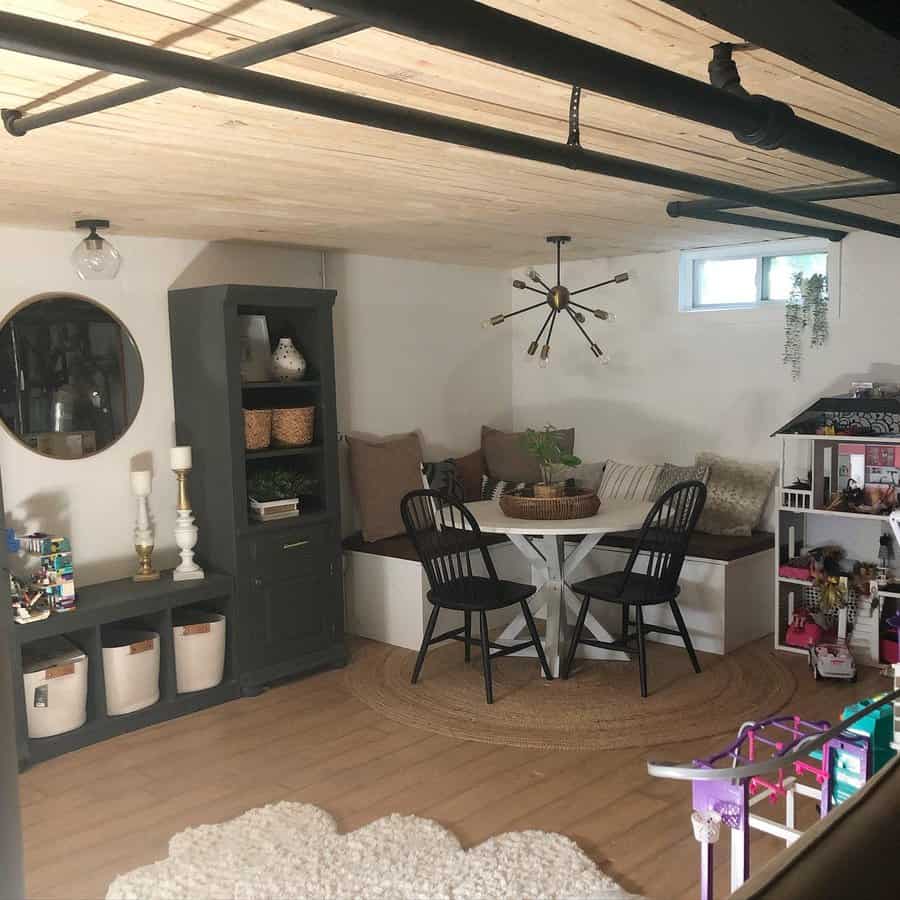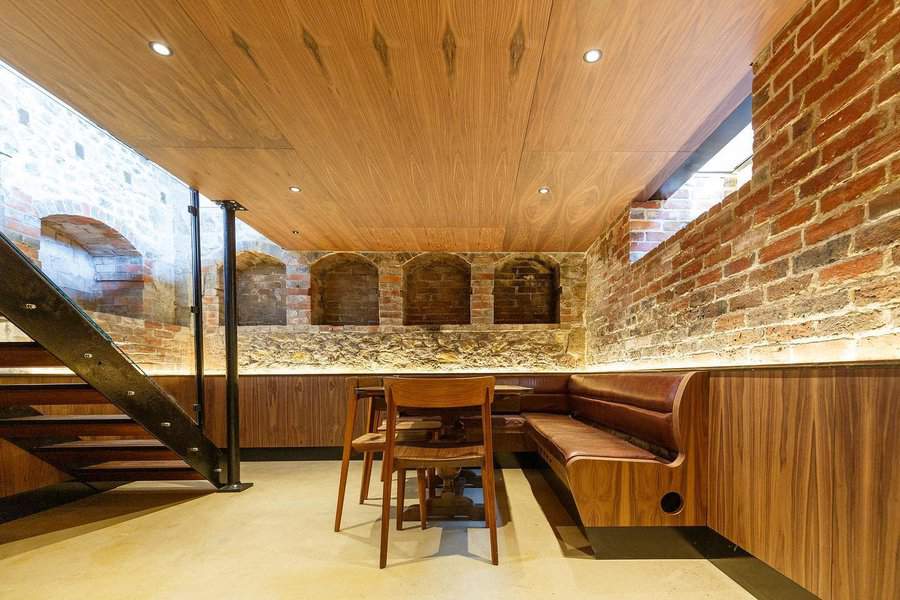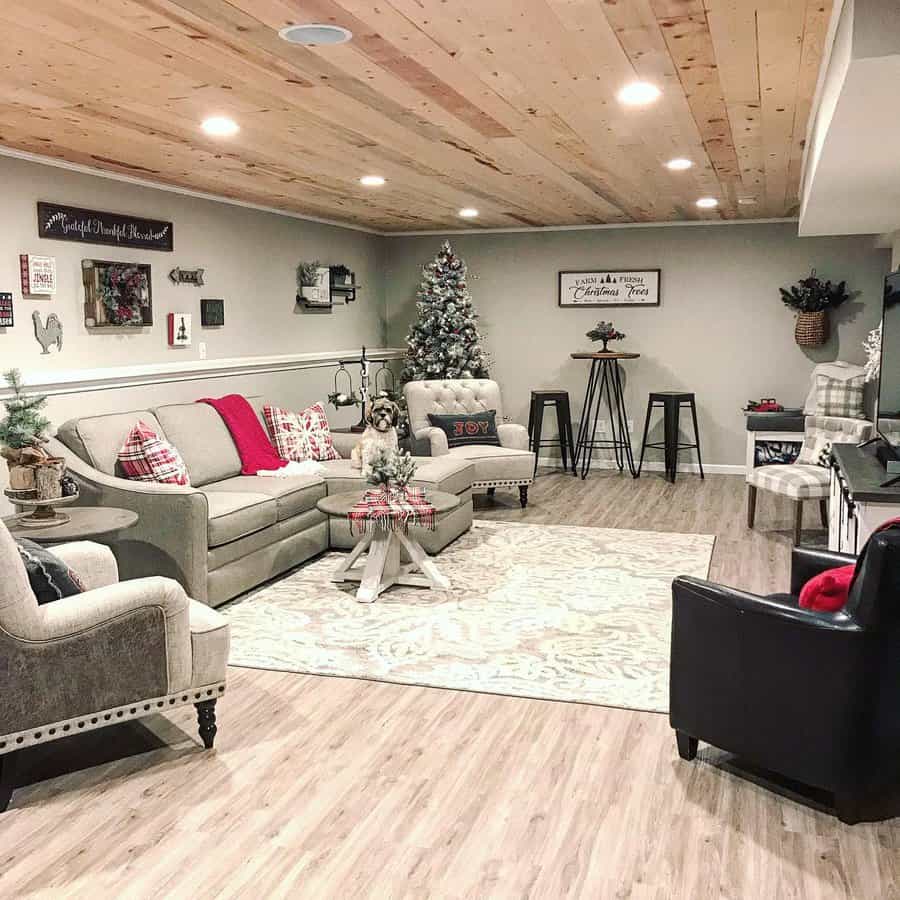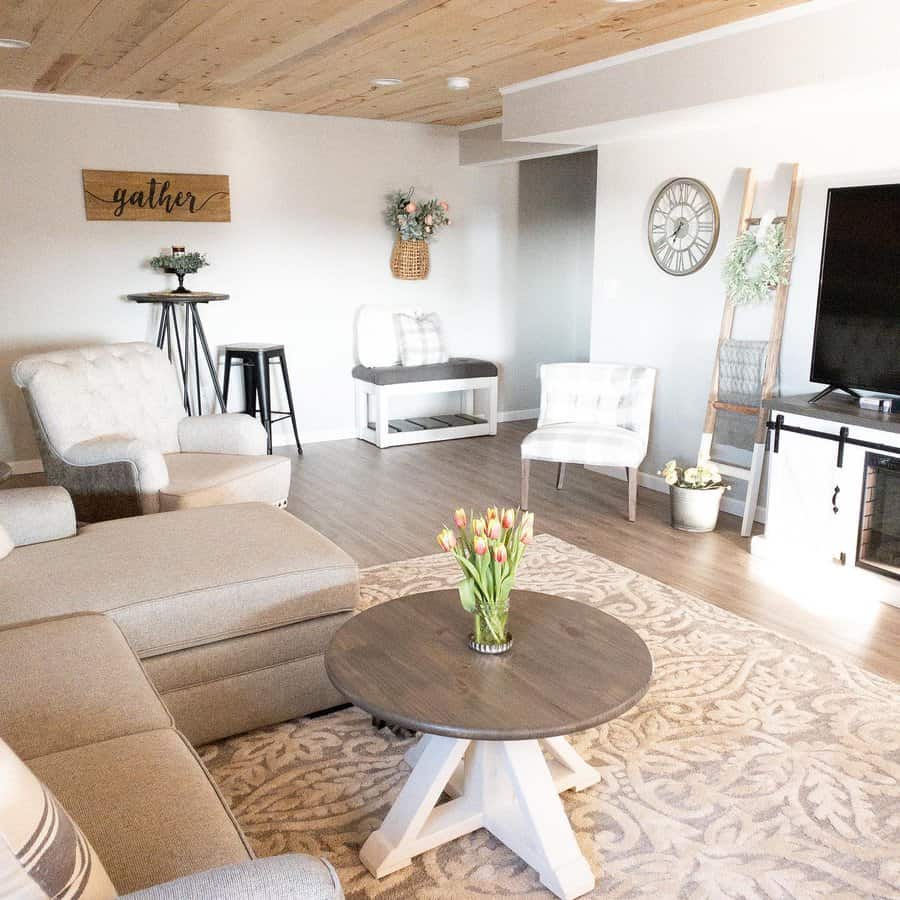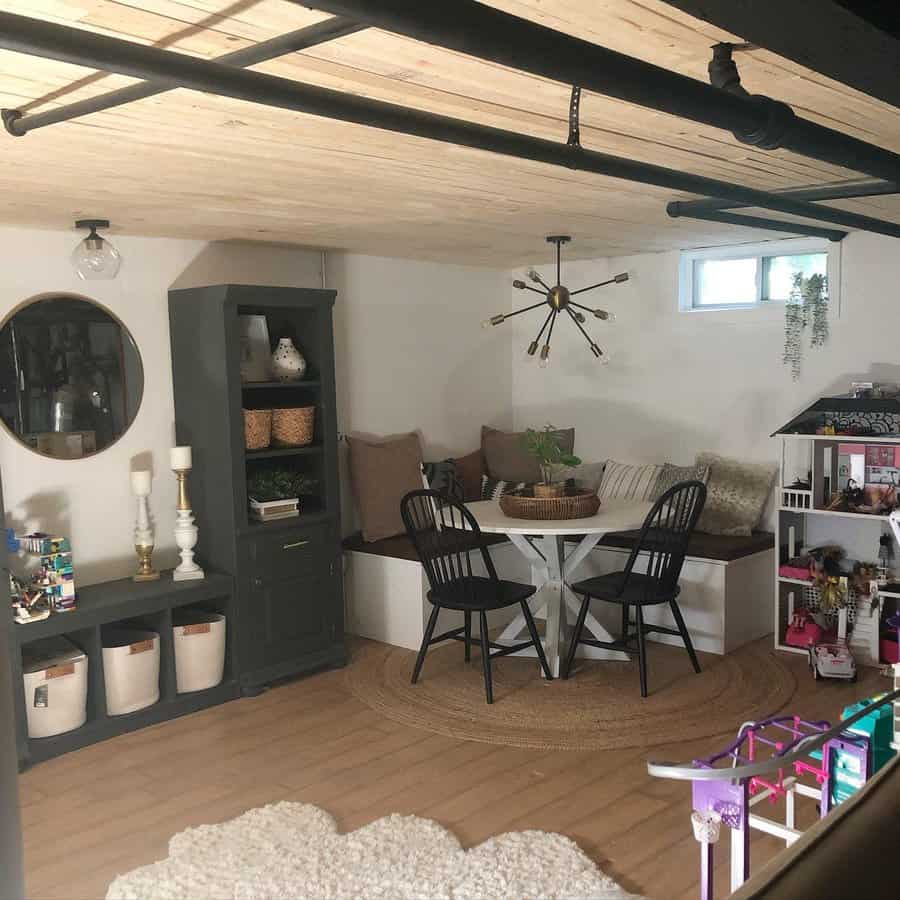 7. Illuminate Spaces with Pendant Lighting
Pendant lights transform a basement ceiling into an elegant focal point, enhancing both illumination and aesthetic appeal. With designs ranging from modern to traditional, there's a pendant fixture for every style preference. For a cohesive look, choose pendant lights that match or complement your room's color scheme and other design elements. Add this touch and bask in the ambiance it creates, captivating visitors with its sophisticated allure.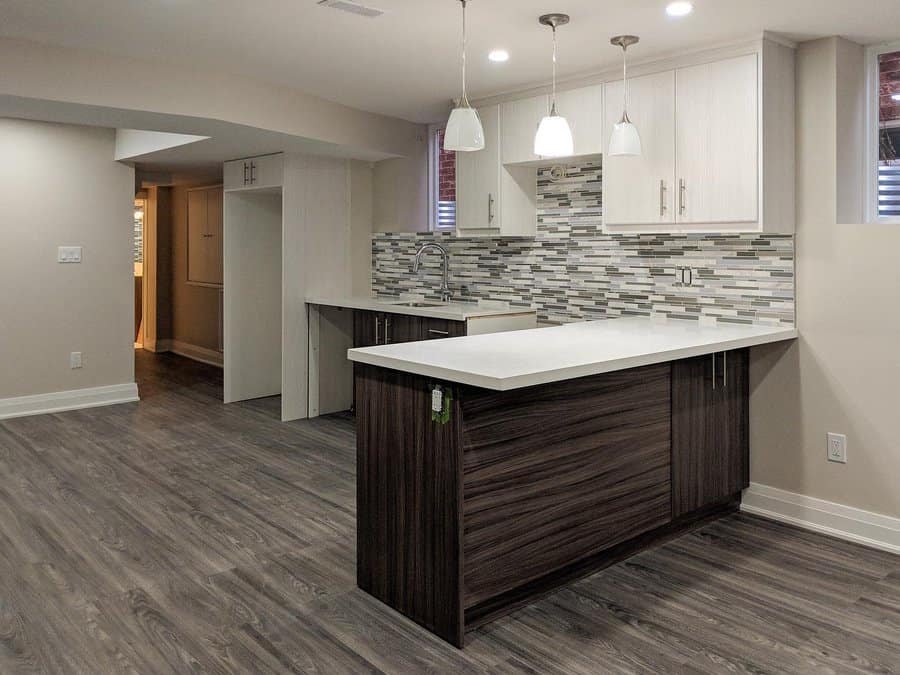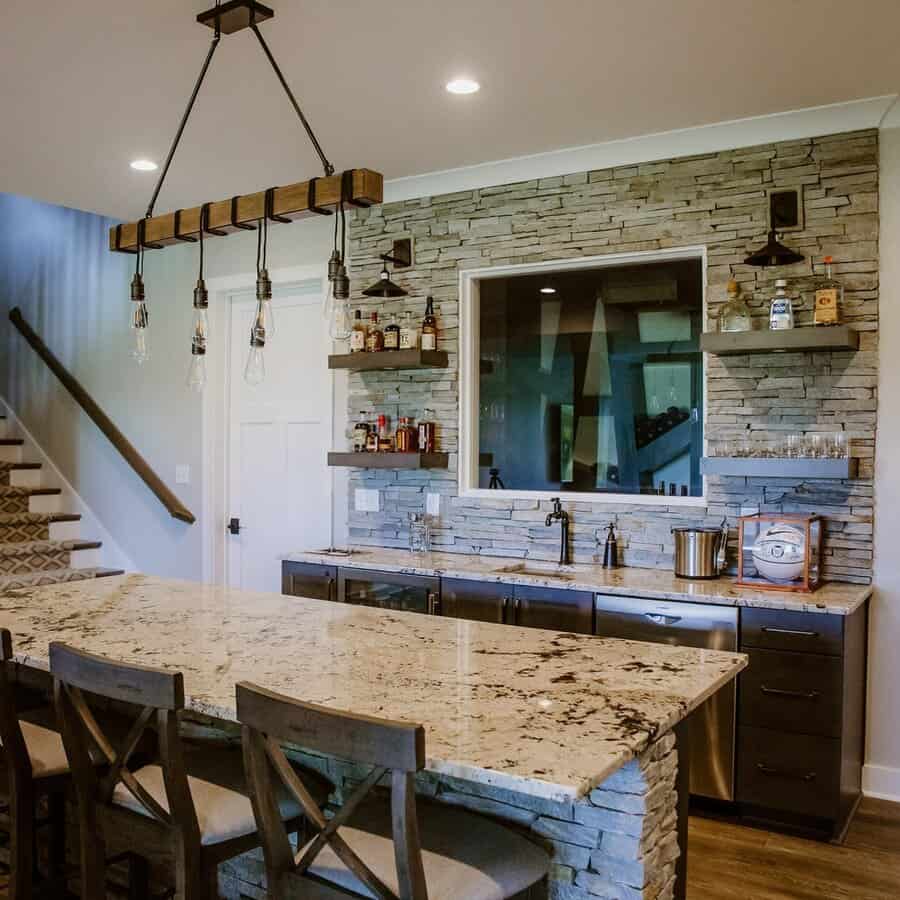 8. Enjoy Sleek Recessed Ceiling Lighting
Recessed lighting infuses basements with a modern and spacious ambiance. These fixtures, embedded in the ceiling, enhance brightness while maintaining a clean visual line, making rooms feel taller. For added flair, combine them with statement light fixtures. Dive into recessed lighting for an inviting transformation from unfinished to chic.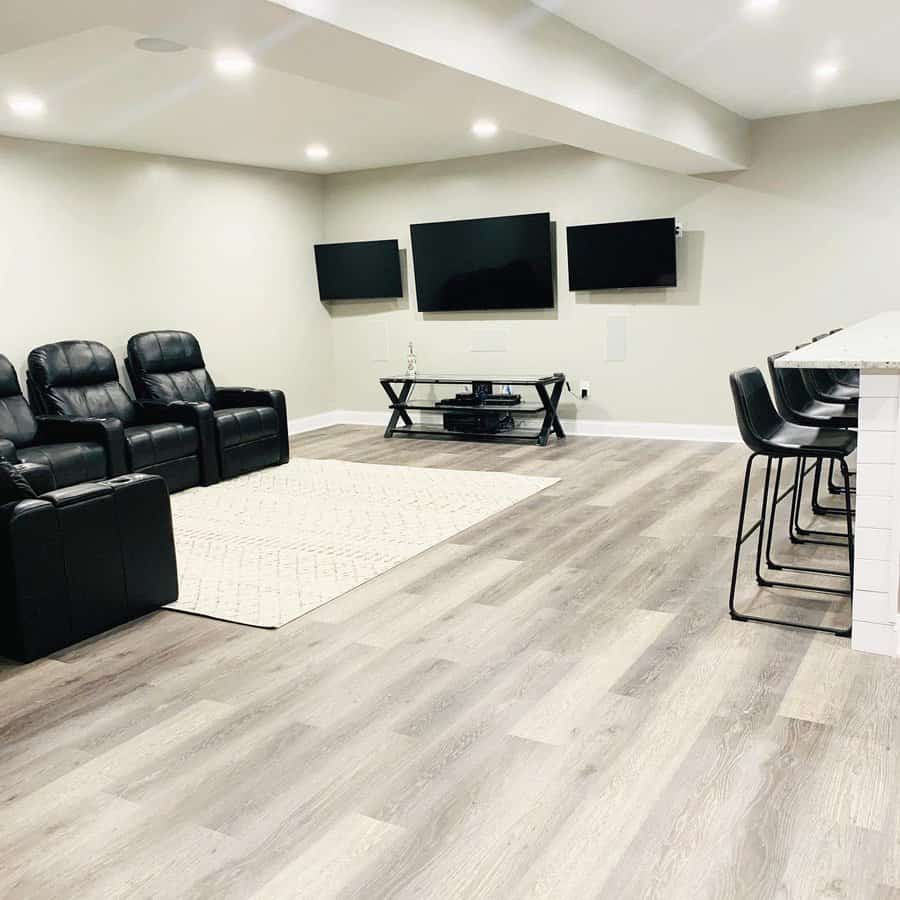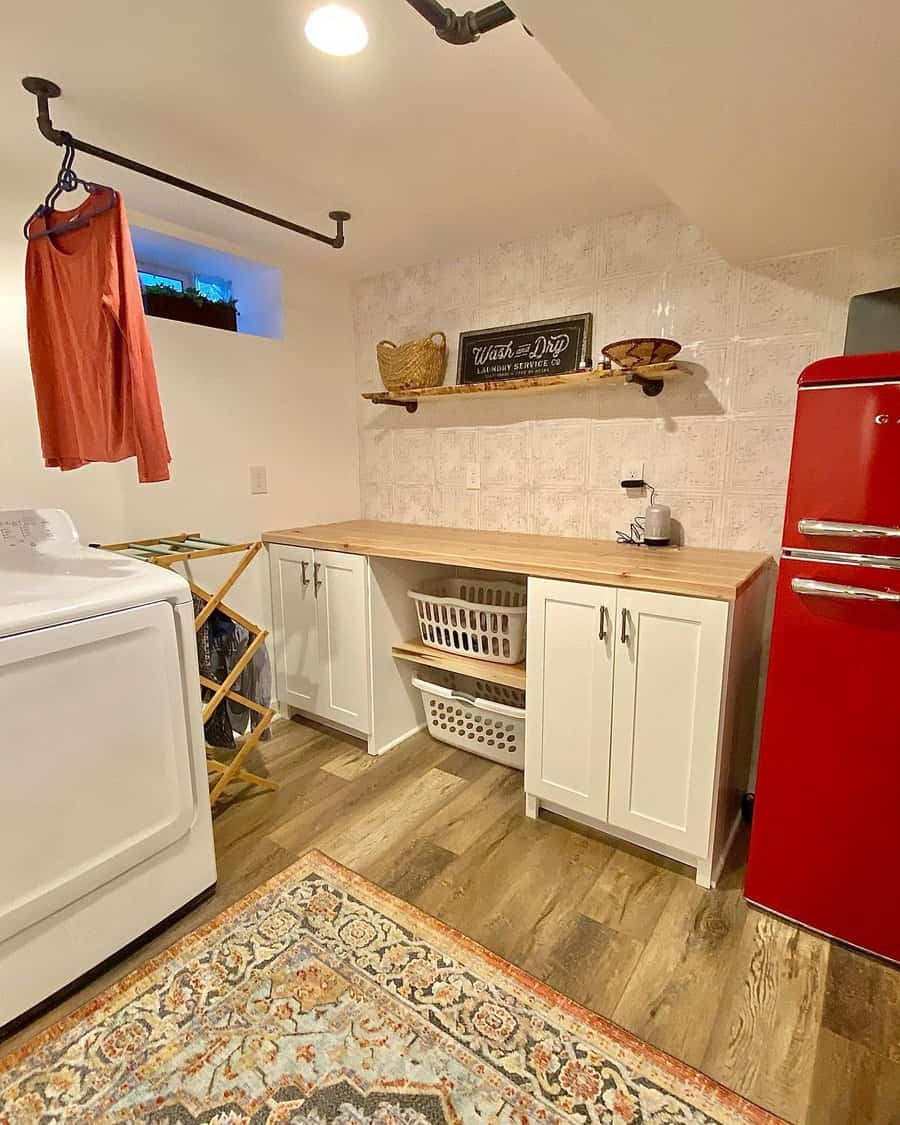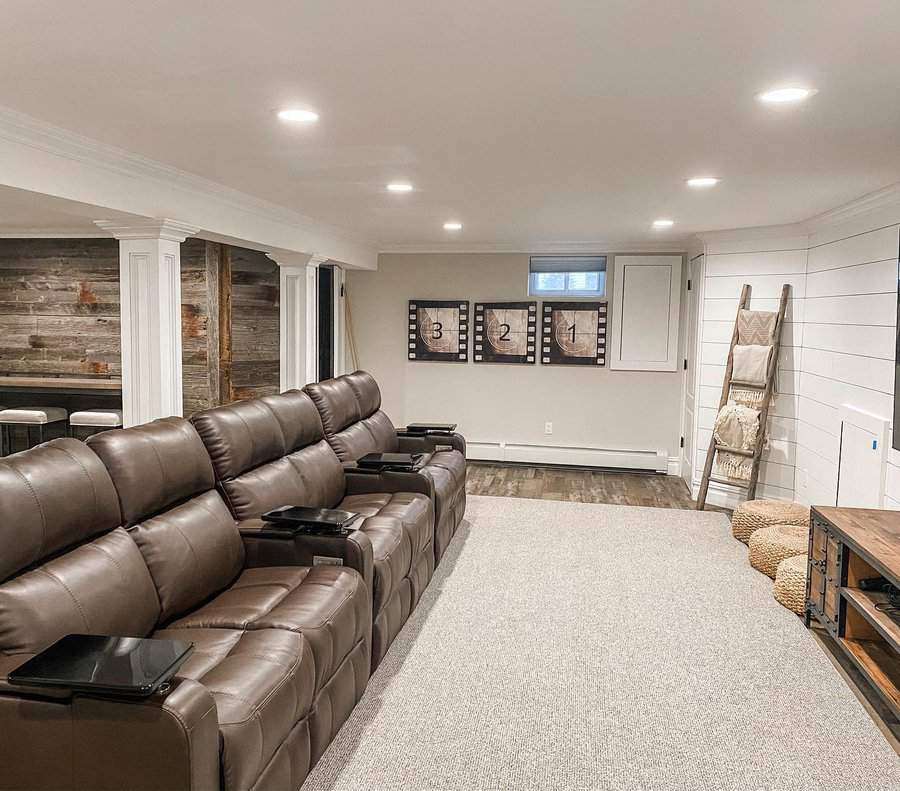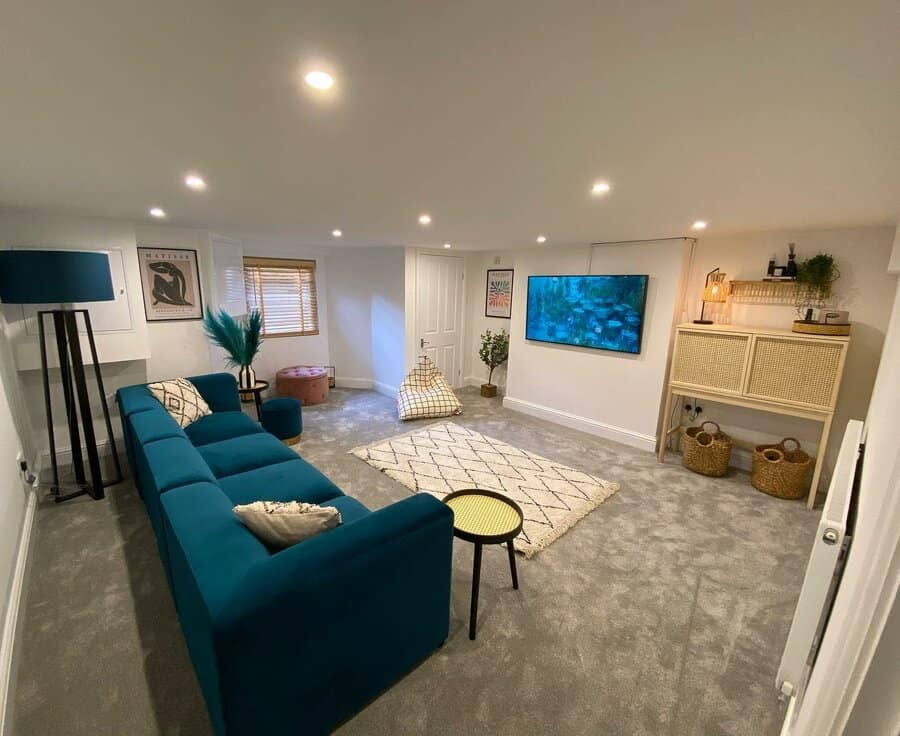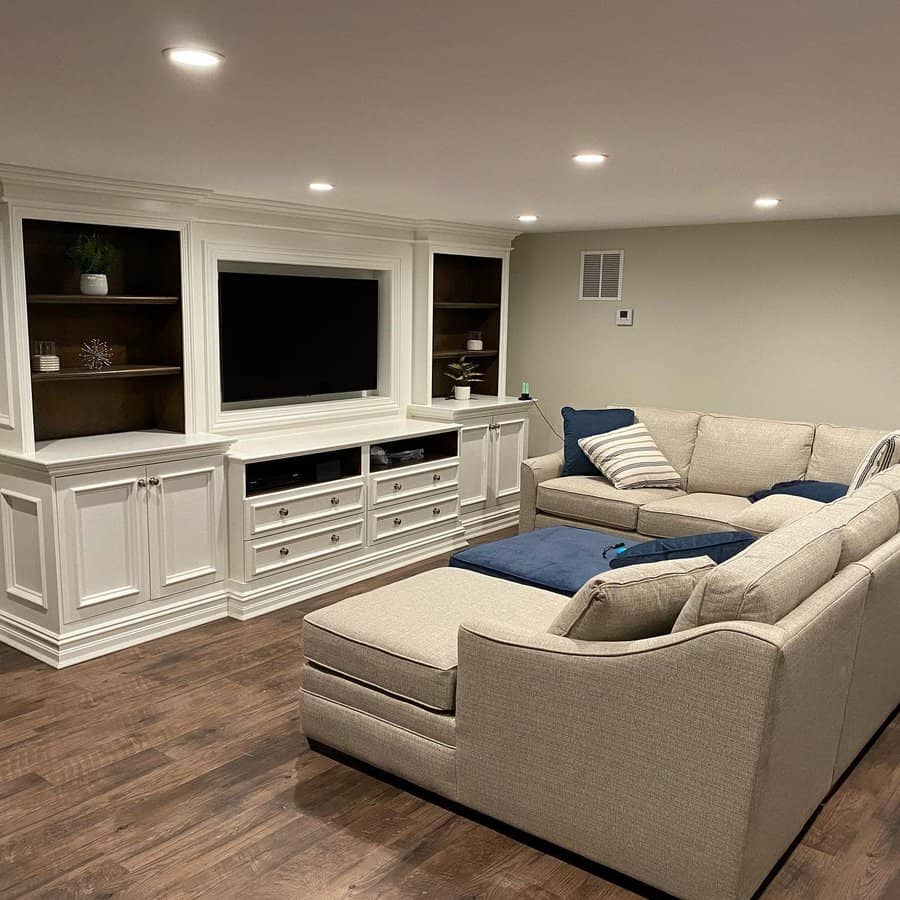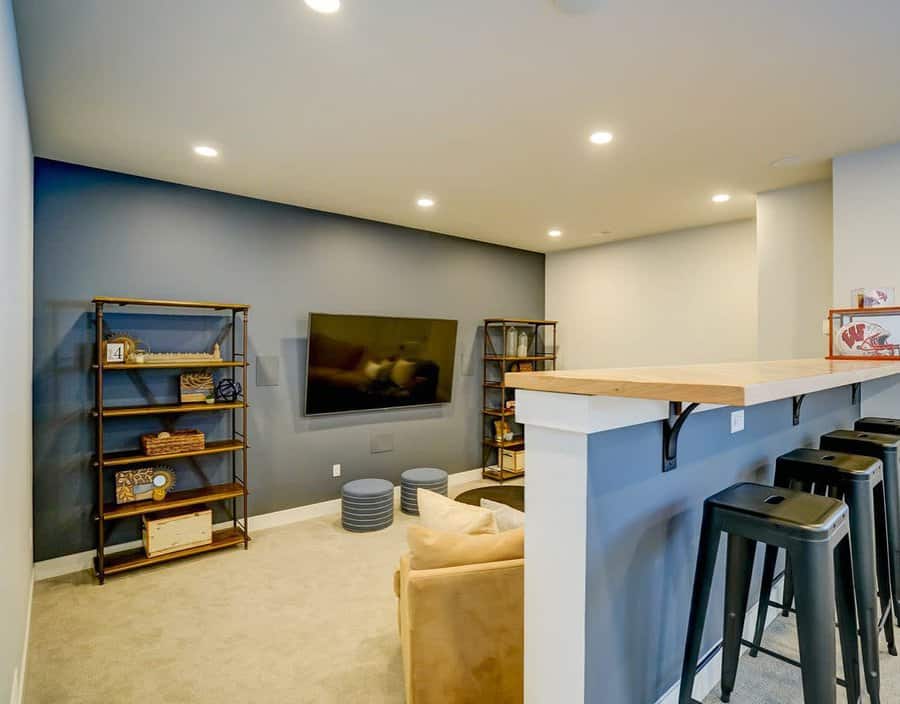 9. Dive into Stamped Ceiling Textures
Stamped ceilings offer a cost-effective way to infuse character into a basement. Achieved by pressing patterned stamps onto the ceiling, they add rich texture and design variety. Choose styles that range from subtle elegance to bold drama, aligning with your desired ambiance. For a truly tailored touch, complement stamped patterns with coordinated lighting and decor. This technique elevates any basement into a visually engaging space.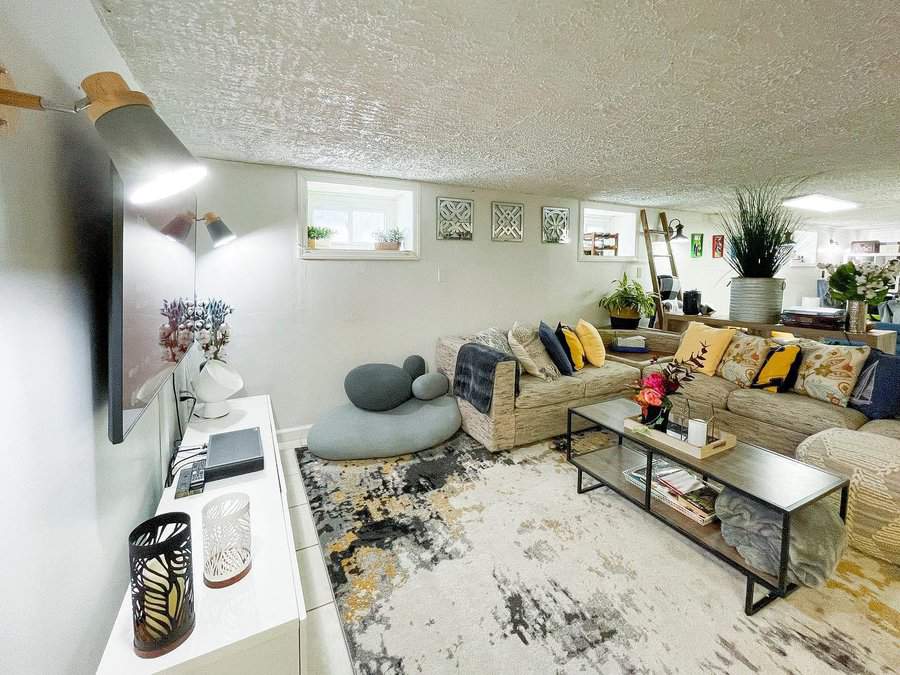 10. Opt for Partitioned Drywall Ceilings
Partitioned drywall ceilings revamp basements, marrying aesthetics with functionality. They introduce privacy, breaking vast spaces into intimate zones like soundproof movie rooms or efficient home offices. Complement these partitions with built-in amenities like bookshelves or optimal lighting. Beyond aesthetics, such ceilings minimize water damage risks, ensuring a stylish yet pragmatic basement transformation.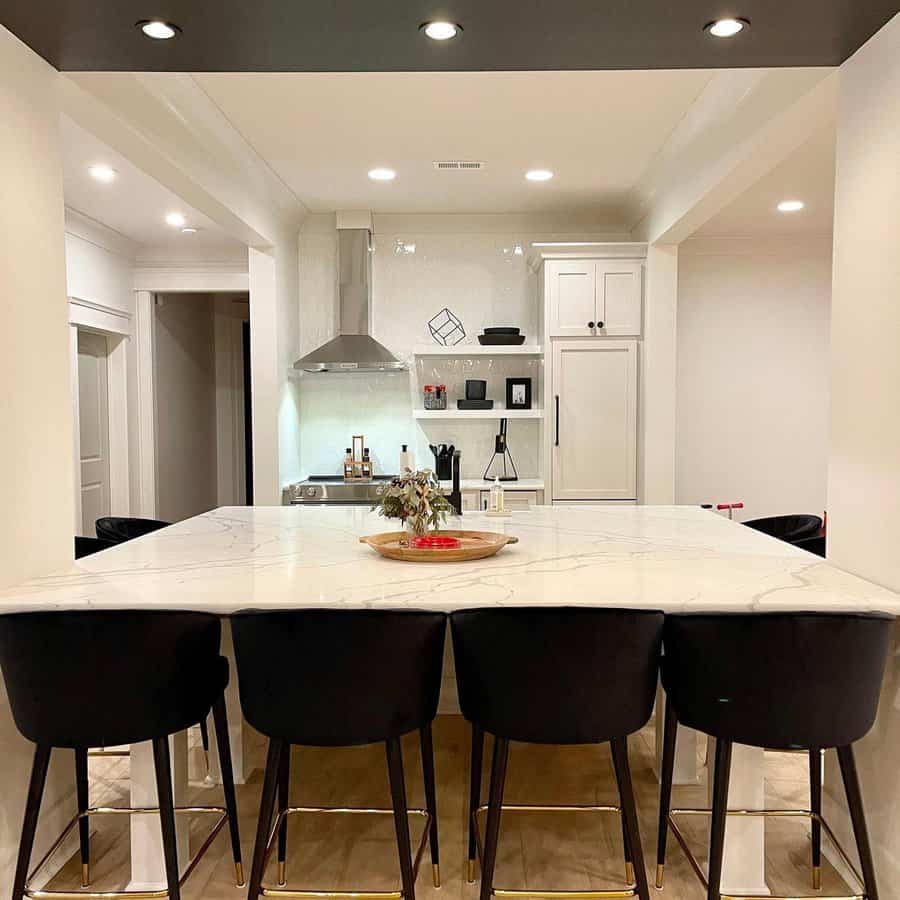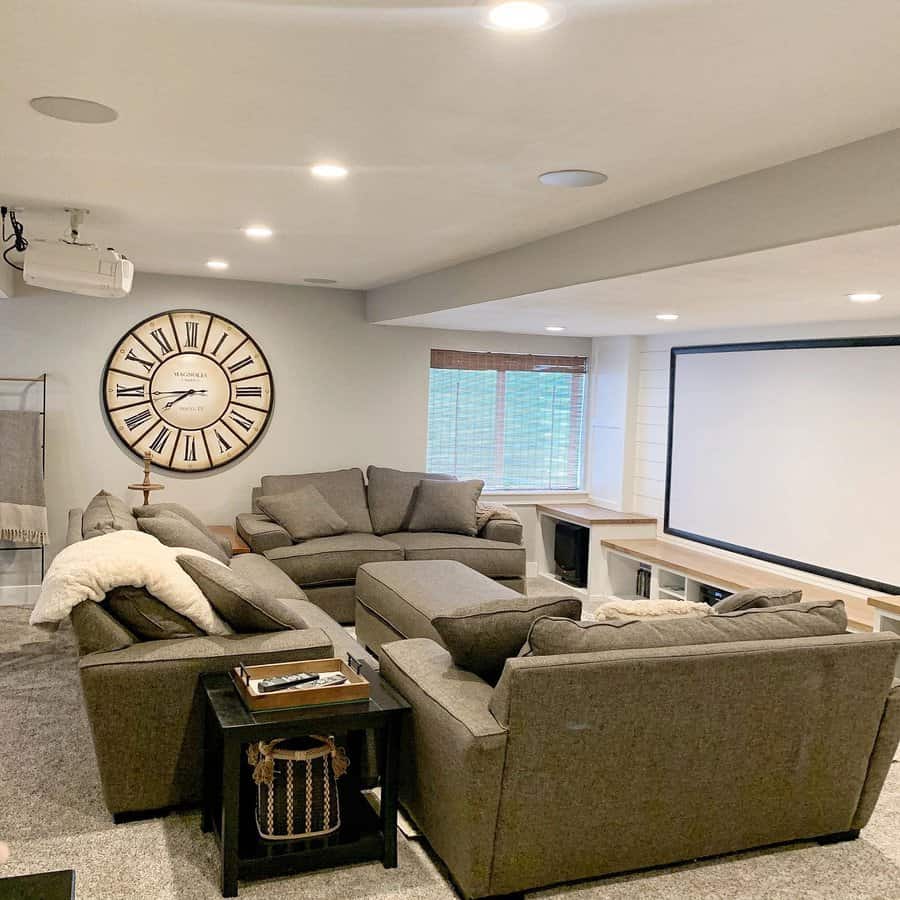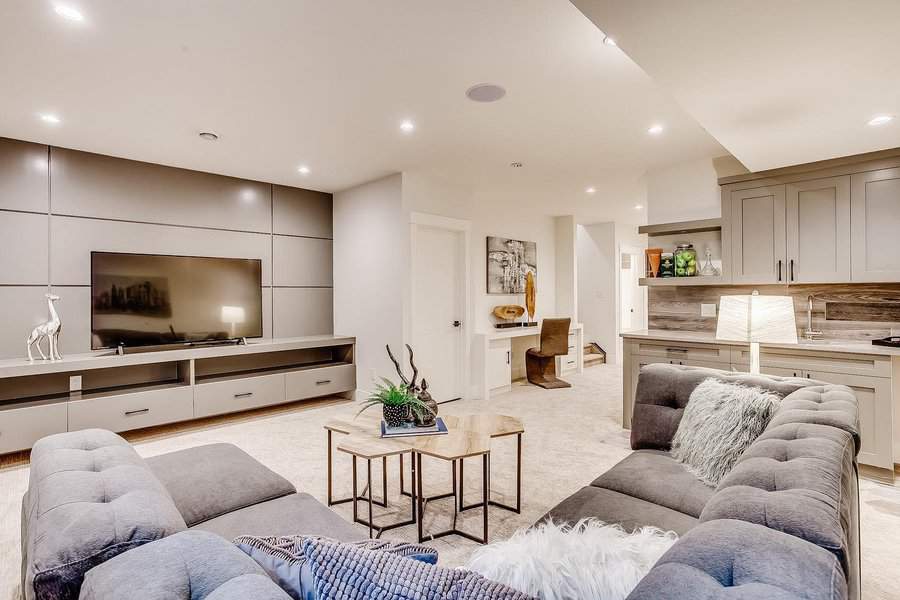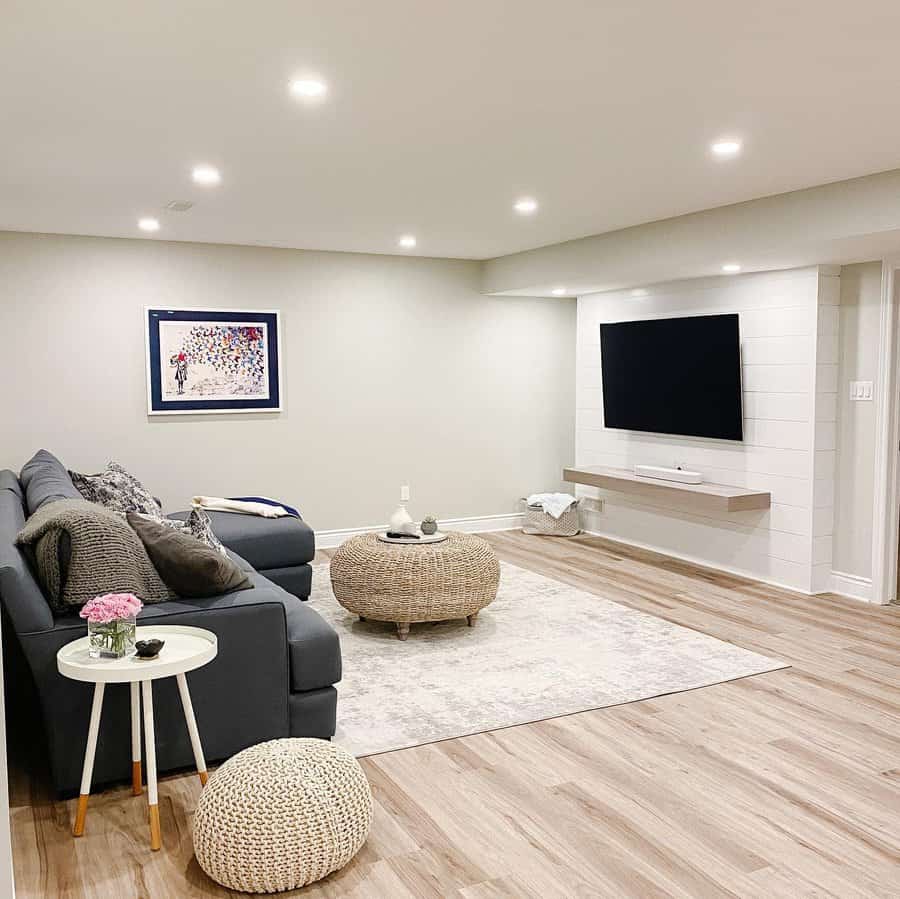 11. Unify Spaces with Wood Accent Features
A wall-to-ceiling wood accent wall transforms basements, infusing warmth and masking imperfections like exposed pipes. Choosing a dark stain channels a cabin ambiance, while lighter tones uplift and refresh the area. Incorporate this wooden feature to seamlessly shift your basement from mundane to mesmerizing, blending utility with aesthetics.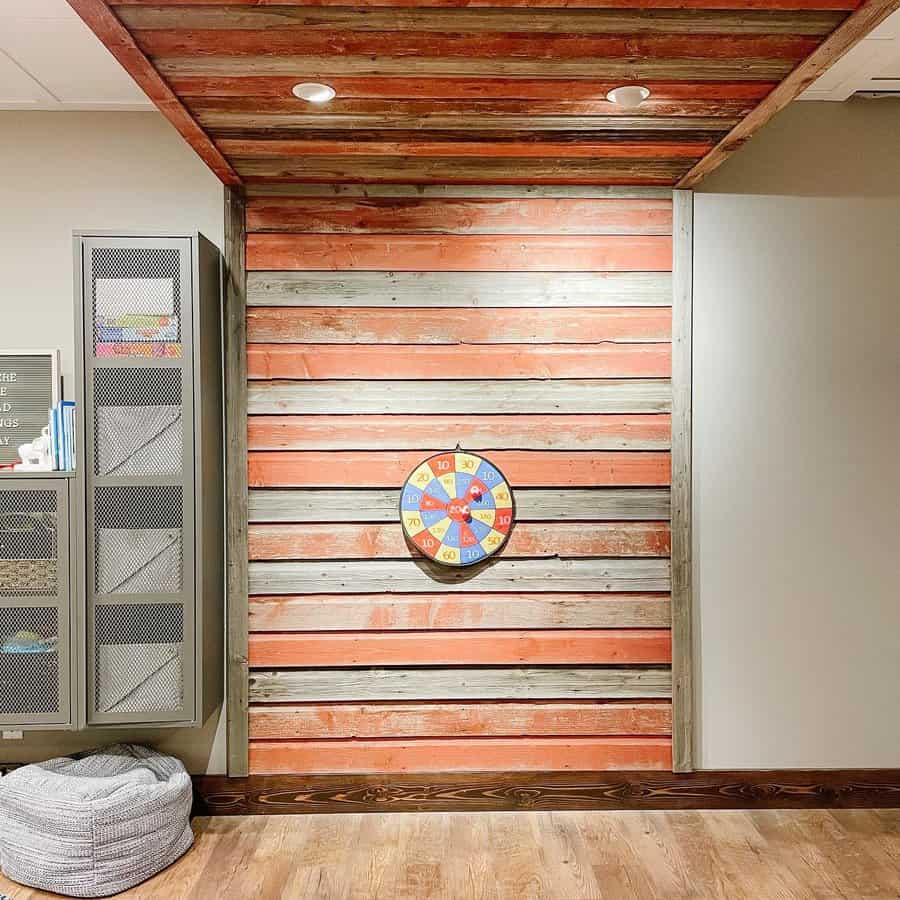 Basement Ceiling FAQs
What is the cheapest ceiling to install?
At just a few dollars per square foot, drywall is usually the least expensive ceiling to install.
What is the easiest ceiling to install?
Because they can be installed by one person, surface mount ceiling tiles are one of the easiest kinds of basement ceiling tiles. They can be cut to size with scissors and easily attach to a grid.
Can I use shiplap on my basement ceiling?
Shiplap planks add a beautiful rustic touch to your basement rooms. They are one of the easier basement ceiling ideas to install yourself. Shiplap or beadboard are excellent ceiling choices when you need to cover a dated popcorn ceiling.