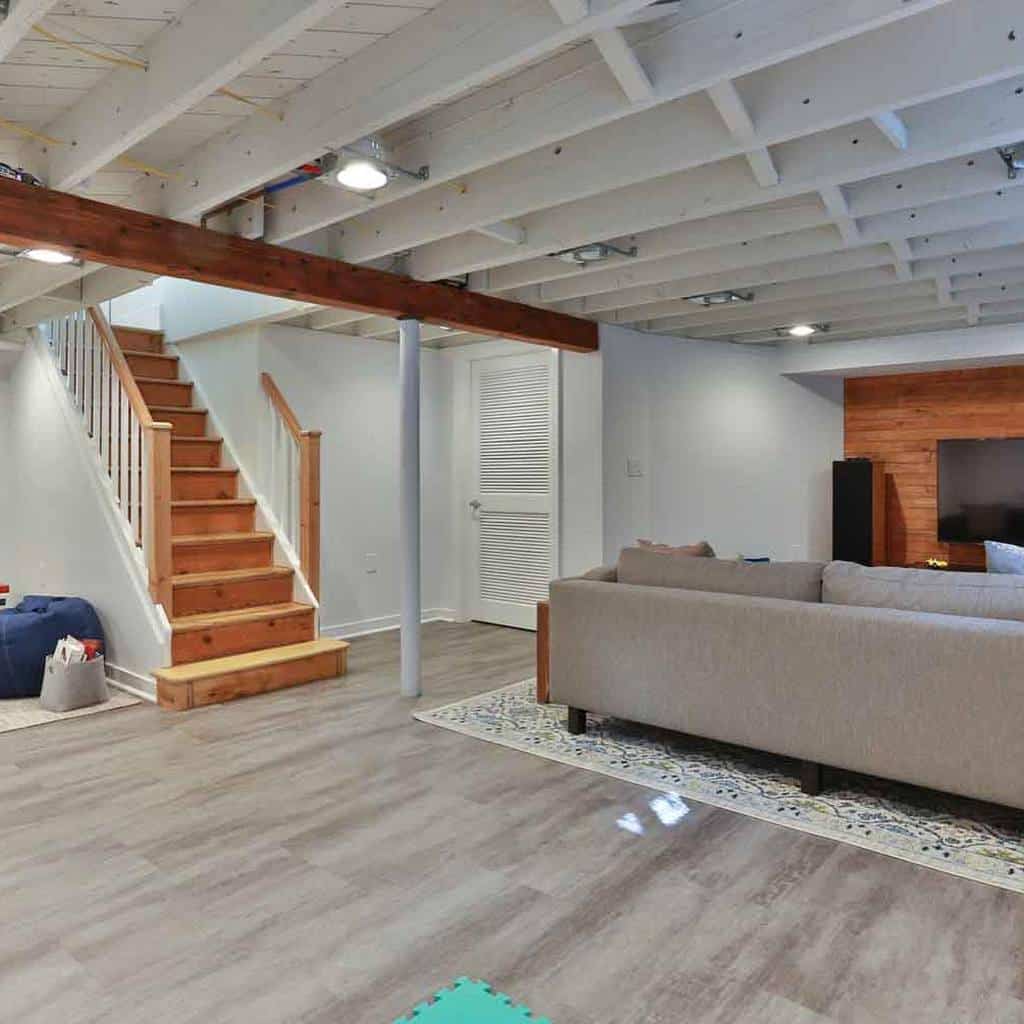 The Top 46 Basement Ceiling Ideas
"Ceilings must always be considered. They are the most neglected surface in a room." – Albert Hadley
It's true—the ceiling is one of the most neglected surfaces in home design. But have you noticed that when you enter a room with a particularly unattractive ceiling, it really stands out?
Spending some time on your basement ceiling ideas is important if you want to create a cohesive, welcoming bottom floor. Ceiling manufacturers have gone far beyond basic industrial drop ceiling tiles, as you can see from our extensive gallery of best basement ceiling ideas.
1. Arched Ceiling
The basement is often an overlooked and underutilized space in homes. However, with a little creativity and effort, it can become a cozy and inviting retreat.
One unique feature that can add character and charm to a basement is an arched ceiling. This architectural detail not only creates visual interest but also adds height and a sense of airiness to a potentially cramped space.
With the right lighting and décor, a basement with an arched ceiling can be transformed into a stunning and sophisticated environment for entertaining or simply relaxing.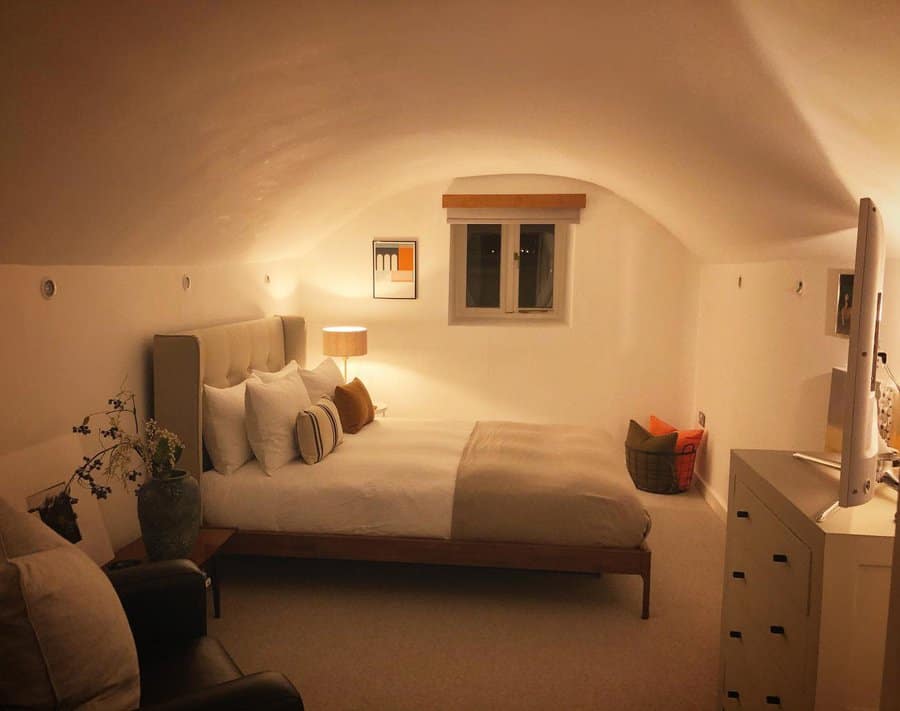 2. Drywall Ceiling
If you're thinking about renovating your basement, you may be wondering what to do with the ceiling. One popular option is to install drywall to create a smooth, finished look. Not only does this make your basement look more polished, but it can also help to insulate the space and reduce noise.
However, before you undertake this project, it's important to make sure that your basement is free of moisture and other potential hazards. Properly installing drywall is also key to ensuring a long-lasting and safe result. With the right planning and implementation, a drywall ceiling can be the perfect finishing touch for your basement renovation.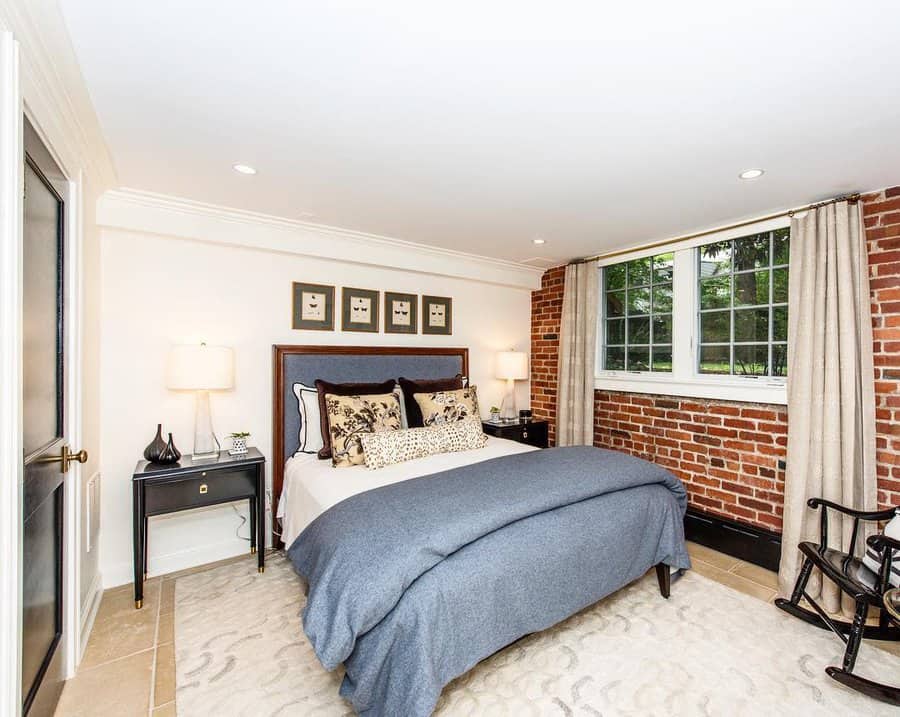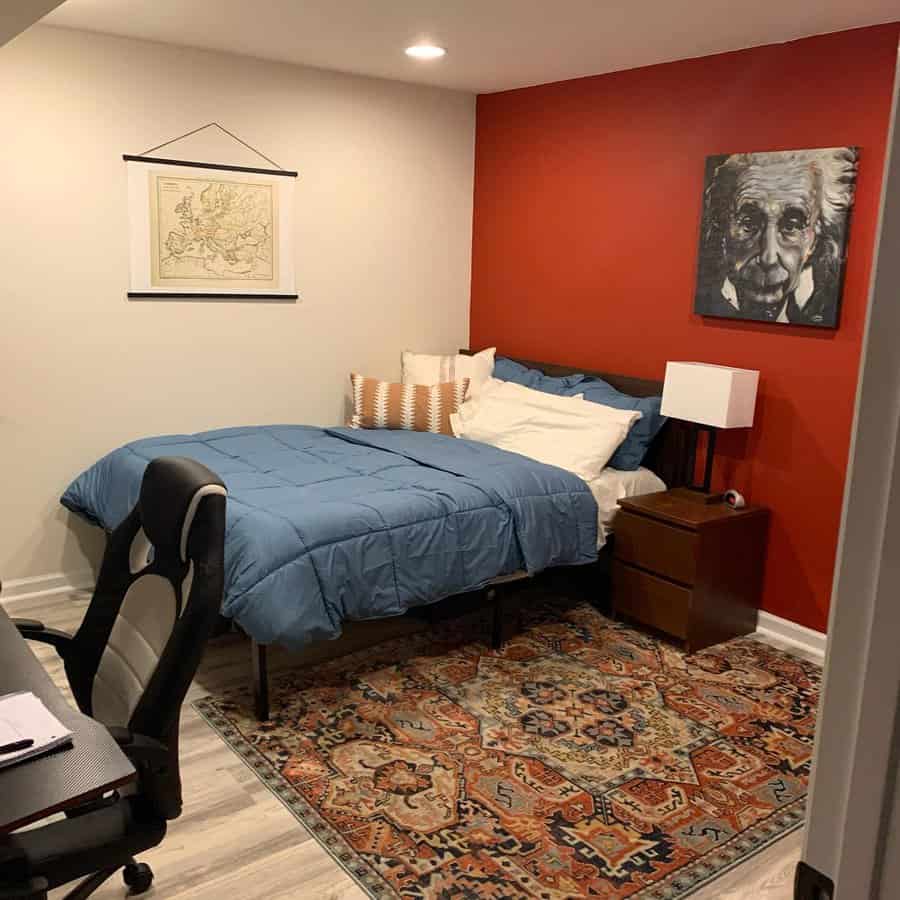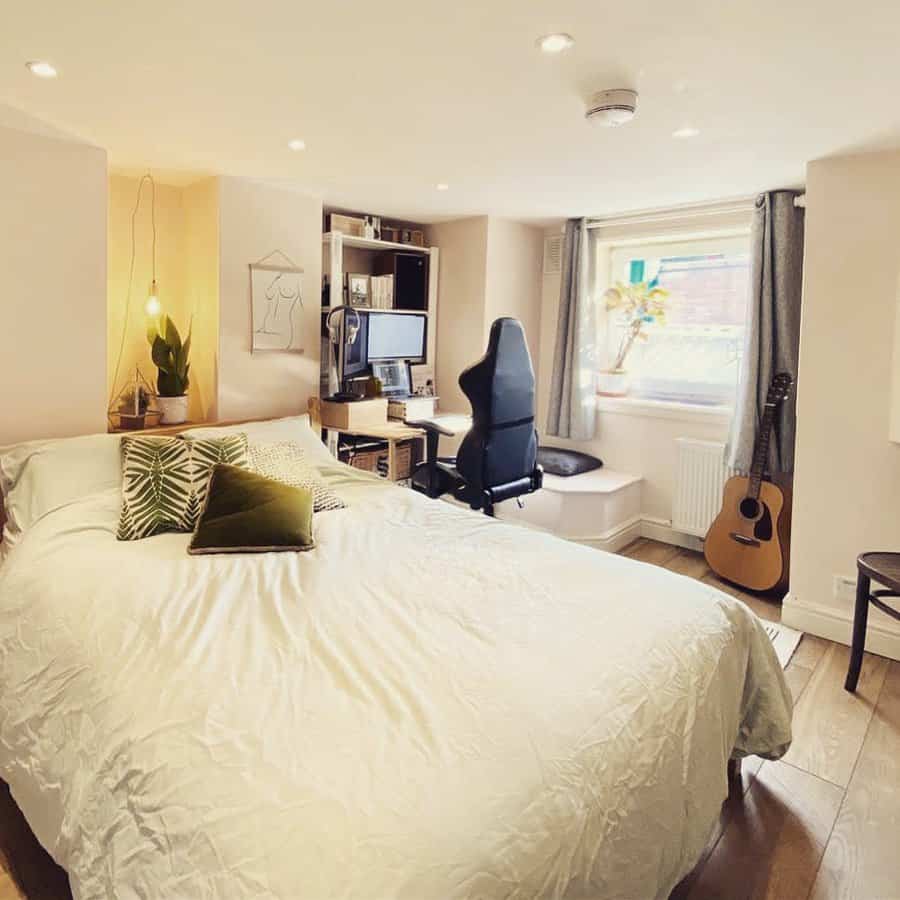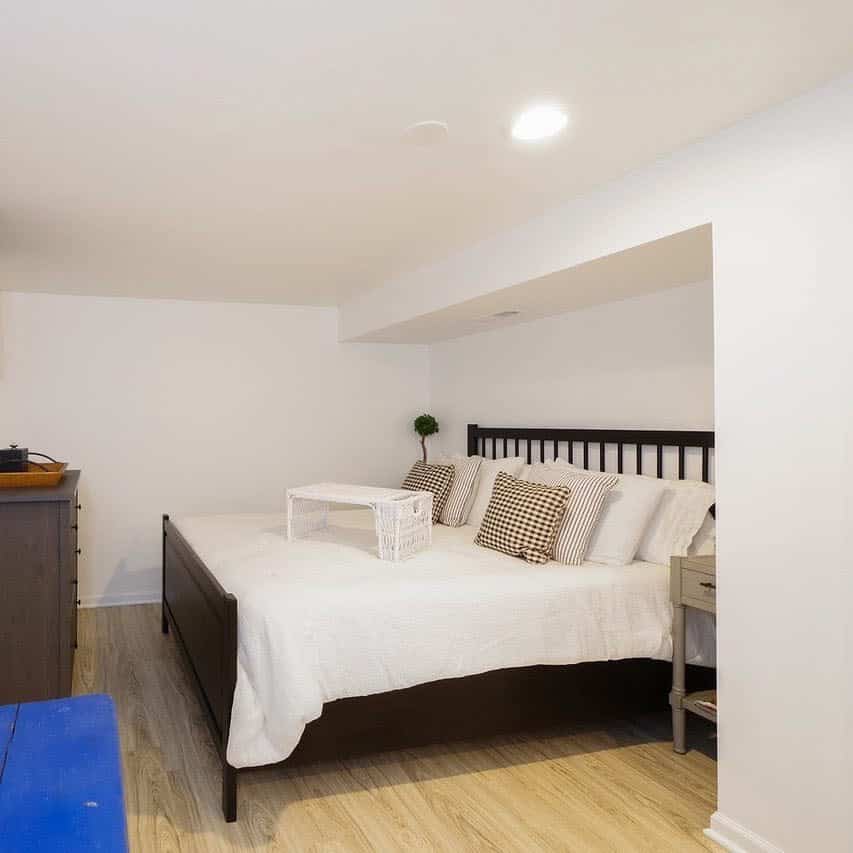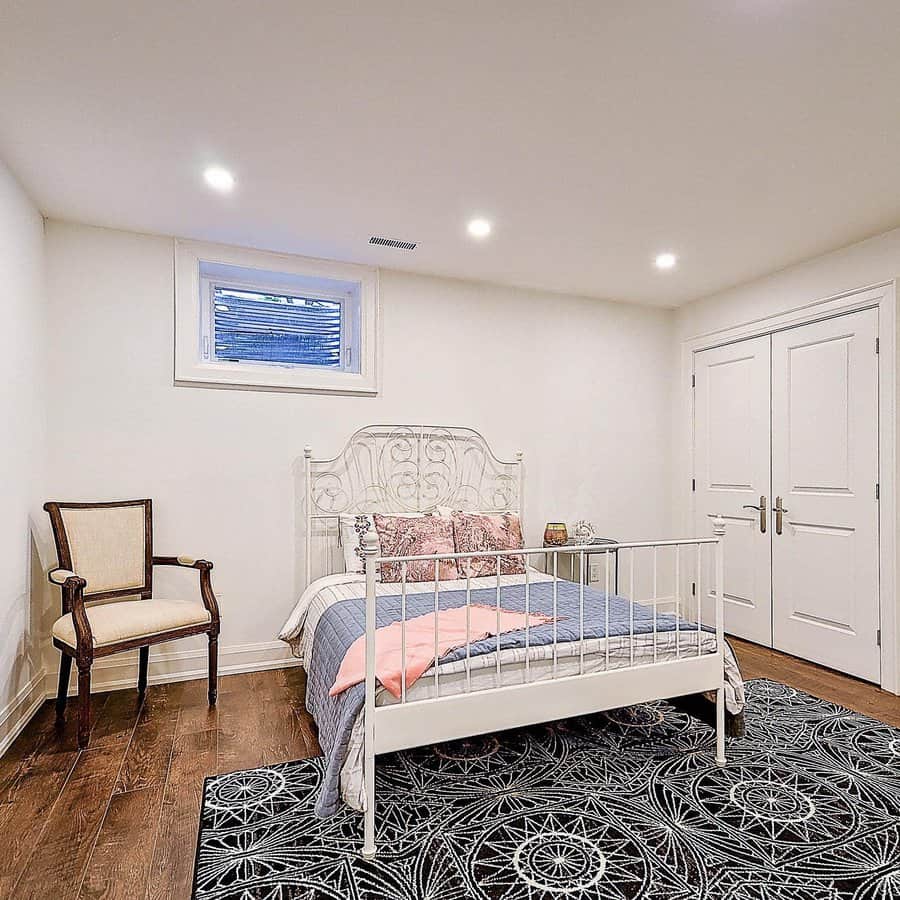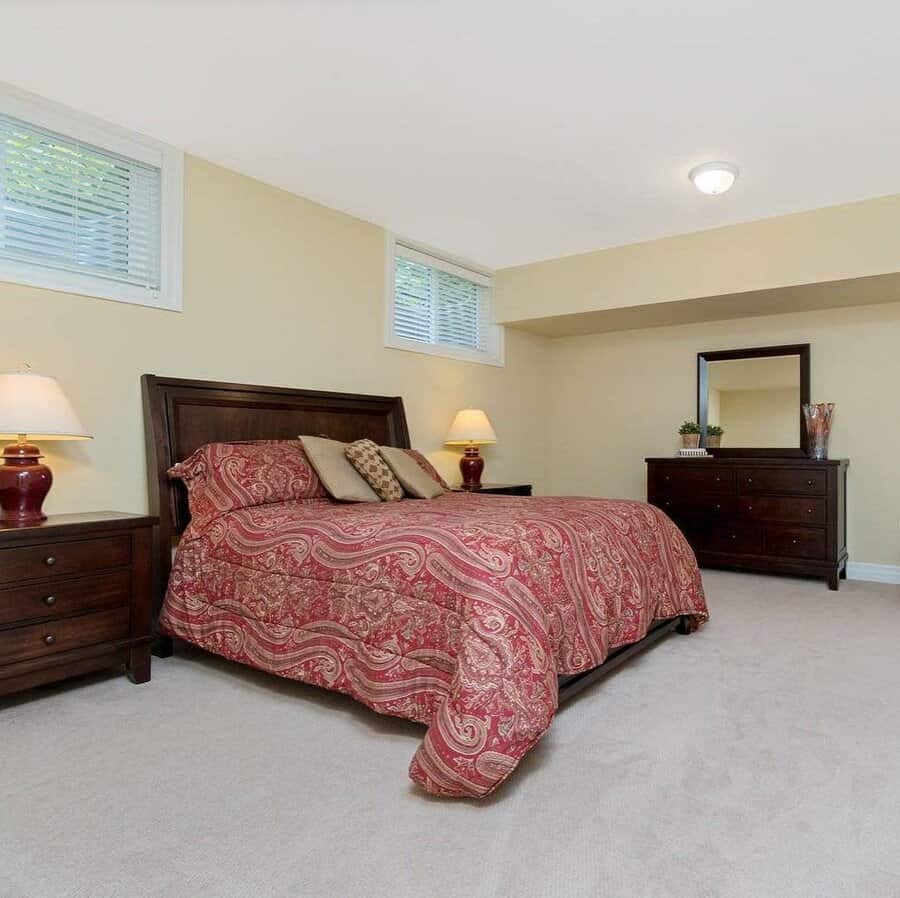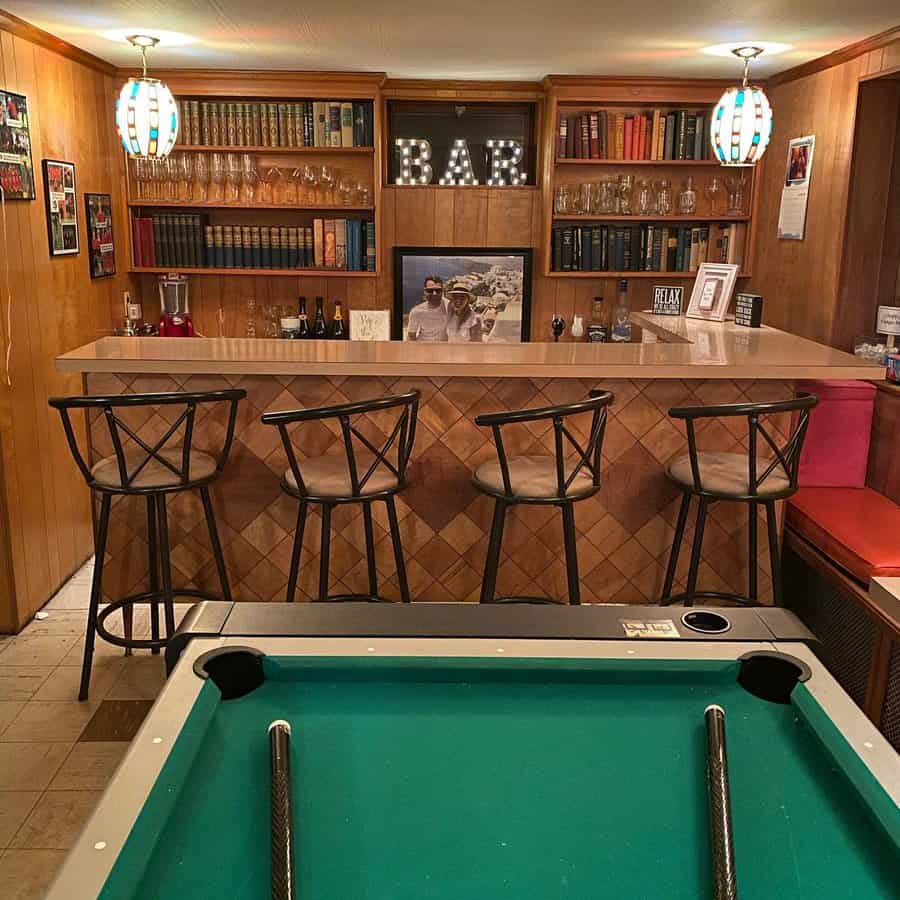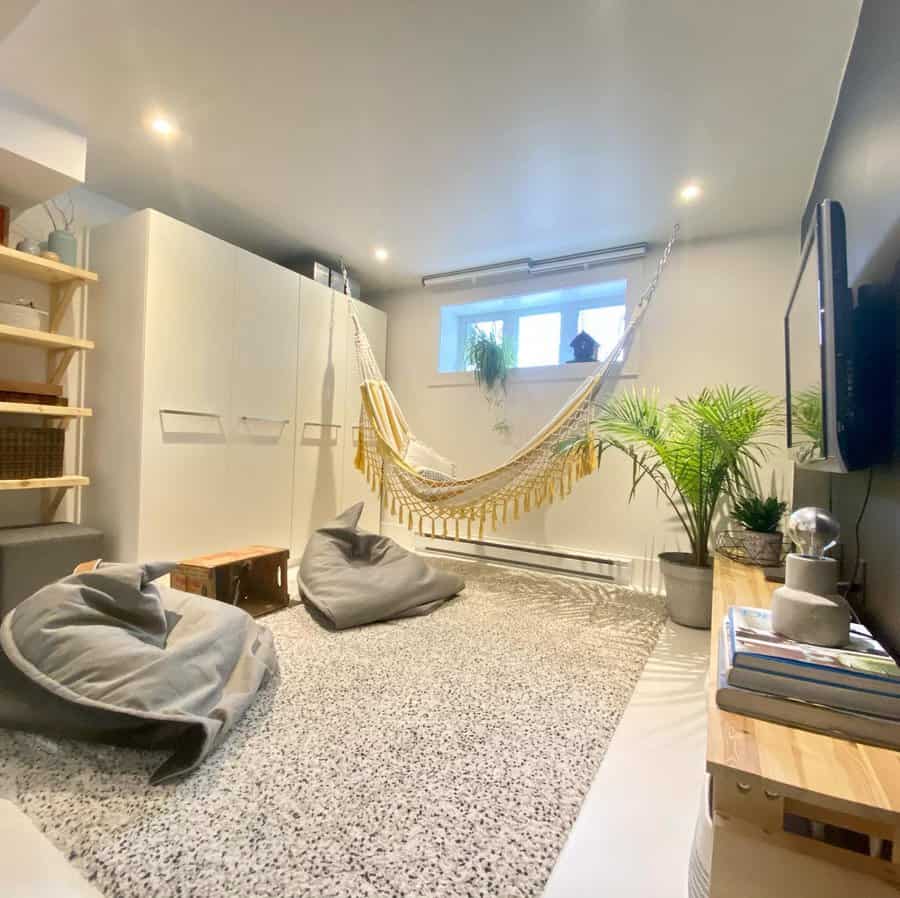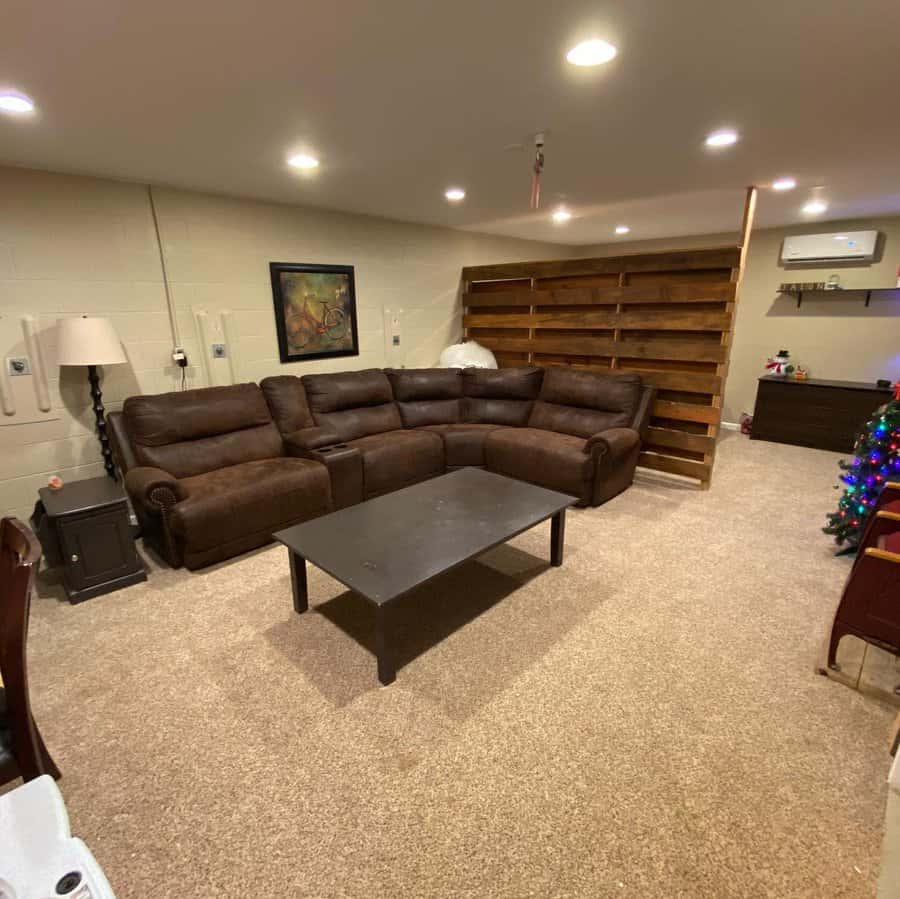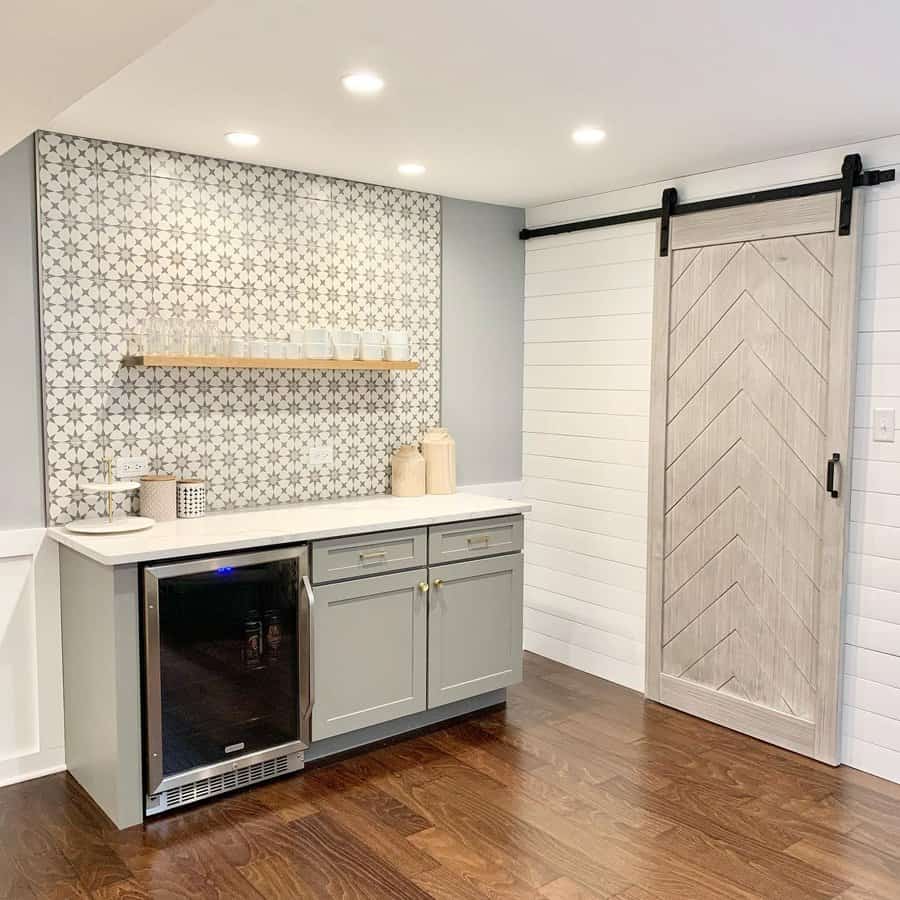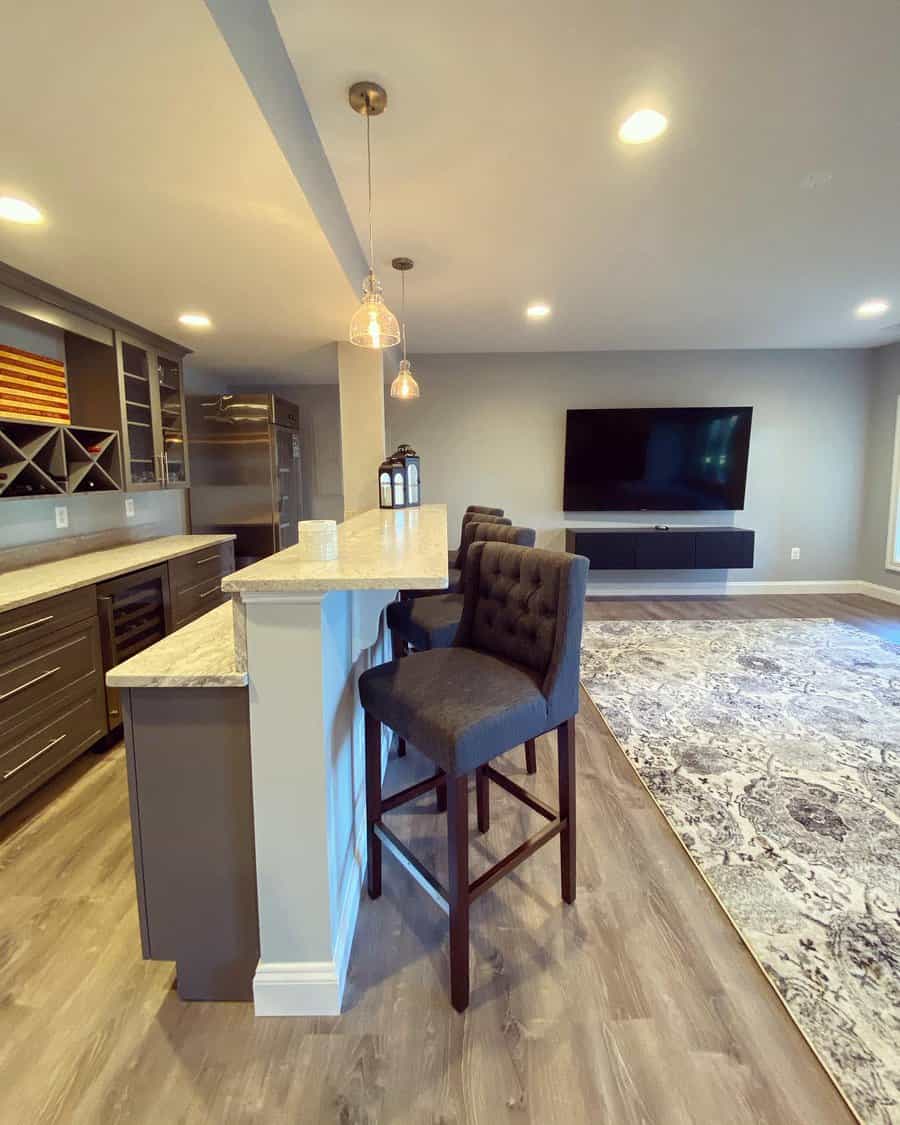 3. Exposed Ceiling Beams
If you have a basement with exposed ceiling beams, you have a unique and charming design feature that can add character to your home. Exposed ceiling beams are often found in older homes, but they are becoming more popular in modern designs as well. These beams can be left natural or painted to match your decor.
They add texture and depth to a room, and they can be used to create a rustic or industrial look. You can enhance the appeal of your exposed ceiling beams by incorporating complementary design elements, such as brick walls, vintage lighting, or a wooden bar.
Whether you use your basement as a cozy family room or as a sleek entertainment space, the exposed ceiling beams will undoubtedly be a standout feature.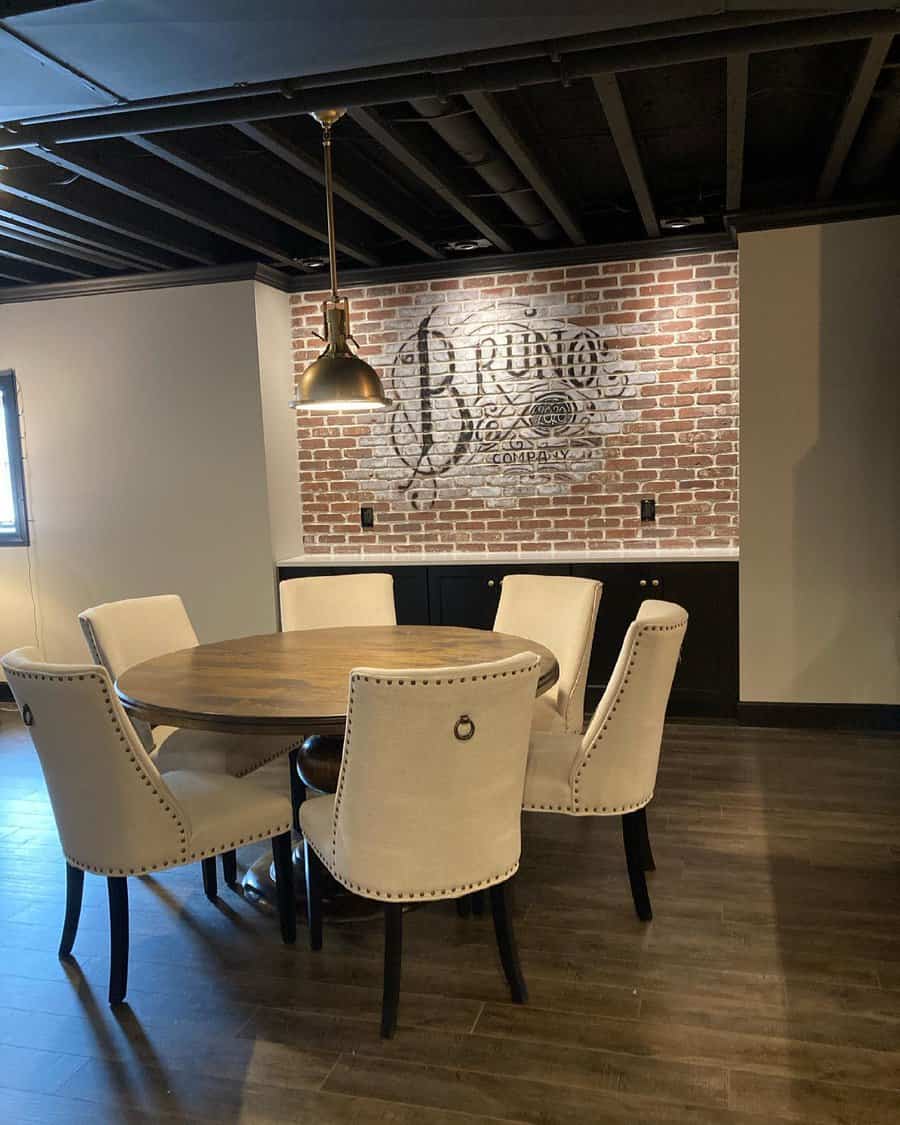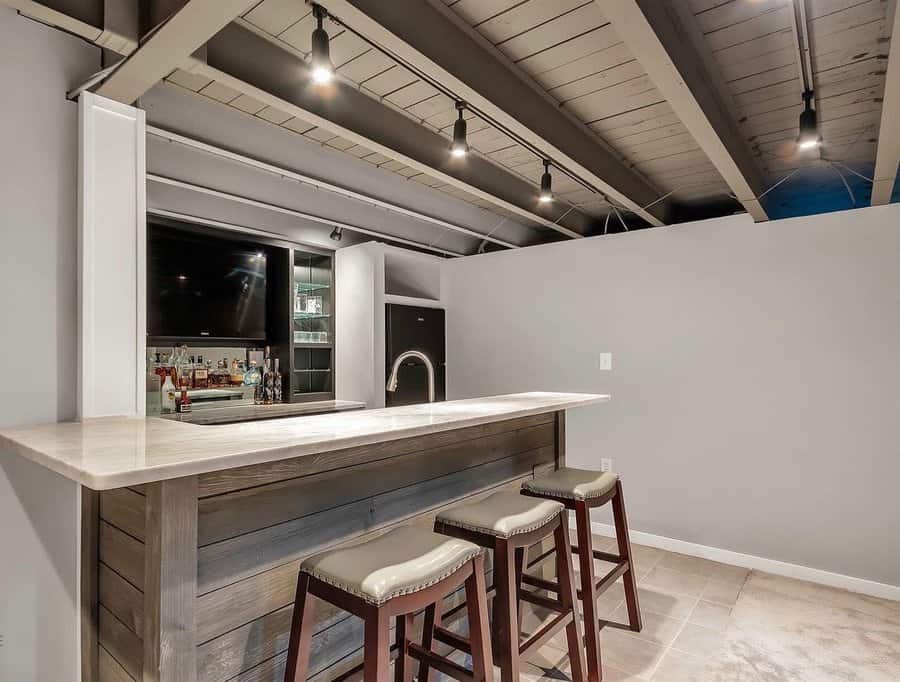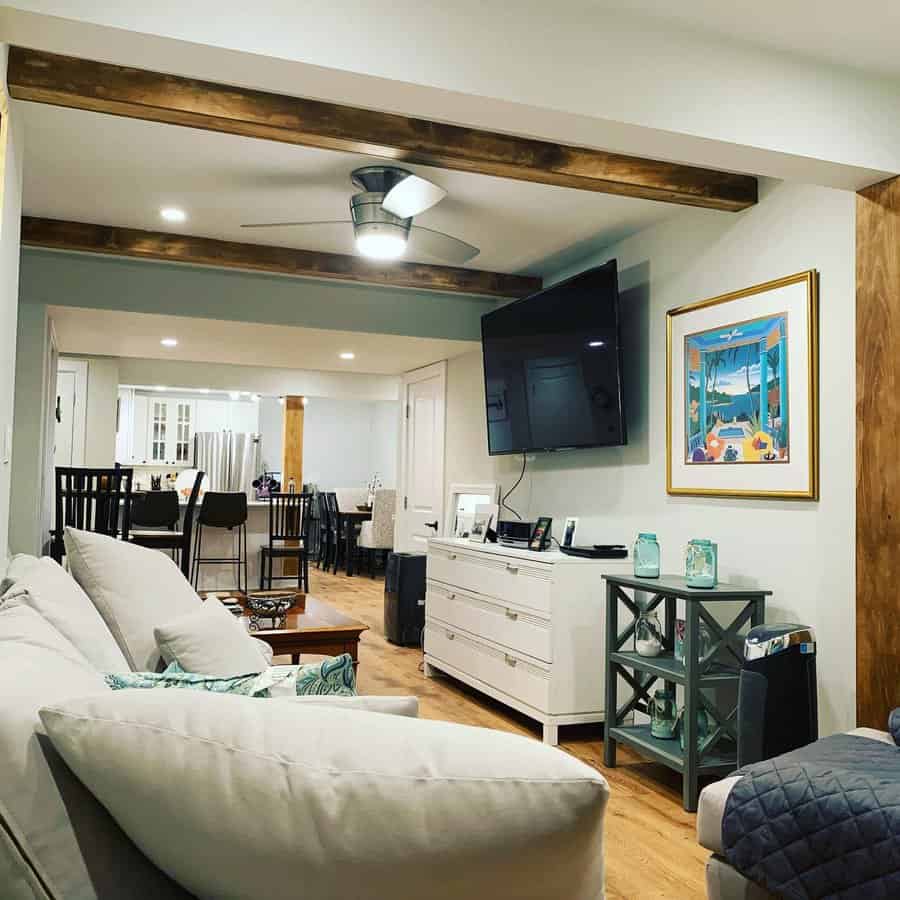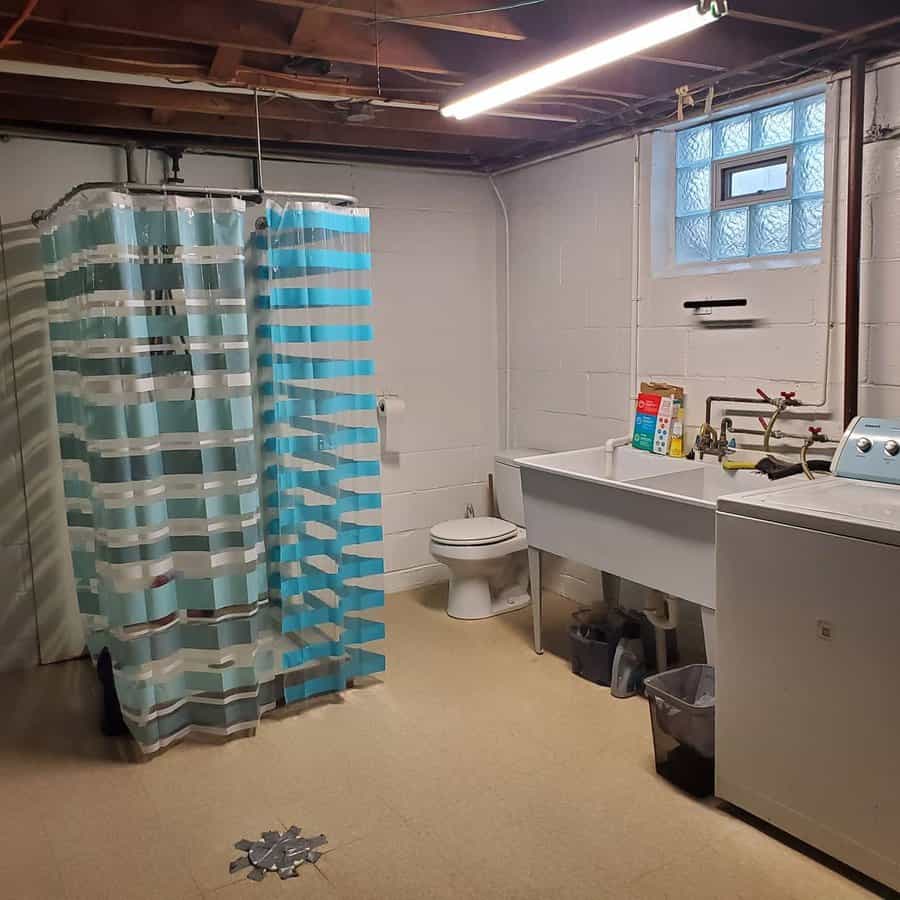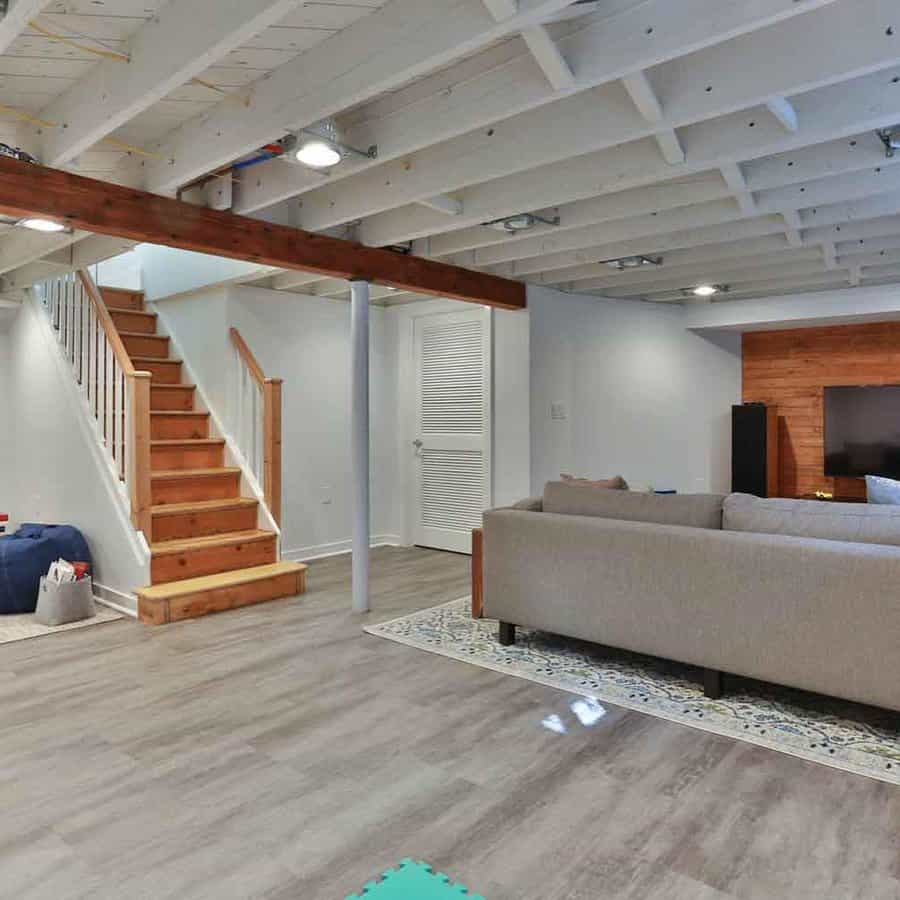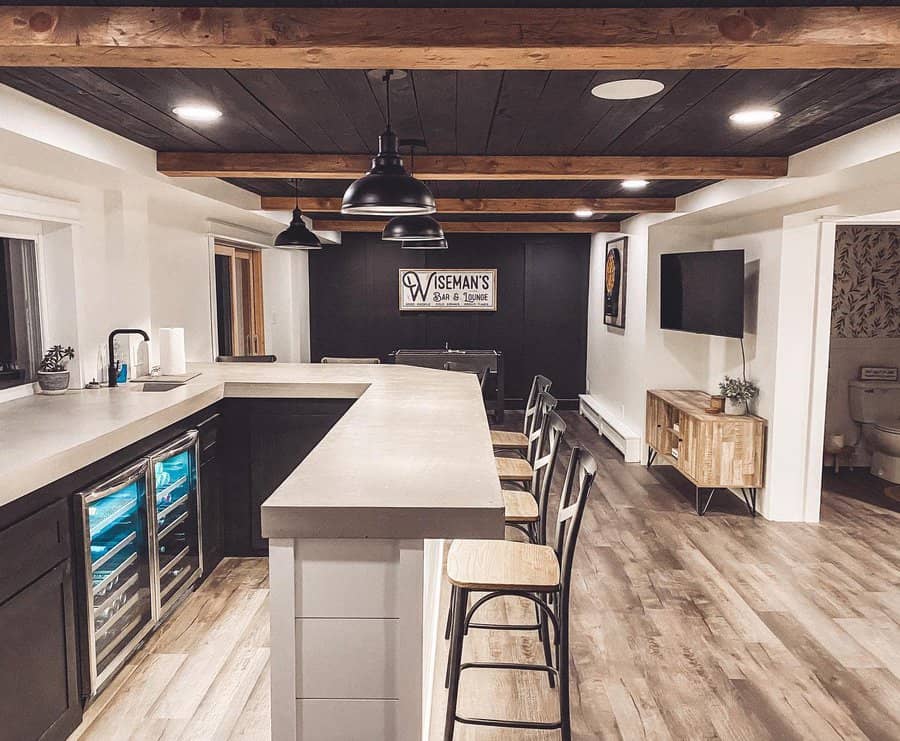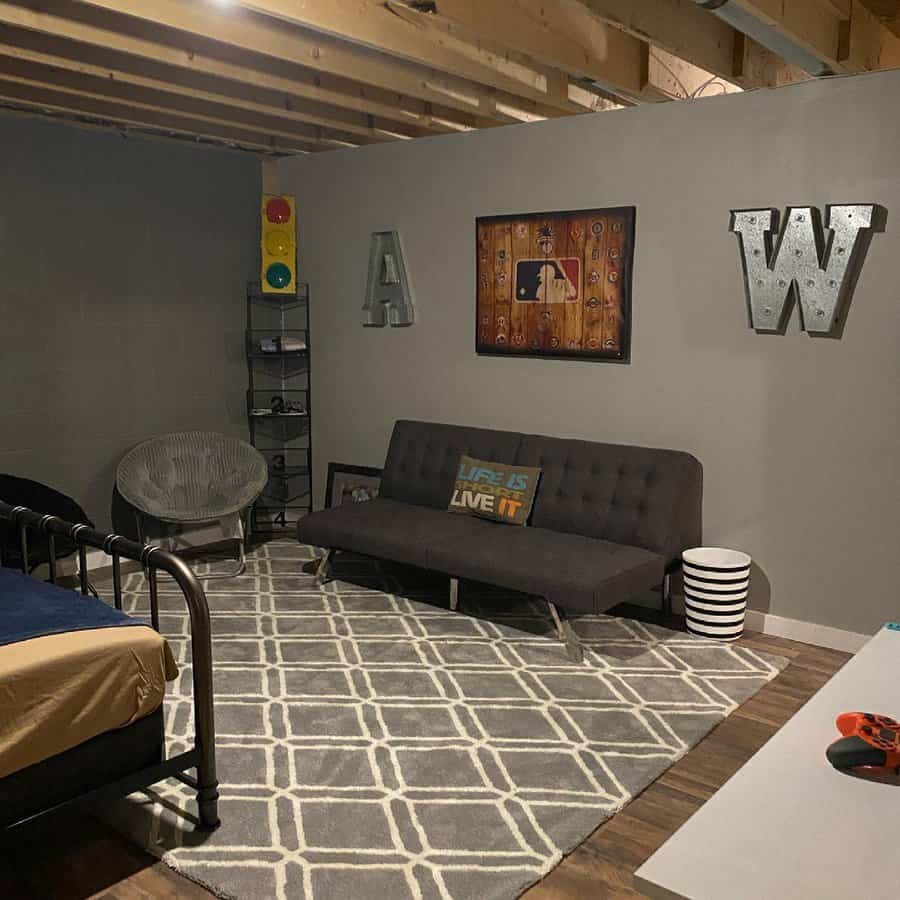 4. Ceiling With Trimming
Are you looking for a way to upgrade the look of your basement? Consider adding decorative trimming to your ceiling! Installing a trimmed ceiling adds a touch of elegance and sophistication to any space, especially in a basement where it can create a cozy, inviting atmosphere.
Plus, with the dozens of options for different types of trim and finishes, you can customize the style to match your personal taste and perfectly complement your home decor. Don't settle for a blah basement – install a trimmed ceiling and transform it into a stylish sanctuary.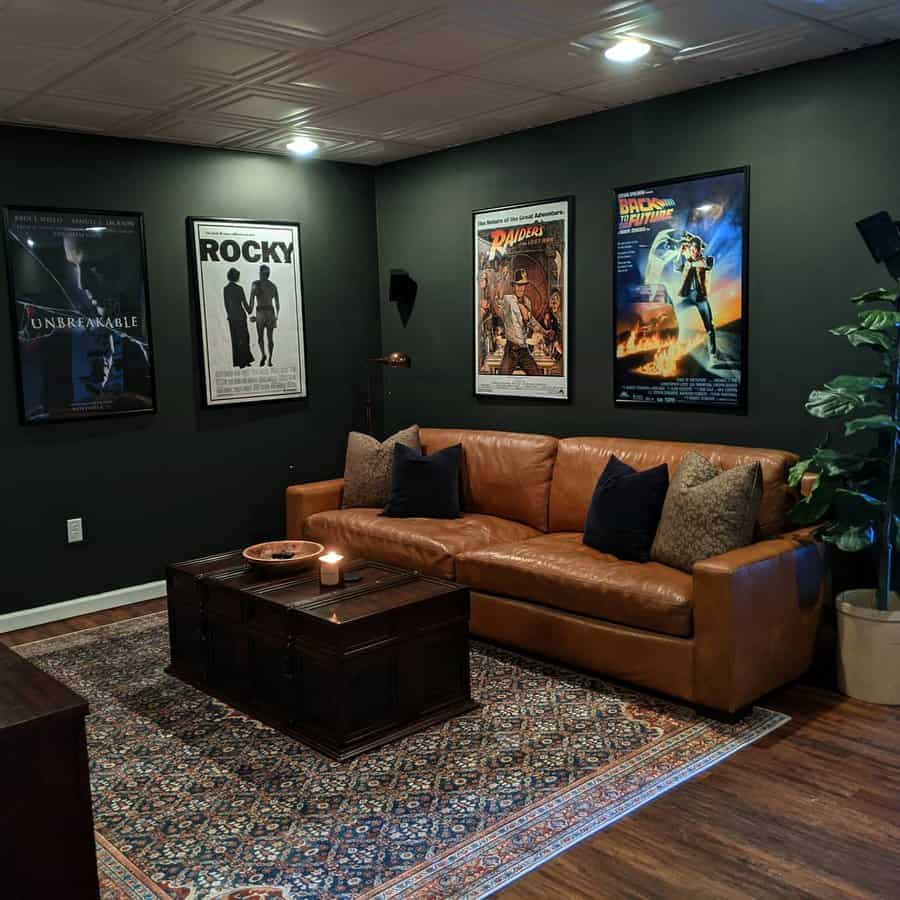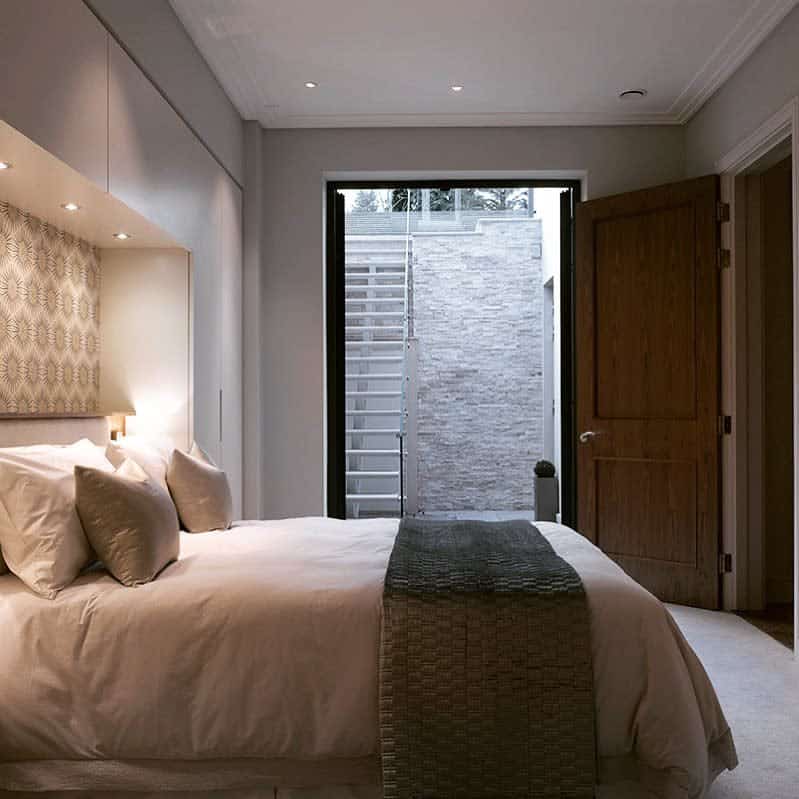 5. Drop Ceiling
If you're looking to spruce up your basement and add some texture to the ceiling, a drop ceiling might just do the trick. Not only does it provide a sleek and modern look, but it also hides any unsightly ductwork or electrical wires.
Plus, it's easy to install and can even improve the acoustics of the room. Say goodbye to that dingy old basement ceiling and hello to a whole new level of style and functionality with a basement drop ceiling.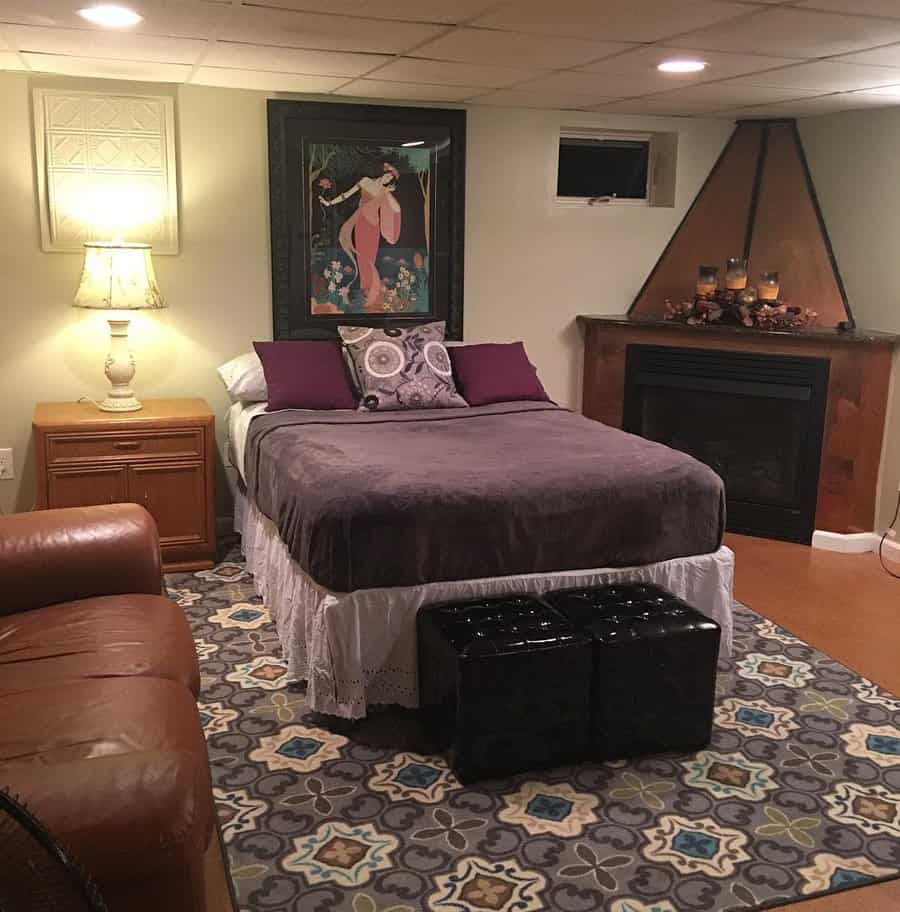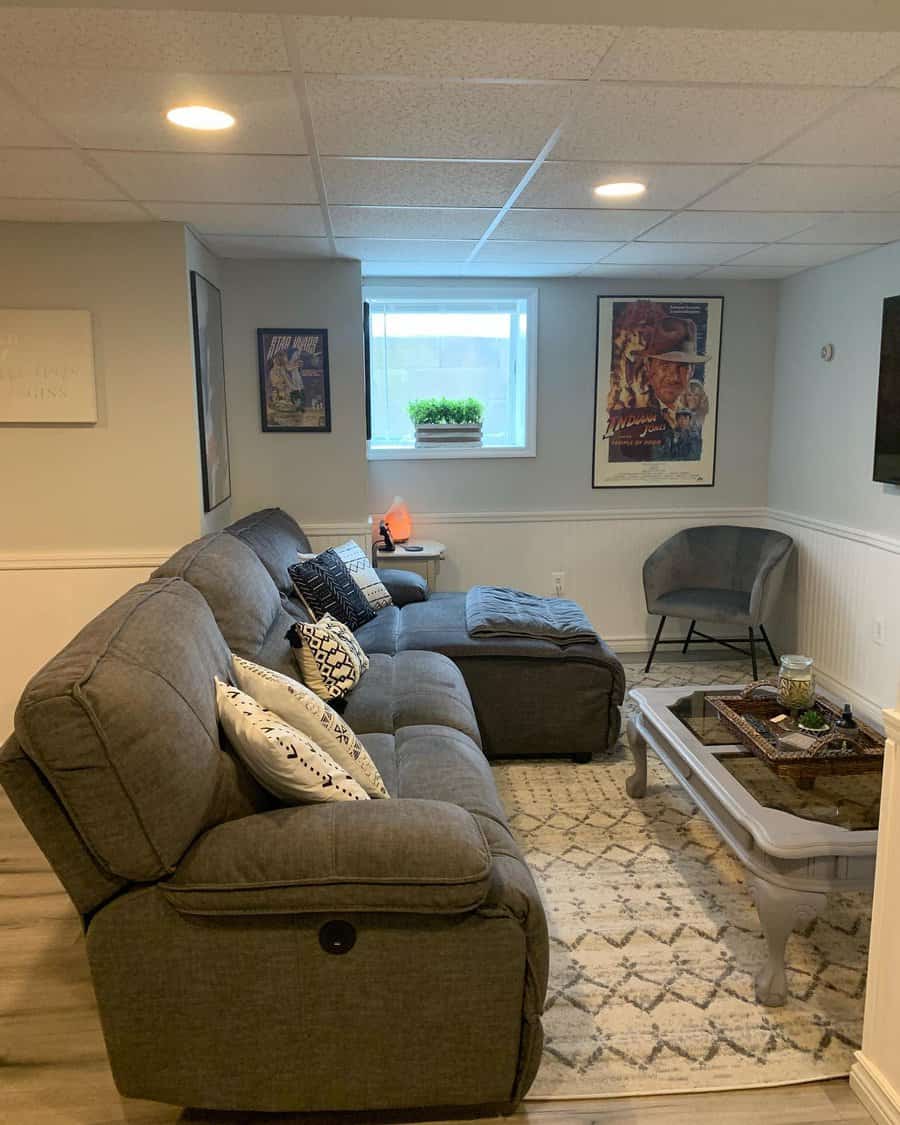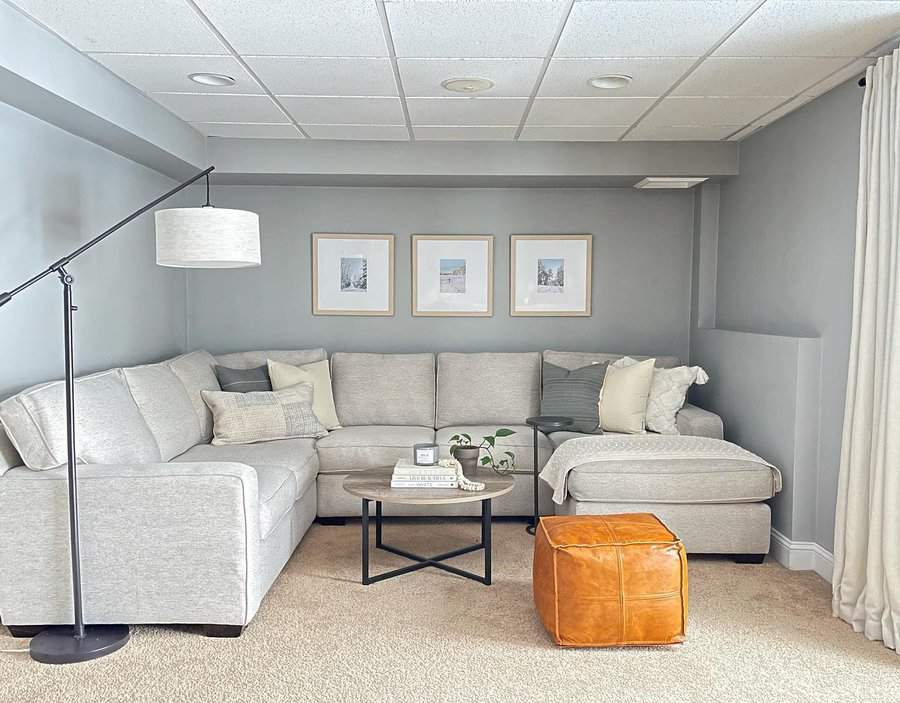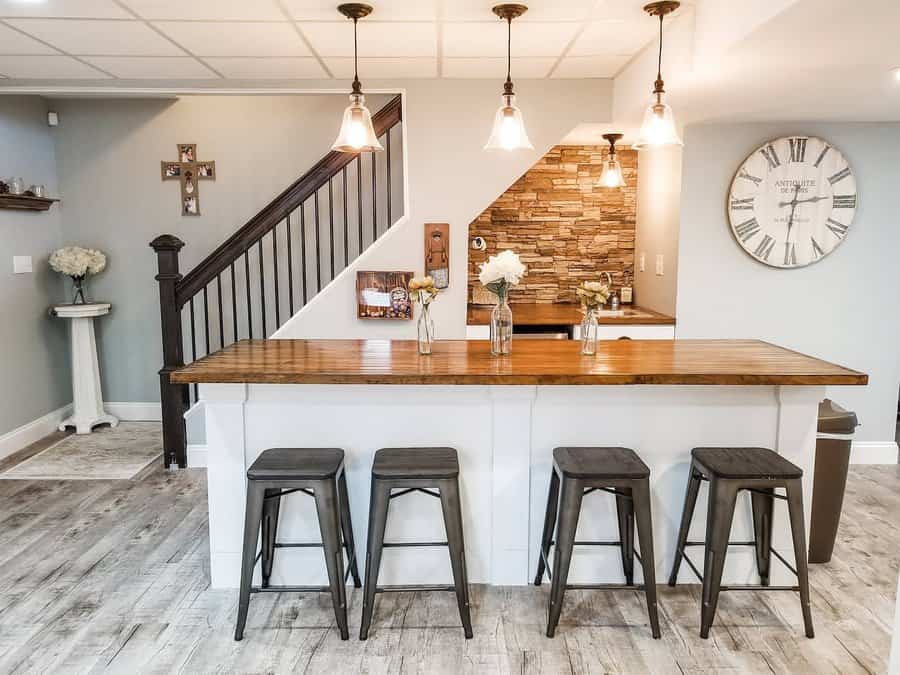 6. Plywood Ceiling
A plywood ceiling can offer a rustic touch to your space, making it feel cozy and inviting. Not only is it an economical choice for those on a budget, but it also provides additional insulation to help keep your space more comfortable throughout the year.
With a variety of finishes available, you can customize your plywood ceiling to reflect your personal style and create a truly unique look.
Whether you're planning a game room, home gym, or simply additional living space, a plywood ceiling is a smart choice for your basement project.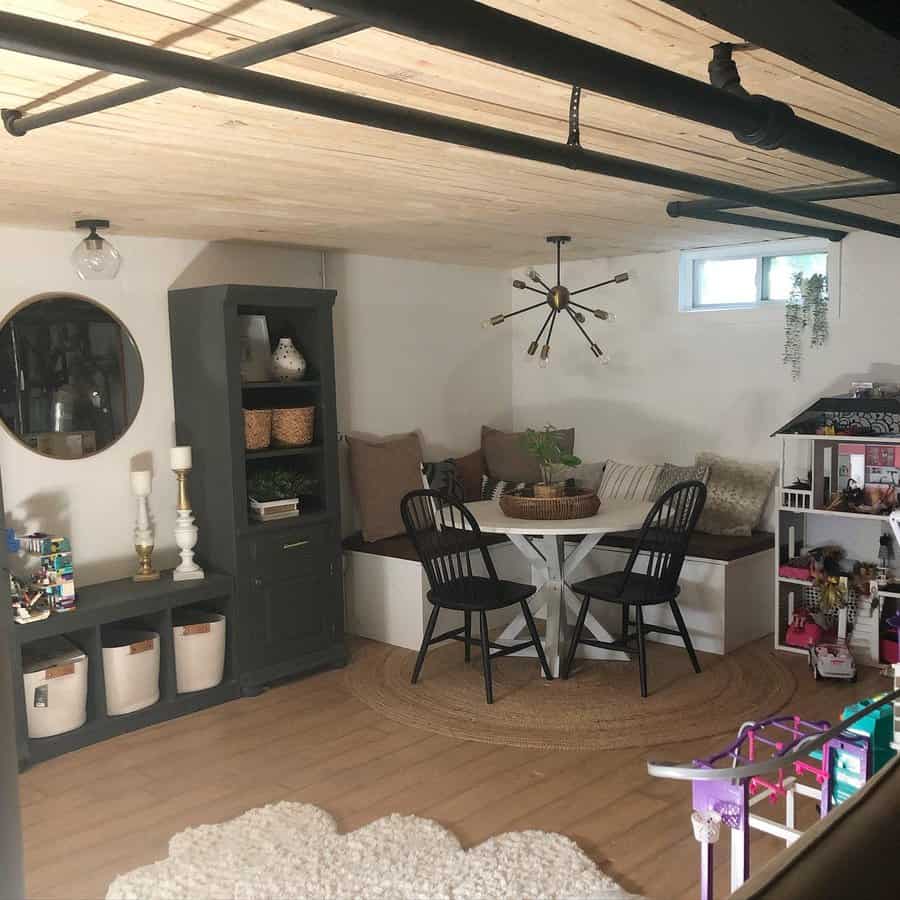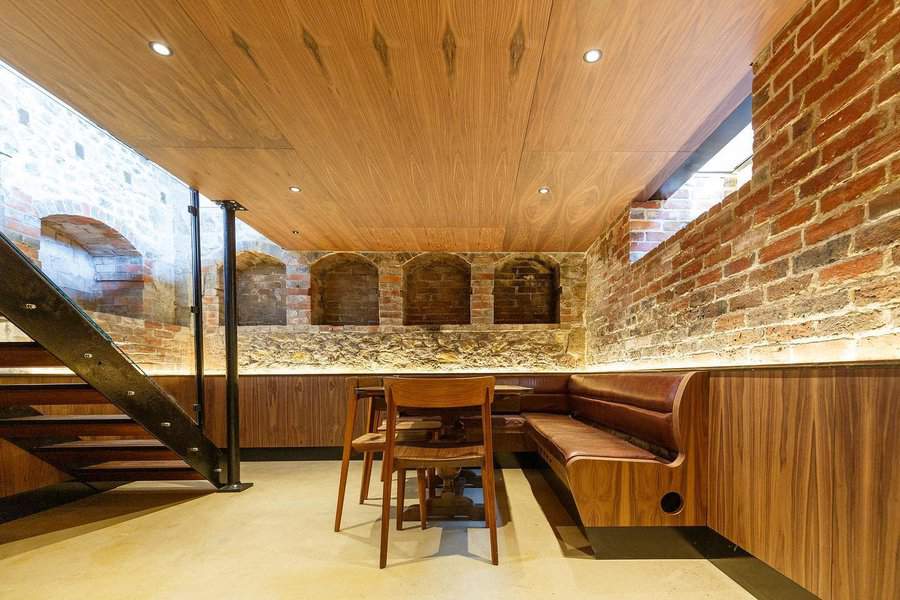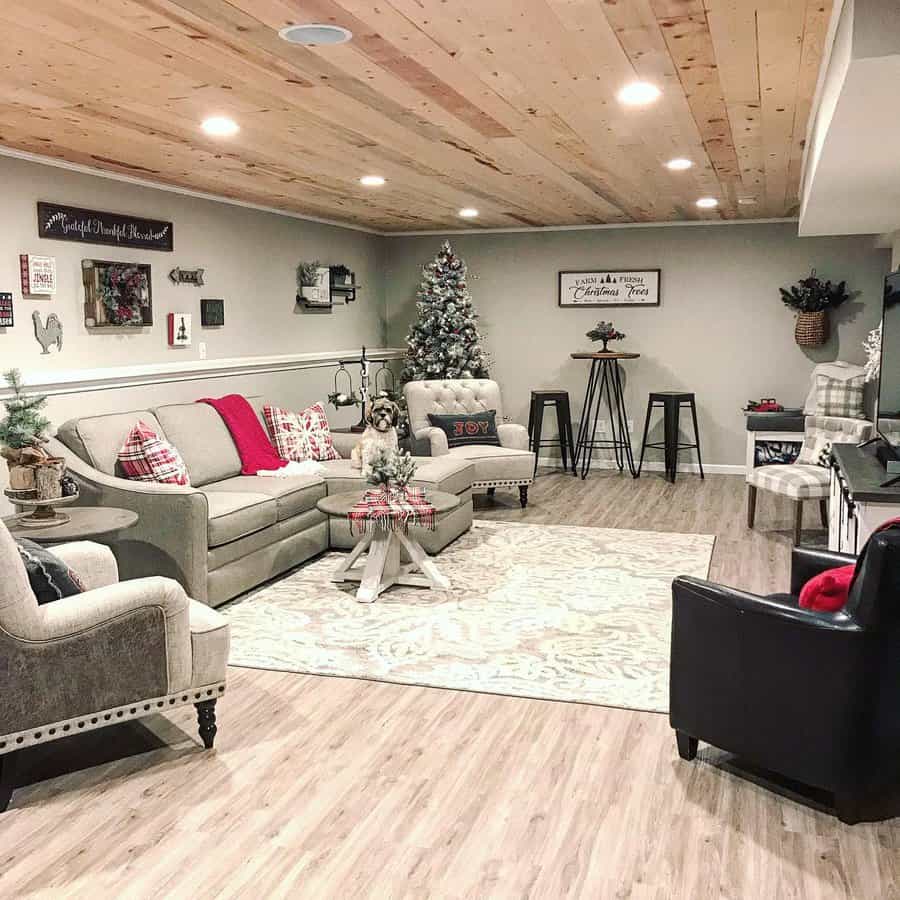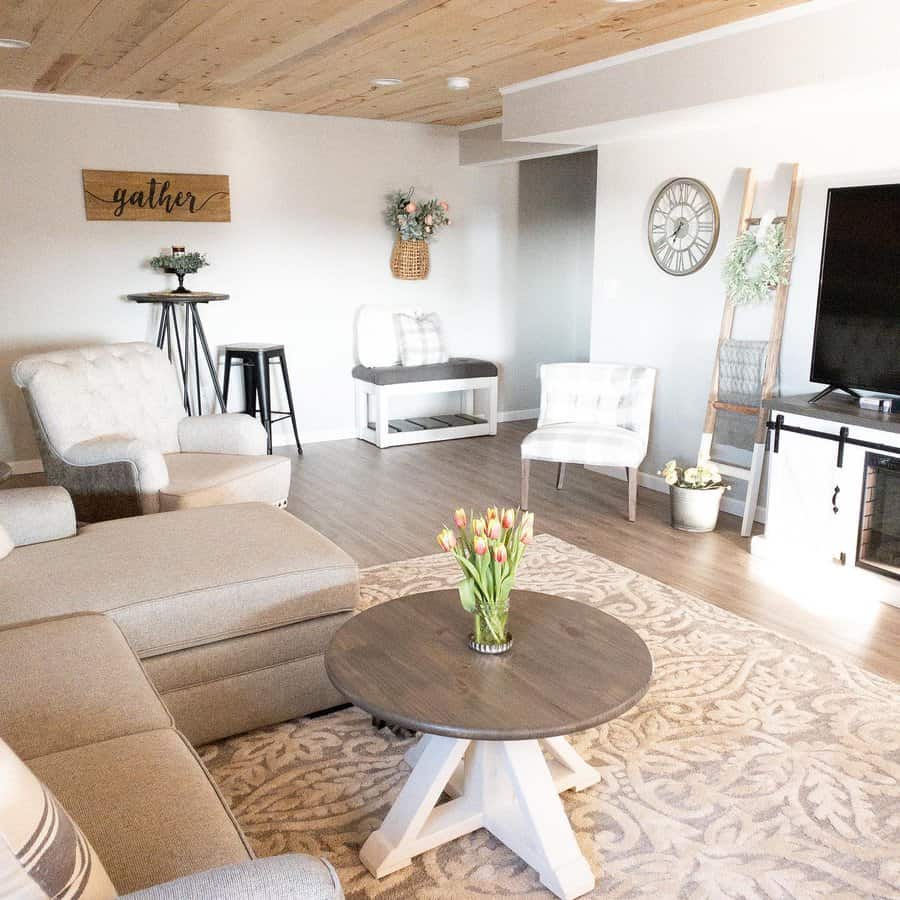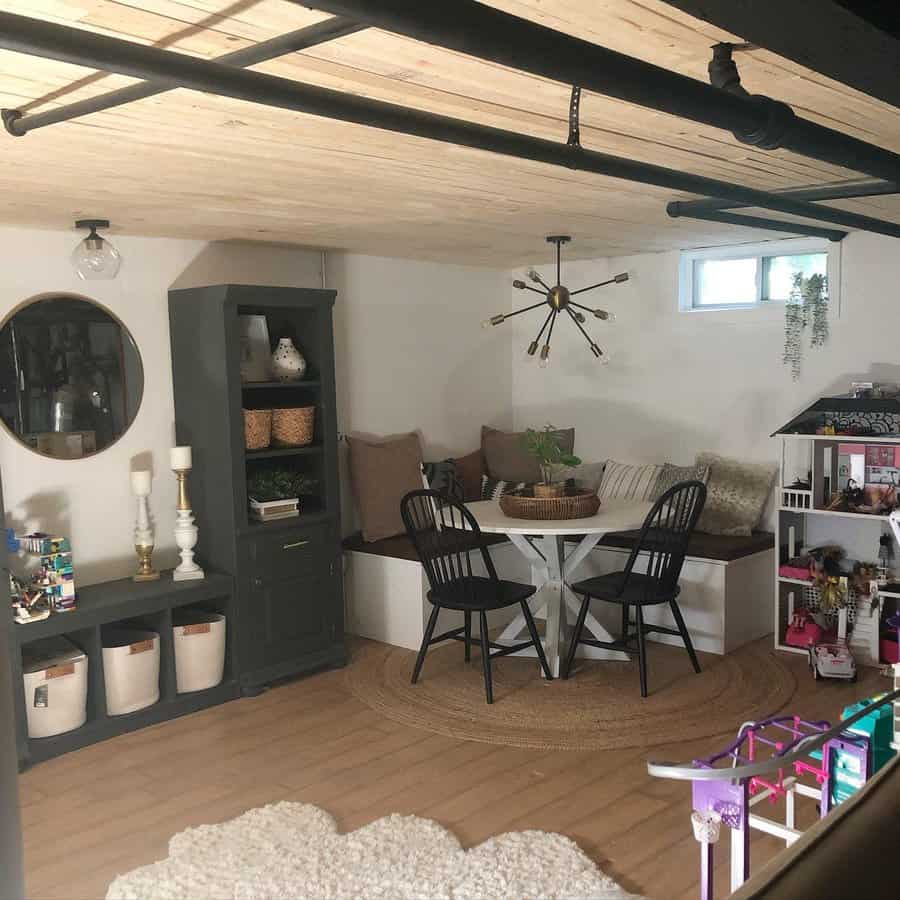 7. Ceiling With Pendant Light
When it comes to home decor, one area that is often overlooked is the ceiling. However, with the addition of pendant lights, a basement ceiling can become a stunning focal point in any room. Pendant lights not only provide ample lighting but also add a touch of elegance and style to a space.
Whether you prefer modern or more traditional designs, there is a pendant light to suit any taste. So why not elevate your basement game by installing pendant lights on your ceiling?
With their warm glow and unique designs, your guests will be sure to take notice and appreciate the added sophistication to your home.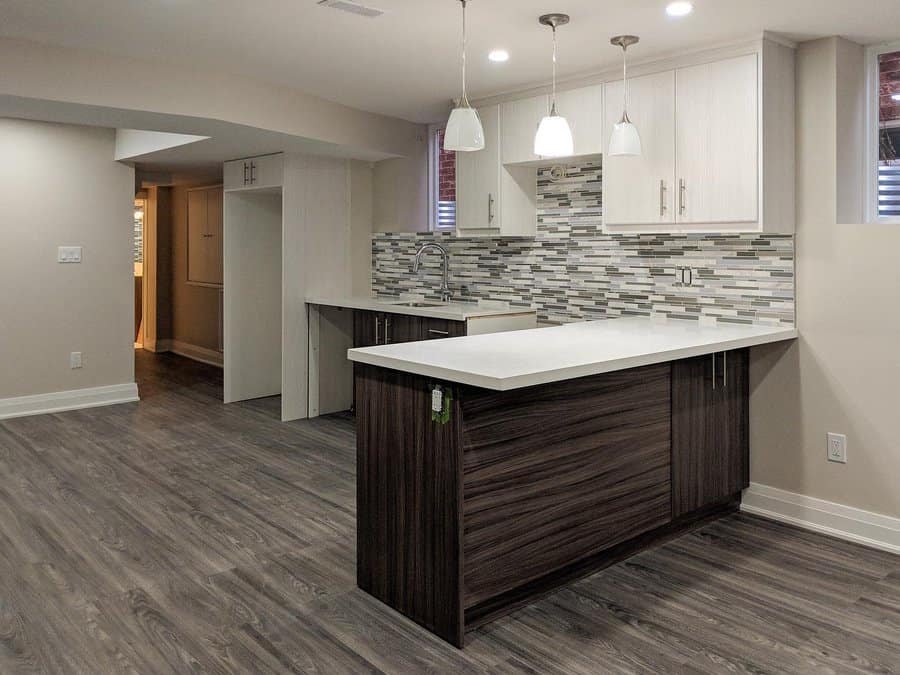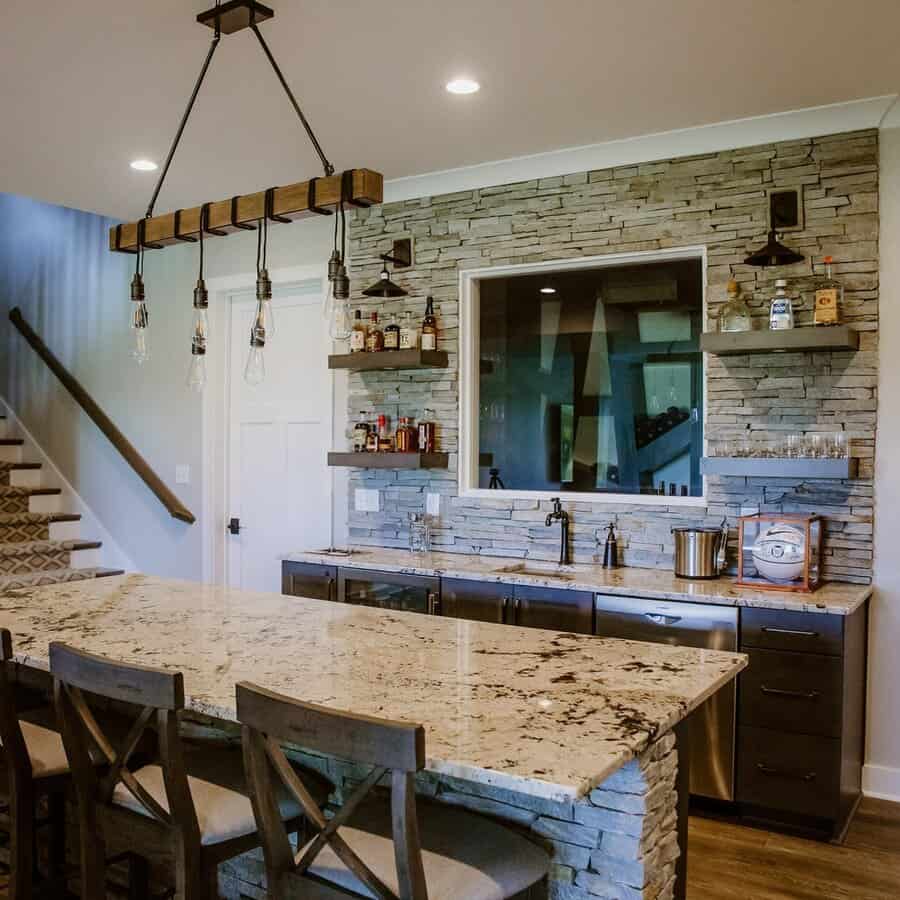 8. Ceiling With Recessed Lights
A finished basement can be a game-changer for any home. However, a dingy, unfinished ceiling can still give off that storage vibe. That's where recessed lights come in. Installing these fixtures into the ceiling not only brightens up the space but also gives it a modern feel.
Recessed lights also don't take up any visual space, making the room appear taller and more spacious. Contrast them with some statement light fixtures and you've got yourself a stylish and functional basement. Say goodbye to that creepy, unfinished ceiling, and hello to a cozy new space!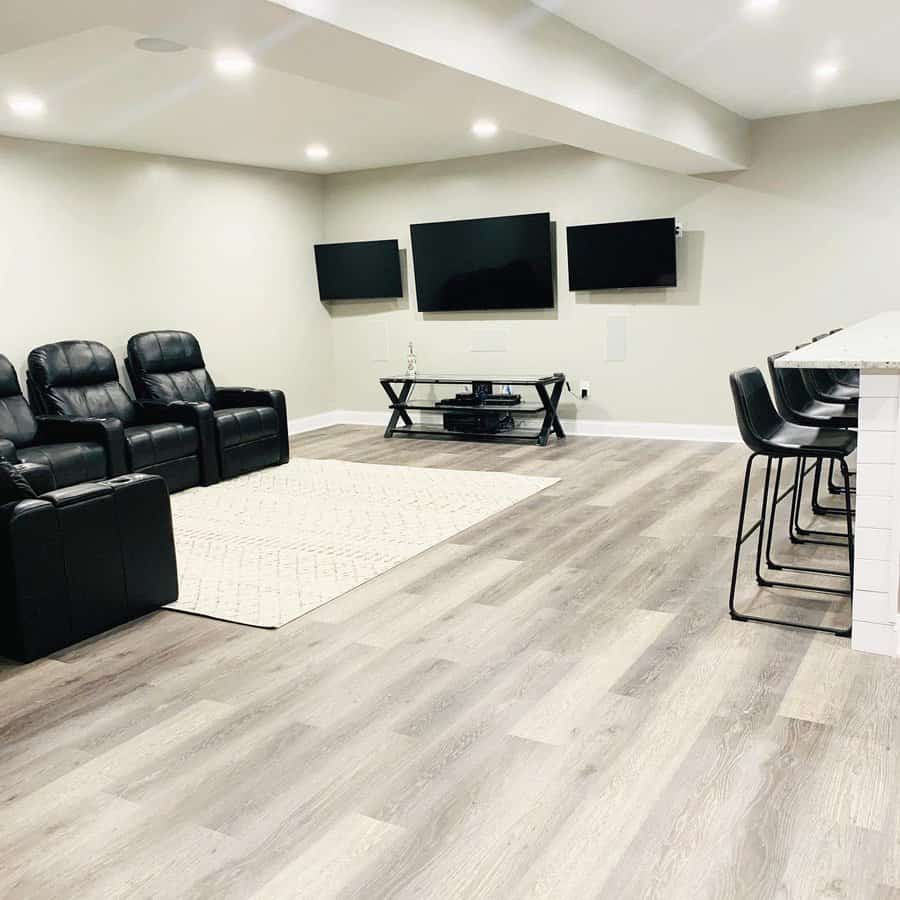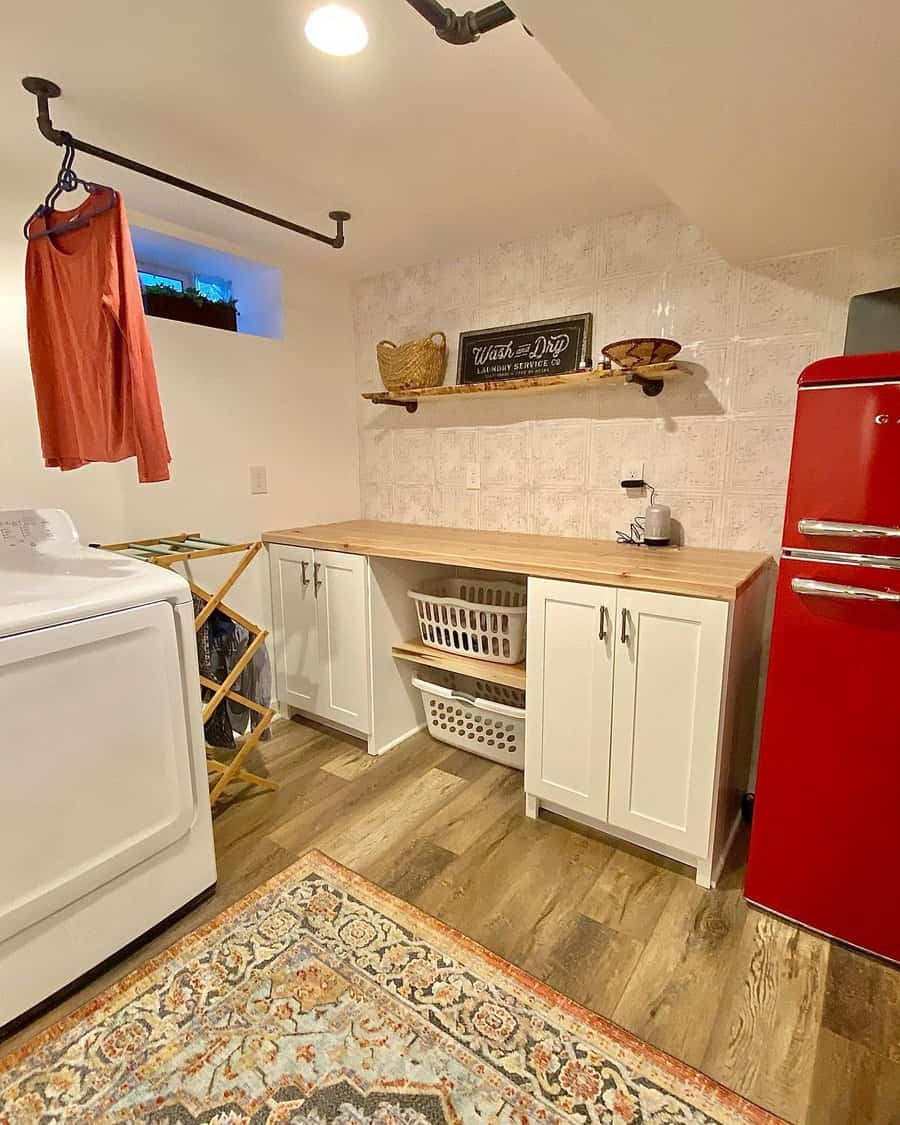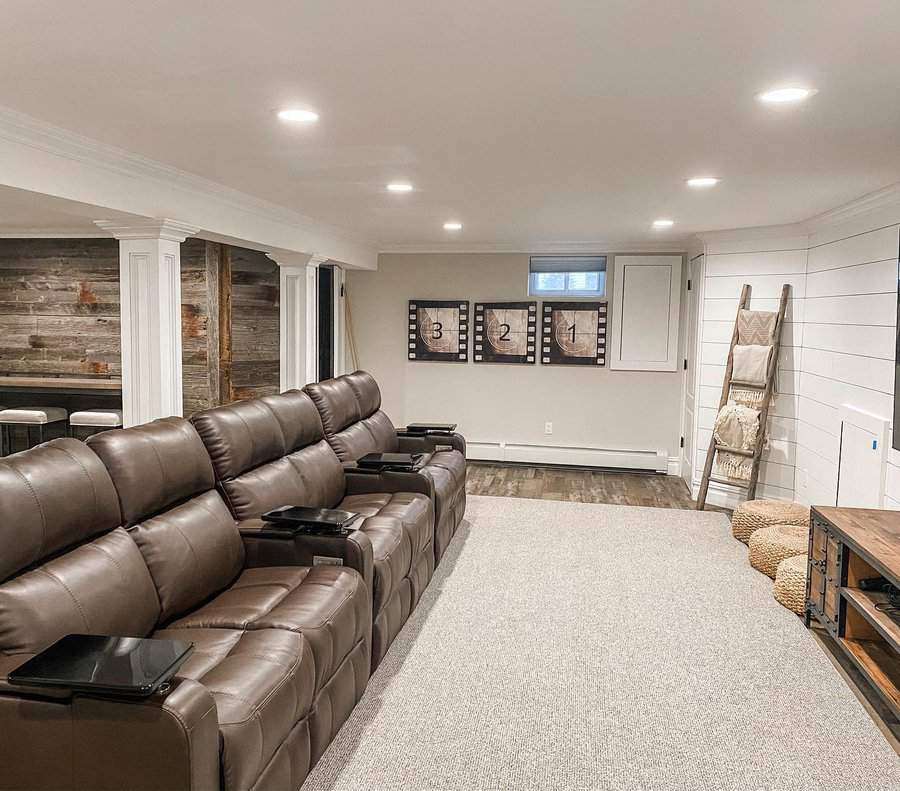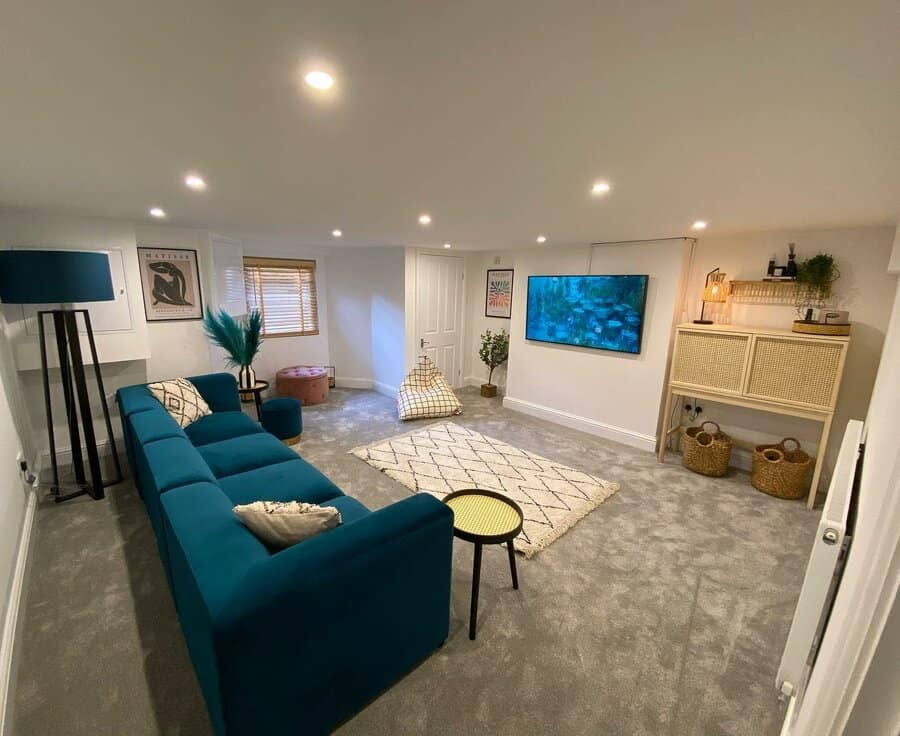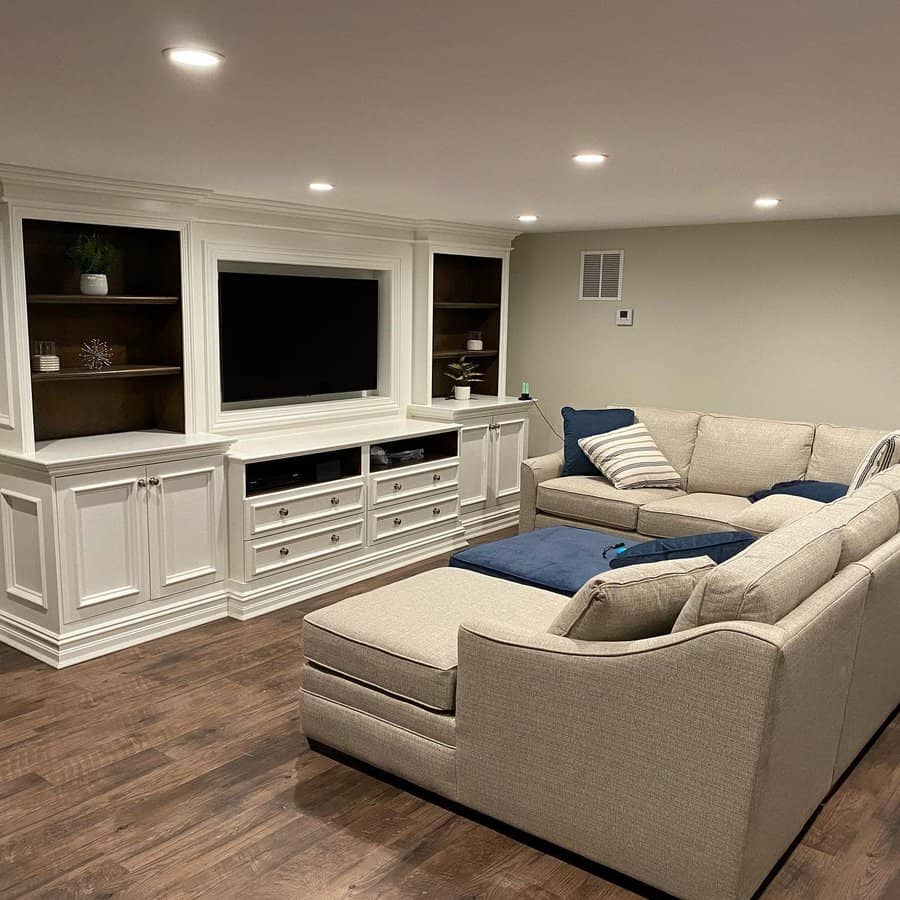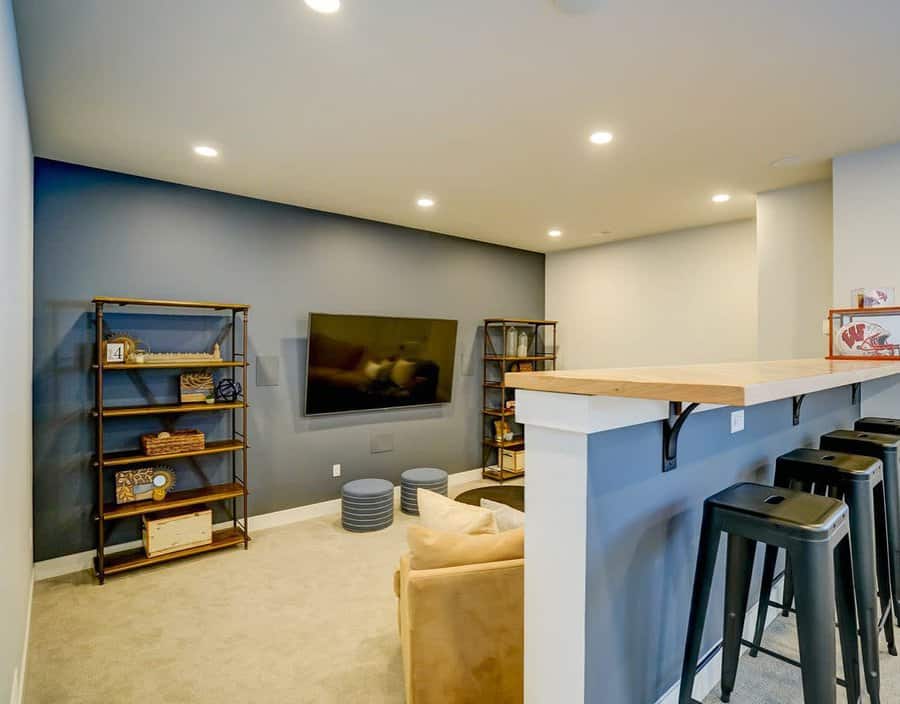 9. Stamped Ceiling
Have you been looking for ways to add personality and character to your basement? Look no further than stamped ceilings. This unique and cost-effective option can instantly transform your plain ceiling into a masterpiece. Stamped ceilings are created by using a patterned stamp to press a design onto the surface, giving it a textured appearance.
This technique can be used to create a variety of styles, from bold and dramatic to subtle and elegant. Whether you want to create a cozy atmosphere or make a statement, stamped ceilings are a great way to enhance the look of your basement.
With endless design possibilities, stamped ceilings are an excellent choice for any homeowner looking to elevate their basement design.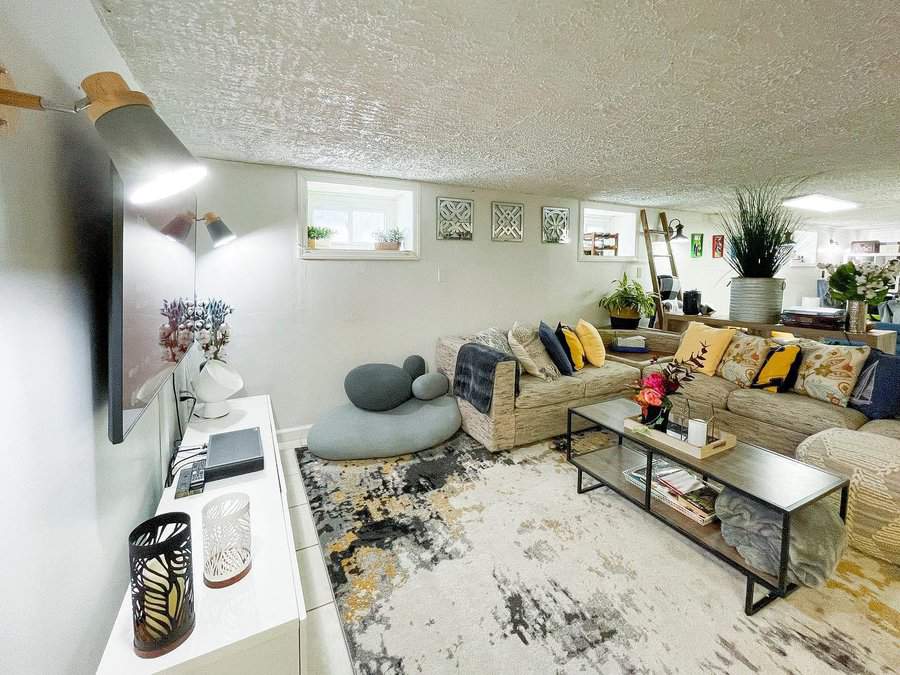 10. Drywall Ceiling With Partitions
Transforming a damp basement into a comfortable living space can be challenging, but with dry ceiling and partitions, the process can become a lot easier. The benefits are endless – not only does it create a more visually appealing space, but it also provides a sense of privacy and division in an otherwise open area.
Imagine a cozy movie room with soundproof partitions, or a home office with built-in bookshelves and ample lighting. The possibilities are endless with a dry ceiling and partitions for your basement. Plus, with the added bonus of reducing the risk of water damage, it's a win-win situation all around.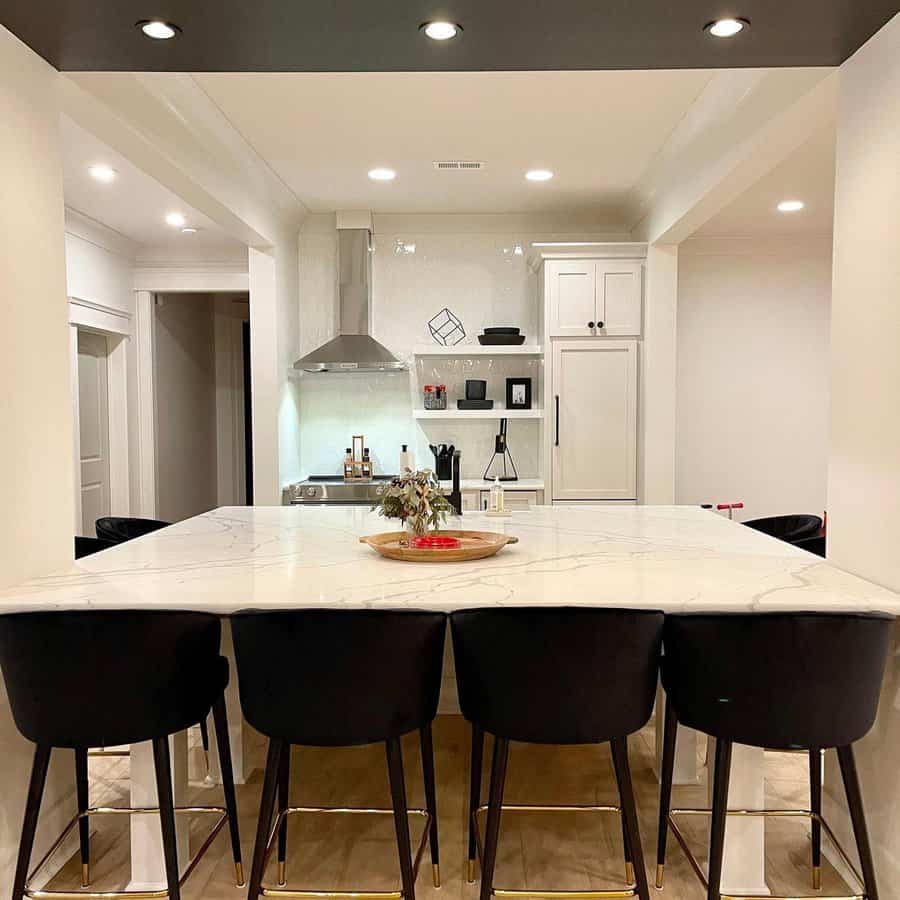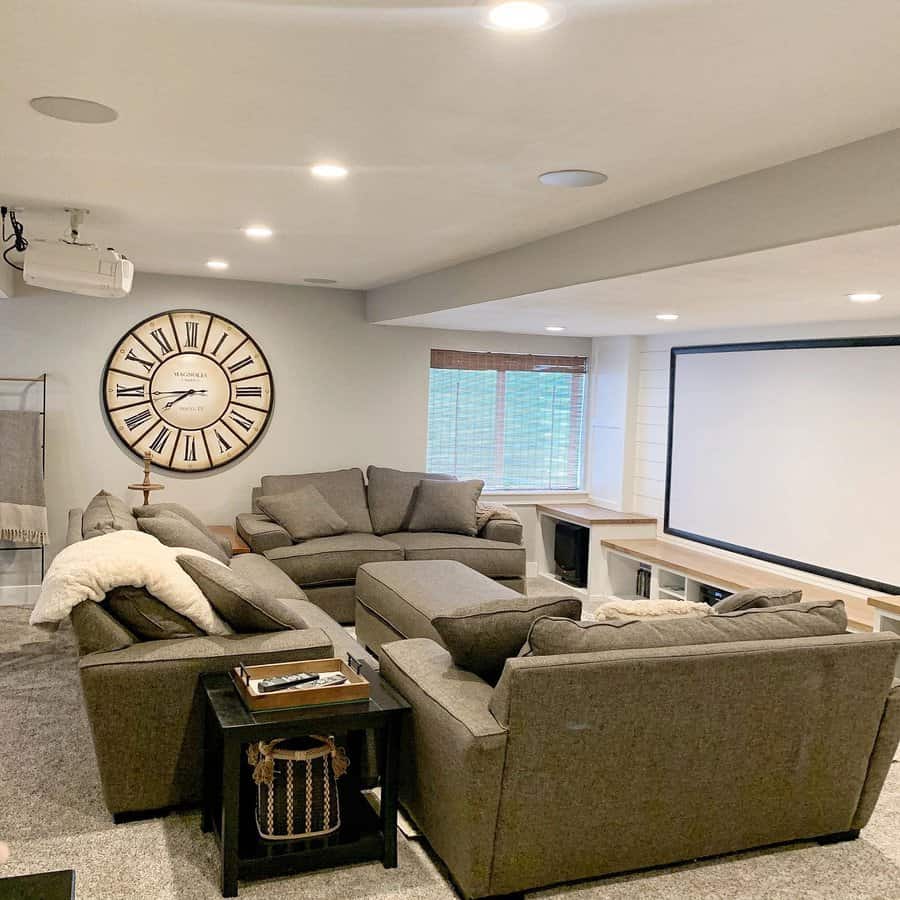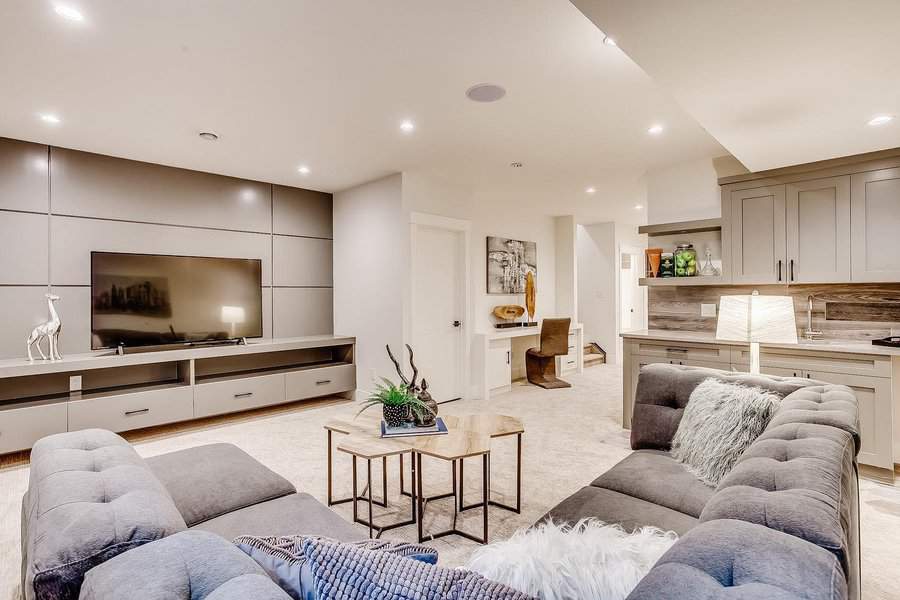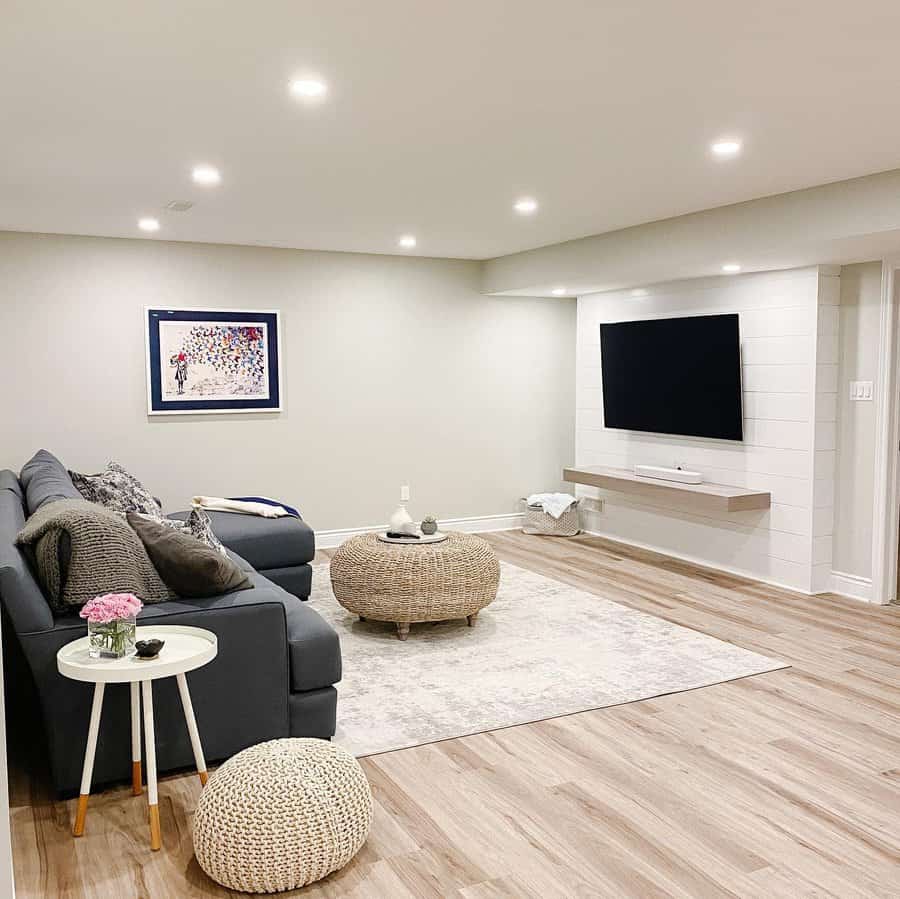 11. Wall-To-Ceiling Wood Accent Wall
Bring a touch of warmth and natural charm to your basement with a wall-to-ceiling wood accent wall. Not only does it add instant character and texture, but it can also disguise unsightly pipes or other basement eyesores.
Opt for a rich, dark stain for a cozy cabin feel or a lighter, more natural tone to brighten up the space. Whatever your style, a wood accent wall is a simple yet striking way to elevate your basement from bare bones to beautiful.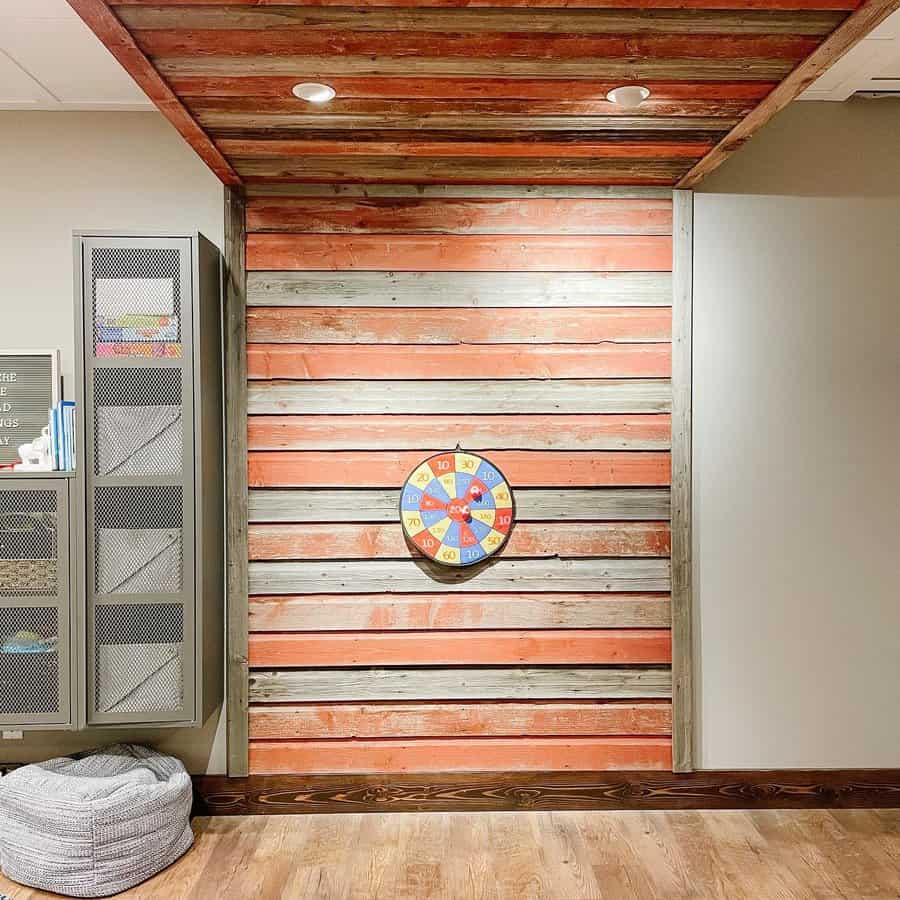 Basement Ceiling FAQs
What is the cheapest ceiling to install?
At just a few dollars per square foot, drywall is usually the least expensive ceiling to install.
What is the easiest ceiling to install?
Because they can be installed by one person, surface mount ceiling tiles are one of the easiest kinds of basement ceiling tiles. They can be cut to size with scissors and easily attach to a grid.
Can I use shiplap on my basement ceiling?
Shiplap planks add a beautiful rustic touch to your basement rooms. They are one of the easier basement ceiling ideas to install yourself. Shiplap or beadboard are excellent ceiling choices when you need to cover a dated popcorn ceiling.