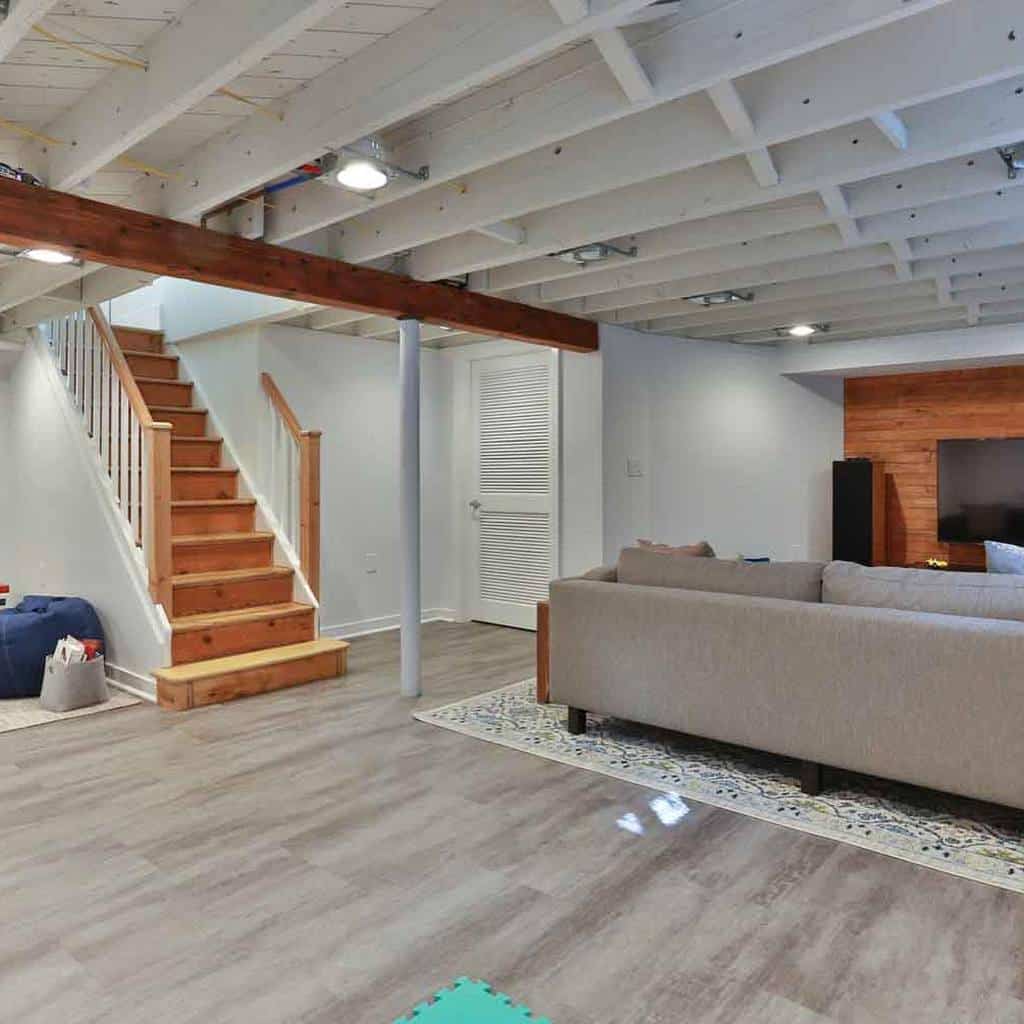 The Top 46 Basement Ceiling Ideas
"Ceilings must always be considered. They are the most neglected surface in a room." – Albert Hadley
It's true—the ceiling is one of the most neglected surfaces in home design. But have you noticed that when you enter a room with a particularly unattractive ceiling, it really stands out?
Spending some time on your basement ceiling ideas is important if you want to create a cohesive, welcoming bottom floor. Ceiling manufacturers have gone far beyond basic industrial drop ceiling tiles, as you can see from our extensive gallery of best basement ceiling ideas.
1. Bedroom
Basement bedrooms can have the same type of drywall or popcorn ceiling that you have in the rest of the house. A drywall tray ceiling trimmed with crown molding can make your basement ceiling look as elegant as your owner's suite upstairs. But depending on your ceiling height and how finished the space is, you may need to choose another, more suitable material.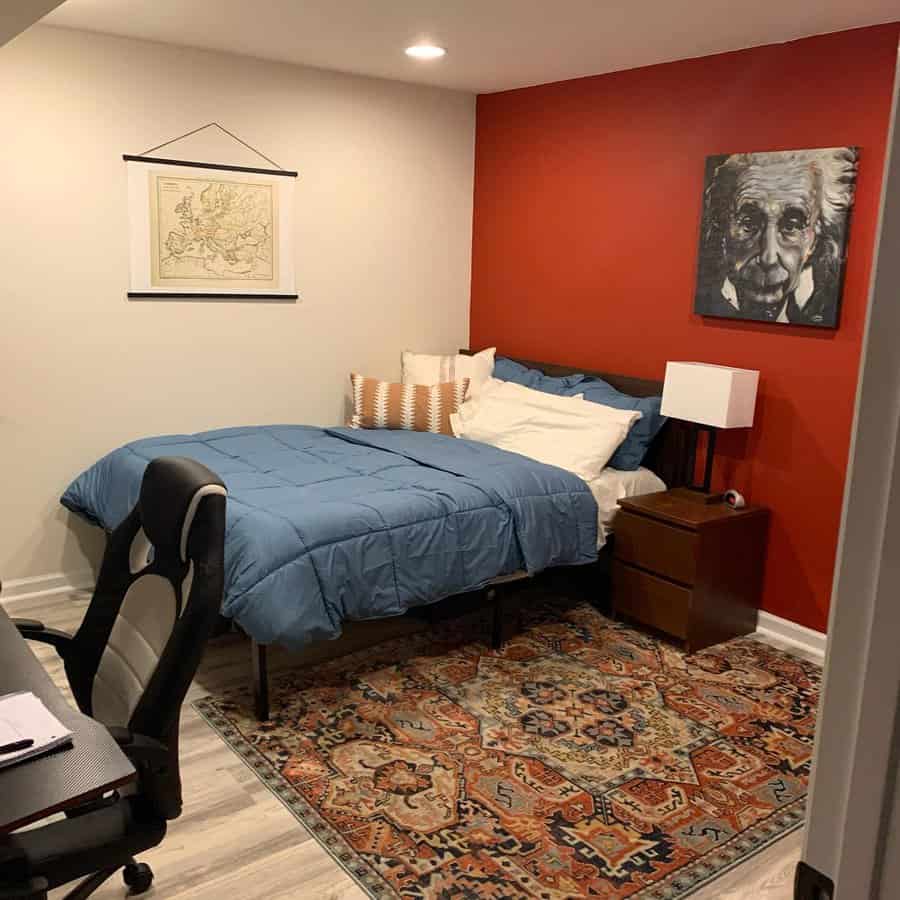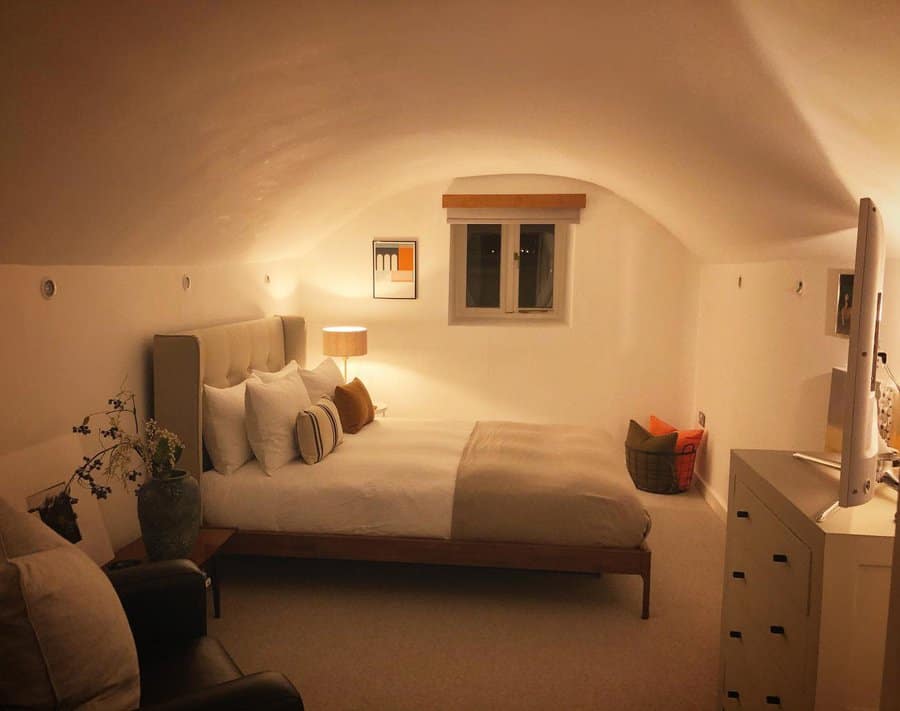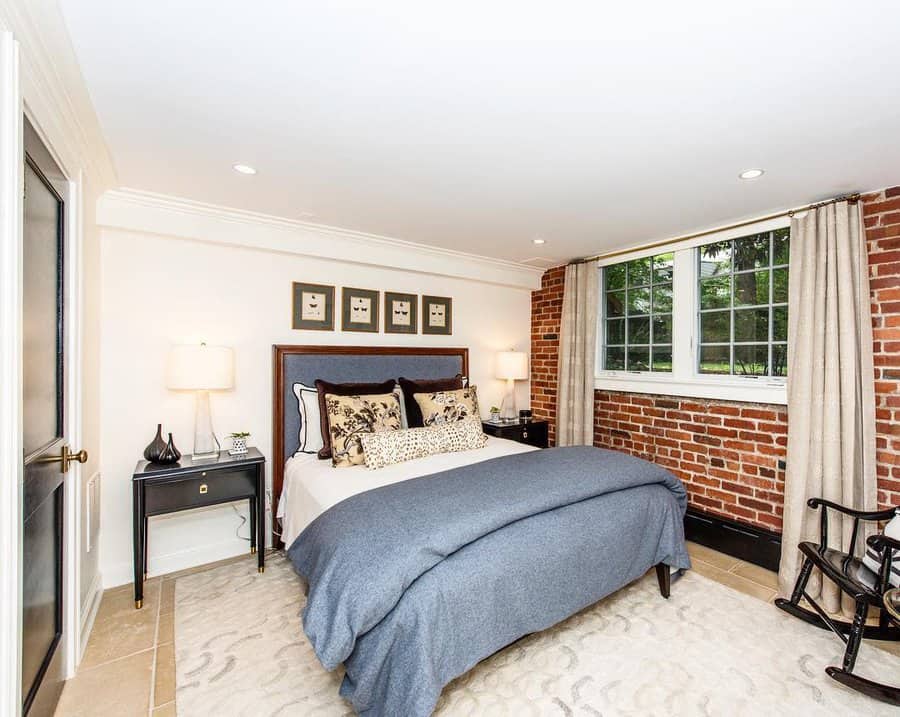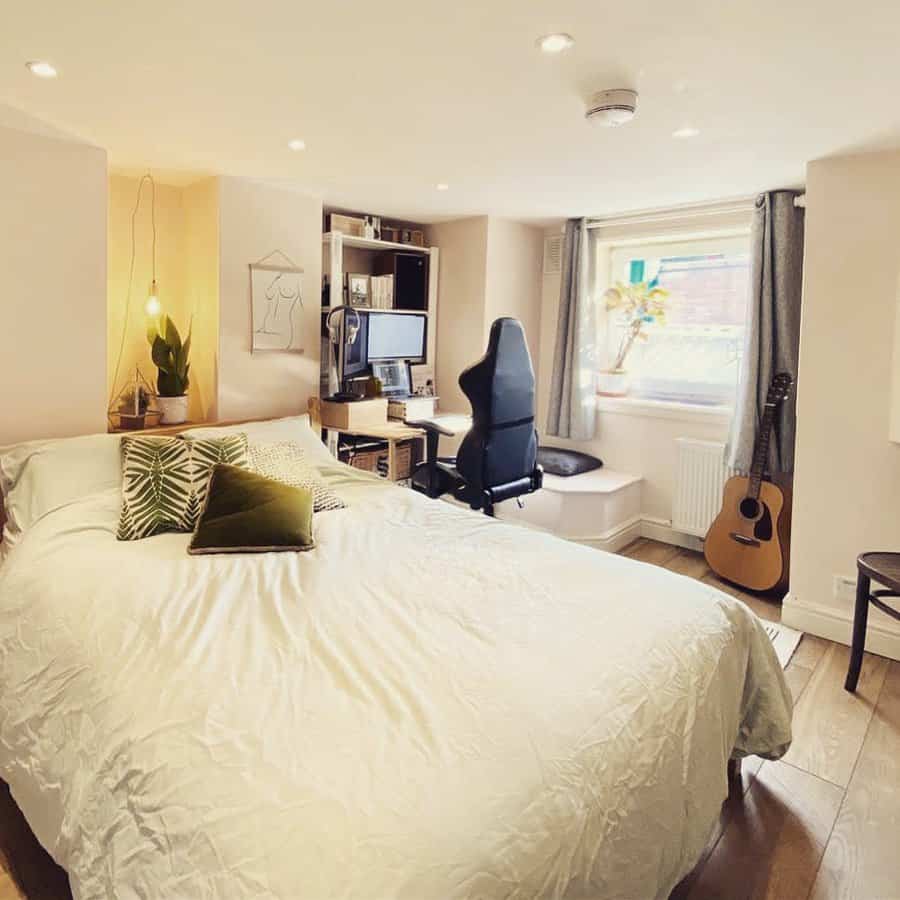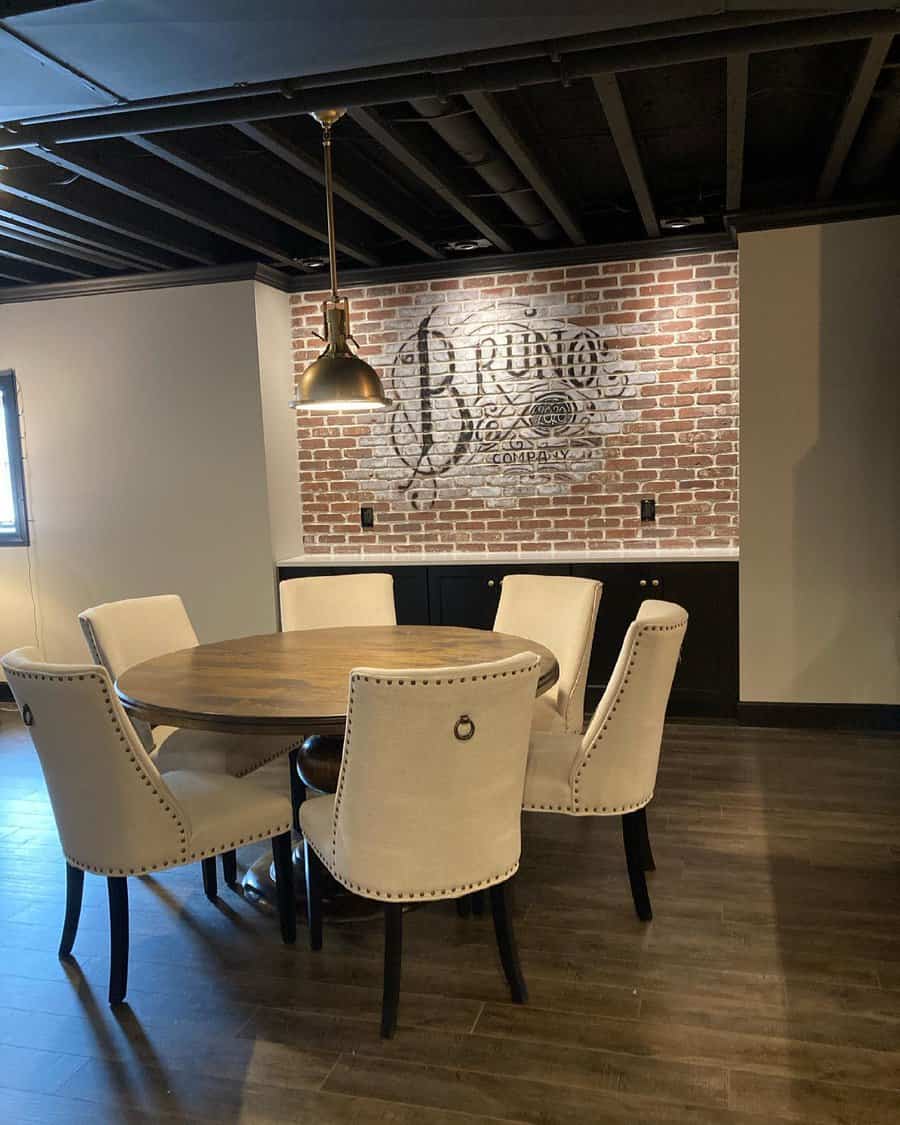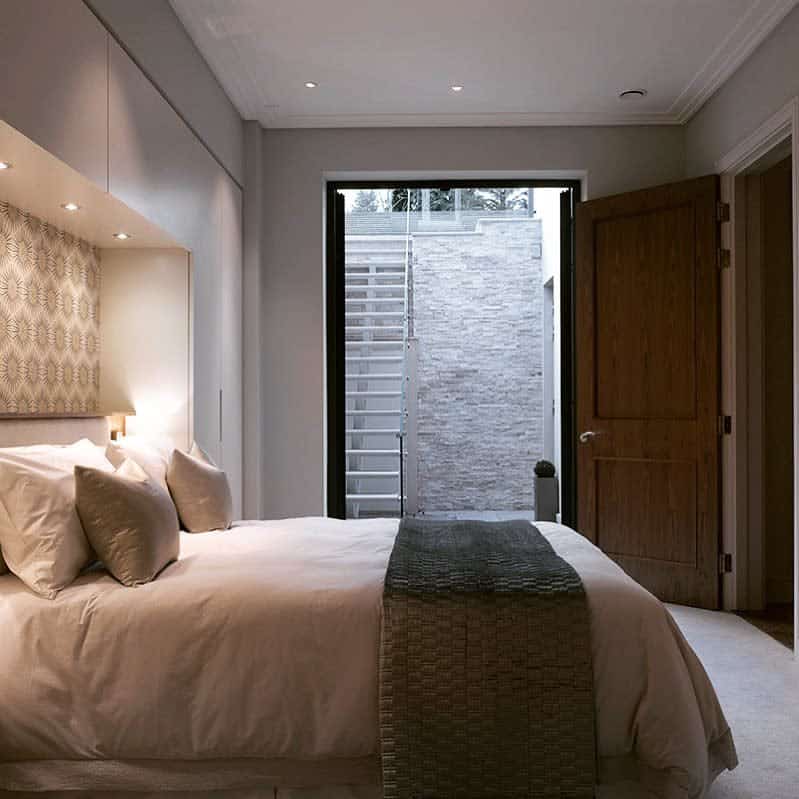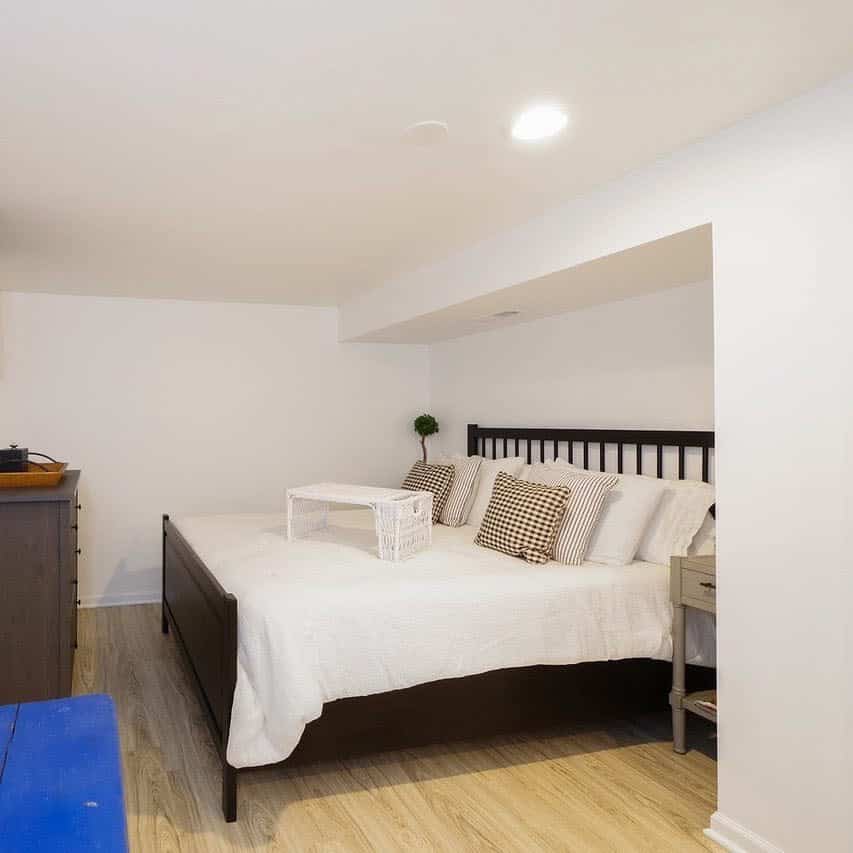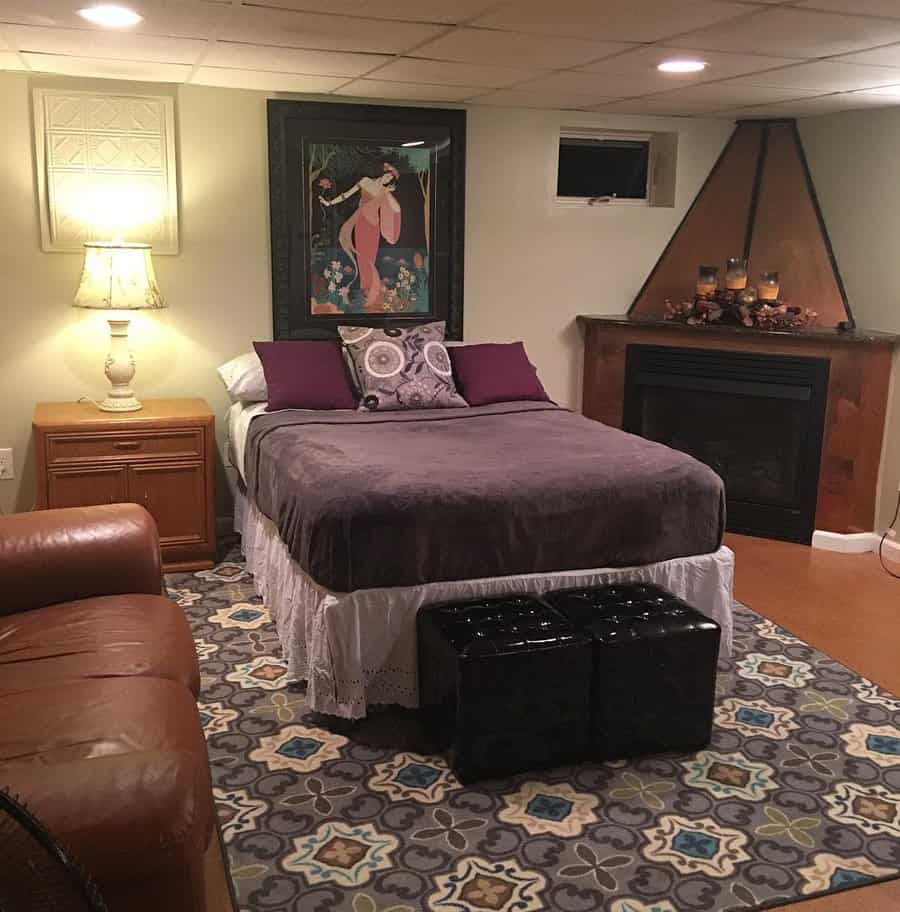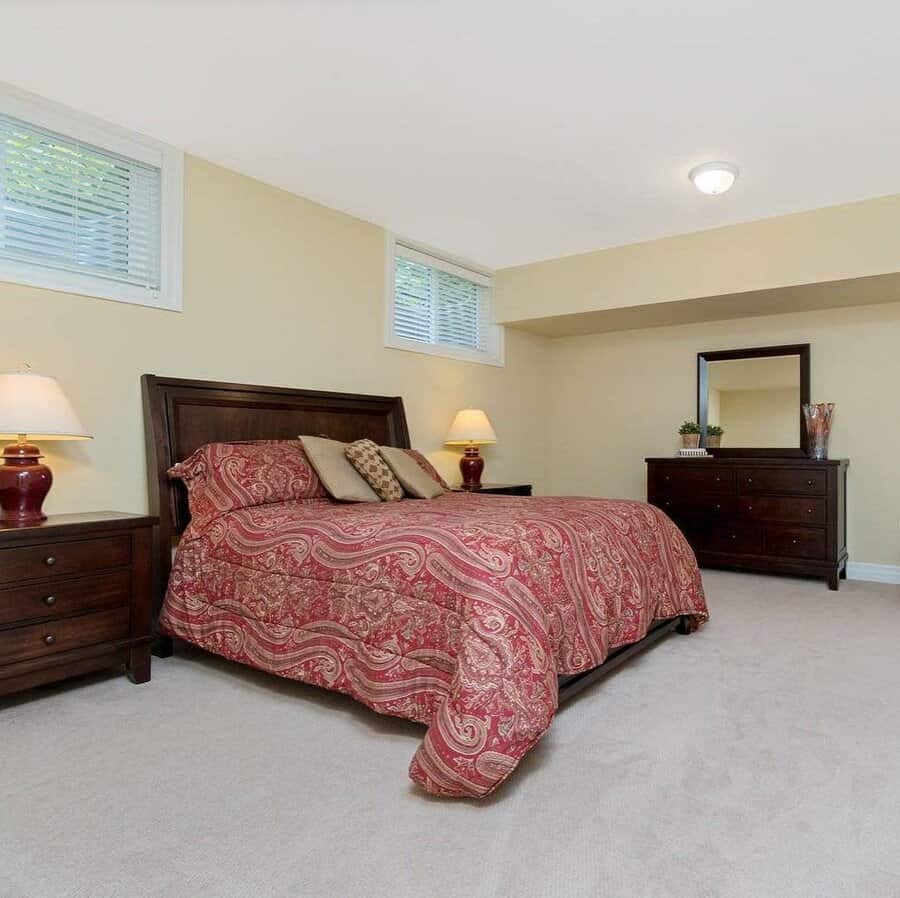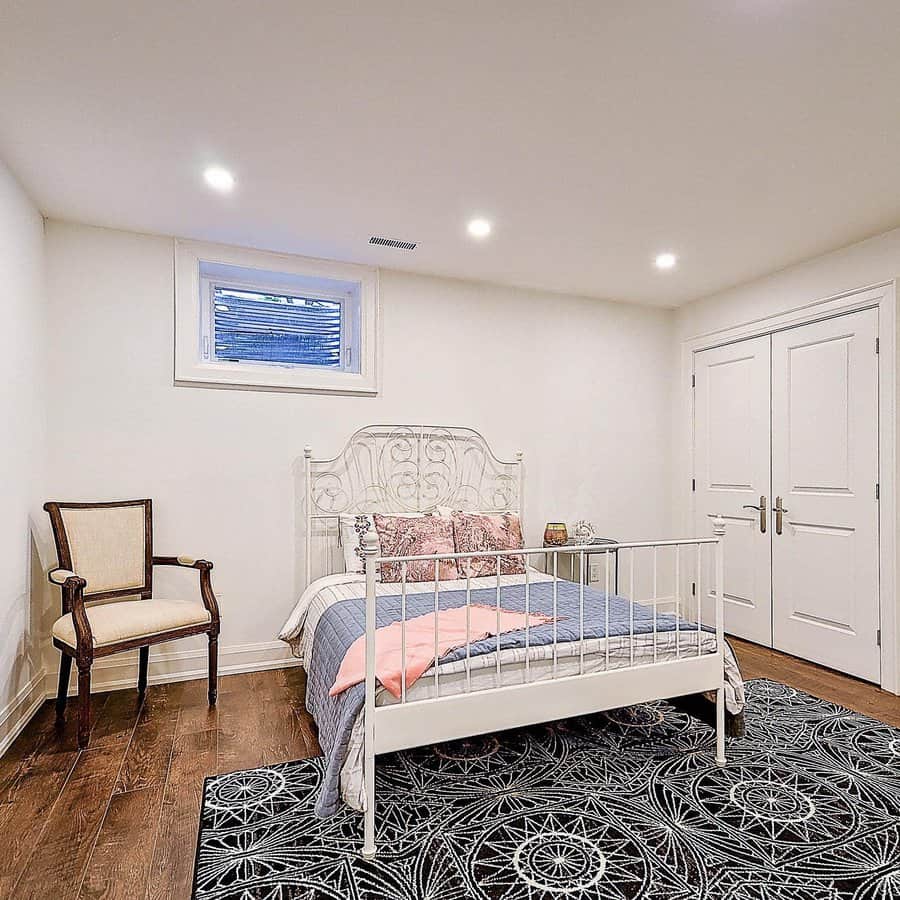 If your basement bedroom has an industrial or urban vibe, a corrugated metal ceiling is a unique alternative to basic ceiling panels. Corrugated metal panels screw easily into the ceiling joists and may be painted or left shiny. For more detailed texture, go with embossed tin ceiling panels designed to mimic Victorian or cottage ceilings.
2. DIY
A basement ceiling probably isn't an ideal first project for an aspiring DIYer, but certain basement ceiling options are easier than others. You may be able to achieve the perfect basement ceiling with paint. A black painted basement ceiling is a classic way of making exposed ceiling pipes and wires fade away. Conversely, a white painted ceiling is a simple way to refresh a room.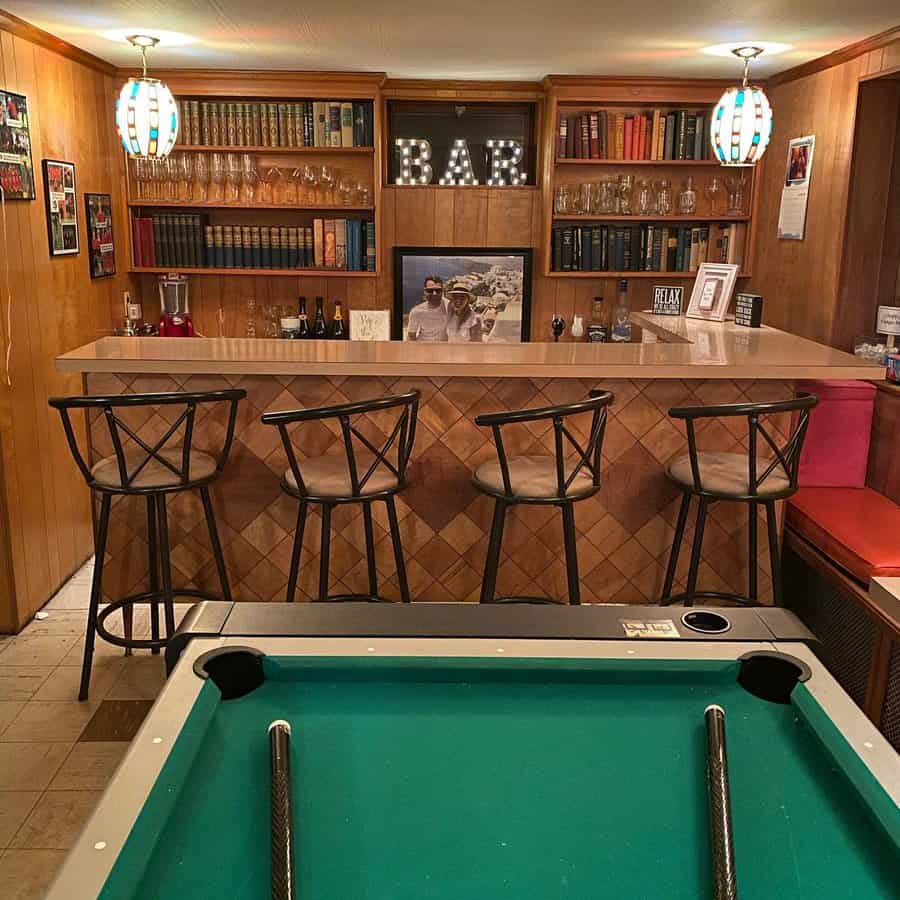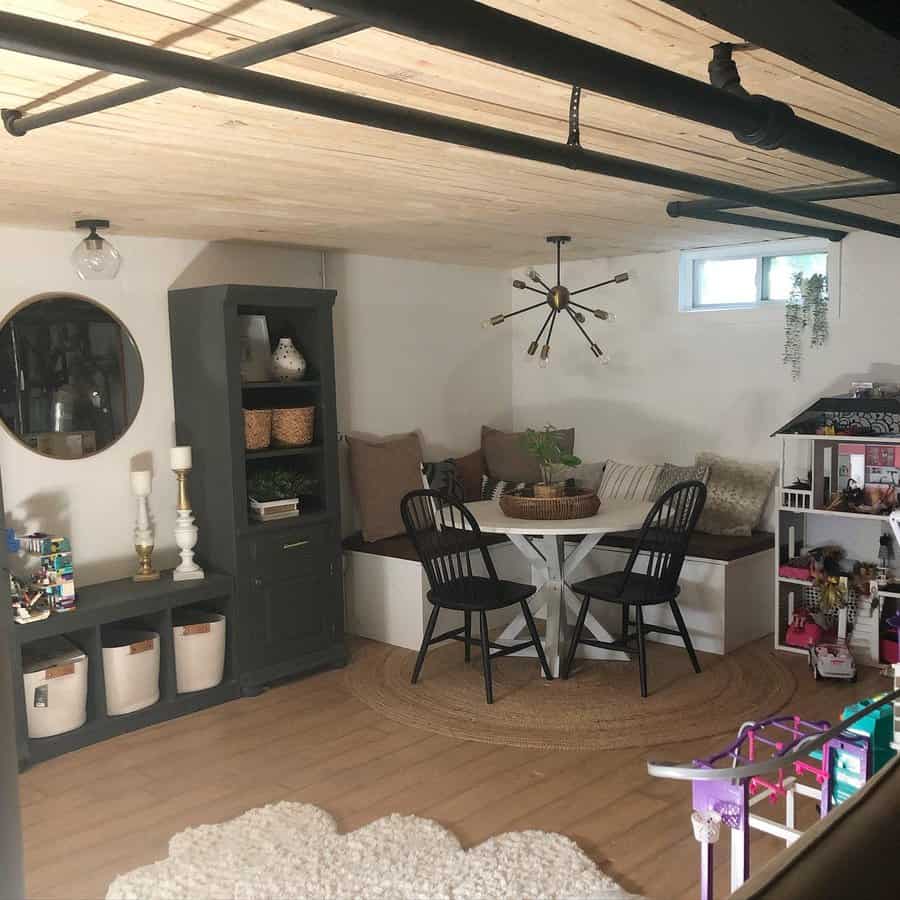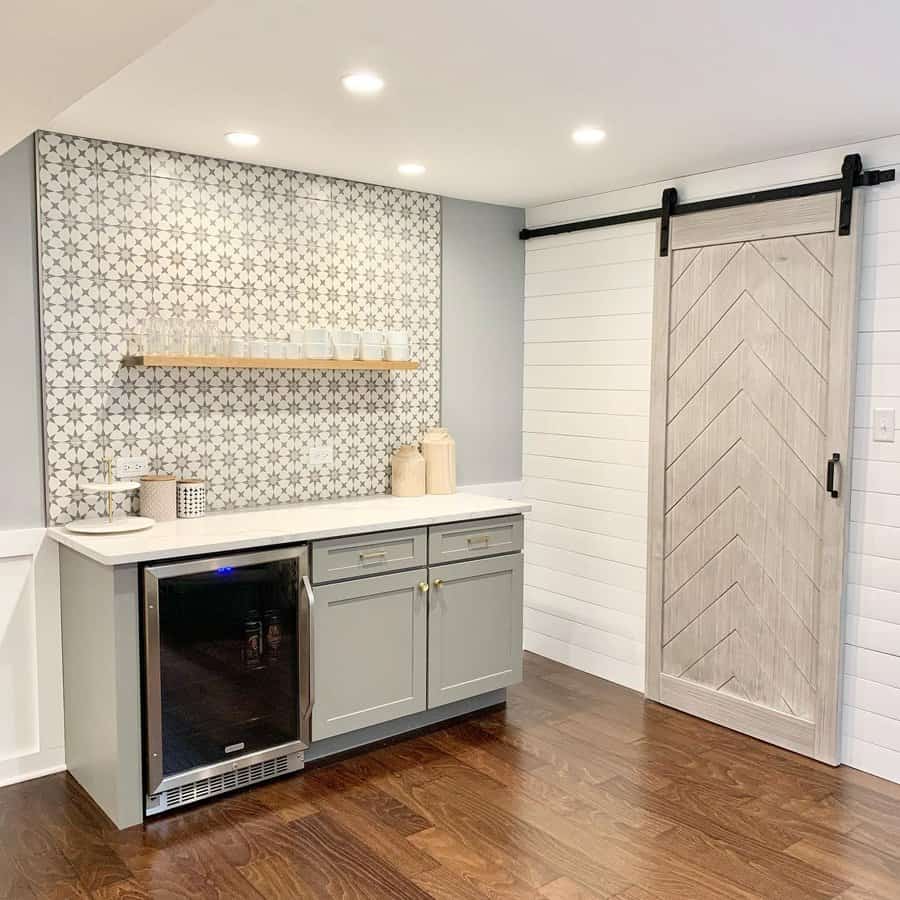 Some older finished basement ceilings may be too damaged to paint. In that case, look for DIY ceiling ideas that will cover the flaws. Styrofoam ceiling panels mimic the look of antique tin ceiling panels but at a fraction of the cost. They simply glue on top of the existing basement ceiling and are easy to trim to fit.
3. Finished
Having a finished basement adds more value to your home than an unfinished basement space. What defines a finished basement? A finished basement is one that's entirely complete, with finished walls, floors, and ceilings. It should look similar to the rooms upstairs.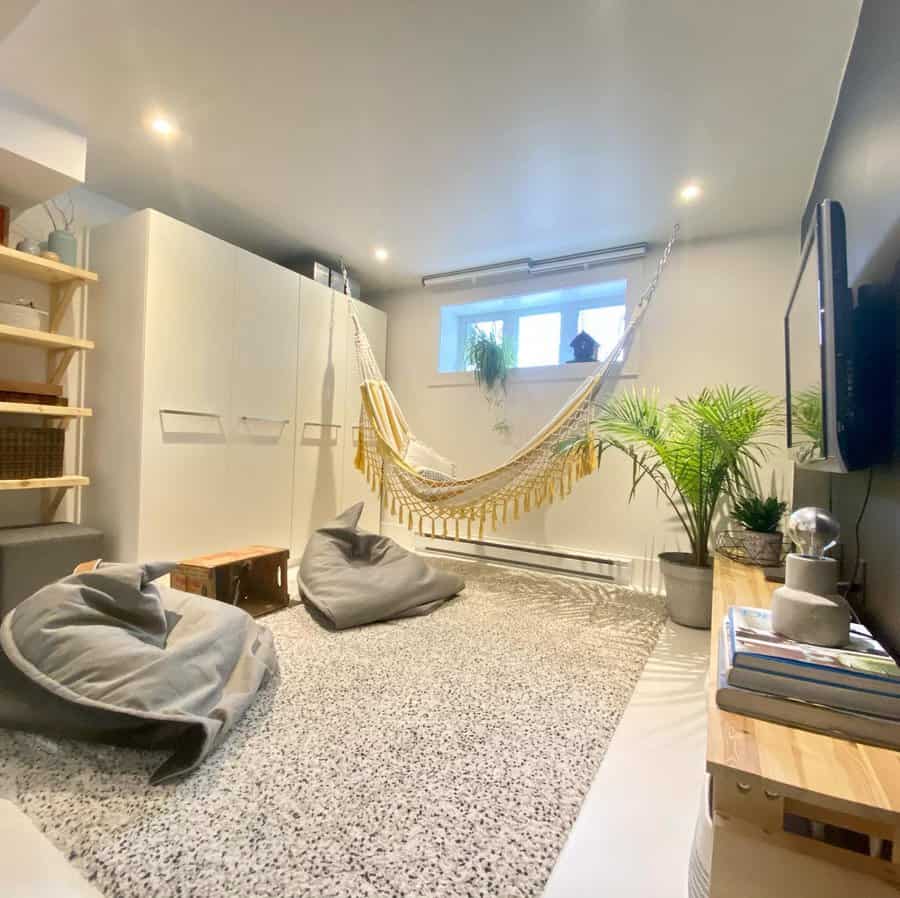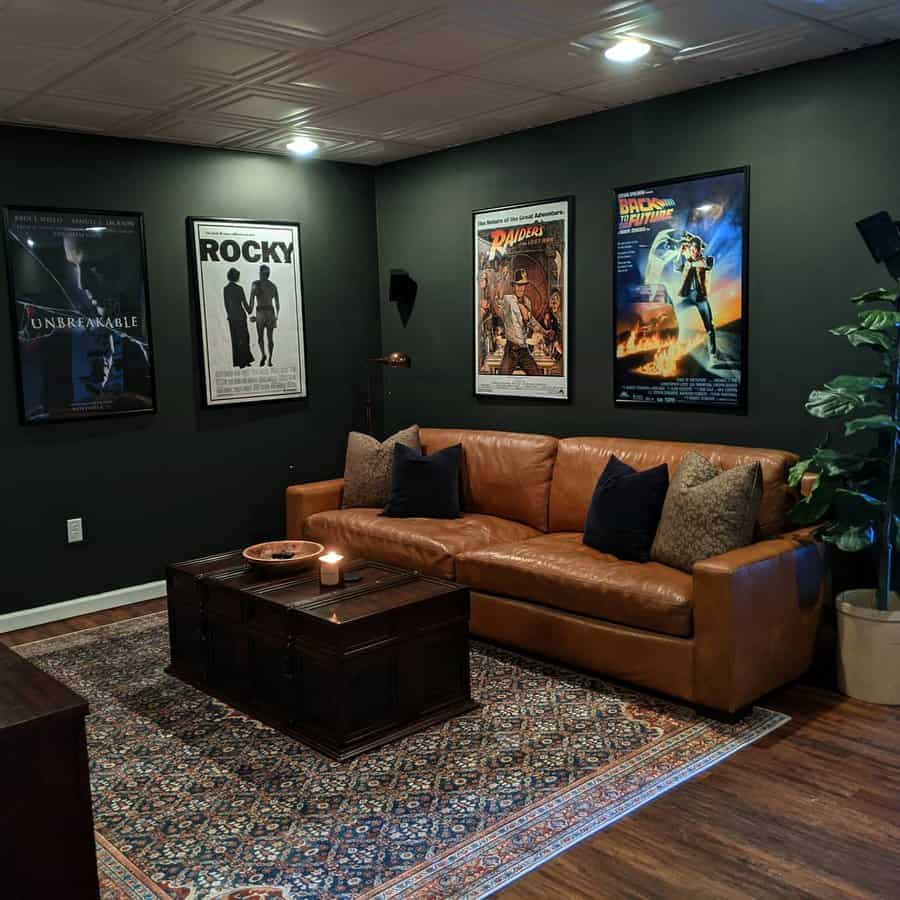 Although many homeowners like the look of exposed beams and ductwork, leaving them exposed technically means you have an unfinished basement ceiling. While this can be a selling point for people seeking a similar industrial loft vibe, others may consider the ceiling unfinished and want you to price the home accordingly.
4. Industrial
Tin ceiling tiles are the perfect edgy touch in an industrial-inspired basement. Leave tin tile bare for a true city loft feeling, or paint them to embrace the texture without a metallic shine. A black corrugated metal ceiling provides texture but recedes into the background so the ceiling design feels more like a quiet afterthought than a loud focal point.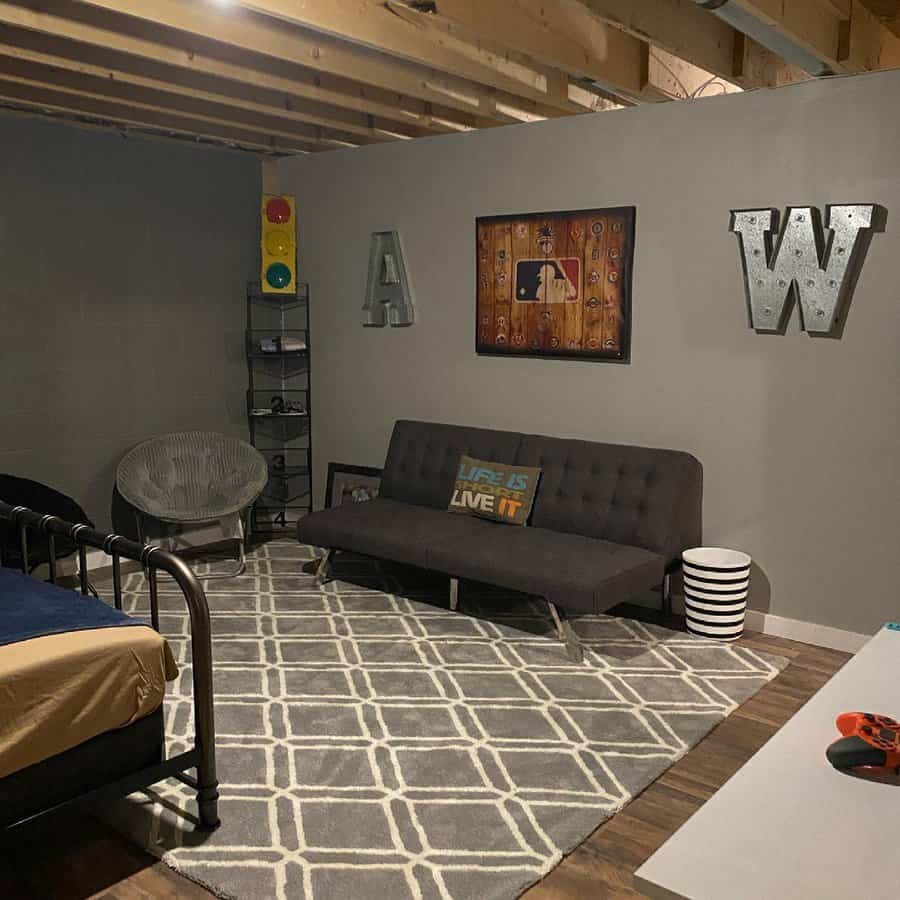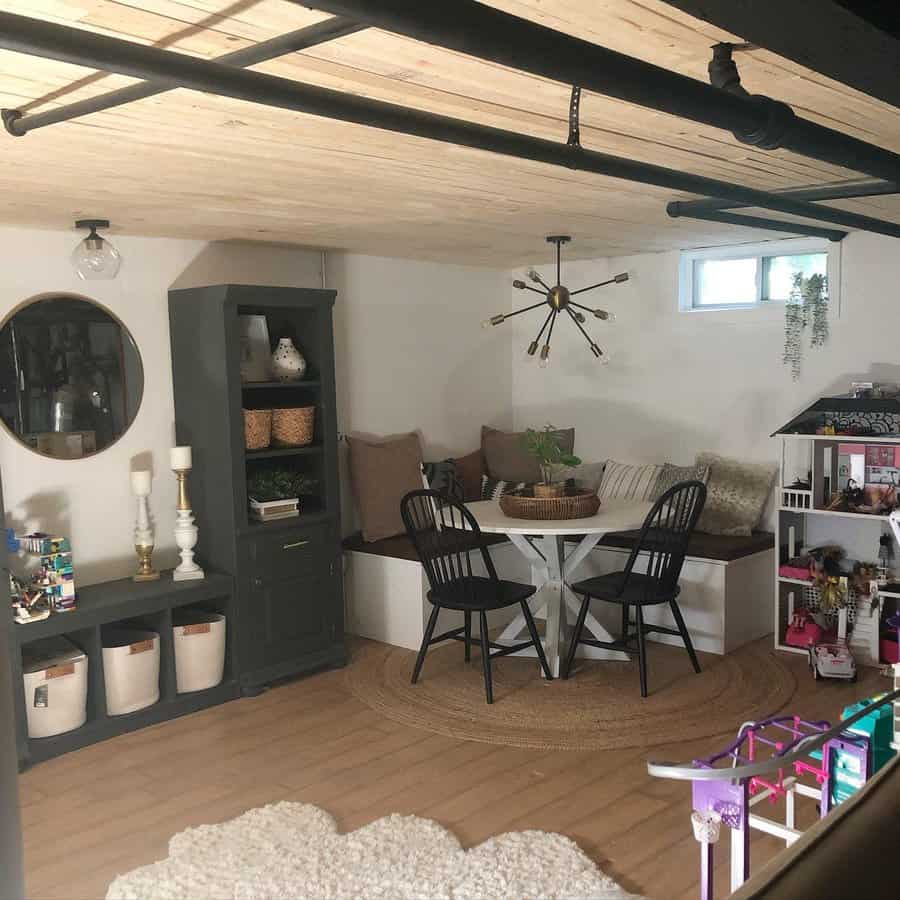 Drop ceiling tiles are great for basement offices and other areas where you don't mind a strong commercial vibe. Many choose this kind of affordable ceiling system, especially when they want to hide exposed ductwork. You can give a wood plank or beadboard ceiling an industrial feeling by choosing rustic metal light fixtures.
5. Lighting
Recessed lighting is common in basements, especially when there's a low ceiling or drop ceiling. Basic metal can lights are quintessential low basement ceiling ideas because they are affordable and fit into any interior design style. They can also be used in combination with other types of ceiling-based lighting.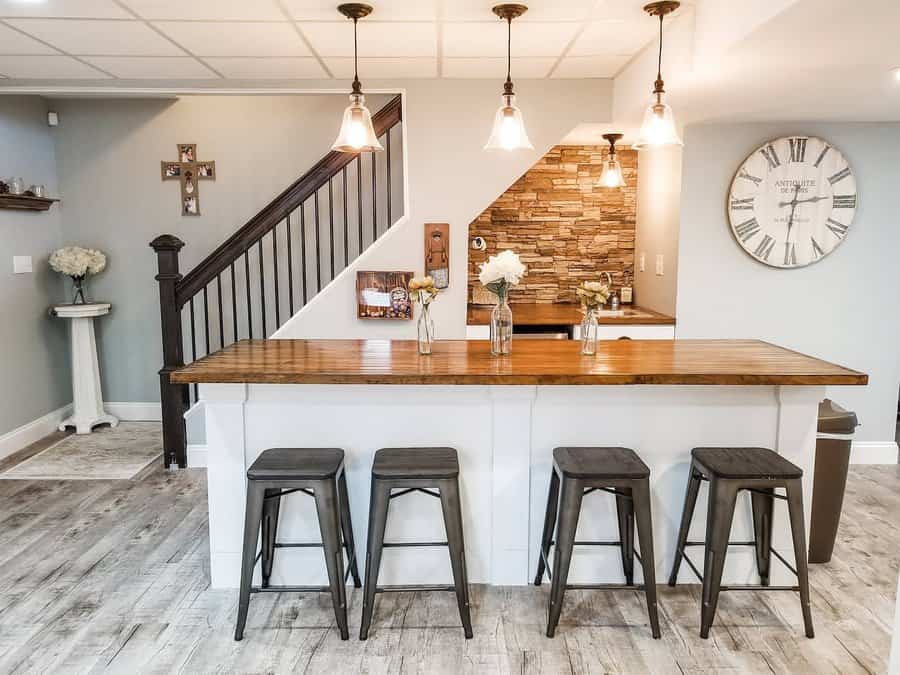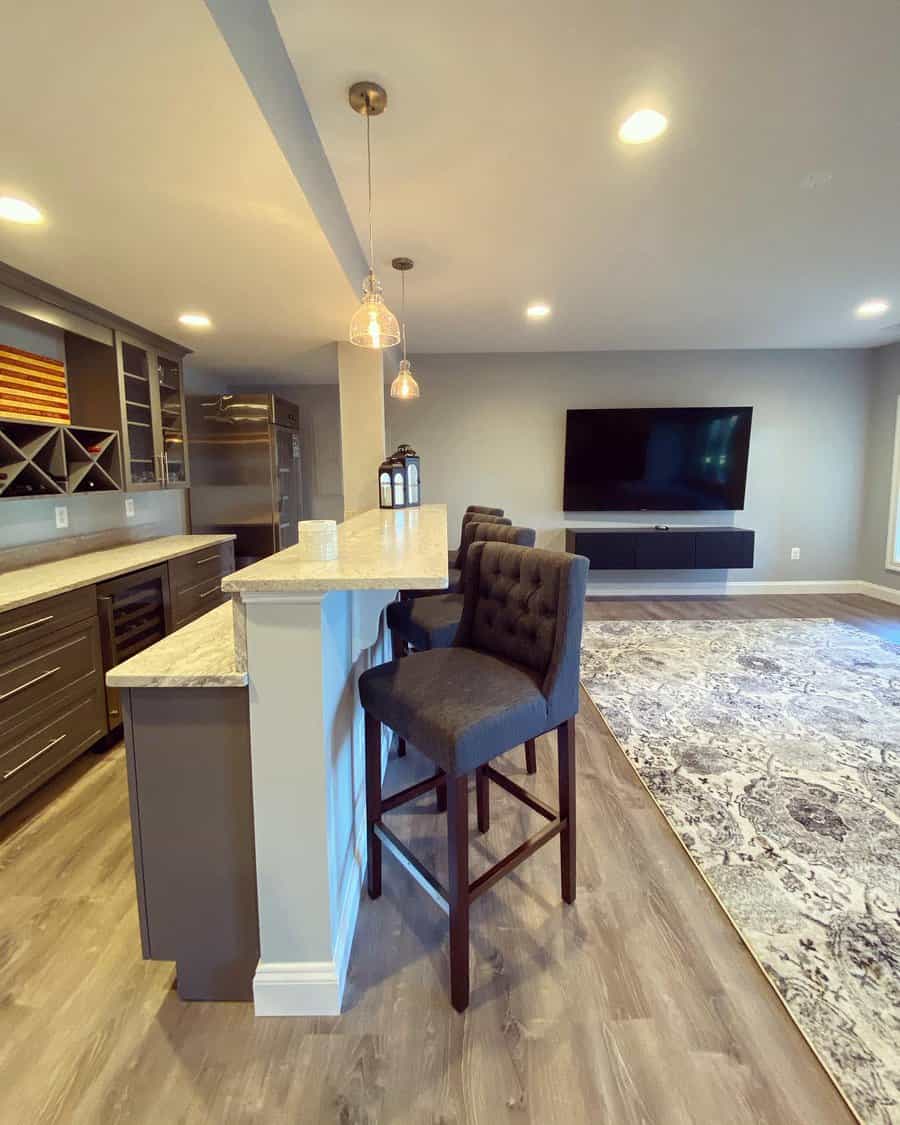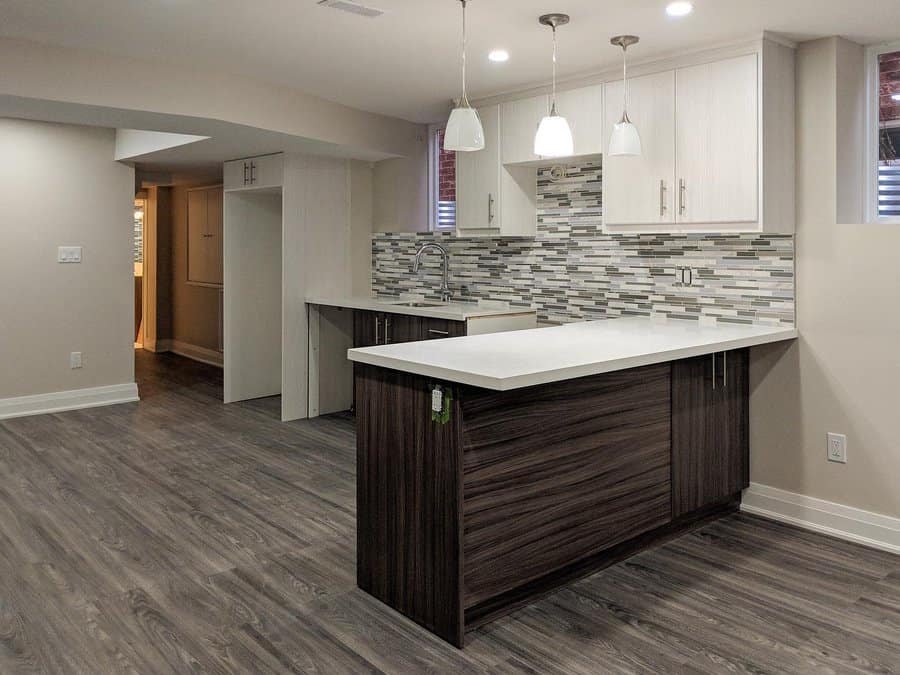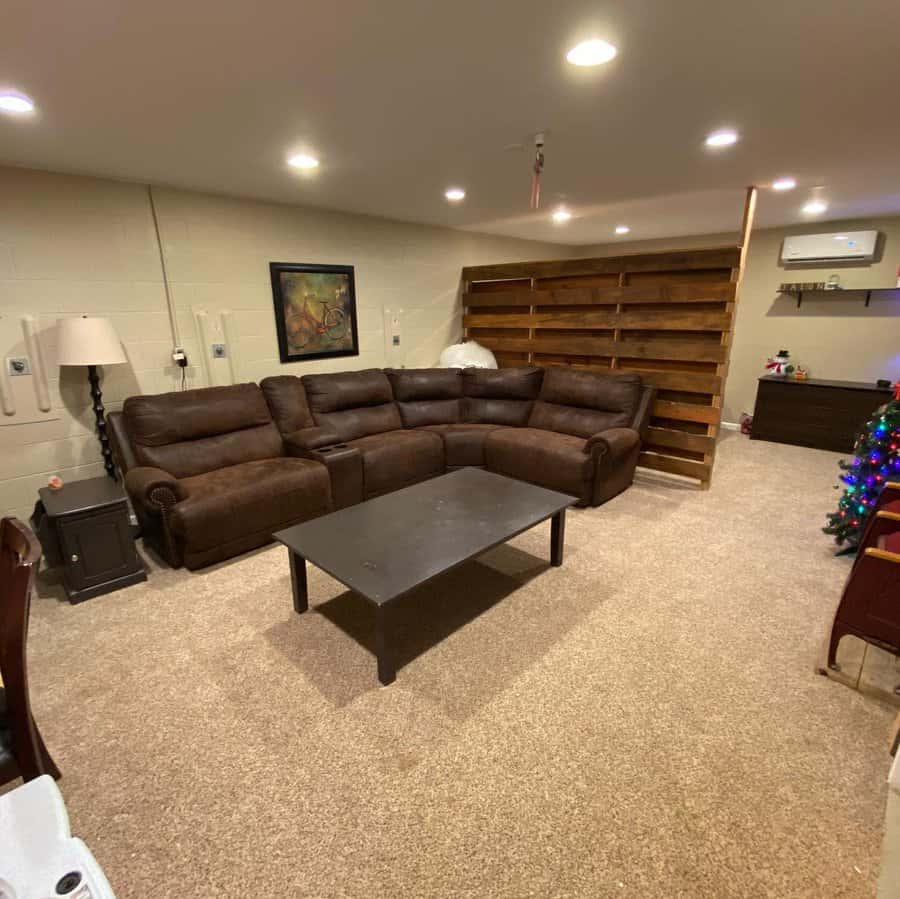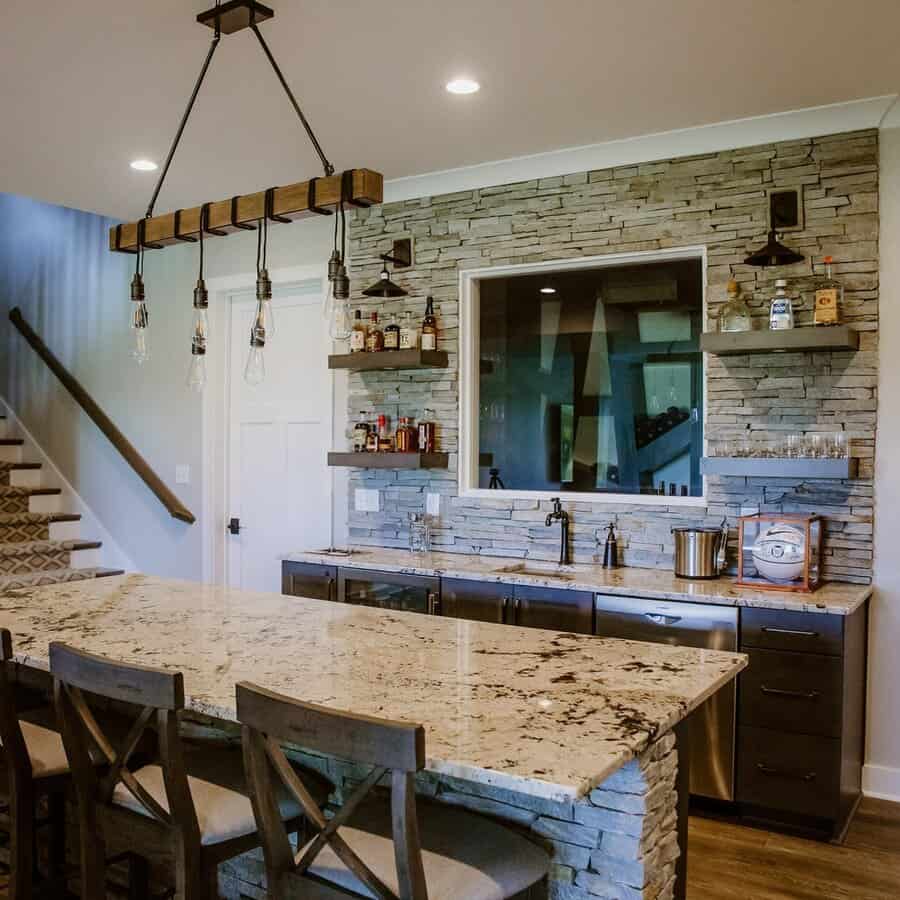 Mix and match basement ceiling lighting styles as it makes the room more interesting. If your basement feels too dark and you already have pendant lights, chandeliers, or track lighting fixtures, installing a few recessed lights can really brighten the space.
6. Low
Having a low basement ceiling is a common problem, regardless of which type of ceiling you have. A suspended ceiling, drywall ceiling, or one covered in ceiling tile can all feel a bit low, depending on the architecture of your home.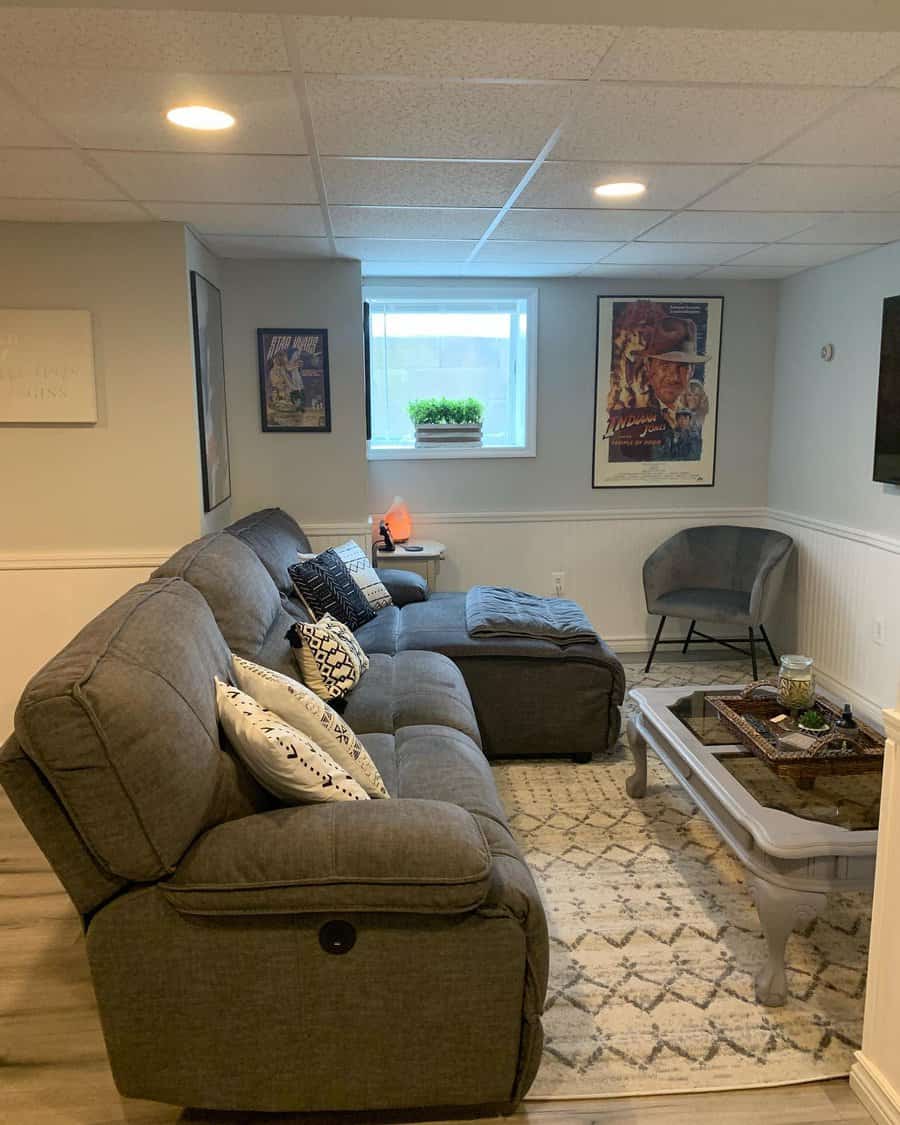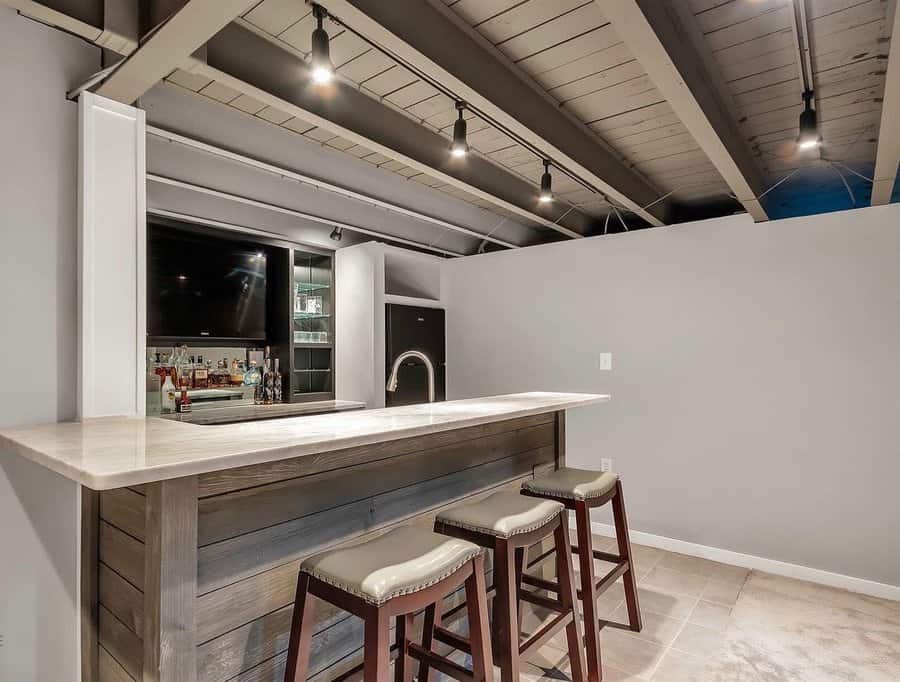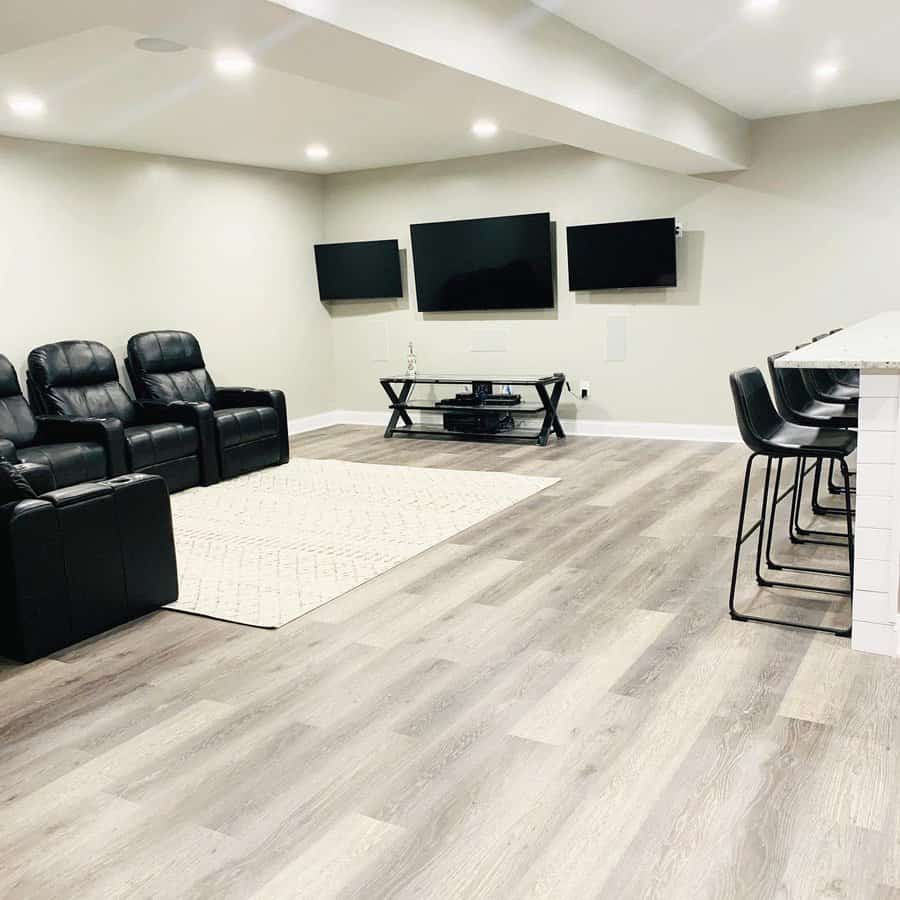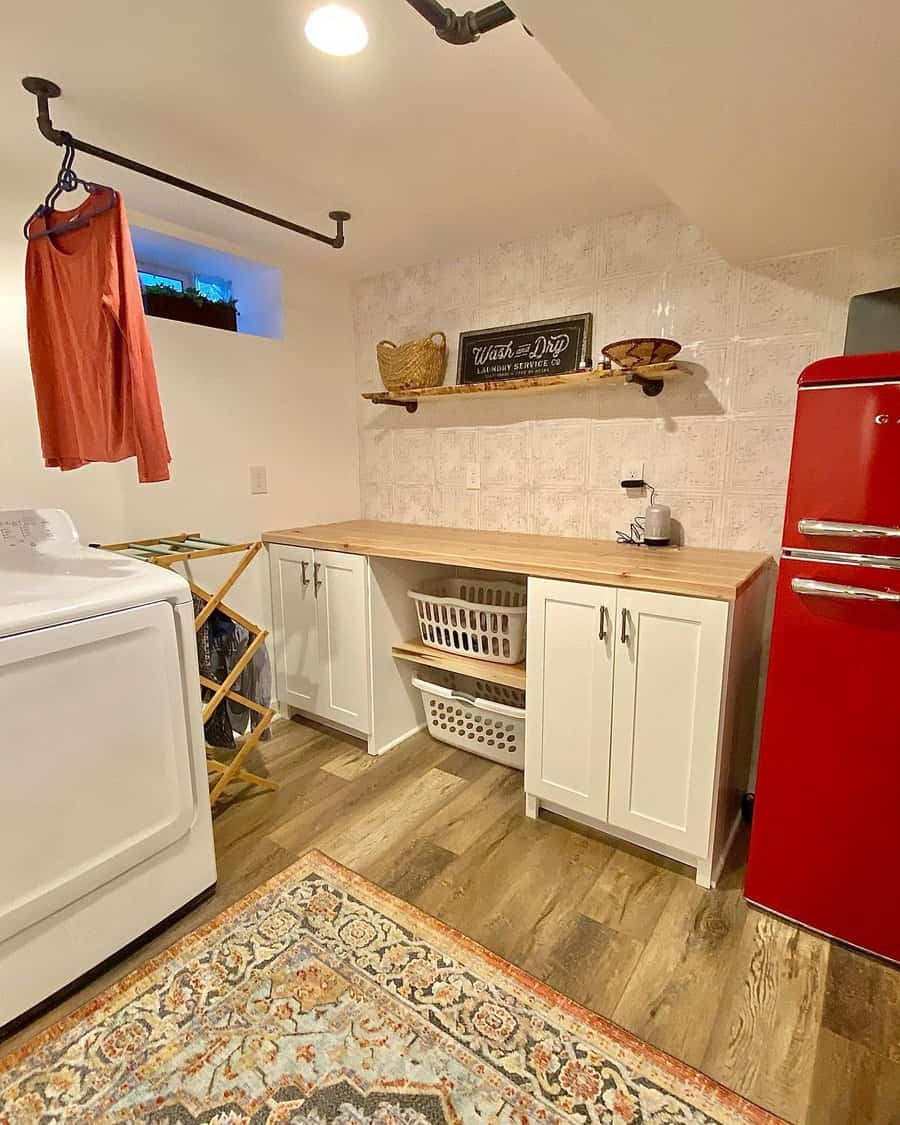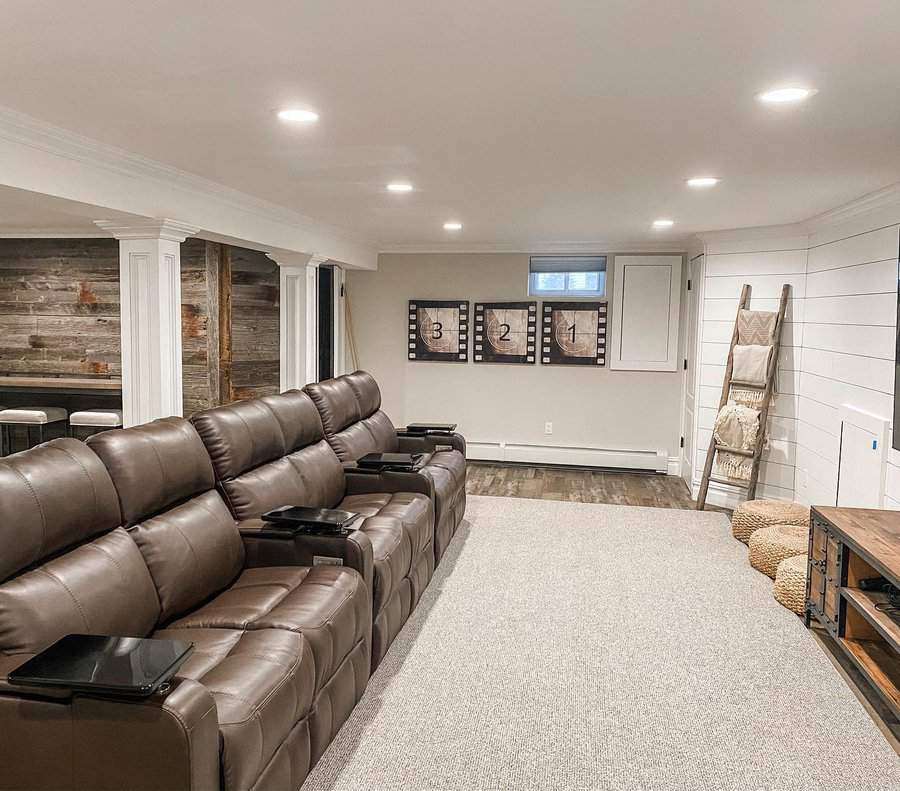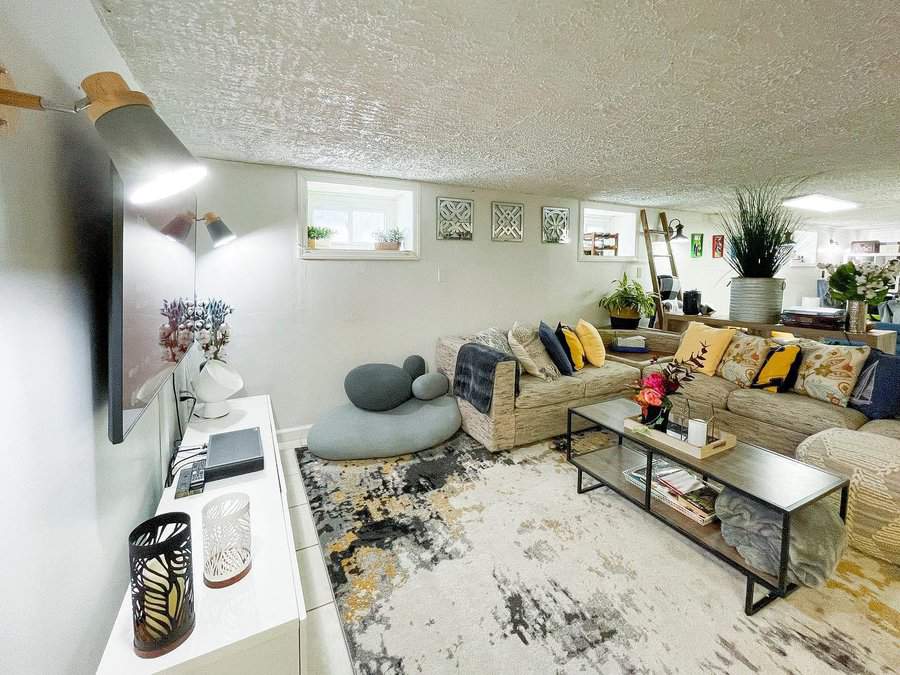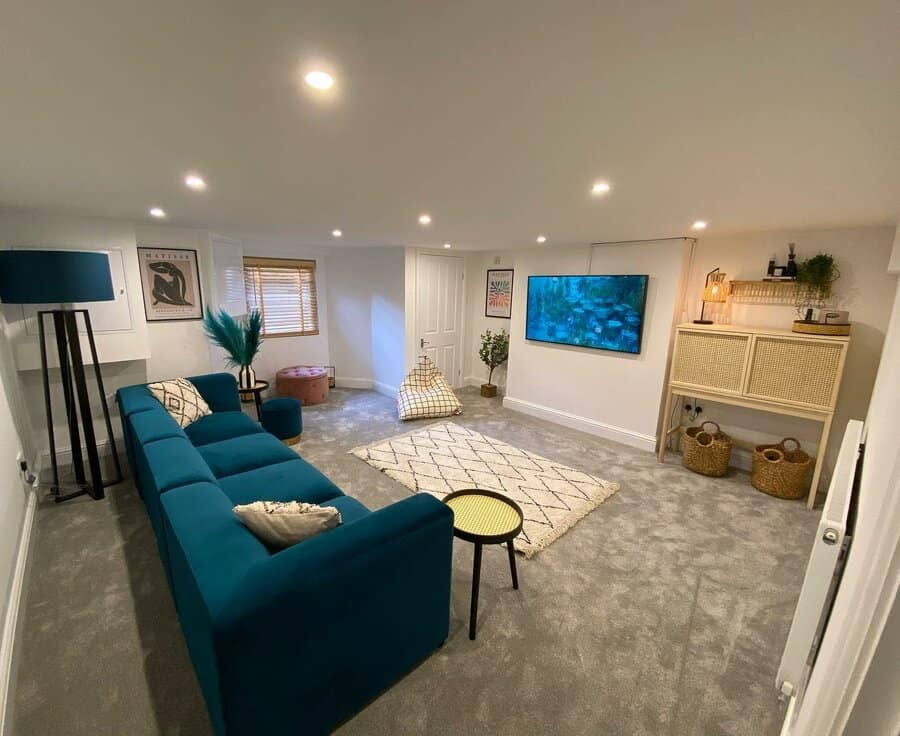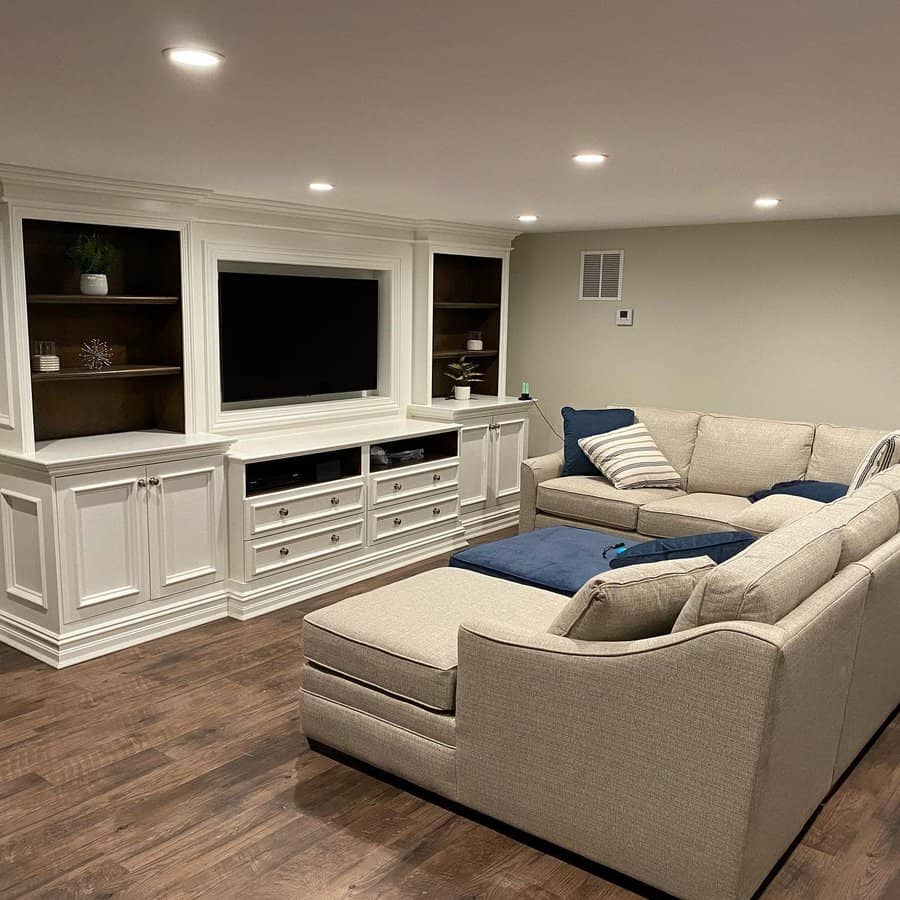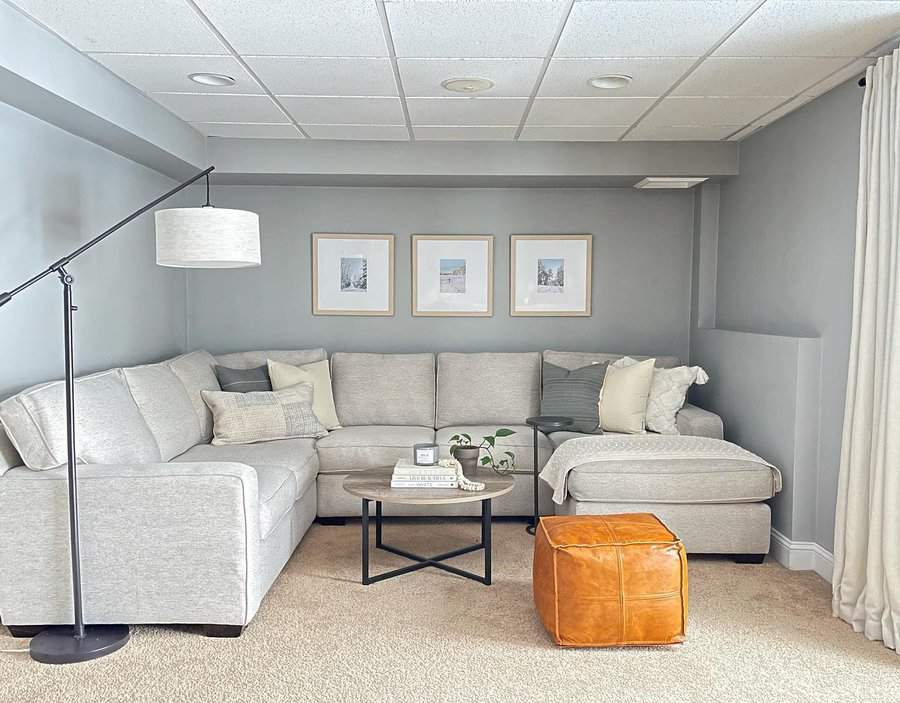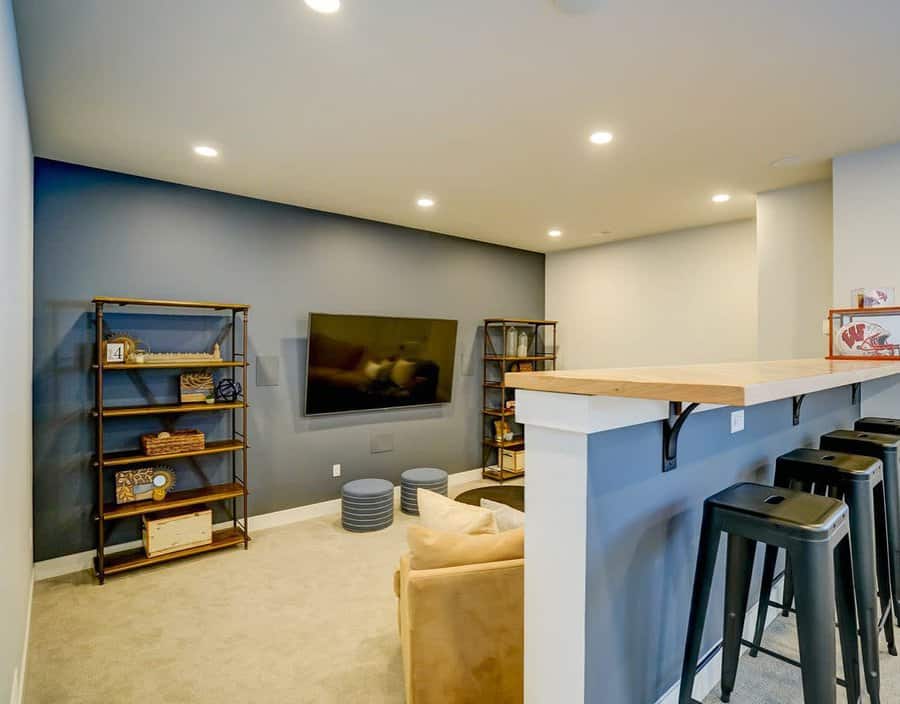 When your ceilings are low, keep your light fixtures as low-profile as possible. Recessed lighting is ideal, but flush mount light fixtures can work as well. Add extra light to the room with table lamps and wall sconces.
7. Modern
Simplicity is the key to creating a perfect modern basement ceiling. Forego textures, tiles, and wood paneling in favor of smooth surfaces. If your basement has exposed beams, paint them and the ceiling glossy white for a modern look.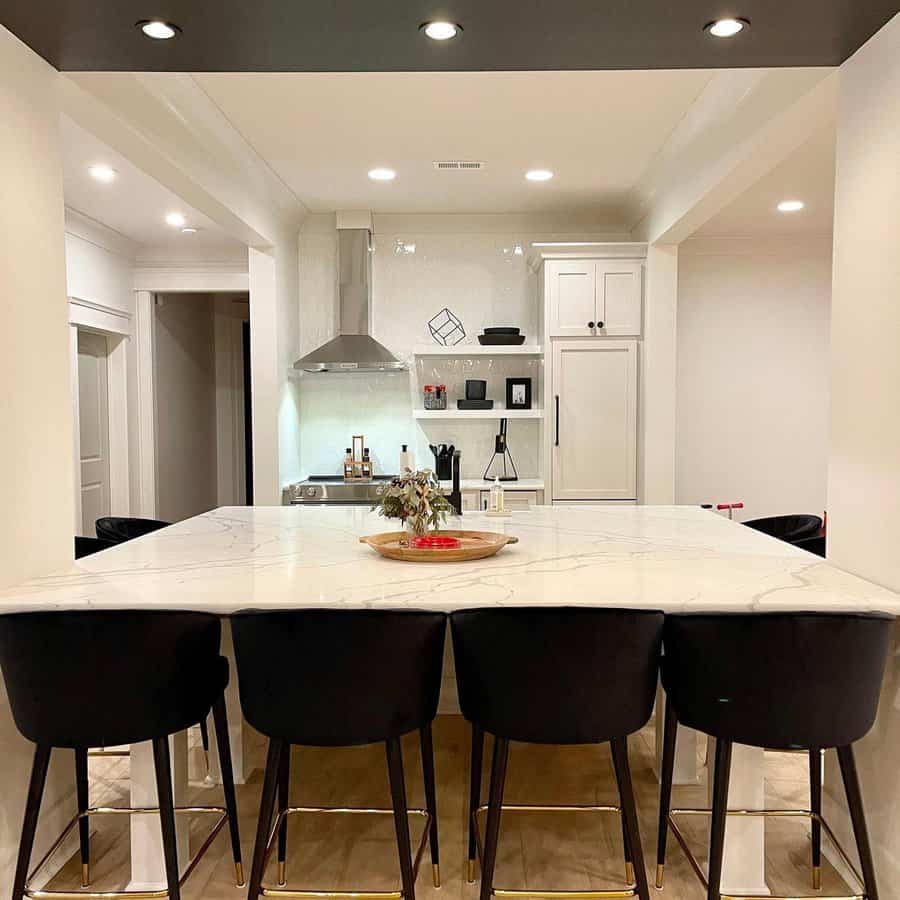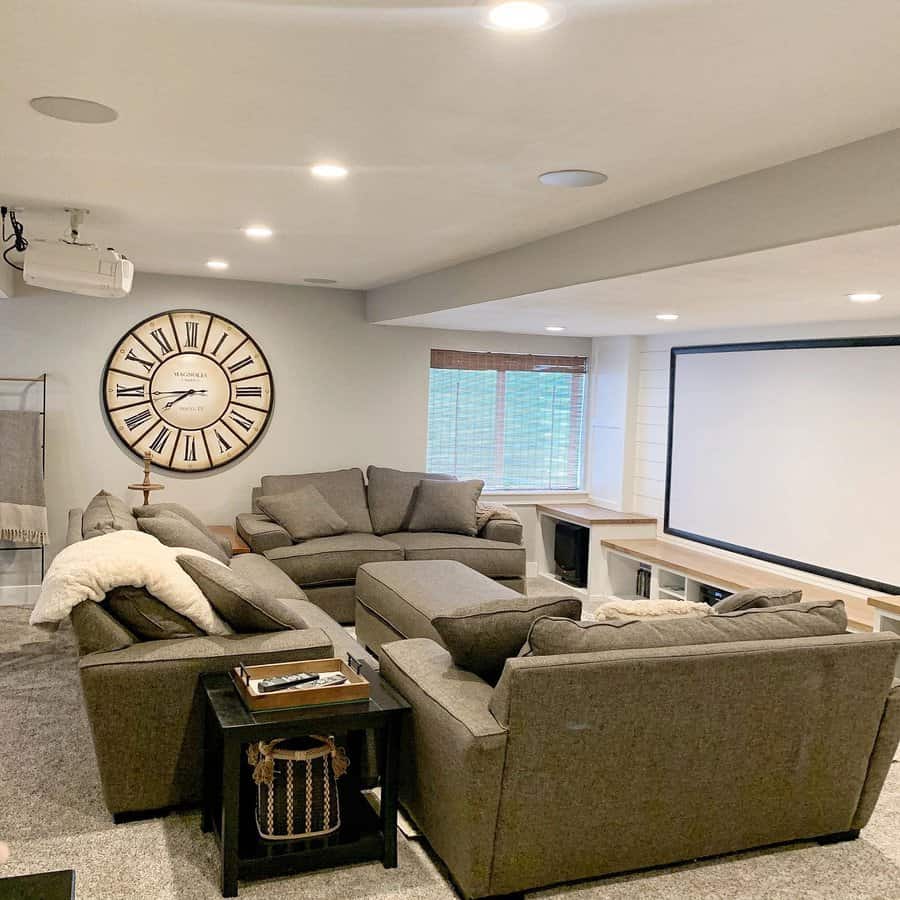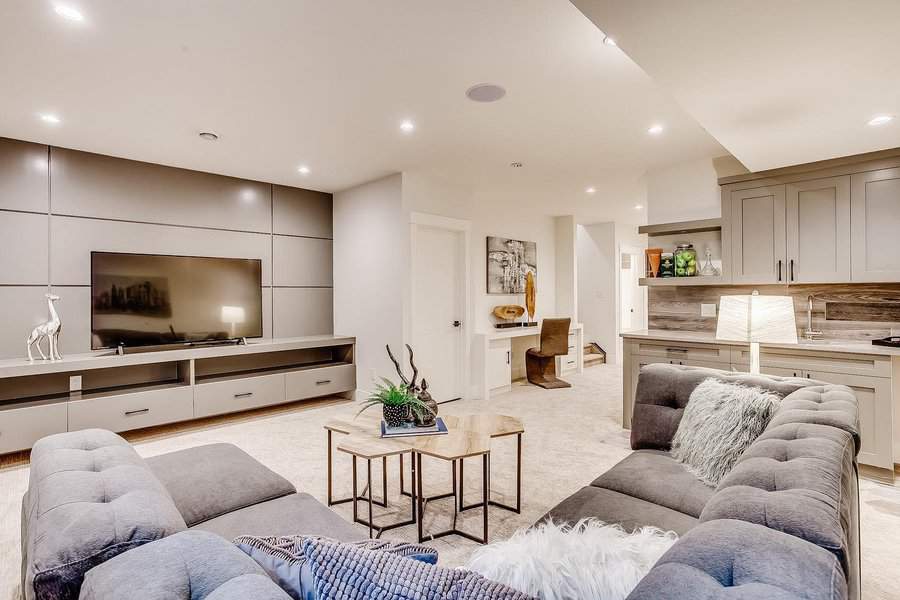 Stretch ceilings are a great modern alternative to traditional drywall or tile basement ceilings. They are made of a PVC-based film that clips onto a track and forms a perfectly smooth, flawless surface. A stretch ceiling is great for hiding popcorn ceilings or other ugly surfaces above. They're available in hundreds of colors and of modern finishes, including mirrored, translucent, high-gloss, and metallic.
8. Remodel
Remodeling time is a great time to add architectural elements that were previously missing from your home's design. Replace a basic tile or drywall basement ceiling with a coffered ceiling. It will make your lowest floor feel just as refined as your home's upper floors.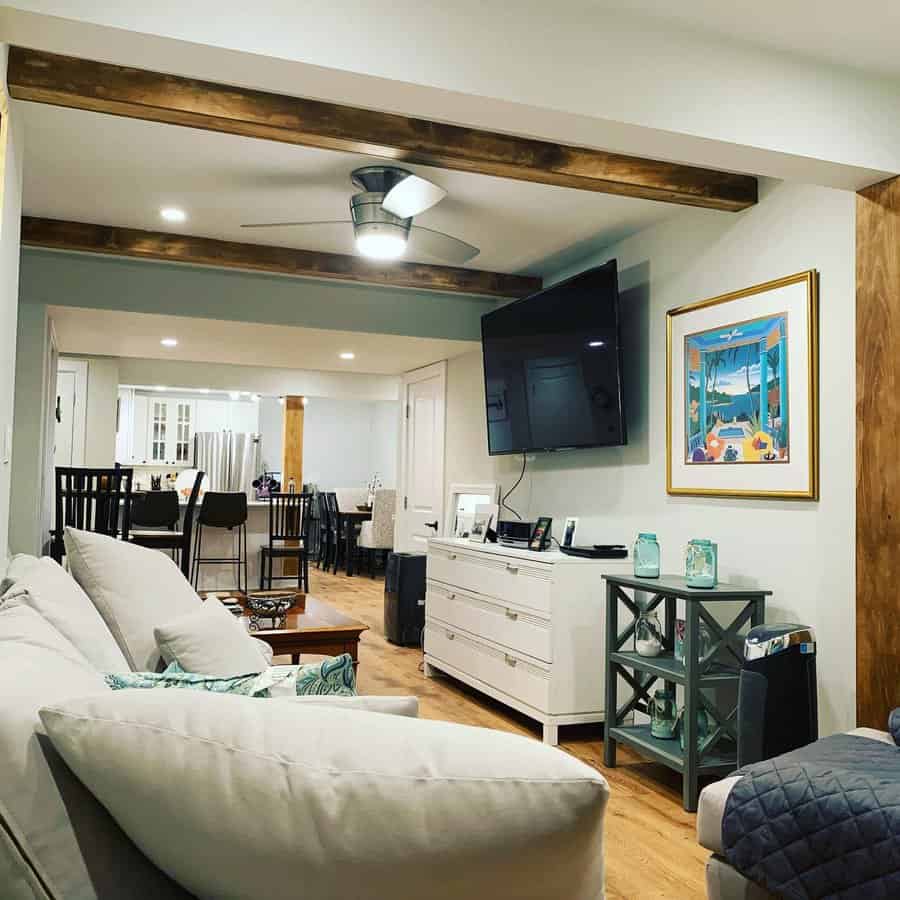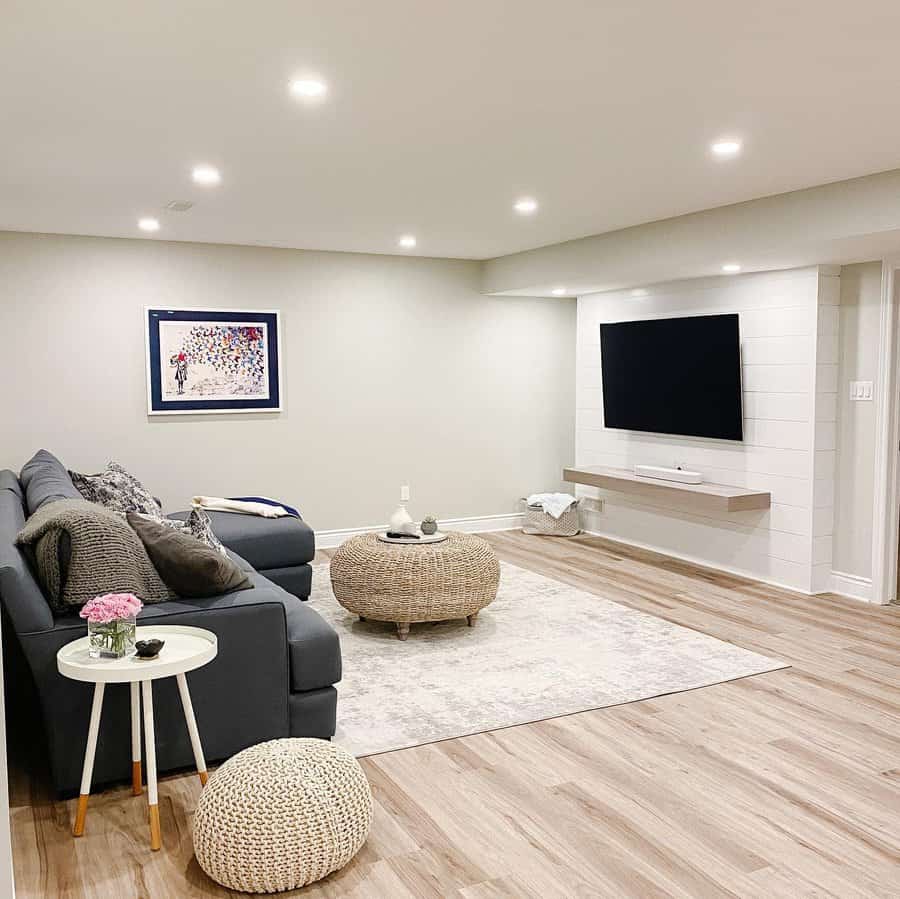 If your remodeling includes a theater room, look into creating an acoustic ceiling and walls. Acoustic ceiling tiles greatly improve the room's sound quality and also help buffer the rest of the home from loud sound systems.
9. Wood
A wood basement ceiling adds a lot of warmth and texture to the space. Beadboard or tongue-in-groove are excellent wooden basement ceiling ideas when you need to cover up an unattractive ceiling. A richly stained wooden ceiling is perfect in a cabin basement, while painted wooden planks integrate smoothly into farmhouse or cottage-style living areas.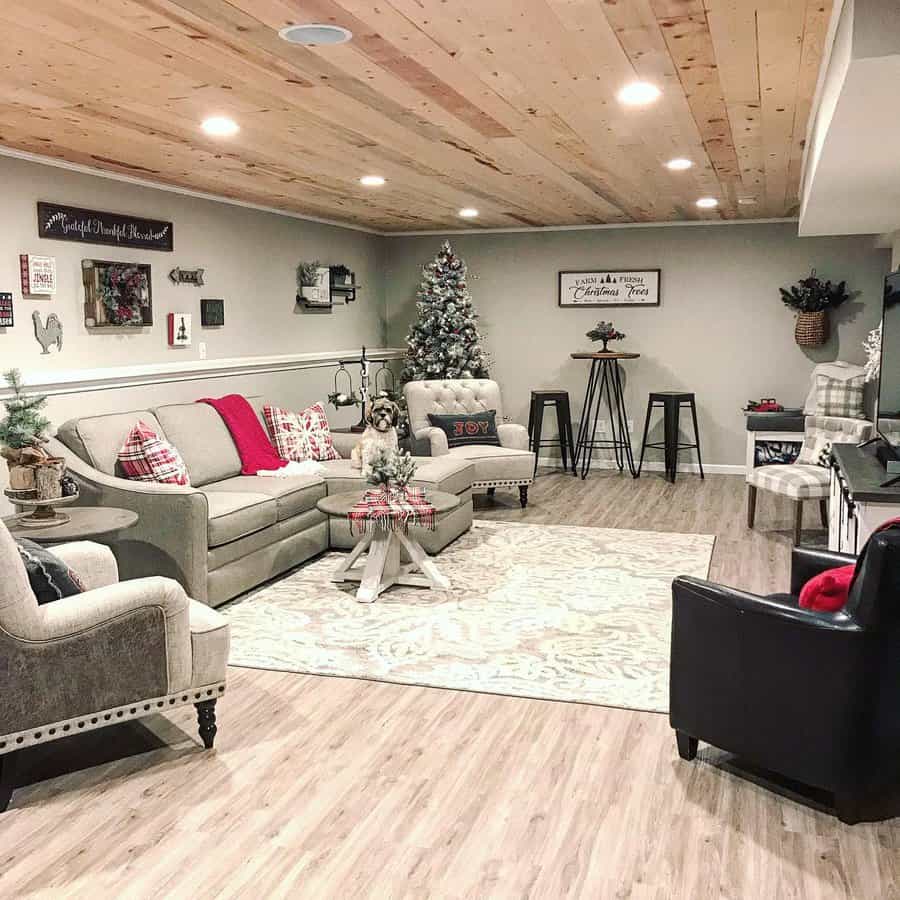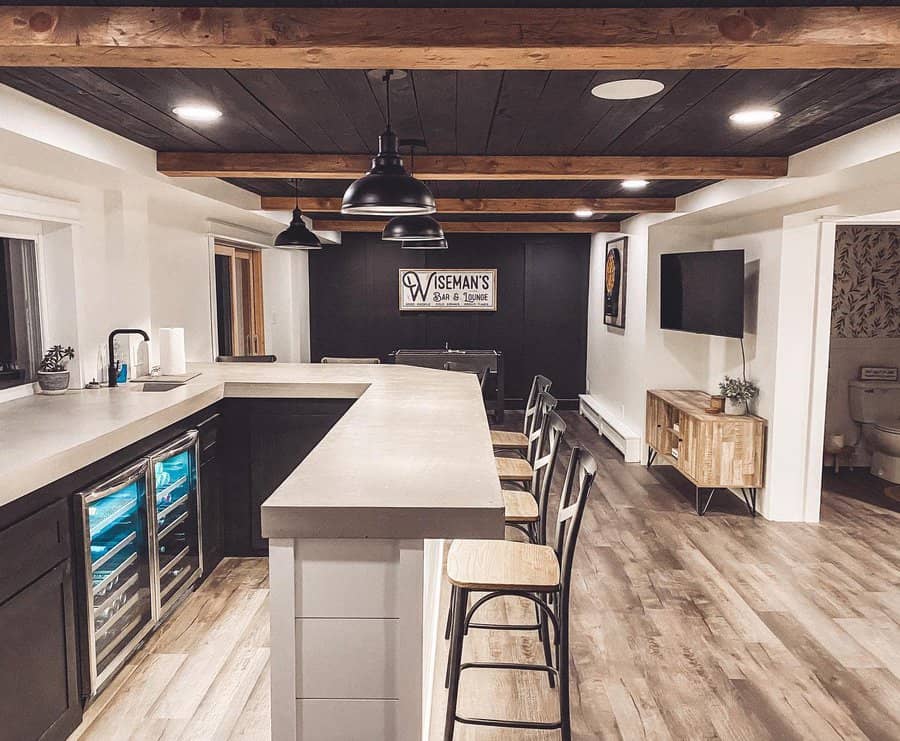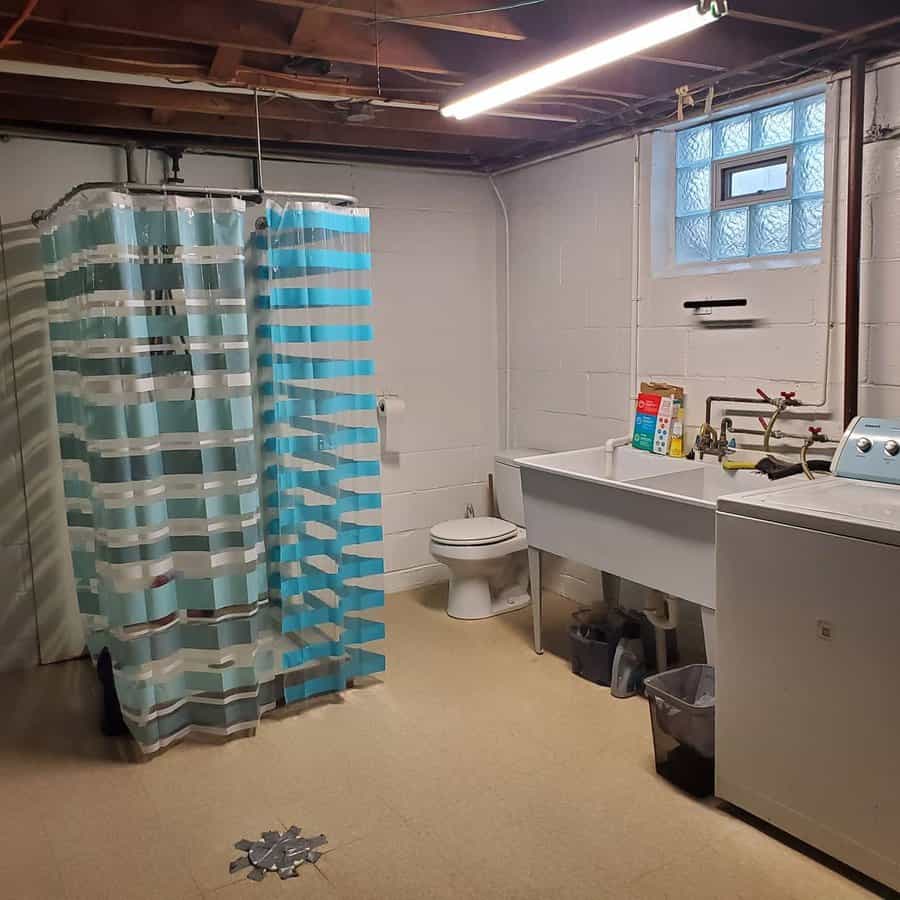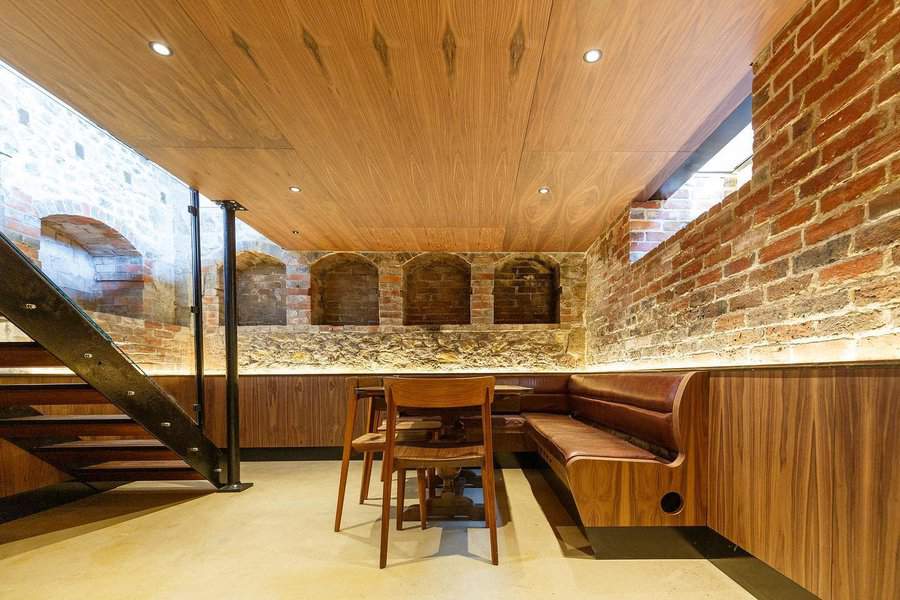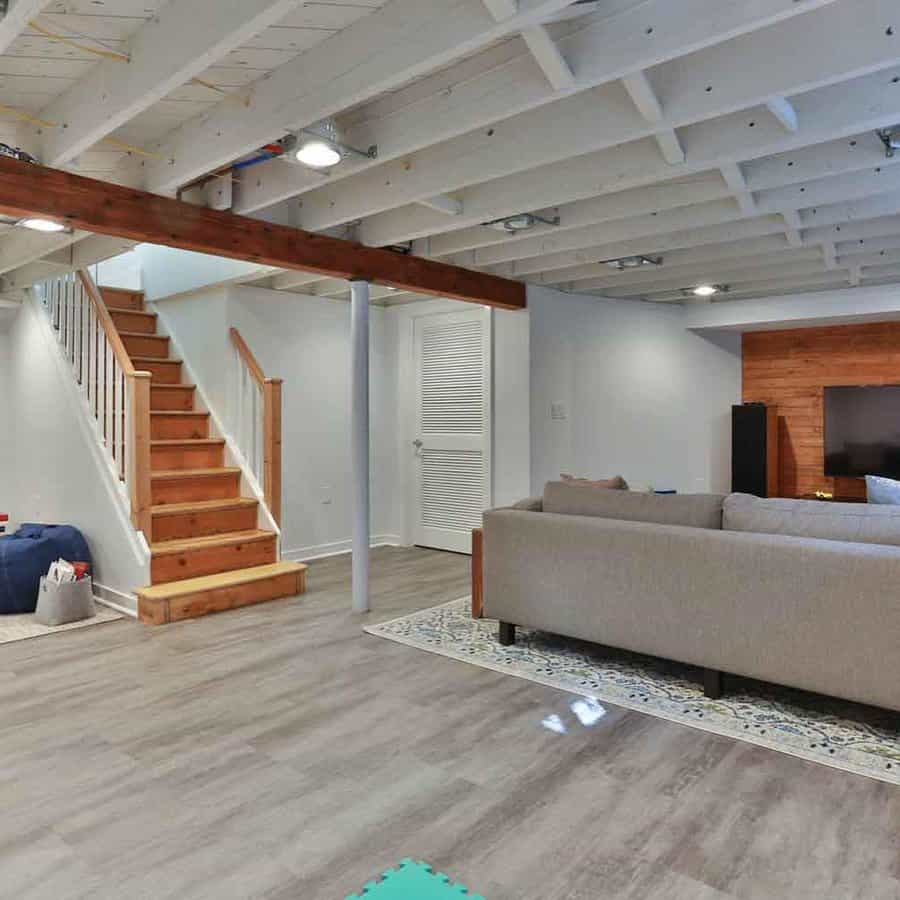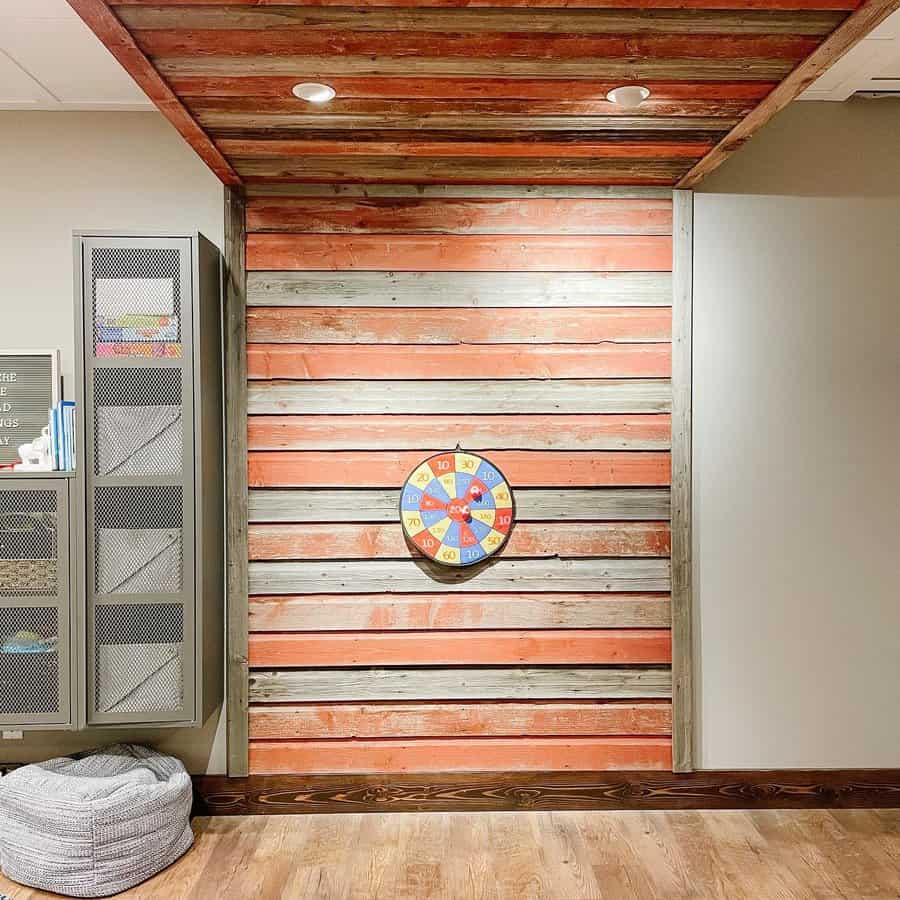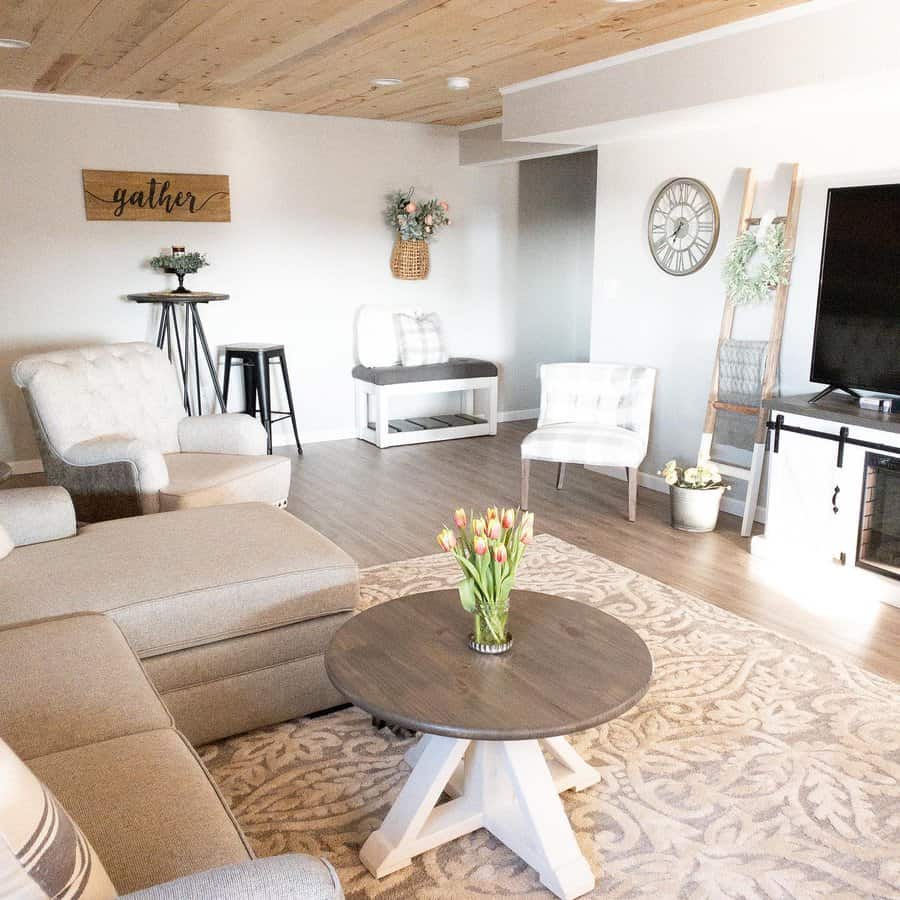 Faux wood beams are a relatively easy way to completely revamp your basement ceiling. These wooden beams serve no purpose as a structural support—they're for appearance only. Box beams may make low basement ceilings feel even lower, however.
Basement Ceiling FAQs
What is the cheapest ceiling to install?
At just a few dollars per square foot, drywall is usually the least expensive ceiling to install.
What is the easiest ceiling to install?
Because they can be installed by one person, surface mount ceiling tiles are one of the easiest kinds of basement ceiling tiles. They can be cut to size with scissors and easily attach to a grid.
Can I use shiplap on my basement ceiling?
Shiplap planks add a beautiful rustic touch to your basement rooms. They are one of the easier basement ceiling ideas to install yourself. Shiplap or beadboard are excellent ceiling choices when you need to cover a dated popcorn ceiling.