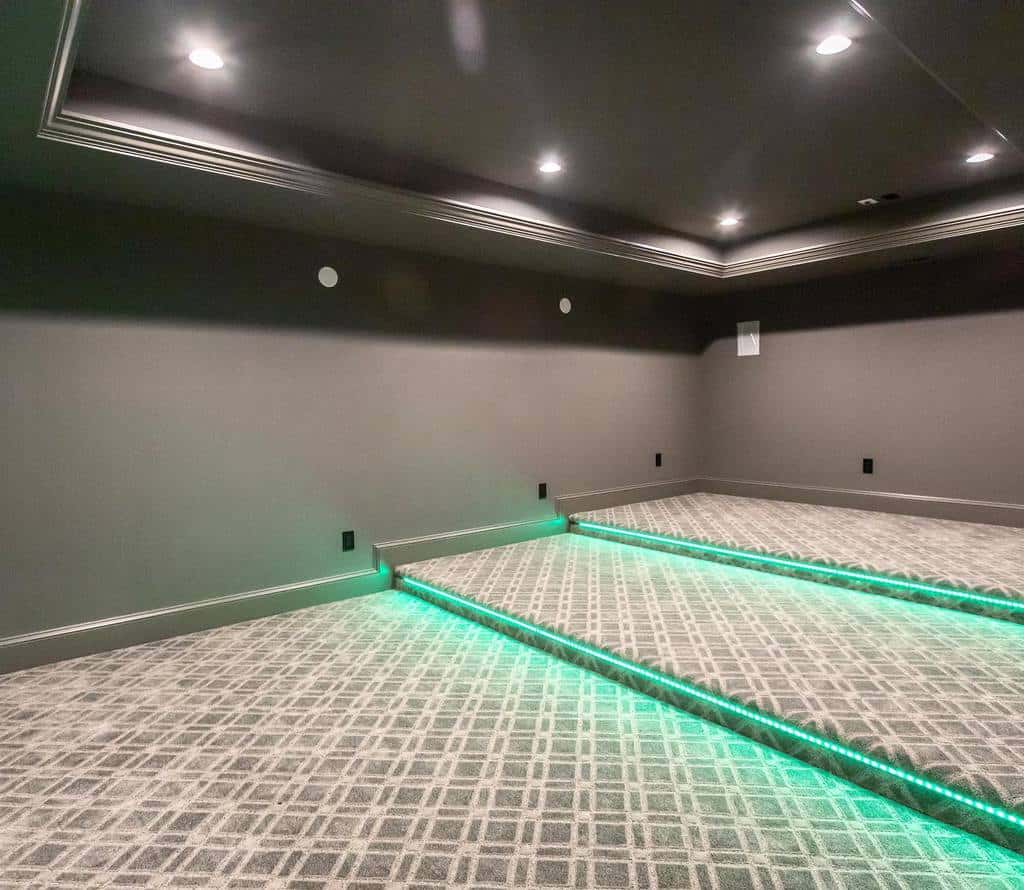 The Top 37 Basement Lighting Ideas
"The darkest rooms in your house can become the brightest with the right lighting fixtures!" – Unknown
Basements have a reputation as dark, dreary, frightening spaces. Although the majority of new construction includes more basement windows, these subterranean living zones still present greater lighting challenges than rooms above ground.
Thankfully, excellent basement lighting options exist that can help your basement feel as naturally illuminated as the other floors in your house. Check out this fantastic collection of best basement lighting ideas and brighten up your lowest floor today!
1. Bar Lighting
Is a basement really a basement without a bar? Pendant lighting is a popular type of bar lighting. Pendant sizes can vary greatly, and it's equally attractive to hang a row of small lights or one long statement fixture. A track lighting fixture also works great over a bar, and you can aim each light bulb to illuminate specific parts of your bar area.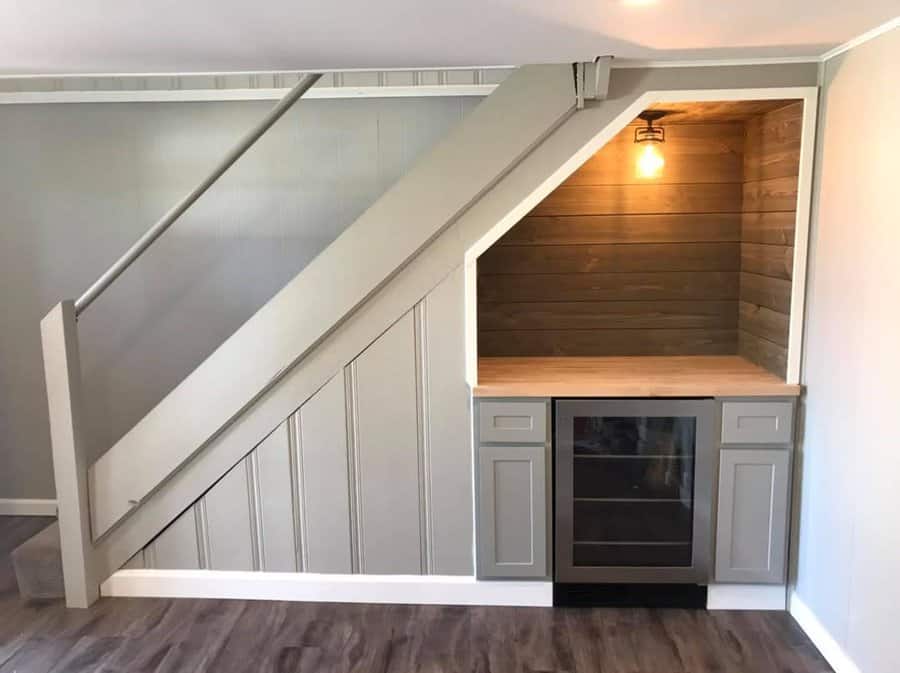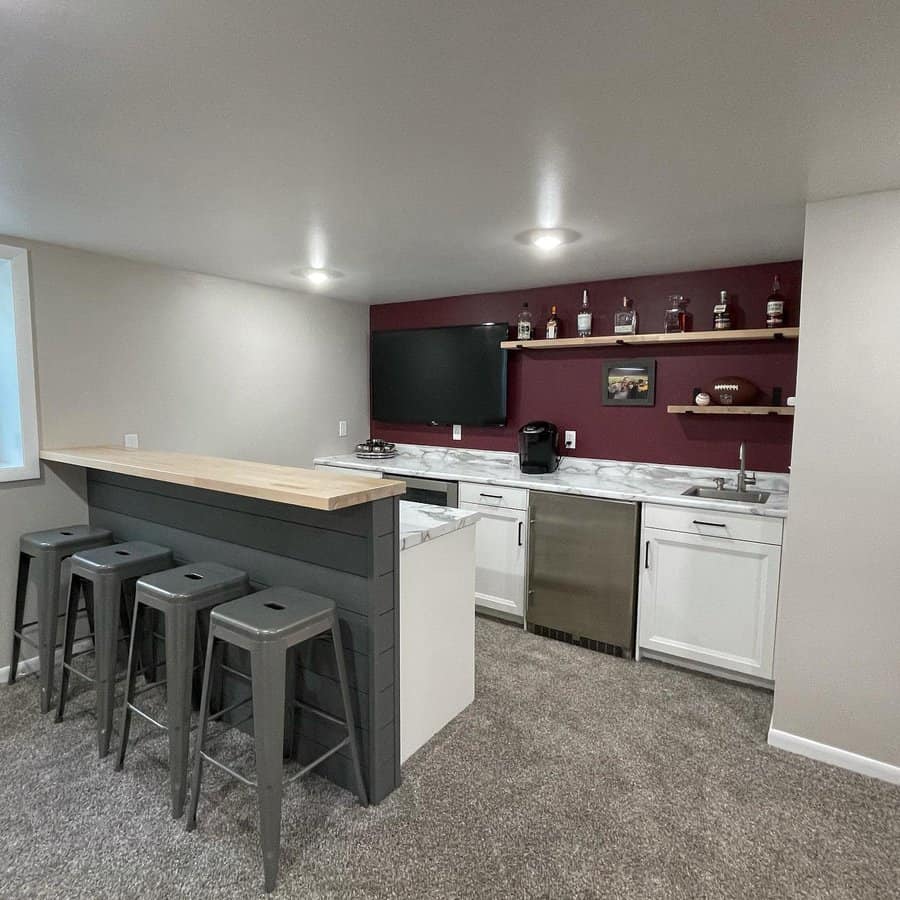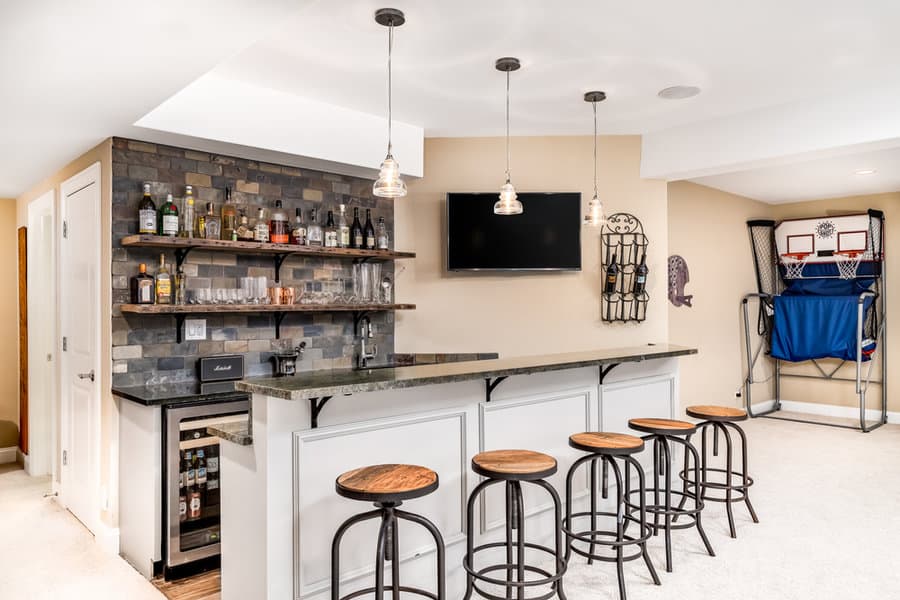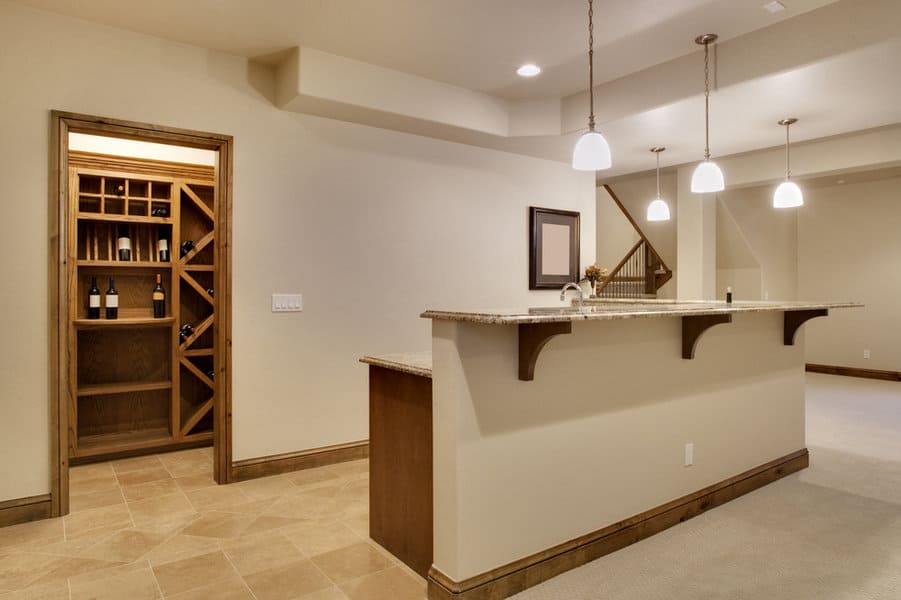 Your basement ceiling height may keep you from using hanging lights, however. A particularly low ceiling may not leave enough room for pendant light fixtures. With low ceilings, recessed lighting, wall sconces, or flush mount lighting is best. Flush mount lighting describes a fixture that is installed directly on the ceiling.
2. Bedroom
Basement bedroom windows are notoriously small, so replicating natural lighting is a must. Many lighting ideas work well in basement bedrooms. Install overhead lighting and wall sconces with dimmer switches for nighttime ambience. Don't forget a pair of nightstand table lamps and perhaps a floor lamp in a reading area.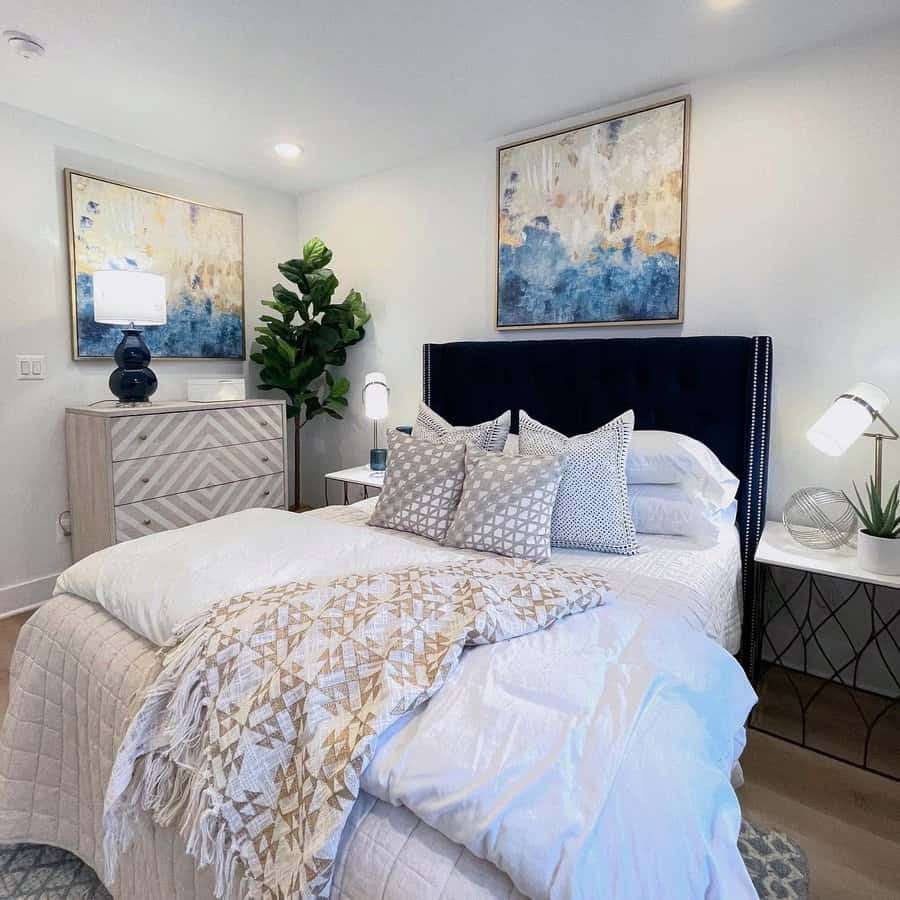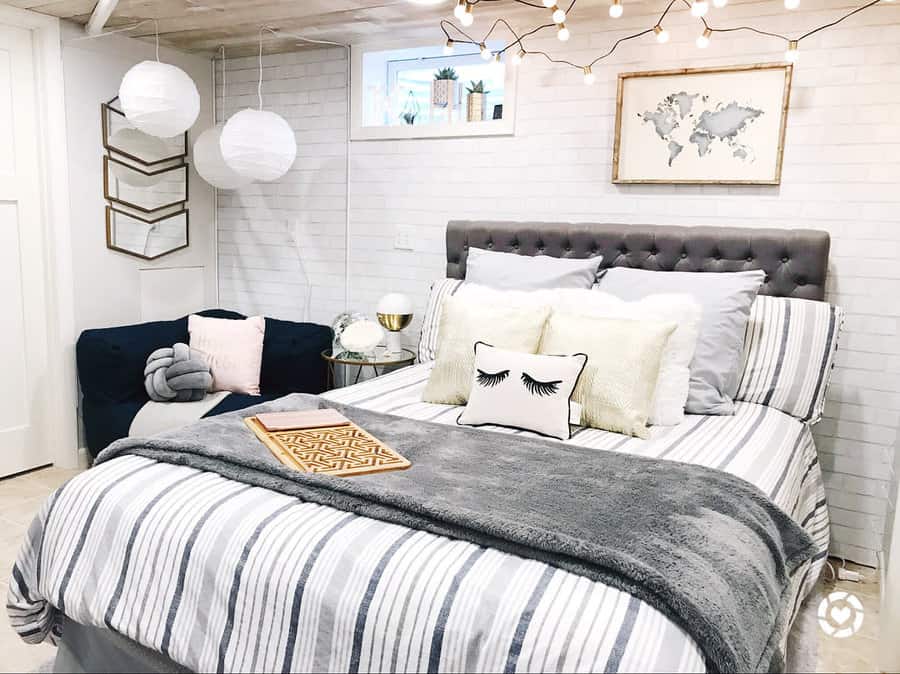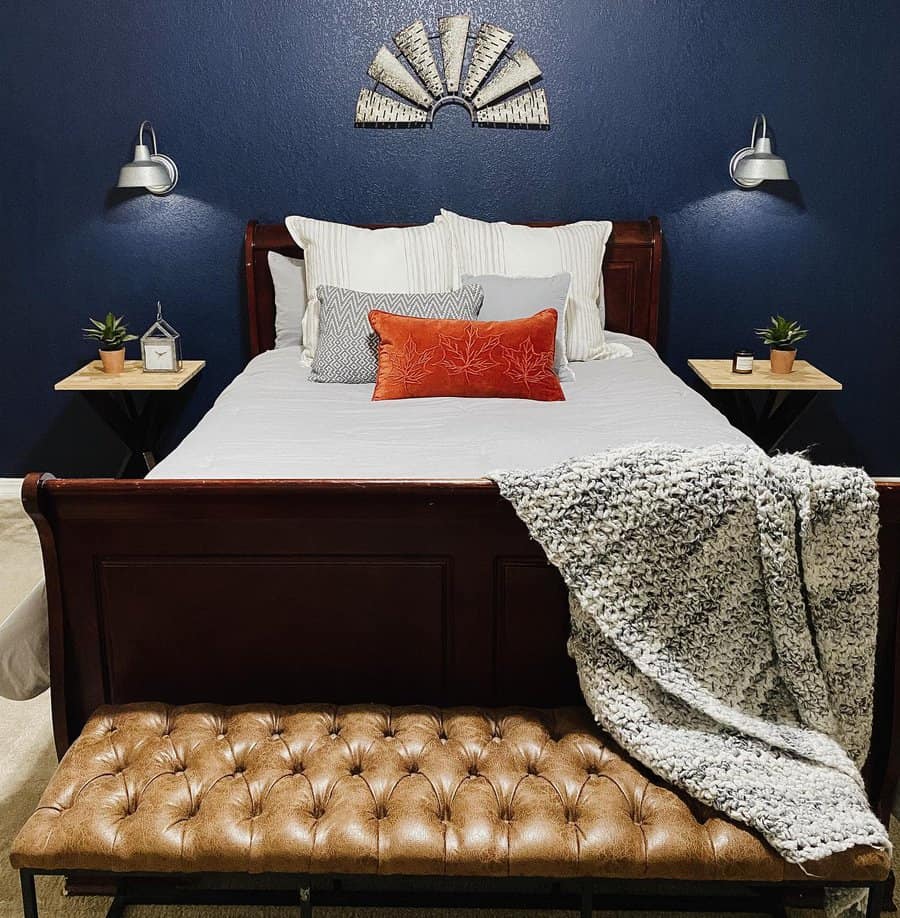 Ceiling fans enhance a basement bedroom with increased air circulation and lighting. Mirrors are also powerful tools for boosting basement lighting levels, as they reflect light around the room. Install several big mirrors in your basement bedrooms to maximize reflected light. Hang string lights above the bed for extra nighttime glow.
3. Black Ceiling
Black ceilings are a common dramatic feature in many basements. Their unique appearance makes them a focal point in the room. Contrary to popular belief, a black basement ceiling doesn't make the room appear smaller. Like a night sky, a black basement ceiling can seem to rise forever.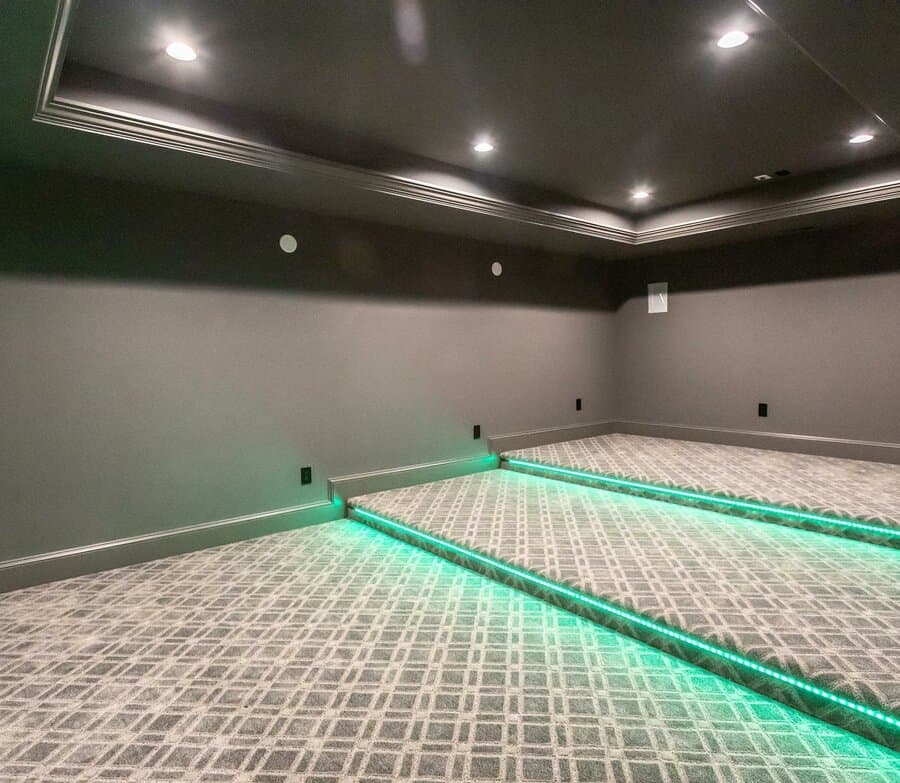 A black ceiling highlights architectural elements and your basement lighting ideas should add to this effect. For that reason, stick to a basic black fixture that can illuminate the room without drawing attention to itself. Recessed lighting, small track lighting, and flush mount fixtures are all good choices for vanishing into a black ceiling.
4. Design
Basement lighting design inspiration is everywhere. Get in the habit of looking up at lighting fixtures inside other homes and buildings. Seeing other people's basement lighting ideas can inspire your own—and show you what doesn't work.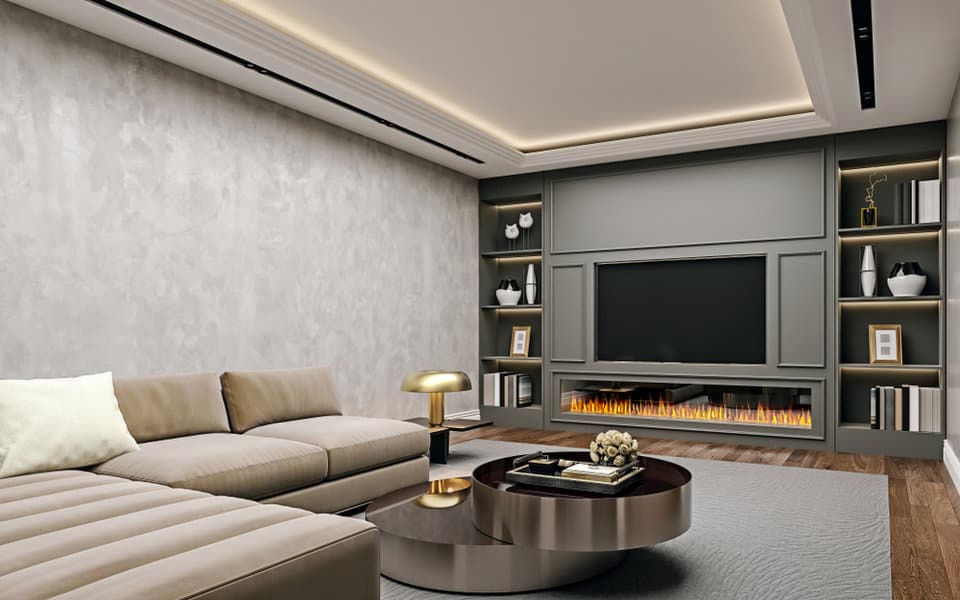 Carefully consider each area of your basement that needs illumination, and what degree of lighting you want in that area. Basement kitchens and bathrooms will need brighter light sources than basement bedrooms, living rooms, and playrooms. For safety and aesthetic reasons, be sure to include stair lighting in your basement remodel design.
5. Kitchen
A basement kitchen likely has a lower ceiling than the home's main kitchen upstairs. Flush mount fluorescent lights are a great option, both for their thin profile and the amount of light they exude. If ceiling height isn't a problem, use any kind of ceiling light you like. Install LED light strips below your cabinets for extra task lighting.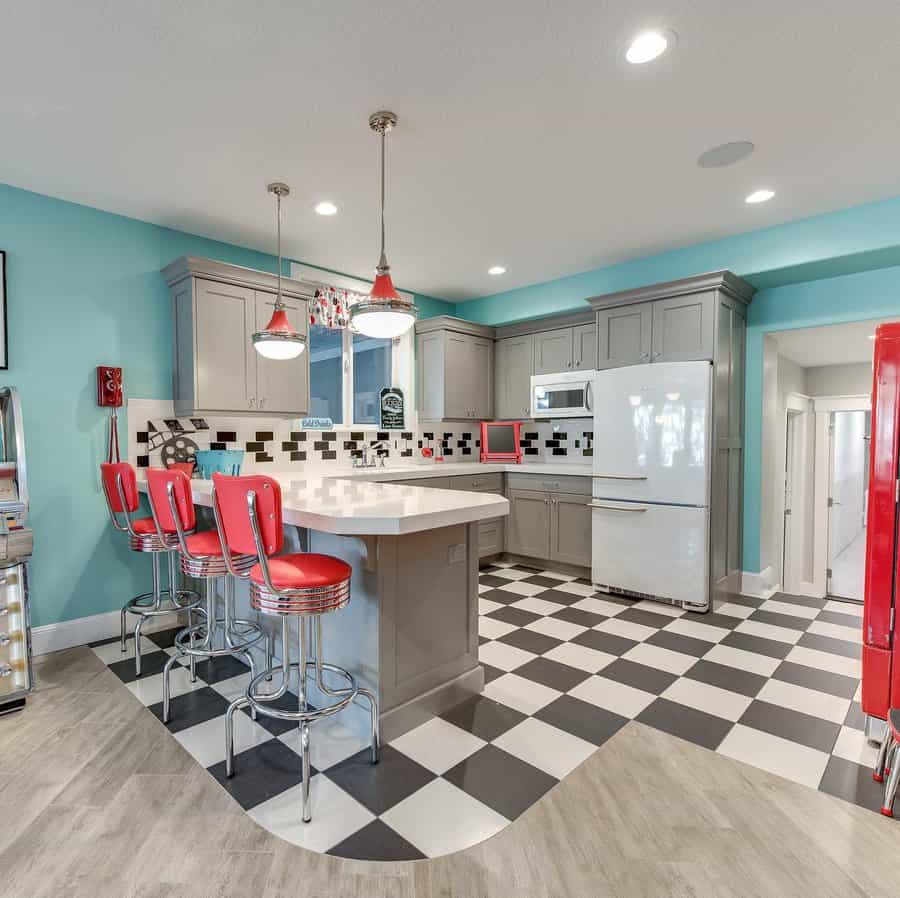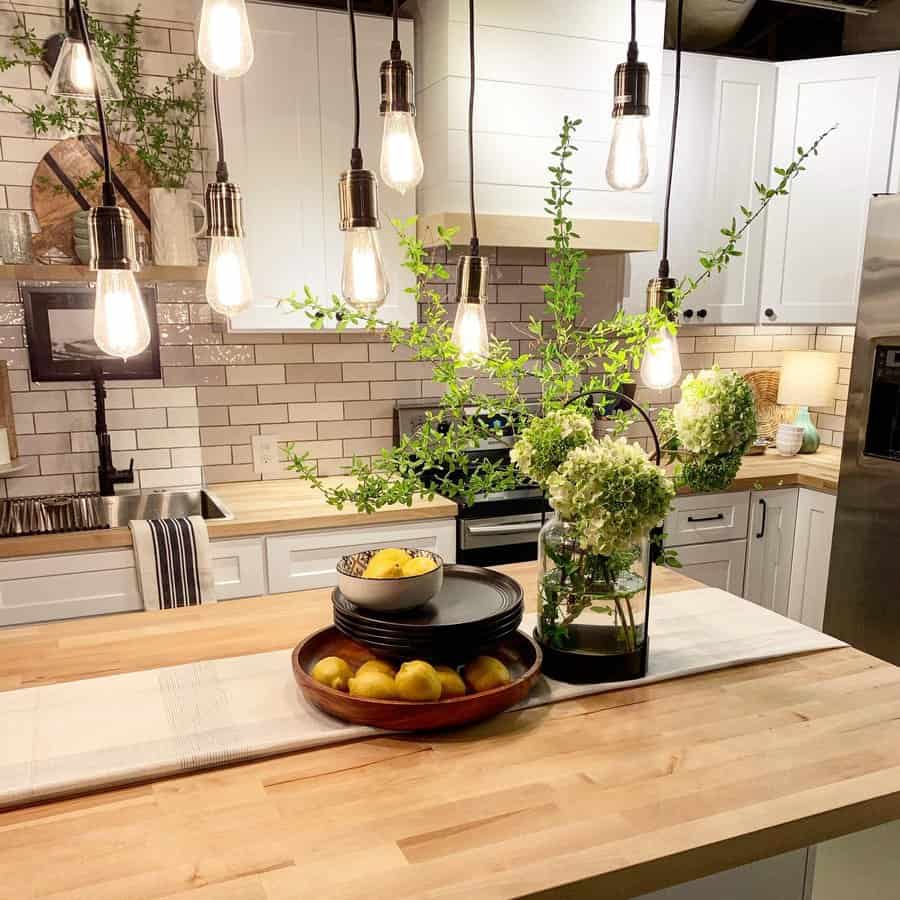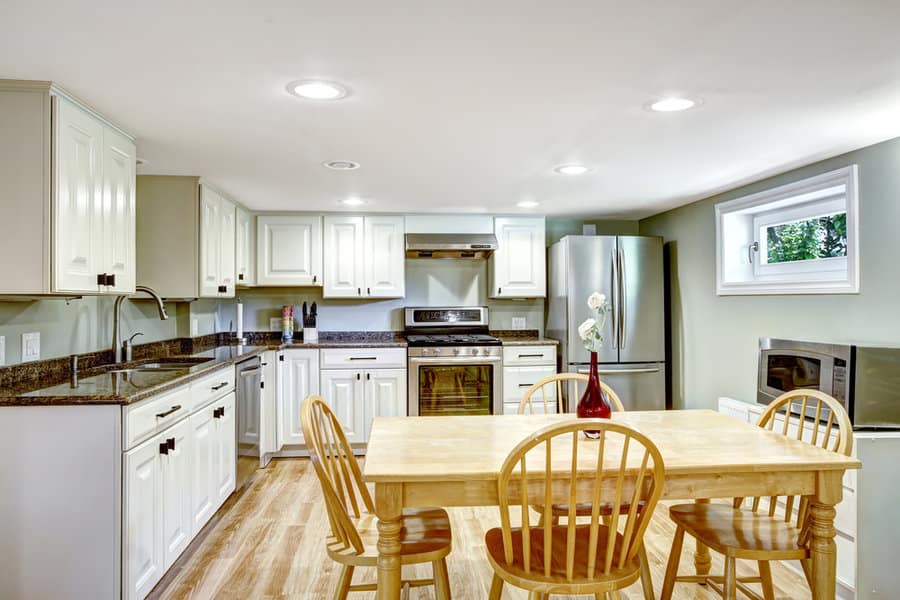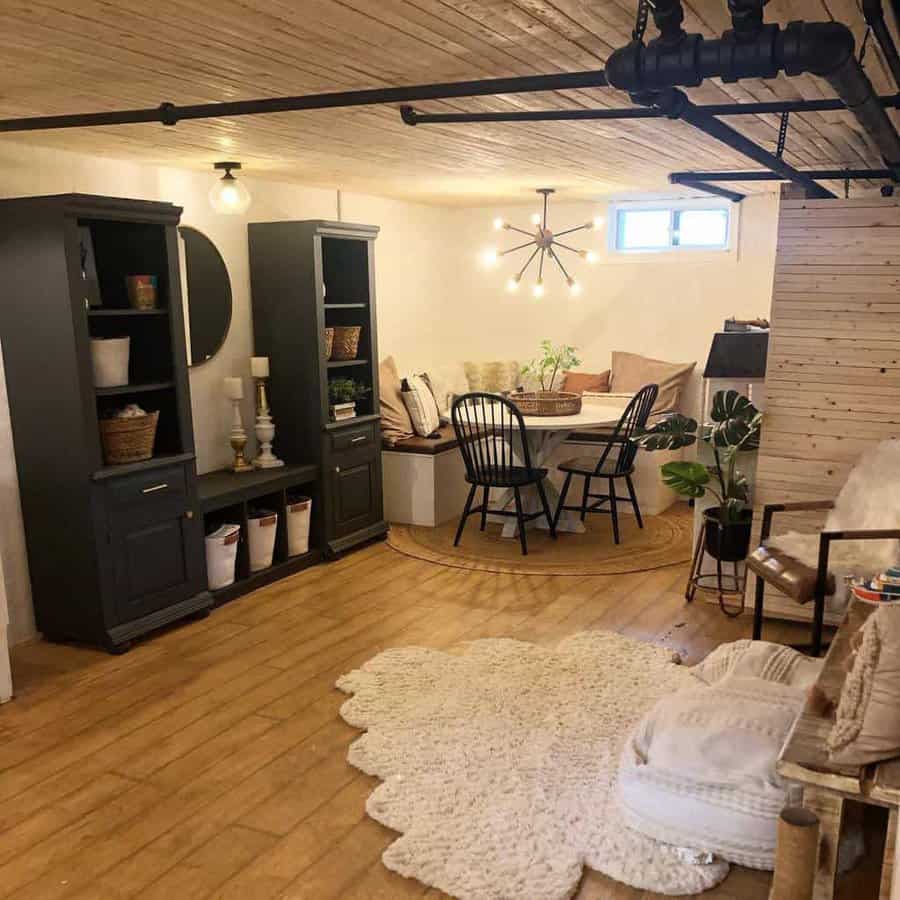 When shopping for fluorescent lights, look for bulb types that have the color temperature you prefer. Bulbs around 4000K closely replicate daylight or direct sunlight, and are excellent for the precise lighting basement bathrooms and kitchens need. A 3000K bulb has a warm, calming glow that's better in basement living areas.
6. LED
LED stands for "light emitting diode"—a type of general lighting that's up to 90 percent more efficient than incandescent bulbs. LED lights are small, and don't produce heat like other types of bulbs. They are made with heat sinks that slowly dissipate heat into the surrounding environment.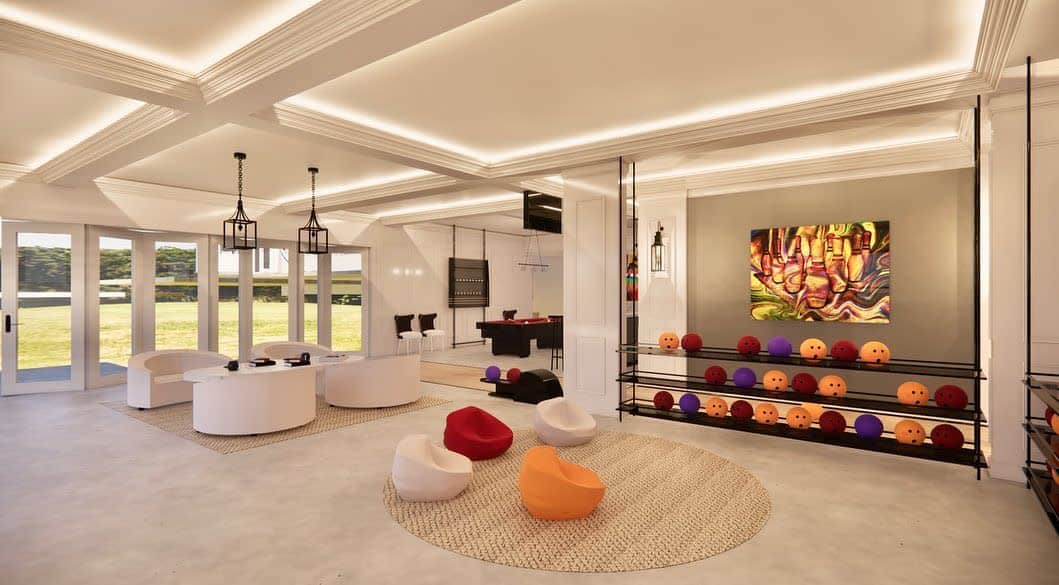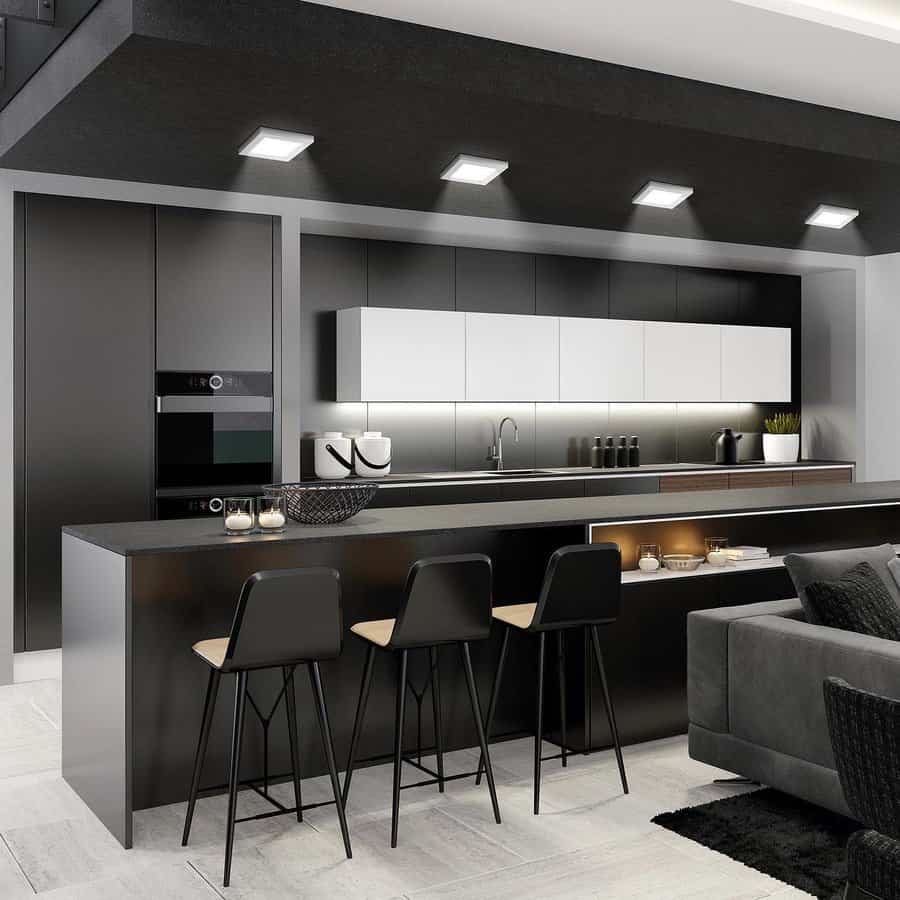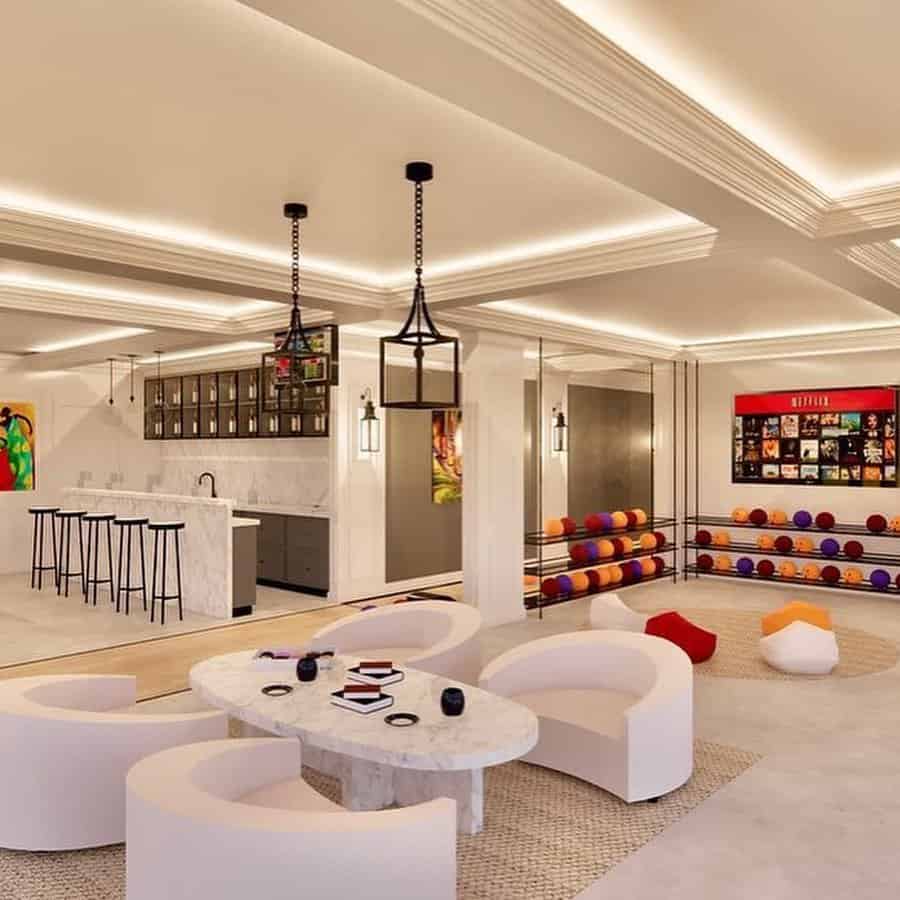 LED lighting is a great choice for nearly every type of basement lighting you need. Colored LED lights open up unlimited decorative lighting options. Install LED strips beneath a bar, kitchen countertop, or toe kick area for a fun, futuristic glow in your favorite colors.
7. Modern
Modern lighting fixture design features simple geometric shapes and lines. Modern ambient light sources lack the heavy ornamentation you might see on other styles of accent lighting. Modern style is great for basement living areas, as modern accents tend to have a lighter visual appearance than other types of design.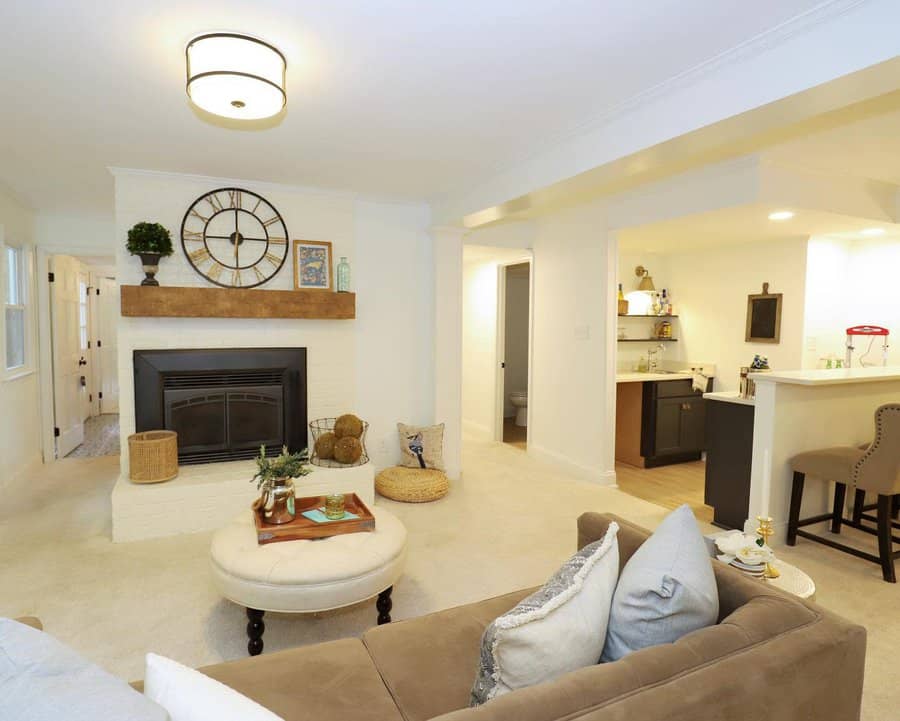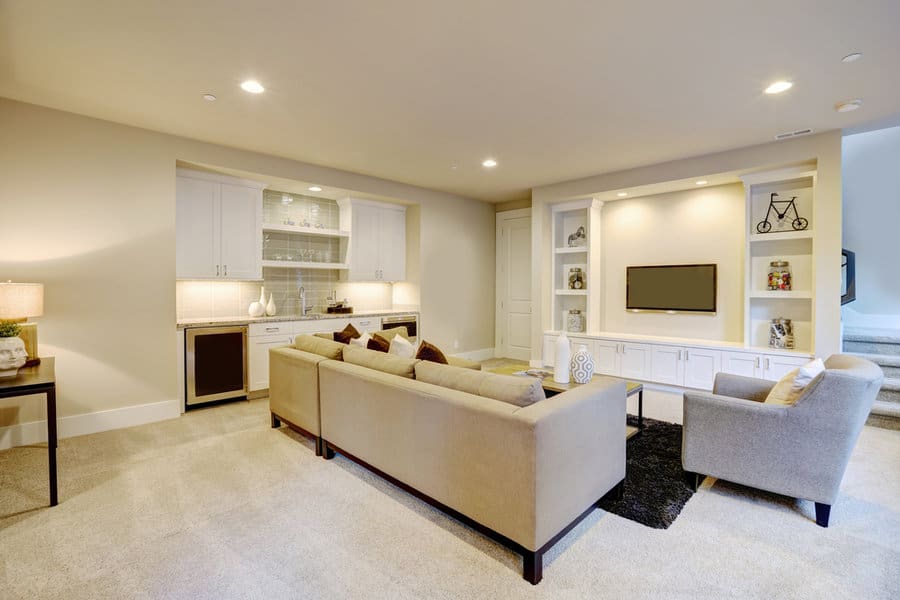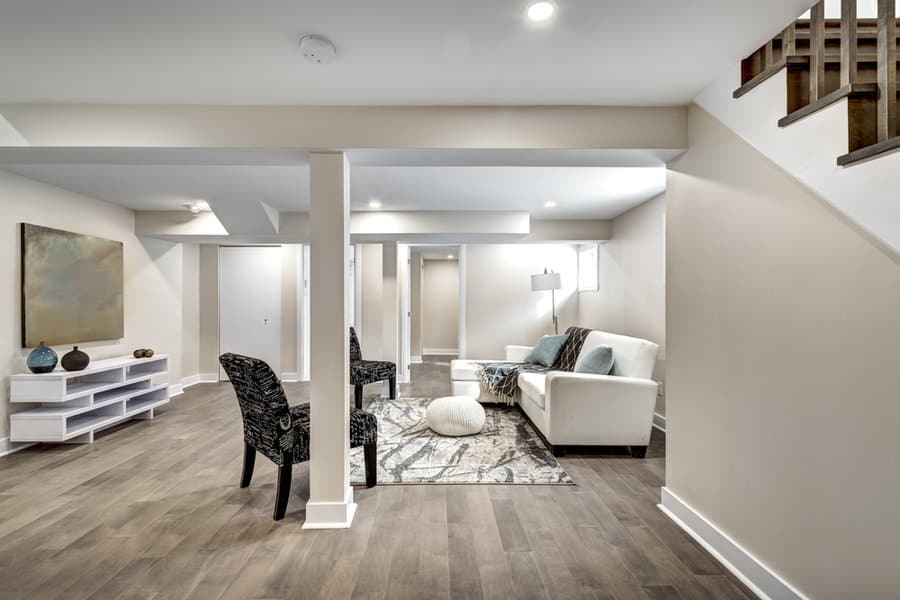 You can modernize existing light fixtures by removing any extraneous beading, ornaments, or scrollwork. Paint old metal finishes with rubbed bronze, matte black, or antique copper spray paint. Replace old teardrop bulbs with Edison bulbs, if the fixture has bare bulbs. If each lamp has a shade or sconce, or replace them with an updated design.
8. Recessed
Recessed lighting fixtures are installed directly inside your basement ceiling. Although most types of recessed light fixtures are rather plain, you can choose decorative finishes that mesh with your style. Trim choices can include circular or square shapes and a variety of metal or colored finishes and textures. Ideally, place recessed light fixtures 8 to 10 feet apart.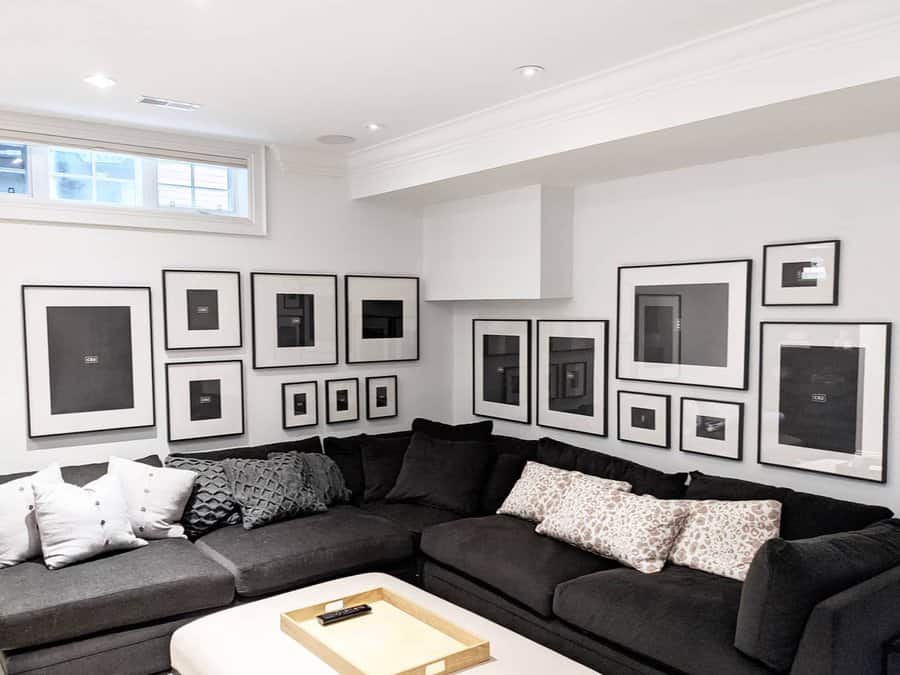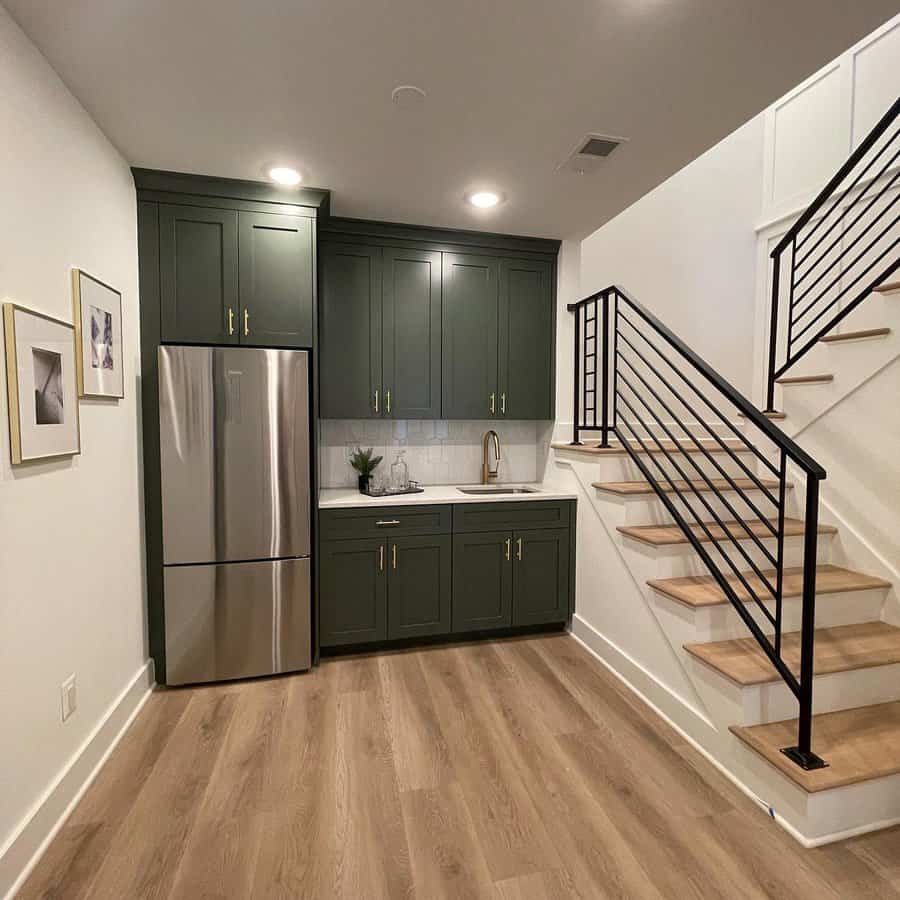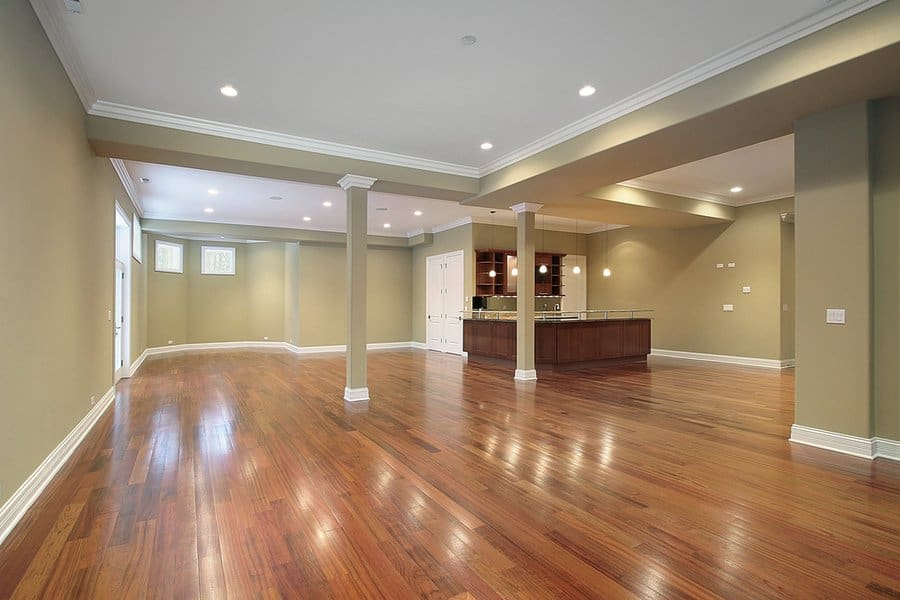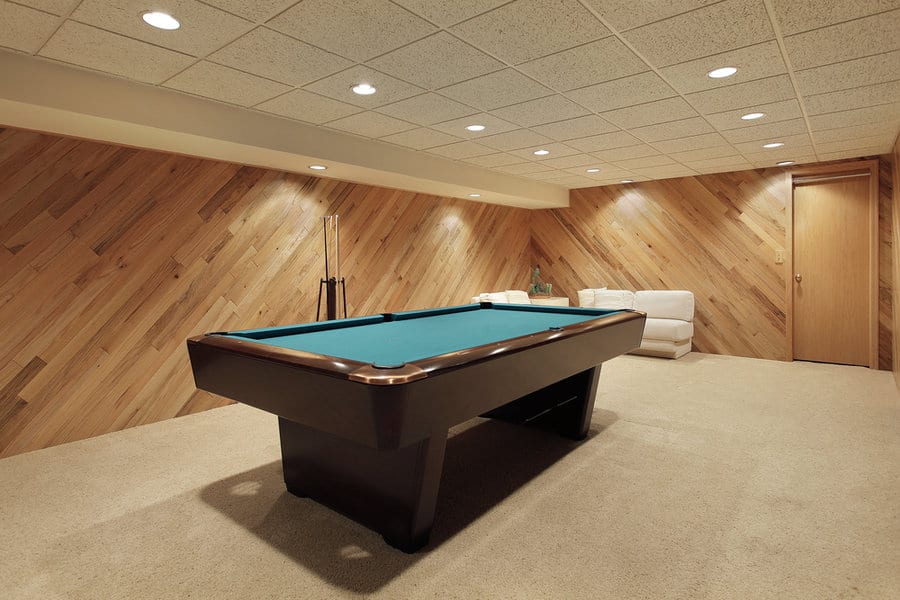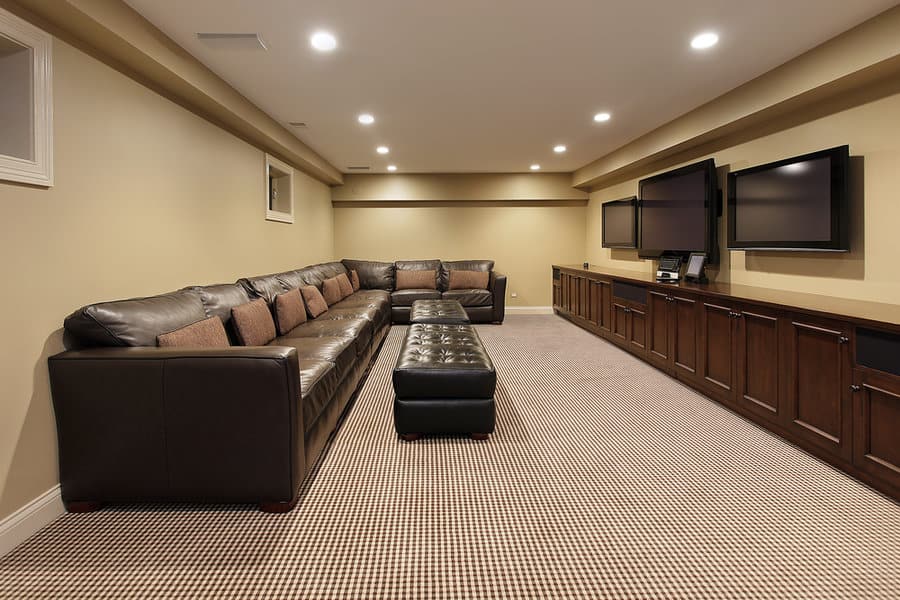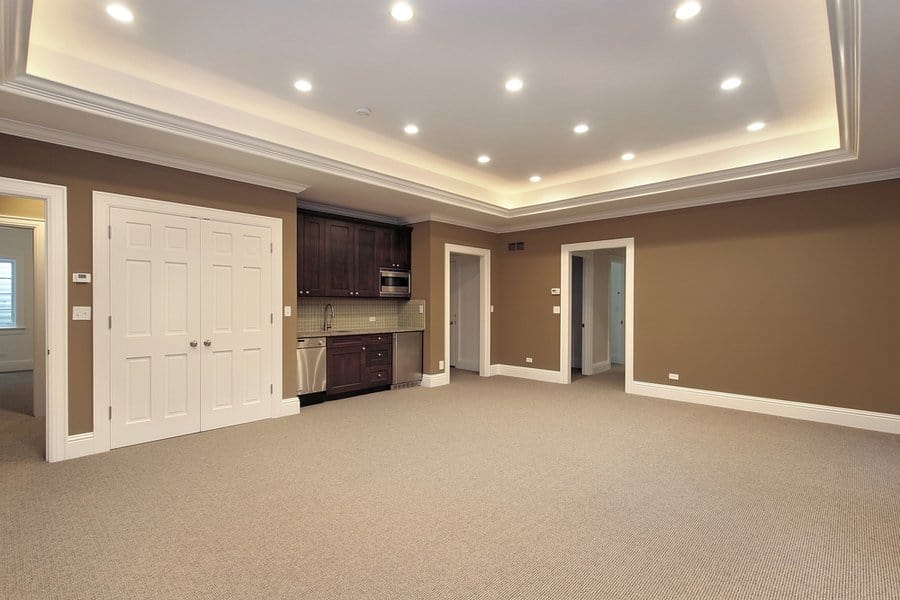 This type of artificial lighting is great if you want your basement lighting to fade into the background instead of being one of the room's focal points. Recessed basement lighting fixtures usually have one bulb. CFL bulbs, or compact fluorescent lights, are ideal in most recessed fixtures.
9. Track Lighting
Track lighting fixtures have individual lights fitted onto tracks. The advantage of this type of basement lighting is that you can position each light to shine on a different area of the room. This is especially handy if you want an accent light to shine on a particular painting or if you need to direct light into a certain corner or work surface.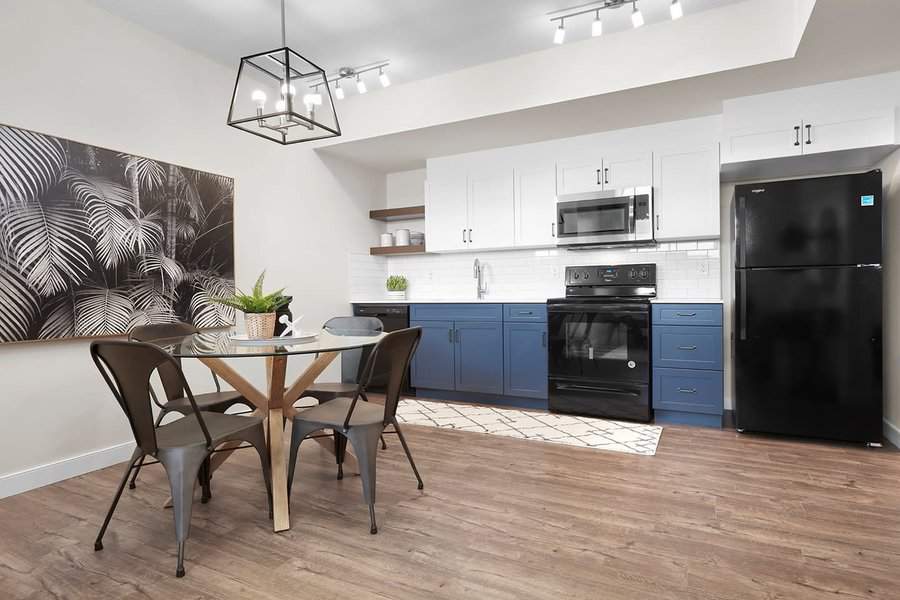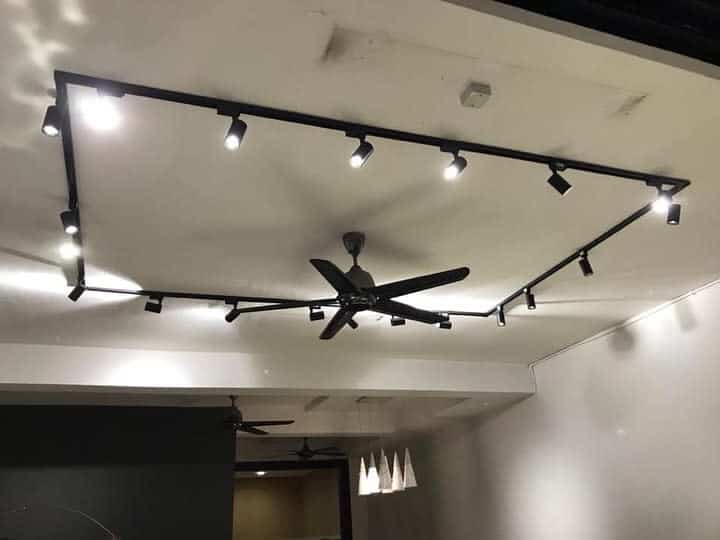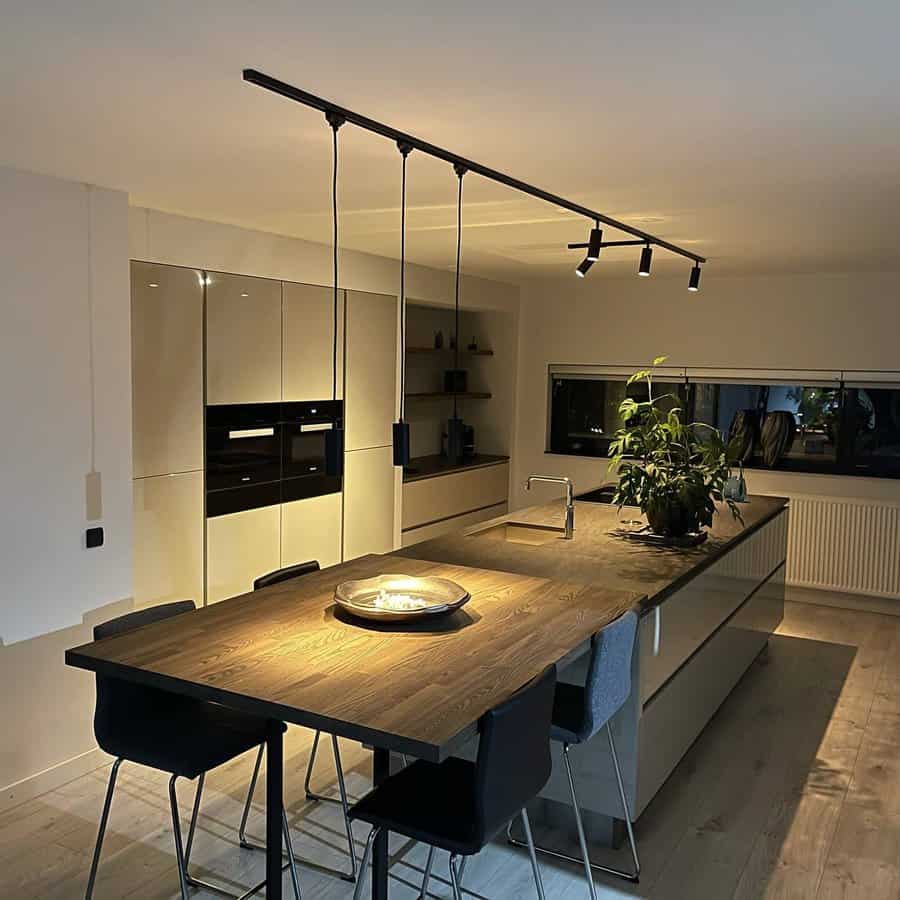 Track light fixtures can often be used on sloped ceilings, such as under a basement staircase and they can also be mounted on the wall. Old track lighting fixtures often used halogen bulbs, which cast off a great deal of heat. Look for newer fixtures that use fluorescent lighting or LED lighting.
10. Unfinished
Unfinished basement lighting is a little different than finished basement lighting. Instead of decorative sconces and pendants, you will probably need a simpler type of proper lighting.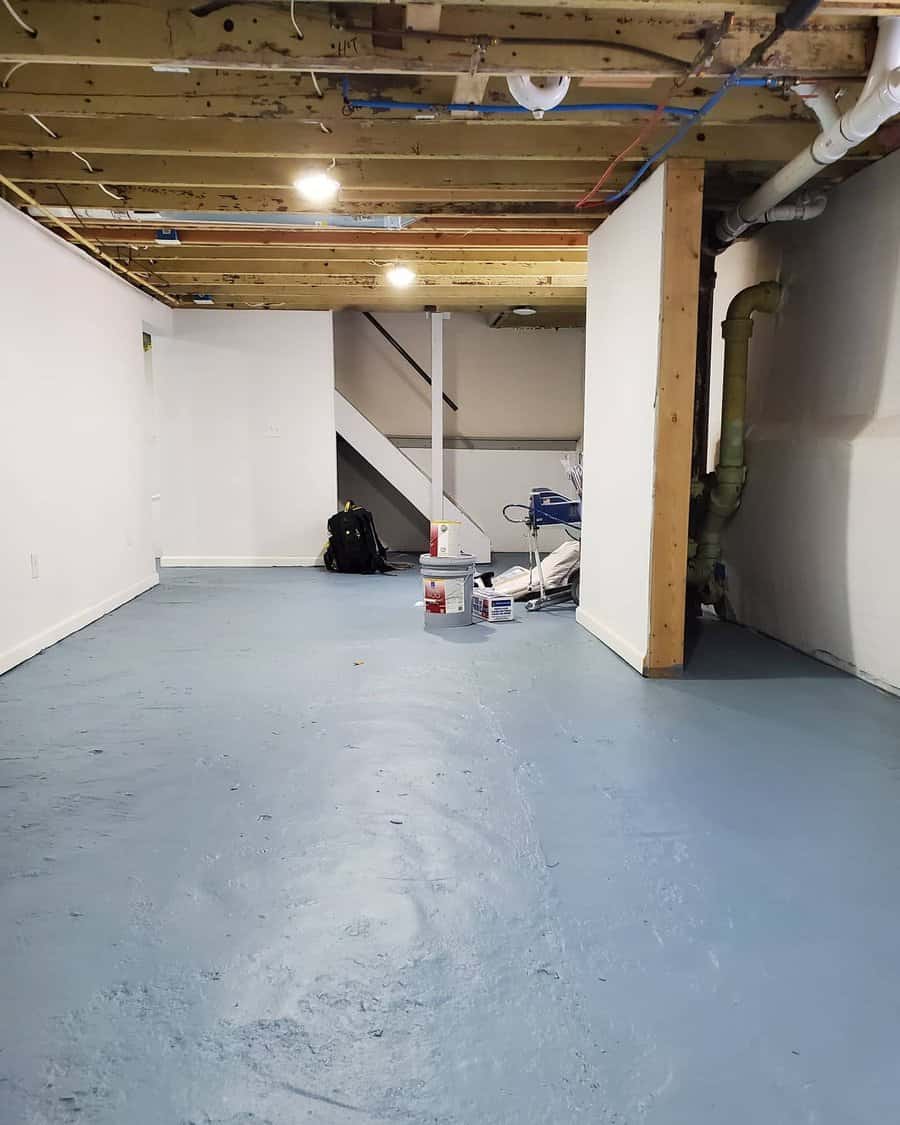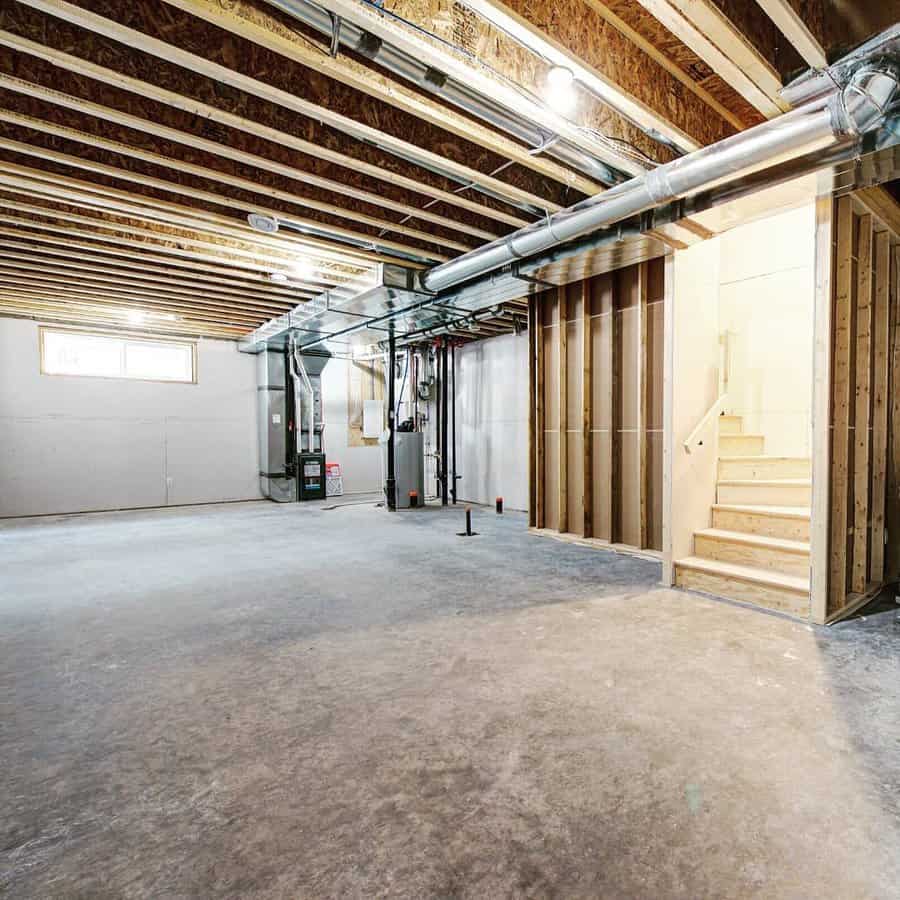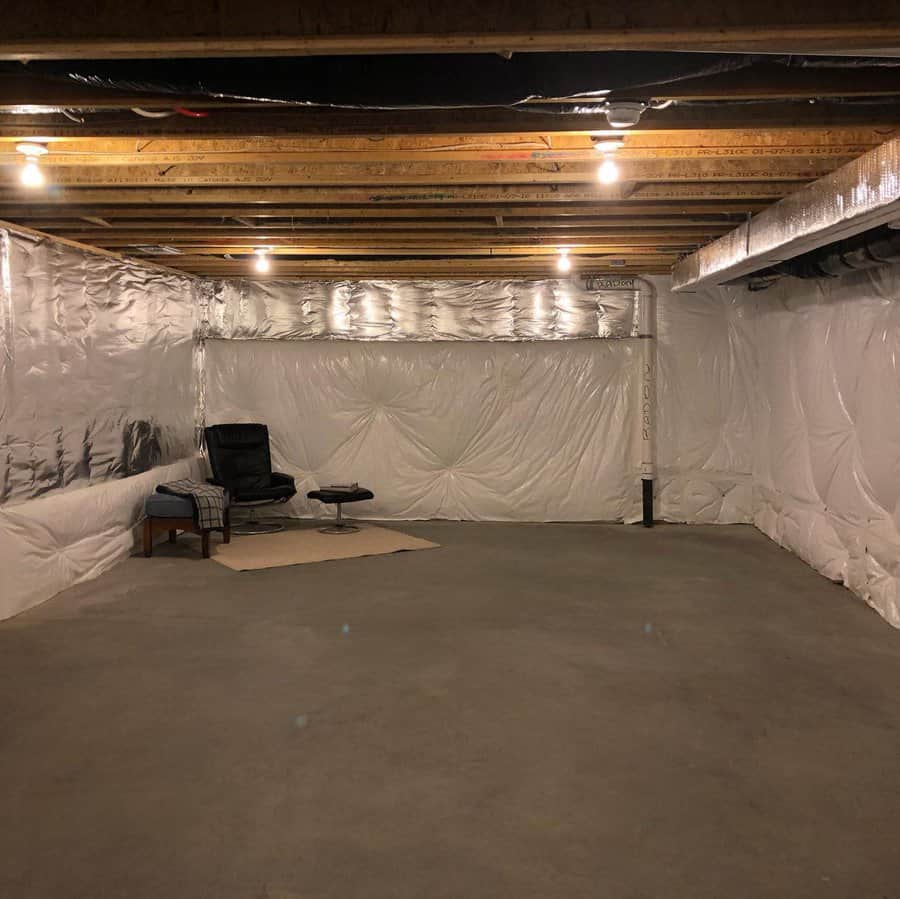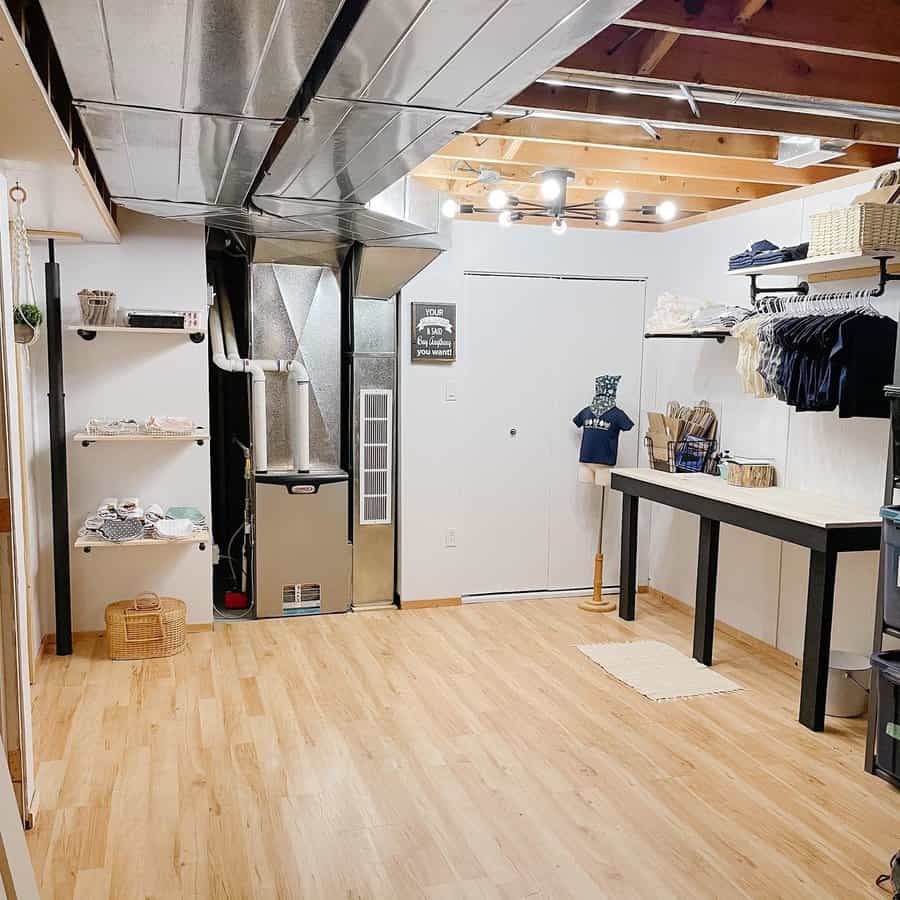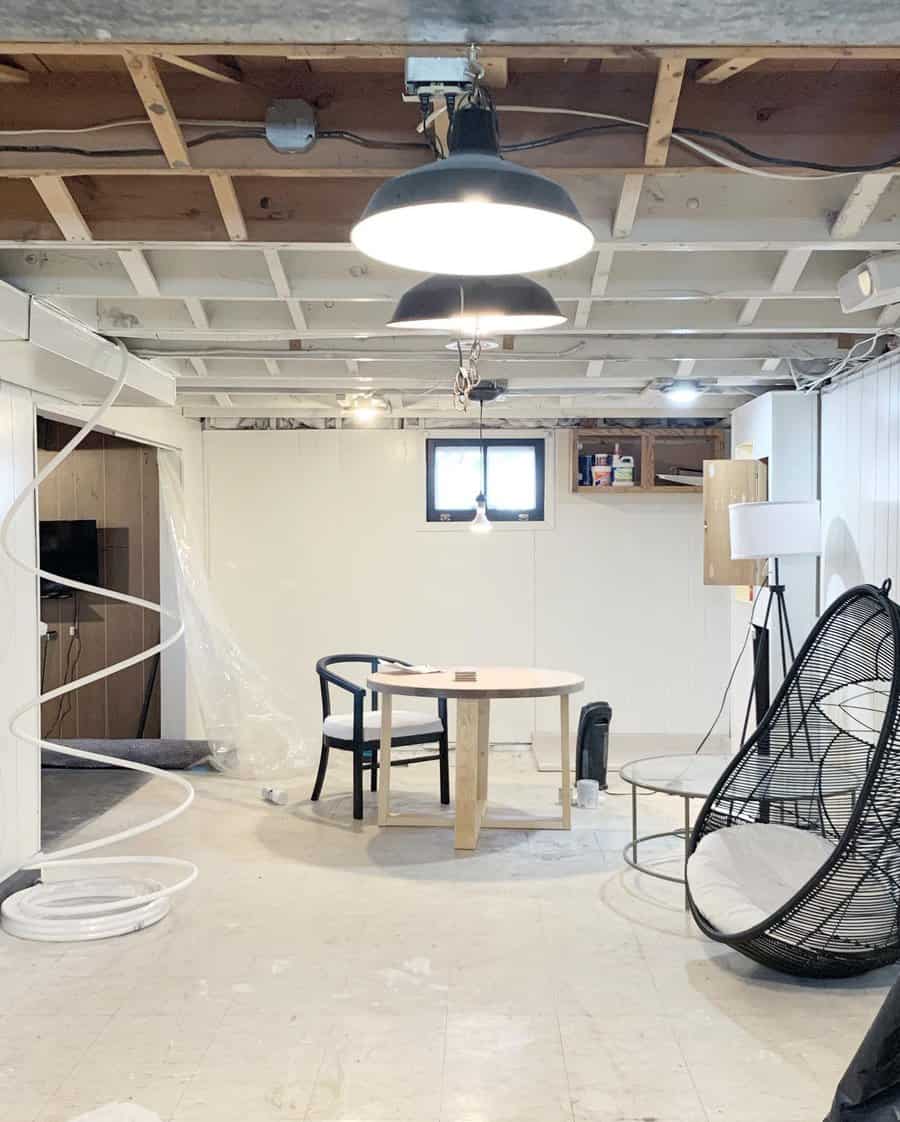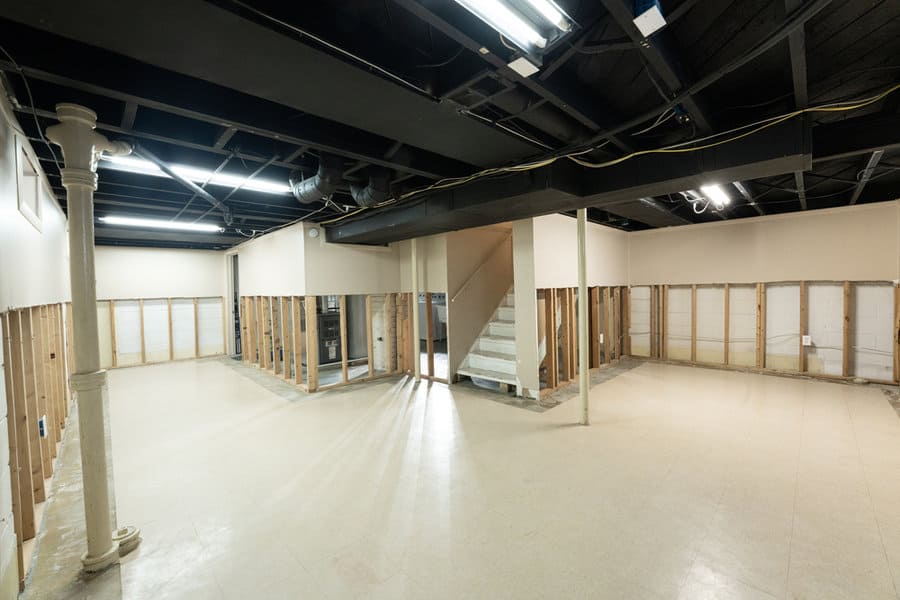 Bare lightbulb fixtures will work, as will classic, two-bulb fluorescent light fixtures. Fluorescent bulbs are great when you need really bright light from just a few sources.
Basement Lighting FAQs
How do you light up a dark basement?
Adding light fixtures is the logical first step in increasing a dark basement's brightness. Other ways to make the basement feel brighter include:
Painting the walls a light color.

Hanging mirrors and adding other reflective surfaces.

Investing in a basement renovation that adds more windows and raises the ceiling.

Increase the number of lamps and ambient lighting in the space.
What kind of lights go in a drop ceiling?
Usually, recessed light fixtures work best in a drop ceiling. These recessed ceiling light fixtures may use fluorescent bulbs or LED bulbs.