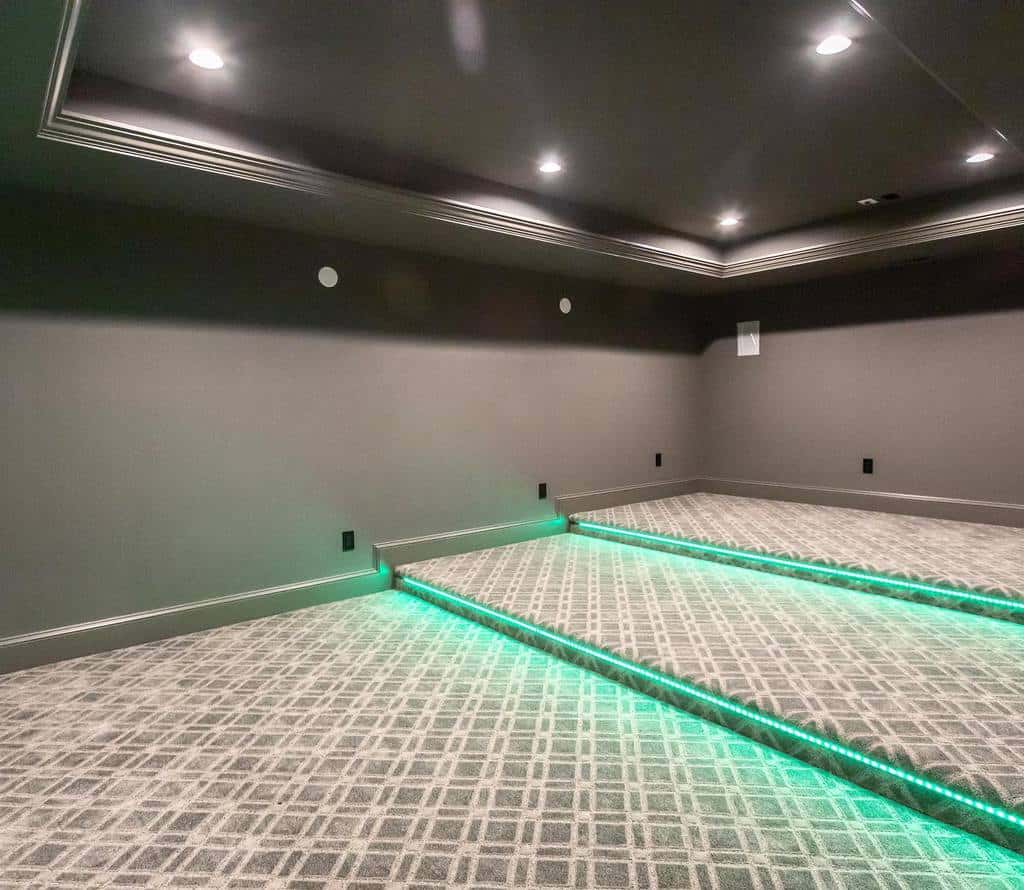 37 Basement Lighting Ideas to Brighten Your Space Up
"The darkest rooms in your house can become the brightest with the right lighting fixtures!" – Unknown
Basements have a reputation as dark, dreary, frightening spaces. Although the majority of new construction includes more basement windows, these subterranean living zones still present greater lighting challenges than rooms above ground.
Thankfully, excellent basement lighting options exist that can help your basement feel as naturally illuminated as the other floors in your house. Check out this fantastic collection of best basement lighting ideas and brighten up your lowest floor today!
1. Under-The-Stairs Desk Lighting
Creating a well-lit basement doesn't have to be a chore; in fact, it can be quite enjoyable! Under-the-stairs desk lighting not only adds illumination to the area but also provides valuable extra surface area for storage or work. You can choose from a variety of candle holders, lanterns, project lights, and wall sconces in order to make the most of your space and create an inviting atmosphere.
If you want to put something more permanent into place, consider installing recessed lighting near your workstation or task area so it's always illuminated when needed. With a little creativity and effort, you'll be surprised by how functional and stylish your basement can become!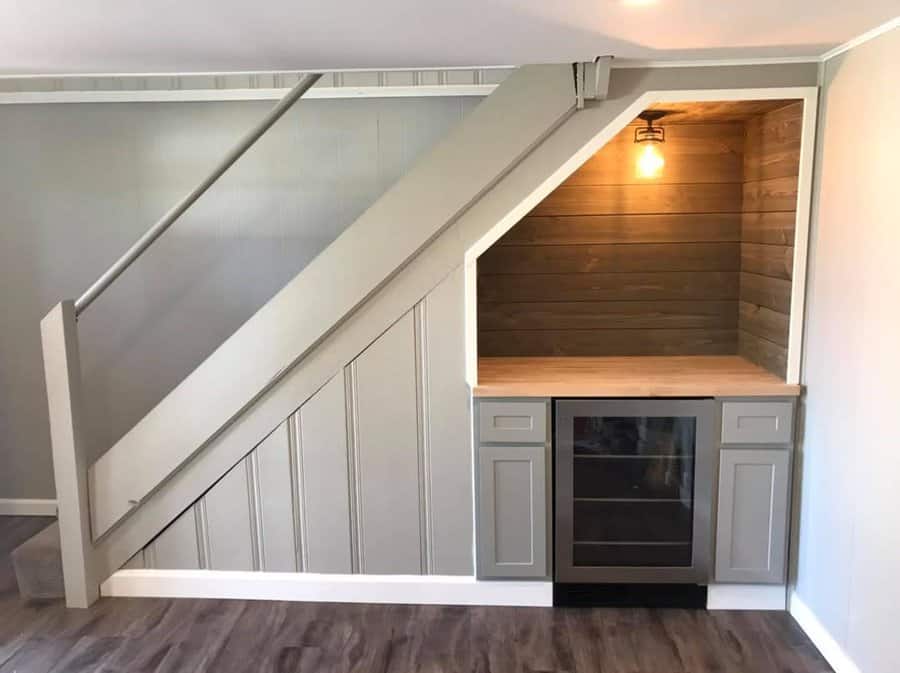 2. Recessed Lighting
If you want to spruce up your basement with lighting that is both classic and cost-effective, then recessed lighting is the way to go! Whether it's a workspace, living room, or gaming area – there's no limit to how versatile recessed lighting can be when it comes to brightening up dull spaces.
It's easy to install and control the brightness for activities ranging from watching movies in a home theater to hosting parties for friends. Recessed lighting's versatility offers endless possibilities for creating the perfect space.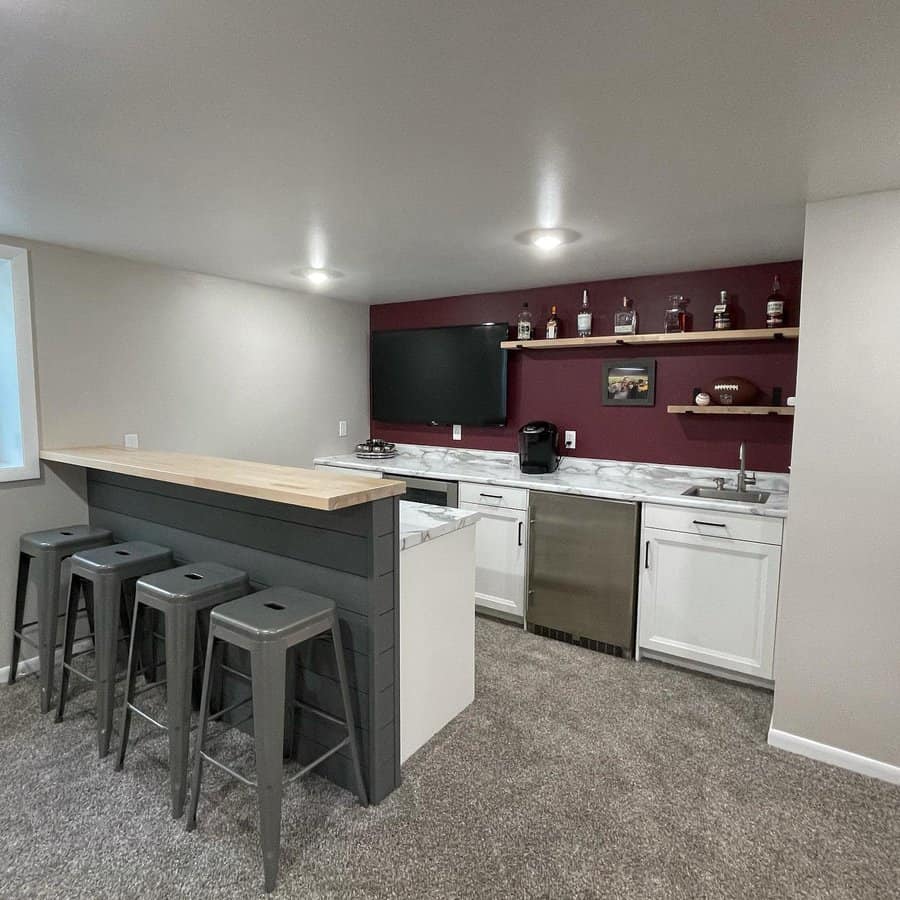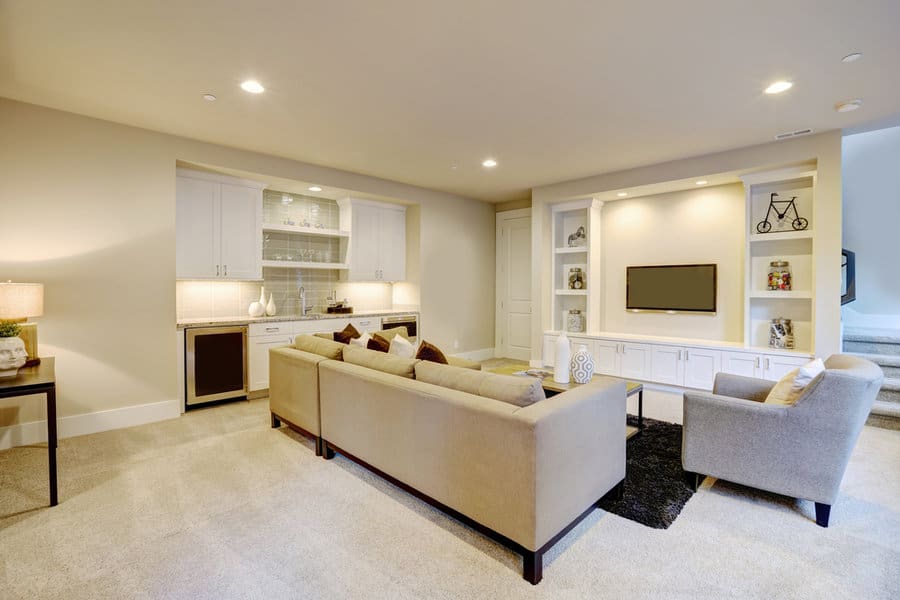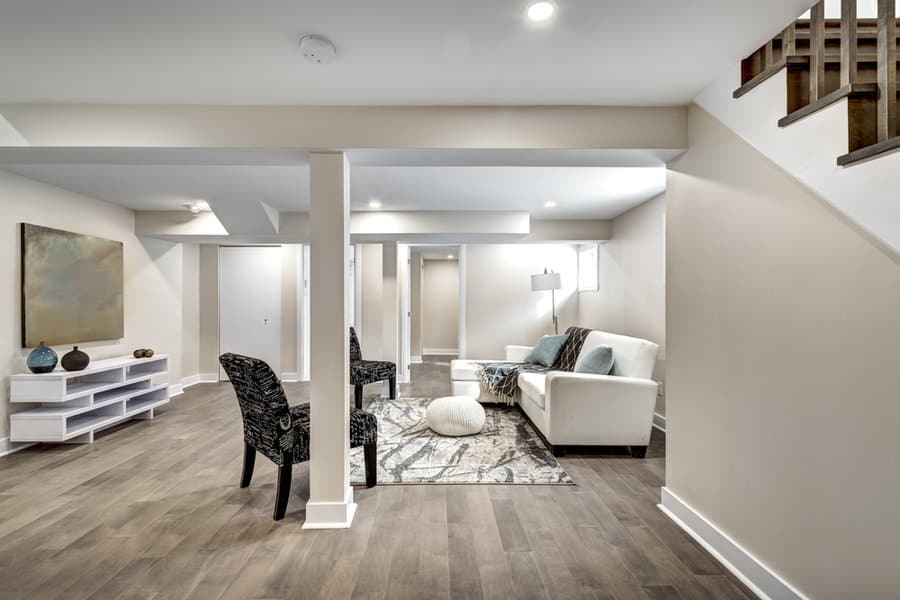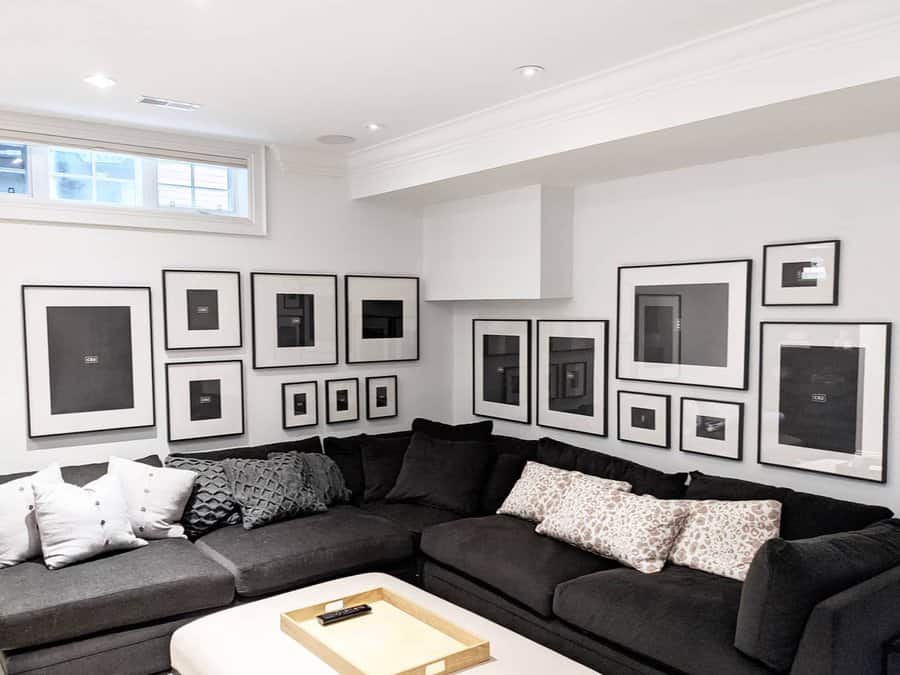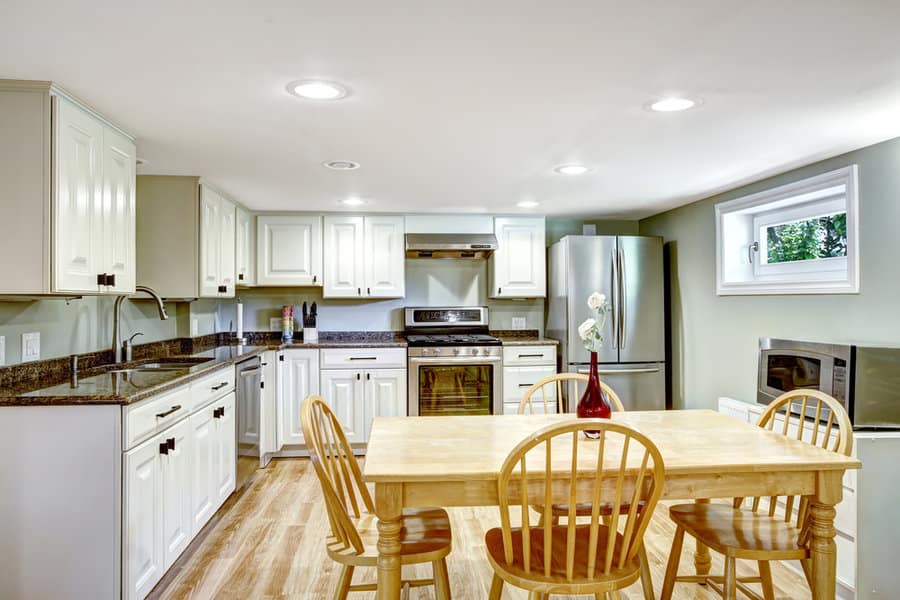 3. Basement Bar Pendant Lighting
When it comes to lighting up your basement, get creative! One way to add visual interest and style is with a basement bar pendant light. Imagine having an industrial-style vintage lamp hanging over the bar area to create an inviting atmosphere.
You can find these types of lights in different shapes and sizes online or at the local hardware store. When setting the mood in your basement, consider mixing styles and materials for a fun eclectic look that will make all your friends envy your design sense.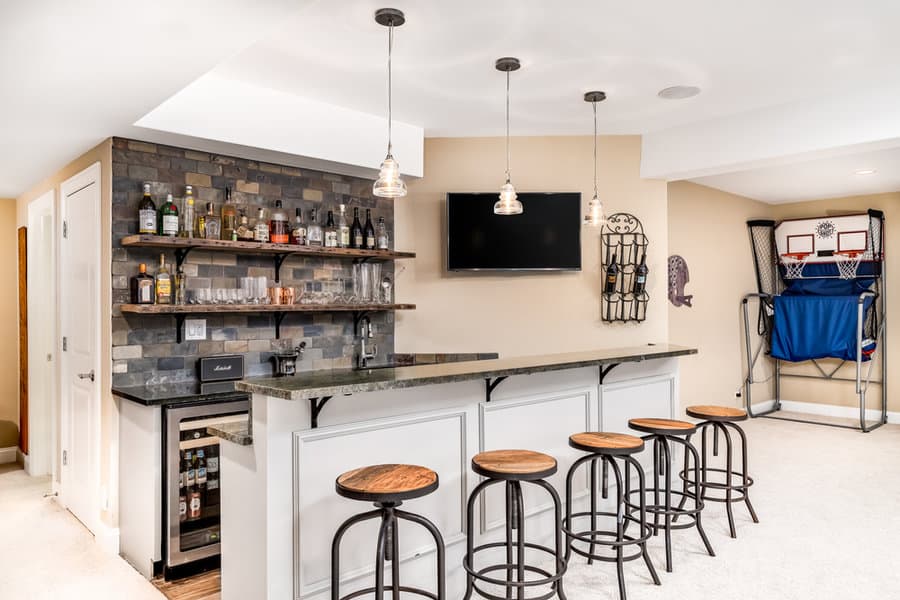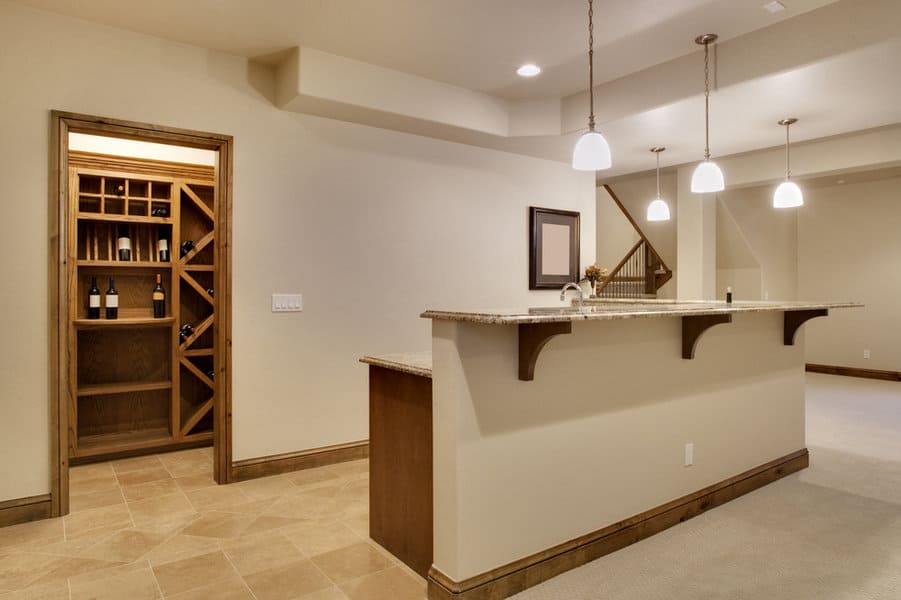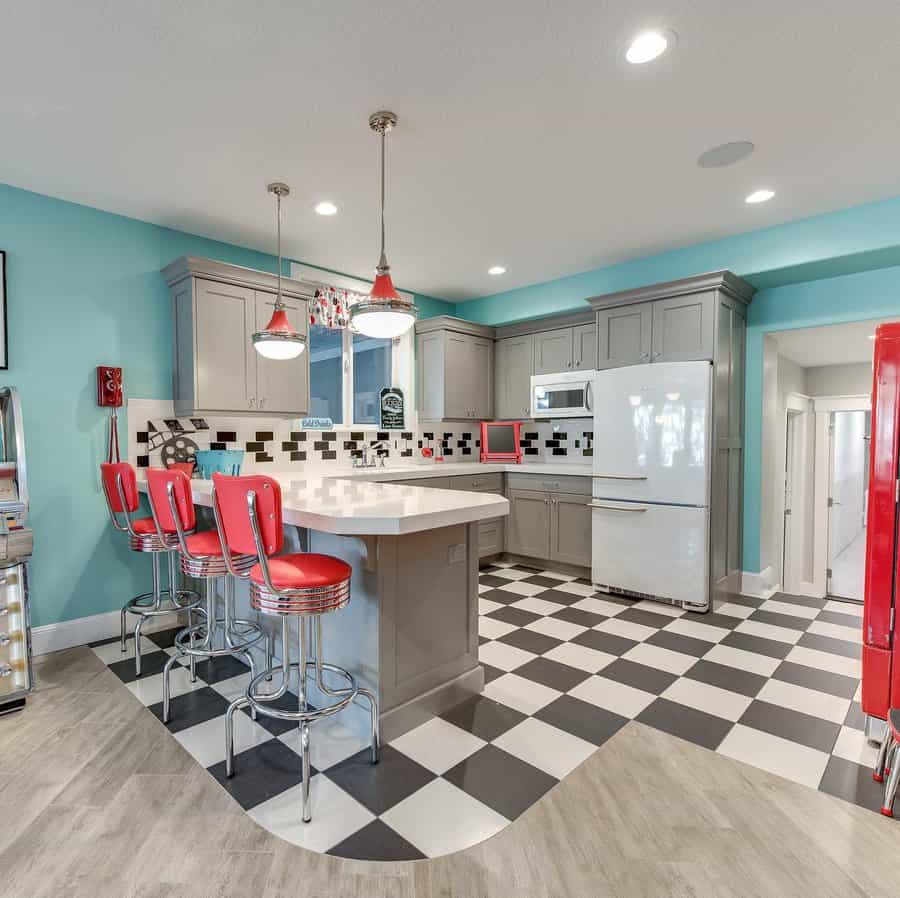 4. Guest Room Bedside Lamp
Creating basement lighting ideas can often feel like a tricky task, but it doesn't have to be complicated. Explore your options from wall sconces or desk lamps for a study corner to a cozy guest room bedside lamp.
Bringing in the right amount of light will ensure the space is enjoyable and inviting while giving you more flexibility and even the possibility of emphasizing certain accents or features within the area. With the right touch, you can create a unique atmosphere with extraordinary lighting ideas for your basement.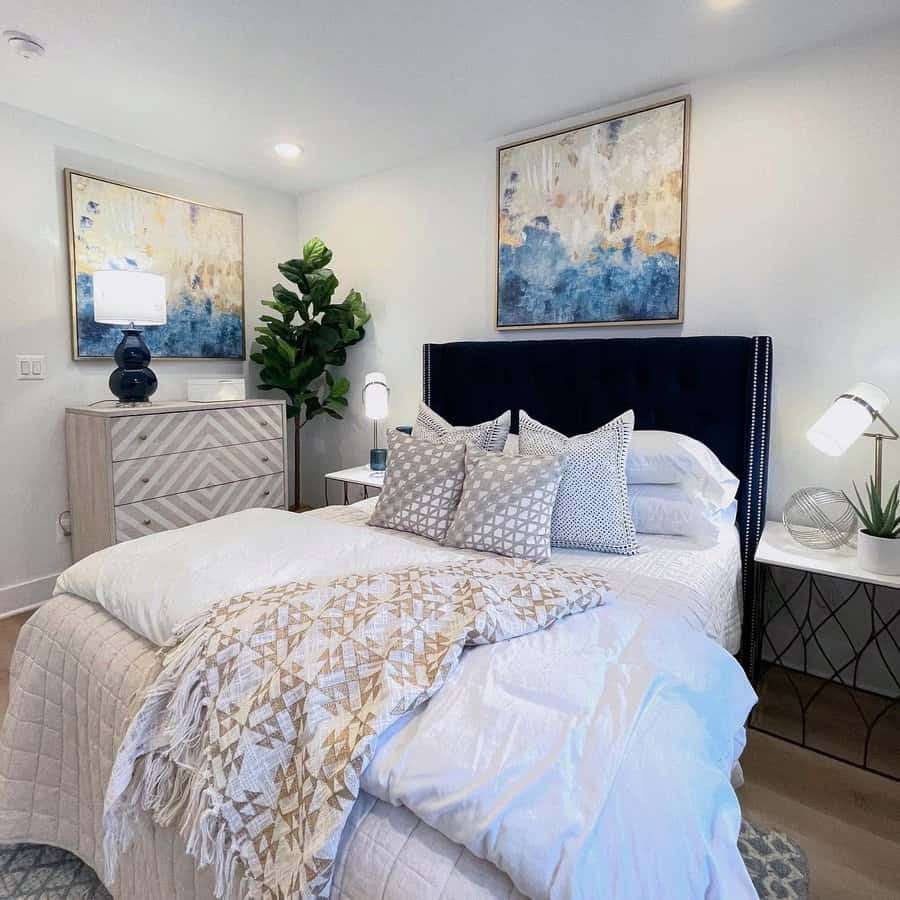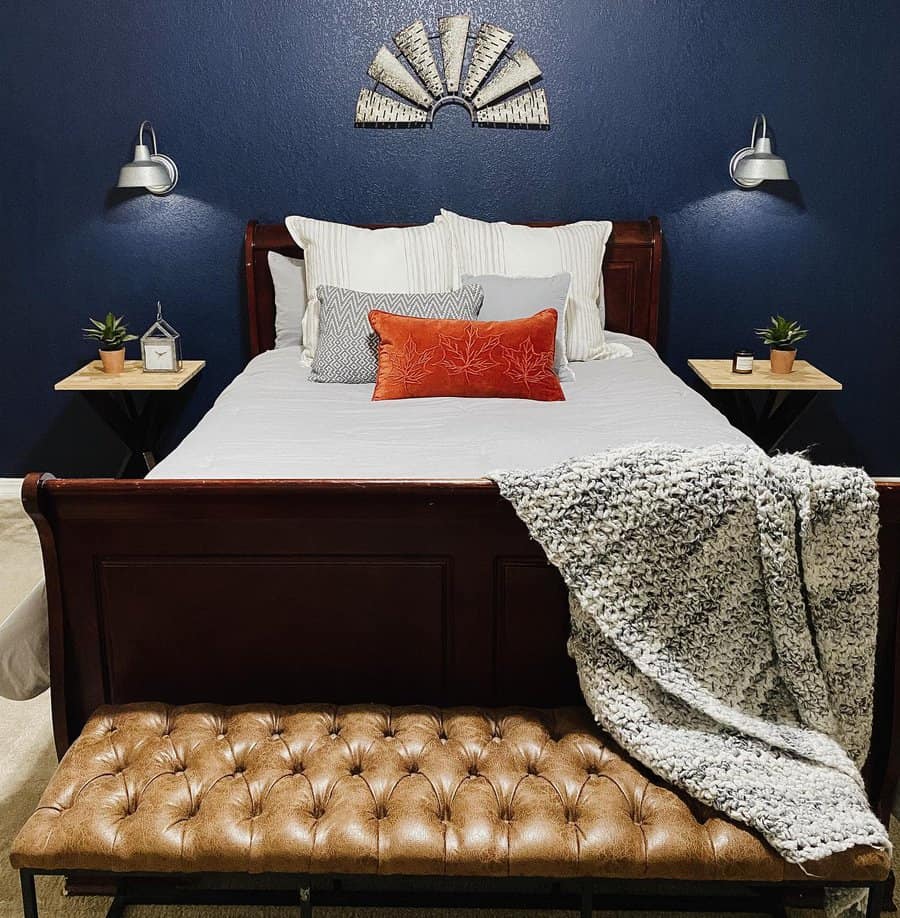 5. Japanese Paper Lampshade
Brightening up a basement can be a challenge, and figuring out the ideal lighting is often a daunting task. If you are looking for something unique, consider installing a Japanese paper lampshade – they make every space look cozy and inviting. Not only do they provide elegant illumination, but they also add a zen-like element to the area.
The result is a mesmerizing atmosphere that can instantly relax you and your guests. Whether it's painting the walls in bright colors or adding unique lighting fixtures, it's easy to create an inviting atmosphere with the right basement lighting ideas.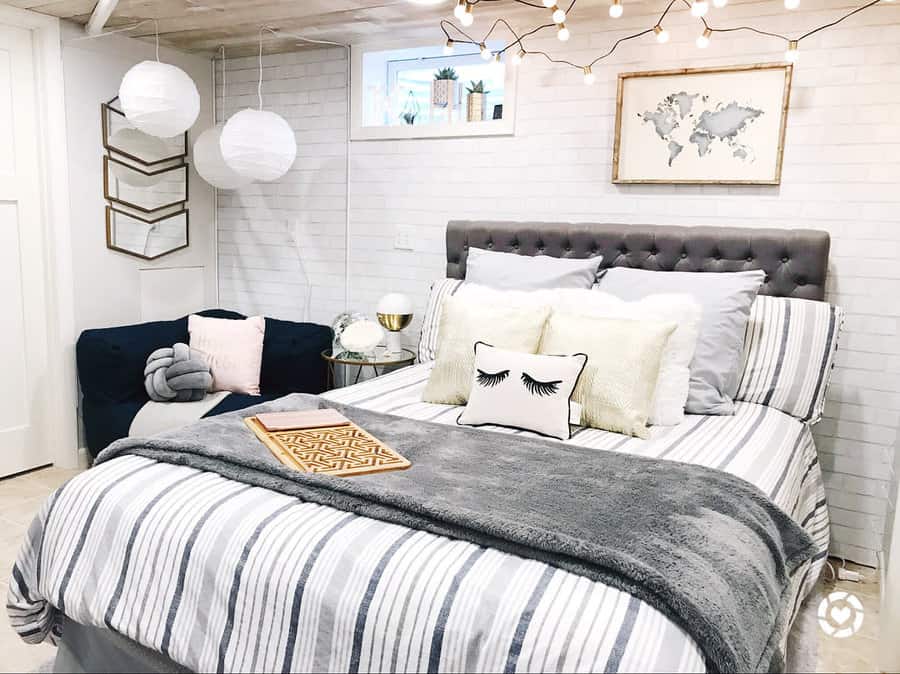 6. LED Strips
When it comes to basement lighting ideas, you don't have to be an interior designer to come up with something truly creative. For instance, why not use green LED strips running along the stairs or warm light along the recessed ceiling?
Not only will this provide a safe passage throughout your basement, but you'll also create a unique atmosphere that could get all your guests talking. The great thing about LED lights is that they can subtly light up the stairwell or ceiling without being too overwhelming.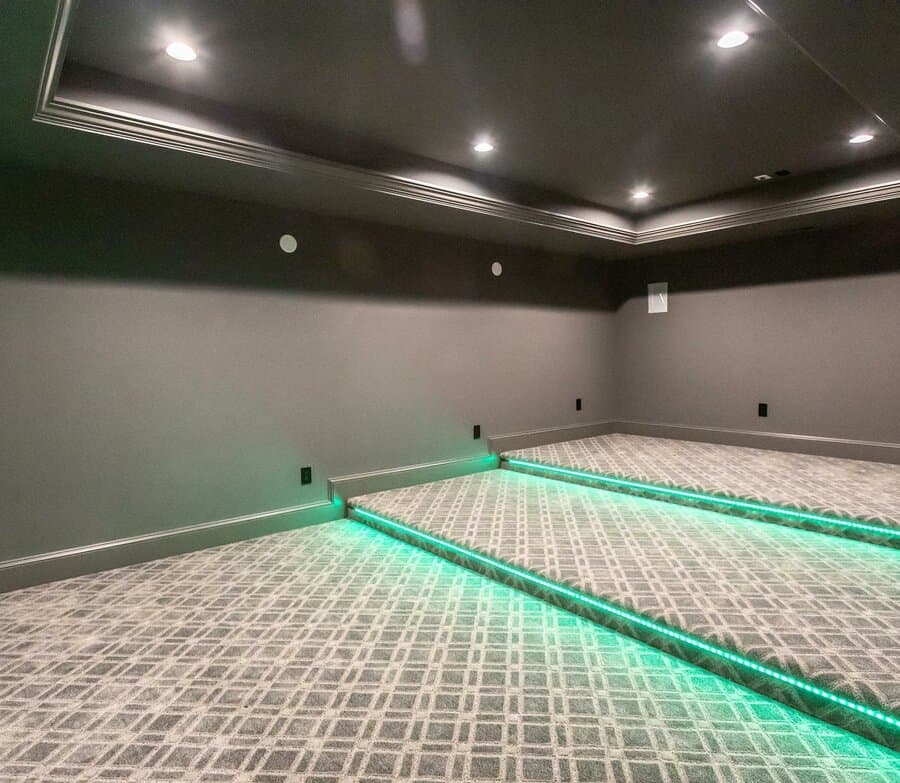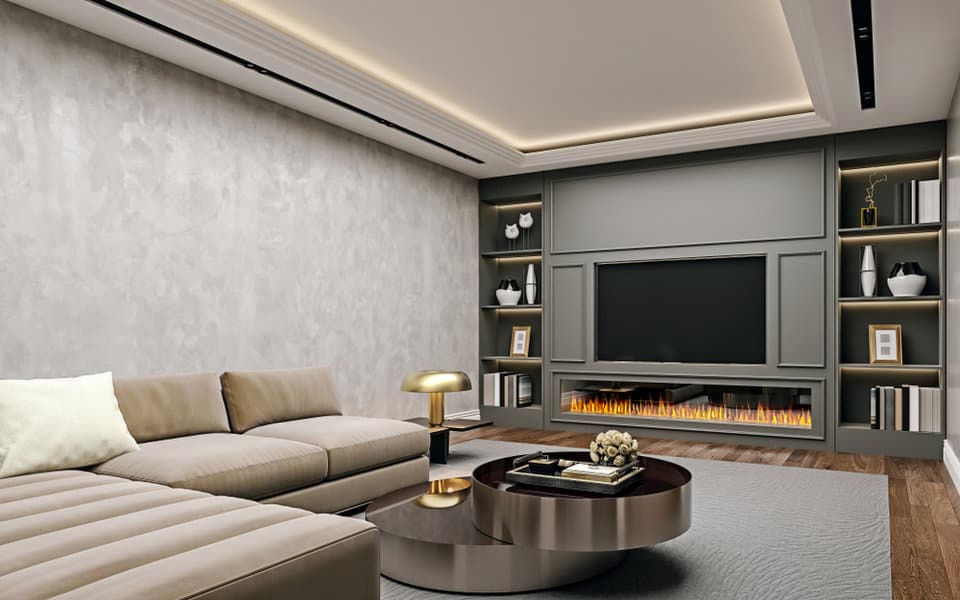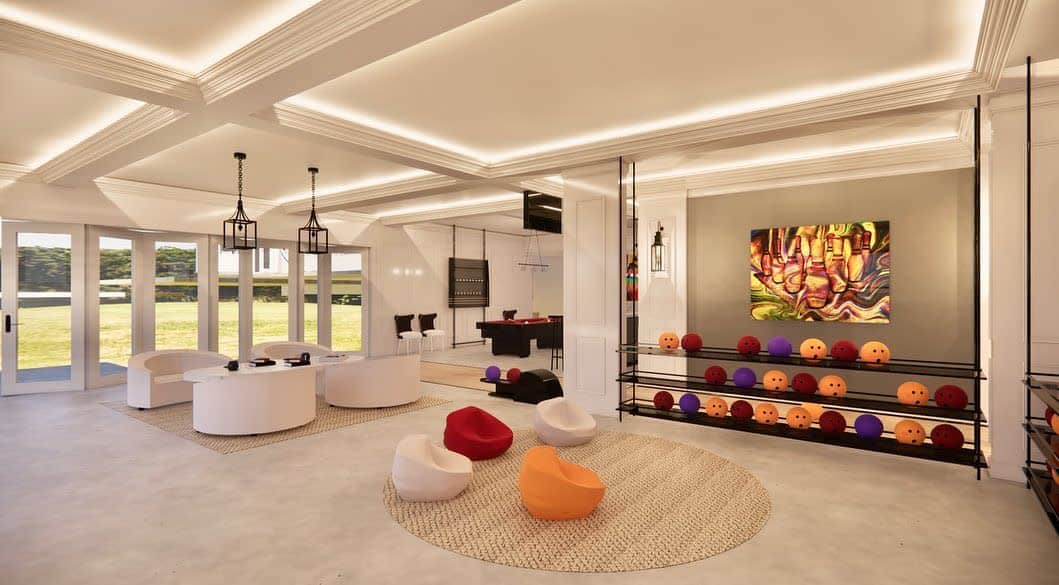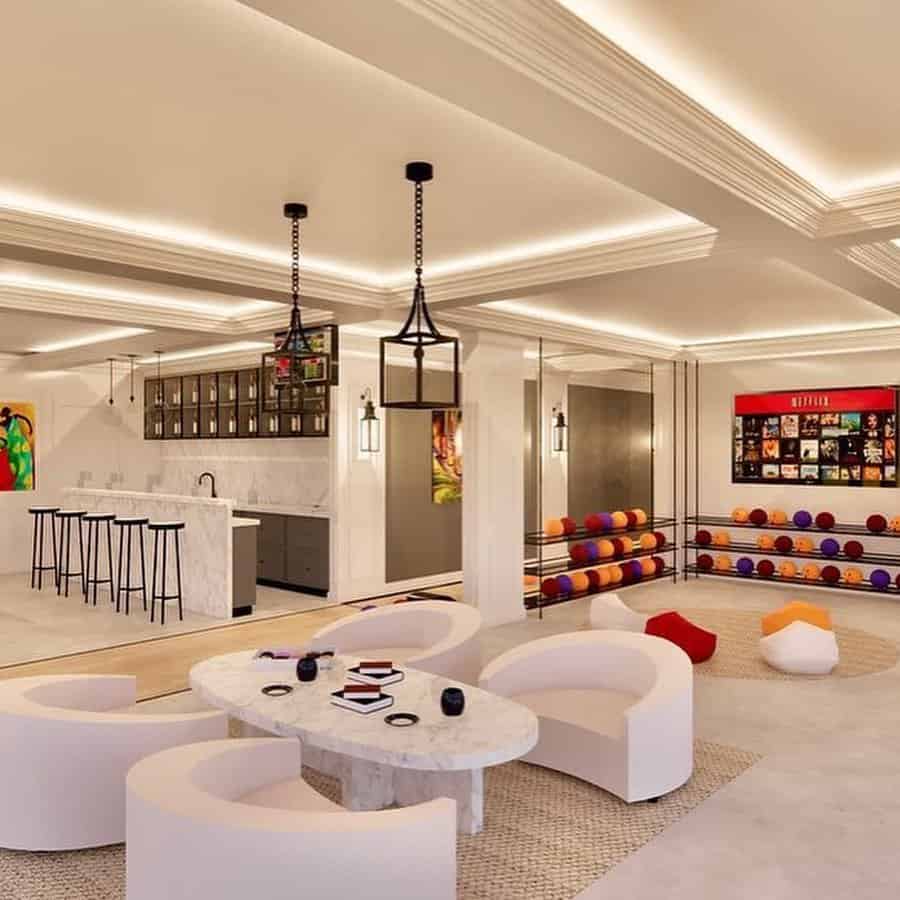 7. Wrap-Around Lights
When it comes to lighting a basement, there are some creative options that can add style and pizzazz to the room. Wrap-around lights are an especially striking choice – running along countertops, desks, and other areas, they provide warm and inviting illumination.
Another popular look is industrial style lighting – not only does this type of lighting provide function but also a chic vibe with its metal accents. With some innovative ideas and a little bit of planning, upgrading your basement lighting can take the space from dull to dynamic!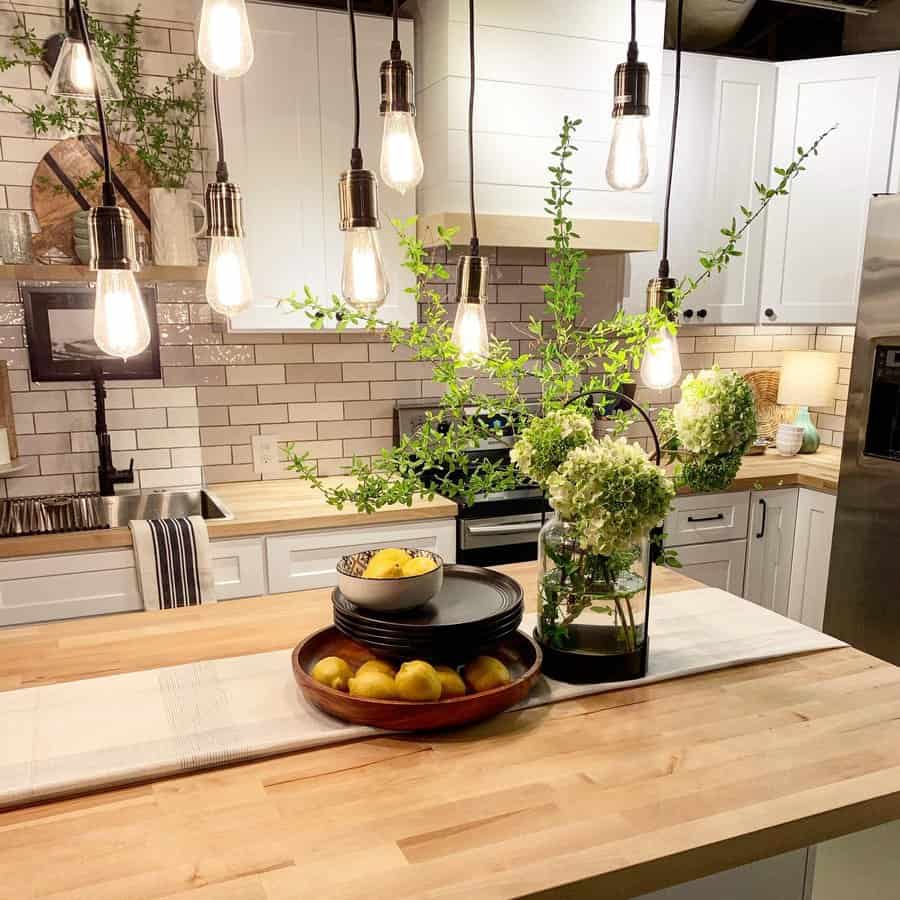 8. Globe Pendant Chandelier
Lighting your basement can lend a modern look to the room that you may have not expected. Consider adding a globe pendant chandelier for a glamorous touch to your space.
The bright illumination will instantly bring life and warmth to the room, all while creating cozy gathering spaces for friends and family alike. Another option is layering lighting with wall sconces on either side of windows or artwork, as well as having task lights around built-in shelving and seating areas that provide ambiance while also providing excellent illumination.
Finally, using dimmers with all these different light sources can help you personalize the atmosphere in the basement so no matter what occasion arises, you'll always have just the right amount of light.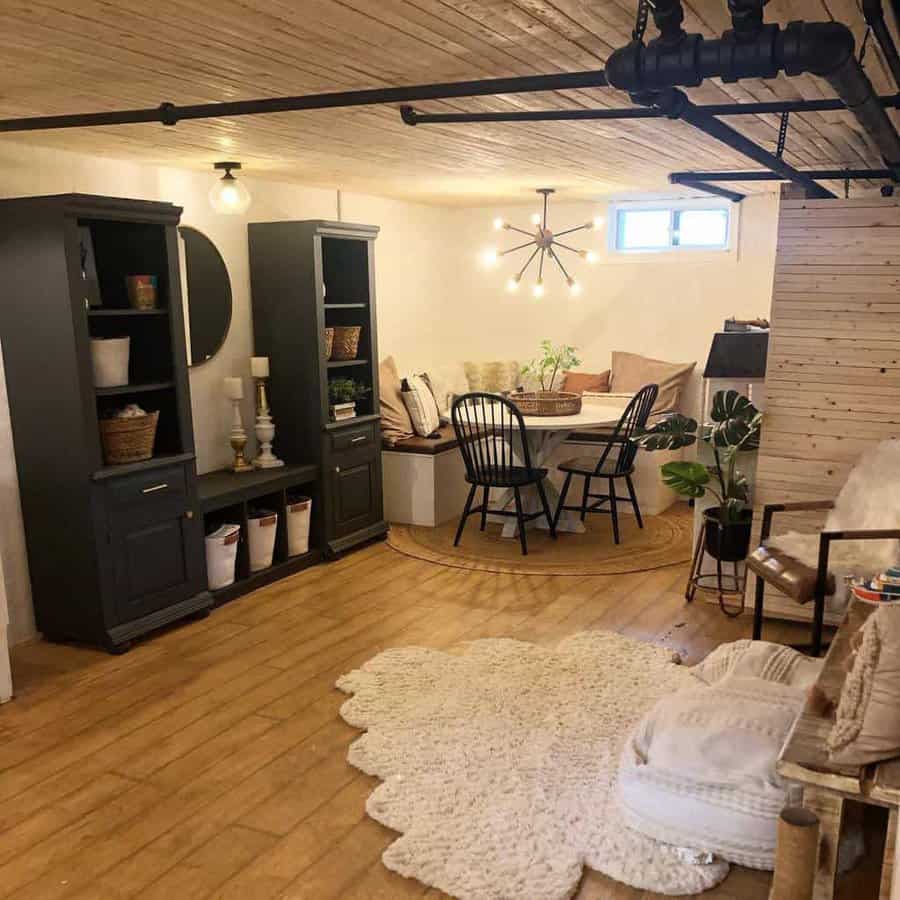 9. Surface Mounted Downlight
Looking to give your basement a dramatic ambiance? Surface-mounted downlight lighting is the perfect way to add an elegant look and feel to this often-forgotten room. Install warm-tone lights for a cozy atmosphere or go for something brighter for more of a modern look.
Additionally, consider installing lamp posts, sconces, and other types of wall lighting fixtures to finish off the perfect homey yet sophisticated environment in your basement.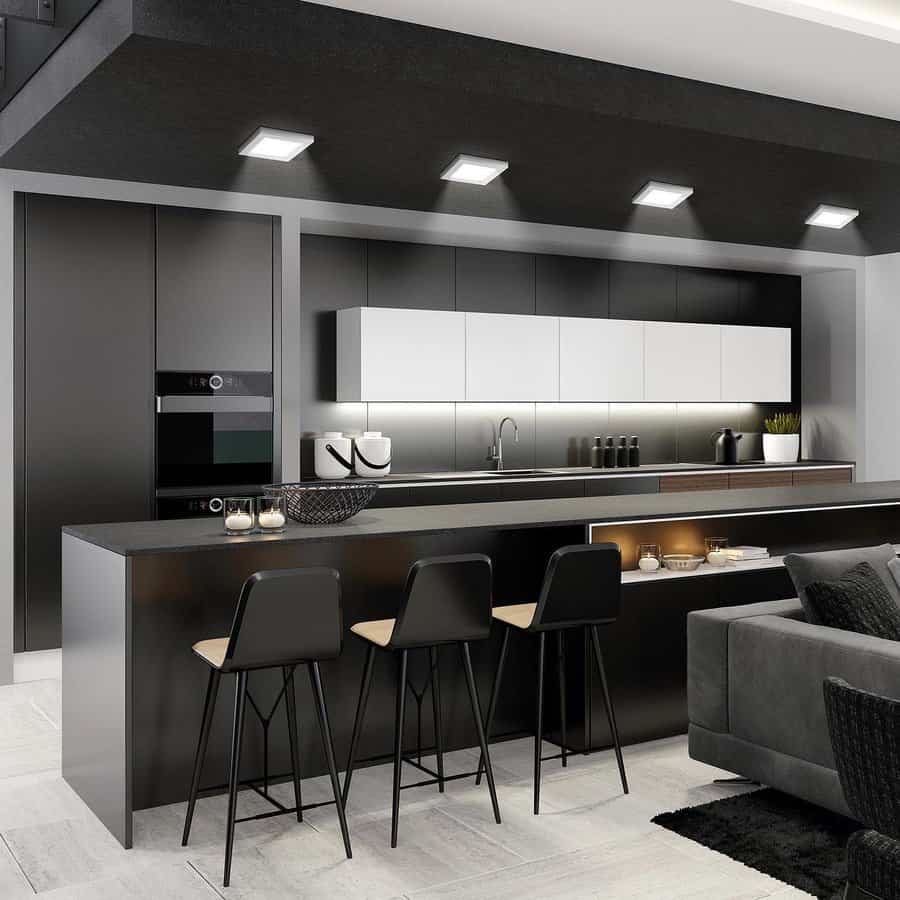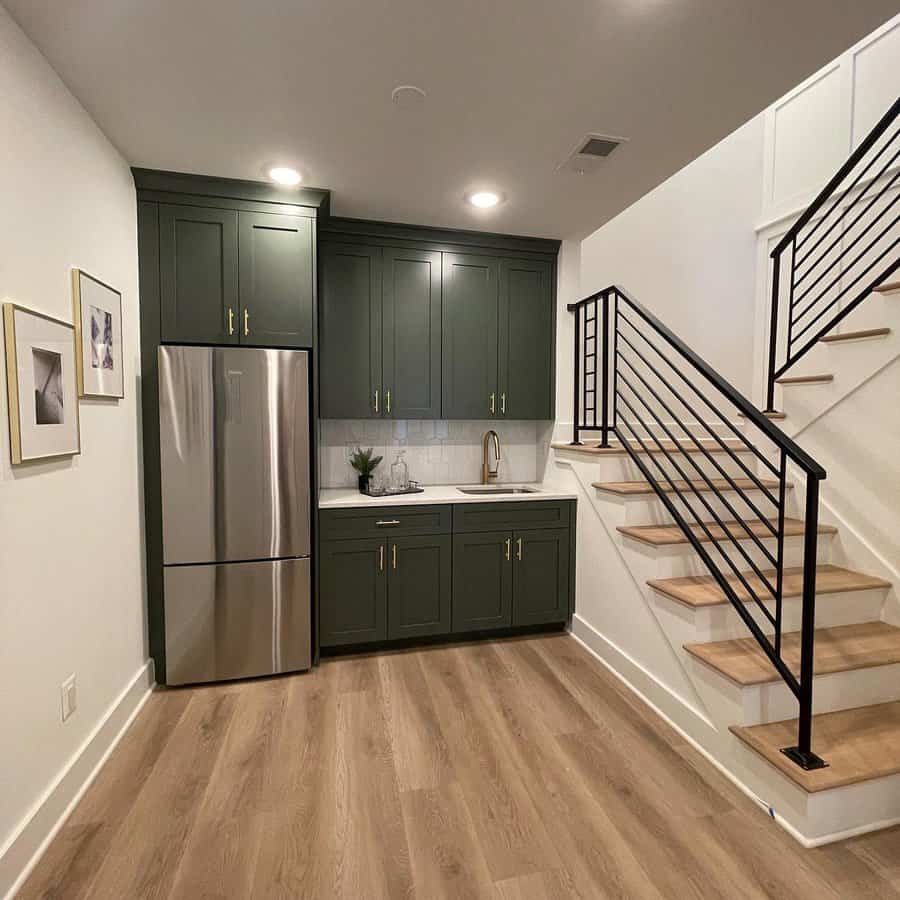 10. Ceiling Lamp
With a basement living room renovation comes the daunting task of deciding on the right lighting. One creative option is to install a suspended ceiling lamp that hangs down like an oversized list lampshade – it will create a unique atmosphere while adding interest to the room's design. Plus, adjustable LED strips can be placed behind furniture or around art pieces for some highlight drama.
For mood setting, use a variety of overhead lighting options: from wall-mounted sconces, pendant lights, or chandeliers; there are lots of different ways to transform your basement space into somewhere warm and inviting – all with the perfect touch of light.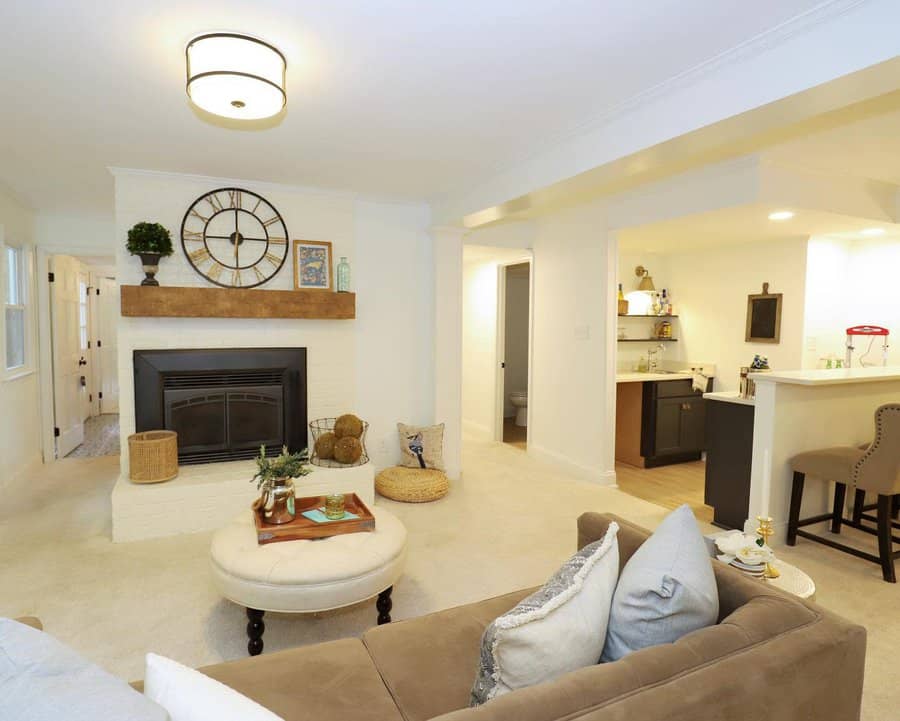 11. Multiple Recessed Lights
Looking to give your basement a new glow? With the right light fixtures, you can take your basement from drab to fab in no time!
A great way to instantly light up the room is by using multiple recessed lights. This will provide ample illumination as well as a modern, monochromatic visual that brings out the subtle style of any space. Being able to adjust individual lights further allows for flexibility and personalization for everyone's different lighting needs.
Whether it be for family movie nights or simply work-related activities, basement lighting ideas like these can help create an enjoyable atmosphere that set the tone for any event.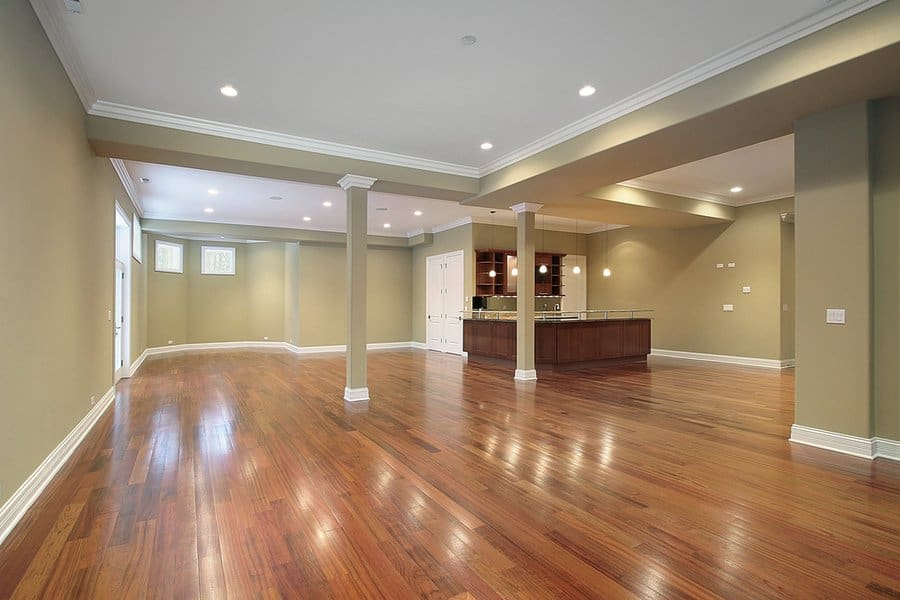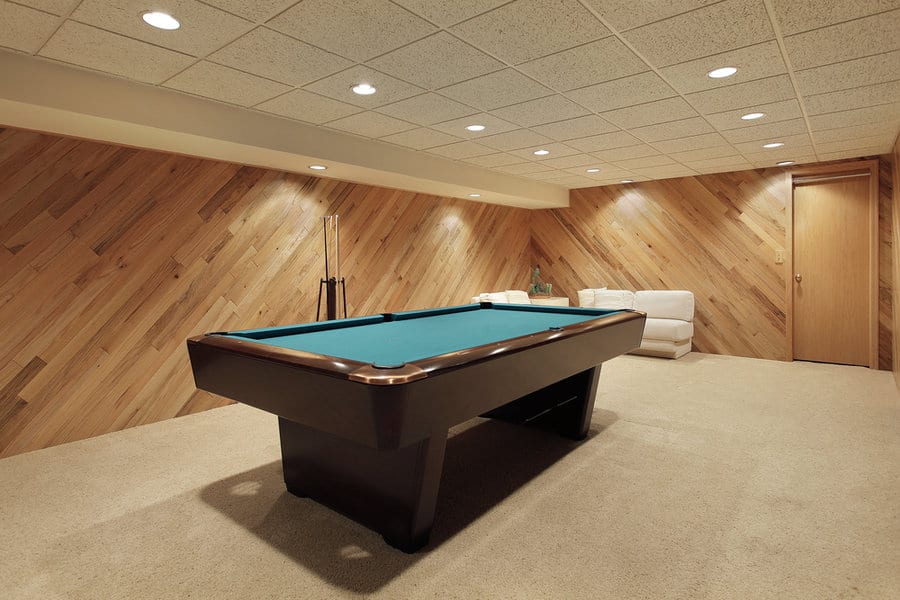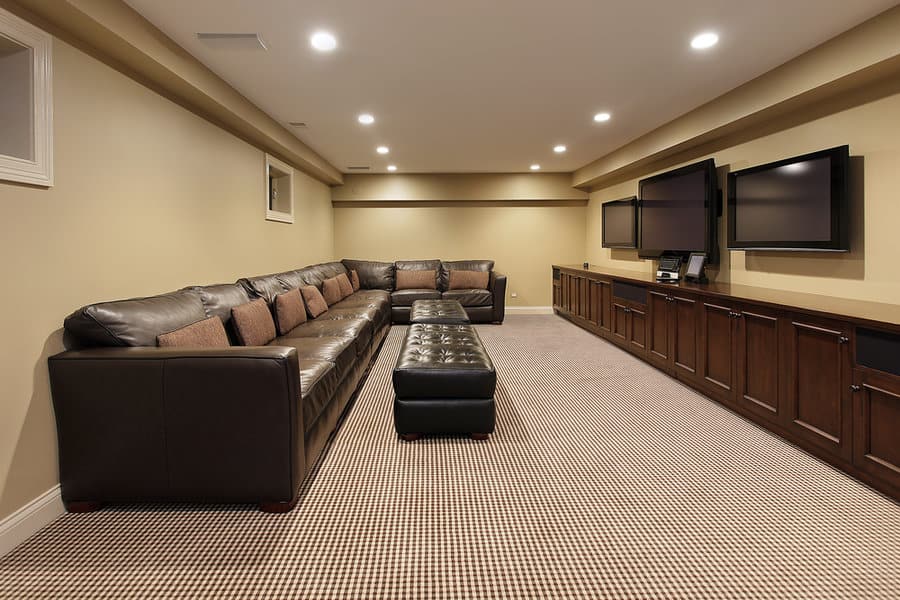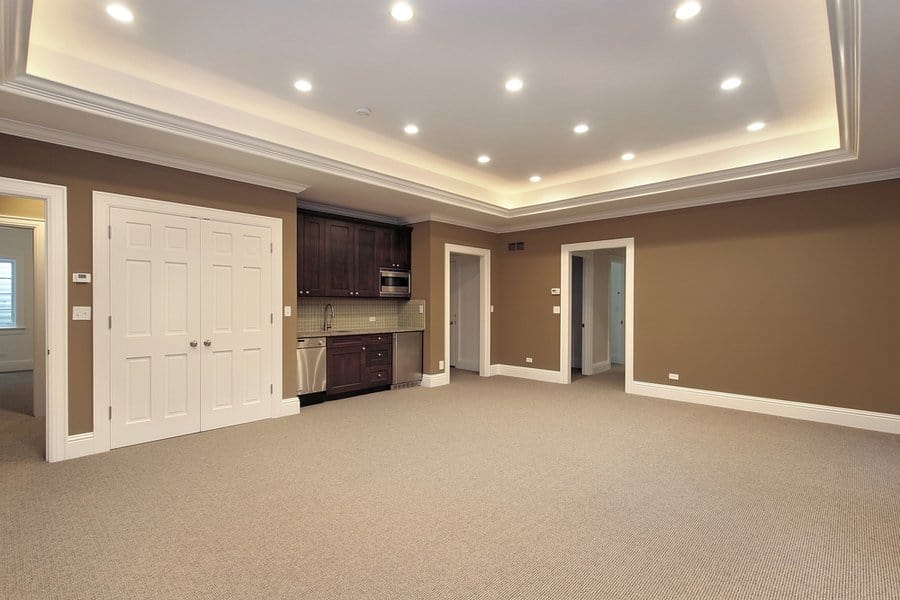 12. Modern Black Fixtures
One excellent basement lighting idea is to install modern-style black light fixtures, contrasted against a white ceiling. This provides a sharp contrast that gives the space an edgier vibe, which helps make the basement more modern and polished.
Not only does it look stylish and fashionable; but it's also functional in helping to shed light on a dark area. Illuminated with this kind of sleek black lighting, you're guaranteed that your basement will never feel dark or dingy again!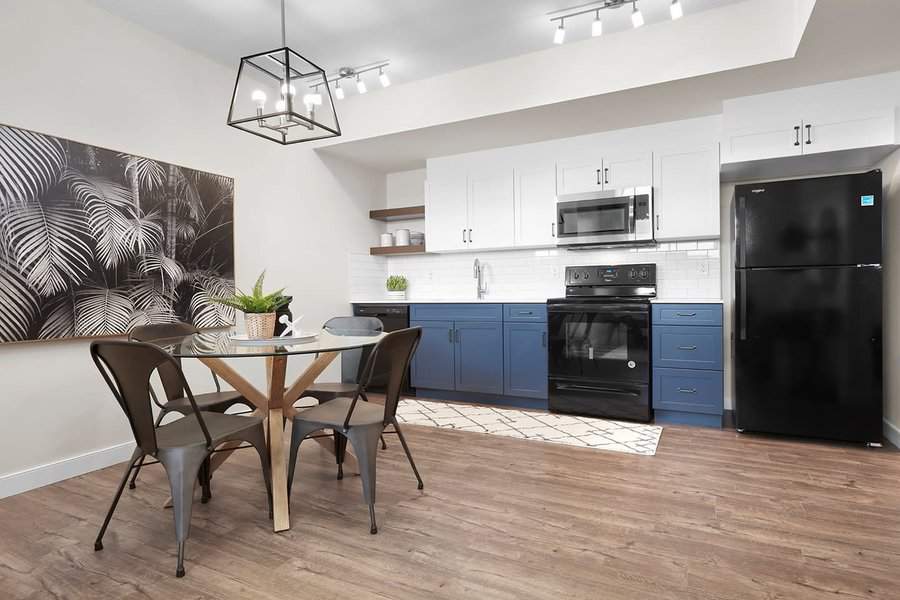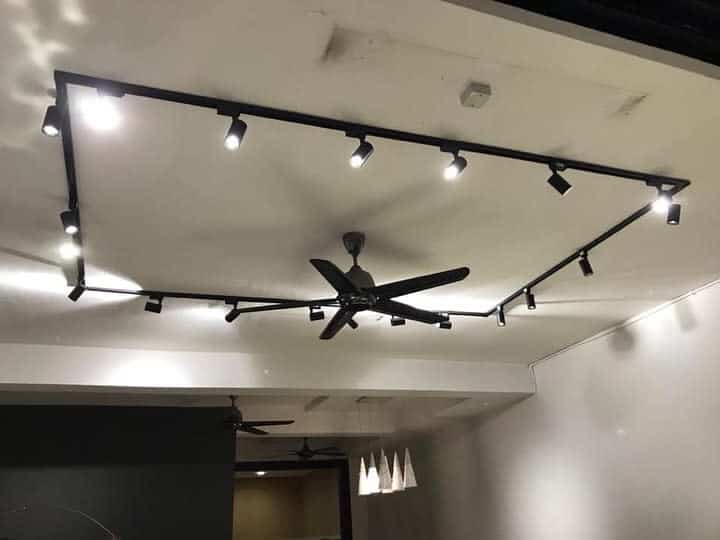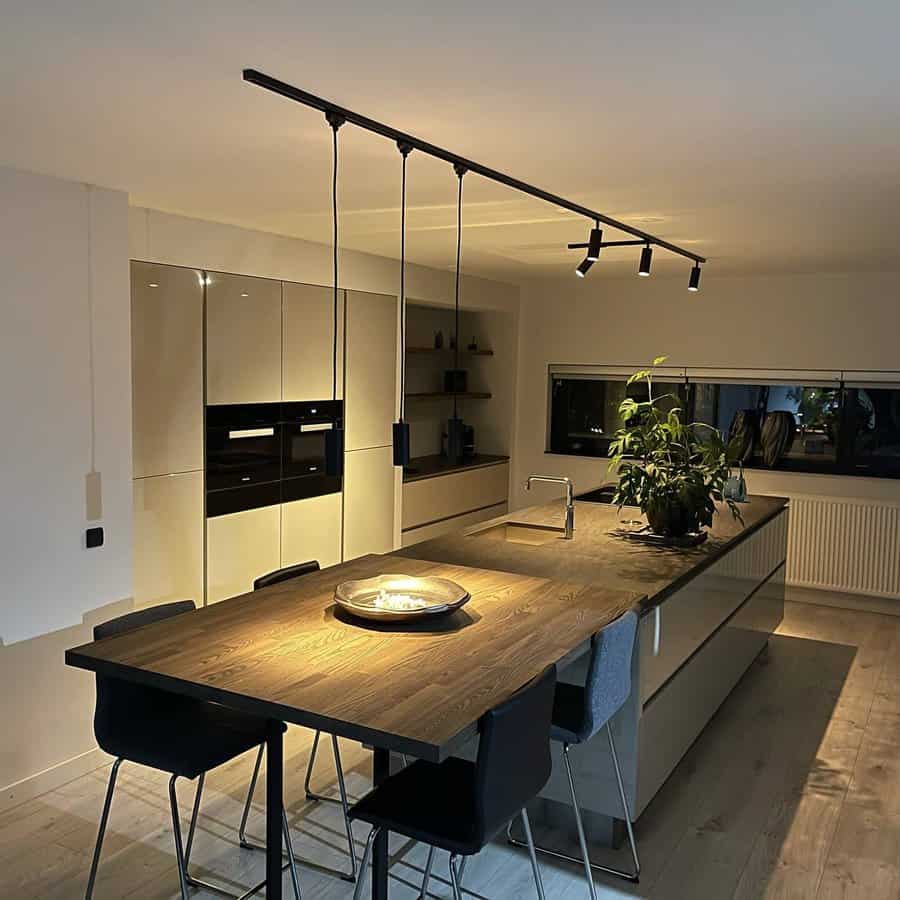 13. Lighting With Ceiling Beams
Transform your basement into a cozy and inviting space by incorporating creative lighting into your design. Using ceiling beams as the foundation for your lighting plan will dramatically diffuse the light to the whole room.
If you want to make a statement, consider using dimmer switches with floor lamps stylishly placed around the edge of the room. And if you really want to add an extra touch of class, opt for pendant fixtures that include Edison bulbs and cast warm pinkish-gold light across the room.
By adding these subtle touches of illumination throughout your basement, you can create an inviting atmosphere perfect for entertaining guests or just relaxing after a long day!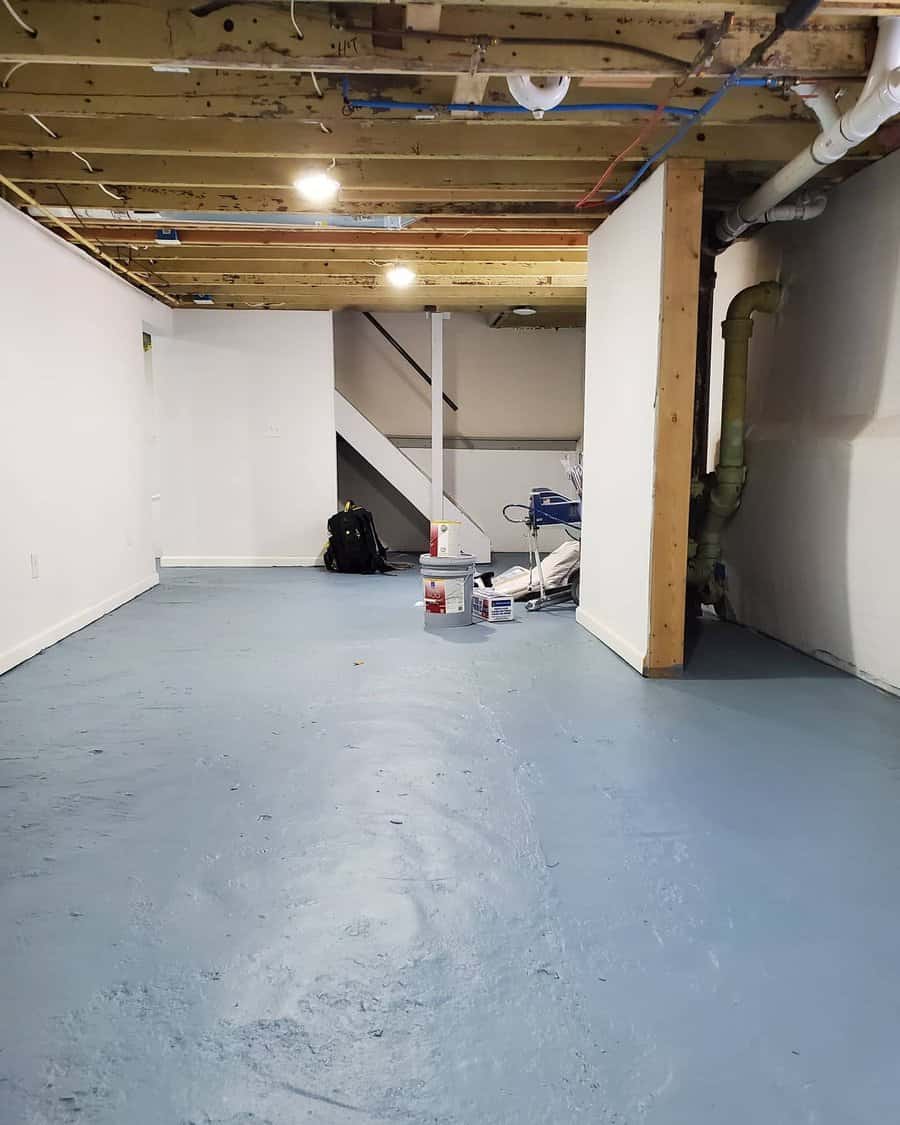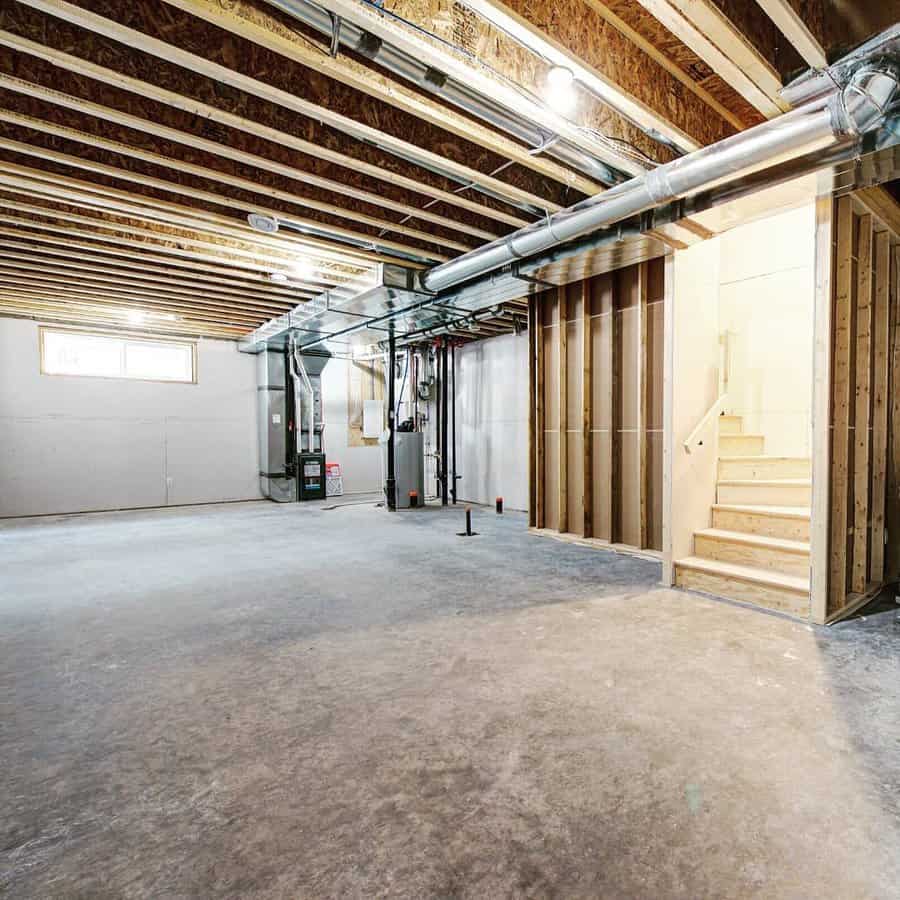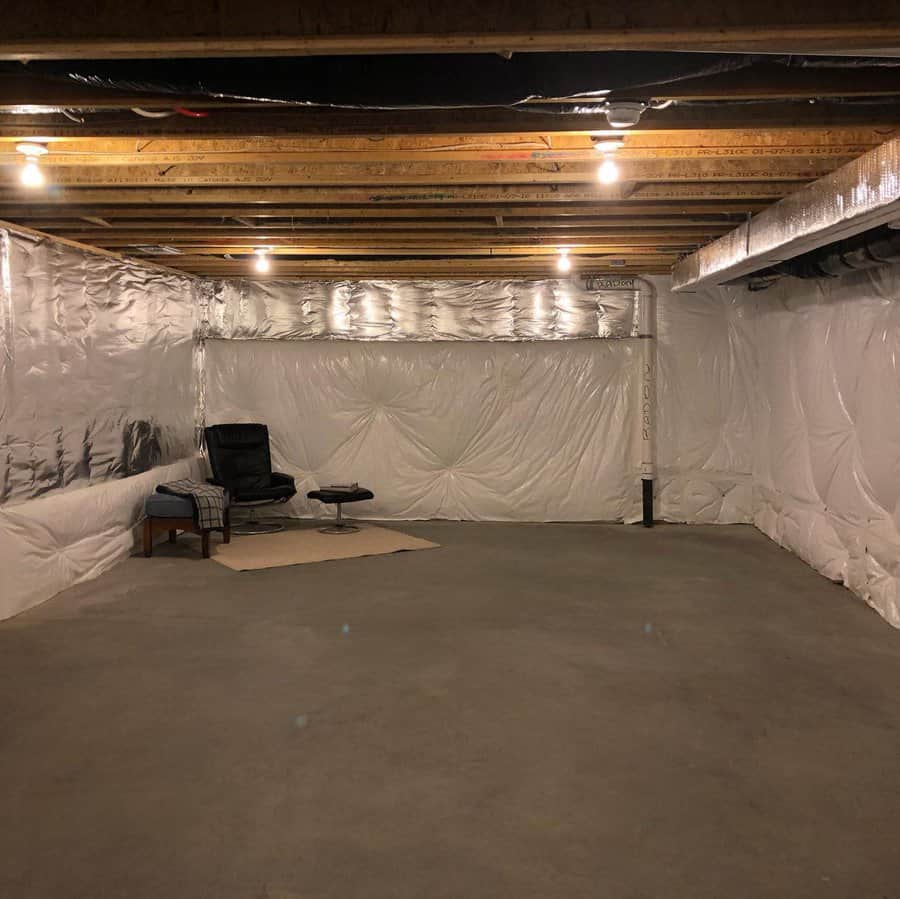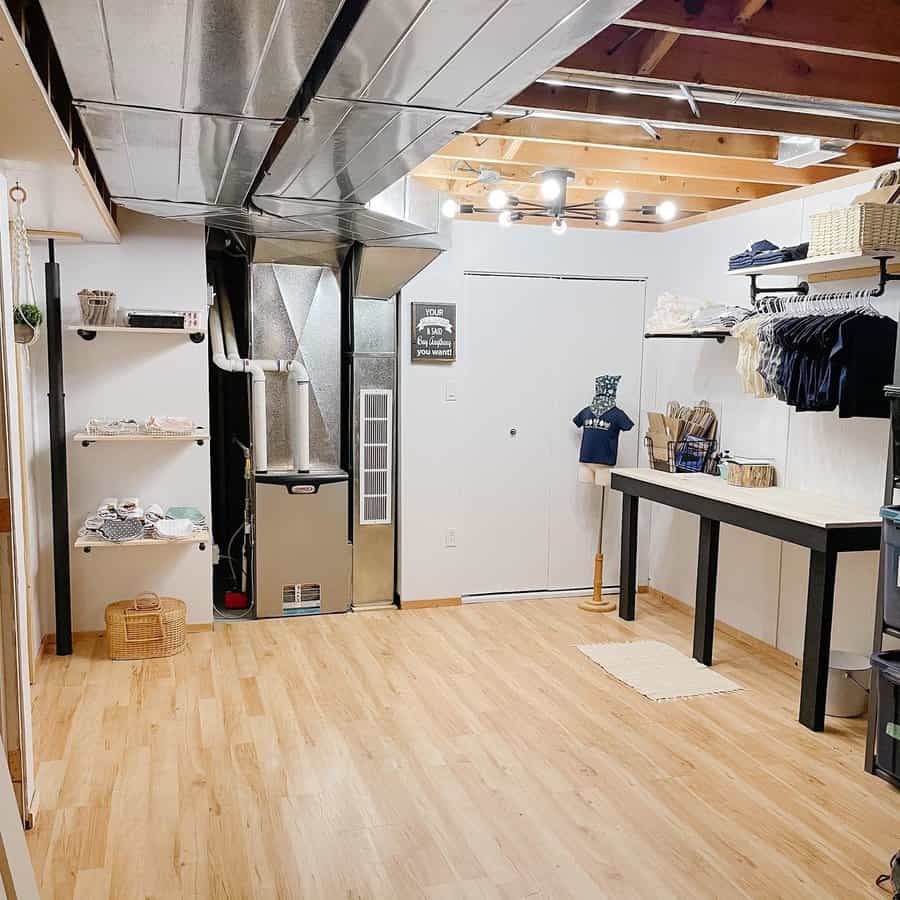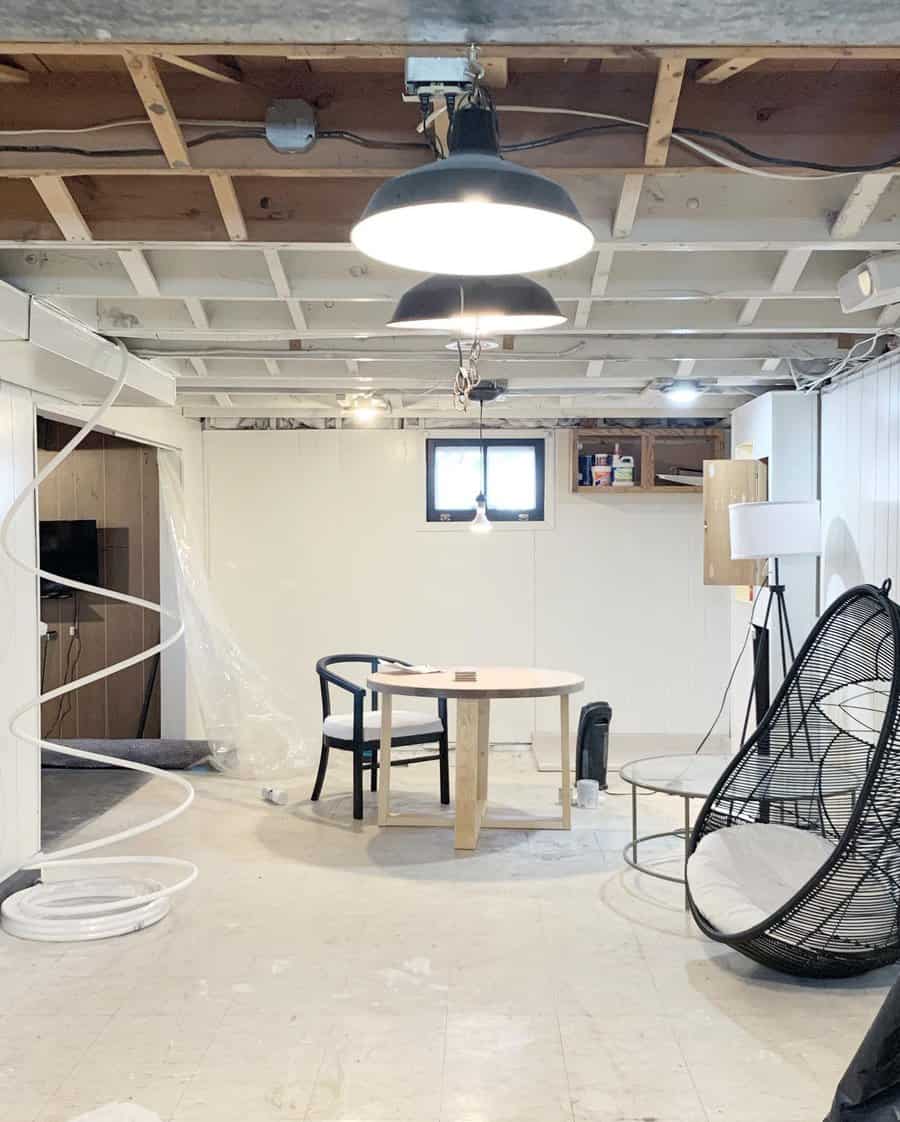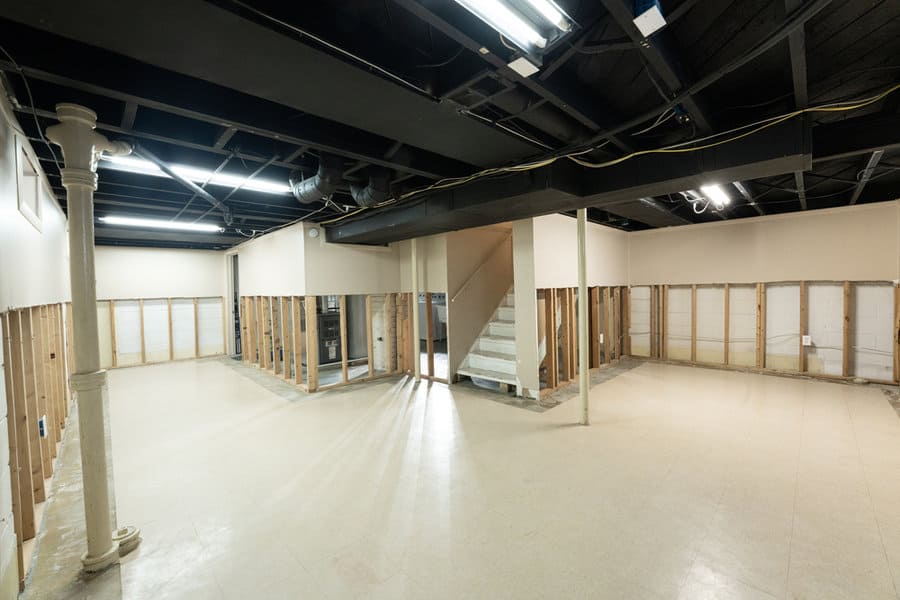 Basement Lighting FAQs
How do you light up a dark basement?
Adding light fixtures is the logical first step in increasing a dark basement's brightness. Other ways to make the basement feel brighter include:
Painting the walls a light color.

Hanging mirrors and adding other reflective surfaces.

Investing in a basement renovation that adds more windows and raises the ceiling.

Increase the number of lamps and ambient lighting in the space.
What kind of lights go in a drop ceiling?
Usually, recessed light fixtures work best in a drop ceiling. These recessed ceiling light fixtures may use fluorescent bulbs or LED bulbs.