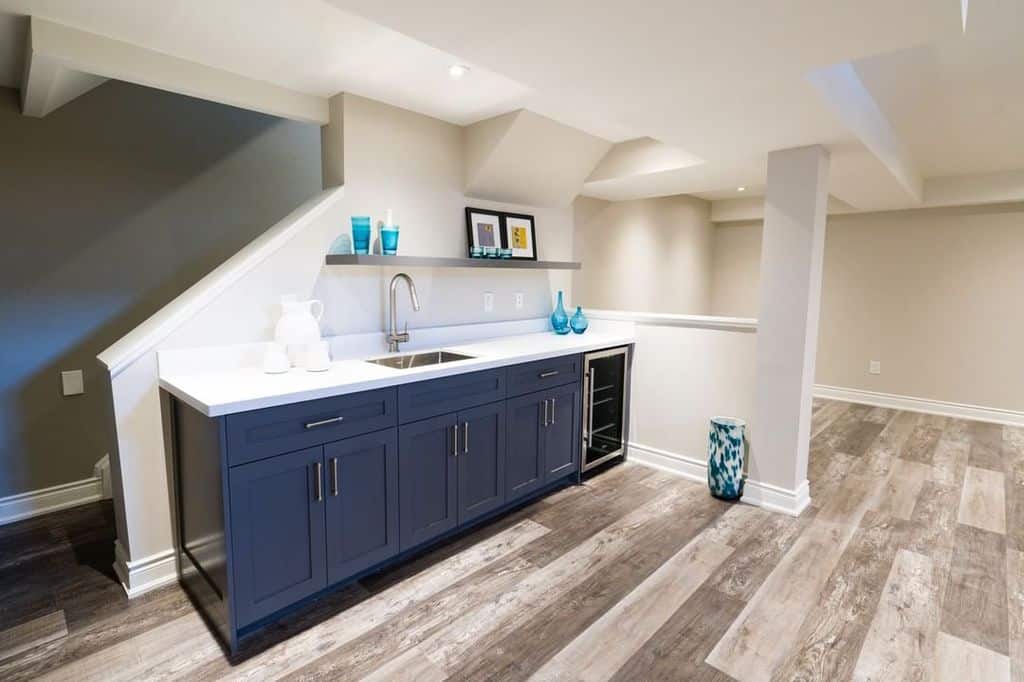 45 Basement Storage Ideas
Storage never seems to be enough! Garage and basements are number one options for storage; that's normally where we end up storing bulky items and everything else we don't use much, to take them out of the way and out of sight!
Sports gear, off-season clothing, camping equipment, tools, Christmas and Halloween decorations, and precious memorabilia, all tend to be kept in either garage or basements in most houses.
So, any precious storage space deserves thorough planning, otherwise you'll feel you are only moving clutter from one room to the other. Before simply piling up stuff, take the time to give it a good thought-through, if you don't want to end up with a cramped and cluttered space, just the same.
In this post, we are sharing some clever basement storage ideas, for you to get rid of the clutter once and for all.
1. Apartment
Do not neglect any storage space. If you have a kitchen or wet bar in your basement, fill them up with cabinetry. Upper and lower cabinets, plenty of drawers, and shelving, you will see that every inch is useful when it comes to storage.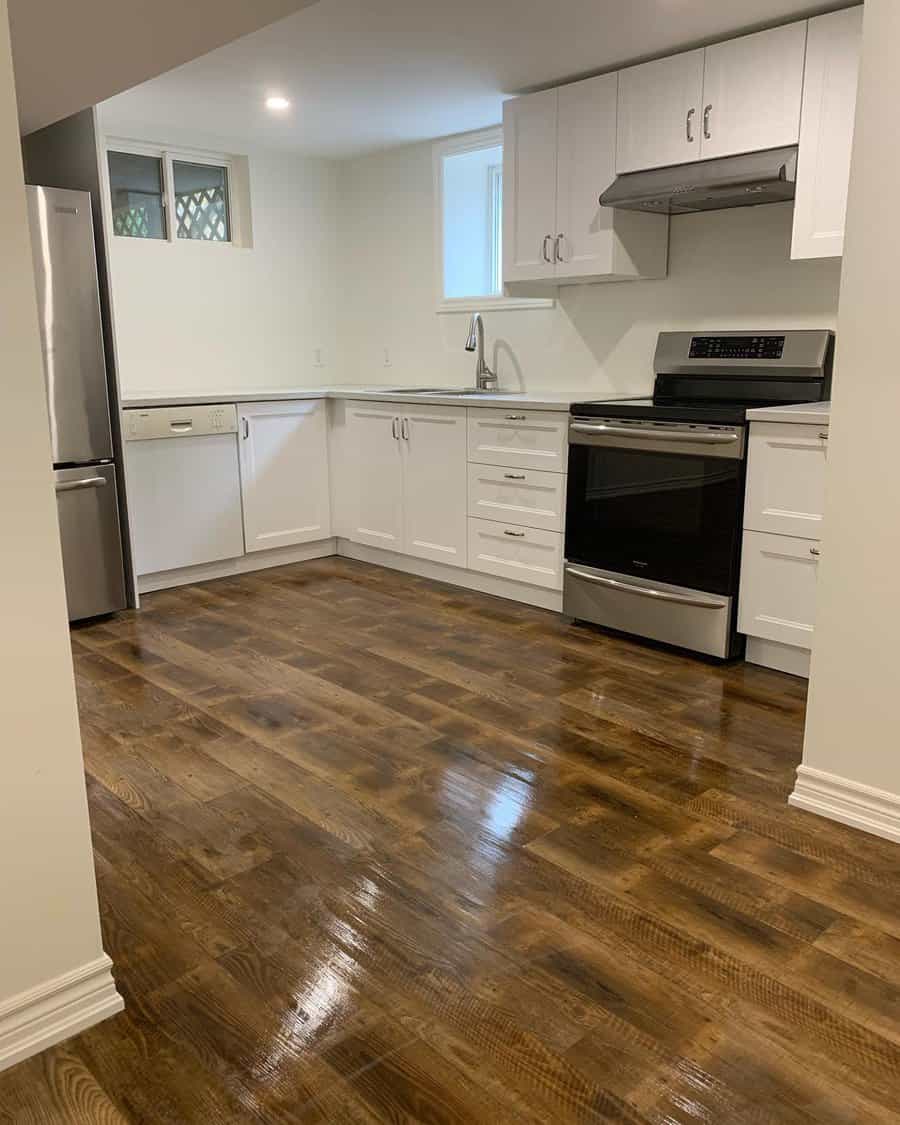 2. Cabinet
It is true that cabinetry takes up some space, but it's all worth it; they provide organization, and the room feels bigger when it's uncluttered.
Cabinets in the laundry area can be used to store cleaning supplies and tools, but the space over washer and dryer– or even under – should not be overseen. You can raise your washer and dryer machines to allow for a cozy nook for your pets underneath. Or you can use the space above to install open shelving, for more storage.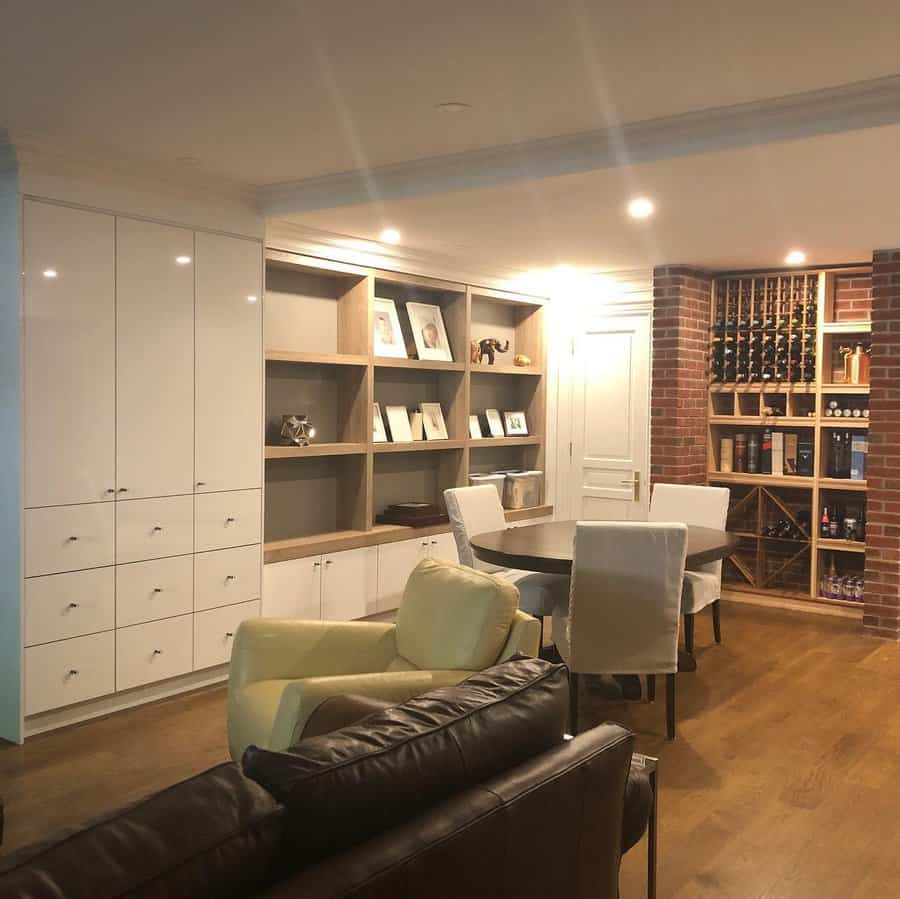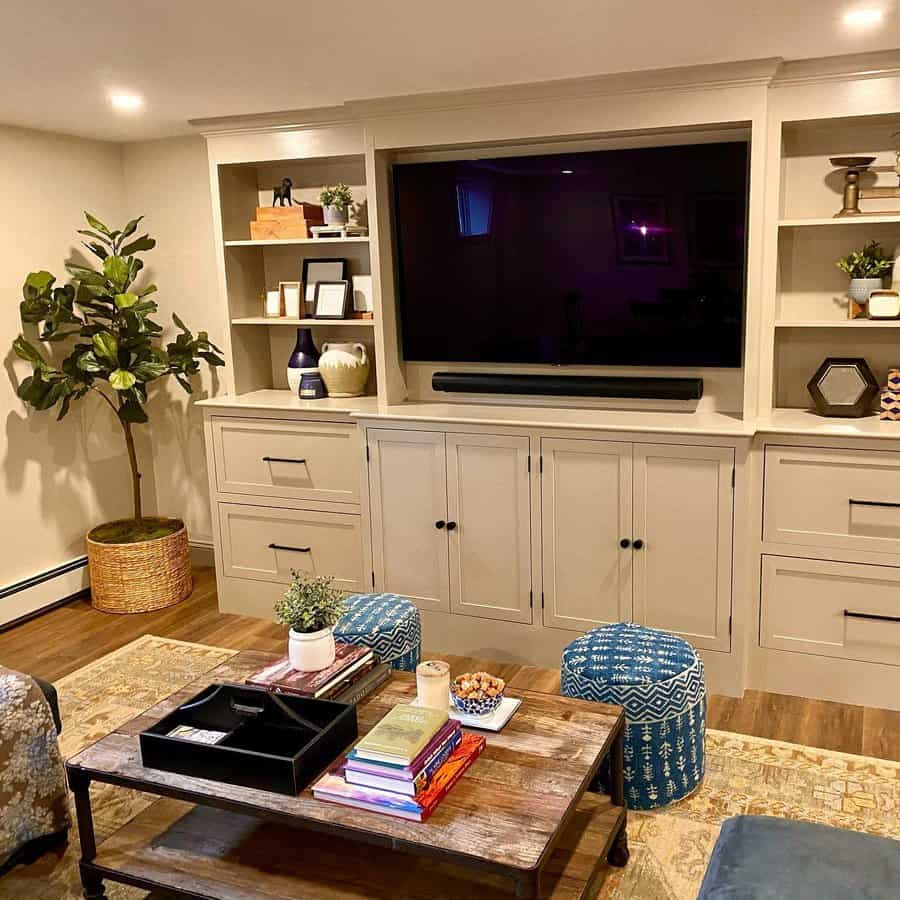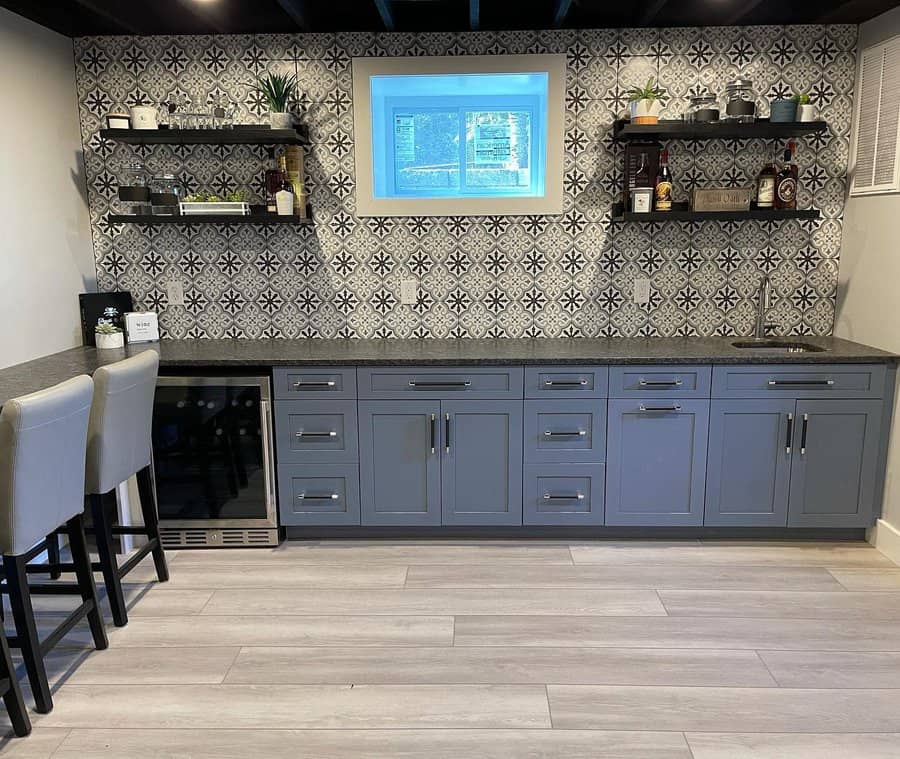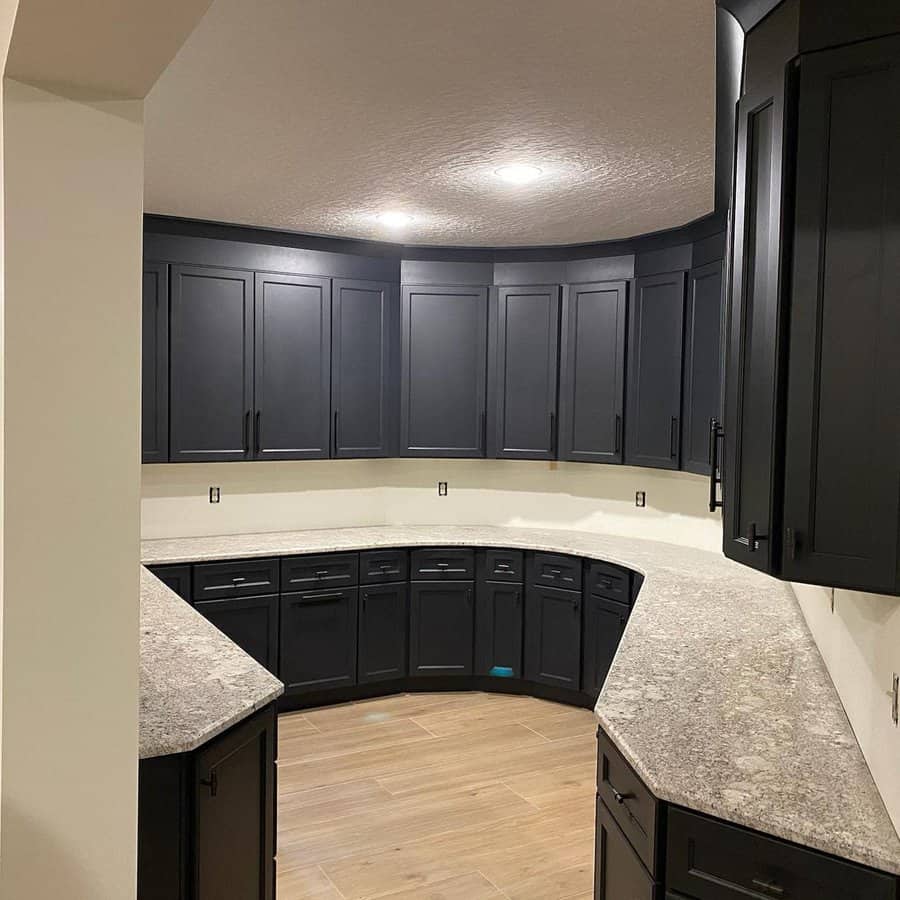 The top of your laundry lower cabinets is ideal for folding and ironing, so avoid keeping cleaning products or dirty laundry on them. Place a laundry hamper near the washer or install a laundry basket cabinet.
Another idea is to install racks for laundry baskets on the walls. Since they are portable, it's easy to carry laundry to and from the bedrooms. Label the baskets for each member of the family, so each person can manage their own laundry and there are no mixed socks or underwear.
If you have a living area in your basement, use this space for storage, as well. Mix cabinets with open shelving and a couple of glass doors, so that there is room to display décor pieces. This brings warmth and personality to the space.
3. DIY
You can take up several DIY projects to make your basement a cozy and functional space. If you have an open floor plan, install room dividers to delineate the space without the need for permits.
Don't oversee potential storage space in the basement walls. Use them as much as you can, for shelves, hooks, instrument hangers, sporting gear hangers, bicycle mounts, or fold-up desks with storage for your arts and crafts.
4. Design
Your storage space will soon look like a dumpster if you don't plan well and keep everything duly labeled and organized. Even simple shelves can look pretty if there is a symmetry of shapes, sizes, and colors.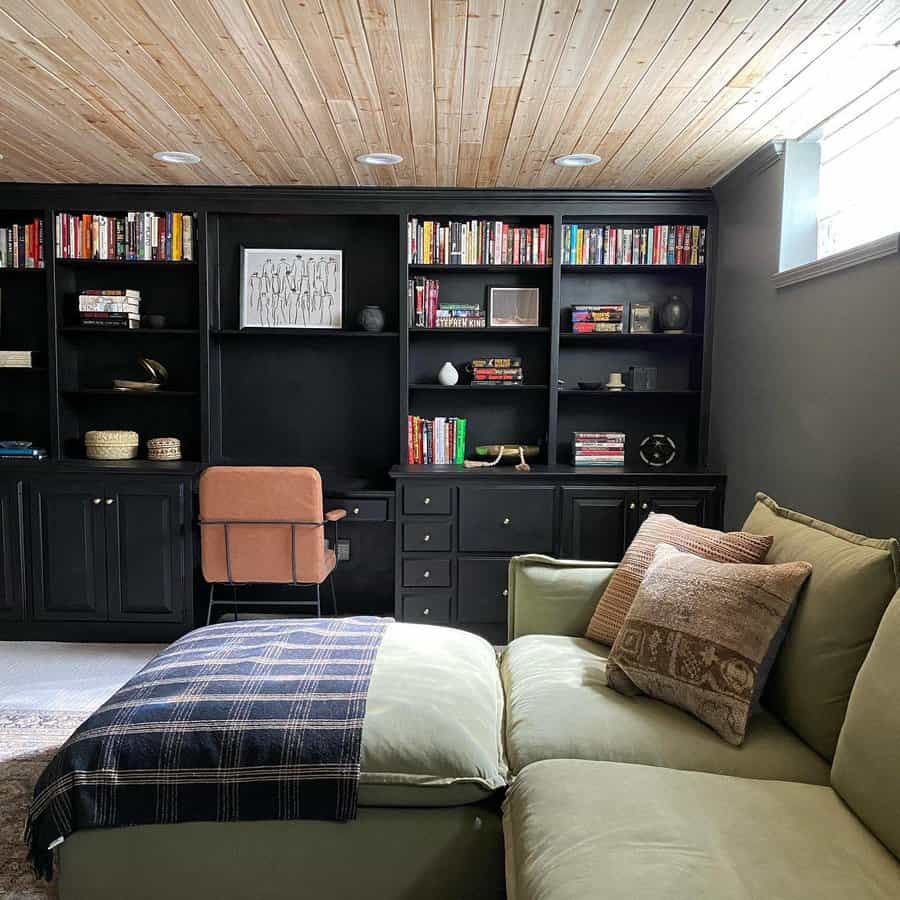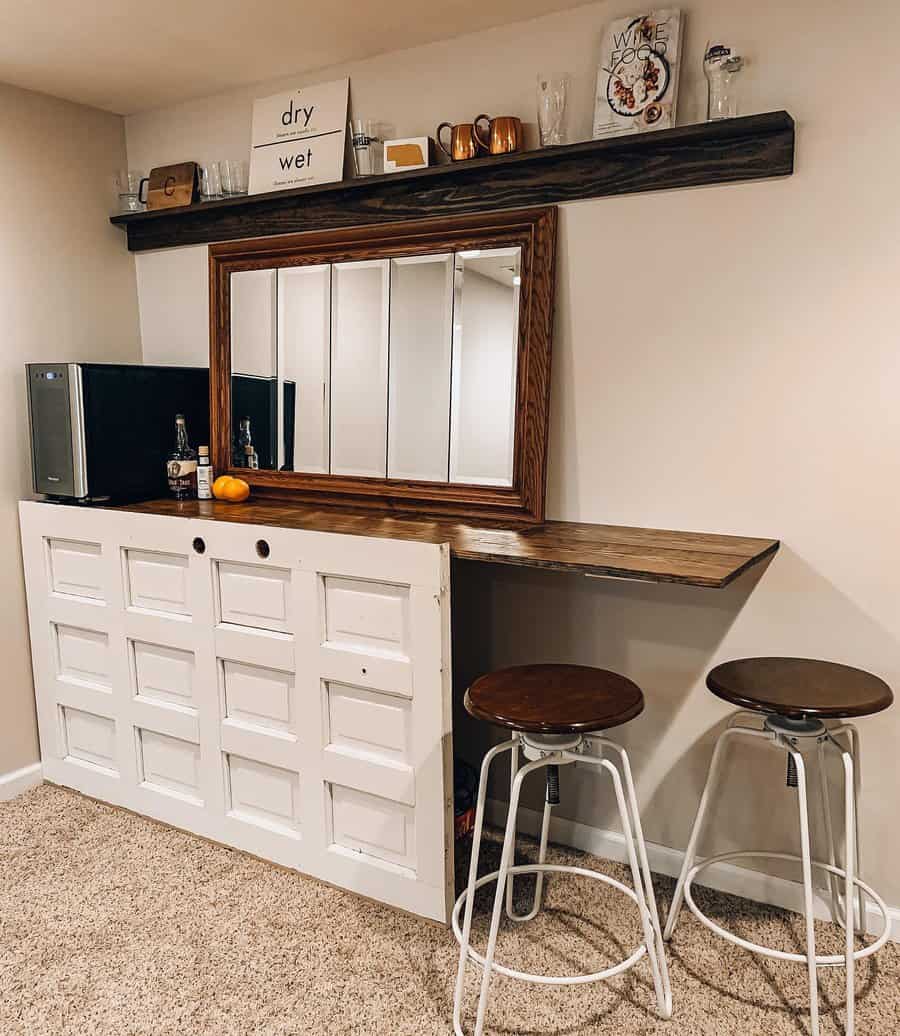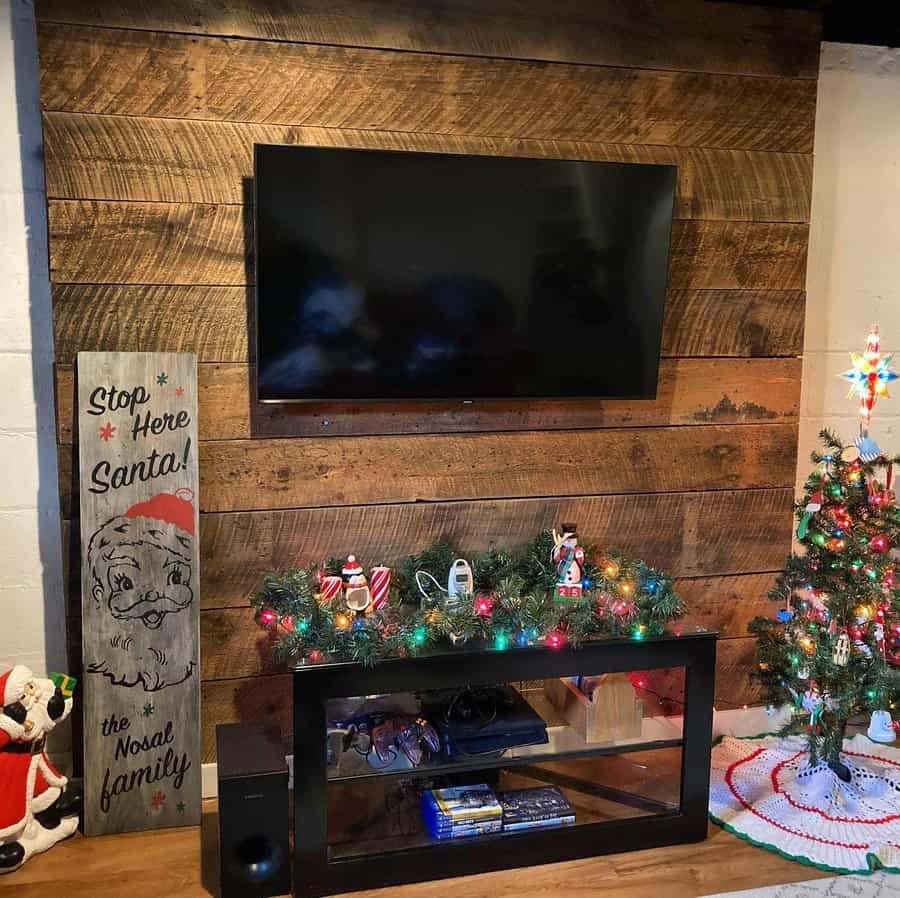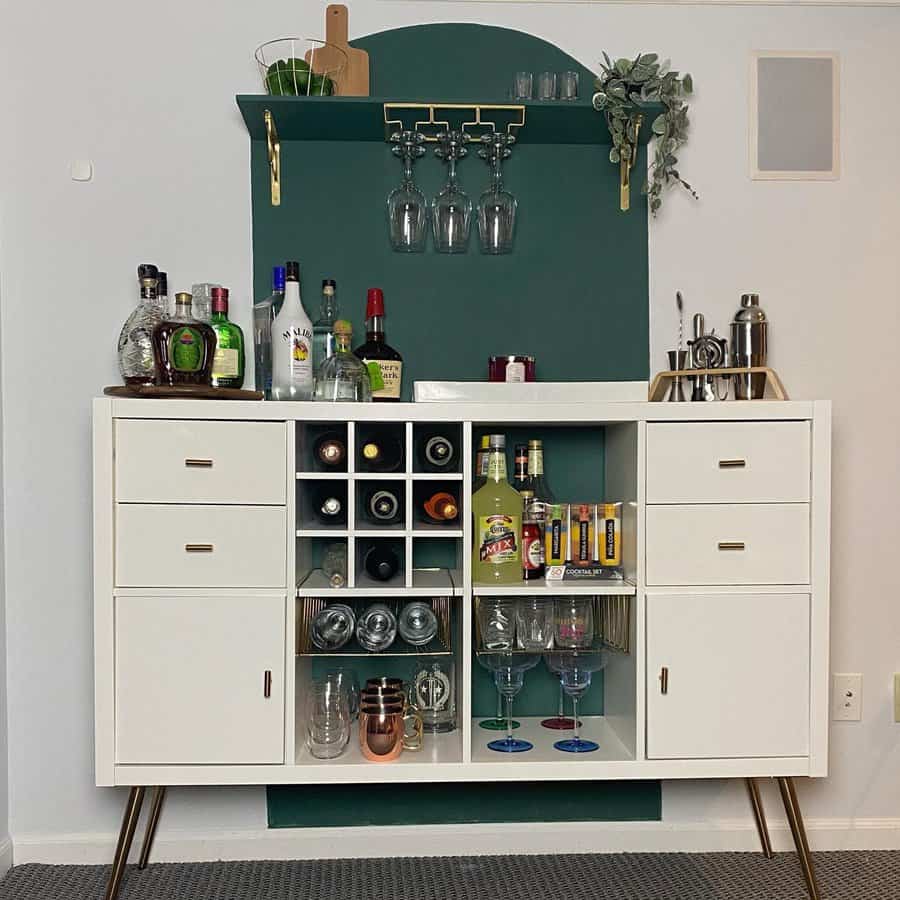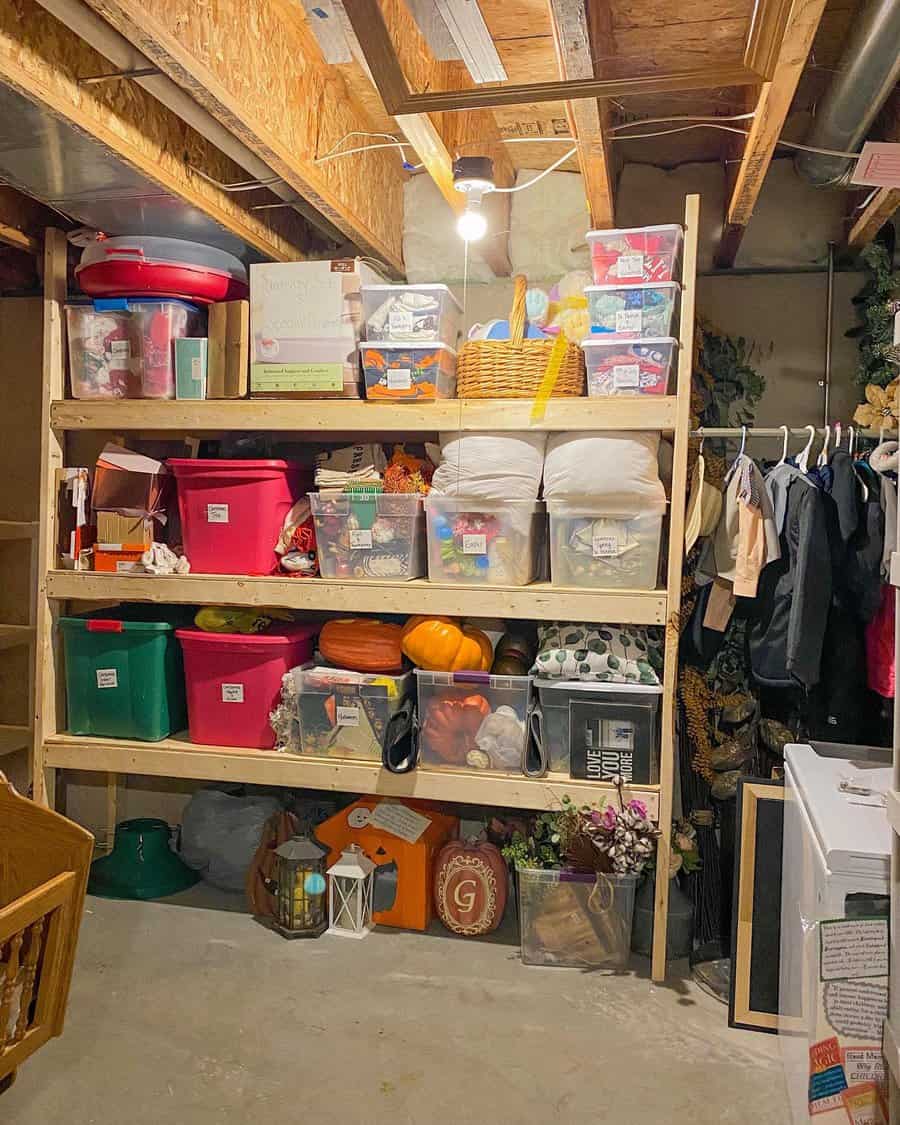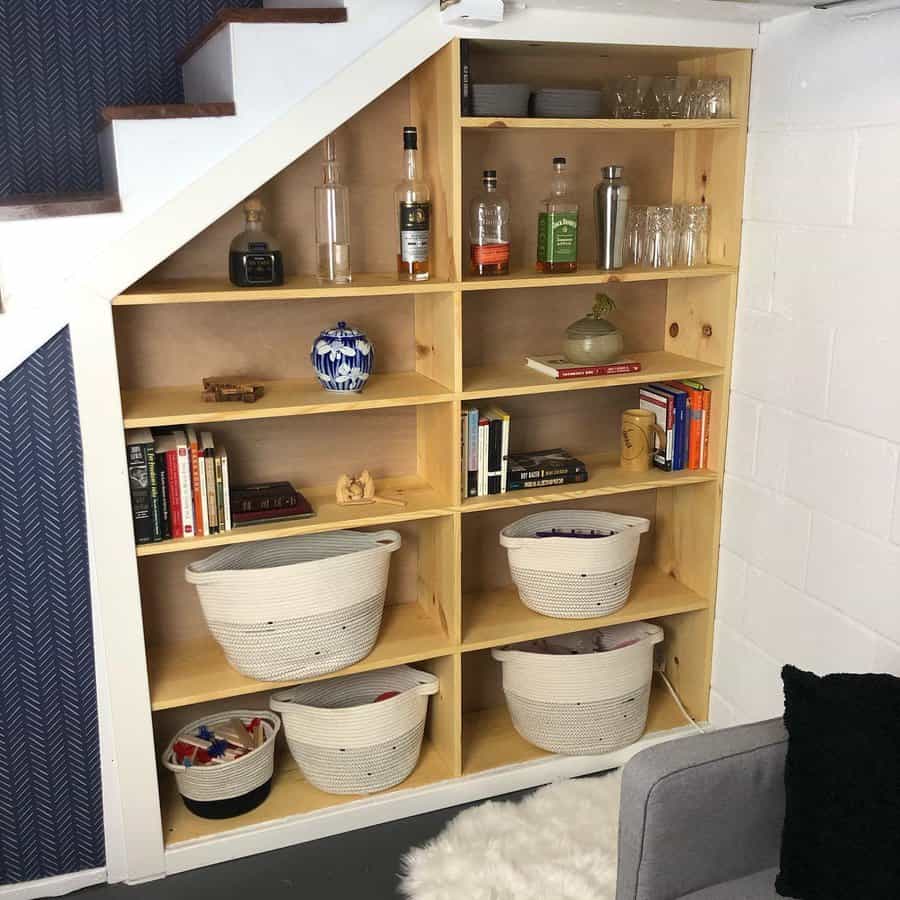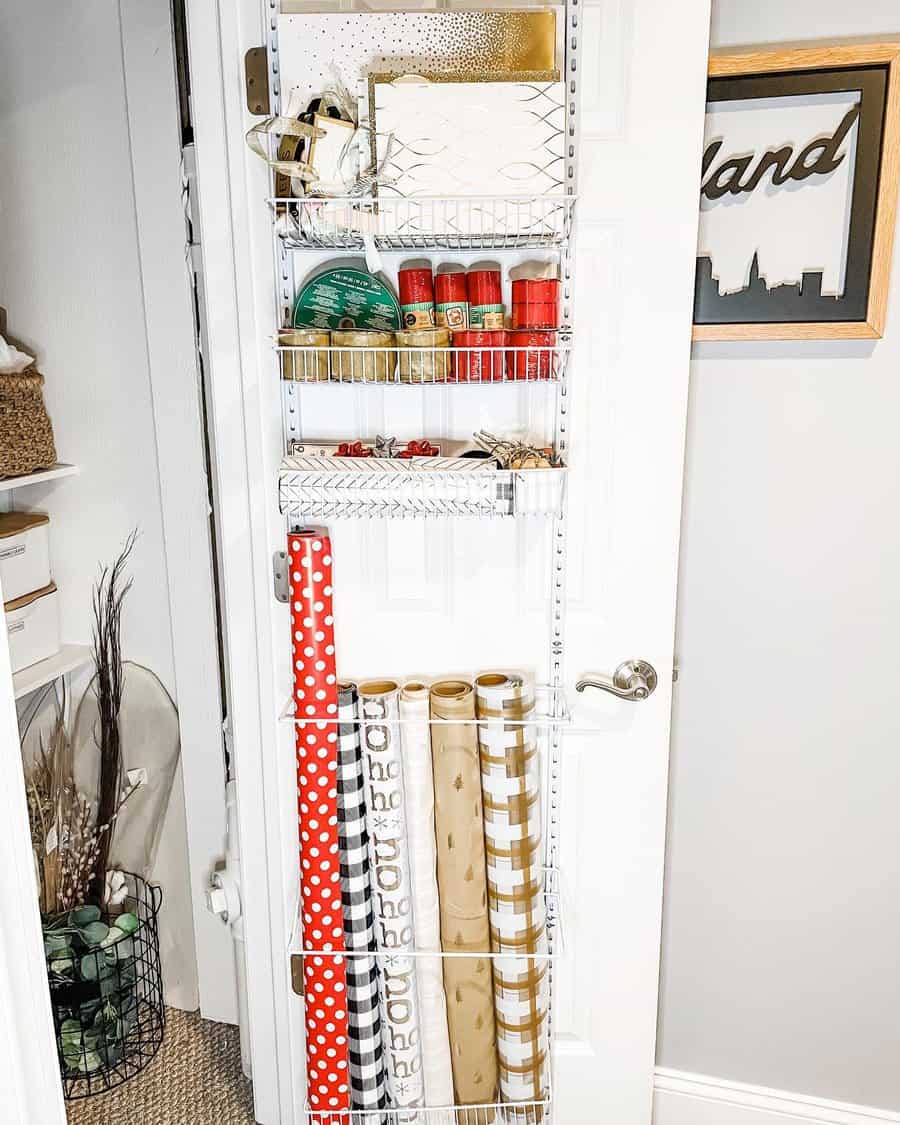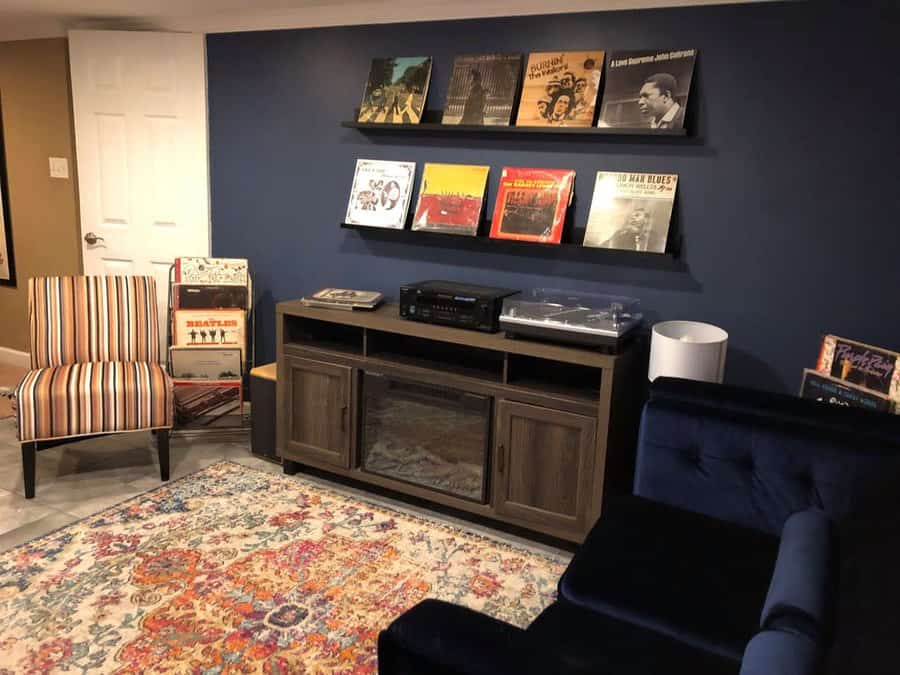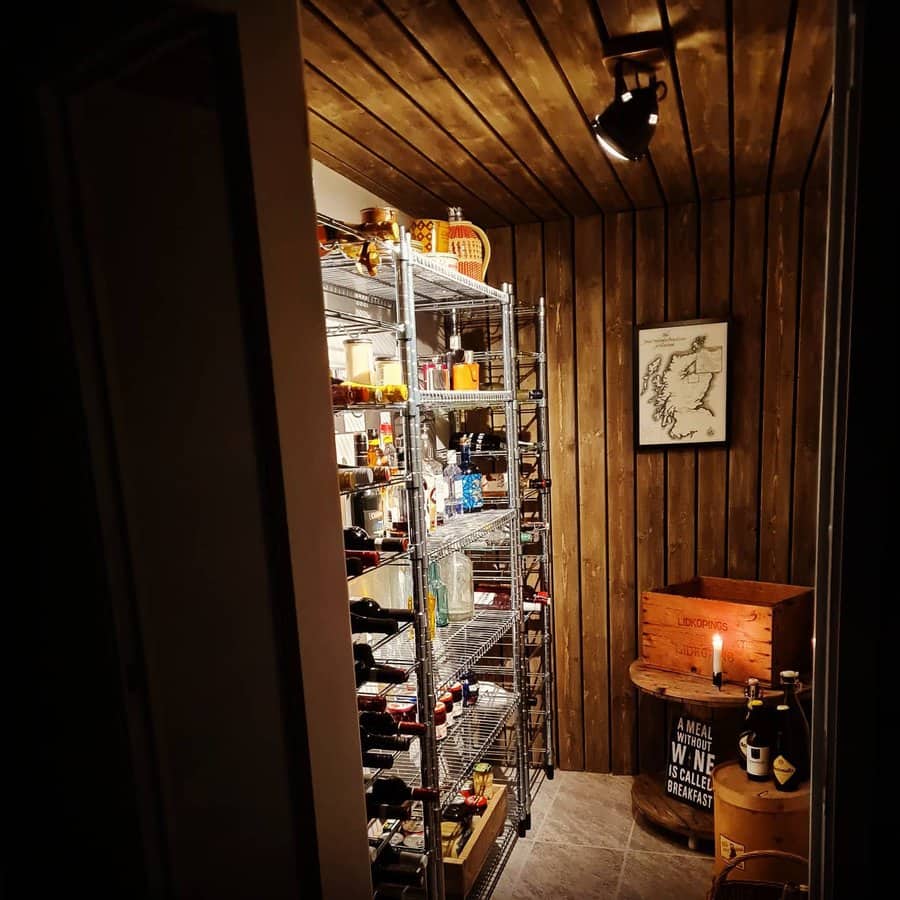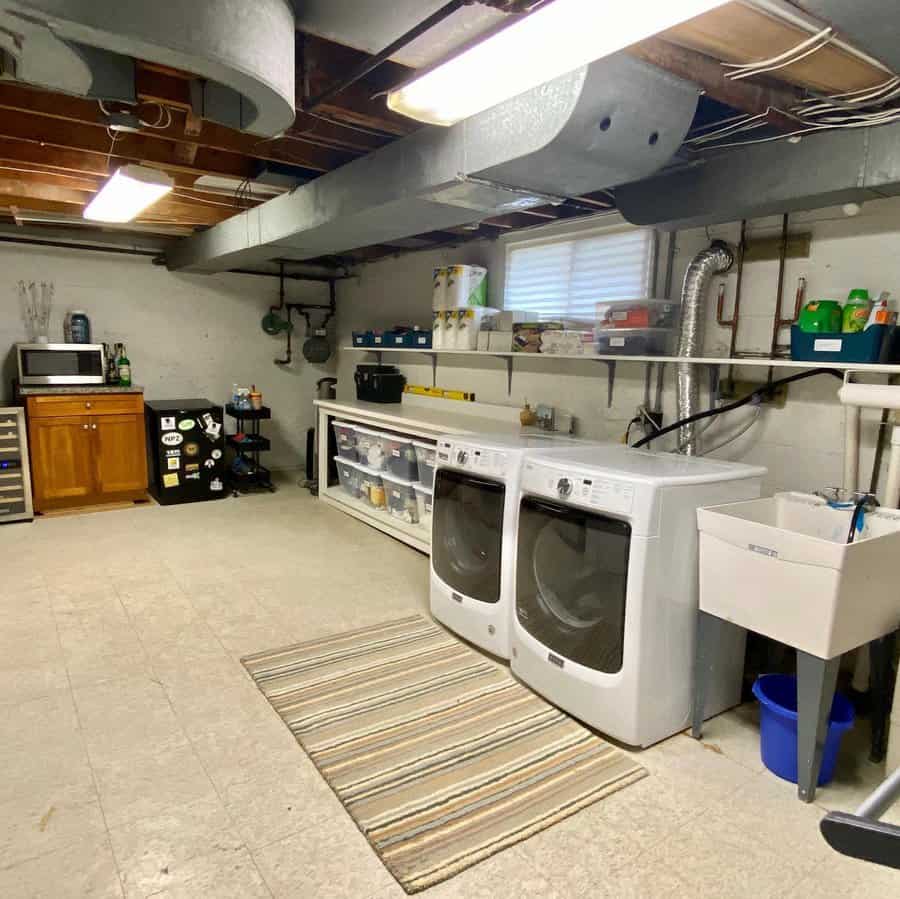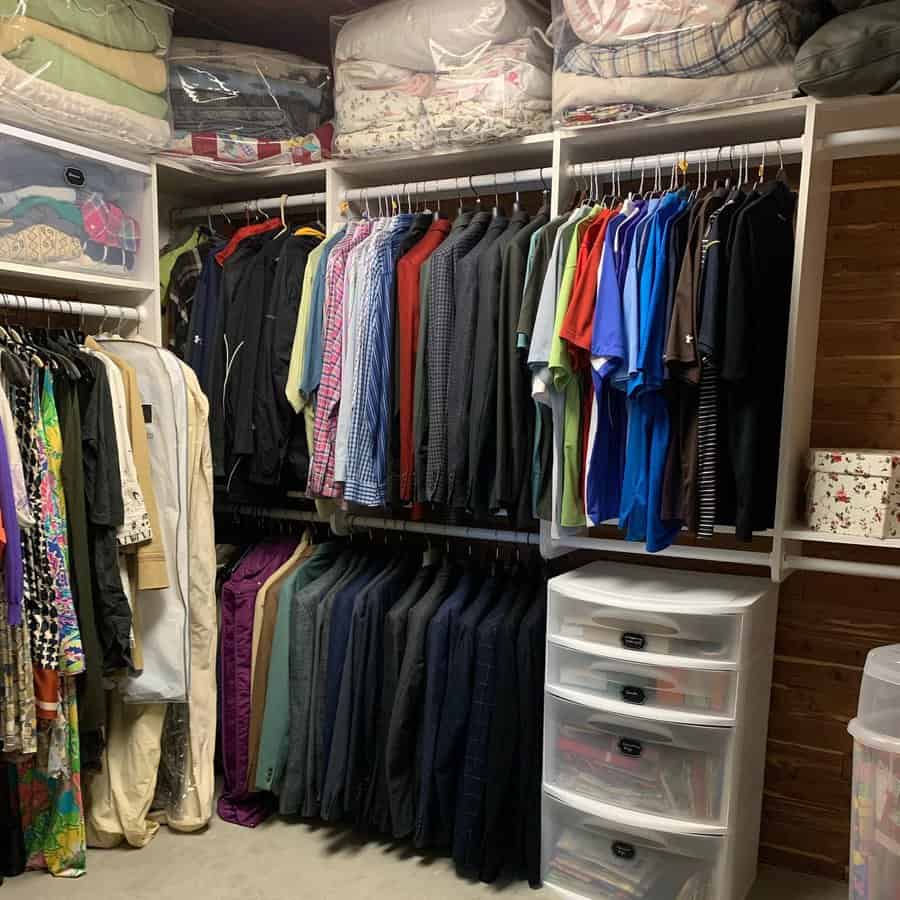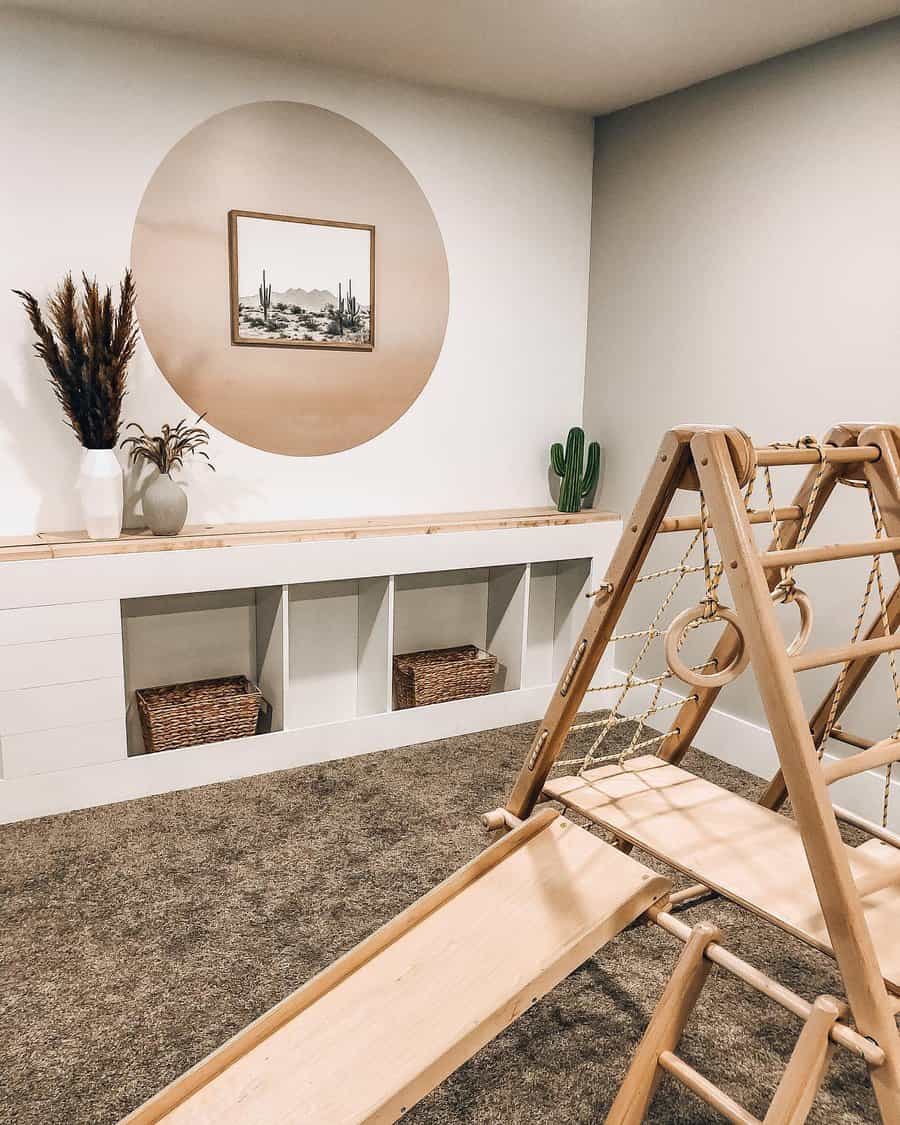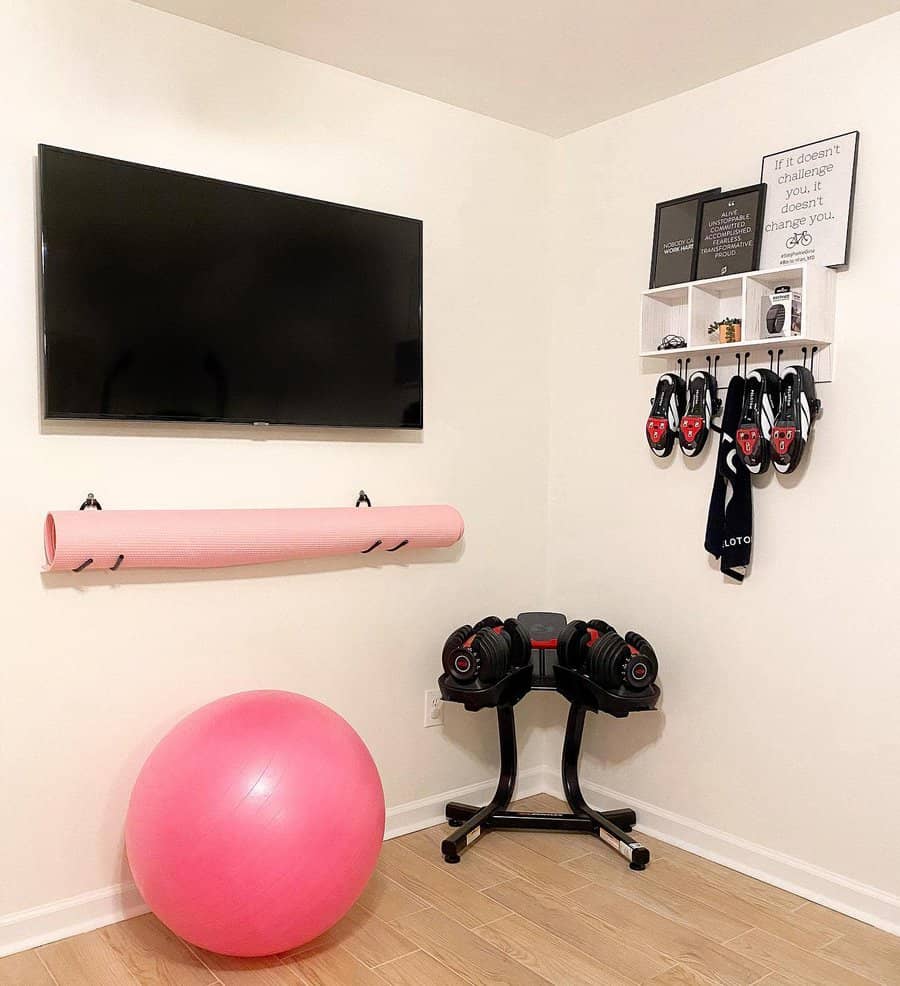 The most important thing is to keep a clutter-free space, even in unfinished basements. Assign a place for everything, so you know where to store and where to find things easily.
The space under the basement stairs is precious storage space, that you can easily customize with open shelving or cabinets, with deep drawers or wooden crates, to keep bigger stuff.
5. Finished
When you have a finished basement, it's easier to have different designated spaces for maximum use of your square footage.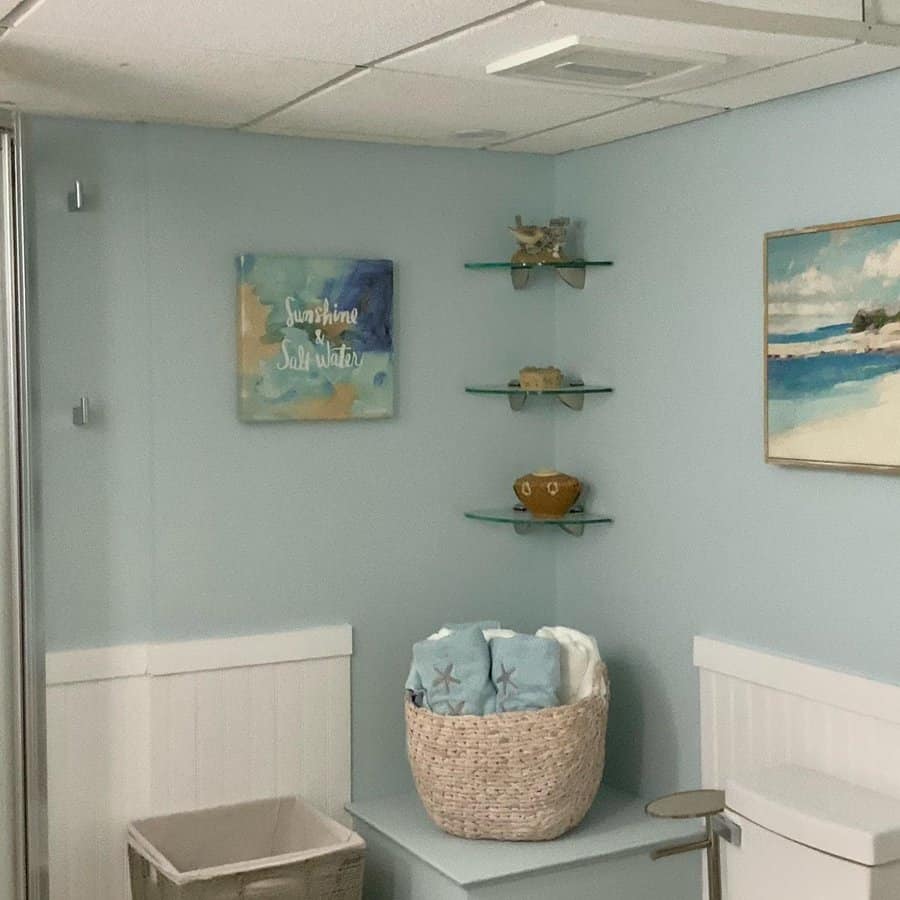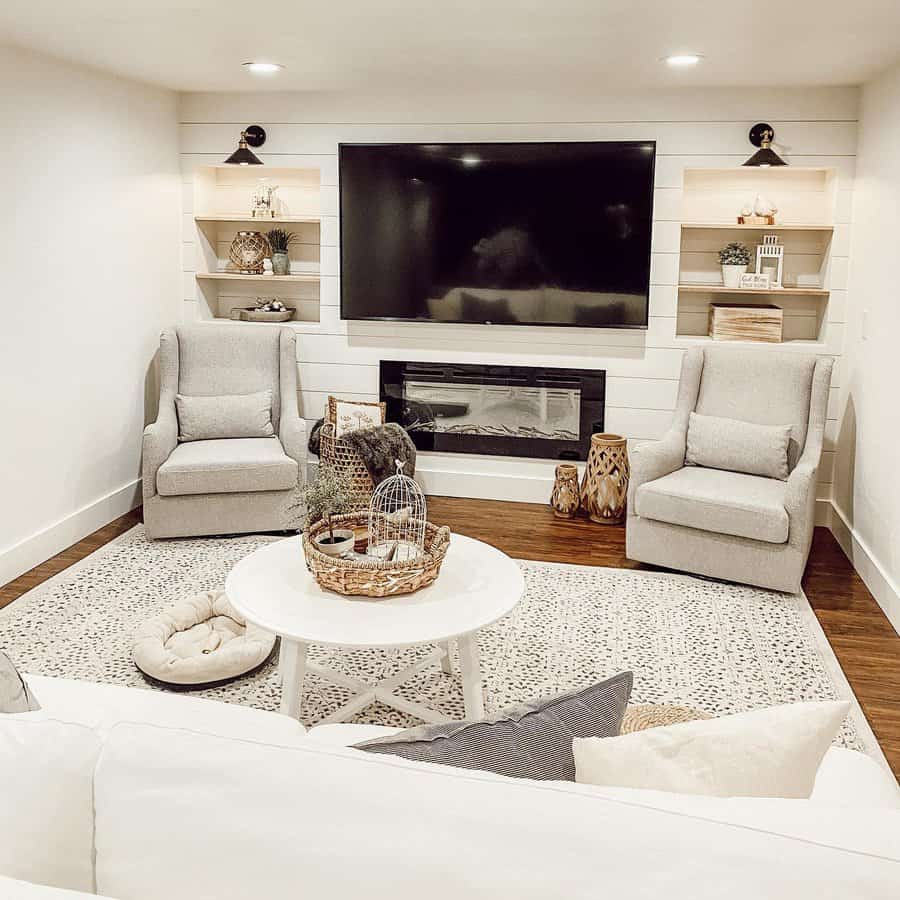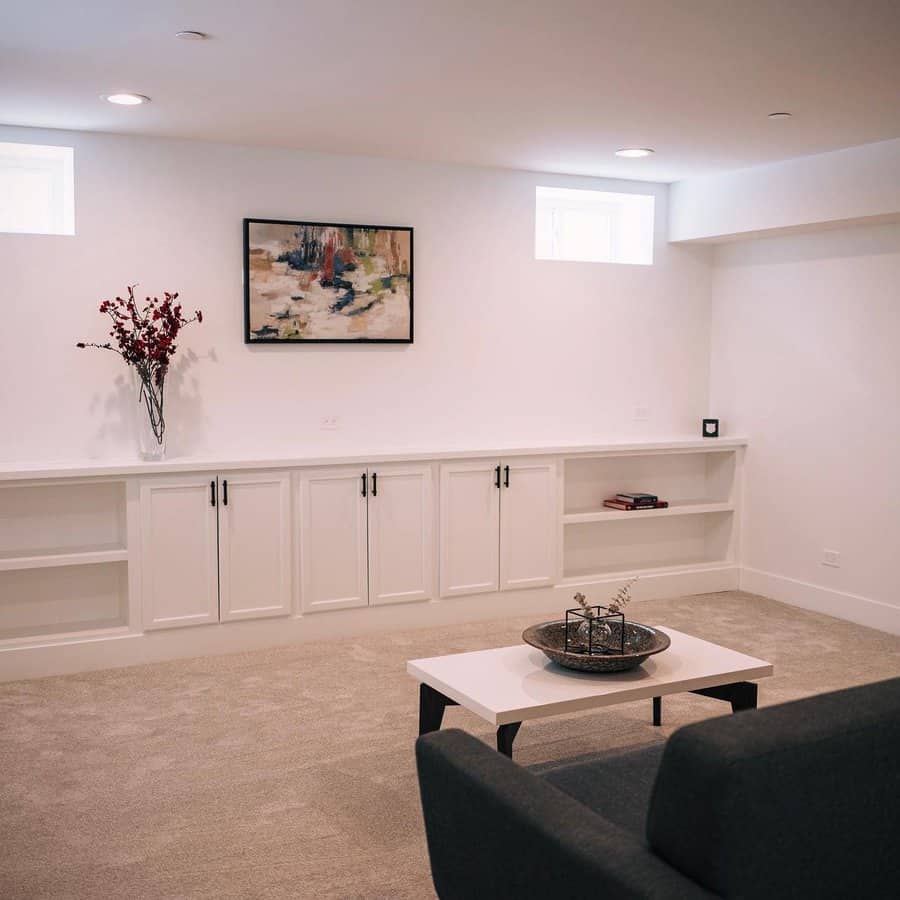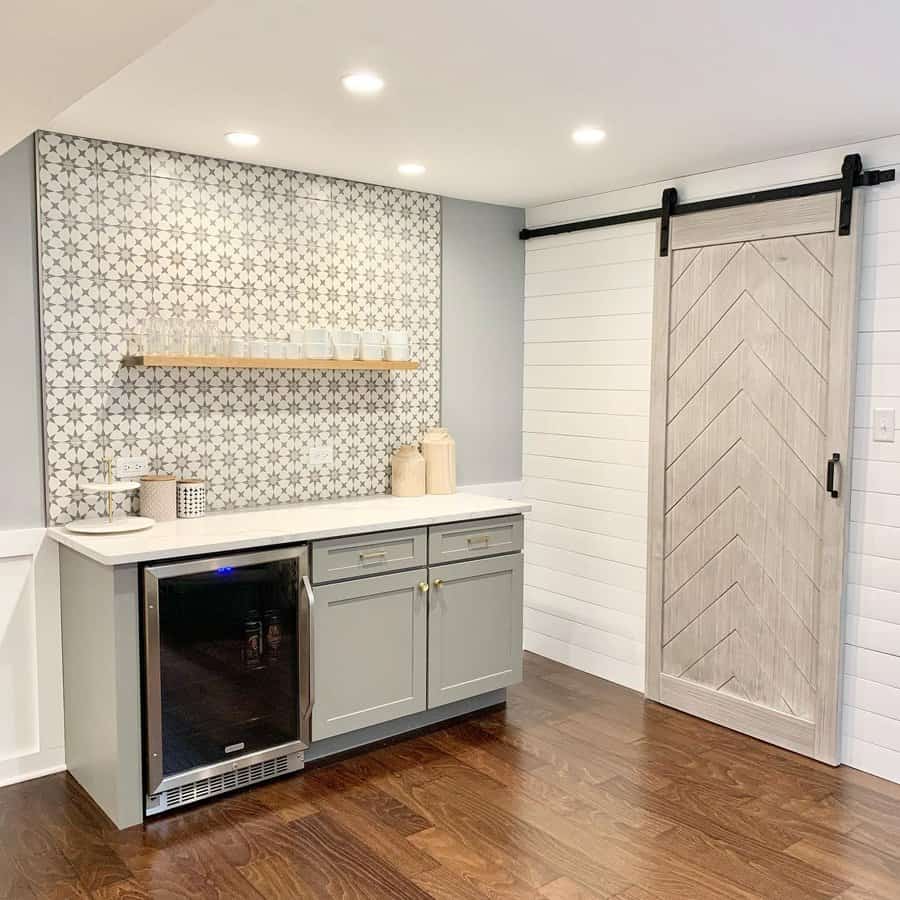 Basements can be a perfect area for a TV or game room, children playroom, a mancave, a spare bedroom for guests, or laundry space. But you can add storage space in any of these rooms, with the right design.
Make your finished basement a cozy multipurpose room and save some square footage for perfect storage space, that is practical for use and easy on the eyes.
6. Modern
Clean lines and a monochromatic color palette are what define modern design.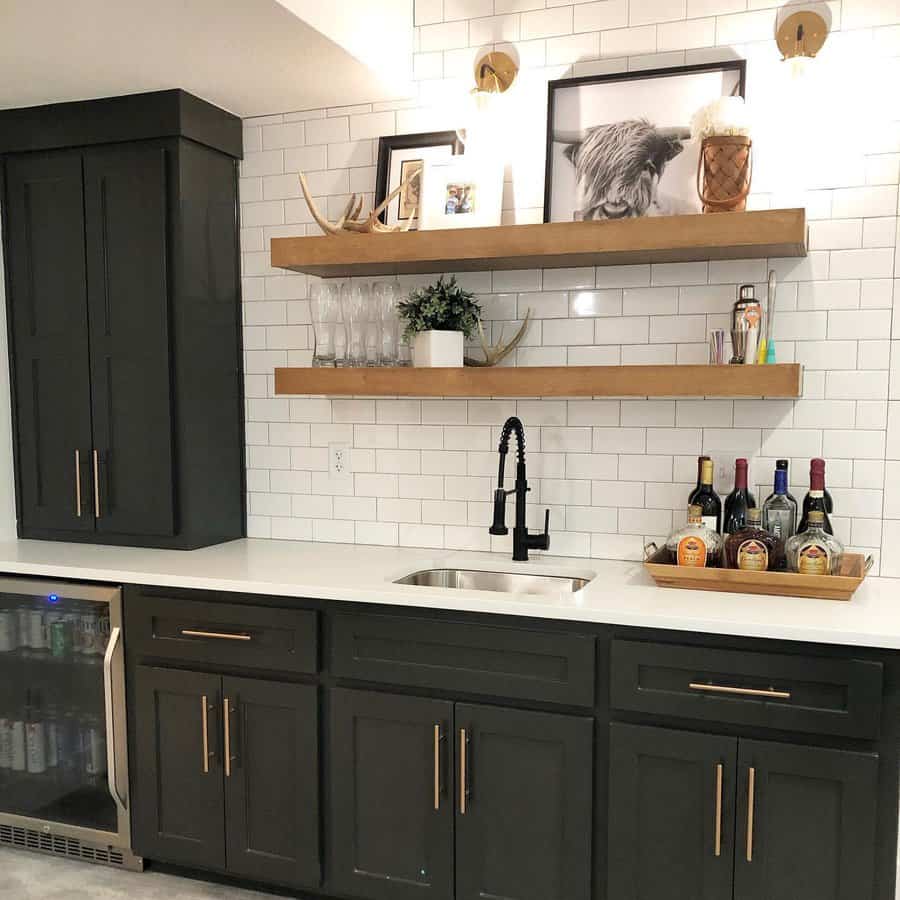 Think of storage options that match your modern design, such as a storage unit, a storage bench, or modular storage, instead of the standard storage cabinets. Natural wood floating shelves are also a modern design element, as well as other storage solutions, such as end tables with storage or table trollers, as excellent accessories for your basement bar.
7. Organized
A well-planned shelving system may be all you need to meet all your storage needs. Plan how many bins or boxes you need, so you can decide on shelving height and depth.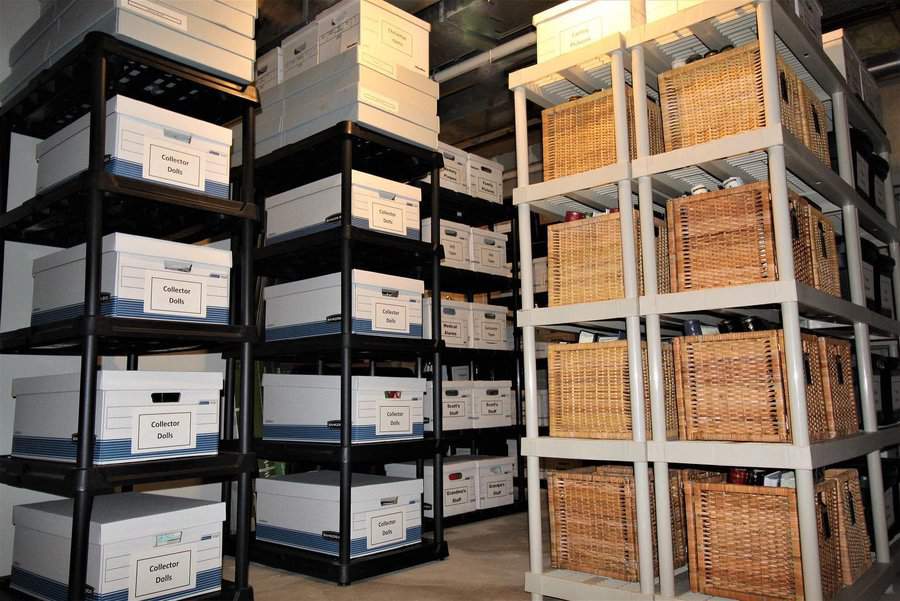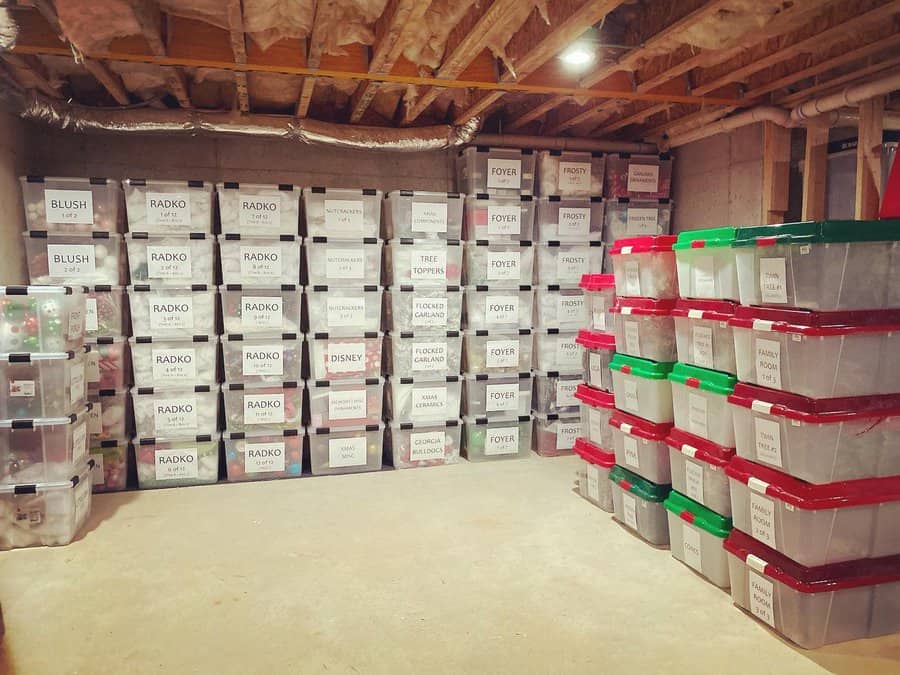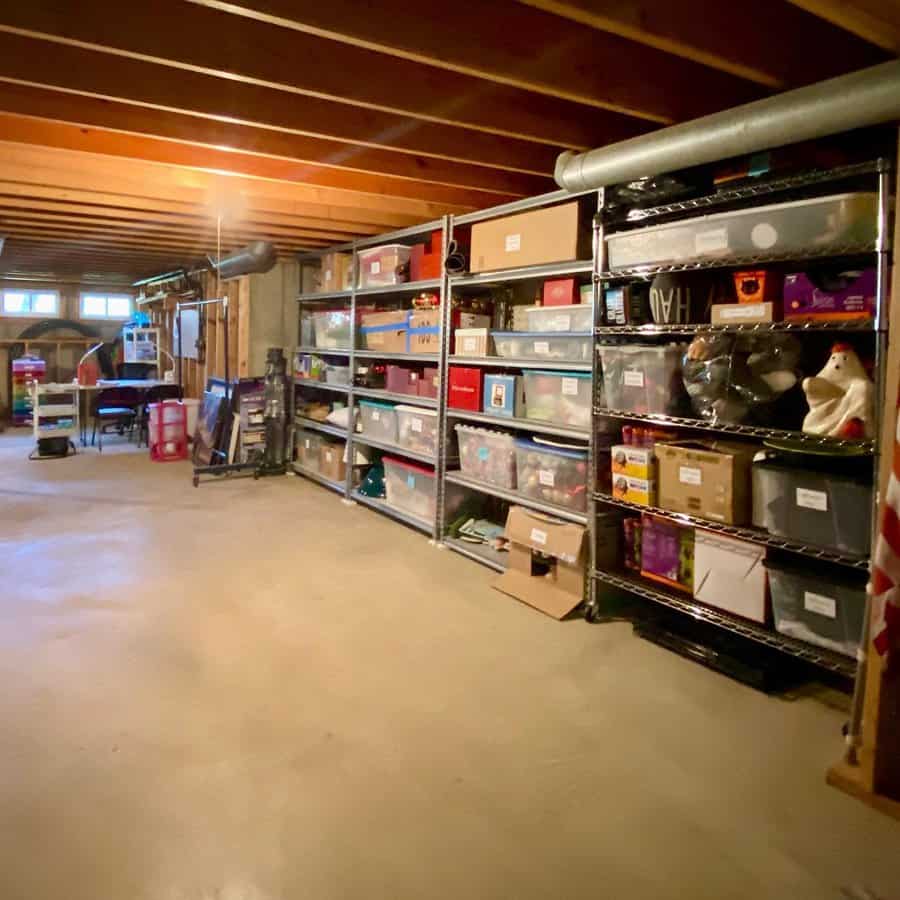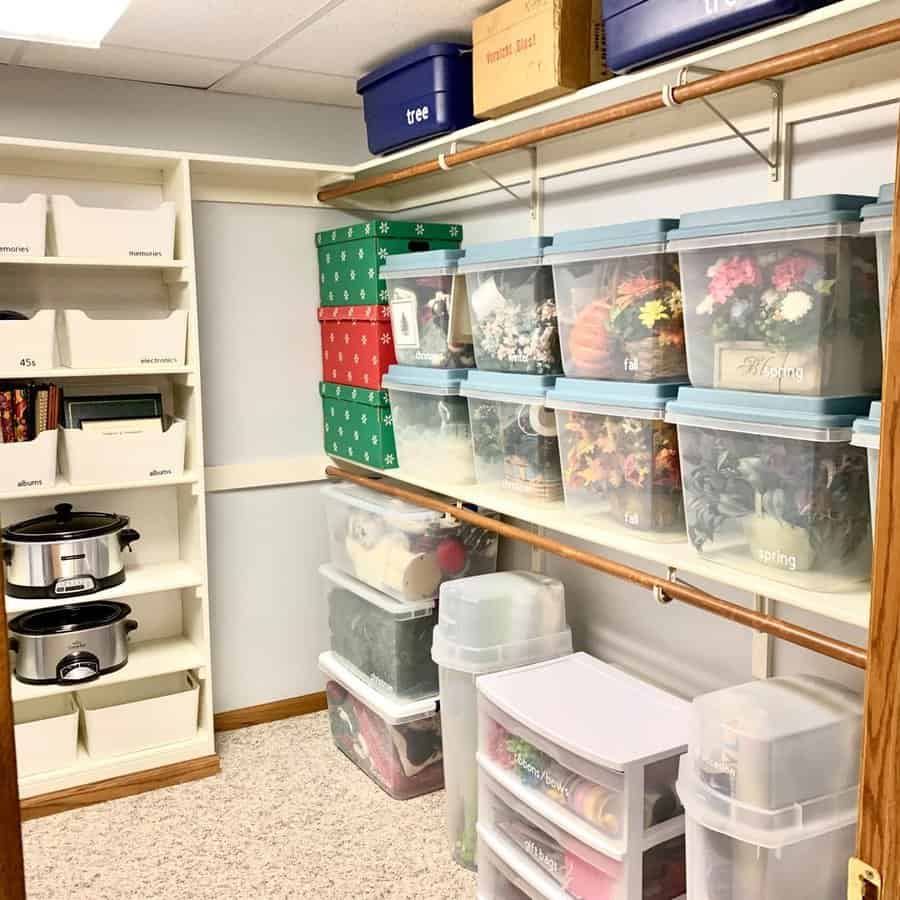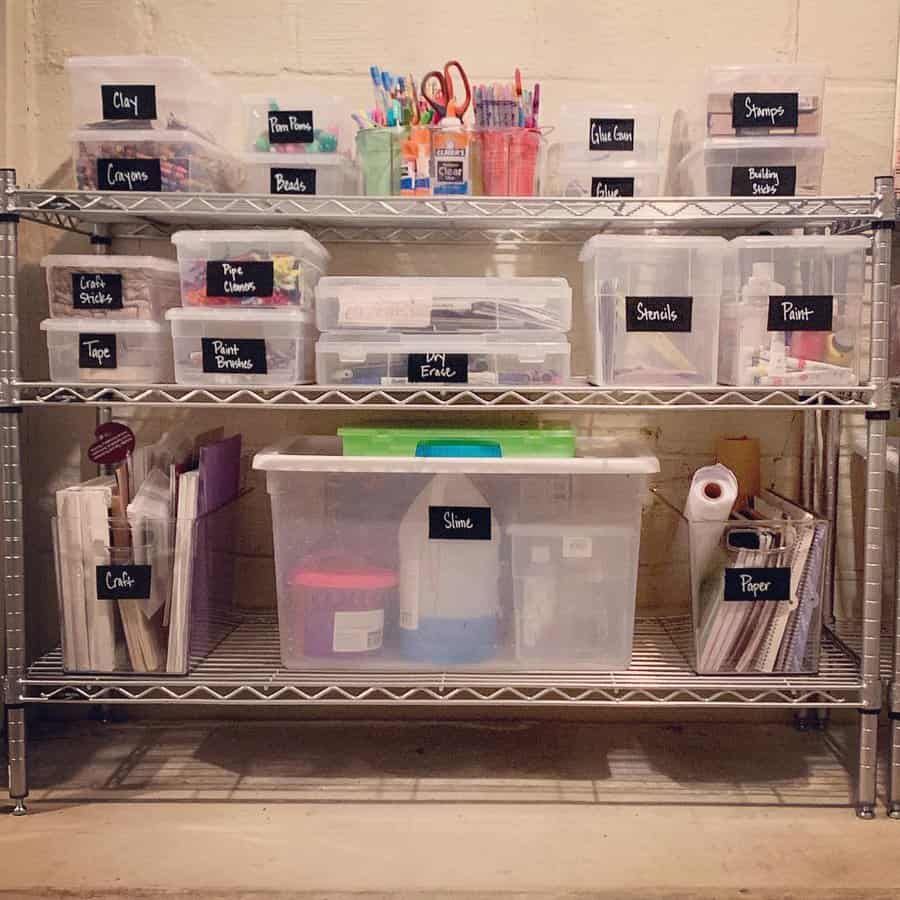 Choose plastic storage bins or transparent plastic boxes instead, and label them alphabetically so it's easier to find your stuff. Make sure your shelves are sturdy and easy to clean.
Always prefer to place your bins on shelves rather than piling them up, for more practicality whenever you need to pick something on a bin underneath. Or you can use stackable drawers instead, that you can easily open without having to move bins around.
Plastic or metal stackable shelving may be a perfect solution in case you need to add storage space, and still keep the room organized.
8. Playroom
Remove all the junk in your basement to allow for precious floor space for your kids to play, and let their imagination run wild. Provide storage space for toys with easy access for the children, so they can pick up and put away their toys by themselves (avoid big, heavy bins).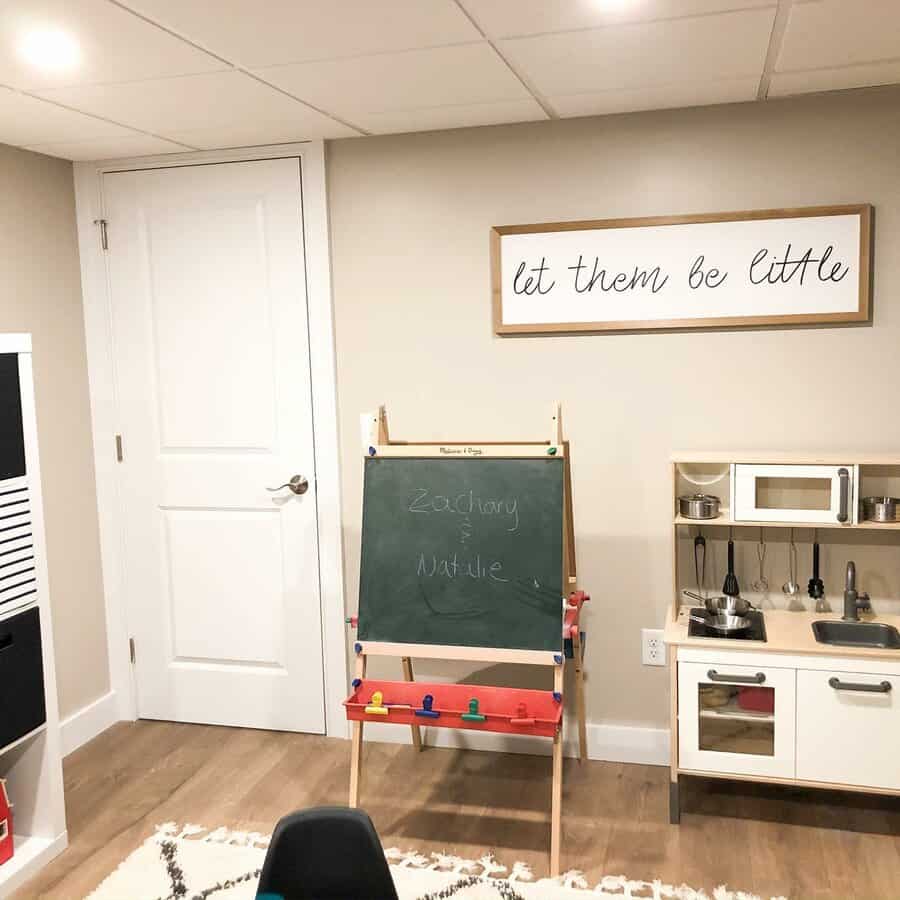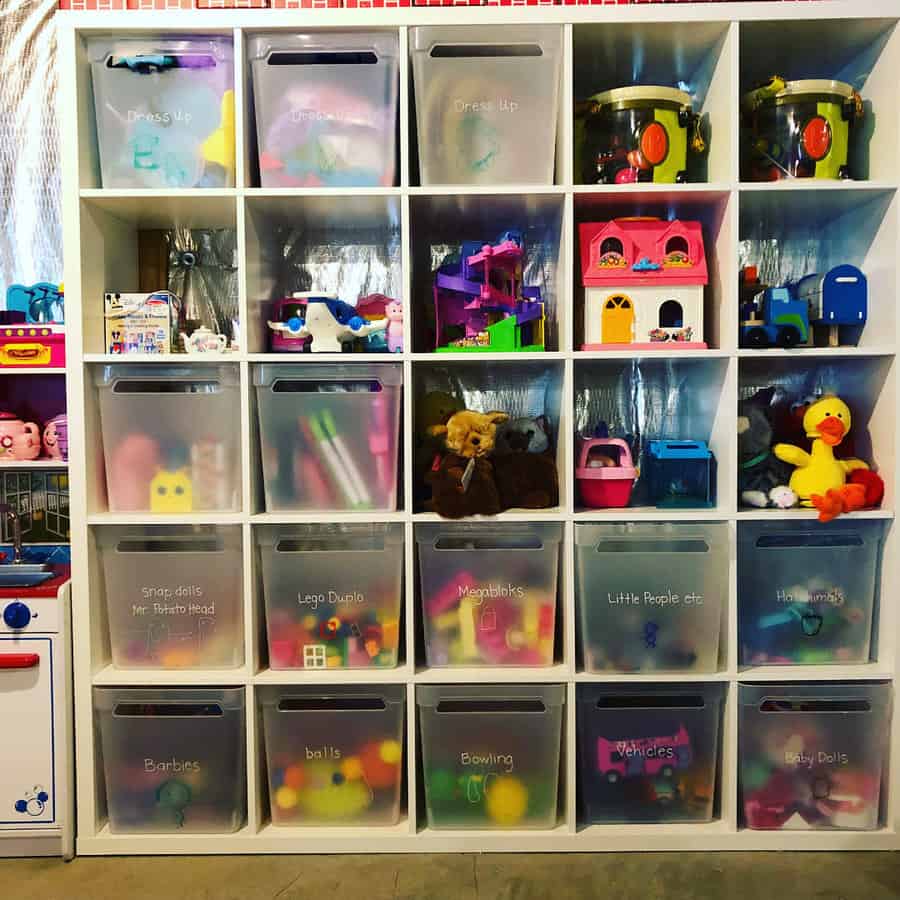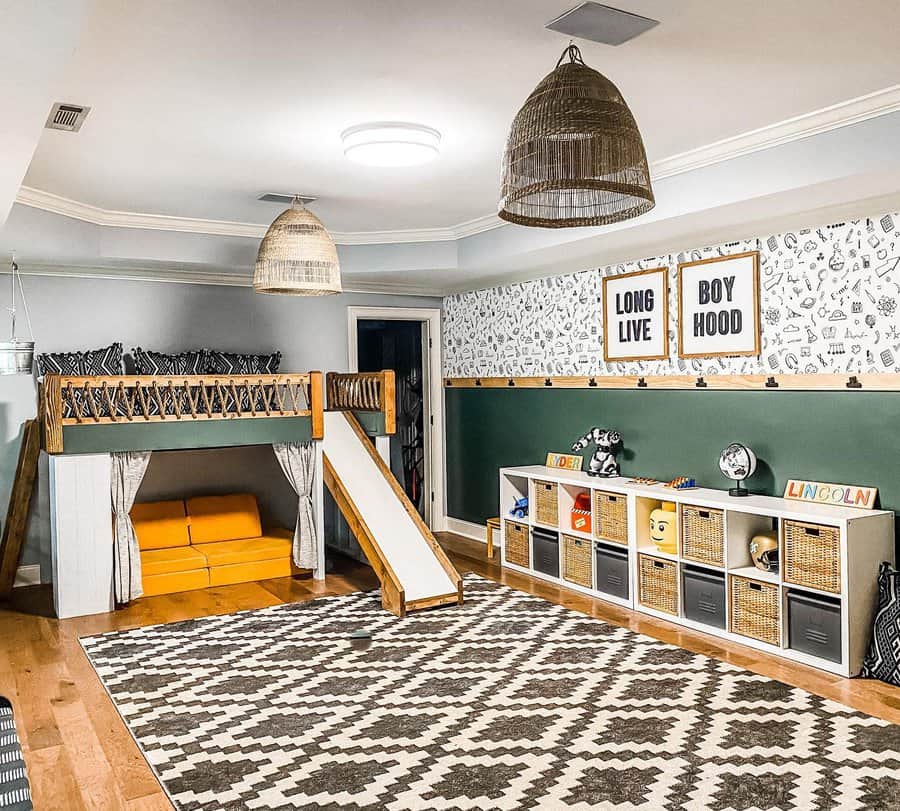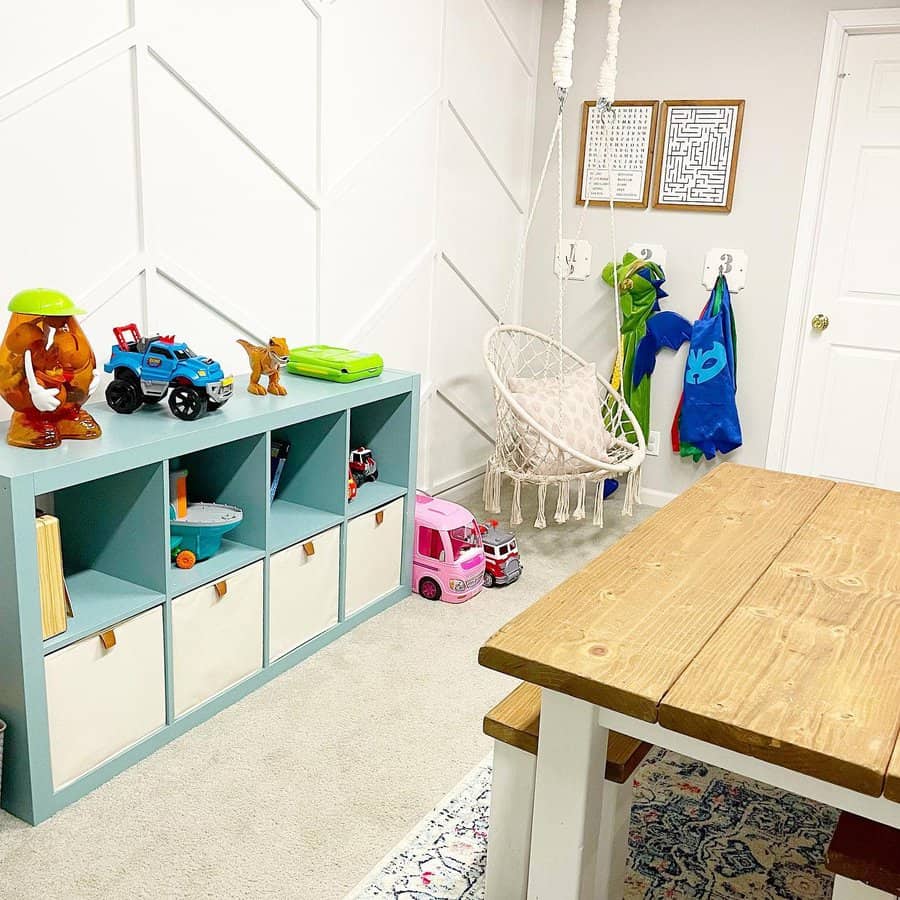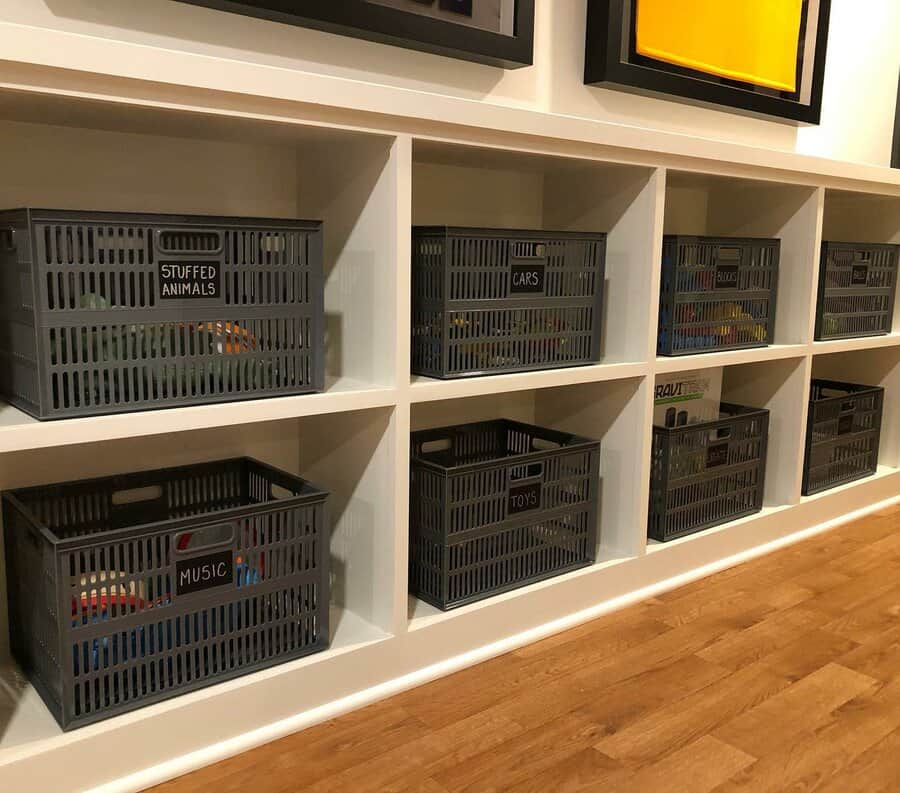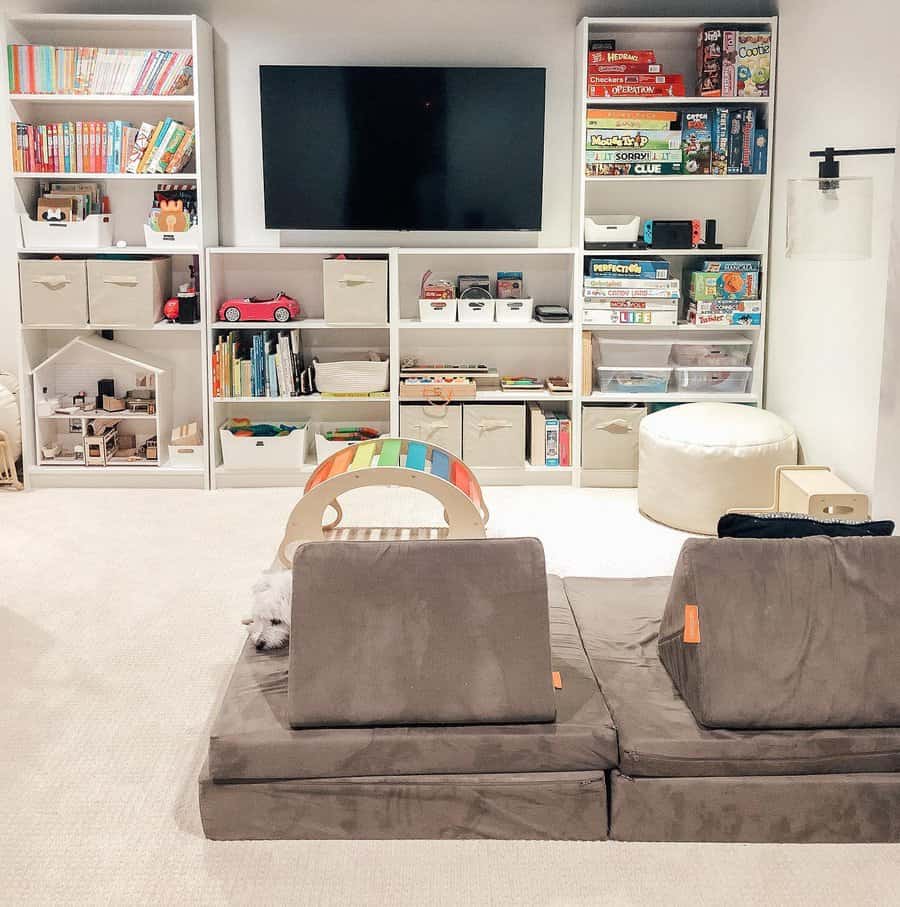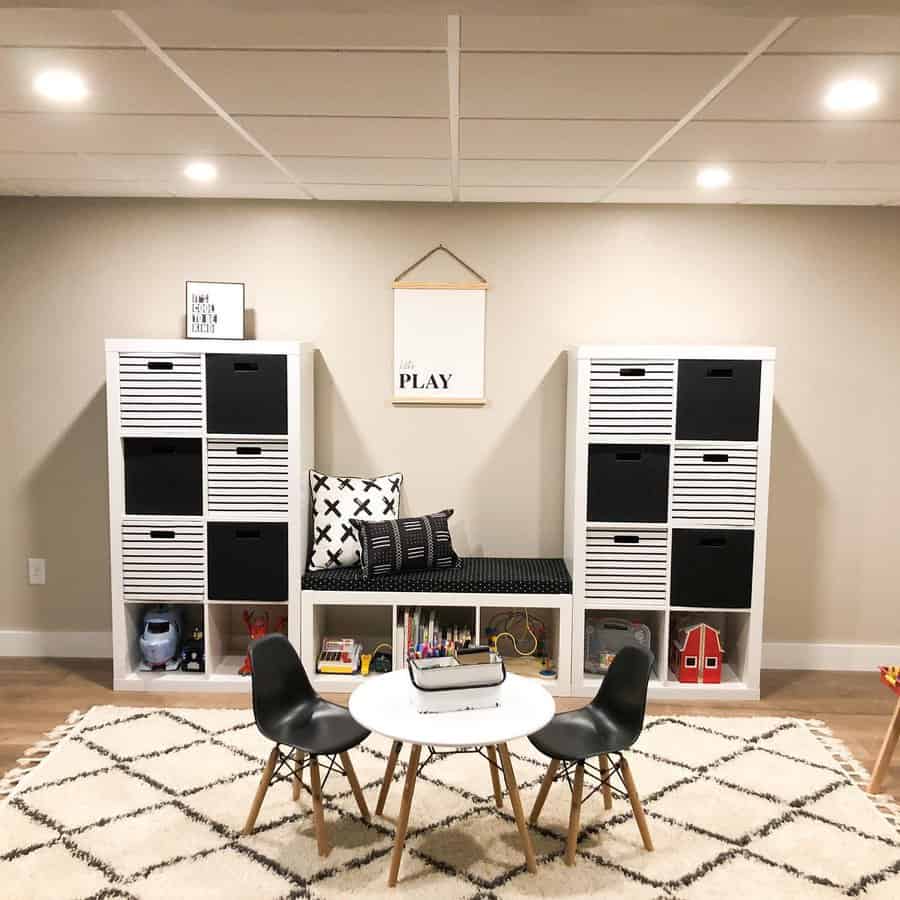 Use see-through shoe boxes for small toys, so they can easily throw in the toys after playing. Also think of mobile storage for toys, as well as storage benches, ottomans and cubes. Also install a few book ledges at a medium height, for them to reach.
9. Remodel
When it comes to remodeling your basement, design is more important than money. But don't take me wrong: what I mean is that, with a proper design, you can meet all your needs and still save a lot of money!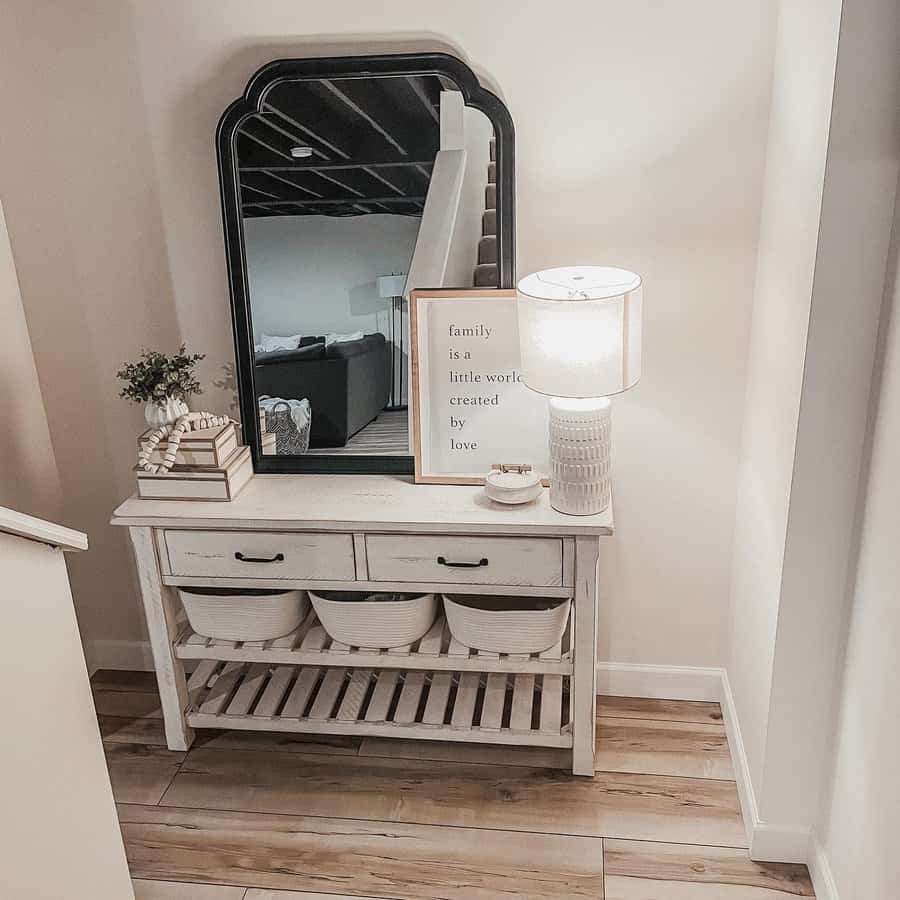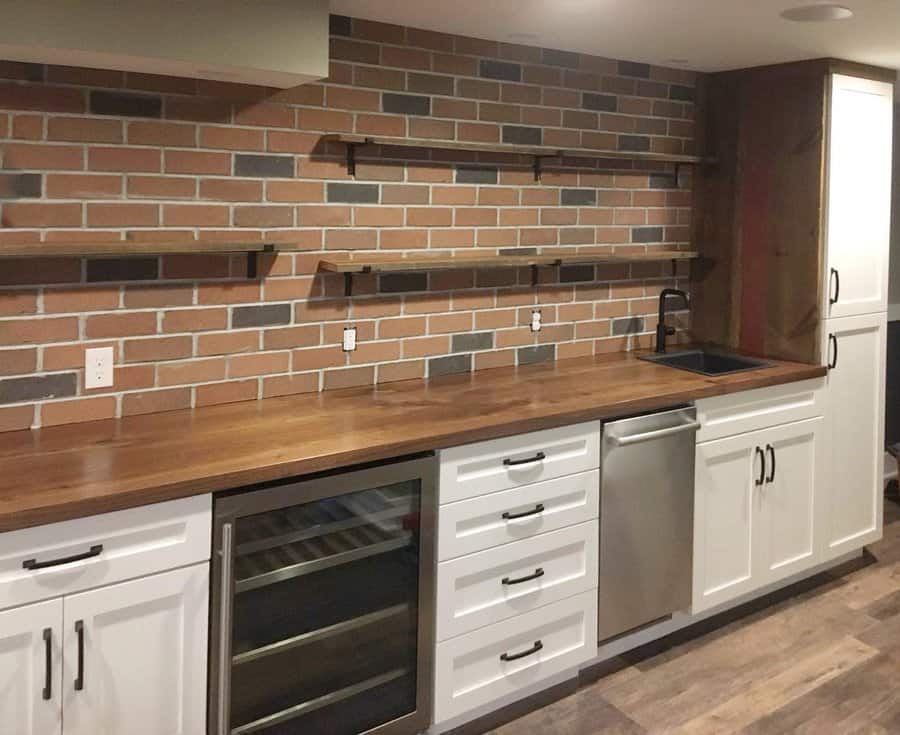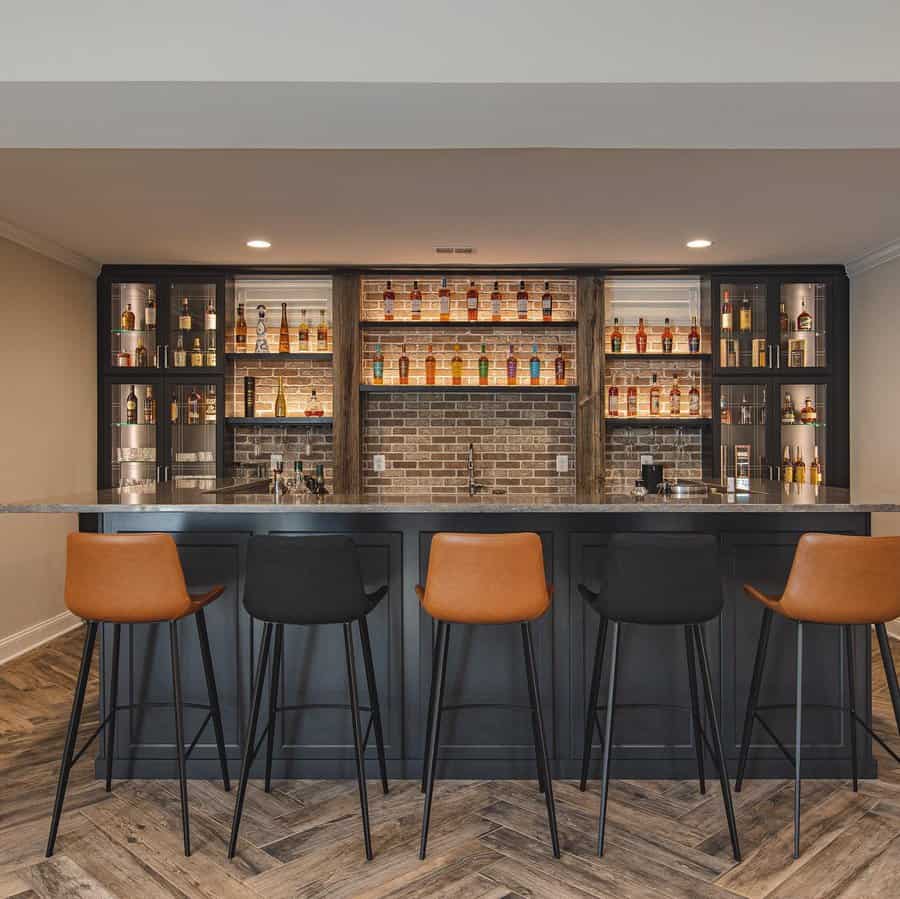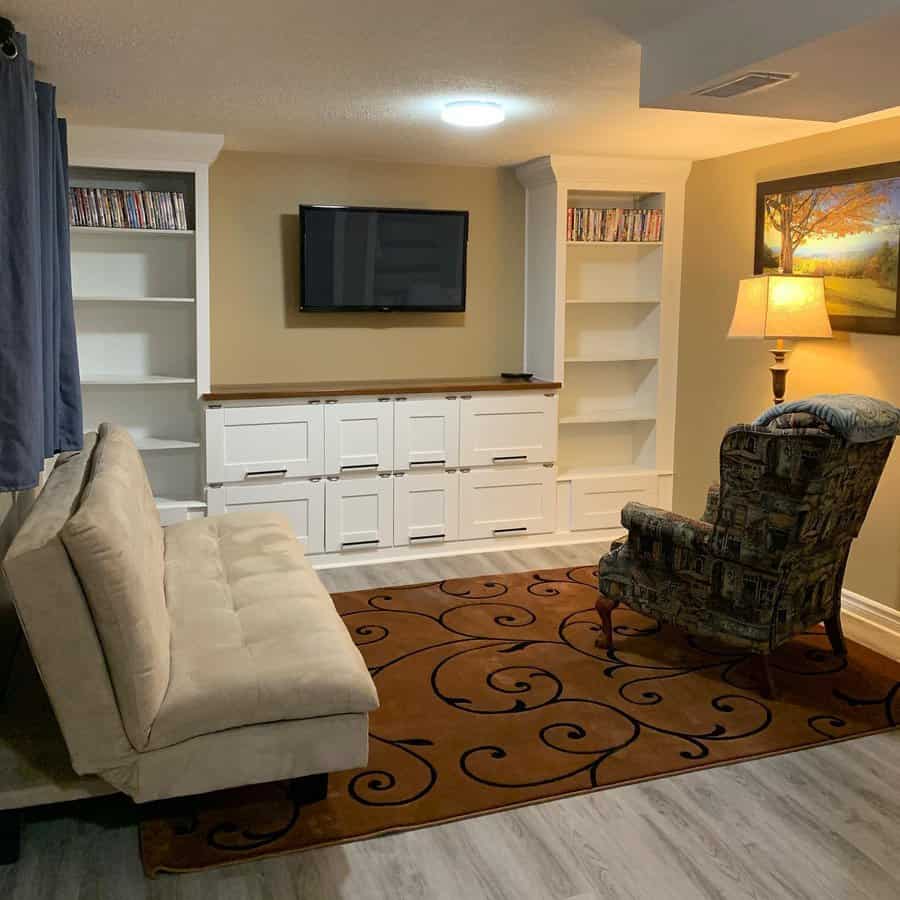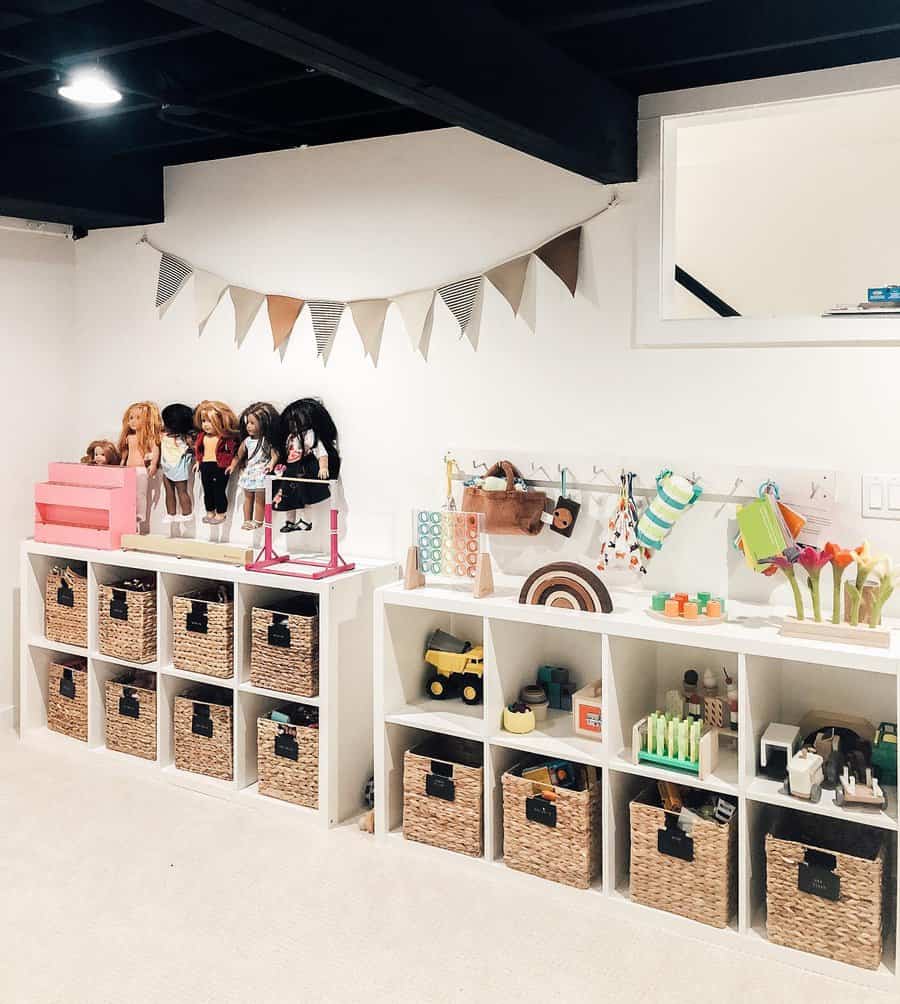 You can have a beautiful home office with affordable furniture and clever storage solutions like wall-mounted filing cabinets to save floor space. Or you can have a nice living/guest area, with wall-to-wall storage and a nice sofa bed over a beautiful rug.
If you have a wet bar or a small kitchen in your basement, add an island with seating, for precious storage space and also as a cozy spot to entertain your guests.
10. Shelving
If you decide to use open shelving as your basement storage system, do keep things inside boxes with lids, to prevent your items to get dusty.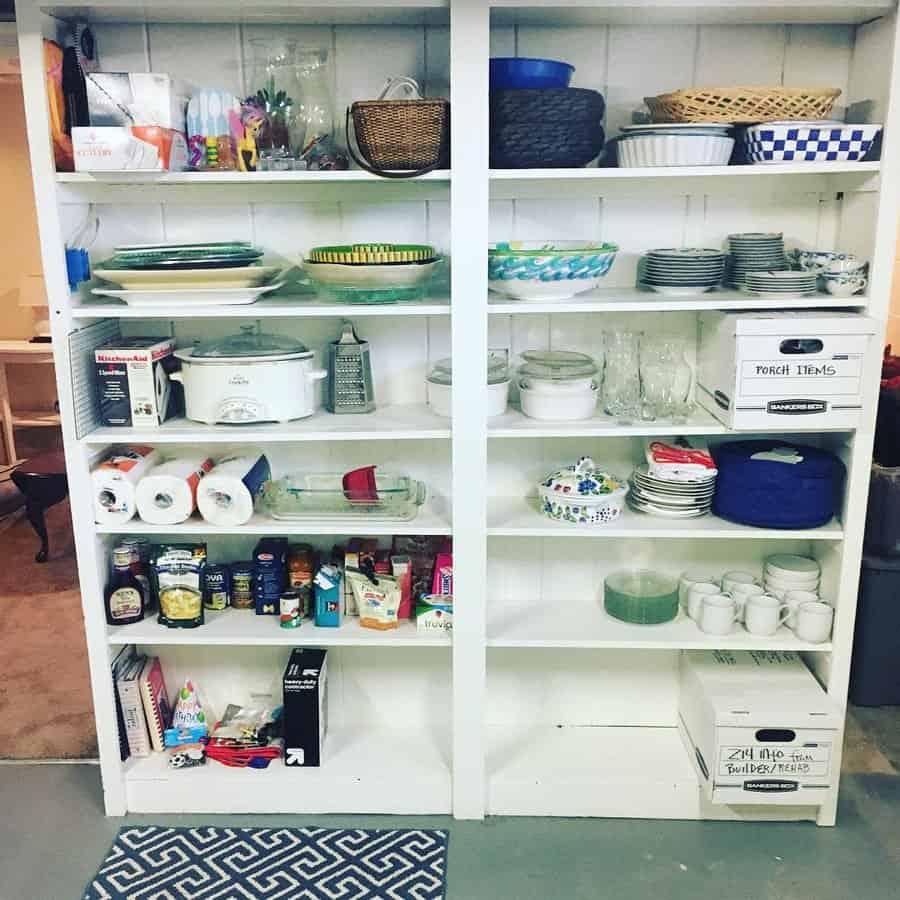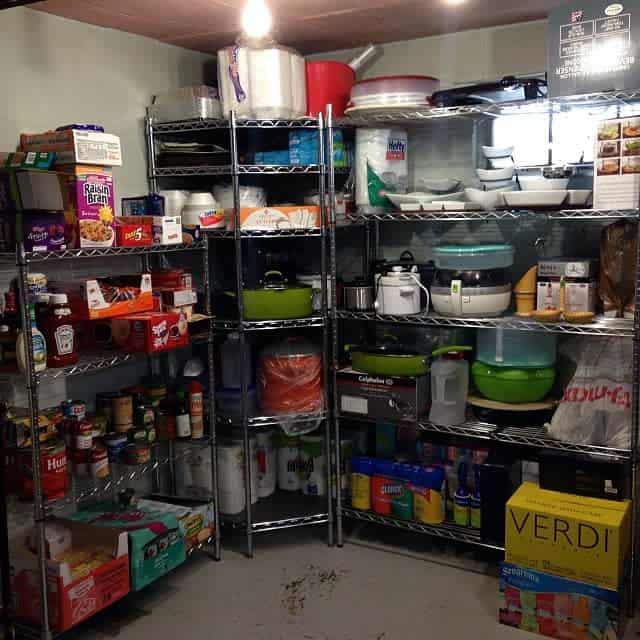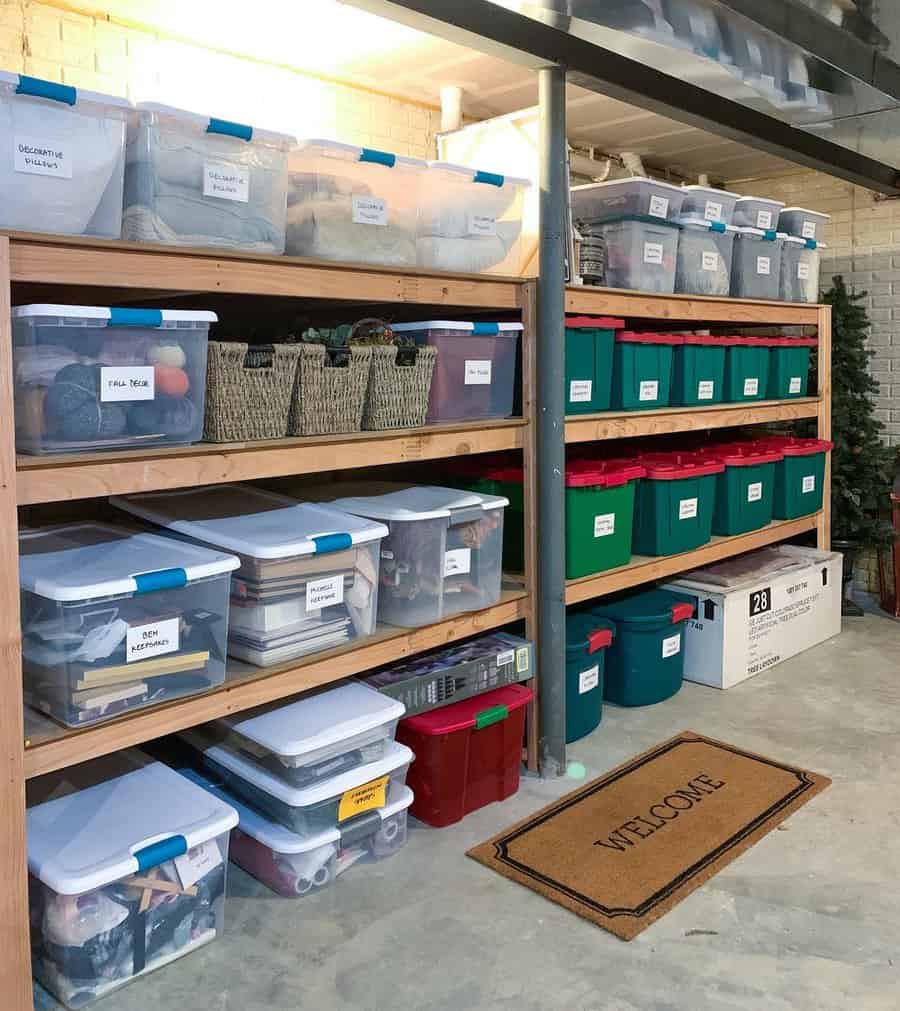 Basements tend to be damp, so avoid storing cardboard boxes in basements, not only because of moisture but also because of smell.
FREQUENTLY ASKED QUESTIONS
Can barboy trolleys be used in the living area?
The biggest advantage of barboy trollers is that they are mobile storage units, and can be used in kitchens, bathrooms, and everywhere else in the house. Barboy trolleys are so flexible, one could call them practicality on wheels. The cylindrical format with storage compartments that swing out is perfect to store and conceal your stuff. You can even use them as side tables in your basement living area.
What is the best flooring solution for a basement play area?
If you don't want to cover your concrete basement floor with carpets, try soft tiles instead of rugs. These square foam floor mats are ideal for playtime or workout and come in different sizes and colors.
You simply join them together like a puzzle, and you can mix different colors for a colorful and stylish playroom flooring for your kids. You can also personalize this kind of mat with the name of your kid, and use templates to choose the print and design you prefer.
Are metal cabinets a good solution for basements?
They can be a good alternative for basement or garage storage. They come in a wide variety of colors and features, such as lockable storage cabinets, adjustable shelves, drawers and casters for mobility. Some (not all) are fire-resistant, with a layer of inflammable insulation between the layers of the cabinet wall.