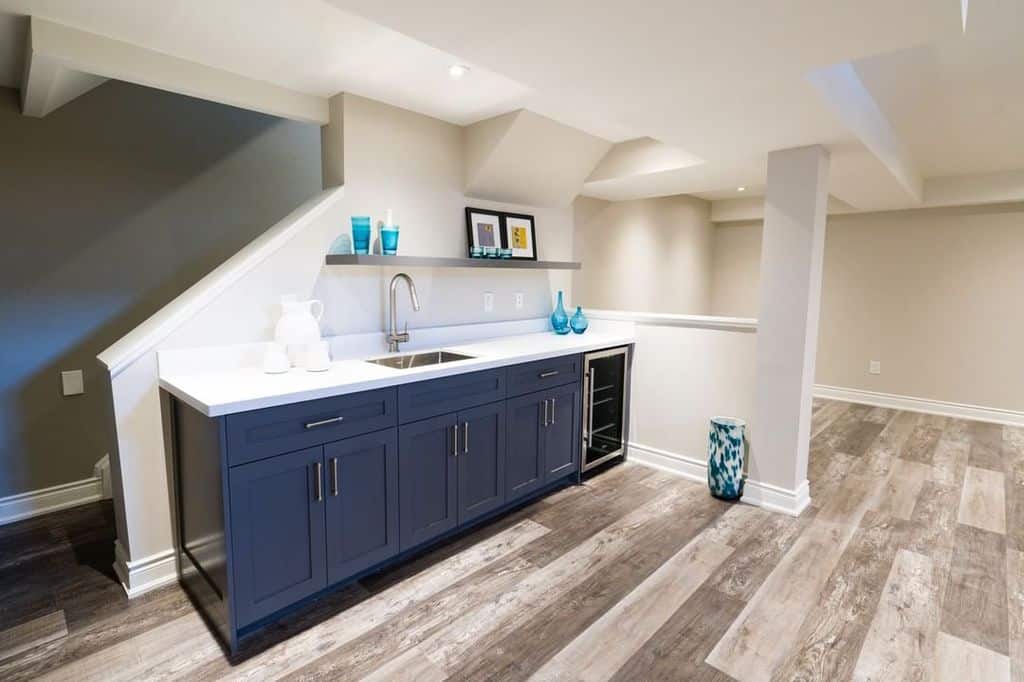 45 Basement Storage Ideas
by — Liz Bittar

Published on February 23, 2022

Updated on October 11, 2023
Storage never seems to be enough! Garage and basements are the number one options for storage; that's normally where we end up storing bulky items and everything else we don't use much, to take them out of the way and out of sight!
Sports gear, off-season clothing, camping equipment, tools, Christmas and Halloween decorations, and precious memorabilia, all tend to be kept in either garages or basements in most houses.
So, any precious storage space deserves thorough planning, otherwise, you'll feel you are only moving clutter from one room to the other. Before simply piling up stuff, take the time to give it a good thought-through, if you don't want to end up with a cramped and cluttered space, just the same.
In this post, we are sharing some clever basement storage ideas, for you to get rid of the clutter once and for all.
1. Efficient Pantry Cupboard Storage
When it comes to basement storage, don't overlook the potential of separate pantry cupboards. Utilize your basement space for storing snacks, food items, and extra dinnerware. This discreet storage solution can be tucked away on upper shelves, keeping your home's aesthetic intact.
To make the most of this design, consider labeling items for easy access and organization. Complement the pantry with proper lighting and easy-to-reach shelving to enhance its functionality and convenience.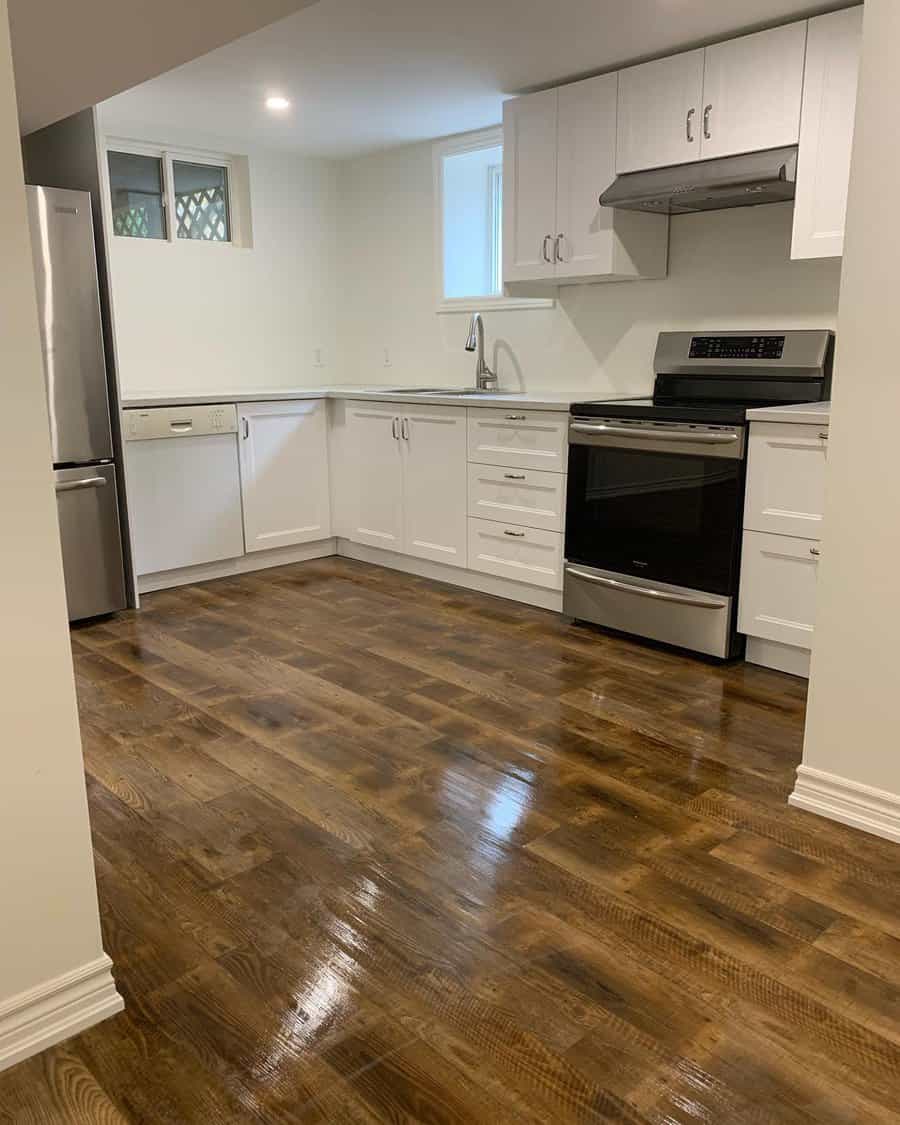 2. Tidy Laundry Room Organization
Your basement can serve as a valuable laundry room and storage space, but without a system in place, it can become cluttered. Invest in a washing machine and organized shelving to neatly store clean clothes, turning this area into a functional storage space.
Maximize its potential by adding hampers for sorting dirty laundry and consider design elements like wall hooks for drying racks and proper lighting to enhance its functionality and overall aesthetics. With a well-thought-out plan, your basement can become an efficient laundry haven.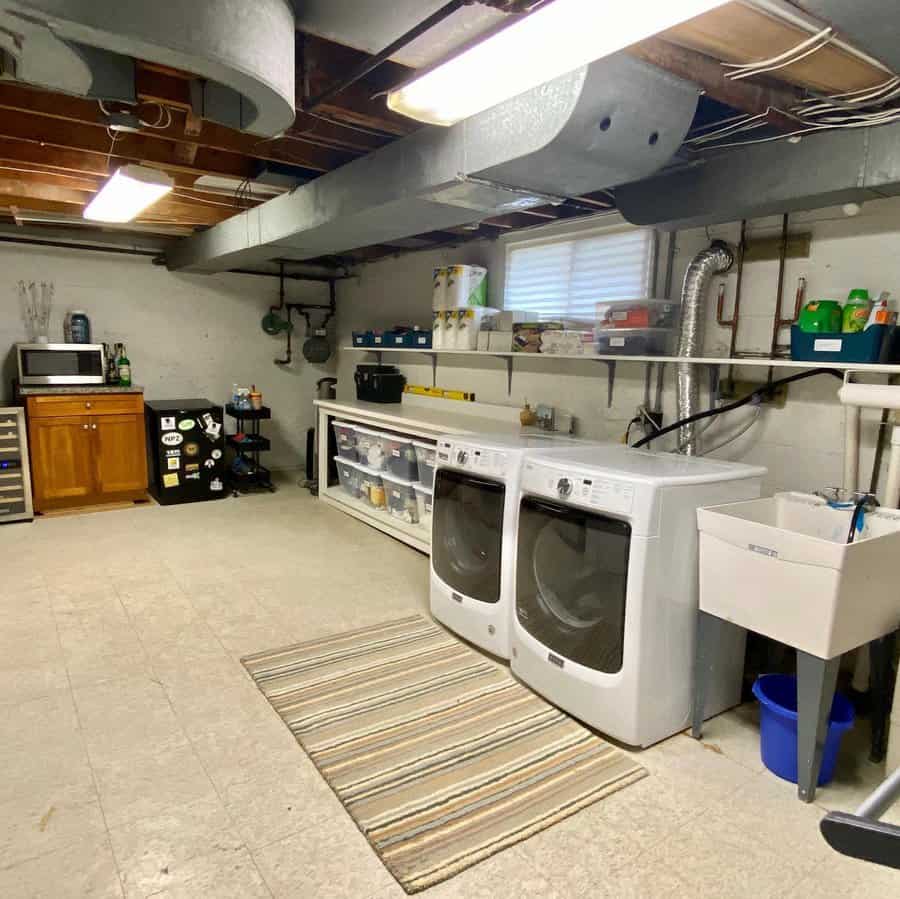 3. Cozy Wine Nook Ideas
Create a charming wine nook in your basement, perfect for storing and displaying your dark wines at the ideal temperature. Customize your wine rack with adjustable shelves to accommodate different bottle sizes. Elevate the ambiance with soft, adjustable lighting and cozy seating. With this thoughtfully designed basement space, your dark wines will receive the proper care and atmosphere they require.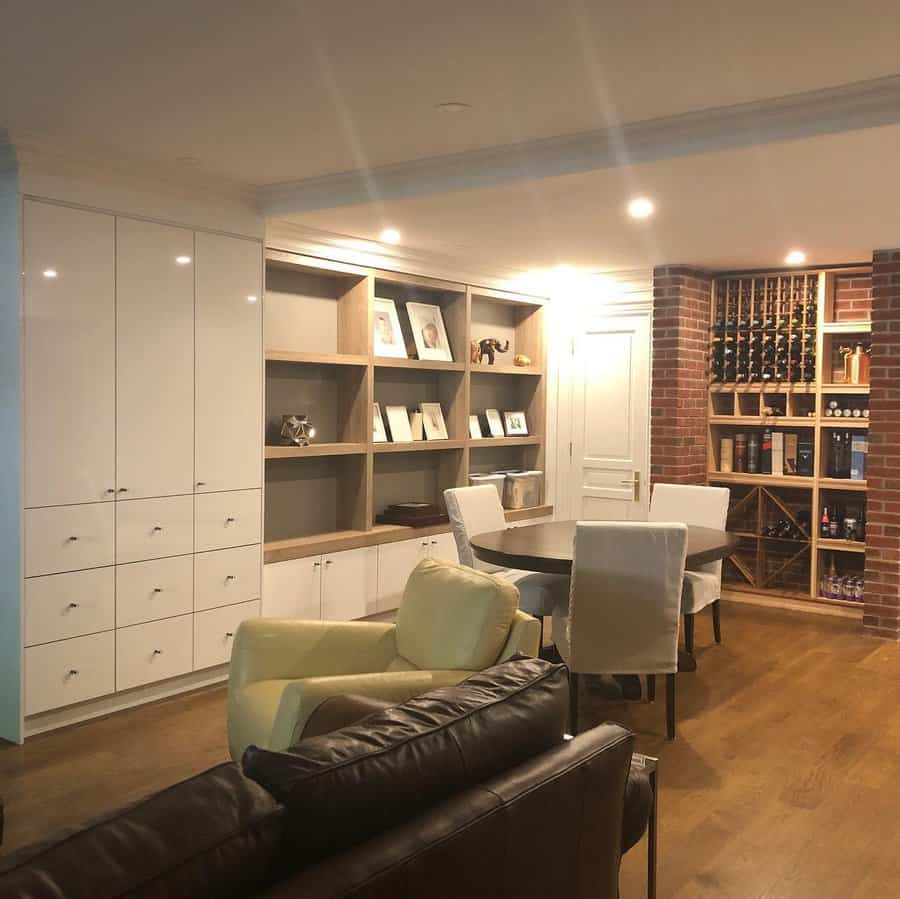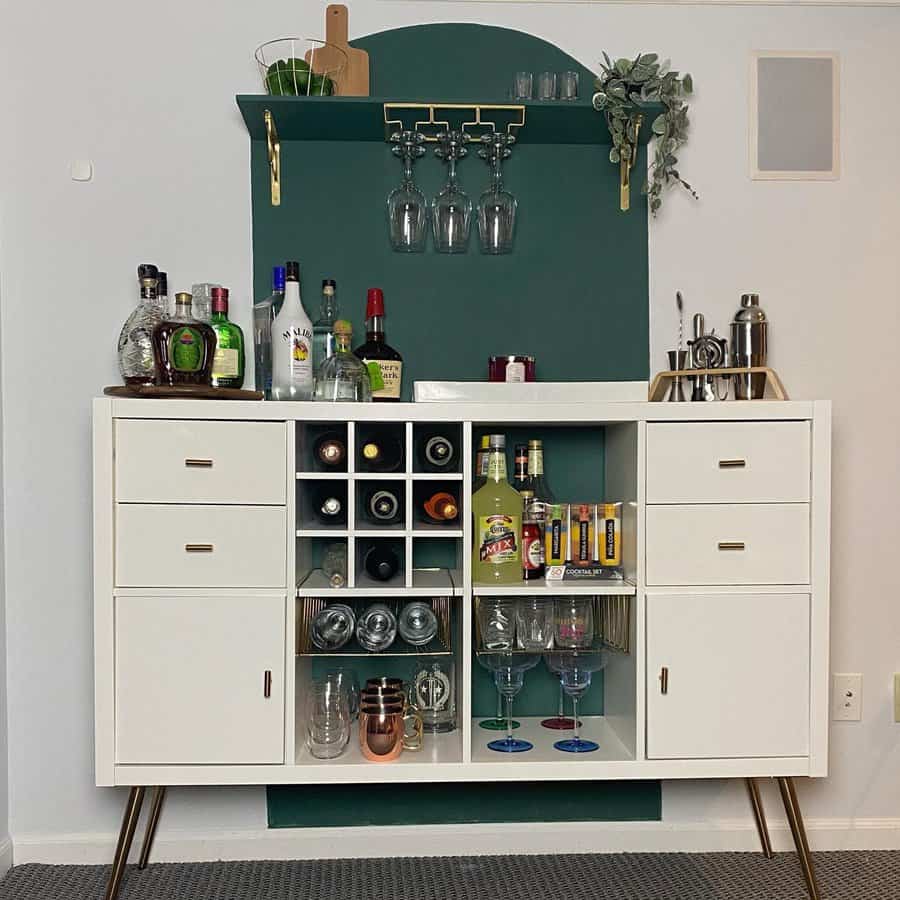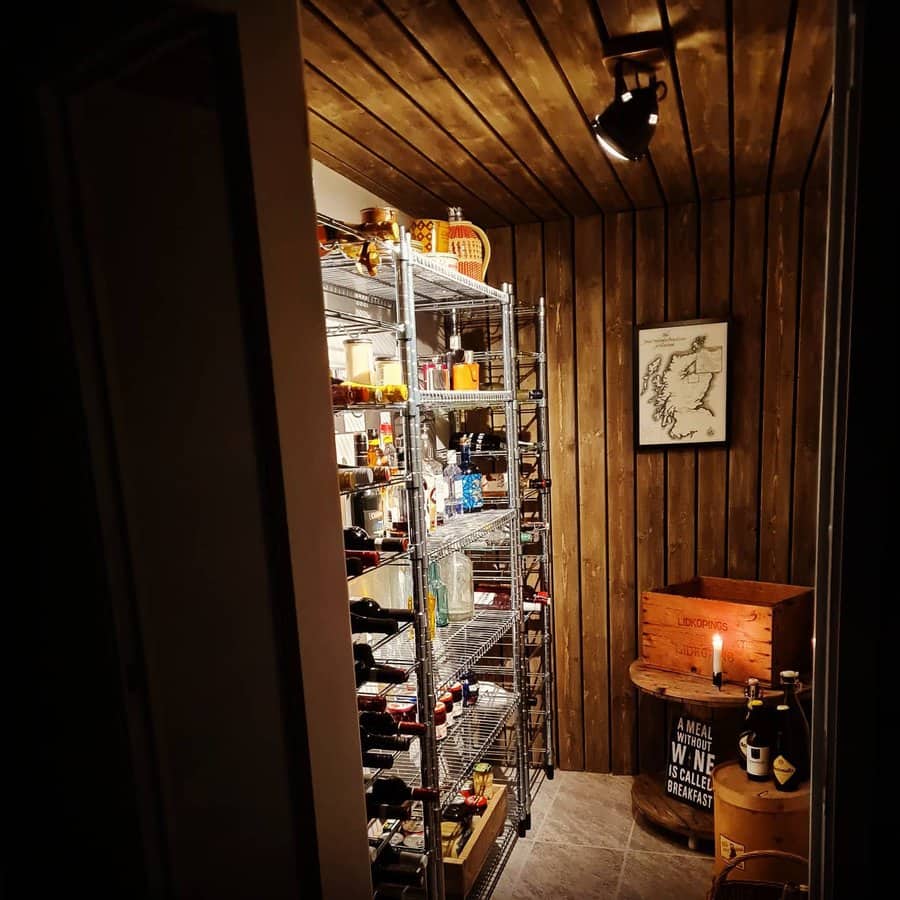 4. Stylish Home Decor Showcase
Turn your basement storage into a sophisticated home decor exhibit. Organize your furniture and smaller decor pieces on shelves or within cabinets. Artfully arrange wall accents such as mirrors and paintings to showcase the beauty of each item. With the perfect blend of organization and design finesse, your basement storage area will impress guests and potential buyers as a stylish home decor showcase.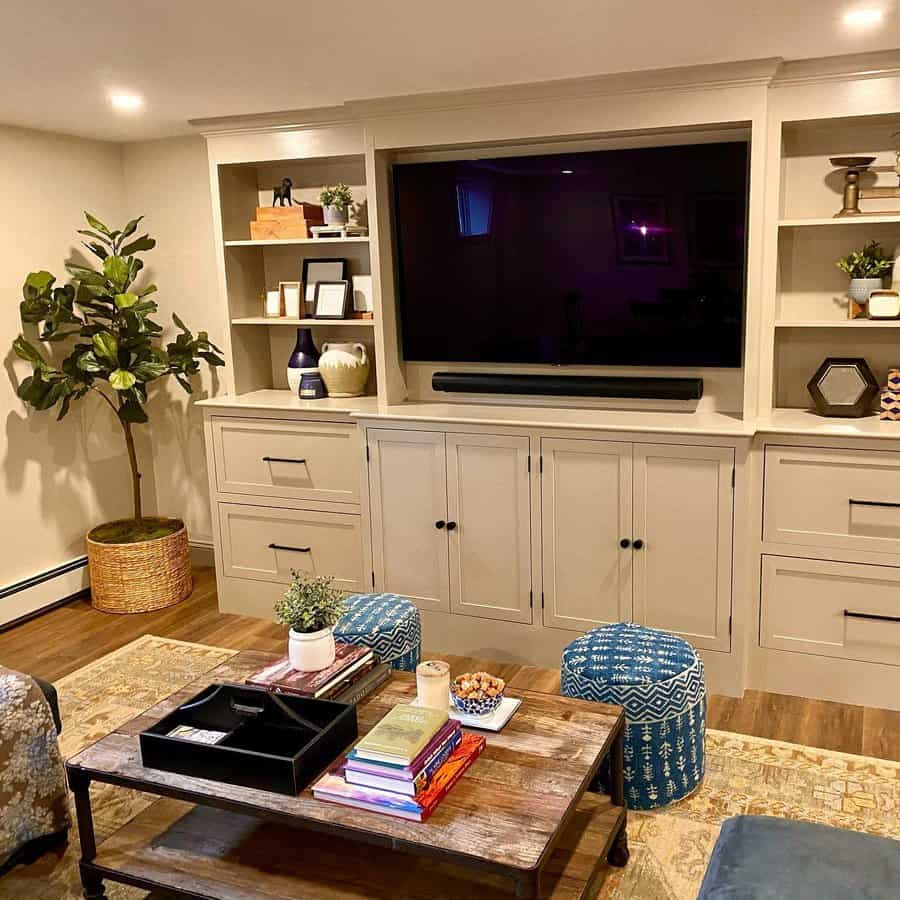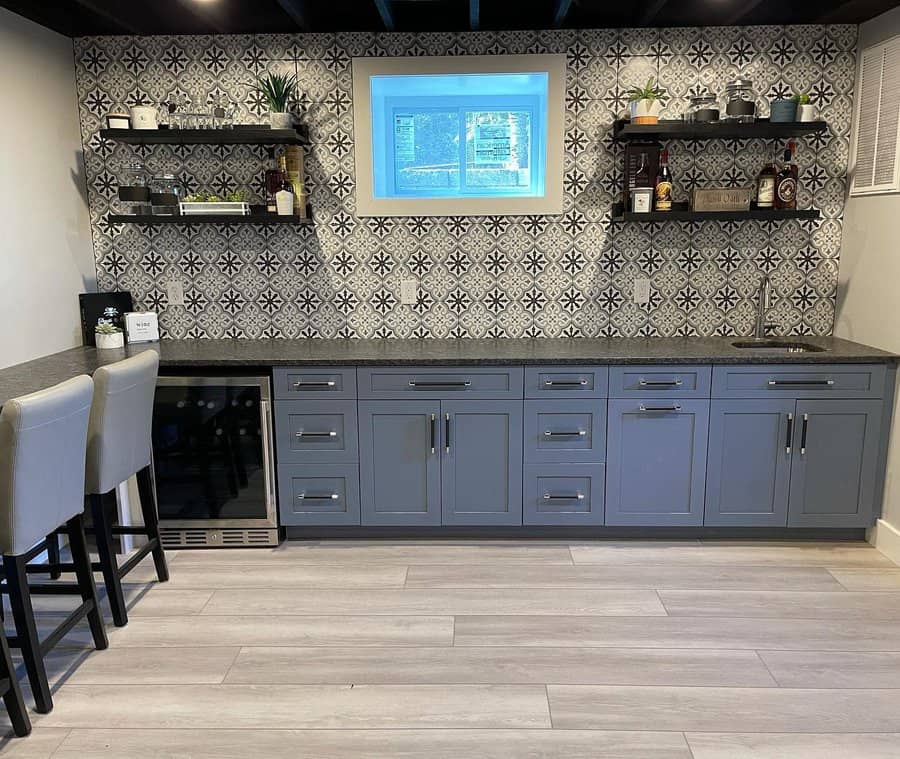 5. Unique Curved Wall Storage
When it comes to basement storage, there's a world of design potential waiting to be explored. Consider incorporating curved cupboard storage to transform overlooked corners and unconventional spaces into functional and visually appealing storage solutions. This design choice allows you to utilize every nook and cranny, adding both storage and style to your basement.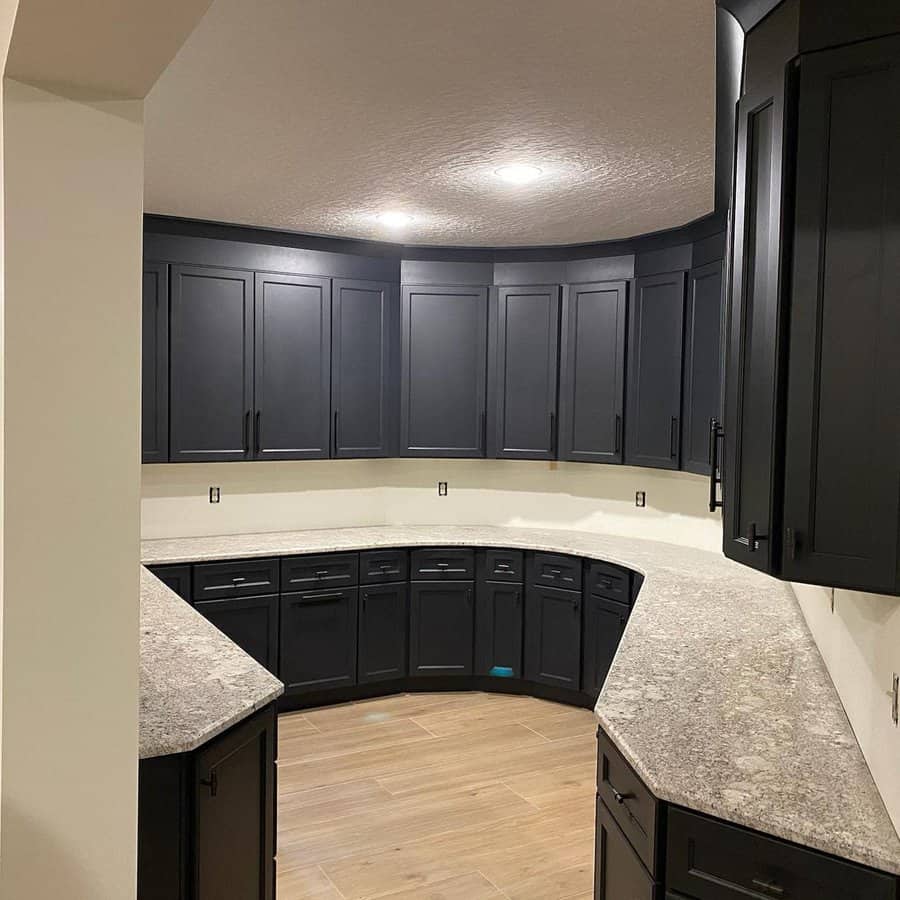 6. Neat Shelves for Basket Organization
In your basement, think of shelves with basket organizers as versatile storage solutions. Whether your basement space is small or large, these shelves not only add style but also offer practical storage for various items, from books and clothing bins to toys and seasonal decorations.
The basket system ensures easy access, allowing you to find what you need quickly. To enhance this design, consider labeling the baskets and incorporating them into your basement's overall decor scheme for a cohesive and organized space.
7. Bookshelf Transformed into Desk
Turning your basement into a versatile space is a manageable project with considerable impact. Begin by introducing a bookshelf equipped with an integrated desk. This clever design seamlessly combines storage and workspace, making it perfect for managing paperwork or engaging in light office tasks. It not only boosts practicality but also lends a tidy and stylish touch to your basement. To ensure it complements your basement's overall aesthetics, select decor and lighting that align with your chosen design theme.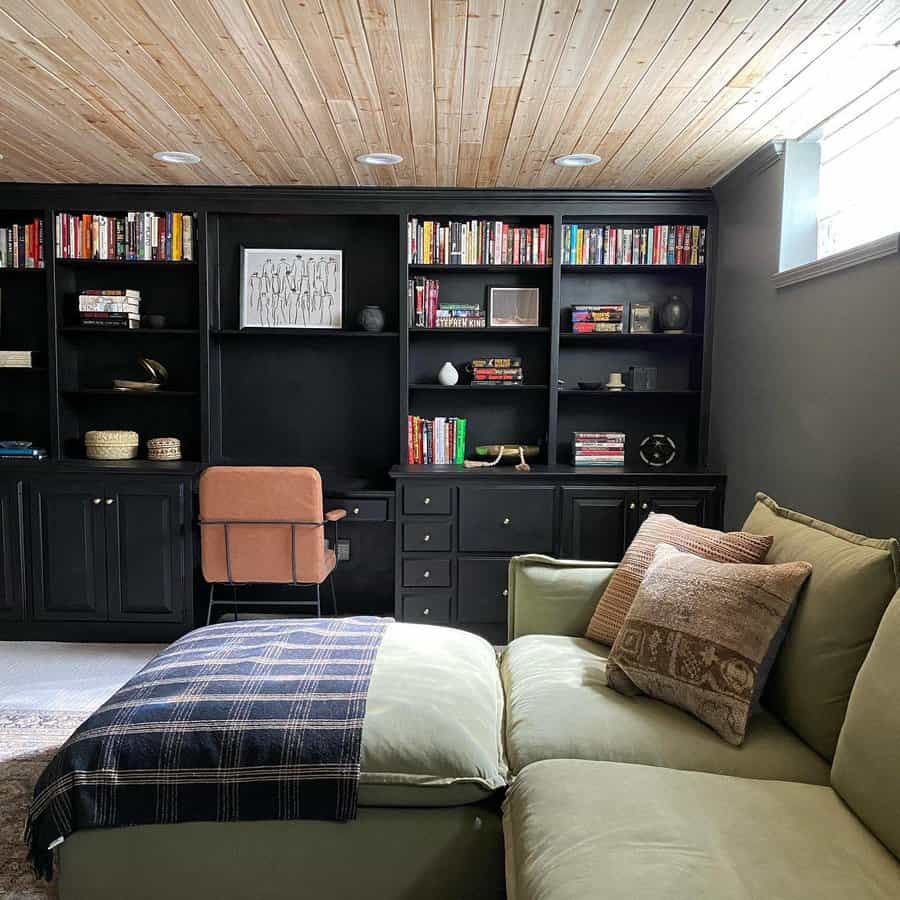 8. Space-Saving Overhead Wall Shelf
Maximize your basement's storage potential with space-saving overhead wall shelves. These shelves not only add a touch of sophistication but also create a cozy atmosphere. Install them easily to store items like coffee table books or cherished belongings. Elevate your basement's style and functionality with this affordable design element.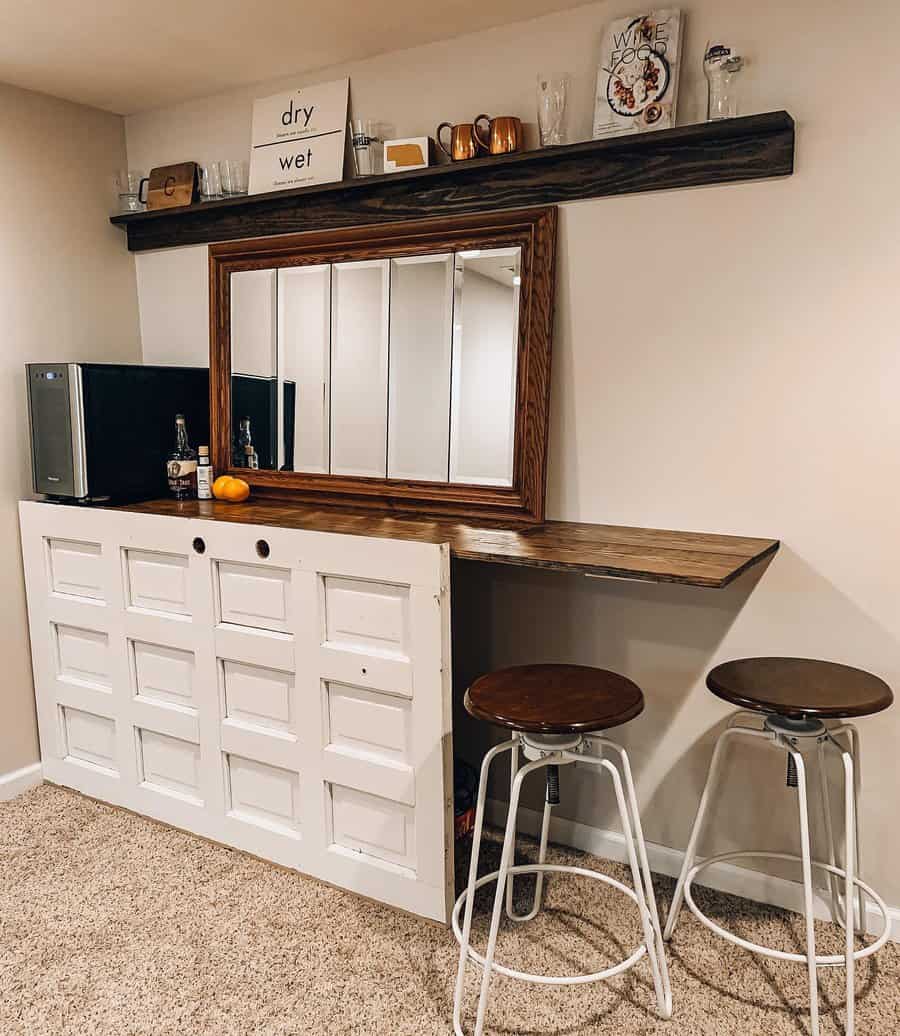 9. Entertainment Center for Basements
Unlock the potential of your basement as a versatile, multi-purpose area by incorporating a bookshelf with a built-in desk. This innovative design seamlessly combines book storage and workspace in one compact solution.
Organize your books and create a functional workspace for paperwork and light office tasks. To enhance the aesthetics and functionality, ensure proper lighting, ergonomic chair, and decorative elements that match your basement's decor theme. This transformation not only optimizes space but also elevates the overall appeal of your basement.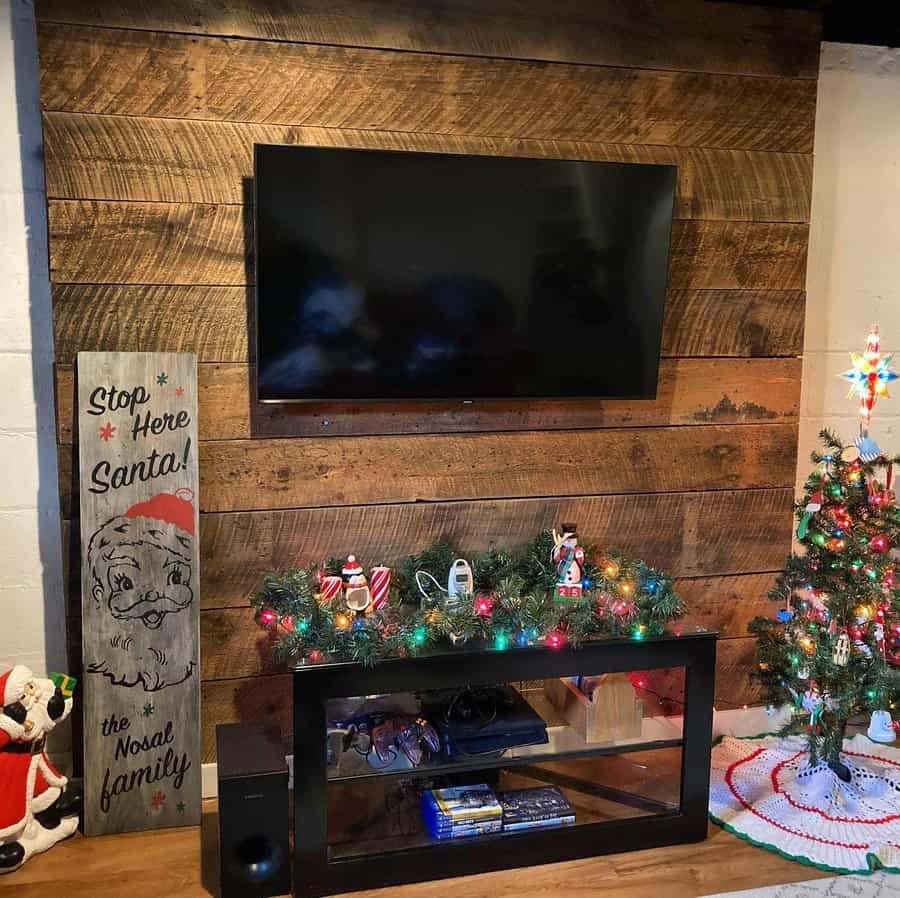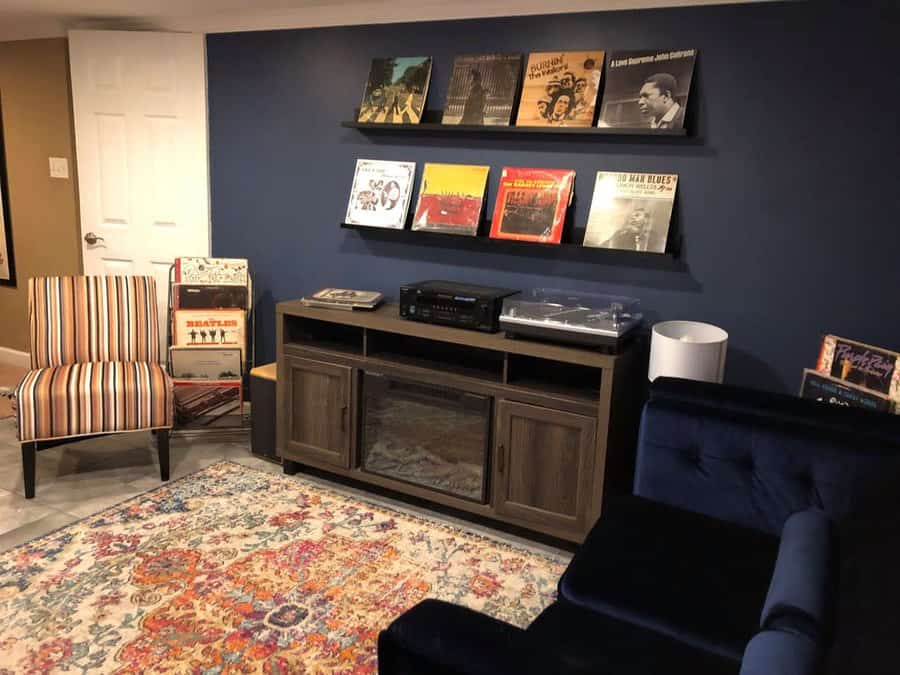 10. Versatile Shelf with Crate Bins
Enhance your basement storage by creating a versatile multi-purpose shelf featuring labeled crate bins. This engaging project brings both organization and personalization to your space. Utilize color-coded labels for effortless content identification and rapid access to stored items. Whether you're storing seasonal decor or daily necessities, this flexible design can adapt to various storage requirements. Follow these straightforward steps to convert your basement storage into an orderly and user-friendly area that harmonizes with your overall design.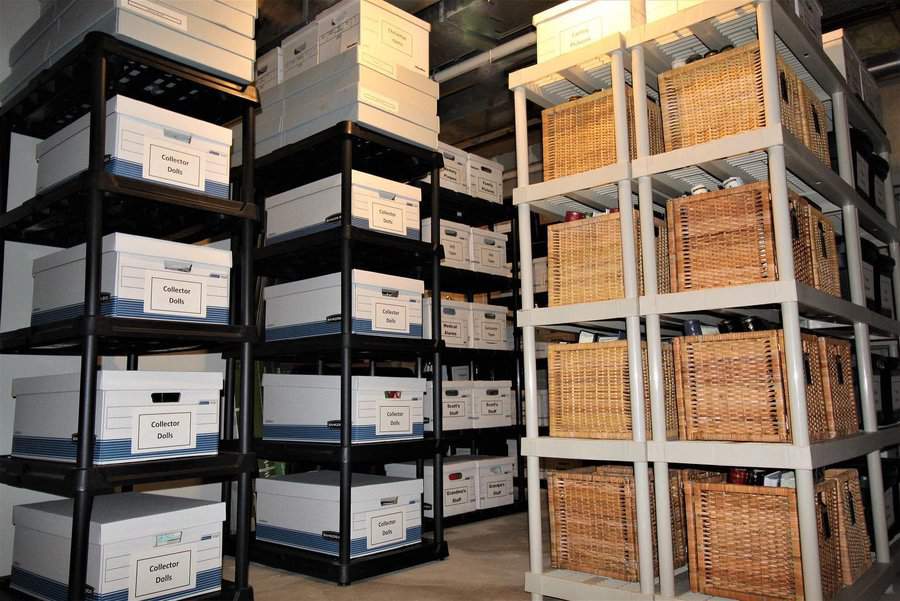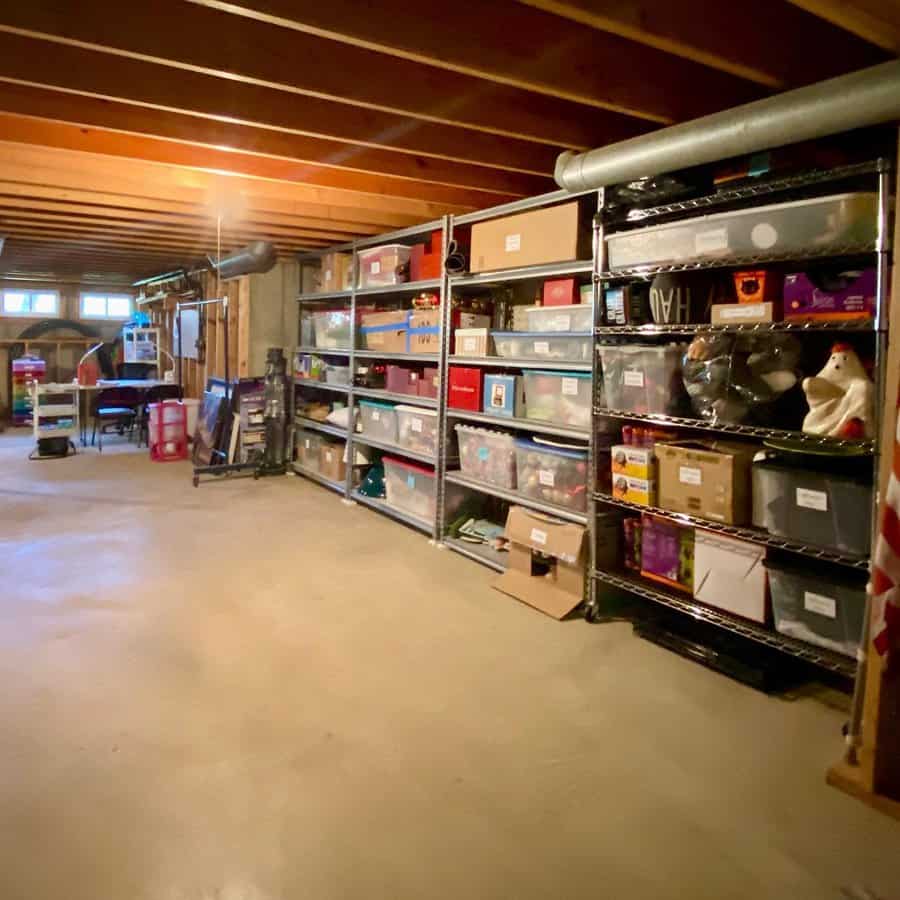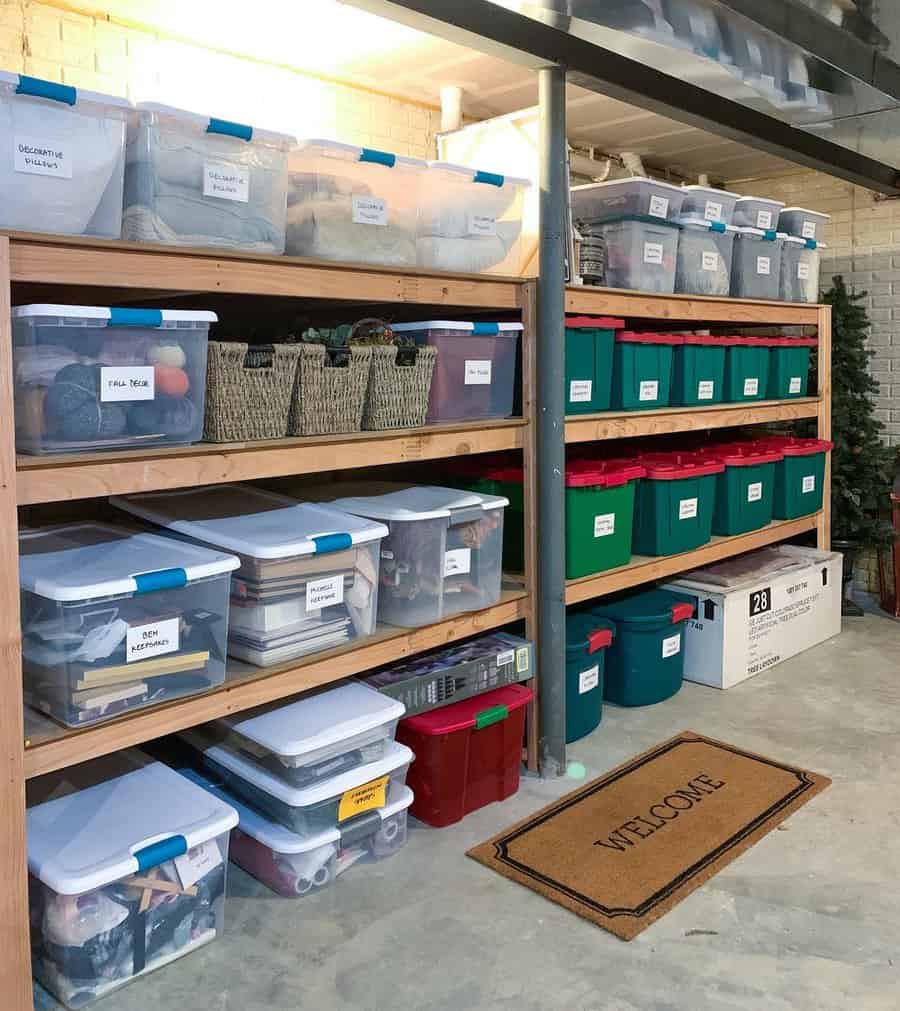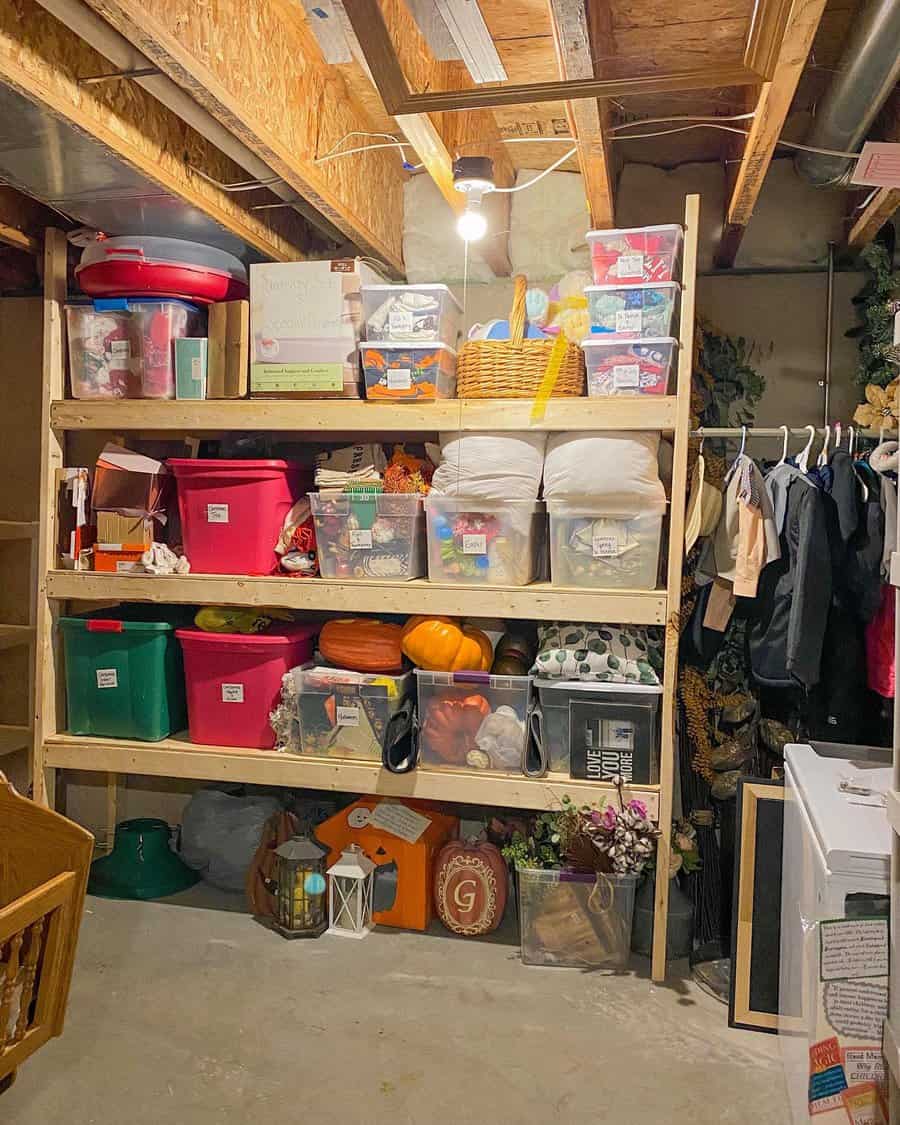 11. Utilizing Under-Stairs Space
For efficient basement storage, consider tapping into the under-stairs area with a versatile shelving solution. Maximize space by designing shelves that cater to your specific storage needs, whether it's decluttering your home or storing seasonal items.
This innovative approach allows for easy access and keeps your space organized. Ensure that the shelving design harmonizes with your home's overall aesthetic, adding both functionality and style to your basement storage solution.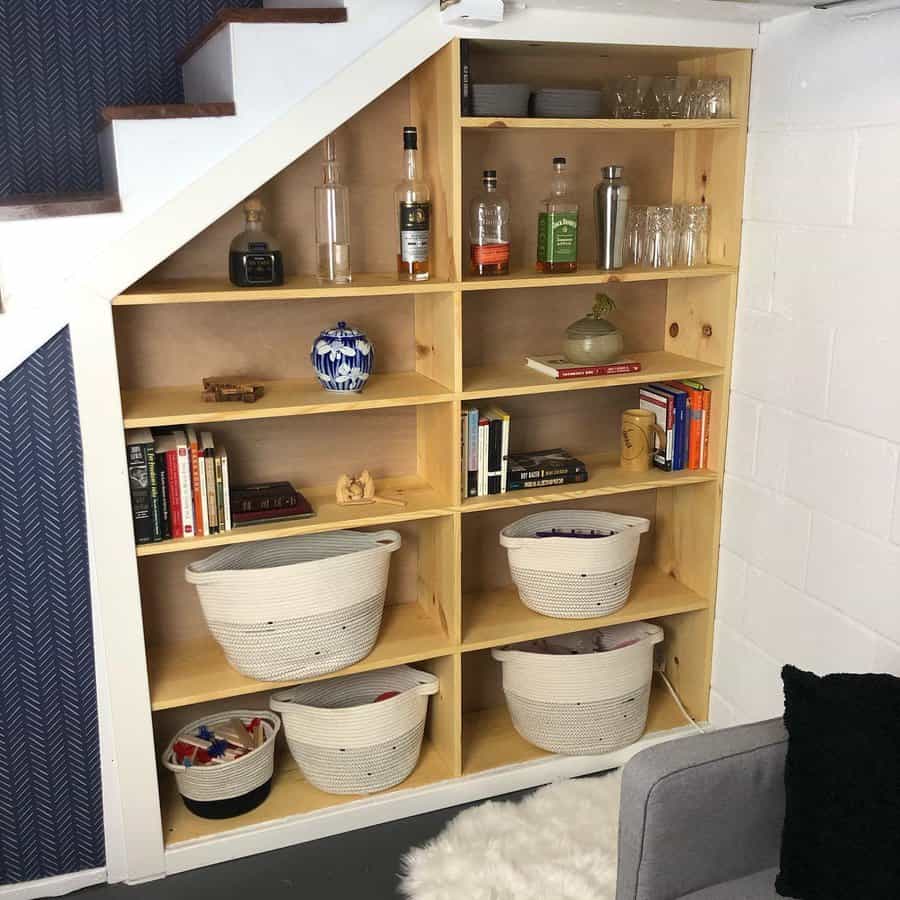 12. Closet Door Rack for Everything
Revamp your basement storage with the clever use of closet door racks, specifically tailored for storing gift wrapping and art materials. The organization is the key to transforming your basement from cluttered chaos to an organized haven.
Utilize color-coordinated hangers, versatile shelving, and accessible storage boxes to make the most of limited space. With these smart design elements, your basement storage can inspire creativity and order, even in smaller areas.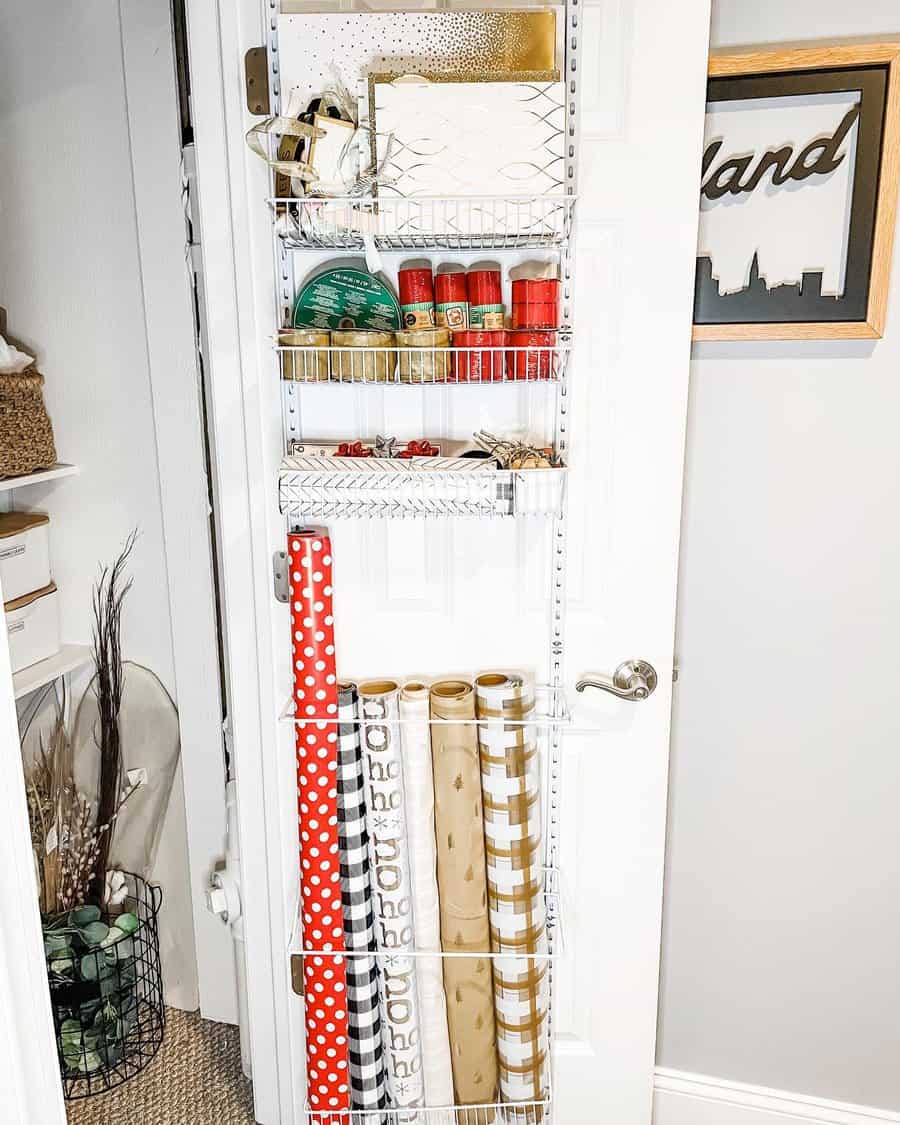 13. Basement Walk-in Closet Oasis
Embrace the untapped potential of basement storage by creating a walk-in closet that adds functionality and style to your home. Installing a walk-in closet in your basement is an efficient way to free up space in other rooms while keeping your belongings well-organized.
Incorporate hanging poles for easy access to clothing and maximize storage with additional shelving and cabinets. This design not only declutters your home but also provides a convenient oasis to store everything, helping you maintain a well-organized and clutter-free space.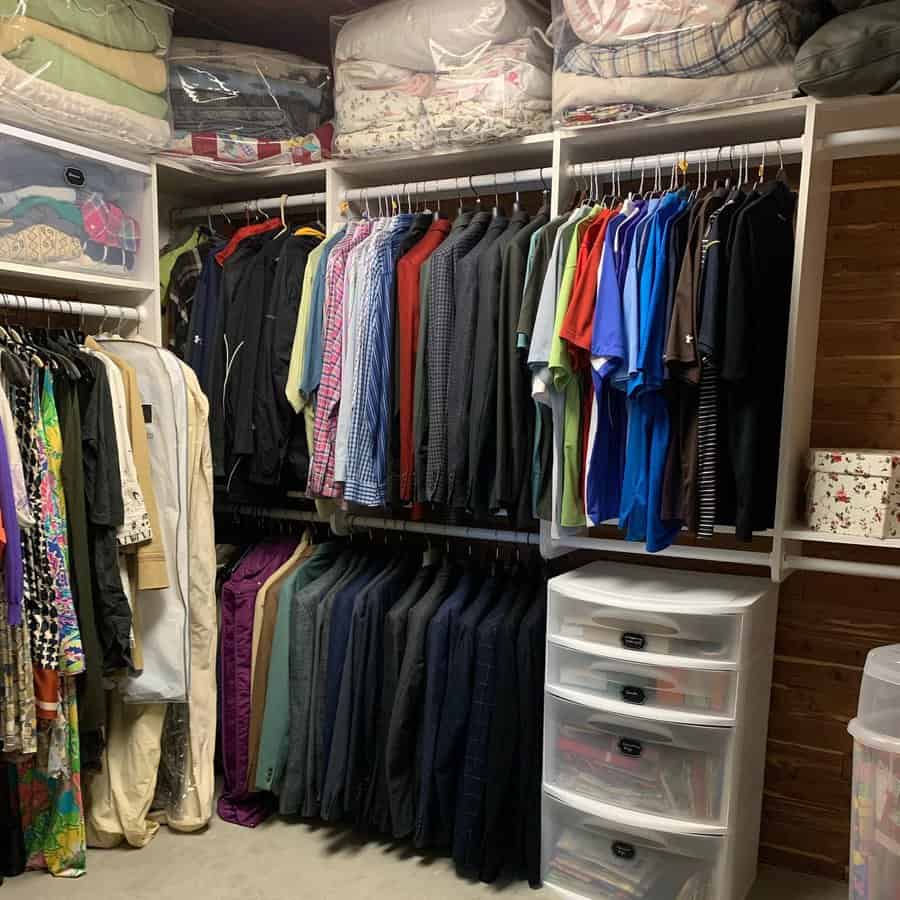 14. Organized Gym Equipment Solutions
Basements are commonly used for gym equipment storage, but optimizing the space can be a challenge. Get creative with gym item storage by installing wall racks and hooks for yoga mats, gloves, kettlebells, dumbbells, and jump ropes.
Make the most of your vertical space by incorporating floor-to-ceiling shelves, providing ample storage while keeping your gym gear well-organized. With a touch of creativity and some effort, you can transform your basement gym storage into an organized and efficient space that enhances your workout experience.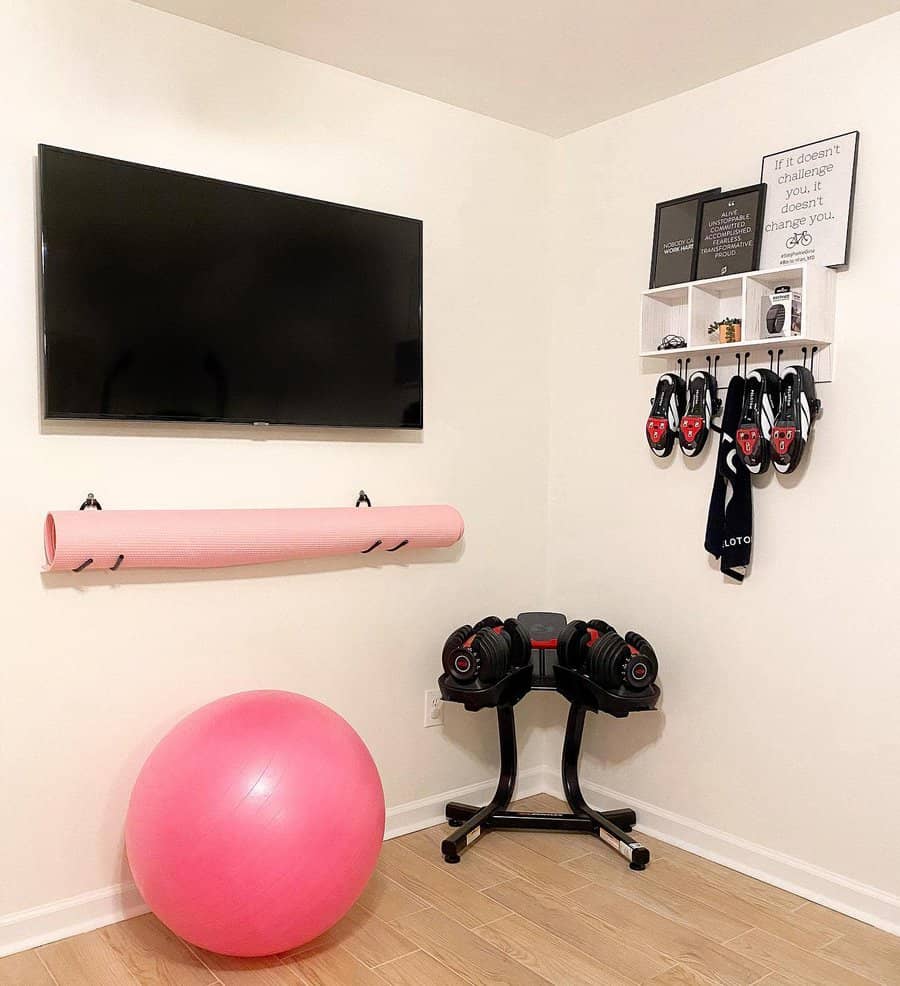 15. Clever Corner Shelf Designs
Don't underestimate your basement's storage potential; corner shelves are a smart solution for utilizing often-neglected spaces. By installing corner shelves, you can efficiently make use of these areas while freeing up precious floor space for other items. This is an ideal spot for stowing away odds and ends that lack a proper place elsewhere in your home.
Achieving the best results may involve some experimentation with various shelf sizes, but the results are well worth it. Ensure the corner shelf design complements your basement's overall aesthetic, adding both style and functionality to your storage solution.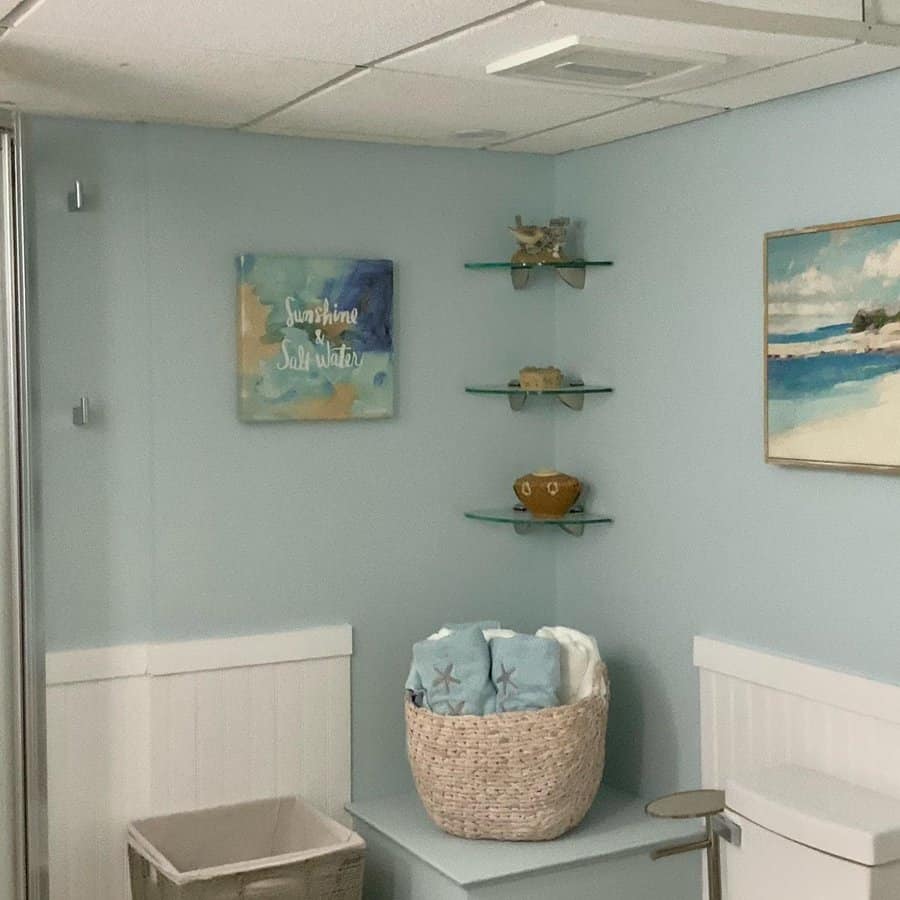 16. Books and Board Games Display
Optimize your basement storage by incorporating dedicated shelves for books and board games. Keep your book collection organized with carefully designed bookshelves and ensure your board games remain dust-free on a specialized shelf.
To add a touch of style and save on cleaning efforts, consider recessed TV shelves that embed your display in the wall. These storage solutions not only enhance your basement's functionality but also add a unique and chic element to the space.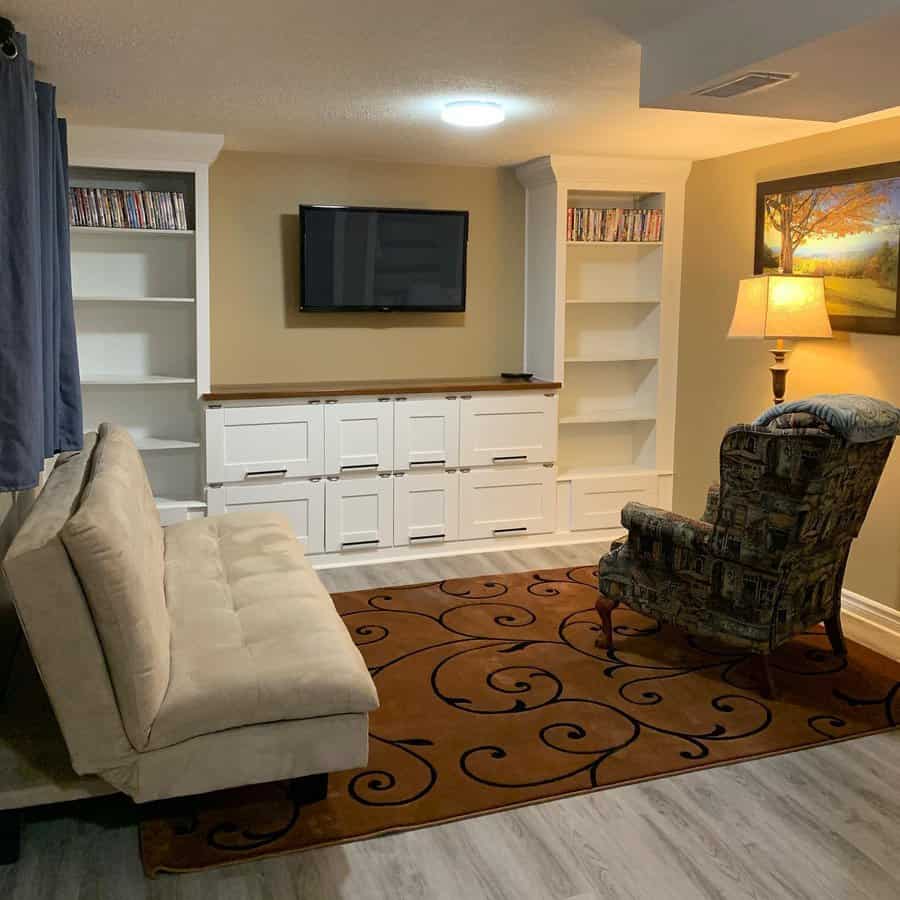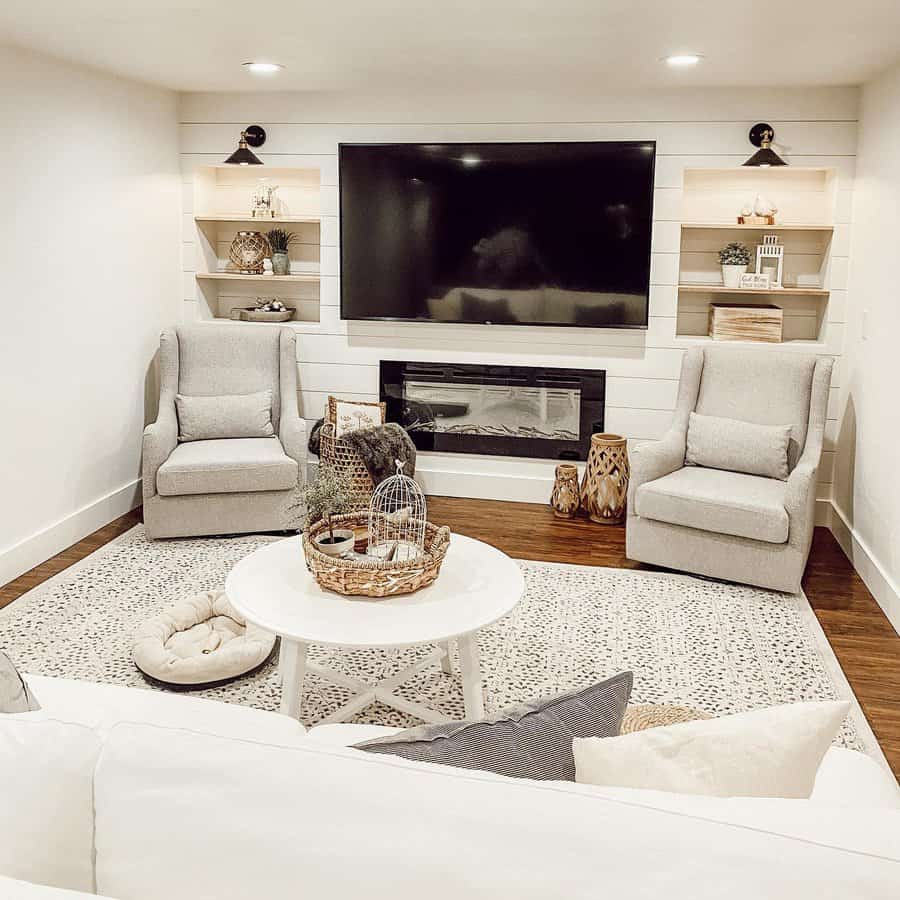 17. Low Cabinet with Countertop Space
Don't overlook your basement; it's a treasure trove of untapped storage potential. Introduce a low cabinet with a countertop to enhance storage without compromising space. This versatile cabinet can serve dual purposes, offering additional seating when adorned with comfortable cushions for entertaining guests.
To infuse style into your basement, experiment with color combinations and vibrant countertop finishes that draw attention. Embrace the endless possibilities of basement storage by getting creative with this design element, complementing your overall decor for a harmonious and functional space.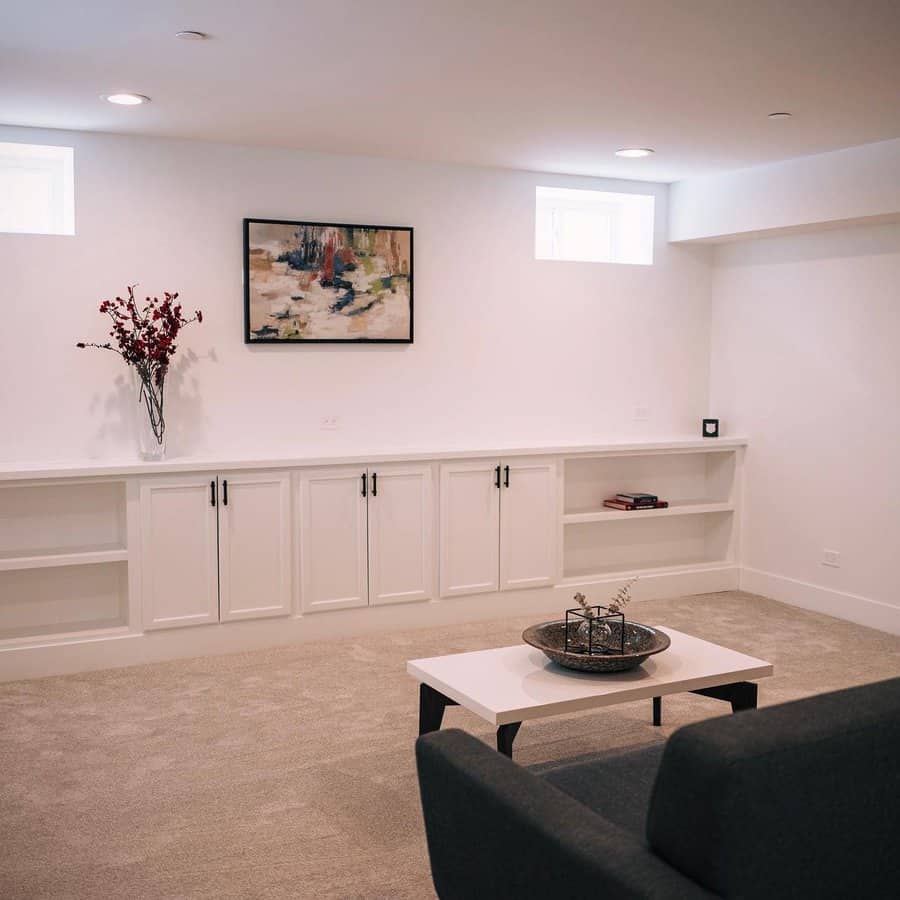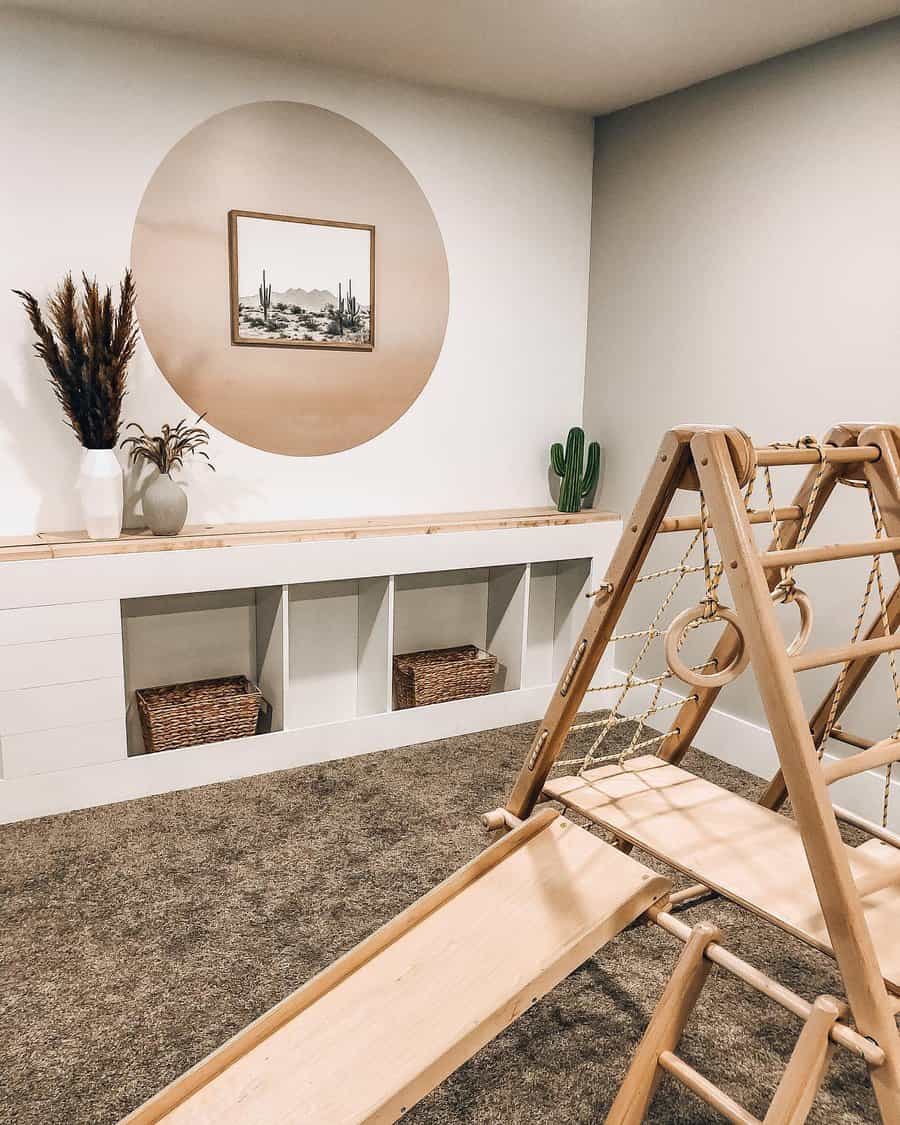 18. Mini Bar for Basement Cheers
Your basement can be transformed into a cozy mini-bar hideaway, complete with well-organized mini pantry drawers that hold everything you need for mixing drinks and serving snacks. This setup is perfect for entertaining friends, showcasing your mixology skills with both alcoholic and non-alcoholic beverages, and offering quick, delightful treats. Enhance your basement's appeal by optimizing storage while adding an exclusive touch that sets it apart from the rest of your home.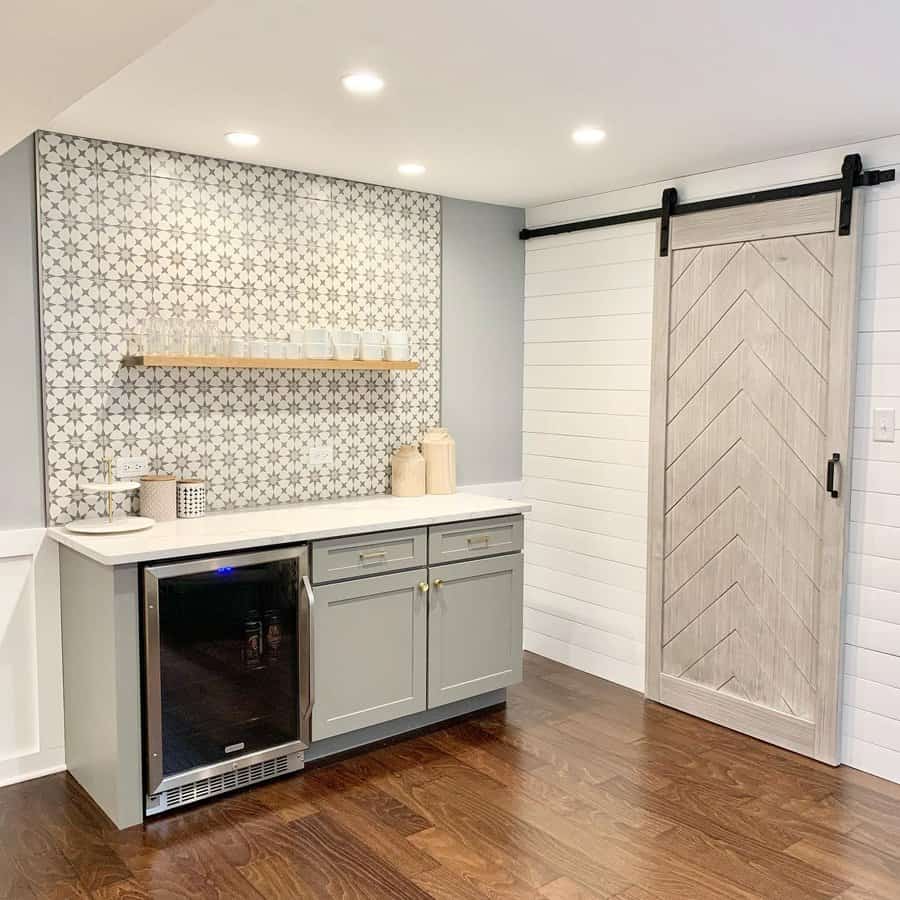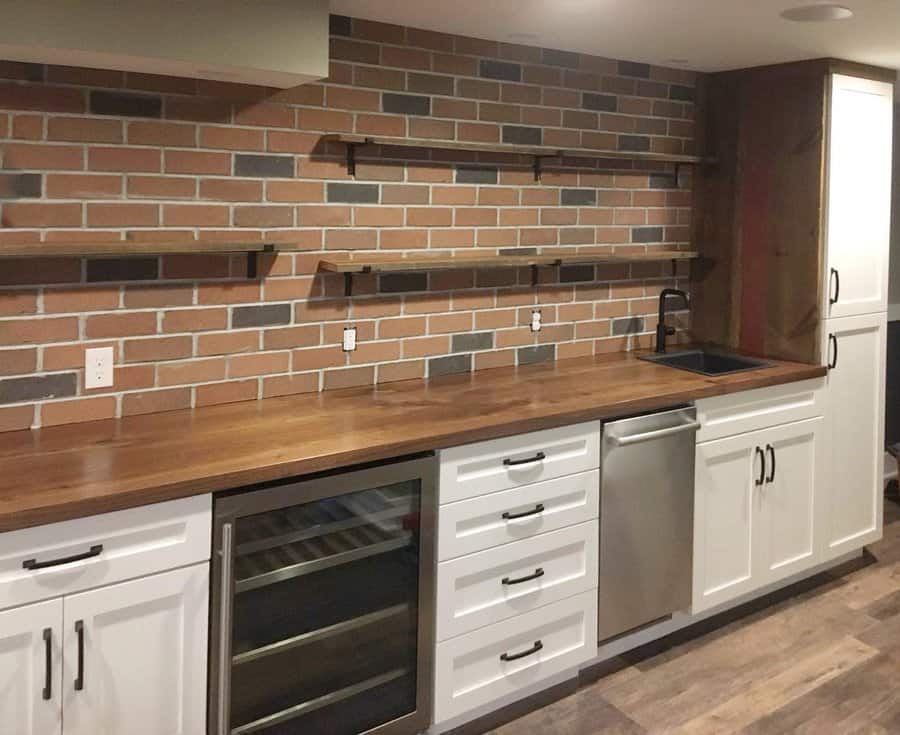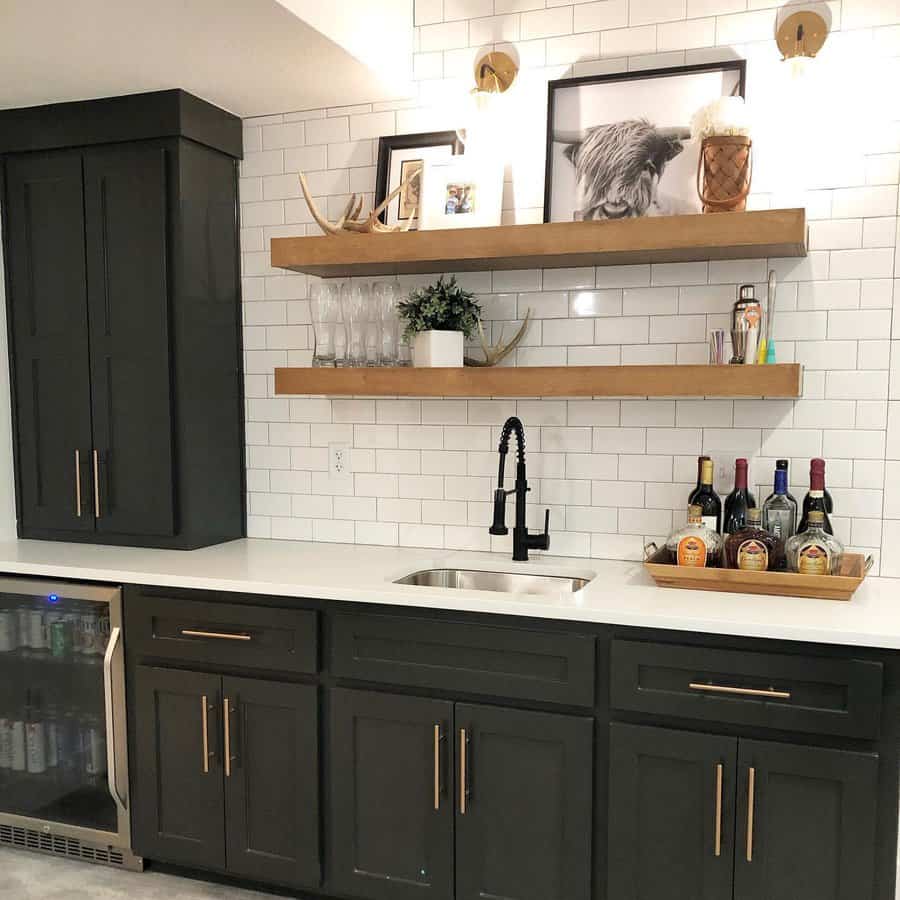 19. Stacked Crates with Labeling System
Maximizing your basement's storage potential is a smart move. Consider using plastic crates stacked in an organized system with labels to ensure easy access to your stored items. Create clear, oversized, and colorful labels for each crate, making it effortless to identify their contents, even in the depths of your basement. This practical storage solution ensures you always know where your belongings are, eliminating the need to search through old boxes and bags.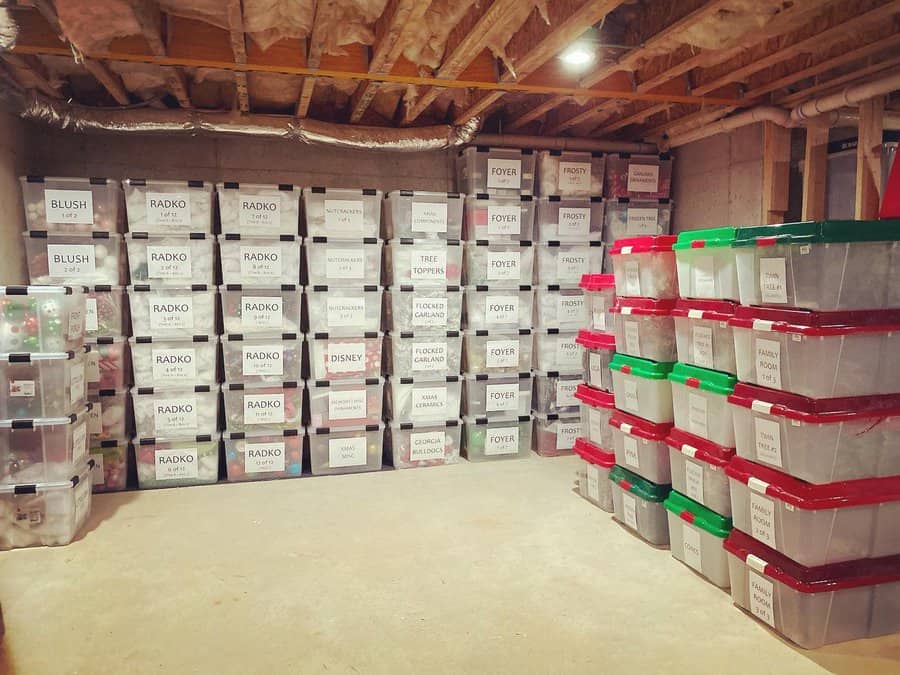 20. Hanging Wall Shelves in Style
Opting for floating built-in wall shelves is a brilliant choice for optimizing basement storage. These shelves not only provide valuable storage space but also enhance your basement's aesthetics. The area below the shelf can be utilized creatively to maximize your available space. By incorporating built-in hanging wall shelves, you can organize bins, baskets, and boxes in an ever-changing, accessible, and visually pleasing manner. The square footage beneath the shelf can transform various parts of your basement into versatile, multi-purpose areas, regardless of its size.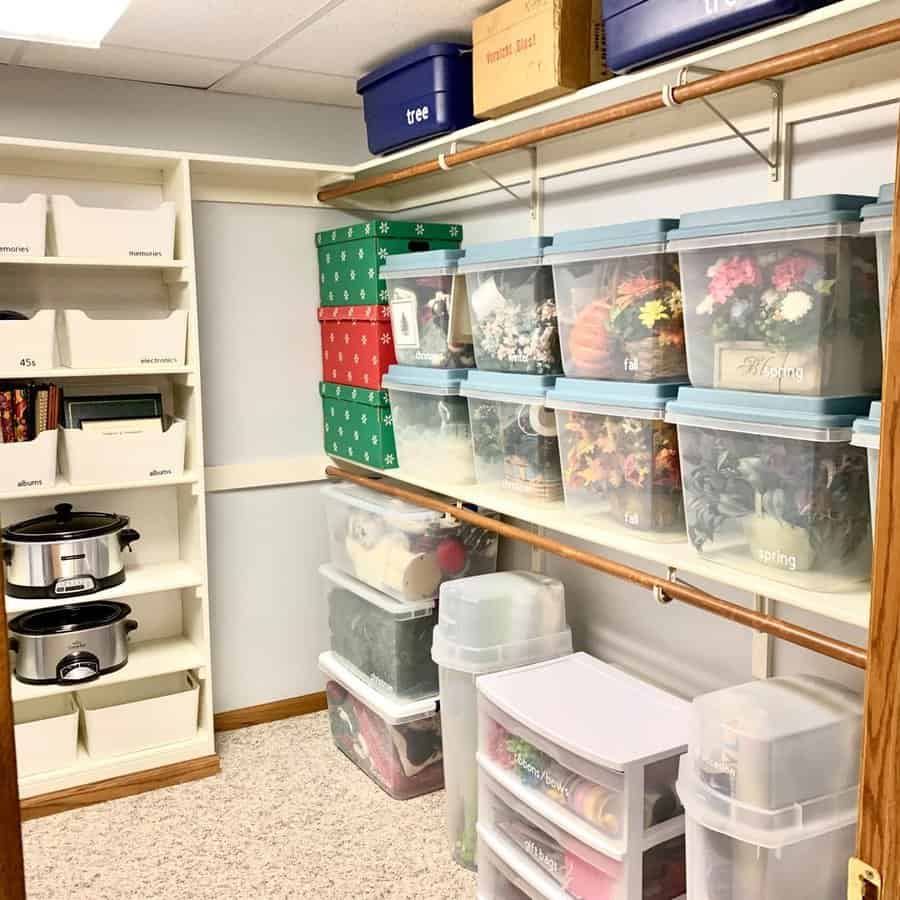 21. Art Supplies at Your Fingertips
Give your basement a makeover by turning it into an organized art supplies haven. Start by selecting your art materials carefully and grouping them by type in clear plastic containers. Enhance your organization with chalk sticker labels for easy identification.
Invest in mesh bins to store art tools efficiently, and consider adding smaller containers to corral buttons, beads, and other crafting extras. Reserve a dedicated area for your ongoing art projects to keep the creative juices flowing and your space clutter-free.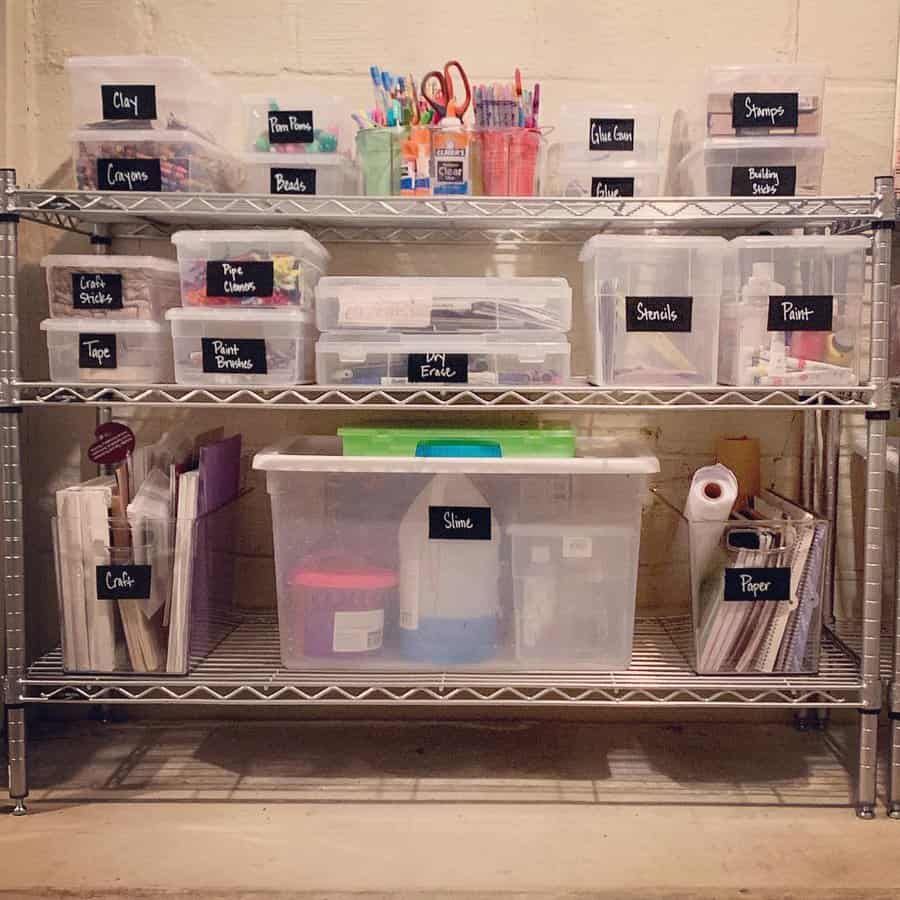 22. Toy Shelf Organizer Magic
Basements are an ideal solution for stowing away your children's toys and miscellaneous items, sparing their bedroom from overcrowding. Implementing well-designed toy shelf organizers in your basement not only simplifies the decluttering process but also ensures quick access to the items your kids adore.
These organizers are a must-have for any kid's space, promoting a tidy and visually appealing environment. Though it may appear challenging at first, investing in effective toy shelf organization can transform your basement into a clean and welcoming haven for your family.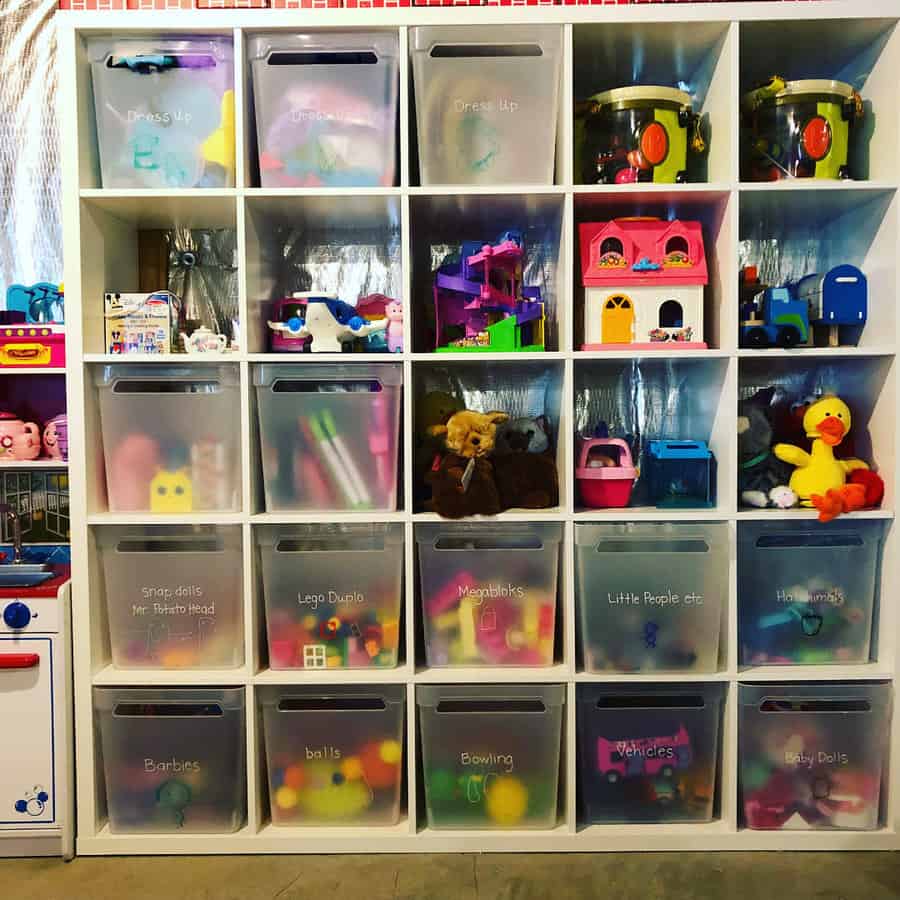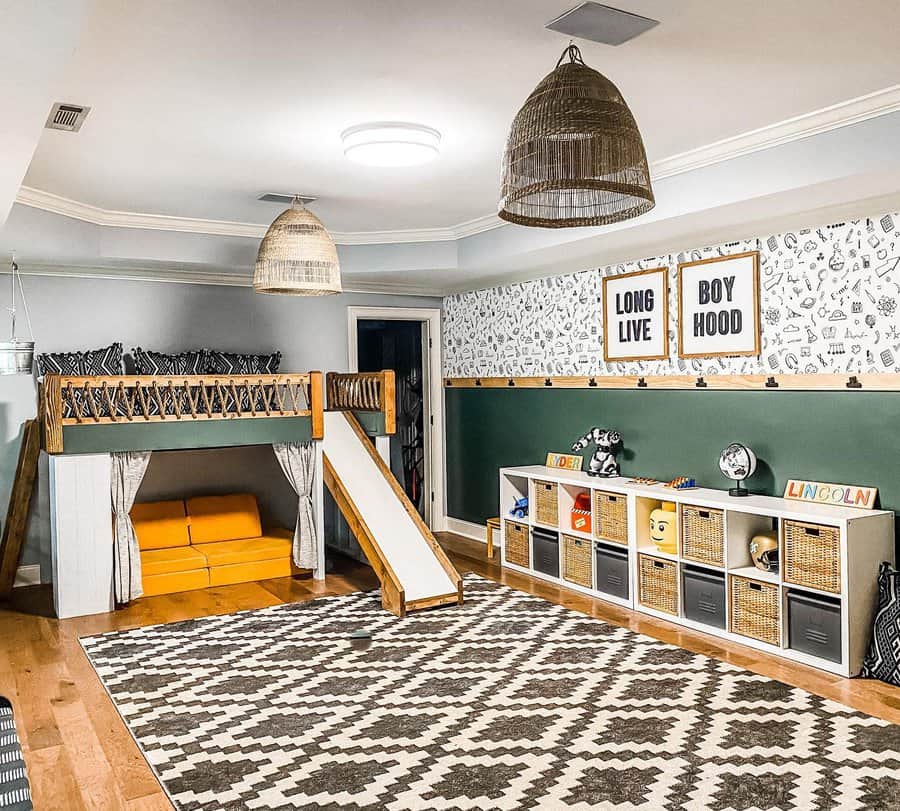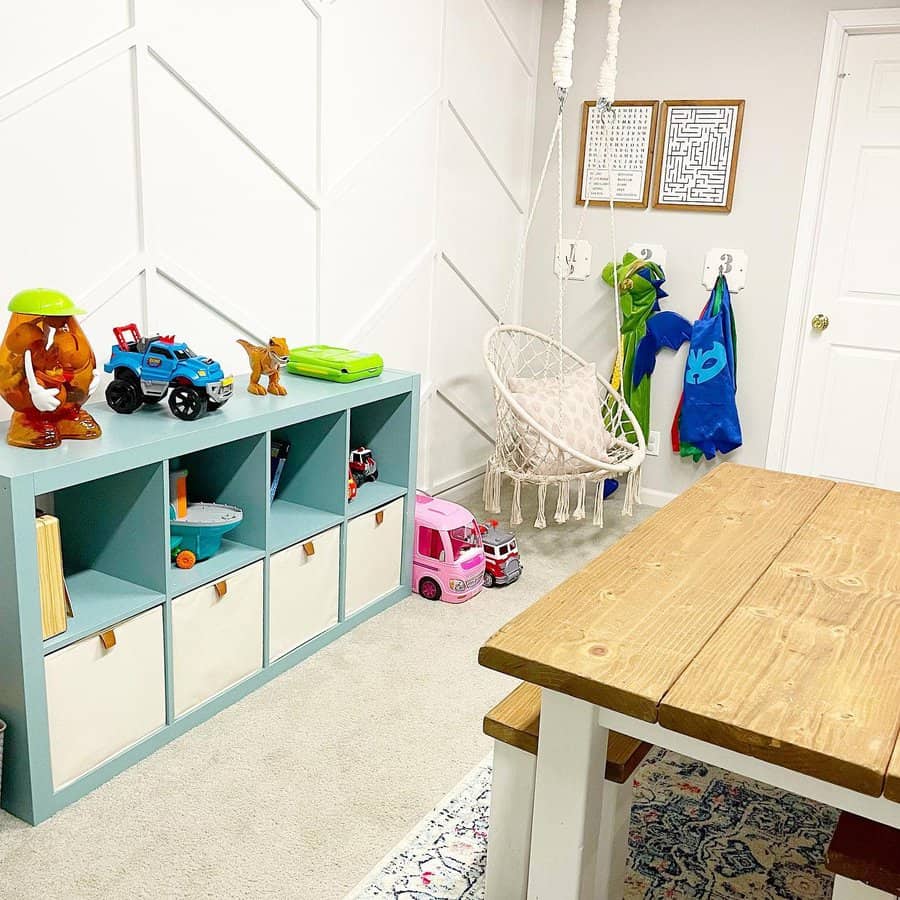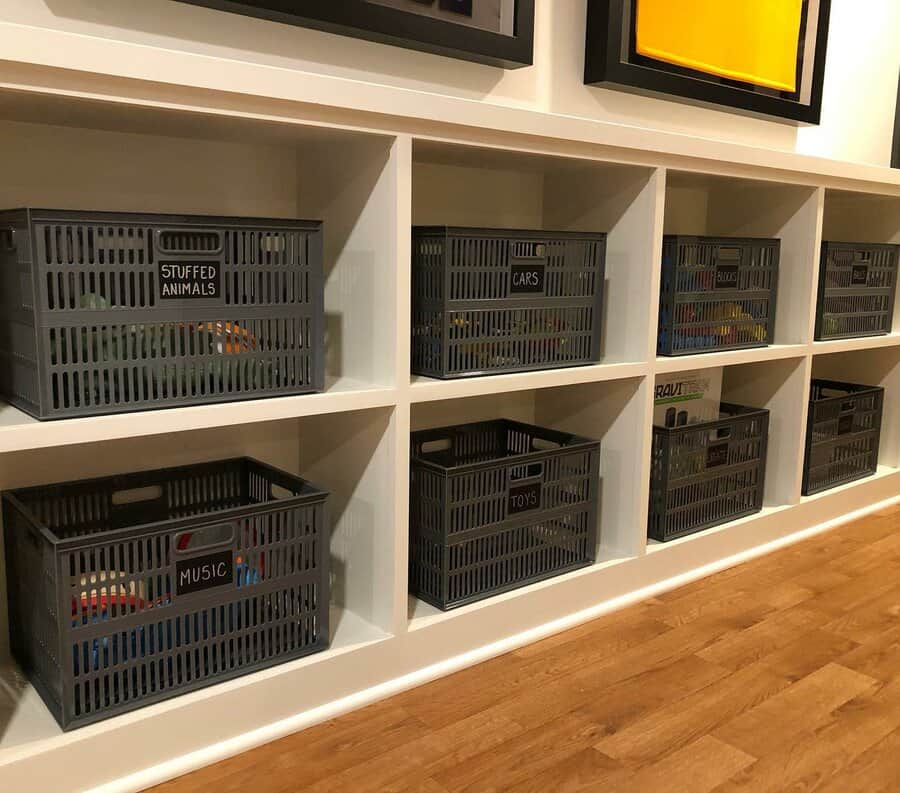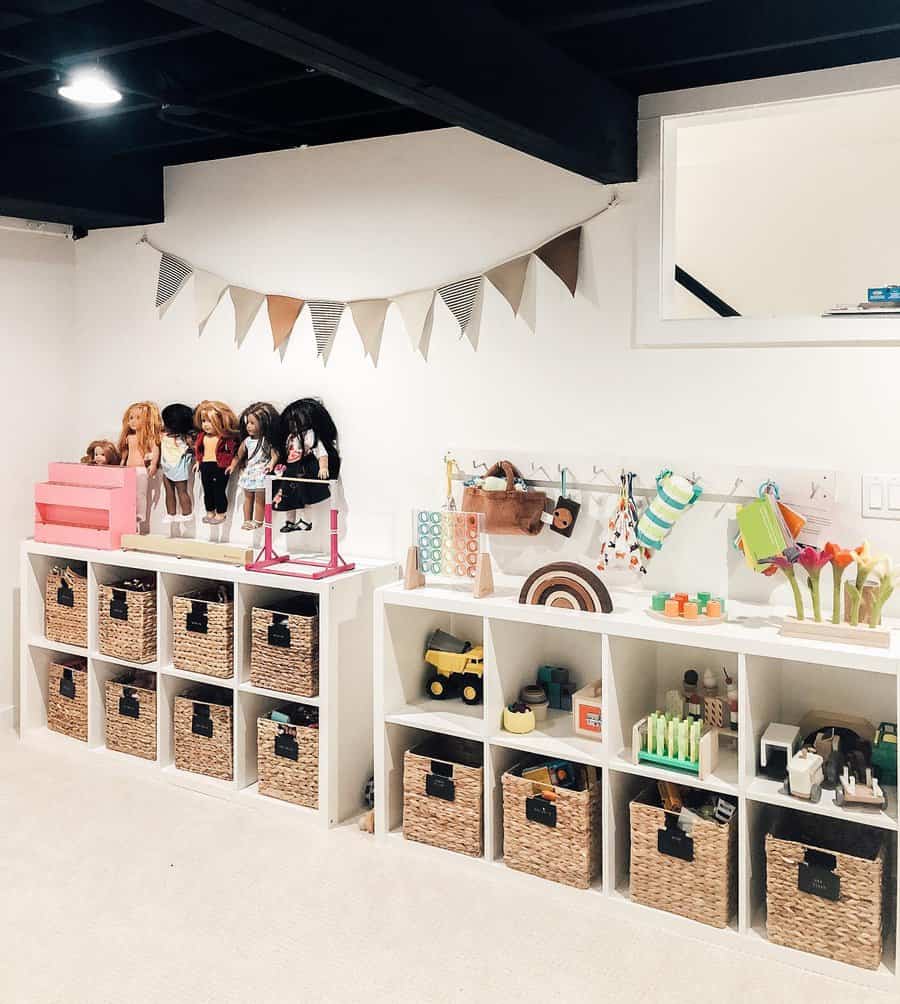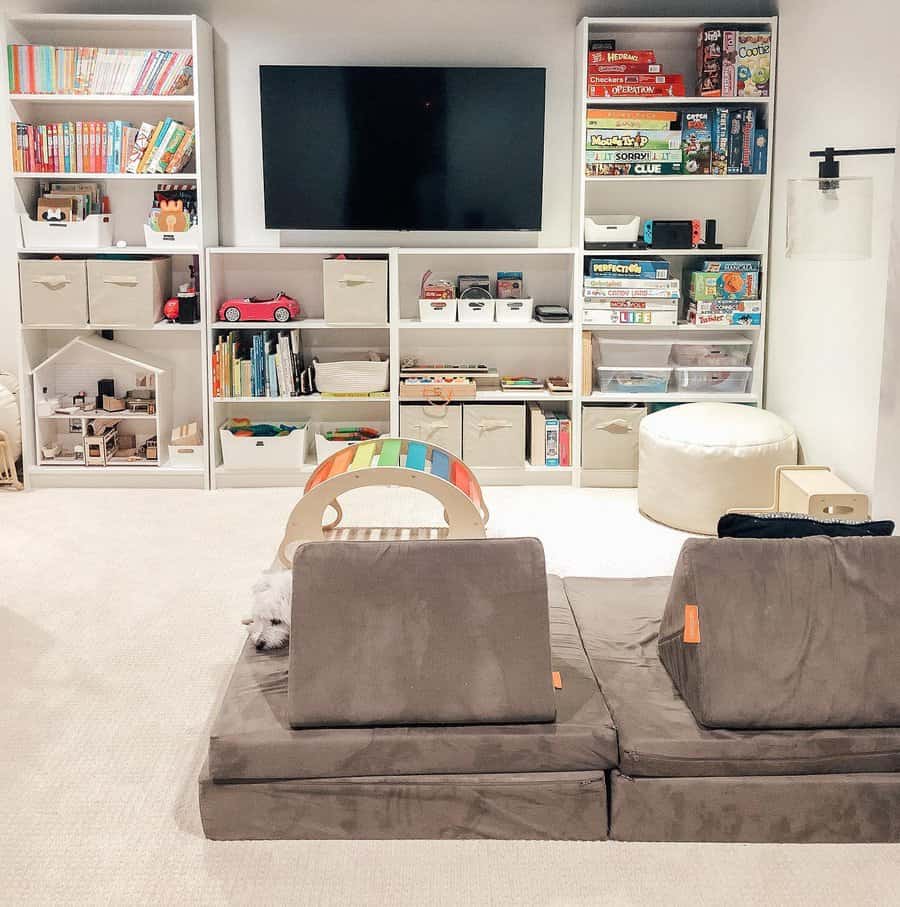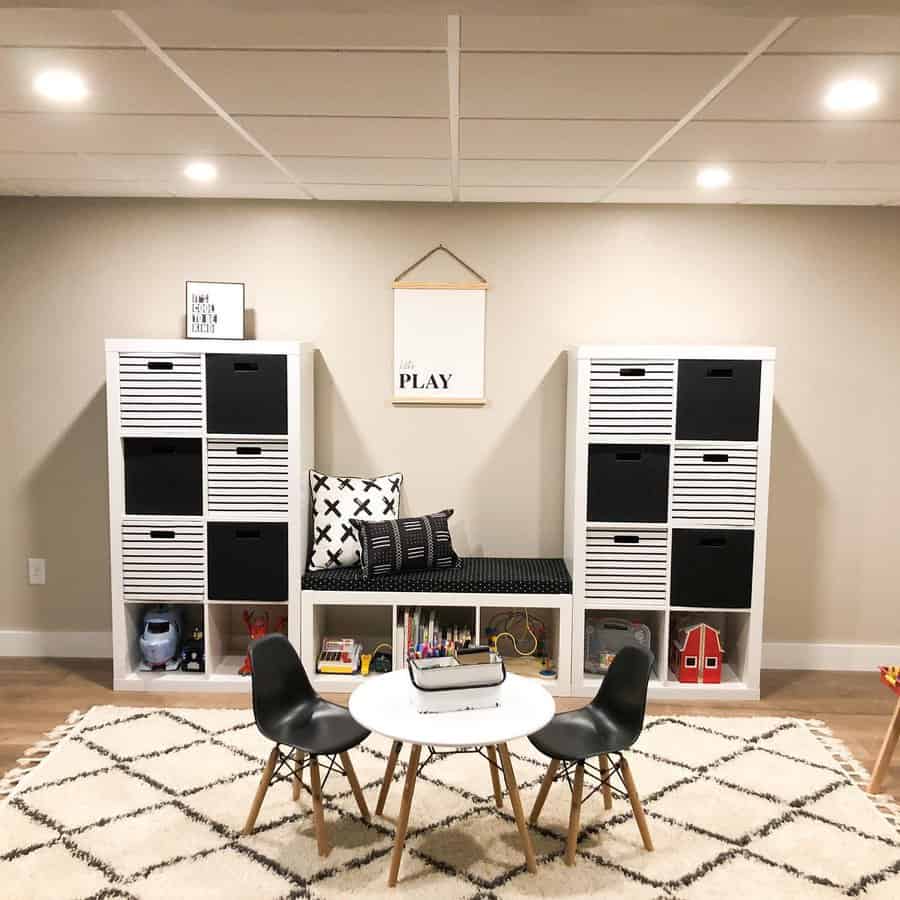 23. Compact Vanity with Storage
Enhance the ambiance of your basement guest room by incorporating a compact vanity with storage. This multifunctional piece combines style and functionality, providing a welcoming environment for your visitors.
Consider adding items like cosmetics, toiletries, books, and tools to ensure your guests have everything they need at their fingertips. A well-designed mini vanity not only offers convenience but also adds a touch of sophistication to your space, making it more inviting and comfortable for your guests.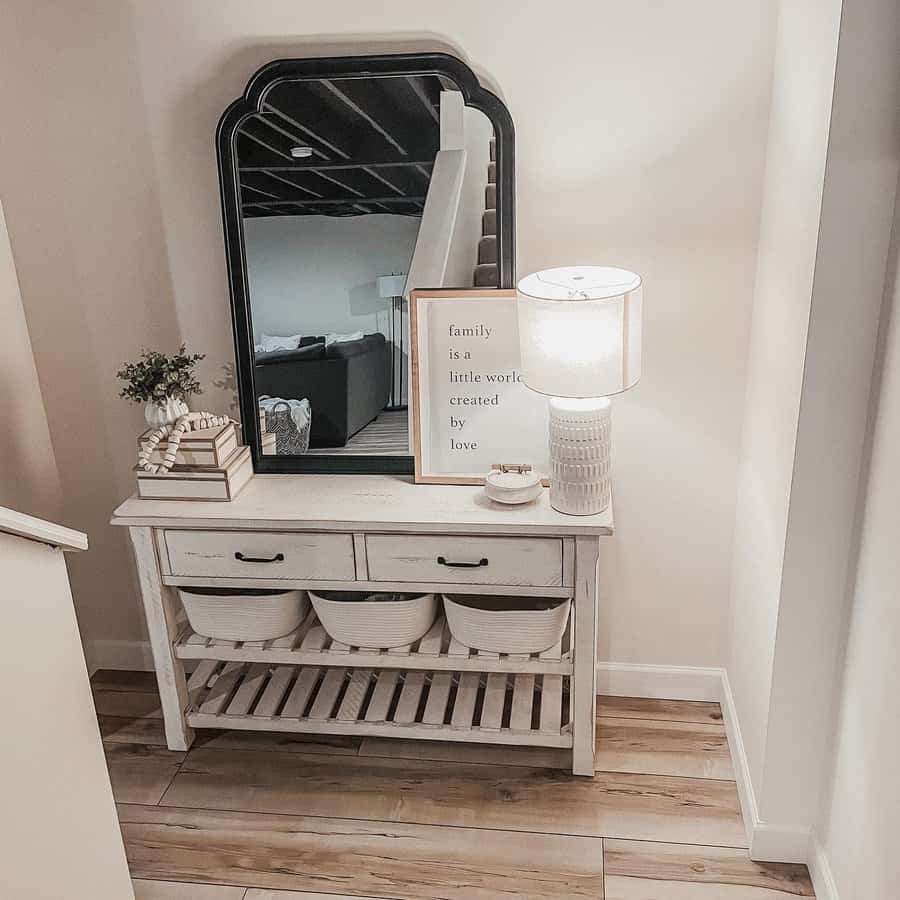 24. Basement Wet Bar Elegance
When it comes to creating an inviting entertainment space in your basement, consider the elegance of a well-designed wet bar. Incorporate liquor shelves for your favorite drinks and display cases to showcase your whiskey collection.
These storage solutions not only add style but also practicality to your space. Imagine having a wet bar complete with a small refrigerator, providing you with a convenient option for entertaining and casual drinks. Transform your basement into a contemporary hangout spot by unlocking its potential with organized and unique storage ideas.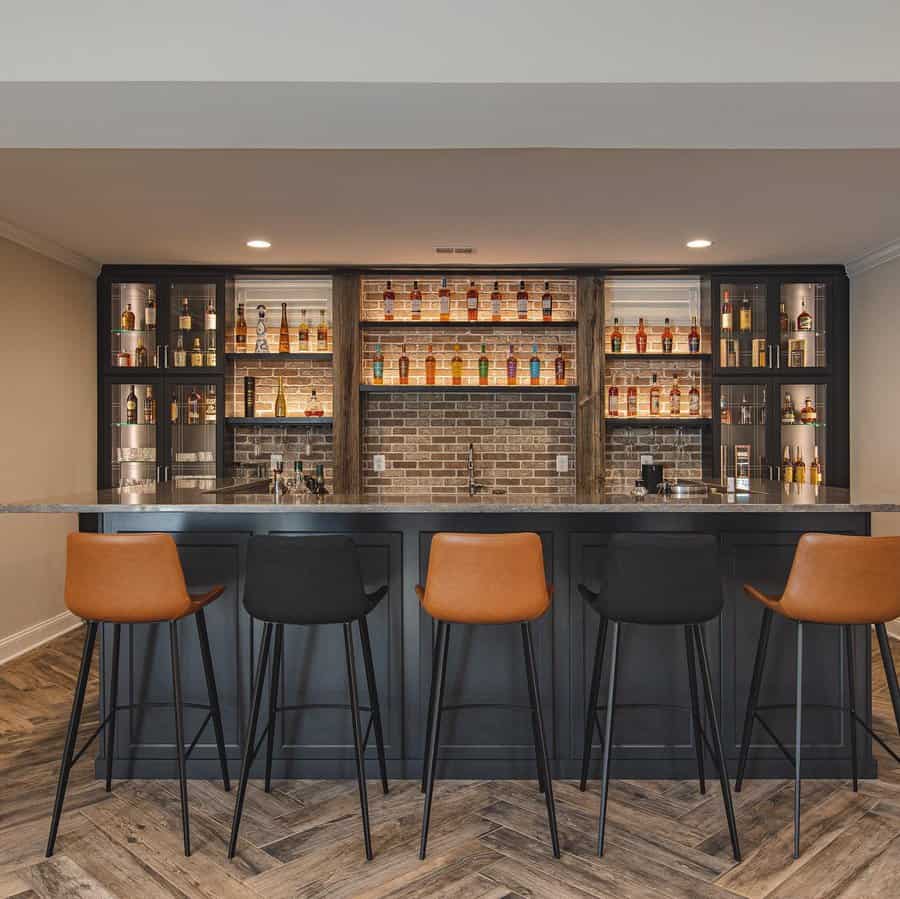 25. Open-Shelf Kitchen Essentials Storage
Your basement holds untapped potential for transforming into a functional storage and workspace. Consider utilizing it for open-shelf storage of cookware and bulky kitchen equipment. Create a dedicated open-shelf space for your favorite pots, pans, and utensils, ensuring easy access when cooking.
Store less frequently used kitchen appliances on sturdy shelves with extra-tall walls, both enhancing accessibility and adding a touch of organization to your basement. Begin optimizing your basement today to streamline your storage needs efficiently.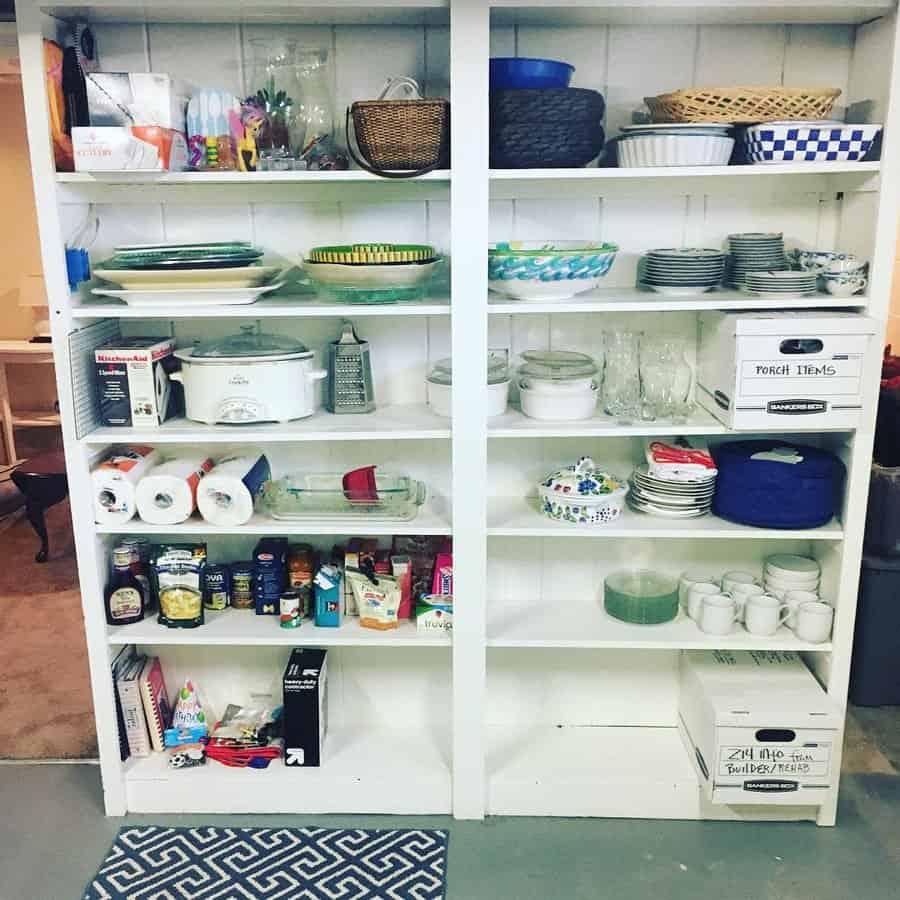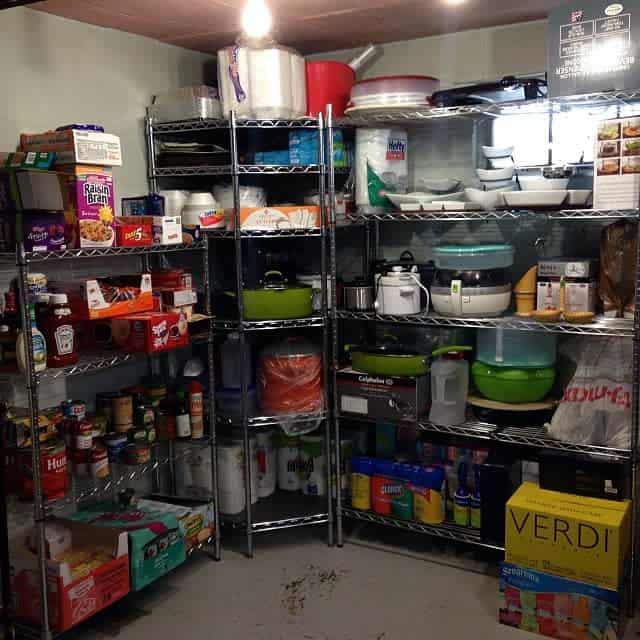 FREQUENTLY ASKED QUESTIONS
Can barboy trolleys be used in the living area?
The biggest advantage of barboy trollers is that they are mobile storage units, and can be used in kitchens, bathrooms, and everywhere else in the house. Barboy trolleys are so flexible, one could call them practicality on wheels. The cylindrical format with storage compartments that swing out is perfect to store and conceal your stuff. You can even use them as side tables in your basement living area.
What is the best flooring solution for a basement play area?
If you don't want to cover your concrete basement floor with carpets, try soft tiles instead of rugs. These square foam floor mats are ideal for playtime or workout and come in different sizes and colors.
You simply join them together like a puzzle, and you can mix different colors for a colorful and stylish playroom flooring for your kids. You can also personalize this kind of mat with the name of your kid, and use templates to choose the print and design you prefer.
Are metal cabinets a good solution for basements?
They can be a good alternative for basement or garage storage. They come in a wide variety of colors and features, such as lockable storage cabinets, adjustable shelves, drawers and casters for mobility. Some (not all) are fire-resistant, with a layer of inflammable insulation between the layers of the cabinet wall.