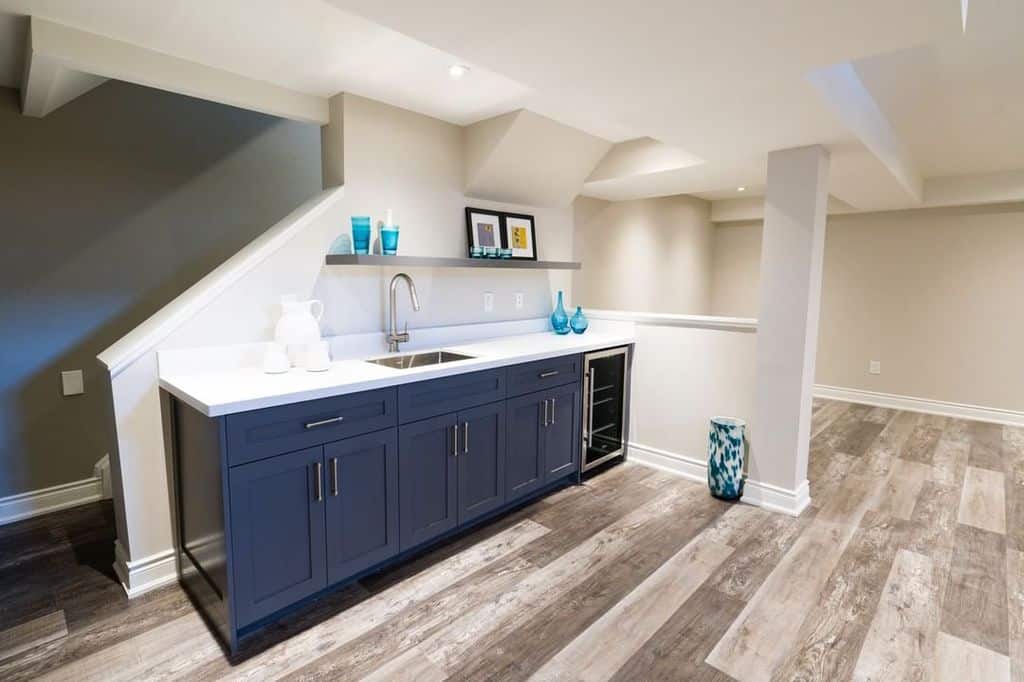 45 Basement Storage Ideas
Storage never seems to be enough! Garage and basements are the number one options for storage; that's normally where we end up storing bulky items and everything else we don't use much, to take them out of the way and out of sight! 
Sports gear, off-season clothing, camping equipment, tools, Christmas and Halloween decorations, and precious memorabilia, all tend to be kept in either garages or basements in most houses.
So, any precious storage space deserves thorough planning, otherwise, you'll feel you are only moving clutter from one room to the other. Before simply piling up stuff, take the time to give it a good thought-through, if you don't want to end up with a cramped and cluttered space, just the same. 
In this post, we are sharing some clever basement storage ideas, for you to get rid of the clutter once and for all.
1. Spare Pantry Cupboards
While many homeowners relegate their basements to a forgotten corner of the house, smart homeowners know that there are unlimited possibilities when it comes to basement storage. Separate spare pantry cupboards in the basement can come in handy for snacks and food items, while extra dinnerware can be kept on upper shelves for special events.
\The great thing about having storage space in the basement is that it doesn't have to be visible if you don't want it to be – giving you all the organization you need without compromising your home's aesthetic!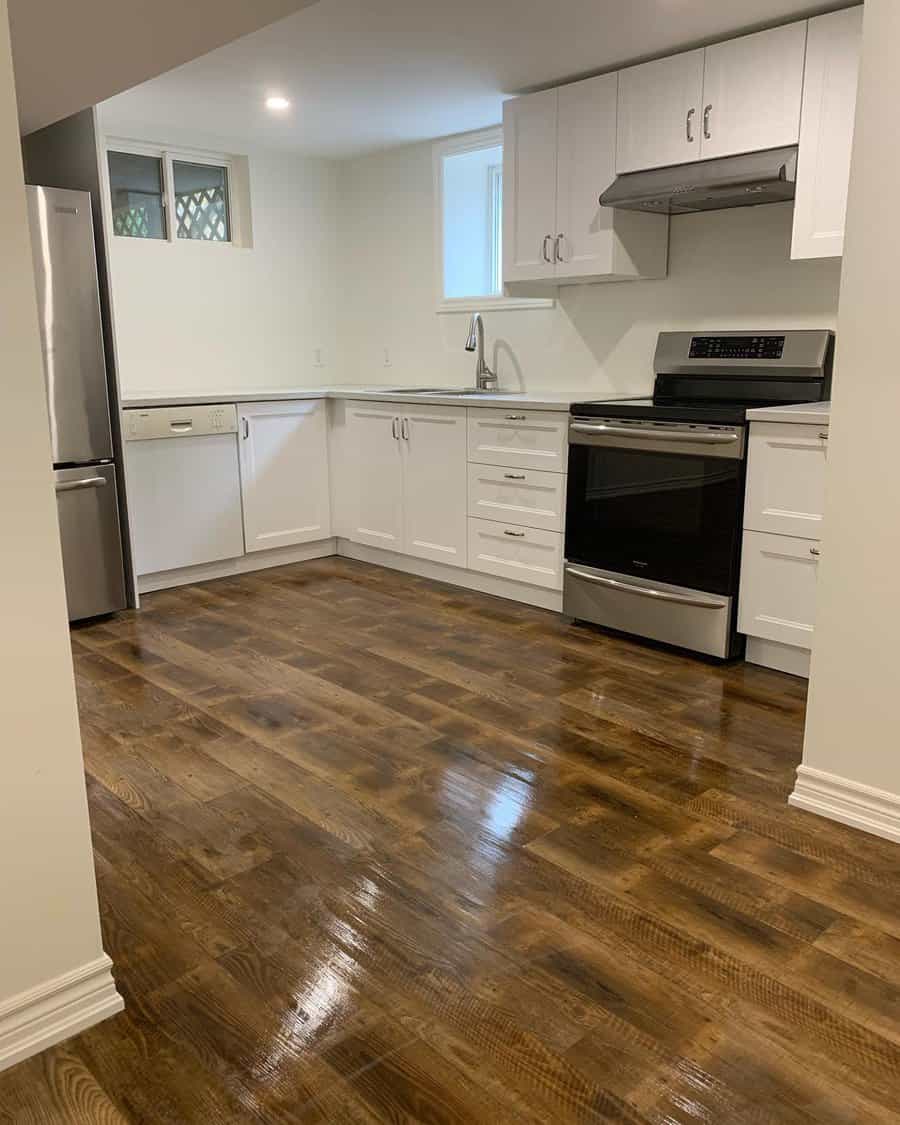 2. Dirty Laundry Storage
Whether you call it the basement or the lower level, it often functions as an extra repository for dirty laundry storage. While this is a convenient solution for dirty clothes, it can quickly become chaotic if there's no system in place to keep dirty items from piling up and cluttering up your space.
Investing in a washing machine and an organized shelving system to neatly store clothes after they're washed is one way to turn this area into a useful storage space that doesn't impact the rest of your home's aesthetics.
With some creative planning and organization, you can maximize every square inch of this hidden area and make it work as a dirty laundry haven.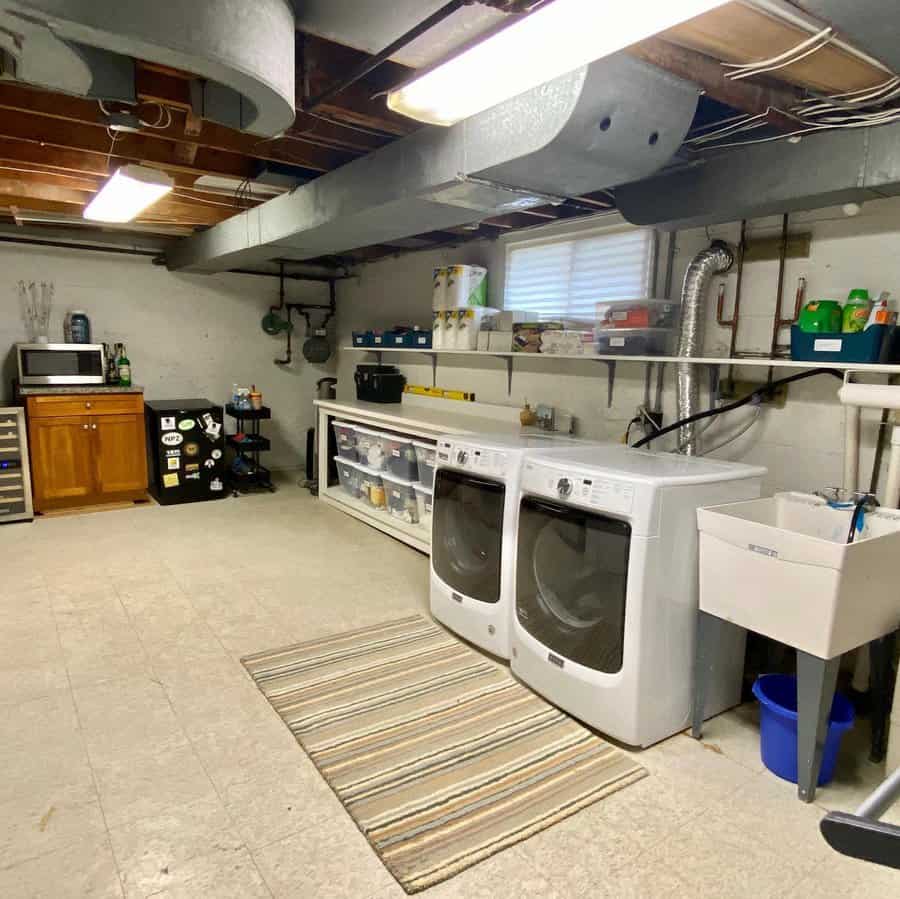 3. Dark & Snug Wine Storage
If you're looking for an out-of-the-box storage solution to store dark wines, consider the basement space of your home. Basements make the perfect hideaway with their dark and cool environment suitable for storing dark wines at their optimum temperature.
With this dedicated dark wine storage in the basement, now you can easily keep track of all your dark wines without worrying about them not getting the right treatment or atmosphere that they need!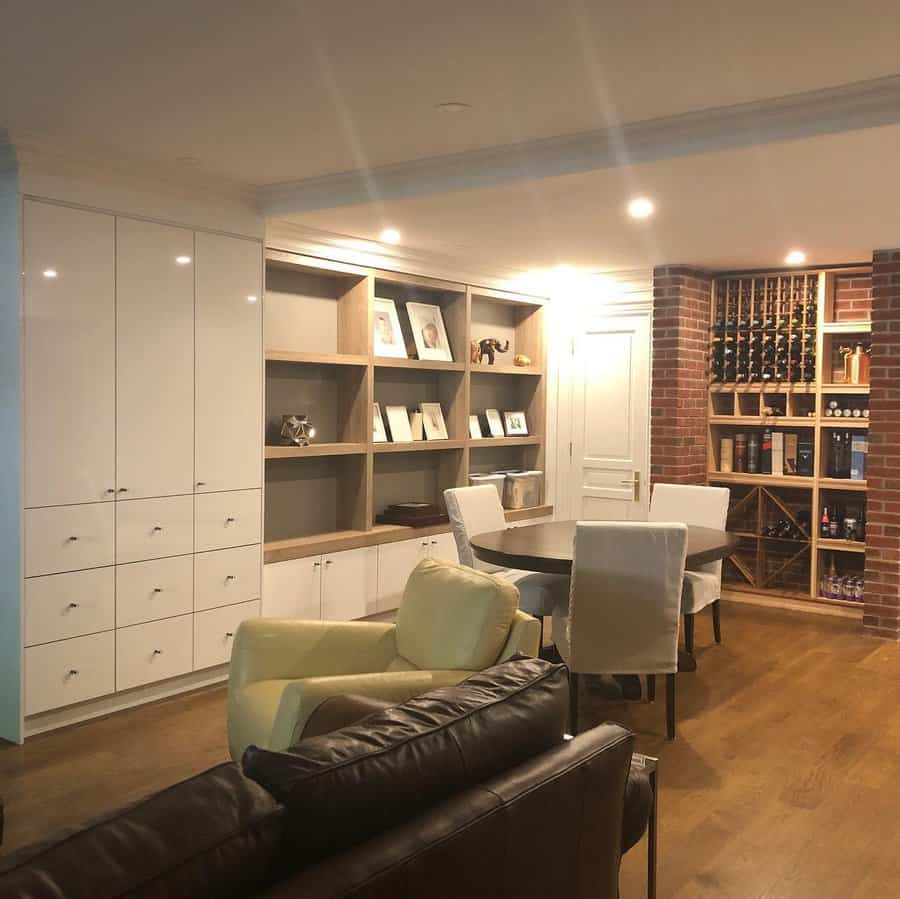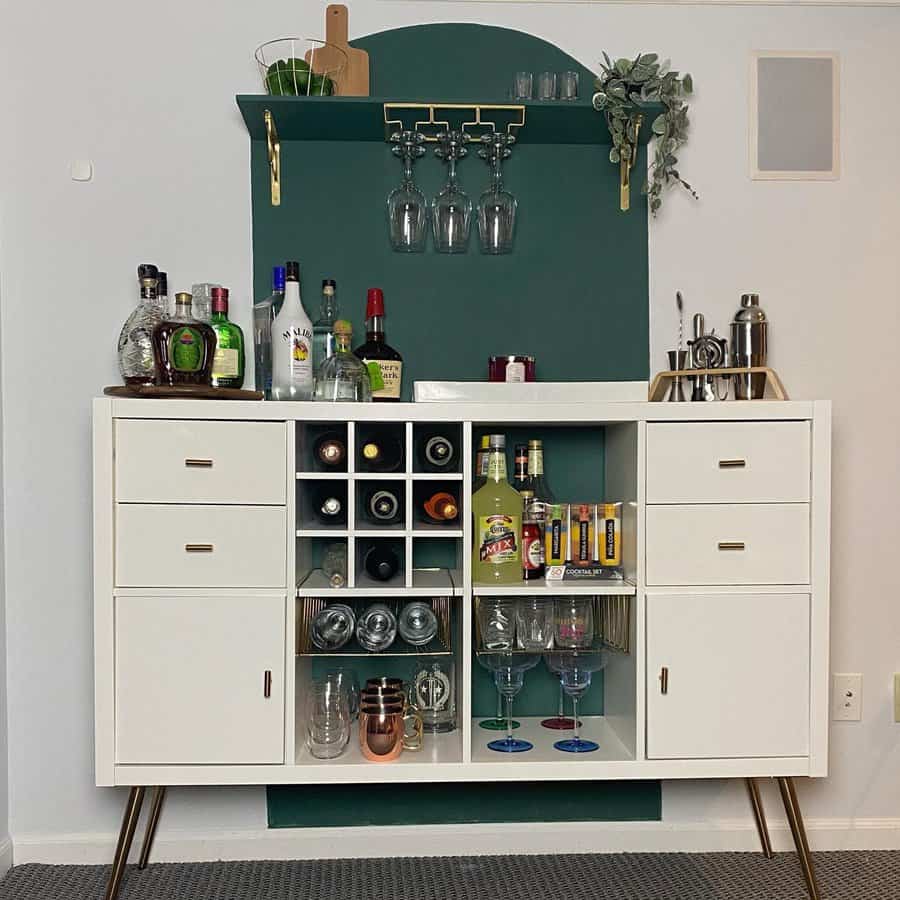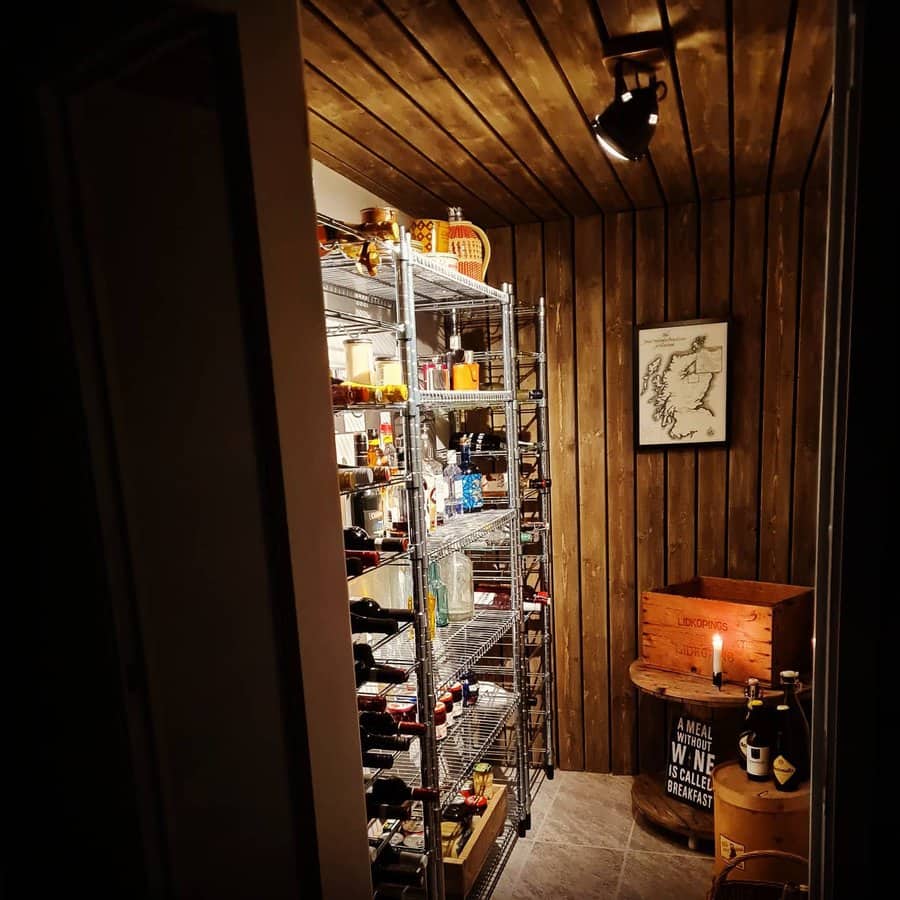 4. Home Decor Showroom
Transform your basement storage into a showroom for your home decor collection! Whether you're an interior designer or just a crafty type with a creative eye, turning your storage space into an organized showroom can help easily show off your pieces.
Store furniture and smaller decor items on shelves or in cabinets, and arrange wall accents like mirrors and paintings with care to show off the beauty of each piece.
With the right level of organization, no guest or potential buyer will ever know that this showroom once served as a humble basement storage area!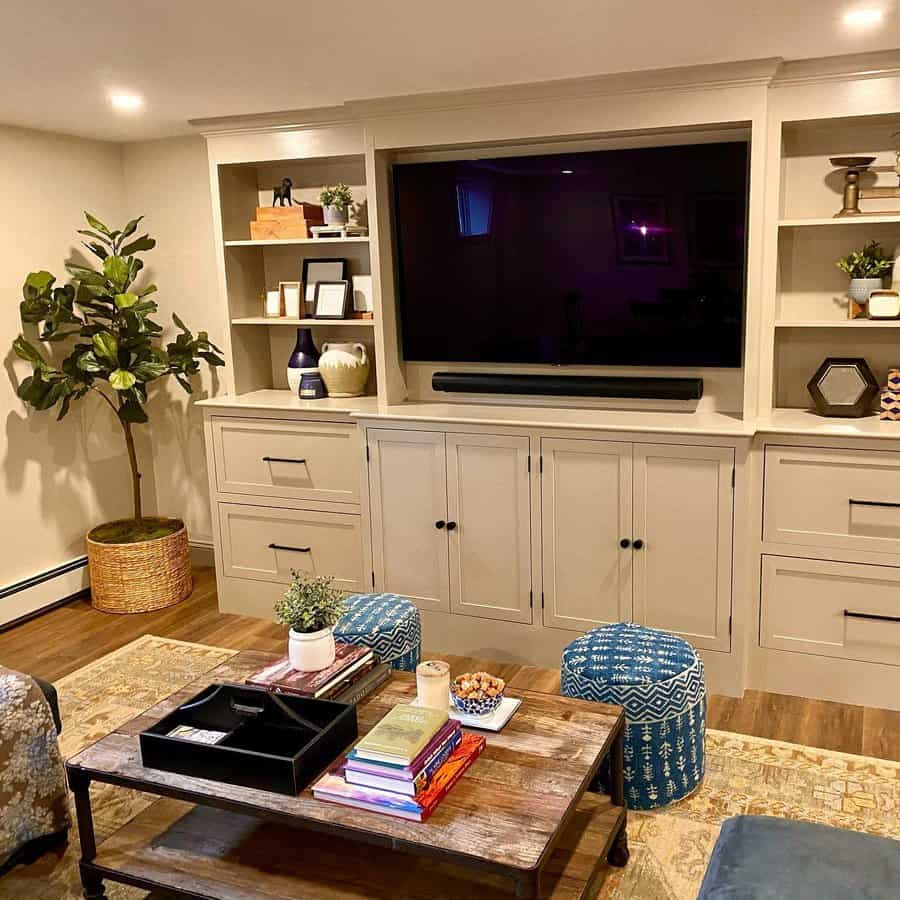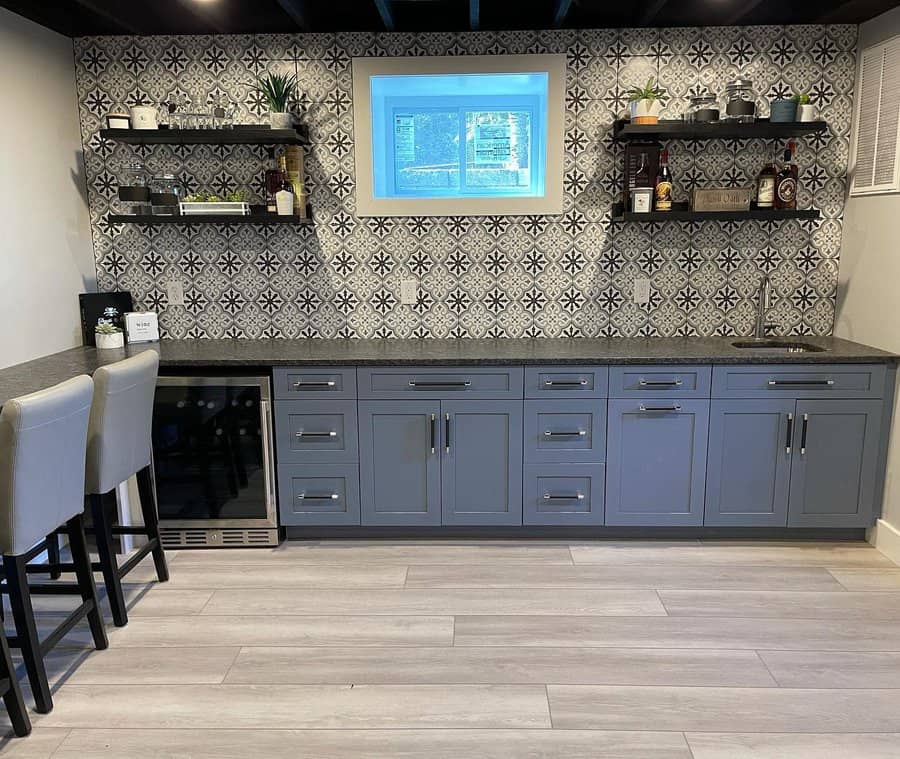 5. Curved Wall Storage
Basement storage doesn't have to be a mundane flex of utilitarianism. Instead, curved cupboard storage can be used to maximize unused corners and awkward spaces in a way that adds seamless visual interest.
It's a great way to make use of every corner in the house, by taking advantage of all otherwise forgotten possibilities for extra storage; curved cupboard storage gives you the freedom to store without sacrificing style.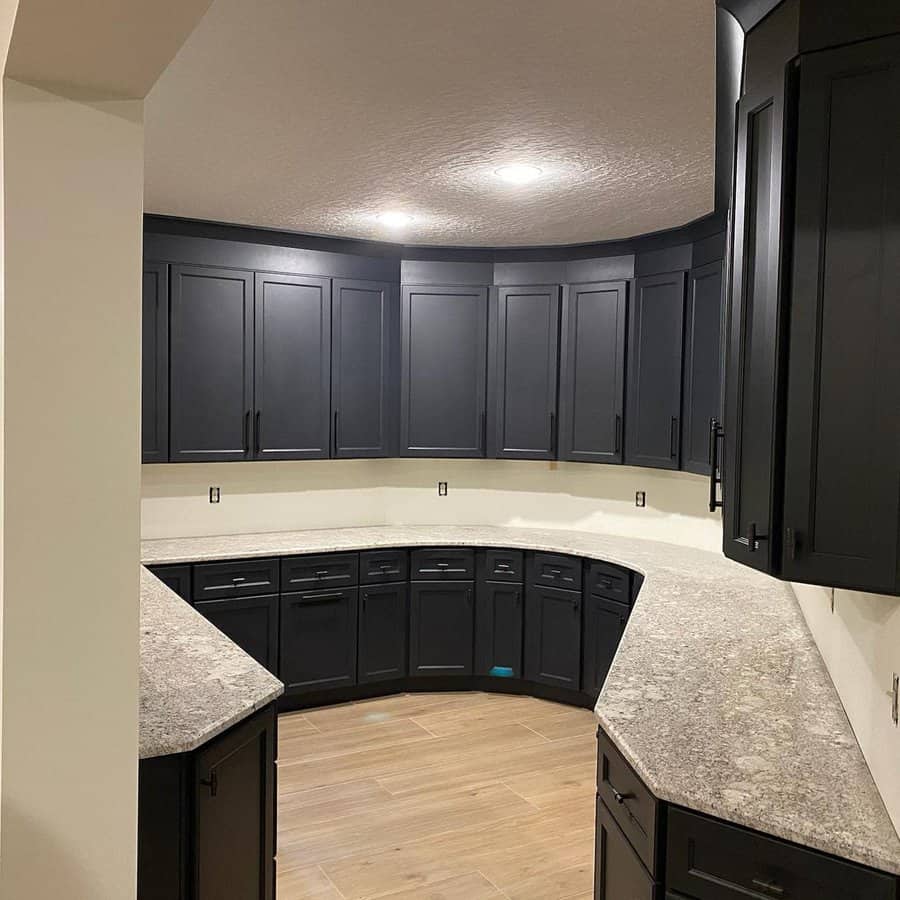 6. Shelves With Basket Organizers
Basements are like the extra shelf in your pantry—you can never have too much space! Whether you have a small basement or a larger one, shelves with basket organizers can be stylish and versatile while providing additional storage. They make it easy to store everything from books and bins of clothes to toys and seasonal decorations.
Plus, shelves with baskets also give you quick access to anything you might need without having to sift through stacks of items–making them an invaluable addition for anyone looking for maximum storage in their basement.
7. Bookshelf With Built-in Desk
Basements can be so much more than just mere storage spaces! If you want to upgrade your basement into a multi-purpose area, start with a bookshelf with a built-in desk. This essentially combines the books and work items all in one neat little space.
The bookshelf will provide a bookshelf and workspace if you need to get your paperwork done or take care of some light office-related tasks. Not only is it practical and user-friendly, but it also makes the basement look tidier and more stylish as well!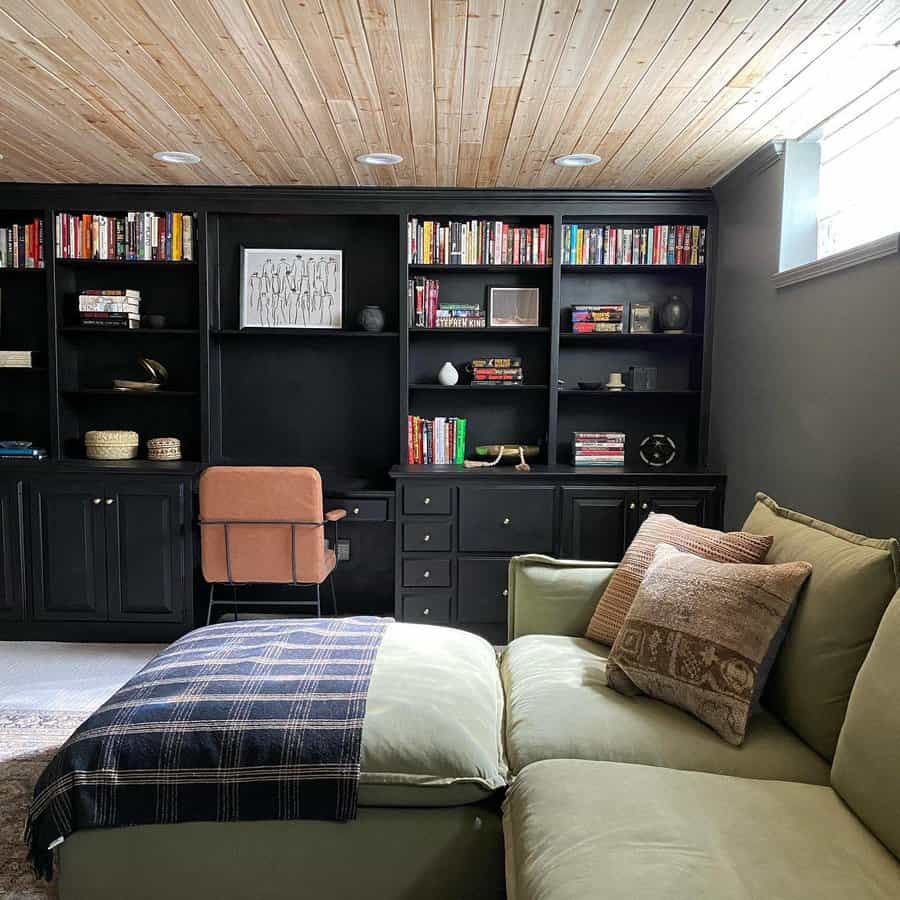 8. Overhead Wall Shelf
For creative and efficient basement storage, overhead wall shelves will help create that cozy area that you've been looking for and also give a touch of sophistication at an affordable price.
With overhead shelving, you can store coffee table books or treasured items. The overhead shelving system easily mounts overhead and helps put the finishing touches on your stylish basement storage while making it the perfect spot to kick back and relax.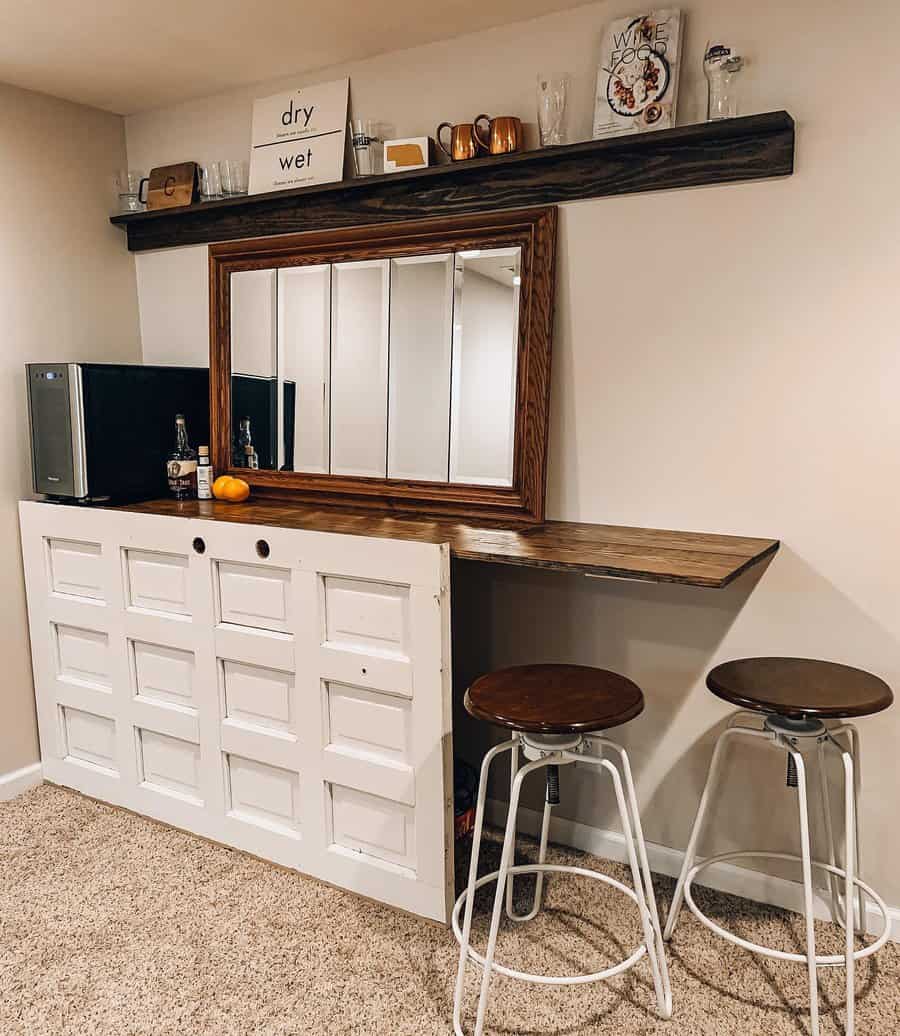 9. Basement TV Storage
For all the TV and console fanatics out there, give your basement a purpose with some creative storage solutions! Whether you're looking to retrofit an existing TV stand or trying to find some extra space for gaming consoles, organizing the space around your TV can help you make the most of this hidden gem.
Not only will it improve your TV viewing experience, but any excess clutter in the basement can be tucked away quickly.
So don't let your TV stand become a dumping ground — convert that outdated nook into a functional TV storage home with these genius ideas!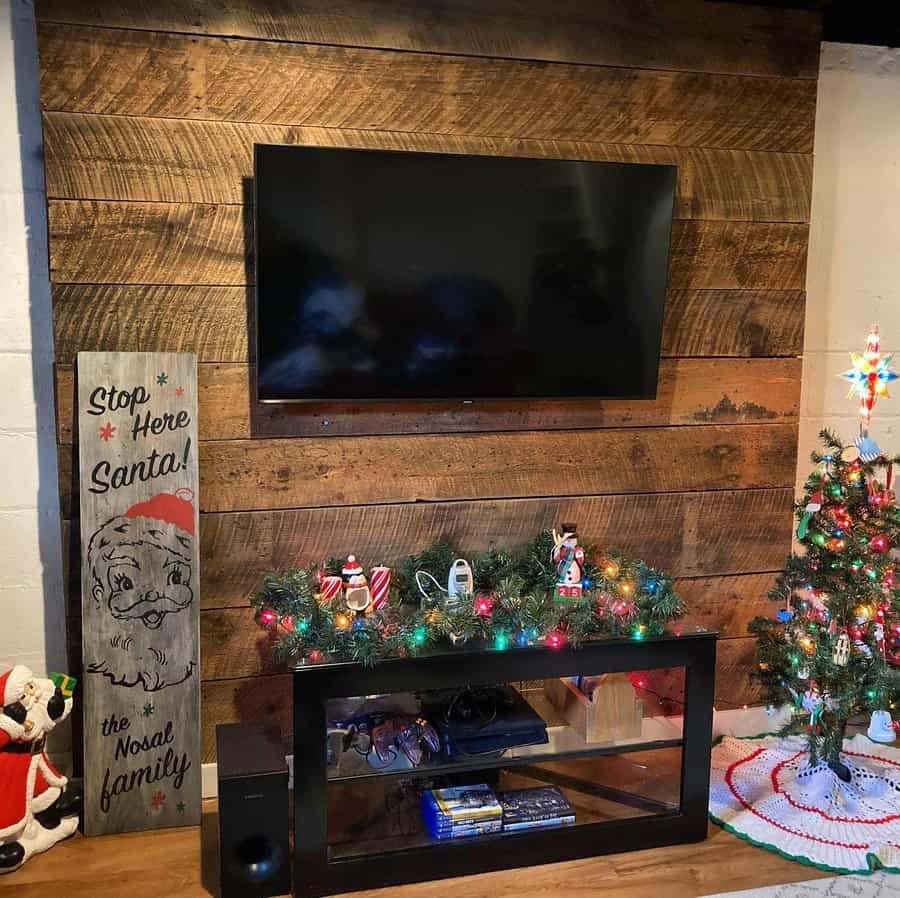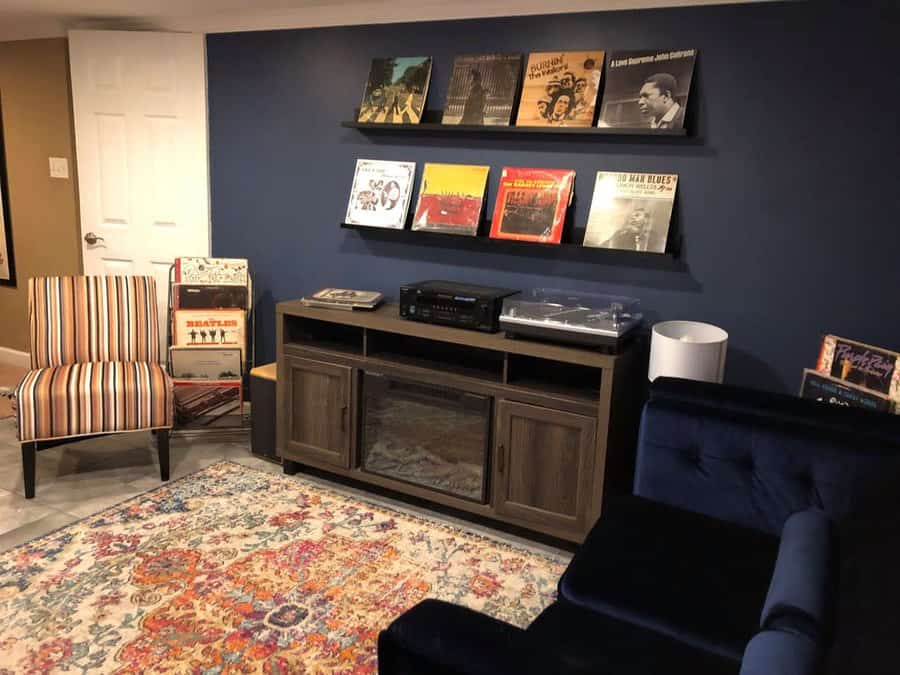 10. Multi-purpose Shelf With Crates
Turning a messy basement storage area into an efficient multi-purpose shelf with various crates can be an enjoyable and creative undertaking. Labeling each crate with color-coded labels helps you easily identify contents at a glance while providing quick access to the items you need most.
This multi-purpose set-up is also customizable and great for any type of storage, whether it's seasonal décor or everyday essentials. With just a few simple steps, your basement storage can quickly become well organized!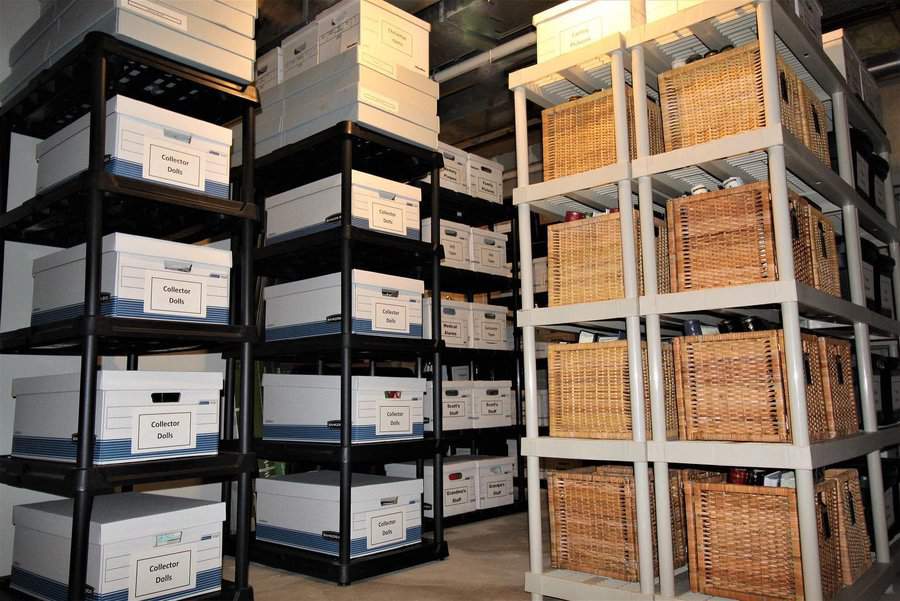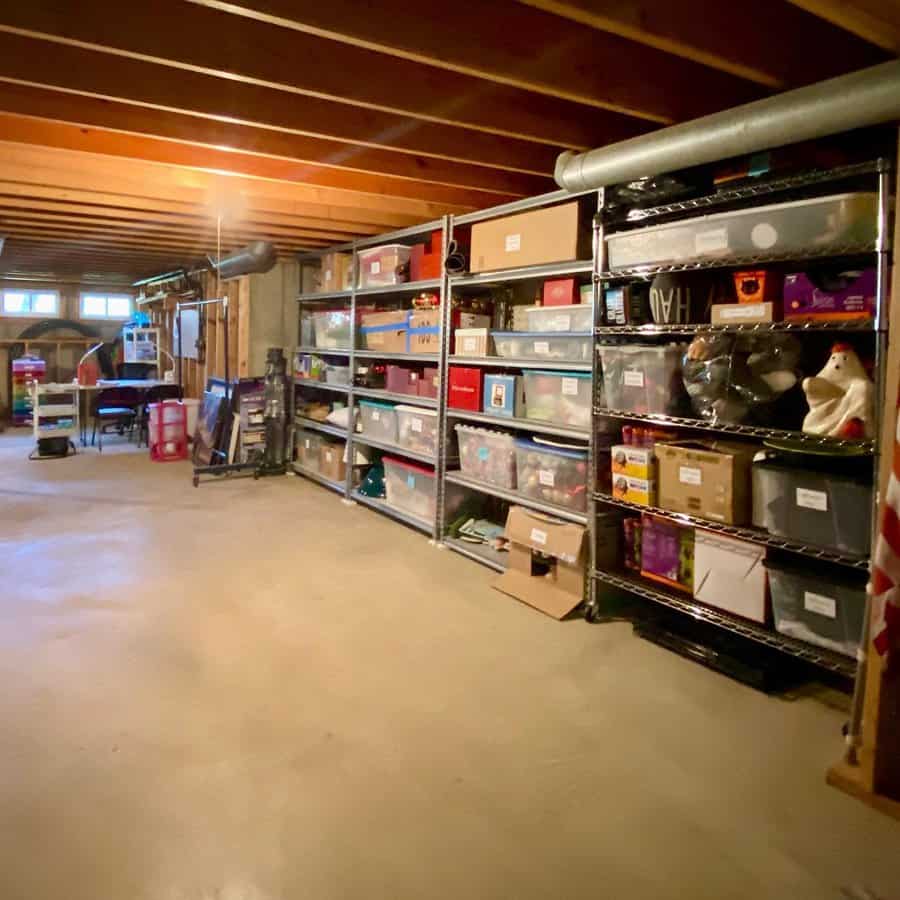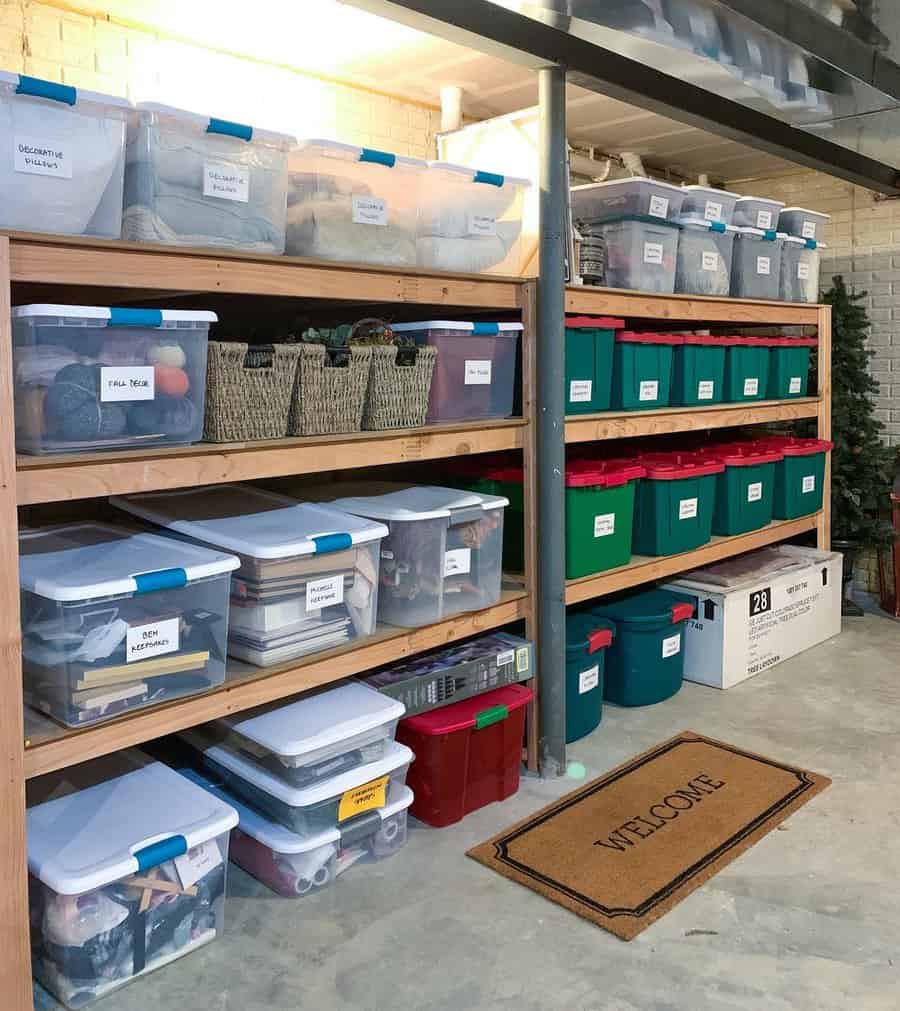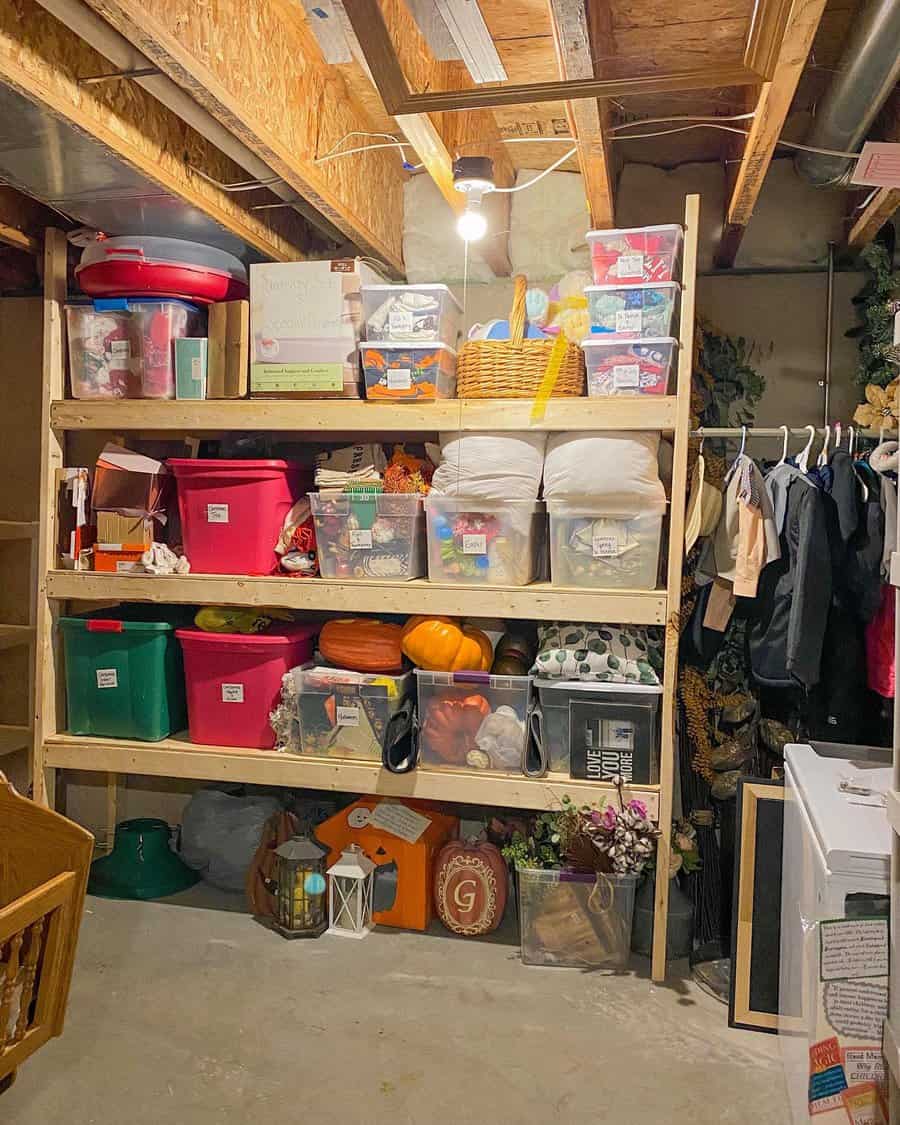 11. Under-the-stairs Shelf
Whether you're dealing with clutter in the house or looking for that special space to store seasonal items, extra basement storage can be your answer. A great way to maximize space is by installing an under-the-stairs space with a multi-purpose shelf. With these shelves, you can easily store anything you need without feeling cramped or needing to access hard-to-reach areas.
Not only will this offer some extra storage in the house, but also be a stylish new addition that complements the overall look and feel of your home.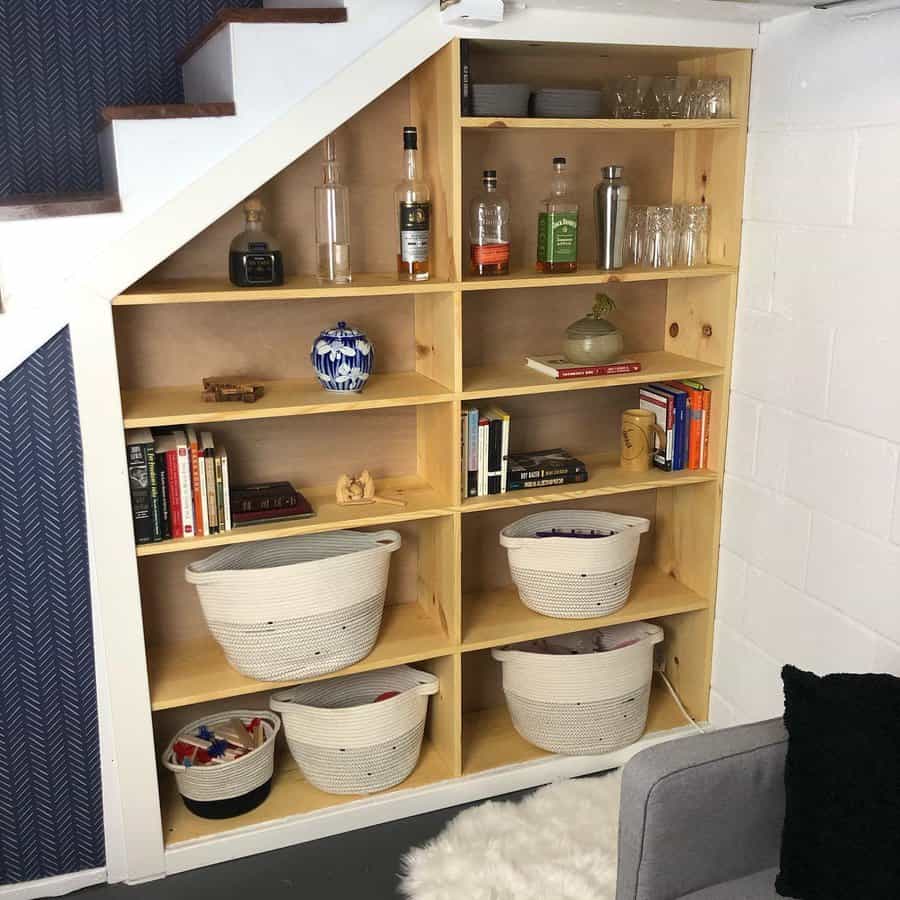 12. Multi-purpose Closet Door Rack
Installing basement closet door racks and entertaining the idea of storage for gift wrapping and other art materials can breathe new life into basement storage. Taking clutter from an eyesore to a dream come true is just a few organizational tools away!
With color-coordinated hangers, talented shelving, and boxes for easy access, basement storage can once again bring out your creative side in even the most compact areas.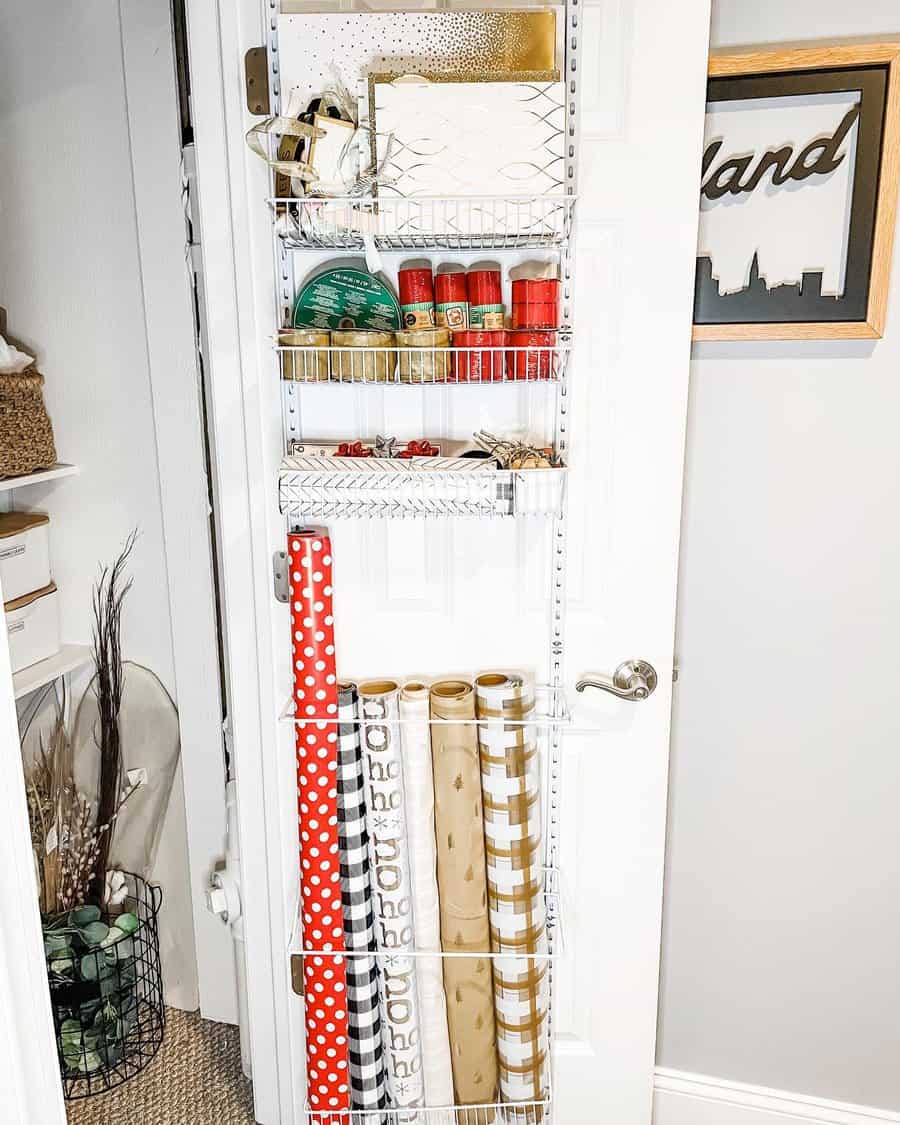 13. Basement Walk-in Closet
Rather than competing with your other rooms for floor space, basement storage provides the real potential for a game-changer in terms of how you organize your belongings.
Installing a basement walk-in closet isn't hard and provides incredibly useful hanging poles so all of your hangers can be within arm's reach.
With additional basement shelving and cabinets, you can create the perfect atmosphere to store everything you need while staying organized and clutter-free!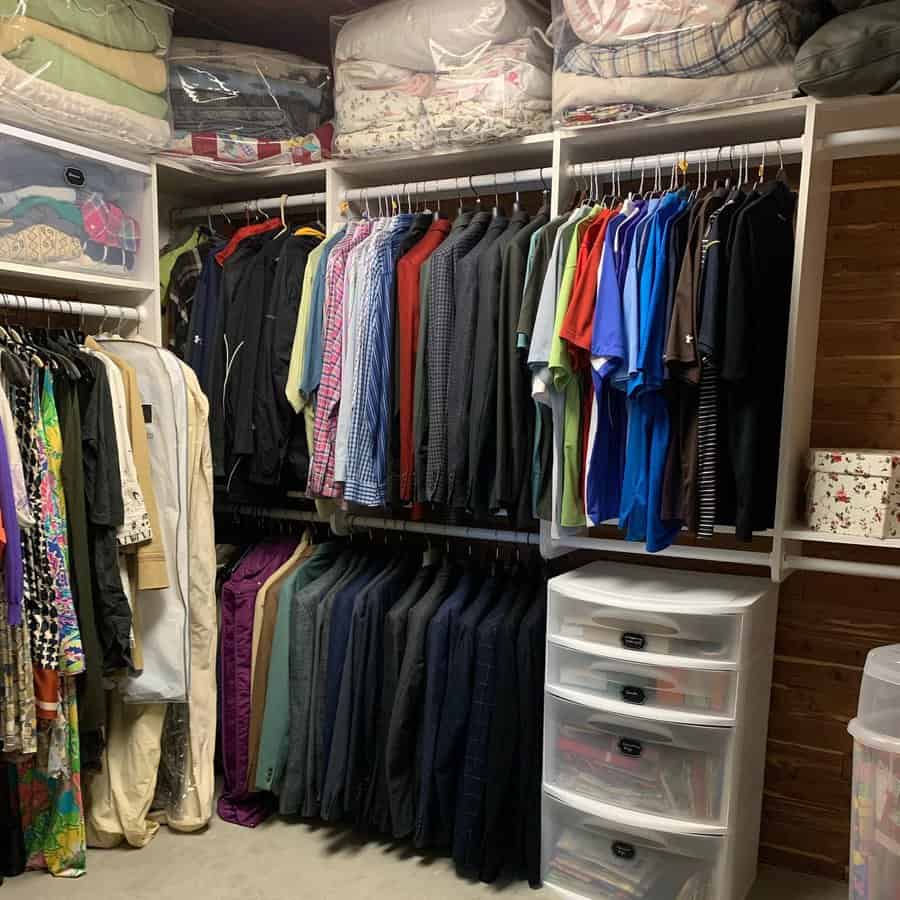 14. Gym Equipment Racks
Many of us use our basements for gym equipment storage but often find that it's difficult to maximize the space. Why not get creative with how you store gym items? Wall racks and hooks can provide plenty of room for yoga mats, gym gloves, kettlebells, dumbbells, and jump ropes without taking up too much space.
Additionally, utilizing floor-to-ceiling shelves is a great way to open up more vertical storage while still keeping your gym paraphernalia organized! With a little creativity and elbow grease, you'll be able to make the most out of your basement gym storage.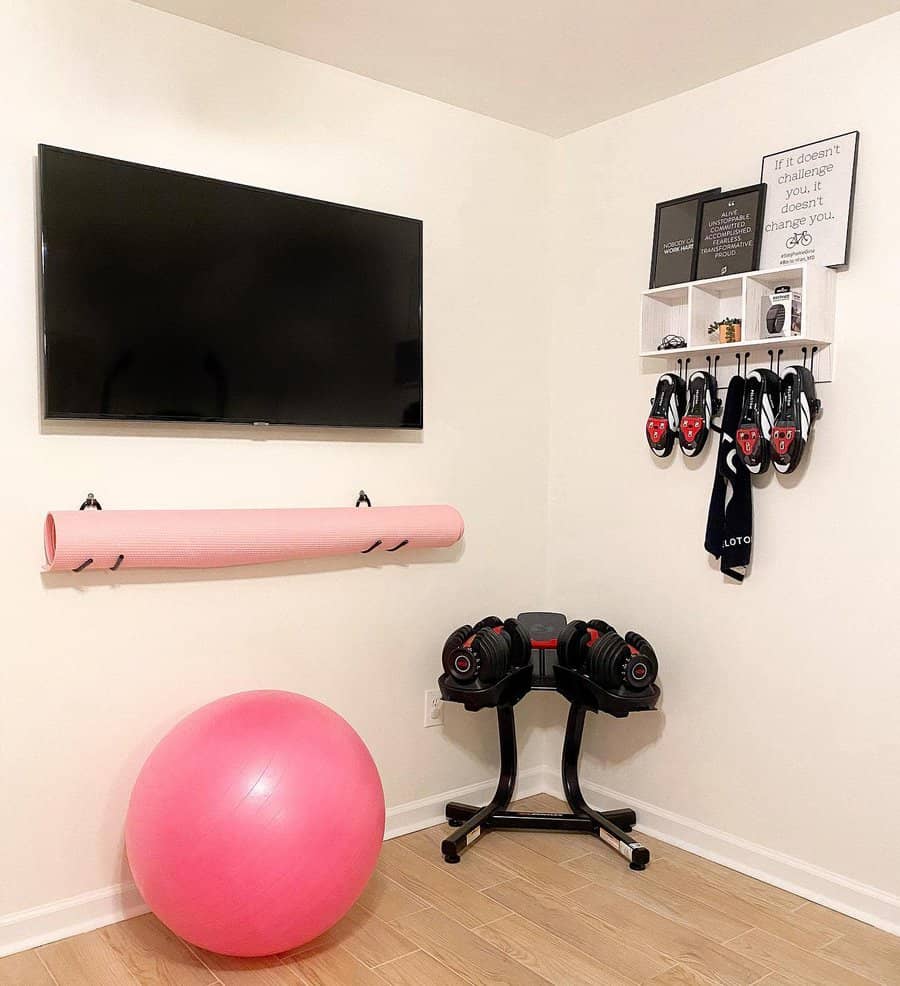 15. Corner Shelves
The basement can often be an overlooked area of the house when it comes to storage, but it can offer plenty of opportunity. Investing in corner shelves makes great use of corner space while opening up floor room for other things. It's a great place to store those extra odds and ends that don't quite fit anywhere else.
It's especially ideal for knick knacks you no longer want on display around your home, allowing them to be stored in more out-of-sight areas with ease.
Of course, optimizing the corner space may take some trial and error and require different sizes of shelves – but the effects stand out all the same.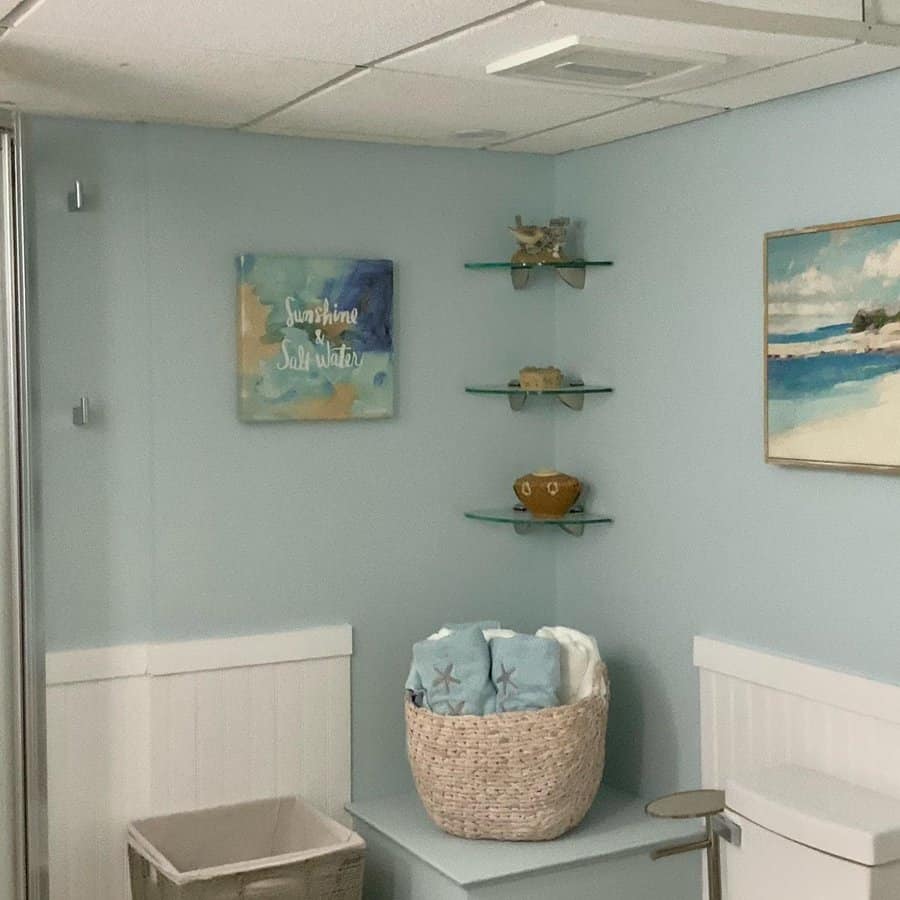 16. Books & Boardgame Shelf
Maximize the use of your basement storage space with books and board game shelves! Keep books of all shapes and sizes organized in dedicated bookshelves, or opt for a board game shelf if you're looking to keep those classic favorites dust-free.
For an added touch of style, install recessed tv shelves that let your display sit partially embedded in the wall. This not only looks chic but makes cleaning much easier too! With the right storage ideas, you can turn your basement space into something truly unique.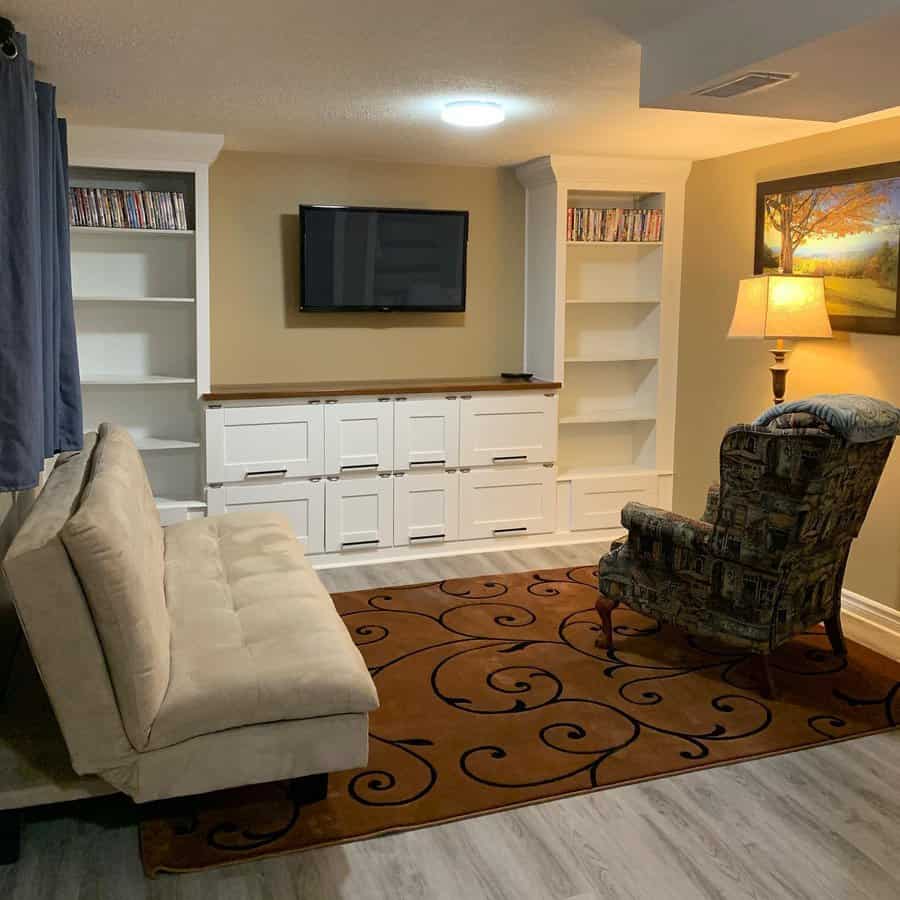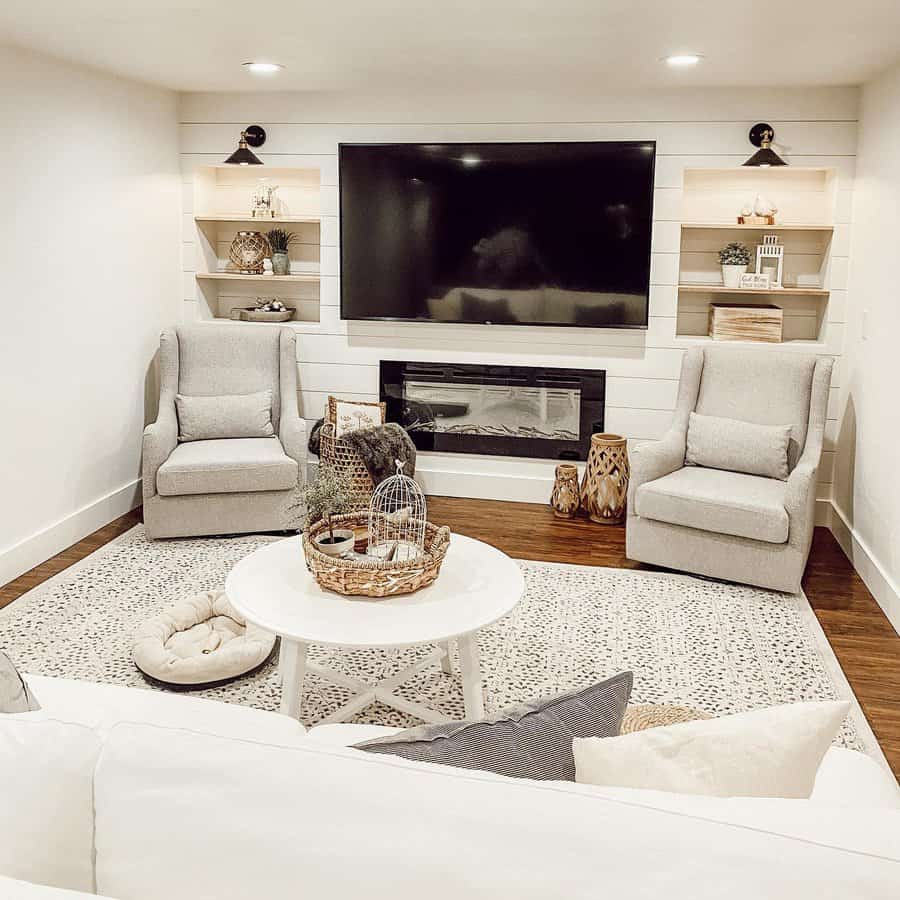 17. Low Cabinet With Countertop
The basement often feels like a forgotten area of the home, but it does not have to remain forgotten! With a low cabinet and countertop, you can easily create more storage without sacrificing space. This low cabinet can also double as seating when hosting guests; just throw in some cozy cushions and you are ready to entertain.
Get creative with your use of the low cabinet, mix and match colors or paint the countertop with vibrant colors that draw your eyes down into the basement. Allow yourself to be inspired by this endless potential when it comes to basement storage.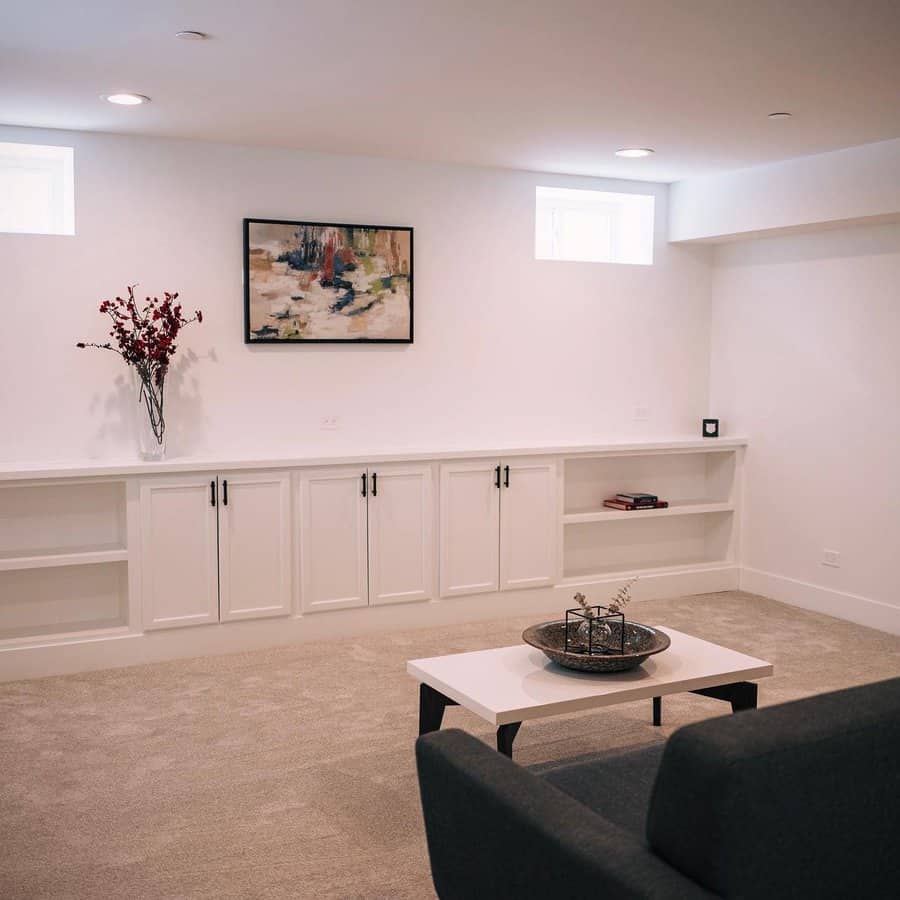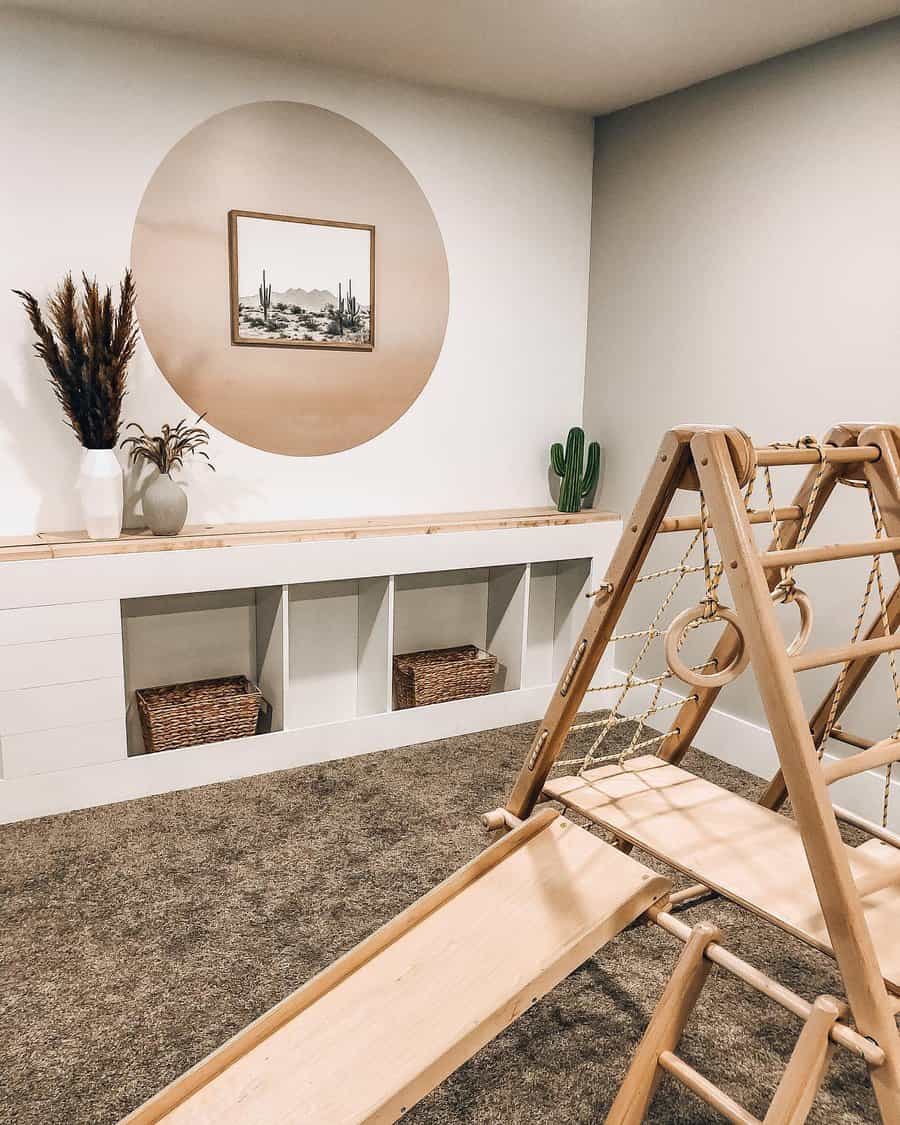 18. Mini Bar Storage
The basement is the perfect place for mini-bar storage with mini pantry drawers where you can create your own mini-bar atmosphere with all the essentials packaged together in one area. This could be ideal for when friends come over and you want to show off your skill in mixology with fancy non-alcoholic drinks, as well as providing convenient, ready-to-use snacks while they appreciate your homey hideaway.
So why not brighten up your basement and make it feasible to store everything you possess, whilst adding a unique charm to the area that's unseen elsewhere?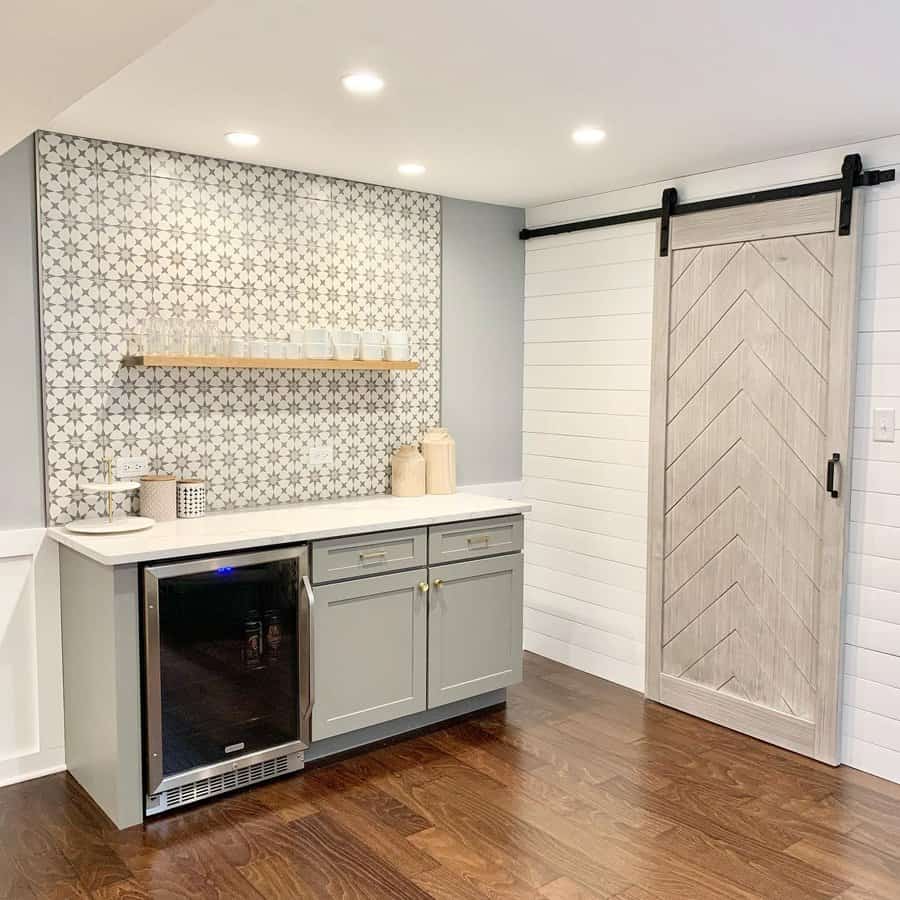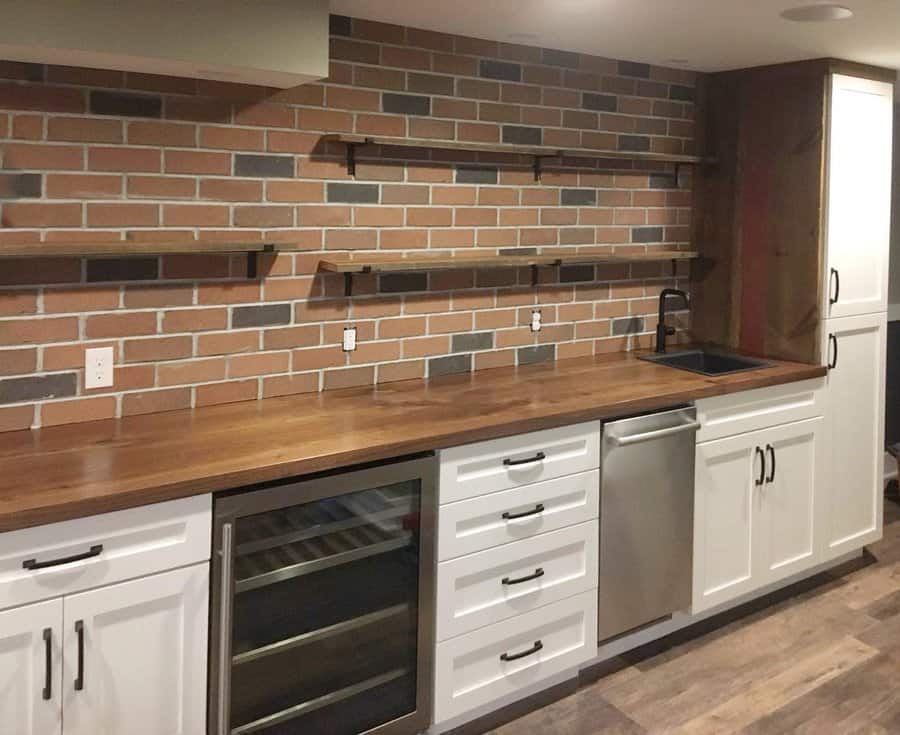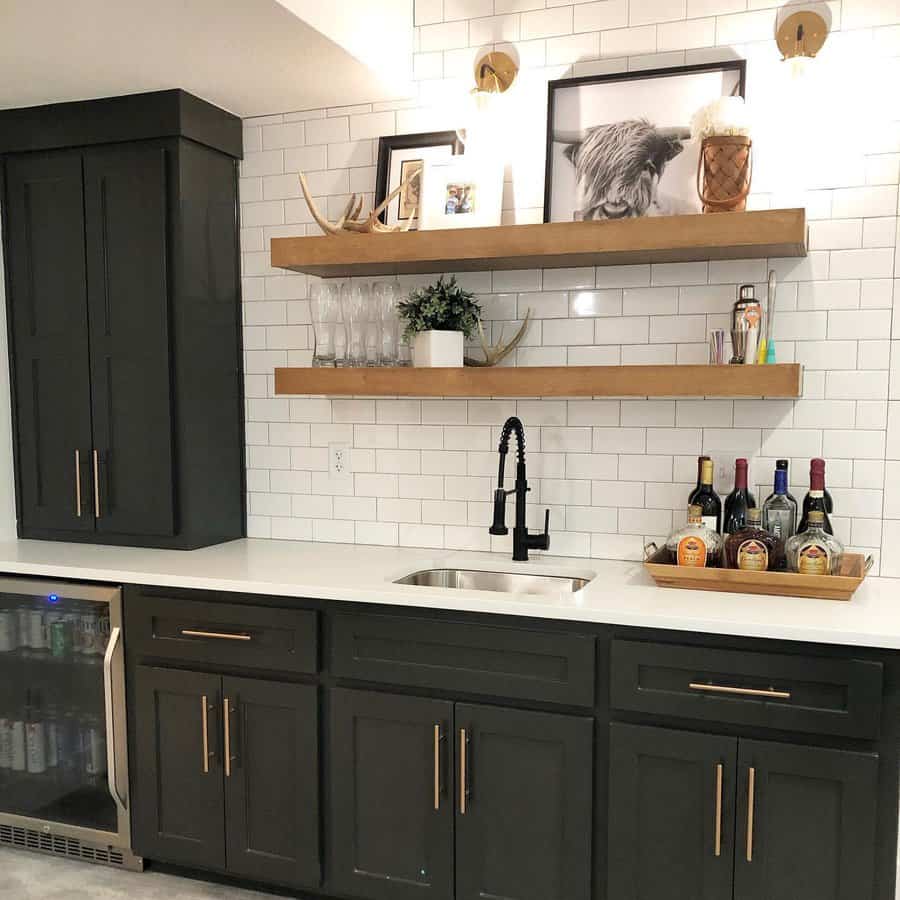 19. Stacked Plastic Crates With Labels
Creating a storage system in your basement is a great way to utilize the extra space you have. Stacking plastic crates with labels is an easy and efficient way to store your items, so it's easy to access whatever you need when you need it. Create a crate system where each crate has its own label, so you know exactly what it contains.
Get creative and make the labels oversized and bright, that way they don't get lost in the depths of your basement! With this convenient storage system, you'll always know where all your belongings are without having to rummage through ancient boxes and bags.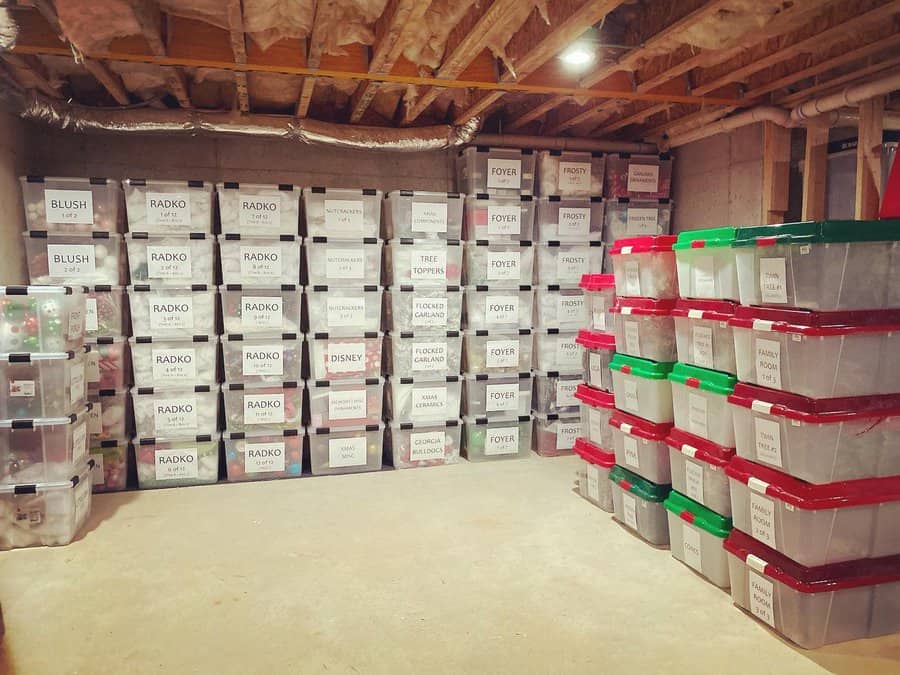 20. Hanging Wall Shelf
When it comes to basement storage, floating built-in wall shelves are the best solution for comfort and convenience. Not only do you get prime shelving space that adds character to your home, but underneath the shelf can be used in creative ways to maximize the space you have.
By utilizing built-in hanging wall shelves, you can create an ever-changing puzzle of bins, baskets, and boxes that are easily accessible while being visually pleasing and discretely tucked away.
With enough square footage below your floating shelf, areas of your basement can suddenly become multi-purposeful, no matter how big or small!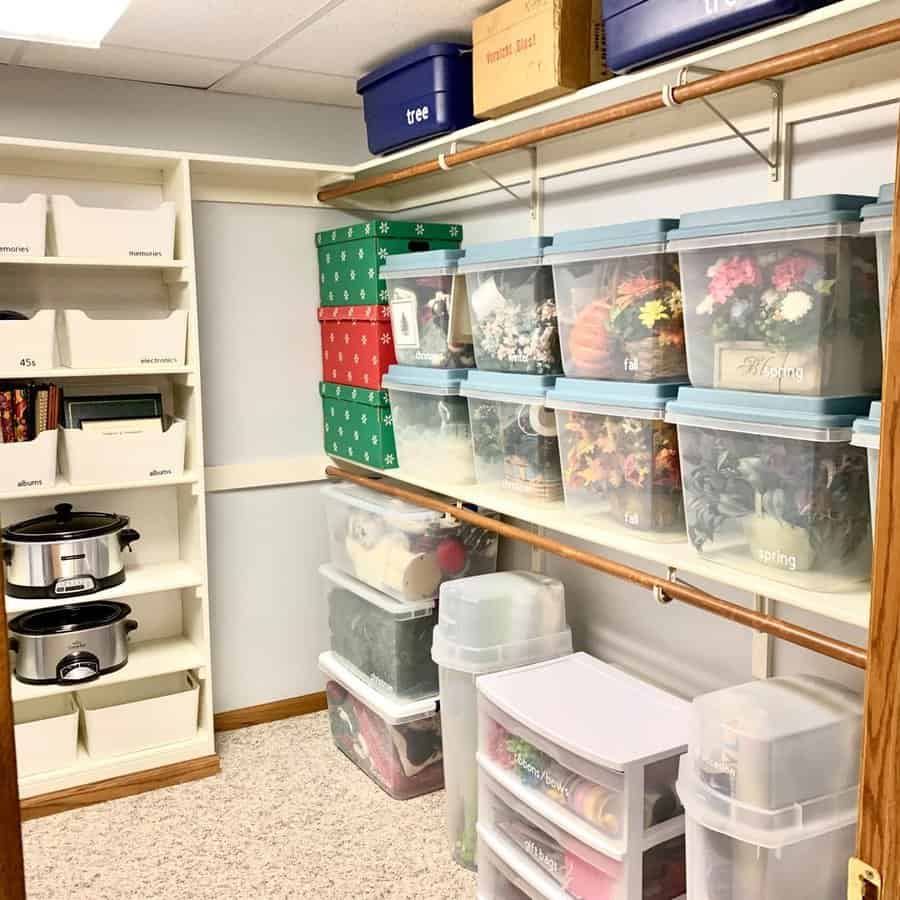 21. Art Supplies Storage
Turn your basement into an art supplies storage haven with chalk sticker labels! Transform the musty and cluttered atmosphere of your basement into a calm and organized oasis. Choose art supplies and materials wisely to simplify art supply storage, then group them by types like pencils, pens, paper, paints, etc., in unmarked plastic containers.
Use chalk sticker labels to identify each container, mesh bins to store art tools, and buy smaller organizational containers to hold art crafting materials like buttons, beads, and other artmaking extras.
Don't forget to designate one area for an art project in progress – The best storage solutions are when you create space for art to happen!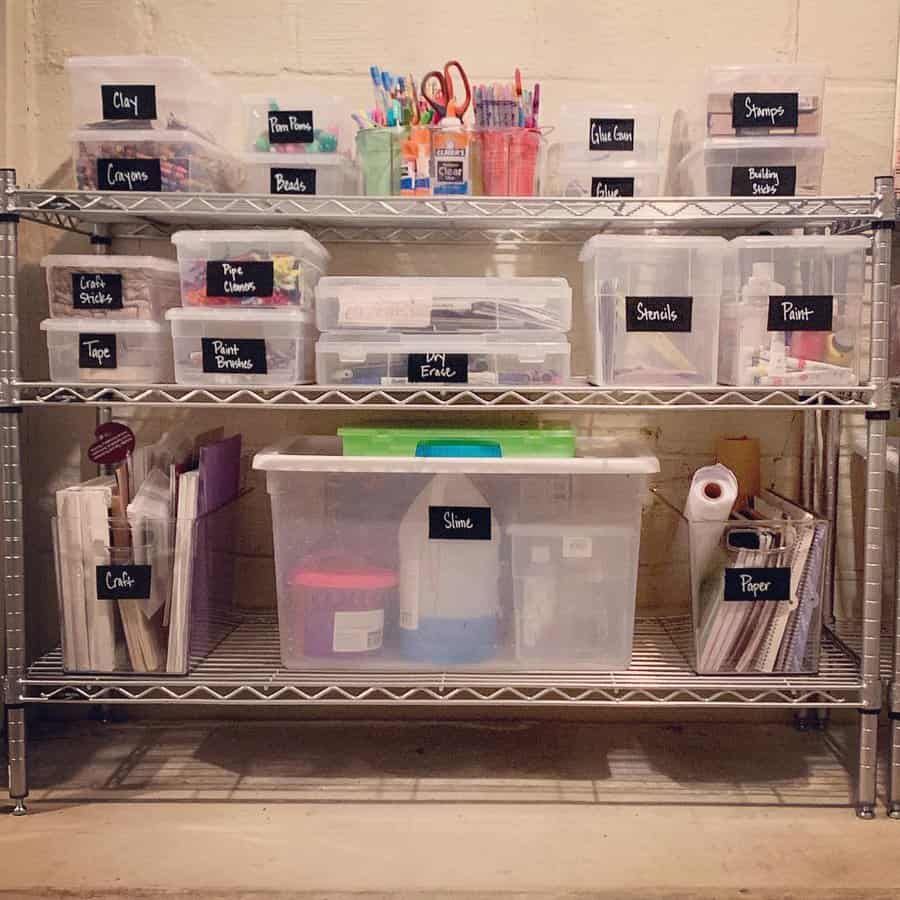 22. Toy Shelf Organizer
Basements are the perfect place to store all of those extra toys, knick-knacks, and equipment that clutter up a kid's room. Having toy shelf organizers in your basement makes it easy to efficiently declutter while providing an essential means to finding items quickly.
A toy shelf organizer is essential for every kid's room, as it keeps all the fun stuff neatly organized and minimizes visual clutter. It may seem like a daunting task sorting through all the messiness, but putting in the extra effort pays off with a cleaner space for your family!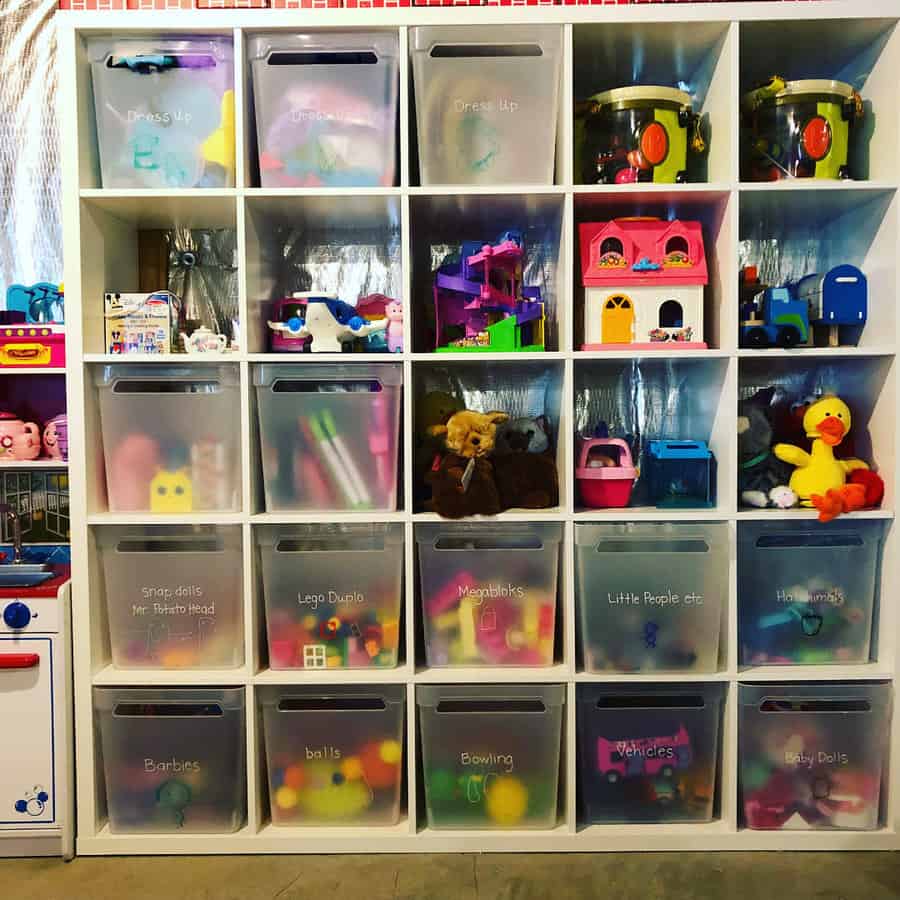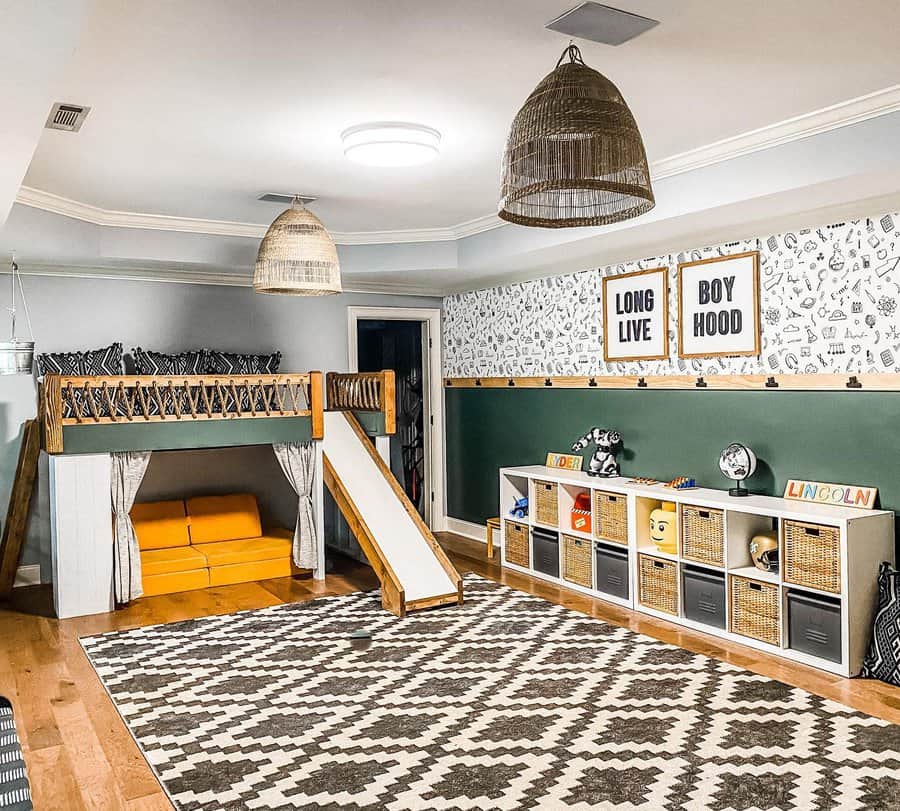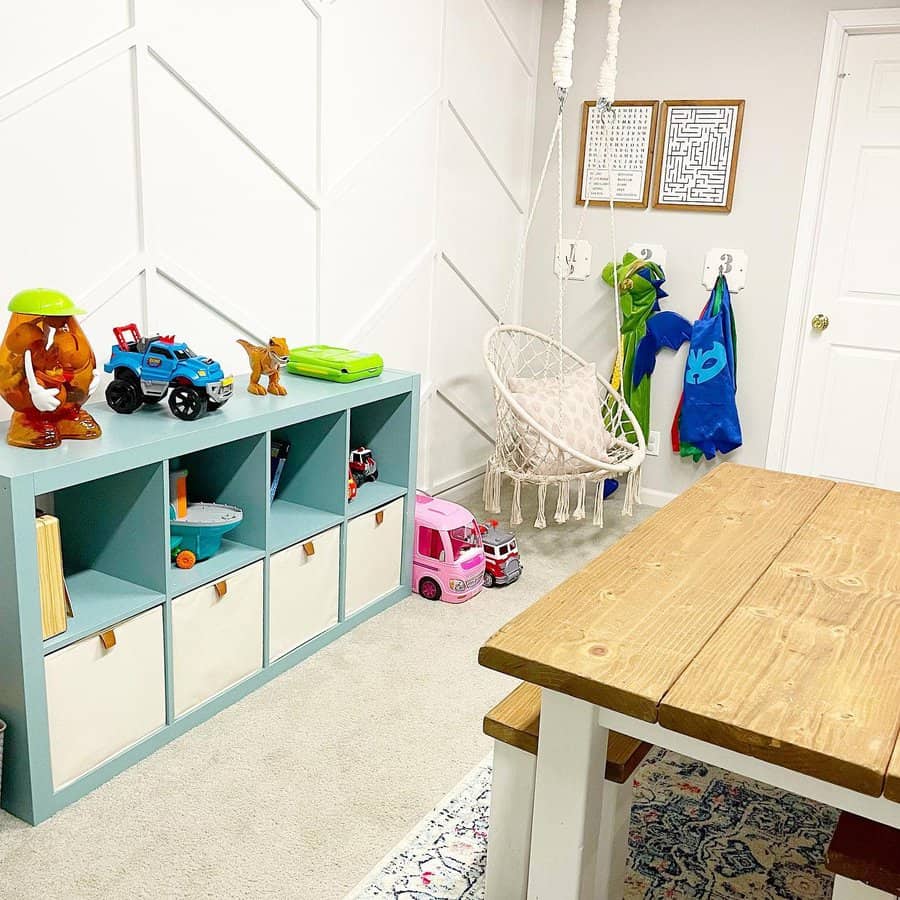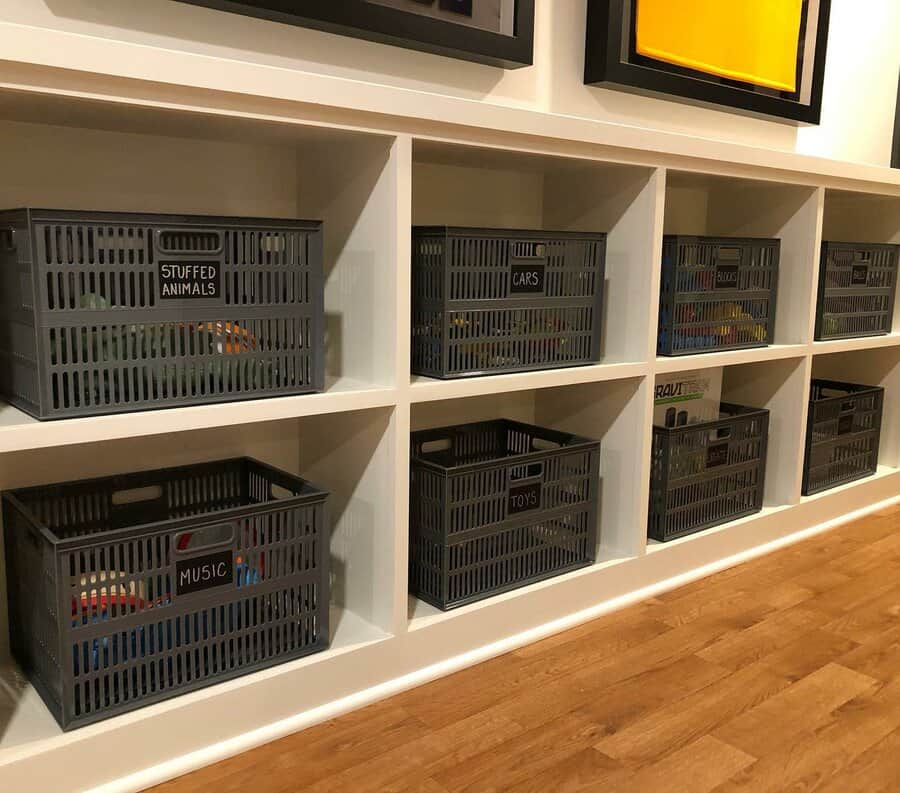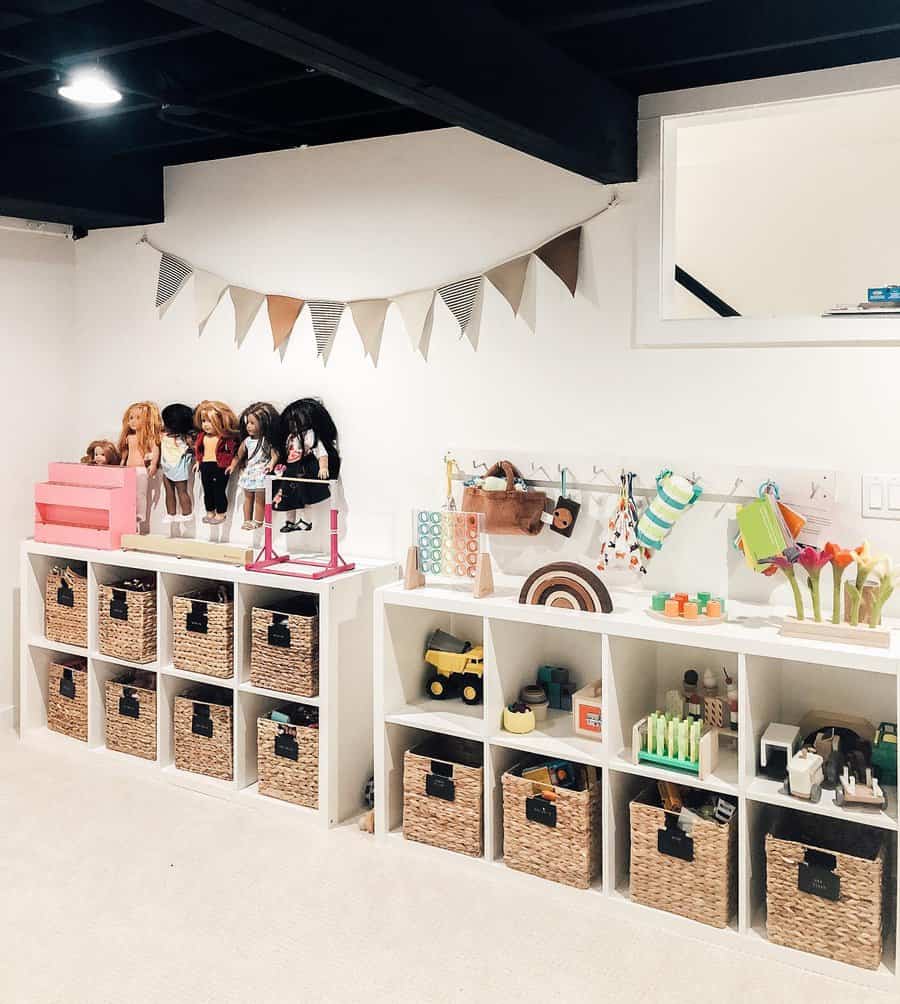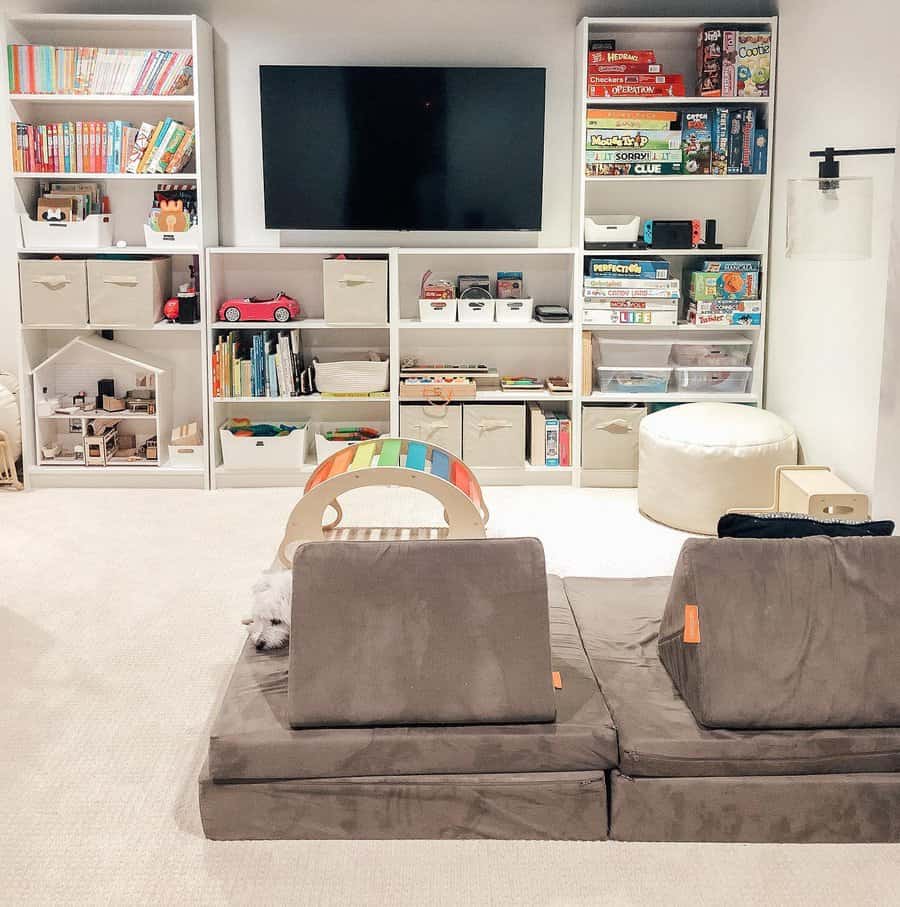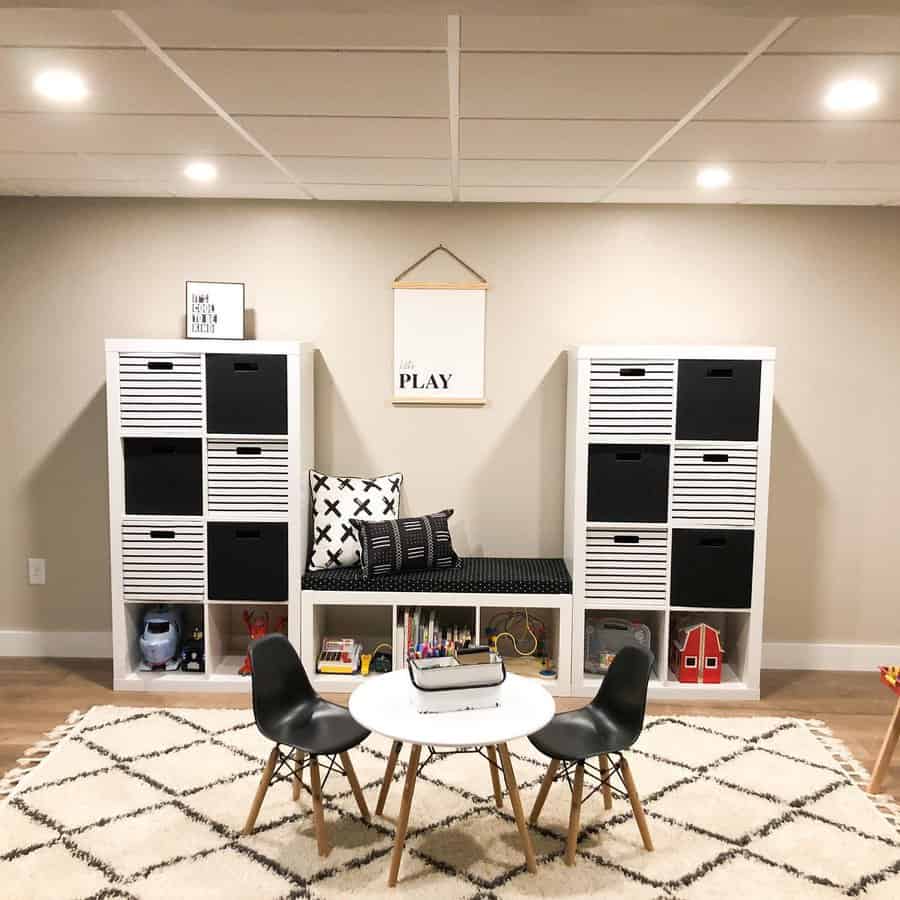 23. Mini Vanity With Storage Drawers
With a mini vanity storage with a mirror, you can instantly add a perfect touch of style and class to your basement guest room. Make sure to buy items that are both functional and fashionable to ensure that the room is comfortable for your visitors.
Think about what kind of items you would use in a regular bedroom, such as cosmetics and toiletries, but also consider items like books and tools so guests can find what they need quickly.
This mini vanity also gives a place for people to get ready and relax, making it more inviting than many other typical basement storage solutions.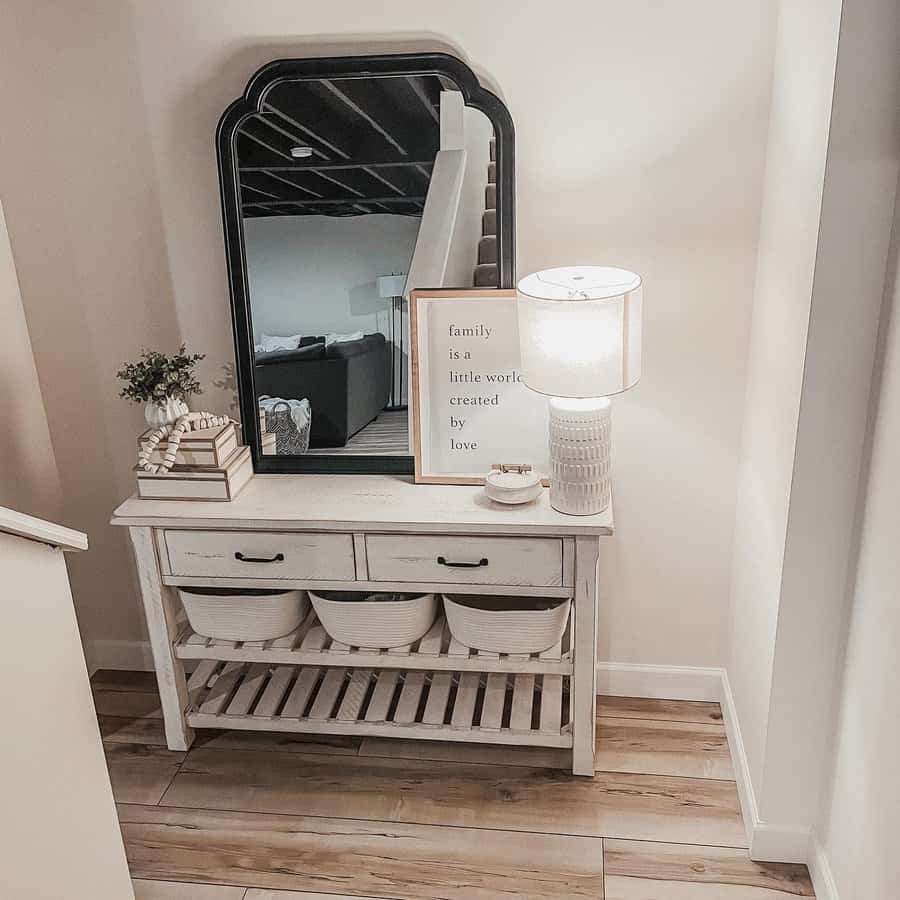 24. Basement Wet Bar Liquor Shelf
From wet bars and liquor shelves to store your favorite craft beers and spirits, to display cases for showcasing your whiskey collection, there are plenty of ways to make the most of your space. Not only will adding some additional storage elements add a touch of style to your basement, but it can also be incredibly practical as well.
Imagine having a wet bar set up with a small refrigerator – you could have entertaining options and low-key drinks at the ready any time you need them! Transform your basement into a contemporary hangout spot today by maximizing its potential through unique and organized storage solutions.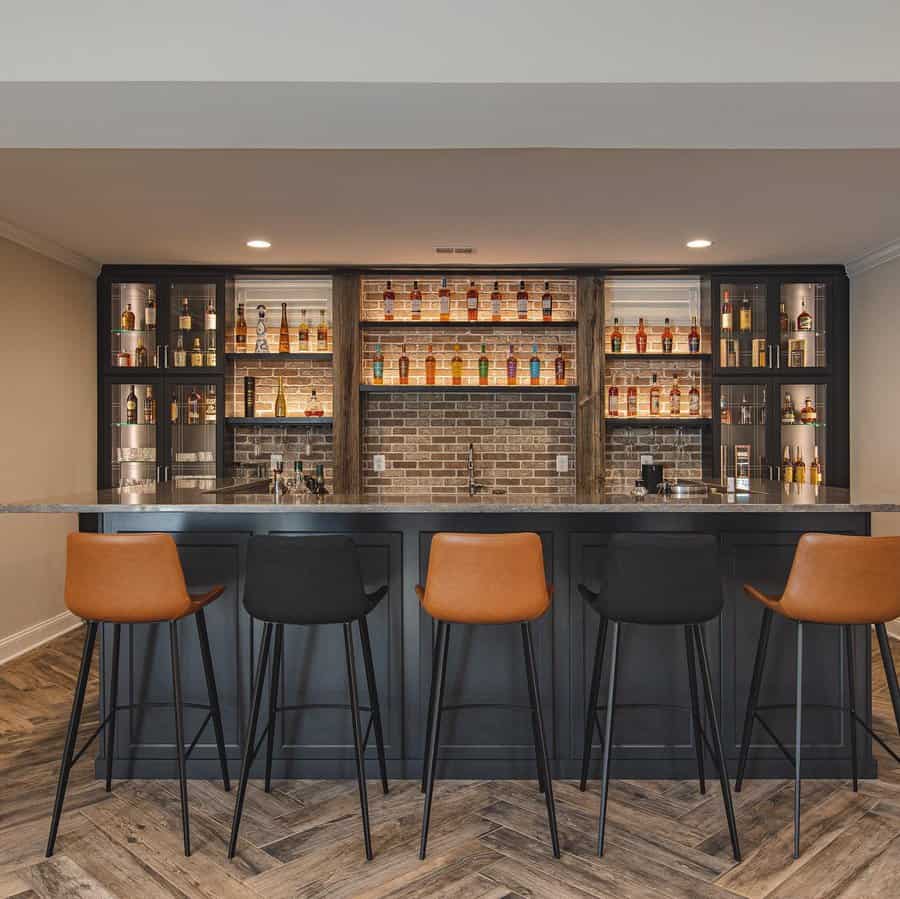 25. Open-shelf Cookware & Dinnerware Storage
The basement has the potential to transform from a dark and neglected area into an inspiring storage and workspace.
If you're looking for open-shelf cookware and bulky kitchen equipment, your basement is the perfect place! Create a practical open-shelf cookware shelf full of all your favorite pots, pans, and utensils in one spot – this way, you can quickly grab what you need when the time comes.
You can also store any kitchen appliances that don't get used as often on a sturdy shelf with extra tall walls – not only will they be easily within reach whenever needed, but they'll also make your basement space look more organized and styled. Start utilizing your basement today by making storage easier!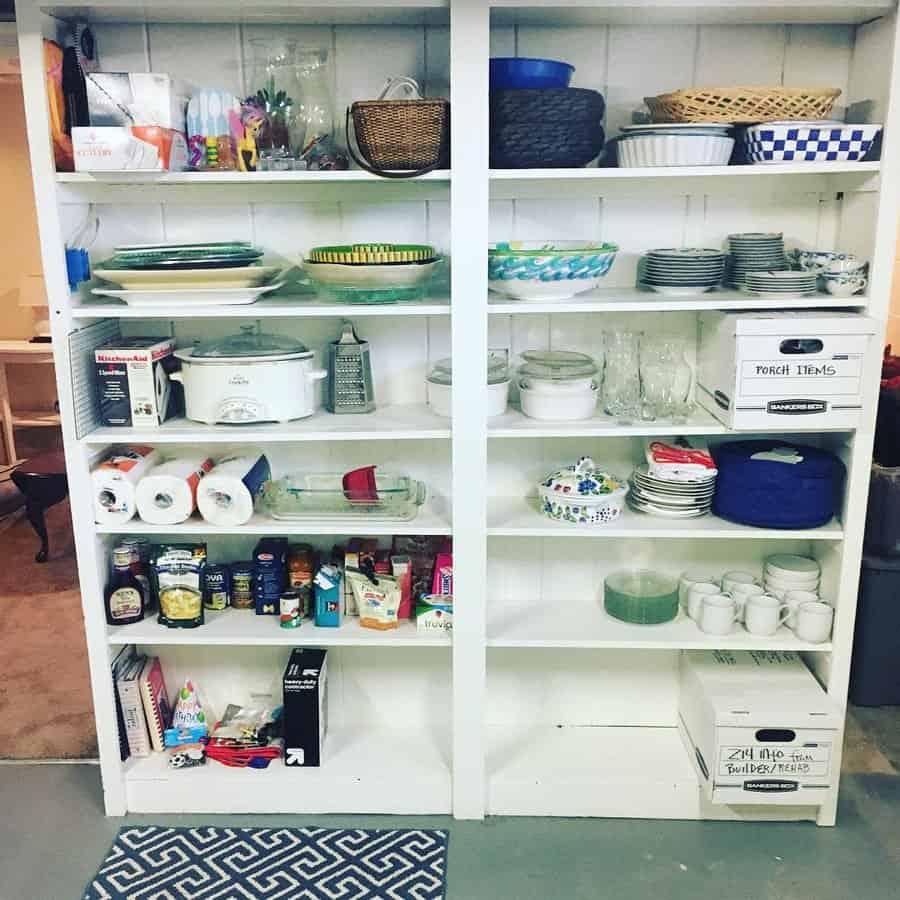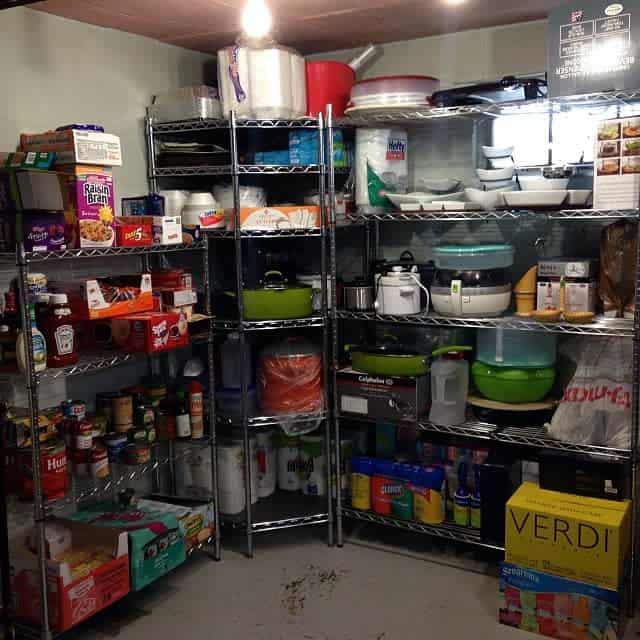 FREQUENTLY ASKED QUESTIONS
Can barboy trolleys be used in the living area?
The biggest advantage of barboy trollers is that they are mobile storage units, and can be used in kitchens, bathrooms, and everywhere else in the house. Barboy trolleys are so flexible, one could call them practicality on wheels. The cylindrical format with storage compartments that swing out is perfect to store and conceal your stuff. You can even use them as side tables in your basement living area.
What is the best flooring solution for a basement play area?
If you don't want to cover your concrete basement floor with carpets, try soft tiles instead of rugs. These square foam floor mats are ideal for playtime or workout and come in different sizes and colors.
You simply join them together like a puzzle, and you can mix different colors for a colorful and stylish playroom flooring for your kids. You can also personalize this kind of mat with the name of your kid, and use templates to choose the print and design you prefer.
Are metal cabinets a good solution for basements?
They can be a good alternative for basement or garage storage. They come in a wide variety of colors and features, such as lockable storage cabinets, adjustable shelves, drawers and casters for mobility. Some (not all) are fire-resistant, with a layer of inflammable insulation between the layers of the cabinet wall.