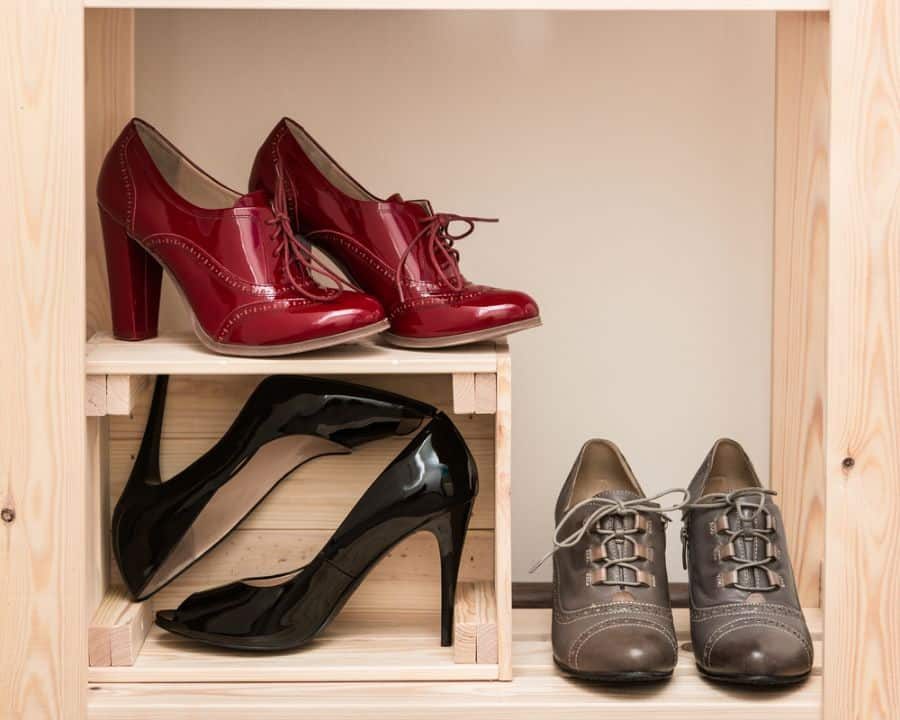 "Women like my shoes because they look good on them, not because they look good on the rack." – Christian Louboutin
You come home from a long day, slip your shoes off, and put them where? Do you throw them in a pile by the front door? Do they end up scattered about the house?
If you don't have a place to store your shoes, then it's time to address this situation. Your shoe collection deserves a dedicated place that it can be displayed or safely stored.
Check out these shoe storage ideas and find one that will work in your home. It needs to give you a functional method of shoe organization. It should be large enough hold your entire collection, from your sandals to your dress shoes and boots.
It also needs to work in your home. If you have limited space, then you'll want one that can maximize the square footage that it takes up.
Read also: 89 Must-See Storage Ideas
1. Shoe Shelf With Bench
Shoe storage doesn't have to be mundane and boring! Consider an innovative shoe rack with a bench– it's a modern, functional way to both store your footwear and also become part of the decor. The shoe rack is made out of a robust metal which makes it incredibly durable and ideal to stash any range of shoe sizes.
For extra comfort, add some foam padding onto the seat – or leave it as is for a minimalistic look. This shoe storage option provides ultimate convenience, allowing you to change shoes without having to leave the room – perfect after those long days at work!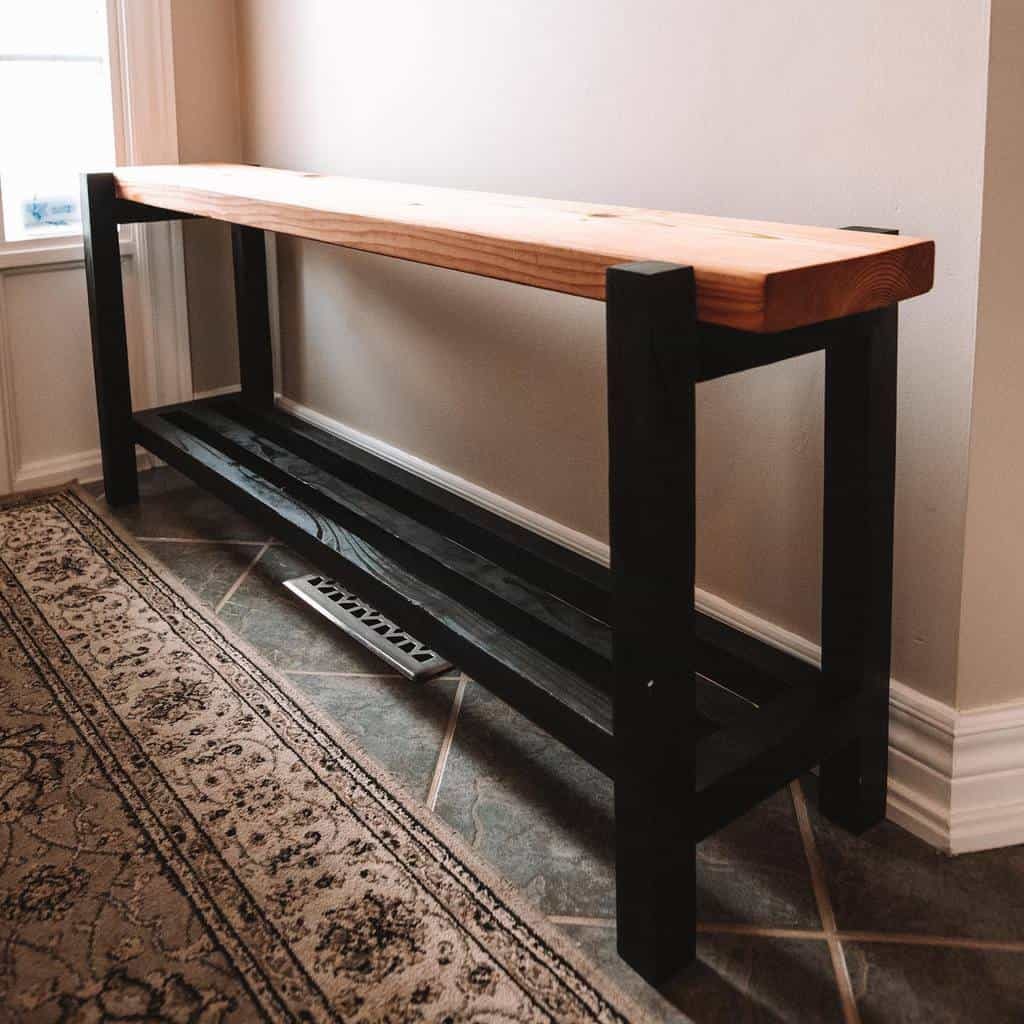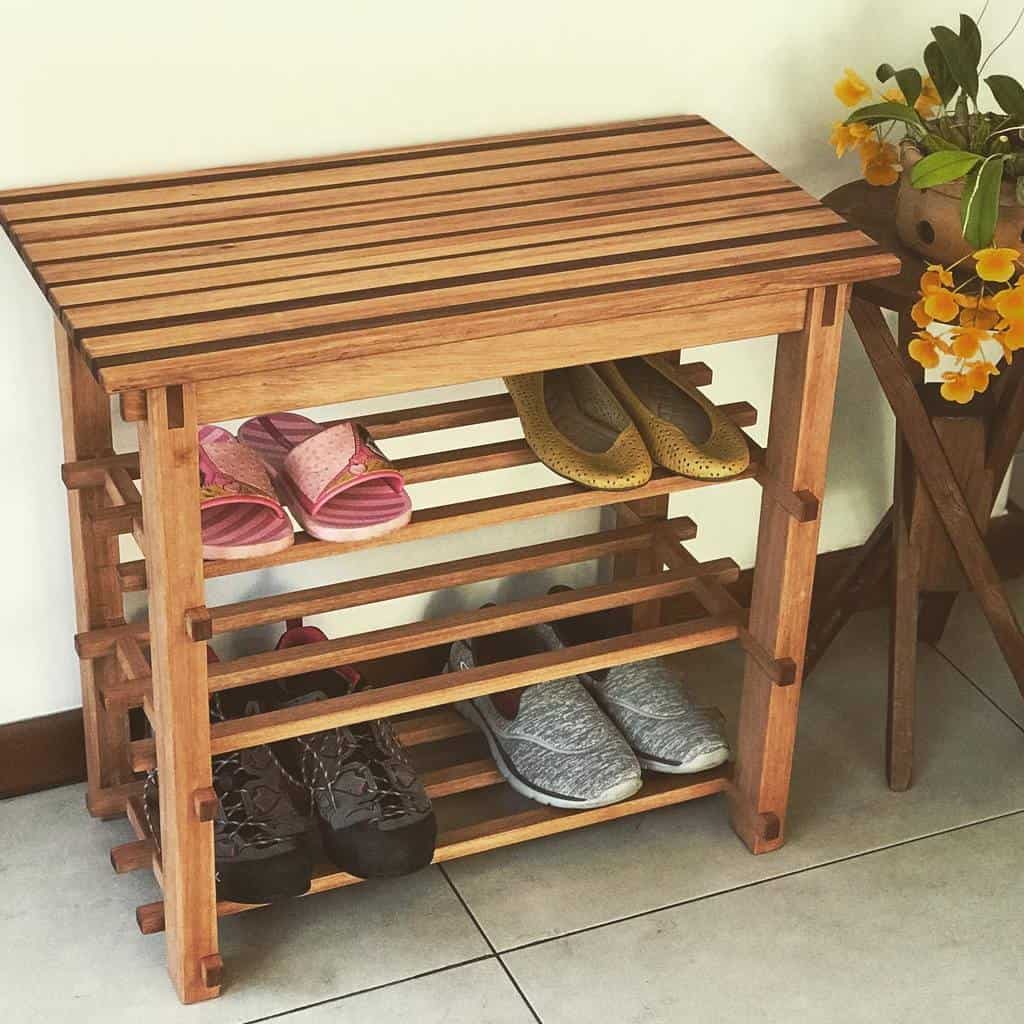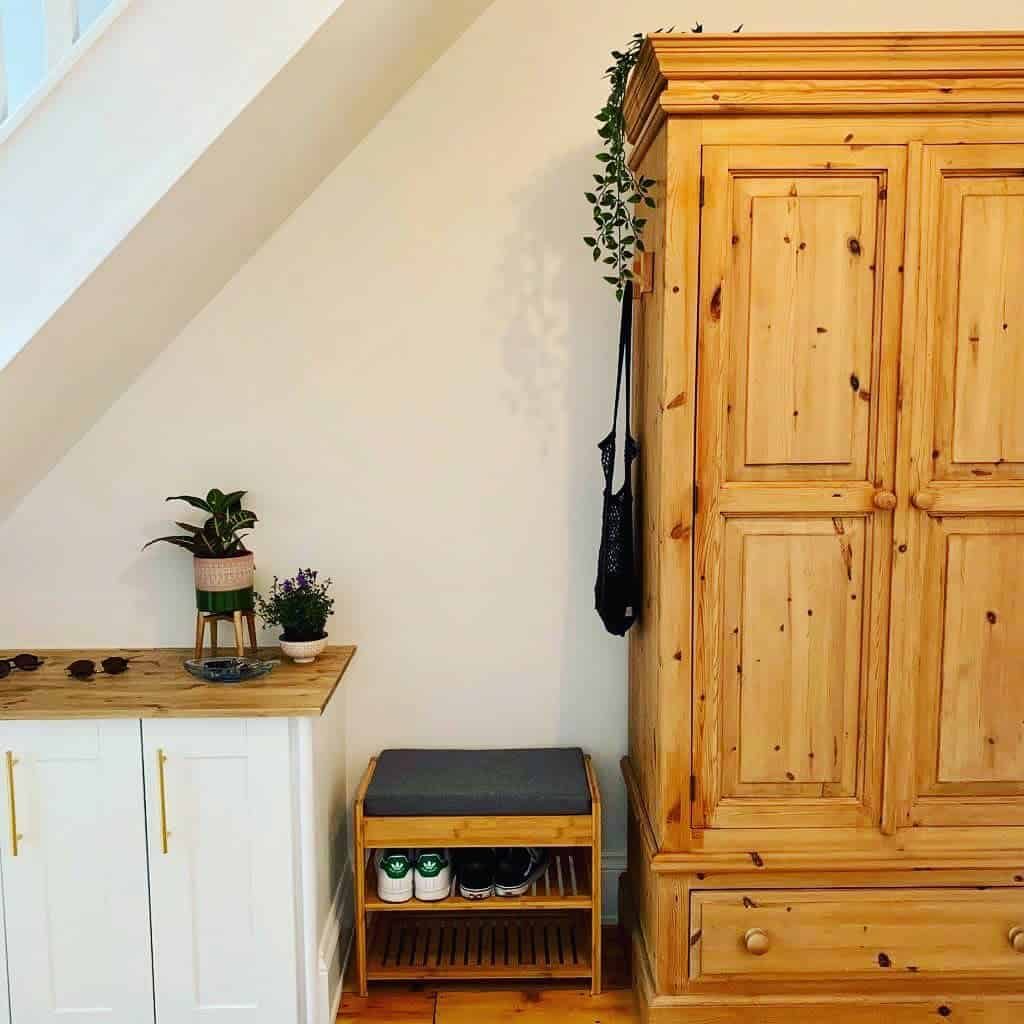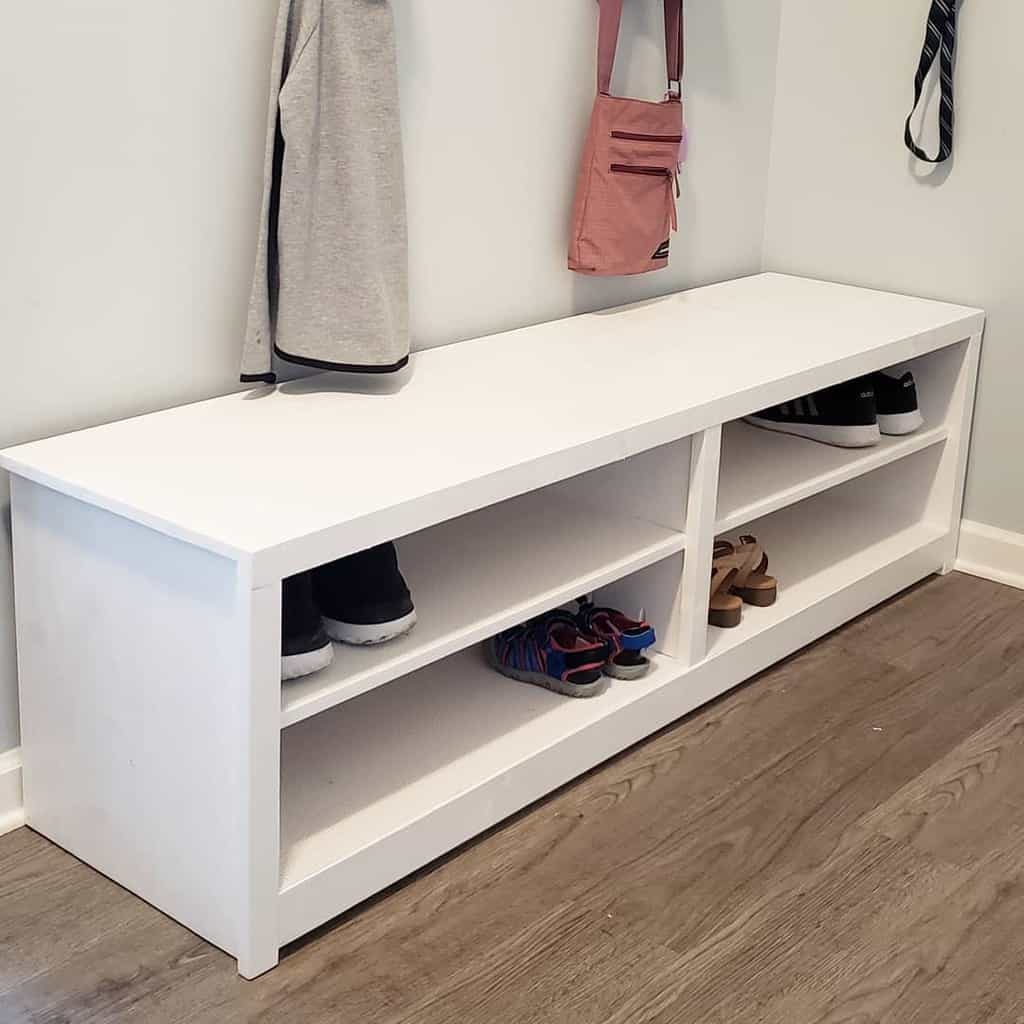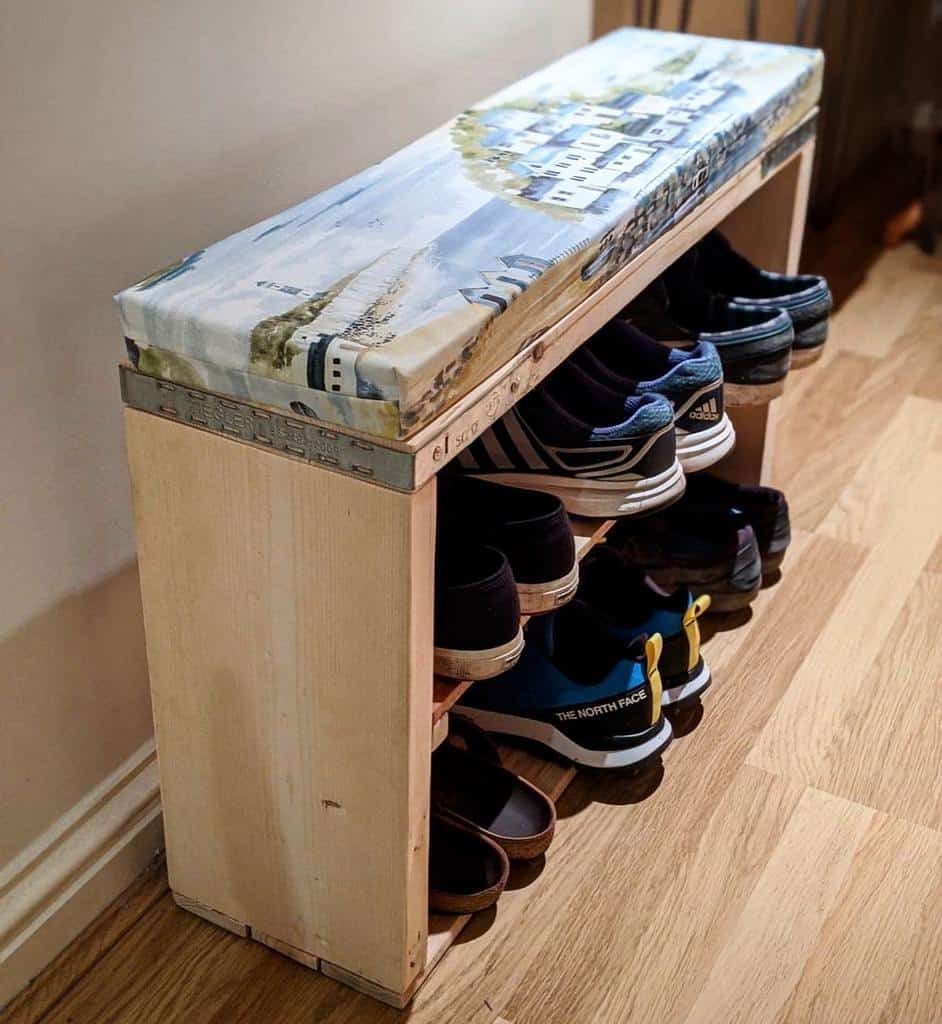 2. Tiered Enclosed Shoe Cabinet
When it comes to shoe storage, tiered enclosed cabinets are ideal for those with limited space. Having a tiered cabinet that can be easily moved around allows you to move the storage from one room to another depending on your needs.
Not only does this provide convenience, but it also provides plenty of space for shoes of all shapes and sizes. This type of movable tiered enclosed cabinet is great for small spaces, as it allows you to store more in a fraction of the space.
So if you're looking for a good way to store your shoes while keeping them out of sight and accessible, tiered enclosed cabinets are the perfect solution.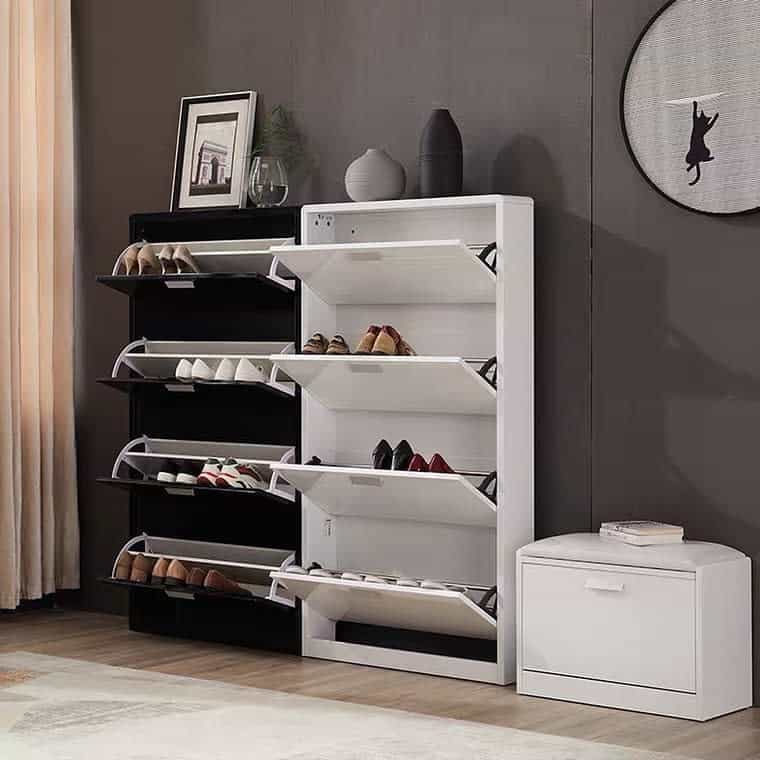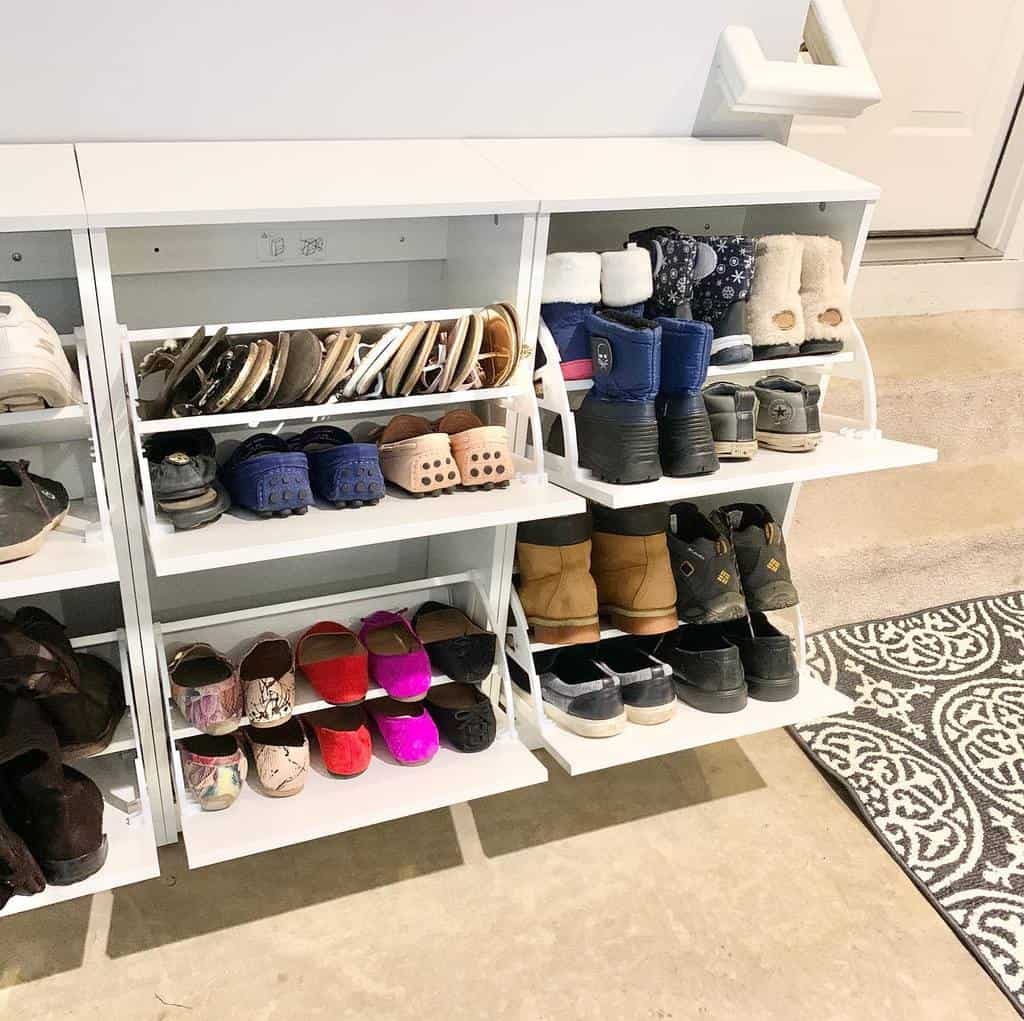 3. Repurposed Cabinet
If you are looking for an intriguing new way to store your shoes, repurpose an old cabinet for a chic, rustic look. By distressing the wood you can achieve a worn, vintage look that is eye-catching and adds character to any room.
Furthermore, repurposed cabinets often come with several compartments which makes it easy to organize your shoes. You can even repaint the cabinet and distress it again in different colors if you want to create something truly unique and personalized that reflects your own style.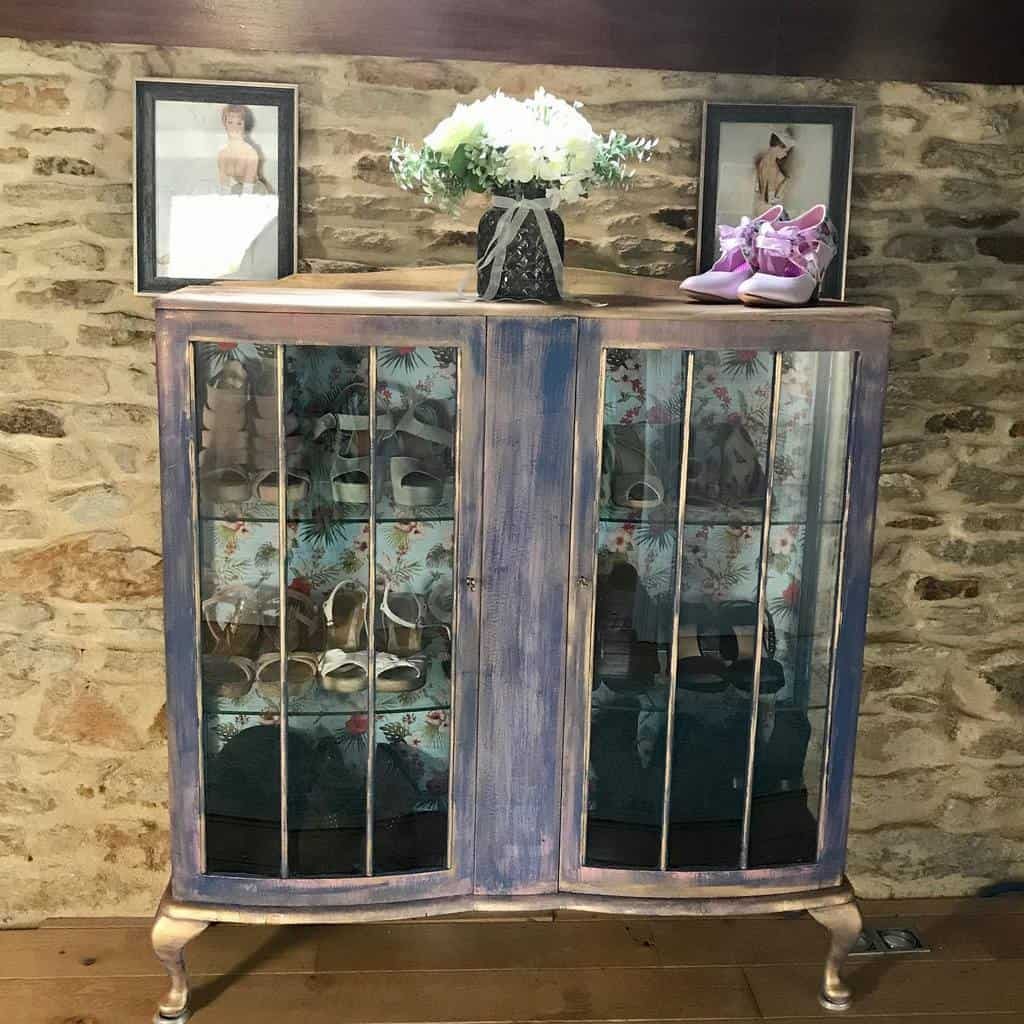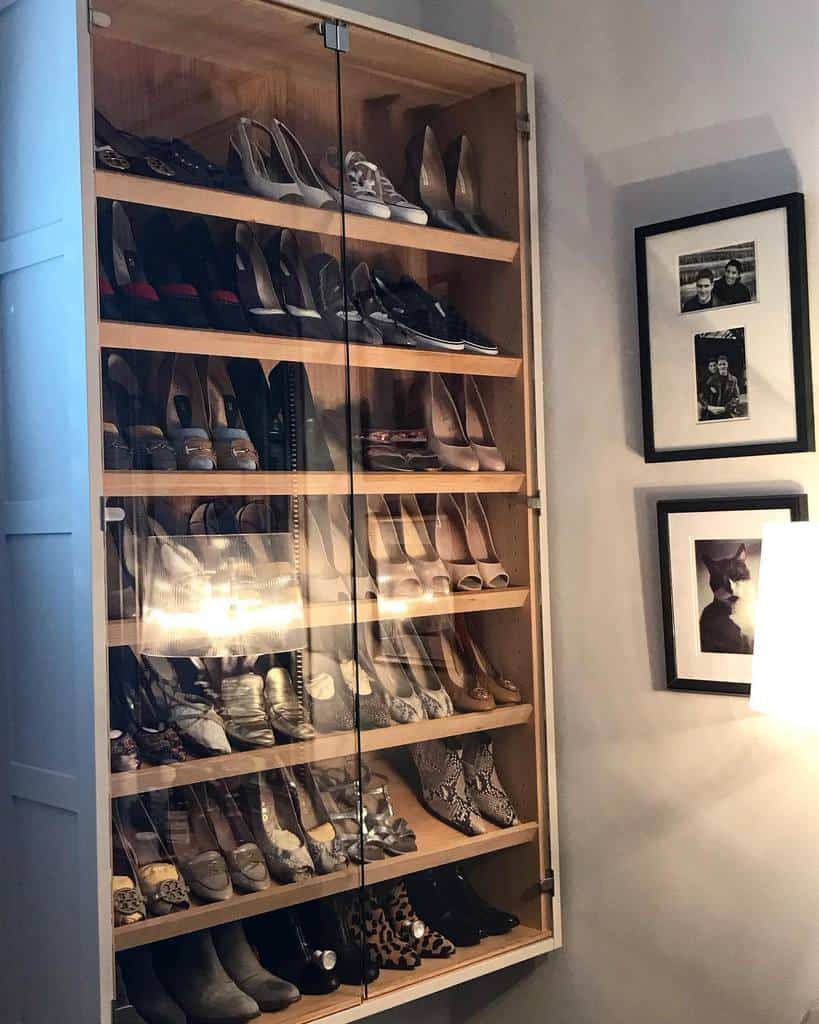 4. Built-In Shoe Closet
If you're looking for creative solutions for your shoe storage needs, have you ever considered a built-in shoe closet? Not only does having built-in shoe storage effectively organize all of your footwear, but it also functions as an eye-catching feature in any room.
Not only is this type of shoe storage space easy to customize and maintain for any size house or apartment, but built-in closets also don't take up floor space which makes them perfect for small homes.
Spending just a few minutes organizing footwear in built-in closets will give you restful peace of mind knowing that your shoes are organized and accessible every time you need them.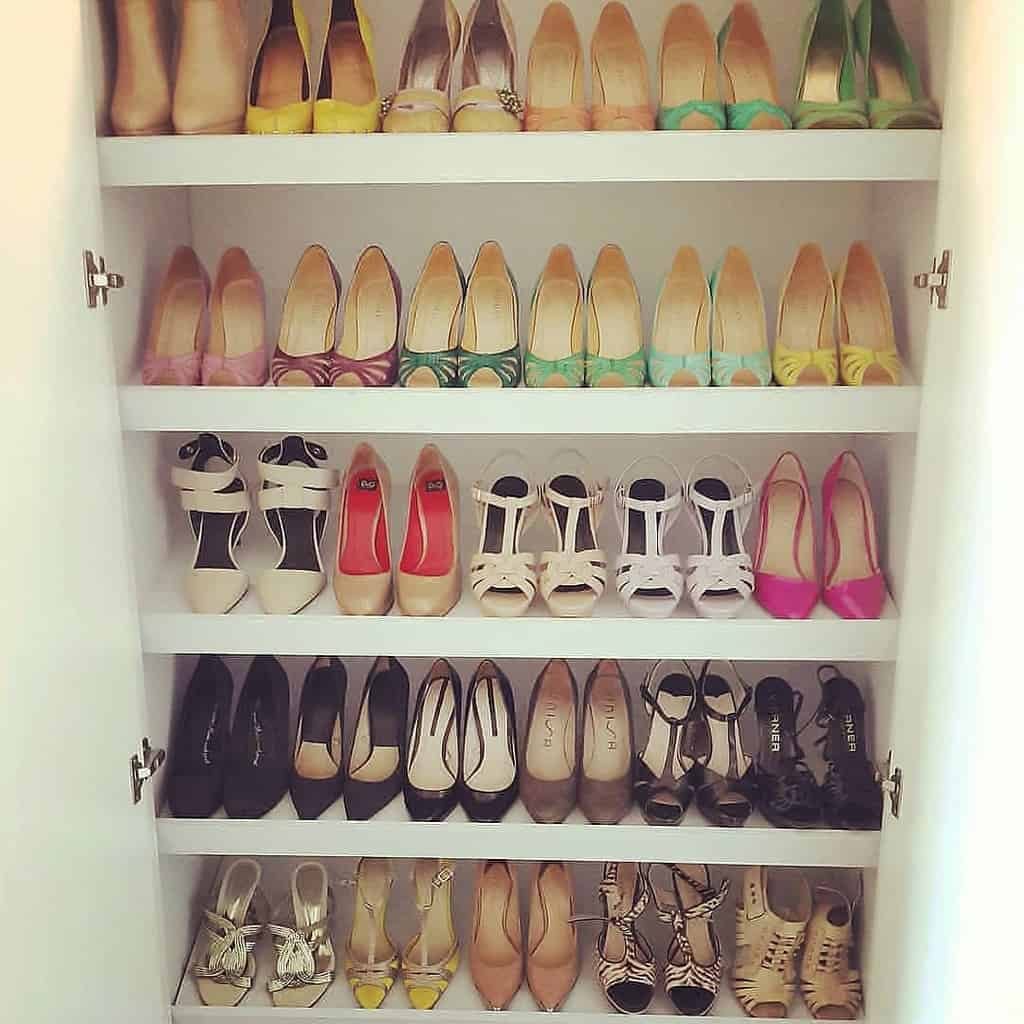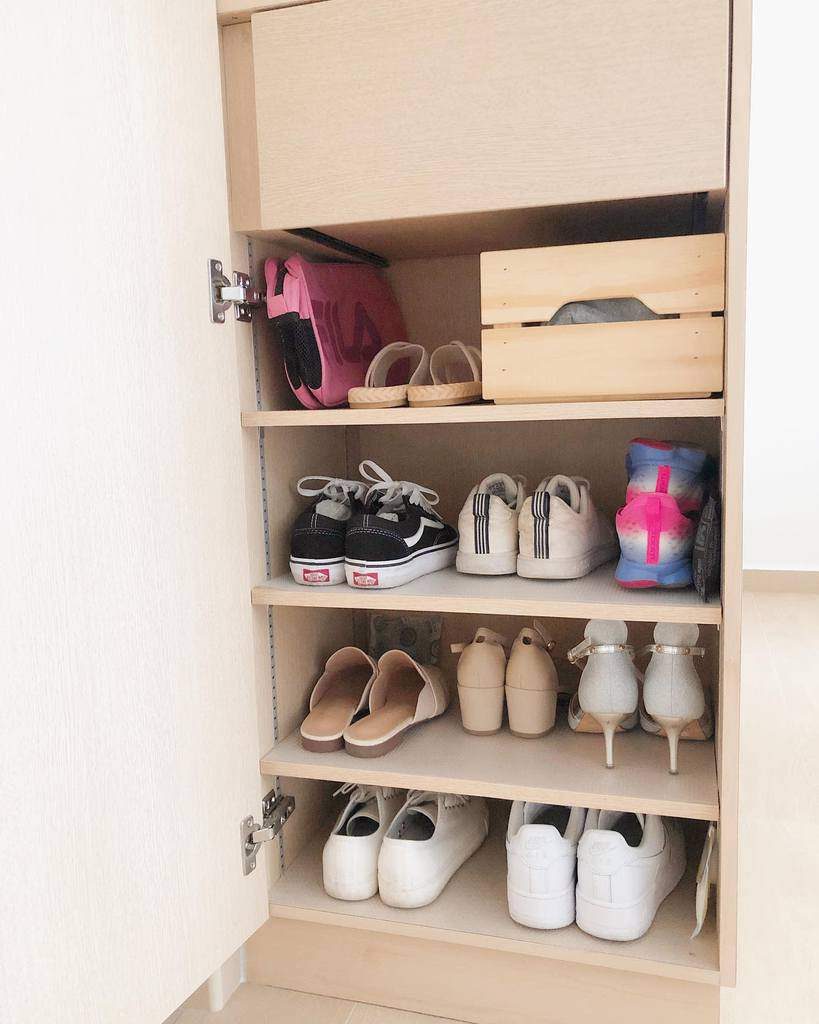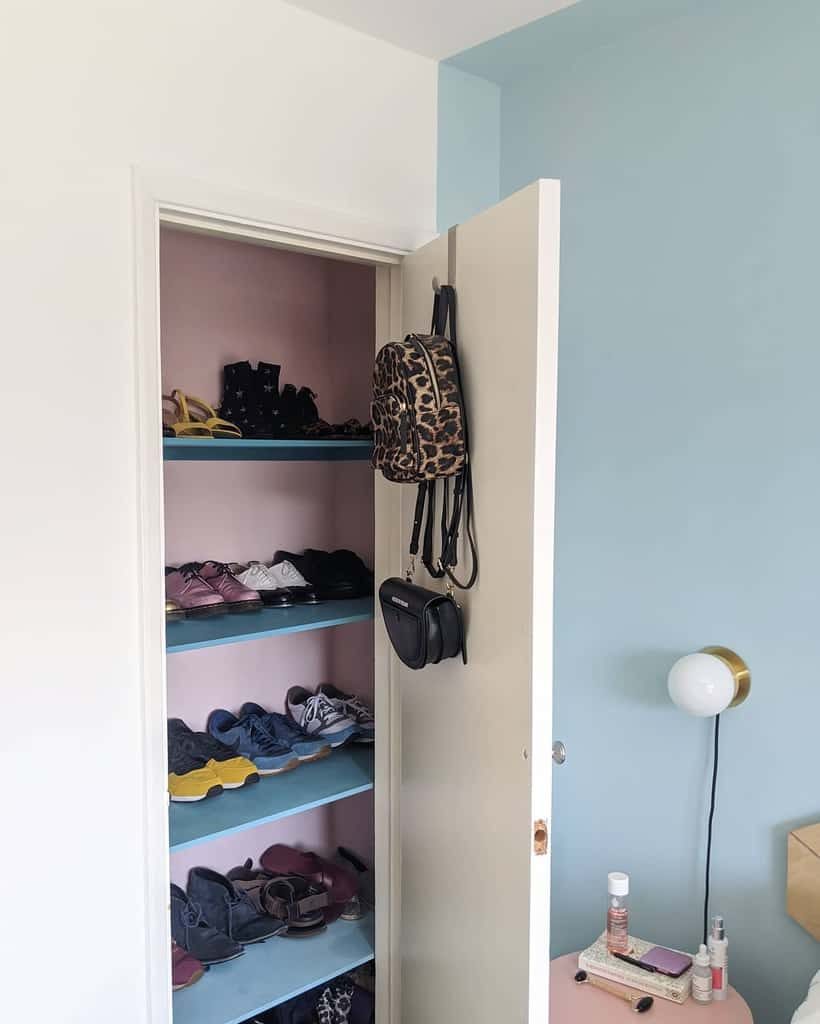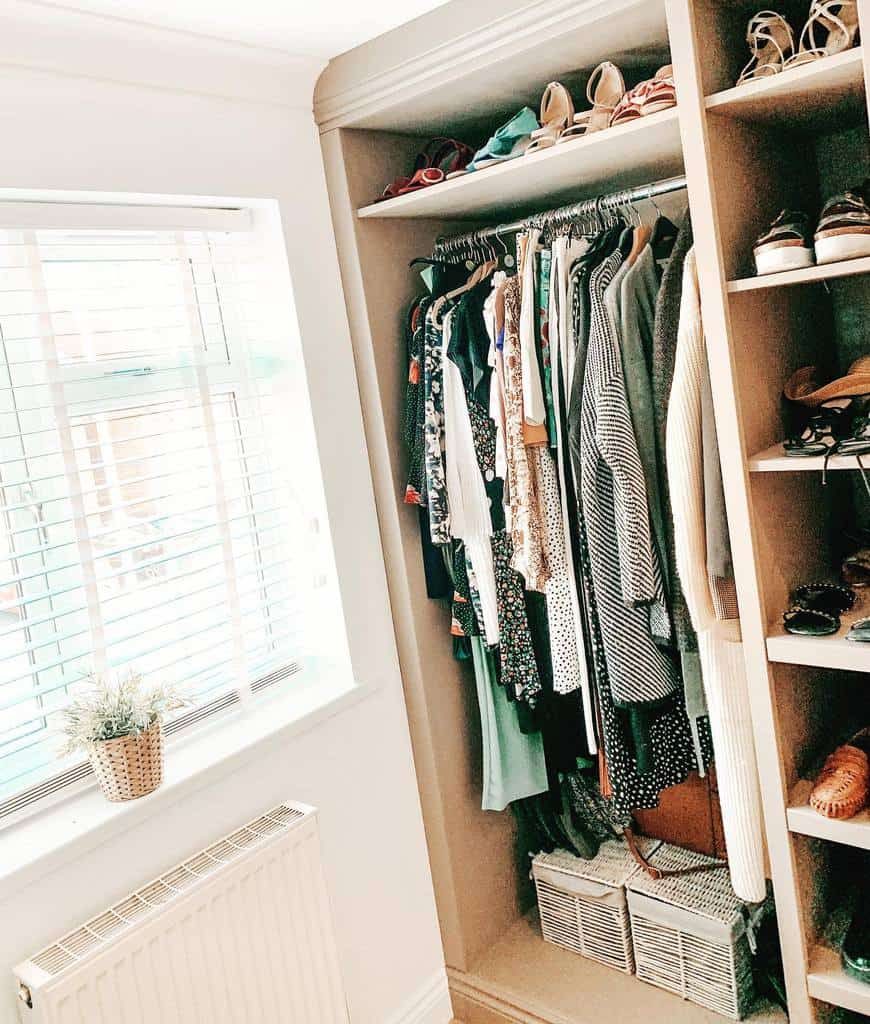 5. Recessed Shelf
Finding space for all of your shoes can be a challenge, but recessed shelving is an innovative way to make the most efficient use of your storage space. This kind of storage allows you to store up to twice as many pairs of shoes in the same amount of room!
With recessed shelving, you can fit even your oversized shoes without having them stick out and take up too much space.
It's not just practical either, recessed shelving looks attractive too. For effective and attractive shoe storage, recessed shelving is the way to go.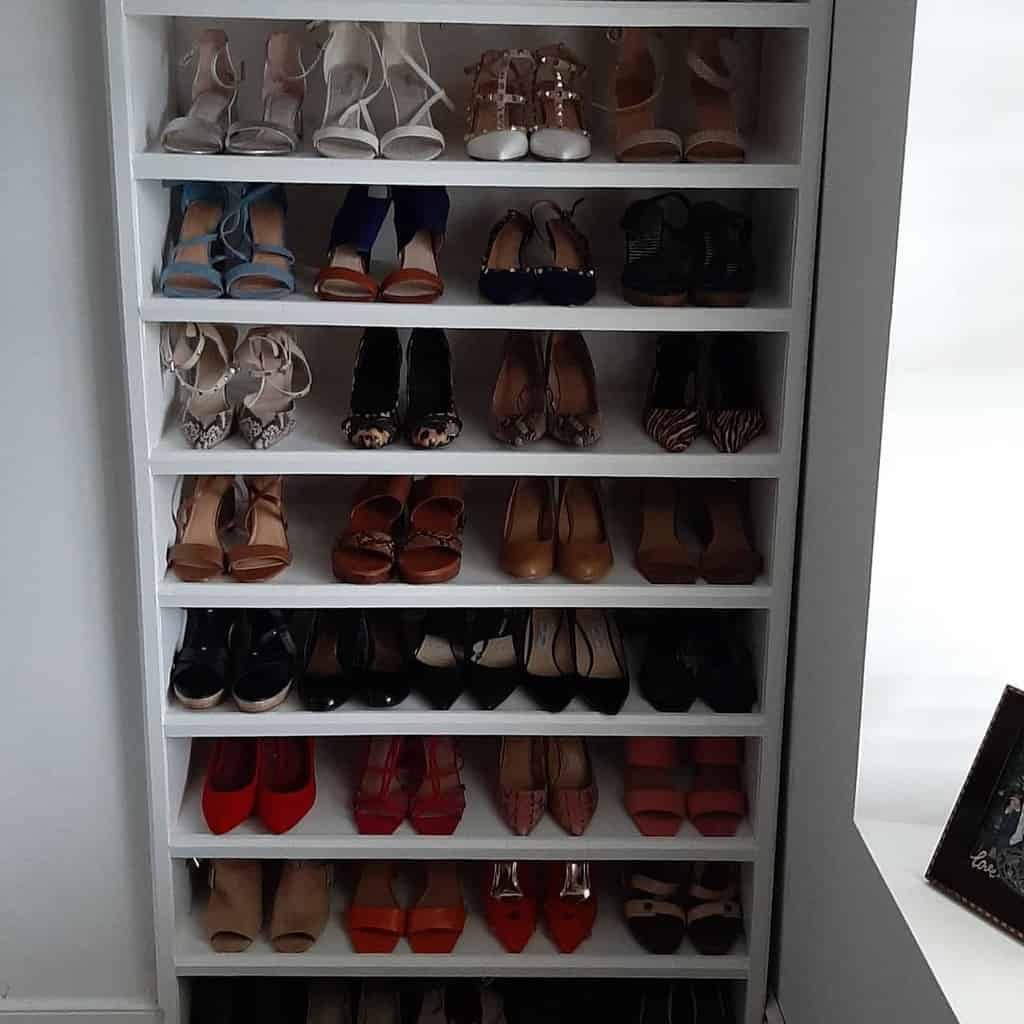 6. Shoe Shelf With Counter Space
If you're struggling for shoe storage, look no further! A shoe shelf with an extra counter space is a great way to make the most of your shoe organization.
Not only do you get a ton of shoe storage, but the counter space also gives you a great place to keep your keys or display some small decorations.
This solution is perfect for those who need shoe storage and want to use the rest of their space creatively.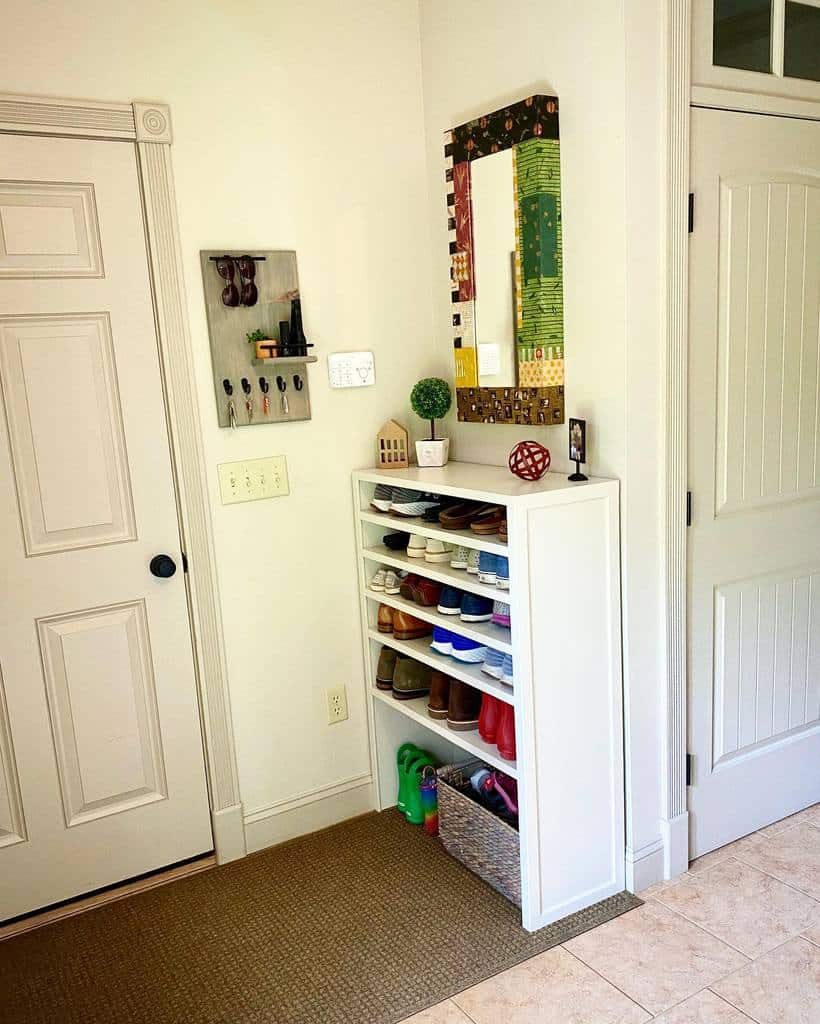 7. Doorway Shoe Shelf
If you're living in a condo or small apartment and still want stylish ways to store your shoes, doorway shoe shelves can be the answer. These shelves fit conveniently right beside a doorway and provide an attractive display for your footwear without taking up too much space. For an extra touch of convenience, try putting one right beside the couch.
That way you can easily grab whatever pair of shoes you need without having to make a run across the house! These doorway shoe shelves are great for adding a fashionable look while also providing practical storage solutions.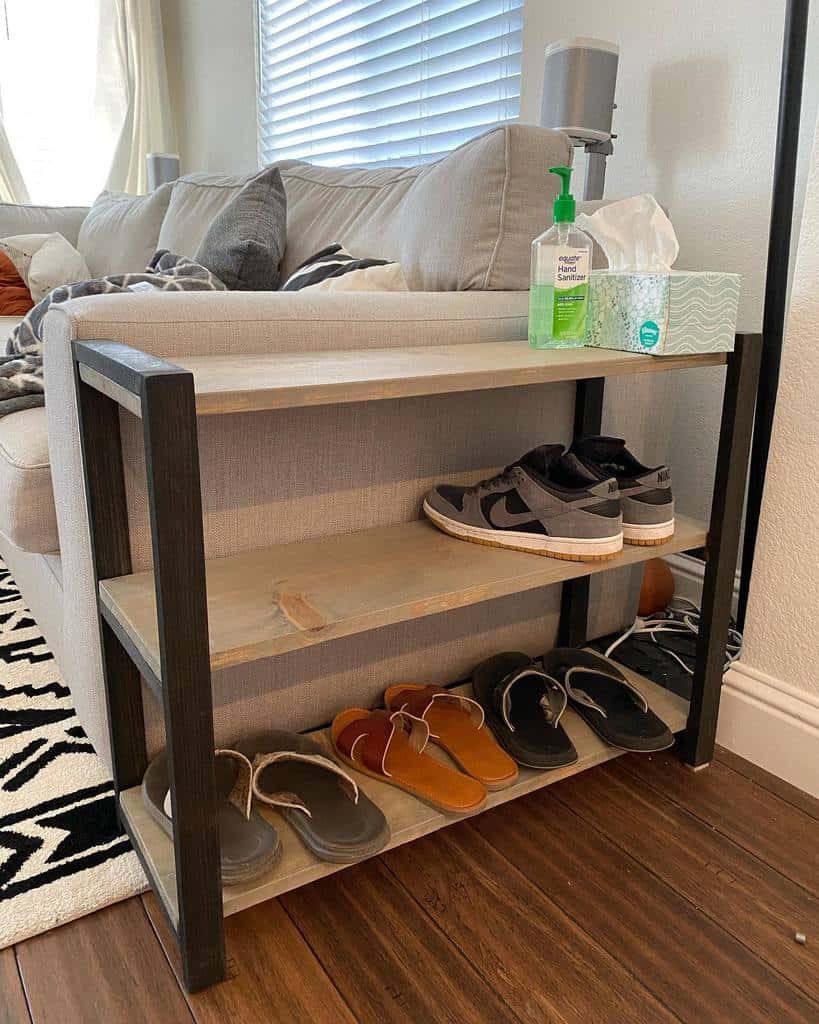 8. Tiered Wall Shelf
Maximize your wall space with tiered wall shelves for shoe storage! If you're like most people, you have countless pairs of shoes cluttering up your living space.
Instead of resorting to stacks on the floor or bulky cabinet storage, tiered wall shelves offer an efficient and creative way to keep your shoes clean and well-organized.
With tiered shelves, you can organize by type or color so that it's easy to find each pair quickly. Plus, the tiered design makes good use of vertical space while still offering visibility so you don't forget what's stashed away!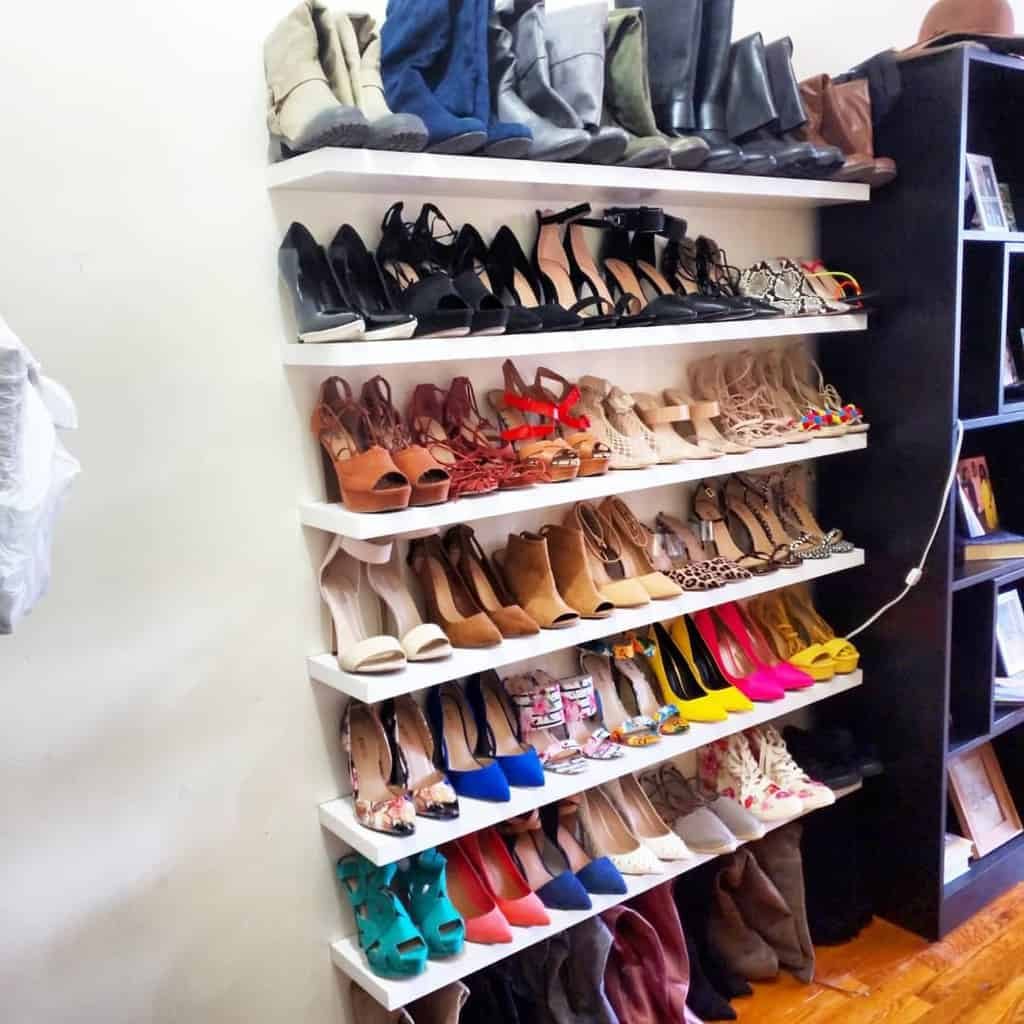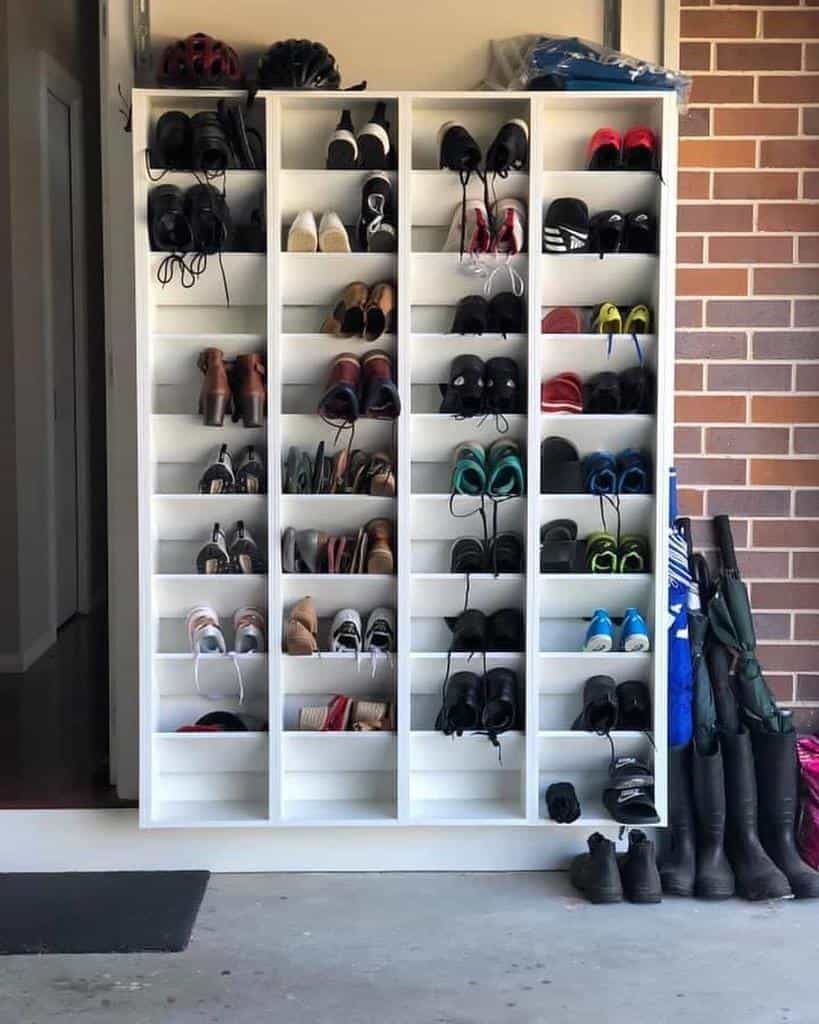 9. Layered Shelves
If you're looking for an easy yet creative way to store shoes, why not repurpose mismatched shelves? By layering shelf upon shelf, you can create a towering custom storage shelf that is uniquely yours.
Not only will it provide extra space and become a talking point in your home, but you can easily find the exact right shelf for every space or corner that needs filling.
Plus, by getting multiple shelves of different sizes, you'll have the perfect place to store any size shoe or sneaker. Not all shoe storage solutions have to be boring – get creative and make the most of the room you have!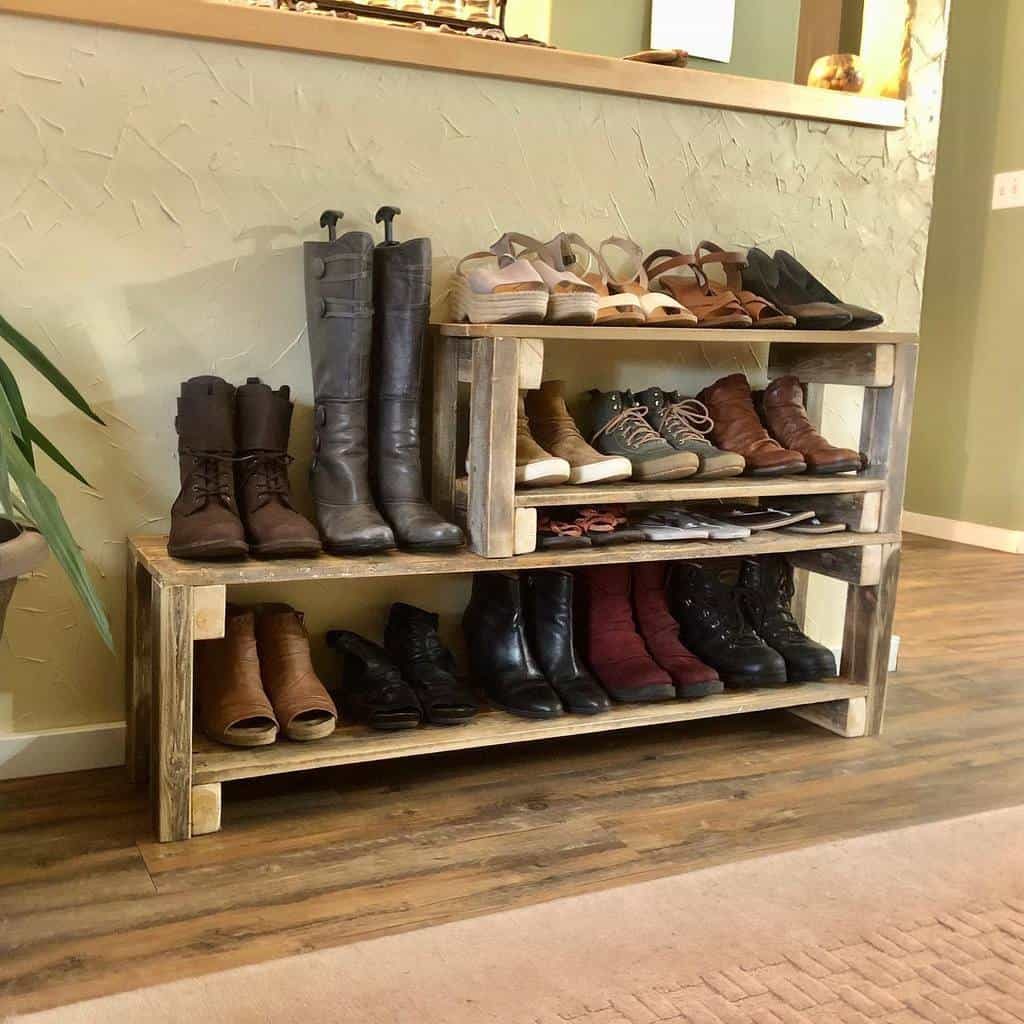 10. Shelf Compartment With Coat Hooks
If shoe storage is a challenge in your home, consider a shoe shelf compartment with coat hooks. This versatile solution is perfect for any space, whether you have an entryway or mudroom, or even where shoe storage just isn't possible.
For example, you can keep shoes neat and off the floor yet still conveniently accessible in hallway closets. Kids love being able to have their favorite shoes within reach–plus it teaches them responsibility for keeping them orderly!
Plus, with this shoe storage solution, it's easy to clean and dust behind–so much simpler than re-arranging shoe boxes!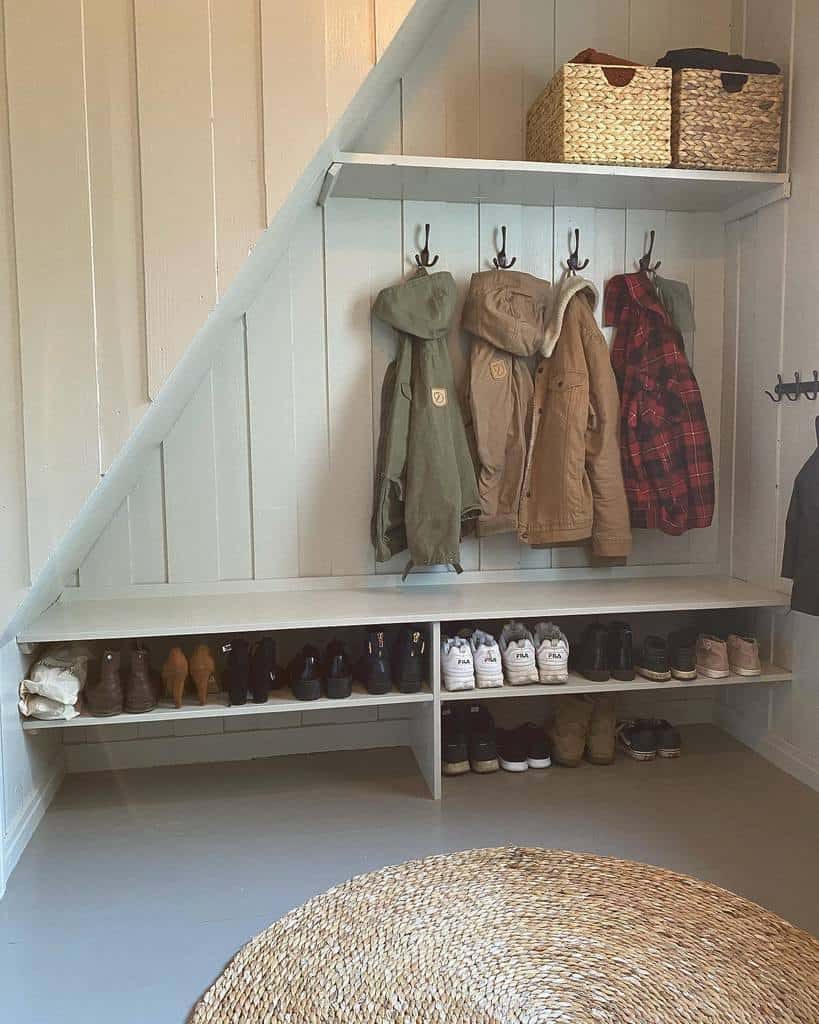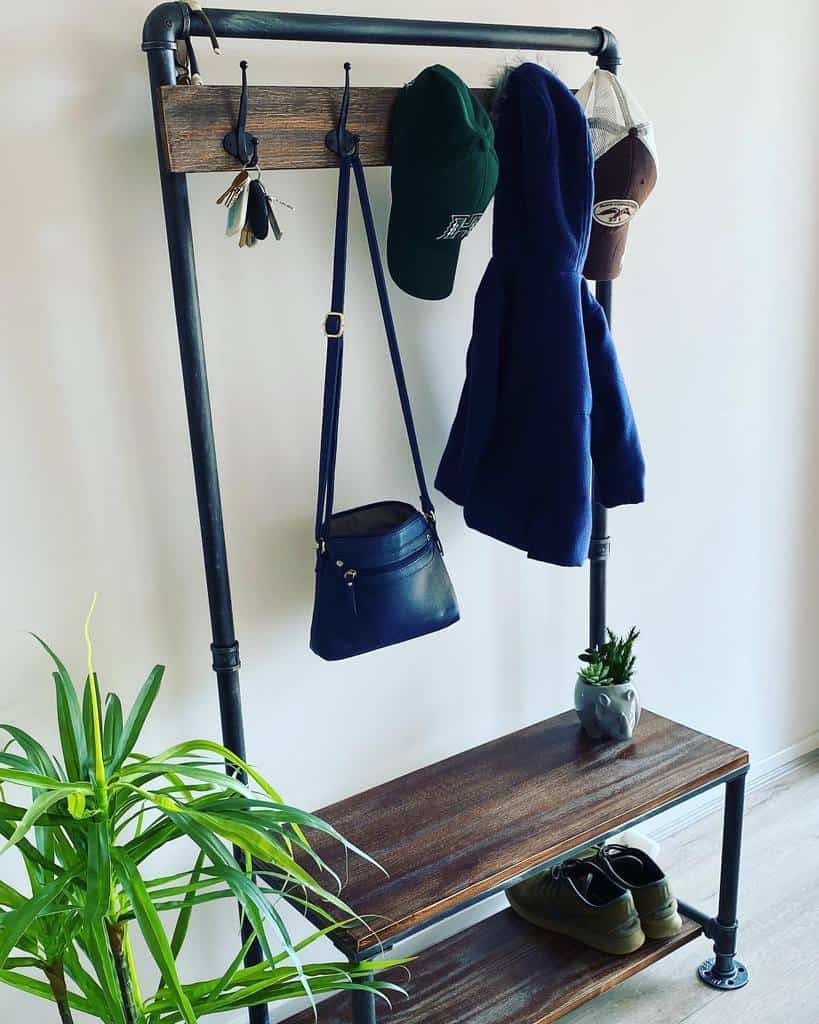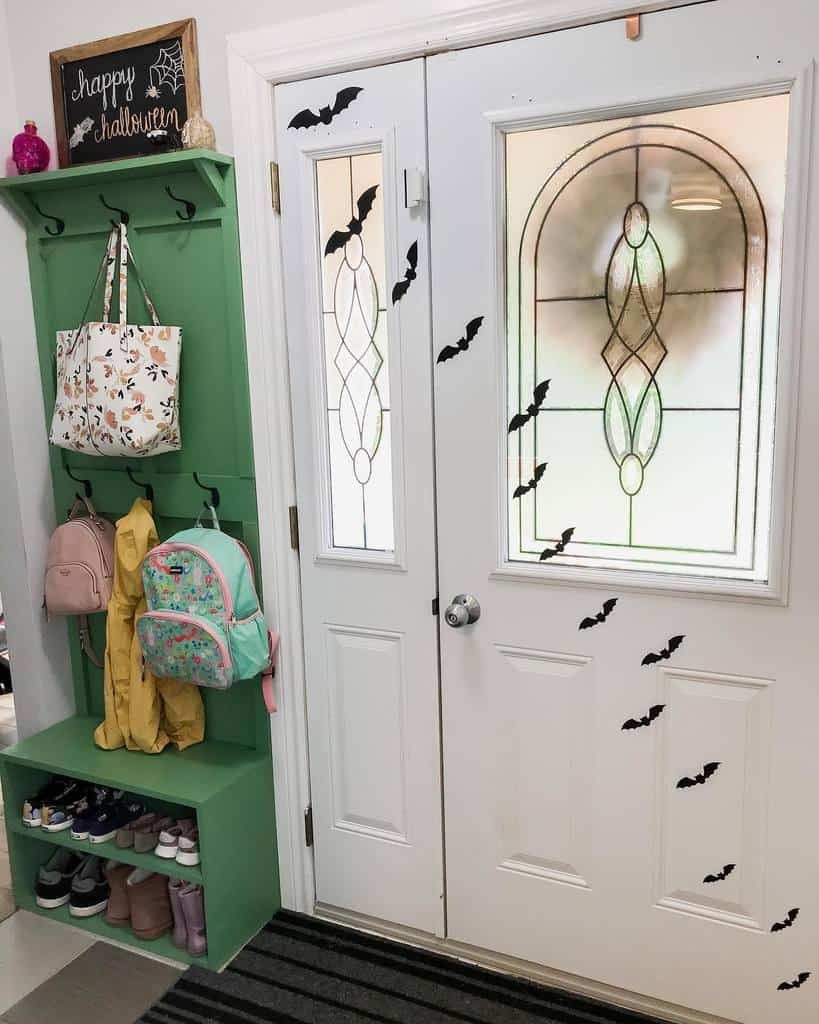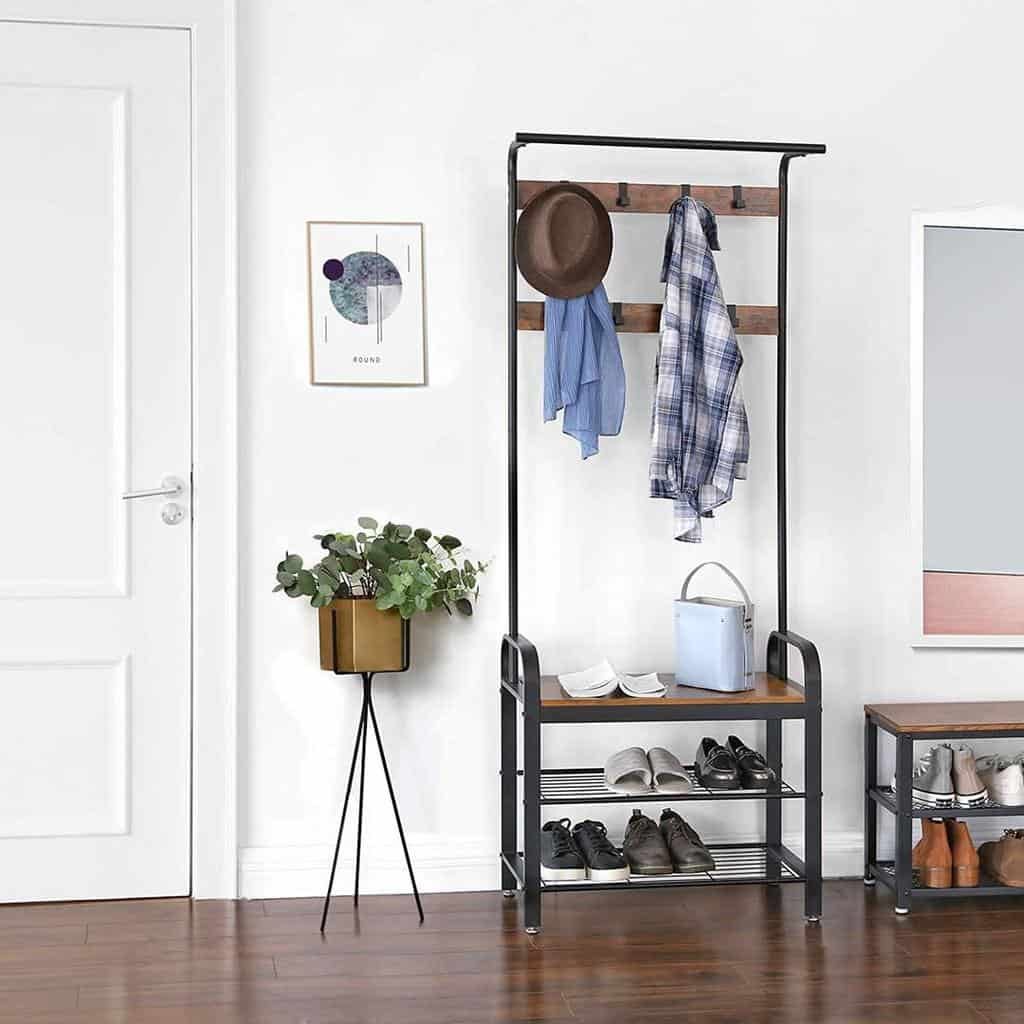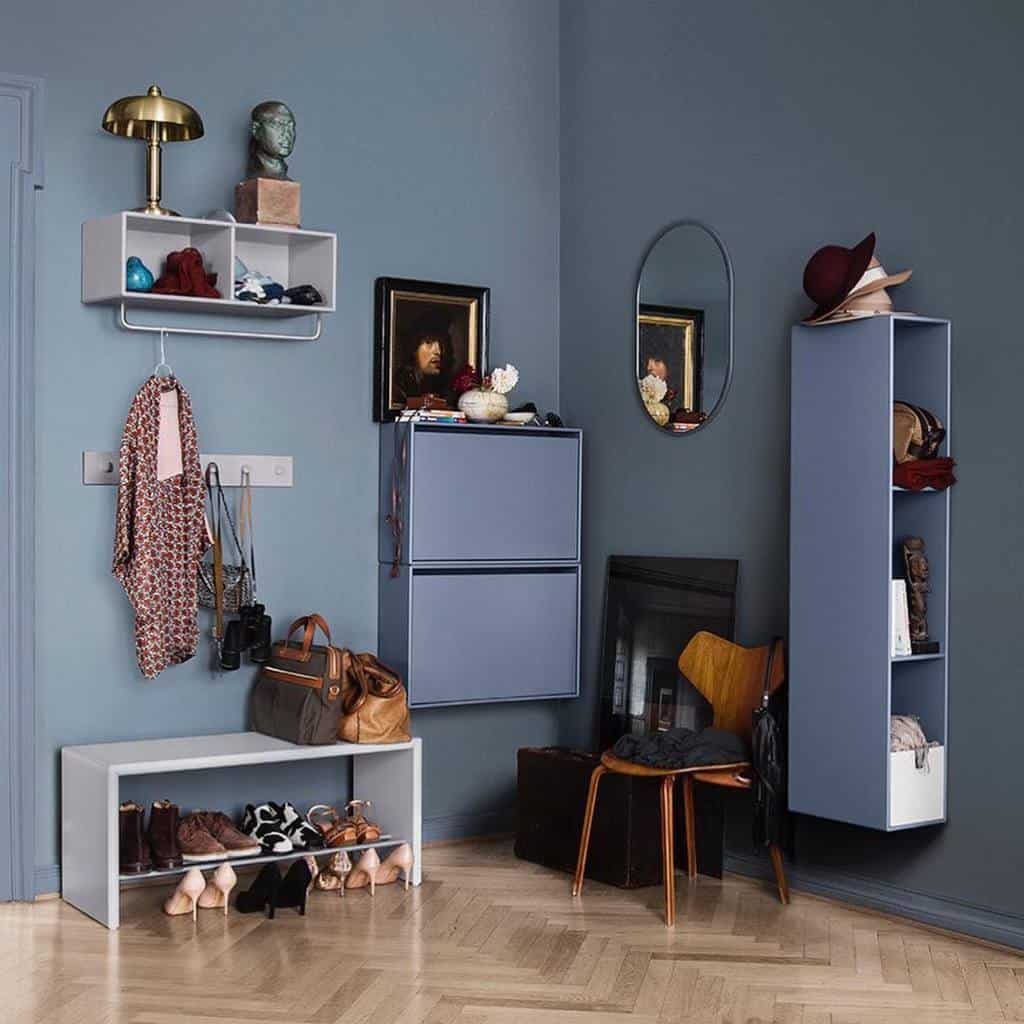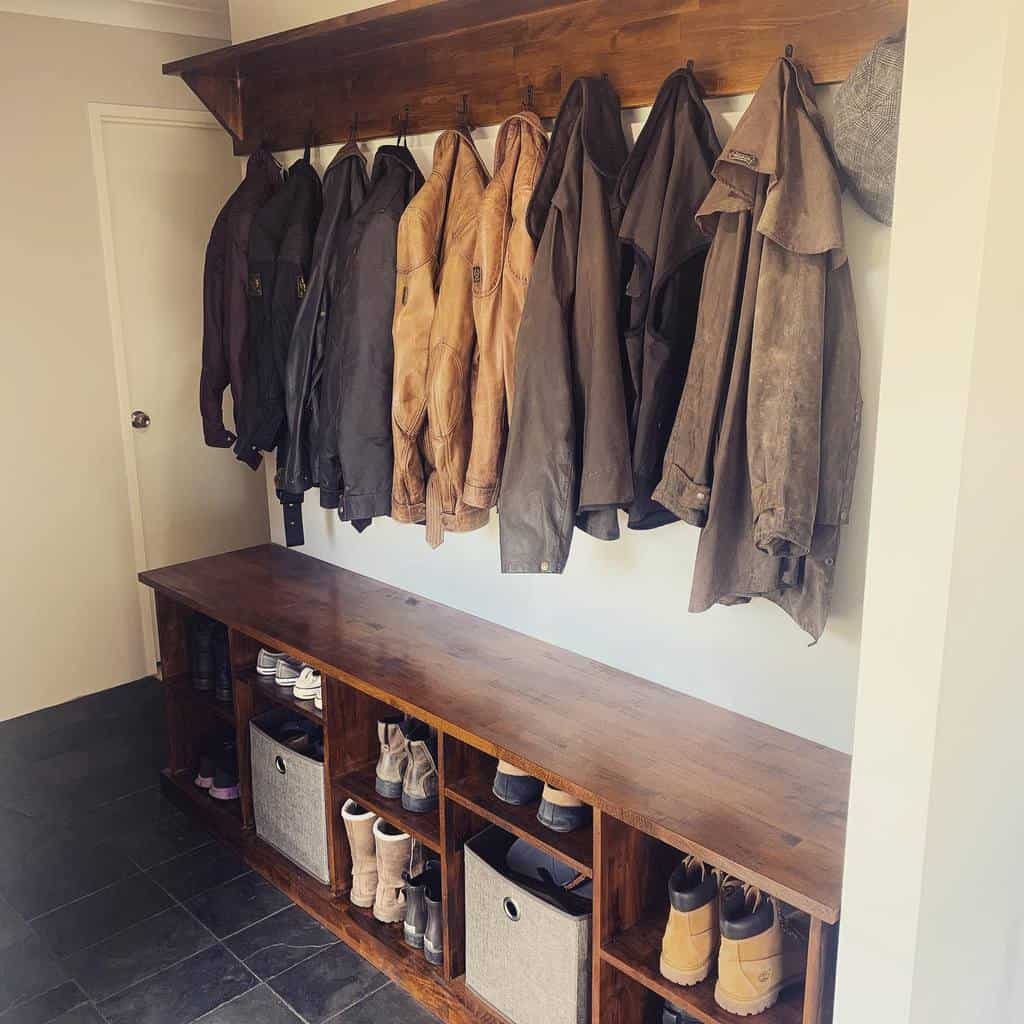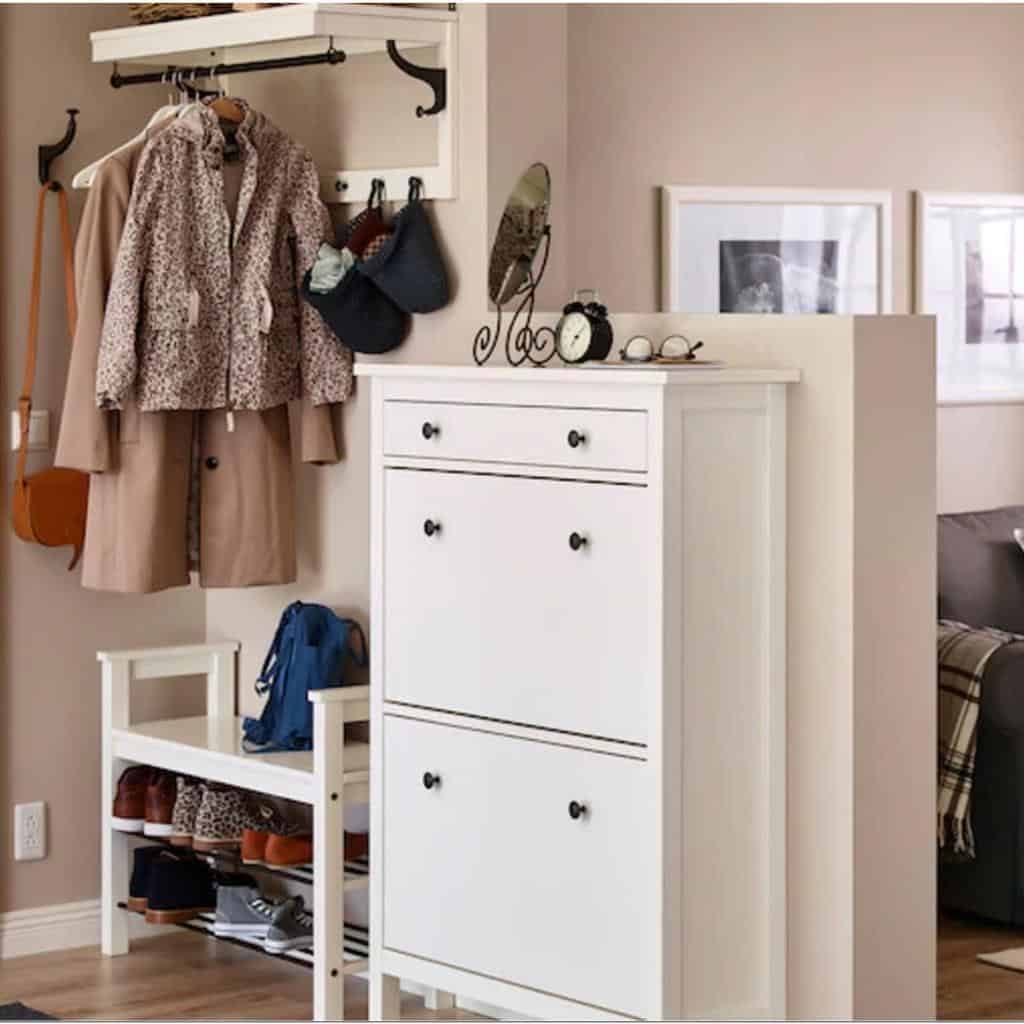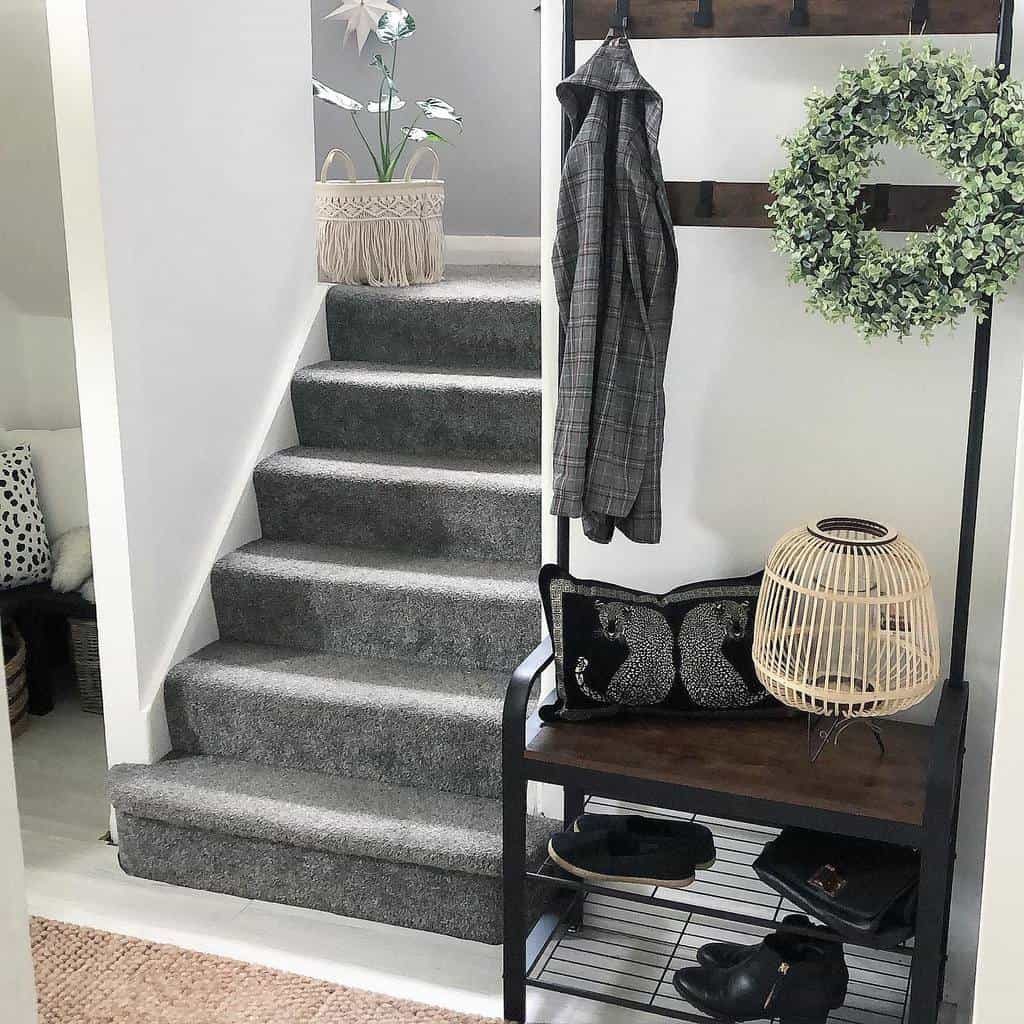 11. Shoe Shelf With Silicone Mats
There's nothing worse than coming home after a long day to find your shoe storage in complete disarray. Enter the shoe shelf with silicone mats to catch dirt – your easy and efficient solution to shoe storage chaos!
Designed with convenience in mind, these shoe shelves not only make keeping your shoe collection neat and organized easy, but they also provide an extra layer of protection from the dust, dirt, and mud that can accumulate at the bottom of shoe stacks.
Cleaning is a breeze; simply wipe down your shoe shelf with silicone mats for a carefree shoe storage situation!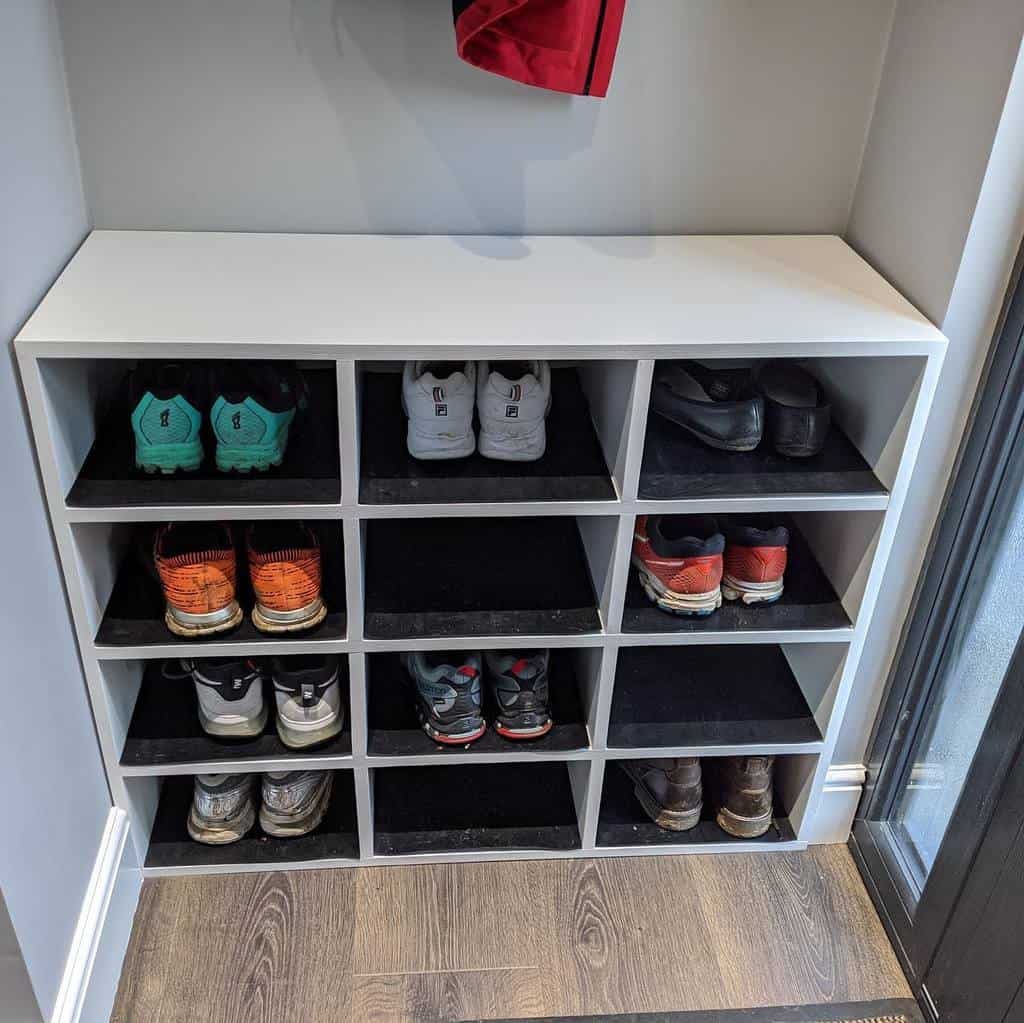 12. Boot Shoe Rack
Having a boat shoe rack is a unique and creative way to store your shoes. Not only does it provide an attractive storage solution that looks great in any home, but it's also specially designed to better keep your boots organized.
For those who have many pairs of boots, having specifically designated spaces for them helps ensure quick access to the exact pair you're looking for, so you can get out the door in no time!
With boat shoe racks, every pair of shoes gets its own cozy space, eliminating the frustrating chaos of untangling piles of footwear and making finding exactly what you need nice and simple.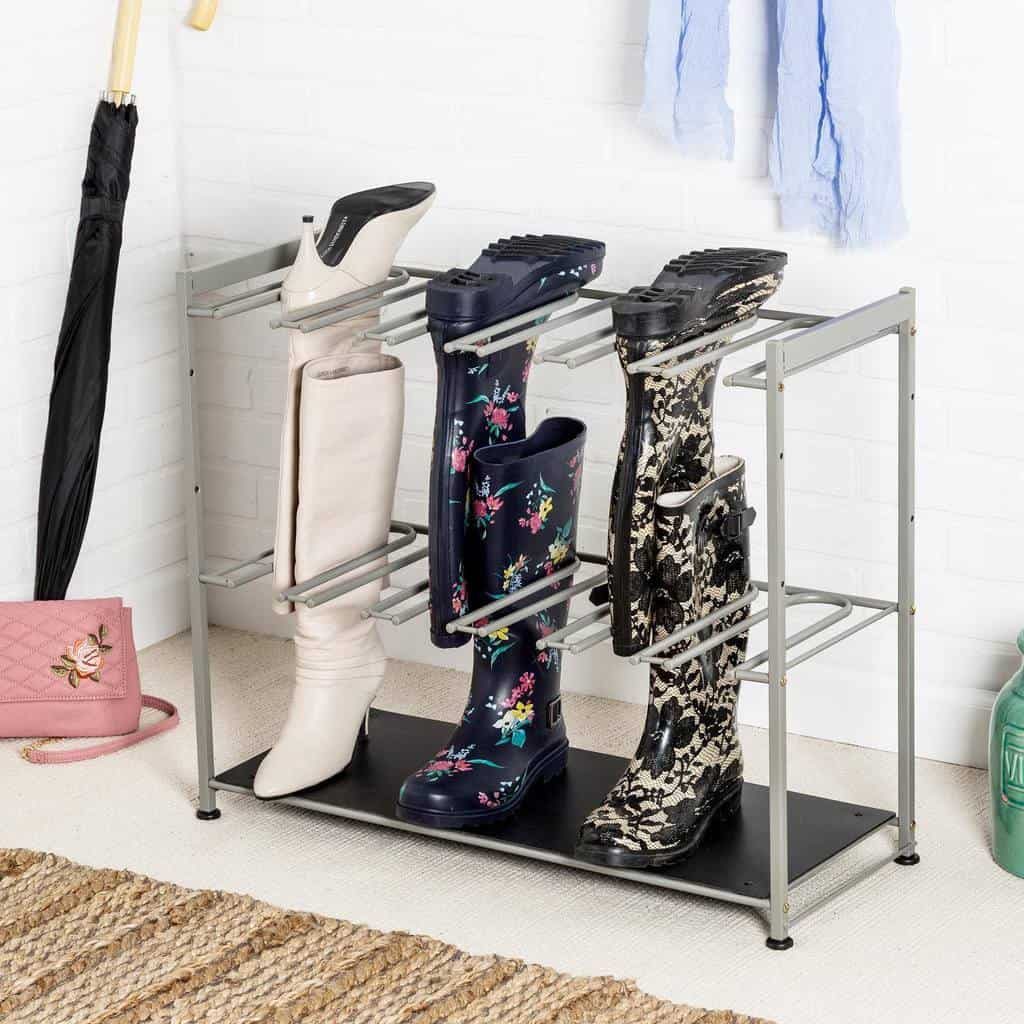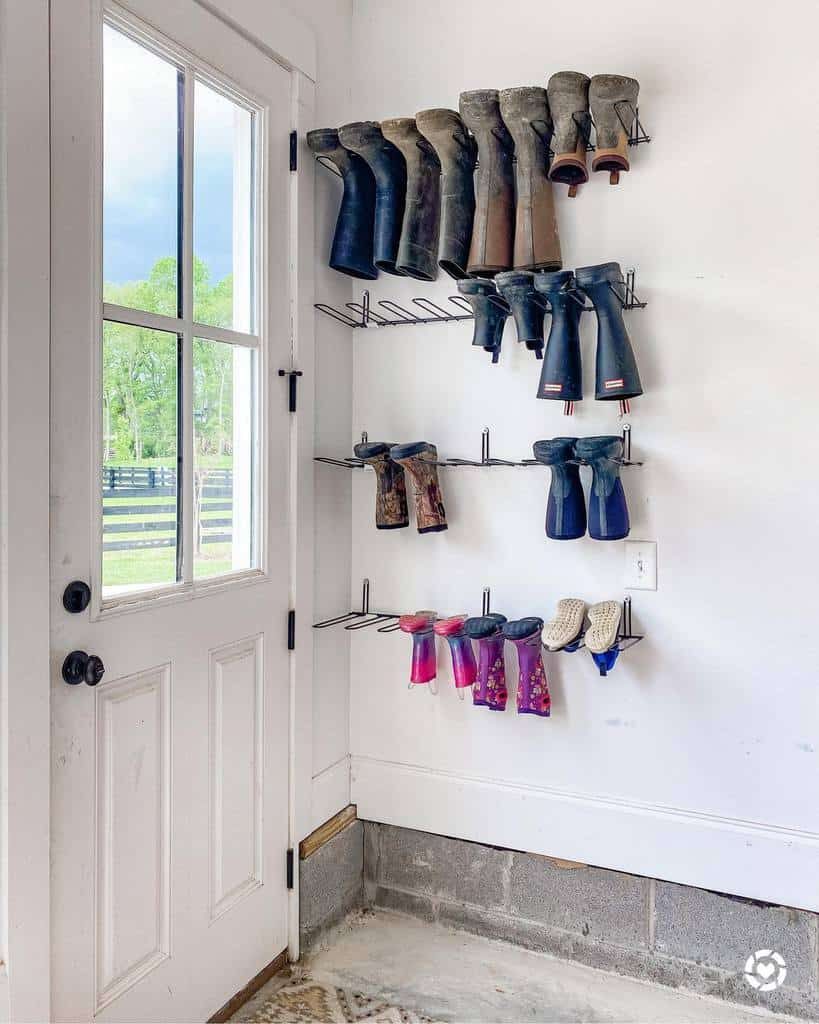 13. Multi-Purpose Entryway Rack
Shoe storage can be a more stylish and multi-functional way to welcome guests into your home. A multi-purpose entryway rack with shelves for shoes and boots, as well as coat hooks for jackets, hats, or bags, is effective and beautiful. You could also create a multi-use storage solution by combining shoe holders with other storage items such as bookshelves, cabinets, and baskets.
This way, you'll not only organize the shoes in your home but can also store other items like books, purses, and decorative pieces. With the right combination of organization and style, shoe storage can be made much more inviting while creating additional storage space – what could be better?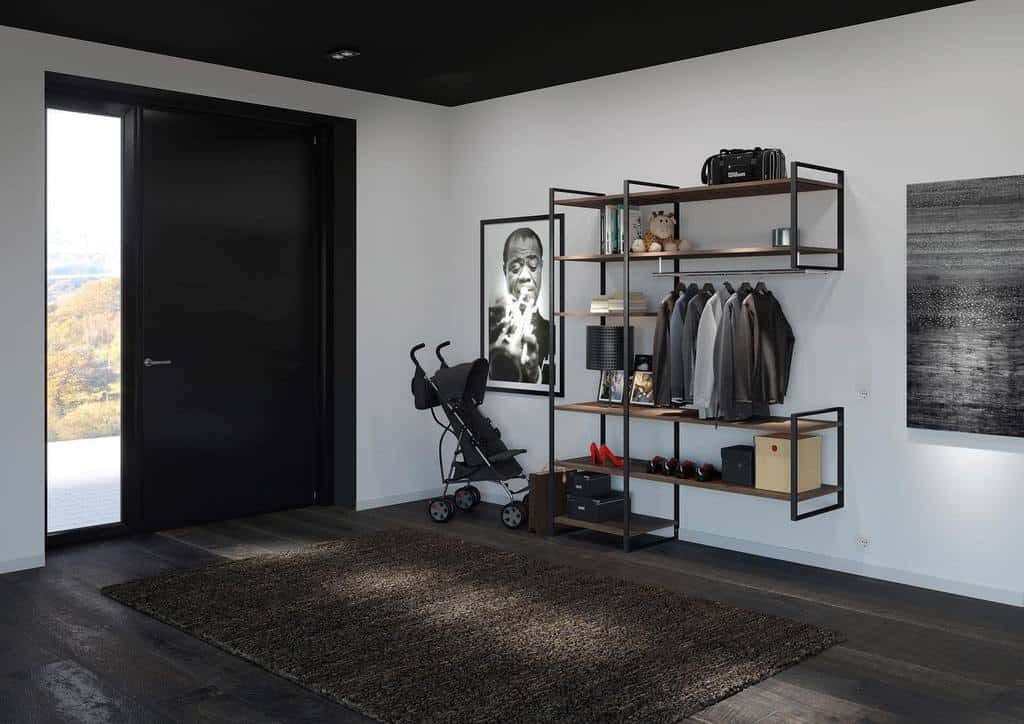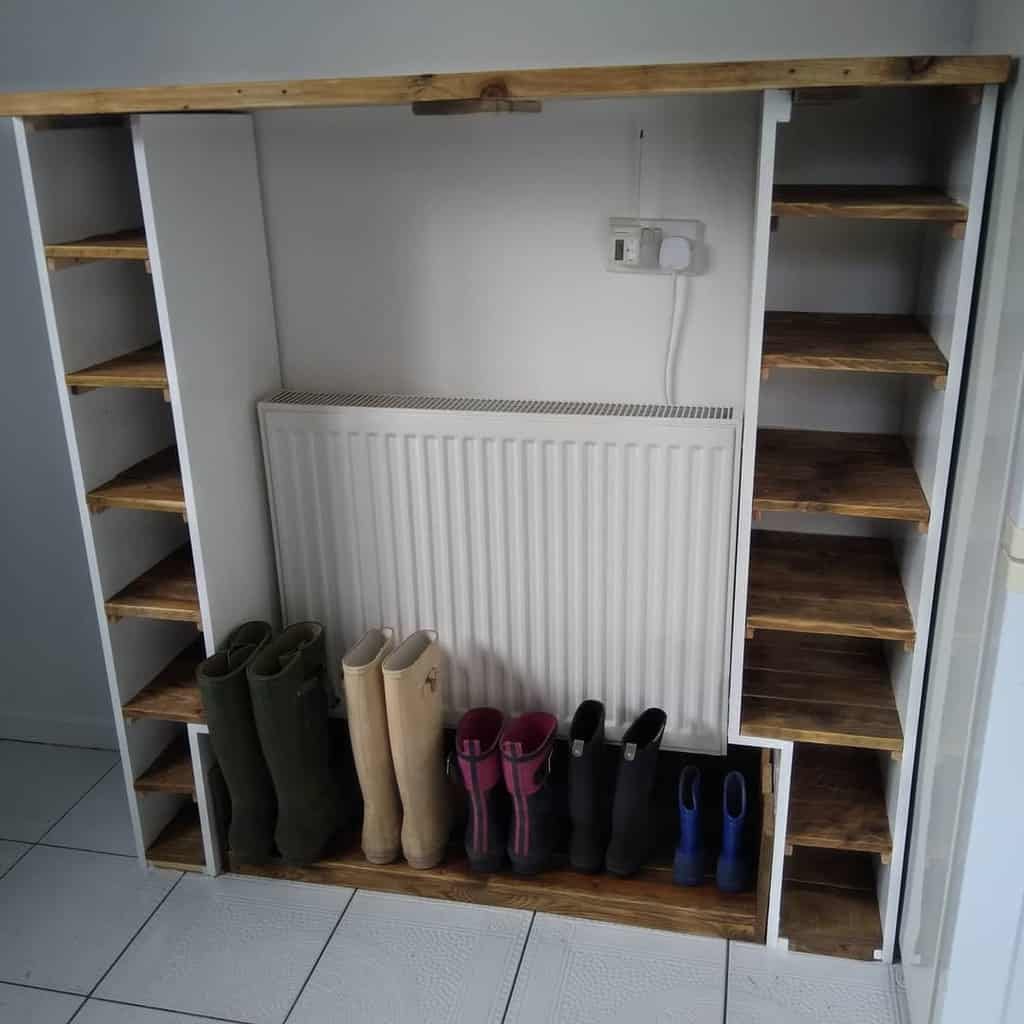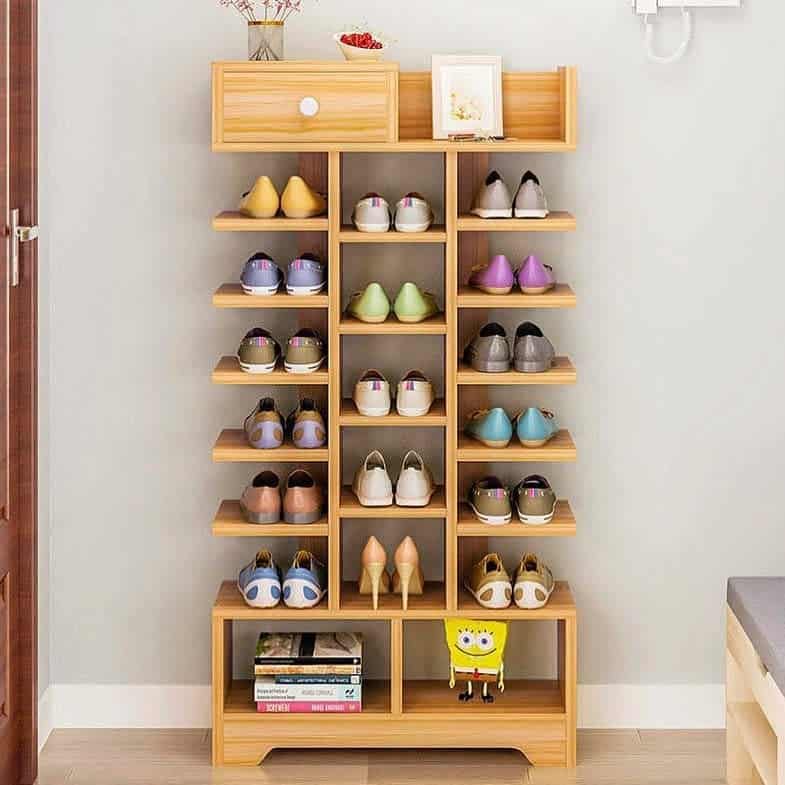 14. Closet Door Shoe Rack
Managing closet and shoe organization can be made easier with a closet door-mounted shoe rack. Not only does this allow for efficient use of space, but your closet stays neat and organized with all of your shoes in one place.
You'll no longer need to look around the bedroom floor or under the bed looking for that elusive pair of shoes before you leave the house — they will all be on the rack!
With increased closet space and cleaner shoes, you'll find yourself looking more polished and ready to go in no time.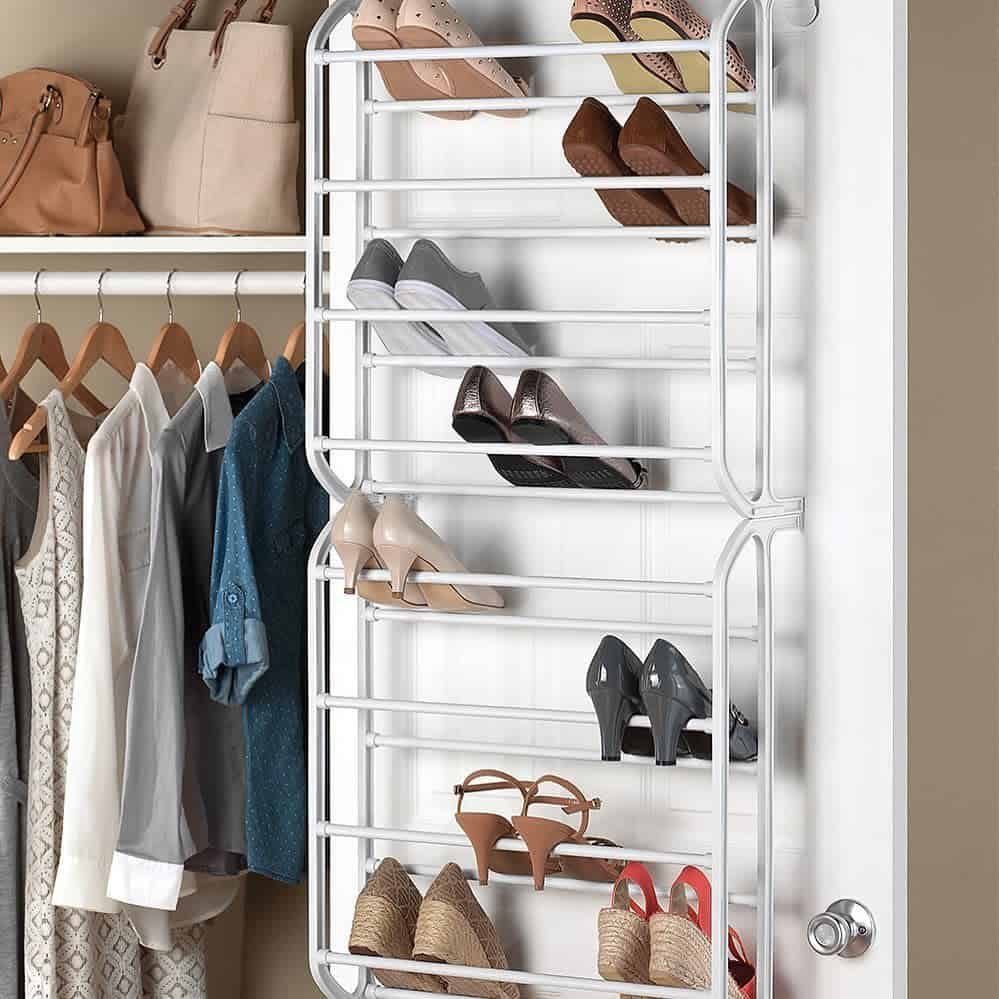 15. Shoe Hangers
Say goodbye to clutter or shoe boxes that take up a lot of space! With shoe hangers, shoe storage has never been easier.
These shoe holders are the perfect way to store all types of shoes without taking up too much space. Hang them on a wall with hooks, and you'll have beautiful shoe organization in no time.
Plus, shoe hangers make it so easy for you to find the shoe pair that you're looking for quickly and easily! No more lazy mornings rummaging through your closet looking for the perfect shoe pair – think efficient shoe storage with shoe hangers.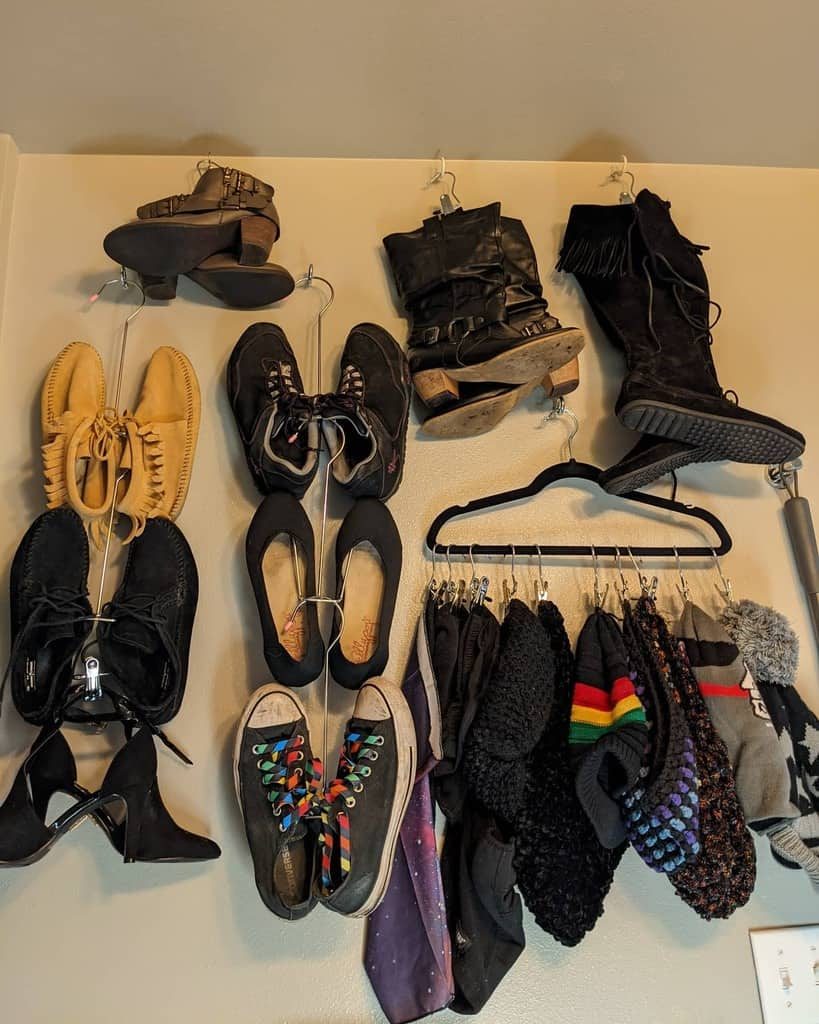 16. Vertical Shoe Rack
Struggling to find enough storage space for your shoes? A vertical shoe rack is a perfect solution to free up much-needed floor space. Not only can vertical shoe racks accommodate all shapes and sizes of shoes, but they also come in a variety of colors and textures, meaning you can find one to match any interior decor.
What's more, with a vertical shoe rack it's easy to organize by style or season and you'll be able to see what shoes you have on display – meaning you'll never double up again!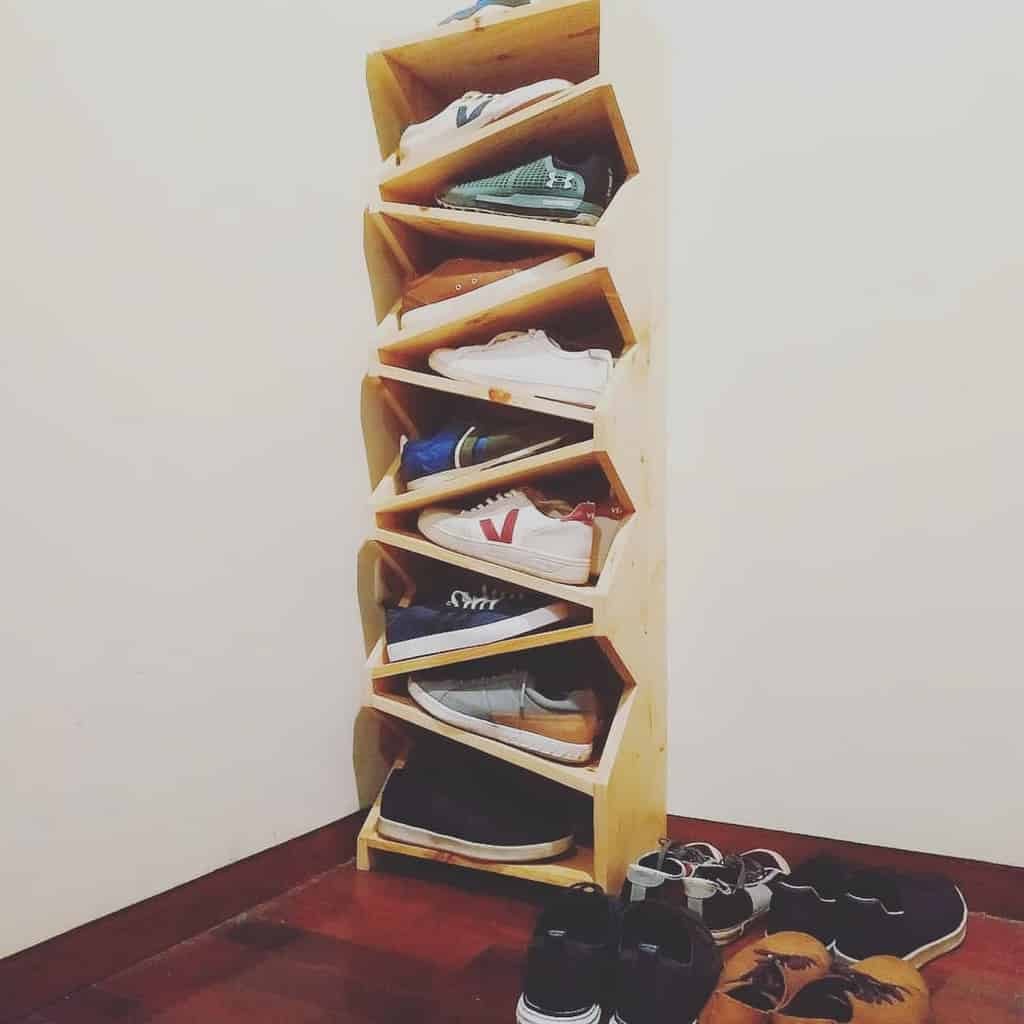 17. Shoe Rack With Enclosed Crates
If shoe storage is a challenge in your home, you need to consider a shoe rack with enclosed crate organizers. This simple organization tool will provide an efficient and stylish way to store all of your footwear.
The shoe rack allows you to store and display both adult and children's footwear easily without visual clutter. From sandals to high-heeled shoes, this shoe crate can hold a variety of shoe sizes. Plus, the shoe rack fits neatly into nearly any corner or closet making it an excellent choice for any sized space.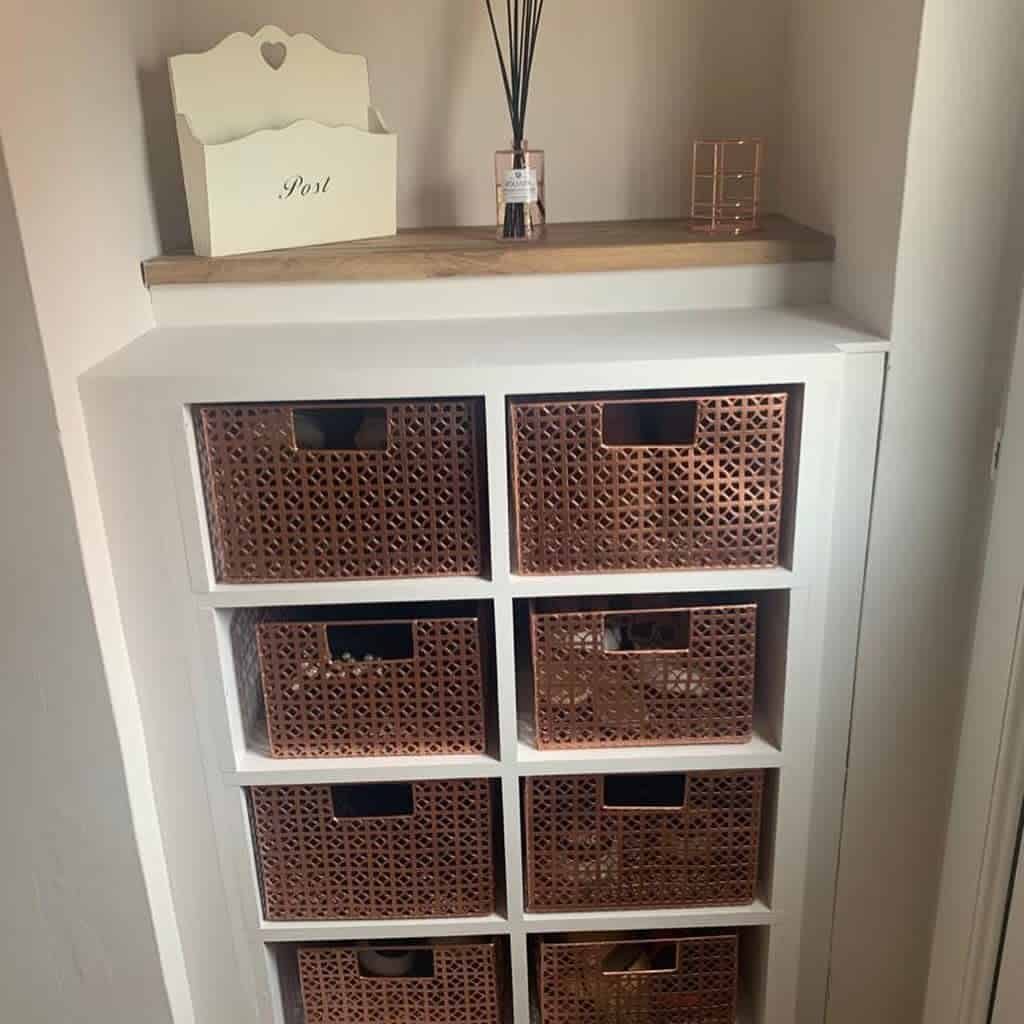 18. Vintage-style Shoe Rack
Give your luxury shoe collection the vintage-inspired storage it deserves. Not only does it offer stylish and organized storage, but it's also an easy way to add personality to your room.
Whether you opt for one of our lightweight yet sturdy designs or prefer a timeless wooden piece for your walk-in closet – vintage-style shoe racks come in a variety of shapes, sizes, and finishes that let you pick the perfect one for maximum organization.
Best of all, vintage-style shoe organizers are durable and built to stand the test of time, so they work as well storing flip flops as they do designer heels.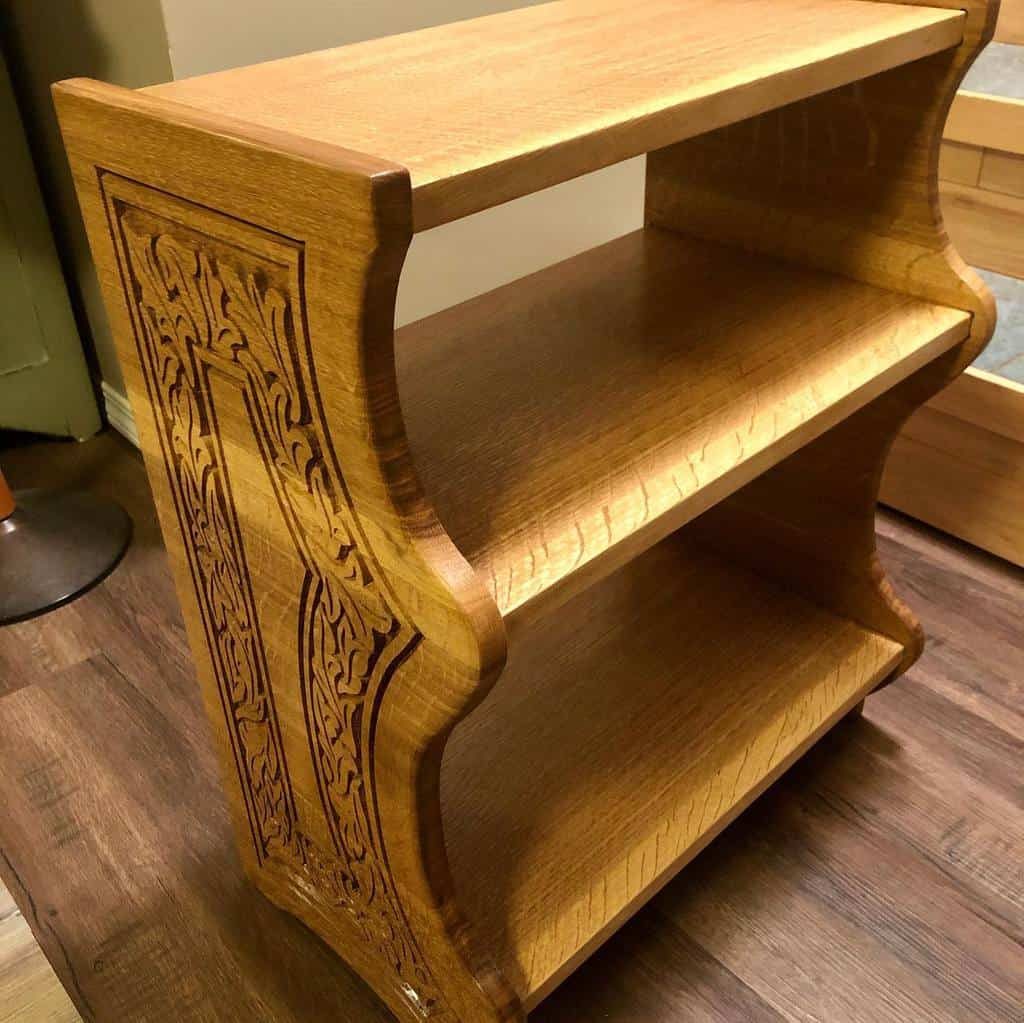 19. Dark Wood Shoe Rack
If you're looking to put the final touches on your living space, consider dark wood shoe racks! These shoe storage solutions are both aesthetically pleasing and highly efficient.
Their dark finish gives a classic, sophisticated look that blends into nearly any decor, while their multiple cubbies make it easy to keep shoes organized and within reach.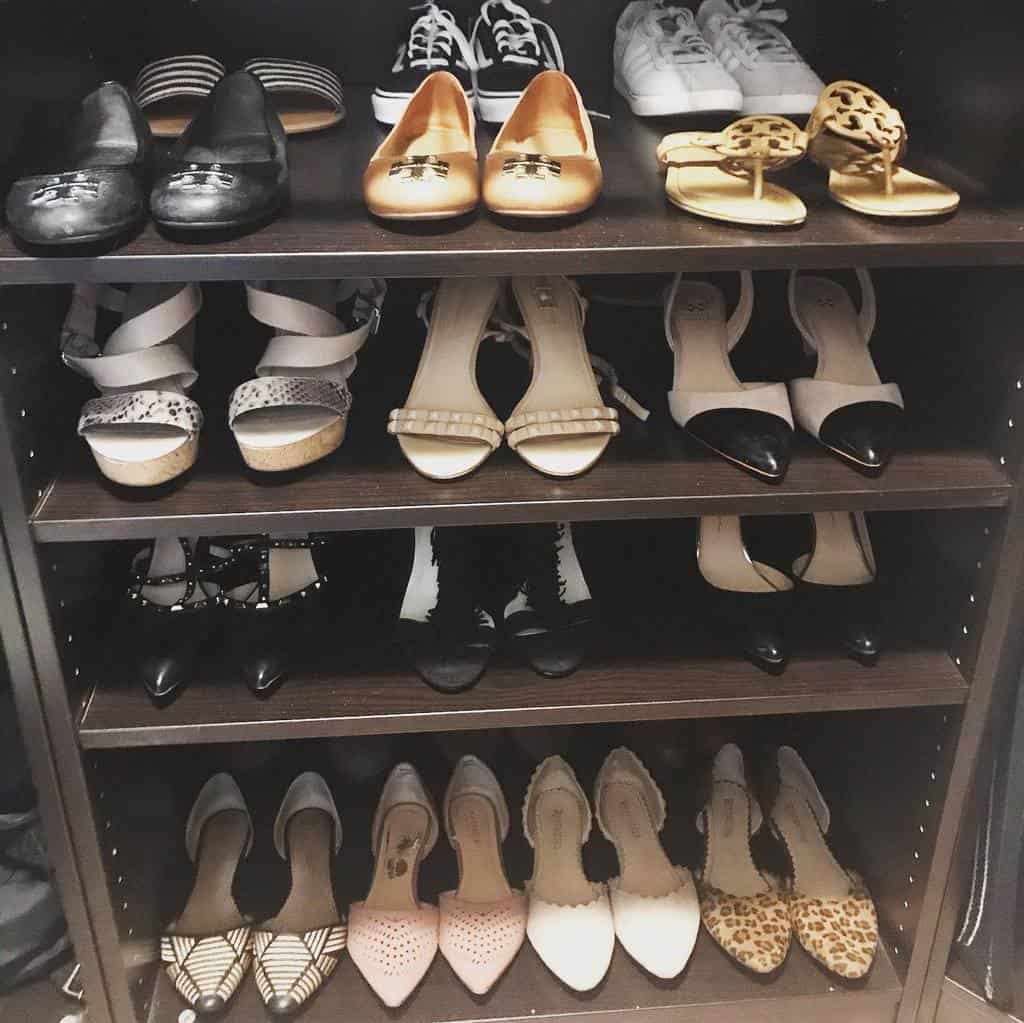 Shoe Storage FAQs
How can I organize my shoes without a shoe rack?
You don't need a rack to store your shoes. You could line them up under your bed, place them in an ottoman, line up crates for the different types, or hang shelving that you place the shoes on. To maximize the space under your bed, look for boxes or drawers that you can pull out and easily access everything.
Is it better to keep shoes in boxes or out?
If you plan on not wearing your shoes very often, then keeping them in boxes is the best option. This protects the shoes from UV damage, dust, and pests. Stuff the shoes with acid-free paper or shoe trees to help the shoes maintain their shape. Clean the outside to remove dirt and anything else that can prematurely degrade the materials. Place a silica gel packet in the box to keep the shoes fresh.
How should I organize my shoes at the front door?
Mini cubbies are a simple way of keeping pairs of shoes together and organized. Baskets or bins are great for a family but won't protect your shoes and aren't ideal for guests. If you live somewhere that gets muddy, a tray or shallow bin is perfect for keeping muddy or wet shoes contained.