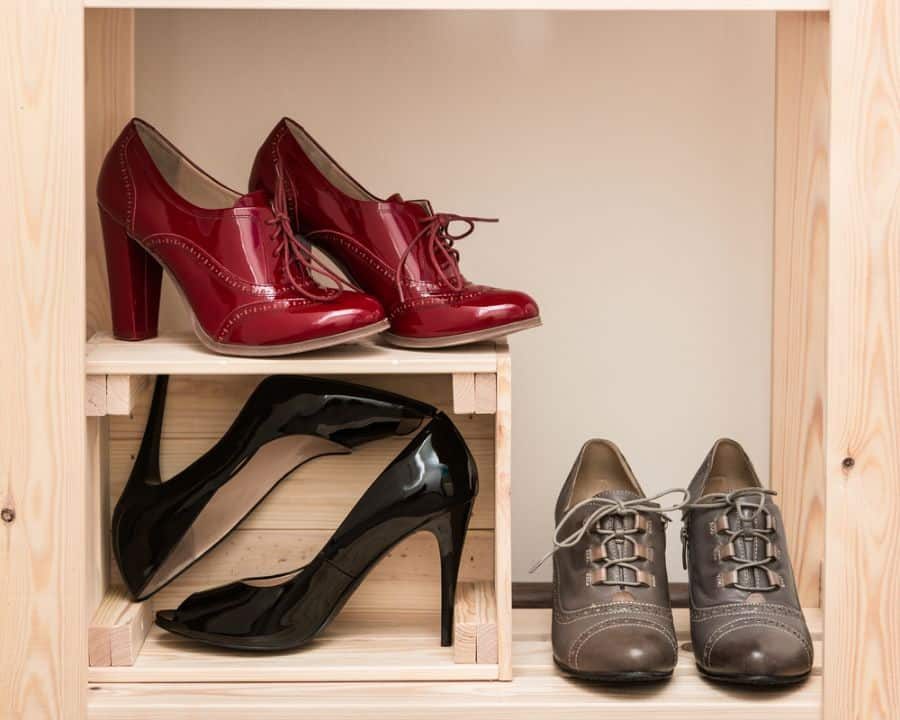 "Women like my shoes because they look good on them, not because they look good on the rack." –  Christian Louboutin
You come home from a long day, slip your shoes off, and put them where? Do you throw them in a pile by the front door? Do they end up scattered about the house?
If you don't have a place to store your shoes, then it's time to address this situation. Your shoe collection deserves a dedicated place that it can be displayed or safely stored.
Check out these shoe storage ideas and find one that will work in your home. It needs to give you a functional method of shoe organization. It should be large enough hold your entire collection, from your sandals to your dress shoes and boots.
It also needs to work in your home. If you have limited space, then you'll want one that can maximize the square footage that it takes up.
Read also: 89 Must-See Storage Ideas
1. Bench Shoe Storage Ideas
A shoe bench makes putting your shoes on or taking them off significantly easier. No more hopping around, balancing on one foot or falling over as you give up and sit on the ground. You don't need a lot of floor space; you could put one in your bedroom, hallway, or entryway. This will give your guests a place to stop and rest as they take their shoes off before entering your home.
Small spaces benefit from an open style bench. These have a flat plank for the seat and legs supporting it. The space underneath is open to help the room feel larger, and the bench does not feel too heavy.
Larger rooms have the ability to house a solid shoe bench. This is beneficial because you can use the bench as storage. Look for one with a hinged lid that lifts or a drawer on the front. You can use a shoe storage bench to hold your gym sneakers. Easily grab them as you head out to get a workout in.
No matter which style you choose, have the bench match the rest of your decor style. A rustic or farmhouse bench could be vintage or made from salvaged wood. A luxury bench could have tufted leather or velvet for the bench.
2. Box Shoe Storage Ideas
Storing your shoes in boxes is one of the most protective storage solutions available. This doesn't mean using the cardboard shoe boxes that you bought them in. These aren't durable and won't effectively protect your dress shoes or any other style of shoe.
You'll need more storage space when keeping each pair in their own box. Plan an organization method in advance. You could keep them arranged by color, season or style. Clear boxes are smart because you can see the shoes without opening every box. It'll also prevent you from forgetting what you own.
Don't pile your boxes in tall stacks. They'll create a mess every time you go to pull a pair from the bottom of the stack. Instead, have shelves mounted on the wall or a bookshelf style rack that can limit how many shoes get stacked on top of each other.
To make getting dressed easier, affix labels to the visible side of the box. Include the name, designer, style or color. Anything that will jog your memory is good. A simpler option is to use a picture of the shoes. Your brain processes images faster, and you won't have to work at remembering what the words are describing.
3. Cabinet Shoe Storage Ideas
Placing a shoe storage cabinet in your bedroom or entryway is an elegant way to have shoe storage. To anyone looking at it, your shoe cabinet will look like another piece of furniture. They'll never suspect that your storage cabinet is full of shoes.
The Ikea Hemnes shoe cabinet is slim yet holds a large number of shoes. This makes it perfect for smaller homes and narrow hallways. It comes in a variety of finishes, and its simple Scandinavian design helps it blend into a variety of interior design themes.
There's even an option with a shallow drawer on the top that's perfect for keeping accessories and jewelry in. One drawback to the Hemnes is that the shoes sit on their heel or toes instead of sitting flat on the sole. This can cause them to wear out in places superficially.
When choosing a cabinet, consider airflow. Your shoes need fresh air to dry out. Otherwise, you risk them staying moist and encouraging bacteria growth. This isn't good for the shoes or healthy for your feet. The Hemnes is nice because it's open on the back, allowing for plenty of airflow. Other cabinets will have a slotted front to allow for airflow.
4. Closet Shoe Storage Ideas
If you're lucky enough to have a walk-in closet, then you can dedicate some of the space to your shoes. Or you could turn a second spare closet into the shoe closet. Have floor to ceiling shelves built into the closet. They can be closer together than standard shelves that are meant for purses or clothing. Have a few shelves that are higher so that you can place your boots on them. 
Even if your closet is smaller, you can still keep your shoes in it. Try a door shoe rack that hangs on the backside of your closet door. When the door closes, the shoes will take up the unused closet space. When the door opens, it will swing out of the way.
Larger shoe collections benefit from this method of organization because you can easily see everything you own. You could arrange your shoes by style so that all of your heels are together. Or you could arrange them by color so that all of your red shoes are together.
You can also create a shoe closet in your home. It'll look similar to a cabinet, but instead of being a separate piece of furniture, it's built into the wall of your bedroom. Building this type of unit gives you the opportunity to add additional shelving for other storage, bookshelf, or display of decorative items.
See more closet shoe storage ideas here.
5. DIY Shoe Storage Ideas
Get creative with your shoe storage ideas so that you find a solution that works for you, your home and your shoe collection. If any of these are especially unique, then choosing a DIY shoe rack may be your best option.
Large flip flop, sandle, or slipper collections can work well in shoe baskets. You could have large bins or woven baskets that hold all of your shoes. This makes cleaning and organizing easy as you toss everything in the bin.
Some shoes are stunning and could be considered art. Perhaps you have limited-edition sneakers or designer heels. Turn your shoe collection into decor with open shelves. Build a single shelf that extends the length of the room, or several shorter shelves mounted above each other. Simple floating shelves will look sleek and modern. Adding crown molding under the shelves will give them an elegant feel.
Not all DIY shoe storage has to be complicated. You can build a simple shoe cubby system out of PVC pipe and wood planks. What's great about this solution is that you can build onto the shelving unit as your shoe collection grows. If you have high heeled shoes, you can skip the planks totally and mount the pipe on the wall. Then hook the heels over the pipe.
See more amazing DIY storage ideas here.
6. Entryway/Hallway Shoe Storage Ideas
Do you ask that people remove their shoes before entering your home? If so, then you need a place for them to stow them while visiting. Your entryway, mudroom, or hallway is a perfect out of the way spot for shoes.
You could keep your outdoor only boots, gym shoes, or guest's footwear here. Pair your shoe storage idea with your coat rack to have a cohesive look in this small space. Cubbies are a popular idea because you can give each person their designated spot with a hook for hanging and a cubby for shoes or bags.
Another common approach is to have a bench with a bin or tray underneath for shoes. Then place a separate coat rack next to the bench. You could also have an umbrella stand for when it's raining.
These areas tend to be small, so you don't want to overwhelm them with furniture. Look for space-saving pieces that have a small footprint and utilize the vertical space. Furniture that's on legs and not enclosed are also smart options. They allow you to see through them to the wall behind, giving the illusion of there being more space.
7. Hanging Shoe Storage Ideas
If you have plenty of closet space, then a hanging shoe rack is a smart solution. This takes your shoes off of the floor and puts them at eye level.
Hanging shoe racks tend to come in several sizes with one, two, or three columns. This lets you buy the hanging rack that suits your shoe collection size. To install, you wrap the straps or hang the hooks on a tension rod. Be sure the rod is strong enough to support the weight of the shoes; they can get surprisingly heavy.
Tall boots can also get hung. This is smart because it prevents your taller boots from folding over. This can create a permanent crease in the bootleg, which degrades their look when you put them on.
If you don't own a lot of boots, you can hang them individually with clips and hooks. However, if your boot collection includes many pairs, then look for a vertical hanging solution. This will maximize your space and better organize your boots.
8. Wooden Shoe Storage Ideas
The most popular solution available is a wooden shoe rack. This could be a tiered shoe organizer that has multiple shelf levels for your shoes.
This solution works well if you have the floor space for this style of rack. Many people place it on the floor of their closet since this space often goes unused for any other purpose.
If you lack closet space or prefer to keep your shoes in your room, then a wood shoe ladder is a great option. These tall structures look like ladders, with the "steps" being the shelves that you'd place your shoes on. Some more versatile options will have shelves of different heights to accommodate different shoe styles. Others will have some flat surfaces and some bars for hooking heeled shoes on.
For a DIY wood solution, try wood crates. You can set them down as a traditional crate and throw all of your shoes in. However, this doesn't protect or preserve your shoes. Turn the crates on their sides and stack them. Now you can place your shoes in the crate cubbies.
Shoe Storage FAQs
How can I organize my shoes without a shoe rack?
You don't need a rack to store your shoes. You could line them up under your bed, place them in an ottoman, line up crates for the different types, or hang shelving that you place the shoes on. To maximize the space under your bed, look for boxes or drawers that you can pull out and easily access everything.
Is it better to keep shoes in boxes or out?
If you plan on not wearing your shoes very often, then keeping them in boxes is the best option. This protects the shoes from UV damage, dust, and pests. Stuff the shoes with acid-free paper or shoe trees to help the shoes maintain their shape. Clean the outside to remove dirt and anything else that can prematurely degrade the materials. Place a silica gel packet in the box to keep the shoes fresh.
How should I organize my shoes at the front door?
Mini cubbies are a simple way of keeping pairs of shoes together and organized. Baskets or bins are great for a family but won't protect your shoes and aren't ideal for guests. If you live somewhere that gets muddy, a tray or shallow bin is perfect for keeping muddy or wet shoes contained.