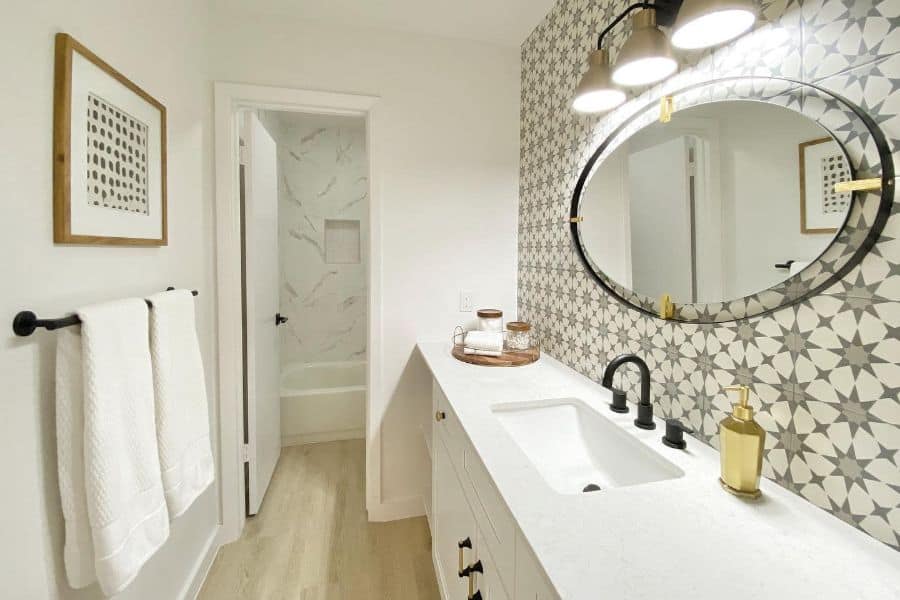 The Top 56 Bathroom Backsplash Ideas
The perfect bathroom backsplash must be durable, easy to clean, and waterproof. But it must also be stylish.
No, there's nothing wrong with installing the simplest tile and calling it a day. You still shouldn't throw away the opportunity to design a bathroom that wows as much as it protects!
A backsplash is no small investment, and you want to get it right the first time!
Check out these bathroom backsplash ideas for some much-needed inspiration that will have you dreaming of your next design project.
1. Color
No matter how you feel about using color, it's impossible to deny that vibrant shades can overwhelm a small space. So utilizing a bright palette in your bathroom might feel like a task best left to the professionals.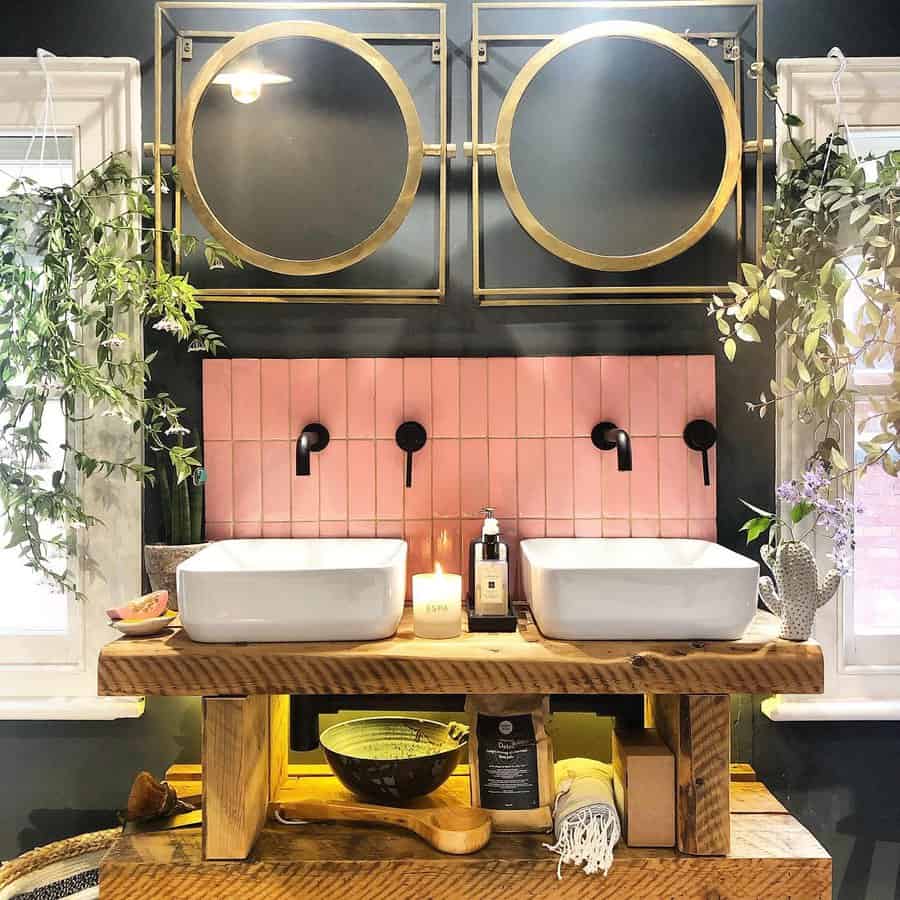 Yet including fun colors in your bathroom design is as easy as installing a simple backsplash. Bright-colored tiles will add personality to your bathroom without taking over the entire space. (Especially when paired with a palette primarily made up of neutrals.)
Use contrasting grout — white or black are great options — to finish your tiling project. The inherent texture of a tile backsplash will add dimension to your bathroom design.
2. Concrete
For a modern, industrial aesthetic, you can't go wrong with a concrete backsplash. But this unique material is quickly gaining popularity in contemporary bathrooms of all styles.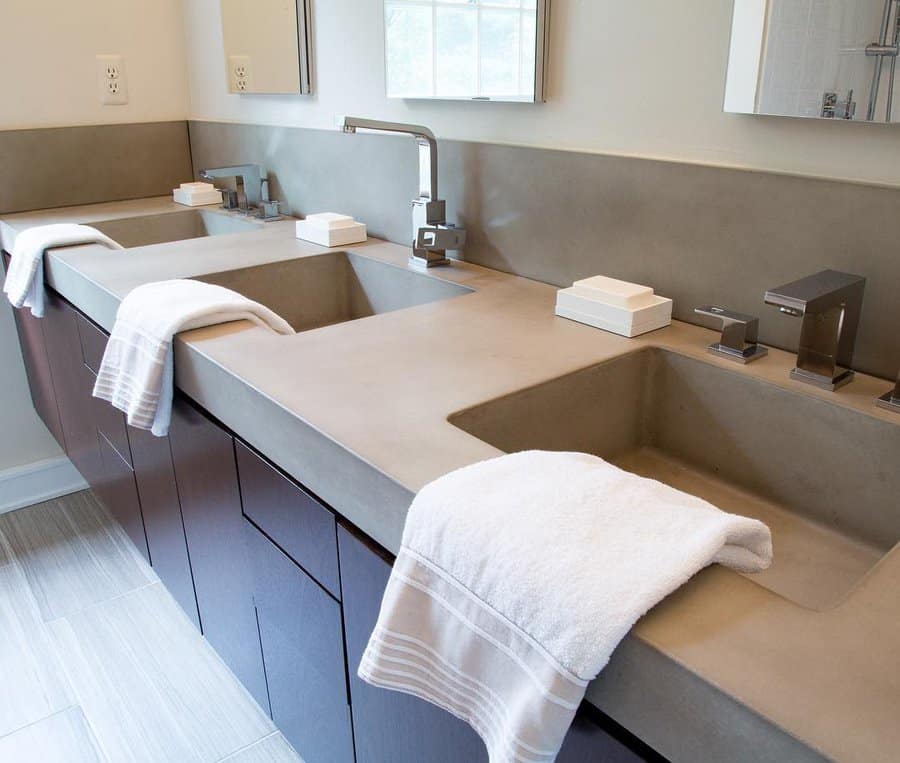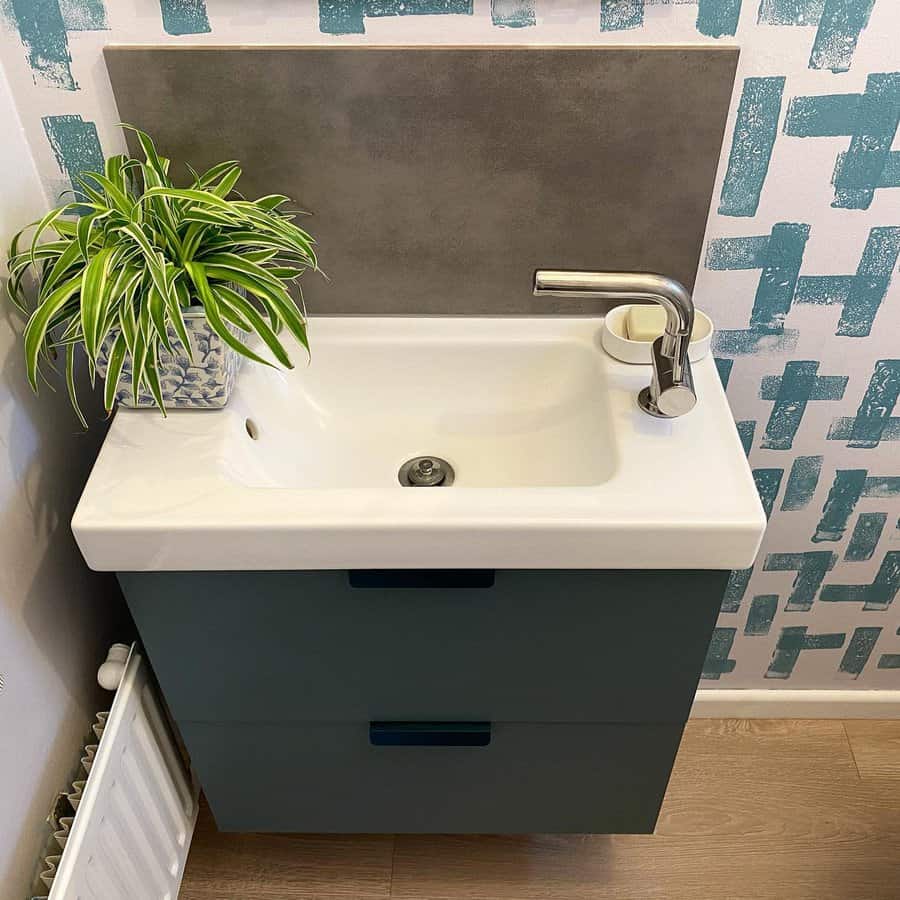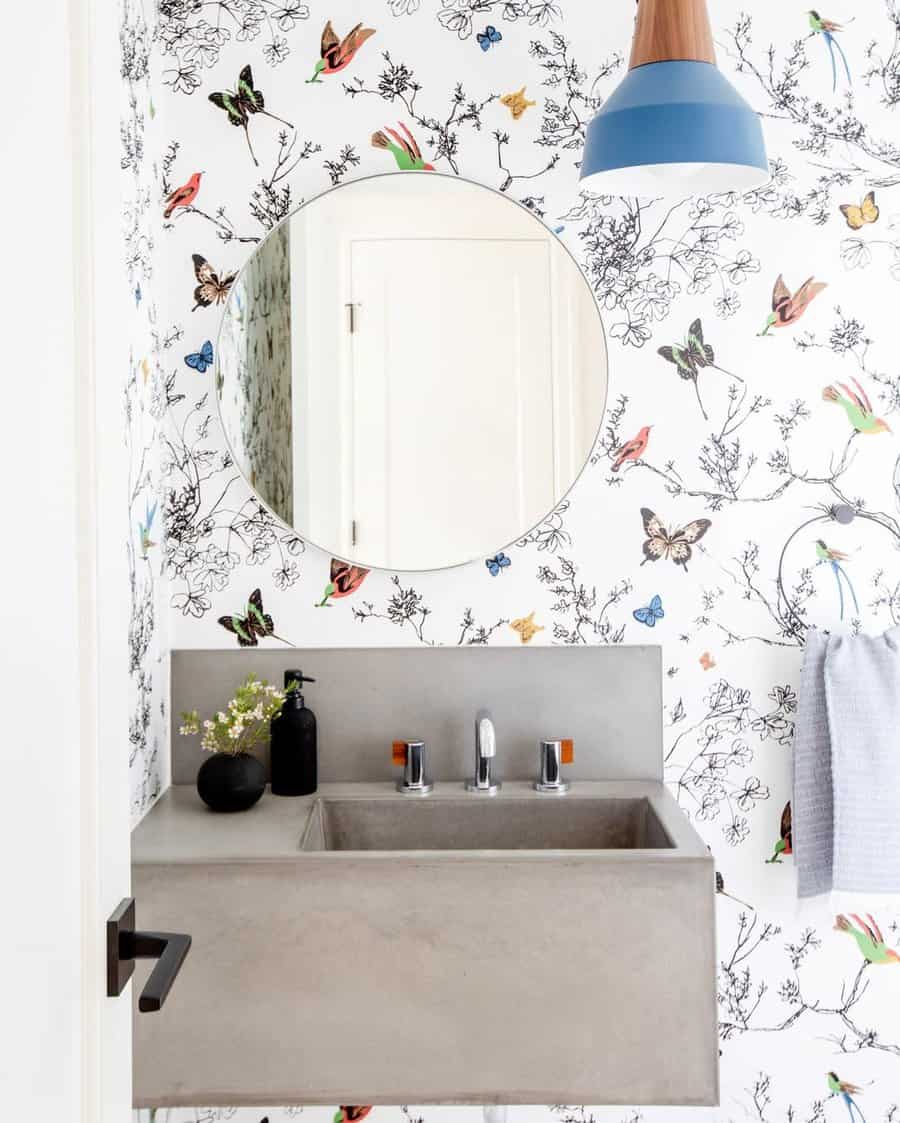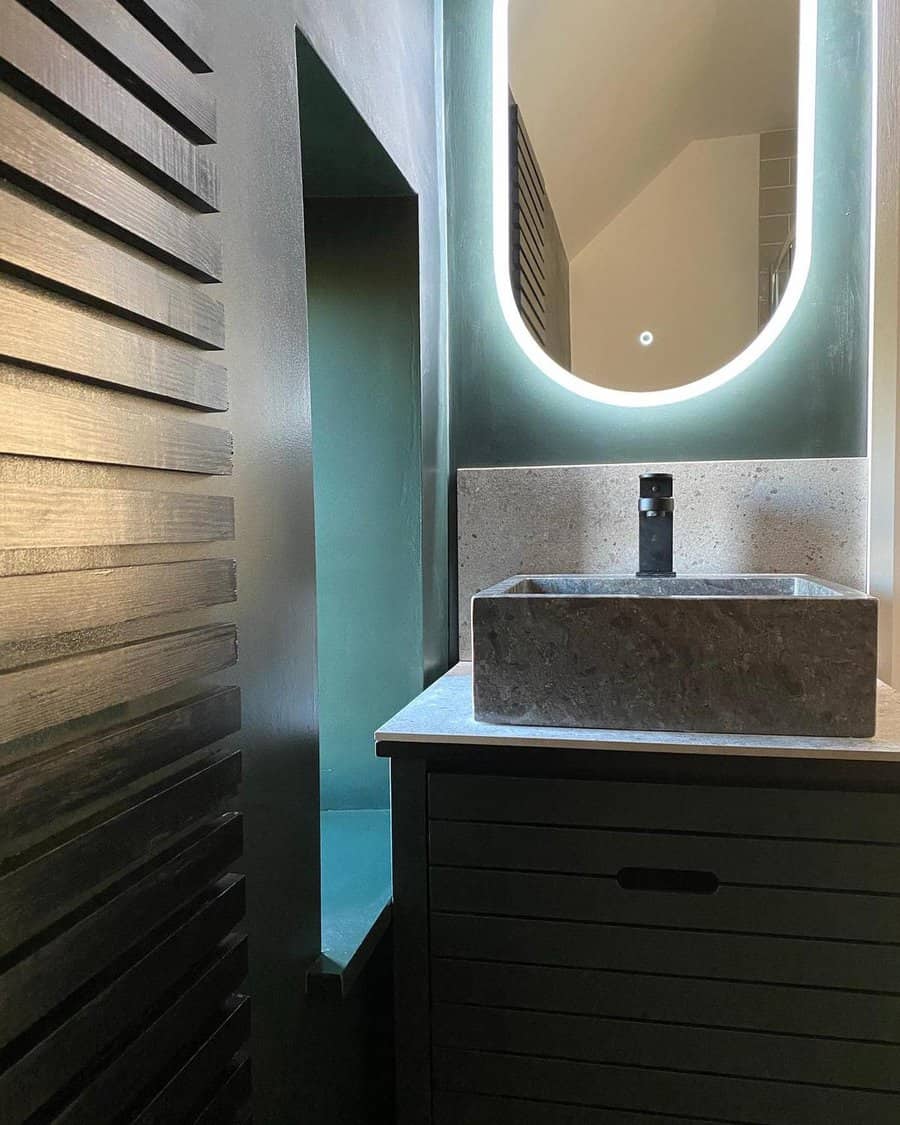 Concrete can be applied in the form of individual tiles or as a uniform finish. It's easy to customize the surface texture to create a sleek or rustic appearance. Combine your new backsplash with a poured concrete sink for an even bigger impact.
Keep in mind that using concrete in this way often requires a professional touch. Don't hesitate to hire an experienced contractor rather than DIYing your concrete backsplash.
3. Dark
Backsplash tile can be used to subtly introduce bright colors to a bathroom. The same is true of incorporating a dark color palette into your master bath or powder room design.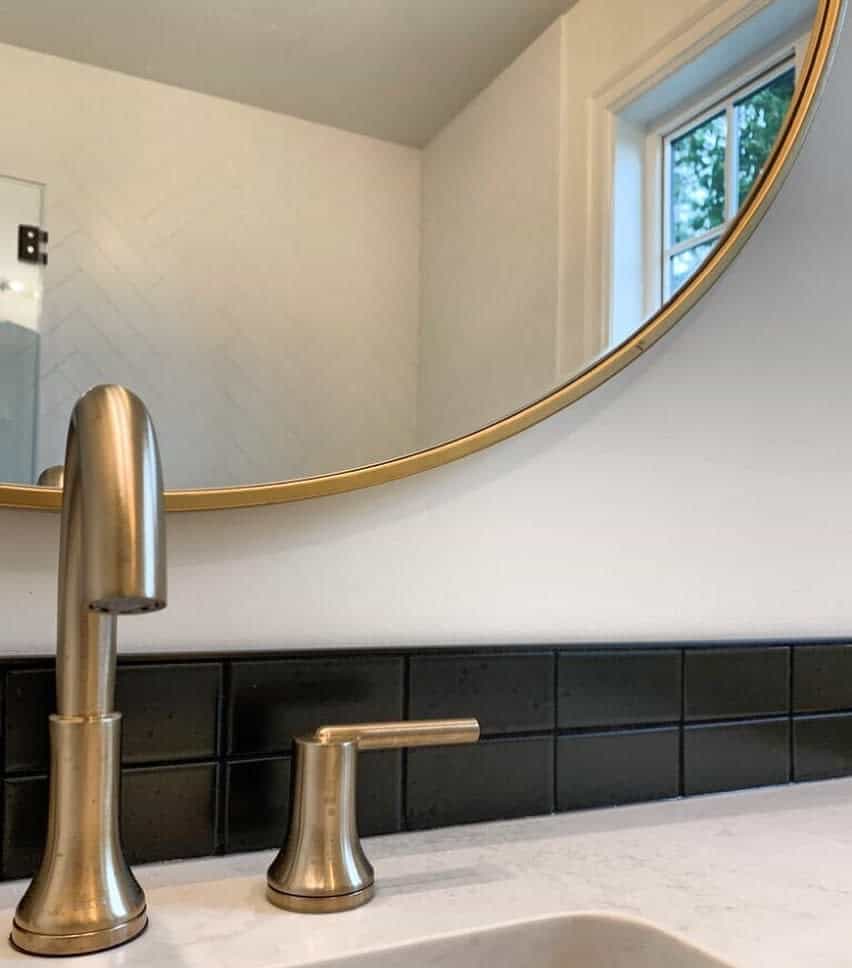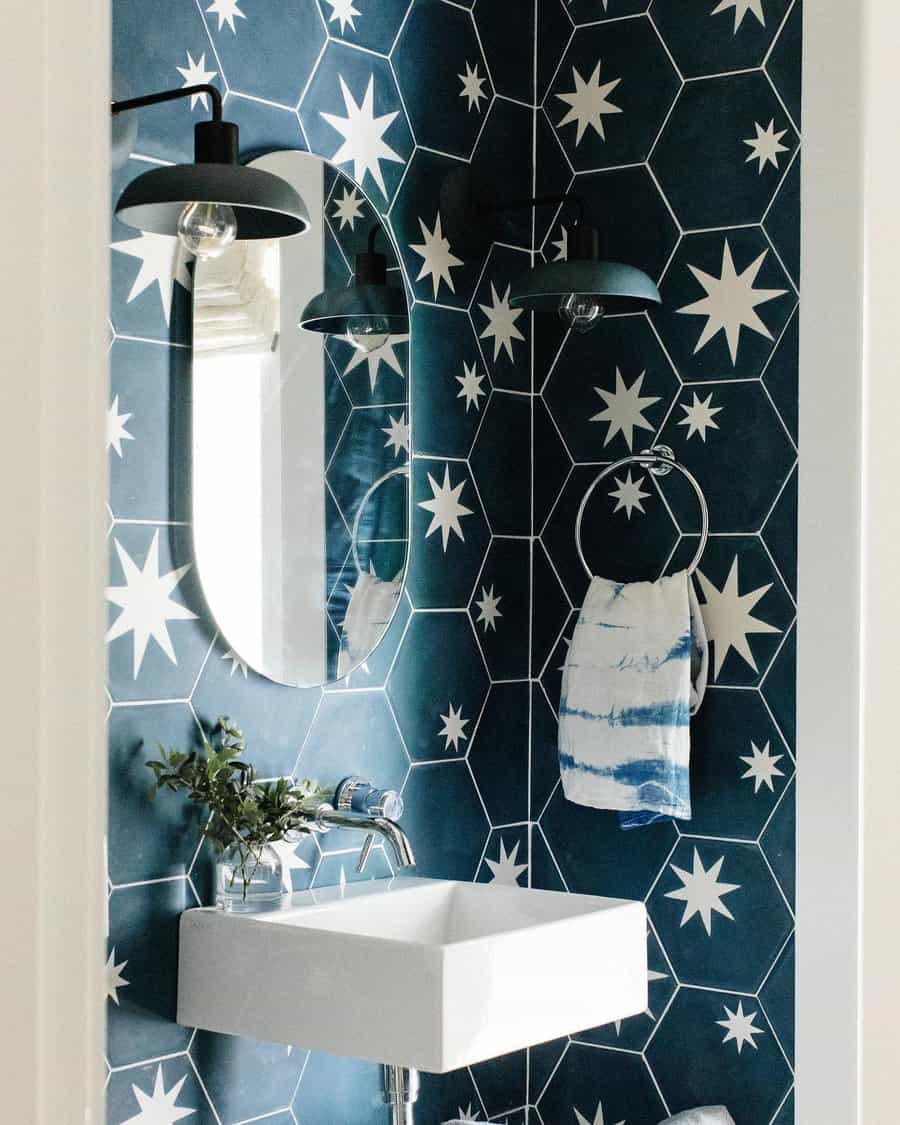 With small tiles, you can easily customize the area covered by a bathroom backsplash. Add a pop of drama by installing a backsplash an inch or two above your vanity countertop. Or create a full accent wall with floor-to-ceiling tiles.
Bring an unexpected touch to your bathroom backsplash by recreating a light-colored trend — e.g., white subway tile — using dark shades. White grout is the perfect complement to a dark backsplash. This is especially true when the goal is to emphasize the geometric shape of your bathroom tile.
4. Geometric
It's easy to get swept up in selecting the perfect material or color for your new bathroom backsplash. But the overall shape of the tiles you choose can also have a huge impact on the final look!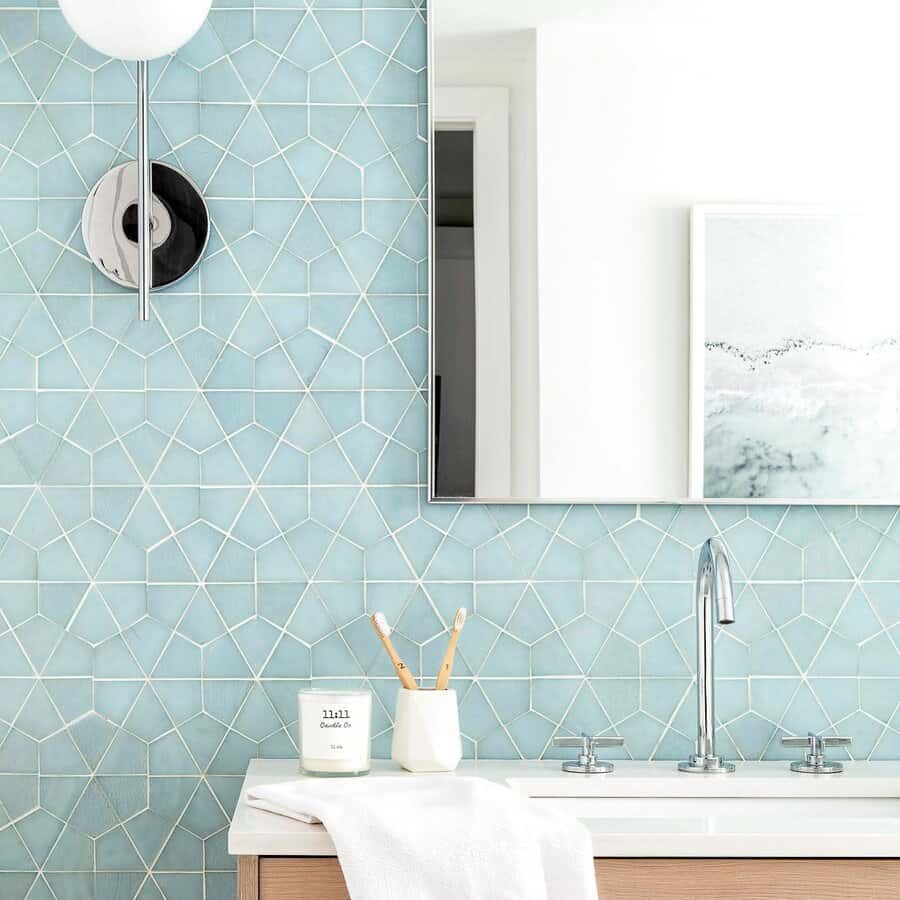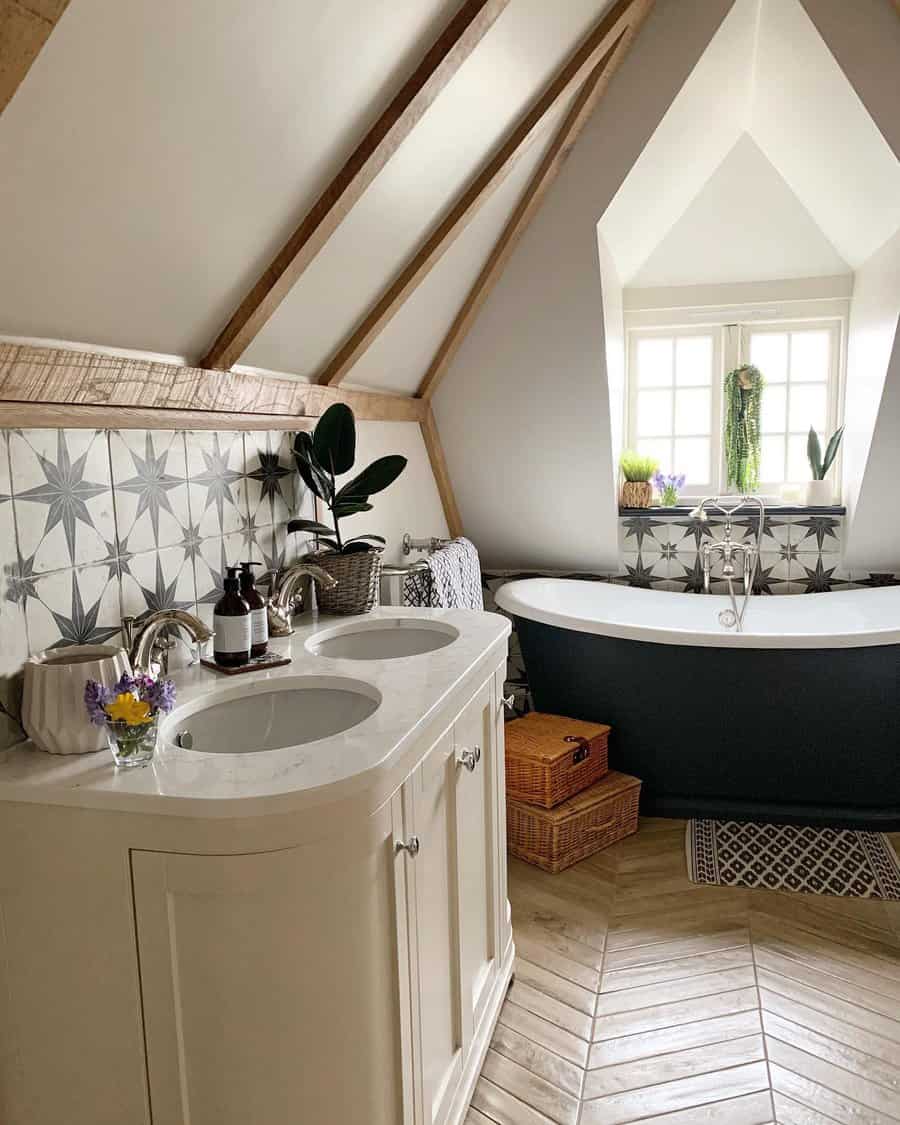 Geometric tile makes it possible to add dimension to your bathroom wall without relying on color. Contrasting grout will bring your bathroom's geometric tile layout to the forefront.
Uniquely shaped tile can be significantly more difficult to install than rectangular or square tile. If you're looking for an easy DIY backsplash, consider recreating the look of geometric tile with patterned tile instead.
5. Grey
When it comes to contemporary decor, few colors are as ubiquitous as grey. This simple shade is a great option for creating a standout bathroom backsplash that is both neutral and trend-forward.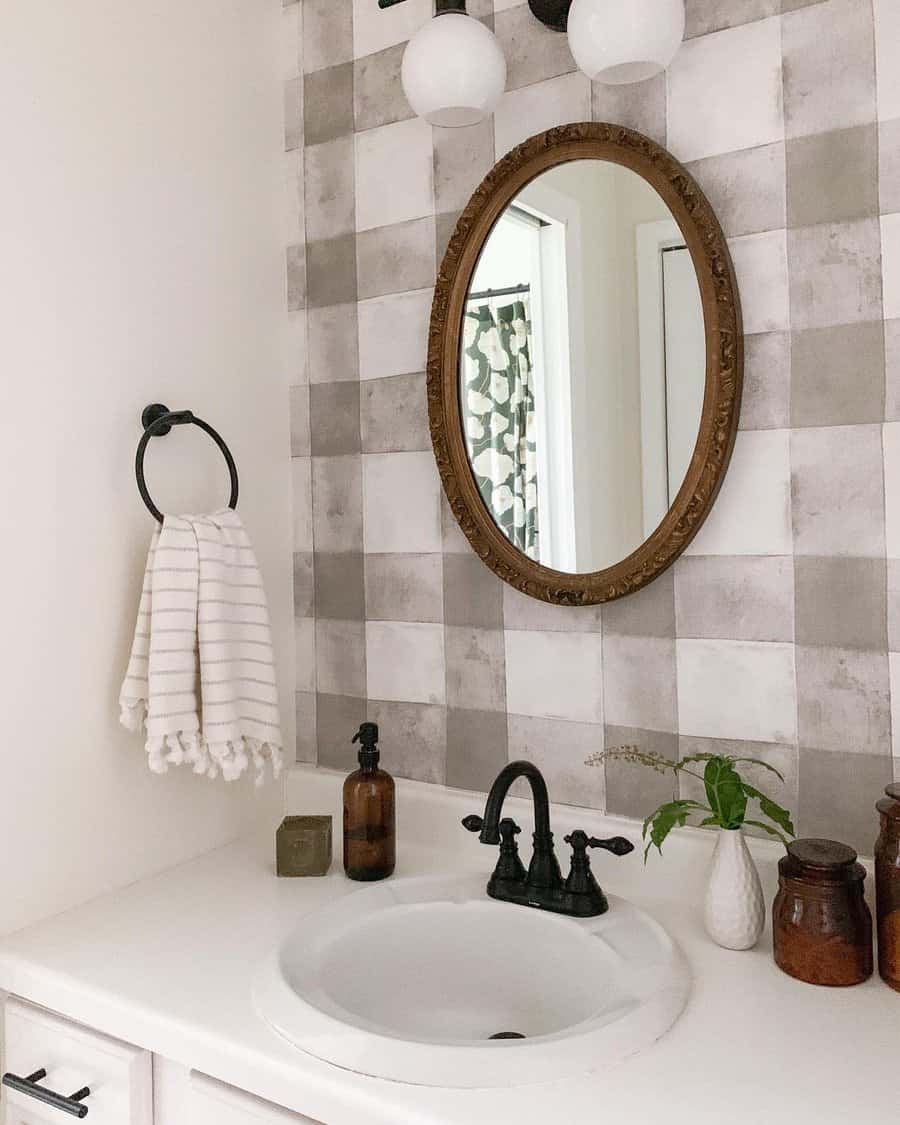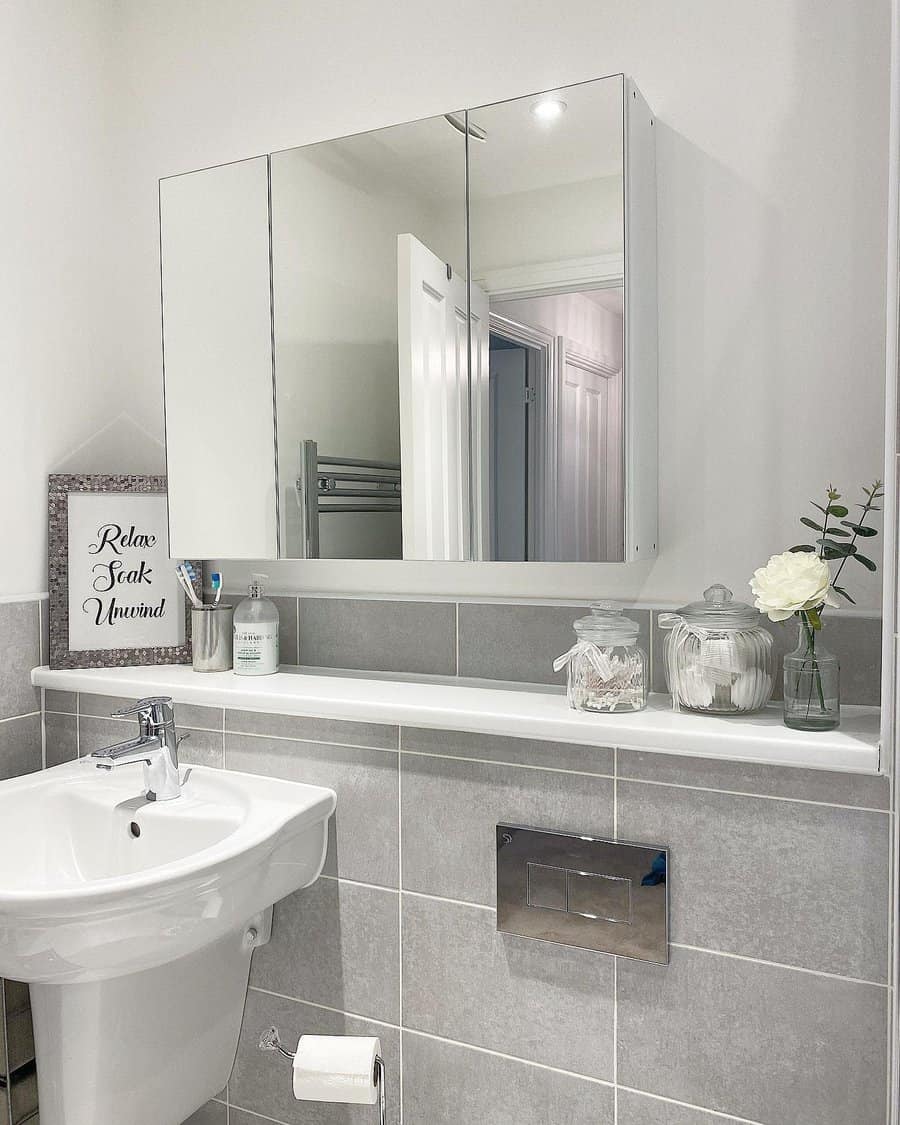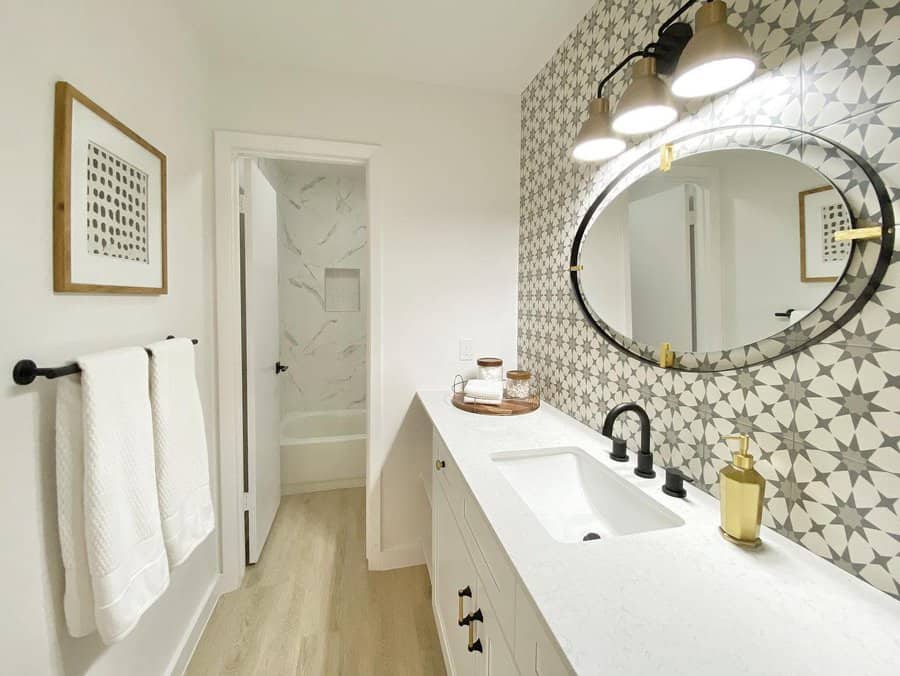 Using grey makes it possible to incorporate bold patterns in your small bathroom without overwhelming the space.
Grey bathroom tile made of natural stone offers subtle variations that can be incredibly stylish. For an industrial aesthetic, install a poured concrete sink or countertop.
6. Marble
A traditional marble finish is both timeless and elegant. It works wonderfully as a standalone backsplash or as part of an all-in-one bathroom vanity and sink.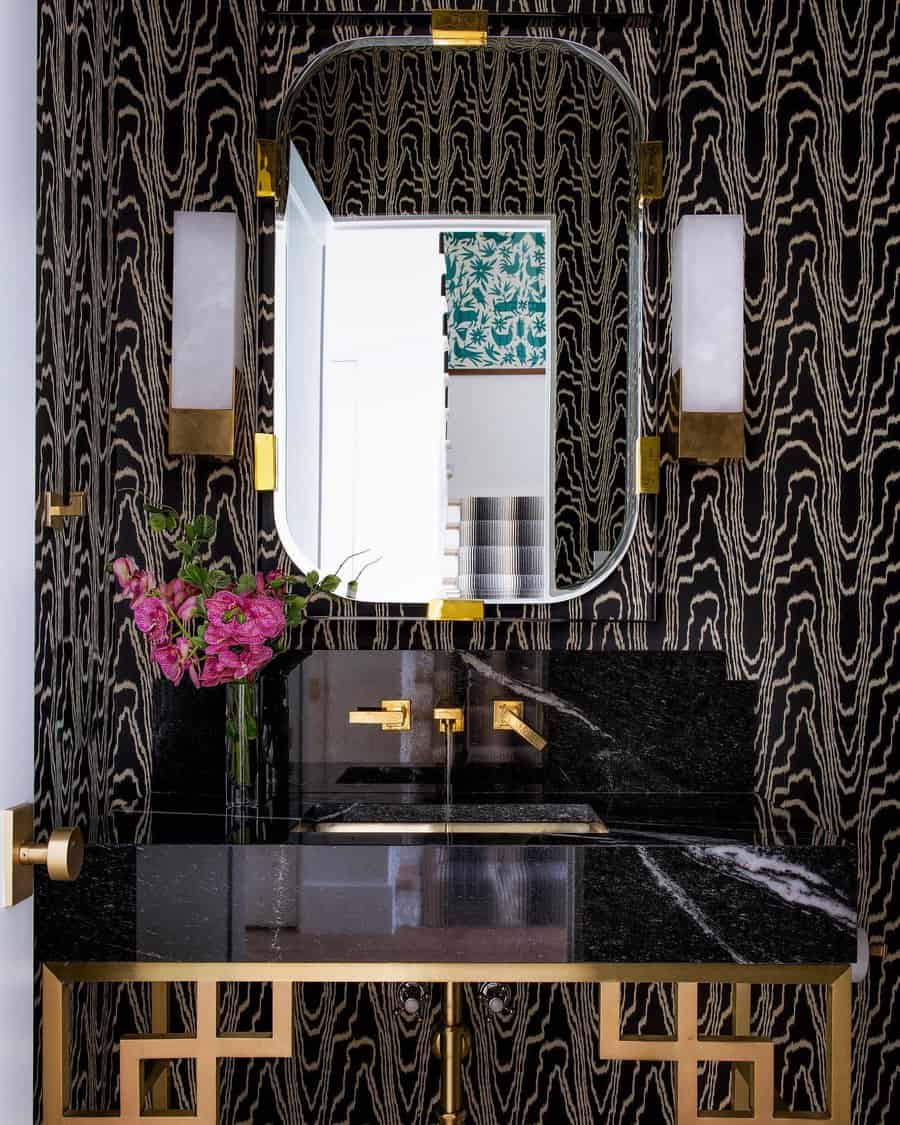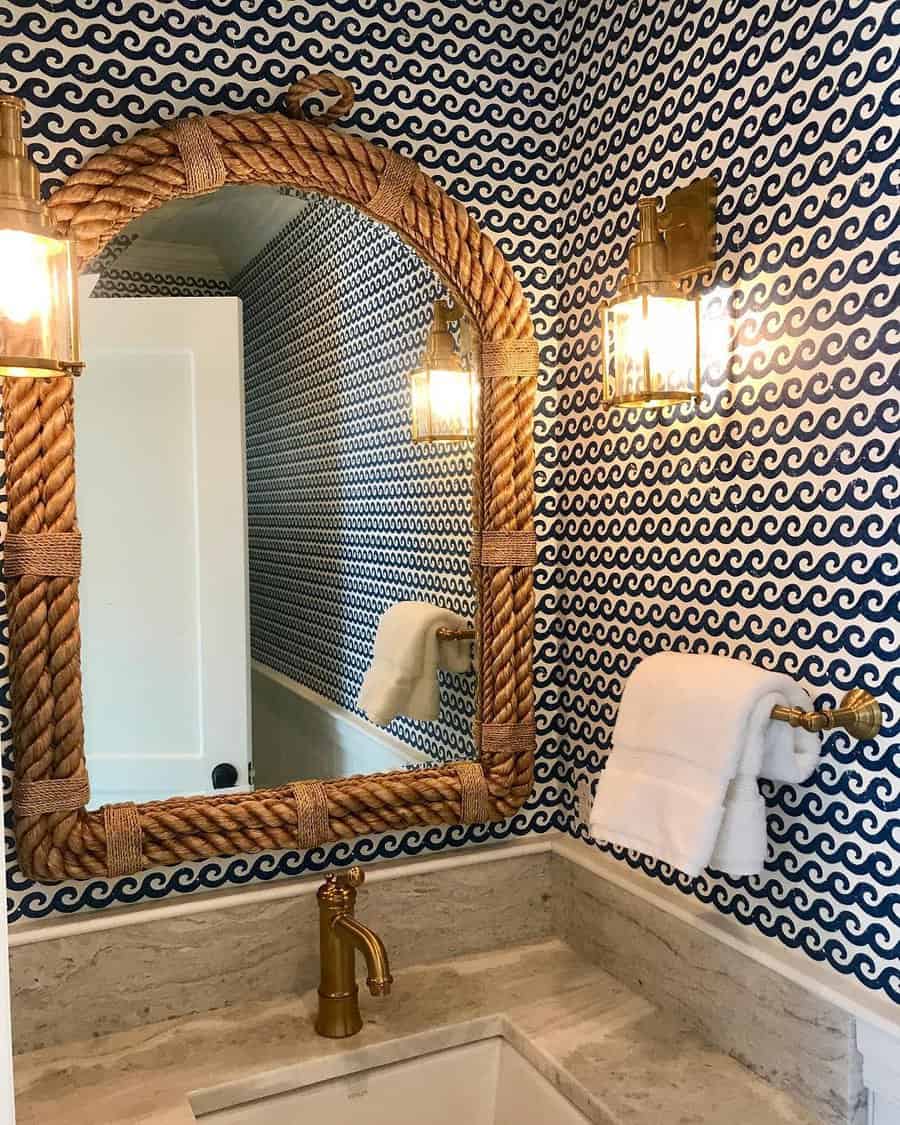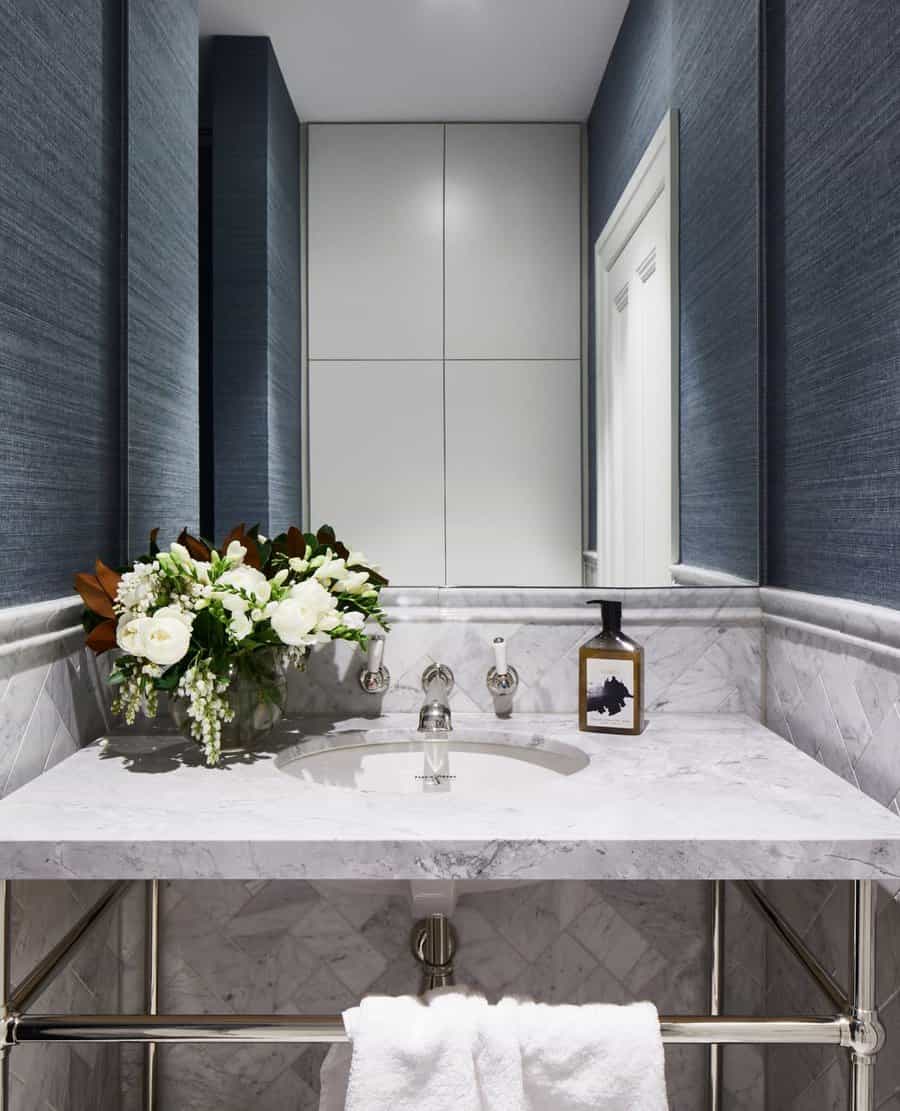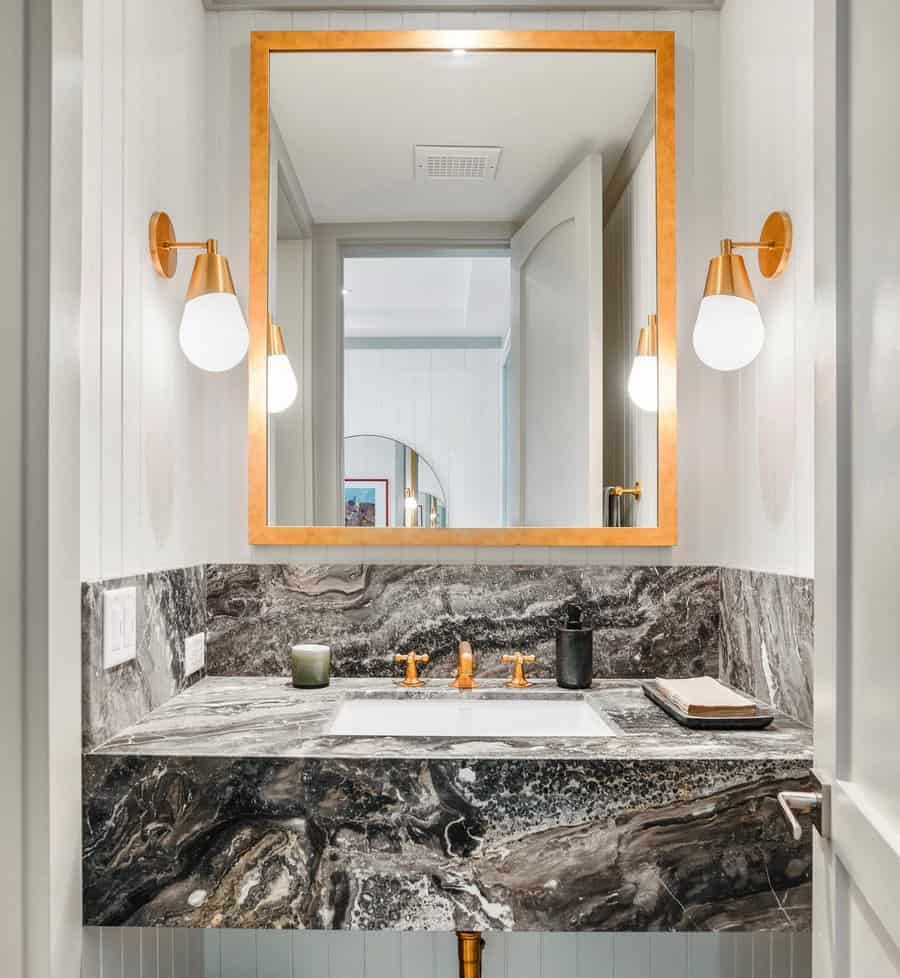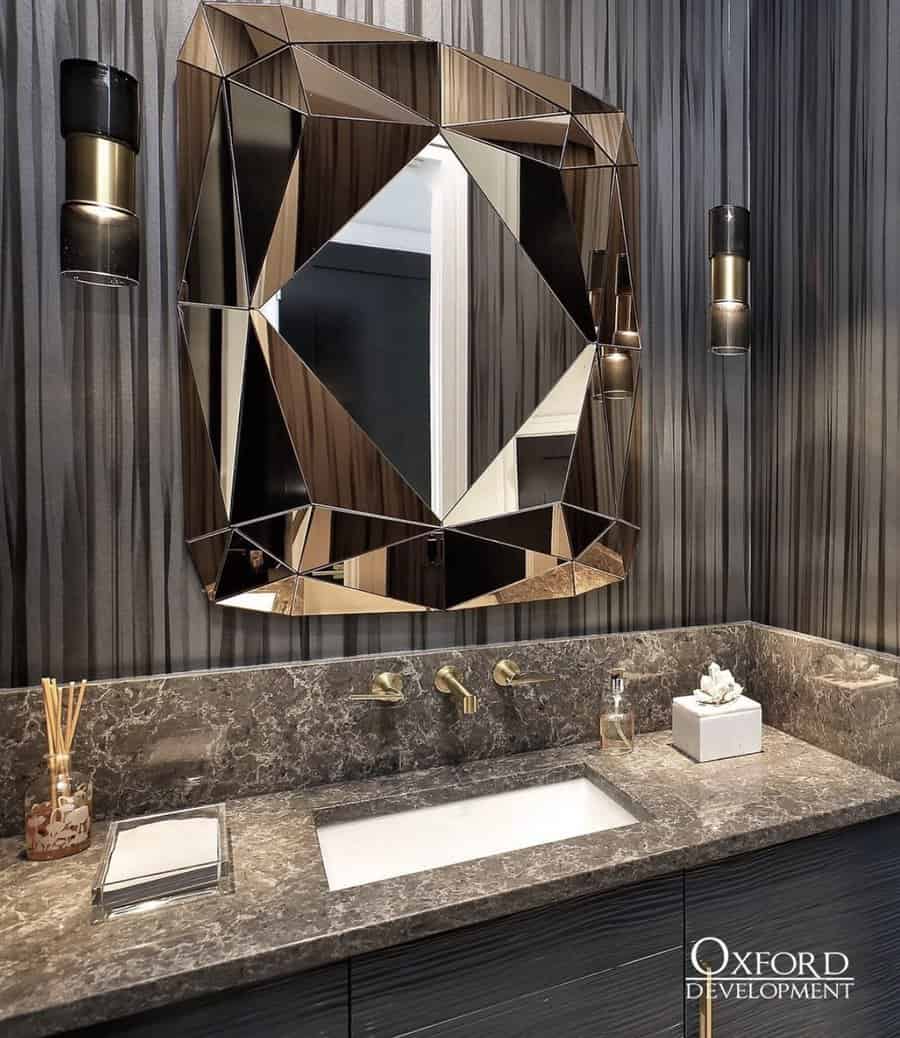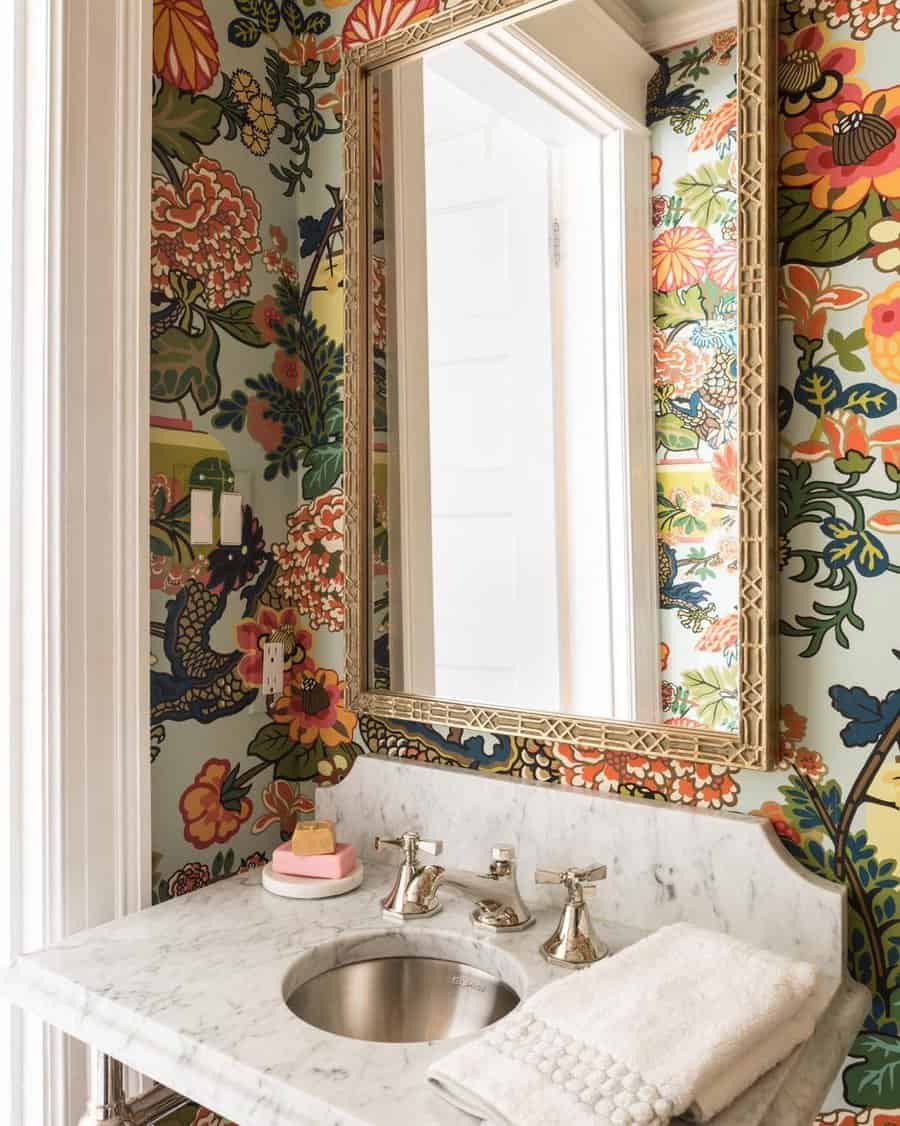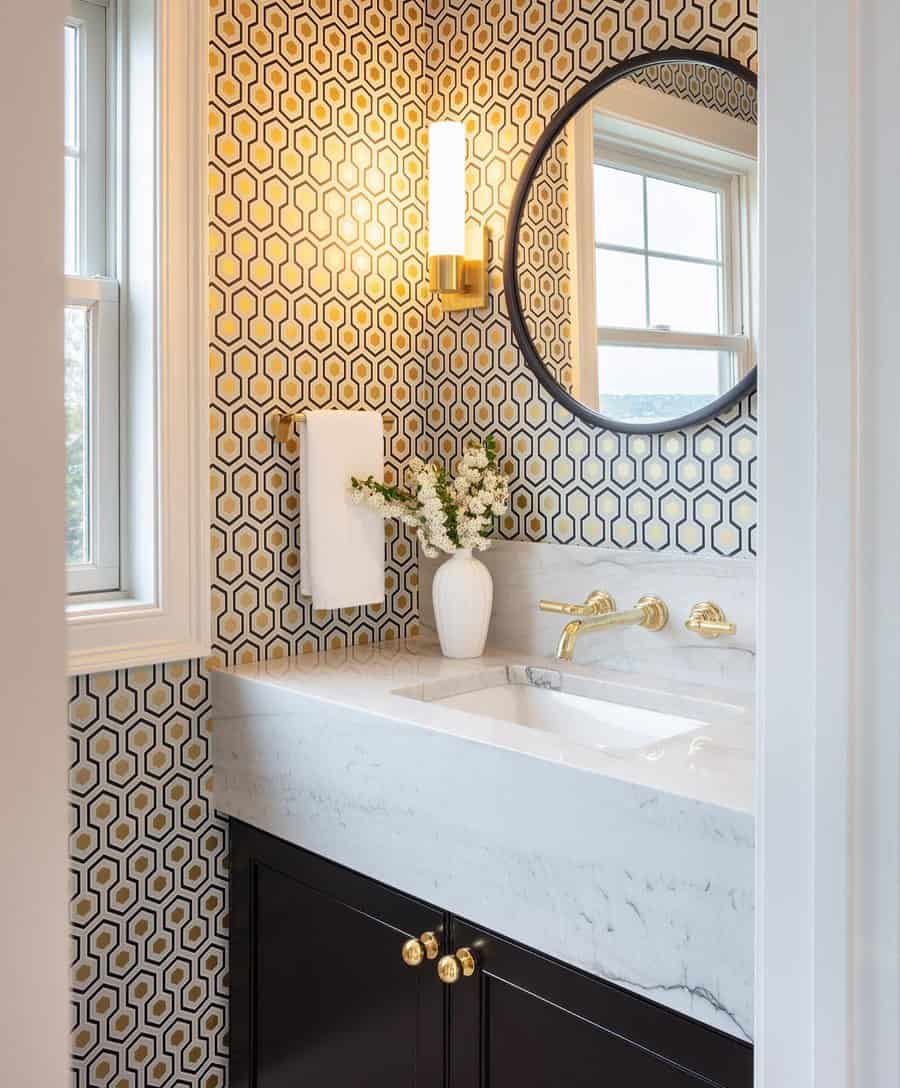 Keep in mind that marble comes in more than one color. While white marble is the most common, there are countless natural shades available to match literally any bathroom color scheme!
If budget is a concern, consider replicating the look of marble with ceramic tile that is both more affordable and durable than the real thing. Invest in an authentic marble countertop instead.
7. Metallic
The world of interior design has entered an era of maximalism, which is great news for anyone who loves new and exciting home finishes. Metallic backsplashes are just one trend that has emerged from the maximalist movement.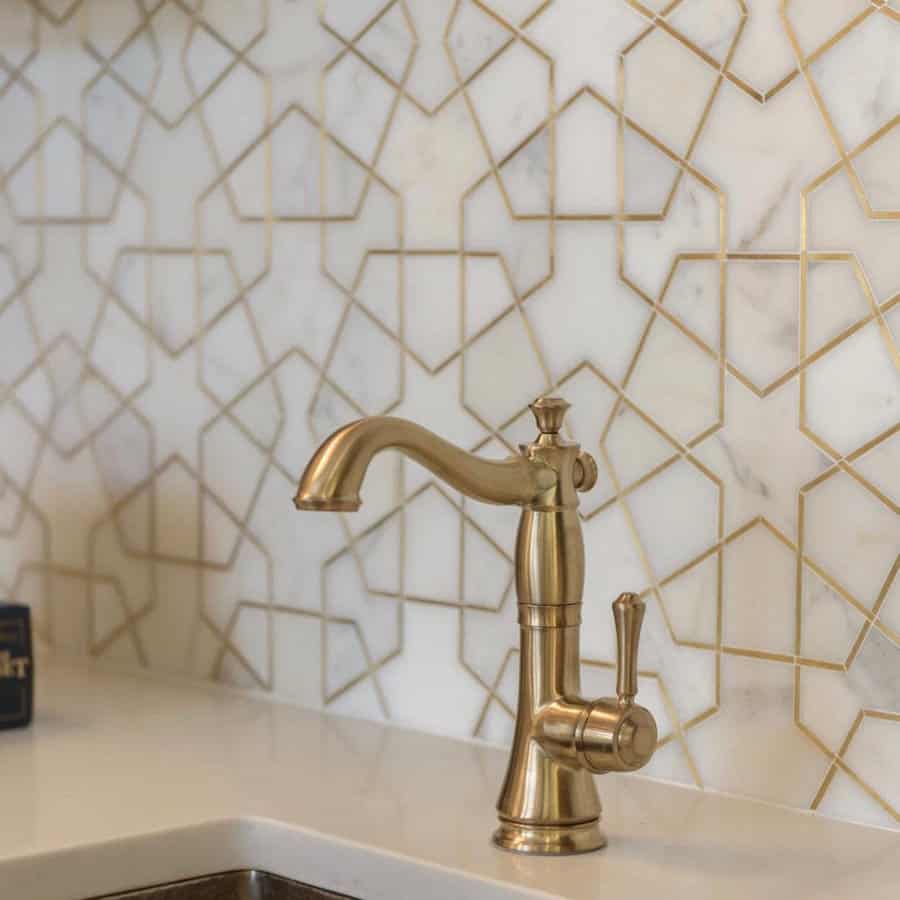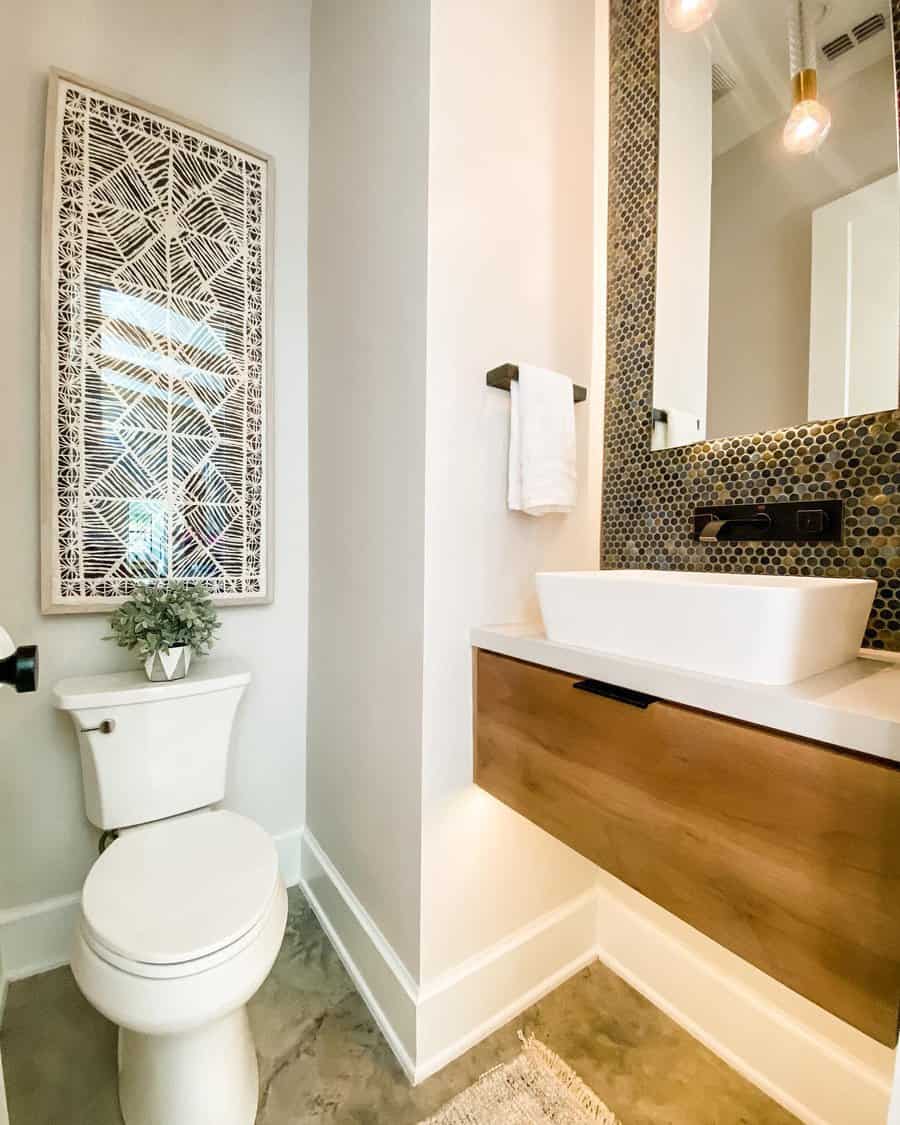 Metallic tiles come in all different styles and materials. Some of the most effective examples rely on metallic accents to highlight the natural veins or surface texture of natural stone.
With that said, metallic tiles are just one way to include this trend in your own bathroom. Metallic grout is incredibly versatile and pairs beautifully with both neutral and vibrant color schemes!
8. Rustic
For those familiar with HGTV's Fixer Upper and the home designs it inspired, it's easy to forget that not all rustic bathrooms feature subway tiles. Rather, there are countless unique ways to give your bathroom backsplash a hint of rustic charm.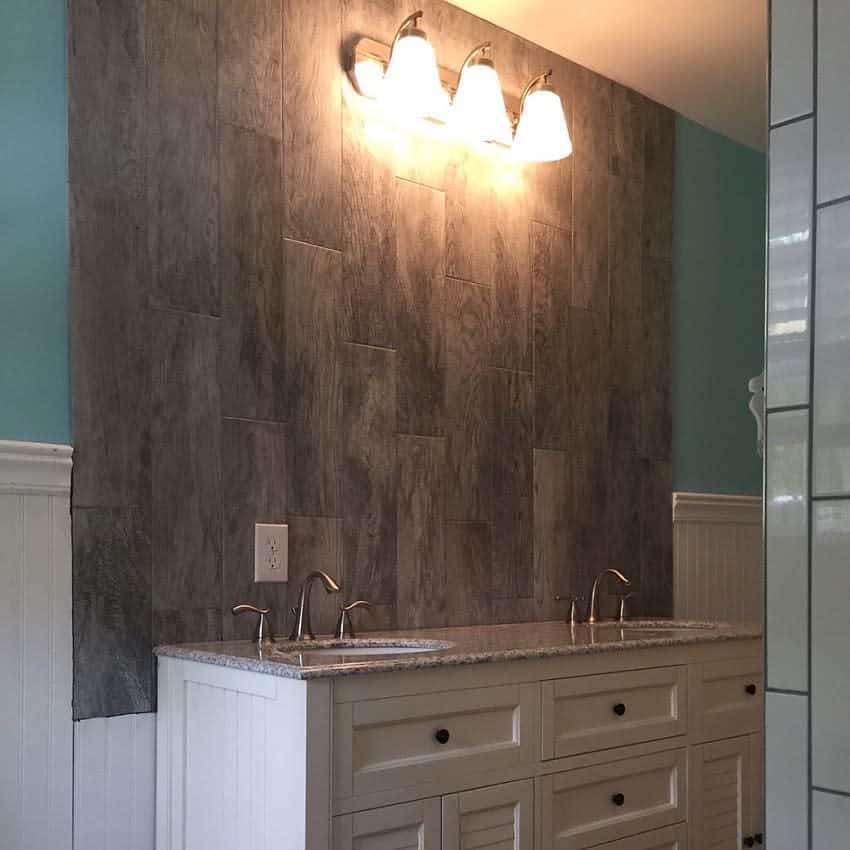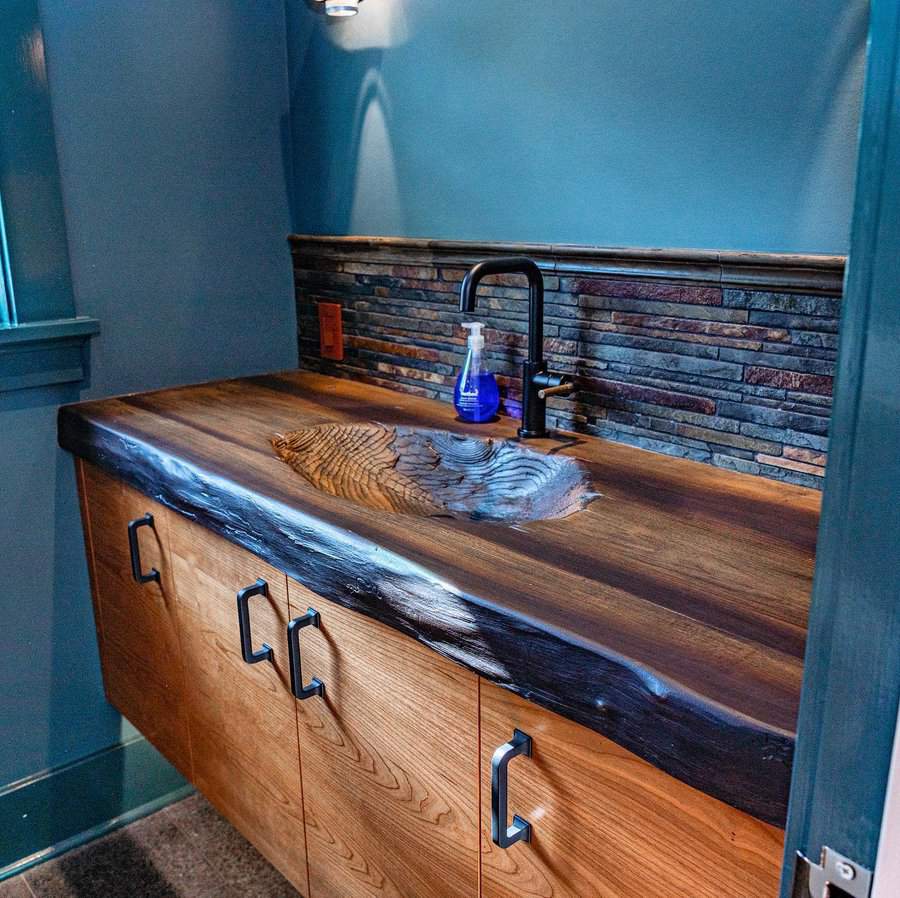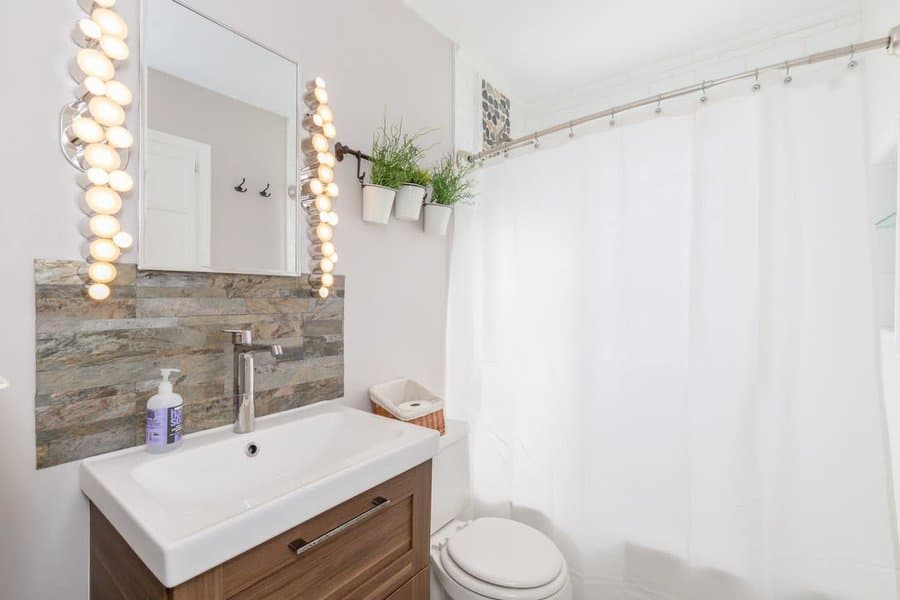 Organic materials are always a safe bet. Brick, rough stone, river rock, and even wooden panels are all excellent options for creating a rustic-style bathroom wall.
Keep in mind that rustic design does not need to be all or nothing! Some of the best bathroom backsplash ideas pair rustic materials with sleek contemporary elements. The resultant contrast is beautiful and unexpected!
See more rustic bathroom ideas here.
9. Stone
It's only natural to desire room interiors that are entirely one-of-a-kind. Well, there's no better way to create a unique bathroom than with a stone backsplash.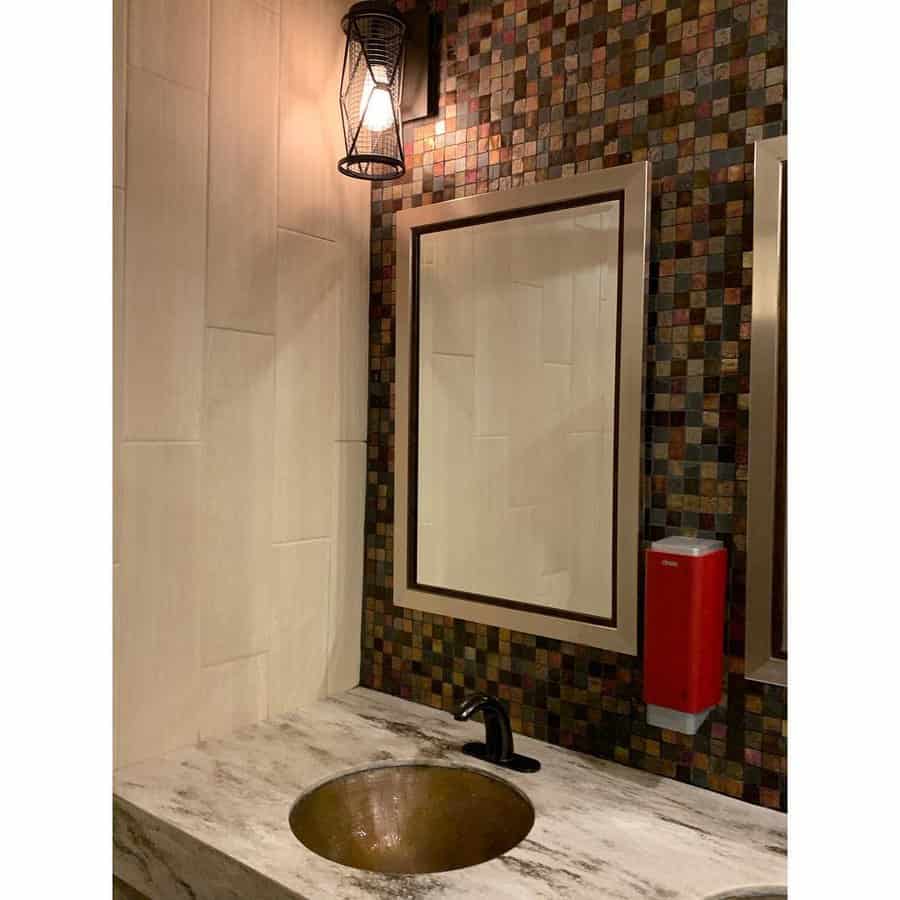 Stacked stone is textured while still acting as a neutral backdrop to the rest of the bathroom design. The innate color variations of real stone make it easy to include subtle contrast.
While stone tile is the most affordable and easiest to work with version of this material, it's not the only option. Paneling will make the most of the natural appearance of luxury stones like marble or granite. Use a matching stone finish for your vanity countertop for a cohesive design.
10. Subway Tiles
Did you know that subway tiles have been popular for nearly a century? It's certainly not just a passing trend!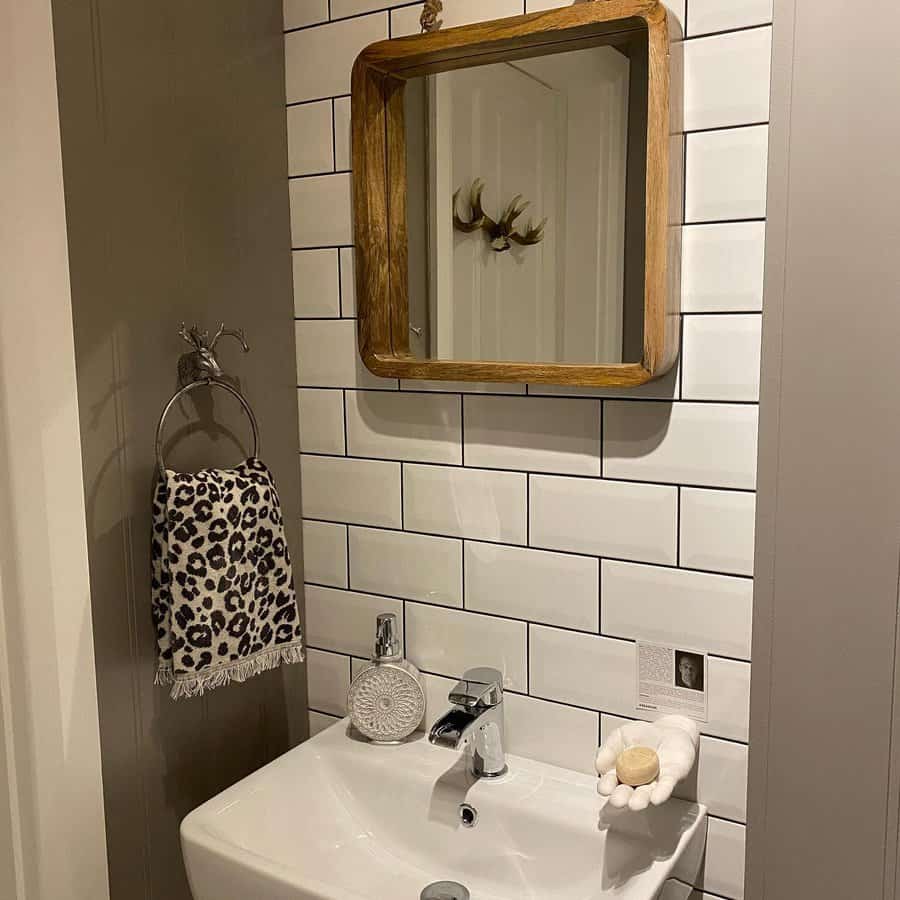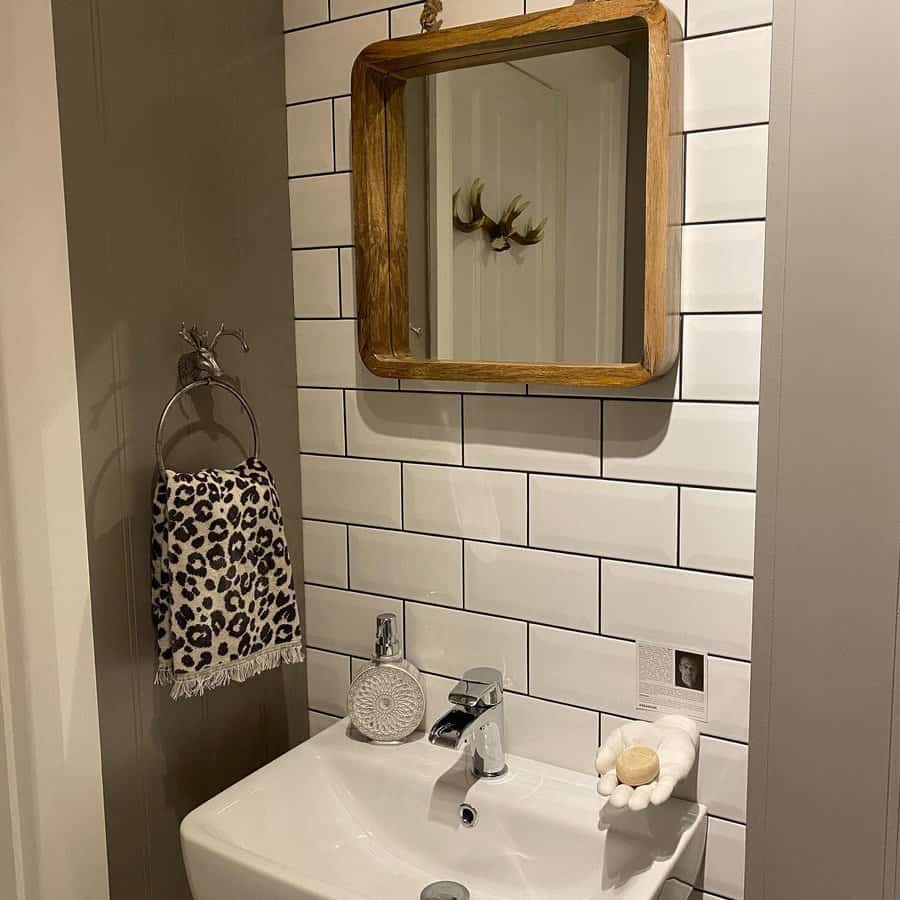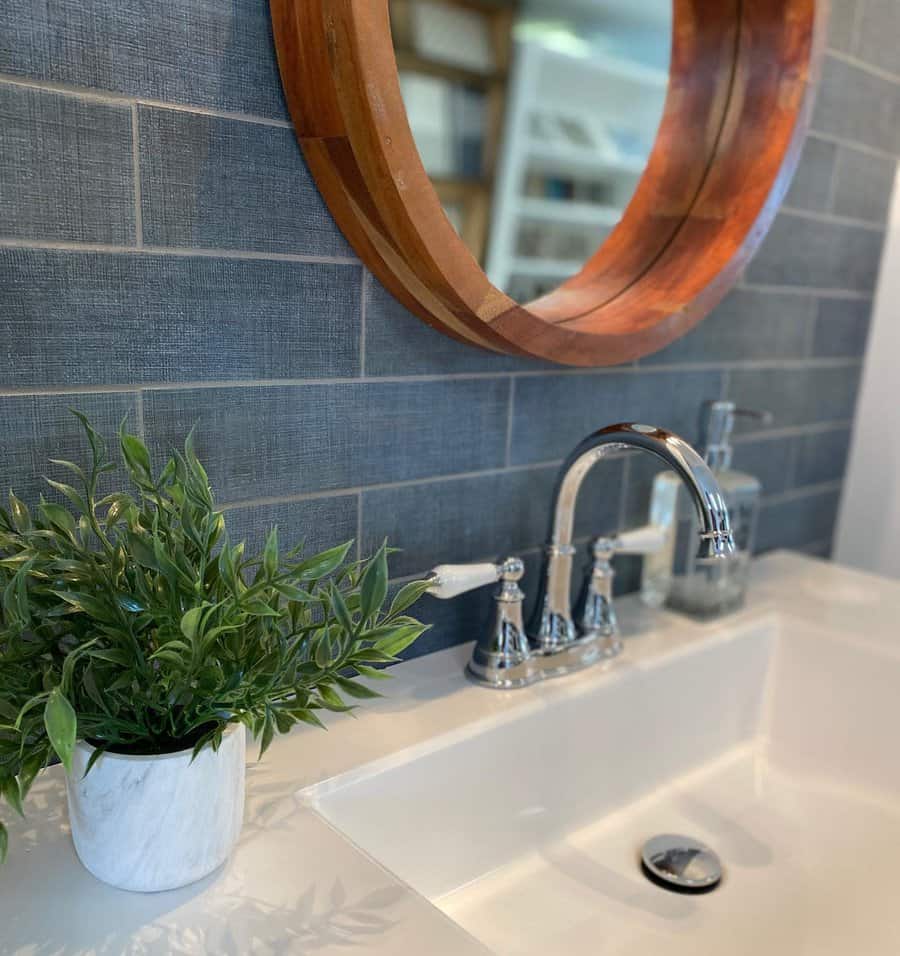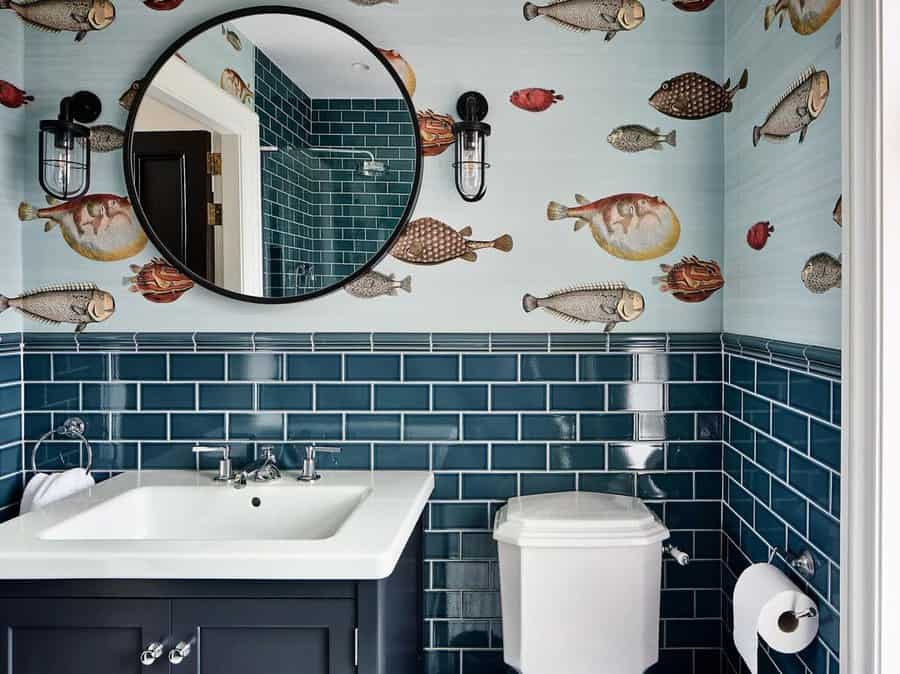 White subway tiles with dark grout offers a classic look that goes with almost any decor style. Yet this is just one way to utilize subway tile in your bathroom backsplash design.
Non-traditional colors and finishes are a great place to start your experimentation. The orientation of subway tiles can also completely change the final appearance. Vertical and diagonal subway tiles are ideal choices if you're looking to buck contemporary trends.
11. Textured
Most bathroom designs rely on tile to protect the more delicate drywall underneath. But there are also many things tile can do that regular paint or wallpaper can't!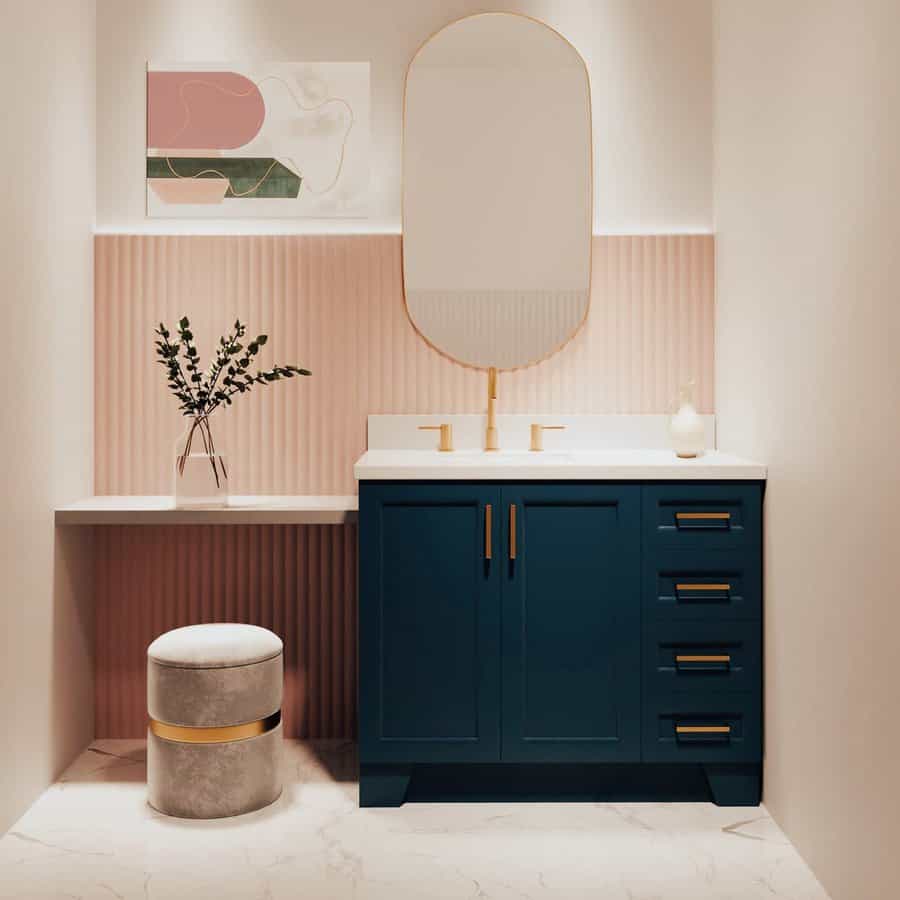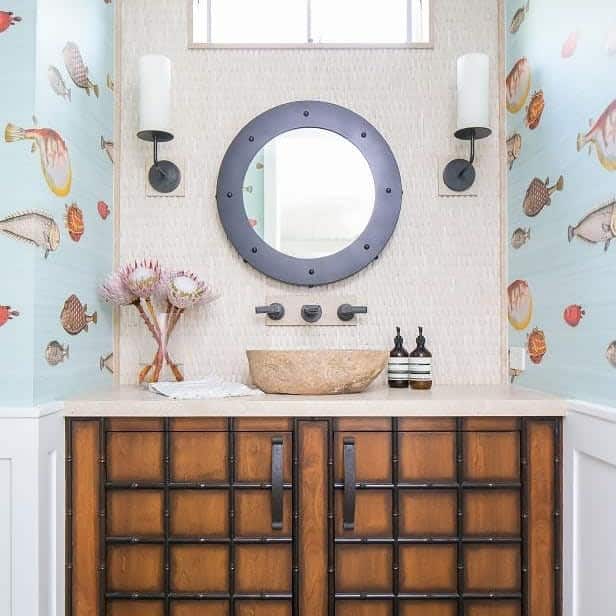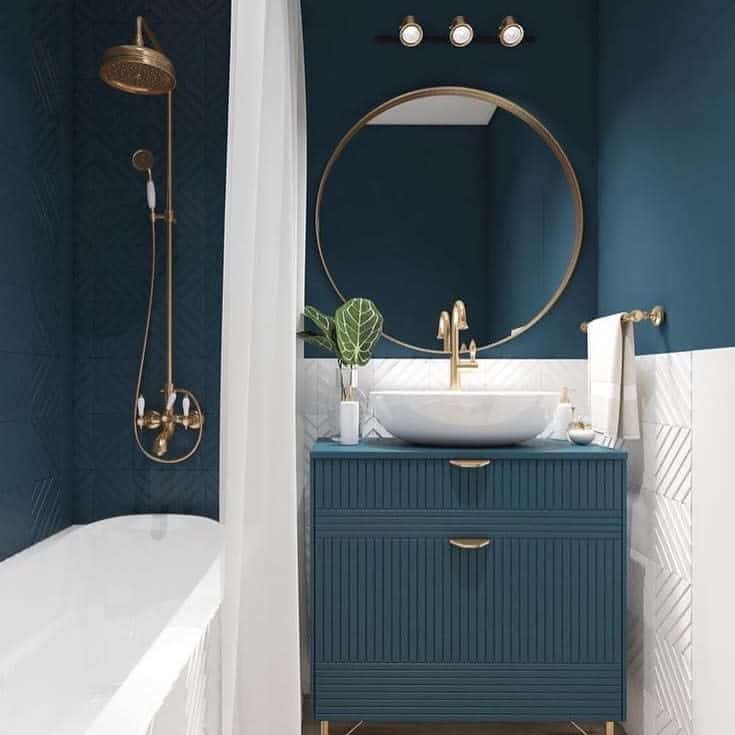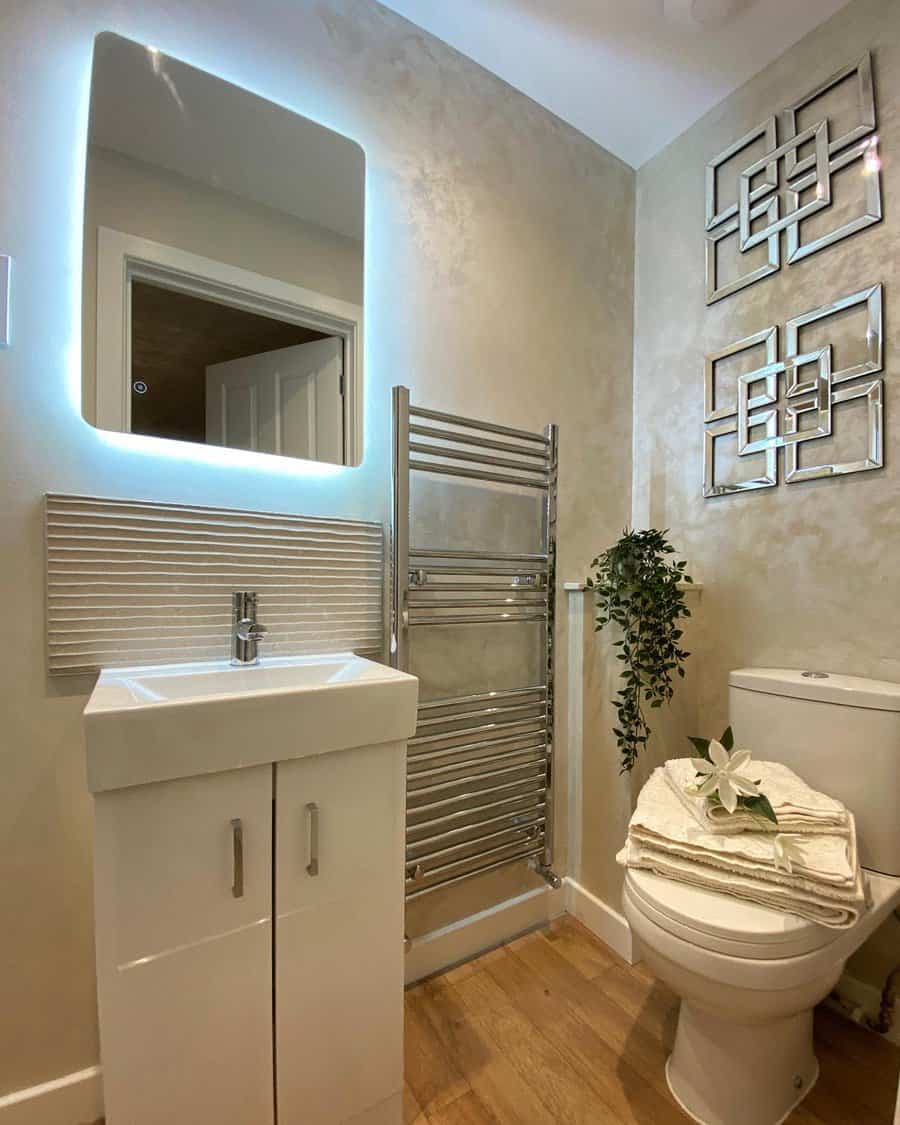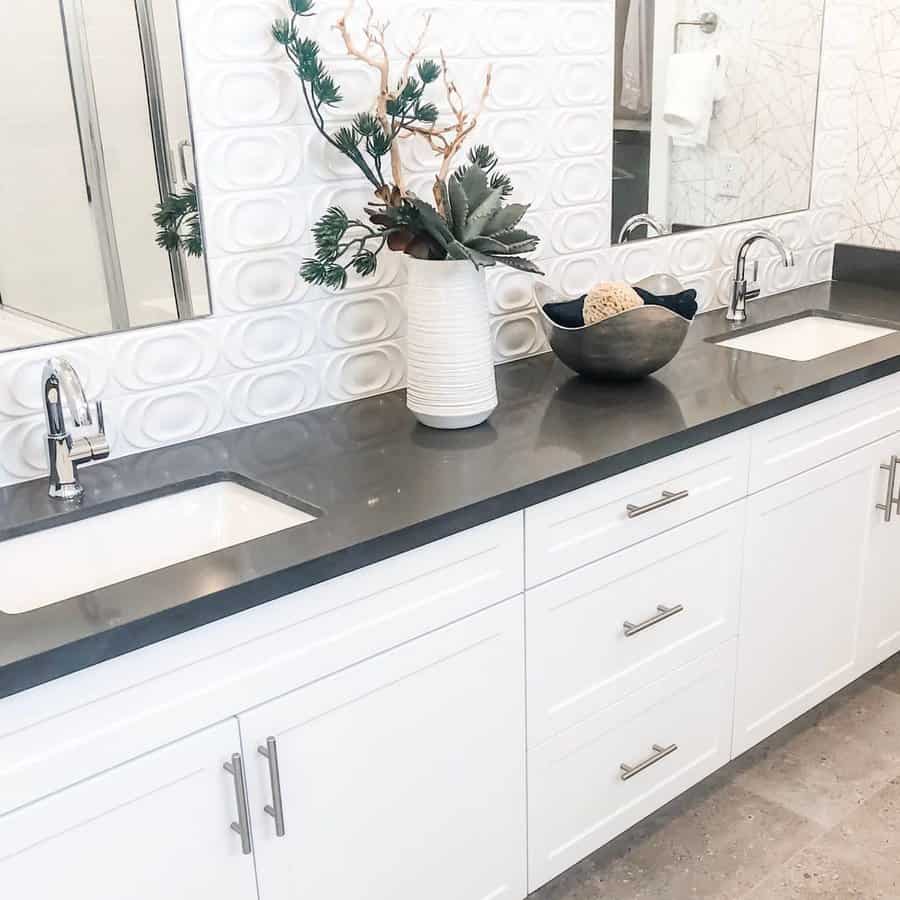 Textured tiles are an excellent way to make your bathroom backsplash stand out. Even a monochromatic bathroom can include textured tile without sacrificing your color scheme.
These textured finishes can be extremely subtle and big and bold. Play around with the scale of your bathroom tiles before committing to a particular look.
12. Tiles
Tile is by far the most popular material used in bathroom backsplash design. It's also incredibly practical. But it can be hard to incorporate tile in an aesthetically pleasing way without covering the entire backing wall.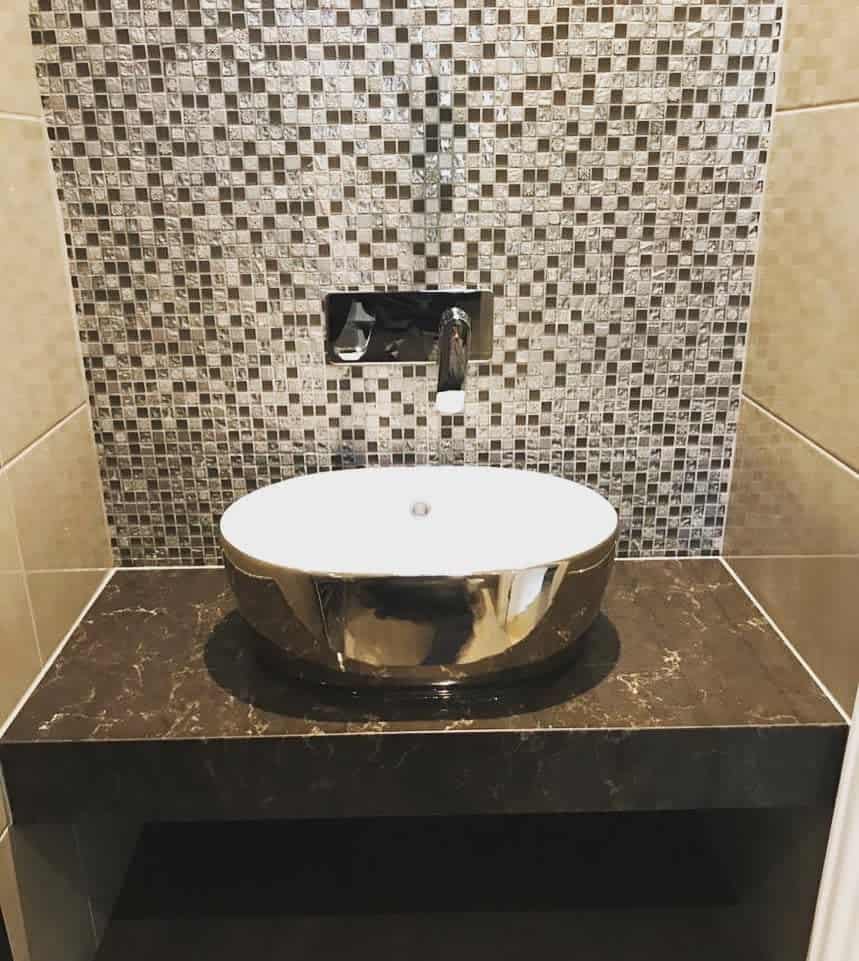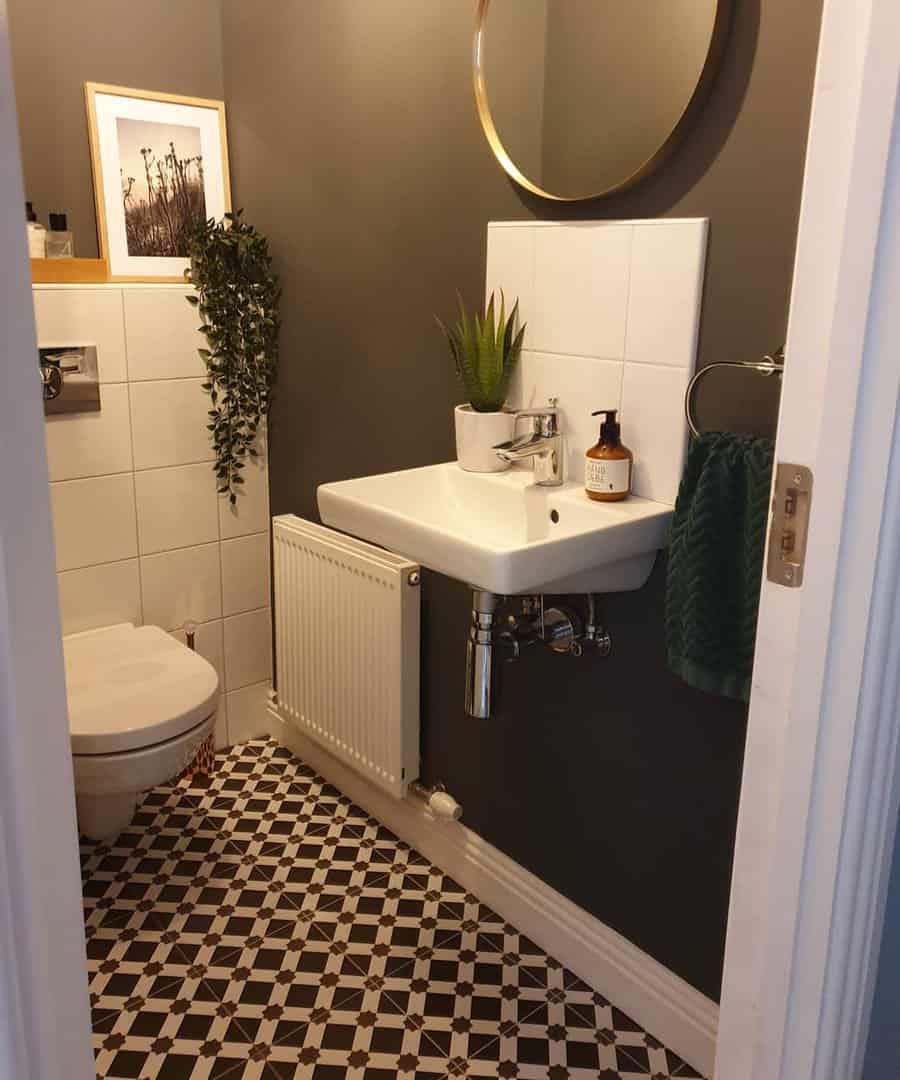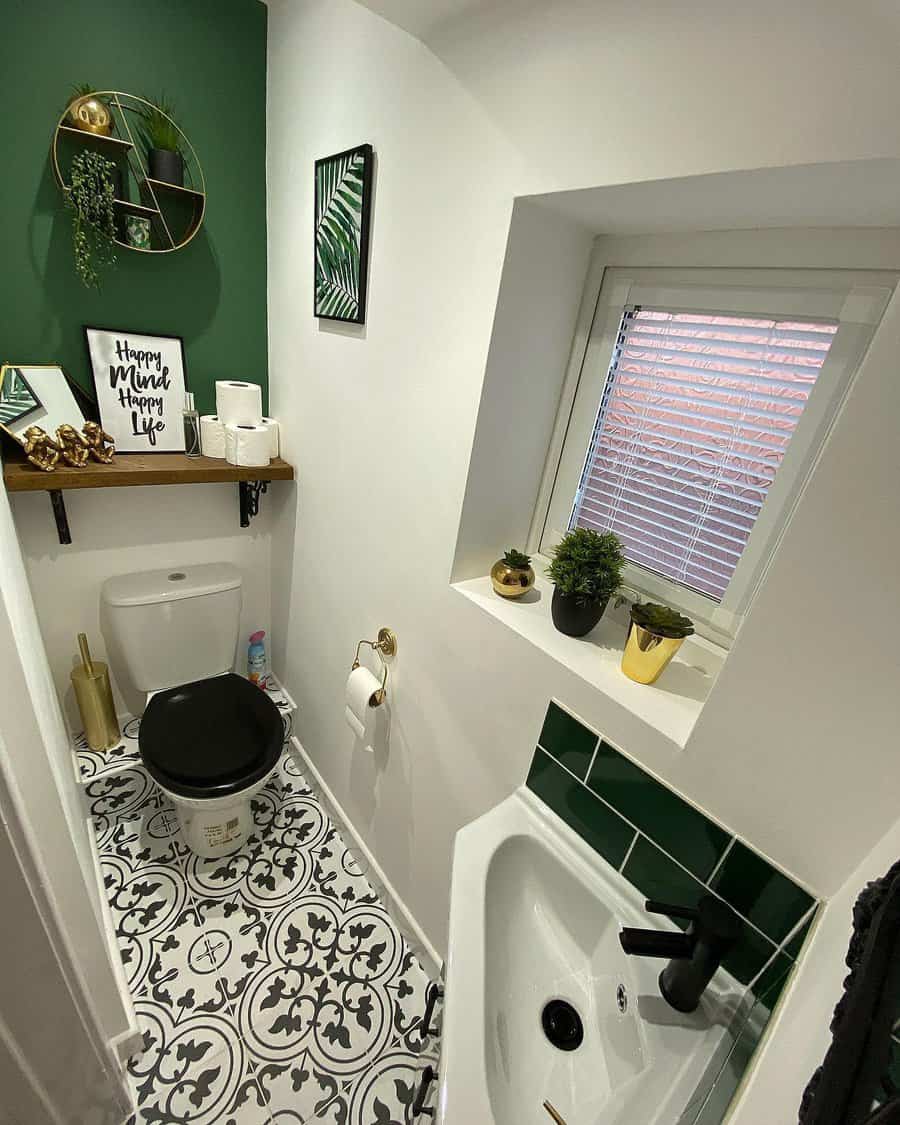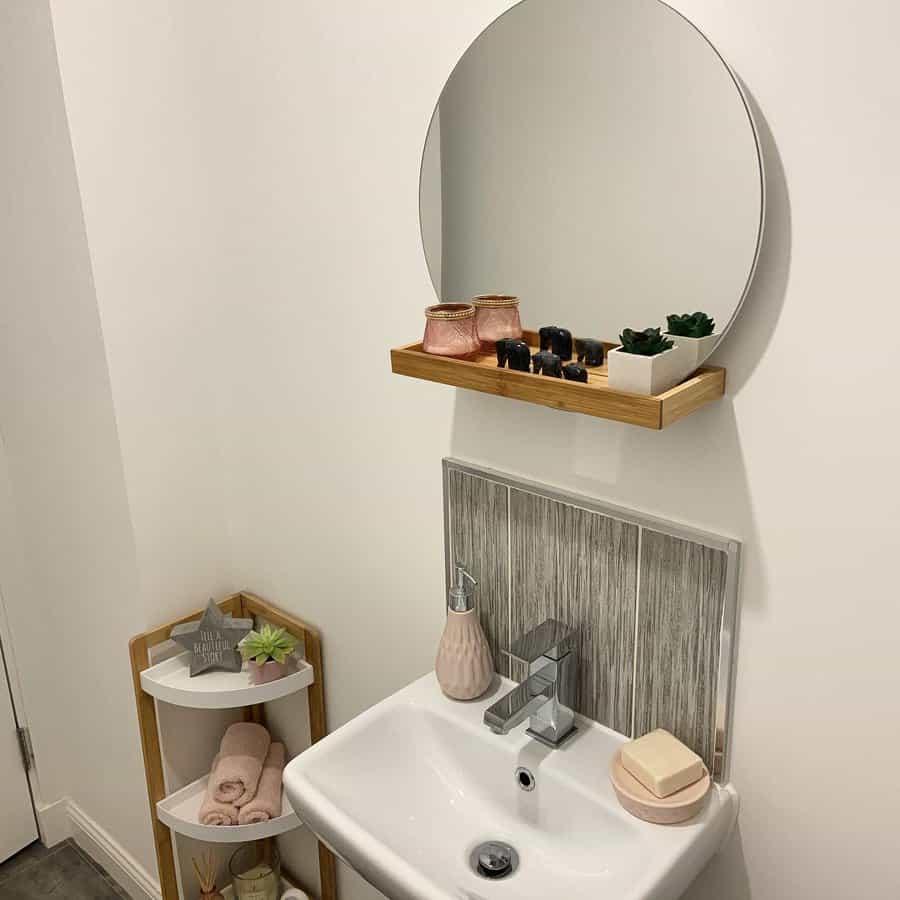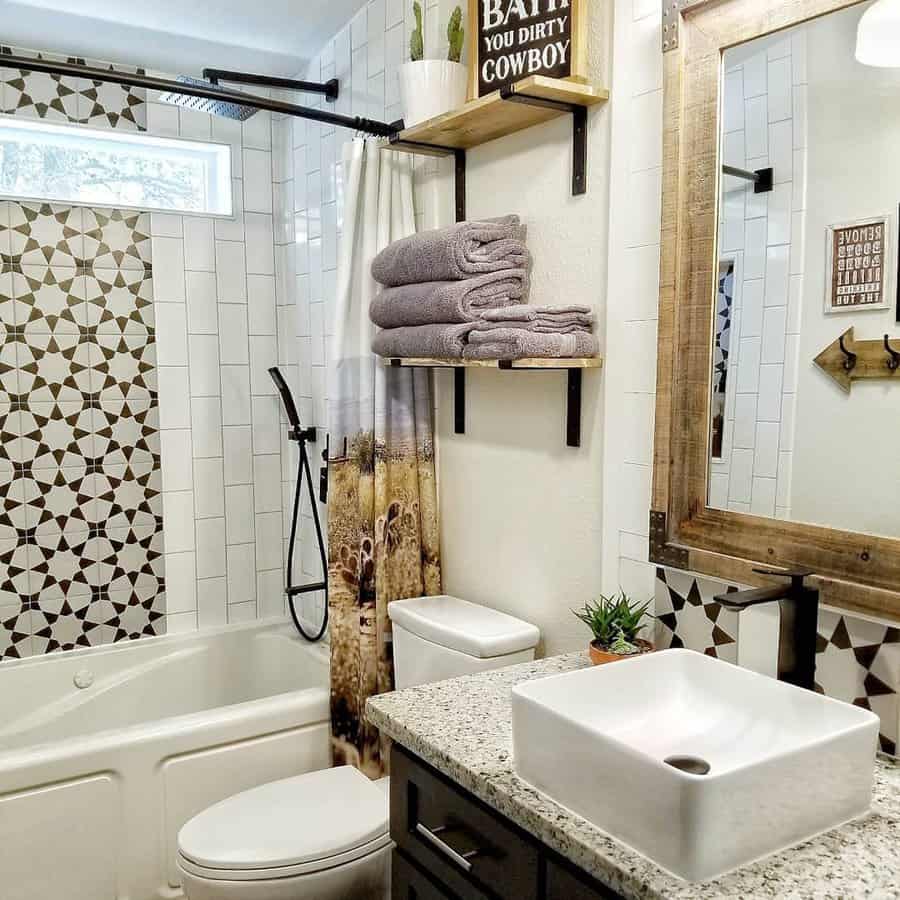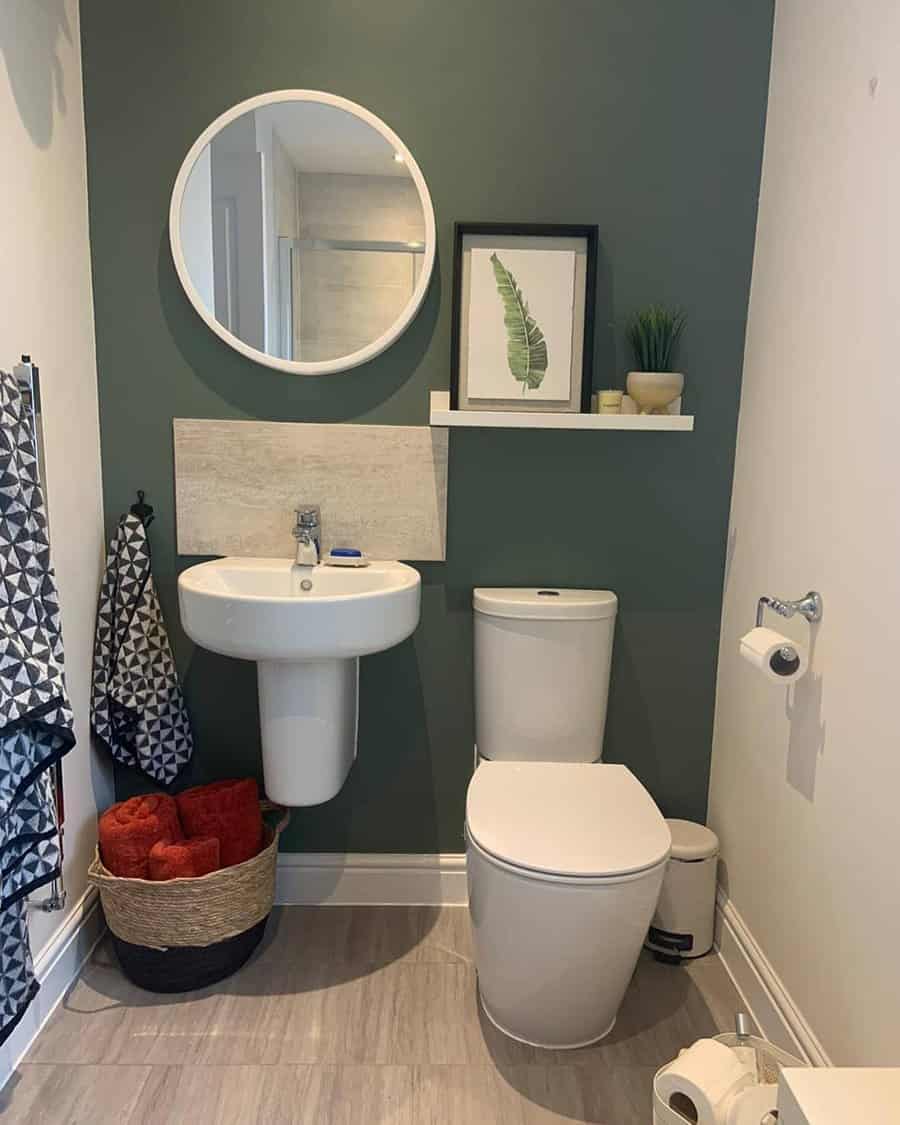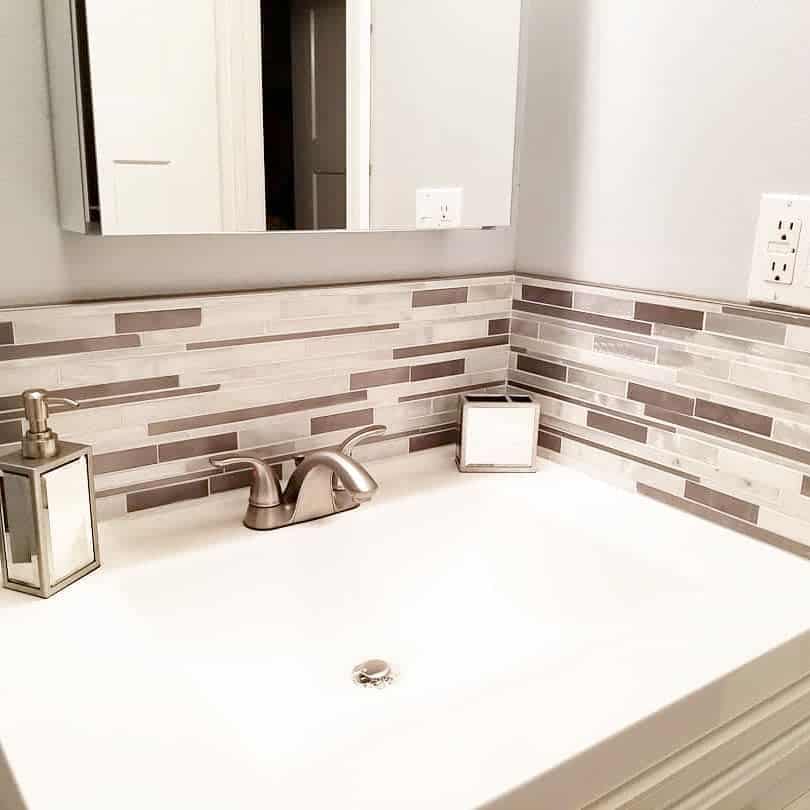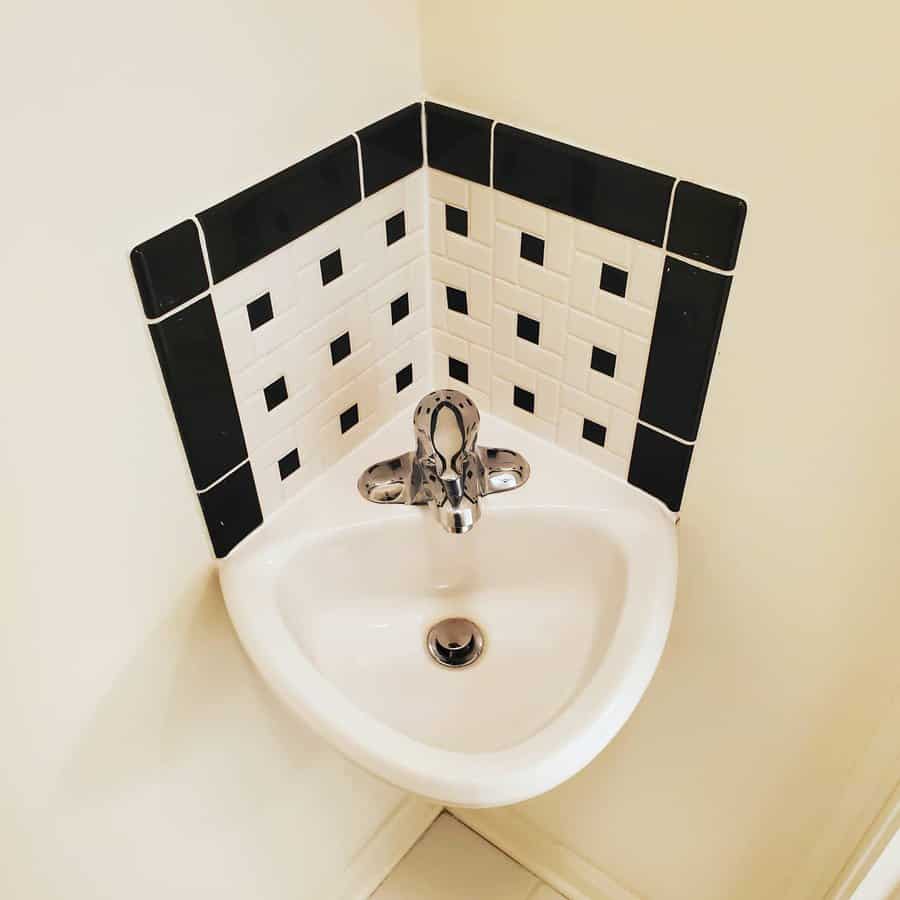 One way to ensure your tile backsplash fits the rest of your decor is to use a tile already present in the room. Matching your backsplash tile to the bathroom floor or shower wall will create a cohesive look.
If you're interested in something a little less traditional, install penny tile. These tiny tiles offer the same protection as regular ones but with a more luxurious finish.
13. Unique
Every homeowner wants their living space to be unique. The hard part is balancing one-of-a-kind ideas with those that are still up to date with the trends of today.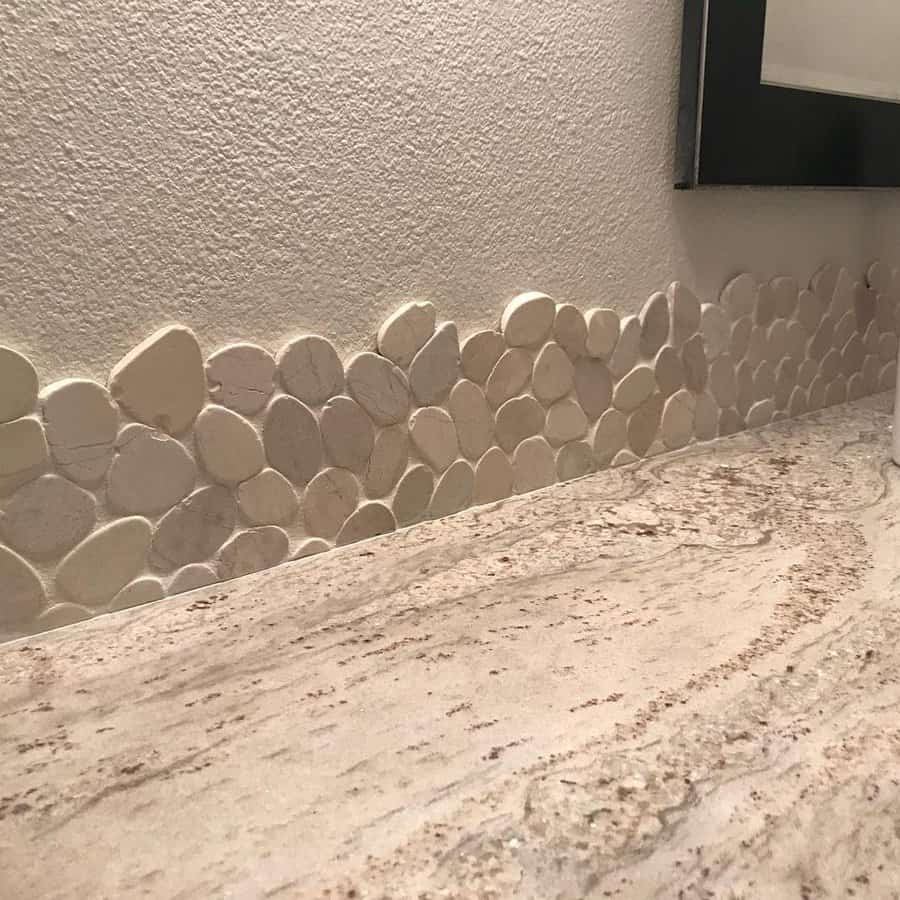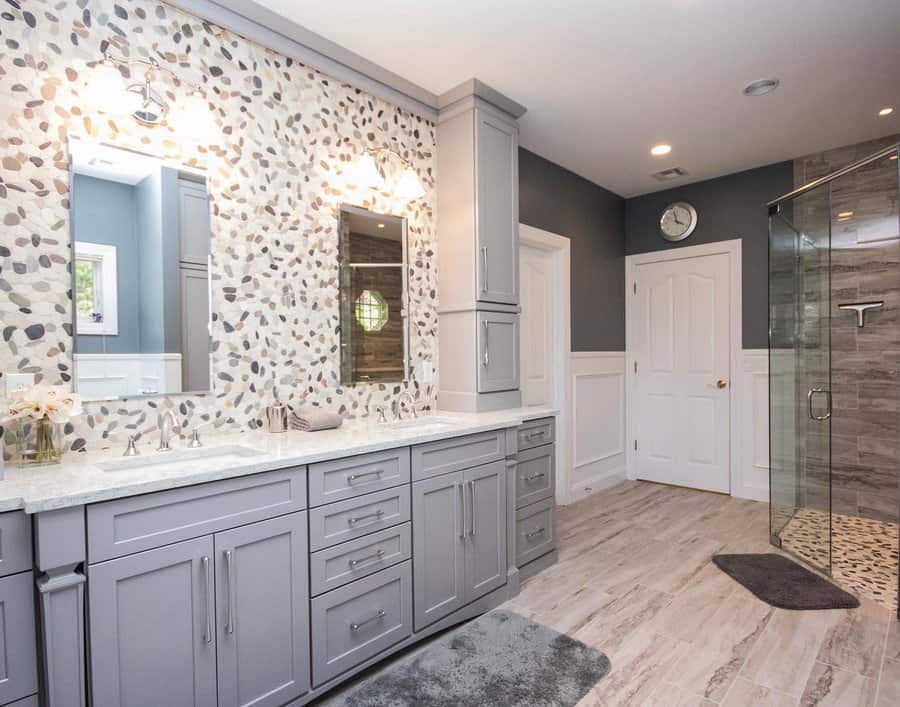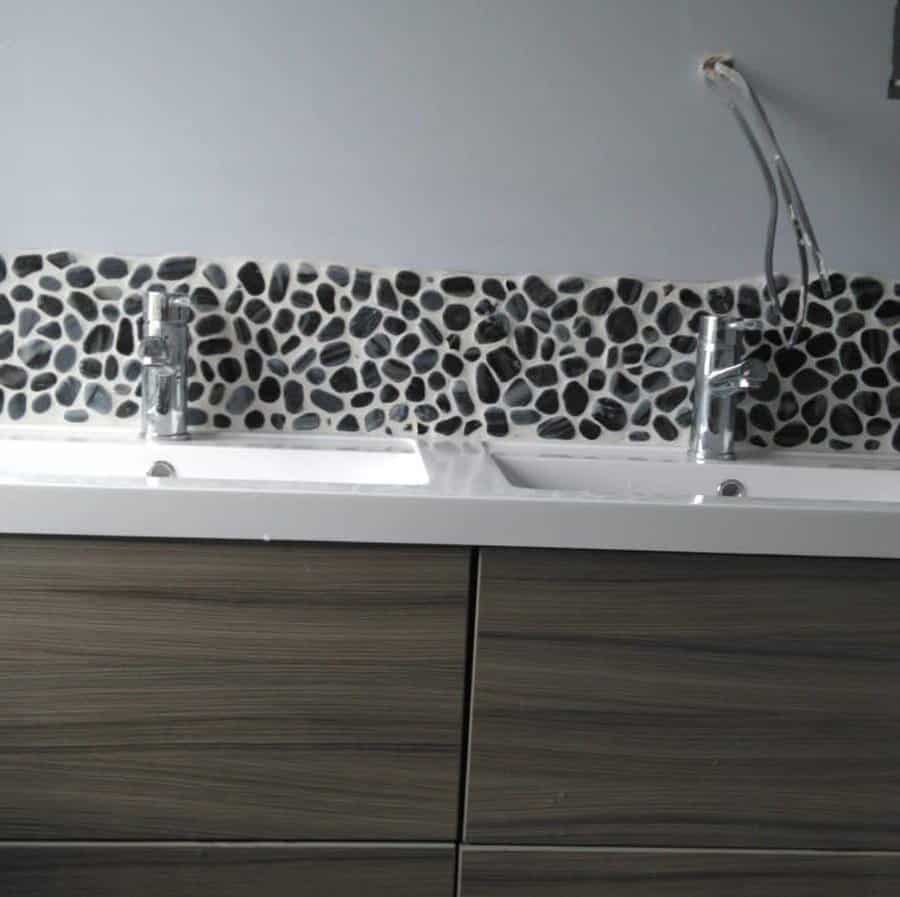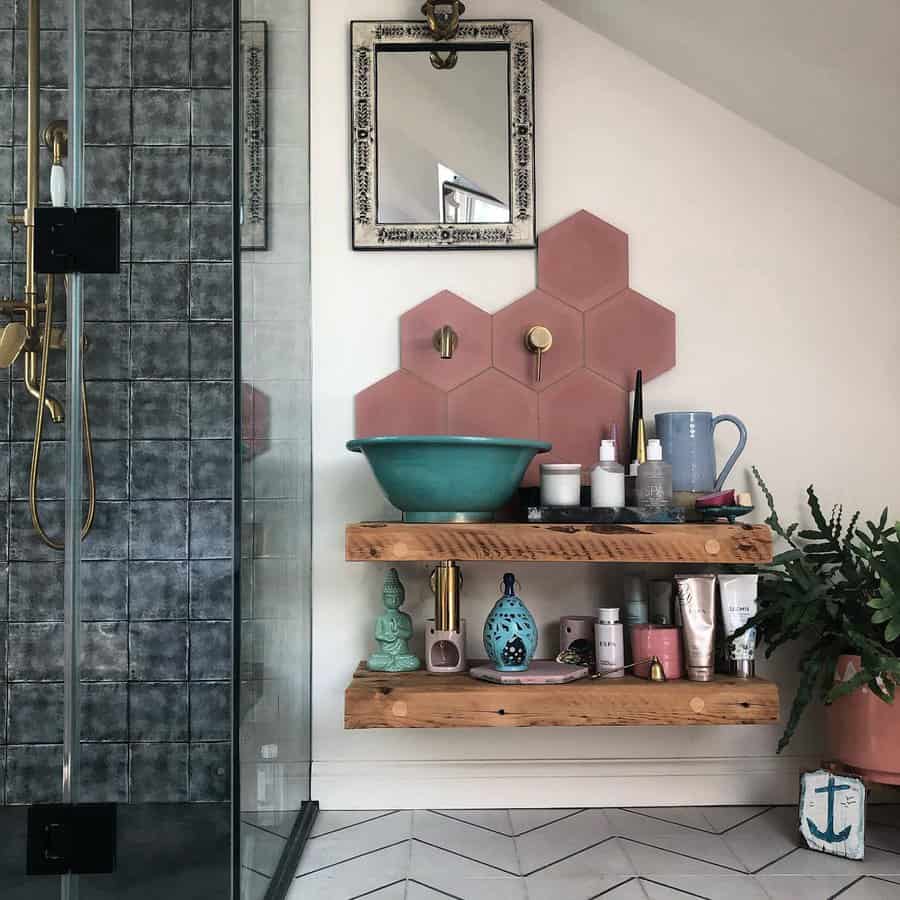 While traditional tiles tend to be extremely uniform, there are plenty of opportunities to use more organic shapes in your bathroom backsplash. From "broken" glass tile to natural river stone, there's no need to stick to perfect squares and rectangles.
Hexagonal tile is a recent trend featured in contemporary bathrooms of all styles. Hexagonal tiles come in a range of sizes and finishes. They also create a unique shape overall if the geometric edges are left intact.
14. White
Despite the fun and interesting colors available to choose from, there are many reasons to opt for white tiles instead. (Even if that reason is just being unable to decide between all of the other options at your disposal!)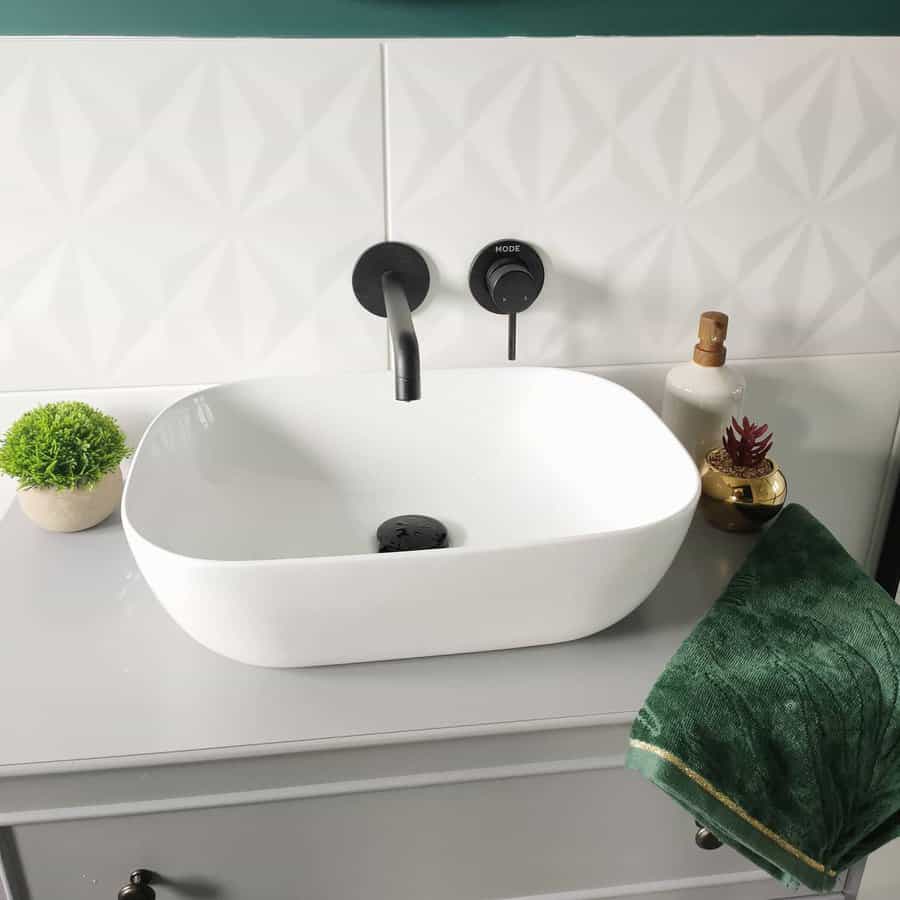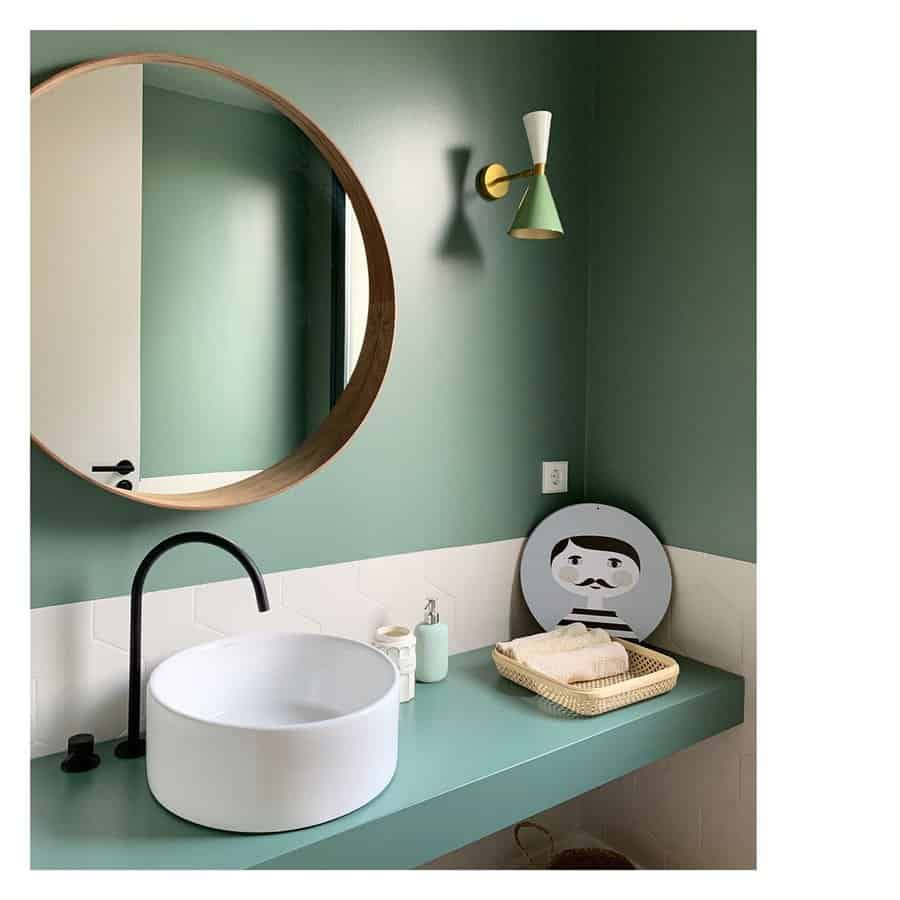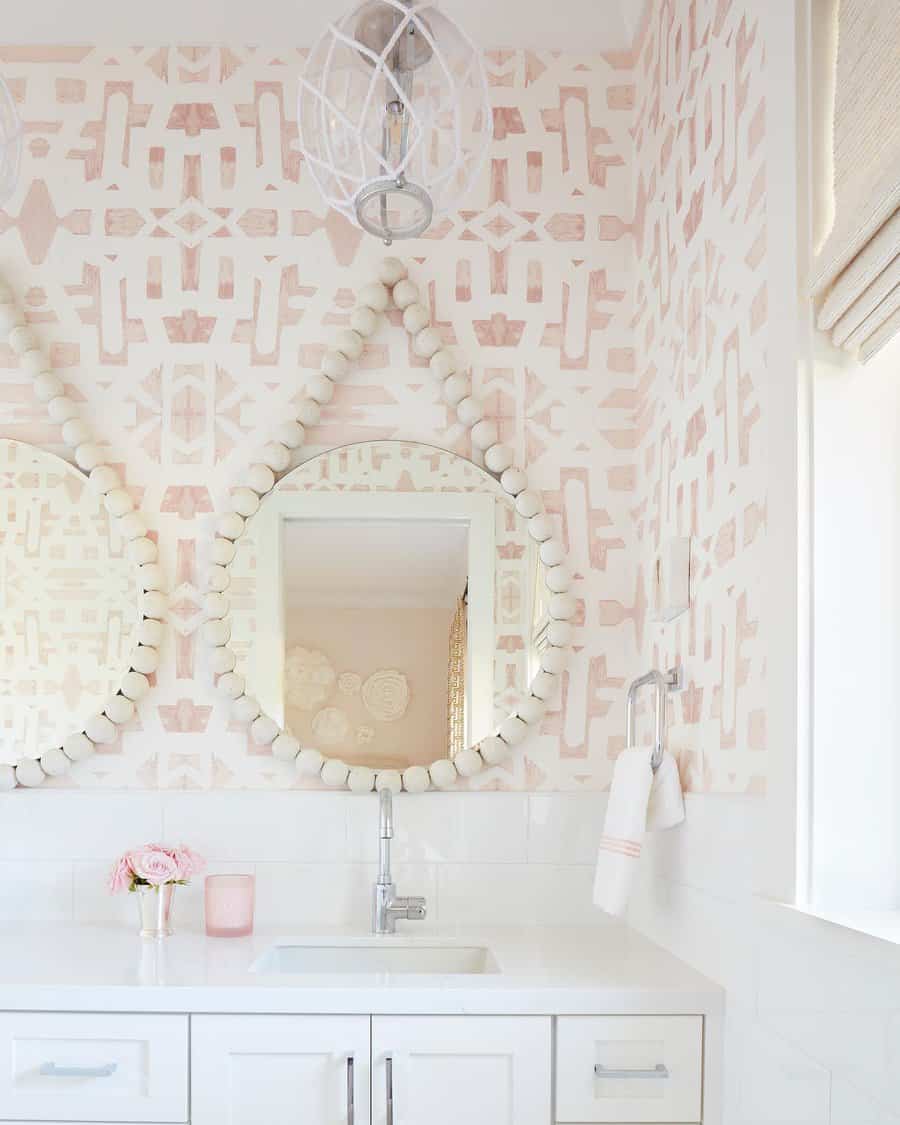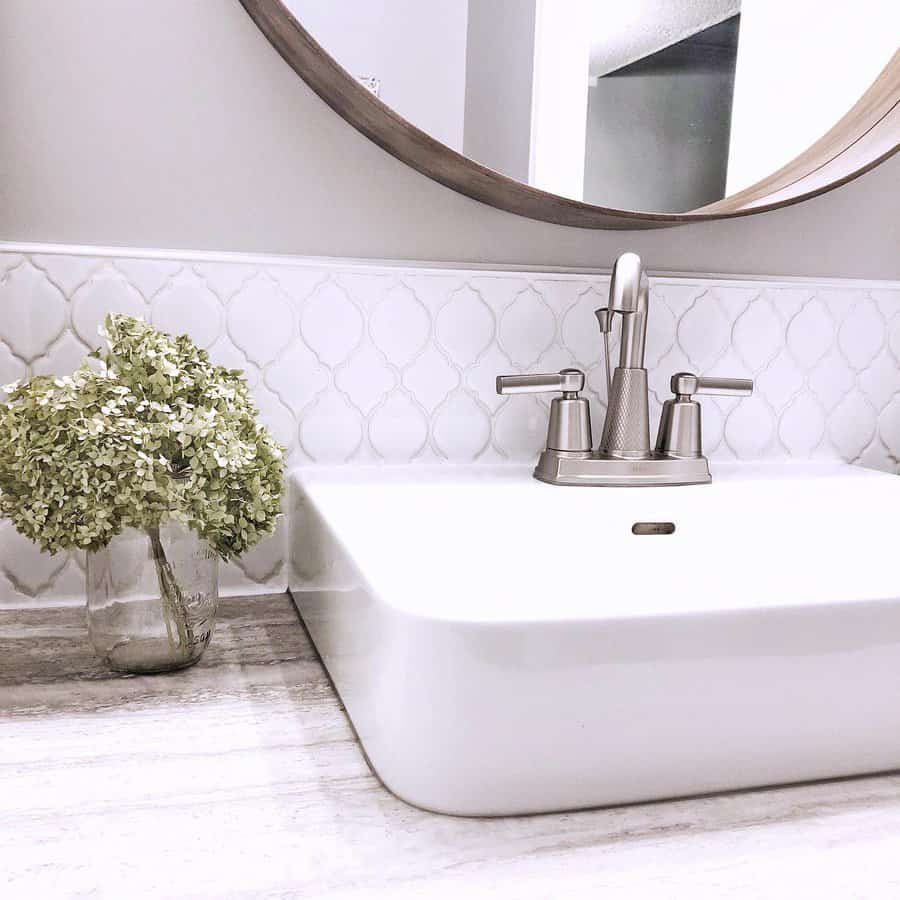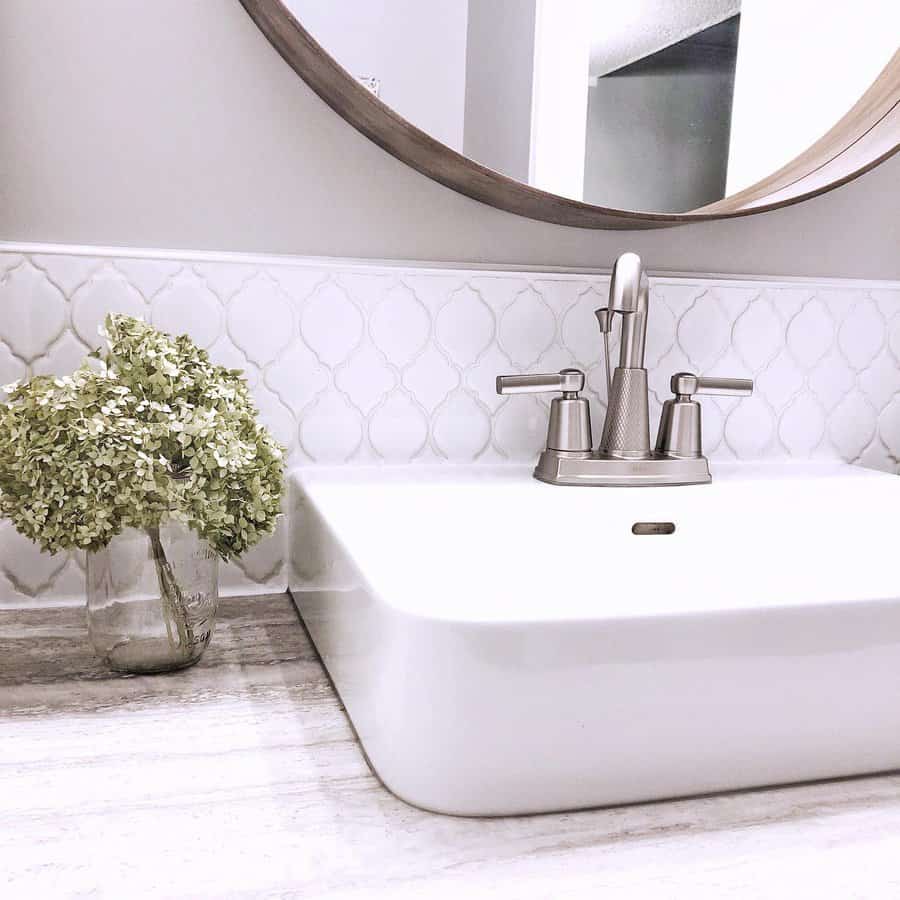 White bathroom tile pairs perfectly with vibrant wall paint and maximalist wallpaper. Your bold design choices won't need to compete with your backsplash tile.
On the other hand, many homeowners enjoy the look of an all-white bathroom. This look is clean, bright, and will never go out of style. Experiment with subtle textures or contrasting grout for a little variety in your bathroom backsplash.
15. Wood
Surprisingly few homeowners realize that a wooden bathroom backsplash is even a possibility. And it's a shame, since this material is the ideal complement to rustic, modern, and traditional styles alike.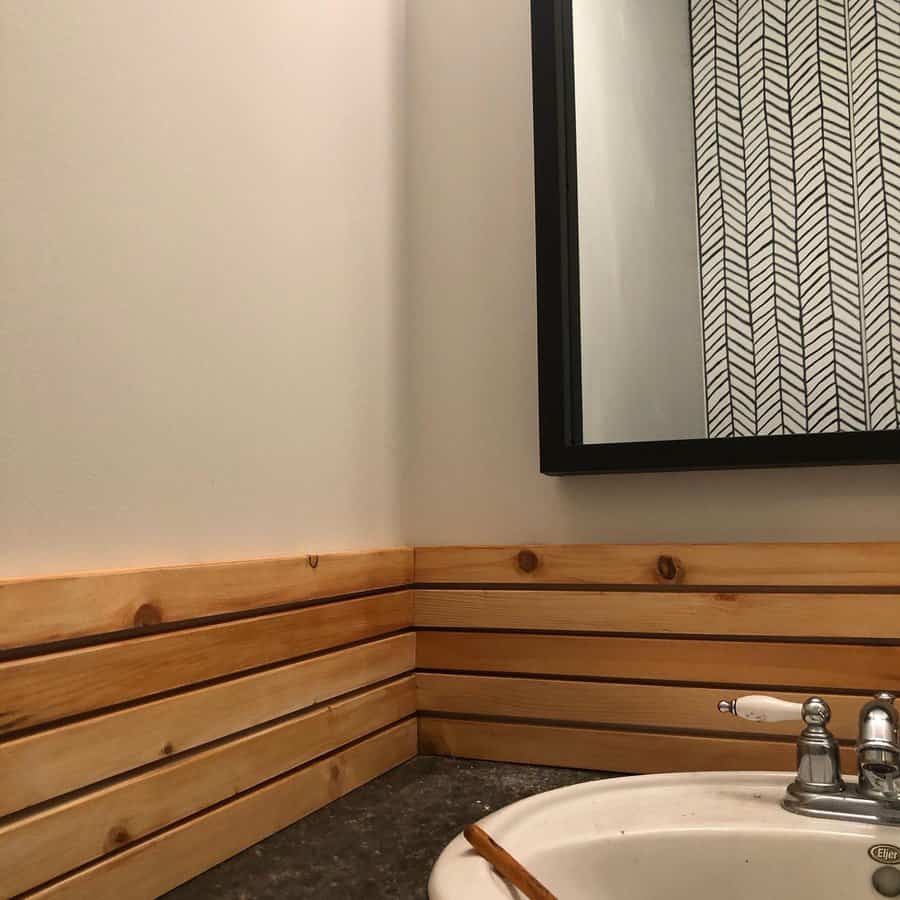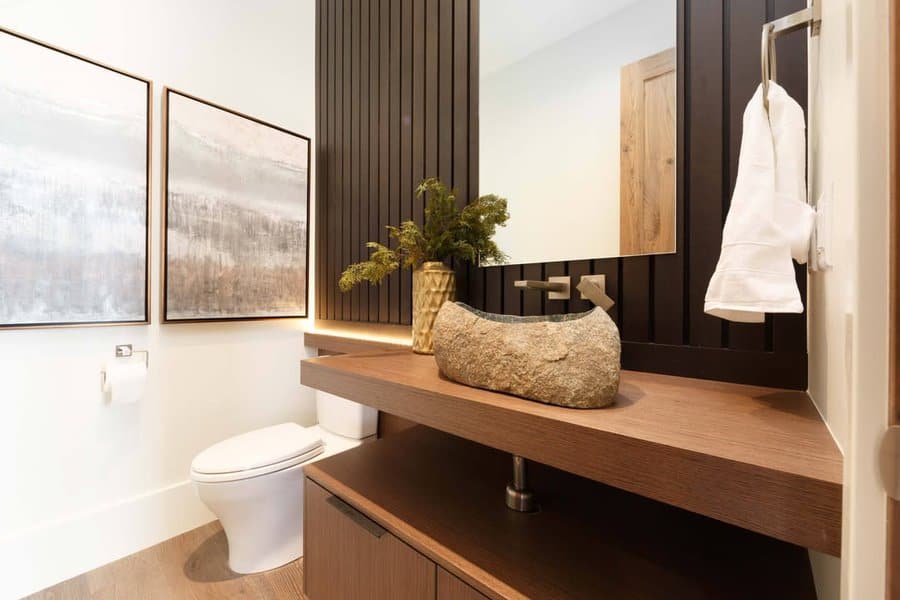 Wood backsplashes can take on many different appearances. Reclaimed pallet wood offers dramatic texture. Meanwhile, you can always opt for a glossy finish or a coat of paint for a more contemporary look.
Real wood is just one option for recreating this finish in your own bathroom. Ceramic tiles that look like authentic wood are growing in popularity. This is a great alternative if you're worried about the durability of using actual wood as a backsplash!
Bathroom Backsplash FAQs
Is there a difference between a kitchen and a bathroom backsplash?
Not really! While there are differences in kitchen and bathroom tile trends, the actual materials used are usually exactly the same.
Both kitchen and bathroom backsplashes protect the backing wall from moisture. Kitchen backsplashes also must be heat-resistant.
Almost all bathroom backsplash ideas can be used in the kitchen and vice-versa. But there are some materials better suited to one room than the other.
Can you use peel-and-stick tiles in a bathroom?
Yes, as long as you invest in a peel-and-stick backsplash that is resistant to humidity. Certain adhesives will deteriorate when exposed to the moisture found in most bathrooms. Even peel-and-stick tile designed for bathrooms may have a shortened life span versus other areas of the home.
How high should a bathroom backsplash be?
A bathroom backsplash should be at least 3 or 4 inches tall to protect the drywall behind it from water damage. On the other hand, there is no maximum recommended height for a bathroom backsplash.