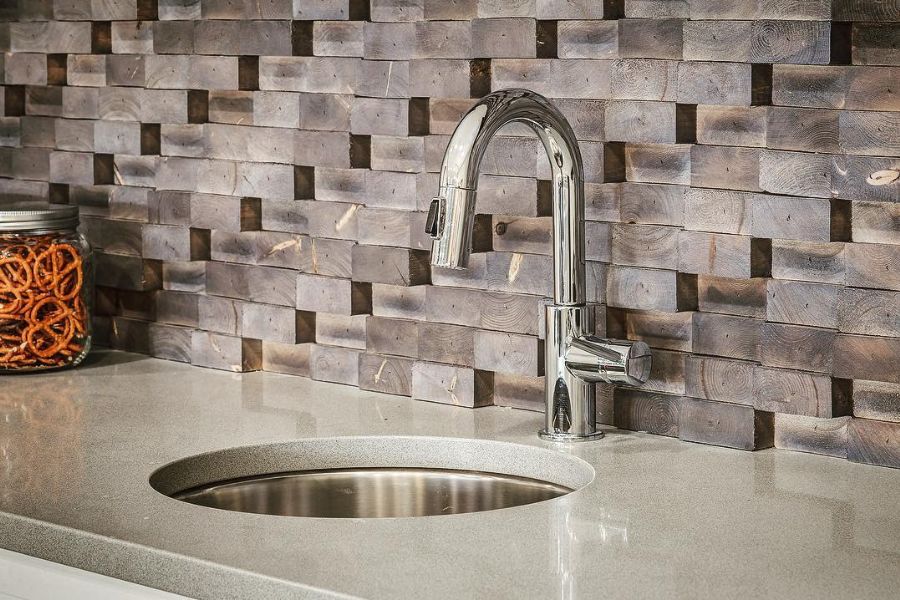 47 Kitchen Backsplash Ideas and Designs for Every Style
by — Kendrick Hulse

Published on August 10, 2021

Updated on October 15, 2023
Many homeowners spend years dreaming of a new kitchen. Yet between new appliances and tearing down walls, it's easy to forget about the little things. One detail you should never overlook is your new kitchen backsplash!
Your kitchen backsplash is a protective barrier between your culinary workspace and the drywall underneath. It's also the perfect place to show off your taste in interior decor.
Draw inspiration from these kitchen backsplash ideas when planning out your future home improvement!
Read also: Kitchen Backsplash Ideas on a Budget
1. Radiate Rustic Appeal with Exposed Brick
Infuse your kitchen with a touch of timeless charm by embracing exposed brick or wooden cabinet backsplashes. These materials bring a warm and textured ambiance to your kitchen, creating a distinctive and stylish look.
To achieve this design, seek the expertise of a seasoned mason or carpenter who can seamlessly incorporate these elements. For a cohesive finish, complement the style with rustic accents like wrought-iron fixtures and reclaimed wood furnishings, making your kitchen space inviting and visually appealing.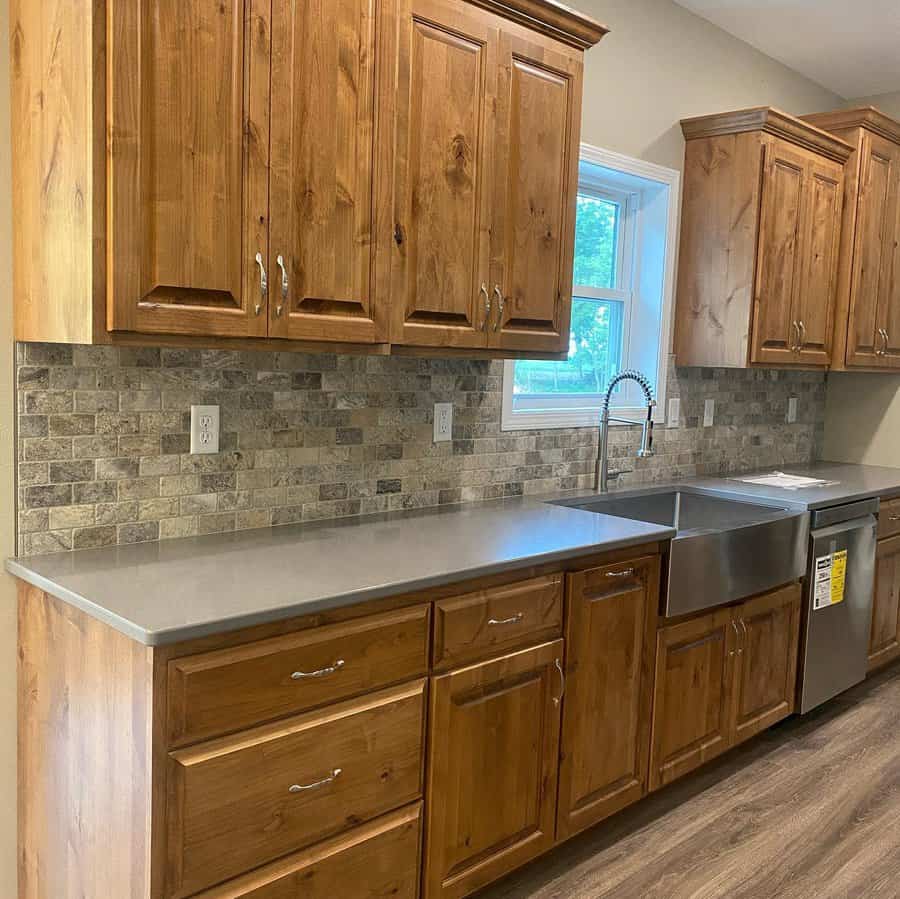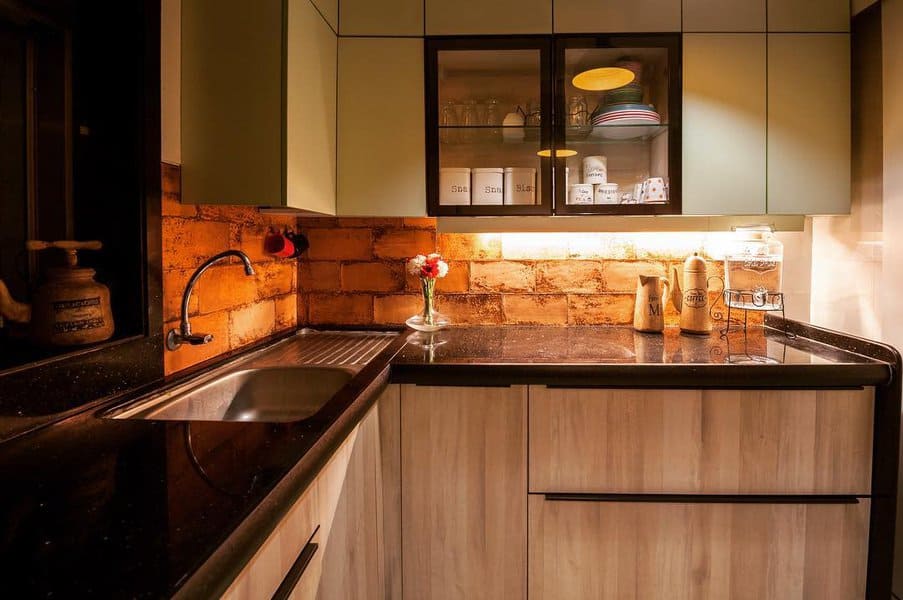 2. Create Depth and Drama Using Dark Tiles
When looking to create depth and drama in your kitchen, consider incorporating dark tiles into your backsplash. This design choice can beautifully accentuate a white kitchen, lending a sense of sophistication and style. Dark tiles offer a striking contrast against pristine walls and can even showcase unique patterns with beveled options. Beyond aesthetics, dark tiles are also low-maintenance, ensuring your kitchen remains both beautiful and easy to clean over time.
To complement this look, consider pairing dark tiles with light-colored countertops and cabinets. This contrast will create a visually appealing balance in your kitchen space.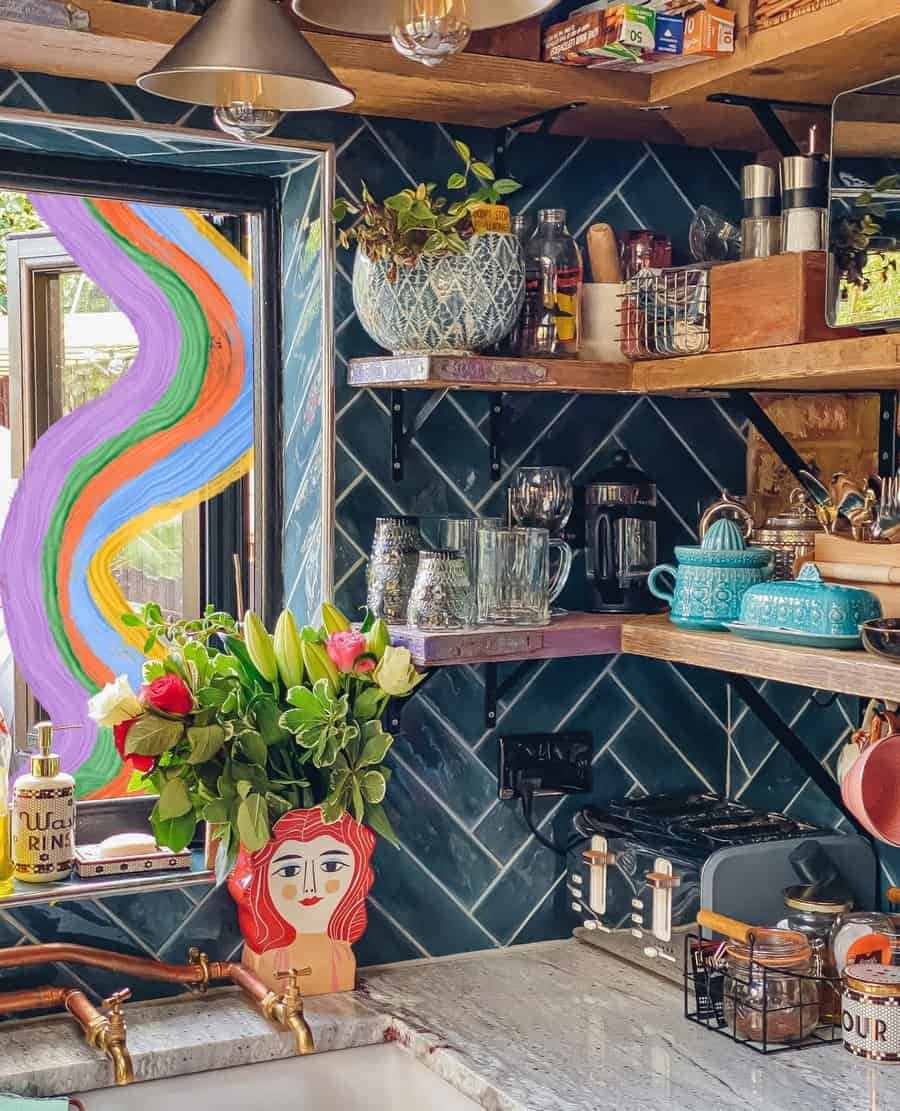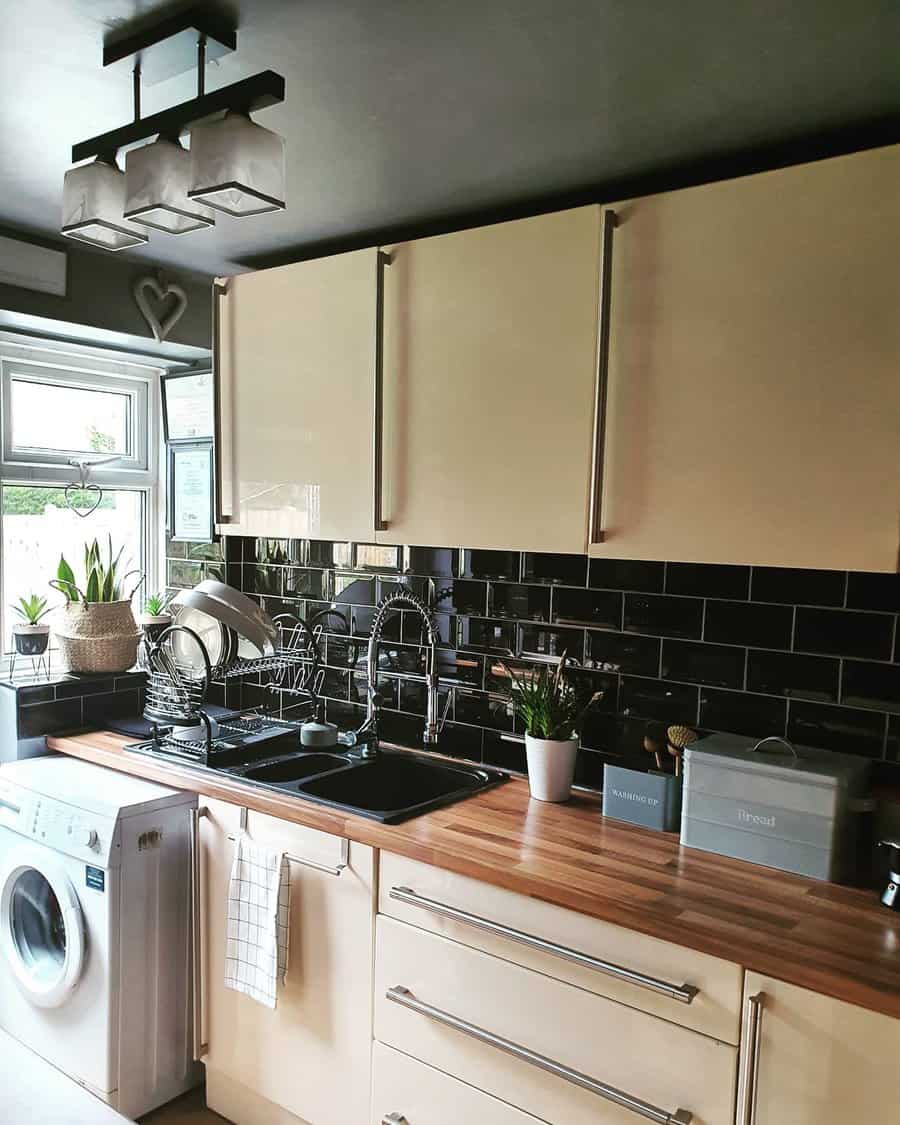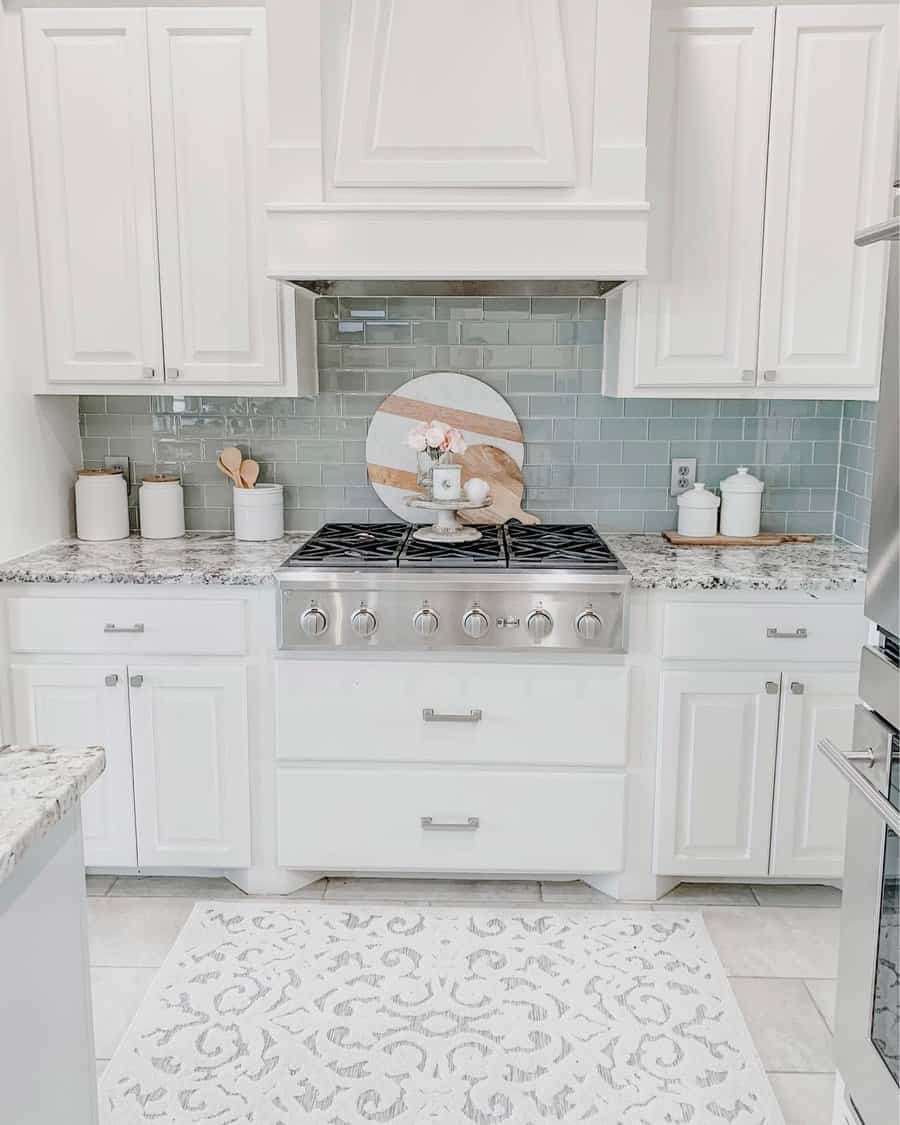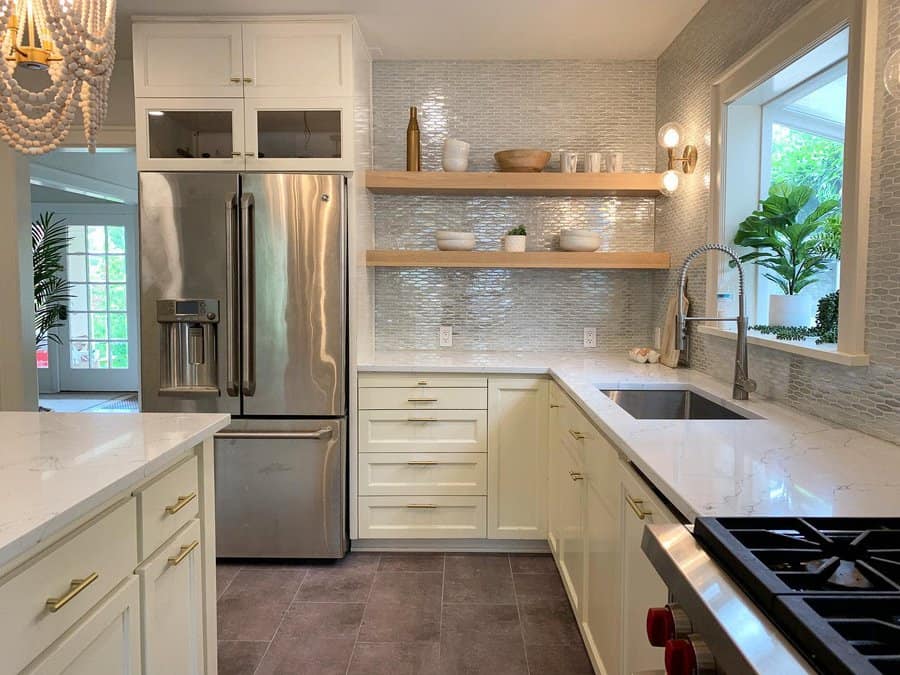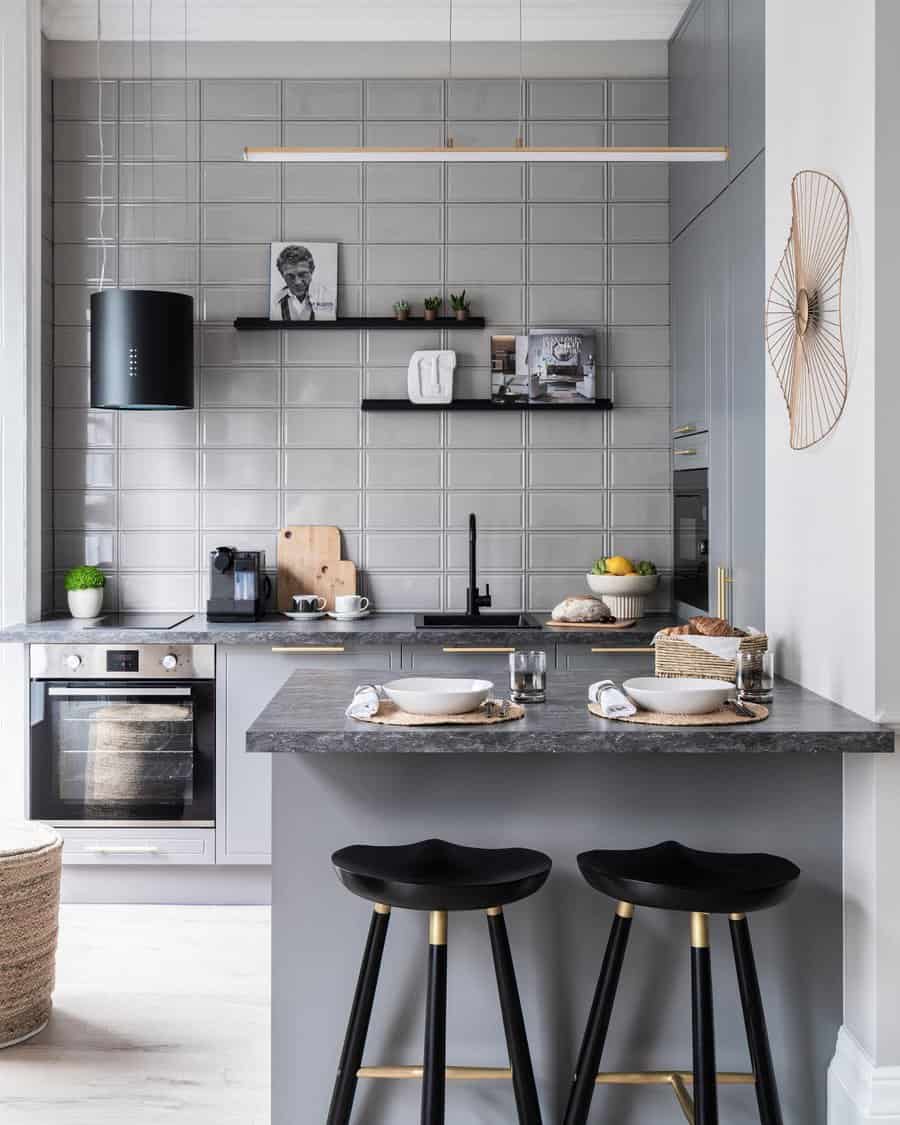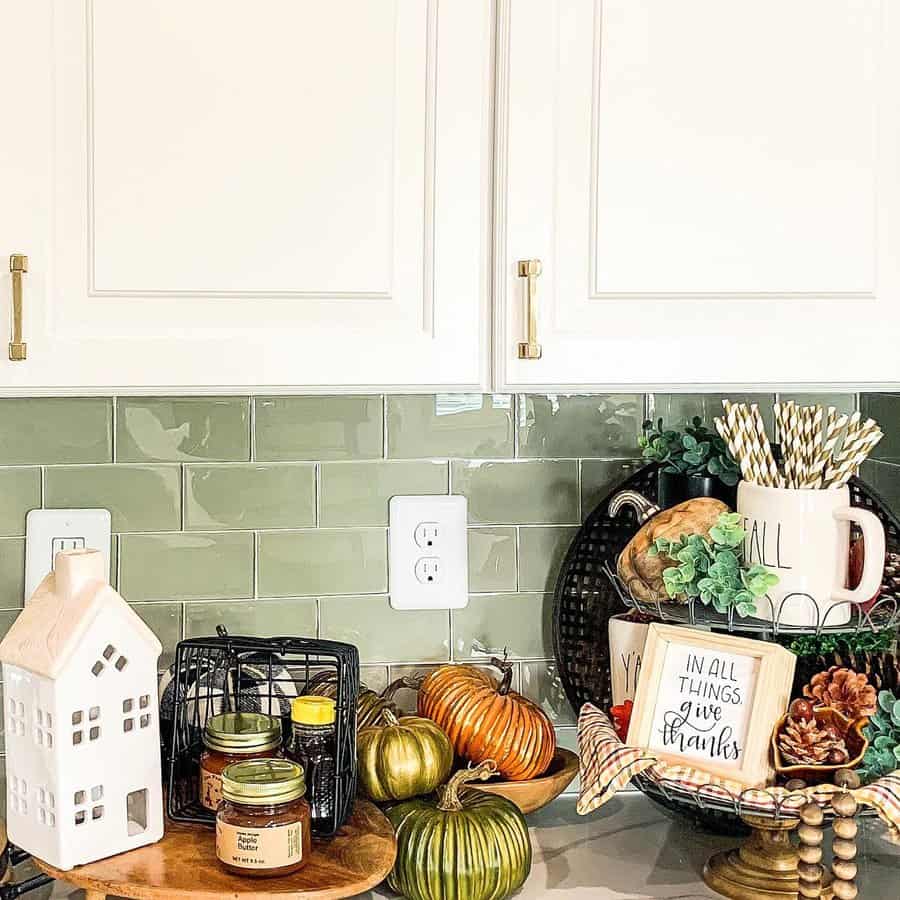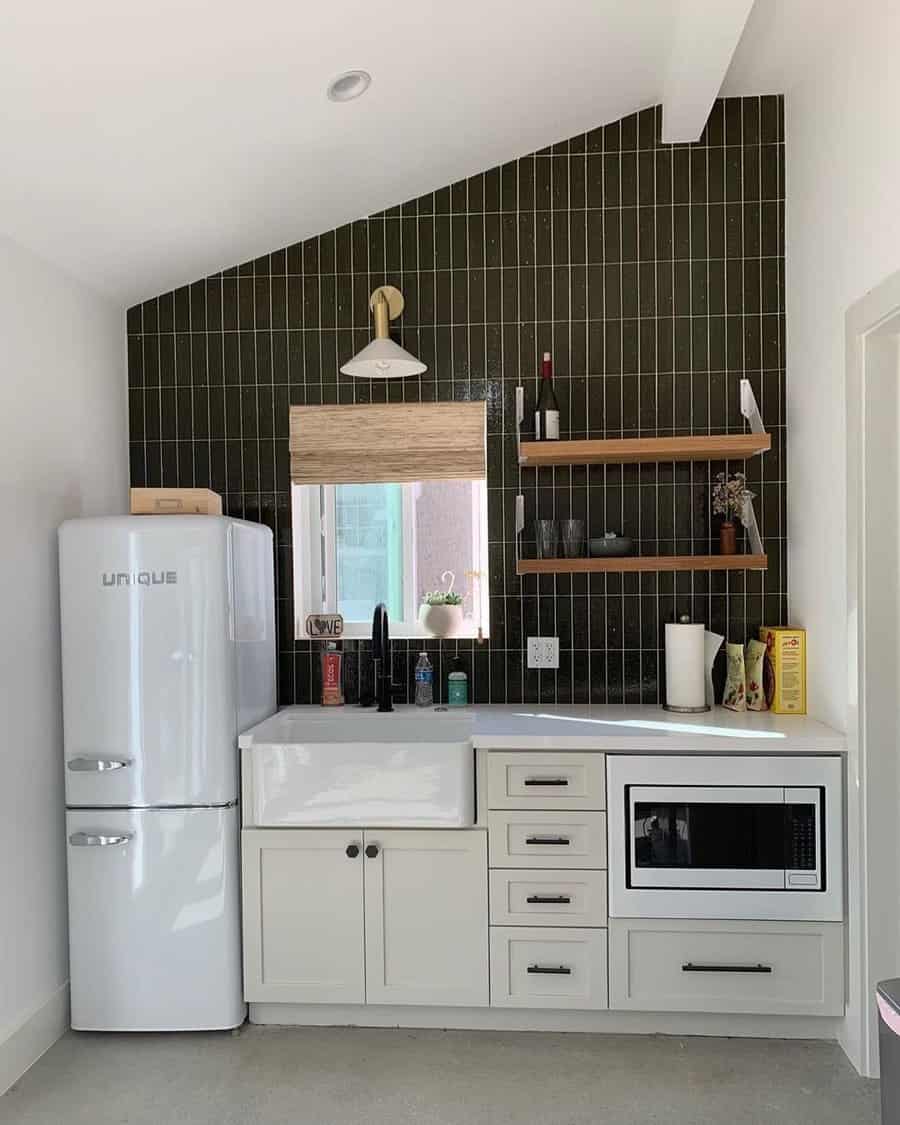 3. Infuse Your Kitchen with Mosaic Marvel
Elevate your kitchen's aesthetic with glass mosaic tiles and sleek silver metal fixtures for a modern, elegant look. These tiles are adept at reflecting light from various angles, infusing your space with brightness and an airy atmosphere. The versatility of glass tiles allows you to craft a personalized pattern that aligns with your unique style. For a cohesive design, intersperse them with metallic silver fixtures or arrange them in captivating geometric patterns to breathe life and vitality into your kitchen.
Pair the mosaic tiles with neutral or monochromatic color schemes for a contemporary and cohesive kitchen design. This will create a harmonious balance and let the mosaic tiles take center stage.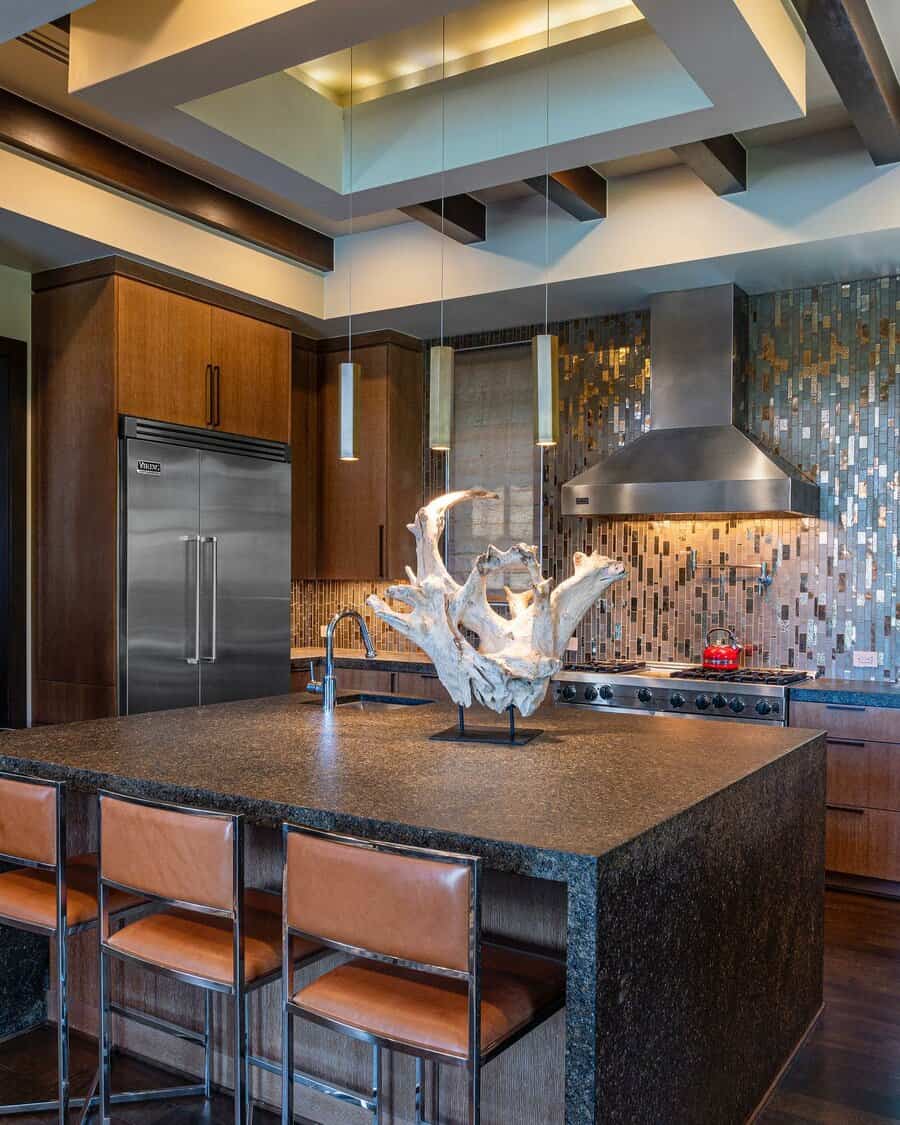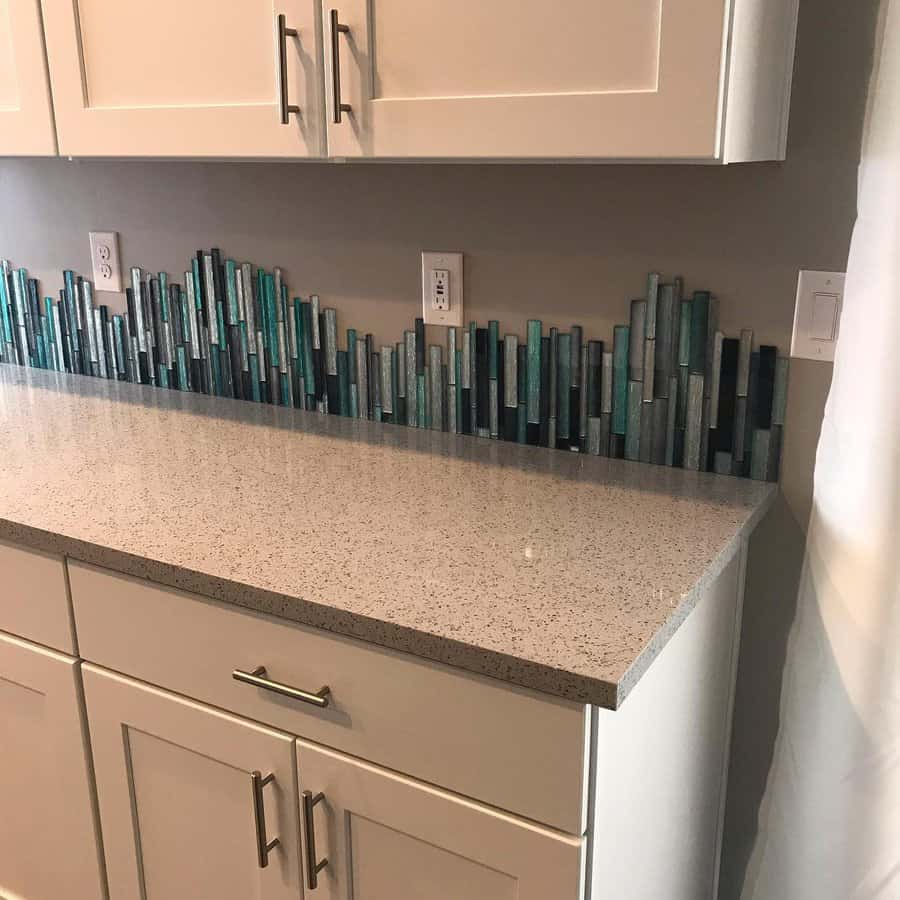 4. Set the Ambience with LED Mood Lighting
Transform your kitchen with a dark backsplash to set a unique ambiance. Opt for dark tiles to add depth and unleash your creativity. Enhance this look with LED strip lights, which will infuse your dark backsplash with a sophisticated and captivating style. Embrace the bold statement of dark tiles, making your kitchen a captivating focal point for all to admire.
To balance the darkness, pair your dark backsplash with light-colored countertops and cabinets. This striking contrast will create a visually pleasing equilibrium and make your kitchen truly stand out.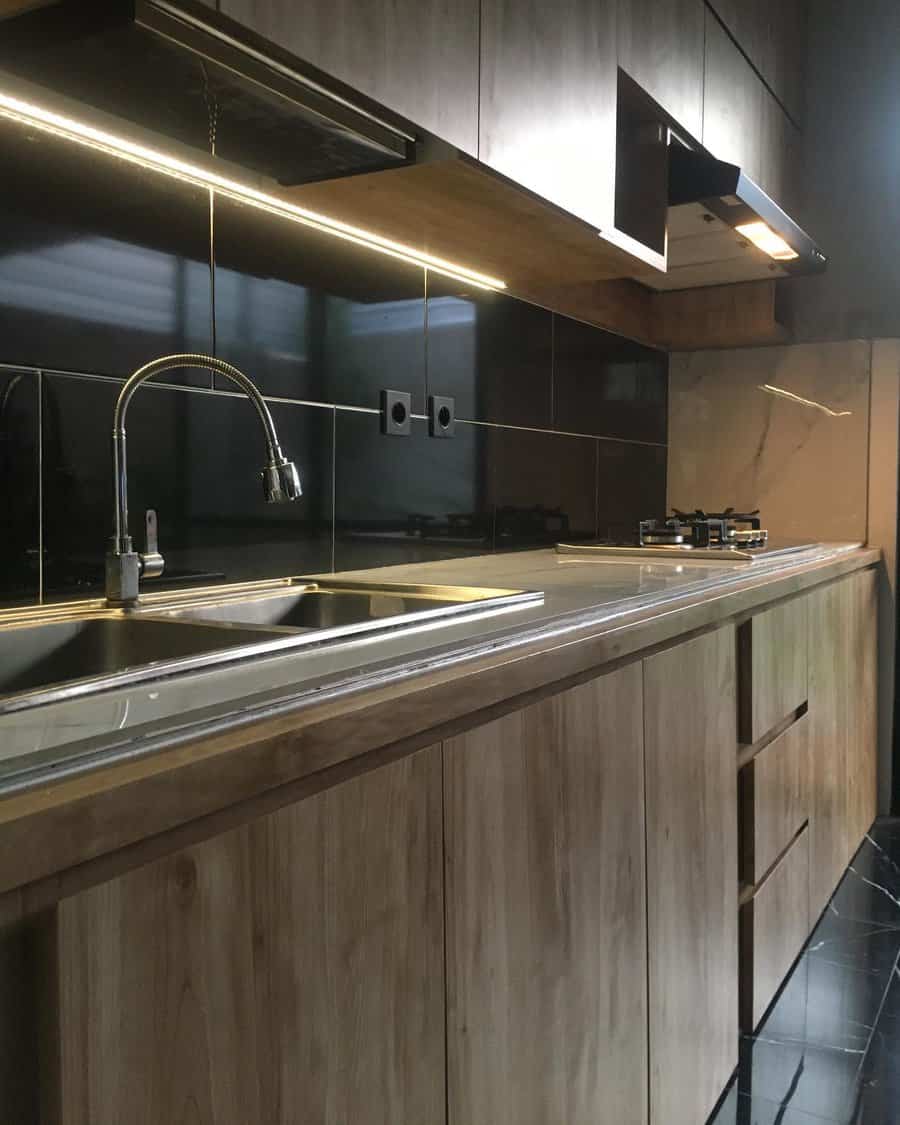 5. Achieve a Seamless Look with Glass Backsplash
Uplift the visual appeal of your kitchen by introducing the modern allure of glass sheet tiles as your backsplash. This option not only grants a thoroughly modern appearance but also introduces reflective qualities that swiftly enhance your cooking area.
Moreover, glass tiles deliver vital protection against the intrusion of grease, oils, and moisture into your walls, streamlining the maintenance process. Whether you're hosting guests or simply preparing your favorite meals, glass sheet tiles prove to be an excellent choice for your kitchen backsplash.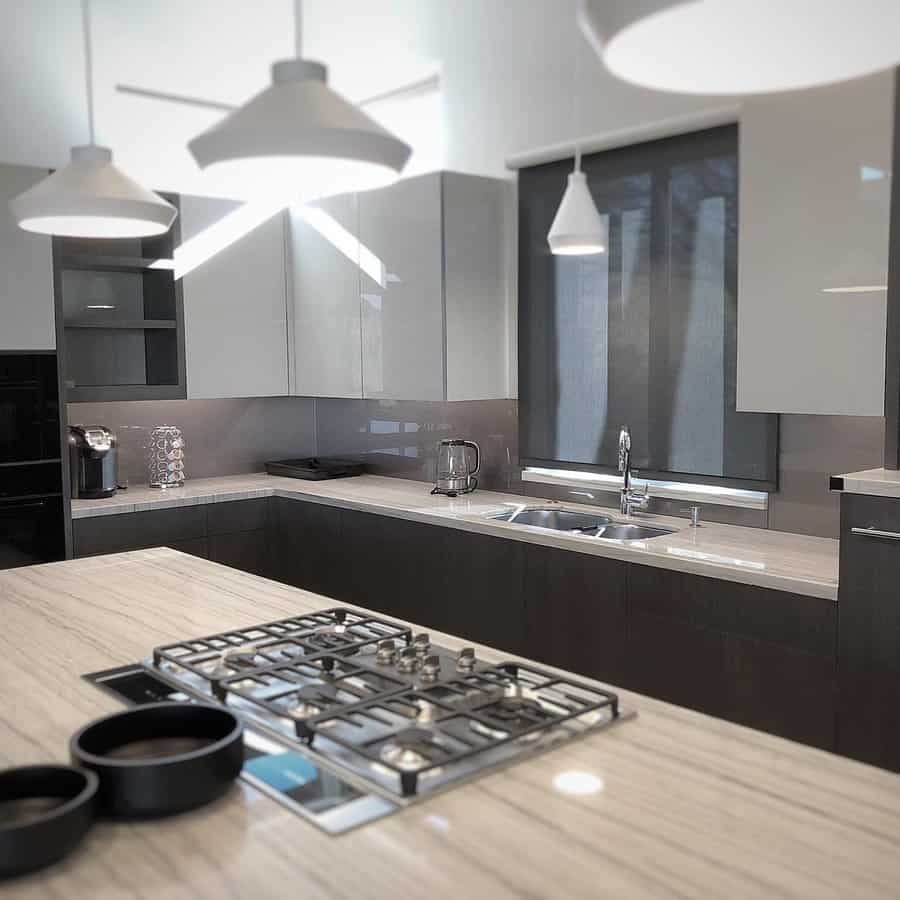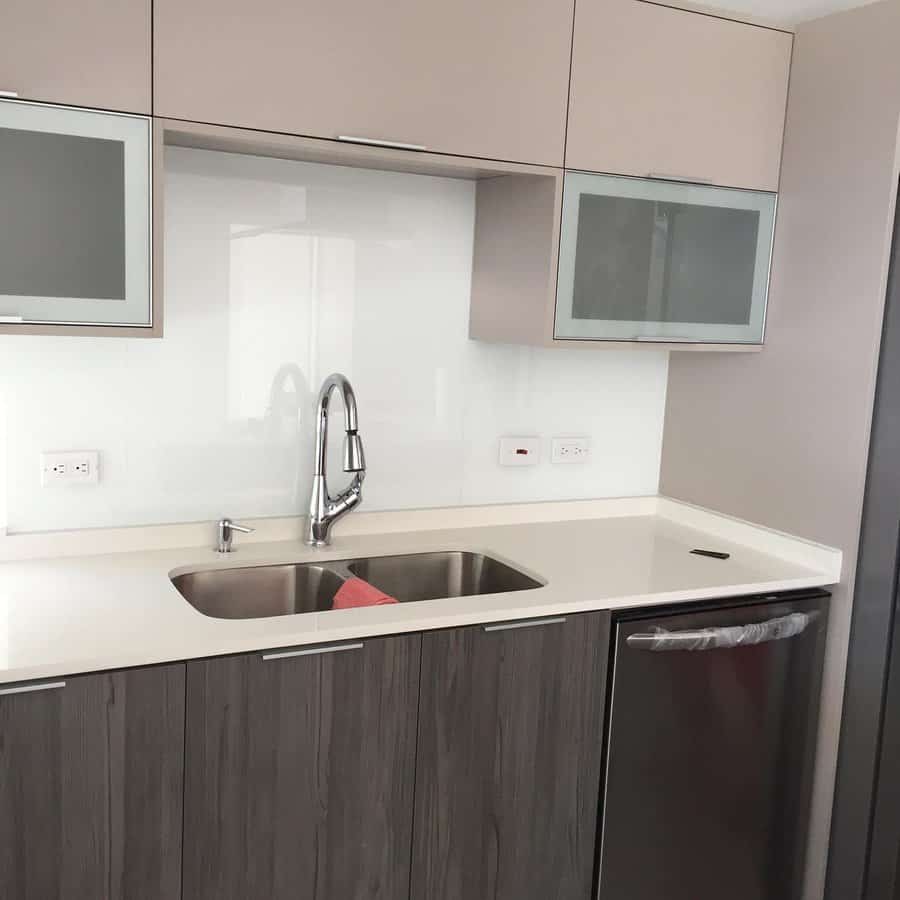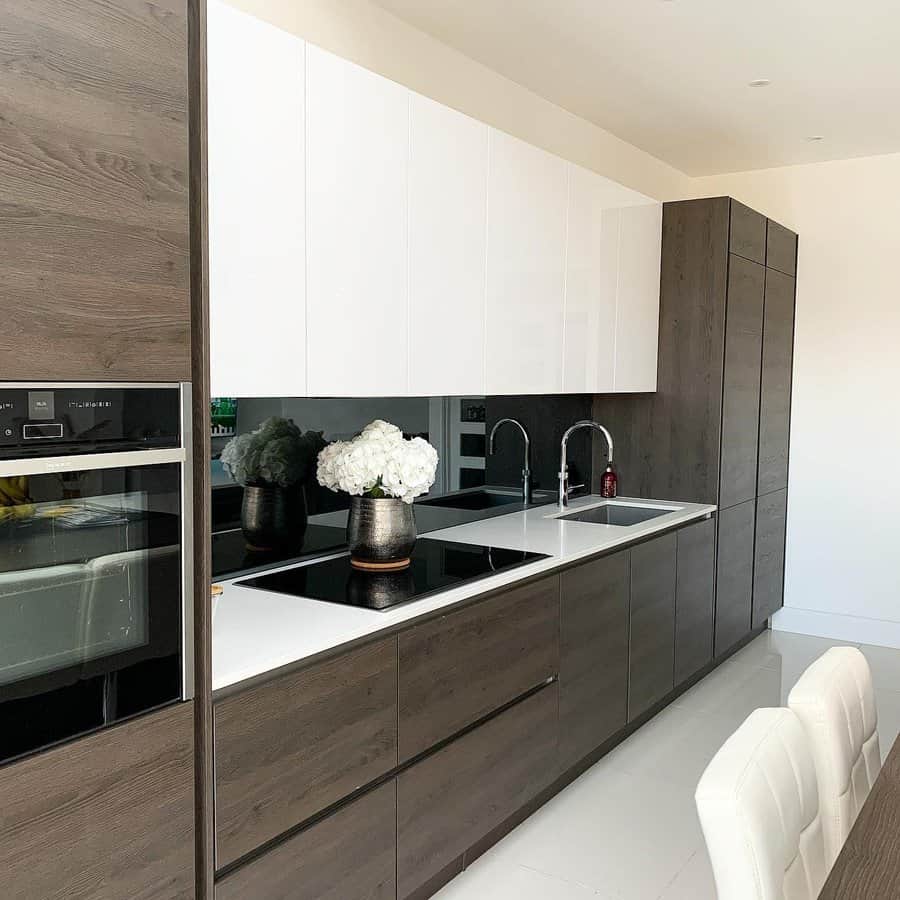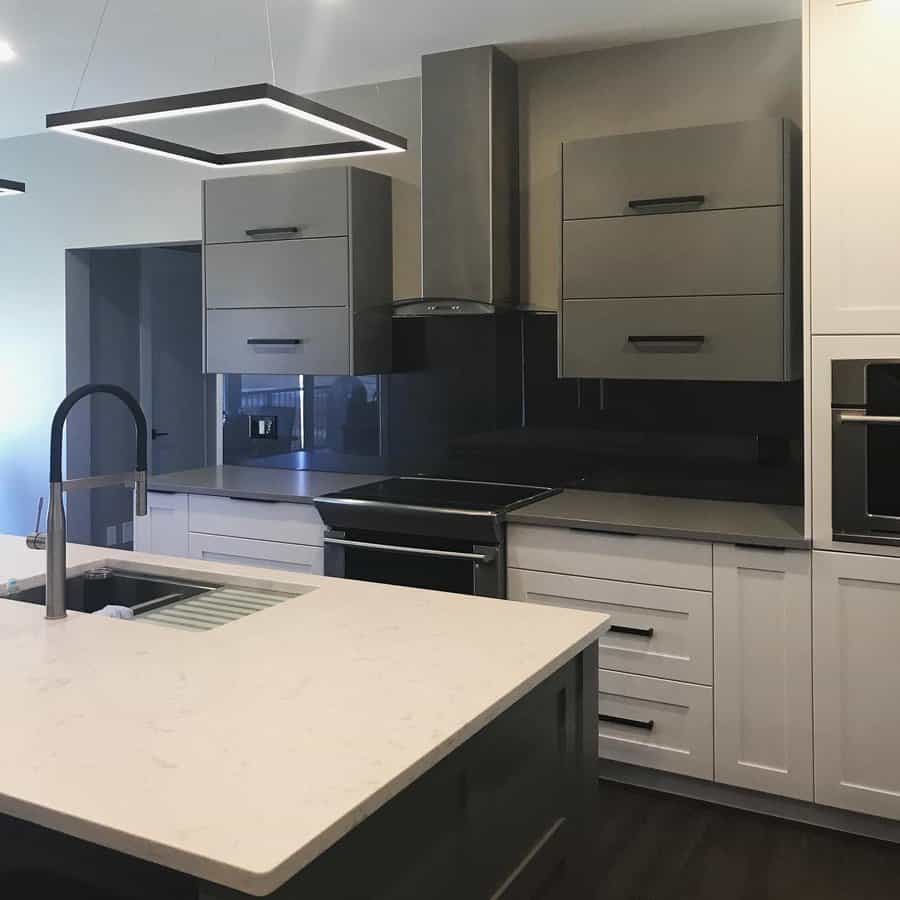 6. Experience Timeless Luxury with Marble
Marble backsplashes exude timeless opulence, particularly when coordinated with dark marble countertops. To achieve this refined aesthetic, opt for marble hues that blend seamlessly with your kitchen's color palette.
For instance, combining beige with white marble or opting for marble with golden flecks can infuse a sense of grandeur into your space. To round off this look, explore ways to integrate additional design elements that harmonize with this enduring elegance within your kitchen decor.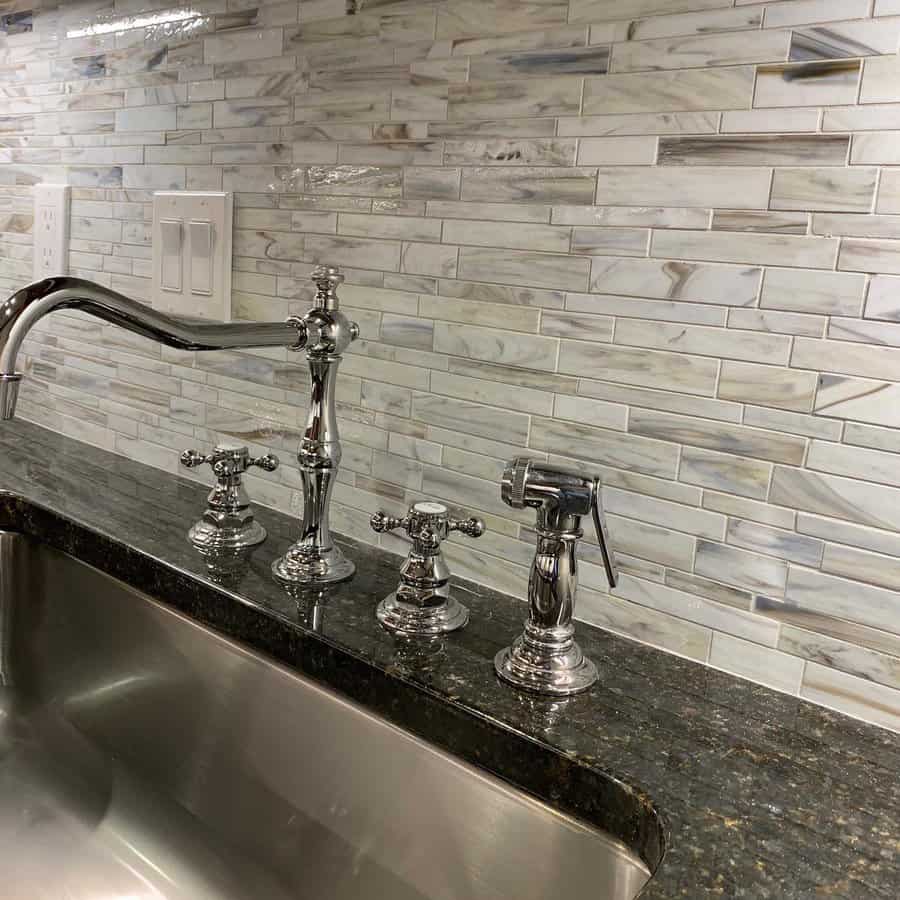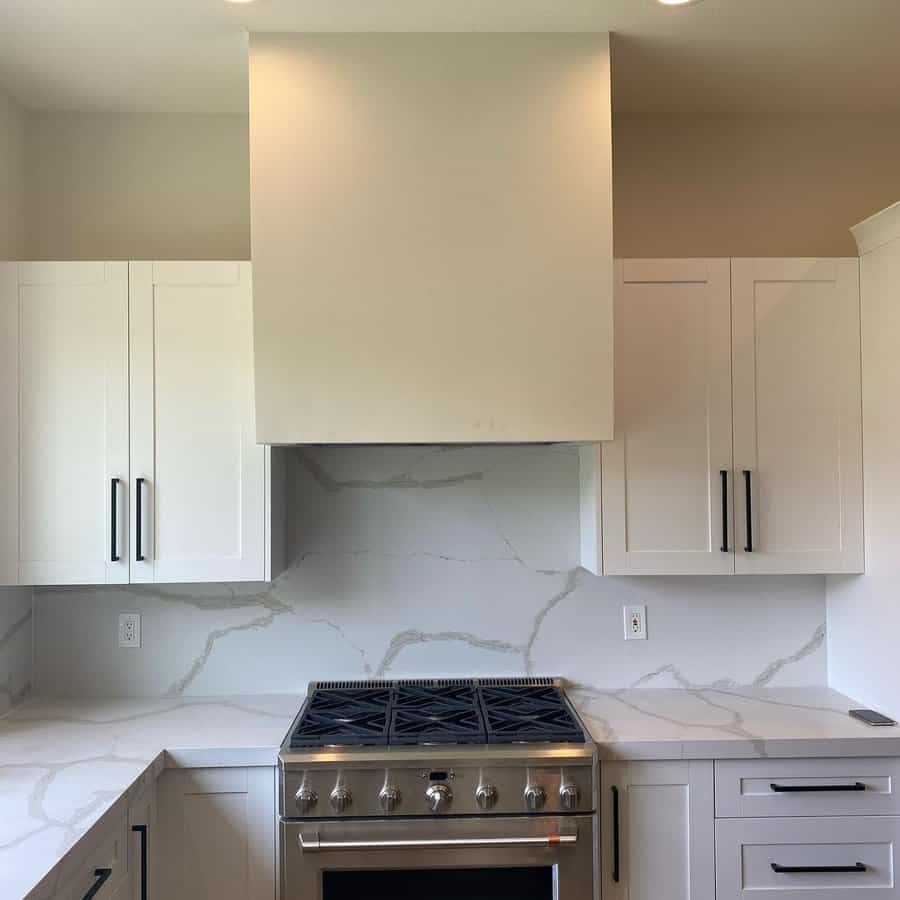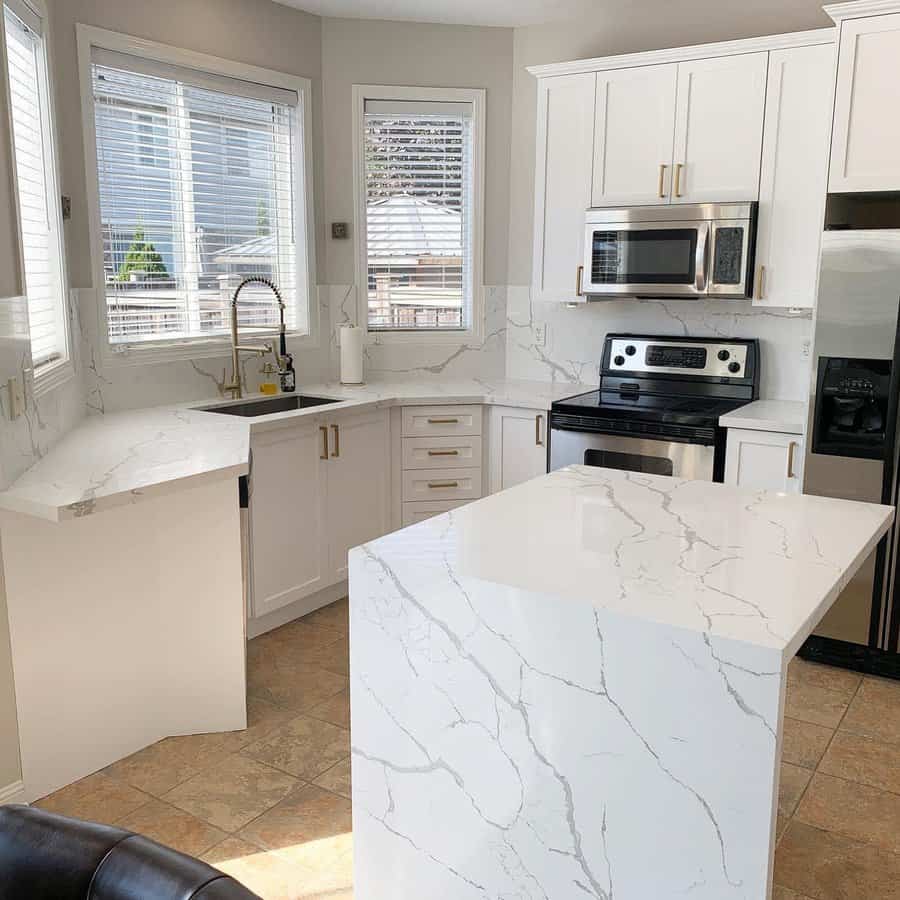 7. Enhance Brightness with a Mirrored Backsplash
For a touch of luxury and increased brightness in your kitchen, consider a mirrored backsplash. Mirrored tiles, like beveled mirror tiles or mirrored glass tiles, not only reflect light, making your space feel more open and inviting but also create a captivating focal point on your wall.
To take it a step further, experiment with creative grout colors and a mix of tile materials and textures to craft an intricate pattern that adds depth and dimension to your kitchen. This stunning backsplash isn't just visually appealing; it's also low-maintenance and durable, making it an excellent choice to create that 'wow' factor in your kitchen.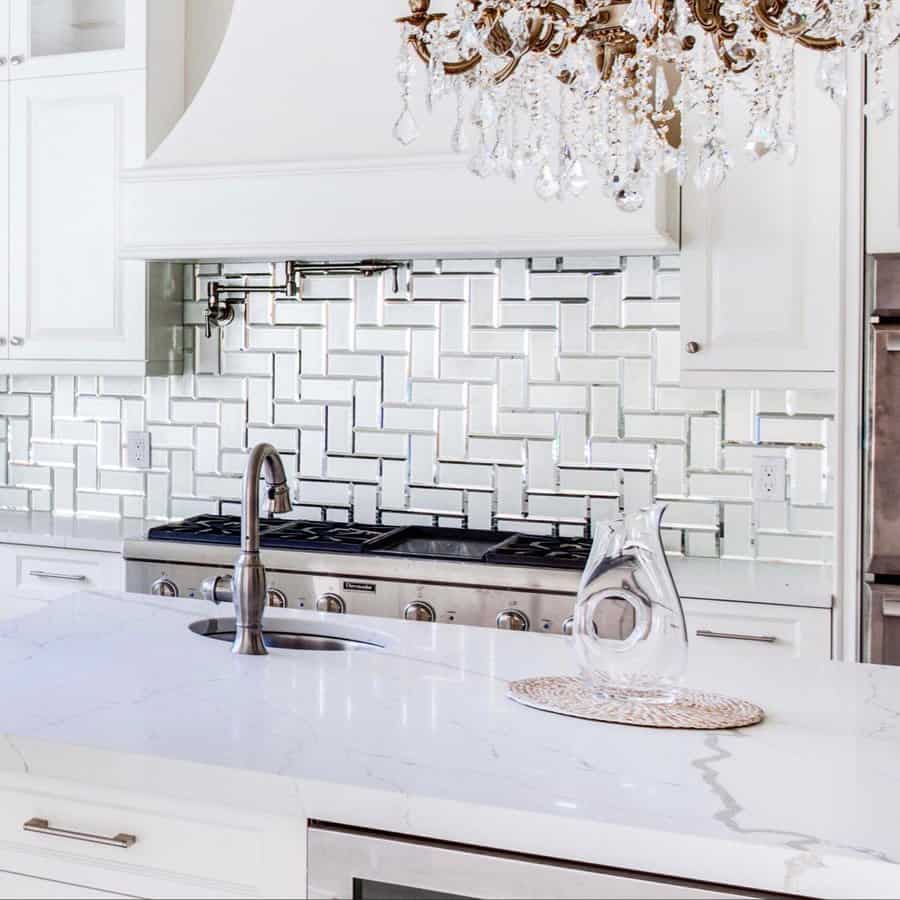 8. Metallic Elegance for a Unique Touch
Introducing a decorative metal backsplash not only adds an artistic flair but also serves as a functional shield for your walls. Whether you prefer sleek polished steel or the warmth of copper tiles, the choice of metal can be tailored to harmonize with your countertop and appliance colors. This not only enhances the aesthetics but also safeguards your kitchen against water damage and moisture accumulation. To complete your modern interior design, consider the endless possibilities for customization and creativity a metal tile kitchen backsplash offers.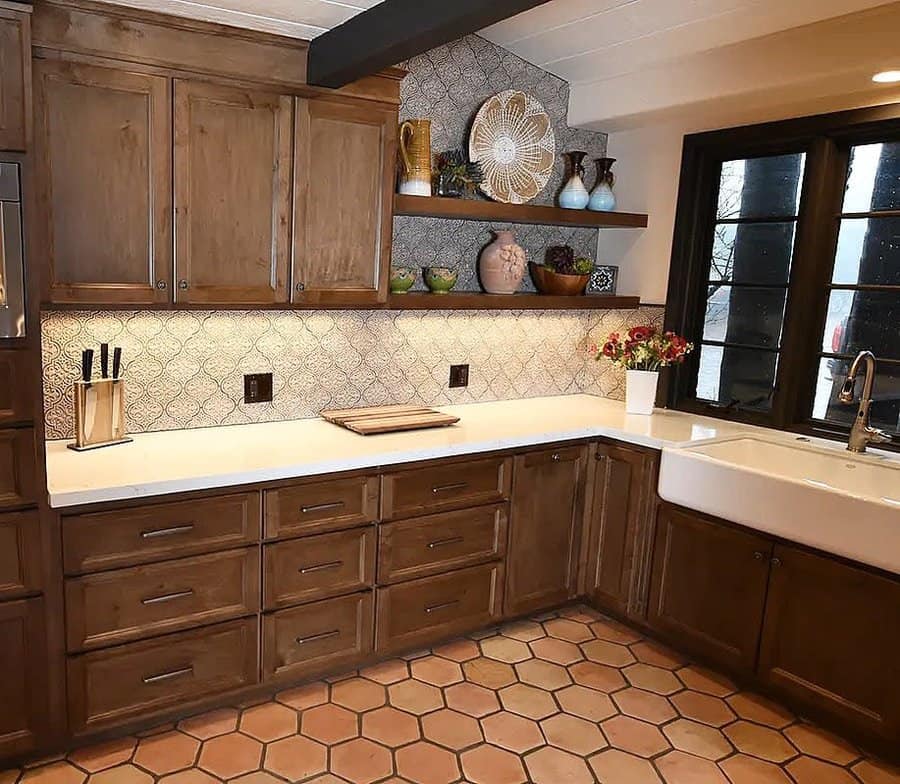 9. Introduce Visual Interest with Patterns
A decorative kitchen backsplash is an excellent way to infuse character into your home's heart. It's a canvas for expressing your individual style and personality as a homeowner. Explore a wide array of creative options, from decorative tiles to 3D patterned wallpaper, to find a design that seamlessly blends with your kitchen's existing decor or inspires a fresh, exciting look. With a plethora of choices at your disposal, you have the opportunity to craft a lively and captivating environment that your loved ones will relish for years to come.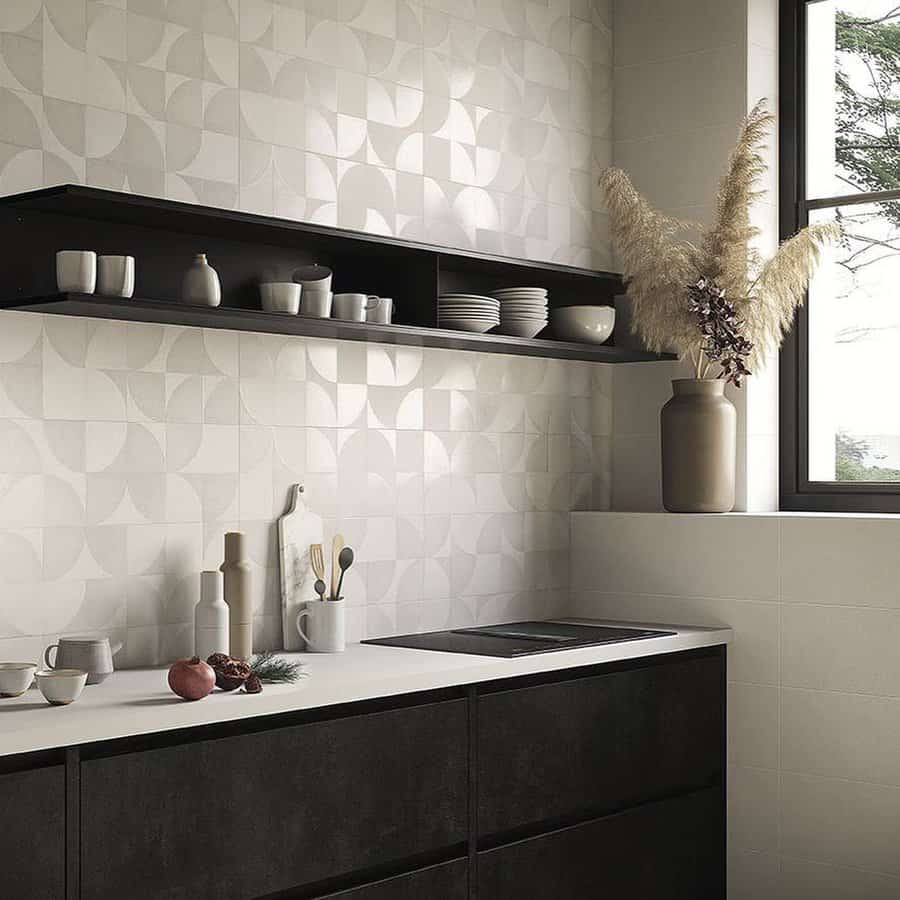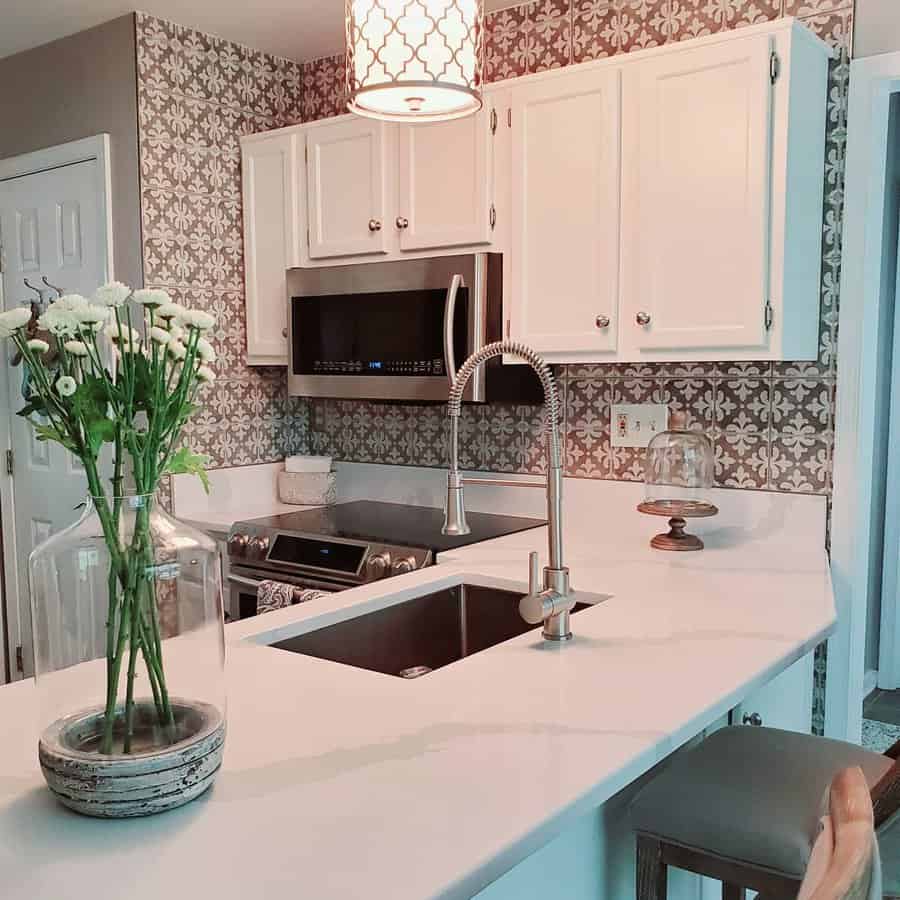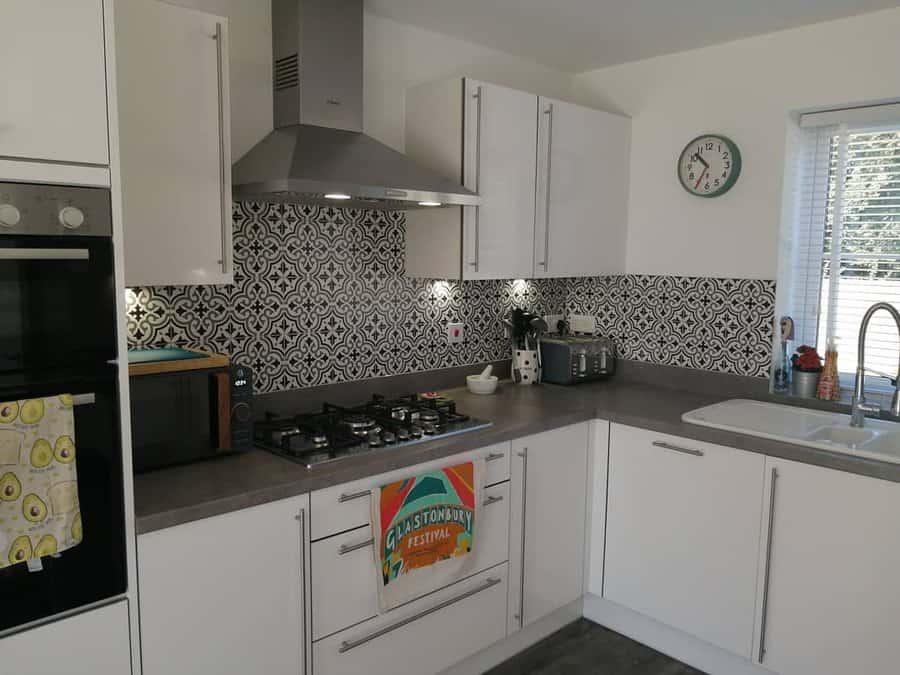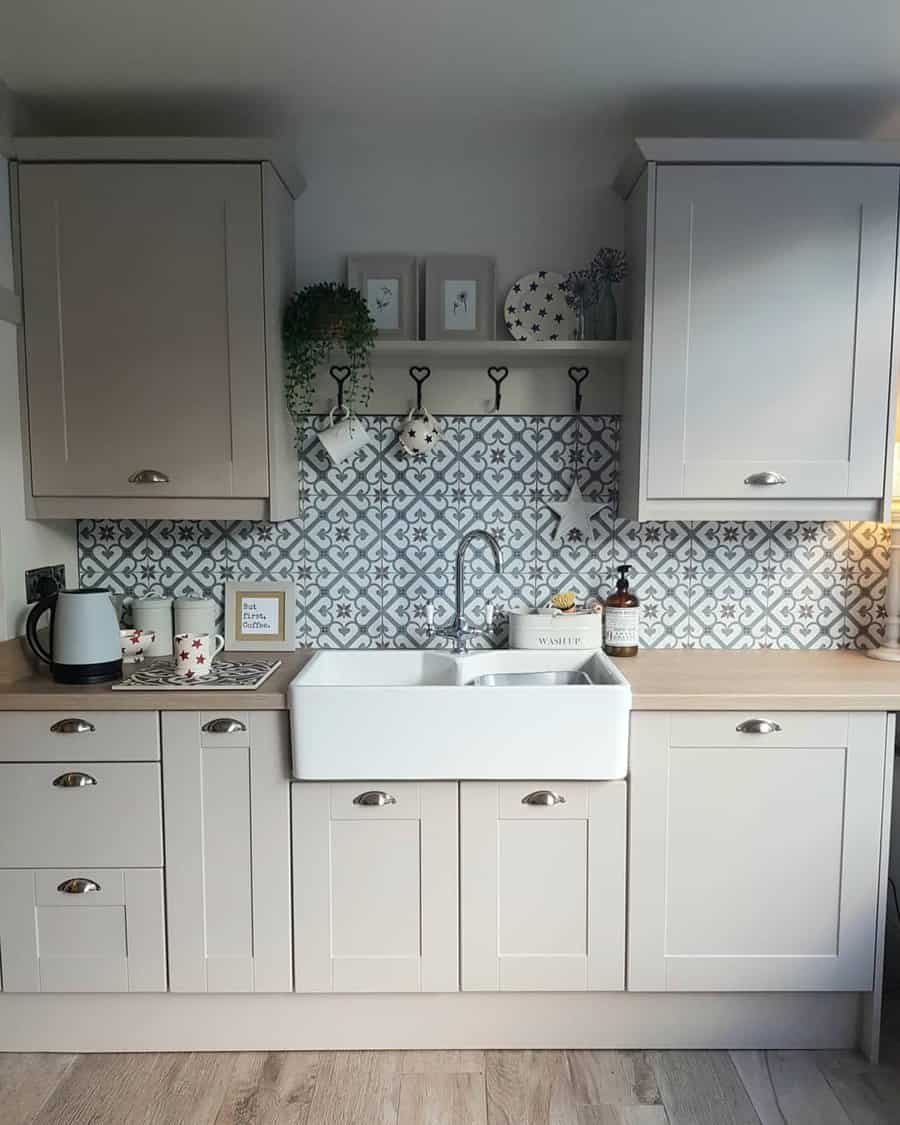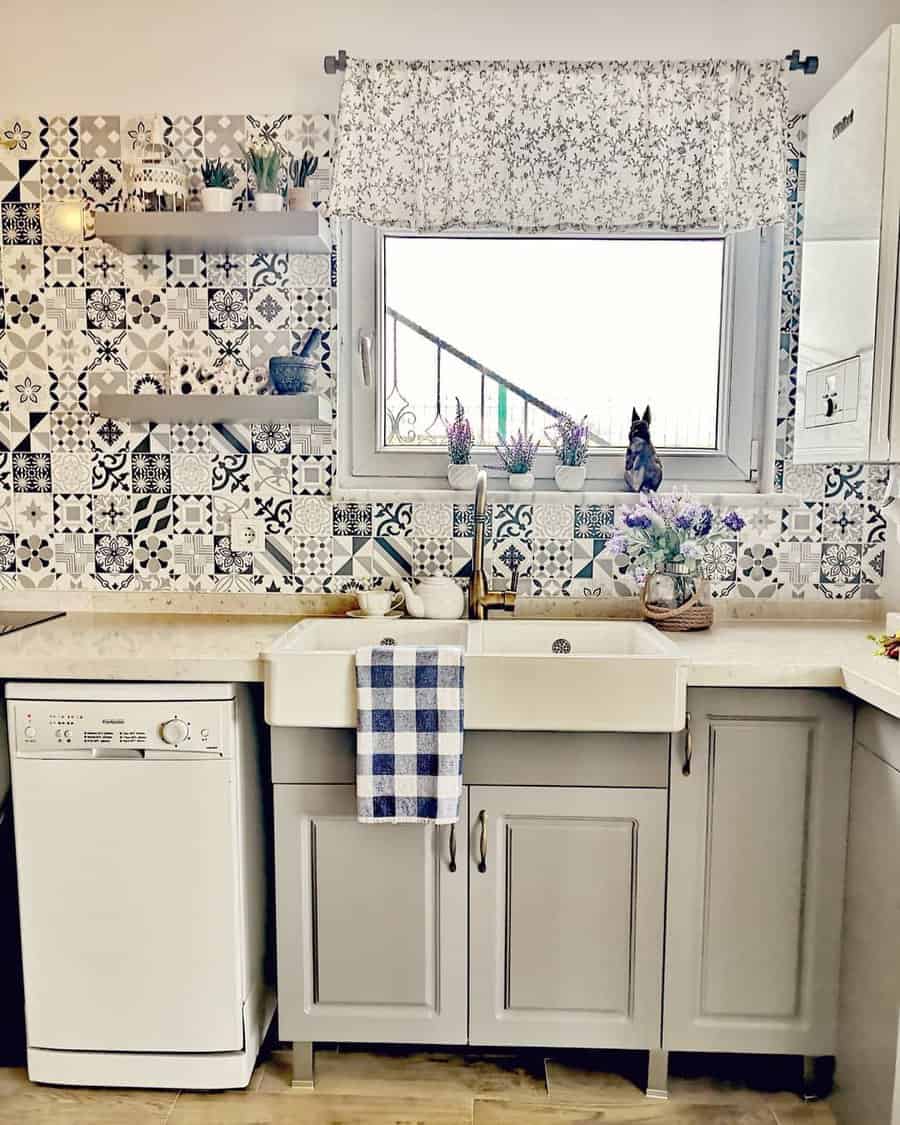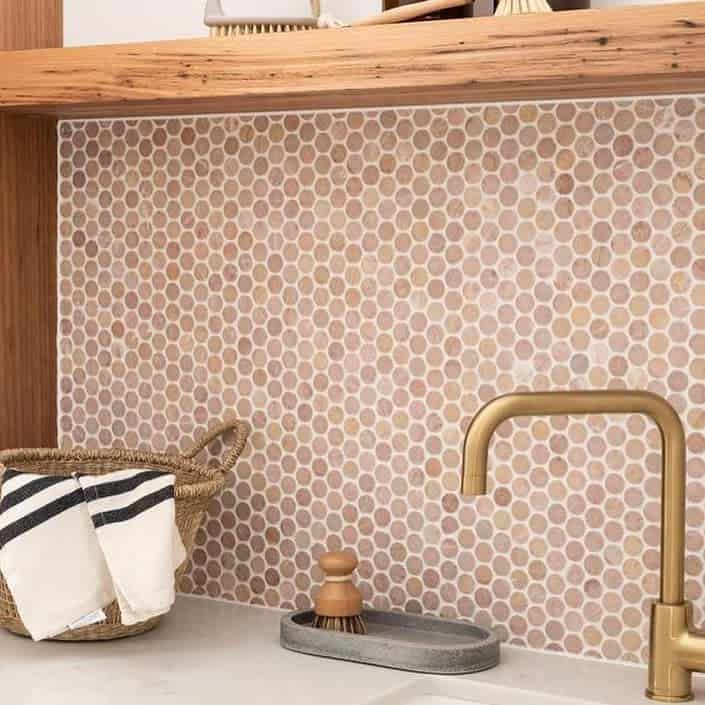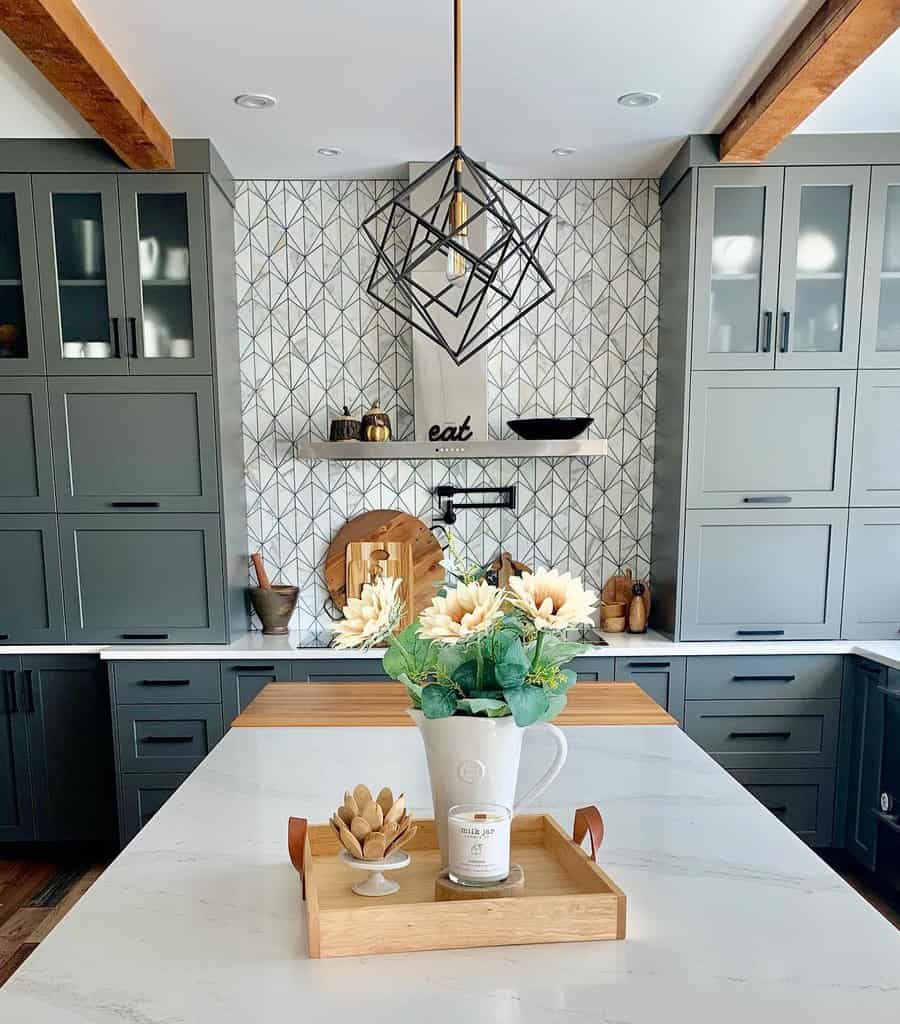 10. Revel in the Textured Delights of Rustic Tiles
Give your kitchen a charming update with the rich textures of rustic tiles. Texture is a key trend in modern interior design, and textured tiles are a fantastic choice to rejuvenate your kitchen. These tiles are available in a variety of colors, shapes, and materials, making it easy to find the perfect match for your space.
For a timeless and inviting look, consider combining textured tiles with classic distressed shiplap walls, creating a warm and unique atmosphere that's bound to be a conversation starter. Learn how to incorporate these textures into your kitchen for a cozy, eye-catching aesthetic.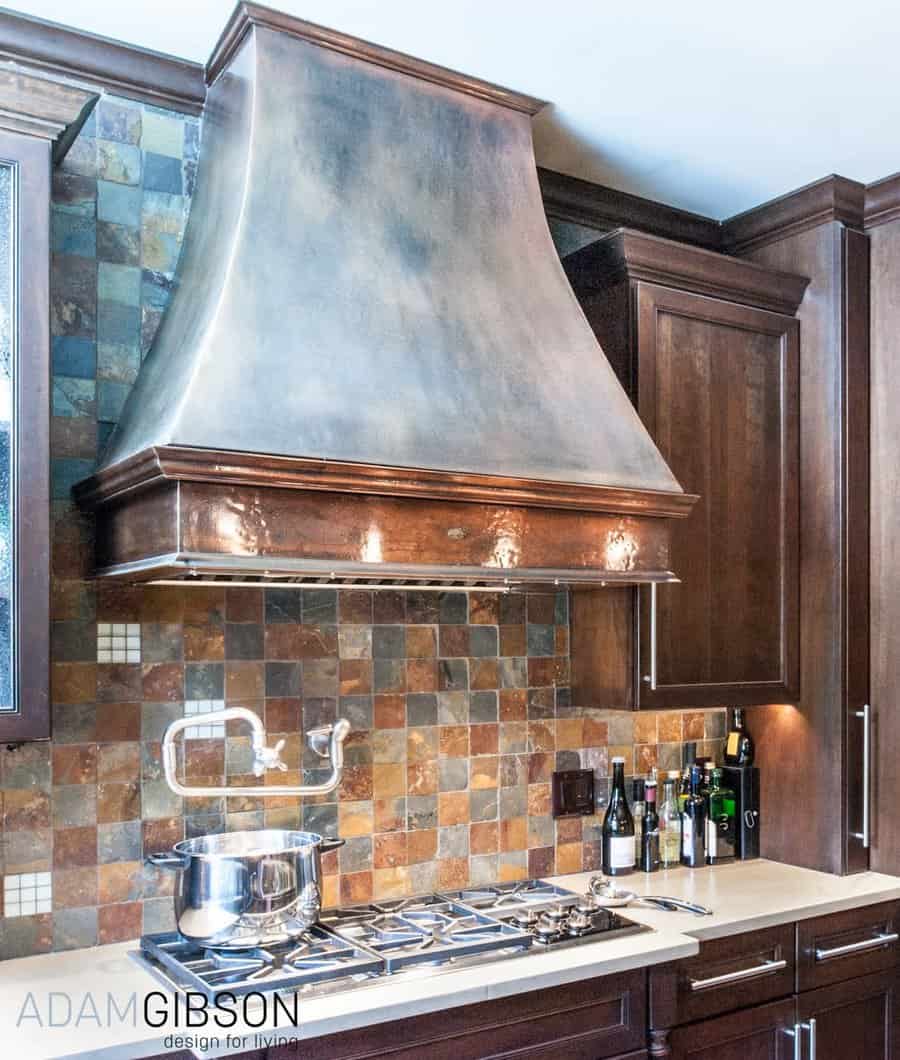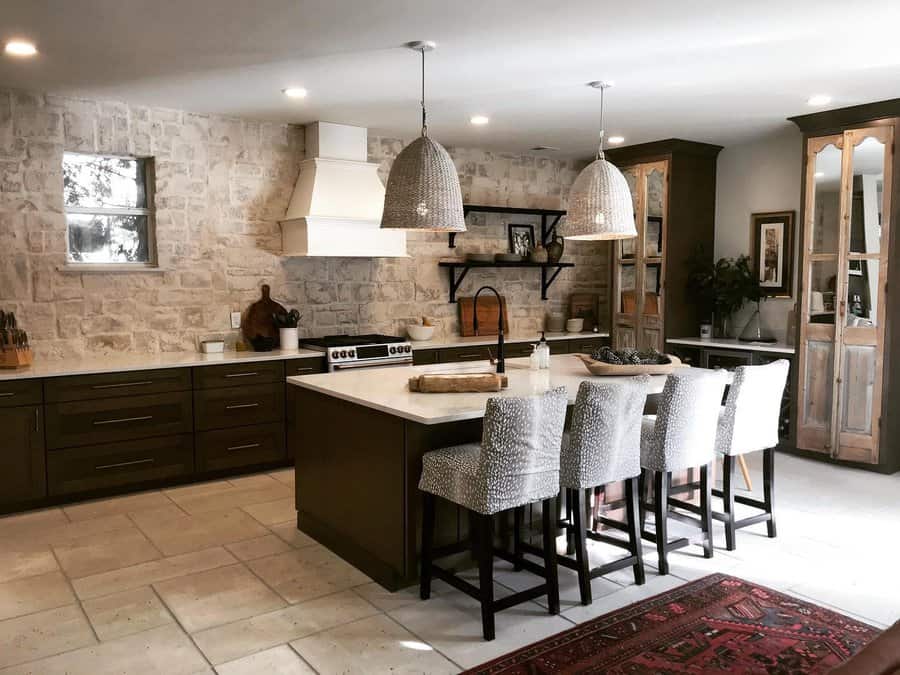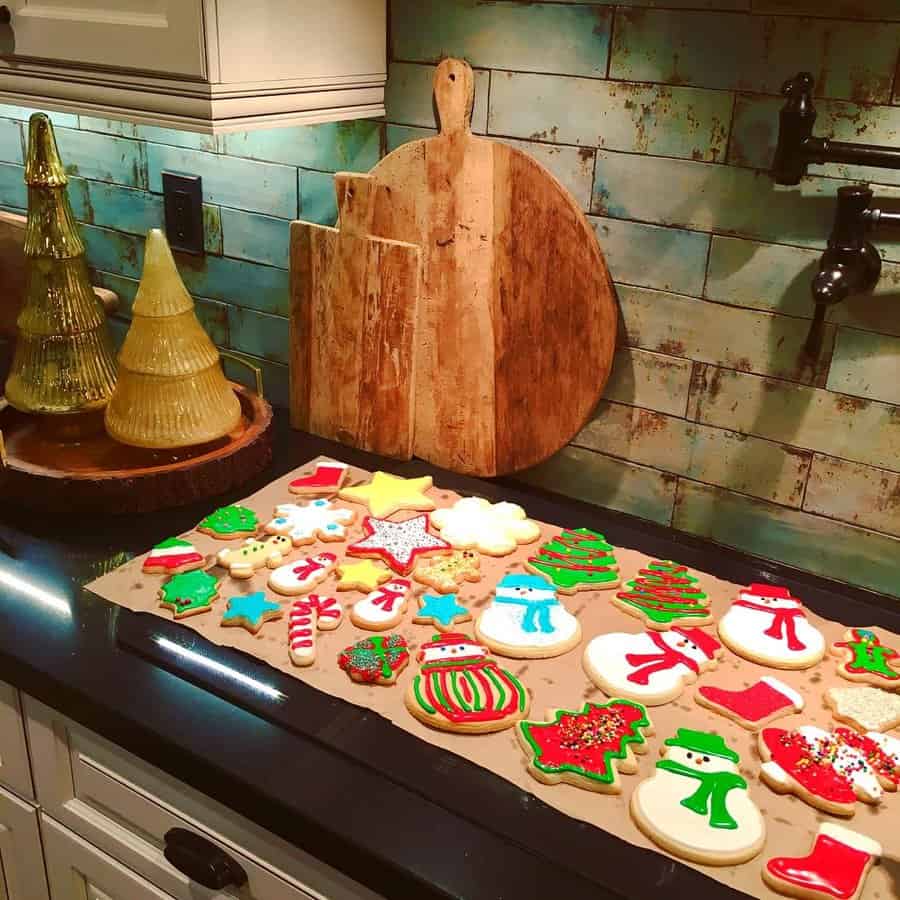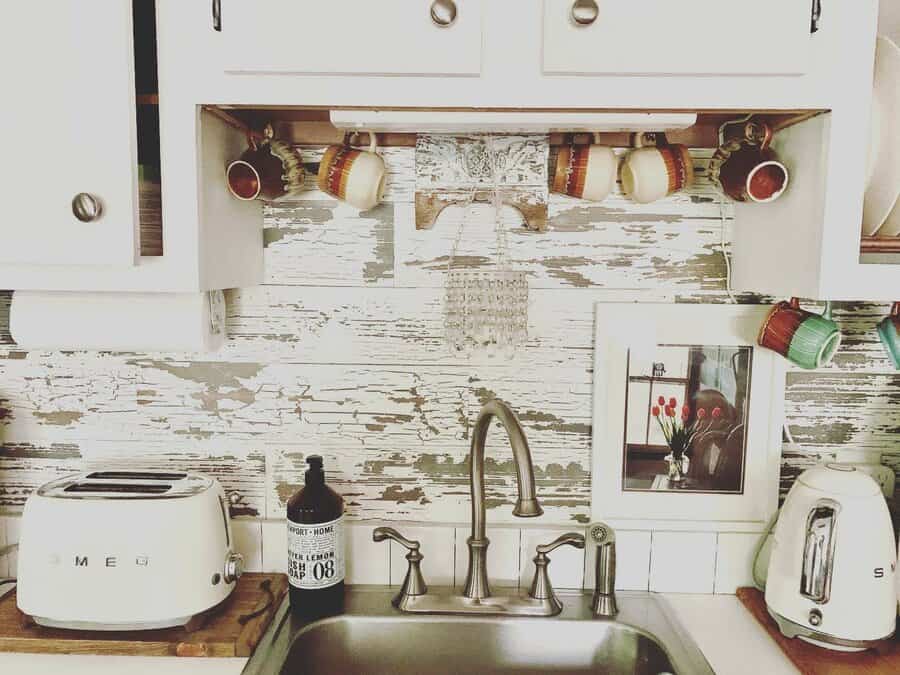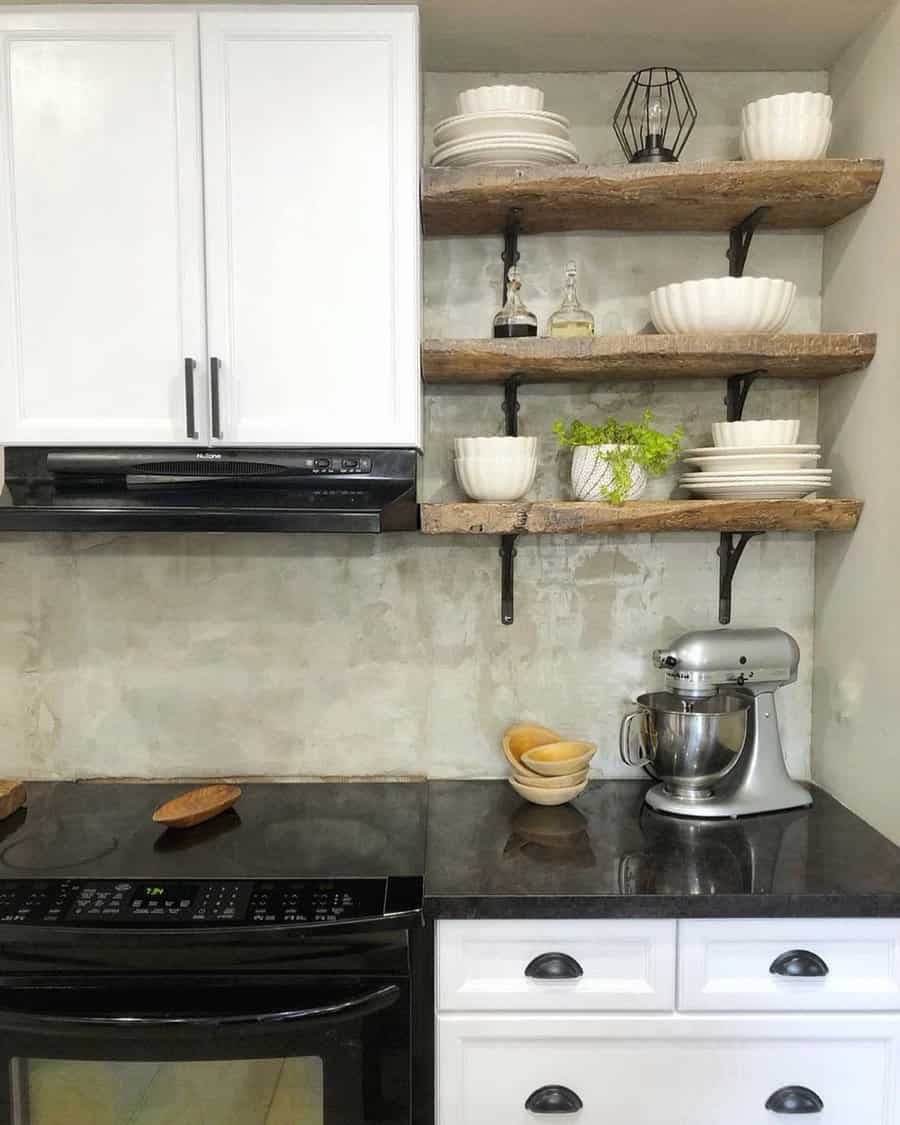 11. Classic Simplicity: Embrace the Power of White
Take your kitchen's design to new heights by incorporating a white backsplash, creating a fresh and spacious ambiance. White tiles provide a versatile canvas for introducing splashes of color through decorative elements. Whether you opt for classic white subway tiles to evoke a beachy feel or traditional penny round tiles, the adaptability of white ensures an elegant kitchen. Explore various tile shapes and patterns to discover the ideal fit for your individual style.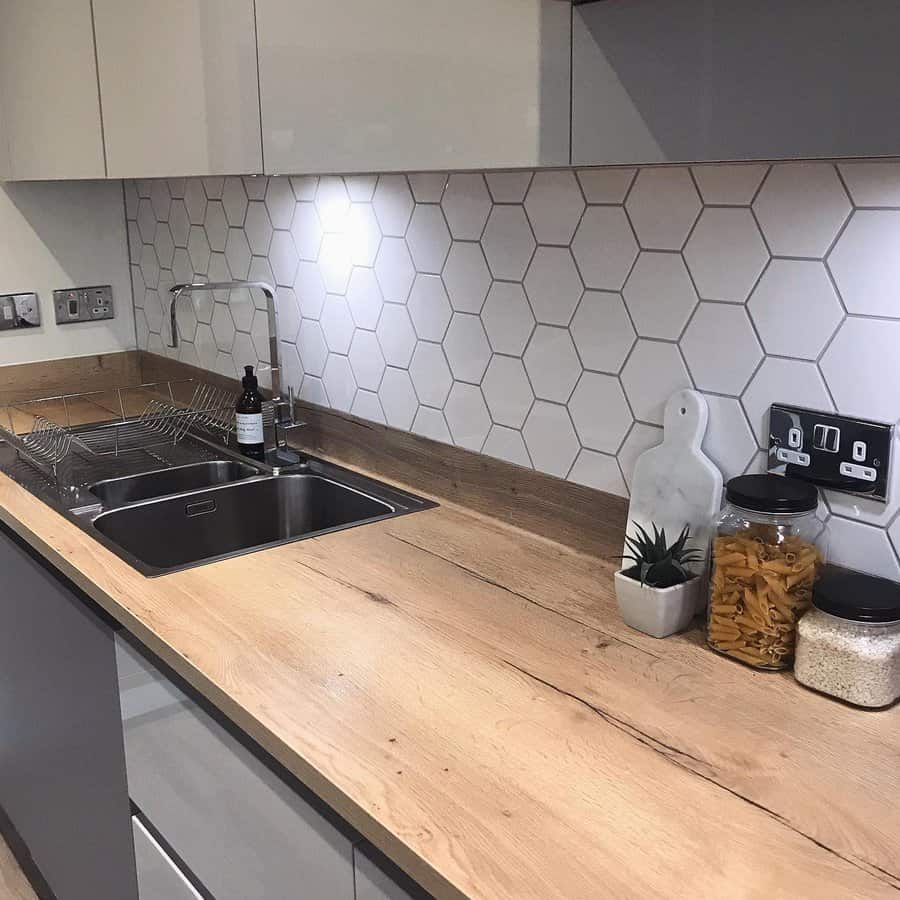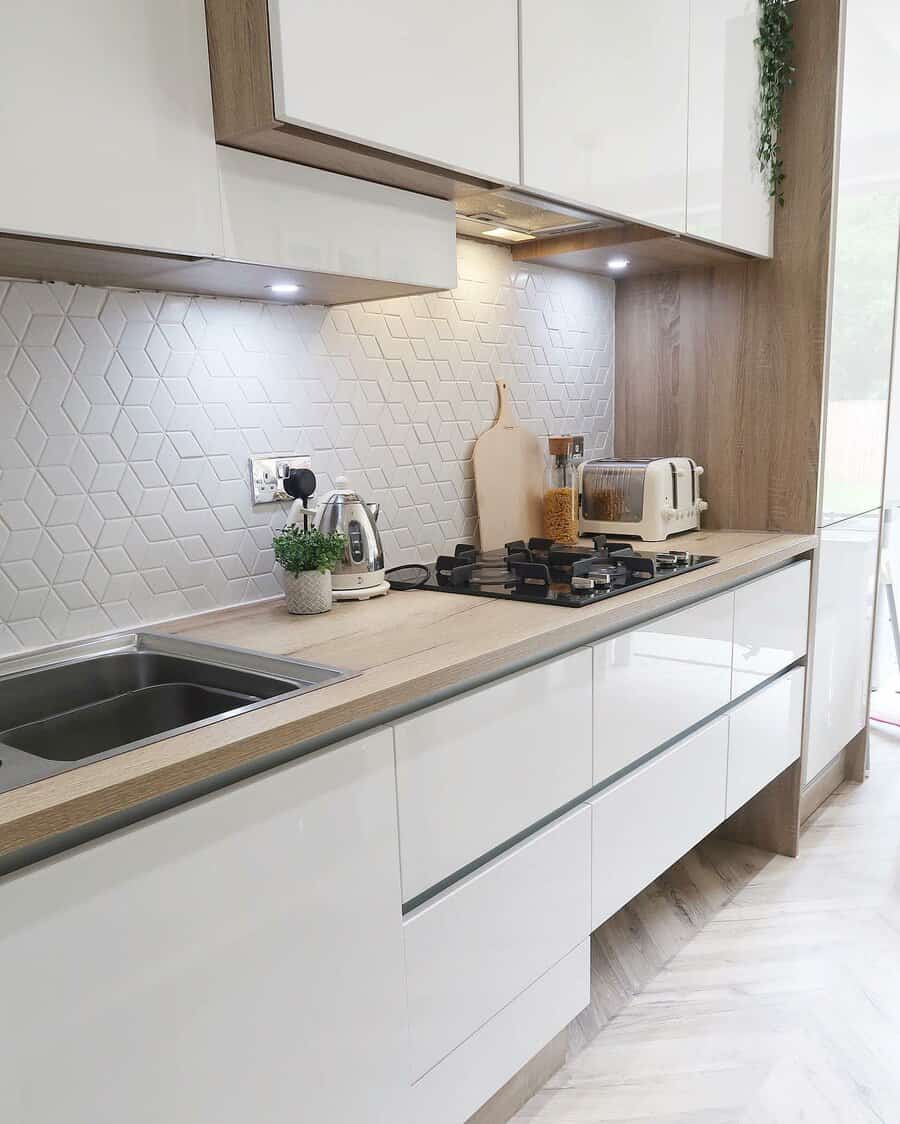 12. Achieve a Chic Look with Checkerboard Style
Achieve a classic, timeless aesthetic in your kitchen by embracing the chic appeal of a black and white checkerboard tile backsplash. This design choice sets the stage for a traditional look with a touch of pizzazz, perfect for any black-and-white kitchen theme. Whether you prefer a full wall of checkerboard tiles or want to create accents with specific patterns, your kitchen will exude a blend of nostalgic charm and contemporary edge.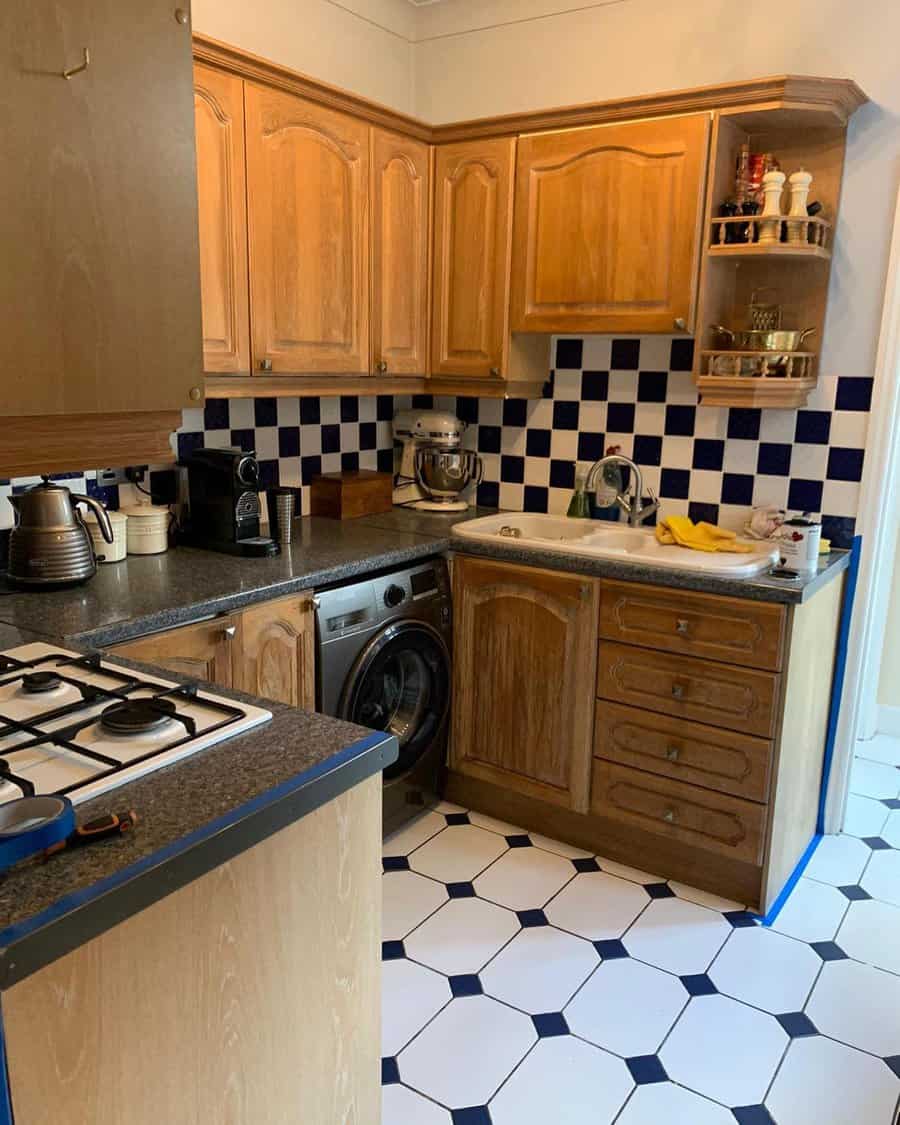 13. Make a Bold Statement with Dual-Toned Glass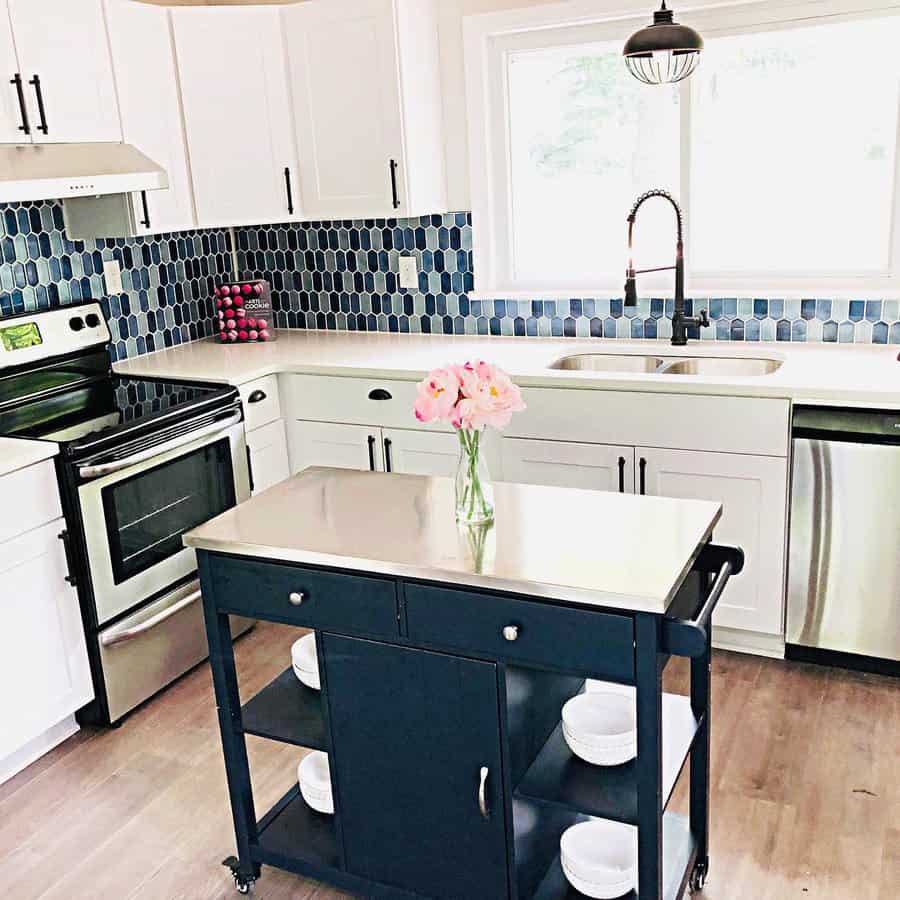 14. Create An Unconventional Touch
The kitchen, often considered the heart of the home, can be infused with added personality through a custom backsplash. Explore various unconventional options, such as asymmetrical tiles, textured surfaces, or even stunning mural designs, to create a unique focal point. Whether your style leans towards minimalism or vibrant aesthetics, a distinctive kitchen backsplash offers an affordable way to elevate your home's interior. With a custom design, you can essentially bring your own personal work of art to life in the heart of your home.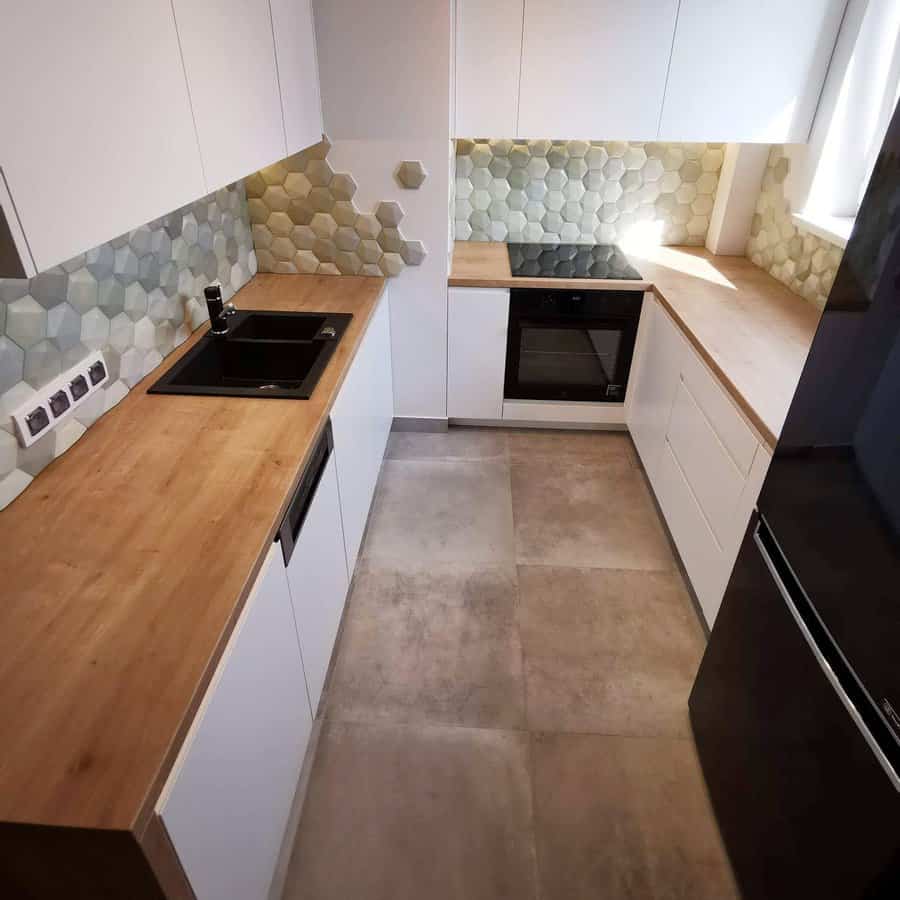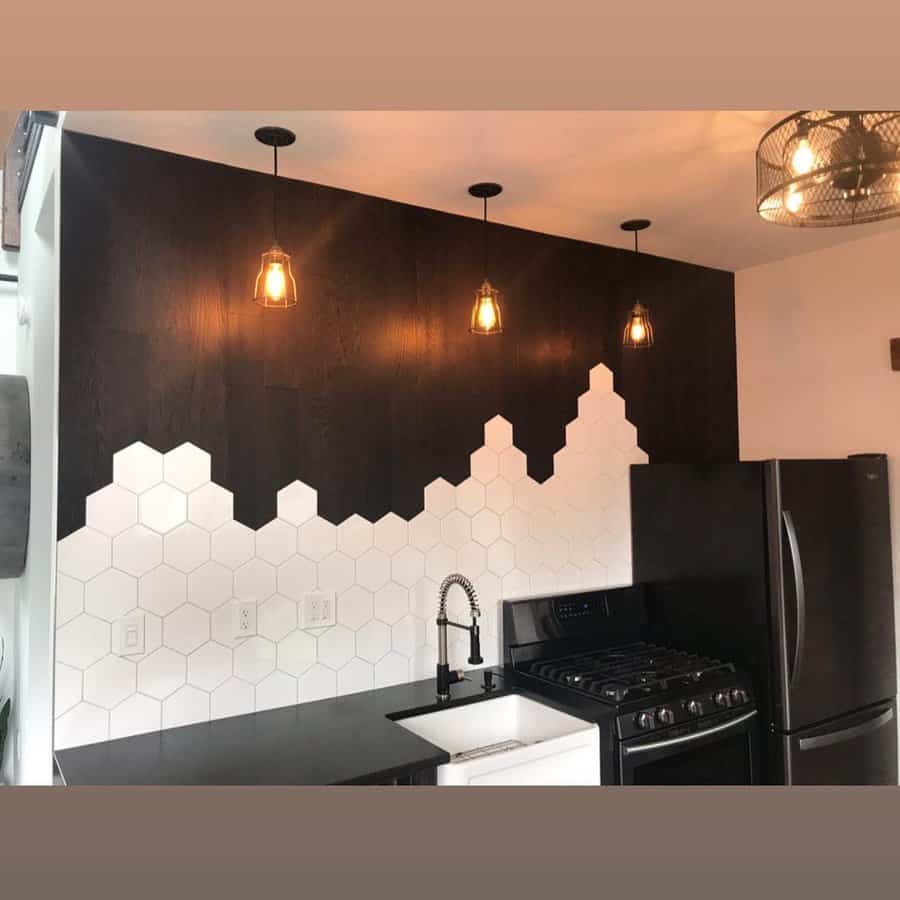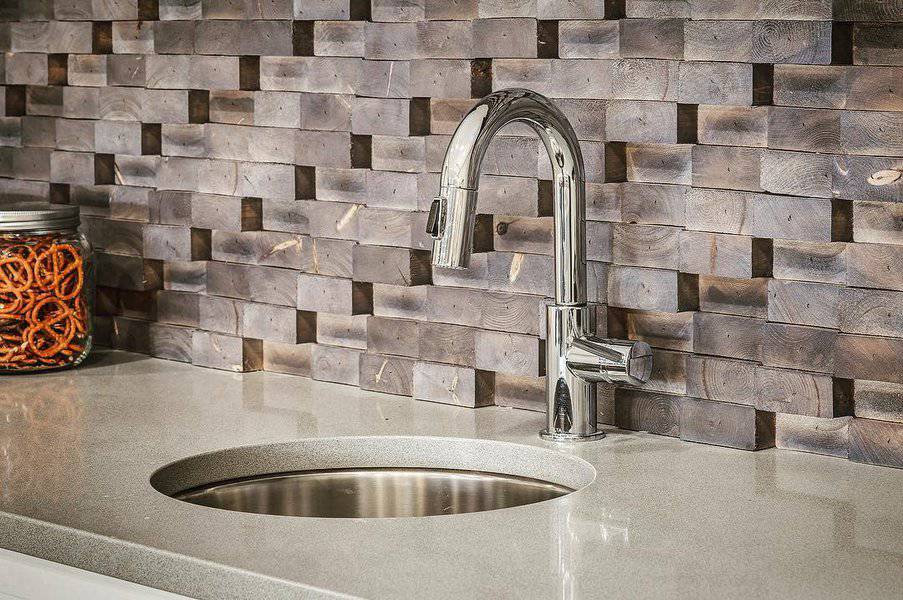 15. Infuse Your Space with Farmhouse Warmth Using Wood
Incorporating a wooden shiplap wall or wooden slab into your kitchen backsplash can infuse your space with cozy farmhouse charm. Beyond its aesthetic appeal, wood offers long-lasting durability and simple maintenance. To achieve this look, consider various wood colors, textures, and patterns, allowing you to craft a beautiful, timeless backsplash.