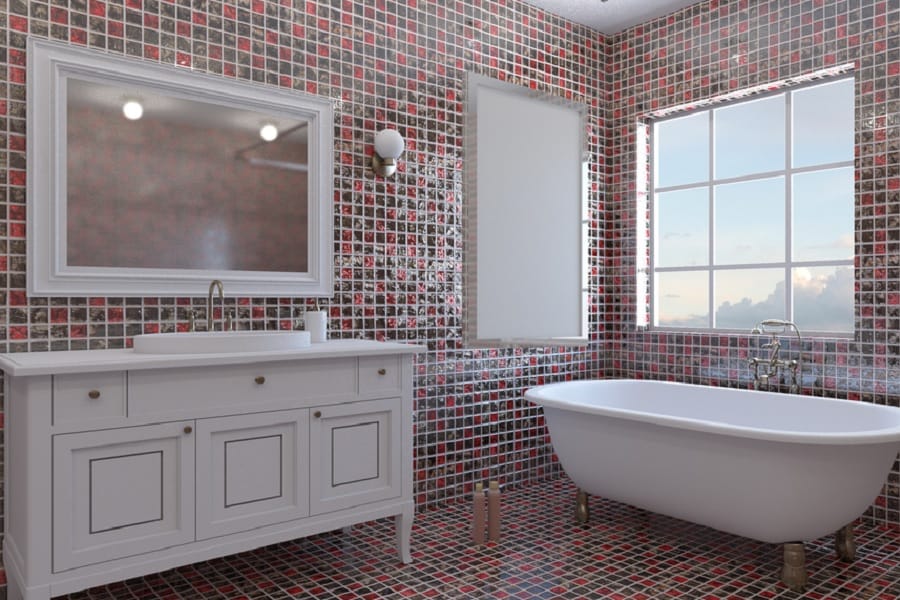 The Top 58 Bathroom Mirror Ideas
by — Kendrick Hulse

Published on January 24, 2022

Updated on October 18, 2023
What's one of the first things we all look at in the morning? Our bathroom mirror.
You may think that your current mirror functions and that's all that really matters. But you could be missing out on a ton of design potential by settling for the basic wall mirror that came with your home or apartment bathroom!
Keep reading for our favorite bathroom mirror ideas that will ensure you start every morning off on the right foot.
1. Sleek Frameless Rectangular Design
A frameless rectangular mirror embodies modern minimalism, offering both elegance and functionality. Its sharp edges and unadorned design can amplify a bathroom's perceived size, especially beneficial for compact spaces. To elevate its effect, pair with minimalist faucets and monochromatic palettes. Remember to secure it firmly, given its frameless nature, and let its simplicity be the statement.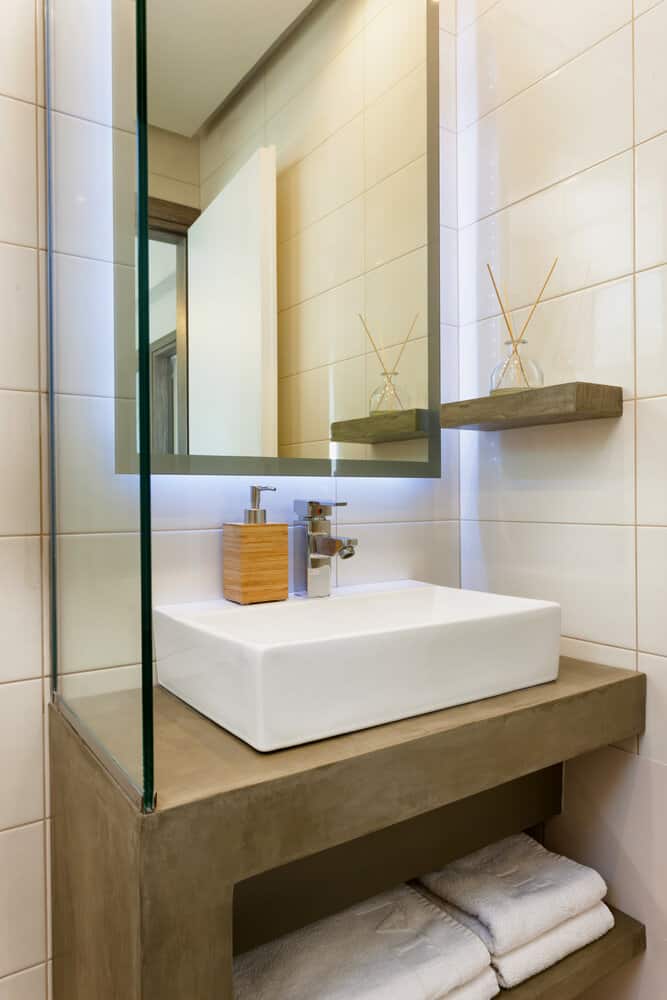 2. Elegant Gold-Framed Accent
A gold-framed mirror instantly exudes sophistication, adding a luxurious touch to any bathroom. The rich warmth of gold pairs seamlessly with both muted tones and bolder hues, enhancing the ambiance. To truly make the gold stand out, consider complementing with traditional fixtures or dark wooden cabinetry. For those seeking a classic or Victorian flair, this mirror is a game-changer.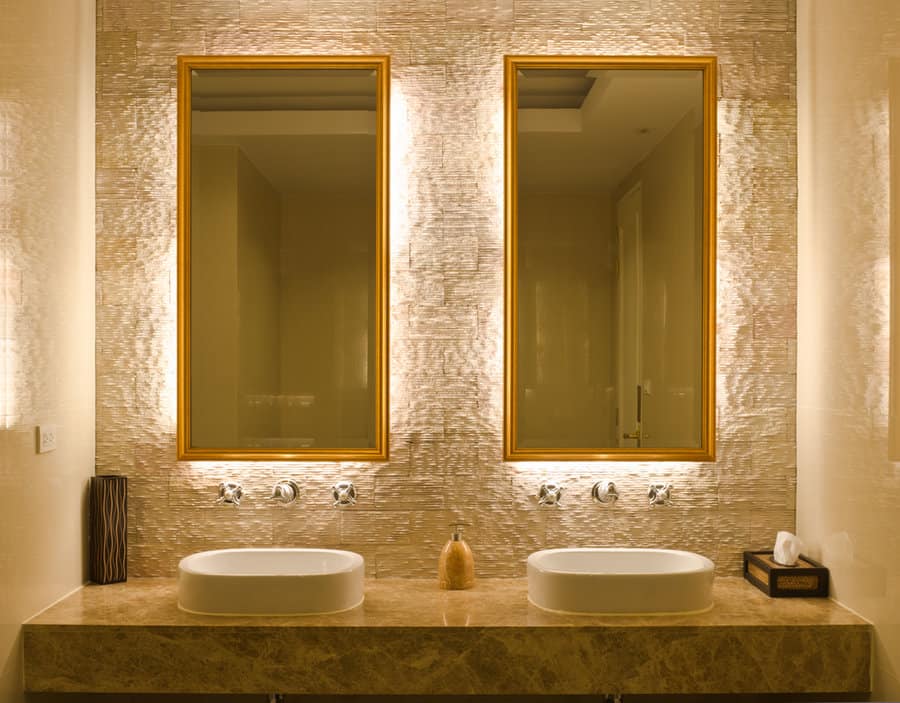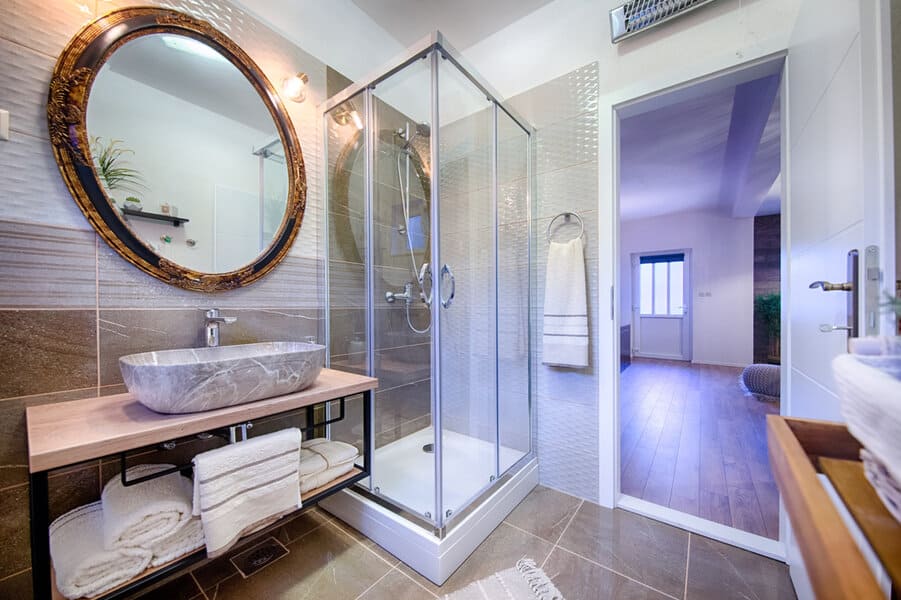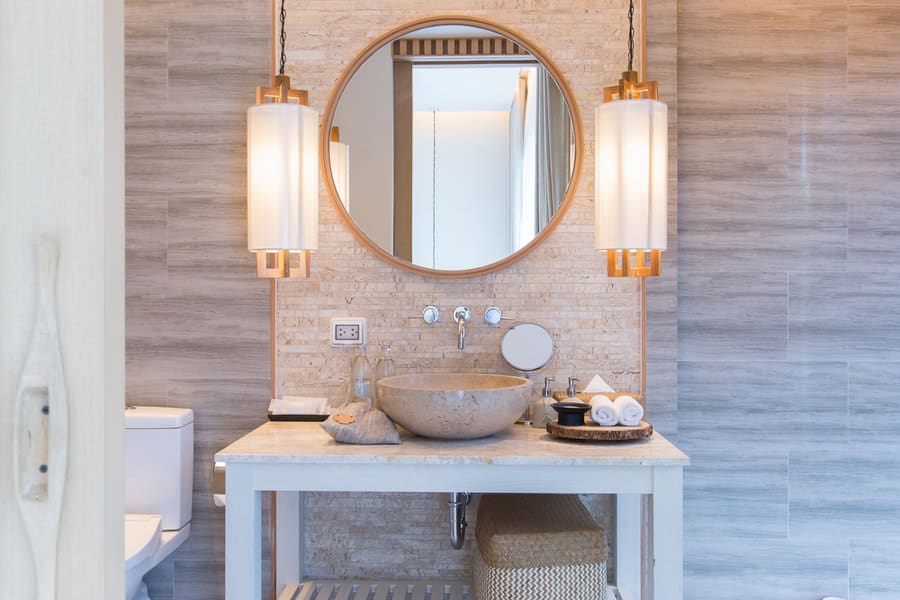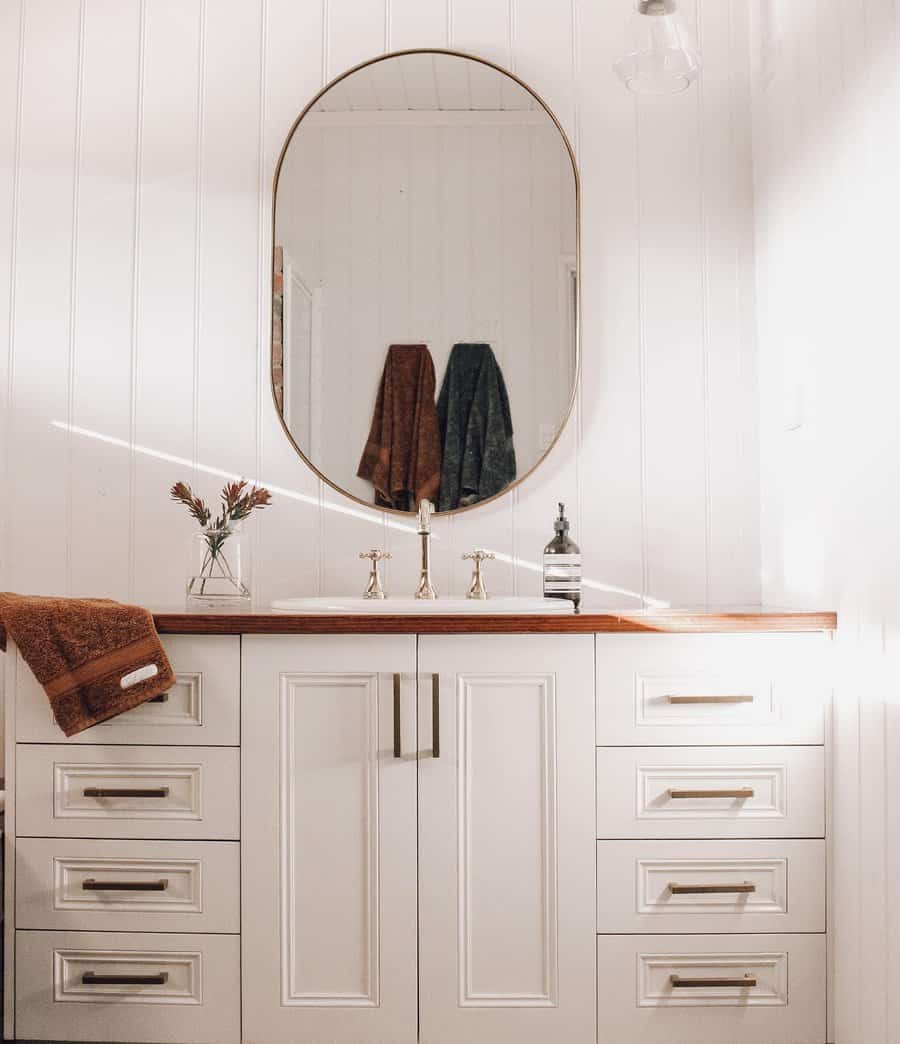 3. Chic Frameless Round Choice
A frameless round mirror not only amplifies the light but also enhances spatial perception in a bathroom. Its minimalist design seamlessly fits into varied styles, from contemporary to classic. To accentuate its impact, place it against a patterned or colored wall, letting its shape contrast and elevate the room's elegance.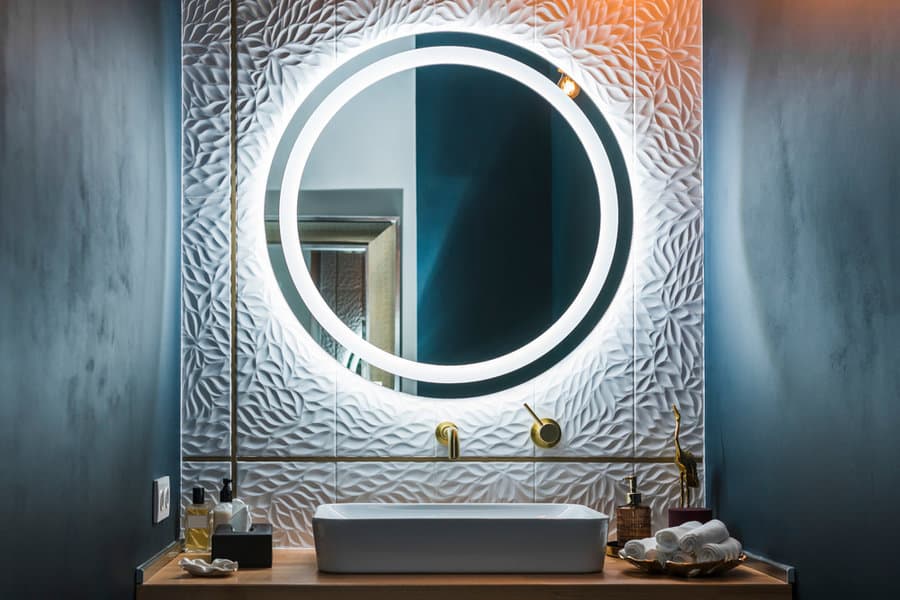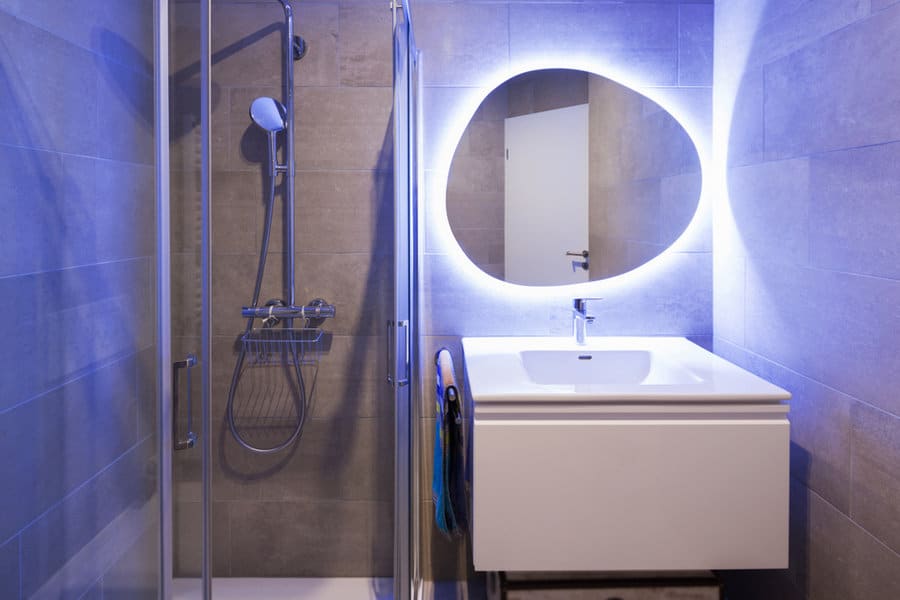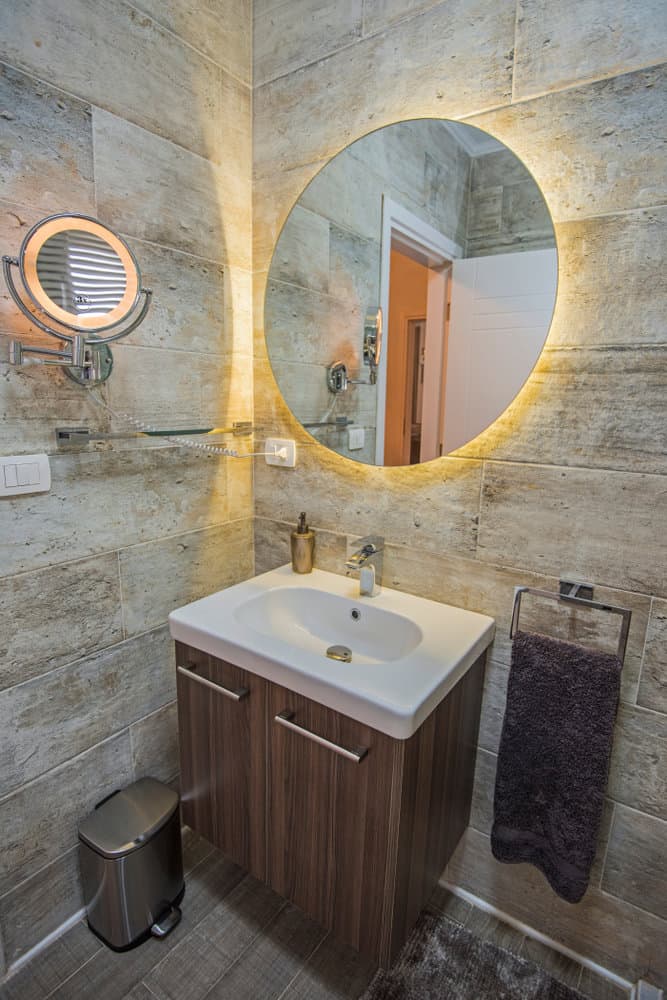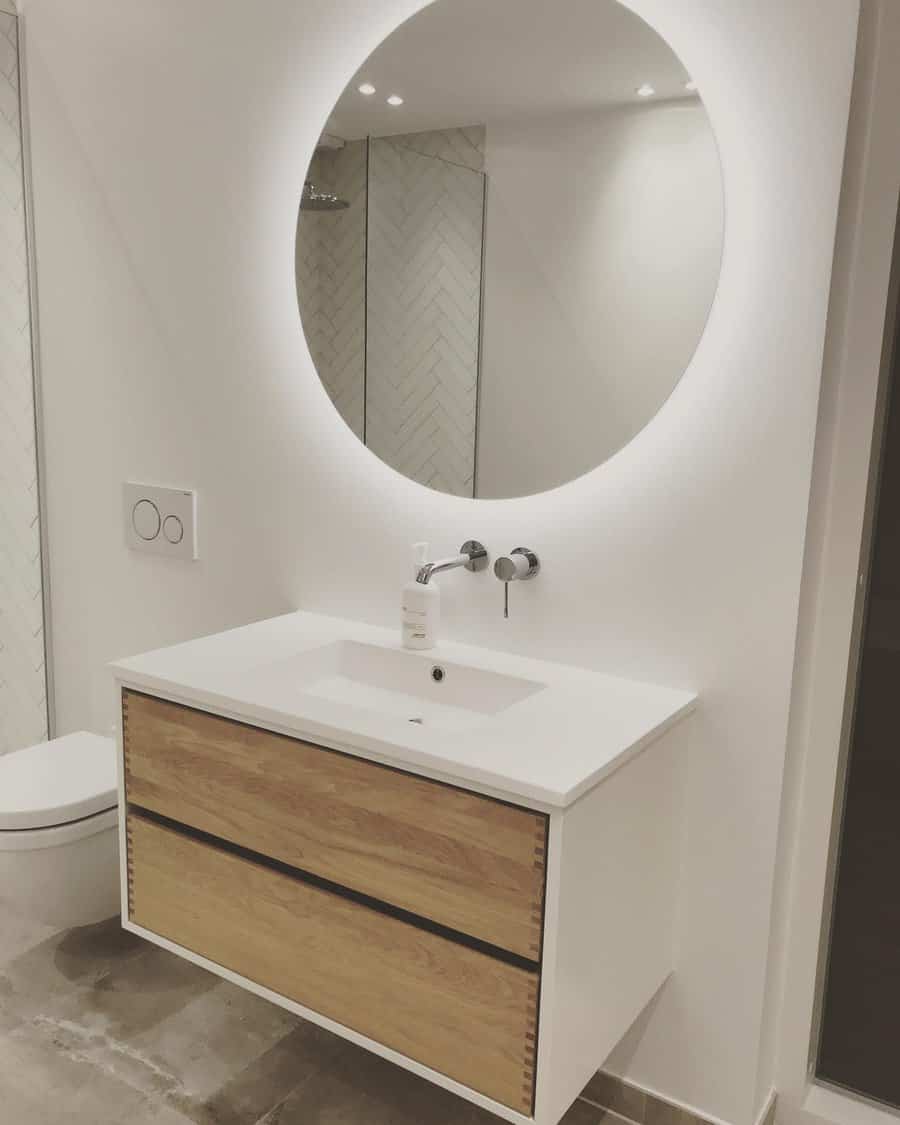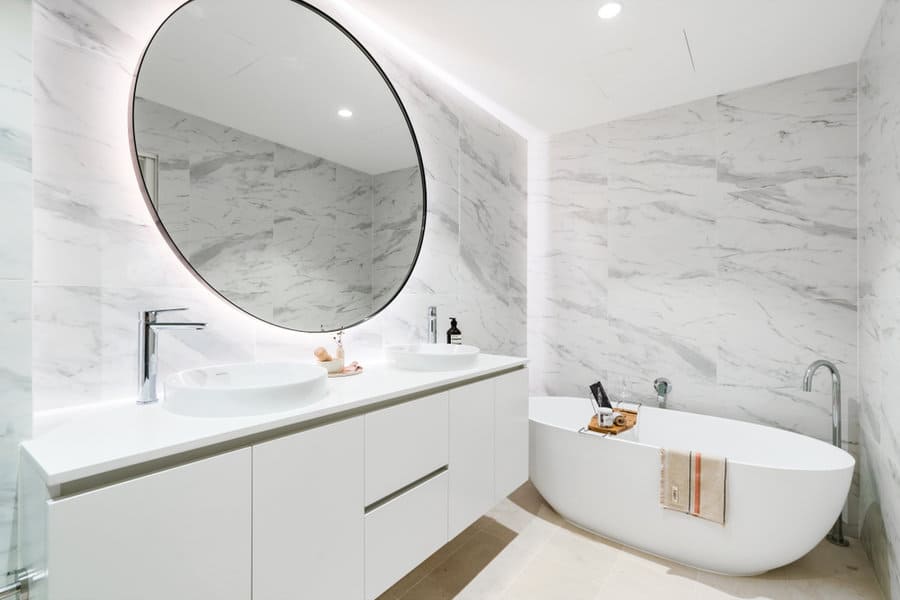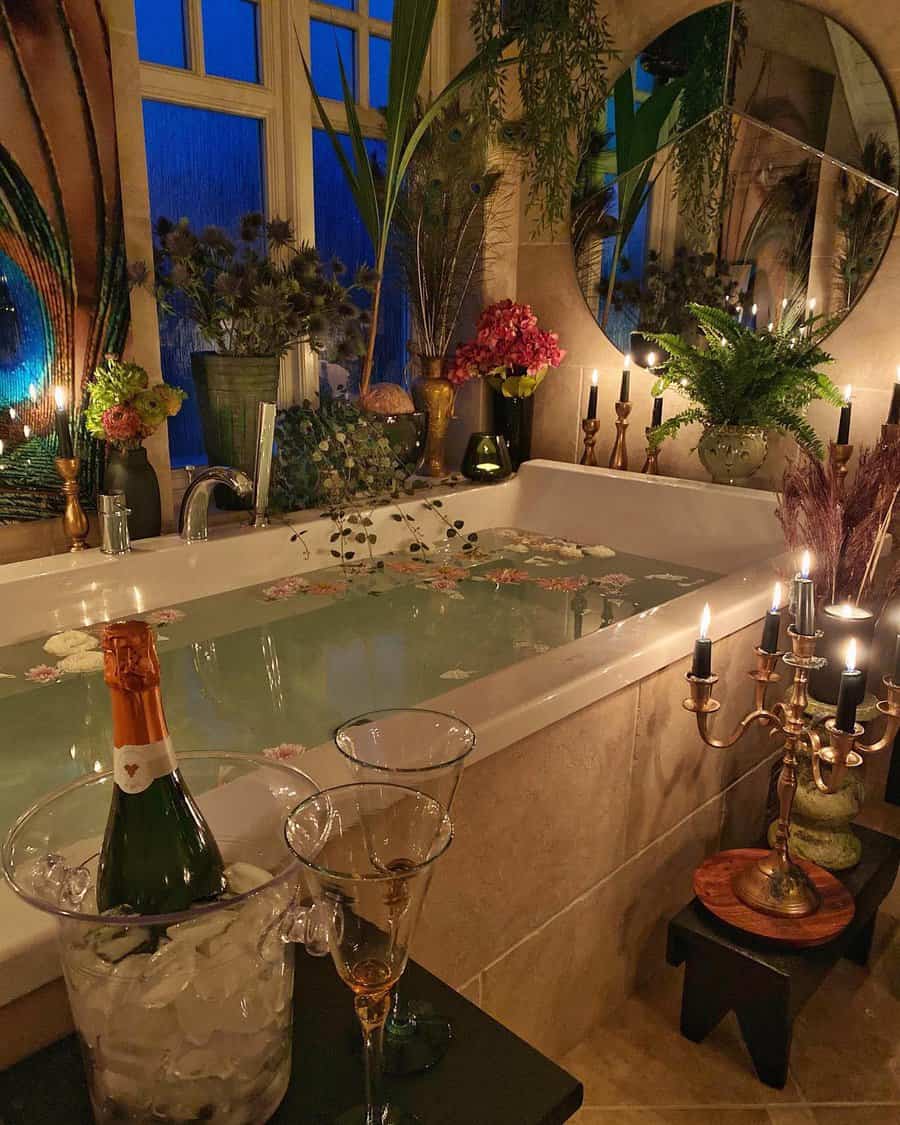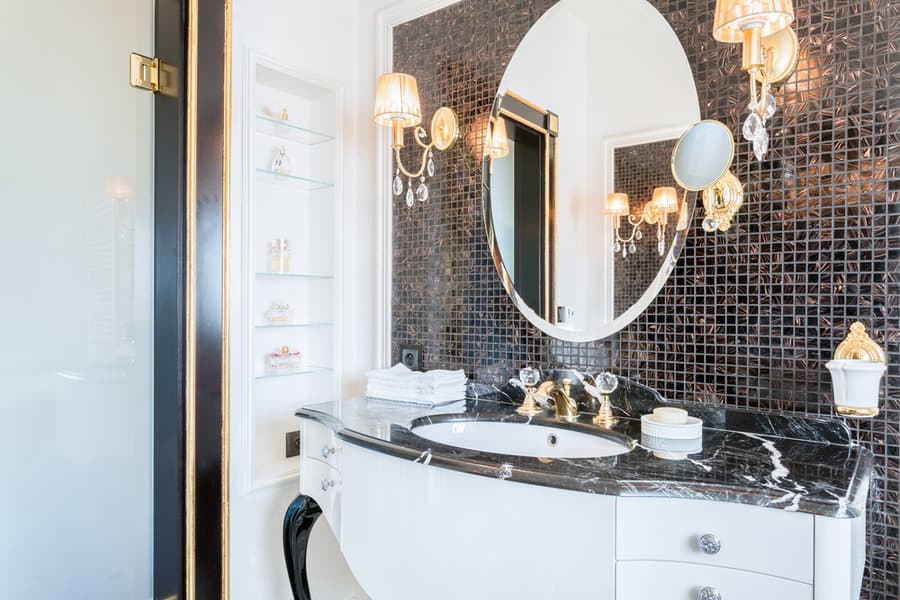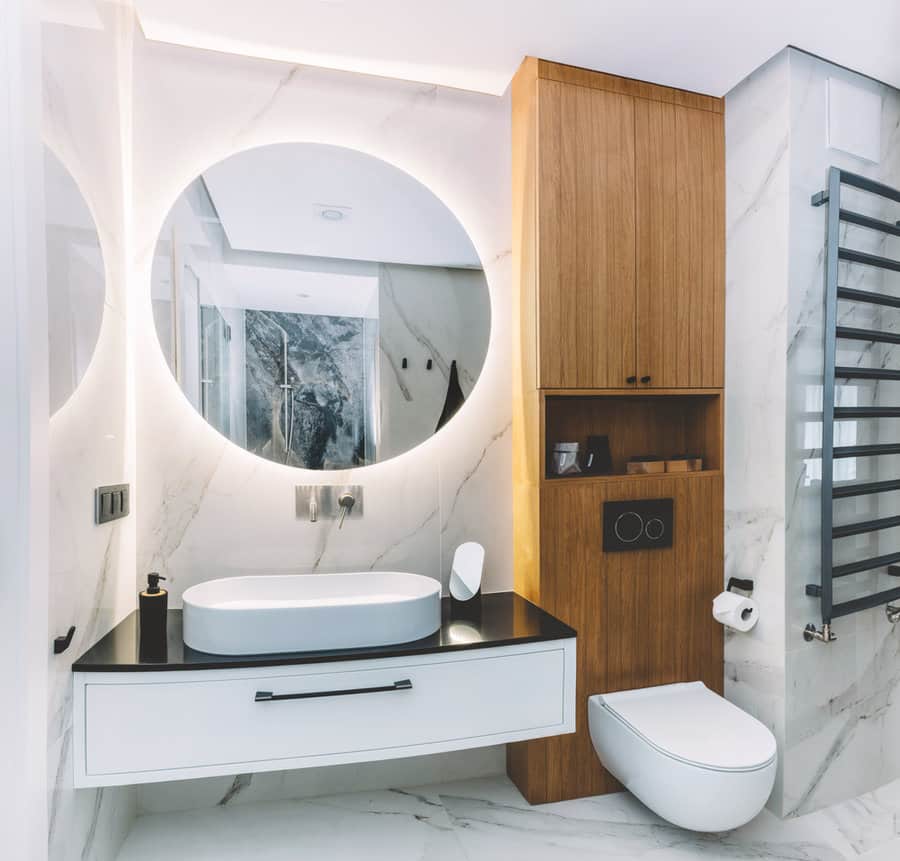 4. Minimalist Circle with Frame
A minimalist round mirror with a subtle frame offers a clean, uncomplicated aesthetic ideal for any bathroom. Choosing a thin frame adds a delicate touch of intrigue, balancing form and function. However, for a richer, classic appeal, consider a picture-frame round mirror; its ornate detailing lends timeless elegance, becoming the room's focal point. Ensure surrounding fixtures remain understated to let the mirror truly shine.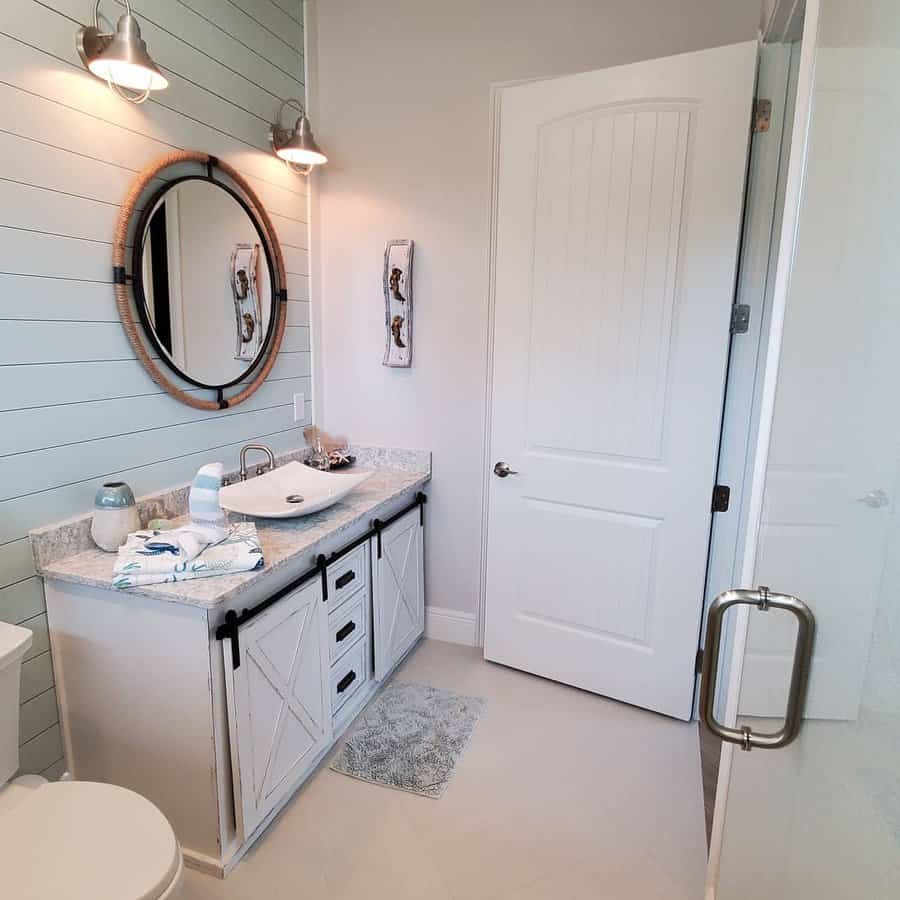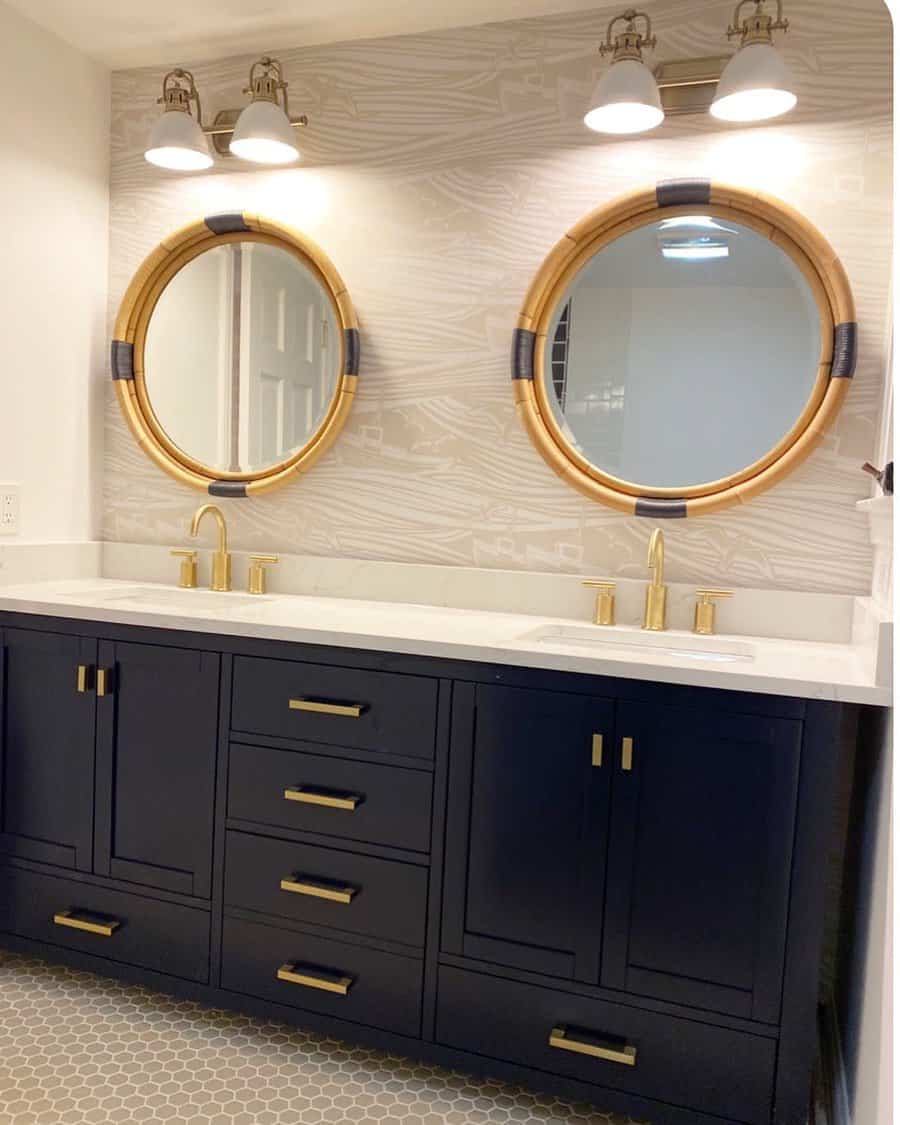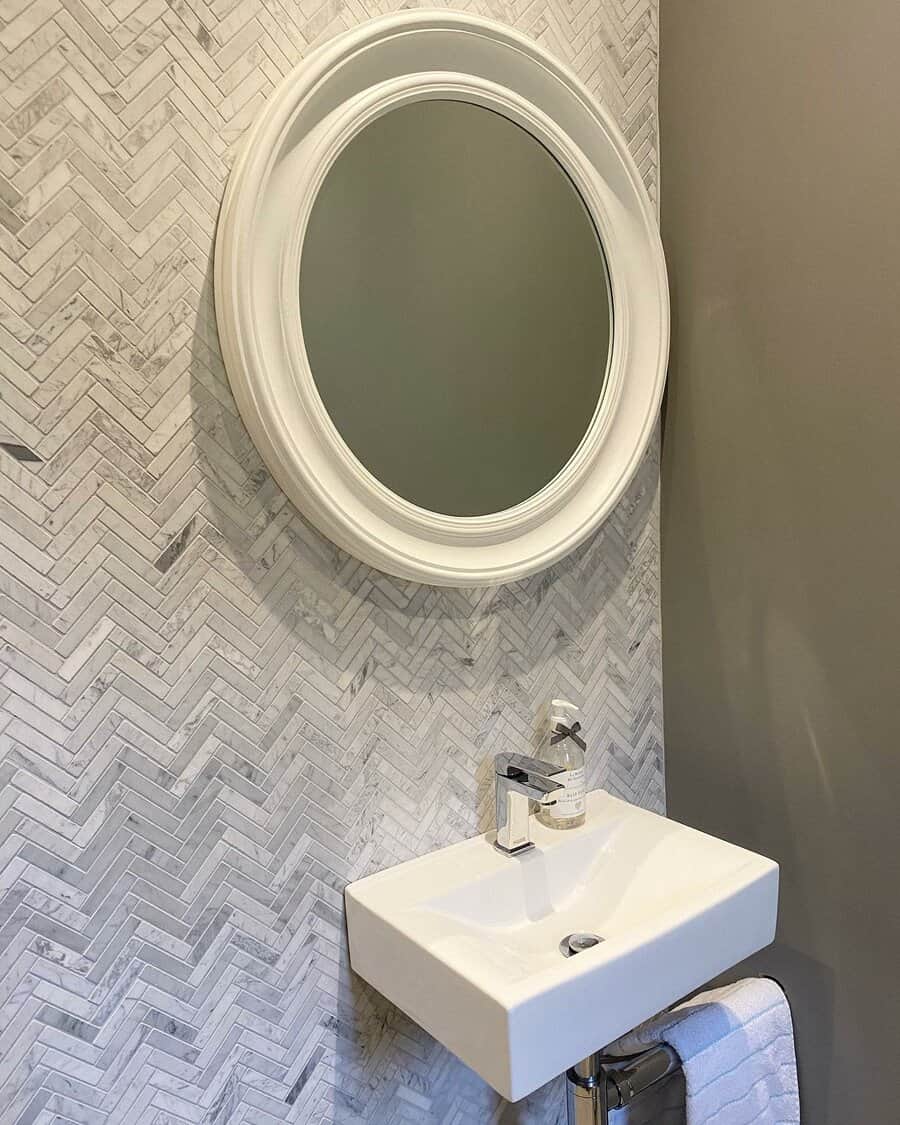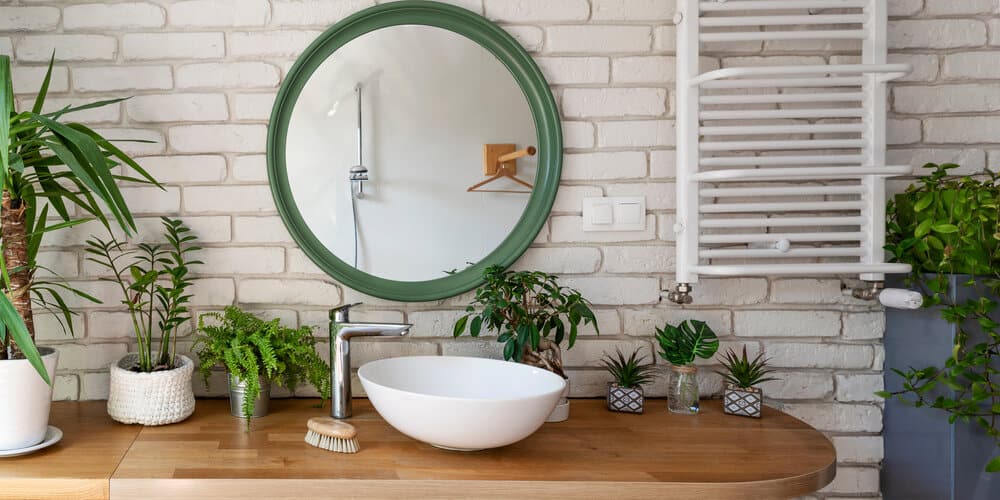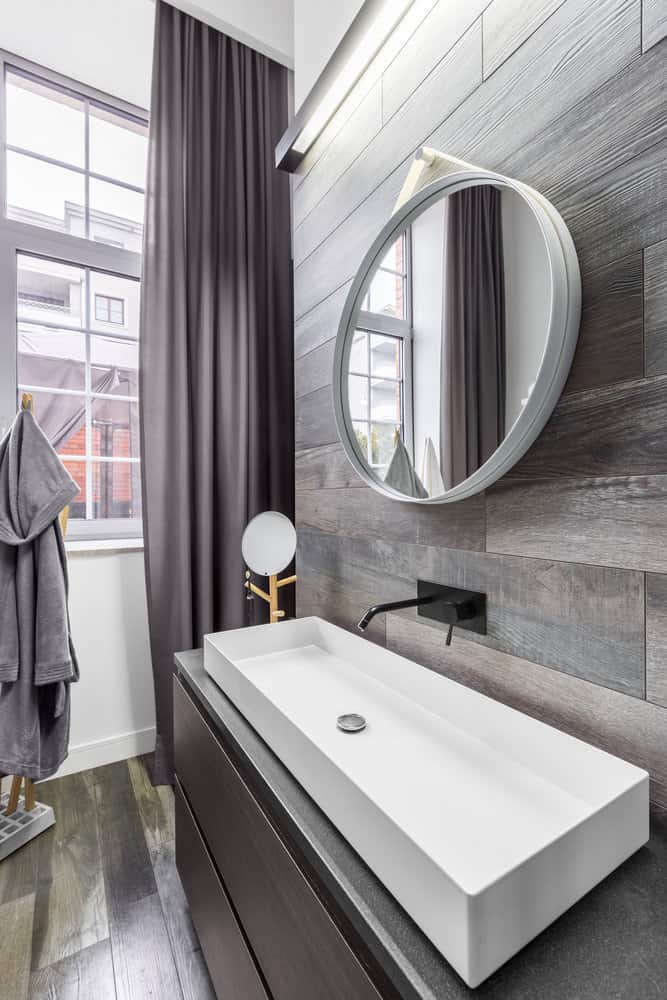 5. Bold Thick-Framed Statement
Thick-framed round mirrors effortlessly anchor a bathroom, serving as a compelling centerpiece. The frame choice further personalizes the space: glass offers timeless sophistication, driftwood introduces rustic allure, wooden frames infuse warmth, while ruffled acrylic lends a whimsical twist. When opting for such a statement piece, ensure other decor elements are more muted to maintain balance.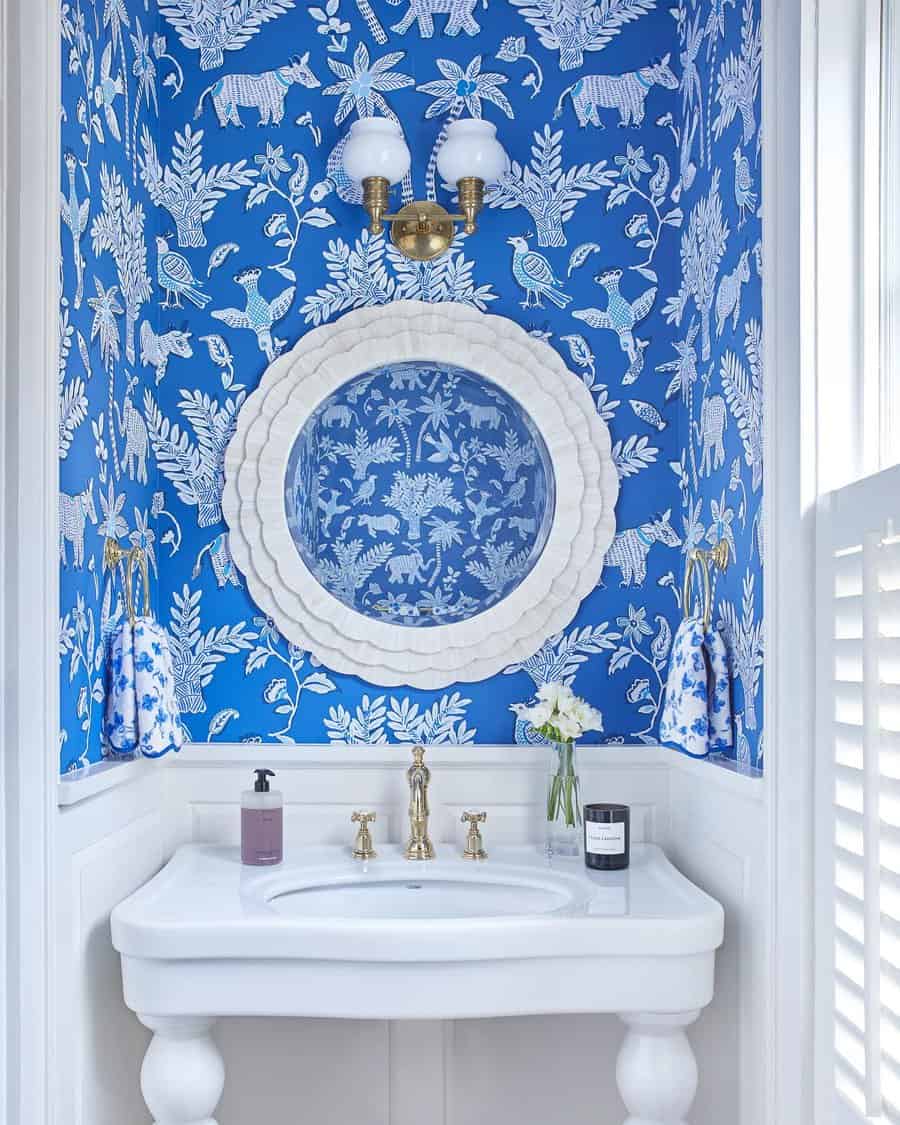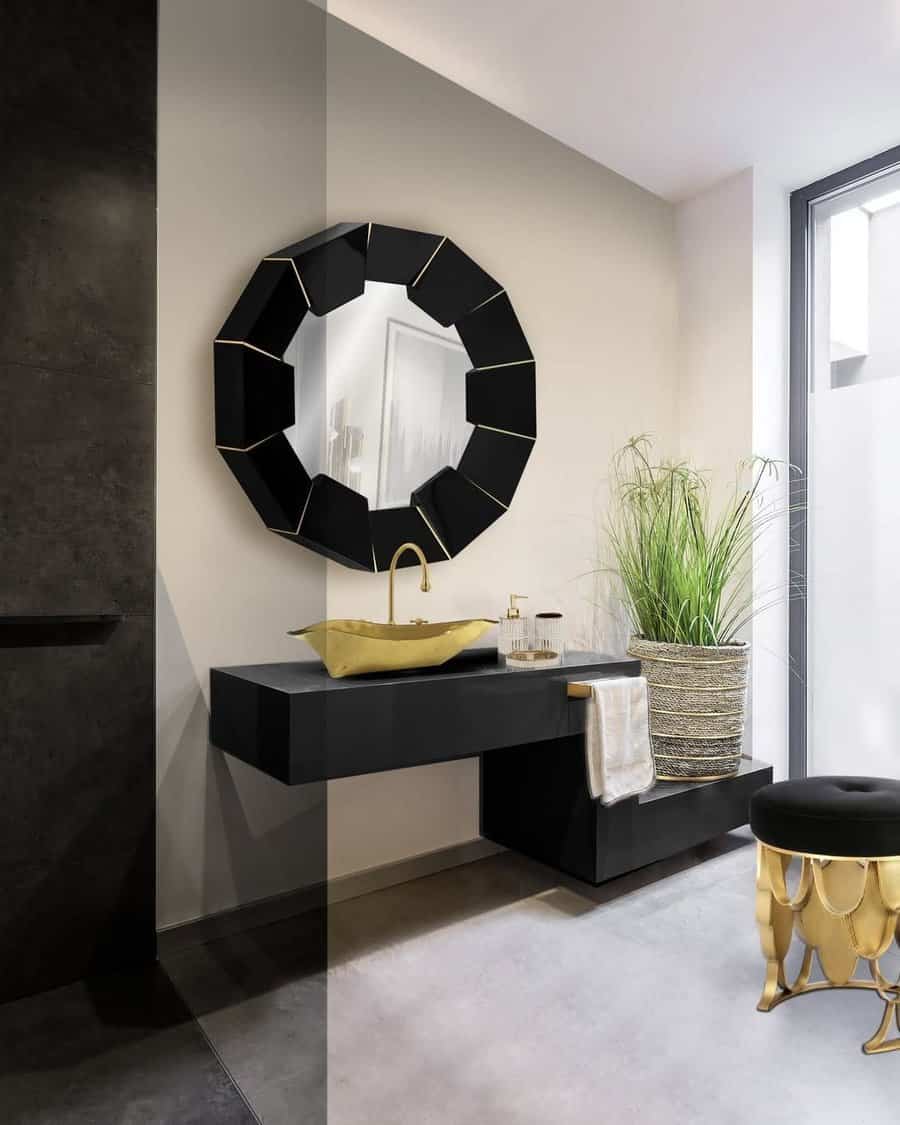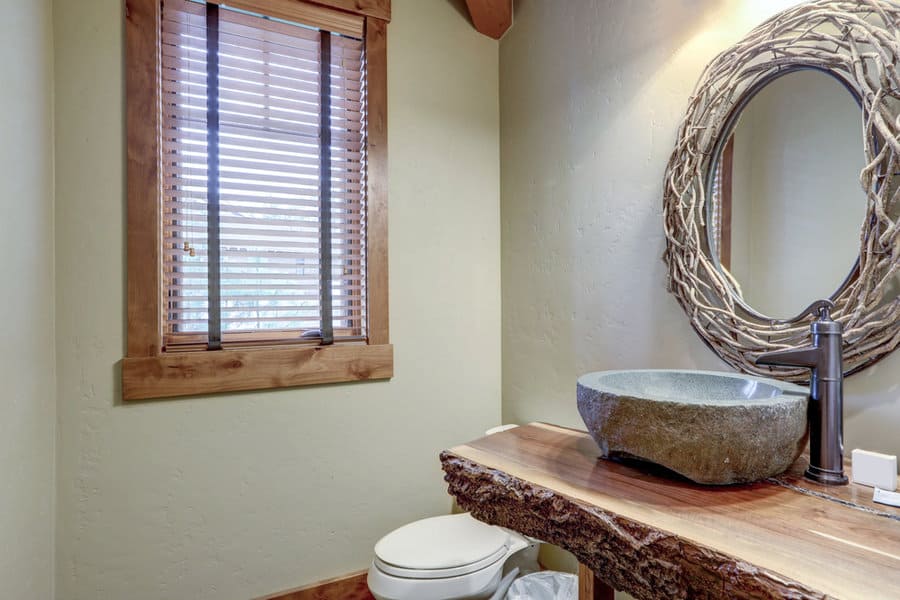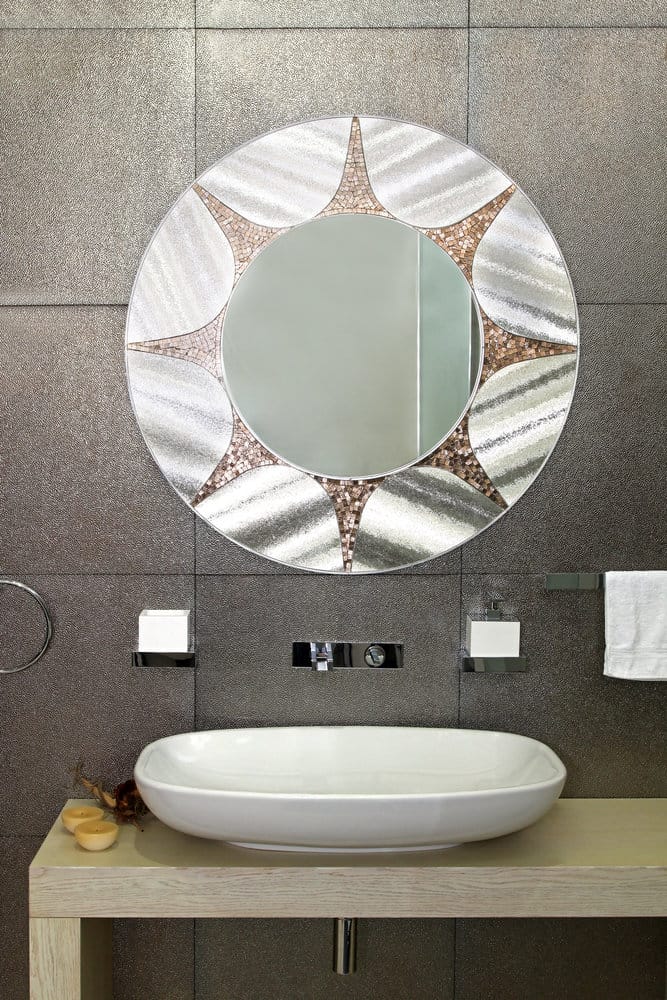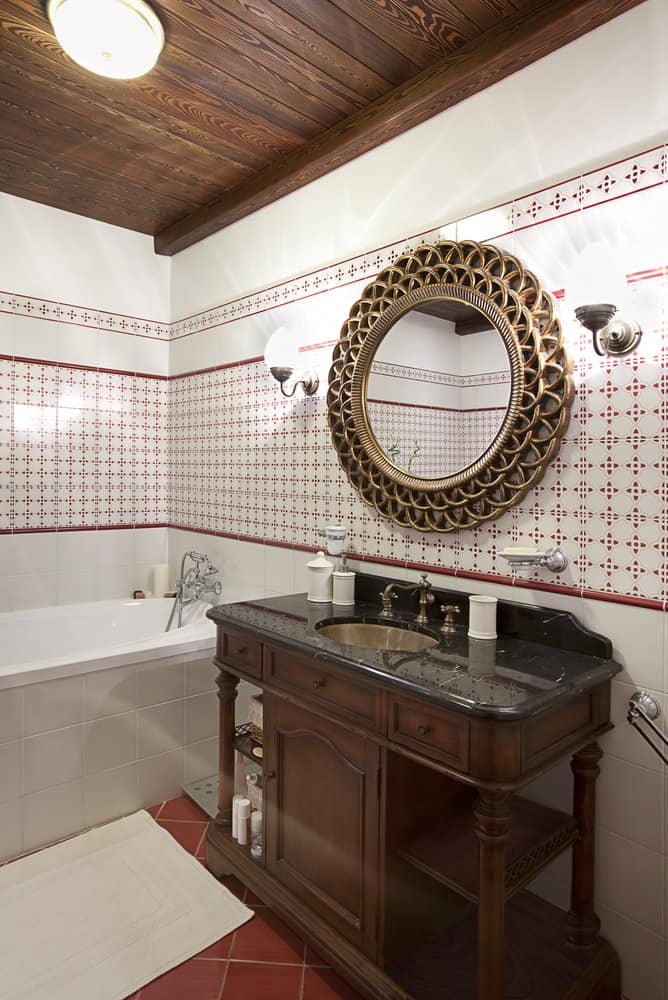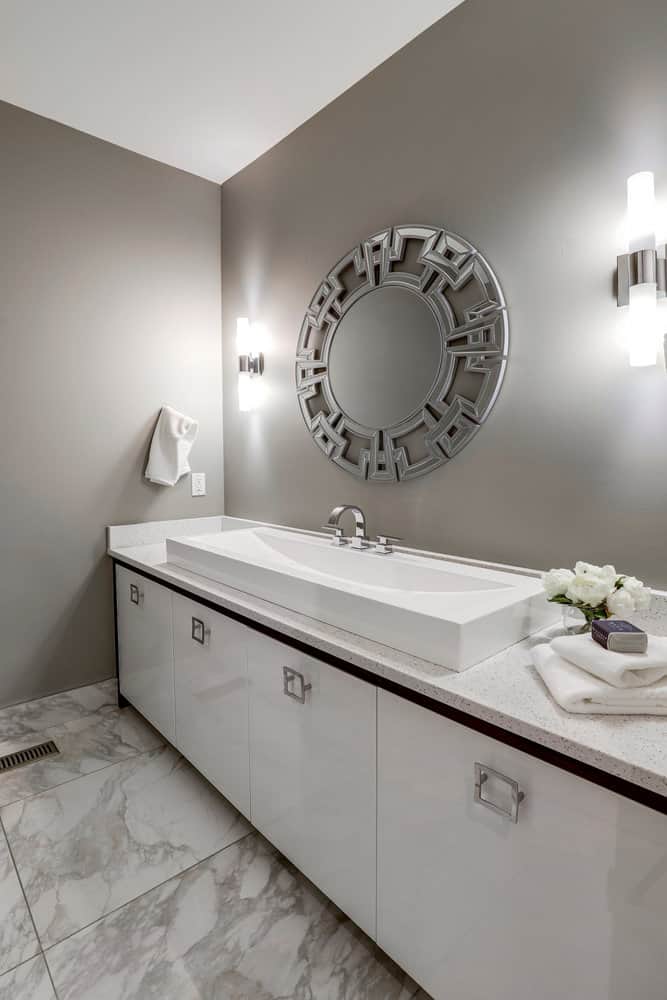 6. Spacious Rectangular View
Rectangular wide mirrors are perfect for double vanities, enhancing the illusion of an expansive bathroom and amplifying light. The frame should align with the bathroom's aesthetic, be it modern simplicity or vintage grandeur. For a sleek appearance, consider a frameless variant. Ensure the mirror hangs centered above the vanity at eye level, optimizing both its practicality and elegance.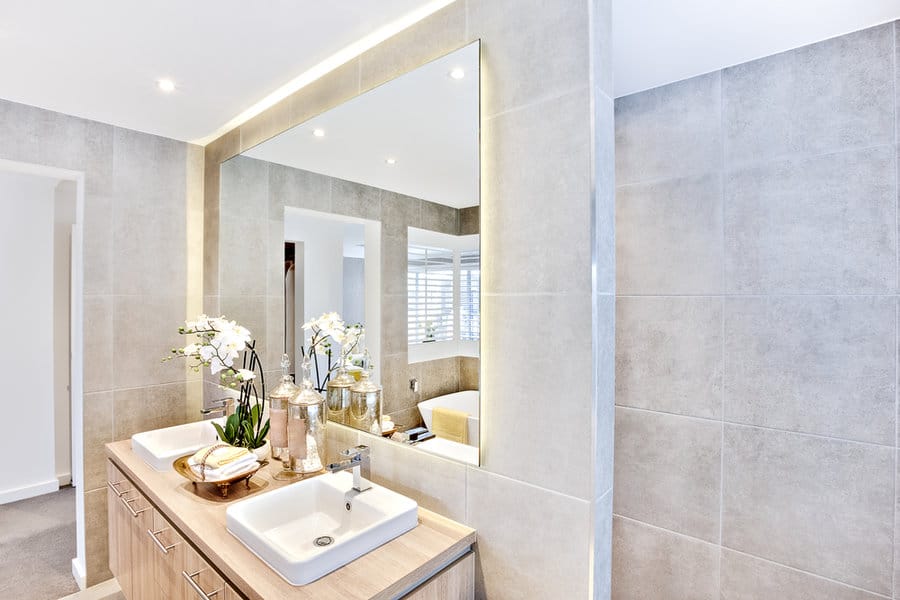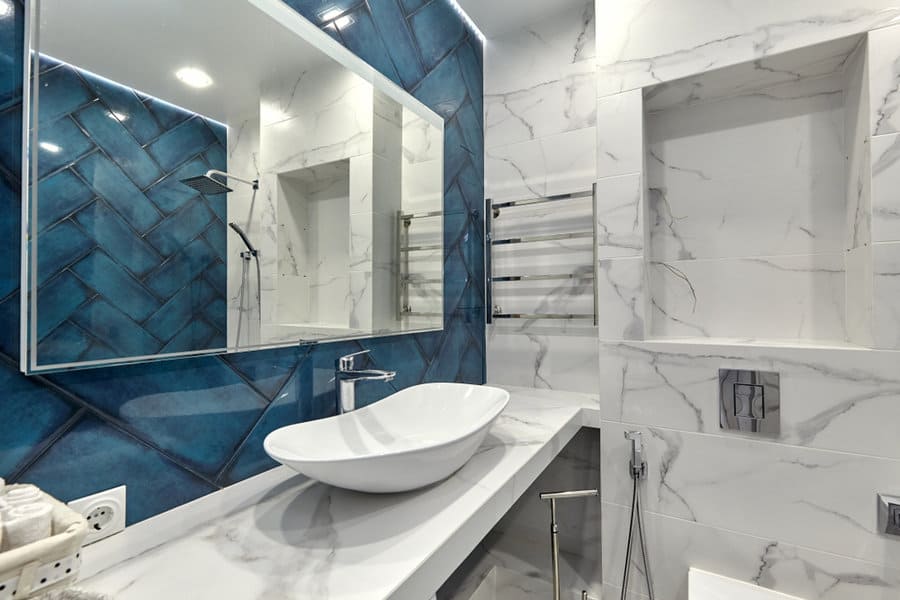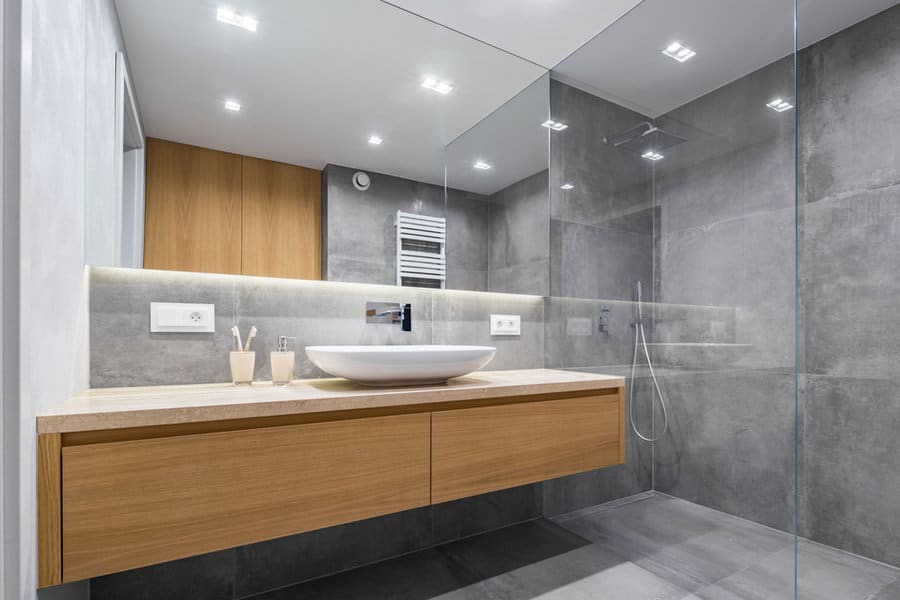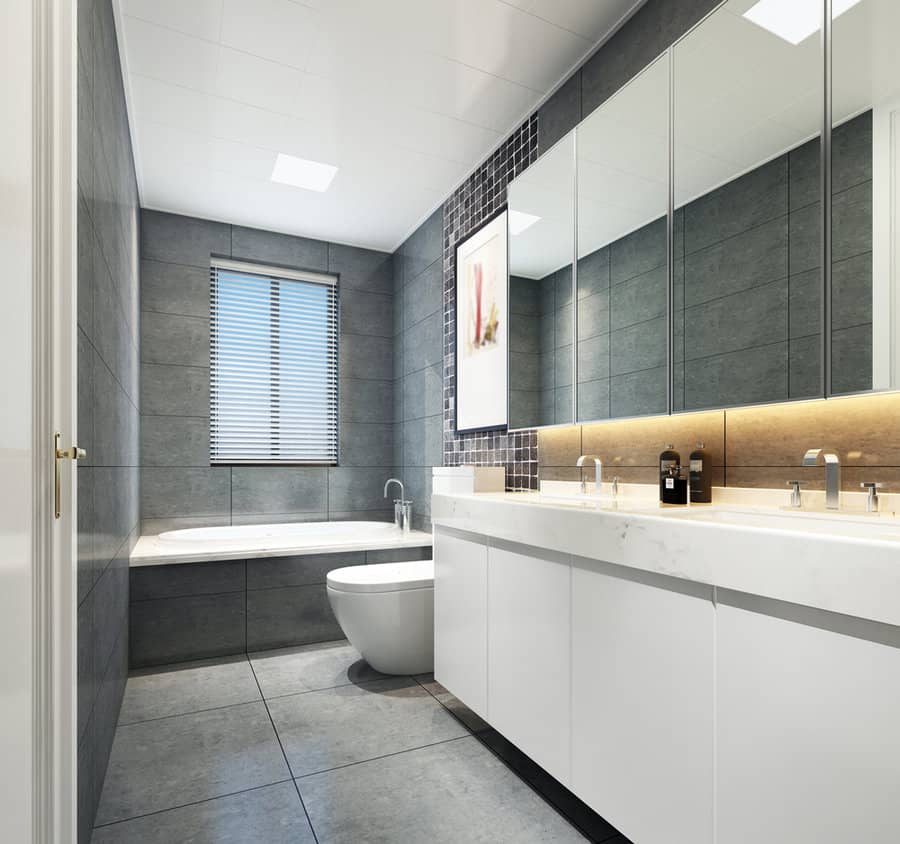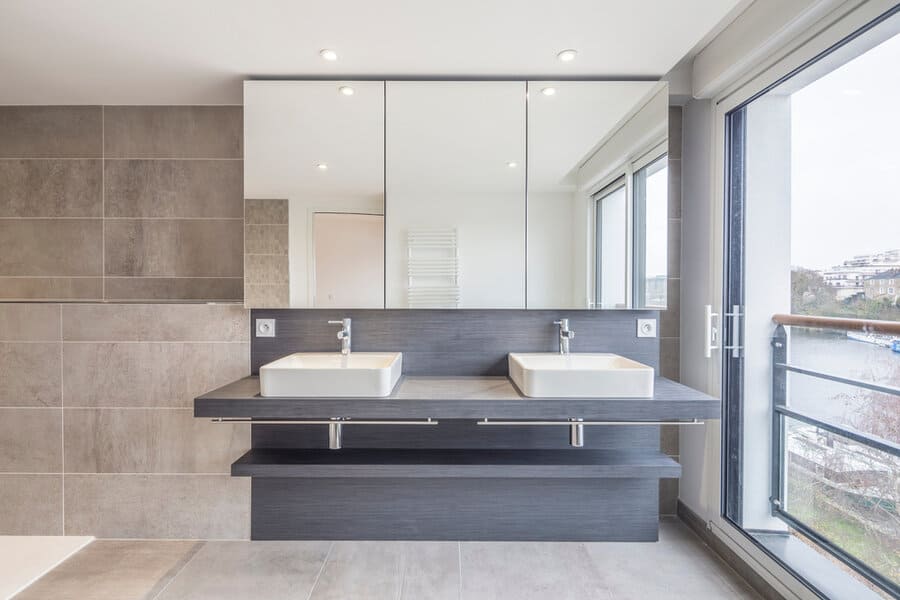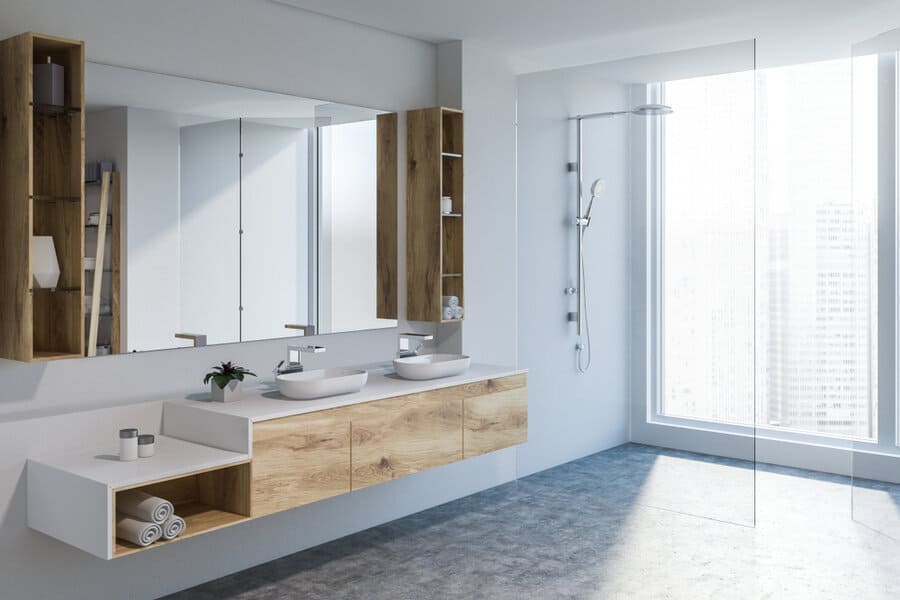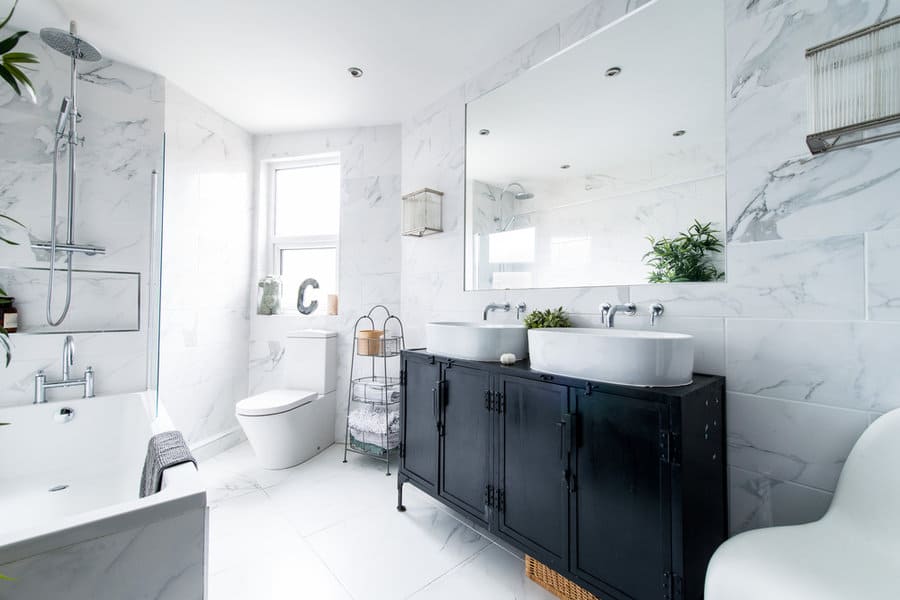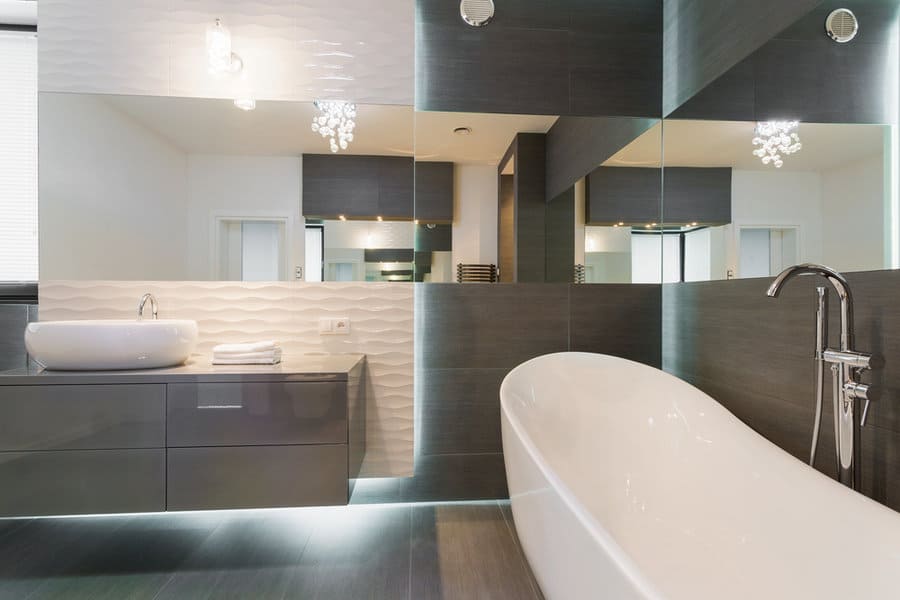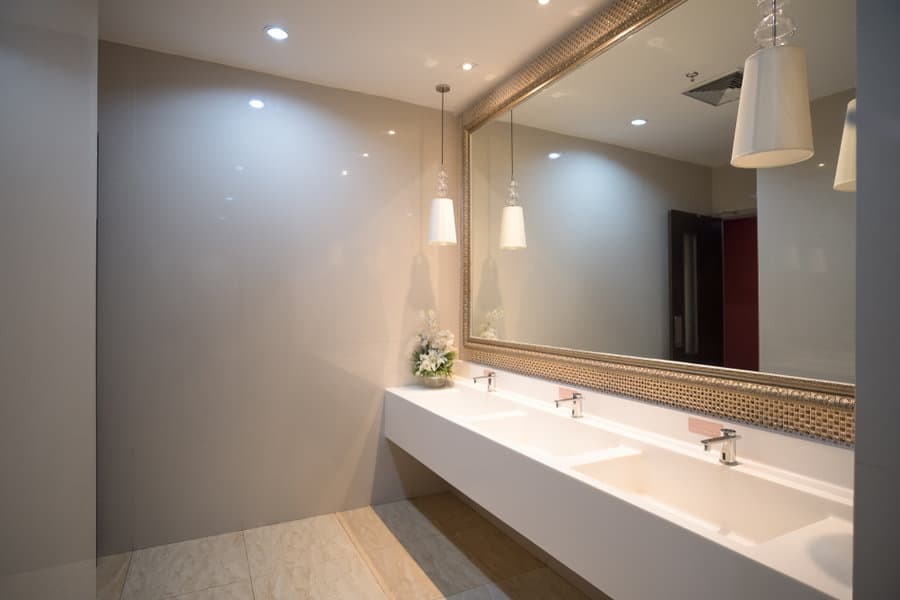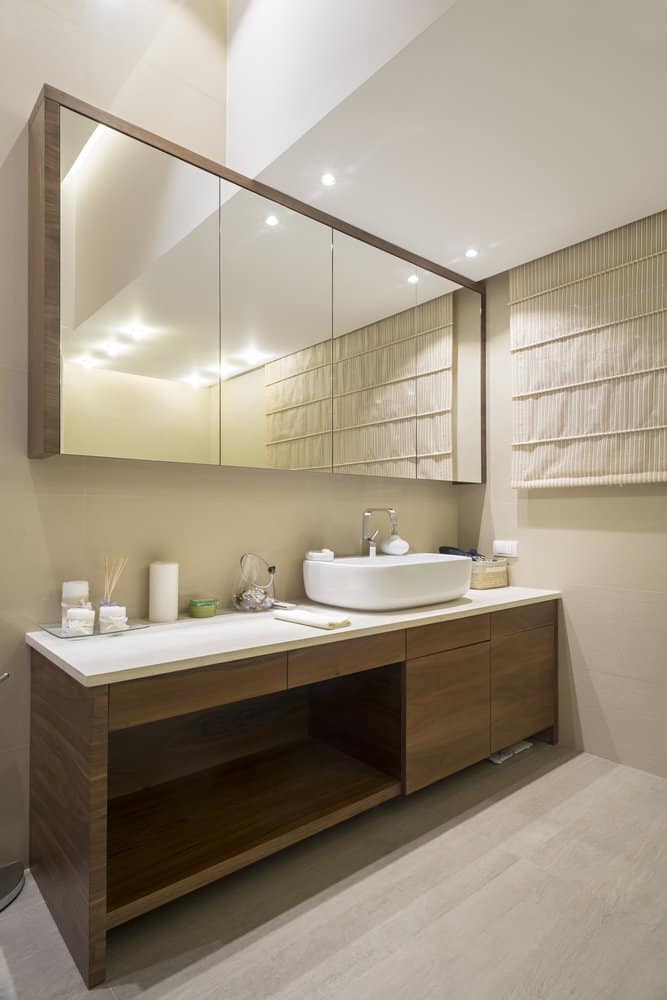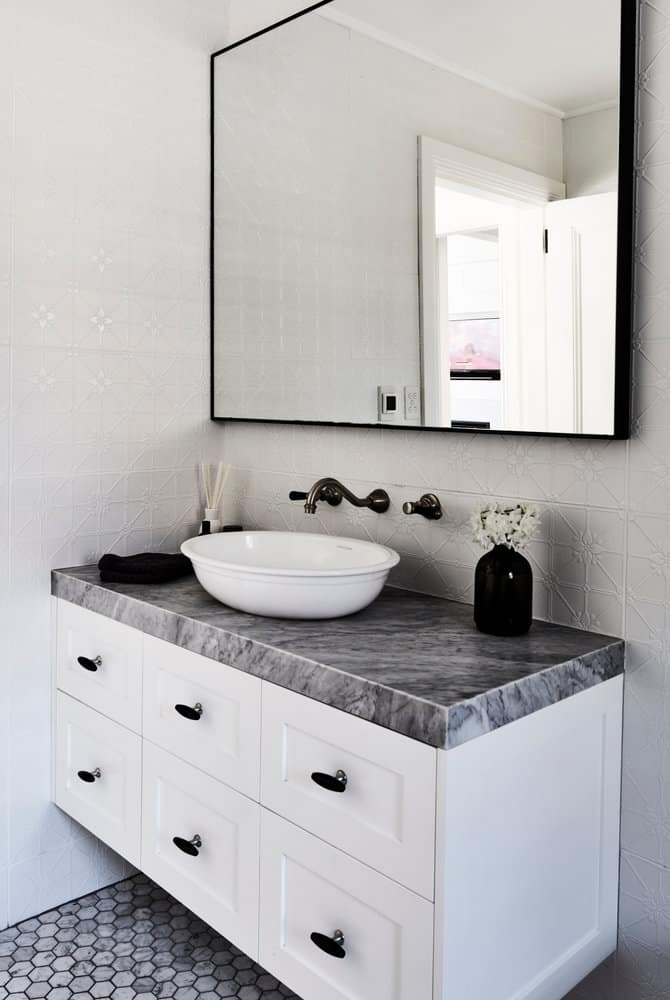 7. Futuristic LED Illuminated Mirror
LED mirrors provide unparalleled lighting, essential for grooming, makeup application, or even capturing that flawless selfie. Selecting a shape consistent with your bathroom's style ensures cohesion. Beyond its practicality, an LED mirror, especially with modern design elements, infuses the bathroom with a sophisticated and futuristic aura. Consider models with adjustable brightness to cater to various needs.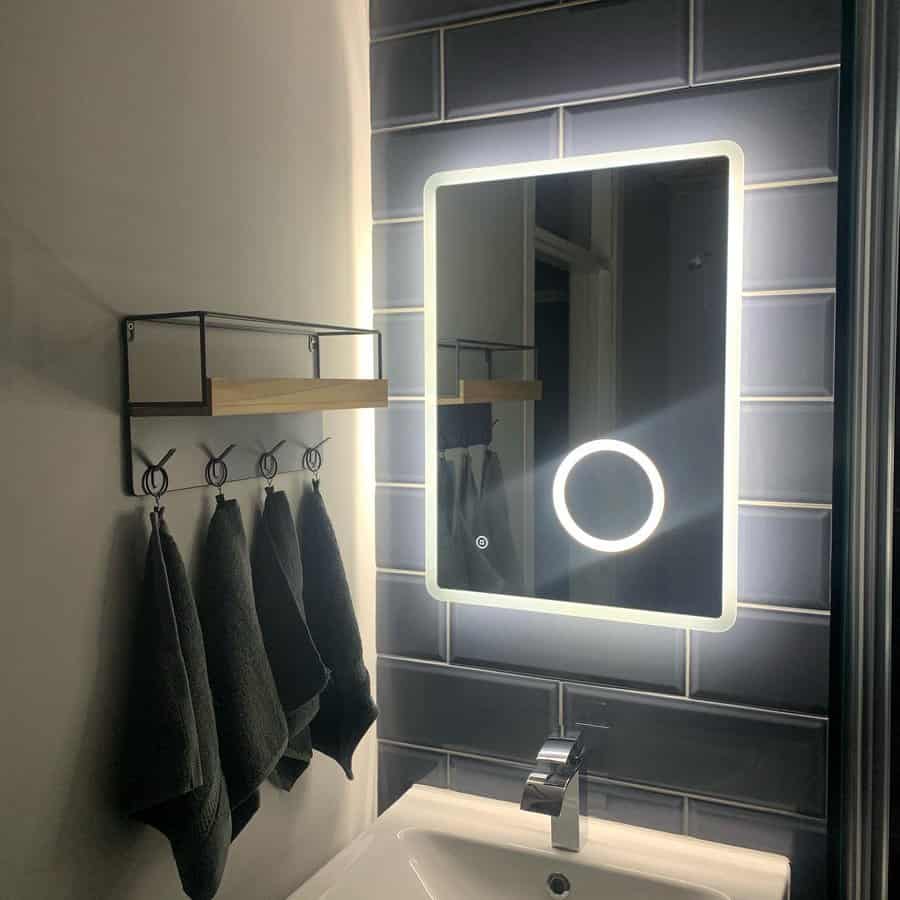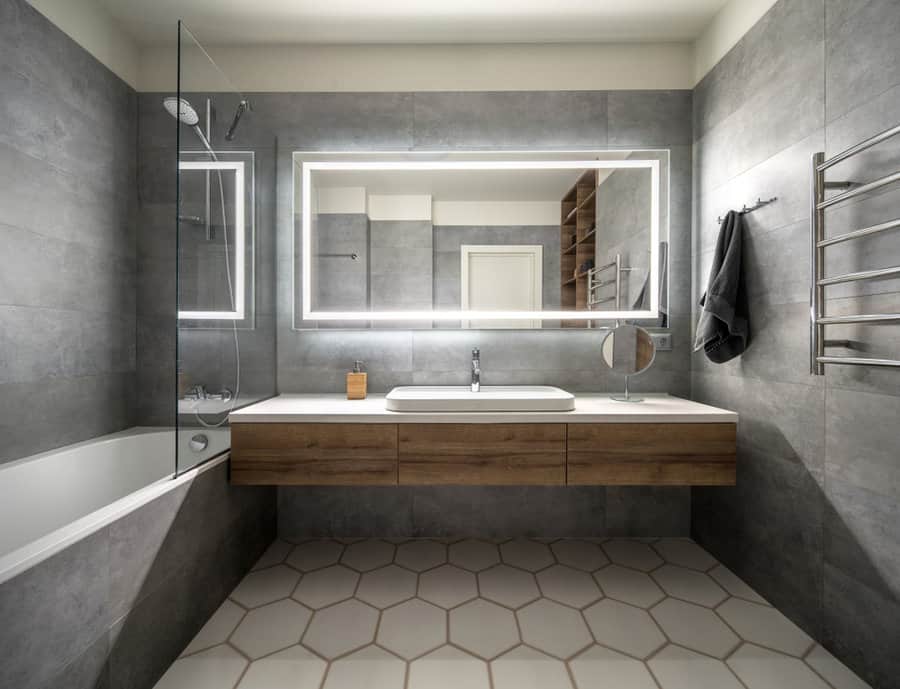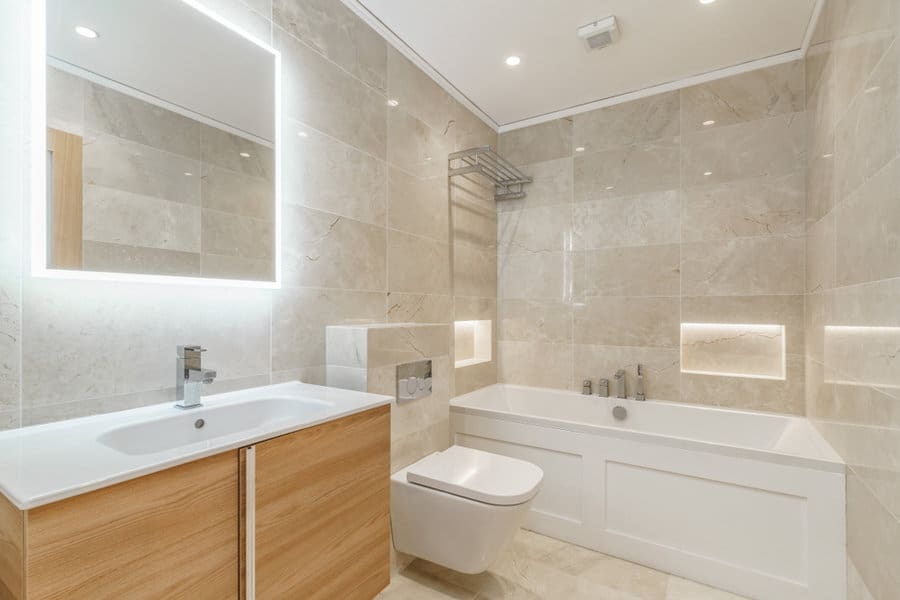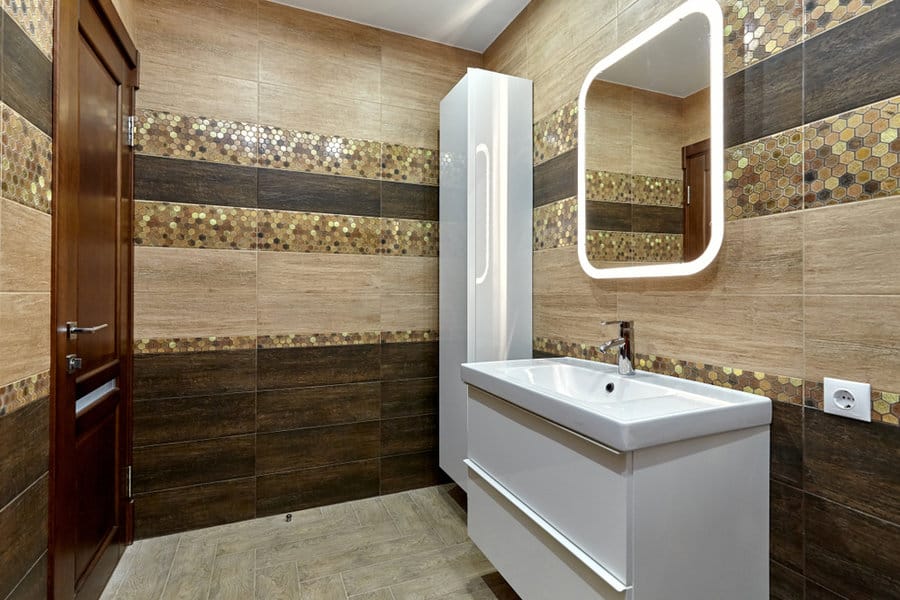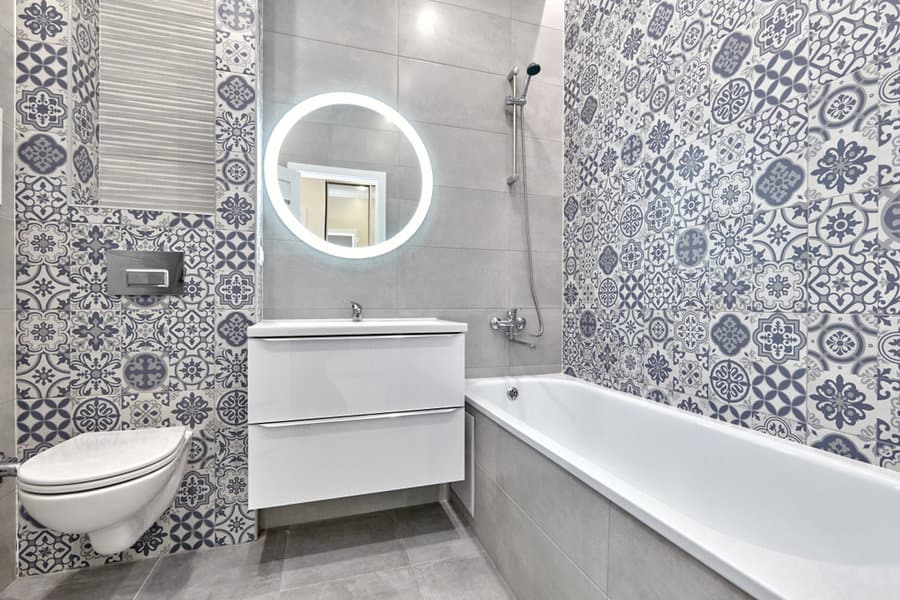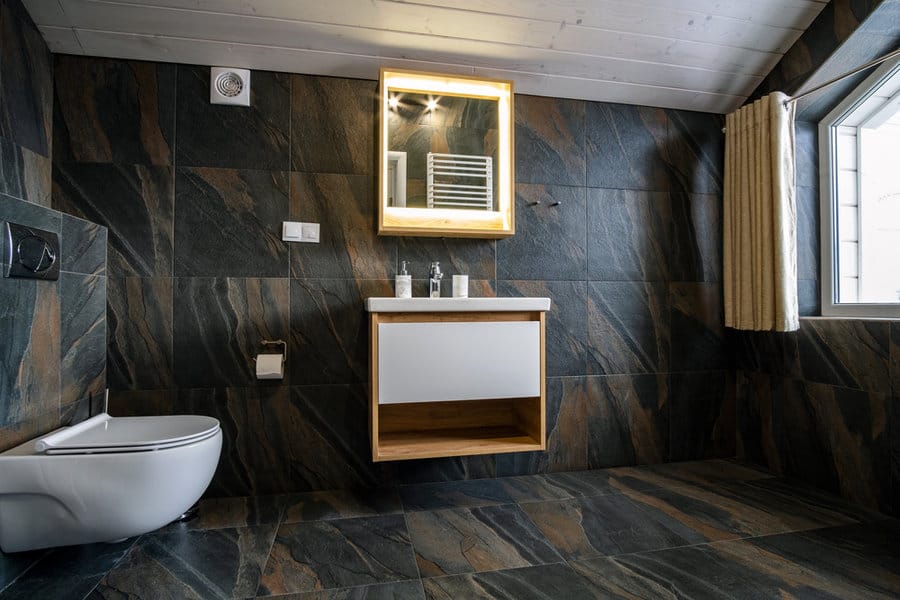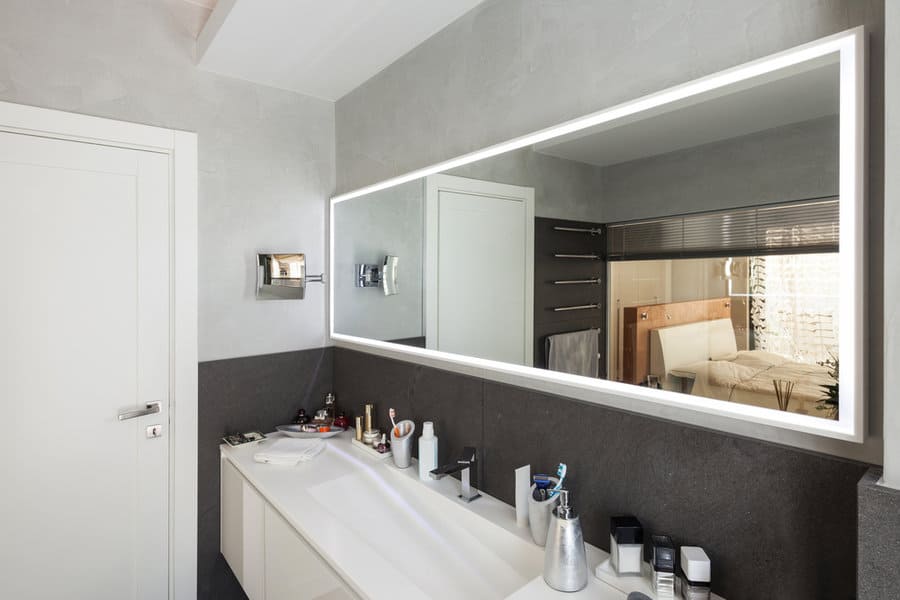 8. Mirror Boasting Floating Shelf
A bathroom mirror with a floating shelf marries style with functionality, offering storage without compromising aesthetics. The design exudes modern minimalism and provides a handy spot for frequently-used items. With the mirror in place, last-minute touch-ups become hassle-free. When installing, ensure it's at a height that's both accessible and offers the best reflection. Consider decluttering the shelf regularly to maintain a clean look.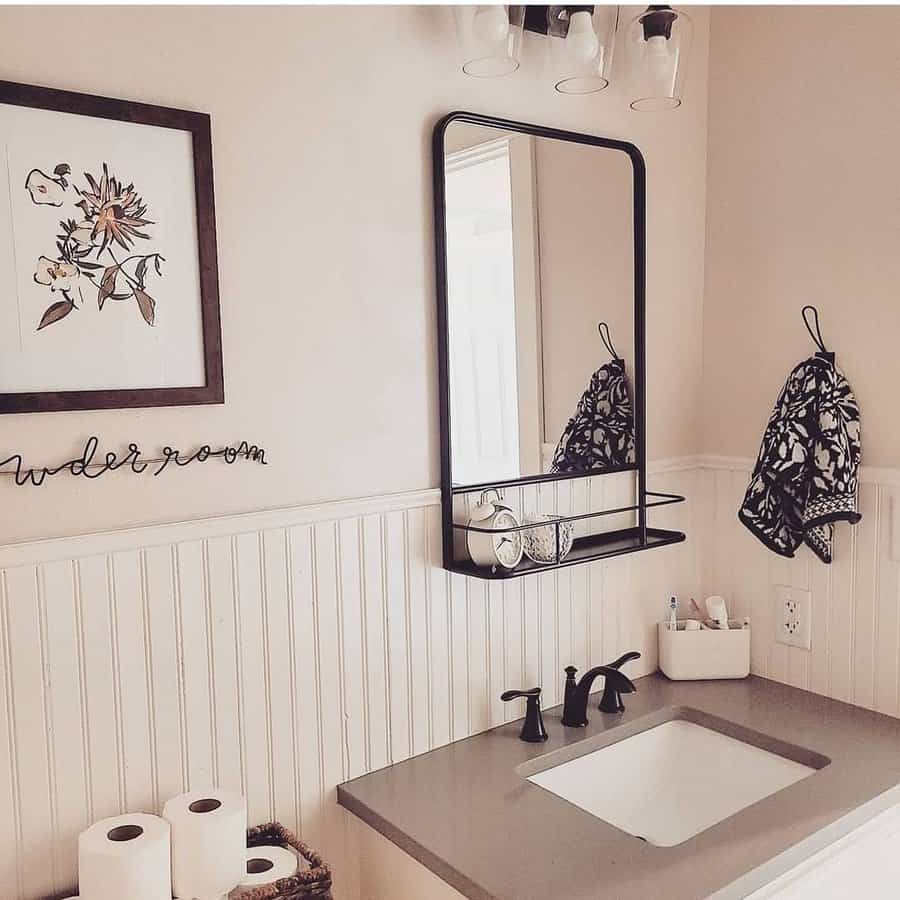 9. Dramatic Giant Round Piece
A giant round mirror effortlessly elevates a bathroom, blending elegance with dramatic flair. It not only amplifies the room's visual appeal but also augments perceived space. While it introduces modernity to traditional bathrooms, in glamorous settings, it accentuates luxury. To harmonize with the surroundings, opt for a complementary frame, be it metallic or sleek black, to unify the aesthetic. Ensure its positioning captures maximum light for the best impact.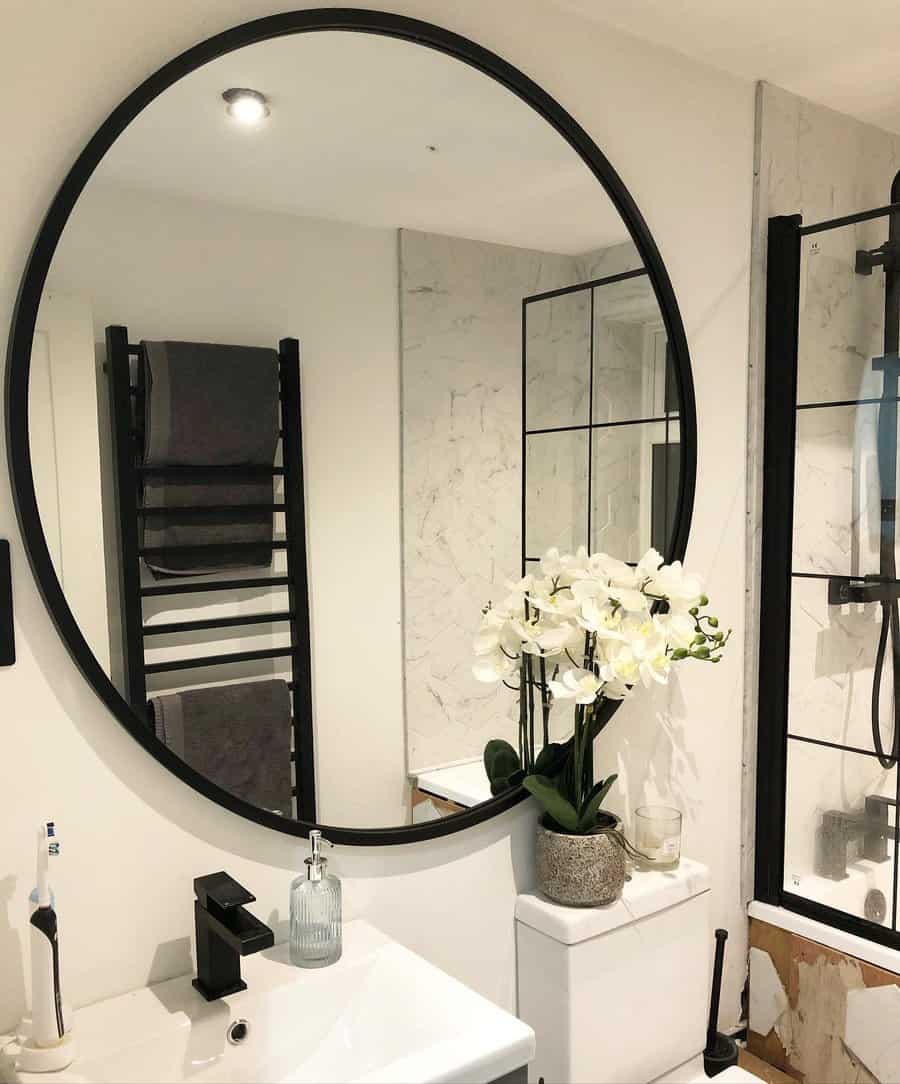 10. Rustic Wooden-Framed Charm
A wooden-framed mirror infuses rustic warmth into a bathroom, evoking a cozy farmhouse ambiance. To amplify this charm, consider a distressed wood finish or lean into simplicity with natural, unfinished wood. Versatile in nature, these mirrors complement various design themes, from vintage to contemporary. When choosing, consider the bathroom's dimensions and ensure it contrasts well with wall colors, creating an inviting, countryside allure.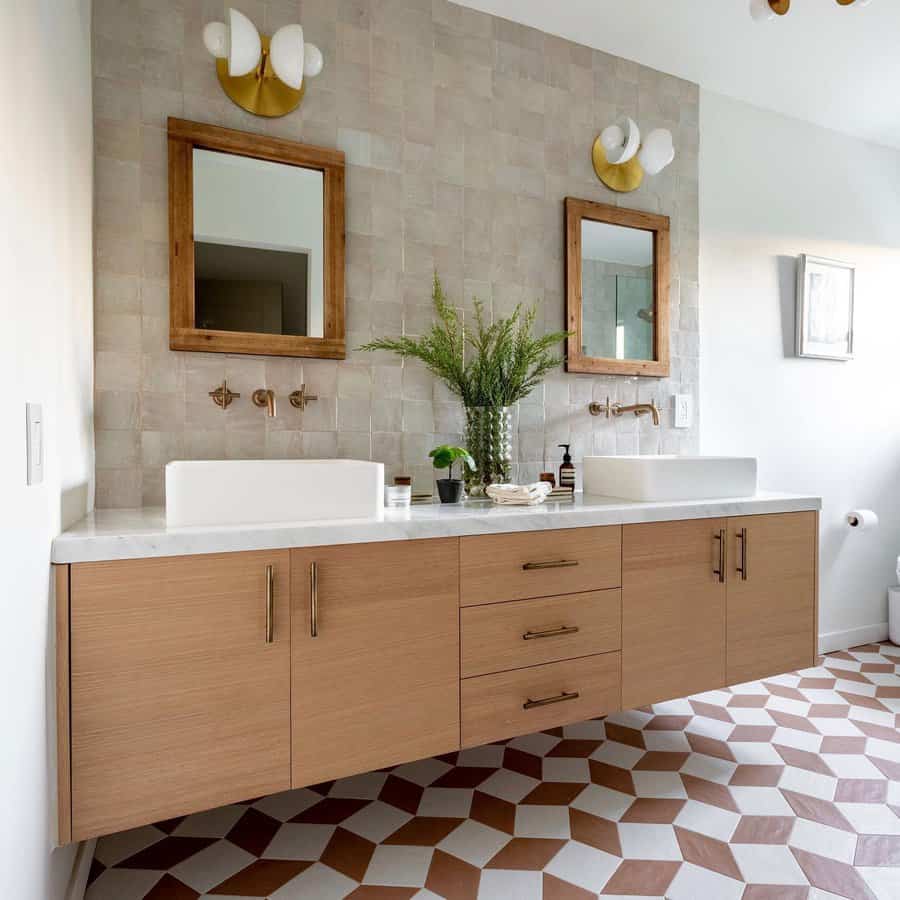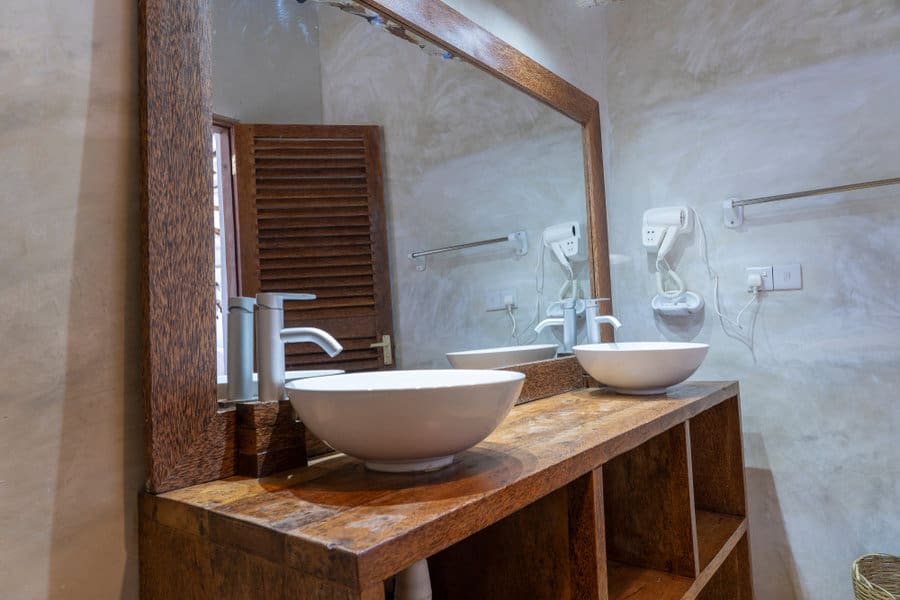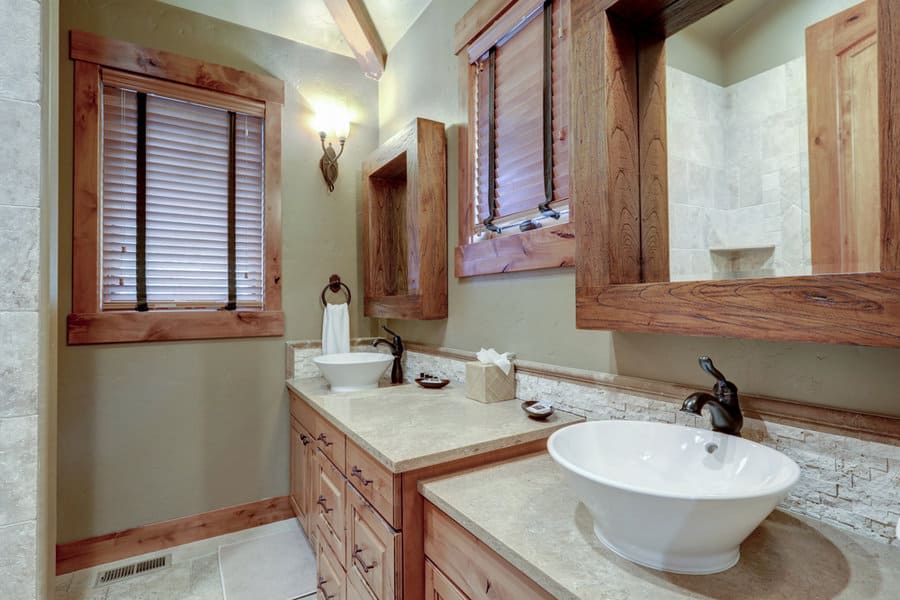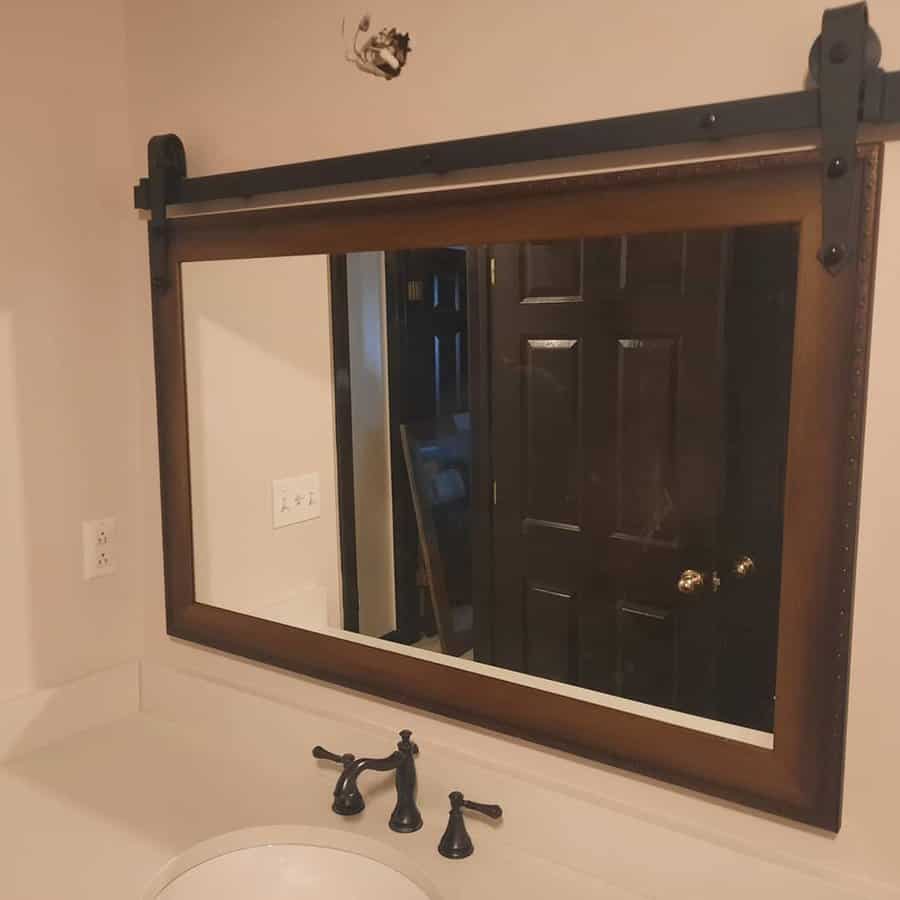 11. Graceful Arch-Shaped Display
The arch-shaped mirror offers an elegant deviation from standard designs, making it a distinctive statement for any bathroom. Especially harmonious with gold fixtures, it lends a refined touch, reminiscent of trendy design inspirations. Its versatility ensures it graces both traditional and contemporary spaces, instantly elevating the ambiance. Position it centrally to anchor your bathroom's aesthetic.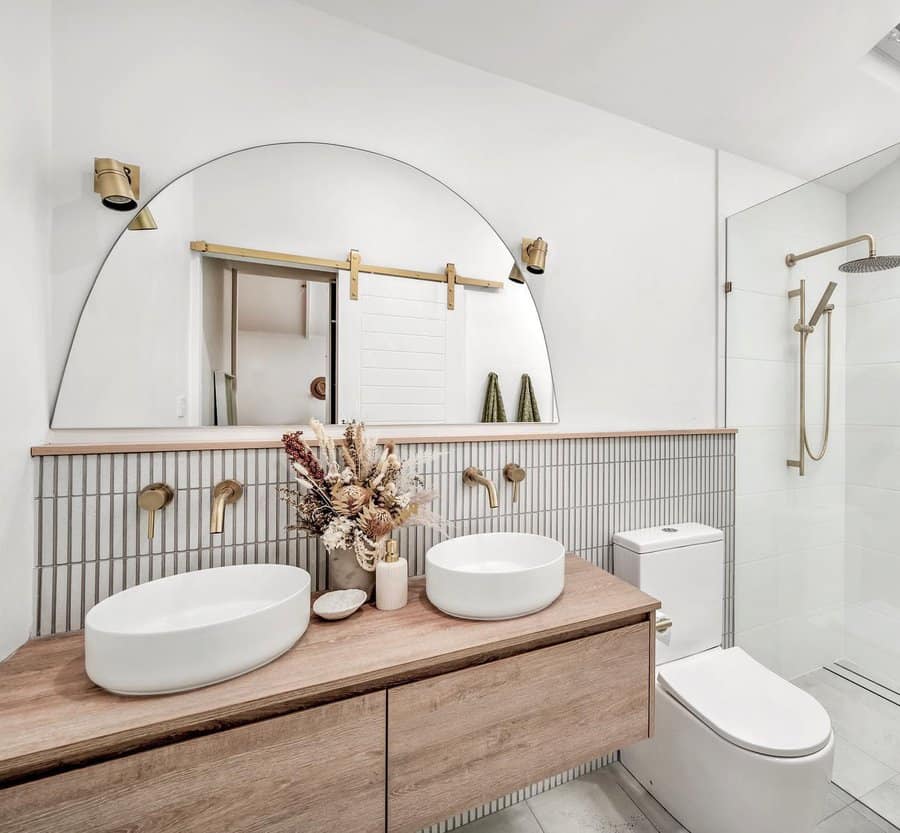 12. Geometric Hexagon Feature
Hexagon mirrors infuse a bathroom with geometric intrigue, offering a modern twist with enduring appeal. Beyond its eye-catching aesthetics, it retains all the functional benefits of a mirror. For those seeking variation, other geometric choices like squares or rounds can equally captivate while fitting seamlessly into diverse design themes. Pair with angular fixtures to accentuate the geometric theme further.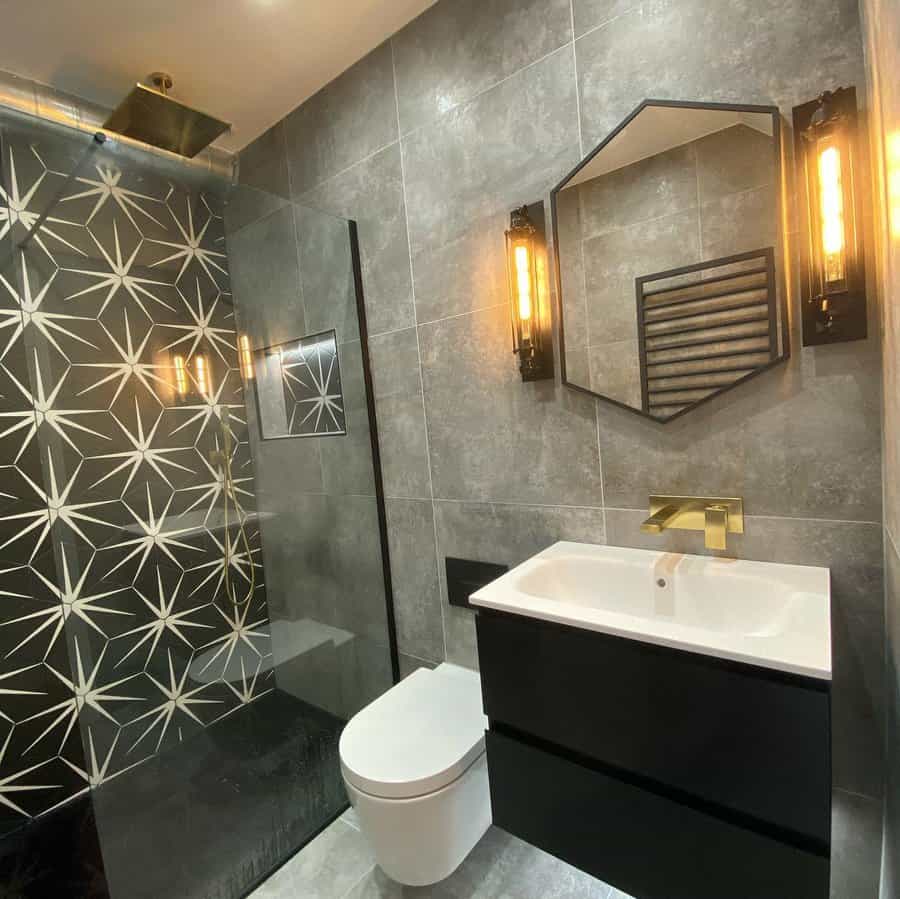 13. Classic Full-Length Reflection
A full-length mirror, while seemingly expansive, can magnify a bathroom's spaciousness and illuminate the area. Besides its functionality for outfit checks, it introduces a refined touch, fitting harmoniously in both contemporary and classic decors. To maximize its impact, position it on a less cluttered wall, ensuring it captures and reflects optimal light, enhancing both utility and elegance.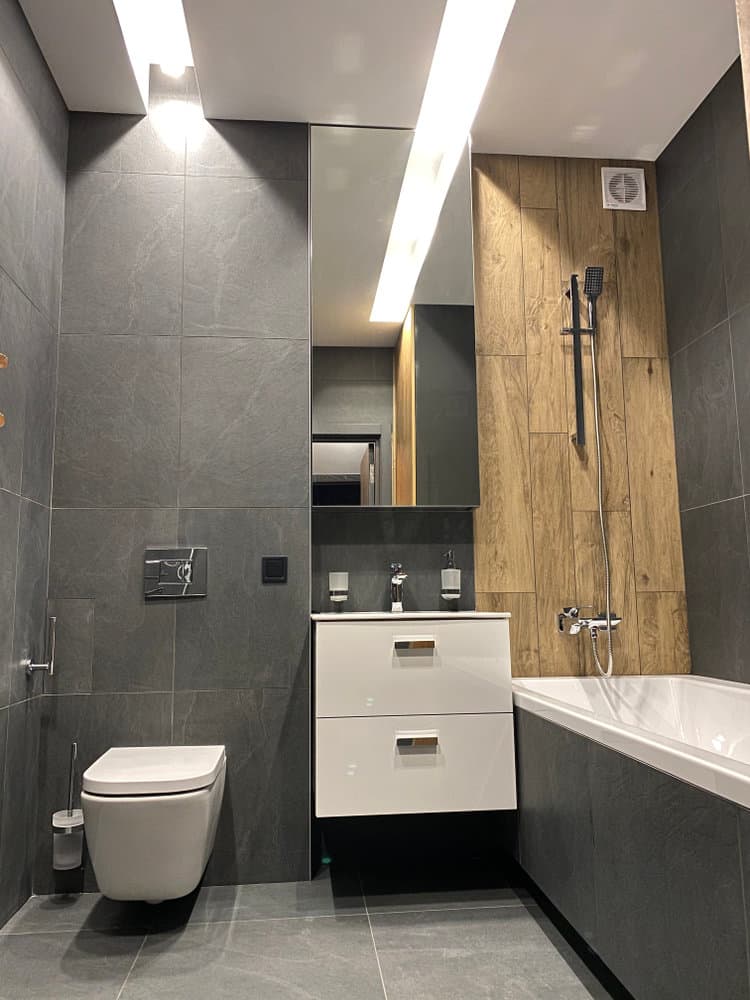 14. Timeless Victorian-Style Frame
The Victorian-style mirror, with its ornate, detailed frame, seamlessly injects elegance into any bathroom. Ideal for vintage or traditionally-themed spaces, it serves as an iconic representation of classic design. Whether a grand centerpiece or an ensemble of smaller mirrors, this style becomes a captivating focal point. To enhance its charm, pair it with complementary fixtures, ensuring daily routines are conducted amidst timeless sophistication.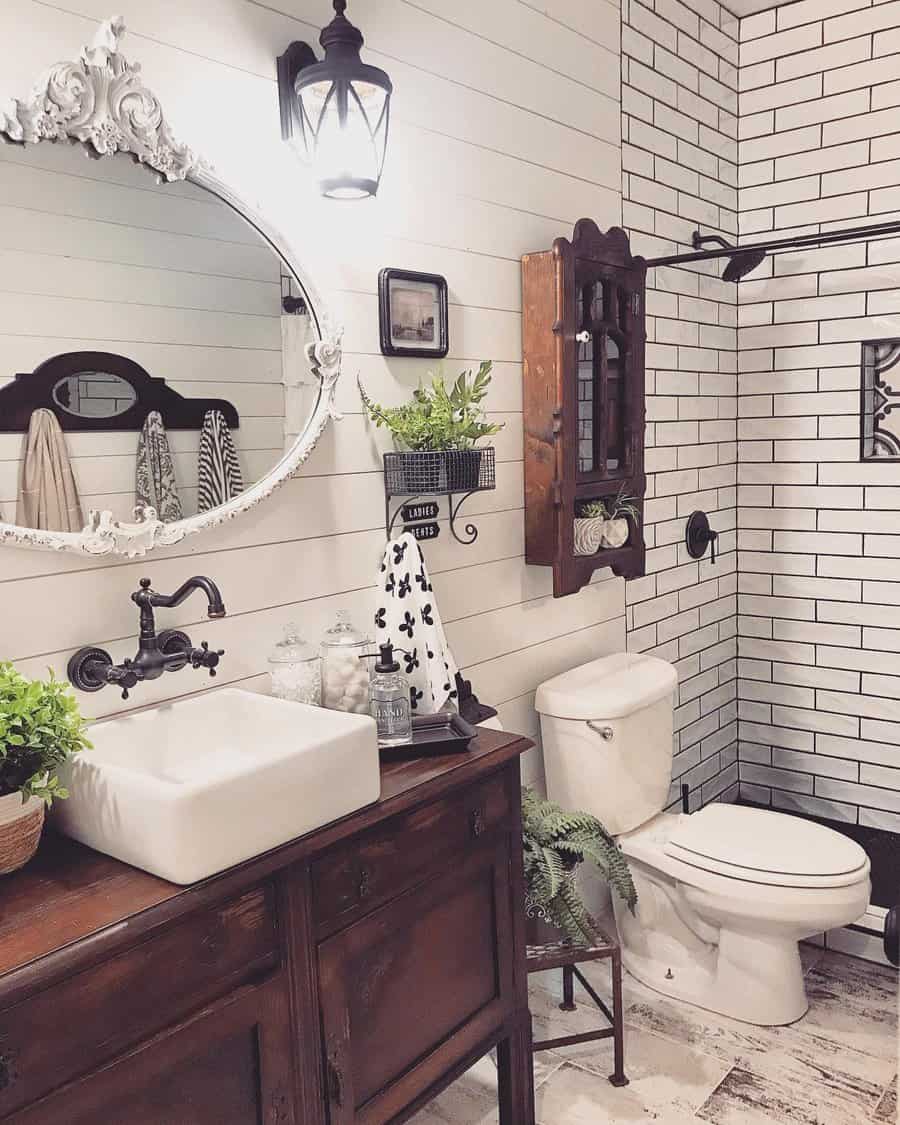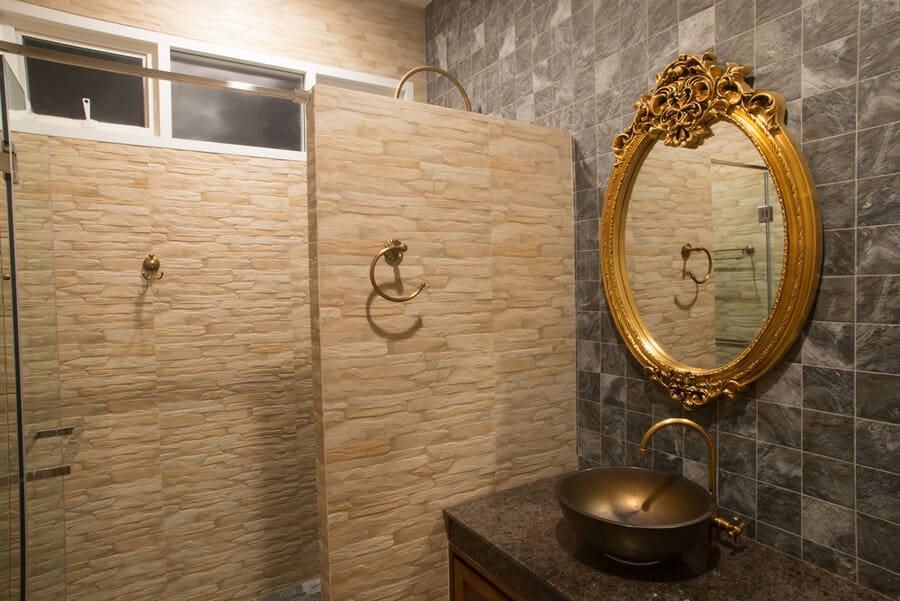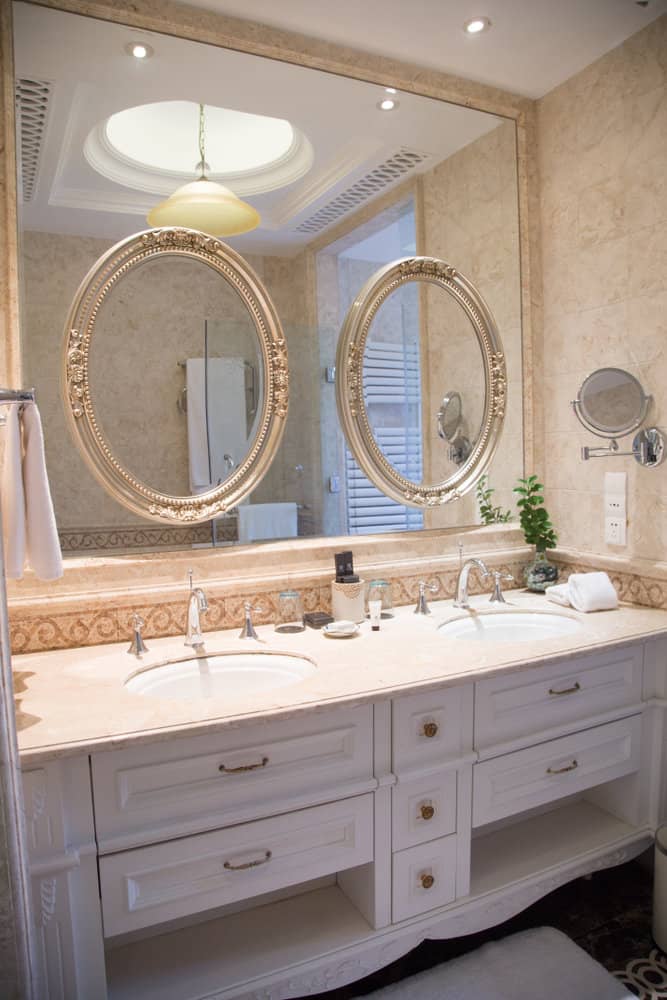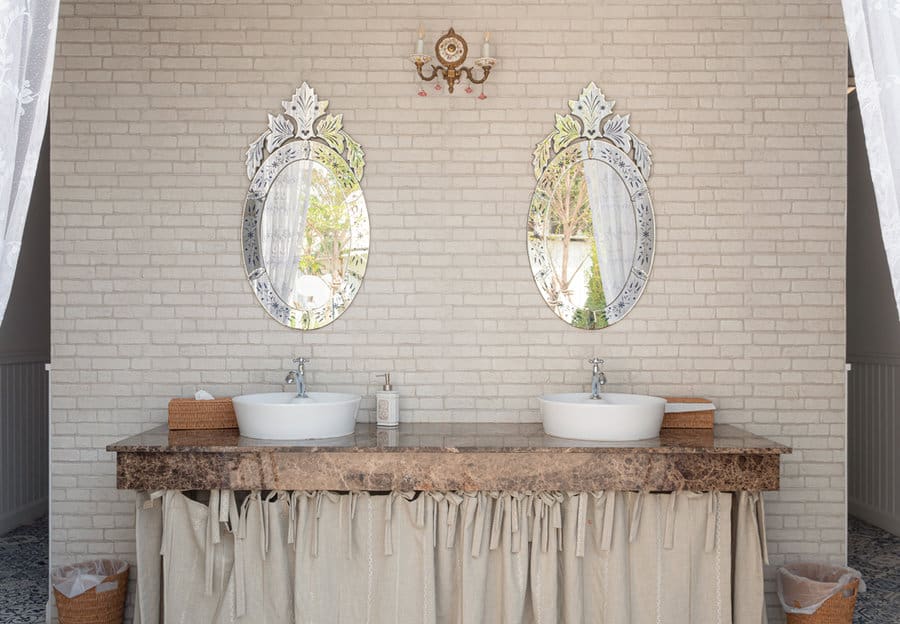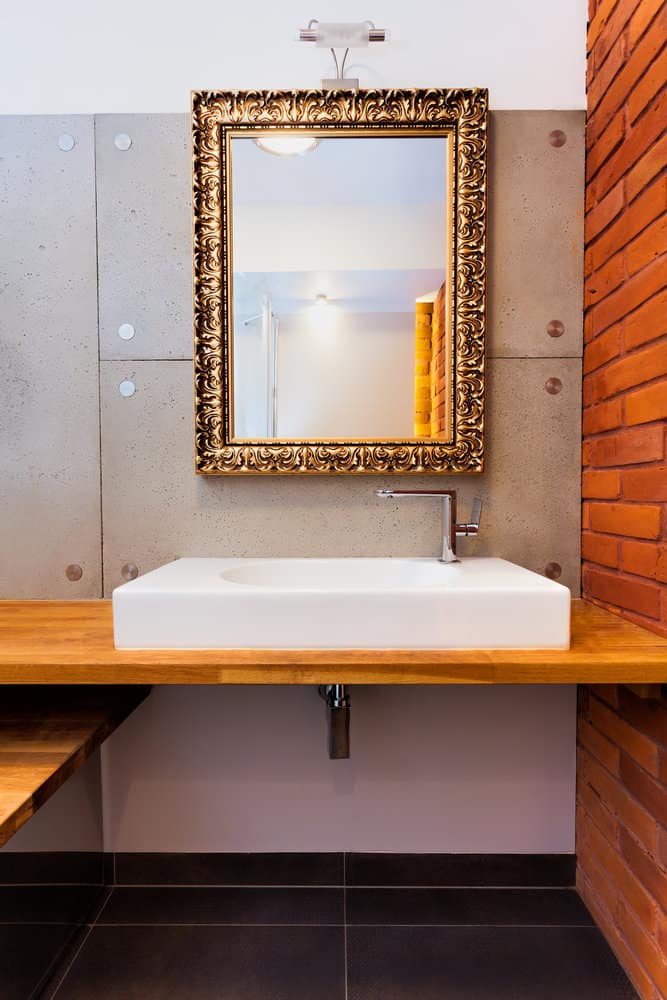 15. Integrated Recessed Mirror Solution
Recessed mirrors offer a dual advantage in bathrooms – architectural flair and added storage. The in-built shelving is perfect for storing daily essentials, keeping clutter at bay. Particularly beneficial for compact spaces, the recessed design magnifies perceived roominess. With its minimalist appeal, it suits a spectrum of bathroom styles, from traditional to contemporary. Ensure it's well-lit to optimize functionality and aesthetic appeal.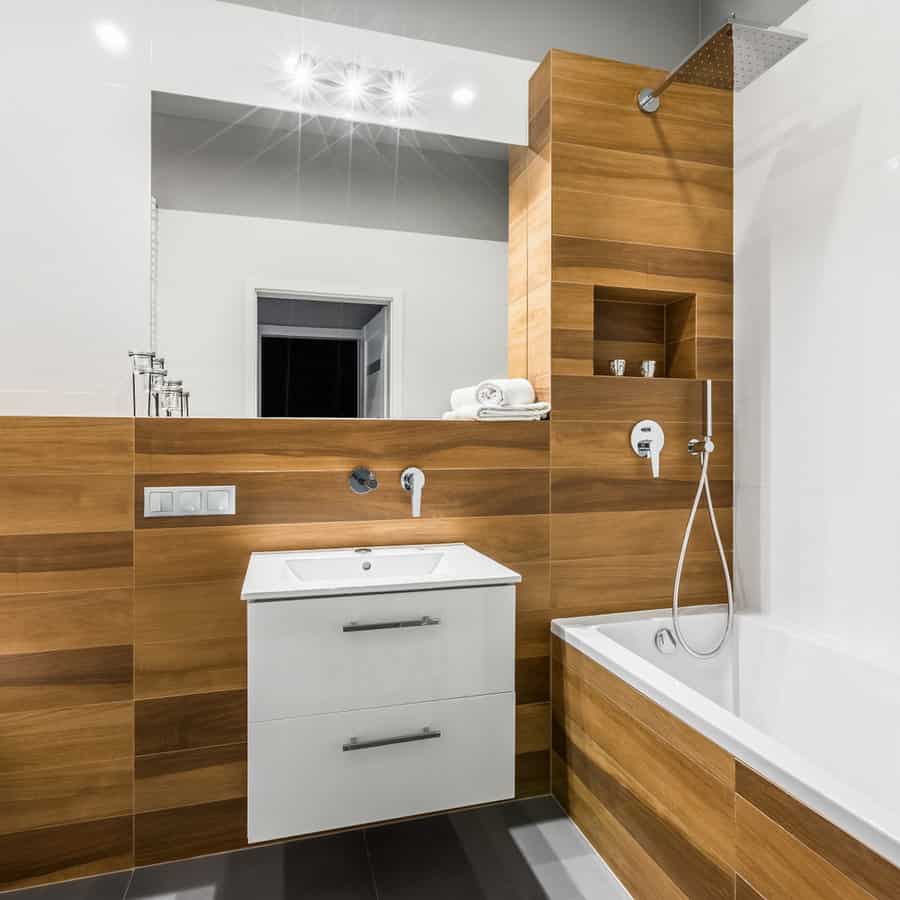 Bathroom Mirror FAQs
What is the best size for a bathroom mirror?
As a general rule, your mirror should be no larger than the bathroom vanity or sink it sits above. However, there are also plenty of cases where this rule can (or should) be broken.
If you're unsure which mirror is best for your bathroom, consider mapping out the space with painter's tape or a piece of paper cut to size. This will help you envision your future bathroom design before making any big commitments!
Can any mirror be hung in a bathroom?
Selecting decor for a bathroom is a bit trickier than most other living spaces, largely because of the higher moisture levels. While many "normal" mirrors will look great in a bathroom, be wary of materials that will break down or harbor mold when exposed to moisture.
Powder rooms and guest bathrooms that aren't used very often are much better candidates for all-purpose wall mirrors than the master bathroom.