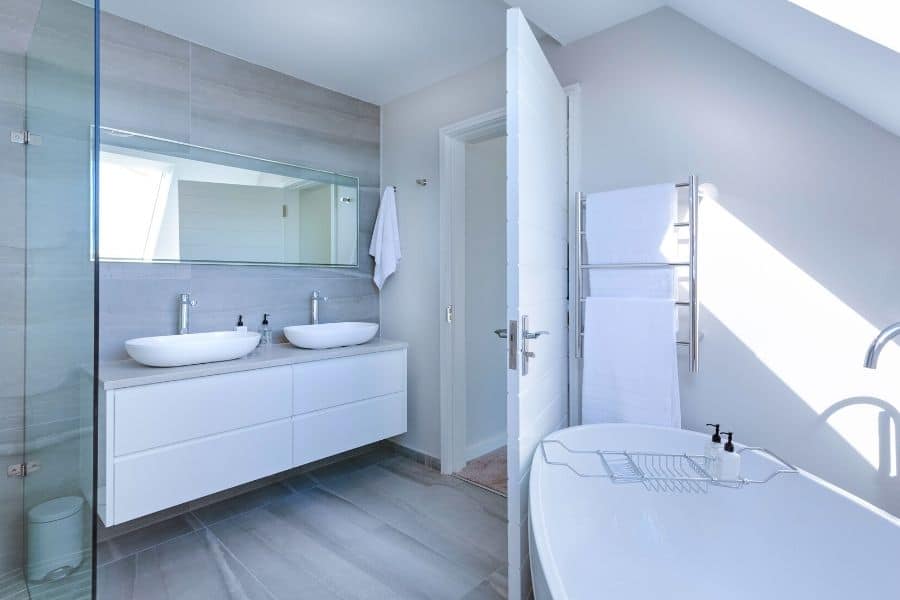 "Always go to the bathroom when you have a chance." – King George V
Your bathroom looks as tired as you feel the morning. Wouldn't it be nice if you could give it an update? Perhaps the shower design could be better. Or there is a lot of wasted space with that bulky vanity design. Transitioning your bathroom into a modern design could create more space and bring more light into your bathroom.
These modern bathroom ideas will help you plan the perfect bathroom remodel so you can say goodbye to your tired and old bathroom.
1. Contemporary
Contemporary and modern are two different design themes that get confused often. If you aren't ready to commit to a modern bathroom because they feel too cold or sleek, then a contemporary bathroom is probably a better fit. There is greater use of wood and other natural elements. This adds warmth to the bathroom, making it feel more comfortable.
Contemporary bathrooms also tend to have more color than their modern counterparts. Add a painted wall or pops of color with the decor. Typically, contemporary bathrooms stick with neutrals, but that doesn't mean you have to.
2. Design
Modern bathroom design is clean, simple, and almost sleek. It uses a color palette of white, grey, and black. You won't find bright, vibrant, or rich shades. They also won't be all-white, which is a different design theme. Modern bathroom design layers multiple color shades together to create dimension and depth.
Instead of adding decor and trinkets to your bathroom, let the bathroom elements themselves be the decor. If you want to add something, you could have a single candle or another aromatherapy item. This helps to create an experience.
3. Lighting
Take out that dated-looking builder-grade light fixture and replace it with a modern one. You could have recessed lighting, but this requires a bit more remodeling work. A modern light fixture that is a direct replacement for your original light fixture is the easiest option.
Modern light fixtures have a simple design with minimal design and ornamentation. LED lights are the modern lighting solution. They come in a range of colors, are energy-efficient, and are long-lasting. Add basic ambient lighting that illuminates the entire bathroom. Then add task lighting around the vanity. Finish with accent lighting to highlight specific areas of the bathroom.
4. Luxury
Modern and luxury designs blend together beautifully with high-end materials and elegant bathroom decor. It can be challenging to do luxury and modern well, as too many people try to do too much. The trick to getting it right in your bathroom is to avoid the clutter and let the quality of the workmanship and materials shine.
Don't use basic porcelain or mass-produced ceramic tiles. Instead, choose handmade tiles, or ones that have a hand-painted subtle design. Upgrade the material of the tile by using marble. There are different grades of marble, so the rarer the stone, the more luxurious.
5. Master Bathroom
People make the mistake of thinking that their master bath needs to be more ornate or decorative. This is not the case. A modern master bathroom feels fresh and bright, making it the perfect space for getting ready in the morning or relaxing at the end of the day.
Typically, master baths are larger, which gives you more space to work with. Keep the modern feel by making it as open as possible. Have a long floating vanity that holds two sinks. Create a space for a walk-in shower and another for a freestanding tub. Or get ultra-modern and place the tub in the oversized shower space.
6. Minimalist
Modern and minimalist go hand in hand. The difference is that with minimalist bathrooms, there is a bare feeling. Focus on clean lines and as little bathroom furniture as possible. This approach works best for small bathrooms because they have a limited amount of space.
Ultra-modern bathrooms can feel too bare for most people, so be sure you like this design before committing to it. Your bathroom will have large tiles with minimal grout lines, a slim floating shelf, recessed lights, and glass partitions for the shower.
7. Remodel
For most homeowners, a bathroom renovation is the only way to achieve the modern bathroom of their dreams. This means ripping out that floor-standing bathroom vanity and replacing it with a floating one. Take out the built-in tub and replacing it with a freestanding one or a walk-in shower.
You may also need to change the entire bathroom style by removing architectural elements like decorative trim. It can help to look at modern bathroom trends to get guidance on how to transition a bathroom into a modern design.
8. Shower
A modern shower area is one that is almost invisible. Not that you can't see it, but that it blends in with the rest of the bathroom design. The tile in the rest of the bathroom continues into the shower for a seamless transition. Instead of having a shower curtain, leave the entry space open to create a shower room.
Or prevent splashing and a wet bathroom by adding a frameless glass pane divider. Most homes require a modern bathroom remodel to achieve this look. You may need to remove an interior bathroom wall to open the space up.
9. Sinks
Say goodbye to the large vessel sinks that sit like a bowl on top of the vanity unit. These are dated, impractical, and messy. Instead, use the next generation of this style of sink, the tray sink. It still sits on top of the vanity counter, but the sides are much lower, and the space inside is much larger. The square crisp design in white looks clean and modern. This gives you more room to wash your hands and face without splashing outside of the sink.
Pair your sink with the right kind of bathroom faucet. It needs to work with both your sink and your overall modern bathroom design. All black and brushed metals are popular for the finish. Choose a one, two, or three unit setup based on how many holes you have in your sink or countertop. Keep the design simple with minimal detailing and decoration. Innovative technology, such as hands-free, is a plus.
10. Tiles
Unlike other design elements in your modern bathroom, One of the most traditional tile designs can actually look modern. Subway tile is a popular choice because it is clean-looking, adds a natural pattern, and looks modern when paired with other modern features. Try using it as the floor tile.
The other option is to choose a large tile. This is best for the wall tile. This is the bathroom for trying out that mosaic tile you've had your eye on. Ceramic tile is the most durable, and you can find it in a variety of large sizes. Don't be afraid to choose a tile that has a subtle design that mimics marble or another stone. Metal tiles or ones that look like wood can also look good in a modern bathroom.
11. Toilet
Toilets tend to have a single basic design, but that doesn't mean you can't have one that looks more modern. Instead of the standard bowl and tank design, look for one that streamlines the design. It could mimic the shape of modern freestanding tubs with a single curved shape that extends from the top of the bowl to the floor. The tank could be integrated into the design or a completely separate unit.
Try to stick with white. While some modern bathroom design ideas use other colors, most people find them unsettling. It is hard to tell if a black toilet really is clean or not. Another way to make your toilet more modern is to look for one with innovative technology. It could have a warming feature for the seat or bidet features.
12. Tub
People assume that you can't have a bathtub if you want a modern bathroom. However, this isn't the case. You just have to pick the right tub that is also modern in design. You should leave the claw foot freestanding tub out of your bathroom design ideas. These tubs have a traditional and vintage feel that is the exact opposite of what you want.
Instead, look for a freestanding tub that has a simple design. It won't have feet or detailing. It should have smooth lines and gentle curves. It could come in various materials, from a simple white composite or porcelain to metal or even stone. Look for one with an asymmetric design for an ideal sitting tub.
Modern Bathroom FAQs
What is a modern style bathroom?
A modern bathroom focuses on structure, design, and architecture. The color palette is crisp with the use of white, black, and greys. There is minimal decoration and ornamentation.
How can I modernize my bathroom cheaply?
The easiest way to make your bathroom look more modern is to replace the lighting and plumbing fixtures. This is something you can do yourself. You can also remove your old vanity and install a floating vanity yourself. Change the color palette to a modern one by painting the walls and using tile vinyl stickers.
How do I accessorize a modern bathroom?
Adding small decorative accents to a modern bathroom is about adding functionality and artfully placed decor. Add a floating shelf or two and place a candle on them. Add a small wooden stool to provide a seating place. Arrange a small table next to the freestanding tub with bath accessories like bubble bath, bath salts, and bath bombs.