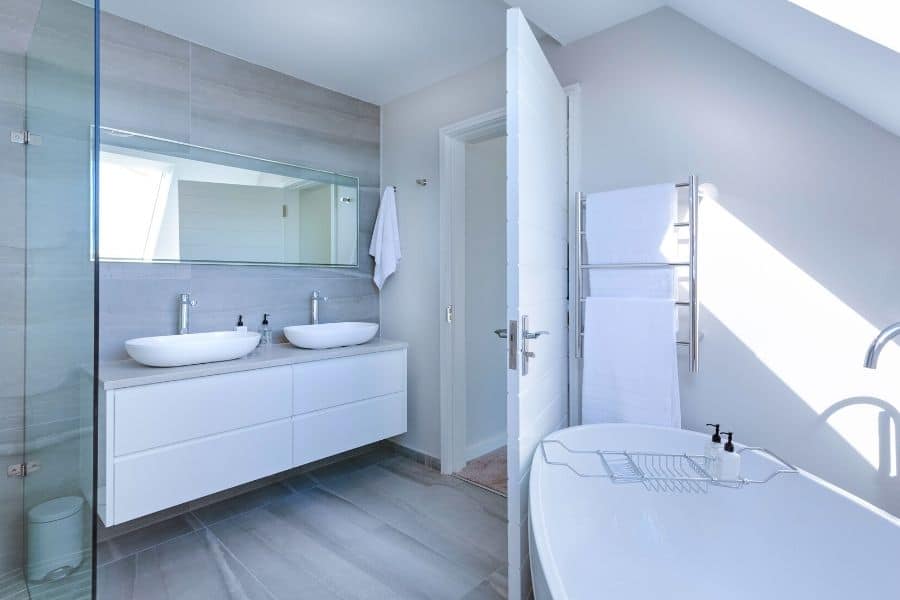 "Always go to the bathroom when you have a chance." – King George V
Your bathroom looks as tired as you feel in the morning. Wouldn't it be nice if you could give it an update? Perhaps the shower design could be better. Or there is a lot of wasted space with that bulky vanity design. Transitioning your bathroom into a modern design could create more space and bring more light into your bathroom. 
These modern bathroom ideas will help you plan the perfect bathroom remodel so you can say goodbye to your tired and old bathroom.
1. Sleek Marble & Pebblestone
A modern bathroom can be both functional and stylish. It features frameless shower doors that slip inside the walls for an uncluttered, sleek look. A pebble shower floor adds a unique touch of sophistication and brings a bit of nature indoors.
With these pieces, any bathroom can be transformed into a relaxing oasis that's sure to turn heads!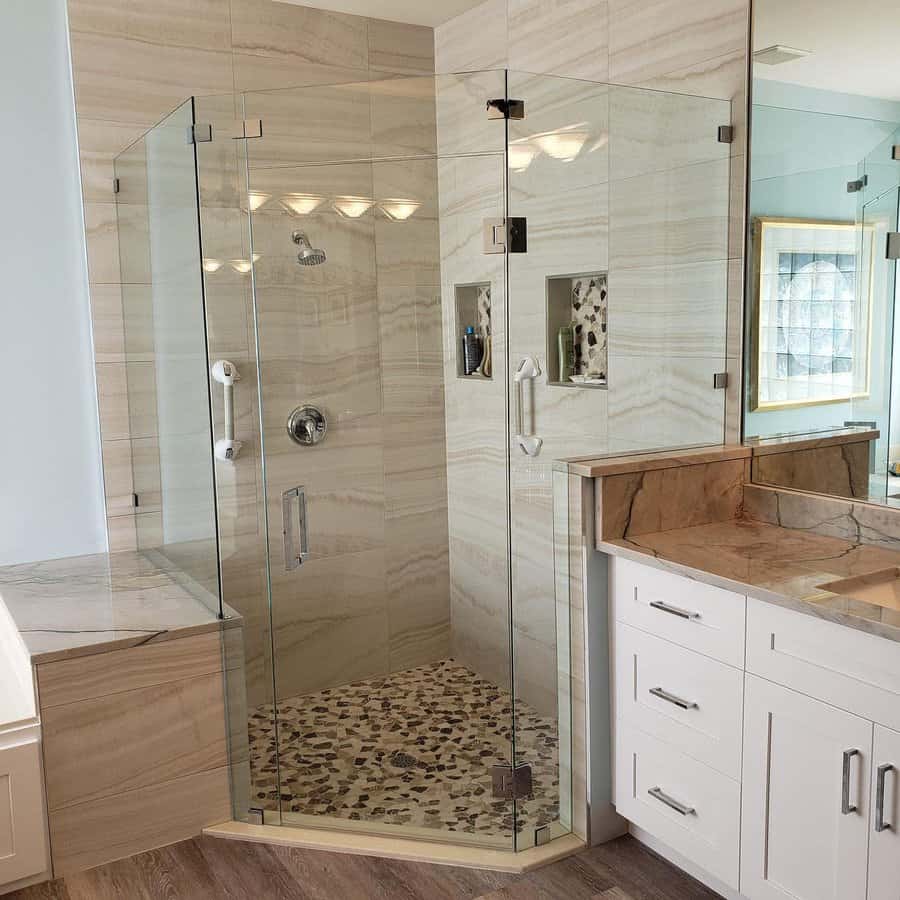 2. Shabby Chic White
The modern bathroom is a space of pure elegance and serenity. An inviting white pedestal bathtub, combined with sleek hexagon floor tiles and a beautiful marble sink, creates a tranquil atmosphere for your daily routine. And when the sun sets, dimmable LED downlights subtly illuminate the space to set a relaxing ambiance that will ease you into a peaceful night of rest.
The modern bathroom is truly an oasis that has been crafted by artistry and imagination.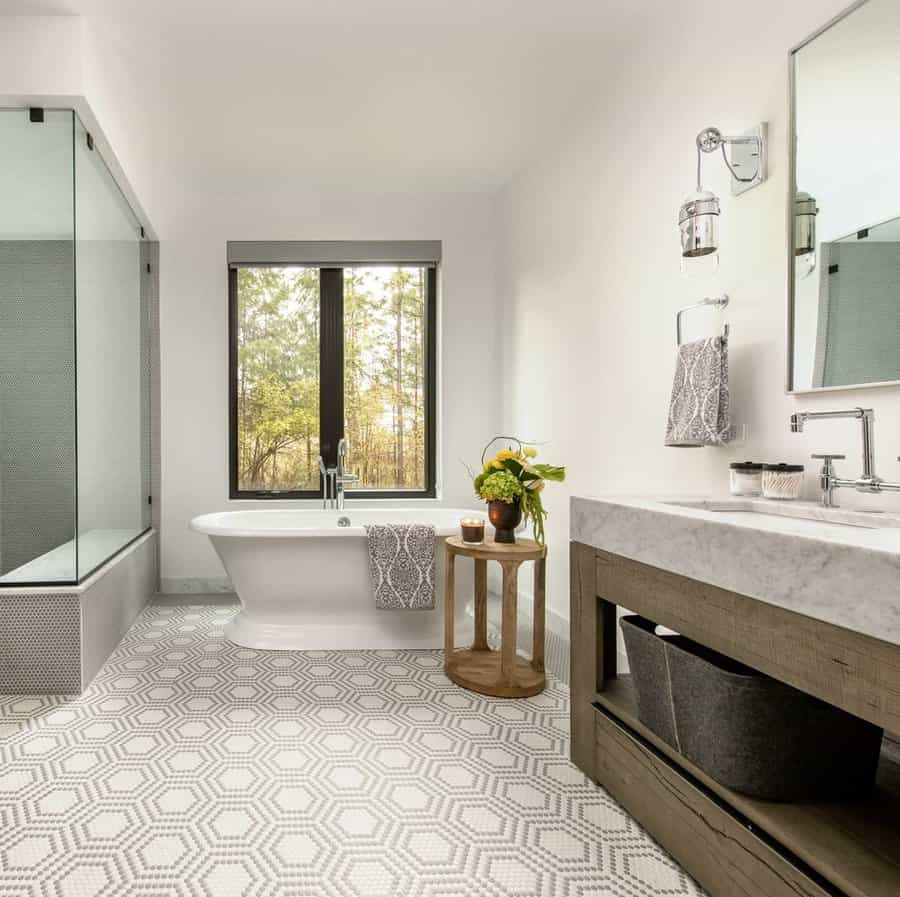 3. White Washed Ceramic
Entering a modern bathroom will make you feel like you've stepped into an art museum: white-washed ceramic walls set the scene for intricate diamond pattern tiles, while a frameless LED mirror reflects stunningly.
Not only is the space itself eye-catching, but there are also features that bring luxury and convenience.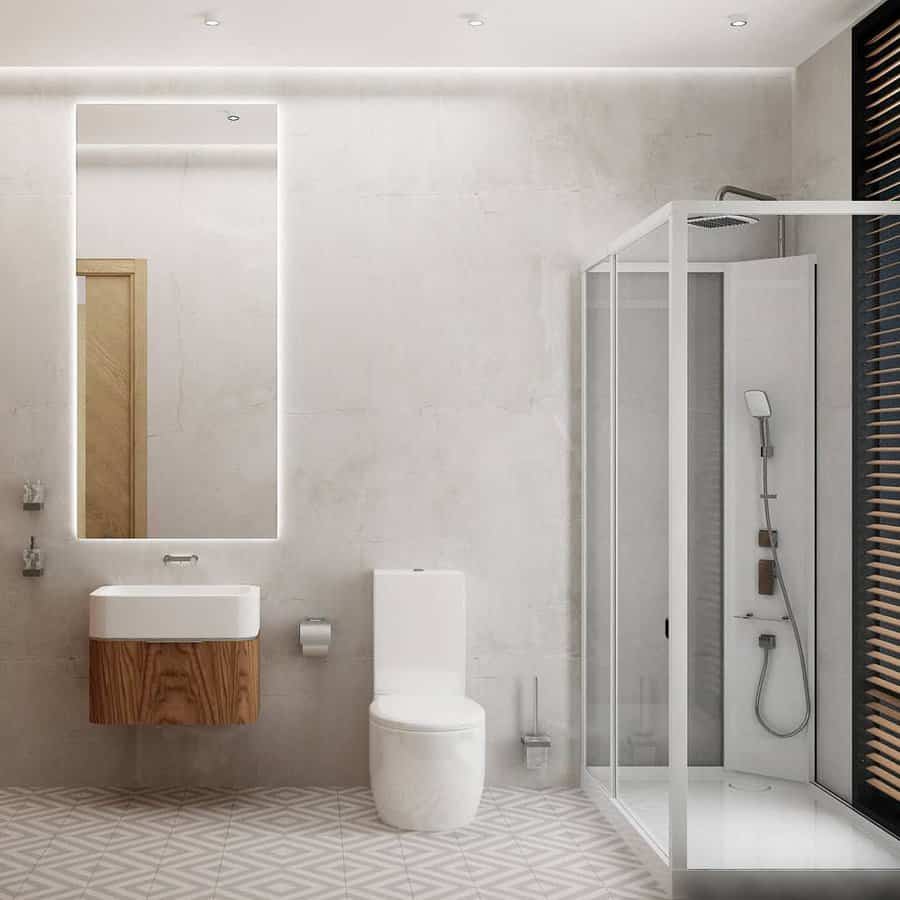 4. Masculine Black & White
Step into the modern bathroom, and you might feel like you're inside your own personal high-end spa. Sleek cement tiles line the floors, while a recessed wall shelf offers plenty of room to store your shower and beauty supplies. A black frame mirror hangs above the washbasin, adding a hint of subtle sophistication.
With its stylish blend of materials, fixtures, and finishes, this is definitely not your average bathroom – whether you're heading out to take on the day or winding down after a long one, it's designed to give you a sense of luxury and comfort.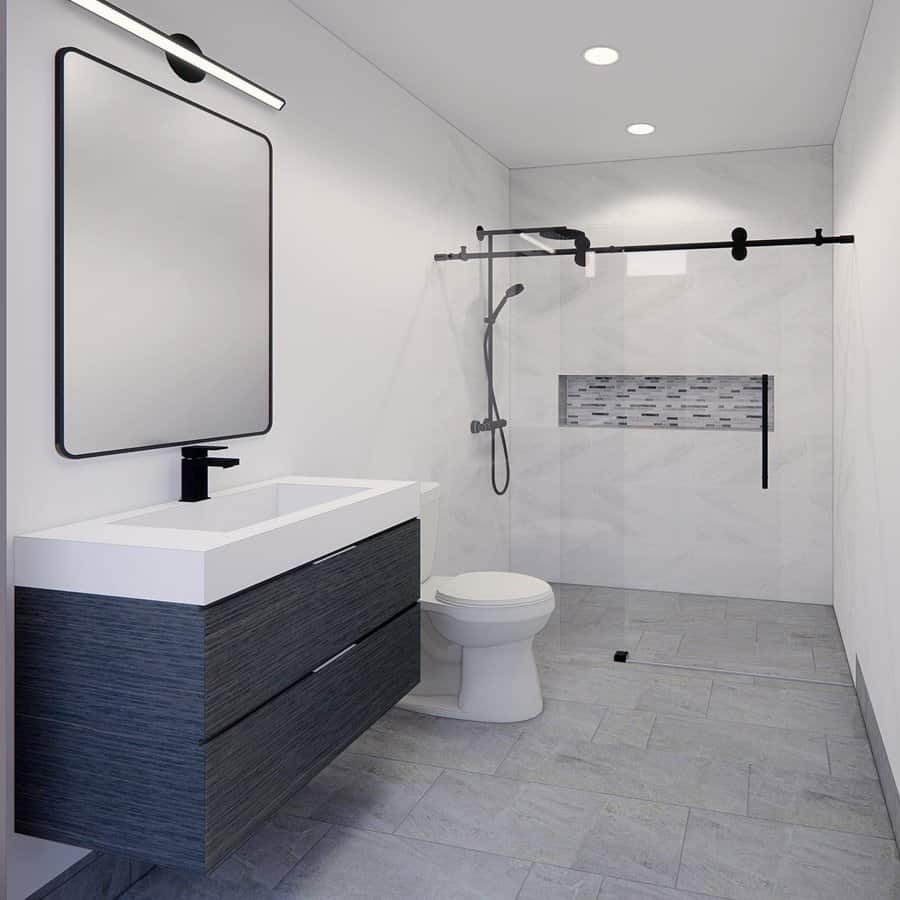 5. Tuscan Style White
Imagine Tuscan-style decor blended with herringbone tiles, marble countertops, sleek golden faucets, and an antique Persian rug to complete the look – a perfect combination of classic vintage charm with trendy accents for a chic appeal.
Whether you are looking for more room to pamper yourself or simply want to give your bathroom an upgrade with contemporary amenities, there are plenty of great ideas available that will make it not just practical but also beautiful and inviting.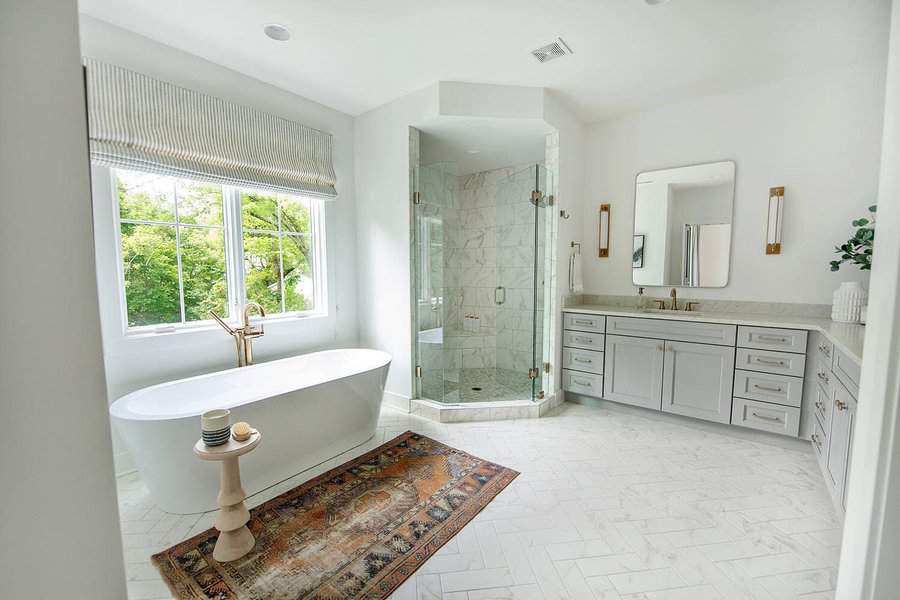 6. Layer On Layer
With white textured tiles that stretch up to the ceiling, a modern bathroom can be created to mimic the soothing sense of a luxurious spa. Imagine a chandelier hanging overhead bathing everything in a gentle, warm glow. Instead of curtains, white-printed Venetian blinds allow natural light in through the window, creating sleek and stylish shadows around the room.
What's more, this modern look means that maintenance is minimal and fuss-free. With a careful selection of furniture and accessories, you can create your own tranquil sanctuary within your home.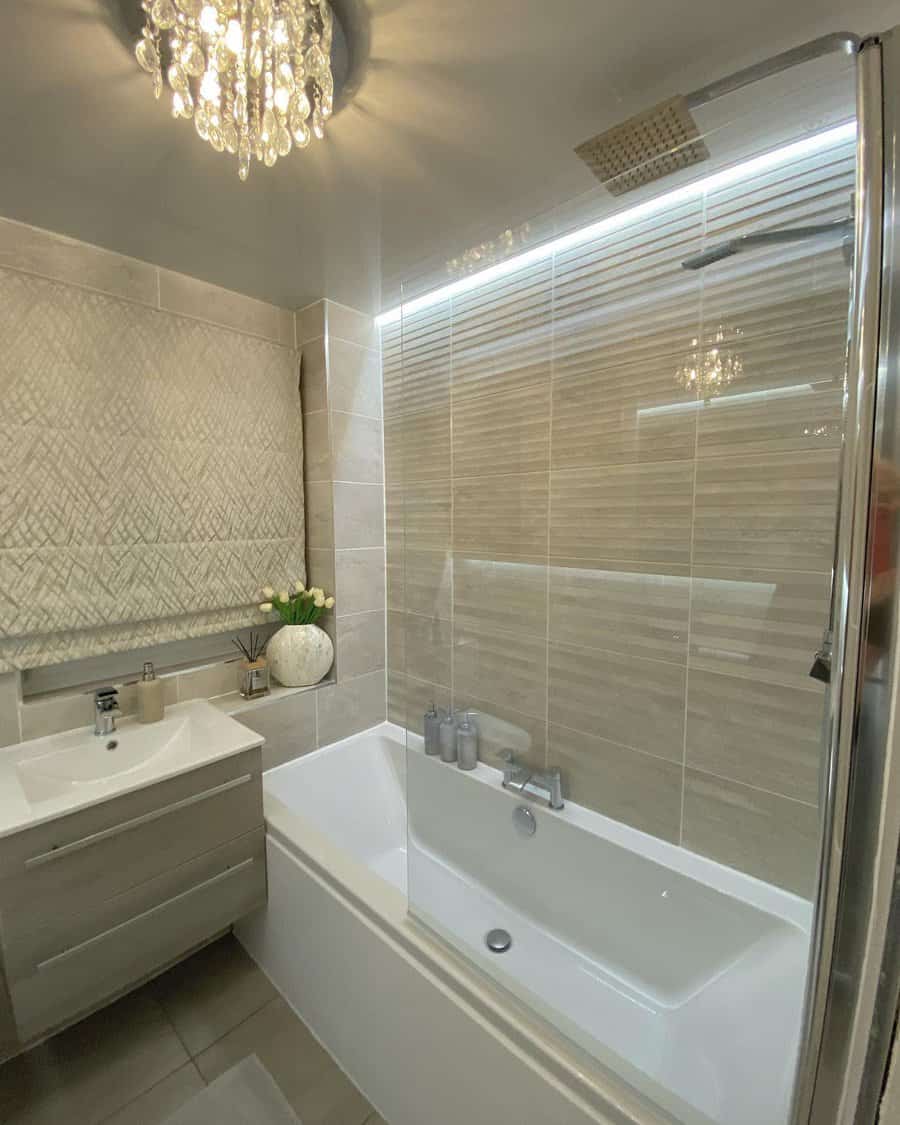 7. Luxurious All-Marble
Outfitted with white marble tiles, a frame window, and a wide vanity mirror, the modern bathroom is nothing short of a spa getaway. It's an oasis that adds a peaceful ambiance to any home and provides the opportunity to enjoy some well-deserved relaxation.
As you step in, the bright white walls accented by the white marble floor beckon you to experience complete tranquility.
Everywhere you look there is beauty – from the white ceiling tiles to the crystal-clear reflection of yourself in the wide vanity mirror – creating an escape for much-needed contemplation or relaxation.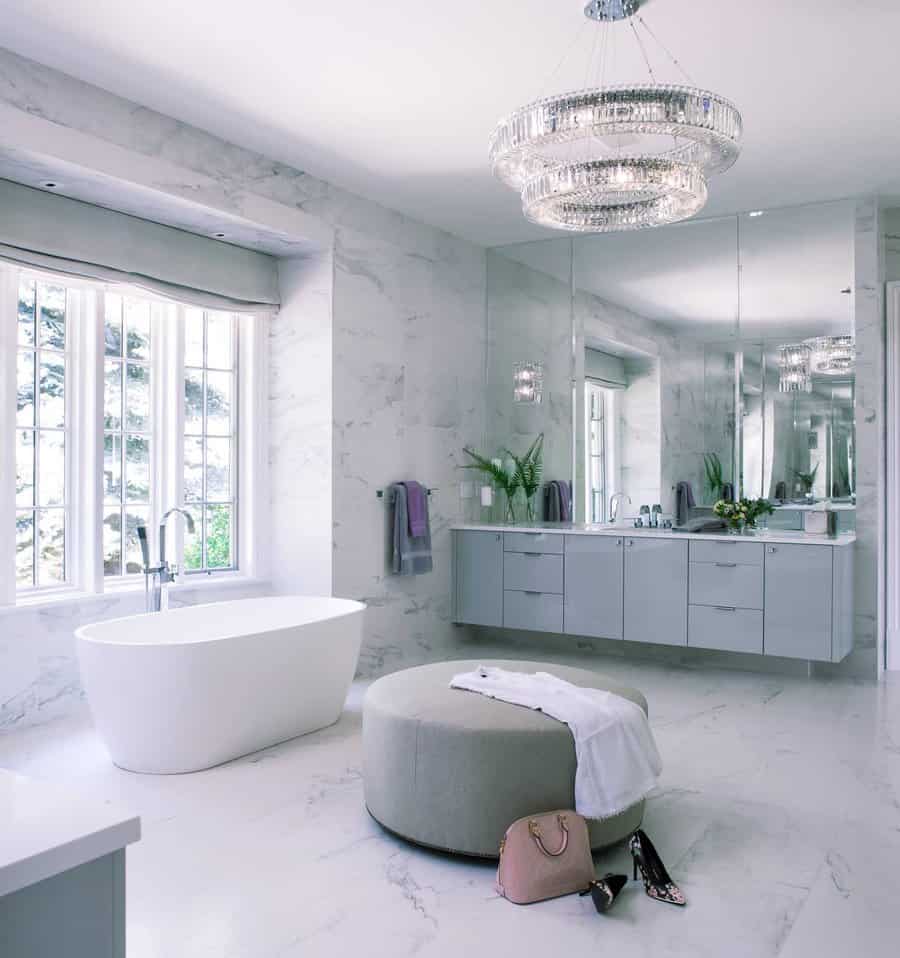 8. Grey & Limewash
Get ready to be wow-ed by your bathroom makeover! From limewash walls to round wall-mounted mirrors and a floating sink cabinet, everything will come together beautifully to create a modern oasis where you can relax and refresh yourself.
The limewash walls will provide texture and depth, while the round wall-mounted mirror will give the entire space a chic look. And finally, the floating sink cabinet and its clean lines will put the finishing touch on this amazing bathroom transformation.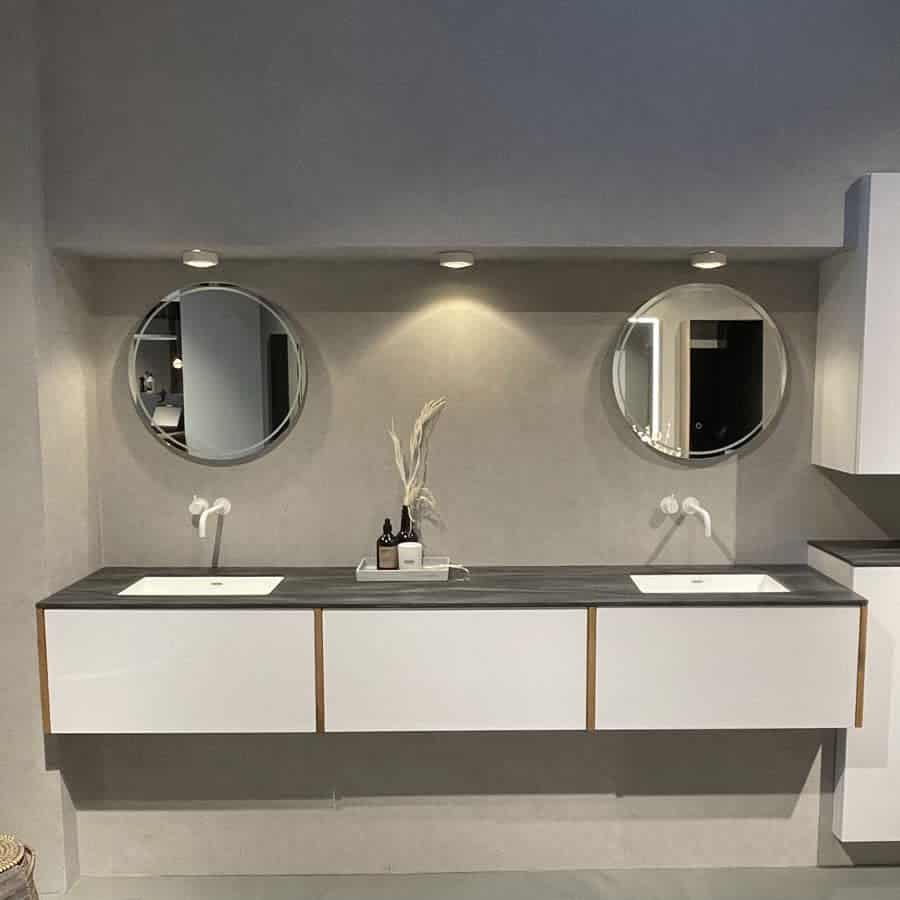 9. Modern Luxury
Stepping into a modern bathroom instantly sets the tone of luxury, with its gleaming cabinet with gold metal legs, pristine white tiles, and a subtle hint of magnolia accented by the fresh flowers bursting in a vase on its countertop. The stainless steel fixtures sparkle in the light that effortlessly streams through the sun-filled windows.
Every detail carefully falls into place to create a perfect oasis to relax, renew and revitalize.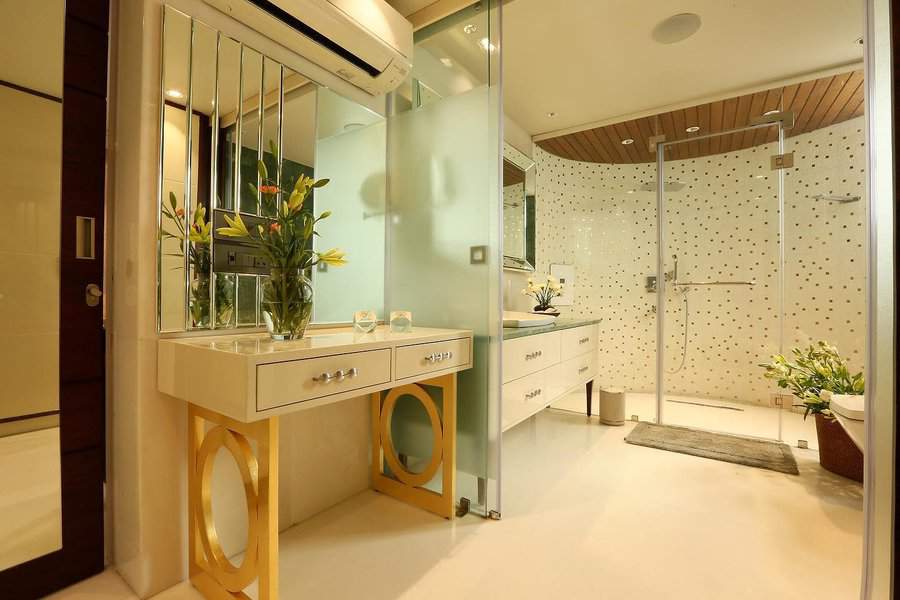 10. White & Grey With Brass Accents
Step into modern luxury with a grey herringbone tiled bathroom—the perfect combination of statement-making style and high-end sophistication. Admire how the tiles elegantly fill up your space, providing an eye-catching feature wall that will become the focal point of the room.
Complimenting the grey herringbone tiles is a wall lamp with a brass finish, adding both warmth and glamour to the atmosphere.
Finishing off your décor is a white vanity cabinet that offers plenty of storage for all your bathroom necessities while still looking sleek and stylish.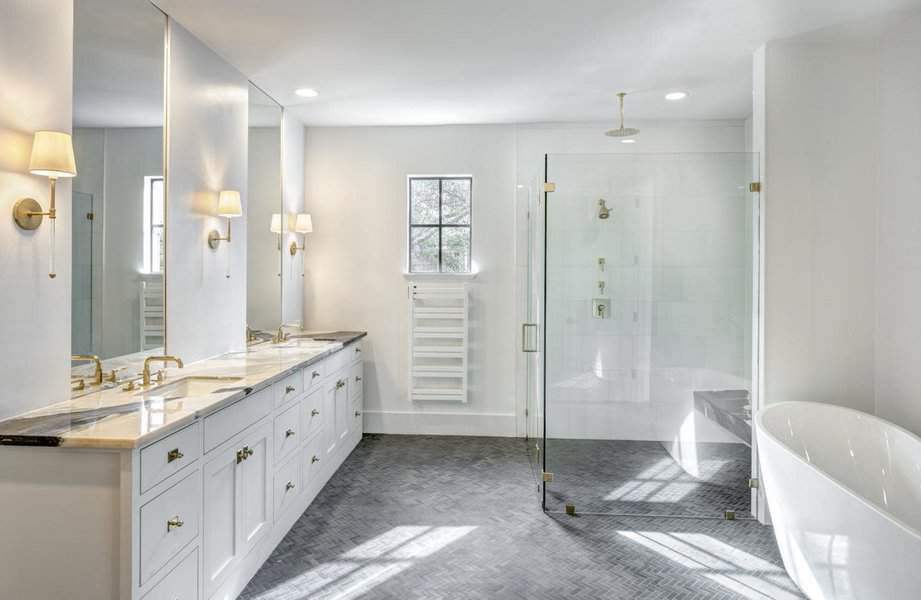 11. Pink & Gold
Step into a modern bathroom today and you'll find white marble tiles providing an airy, up-to-date atmosphere contrasted by eye-catching gold brass decor.
Add in the daring juxtaposition of a pink flamingo painting atop white walls and the scene is complete! Sharp edges, sleek lines, and artful details provide contrast to pink flowers gracefully placed between white cabinets.
Whether it's time to relax in a bubble bath or catch up on your latest reads, this modern bathroom provides an elegant balance of creativity and style that anyone can appreciate.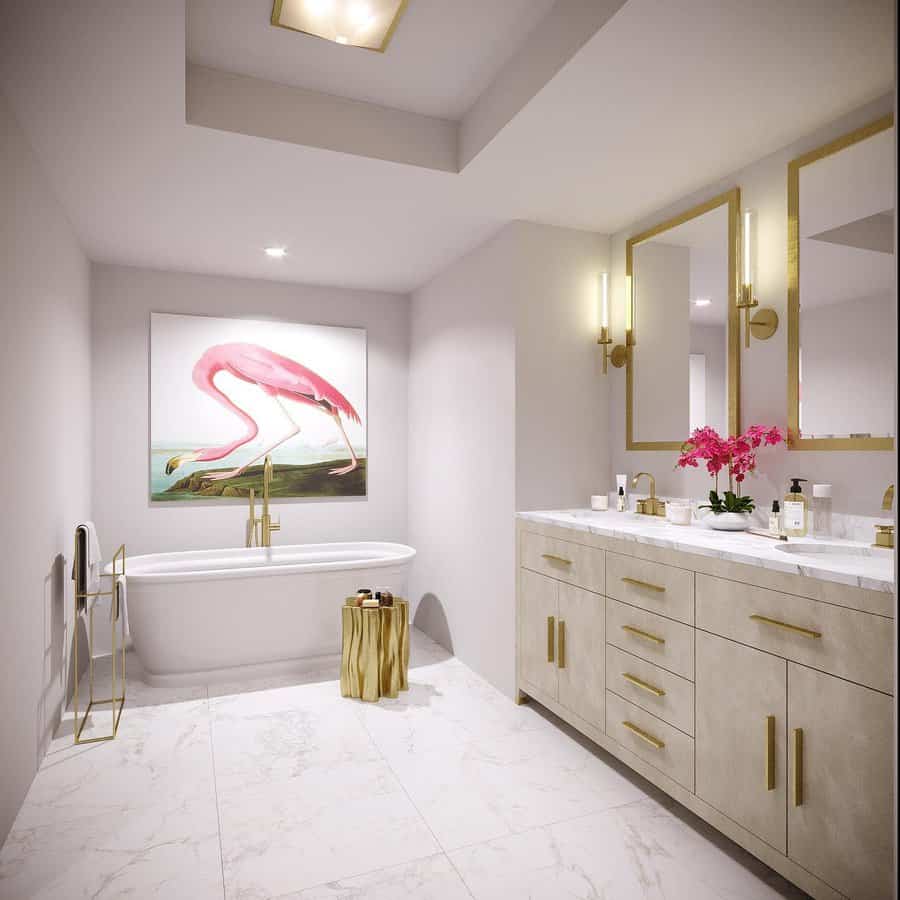 12. New York Style Monochrome
Keeping it modern doesn't have to mean going bold and wild – a few white marble tiles here, and a black frame there can all make for a small but sleek, modern bathroom.
With white and grey marble options that come in high-shine or matte wall frames with simple yet elegant designs, you can give your bathroom an effortless update that will have your guests wishing they'd been so creative.
Not only will white marble tiles withstand the hustle and bustle of everyday life while still remaining on trend, but when combined with a black frame your small bathroom will become an interior accessory that can't be overlooked.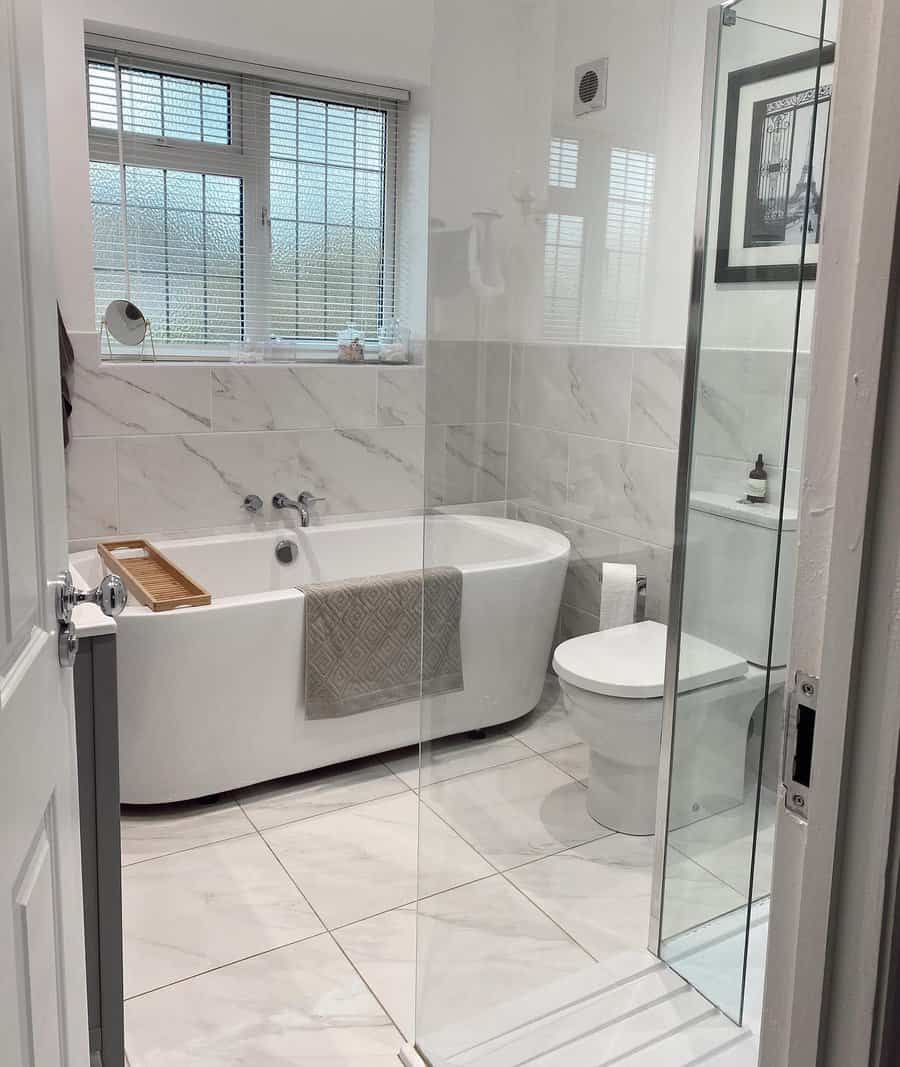 13. Masculine Blue & White
Creating a modern bathroom is an easy-breezy project. The key ingredients are white marble tiles streaked with veins of grey, a blue mosaic accent tile for added interest, and a recessed wall shelf to keep hand towels or toiletries within reach. The white marble tiles lend an airy feeling to the space, while the blue tiles add depth and luxuriousness. Finishing off the look is the recessed wall shelf, perfect for storing and organizing your lotions and potions.
With these simple design elements, you can achieve a stylish modern bathroom that will make you feel as if you just stepped into an elegant spa.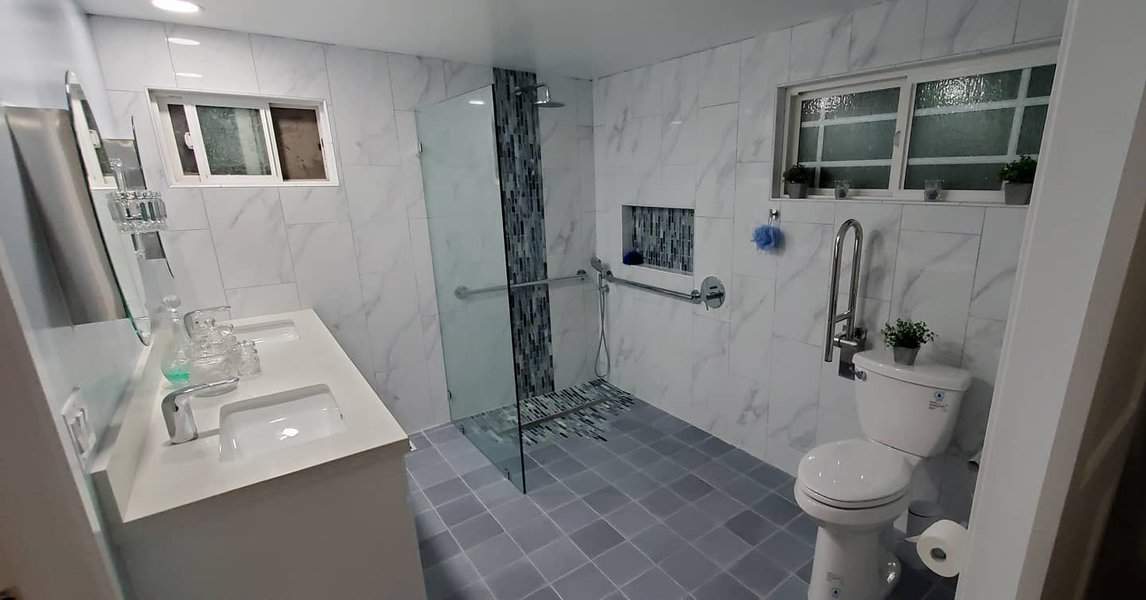 14. Modern Industrial
Upgrade your modern bathroom today with a modern industrial aesthetic. Start off with the basics, from concrete tiles in grey and beige to a matte black shower set for a touch of modern appeal. Invite modern luxury into your sanctuary with dimmable lighting options and minimalist furniture pieces.
Complete the look with subtle accents of greenery and framed wall pieces for a modern yet cozy spot for you to relax at the end of the day. Transform any ordinary bathroom into a modern oasis in no time!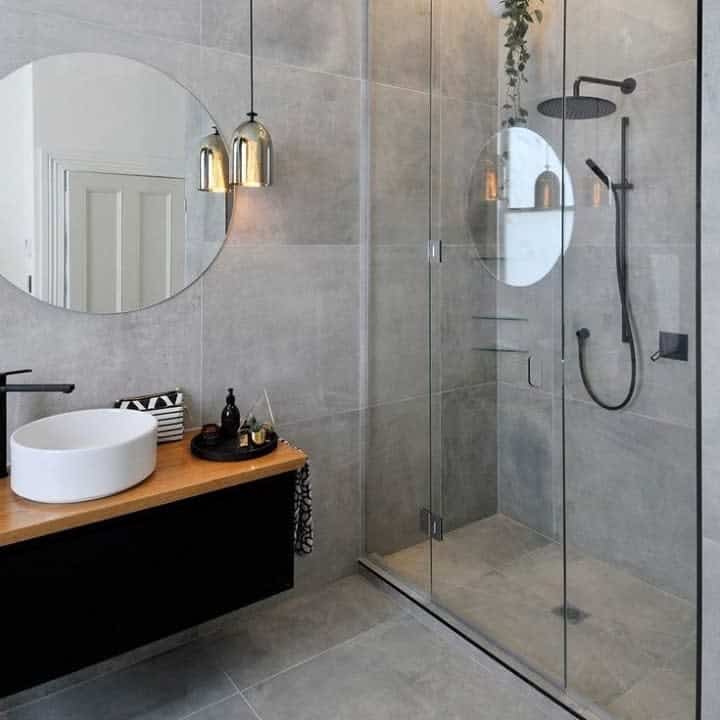 15. Retro Blue
Transform your ordinary bathroom into a high-end spa retreat with the use of blue glass tiles, a frameless shower door, and recessed wall shelves. You'll be impressed by the practical touches – no more missing soap or shampoo bottles!
It's the ultimate blend of form and function with stylish appeal; modern bathrooms are the perfect way to make a bold statement in your home. Plus, blue glass tiles can add an unexpected level of tranquility to any room.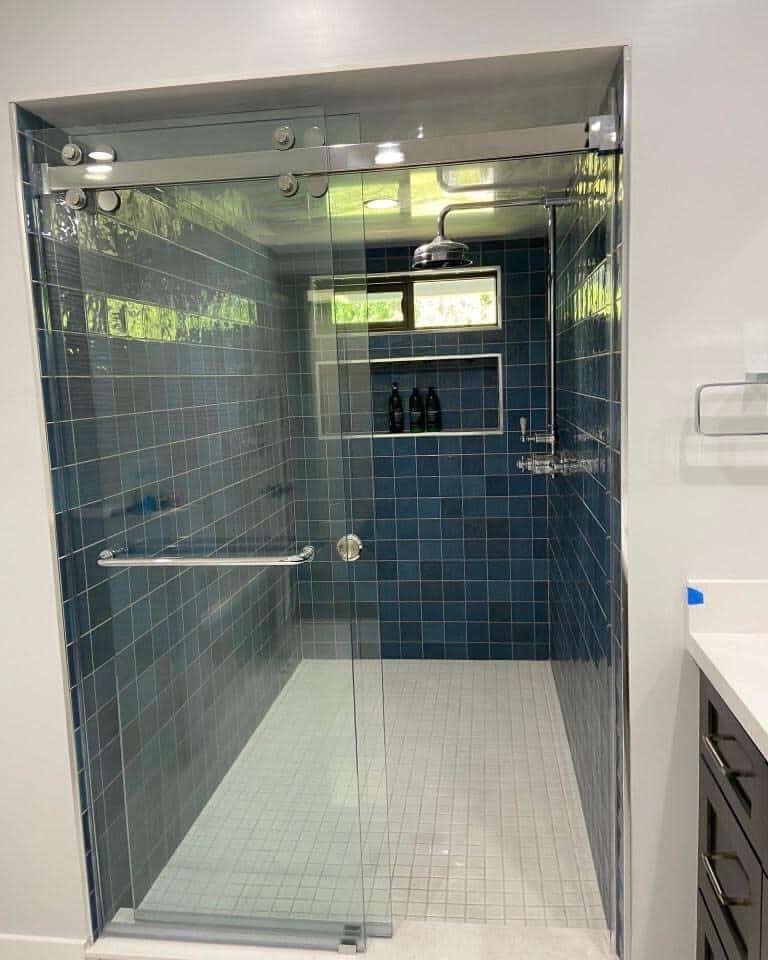 16. Black, White, & Wood
Entering a modern bathroom is like stepping into a chic and stylish oasis. The black-framed window and black-framed mirror create an atmosphere of luxury, while wooden shelves and cabinets provide the perfect storage solutions without sacrificing style.
With its black-and-white color scheme and muted tones, this modern bathroom is an idyllic escape from the everyday hustle and bustle of life.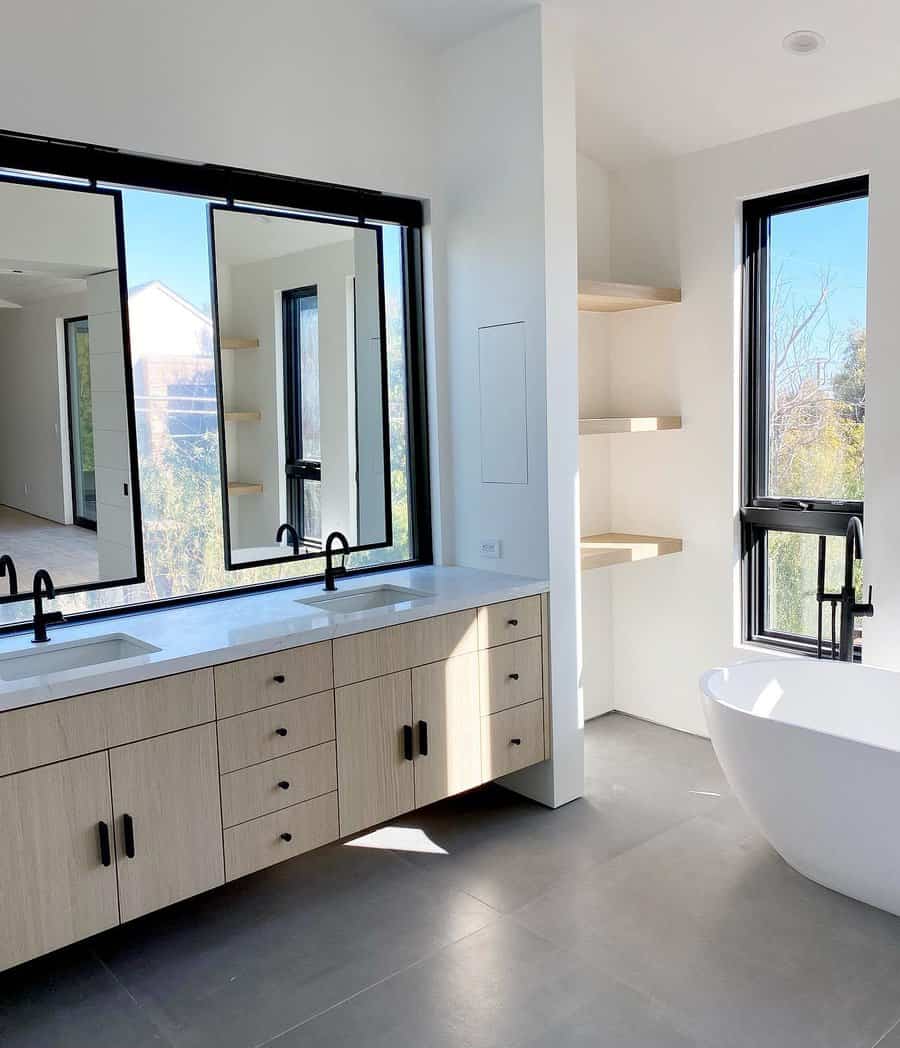 17. Bold Marble
Step into a modern bathroom and you'll find white marble tiles, extending up to a bold matte black faucet and filling the rectangular wash basin with splashing reflections. Adorning the corner is a snake plant, nestled in a black pot, invading the room with its signature pattern of soft green leaves. What a sight it must be when one has cleansed themselves with hot water and overwhelming aromas of high-grade lavender – truly a transformation from mundane life to something more whimsical.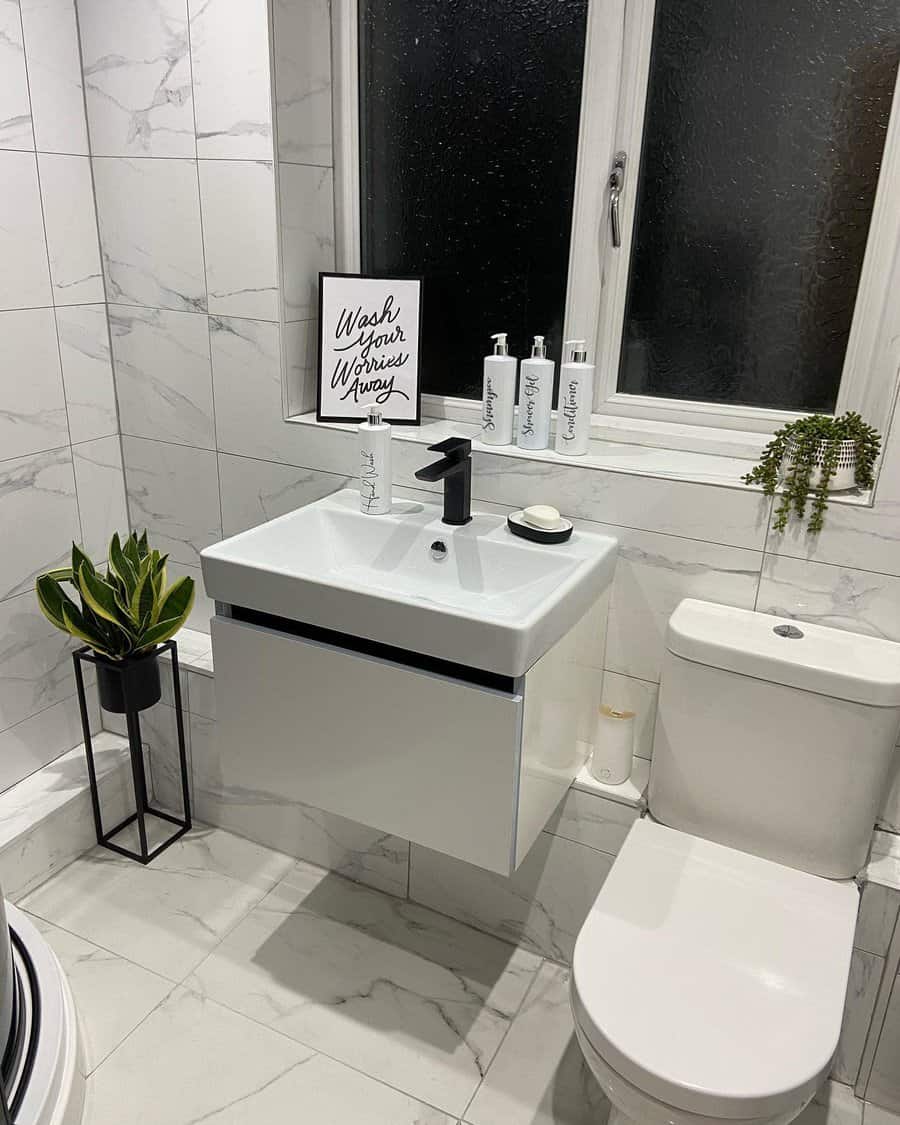 18. Minimalist Rustic
When it comes to creating an inviting, modern bathroom, walnut cabinets and pendant lights certainly set the stage.
By anchoring the room in warm walnut tones and adding pops of light for a polished finish, you immediately transform any space into something special. And then there are the walls—off-white in hue, they wrap everything together with effortless ease.
The end result is not only modern but cozy too, making it the perfect spot to rest and relax. With a few simple touches, you can make your bathroom an oasis of style and comfort!
19. Playful Contemporary
The modern bathroom of your dreams is within reach; emerald green beveled subway tiles line the walls, a luxurious built-in bathtub sits in the center, and chrome fixtures complete the contemporary look. Step into this spa-like atmosphere and let yourself recharge while soaking away any stress or worries.
The emerald beveled tiles reflect light beautifully, creating an aisle to paradise that only you can experience.
Your bathroom should be the one place where you can escape the grip of reality, so make it personal and fill it with luxuries that enhance your experience.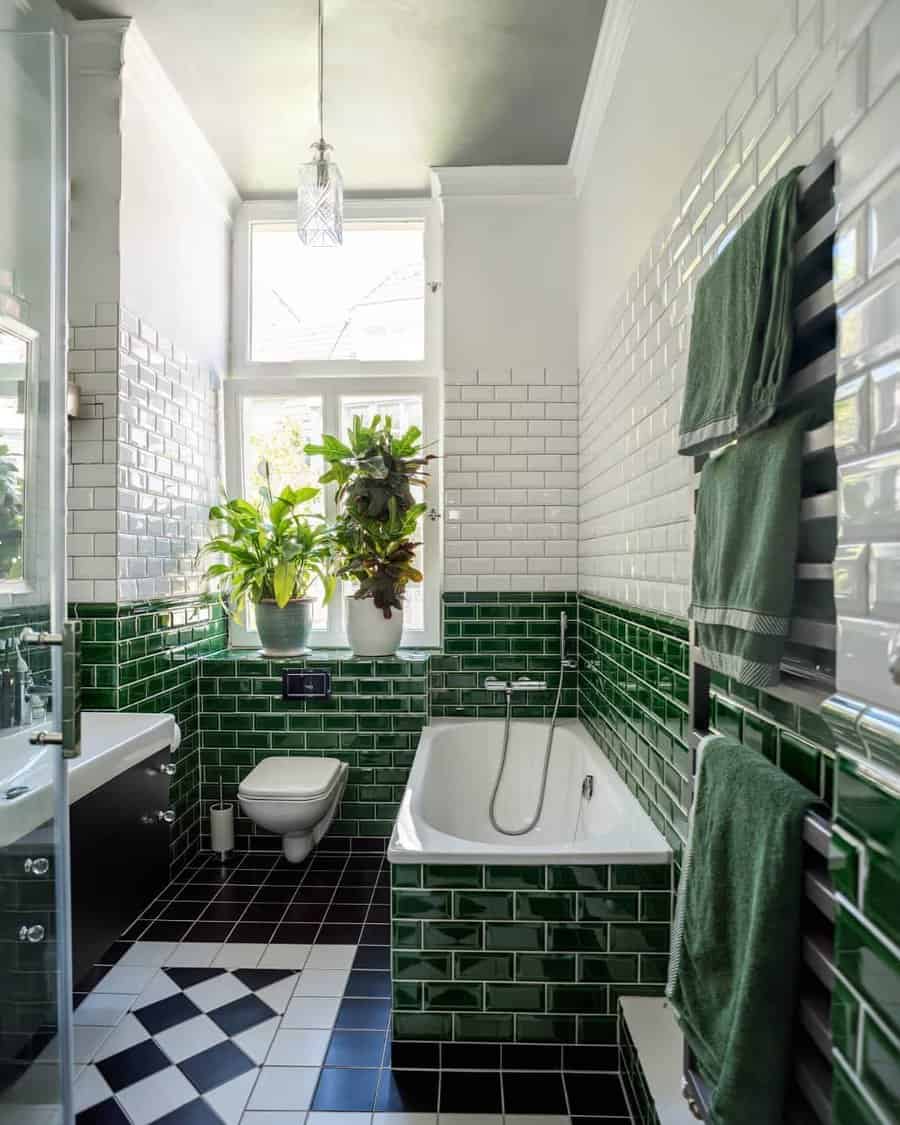 20. Feminine White Quartz
The modern bathroom is an oasis of white marble tiles and natural light.
Soothing, built-in tones of color contribute to a sense of Zen that encourages the soul to take a much-needed rest. A tasteful, lighted mirror above the white double vanity illuminates the entire room and provides a luxurious way to view oneself in the morning.
After all, isn't a modern bathroom without a touch of glamour? And with its white marble tiles, white fixtures, and ample lighting from our lighted mirror, there's enough simple luxe to go around.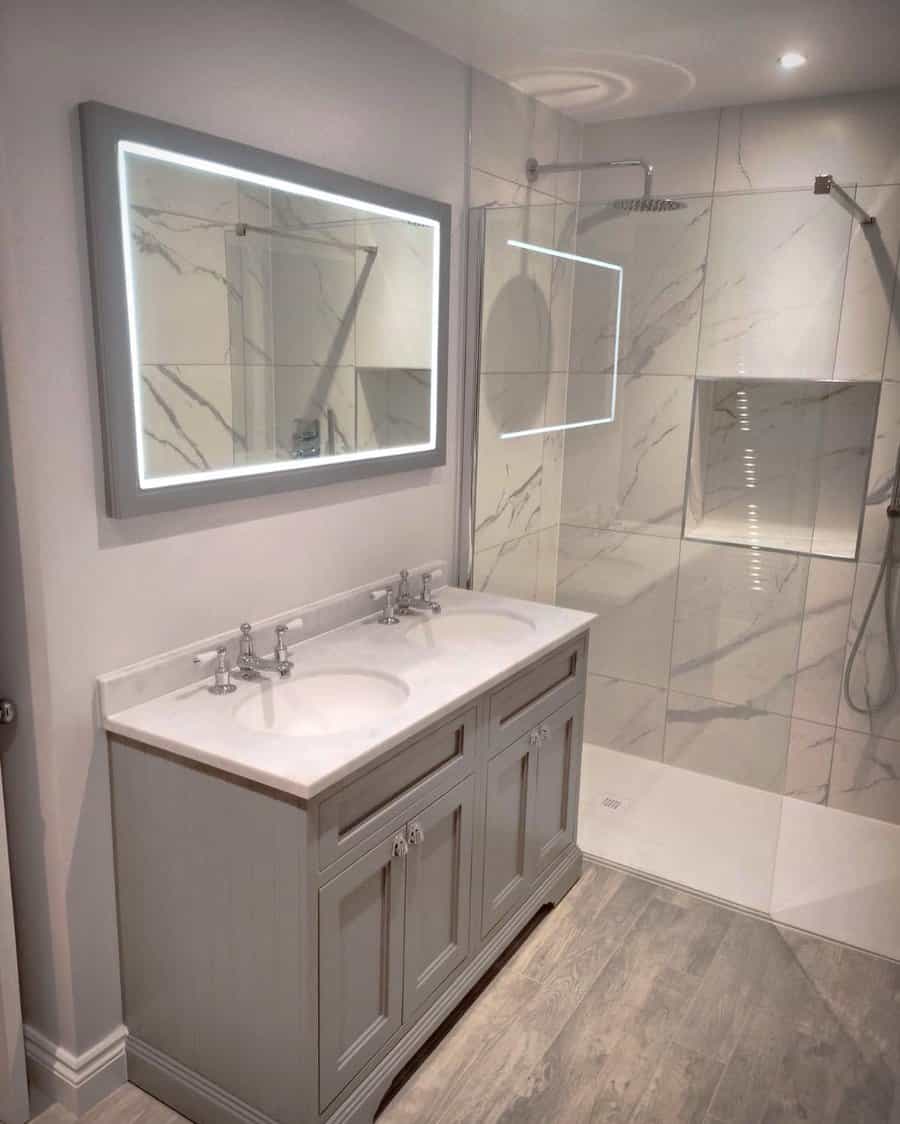 21. Asian-themed
Imagine walking into your modern bathroom and being surrounded by cherry blossoms, Asian decor, and brass faucets – a wonderful oasis of serenity right in the comfort of your own home.
Any worries or stressors you may have been carrying on your shoulders can soon vanish as you plunge into the calming atmosphere that only cherry blossom murals and luxury brass faucets can bring.
Enjoy this blissful space knowing that this unique blend of contemporary style and Asian beauty has been carefully considered down to the very last detail.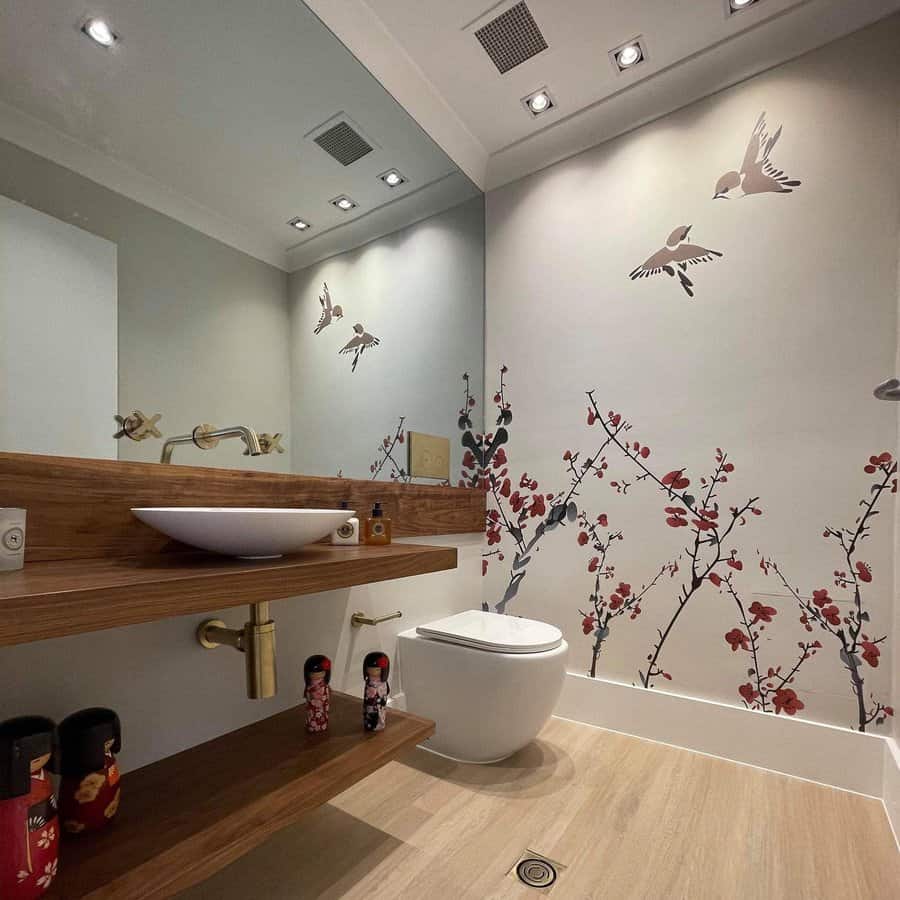 22. Minimalist With Mosaic Accent
Who says a modern bathroom has to be monochromatic and boring?
Create an eye-catching update with monochrome glass mosaic tiles paired with grey tiles, adding some pattern and texture to the walls.
The effect is light and airy, a perfect contrast to the frosted window that lets in just enough light. You'd be surprised how a few simple changes can help turn your dull bathroom into something special.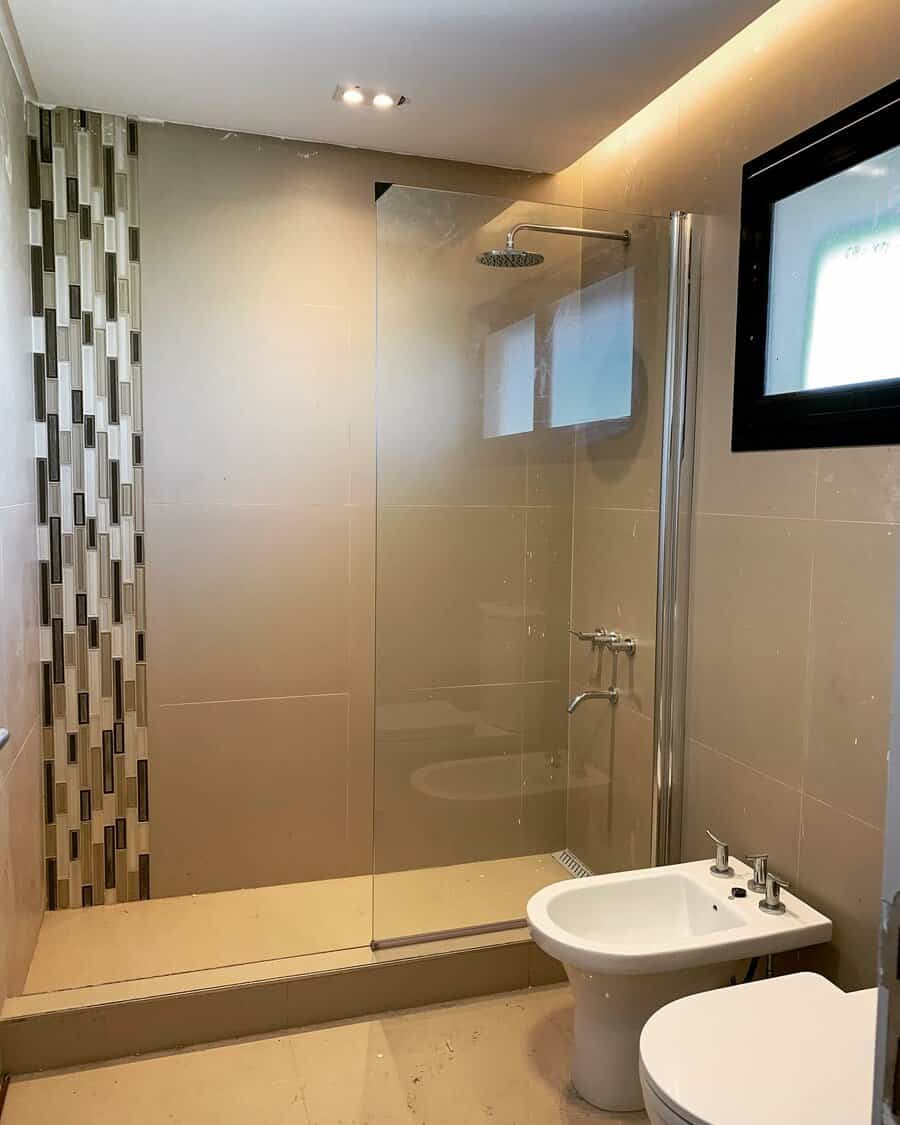 23. Simple & Subtle Art Deco
A pink luxe bathroom reflects modern luxury – perfect for anyone looking to enhance their living space. The pink decorative flooring imparts a soft inviting feel while the gold-framed mirror lends itself to modern elegance.
From the showerhead and faucets in chrome to the countertop with its glossy finish, everything works together to create a stunning atmosphere for you to enjoy.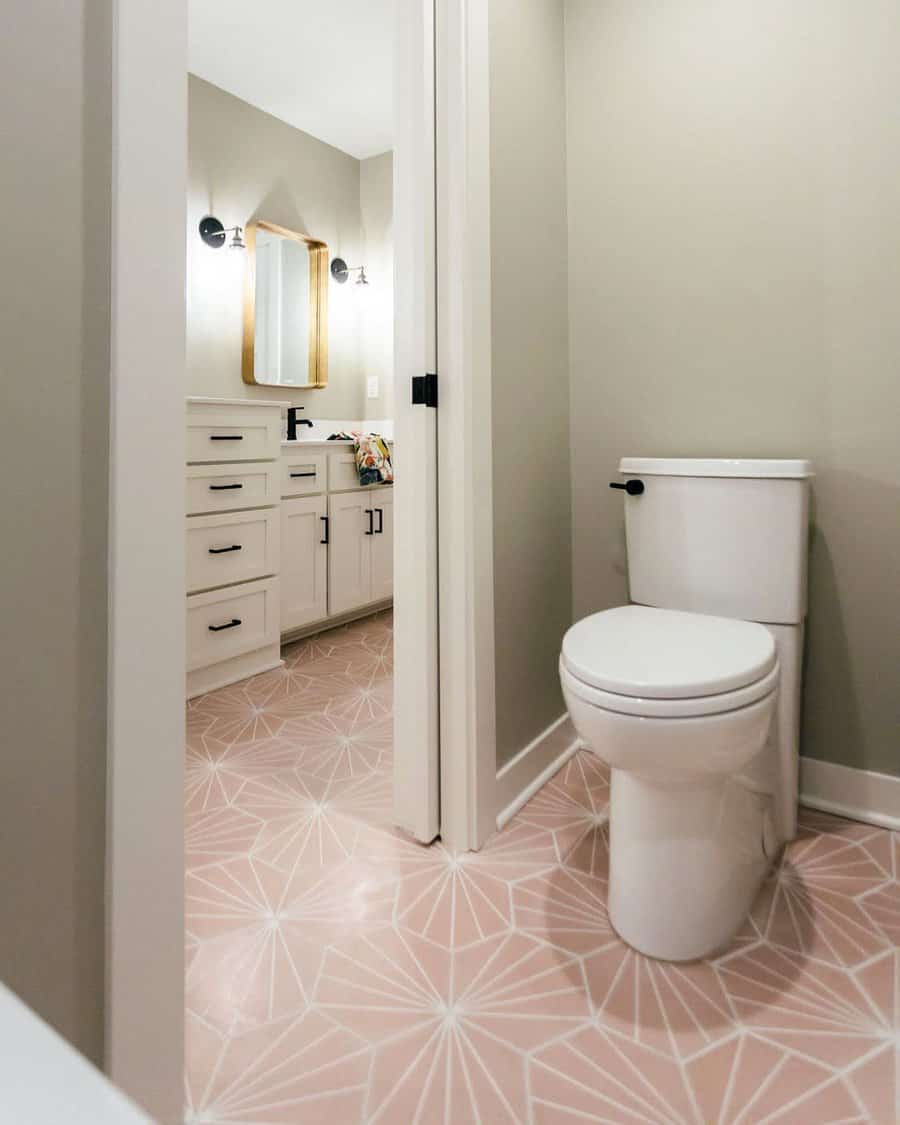 24. Terrazzo
Greys and whites are perfect for creating a tranquil space, and grey terrazzo tiles set the stage for an eye-catching backsplash. Contrasting that grey with light wood cabinets gives the room added visual interest, while also adding an inviting warm touch.
With these subtle details, it's easy to breathe life into even the most functional of spaces. Taking just a little time out at the end of each day in this serene environment will let you get back to your life refreshed the next morning.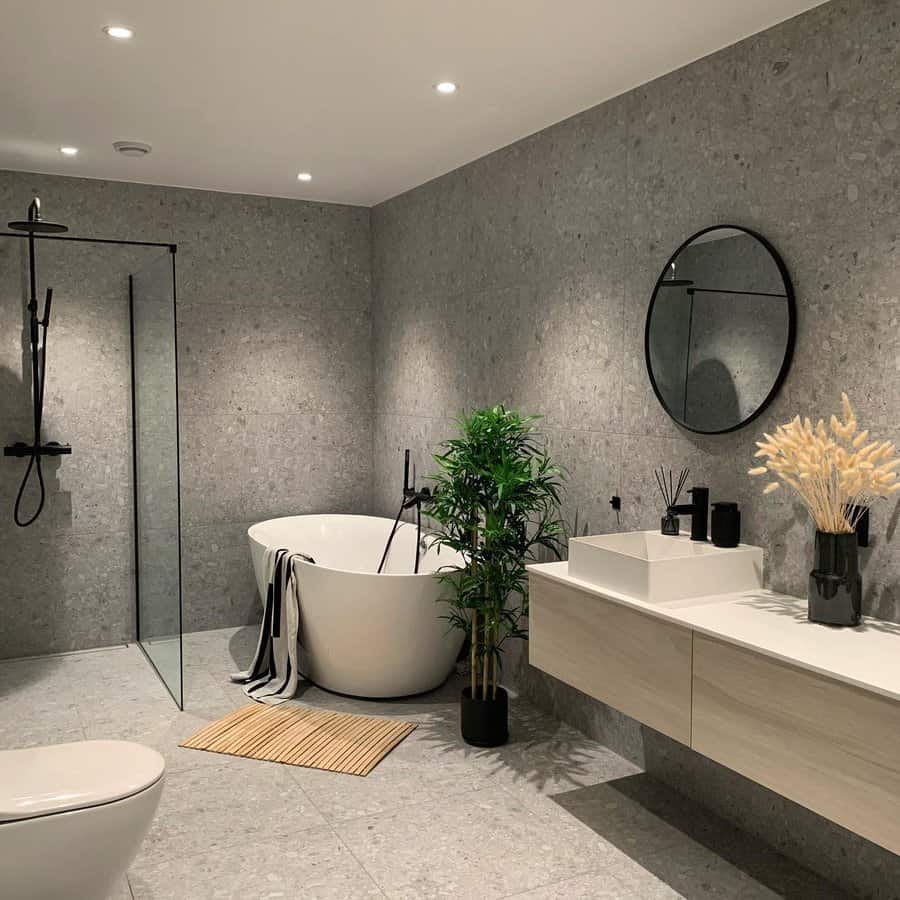 25. Checkered Tiles
A modern bathroom doesn't have to be big to make a statement. Even in a small space, checkered tiles and a floating vanity cabinet can turn the ordinary into something extraordinary. With just these two elements, your bathroom could transform from an ordinary loo into something worthy of envy.
Whether it's for creating a classic timeless look or making use of the extra storage that comes with a floating vanity cabinet, checkered tiles and vanity cabinets are surefire winners when it comes to giving your bathroom that modern touch.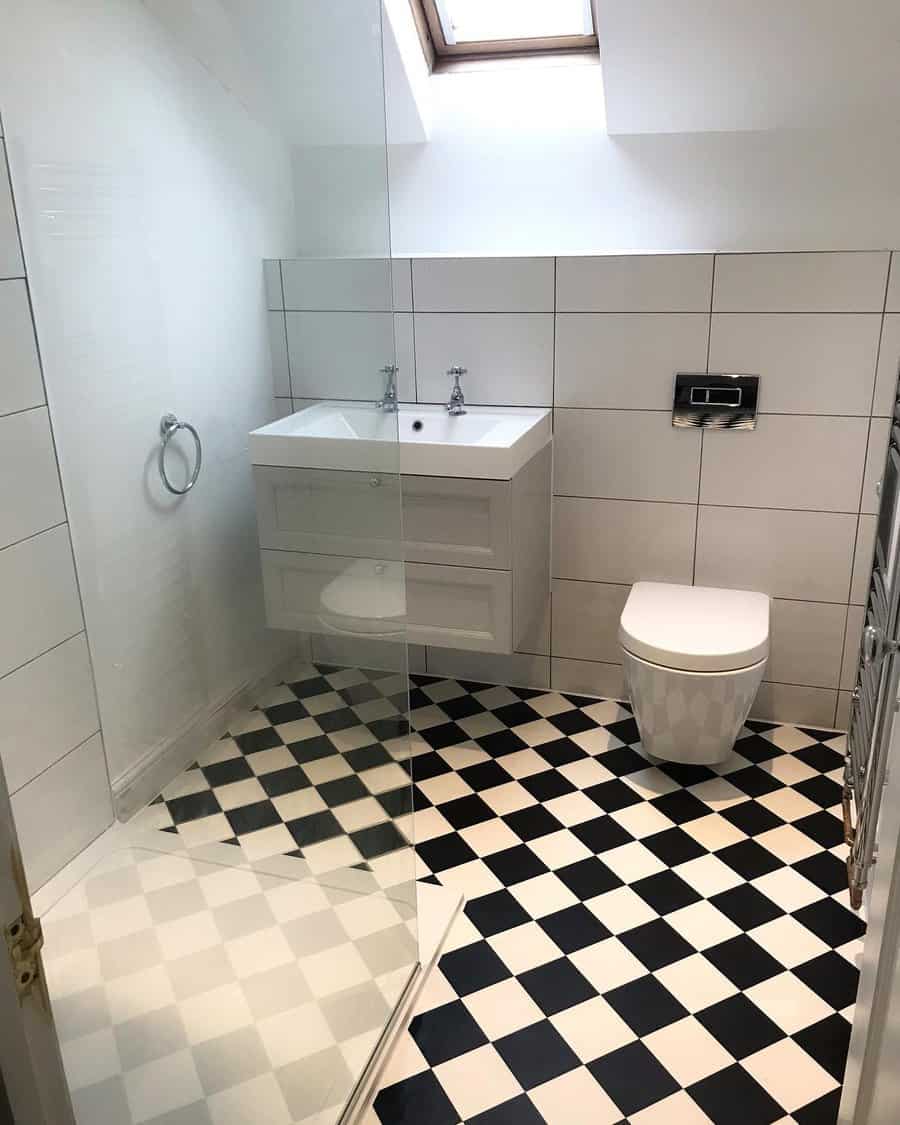 26. Decorative Tiles
Update your bathroom with a modern Spanish flair! Spanish decorative tiles are an easy way to give any room an eye-catching transformation. Whether you use them as a backsplash or on the floor, Spanish decorative tiles will add a unique touch of color and vibrancy.
Complement these decorative tiles with blue cabinets to complete the look. Choose deep royal blue or sky blue depending on your desired style and airy feeling.
The combination of Spanish decorative tiles and blue cabinets will take your bathroom from drab to fab in no time at all!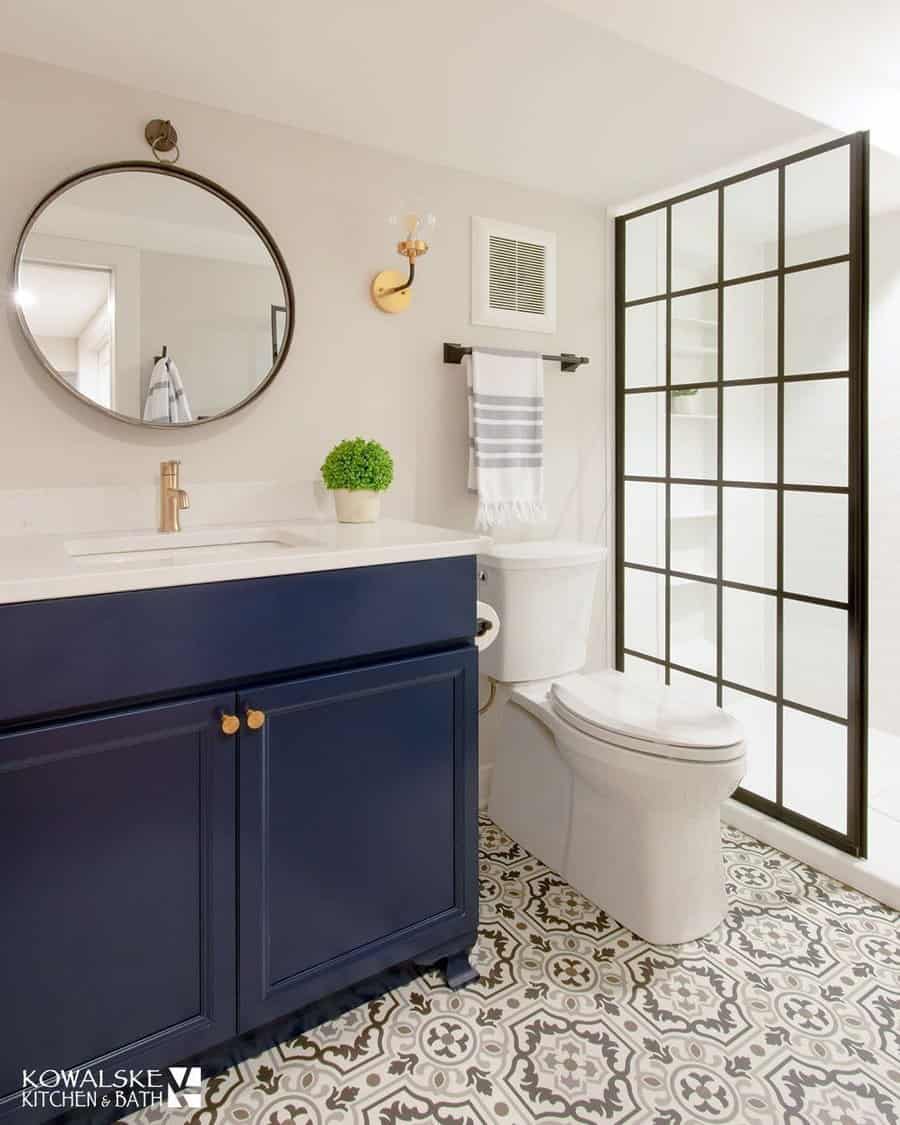 27. Modern Chic
This modern bathroom includes light grey textured tiles so the light flows beautifully, creating a unique and sophisticated touch.
The wide vanity space offers plenty of room to move around, displays clean and sleek lines, and is perfect for getting ready in the morning with an abundance of storage.
A plush faux fur mat on the floor adds warmth – both aesthetically as well as providing a luxurious feel for tired feet. Altogether, this combination makes for an inspiring bathroom retreat.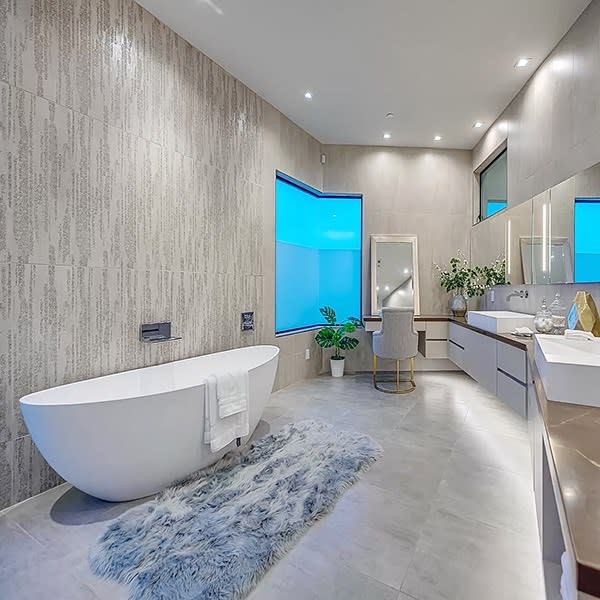 28. Bold & Eclectic
If you're looking for an edgy masculine aesthetic, concrete tiles and a black-framed one-panel bathroom window can provide the perfect custom touch to a bathroom.
Adding a few matte black items, such as a showerhead or vanity tray, will bring the industrial design concept together with a modern flair.
When other metallic accents are combined with concrete walls and floors, the masculine look is complete and the texture of concrete helps to add subtle taming of any harsh edges.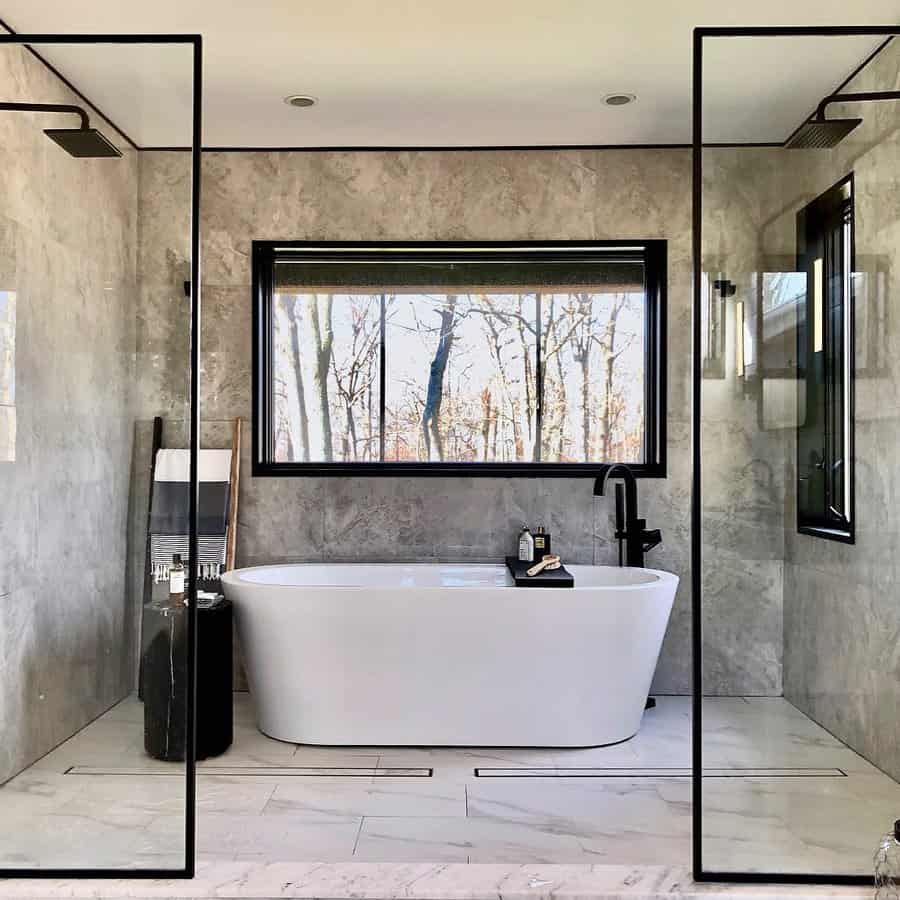 29. Green Escape
Turn your bathroom into a bright oasis by adding white subway tiles, a white bathtub, and plants. The white subway tiles will truly light up your space and create a sense of clean and timeless styling. They can also be further accentuated with bold dark grout for added contrast.
For an especially luxurious look, go for a white or marble freestanding bathtub with gold fixtures and elegant sconces on either side of the mirror, placed at the correct distance from each other.
Finally, don't forget to complete the look with some lovely foliage that brings life even in small spaces. In no time you can have a bright bathroom all of your friends will envy!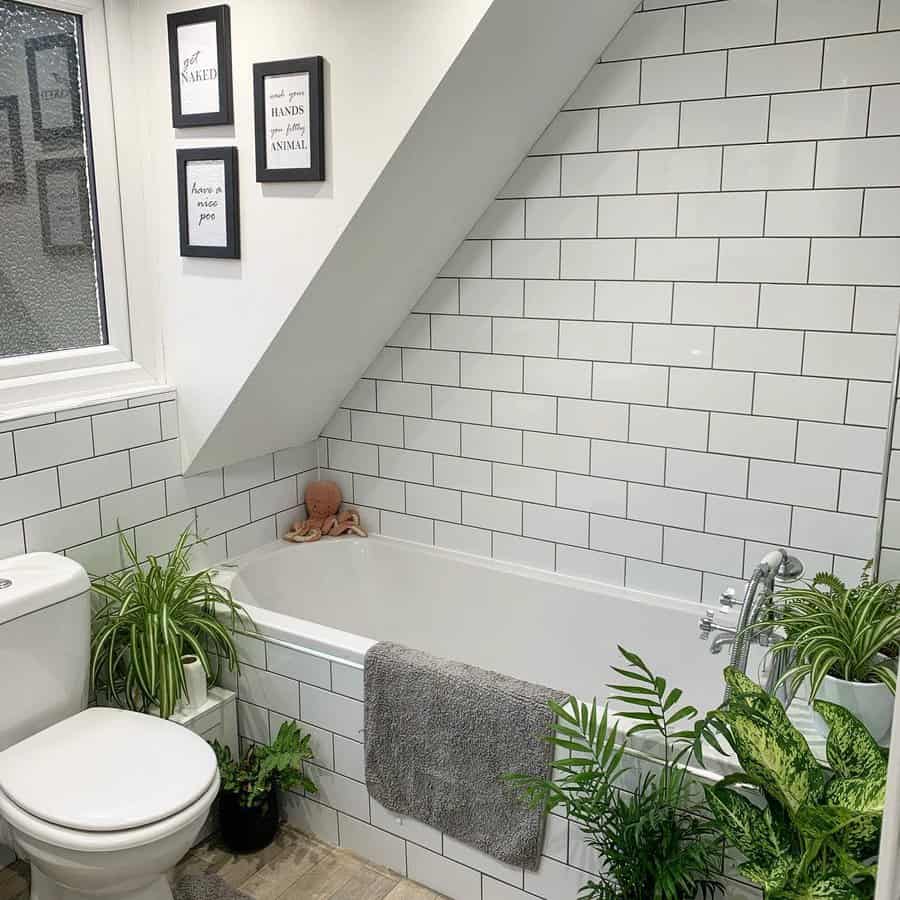 Modern Bathroom FAQs
What is a modern style bathroom?
A modern bathroom focuses on structure, design, and architecture. The color palette is crisp with the use of white, black, and greys. There is minimal decoration and ornamentation.
How can I modernize my bathroom cheaply?
The easiest way to make your bathroom look more modern is to replace the lighting and plumbing fixtures. This is something you can do yourself. You can also remove your old vanity and install a floating vanity yourself. Change the color palette to a modern one by painting the walls and using tile vinyl stickers.
How do I accessorize a modern bathroom?
Adding small decorative accents to a modern bathroom is about adding functionality and artfully placed decor. Add a floating shelf or two and place a candle on them. Add a small wooden stool to provide a seating place. Arrange a small table next to the freestanding tub with bath accessories like bubble bath, bath salts, and bath bombs.