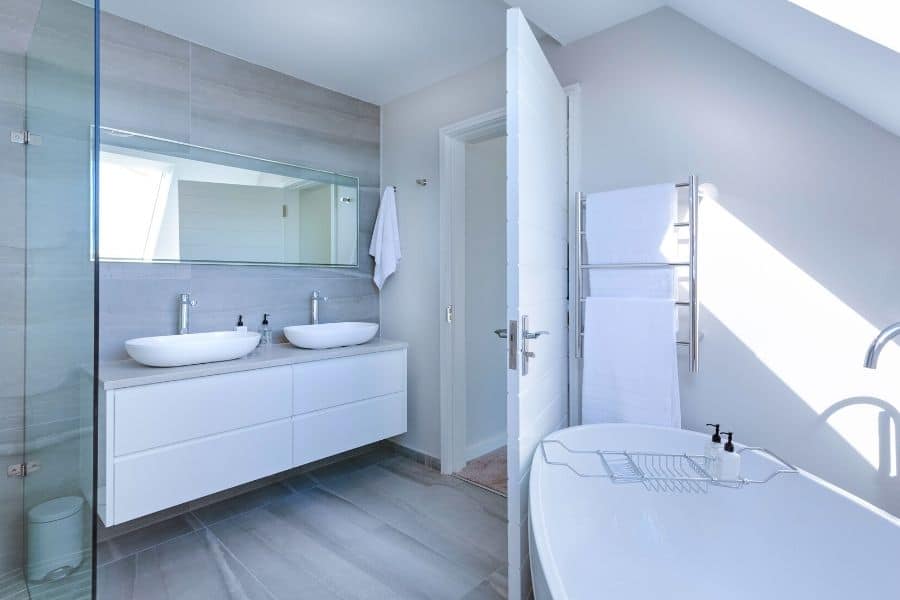 "Always go to the bathroom when you have a chance." – King George V
Your bathroom looks as tired as you feel in the morning. Wouldn't it be nice if you could give it an update? Perhaps the shower design could be better. Or there is a lot of wasted space with that bulky vanity design. Transitioning your bathroom into a modern design could create more space and bring more light into your bathroom.
These modern bathroom ideas will help you plan the perfect bathroom remodel so you can say goodbye to your tired and old bathroom.
1. Elegant Marble and Pebblestone Bliss
Transform your bathroom into a tranquil retreat by embracing the beauty of marble and pebblestone. Opt for frameless shower doors that effortlessly slide into the walls, creating a clean and contemporary aesthetic. Complement this design with a pebble shower floor to infuse a touch of nature, elevating your bathroom's sophistication.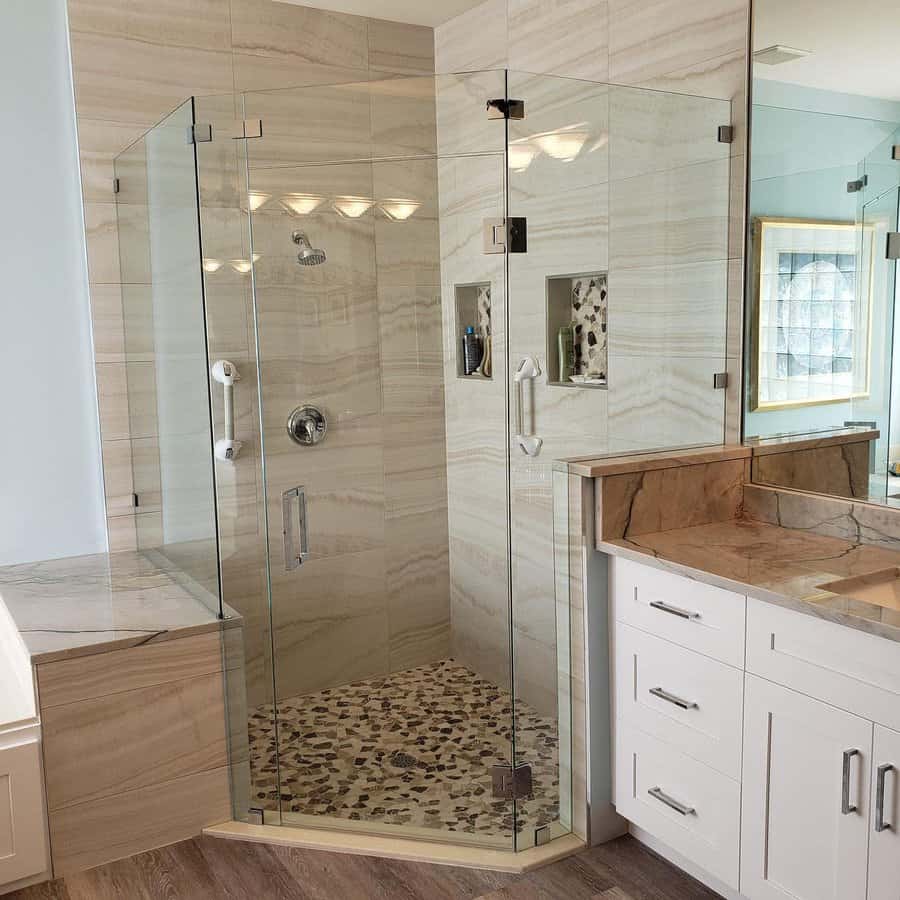 2. Timeless Shabby Chic in White
Experience the serenity of a modern bathroom oasis. Choose a white pedestal bathtub as the centerpiece, complemented by chic hexagon floor tiles and a luxurious marble sink. Enhance the ambiance with dimmable LED downlights for a soothing evening retreat.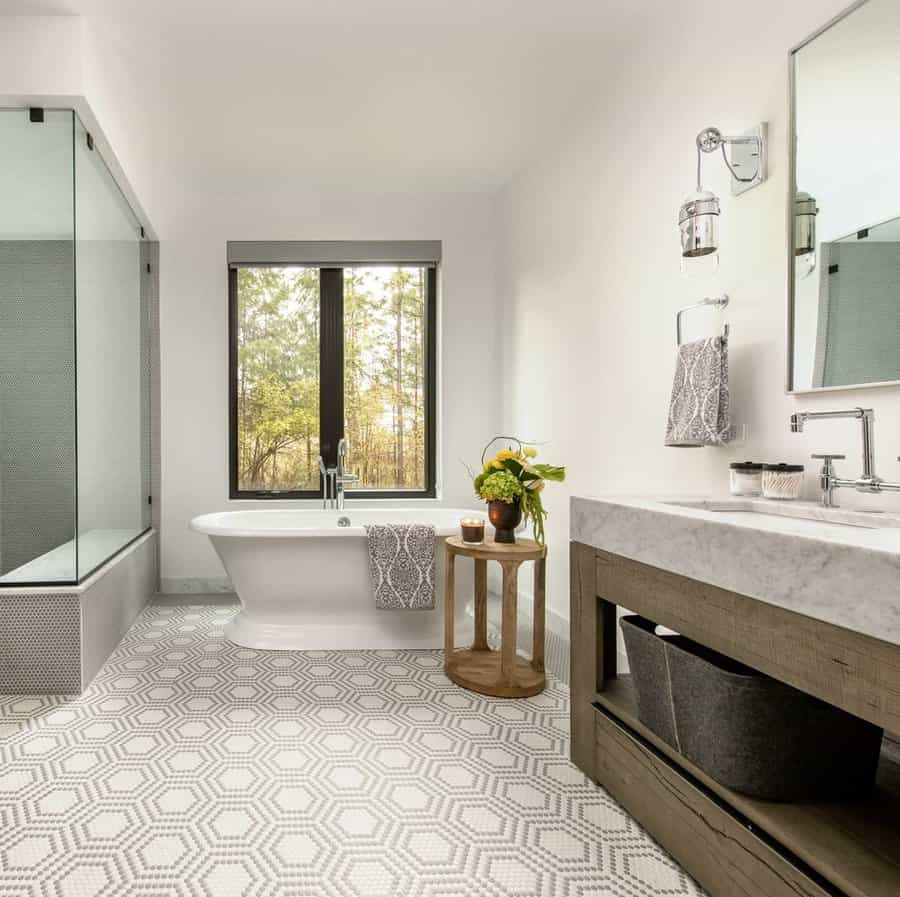 3. Refreshing White Washed Ceramics
Transform your bathroom into a modern art gallery with white-washed ceramics. Opt for large-format white tiles to create a clean and spacious feel. Enhance the aesthetics with intricate diamond-patterned tiles, and consider a frameless LED mirror for a sleek touch.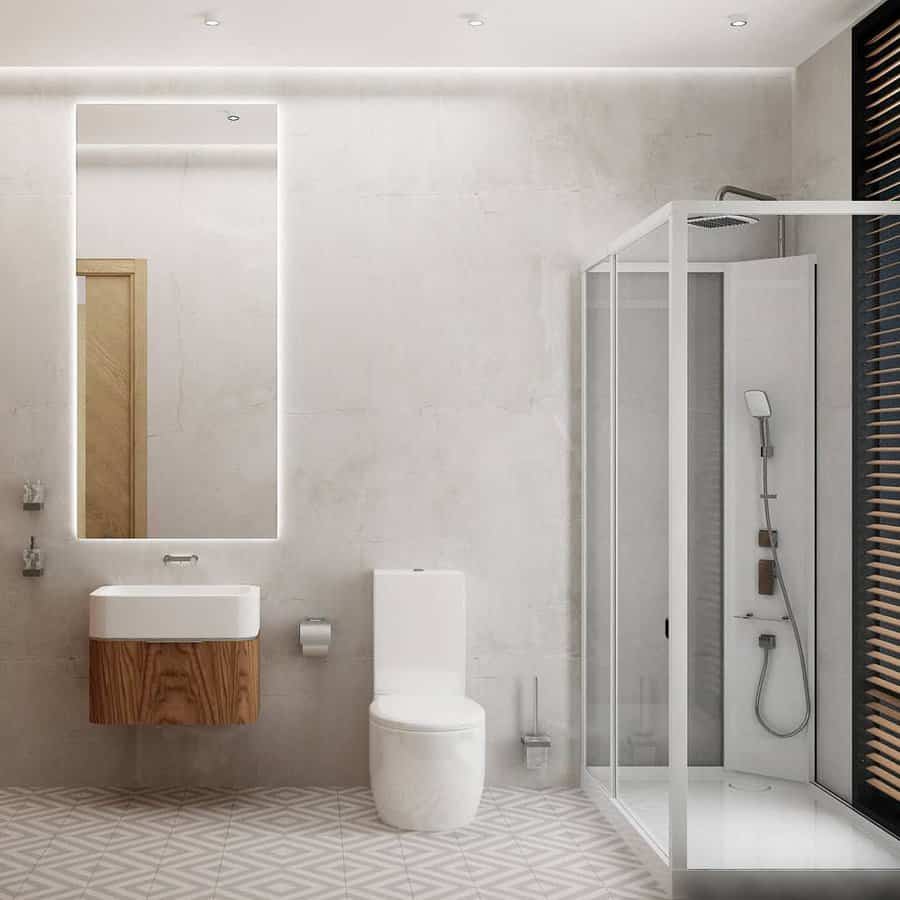 4. Strikingly Masculine Black and White
Elevate your bathroom to a high-end spa experience with striking black and white elements. Opt for sleek cement tiles for the floors to create a bold contrast. Maximize storage with a recessed wall shelf for shower and beauty essentials, and add a black-framed mirror for subtle sophistication.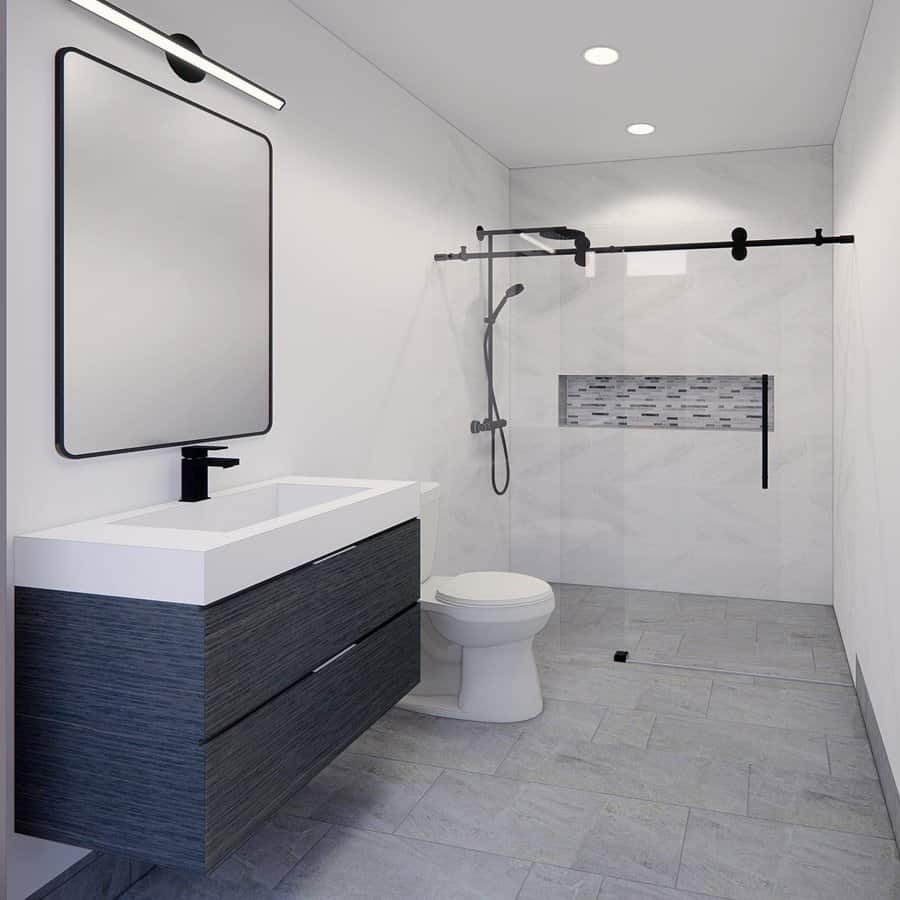 5. Tuscan Elegance in Crisp White
Transport your bathroom to Tuscan elegance by pairing herringbone tiles with crisp white elements. Incorporate marble countertops and golden faucets for a timeless touch. Add depth and warmth with an antique Persian rug to achieve a perfect blend of classic vintage charm and contemporary chic.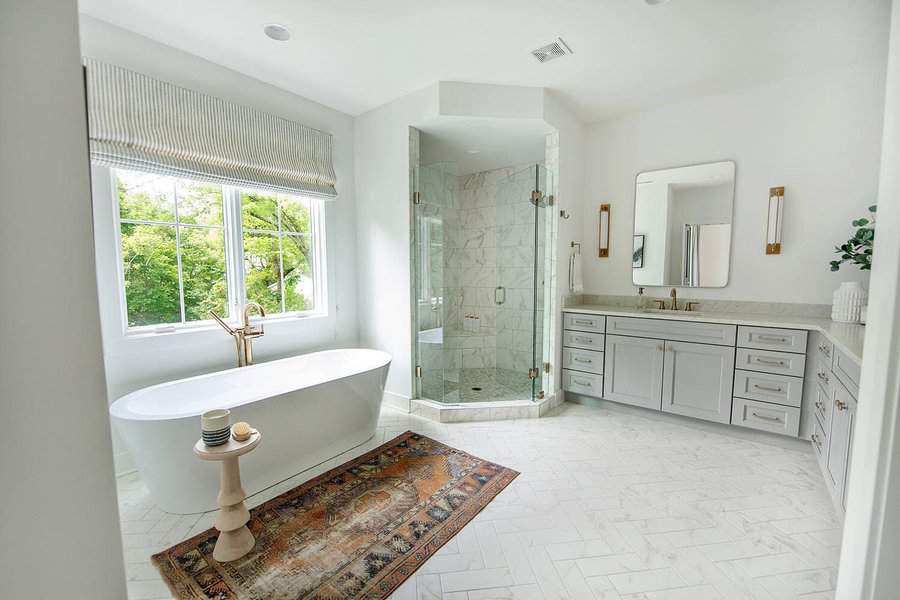 6. Modern Layers of Design Delight
Achieve spa-like serenity with white textured tiles extending to the ceiling in your modern bathroom. Enhance the ambiance with a chic chandelier casting a warm, gentle glow. Opt for white-printed Venetian blinds to invite natural light while creating stylish shadows.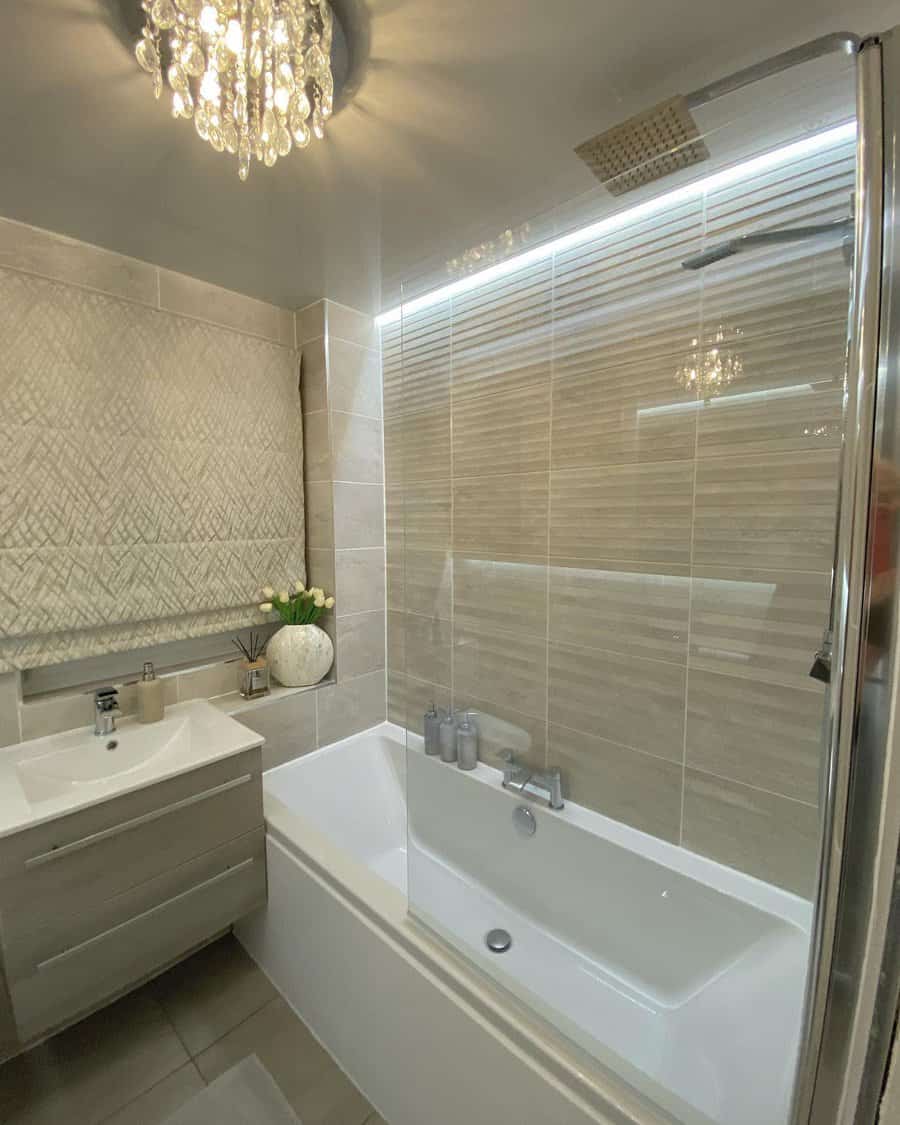 7. Opulent All-Marble Opulence
Craft a spa-like sanctuary with white marble tiles, a framed window, and an expansive vanity mirror in your modern bathroom. Embrace tranquility with bright white walls and a marble floor that invite relaxation and contemplation.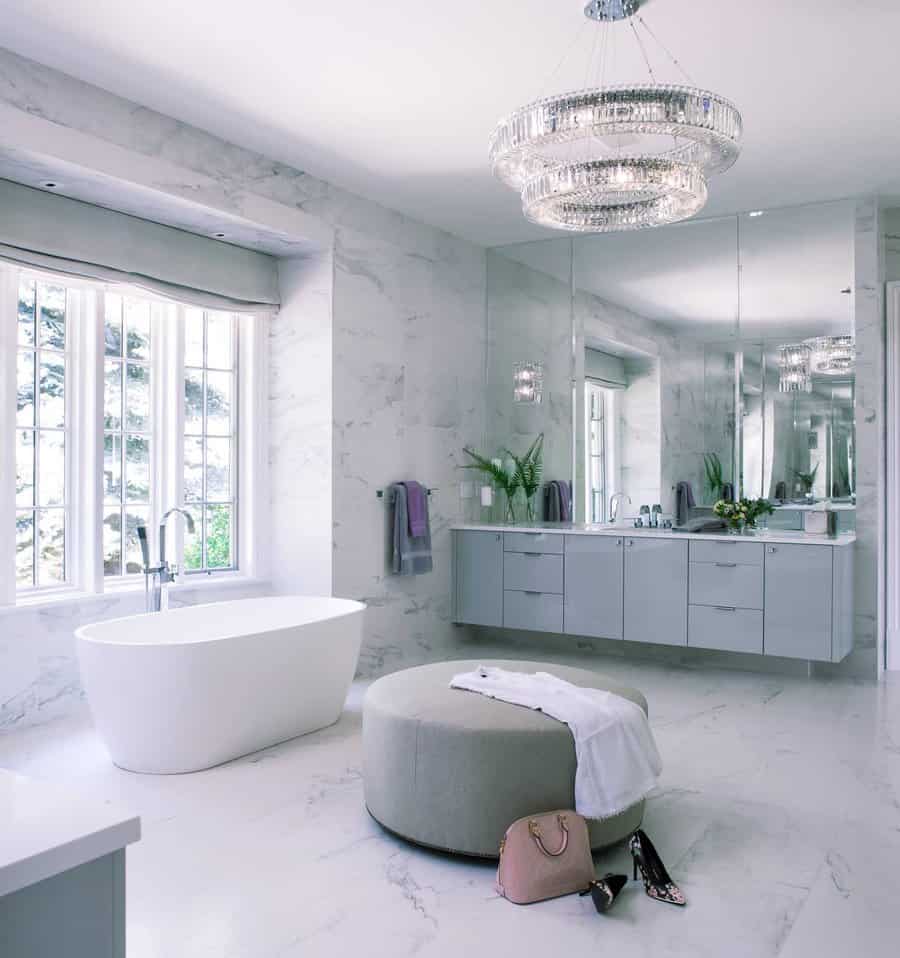 8. Graceful Grey with Limewash Touches
Prepare for a stunning bathroom transformation with graceful grey hues and limewash accents. To achieve this modern oasis, opt for limewash walls to add texture and depth. Enhance the chic ambiance with round wall-mounted mirrors and complete the look with a sleek floating sink cabinet.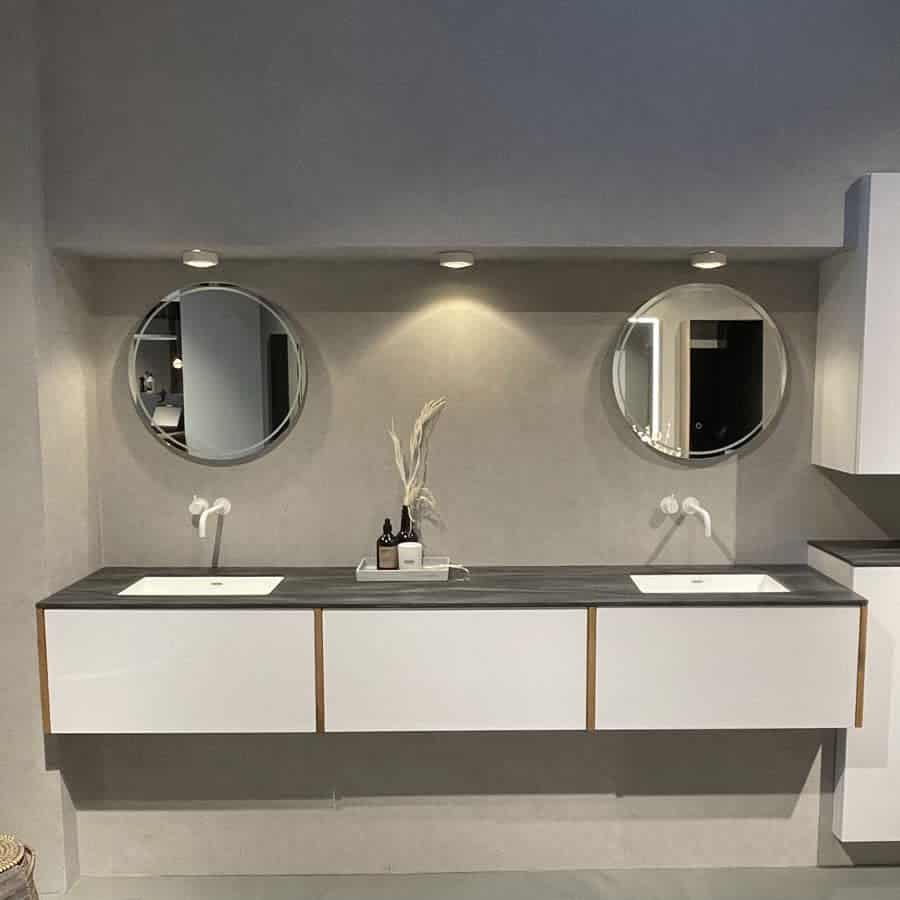 9. Contemporary Modern Luxury Retreats
Transform your bathroom into a luxurious retreat by incorporating contemporary design elements. Choose a gleaming cabinet with gold metal legs as a focal point, complemented by pristine white tiles for a clean and airy ambiance. Add a touch of nature with fresh flowers and maximize natural light through well-placed windows.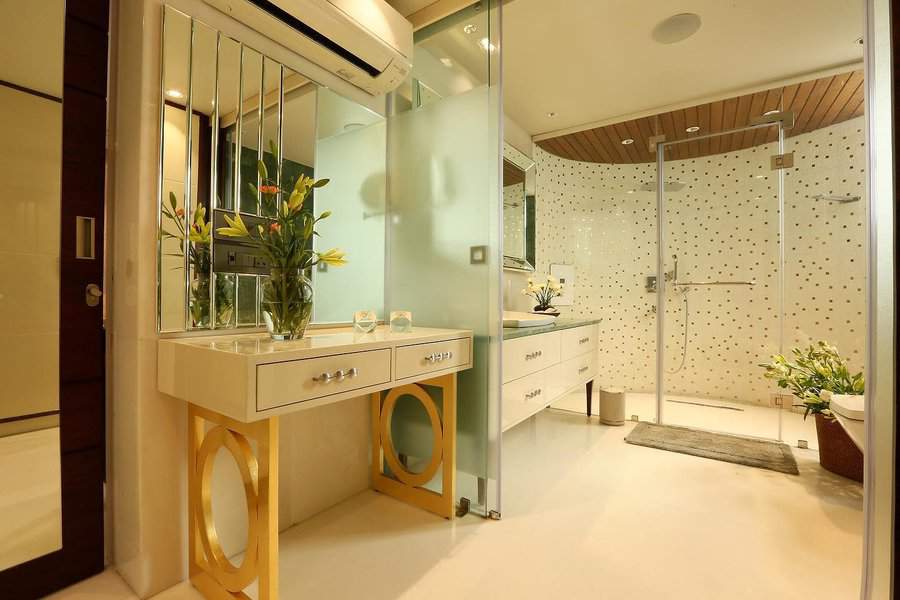 10. White and Grey with Brass Accents
Elevate your bathroom to a realm of modern luxury with grey herringbone tiles that create a captivating feature wall. To complement this design, incorporate brass-finished wall lamps for added warmth and glamour. Enhance functionality and style with a white vanity cabinet that provides ample storage while maintaining a sleek appearance.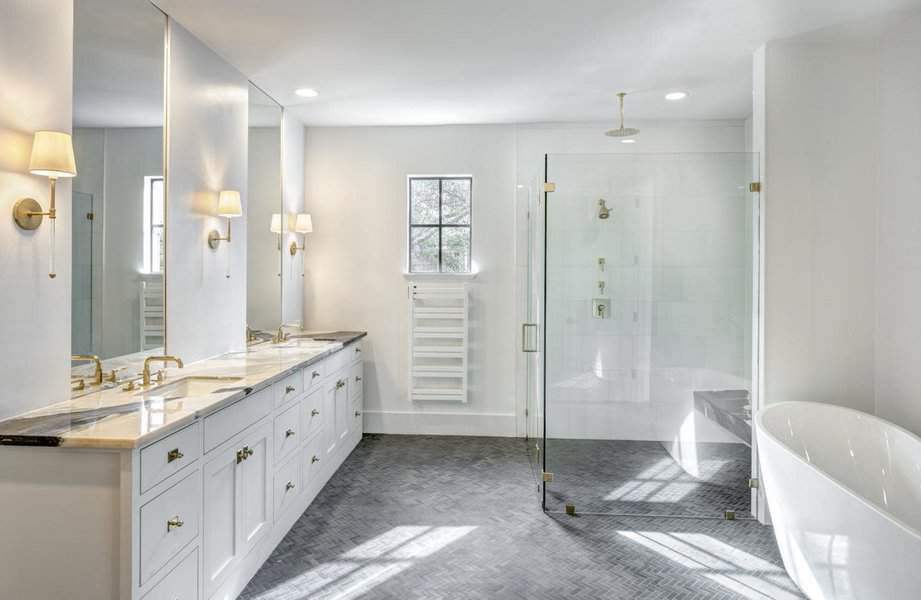 11. Glamorous Pink and Gold Harmony
Infuse modern glamour into your bathroom with white marble tiles and stunning gold brass accents. Create a striking focal point with a daring pink flamingo painting against white walls. Embrace sharp edges, sleek lines, and artful details while adding fresh pink flowers between white cabinets for contrast and vibrancy.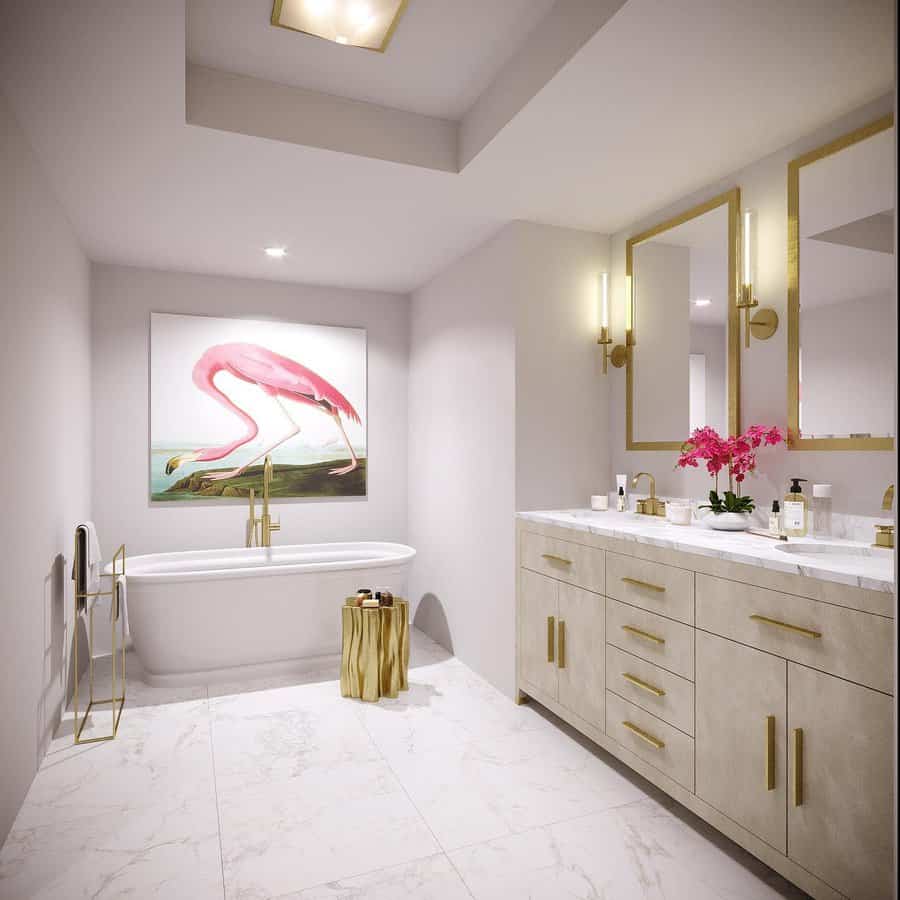 12. New York Monochrome Sophistication
Achieve modern sophistication in your bathroom with the timeless combination of white marble and black frames. Incorporate white and grey marble tiles in high-shine or matte finishes to create a sleek and elegant atmosphere. This effortless update will not only withstand daily use but also make your small bathroom a standout interior accessory.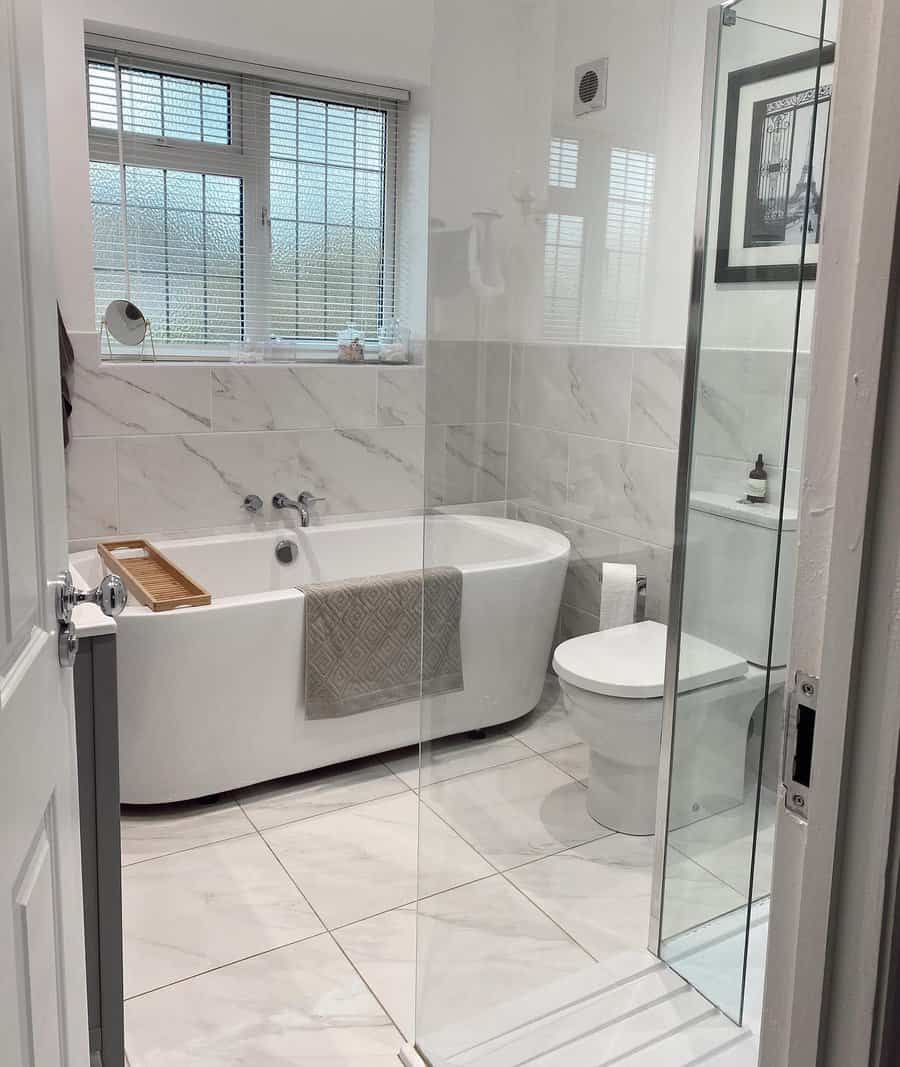 13. Masculine Blue and White Charm
Crafting a modern bathroom is a straightforward endeavor with a few key design elements. Begin with white marble tiles featuring subtle grey veining to create an airy ambiance. Introduce depth and luxury with a blue mosaic accent tile, and consider a recessed wall shelf for efficient storage and organization.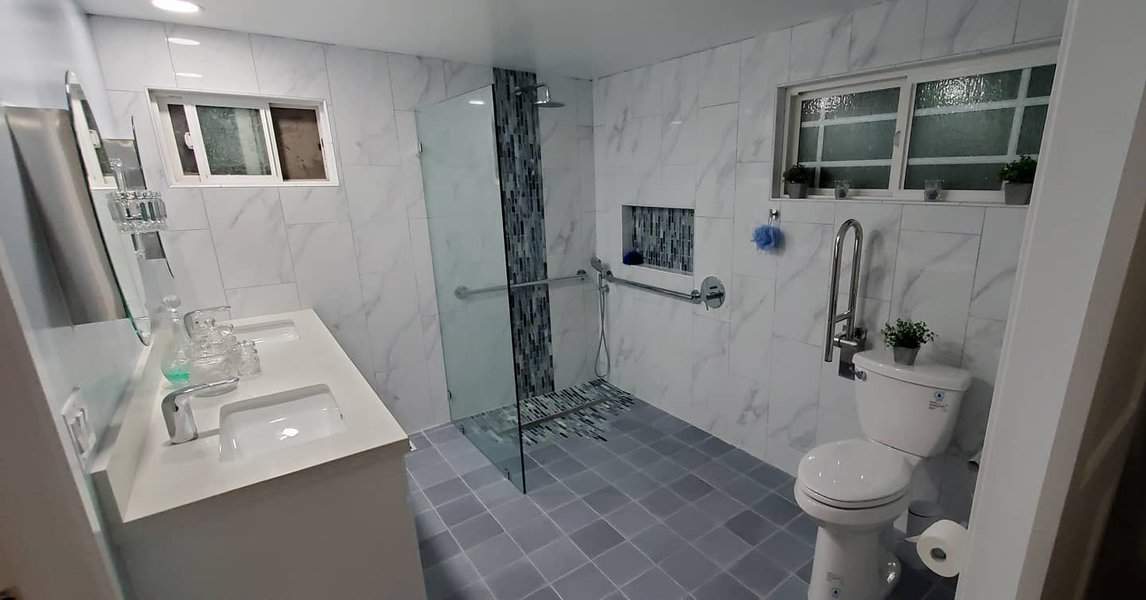 14. Urban Modern Industrial Vibes
Infuse your bathroom with a modern industrial vibe for an instant upgrade. Begin with concrete tiles in shades of grey and beige, and add a matte black shower set for contemporary allure. Elevate the ambiance with dimmable lighting options and choose minimalist furniture pieces for a sleek look.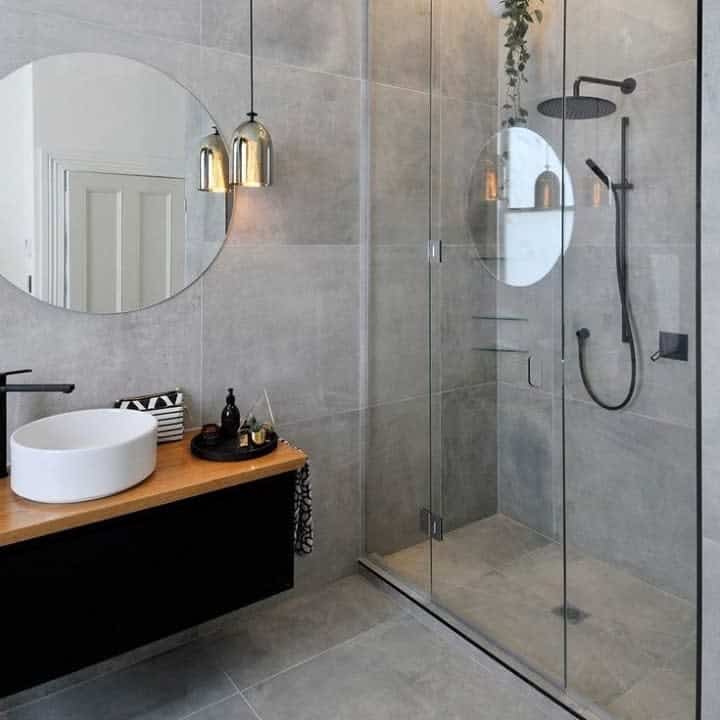 15. Retro Blues Revived in Style
Elevate your bathroom to a luxurious spa retreat by incorporating soothing blue glass tiles, a frameless shower door, and convenient recessed wall shelves for storage. Bid farewell to the hassle of missing soap or shampoo bottles with this practical yet stylish setup.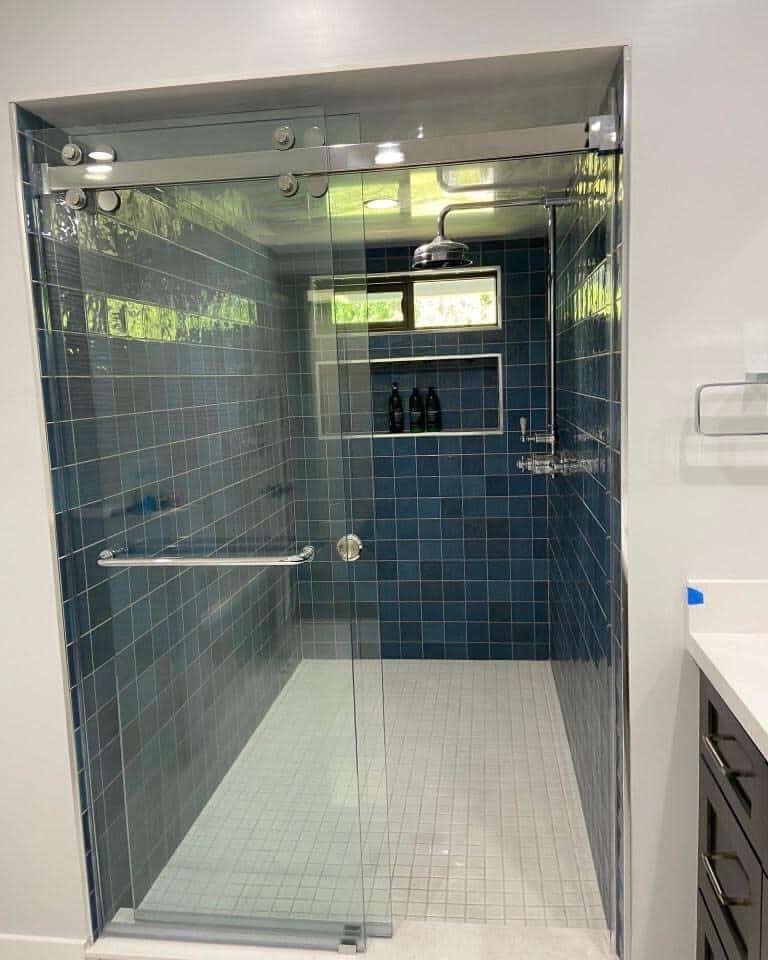 16. Chic Black, White, and Wood Fusion
Elevate your bathroom with a chic fusion of black, white, and wood elements. Introduce luxury with black-framed windows and mirrors, and enhance storage with wooden shelves and cabinets that maintain a stylish aesthetic.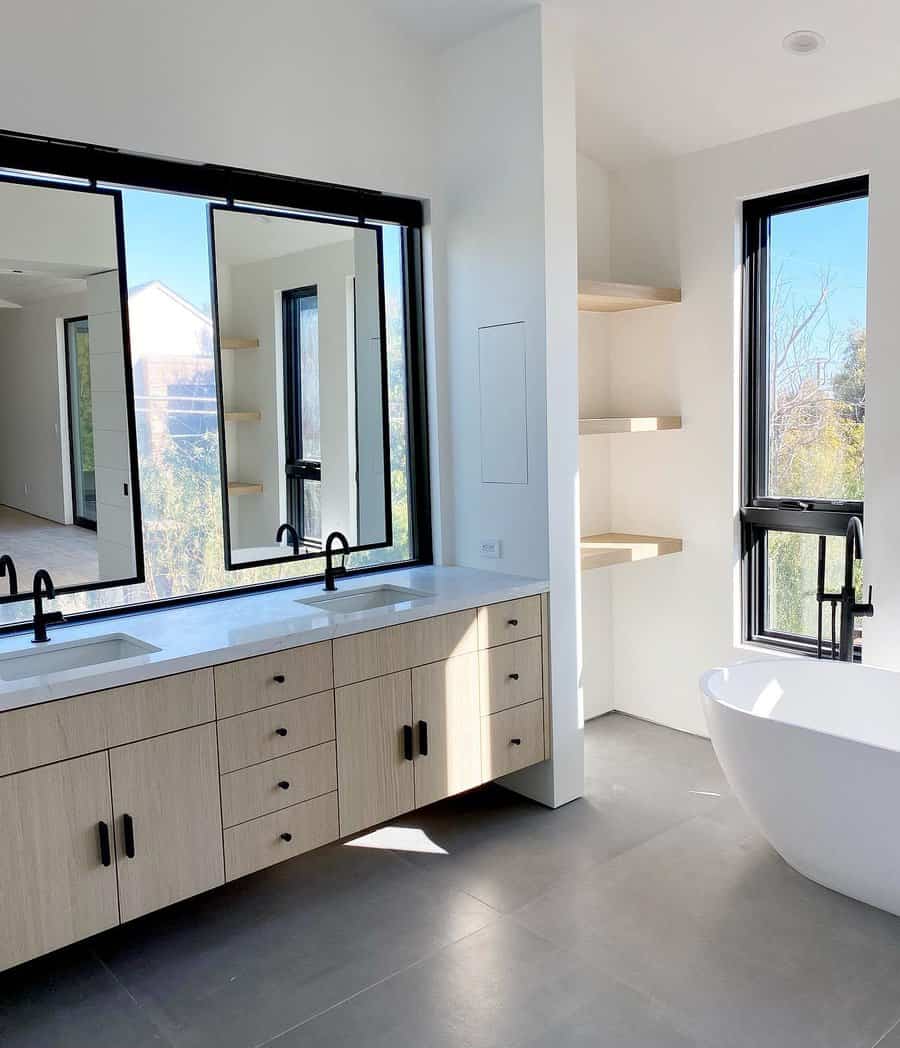 17. Bold Statements in Marvelous Marble
Elevate your bathroom with bold statements in marvelous marble. Embrace white marble tiles that extend to a striking matte black faucet and a sleek rectangular wash basin. Add a touch of nature with a snake plant in a black pot for a contrasting, yet harmonious, design.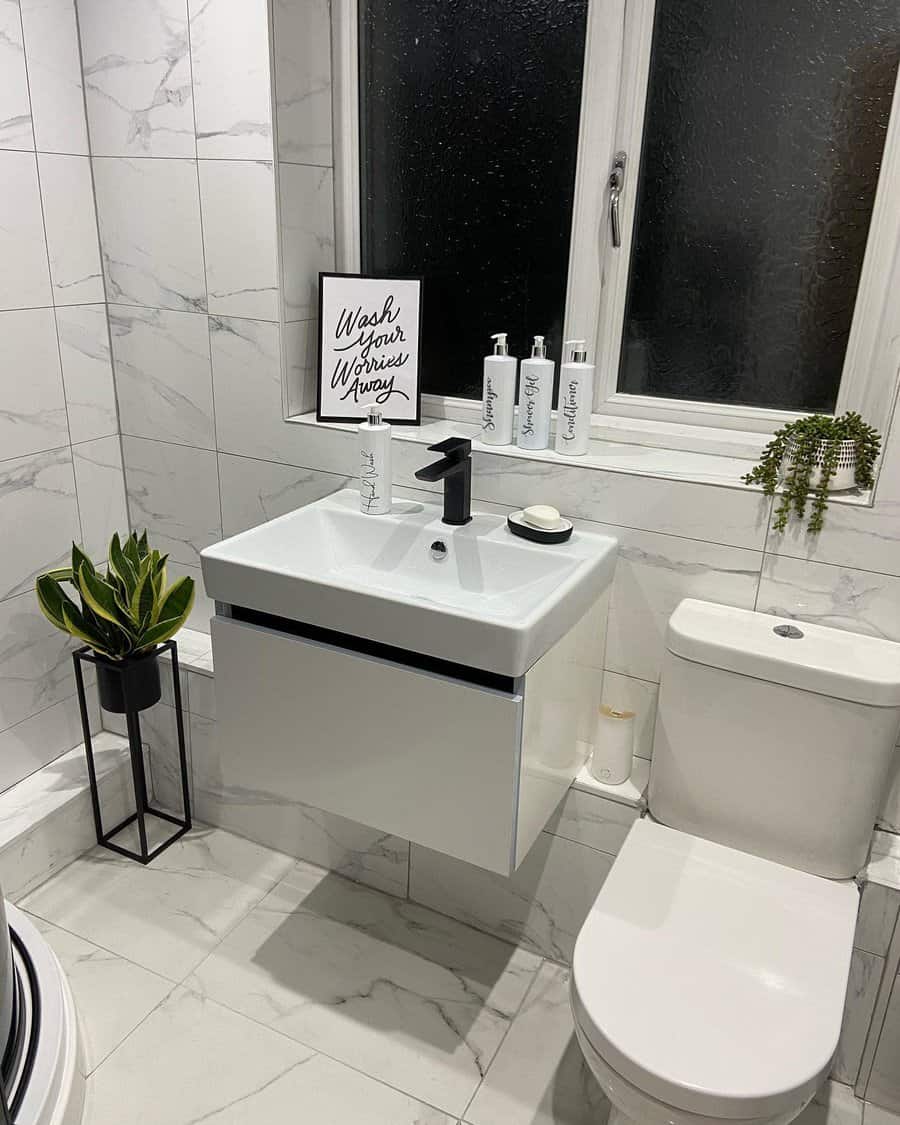 18. Minimalist Rustic Serenity
Elevate your bathroom with a blend of minimalist and rustic elements. Start with walnut cabinets to anchor the space in warm tones and introduce pendant lights for a touch of modern sophistication. Add polished touches by incorporating off-white walls for a balanced and cozy ambiance.
19. Playful Contemporary Creations
Create your dream modern bathroom with playful and contemporary elements. Opt for emerald green beveled subway tiles to adorn the walls, complemented by a luxurious built-in bathtub as the centerpiece and chrome fixtures for a sleek look. Step into this spa-like oasis to recharge and unwind.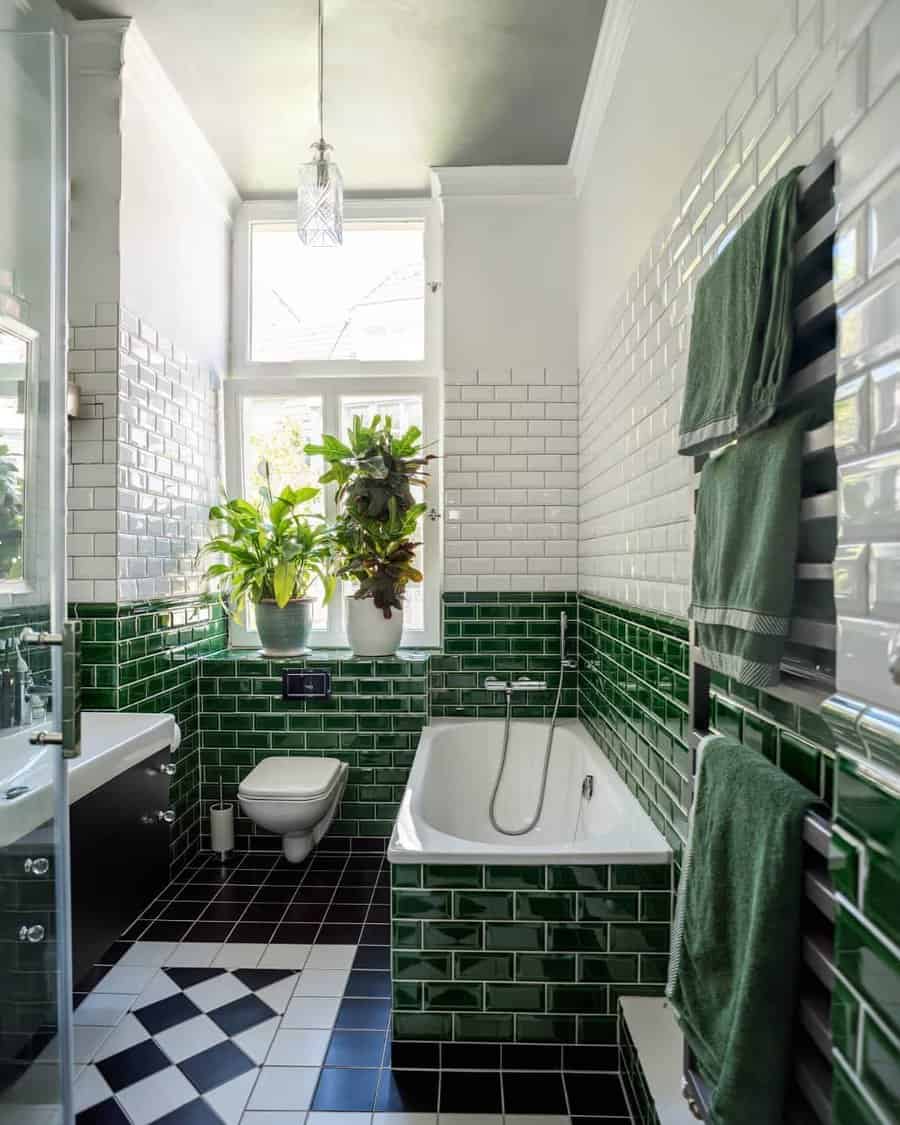 20. Feminine White Quartz Elegance
Elevate your bathroom with a feminine touch of white quartz elegance. Begin with white marble tiles and maximize natural light to create a soothing oasis. Incorporate built-in tones of color for a Zen-like ambiance, and add a lighted mirror above the double vanity for both practicality and luxury.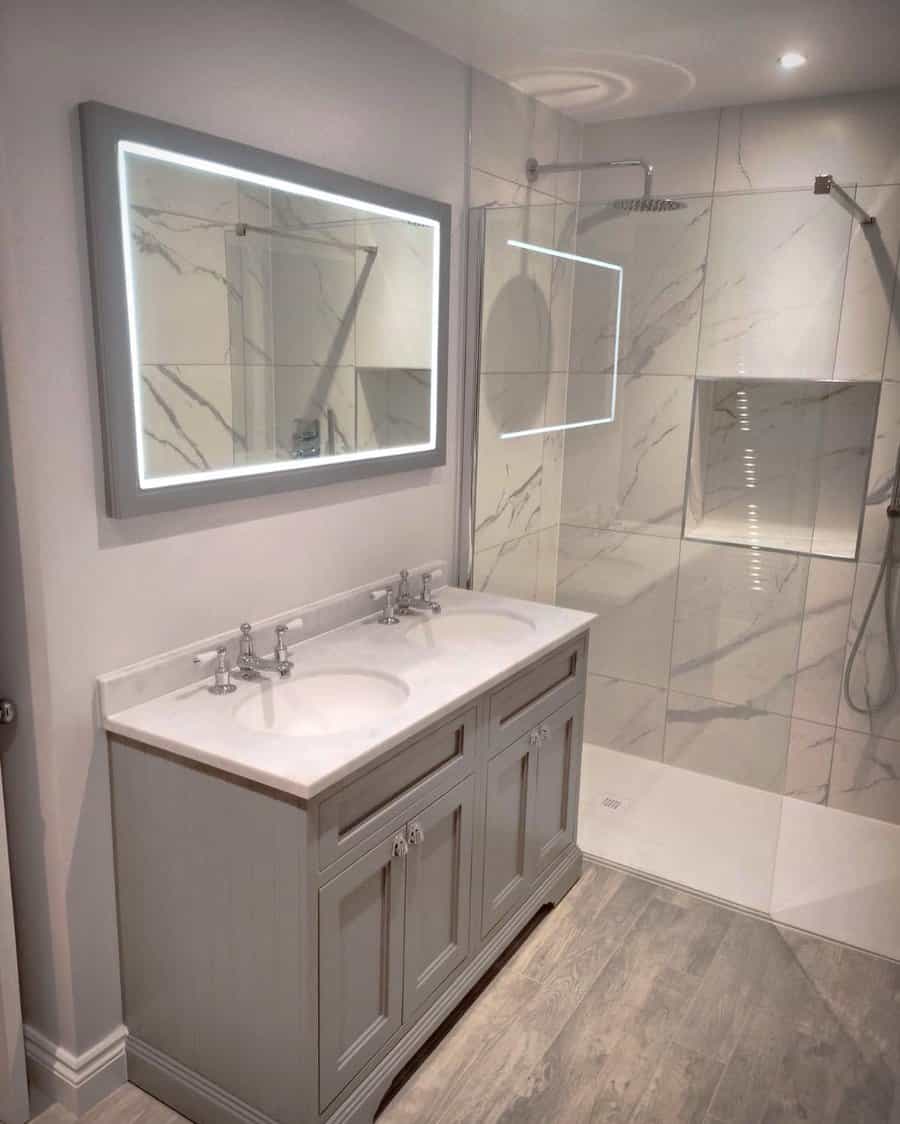 21. Tranquil Asian-themed Haven
Create a tranquil Asian-themed haven in your modern bathroom by incorporating cherry blossom murals and brass faucets. These elements combine to provide a serene oasis within your home, offering respite from daily worries and stressors.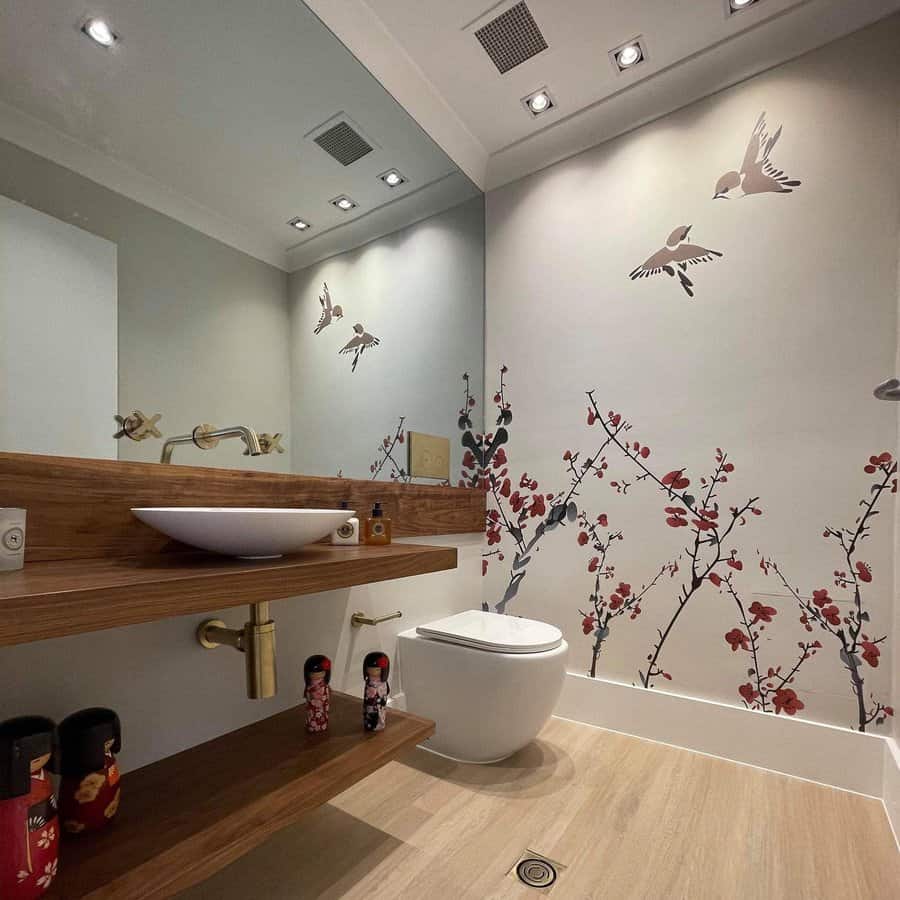 22. Minimalist Magic with Mosaic Accents
Elevate your modern bathroom with minimalist magic and mosaic accents. Escape the monotony by pairing monochrome glass mosaic tiles with grey counterparts to introduce texture and pattern to the walls, creating a dynamic visual appeal.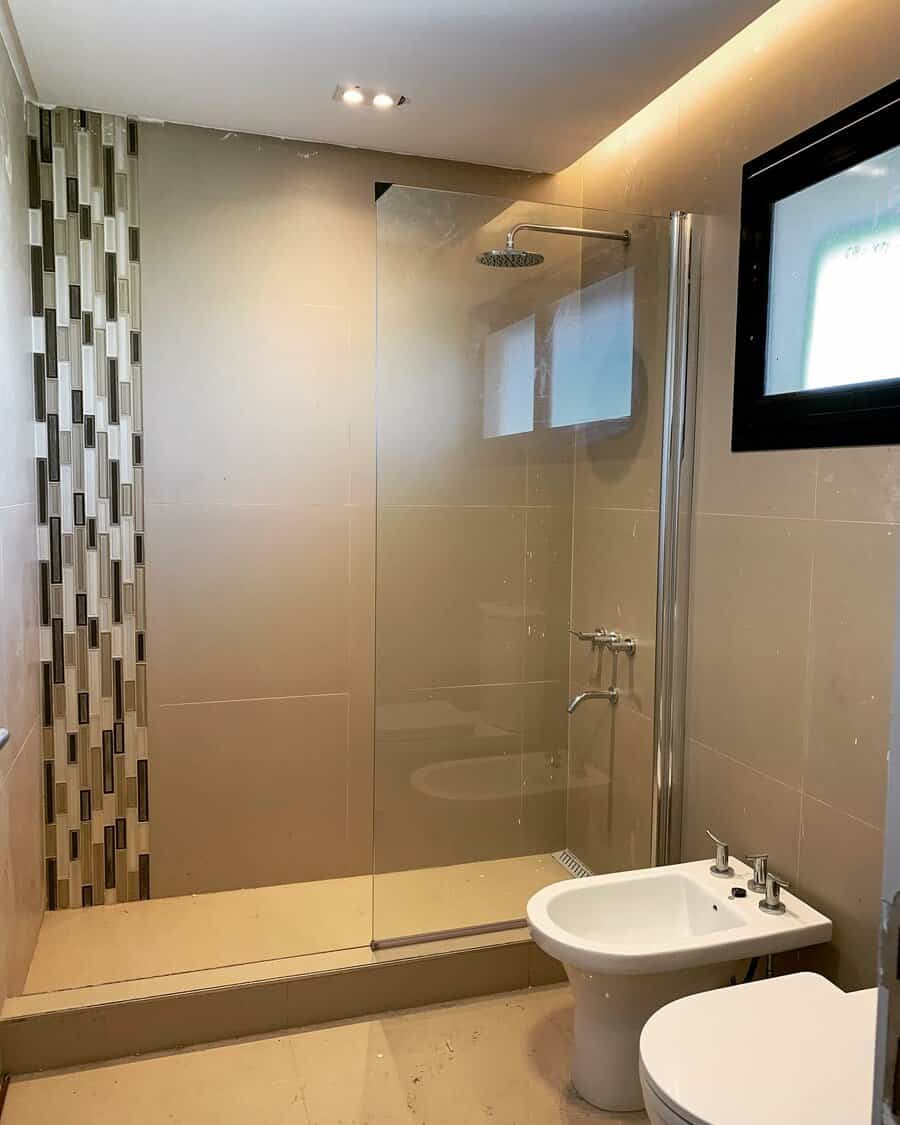 23. Simple and Subtle Art Deco Grace
Infuse modern luxury into your bathroom with a simple and subtle Art Deco touch. Opt for a pink decorative flooring that exudes warmth and comfort, complemented by a gold-framed mirror for a touch of modern elegance.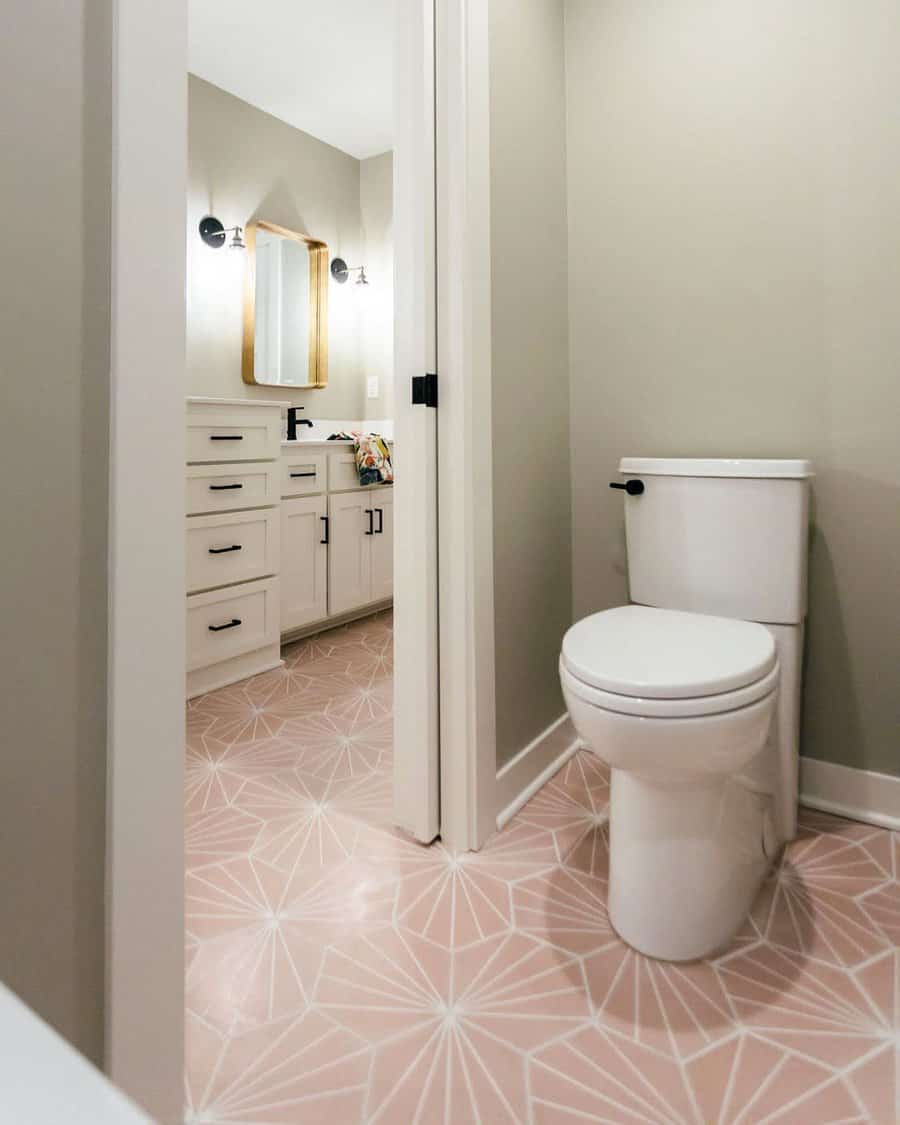 24. Terrazzo Treasures Unveiled
Transform your bathroom into a tranquil haven with the elegance of grey and white, highlighted by grey terrazzo tiles that create a captivating backsplash. Introduce light wood cabinets to add visual interest and a warm, inviting touch to the space.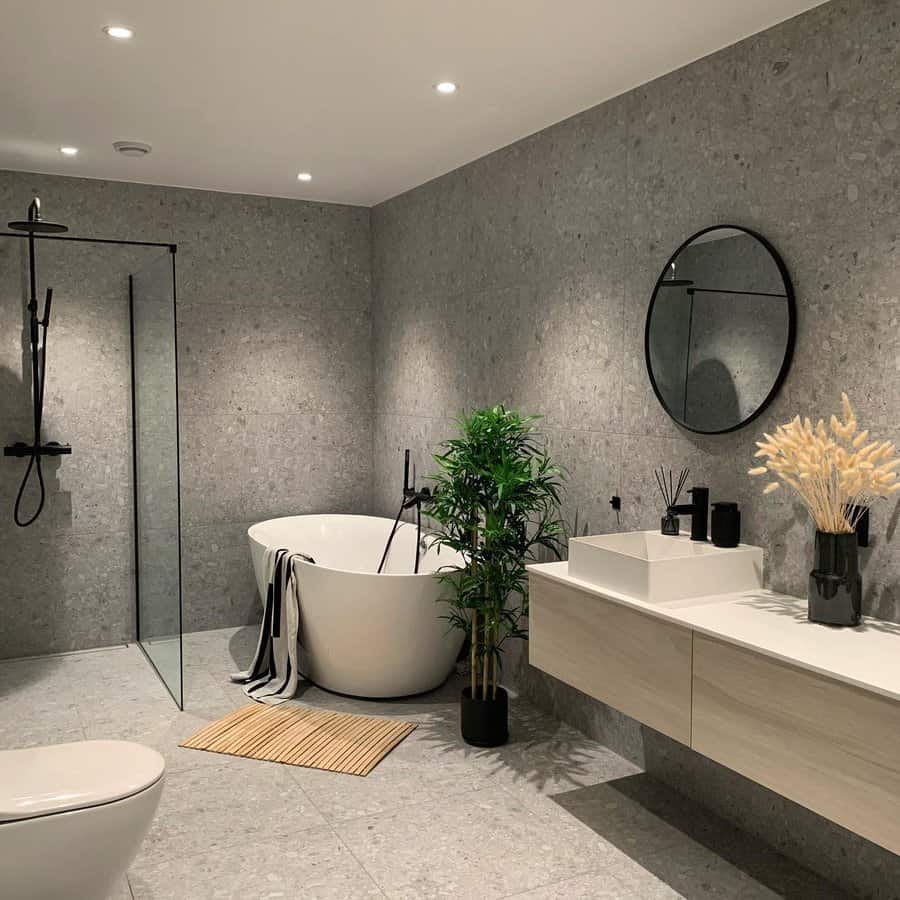 25. Classic Checkered Tile Designs
Transform your small bathroom into a stylish statement with classic checkered tiles and a floating vanity cabinet. These two elements have the power to elevate your space from ordinary to extraordinary, whether you aim for a classic and timeless look or need the added storage offered by a floating vanity cabinet.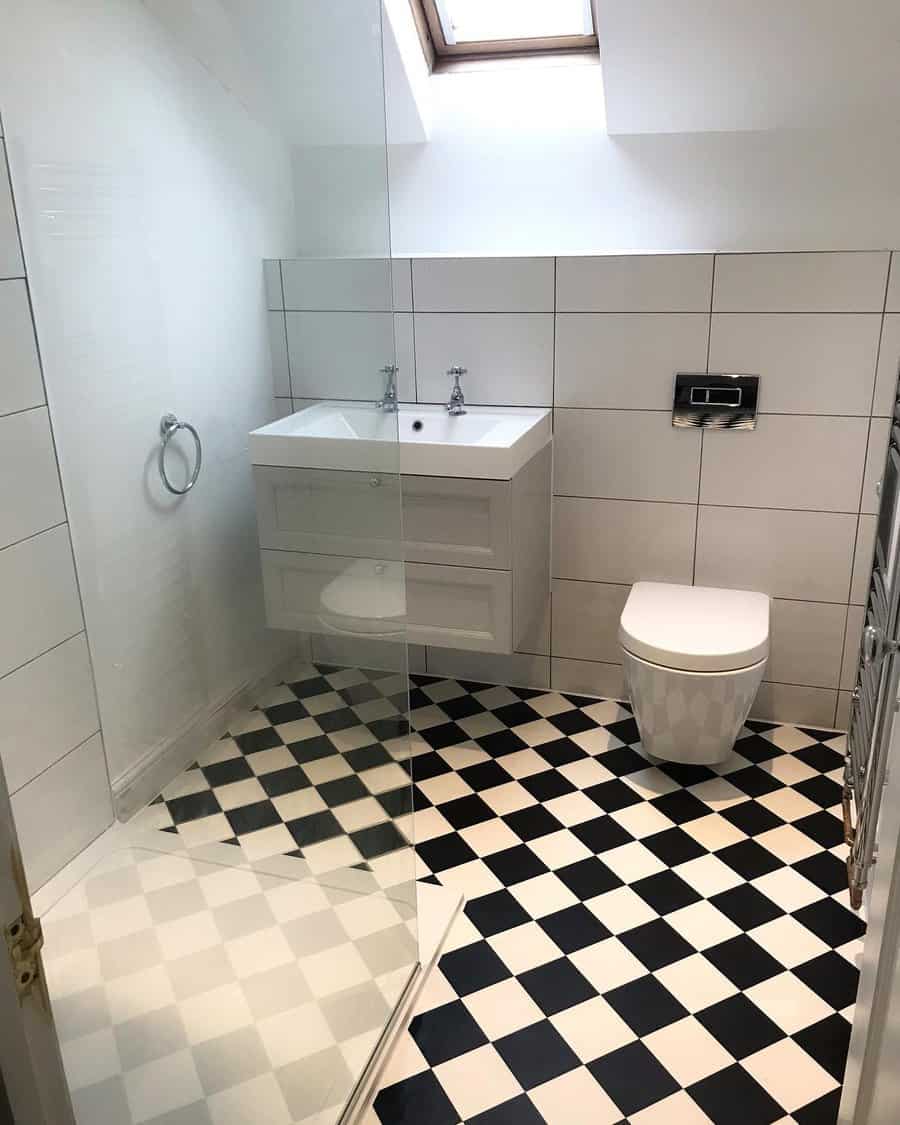 26. Decorative Tiles for Modern Flair
Elevate your bathroom's style with a modern Spanish touch using decorative tiles. These tiles, whether used as a backsplash or for flooring, effortlessly infuse color and vibrancy into your space.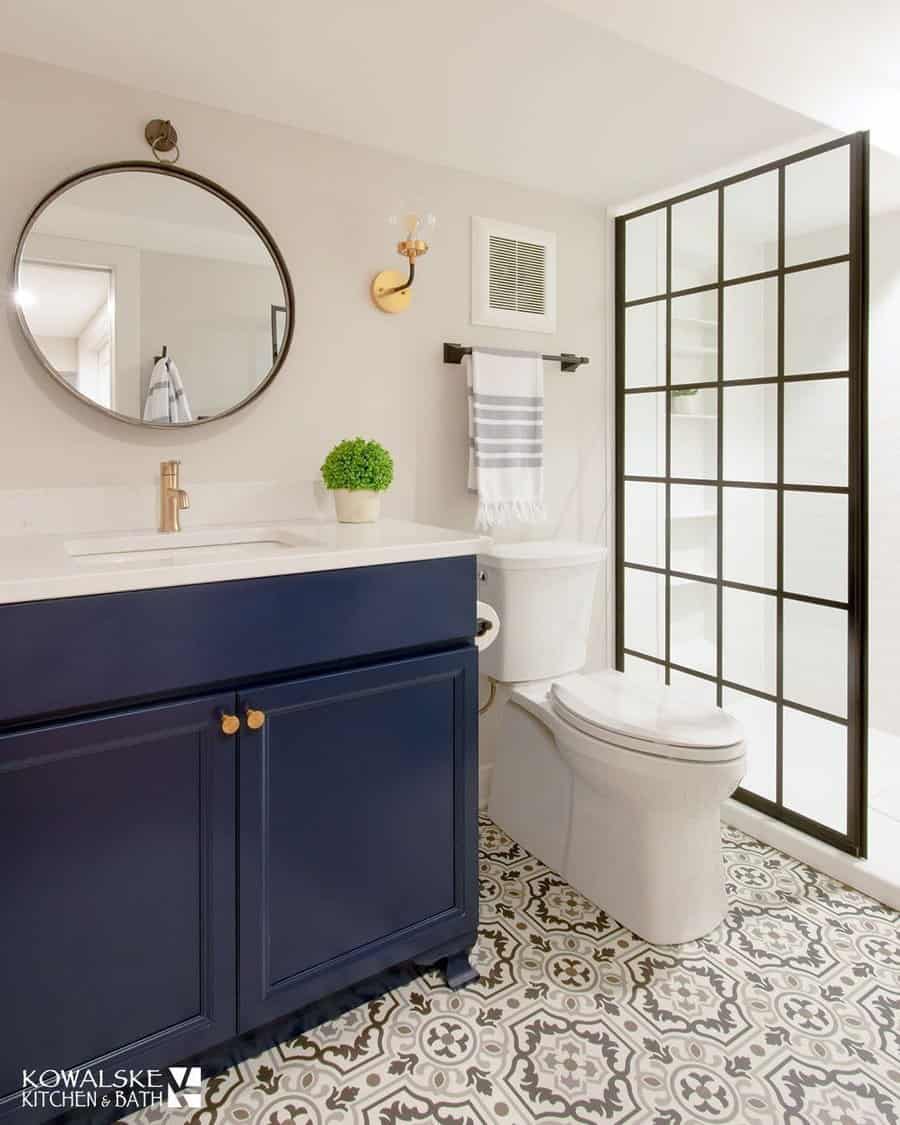 27. Sleek and Modern Chic Oasis
Design a modern chic oasis in your bathroom by incorporating light grey textured tiles that enhance natural light and sophistication. Opt for a wide vanity with clean lines, offering ample storage and space for daily routines. Add a plush faux fur mat for warmth and a touch of luxury underfoot. This combination creates an inspiring bathroom retreat, perfect for relaxation and everyday convenience.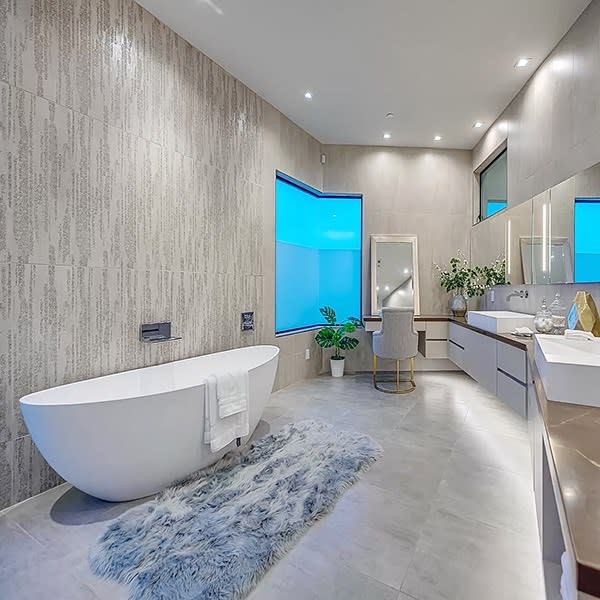 28. Bold and Eclectic Innovations
To achieve an edgy masculine aesthetic in your bathroom, consider incorporating concrete tiles and a black-framed one-panel window. Enhance the industrial-modern vibe by adding matte black elements like a showerhead or vanity tray. To balance the boldness, introduce other metallic accents alongside concrete surfaces, creating a well-rounded masculine look while softening any harsh edges. For a cohesive design, maintain a monochromatic color palette with occasional metallic pops.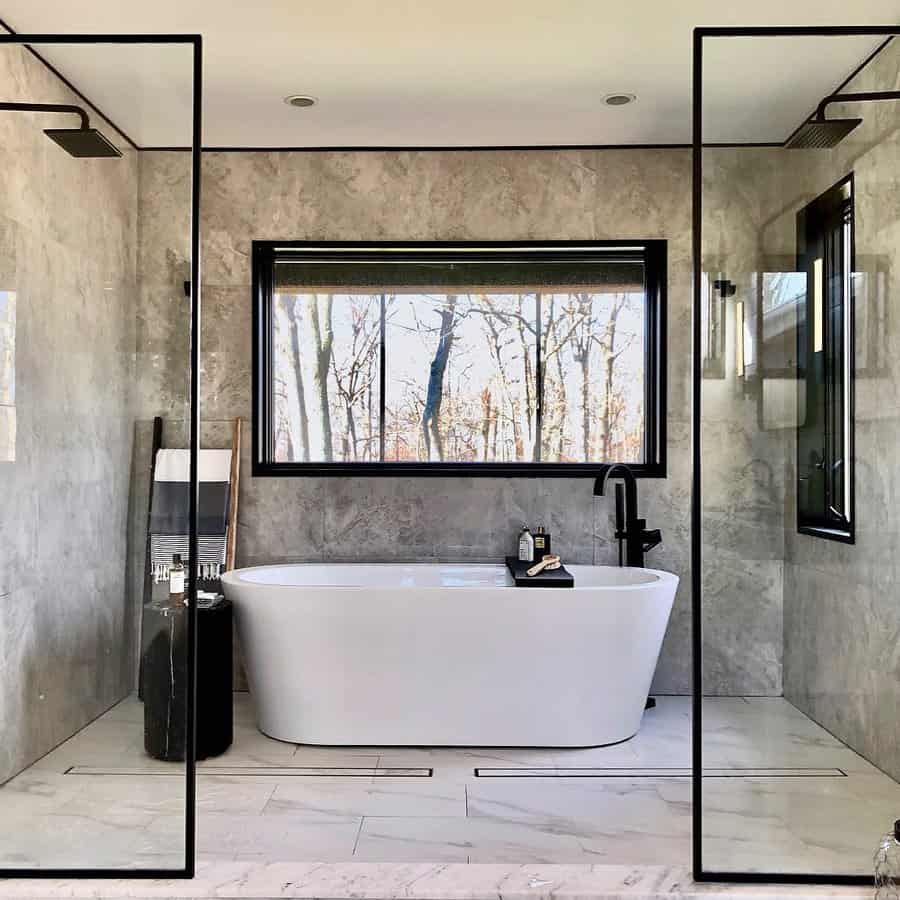 29. Green Escape: Nature-inspired Retreats
Transform your bathroom into a bright and refreshing oasis with a nature-inspired design. Start by incorporating white subway tiles for a clean and timeless look. To add depth and contrast, consider using bold dark grout between the tiles. For a touch of luxury, opt for a white or marble freestanding bathtub paired with elegant gold fixtures and sconces placed strategically near the mirror. Complete the natural ambiance by introducing indoor plants to bring life and freshness to even small spaces. With these elements, you can quickly create a bright and envy-worthy bathroom.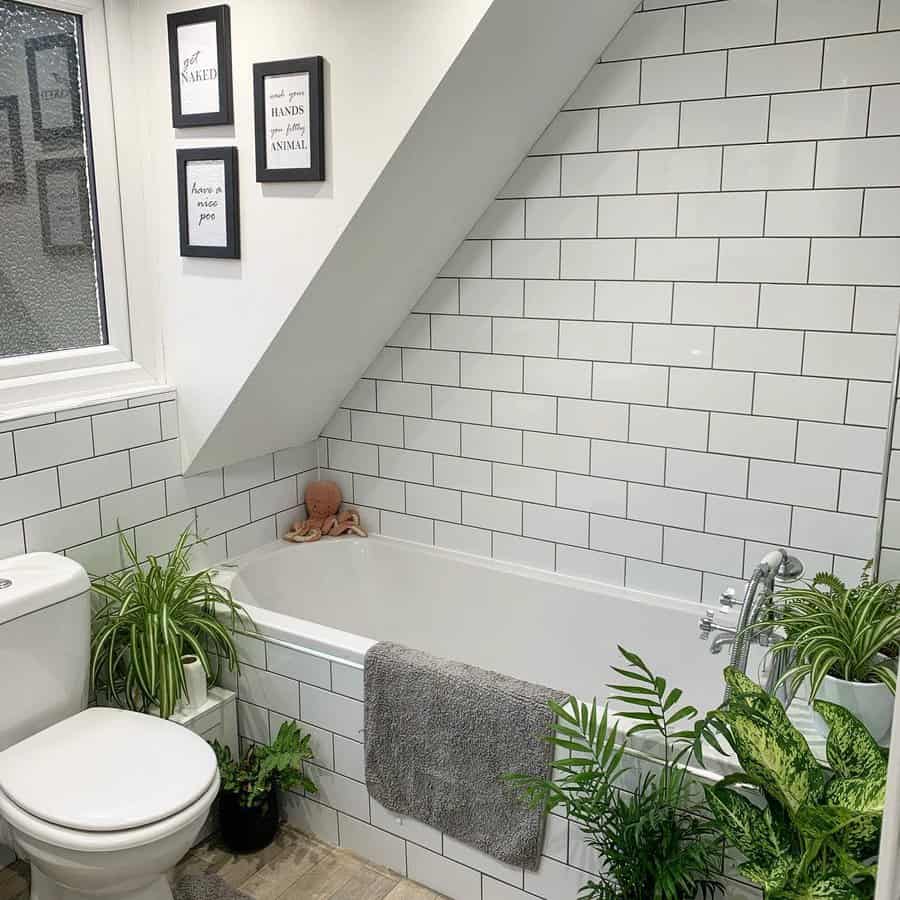 Modern Bathroom FAQs
What is a modern style bathroom?
A modern bathroom focuses on structure, design, and architecture. The color palette is crisp with the use of white, black, and greys. There is minimal decoration and ornamentation.
How can I modernize my bathroom cheaply?
The easiest way to make your bathroom look more modern is to replace the lighting and plumbing fixtures. This is something you can do yourself. You can also remove your old vanity and install a floating vanity yourself. Change the color palette to a modern one by painting the walls and using tile vinyl stickers.
How do I accessorize a modern bathroom?
Adding small decorative accents to a modern bathroom is about adding functionality and artfully placed decor. Add a floating shelf or two and place a candle on them. Add a small wooden stool to provide a seating place. Arrange a small table next to the freestanding tub with bath accessories like bubble bath, bath salts, and bath bombs.