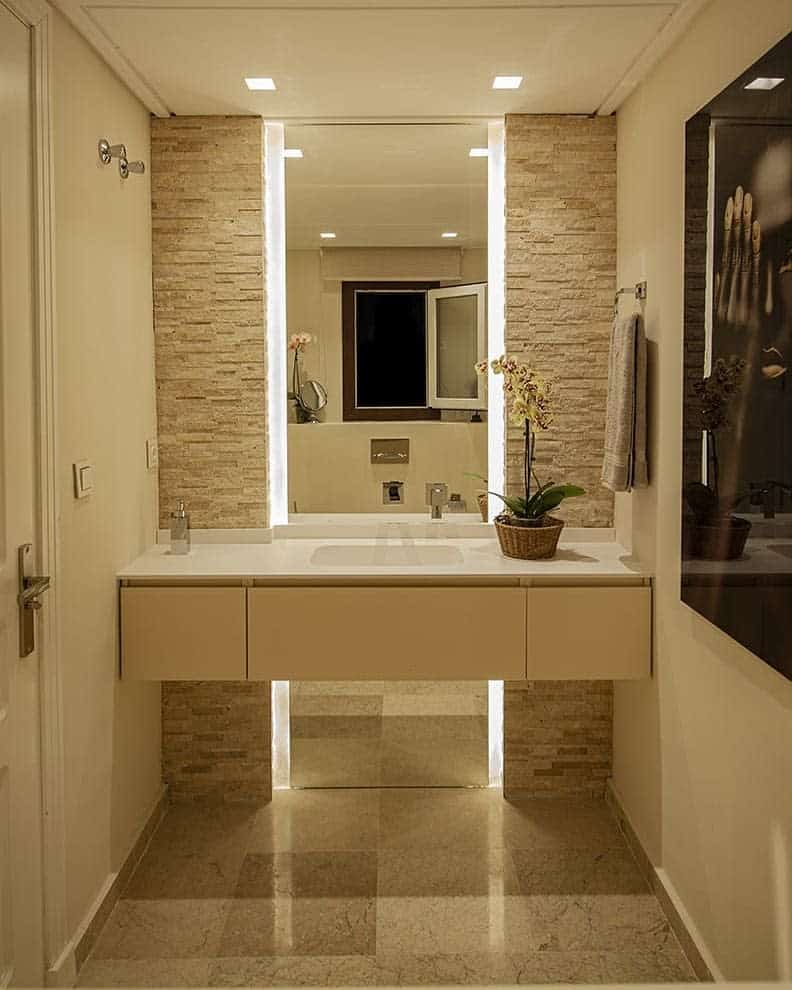 58 Bathroom Wall Ideas to Refresh Your Sanctuary
by — Kari Apted

Published on June 8, 2023

Updated on September 21, 2023
The bathroom, often viewed as a purely functional space, has evolved into a sanctuary of relaxation and rejuvenation. It's a space where you start and end your day—a place for solitude, contemplation, and sometimes, even the birthplace of your most inspired ideas. An integral part of crafting this personal oasis lies in the design of its walls, which can dramatically alter the space's aesthetic and atmosphere.
This article invites you on a journey through an array of bathroom wall ideas, offering inspiration to transform your bathroom into a stylish and serene retreat. We delve into various themes, materials, and color schemes, from classic subway tiles and vibrant wallpapers to sleek glass panels and rustic stone. We explore the potential of art, texture, and innovative storage solutions that can enhance both the functionality and visual appeal of your bathroom.
Whether you're planning a full bathroom remodel or seeking simple updates to freshen up your space, this comprehensive guide promises a wealth of ideas to inspire. With thoughtful design choices, your bathroom walls can become a canvas expressing your personal style, while crafting an ambiance of comfort and tranquility. So, prepare to challenge the ordinary, embrace the creative, and start envisioning the potential of your bathroom walls.
1. Elevate with Rustic Stone Walls
Rustic stone walls offer a robust and timeless aesthetic to bathrooms, transporting you to a serene, nature-inspired sanctuary. Their rugged textures and earthy tones infuse spaces with an organic touch, ensuring both beauty and durability.
When incorporating a rustic stone wall, consider complementing it with natural wood accents, like wooden shelves or vanity units. Warm-toned or muted lighting can amplify the stone's inherent characteristics, offering a cozy ambience.
For fixtures and fittings, brushed or antique metal finishes would beautifully juxtapose the stone, maintaining the room's rustic charm. As a pro-tip, seal your stone walls well to protect them from moisture and preserve their beauty for years.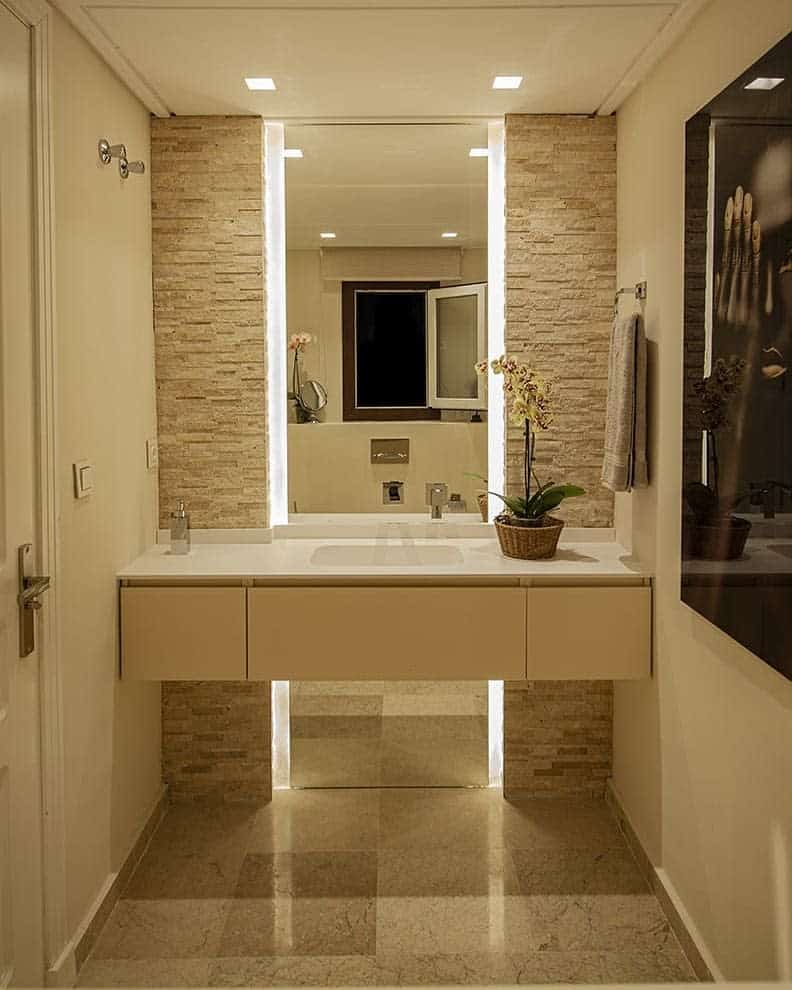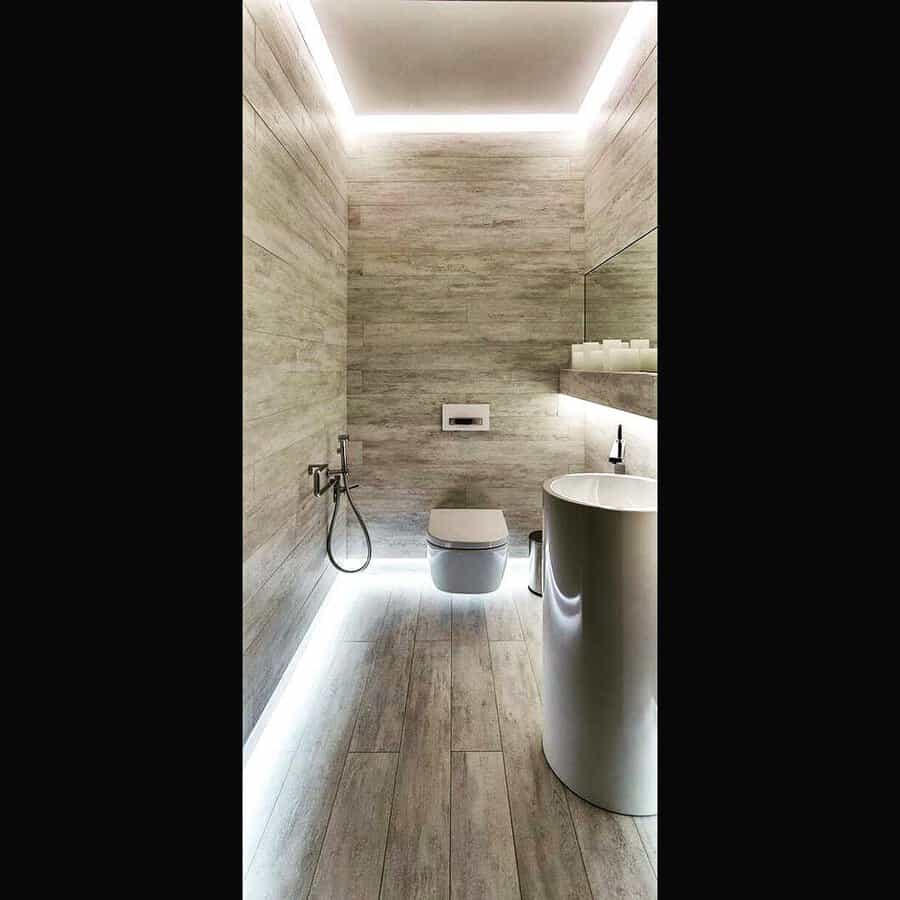 2. Illuminate Space with Bevel Tiles
Bevel tiles, with their distinctive sloped edges, bring a touch of sophistication and added dimension to bathroom walls. Their unique design catches and reflects light in a way flat tiles can't, creating subtle plays of shadow and luminescence that can make spaces feel larger and more dynamic.
When integrating bevel tiles, it's essential to consider their color and how it interacts with the bathroom's lighting. Light shades, especially whites and pastels, can amplify the tiles' reflective qualities. Pairing them with strategically placed lighting, such as sconces or under-cabinet lights, can highlight their unique contours. For a harmonious design, ensure that grout color complements the tiles, allowing for the beveled edges to shine without overwhelming the space.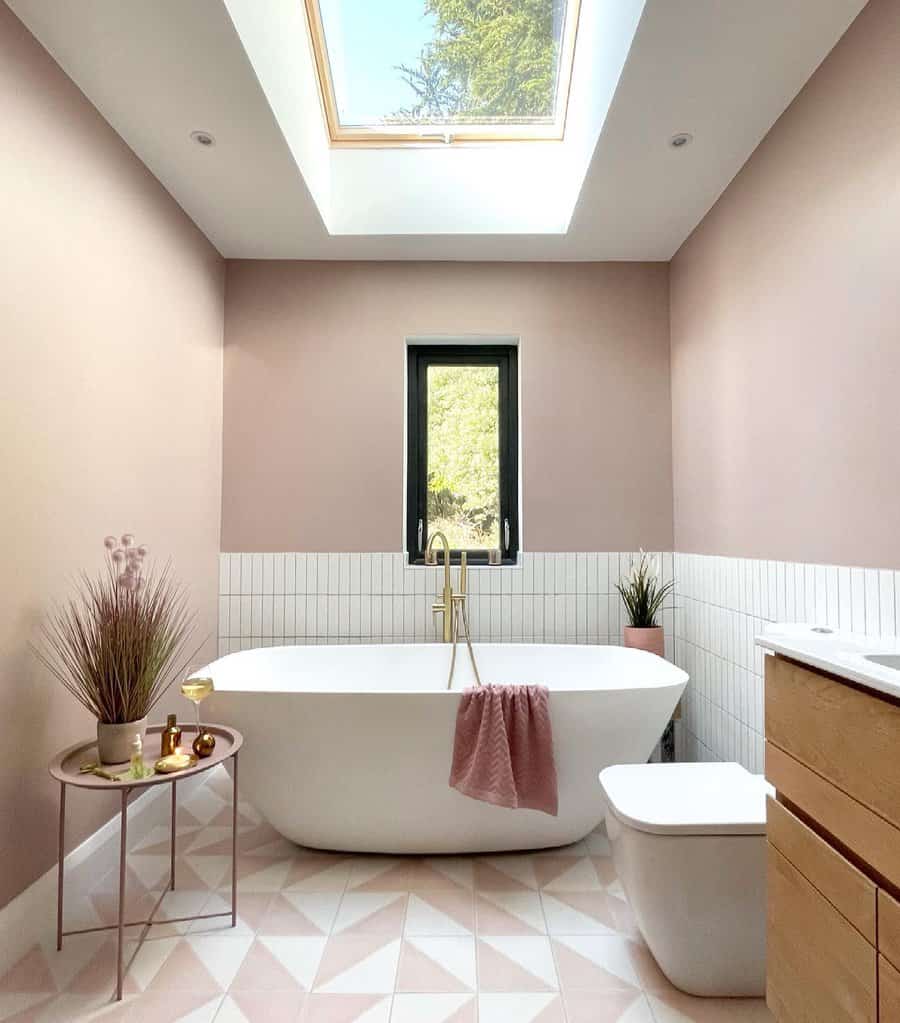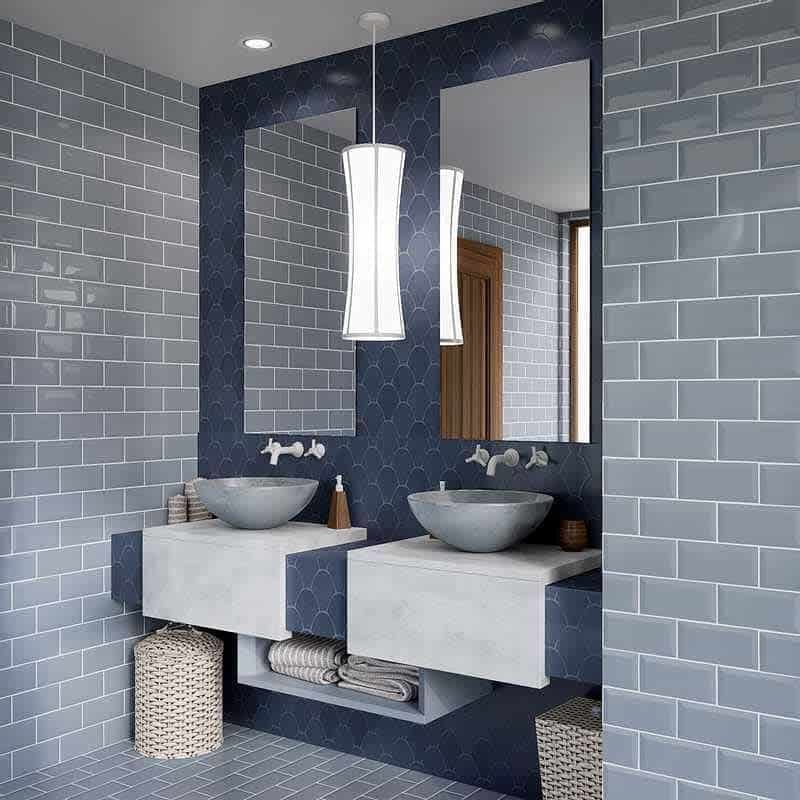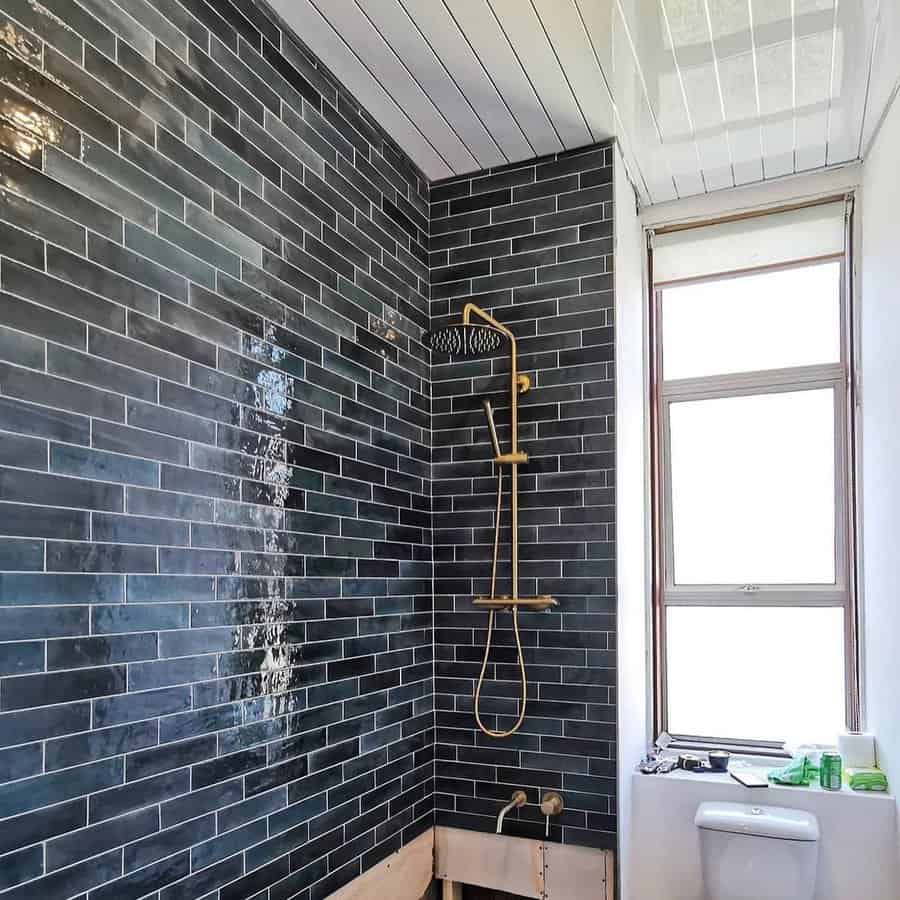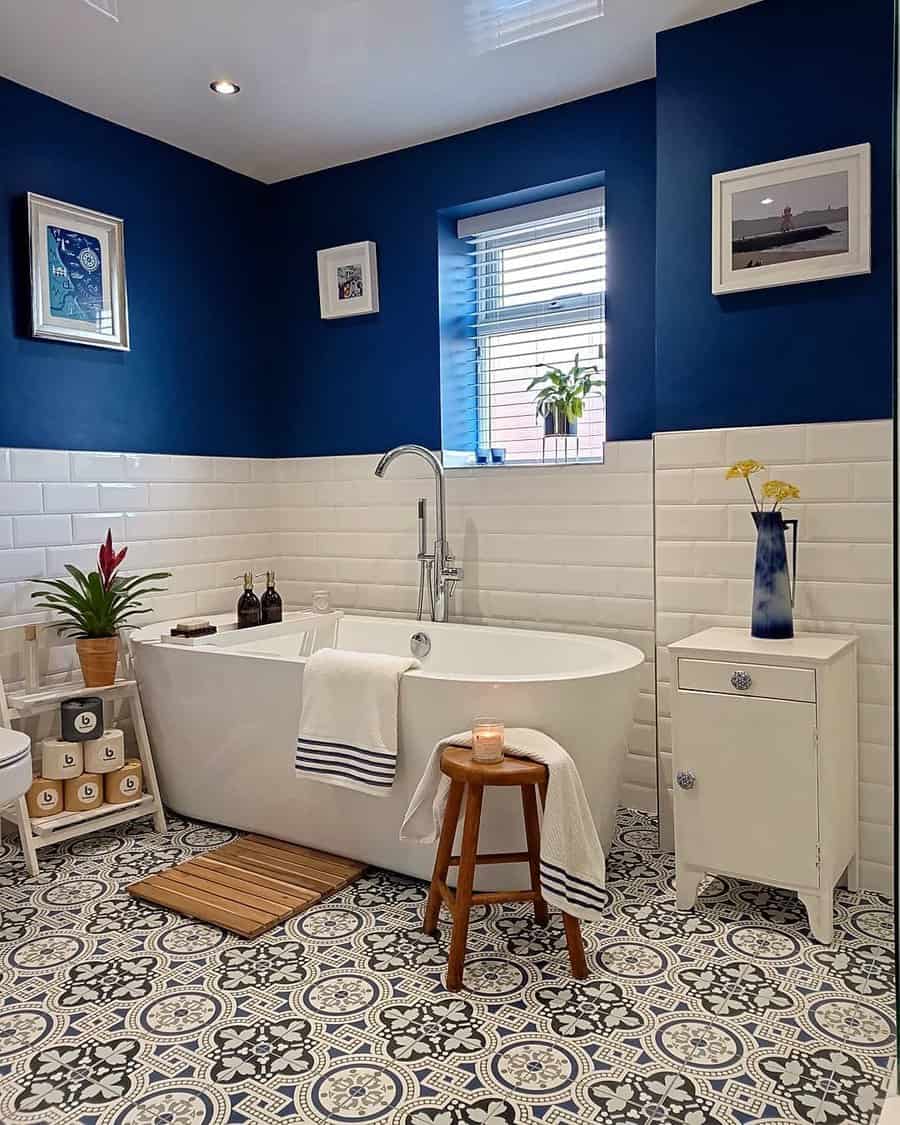 3. Achieve Elegance with Marble Tiles
Marble tiles exude an unmatched luxury and timelessness, instantly elevating the sophistication of any bathroom. With their distinct veining and natural patterns, they introduce an element of classic elegance, reminiscent of ancient palaces and grand estates.
When opting for marble tiles, consider their placement in relation to other elements. For instance, a minimalist, monochromatic color palette can allow the intricate details of the marble to take center stage. Fixtures in brass or matte black can provide a contemporary twist, complementing the marble's opulence. It's also worth noting that marble, being porous, requires proper sealing to prevent stains and maintain its pristine appearance.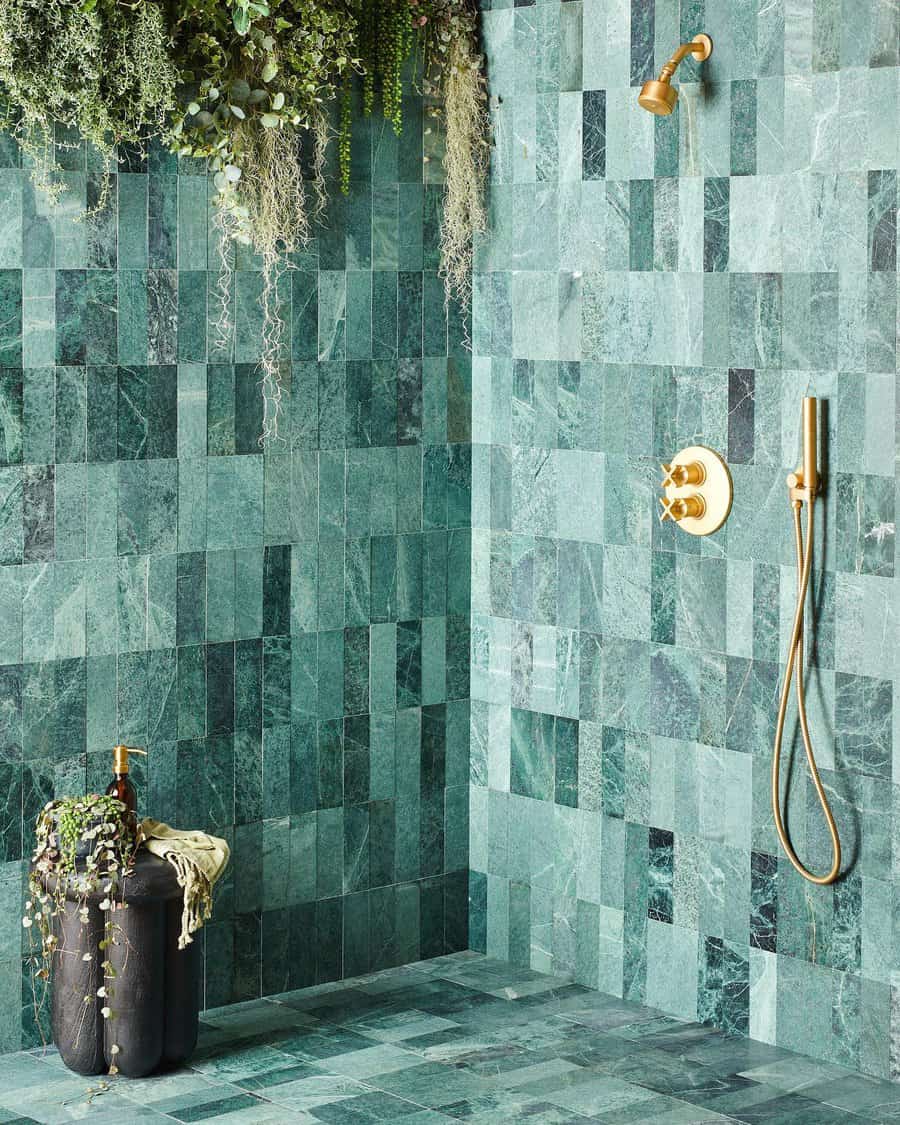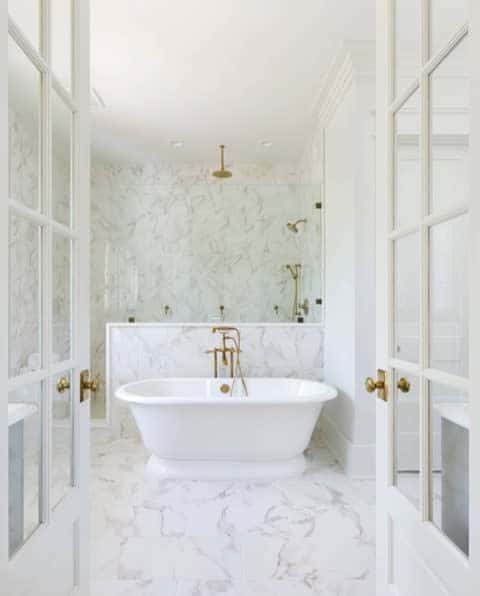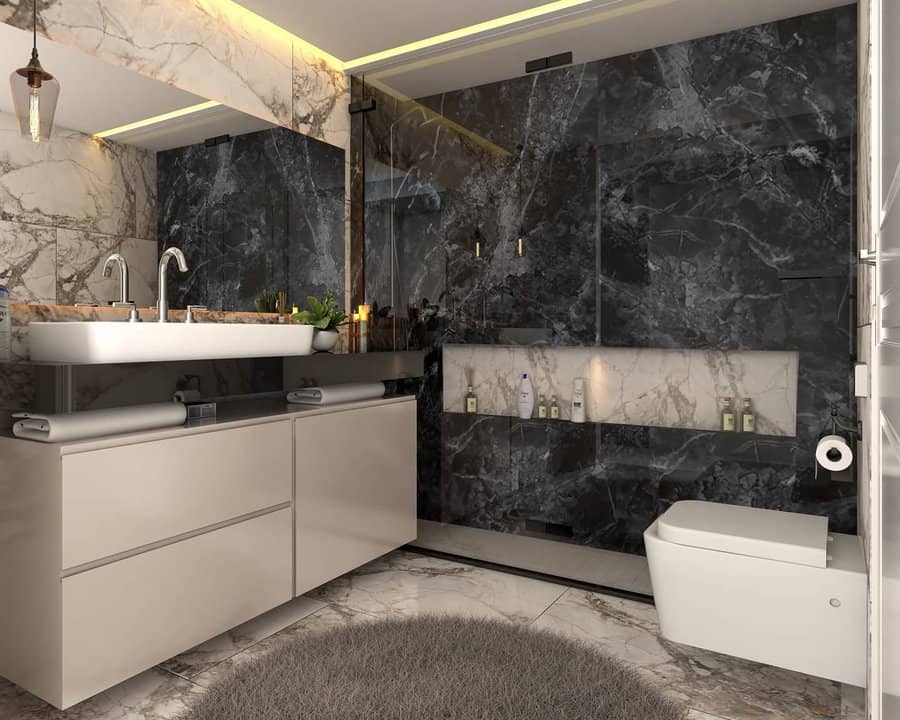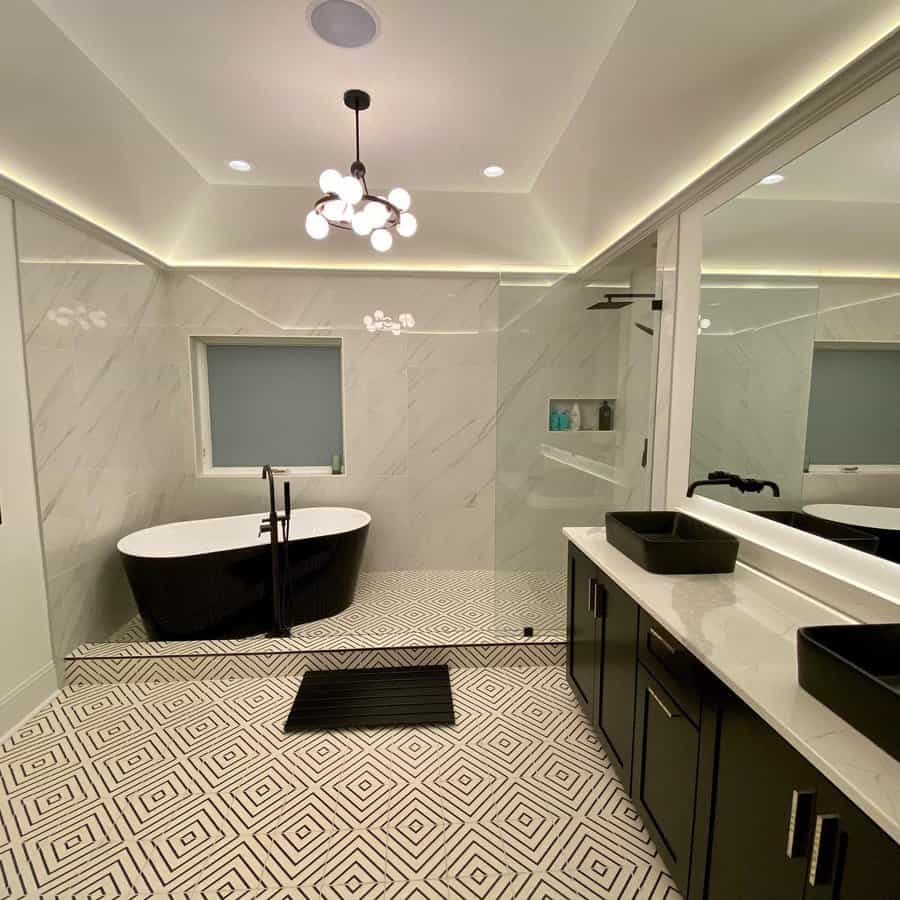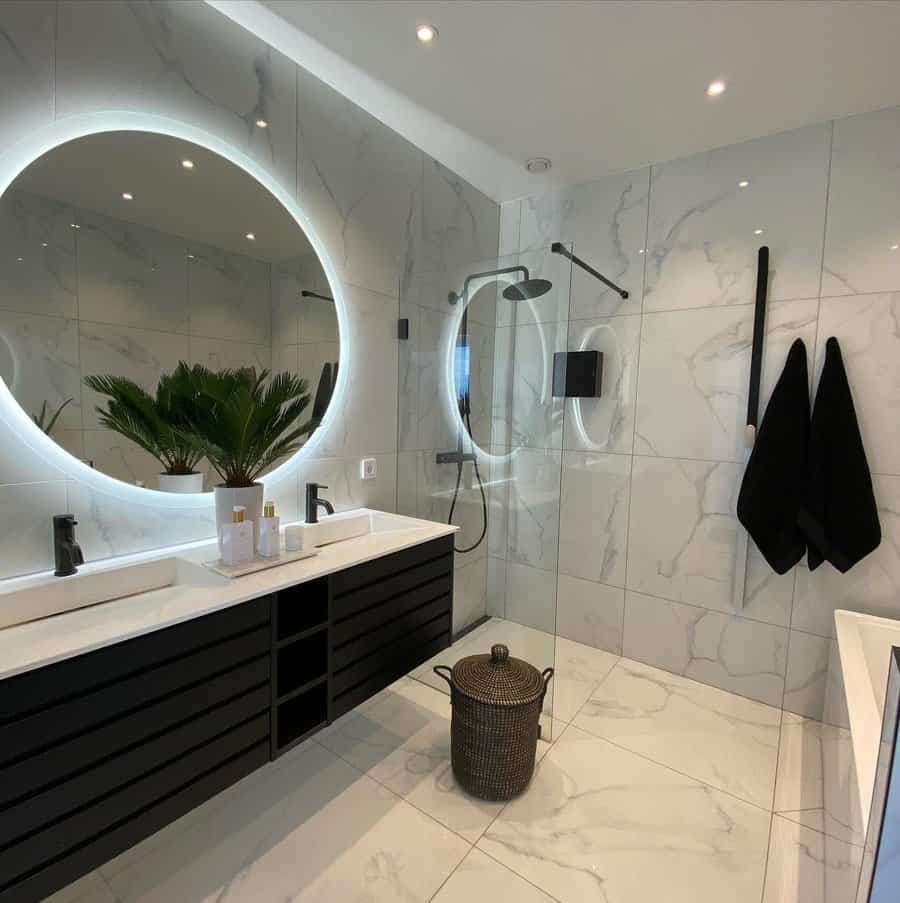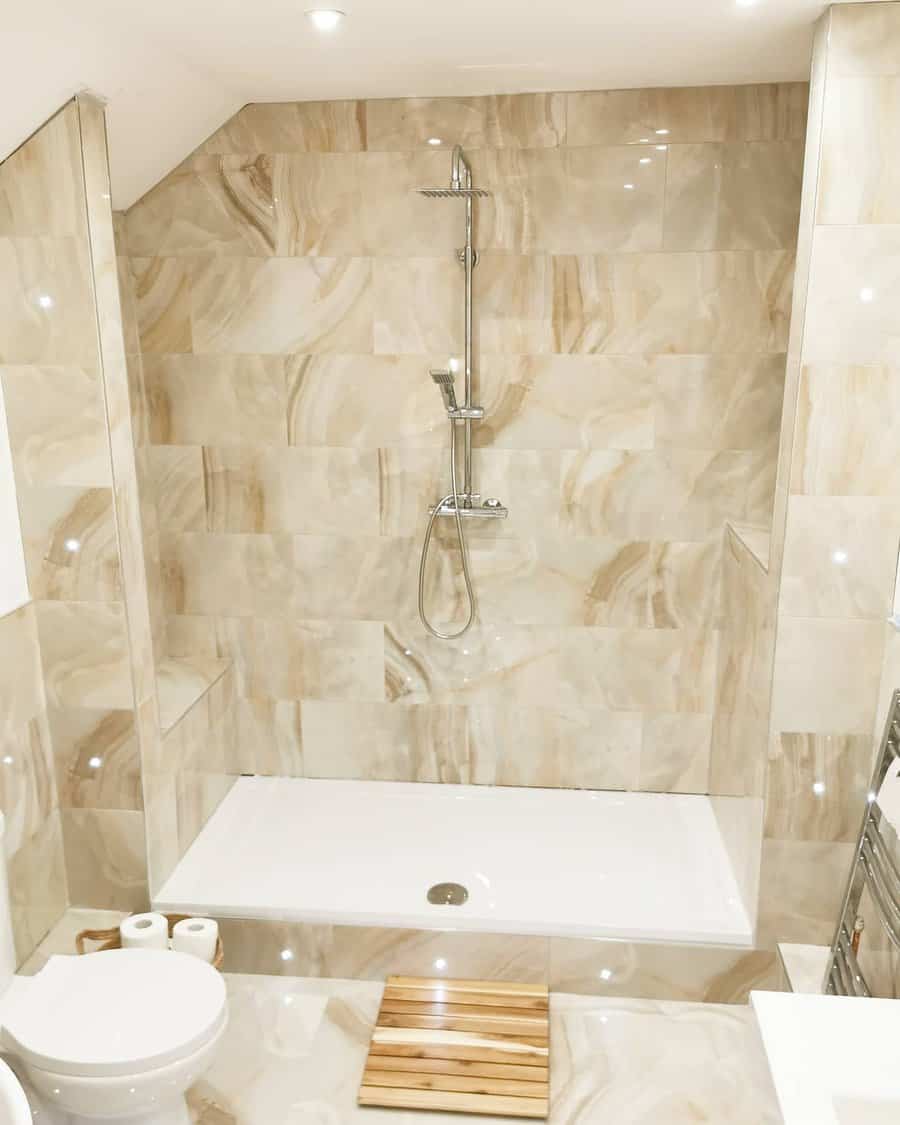 4. Play with Dual-Toned Walls
Dual-toned walls are a contemporary design choice that divides the wall, typically horizontally, into two distinct colors or textures. This strategy not only rejuvenates the aesthetics but also can visually alter a room's proportions, making spaces seem taller or more expansive.
When experimenting with dual tones, balance is key. Opt for complementary or contrasting hues based on the desired impact. For instance, a soft pastel paired with a deeper shade can create both harmony and visual interest. If one color is bold, consider a more neutral counterpart to prevent the space from feeling too overwhelming. Textured finishes, such as a matte lower half and glossy upper half, can add another layer of sophistication. To seamlessly integrate the look, ensure that bathroom fixtures, fittings, and décor elements tie in with one or both of the chosen tones.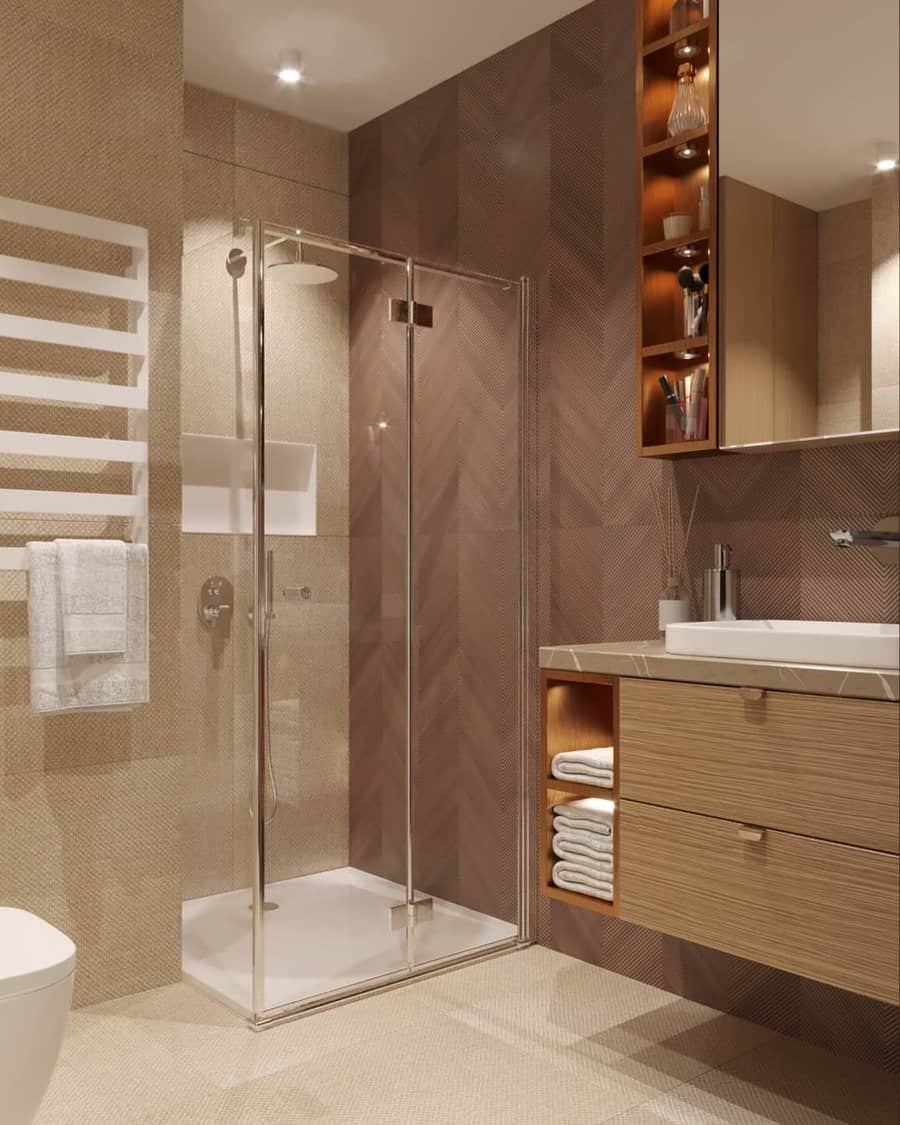 5. Embrace Sleek Porcelain Finishes
Porcelain tiles bring a sleek and refined finish to bathrooms, with their glossy surfaces and versatile design options. They are celebrated for their durability, water resistance, and low maintenance, making them a practical yet stylish choice for bathroom walls.
When incorporating sleek porcelain finishes, align the tile choice with the overall aesthetic of the space. For modern bathrooms, large-format porcelain tiles in neutral tones can create a seamless, expansive feel, while smaller, colorful tiles can infuse vibrancy and character. Considering the reflective nature of glossy porcelain, thoughtful lighting placement can enhance the luminosity and ambiance of the room. Subtle, streamlined fixtures and minimalistic accessories can allow the porcelain's sleekness to stand out, preserving the elegant simplicity of the design.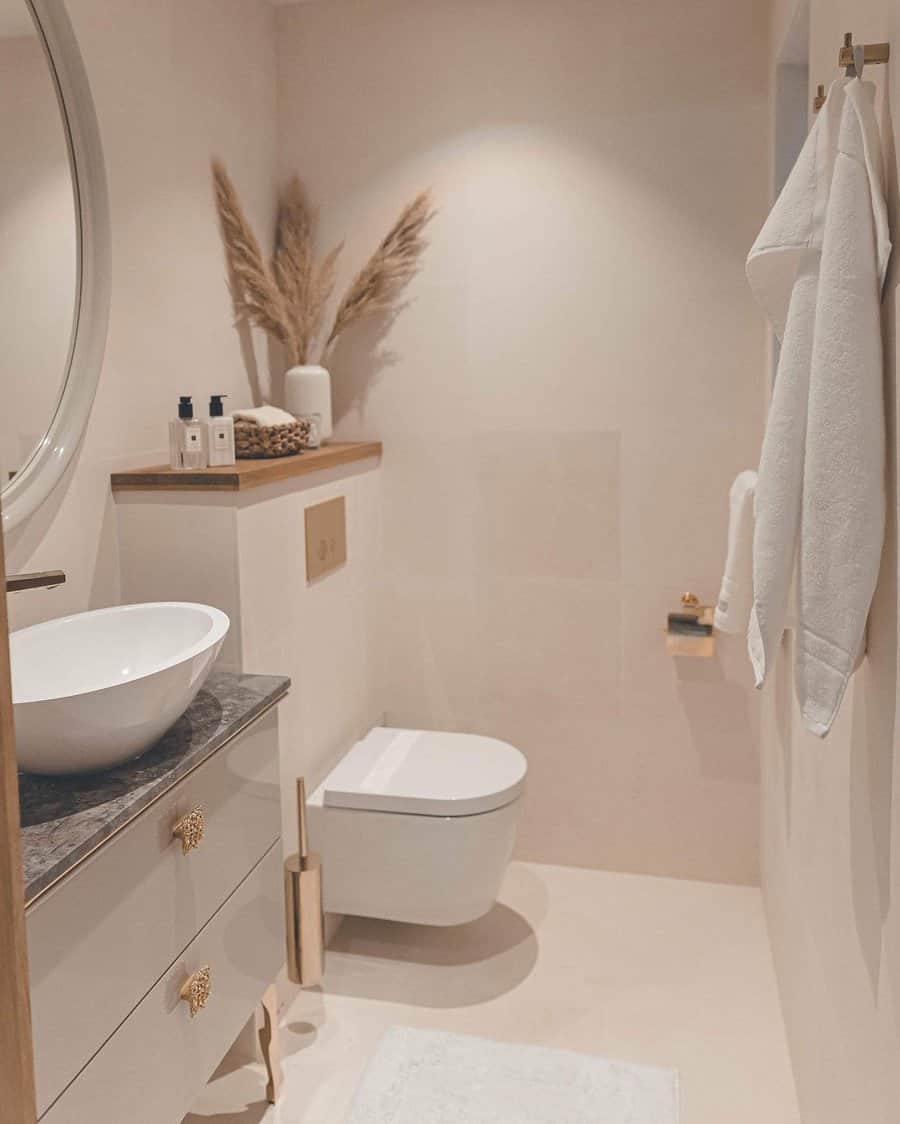 6. Sparkle with Mosaic Tile Accents
Mosaic tiles, with their myriad of colors and intricate designs, have the power to inject life and artistry into bathroom spaces. They act as gleaming accents, often becoming the focal point due to their sparkling appeal and detailed compositions.
Incorporating mosaic tiles requires a discerning eye. Given their ornate nature, they're best used sparingly to avoid overwhelming the space. Consider using them for a feature wall, backsplash, or shower niche. Their intricate designs can be beautifully complemented by simpler, larger tiles, ensuring the mosaic remains the star. Neutral-toned fixtures and a muted color palette can further highlight their vibrant charm.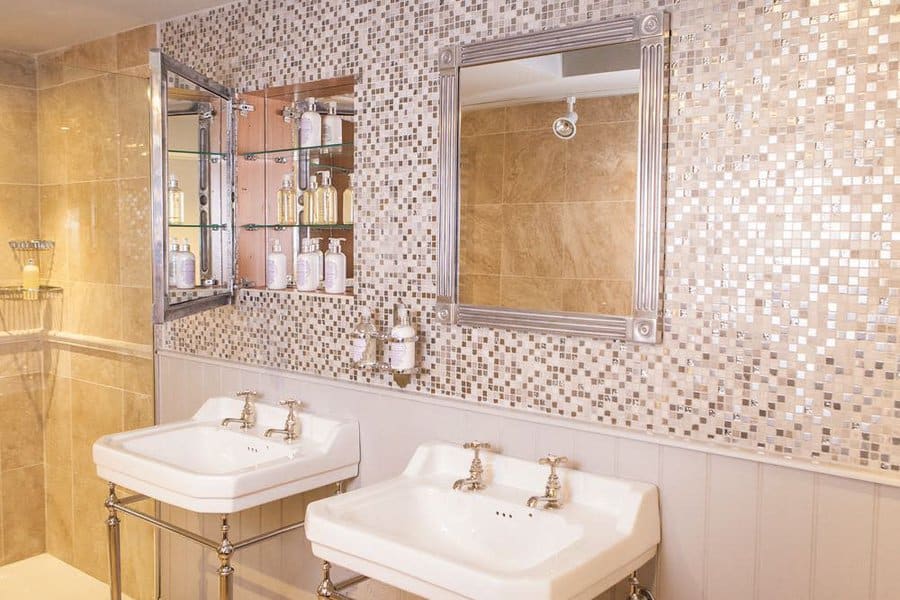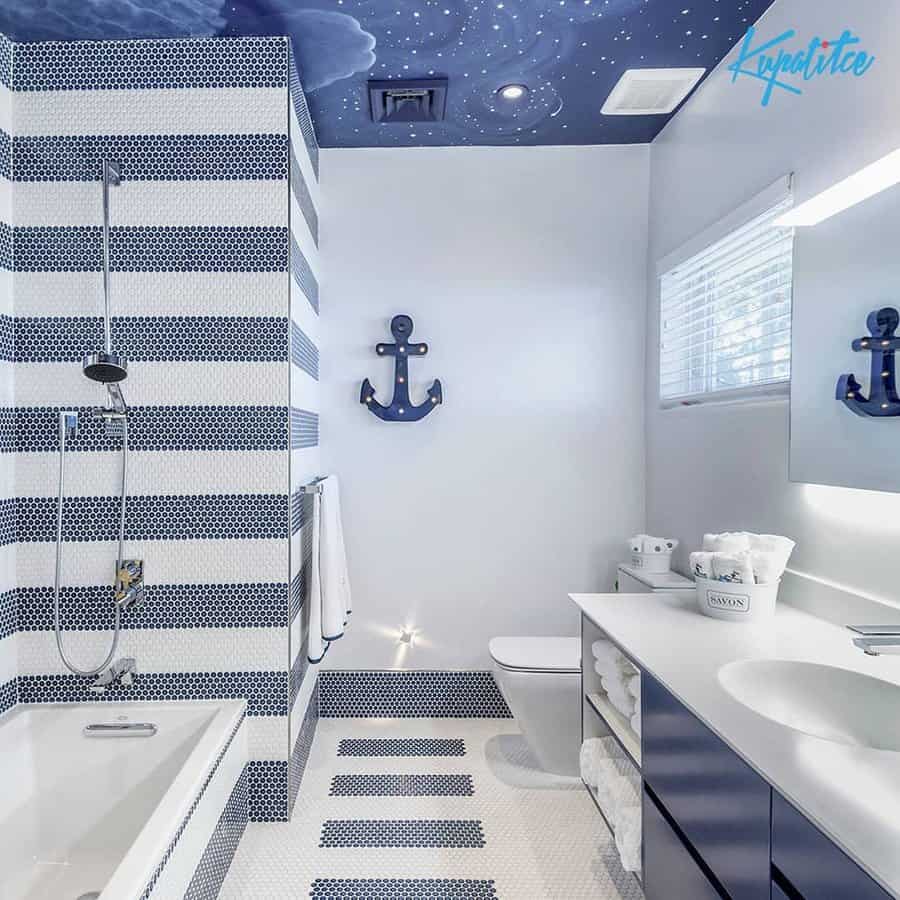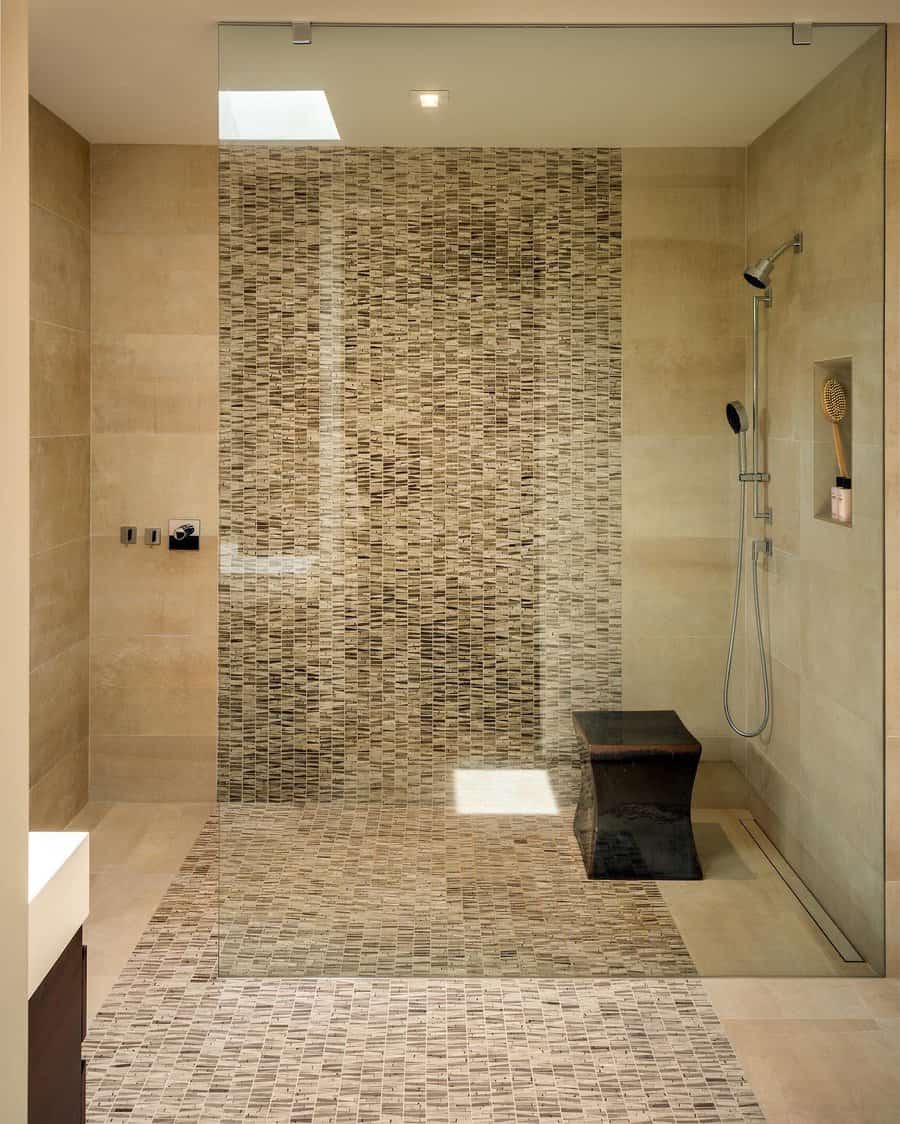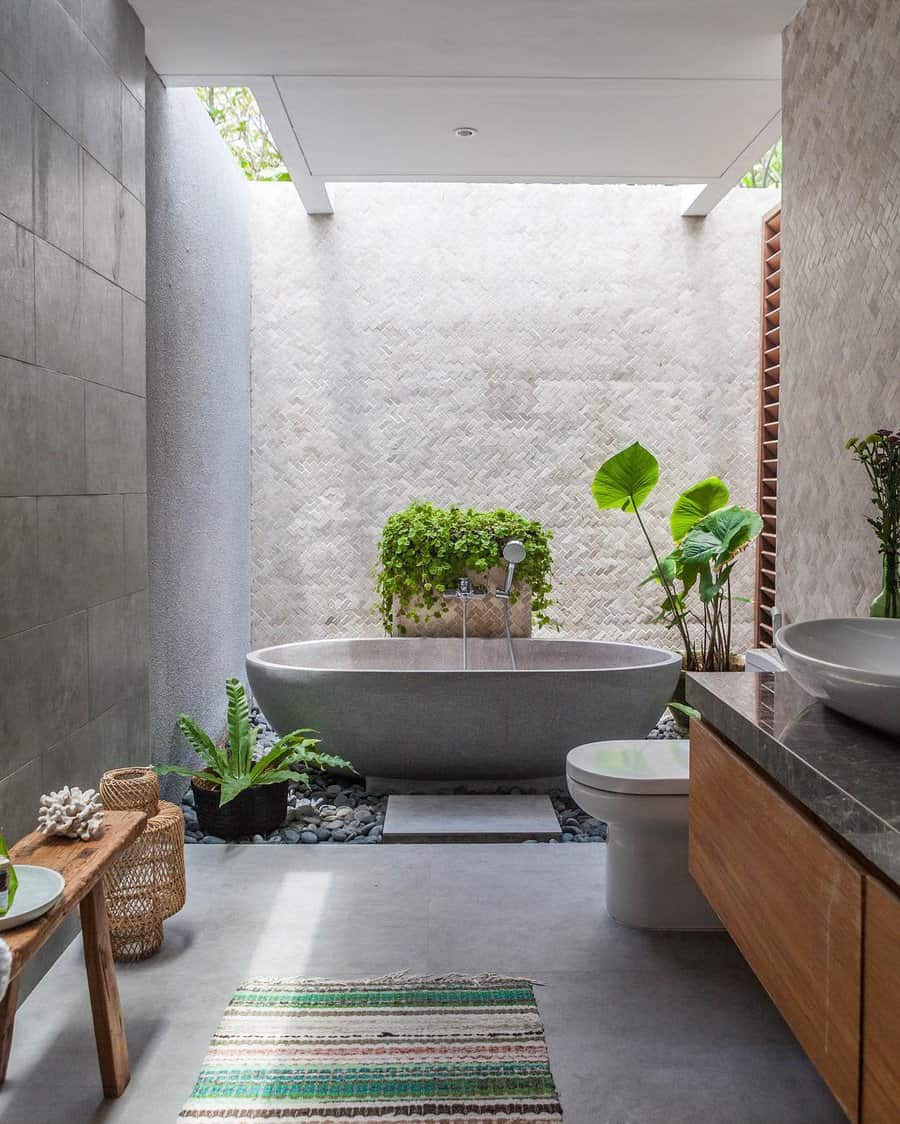 7. Wood Paneled Bathroom Wall
Wood paneling in bathrooms is a nod to nature's beauty, bringing warmth, texture, and an organic feel to the space. Its rich grains and varying hues offer a cozy ambiance, creating a haven of relaxation reminiscent of spa retreats or rustic cabins.
When introducing wood paneling, consider the direction of the panels. Vertical paneling can elongate the space, making it feel taller, while horizontal grains can lend a broader, expansive sensation. Given the moisture-rich environment of bathrooms, it's crucial to choose woods like cedar, teak, or redwood, which have natural resistance to dampness. Pairing wood paneling with soft, neutral paint or tiles can keep the room feeling airy and prevent it from becoming too dark or heavy.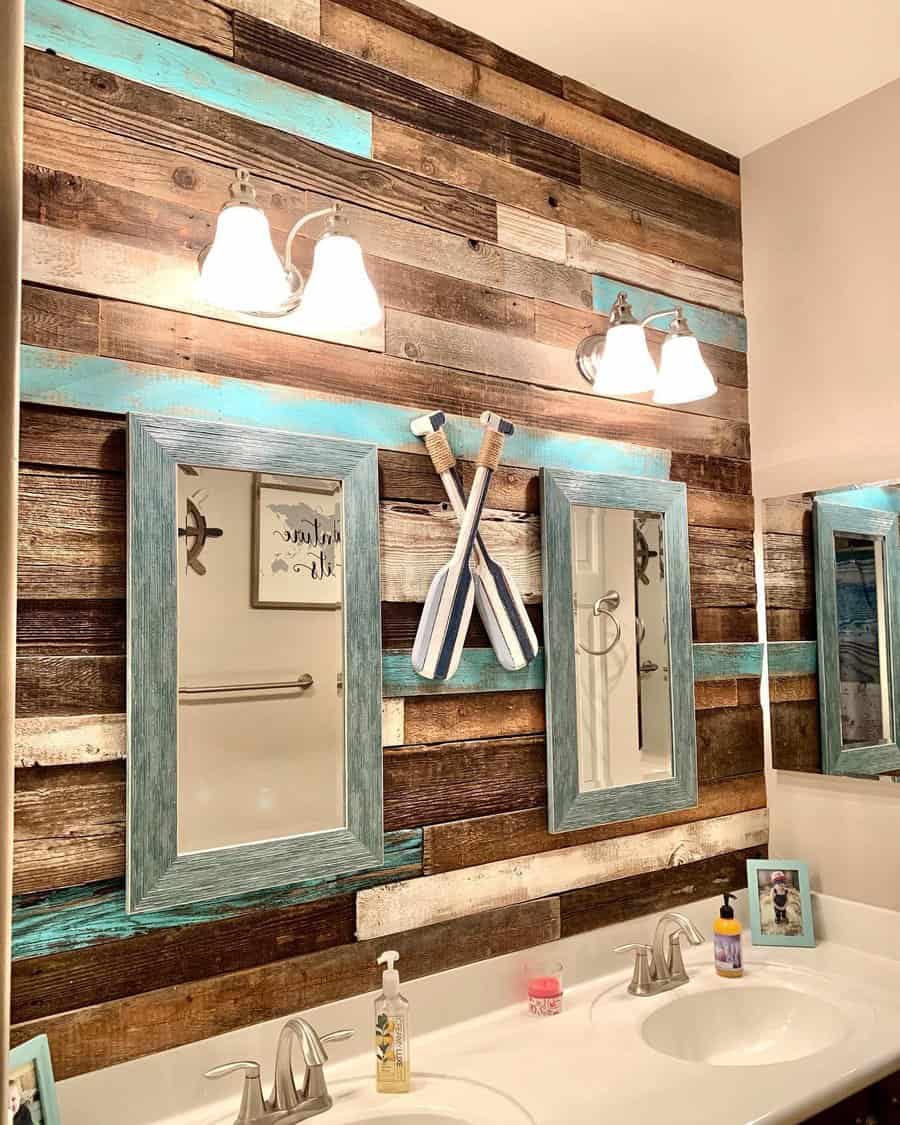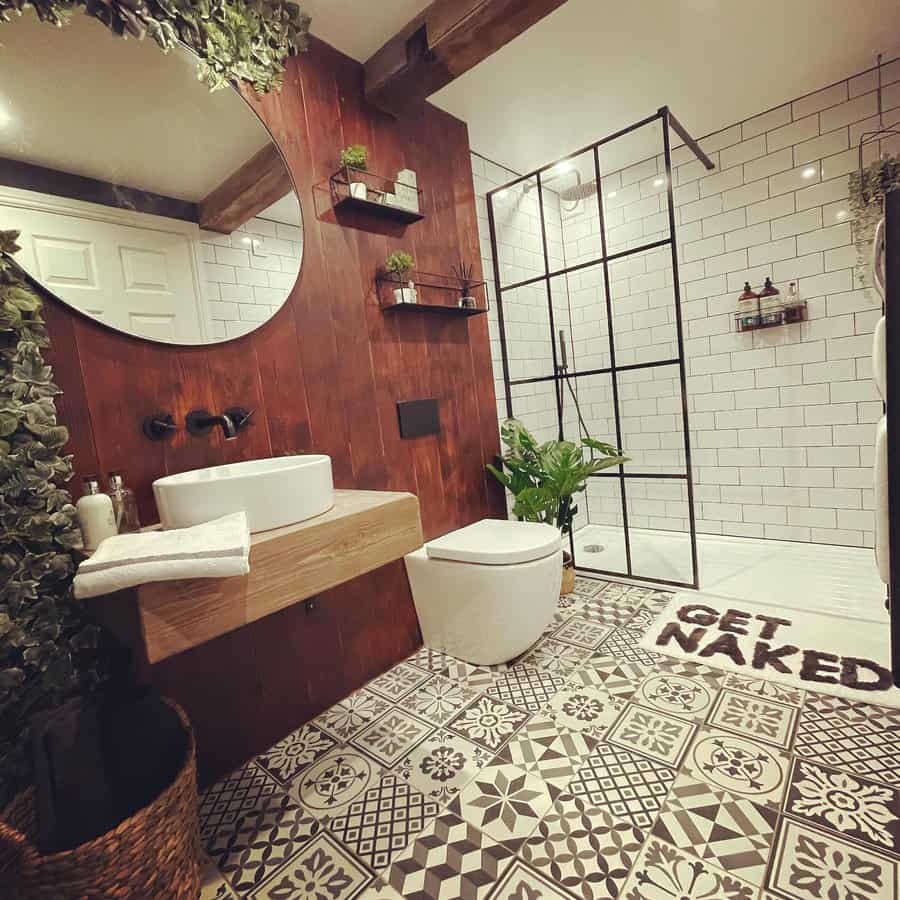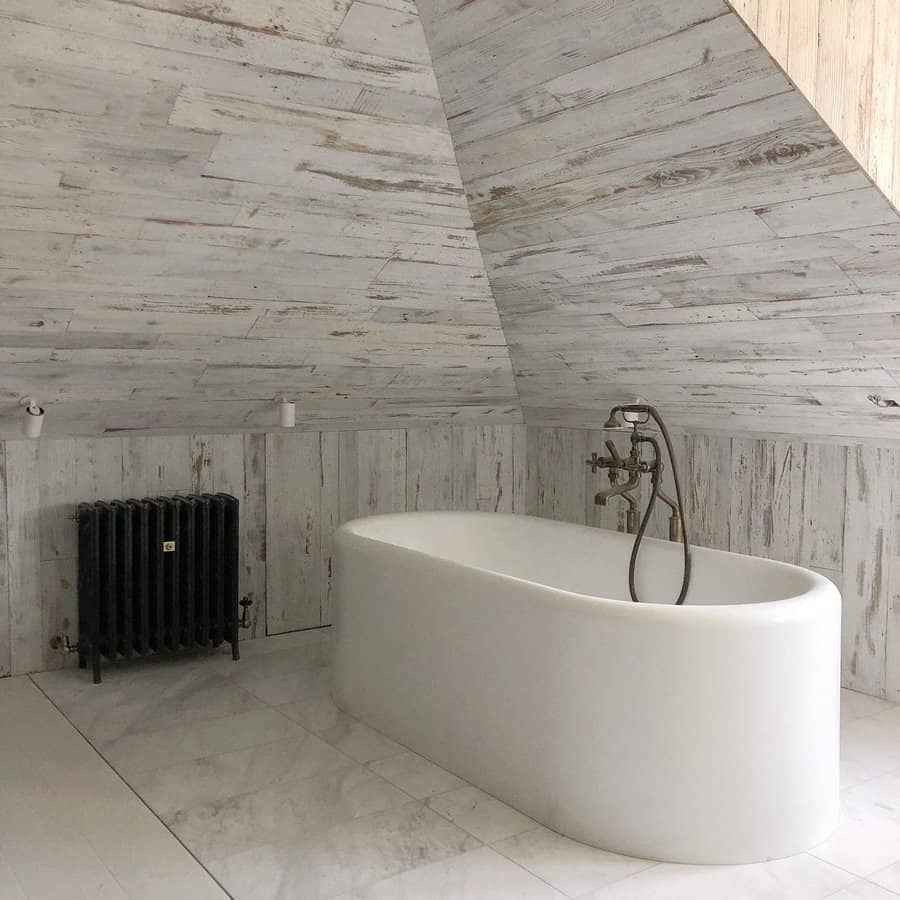 8. Standout with Decorative Tiles
Decorative tiles, characterized by their unique patterns, textures, or relief designs, can turn a bathroom wall into a piece of art. They offer a chance to make a statement, reflecting personal style while adding charm and individuality to the space.
When choosing decorative tiles, consider their scale in relation to the room size. Larger patterns can be bold and dominating, making them ideal for more expansive bathrooms or feature walls. In contrast, smaller, intricate designs can add subtlety without overwhelming a cozier space. To create a cohesive look, coordinate the colors within the decorative tiles with other elements in the room, such as fixtures, towels, or accessories. It's essential to balance their distinctiveness with more neutral components, ensuring the tiles pop without clashing.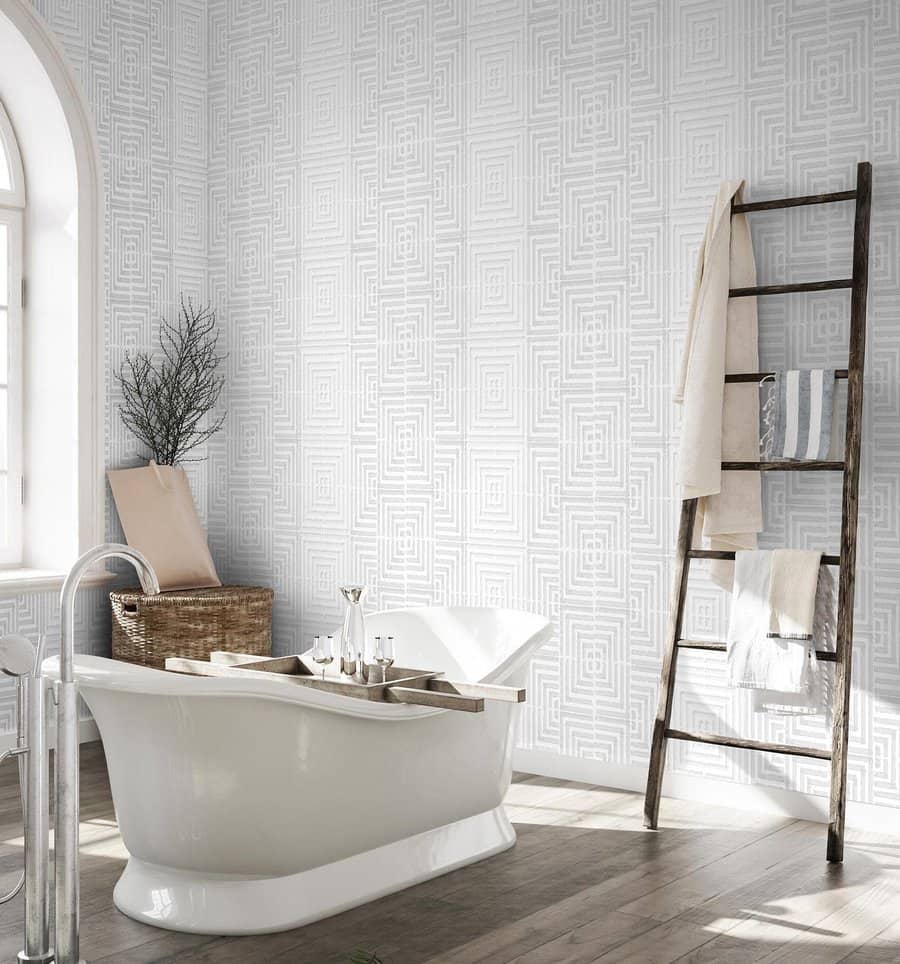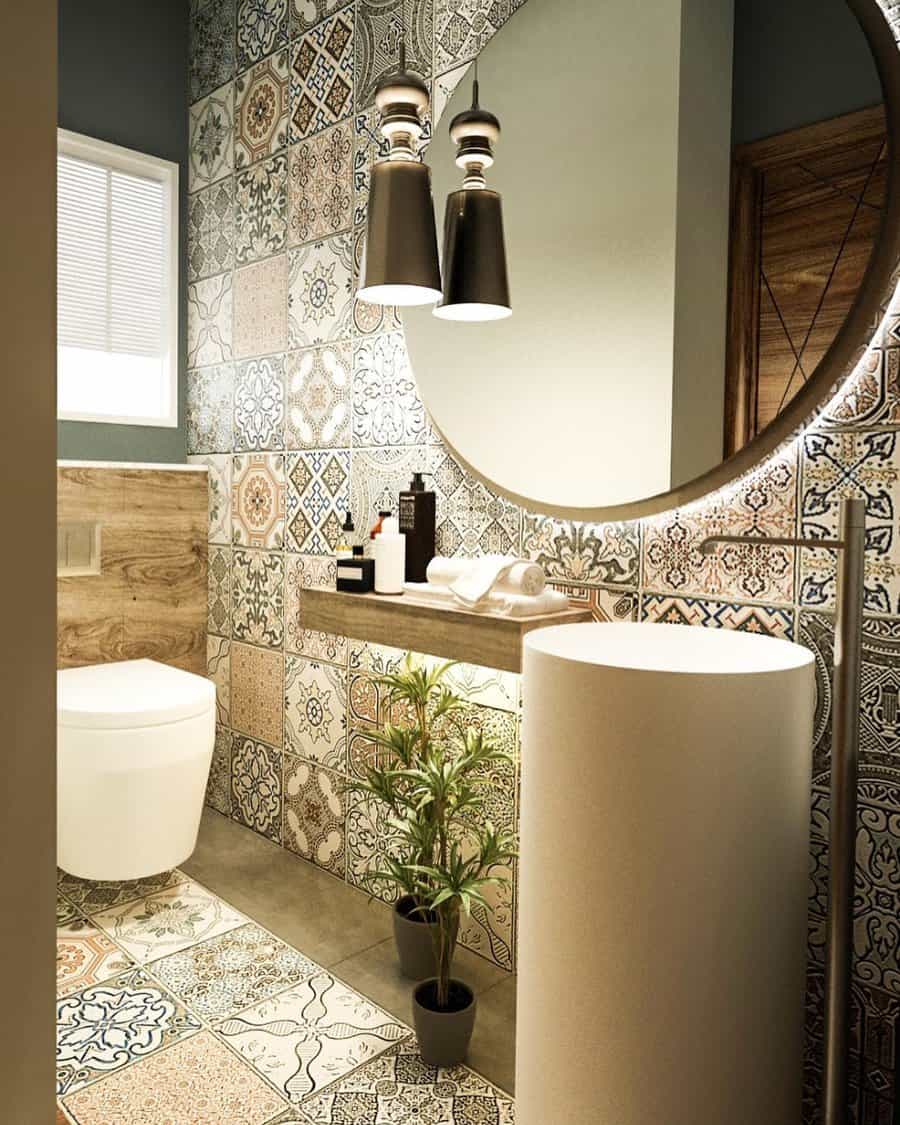 9. Dive into 3D Stamp Tiles
3D stamp tiles are the epitome of modern design, adding depth and dynamism to bathroom walls. Their raised patterns capture and play with light, creating a visually captivating experience that transforms ordinary walls into tactile masterpieces.
When integrating 3D stamp tiles, the key is moderation. Given their pronounced textures and designs, they work best as accent elements. Consider using them in specific areas like the shower enclosure or behind the vanity to create a standout feature. The surrounding environment plays a crucial role: soft, diffused lighting can emphasize the tiles' depth, and shadows, while more direct lighting can bring out their tactile nature. When choosing colors and designs, ensure harmony with the rest of the bathroom. Neutral or monochromatic palettes often accentuate the tiles' structure without overshadowing them.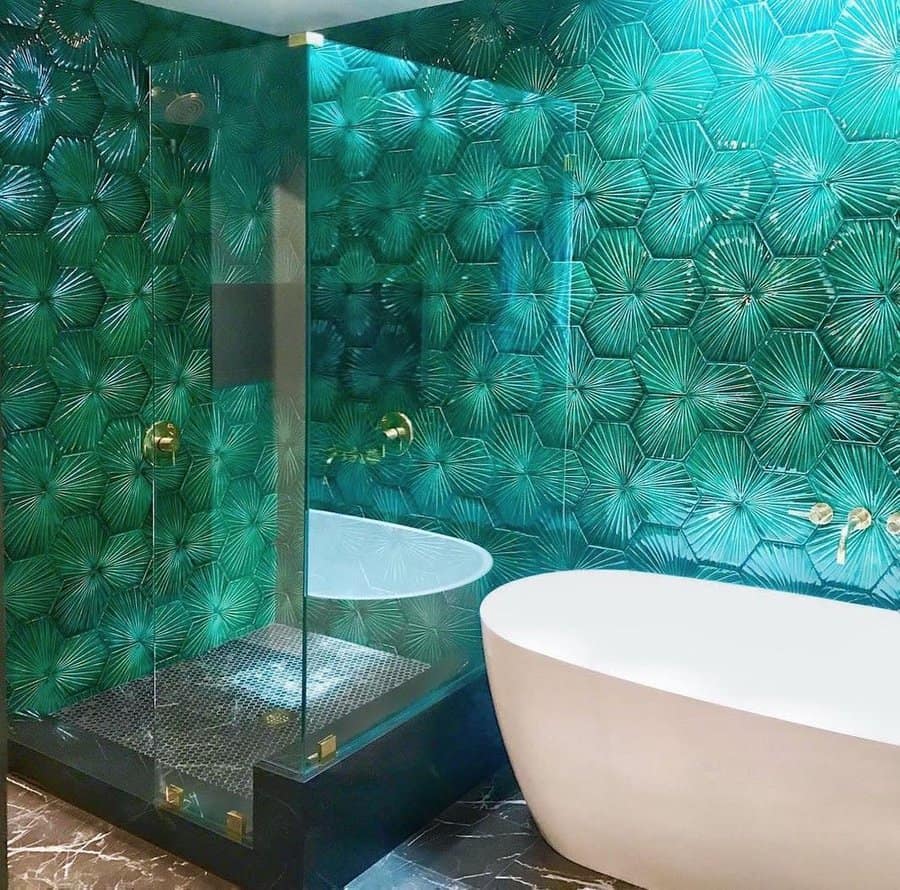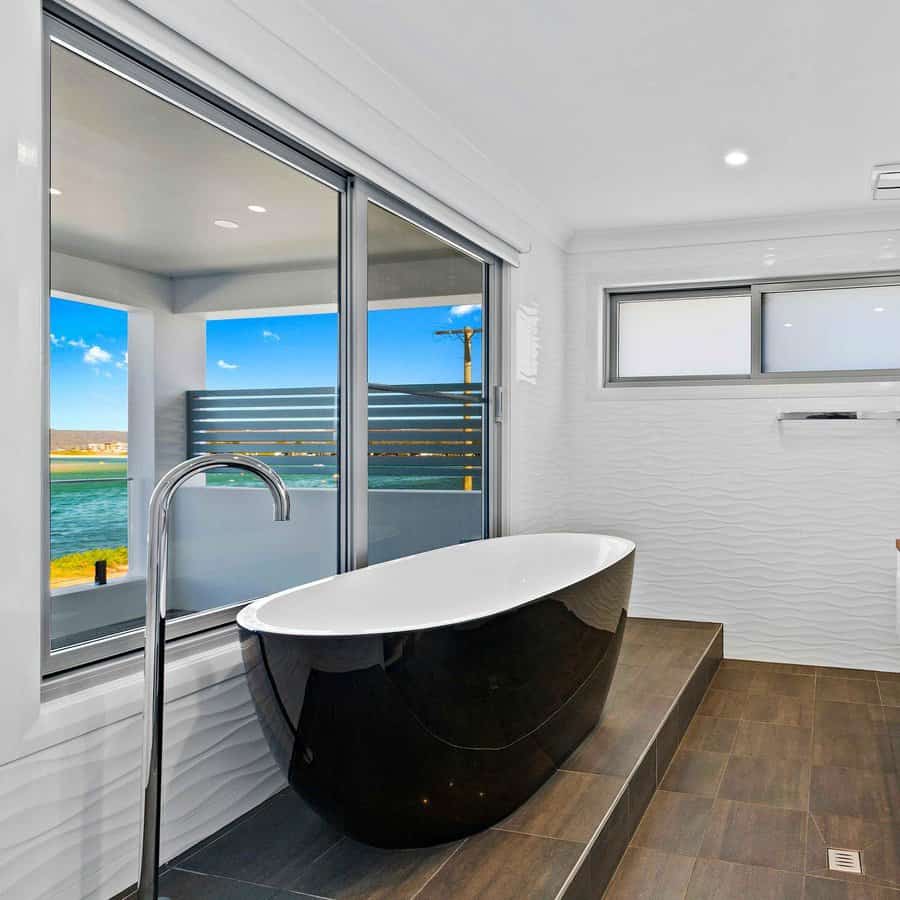 10. Add Classic Touch with Moulding
Moulding offers a tasteful nod to architectural tradition, lending a sense of craftsmanship and refined detail to bathroom walls. It divides the wall space, creating visual interest, and can elevate even the simplest design to an aura of elegance. When integrating moulding, consider its profile and scale to ensure it complements the room's size.
Painting the moulding in a shade contrasting with the wall, perhaps a crisp white against a muted color, can make it pop. Conversely, a monochromatic scheme, where moulding and wall share the same hue, offers a modern twist to this classic element.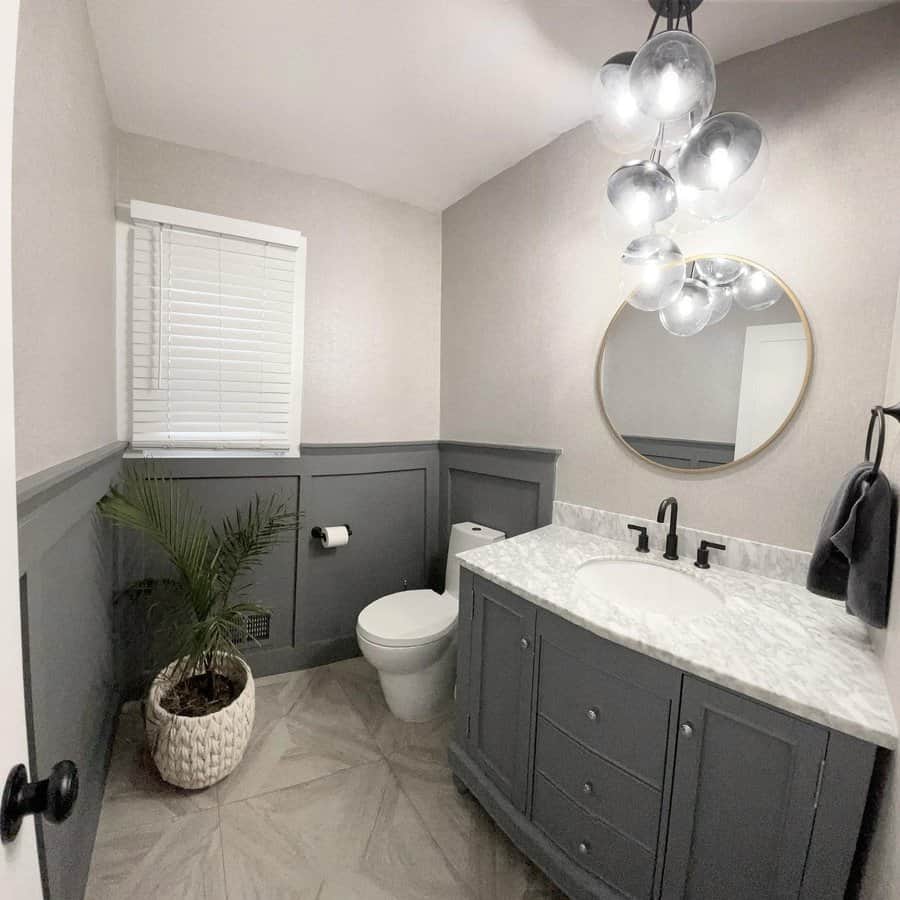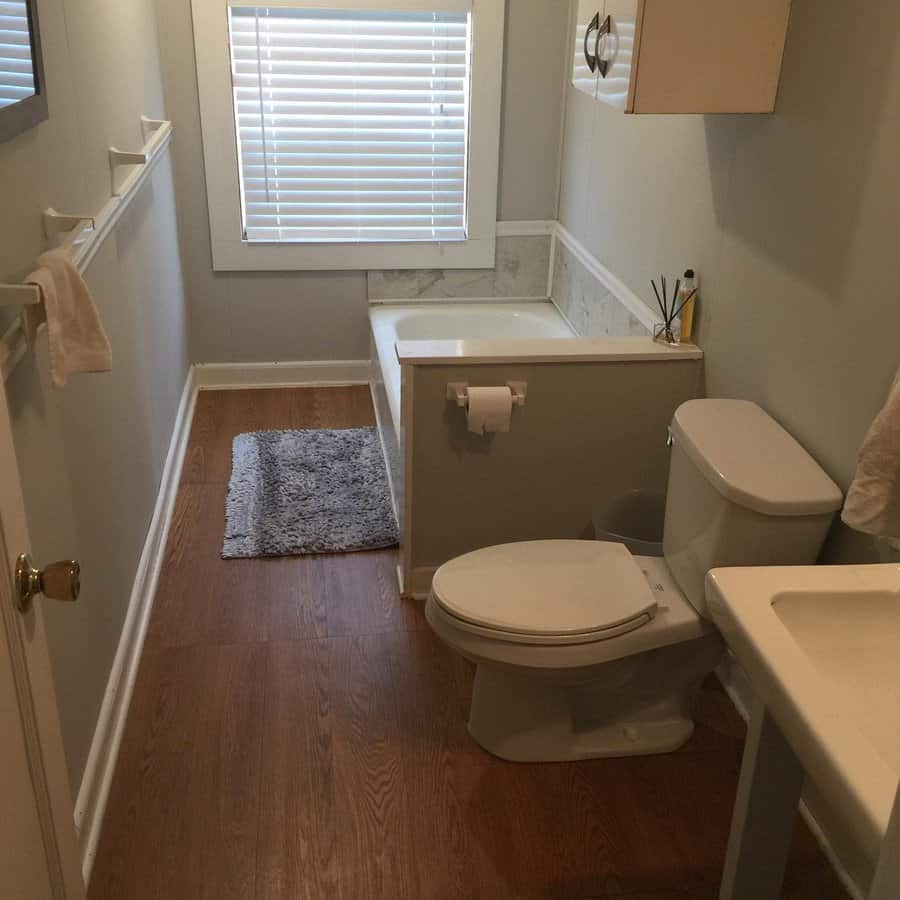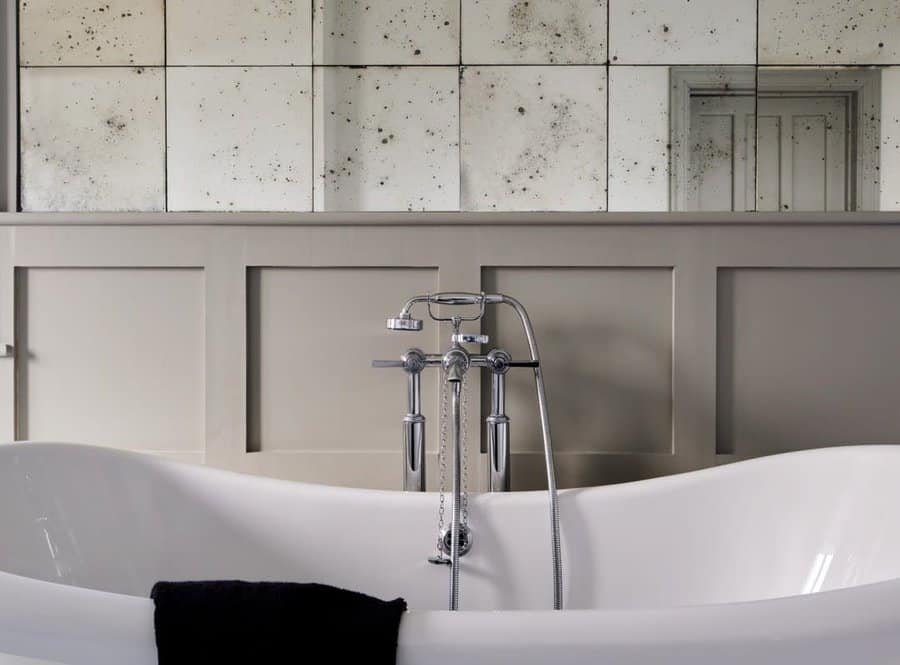 11. Revive with Decorative Wallpaper
Decorative wallpaper can effortlessly transform a bathroom from mundane to magical. With patterns ranging from subtle to bold, it offers an immediate infusion of personality and flair. While considering wallpaper, it's crucial to choose designs resistant to humidity and moisture. Accent walls, especially behind vanities or tubs, can benefit immensely from the visual drama of a striking wallpaper design.
Pairing with understated fixtures and textiles ensures the wallpaper remains the room's highlight. Regular ventilation and choosing vinyl or other water-resistant varieties will keep the allure of the wallpaper fresh and vibrant for years.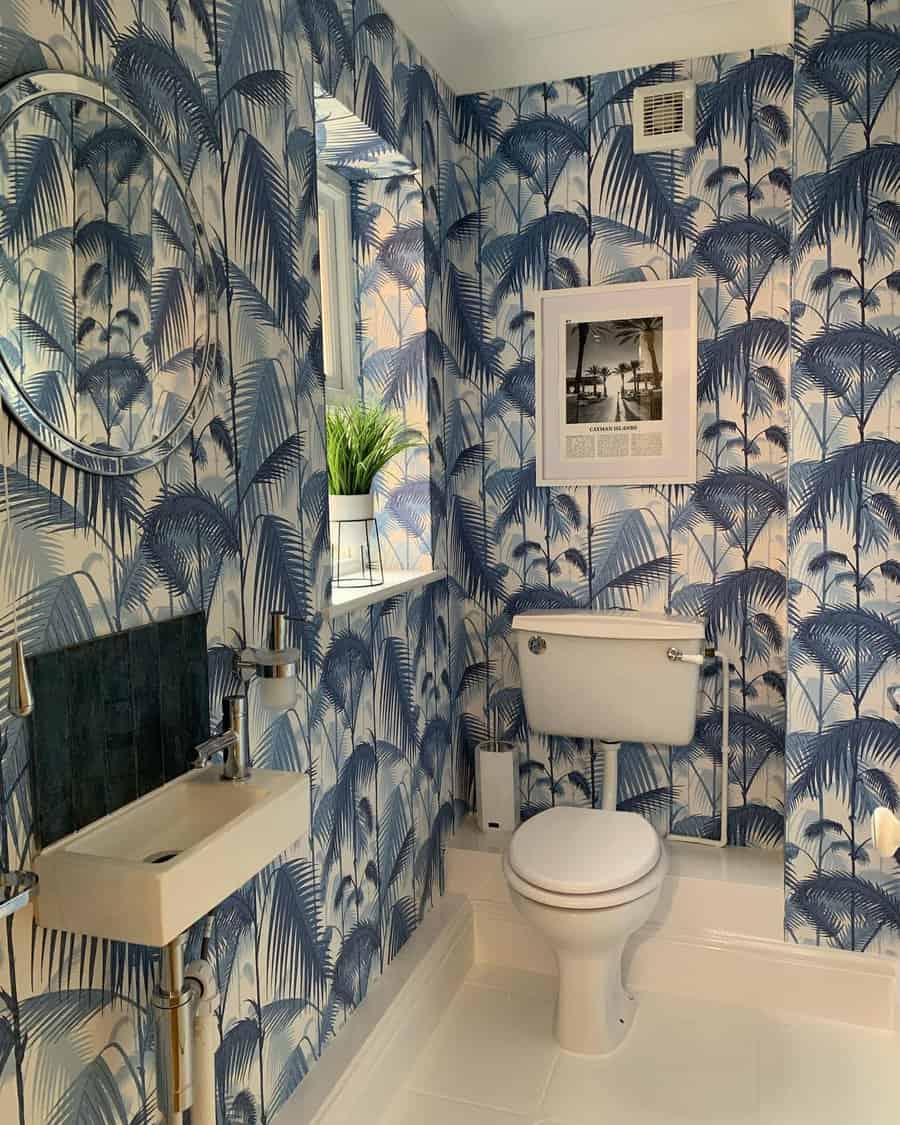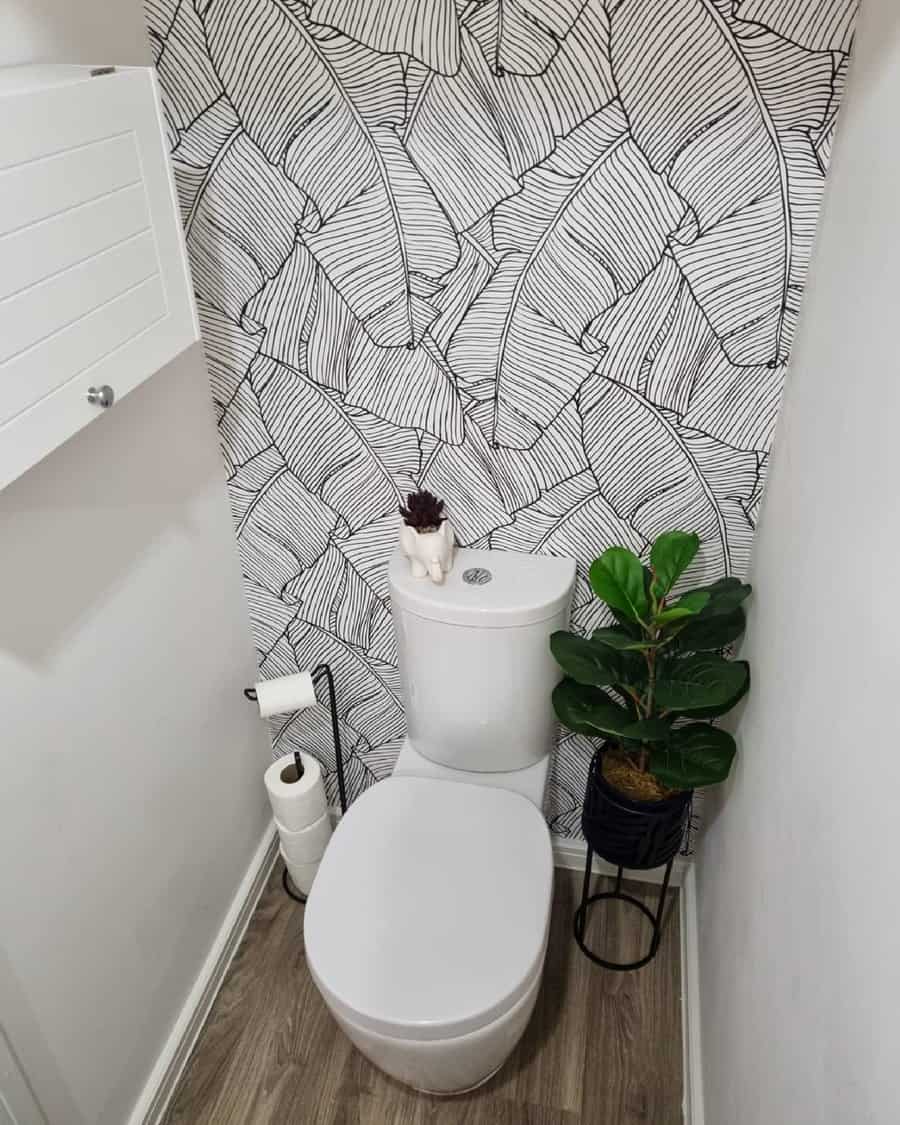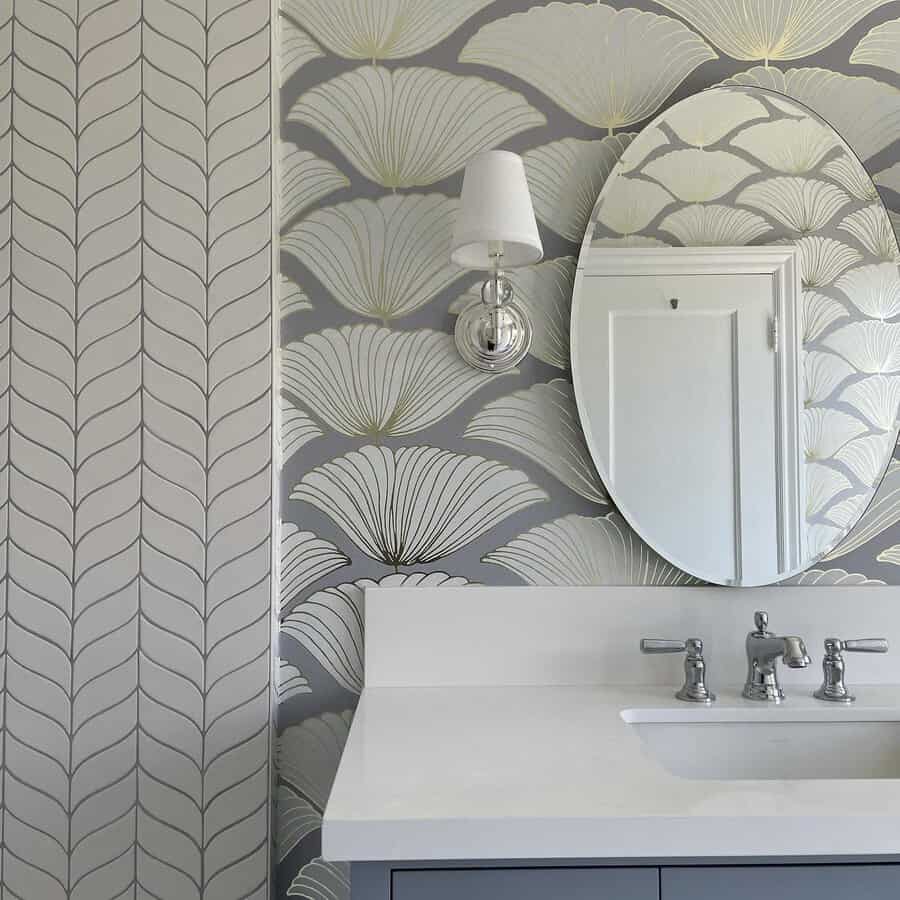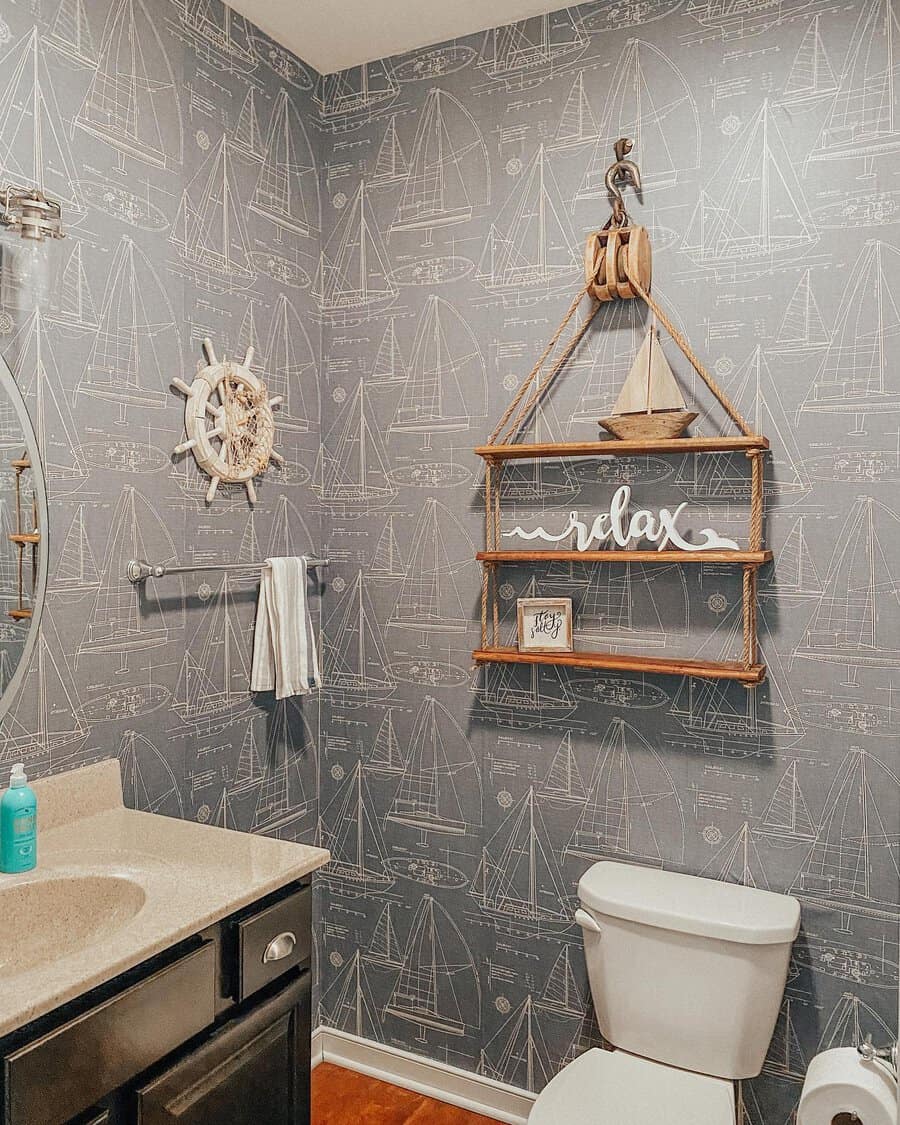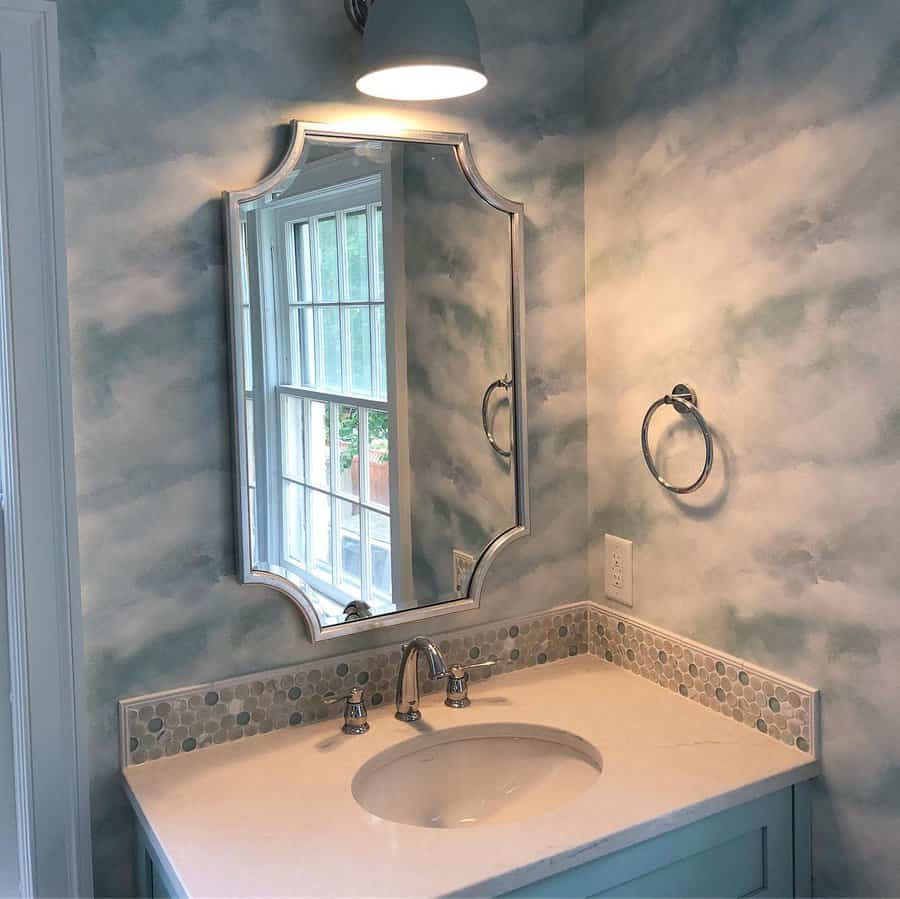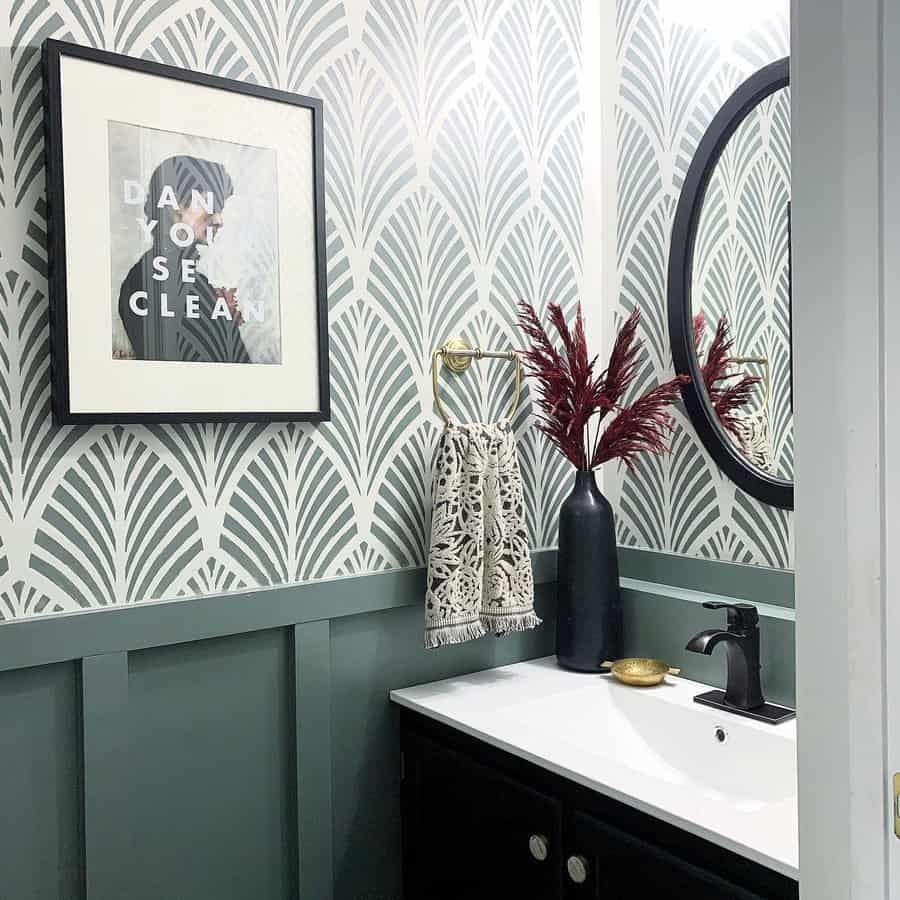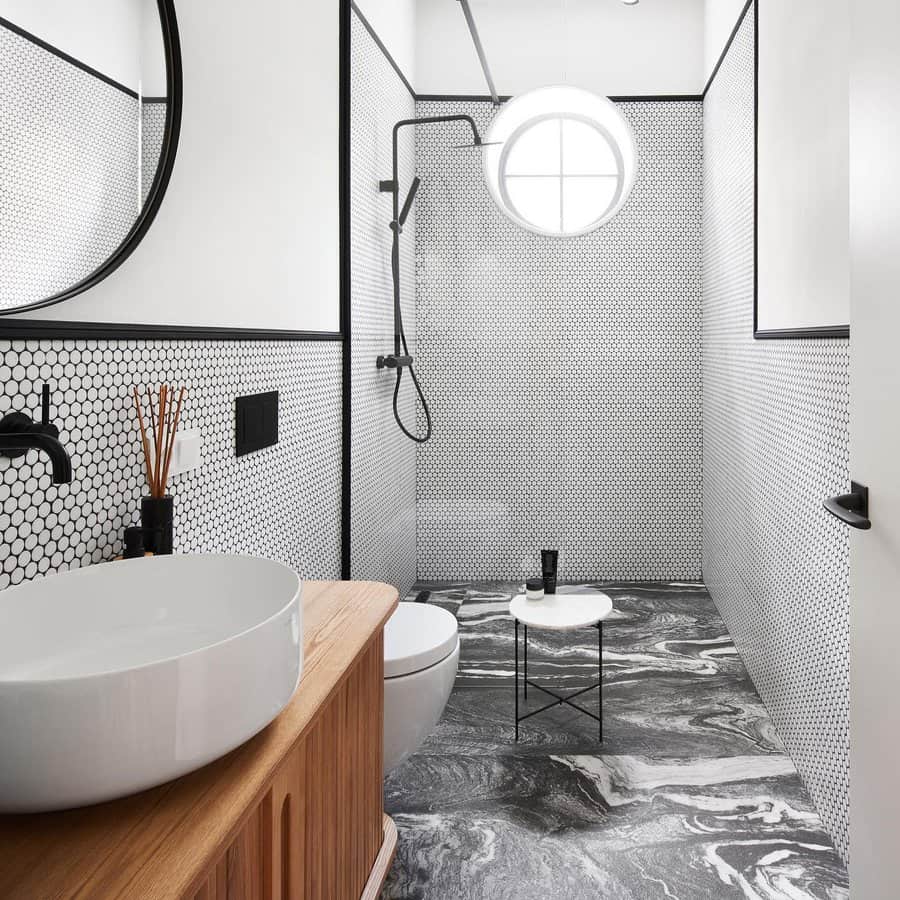 12. Trust the Timeless Ceramic Tiles
Ceramic tiles have graced bathrooms for decades, earning their place with durability, ease of maintenance, and aesthetic versatility. Their timeless appeal lies in their adaptability; they can be both understated and bold, fitting any design vision.
When opting for ceramic, consider the tile size in relation to the room — larger tiles can make a space feel expansive, while smaller tiles or mosaics add intricate detail. The finish, whether glossy or matte, can also dictate the ambiance. Grout color plays a pivotal role, with contrasting grouts emphasizing the tile layout and similar tones offering a seamless look.