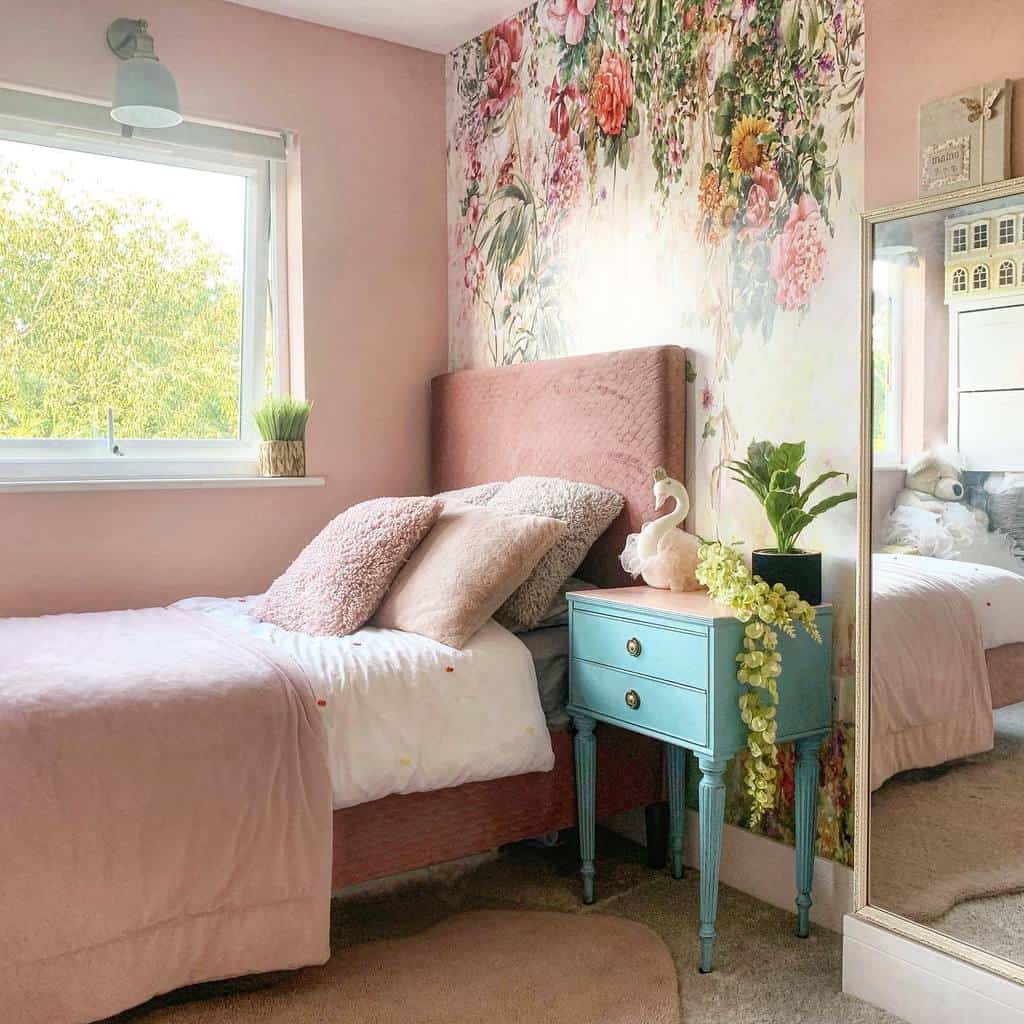 41 Bedroom Wallpaper Ideas
Modern home decor trends embrace the idea of turning your home into decor. Instead of hanging items on your walls or arranging them on the flat surfaces in your home, you could hang wallpaper on your walls. Removable wallpaper makes this easy because you can easily replace it as often as you'd like without worrying about damaging your bedroom walls. Wallpaper design ideas will show you how to creatively use wallpaper to dress up your bedroom walls. So say goodbye to boring paint and try one of these bedroom wallpaper ideas in your home.
1. Dream With Van Gogh
If you're looking to spice up your bedroom walls with something new and creative, teal wallpaper inspired by Van Gogh's "Almond Blossoms" could be exactly what you need. Vibrant teal combined with bright white blossoms is sure to turn any ordinary bedroom into a unique and eye-catching masterpiece.
The beauty of this design will add character while creating an uplifting atmosphere that won't soon bore you. Upgrade your space with teal wallpaper and discover what a beautiful difference it can make in the look of your home.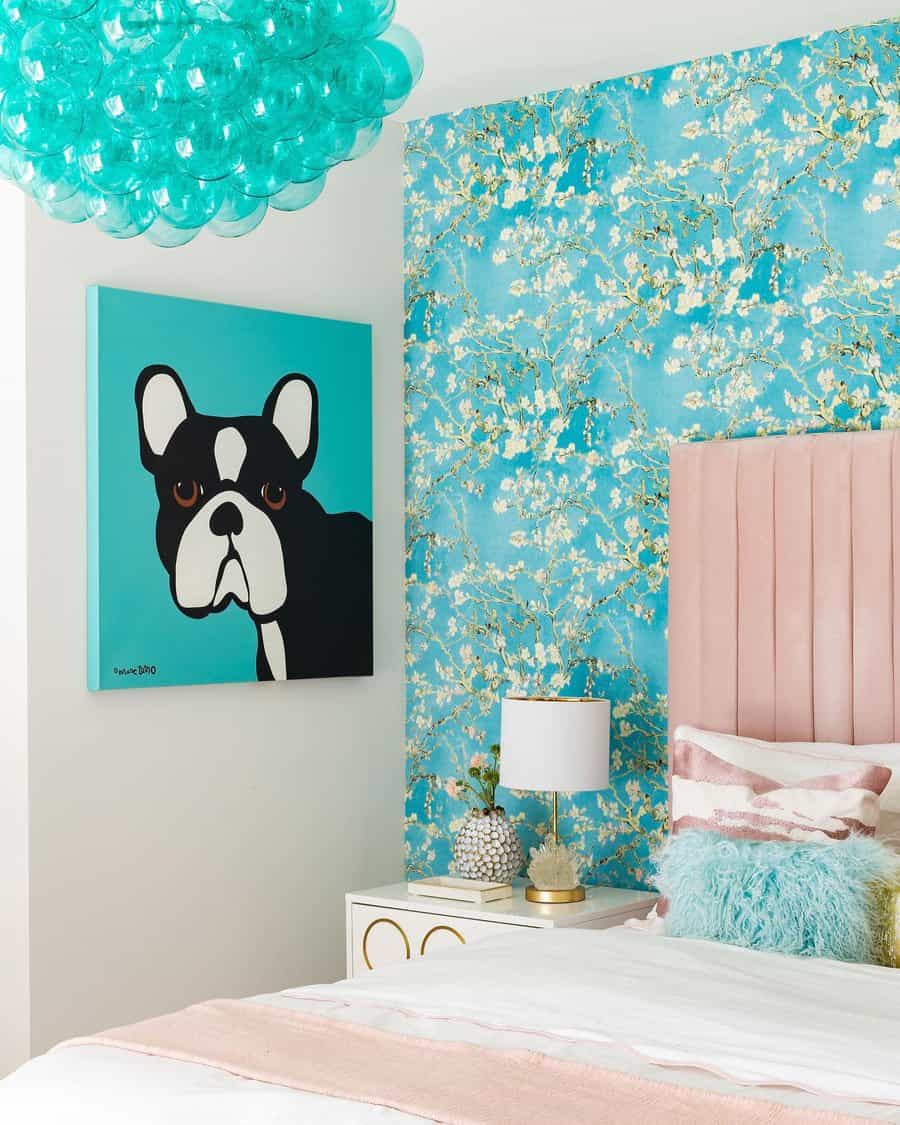 2. Float In Cloud 9
Give your bedroom the puffy cloud makeover it deserves with a blue and white abstract wallpaper. The airy design instantly adds a touch of whimsy to your abode, creating an ethereal atmosphere that invites daydreaming and relaxation.
Make a feature wall, or go bold and style every last inch of wall space for maximum impact; regardless, a cloud-like wallpaper will immediately whisk you away to a heavenly paradise.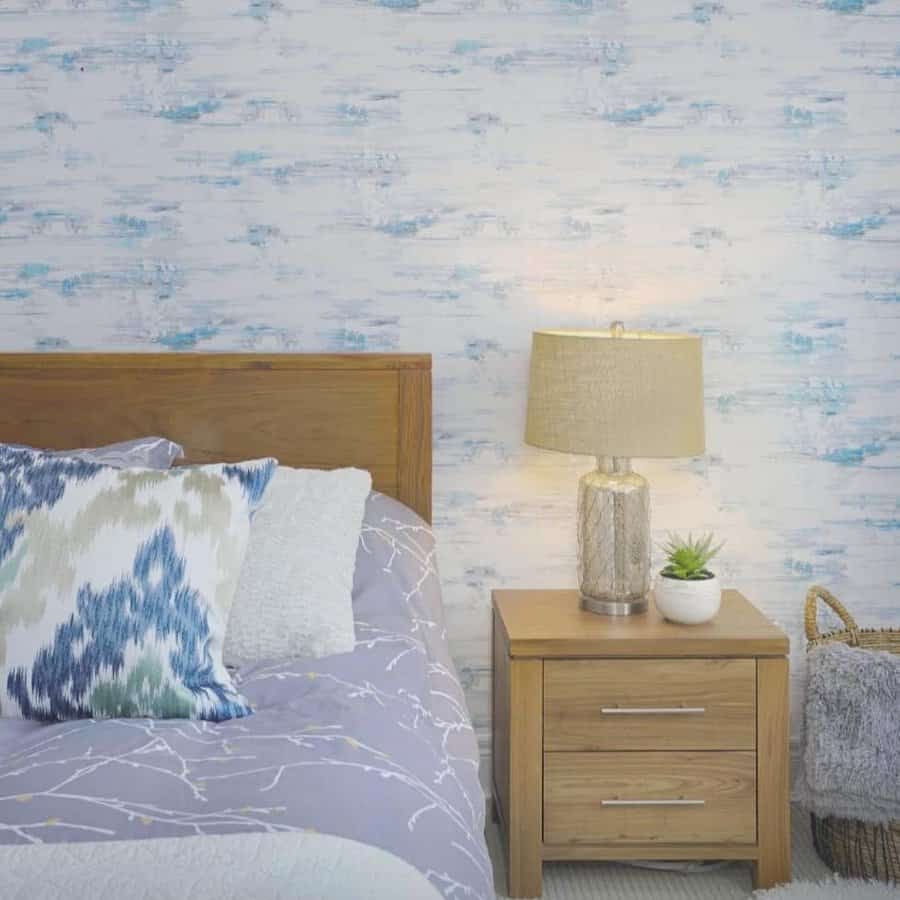 3. Keep It Luxurious With Black
Bedroom wallpaper is an easy way to create a luxurious and sophisticated atmosphere in any home! With black wallpaper, for example, you can craft an edgy, modern feeling that complements a range of decor styles.
Installation is quick and simple, so you can immediately enjoy the monochrome prints around your room. Whether your style is sleek or cozy, black wallpaper will add a touch of sophistication while creating an inviting atmosphere that's perfect for sleeping, relaxing, and dreaming.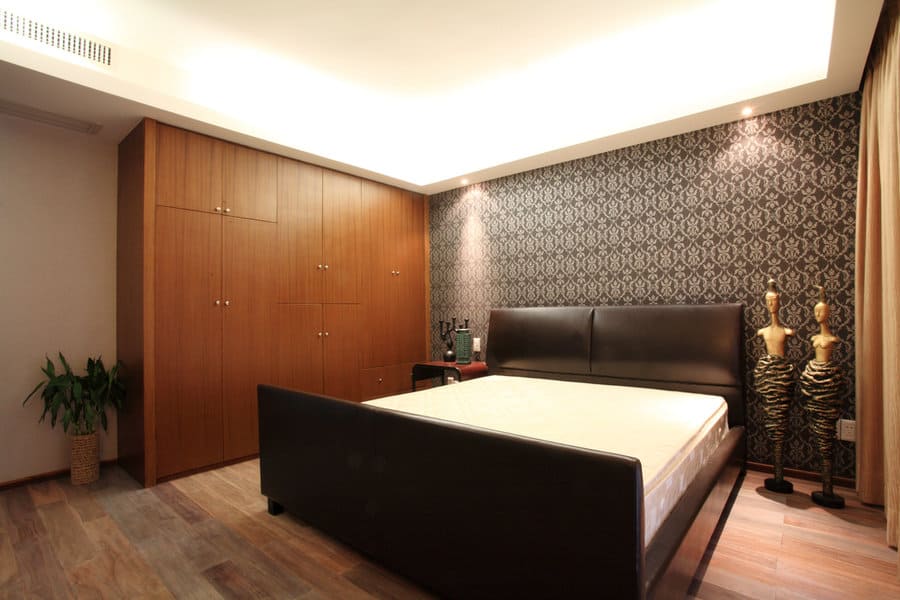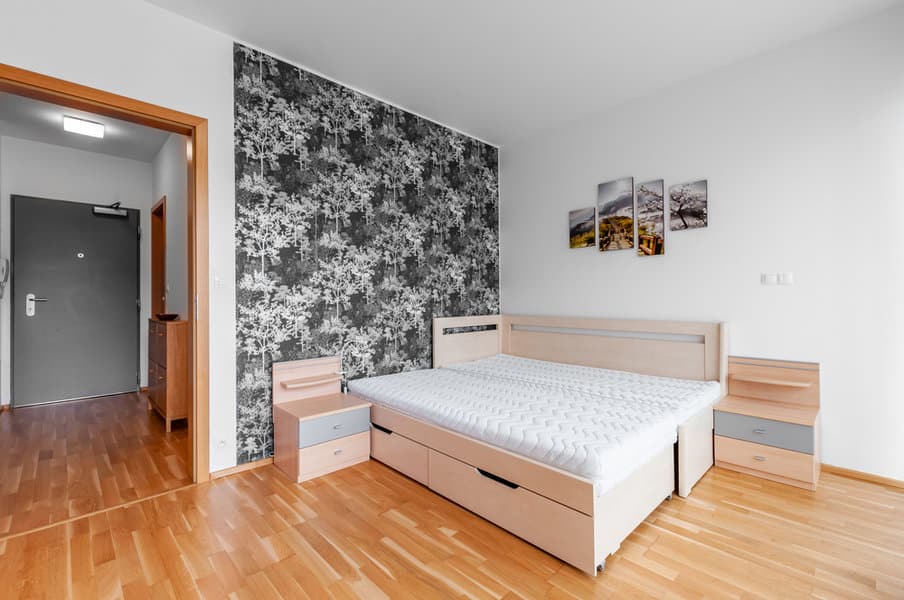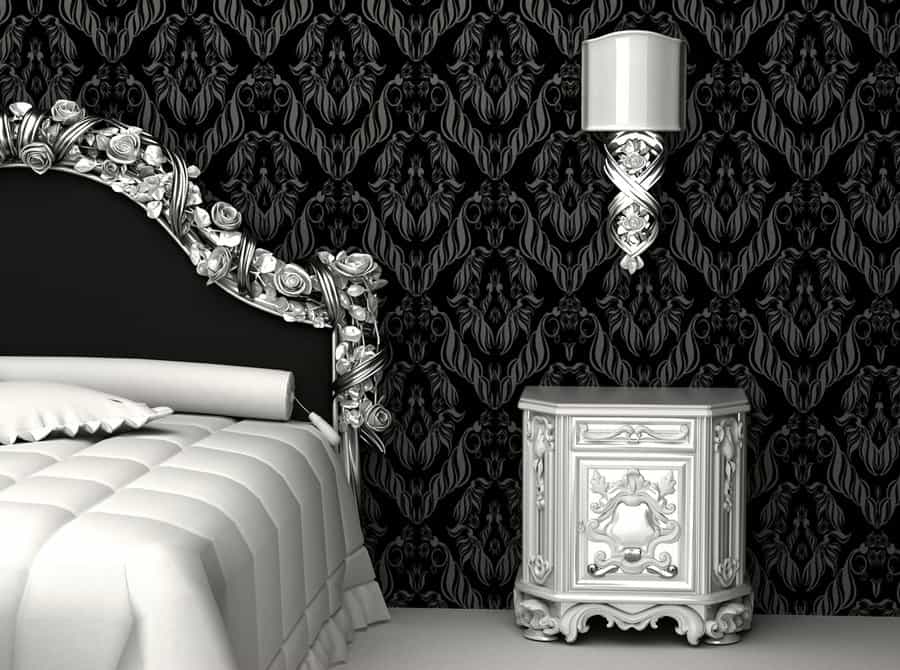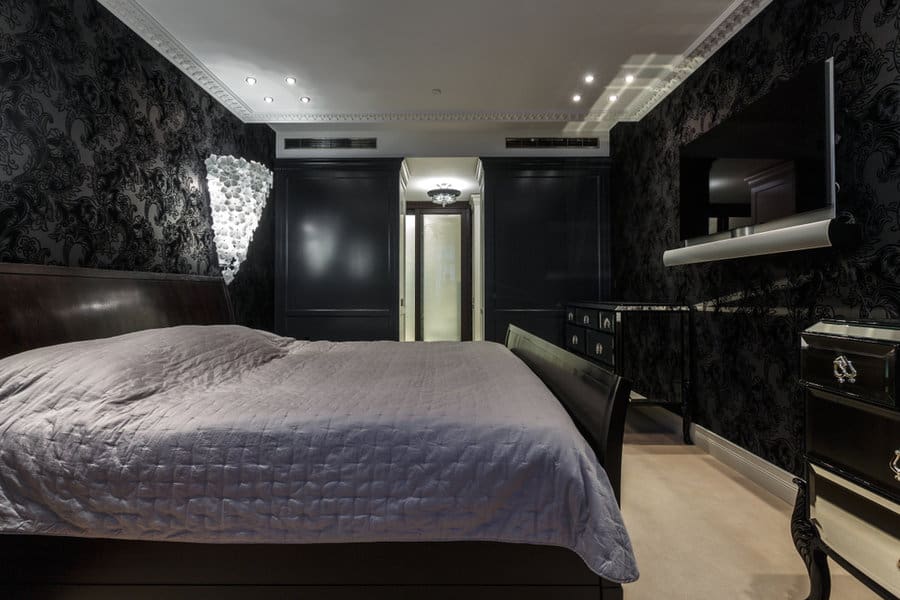 4. Be Spontaneous With Abstract
Bringing abstract wallpaper into your bedroom will transform the look and feel of the space instantly. Whether you opt for abstract shapes, bold colors, or intricate designs, abstract wallpapers will create an industrial yet chic atmosphere.
To make your room even more unique, get creative and play around with different colors to create a color palette that suits your style. This combination of abstract wallpaper and carefully chosen hues will give your bedroom a one-of-a-kind vibe that you'll love coming home to!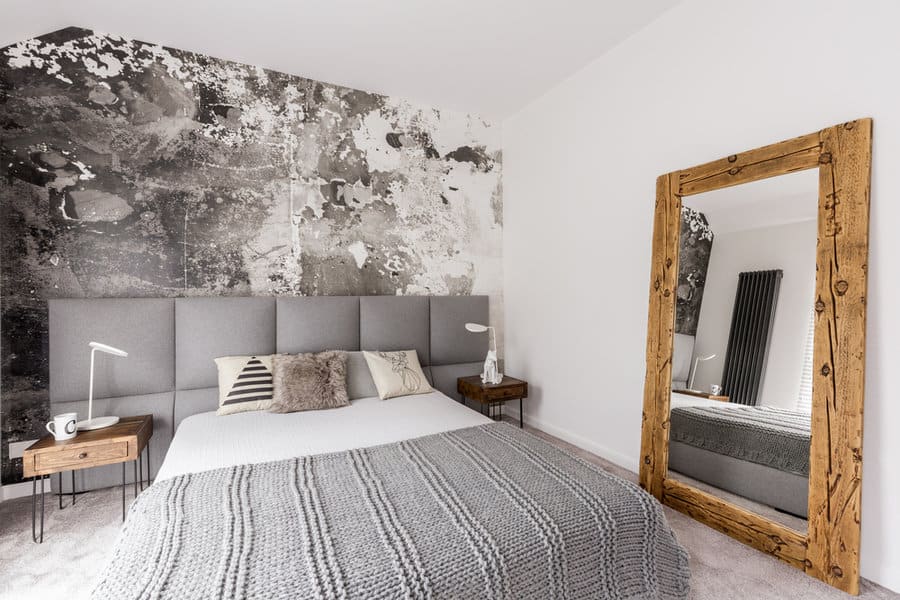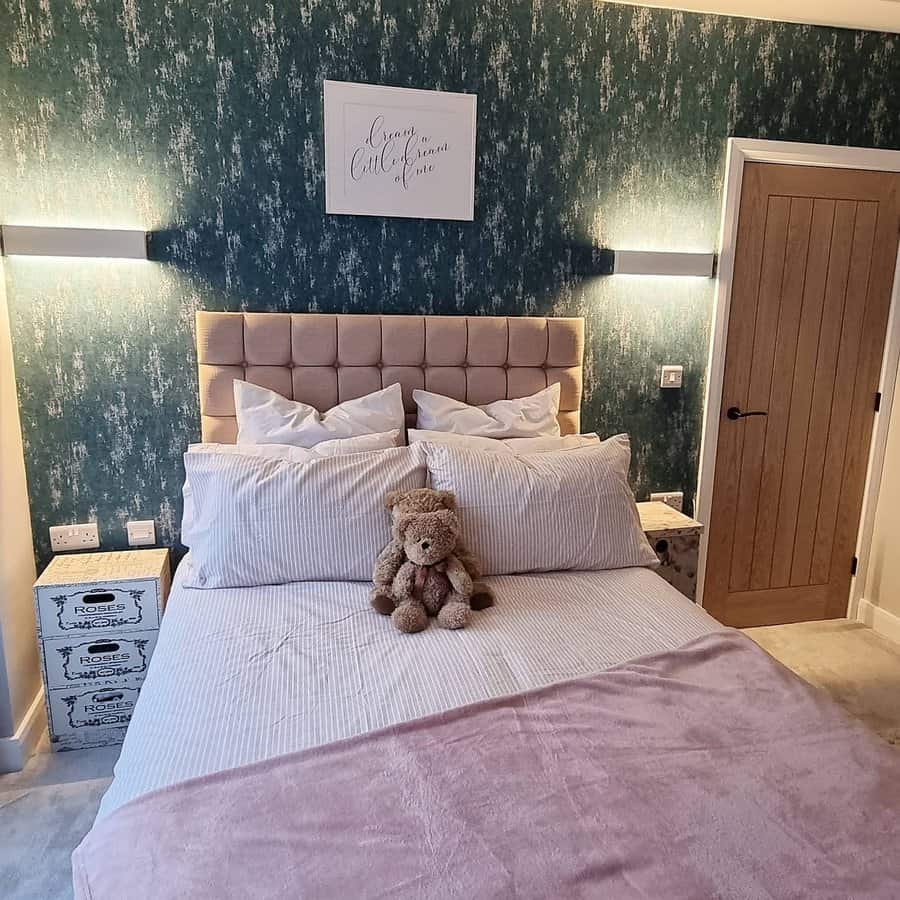 5. Go Monochrome
Change up the vibes of your bedroom with monochrome wallpaper that fits your own unique style. Whether you decide to go for a traditional printed wallpaper or opt for the more unusual tiled look, monochrome wallpaper gives an elegant and contemporary feel to the room.
You can also transform a grey space into a beautiful area by creating a monochromatic base that can be decorated further with plants, artwork, and other home accents. With monochrome wallpaper in your bedroom, it can give off calming energy through its mix of light and dark tones.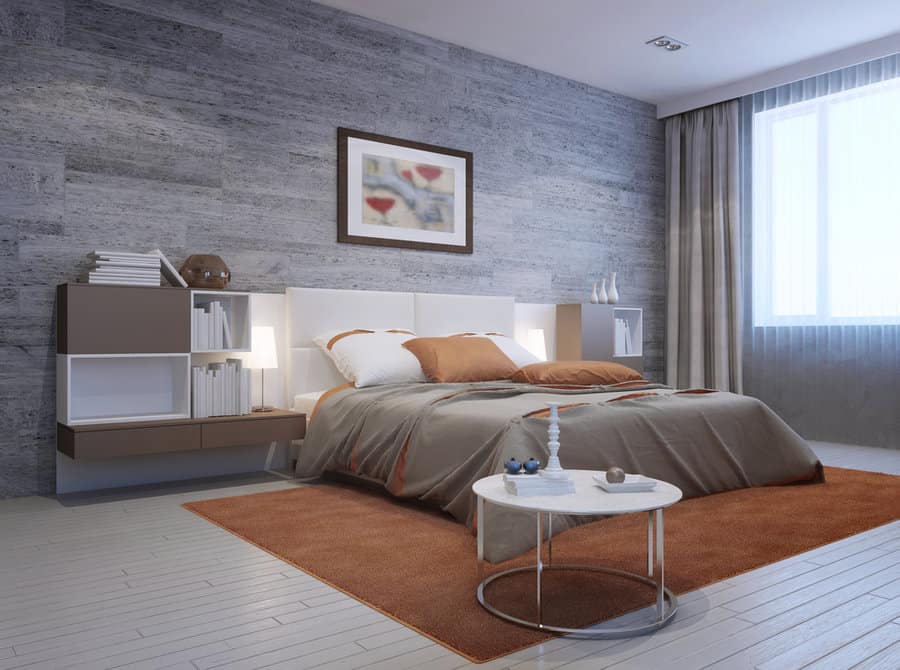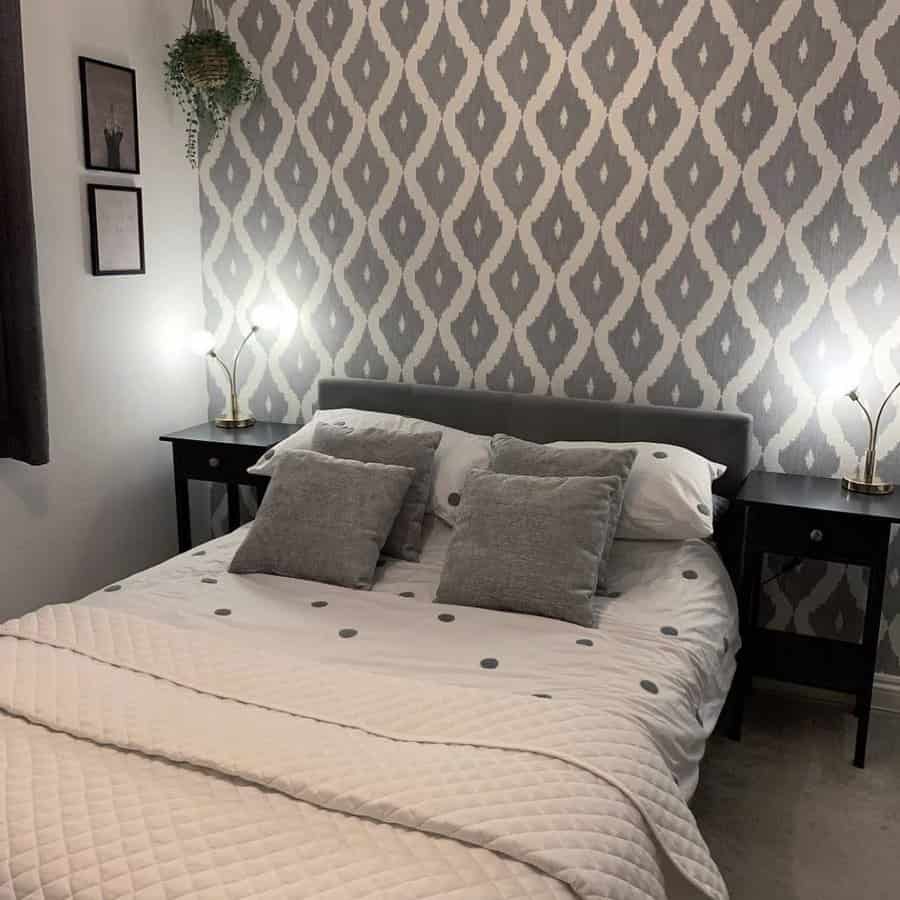 6. Nostalgic Victorian Patterns
When it comes to sprucing up your bedroom, Victorian patterns in wallpaper can make all the difference. Whether you opt for an elegant damask print or an ornate floral pattern, Victorian wallpapers will bring a dreamy, nostalgic feel to any room.
If you are looking to give your bedroom a vintage look, Victorian wallpaper paired with furniture of similar age will add a touch of charm and sophistication.
Don't be shy about experimenting; Victorian wallpaper comes in a variety of color palettes and textures that can bring warmth and character to any environment.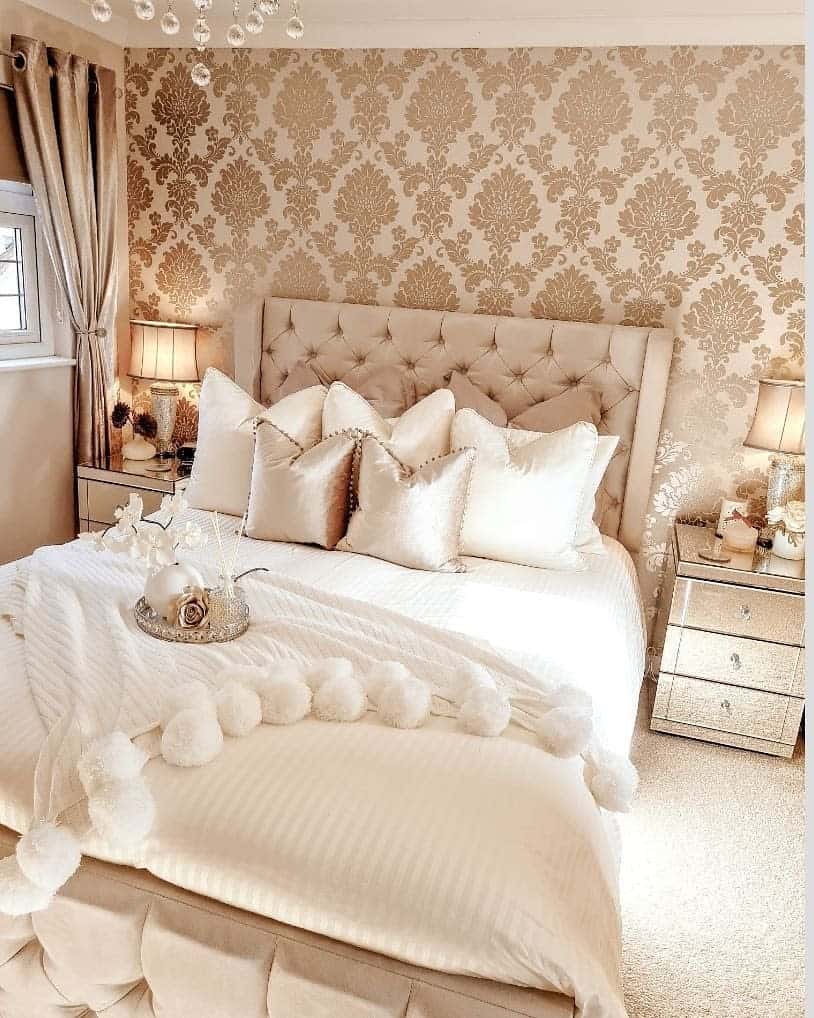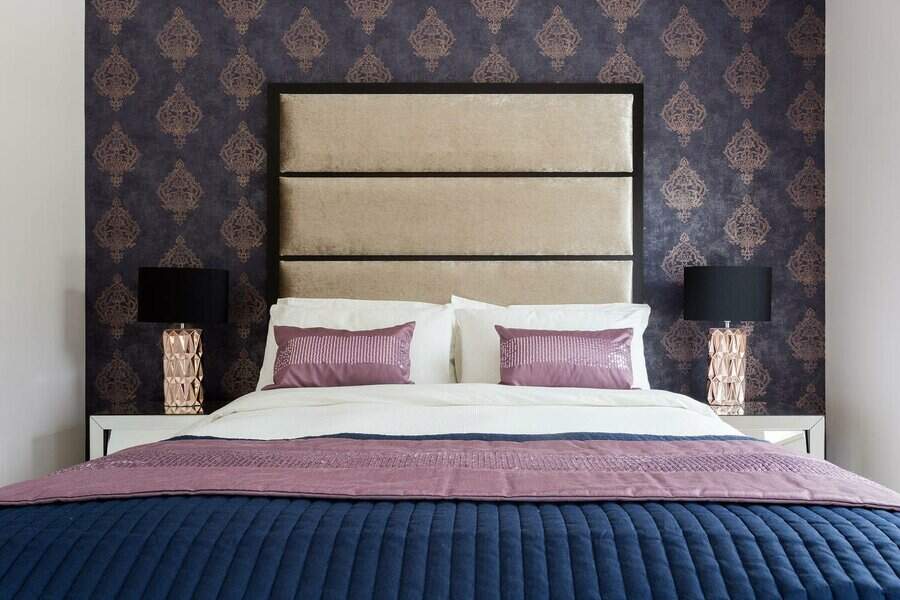 7. Keep It Minimal With Geometric Patterns
If you're looking to upgrade your bedroom into a modern, eye-catching escape, then geometric patterns provide an effortless yet captivating option for your wallpaper. From celestial stars to bold geometric forms and repeating shapes – geometric patterned wallpapers offer limitless possibilities.
Perfect for statement walls in larger rooms or using smaller geometric drives and motifs as subtle accents; bedroom wallpaper with geometric designs is the ideal choice for giving any bedroom a simple, yet effective makeover.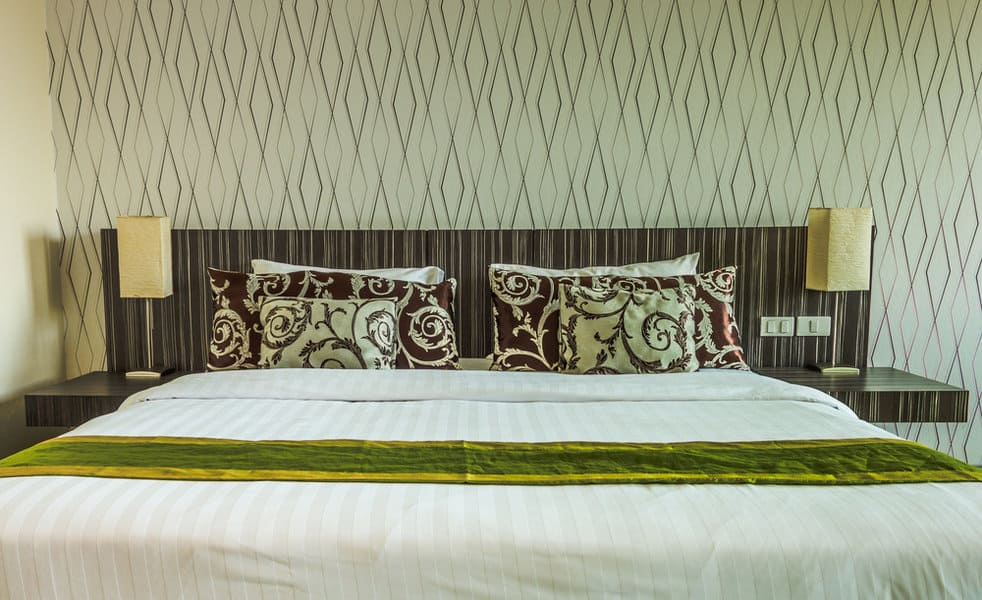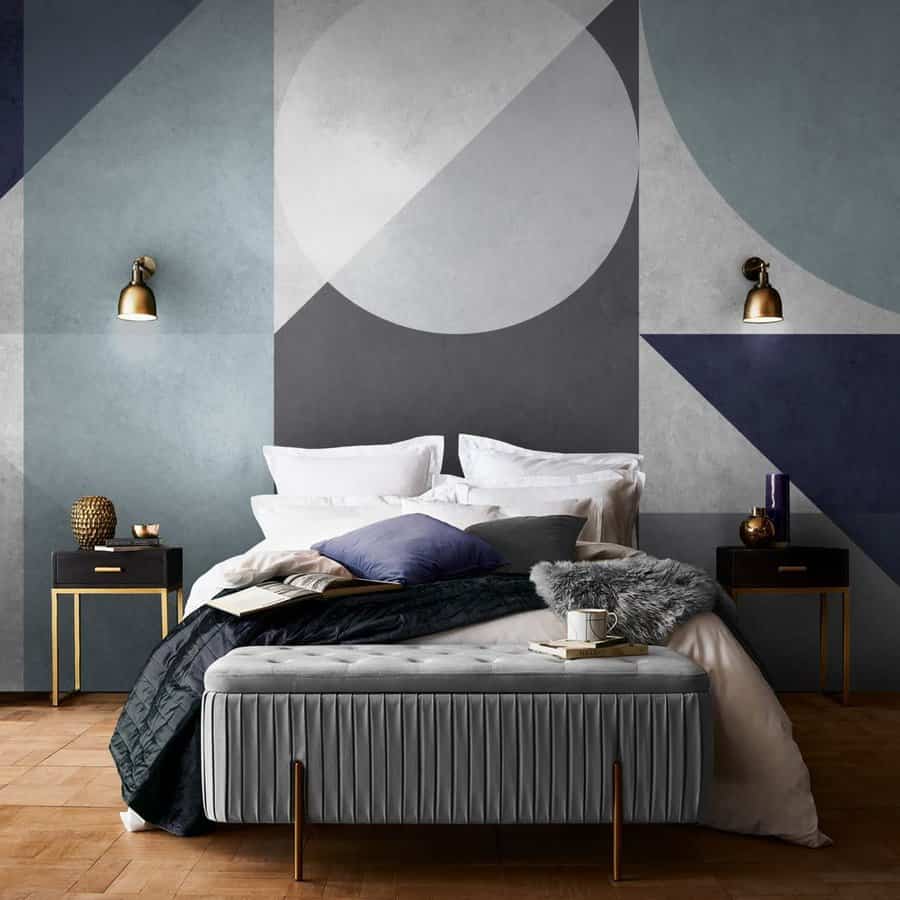 8. Keep It Dainty With Florals
The bedroom is a sanctuary within the home, a place for relaxation and rest. Imagine waking up in an oasis of floral patterns on your walls – beautiful micro floral murals that can create a peaceful and calming atmosphere in the room. Hang floral wallpaper to add instant charm, character, and peace – embracing every wall with floral motifs that can provide tranquility and well-being.
Whether you are choosing pastel colors with small dainty specks or deep teal hues, imagine seeing yourself surrounded by vibrant tones of nature in your cozy nook.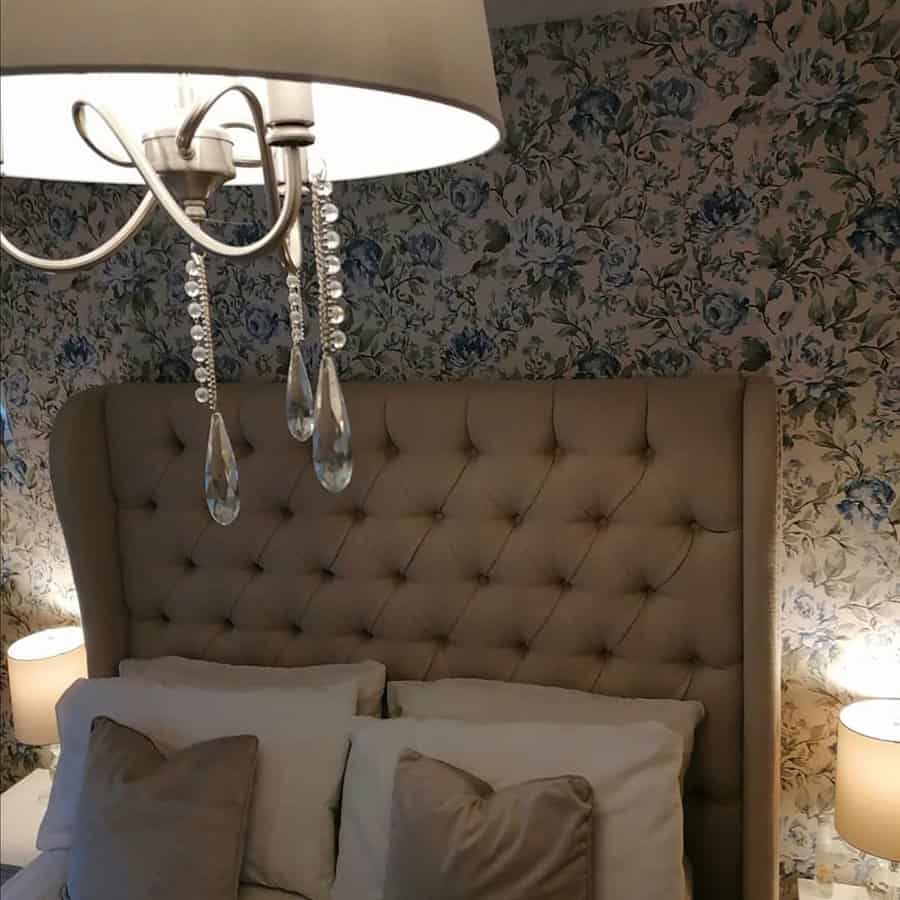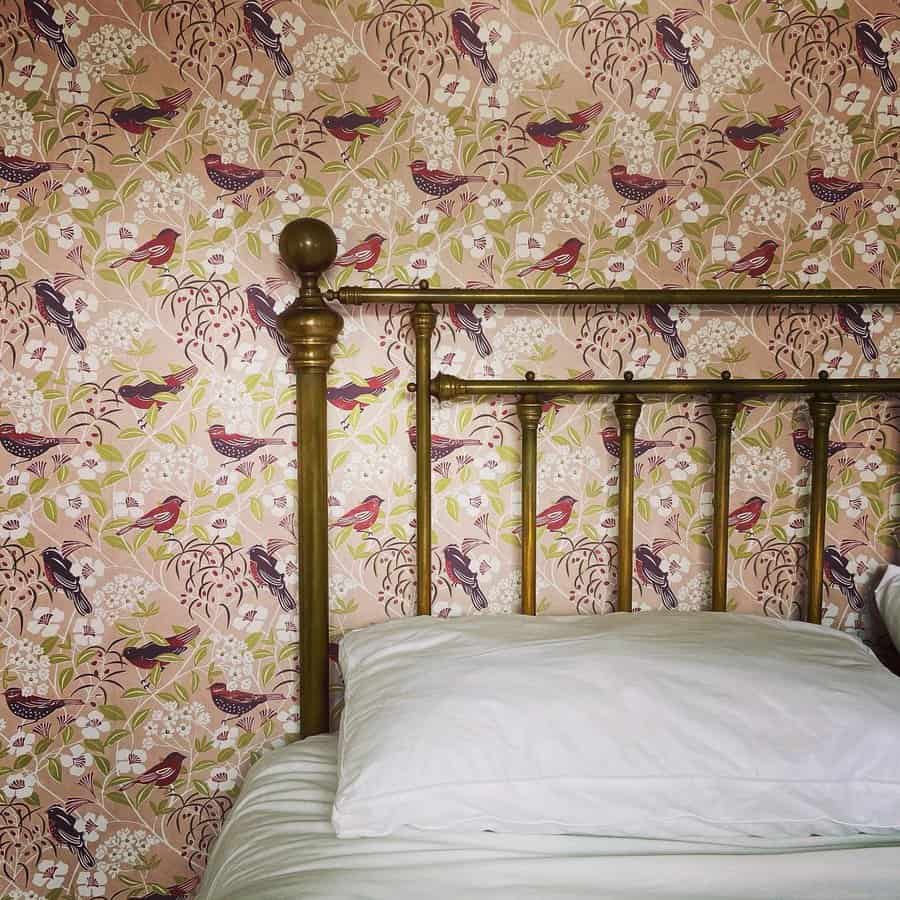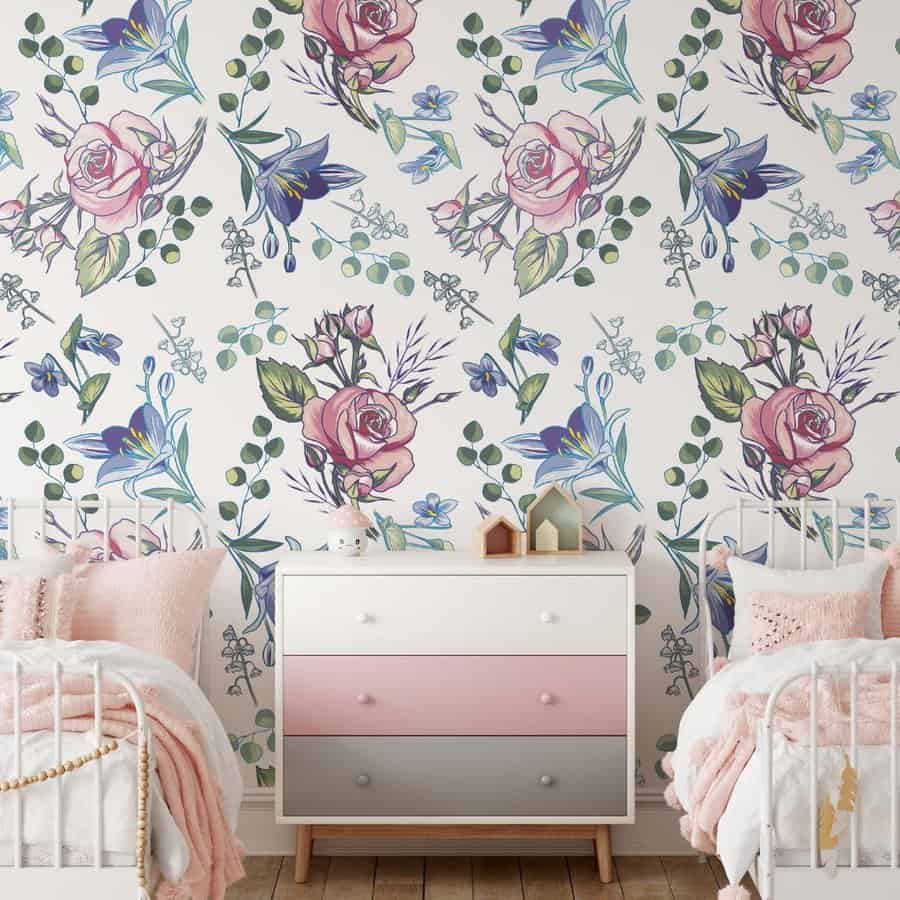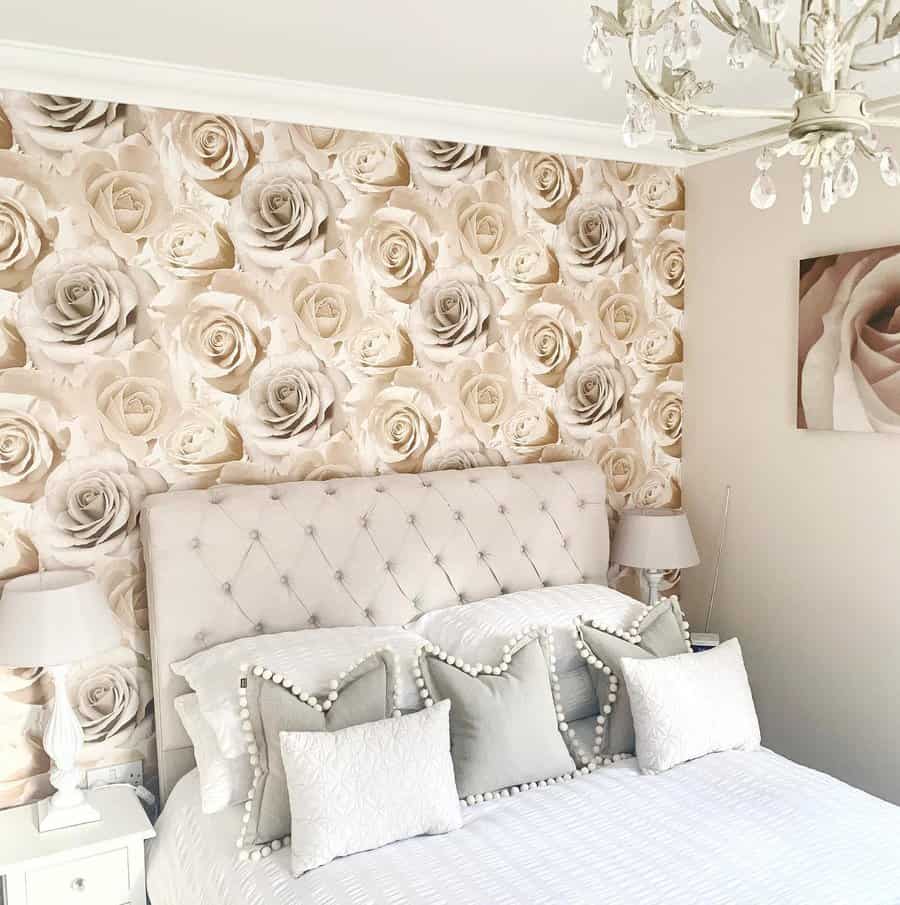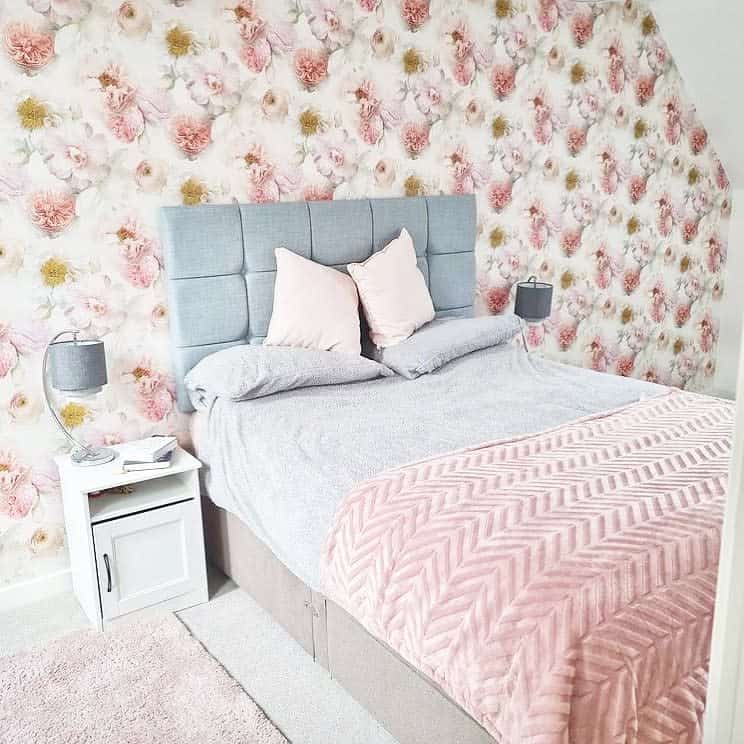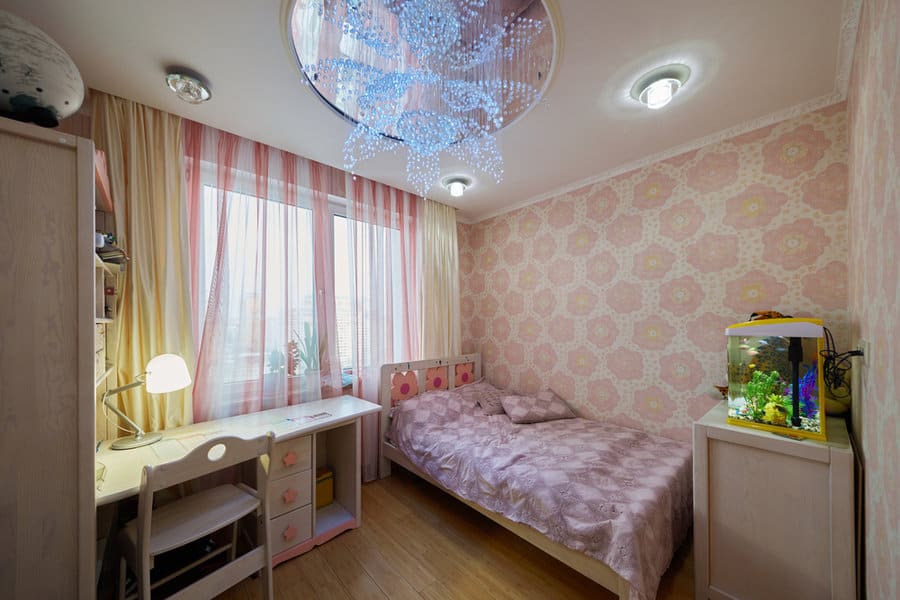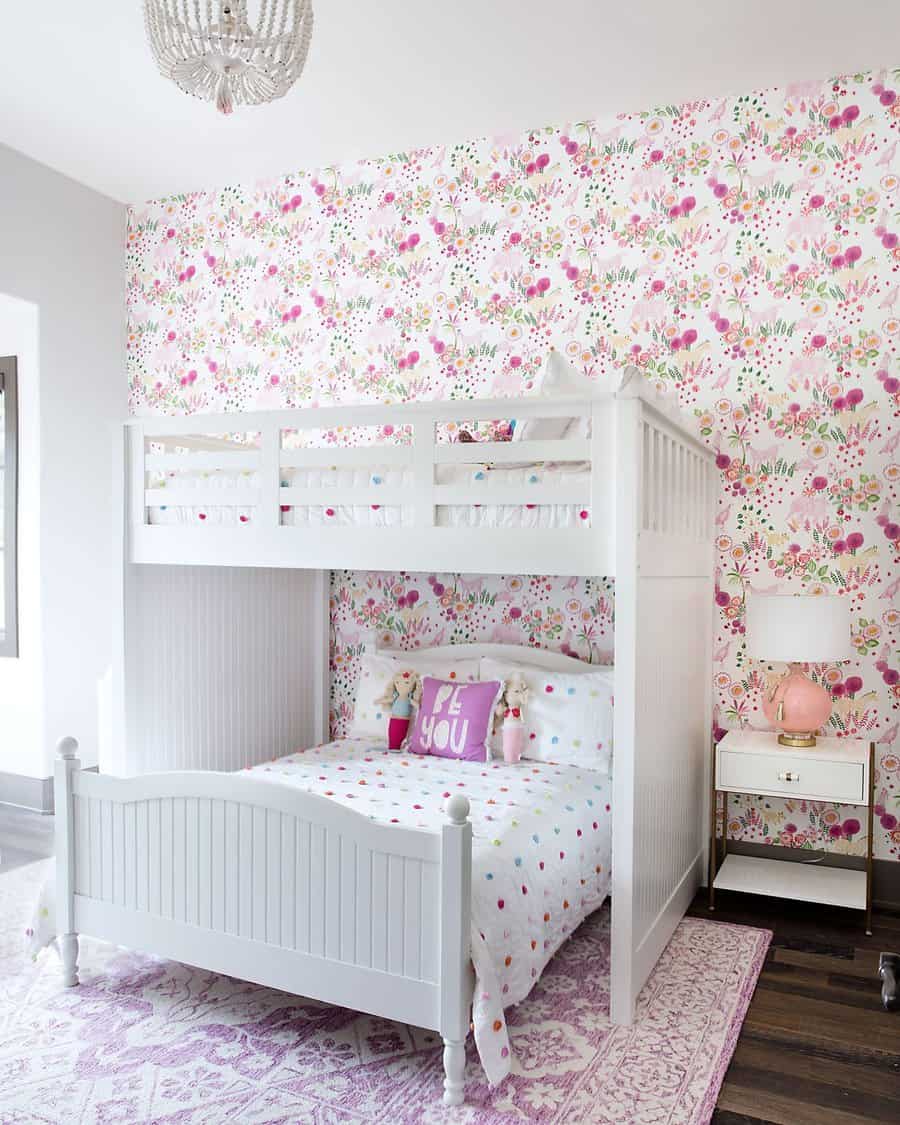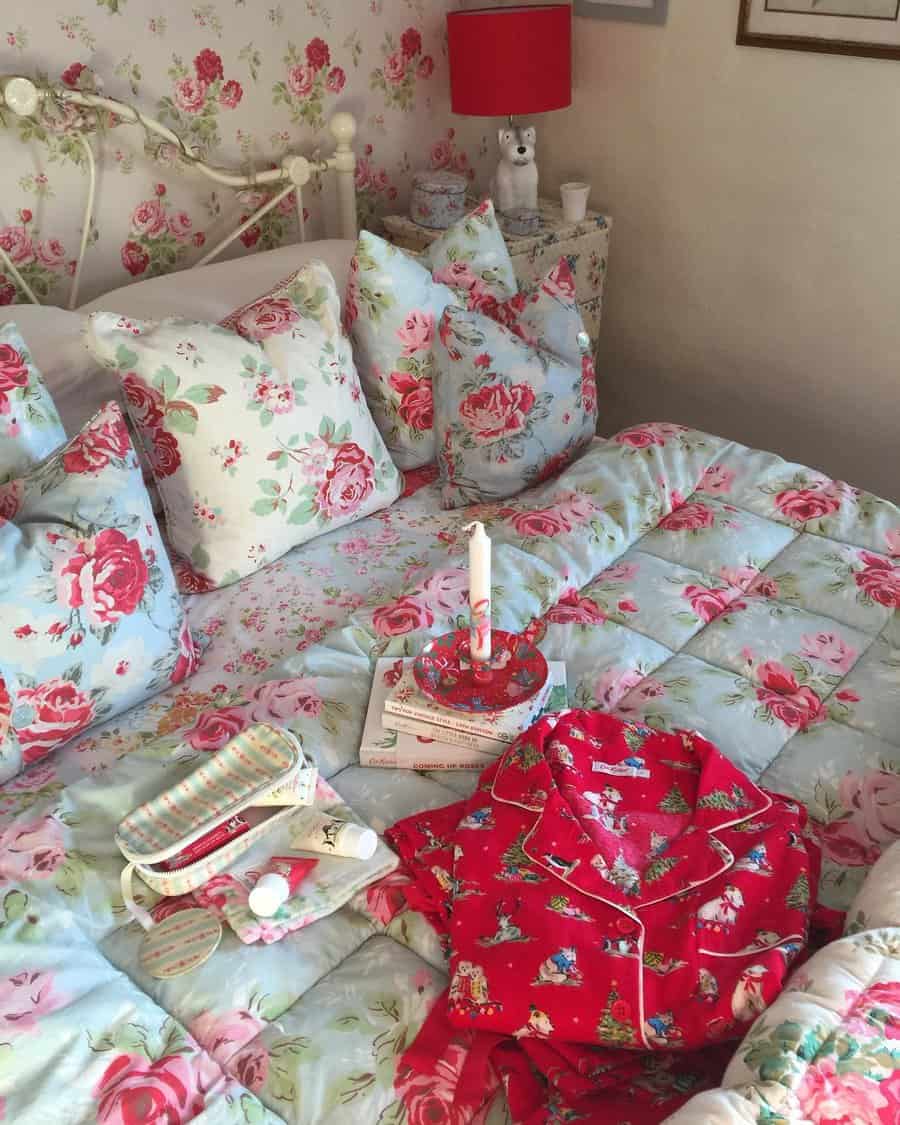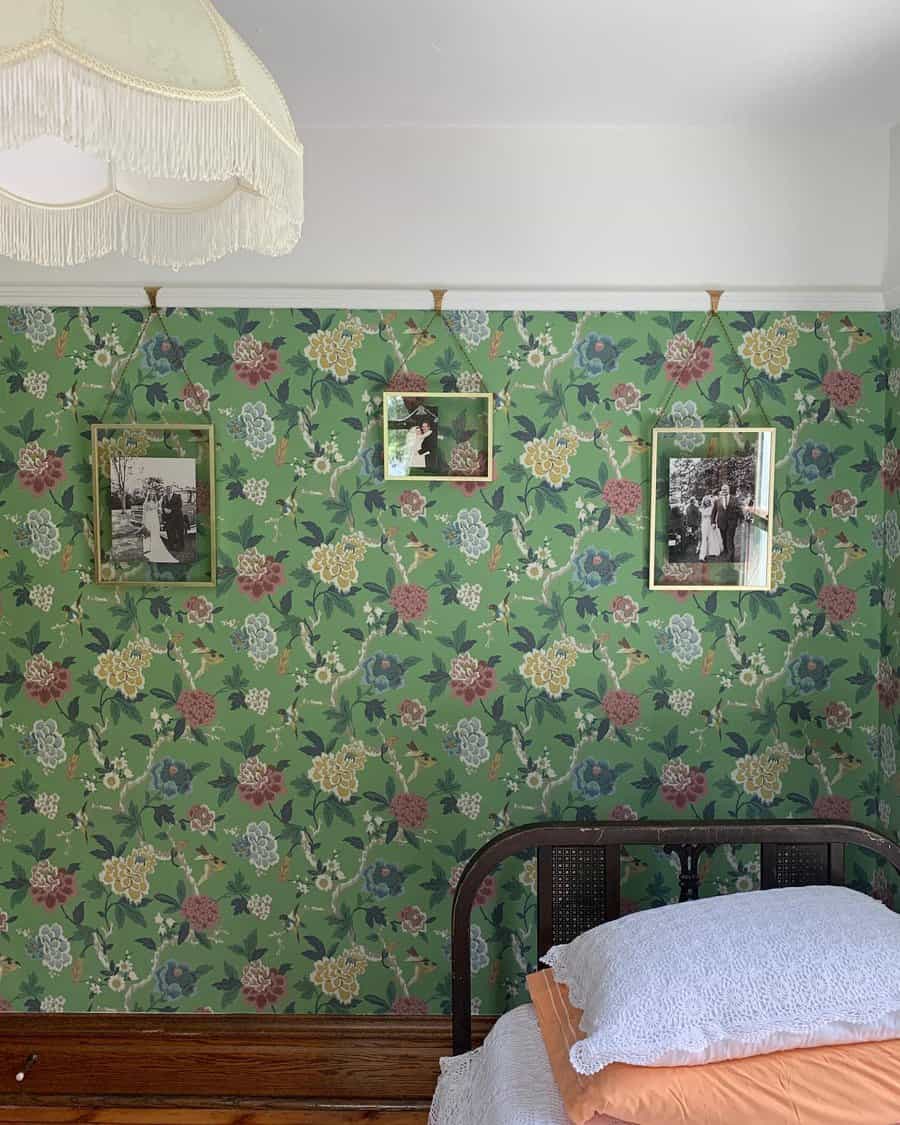 9. Bask In The Tropics
Create a green oasis right in your bedroom with green tropical wallpaper! Whether you choose to cover the entire room or just add an accent wall, you're sure to be transported to far-away places. The vibrant green plants and leaves will naturally draw attention while giving off a calming vibe.
You'll love relaxing in such a lush environment, adding a touch of nature to the comfort of your bedroom.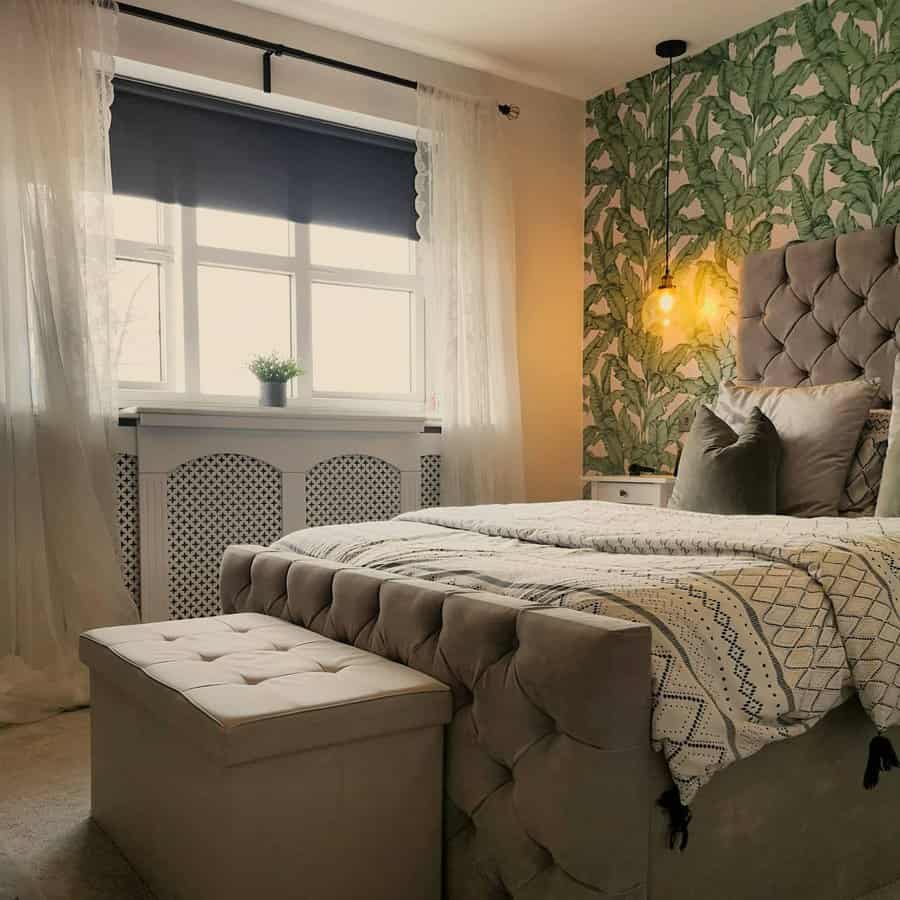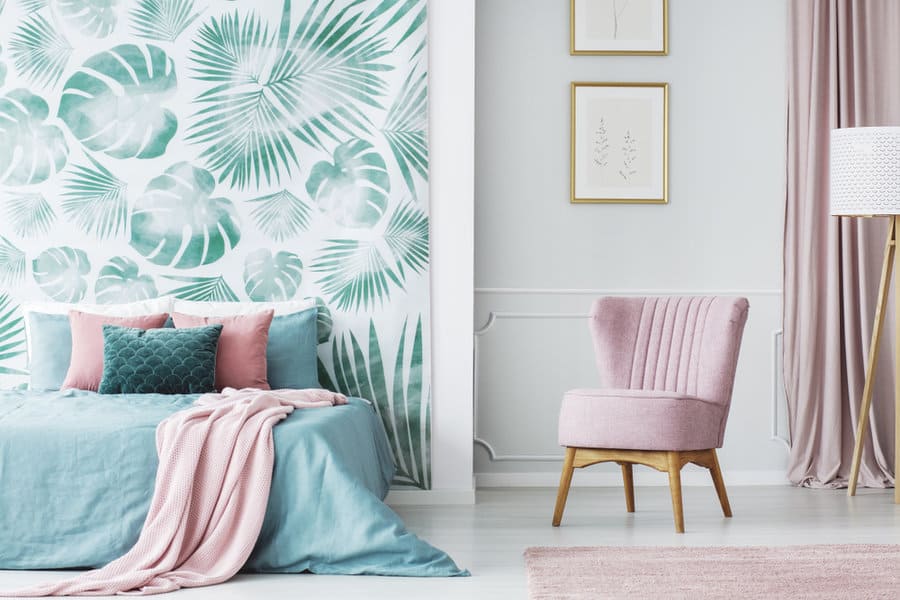 10. Be Maximalist With Animal Prints
Animal prints and maximalist interiors are all the rage right now, and there's no better way to embrace the trend than with some stylish bedroom wallpaper. Whether you opt for a bold leopard print or something a little more subtle, animal-themed wallpaper is a great way to add some personality to your space.
And if you're really looking to make a statement, go for a maximalist design in bright colors and patterns. Either way, you're sure to love the results!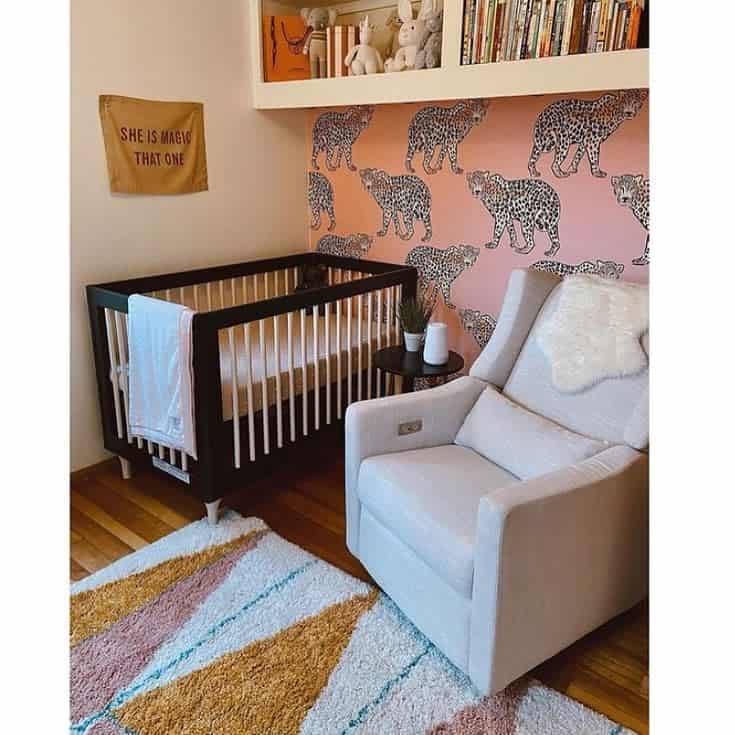 11. Soft Watercolor-inspired Murals
For those looking to bring a soft and calming feel to their bedroom, consider a soft watercolor-inspired mural with abstract plants and animals woven throughout. Not only will it add visual interest to your space—but you may even discover hidden scenes as you continue to admire it day after day.
Whether opting for a soft romantic palette or bolder accentuate pops of color, introducing wallpaper is an easy way to instantly transform your bedroom into a stylish dreamscape.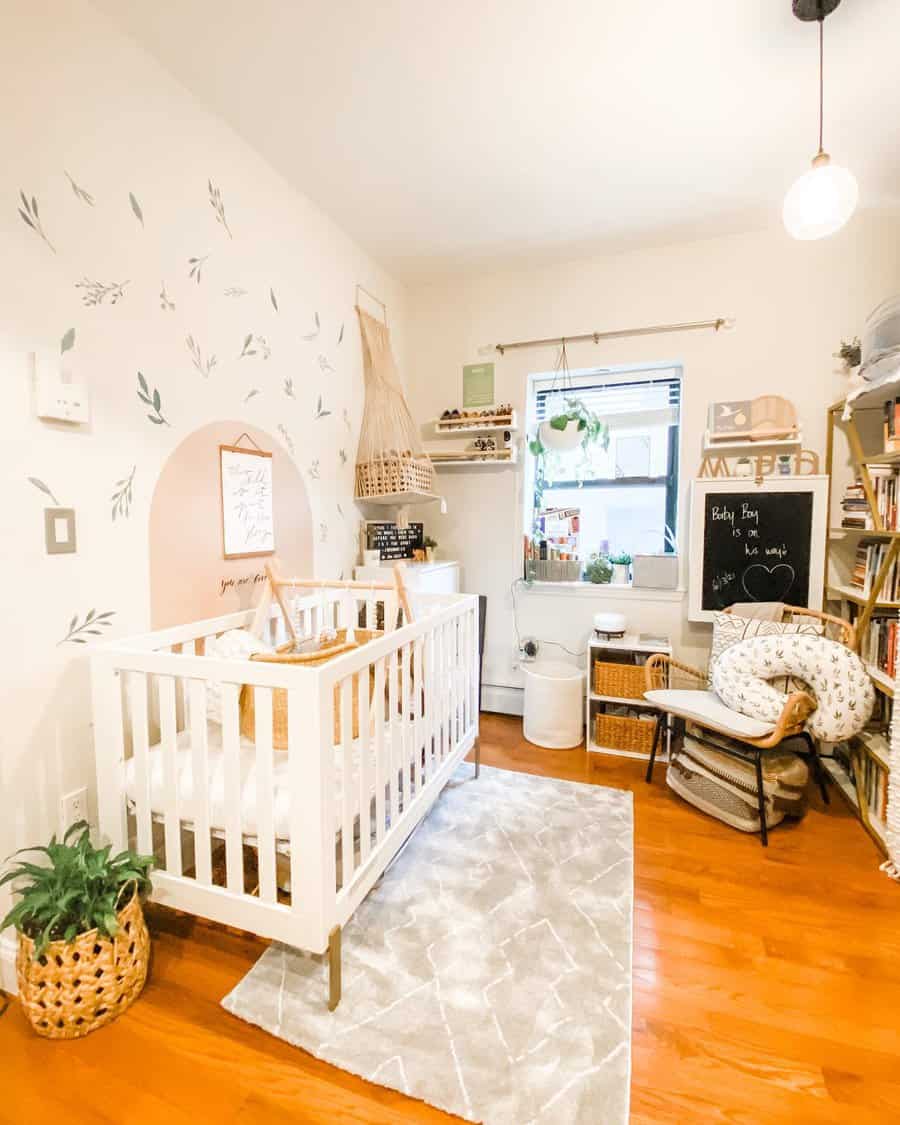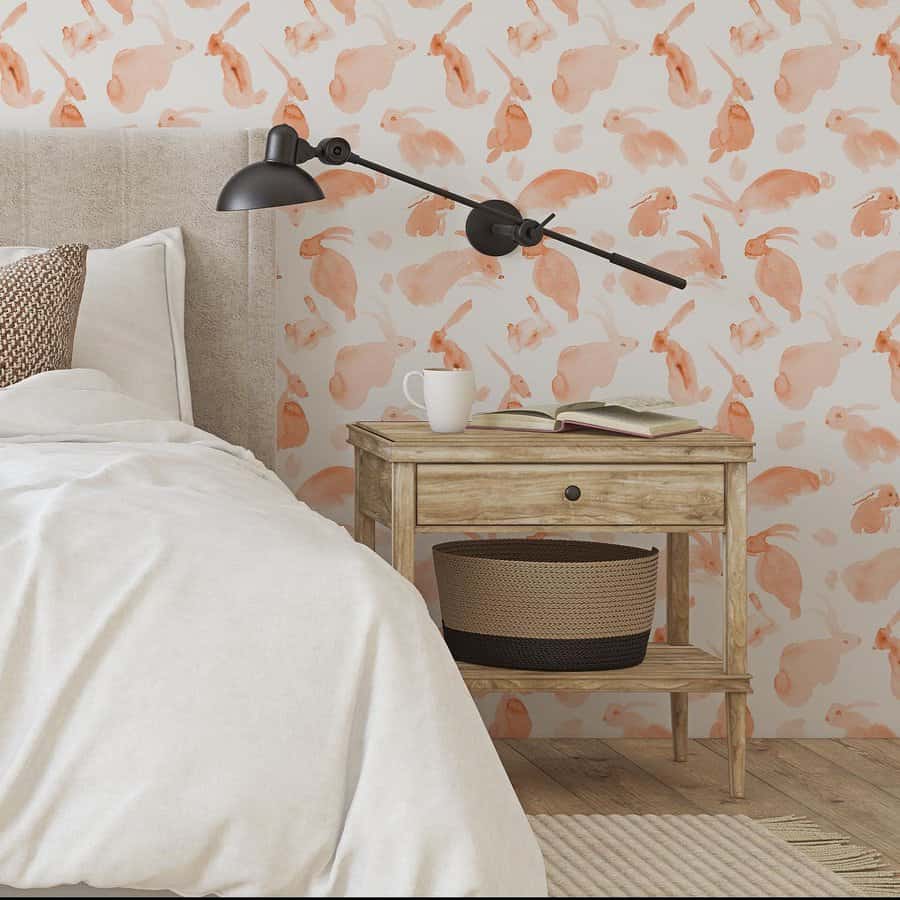 12. Make A Statement With Murals
Get creative and explore oversized murals, customized prints, and even do-it-yourself wall art. With hundreds of modern designs available, your walls will jump to life with vibrant colors or calming sceneries that help you drift into dreamland each night.
Add an extra level of comfort and coziness to your space by curating unique textures and patterns through wallpaper – take the opportunity to express yourself from floor to ceiling!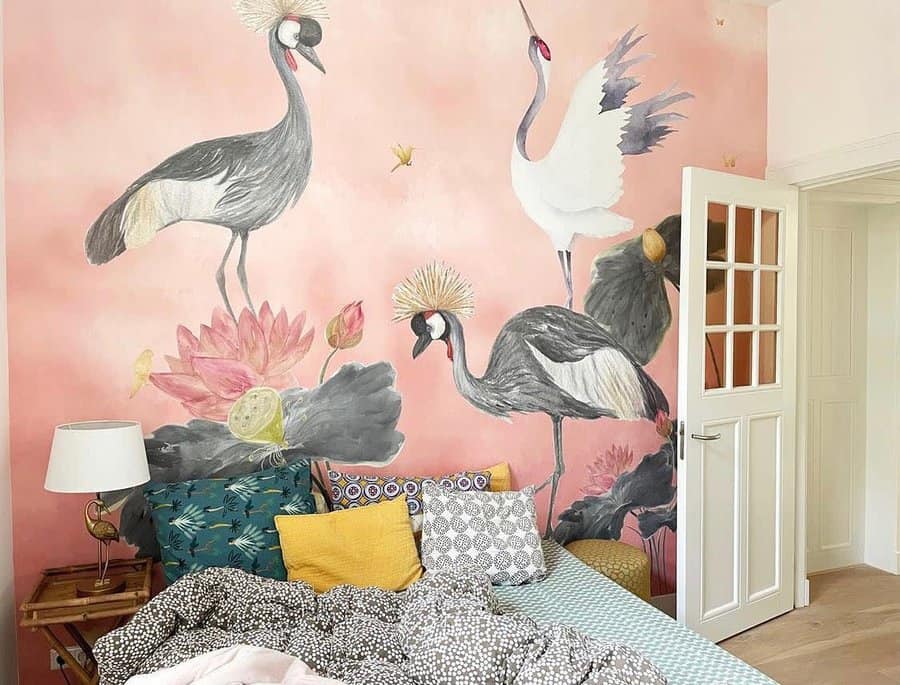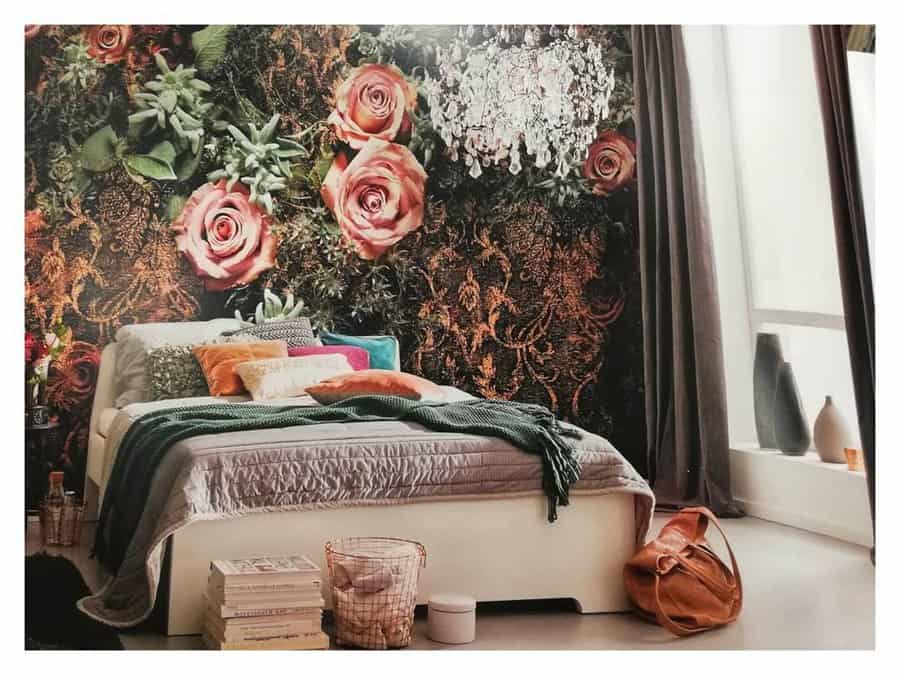 13. Set The Mood With Solid Colors
Updating the décor of a bedroom need not be an expensive affair: adding or replacing bedroom wallpaper can instantly transform the look and feel of the room. Choose solid colors for walls, with a subtle minimal pop of color on one wall to anchor the room; this color could be anything from electric to neutral colors, depending on your taste.
Wallpaper helps to create an atmosphere that's cozy, stylish, and relaxing, leaving you feeling more connected to your beloved space. Be bold – express yourself in wallpaper and discover how it can add depth and character to complete the look of your home.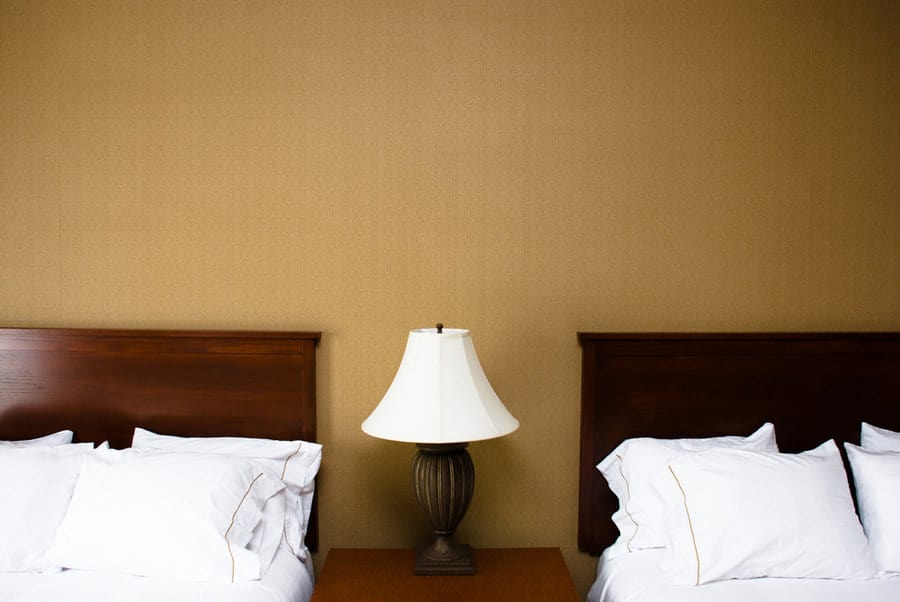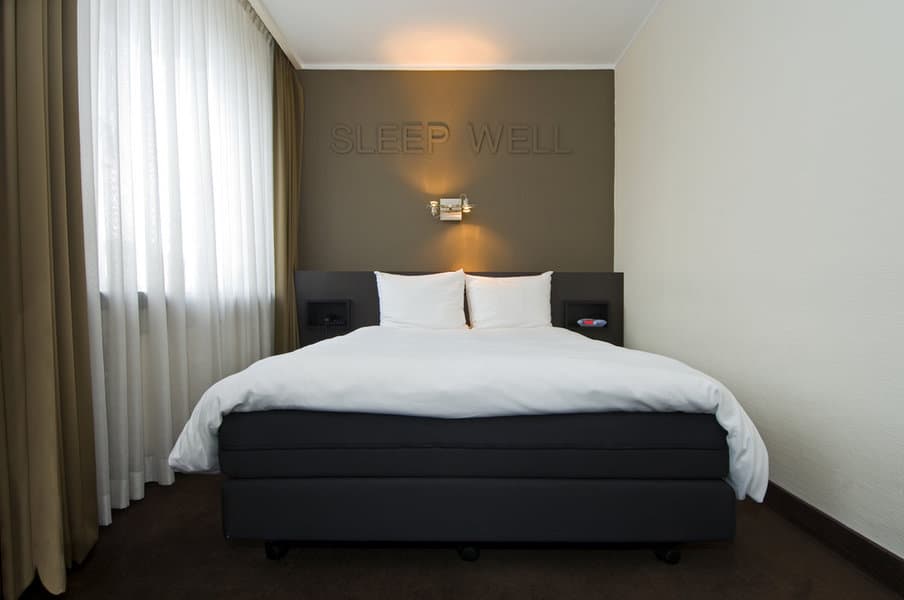 14. Stripe The Walls With Color
For an original look and plenty of visual interest, striped walls are the perfect way to spice up any bedroom. Whether you're going for a bright striped pattern or something more subtle, wallpaper offers an easy way to incorporate stripes into your space. Choose a striped design that is gentle on the eyes to achieve a restful atmosphere in your bedroom.
For an even greater effect, incorporate striped wallpaper on a single wall and pair it with complementary art or furniture pieces for a harmonious look. Whatever design aesthetic you're trying to achieve, there's absolutely no doubt that striped wallpaper is a great way to enliven and enhance your bedroom space.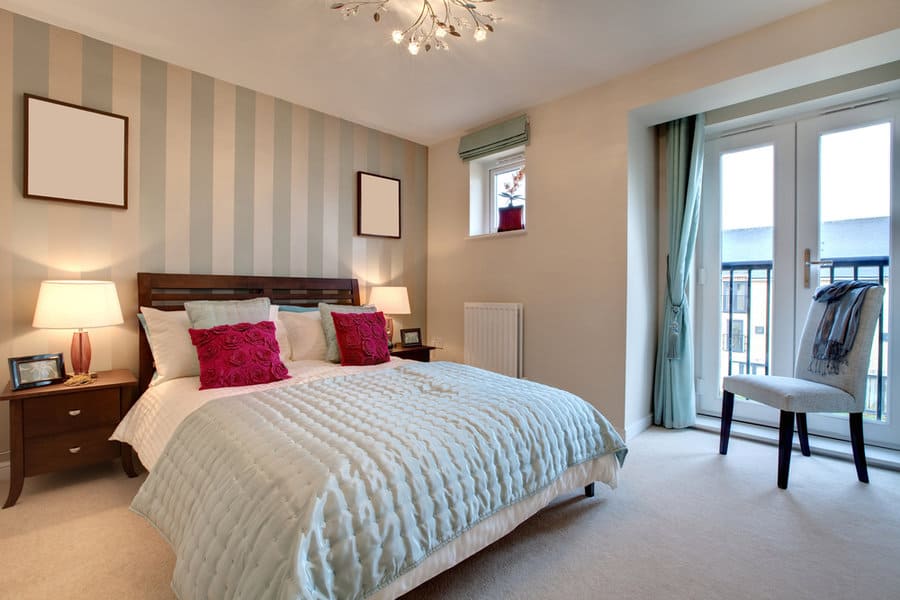 15. Make It Hipster With A Wooden Palette Accent Wall
A wooden pallet accent wall is an instantly eye-catching way to inject some personality into your space, without committing to a daring shade or bold pattern.
Opt for a warm shade to create a cozy, inviting atmosphere any time you enter the room – perfect for snuggling down in after long days. A wooden pallet accent wall can truly transform the look and feel of your bedroom and make it your own.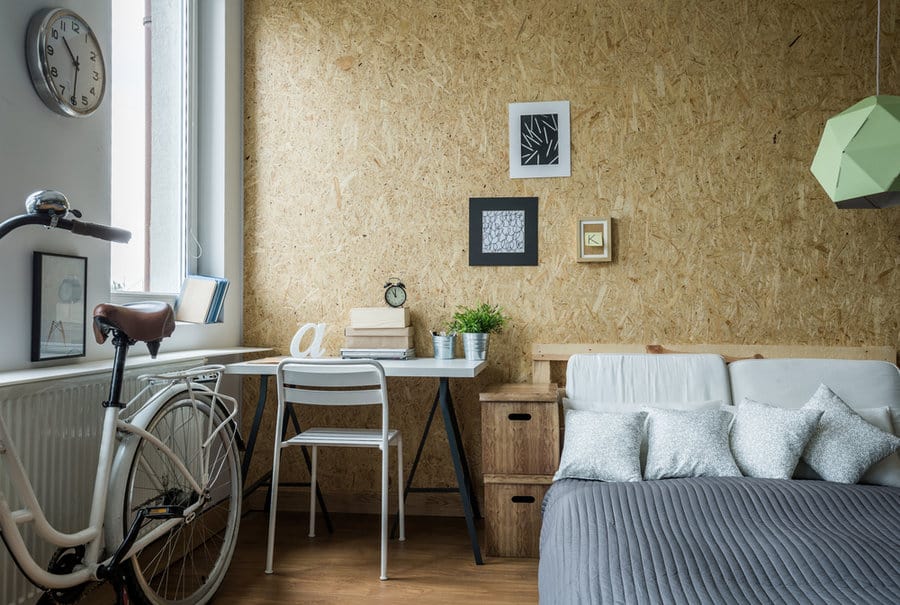 16. Design A Sanctuary Of Trees
For those seeking a dreamy escape, tree, and zen wallpapers are the perfect way to transport any bedroom into an oasis of bliss. From tree silhouettes in the night sky to gentle waves within abstract foliage, these designs can create a tranquil atmosphere as soothing as if one were to step out into nature itself.
Put up your tree wallpaper and watch as your bedroom turns into a calming sanctuary from the hustle and bustle of daily life. It's time to pause and take solace in nature-inspired designs that will remind you just how beautiful the world can be.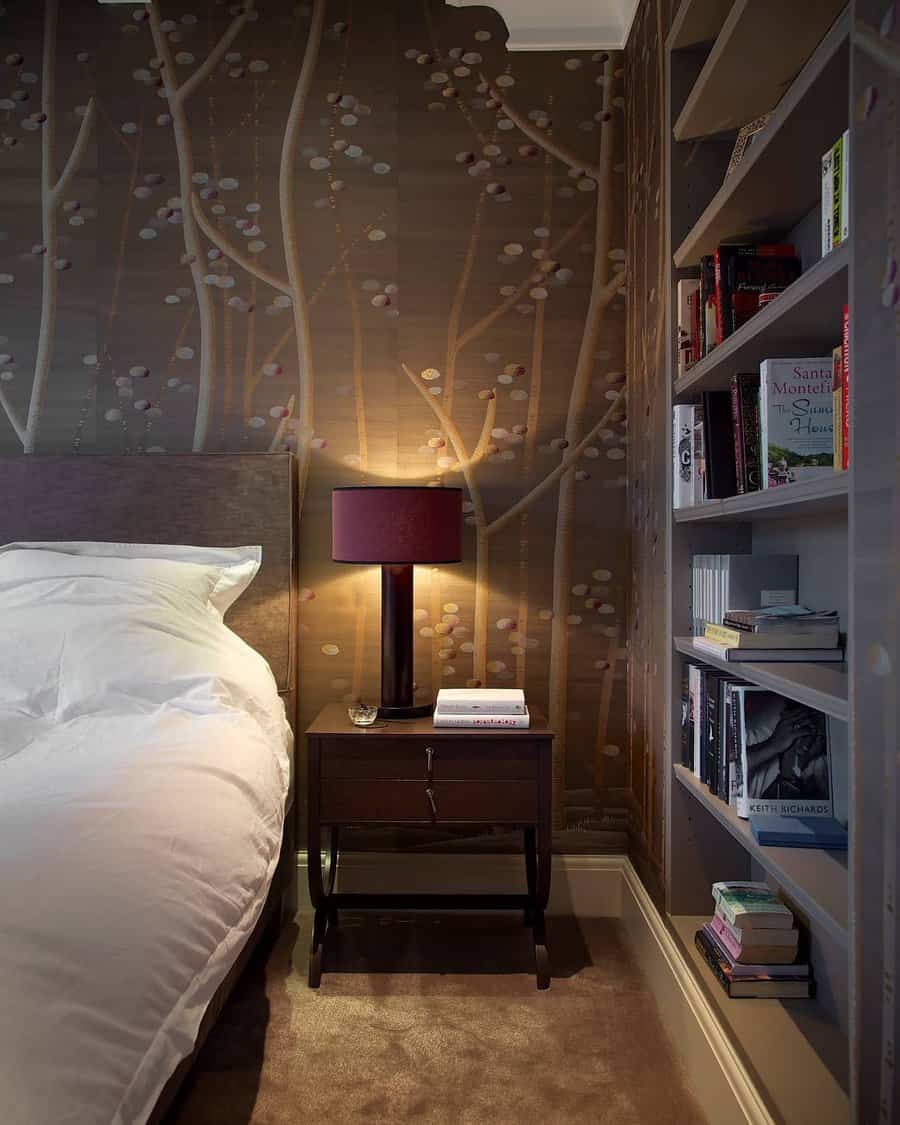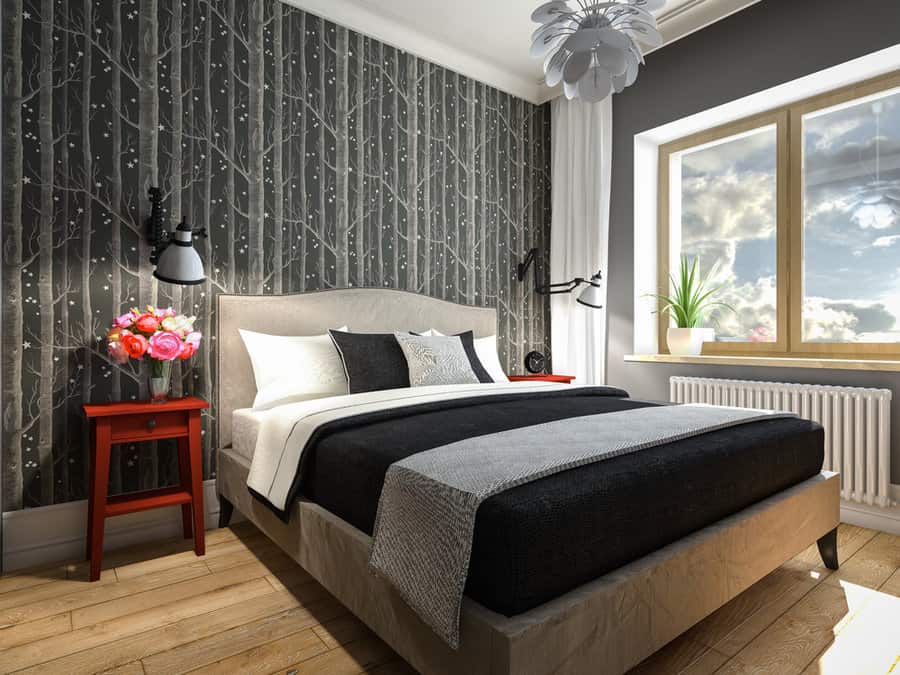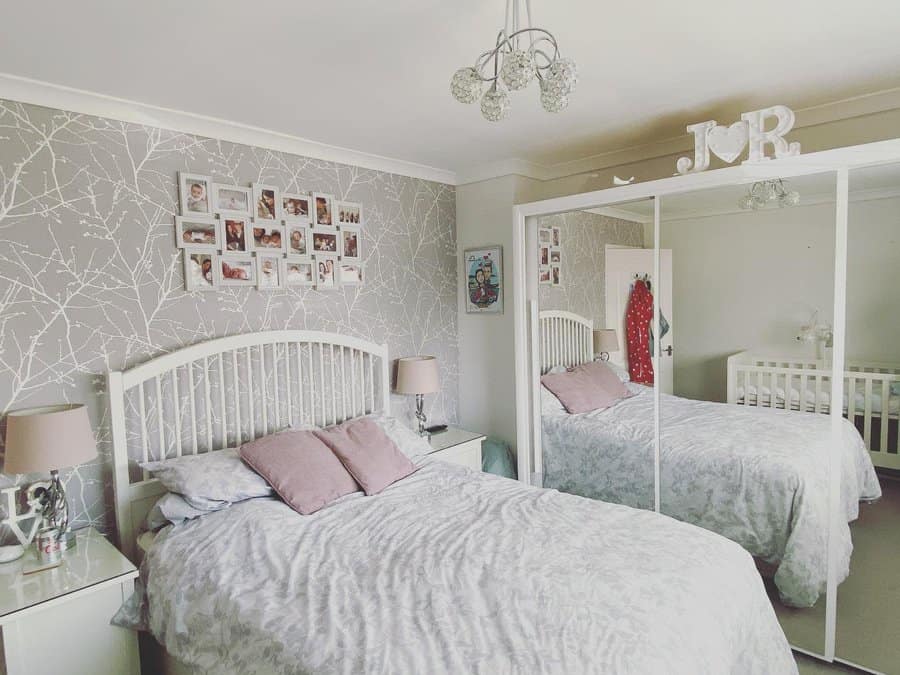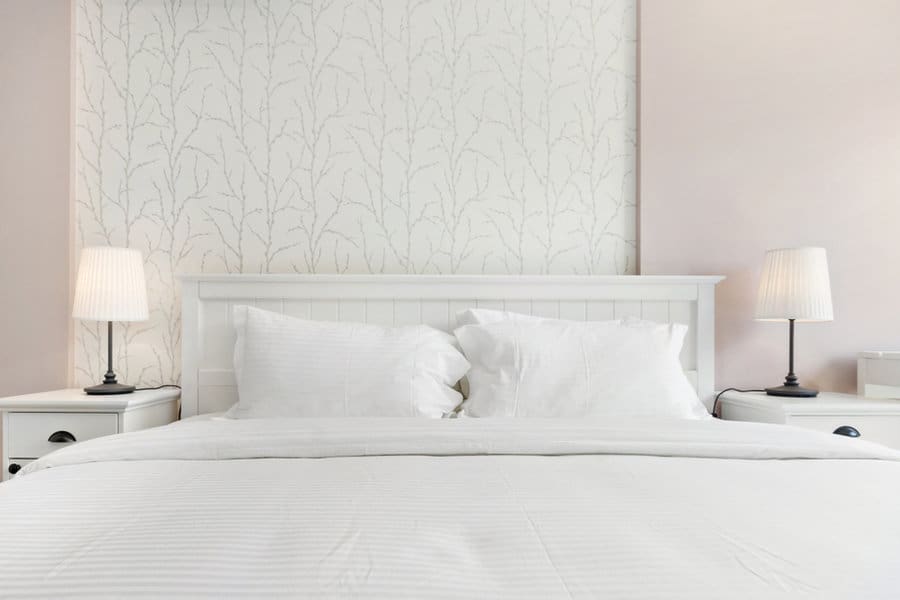 17. Dot The Walls Like Yayoi Kusama
Wallpaper is a great way to instantly transform a bedroom. While polka dot wallpaper might not be the first idea that comes to mind, adding it in black and white can create a versatile look. Use it to brighten up an accent wall or add texture to the entire space – polka dot wallpaper is sure to make a big impact!
Whether used on all four walls or just one, polka dot wallpaper has endless possibilities and can provide the perfect balance between busy and simplistic, depending on your style. The best part about this look is that regardless of other color choices, polka dots have universal appeal.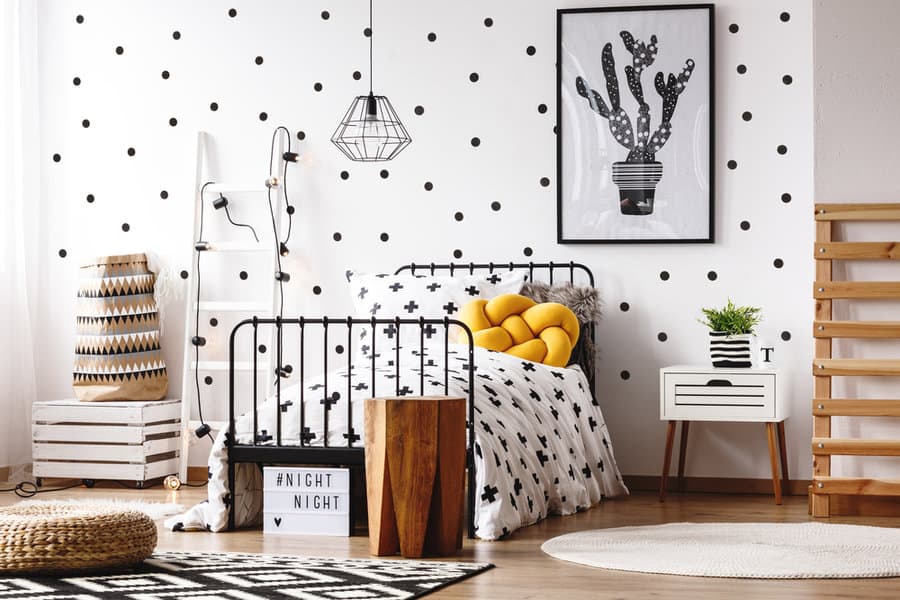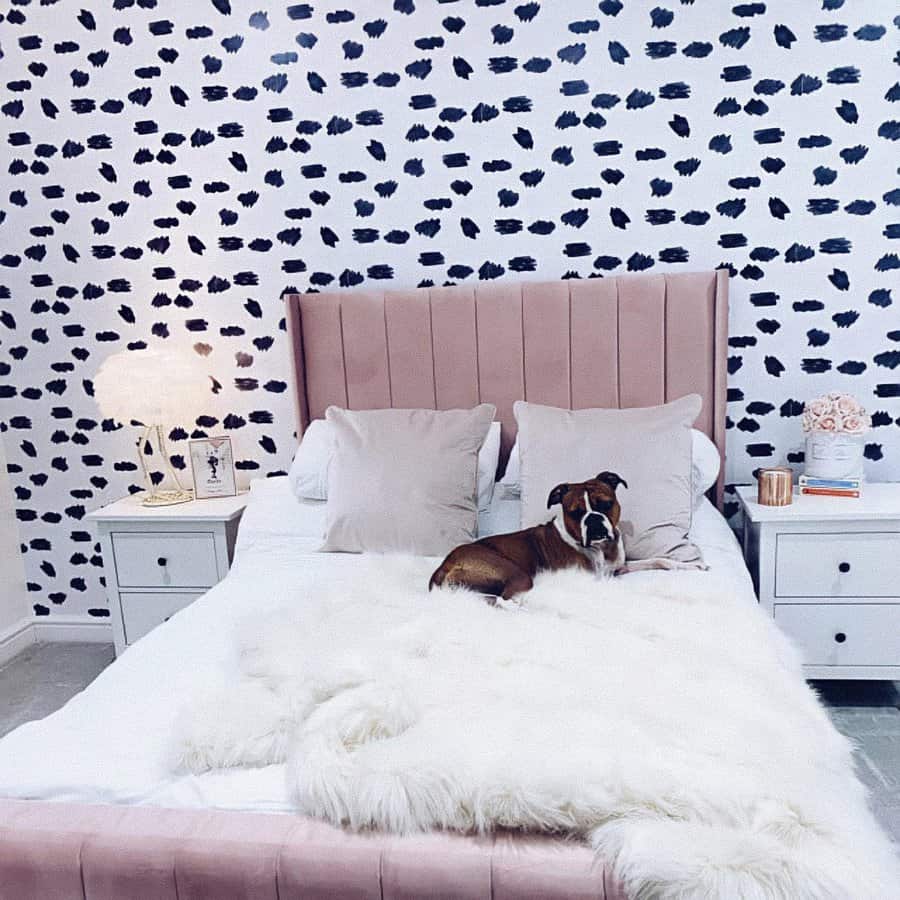 18. Install Subway Tiles
Transform your bedroom into an industrial paradise with subway tile wallpaper! Enliven your walls with subway tiles for a chic and tactile experience – perfect for the modern home.
Combining subway tiles with industrial elements will create an artistic yet chic ambiance, whether it's an exposed brick wall or black steel furniture. Install rustic wood shelves to display beloved trinkets and books for a warm contrast to the immaculate subway tiles.
Keep the look effortless by keeping the finishing touches minimal so the natural beauty of subway tiles can stand out on its own in your bedroom.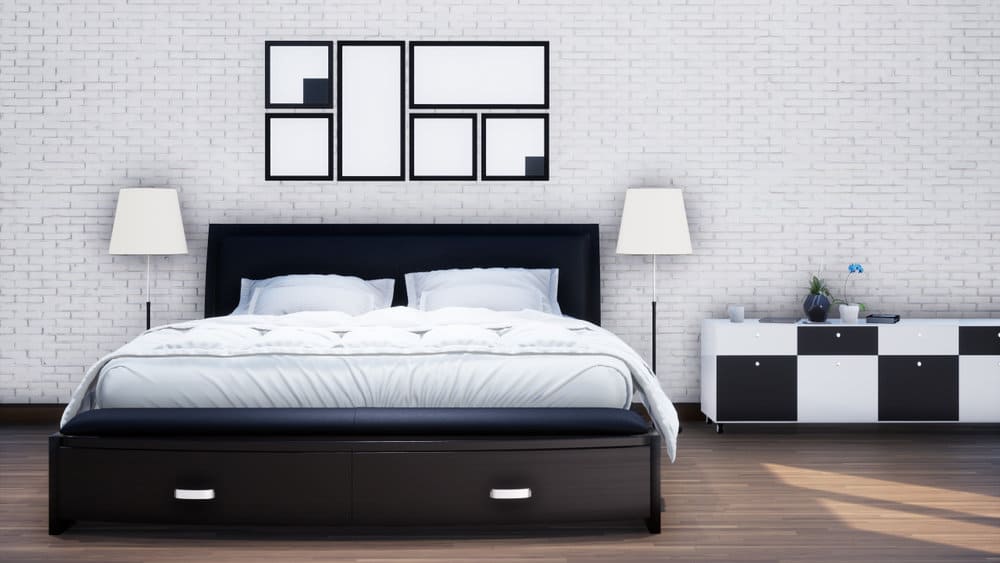 FAQs
How do I choose wallpaper for my bedroom?
Think about the style and color scheme of the bedroom. Then choose a wallpaper that matches both of these. A traditional wallpaper design will look best in a vintage bedroom. A geometric pattern will look good in a modern bedroom. Stripes complement a contemporary bedroom.
What is the best type of wallpaper for the bedroom?
Consider the amount of use and who will use the bedroom when choosing the best wallpaper. A delicate hand-painted wallpaper is best for someone who doesn't deliver a lot of wear and tear on their bedroom. Vinyl wallpaper is best for a children's bedroom because it's the most durable.
Will wallpaper damage walls?
Yes, wallpaper can damage your walls if you don't install it correctly. If you incorrectly try to remove existing wallpaper, you can also damage your walls. However, if you follow the manufacturer's instructions, you don't have to worry about damaged walls. Peel and stick wallpaper shouldn't damage your walls. If you install it on fresh paint, it could cause damage.