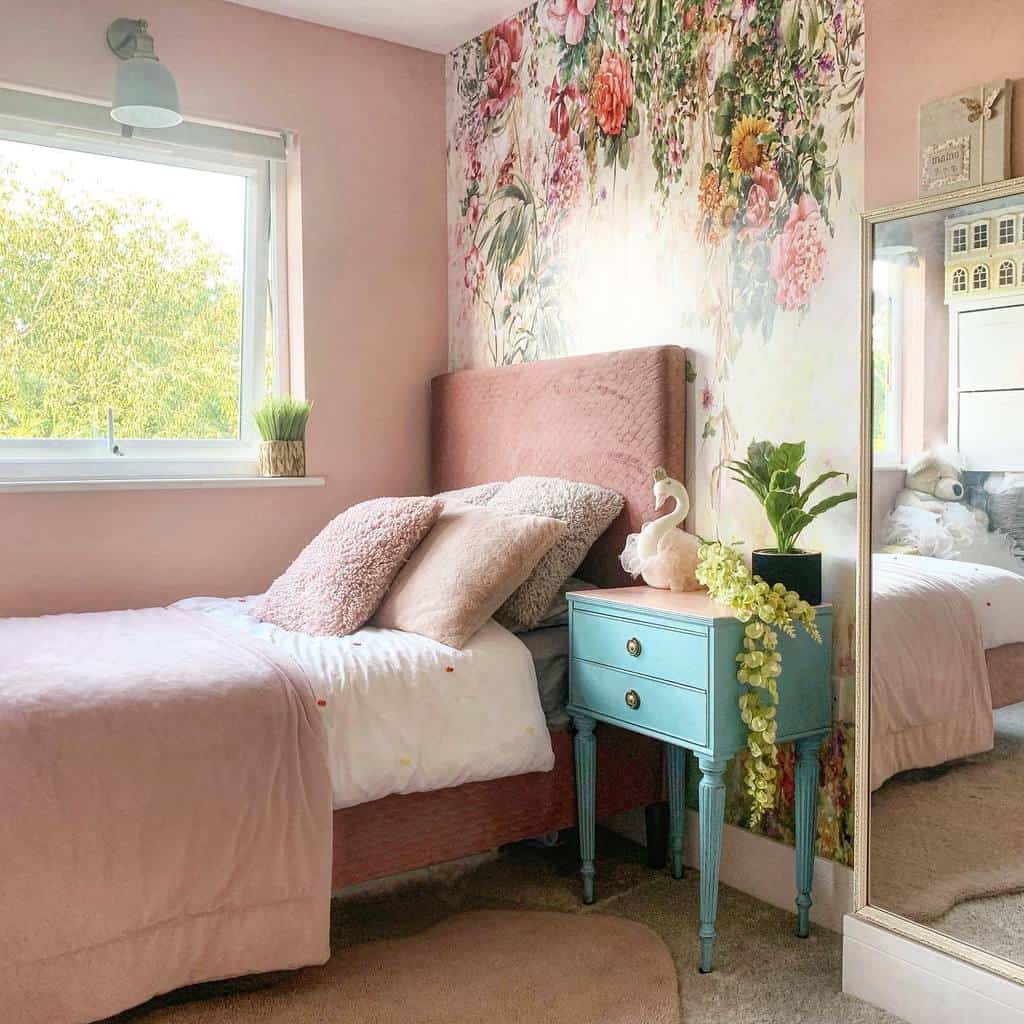 44 Bedroom Wallpaper Ideas
Modern home decor trends embrace the idea of turning your home into decor. Instead of hanging items on your walls or arranging them on the flat surfaces in your home, you could hang wallpaper on your walls. Removable wallpaper makes this easy because you can easily replace it as often as you'd like without worrying about damaging your bedroom walls. Wallpaper design ideas will show you how to creatively use wallpaper to dress up your bedroom walls. So say goodbye to boring paint and try one of these bedroom wallpaper ideas in your home.
1. Accent
If you aren't ready to commit to covering all of the walls in your bedroom, then a less intense approach is to choose a feature wall. This is one wall in your bedroom where you will add the wallpaper to. Typically, the wall behind your bed's headboard is a good wall to choose for your accent wall.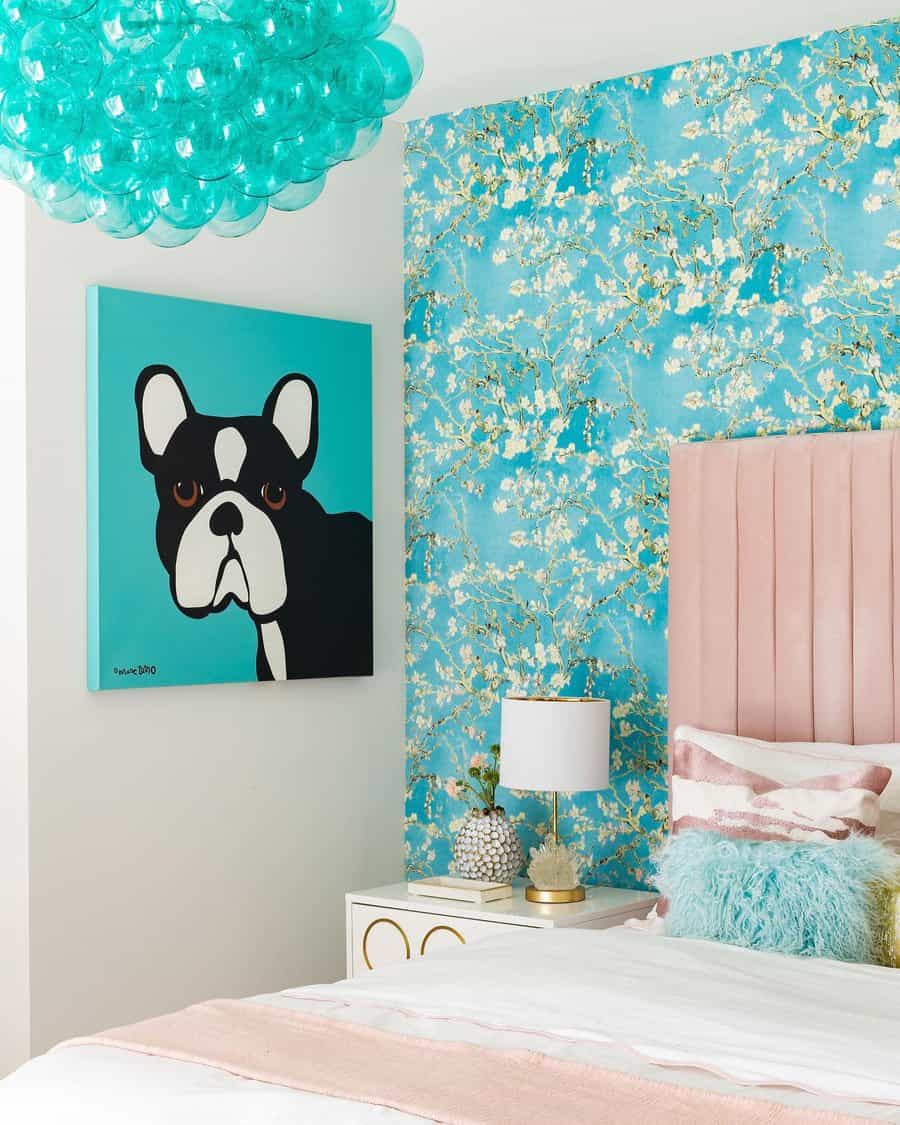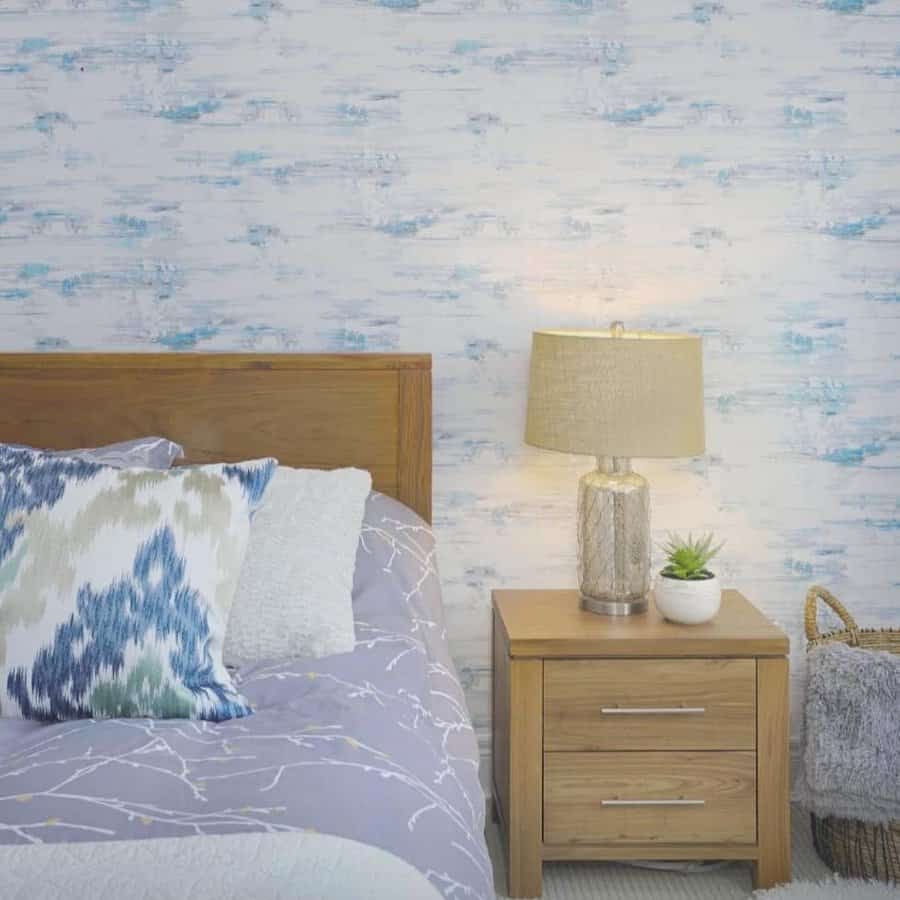 The bed is already a natural focal point in the room, so adding wallpaper to this wall enhances this effect. If you don't want to add wallpaper to this wall, choose a wall that is bordered by two inside corners and is the first wall you naturally look at when entering the bedroom.
2. Dark
Typically, people think of the living room or home office when wanting to use dark wallpaper. However, these aren't your only options; you can also use dark wallpaper in the bedroom.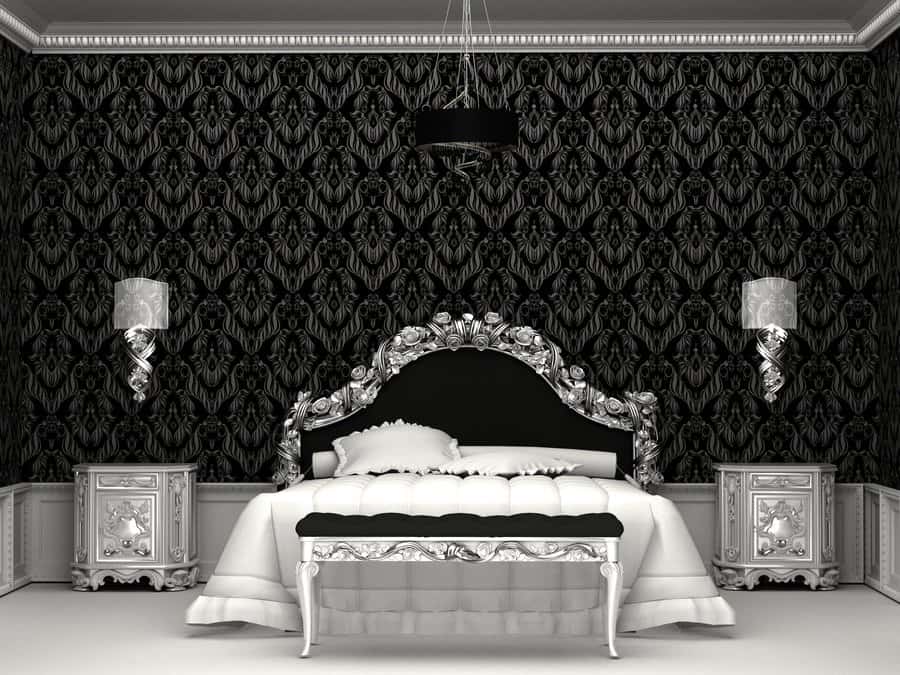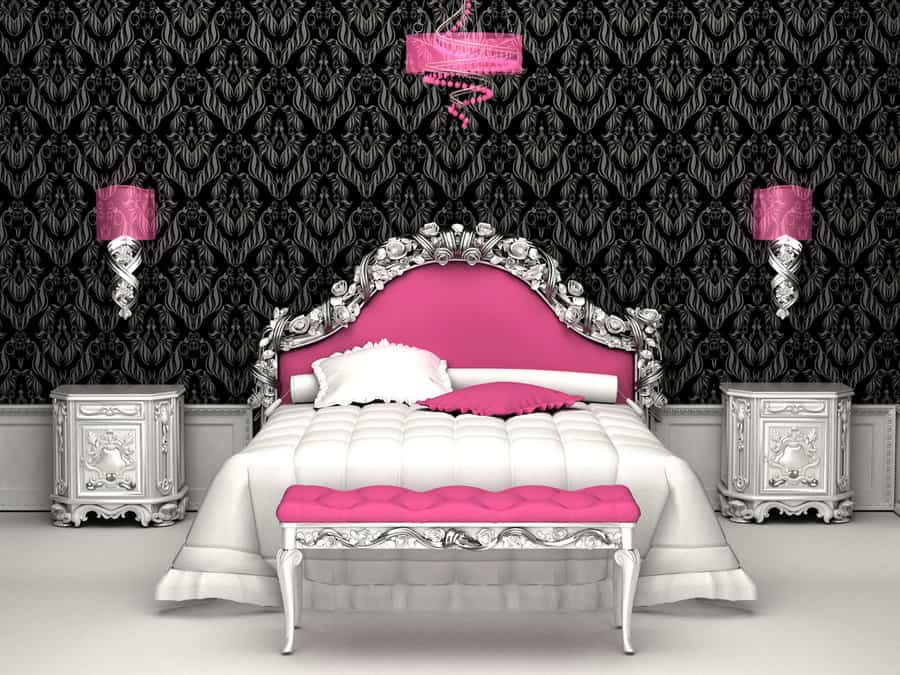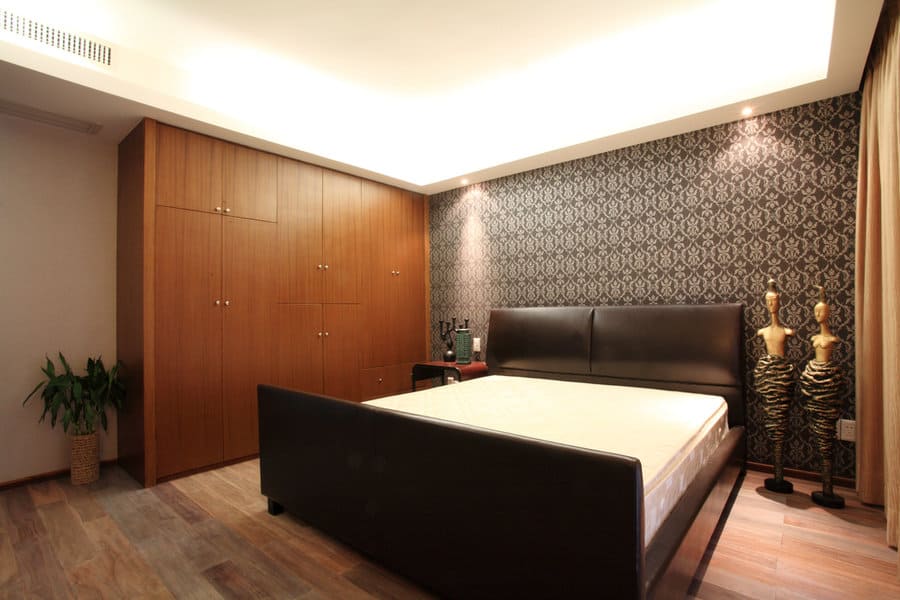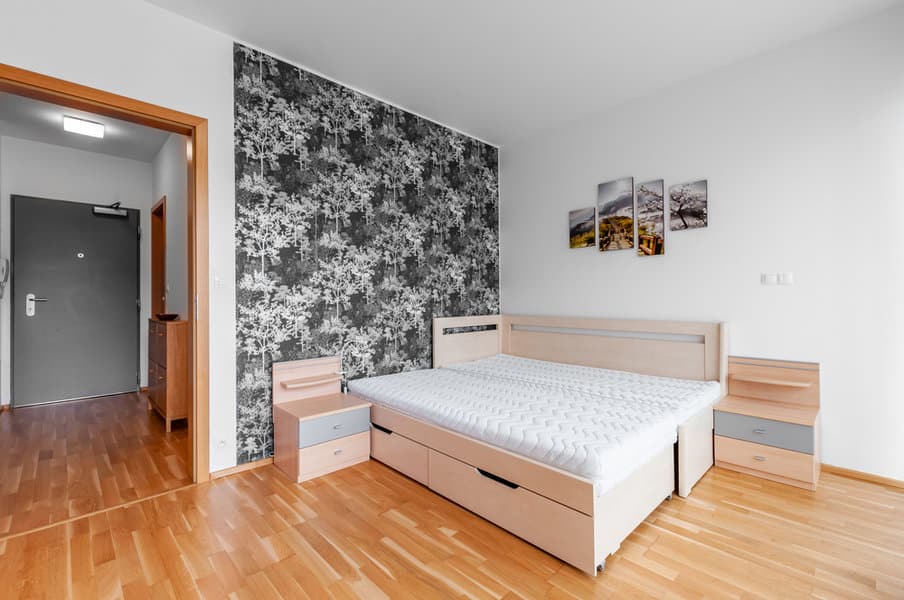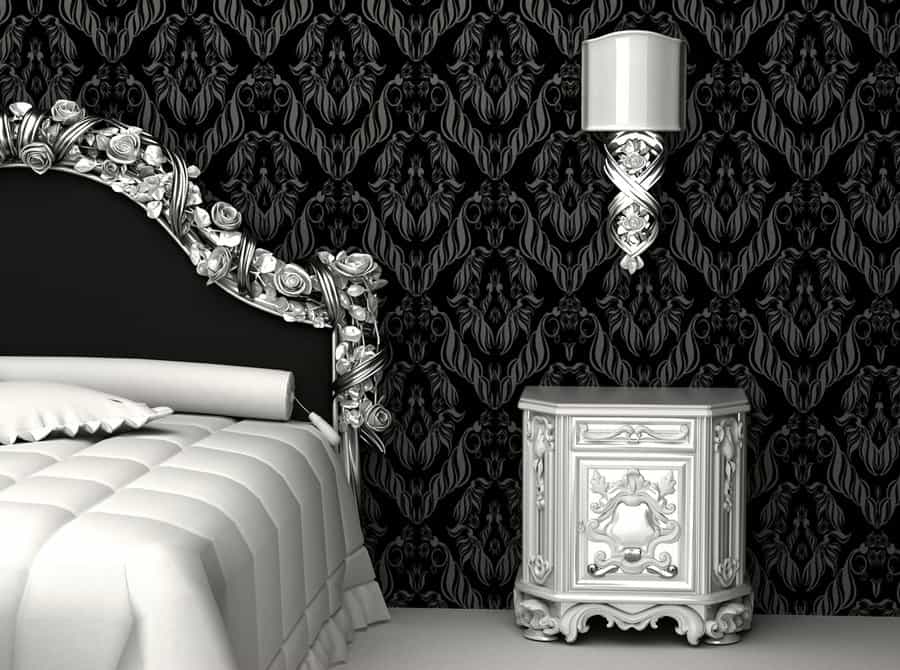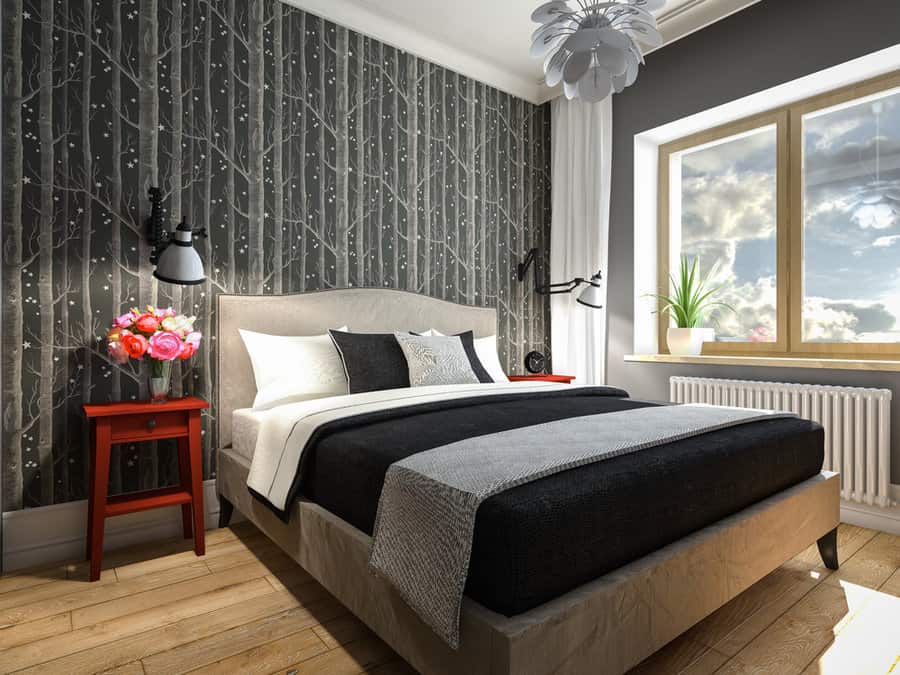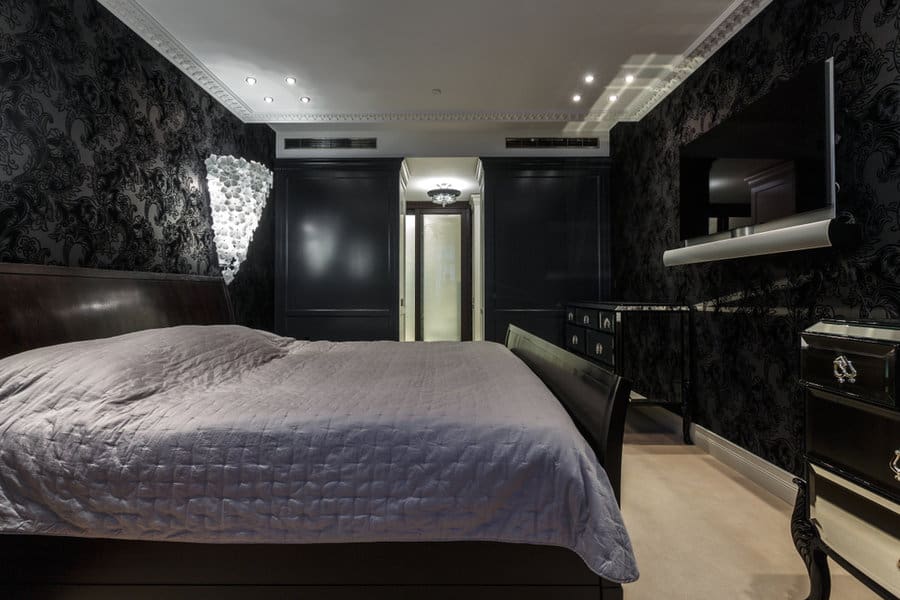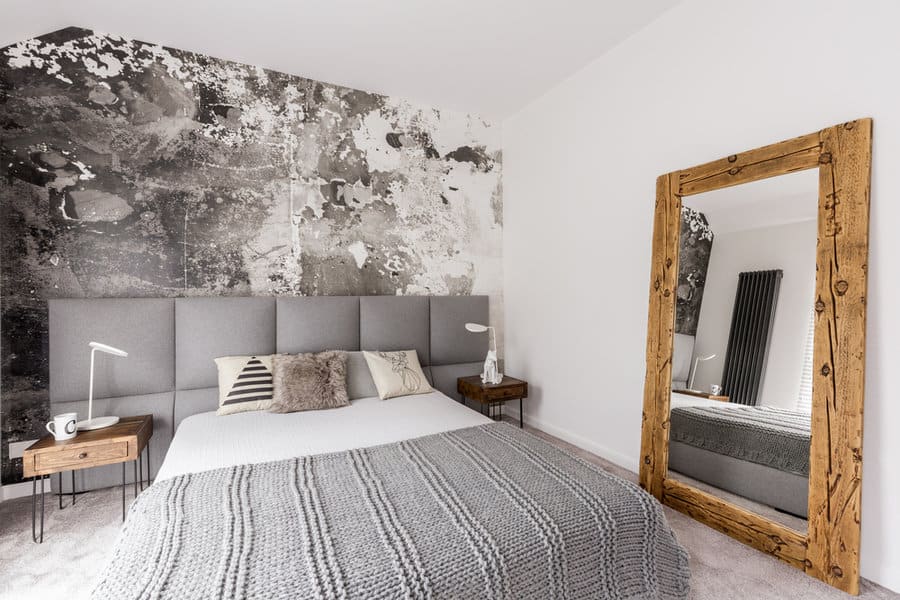 Dark wallpaper on all of the walls can make a small bedroom feel bigger. Interior designers use dark wallpaper to create a sophisticated feel that adds some moodiness to the bedroom. Try pairing your dark wallpaper with crisp white trim. The sharp contrast between dark and light will create the illusion that the walls are sinking back.
3. Feature
Instead of choosing a typical repeating pattern, make a statement with your wallpaper. Choose a bold mural design that is non-repeating, such as nature scenery, a city skyline, or a seascape.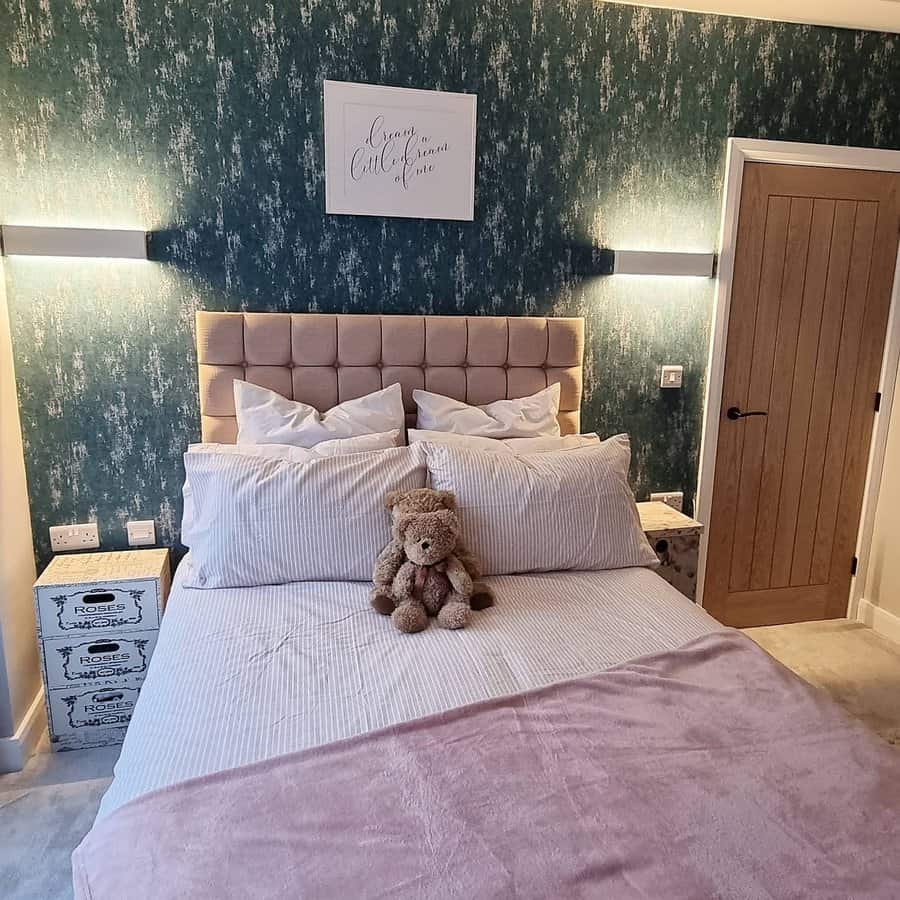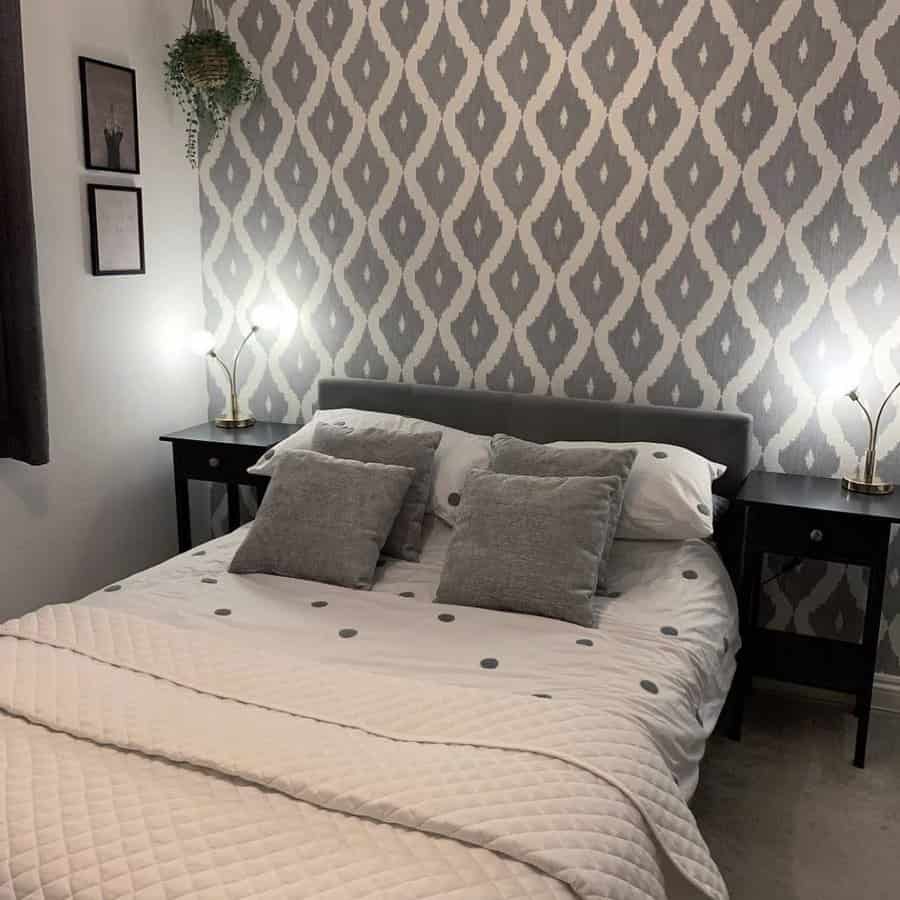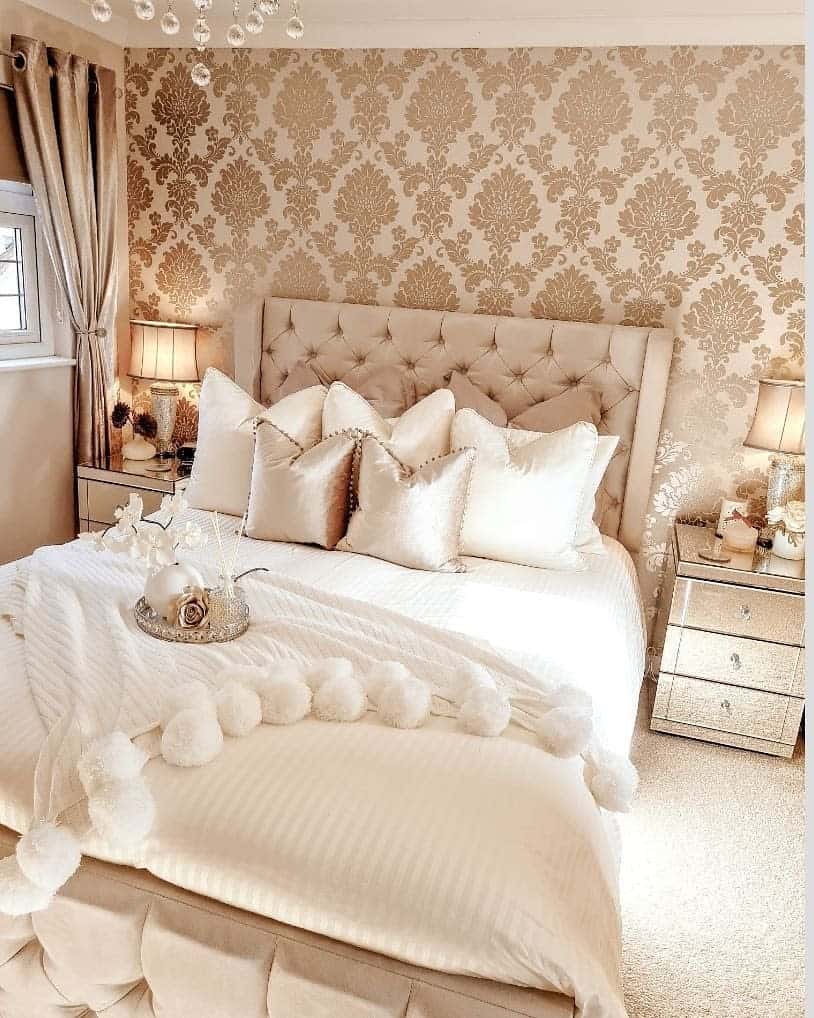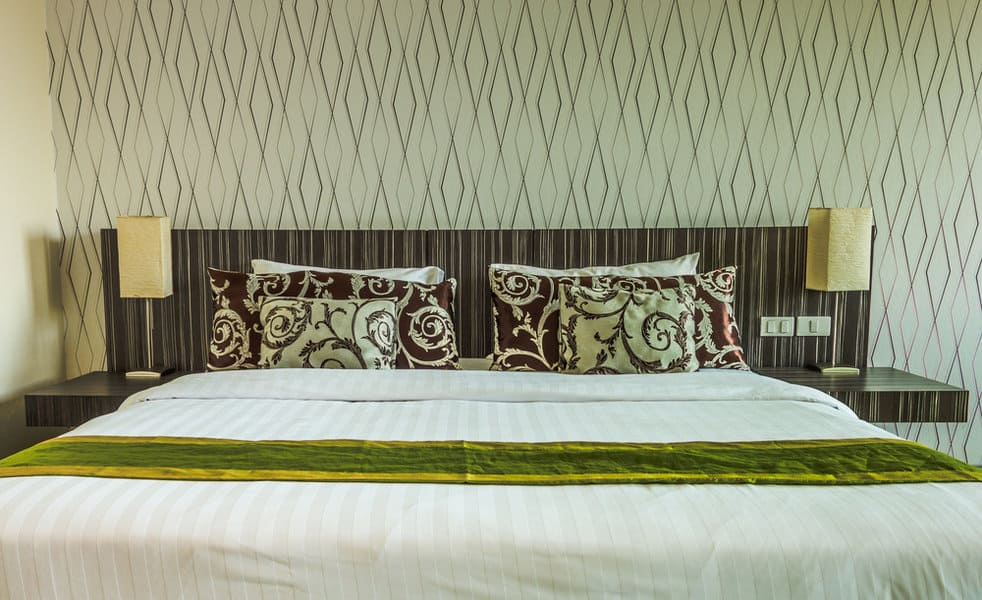 Designer wallpapers will have an entire landscape scene that could wrap around the whole room in a never ending scenic design. This creates a statement feature in your home that is unlike any standard mass-produced wallpaper you can buy. Your feature wallpaper could have high saturated and vibrant colors, but it doesn't have to. It could have soft watercolors or sketches.
4. Flower
A flower motif is a classic wallpaper design theme. Floral wallpaper with a small to the medium-sized repeating pattern will have a traditional look. A large-scale design that takes up the entire wall will look more modern.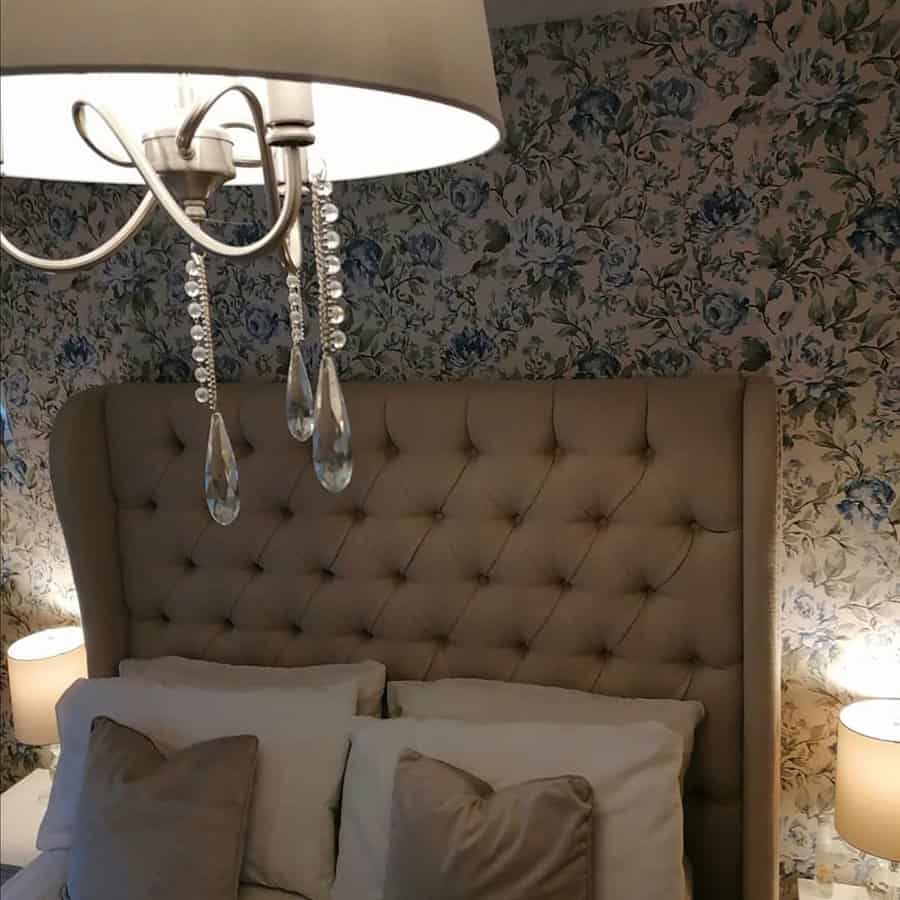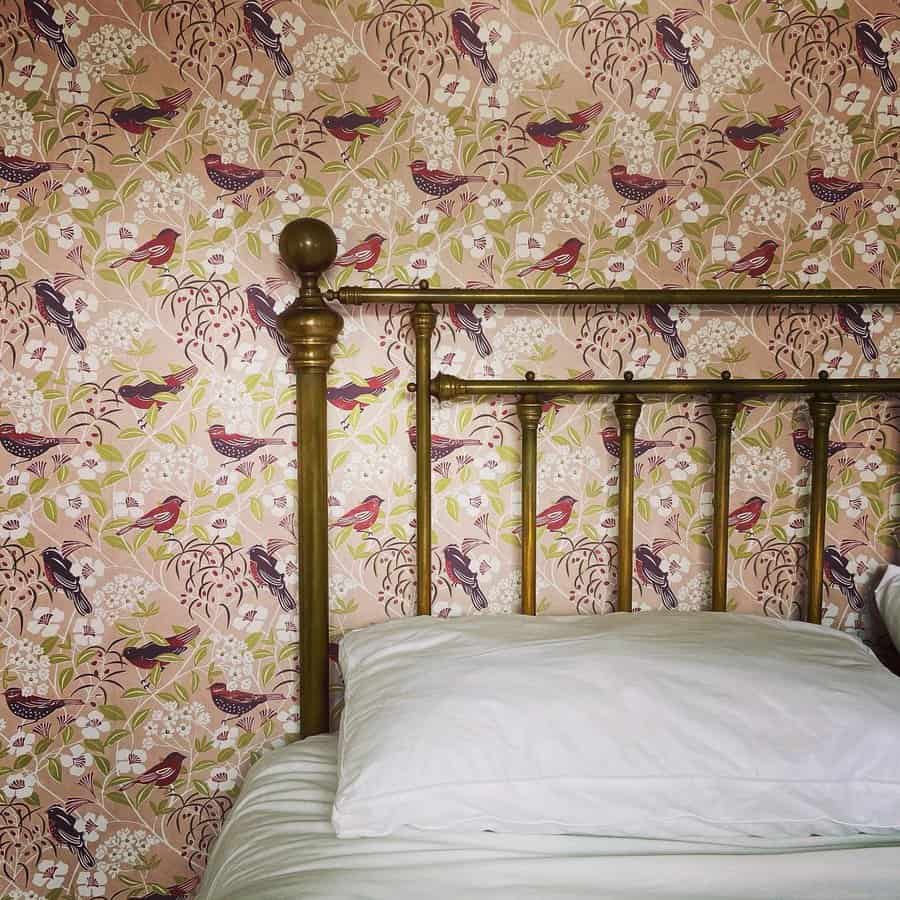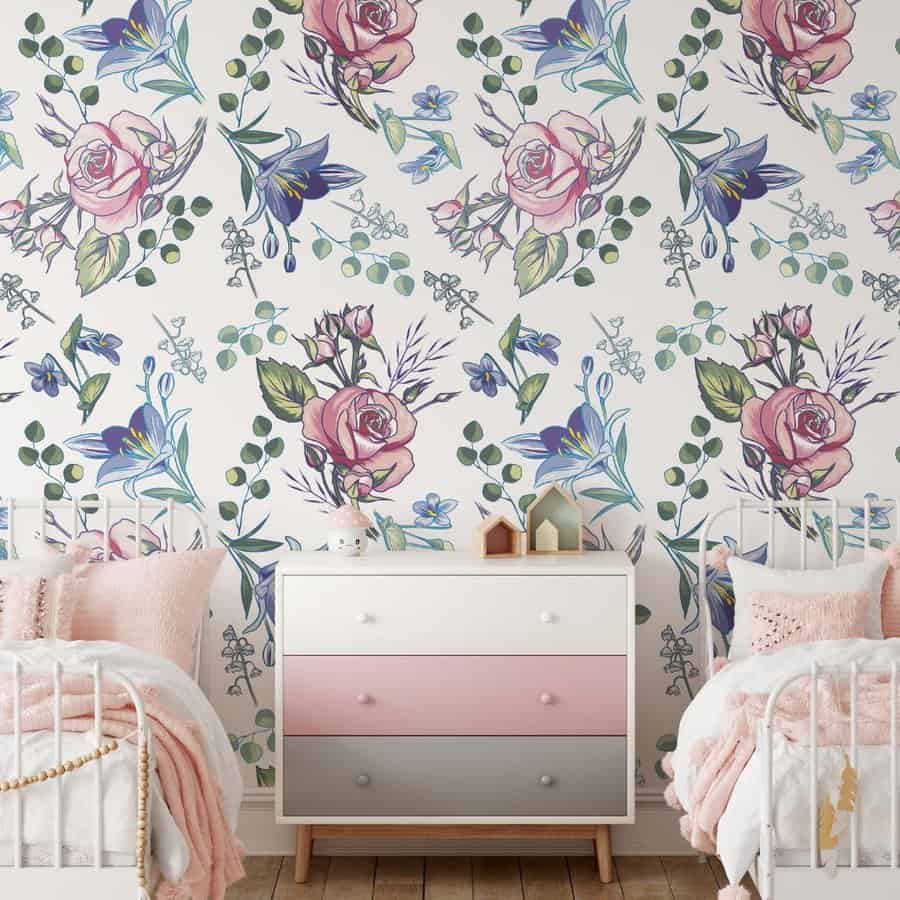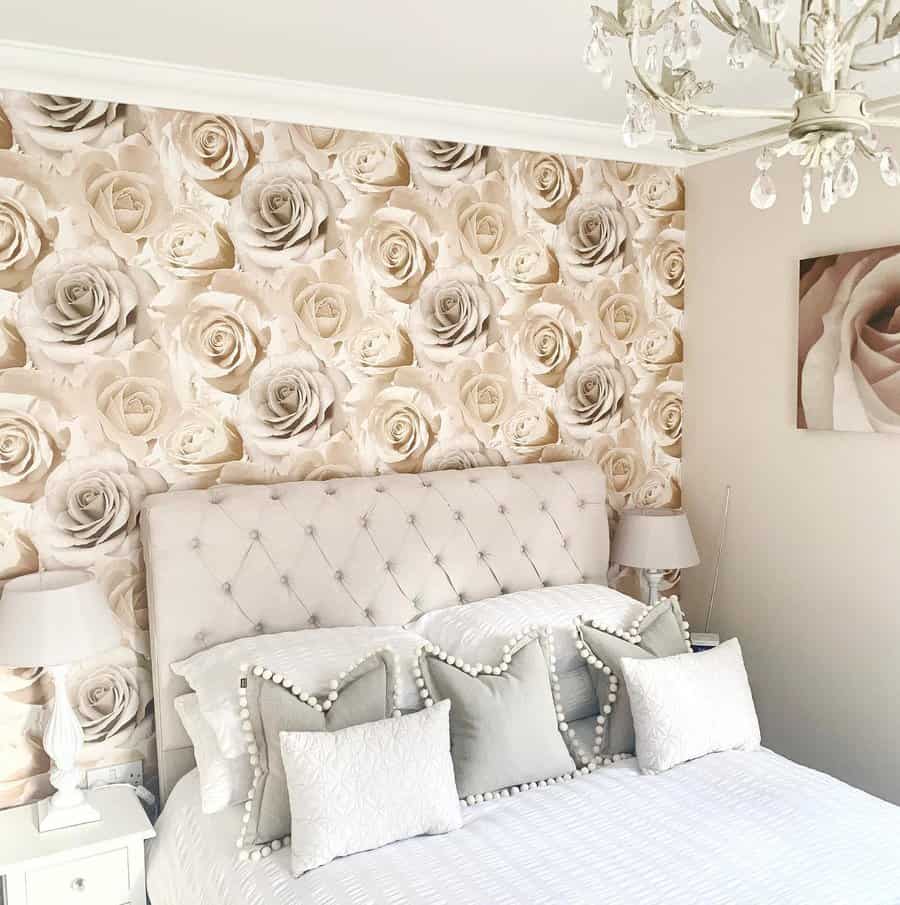 Modern bedroom wallpaper ideas embrace these large-scale designs by using floral wallpaper that's scaled to the size of your wall. This gives you a custom look for your bedroom wallpaper. Measure the size of your wall and order your wallpaper design. The result is large flowers that will take up the majority of your wall.
5. Green
Adding greenery to your bedroom can help the space feel more comfortable and welcoming. If you aren't ready to have real plants, you can mimic their look with green wallpaper. Choose one with lush leaves for a traditional wallpaper pattern.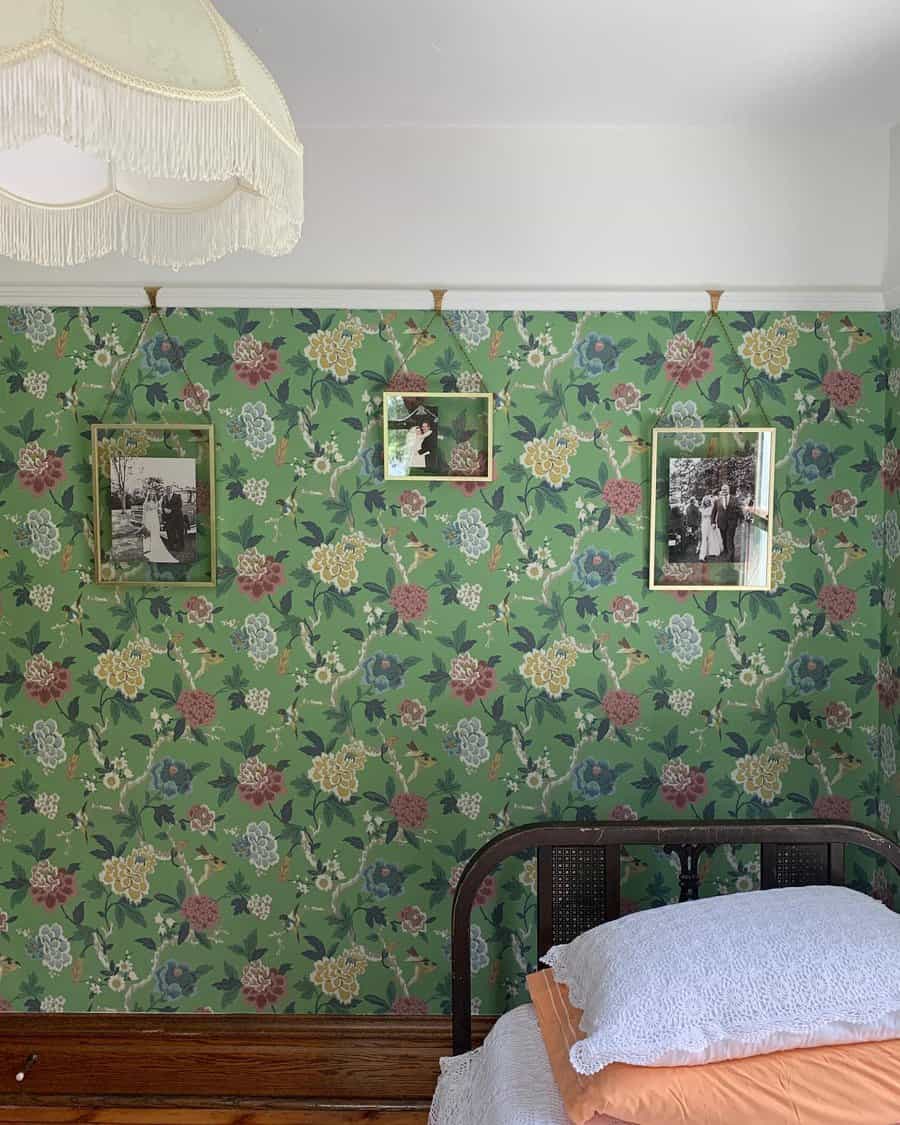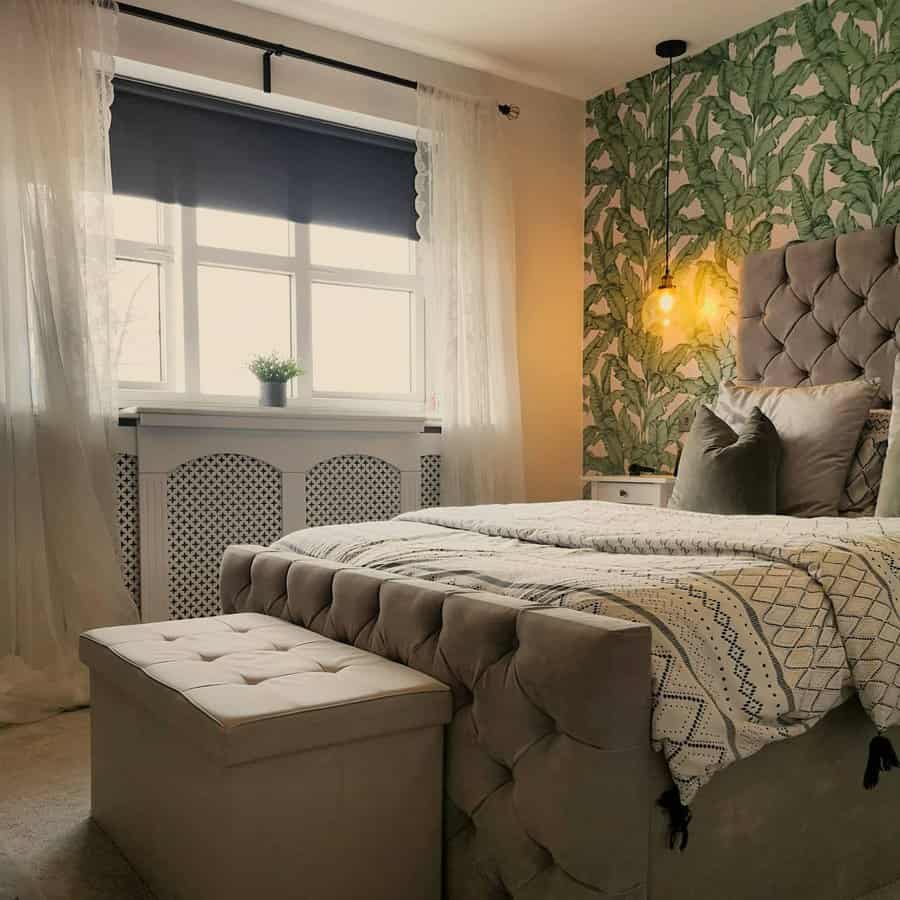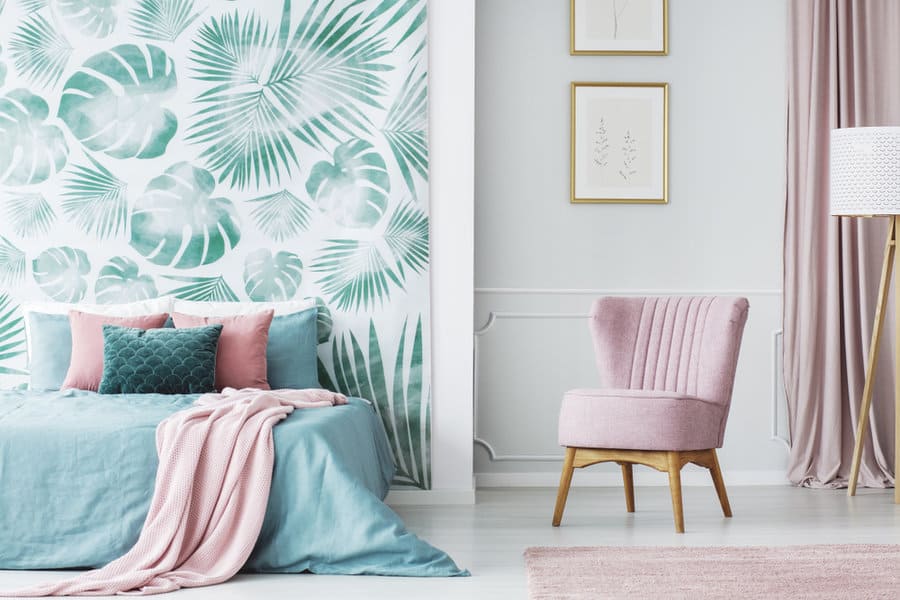 Don't be afraid to choose a formal pattern that would typically be in the dining room. This can add sophistication to your bedroom. If you aren't ready for a statement wallpaper, it could be a simple and subtle green wallpaper. Choose one with a barely-there contrasting color that creates the pattern.
6. Nursey
A nursery is a special interior design project. It's your baby's first room and an expression of your love for your new bundle of joy. Choose a wallpaper that matches your theme. Then when our children are older, you can replace it with something better suited to their tastes. This customizes your kids' room to give them a space they can call their own.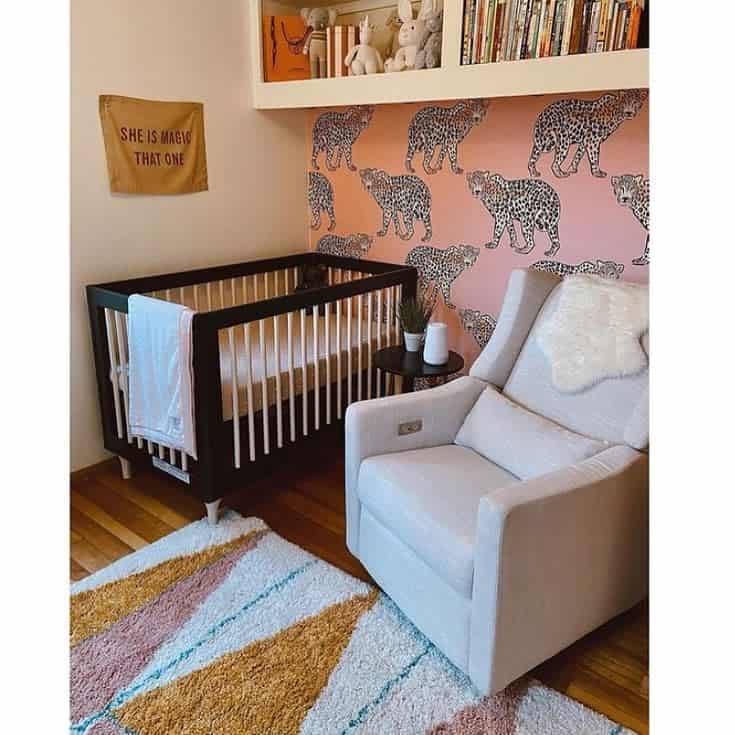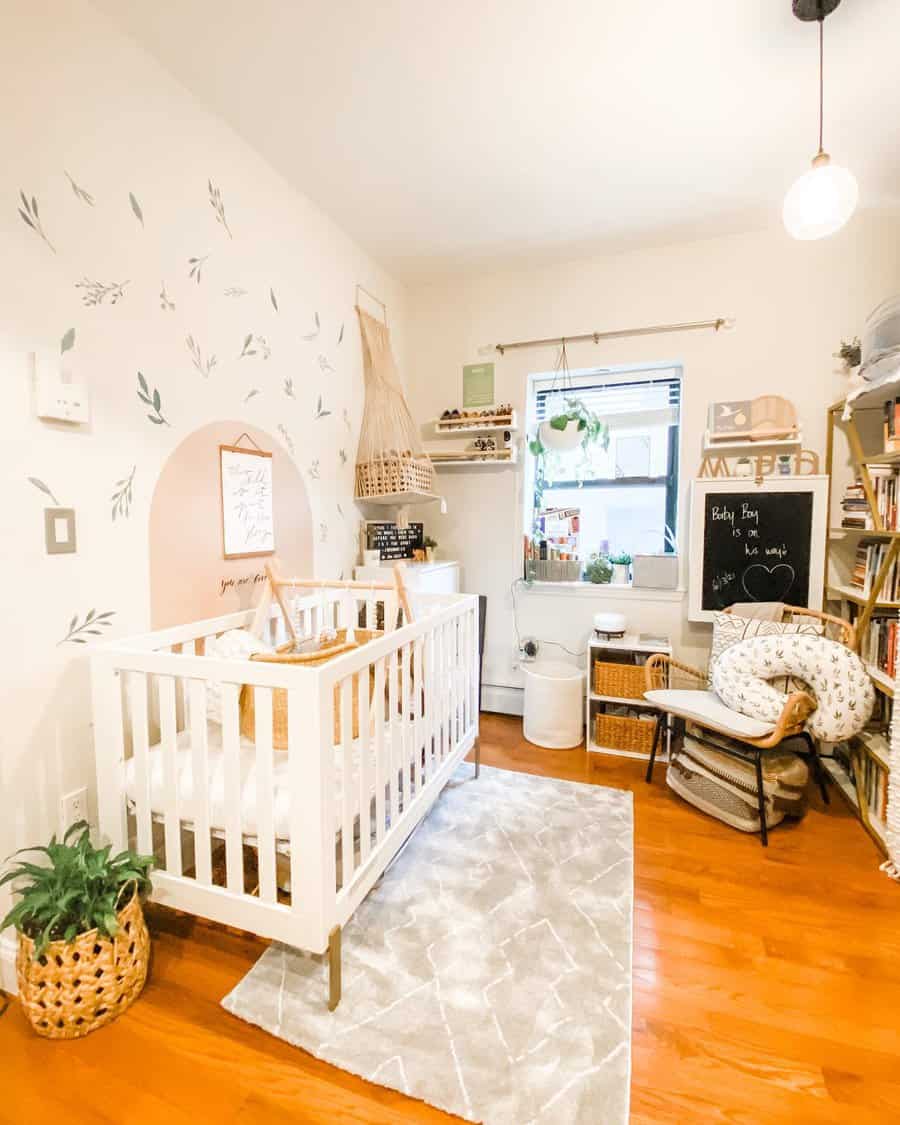 Wallpaper murals are popular because they set the scene and are fun. Choose a mural style and theme that feature's your child's interests. You could also hang white wallpaper and then paint it with your children for a custom look.
7. Pink
The perfect wallpaper for your bedroom could be pink. Whether it's pastel and pale, bright magenta, or deep berry, you can find a shade to match any preference. What's nice about pink wallpaper is that you can easily remove it.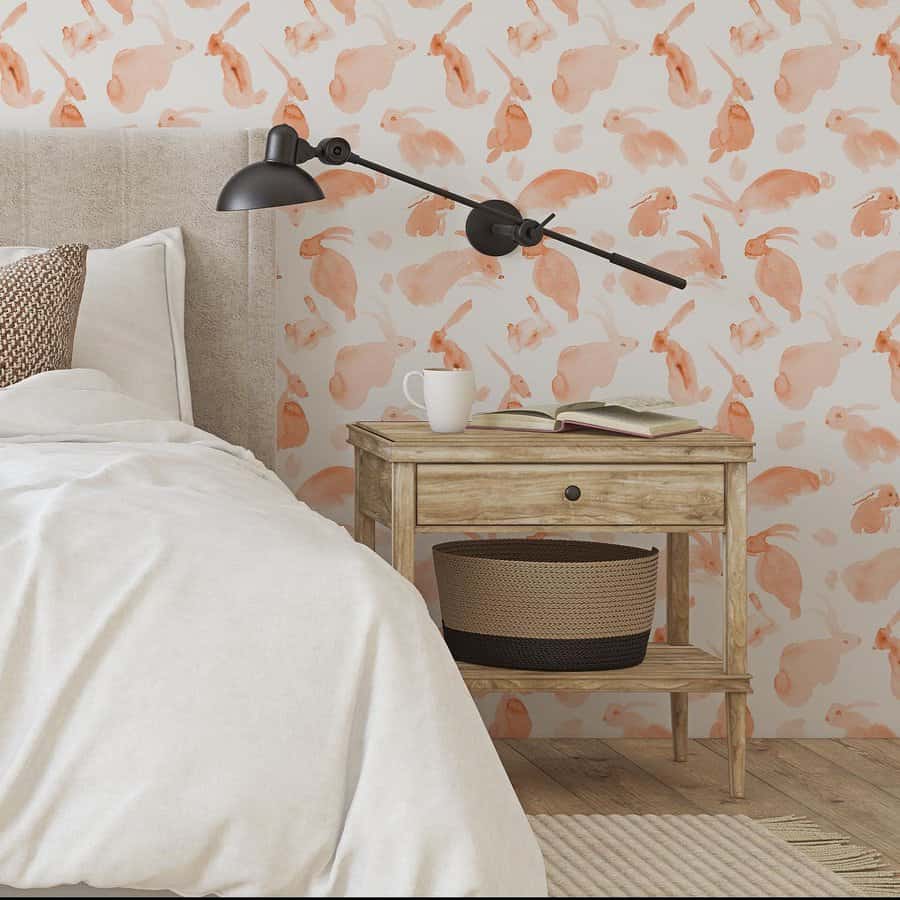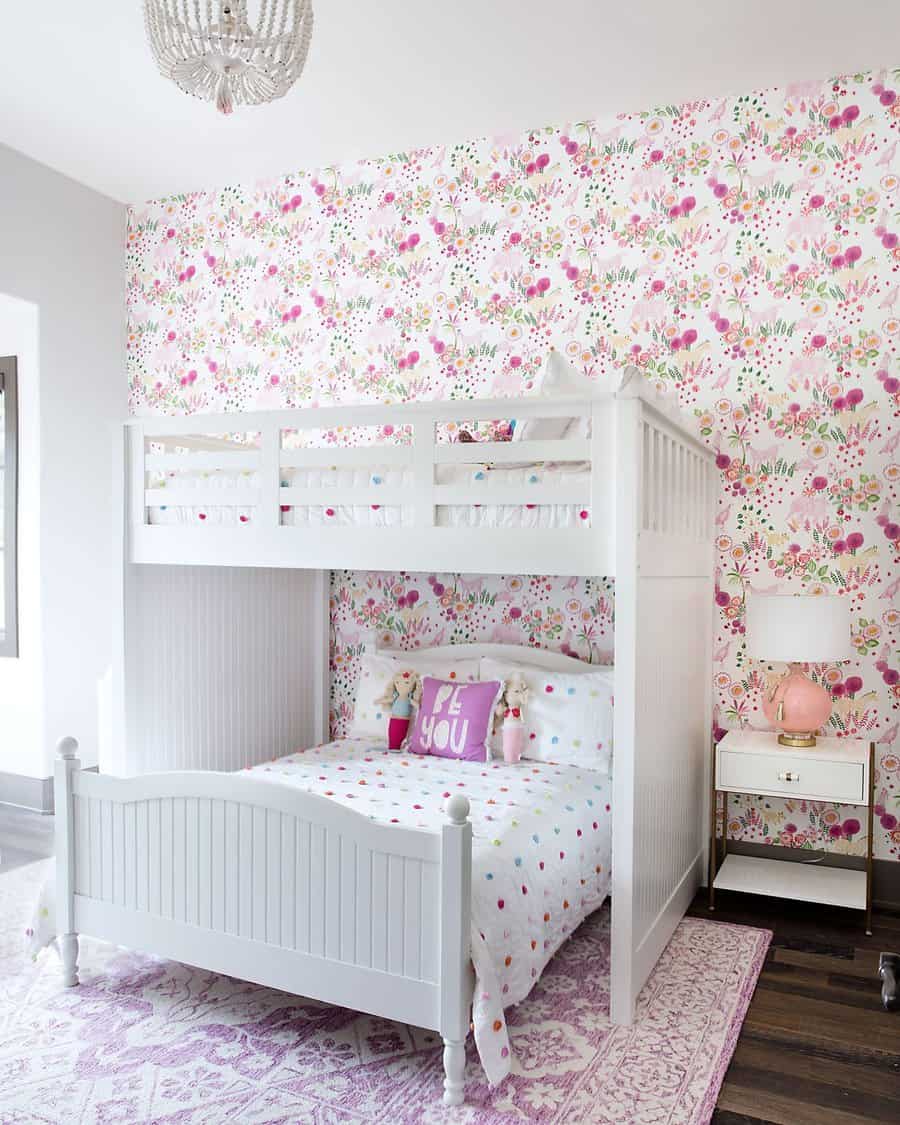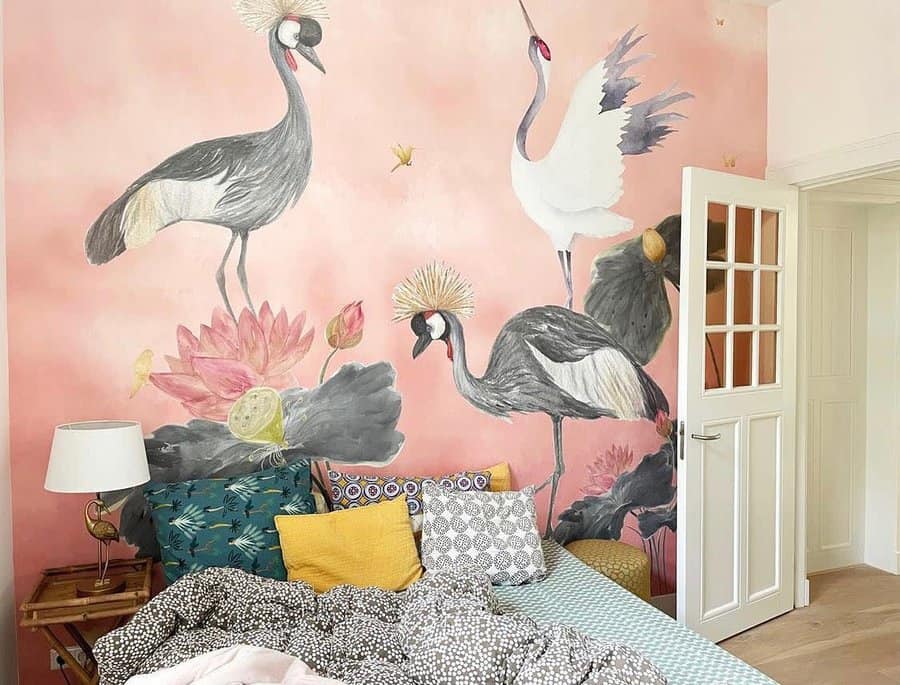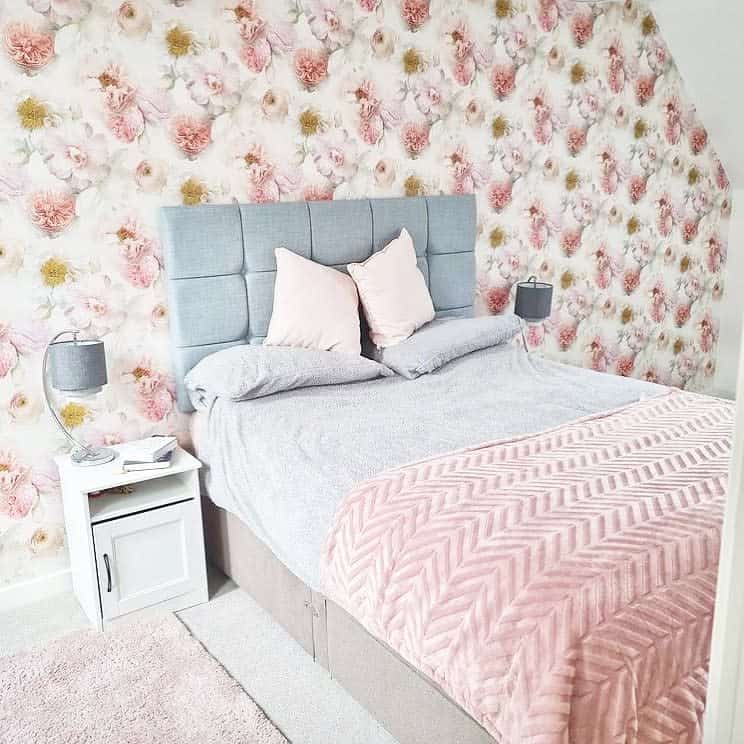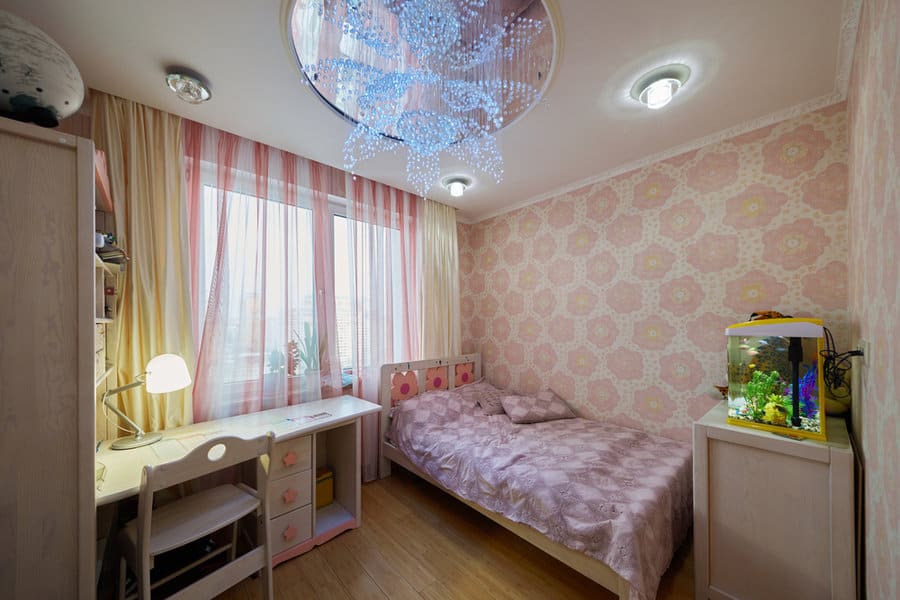 Unfortunately, pink is one of those colors that can drastically reduce the selling value of your home. To avoid this, you can use pink wallpaper. That way, you can easily get rid of it when it's time to sell.
8. Plain
Sure, you could use a wallpaper that has a bright and bold pattern, but you don't have to. Instead, use a plain peel and stick wallpaper. These simple designs are perfect as your master bedroom wallpaper because they are fast and easy to use.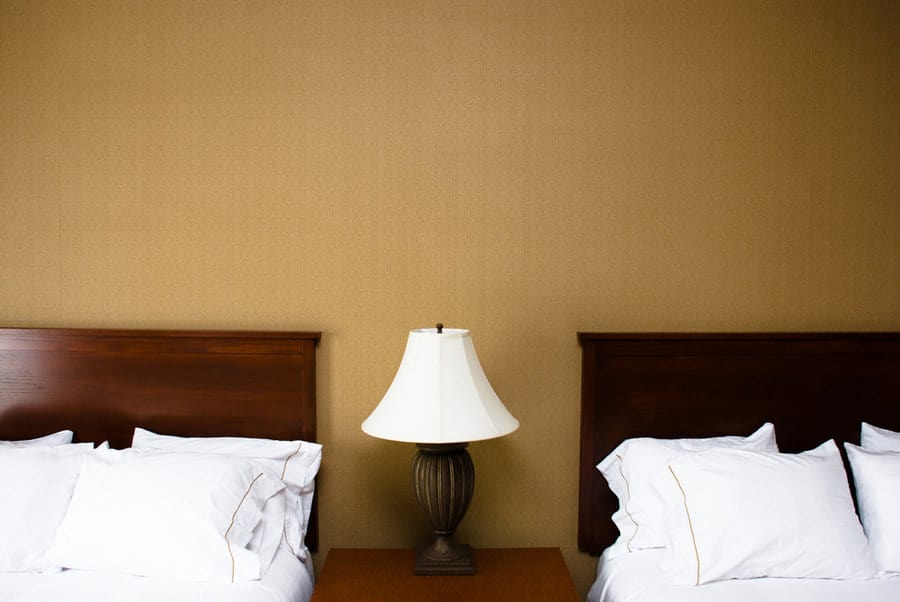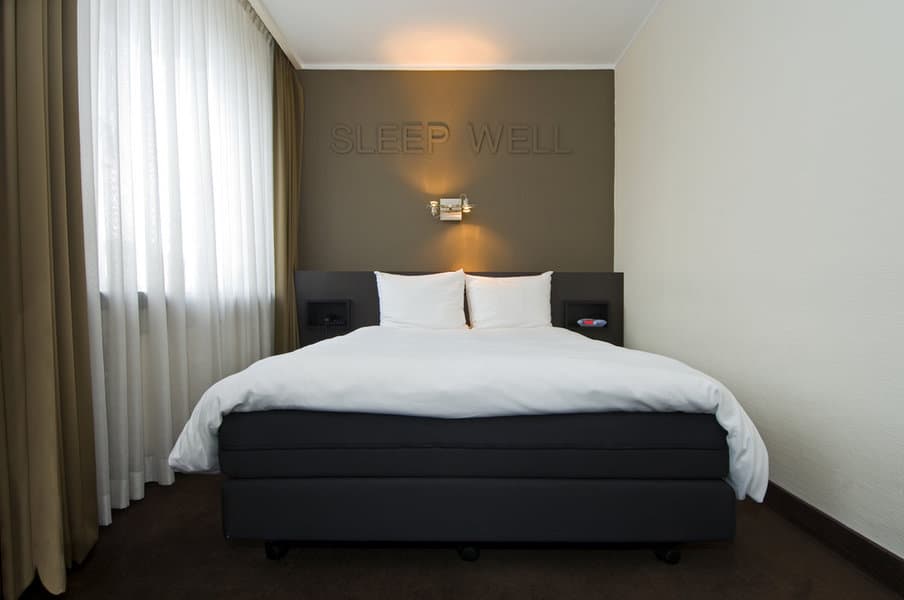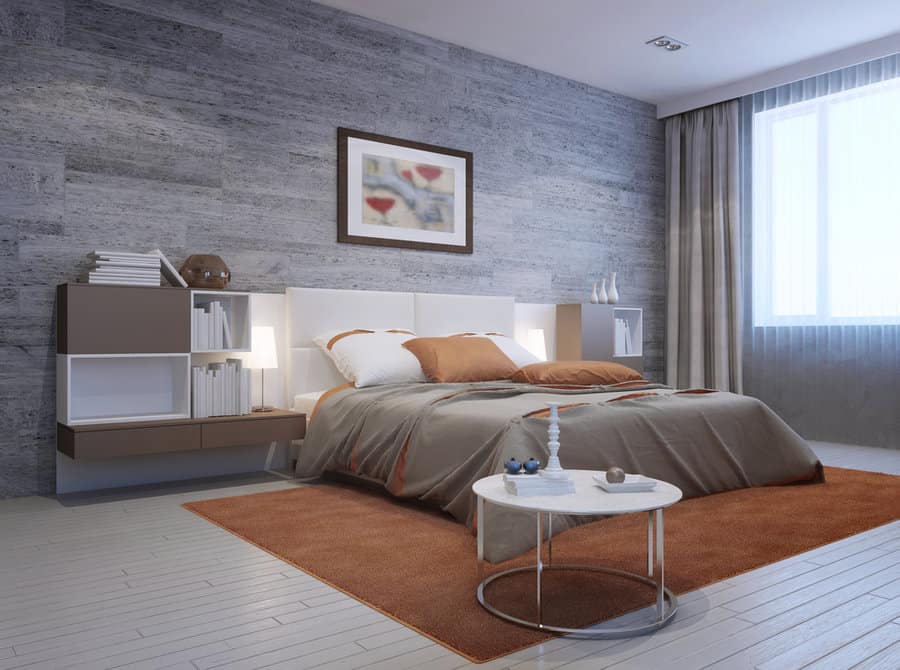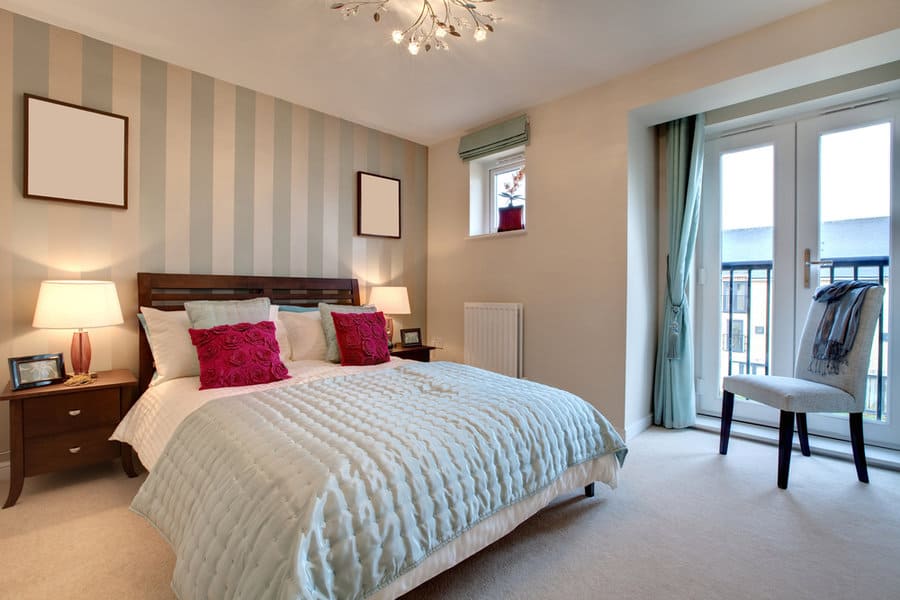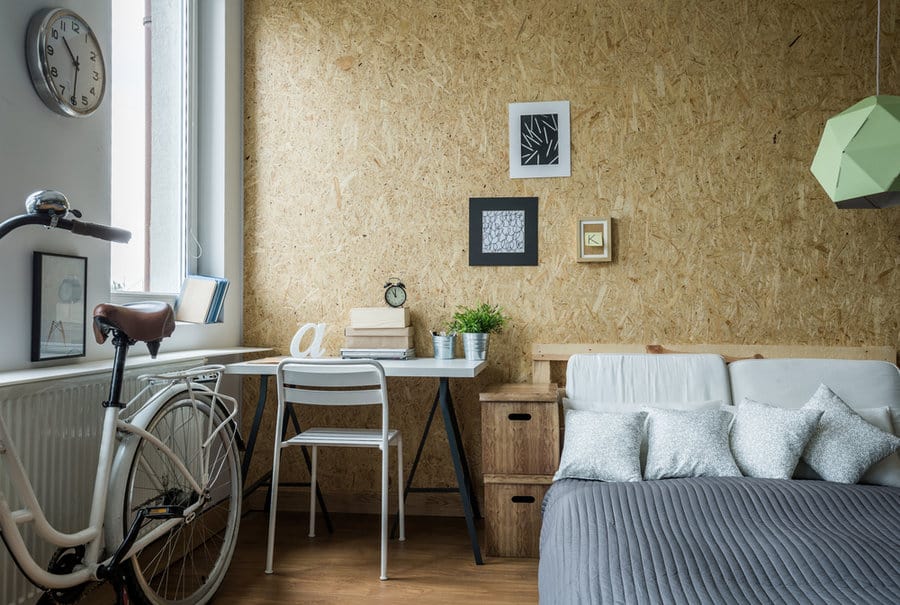 If you rent, plain peel and stick wallpaper is less messy than paint and is easily removed when you move out. Just like you would consider different paint chip colors, you can order wallpaper samples to compare different color options for your plain wallpaper.
9. Rose
If you want to add a patterned wallpaper, you can't go wrong with a rose pattern. Several different patterns are available to help you have a perfect look. It could be a line drawing design for a modern wallpaper. It could have metallic gold accents on the rose petals.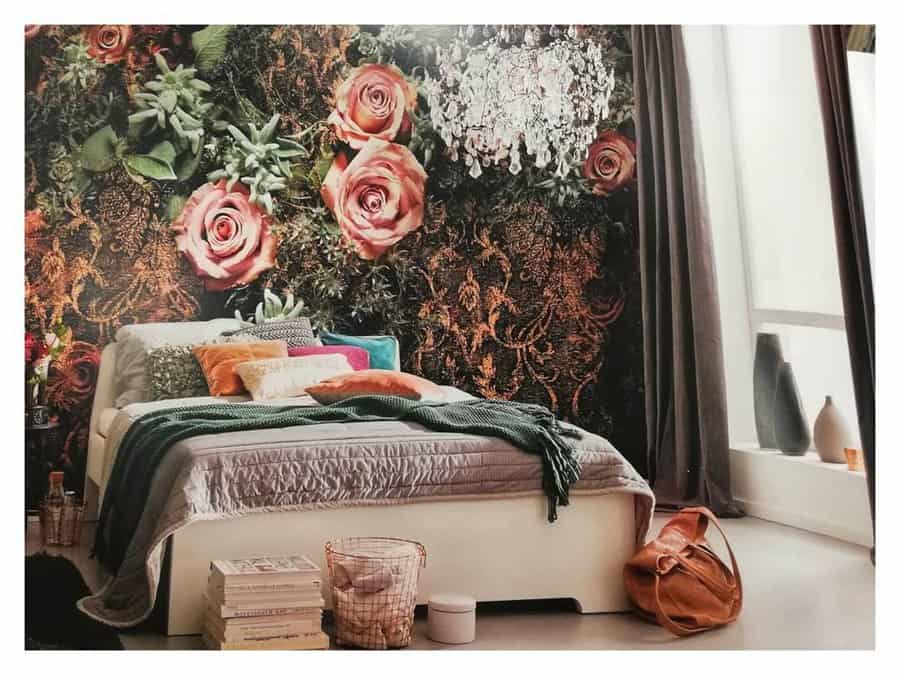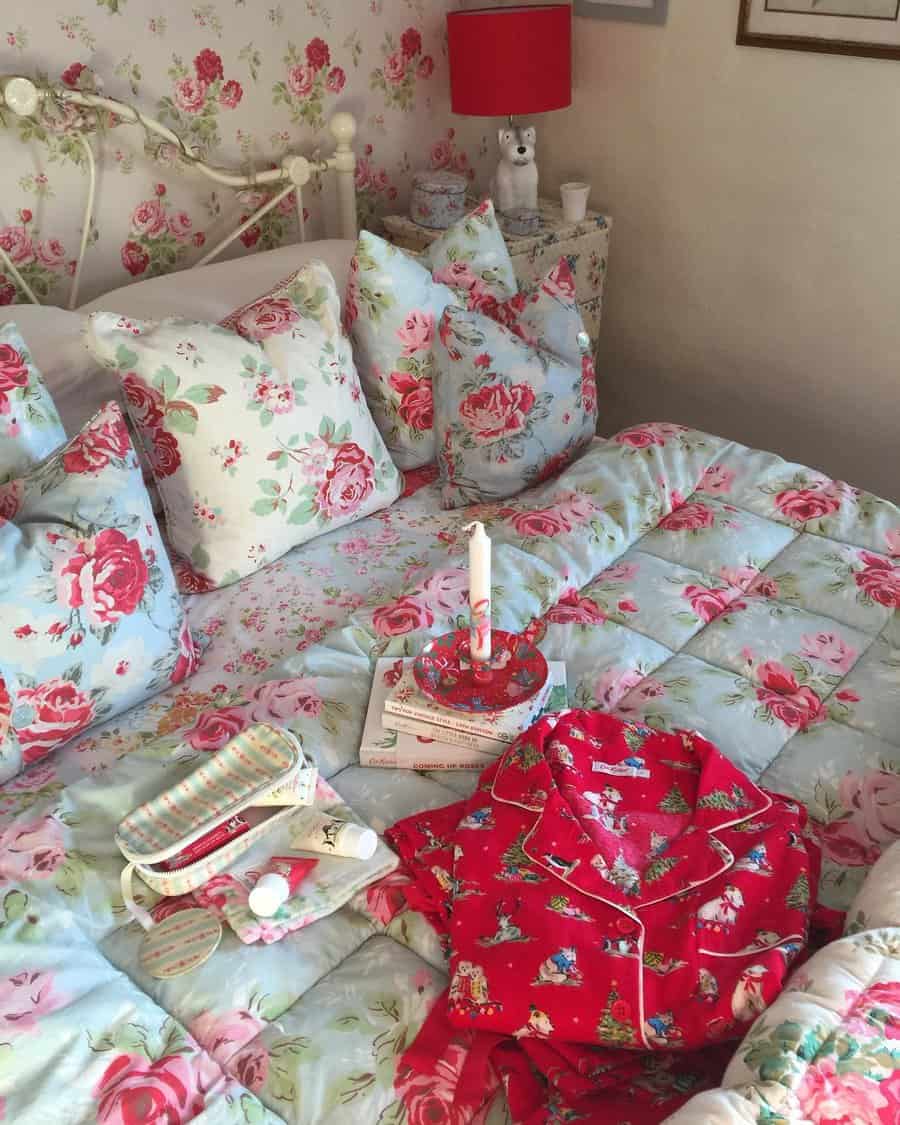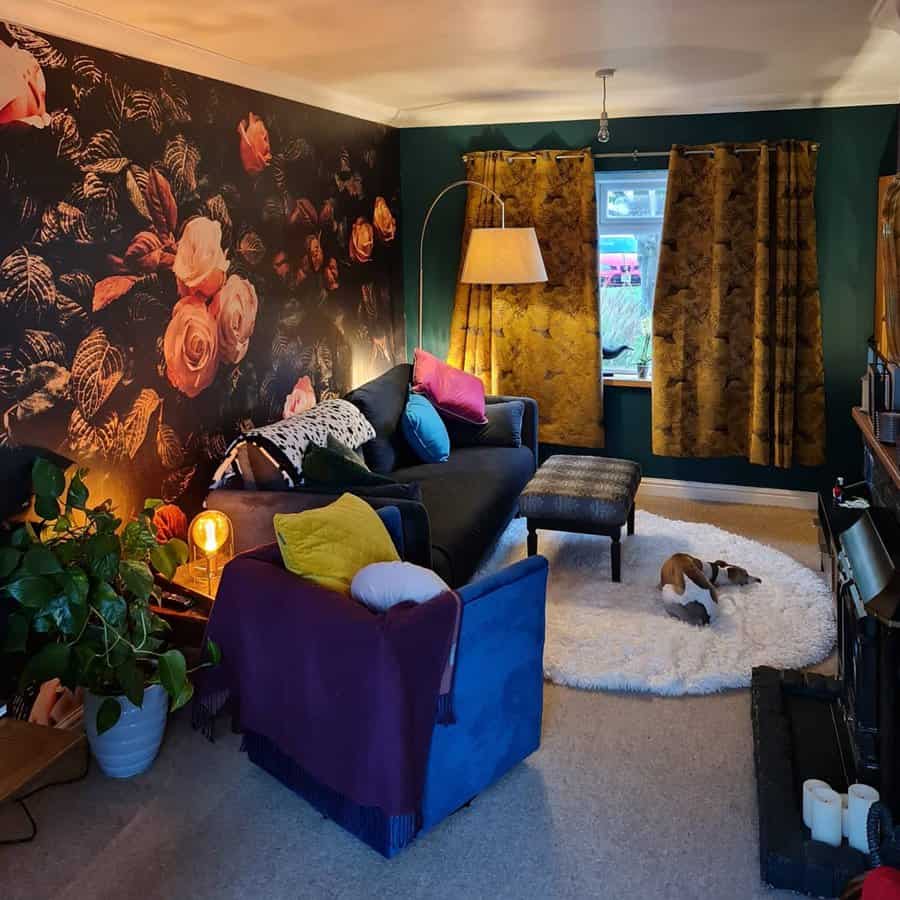 The flowers could be watercolor. The rose floral design that you choose will create the aesthetic for your bedroom space. Think about if you want to create a soft and romantic feel that's bold or a vintage vibe.
10. Unique
It's common to see unique wallpaper in the powder room, but you can also use it in your bedroom. This is your private space, so why not use a wallpaper that speaks to you and is as unique as you are.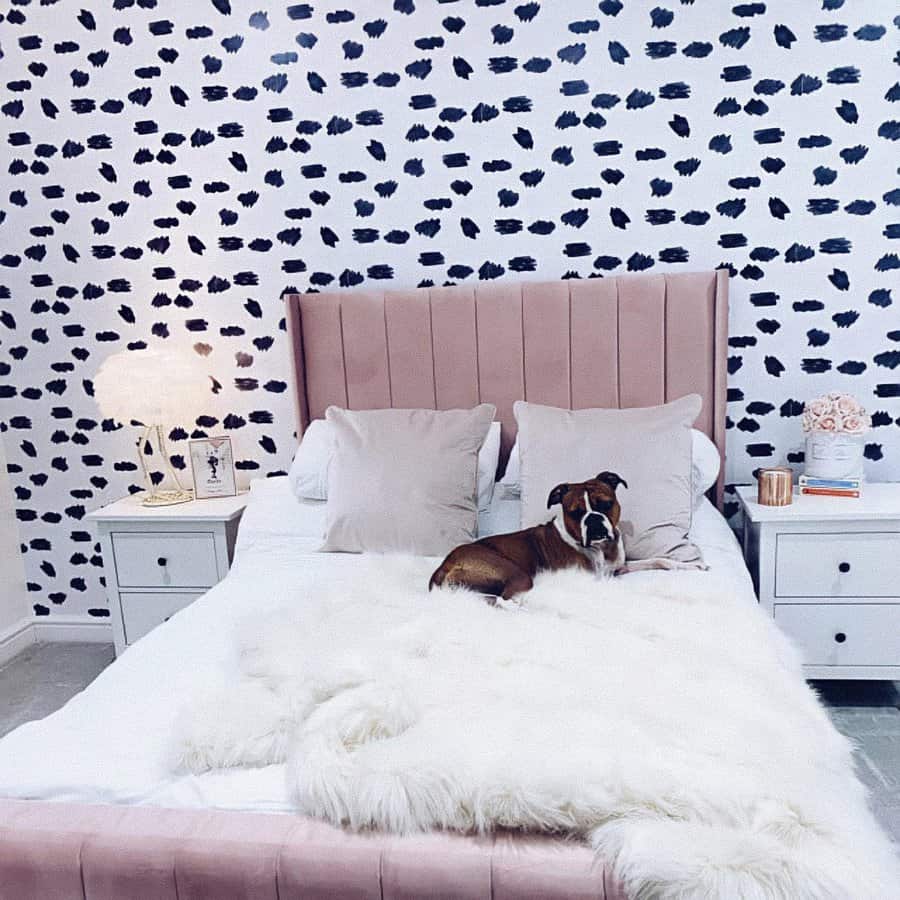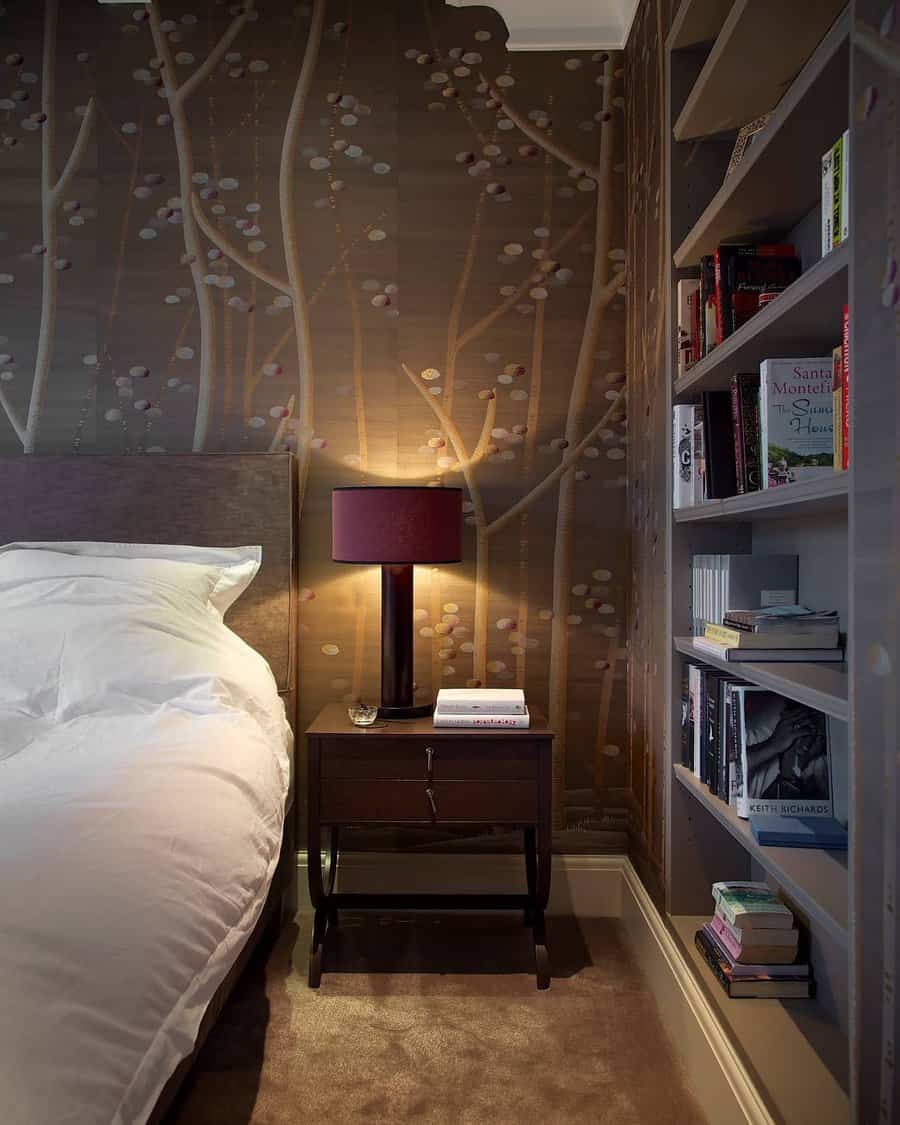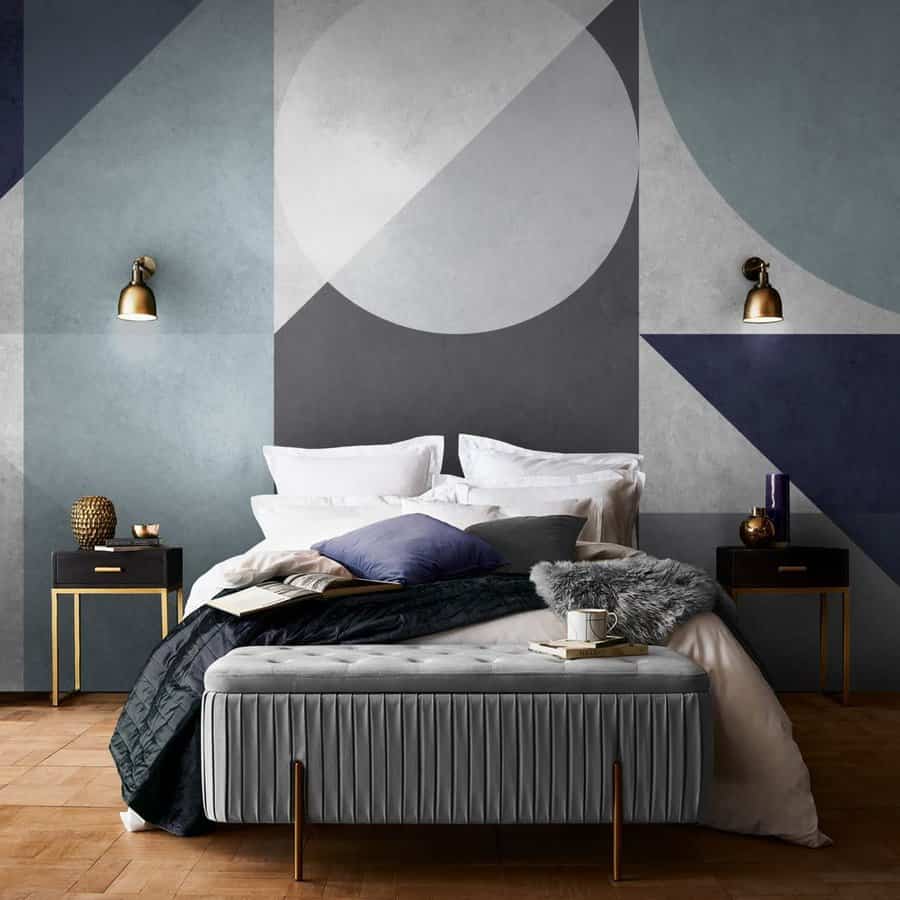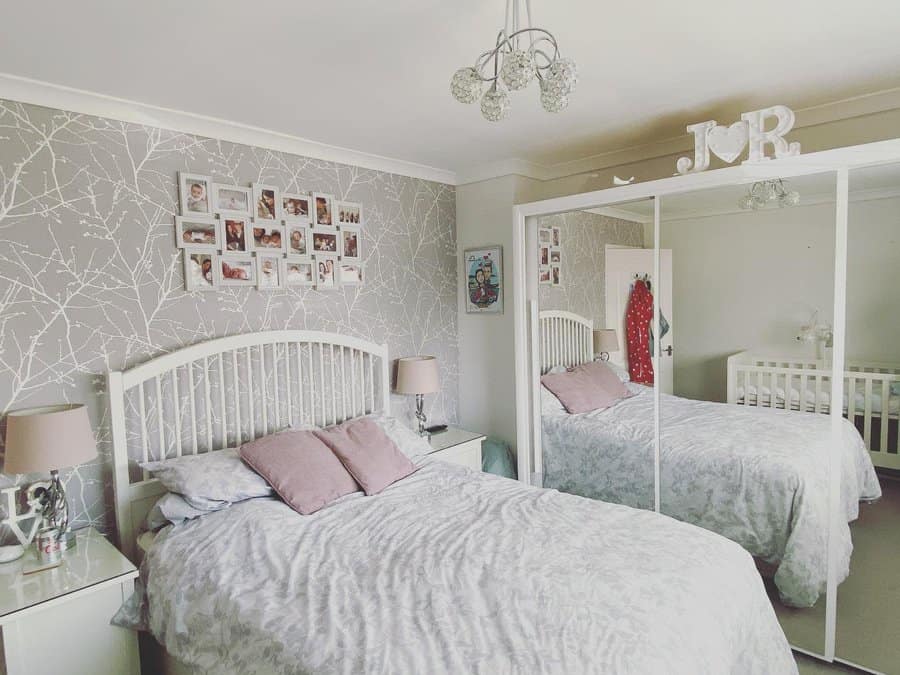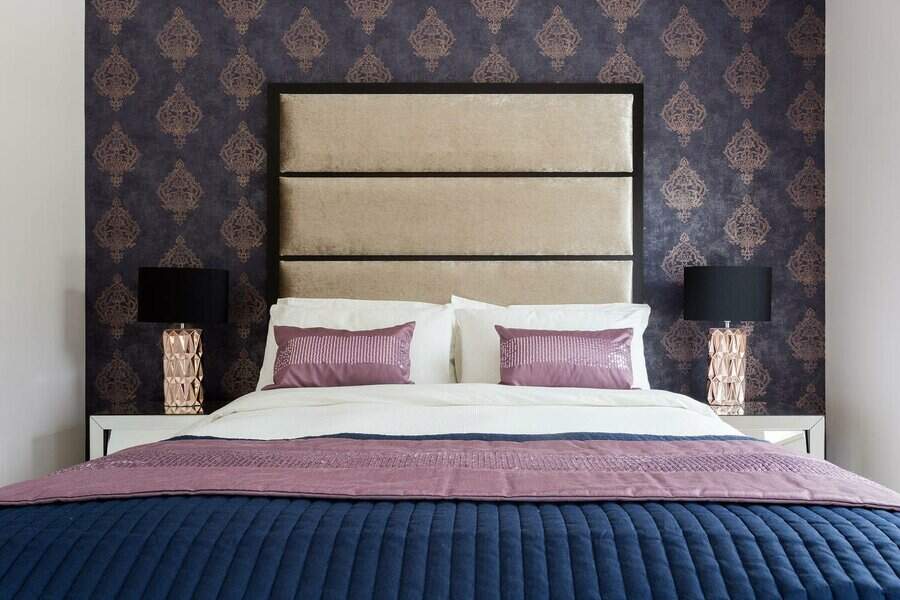 One of the biggest current wallpaper trends is textured wallpaper. This is paper that mimics the look and feel of another material. For example, it could be a textile wallpaper that mimics the look and feel of leather, suede, or linen. Or you could have a textured wallpaper that feels like wood or bricks.
11. White
Don't discount white when it comes to wallpaper. There are plenty of white wallpapers that can add an elegant accent to your bedroom. Instead of choosing a plain white wallpaper, look for one with a color or metallic accent. The right wallpaper will complement your bedroom's style.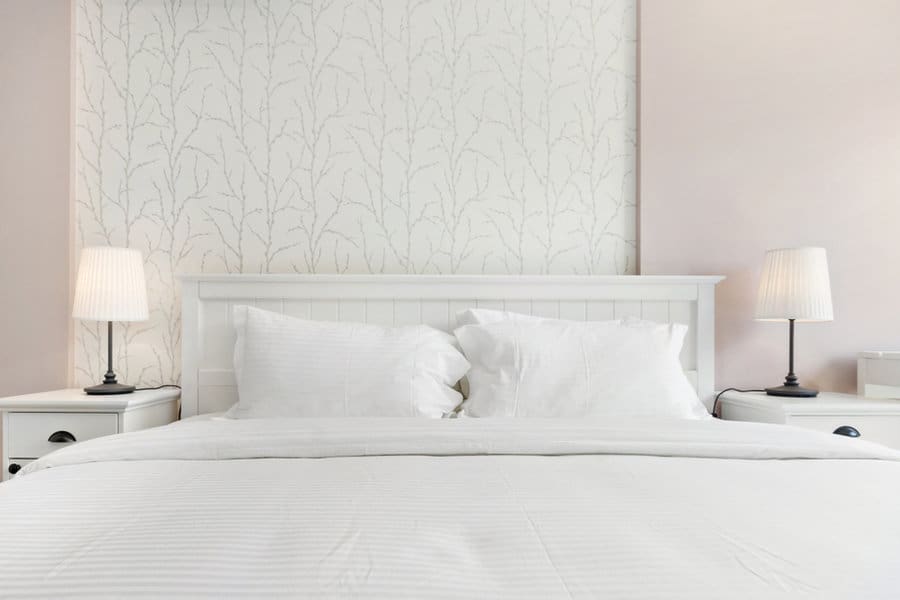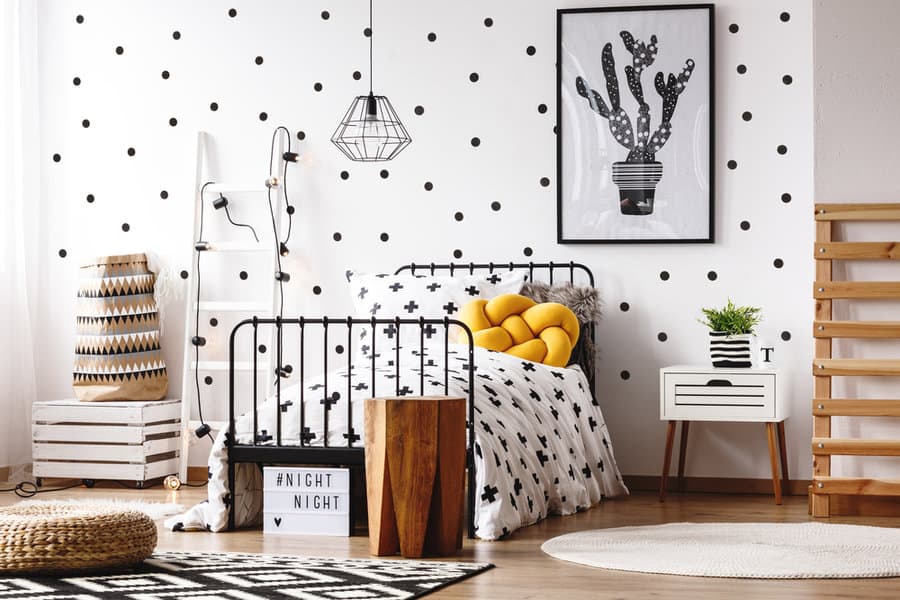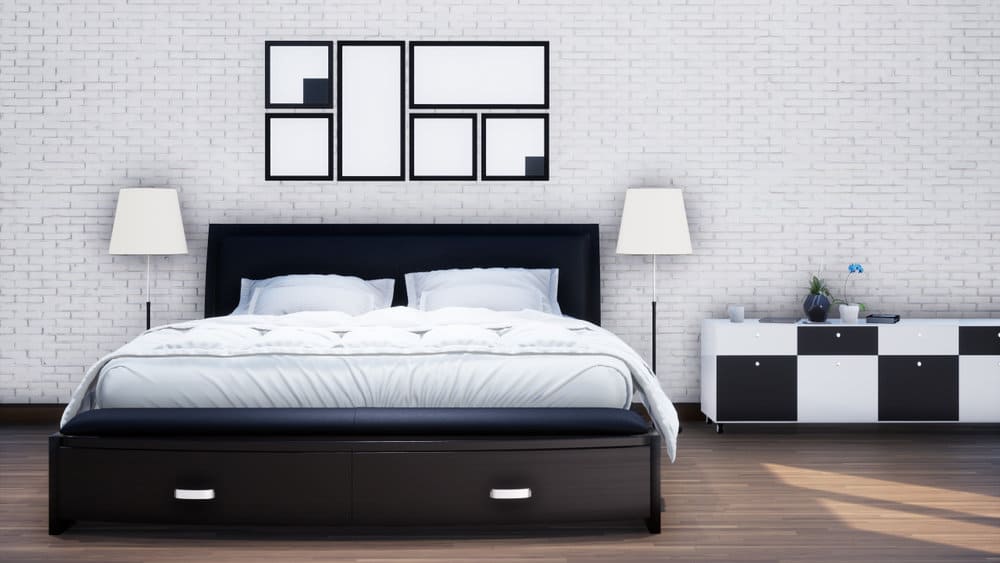 A geometric pattern will look modern but can be the right choice for a minimalist or contemporary bedroom. Metallic wallpaper can also makes sense in a maximalist or glam bedroom. Consider the intensity of the metallic accent when choosing your wallpaper. A faint accent will have a more subtle effect, while a bold metallic will catch the light and bring the wall to life.
FAQs
How do I choose wallpaper for my bedroom?
Think about the style and color scheme of the bedroom. Then choose a wallpaper that matches both of these. A traditional wallpaper design will look best in a vintage bedroom. A geometric pattern will look good in a modern bedroom. Stripes complement a contemporary bedroom.
What is the best type of wallpaper for the bedroom?
Consider the amount of use and who will use the bedroom when choosing the best wallpaper. A delicate hand-painted wallpaper is best for someone who doesn't deliver a lot of wear and tear on their bedroom. Vinyl wallpaper is best for a children's bedroom because it's the most durable.
Will wallpaper damage walls?
Yes, wallpaper can damage your walls if you don't install it correctly. If you incorrectly try to remove existing wallpaper, you can also damage your walls. However, if you follow the manufacturer's instructions, you don't have to worry about damaged walls. Peel and stick wallpaper shouldn't damage your walls. If you install it on fresh paint, it could cause damage.