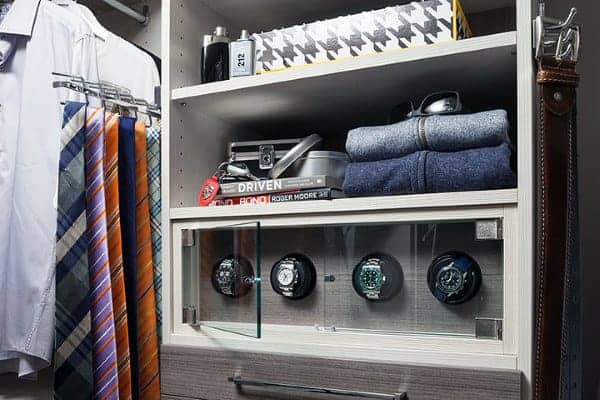 47 Closet Design Ideas for Men
A well-designed closet is about more than just storage—it's a personal space that should reflect your style, meet your needs, and make dressing a pleasure. For men, this could mean anything from dedicated spaces for suits and shoes to practical solutions for casual wear and sports gear.
In this article, we'll explore a range of closet design ideas specifically tailored for men, covering a variety of styles, sizes, and functionalities. Whether you're looking to make the most of a small space or are planning a walk-in wardrobe, these ideas will help you create a closet that's organized, efficient, and stylish.
1. Modular Shelves For Men's Accessories
Picture a sleek, minimalist setup where adjustable shelves effortlessly adapt to the ever-evolving wardrobe. From neatly folded stacks of tailored shirts to meticulously arranged shoe collections, modular shelves provide a canvas for showcasing style and individuality.
Customizable compartments make it a breeze to categorize accessories, whether it's a collection of classy ties or an assortment of stylish watches. The possibilities are endless, as these shelves offer the flexibility to accommodate different clothing types, ensuring everything has its designated place.
With modular shelves, a man's closet transforms into a captivating display of organization, where practicality meets aesthetics and everyday essentials are showcased with flair.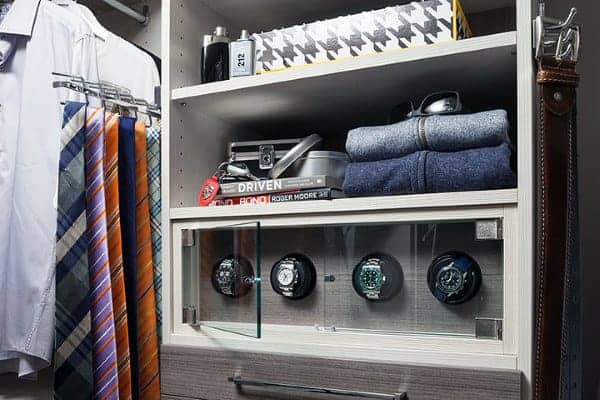 2. Full-Length Men's Shoe Shelf
This ingenious addition combines practicality with aesthetics, allowing your treasured shoe collection to take center stage. Picture a sleek, wall-to-wall masterpiece, meticulously designed to accommodate every pair of shoes in your repertoire, from polished oxfords to casual sneakers.
With its carefully crafted compartments and adjustable shelving, this full-length shoe shelf transforms your closet into a captivating gallery, showcasing your footwear as a work of art. Immerse yourself in a symphony of colors and textures as you effortlessly find the perfect pair for any occasion.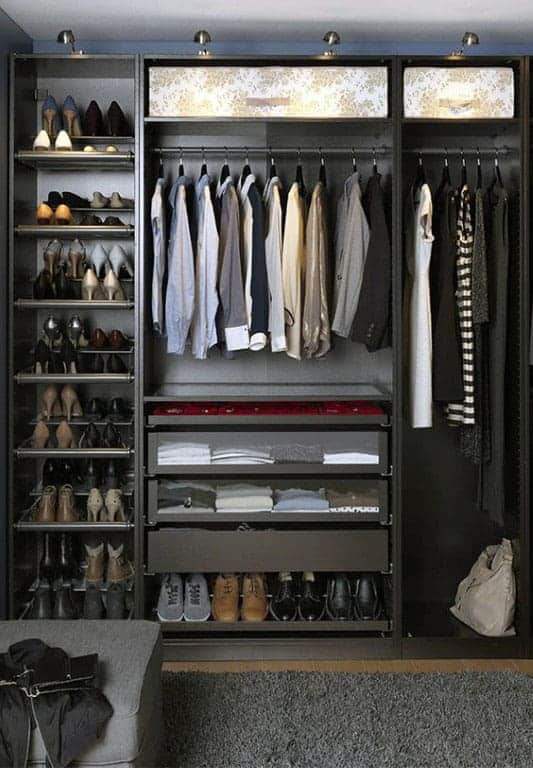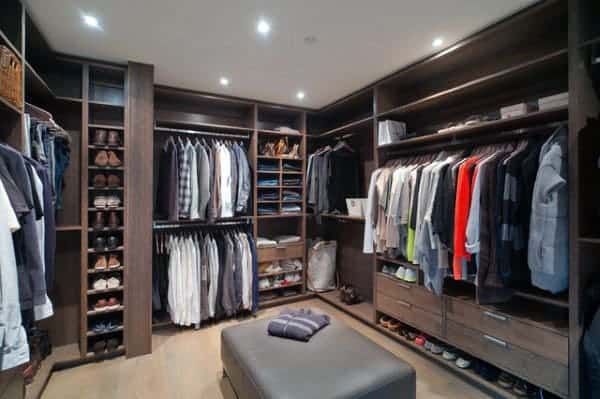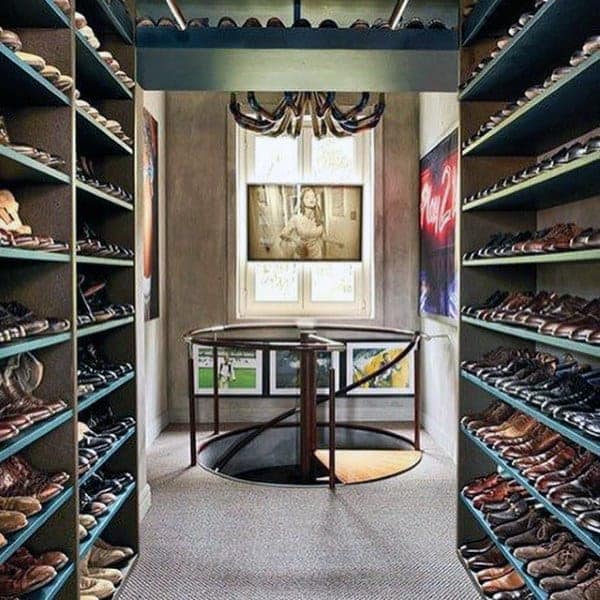 3. Color Coordinated Men's Closet
Imagine a space where every garment finds its place, creating a visually uncluttered haven that is as easy on the eyes as it is to navigate. Get ready to embrace your inner fashionista as you curate an awe-inspiring display of tailored treasures, from refined suits to casual ensembles.
With a creative touch, the hues and tones of your garments harmonize, reflecting your discerning taste and elevating your daily dressing ritual. Let the spectrum of colors guide you, seamlessly blending shades and textures to create a wardrobe oasis that speaks volumes about your refined aesthetic.
Welcome to a men's closet that is as easy to look at as it is to conquer, where organization and creativity intersect in perfect harmony.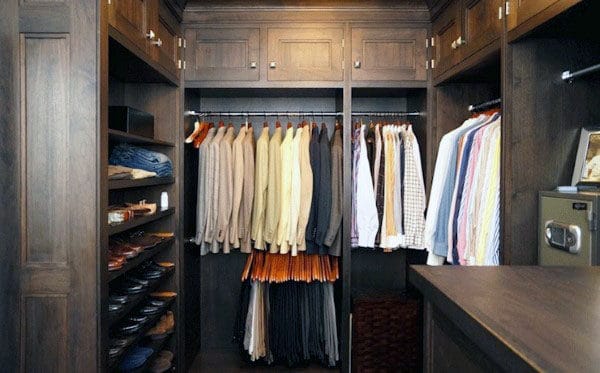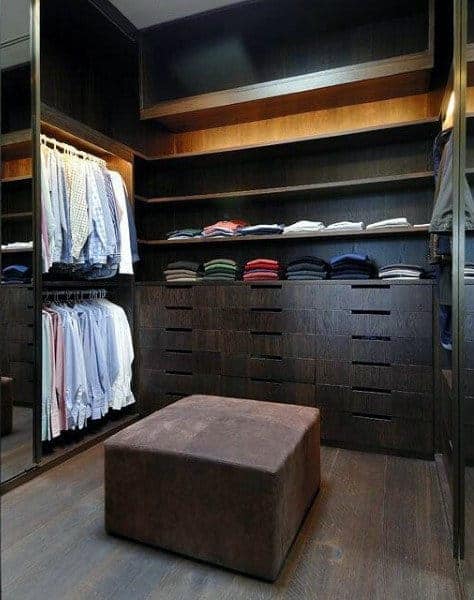 4. Bedroom Open Closet
An accessible and visually captivating alternative to traditional wardrobes, the bedroom open closet is a stylish way to showcase your fashion-forward sensibilities. Imagine a meticulously curated display of your favorite garments, shoes, and accessories, all within arm's reach.
Utilize floating shelves, strategically placed hooks, and stylish garment racks to create an organized yet artistic arrangement. With this unique approach, you can transform your daily routine into a creative ritual, as you effortlessly select the perfect ensemble, highlighting your individual style.
Let your bedroom open closet become a source of inspiration, where fashion meets functionality, and your personal style shines through.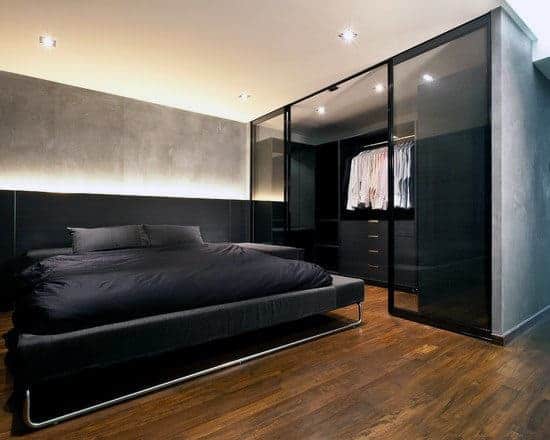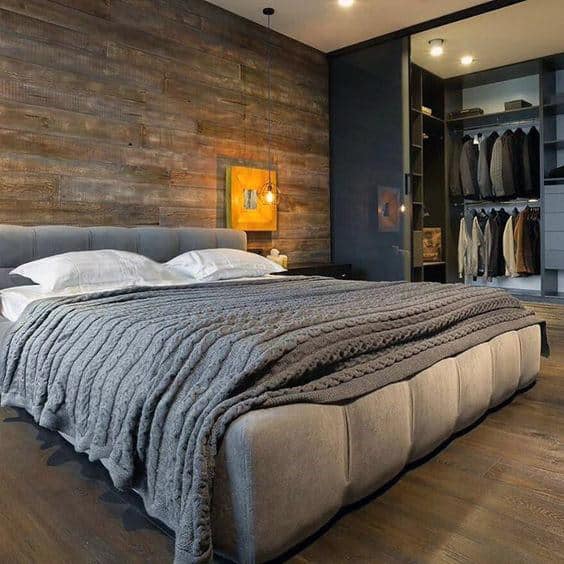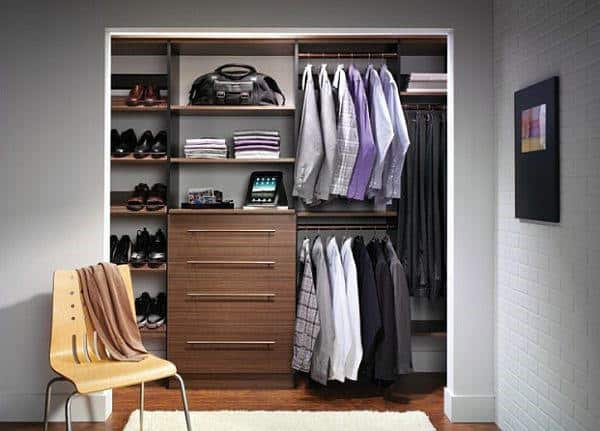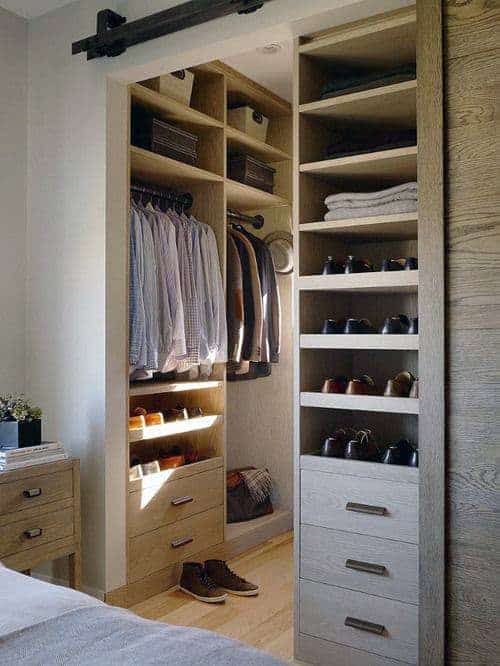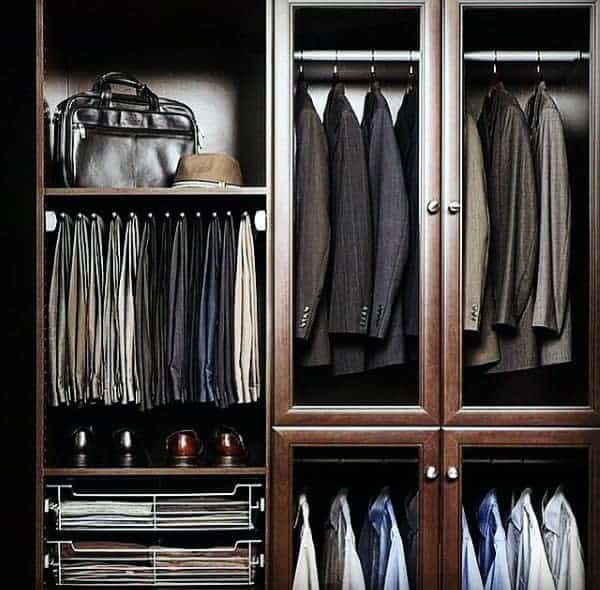 5. Men's Walk-In Closet
Imagine a space designed to showcase your refined taste and impeccable style. From sleek and modern designs to rustic and industrial aesthetics, there are endless possibilities to transform your walk-in closet into a sanctuary of sophistication.
Dark, rich wood accents paired with luxurious leather seating create a timeless and distinguished ambiance. Incorporate smart storage solutions like custom-built shelves, drawers, and hanging racks, ensuring every tailored suit, crisp shirt, and polished shoe finds its rightful place.
Accent lighting highlights your prized collection of accessories, while a full-length mirror adds functionality and flair. Let your creative spirit run wild as you personalize your men's walk-in closet, where fashion meets functionality in a truly extraordinary way.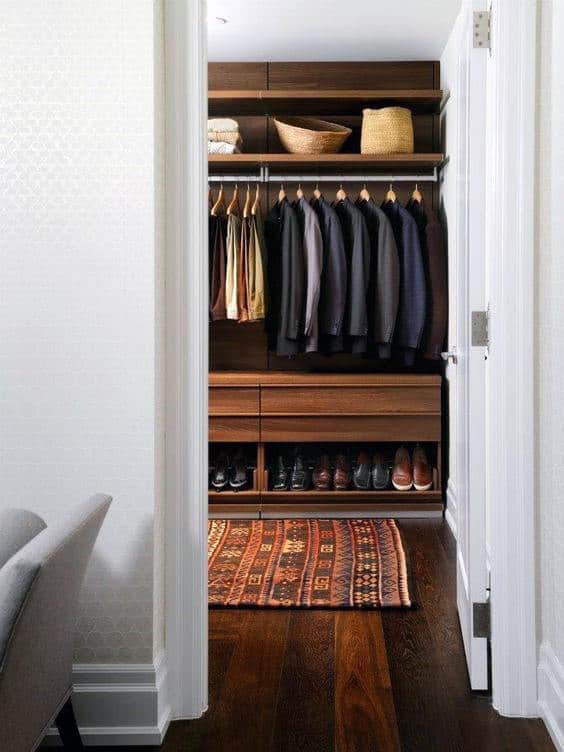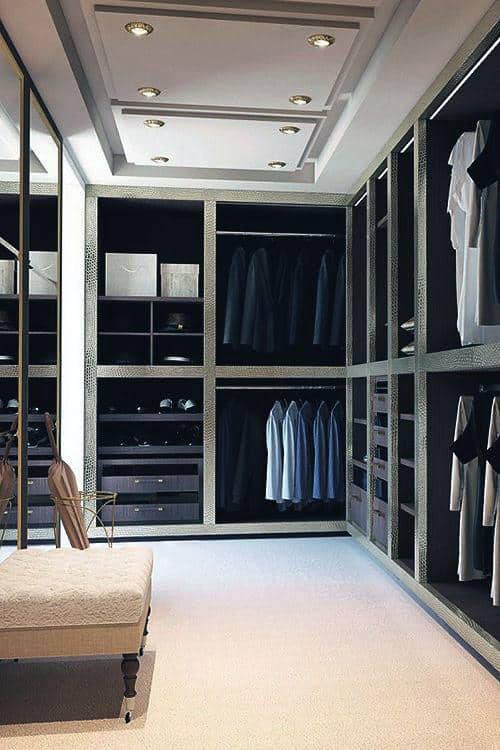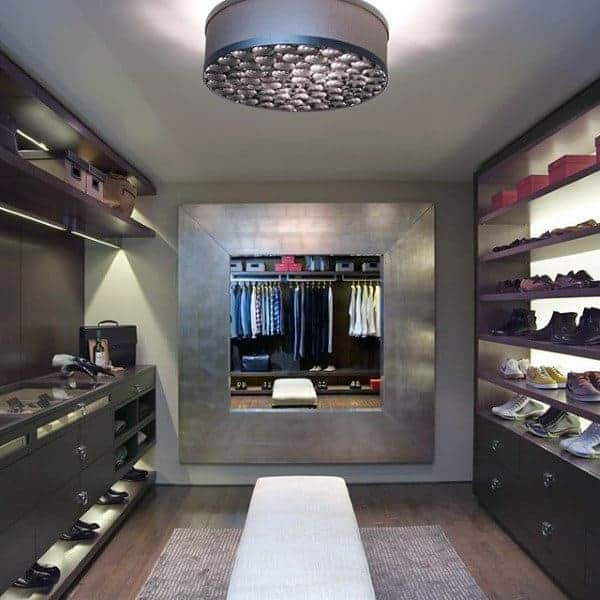 6. Closet Pendant Light
A visually captivating fixture not only provides ample illumination but also adds a touch of flair and visual interest to the space. Picture yourself stepping into your well-organized wardrobe, and as you reach for your favorite shirt or tie, the pendant light casts a soft, warm glow, igniting a sense of inspiration and confidence while dressing.
Whether you opt for a sleek, minimalist design or a bold, statement-making piece, the closet pendant light becomes the centerpiece that elevates your sartorial haven to new heights, making every outfit selection feel like a moment of curated artistry.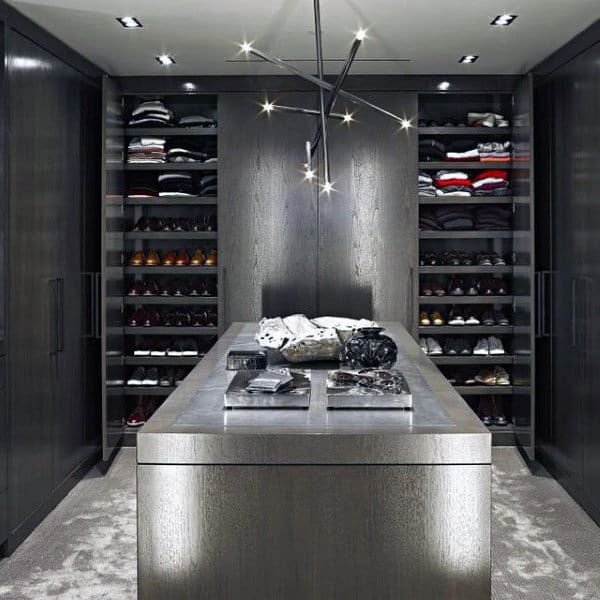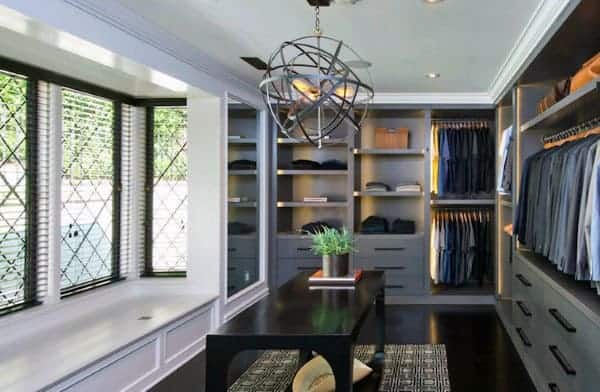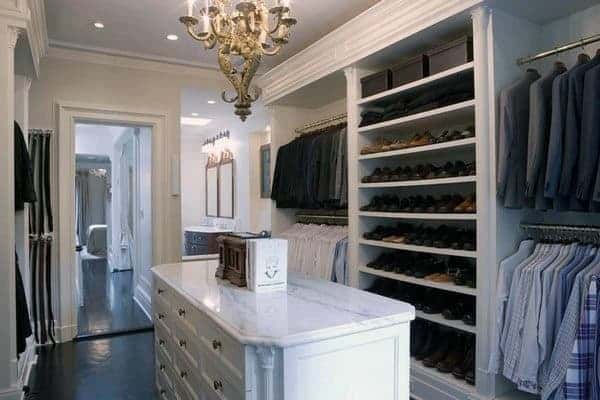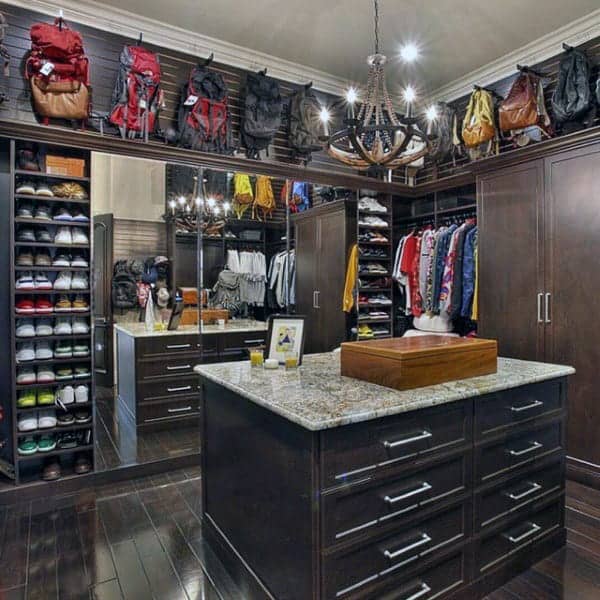 7. Narrow Men's Closet
Embrace your creative side as you maximize every inch of this limited space. Utilize floor-to-ceiling shelves and built-in drawers to showcase your collection of shoes and accessories while keeping them easily accessible. Install hanging rods at varying heights to optimize vertical space and accommodate garments of different lengths.
Incorporate innovative storage solutions such as pull-out tie racks, sliding belt holders, and retractable valet rods to efficiently store and display your accessories. Embrace the power of lighting by adding LED strips or overhead fixtures, enhancing the ambiance while making the space feel larger.
With these creative narrow walk in closet ideas, you can transform a small area into a stylish, functional retreat that celebrates both your fashion sense and your resourcefulness.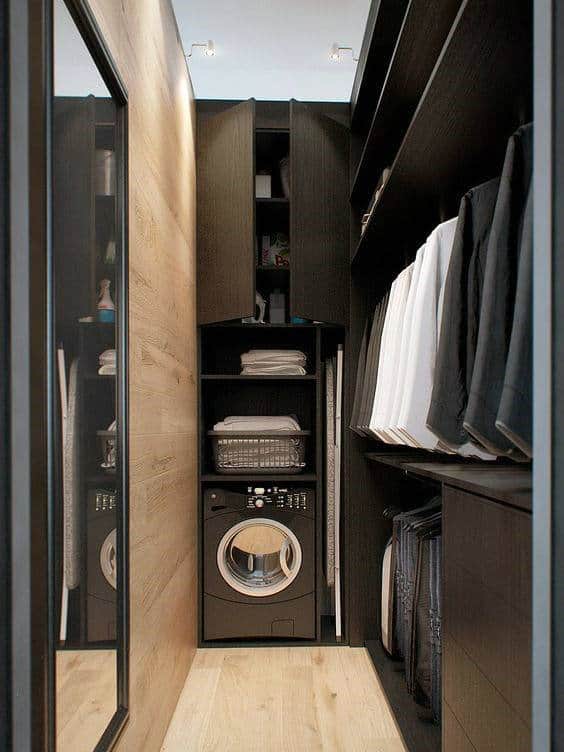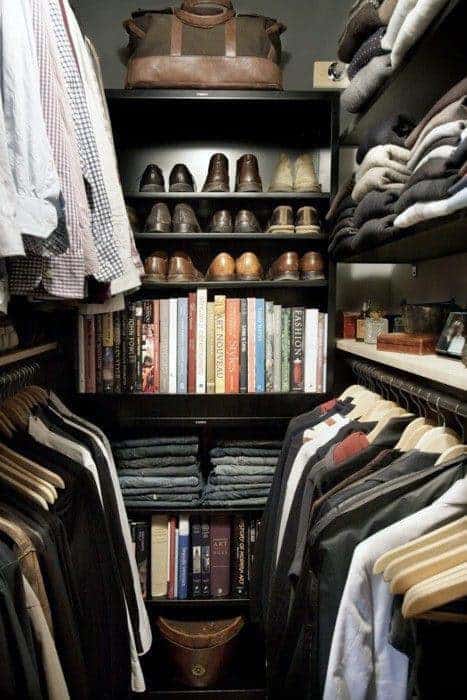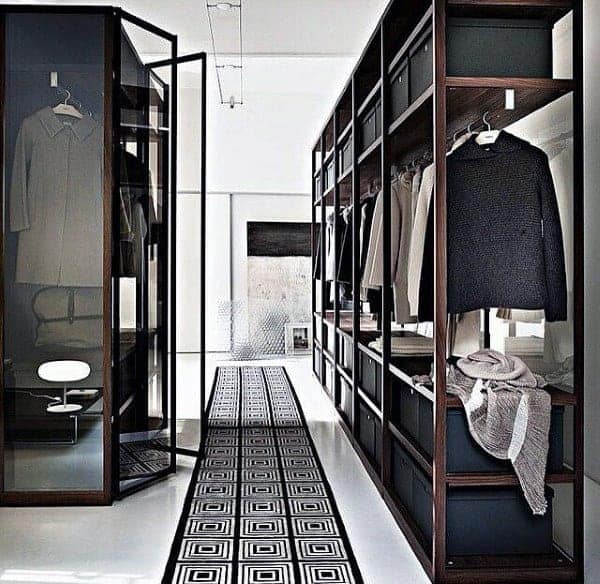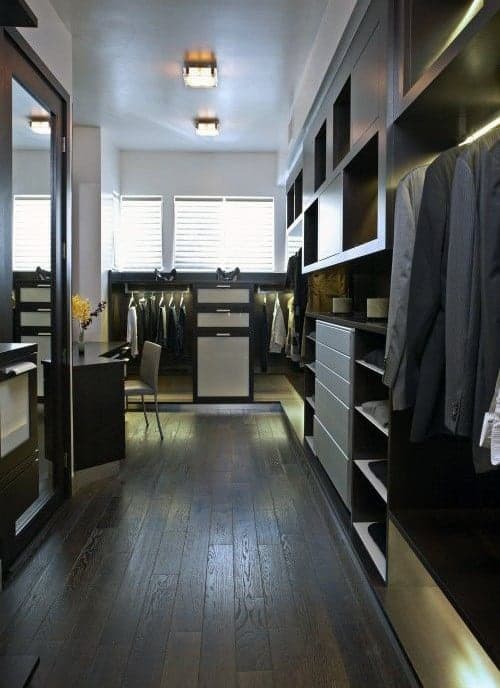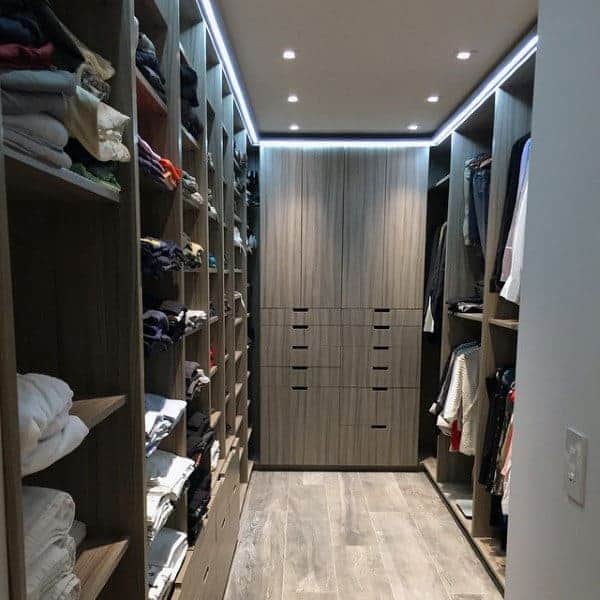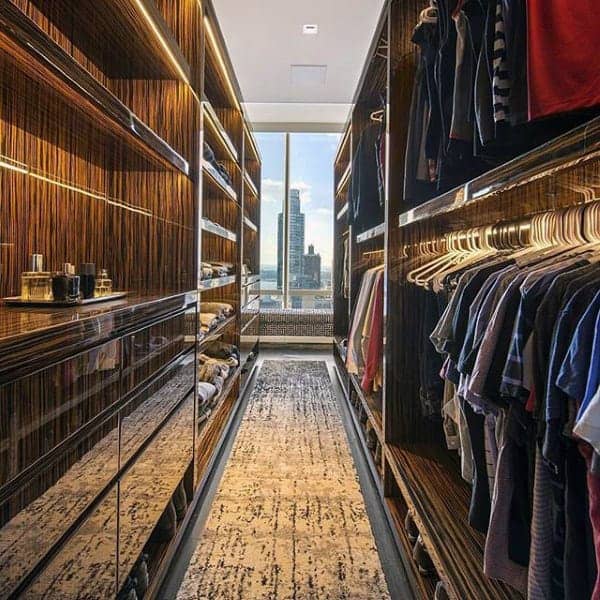 8. Overhead Closet Shelves
Transform your ordinary men's closet into a haven of organization and style with ingenious overhead closet shelves. These wall-mounted wonders are the perfect solution for efficiently storing and displaying your winter clothing collection.
Picture a sleek, minimalist design, where your cozy sweaters and heavy coats are artfully arranged on these elevated shelves, creating a visually captivating display. With overhead closet shelves, you can optimize every inch of space while adding a touch of creative flair to your wardrobe sanctuary.
Say goodbye to clutter and hello to a meticulously curated closet that embodies both functionality and aesthetic appeal.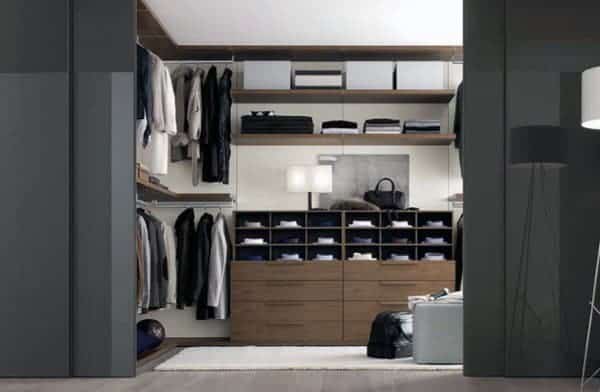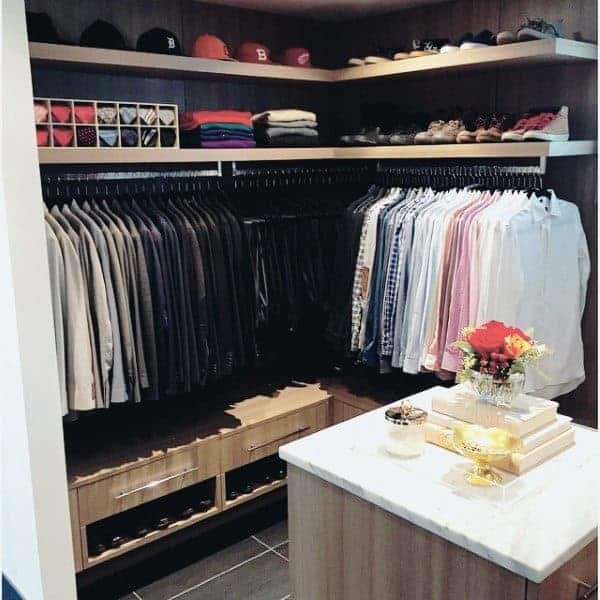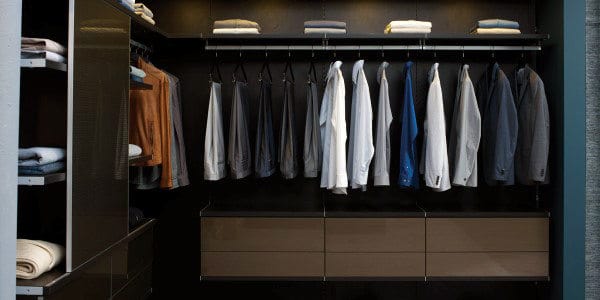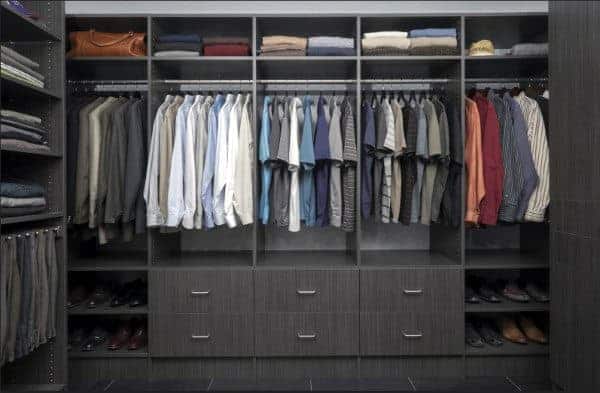 9. Shoe Closet With Glass Door
Create a stunning shoe closet with a glass door that seamlessly combines functionality and aesthetic appeal. This innovative approach allows you to showcase your prized footwear while keeping them organized and easily accessible.
Picture a mesmerizing display of your favorite sneakers, loafers, and dress shoes, each pair beckoning with style and sophistication behind the elegant glass door. The transparent barrier not only adds a touch of modernity to your closet but also allows you to effortlessly locate the perfect pair for any occasion. With carefully arranged shelves, adjustable lighting, and perhaps even a rotating display, your shoe closet becomes a work of art that brings joy and inspiration every time you step inside.
Embrace the fusion of practicality and creativity as you curate your shoe haven, turning your closet into a destination that reflects your unique taste and love for footwear.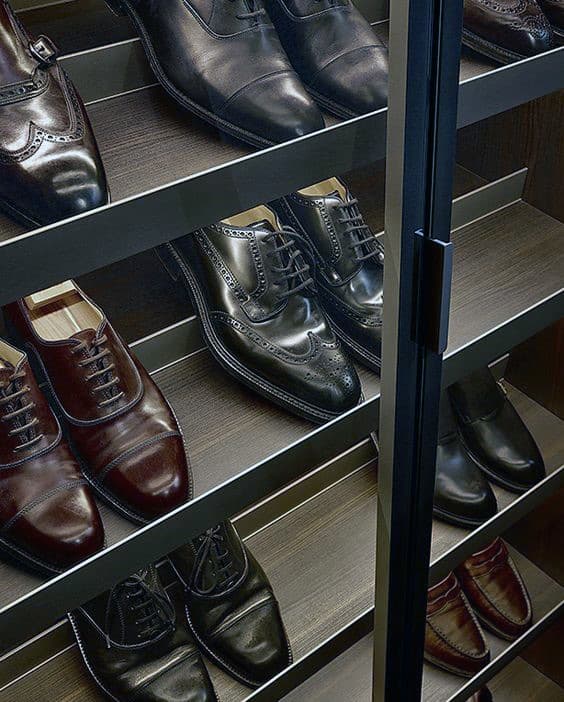 10. Men's Closet With Organizers
Turn your ordinary men's closet into a stylish haven of organization with these innovative ideas. Say goodbye to chaotic mornings and hello to effortless dressing with collapsible organizers that maximize space and functionality.
These versatile wonders effortlessly adapt to your needs, effortlessly holding everything from crisp shirts to perfectly folded trousers. Embrace a touch of rustic charm by incorporating wooden crates as additional storage options.
Stack them up to create a unique display while keeping your shoes or accessories neatly tucked away. Let your creativity shine as you curate your dream men's closet, combining practicality with an artistic touch that will elevate your everyday routine.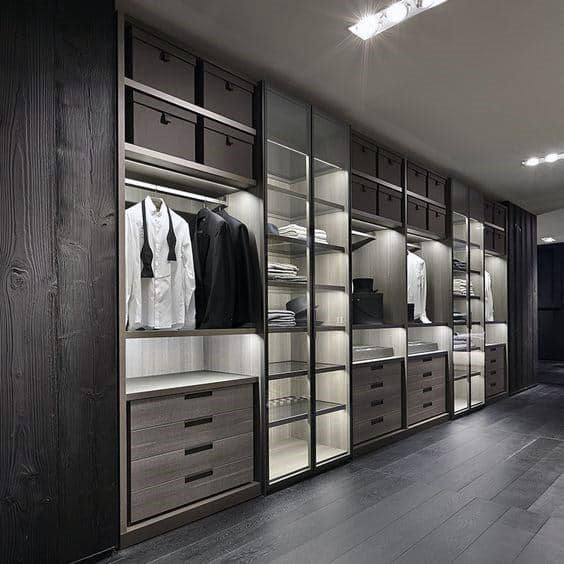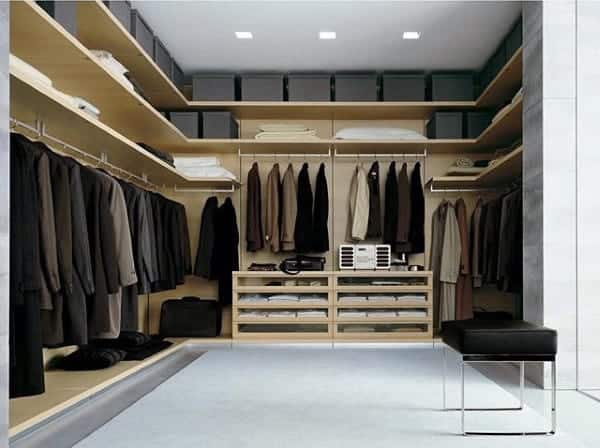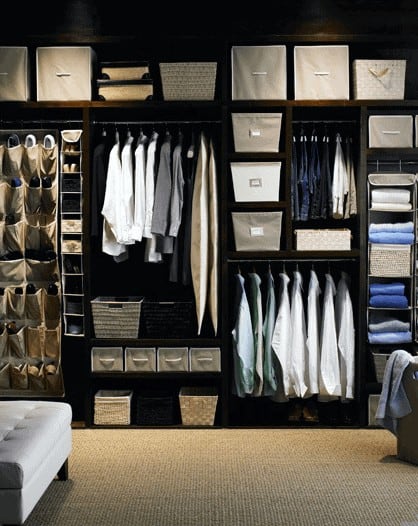 11. Men's Closet With LED Lights
Step into a world of sartorial splendor with a walk-in closet designed to ignite your style inspiration. Picture this: a spacious haven adorned with LED lighting, casting dramatic rays of illumination that showcase your clothing collection in all its glory.
The mesmerizing interplay of light and fabric highlights the intricate textures, vibrant colors, and exquisite details of each garment, transforming your everyday routine into a creative exploration of fashion. As you step into this luminescent wonderland, every outfit becomes a masterpiece, every accessory a work of art.
With the perfect combination of practicality and creativity, your walk-in closet with LED lighting is more than just a storage space; it is a sanctuary where your personal style truly comes alive.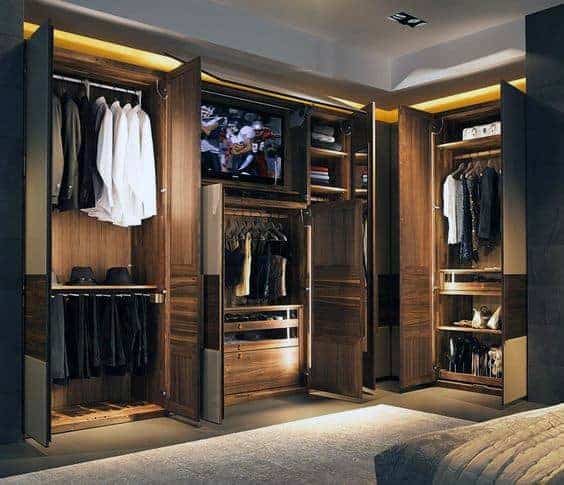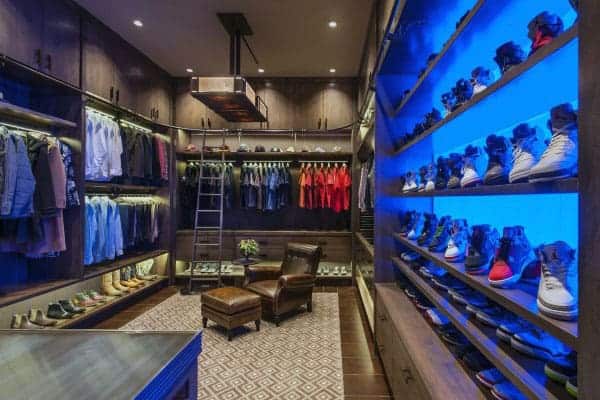 12. Men's Accessory Drawer
Envision a sleek and modern closet design, where shelves are not just ordinary storage spaces, but innovative showcases for your prized possessions. This drawer is a dedicated haven for your collection of watches and accessories, where each piece is carefully nestled and displayed with flair.
With its thoughtful compartments and plush lining, it offers a sublime balance of functionality and aesthetics. From classic timepieces to statement cufflinks, this accessory drawer becomes a creative canvas for your personal style, allowing you to curate and showcase your distinct taste.
Get ready to transform your closet into a haven of sartorial excellence with these men's accessory drawer ideas that go beyond mere storage, embracing the art of display and organization.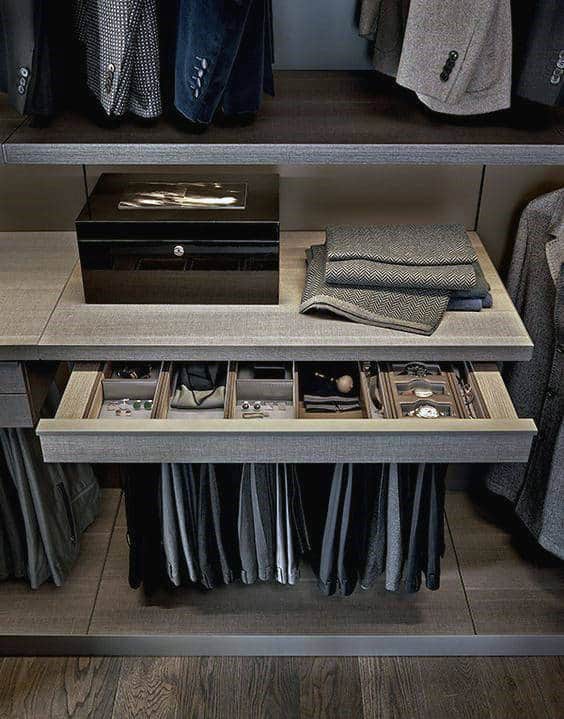 13. Men's Closet With Vanity
A walk-in closet with vanity is the ultimate embodiment of luxury and convenience. Immerse yourself in a world of refined masculinity as you carefully select your attire for the day, effortlessly accessorizing with your prized collection of watches, which find their perfect home in thoughtfully designed storage compartments.
Let your creativity soar as you curate a space that reflects your unique personality and indulges your sartorial desires. This is not just a closet—it's a sanctuary where you can truly express yourself and confidently embrace your signature style.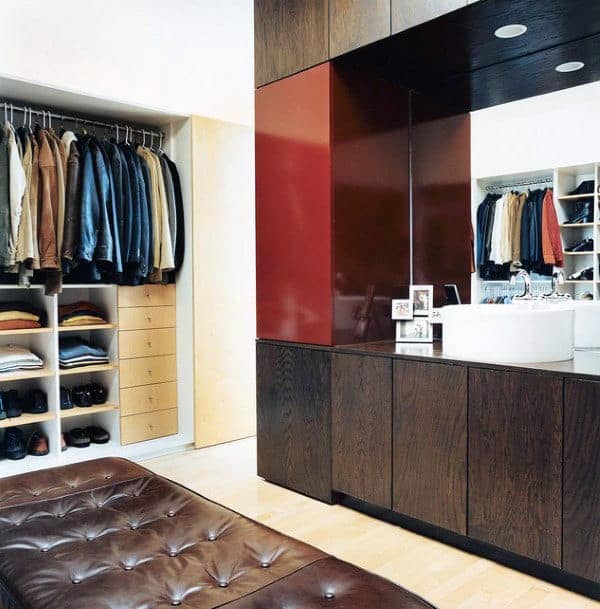 14. Metal Open Shelving
Looking to infuse a touch of creativity into your industrial interior? Look no further than metal open shelving for everyday clothing. With its sleek and modern design, these modular shelves not only provide ample storage space but also add a bold statement to your space.
Showcase your collection of stylish sneakers, dapper hats, and rugged boots, creating an eye-catching display that reflects your unique sense of style. The metallic finish of the shelves perfectly complements the raw, industrial aesthetic, while the open design allows for easy access and effortless organization.
Embrace the versatility of metal open shelving and transform your men's closet into a visually stunning and functional masterpiece.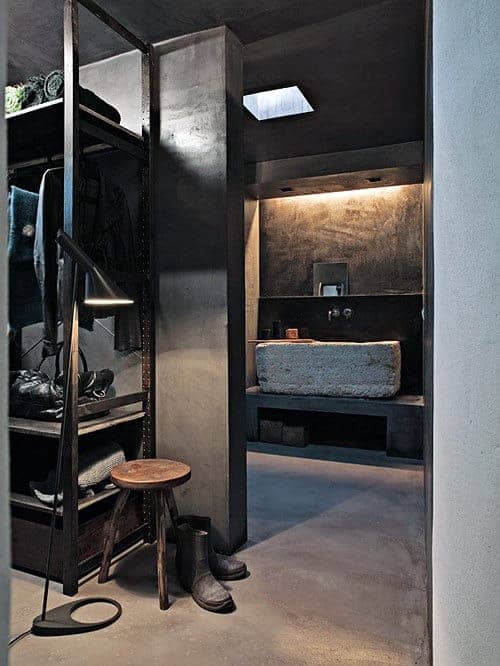 15. Men's Closet With Drop Lights
Picture this: a sleek and meticulously organized space that radiates an air of masculine elegance. Introduce dramatic lighting with strategically placed drop lights, casting intriguing shadows that dance playfully across the impeccably tailored suits and neatly folded shirts.
These captivating fixtures not only illuminate the closet with a creative flair but also add an element of intrigue, turning an ordinary space into a realm of sartorial inspiration.
Whether you opt for minimalist pendant lights or vintage-inspired chandeliers, the addition of drop lights in a men's closet elevates the aesthetic to new heights, making every outfit selection feel like a work of art.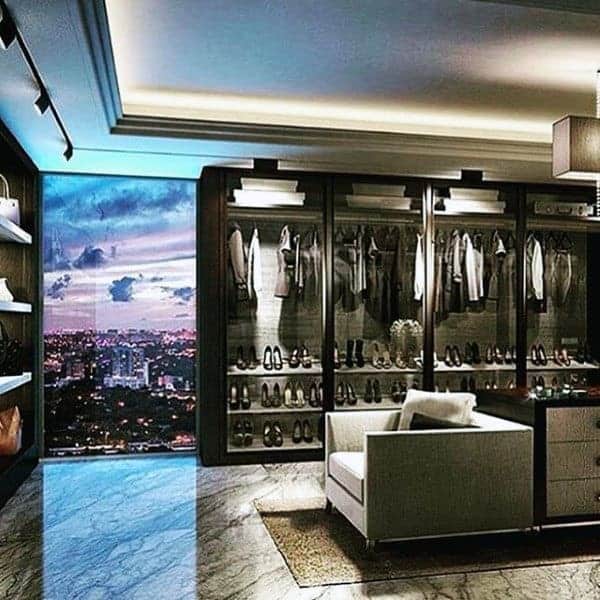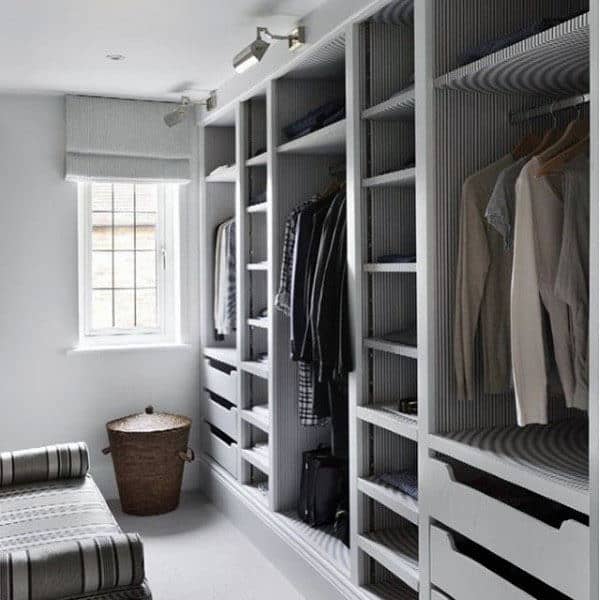 16. Men's Closet With Ladder
Gone are the days of struggling to reach those high shelves, as this ingenious concept combines practicality with a touch of whimsy. Picture yourself perched atop the ladder, effortlessly retrieving your prized possessions from their elevated abode.
The ladder becomes more than just a tool; it becomes a symbol of adventure within your sartorial sanctuary. Embrace your inner design maven and customize your walk-in closet with a ladder that reflects your unique style. Whether it's a sleek, modern design or a rustic, vintage-inspired piece, the ladder becomes an artistic statement that adds flair to your closet.
Say goodbye to inaccessible spaces and hello to a world of unlimited possibilities with a walk-in closet complete with a ladder for those high shelves. Let your imagination soar as you step into a space that exudes both practicality and creative charm.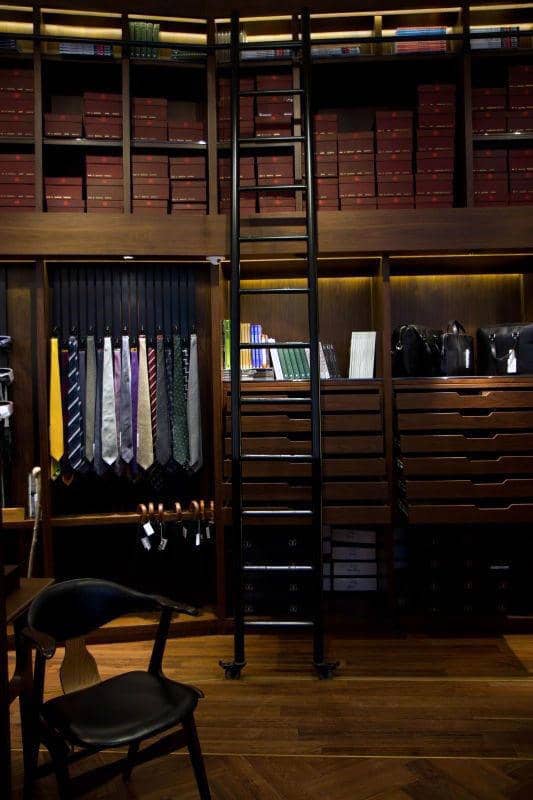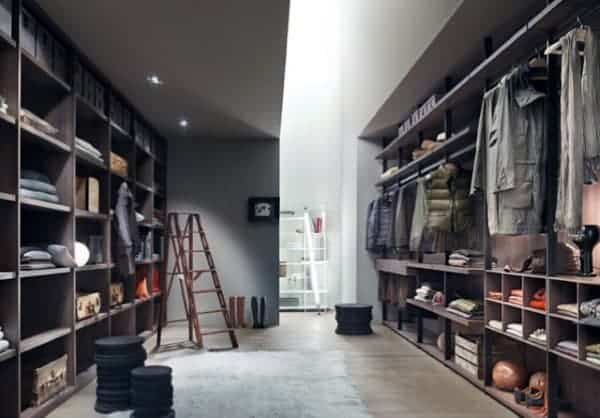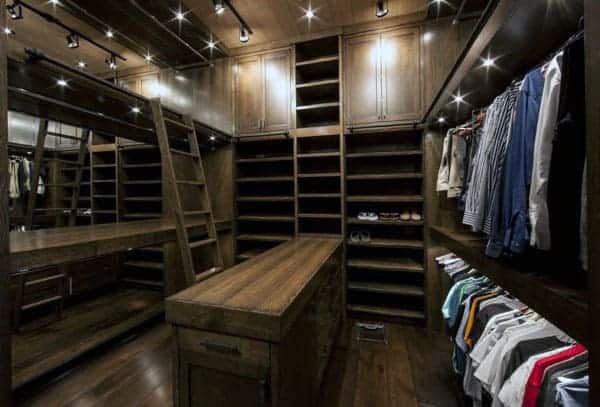 17. Men's Closet With Glass Enclosure
Transform your ordinary men's closet into a captivating haven with a touch of creativity. Imagine a closet with a glass enclosure that instantly elevates the aesthetic and functionality of your space. The glass door not only adds a sleek and modern touch but also allows you to showcase your prized wardrobe collection like a personal boutique.
Picture tailored suits, stylish shoes, and accessories neatly displayed behind the crystal-clear glass, offering a tantalizing glimpse into your fashion-forward world. Not only does this glass display create a visually striking focal point, but it also makes your clothing easily accessible, enabling you to effortlessly choose your ensemble for any occasion.
With a closet featuring a glass enclosure, you'll experience the perfect blend of sophistication and practicality, turning your daily routine into a sartorial adventure.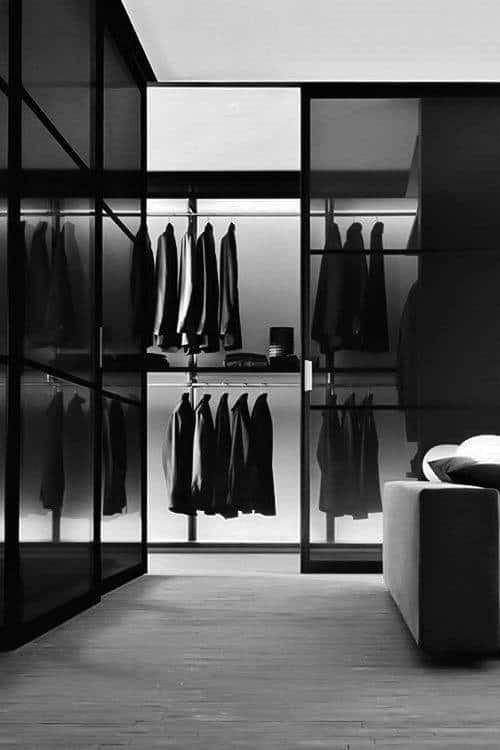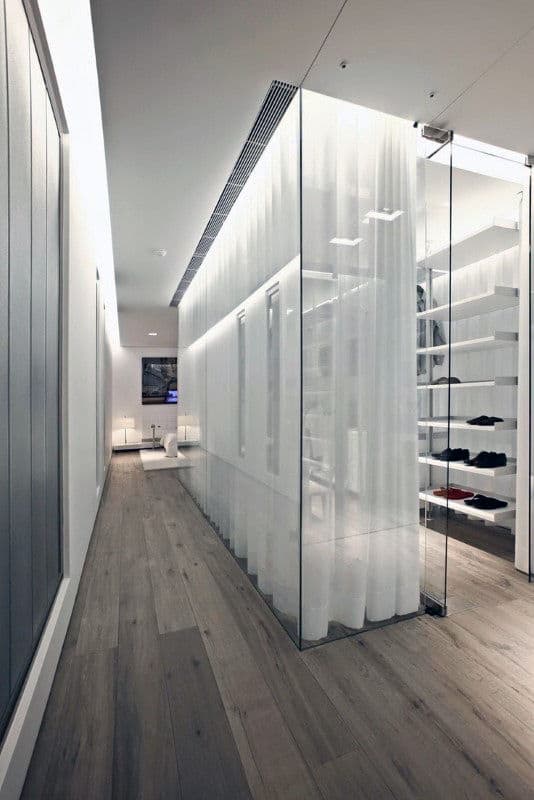 18. Built-In Men's Closet
Transform your ordinary closet into a captivating sanctuary of style with these built-in men's closets. Embrace the allure of a sleek and sophisticated wood finish that exudes timeless elegance. Create a seamless aesthetic that seamlessly blends functionality and creativity.
Optimize your storage space with intelligently designed shelves, compartments, and hanging areas, ensuring every item has its designated place. Embrace your creative side by incorporating personalized touches, such as tailored lighting, accentuating your favorite accessories, or showcasing your impressive shoe collection.
With a built-in men's closet, elevate your daily routine to an artistic experience, where fashion meets functionality in the most captivating way.